Have you ever been at the grocery store and you saw something so bizarre that you had to take a picture and share it with your friends. Everyone has to go to the grocery store, which makes it the best place to see all kinds of people. We have gathered the strangest people and scenarios that have been encountered at the store. Get ready to laugh at these bizarre situations.
"Push Me!"
These two prove that age is just a number, and we are all kids at heart. When you were younger you probably asked your parents to push you like this on the grocery cart, and that desire never goes away.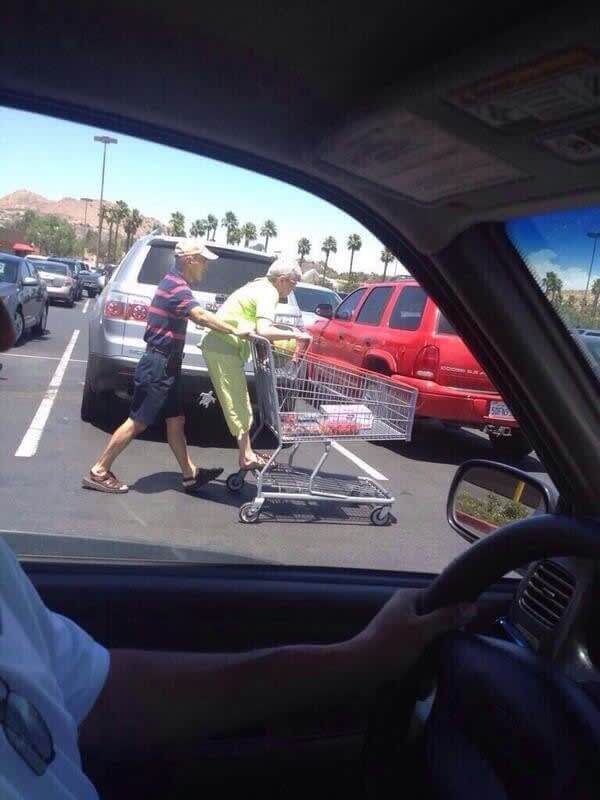 Who wouldn't want to feel like they are flying through the parking lot?
Going To Target For Just A Few Things
Target is one of those stores that you go into to buy batteries, and somehow come out with all new bedding and decorations for your bedroom.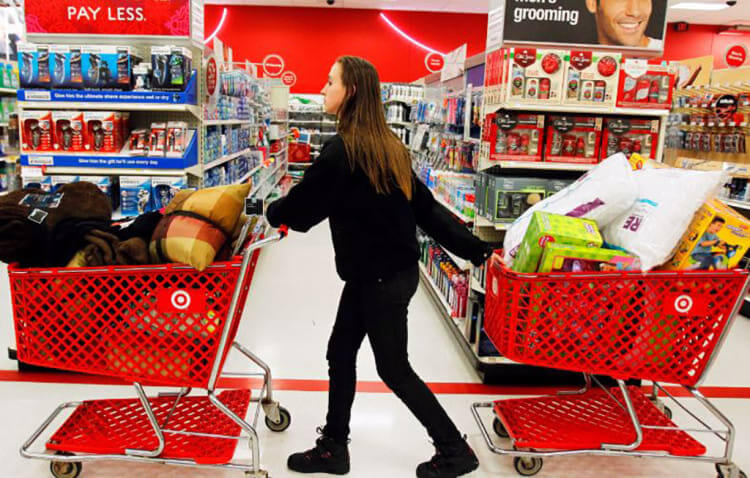 This girl took the "I just need a few things" to the next level. She looks like she is starting her life over after one trip to the store.
Diving In Head First
When you are really short, you not only struggle with reaching things that are up high but also things they are insides a deep container.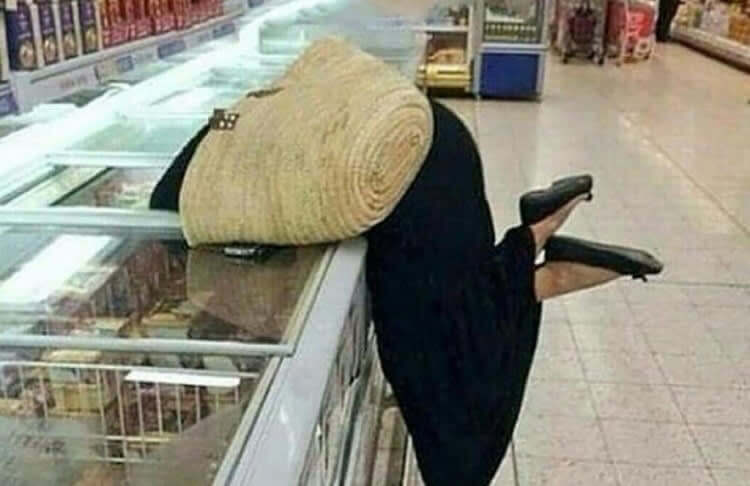 She must really want the one ice cream that is at the bottom of this freezer. Sometimes it is worth risking it all to get exactly what you want.
Rare Dog Breed
This picture frame is 50 percent off for a good reason. When you have a frame that is for dogs, the photo insert should probably be a dog.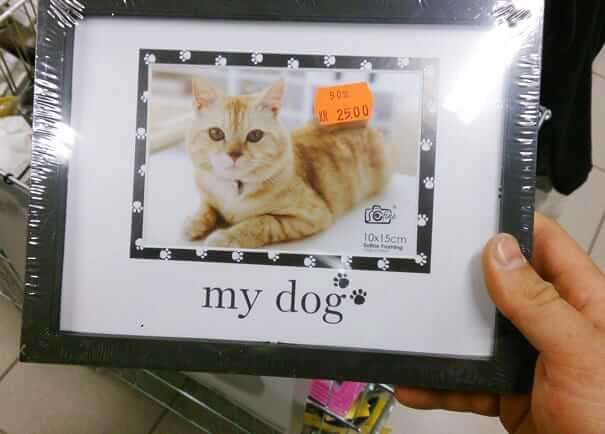 Maybe this is a rare dog breed that no one has seen before, cat lovers might turn to dog lovers if they saw this dog frame.
What Do You Mean This Contains Peanuts?!
This may be obvious, but these peanuts contain peanuts. Mind-blowing, right? We guess you can never be too sure about what is inside a peanut shell.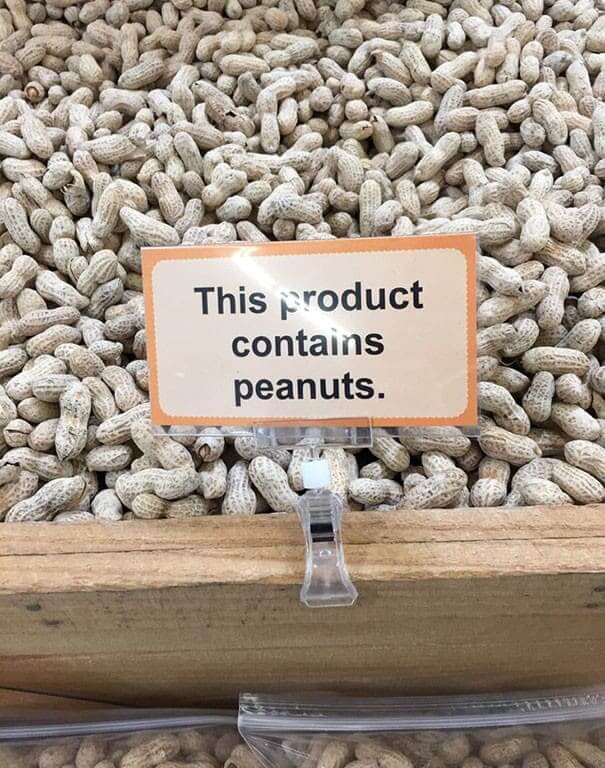 The store probably wanted to avoid a lawsuit from an ignorant shopper. But seriously, who would think that these are anything other than peanuts?
Rough Night?
Grocery shopping can be tedious, especially when you go to the store after a night out. This girl needed a nap mid-shop because she was taking too long to decide what juice to buy.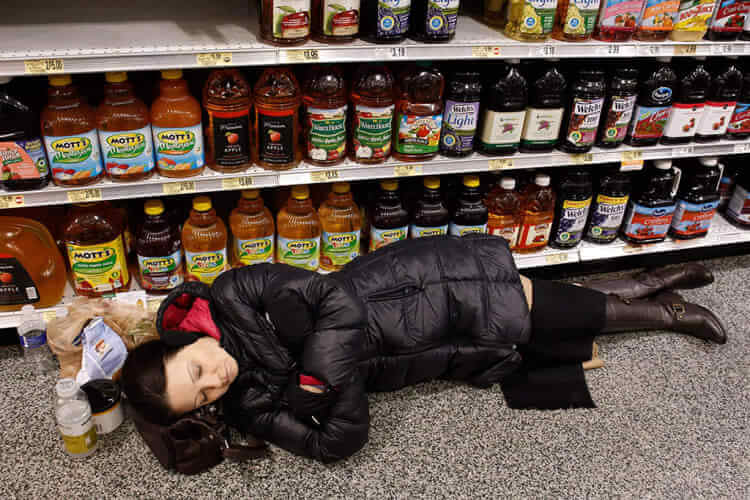 Hopefully, she will be able to decide what juice she wants after her quick siesta.
Deeply Disturbing
So this sign might be for canned cat food, but it is still strange to think about canned cats. Why wouldn't they just add the word food? It is not that many extra letters.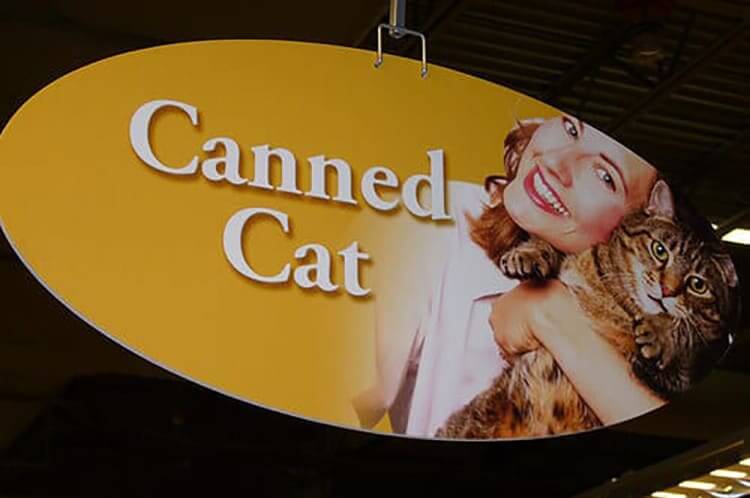 What makes it worse is the creepy smile the woman has and the way she is squeezing that cat. The cat looks like he knows he is about to be canned.
They See Me Rollin'
Taking your kids to the grocery store can be a hassle. They cry and scream when you won't let them have candy or junk food, and this dad had enough of that.
He gave up trying to please his son, so he decided to drag him along through the grocery store instead. At least the floors are getting a good cleaning.
What Does The Fox Buy
"But there's one thing that no one knows, what does that fox buy?" This guy must have been on his way to a Halloween party or else this would be really bizarre, right?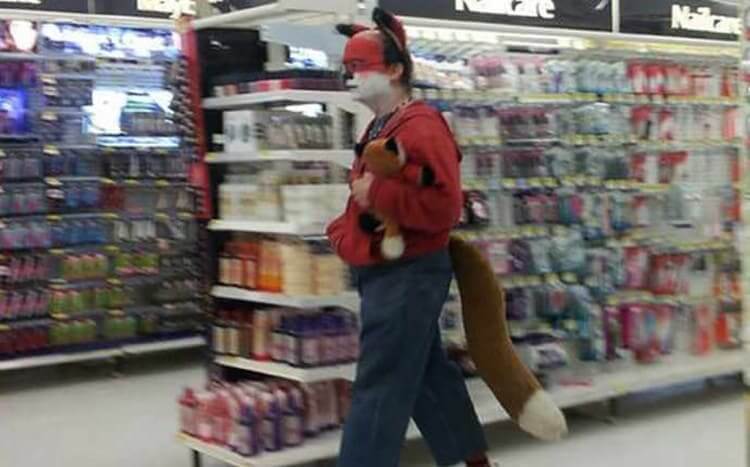 He wanted to make sure everyone knew he was a fox, so he carried around a stuffed fox to top off his outfit.
"Me And All My Children"
You have probably heard about crazy cat ladies before, and this woman brings that stereotype to life. Her cats are her children and she can't go anywhere without them.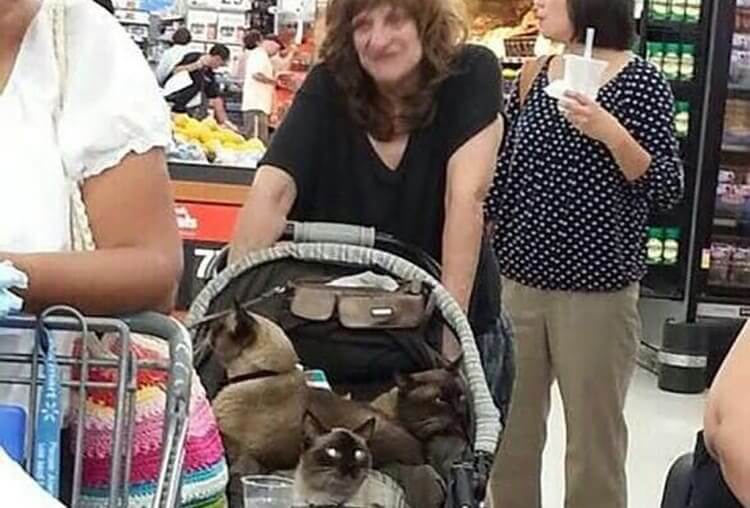 Surprisingly, she was able to bring them into the store, considering most grocery stores have a no pet policy because it is unsanitary to have animals around food.
Simply Impossible
We have seen stores open 24 hours a day, seven days a week, but never nine days a week. Where did the other two days of the week come from?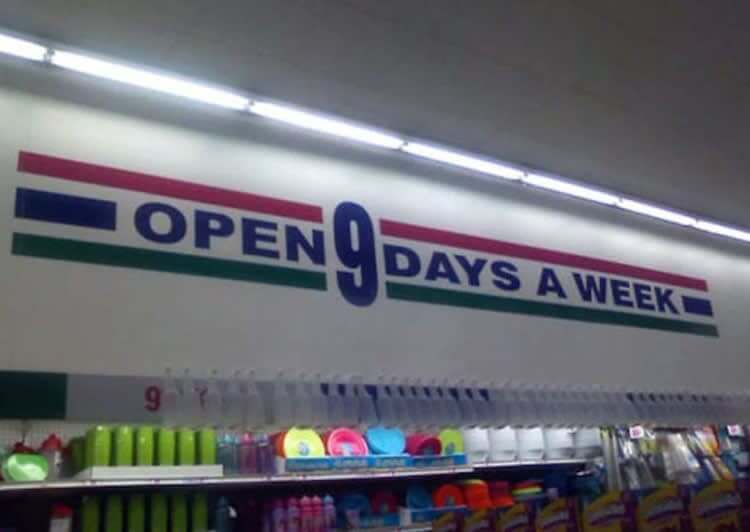 The store must have wanted to emphasize that they are genuinely open all the time, although writing "24/7" would have sufficed.
Special Lunch Date
When your friends say they are too busy to meet you for lunch, so you have to improvise. Instead of eating lunch alone, why not bring a Pikachu stuffed animal.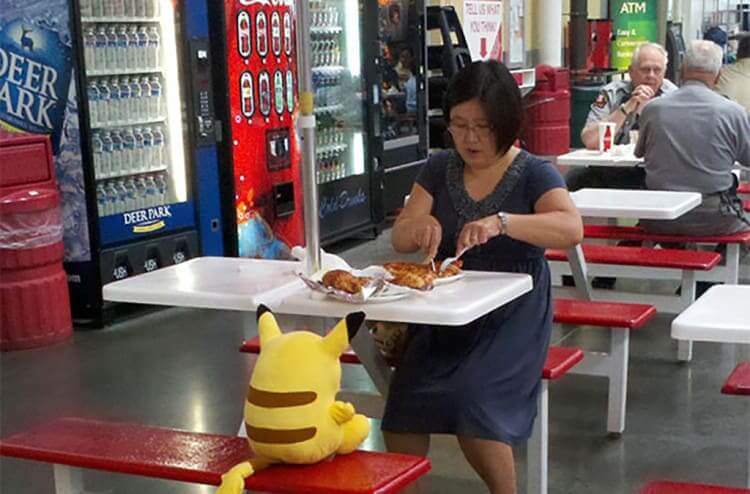 She seems pretty satisfied with her lunch date. She can have her pizza and eat Pikachu's slice too. That's a win-win in our book.
Mayo Is Life
This woman must really love mayonnaise to need that industrial-sized jar of it. By the looks of it, she was on her way to a formal event and stopped to pick up her favorite condiment at the store.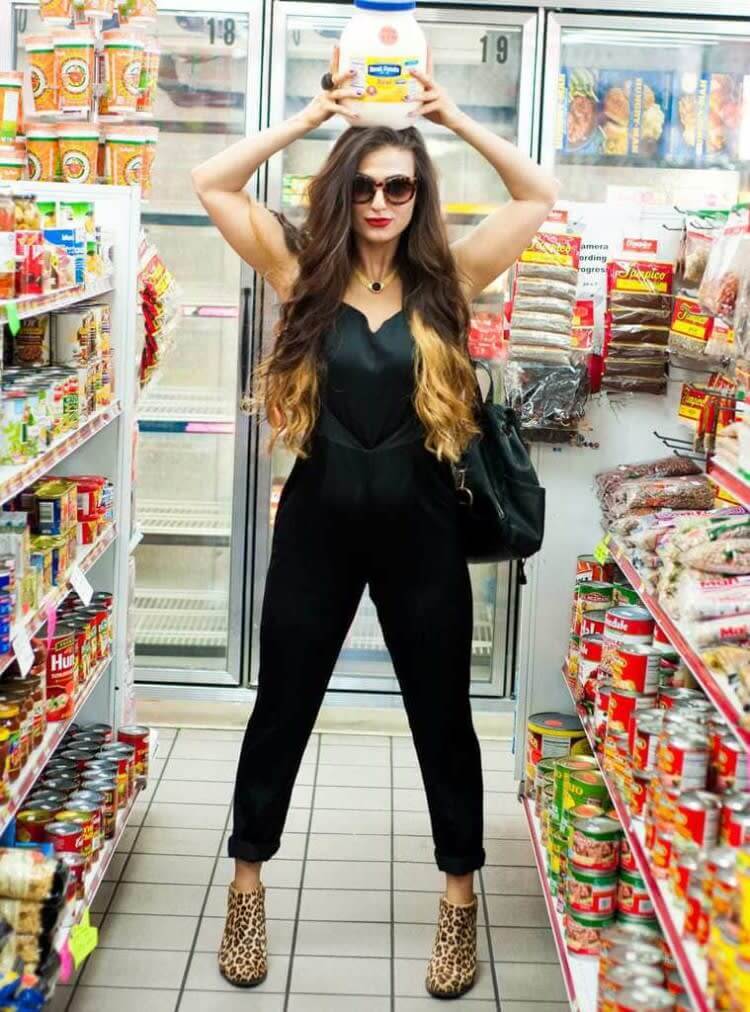 Are you a lover of mayonnaise? Would you buy a jar that size? We need to know who else would do this or if it was just for a weird picture.
Product Testing In Progress
Plungers are a good item to have in your house in case of a clogged toilet or sink. Usually, you wouldn't put one of these anywhere near your face, considering the gross places they touch.
She is probably the only person to test plungers this way. How do you think she tests other products? Maybe she has a special check-list before she purchases something.
Cereal Aisle Romance
Many people would want to take their wedding photos in a scenic location with a beautiful backdrop. This couple had other ideas that they felt would better represent their relationship.
Maybe they met in a cereal aisle, or they were both "cereal" daters before they met each other. It must be weird to be at the grocery store and see a wedding shoot. Not your average trip for milk.
Interesting Employee Dress Code
When you work at a store like Walmart, there is usually a dress code that needs to be followed. Walmart employees usually have to wear khakis and a Walmart shirt, but this girl is breaking all the dress codes.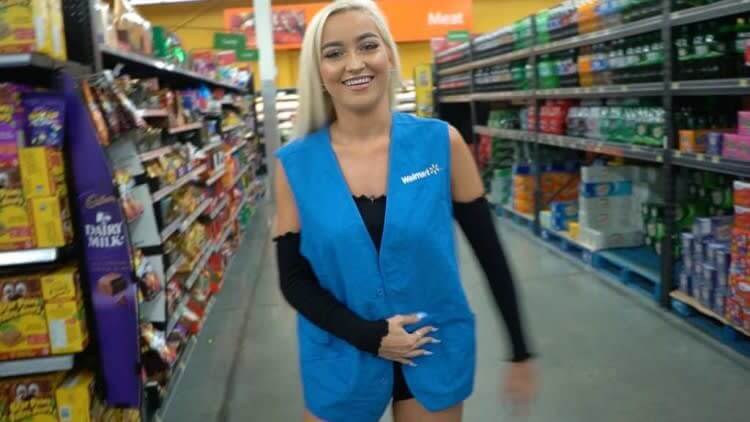 Maybe she was out and got called into work last minute for a shift. It is definitely an interesting look to see from a Walmart employee.
Casual Grocery Store Outfit
"Just going to the store to pick up a few things for my newborn baby in this casual ensemble." It is hard to believe that this woman recently had a baby.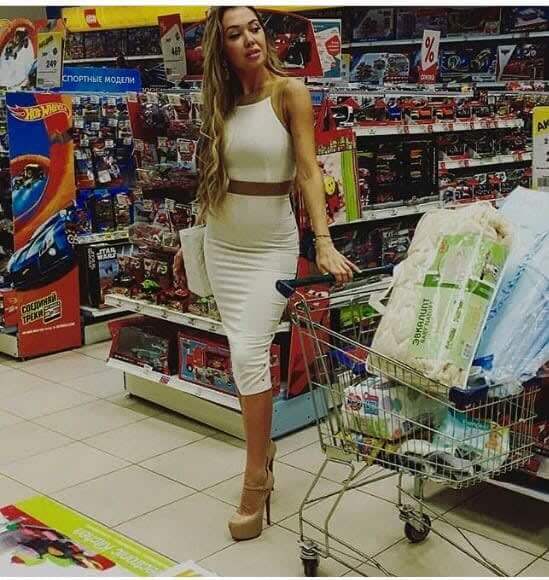 She is every pregnant woman's goal of having a quick snapback after giving birth. Also, how does she walk around in heels that high?
Fresh Out Of The Shower
The wet hair look was a major trend last year, and this woman took it to the extreme. She went beyond the wet hair look to fresh out of the shower.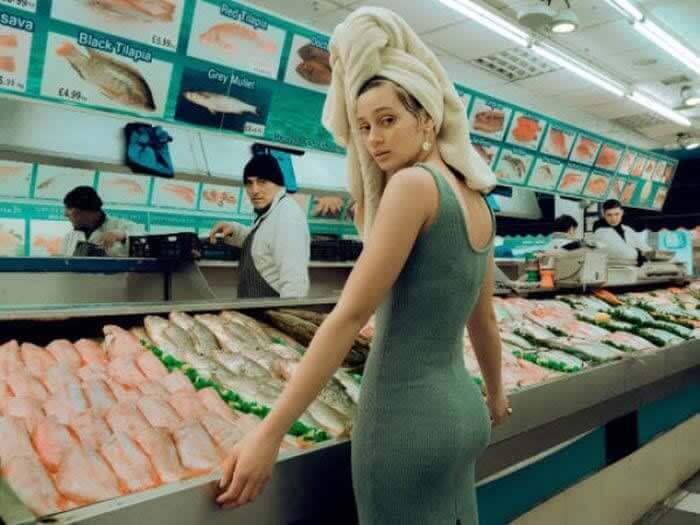 Going to the fish counter right after taking a shower is a bold choice because the smell of raw fish would ruin your freshly cleaned smell.
To Each Their Own
This man put on his best dress and flats to take a trip to the store, and he did not think twice about what anyone would think of this interesting outfit.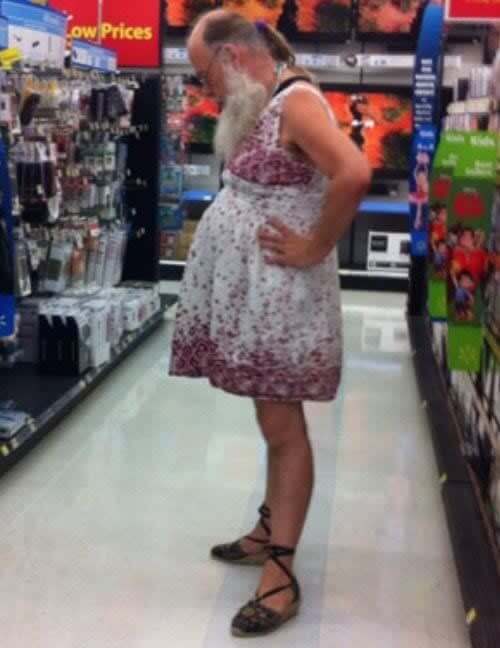 If he has the confidence to rock this look, then who are we to say anything against it.
Grocery Insta
When you go to the store because you think it would be a cute place to get a good Instagram photo. Instead of the usual picture on a tropical vacation, this person went for a unique setting.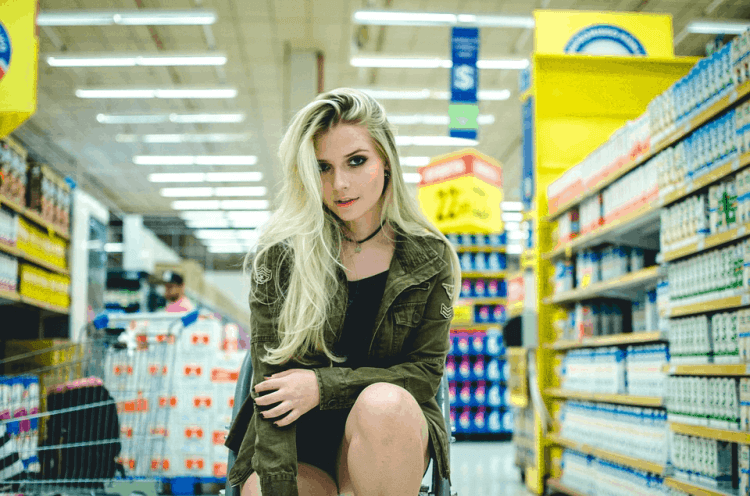 She was trying to be cool and different, probably. Even influencers go grocery shopping; they are ordinary people too.
She Must Really Love Cupcakes
This woman must have come from working at a bakery because why else would you be wearing an outfit like that in public.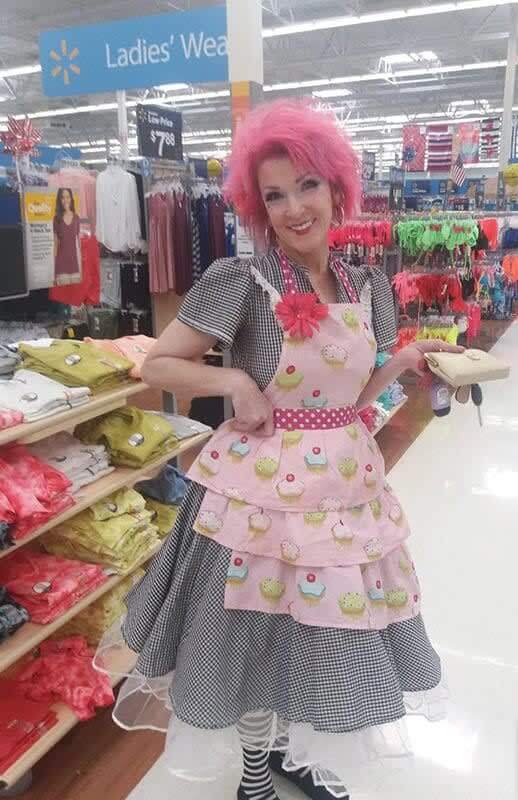 She looks ready to compete on an episode of Cupcake Wars. What if she actually was terrible at baking in reality. That would be a major letdown.
When They Run Out Of Electrical Scooters
When you need an electric scooter to get around the grocery store but all the hooligan kids took them to ride as a joke. Sometimes you have to improvise.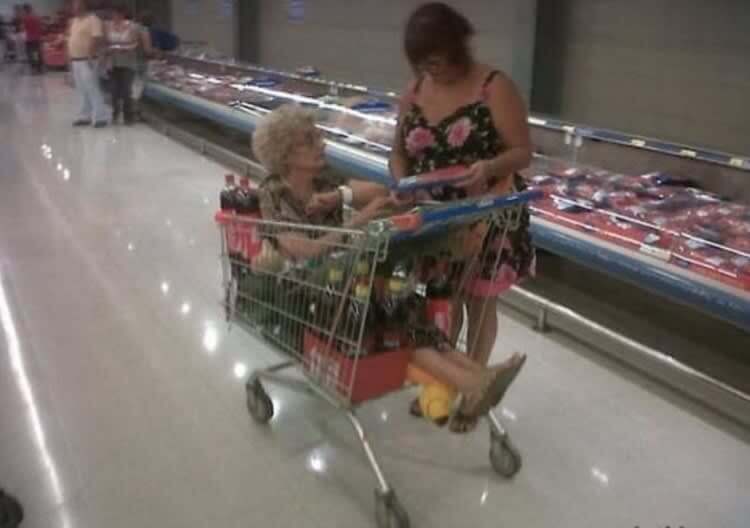 This does not look comfortable to sit like this for more than a minute especially when you start to pile groceries into the cart.
When You Dye Your Hair At Home
When you decide to dye your hair, especially bleaching it, you are making a big decision. Most people choose to go to a trained professional, but some people try to dye their hair at home.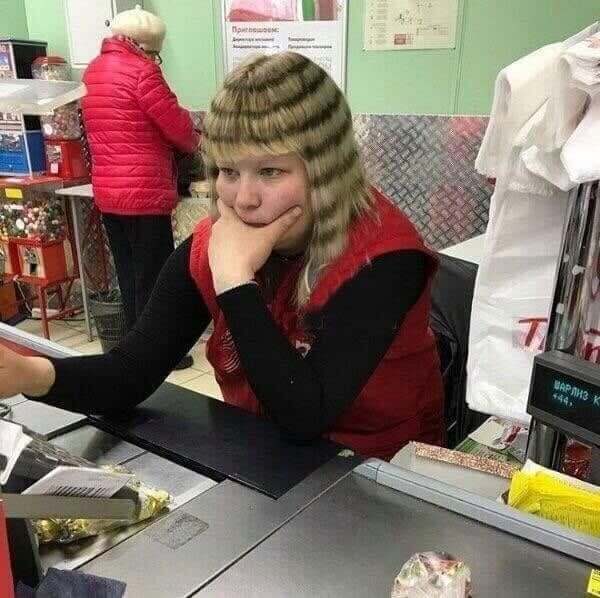 She looks like she was trying to either tie-dye her hair or copy a raccoon's tail pattern. Whatever she was trying to achieve, she does not look happy with the results.
Emotional Support Llama
Today, people have all kinds of exotic animals as pets, not just cats and dogs. Also, more people are starting to register their pets as emotional support animals so they can take them everywhere.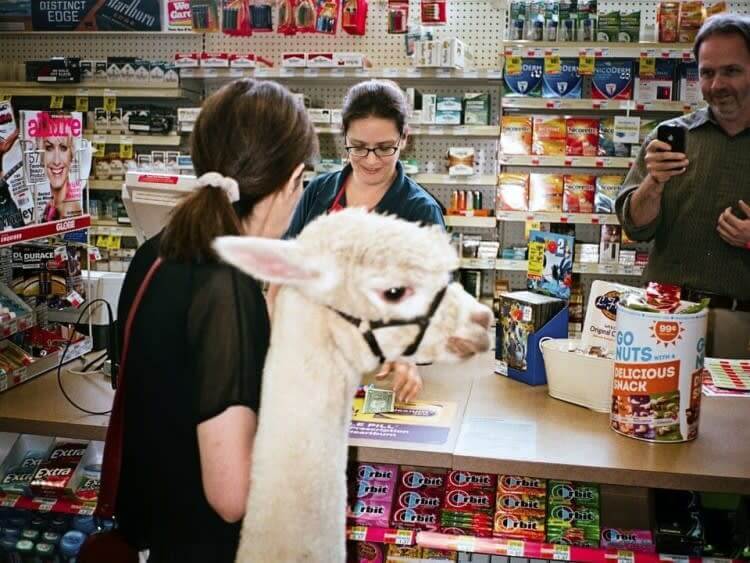 This person appears to have an emotional support llama, and her choice of animal amuses the people in the store.
Say Cheese!
When you take a picture for a dating profile, you want it to not only look good but also show people who you are. This picture says that this woman is funny and cheesy.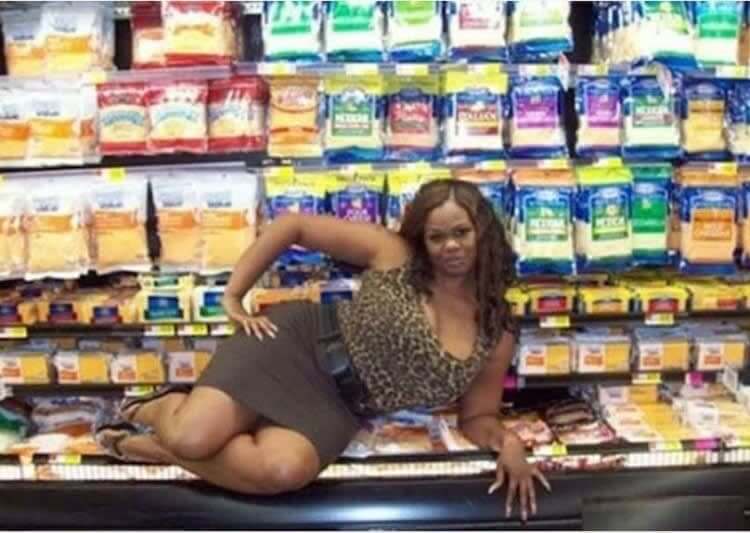 What would you do if you saw someone climb into the cheese section at the grocery store for a picture?
Orange You Glad They Have Lemons
Usually, lemons are used to make lemonade, but this store is trying to convince you that lemons are perfect for orange juice.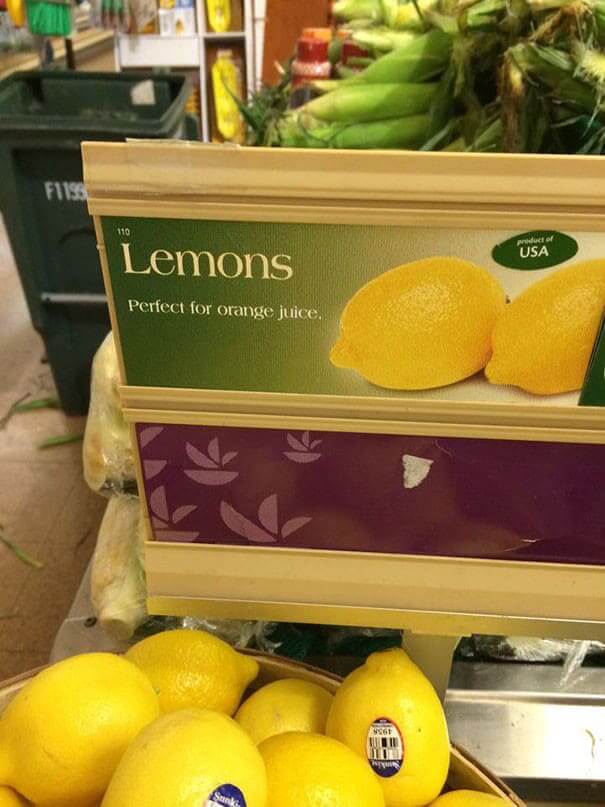 Either the person who made the sign was confused as to what a lemon was, or they are trying to tell us the secret ingredient for the perfect orange juice.
Toilet Paper But Make It Fashion
Whoever made this toilet paper gown is working in the wrong place; the person should be a fashion designer based on how amazing this dress looks.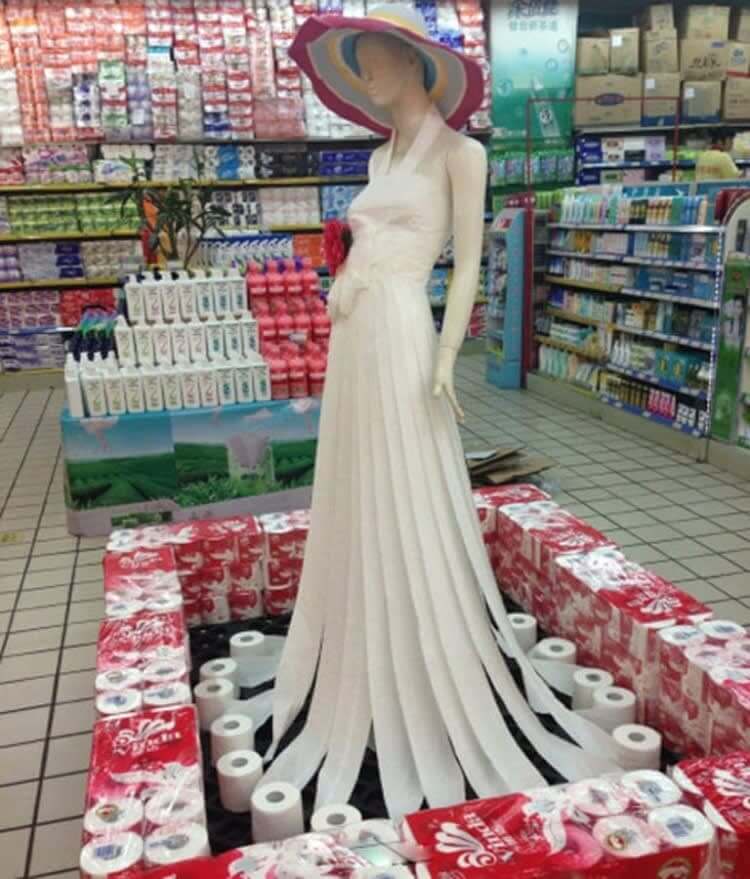 Just look at the intricate details on the top of the dress and the pleating work on the bottom. How long did it take them to create this detailed display to sell a product that everyone uses regardlessly?
A Princess Outing
This little girl wanted to wear her new princess dress to the store, and she wanted her uncle to dress up like a princess with her.
They both look adorable, and he has one the award of the world's best uncle for wearing a dress in public.
She Can Walk!!
For some reason, this woman needs a wheelchair to get around the grocery store, but when it comes to reaching the best alcohol, she has no problem standing up.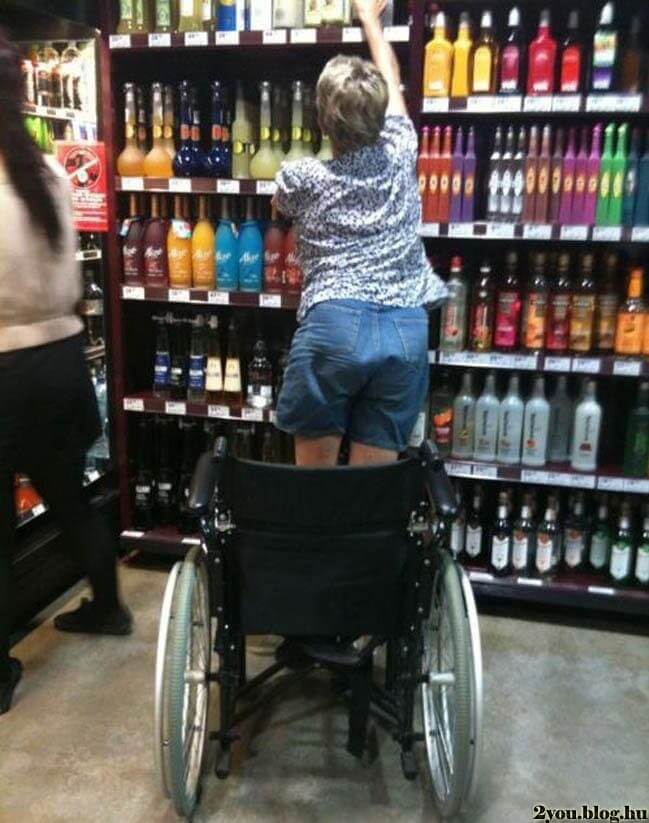 We are not denying that she probably does need the wheelchair, but how is she suddenly fine to stand up on her toes and reach the top shelf?
When You Eat So Many Hot Cheetos You Become One
You have probably heard the saying, "You are what you eat." This girl took that saying seriously and became a Hot Cheeto.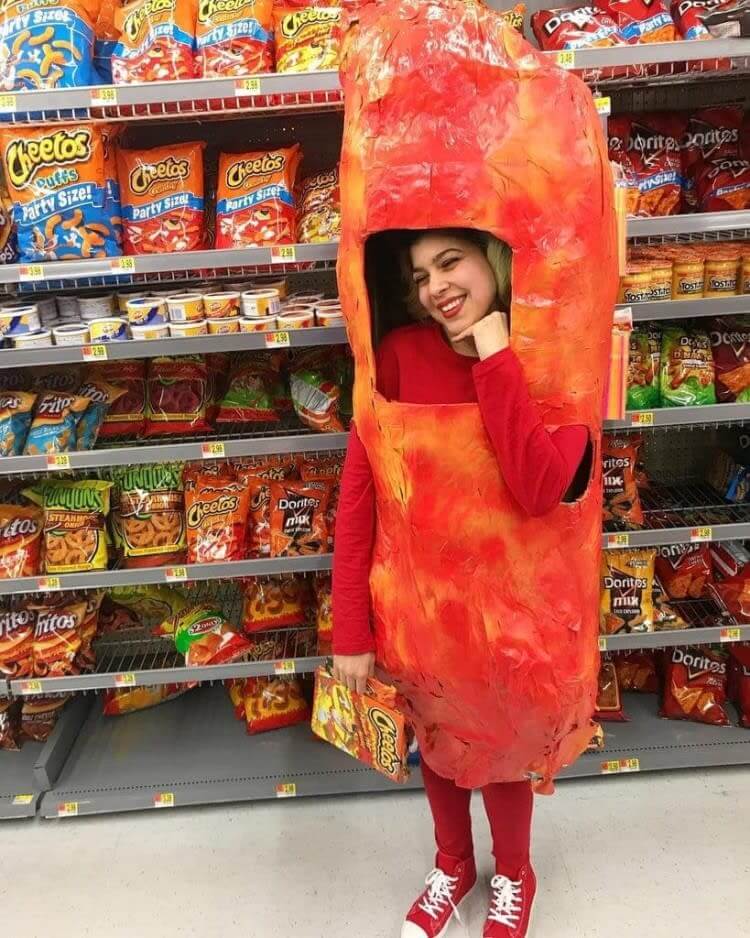 While hot Cheetos are one of the best snacks, it is also harmful to your stomach to eat too many because they can cause ulcers when overeaten.
Ikea Exhaustion
Going to Ikea is a whole process. First, you have to find your way through the maze-like setup and when you find an item you like, then you have to figure out how to find it in the warehouse.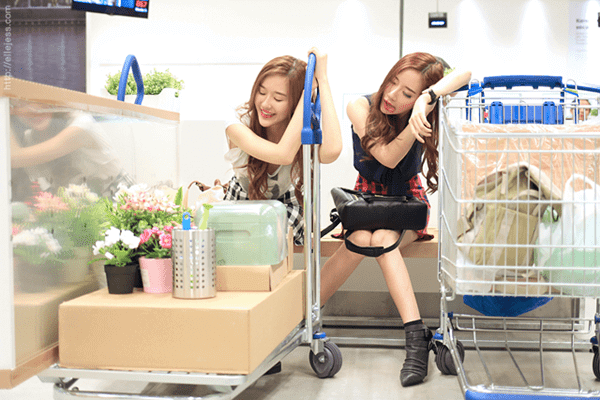 These girls know the Ikea struggle. It is at least a three-hour process, and it is exhausting.
When You Need A Specifc Brand Of Sugar
Kids, do not try this at home; it is not safe. This girl must have really wanted that specific brand of sugar on the very top shelf.
There are clearly many different brands of the same sugar, but she had to scale the shelves to get the pink box at the top.
Up, Up, And Away
When you have a Halloween party in a few hours but forgot you needed to make a dessert to bring.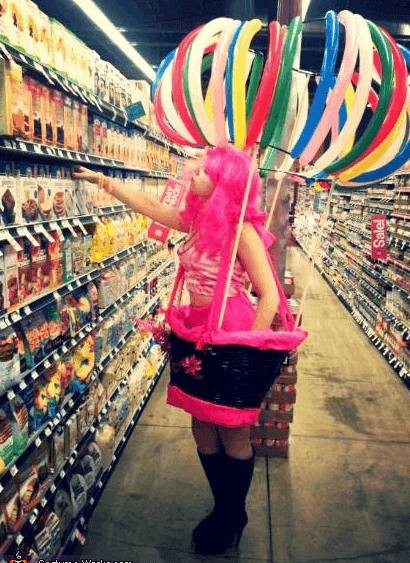 The convenient thing about this costume is that it has a basket to hold all her groceries built-in.
Practice Makes Perfect
When you are a gymnast, the training is intense, and you need to take any opportunity you have to practice your skills. That means practicing even when you are in the grocery store.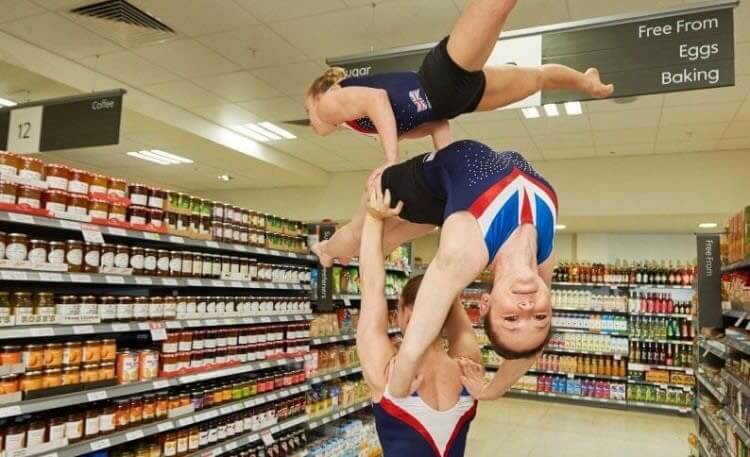 Instead of climbing the shelves, maybe they were trying to think of a better way to get the jelly on the top shelf.
Taking Taco Tuesday To The Extreme
Taco Tuesday is the best day of the week, and you have to give her props for going all out to get in the taco spirit.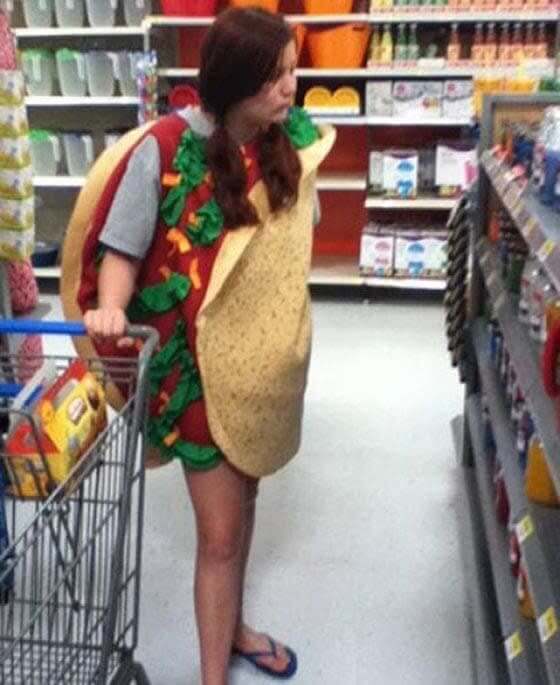 Maybe if you dress up like a taco and walking into Taco Bell, you will get a free taco. Who knows?
What Is It Made From?
When you see a product called cat milk, where do you assume the milk comes from? Cats, right? Well, apparently that is not correct.
The product cat milk does not come from cats, but it is still unclear where the milk is sourced from.
What Back To School Feels Like
When you are enjoying summer and having no responsibilities, back to school displays are the last thing you want to see.
Sometimes back to school season can feel like a bunch of knives stabbing you. We get it.
Well, They Aren't Wrong
Eggs are technically chicken embryos, therefore they are boneless chickens at the moment.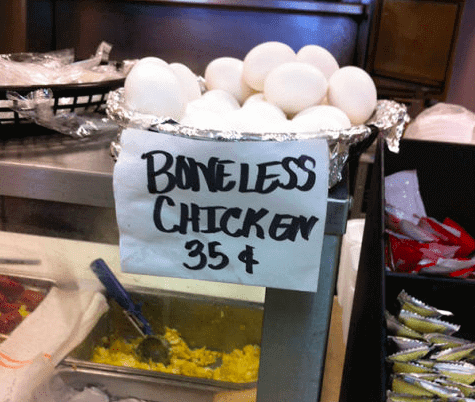 This is a funny and weird way to advertise hard-boiled eggs. Some people might be turned off by the thought of boneless chickens.
A New Marketing Strategy
That's an interesting place to put a sign about diabetes. Let's get people to buy cakes and think about how unhealthy cakes are for their health.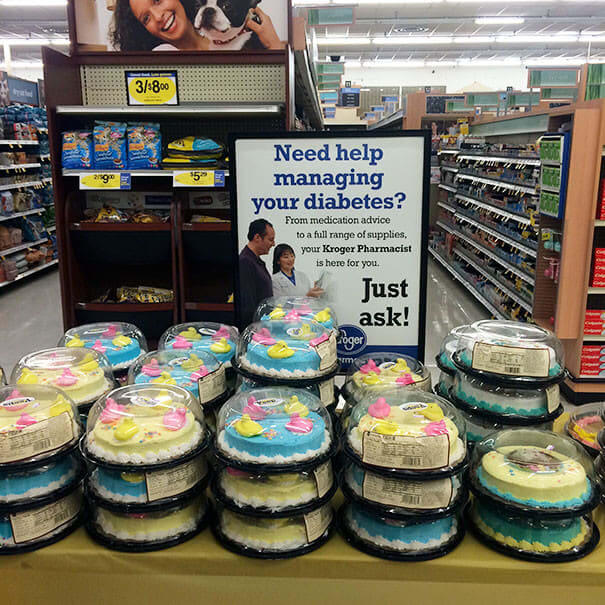 It is a great marketing tactic if you want to really get in people's faces about their diabetes.
Rare Photos Of A-Listers That Offer A Look At Who They Were Before Hollywood
Ashley Lez
This article was originally published on JustStarz
While we think we know celebrities inside and out, there is a good portion of their lives that we have never seen before. Here's something you've probably wondered about – what were they like as kids? Did they show signs of one day becoming the world-renowned stars that they are today? What was life like for them growing up? In order to give us an idea of what these beloved Hollywood figures were like, we found these rare photos of your favorite celebs before they were famous. You will be surprised to see that they were once ordinary people just like us.
Robin Williams In His Senior Year Of High School In 1969
When Robin Williams was a senior in college, he decided to go to college and study political science. However, he quickly realized it wasn't the field for him and dropped out to pursue acting. He studied theater for three years at the College of Marin in California.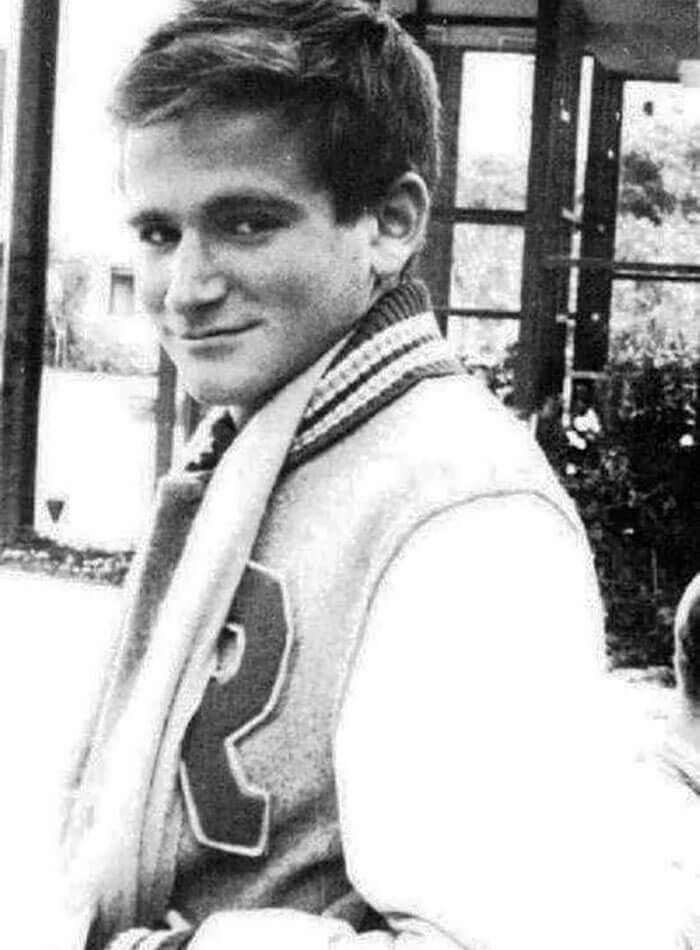 One of his professors realized how talented Williams was and cast him in the musical Oliver!. He later attended Julliard, and during the summers he worked as a busboy. After graduating, Williams worked odd jobs until he got his big break on Mork & Mindy.
Adele Was A Huge Spice Girls Fan
In case you missed it, Adele was and probably still is the biggest Spice Girls fan in the world. The British singer grew up with their music and had their posters plastered all over her bedroom walls. As a child, Adele was already interested in singing, and she became obsessed with voices.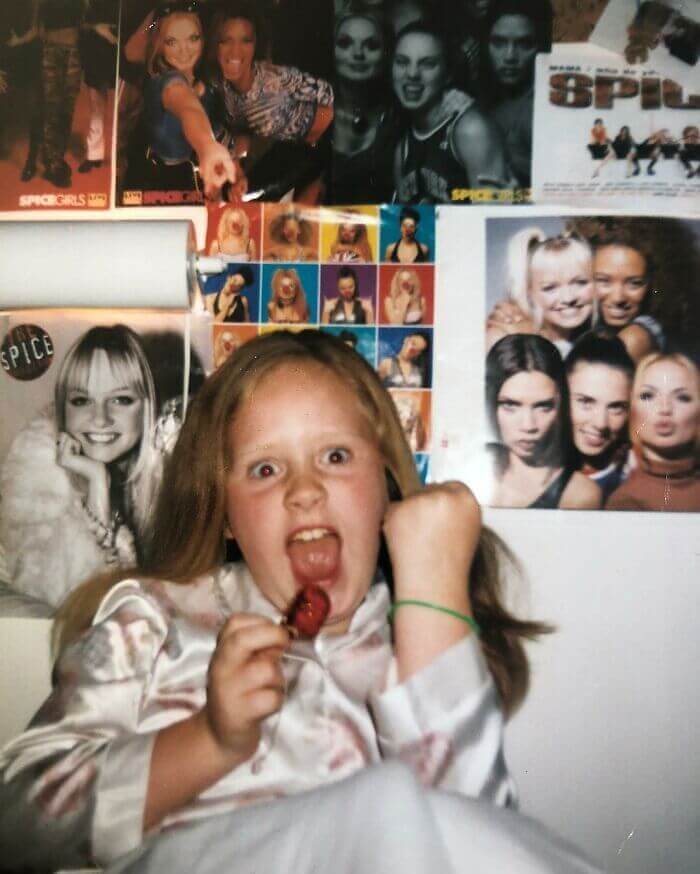 Adele spent much of her youth in Brockwell Park, playing the guitar and singing to friends. Years later, she drove by and started crying because she really missed the memories she made in that special place.
Keanu Reeves Circa 1984
In high school, Keanu Reeves was a successful ice hockey goalkeeper and considered going pro but decided to pursue acting when he was 15 instead. He made his debut in 1984 on an episode of the series Hangin' In, which allowed him to get more roles on teen dramas.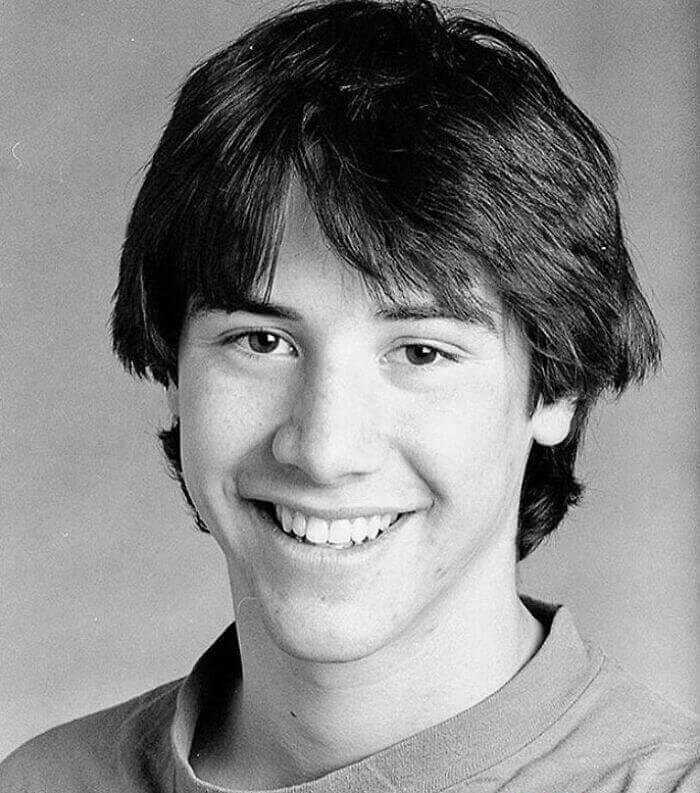 Reeves was also interested in music and formed an alternative band in 1991. Surprisingly, it was moderately successful, and they were active until the early 2000s. His big break was in Point Break, and this helped him shoot to stardom.
Catherine Zeta-Jones In Her Grade School Photo
Catherine Zeta-Jones' school uniform made her look like she belongs to the Gryffindor house. She must have been in first or second grade at the time, and she couldn't be cuter. The actress was born in Wales, and in school, she would participate in stage shows.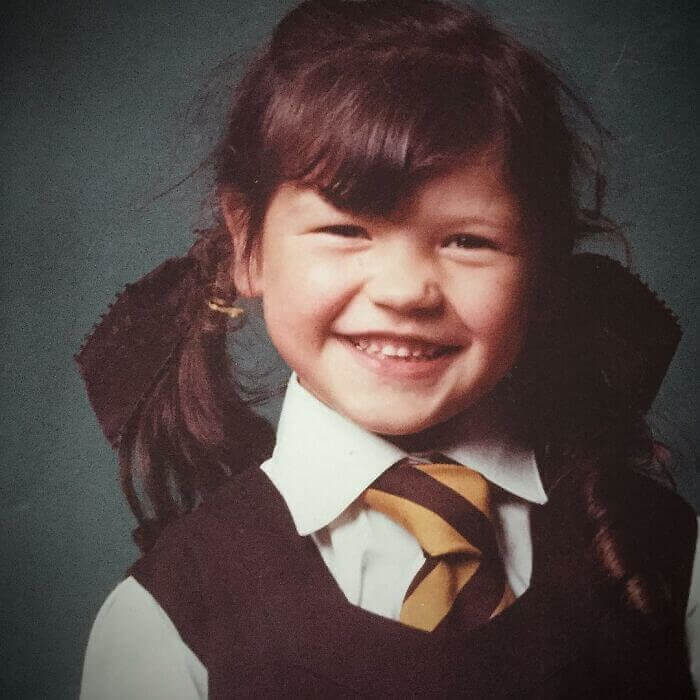 At a young age, she gained local media attention when her rendition of a Shirley Bassey song won a Junior Star Trail talent competition. Zeta-Jones would take trips to London with her dance troupe, where she also auditioned for shows.
Morgan Freeman In The Air Force
When Morgan Freeman was just nine years old, he starred in his school play and later won a statewide drama competition. He performed in the radio show in high school, and it earned him a drama scholarship from Jackson State University.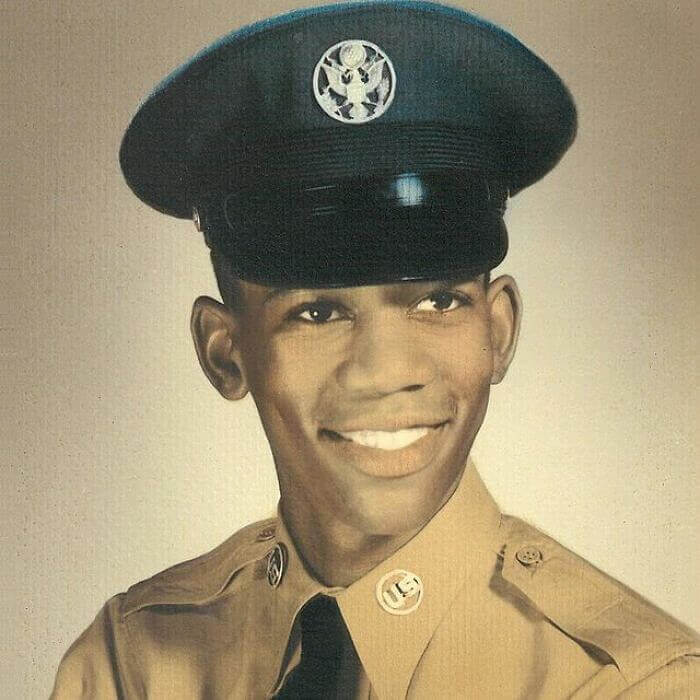 However, instead of taking the scholarship, he enlisted in the Air Force and served between 1955 to 1959. After his service, Freeman worked as a transcript clerk for Los Angeles City College and studied arts there. He was also a dancer until he started getting steady acting jobs.
Anne Hathaway As A Clown Witch
It seems that Anne Hathaway was practicing for The Witches before she was even famous. Besides looking exactly the same, she seems to have confused a witch and a clown in this mashup of a costume. Surprisingly, Hathaway's parents didn't want her to pursue acting.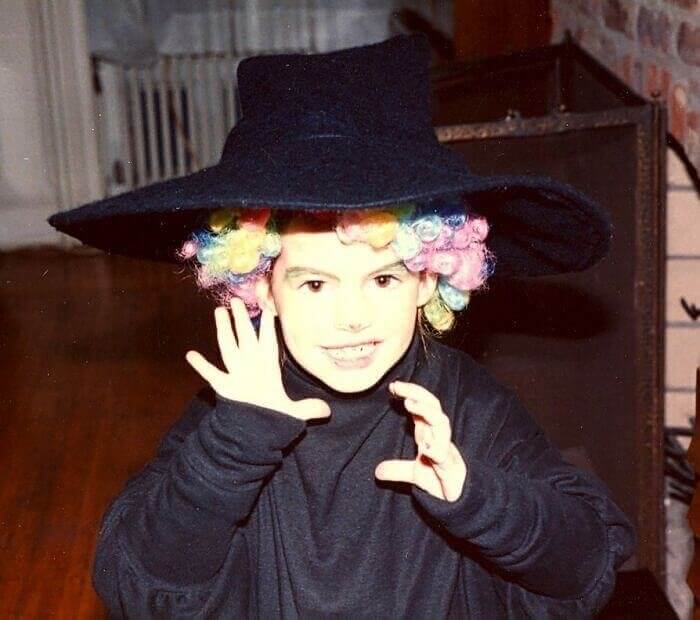 Hathaway wanted to become a nun during childhood because she was raised with really strong Roman Catholic values. However, acting was always in the back of her mind, and we're grateful she chose to entertain us on the big screen.
Joe Biden When He Was 26
Unsurprisingly, Joe Biden was the class president in school and played on the basketball team. He also briefly played football in college but decided to focus on his studies instead. When he graduated from the University of Delaware, he worked as a clerk at a law firm.
Biden eventually took the bar exam and began practicing law. This helped propel his career, and he served in the US Senate for 36 years before serving as vice president with Barack Obama from 2009 to 2017. Say what you will about his politics but it's undeniable that he was so handsome back in his day.
Madonna's Childhood Close-Up
Little Madonna was bright-eyed and looking towards the stars as a child. The singer grew up in the Detroit suburbs with her five siblings, and her family would call her "Little Nonnie" because her mom was also named Madonna.
Madonna was known for rebelling at school after her mother passed away, and her dad decided to sign her up for piano lessons and ballet classes. Her dance teacher was the one who encouraged her to pursue a career in dance.
Jim Carrey In The '80s
As teenagers, Jim Carrey's family struggled financially. Therefore, he and his brother John took up jobs as a janitor and security guard at a tire factory. While working at the factory, Carrey dropped out of school to perform comedy in downtown Toronto.
He steadily increased his local popularity as an impressionist and stand-up comic going on tour and appearing on television. His shows made him more popular and landed him the roles in Ace Ventura: Pet Detective and The Mask, which helped him become the actor he is today.
Taylor Swift Made Tie-Dye Trendy Before Everyone
Born and raised in Pennsylvania, Taylor Swift became interested in musical theater and started performing in the local youth theater. She also traveled regularly to New York for vocal and acting lessons. She was inspired by Shania Twain and shifted her focus to country music.
At age 11, Swift traveled with her mom to Nashville to pursue her music career dreams. Swift submitted demos to record labels but was rejected. However, she kept trying until someone finally took her seriously when she was a bit older.
Susan Sarandon When She Was 17
Not only was Susan Sarandon gorgeous as a teenager, but she was also very talented. In her college years, she studied drama and supported herself by cutting hair, cleaning houses, and working as a switchboard operator.
Not long after she graduated, Sarandon landed a role in the film Joe, which propelled her to get more parts in movies like The Rocky Horror Picture Show. It turned into a cult classic, and people knew her name wherever she went.
Selena Gomez's Face Has Not Changed
Selena Gomez has always been the most adorable human ever since she was a little girl. Born and raised in Texas, Gomez first became interested in entertainment when she saw her mom preparing for stage productions. Gomez then began to audition for many roles.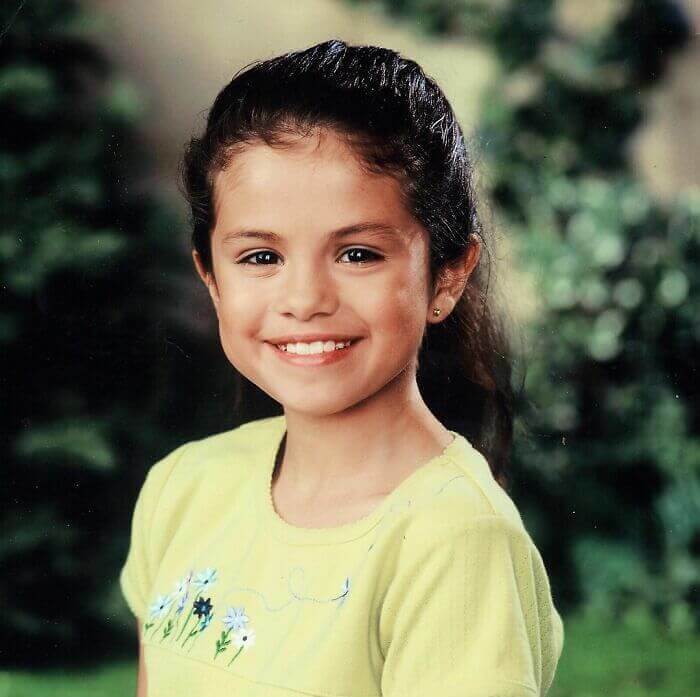 While auditioning for Barney and Friends, Gomez met Demi Lovato and the two both landed roles on the show. She said she learned everything about acting and stage production while working on Barney, and she was released when she got too old for the show.
Peter Dinklage In The 1980s
We could never imagine Peter Dinklage with a mullet until now. Dinklage realized he wanted to start acting when he was just a teenager after he saw the production of True West by Sam Shepard. That play ended up determining the direction of his life.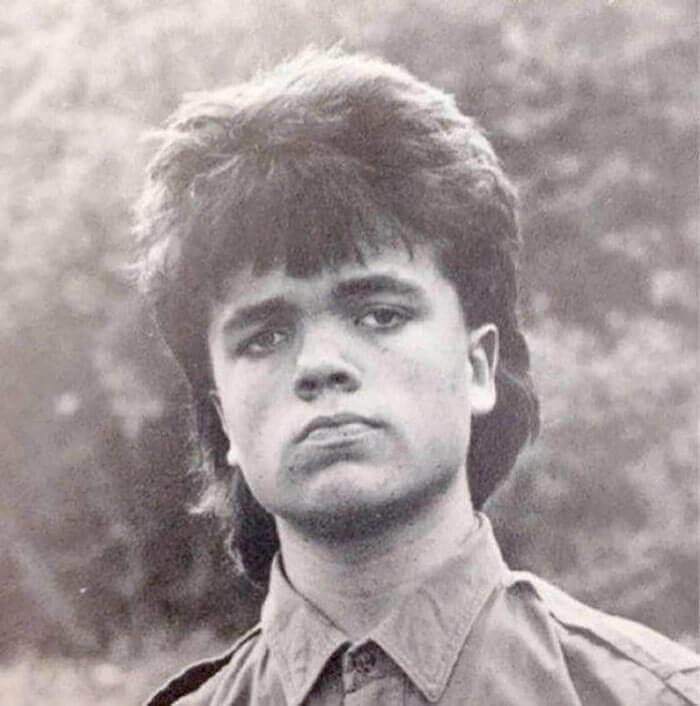 After studying drama in college, Dinklage struggled to get well-paying roles, so he worked at a data processing company to make ends meet. He wasn't getting any parts because he refused to play characters that focused on his achondroplasia. Finally, in 2003, he got his big break in The Station Agent and was nominated for a SAG Award for it.
Little Baby Beyonce
You might not recognize her as a baby, but this tiny tot grew up to be Queen Bey herself. As a child, Beyonce enrolled in dance classes, and the teacher discovered she was also a talented singer when she heard her humming a song.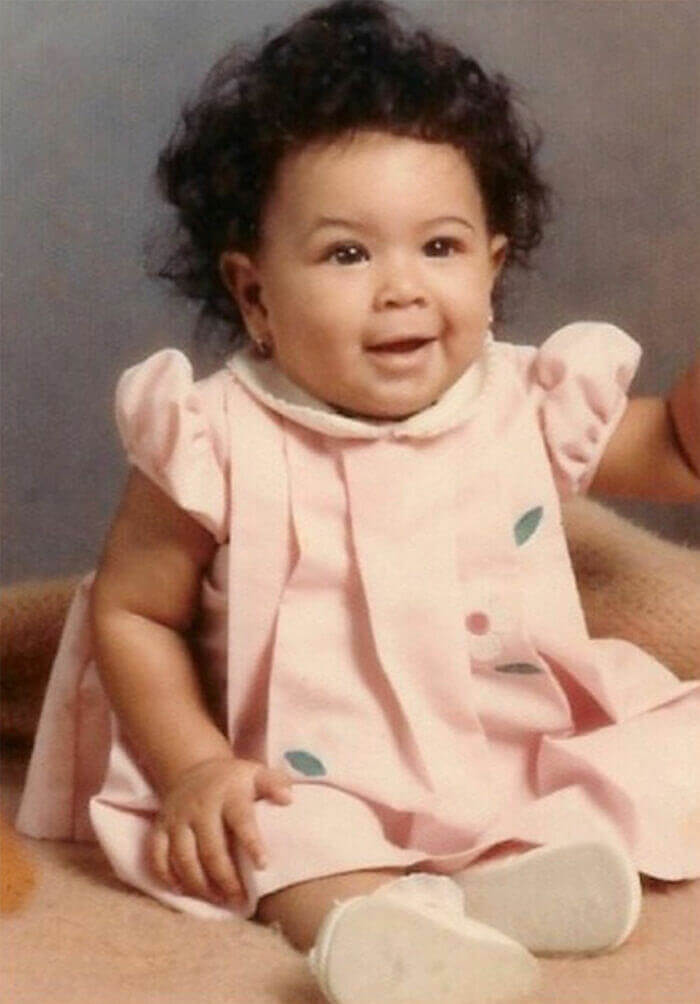 Beyonce's interest in performing continued after she won her school talent show when she was seven. Her parents enrolled her in a music school after that to develop her talents, and Beyonce continued onto an arts high school as well.
Tom Hanks In His High School Yearbook
After reading Eugene O'Neill's The Iceman Cometh and watching the performance, Tom Hanks decided he wanted to become an actor. He enrolled in the theater program at California State University Sacremento and would work in the theater when he wasn't studying.
Eventually, Hanks decided to drop out and went on to audition for any small role he could find. After the success of Splash, he became a recognizable face and landed the role in Big. It was that movie that made him an established actor in Hollywood.
Jennifer Garner Hanging Out On The Swings
When Jennifer Garner was little, her mother used to call her "ragamuffin," and we can see why now. The actress had an interesting upbringing that she joked was practically Amish because her parents were so strict about what she and her sisters did.
Initially, Garner went to college to study chemistry but quickly changed her major to theater. She would spend her summers working stock theater and found a passion for acting through this job. She also moved from South Carolina to LA once she graduated.
Dwayne "The Rock" Johnson Looking Ripped At 15
Is anyone really surprised that The Rock was already a muscle man by the time he was a teenager? Before starting his acting career, he was succeeding in sports and started playing professional football not long after he graduated from college.
His nickname "The Rock" came from his days in the wrestling ring, and by the late 1990s, he was already a star being offered roles in movies. The movie that really changed his career was The Mummy Returns in 2001.
Nirvana In 1990
Three years before Nirvana was formed, Kurt Cobain and Krist Novoselic met at school. They had a few drummers before being introduced to Dave Grohl in 1990. Their first album, Bleach, was released in 1989 and became a favorite for college radio stations.
Nirvana found mainstream success with their single "Smells Like Teen Spirit" in 1991 from the album Nevermind. The album sold 400,000 copies in just a week and 30 million worldwide.
Sean Connery During His Time With The Royal Navy
Mr. 007 wasn't always an action-fighting international man of mystery. Sean Connery used to be a milkman in Edinburgh before joining the Royal Navy when he was 16. After three years, he was discharged on medical grounds and returned to his hometown.
After the navy, Connery carried a few jobs like a lorry driver, a lifeguard, a laborer, and an artist's model for Edinburgh College of Art. In the 1950s, he finally started getting roles and an extra, but it wasn't enough to make ends meet. He had to work as a babysitter until he got more significant parts.
Angelina Jolie Has Always Been Gorgeous
When we were 16, we certainly didn't look like this, but Angelina Jolie has always been stunning. As a child, she enjoyed watching movies with her mother, which inspired her to start acting. Jolie attended the Lee Staberg Theater Institute for two years and appeared in a few productions.
Jolie later studied drama at NYU and starred in her brother's student films. However, her first leading role as a professional actress wasn't until 1992 in Cyborg 2, but she didn't like the outcome and didn't audition for anything else for a year.
Millie Bobby Brown Looks Like She Is Up To Something
While it hasn't been that long since Millie Bobby Brown was a child, the 17-year-old actress has blossomed into a beautiful young lady. Born in Spain to English parents, she found a love for acting early on in life and made her acting debut when she was nine in Once Upon A Time.
After just a few performances, Brown landed her breakthrough role in Stranger Things as Eleven. Her performance earned her many nominations at such a young age. Today she is a little older but just as sassy as she was in this photo.
Christoph Waltz In 1975
You might know Christopher Waltz from Inglorious Basterds or Django Unchained, but before he was a huge star, he was just a boy with a dream. Waltz was interested in theater early on since he went to the opera for the first time when he was 10. After that, he would go twice a week.
When Waltz attended University, he studied acting, but his true passion was singing and opera. Eventually, he realized his voice wasn't meant for singing, and he started working as a stage actor and director on a German television show called Wenn Man Sich Traut before his breakthrough role in 2009.
Eminem In The '80s Before He Was Rap God
Will the real Slim Shady please stand up. The first rap song Eminem ever heard was "Reckless" by Ice-T, Chris "The Glove" Taylor, and David Storrs in 1984. It inspired him to start rapping himself when he was 14. About ten years later, he released his first album, which was a commercial failure.
Everything in Eminem's career changed when he adopted the name Slim Shady and released a new album in 1997, Slim Shady EP. The album caught the attention of Dr. Dre and he invited Eminem to work together to release another EP two years later.
Lady Gaga In The 2000s
Since she was a child, music has been a part of Lady Gaga's life, when she started learning the piano at age four. Her passion only grew over the years, and she started performing at open mic nights when she was a teenager.
Gaga also studied method acting for ten years but didn't get any significant roles in her auditions. While studying in New York, she was performing when a talent scout helped her find her way to superstardom.
Bob Marley Without His Dreadlocks
If you are like us, you have probably never seen Bob Marley without his dreadlocks, but there was a time when he didn't have them. In 1964 when he released his song "Rude Boy," he had a buzz cut and dressed much differently.
Marley started playing music in primary school with his friends before moving to Kingston and starting a vocal duo. However, the group didn't rise to fame until the '70s when they signed a contract with Island Records.
Christian Bale As A Dashing Teenager
As a teenager, Christian Bale was inspired to become an actor after he studied the work of Gary Oldman. The first time he appeared on television was in a commercial for the fabric softener Lenor in 1982. However, Bale's first stage debut wasn't until 1984 in The Nerd with Rowan Atkinson.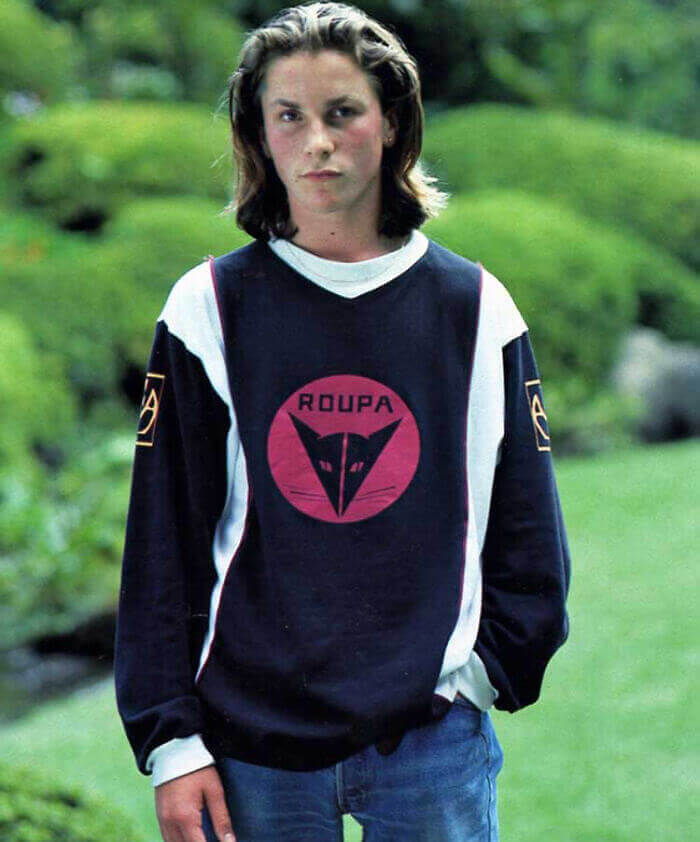 Two years later, Bale appeared in his first movie Anastasia: The Mystery of Anna. He then gained attention and more roles, which made him question his career choice. However, Kenneth Branagh talked him out of giving up on his career.
Jennifer Aniston Dressed As A Witch For Halloween In 1986
Jennifer Aniston discovered her love of acting when she was attending a Waldorf school at age 11. Her first job was in an off-Broadway production, but she had to take jobs on the side to support herself. She was a telemarketer, waitress, and bike messenger.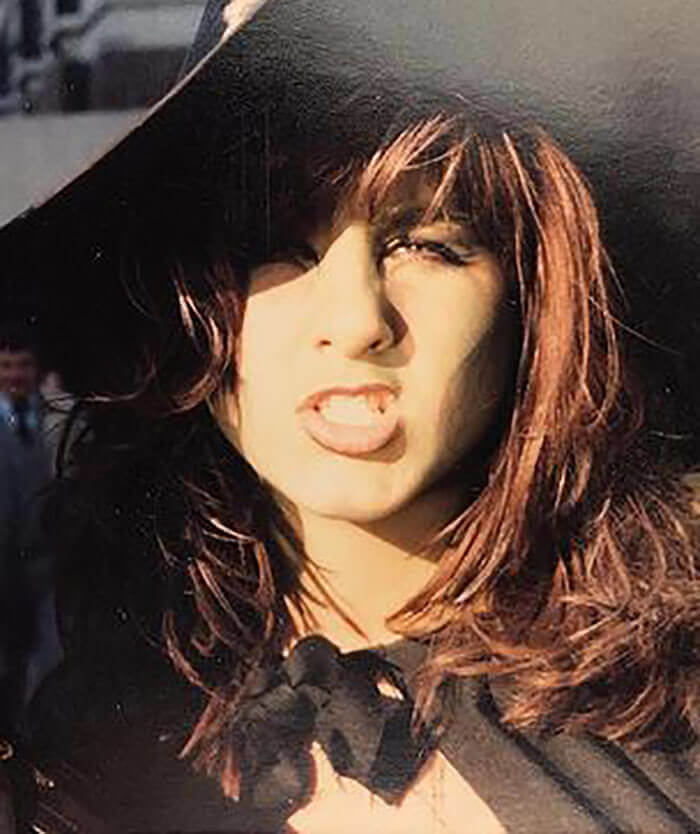 Anniston's first regular TV role was on a show called Molloy in 1990 before she got her big break as Rachel Green in Friends. She was just 17 when she took this picture, and we wonder if she knew how famous she would be back then.
Tommy Lee Jones While Playing As An Offensive Guard At St. Mark's School Of Texas
As a teenager, Tommy Lee Jones got a football scholarship that allowed him to attend a boarding school in Dallas, where he took an interest in theater and played in some student productions. He then graduated and attended Harvard University, where he continued to play football and appear in theater productions.
After graduating, Jones decided to move to New York to pursue acting, and he got his first movie role in 1970, playing a Harvard student in Love Story. It must not have been hard for him to play this role, considering he had just graduated from Harvard.
Quentin Tarantino In 1983
Quentin Tarantino started showing an interest in films when he was just a young boy. At age 15, he worked as an usher for an adult movie theater and worked in a video store for five years. By watching movies at the store, Tarantino learned a lot about movie-making.
Tarantino was later paid to watch movies (how do we get that job?) and got his first job in Hollywood in 1986 as a PA. A few years later, he wrote his first movie, launching the career of one of the most admired film directors in Hollywood today.
Clint Eastwood As A High School Senior
Clint Eastwood looks much different than we know him today with his dapper hair and babyface. After graduating from Oakland Technical High School, he held various jobs, including hay baler, logger, and truck driver, before being drafted into the Army during the Korean War.
Eastwood was stationed in California, where he served as a swimming instructor. After the army, he appeared in a few TV series before he got his big break in 1959 in Rawhide. Eastwood gained international fame and is still acting today at 90-years-old.
Vin Diesel When He Had Hair
We had no idea what color hair Vin Diesel had before seeing this picture. The famously bald actor started performing on stage when he was just seven years old in the children's play Dinosaur Door in New York. Theater continued to be a big part of his life when he was a teenager as well.
Vin Diesel started college but dropped out to begin screenwriting. Diesel's first role was in 1990 in an uncredited role, but Steven Spielberg later cast him in Saving Private Ryan, which helped him get his foot in the door for more parts.
Katy Perry In 2001
You might not recognize Katy Perry without her signature black locks, but her hair is naturally dirty blond. The pop star began vocal lessons at age nine while singing in church. For her 13th birthday, Perry received a guitar and started playing songs she wrote.
Perry took dance lessons to learn swing, Lindy Hop, and jitterbug, all popular dance styles in the '50s. Also, her first album was released under the name Katy Hudson, and it had a lot of Christian music before she changed up her style.
David Harbour In 1994
David Harbour hasn't changed much over the years besides his hairstyle. Harbour began acting in the 1990s, and his first professional job was on Broadway in the revival of The Rainmaker. He also had minor roles in Law & Order: SVU.
As he gained notoriety in Hollywood, Harbour became a more recognizable face. However, it wasn't until he was cast in Stranger Things that a role really changed his life. This role actually helped him land other parts.
Mark Zuckerberg At Harvard Where He Created Facebook
Mark Zuckerberg looked less like a robot back in his college days, but someone should have told him to clean up his room. The Facebook founder began writing software when he was in middle school, and his father hired him a private tutor to help his son's interests.
Zuckerberg would create video games, and his artistic friend would draw the graphics. In college, he became a programming prodigy and created a few new programs before Facebook. It's funny that this teenager is now one of the richest men in the world.
Dwayne "The Rock" Johnson In His Childhood Class Picture
Before he was a buff action star, The Rock was just a cute little buck-toothed child. He grew up in New Zealand and across the US as his family moved around often. As a child, he was always into sports and looked up to his dad, who was a former professional wrestler.
Because of his connections with the wrestling world, The Rock secured a contract with WWF for eight years before pursuing an acting career. Today he is one of the highest-grossing and highest-paid actors in Hollywood.
Rihanna Looks Exactly The Same (Sort Of)
Little baby Rihanna before she was the CEO of Fenty and Savage X Fenty. The Barbados native grew up listening to reggae music, which later inspired her own sound. However, she didn't get into singing right away as she was an army cadet at a sub-military program.
While in the program, Rihanna met a singer-songwriter who inspired her to pursue a music career. Although we aren't getting new music any time soon, we have to appreciate how far this baby came from a small island to worldwide fame.
Usher Was Probably Flirting With The Camera
Usher is known for his smooth RnB jams that make women everywhere swoon, and we can imagine he was a very flirty baby too. At his young age, he was already showing off his smolder for the camera.
As a child, his mother told him to join the church choir because he was so talented. Then his grandmother considered he could sing professionally once she heard him. The family decided to move to Atlanta to give him a better opportunity to become something.
Heidi Klum Collecting Easter Eggs
As a child growing up in Germany, Heidi Klum was known for her beauty. A friend convinced her to join a modeling contest, and she won out of 25,000 contestants, and she was offered a modeling contract. After graduating from high school, she accepted the contract.
She was going to try for an apprentice position at a fashion design school, but the modeling contract was more promising. Klum proved herself quickly and landed on the cover of French, German, Portuguese, and Spanish Vogue.
Julia Roberts Practicing Her Vocals
We can't tell if Julia Roberts was in shock, singing, or yelling in this picture, but we would like to think she is singing. She looks a lot like her niece Emma Roberts here, and we can see the resemblance in their family.
As a child, she wanted to be a veterinarian, but once she made it to college, she decided to drop out, move to New York and pursue acting. Once there, she signed with a modeling agency and enrolled in acting classes.
Amanda Seyfried Was Beautiful Even As A Baby
It's no surprise that Amanda Seyfried was a gorgeous baby because she is such a beautiful adult. As a child, she began modeling when she was ten in print ads for Limited Too with Leighton Meester. She was also featured on the cover of three Sweet Valley High novels.
At 17, Seyfried decided to stop modeling and started working as a waitress in a retirement community. During that time, she took vocal lessons, studied opera, and trained with a Broadway coach. From here, she slowly got roles on TV as she continued to audition.
Britney Spears In Her Original Diva State
Oops, she did it again! Britney Spears always had that star power, and you can see it here in her childhood photo. From a young age, she already had an interest in singing, dancing, and entertaining people with her vibrant personality.
While her adult life hasn't been so easy, one thing is for sure; that little girl grew up to be one of the best performers. If only people would let her make her music and live her life the way she wants to, she would be so much happier.
Christina Aguilera Halloween Circa 1985
This looks nothing like the Christina Aguilera we know and love today, but she was an adorable little girl. As a child, she moved around a lot because of her father's military service. However, when her parents divorced, she used music as a way to escape.
As a child, Aguilera was drawn to soul and blues music because of her grandmother's records, and she would practice singing to them. She won her first talent show at age eight for her rendition of Whitney Houston's "I Will Always Love You."
Gigi Hadid With Her Grandma
Gigi Hadid was ready to be a model since the day she was born. As a child, she considered herself a tomboy because she was always into sports, especially basketball, but that changed as she got older, and her mom saw the potential she had as a model.
Hadid comes from a family of models, and you can see she gets her beauty from her mother's side. She is pictured here with her late grandmother, who she would visit in Holland, where her mom grew up.
Katy Perry And The Easter Bunny
Have you ever noticed how creepy the Easter bunnies at the mall used to be (and still are)? Although it is hard to recognize her, that is a little Katy Perry posing in her pastel Sunday best with the Easter bunny.
Perry grew up in a religious household, so the holidays were very important to celebrate for her family. Her family didn't have a lot of money, and they sometimes had to get food from the church's food bank, but Perry enjoyed everything her parents were able to provide.
Miley Cyrus And Her Newborn Sister
When Miley Cyrus was first born, her parents named her Destiny; however, she was such a smiley baby, and they started calling her "smiley Miley" before legally changing her name. While missing one of her front teeth, she still has a huge grin on her face because she is holding her baby sister.
Miley and her younger sister Noah may have a seven-year age gap between them, but they are the closest sisters we have ever seen. Miley even said that Noah sometimes takes care of her even though she is the little sister.
Justin Timberlake Rocking Around The Christmas Tree
It seems that Justin Timberlake was always destined to be a musician. As a child growing up in Memphis, Tennessee, he was always surrounded by music. His grandpa introduced him to Johnny Cash and Willie Nelson, and Timberlake would perform the songs for his family.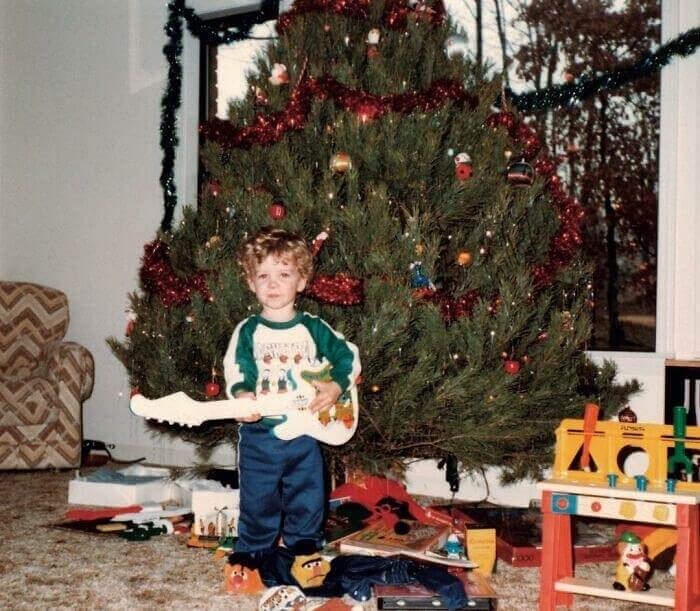 When Timberlake was 11, he appeared on the show Star Search performing country music. However, it was around that time that he started to get into RnB music like Stevie Wonder and Marvin Gaye. He was so talented that he landed a spot on The All-New Mickey Mouse Club with Britney Spears and Christina Aguilera.
Margot Robbie And Her Big Brother
Margot Robbie and her big brother were adorable as children. Robbie grew up in Dalby, Queensland, where she was raised by a single mom after her parents divorced. She lived on a farm and was always an energetic child putting on shows around her house.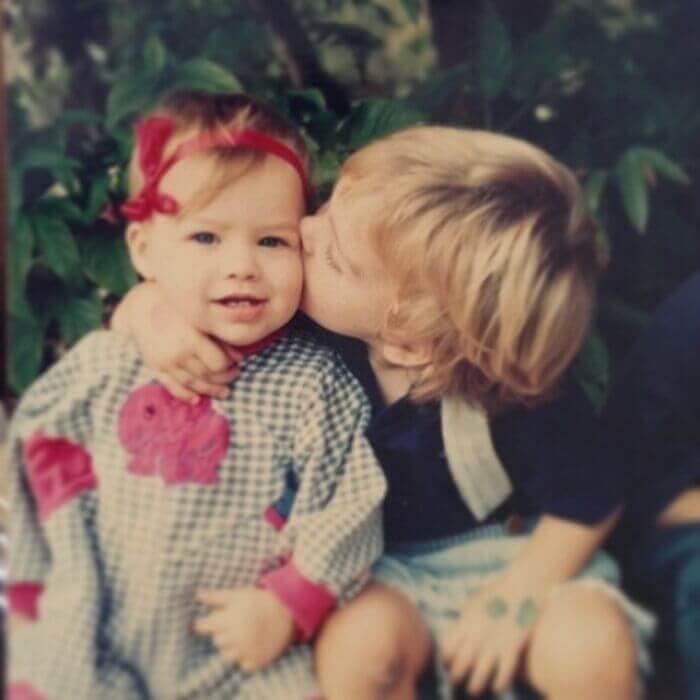 In an interview, Robbie once said that she was really dramatic and loved performing. She would watch any movie she could find on TV and re-enact it for her mom. She would even make her family pay to watch her shows, especially her magic shows.
Ariana Grande's School Photo
If anything, we can thank Ariana Grande for her consistency with her high ponytail. As a child, Grande was already a natural performer and would participate with the Fort Lauderdale Children's Theater, playing her first title character in their version of Annie.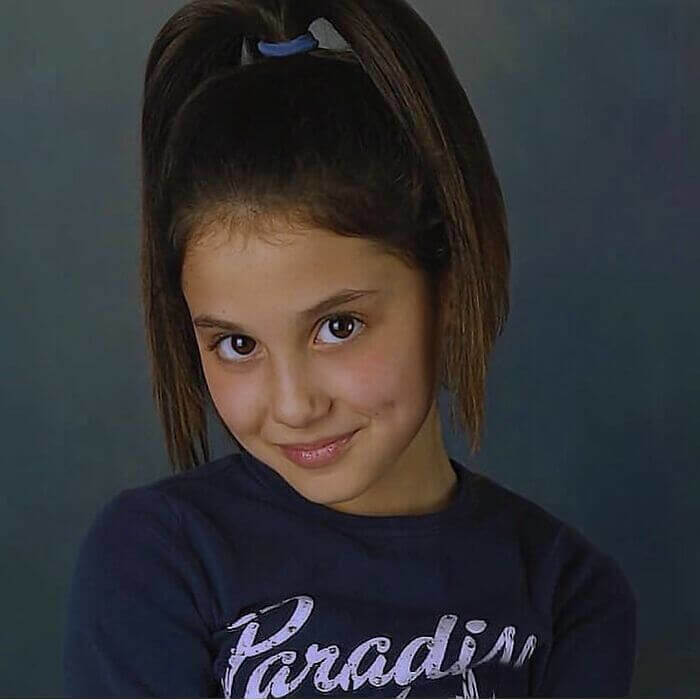 Grande also performed in The Wizard of Oz and Beauty and the Beast. When she was eight, she also performed on cruise ships, with South Florida Philharmonic. Everyone knew she would be a star with her vocal range, and she was just waiting to be discovered.
Sarah Jessica Parker Reading With Her Mom
As a child, Sarah Jessica Parker was one of eight children, and although her mom barely had time, she still found a moment to read to all of her children. Growing up in Nelsonville, Ohio, her parents tried to provide a lifestyle they couldn't afford.
Parker remembers that the electricity would be shut off, or they would have to forgo Christmases and birthdays because her parents couldn't afford the holidays. However, her mother found any free extracurricular activity to sign them up for so they would have "full, rich lives."
Hilary Duff's First Headshot Session
Although we know Hilary Duff as the bubbly Disney channel child, she looks pretty angry in her first headshot. When Duff posted this picture, she said she couldn't believe how many auditions she took this picture to, and we wonder how many of those roles she actually got.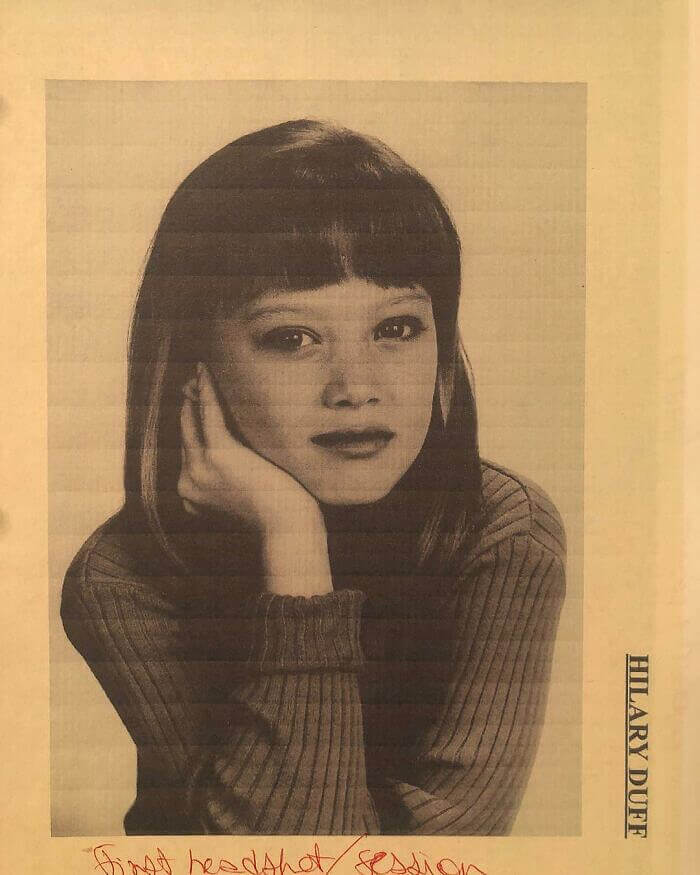 Duff wanted to be an actress from an early age, and her mom even relocated her family from Texas so her children would have more opportunities. Because of her acting career, she was homeschooled from age 8, and she got many minor roles until she landed Lizzie McGuire.
Laugh Out Loud Yearbook Quotes From High School Seniors
Ashley Lez
This article was originally published on 24/7Mirror
High school yearbooks are a fun way to look back on your time in school. Years from now you will reminisce on all the memories you made in those four years. The best way to be remembered in your yearbook is by having a funny quote. These high school seniors came up with the most hilarious quotes that will have you laughing for days. Take a look, have a laugh, and get some inspiration if you need a yearbook quote.
No One Noticed Her Haircut
This girl is going places! She knows how to make a joke at her own expense.
We bet her hair is beautiful under her stylish hijab. Even if she got a bad haircut, no one would ever know!
High School Will Be Fun, They Said
Just wait till you get to college Randey. The bike will turn into a motorcycle, and the firey ground will become lava.
Then, once you graduate college, it is even worse than a fiery hell. It's slow-burning and painful.
"We Are Not Related"
The last name Nguyen is a very popular last name around the world. In Australia, it is the seventh most common family name!
It is cute that they all coordinated their yearbook quotes just so no one can look back and think that they are quadruplets.
He Must Be Really Happy To Graduate
It is hilarious when people can make a joke about the stereotype that people have about their ethnicity.
When you are happy, your eyes get all scrunched up. Combine that with already having smaller eyes, he can barely see!
Never Use The Unforgivable Curses
His name does sound like a former Hogwarts student who was probably in Slytherin house. He probably was trying to make some Horcruxes and they realized he was the second coming of Voldemort.
Also, this reminds us of the Key and Peele skit when he takes attendance and says everyone's names wrong. The teacher has probably messed up this name before.
Her Positivity Is Refreshing
When you start laughing at yourself, there are few things that can actually offend you.
In our society today, everyone is obsessed with their looks and how they are seen on social media. This girl is a positive role model!
Sibling Rivalry
Any older sibling, even if they are only older by a few minutes, would probably say the same thing — those times when they were an only child and had all their parent's attention.
If you are an older sibling, did you enjoy the time better before your siblings were born?
Don't Let Him Fool You
Have you ever received a spam email saying that a prince or princess from a foreign country needs you to help them by sending them money? Hopefully, you knew it was fake and didn't send money.
No one else could pull off this joke like him, and it's so creative. The person next to him should have written, "I won't fall for that scam a Segun time."
If You Can't Laugh At Yourself, No One Can
Can he wiggle his ears like Alfalfa from The Little Rascals? Don't try to whisper around him because he hears everything.
His ears might be big, but his eyebrows are perfection.
"It's Hard Being A Single Mother, Especially When You Have No Children And Are A Teenage Male."
This is the most random quote ever, but it is absolutely hilarious. How did he come up with this brilliant quote that will gown down in yearbook history?
Years from now, his children will see this and wonder what their dad was thinking.
Professor Quirrell Is That You
A hijab is worn by women to maintain modesty, typically for Muslim women. In Harry Potter and the Sorcerer's Stone, Professor Quirrell wore a head wrap to hide the fact that Voldemort had possessed him.
It is much funnier to tell people that you are walking around with Voldemort than giving them an actual explanation.
A "Can Do"Attitude
Wow, this guy should be a motivational speaker. He made being called trash a compliment. No one wants to be called trash, but now it is something positive.
Also, it's like saying, "yeah you're trash, but that doesn't mean you fully suck."
He Prefers Tea
It would be amazing if this was the moment he chose to come out. He says nothing and hopes that everyone reads his yearbook quote.
More power to you for being so true to yourself and admitting that you don't like coffee.
What A Poet
Well, there is not much to say about this one other than the fact that he is a great poet.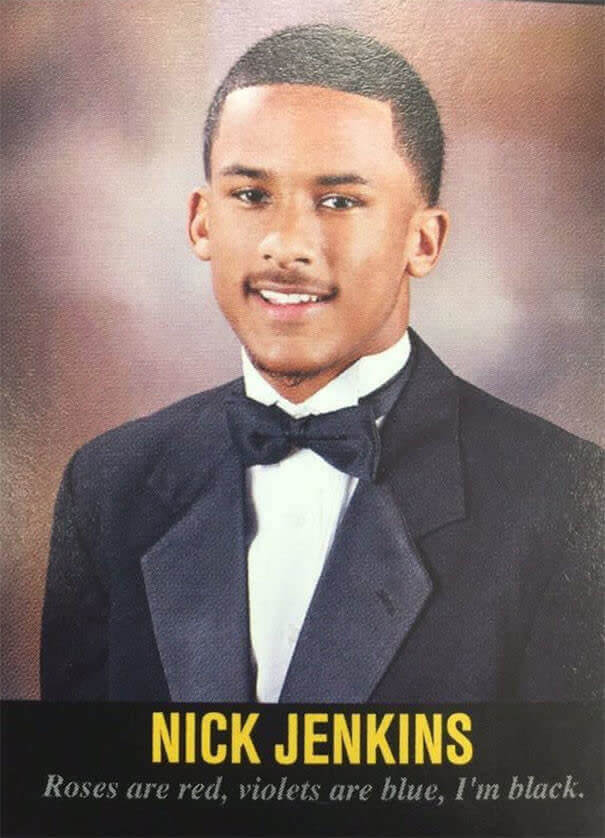 You can't really argue with his logic. Those are all true statements.
Joe McDonald Didn't Have A Farm, Ee I Ee I O
"With a moo-moo here and a moo-moo there, here a moo, there a moo, everywhere a moo-moo." Maybe his grandpa was the one with the farm.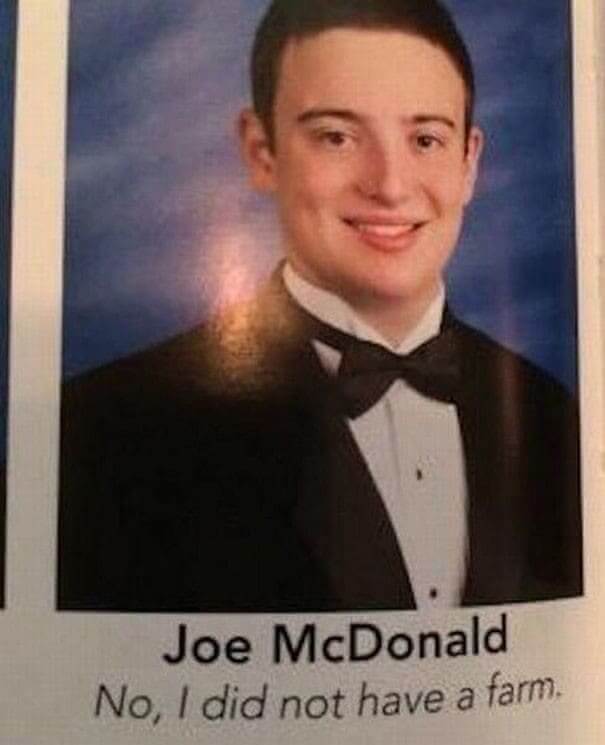 The song does say Old McDonald had the farm, and this boy is not nearly old enough to have a fully functioning farm.
He Should Have Listened To His Mom
When you do something just to irritate your mom, but now it is in your yearbook forever, and there is no way to get rid of it.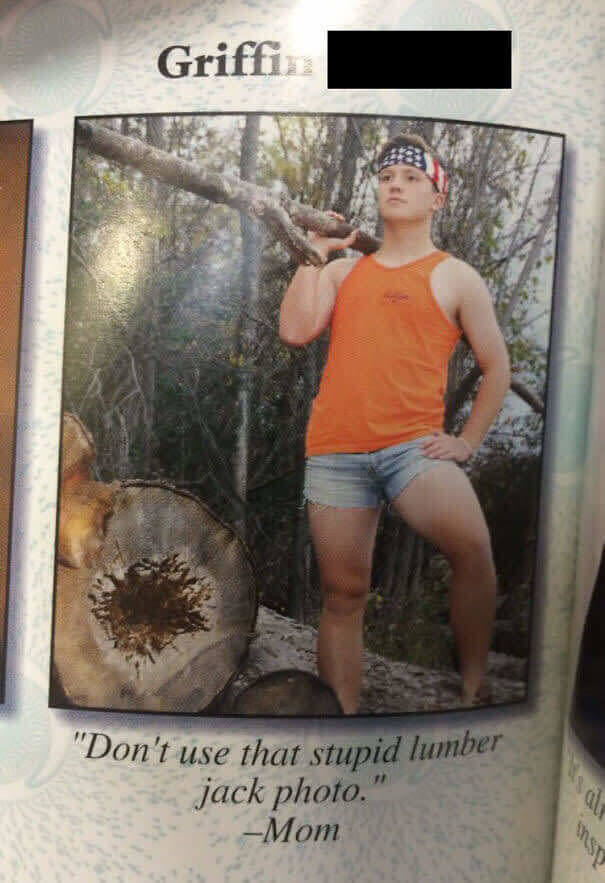 His mom clearly didn't understand that he wanted to show off his muscular legs in his jorts and muscle tank. This photo could also be captioned, "'Merica."
His Parents Did That On Purpose
He's so nice they named him twice! It's a good name because no one can know your first name without knowing your last name and vice versa.
This quote alone isn't funny, but the fact that his first and last name is the same makes it hilarious.
Megan Is A Free Elf
Don't get too excited, Megan. You have college next which traps you with student loans, and then once you graduate, you have to pay bills.
You get to be a free elf for the two months following graduation, and then you are trapped in school again.
Don't Forget Your Hips For Never Lying
It is nice to see that he can always be thankful for his body. If he only thanked one finger, does that mean he can only count to one?
Can you imagine if he held up his hand and he only had one finger, but everyone thought it was a spelling mistake?
She Has A Point
To be completely honest, no man can compete with the pure joy you get from a good night's sleep.
Everyone needs to sleep. Sleeping is fun, it's good for your brain and health, and it makes you happier.
Beat Them To The Punchline
If she marries someone with the last name Hum, she can be Ho-Hum. Or she if she marries someone also with he last name Ho, she can be Ho-Ho.
This is the one time you can turn a Ho into a wife. Michelle Ho has made her family proud.
Pronounced "Pareekeet"
He must have had to say this all the time when he got a new teacher, there was a substitute, or he met someone new.
He made it his senior quote cause that was the thing he said over and over throughout high school.
Unexpected But Still Loved
You know what they say, "Two is always better than one." Their parents have more children to love and now, two college tuitions to pay.
How do these twins know who was planned and who was not? Did they flip a coin to decide that one was the original embryo?
Clever
She used her smarts to get around this loophole and still got to use her original quote. This girl is our hero.
Do you think her dad laughed or got mad when he saw what she ended up putting in the yearbook?
How Did This Get Approved?
Shockingly, the school let this quote stay in the yearbook. Either the yearbook coordinator knows how to take a joke, or they didn't understand the joke.
Is this really the legacy you want to leave when you graduate, Connor? What will you think about that in 20 years?
"Dad I'm Only In High School"
When you are just graduating high school and your parents expect you to have a full-time job that requires years of schooling.
That is a reasonable request for an 18-year-old, right? Maybe Daniel will pursue a different career.
High School Helped Her Find Herself
High school is a time to find out who you really are. You can reinvent yourself and try out different looks, hairstyles, and attitudes. Amberlyn was able to discover her sexuality during her four years in school.
Once you are comfortable with who you are, you can be your true self and life is better.
Every Guy On Every Dating App Ever
Have you ever gone on a dating app, and the person's pictures turn out to not be a good representation of them? This guy feels like his yearbook picture is not the best representation of him.
Some people just aren't photogenic, and that's ok. Not everyone is meant to be a model.
He Turnips In The Garden
This quote is bizarre beyond anything we could imagine. Does this person actually roll around and pretend to be a carrot? Does their neighbor still not know?
We are not sure where this quote originated, but whoever thought of it must be an interesting person.
Was This Planned?
Noah and Mason, we need some answers about these quotes. Did you plan this, or do you both love bubbles? Maybe someone saw the quotes and saw a good opportunity and put their quotes together.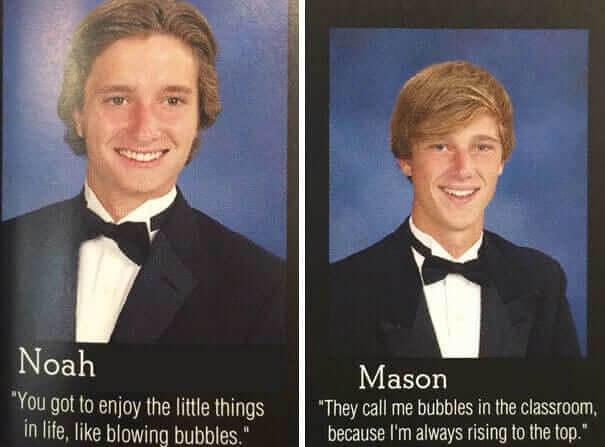 Where are Noah and Mason today? Are they still trying to convince people that the quotes were a coincidence?
That's One Excuse For Bad Grades
When you have tried as hard as you can to improve your grades, but that hasn't worked so you put them up for adoption instead.
Maybe someone else can improve them for you, not that we are promoting cheating.
And It's All Down Hill From There
One hundred thirteen thousand eight hundred eighty hours is 4,745 days and about 13 years/ That is a lot of time to spend in school, only to have to go to more school. You spend that much time in school, and when you graduate, you are only qualified to work at a fast-food chain.
We wonder what her quote would be when she graduates college. "I spent four years and hundreds of thousands of dollars for a piece of paper and no job opportunities."
You Monster!
Some people choose to not eat meat because they feel bad for animals, and others choose to be vegetarian in spite of plants.
Plants and animals are friends, but eating them is part of the food chain.
Copy + Paste
These identical twins are copies of each other, and it is hard to tell them apart, so they made a joke out of it. Did you know people named their children "Dollar?"
They also look way too old to be in high school. Some seniors must mature faster than others.
"I Always Knew Brooke Would End Up On Top Of Me."
Blake has had a crush on Brooke for the entirety of high school. He never got a chance with her, so this was his time to shoot his shot.
The yearbook may be the only chance he has to be close to Brooke, and we respect his bold attempts to get her attention.
That's A Funny Joke
Triplets are a rarity, so when there is a set of them, everyone in school knows who they are. These three were excited to graduate because they can stop being called "the triplets."
We wish our yearbook had quotes as funny as these. Usually, people use inspirational quotes, and they don't get creative.
But Everyone Wears The Same Thing For Yearbook Pictures
When you claim to dress well, but you are wearing the same tuxedo as every other male in your graduating class.
We applaud them for stepping out of the closet and hope they are finally living their best life, but a black tux is hardly an inspired fashion choice.
Try Now Ask For Forgiveness Later
You know what they say, "It is easier to ask for forgiveness than beg for permission." Instead of asking for the bike he took one and will seek forgiveness later.
Will he be forgiven for taking the bike? The owner probably wasn't too happy, so it might not be easier to ask for forgiveness in this situation.
Mission Impossible
When you have suffered through thirteen years of school and teachers mispronouncing your name, and you are tired of it.
Sometimes you have to take matters into your own hands and call out the teachers that didn't even try to pronounce your name correctly.
Paige Just Changed Yearbook Quotes Forever
Now people will know that they can write sentences in emoticons, and the senior quotes will be even more enjoyable.
She is an innovator, and yearbooks will never be the same because of her.
This Is A Mind Game
This one is very confusing. If we understood this correctly, whoever is before Steven, their quote is the truth, and whoever is after Kristian, their quote is a lie. Or, it's a paradox.
If you were able to understand this, props to you. We are still trying to unravel this mystery.
That's Unfortunate
Previously, we saw Carlos Carlos, who said he hated his name, but that is nothing compared to Christopher Gaylord. He didn't choose his last name, but he has to live with it and all the jokes that come with it.
At this point in his life, he is probably used to all the jokes and teasing. At least he has a regular first name.
That's Deep
This girl must be popular with the nerds. This quote really makes you think about life and who you are as a person.
Would you rather be born good or overcome an evil nature inside of you?
Smile For The Camera
Waves hand in front of their face and yells, "You can't see me." That's how John Cena would do it obviously.
These students are able to make a joke out of all the things that may have made them feel different throughout their time in high school, and that is an important lesson to learn.
Bless Up
When you start high school flat-chested and you finish high school slightly less flat-chested. No wonder she is smiling so wide.
Her grades also went down, and that isn't good, but she doesn't seem too bothered by it.
4 Years Down The Drain
When the gym is life, and you care more about flexing all day instead of focusing in class. Some people make school a priority, and others don't.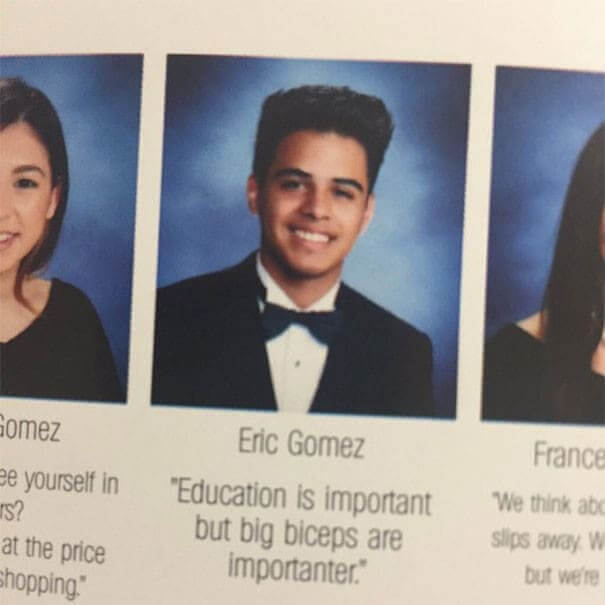 Yes, we are sure it is a joke, but there are people out there who care more about looks than brains.
Gingers Are Nice People
People with red hair have a reputation for being soulless and evil, but it is just a stereotype. Some people say that gingers live longer than people with other hair colors.
There are other stereotypes about gingers like they are all Irish, they all have freckles, or they all resemble the Weasleys.
The Resemblance Is Uncanny
This guy looks exactly like Frozone from The Incredibles. He must have heard that so often that he decided to use the quote for his yearbook.
It would be funnier if instead of a tuxedo, he was wearing the Frozone costume.
Is That The Same Person Twice
Teachers have yearbook pictures too, and this teacher was able to get his picture in there twice. One for his everyday self, and one for his cool alter ego.
He must be one of the most loved teachers at his school. This probably made students think he has a twin.
Dad Joke Of The Year
There are so many amazing things about this yearbook entry. First of all, the picture of him with the drum gives us a clearer picture of who Amith is as a person.
Then, you add in the quote, and you can tell he is a living, breathing legend. You go, Amith! Keep making dad jokes until the end of time.
Rules
Did the period count as a character? How can you fit anything important in fewer characters than a tweet? Your senior quote is how people will remember you for years to come.
This student somehow got his message across in 100 characters. If you could go back to school, what would your senior quote be?
Eat Good, Feel Good
When you don't care what people think, so you tell it like it is. So what if you gained a few pounds, at least she is enjoying the food she is eating.
Also, if people thought she was pregnant, now she has cleared up that rumor.
"Remember To Be Yourself, Unless You Suck. Then Pretend To Be Someone Else."
Oscar Wilde once wrote, "Be yourself, everyone else is already taken." Mitchell wants you to know that you should follow the wise words of Oscar Wilde unless you are a bad person.
Instead of pretending to be someone else, maybe you should look within and figure out what you can change to improve yourself.
"Fail You Peseants"
This guy sounds like Thanos from Avengers: Infinity War. According to Kevin, no one else should be able to succeed with him.
If he is succeeding, everyone else should fail because he is the only one that can do great things obviously. Don't be like Kevin; let others flourish too.
High School Musical Is A Lie
High School Musical made it seem like high school was full of dance numbers and people randomly breaking out into song. We can verify that it was nothing like that.
We understand your pain, Seth. The movie got our hopes up, and then we had to figure out that it was all a lie.
His Kids Will Love This One Day
There have been a few people who have written things like this as their senior quote. We want to know if any of them have had kids yet, and showed them their yearbook.
Don't you want to know what his kids will think of this thirty years from now?
Quoting Spongebob Characters Is Always A Good Option
Plankton was such a complex character and low key the most relatable. Haven't you ever been around people and thought, "I should charge them for my therapy bills."
High school might make you need therapy because of all the changes you are going through. It's rough out there.
Take The Symbol For Each Element And See What It Spells Out
In case you were confused, this spells out, "F**k b*****s, get money." When you can't curse in the yearbook, so you have to be smart and creative to find ways around those rules.
She will be able to look back on this quote with pride because of how clever she was.
Sweet, Sweet Freedom
Sometimes high school can feel like a prison because of all the rules and schedules, but when you graduate you are finally free.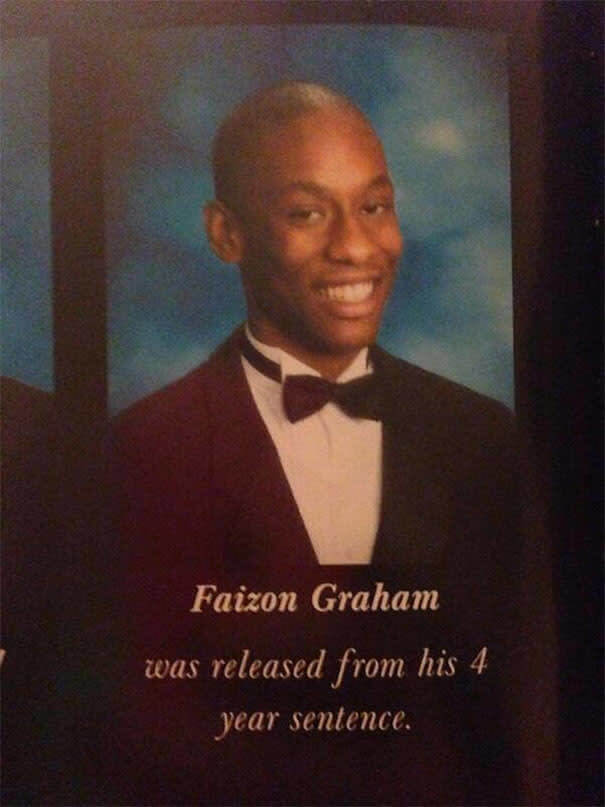 We get it, high school is rough, but wait till you get to college and then the cooperate world.
The One Time Twins Aren't Next To Eachother
When you have the same last name as the set of twins in your grade, but your picture goes between theirs.
People might think that they are triplets, but the twins wanted to clarify that he is not related to them.
She Has A Point
By now, you're probably familiar with the common issue of school dress codes. Usually, they just prevent girls from wearing what they want and doing something as simple as baring their shoulders. Of course, the girls have an issue with this because people should be able to control themselves, especially around an innocent set of shoulders. Well, it's clear that by picture day Madison was fed up and decided to let her concerns be known in her quote.
"I'm sorry, did my shoulders distract you?" was her way of announcing just how outrageous she thought this dress code was, and we think she nailed it.
Sister Rivalry
Is there anything better than when siblings take to the yearbook to roast each other? These two sisters pitted themselves against each other when they chose the same quote- "I'm the pretty one." We're sure it was just a silly joke, but there's no doubt these sisters have been complimented and compared to each other countless times throughout high school. The signatures in their yearbooks must've been hilarious after their classmates saw these quotes!
We wonder if the sibling rivalry has died down as these girls grow up- somebody tell them that they're both the pretty one!