Going to Walmart is always an adventure. The superstore attracts people from all walks of life, which means that you never know who you are going to see or what strange situations you will encounter. From people with exotic pets to unique fashions, these are the strangest people spotted at Walmart. Continue reading to see the hilarious people of Walmart.
"Uggs"
There are some people who love designer brands, but those brands can be very expensive. This person wanted a pair of genuine Uggs but they cost a lot of money.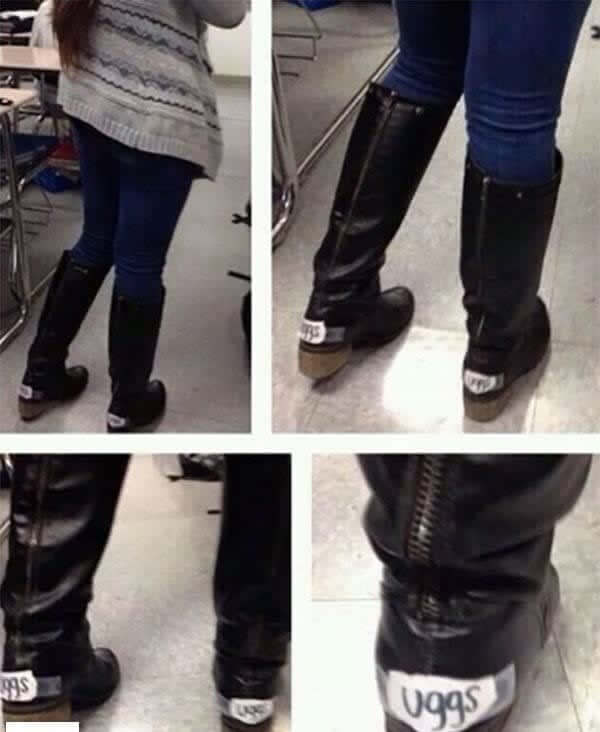 Instead of buying a knock off pair that looks similar, this person chose to tape on a piece of paper with the word "ugg." Interesting choice, but not very believable.
Roles Reversed?
Okay, we are a bit confused here. Don't you think the mom should be pushing the shopping cart and not the kid?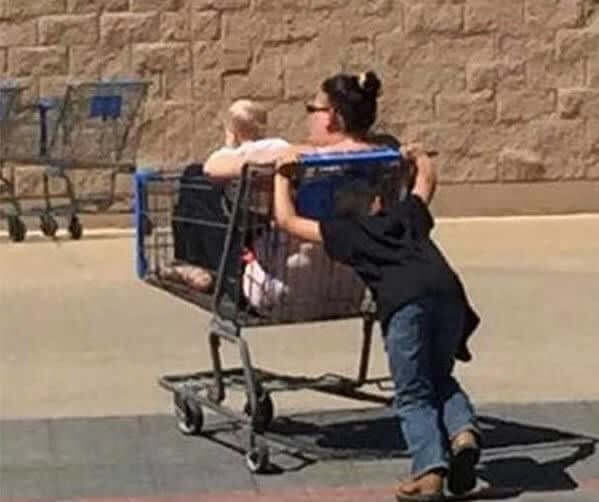 We are not judging anyone here but we cannot think of any possible explanation of this one, especially when the lady has a toddler with her. Needless to say, it could be dangerous for her and the toddler.
Men… Take Notes
If any man wants to look classy and sexy at the same time, now is the time to take notes. We can't really explain what type of look this guy wanted, but he surely nailed it big time.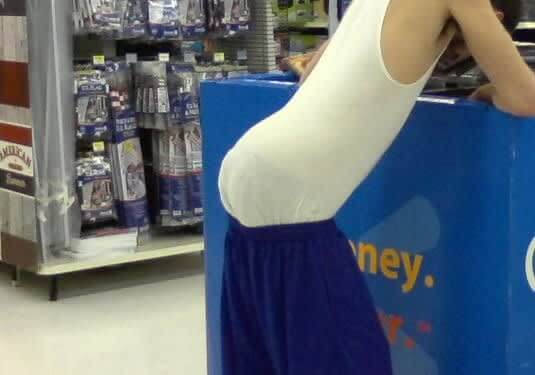 We thought those days are gone when jeans were low enough that the underwear was hanging out. Well, we were wrong.
Advice: Don't Mess With Her
Some may find this t-shirt funny, but our guess is that most people will find it intimidating. As your well-wishers, we would highly advise you not to mess with a person wearing a shirt like this.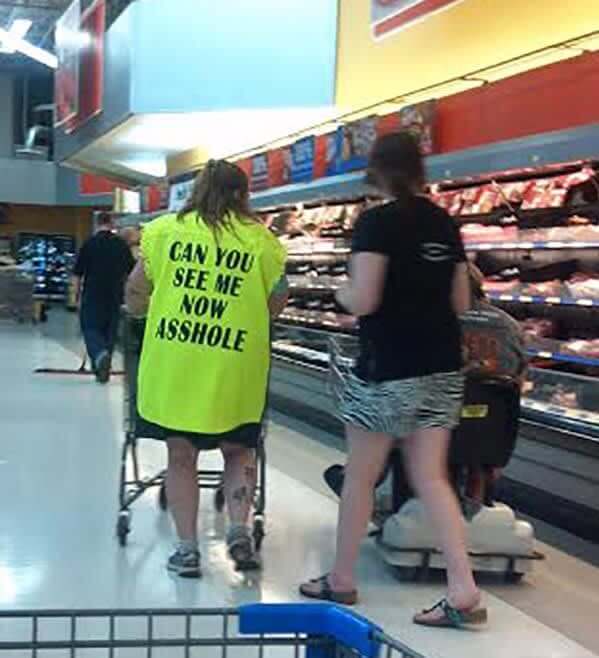 In reality, maybe she is capable of a lot more than this. But we have to look at the other side of the story as well. There is a possibility that this woman had some really bad experiences in the recent past.
Conga Line Scooter Style
Whenever you shop at large superstores like Walmart, you are bound to see people using electric scooters. Although, you might not see them in a conga line style like this picture.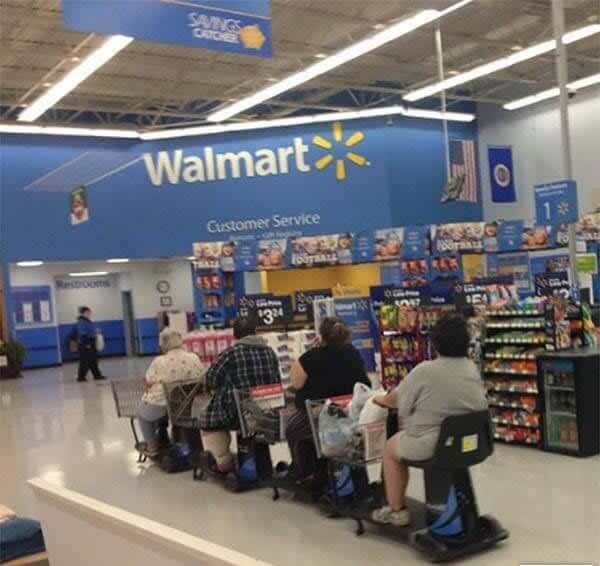 These carts are for people unable to walk around the store, and we are guessing that these people are using them to mess around.
She Can Walk!
As we said before, electric scooters are supposed to be used by people who cannot get around the store easily. This woman seems to be perfectly capable of climbing, so we're confused as to why she chose to use one of those scooters, but to each their own.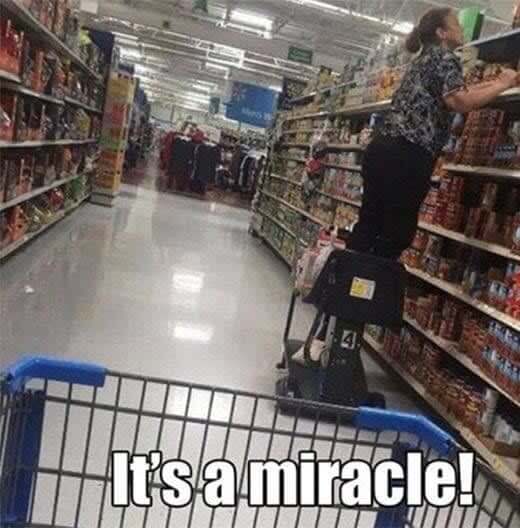 She got caught on camera, and it's a miracle she didn't fall. We do not suggest using scooters as step ladders, that's for sure.
"By The Power Vested In Me By This Walmart Store, I Now Pronounce You Man And Wife"
People dream about their weddings for their entire lives. When you picture the venue for your wedding, you might be envisioning a church/temple or a wedding hall, but we bet you weren't picturing the aisles of Walmart.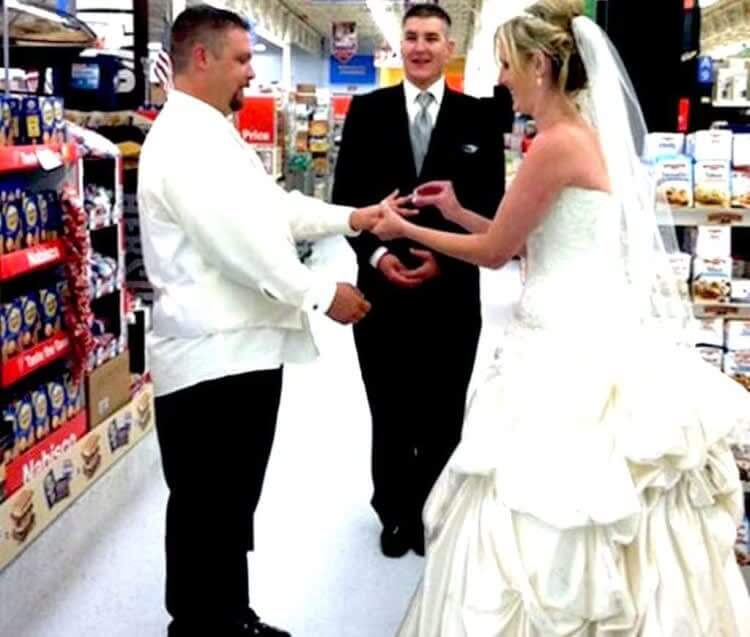 This couple must have a deep connection to this store because they decided to have their special day in the snack aisle. That is bizzare, yet romantic.
Monkey Business
When you think of the average pet, you might think of dogs, cats, fish, or maybe a hamster. Typically, monkeys are found in the wild, and should not be pets, but this woman is going against the norms.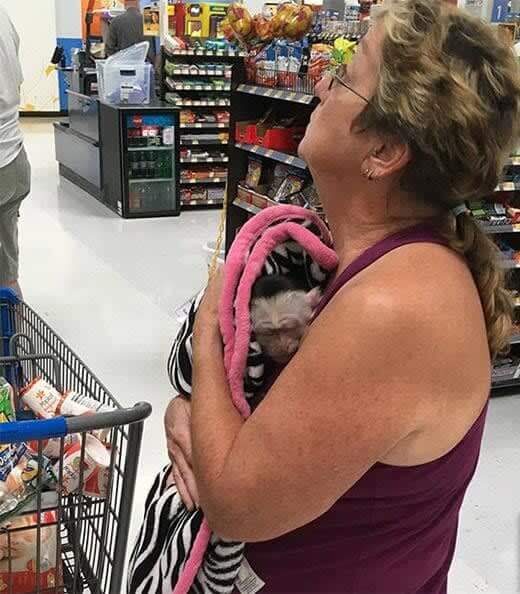 Animals become part of your family, and this woman thinks of her monkey as a child. Maybe people thought the monkey was a newborn baby. Surprisingly, you will find more exotic animals people have seen in Walmart on this list.
No Shirt, No Sunscreen, No Problem
During the summer, many people enjoy catching some sun, and sometimes they forget to apply sunscreen. This girl might want to pick up some aloe while she is in Walmart because that is a severe looking sun burn.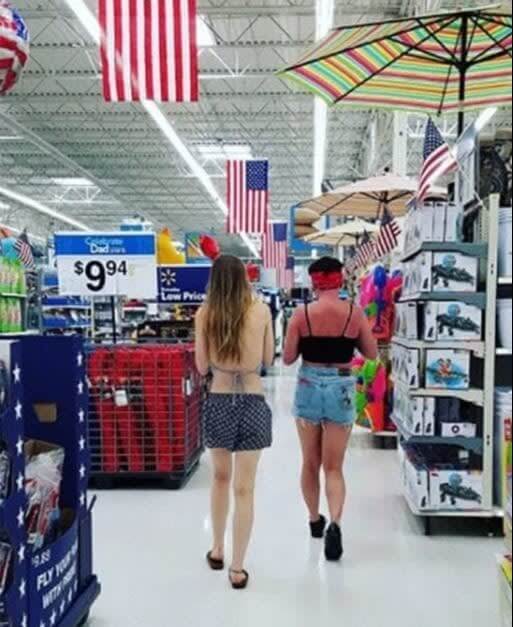 She should also pick up some strong sunscreen for her future beach days. Your skin is important; try to protect it as best as you can.
Information We Didn't Need
One must admit that this is a pretty crude t-shirt. Some people may find this t-shirt funny, but we'll speak for the masses here when we call this type of humor unpleasant.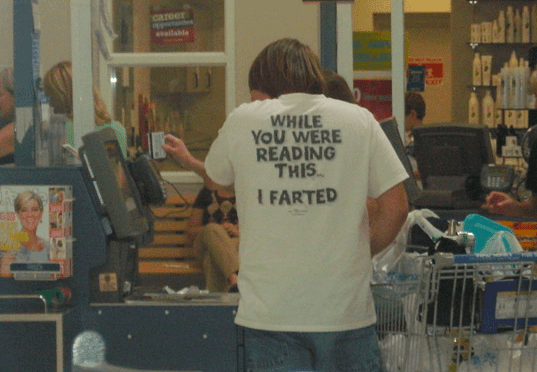 We would recommend wearing something that doesn't share too much information.
Starting a New Clothing Trend
After looking at this picture, we started a Gofundme campaign to collect enough money that we could leave planet earth. We are just speechless. If this is the way that people dress nowadays, we're not sure how to handle it.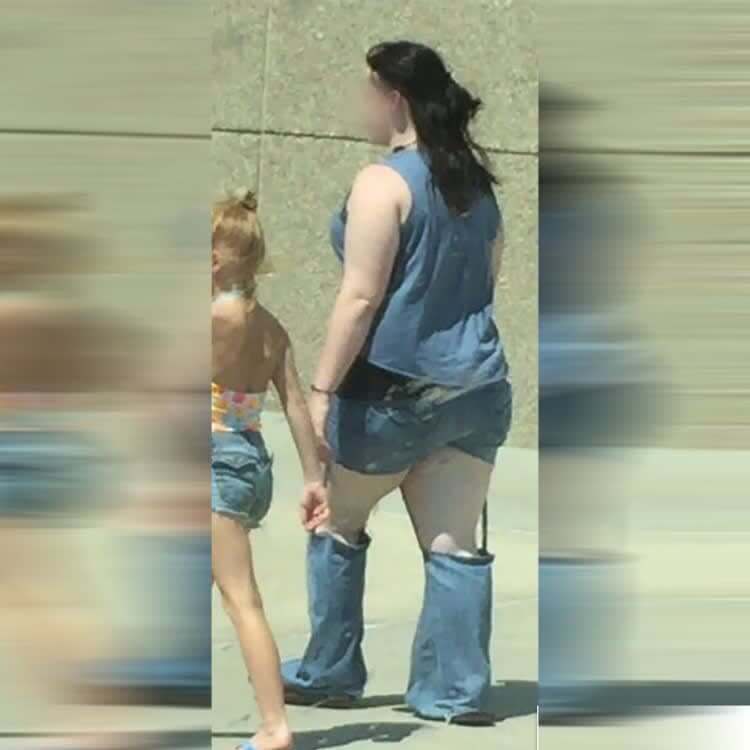 This – we don't know what to call it – is an odd look to say the least. We hope it's at least comfortable.
Shop 'til You Drop
Well, this man literally took the saying "shop 'til you drop" too seriously. He is obviously really tired from his shopping trip and just wants to get some rest.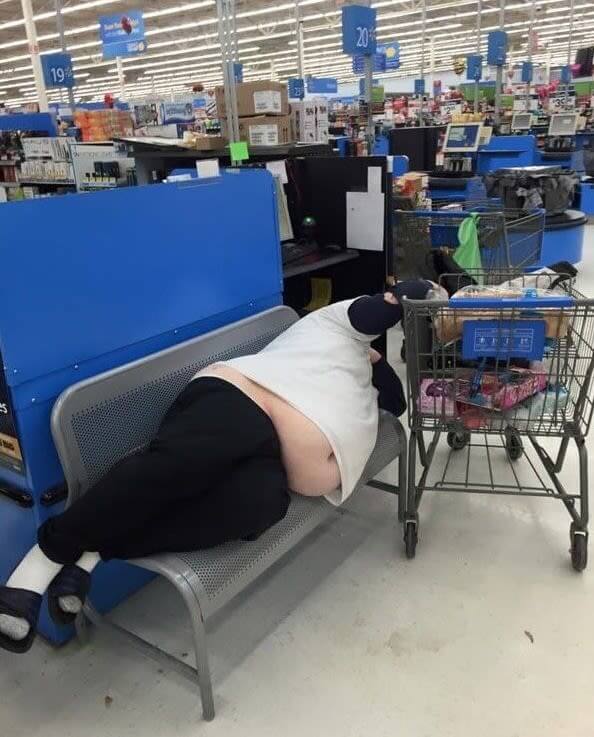 Sometimes a power nap is needed is regain the energy levels in the body, even if it means taking a nap in the middle of Walmart.
Emotional Support Animal
Here is another exotic animal that someone brought to the store. This lizard is clingy and didn't want to be left at home while his owner went to the store.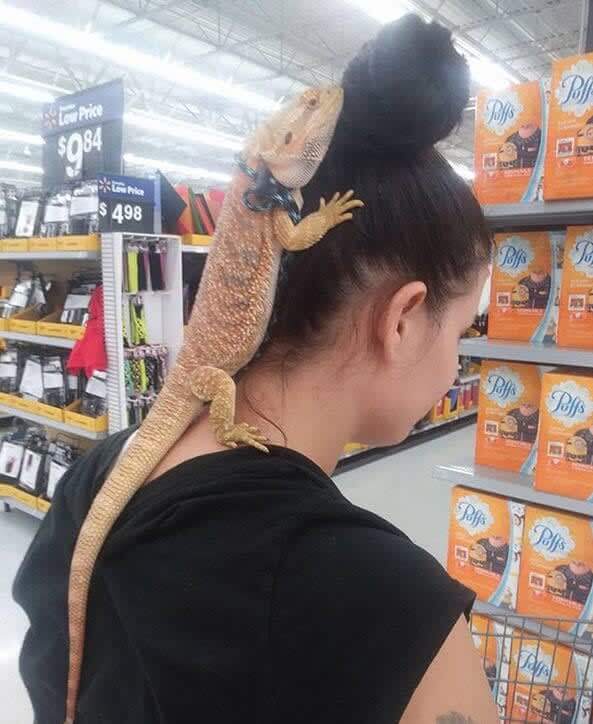 He could be an emotional support lizard because these days, when every animal is a basically an emotional support animal.
Poor Parenting
We have seen some parents doing weird things with their kids at Walmart, but this one certainly tops the list. The fact alone that the mother is unbothered by her child putting a bag over their head is a little concerning.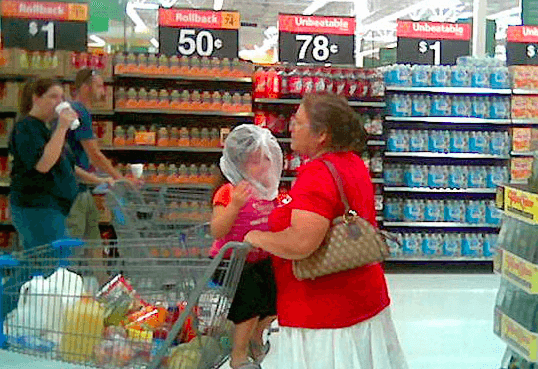 It may seem like poor parenting to us, but who knows it may just be another day in her hectic life as a mother.
Multi Tasking
Taking time to unwind and put on a facemask is a great way to practice self-care. This girl was in the middle of her mask when she remembered she needed to grab a few things from the store.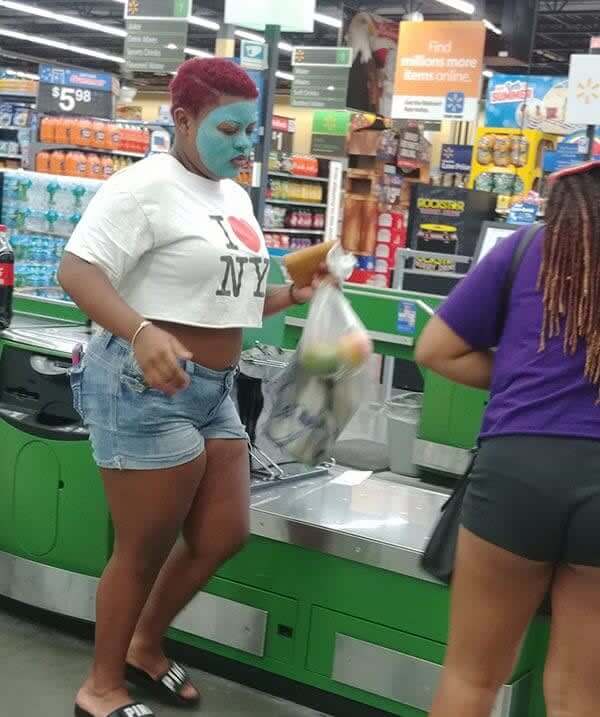 When she realized she had to go to the store, she was so flustered that she forgot to take off her face mask. At least she is multi-tasking.
"I Love Meat!"
Some people work demanding hours and rarely find time to sleep. When they can find a place to lie down and close their eyes, it doesn't matter if they are in the meat section at Walmart.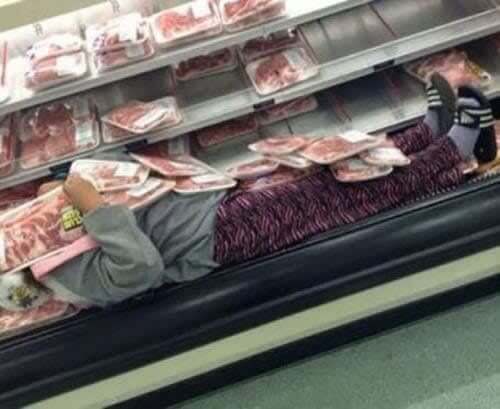 This woman was past the point of needing a nap and decided to make a bed on top of the steaks. She also used other packs of meat as a blanket to keep her… warm? We're confused.
That Thing Looks Heavy
If their goal was a record for the longest and thickest dreadlocks, this man would probably win. That must be heavy to carry around.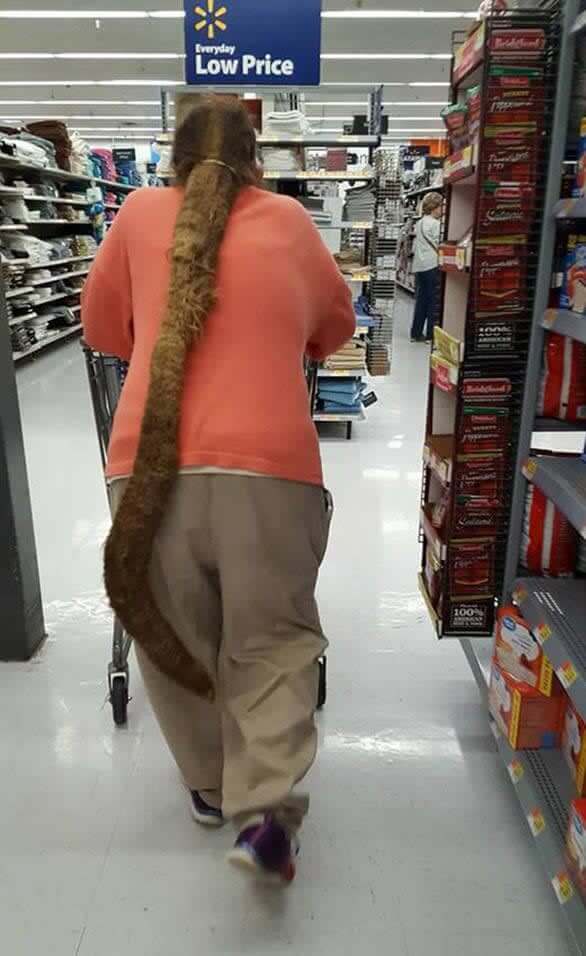 We wonder what this man would look like without his giant dreadlock. It's a commitment for sure!
Turtle Time
If you can bring pretty much any other animal into Walmart, why not bring your turtle. We didn't know that they made leashes for turtles.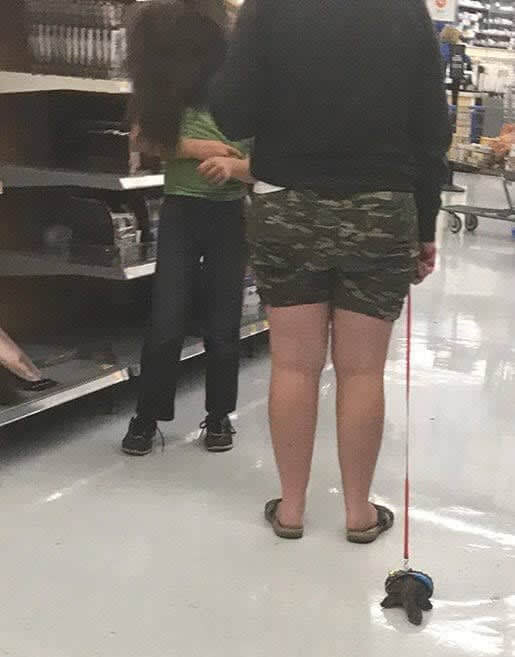 Turtles are known for being slow, so it might take a long time to walk it around the store. This person would be better off carrying the turtle.
"That's $100 for the Baby"
We know that babies can sleep almost everywhere. This photo proves that babies don't mind sleeping anywhere.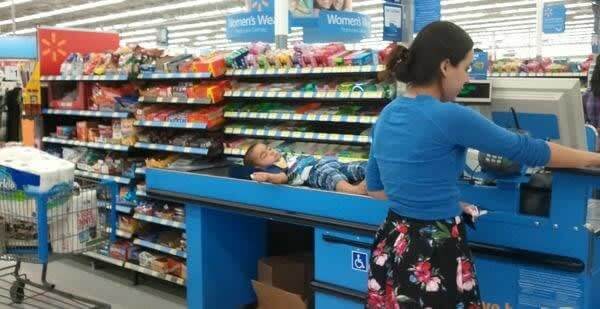 The mother had to shop for household items and the baby was exhausted. The baby looks cute sleeping on the conveyer belt.
Sneaker Sandals
When you grow out of an old pair of shoes, your first instinct might be to throw them away or donate them. Instead, you should think about redesigning them.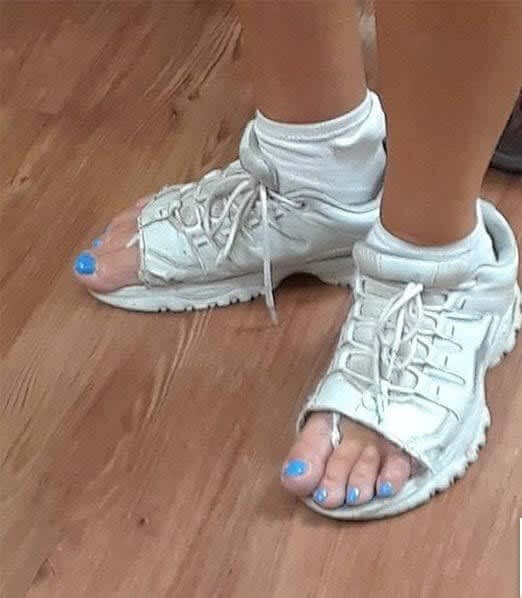 This person took a pair of old sneakers and made them into sandals. This look is unique, and you can say that you have a one-of-a-kind shoe.
The Sign Says It All
These days, it is important to be politically correct. Sometimes people make mistakes because they don't know any better, but this person is here to tell you exactly how you should address them.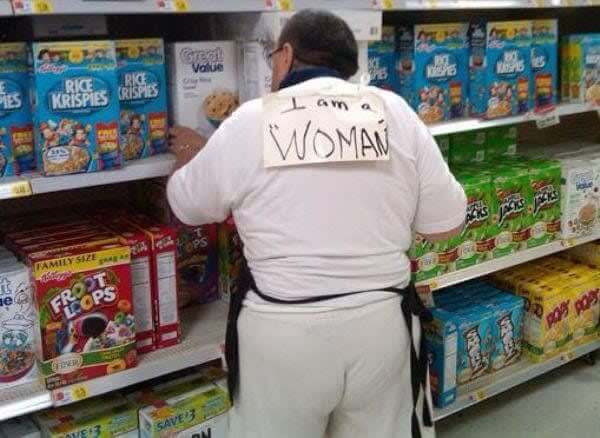 He identifies as a woman, and he is wearing a sign to show that because he wants people to call him by the correct pronouns. More power to them!
No Pants No Problem
To be fair, this is not the first or last time someone took off their pants in the middle of Walmart.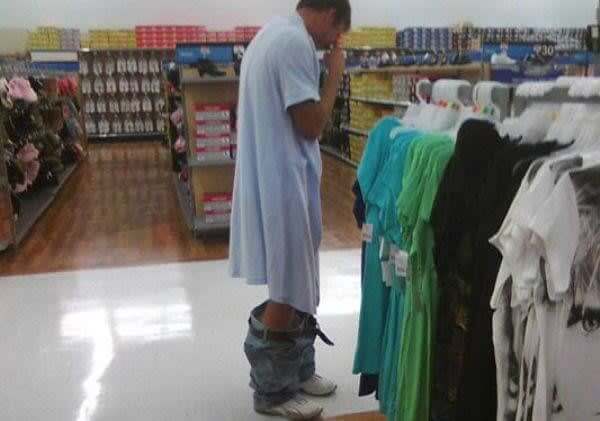 Looks like he wanted to try on the nightgown, but going to the dressing room was too much effort, so he changed in the middle of the store.
They See Me Rollin'
Putting your hair in rollers is a long process, and you have to leave them in for hours. Instead of sitting at home and waiting for your hair to have the perfect curl, why not go out and get some errands done while your hair sets?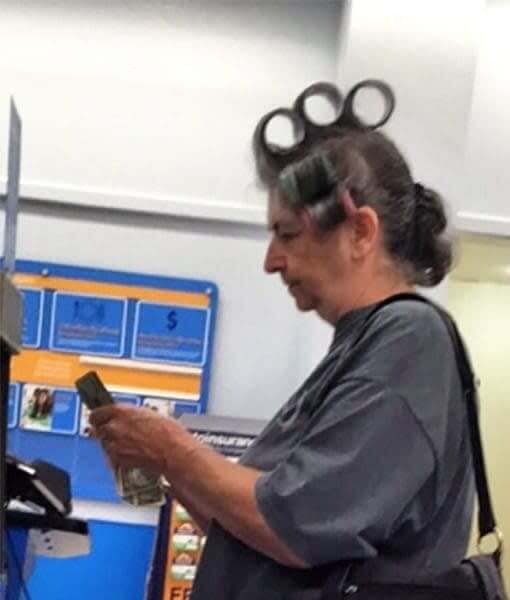 This woman did not have the time to sit around and wait for her hair to be ready. She decided to go to Walmart and do some shopping to be productive while she waits.
Laundry Day?
When all your clothes are in the wash, so you have to borrow your wife's dress to run to the grocery store. Although it is unexpected, he is working this look.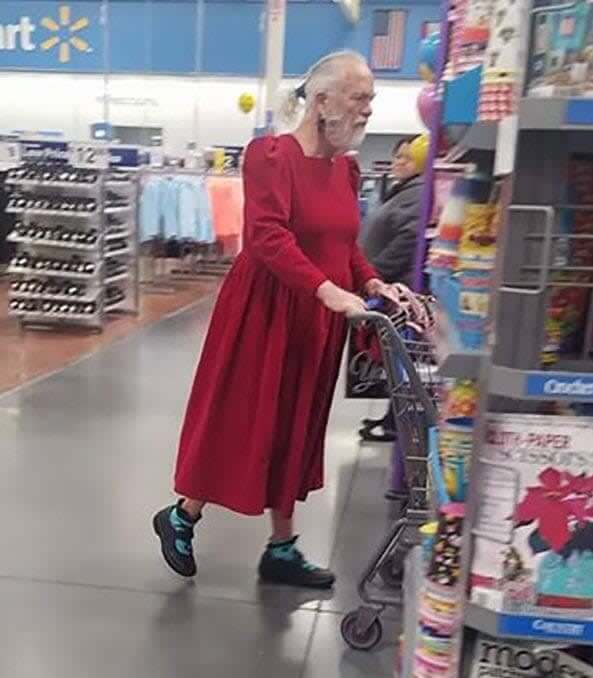 Even if it's not laundry day, we support him and his authentic self. Who are we to judge?
Taking The Children To Walmart
Have you ever thought of your dogs like children? You have to bathe them, feed them, and make sure they go to the bathroom. This woman thinks of her dogs as her children and wouldn't leave them at home while she went to Walmart.
They are better behaved than most human children. They aren't screaming, and they are staying in the cart instead of running around the aisles touching everything.
A Man And His Ferret
From lizards to monkeys to puppies, we have seen some strange animals at Walmart, and now we have seen a ferret, too. This is one of the weirdest animals to bring to a store.
This man does not see anything wrong with bringing his ferret to the store. He is perfectly calm, and so is his pet.
"Can You Tell Me Where The Nail Clippers Are?"
We have so many questions for this woman. First of all, how would you grow your nails that long? Second, how long does it take to paint them?
Also, how does she do anything? Her nails would always be getting in the way, right?
Eye See You
Have you ever heard your mom say, "I have eyes in the back of my head." This man took that literally and had an eye tattooed onto his head.
He wanted to keep an eye out for people that might sneak up behind him. We wonder if it worked!
Joker On The Loose
As you have seen, people wear unusual outfits to Walmart, and this is a prime example. We hope this was taken around Halloween time because that would be more logical.
However, the store doesn't seem to have any Halloween decorations up, so we are going to assume this person just wanted to wear their joker outfit to the store for fun.
MJ Is That You?
It looks like Michael Jackson has risen from the dead to go for a shop at Walmart. Why would the King of Pop be shopping at Walmart of all places? Ok, so it is not Michael Jackson, but this could be his doppelganger.
Maybe this man is a Michael Jackson impersonator on the way back from a job. He does not look thrilled to be shopping at Walmart.
What Does The Fox Say?
"But there's one thing that no one knows, what does that fox buy?" This guy must have been on his way to a Halloween party or else this would be really bizarre for him to be wearing a foxtail.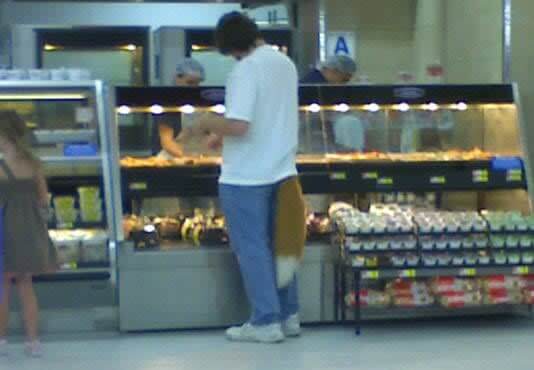 Everyone is entitled to their own style choices, but we have never seen someone sport a foxtail. Maybe it is the newest style and he is ahead of the trend.
Fashion Forward
Fashion is all about expressing yourself and showing off your personal style. This guy has a unique sense of style and he is ahead of the style curve.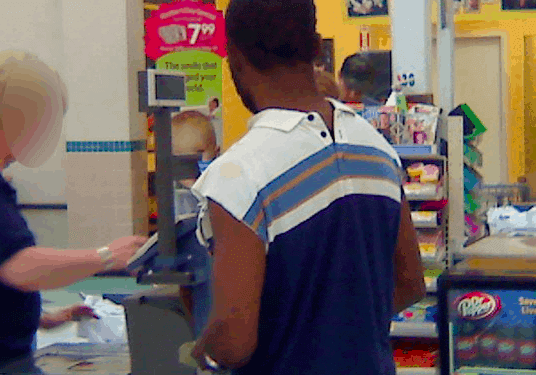 We are not sure if he wore his shirt like this on purpose or he was trying out a new look, either way, it is interesting.
Easter Came Early
When it is almost Easter, and you want to get everyone in the spirit for the holiday, so you throw on everything that involves bunnies, eggs, and pastels.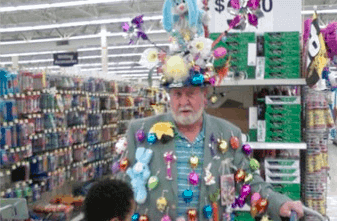 He is the most festive man in this Walmart, and we wonder what his outfits look like for all the other holidays.
Paint With All The Colors Of The Wind
This guy must have been in the middle of creating a masterpiece when he realized he needed to go to Walmart. He didn't have time to clean the paint off his face before he left the house.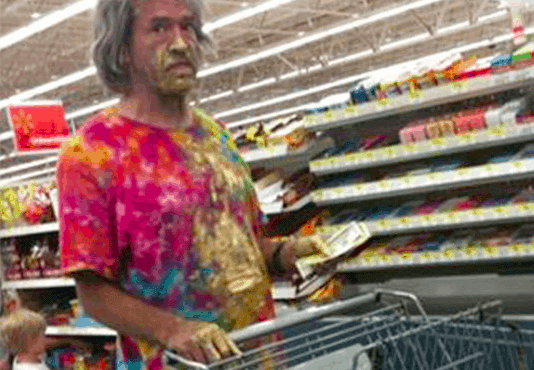 He is one of the few people that realized that someone was taking his picture, and he does not look happy about it.
Captain America's Part-Time Job
Captain America is a fantastic superhero. He was created to be the hero of America, but with any job, some days are slower than the others. He had to get a part-time job to fill his time.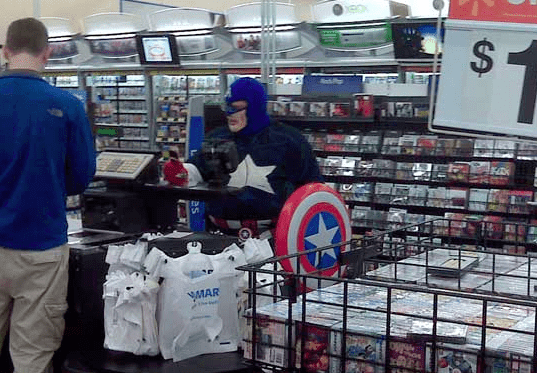 When he isn't fighting crime, you can find him at cash register number 5, working hard and ringing people up as quickly as possible.
Plunger Problems
What is this plunger trend? It seems to be catching on with the shoppers of Walmart. They just want to check the suction on the plungers before they buy them.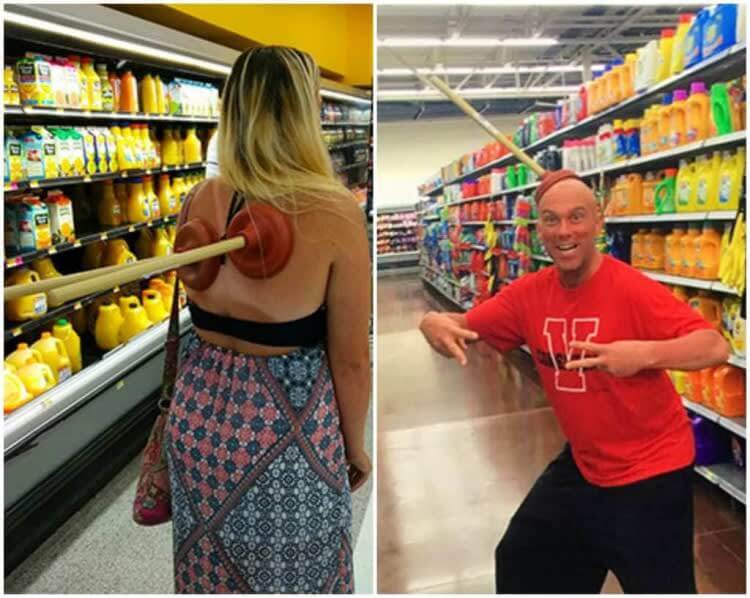 If they aren't testing the plungers then this is a bizarre trend to go into a store and stick plungers to your body.
Who Wore It Better
When you go out in public and someone else is wearing the same thing as you. It can be awkward, and most people would avoid standing near someone in the same outfit.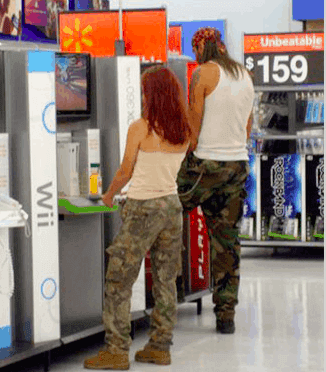 Maybe they planned this and they are together, so it is normal for them to be dressed the same. Whatever the case may be, they are both rocking this camo look.
Dressing It Up
Planning a party can be intense, and sometimes people forget things that are on their list. It is helpful to have someone who can run to the store at the last minute to pick up anything you forgot.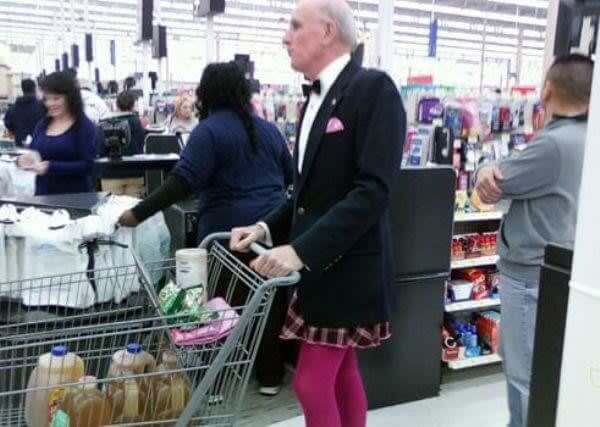 We don't know what kind of event this man is attending, but we do know that it should be a fun party based on his mismatched outfit.
Legs For Days
When you have a great body, it is something you want to show off. This guy has amazingly long legs and he wants the world to know just how fabulous they are.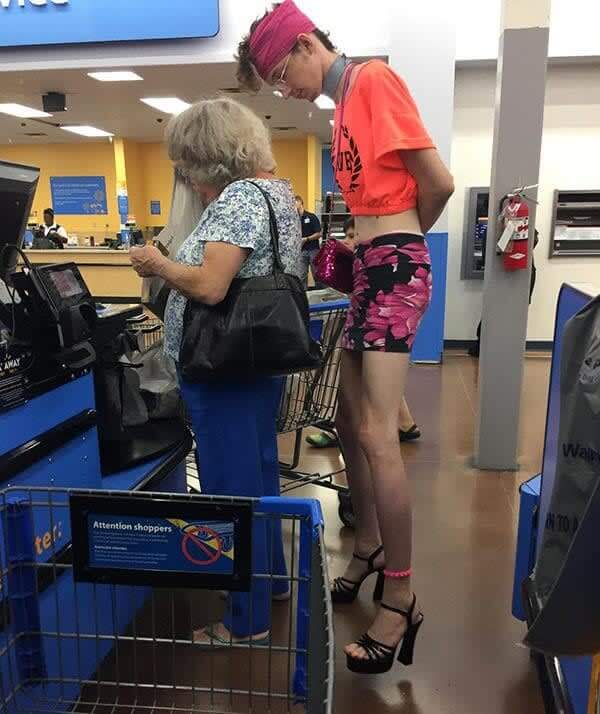 While this might not be considered appropriate for a trip to Walmart, he gains some credit for walking around this large store in those high heels.
Style Swap
Have you ever wanted to swap styles with your husband? It looks like this couple switched outfits before going grocery shopping.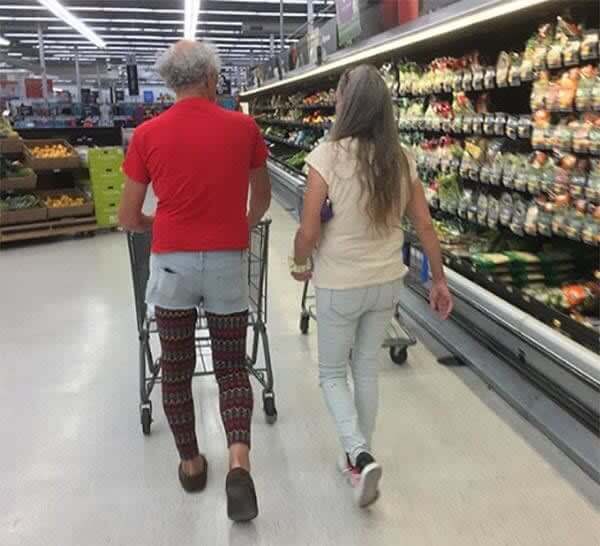 He must not know that leggings under jean shorts went out of style in 2010. His wife said, "honey, you can keep my clothes, they are so last decade."
Love Is In The Air
This picture proves that cupid will go wherever he is needed to make people fall in love. This man must have wanted to spread the love in Walmart on Valentine's Day.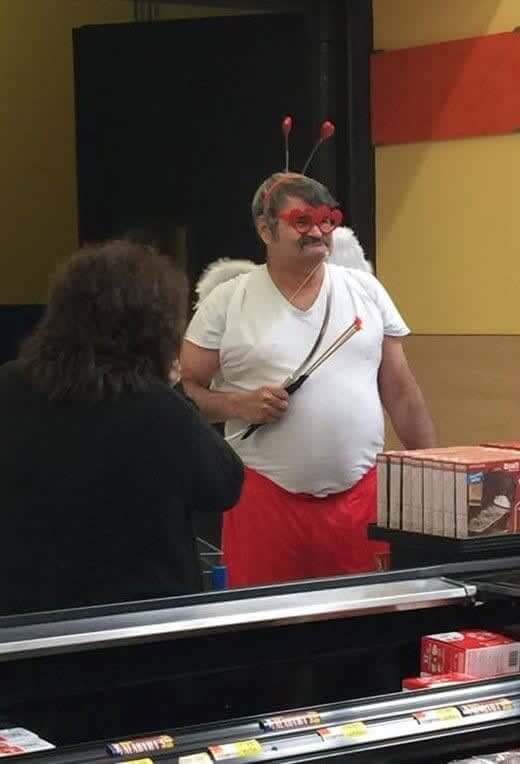 His funny outfit is perfect to make people fall in love. Do you anyone got hit with his love arrows?
These Shorts Were Made For Wearing
The '80s are making a comeback in full force, and this man is definitely feeling it. From his high waisted jorts to the sweatband, he screams '80s fashion.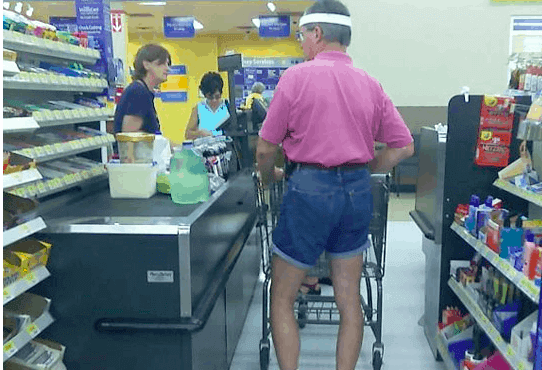 He might be preparing to film an '80s workout video, which would explain the sweatband.
I'm Blue Dabba Dee Dabba Di
Everyone has their favorite color that they like to incorporate into their wardrobe whenever possible. It is easy to tell that this person loves the color blue.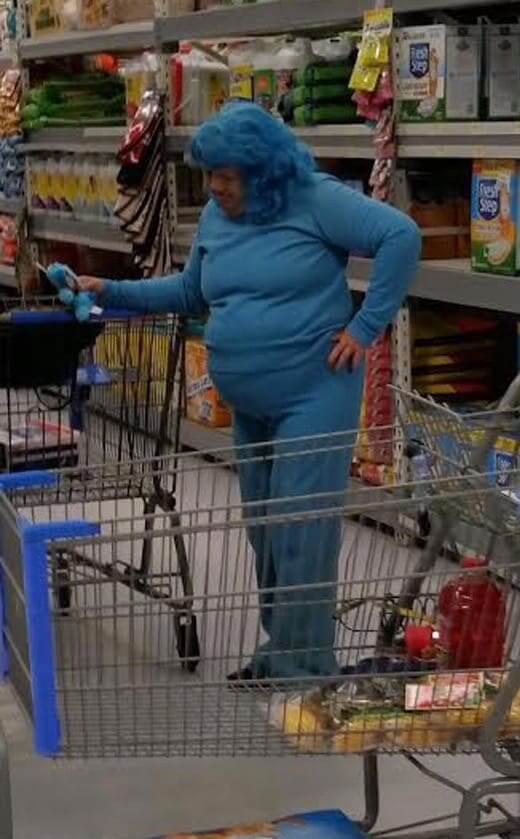 From the wig down to the shoes, everything is blue. They even have a blue toy to go with the outfit. If that's not dedication, we don't know what is.
JoJo Siwa: Walmart Edition
Jojo Siwa is a social media personality who is known for her large bows that she always wears. This woman looks like Jojo in about thirty years.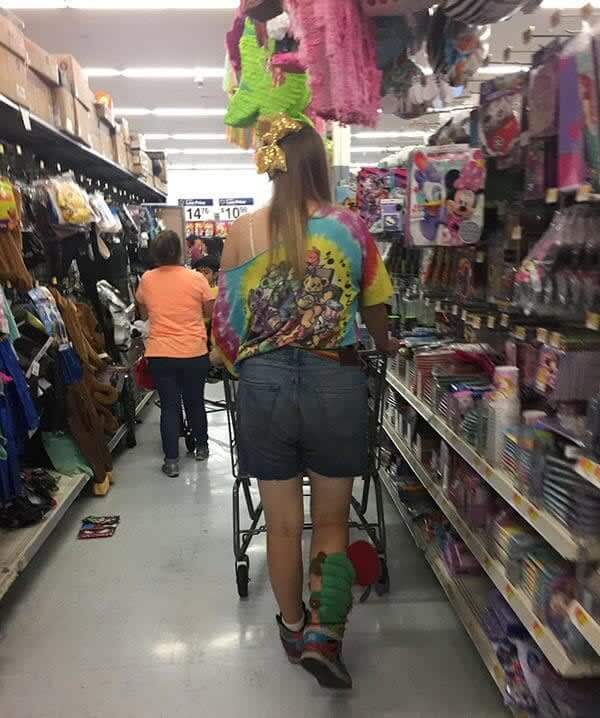 Besides the large bow and tie-dye shirt, we are confused about why she has the hungry caterpillar attached to her leg.
Here Come The Bride
After your wedding, wouldn't you be going on your honeymoon or to the reception? This couple made a stop after their vows to pick up a few things from Walmart.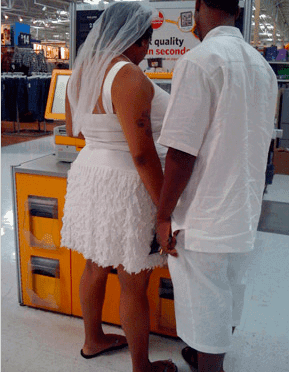 It looks like they wanted to have their wedding photos printed immediately after they said, "I do."
A Family Of Animals
What we have here looks like a family of critters posing for a family portrait at walmart.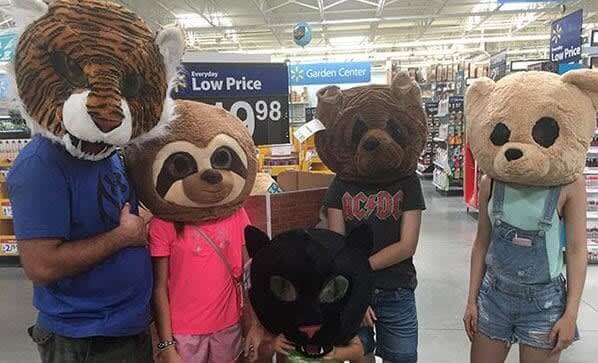 No matter the reason behind this, they sure look cute in their little outfits!
Miss Walmart 1967
When you run to the grocery store, you probably aren't putting on a full face of makeup and a mini-dress for the occasion. This woman is a little different. She dresses to impress wherever she goes, even Walmart.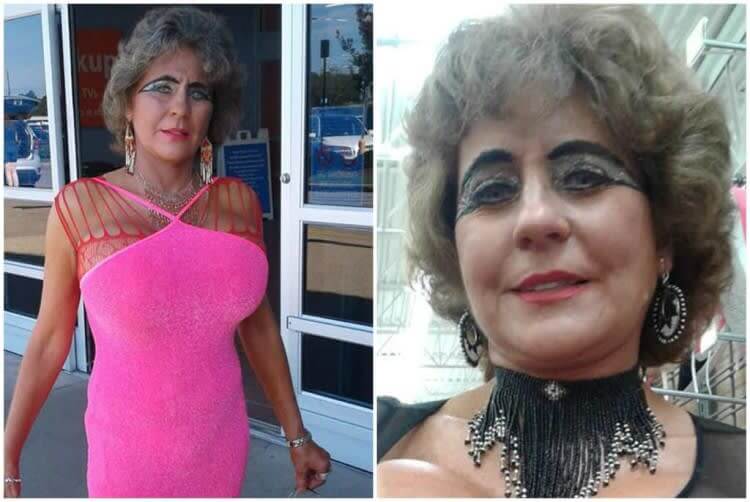 You never know who you might run into at the store, so she stays prepared by always looking dressed up. She has her hair and makeup done to be primed and perfect for any occasion.
Hair-tastic
When your hairline starts to recede, you might try and enjoy what's left of the hair on your head. This man likes to grow out the hair in the back to enjoy what he has left.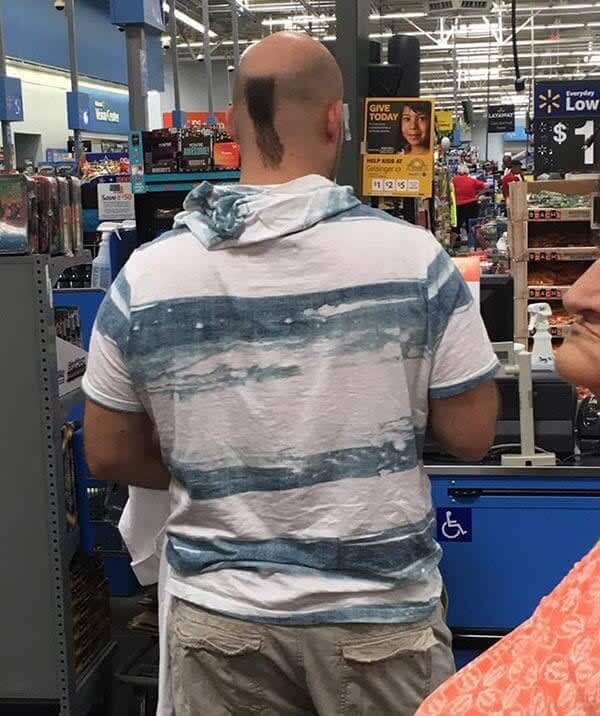 Although hair trends come and go, we don't think this one is going to catch on any time soon.
An Unusual Sighting
Although it is more common to see strange people at Walmart, it is also possible to find regular people too. It might seem like the store is filled with oddballs, but occasionally you might see a regular face.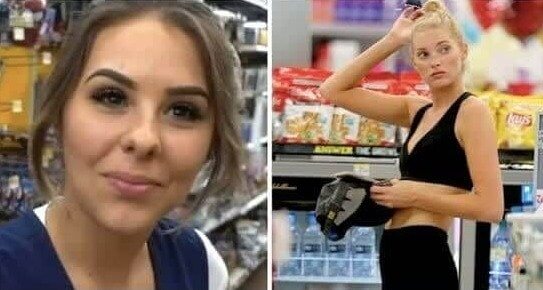 These women are just two examples of the everyday people that shop at Walmart. It isn't also exotic animals and weird outfits.
Baby On Board
We have seen signs that say beware of dog or cat, but never a sign for babies. We don't know what happened in the past, but this person doesn't want anyone to touch the baby.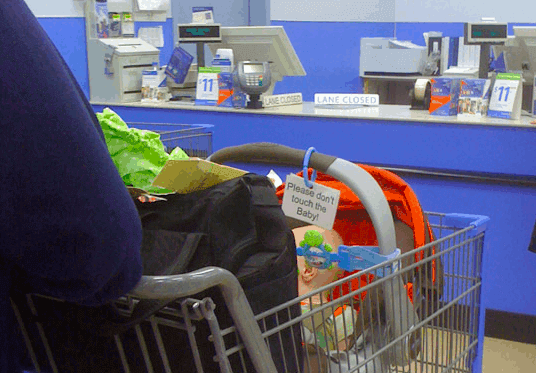 Wouldn't you hope no one is going around and touching other people's children without asking?
Ripped Up
Ripped jeans have been popular for quite some time now. There are many different styles of ripped jeans, but we have never seen anything this intense.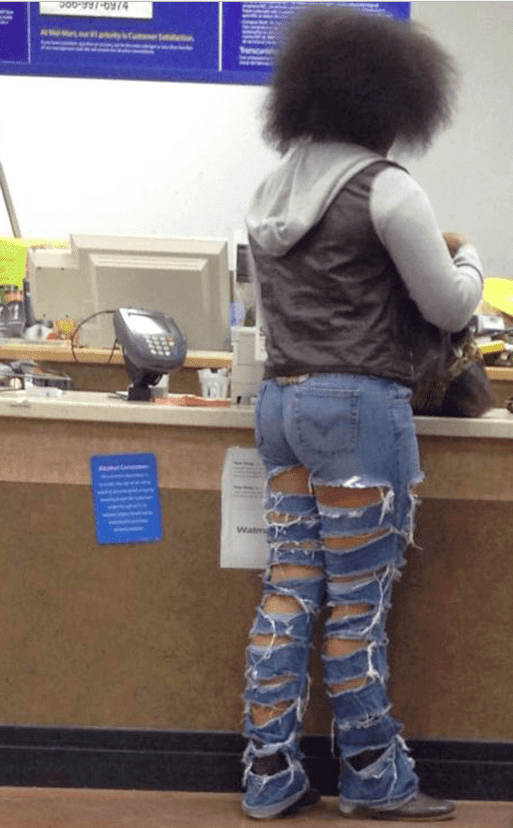 It looks like her jeans went through a shredder before she put them on. It doesn't look bad, but it is a unique style.
The Most Epic And Hilarious Sports Bloopers Of All Time
John Travis
This article was originally published on WackoJaco
We love sports because it helps us get an escape from the world around us and look at something that provides a sense of belonging and a connection to a wider world. Most sports can be super intense, as athletes give it their all to be the best of the best. Even though these men and women might seem like titans among us, they're only human, and they make mistakes. Hilarious mistakes. In fact, for us, these mistakes in sports are often the best part of the game – and after some digging, we found the most hysterically funny sports bloopers in all of sports history. You don't want to miss this!
Is This A New Bird Species?
A team of over a hundred experts sat down to determine whether this woman is a fancy-looking professional bowler or a gymnast. You can give your opinion on this one, but we doubt that it will settle the debate.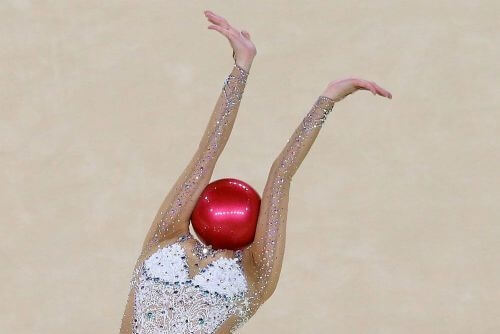 We don't have to put too much pressure on ourselves for this, so let's agree on one thing: that this picture is quite painful to look at. We should only acknowledge that the woman did nail a perfect landing with a ball on her face.
Keep Raising Me Up
If you don't know what is happening here, then let us clear things out for you. This is synchronized swimming and it is truly an art form. But don't make the mistake of thinking that these ladies just swim around in a pool. They do gymnastics and elaborate dances in water under intense pressure.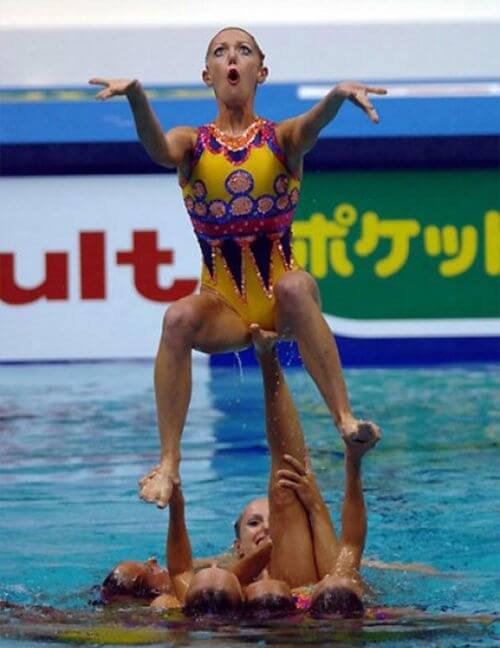 And yes, it is quite hard to do. They do look like cute mermaids, but aren't always as graceful. But we don't really mind it because they are strong women.
That's A Slam – Oh Wait Wrong Sport
First of all, this is not some sort of wrestling form. This is professional ice skating, which is a lot different than what we do when we go ice skating. After all, we do less skating and more of making weird faces as we try to balance ourselves to avoid an inevitable fall.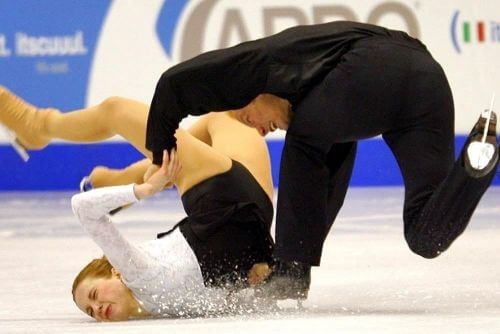 These professional skaters know how to twist and turn effortlessly in front of a large audience and judges. But sometimes they can make mistakes as well. We can hope that it was just a minor injury.
Up In The Air… And Then Down
This is one of those moments when you regret your decision to make a wrong move while diving.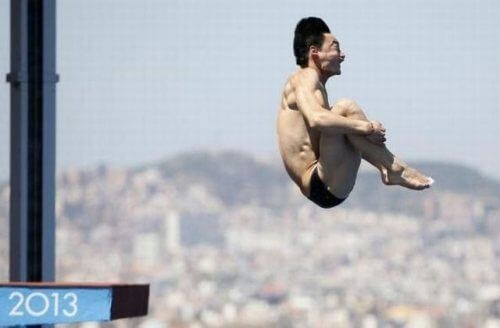 This guy's face looks like he has jumped from a plane without a parachute. We don't know if he was able to dive correctly or not.
Sucking In All The Air
Legend has it that people found it difficult to breathe in the stadium in which this sprinter was running because he had sucked in most of the air.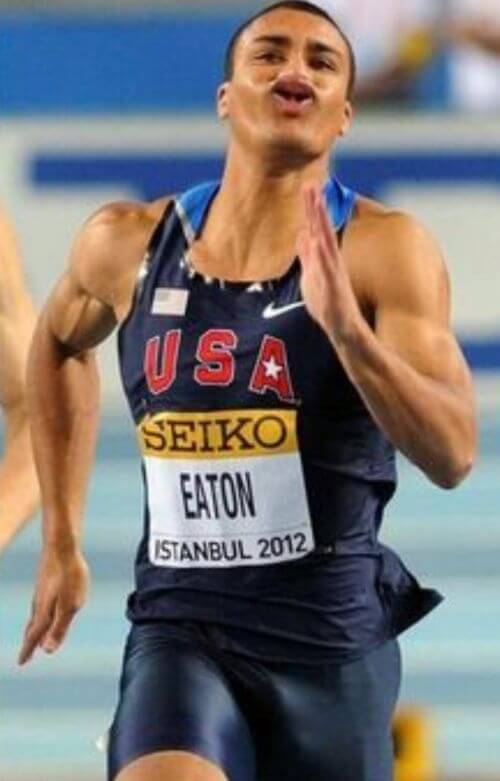 Jokes apart, track runners don't look like humans. It is because they have strong lungs and the capacity to run long distances. It reminds us of Usain Bolt and how effortlessly he used to beat his competitors.
Getting Closer Than Everyone Expected
We have to admit that figure skaters are so graceful and beautiful that they can easily leave viewers speechless with their athleticism.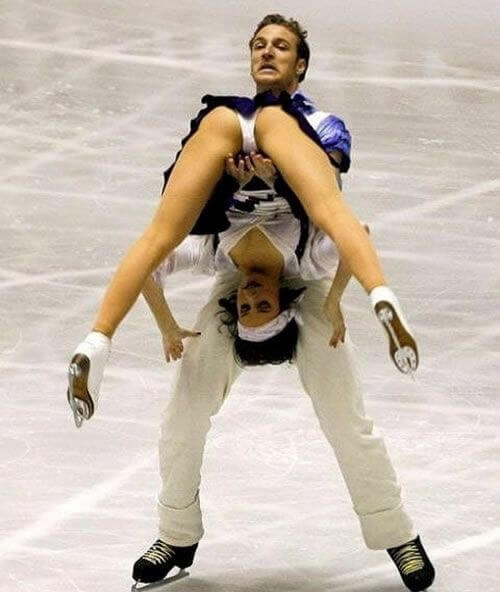 But a time comes when they fail to perform well. It can be really cringe-worthy moment to see one of the pros of the game fall or trip. Here we are looking at a photo where these two skating partners are getting a bit too close.
A Professional Table Tennis Player or A T-Rex?
You can make fun of the facial expressions of professional table tennis players, but one thing you need to keep in mind is that they are extremely competitive.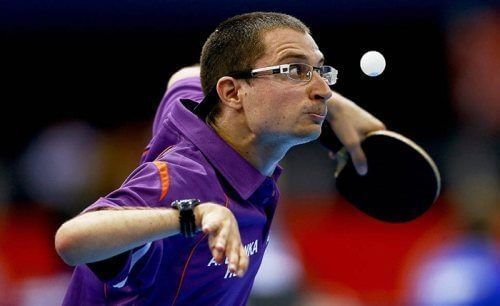 So, they usually make some weird faces – but that should never make anyone judge their capability to play the sport. And just so you know, the sport is called ping pong by recreational players and table tennis by professional players.
Almost Stuck The Landing
This impressive woman is a former Russian pole-vaulter, Yelena Isinbayeva, who also happens to be a three-time World Champion, two-time Olympic gold medalist, and also the current world record holder in the event.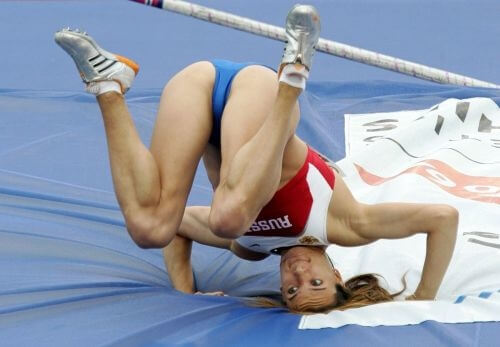 World Athletics (formerly known as International Amateur Athletic Federation and International Association of Athletics Federations) named her Female Athlete of the Year in 2004, 2005, 2008. She is, without any doubt, considered one of the greatest female pole-vaulters of all time. We really love this shot because it perfectly shows that even the greats and mighty fall sometimes.
Taking A Closer Look
There's no denying that wresting is one of those sports in which you really have to get up close to your competitors to take them down. In this picture, the wrestlers are trying their best to win the game, but the referee has something really important to check.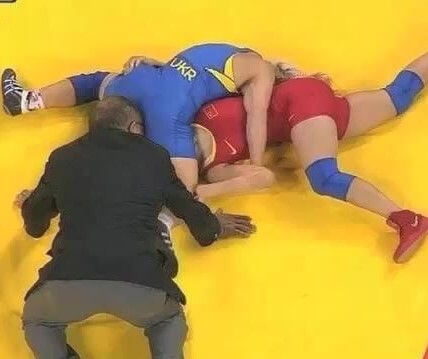 So, it seems, like the referee got super close to the players – maybe a bit too close. Perhaps he wanted to tell them something or who knows, maybe he's checking if the player is still breathing.
Beautiful Fabio
This is not a movie scene. We repeat that this is not a movie scene. After all, you see a scene like this in movies, but normally there is a gorgeous woman doing it. However, this hockey player won the internet with his impromptu hair modeling moment that will surely go down as one of the greatest moments in the history of this sport.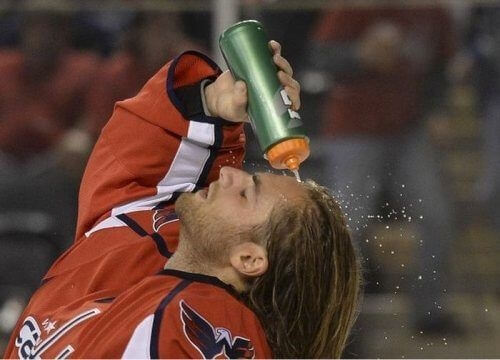 The way he is heating up the ice rink, we are sure that a few people had to take their shirts off because it got too hot in there.
She's Probably Still Trying To Find The Photographer That Took This One
Given that there are a lot of things happening in this photo, it is best that we break it down for you. One person's leg is acting as a chair for this highly professional synchronized swimmer, while the ladies are holding her feet down with smiles on their faces.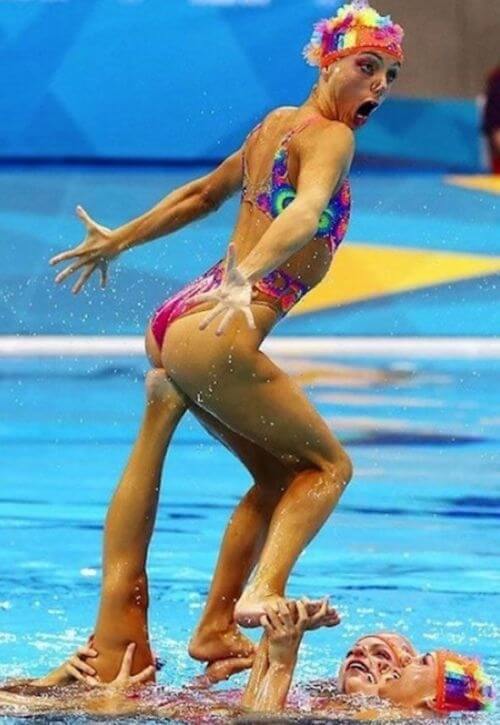 But the best thing in this photo is none other than the woman's face – that is just priceless. We are surprised that the face didn't become a famous meme.
This Is Not Wrestling
We see in WWE how wrestlers make this move to defeat their opponents, but this is not wrestling at all.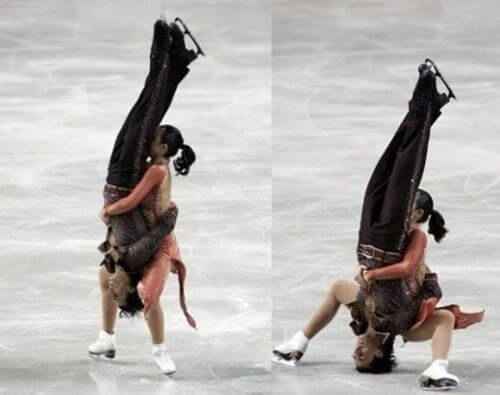 These professional ice skaters often make the sport look easy, but then there are times when one wrong move can cause an injury. After all, no matter how much you practice, there's always a chance for a slip-up.
Playing Volleyball With Legs
This game is Sepak Takraw (Kick Volleyball), a sport native to Southeast Asia. For the game, you have to defy gravity – and that's what makes the sport so interesting. The professional athletes who play this game know very well that strengthening the muscles is important, but so is stretching them.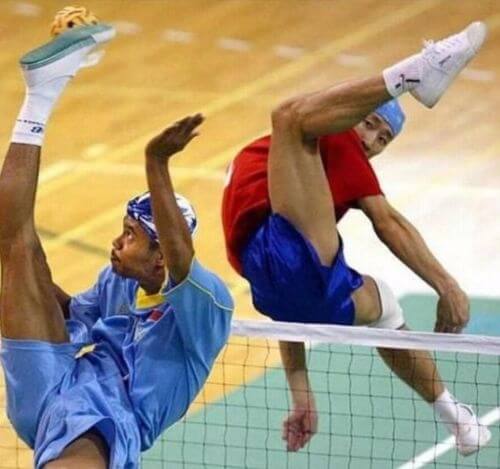 In this photo, we can see the benefits of all that stretching, which has contorted these two men into quite a strange position. Looking at them reminds us of an octopus' tentacles and how freely they're able to move their legs around.
You're Supposed To Swing At It!
This batter is trying his best to avoid hit by pitch (HBP), which happens when a ball thrown from the pitcher hits a batter, his clothing, or equipment (basically anything other than his bat).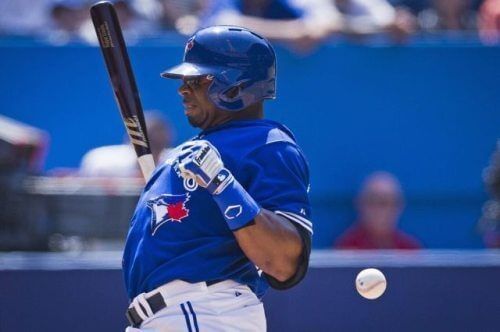 One thing we all know is that baseball is a fun and crazy sport. After all, hitting a ball thrown at you at high speed from a pitcher with a narrow bat is not an easy feat. And there is always a possibility that the ball won't go where the pitcher aimed…just like in this case.
Focus…Focus…Got It!
This is the face you make when you want to eat something so bad and you can't resist the temptation. This guy is a table tennis player who is focusing all his energies on hitting a tiny ball. If you have watched this game, you'll know how players make weird faces and even make loud noises before serving.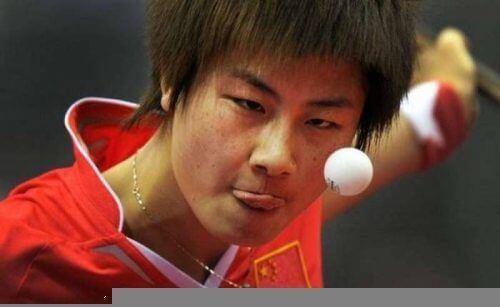 By the way, the game requires a lot of focus, but these professional players are hitting the ball again and again like it's a piece of cake.
"I'm Gonna Eat You"
We got to admit that at first we thought this person was trying to let one rip without a single worry of anyone noticing it, but it seems quite clear that he's a professional powerlifter.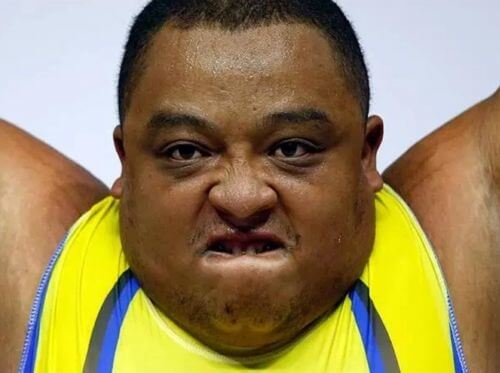 He looks more focused than that one friend who is trying to devour pizza so that they could have the last piece. We can come up with all sorts of explanations as to why he made this face.
"Hey Judge, Can You Do This?"
When it comes to synchronized swimming, athletes have to be super flexible and strong all over.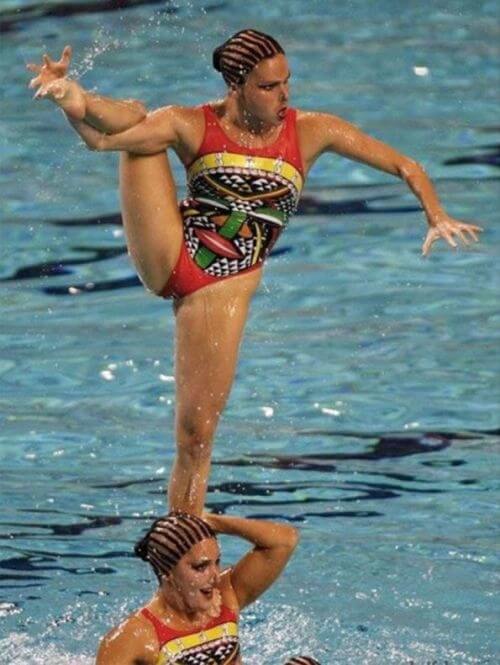 In duet or team competition, the swimmers have to make sure everything is perfect because one wrong move can ruin their practice and their months of hard work. Moreover, they get judged on everything from their smile to their routine.
A Pose You Won't Forget
The athletes in synchronized swimming are quite similar to gymnasts because they also need to keep a smile on their faces at all times. And there is a lot of importance to the pose. That's why they train for months to perfect their routine and everything else.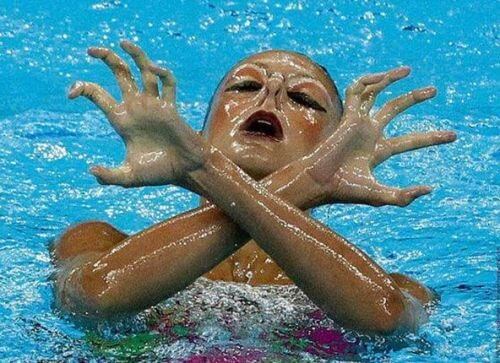 We are not taking away this swimmer's hard work and effort, but it just seems like she was at the depths of the ocean and she crawled her way out of it. It goes without saying that this image can terrorize some people.
A Bad Decision
We are pretty sure that this high diver didn't intend to make this face. It is because no one can intentionally make such a face that doesn't look human at all. Maybe he's regretting his decision or trying his best not to do anything that may embarrass himself in front of so many people.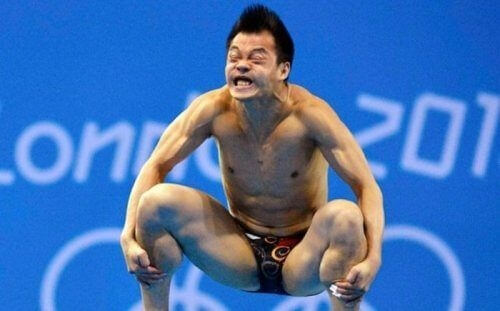 This is certainly a crazy sport because these guys throw themselves off such high places and then walk out of the water with a smile on their faces.
A Throw In Slow Motion
Do you love slo-mo videos? If haven't seen them, then just go to YouTube and watch them. Trust us on this one, you will absolutely fall in love with them.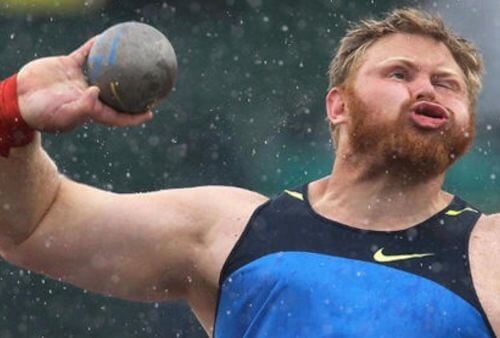 This guy may look a little different while throwing the ball, but slow-motion showed how he is looking not so pretty. Slow-motion can make everything look awesome, but it doesn't guarantee that everything will look pretty.
Just Look At The Weight
As compared to other sports, powerlifting is all about strength and technique. But mostly, it is just power. That's why you see such bulky people lifting heavy weights.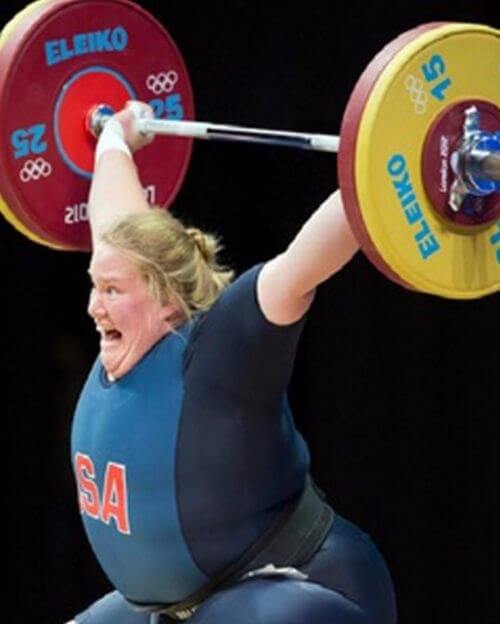 Although people who are not fans of powerlifting laugh at the strange facial expressions of powerlifters, it is best to look at the weight they're lifting rather than their faces. After all, you might find it difficult to lift 100's of pounds of weight without injuring yourself.
Cringe-Worthy Face
We feel that this lady is super beautiful and she's just doesn't know that her face looks so cringy. Before laughing at the face she made, try making a video of your face when sneezing.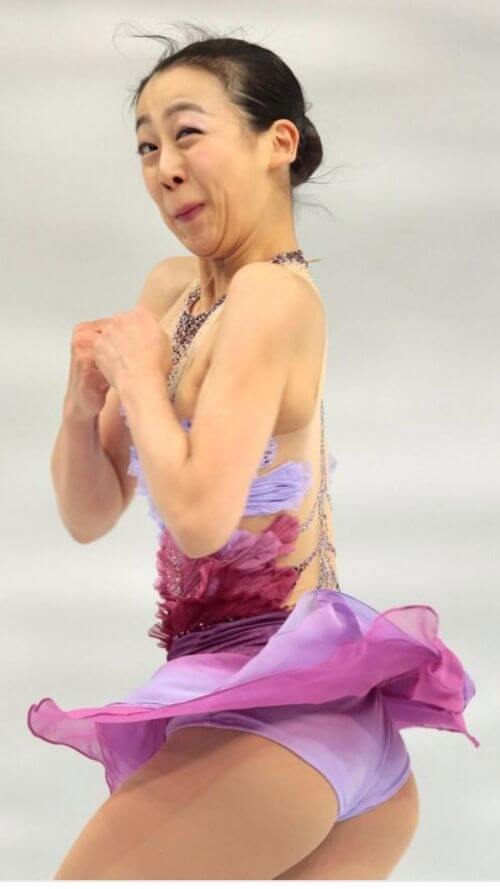 By the way, she's a top athlete who knows how to display her immense talent on the ice.
Hold Up! Don't Move A Muscle
Hey, it looks like we can hear the screams of this high diver from the look on his face. Maybe he's showing you what to do when the police catch you robbing a donut shop.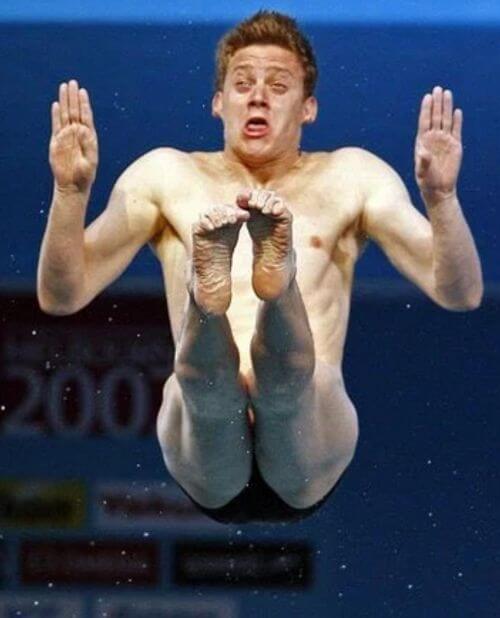 From his face, it looks like he has decided not to high dive again. We are pretty sure that the photographer must be jumping with excitement because they got lucky with this one.
What Do You See Karen?
When it comes to Figure Skating, it takes a lot of practice and a lot of falls to be good at it. Another thing to notice is that figure skating partners have to be close because they have to tangle and get close to each other during practice and performances. But why do we feel that this is a new level of closeness?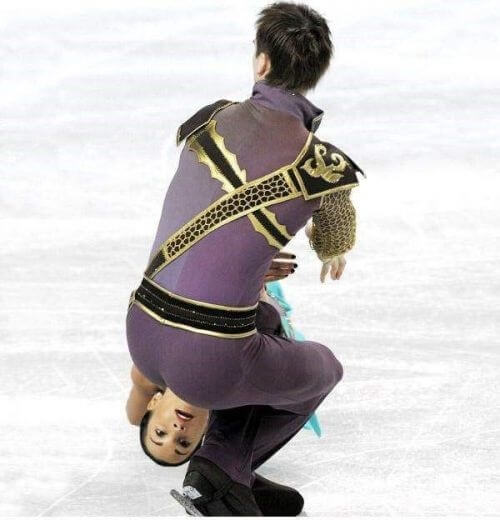 Given how the lady is in such a compromising situation, one wonders she must know her figure skating partner quite well.
Must Be A Winning Shot
People who follow tennis can go as far as calling it the best sport in the world, even better than soccer or cricket (it has over 2.5 billion fans). Those who don't know much about the sport can only see the ball going from one side to the other and hear a lot of grunts made by the players.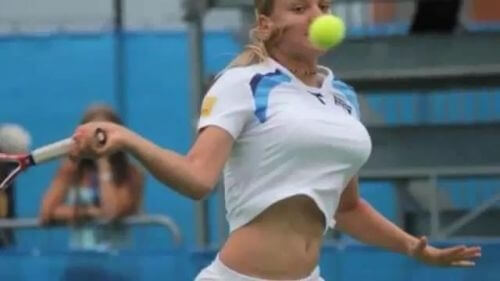 Here, it seems like this player is on the verge of winning the match. From the looks of it, we're sure it must be her power shot.
A Bubbly Swimmer
We don't want to look rude here but it seems like this professional swimmer's real name is not Diana. We have a strong feeling that her spirit animal is the Loch Ness Monster and that's why her real name is Nessie.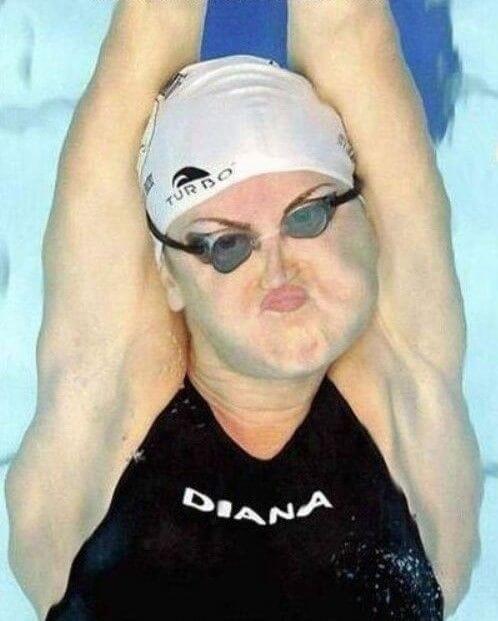 Instead of judging us, be honest and answer: did you think the same? Given how she made such a funny face and the photo seems perfect in every way, we feel that she really deserves a medal. Amazing shot!
Female Crabs?
An athletic event can become memorable due to the high energy in it and that is exactly what happened here. This effort from the team made people stand on their feet and applaud such a remarkable performance.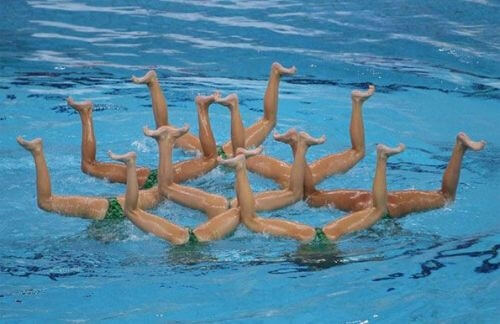 However, we do feel that they look like some crabs trying to defend their home against an enemy.
Oh My God!
Have you ever tried holding your breath underwater? Most people can't hold their breath underwater for more than a minute and it is totally understandable. This is the face you make when you've been underwater for some time because your lungs start to beg for air and you have to burst out of the water.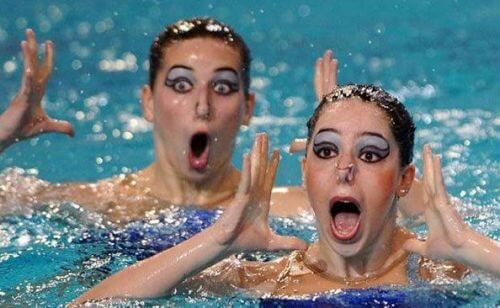 Did you know that German freediver Tom Sietas holds the record for holding his breath underwater for 22 minutes and 22 seconds?
Use Your Head Lady
For an athlete to succeed, it is imperative that they work hard and be totally focused. That's why you can see so many successful athletes always telling others to remain dedicated and stay focused no matter what happens.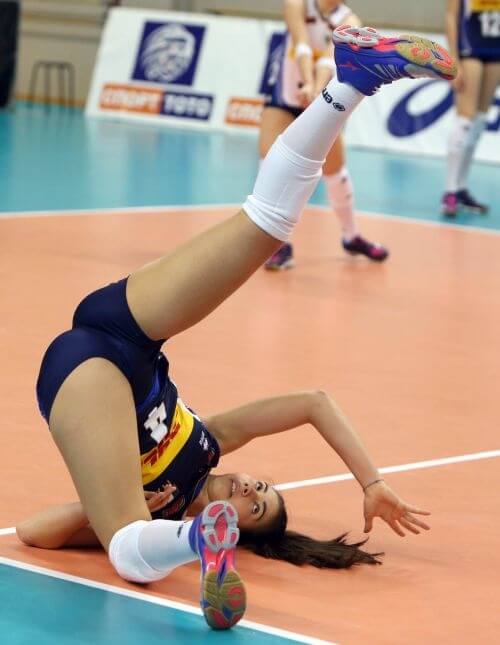 But athletes are human and they can make mistakes as well. This volleyball player got distracted during the game and that single lapse in concentration caused her to fall. Looks like she took the expression "get your head in the game" to the next level.
The Perfect Soccer Face
We saw how professionals made faces during lifting heaving weights and jumping into the water, but we have to admit that this one tops them all for now. Soccer is an intense sport, and it also happens to be the most popular sport in the world as well.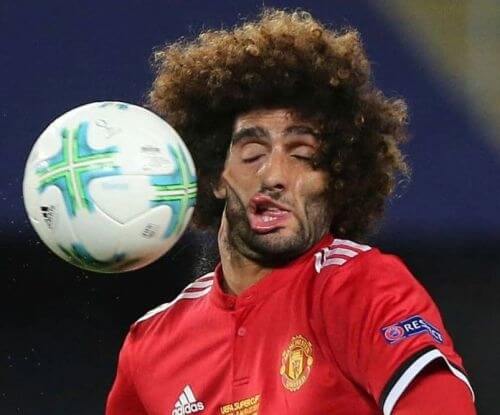 Fans can get super emotional for the soccer team they support and you can imagine how the fans of Manchester United felt when their favorite player got sucker-punched in the face with a football. But it must have been funny for the other team!
Now That's A Grab
This is the face you make when you grab the ball from your brother but your mom quickly steps in by shouting from the sidelines, "Boys, play fair!"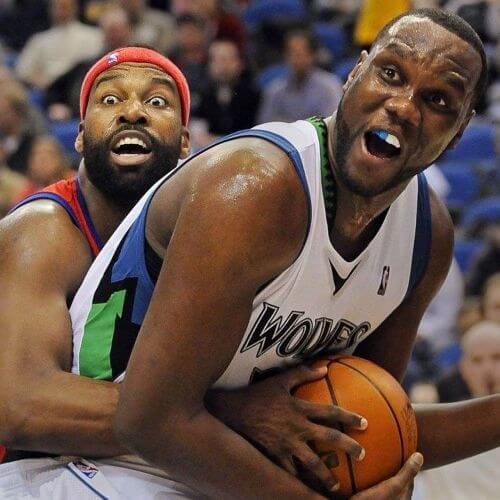 Although this doesn't happen during professional basketball matches, we're quite sure that these players are looking at the referee for validation.
Not A Traditional Dance
At first, we thought it might be some traditional dance or something, but that is not the case. Whatever these beautiful ladies are doing, we absolutely love it.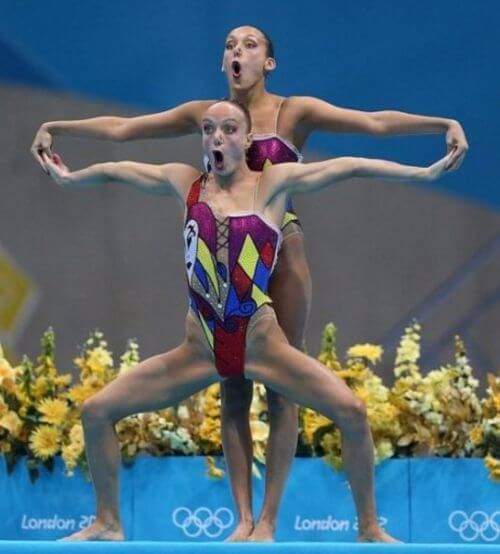 One of the coolest things about professional synchronized swimming is that every teammate must be aware of their moves and their team's moves all while being flawless in executing anything.
"I'm A Butterfly"
One thing that all professional players need to know is that everything they do on the field is being recorded and also shown live on TV.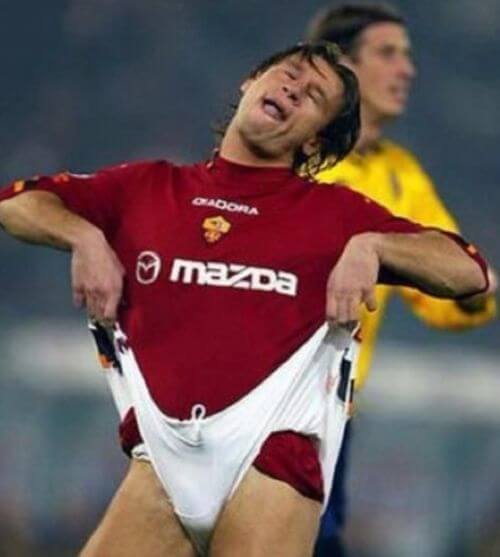 Take a look at this soccer player who is so much into the game that he doesn't even know he's unintentionally showing a somewhat hidden glimpse of his – you know what – to so many people. We're quite sure that this must be super uncomfortable for everyone.
Not A Slam Dunk
If someone tells you that you can't feel pain through images, show them this picture. It is because people who play and watch basketball know well how much it hurts to have a basketball slammed on your face.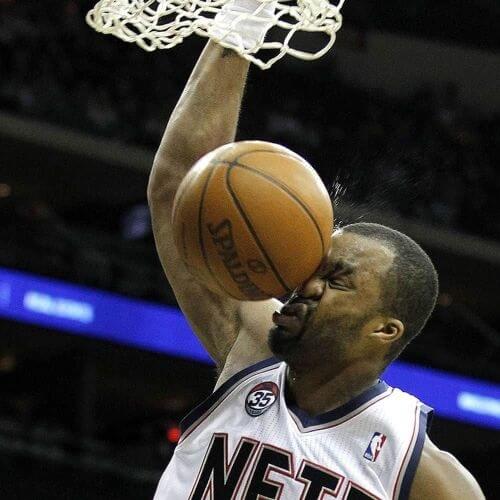 If you think there is any other dangerous sport in the world, show it to us. Till then we will keep on believing that basketball is the world's most dangerous game ever.
Chaos Among Cheerleaders
We all have to acknowledge the fact that cheerleaders play an important role in keeping the energy levels up. They make the crowd cheer which helps teams perform better. But sometimes, cheerleaders need some cheering and support because they can make mistakes as well…they are not robots after all!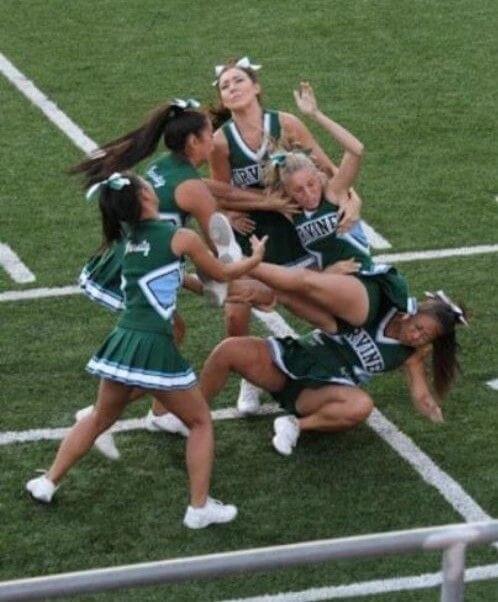 These young ladies were all set to energize the crowd, but one mistake led to this chaos. We are sure they stood up, organized themselves, and learned from their mistake.
Double Tap
Soccer players know very well the danger of their sport. You can find a lot of videos and photos of players getting hit in sensitive areas. Just like it is the case in most of these on-field accidents, one player was looking at the big ball while the other player was looking at something else (you know what we mean).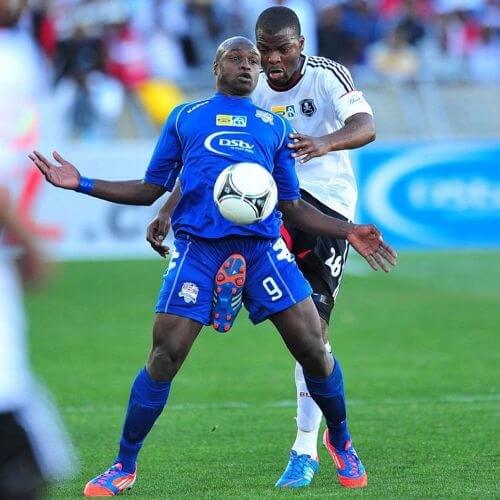 No matter how many expensive coaches you get for a team, they can never teach players the defensive tactic against such an attack. If a player gets a blow on their leg or arm, it can be treated at the spot with sprays and medicine, but what about the sensitive part? It is a cruel game.
What Kind of Dance Is This?
We have seen so far how athletes found themselves in some pretty compromising positions and this one is no different.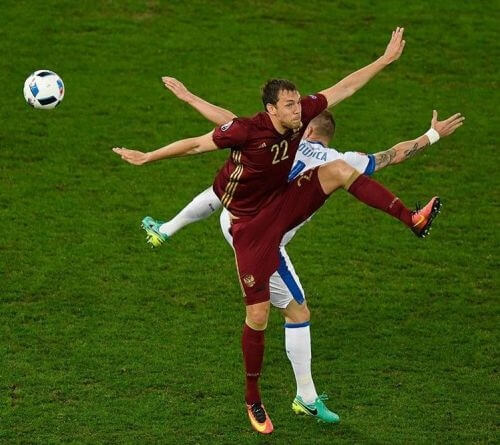 At first glance, it may seem like they are in some sort of ritual, but that is not the case. These two players are trying to get hold of one thing.
That's One Big Jump
Just when you thought you had seen everything crazy happening in the world of sports, this track and field jumper was like "hold my beer."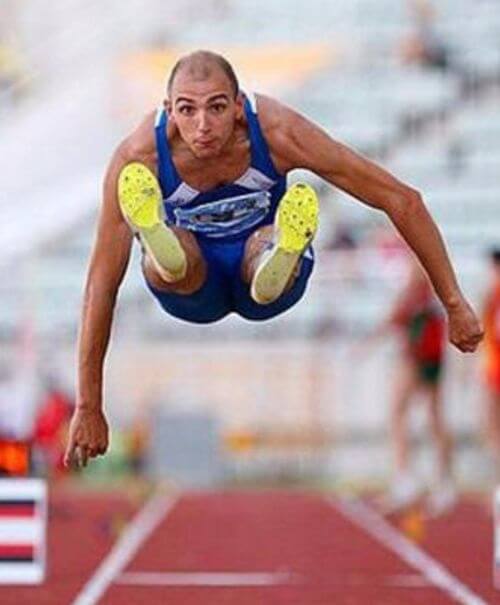 It is truly spectacular how a thin guy like him managed to squeeze his body into something like a pancake and take a flight. This is seriously mind-blowing. Highly impressive!
This Game Sucks
You have already seen that wrestling is impossible without players getting close to each other. So, when wrestlers do try to defeat their opponent, they have to do everything necessary.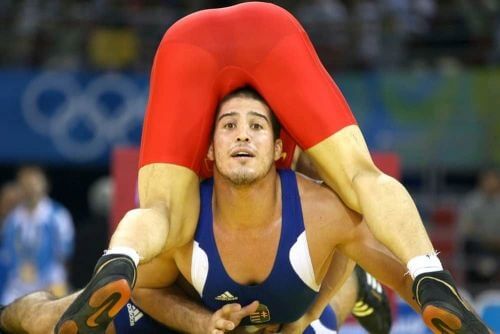 There are some moves that can take a wrestler's mouth pretty close to the opponent's armpit. In this case, the wrestler's face is under something else. One can expect that he must be thinking, "This game sucks."
Not My Face…Not My Face…Ahhh
The game of cricket is followed by billions of people and it is a really interesting sport. It is similar to baseball. It can also get a bit physical as seen by this photo here.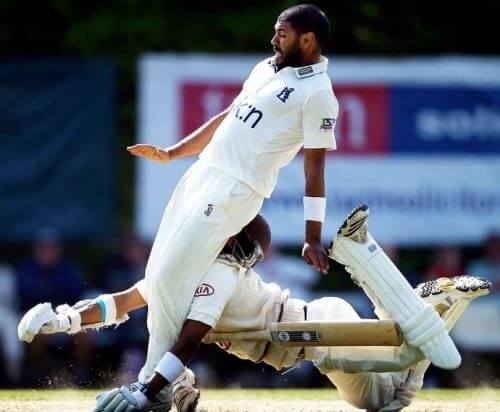 The batsman was trying to take a run when he fell and his face was at a place where it shouldn't be. We believe that it was the defining moment of the match.
Hey, What is Happening Here?
This is what photography can bring to you. How often you get to see this happening on a soccer field, right?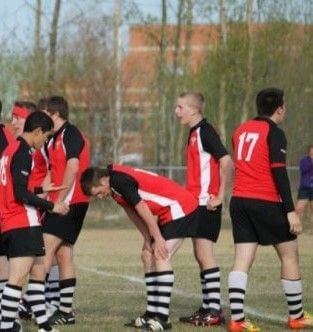 We feel a little bad for the photographer because that person went to the field thinking they would take good photos of the game, but they had to take photos of another ongoing game. What more can we say about it?
A Kiss On The Eye
In some sports in which players can get close to opponent players, things like these tend to happen and there's nothing new in it. When it comes to sports like soccer, ice skating, or basketball, winning depends a lot on teamwork.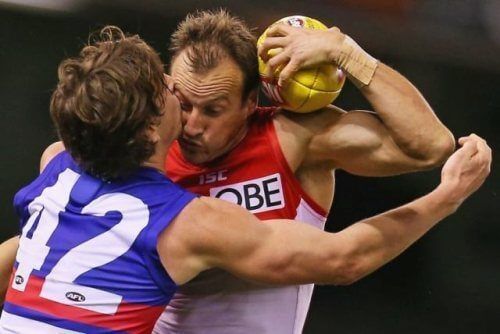 So, we don't feel bad for the guy with a ball because we feel that he took one for the team. Above all, it wasn't a kiss of death so there's nothing to worry about.
A True Champ
If you have ever turned on the TV and watched pole vaulting, then you must know that this sport is super crazy. If you don't know about it then let us help you. So the idea behind the sport is to get your body over the bar. Your body can't touch the bar while you jump over it. Seems easy right?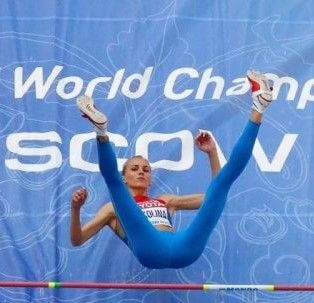 Well, the player holds a giant stick and runs down a track at a top speed only to launch them 20 feet in the air with the help of the stick. It may sound crazy, but the sport is pretty fun to watch.
Right Before Submission
Any UFC fans here? Well, The Ultimate Fighting Championship (UFC) is American mixed martial arts. It is quite popular all over the world. It is a super crazy sport in which you get to see some of the best fighters compete with each other.
Like wrestling, one player is trying to defeat the other player. In this photo, the player knows that he's about to lose the game. Although he's looking right into the camera, a submission is pretty much on the way. If you watch UFC, who do you support?
Watch Me Dance
It seems like this player recently took ballet classes and now wants to show his talent to the world. Maybe he recently discovered his passion and is trying to let the world know that basketball is no longer the sport he wants to play.
We do feel that he can be a good ballet dancer. What do you think about it? By the way, ballet reminds us of 2010 Natalie Portman's movie Black Swan. We highly recommend you watch it.
Must Be A Scathing Skater
This image is just gold and we don't have many words to describe it. Most people may think it looks like this person just saw his girlfriend kissing someone else, or there is a possibility that he just doesn't like people at all.
Regardless of the reason, we just hope the photographer who took this picture gets a pay raise because it's a pretty good shot as it has everything from high energy, the drama, and brilliant facial expression. What more do you want from a photo?
Double Punch
Every face in this photo tells a different story and that's what we love so much about this photo. The goalkeeper has his eyes closed and though he is trying to push the soccer ball away from the opponent player, and in doing so he has accidentally punched him.
The goalkeeper's teammate is not looking at what's happening, but he seems super excited about it. The referee in the back is looking at the entire accident with a look shock. No wonder why this game is so popular.
Taking One For The Team
This photo is super hilarious on so many levels. You know it is gold because of the reaction of two players in it. Although both players are from the same team, it seems like one had to make his face work as a launching pad for his teammate.
We are certain that this is not what the player underneath thought. At the extreme left of the photo, you can find the referee looking at it with absolutely no emotions on his face.
Don't You Dare Look At Me
We feel that it would have been more convenient if this guy was standing like this in front of another human and not a helpless animal.
It seems like standing in front of an angry bull and making a weird face is not a wise decision, but they are experts at doing it. What do you think happened next? Did the bull play with this guy like a dog plays a balloon?
A Helping Hand
Although most of you thought of something else, we like to look at the other side of the picture. All we're looking at is a man helping another man, what's wrong with it? This guy was brought up in a way that he is always trying to help others in need, and we find it inspirational.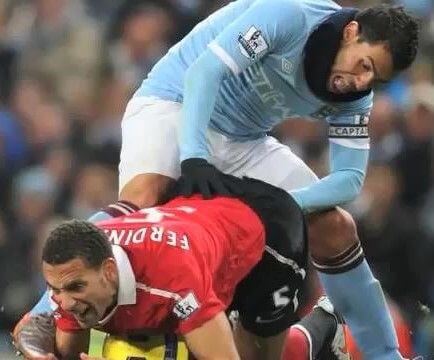 If you think something else is going on here, you need to get yourself checked. You all need to learn from us. Okay, we can't do this anymore. This photo is hilarious and we all know why.
Ads With Funny Photoshop Fails That Somehow Made It To Print
Ashley Lez
This article was originally published on 24/7Mirror
Can you remember the last time you saw an advertisement that wasn't photoshopped? Sometimes it is necessary to remove things from the background or fix coloring, but there are times when it is taken to the extreme. We have found the ads with the most hilarious and obvious editing fails that somehow made it to print. Continue reading to see these ridiculous mistakes that should have been fixed before they were used to sell actual products!
A Ghostly Family
This must be a family of half ghosts because their legs seem to have disappeared from the picture. Maybe they borrowed Harry Potters invisibility cloak and wrapped it around their legs.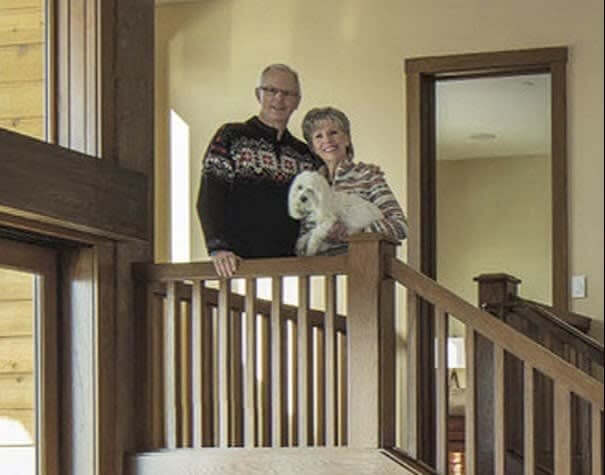 Surprisingly, this was used in a magazine considering the photoshop mistake is so obvious. The publishers probably thought no one would notice the couple doesn't have legs.
Who Is That Girl Staring Back At Me?
This looks like something straight out of a horror movie. Her inner demon has finally revealed itself and it is terrifying.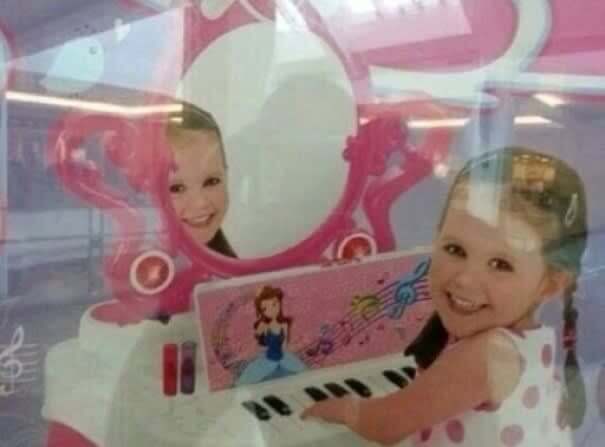 She is an adorable little girl, and the editors ruined it by making her look like she is two-faced.
Her Neck Might Be Rubber
Is she okay? Someone should check that her neck is not broken, or maybe the shower is meant to be for people with broken necks.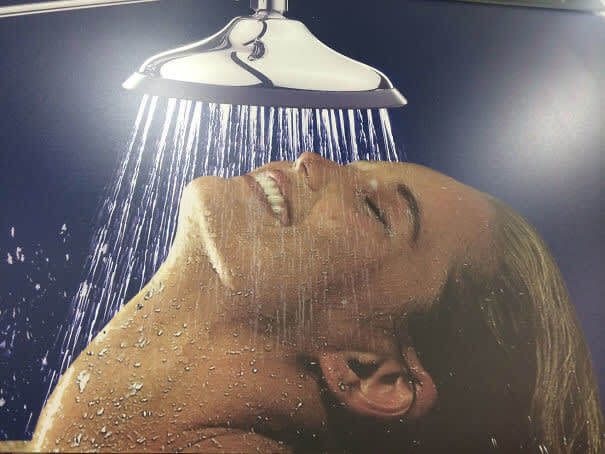 Also, who puts their face that close to a showerhead? That is not normal. Continue reading to see more messed up necks.
When Your Torso Is On Backwards
Was it too hard to find a model that could be photographed with the briefs on correctly? Why did they let this pass because that is not the right placement for those parts?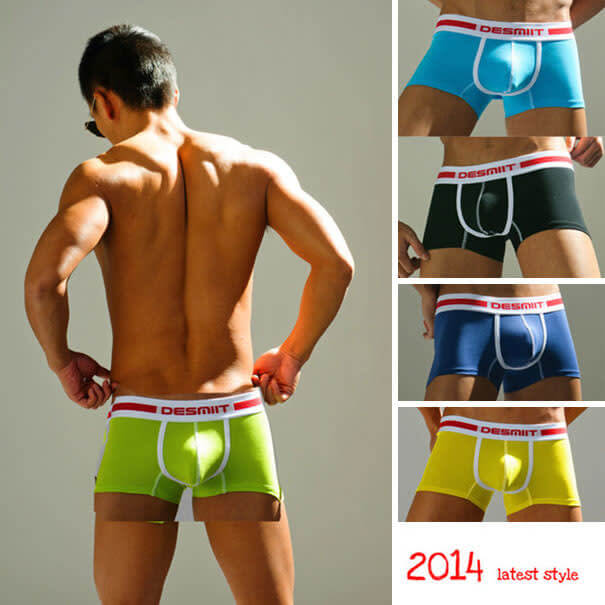 The least they could have done was find a picture to photoshop it onto the right side of his body.
A Floating Arm To Protect The Baby
Never leave your child unattended in the bath again because you can now use the floating arm.
Parents could get so many things accomplished while their child is in the bath. Just leave one arm in the bathroom and continue with the rest of your housework.
Where Did The Rest Of The Horse Go?
Fashion magazines make unrealistic body standards for women, and now they are doing it to horses too. When horses see this, they will feel bad because they can't attain those body standards.
If you look closely at the photo, they also replaced her legs with horse legs. Some editor must have had a wild imagination while photoshopping this.
She Must Be Fast With That Long Arm
That is one long arm that would come in handy for swimming fast. Maybe that's what you get when you sign up for an unlimited membership.
The more you swim, the longer your arms get, right? That must be what they are trying to tell us.
Someone Put Her Leg On The Wrong Way
Either they did a horrible photoshop job or she is seriously injured. How did no one spot this before it was printed?
No one's leg naturally turns around like that. It is humanly impossible unless it is a fake leg.
That Plane Is Flying Very Low
That woman seems very calm, considering the plane would be seconds away from crashing into the Hudson River if it was flying that low.
Would you want to fly with that airline after seeing this advertisement? Probably not, but they promise you some fantastic views.
How To Play A Guitar Without Touching It
Would you take guitar lessons from someone who doesn't even know how to hold a guitar? We are pretty sure the first thing you learn is how to hold the guitar properly, and they aren't doing that.
This gives "air guitar" a whole new meaning. When they were posing for the cover, they must have asked someone to edit in the guitars when they could have held them for the original picture.
They Gave Her T-Rex Arms
What happened to Giada De Laurentiis' arms? It says she is known for her "warm personality and creative approach," but not her large head and tiny body.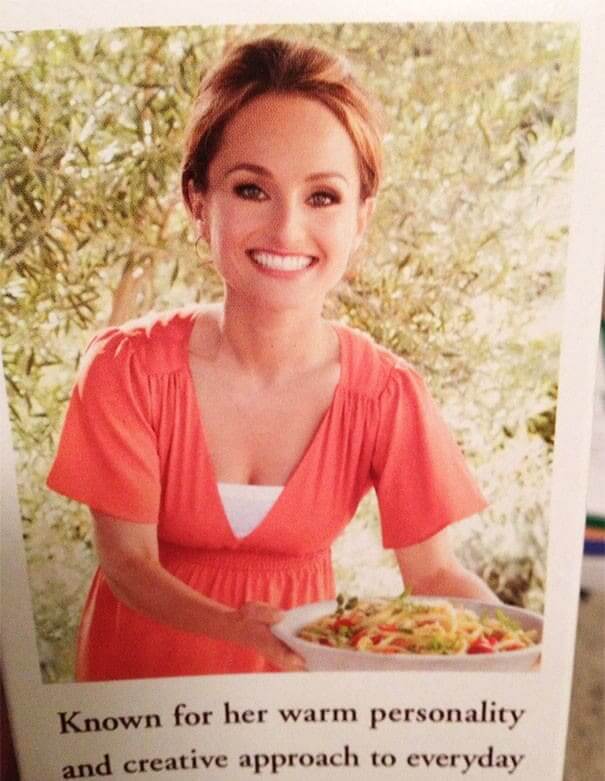 She is a beautiful woman, and this pasta box picture does not do her justice. They made her into a real-life caricature.
That Thigh Gap Is Intense
First of all, no one's thighs look like that. They must have taken the eraser tool and removed her inner thigh. It looks even worse from behind.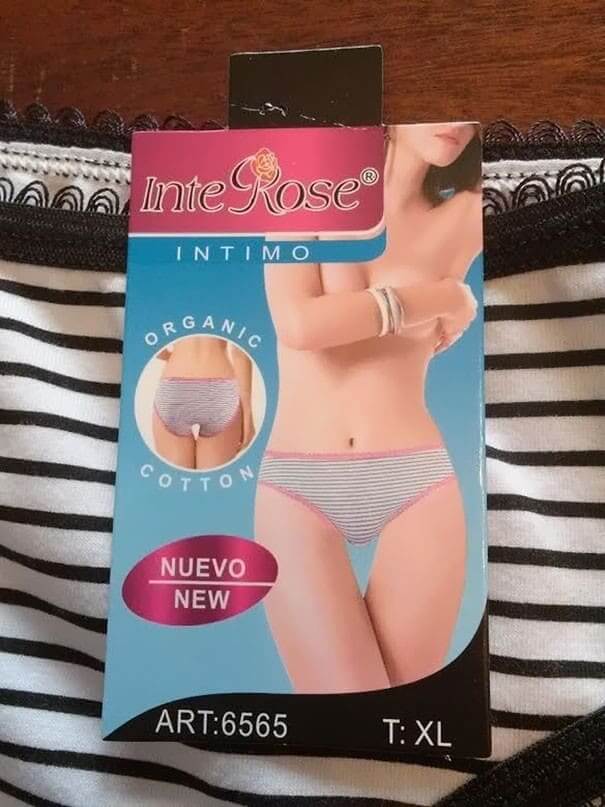 If her legs weren't crossed they would be so far apart with a thigh gap like that. Can companies stop making unrealistic bodies to promote their products?
How To Not Use A Selfie Stick
That is definitely not how selfie sticks are supposed to work. They are supposed to be taking the picture but it is from the wrong direction.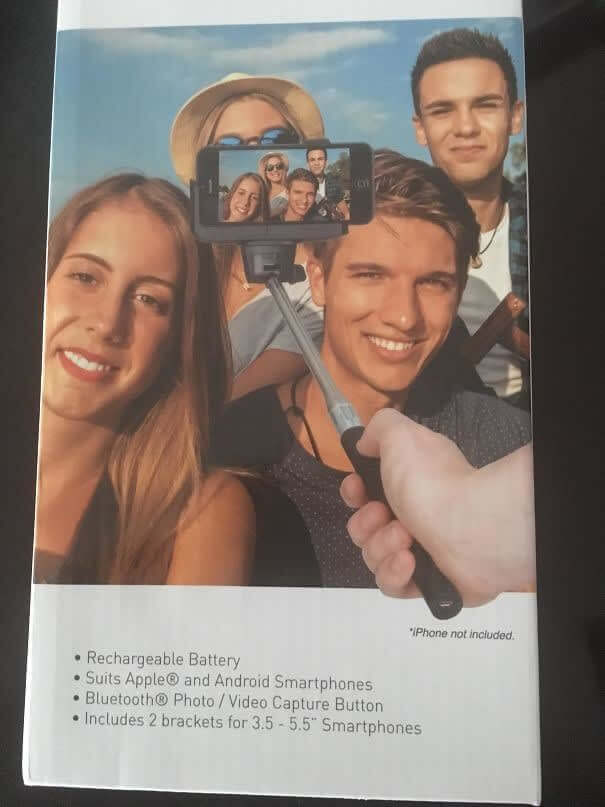 Why does the selfie stick not include an iPhone? People might miss that disclaimer and buy the stick in hopes that the phone is included.
When You Forget To Draw Your Nipples On
When Chrissy Teigen was on the cover of GQ Mexico, her nipples mysteriously disappeared. People immediately noticed the photoshop mistake and Teigen had the best response.
She tweeted, "I have no nipples. I draw them on with sharpie each morning and sometimes I forget." You can always count on Chrissy Teigen to make you laugh.
She Must Be A Bad Dancer With Two Right Feet
Ally Brooke is a member of the girl group, Fifth Harmony, and they did a cover shoot for Billboard. When the cover came out, there was one very noticeable photoshop fail; she had two right feet.
Was there something wrong with her left foot that they had to replace it? Brooke tweeted about the editing mistake and said, "When you are trying to look cute even though you got two right feet."
Those Peas Are Suspiciously Perfect
It must be the food of the future because those peas are hovering over the rice. It could be a new type of pea that has anti-gravity properties, it will be the newest thing in weight loss.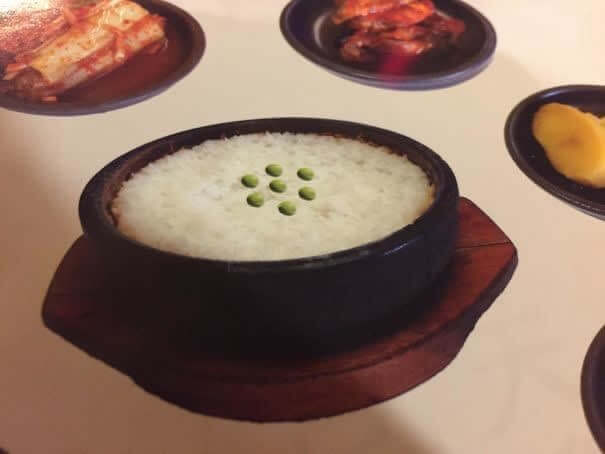 Why are there only seven peas on this dish? Peas are typically not used as a garnish, so whoever orders this is getting ripped off.
Giant Man Or Tiny Rocks
Scaling is an important part of photography and editing. You need to make sure the background is the right size compared to the person. This man looks like a giant diving into the ocean.
He would probably hit his head on the rocks, and that would end poorly. The editors should have been more aware of the size of the background compared to the man.
Only Clones Can Apply
This company posted this job listing, and they claim to have a diverse group of employees, but it seems like they used a bunch of clones to represent their employees.
They took a small group of people and then copied and pasted them in different patterns to fill the picture.
On The Edge Of Glory
There are so many things wrong with this photo. She has a random hand next to her foot and her leg seems to be detached from her body.
Her one foot is also extra-long. This whole ad has so many problems; we wonder why they used it because this is a big cosmetic company that can afford a good photo editor.
Maybe She's Born With It, Maybe It's Photoshop
What was wrong with the length of her neck before they edited it? Why did they have to give her a giraffe neck?
Chanel is a luxury brand; they should be able to afford a good editor and someone to review the work before it is released.
Add Some More Babies
If Brad and Angelina didn't have enough children already, the magazine would add some for them. Collectively they have six children, but this magazine thought that wasn't enough.
It seems that Brad was walking too far behind, so they photoshopped him closer but forgot to remove his body from the background.
Squid Women
Although there are only three girls pictured, there are seven sets of legs. Do these women have extra legs like octopuses or squids?
It just does not make sense why they would format the ad like this as if no one would think that the legs belong to the women above.
Her Jaw Hit The Floor
"Oh, here she comes, watch out, she'll chew you up, she's a maneater." She might be able to fit a human in her mouth if she doesn't have a lower jaw.
What happened to the lower half of her jaw? Is she going to eat the woman standing next to her? The girl next to her looks scared by the lack of a lower jaw.
Invisible Umbrellas
This is one of the less obvious editing mistakes. You have to take a second to look at the photo to realize that they are reflections of umbrellas that don't exist.
Why did they photoshop the umbrellas out of the picture in the first place? It is a bad reflection on their work.
The World's Longest Arms
It looks like Slender Man also wears pajamas. It's nice to know that he is just like the rest of us.
What was the point of extending his arms this much? Were they extremely short to begin with?
They Forgot To Remove Something In The Background
This is a case when photoshop was needed, but not used. It seems that the editor forgot to remove the naked man from the background.
No wonder the kids are running away, they just saw a naked man on the beach. Their faces even look like they are laughing at him.
Trying To Build The Perfect Family
It appears that the original family was not cutting it so they replaced all their faces with random people that look nothing alike.
The baby is Asian, but no one else in the family is, and the husband's face looks like he has a curve filter on it.
They Couldn't Get An Actual Picture Of The Car Driving?
Mazda is a major auto company that can afford to take a picture of the car driving on the road instead of using photoshop.
If you squint and look at it from far away, it almost seems reasonable until you open your eyes and realize it is a 2-D car on a 3-D road.
The Man With Many Hands
The University's president must be very hands-on with the extra hand he has. He might be a secret mutant, but the secret is out now because he revealed the extra arm.
When someone asks for a helping hand he will never say no, and that is the key to being a good president.
Shrinking Arm Syndrome
When you skip arm day too many times, this is what happens. His arms would be perfect if you ever locked your keys in the car and needed someone to reach through the unlock it.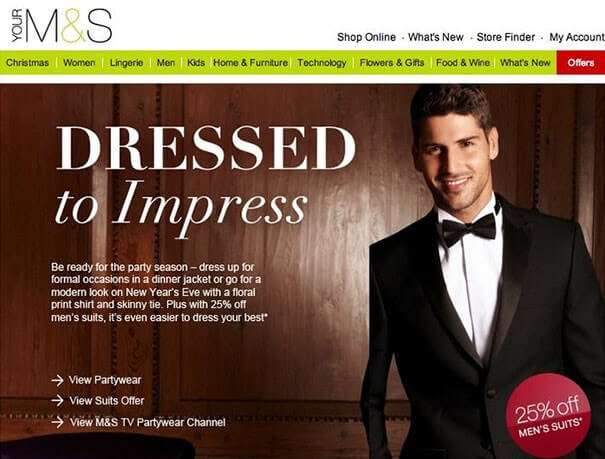 The 25% off means that you are getting 25% less suit. That's how they help you save money.
Someone Got A Great Deal On This House
According to this advertisement, this woman sold her house for a low price of nine dollars. Of course, your home will sell faster if it is at a price that low.
If they were going to use money, at least make it fake 100's so it a bit more believable. She is smiling as if she just made a fantastic sale.
Obama Holds His Own Hands And Michelle's
Why did they feel the need to photoshop Obama holding his wife's hand? They can walk and not hold hands, and still be in love
He said, "Move aside Michelle, my new hand needs me more." It's always a new hand that ruins a relationship.
Samsung Sees The Future
The dancing couple is doing one pose, but the picture shows them doing another pose. It seems that this new Samsung phone can predict the future.
That must be a very expensive phone because of the advanced technology it possesses.
HoverCard
Instead of MasterCard, they are now introducing the HoverCard. It is the same as a regular credit card, except for the fact that it hovers above your hand when you spend money.
If it's not hovering, then this woman has sticky fingers and you should keep an eye on your wallet around her.
Maybe They Asked To Be Turned Into Sims
The "professional" photographer was hired to take pictures and edit them, but we wouldn't recommend hiring him for your own photos.
Wouldn't you ask for a re-shoot or your money back if you got these? Why were their faces turned into creepy avatars?
Lama-Retriever
It must be a pain to find a wide enough collar for that dog; It has such a thick neck. This hybrid of a retriever and llama will fetch the ball and then spit on you.
What was the photo editor thinking? "This dog is cute, but he would be even cuter with a longer neck."
Are They In A Car Or Their Living Room
Do they drive an enormous car with a sofa in it or do they have a car dashboard design in their home? There are so many confusing things about this picture.
The boy looks like he is about to say he has no idea what is going on or who those people are. Also, what does the random phone have to do with anything?
A Dog That Doesn't Poop
If they hated its butt so much, why didn't they take a different picture of it from a different angle? Real dogs have butts; it is part of nature.
He looks worried that he won't be able to go to the bathroom anymore. Why are there beauty standards for pug butts now?
That Plane Is About To Crash Into The Wall
If you see this view from the plane window you should probably start to panic because you are about to crash into the Great Wall Of China.
These airlines are giving travelers unrealistic ideas about what kind of view they will get when flying to specific destinations.
The Number Of Squares In The Waffle Don't Match The Iron
This mistake is hard to catch unless you sit an count how many squares are in the waffle and how many are on the waffle maker.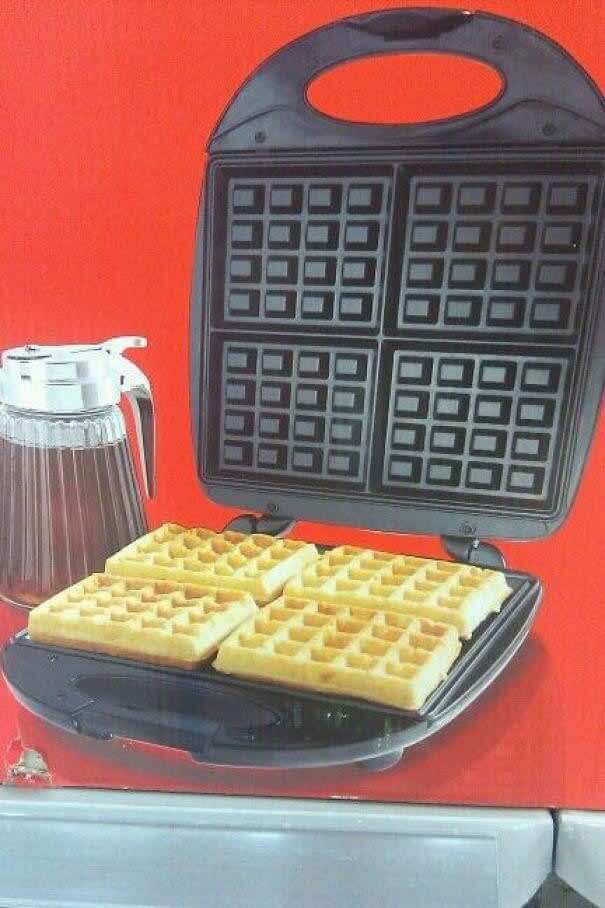 So the person may be bad at math, but their photoshop skills are fine compared to some of the other mistakes on our list.
The Headless Horseman Is Now A Model
Excuse me, sir, you seem to be missing something. If they didn't want to include the model, then why leave his hands in the picture?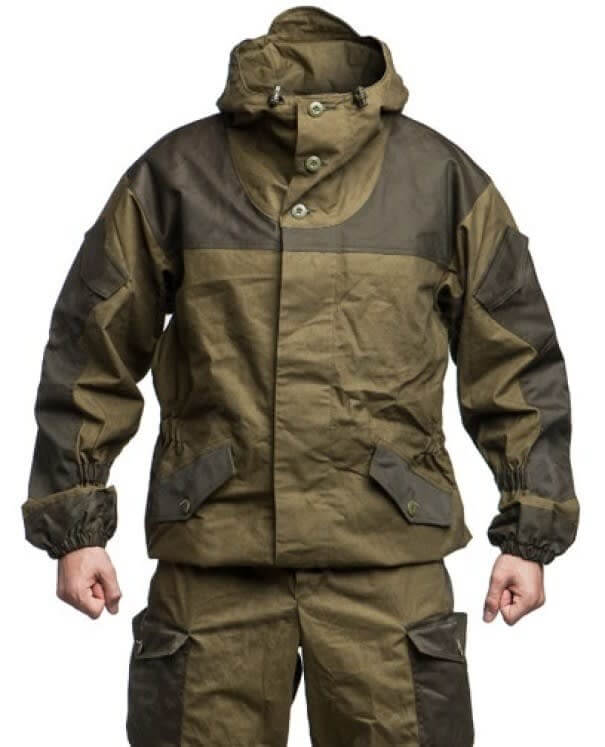 If it is the Headless Horseman, it is nice to see that he got himself a job after the whole Crane business. He is really turning his life around.
They Gave Her Wolverine Fingers
Why did they make her hand look like that? It seems like a horrifying animal mauled her hand, or she has a set of claws.
The editor gave her a Freddy Krueger looking hand, and no one thought to fix it.
Seems Legit
From the gondola in the back to the poorly photoshopped people next to an unrealistic grill, this photo is bad.
The only thing that would make this photo more staged would be a stock photo watermark over it.
Misplaced Belly Button
The woman in the red seems to have a belly button on her ribs. It could be a stomach dimple, but that is usually something they would remove to give the appearance of pure perfection.
It just looks so strange to have been left in this Victoria's Secret ad.
Her Hips Don't Lie
That is one large hip. Kim Kardashian is nervous that someone is coming for her aesthetic. This also makes her torso look very long.
This shapewear will definitely give you an interesting shape. Hopefully, it won't be as exaggerated as the ad.
Jennifer Aniston Must Be A Yoga Master
What happened to Jennifer Aniston's body? They made her head look too large and her arm too small.
She is definitely next level because no one else can achieve these proportions or poses.
She's A Very Tall Lady
This woman seems to have three feet of extra leg. They are unrealistically long compared to her surroundings.
With legs as long as hers, she can go up the stairs in one step. Even her shoes look like they have been elongated.
The Fame Went To His Head
"How do we sell our underwear?" "Let's make his head extra larger." The size of his head takes away from the fact that the ad is for underwear.
With all the fame he is receiving now, his head must be even bigger than it was in this picture.
Wrong Reflection
If they are going to have a reflection on their billboard, shouldn't the reflection match the picture? It is a simple thing to do, yet they somehow messed it up.
Maybe the reflection is the phone that will be released after this one and they are trying to do a secret preview.
Models Are Expensive And Hard To Work With
A model was too expensive for this company, so they took a picture and photoshopped the headphones onto the model.
If you see an ad like this, you probably shouldn't buy the product because it is most likely a knockoff of the real thing.
Clones
Wouldn't it be funny if you opened the book and the same dog was on every page instead of other dog breeds?
Three dogs would have been challenging to work with, so they decided to clone the one dog they could find for the cover. Three is always better than one, right?
They Didn't Do Kate Walsh Justice
This is a promo for a show called Bad Judge, and they must have wanted to portray an unrealistic body for women to look up to.
No one looks like that, not even the actress herself. You know a show is doomed from the start when the promo photos are bad.
The Baby's Legs Are Not Right
Is that baby okay? It looks like its legs are all twisted up. Why would they make the baby's feet turned in different directions?
How do these images get used without someone correcting them first? Isn't there an inspection before things are printed?
Mysterious Hand
This woman married a handyman clearly. He had three hands, according to this picture.
These extra hands will be useful to grab all the deals Target is promoting. They can get double the amount of stuff in a shorter time.
Does Gigi Hadid Have Very Long Arms?
In her now infamous Vogue cover, model Gigi Hadid has an extra-long arm. When the cover came out, everyone noticed how strange it looked.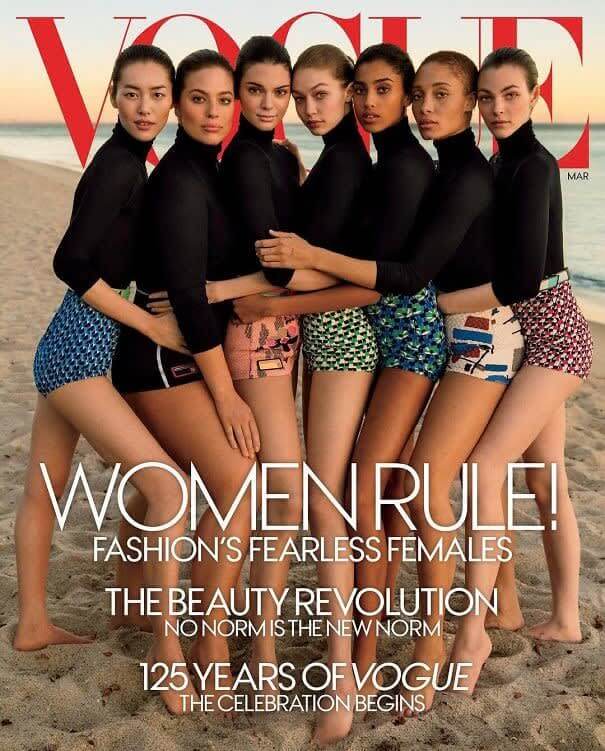 Somehow her forearm goes past Kendall Jenner and all the way to Ashley Graham. It is a bit odd.