While many people idolize celebrities and automatically assume they are beautiful and perfect, the reality is that at second glance, we see that they're just like us. Many celebs don't have perfectly symmetrical faces or the ideal smile, but their imperfections are part of what makes them so memorable. Many of these stars have passed their unique looks onto their children, and it is crazy how similar they look. Continue reading to see what distinctive looks your favorite celebrities gave to their kids.
Bette Midler's Daughter: Sophie Von Haselberg
From her powerhouse vocals to her wide range of characters that she has played, Bette Midler is an incredible actress, and her daughter has chosen to follow in her footsteps. Sophie Von Haselberg has her mother's signature looks, and the resemblance is uncanny.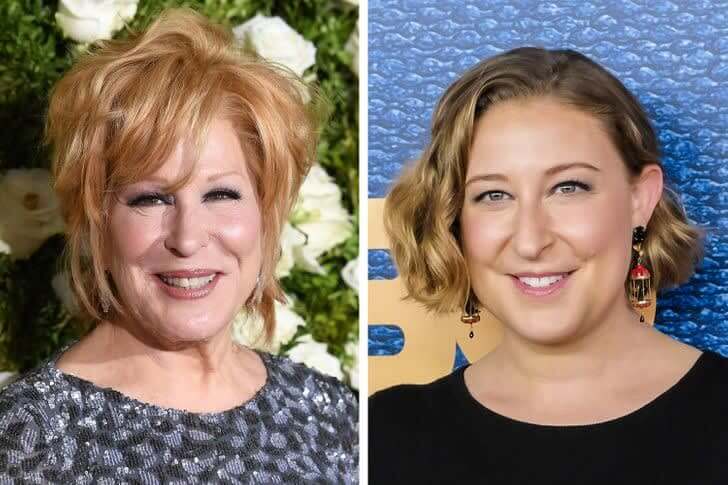 Charles Sykes/ Invision/ AP/ East News
Sophie has earned her place in Hollywood by starring in Woody Allen's Irrational Man and the film Ask for Jane. Like her mother, Sophie has nailed every single role.
Bjork's Son: Sindri Eldon Þórsson
Ever since Bjork's son was little, he has been his mother's twin. Sindri also followed in his mother's footsteps when it came to music because he got the creative bug from her. Sindri plays in an alternative rock band and has released two albums.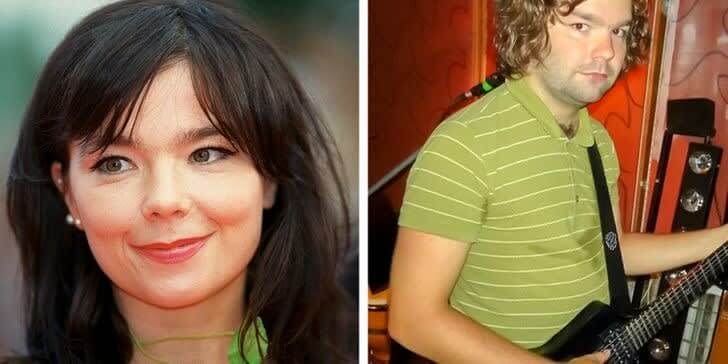 Abaca/ Cassajus Hahn/ 20005/ REPORTER/ East News, Sindri Eldon / facebook
Bjork is known for her out of the box fashion choices like the iconic swan dress, and we have to wonder if her son takes the same fashion risks. She has a young daughter that she dresses in fun fashions, but it seems that Sindri sticks to the basics.
Rowan Atkinson's Children: Lily Sastry And Benjamine Atkinson
Rowan Atkinson is mostly recognized for his role as Mr. Bean with his distinctive features, and he passed those onto his son, Benjamine. Atkinson's son earned his BA in biology from Indiana University and went onto work in the biotech industry before resigning to work in the film industry as a producer.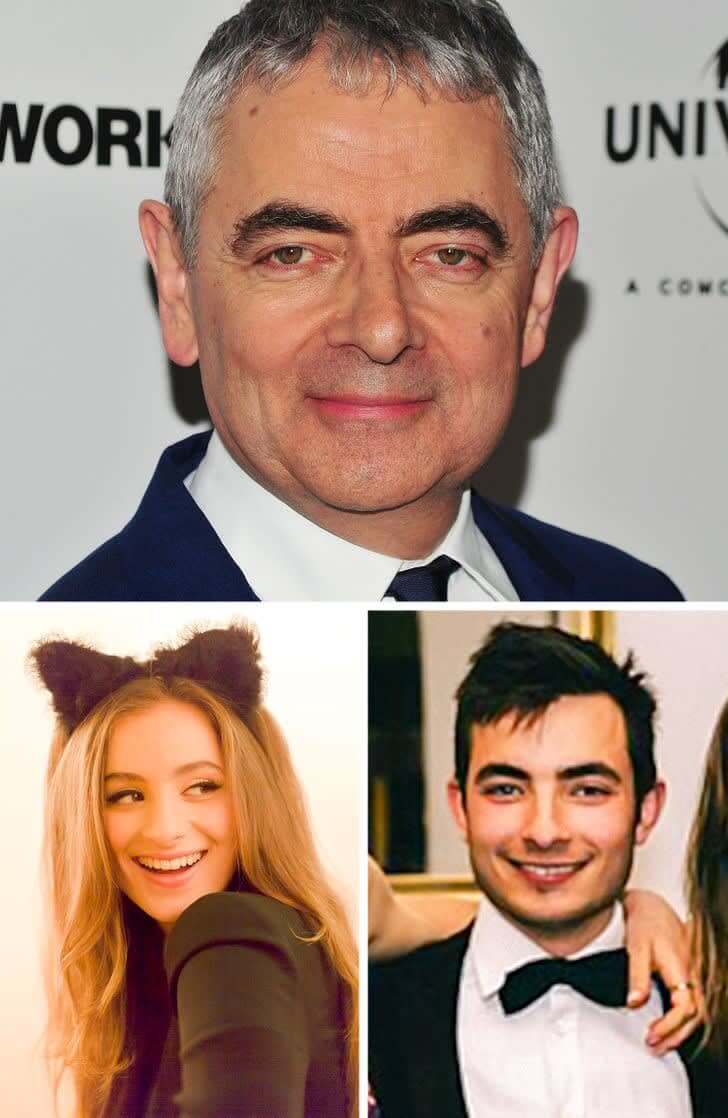 Atkinson's daughter, Lily, went in a different direction instead of film. She is known for her singing and her work as a burlesque dancer. She had a few roles when she was younger alongside her father, but she realized her passion was music early on.
Danny DeVito's Children: Grace, Lucy, And Daniel DeVito
Actor Danny DeVito has a very distinct look, and his children have followed him in many ways. His oldest daughter, Lucy, looks just like him with her petite stature and round nose. She has also taken after him by becoming an actress.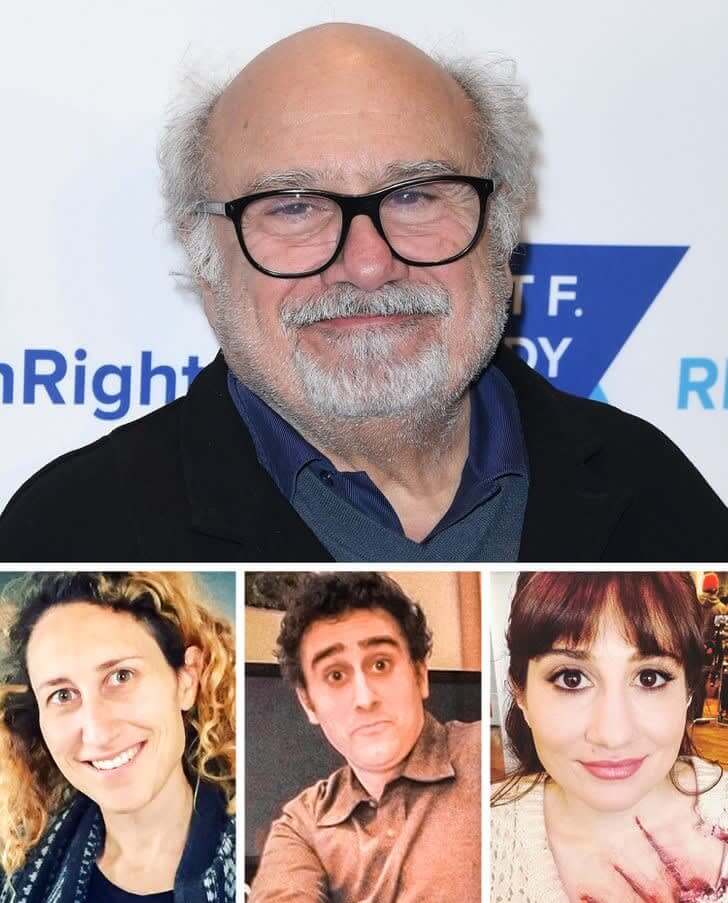 DeVito's son shares more than a namesake with his father. He had the same goofy personality and love for film. Daniel prefers to work on documentaries rather than major motion pictures. Grace is the youngest, and she has also joined the film business as a producer and actress. She even worked alongside her father in The Comedian.
Dwayne Johnson's Daughter: Simone Alexandra
Dwayne "The Rock" Johnson is the proud father of three beautiful daughters, and his oldest, Simone, is practically his twin. Besides the giant muscles and bald head, she looks exactly like her father. She was signed with IMG Models, and growing up; she often accompanied her father to red carpet events.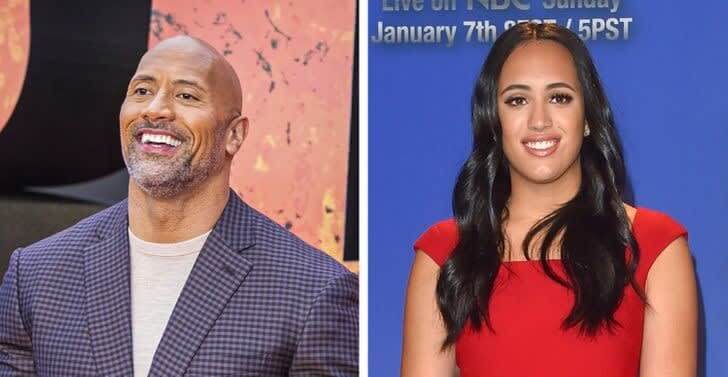 In 2020, Simone announced that she was starting to train for her WWE debut. She saw her father when he was a professional wrestler, and that sparked her desire to follow in his footsteps. She definitely has a reputation to uphold.
Tilda Swinton's Daughter: Honor Swinton Byrne
Tilda Swinton's daughter Honor not only got her distinguishable looks, but she also got her love for acting too. Honor Swinton Byrne made her acting debut in the drama The Souvenir. At just 22, she had the starring role, and this is just the first of many projects she will probably have in her future.
Vinnie Levine/ MEGA/ Mega Agency/ East News
Her mother also had a role in the movie, so it was a family affair. Honor says her childhood was unique because they didn't have a television in their home, which is strange for someone who is now on TV.
Ben Stiller's Children: Ella and Quinlin Stiller
With a father like Ben Stiller, it is no surprise that his young children have already started acting. His oldest daughter Ella had a role in many of her father's movies, such as Night at the Museum and Megamind. She has also accompanied her father to Puerto Rico to help with charity organizations.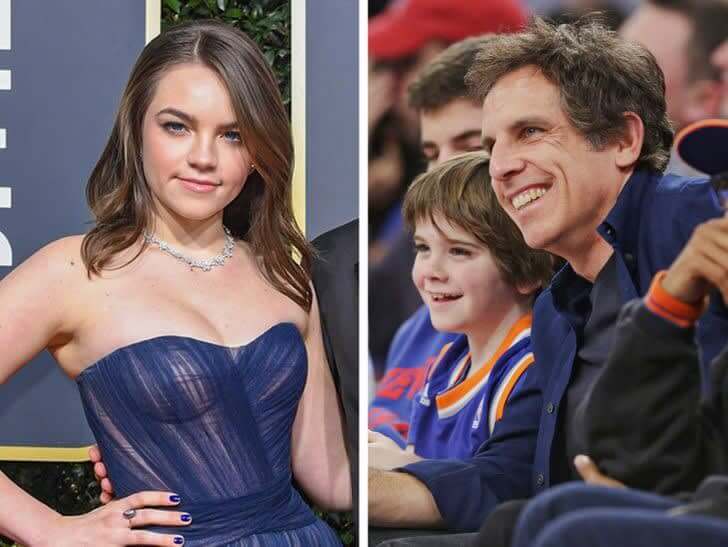 Stiller's youngest son, Quinlin, has also taken part in movies with his father. He voiced characters in Megamind as well as Madagascar 2. He hasn't had any recent roles, but he is only 14, so he has plenty of time to figure out what direction he wants to take in his life.
Uma Thurman's Children: Maya Hawke And Levon Thurman-Hawke
Uma Thurman should be very proud of her two children who have already accomplished so much before the age of 25. Maya Hawke followed her mother when it came to acting, and had a lead role in the most recent season of Netflix's Stranger Things. She has also done some collaborations with brands like Calvin Klein and AllSaints.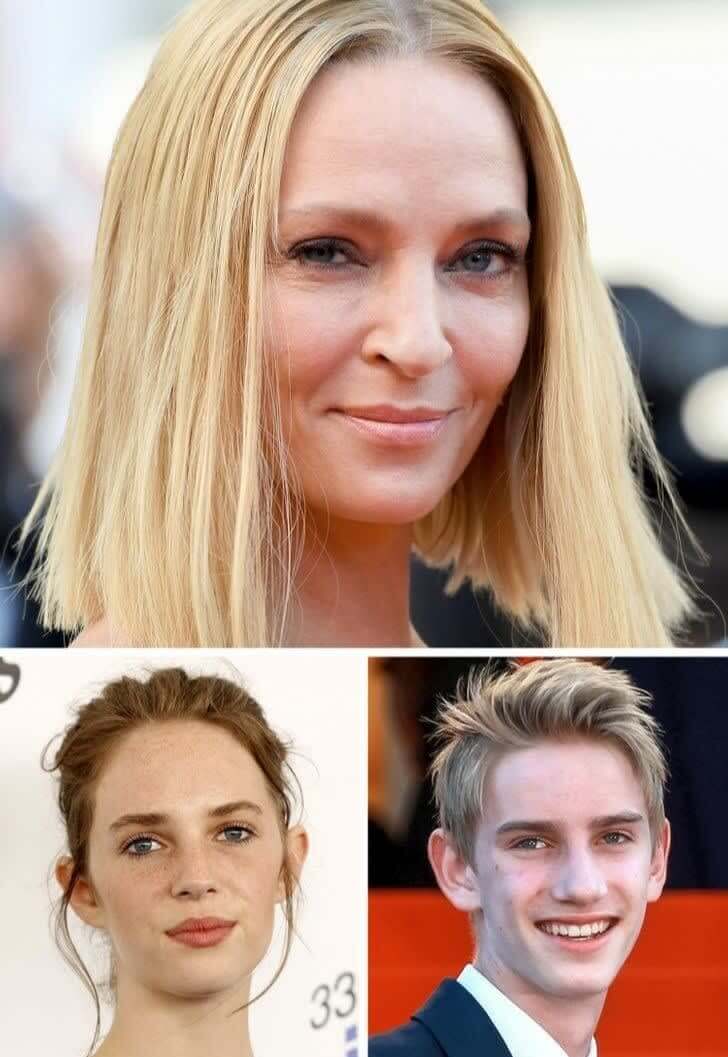 Levon did not pick up acting as his sister. He would rather keep his life private since he only recently turned 18. Levon made a rare public appearance with his mom at Paris Fashion Week 2020, but he does not usually attend events with her. Levon starred in a short film in 2018 called Blackout, but that is his only credited film.
Peter Dinklage's Daughter
Peter Dinklage is famous for his iconic roles in Game of Thrones, Avengers: Infinity War, and X: Men: Days of Future Past. Despite being one of the most easily recognized people in Hollywood, he likes to keep his family life private. He has two daughters, the oldest show here, and he never publicly announced her name.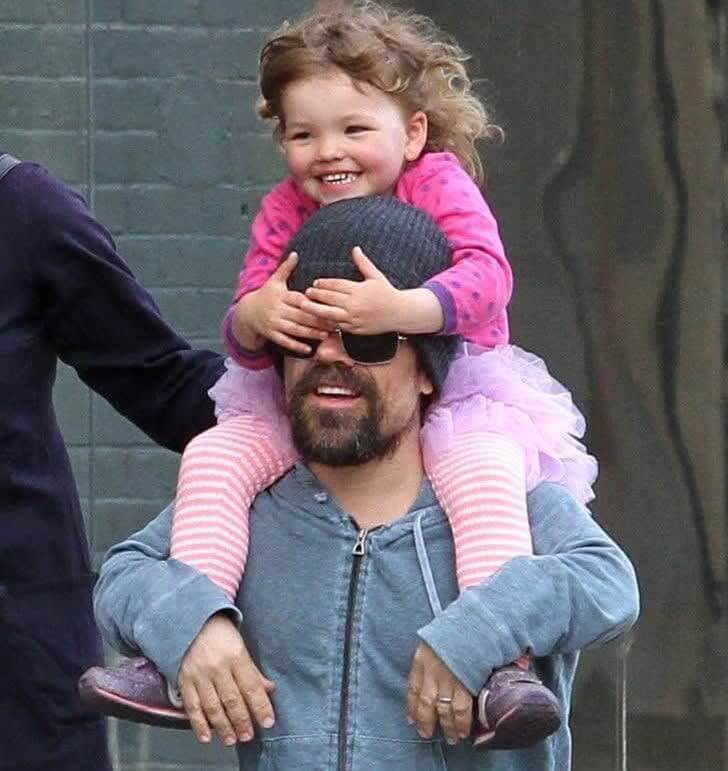 His daughter is now 8-years-old, and only his close friends and family know her name. Dinklage considers himself to be a bit of a hermit, so he is not seen in public often. He and his wife had a second child in 2017, but never released the gender or name of the child.
Jay-Z's Daughter: Blu Ivy
Like father like daughter, Jay-Z's oldest daughter Blu Ivy is undeniably his mini-me. Since she was a baby, she has been making the same facial expressions as him, and it was clear that she had similar facial features since she was young.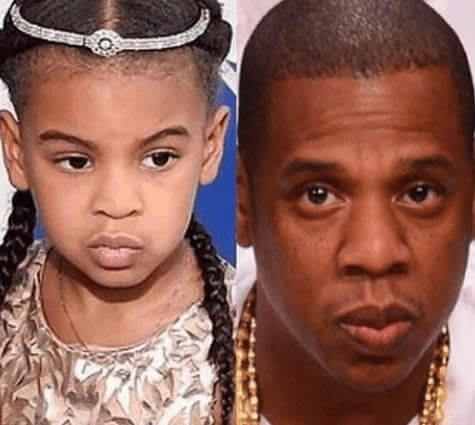 Blu has yet to show an interest in rapping like her father or singing and dancing like Beyonce, but she has her entire life to find her passions. We can't imagine she wouldn't have some musical talent with parents like Jay-Z and Beyonce.
Nicholas Cage's Son: Weston Cage Coppola
Nicolas Cage has a very distinct look that is often made into memes because his facial expressions are bizarre. His son, Weston, not only shares his looks, but he also shares the passion for acting and music. At age 16, he started his first band called Eyes of Noctum.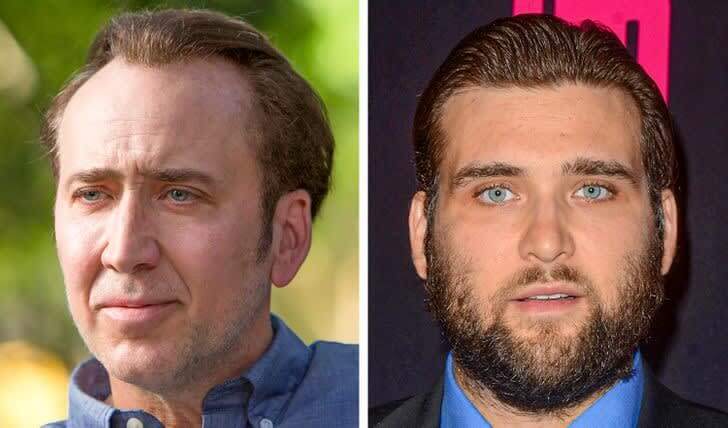 The Runner / Paper Street Films, Martin Sloan/Photoshot/East News
Weston used to play metal music, but now he sticks to a calmer genre. He has also acted in movies like The Crow and Rage. In 2015, he released his debut solo album called Prehistoric Technology.
Donatella Versace's Children: Allegra And Daniel Versace
Donatella Versace is larger than life. After her brother Gianni Versace died, she inherited Versace and has been the chief creative officer ever since. While she is often in the public eye, her children are incredibly private. In interviews, Donatella often jokes that they are naughty because they don't share her interests.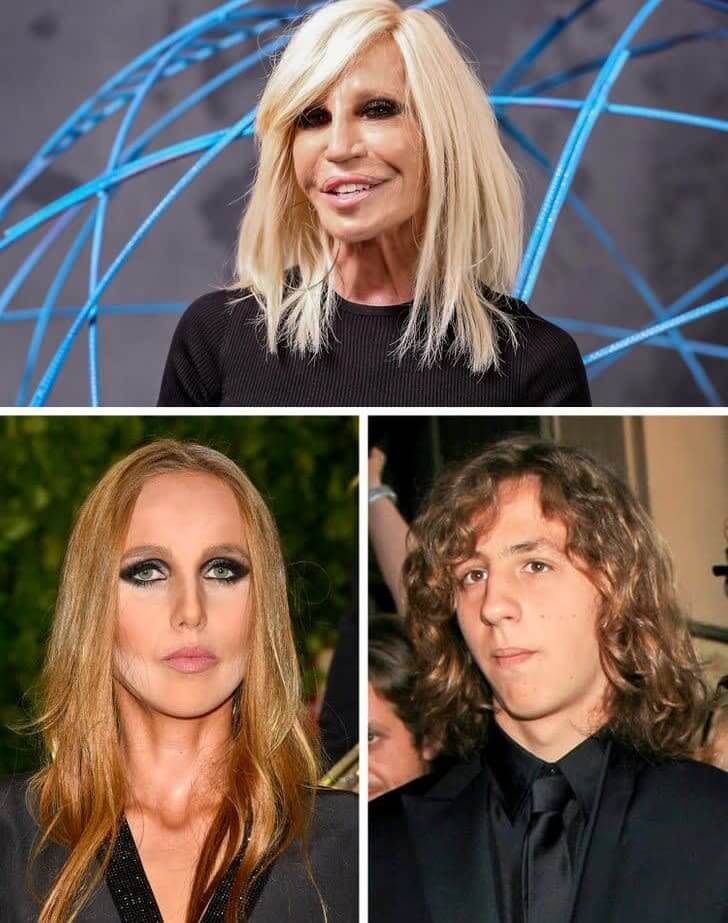 Allegra Versace works for her mother's company, and she inherited 50 percent when she turned 18. She also worked as a theatrical dresser in New York City. Daniel, on the other hand, keeps his life entirely out of the public eye. They were both significantly affected by their uncle's murder, so they have kept themselves out of the public eye for most of their lives.
DannyTrejo's Children: Gilbert And Danielle Trejo
Mr. Machete has two children, Gilbert and Danielle Trejo. Gilbert took after his father and has had small acting roles, but he is more comfortable behind the scenes as a director. He has mostly worked on short films so far, but we can see a bright future ahead.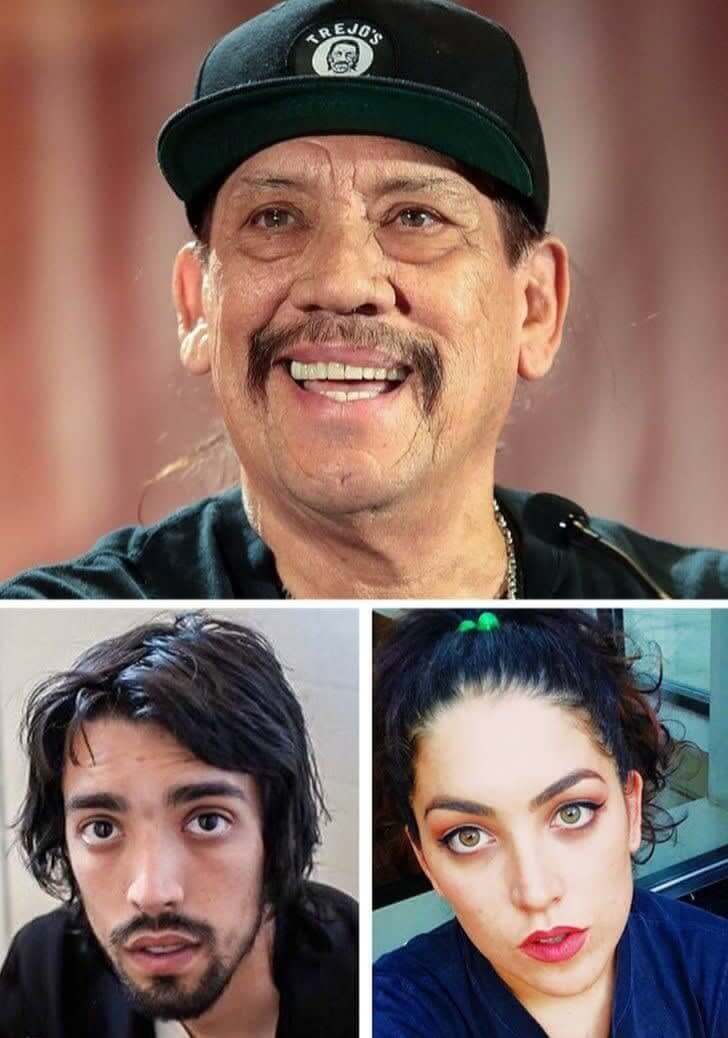 On the other hand, Danielle Trejo went in a different direction from acting and got into the fashion world. She has such a passion for creating beautiful clothing that she opened her own clothing store. She has an alternative sense of style that sets her apart from other people.
Mick Jagger's Children: Lucas, Georgia May, Jade, Karis, Gabriel, James, And Elizabeth Jagger
Mick Jagger has many children, as you can see, and they have gone in many different directions with their lives. His daughter Jade was in the fashion industry but decided to give p her career so she could focus on her family and jewelry business. Georgia May, Elizabeth, and Gabriel have all gone into the modeling industry, and they were all on the cover of Vogue​.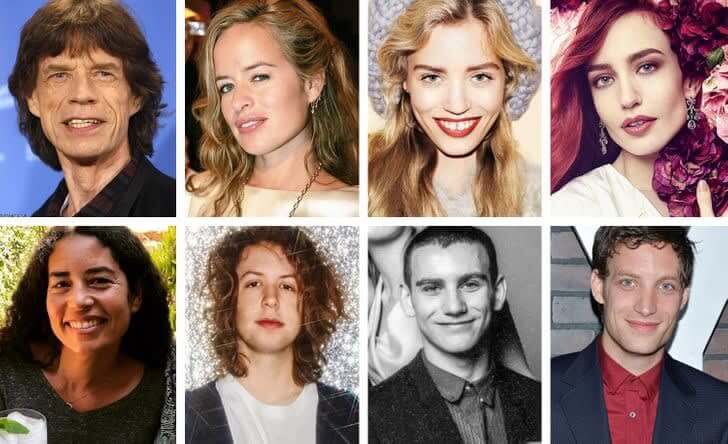 The oldest of the Jagger children, Karis, decided early on that she didn't want to live in the spotlight and became a chef. Lucas is just 19-years-old, and he is not sure what he is going to do with his future. Lastly, James Jagger had a bit of a troubled past but has since cleaned up his act and started working in film. One thing we can say is they all have their resemble their father when he was young.
Barbra Streisand's Son: Jason Gould
Barbra Streisand is a music and acting legend, so her son had big shoes to fill when he decided to become an actor. Jason Gould is an actor, scriptwriter, and director. He has been in movies like The Big Picture and The Prince of Tides. He also performed with his mother on her tour.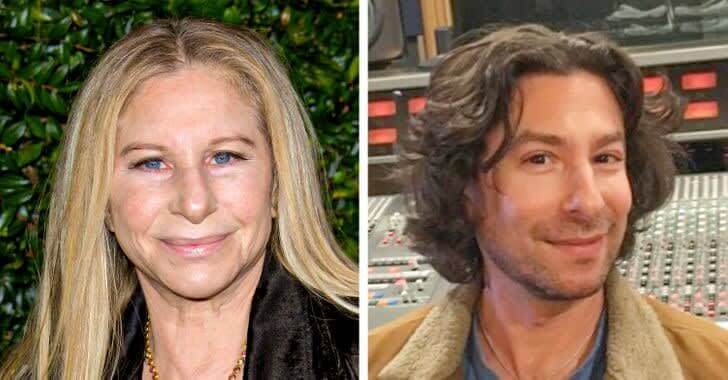 In 2017, Jason released his first album, Dangerous Man, and it was a hit. He also has a self-titled album, and he is currently focusing on the music rather than acting.
Woody Allen's Children: Ronan Farrow And Dylan O'Sullivan
The incredibly talented director, writer, and actor, Woody Allen, hasn't always had the best relationship with his children. His son Ronan Farrow grew to fame recently when he wrote an article for the New Yorker that helped uncover allegations of sexual abuse against Harvey Weinstein. He has also written three widely successful books, Catch and Kill and War on Peace.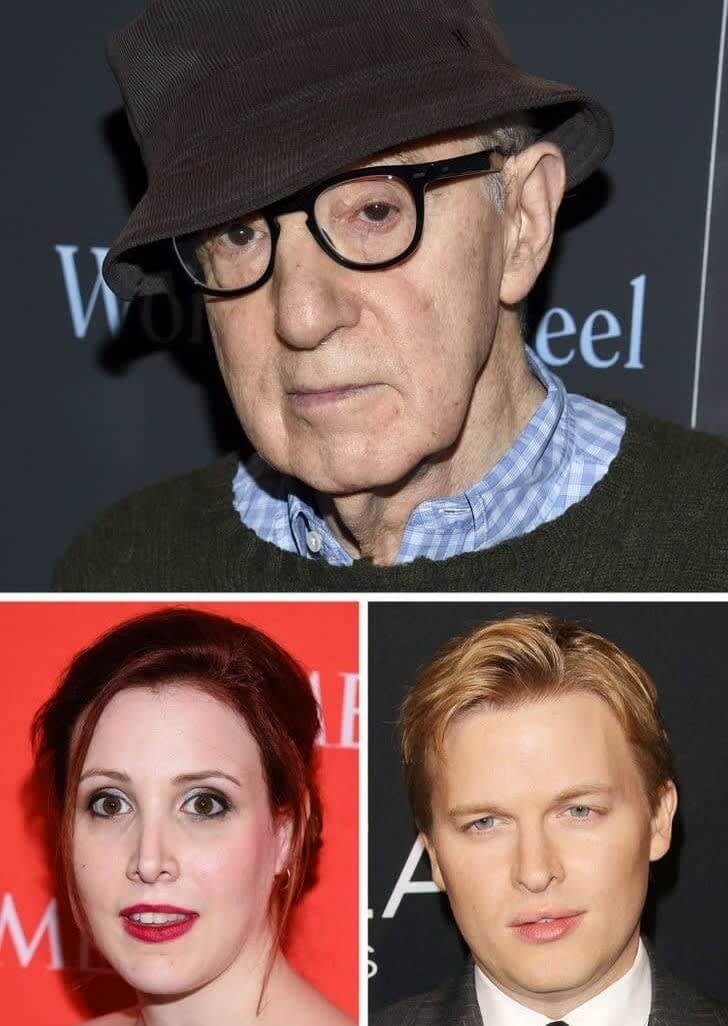 Evan Agostini/ Invision/ AP/ East News, Associated Press/ East News,LCLA/ Broadimage/ Broad Image/ East News
Allen adopted Dylan Farrow through his relationship with Mia Farrow. There have been accusations of sexual assault from Dylan about her adoptive father. Although Allen was cleared of the allegations, Dylan still sticks to her story. She is currently writing the novel Hush, which shares her message about being silenced.
Meryl Streep's Children: Henry, Gracie, Mamie, And Louisa Gummer
Maryl Streep has four beautiful children who all resemble her in some sort of way, like they each have a small piece of her. Her oldest son, Henry, is a musician and actor who has had his songs featured in major motion pictures such as Julie and Julia​. Streep's daughter Louisa took up modeling instead of acting, and her career has taken off. She has worked with some of the biggest names in fashion, such as Dior.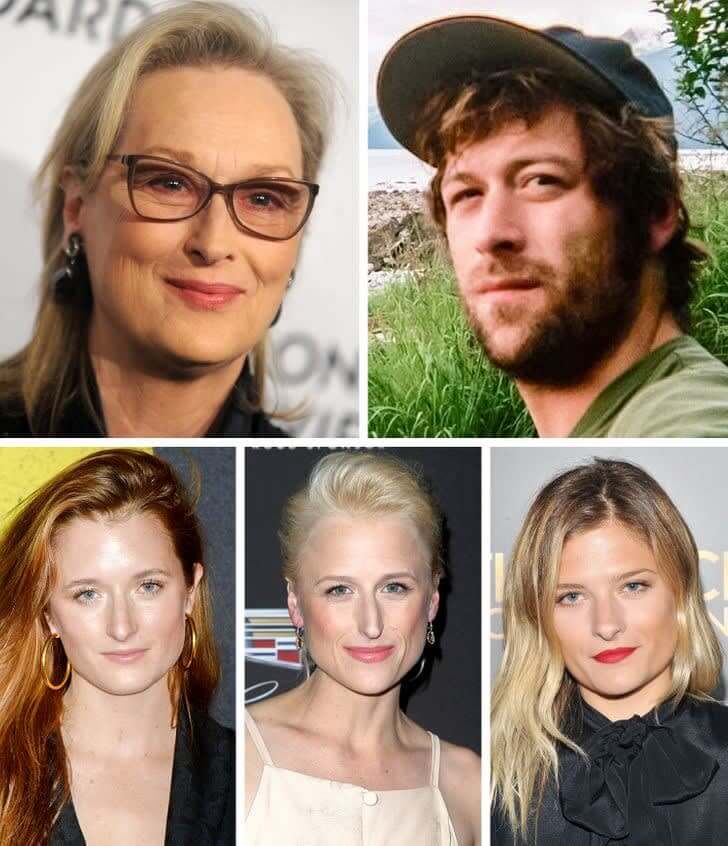 Jack Shea/ Starshots/ Broadimage/ East News
Grace and Mamie have been the most successful of the Gummer siblings. They have both been featured in major motion pictures and TV shows. While they haven't gotten any Oscar's yet, they are both well on their way. Their careers are moving quickly, and they have plenty of projects lined up.
David Bowie's Children: Alexandria And Duncan Jones
The late and great David Bowie was nothing short of a legend, and he passed those star qualities onto his two children. His daughter Alexandra took after her supermodel mother with her incredibly beautiful looks. At just 19, she is currently living in New York and pursuing a career as an artist.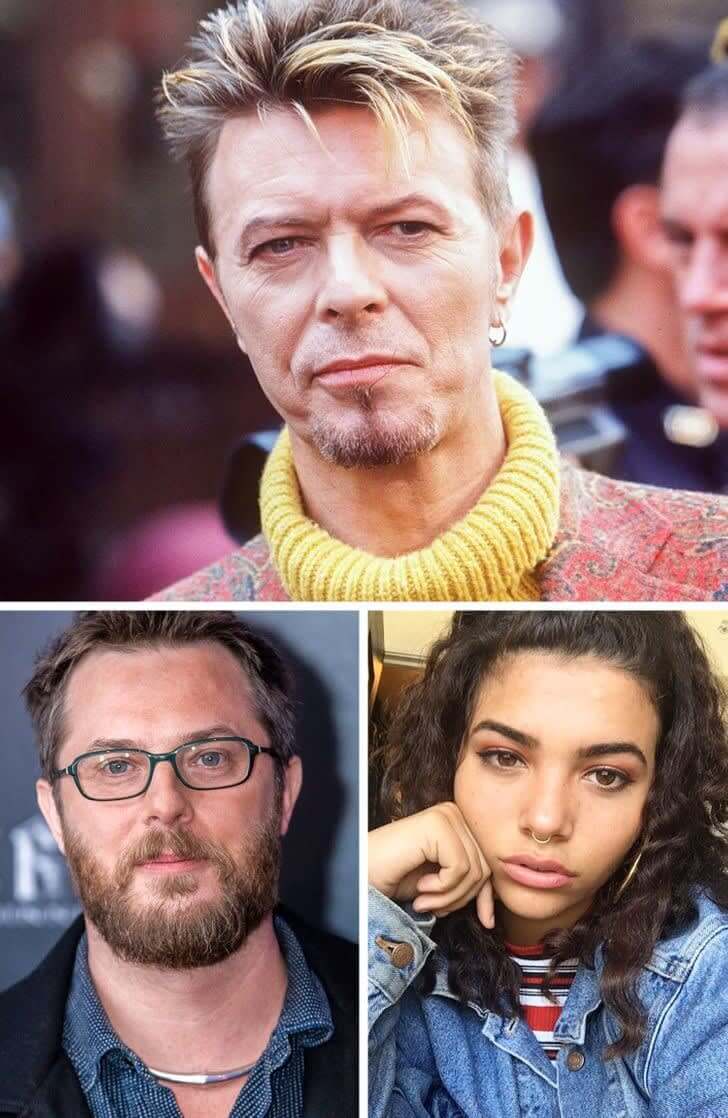 Bowie's son, Duncan, decided to become a director, and he made a wise decision. His first film, Moon, won him a BAFTA award for Outstanding Debut by a British writer and director. He also directed Source Code, Moon, and Warcraft. His dad would definitely be incredibly proud of him.
Theresa Guidice's Daughter: Gia Guidice
Theresa Guidice is one of the original cast members of Real Housewives of New Jersey and she has four daughters. Gia is the oldest, and she looks just like her mom. Gia has been making appearances on RHONJ since she was a young girl, and now she is all grown up.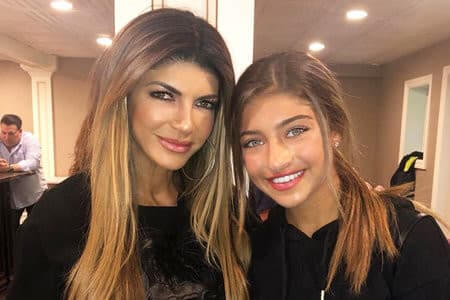 Gia is now 19-years-old, and she is attending Rutgers University close to home. She has aspirations of becoming a lawyer, and we can't help but think that was sparked by her parent's ongoing legal troubles throughout most of her teen years.
Pink's Daughter: Willow Sage Hart
Pink's daughter, Willow Sage Hart, is like her mini-me. At just nine years old, she has already started singing, acting, and doing acrobatic tricks like her mother. She took part in recording the album for The Greatest Showman in 2018, and the video from the recording session with her mom will bring tears to your eyes.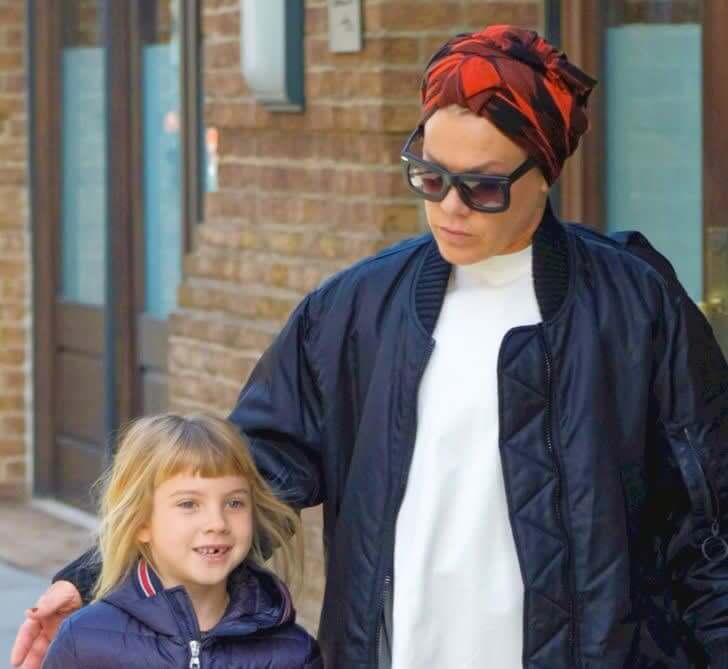 TNYF / WENN.com/agefotostock/East News
Willow has already done so much in her short life that we can't wait to see what direction she takes as she gets older.
Courtney Love's Daughter: Frances Bean Cobain
Frances Bean Cobain got her striking looks from her mother Courtney Love and her late father, Kurt Cobain. She had a problematic childhood despite being the daughter of two of the biggest names in Hollywood during the '90s. She was two when she last saw her father, and she spent much of her time with her grandmother while her mother dealt with drug-related issues.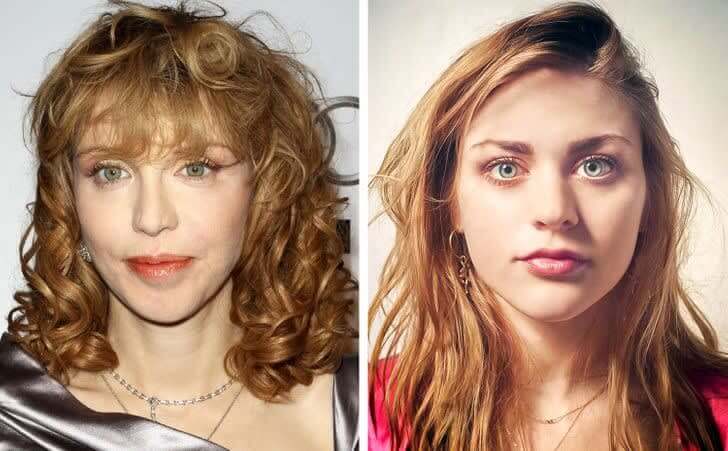 Frances is now all grown up and considers herself to be a visual artist and model. She has worked with magazines like Elle and Harpers Bazaar. She was also the face for Marc Jacobs in 2017. She also wrote a song about her dad and life after his death.
Cher's Children: Chaz Bono And Elijah Allman
Cher's children took after their mother and found themselves in the spotlight during their late teens. Cher's son Elijah Blue Allman followed in his mother's footsteps and became a musician. Elijah has a song with his mom called "Crimson And Clover."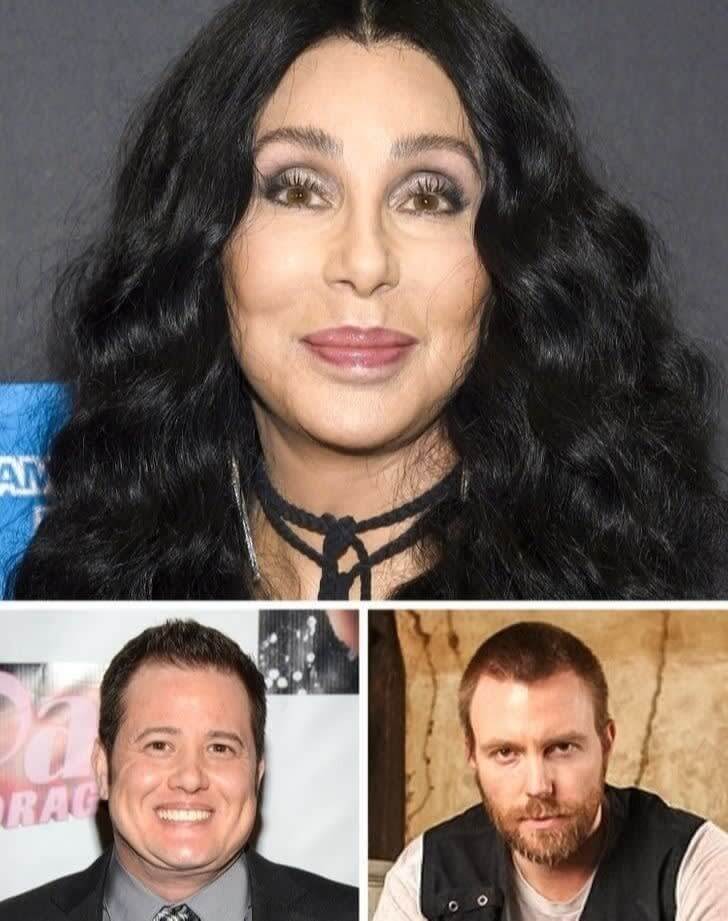 Invision/ Invision/ East News, Tonya Wise/ PictureGroup/ East News dailymail.co.uk
Chaz was born Chastity, and in 1995, he came out as a lesbian. In 2008, Chaz publicly came out as transgender and started the transition process. He is an activist for the LGBTQ+ community, and he made a documentary called Becoming Chaz​ that premiered at the Sundance Film Festival in 2011.
Gérard Depardieu's Children: Roxane And Julie Depardieu
Gerard Depardieu is a well known French actor who has won many awards for his roles. His two daughters Roxane and Julie, are now trying to follow in their father's footsteps. His oldest daughter Julie has been in several successful french films like The Count of Monte Cristo with her father, and Female Agents.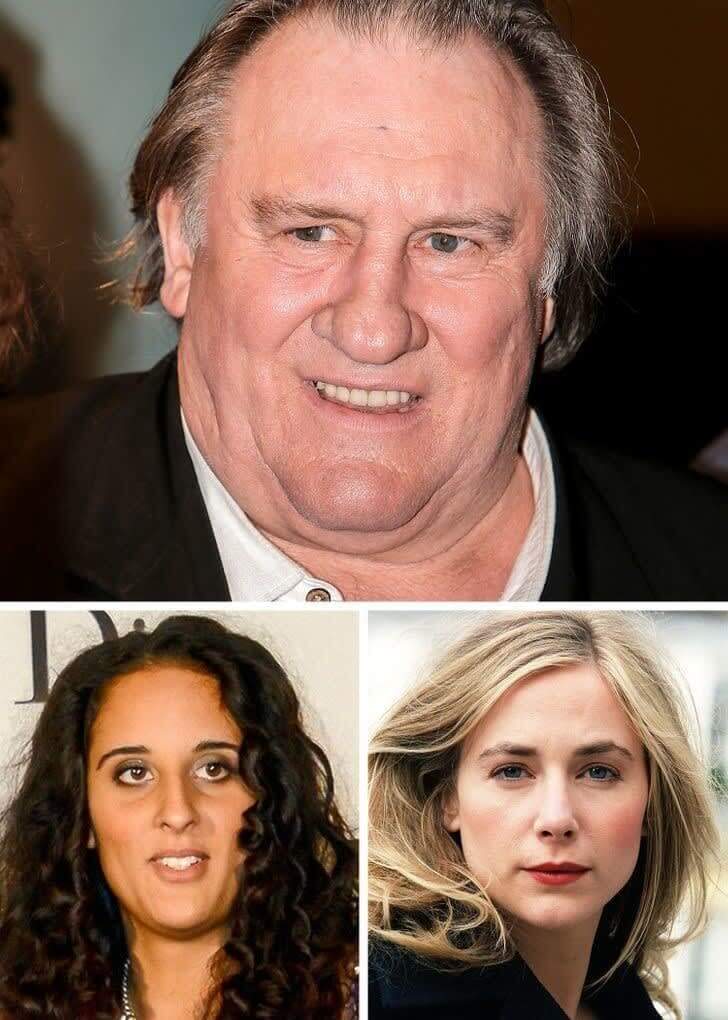 East News, Briquet Nicolas/ ABACA/ East News, East News
Gerard Depardieu's other daughter Roxane is from a different relationship, and she has had a few small acting roles so far in French films. She had a role in a short film in 2015 called Ride or Die, and it premiered at a few different film festivals.
Daniel Craig's Daughter: Ella Loudon
Daniel Craig luckily passed on his striking blue eyes to his daughter Ella. He also passed on his incredible talents as she has also made a name for herself in acting. She is currently working in the Shakespeare & Company Theatre.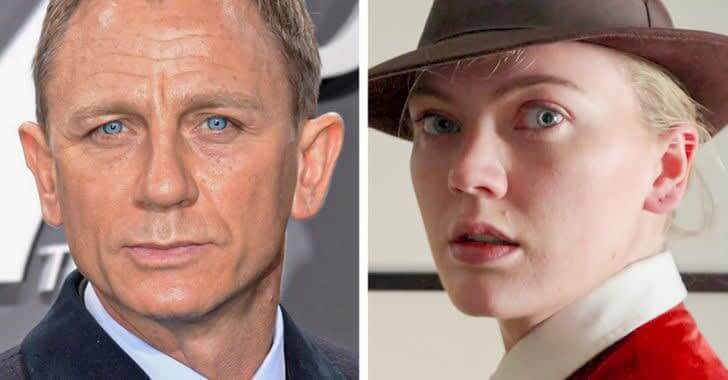 Twelfth Night / Shakespeare and Company
There have been rumors that Ella will play the next Bond Girl once her father leaves the franchise, or else that would be very awkward. With her talent and striking looks, there is no doubt her career is going to continue to grow.
Charlotte Gainsbourg's Son: Ben Attal
Some children are their parent's twin, and Ben Attal happens to be the male version of his mother, Charlotte Gainsbourg. The English-French actress had her son Ben in 1997 with longtime partner, Yvan Attal.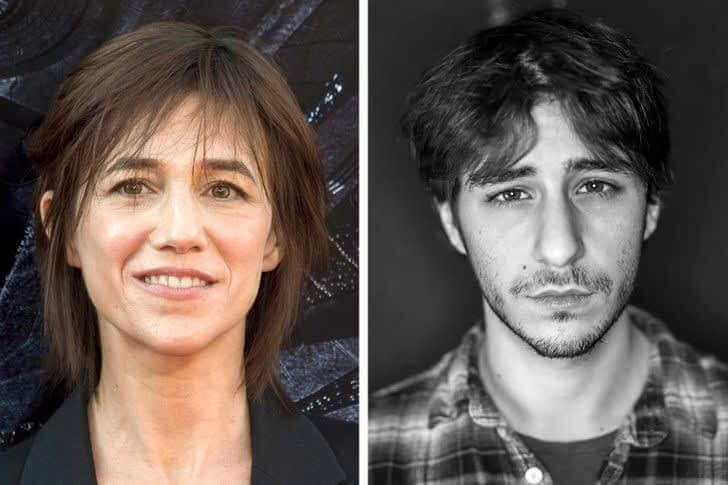 Ben has been busy as he has already taken part in four films as well as acting in his mother's music video for her song "Ring-a-Ring O'Roses." At just 23, he has an incredible future ahead of him.
Rossy de Palma's Daughter: Luna de Palma
Rossy de Palma is a Spanish actress who has been in the film industry since the late '80s. She has appeared in fashion films and music videos alike. Her daughter, Luna, became famous after she wrote an emotional letter that was posted to her mother's Instagram account.
Luna is now a rising Instagram influencer and hopes to be like her mother, who she looks up to. She often accompanies her mother on the red carpet, and thanks to her mother any chance she gets for providing her with an incredible life.
Arnold Schwarzenegger's Children: Christina, Katherine, Patrick, Christopher, and Joseph Baena Schwarzenegger
Arnold Schwarzenegger has five children who he should be incredibly proud of for all their accomplishments. His daughter Christina is the executive producer of Take Your Pills on Netflix, and she works as a brand editor for Goop. His daughter Katherine is an animal rights activist and published her first book in 2010 titled "Rock What You've Got " about self-confidence and having a positive attitude.
Arnold's son Patrick is an actor, model, and businessman. He played in the movie Midnight Sun and started a production company called Project360. Christopher studied at the University of Michigan and keeps his life out of the spotlight. Joseph is an actor, and he also works in special effects. He didn't know he was Arnold's son until several years after he was born.
Sir Ben Kingsley's Sons: Ferdinand And Edmund Kingsley
Sir Ben Kingsley has been nominated for numerous awards including a Grammy, Golden Globe, and a BAFTA, but his best reward was his children. His oldest son Edmund is an actor and producer who has worked on movies like Capsule and Hugo.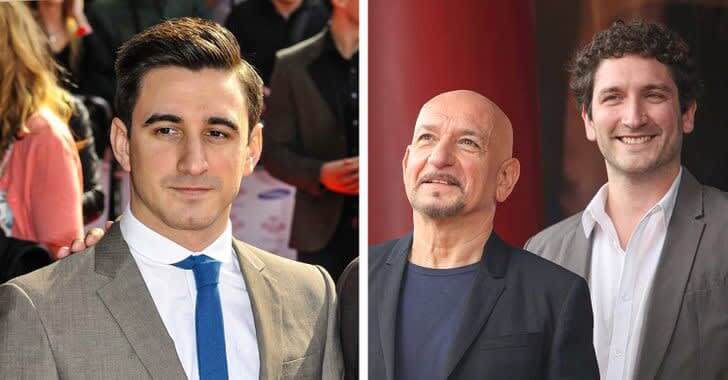 Kingsley's other son, Edmund, is also an actor and musician who has worked on films such as The Last Legion and Dracula Untold. Edmund's most notable role was playing Charles Francatelli in the TV series Victoria.
Adriano Celentano's Children: Giacomo And Rosalinda Celentano
Adriano Celentano is a celebrated Italian singer who released many enormously successful albums. His two children, Giacomo and Rosalinda, decided to get into the entertainment industry like their father, and they have both launched careers with the help of their famous last name.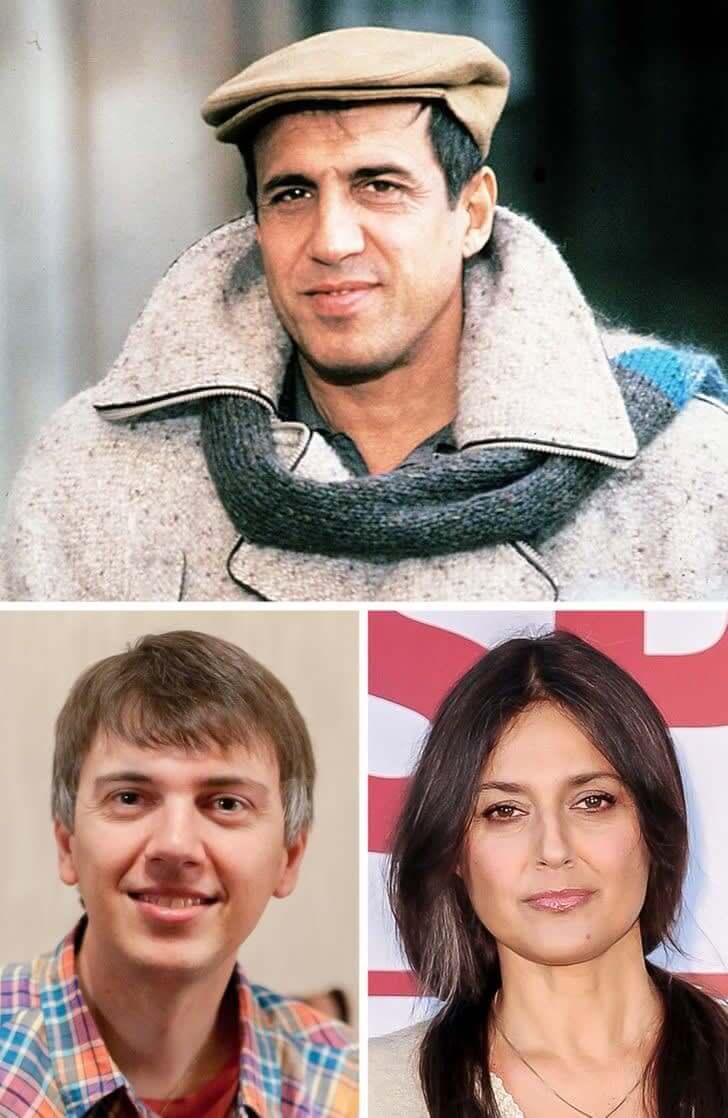 East News, East News, Rosita Celentano/ agefotostock/ East News
His daughter Rosalinda started her acting career as a child and recently switched her focus from film to television acting. Giacomo also found a love for acting, but quickly realized he loved music more. He released his first album, and then after respiratory issues, he was unable to sing.
Ron Perlman's Daughter: Blake Perlman
Ron Perlman is best known for his work in Hellboy and Sons of Anarchy. He has three children with his wife, and his oldest daughter Blake chose to follow her father and join the Hollywood lifestyle. She started her acting career in 2008 in Hellboy II alongside her father.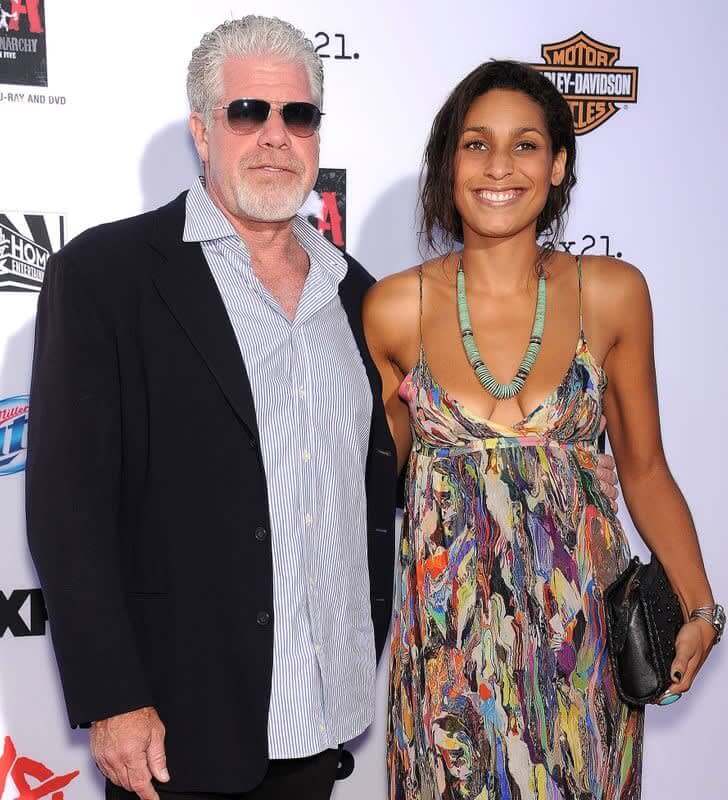 Ann Porter/Broadimage/EAST NEWS
Since her acting debut, Blake has been in movies like Pottersville and Hand of God. She has also worked as a voice actor for the hit TV series, Archer. Besides acting, Blake has also been successful in the music industry. She recorded the theme song Drift for Pacific Rim.
Jack Nicolson's Children: Honey Hollman, Raymond, Loraine, and Jennifer Nicholson
"Here's Johnny…and all his children." Jack Nicolson has five children, all who have done many different things with their careers. His son Raymond is an actor and director's assistant. He has roles in movies such as A Reunion and The Outsider. His daughter Lorriane followed her father and became an actress. Her most prominent role was playing Alana Blanchard in Soul Surfer.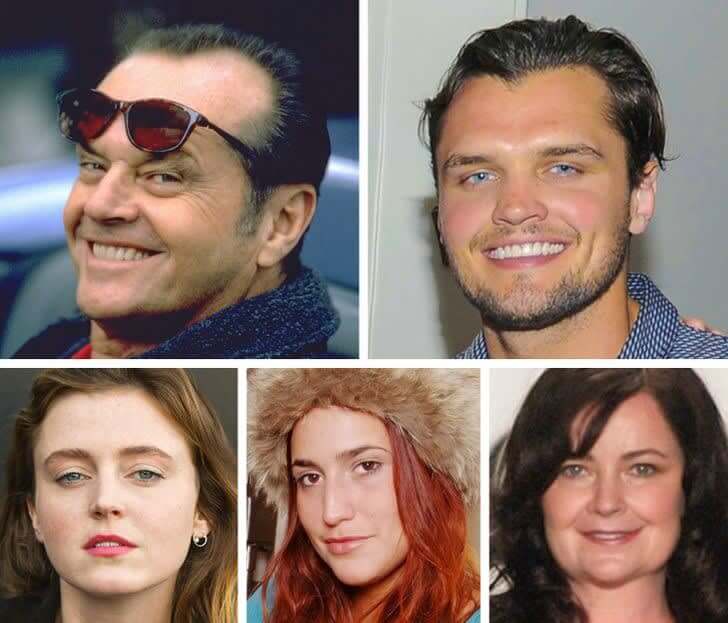 Honey Hollman is Nicolson's daughter with supermodel Winnie Hollman. Honey had small roles in two international films, but her primary focus has been running a salon with her mother for animals. Nicolson's oldest daughter Jennifer is a fashion designer for her own clothing line, and now she has a store called Pearl Drop in LA.
Steven Tyler's Children: Liv, Chelsea, Mia Tyler, And Taj Tallarico
Steven Tyler has had a long and successful music career, and now he is passing the torch to his children. His daughter Liv Tyler is a successful actress who has played in over 50 films. Her most notable roles were in The Lord of the Rings and Armageddon. Steven didn't know Liv was his daughter until she was 9.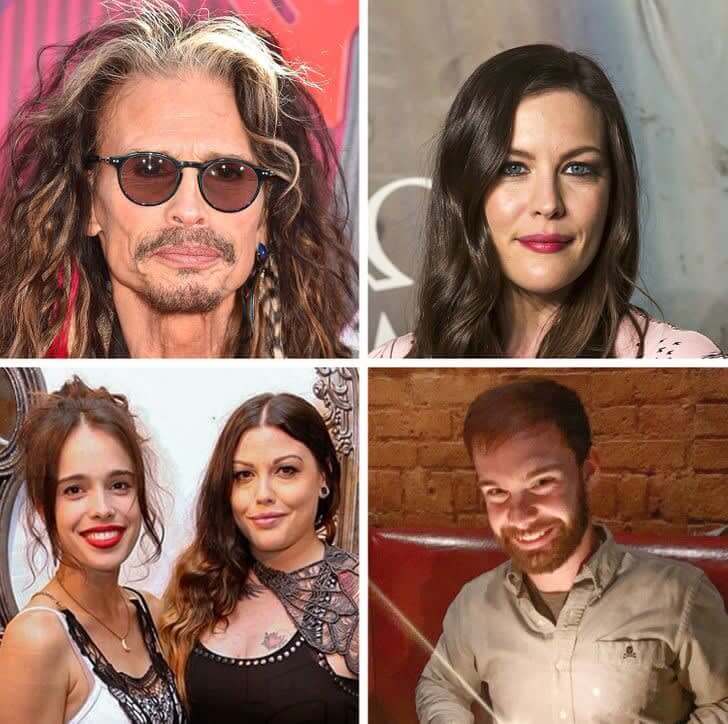 Tyler's daughter Chelsea found a love for music when she was young, and she would often travel with her father on tour. She is now a member of an electric soul group. Mia Tyler is a plus-size model, actress, and writer. She also works with the Janie Fund to help victims of assault. Tyler's youngest is Taj. He is the only son of Steven Tyler, and he stays out of the spotlight mostly except for a one-time appearance on Lizzie Mcguire​.
Sarah Jessica Parker's Daughters: Tabitha And Loretta
Sarah Jessica Parker's character Carrie Bradshaw may not have had children, but SJP loves being a mother. Her twin daughters Tabitha and Loretta are super close with their mom. They rarely make public appearances because they have different interests than being in the public eye.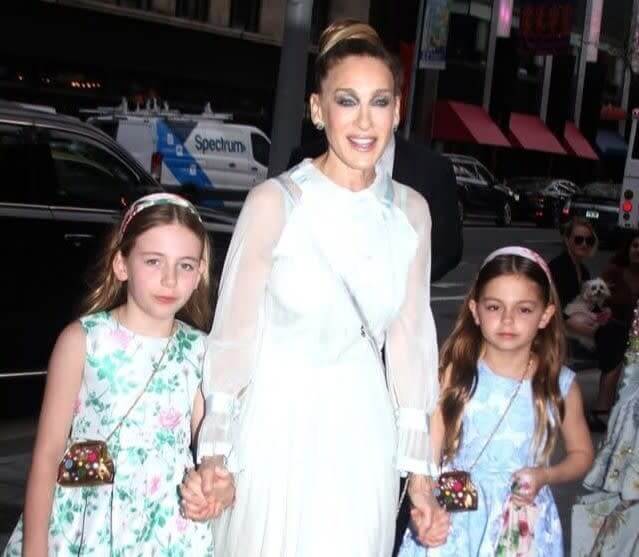 SJP has raised her daughters to be strong and independent. The girls chose to go to different schools so they could grow as individuals. Their most recent public appearance was at the New York Ballet Gala in 2018.
Jennifer Garner's Daughter: Violet Affleck
Jennifer Garner is known for her roles in 13 Going on 30 and Alias but she is also the proud mother of three children. Her oldest daughter Violet is growing up to look just like her mother.
Violet is almost as tall as Garner, and there is no denying that this mother-daughter duo is surely related. They are often seen shopping or walking the red carpet together. Garner loves that she can enjoy this time with her daughter before she grows up too quickly.
Robert Downey Jr.'s Son: Indio Falconer Downey
Robert Downey Jr is one of the most successful names in Hollywood, and his son chose to follow the family legacy by going into acting. He played alongside his father in the movie Kiss Kiss Bang Bang in 2005. He then decided to try his luck in the music industry as he got older, and he has a rock band called The Dose.
Like acting, Indio picked up other things from his father, including a drug problem. In 2016, he got a felony drug charge, but it was dismissed after he completed an 18-moth drug program. Today his father is incredibly supportive and helps him stay clean and over because RDJ knows the struggles of drug and alcohol addiction.
Michael Douglas' Children: Cameron And Dylan Michael Douglas And Carys Zeta Douglas
Michael Douglas knows what it is like to want to follow in his father's footsteps, and luckily it worked out for him. However, he didn't want his children to pursue a career in acting despite their desires. Despite his efforts, Douglas's son Cameron made a career in the movie industry and starred in Jackie Chan's Mr. Nice Guy.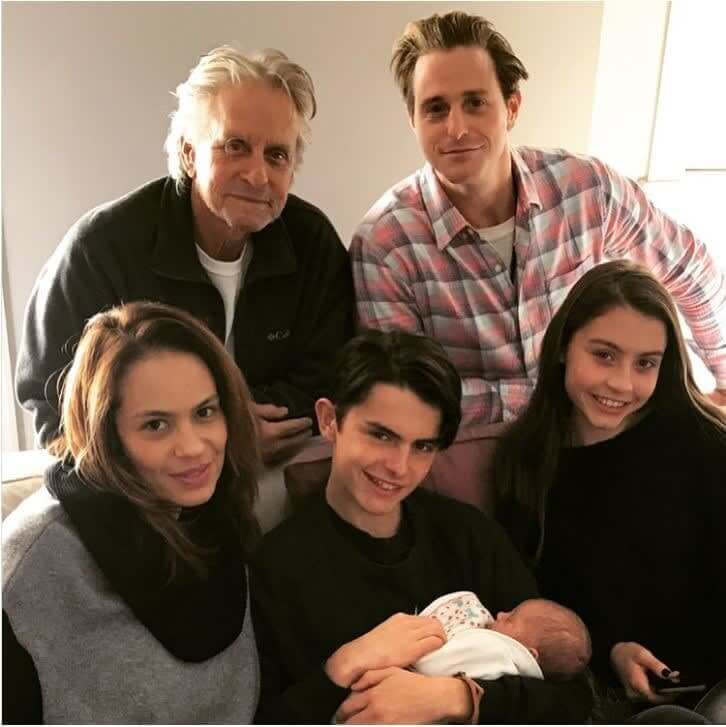 Douglas's son Dylan also became an actor, and he attended Brown University. The youngest of the Douglas children is Carys, who often makes red carpet appearances with her parents. She is her mother's twin, and she also has aspirations of becoming an actress.
Kanye West's Daughter: North West
Kanye West is well known for his incredible music and his Sunday Services, but people often forget he is a father of four children with Kim Kardashian. His oldest daughter, North, just turned seven, but she has been his twin since she was born.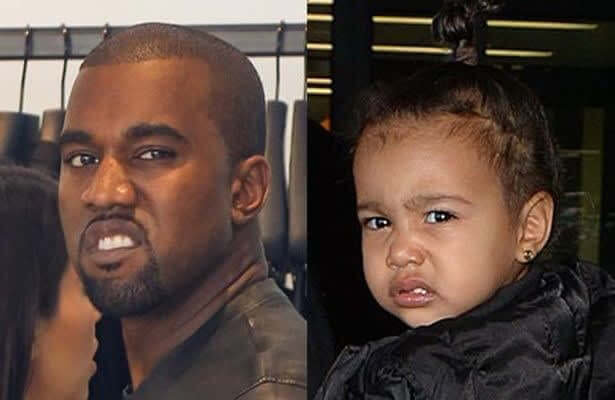 As a baby, North would often make the same faces as her father, and her parents couldn't get enough of her those expressions. As she is getting older, she still looks like his mini-me.
Melanie Griffith's Daughter: Dakota Johnson
Melanie Griffith has been a big name in Hollywood since the early '70s, so she was probably excited when her daughter decided to start acting. Dakota Johnson quickly made a name for herself in Hollywood when she landed the lead role in Fifty Shades of Grey.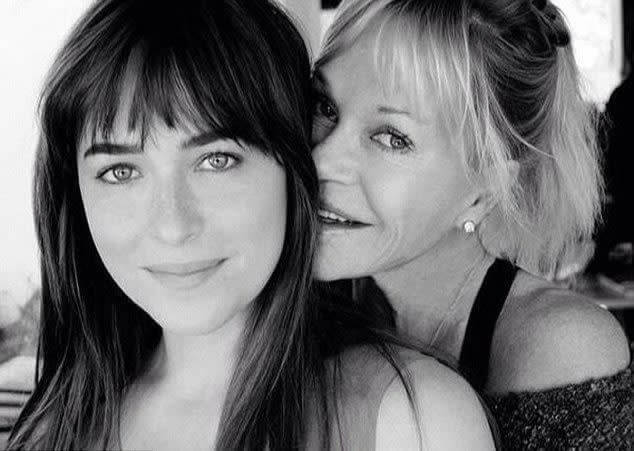 Since her major motion picture debut, Johnson has been landing different roles left and right. Her mom guides her along the way because they are very close.
Susan Saradone's Daughter: Eva Amurri Martino
Susan Saradone is a powerhouse of an actress, and she has been a constant in Hollywood since the '70s. Her daughter Eva followed in her footsteps and started acting when she was young. She has had roles in movies like That's My Boy and Middle of Nowhere.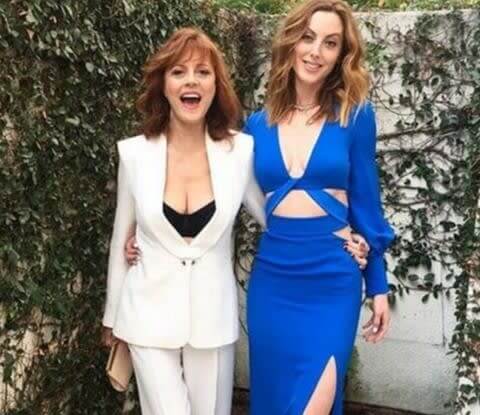 Eva also has a successful modeling career. She walked in shows for Oscar de la Renta, and she looks exactly like her mom when she was younger.
Robert de Niro Daughter's: Drena And Helen
Robert de Niro is hugely accomplished in Hollywood, but his biggest sources of pride and joy are his children. His oldest daughter Drena is an actress and producer who used to be a model and DJ that worked for Giorgio Armani. Her debut as a director was for an independent documentary called Girls & Dolls​.
De Niro's youngest daughter is Helen, who was born in 2011 thanks to a surrogate. At just eight years old, she enjoys spending time with her parents, who have since divorced.
Over 40 And Pregnant: These Celebrities Had Children Later In Life With No Regrets
Ashley Lez
This article was originally published on Buzzerilla
There is no right or wrong time to start or grow a family and become a parent. Some people want to start families while they are young, while others choose to wait a little longer. For famous women, the choice is much more difficult. Not only are actresses expected to maintain their figure, but acting is a gig job, meaning that until you make it big and have millions of dollars to your name you are essentially only making a paycheck when you are working. For these superstar moms, they were forced to wait until they finally found Hollywood success before taking that major step forward with their families. See what these queens had to overcome and the pride they have in waiting til later in life to enter parenthood while balancing it with their wildly successful careers.
1. Janet Jackson — 50
According to Janet Jackson, there is never a wrong age to have a child. Right before she turned 50, Jackson announced her pregnancy. She postponed her world tour to start planning a family and she couldn't be happier as a mother.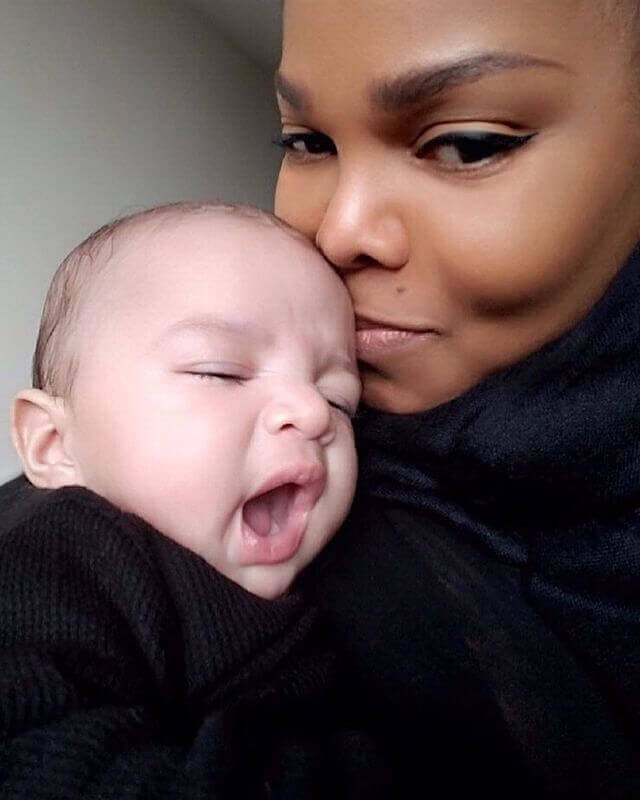 Getting pregnant at an older age comes with its risks, but Jackson said the pregnancy went smoothly. She kept how she was able to get pregnant a secret, but the media made so many speculations about her pregnancy, it was hard to read all the headlines.
2. Kristen Wiig — 46
We all know Kristen Wiig as this hilarious woman who grew to fame on Saturday Night Live, and she shocked the world when she announced that she and her fiance welcomed twins in June 2020 via surrogate. She was 46 when she became a mom, and they are over the moon.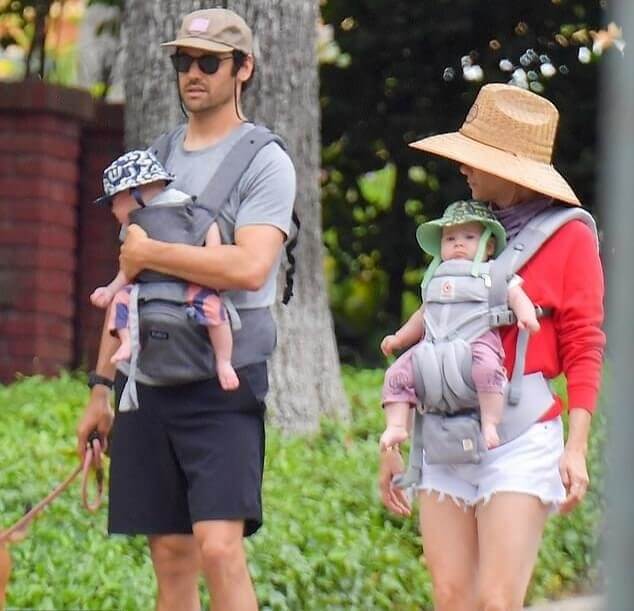 While she has kept most of the details private regarding her twins, she looks beyond happy about finally becoming a mother. Wiig struggled with fertility for three years before deciding to use a surrogate because it was the best decision for her mental and physical health.
3. Mariah Carey — 42
As one of the most anticipated births of 2011, Mariah Carey didn't have an easy journey to get there. The then 42-year-old suffered a miscarriage before undergoing fertility treatments to conceive her twins, Monroe and Moroccan.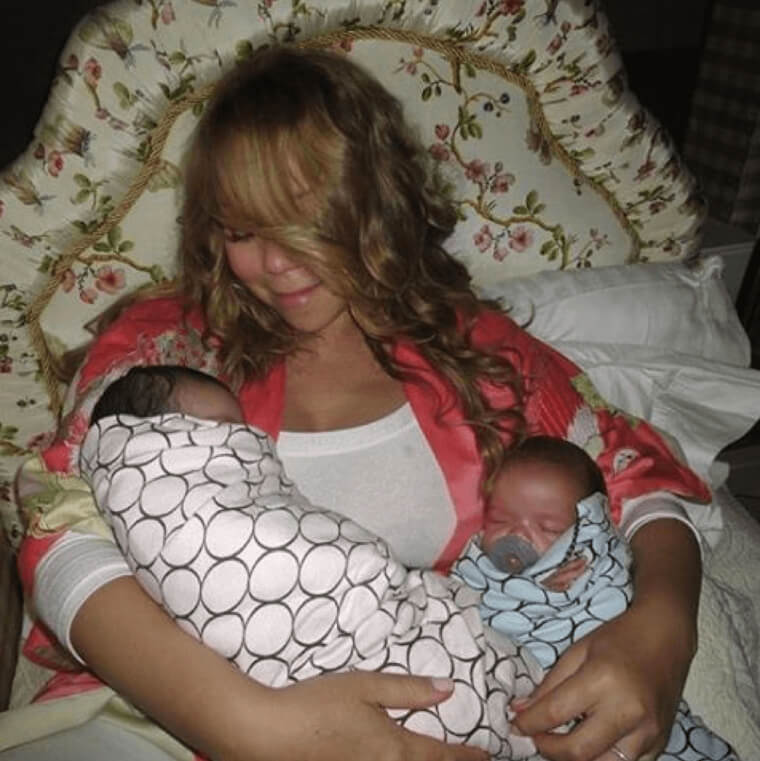 Carey shares her twins with ex-husband Nick Cannon, and she revealed her pregnancy was just as difficult as the fertility treatments. She had to de-stress as much as possible, but it all worked out in the end because she got two bundles of joy.
4. Rachel Zoe — 42
Rachel Zoe might be known for her incredible style and fashion company, but she has the important role of being a mom. She was 42 when she announced she was expecting her second child, Kaius Jagger, with her husband, Roger Berman.
Zoe already had one child before that, and when she found out she was pregnant again, she was excited for her son to have a sibling. Zoe has said that her children are the best thing that has happened to her and her husband.
5. Eva Mendes — 40
Notoriously private, Eva Mendes and her long-term partner, Ryan Gosling, somehow managed to keep her first pregnancy completely private despite living in the age of social media and cell phones. She didn't want anyone but her close family and friends to know, but not for health reasons.
Their first daughter was born in 2014, and they welcomed a second daughter when Mendes was 42 in 2016. She still keeps her children's lives out of the public eye, but Mendes loves being a mom. It changed her life entirely for the better.
6. Halle Berry — 41
Halle Berry might be the only person to say she felt like Superwoman throughout both of her pregnancies. She even said she wished she could feel like that all the time. When Berry was 41, she gave birth to her first child.
When she was 47, she had her second child, and she felt just as amazing. She even said she would love to have even more children. Although she didn't think it was possible to conceive, Berry said she would tell other women to do it because of how rewarding the outcome was.
7. Tina Fey — 41
For comedian Tina Fey, the decision to have another baby in her 40s after welcoming her first child was not an easy one. She had hesitations because "Science shows that fertility and movie offers drop off steeply for women after 40."
Despite her concerns, Fey and her husband welcomed their second daughter when she was 41 because she didn't want to look back in a few years and feel like a piece of their family was missing.
8. Nicole Kidman — 44
Nicole Kidman was very candid about her struggles with fertility. In her first marriage to Tom Cruise, she decided to adopt because she struggled to get pregnant. However, in her second marriage, she decided to try again.
Peter Carrette Archive/Getty Images
Although she thought it wasn't possible, she had two children in her second marriage when she was 41 and 44. While she would have loved to have more children, she wouldn't want to put herself at risk again because of her previous struggles.
9. Celine Dion — 42
The singing superstar was 42 when she gave birth to twin boys with her late husband. Celine Dion went through multiple rounds of IVF before conceiving. She also had to go to a fertility specialist for her oldest son, who she had in her early 30s.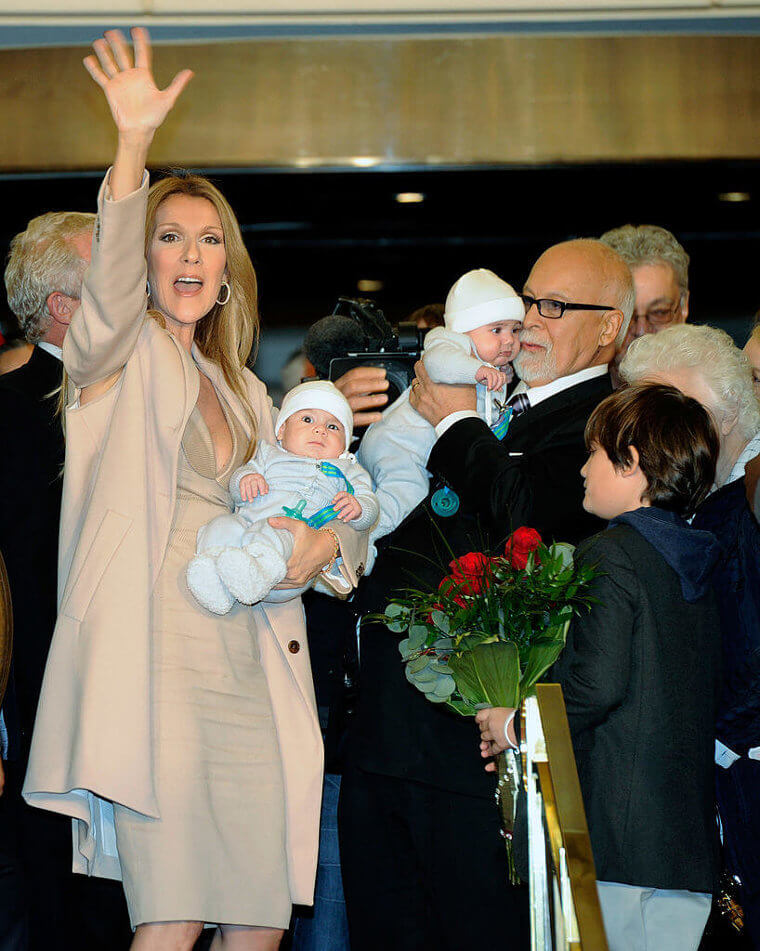 Dion said having children is priceless, which is why she did everything to conceive again. Despite having a miscarriage and four rounds of failed IVF, she wanted to continue trying, which must have been hard on her mental health, but she got two beautiful rewards.
10. Madonna — 42
Madonna had her second child, Rocco, when she was 42-years-old. After giving birth to her daughter in her late 30s, Madonna wanted to expand her family. She also adopted four children in her life for a total of six children.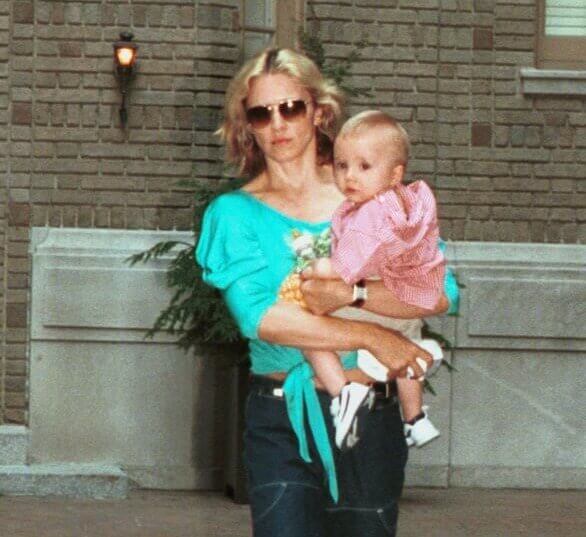 However, having children didn't seem to slow down the pop star. Every time we turn around, Madonna is performing somewhere, and her children are right by her side. She has also let them blossom into whoever they want to be.
11. Brooke Shields — 41
Brooke Shields and her husband Chris Henchy had their second daughter Grier in 2006 when she was 40. In the years before Grier's birth, Shields had trouble conceiving, and they had to do multiple rounds of IVF with no success.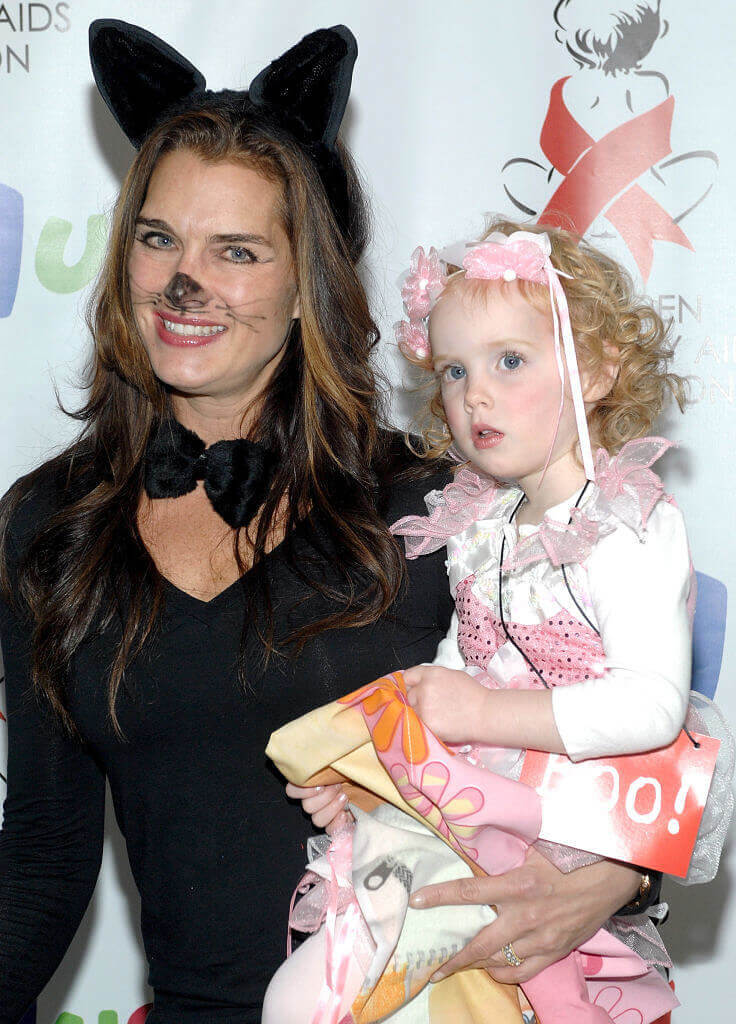 Shields was ready to call it quits but decided to do one more round of the process, and luckily, became pregnant. She is now the spokeswoman for Fertility Lifelines, a resource that provides information to women struggling with fertility.
12. Tamron Hall — 48
Talk show host Tamron Hall gave birth to her first child with her husband Steven Greener when she was 48-years-old. She only announced that she was expecting a child a month before giving birth because it was such a high-risk pregnancy.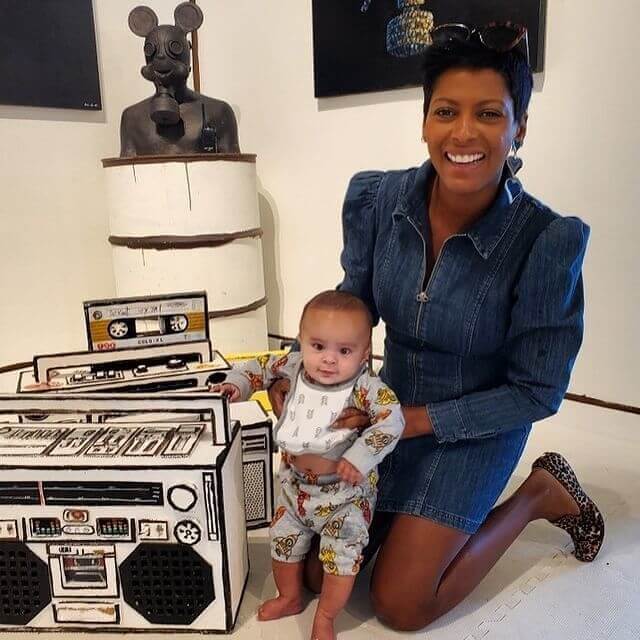 After she welcomed her son Moses, Hall said her pregnancy was high risk because of her age and other health factors. She wanted to share her journey, but she didn't want to deal with it publicly in case something went wrong.
13. Naomi Watts — 40
The British actress and producer began building her family in 2007 with now ex-husband Liev Schreiber with the birth of her son Sasha when she was 39. A year later, she expanded her family with another son when she turned 40.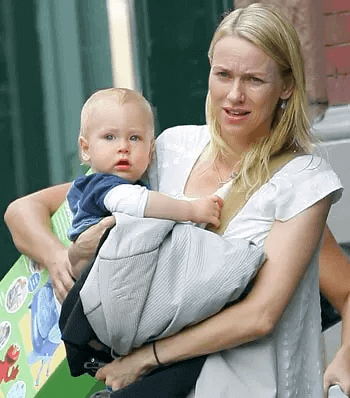 In an interview, Watts said, "Having children later in life is interesting. From an intellectual point of view, you've had a lot of time to research and figure out how you want to raise them." She appreciates all the time she had to learn and couldn't be happier as a mom.
14. Gwen Stefani — 44
We all know Gwen Stefani as the lead singer of No Doubt and the funky woman who brought us so many iconic outfits, but to her children, she is known simply as "mom." When she was married to Gavin Rossdale, Stefani has two children while she was still in her 30s.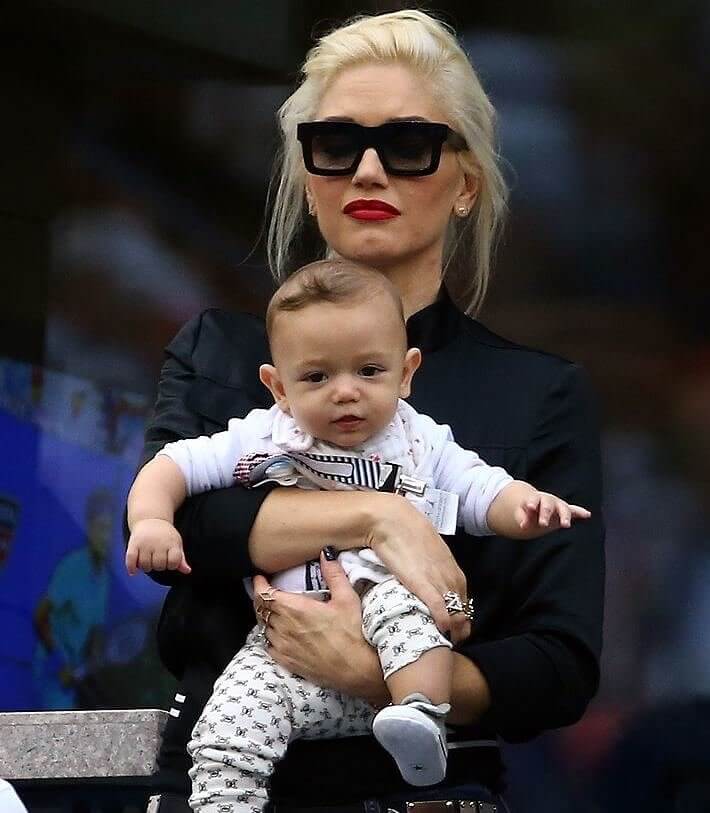 In September 2013, the news broke that Stefani was expecting her third child with Rossdale. She gave birth to Apollo in February 2014 when she was 44-years-old and called him her "miracle baby." She had struggled to get pregnant in her early 40s and feels lucky to have given birth to her youngest.
15. Alyssa Milano — 41
After having her first son, Milo Thomas, in 2011, and decided she was ready for another child three years later. When Milano was 41, she welcomed her daughter Elizabella. She went from working on all of her different projects to waiting in line for soccer pick-up like any other mom.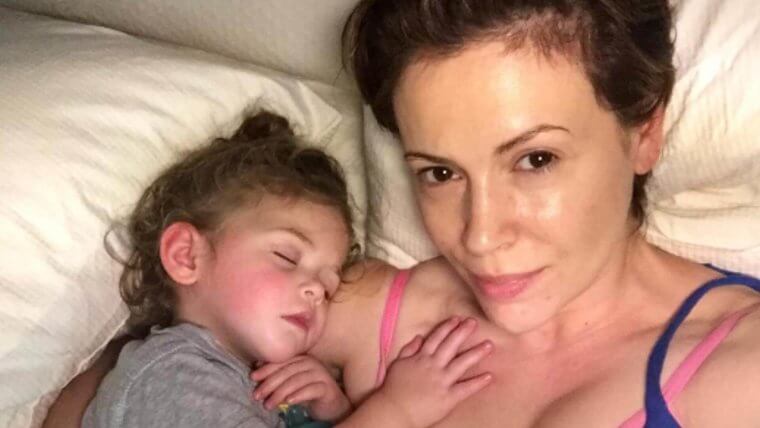 When asked if she wanted more children, Milano once said, "Why push my luck?" She thought about adopting in a few years, but she has a lot going on with work and feels complete with her family as it is.
16. Kim Basinger — 41
Kim Basinger and her then-husband, Alec Baldwin, welcomed their daughter Ireland in 1995 when Basinger was 41, and she was so happy to be a mother. Although the couple filed for divorce five years later, they continued to co-parent.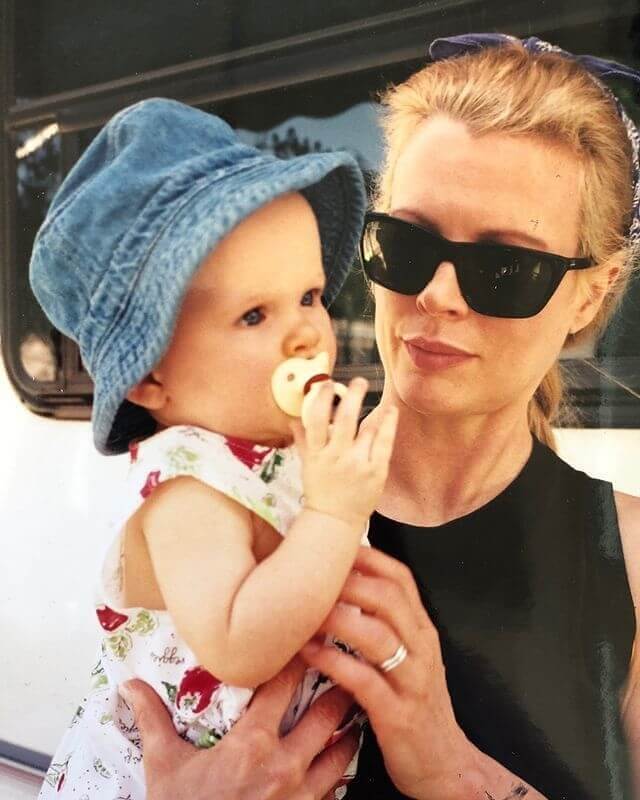 irelandbasingerbaldwin/Instagram
While Kim Basinger has no regrets about waiting to have children later, Alec Baldwin said he wished he had more time, especially with his younger children that he had with his second wife.
17. Karina Smirnoff — 41
When Dancing With The Stars pro, Karina Smirnoff decided to freeze her eggs when she was 36, she didn't know when she would use them, but she wanted to have a child at some point. Her professional life was on the rise, and it wasn't the right time to start a family.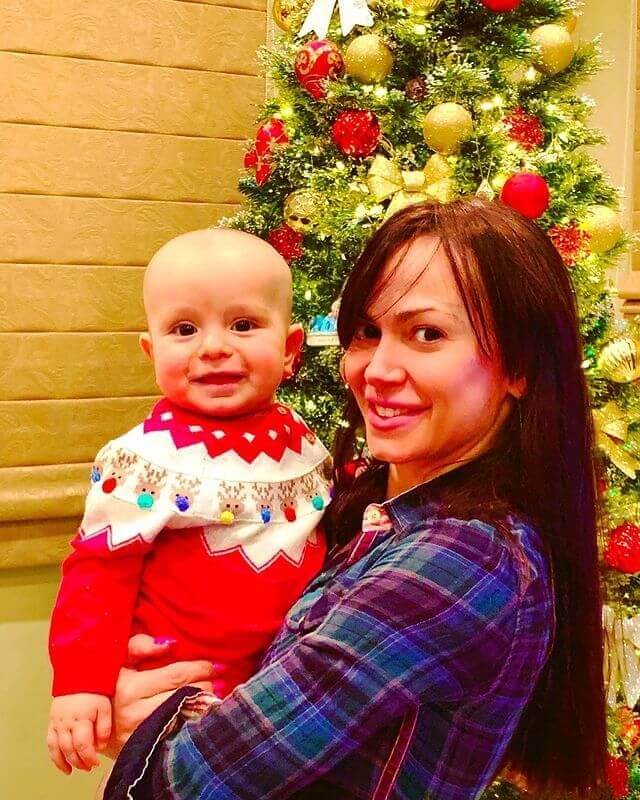 In December 2019, Smirnoff announced she was pregnant at 41 and welcomed her son in 2020. She did not say who the father was, but she was excited to start a family after being so busy for most of her adult life.
18. Uma Thurman — 42
After having two kids with ex-husband Ethan Hawke, Uma Thurman welcomed her third child when she was 42. Her daughter, Rosalind Arusha Arkadina Altalune Florence Thurman-Busson, aka Luna, was everything she had hoped for.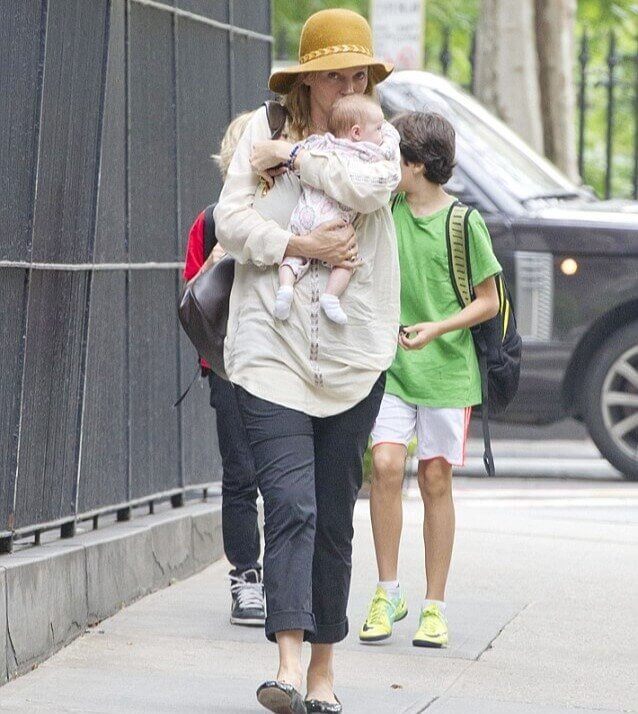 Thurman said in an interview, "When I was younger and became a mother, I didn't think I could do anything else and was completely overwhelmed." Now that she is older, she feels like she doesn't have the "mom guilt" when she has to work.
19. Kris Jenner — 41
It's no secret that Kris Jenner was quite the fertile lady in her day. She had her first daughter, Kourtney when she was just 23 and then had five more children after that. She eventually had Kylie Jenner during her second marriage when she was 41.
Kris Jenner is probably the proudest mom in the world because she gets ten percent of whatever her children do. She has always said that she loved having babies around the house and loved being a mom. It is what made her the famous matriarch.
20. Julianne Moore — 41
Julianne Moore gave birth to her son Caleb when she was in her late 30s and had her daughter five years later when the actress was 41. She and her husband Bart Freundlich were excited to complete their family with their daughter.
Moore's children are now teenagers, and she said she keeps them grounded by making sure they live normal lives. Their family is solid, and it is the most satisfying thing she has ever done in her life.
21. Kelly Preston — 48
After the heartbreaking loss of their son Jett when he was just 16, Kelly Preston and John Travolta announced they were expecting another child in 2010. Shortly after the late star turned 48, she delivered a baby boy named Benjamin.
Preston didn't consider the risks of having a baby later in life, but she knew it would be difficult. She said Benjamin helped her family heal after losing Jett. People sent them letters from all over the world to congratulate them on their newest edition.
22. Salma Hayek — 40
When Selma Hayek was 40-years-old, she gave birth to her daughter Valentina Paloma Pinault in 2007. Hayek said, "I am a more fulfilled human being now than I was ten years ago. She gets a better mother for being born now."
Hayek said her pregnancy had many complications, including extreme nausea for the entirety of the nine months, but she could not have been happier to be a mom. Because she had her daughter later, she doesn't feel like she is missing out on anything now.
23. Susan Sarandon — 45
Susan Sarandon has had an incredible career, and she is even luckier because, during their height of her success, she welcomed three children, two of them when she was over 40. She had her son Jack at 42 and Miles when she was 45.
When she discussed her decision to have children later in life, Sarandon said she was never in a hurry. She was told she would never be a mother, but she got pregnant naturally with all three children.
24. Molly Ringwald — 41
Molly Ringwald is mostly known for her starring role in The Breakfast Club, but in 2009 she got another role as mother to twins. The actress was 41 at the time, and her pregnancy was written into her role on The Secret Life of the American Teenager.
Ringwald wanted to continue working because it was special to her, and she eventually had to go on maternity leave because she was having twins, which made her a high-risk pregnancy. Although she had to take time off work, she said it was obviously worth becoming a mom.
25. Helen Hunt — 40
When actress Helen Hunt was 40 years old, she welcomed her daughter Makena Lei Gordon. However, it didn't come without its challenges. In a 2008 interview, Hunt said, "It turned out to be tougher to get pregnant than I thought it would be."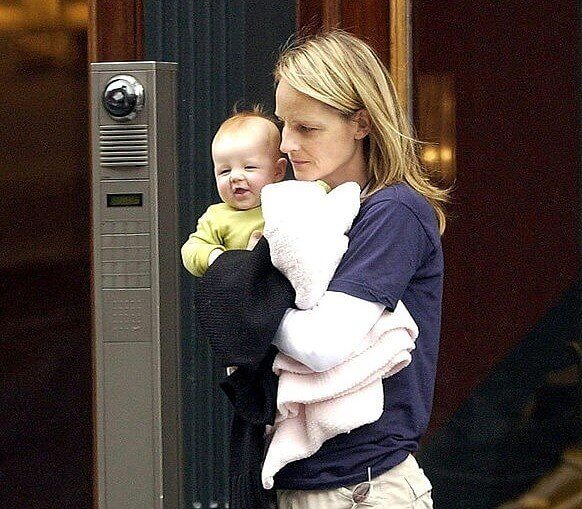 Hunt also said, "I tried for a long time, and it just didn't happen, to the point where getting pregnant was my greatest wish." She started to consider adoption when she finally got pregnant. She also had a son in 1998.
26. Meryl Streep — 42
Already a mom to two daughters and a son, Meryl Streep gave birth to her fourth child, Louisa Jacobson Gummer, in 1991, right before her 42nd birthday. However, Streep has always been very tight-lipped about her pregnancies.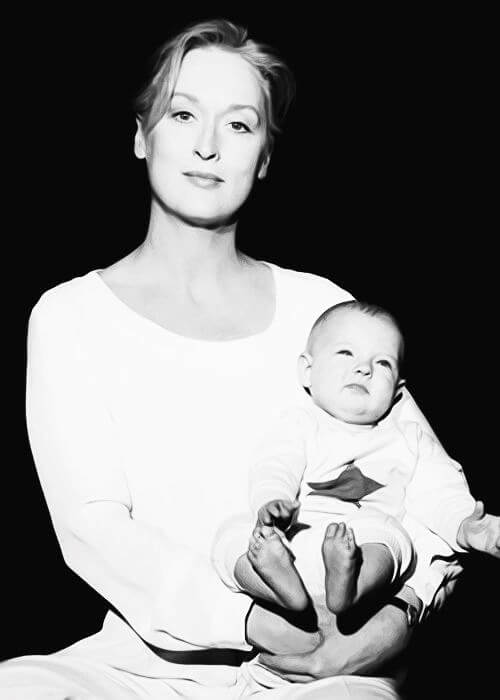 It is unknown if Streep has any struggles with pregnancy, but one thing we do know is how she is an amazing mom who has always wanted the best for her children. Despite her busy schedule, she is there whenever they need her.
27. Marcia Cross — 45
After marrying Tom Mahoney in 2006, Marcia Cross gave birth to twins in February 2007, right before turning 45. Cross knew her chances of conceiving were a bit lower because of her age, and instead of a honeymoon, the couple began IVF treatments.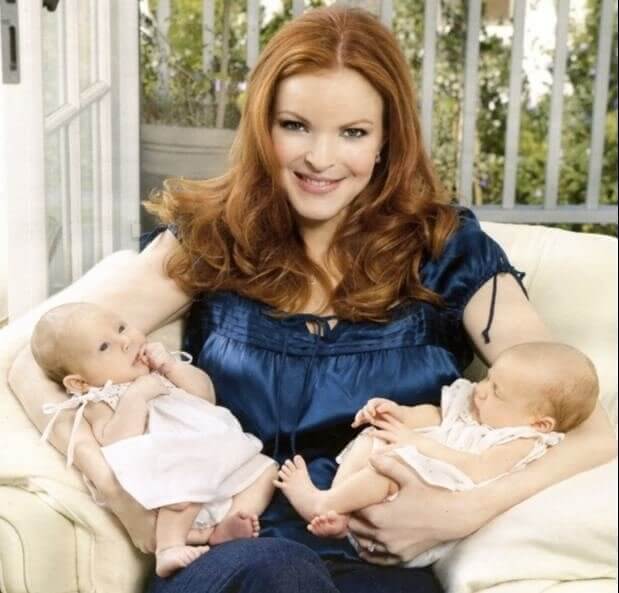 Although she couldn't be happier with her two girls, Cross has said that she always regretted not having children earlier in life. She also said motherhood is like being madly in love, like taking the greatest love affair and magnifying it.
28. Jennifer Connelly — 40
When Jennifer Connelly was 40, she and her husband Paul Bettany added a daughter to their family of four. Connelly already had two sons, but she had always hoped for a little girl and felt so lucky to find out she was having a girl.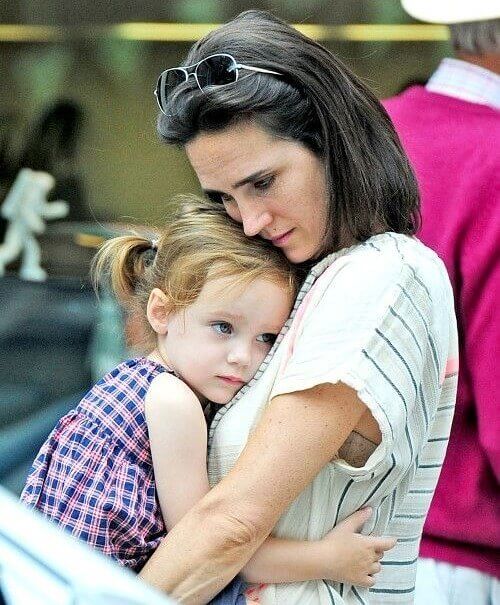 Besides extreme nausea and strong cravings, her pregnancy went smoothly. Her daughter Agnes is almost ten years old now, and she could not be more excited to continue to watch her grow up. There is nothing more special than being a mother regardless of age.
29. Diane Kruger — 42
Diane Kruger and her boyfriend, Norman Reedus, had their first baby in 2018 when the actress was 42. She kept most of her pregnancy private, but she revealed that she was happy she waited to start a family.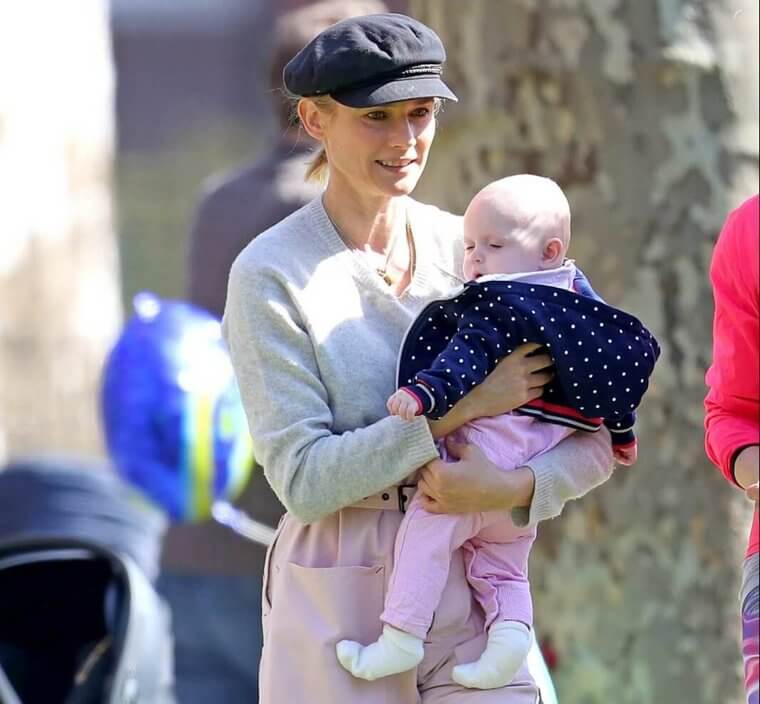 Kruger said, "I didn't want children for a long time. I was too selfish, but by the time I got to about 35, I thought, yes, I probably do want one. But then you have to wait for the right person to come along."
30. Jane Krakowski — 42
Although the 30 Rock alum welcomed her son at 42, her pregnancy was not written into the show. Jane Krakowski said, "No one thinks my character Jenna would be a fit mother." Although her character wasn't meant to be a mom, we can't say the same about Jane.
Since her son was born, she has been nothing but a doting mother. When she was 39, Krakowski realized she might have missed the opportunity to have a family because it was never a priority, but she is happy to be a mother now.
31. Jane Seymor — 44
At 44 years old, the British actress gave birth to twins Johnny and Kris with her ex-husband James Keach. The actress struggled to add to her family, so she had to go through ICF treatments to have her twins.
It was hard for her to think she wouldn't be a mother, but she finally got pregnant. Seymor could not have been happier to be a mother because it was what she wanted for so long. She wished she tried earlier, but she believed that everything happened for a reason.
32. Christie Brinkley — 44
After suffering three miscarriages, the model and her now ex-husband, Peter Cook, went through IVF to conceive their daughter Sailor when she was 44. She already had two children prior, but she wanted to expand her family.
Brinkley and her daughter could not be more alike, and they are extremely close. When she finally gave birth to Sailor, it was magical because of the struggle she went through to bring her into the world.
33. Iman — 45
Iman first gave birth to her first daughter when she was in her 20s and still married to former NBA star Spencer Haywood. Almost 25 years later, Iman married the late David Bowie and became pregnant again when she was 45.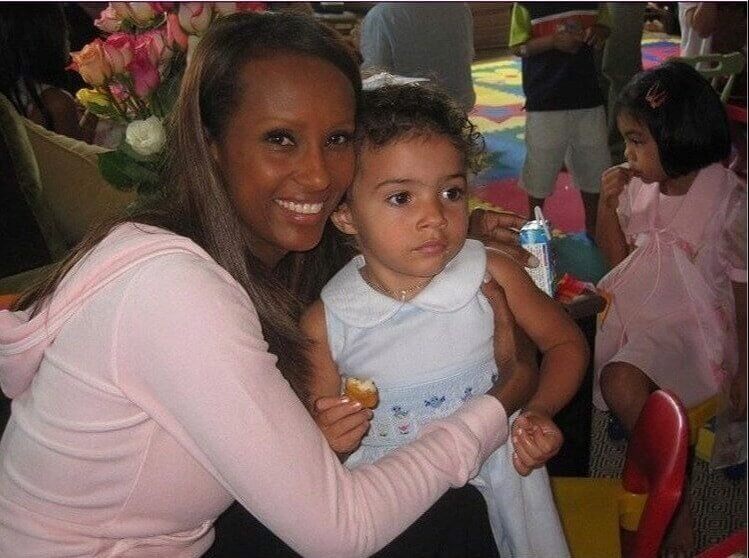 Iman said her second daughter was a miracle. She had tried IVF, and it didn't work, so the couple started to think about adoption. However, she became pregnant by chance, and all her wishes came true to be a mom again.
34. Mary Stuart Masterson — 44
Mary Stuart Masterson and her husband, actor Jeremy Davidson gave birth to their first child when she was 43. To their surprise, 17 months later, Masterson announced she was pregnant again with twins at 44.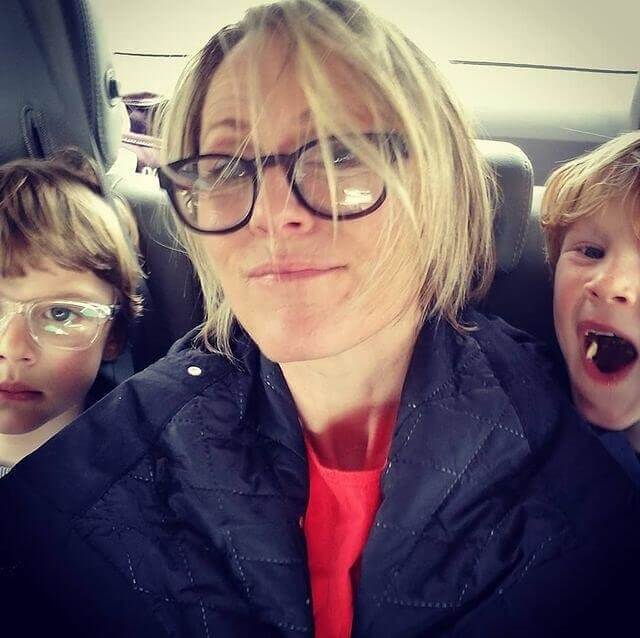 Mary Stuart Masterson/ Instagram
Masterson said that balancing a family and work was a challenge, especially with three children under the age of 2. Although it was a huge life change, it was the best surprise they could have received.
35. Marcia Gay Harden — Early 40s
The First Wives Club actress was in her early forties when she had her first child. Her daughter Eulala Grace was a miracle, and she had wanted to become a mother for a while.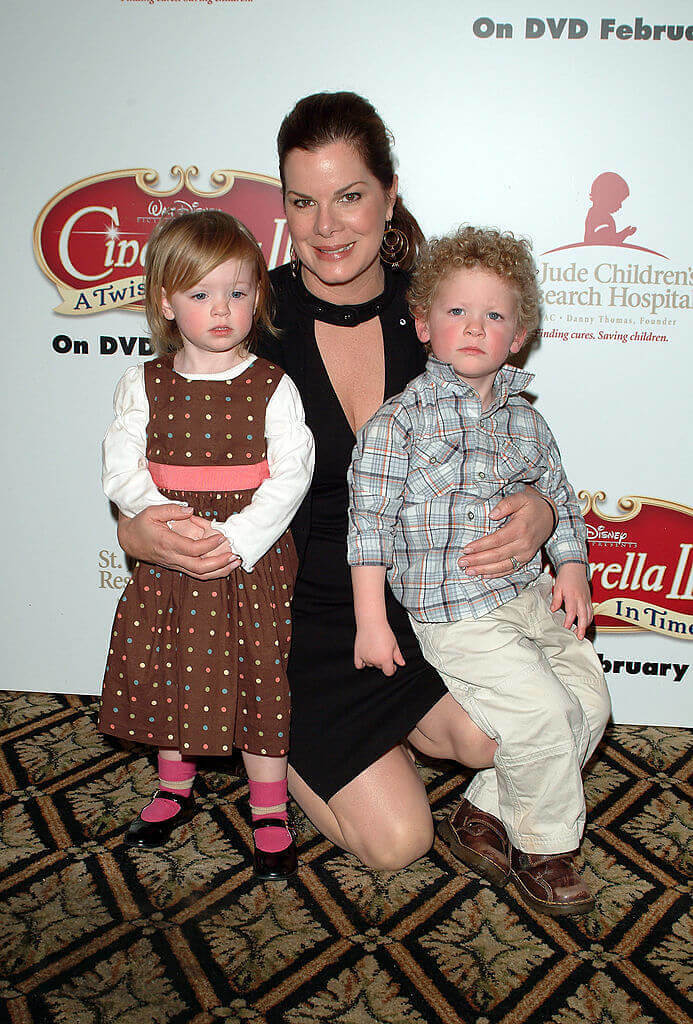 A few years later, she wanted to expand her family, and she gave birth to twins Hudson and Julitta. She went through IVF to have her twins, and it was rewarding to go from a family of three to a family of five overnight.
36. Beverly D'Angelo — 49
In 2001, actress Beverly D'Angelo gave birth to twins Anton and Olivia with her husband, Al Pacino. Although she was approaching 50, and the risks were high, D'Angelo decided to go through the IVF process, and it was a success.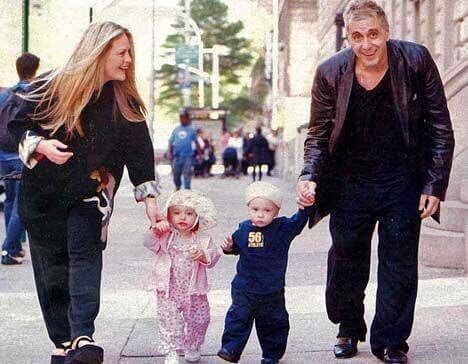 D'Angelo was nervous because of her age, and she was extremely uncomfortable at the end of her pregnancy. However, she gave birth to two healthy babies, which is what she had hoped and prayed for during the entire process.
37. Annette Bening — 42
While sharing ice cream at the end of their first official date, Warren Beatty asked Annette Bening if she wanted to have children with him. She said yes, and they eventually had four children together, the youngest when Annette was 42.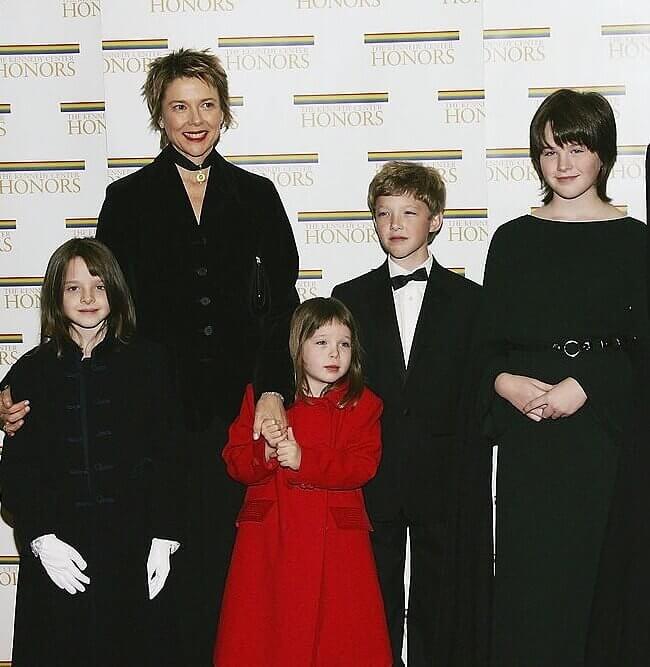 Bening was happy she waited to have children so she could focus on her career and make sure she was with the right man. If there is any man to have children with, it is the legendary bachelor Warren Beatty.
38. Courtney Cox — 40
Courtney Cox was just shy of her 40th birthday when she gave birth to her daughter Coco with her then-husband David Arquette. Like her character in Friends, Cox struggled to get pregnant and decided to go through IVF.
Cox struggled but eventually got pregnant during the final season of the show. In the last episode, you can kind of see her bump. After miscarriages and two IVF rounds, she finally had her daughter, who she calls her best friend.
39. Jill Wagner — 42
The Hallmark Channel star, Jill Wagner, debuted her baby bump in April 2021 and recently gave birth at 24. She wrote in a post on Instagram, "We are blessed with another bundle of joy and overwhelmed with love."
When she discovered she was pregnant, she was training for an upcoming role, and she felt amazing. Wagner said she was in the best shape of her life and better shape than she was when she had her first child.
40. Mena Suvari — 42
In October 2020, the American Beauty star announced she was expecting her first baby with her husband, Michael Hope. Just a few days ago, she posted her first picture with her son who was born at the end of April 2021.
Suvari is 42, but she didn't think there was a right or wrong time to start a family. Before having her son, she was focusing on work and building a career, and now she is ready to take some time off to be a mom.
Then And Now: 20 Of The Most Famous Landmarks From Around The World
Brenda Miller
This article was originally published on Kueez
All around the world, there are tons of incredible landmarks that often serve as a source of pride to many. For the people living near these structures, they offer a sense of shared history, values, or a communal memory that will never be forgotten. From buildings to bridges, monuments, and statues, there are several landmarks that have withstood the test of time no matter what they've had to endure. In fact, how these landmarks ended up there in the first place is often as interesting as the structures themselves! So we decided to find out more about the historical background of some of the most iconic landmarks in the world. Take a look at the most memorable ones and be prepared to not recognize what some of them looked like 100 years ago.
The Lincoln Memorial – Then
When the 16th President of The United States was assassinated back in 1865, there was a huge demand to memorialize the president. So after two years, Congress passed a number of bills that would result in the construction of a monument in the honor of Abraham Lincoln.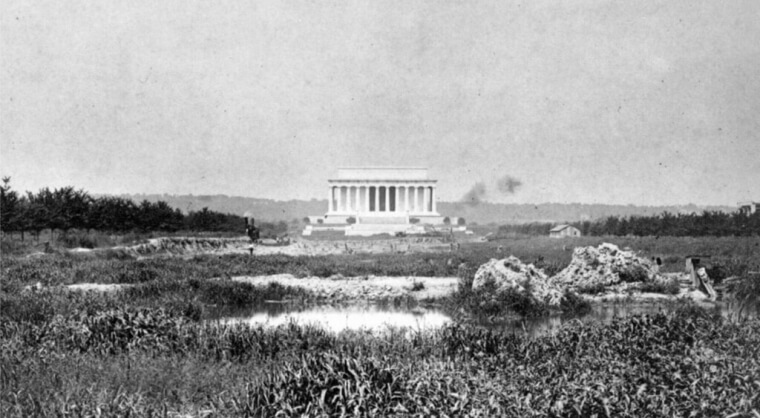 Believe it or not, it took 60 years in total to finalize the structure – 50 years to start building it plus another ten until it was really completed. Though initially, the plan was to build 31 pedestrian statues, six equestrian statues, and a 12-foot statue of Lincoln, in the end, only the simple stately version of the statue lasted.
The Lincoln Memorial – Now
The famous Lincoln Memorial includes several excerpts from Lincoln's two most memorable speeches: "Lincoln's Second Inaugural Address" and the unforgettable "Gettysburg Address". To this date, several people still regard him as the "Savior of the Union", which is in line with the fact that many protests and speeches continue to happen where his memorial is until today.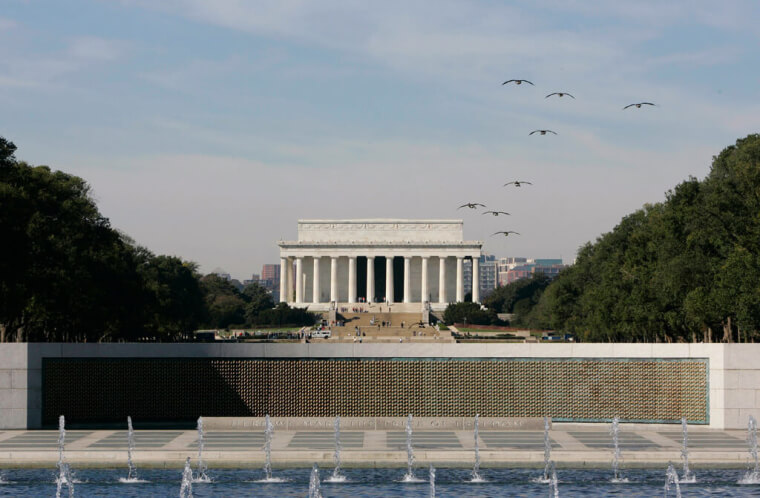 In fact, that's where one of the most memorable events in history took place when Martin Luther King delivered his 1963 speech "I Have A Dream". Today, the memorial sees some 6 million visitors on an annual basis.
The Berlin Wall – Then
The Berlin Wall was built in 1961 with the intent of dividing East from West Germany. Before it was put up, approximately 3.5 million East Germans crossed over to West Berlin. For decades, the Wall has been regarded as the "wall of shame".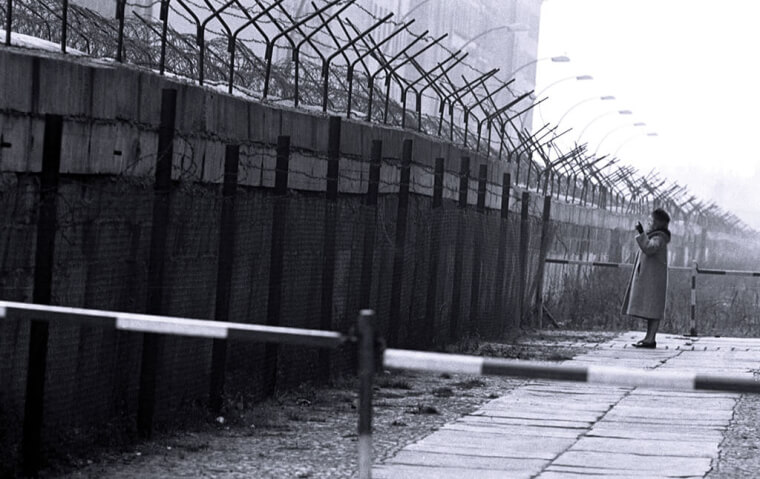 The wall was guarded heavily as it aimed to prevent Western "fascists" from making their way into Eastern Germany. Though there was wide criticism against it, the Wall lasted for almost three decades. Ironically, the wall wasn't that tall, but it served as a constant reminder of the country's deep division.
The Berlin Wall – Now
After decades of controversy around the Berlin wall, people finally said enough in 1989. With revolutions happening in Hungary and Poland, and social change taking over most of Europe, people began making their voices heard. Celebrities such as Bruce Springsteen, David Bowie, and David Hasselhoff also put some pressure on the government with their star status.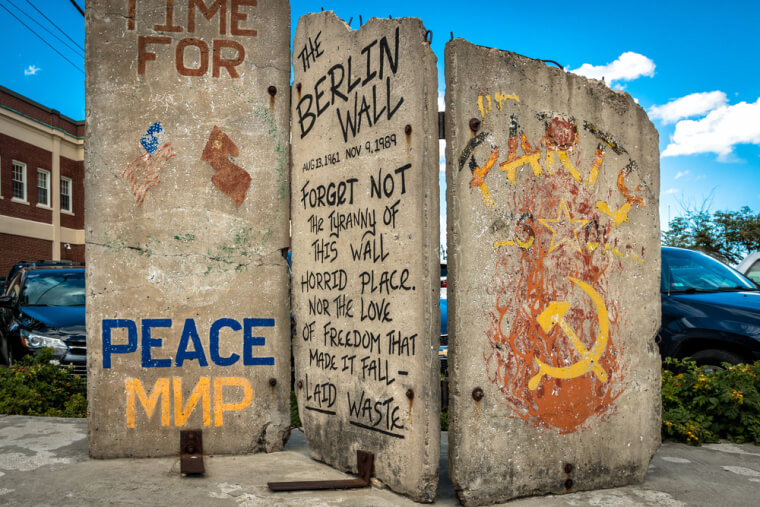 Finally, the German government gave in to the pressure and announced to all citizens that they would now be able to visit West Berlin freely. Almost immediately, people began tearing different parts of the wall until it officially and completely fell in October of 1990.
Las Vegas – Then
When one thinks of Sin City, the Las Vegas Strip is probably one of the first places that come to mind. But some might not know that before a Strip even existed, there was what was known as Fremont Street. The street exists since the founding of Las Vegas back in 1005 and became the pioneer of absolutely anything that took place in Vegas.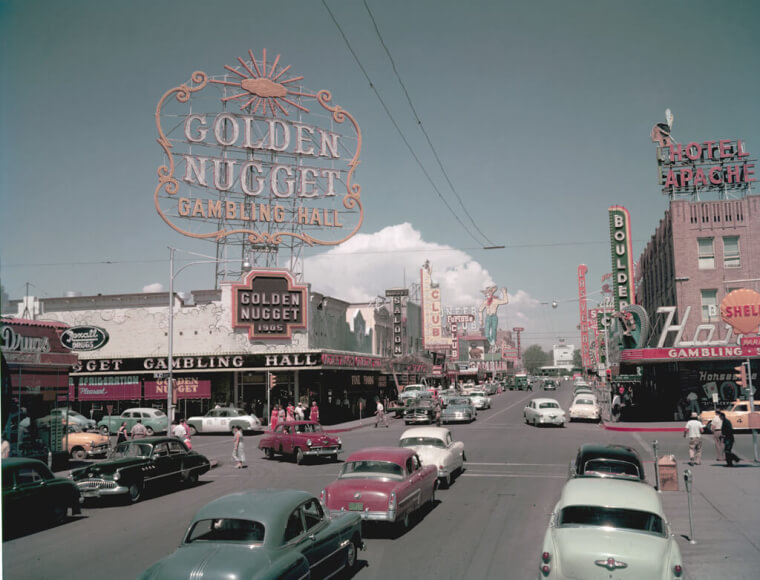 The Street became the first Las Vegas paced street in 1925, and also had the first traffic light in Las Vegas in 1931. Even more, the first official gambling license for Nevada also happened in Fremont street. Today, the street looks completely different.
Las Vegas – Now
Today, Fremont Street is nothing more than a walkway, looking completely different from the magical place it was back in the days. The "Golden Nugget" now has an impressive barrel vault canopy cloaking it, looking bright and as if it received some sort of facelift.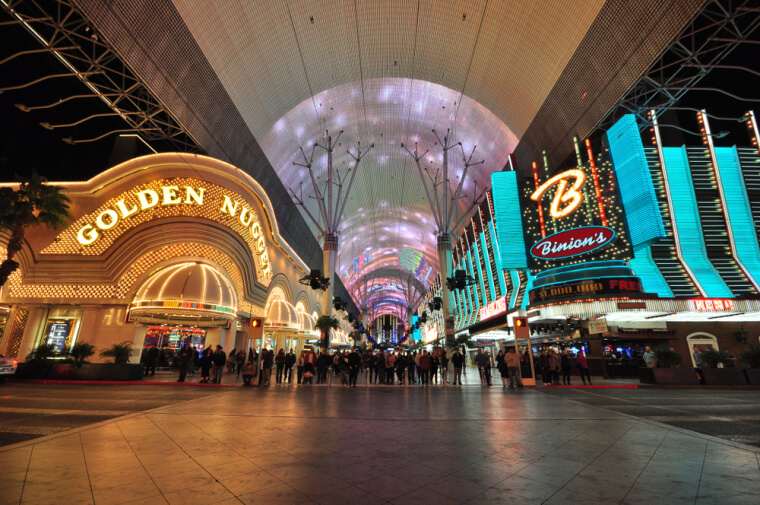 The main attraction of the place is a narrow pedestrian mall with several attractions, giving tourists the possibility of venturing off the strip directly into Downtown Las Vegas. More recently, the Fremont Street Experience was enriched by sound shows and nightly lights that are displayed on the impressive LED canopy that is located above the street.
The Flatiron Building – Then
In this picture from 1903, we can see New York City's Flatiron Building. When the building was built it was aimed at serving as offices for George A. Fuller Company, the famous Chicago contracting firm. This picture was taken roughly a year after the place was built, featuring its iconic street sweepers and horse-drawn carriages.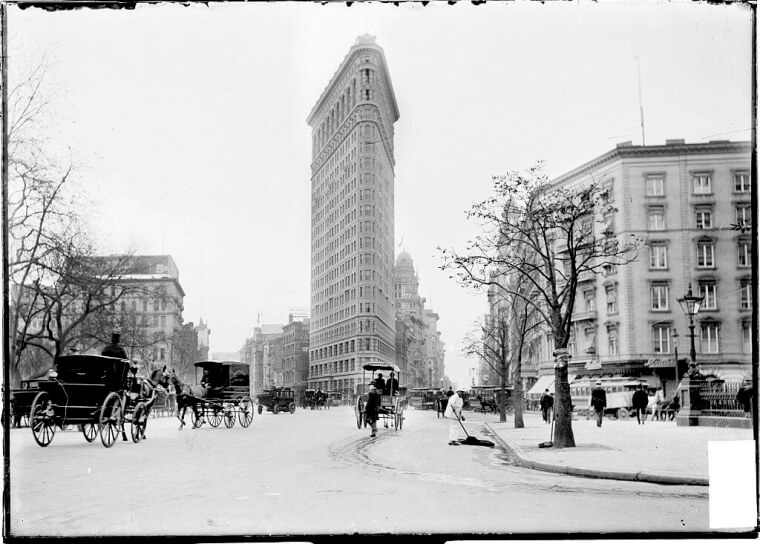 The building's memorable shape is believed to have been behind the building's name. Fight Avenue, Broadway, 22nd, and 23rd Streets contained a triangular space of land in the area.
The Flatiron Building – Now
Today, the area around the Flatiron Building is almost unrecognizable. It is populated with huge skyscrapers that look into lower Manhattan. Yet, the 22-story building still contains some office space, welcoming several publishing companies over the years.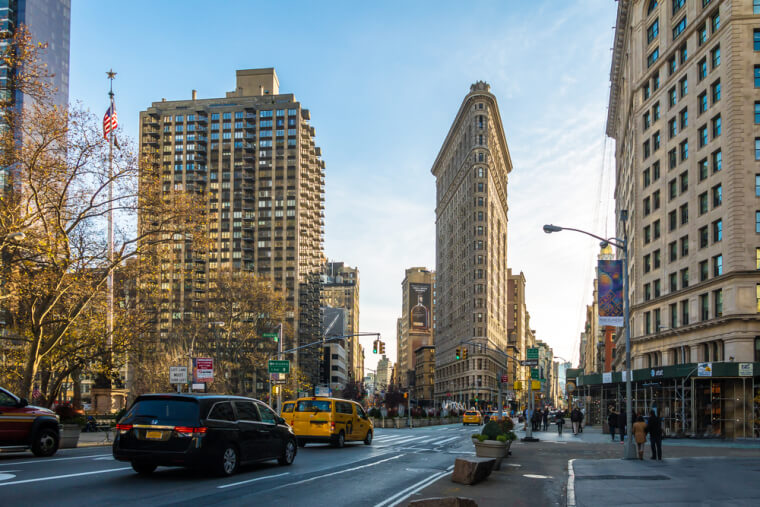 The building holds several quirks. For example, it is said that some offices are very strangely-angled and are some of the most sought-after offices due to their marvelous views. According to people who work in the building, the gendered bathrooms are also oddly placed on alternating floors.
The World's Tallest Building- Then
It's pretty hard to picture Dubai without its huge skyscrapers and billion-dollar cars, but can you believe that in 2000, Dubai was merely a barren of sand? Yep, it looked pretty much like what you can see in this picture. But it was also around that time that Dubai was becoming the city with the most number of people in the United Arab Emirates.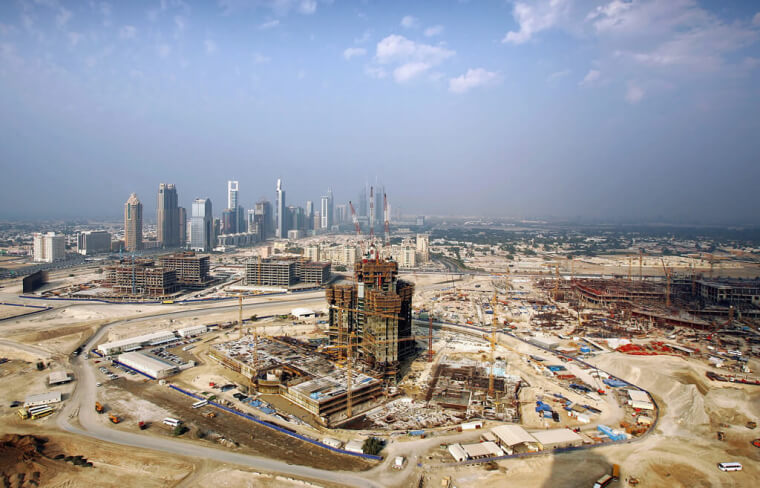 Though at the time Dubai was already one of the best places for farming, fishing, and pearl diving, it's economy got a huge bump thanks to its oil trade. In this picture taken in 2005, we're able to see the beginning stages of the world's tallest building.
The World's Tallest Building – Now
Though this picture was taken in 2009, it's possible to see that the Burj Khalifa is the tallest building amongst several other really tall structures in the area. To this date, the Burj Khalifa still remains the tallest building in the world at 2,717 feet.
Once, Dubai's ruler claimed that Dubai would not allow any other building to take its "first place" status. In addition to claiming to be the world's tallest building, Dubai also has the tallest hotel, shopping center, and the largest indoor theme park.
The Brandenburg Gate – Then
The Brandenburg Gate, also known as the Brandenburger Tor is located in Berlin and characterizes one of the most iconic symbols in Germany. The Gate was built all the way back in 1971, commissioned by the Prussian King Frederick William II.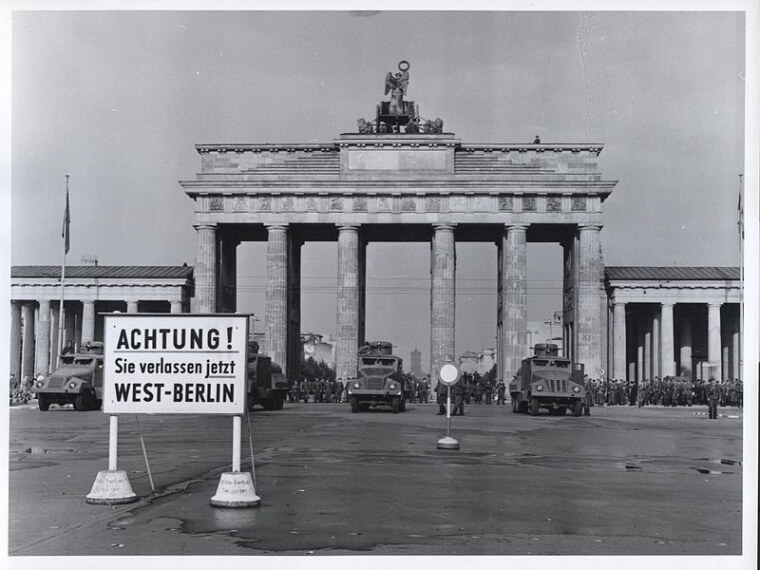 Throughout time and the many bumps in Germany's history, the Gate has continued to stand tall. Its design is very much inspired by Acropolis in Athens, a decision made by the architect Carl Gotthard Langhans. Probably the most distinctive feature of the gate is The Quadriga, the four-horsed sculpture chariot being driven by goddess Victoria – once stolen by Napoleon during the war.
The Brandenburg Gate – Now
The Gates were restored in the past, passing through some of the worst times Germany has ever seen. During the Cold War, the Brandenburg Gate player an important role as part of the Berlin Wall. In 1963, when President John F. Kennedy visited Germany, Soviet authorities went on to hang red banners across the entire gate.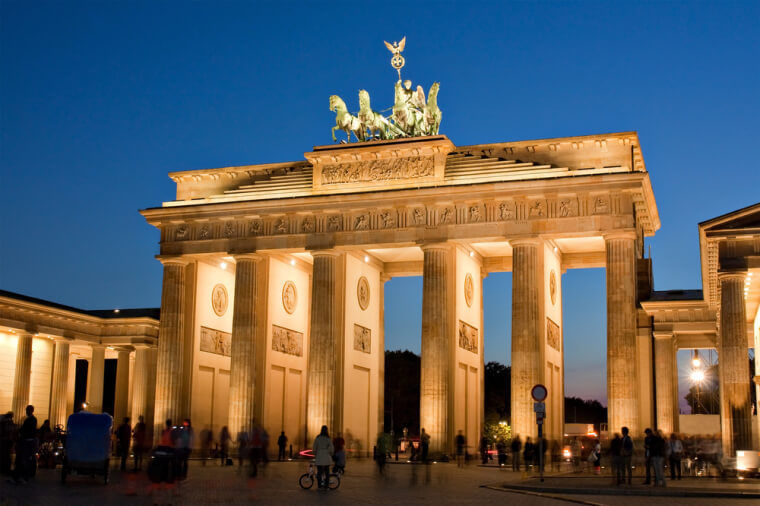 In 1987, the gate also had another emblematic role in history. When Ronald Reagan delivered his speech, he famously said: "Mr. Gorbachev, tear down this wall!" When the Cold War finally ended this appeal was eventually met.
The Eiffel Tower – Then
When the Eiffel Tower was originally built in 1889, it had the purpose of being the entrance to the World's Fair for the 100th anniversary of the French Revolution. More than a hundred artists hoped to be chosen for the monument, but the honors were eventually given to Alexandre-Gustave Eiffel, one of the world's most acclaimed bridge builders.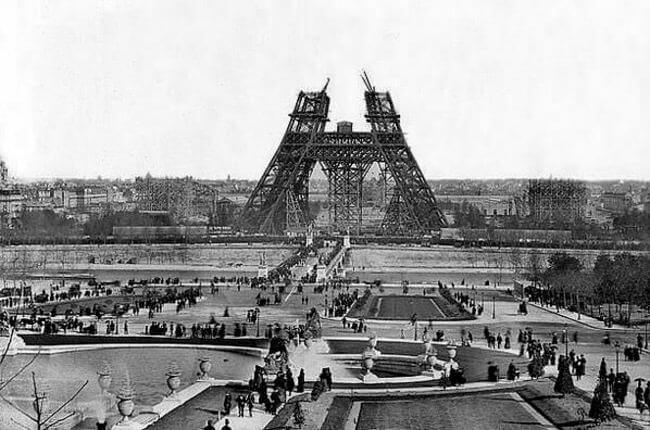 The idea for the wrought-iron tower came from one of his employees at the time, a man named Maurice Koechlin.
The Eiffel Tower – Now
It took at least two years to create the complex iron framework for the tower – which had to happen before the assembly even started taking place. Curiously, this wasn't the first time that Eiffel and Koechlin worked on a monument before.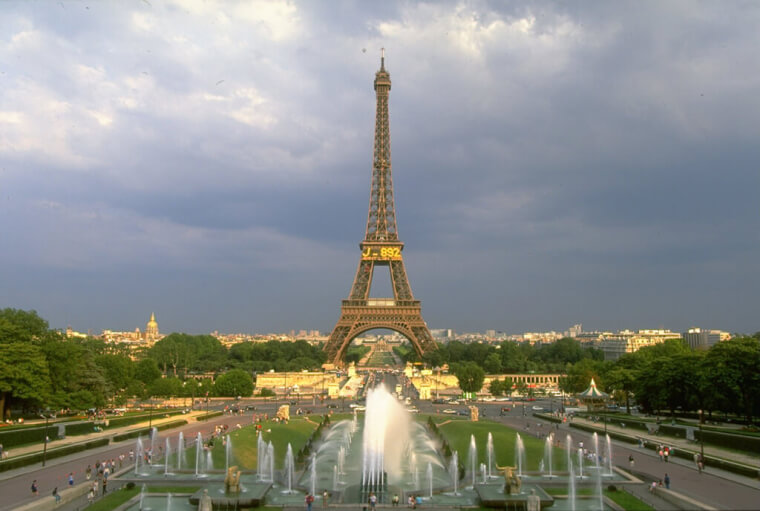 They were also behind the one and only Statue of Liberty. In 1889, the Eiffel Tower finally made its debut and was the world's tallest building back then, at 1,000 feet high.