Do kids grow up really fast? Ask any parent, and they will tell you that their kids grew up in the blink of an eye. That's why many parents try to capture as many memories as they can because they know that their kids will grow up and move away one day. This father, Hua Yunqing, wanted to capture memories with his daughter, Hua Hua. So he started to take a photo with his daughter in the exact same spot every year. Let's have a look at how Hua Hua grew in her life and transformed from a little girl into a mother of two adorable children.
Their First Photo: 1980
Here is the first photo Hua Yunqing took with his daughter in front of the river while they were on their holidays in Zhenjiang, China. It was this photo that gave him the idea to do this every year.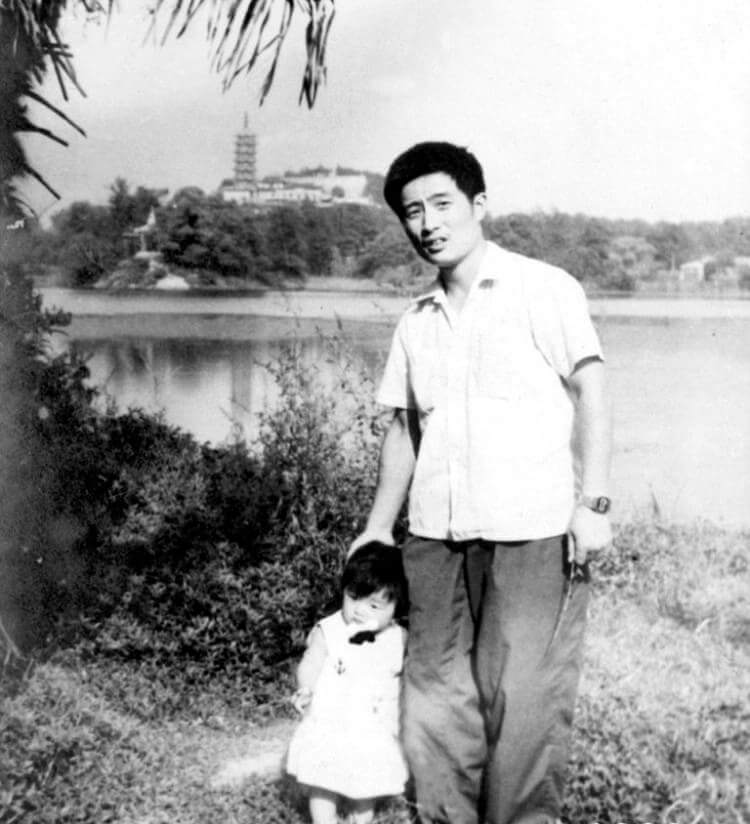 Once the picture was developed, Hua knew what he needed to create, which would serve as a time capsule for his daughter. But it required commitment as they had to return to the spot year after year.
Photo With A Two Years Old Hua Hua: 1981
Hua Yunqing knew what he needed to do, and he was ready to follow his dream project with all the required dedication. So, he brought his family back to Zhenjiang in 1981 and again took a photo with his cute 2-year-old daughter.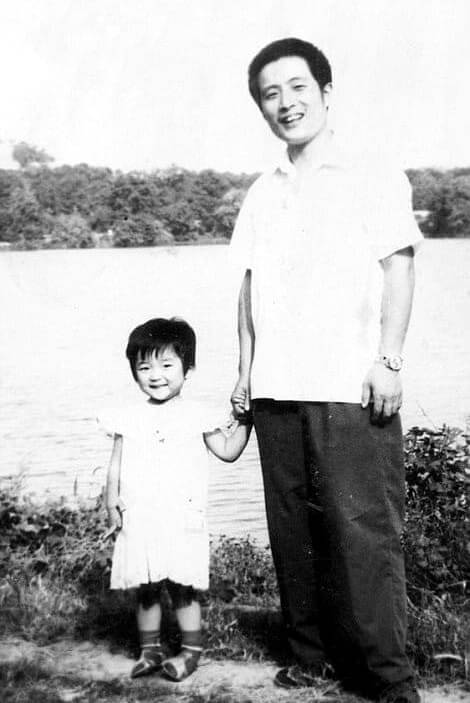 As compared to the first photo, Hua looks more alert and cheerful in this one. At that time, Hua Yunqing was 27 years old.
Third Year In A Row: 1982
It is the third year of them taking a photo at the same spot, and nothing much changed. The father looks still as young as he was three years ago, and the cheerful Hua is wearing the very same dress that she wore the previous year.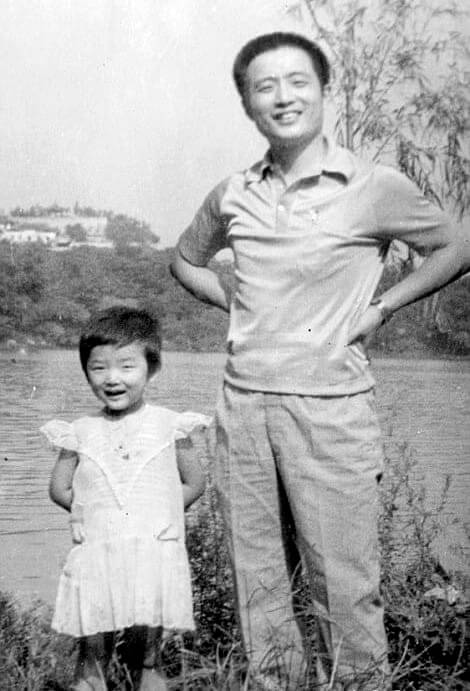 As she's rocking the same haircut, she has started to become more independent and confident.
Same Beautiful Smile: 1983
In this photo, Hua Hua looks a little bit taller, and she's still wearing those ruffled shirts. Her father has a calm and very cheerful smile on his face, and she still has the same hairstyle.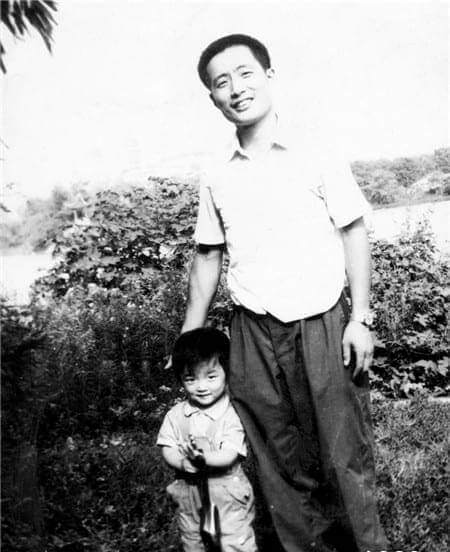 This is the first photo that has a pagoda in the background, so look out for it in the other photographs.
The Last Summer Before Starting School: 1984
Since the previous year at the lake, Hua noticed the changes in his daughter. She was now five, and she was ready to take on the world one small footstep at a time.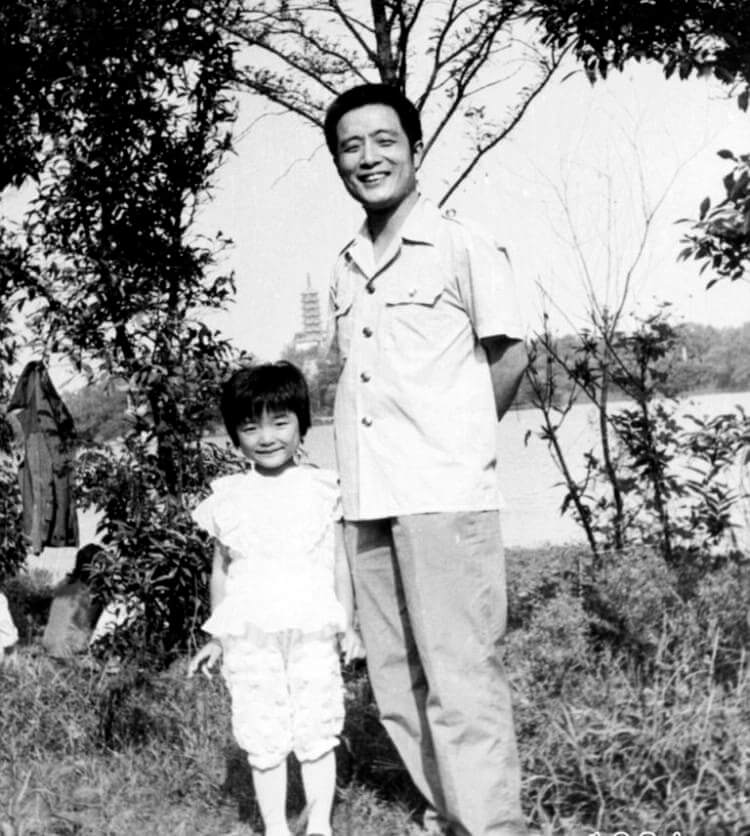 This was the last trip the family would take before Hua Hua would start school in the fall. Hua Hua loved the frilly outfit she had chosen to wear in that year's photo.
Thanks To Technology, Their First Colored Photograph: 1985
The first colored photograph of father and daughter gives us a completely new look at Hua Yunqing's project. He must have invested some money to get the new camera. The background is still a bit hazy, but you can see the pagoda in full color.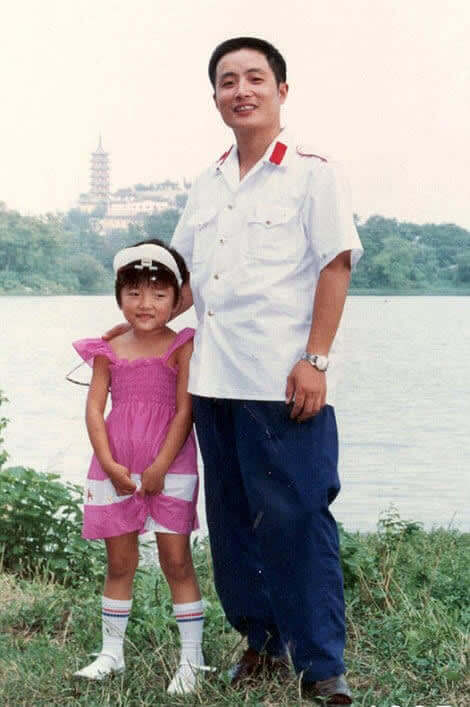 The bright magenta dress on Hua Hua is elevating her beauty, and the pair of sunglasses on her forehead shows the development of fashion sense in her.
Photo Before A Swim: 1986
As Hua Hua is seven years old in this photo, she has grown enough to take a swim with her father. She is still wearing ruffles, and this time, there is no signature button-down collared shirt on her father.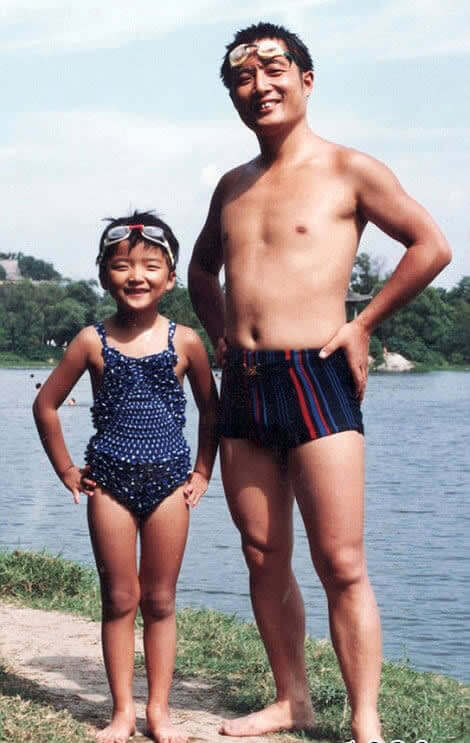 It looks like these two are having the best time throwing water on each other and taking a swim together. The daughter is growing up, but the fantastic thing is that her father hasn't aged at all.
Stylish Dad With Young Hua: 1987
Well, the year 1987 is all about getting a bowl cut, and young Hua looks lovely in it. It is clear by now that Hua loves ruffles, and she looks so angelic in that white dress.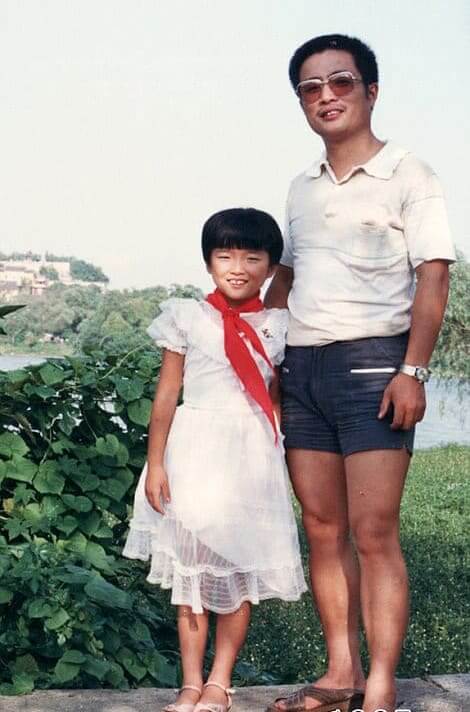 Her dad, on the other hand, is still rocking with his fashion sense and unbelievably young skin.
Hua Hua Started Grade School: 1988
As Hua Hua is nine years old, she has probably started school already and looks wiser here. And hey, she doesn't have the bowl cut anymore as well, and she's not wearing any ruffles.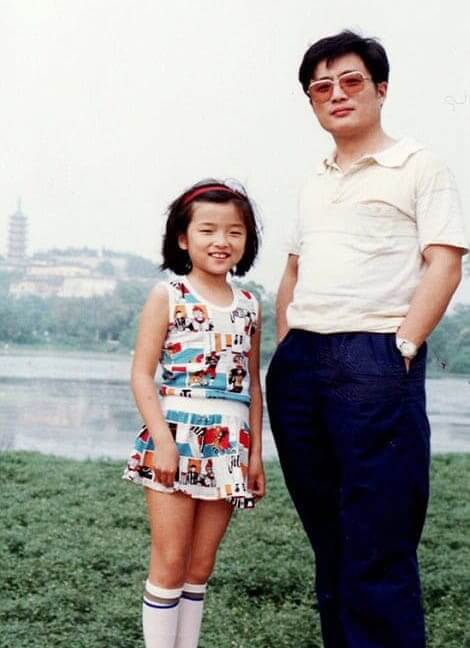 Her dad, on the other hand, is looking as fresh as before with his sunglasses. He seems quite a lot like Elton John, what do you think about it?
Dad's Heightened Fashion Sense: 1989
We can all see that Hua Hua is looking lovely in this photo, and there's no denying that, but what about her father. Although it is the 1980s, his fashion sense is quite high.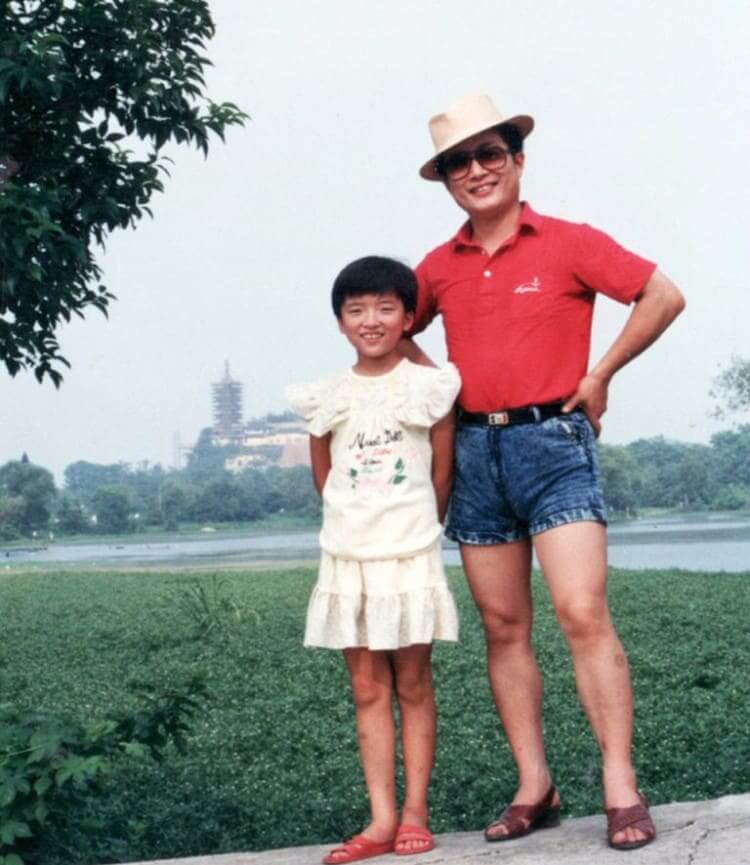 Just so you may know, we used a bit of a sarcastic tone here. Come on, look at his shorts and the risk he took with the hat. Nevertheless, he still looks young and joyful, as always.
Dad's Same Elegance, New Glasses: 1990
Hua Hua is rocking a hairstyle that is much better than her bowl cut, and the side-swept bangs are way ahead of their time.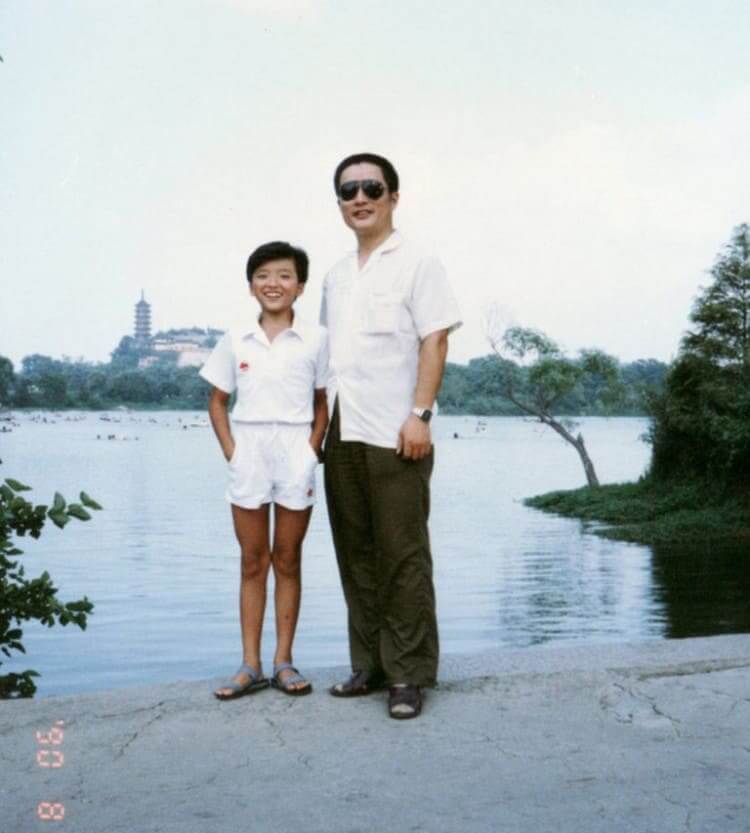 Her fashion sense has really impressed us, and we don't need to say much about her dad. He's looking younger and hotter with each year.
New Decade, Same Dedication: 1991
The start of the new decade didn't change the yearly tradition of coming to Zhenjiang and taking a photo by the river. From the striking matching poses to the confident smile on both of their faces, everything about this photo is beautiful.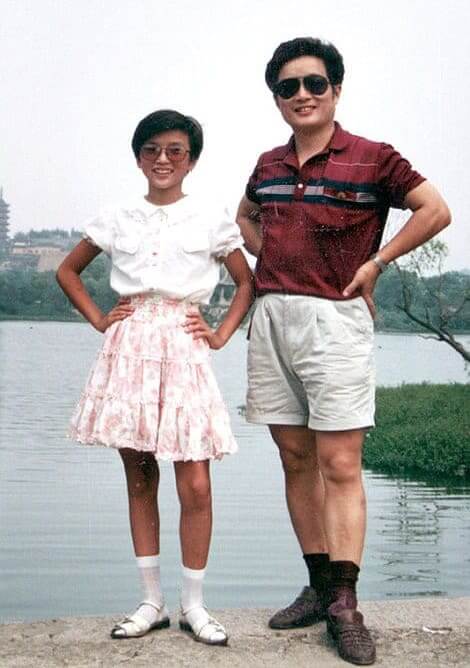 It's been a decade since both father and daughter took their first photo together. Times flies, and we can tell that by looking at Hua Hua.
Times for Electronic Gadgets: 1992
With entering the 1990s, Hua and his lovely daughter have started to live in the future now. There is a pager strapped to Hua's belt, and it seems like Hua Hua is holding a portable tape player. She even has earphones, and everything looks so crazy in this photo.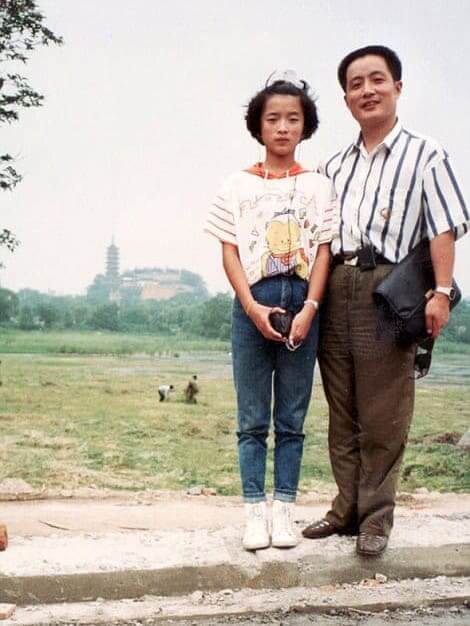 She is 13 years old and showing signs of maturing. Though her Winnie the Pooh t-shirt shows that she's still a kid inside.
Growing Taller: 1993
In this photo, Hua Hua has become a beautiful 14-year-old girl, and her father is 39.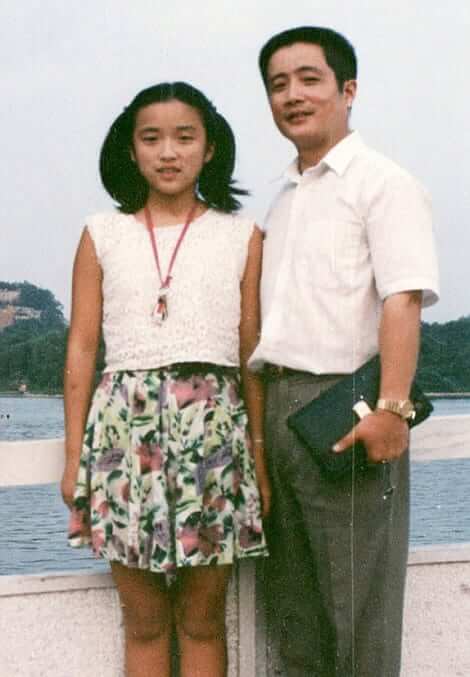 She's wearing two little hair clips and a lanyard with keys on it. She's almost as tall as her father and he is barely showing signs of aging.
Hair Blowing In The Wind: 1994
With Hua Hua's hair blowing in the wind, it reminded us of a fact that'll amaze you. Bob Dylan's song "Blowin' In The Wind" was released exactly thirty years before this photo was taken.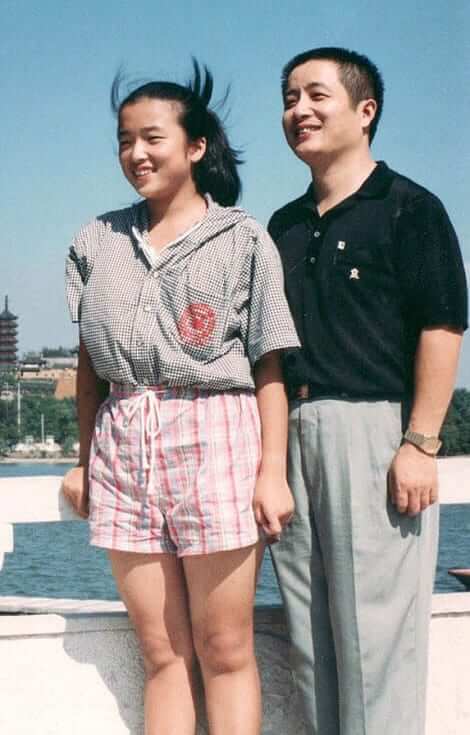 What are the chances that both father and daughter took a windblown photo on the anniversary year of the song? Hua Hua is starting to look more like her father, and they have similar smiles.
Start of High School: 1995
The 16-year-old adorable Hua Hua has started high school at the time this photo was taken. It means that she has entered the most awkward phase of her life: yes, the teenage stage.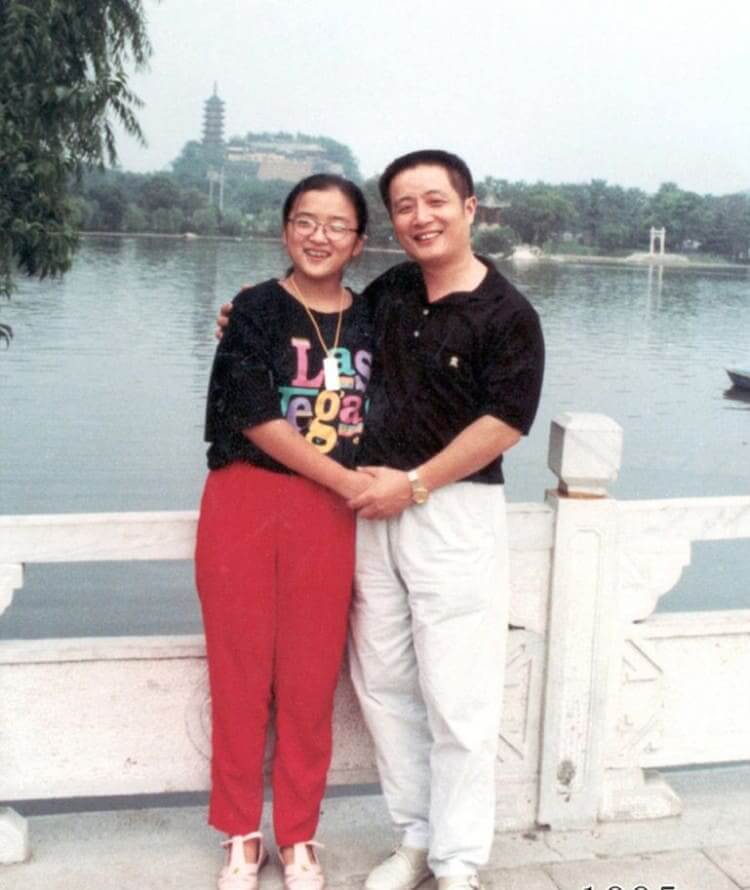 As she's wearing braces and glasses, nothing seems to worry her. She's sharing a cute smile with her father and looks like she doesn't have a care in the world.
Thankfully She Didn't Wear The Hat: 1996
One thing we know by now is that Hua looks good in almost everything except for that hat, which we saw previously. Here, the brown belt is a bit fancier than what we saw before.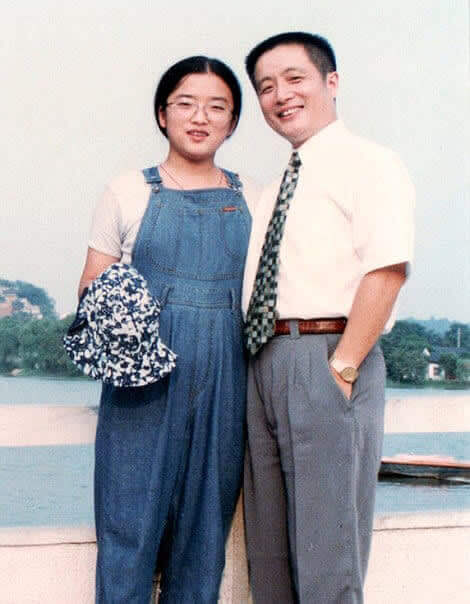 Hua Hua is looking good in her jean jumper, but thankfully she is not wearing the hat and only holding it in her hand.
Bye, Bye Braces: 1997
Hua Hua's smile got a lot bigger without the braces. She had the braces for two years, and we were missing her beautiful smile.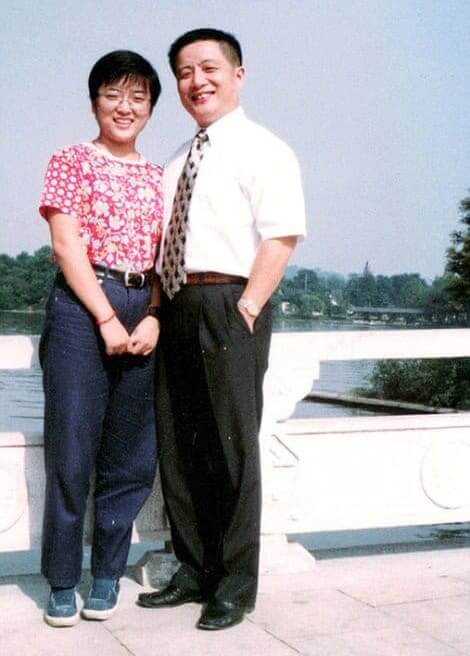 We love how she tucked her pink floral shirt into a pair of high waist jeans. That was the style of the '90s. Her father looks the same, and the only different thing is his tie of a different color.
Coming Back After A Gap: 1999
If you are thinking about why there is no photo of 1998, then there is a good explanation for it. Hua Hua and her father couldn't take their annual photo because she was in school abroad and couldn't join the family on holiday.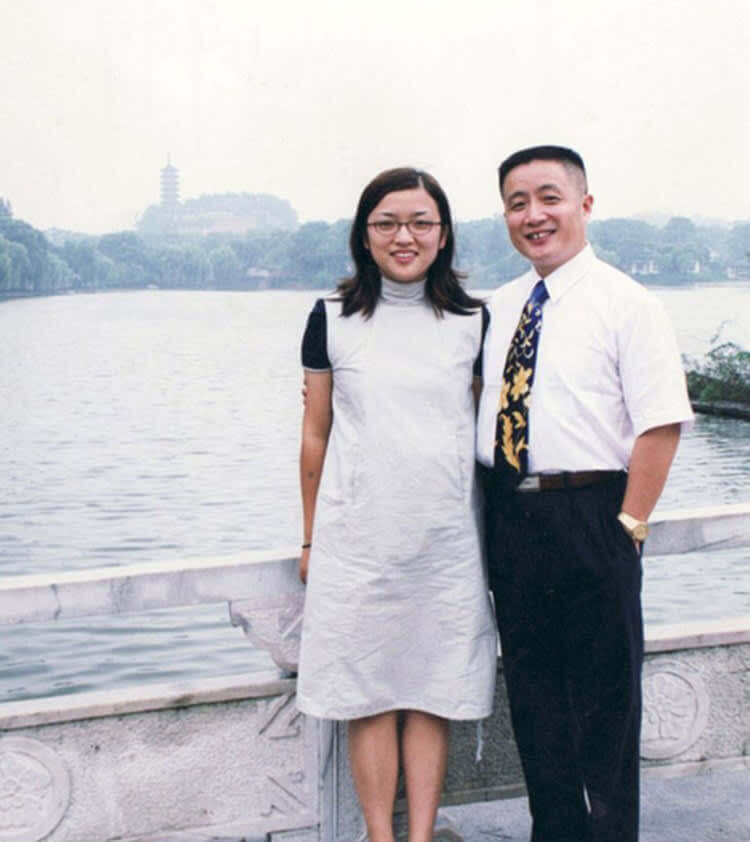 So, this brings us to 1999. The elegant Hua Hua no longer has a bowl cut, and she has even grown out her hair. As she is approaching adulthood, she has started to wear mature dresses as well.
Told Ya They Grow Up Fast: 2000
This beautiful photo was taken in 2000, and this means that she has turned 21 in this photo. Her ever-young father has turned 46 years old.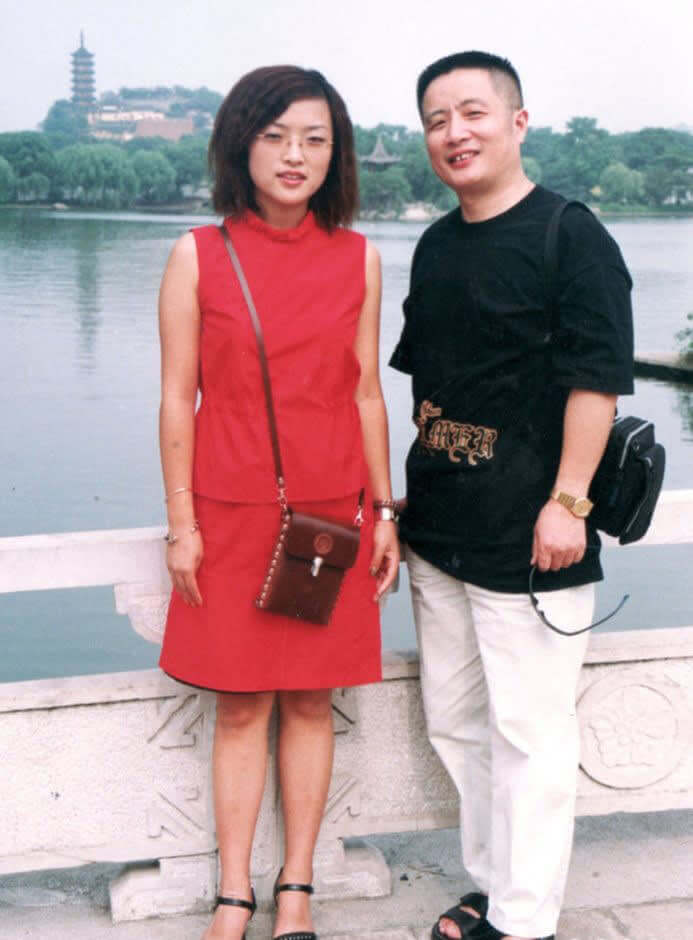 She has her hair crimped, and we have to admit that she looks stunning in the entirely red outfit. Hua Yunqing seems like he has an expensive camera in his bag, and he's not wearing his glasses. He still looks young here as well.
The Dad's Smile Hasn't Changed At All: 2001
First of all, we need to address the widest tie on her dad (it holds the world record for being the widest tie in the world). Secondly, the bag of Hua Hua looks stunning, right?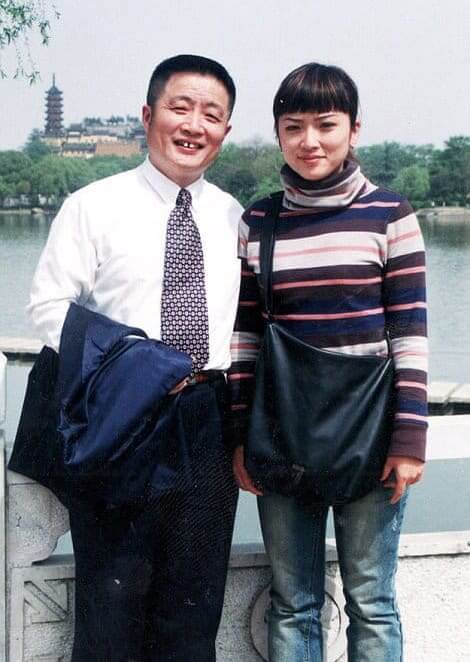 Hua Hua is 22 now, and she's looking more beautiful than ever. She has reached the age to drink in almost any country out there.
Following Father's Footsteps: 2002
Hua seems like she only has one role model when it comes to fashion: her father. We previously saw how her father showed off his brilliant fashion sense; here is his daughter showing off a little bit as well.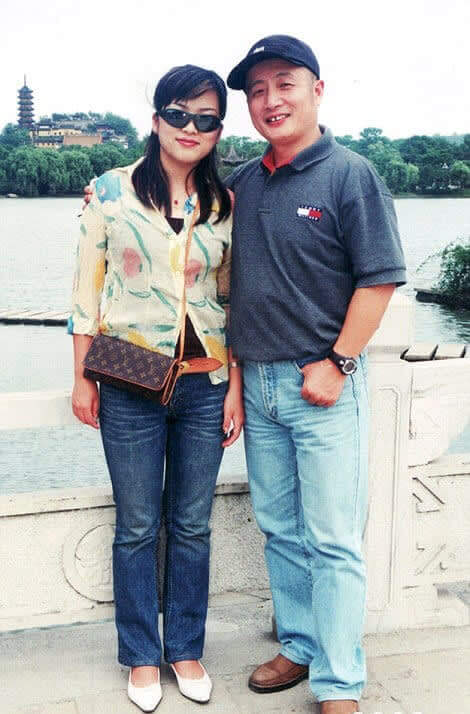 She has a Louis Vuitton bag, and though the jeans are a bit from the '90s, she has everything right. Her dad is looking as impressive as ever. We are loving his Tommy Hilfiger polo and, of course, his smile.
All Grown Up: 2003
Hua Hua is not a little girl anymore. She has grown up into a beautiful, confident woman. Hua Hua is like a professional lady in her business casual outfit. It seems like she has been using a curling iron lately, and what about the fantastic glow on her face.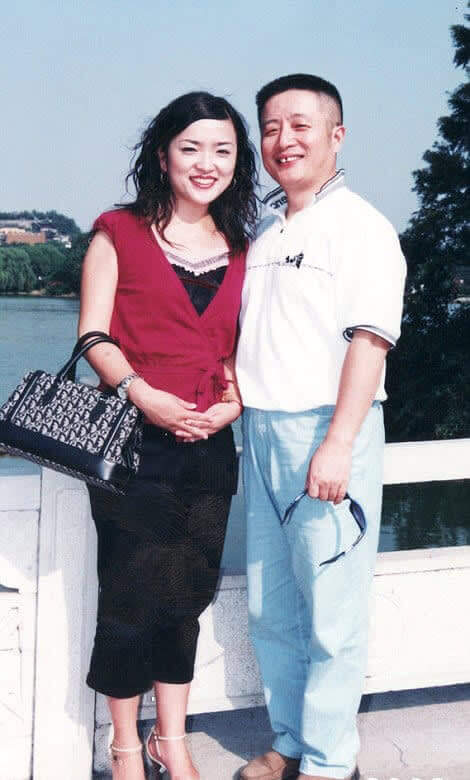 Her father seems like he takes a bath in the fountain of youth every day. He hasn't aged much, because he is about to reach 50 years old. And how can we forget about his polo shirts? He just knows how to keep it cool.
A Little Bit Dyeing of Hair: 2004
As Hua Hua dyed her hair an auburn red, she's looking more beautiful than ever. Her father, on the other hand, has finally decided to give a rest to polo shirts.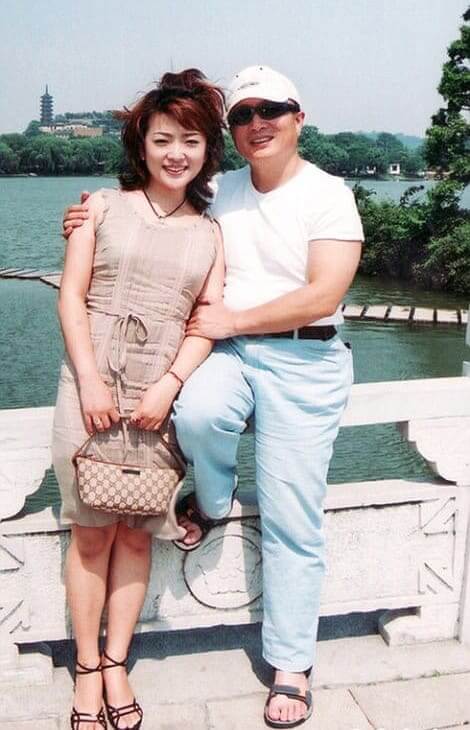 However, he is not saying goodbye to the sunglasses. The classic white tee and blue jeans look good on him. And just like you, we are also waiting for a photo in which he looks like he is getting older.
They Just Changed Sides: 2005
It seems clear now that Hua Hua did grow a bit taller than father. She has grown up into a young, empowered woman, and the smile on both father and daughter faces tells the entire story. She has her own sense of style.
Hua Yunqing couldn't live without his polos, and he's back to wearing them. Also, Hua was on the left side in all photos, and now she has gone to the right side.
Just Look At The Camera: 2006
It seems like Hua Hua's sense of style keeps on improving with time, and she looks super stylish here. But we all know that it is not Hua Hua's stylishness that is impressing us, it is the big camera of her father.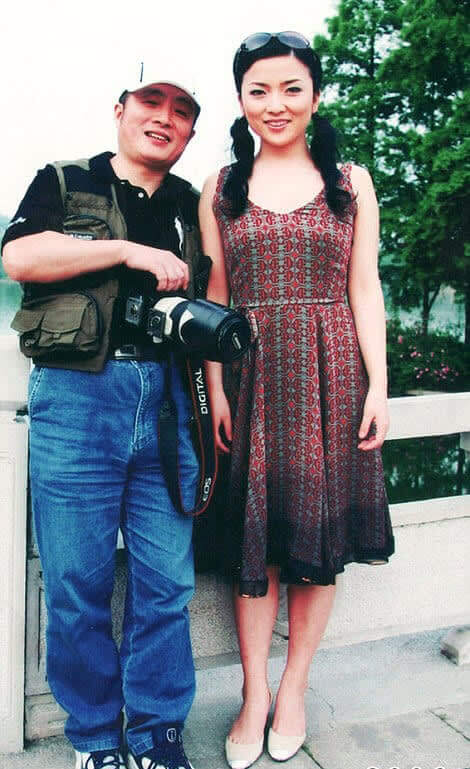 We are wondering why they didn't take the photo with this giant camera. The way he is holding the camera, we think that any other camera would seem inferior in front of it.
A Little Aged Dad: 2007
Finally, we have a photo in which we can see that her dad has aged. Although he is over 50 years old in this photo, we still think he looks super-hot here. He seems wiser than ever now.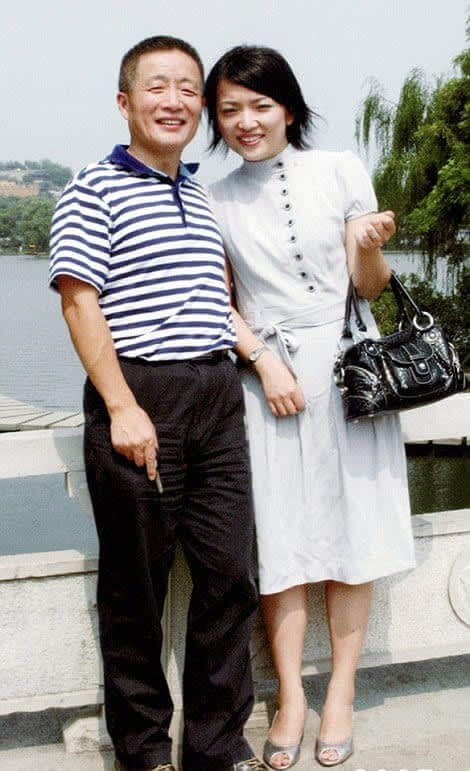 Hua Hua has cut her hair shorter, and there's a new handbag as well. It seems like she has a good collection of bags back home.
Photo With Daughter and Granddaughter: 2008
And then there were three in 2008! Hua gave birth to an adorable baby girl, and Hua Yunqing became a grandfather. Look at the happiness on their faces.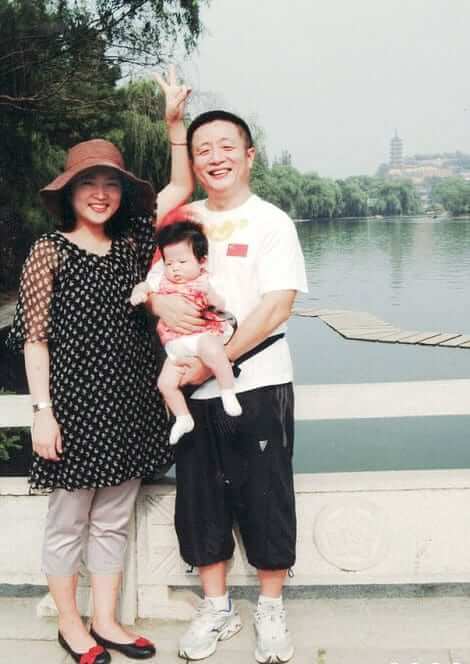 With the birth of a granddaughter, they didn't forget to keep on their family tradition of taking a memorable photo each year. First, it was the daughter, and now it is the granddaughter being a part of something so special.
Granddaughter is Growing Up: 2009
Hua Yunqing and his beautiful daughter remained dedicated to their tradition in all these years, and now they include a little angel into it as well.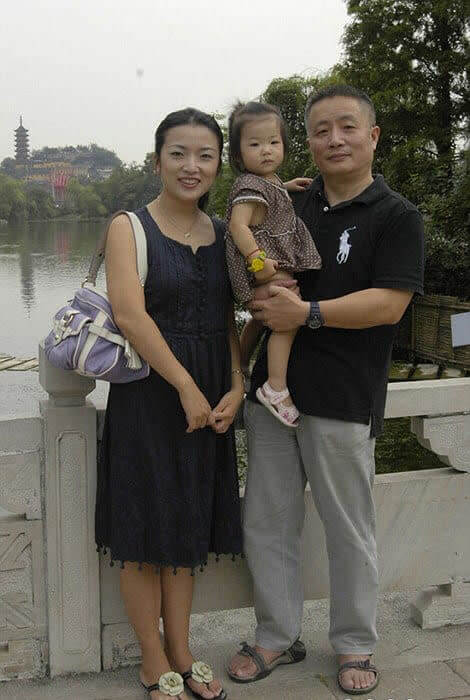 From now on, her daughter will be there for every yearly photo as well. We can see that Hua Hua has traded her stylish handbags for a diaper bag, and the baby girl is all dressed up. She must be getting all the fashion guidance from her mother.
Happiness Everywhere: 2010
By this time of the year, the cold weather made them wear warm clothes. It looks like it was raining that day too, and it is great to see that they didn't mind the weather. We have noticed by now that the family knows how to keep a broad smile on their faces.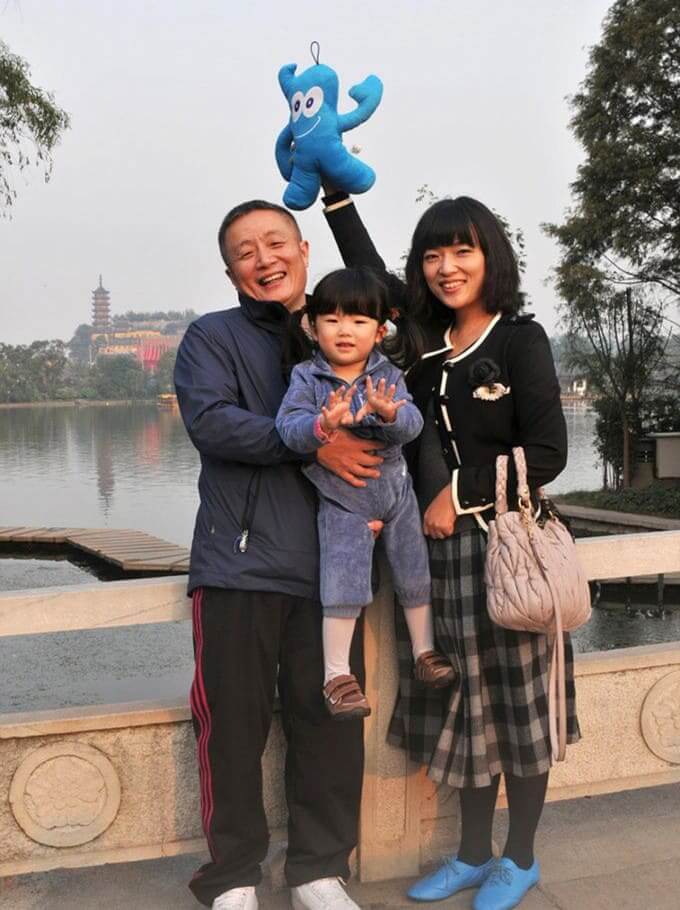 Hua Hua is back with a handbag that looks a bit older, but we think that she doesn't really care about her purse as she has other things to care about.
The Photo of Three Generations: 2011
Hua Hua is just like her father when it comes to hiding the age. She doesn't look more than 20 in this photo, and yet she's actually 32.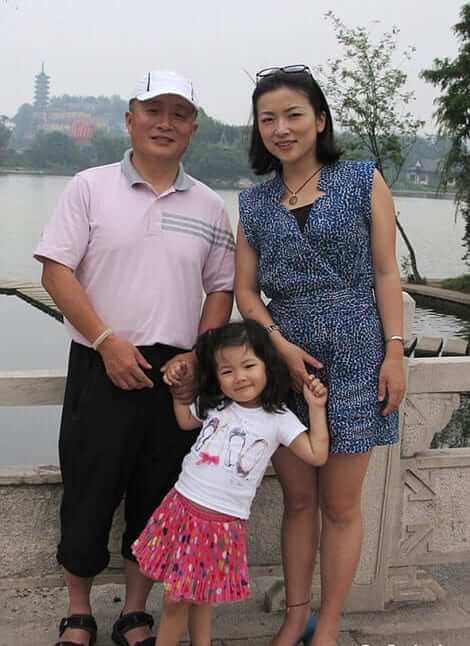 The little angel has grown up as well and she's so excited to be with her mother and grandfather. It is like everything in the reverse mode and they look so beautiful together.
Another Happy Addition to The Family: 2012
With another baby in 2012, the family keeps growing. Hua Yunqing became a grandfather to another baby girl, and isn't she adorable?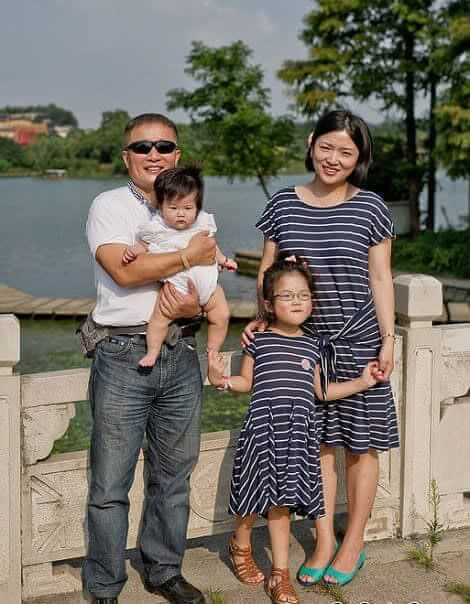 Hua Hua and her daughter looks like twins in their matching outfits. The grandfather is still rocking his polo and sunglasses. He seems like the coolest grandpa in the world.
Same Old Smiles: 2013
The youngest child is growing up, and she looks just like her mom. Hua Hua looks quite charming herself, and when speaking about the collection, she said, "Each time I look at these pictures, I couldn't help crying. As I can feel love, lots of love."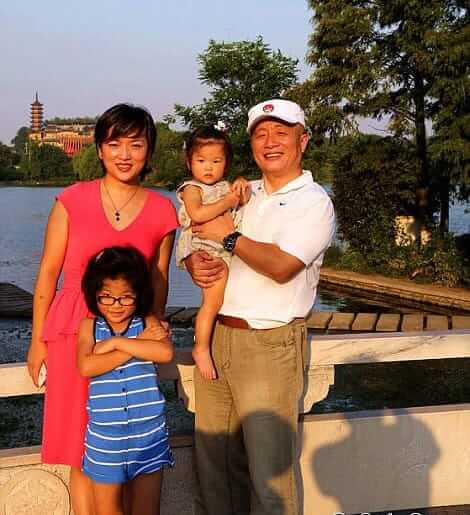 The grandpa looks calm and happy as he knows he has raised his daughter well, who, in return, is raising two future strong women.
Family Matching Clothes: 2014
Hua Hua and her daughters are all wearing the same shade of light blue, and one thing is clear that they all operate as one team.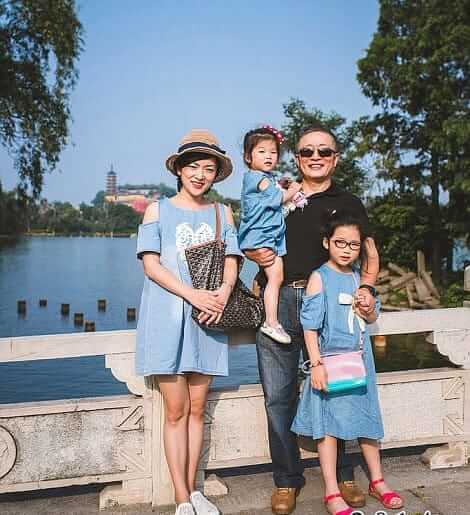 The grandpa is 60 by now, and he looks a bit older, but that doesn't matter. Time flew so fast, and when talking about it, Hua said, "It's a memory. When I look at the pictures, I feel I have a time machine."
Laugh Out Loud Yearbook Quotes From High School Seniors
Ashley Lez
This article was originally published on 24/7Mirror
High school yearbooks are a fun way to look back on your time in school. Years from now you will reminisce on all the memories you made in those four years. The best way to be remembered in your yearbook is by having a funny quote. These high school seniors came up with the most hilarious quotes that will have you laughing for days. Take a look, have a laugh, and get some inspiration if you need a yearbook quote.
No One Noticed Her Haircut
This girl is going places! She knows how to make a joke at her own expense.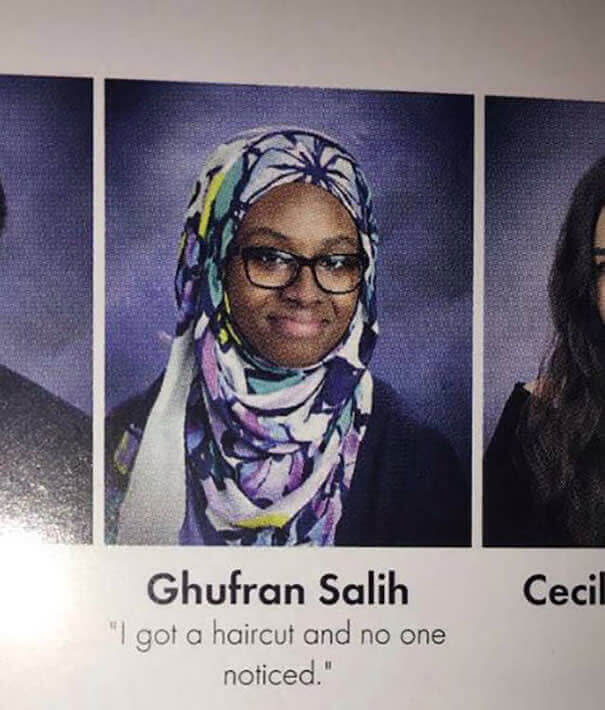 We bet her hair is beautiful under her stylish hijab. Even if she got a bad haircut, no one would ever know!
High School Will Be Fun, They Said
Just wait till you get to college Randey. The bike will turn into a motorcycle, and the firey ground will become lava.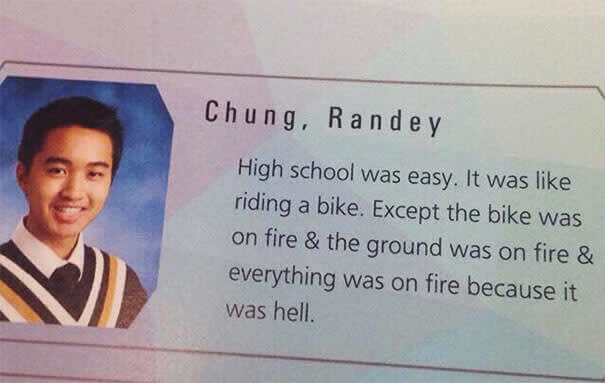 Then, once you graduate college, it is even worse than a fiery hell. It's slow-burning and painful.
"We Are Not Related"
The last name Nguyen is a very popular last name around the world. In Australia, it is the seventh most common family name!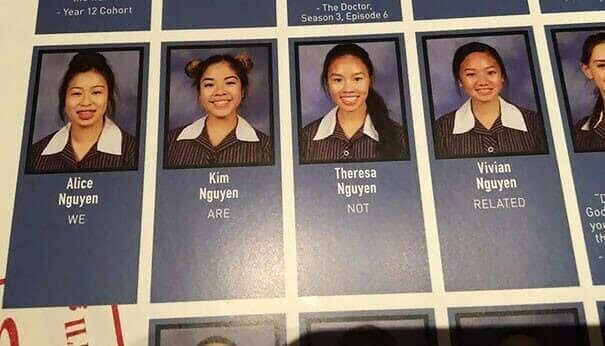 It is cute that they all coordinated their yearbook quotes just so no one can look back and think that they are quadruplets.
He Must Be Really Happy To Graduate
It is hilarious when people can make a joke about the stereotype that people have about their ethnicity.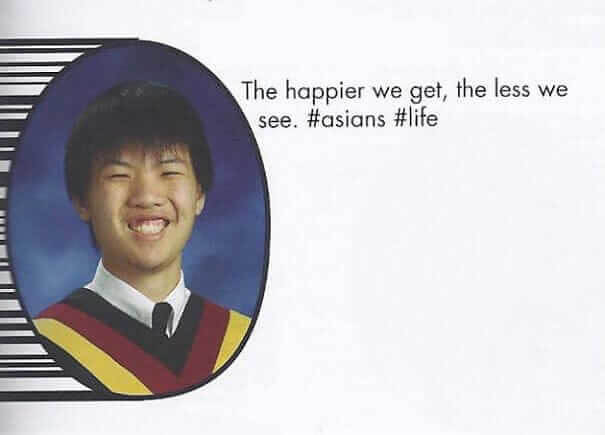 When you are happy, your eyes get all scrunched up. Combine that with already having smaller eyes, he can barely see!
Never Use The Unforgivable Curses
His name does sound like a former Hogwarts student who was probably in Slytherin house. He probably was trying to make some Horcruxes and they realized he was the second coming of Voldemort.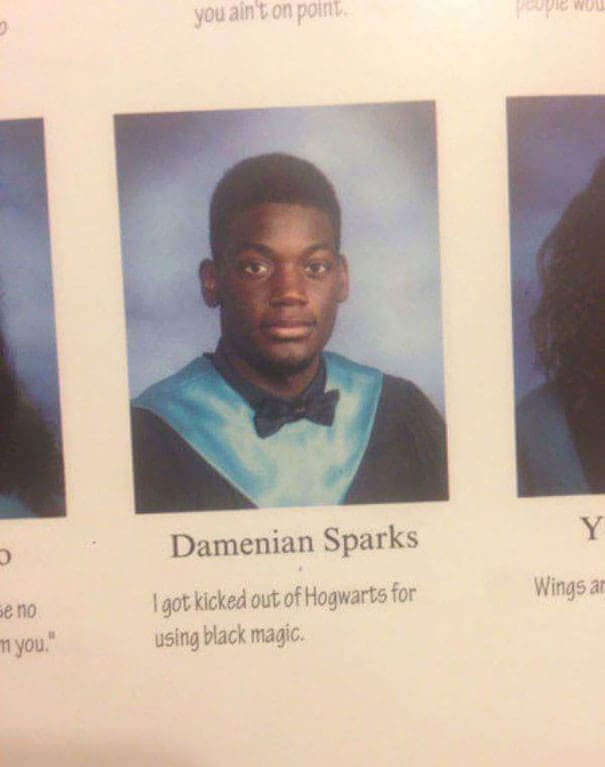 Also, this reminds us of the Key and Peele skit when he takes attendance and says everyone's names wrong. The teacher has probably messed up this name before.
Her Positivity Is Refreshing
When you start laughing at yourself, there are few things that can actually offend you.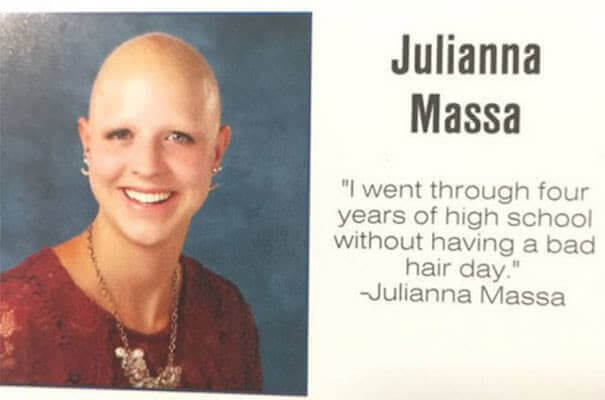 In our society today, everyone is obsessed with their looks and how they are seen on social media. This girl is a positive role model!
Sibling Rivalry
Any older sibling, even if they are only older by a few minutes, would probably say the same thing — those times when they were an only child and had all their parent's attention.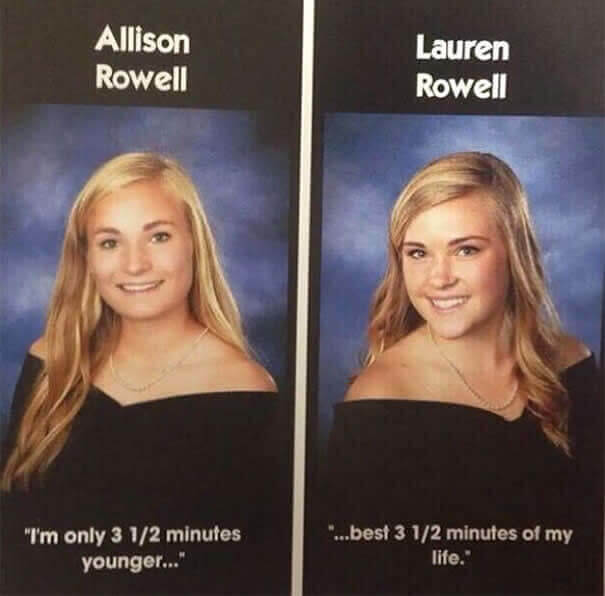 If you are an older sibling, did you enjoy the time better before your siblings were born?
Don't Let Him Fool You
Have you ever received a spam email saying that a prince or princess from a foreign country needs you to help them by sending them money? Hopefully, you knew it was fake and didn't send money.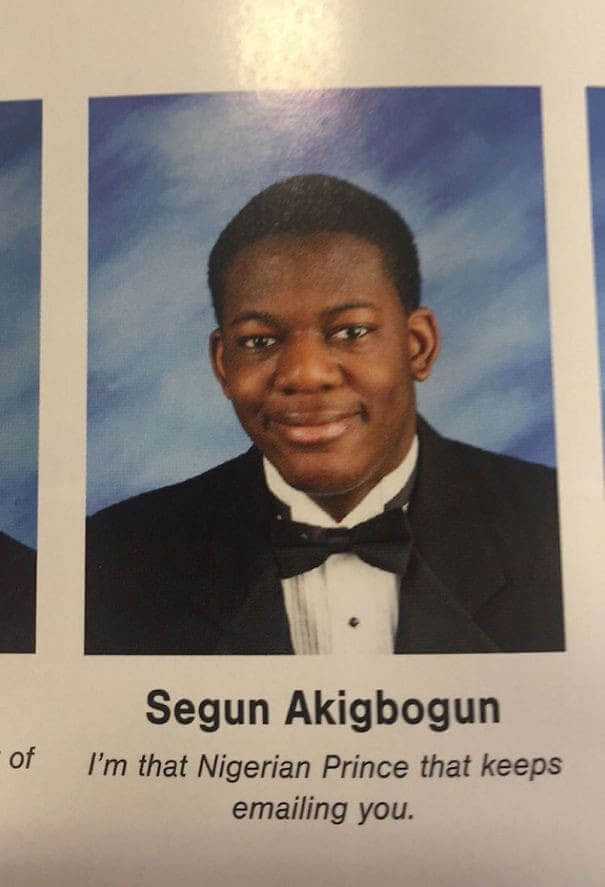 No one else could pull off this joke like him, and it's so creative. The person next to him should have written, "I won't fall for that scam a Segun time."
If You Can't Laugh At Yourself, No One Can
Can he wiggle his ears like Alfalfa from The Little Rascals? Don't try to whisper around him because he hears everything.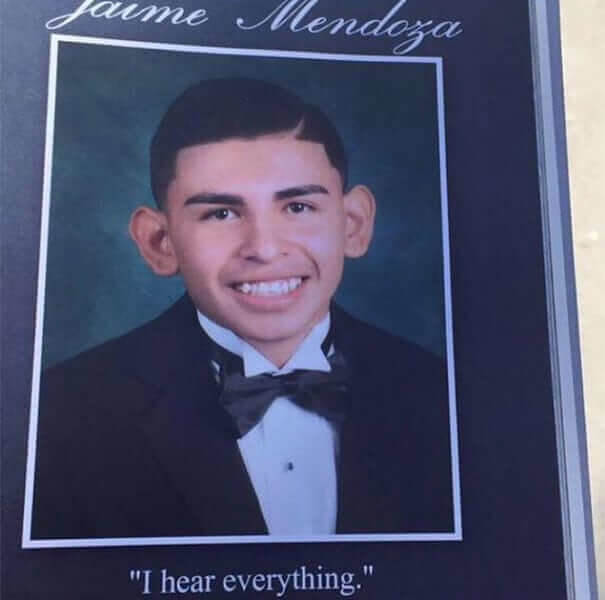 His ears might be big, but his eyebrows are perfection.
"It's Hard Being A Single Mother, Especially When You Have No Children And Are A Teenage Male."
This is the most random quote ever, but it is absolutely hilarious. How did he come up with this brilliant quote that will gown down in yearbook history?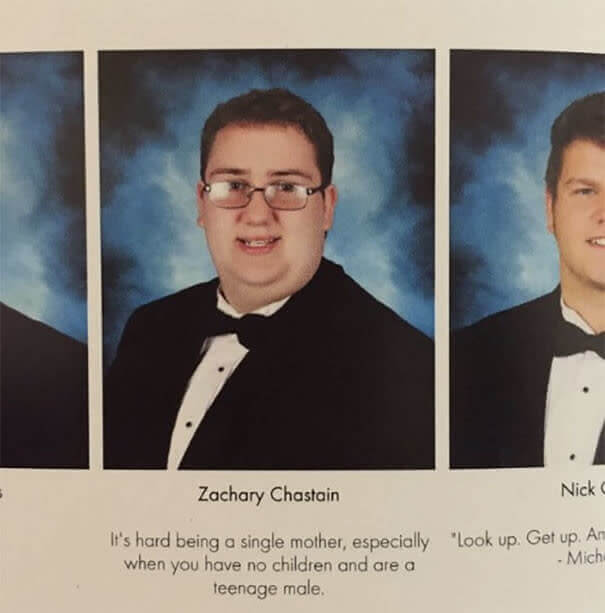 Years from now, his children will see this and wonder what their dad was thinking.
Professor Quirrell Is That You
A hijab is worn by women to maintain modesty, typically for Muslim women. In Harry Potter and the Sorcerer's Stone, Professor Quirrell wore a head wrap to hide the fact that Voldemort had possessed him.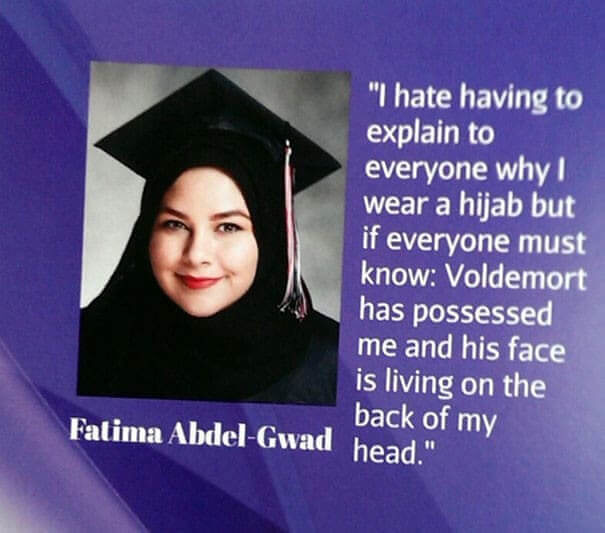 It is much funnier to tell people that you are walking around with Voldemort than giving them an actual explanation.
A "Can Do"Attitude
Wow, this guy should be a motivational speaker. He made being called trash a compliment. No one wants to be called trash, but now it is something positive.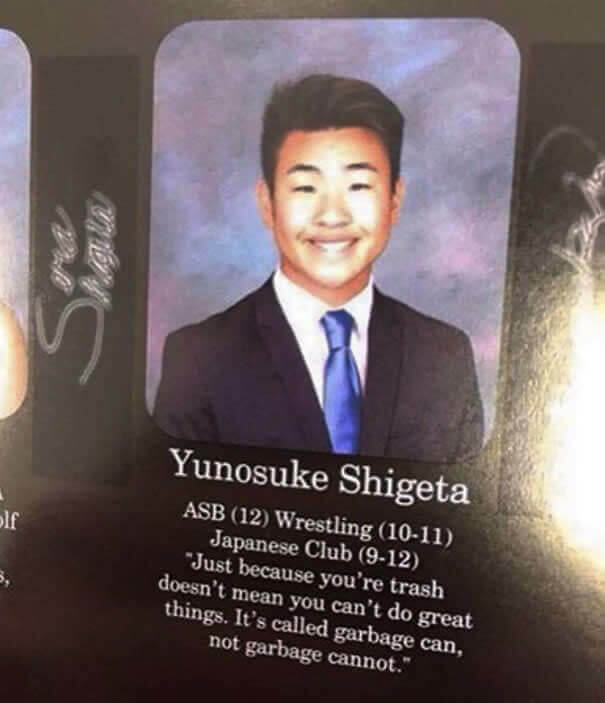 Also, it's like saying, "yeah you're trash, but that doesn't mean you fully suck."
He Prefers Tea
It would be amazing if this was the moment he chose to come out. He says nothing and hopes that everyone reads his yearbook quote.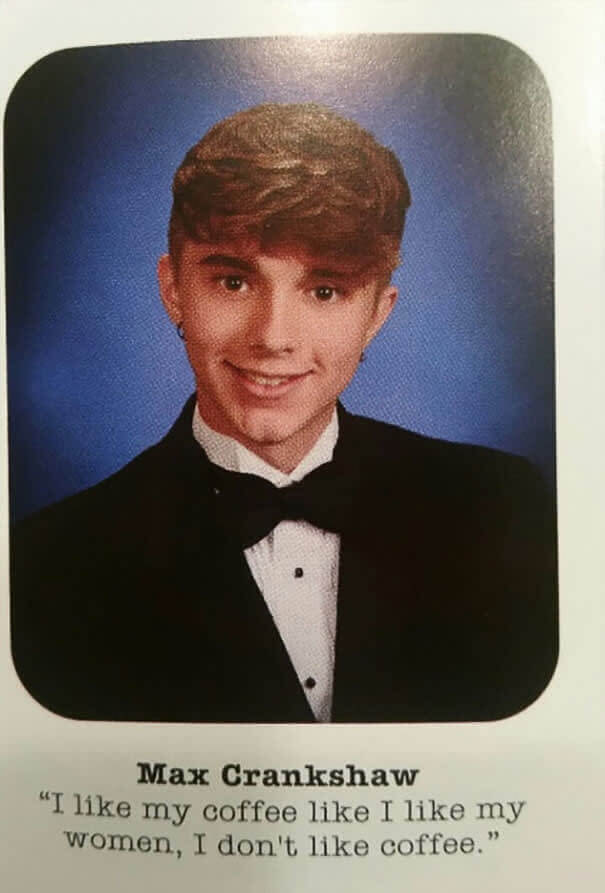 More power to you for being so true to yourself and admitting that you don't like coffee.
What A Poet
Well, there is not much to say about this one other than the fact that he is a great poet.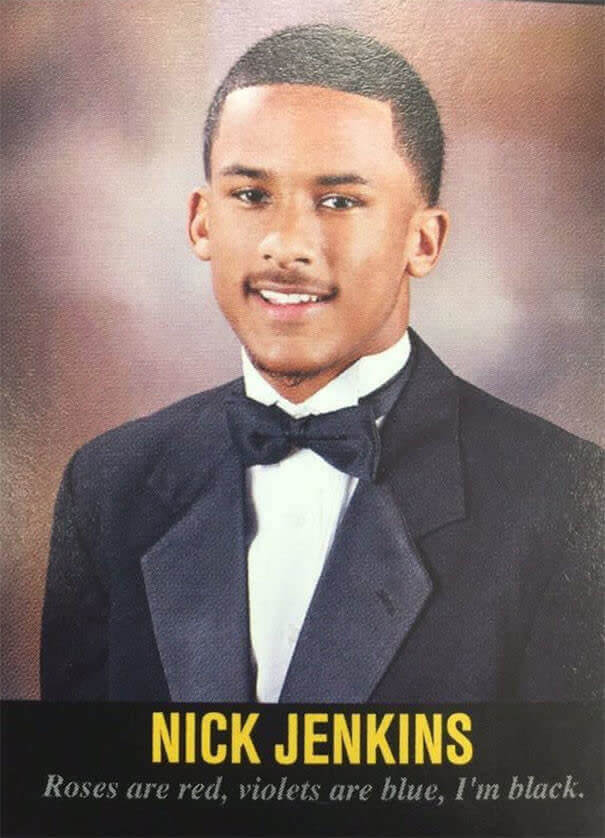 You can't really argue with his logic. Those are all true statements.
Joe McDonald Didn't Have A Farm, Ee I Ee I O
"With a moo-moo here and a moo-moo there, here a moo, there a moo, everywhere a moo-moo." Maybe his grandpa was the one with the farm.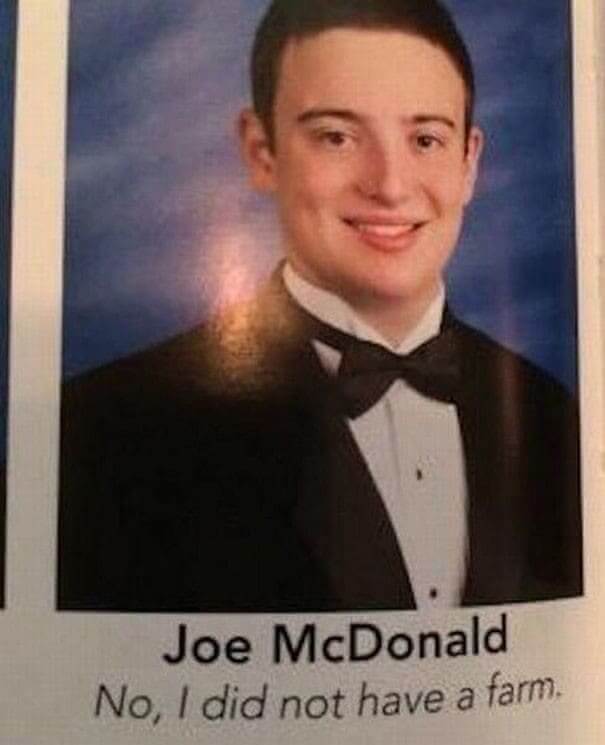 The song does say Old McDonald had the farm, and this boy is not nearly old enough to have a fully functioning farm.
He Should Have Listened To His Mom
When you do something just to irritate your mom, but now it is in your yearbook forever, and there is no way to get rid of it.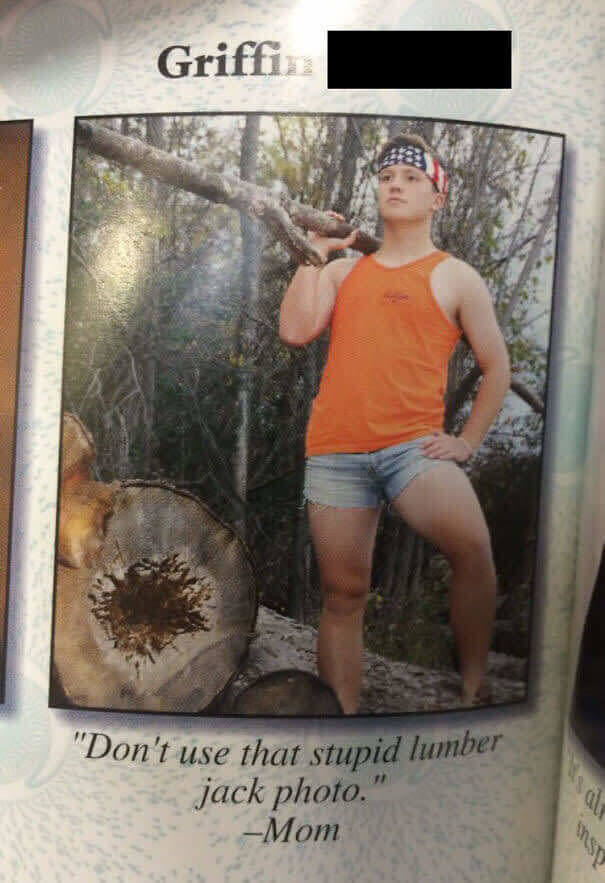 His mom clearly didn't understand that he wanted to show off his muscular legs in his jorts and muscle tank. This photo could also be captioned, "'Merica."
His Parents Did That On Purpose
He's so nice they named him twice! It's a good name because no one can know your first name without knowing your last name and vice versa.
This quote alone isn't funny, but the fact that his first and last name is the same makes it hilarious.
Megan Is A Free Elf
Don't get too excited, Megan. You have college next which traps you with student loans, and then once you graduate, you have to pay bills.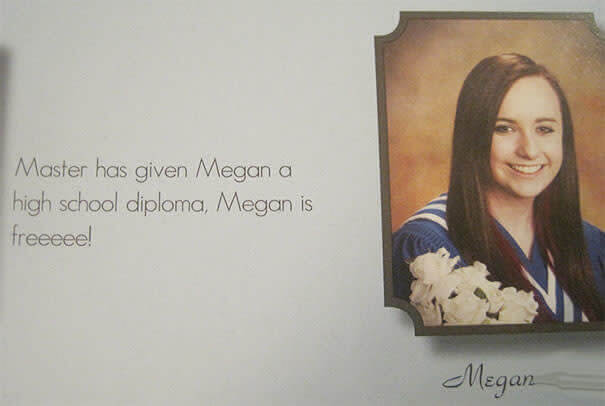 You get to be a free elf for the two months following graduation, and then you are trapped in school again.
Don't Forget Your Hips For Never Lying
It is nice to see that he can always be thankful for his body. If he only thanked one finger, does that mean he can only count to one?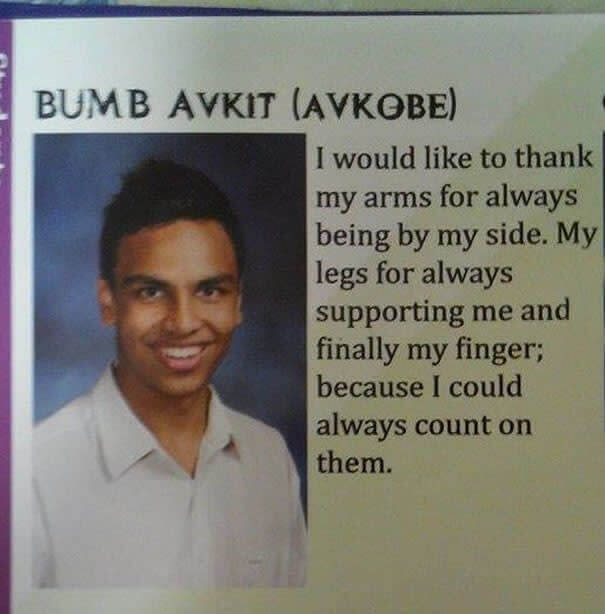 Can you imagine if he held up his hand and he only had one finger, but everyone thought it was a spelling mistake?
She Has A Point
To be completely honest, no man can compete with the pure joy you get from a good night's sleep.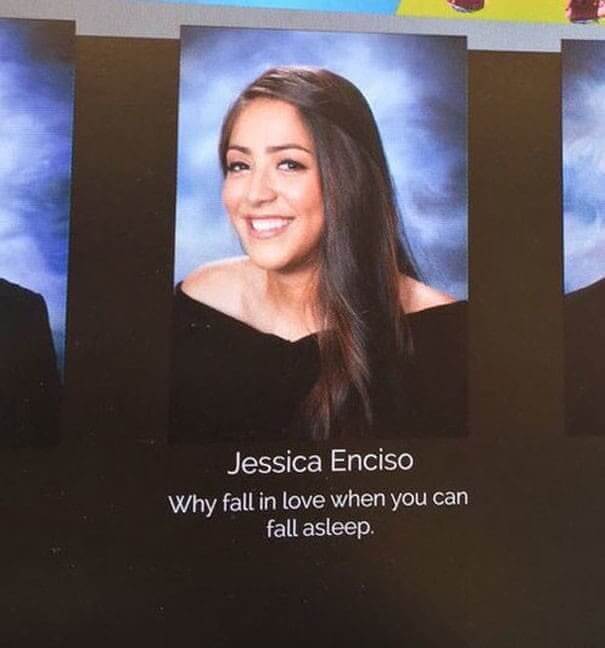 Everyone needs to sleep. Sleeping is fun, it's good for your brain and health, and it makes you happier.
Beat Them To The Punchline
If she marries someone with the last name Hum, she can be Ho-Hum. Or she if she marries someone also with he last name Ho, she can be Ho-Ho.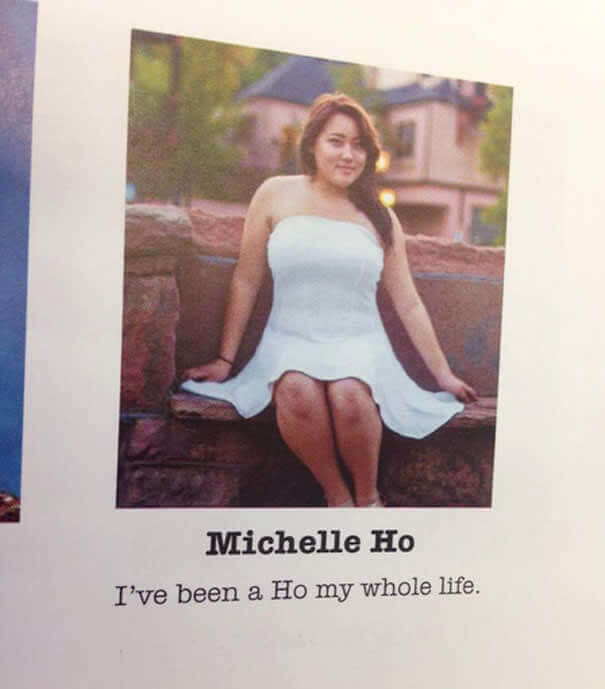 This is the one time you can turn a Ho into a wife. Michelle Ho has made her family proud.
Pronounced "Pareekeet"
He must have had to say this all the time when he got a new teacher, there was a substitute, or he met someone new.
He made it his senior quote cause that was the thing he said over and over throughout high school.
Unexpected But Still Loved
You know what they say, "Two is always better than one." Their parents have more children to love and now, two college tuitions to pay.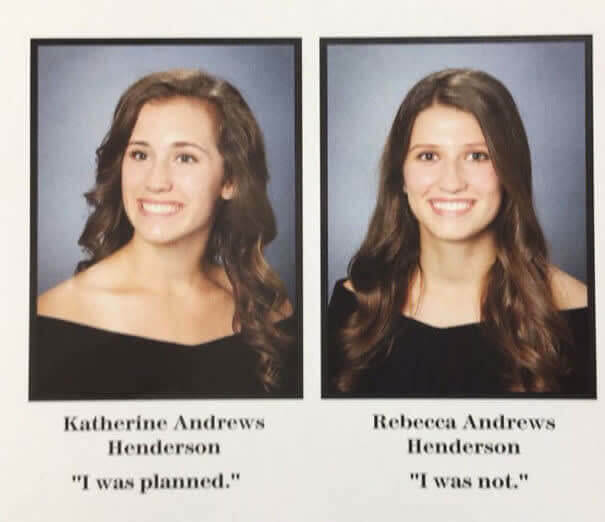 How do these twins know who was planned and who was not? Did they flip a coin to decide that one was the original embryo?
Clever
She used her smarts to get around this loophole and still got to use her original quote. This girl is our hero.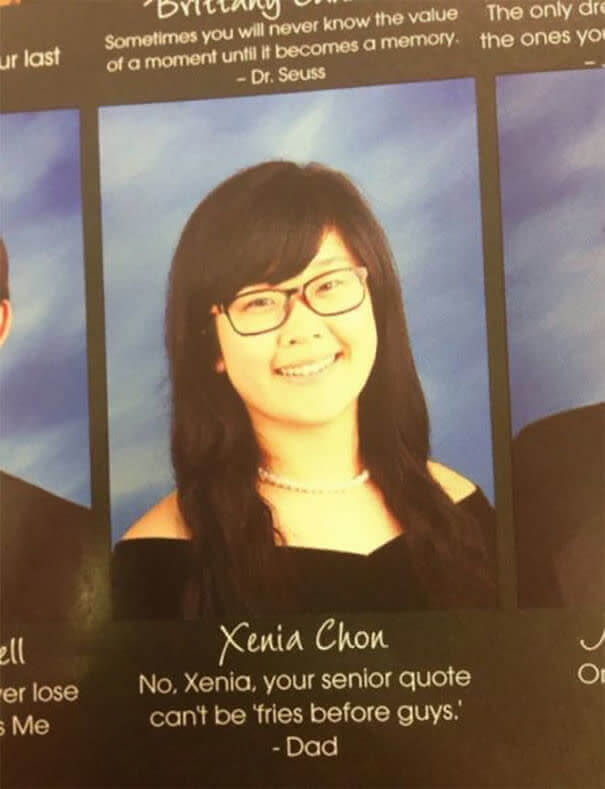 Do you think her dad laughed or got mad when he saw what she ended up putting in the yearbook?
How Did This Get Approved?
Shockingly, the school let this quote stay in the yearbook. Either the yearbook coordinator knows how to take a joke, or they didn't understand the joke.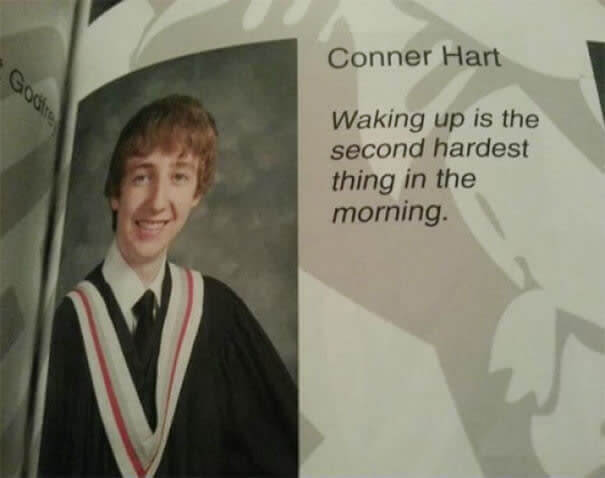 Is this really the legacy you want to leave when you graduate, Connor? What will you think about that in 20 years?
"Dad I'm Only In High School"
When you are just graduating high school and your parents expect you to have a full-time job that requires years of schooling.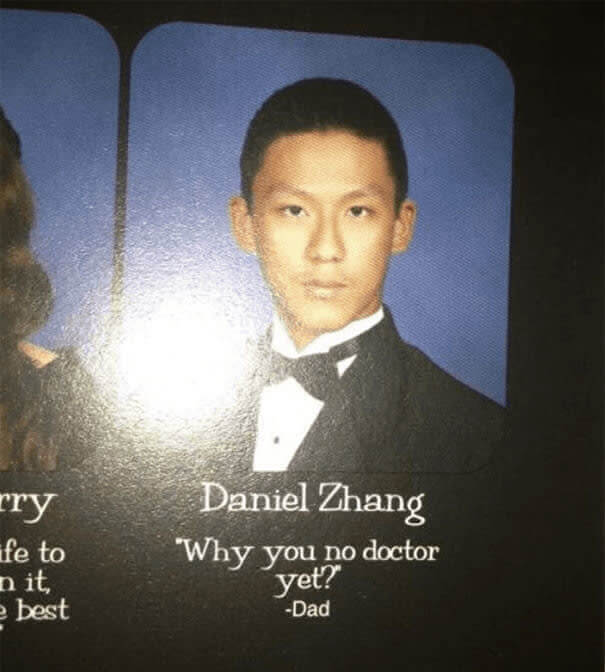 That is a reasonable request for an 18-year-old, right? Maybe Daniel will pursue a different career.
High School Helped Her Find Herself
High school is a time to find out who you really are. You can reinvent yourself and try out different looks, hairstyles, and attitudes. Amberlyn was able to discover her sexuality during her four years in school.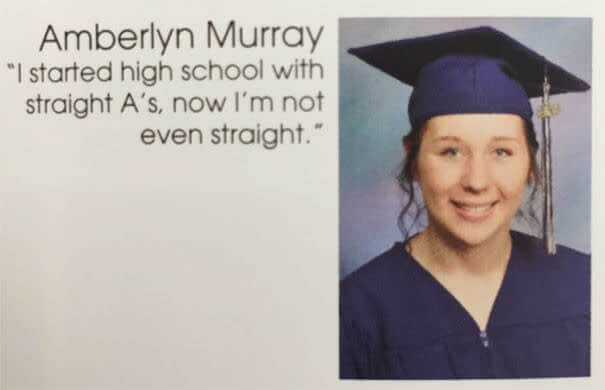 Once you are comfortable with who you are, you can be your true self and life is better.
Every Guy On Every Dating App Ever
Have you ever gone on a dating app, and the person's pictures turn out to not be a good representation of them? This guy feels like his yearbook picture is not the best representation of him.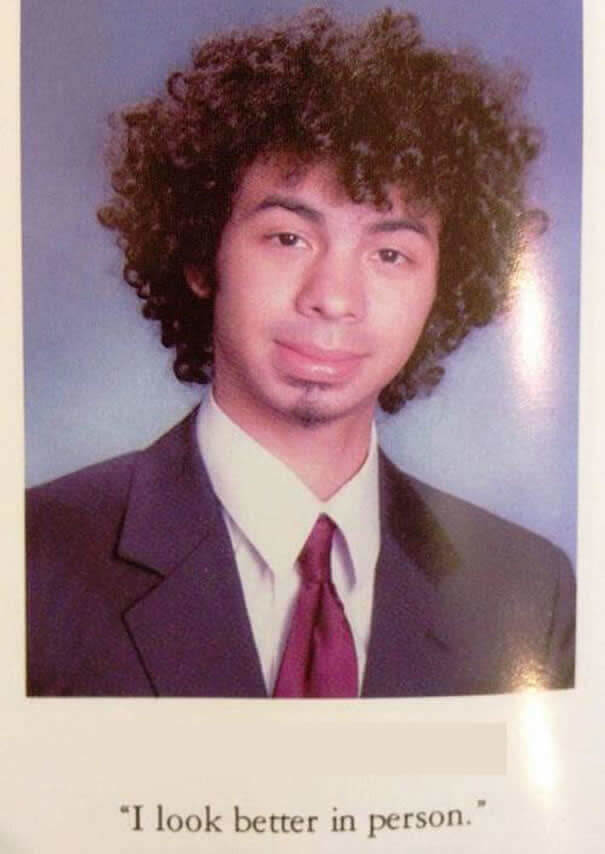 Some people just aren't photogenic, and that's ok. Not everyone is meant to be a model.
He Turnips In The Garden
This quote is bizarre beyond anything we could imagine. Does this person actually roll around and pretend to be a carrot? Does their neighbor still not know?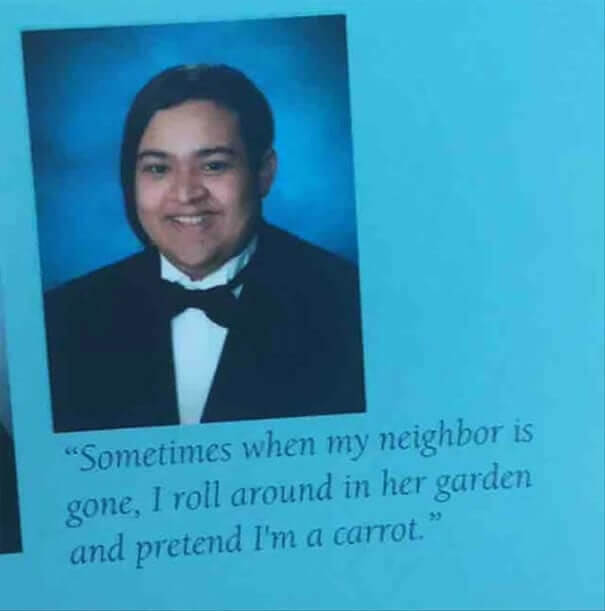 We are not sure where this quote originated, but whoever thought of it must be an interesting person.
Was This Planned?
Noah and Mason, we need some answers about these quotes. Did you plan this, or do you both love bubbles? Maybe someone saw the quotes and saw a good opportunity and put their quotes together.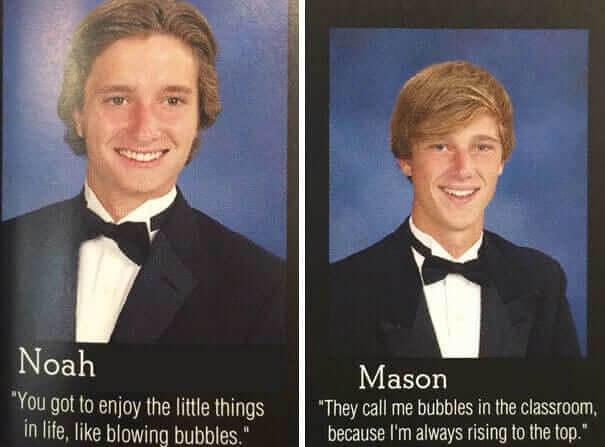 Where are Noah and Mason today? Are they still trying to convince people that the quotes were a coincidence?
That's One Excuse For Bad Grades
When you have tried as hard as you can to improve your grades, but that hasn't worked so you put them up for adoption instead.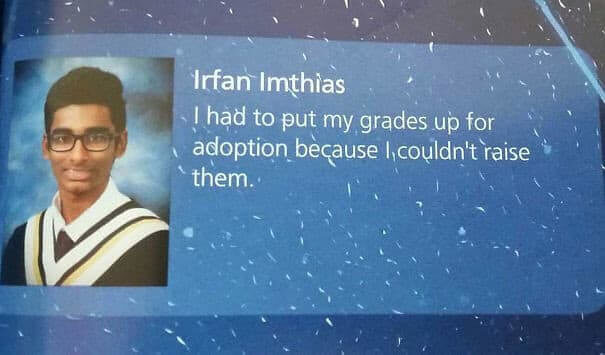 Maybe someone else can improve them for you, not that we are promoting cheating.
And It's All Down Hill From There
One hundred thirteen thousand eight hundred eighty hours is 4,745 days and about 13 years/ That is a lot of time to spend in school, only to have to go to more school. You spend that much time in school, and when you graduate, you are only qualified to work at a fast-food chain.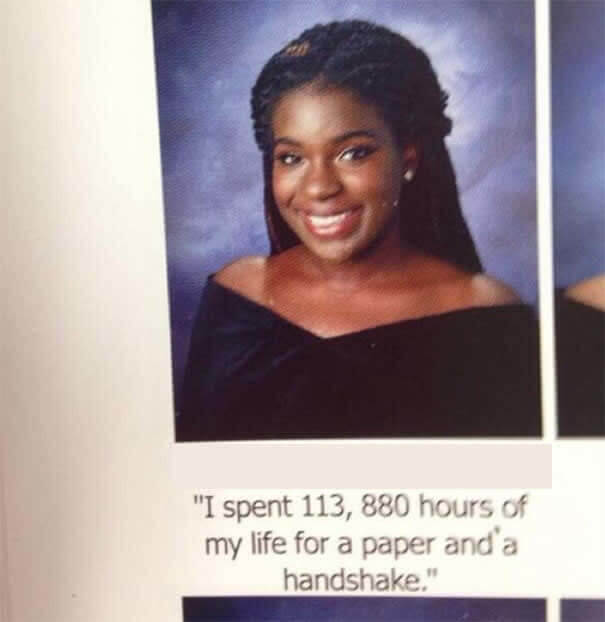 We wonder what her quote would be when she graduates college. "I spent four years and hundreds of thousands of dollars for a piece of paper and no job opportunities."
You Monster!
Some people choose to not eat meat because they feel bad for animals, and others choose to be vegetarian in spite of plants.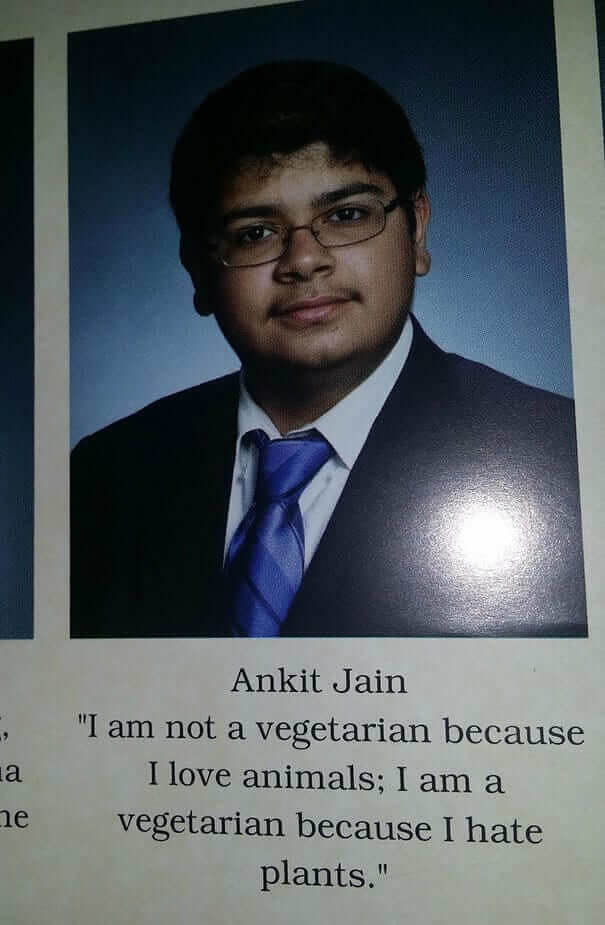 Plants and animals are friends, but eating them is part of the food chain.
Copy + Paste
These identical twins are copies of each other, and it is hard to tell them apart, so they made a joke out of it. Did you know people named their children "Dollar?"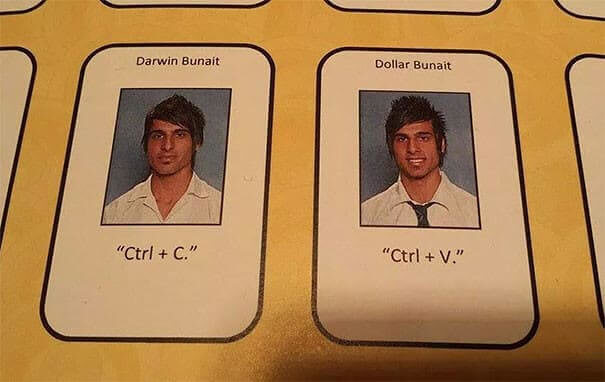 They also look way too old to be in high school. Some seniors must mature faster than others.
"I Always Knew Brooke Would End Up On Top Of Me."
Blake has had a crush on Brooke for the entirety of high school. He never got a chance with her, so this was his time to shoot his shot.

The yearbook may be the only chance he has to be close to Brooke, and we respect his bold attempts to get her attention.