It won't be wrong to say that obesity is a worldwide pandemic. In the USA alone, there are millions of obese adults. Lexi and Danny Reed were battling with obesity, and when they decided to change their lives, they achieved the unimaginable in just 18 months. They made some serious changes in their lives and became role models for many people around the world. So, if you want to make changes in your life, take inspiration from the amazing transformation story of this couple. Let's get started.
Early Weight Issues
Lexi Reed was a happy extrovert person who loved to share happiness. Ever since childhood, she had faced issues with her weight. Although she tried different weight loss regimens, the weight always came back to affect her life in one way or another.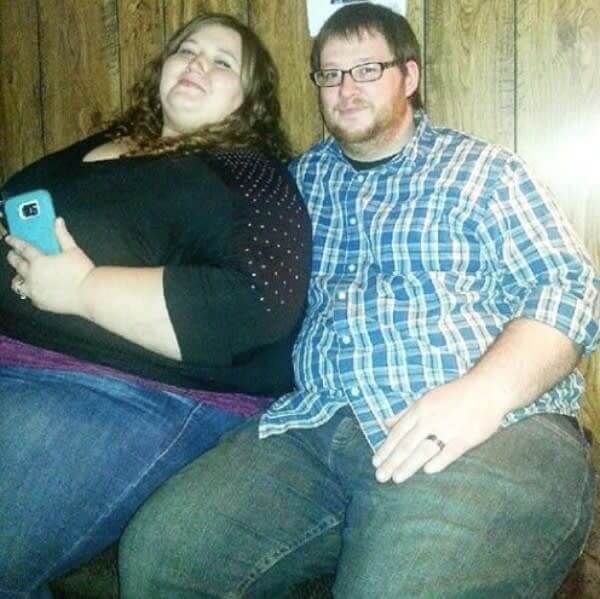 She was just 25-years-old and she already weighed 392 pounds. The weight was getting in her way of achieving her dreams of living a good life.
Finding True Love
Regardless of Lexi's increasing weight, she tried her best to live a happy life. She felt like the luckiest person in the world when she found her true soul mate, Danny Reed. She was her best friend for 10 years and he always loved her for the person she was, without thinking about her shape or size.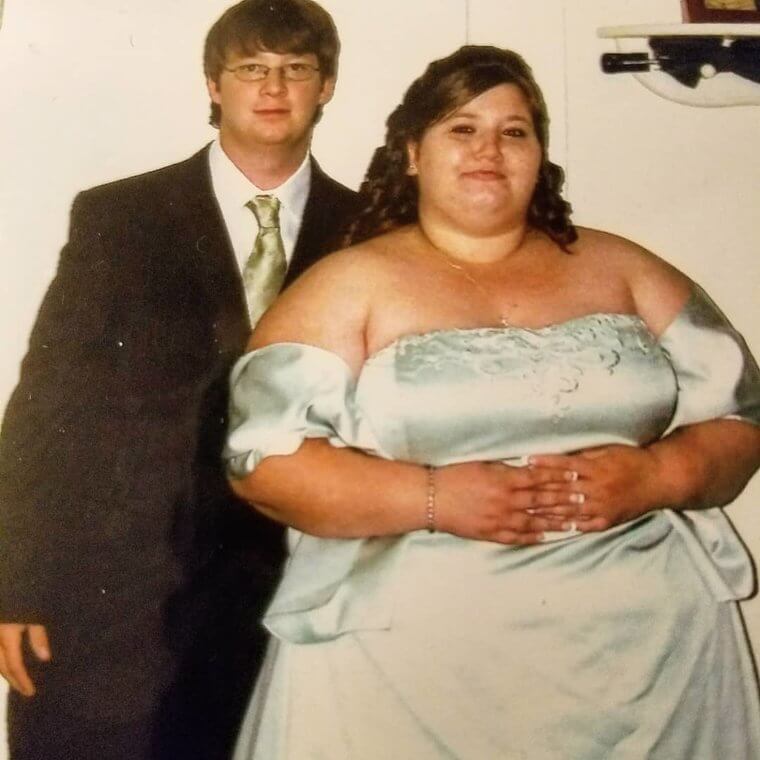 Although Danny always supported and loved Lexi at every turn of her life, there was one issue: he was also living an inactive lifestyle that revolved around many unhealthy eating habits.
Overweight Couple
Both Lexi and Danny were battling with weight issues. Danny weighed in about 280 pounds. Unintentionally, both of them started to live an even more sedentary lifestyle. So, unhealthy food became a major part of their diet.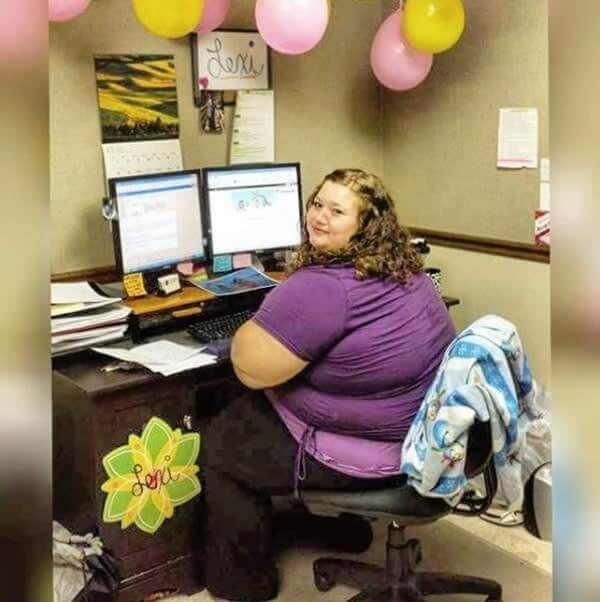 As both of them enjoyed to eat a lot without taking care of themselves, they used to spend hours at all-you-can-eat buffets. Their common activity was going to restaurants and eating their favorite foods. If they couldn't do that for some reason, they would order food at home. Unsurprisingly, all the extra pounds started to affect their health.
The Cycle Didn't Break
Lexi's cycle of unhealthy habits didn't start overnight. It all started in her childhood. "Growing up, we never had a lot of money and my parents never cooked. Processed foods were always easier to purchase than healthy foods…" Lexi told PopSugar.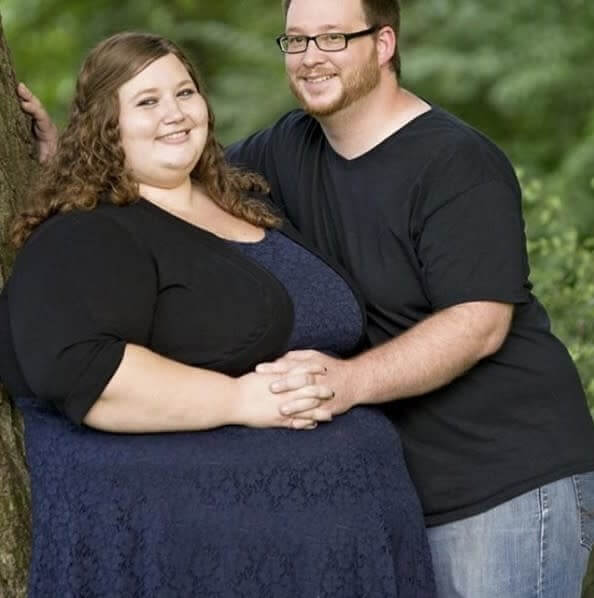 Unfortunately, the dangerous trend of eating unhealthy food didn't end when she started dating Danny. She admitted that the couple would often binge-watch TV and they used to eat a lot at that time. "I was always an emotional eater, also, and no matter what the mood, food was always there for me," Lexi added.
There Were Limitations
As both Lexi and Danny were overweight, they couldn't do things that other people do quite effortlessly. They were happy as a couple, but they couldn't go biking, go on romantic walks, go to the beach, or go hiking. As a result of these limitations, they were spending most of their time at home, watching TV and eating lots of food.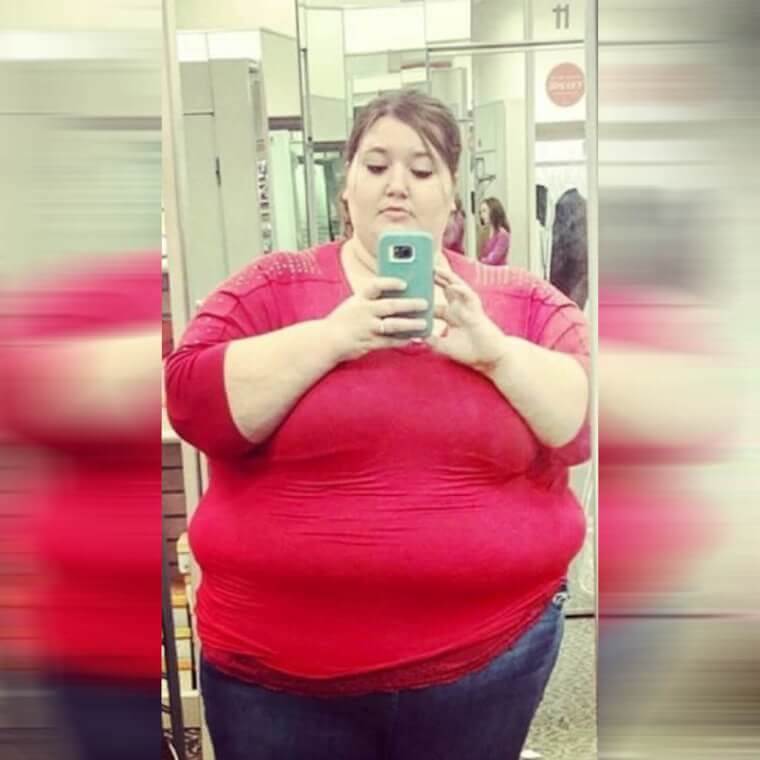 Lexi felt frustrated because of her weight issue limiting her life. But she has always remained a positive and happy person. She knew that it was time to turn her life around, but there was one problem: NO MOTIVATION!
Getting Engaged
When Danny asked for Lexi's hand in marriage, she instantly said yes. She knew that Danny loved her for who she was as a person. "He never saw me as my size, asked me to change, or made me feel as anything other than beautiful," Lexi wrote on Instagram. But there was one problem: it was challenging for her to find a wedding dress in her size. She weighed 485 pounds at that time.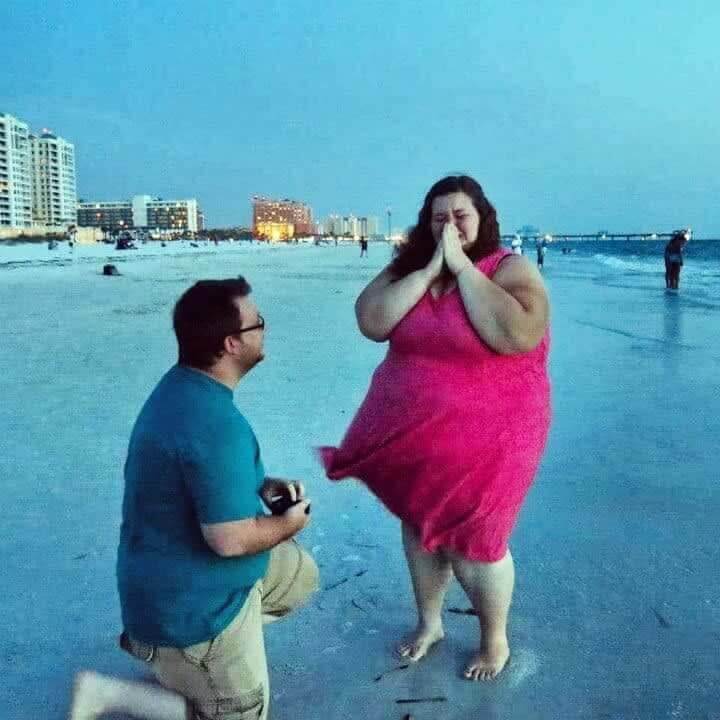 "Nobody knew how to make me feel like a bride, and not my size. Thank god I was strong enough to know my worth, and kept searching for my 34W dress even though I questioned if I would ever find one," she posted on Instagram.
The Magical Day
Lexi was lucky to find the right dress for her wedding day. She forgot her weight issues for that day and tried to embrace the feeling of getting married to the love of her life. Both Lexi and Danny got married, but they didn't know that some major problems were coming their way.
As they got married, it opened a door for questions about having children. They knew that if she gets pregnant then it would be dangerous to both Lexi and the baby.
Even Small Dreams Seemed Impossible to Achieve
The possibility of not having children worried both Lexi and Danny, but achieving smaller goals also started to seem impossible. Others would take those goals for granted, but the couple started to worry. For instance, they couldn't travel much.
Lexi is a big fan of Harry Potter and she had a dream of visiting the Wizarding World of Harry Potter at Universal Studios theme park in Orlando. But she was too big to take the rides there. She also couldn't travel because she couldn't fit in a plane seat. As Florida is a long way from her home state of Indiana, she knew that they had to find some other way to get there.
Nothing Changed
Before the couple knew it, they were married for a year and still nothing had changed. They were still spending hours in front of the TV eating unhealthy and processed foods. But then something started to change.
Lexi knew in her gut that she needed to do something to change their habits. She wanted a change and the urge to turn her life upside down started to grow stronger with time.
A New Year's Resolution
Many people make New Year's resolution, but not many people are able to act on it fully. Lexi loved the idea of start living a better life. So, when New Year's Day in 2016 arrived, she resolved to finally start making changes in her life that would benefit her health as well.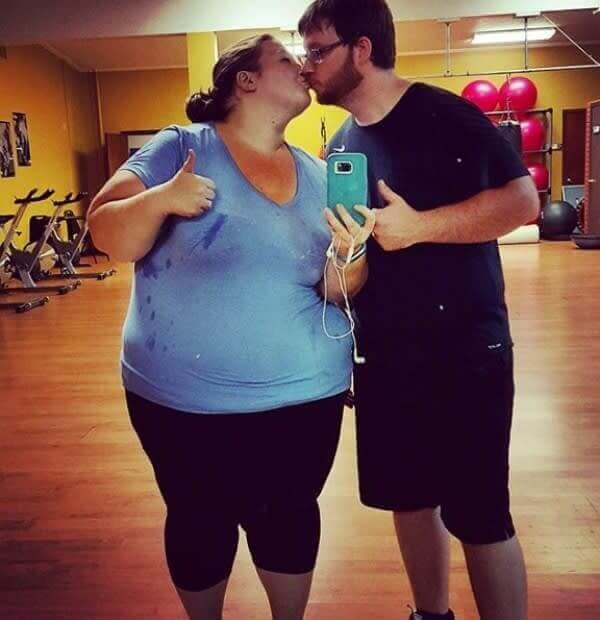 As Danny was always by her side, she was fortunate to see her husband's full support. But it wasn't like he was ready from the word 'go.' He needed some convincing before he decided to join his lovely wife's resolution for New Year.
A Difficult Decision
Danny wasn't into the idea of healthy New Year's Resolution because it felt good to go home and eat without any worry in the world, but he came around the idea soon enough because he didn't want his wife to go on a difficult journey alone.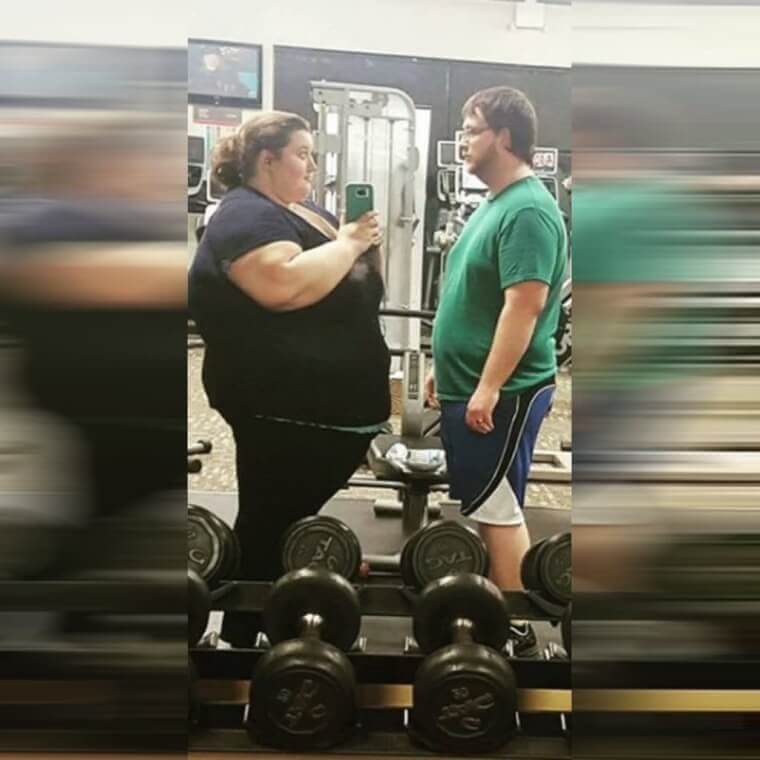 "At first the idea didn't sound great because it was always good going home, sitting down, eating and not having to worry about anything," Danny said. "It's a new year and something to work toward while helping Lexi out as well," Danny had a change of heart because he knew it was best for both of them.
There Was A Bet
When Danny and Lexi announced their New Year's resolution, some of their friends wanted to make a bet with the couple. Both of them had to make a deal they would follow some rules in a month: "no eating out, no soda, no alcohol, no cheat meals, and working out for 30 minutes five times a week."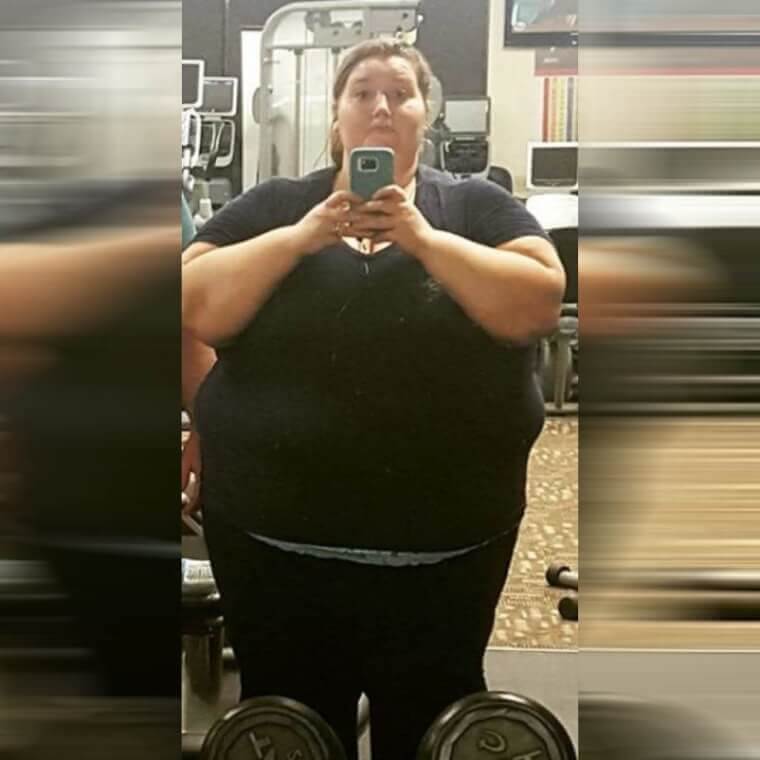 Both of them were ready to take on the challenge and they knew that they had to prove to themselves they could do it. It was a long journey that required a lot of self-control and determination. They had to do it for their better, healthy future.
Determined Couple
Lexi and her husband weren't able to fly or do things that normal couples do, not even a simple romantic walk. They were super determined. "We were fed up with the life that we were living and all the things that we weren't able to do together as a couple," Lexi said.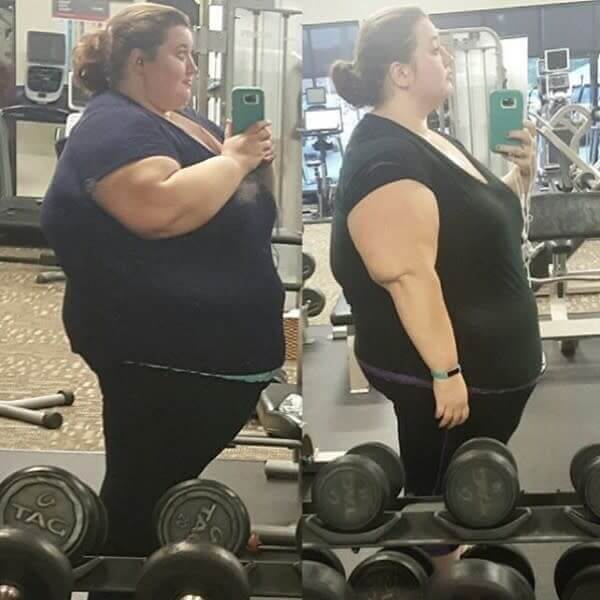 They were tired of their lifestyle and making a change was extremely important for them. "We also feared if we didn't get our health under control, we would never be able to start a family," Lexi said.
Joining The Gym
Lexi and Danny, with a full determined mode on, joined a local gym in Terre Haute, Indiana. They went to the gym for 30 minutes a day, five times a day. But it wasn't easy and it was only going to get more difficult for them.
They didn't have a personal trainer, but their strong-willed attitude pushed them to fulfill their promise to their friends. As Lexi had no personal trainer, she started to experience severe joint pain due to her weight.
Finding The Right Gym
It was not easy for the couple to find the right gym. Lexi, due to her weight, was self-conscious of what others would think when they saw her working out in the gym. Luckily, the couple found a gym that was less crowded. She even found the right exercise machine for her.
"I started going there when I got a free trial and — since it was never really crowded, my machine faced the wall (so I didn't feel like everyone was watching me), and I found a machine called the CrossRamp that didn't hurt my joints at 485 pounds — I fell in love with it."
Heading Towards A Healthy Lifestyle
For both Lexi and Danny, the most difficult part at the start was going to the gym. As they were able to overcome their laziness, they started to work on other things as well. They stopped going to restaurants and started to prepare meals themselves.
They cooked the food together and supported each other. They ditched frozen pizzas and replaced them with healthier foods. Well, dieting isn't easy by any means!
It Was More Than A Changed Diet
Lexi and Danny didn't just change their diet, but they also decided to turn around their way of living life. It is because Lexi thought that dieting was temporary and she needed something long term. She wanted something she and her husband could stick to in the long run.
She did it by not looking at eating healthier food as a diet. "I started taking the foods I loved and making healthier versions so I no longer felt like I had to give up something or deprive [myself]," Lexi stated.
Never-ending Support
It wasn't easy to go to the gym and stop eating those foods that you have been eating your entire life. Lexi was lucky to get the strong support of her loving husband. She also supported Danny, who also wanted to lose weight. Together, they acted as a strong, motivated couple.
The journey to losing weight can be even more difficult if there is no one to support you. Both of them used each other as a support system. Keep on reading to see what happened next.
Results Started To Show
Time went on and the couple didn't stop eating right and going to the gym. They didn't notice it at first, but the results started to show. Lexi started taking classes at the gym, met new people, and made new friends. Her new friends also supported her.
"I love my Pulse class. I love dancing to my favorite music and not feeling like it's a workout. We can do a song full of squats and even though my legs are burning, it's so much fun that I don't even notice," Lexi said.
Work Hard, Reap The Rewards
All the hard work of Lexi started to pay off. She got over her fears of going to the gym. "if people were going to stare at me because of my weight, I was going to give them a reason to stare by being the hardest worker in the room," she said.
At the start, she lost about 20 pounds a month. But then, weight loss started to become more challenging. She didn't stop going to the gym and made changes to her daily calorie intake. Her new habits changed into a new lifestyle and the results astounded everyone.
Danny's Transformation
Lexi was making some serious strides in her weight loss journey. And so was Danny. He was always supporting Lexi at every step of the way and he was working on himself as well.
Within just 24 months, the couple kept up their healthy lifestyle and didn't give up despite facing many challenges. He lost about 100 pounds. He weighed in at 280 pounds before starting the weight loss journey and he got it down to 190 pounds.
The Remarkable Transformation of Lexi
In about 18 months, Lexi completely changed her looks. The difference was so unbelievable that it shocked everyone who knew her. She was rightly proud of her newfound lifestyle and of course, her body.
By May 2018, Lexi trimmed her weight from over 485 pounds to 312 pounds. As the person who is losing weight doesn't really notice the difference at first, Lexi also realized her reduced size when she went back to the restaurant the couple used to visit frequently. Back then, her stomach used to rest on the table but now that wasn't the case. It was a true moment of pride for beautiful and high-spirited Lexi.
Sharing Success Story
Lexi wanted to get more support from people and she also hoped to inspire others by sharing her story. So, she created an Instagram account in the fall of 2016 by the name of "Fat Girl Fed Up." She started to post pictures of herself along with her husband on her account on a daily basis. Most of her photos had motivational quotes.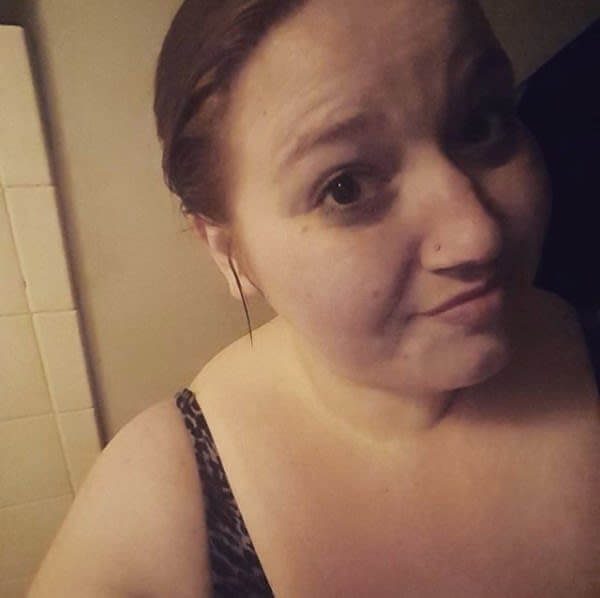 It didn't take long before she had a huge following. By the way, now she has over 1.2 million followers on Instagram verified account. She posts her before and after pictures to show the world that nothing is impossible to achieve in life.
Becoming Famous
The incredible story of Lexi and Danny became viral on the internet. And soon enough their story was picked up by news and TV stations all over the country. The couple appeared on TV shows and even featured on an episode of Rachael Ray about healthy cooking and eating.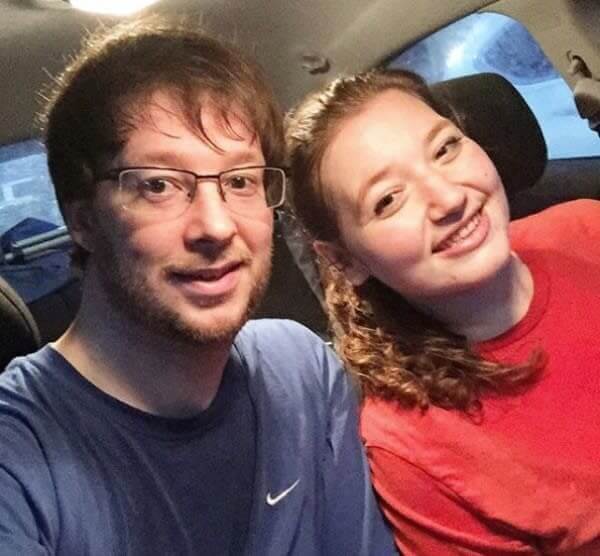 The couple still remained determined and they didn't let their newly found stardom to get to their heads. In fact, it had the complete opposite effect on them. They became more humble than ever and the media attention motivated them further.
Losing Over 400 Pounds
The combined support and effort of Lexi and Danny helped them lose over 400 pounds. It won't be wrong to say that they got a new lease on life. They started to do things which they couldn't do because of their weight. They started to go for romantic walks and hold hands in public.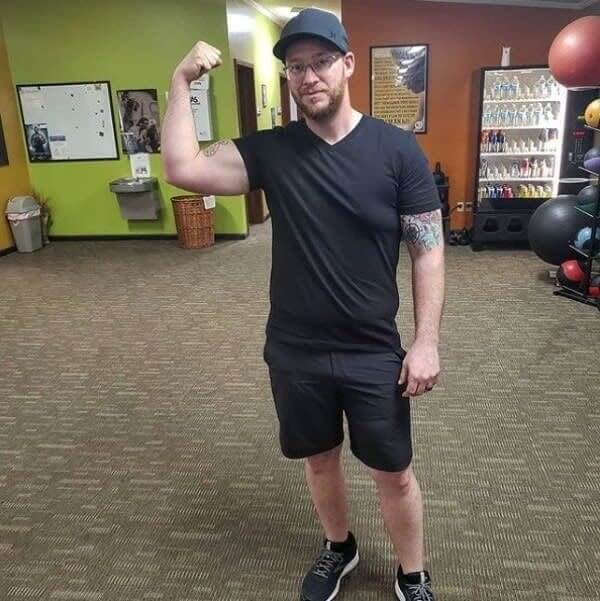 They even went back to the beach, where Danny first proposed to Lexi. They were ready to celebrate their newfound lifestyle. Before their incredible weight-loss journey, Lexi would get tired by just a short walk. And now, she was running wildly on the beach. "We returned to that beach and ran down that beach!" Lexi declared.
Taking A Long-Awaited Trip
As Lexi could comfortably fit on an airplane seat, the couple took a trip to a place where Lexi always wanted to go. Yes, Harry Potter World at Universal Studios theme park.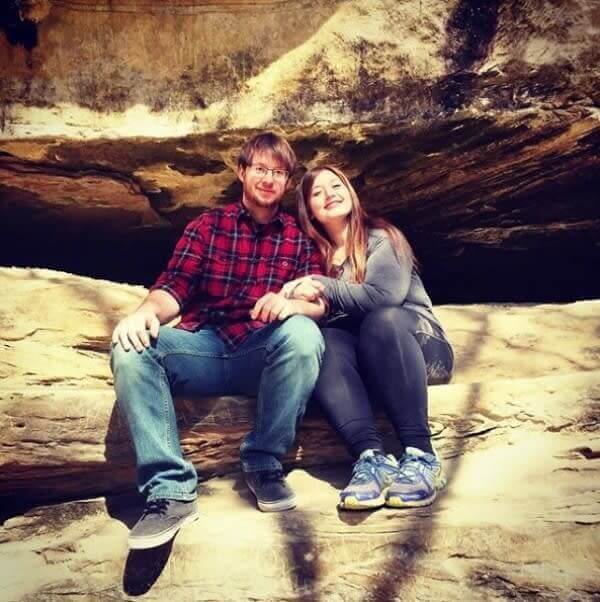 They were more than happy. They had every right to feel good and satisfied because they had to go through a lot to accomplish something that was nothing short of climbing Mount Everest to them.
No More Finding Escape
Lexi and Danny worried about going out before and that's why they used to find escape in front of their TV and eating food. Now they were no longer prisoners in their bodies. "I am grateful for every single day and I am enjoying the journey," Lexi said.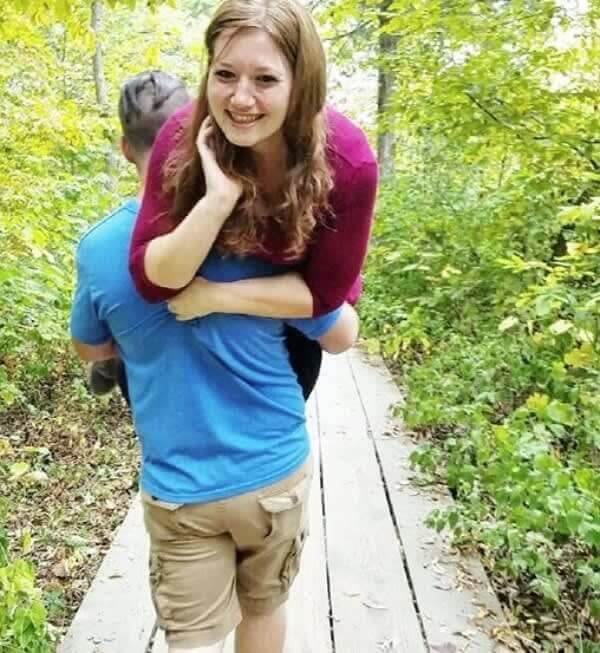 "Every day is a non-scale victory and a reminder of how far I've come. Like, I loved myself even at 485 pounds, but just to be able to wake up and do whatever I want to do and go wherever I want to go… I don't feel like I'm a prisoner in my own body anymore," she added.
Golden Words From Lexi
As Lexi has done something that is monumental, she believes that she has to inspire others who are still battling self-confidence, motivation, and weight issues.
She posts pictures of her on Instagram account to inspire as many people as possible. Her advice to people is: "Start small — small changes add up to big results — and focus on each day, not how far you have to go."
A Helpful and Kind Person
Lexi has always been a kind-hearted, friendly person. She has also opened her YouTube channel to inspire others and help people who are planning on starting their own weight loss journey. Her YouTube channel is also growing and has over 93k subscribers.
Due to the inspiring story of Lexi, she was even invited to the 2018 Screen Actors Guild Awards. "I learned how strong and capable I am as a person. I thought it would take me over three years to lose 300-plus pounds, but I was so determined and hardworking that I did it in two," she said.
Enjoying Life to Its Fullest
Lexi is in love with her life and she considers herself lucky to feel alive again. "There are no words to explain the feeling of saving your own life. Going into 2018 I have nothing but a newfound happiness for this life I am living. I no longer am a prisoner in my own body and instead of just existing in my own life, I'm finally alive," she said.
"Every day I wake up is a blessing. I'm so proud of how far I've come and this new life that I'm living. I saved my own life, and for that there are no words — only gratitude," she added.
Receiving Special Honor From Hollywood
The amazing transformation of Lexi Reed helped her receive a richly-deserved special honor. L'Oreal Paris and TNT Drama chose as one of their inspiring strong women and she attended the 2018 Screen Actors Guild Award. It was dream-come-true for her. Isn't life amazing? At one stage of her life, she couldn't even fit into an airplane seat and now she was attending a star-studded show.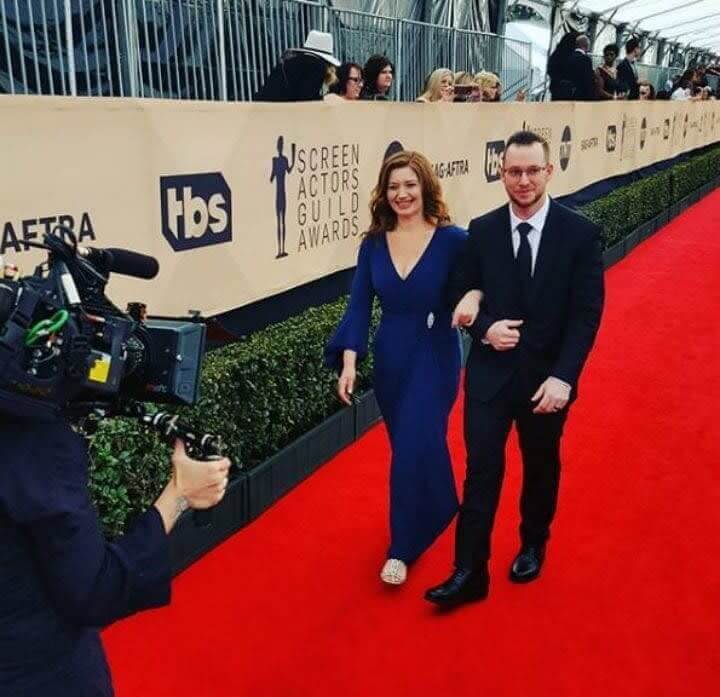 The couple was not only flown to Hollywood but they also stayed at a beautiful hotel. Although they were on a vacation, they still maintained their fitness routine. Now, that's called determination.
Important Meal Tips
One of the major tips that Lexi has given to her followers is to prep the ingredients for healthy meals at the beginning of the week and to find meals that are healthy and delicious. She shares her meal ideas on her social media pages to guide others.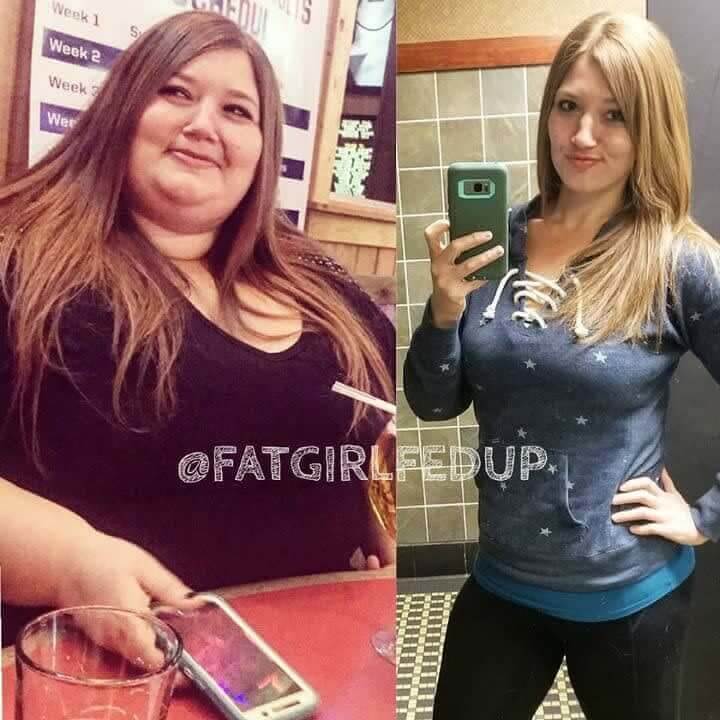 "I know Holidays are hard guys but practice portion control, healthier swaps, balance, planning," she wrote on Memorial Day 2018.
Maintaining Her New Lifestyle
Lexi knows that she had to sacrifice a lot to achieve her newfound lifestyle and she does everything to ensure she maintains it. She incorporates fun activities in it as well, but she makes sure they don't go for stuff most people eat.
Instead, Lexi and Danny prepare high-protein meals before going on a hike. "Holidays, weekends, or even being out of your routine doesn't mean we can't still reach our goals and eat delicious food!" she wrote.
Gym Comes First
One of the main reasons behind such successful transformation of Lexi and Danny is that they always find time for the gym before doing other activities.
She shared this photo before their Friday date night. "Making the time before date night to work on our goals!" she wrote on her post. "Somedays we don't know how we're gonna do it, but everyday we get it done!"
Great Support From Others
Lexi got immense support from her husband, but she also admits that there were other people as well who supported her, both online and offline. She often hosts motivational fitness contests on her Facebook page via dietbet.com
She believes that the community helps a lot in motiving one another. It also helps to keep each other accountable. If you look at the comments on her social media posts, you'll notice that she has inspired many people to make huge changes in their lives and they are really thankful to her.
New Circle of Friends
Lexi Reed made an amazing transformation and one of the factors that pushed her to achieve it was her search for making friends who share the same goal as her. She wanted to surround herself with friends who also have healthy habits. That's why her best friend is also her gym buddy.
"When I started my journey I normally was more of a loner and lost people I was close to due to my new lifestyle and hobbies," she wrote in a Facebook post. "However over time I found others along the way who helped make me who I am today and helped to make my journey more enjoyable," she wrote on her Facebook page.
Taking Off Days As Well
Lexi and Danny Reed realized that they cannot be at the gym every day of the week. They made sure to take rest days so that they can have fun doing other activities as well. Here, the couple is with their two cute golden retrievers, Oliver and Olivia.
"Can't wait for more walks with them this summer and we're sure they are happy mom/dad got healthy too!" she wrote on her post.
An Adventurous Life
Lexi Reed wrote a beautiful post on April 19 that. "From 765lbs to riding dirt bikes, Life with you is an adventure & i'm enjoying the ride." They look so cute together, don't they?
This photo backs Lexi's tip of finding fun activities and new challenges to stay in great shape.
An Inspiration for Men
As Lexi Reed is inspiring women around the world, her husband is inspiring men. He has also opened his Instagram account called Discovering Danny in hopes to inspire men to change their lives when it is needed the most.
He has documented his weight loss journey on his Instagram account and he also shares his milestones with his followers.
Slaying YouTube As Well
Danny and Lexi not only post pictures but they also have a series of videos on YouTube where they document their amazing experiences. For instance, here they are showing Lexi's big achievement as she was honored by L'Oreal Paris and TNT Drama at the SAG Awards.
In the videos, you can see how they met celebrities, spent nights in luxury hotels, and how they were able to maintain their healthy lifestyle on a vacation
The Today Show
The couple has gained an enormous following on various social media platforms and it didn't take long before TV news started to approach them as well. In January, the couple was invited to share their story on The Today Show.
Lexi and Danny flew to New York and Megyn Kelly took their interview. They told her their story of how they lost 400 pounds to change their lives for good. They also told about how they decided to do it without taking the help of gastric bypass surgery.
A Better, Hopeful Future
Now that Lexi and Danny have lost weight and turned their lives upside down, they can reconsider the idea of starting a family.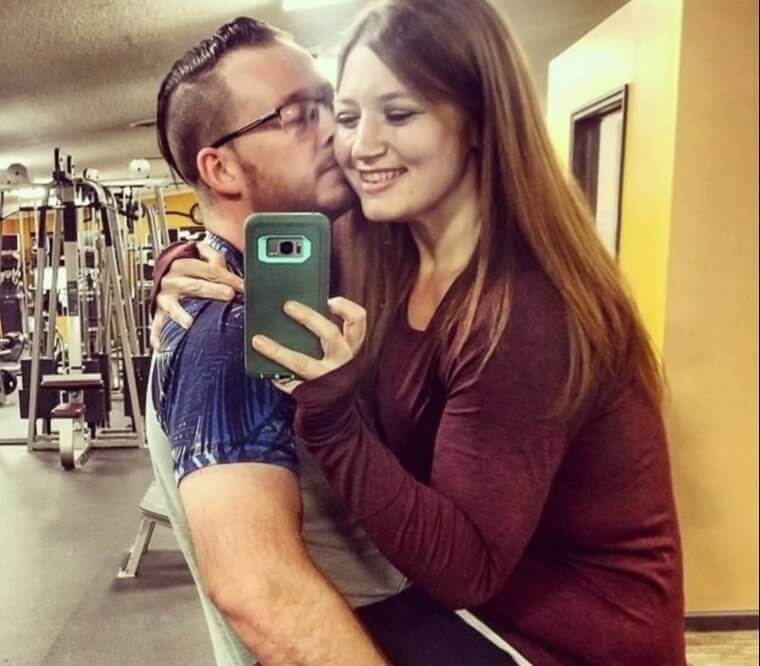 In an interview given to Life & Style magazine, Lexi said, "In 5 years, I see us starting a family as well as finding ways to help more people change their life the same way that we have with diet and exercise." We just wish them a great life ahead. We hope that they remain a motivational couple for people who need to find inspiration in their life.
People With Unique Genetic Traits That Show How Unpredictable Nature Can Be
Brenda Miller
This article was originally published on DailyBee
Every single person is born with their own unique traits, however, the genes that are passed on to us may sometimes be stronger than usual. From looking almost the same as an ancestor, to having different colored eyes, or being born with both blonde and brown hair at the same time, there are some unique people out there. Take a look at some of the most unusual and powerful genetic traits people experience worldwide, and be prepared to be amazed!
​These Sisters Were Born With Opposite Genes
You might have never heard about it, but it turns out that any of us could be born with the genes of one parent, and our sibling with genes from the other parent. That's what happened to these two sisters.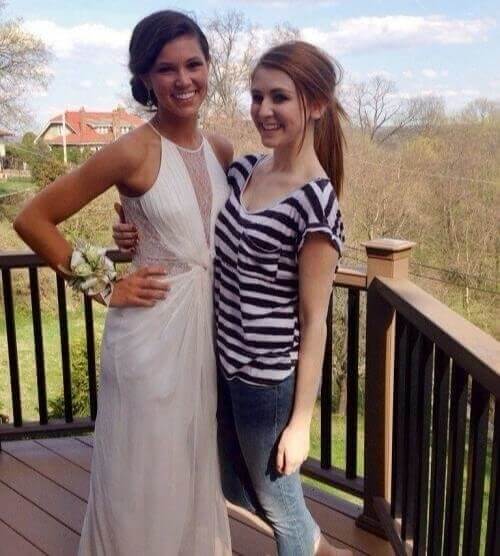 One of their parents is Irish, and the other one is Italian. Clearly, each sister inherited only one side. The result? They look like polar opposites!
This Guy Who Looks Exactly Like His Dad
Ever since he was really young, this guy kept being told that he looked exactly like his dad. Unfortunately, he didn't remember much, since he lost him at the young age of four.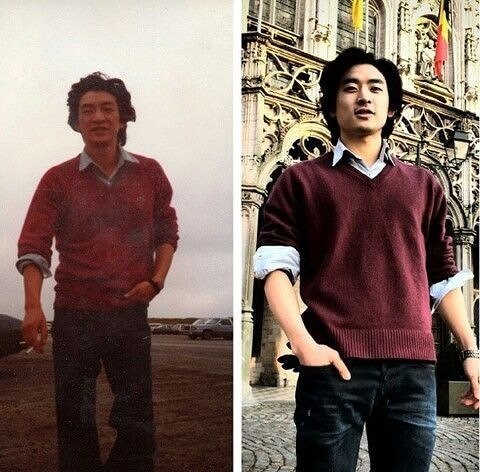 But his father's unique genetic traits stayed strong, and to everyone's surprise, he just kept looking more and more like him. In this side-to-side picture collage, it's very easy to see that the resemblance is uncanny.
When The Genes Are Simply Too Dominant
We've all heard and probably seen families where one parent's genes are extremely strong. This family is probably the perfect example of this. Just after one look, there is absolutely no doubt that these girls are sisters.
Their mom's red hair genes prevailed, and we can only imagine how they will continue being dominant in the generations to come.
A Little Boy Who Met A Cat That Looked Like Him
Some stories out there just warm our hearts, and this little boy's story is definitely on that list. 7-year-old Madden lived in Oklahoma with his family from a young age, and sadly, he always struggled with the unique color of his eyes and his cleft lip.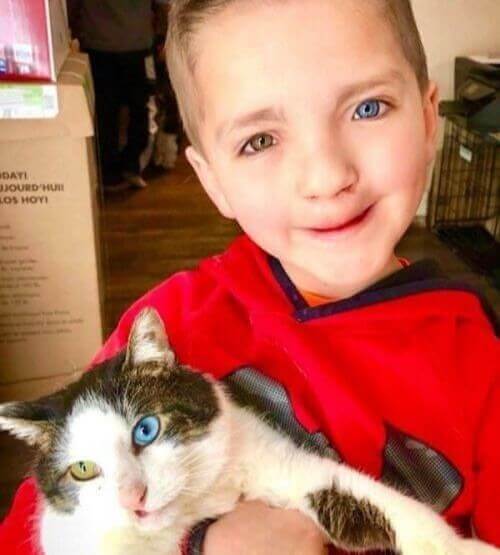 But one day, he got to meet his doppelgänger cat and he couldn't be more ecstatic about it! What are the odds?
Dimples On The Forehead Through Generations
Now here's a unique genetic trait that you wouldn't necessarily expect. While the little girl is still a baby, it is impossible to ignore how much she looks like her dad already. And what's even cooler?
From a young age, her dad had a dimple on his forehead, a feature he would often joke about. In the end, his daughter was born with the exact same trait.
A Newborn Baby And A Mother With The Exact Same Birthmark
After giving birth to her daughter, no one in the room could believe how similar the little girl was to her mother already. And the coolest thing was that she was born with the exact same birthmark that her mother had on her hair.
They both have a single white streak at the root of their hair that shows to be extremely dominant in the family's genes.
​Mom-And-Daughter Look Alikes
You know those times that you look at two people and you try really hard to tell who is the mother and who is the daughter, and you just can't? Then meet this mother-and-daughter duo.
The two of them literally look like twin sisters, which they probably hear on a daily basis. We wonder if the mother had her daughter at a very young age, or is it just an incredible gene pool.
​This Girl Who Is Literally One In A Million
For those who do not know, Heterochromia is a condition in which a person is born with different colored eyes. But this girl's unique condition went one step further because she was also born with red hair (there is a less than 2% chance of that happening to anyone), on top of having one green and one blue eye.
In her sister's words, she is a "genetic masterpiece." We couldn't agree more!
This Daughter Who Was Born With The Same Sized Finger As Her Dad
Okay, so this might not sound so impressive when you read it at first. You might ask, "So what if she was born with the same sized finger?" The thing is though, that her dad had an accident when he was 10, which resulted in his index finger being cut off.
Years later, his daughter was born with an index finger that was the same size as her dad's cut finger. Genetics can be weird sometimes.
An Ear With An Extra Hole
For years, this guy was aware of the fact that he had an extra hole in his ear, but he never put too much thought into it. One day though, he decided to ask someone to take a picture of it so that he could take a better look.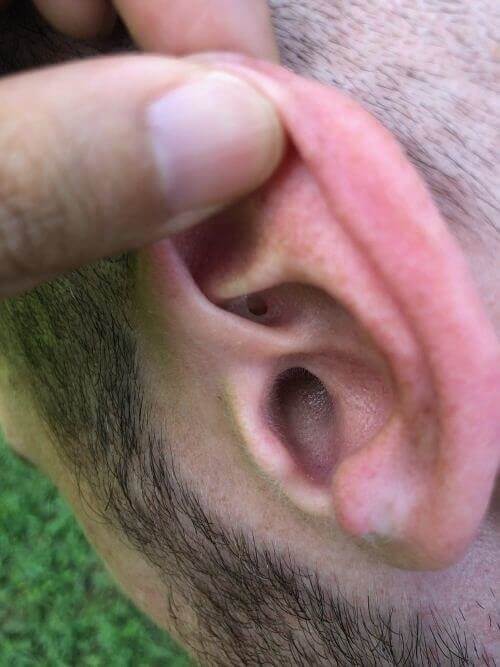 And when he did he was incredibly surprised! The hole is tiny, and it doesn't seem like it affects much of his day-to-day life, but it's definitely a unique genetic trait.
This Person Who Was Born With Both Brown And Blonde Hair
Now, we've seen people with different colored eyes, but have you ever heard about a person who was born with different-colored hair? Well, this person exists and it looks incredibly unique!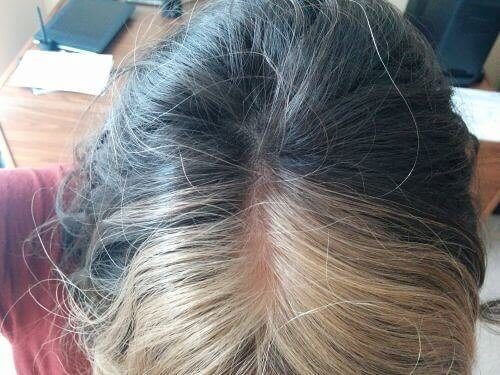 Just imagine her parents' surprise when they realized that their daughter's hair was completely blonde on one side, and the other side was fully brown? Clearly, she's rocking it though!
These Twins Who Born To Biracial Parents
If you're an avid internet reader, you have probably seen the picture of twins Lucy and Maria Aylmer before. The two of them made it to the news when their unique genetic traits took people completely by surprise.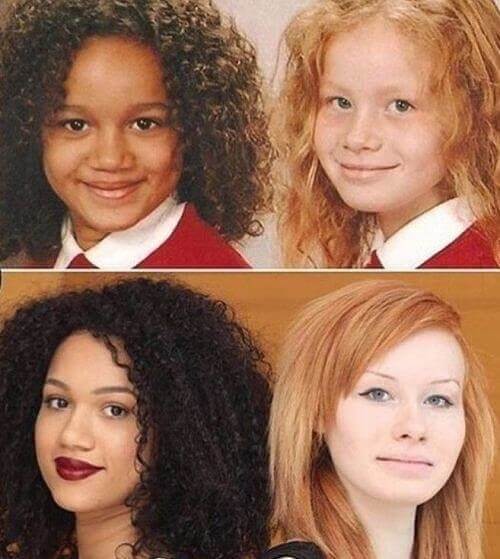 The twins were born to biracial parents, and while one of them took one parent's side of the family, the other twin took the other side. We're pretty sure that people have a hard time believing that the two girls are indeed twins, born from the same mother and father at the very same time.
This Woman Was Born With Syndactyly Connected Toes
At first glance, you might not instantly understand what you're looking at. The tattoo looks pretty cool, but it has an even cooler story behind it. Apparently, this woman was born with a condition called syndactyly, which basically means that her toes are joined together.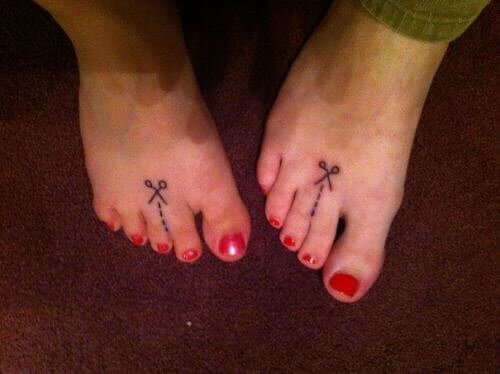 Obviously, she wasn't only born with connected toes, but also with the best sense of humor because her tattoo couldn't fit the situation more perfectly.
Jim Carrey, Is That You?
Brace yourselves because this one is certainly one of the most unique things we've ever seen. And if you thought that you knew flexible people, then just take a look at this guy's flexibility abilities.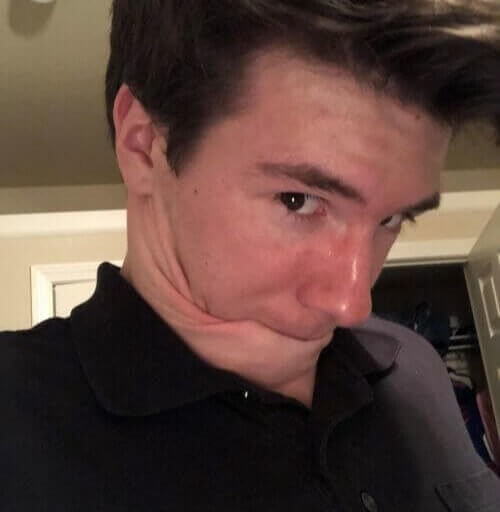 His neck was so stretchy that he was literally able to suck on it without using his hands at all. His ability just proves how nature can be incredibly cool and unpredictable with some people out there.
This Mom Who Passes As Her Daughter's Sister
Once again, we get to see a wonderful mom-and-daughter duo with some of the strongest genes out there. Everywhere they go, people often fail to point out who in the duo is the mother and who is the daughter – in fact, they are often mistaken for twin sisters.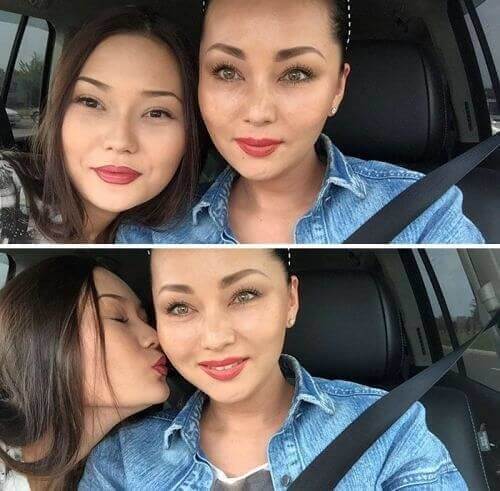 And yet, the picture here is of 20-year-old daughter Aissaule Yessentayeva (on the left) and her 43-year-old mom Bayan.
Jessica Alba Looks Exactly Like Her Grandmother
Here's another case of an extraordinary case of genetics. It's simply mind-blowing how much Jessica Alba looks like her grandmother, Cathy Alba, who was also an actress back in the day.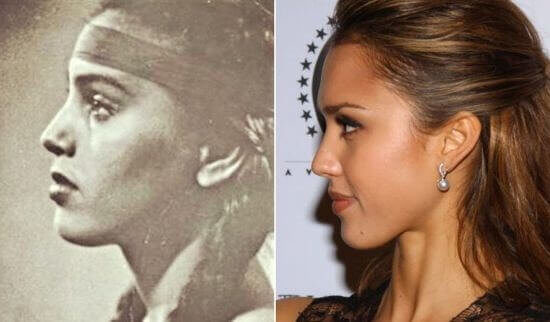 Jessica Alba is known for her endless talent, character, and of course, for being one of the most stunning actresses in Hollywood. Well, now we know where all of those amazing genes came from.
Siblings Who Inherited The Genes From Opposite Side
Yet another case of siblings who look like they belong in two totally different families. In this case, the boys' dad is Irish and the mom is Italian, and they couldn't have been born more different.
While one got the traits of the family's Italian side, the other boy couldn't look more Irish. Needless to say that thanks to their opposing genes, when the two of them walk around together no one really thinks they are brothers.
A Girl Who Is her Mom's Other Half
There are people who look like their parents, and then there are people who are born with the exact same face as their parents, and this girl is on that short and unique list.
She not only has the exact same eyes, hair, and smile, but something about the symmetry in her face is also exactly the same as her mother. After putting the two halves of their faces together, it's pretty clear to see that they are nearly identical.
​This Person Who Was Born With No Nose Cartilage
We all have some sort of unique quality and ability, and this guy's thing is that he has no cartilage in his nose. At first glance, no one would ever think that this is his thing.
Yet, once he presses his finger on top of his nose, he is instantly able to show that he was born with a very special feature. We can only imagine how stunned people get every time he uses the little trick to show his uniqueness.
Can you Tell Who Is The Mom And Who Is The Daughter?
There must be something really heartwarming about knowing that your daughters look exactly like you. And for these two sisters, it must be incredible to look like their mom, who certainly has some impressive youthful genes.
In fact, this photo went viral a while ago because people could simply not tell who in the picture is the mother and who are the daughters.
The Resemblance Between This Father And Son Is Uncanny
Now, we've seen a few mother-and-daughter lookalikes in this article, but how about this unique father-and-son duo? They both enlisted at the age of 19 and took a really similar photo.
The young man is simply the spitting image of his father – every feature in his face seems to be exactly the same. And clearly, his looks weren't the only thing he inherited from him, since he also decided to serve his country.
Two Daughters And Their Mom – Who Is Who?
Here's another photo that went viral for obvious reasons, since literally no one out there could guess who in this photo is the mother. But what's even more surprising, is the real ages of the women in the photo.
On the left side, we can see Sharon, the 36-year-old sister, in the middle is her mother, who is 63-year-old, and on the left, blogger Lure Hsu, who is the other sister and is 41-years-old.
Man With Freckles On Half Of His Face
Many people have freckles on their faces, so in theory, that makes having freckles not such an unusual thing out there. But this guy's freckles look very different from other people's.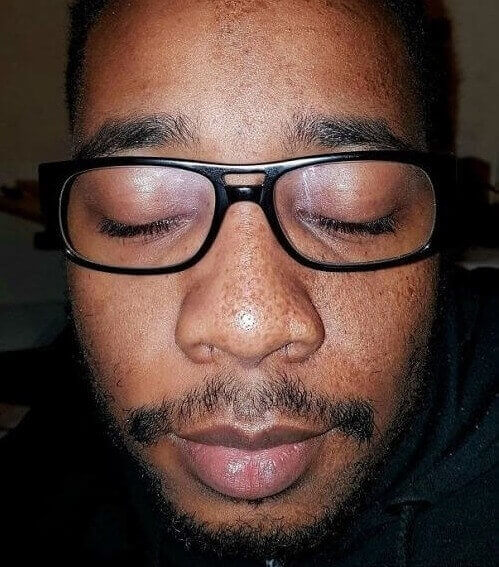 While most people have freckles on both sides of their face, this guy was born with freckles covering only one half of his face, and we absolutely love it!
​Celebrity Mom And Daughter Lookalikes
We have to admit that Reese Witherspoon and her daughter, Ava, couldn't look more alike. The actress is often pictured with her daughter on social media, and every single time, people simply do not know how to react to their resemblance.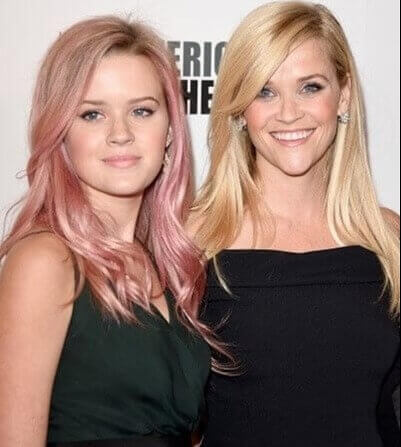 Getty Images Entertainment/Jason Merritt
A few years ago, we're pretty sure that her daughter would be able to be her stunt double, and that viewers wouldn't even suspect that they weren't looking at the same person.
​This Guy Who Was Born With Werewolf Syndrome
Most of us have never heard of a condition called hypertrichosis, but apparently, there are more than a few people rocking it out there. The condition basically stands for something like a "werewolf syndrome," in which a person has excess hair only in specific body parts.
So it's not being hairy, it's being really hairy in certain parts of one's body. Apparently, the condition is extremely rare.
In Love With The Same Hobby
Here's another young man who decided to follow in his father's footsteps in every sense of the word. In addition to looking like his dad from a very young age, he also inherited his passion for flying.
So the dad decided to implant the hobby in his son since he was a young boy. He taught him to fly, and after 20 years, they continue to spend lots of quality time together while on air.
The Swedish Fitness Model Who Inherited Her Mother's Genes
Every single one of us inherits at least one thing from our parents. While some of these things may be physical, others are found in our characters. This girl clearly inherited her mom's genes, because her hair and her body could not look more similar to her mother's.
The fitness model stunned her followers when she posted this picture alongside her mother since no one expected them to be so uniquely similar.
​This Guy Who Did Not Inherit his Father's Genes
While we've seen a bunch of people on this list who have inherited their parents' unique genes, some people get the polar opposite. Like this guy for example. We're pretty sure that when he's walking around shopping alongside his dad, not many people realize that they are father and son.
Apparently, the DNA situation was a huge curveball in this one, and he ended up growing into the polar opposite of his dad.
These Two Friends Who Were Born With Opposite Birthmarks
Birthmarks are some of the things that make us unique. Just imagine the surprise when these two friends realized that they have almost the same birthmark, but the mark looks really different in color.
The marks are located in the same part of their arms, but while one is darker than one of their skin colors, the other one is lighter. Their friendship was certainly meant to be.
​This Daughter Who Followed Her Dad's Footsteps
As we said, some people inherit their parents' physical traits, but some people couldn't be more similar to their parents when it comes to their character. After dedicating more than 40 years of his life to law enforcement, this dad was lucky and proud to witness his daughter graduating from the police academy.
You can just see the pride in his eyes after his daughter decided to create this family tradition.
​This Guy Who Reproduced His Grandfather's Photo In The Most Symbolic Way
For the longest time, this guy had an incredible amount of love and respect for his grandfather, and the fact that he looked exactly like him certainly helped. So when he was just about to turn twenty, he decided to do a really symbolic thing.
He took a moment to recreate his grandfather's photo from when he was his age, studying at Hitotsubashi University.
​Two Ginger Sisters Who Look Like Twins
We are guessing that whenever they go out together, these two twin sisters get many stares. Sure, they are absolutely stunning, but their unique genetic traits are something out of this world. They are twins and they both have red hair, which makes the genetic probability super rare.
And while there are more and more twins being born in the world, being born with red hair has become increasingly rare, with the probability standing at less than 2%.
Mother And Daughter Three Decades Apart
When we go through our family's albums, it can be pretty scary to see just how strong the genes in the family may be. To this family's surprise, this woman gave birth to a daughter who looked like a carbon copy of her.
They looked so similar that when they decided to recreate the mother's photo of when she was 4-years-old, many people would simply be unable to distinguish who was who.
Twins Who Married Twins And Had Their Own Twins
Have you ever wondered what would happen if a pair of twins would marry another pair of twins? Well, this wonderful family shows us exactly what the result would be in this picture.
After these two sisters married two twin brothers, they got pregnant almost at the same time and ended up giving birth to a pair of twins each. We won't be surprised if they look exactly like their moms and dads when they grow up.
This Mother And Daughter Who Looked The Same At 25
Like other youth on this list, this girl grew up hearing that she looked exactly like her mother. So, when she turned 25, she decided to recreate a photo of her mom had taken when she was 25 herself.
She wore the same color of clothes, similar-looking glasses, and that was it—it was like she had traveled back in time.
This Person Can't Bend Their Right Thumb
There are tons of unknown conditions out there, and while some of them are more noticeable than others, that doesn't mean that all of them aren't unique.
For instance, this woman was born with the inability to bend her right thumb, while the other hand's thumb moves freely. She has clearly embraced this genetic trait and we would say that she's totally rocking it.
​A Baby Who Born With White Hair
This baby was born with a few rare traits that we have to unpack. To everyone's surprise, he was born with white hair, which is definitely not the color of either of his parents. And more than that, he was born with a full head of hair which is also pretty rare.
Literally no one in the room would believe that the kid had been born with a full poof of white hair, looking like a teeny tiny grandfather.
A Very Interesting Way Of Bending Knees
This person couldn't help but share how their coworker's knees bend, because the site is certainly unusual. The guy was apparently born with very unique joints that allow him to bend his knees in ways that most people simply can't.
He has embraced the trait so much that he spends quite a bit of time freaking out his coworkers every now and then, and we can't blame him.
This Person And Her Dog Look The Same
It's pretty common to see people looking like their dogs. The theory is that many people are drawn to dogs who look like them, or that with time, dogs and their owners end up just looking the same.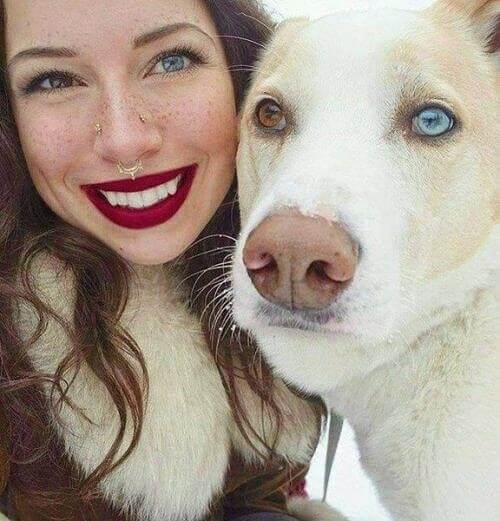 But what are the chances that a person would be able to find a dog with the same shade of different colored eyes?
A Toddler Who Was Born With Uncombable Hair Syndrome
Now, this might be the first time that many of us hear about this syndrome, but apparently, it exists and this toddler is totally owning it. The syndrome is usually accompanied by frizzy and dry hair that is impossible to comb down.
People mostly develop the condition when they are extremely young, and there aren't many people diagnosed out there. Only some 100 case studies had been recorded by the year 2016.
Baby With Elf Ears
Yes, folks, this is real. This woman actually did give birth to a tiny baby with elf ears, and it might have taken them a few minutes to realize it. The gene is extremely rare, but it has been recorded in several places around the world.
We honestly think that this is quite an adorable look, and know for a fact that some people would pay good money to achieve it.
​Mom And Daughter At 18 Months Old
This person also couldn't help but share these photos of her sister at the age of 18 months, and her mother at the same age.
While the picture wasn't purposely recreated like some of the side-to-side photos on this list, no one in the family could handle how similar the mother and daughter looked when they were little. Coincidently, they also had the same expression on their faces, which made things even more bizarre.
Mom And Daughter Twinsies
After a few minutes of staring at this picture, it is still so hard to tell who is the daughter and who is the mother. We're looking at another case of really impressive genes passed on by this mother, who looks exactly like her daughter and vice versa.
The 15-year-old girl, Katelyn, shared this photo with her mom Kristine on the right side, and everyone just had to agree that they are carbon copies of each other.
These Two Sisters Who Convince People They Are Twins
If these two girls walked up to us, we would totally believe that they are twins. They literally look like the exact same person, even though they are 18 months apart (which isn't much anyway).
Either way, the DNA game was definitely strong in this one, because their mother gave birth to the exact same face, only a year and a half apart from each other.
A Person Who Has The Ability To Grab Items Backward
You might need a second to understand this one, so take your time. While the other flexible person on this list was able to bend their knees to the opposite side, this person is able to bend their hand backward.
The unique ability certainly does make the person stand out, and we can only imagine the constant requests for them to show off the cool and unusual skill.
​This Girl Looks Like Her Grandmother
So a person might not look like their parents, but they might look exactly like one of their grandparents and this is proof. At 2-years-old, this little girl's parents could simply not ignore the fact that she looked like her wonderful grandmother.
So they decided to take a photo and put it side-by-side with the grandmother's photo at the same age, and of course, no one could tell them apart.
This Person Inherited A Thumb From Each Parent
Seriously, what are the chances that a person would inherit a thumb from each parent? Inheriting the facial traits we get, body type, hair, etc. But the same thumb? That is just incredible.
This person's brother-in-law clearly embraced his unique trait and is proud to show his 50-50 mix of both sides of the family. Sometimes, DNA just does its wonders, ending up in results like this.
​Father And Son At The Same Age
Yet again, we are shown that genetics are powerful and can run down generation after generation. Just like his counterparts on this list, this guy was basically born with the exact same face as his dad.
He has the same mischievous smile as his dad, so it must feel like looking in the mirror when they look at each other. Obviously, they just had to recreate a photo of when they were both at the same age.
A Girl With Unique Heritage
Just by taking one look at this young woman, it would probably be really hard to distinguish her heritage. Thankfully, she decided to not only share her ethnicity but also her talents with her social media friends.
She was born to a Scottish and a Japanese parent and fully embraced both cultures in her way of being, and in her passion for sewing.
A Pair Of Twins Recreates Photo Holding Another Pair Of Twins After 30 Years
There is something so pure about recreating photos we took decades ago. And we're so glad this family did so because the photo recreation looks incredible.
Being twins definitely runs in the family, so when a new pair of twins joined, these two brothers were ecstatic. They took the photo (above) and then waited 30 years to take the exact same photo with the babies all grown up.
​A Girl And Her Great Grandmother
After 80 years, this girl decided to recreate her great-grandmother's photo and it could not be more remarkable how alike they look. While she never got to meet her, she heard several times from family members that the resemblance was uncanny.
And it was true. From little details such as the wavy brunette style and the pouty lips, the woman certainly did inherit her great grandmother's strong DNA.
Family Mistakens Daughter For Doppelgänger
Many of us wonder if we have a doppelgänger somewhere out there, and unfortunately, most of us will never really know. But these girls got the rare chance of meeting each other and looking at a complete stranger that basically had the same face as them.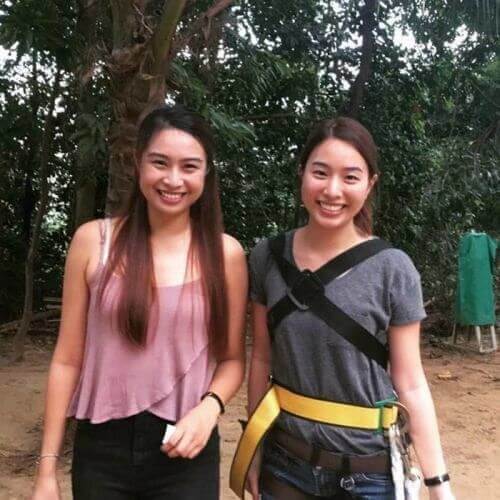 The girls are so similar, that one family member actually mistook the other one for their own, which resulted in this photo.
This Guy Was Born With No Nipples
There are all kinds of unique traits out there, and while some of them mean having something extra, others result in something similar to this guy. Apparently, he was born with no nipples, and his classmates clearly noticed it.
So when he was in the middle of a concert with his band, someone snapped this photo and couldn't help but share the unique genetic trait with their social media friends.
Granddaughter And Grandmother Lookalikes
It must be really interesting to hear constantly from family members that one looks exactly like another person in the family. That was the case of this woman, who decided to celebrate the uncanny resemblance to her grandma.
She posted a side-by-side picture of both of them and said: "My Mummo (Grandmother) on the left, around age 20, and me on the right at age 27." That's genetics for you!
Albinism Throughout Three Generations
This family from India surely is unique in the sense that for three generations, they have been sharing the gene of Albinism as consistently as it gets. While at home they all look incredibly similar, when they go out as a family, they probably really stand out due to their unique characteristics.