Time is probably the most precious thing we have in our lives. If we didn't have it, nothing would make any sense. The truth is that nothing in this world is immune to being influenced or completely altered by time. One of the most common ways in which this happens is when things become worn by time, and simply become old. From human hands to really worn teddy bears, check out these captivating pictures, showing how things can become completely altered after decades of existence.
Stairs Worn Down By Time
The number of people that step in the exact same place over time is probably unthinkable for most of us. The stairs in this picture lead to the top of a mountainous area and are often the main path for most pedestrians.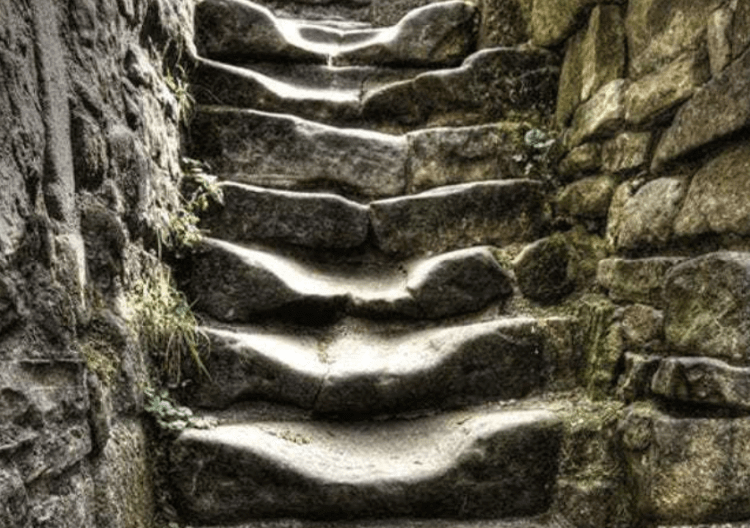 Over the years, the set of stairs started becoming completely worn out, but because they are made of stone, they held on untouched for quite a while. After a couple of decades, it's possible to see the steps of different people on their way up or down.
What A Pressure Wash Does To A Building
New Yorkers out there will easily agree with the fact that some buildings in the city look much older and dirtier than they have to. Neighborhood buildings stay years and even decades without being washed or painted, resulting in really dirty looking buildings.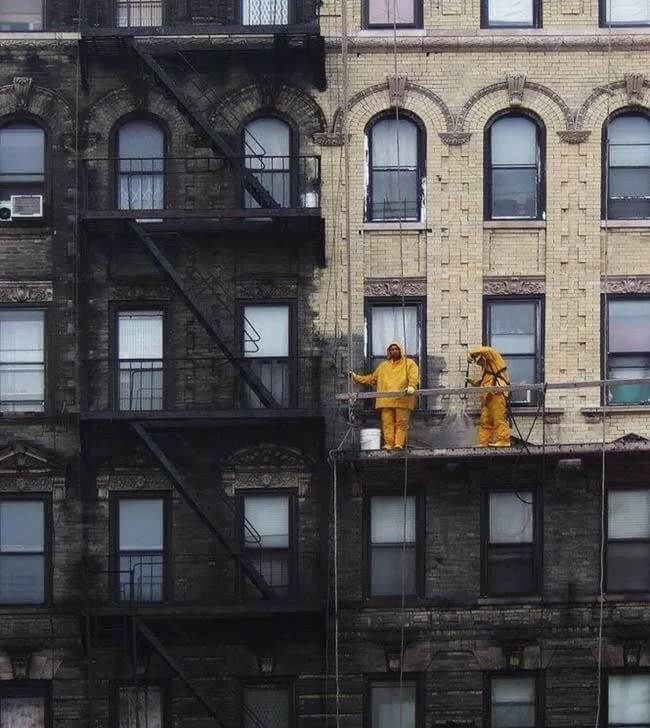 But this picture shows that there is an easy solution for it and that it is indeed possible to make a building look brand new after a wash. Sadly though, neighbors around the world often get into heated arguments when it comes to a buildings' maintenance, so it's not that easy to get a building pressure washed. Some manage to do it, and we're glad to see that it really does work.
Layers After Layers
People advertise their businesses, events, and services in all kinds of ways. While the internet has become popular and commonplace to do so, hardcopies never really get old. It is true that with the increasing environmental concern, people tend to hang fewer posters, but they are still out there.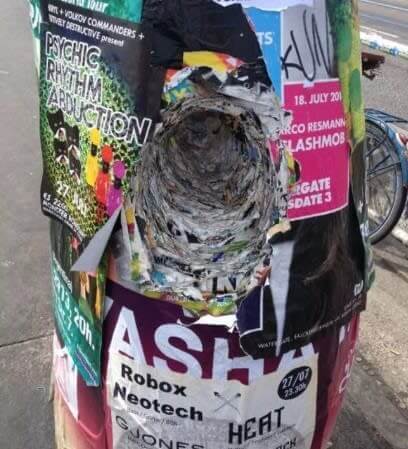 Clearly, this lamp's pole has been a favorite over the years, resulting in a really worn-out set of posters from event enthusiasts. In some way, the colorful layers make for a beautiful pole decoration but carry an unimaginable amount of ads and personal notes. By the looks of it, that won't be the last layer.
60 Years Hidden In A Pocket
Finding money that has been forgotten in our pockets or anywhere in our homes really is one of the best sensations ever. Everyone loves finding money they thought they didn't have. It's a great feeling, especially if the money is still in use, of course. This might not be the case of whoever found this penny.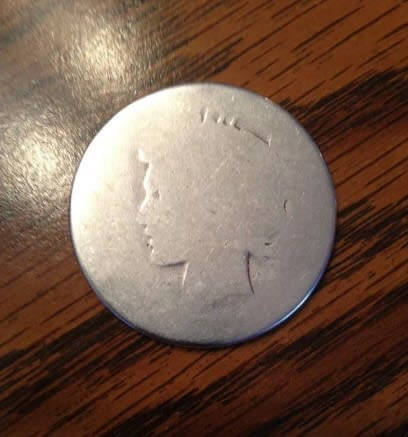 The silver dollar was forgotten in a pocket for more than 60 years, without anyone ever suspecting that the penny was there. After six decades, someone found it and realized how worn down the penny was. At that point, it would only serve as a souvenir with an interesting story.
The Power Of Sea Breeze
The sea breeze can be one of two things: one of the best feelings and smells in the world, or a really harmful and detrimental thing. Depending on what experiences it, it would be either very positive or very negative. In coastal areas, the combination of rain, the sea spray's chloride and small salt particles are carried by the wind, easily resulting in the corrosion of certain materials.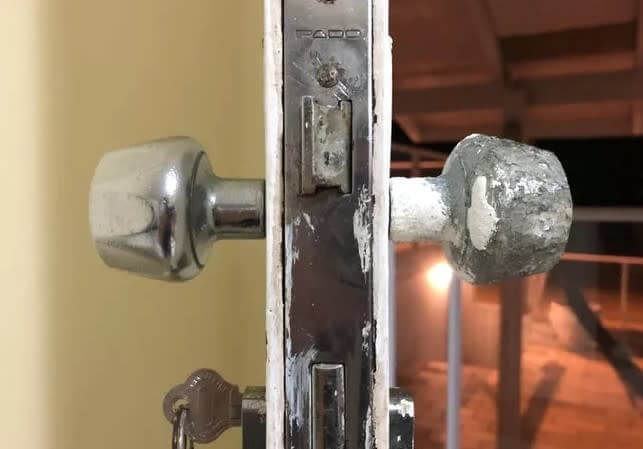 That's why architects and engineers need to be extremely careful with the materials they use when building infra-structure close to the sea. In this image, it's easy to figure out which doorknob has been exposed to the sea breeze and which hasn't.
Sharpening After 41 Years
Sharpening a knife can be very helpful for cooking, especially if it's done on a regular basis, and on a good knife. This image shows just what continuously sharpening a knife can do over the course of 41 years.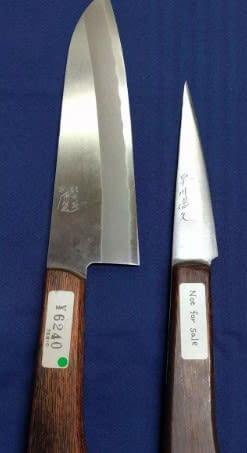 It does make us wonder though why this person didn't simply get a new knife and kept sharpening a knife that at some point became as little as a table knife. Who knows, maybe the object holds some sort of sentimental value.
13 Years Of Contact With Water
For dog lovers, having a dog is one of the best things in the world. Dogs are (usually) loyal, they are companions, and they love their owners unconditionally.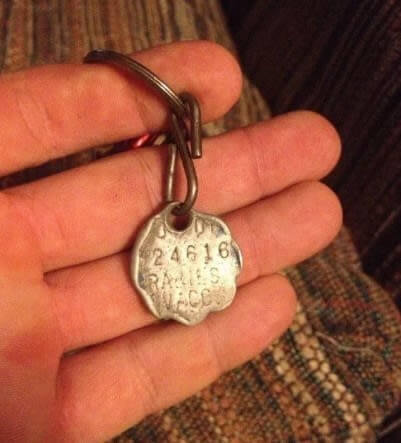 This family has had their dog for a while, and their dog had just turned 13 years of age. They finally decided it was time to change the small ID in his collar and realized that the ID tag had changed so much after 13 years of hitting the water bowl and probably playing in the sea. It's safe to say that it was definitely time to get a new one.
Paper Cuts
While many things have become automatic, manual paper cuts have survived for quite some time now. Many people and a lot of companies still use them, and some have been using the exact same paper cut for years. This image clearly highlights that using the same paper cuts for years does have consequences, creating a mark that will never go away.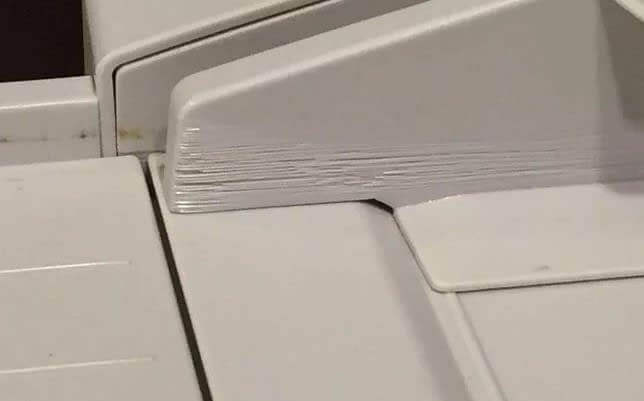 For this company, the machine has gone through every single stage the company has, cutting documents that emphasize different stages of the company's development.
Worn Out Button
Owning a car as a young adult is a great accomplishment. Staying with the same car for years is even better, as the car also keeps tons of moments in a person's life.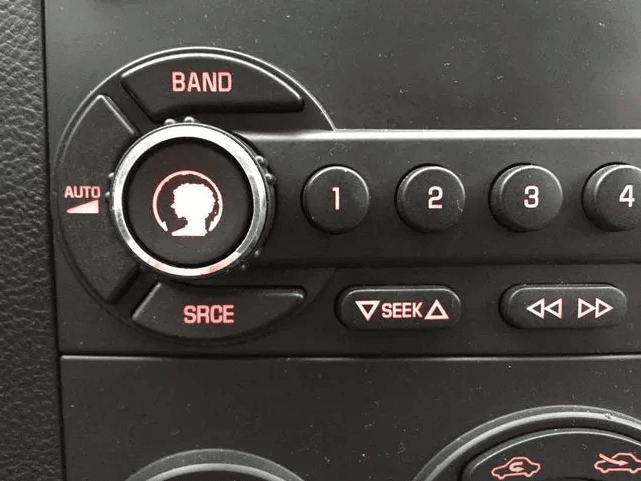 The person who owns this car clearly loves music, or the radio, and has clicked on that button more than ever. The button was clicked on so much that the interior almost looks like a Victorian portrait adding a touch of art to the worn-down car.
A Thousand Miles After
Hiking can be scary for some people, but for others, it's just the touch of adrenaline they need in their lives. Some people even get to do it professionally, hiking hundreds of miles in the scariest weather conditions.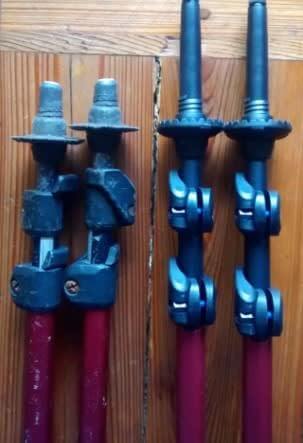 This hiker has used her hiking poles since the first hike she ever took and finally decided to buy a new one after she reached the 1,000-mile line. She then put them next to each other and realized how much she had done and accomplished each and every mile.
30 Years Hugging The Same Teddy Bear
These teddy bears have a beautiful story. A mother bought her son two of the same teddy bear back in 1985. She decided to give one of them to the young boy and to store the second one so that he would also be able to give it to his own children one day.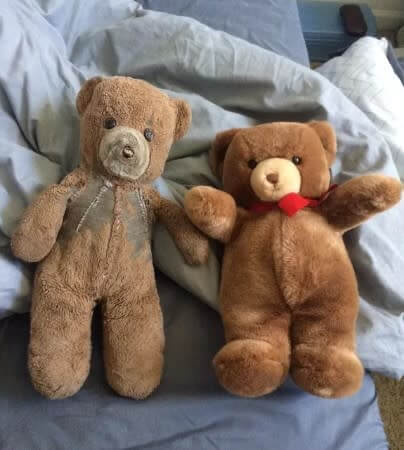 Years later, when his first son was born, he gave him the teddy. They then decided to put the once identical teddy bears next to each other and realized how many moments and beautiful stories the worn down teddy bear had collected.
Steel Plate Full Of Experiences
Ah, amusement parks! They are some of the loudest, dirtiest, but most fun places for kids all over the world. Some of the most famous ones include Disney Parks in the US and Disneyland in Paris, OCT parks in China, and Parques Reunidos in Spain.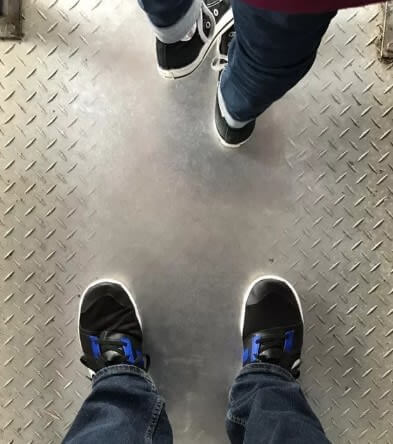 People can stay for hours in a line in order to experience the most popular rides. This particular steel plate has probably been stepped on thousands of times by amusement park enthusiasts from every corner of the world.
Old, Present and Future Caps
Well, it's pretty safe to say that this guy loves his caps! The guy posted a picture of his old, current, and future caps on Reddit, and got more than a hundred comments. His taste clearly remained the same throughout the years, and he sure gives a whole new meaning to loving a cap and Menard.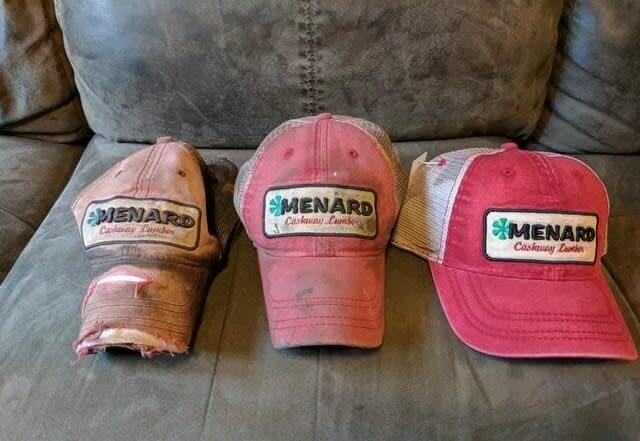 If we look closely enough, the cap in the middle has a dirty spot right on the top center, which basically imprints his pointer finger, which probably often puts it on, takes it out, or simply adjust it. We have to say that his commitment is commendable.
Barbershop Rings
Fun fact, barbershops have been around as an institution for a very long time. They date back to early 296 B.C when Greek men would get together for some gossiping and debating while cutting their hair and trimming their beards.
Today, barbershops have different meanings in different places, with a lot of cultural weight for different communities. This barbershop has been around for various generations, and their floor rings surely emphasize how popular it has been.
Same Paw Opening The Same Door
Little furry friends can be really smart. Some dogs are able to do incredible things, showing just how much we underestimate the intelligence of our little pups. One thing that many dogs easily learn to do is to open doors.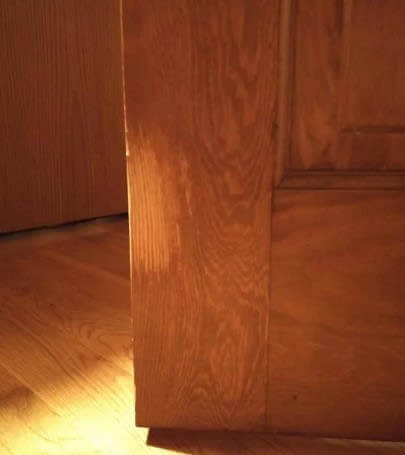 But because dogs like routine and often prefer to do things in the same place and from the same angle, this dog has been opening the same door from exactly the same place for years. Due to that, he has left a mark that will forever remind everyone that the door has an owner!
Married For 55 Years
It's an unfortunate fact that almost 50% of marriages end in divorce in the world. Nowadays, staying married for 50 years is very rare and almost unheard of. This couple, who stayed married for 55 years, almost never took their rings off.
For them, the rings had become a part of who they were, hardly taking it out unless it was a requirement. As a result, both of them will always have what looks like the ghost of their wedding rings forever imprinted on their fingers.
The Occasional Use
With the cost of real estate nowadays, owning a big apartment or house if extremely hard, especially for young people. So many settle for cozy and small places, while adapting the furniture to whatever size they get.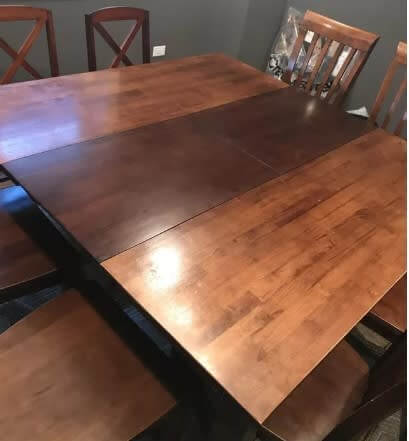 A common trait of these apartments is a bendable table that is basically only opened once or twice a year for that holiday dinner with family and friends. As a result, the middle part of the table always remains 'newer' than the remaining parts.
Old Vs New Money
Ah, the smell of fresh bills. Easily one of the most exciting smells in the world, they smell like power and a prosperous future. Not that old notes are not welcome, they for sure are.
But with the number of people that notes pass by throughout their existence, they easily become really worn down and looking old. While seeing the difference between the old and new notes in the picture is interesting, most people would be happy with either one of them, really.
Fence markings
At one time, this fence was built up behind the tree however as time had moved on, as the roots of the tree has searched for a further ground, the tree stump has moved with it.
Pushing against the fence for years as it breaks through, the fence has left its markings on the tree and they will stay there for the rest of the trees life. One day the fence won't be there, but its remains will.
Walk Around
There are many people around who are very superstitious and a lot of these things come from a time much long ago. A famous superstition is that of walking under a ladder or something similar.
This is exactly what has happened here, due to people's superstitions, they have chosen to walk around the poles rather than under and moved to the right, making a dent in the grass.
Ballerina
Here in the Royal Ballet School in London, England there sits this famous statue of Margot Fonteyn. While the ballet students attend the dance school, they are put under a huge amount of pressure.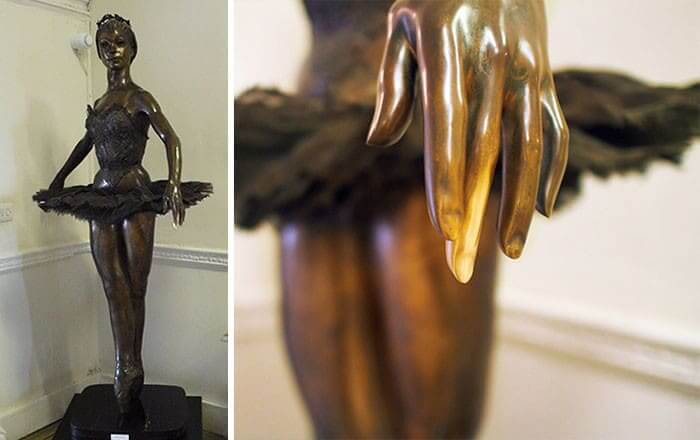 You can see the color change of the statues middle finger as this is where, for many years, students have touched the finger with the hope that it will give them good luck.
Star Wars
Star Wars has been a franchise that has been around for decades, drawing fans of all ages in. From movies to clothing and so much more, fans can get their hands of many things in support of Star Wars.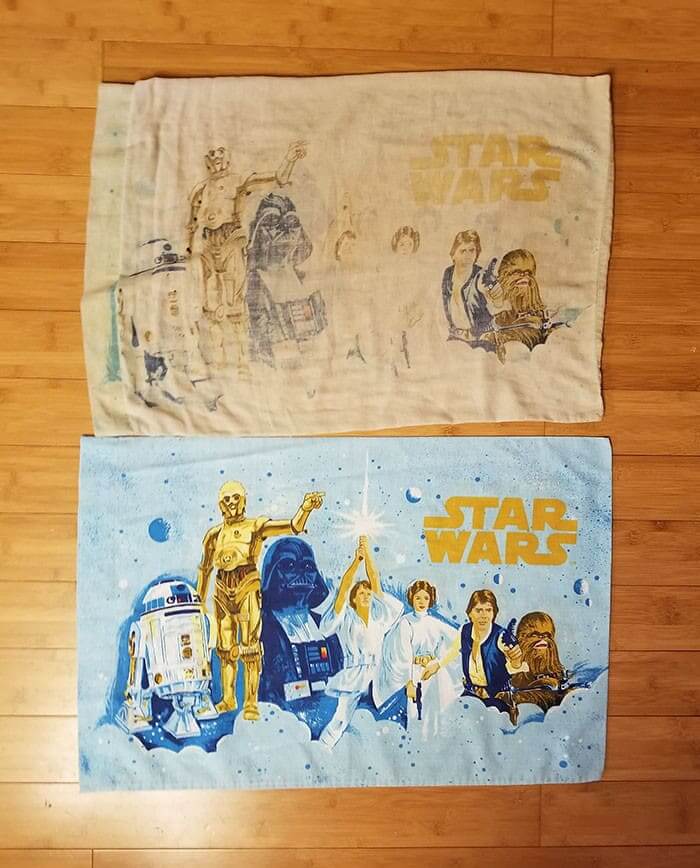 Here a fan purchased two pillowcases 40 years ago however have only used one, the difference is outstanding.
Sandbags
A long time ago as the winter weather became very hard in this region, rainwater became a problem. As a solution to the emergency, these sandbags were placed down almost 40 years ago.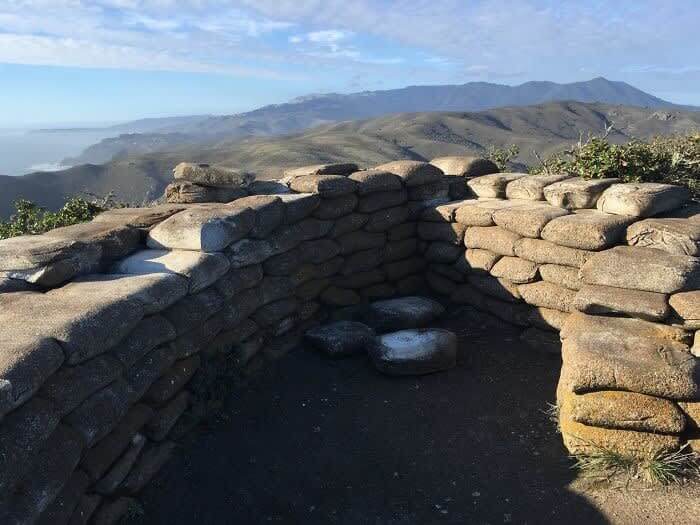 This helped maintain the water and stop it from running down the cliff, which could have potentially caused a big erosion. Decades later, the sandbags remain and have transformed into stone.
Family Cat
This family has had their cat around for 12 years and the pet took a liking to the father's bench. As cats are a fan of scratching, something that is in their DNA, the cat stuck to one of the bench legs.
You can see clearly how much the leg has worn away compared to the bottom half and the others. If they are not careful, the bench could come crashing down anytime soon.
A Worn Out Chisel
Chisels are useful for many things that everyone should have at least one in their house. The long-bladed cutting tool can cut and shape materials such as wood, metal items, stones, and a whole range of other materials.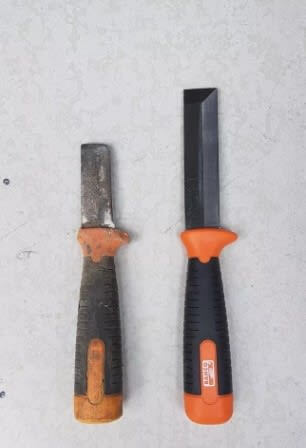 Even though the tool is pretty strong, it does get worn down after some time. Whoever owned this specific chisel definitely used it to its fullest. But as strong as chisels are, they're not immune to becoming old and needing a replacement either.
Same Shaving Brush 30 Years Later
Choosing the right shaving brush is not easy. The usual brush, though, being used for years, is the typical badger hairbrush. The brush is known to have awesome qualities, made from several hair parts from a badger's torso.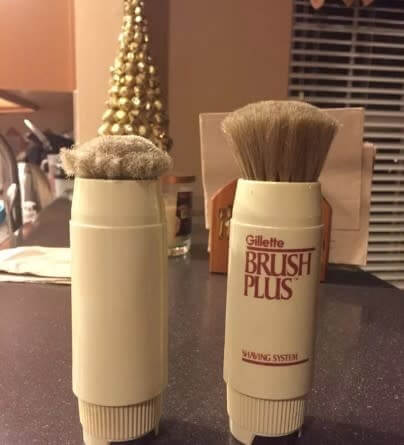 Many barbershops use it as one of their favorite shaving tools. But the guy who owned this particular brush probably used a little bit too much, until he decided to buy a new one 30 years later.
Trench
Back in WWI, 102 years ago, trenches were dug to ensure that soldiers had a place to hide and find refuge. Here they were able to protect themselves.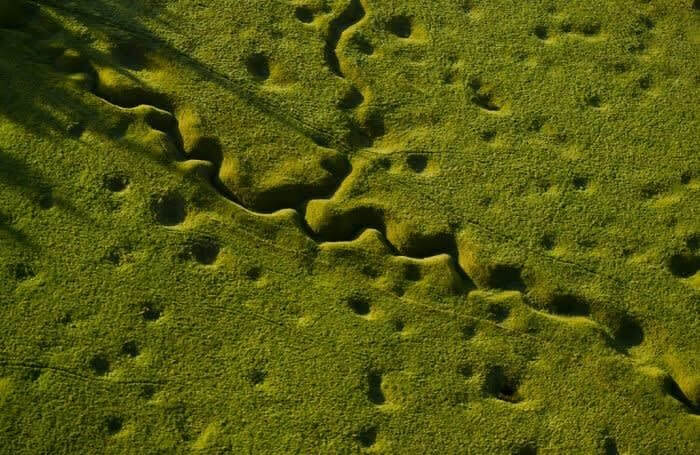 Out of the firing line, soldiers spent most of their time here in the trenches and as you can see, over time, they have slowly started to fill with land.
Door Handle
Believe it or not, the door handle wasn't exactly invented that long ago. Founded by Osbourn Dorsey, the invention is documented in 1878. Of course, now, they are used all around the world.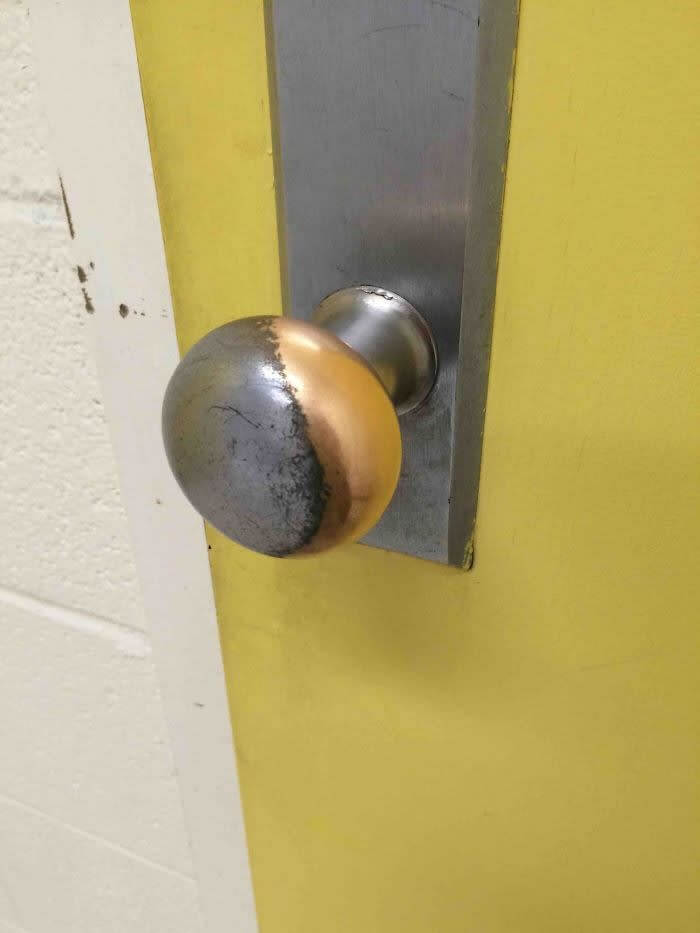 Here, with a lock that turns to the left, this door handle has worn away on one side only, showing its original brass coloring.
Tetherball Played Too Many Times
While Tetherball is not technically considered a sport, it is a very popular outdoor activity for children and adults. The activity consists of two players usually, in which each tries to hit a ball from their side, hanging on a metal pole.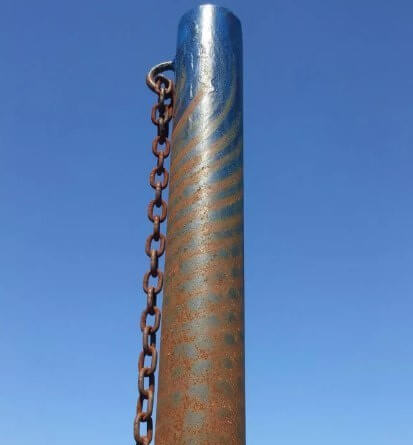 Whoever owned this tetherball pole sure loved to play, as the pole has become rusty and clearly used to its fullest. It makes us wonder if, with the advance of technology, the kids of the next generation will ever know what playing tetherball is.
Hands of Time
A natural part of the aging process, wrinkles begin to appear all over our bodies. As our skin gets thinner and we loose elastin, this leaves us with wrinkles.
Although some may prefer not to age, it is a pretty beautiful site to see the difference between these two hands. Here a girl in her 20's takes a picture with her Grandmother.
Ocean wall
Once erected on a beach, this wall looks as though it has melted into the ground. Built for reasons unknown, the time has certainly made its mark here.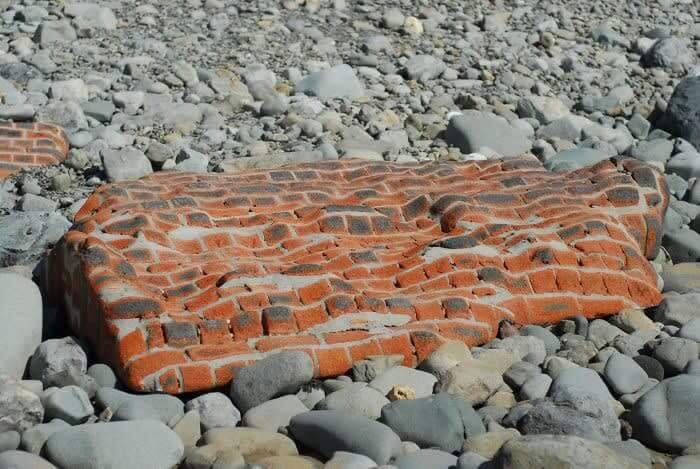 With the ocean washing over this area of land every day, the wall has eroded.
Curved Trees
Nature has an unusual way of reacted to man-made things and this picture is proof of that. As these exhaust vents continue to blow air out, they have managed to change the shape of the tree.
Usually growing tall and strong, the constant airflow has forced the trees to lean to one side, resulting in them becoming entangled with the others.
Willie Nelson
Willie Hugh Nelson is a much-loved actor, musician and activist. He rose to fame due to his success with Red Headed Stranger and Stardust.
Today, he is one of the most recognized country music singers there is. Here his guitar, which he named Trigger, has worn away after about 45 years of use.
Feet Marks
Not many of us are aware if we manage to stand on the same spot everyday but for this man, who had a specific prayer spot you can see what a different his weight has made on the floor.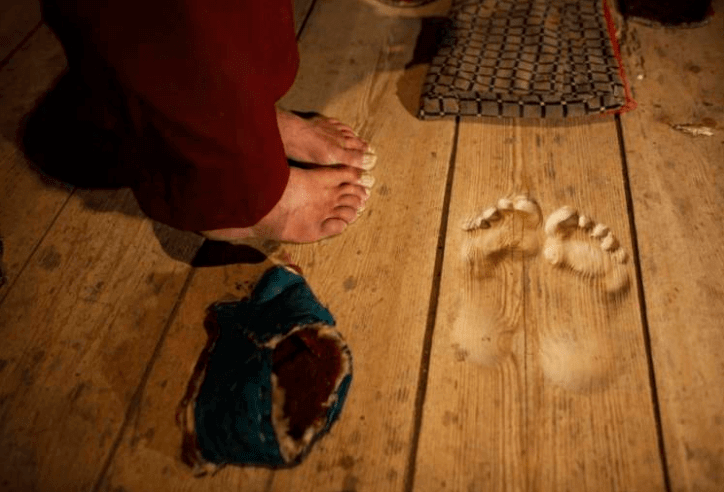 Over many years, his feet have made a dent on the wooden floor, leaving an amazing imprint.
Shoes
Shoes have got to be one of the most obvious things that wear away over time. They are probably one of the most used things in your wardrobe but here you can see how much stress our feet put on the shoe.
The left shoe is severely worn down but for the right one, although they are the same pair, that isn't the case. This is due to the fact that the shoe on the right is worn on this man's prosthetic foot.
LiveStrong
This person wore their LiveStrong wristband for so long that the band actually started to wear away.
Not only did the band erode over time but the color faded. By the time this person took the band off the letters had almost completely worn away. Now that is a commitment to a cause!
Ballet Slippers
Ballet slippers aren't exactly made to last. Because they are made of such delicate materials the average professional ballet dancer goes through about a pair per show.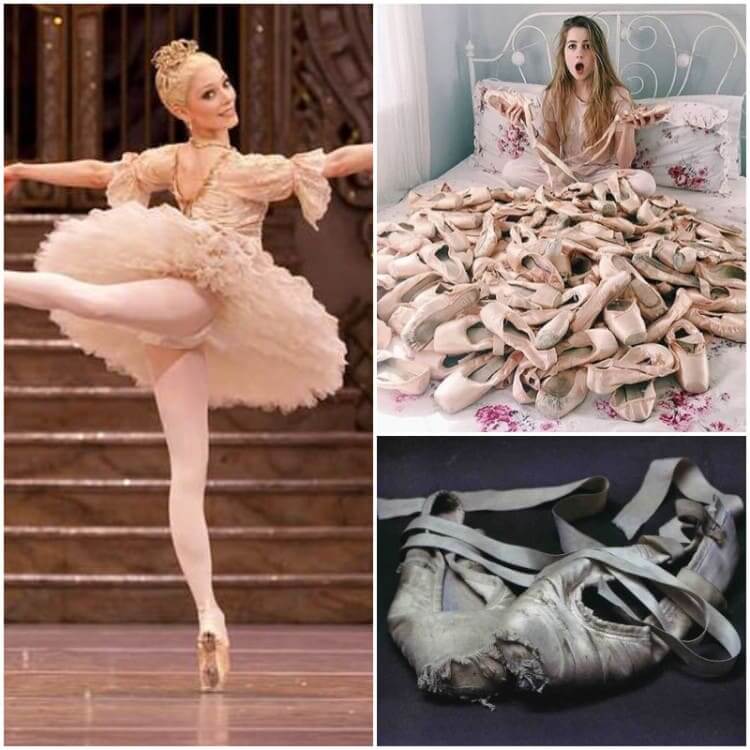 It doesn't take long for a hole to form after all that twirling and spinning. The worst part is that a good pair of slippers can be very expensive and the most popular dancer can end up spending thousands just on shoes.
Key Card Reader
Every time an employee wants to enter this office building they need to swipe their keycard to open the door. No wonder then that the reader and surrounding wall are so badly worn.
At this rate, these employees are going to wear through the wall. If the wall is this worn we wonder what the cards look like!
Baskets
You can easily see which of these baskets are new and which are the old ones. The older baskets are all faded and worn from what you would think was years in the sun.
However, these baskets are only 6 months old. We guess that's what happens when you leave plastic baskets out in the Californian sunshine.
Floor tiles
You may not recognize it immediately, but this is what the floor tiles look like in a public bathroom. It seems the years of wear and tear have left a definite imprint on the floor below.
We guess it may be time these bathrooms are redone before someone wears a hole in the floor.
Ancient Stairs
These stairs don't look very safe to climb but surprisingly every day thousands of tourists climb them. These are the stairs in the Leaning Tower of Pisa, and over the years they have been eroded away by the throngs of tourists climbing the tower.
All 296 stairs have been eroded in the middle despite being made out of rock hard marble. The stairs have become so dangerous that they will soon need to be replaced, but this would mean that the tower will need to be closed to tourists during the construction.
Worn Pages
This is the difference between a brand new notebook and a notebook that has been well used. Not only are all the pages full of writing in the old notebook, but the edge of the pages has begun to wear away.
This used notebook is so full of notes that it doesn't even close properly. Not surprisingly, it didnt take that long to fill this notebook in the first place.
Great Wall
The Great Wall of China is one of the most visited places in the world, and these stairs are evidence of that. Gaining access to the Wall most popular spot, the stairs in this area have almost vanished.
Worn away by the millions of people who have walked up and down them, these stairs have now almost become one smooth walkway.
Piano Pedal
Although your fingers and hands are essential to playing the piano, there is also a pedal where your foot rests and applies pressure to key certain sounds.
This old pedal has slowly worn away over time, exposing the metal underneath. This has taken many many years for the thick piece of brass to finally whittle down.
Volcanic Hike
This chain falls down this huge rock as a way to assist people climbing to the top. Here at the Zion National park, hikers need to make their way to the top so they can begin the Angel's Landing hike.
Over the years, as the chain has caused friction against the rock, it has worn away. Sooner or later this area of rock will not exist.
Customers Forever Imprinted At The Bank
Who doesn't remember spending hours and hours waiting for someone to help us at the bank? It's perhaps a common place for both happiness and disappointment for so many people out there. This particular branch of the bank in the image has existed for years and is located in a very central area in the city.
Thus, many people choose this branch as their main bank, resulting in their imprints being forever stamped at the bank's floor. An employee noticed it and decided to share it on her social media page, getting tons of responses due to how incredibly worn out the bank's floor has become.
Pete's Feet
Similar to the ballerina's hand earlier on in this article, here inside of St. Peter's Basilica you will find this statue. Inside Vatican City, plenty of Pilgrims come to see visit the statue, touching and kissing its feet, known as Pete's Feet.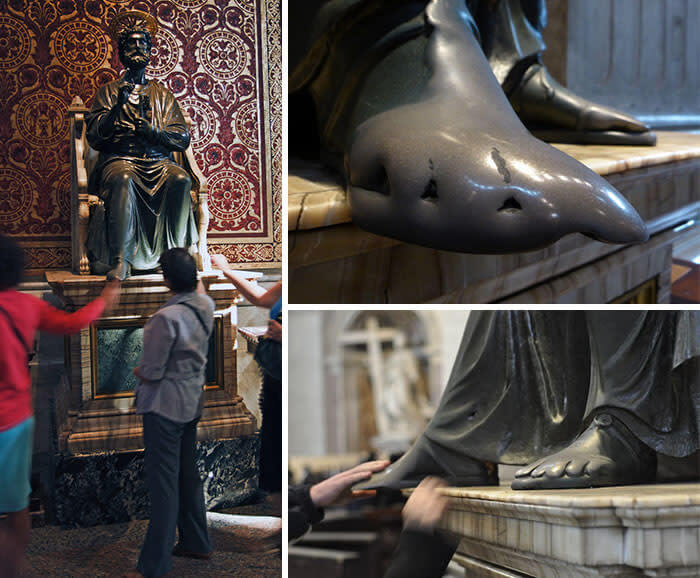 This tradition has been going on for centuries and as you can see, this interaction has worn away at the feet, so much so that you can no longer place them.
Diner
Here at this diner, people have been visiting for a long time, partly due to the vintage furniture and how it represents a certain place in time.
Here at the bar, as the seat is placed so close to the bar, people rest their legs either side of the seat. You can see here, that people's feet have caused some serious wear and tear. Exposing the wood underneath the vinyl flooring.
Keyboard
Keyboards are widely used all over the world and with most of them being used most days for hours on end. After all, there are millions of people who are using a computer every single day.
It is no surprise that over time, these keyboards have worn down, each of them in different places.
Union Station
You will find these seats in Washington's Union Station. The main transportation hub for the city, the station was opened back in 1907. Here, you can see the marks that have been left by those who once sat in these seats.
These human-shaped markings look kind of eerie actually. We wonder how long they have been there for?
Swinging
We have all done it when walking and turning a corner, we often look for something to put our hand on and swing ourselves around and that is exactly what happened here. A cornered off area, this post has worn away to show its original metal.
Taking a stroll and wrapping their hands around the top of the post has had a big effect on the metal. We're just hoping there are as many adults doing it as kids.
No Sole
We can have a million different pairs of shoes sat in our wardrobes but the truth of the matter is, is that if we have one pair that we love, we're probably going to wear them out until there's no sole left on them.
Here, this guy's shoes have worn so much that you can even see his toe marks and in fact on the left, it looks like the foot could come through the trainer at any moment.
Fave Football
Believe it or not, these footballs are exactly the same, well at least they once were. While one tended to be this family's favorite to use, the other sat in their garage.
Whenever the kids would head out to play, they would grab their favorite football and as you can see, it really has worn away. Perhaps its time to get the other out.
Hiking Trail
Another hiking trail, here at Tsankawi, many people flock to the area throughout the year to hike over the volcanic rock.
Following the same trek for years, people's footsteps have slowly worn away at the rock, creating these pot-ink holes. This shows how many people follow the same steps as the person before them.
Trainer wear
Most of us will have our trainers forever and the older we get, the more we seem to stick to the same favorite pair. Finding a shoe that fits our feet in all the right ways can sometimes be hard.
Trainers, in general, tend to wear pretty well and for these Adidas NEO they really have been worn into the ground. You can see the difference against this new pair.
Wishing Well
This well can be found in southeast Asia and is the local water well for the village and you can see exactly where it has worn away as people lean over the stone to get the water.
The markings on the stone show where people place their elbows as they hoist their bodies up onto the well so they can see the bucket as it scoops the water.
New Money
Money makes the world go round, and every day new money is printed. In fact, in America alone, around 38 million notes are printed every single day, sums up to a value of $541 million!!!
Here you can see two piles of $1 notes making $100, on the left you can see how much they have been used and passed around and the right stacks show you a perfectly new stack of money.
Shop Floor
This shop floor in Europe has been used time and time again over the past 30 years and the store opener, although he has done a refurb on the shop, he has never changed the floor.
Right in front of the cashier, you can see two feet marks from where people stand and pay. The craziest thing about this is that most people seem to of stood in exactly the same spot.
Dirt Everywhere
This line of chairs in a train waiting room shows which ones are used more than the others. Dirt is carried in the air all the time and its not until the end of the day when we wash our faces that we realized just how much dirt we interact with.
In a city that is heavily polluted, this wall shows the difference of the wall when it was first painted and how people have managed to protect it in certain areas.
Paying Area
The still in England's London City is a hotspot for tourists who are looking to purchase an Oyster Card.
The green line on the floor has worn away so much that you can now see the concrete in the original shop build.
Mouse
The computer mouse has been around for some time now since 1968. Even though the mouse shape has changed quite a bit over the years, it stills serves a similar purpose.
The most commonly used areas of the mouse, the right and left click have completely worn away, but that doesn't stop it from working.
Keyboard
This keyboard has worn away excessively and so much so that some of the keys now have holes in the middle.
We are not sure what this person does but its clear to see which keys they use the most.
A Smoker's Remote Control
It's no secret that smoking is bad. We know it, we read about it, and we even get to see it every time we look at the back of a package of cigarettes. Yet, it's one of the most common addictions in the world.
While some people create some boundaries when it comes to smoking in the house, some people just smoke wherever, including their living room. This photo shows yet again one of the consequences of smoking, and how it can affect objects around the house.
Packaging Designs That Are Just Too Funny
Brenda Miller
Package design makes a huge difference in how a certain product is perceived, and some marketing teams out there are willing to go to great lengths to convince customers to buy something. Thanks to the internet, dissatisfied customers have started calling out several companies and demanding more transparent marketing. But even though some of these package designs may be mean, it's undeniable that they are absolutely hilarious! Take a look at some of the funniest evil packaging fails ever!
The Biggest Letdown Ever
Just imagine buying your child (or yourself) a box of crayons that promises 150 pieces, only to find out that the whole thing was actually a marketing scam!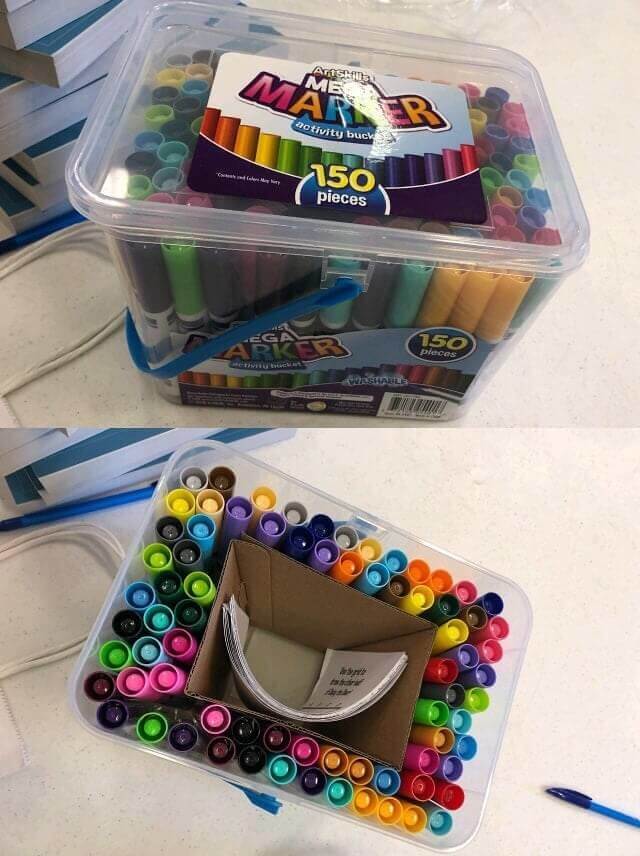 This person shared on Reddit how this box of crayons was probably one of the biggest letdowns ever. They realized that while the sticker on the box said 150, there were only 75 crayons inside, and there was nothing they could do about it.
Is This Pizza For Real?
There are some things out there that have gone beyond the point of being "bad advertising," they are just straight-up lies.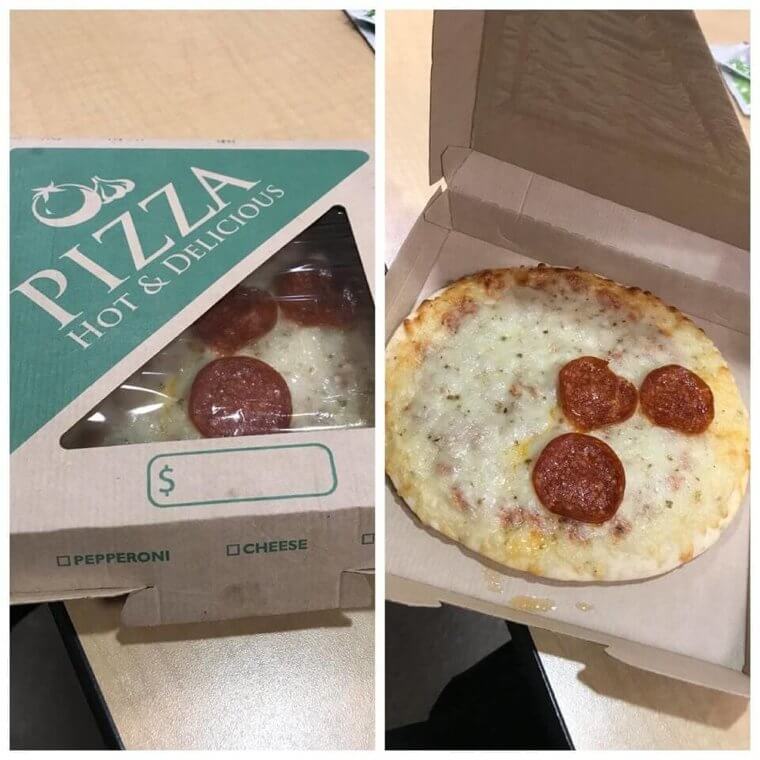 These pizza makers probably had too much fun creating a pizza that was more of a prank than a meal. They cleverly placed it in the box so that the unsuspecting customer would never be able to tell that there were only three pieces of pepperoni in there.
Sometimes People Just Need To Be Exposed
There are certain times in life when one just needs to take matters into their own hands, even if that means looking kind of crazy at the supermarket.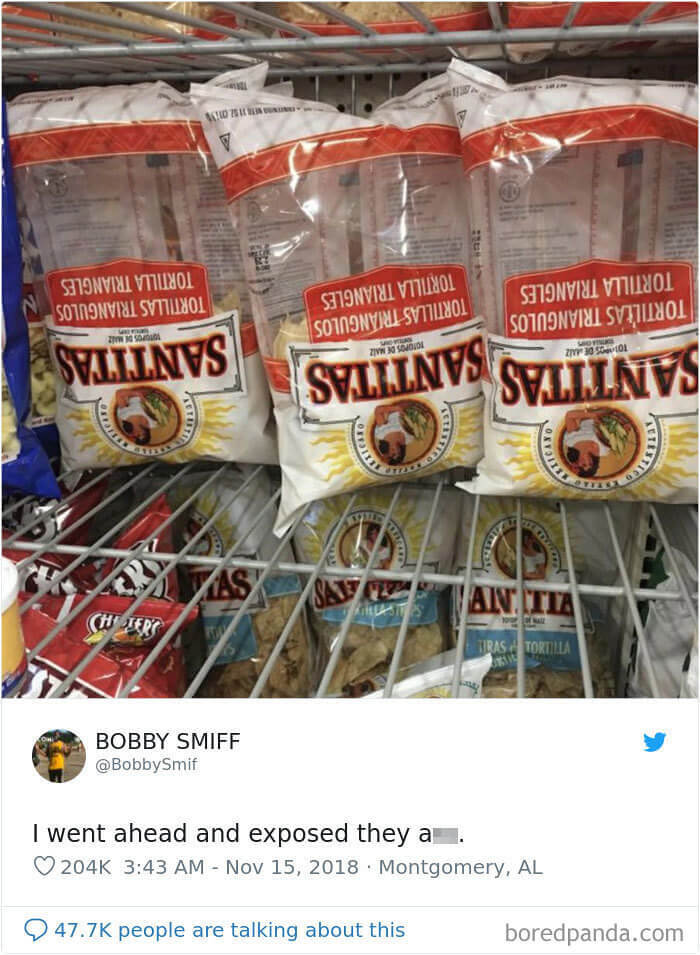 After realizing that they had been deceived, this person decided to share their knowledge so that no one would have to experience the same. So they headed to the supermarket and started to turn packages upside down, to let other unsuspecting shoppers know what they were actually getting for their hard-earned money.
The Saddest Tray Of Cookies In The World
Just imagine buying yourself a tray of cookies, only to find that the tray has different sizes that fit different numbers of cookies. Now, we're not saying that this was done on purpose, it could just be an honest mistake by the manufacturer.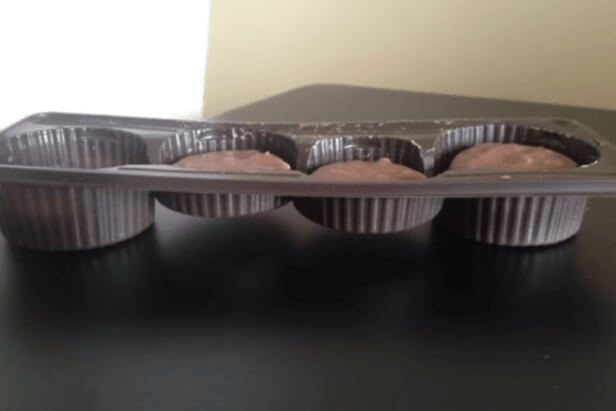 But we can only imagine the frustration this person felt when they discovered they got far less cookies than what they bargained for. We just hope they weren't too hungry!
A Half-Full Bottle Of Spice
The more we read, the more we realize that many products come with some pretty interesting catches. Take these spices, for example – thanks to their packaging, no one would ever suspect that half of that bottle is actually empty.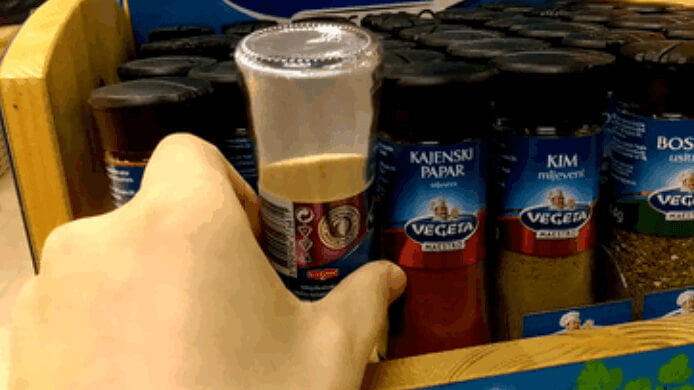 How many times have you bought something that looked full, but in reality, it wasn't? So many people have fallen for this trick in the past, that this person felt the need to warn others.
Where's The Filling?
One thing is to make a mistake here in there, but to advertise perfectly beautiful and jam-filled cookies only to deliver what this person got? That just seems mean.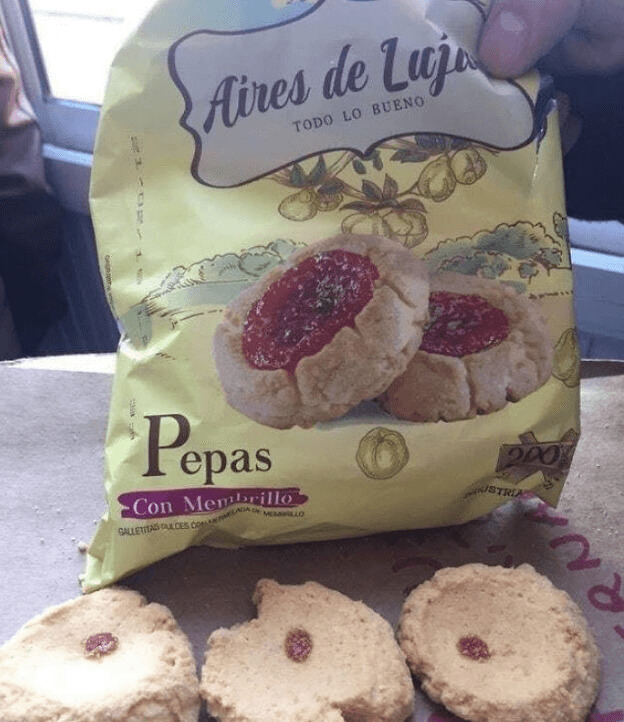 There is barely any jam in the cookie after it was advertised as something so yummy on the package. This person was certainly right to share their disappointment all over their social media.
Just Make A Smaller Container Next Time
Over the years, we see more and more companies attempting to make a bigger effort to reduce waste and to decrease the use of chemicals in order to help save the environment.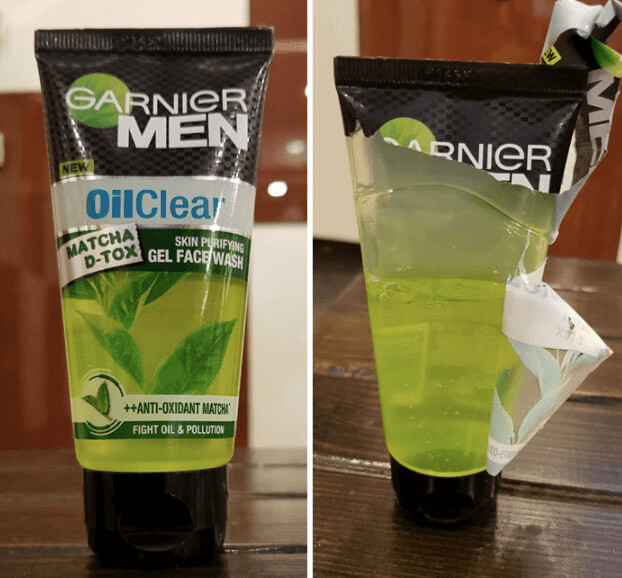 While some companies succeed at it, others don't do so well. This person was really disappointed when they realized that an entire half of the bottle was empty. But thanks to the brilliant packaging, no one would ever be able to see it unless they ripped the plastic the way this person did.
"I Have Been Bamboozled"
Sometimes the deception is so well done that you almost want to give props to the people behind the packaging.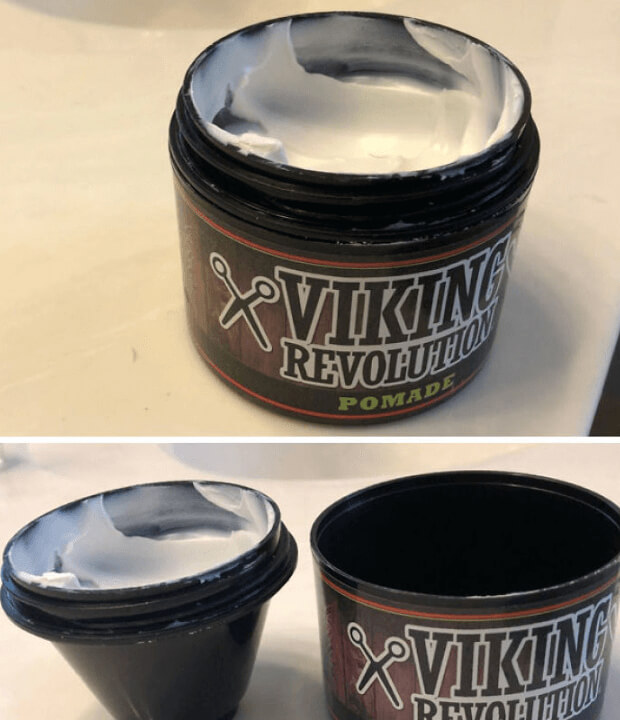 They literally took a smaller pot, filled it with cream, and placed it inside the larger pot, to make it seem like the product had more than it actually did. There is no way that anyone could have ever known, so props to this person for sharing the truth with the world.
When The Tea Comes Face Forward
Here's another piece of packaging that has gone beyond being a laughing matter, it's just sad. Now we understand that there many strategies behind the way certain stores place their products.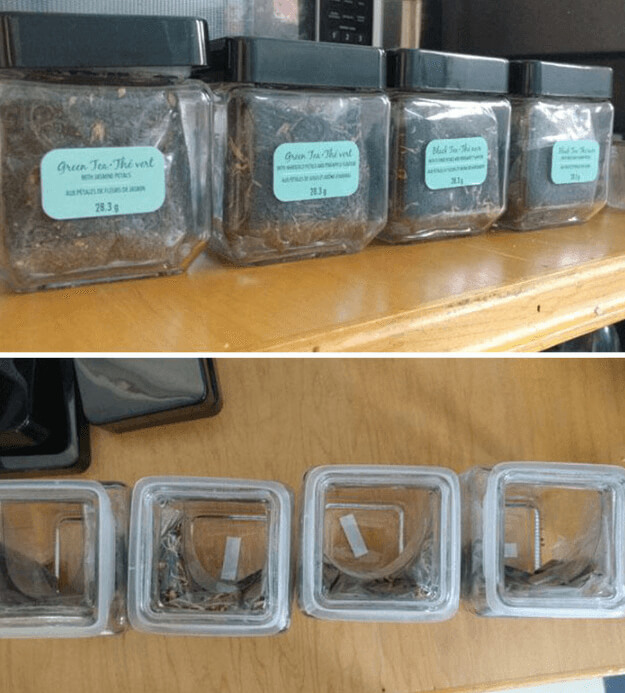 Take this place for example. They deliberately placed the tiny bag full of tea in the front of the jar, to hide the fact that the rest of it was empty. Thankfully, this person was also not willing to be deceived and ended up exposing them completely.
A Bigger Bottle With Less Tablets
Now, we're not really sure what's happening here. We get that the bottle got some sort of upgrade, but their marketing person was either onto something here or they completely lost it!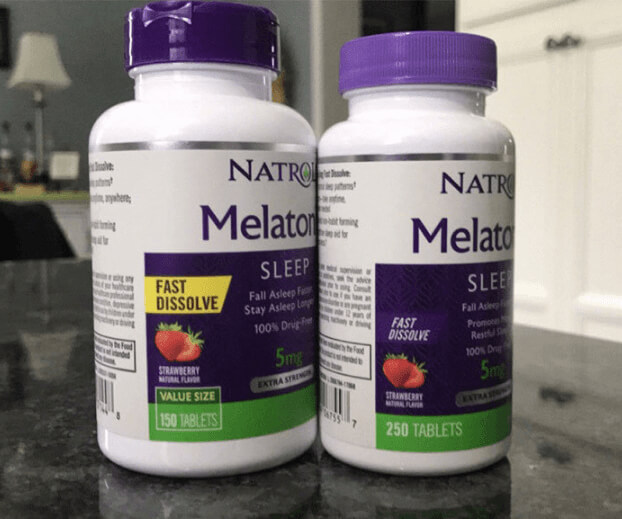 They literally began selling a smaller number of tablets in a much bigger bottle in what looks like an attempt to make customers believe they are getting more. It almost looks like an act made out of desperation.
When 27 Is Approximately 40
This person happily bought frozen pepperoni pizza snack rolls, only to find that the package actually had a little over half the number of pizza rolls they promised.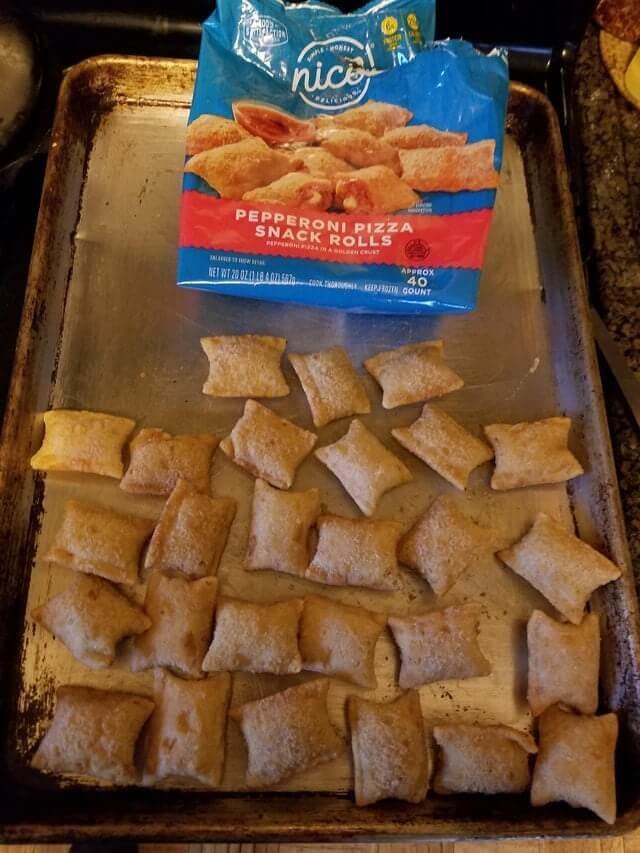 And we're glad they decided to put the entire thing on the tray. This way, they were able to see that the package did not in fact contain 40 pizza rolls. So, the next time we read "approximately" we better check out what's actually in there.
A Roll Of Stickers That Isn't Really A Roll
According to this customer who was obviously misled, products like this one are often falsely advertised. That wasn't the first or the second time they fell for the little trick, so they decided to share their experience online.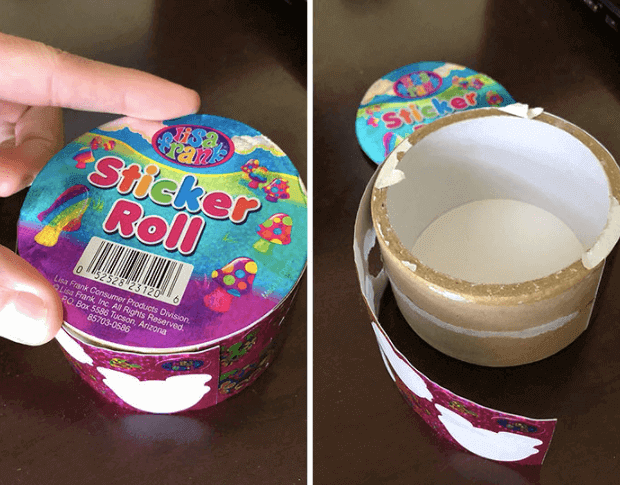 So next time you need to buy a sticker roll, make sure to inspect whether or not the product is indeed what the package claims it is.
Just Enough To Fit On The Window
If there is one thing that is both hilarious and enraging, it's this picture. This person was looking for a delicious snack, so when they bought the perfectly sealed package, they couldn't wait to sink their teeth into what's inside.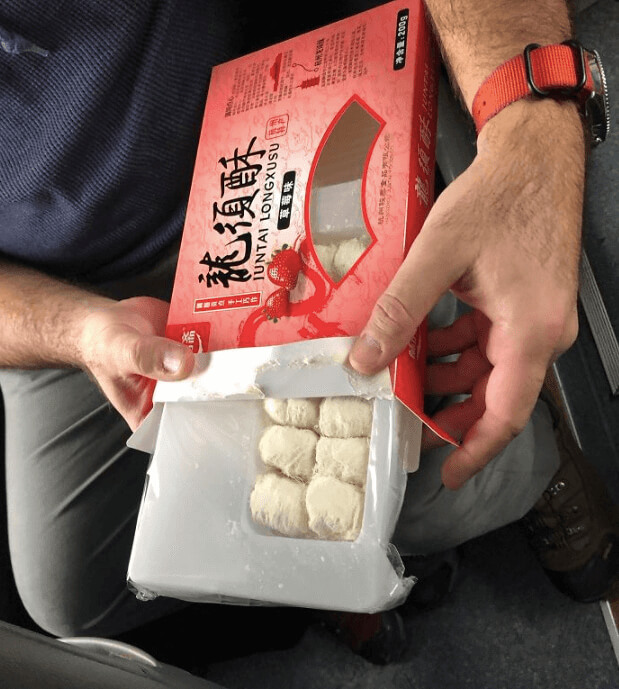 To their disappointment, the contents in the package didn't exactly look right. In fact, it looks like more than half of the box is missing. What a shame!
A Pen That Was Made To Minimize The Use Of Plastic
Again, several companies around the world use the green argument without actually being sustainable. Sustainability has become a buzzword, but by the looks of it, not everyone is ready to own up to it.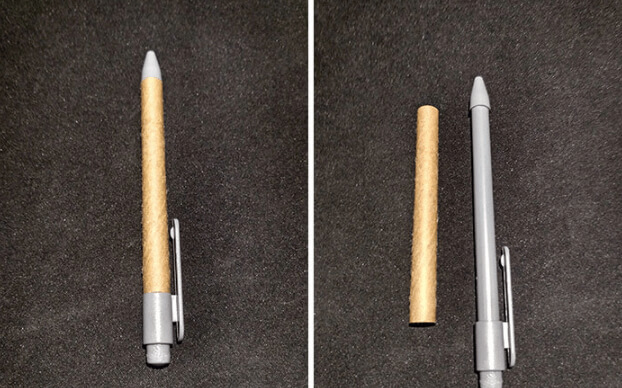 This company was extremely deceiving when they vowed to reduce their plastic usage but didn't actually follow through with it with this ridiculous, not really recycled pen. How upsetting!
A Staple Box With Almost No Staples
We have to say that whoever packaged this box did so in the most brilliantly deceiving way. Now, it probably wasn't fun to be the customer in need of staples, but the person who did the packaging must have had a good laugh.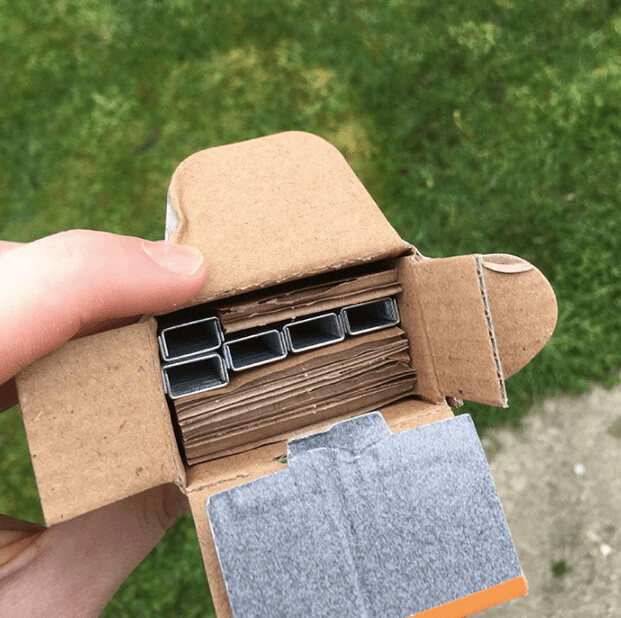 We hope that this customer went back to the place where they bought it and returned the entire thing.
Where Are All The Gummy Bears?
Here goes another strategy that seems to be very common in the advertising market. Take a generous-looking large box, but fill it only halfway. The result? Customers with an unfulfilled sweet tooth.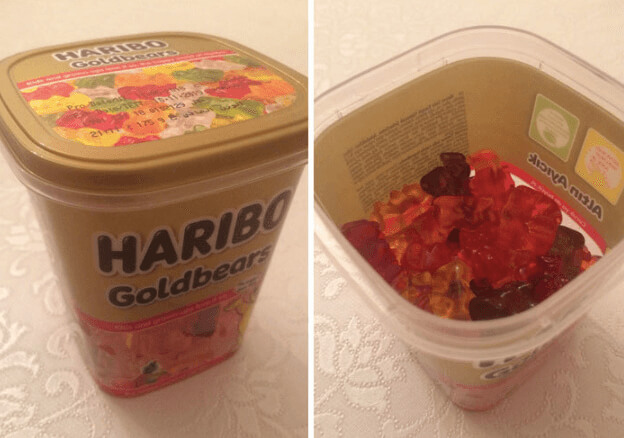 How disappointing is it to open a box of delicious gummies only to find it's half-filled with not-so-delicious air? We can't imagine how upsetting this probably was for this candy lover.
Where Is The Missing Steak?
If this is not one of the most hilarious package designs out there, then we don't know what is. Thankfully, before buying this steak, this person decided to check under the cover.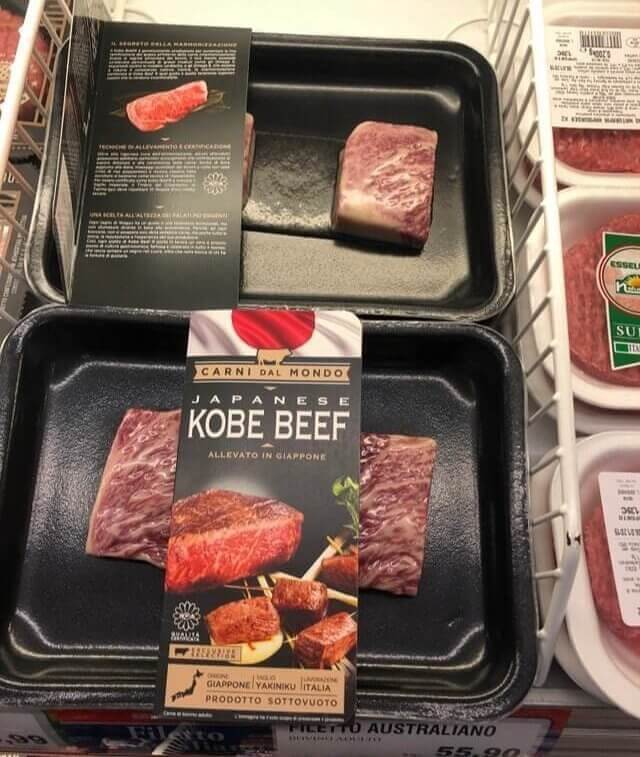 Once they did so, they couldn't believe their eyes! A huge part of the steak advertised was simply missing. If their instinct hadn't told them that something was wrong, they would have gotten a very upsetting surprise when they got home from the grocery store.
100% (Not) Silk
Here is another tip–if a label says that the fabric is 100% something, take a look at what the inside says, too. Apparently, whatever the package says is not always the truth, even when it comes to a piece of clothing.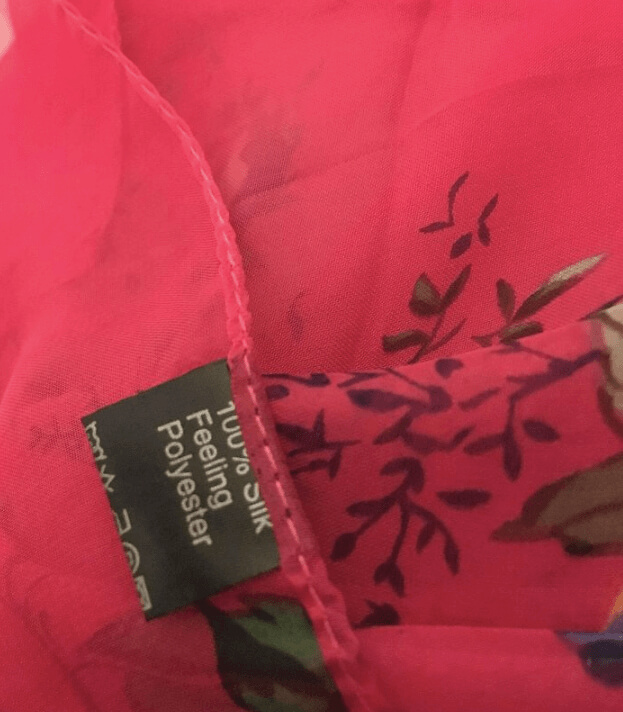 This person sadly learned this lesson the hard way, after they opened the package only to learn that their "silk" item was 100% silk feeling, and not actually silk.
Disappointing Santa
It's such a shame that several companies out there still use immense amounts of plastic, no matter how much this has been advised against by environmentalists and activists all over the world.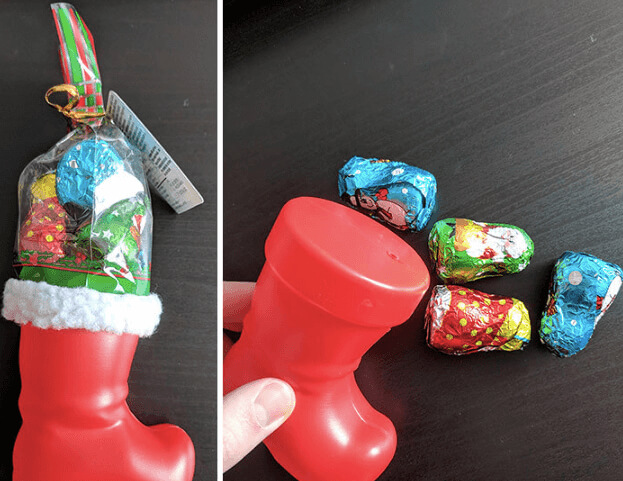 This company decided to ruin Christmas with an absurd case of false advertising. So much plastic for so little chocolate!
When Misleading Takes A Whole Different Level
Okay, here's the thing. This package looks big, and whoever purchased it thought they were getting a lot of product. But that was until they turned it upside down.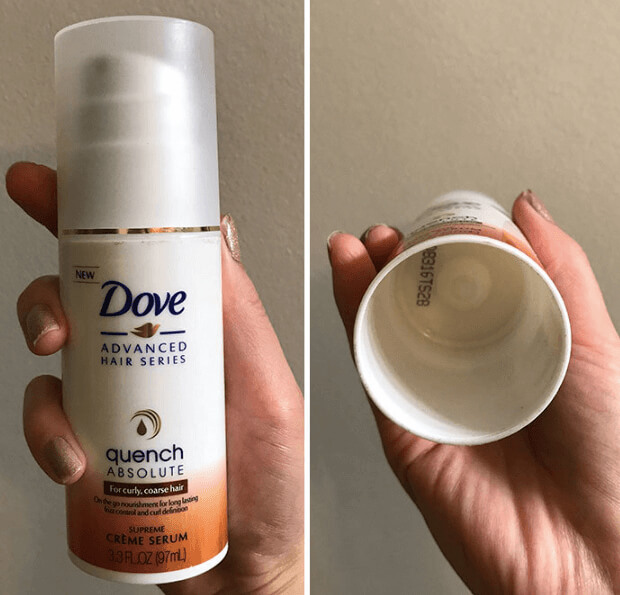 There is literally a whole lot of nothing in about half of this container, and we bet that most customers probably completely fail to notice it.
When A Package Design Makes A Kid Cry
This Reddit user's daughter sadly understood a few harsh things about the world at a very young age with this package design. According to her mother, the little girl spent all of her money on this little bag that looked so colorful and promising at first.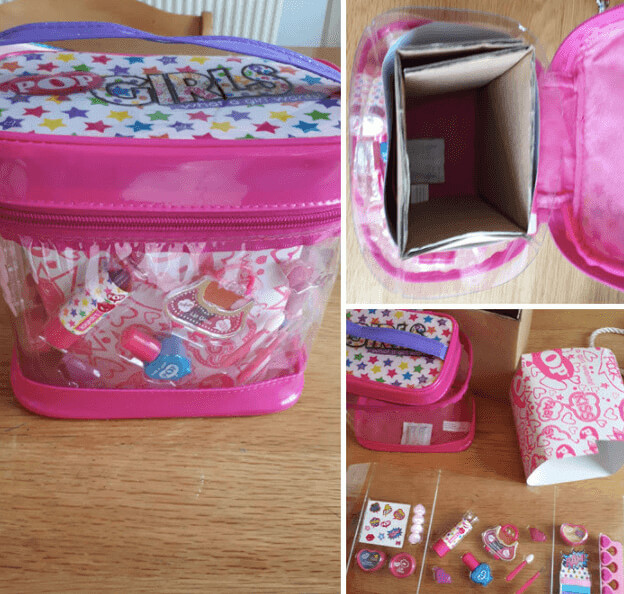 To her disappointment, the package was hiding a whole lot of nothing inside. Apparently, as soon as the little girl realized it, she began crying and claiming "this is not fair." Poor girl.
"Bigger Size, Better Value"
Here goes another reminder not to take everything you see at face value, especially at the supermarket. Even if the bottle says better value, it's not always the case as you see here.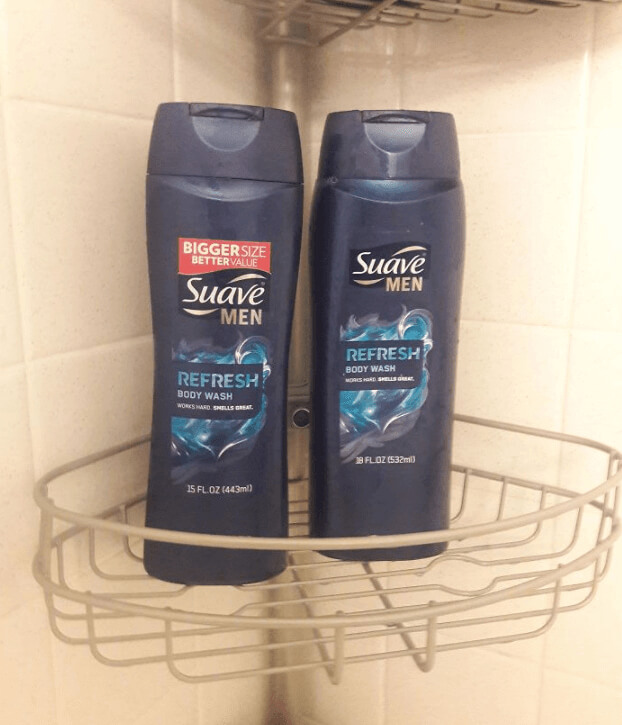 In this case, this person figured out pretty quickly that the product they bought didn't really come with better value for money. How unfortunate.
The Bucket Half Full
It may take you a few seconds to realize what's happening here, but when you do, you'll probably be left completely dumbfounded and probably very angry.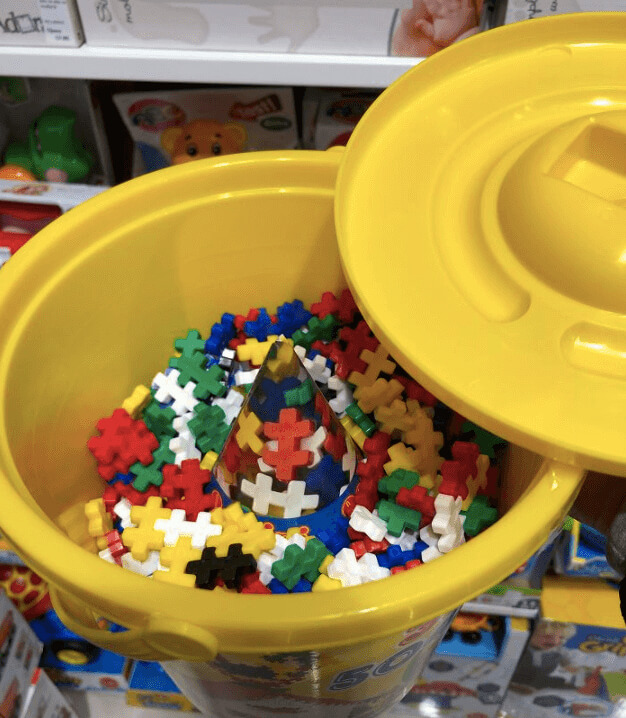 The person who bought it explained it in detail saying: "to make this bucket of constructor set look full, they put a paper cone inside with some constructor pieces printed on it to make it less noticeable." Now that's just mean.
Where Are The Other 3/4?
Okay, this is another case where the person should have simply returned this product because there is no way that this is for real. The package is literally huge, and the actual amount of chocolates inside is ridiculous.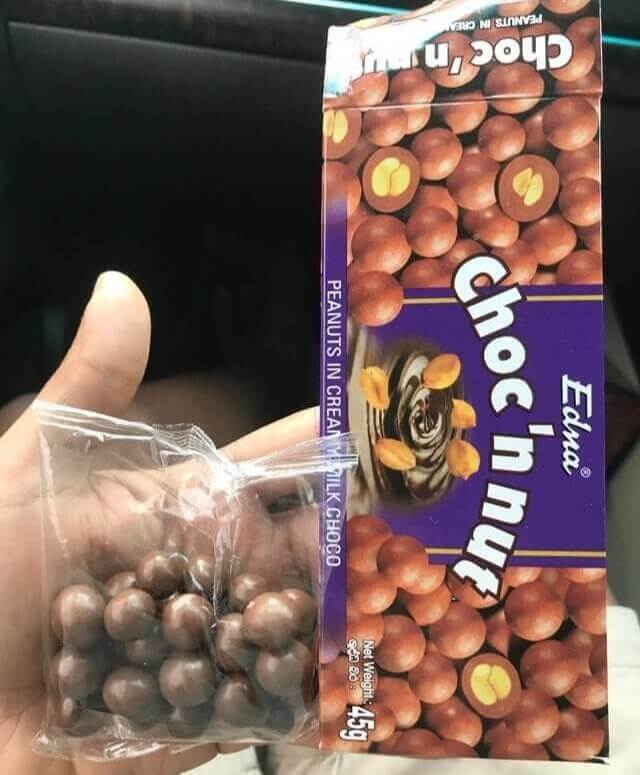 The person wrote on their Reddit post: "I want my other 3/4," and we don't blame them, they totally deserve to get what they paid for.
Get Two For The Price Of Three
While these companies probably get away with this kind of packaging on a daily basis, that doesn't really make things less wrong. However, we can't deny that it's a little bit funny. This person bought a pack of salami thinking they were buying three, based on the drawing on the outside, but that doesn't mean they actually got what they thought they were getting.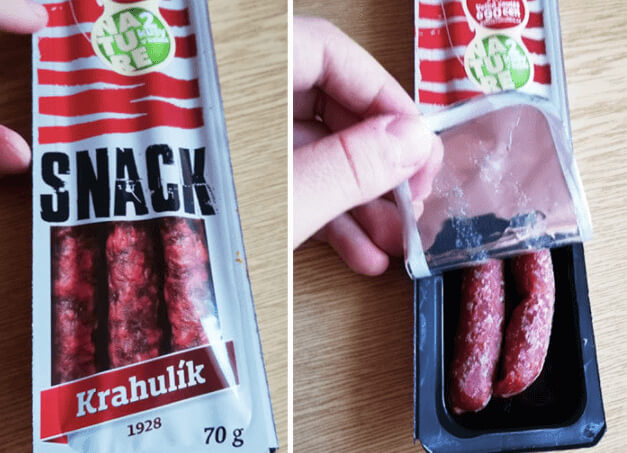 And we can imagine just how disappointing it must have been to find those two lonely salami pieces in there.
Another Half-Empty Package
Well, it's safe to say that this will not be the first or last time that we'll see this kind of hilarious packaging. In fact, it seems like it might be more of the norm than anything else.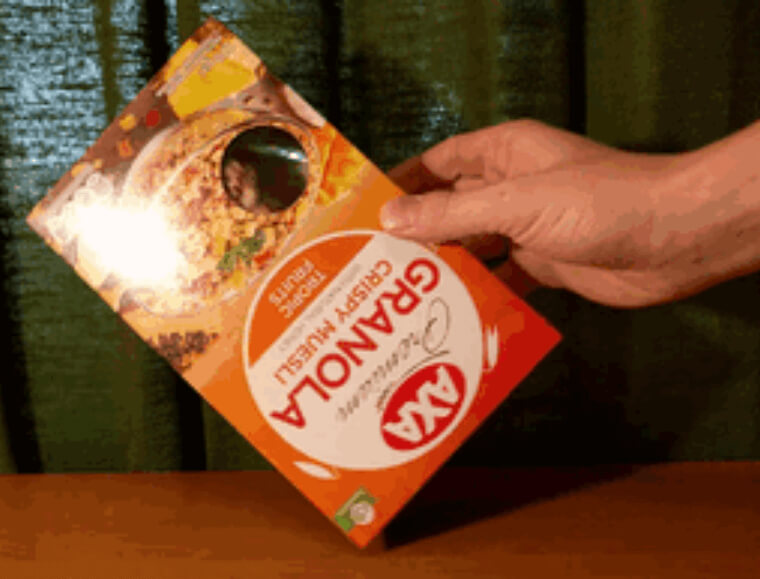 When this person got home, something about the granola they just purchased didn't feel right, so they turned it upside down, and voila! The box of delicious granola turned out to be half empty, just like many other packages on this list.
Disappointment Beyond Measure
Imagine craving something sweet for an entire day, then going to the store to get yourself your favorite candy. But when you get home ready to indulge in sugary goodness, you open the package, and this is what you find.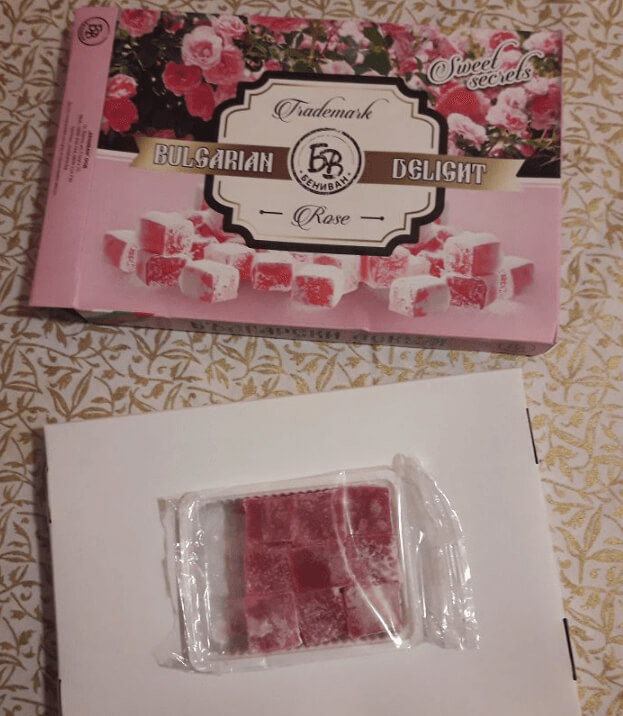 This person's disappointment was simply immeasurable–this package could not have been more deceiving. At least they spoke out about it online, and hopefully, they got to enjoy the little bit of the sweets that were actually in there.
Not So Homemade
We all know that certain companies attempt to convince customers that their product is something that it isn't. This includes the amount of sugar in certain foods, whether or not they are homemade, and the list goes on.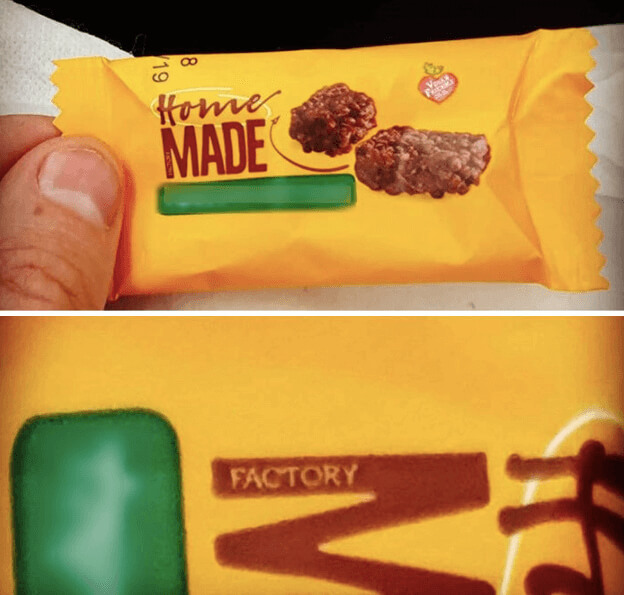 Apparently, this manufacturer did their best to hide the word "factory" to make their product look homemade in a way that is simply hilarious. But the word factory is there, and clearly, the product is not homemade, so why advertise it this way?
They Knew Exactly What They Were Doing
Some of these misleading packages seem to be created by people who are some sort of experts in the field. Take this one for example. There is no way in the whole world that this was an accidental mistake made by whoever prepared this pizza.

The pizza was perfectly placed in the box, which means that they knew exactly what was being hidden in there.
What Would A Reasonable Person Think?
While this one may be a little bit debatable for some of us, it's still confusing. Companies are required to keep what the reasonable person would think in mind when they design their products and packages.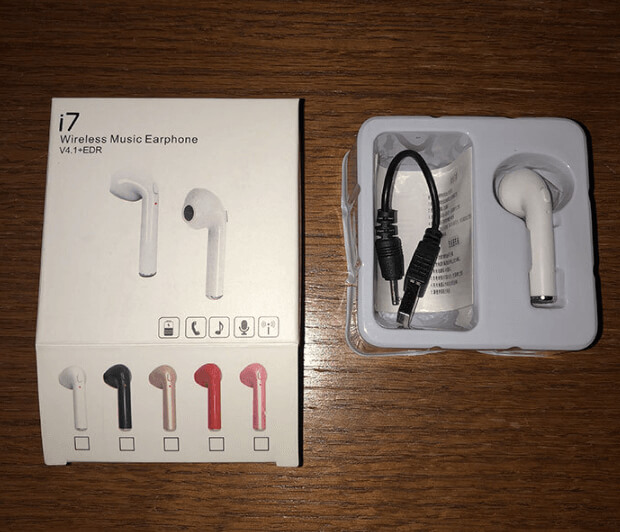 For real, whoever buys just one earphone? That is, unless they need to replace one that they lost. No matter what anyone says, there is something very fishy about this one.
"Not Suitable For Climbing"
This packaging design is not only misleading but also terribly confusing. The is literally a picture of a man climbing with a rope, which probably means most people would assume that this rope is meant for climbing.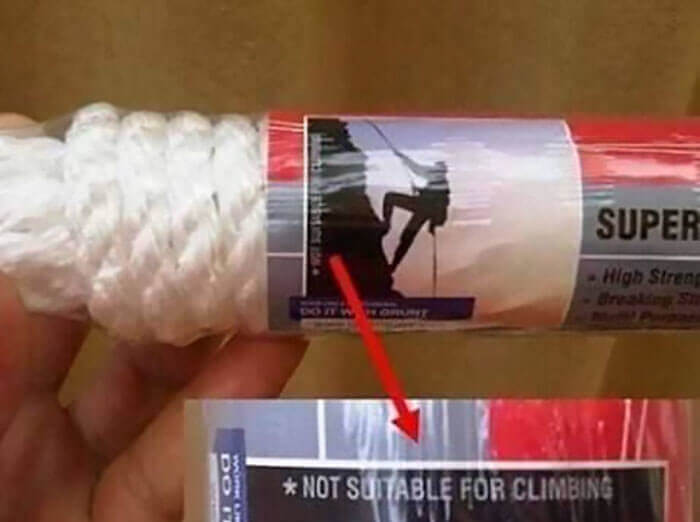 Clearly, though, it's crucial that the next time we buy any product of this sort, we take a thorough look at the fine print. This could actually be dangerous!
A Gummy Bear Cup That Didn't Need To Be A Cup
All we can say is, how disappointing. It's mind-boggling how some companies create such misleading products, especially when it comes to products meant for children.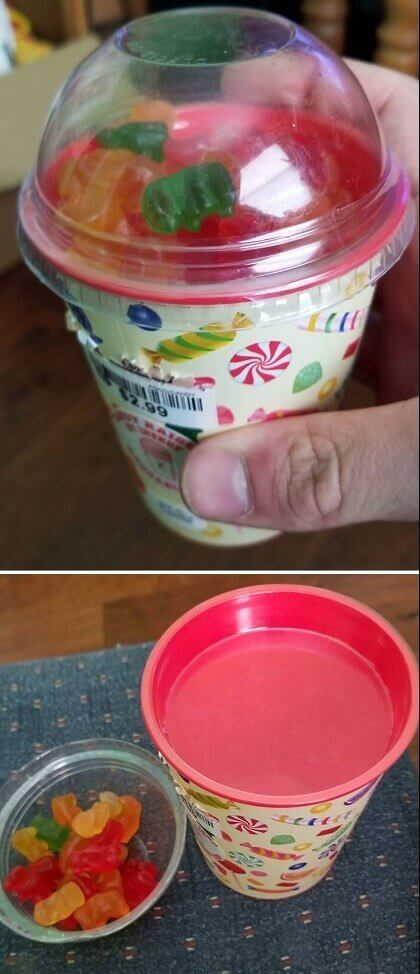 Just imagine getting this for your kid only for them to get hugely disappointed. Instead of having a cup full of gummy bears, this cup only has some in the upper section.
Buy A Pack, And Get Two Hot Dogs "Extra"
It's a good thing this person checked the package before buying it, otherwise, this would have been an infuriating discovery when they got home.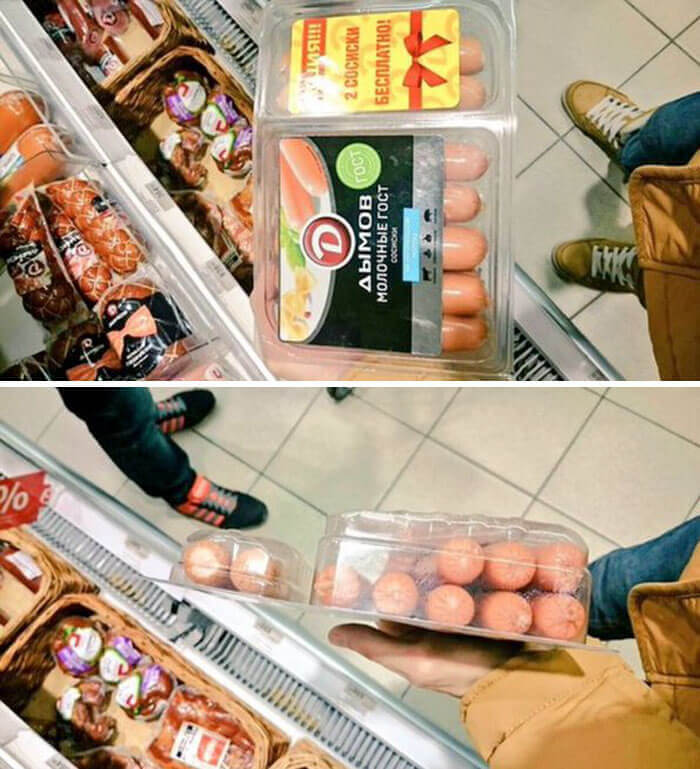 Apparently, this type of sale is pretty common in Russia, when the seller makes the impression that when you buy a package of something, you get something free. In truth, you're just getting what you already paid for.
"12 Mini Rolls When Cut Into 4's"
Okay, here is another package design that makes us wonder: how on earth did they think this was an ok thing to do? They literally claimed to be selling 12 pack sausage rolls, but in truth, the package only had three sausage rolls.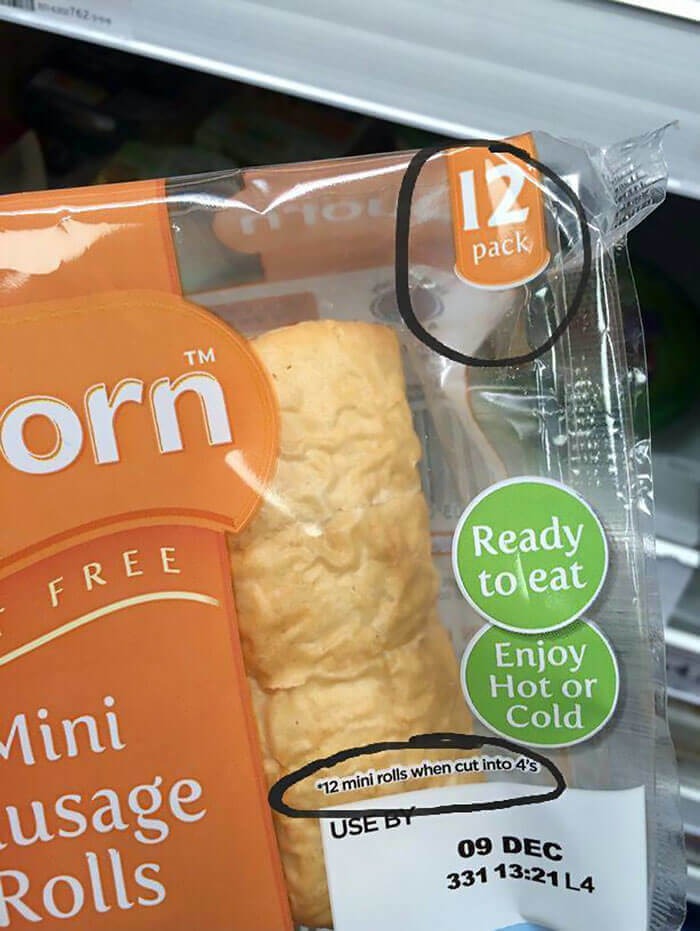 It seems like their strategy is to recommend that their customers cut the thing themselves – how deceiving!
Well, That's Just Rude
We would like to believe that instead of a package design lie, this was an honest mistake by the manufacturing company.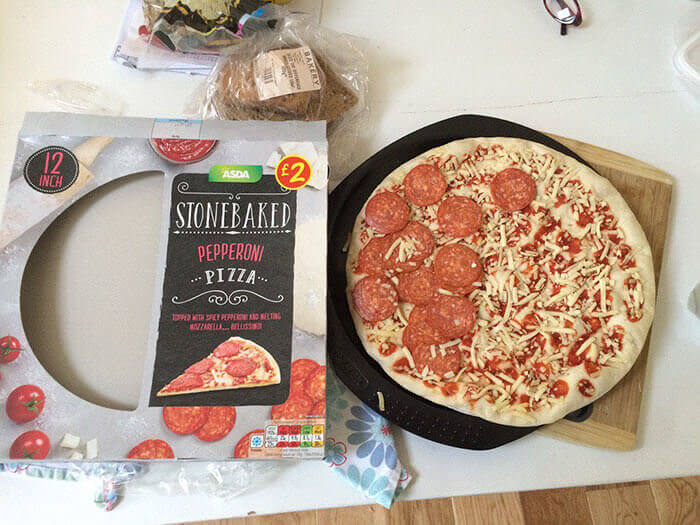 This person was sure they were taking a yummy pepperoni pizza home, but when they opened the package, they realized that that wasn't exactly what they were getting. Instead, it was more of a half Marguerita and half pepperoni.
Being Gluten Intolerant Is No Joke
We're not sure this one is funny as it seems to be more concerning than anything else. While this chocolate was advertised as gluten-free and organic, the back of it said: "We are not gluten-free or organic certified (because it's bulS%#)."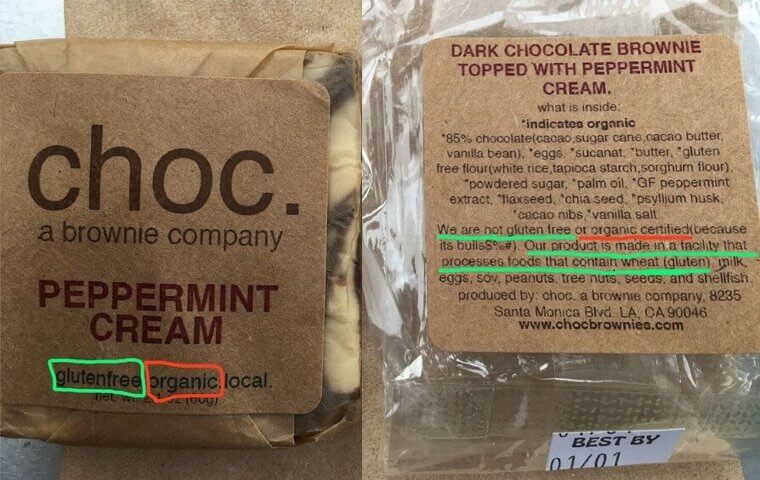 The thing is that some people who really are intolerant to gluten could suffer serious consequences from this misleading package.
No Wonder All Of Us Have Trust Issues
This guy said it exactly right, no wonder all of us have trust issues! Even though the cans have 30% and 40% bigger on them, they seem to be to be absolutely the same size as any other can of soup.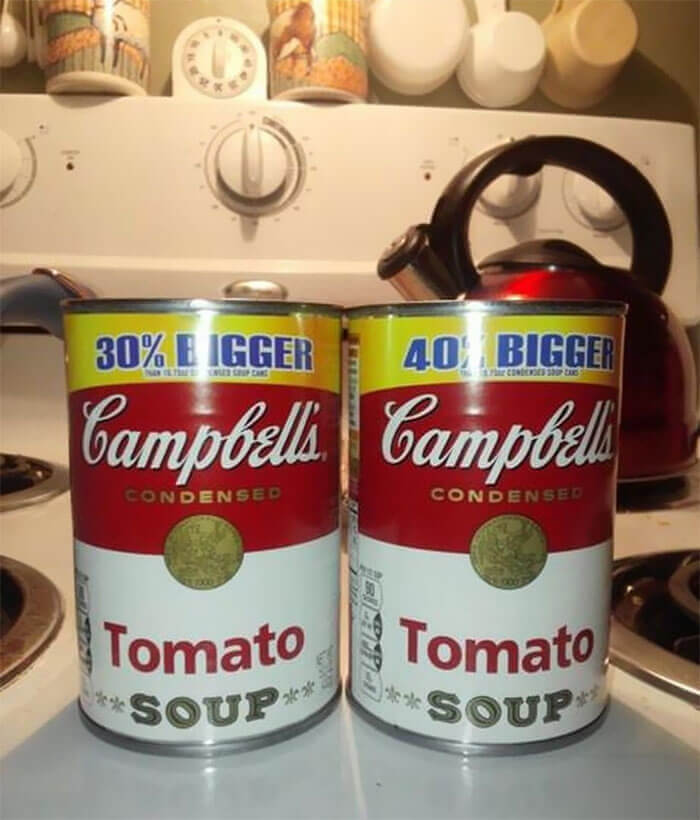 But now that they have figured out how deceiving the can is, we're pretty sure that they will refrain from buying a similar product ever again.
The Shrimps Are Not As Jumbo They Seem
There is nothing more disappointing than an advertisement that claims to have a huge product when the size is actually tiny. Take this one as an example.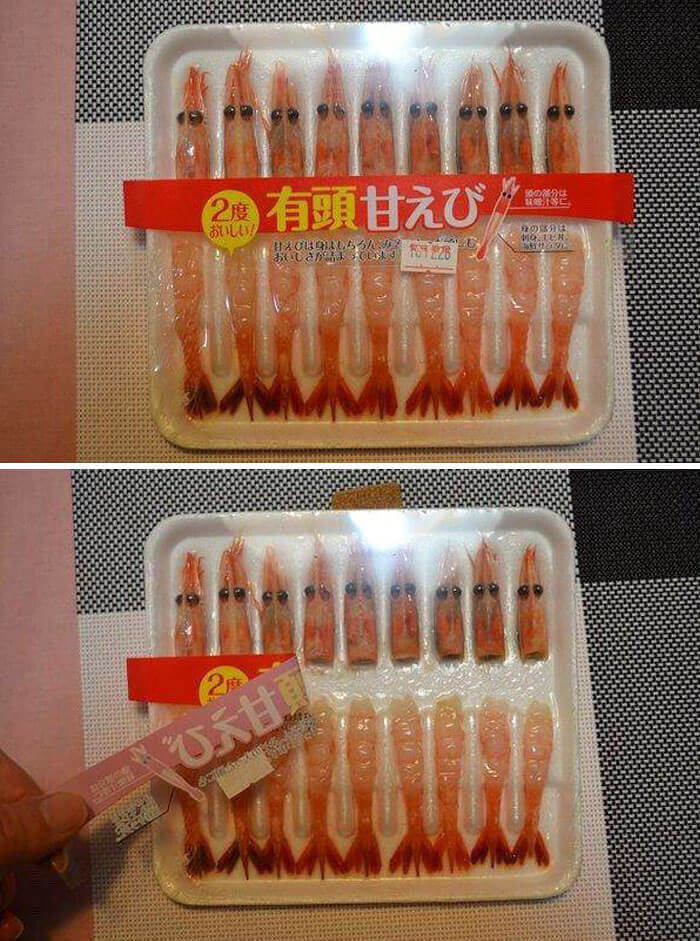 They claimed to be selling a bunch of jumbo shrimp when in reality, the shrimps were the smallest size possible, and they're not even whole. Once their heads were taken off, they literally look like the smallest shrimp in the world.
The Difference Between A Small And A Medium Size Juice
Well, folks, now we know! Next time you head out for some fast food, make sure to check out whether or not the sizes really match up.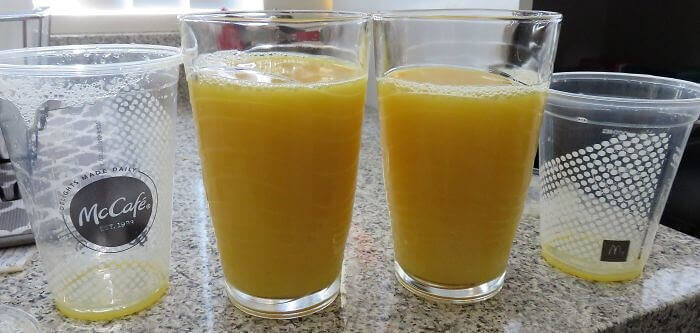 As it seems, you may pay a certain amount for a larger drink, and end up getting exactly the same as you would get without paying extra. But this person wasn't taking it. They decided to give their friends and family a heads up through social media and definitely succeeded!
The Most Misleading Wrap Packaging
By now, this type of misleading packaging seems to be just another one in the market. In fact, we're probably all wondering if any of the things advertised in markets are true at all anymore. Is everything falsely advertised?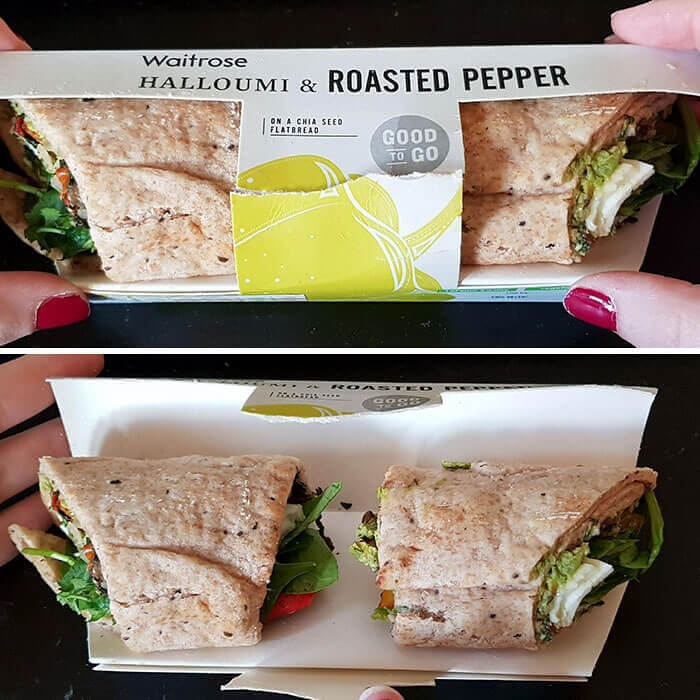 From now on, we're probably trained enough to suspect every single product we're getting when seeing appalling advertisements such as this one.
Where's The Rest Of It
This is just mean! We're actually struggling to understand how productive this type of false advertising actually is for a brand since customer satisfaction is a huge deal.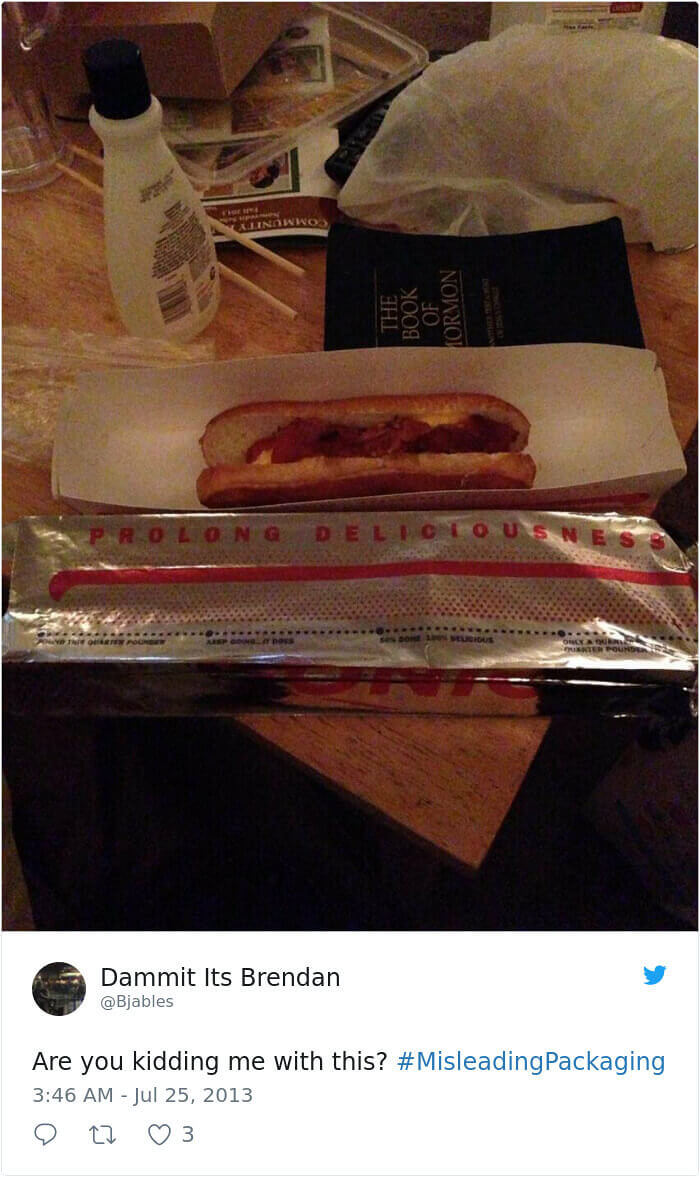 Because the truth is that once someone buys this and realizes how deceiving it actually is, they will most probably never buy it again. If they're still doing it this way though, they're probably doing something right.
This One Couldn't Be More Ironic
Really, the whole thing could simply not be more ironic. They are literally selling a tool that is supposed to help with those very difficult packages–but they decided to literally sell the thing in that difficult type of package.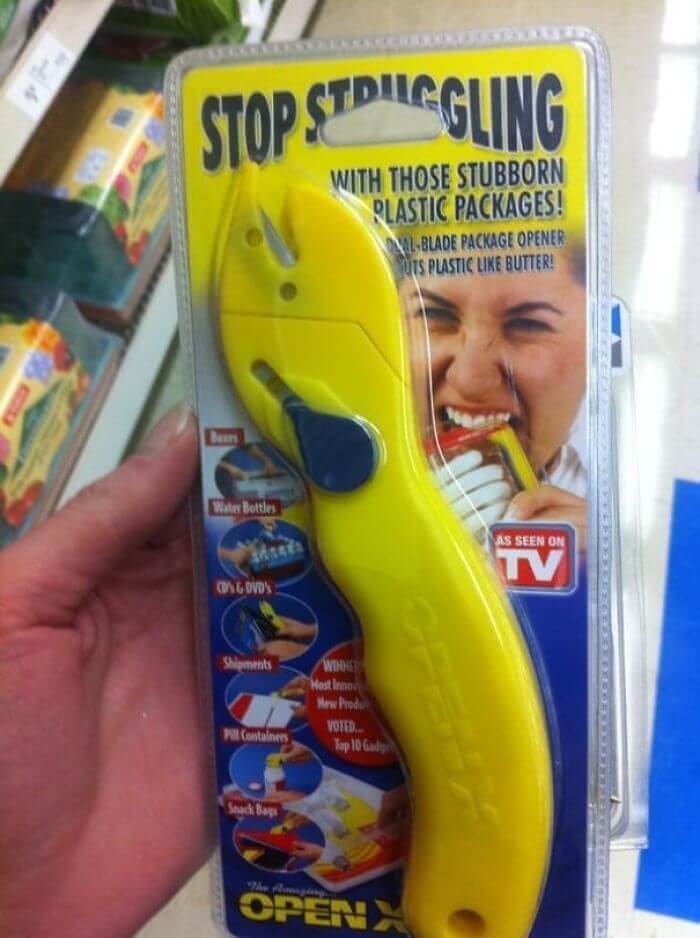 What is the person supposed to do to open it this time? Unfortunately, it seems like we will never understand.
The Most Confusing Color Packaging
Plain common sense would tell you that a person looking for red paint would grab a red package, while the person who needed blue would grab a blue package. But this company didn't think so.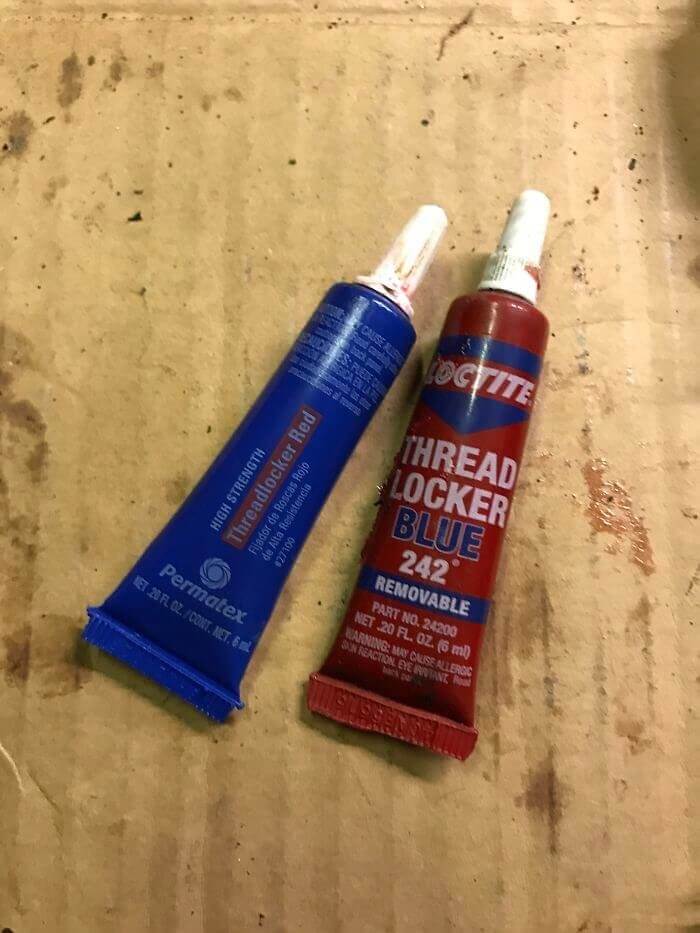 They actually believed that changing the colors of the packages and writing the actual color on them in tiny letters would make all the sense in the world.
A Box With 64 Crayons Of The Same Color
It turns out that this unopened box of crayons is filled with exactly one color. They literally advertised 64 crayon colors when in truth, there are 64 orange crayons for whoever feels like getting creative with just one color.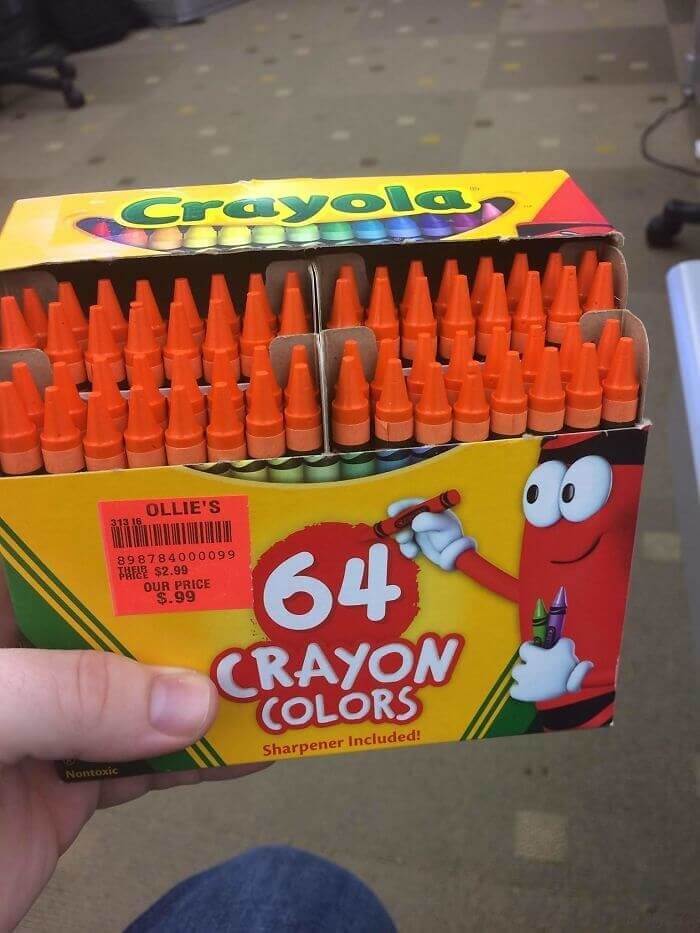 Unforutnley though, the buyer didn't check the inside before buying, so they ended up finding out way too late. But maybe they really like orange?
A Very Deceiving Box Of Chocolates
All we have to say is that this is simply not okay. We can only imagine the regret this person felt once they opened this box of chocolates and realized that they had been totally bamboozled!
The box literally only had a few chocolates, that weren't even that good according to the buyer. We're pretty sure that this person learned their lesson, and they'll just have a good laugh about it in the future.
Very Expensive Sunflower Oil
Here's the thing, while some advertisers blatantly lie to their customers with their packaging designs, others deceive their buyers in a bit of a smoother way. Take this company for example.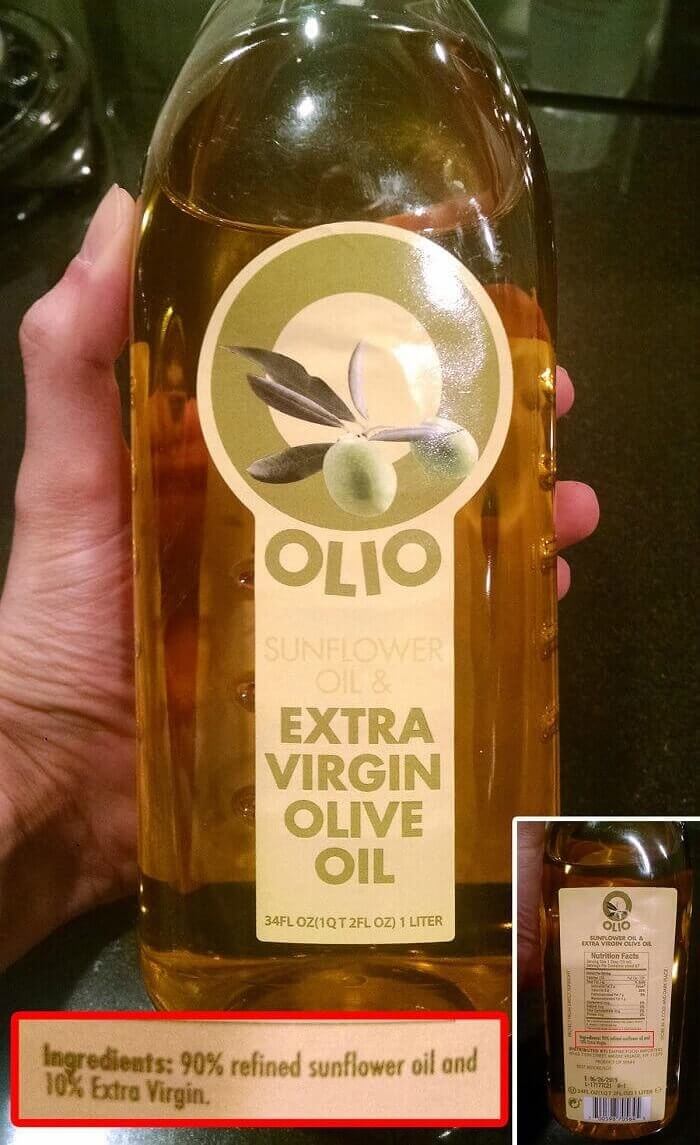 They didn't particularly lie that what they were selling was pure olive oil, but they certainly did highlight the part that made their product more appealing for a reason. That way, whoever was buying this would barely focus on the sunflower oil part.
A Huge Disappointment For Little Kids
This guy went on Reddit to share his experience with his wife teaching at an elementary school in South Korea.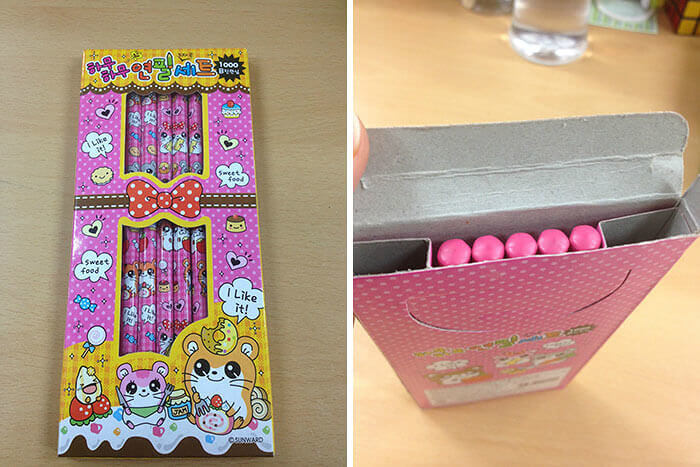 The couple decided to buy some pencils for the kids, but they were utterly disappointed when they realized that the package was totally bogus. Just like many other package designs on this list, there weren't so many pencils in there.
That Could Have Gone Really Wrong
Here's another package design fail that makes us wonder if this company made a mistake, or they genuinely thought that this would make sense.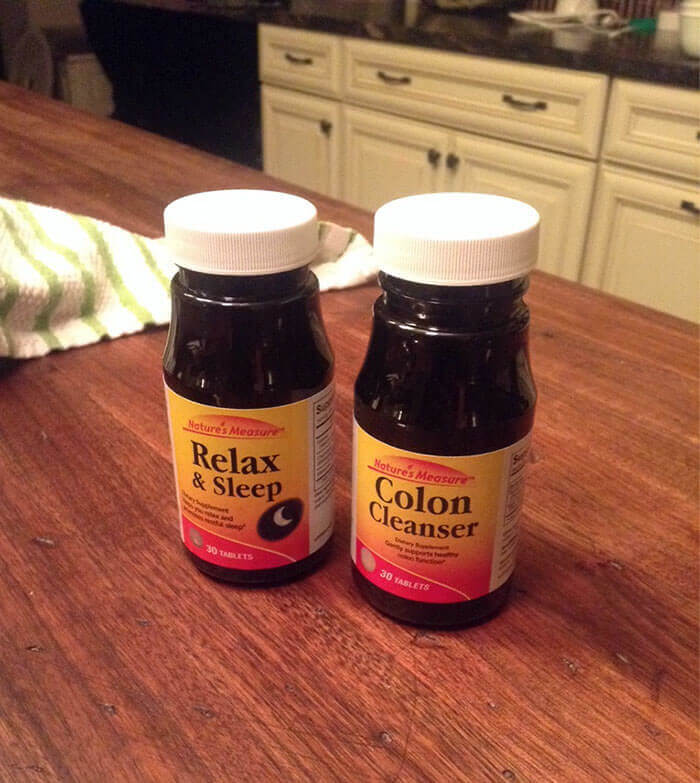 The design of both products, one for relaxing and sleeping and one for colon cleansing, is exactly the same, so just imagine if someone got confused between the two. The consequences would be a total disaster.
It's All So Confusing
If this is not another important reminder to always read the labels on the back of products, then we don't know what is. This manufacturer proudly claims that they are an American company. But are they?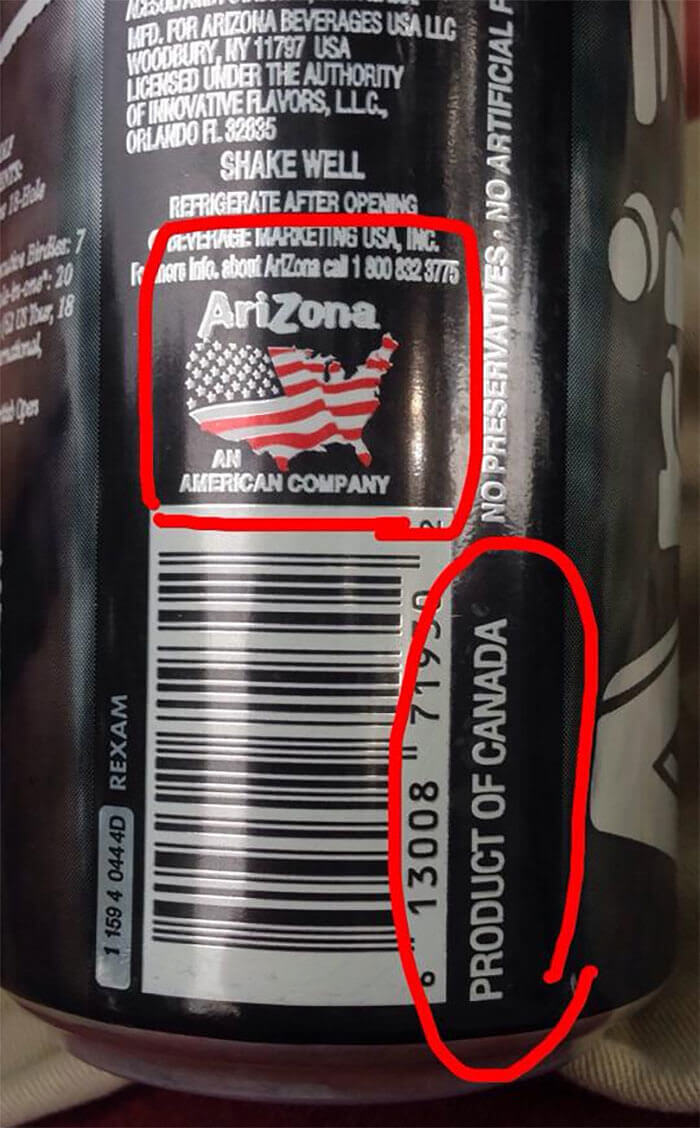 Apparently, the side of the can says that this product was made in Canada. So which one is it?
Just Make Smaller Bottles
When this person decided to check out what was really in this bottle of Vitamin D3 they couldn't have been more furious.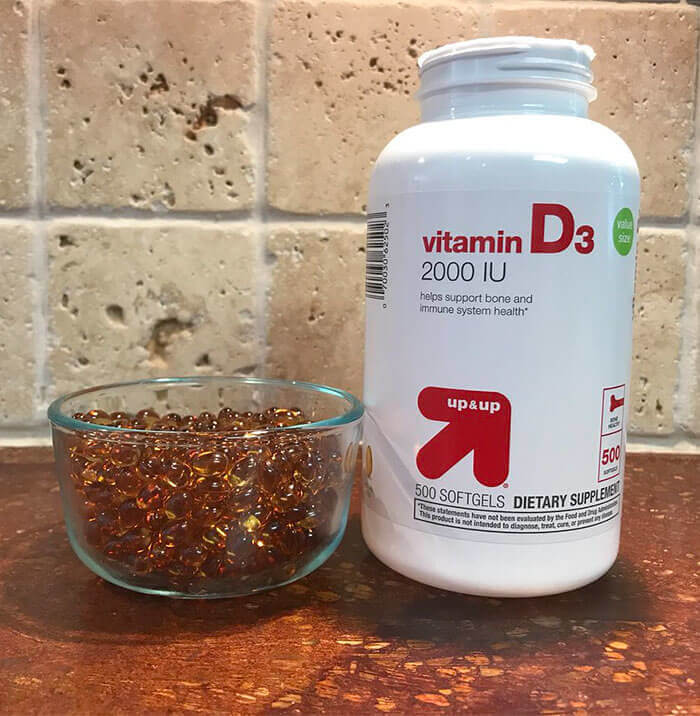 In fact, they took it to Reddit to call them out on their unnecessary use of plastic, by saying the following: "hate to see waste in packaging and also feel like they are trying to trick me so I feel value. Please make bottle size of product!"
These People Are Having A Tough Day And The Photos Are Priceless
John Travis
This article was originally published on 24/7Mirror
Everyone has bad days, right? Even if you are currently having a bad day, don't worry about it because we have just the right collection of photos to give you some comfort. The following people share the frustrating things that have ruined their days. We bet you'll feel pretty lucky after seeing these pictures.
Goooood Morninggggg!!!
Imagine waking up in the morning only to find this giant mess in the kitchen. You have every right to cry or even go back to sleep.
This is a perfect morning present that you never wanted or needed. And no, this havoc wasn't caused by a cat – though we all secretly want the main culprit to be a cat.
"Girl, You Are On Fire!"
That's one way to celebrate your birthday. If she was thinking about giving her hair a major change for this new year of life, the candles did her a favor.
It looks like she was too caught up in celebrating her birthday that she didn't even notice her hair caught fire. How could she miss the unique burning smell of hair? Hmm…
They're Going "Snowhere"
Yep, that's snow, and these people are going nowhere. They can make the best of it by using it as a fridge and store beers in it.
What state get's that much snow? Is this Michigan?
David, Just Don't Look Back
"Whatever you do, do not turn around. I repeat do not turn around."
We really don't want to know what happened next. There is a toilet roll paper near the dustbin and we're sure this guy needed it after looking at the pack of lionesses.
Well, That's Me Signing Off
Ever wanted to complete something but you get the feeling the world doesn't want you to?
Well, this poor fella didn't just get the feeling, he got a big heavy sign that said: "go home, spend some time with your family and come back tomorrow."
When Life Doesn't Want You To Win
Have you ever felt like you are the most unlucky person in the world? Well, save this photo and look it every time you feel that way again.
We feel sad for this person because this is without a doubt bad luck at its finest.
A Woman's Nightmare
This woman was curling her eyelashes while walking and she tripped. What happened next was a big NOPE!
This photo can give many women sleepless nights. When it comes to eyelashes, you always have to be careful.
Surprise, Surprise!
This person searched for 10 minutes around the house to find where the dog pooped, only to find out that he had been carrying it all along.
He must be thinking, "it smells a lot here, the dog must've pooped in this room."
Priceless Facial Expression
This is what happens when you are going for the rear defrosts but you hit the sunroof.
It is an Alaskan style, and we loved it. He looks shocked and freezing.
Skip Day
Whoever designed this wasn't thinking about the people who physically cannot take the stairs.
However, now we know why so many health initiatives fail. Be this photo a reminder for everyone who works in health marketing.
My Car Ate My Keys
Imagine giving this excuse to your boss that "I can't come to office today, unfortunately, my car ate the keys."
No one would believe you at first, but they will once you send them this picture. That's exactly what happened to this man.
A Crunchy Flavor Added
Ouch, even looking at this picture hurts our eyes. Such innocent spaghetti didn't deserve all this.
This person just wanted to eat spaghetti and watch Netflix, but it looks like it won't happen anytime soon. We can understand this person's agony because there is nothing more torturous than cooking food and then it gets completely ruined.
Having The Worst Day
It's safe to assume that not only is the child who fell off their scooter having a bad day, but also the person who put down the wet cement.
It is funny to imagine the kid walking back to his home covered in cement.
Still Looks Good Though
We are sure this person tried to sell it in the form of "modern art." If you look at the first picture and then see the second one, you'll start to feel bad for the person who made it.
It is a result of a drop and it would be best to name this sculpture as "floor kissed".
Car Seat Feels Thirsty As Well
There is nothing more refreshing than an ice-cold Coke on a hot day. The car seat, who had been sitting there in the heat for hours, wanted some of the refreshments too.
Sadly, the person who bought it won't get to be as refreshed as his seat.
Roll Up The Windows Next Time
Most of the time, we make a mistake, and the consequences are not that serious. But this was not the case for this person.
One simple mistake of forgetting to roll the windows up before a snowstorm caused this mess.
Thrill Seeking No More
If you have ever thought twice about going on a roller coaster, keep scrolling. Luckily, they were not stuck upside-down.
Even giving these poor riders a lifetime pass isn't going to work because most of them would never even think of going on a rollercoaster again.
When Your Memory Fails You Big Time
For any student out there, the worst thing that could happen is missing a final exam. The feeling cannot be described in mere words.
This news would've felt like an end of the world for this poor fella. We just hope that he learned his lesson and became more careful in the future.
It Must Be Monday
This is a prime example of a classic Monday. And we are certain this has happened to most people out there.
This guy was at work for over 4 hours and finally noticed it. Well, at least they're the same color.
Sorry, No Passengers Next To The Driver This Time
This is some quality manufacturing. Whether this person was going to work or coming back, we can only imagine his level of frustration.
Given that it was already turning out to be a bad day for this person, we hope it didn't happen the day after the warranty expired.
At least He Saved The Wiper Blade
Has it ever happened to you that you wanted to do something to improve the situation but the result is worse than what it was before?
Well, this guy didn't want to risk losing the wiper blade, and it resulted in him losing the door of his car. This is life; it makes you pull your hair and leaves you speechless.
Flight Horror Show
Okay, the passengers on this plane definitely had a worse day than many people. It's not every day you feel this is your last day on earth.
This happened to the plane mid-flight. Fortunately, the plane landed safely and no one was hurt.
Ouch!!!
If your luck runs out, this is what happens. A porcupine fell from a tree right on this poor woman's head.
We just hope that the porcupine is fine. Who knows, it was a bad day for the porcupine as well.
What Doesn't Kill You Makes You Stronger
You must've read/listened somewhere that "What Doesn't Kill You Makes You Stronger"? Well, it holds perfectly true in this case of a brave spider.
The spider knows that this insecticide is only for mosquitos and flies. So, it is not scared of it and is happy to stand bravely on top of the killer spray.
Self-peeling Bananas
There is a possibility that the bananas wanted you to eat them all in just one day and that's why they peeled themselves.
We are sure the menu for that day must be peanut butter banana sandwiches, banana pancakes, and banana muffins…and a lot of smoothies as well.
Main Reason Why Offices Aren't Based Outside
Most of us find ourselves furious over the birds for pooping on the windshield or even the entire car (if it is parked under a tree). But have you wondered why offices are not based outside?
This guy found the answer to this question the hard way. He was working and minding his own business when a bird sitting over him decided to do its "business" as well.
What Can Be Done Now
We wonder how long this lovely lady sat there until she realized the sign below. Or, that her pants just turned red too.
The only good thing we can take out of this picture is that the wet paint will match her outfit.
Time to Wear a Turtleneck Shirt
Oh, now we've figured out why people wear turtleneck shirts. So, this guy's housemates thought it would be a good idea to do this to him while he was asleep. They then left for the day without unlocking it. The look on his face tells how he was feeling because he had an interview in 2 hours.
We hope he still went to the interview and made a good impression because he needs to save money so he can have his own place without roommates.
Well… That Was Unexpected!
Given that this photo is uploaded, we can assume that everything went okay in there.
However, we cannot just ignore it like nothing happened, right? How was the fight and who won?
A Sign From Nature?
So, the 'F' fell off this guy's Ford Fiesta Flame. Now, he proudly drives Ford Fiesta Lame.
If you come to think of it, there is a high possibility that nature wanted to give a sign to this man. Nature knew that he didn't understand even after his car broke down several times in the past few weeks. Nature had to improvise!
When the Sprinkler Hates Only You
When you are having a tough day out in the field, you tend to believe that it is happening to everyone else as well. You feel some sort of satisfaction in the fact that it's not only you who is suffering.
However, it all changes when the sprinkler joins the drill Sargent to grill you.
That Looks Cool…Oh Wait!
So the bathroom on the upper floor was leaking and now the water is stuck by the paint on the ceiling. What to do next?
It may be satisfactory to pop this paint pimple that contains water, but the mess will be too much to clean. Plus there are other expenses of fixing the ceiling and bathroom as well.
Irony In A Nutshell
Here is a new tongue twister for you: Firefighters fighting the fire on the fire truck.
So what did the firefighters do after seeing this? Did they call the fire department? Okay, we shouldn't make fun of it but it is super hilarious.
Stress Relief
Did you know that smashing stuff can help relieve some stress? That explains why the lotion "Stress Relief" comes in a glass bottle and not plastic.
There is also a possibility that the person got more stressed after breaking a bottle that helps relieve stress.
Unlucky Halloween
The person who posted this picture seems quite happy disclosing that it was Halloween of 1989 and his sister was about to have a really bad day.
Is it okay if we laugh on this one? We all must feel bad about it, right? And why is the grandma not looking after the infant instead of the older kid?
When Machine Turns Against You
Most of us have watched the Terminator film series. Who knows maybe the machines will turn against us one day.
But this photo shows that they might've started to plot against us. This poor person just wanted to drink water but the machine had other plans of dehydrating this person to death.
Hey, Here is Your Phone'
We've seen videos of dolphins rescuing dropped phones and bringing them back to their owners. They look so cute, right? Well, this croc wanted to change people's perception of its species as well.
The croc found the perfect opportunity when a girl dropped her phone. Although the croc mustered enough courage to return the phone, the young girl was too afraid to have it back. We feel so sorry for the poor croc (where's the tissue box?)
Snake On A Car
If you've watched the movie Snakes on a Plane then you can imagine how the driver must've felt after watching this snake.
The lady was driving her car and almost crashed it when she saw this snake coming out of vents. There was nothing to worry about because this corn snake is not venomous.
Is That a UFO?
There must be a drunk guy in a pub in England recounting the time he saw a UFO at a music festival.
So it happened to this unlucky guy at Glastonbury in 2017. We hope his girlfriend wasn't in the tent.
You Better Take An Uber
As we have started to rely too much on technology, nature finds some ways to make us consider what we used to do in the old days. This person must've taken an Uber to work/home.
A possible explanation for it is that the queen bee must've gotten itself trapped inside the car. It is because worker bees can be really protective of their queen bee.
Finally!!!
The person who posted this photo claimed that he had been waiting for this to happen for almost 24 years and finally it did happen. He seemed too happy about it.
We are surprised it took that long because low bridges tend to get hit quite often by drivers who can't read the sign or act smart enough, and think they can squeeze under them.
This Apple Won't Keep The Doctor Away
This person just wanted to eat an apple. However, the slicer broke and now it has become a dangerous apple.
This looks like a Pinhead Apple or even a wolverine apple. One thing can be said with certainty that it won't be able to keep the doctor away – it is a ticking time bomb.
Evil Toner Powder
It looks like a scene from a horror movie in which this printer is a door to the other side. We wish it was true. In reality, it is just something that resulted because one of the teachers was having a bad day.
On the right side, you can even see the footprints of the culprit. It could be expected that no one came forward and accepted their mistake. Perhaps, the school hired a private detective to solve the crime.
"Paint Oneself Into A Corner"
We are not sure if he is not a professional or he didn't think it through before starting the paint job.
Well, he must be thinking about calling for a helicopter or something because he can't get off this roof without damaging the painted work.
"Thong Guy"
This is a really hilarious one. So, this guy's belt broke and out of desperation he came up with the idea of using a shoelace as a belt for work. What could go wrong, right?
Well, now the whole office thinks that he is the "thong guy." That did not go as planned. At least he didn't drop his pants in front of everyone.
Someone Must Be Pulling Their Hair Out
Imagine Sheldon Cooper from the Big Bang Theory going insane over not finding the last puzzle piece.
This can turn out to be the last nail in the coffin for people who love/hate puzzles.
A Nightmare About To Come True
Imagine Sir David Attenborough narrating it as "here we can see a wild transport vessel showing off his tail to attract a female vessel."
The possibility of losing so many containers must be like a nightmare for the ship crew.
It's None Other Than Monday
The first thought that comes to most people's mind after watching this picture is: "it must be Monday morning."
You cannot blame the person for placing the cup upside down as he was already getting late and needed coffee badly.
'I Quit'
Whoever was given the task to clean this mess must've quit his job right then and there.
The person who posted this photo said it was the worst-case scenario after years in retail.
Yes, It Happens In Real Life As Well
If you ever thought that it only happens in cartoons, you were never so wrong in your life. We feel bad for laughing at someone, but this is just too hilarious. We are sure they had a lot of laughs as well.
The person who shared this photo said that it happened at their aunt's house. This must be the repair guy.
Not The Right Place
Although there is no right place to have your pants torn like that, we have to feel sorry for this soldier here.
His facial expression shows that there is heavy detention coming his way, aside from the embarrassment of course.
Spray Tan Tears Won't Go Away
This photo was trending on twitter some time ago and it certainly has what it takes to be a viral tweet.
We won't go into details why she cried after the spray tan (hint: she was with her bf), but we can only say that the streaks on her face do look cool.
Did You Bring The Fishing Rod?'
These cops definitely didn't pay much attention to how deep it was and decided to take their chance. It was a rather unwise decision that made their day go from average to worse.
To make the best of it, they should've come prepared; with a couple of beers and a fishing rod. Did you know that there is a "stupid-motorist law" in the U.S. state of Arizona that states that the driver needs to pay the cost of the rescue plus a fine? Although they are police, they must've ticketed themselves.
One Small Mistake
Here is an example of a small mistake and bigger consequences. This is a result of forgetting to put the drain plugs in. It was a simple task and both of them forgot to do it.
It seems like one of them is trying to pin it all on the other person. Well, it's too late now.
Never Leave The Car Open… You Never Know Who'll Get In
This has to be the funniest one on our list. It is super hilarious, and we wish we could see this person's reaction. He knows that he has nowhere to go. He knows that the car is going to be thoroughly washed, and only then he can drive the car without having any disgusting thoughts in his mind.
We know for sure that he must've rushed to the nearby store to wash his hands. The hand-written note wasn't spared either.
Ah, The Irony
We can say that the "eye-rony" here is too big to neglect. Is that a secret passage to Hogwarts?
Fortunately, no one was hurt in this accident and this just proved that the driver seriously needed his/her eyesight checked.
Lucky Escape
Okay, this inclusion in our list is really terrifying. This person stopped because he thought his tire popped. However, this photo shows that maybe someone was trying to assassinate him.
Fortunately, no one was hurt and we cannot really understand why this person took this picture instead of going straight to the police station.
That's Not Milk
So, this person's mother bought milk from the store and it tasted funny. They later found out that it was not milk.
We are pretty sure that this packaging is quite misleading and the lady simply bought it after seeing a cow with a broad smile on its face. Hey, at least it is safe and non-toxic.
Invest In Some Toys and Not A Phone
Here is a photo of a dad with his son who is perfectly okay after ordering 94 dollars worth of pizza off an app called Slice.
The app doesn't require payment info verification when placing an order, so the baby had no problem in ordering whatsoever.
Jealous Scissor
Although we think that appliances have no life in them, they actually love us and get hurt when we replace them.
This scissor knew that other more beautiful and stylish scissors had come to replace it, so it had to do whatever it takes to avoid the inevitable.
Closed Donut Shop Made Police Officer Sad
This police officer is not sad because he is working on Thanksgiving, he is sad because his favorite donut shop is closed.
This is without a doubt any cop's worst nightmare. We just hope we could do something about it or even give him a hug.
When You Just Can't Stop Loving Your Job
This is what happens when you cannot get enough of your job. This garbage operator gives zero chills over anything and all he wants to do is just head back home and get some rest.
People were worried who threw the garbage all over the place and they were shocked to find that the person behind it is the one who is supposed to collect the garbage.