Mastering and using Photoshop is an art form all on its own. There are so many different ways you can put your own spin on images using it. And while most people edit their photos to "fix" imperfections in their images, some really set themselves apart by delivering… well, by delivering whatever you would call the images on this list by photoshop master James Fridman. Fridman technically did what he was asked to do, but he did it in the most unexpected and hilarious way. These are some of his best from around the internet.
More Interesting You Say?
We thought the first photo on the left was pretty interesting, but the girl in the photo asked for her image to be spiced up a bit. So, the artist who edited it added a bullfighting ring and a bull to the image. What's more interesting than a bullfighter? Just about nothing. The dress already being red also helps; you really almost fear for this girl's life in the second image.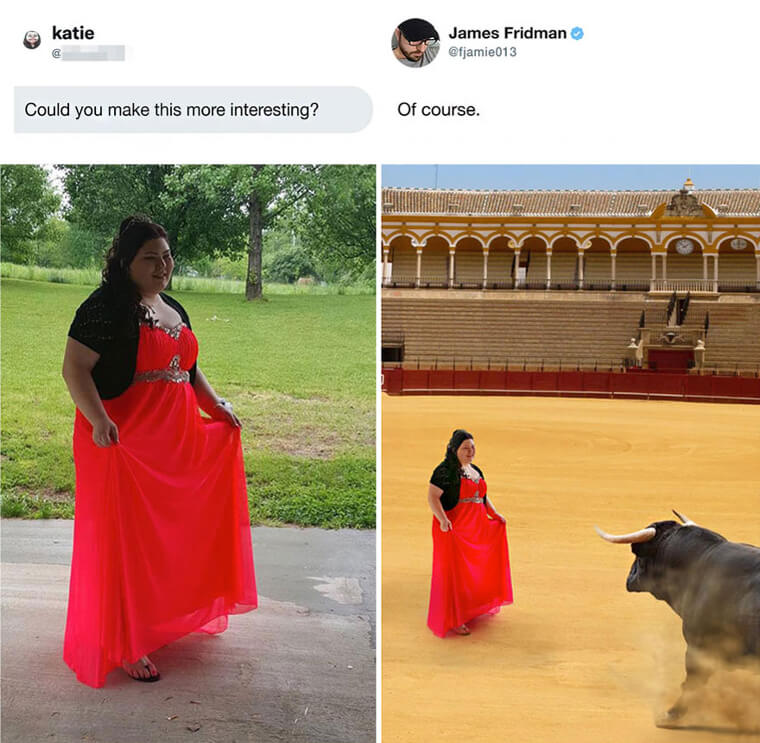 Still, we think the finished photo would've been a tad bit better if there were actually people in the stands. Why would a bullfighting ring be completely empty?
Poor Guy Never Saw It Coming
The guy in this photo sent in a request, asking that the nuts in the photo on the left be removed. We're not really sure why since the whole photo looks a little off and the two of them look like they just woke up anyway. But he got his wish and ended up post-surgery in the photo on the right. We can only guess at what kind of surgery he was actually meant to be recovering from.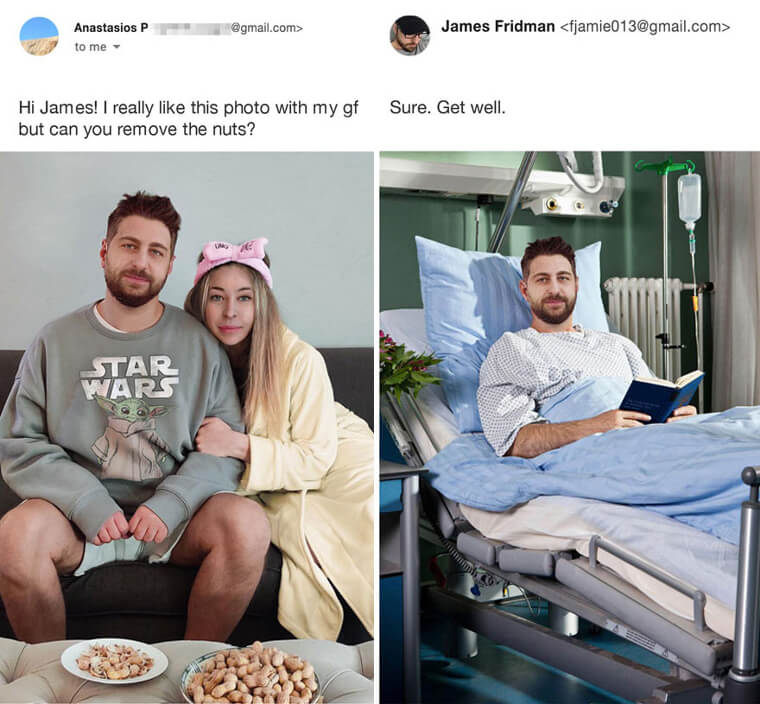 We think it had something to do with his wording when he referred to the bowl of nuts, but that's half the fun of some of these. The girlfriend was completely removed from the photo on the right, too.
A Covid Version For Remembrance
It might seem odd to want to remember the height of the Covid pandemic, but we can understand if that was when you were married. These two eloped during quarantine, and the bride wanted a version of them wearing masks so that she could remember. However, she didn't exactly get a version of her and her husband wearing Covid masks. Instead, they both got masks from that one movie about a mask, which is honestly much better.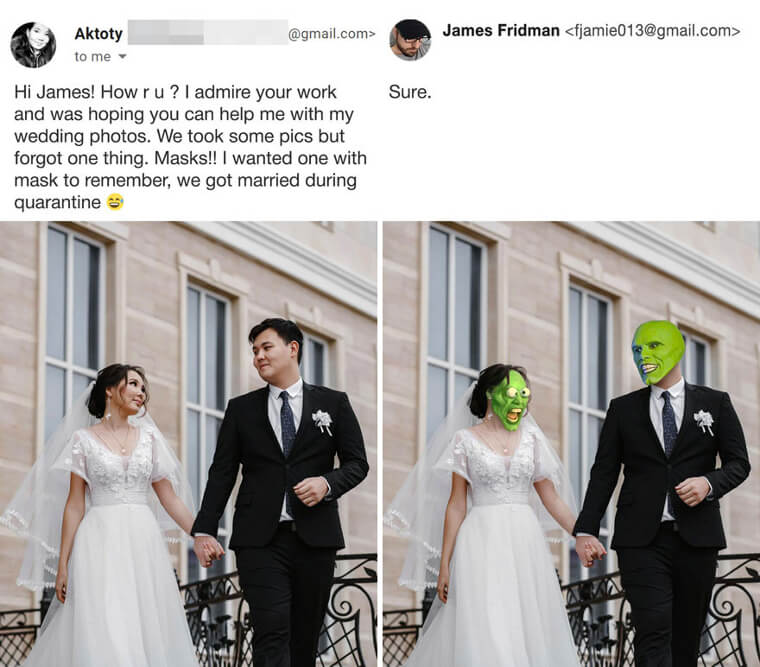 How many people can honestly say that they have wedding photos of themselves wearing THE mask? We suspect not too many unless you're maybe someone who worked on the set of The Mask.
Turned To Stone
Isn't it just really annoying when some random person ends up ruining a photo you really like? This girl thought so and asked for the guy in the background on his phone to be removed. He was replaced with a stone statue to match the one on the right, but he's still peering down at his phone. He must've been looking at something really interesting for it to completely turn him to stone like that.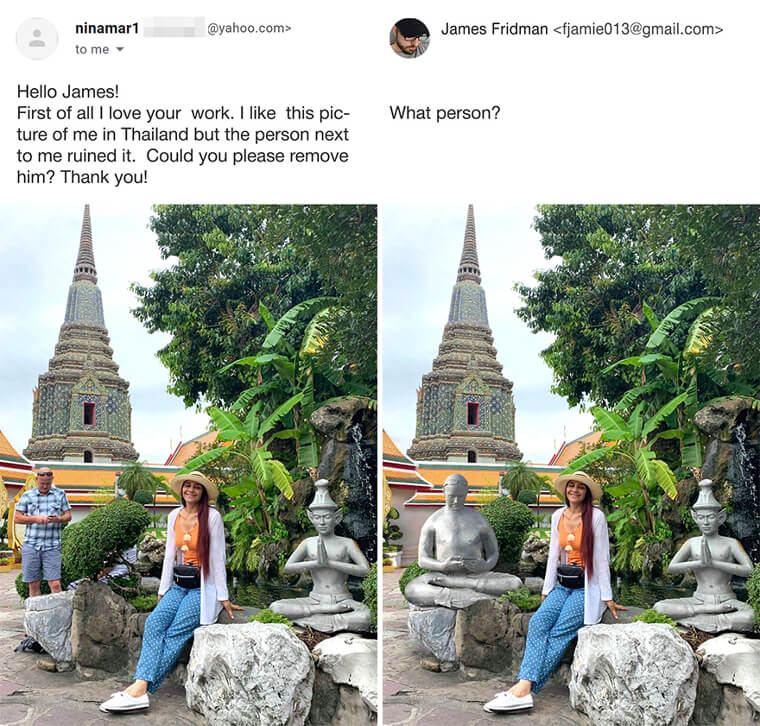 The best part about this image might just be that it takes you a second to even realized one of the statues in the photo doesn't belong. It would've taken us a while to spot it if we didn't have the photo on the left.
Pool Anyone?
Candid photos can be great sometimes, but most of the time, people are just doing things that look a little bit awkward when captured in a still. This woman's sister-in-law happened to be moving her arm when this photo was captured, and it turned out a little funny looking. She asked that something be done about her sister in laws arm to make it look more natural. But, as you can see, the only way to make that look more natural was by adding a pool stick and table.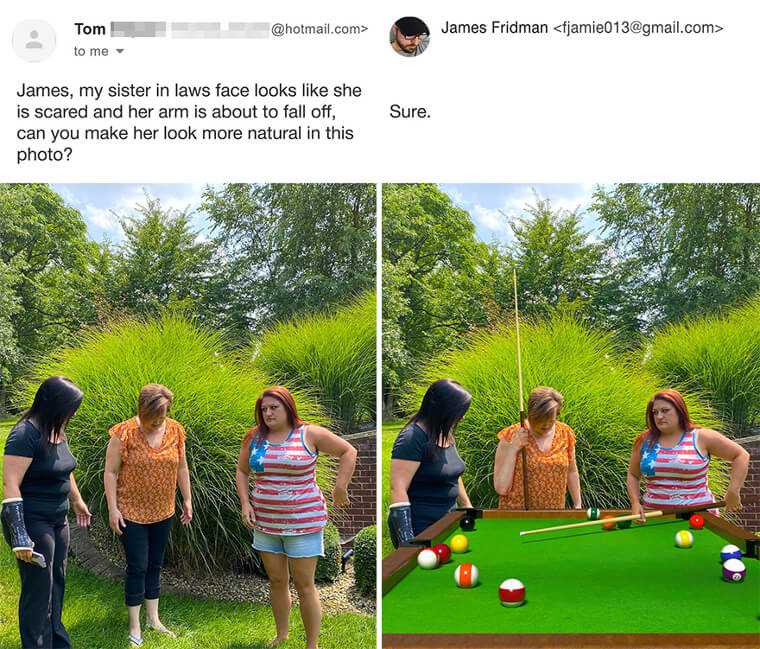 But, like most of the other photos on this list, the finished image does achieve exactly what was asked of it. She looks much more natural, setting up a shot.
That's Definitely Not The Same Octopus
Compared to some of the other photos on this list, this one really is kind of an upgrade. This girl asked that she be photoshopped to look more natural and less awkward. And there really isn't much wrong with the photo on the left (unless you're vegetarian or vegan). So, she was just photoshopped in a scuba diving outfit hanging out with what we can only assume is a completely different octopus.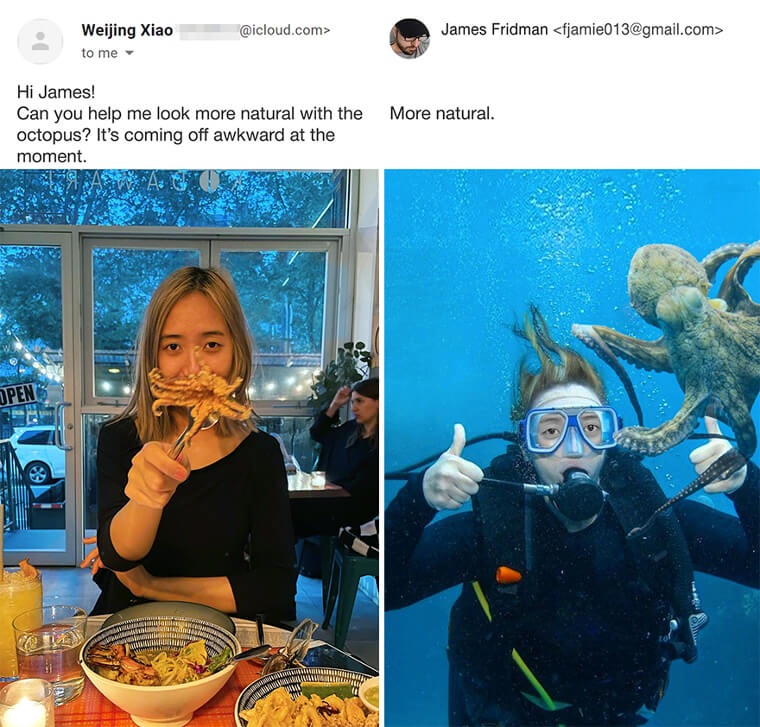 If it did somehow turn out to be the same octopus, then that'd actually be kind of sad, regardless of whether or not you're vegetarian or vegan. The octopus just looks like it's having a lot of fun in the photo on the right.
All Smiles
A lot of people have been in this same exact spot. The girl in this photo wasn't very happy that her boyfriend didn't want to smile for the camera. So, she asked that he be made to "look remotely happy about being with me." The photo she got back had her holding a laptop with her boyfriend tuning in remotely from what looks like a tropical island or something.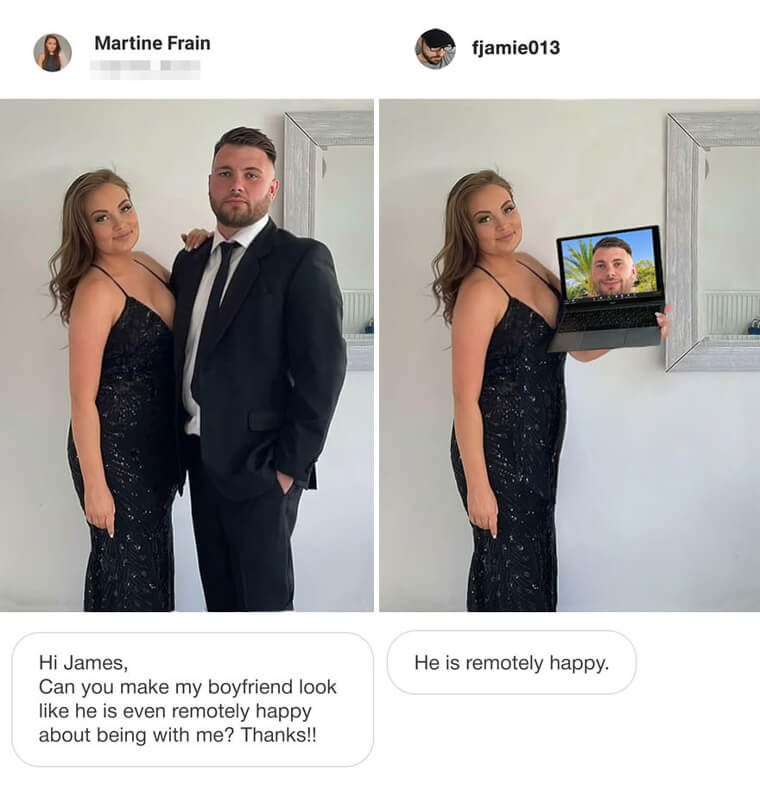 However, he is now smiling in the photo on the left. So, her wish was fulfilled. But now it seems kind of weird that he'd rather be on a beach somewhere instead of showing up to the shoot.
Changing Up A Boyfriend's Old Shirt
This photo was sent in by a girlfriend who was complaining that her boyfriend constantly wore the same shirt in all of their photos. And honestly, who can blame him? We all have that one t-shirt we love to wear all the time. Anyway, she asked for the Calvin Klein logo to be taken off the shirt. The photoshopped image shows the boyfriend without his favorite shirt but with a tattoo sporting the name of his favorite brand.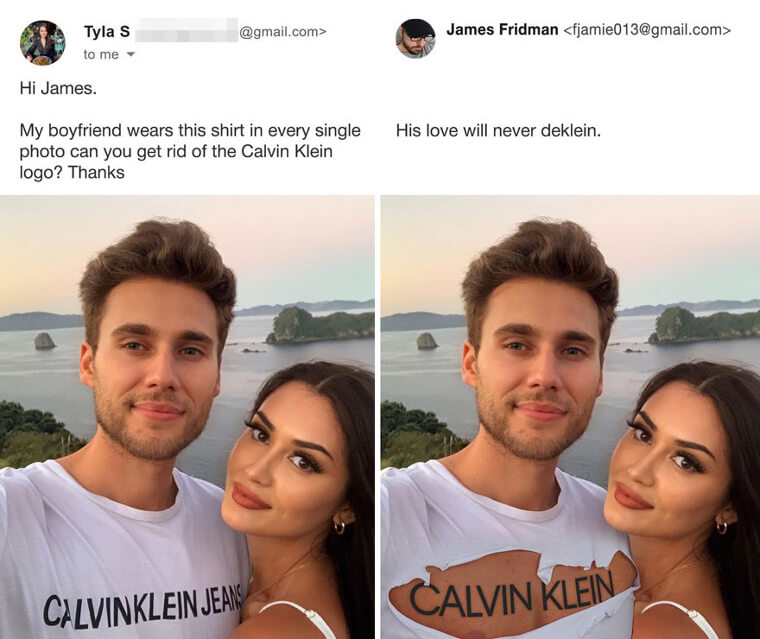 And we love it. We also loved his response when he posted the finished image on Twitter. He wrote, "his love will never deklein," which is just perfect.
Replacing Fingers With Toes
This one is probably pretty obvious, but the girl in this photo asked to have the guy's two middle fingers removed. We can imagine why you might want something like that removed from a photo. However, they just ended up being replaced by the guy's index toes. Still, they're his index toes, and not his middle toes, which we suppose is much better than the pose he was doing before.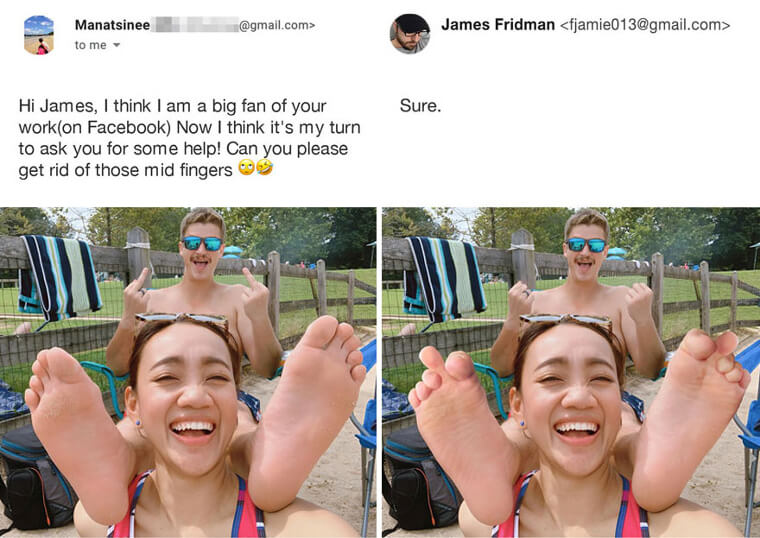 It also just looks goofy, which is not a bad thing. In fact, if you hadn't seen the first photo, the second one would actually be pretty believable as far as some of these are concerned.
At Least The Hair Is Gone?
This is honestly kind of a thoughtful request. The girlfriend in this photo noticed that her hair was all in her fiance's face. So, she just asked that a couple of strands be removed so that you could see him clearly. Instead, she got a weirdly disproportional neck. It accomplishes the same thing, we suppose, but honestly, it looks like it would've been a lot more work than removing some hair.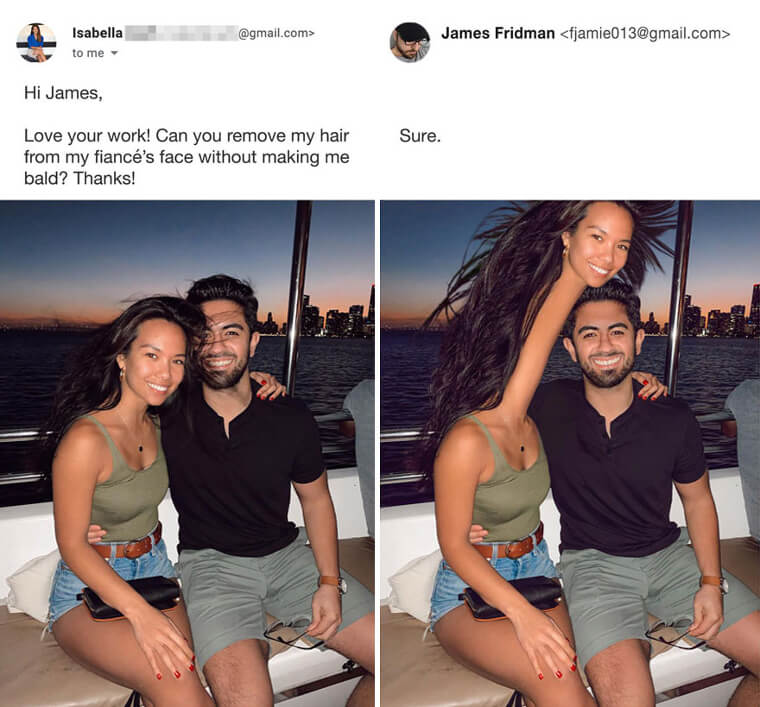 Then again, we could be wrong because we couldn't work Photoshop to save our lives. This could've honestly just been the easier and quicker solution, even if it does look a little off.
An Awkward Photo Of An Ex
Everyone has, at one point, had an awkward photo of an ex. It's even worse if you actually like the photo, but it's just completely ruined by the fact that your ex is there. This girl asked if her ex could be photoshopped out of the picture, which wouldn't really be easy to do. Her entire posture depends on someone or something being there to support her arms and hands.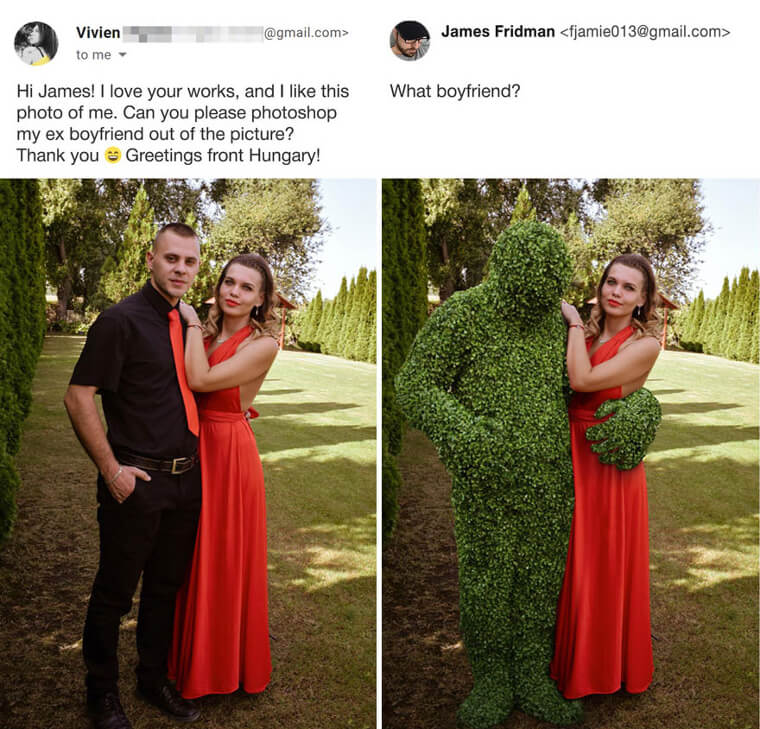 So, the guy just photoshopped a man-shaped bush into the picture, and it's pretty genius. Her ex is no longer there, and her posture still makes sense, even if the reason she's hugging a tree is a little vague.
Watermark Removed, Mission Accomplished
This Photoshop job is great on so many levels. This guy asked for the watermark to be removed, which isn't that hard to do if you're somewhat familiar with Photoshop. However, it's also how photographers protect their work from being used without being paid. That might be why this guy just got back a completely unusable image. The only thing that was done was that the entire middle portion containing the watermark was taken out.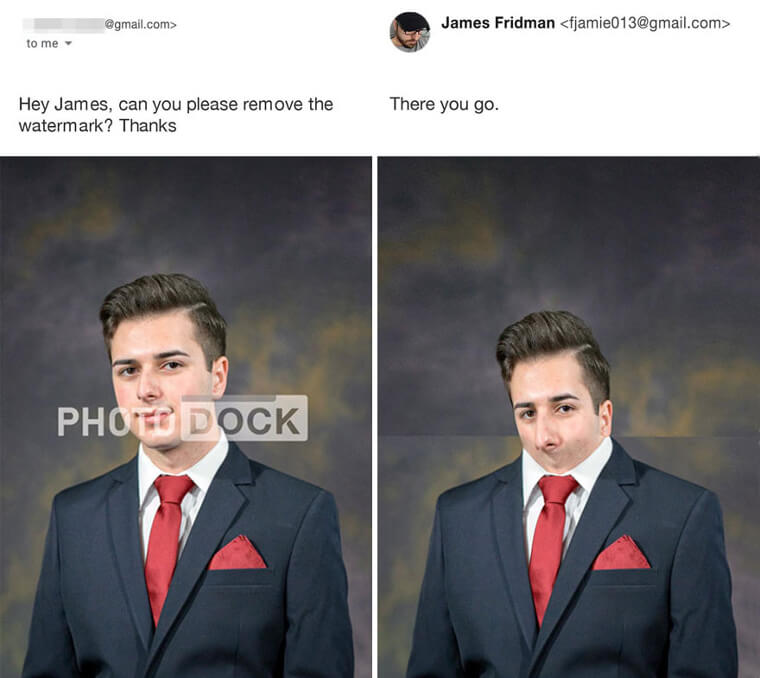 The rest of the photo was just slid down, which ended up making it look like the guy has no neck or mouth. His proportions are also really weird in the second photo.
What's That Left Hand Doing?
What's more awkward than this guy's hand in the photo on the left? Yeah, it's his hand in the photo on the right. He basically asked for his left hand to look less awkward by holding something. It's holding something in the photo on the right, but it doesn't look any less awkward. If anything, we can't really take our eyes off of it now. At least in the first photo, there was a chance you'd miss it.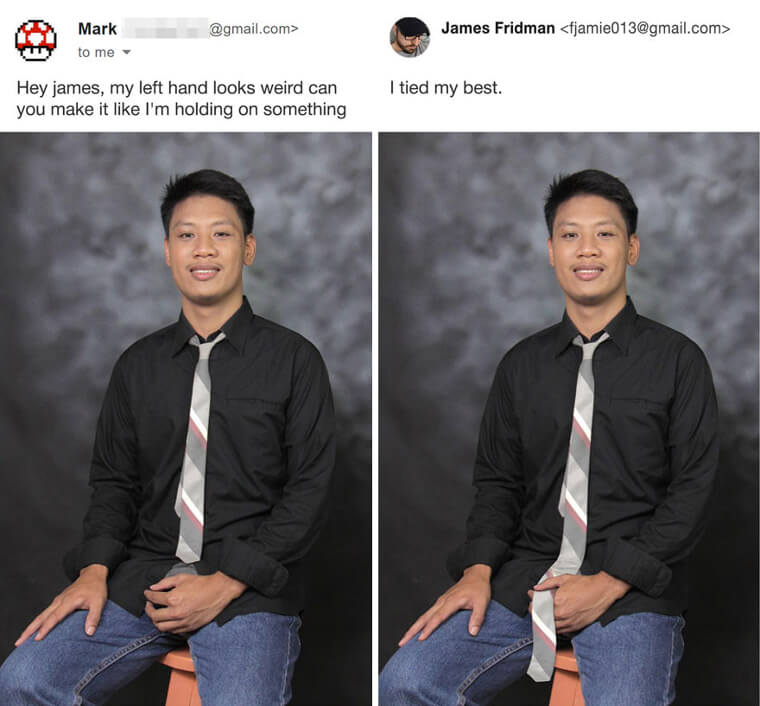 That said, we do hope this guy ended up using the second photo for whatever he wanted to do with it because it's absolutely hilarious. It'd work for just about anything.
"How Close Can You Get Us? "
This poor couple. They asked to have their photo taken while out on vacation, but for some reason, the random stranger who took their photo asked them to stand further apart. His reasoning? He wanted to make sure that he got the tree in the background in the photo. It's a nice tree and all but we're not really sure what his obsession with it was. Understandably, the girlfriend wanted that awkward space between her and her boyfriend removed from the photo.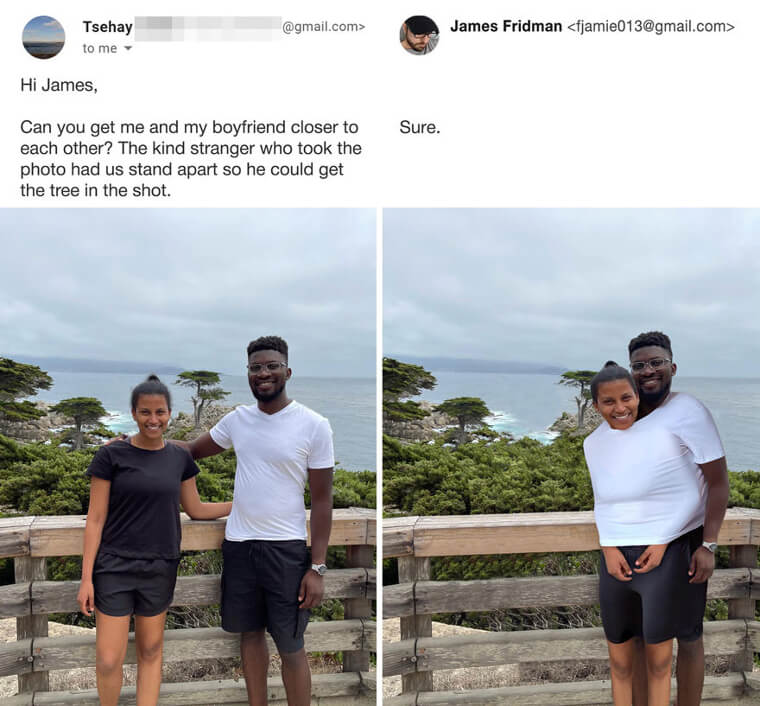 But she probably didn't have this in mind when she said she wanted her and her boyfriend "closer" together. There are some serious attachment issues at play in that second photo.
Teach A Man To Fish…
If you've ever seen a photo on social media of someone hiking or doing something else outdoorsy, but they're completely dressed wrong for the occasion, then you can probably relate to this photo. However, to this girl's credit, she knew what she was getting into whenever she asked for a photo of her holding a fishing pole to be photoshopped. She said, "can you make it look like I actually know how to fish?"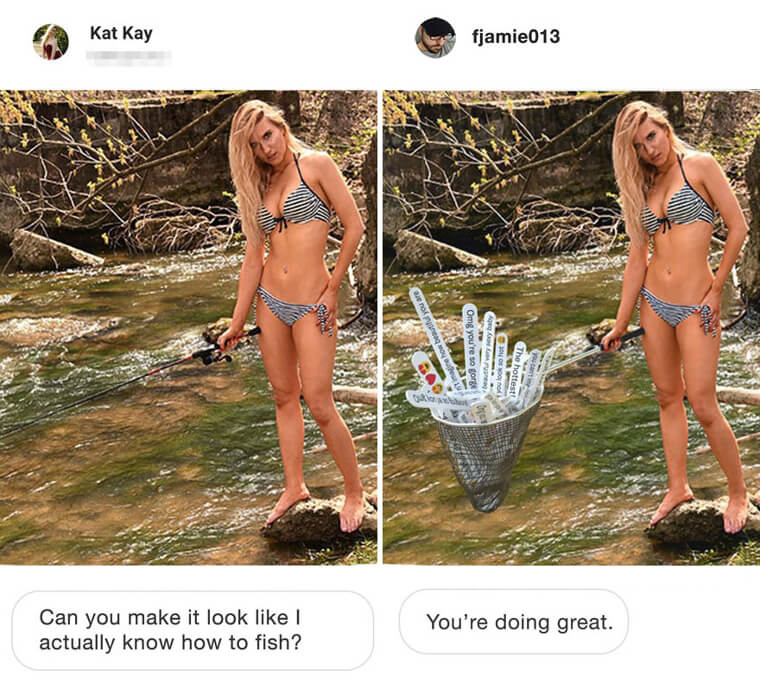 The photoshopped image is pretty good. The pole was turned into a net filled with all of the "fish" or comments that you usually see in photos like this.
Why Photoshop Out When You Can Photoshop In?
For some reason, this bride-to-be had her photos taken at the edge of a construction site. There's a strange green wall and a weird pipe running across the ground. She asked for the pipe to be removed since it looked so out of place. Instead of removing the pipe, the guy who edited this image just added in a plumber to make the pipe look more "natural."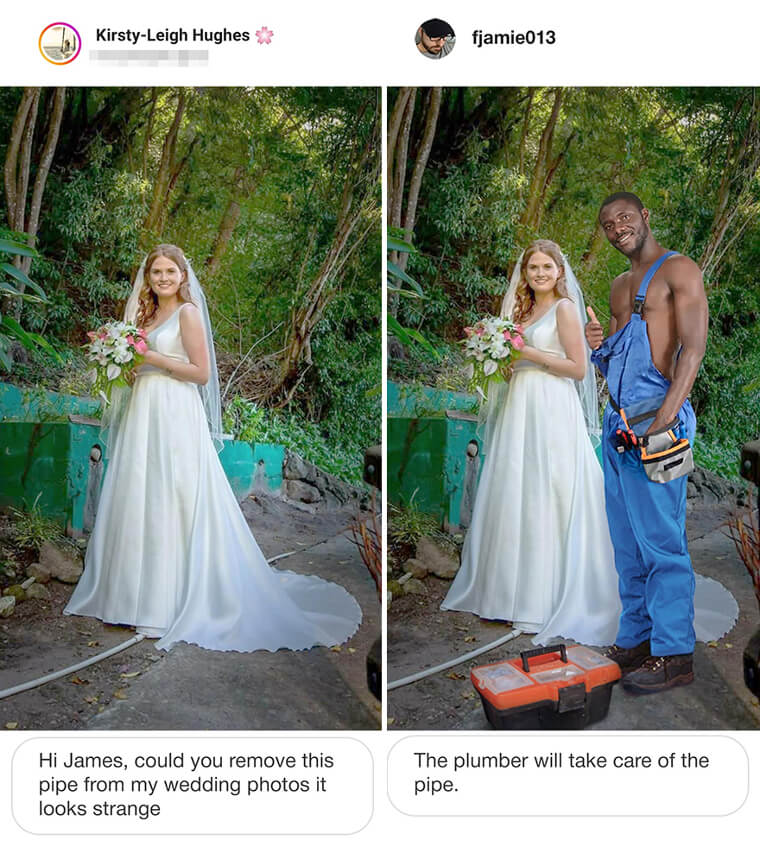 It actually just ended up making the whole scene look like the cover of a romance novel. The plumber's face and thumbs up are just like the icing on the cake, too.
At Least The Glass Is Gone?
We're not sure why a glass that's just sitting on the table in front of you would make you look clumsy, but this girl thought so and asked for it to be removed completely from the image. The glass was removed, but she doesn't really look any less clumsy in the second photo. It actually looks like she spilled her drink. Even her arm is wet in the photo on the right.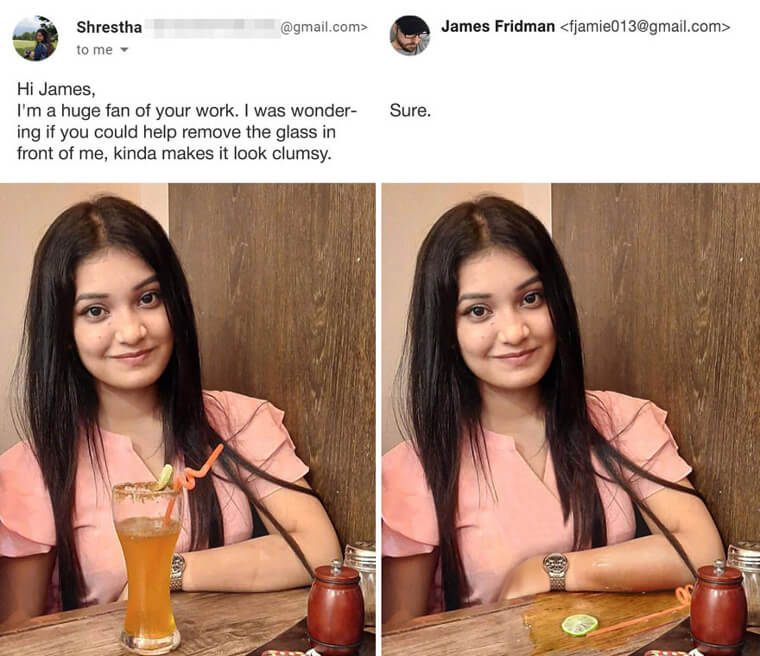 However, we like how the slice of lime was left on the table. It really draws your eyes down to the middle of the image and the spilled drink.
Creating The Perfect Homecoming Photo
Homecoming and prom photos are some of the most important you'll take while in high school. However, the photographer that was supposed to combine the two images on the left apparently backed out, and these two were stuck with separate photos of themselves. The girl asked to have the two photos combined. Her exact words were, "can you put these two together." But she didn't really specify which two she wanted together.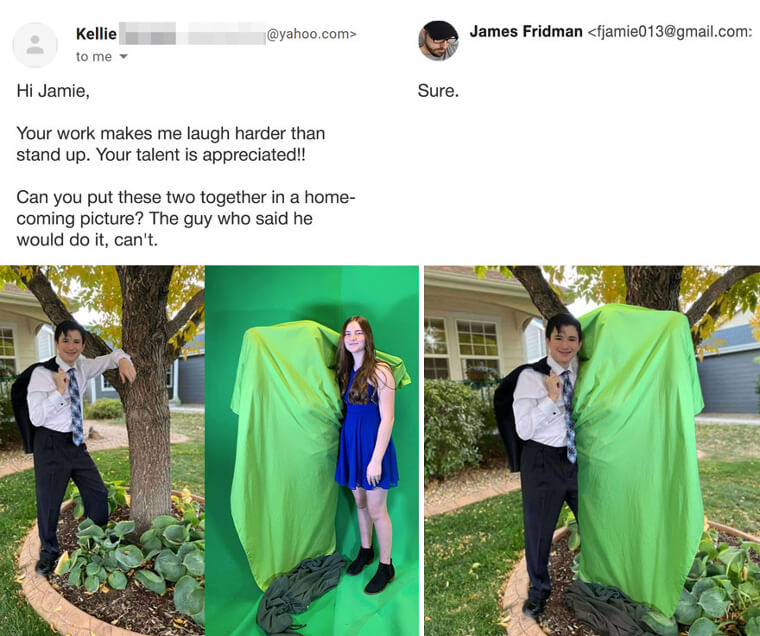 So, what she got was a photo of her date with whoever it was standing underneath a green sheet, and it's probably the most creative homecoming photo we've ever seen.
So That's What The World Looks Like
We absolutely love this edit. The guy in the photo on the right asked, "On this pic I forgot to take off my glasses. Could you remove them?" And as you can see (or can't see), in the photo on the right, the picture was just made to look like it was from the perspective of someone who wore really thick glasses. We're not even sure why this kid wanted to have his glasses removed in the first place, though.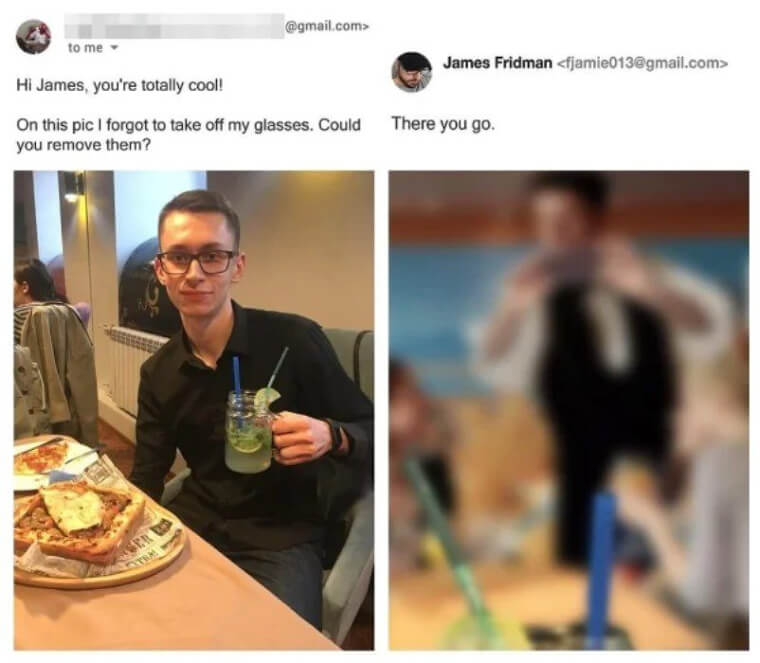 There's nothing wrong with wearing glasses. We're pretty sure something like 50% of the population or something like wears glasses. If anything, they make you look smarter than you would normally look.
Always Close Your Eyes When Kissing
There are just a few simple rules that pretty much everyone should follow, and one of them is to always close your eyes when you kiss. Nobody wants to look like that weirdo that kisses with their eyes open; it's just a tad bit creepy. It's also pretty hilarious. The guy in this photo asked that his girlfriend's eyes be photoshopped closed, but we don't think this is what he had in mind.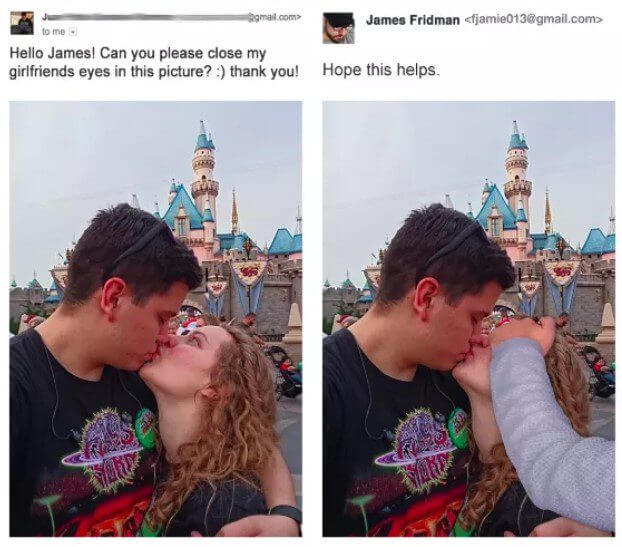 If there's one thing weirder than someone kissing with their eyes open, it's a random, outstretched arm putting their hands over your girlfriend's eyes while the two of you kiss.
This Photo Implies Sorcery Of Some Kind
The guy in the photo on the left is a really big fan of Muhammid Ali, and he and his girlfriend went to see his star at the Hollywood Walk of Fame. So, his girlfriend wanted to do something nice and asked if he could be made into a boxer. We're sure she wasn't talking about the dog here, but the photo on the right technically isn't entirely wrong.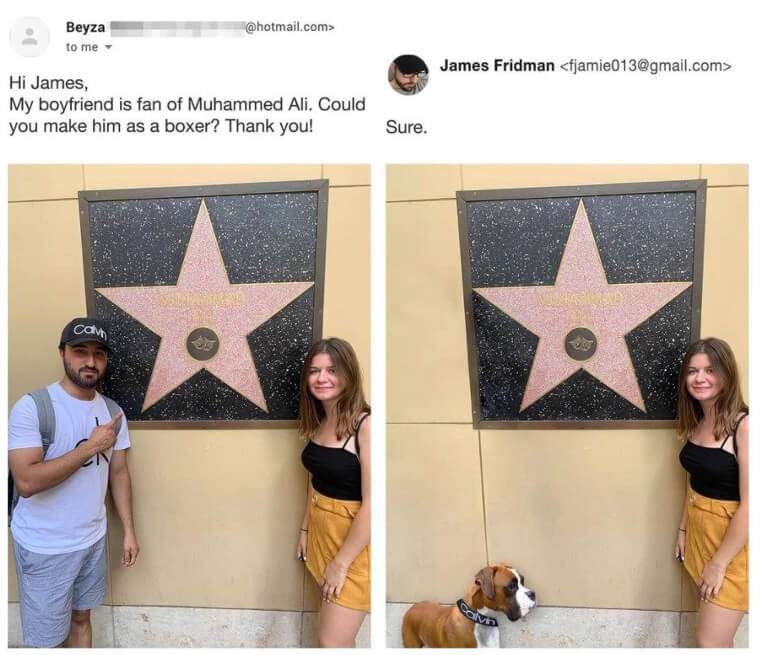 However, we are concerned that the boxer is wearing the boyfriend's clothes. That would imply that he was transformed entirely into a dog and that there was some kind of sorcery going on here.
Chill Out And Enjoy The Scenery
Be careful what you wish for, they always say. This girl asked that her background be changed to something "cooler". A lake seems pretty cool to us, but we guess she had something else in mind. She ended up being photoshopped into one of the coolest places of all, a freezer. Is that what they call poetic justice? Or is it irony? Either way, the photo on the right is great.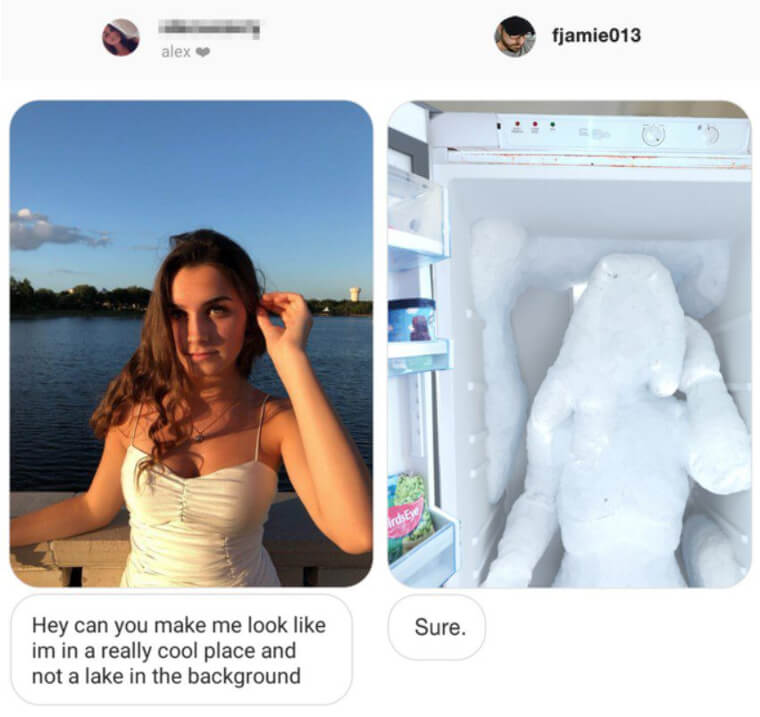 We just don't know how usable it actually is, considering you can't really see her face anymore or tell who she is. We guess she'll just be stuck using the boring old lake photo.
Breaking All The Rules
This guy knew what he was doing whenever he asked to be photoshopped into a "bad boy." That fanny pack and unicorn tattoo just say it all. So, a sign was added that banned pretty much everything he was wearing. He also got a warning that the police were on the way when he received the altered photo. We'd believe it, too. This guy was wilfully breaking every rule in that place.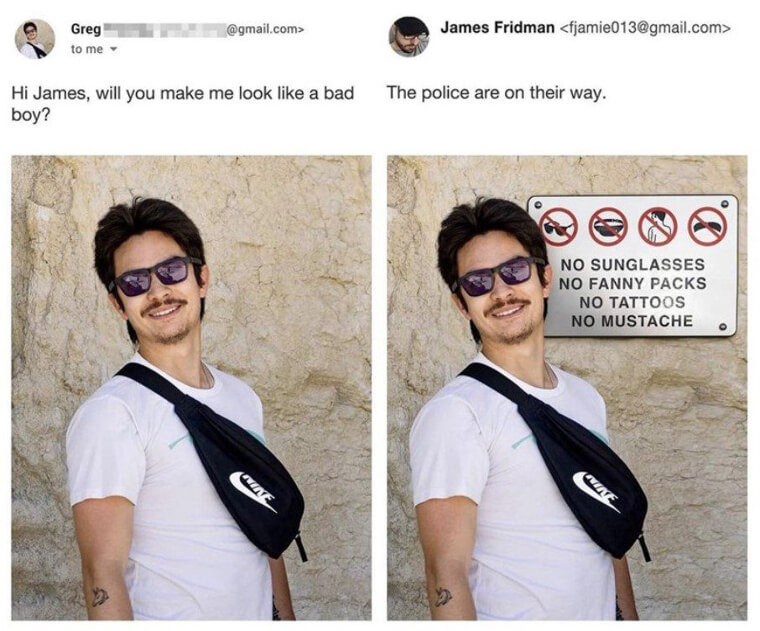 And everybody knows that only shady types wear fanny packs. Hopefully, he got away without getting caught after this photo was taken. We can't imagine how much time that would've been.
Interrupting A Chess Match
This couple had engagement photos taken, and their photographer apparently posed them right in front of two guys playing a game of chess. The bride asked that the two guys be taken out as they looked out of place, but to be fair, they were probably there first. So, they were taken out of the photo on the left and put in an auditorium for what looks like a chess championship.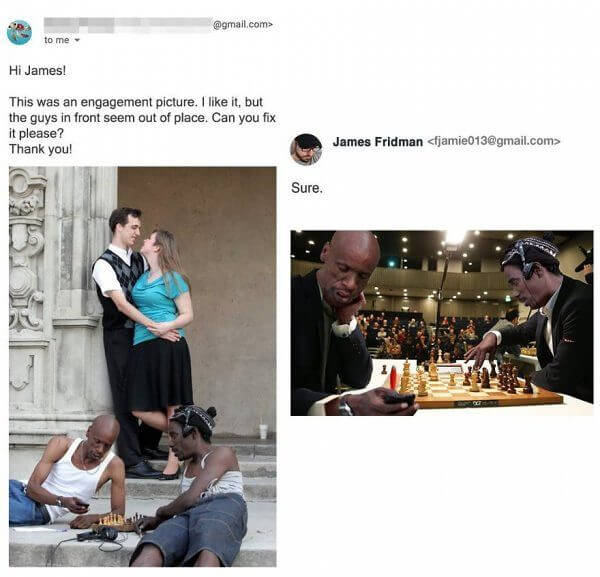 Our favorite part might just be the hand placement of the guy on the right. That's probably the daintiest way we've ever seen someone move to pick up a chess piece.