Having your own home is the number one of the best feelings in the world; another one is renovating it according to your own style and desire. These people wanted to show the world their home renovation projects. However, the problem is that their renovations didn't turn out the way they wanted. So start scrolling to find out more about renovation blunders. Trust us, you won't stop laughing.
When Comfort Is Not The Number One Priority
The builders of this tiny loft apartment were so desperate to find extra space to install a toilet that they didn't think it through at all. We should give them credit for successfully fitting a toilet in a cramped bathroom, but what about considering the dimensions of someone sitting on it.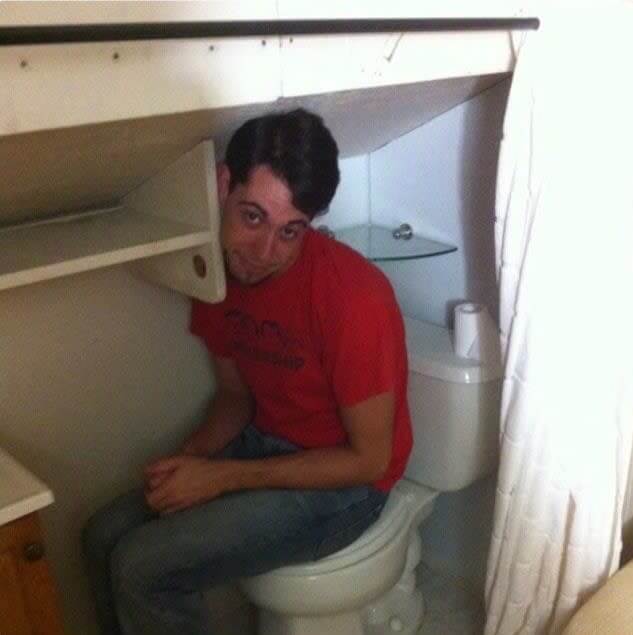 We know some people like to spend quite a lot of time sitting on the toilet because they love to use their smartphones there, who knows, maybe the builders wanted to discourage this habit.
Don't Know Whether To Laugh Or Cry
DIY is fun, and it saves you some money as well. But sometimes, it is better to leave the work to the professionals. All this person had to do was to call an expert to change one the door handle.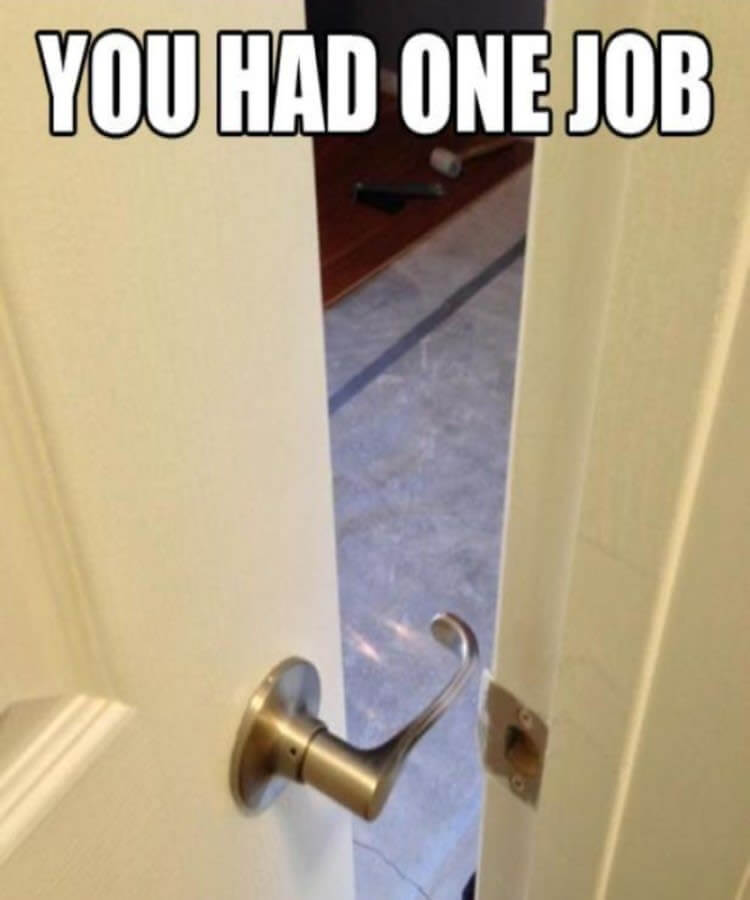 As the saying goes, "You had one job," this person wanted to save money and ended up with a mess. He thought it was a simple job, but he thought wrong.
When Hygiene Isn't A Big Concern
At first glance, you might think that this person wanted to make the best of limited space and did a good job, but then you look at the tiny, cramped stairs and wonder where they go. If you look carefully, you'll notice that there's a toilet above the kitchen…yes a bathroom in a kitchen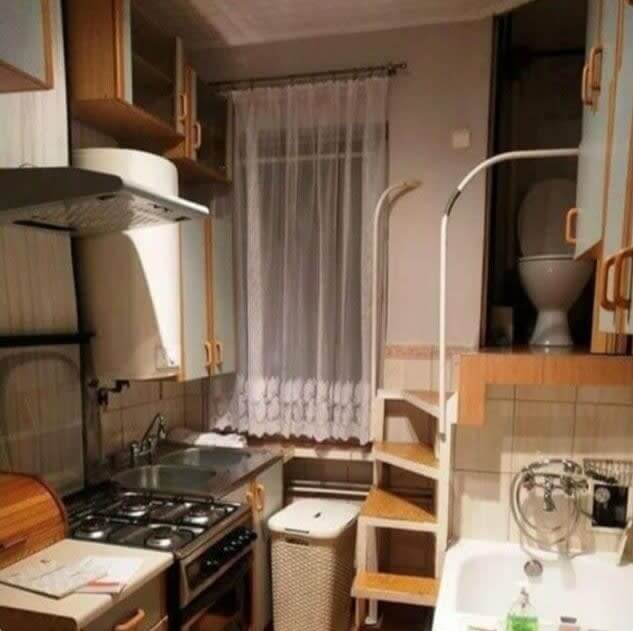 One can imagine this design violated many health and building codes. All we can say is that it is not sanitary to cook food close to a toilet. And to make matters worse, there is a bathtub close to the stove. The only thing this room is missing is a refrigerator.
When All The Tenants Have Spiderman Abilities
We are banging our heads on the wall, wondering how on earth someone didn't stop this from happening. As there are drawings involved in building or renovating a property, how could everyone let this happen?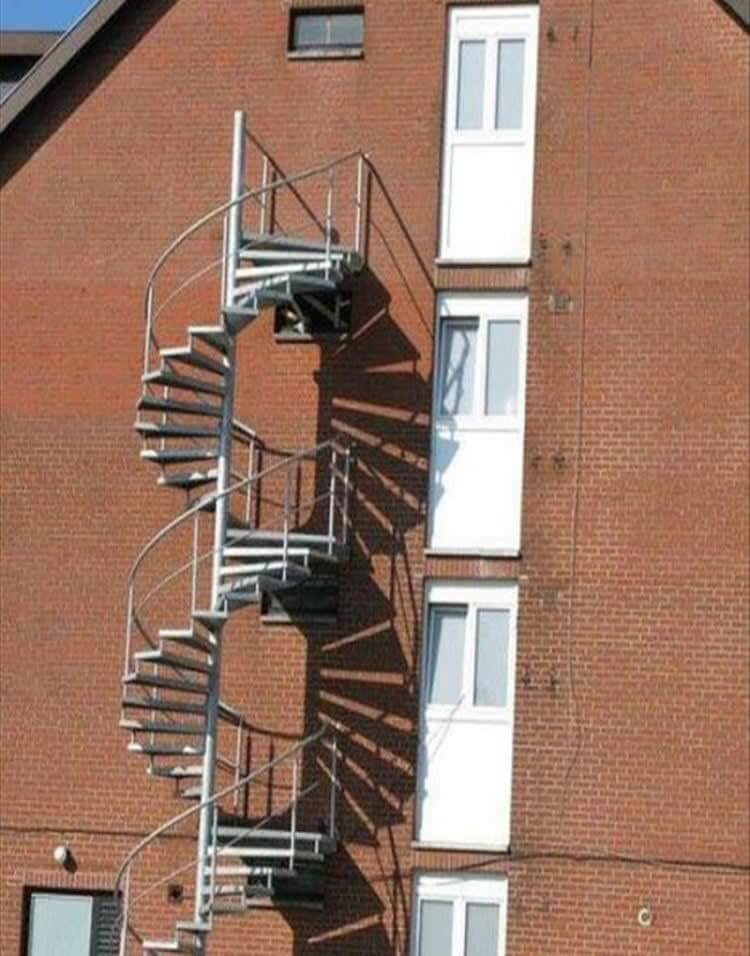 The only possible explanation for this is that everyone there was smoking some strong stuff and were laughing so hard that they thought it is better not to stop it. That's the only explanation that makes some sense.
When You're Obsessed With Mirrors
When you go to a clothing store and try on clothes, you probably notice that some mirrors are more flattering than others, right? Well, this homeowner seems to be obsessed with mirrors and got two mirrors hoping to find both of them flattering, and she quickly found out that she was wrong.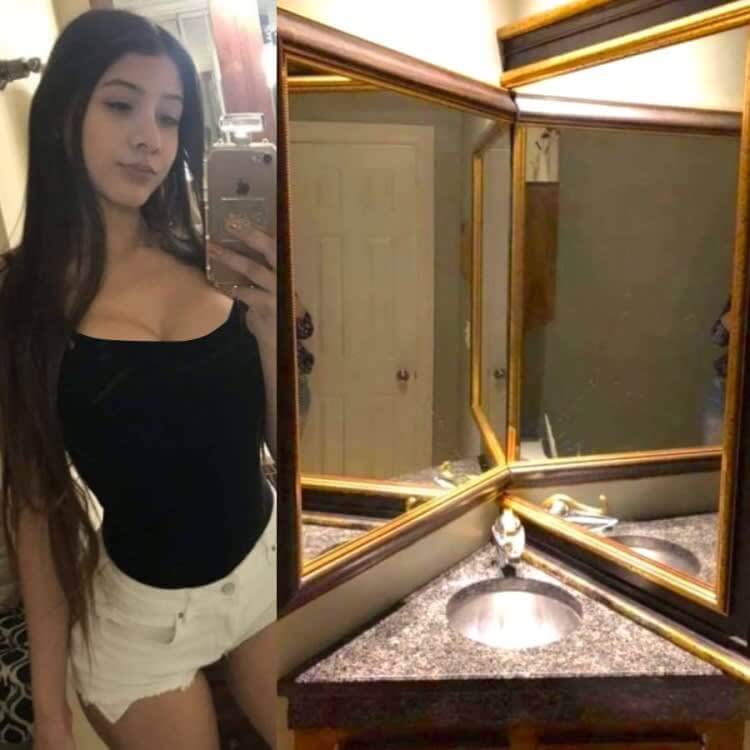 These two mirrors look weird as they aren't even the same style and size and have a disjointed appearance.
When Skateboarding is Love
It seems like this person wanted a driveway that could be used for skateboarding as well. It can be used for skateboarding, but it fails miserably to fulfill its real purpose. Or perhaps, the owner never intended to use it as a driveway.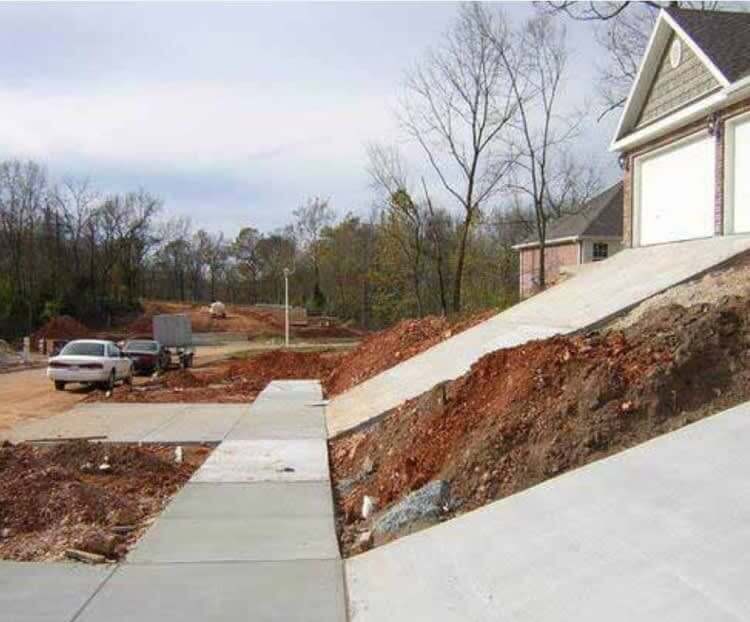 Nevertheless, the driveway is so steep, and you would always fear that your car is going to roll away, so you wouldn't be able to park there.
When You Don't Like Children
One thing that we can easily deduce from this picture is that the person who put this playground equipment on the roof doesn't like children. The drop is quite dangerous and someone didn't think carefully before putting the slide up there.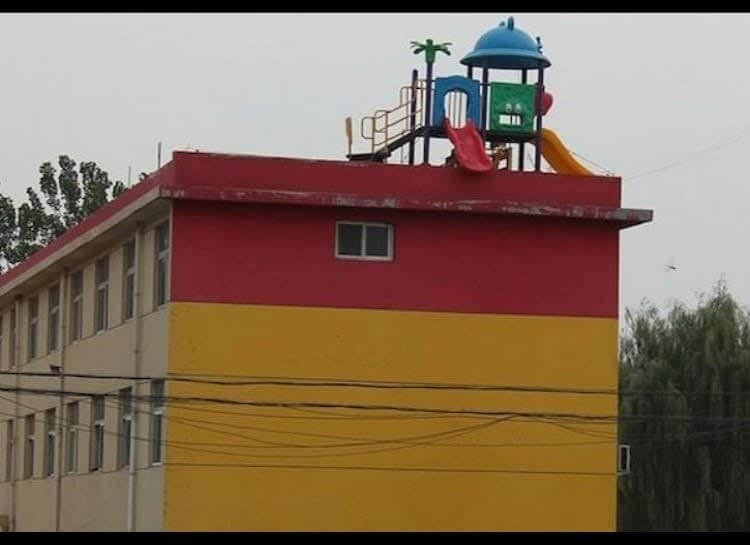 It seems like the school was tired of parents demanding to set up a play area, so they came up with a solution that would silence them.
Still Worth The Investment?
Just imagine spending hundreds of thousands on a sophisticated parking system only to have it crush one of your cars. Would you still think of it as a worthy investment?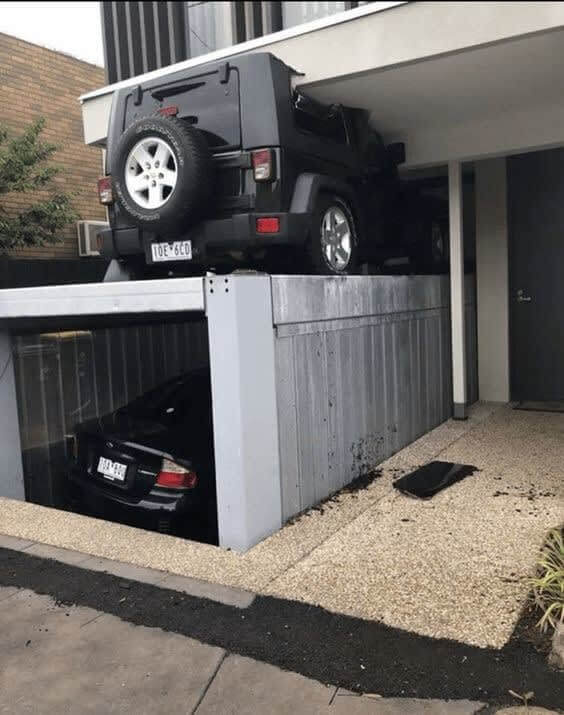 Well, this person mistakenly raised the lower parking level and crushed a car park on top of it. After spending so much money on it, you would think that there would be at least some sort of safety measure to prevent this from happening.
"You Shall Not Pass"
It looks like the person who created this masterpiece is a big fan of Lord of the Rings because that's the only possible explanation as to why the stairs are not doing a good job.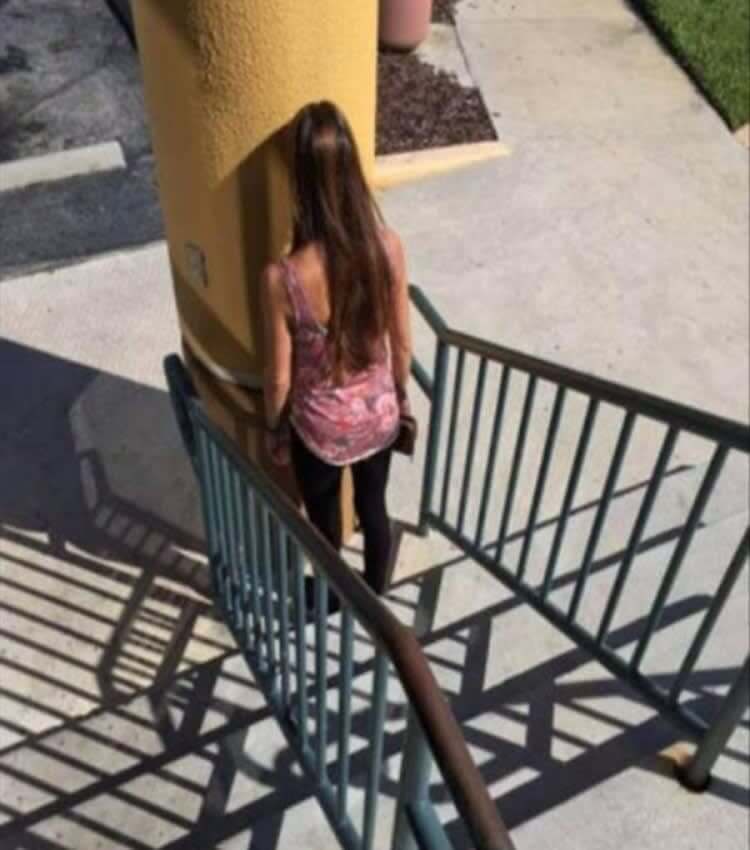 The only safe thing about these stairs is the safety rails. It is dangerous but a bit funny as well.
Just Hang In There
The person who designed these stairs must have a contract with the hospital to deliver them injured people almost every day.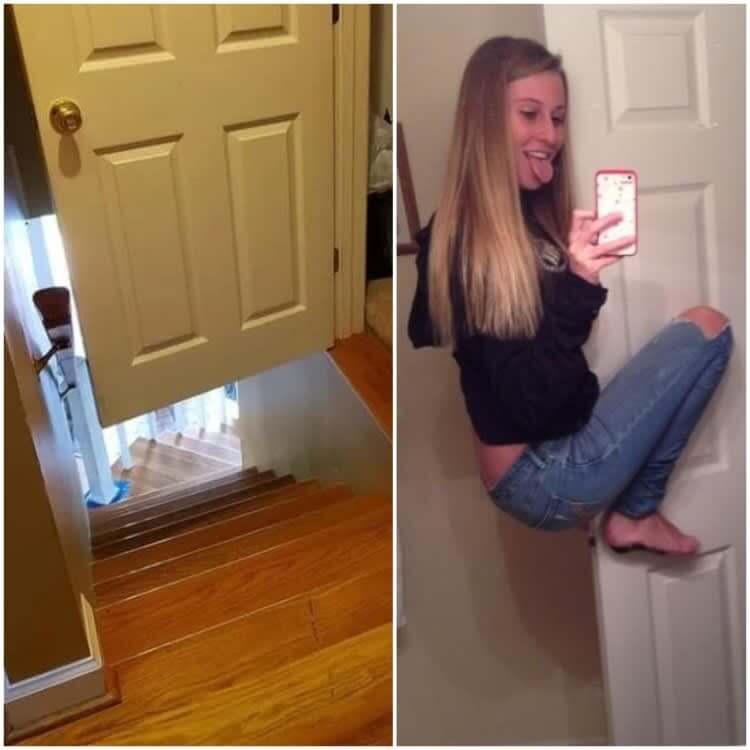 These stairs are like a door to a broken back, legs, arms, and other parts of the body. This bathroom door falls right in the middle of the stairway, and one wonders how on earth someone can go through with such a disastrous design.
Necessity is [Not] The Mother of Invention
This person was excited about his new home as everything looked perfect. However, there was a slight issue; he couldn't fit his extra-large fridge into the kitchen. So, he hired a contractor.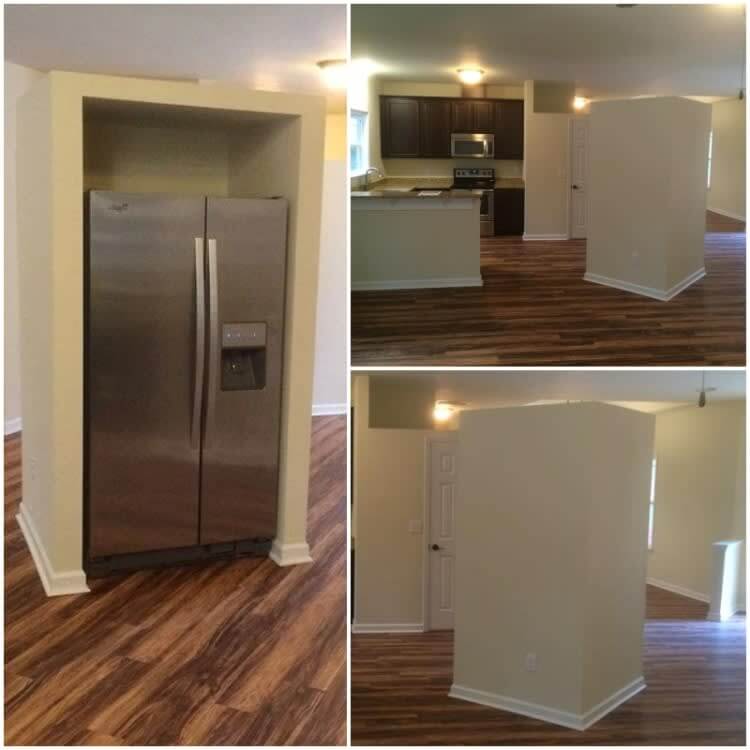 Well, the contractor decided to be a bit creative, and this is what he created. Now, his fridge is living in its little island in the middle of the kitchen.
"Squeeze in There Just Like We Squeezed The Toilet"
Many homes in Europe do not combine the bathroom and toilet into one space. As it means having two rooms, there can be some space issues. The homeowner noticed that there is a lack of space, but there was no need to worry because he remembered that the room only needs to be the same width as the toilet.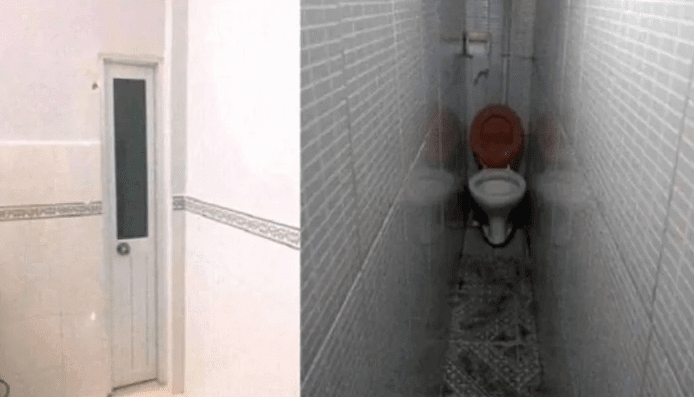 So, this toilet is only suitable for you if you're really skinny. Legend has it that everyone in the house maintained a strict diet to ensure no one gain weights.
"Told You Not To Wash The Curtains"
This is not a case of shrinking curtains from washing them, these are decorative curtains and this one made us laugh out loud.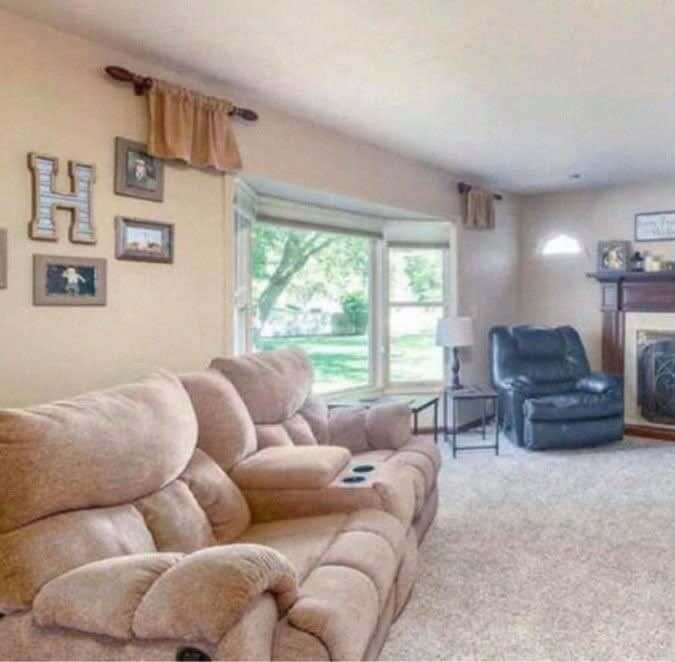 These are like hanging art as they have literally no function to serve in the room.
The Most Decorative Sink Ever
Why put the kitchen sink into a countertop when you can easily fit it inside a cabinet. Well, that's how someone thought and even went through with the idea.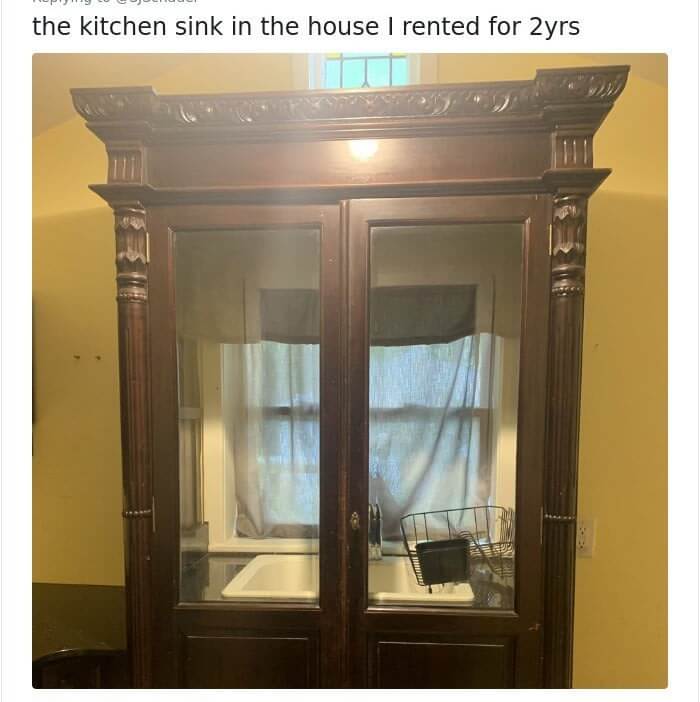 Maybe this person wanted to hide the kitchen sink from others. We are as shocked as you are right now.
Of Course, Finding The Middle Was Not Easy
Some people get triggered at seeing a slightly titled picture frame, and we wonder what would happen to them if they looked at this mess.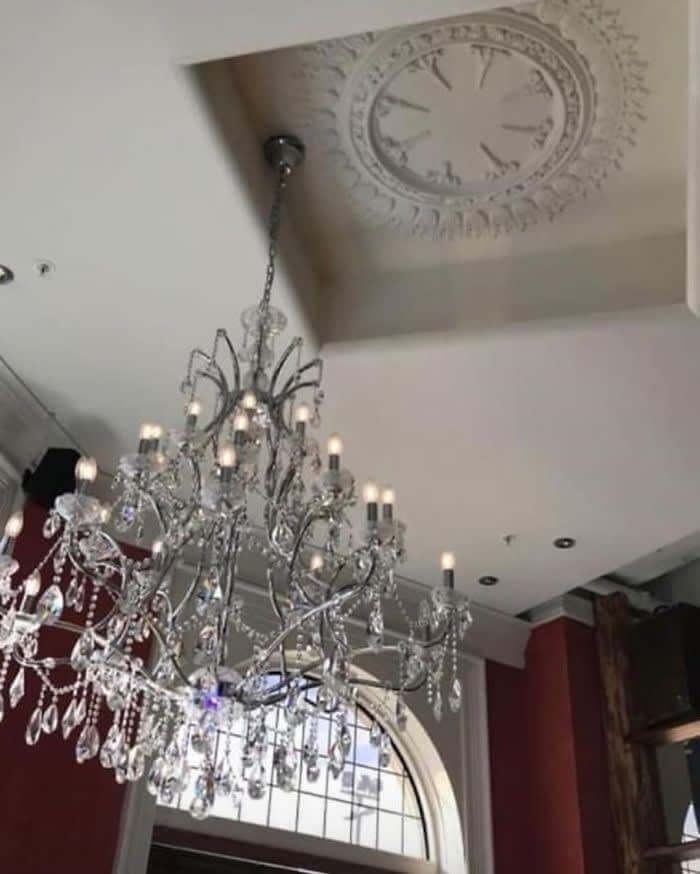 The family didn't want to ruin the ceiling with this chandelier, so they compromised on its beauty. This is indeed poor placement.
Floral Carpet? A Big Nope!
We love the idea of a unique carpet in almost any part of the house, but the bathroom is a big nope. After all, the rug is going to get wet, and then there will be mold. It also collects lots of bacteria.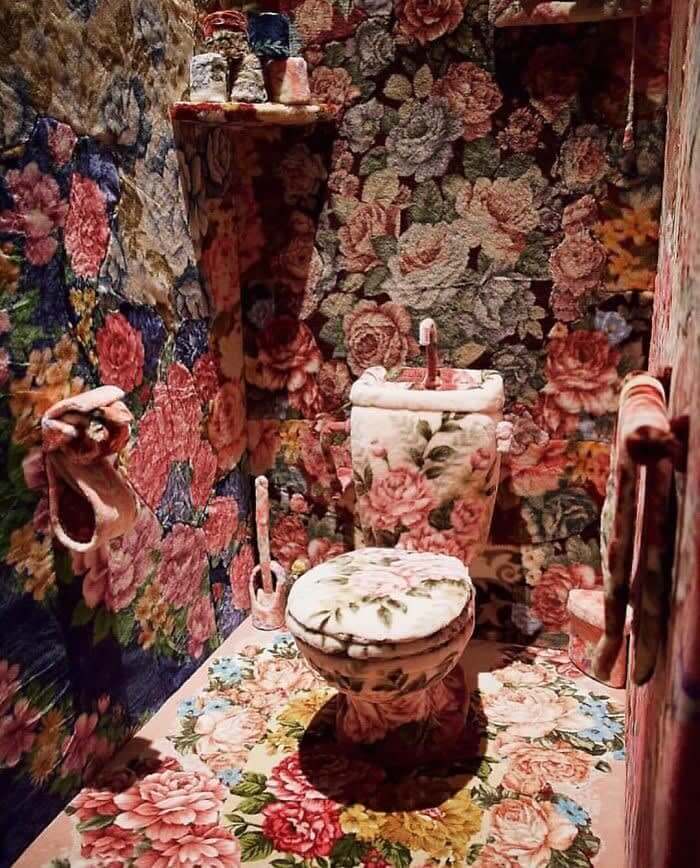 However, we must give some sort of award for this homeowner's commitment to the decor as every single inch of the bathroom is covered with floral carpet, even the toilet brush.
Remote Access for The Cat
This family had an enlarged ledge over their front door, and they decided to decorate it with furniture. One day the family cat was exploring different parts of the house and found the decorated place. She jumped from the staircase and slept on one of the chairs.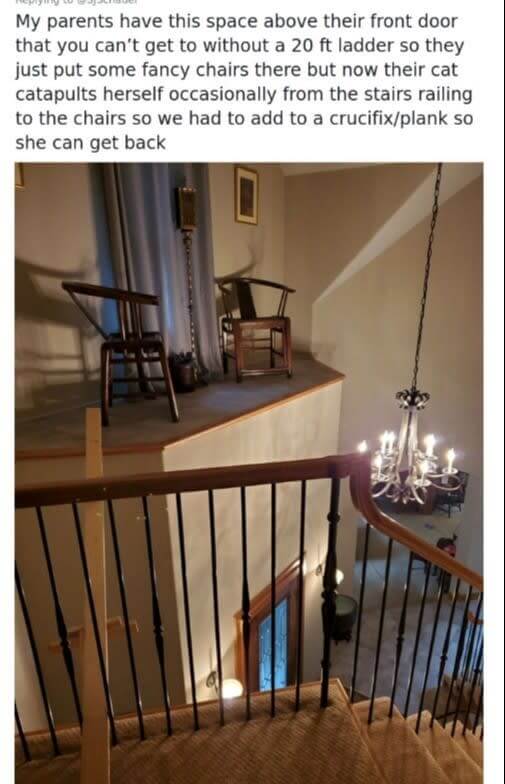 It became a regular occurrence, but it was certainly dangerous. So, the homeowners decided to put a plank between the staircase and the ledge. Now the cat walks the plank every day to sleep on one of the chairs.
Why Me?
The town announced that they were going to re-do the sidewalks and roads, and everyone seemed happy.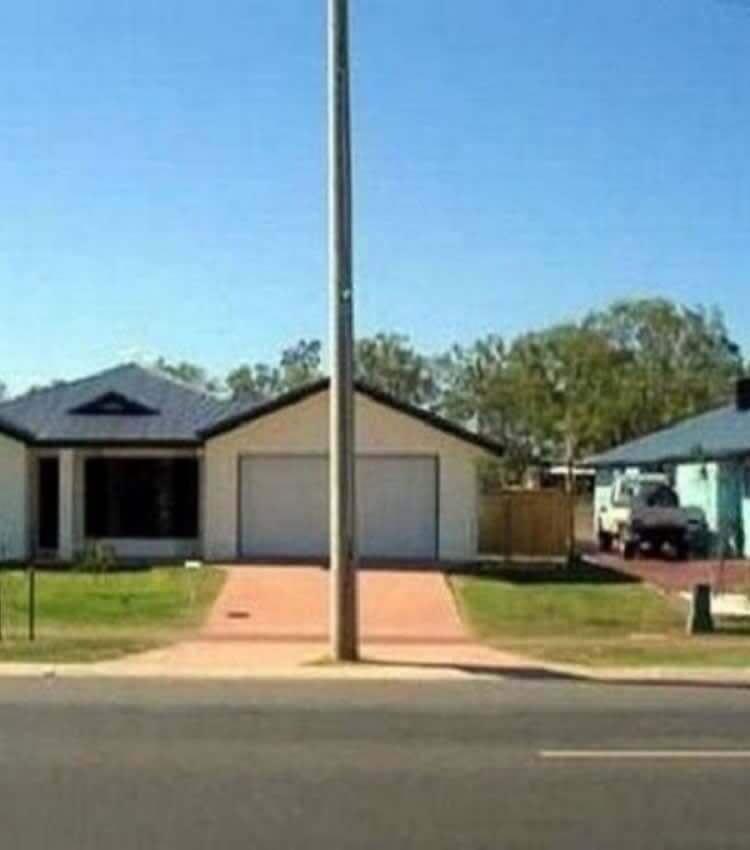 One person came home and found out that there was a streetlamp in the middle of their path. That's not the best thing to find out when you come back tired and hungry.
The Struggle is Real
Imagine sitting on the toilet, and just when you're done doing your business, you notice that the toilet paper is out of your reach, or worse, there is no toilet paper.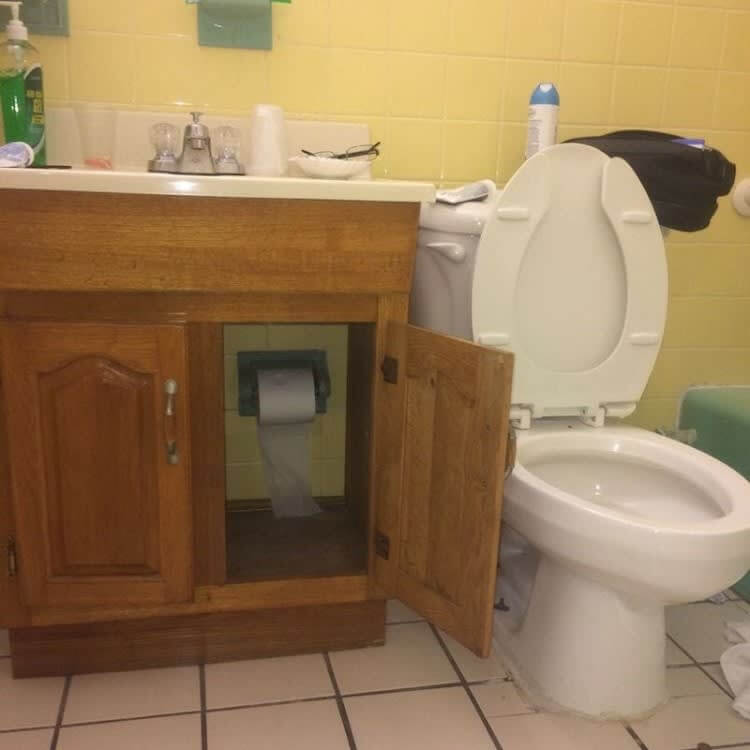 Here is a family that knows how to deal with the first scenario every single day. Maybe they have a cat that likes to destroy toilet paper, and that's the only way they can save it.
Not Built for Adults
Installing a bathroom in the home requires space for at least a toilet and a sink that will be used by everyone in the house.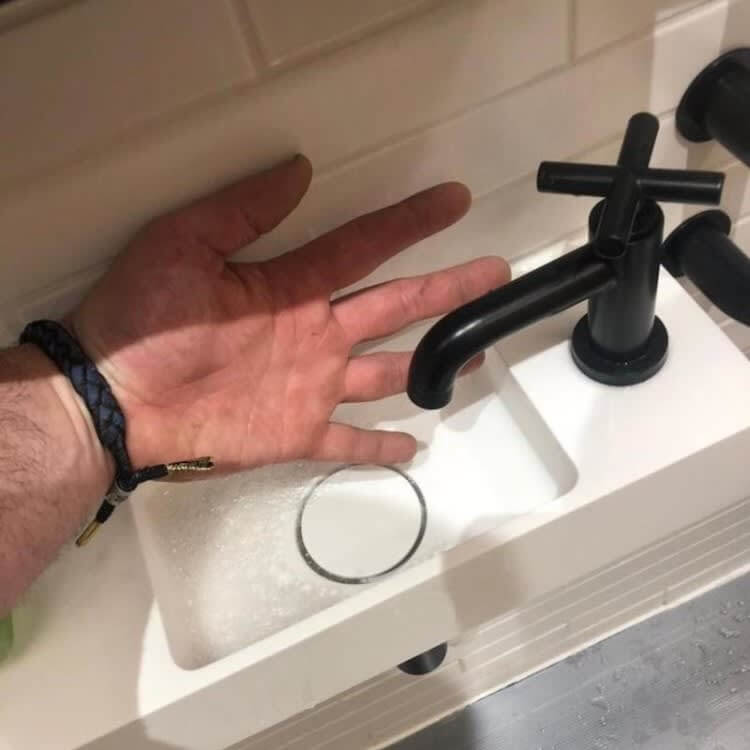 This sink was installed in the master bedroom, but it seems like it will only work for children.
The Ultimate Space Saving Door
Bi-fold doors, sliding doors, and pocket doors are considered some of the best doors for saving space, but this guy took space-saving to the next level. We are quite sure that this person must be super thin because it is far too narrow.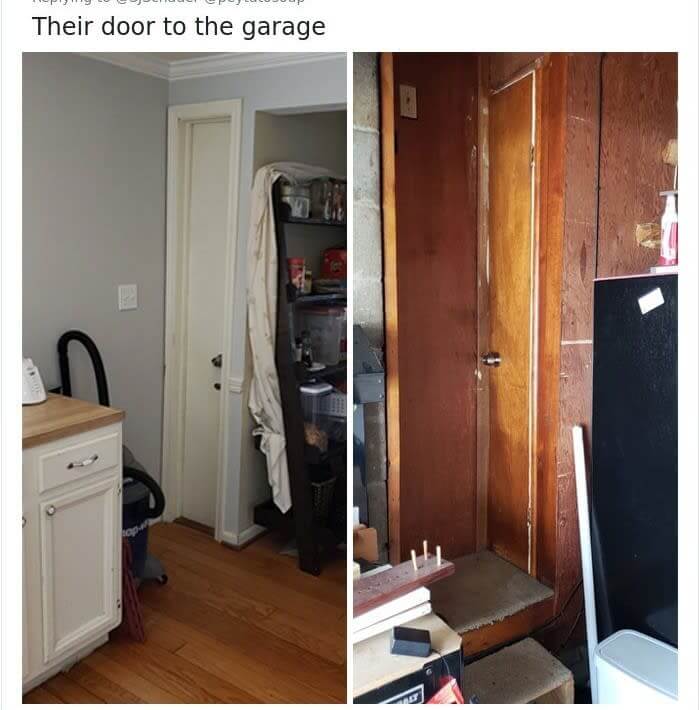 Was there was a need to put a door there, or would it have been better just to leave it alone?
Everyone Deserves Privacy
This is what a real estate agent saw when she visited some office units. Wouldn't that make you uncomfortable?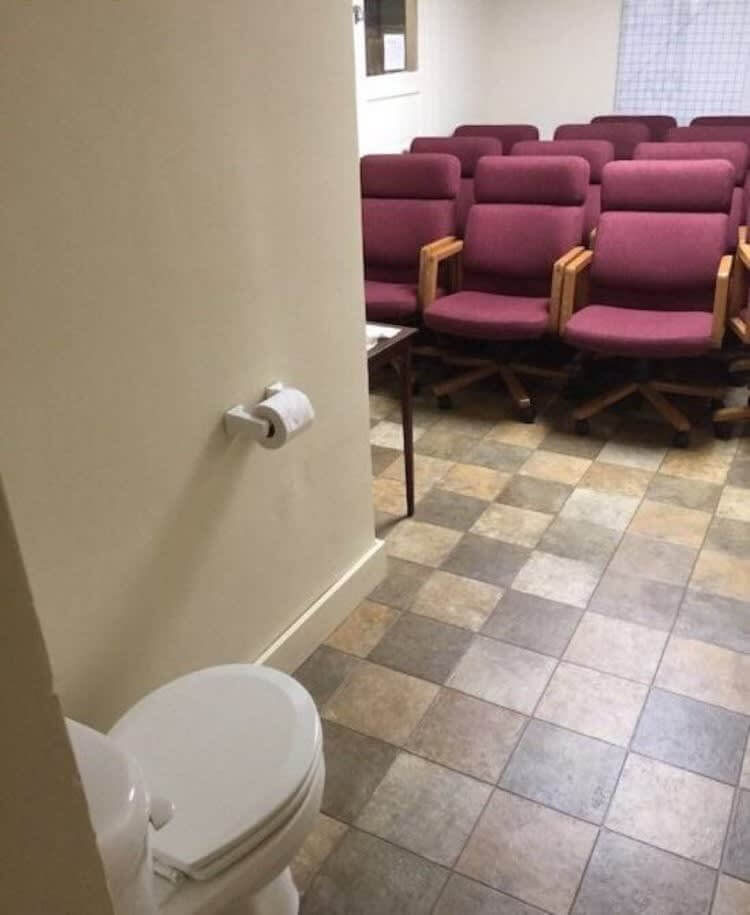 We are trying our best to track down the builder behind this toilet to ask him what was going through his mind when he decided to install it there. Maybe the office administration wanted to cut down the bathroom breaks, and that's why they came up with this idea.
The Upside Down World
By installing this door differently, the homeowners didn't mind it at all. It is because it helped their dog get a nice view of the front walk.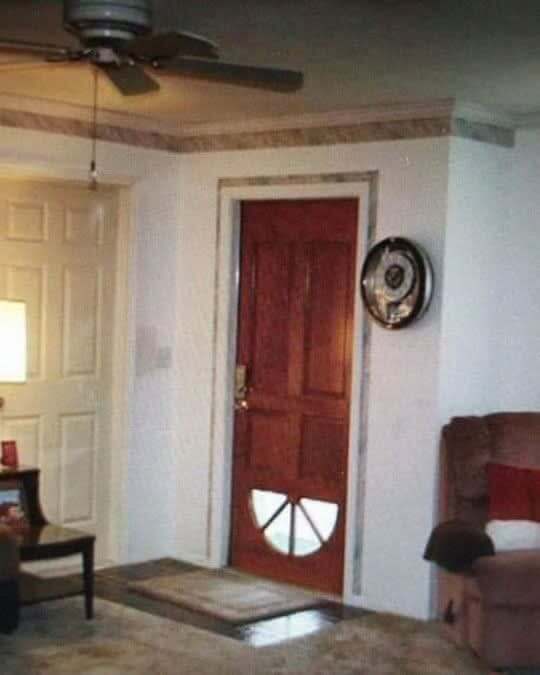 If anyone knocks on the door, the homeowners find it hard as they only see the feet of the person on the other side.
Two Small Sinks Are Better Than One Big Sink
Most homeowners want a giant sink because it is convenient and is one of the primary needs in the kitchen. When the builders completed remodeling the kitchen, the owner couldn't believe what had happened.
This weird design makes you have to decide which sink is to use. Also, both sinks can barely fit a few glasses, so the owners got the exact opposite of what they wanted.
The House With Lots of Windows
It seems like the owner of this house always wanted everyone to recognize their home by the name, "the house with windows."
There must have been some sort of window deal that helped the homeowner got so many windows at a low price.
When There's A Will There's A Way
You come home after a long, tiring day, and all you want is a warm bath. This is exactly what this homeowner wanted, but there was an issue with space. They couldn't install the tub in the bathroom due to a lack of space. But when the homeowner looked at the free space at the top of a steep wooden staircase, he said to himself, "problem solved!"
Well, we just hope that whoever uses this bath never splashes any water on to stairs as it could become quite dangerous. They should have a sign there to beware bathers.
Oh, What a Mess
We're not entirely sure how it is possible, and maybe the person responsible for it was under the influence of alcohol that led to this big mess.
There is no need for a second-story entrance for this multiple story building because elevators are installed there.
Not The Ideal Bathroom
We can agree on one thing that a bright bathroom looks pleasing to the eyes, but what about this bright reddish-orange bathroom.
It looks like you're stepping into the epicenter of the sun. It is a complete mess, and thankfully the owner acknowledges it as well.
When You're Obsessed with the Romans
Here is a fun fact for you: Romans considered purple and gold as colors of royalty. Perhaps, this homeowner wanted to pay tribute to the Romans in style.
By the way, we believe the retro feel of this bathroom is quite refreshing.
Is It A Bed? Is It A Bathtub? We'd Never Know
We can understand that taking a bath after coming home from work can be one of the best ways to relax, but we believe that this homeowner took things a bit too far.
The carpeted sides of the bath of this four-poster bed/bathtub are making us uncomfortable. What about you?
It Must Have Been There By Mistake
Before you get mad at this one, we just want to make everything clear that it was placed there by mistake. This sink was meant for the kid's bathroom.
The parents didn't like that they could bump their heads every time they wanted to use the sink.
The Perfect Combination of Two: Bed & Bath
What we have noticed so far is that people love the idea of putting their bathtub or toilet in any little space that they can find.
The same is the case with this couple. If the couple ever fights, the husband sleeps in the bathtub.
Two-In-One Room
We can understand that lack of space can be an issue, but it doesn't mean that you should put a toilet in the dining room.
Imagine that guests are enjoying a pleasant meal, and Uncle Jack has to go to the bathroom. We cannot explain how awkward it would be.
The Amazing Dueling Toilets
There is no denying that two bathrooms in the house provide a lot of conveniences, but we cannot understand the thinking behind installing a second toilet in the same bathroom.
The only possible explanation is that the homeowners enjoy having a conversation while doing their business.
Making Dinner Parties More Fun
It is understandable that making dinner can be a bit boring, especially at dinner parties. So, the homeowners came up with a unique idea.
They decided to install a giant tub so that their party guests can have some fun while sipping on some cocktails.
Double Fun in Bedroom
This couple customized their bedroom with mirrored ceiling and even installed a Jacuzzi so that they could take a relaxing bath before bed.
We aren't experts, but it doesn't look like a property anyone else would buy.
The Kaleidoscope Kitchen Headache
This hand-painted kitchen would feel like a dream-come-true for people who love bursts of colors and patterns.
We feel a little bad saying this, but the sight of this kitchen is giving us a headache. Please let us know your thoughts on this one.
When Cows Are The Love of Your Life
At first glance, it looks like a kitchen at a dairy farm, but that's not the case. This is the kitchen of a person who loves cows a lot.
However, this place can feel like a nightmare for a vegan. That's why the homeowner asks the person a question of whether they are a vegan or not before showing them their prized kitchen.
It's A Tricky Game
Most homeowners can agree that curtains are a tricky thing to get right. But it doesn't mean that you should go off the board and come up with a different style.
These floral drapes don't match with anything in the room, and they should be taken down and burnt as soon as possible. Sorry, not sorry.
A Tough Decision
When you have a small space to work with, it is essential to make the most out of it. But this homeowner wanted two things badly and got them to fit in the bathroom somehow.
It is a tight space that could have been much better if the homeowner had put in some thought.
A Surfer's Kitchen
This is what happens when you love surfing, but you don't live near a beach.
This wavy backsplash gives you some sort of relief knowing that one day you will be surfing and tanning again.
For The Love Of…Insects
Here is a toilet that can scare you and probably give you nightmares for many years. We understand that this person loves butterflies, but what a weird way to show their love, right?
If you don't like someone, invite them to your home, feed them enough, and make them drink a lot of water and then tell them to use your bathroom that has this creepy toilet decoration.
Real Comics That Show Parenting Struggles When Having Another Baby
Tegan Holmes
Parenting can be a lot of fun, but anyone with kids or a pregnant partner knows that some days are better than others. Artist Yehuda Devir does a stellar job of capturing these ups and downs of parenthood. He began documenting his relationship with his wife, Maya, through the comic series "One of Those Days." Over their years together, the funny couple welcomed a couple of babies. Yehuda's illustrations have since morphed into a relatable and funny series on family life. So if you're a parent or expecting to become one soon, you'll love these illustrations!
A Bun In The Oven
Before a new baby arrives, their siblings need to learn why mommy's belly is growing again. For older siblings, the addition of a younger brother or sister can be a confusing time. They are used to being the main focus of their parents' attention, and the addition of a sibling means they won't be anymore.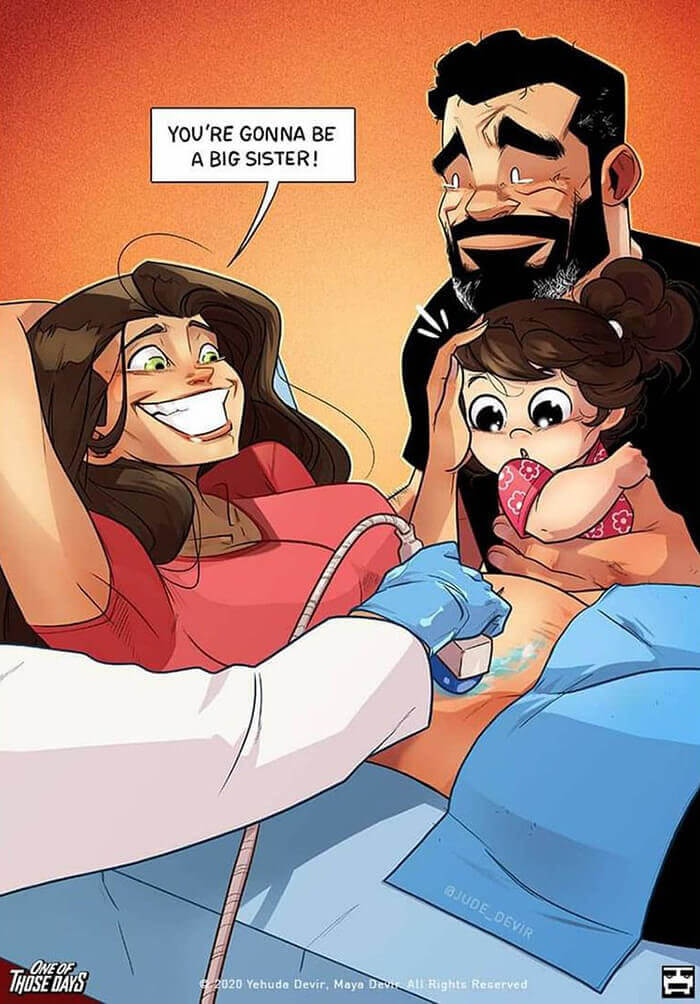 To help an only child get used to the idea of the new addition, it's a good idea to include them in big moments like ultrasounds at the doctor's office. That way, they begin to understand that a new life is growing, and they will have someone to play with in a couple of years.
Changing Bodies
It's pretty amazing that a human body can create new life. When a woman goes through a pregnancy her body changes in many different ways.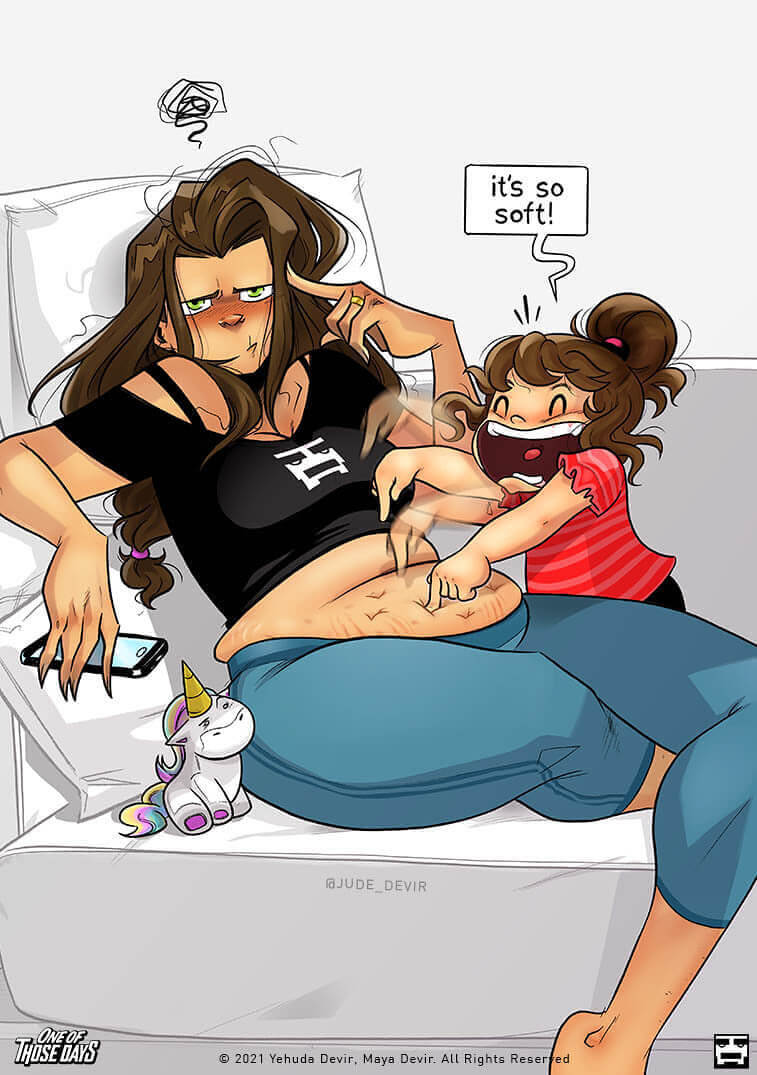 Most women will find that their bellies change because all of the organs must shift around to make room for the growing baby. On top of that, a few new stretch marks might appear, along with some general squishiness. That's okay though, it is all a part of this beautiful process.
Let The Romancing Begin
Every couple needs a little spice in their life, even if one of them is almost nine months pregnant. Just be mindful of a couple of things, especially when it comes to spatial awareness.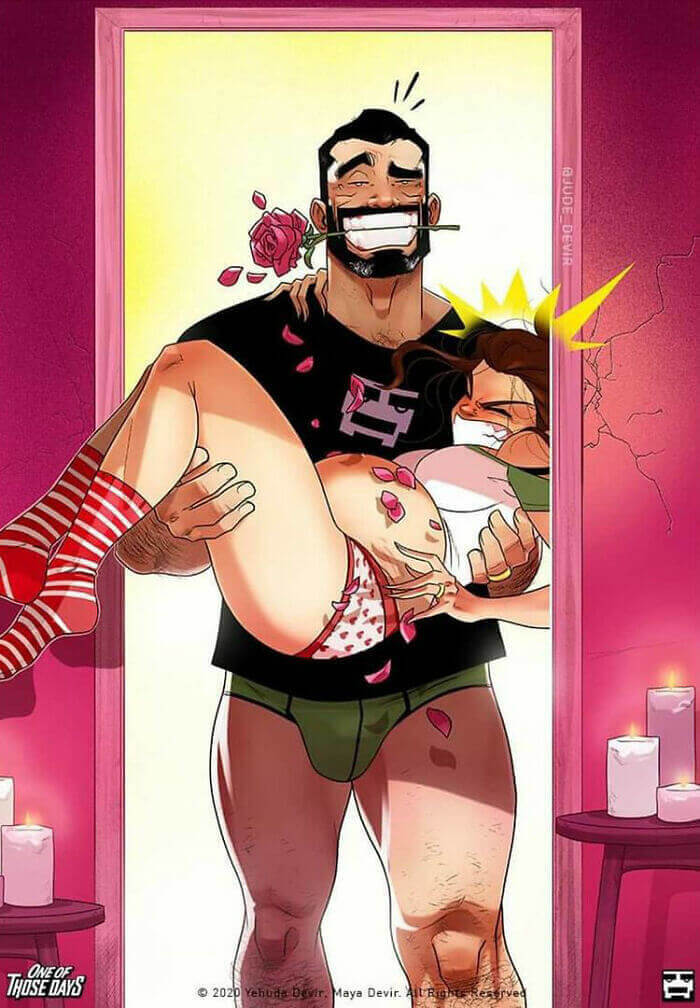 We are all for big gestures, but pregnant ladies do not need to have their head accidentally smacked on a door frame while their husband is attempting to be romantic. Save the grand gestures for post-pregnancy.
The Triple Spoon
A lot of kids don't like to sleep by themselves for the first couple of years of their lives. That's why parents tend to place the crib or bassinet in their own bedroom.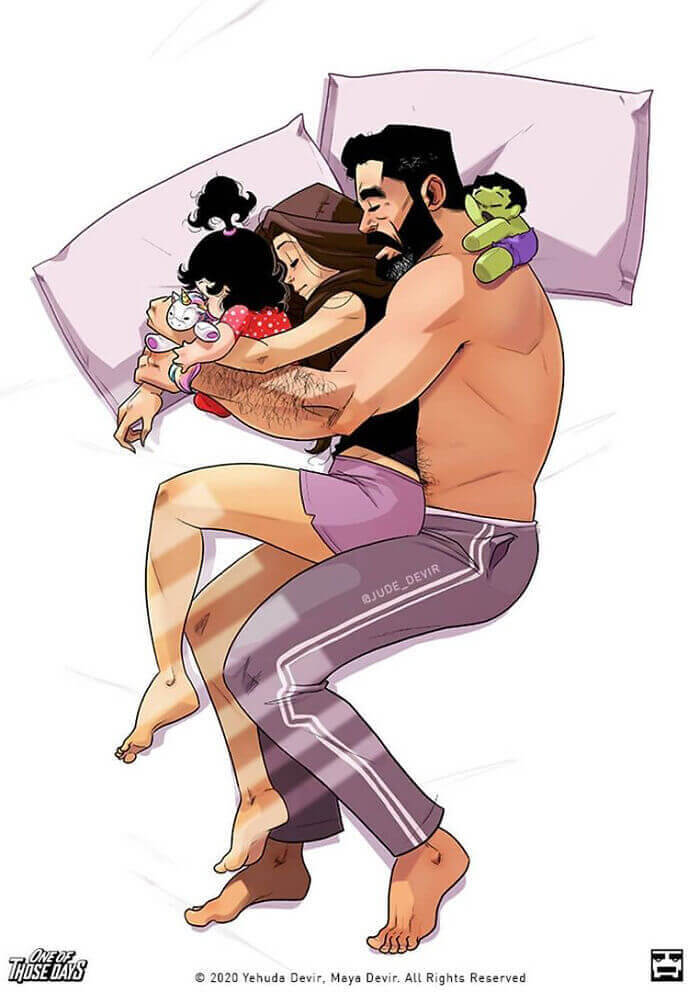 For this little family, they embrace group naps and cuddling together. This is an excellent way for everyone to get the affection they need.
Trying To Work
With everything being a new experience for babies and toddlers, they tend to think that the entire world is their playground.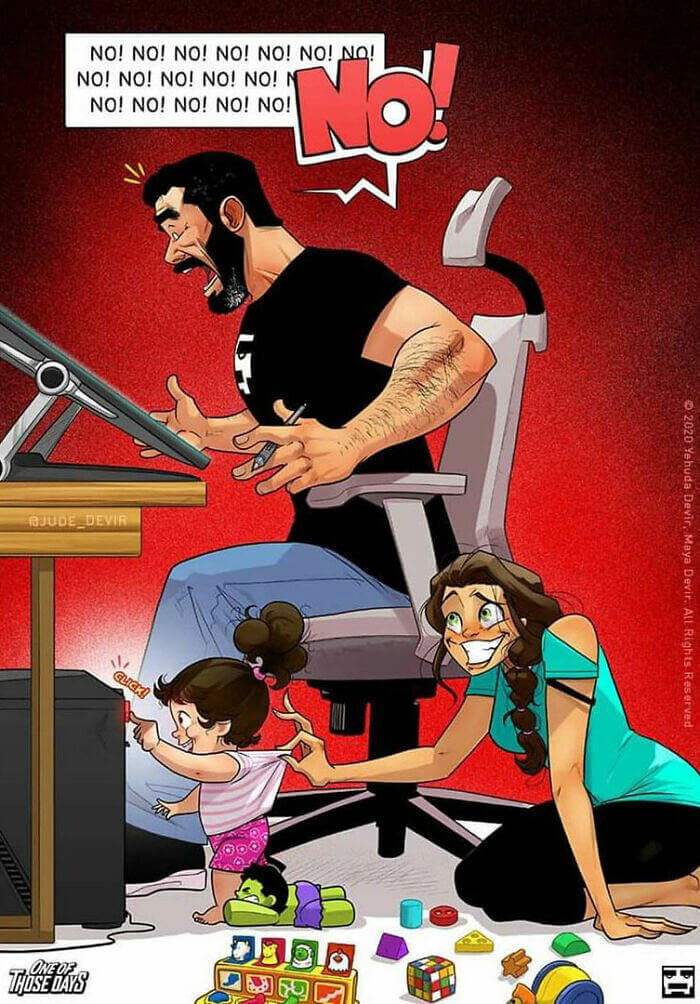 That means any buttons that are at eye level must be pressed. Even if it means a parent loses all of their new comics, and they need to start from scratch again – oops.
Let The Countdown Begin
Once kids enter the picture, major holidays like New Year's Eve tend to take on a bit of a different meaning. Instead of staying up until midnight, it is more about sleeping until midnight.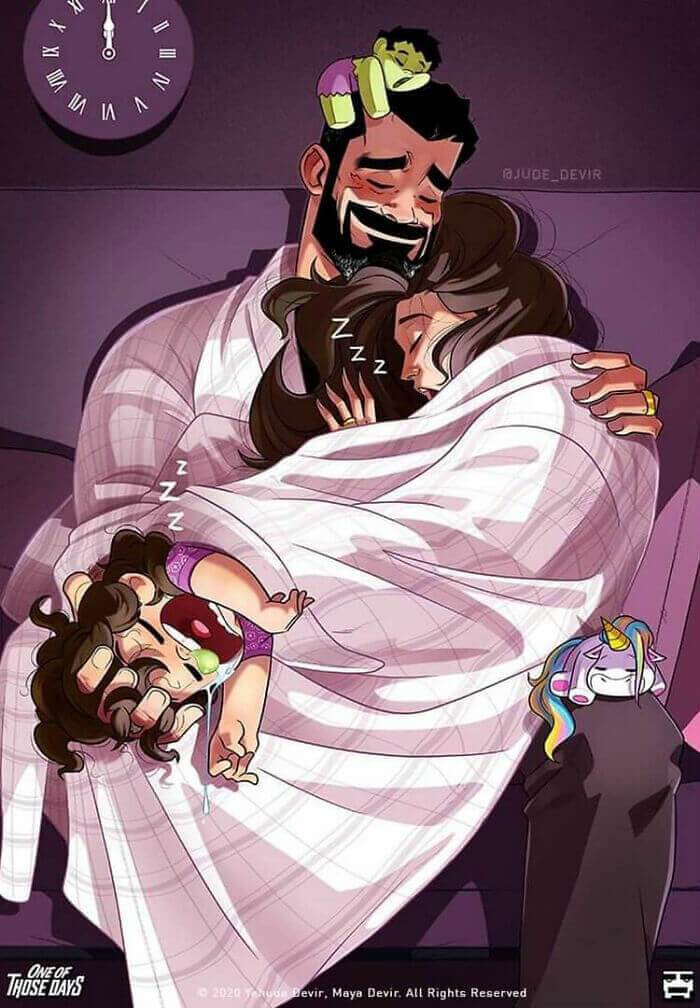 That doesn't mean parents need to stop having fun. It just means that priorities need to change, and fun can be had when kids are older.
New Life
Babies start to move at around the five-month mark in their mother's bellies. It starts with what feels like flutters, and as the baby grows it starts to visibly move.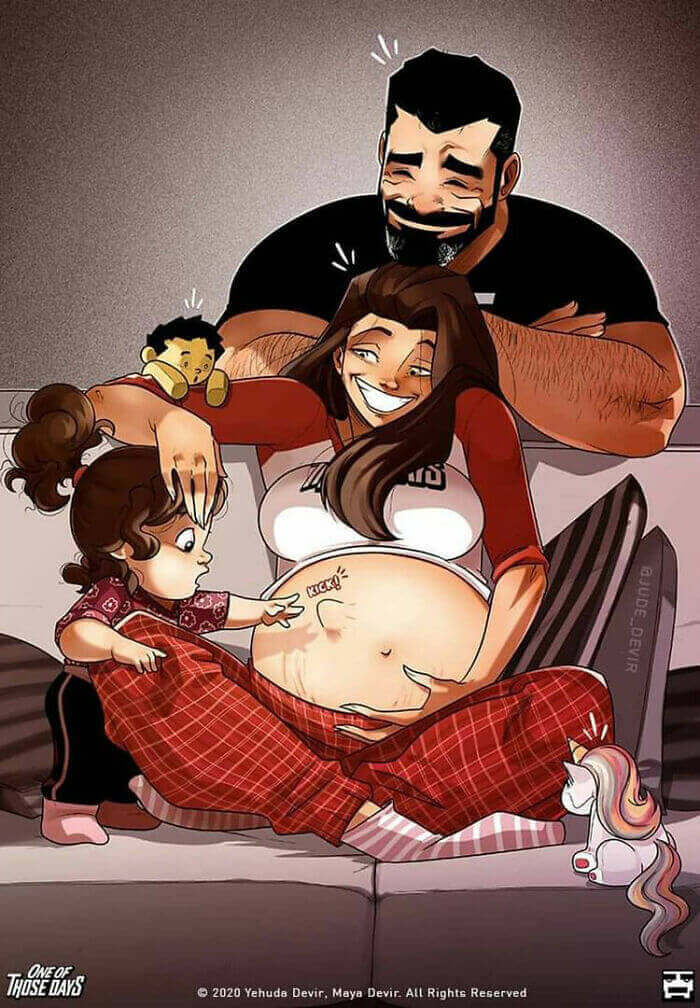 What may look like an alien moving around is actually a baby just kicking the stomach walls as it tries to get comfortable. Don't be alarmed.
Double Bellies
When a child's mom gets pregnant, it can be a bit of a confusing time. It's hard to understand that a new sibling is growing inside mommy's belly.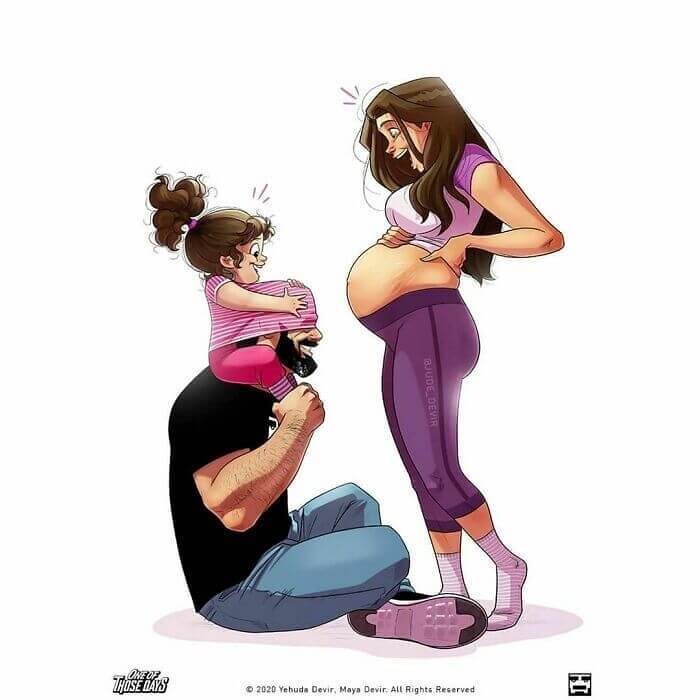 That's why it's important for parents to sit down with their child or children and explain that a new brother or sister is about to join them.
Filling Out
While stomaches definitely get bigger, so do other body parts as women get closer to giving birth. Bras may need to be adjusted, or even put away.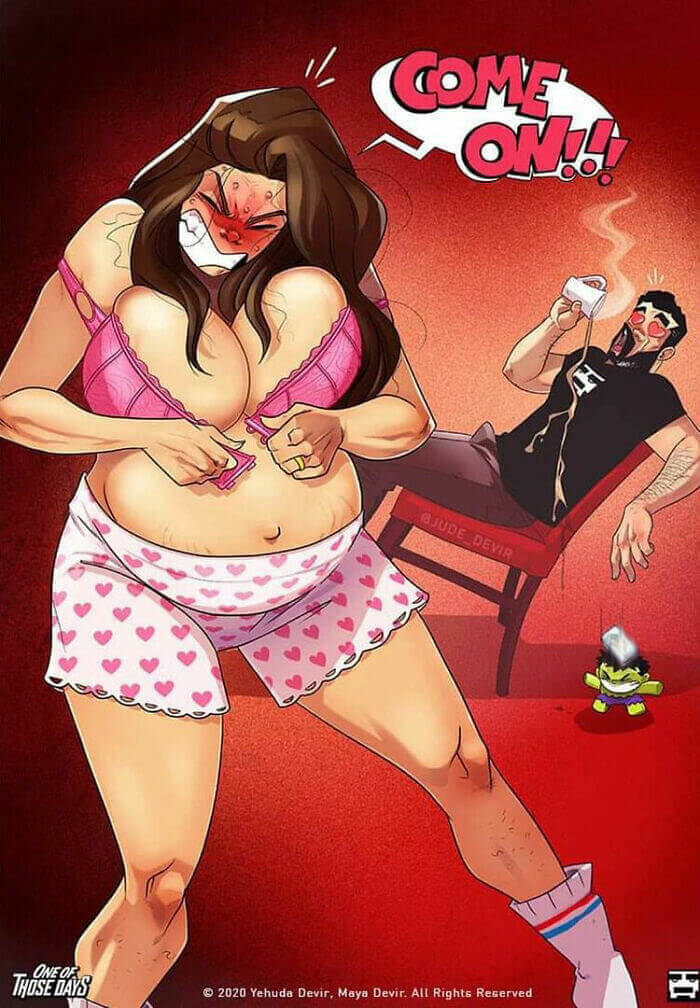 For women who are experiencing some major growth in their chest region, we would suggest grabbing a comfortable sports bra until it's time for nursing bras.
Scooting Around
Most babies learn to walk in the first year or two of their lives. Catching those first steps are one of the moments all parents want to remember.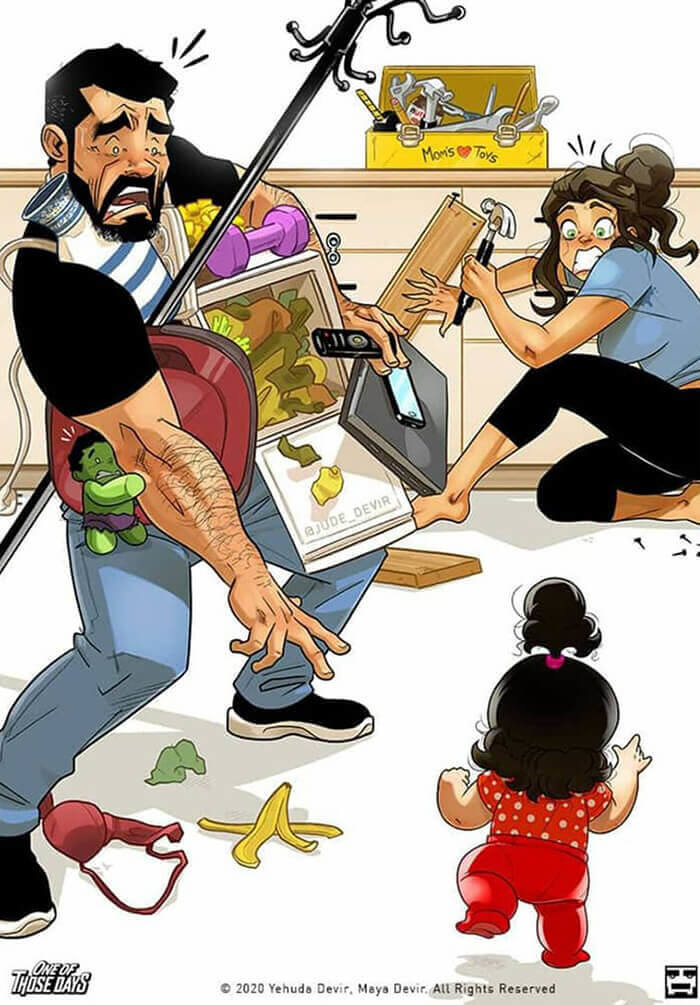 Once a toddler starts motoring around though, you will want to be careful that your home is childproofed. Little fingers like to get into everything!
First Words
Every parent remembers the first time their baby speaks. Maybe it is 'Da-da' or 'up' that are their first words. No matter what, this is a moment that needs to be remembered.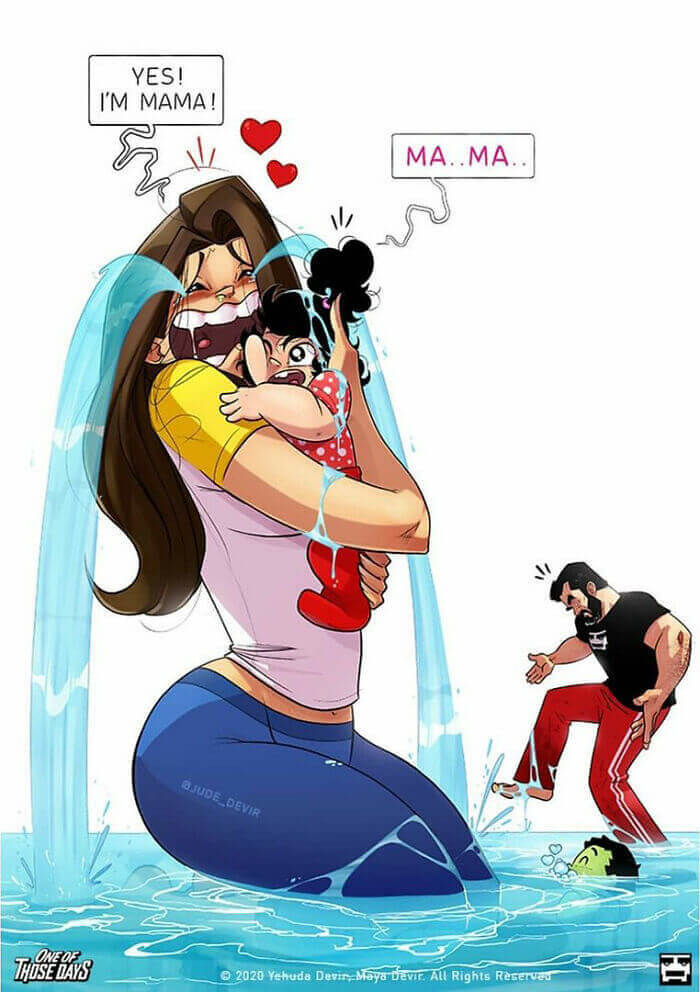 For Yehuda and Maya, their little one managed to say 'Ma..Ma' which was a tear-worthy moment for both of these parents.
All Tucked In
One of the greatest inventions of all time has to be the body pillow. Not only does it conform to your body, but for pregnant women, it provides the perfect resting place for a heavy baby belly.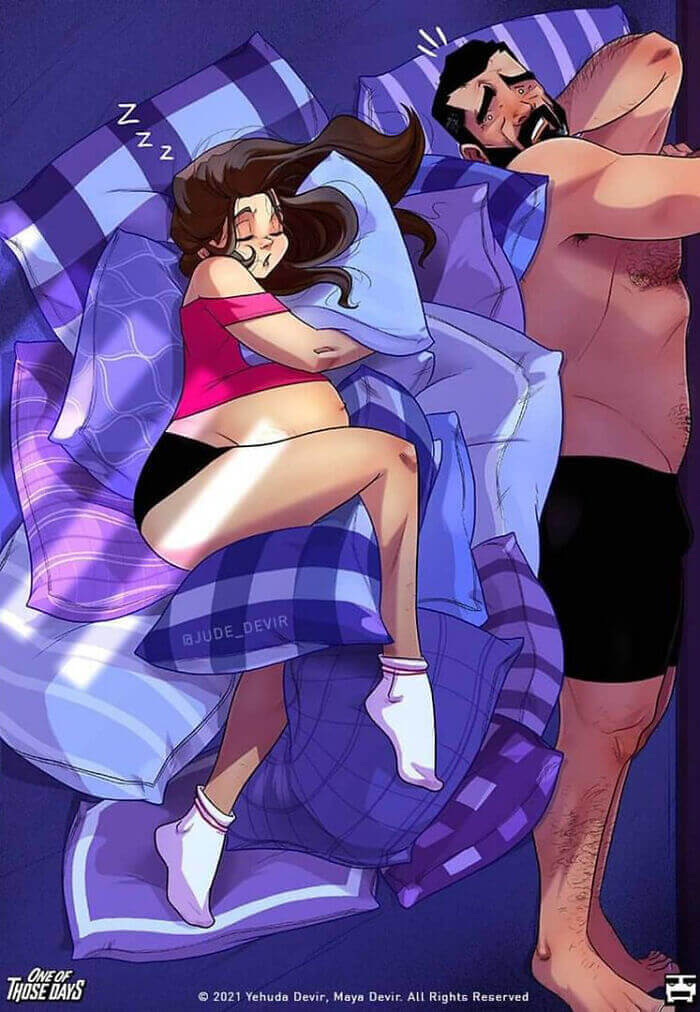 Body pillows may not fit perfectly in a bed with your partner, but that's a small price to pay for your own pregnant comfort, right? Getting a good night's sleep can be tough while pregnant.
Alone Time
Babymaking is a fun business, but after the baby has been born it can take a bit of time for things to get back to normal in the bedroom.
Sometimes a few new items need to be introduced to get the old motor going again so to speak. Couples that play together, stay together right?
Carrying The Load
A pregnant belly can weigh upwards of 20 pounds, depending on the woman. Most women will lose around 13 pounds as soon as they give birth, but until then, that extra weight can be hard on the back.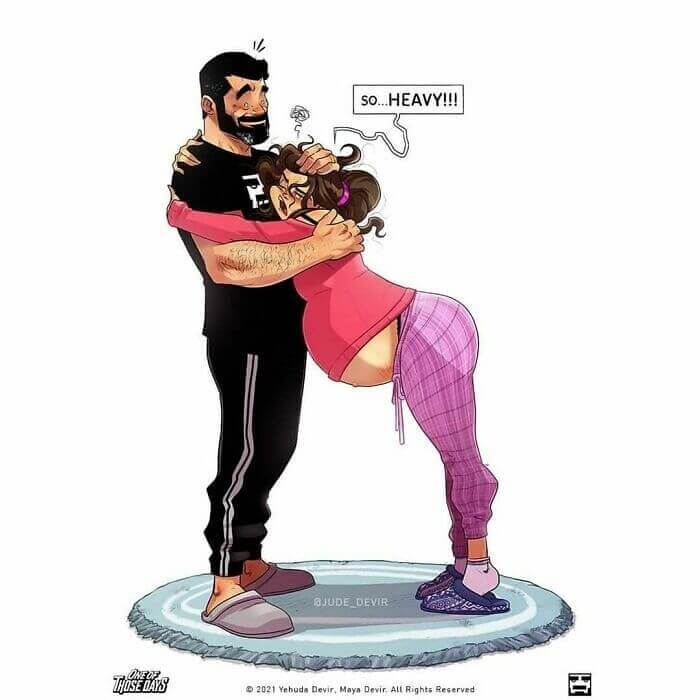 Sometimes simply leaning on a partner, or having your partner hold your belly up can provide some much-needed relief for back pain.
Feeling Insecure
For some women, acknowledging that your body has changed and being proud of it can take some time. Stretch marks are normal, as is saggy skin.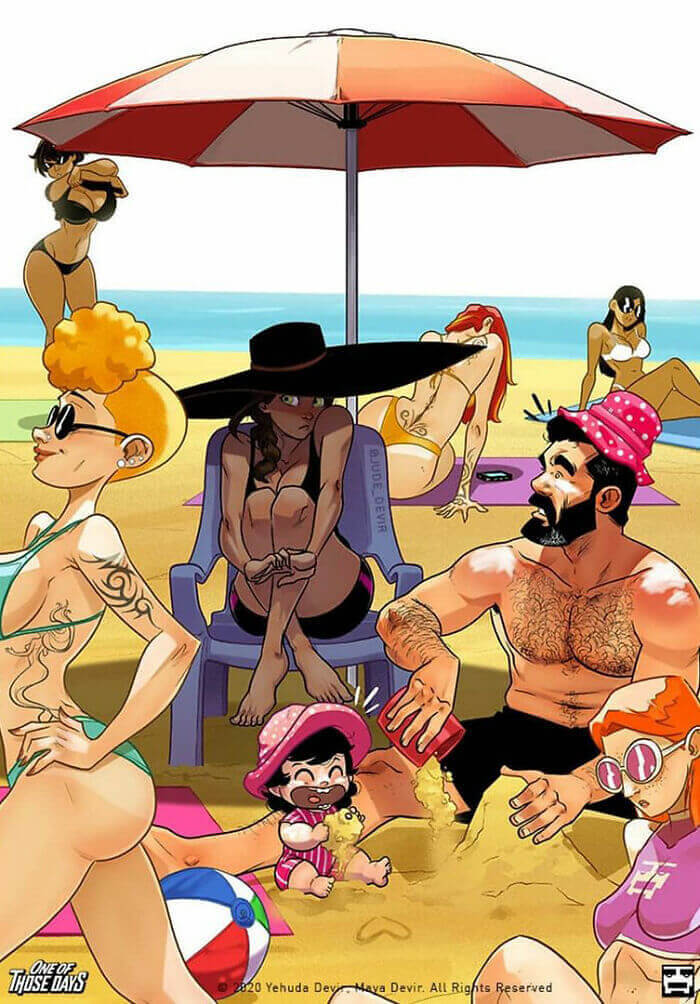 Throw on a one-piece or a bikini that makes you feel confident and let it all hang out. Nobody is watching, and your body has basically performed the miracle that is giving life. Be proud of it!
Time For School
Eventually, the day comes in every parents' life, where it is time to send your child off to preschool or kindergarten. This is a big day because it means you won't see your child 24/7.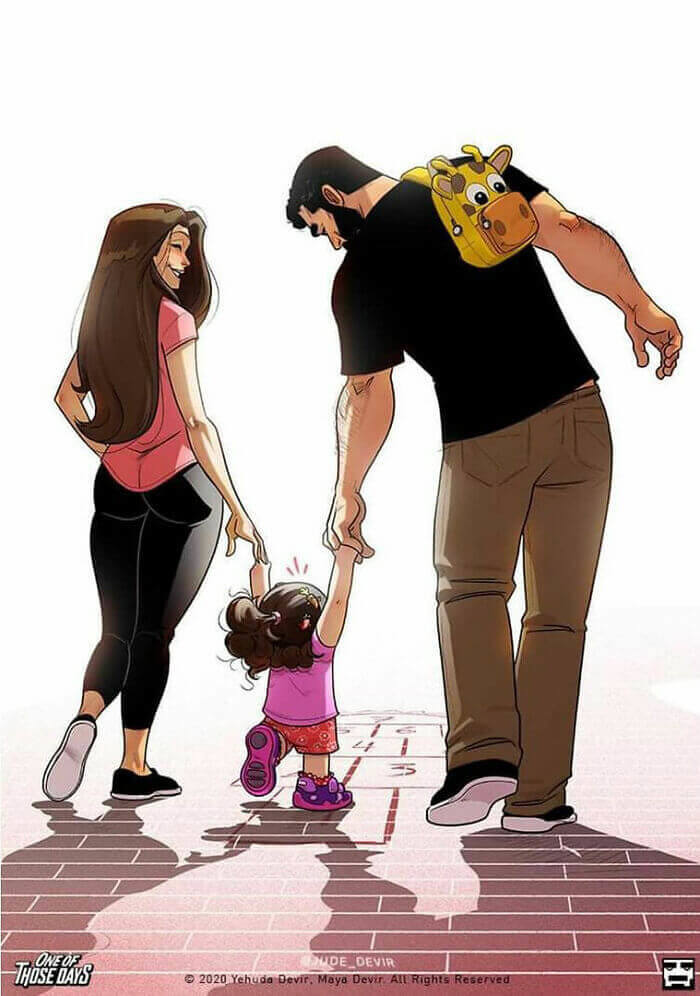 For many parents, they covet this newfound freedom, but the worry for your child will always be there. Growing up can take some getting used to.
A Helping Hand
You know the phrase, "Help I've fallen, and I can't get up"? The same can be said for pregnant women, except instead of falling it is simply lying down.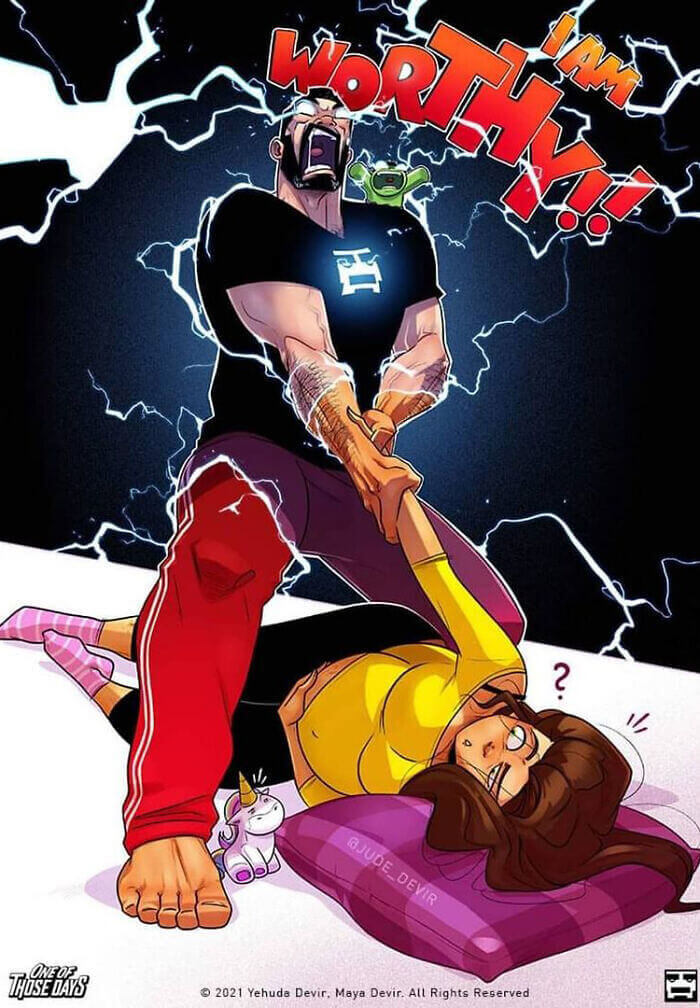 As babies start to get bigger, and bellies start to get heavier, it becomes harder for pregnant women to move around like they once did. That means their partners always need to be on hand to help them off the floor, or the couch.
Beach Bodies
Some partners like to sympathy eat with their pregnant loved ones. That tends to mean both the woman and the partner pack on a few additional pounds.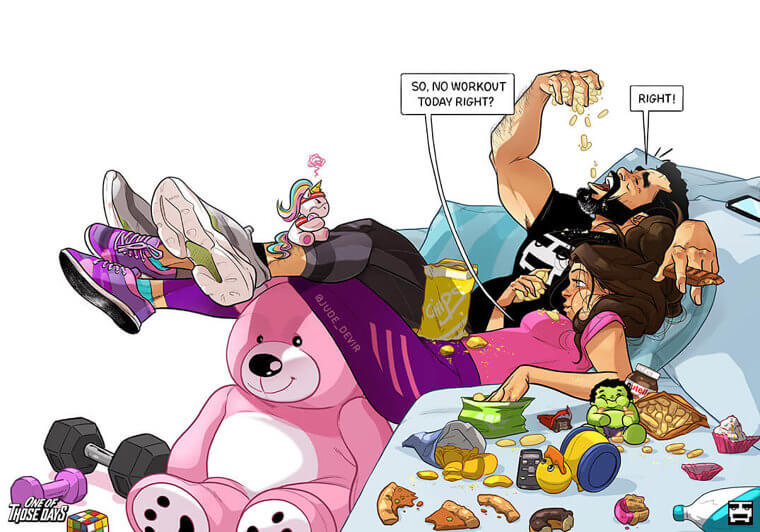 Those extra pounds will need to come off eventually, but that doesn't mean you need to hit the gym hard. Start doing some light cardio, cut back on the junk food, and the weight will come off on its own. Chasing a toddler around all day will do wonders for the physique.
Cover Your Nose
Children are like little sponges, and they need to absorb their manners and proper etiquette from their parents and those around them.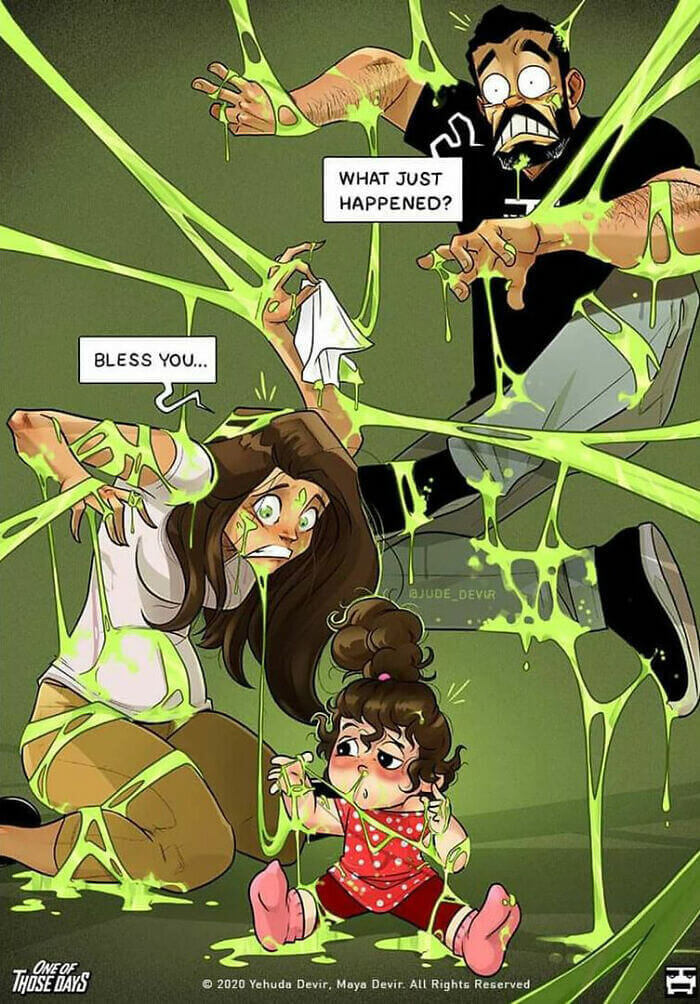 One of the most important things children learn is to cover their mouths when they cough or sneeze. This keeps snot and other germs from spewing all over the place, but it takes practice!
Glued To The Television
Toddlers need to be kept entertained. Otherwise, they will find creative ways to entertain themselves, like drawing on the wall with their favorite markers.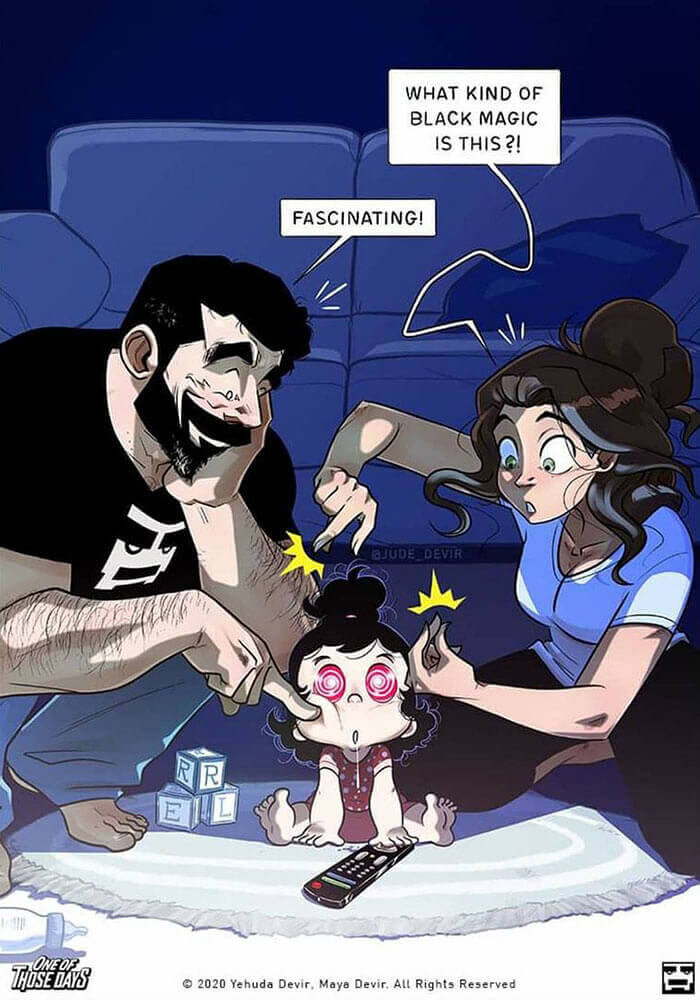 One method to keep kids quiet, and entertained is to switch on that magical screen known as a television. This can keep kids busy for hours.
Food Cravings
Ask any woman that has been pregnant, and she will admit to having some pretty strange food cravings. Some women crave salty foods like pickles.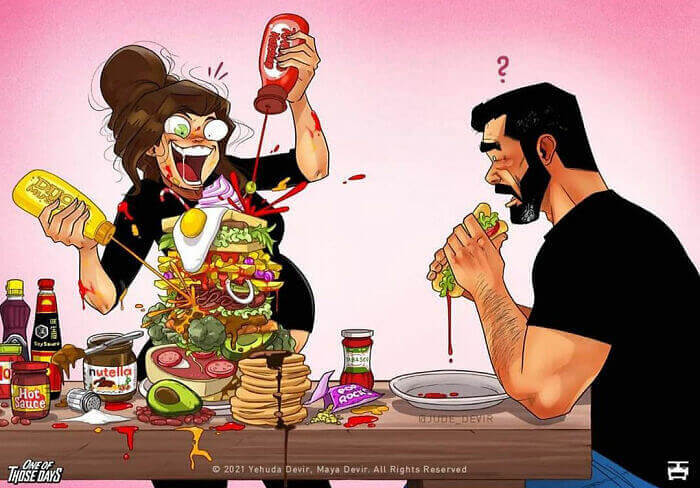 Others simply want to have a mish-mash of flavors in the form of every condiment known to man on their burger. While these concoctions might look kind of gross, try not to judge your partner's food choices. The baby growing in her belly is demanding these for a reason.
Getting Everything Done
Women are fantastic multitaskers, this is basically a fact. They can write an email, go shopping, and watch their child all at the same time.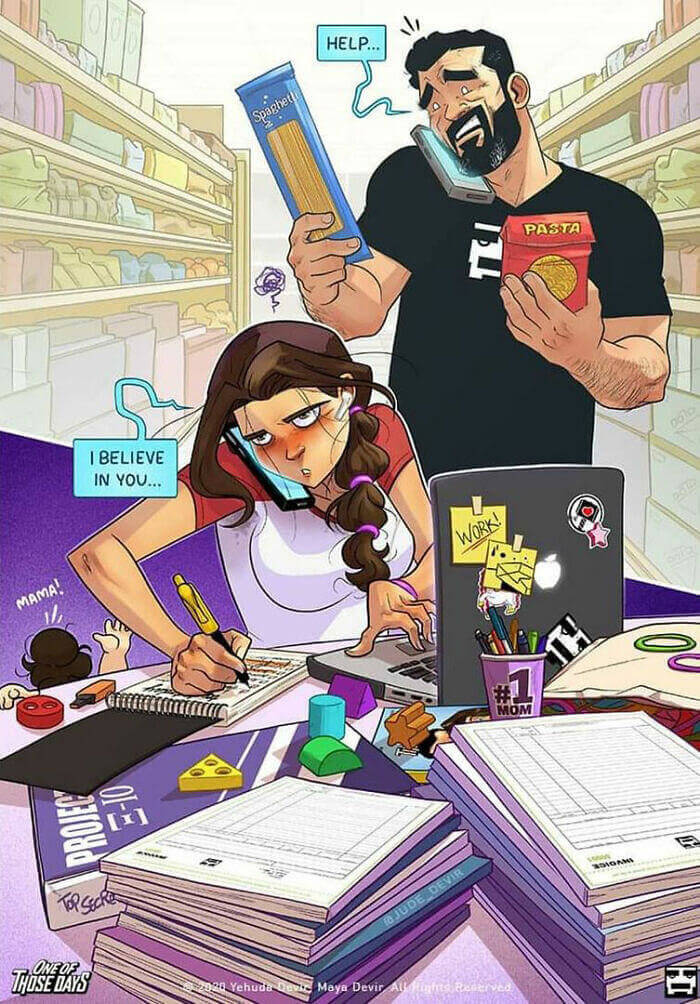 For some men, it is a bit of a different story. Yehuda comically made fun of himself and his lack of multitasking abilities which might resonate for some other dads out there.
Going On Vacation
Babies are born with a natural instinct for survival when it comes to water. Most know that they need to flip themselves upside down so that their face is not in the water. Once a baby is old enough, it can be introduced to swimming, first with water wings, and later all on their own.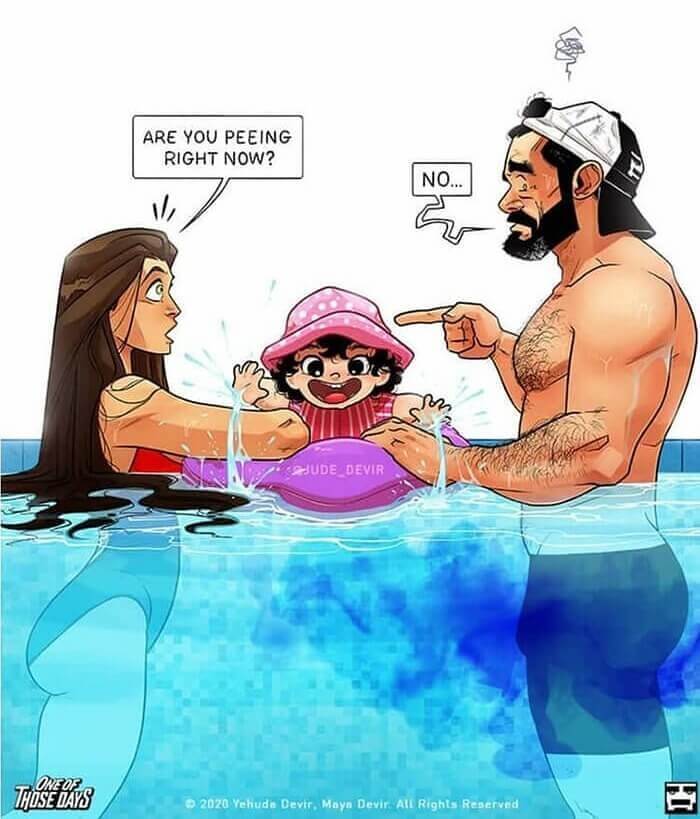 Family vacations give a baby time in the water with their parents, and they also learn a very important rule – don't pee in the pool. It seems like this parent might just have forgotten that rule, and needs a reminder.
Co-Parenting
Every family is different, which means each parent had a different upbringing growing up. These upbringings are what every parent either consciously or subconsciously brings to their own parenting style.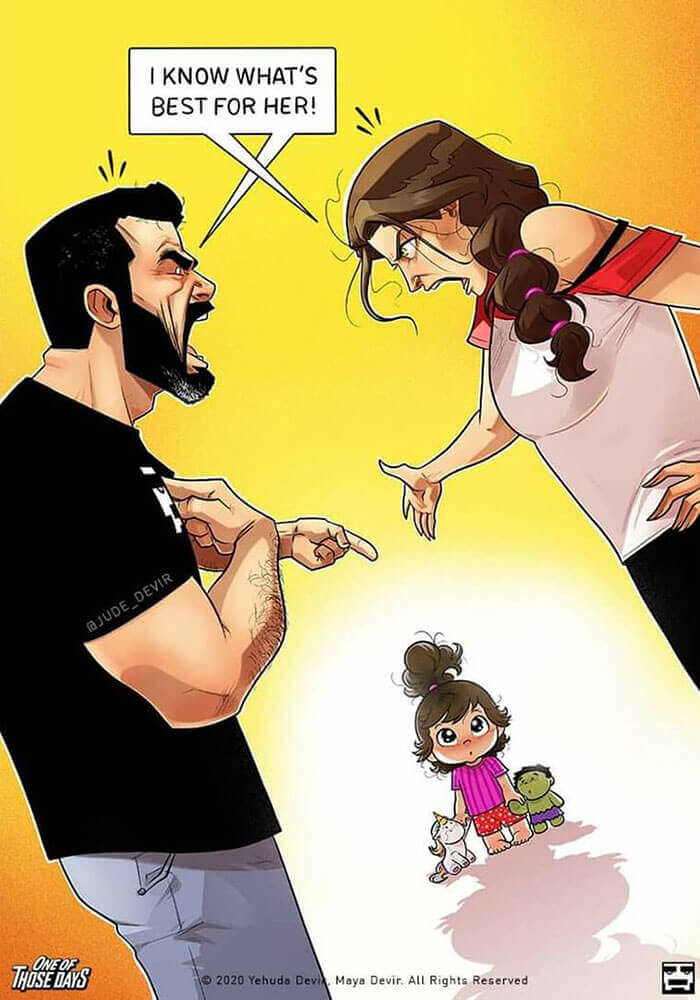 Sometimes these different methods of parenting can lead to a few arguments, but ultimately parents need to remember that this is a partnership. Everyone needs to find a common ground, and work together to raise their little one.
Getting A Boo-Boo
Part of growing up is learning how to fall down and get back up again. Children will fall down, scrape their knees, and understand what it means to get hurt.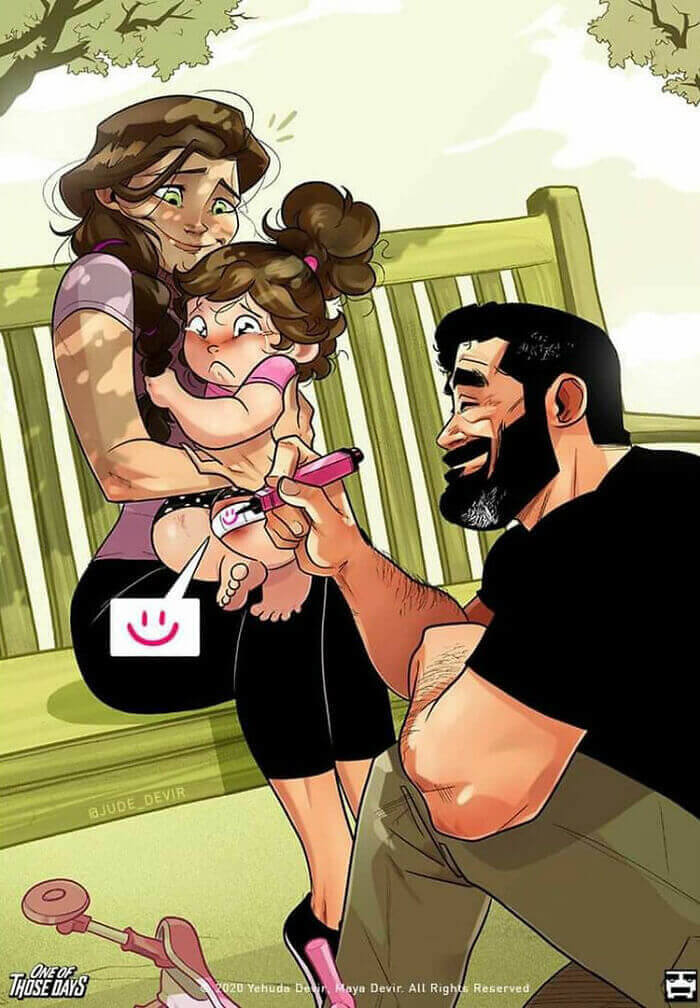 Having a boo-boo kissed better by mom or dad, and a cute little picture drawn on a bandaid shows that it is okay to hurt. A parent is always there to make it better.
A Time Out
Time outs aren't just for kids. Sometimes a parent needs a break from caring for their child. This isn't because they don't love them, but it can be overwhelming.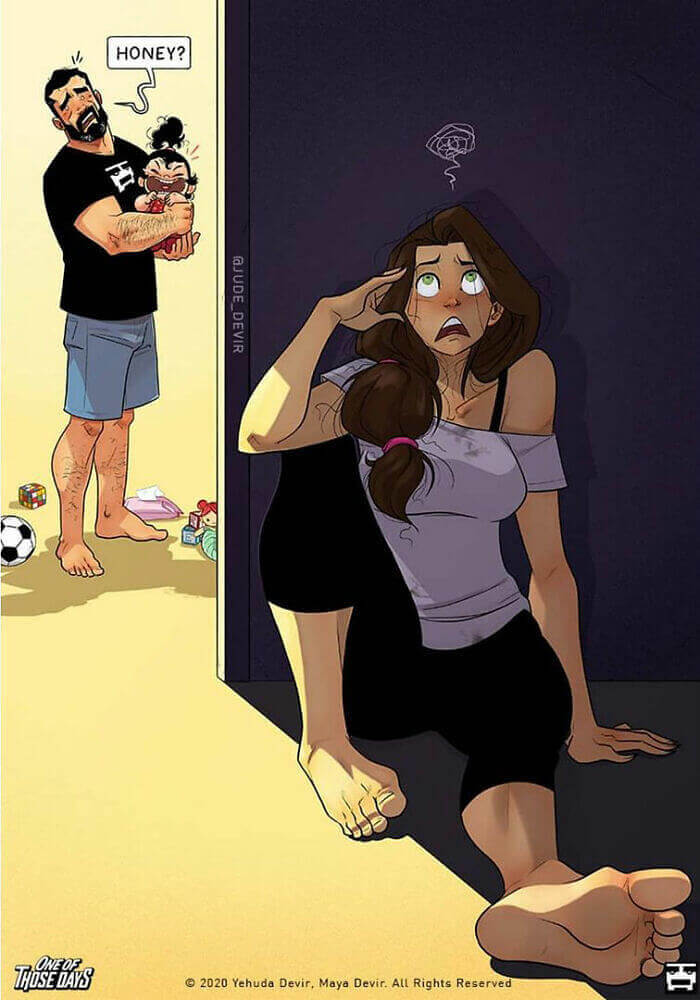 Partners need to make sure that each parent has some alone time, even if the baby is crying. When a mom or dad is feeling overwhelmed, make sure to communicate this and get some help.
A Stinky Surprise
Dinner time is the highlight of the day for many people. Maybe your partner spent hours cooking up some delicious spaghetti, or another scrumptious meal.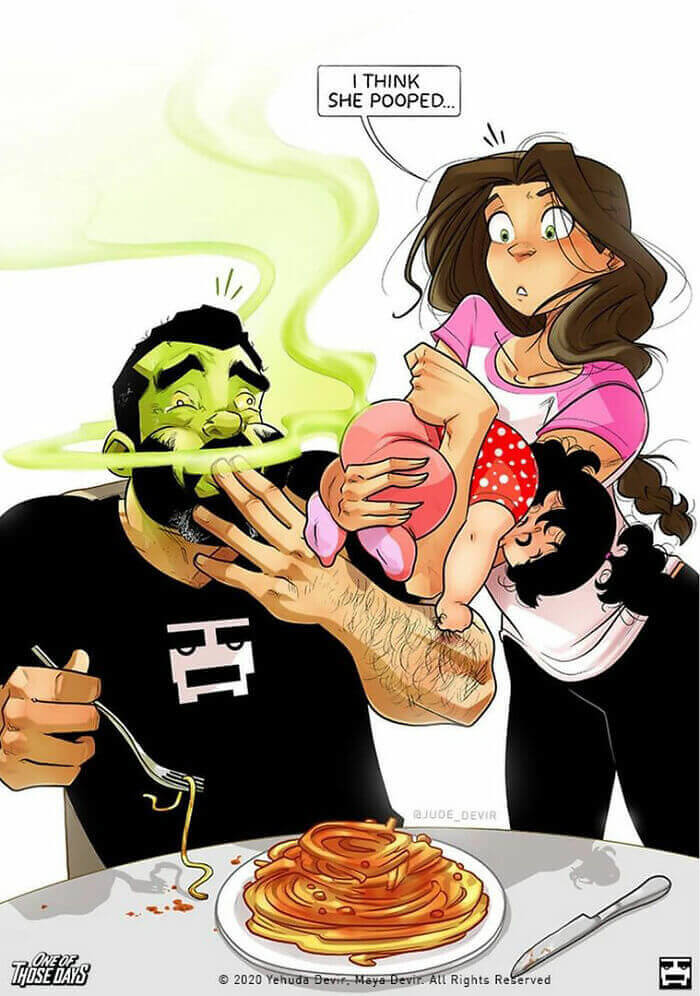 A dirty diaper and the smell wafting out of it is not one any diner wants to smell before mowing down. Always do a quick diaper sniff before sitting down to dinner to avoid any unappetizing smells.
Incoming Baby Alert
For most expectant parents, they have enough time to hop into the car and make it to the maternity ward once contractions start. Some women might be able to have their baby in a matter of hours, for others, it could take days.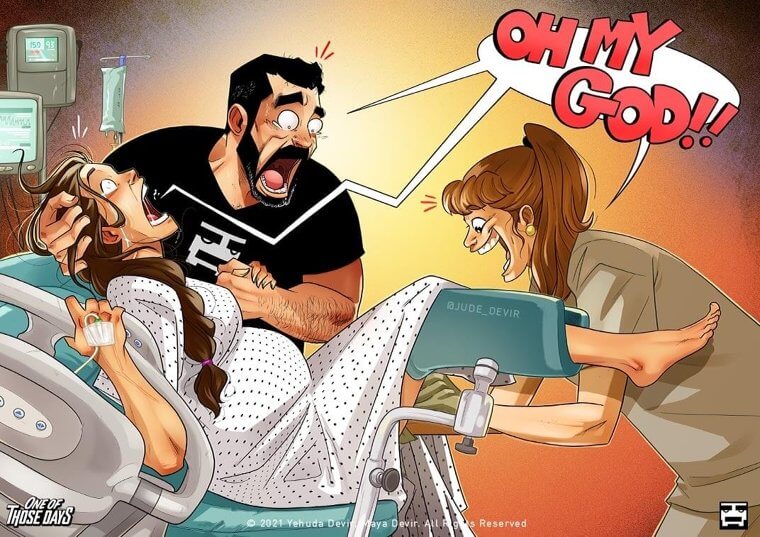 Everyone has their own birth journey to follow, and for Yehuda and Maya, it looks like it might have involved a bit of yelling and screaming. That's totally normal when a new life is about to enter the world!
Always Shut Your Mouth
One of the least exciting aspects of having a baby has to be changing diapers. It seems like every couple of hours, or sometimes even minutes, the baby needs a change, and that can lead to some messy situations.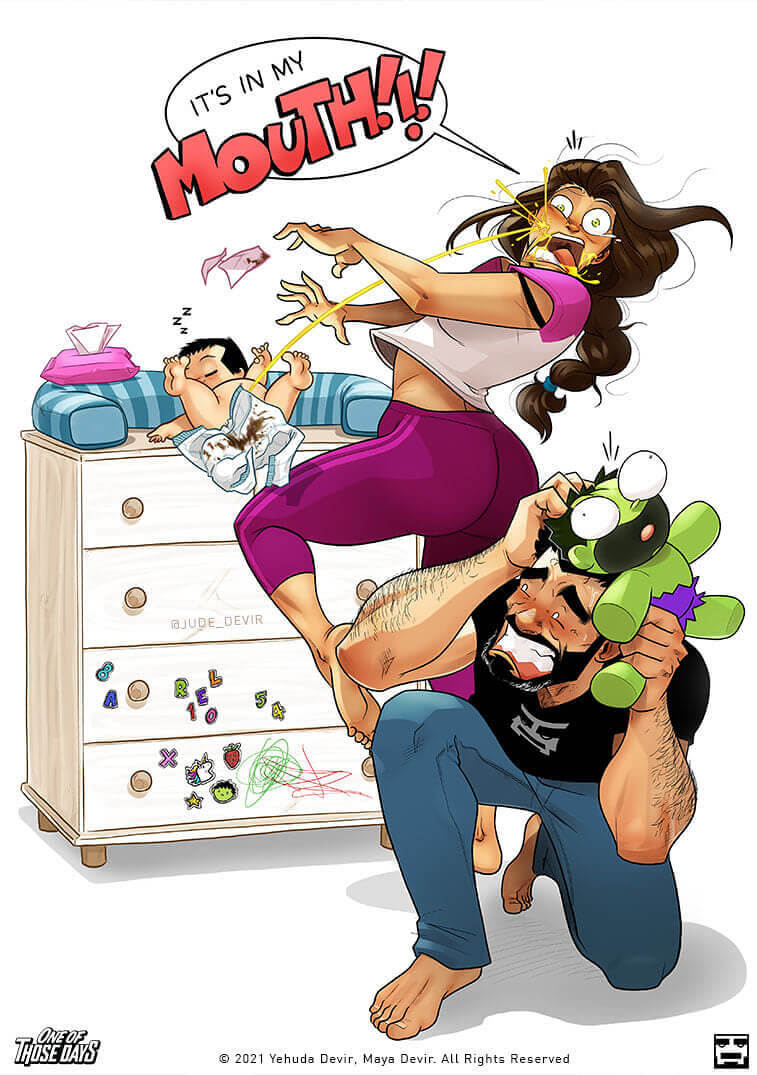 If this comic teaches you anything, it should be to always close your mouth when changing a dirty diaper. You don't want to end up with a surprise in your mouth.
A New Addition
This happy couple welcomed a baby boy into their family, which obviously meant a comic had to be created for the announcement.
According to the caption for the cartoon, this new addition has been named Ethan and he is a "new super-ultra-mega baby boy." We can't wait to see how he is portrayed in Yehuda's work over the coming months.
All Tuckered Out
After a long day of caring for your child, both you and your partner will be all tuckered out. Bedtime is not just for the baby. Most parents try to match up their sleeping schedules with their little ones.
By matching up the sleeping schedules, parents can enjoy some much-needed shut-eye, until the baby wakes up and the whole saga has to start again. Sleep while you can when you have a baby.
A Few Tickles
A new baby is always cause for excitement. As soon as that little person enters the world, it feels like anything is possible.
Baby Ethan seems to enjoy some coochy coo time with his dad, and a few little belly tickles. For babies, everything around them is a new experience that always leads to a sense of wonder.
Everyone Wants Mom
When you have children, they may favor one parent over the other when they are babies. Usually, they cry out for mom because she is the one that makes them their food. It might be hard when your partner is away, and the children won't stop crying, but it will get better eventually.
The tears and screams might be flowing, but parents do the best they can while their partners are away. The parent taking care of the children watches the clock and wonders, "how many minutes until they come back?" At some point, the kids tire themselves out, and the crying stops.
At Least Everyone Is Sleeping
When you have young children, it can be challenging to find time to sleep. But, in the rare moments that everyone is sleeping, it doesn't matter if the house is a mess or someone didn't get their bath; you just have to savor the peace and quiet.
Being a parent is exhausting, and sleep is rare, so getting even a few minutes of rest with your children is a huge parenting win. However, we wonder if parents ever get used to not sleeping because they still have to go to work even if their children were up all night.
Getting Older
We all age, that is a fact. For some people that means getting wrinkles, and for a lot of men, that means thinning hair or going completely bald.
Losing hair can be a major source of anxiety, but it doesn't need to be. People age, and aging gracefully is a part of life. Own that balding head, and embrace the change. With age, comes wisdom, right?
Zoning Out
Every couple, whether they have been together for a couple of months, or a couple of decades has moments where they just need to zone out.
Social media is a great escape, and even if you and your partner aren't talking, you can be sending each other memes, and funny TikToks while you enjoy some quiet time together.
In It Together
At the end of the day, your partner is going to be with you through thick and thin. That means they are there for the highs and the lows, and no matter what, you will stand together.
Some days will be tough, but communication is key. Make sure that you check in with your partner, and assess how you both are feeling. Bottling up feelings is never good.
Winter Is Coming
As soon as that first crisp breeze blows in, or the first flurries of snow appear, women everywhere know it is time to stop shaving. Of course, some women still shave, but if you're not showing your legs off in shorts it is definitely more of a choice.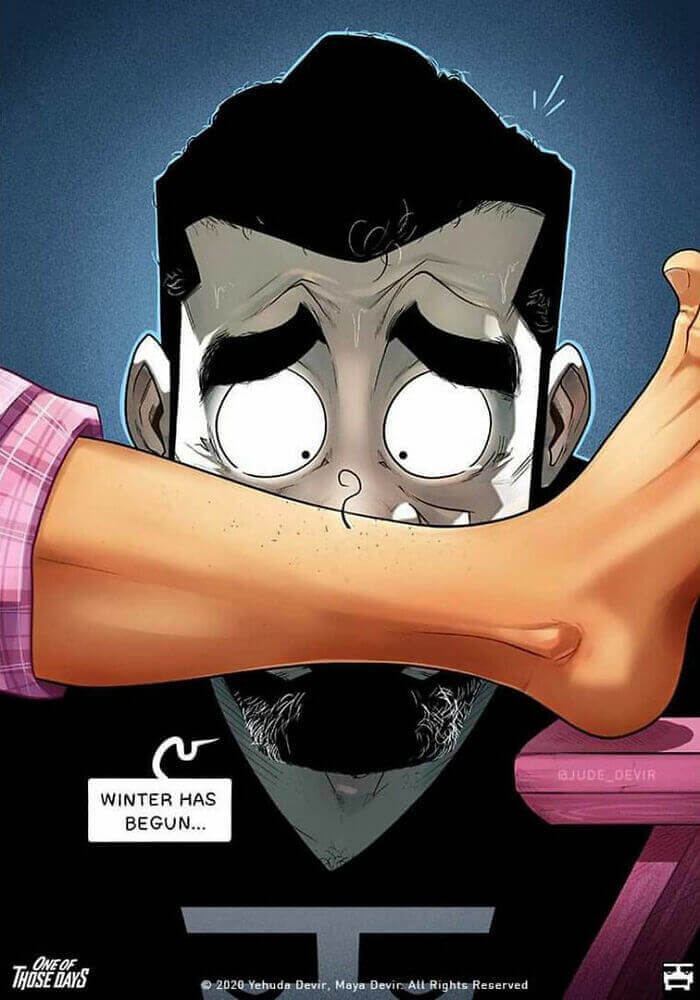 When winter hits, and women no longer have their legs on display, it is totally okay to say no to shaving, and embrace hairy legs.
Always Work Together
Being a part of a team in the workplace is just as important as being a team at home with your partner. You need to work together to raise your child, or your pet if you opt not to have kids. It takes two to clean up a baby that has gotten food everywhere or has managed to dip a hand into a dirty diaper.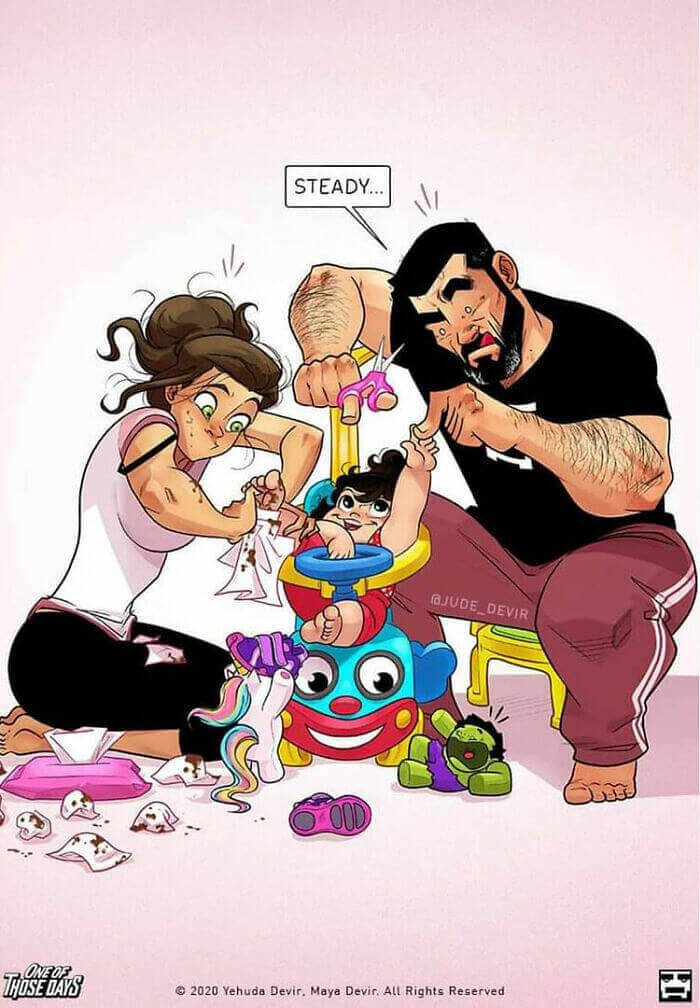 You can always rely on your partner to help. That teamwork spirit will help you raise your kids to perfection, and achieve the life you have always wanted – go team!
Relatable Illustrations About The Struggles Of Raising A Baby
Ashley Lez
There's nothing like starting a family and welcoming your firstborn. That's why Maya and Yehuda Devir have been documenting their life together through marriage, pregnancy, and the challenges of raising their little girl with relatable hand-drawn photos. Whether it's poopy diapers, sleepless nights, or milestones like their baby's first word, these two aren't afraid to share it in a way we all can relate to. Don't forget to stick around til the end for a special photo of the couple with their beautiful baby girl in real life!
"We're Pregnant!"
For so many couples, it is a dream to get pregnant and start a family. After trying for a while, Yehuda and Maya finally got a positive result and couldn't have been happier. It is a celebratory moment because they are so excited to begin this new chapter of life.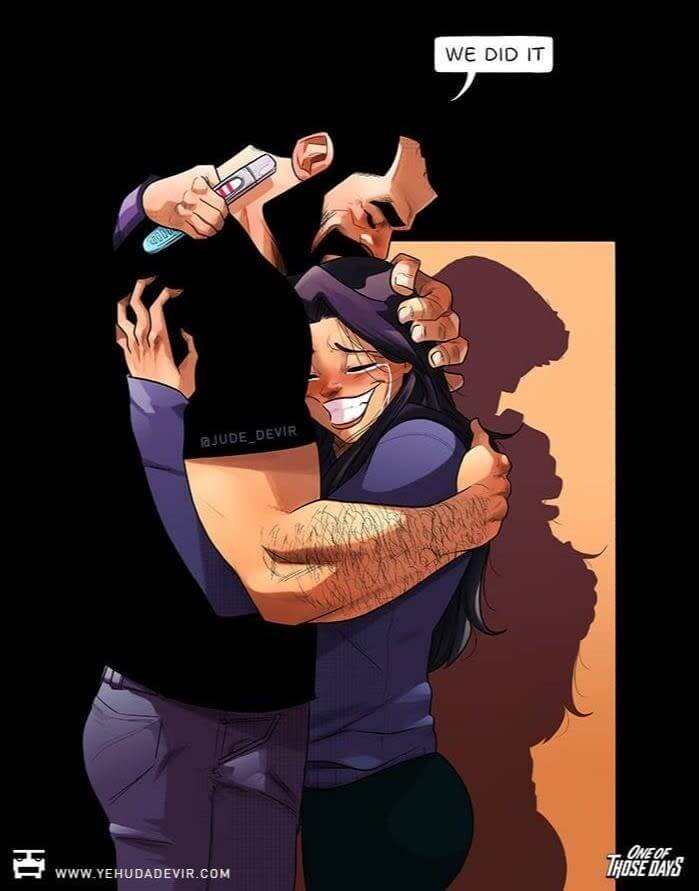 They have talked about starting a family for so long, and their plans are finally coming to life. This is one of the most amazing moments in their relationship, and it is something a couple will never forget.
It's Go Time
It's finally time to go to the hospital, but you might want to only bring the essentials instead of everything in the house. Instead of bringing everything you own, it is best to prepare a bag for the hospital, so you aren't running around when its go time.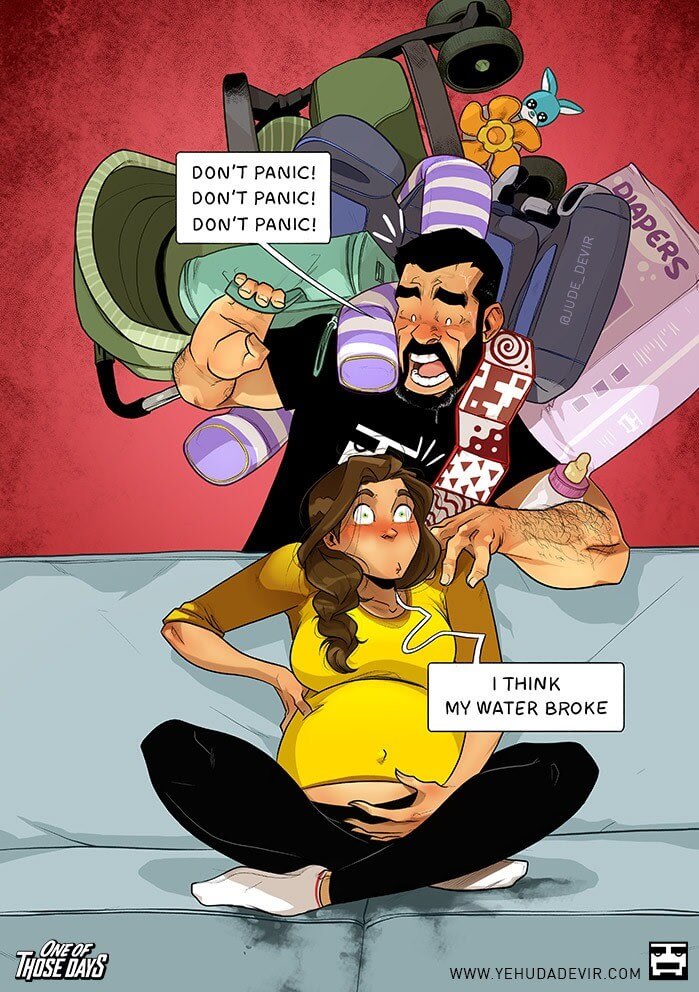 After the long nine months, it is finally time to meet their baby. Although they look panicked, they are just over the moon about bringing home their new baby. This is a milestone moment in many people's lives, and it is a joyous and scary time.
Welcoming The Sweetest Angel
When you can't get enough of your newborn baby, and you want to stare at her all day long. Everything she does is adorable, even her drool and dirty diapers. They can't believe that they created such an adorable baby girl. Most people would enjoy her sleeping moments while they last.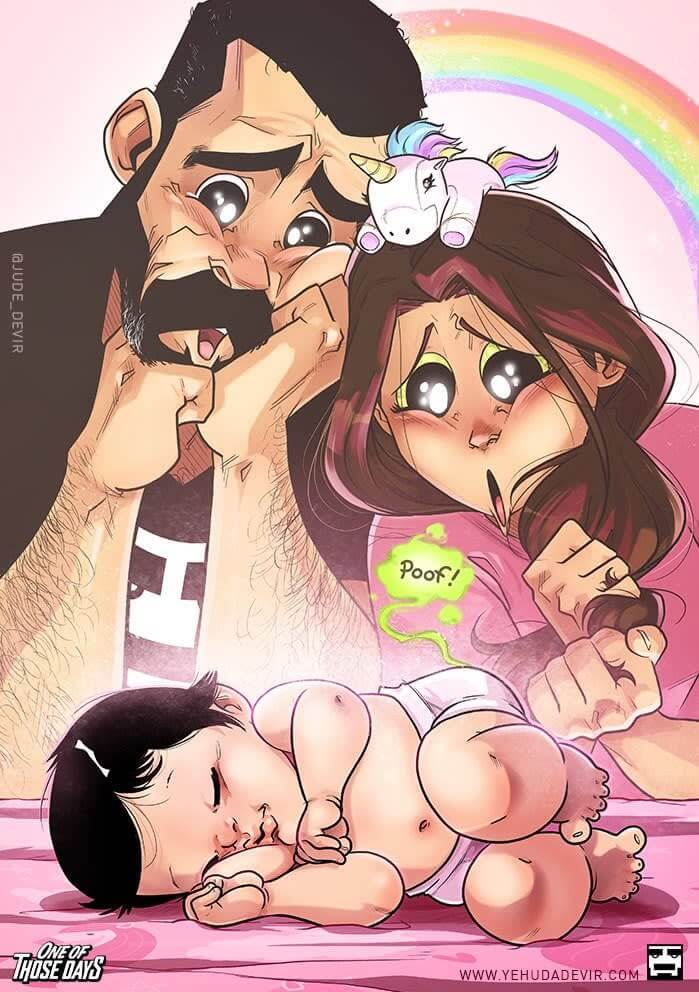 There are so many exciting moments when you bring your baby home, and everything they do is something to document. Even though she might have a smelly diaper, they can't get over how sweet she looks. They might not think the baby is so cute when they go to change that diaper.
Exhaustion Is An Understatement
"She never stops crying!!!" Once the baby is up, it is hard to put her back to sleep. It seems like she never stops crying. ​There are many exciting moments, but the sleepless nights are not something that you can prepare for. It might be time to get some caffeine and prepare for another long sleepless night.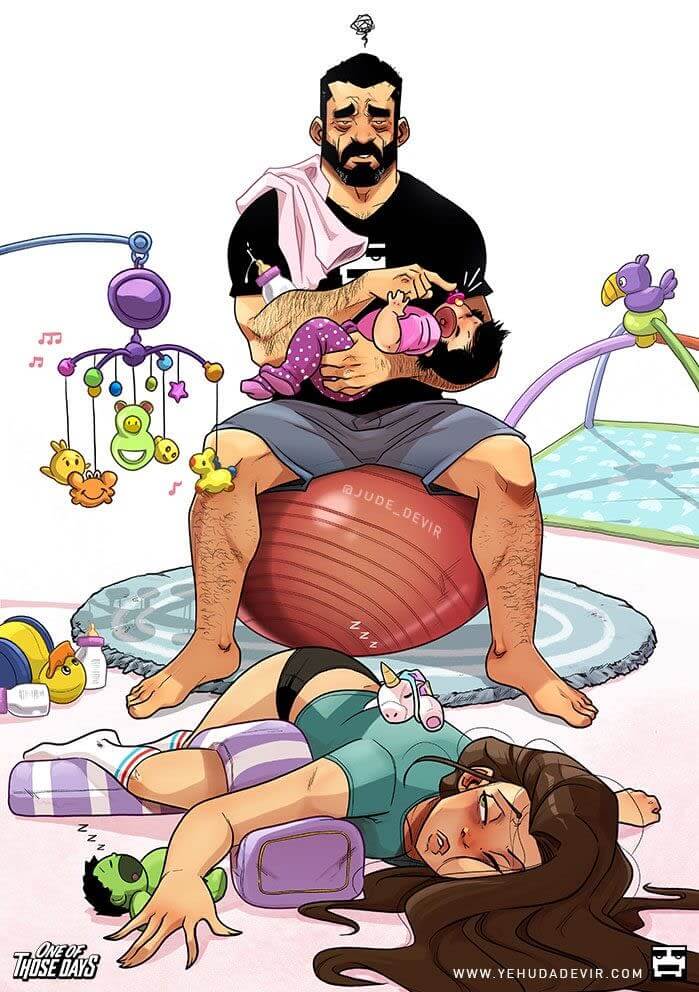 Some people who are not parents might ask you why you are exhausted all the time because babies are supposed to sleep a lot, but they don't understand.
"It's About To Blow!"
When it comes to changing dirty diapers, some people are more dramatic than others. He decided to take one for the team to clean up this mess. How can such a tiny person make such a giant mess, it is mind-boggling. Even baby hulk is afraid.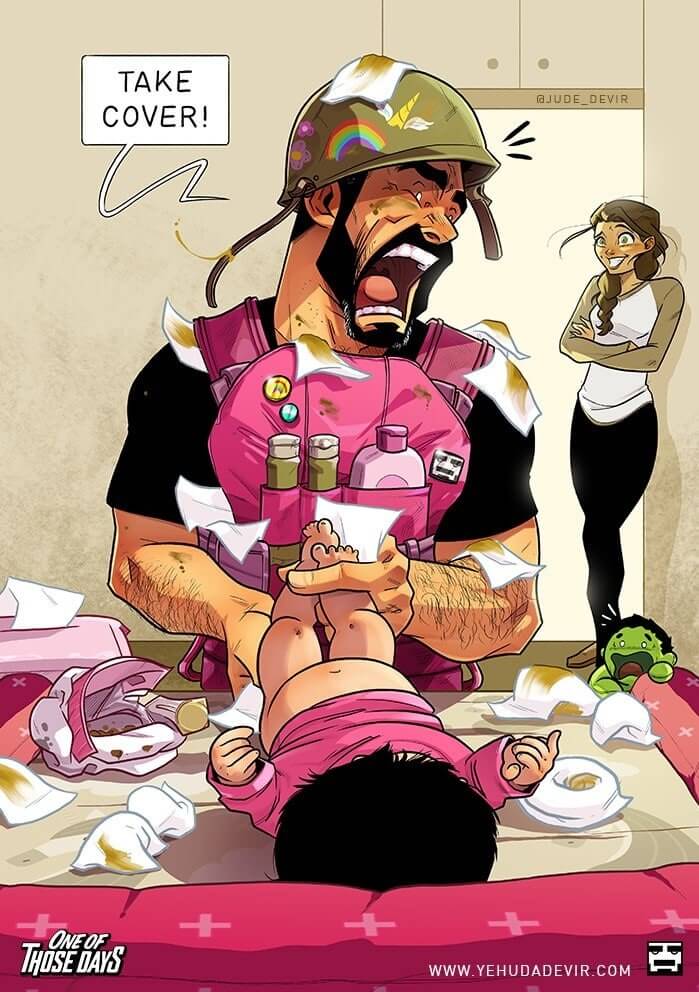 At first, changing diapers is like going to battle, but once you get the hang of it, it is a piece of cake. At first, those diapers can burn the inside of your nose, but eventually, you get used to the smell or figure out that vapor rub blocks your nose from bad odors.
If One Person Feels Pain, We Are All In Pain
New baby teeth are like razors. When they are starting to get teeth and still breastfeeding, things can get painful very quickly. Good thing she has her husband's hair to grab onto to share the pain with him. If she has to feel pain, so does he because they are a team and in this journey together.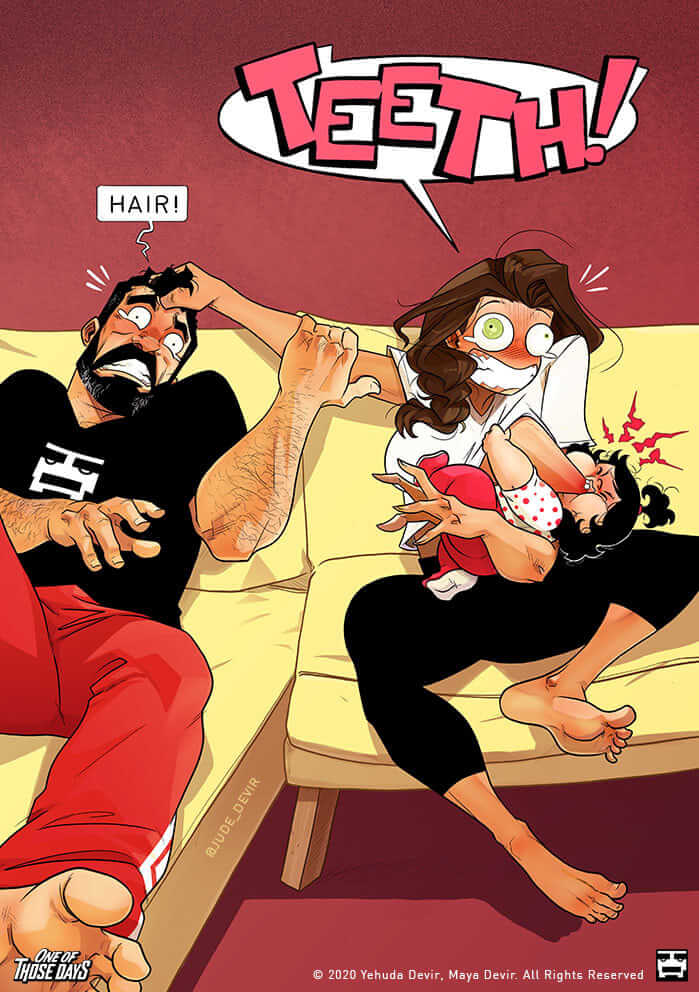 It is always when you least expect it that your child starts using their teeth to chomp down on one of your most sensitive parts. Obviously, they don't know any better, but that doesn't mean it hurts any less.
Caught Up In Feelings Of Doubt
Nobody comes totally prepared with how to raise a child, it's something you learn as you go along and, just like with everything else, you're bound to make mistakes. It's those moments, laying in bed with your partner when your mind starts to race and that self-doubt starts creeping in.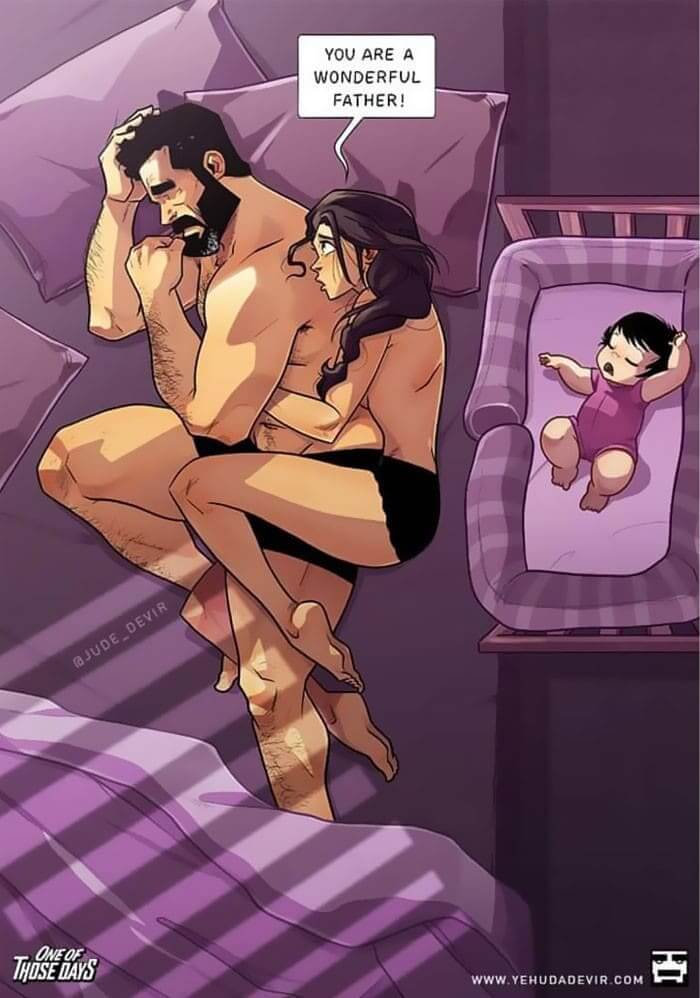 We can all totally relate to this photo even if we don't have children. We're all worried about something and every now and then we all start to get filled with doubts at our ability to perform a certain task. It's moments like these that we need our loved ones the most, to give us the support needed to succeed.
New Baby, New Bodies
After having children and changing lifestyles, you should embrace the changes that your bodies go through. ​You love your partner no matter what changes their body goes through because change can be good.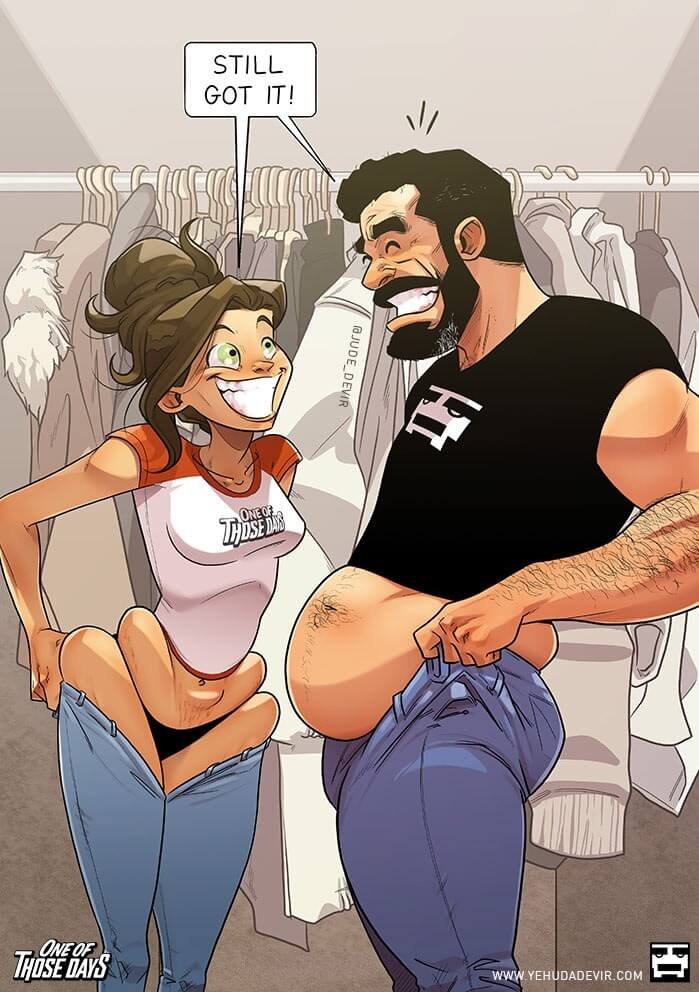 Although it can be hard to accept that your body looks different, you have to remember that you brought a beautiful child into the world. It's ok to gain weight, and it is ok to lose weight. You are not alive just to pay bills and lose weight; You are beautiful no matter what.
Bath Time Is A Family Affair
Giving a bath to a baby is a whole different and wet war. It seems like eventually, both parents get their shower as well. She has a lot more power and strength than people would think. When she doesn't want a bath, she will make it impossible to give her one.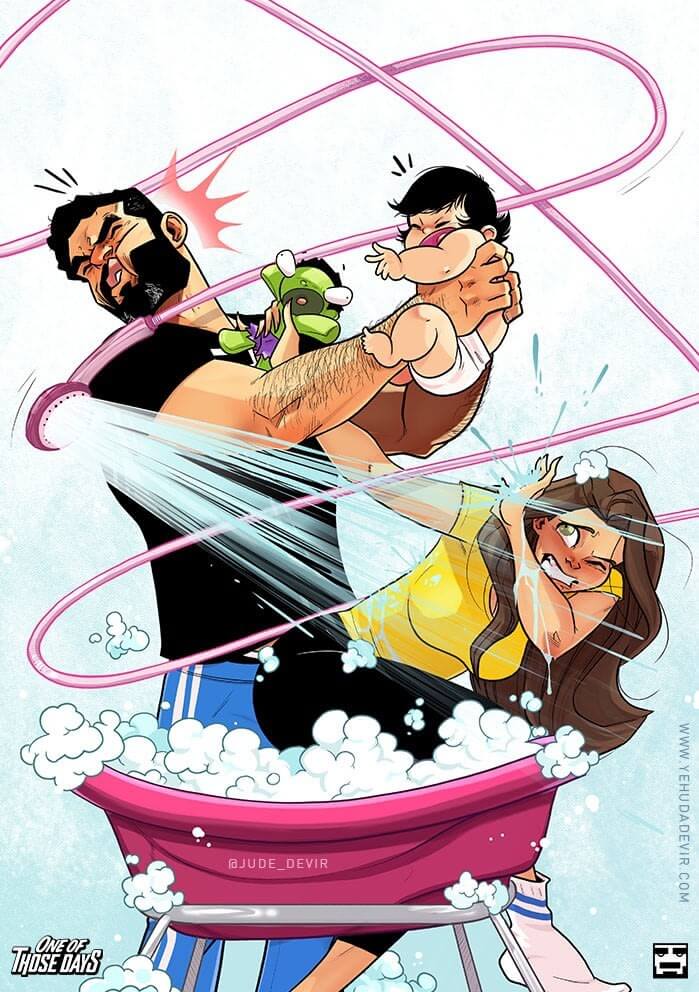 Some parents might say they don't have time to shower because they are always watching the baby. However, it seems like whenever she has bath time, everyone who is involved gets just as soapy as she does. Might as well kill two birds with one stone.
Nap Time For Everyone
After many sleepless nights, the baby finally calms down and takes a nap. This is the perfect time for you and your partner to get some rest as well. Who knows when you will be able to sleep for more than an hour again? You might as well enjoy it while it lasts.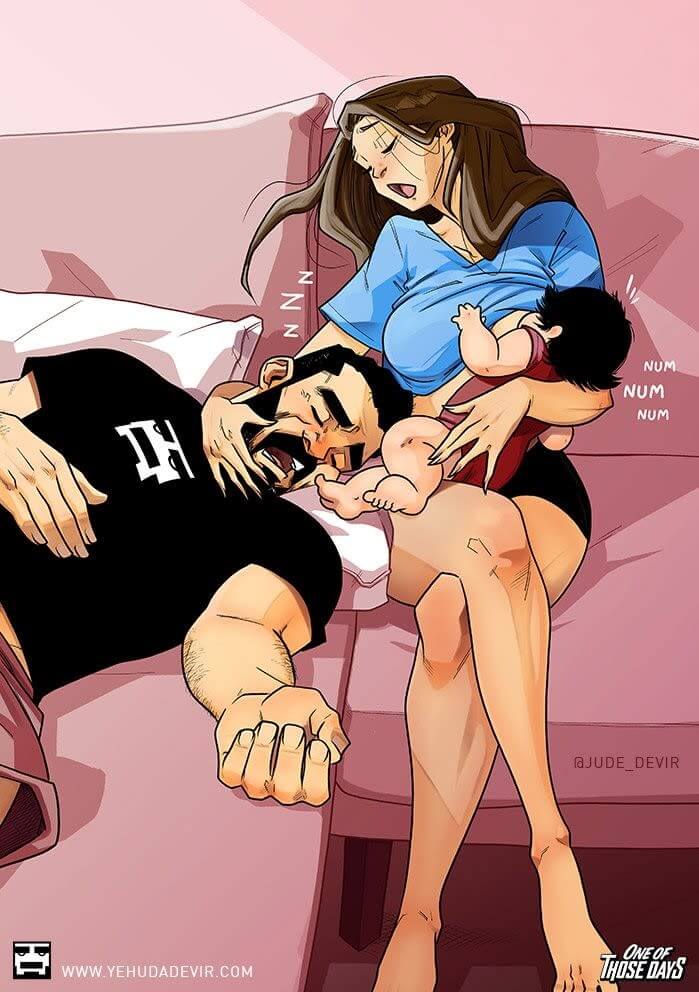 The baby took a much-needed break from crying to have a meal, and while she drifted into a milk induced sleep, her parents drifted off as well. Even though it is not the most comfortable position to sleep in, you must be too tired to care.
Tiny Yet Mighty
Sometimes babies show their affection through drooling and scratching, and it might be painful, but she loves you. Maya looks like a lion has attacked her, but it is just a powerful baby. Yehuda is so proud of his little girl.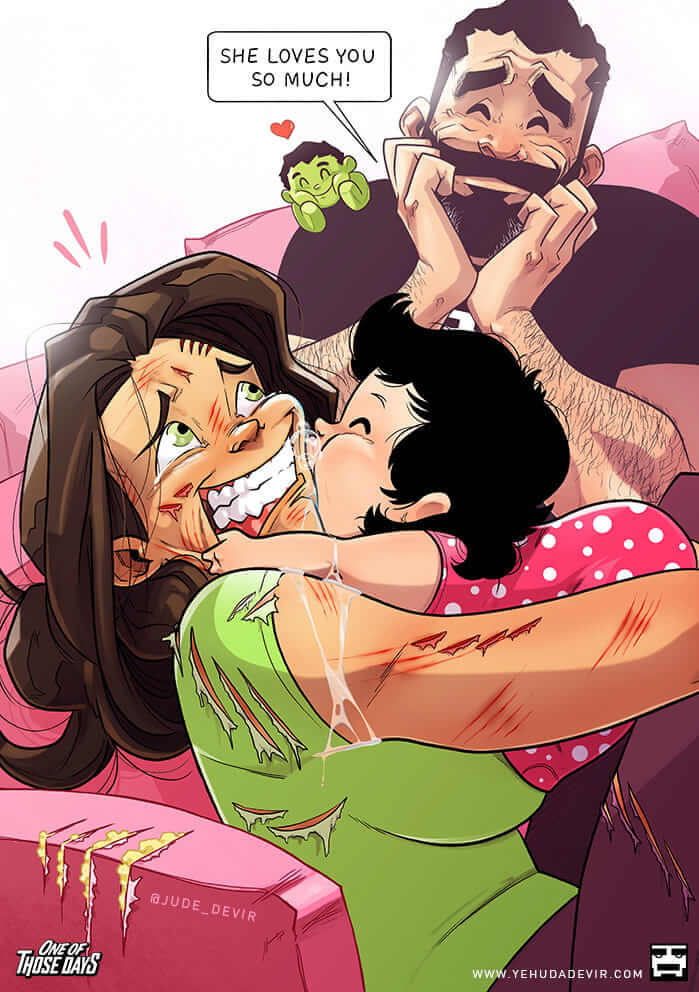 Babies have the sharpest little fingernails, and their scratches feel like the claws of a bear. Who knew such a small human could pack such a powerful punch. Besides their sharp nails and flailing limbs, babies also enjoy teething on your face and pulling hair.
One Shot And Many Tears Shed
It is hard to see your child get a shot for the first time, but they only cry more because they see their parents crying. We aren't quite sure who cried more in this situation. The nurse said it would be a small pinch, but they didn't hear her mention a broken hand.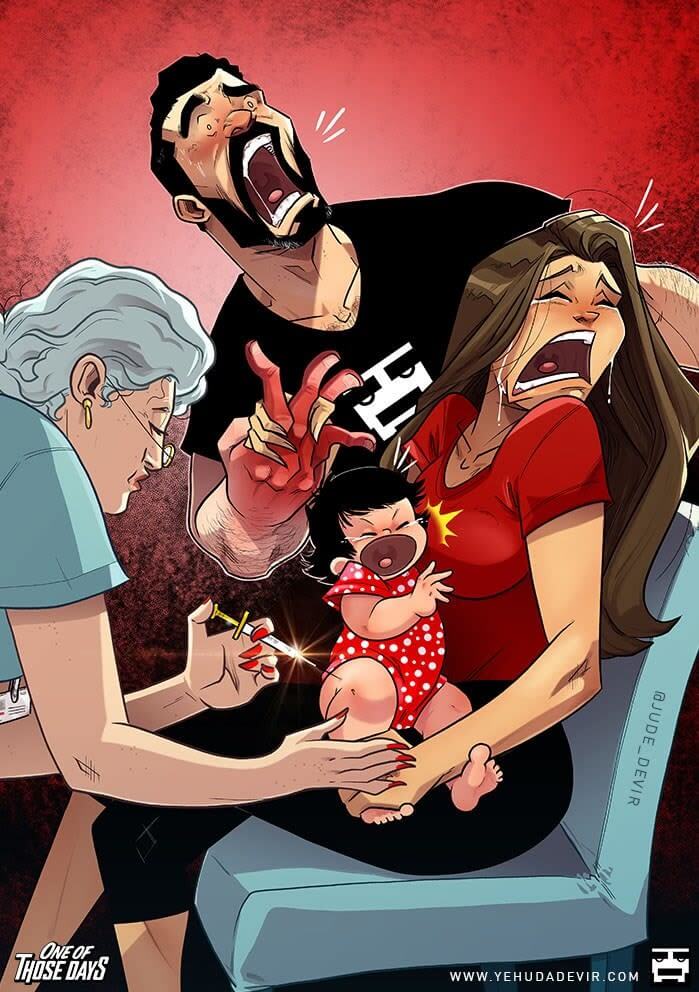 There is something about seeing your child get their first shot, which makes you extra emotional. While you know from experience that she will never remember this, and it is only just a small pinch, you still can't bear to watch.
The First Time Away
Leaving the baby with relatives for the first time can be very difficult. It is the first time you are going to be separated from your child since they were born, and it is emotional. ​Nothing will happen to the baby, they will be just fine, but there is still a feeling of longing to be with them and protect them.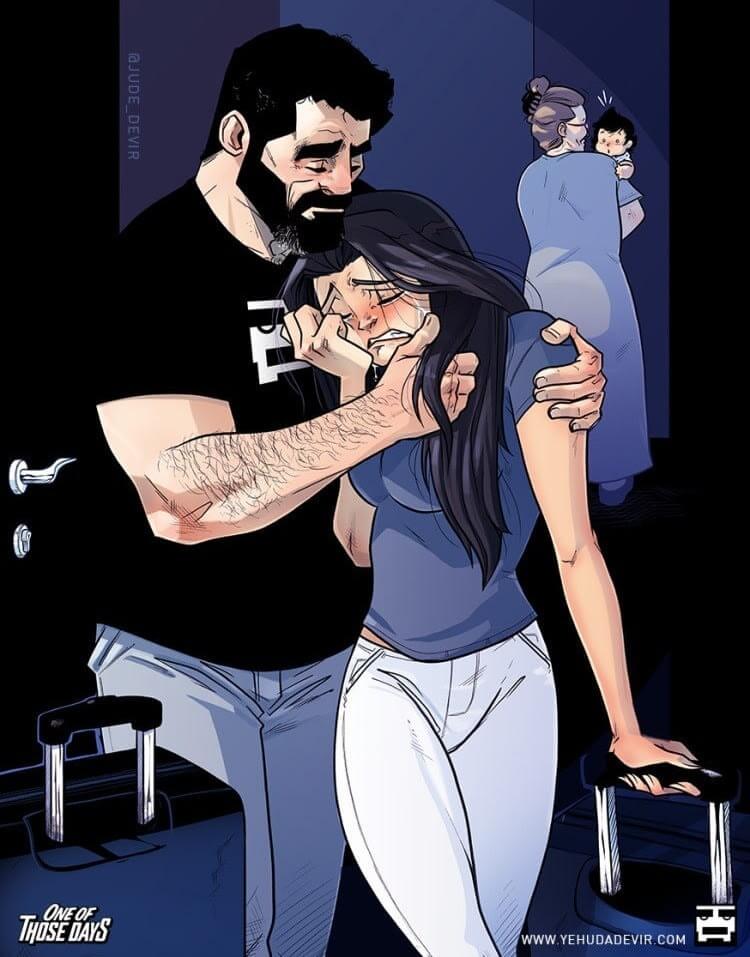 Although you might be headed for a sweet getaway, you still want to see your baby every day and make sure they are ok. What if they forgot about you after a day? What if your baby misses you? These are all questions that might run through your mind, but remember your baby is doing just fine.
Picture Perfect Timing
Everyone loves how cute babies are until they spit-up all over you. Luckily, Maya was there to capture this perfect moment. We just hope he had his mouth closed. Even though she spit-up on him, it is hard to be mad at that adorable face.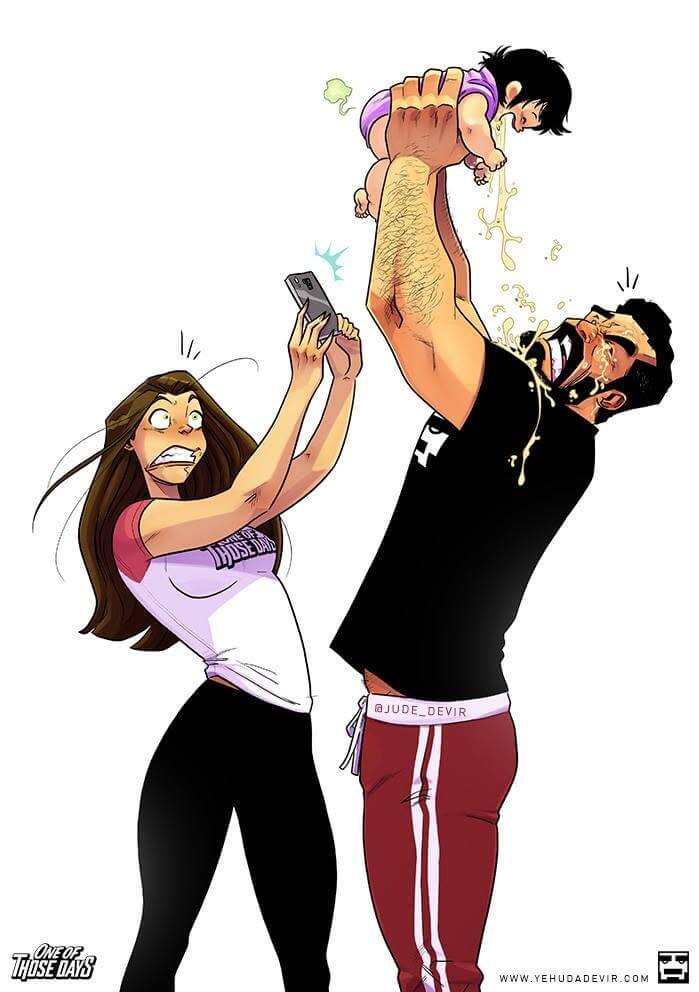 Unfortunately, it is not always rainbows and unicorns when you have a baby, so there are going to be days filled with spit-up and dirty diapers. You are lucky if you make it through a day without a stained article of clothing. Luckily, you have no time to do all the laundry that is piling up.
Sit And Stay!
When you have a small child that you need to watch, but you also have to go to the bathroom desperately. There is only one thing to do in this situation, and that is to treat your baby like a dog by telling her to stay.
You might think they are sitting right outside the door, but they are actually breaking havoc on your home. You might have only been in the bathroom for a minute, but they managed to grab the finger paint and turn the walls into their personal art studio.
All Hands On Deck
Babies are all kinds of squirmy when you have to put clothes on them. They might be tiny humans, but their bodies possess an explosive power that you wouldn't believe existed. You never know what will happen when you have to dress your baby.
Who knew how much power those tiny feet had. They needed two sets of hands to get her squirmy little feet in the socks. Babies love to flail around when you are trying to get them ready for the day, as if they know you are in a hurry.
"We Didn't Forget Anything At Home, Right?"
Parenthood is such a beautiful blessing. It's even better when you have to leave the house with a million things "just in case", and end up not using any of it. Although, when you pack light, you end up needing something that you thought was non-essential.
After a while, you realize what you need and don't need, but the first outing is always the scariest. Will the baby suddenly need a winter coat in the middle of summer? You don't know, but you probably packed on just in case an ice storm blows through.
Paparazzi Parents
Did you get that on video? Did you see the 400 pictures I took of the baby sleeping earlier? When you have a child, you want to capture all of their milestone moments, which means you always have to have a camera ready. These memories will be ones you will look back on throughout their life.
While your child might start to think that a smartphone is part of your body, you don't want to miss anything special. You can capture their first laugh, first steps, and their first words to remember forever. When they grow up, you can show them how silly they were as a child.
Everyone Always Needs Something
After a long day of chasing the baby around the apartment, changing diapers, and getting food thrown at you, it is time for a shower and some relaxation. Just when you are winding down for the day, it seems like everyone wants a piece of you.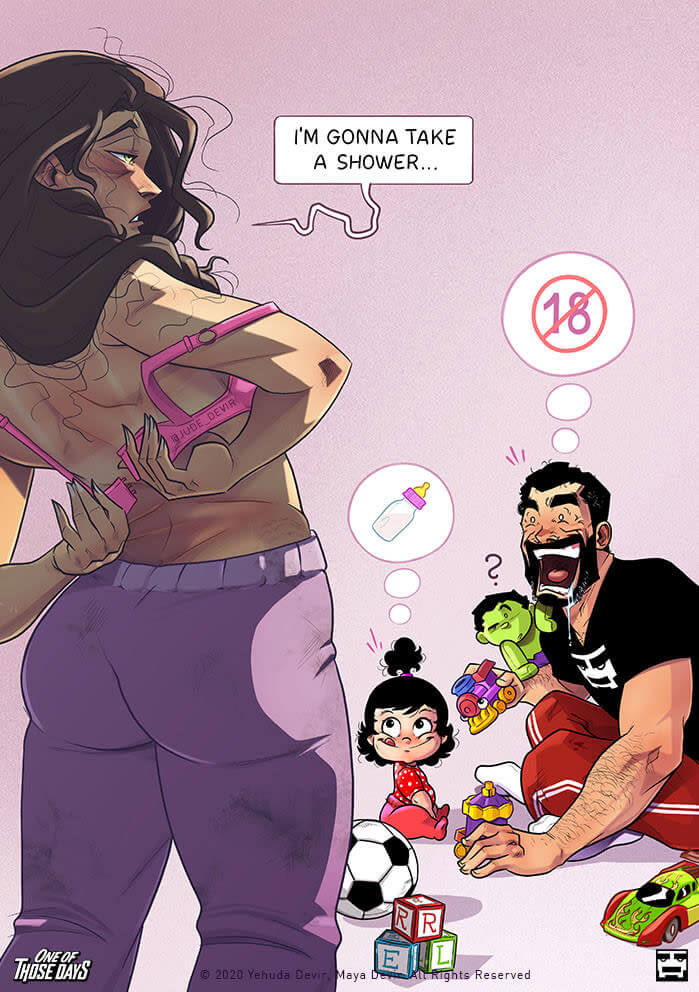 All-day, you have been dreaming about the relaxing hot shower you were going to take, and then your husband gives you his "sexy look." You don't feel cute, but it is endearing that after a long day, he finds you the most attractive.
Who Knew Hands Could Be So Entertaining
Shadow puppets can be fun for the whole family if you really work with your imagination. All you need is a flashlight, a dark room, and your hands to created magical fun while your child is young enough to be impressed. This dazzling show will entertain them for a few minutes, at least.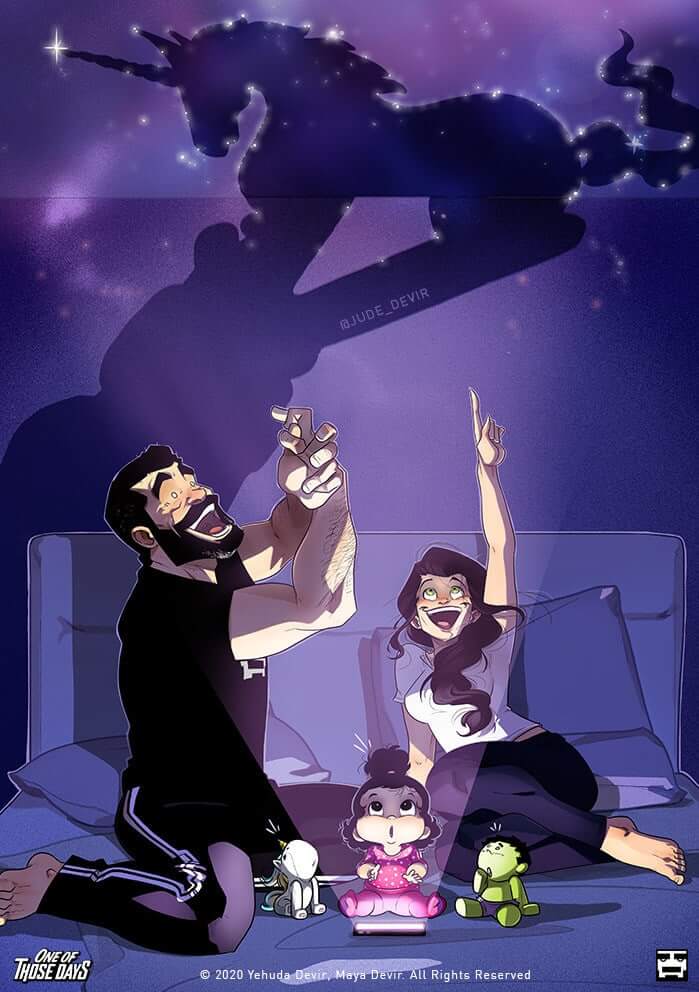 Not only is this a creative way to entertain your toddler, but it is another way to bond with your family. Try looking up different ways to contort your hands, just make sure not to get a cramp. Look, even baby hulk and her unicorn friend are impressed.
"Does She Smell?"
When you are trying to eat your lunch, and your wife decides it is the perfect time for you to smell if the baby has a dirty diaper. Not only does the smell make your nostrils burn, but you can also never eat spaghetti again.
Although you two have become extremely comfortable with each other throughout your relationship, this crosses the line. Who would want to smell a dirty diaper while they are in the middle of eating? That will make anyone sick to their stomach.
"She Said Mama!"
"OH. MY. G-D, Did you hear her say, Mama?! This is the best day of my life. She knows my name." When your child finally says "mama," it is the greatest feeling in the world. Grab the tissues to soak up all those happy tears because you won't be able to get over this feeling of pure joy.
It is even more heartwarming when your child says mama before dada. It is like winning a silent competition between you and your partner. Your toddler might not understand why you are so happy, but it will only encourage them to say mama more often.
When All The Housework Is Finally Finished
When you finally put the baby to sleep and get some time to relax, just the two of you; it can quickly turn into your own time to sleep. ​You don't care where you fall asleep because it is the first time you get to go to sleep at a reasonable hour.
Although there is so much tidying left to do, you don't care because the house will just get messy again tomorrow. All you can really think about is your bed and pillow until your child decides to wake you up in the middle of the night.
"Oh Hair No!!"
Just as your wife is walking around shedding hair like it is no problem, you are discovering a bald patch. It is like sirens are going off in your head that you are getting older, and questions are racing around your mind. How long do you have before it gets bigger? Do you need hair plugs?
Not to worry, just brush your hair in a different way to hide the patch. You can even use all the hair your wife sheds to create a mini toupee to cover up the spot. While it might seem like your world is crumbling around you, it is just one of the small problems that comes with age.
EveryBody Is Beautiful
After having a baby, our bodies go through changes. Many people feel insecure about their post-baby bodies, but they forget that they just created human life. Your body was capable of creating another human, so why should women feel ashamed of the changes that happen during pregnancy?
Although some people might feel insecure, it is crucial to remember that no matter what, your husband thinks you are perfect, and your child would not be here without the help of your powerful body.
Everyone's Getting Comfortable
Sleeping with a baby in bed is like sleeping with a drunken octopus. Their legs and arms are flying all over the place, and you might just get kicked in the face. ​It is a fun way to be woken up. That little body can take up so much space, and you lose your spot on the bed.
Although you are being kicked out of bed by a 35-pound human, you can't help but give up and sleep on the couch, so you don't disturb them. Sometimes moving is worth letting them get a few extra hours of sleep rather than waking the baby up to put her back in the crib.
Stuck Inside
Just when they were getting in the hang of parenting, a global pandemic strikes, and they got locked in their apartment for two months. How do you keep your toddler active and get housework done without leaving the confines of your apartment?
No matter how much you may love your child, you can always use a break from them each day. When you are stuck inside, you have to think of exciting things to keep them active.
Sweet Dreams
After a long day of taking care of your toddler, most people are daydreaming about their beds. Sometimes, you are so exhausted that you don't even make it to the bed before you fall asleep. At some point, the exhaustion becomes too much, and you start sleeping while standing up.
Her husband is waiting for the perfect moment to scoop his wife up and carry her to bed because she deserves a good night's sleep. The big question is how he can get the baby off of his wife, so he doesn't wake her up too.
Protect The Baby At All Costs!
All for one and one for all! Protect the baby from the bugs at all costs because bugs are scary and gross. ​Her parents are warriors who fight bugs off while making sure the baby is still asleep. Those are the real heroes of society.
No one ever wants their baby to have bug bites or be uncomfortable, so you protect them however possible. Mosquitos are the number one enemy, even for adults, and they must be destroyed.
Family Cuddles
Family cuddle time is the best time when everyone is comfortable. No one is getting kicked in the head, and no one is being pushed off the bed; everyone is peaceful. Even the stuff animals are getting some shut-eye with the family.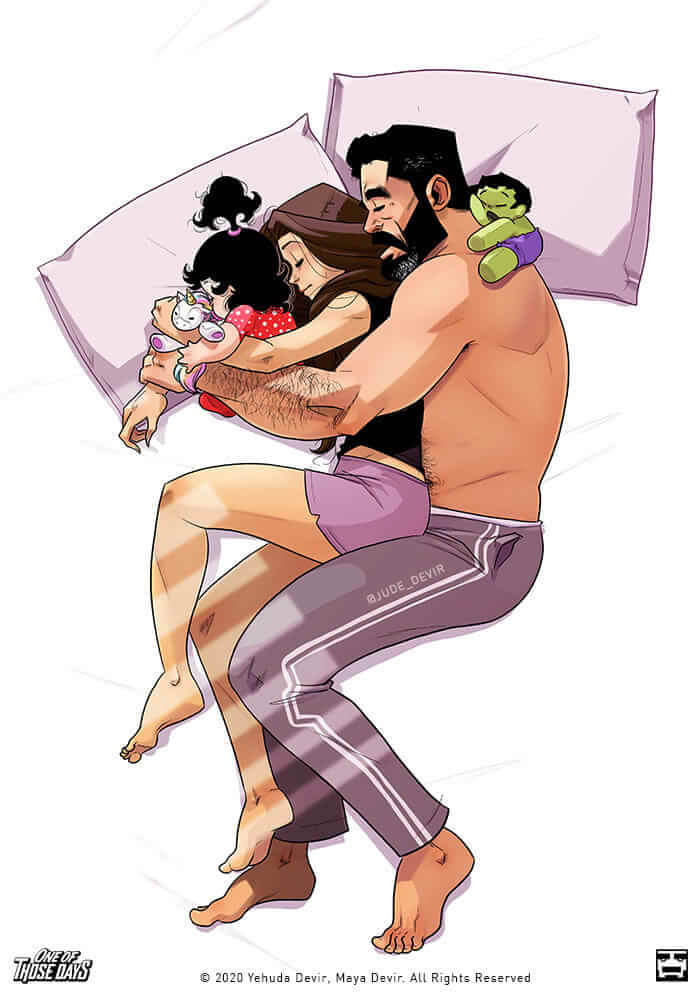 These are the moments people pinch themselves because life seems so perfect. You can forget about everything else around you and focus on how comfortable and snuggly you feel.
Summertime Fun
When you finally get to go on your first vacation as a family, and soon realize your child enjoys peeing in the pool more than any other place. At first, you blame it on one of the other swimmers or your partner, but the real culprit is the one who is not potty trained.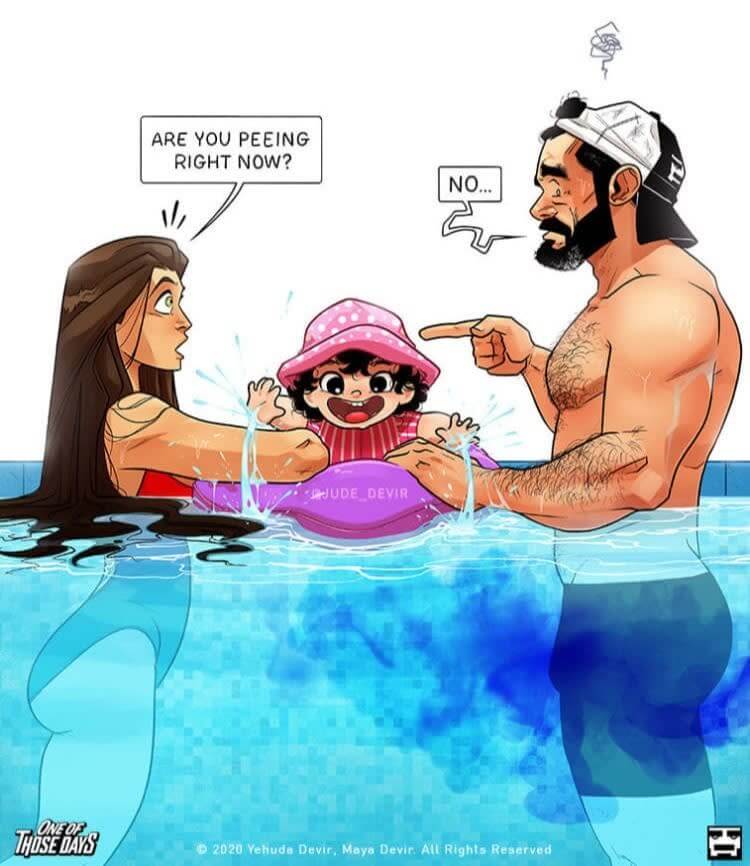 At least you have someone to blame from now on, and you can stop worrying about the embarrassment of peeing in the pool. As long as it is chlorinated, who cares? Just don't try to blame it on your wife.
"What Is This Type Of Magic?"
As soon as your child discovers their love for television, it is like they are mesmerized. They could be entertained for hours, but that is not exactly healthy for a developing brain. It is a good distraction for a few times a day, but don't let them get addicted.
Toddlers can sit in front of the TV for days without knowing what is happening around them because it is like a magical machine. It is moving colors, lights, and talking animals. Who wouldn't be hypnotized by all those things?
Time To Baby-Proof The House
"Oh, no! She's walking, remove everything from the floor, tables, and cabinets. We need all the baby-proofing supplies." As soon as your child starts walking, it is time to lock everything up. Anything that they can eat, chew on, or get hurt with needs to be placed out of reach.
While you are filled with excitement about this significant milestone, you also have this feeling that they are growing up too fast and can get hurt. Also, you have to remember that the baby needs to be watched even more now that she can walk around the house.
Baby's First Birthday!
When your first child turns one, it is a time to celebrate. It is the first of many birthday parties, and you want it to be as special as possible, which means you want to spoil them for an entire day. Although they won't remember, you can shower them in hundreds of gifts to celebrate this milestone.
Your baby might be more interested in the boxes and string that come with the presents, but it doesn't matter as long as they are happy. You could probably give your one-year-old an old shoe, and they would be just as satisfied as they were with a barbie doll.
A Masterpiece In The Making
When your husband does your daughter's hair for the first time, and it is a series of tiny ponytails, but they are so proud of their work. ​You don't want to ruin all the work they have done, so you leave the ten different ponytails in for the day.
Eventually, they will figure out how to make it look better, but it might take a few weeks of practice. You have to give your husband credit for at least trying considering they have never done this to their own hair.
"Take Cover!"
Feeding a baby is like having a food fight with an uncovered blender. The food gets everywhere, and even in places, you didn't know food could reach. Put the food out and take cover because it is about to get very messy. Get your mop ready because the food is about to go all over the walls and ceiling.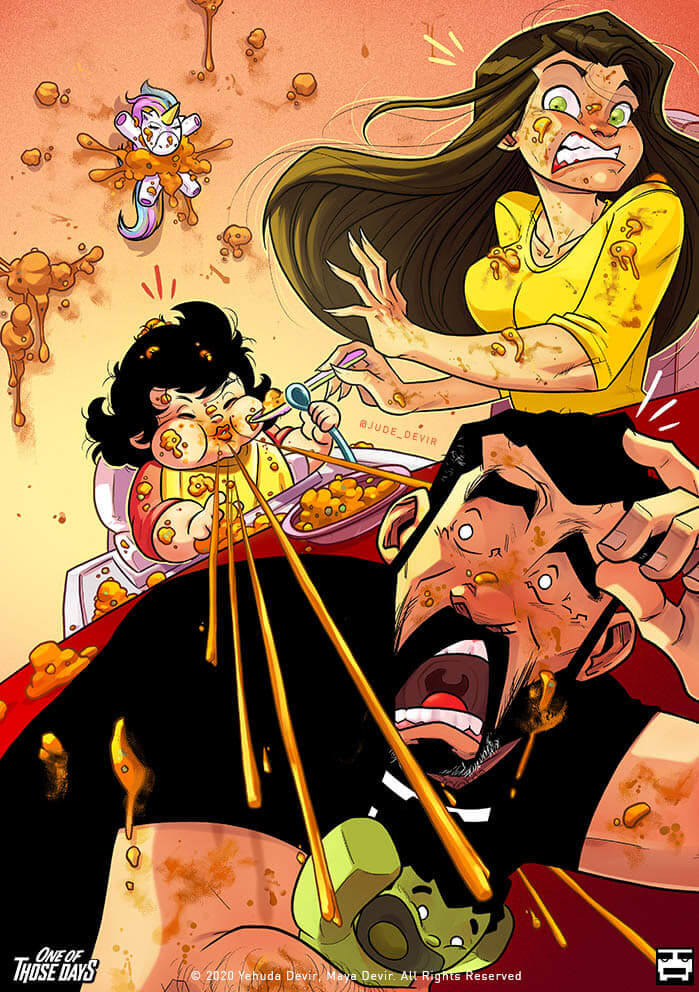 It's every man for themself because the baby is like a spewing volcano of food. There is nowhere to hide, especially when you give them something messy like spaghetti and tomato sauce. For the first few years of life, it might be smart not to wear anything white.
"Do We Have To Leave Her Here?"
The first day of daycare is always the hardest, but she now gets to socialize with other babies. It is only for a few hours a day, but it feels like a lifetime when you first drop them off. ​Once you leave, your baby will stop crying, and they will have fun once they adjust.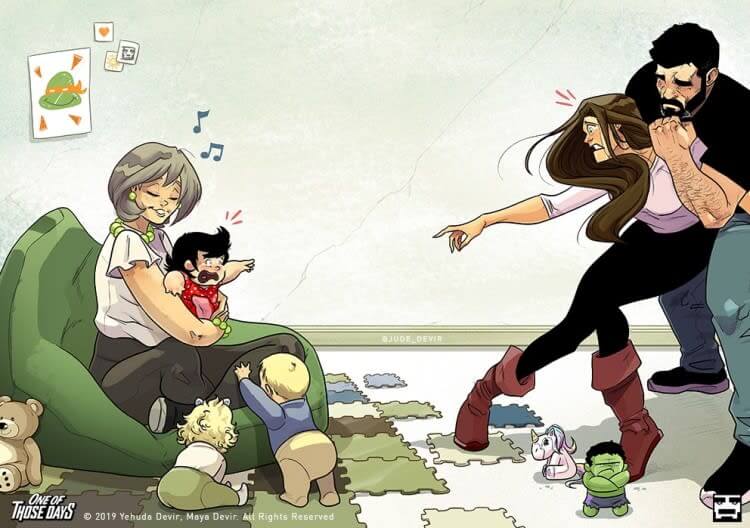 It is not like you are leaving your baby forever; it is only for a few hours so that you can work and get some much-needed rest. Don't worry; if you are ever concerned, you just have to remember that baby hulk is in daycare to watch over the baby.
Kisses For Everyone
No matter how much drool you are covered in, there is always time for kisses. Everyone is in on the family hug, and it is the best feeling. Even while your baby is using your chin as a teething toy, you can sneak in an extra kiss.
Those special moments as a new family are ones that you will treasure forever. Also, anytime you can sneak in an extra hug or a kiss is a win considering how you spend most of the day covered in things that come out of your baby.
How To Get Work Done When You Have A Baby
Some toys are for children, and others are for grown-ups. She has her blocks and stuffed animals, and he has his hulk and laptop. While he can get some work done, she is getting some extra playtime with her mom. It is a rare moment when everyone is a winner.
It might be hard to find free time to do the things that have been on your list for a while, but there are rare moments. Take advantage of the calm to be productive so you won't be stressed when your "to-do" list gets too long.
Black Friday Is A Big Deal
Black Friday is the best and worst shopping day of the year. There are great deals, but it is on stuff you might not need. Yes, that vase may be limited edition, but why do you need it in your house.
The low prices may blind your judgment, but it doesn't mean you should buy everything in sight. It is a good thing to buy large items that you have been needing because those are items have the best deals.
The Work's Not Over Even After The Baby Goes To Sleep
Finally, the chores have all been done, the baby has been put to bed, and now there's nothing left to do but sit on the couch and enjoy a few quiet and peaceful moments before finally heading to bed. Unfortunately, that peace may be put to the test when one partner is dead tired, and the other is still bursting with energy.
Out of all the places she can sit, she decided to sit on his lap because it is the most comfortable seat in the house. No matter how much space is left on the couch for her to sprawl out, she will always pick this spot, and we don't blame her.
They're The Real Deal
Raising a family is hard, there's no doubt about that. But at the end of the day, it's still one of the most rewarding things that we will ever do with our lives. In spite of it all, the ups and downs, there are few people who would ever change a thing.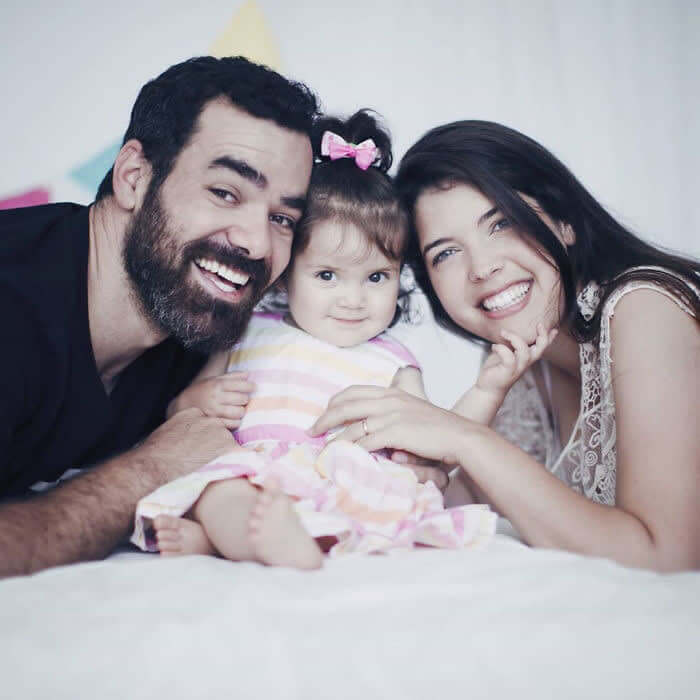 That doesn't mean we can't complain about it though – it's so stressful after all! We all need that outlet when the going gets tough and thankfully Yehuda and Maya chose to draw pictures of life raising a child that we can all relate to.
40 Honest Illustrations About What Marriage, Pregnancy And Family Life Are Really Like
Emma Boyd
This article was originally published on Kueez
Yehuda Devir is a popular illustrator and comic artist from Israel who's known for drawing all the fantastic and funny things he and his wife Maya go through in their lives. His authentic comics cover everything from their daily adventures to their journey towards parenthood. Everyone who has ever gone through these situations, will definitely find something familiar in these comics. Read on to see them, and to discover how this cute couple looks in real life.
Shedding All The Time
Whoever lived with a woman who has long hair before will surely know this situation well.
So even cleaning includes the fun part of collecting all the broken hair.
It's Your Turn
Both of them know that cutting onions is not an easy task. They do it alternatively. This time it is her turn…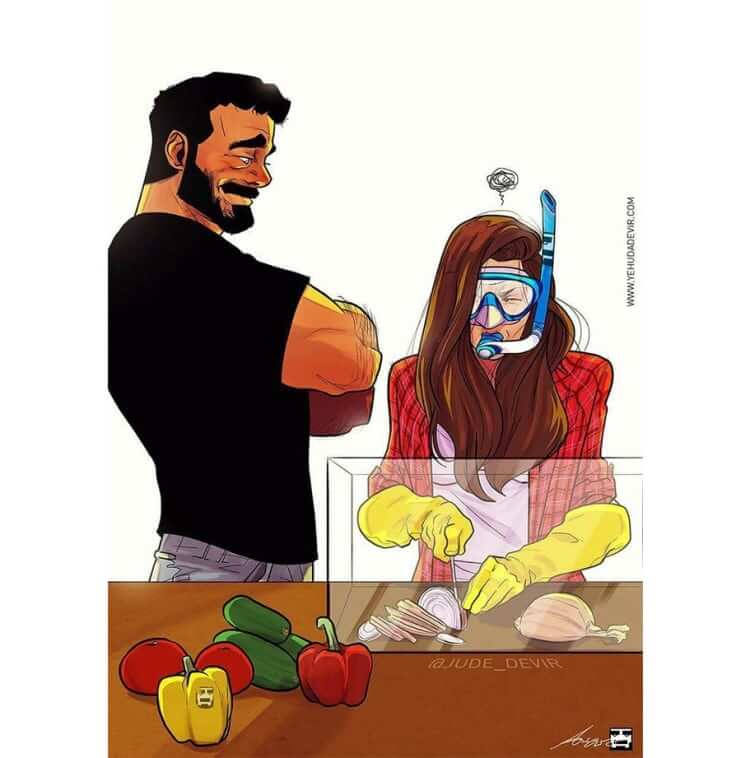 Although she thinks she has prepared herself for the task, he knows that it is still not easy. He is enjoying his wife experiencing what he felt the last time.
Waxing Hurts
Maya hates waxing because it brings out the female hulk in her. She doesn't want her husband to see her angry side.
The scared look on her husband's face shows that he doesn't want to mess with her anytime soon. He will wait for her to become a human again 🙂
I Thought Only "You" Were On Diet
She read somewhere that "you are what you eat." So, she has decided to eat organic food and remove all the processed food from the fridge.
It seems like Yehuda, on the other hand, is not that happy with this new green diet…
Honey If You Want I Can Sit On The Floor
She wants a bubble bath with a glass of wine. It sounds like an excellent mini-vacation plan. That's what we thought as well.
Plans aside, this bath turned out to be much more crowded than he anticipated.
Tell Me How Is It?
It looks like someone found a unique spaghetti in his bowl.
As mentioned before, when you're in a relationship with a woman who has long hair, prepare to meet it EVERYWHERE.
It Won't Hurt, Trust Me!
He is afraid of syringes, and he has always stayed away from them. But now his blood test needs to be taken, and he has no other way around it.
Her husband is usually bulky and strong until he sees the needles, then she has to be bulky and strong for him.
Team Work
When she asks him to lift her so that she can change the bulb, he can't say no. Even though he knows he can't lift her for too long.
Up there, she is thinking that her husband isn't feeling anything because she is so lightweight. Down there, he is wondering why on earth he agreed to do it.
Hey, That's Not Fair
"Just 5 more minutes", you know how it goes…
It was his turn to play with the remote control car, but he knows he is hopeless when she sets her mind to fun and games
How Could You?
They love to watch their favorite TV shows together. When she goes to sleep during the show, he turns the TV off so that they can watch it the next day.
He can't believe that she binge-watched five episodes when he was not in the house. This betrail is really hard to forgive…
Is My Hair Alright?
Mirrors, mirrors everywhere… She's the one who sets the pace when they come across one.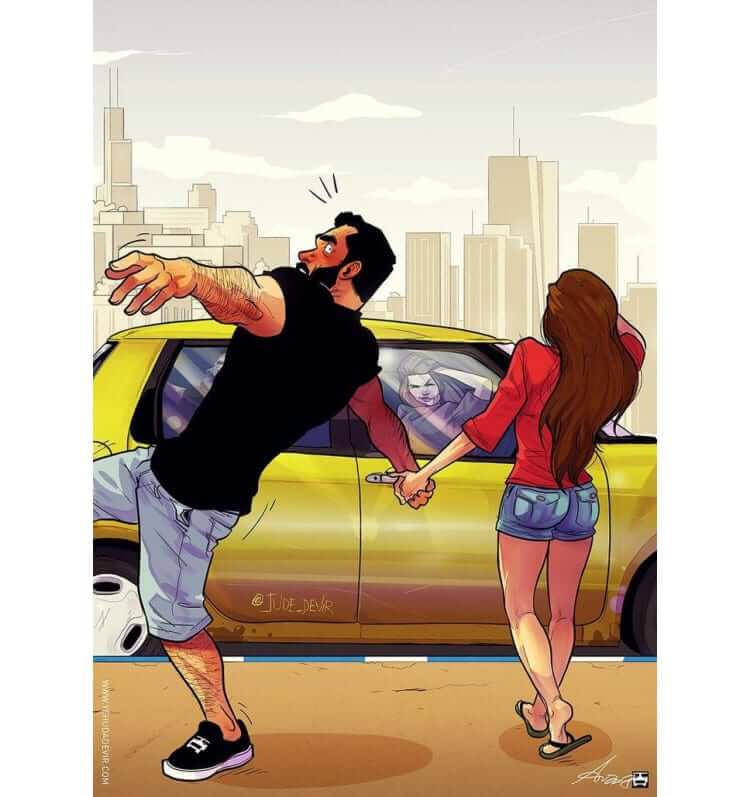 Although he is more powerful and muscular than her, when she wants to stop to look into the mirror of a car, all the strength in the world won't help!
I Love Your Baby Face
Every guy loves his beard, whereas (almost) every girl loves her guy's babyface. After days of insisting, she finally persuaded him to shave off his beard.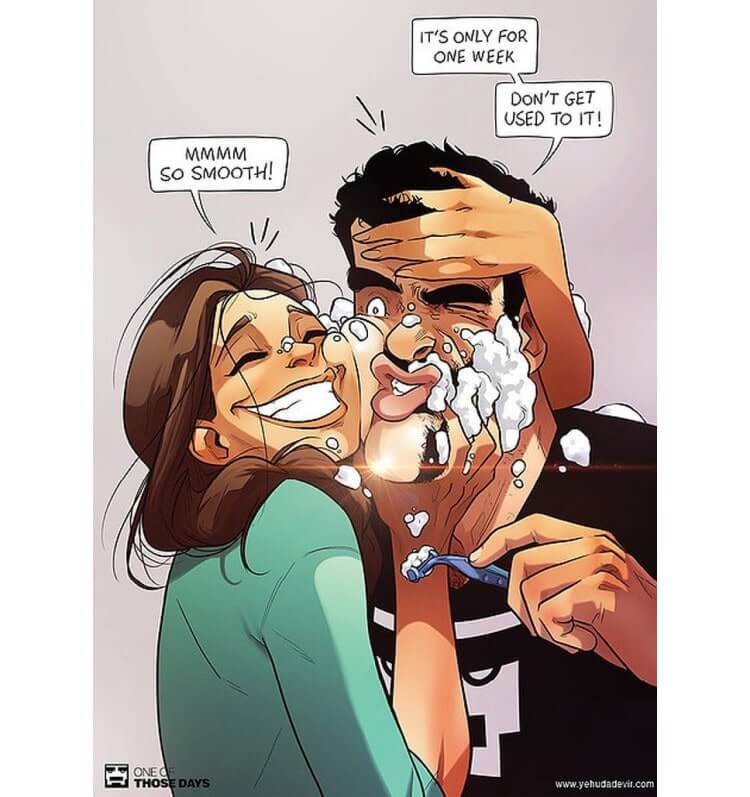 She can't get enough of his smooth face and enjoying every minute of it. After all, it won't last long.
A Professional Masseuse
A bit harder…Okay, okay, not that hard!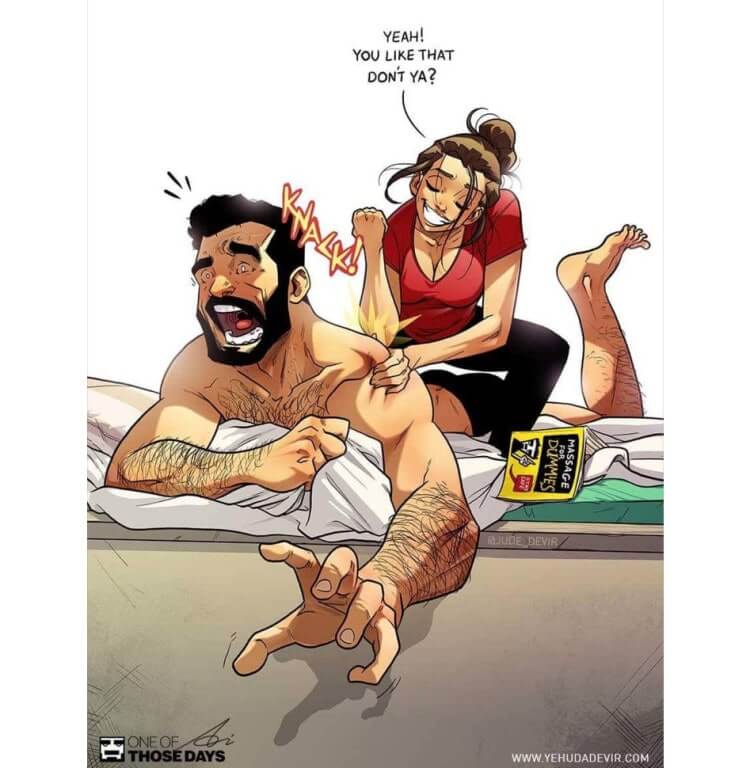 Not everyone is meant to be a massage therapist.
She Could Use Another Scarf
He is all ready to go out and is waiting for his wife to come. At last, she comes down after an hour and is all covered in warm clothes from head to toe.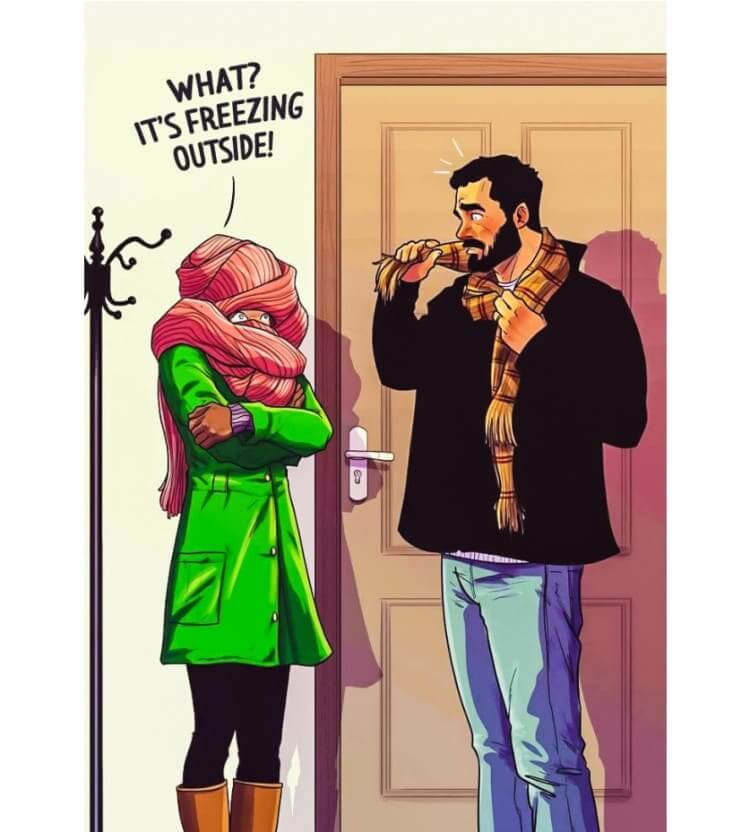 They surely perceive temperature differently.
You Aren't Going Anywhere
She is sick and has already emptied two tissue boxes. She wants to work, but someone needs to take charge and get her to bed now.
Let's just hope she won't smuggle her laptop to bed. Workaholics are capable of that!
How On Earth Is It Always My Turns to Wash The Dishes?
Some of us just have a remarkable ability to use an endless amount of dishes…
Washing them afterward is a whole different thing!
Baby, We're Going To Be Late
He entered the room, hoping that she would be all ready.
Looks like he's going to have to wait some more…
Heating Food Is Overrated
Why take the food out, warm it in the microwave oven and then eat it, when you can eat it in the fridge.
This time, he's busted!
Black Friday Craziness
It is Black Friday, and she knows that only her husband can help her get through the obstacles (people).
After a motivational speech, he is all ready to take on any challenge that comes their way.
Still a Kid
Although he has turned 30, he is still a kid inside. She knows it, and that's what she loves the most about him.
With a cake in her hand, she is ready to surprise him. But he is too busy playing with his "toys."
It Happens Every Morning
Apparently, waking up in real life is nothing like Hollywood movies…
But hey, love is not all glitters and sparks, and what matters most is what you have inside your heart.
Hot Wife
He wants to keep the water temperature lukewarm, but as we already know, men and women have a different definition for lukewarm
Shared showers are the perfect example of that, as it's hilariously described in this illustration.
When He's Sick
Remember when she was sick and refused to stop working?
When he is sick, the world is coming to its end.
Same Story Every Morning
Whether it is summer or winter season, she knows where to find the best heater in the house.
The heat that his body emits not only warms her but also her heart.
'I Think She's Ready'
Baby fever is an actual thing and it looks like she's definitely ready for one of her own.
He knows it as well. He keeps on looking at his wife's cute facial expression while her drool keeps on dripping on his hand.
Baby Operation Is ON
Many couples might find this situation familiar, as they are focused on the right time of the month.
He is called for duty and is ready to make his wife proud and happy.
Not You Again…
As they are ready to make their attempts at bringing a new angel into this world, Maya's oldest enemy pays a visit.
Yehuda managed to describe this moment in a funny way, but as some of you might know, it can be very disappointing and hard to deal with.
Baby Potion Might Work
As Maya is trying her absolute best to become a mommy, and that means mixing all the things that will do the work.
So, what do you think? Was the potion effective? Read on to find out…
Finally!
Their efforts finally reaped a reward they were anxiously waiting for…
They finally got the news that they are going to become parents. It is the happiest and most exciting moment of their lives.
Don't You Dare!
He knows that Maya is pregnant, and that has made him super protective of her.
He can't bear the sight of her doing any kind of work.
Can't Get Enough of Both of You
The most magical, full of love kind of waiting.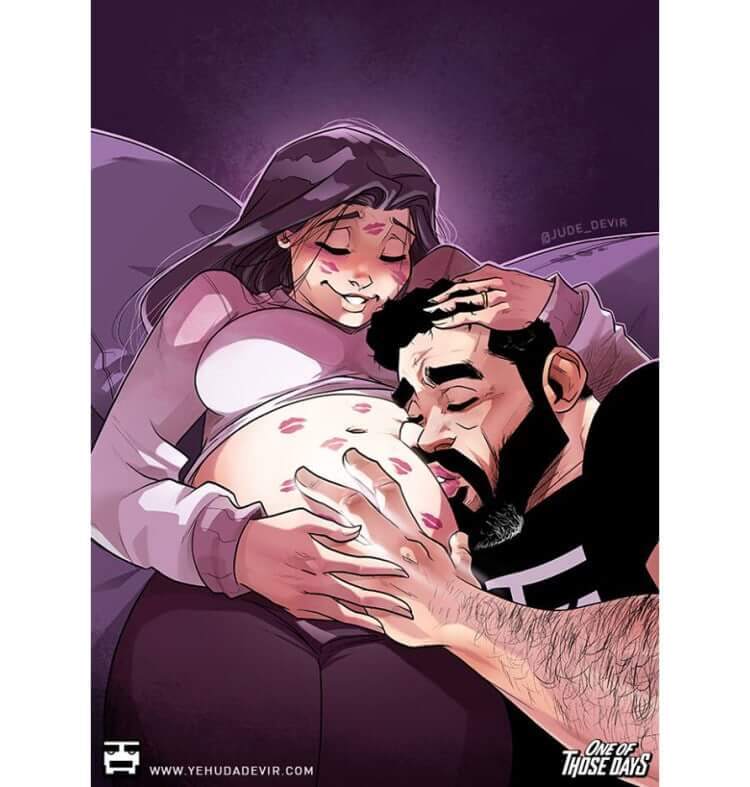 This little baby is so lucky!
No, That's Not How You Use It!
This is not what this ball is meant for.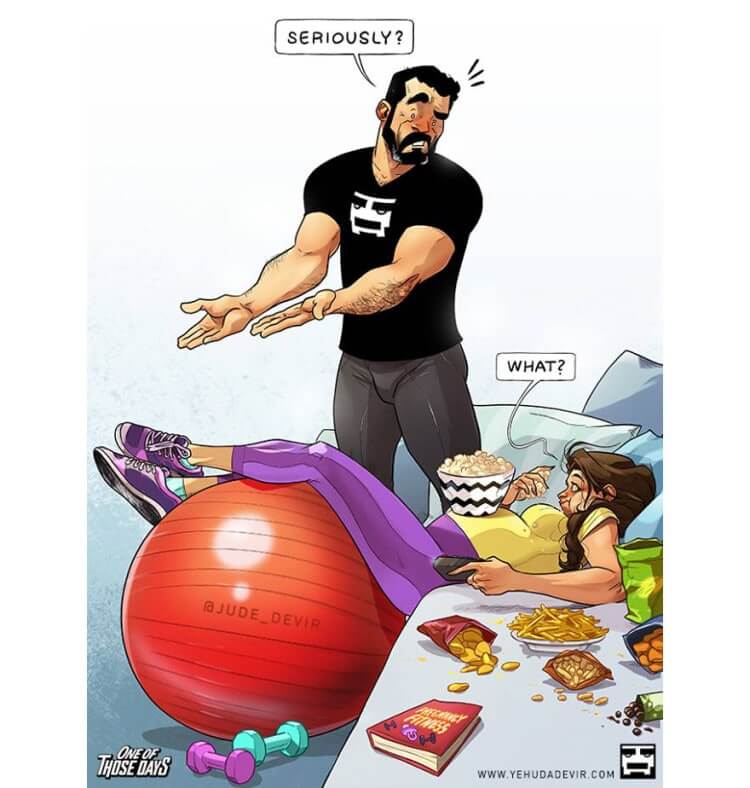 But hey, she's pregnant, cravings and exhaustion are real during pregnancy!
The Baby Kicked
You should always be ready for that moment…when the baby kicks!
She can't control her excited screams, and we definitely understand that!
Move Out Of The Way
Ladies first, and pregnant ladies – first and fast!
When a pregnant woman needs to go to the bathroom, no door will stand in her way.
Are You Sure You Don't Need Any Help?
Even the easiest tasks, like putting your shoes on, becomes a challenge as the belly grows.
Eventually, you ALWAYS need help.
Those Damn Hormones!
Waiting for a baby is not all fun and magic, as many woman experience acne during pregnancy.
Those hormones are just nasty little guys!
One of Us Needs to Stop Panicking
Okay, maybe we shouldn't bring the entire house to the hospital.
Baby is finally coming!
Welcome Little Angel
Finally, the baby arrived, and they just can't take their eyes off their little bundle of joy.
Yehuda and Maya named their little baby girl Ariel. Lovely!
I'll Handle It
They are all strong heroes until it comes to diaper changing.
Will he win the diaper battle?
Sleepless Nights
They knew that there would be many sleepless nights, but they didn't realize that it would be so difficult.
Someone is not going to bed anytime soon.
It's Bath Time
Giving a bath to a baby is a whole different and wet war.
It seems like eventually, both parents get their shower as well.
A Shot to the Heart and Nurse to Blame
We aren't quite sure who cried more in this situation.
She said it would be a small pinch, but they didn't hear her mention a broken hand.
Picture Perfect
Everyone loves how cute babies are until they spit-up all over you.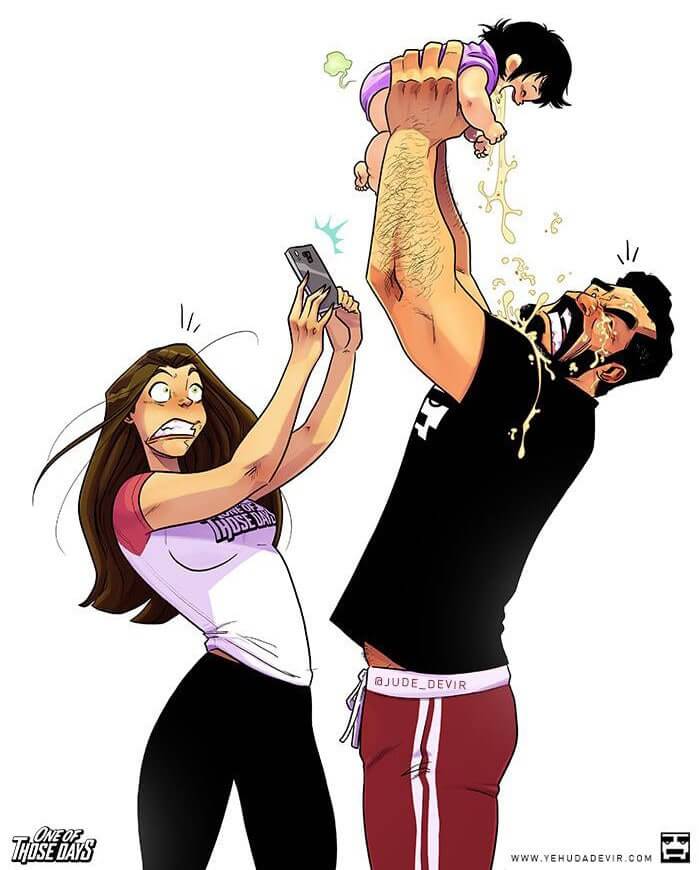 Luckily Maya was there to capture this perfect moment. We just hope he had his mouth closed.
Two is Better than One
Who knew how much power those tiny feet had.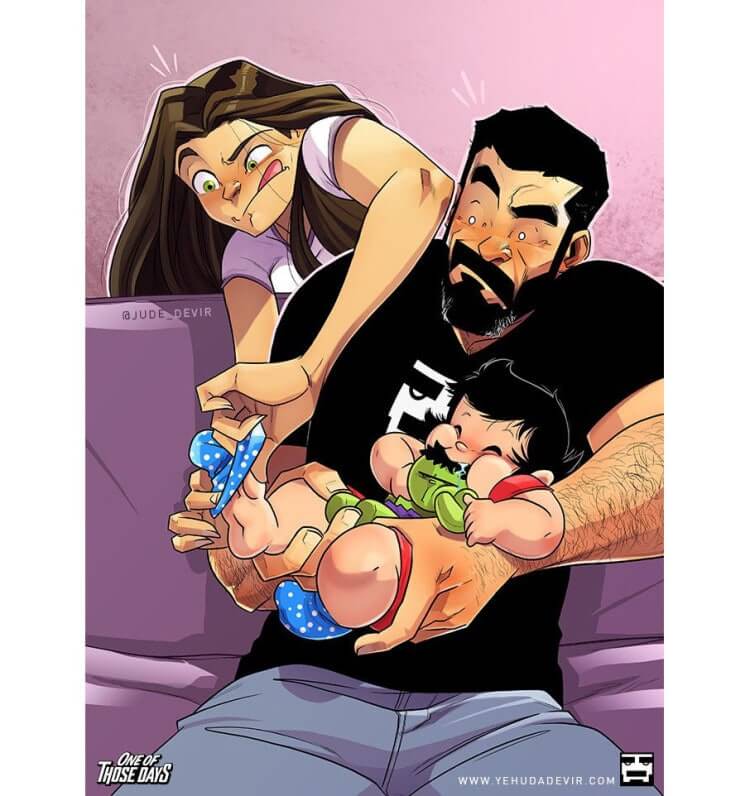 They needed two sets of hands to get her squirmy little feet in the socks.
Don't Forget the Diapers
They say parenthood is such a beautiful blessing.
It's even better when you have to leave the house with a million things "just in case", and end up not using any of it. Although, when you pack light, you end up needing it all.
Bonus Image!
This is what the couple looks like in real life!
For more of Yehuda and Maya illustrations, check out their Youtube page and website.
Did you recognize your experience in any of these pictures?
Babies Who Amusingly Ruined Their Parents' Photoshoot
John Travis
When you have a baby, it seems like time flies by, and you want to capture their earliest moments while they are still newborns. While the photos look adorable, the photoshoots don't always go as planned. The stress of trying to get a child or baby to sit still and smile for the camera is enough to make any parent want to pull their hair out, but at the end of the day, it's worth it to have those precious memories. So, when you are planning your next baby photoshoot, take notes from these hilarious moments, and remember to pack a lot of extra diapers.
Here Are Two Perfect Family Portraits…Oh!!!
If this family portrait is not going to make you laugh, then we don't what will. Just look at the second baby who is like "Staaaaapppppp!!!!"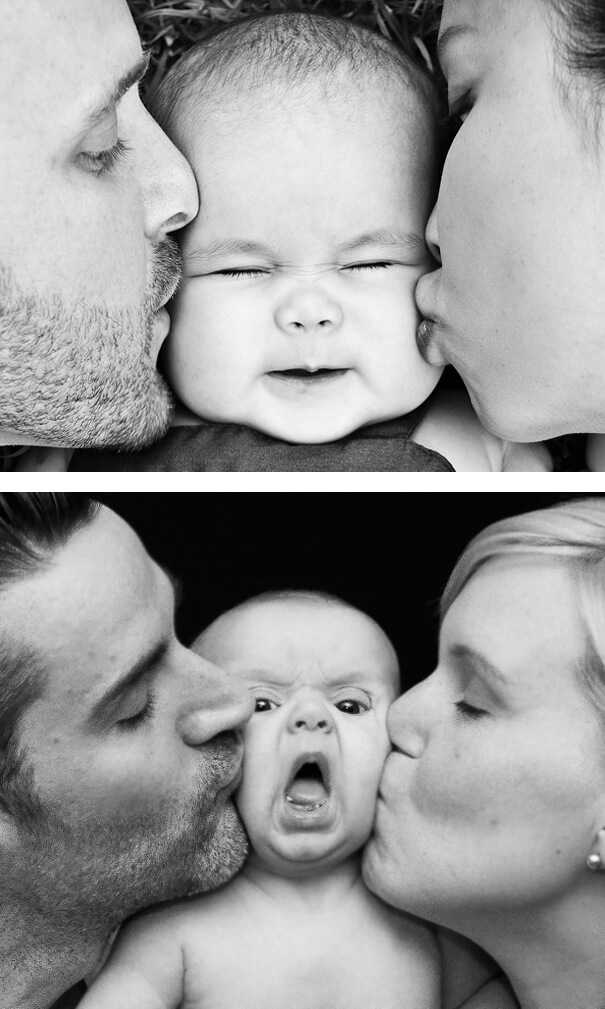 We know one thing for sure, that the baby is not a big fan of family portraits. And he may never become a fan of them.
And This Is The Last Time They Held Her Without A Diaper
Usually, parents keep their babies naked when they do their newborn photo shoots. While they look all cute and squishy in their birthday suits, that does come with some hazards.
For example, this dad was posing for a photo holding his new daughter, and she let him have it. She didn't know any better because she is a newborn baby, and when you have to go, you have to go. We can assume he never held her without a diaper again.
The Holidays Just Got A Lot Less Joyful
Although the first photo is good, we feel that the second one is the best. It is because parents are going to have a lot of fun showing that to their kids when they grow up.
By the way, the parents loved the second photo so much that they used it for their Christmas card.
Bombs Away!
There is nothing more precious than holding your newborn baby and letting them fall asleep in your hands. However, that is only cute and adorable when they are wearing a diaper because you never know what could happen without one.
This little baby let it rip on his dad's shirt, and he will probably hear about this moment until he is old enough to have children. At least the dad seems to be laughing about the situation rather than upset or disgusted about it.
Somebody Get This Baby A Pair Of Goggles
We think we can all admit that some newborn photoshoots look a bit ridiculous. These parents went with a skin-to-skin theme, but they didn't realize how easy it would be for their son to ruin the picture with his unpredictable bathroom schedule.
You can see the fright on his mother's face while the dad seems pretty proud of his son's song stream. We wonder if they ended up sending this one out of kept it as a fond memory to share with their son when he gets older.
What Are You Doing To Me Mom?!
Many of you may have seen the cute photo of a sweet baby in a toy truck. So, the parents of this little cutie decided to recreate that photo. The baby is like, "Hey, did you forget about me? Pick me up!"
The parents forgot that photos like the first one are taken by professional photographers who are the experts at making sure the baby is fully comfortable (sleeping peacefully in this case) while their photo is being taken.
We've Got A Code Brown Level 5
"Help! Someone get me a diaper right now! I regret everything!" Just as this new mom and her mother were about to pose for a three-generational photo, the baby decided to shake things up and throw in a stink bomb to keep things interesting.
We have never seen anyone look more grossed out by their baby than this woman. We can't blame her because this looks like it would be the smelliest accident out of all the other pictures on the list.
Wrath Of The Baby
Hey, we're going to say something that may offend some people. We strongly believe that the second baby looks like an 80-year-old man complaining about millennials.
Given that his parents have forced him into getting this photo taken, we think that he might be pushing out a messy surprise in his little diaper!!
"So What Should I Do Now Karen?"
The baby looks like he resisted a lot before finally giving up the fight and posing for this photo. He must be like, "Not gonna do it. You can't force me, you do know that right?"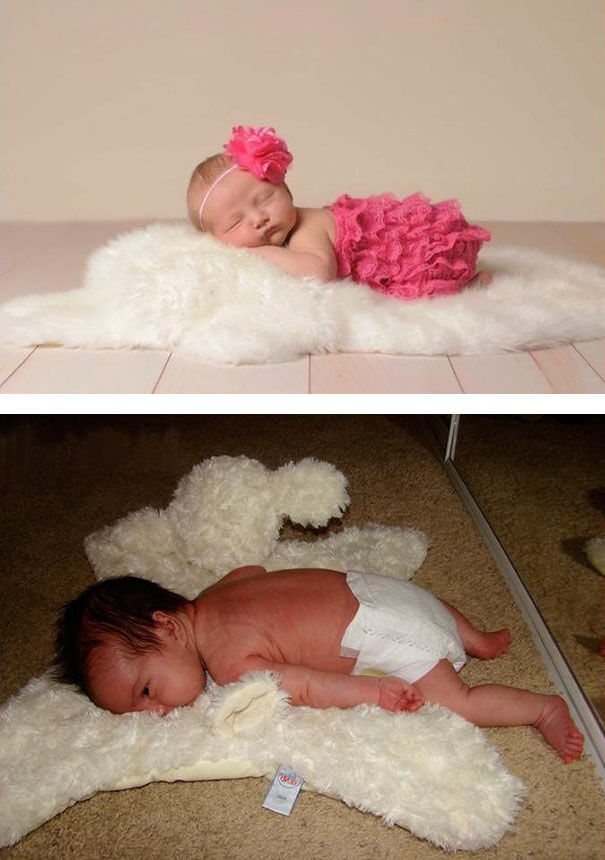 And why does the second baby looks like most of us when we get home from work after a hectic day at work?
A New Kind Of Hair Mask
After babies eat, it is probably a good idea for people to wear some kind of burping cloth until the baby digests a little. Instead of letting the baby digest her lunch, they went right into their photoshoot only for something gross to happen.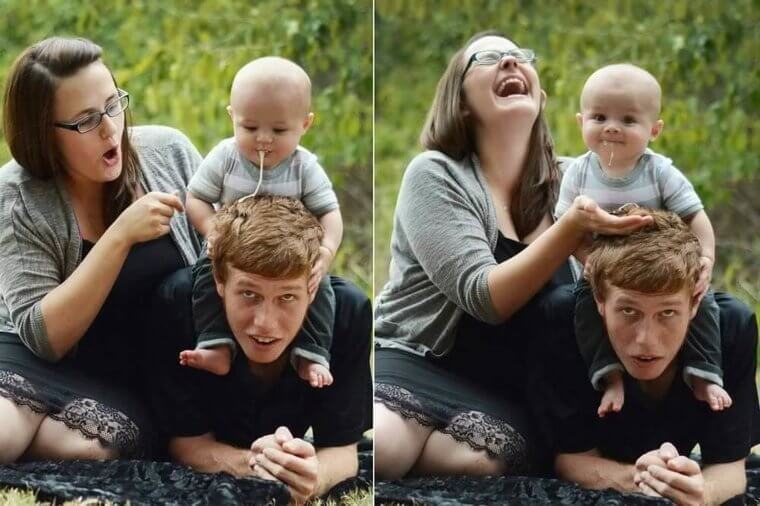 The best part about this is how hard the mom and baby are laughing while the dad is wondering why his head is so wet. It was certainly not a good hair day for this dad, but maybe the spit-up can act as a nourishing hair mask.
Cue The Waterworks
This baby might look cute, but he has the power to spray a whole room all while he is asleep. When this new dad was taking a photo with his newborn son, he was excited to capture some personal moments until his son decided to turn on the super soaker.
You can see how hilarious his face is and how nervous he is to get hit in the face with pee. The baby has no idea what is going on as it continues to hit the snooze button, but his dad will never forget this moment.
Does He Think It's A Water Fountain
If you are a parent of a boy, you know how challenging it can be to get the hang of putting them in a diaper correctly, so they don't pee all over themselves. However, when they aren't wearing a diaper, there is no way to control the stream and stop it from spraying in their faces.
It looks like he is peeing right into his mouth, and it is somewhat concerning. His parents are probably off to the side laughing hysterically because they already can't wait to show this picture to every future partner he has.
A Nice Edition To His Back Tattoo
In this photoshoot, the dad wanted to show off his back tattoo while posing with his baby. Although the first photo looks like a sweet and tender moment between the father and baby until he decided to make things a little stinky.
The baby left a nice little mess on his dad's back to add to the large tattoo. He must have thought it would improve the artwork. Even though we can't see the dad's face, you know he is sitting there knowing he can't move because the baby is on top of him.
She Might Want To Return Her Brother To The Hospital After This
Even when your older child is outwardly excited about getting a little sibling, there will always be times when sibling rivalry comes out. While they were taking these adorable photos, her baby brother decided it would be the perfect time to spit up on his sister's back.
We can guess that she was not happy about having a baby brother when she realized she had throw up on her back. Right after this photo, there were probably plenty of tears from both parties, and that is the moment the sibling rivalry began.
A Captured Baby
Although the parents of the baby in the second photo tried to copy the popular baby in a hammock photo, it looks more like someone captured the baby in the jungle.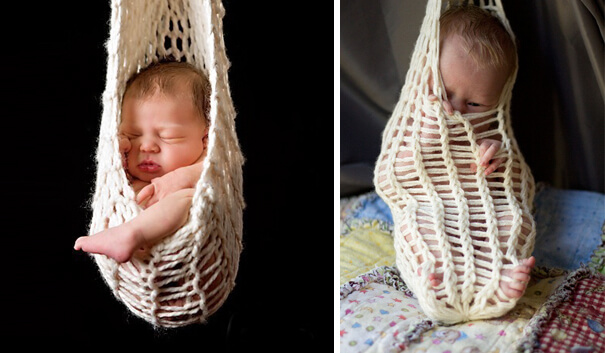 We have to admit that we didn't like the second photo, which looks more like a mummified baby than a baby in a hammock.
Christmas Tastes Good
This Christmas Twins Edition will crack you up just like they're trying to crack those Christmas lights.
Maybe the twins are like, "If you won't feed us then we will eat these lights and Christmas ornaments."
Nailing The Hands Under The Chin Look
The baby on the right is most of us in history class. One should leave things to the professionals.
It is because a professional took the shot on the left and it is not safe to take it without training properly.
Am I A Joke To You?
Babies always look so cute, and ironically their cuteness peaks whenever they are angry. Just look at the baby and tell us how can any of you not love a baby.
The baby is like, "Why? Tell me why are you always doing this to me?" Still, we feel that sometimes reality is so much better than perfection.
Delivering The Priceless Look
Oh God, this is so hilarious. This made us bust out laughing. The look on that baby's face is priceless!!
And how many of you feel that the baby on the right is cuter? And we want to make it clear that we don't have anything against the baby on the left.
Like Mother Like Daughter
Hey, we don't think the first mother-daughter photo is bad, but the second one is way better. We really love the little girl's expression.
We don't get these people who try to get kids to be perfectly still and dull. We love photos of kids that show off their spunk and personality.
A Few Moments Later
Ah, this is hilarious stuff. We do feel bad for the father, but no sane person can deny the fact that the baby feels super satisfied. Just look at his face and you can easily notice the relief.
This is a priceless memory for the parents, especially the dad. In the shot on the right, the father and baby switched facial expressions. Amazing stuff!
The Cutest (And Noisiest) Jack O' Lantern Ever
The baby on the right is like, "dude…lets just put me inside of it and take a normal picture of me. Stop copying others." If you come to think of it, most of us would be crying in such a situation.
The baby's face clearly says, "Get me out of here!! You're ruining my social status. You are not a pumpkin mom – and please don't you ever show this to anyone! Get me out of here!!"
Not A Big Fan Of Balloons
It seems like the second baby thinks he is in some sort of a balloon prison and there's only one way to escape it: to cry out as loud as possible.
Now that the child clearly seems terrified, there's a possibility that he will have a phobia of balloons for life. And we have a strong feeling that Pennywise The Clown will scare him the most.
Sleepy Easter Bunny
So far, our list includes many cute babies, but these two are so adorable that we have no option but to give it the title of the Best Baby Photoshoot.
The second photo looks like, "oh, I shouldn't have eaten that whole chocolate bunny…Big mistake!"
Baby Crossing The Delaware
It seems like the second one thinks he's a soldier. From the looks of it, the baby is leading his army of babies to the war in his basket ship.
By the way, the photo on the right is better than the original. After all, the baby is getting into his character.
Cute Little Sleeping Beauty
Although the first photo is taken by a professional, it is a little far from reality. We feel that the second photo depicts reality in the most perfect way.
If someone makes a list of Expectations vs. Reality, we request them to include this one.
The Baby Simply Gave Up
So the parents on the second baby saw a Christmas-themed baby photoshoot and were like, "We can easily pull this off with our baby."
What they failed to consider was that their baby already had enough of his parents' stupid ideas. So, he simply gave up and went to sleep.
Great Birthday Cake Smashing
Aww, the poor little guy was allowed to play with the cake for just a couple of minutes. Or maybe he just woke up partying all night. You can never know!
But one thing that seems logical is that the baby ate the smurf at his birthday party.
Mini Seconds Before Crying
The parents of the baby on the right were hugely impressed when they saw a cute baby reading Marvel Comics. They wanted to take a similar looking photo of their baby.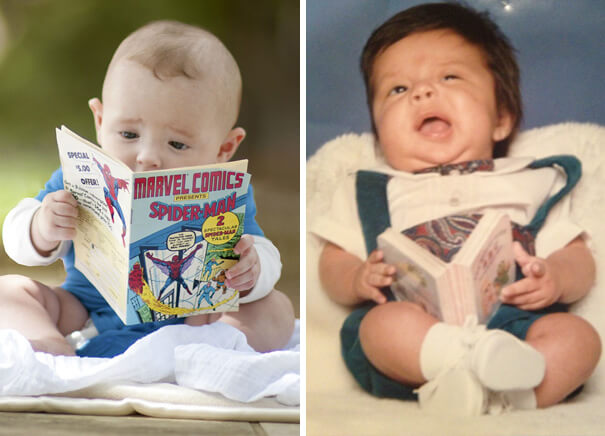 But we think they missed the trick by not putting a Marvel Comics in the tiny hands of their baby. Instead, they just went with a little children's book. It was a big mistake because the baby didn't like it at all.
DIY Jeans Swing Gone Wrong
Somebody should have told the overly excited parents to wrap the jeans around the swing seat and not replace it. The poor kid doesn't look too happy about it.
By the way, this looks a lot like the ultimate wedgie swing. At least the kid can say that I got my first wedgie from my parents and not some kid at the school.
Nice Idea But Poor Execution
Although the family on the right tried to copy a photoshoot of a family expecting a new arrival, we feel that they nearly pulled it off.
The mother and daughter look so cute, but what about the daddy? It seems like a horse is trying to kiss the lady's belly. Oh let us correct our mistake here. We wanted to say that "a Pony trying to kiss that woman's belly."
Horrible Lipstick Kisses
We get it that a baby looks super cute with lipstick kisses, but we have no idea what to say here.
The baby is like, "Mommy for the last time I'm telling you that don't let my aunts kiss me."
Mom, Dad, Stop Embarrassing Me!
Some babies really love it when parents kiss them on their cheeks, but the second baby here can't stand it at all.
The parents thought it would be a cute photo to share on their social media accounts, but we can clearly see that the baby disapproves of it.
"I'm Sick Of It"
Babies easily get bored by their toys and what we're seeing here is that the baby on the right has stopped caring if the photos don't turn out to be as expected.
The baby is like, "You made me do this so now I will make the photo gross enough so you can't share them on Instagram."
"I'm Gonna Fight You"
Baby in a watermelon seems like a cute idea for a photoshoot, but only if your baby is ready for it.
However, here the baby on the right is ready to fight his parents for making him do it. Maybe the kid just doesn't want to be in that sticky, wet watermelon. We feel a bit bad for the kid honestly.
Snow Angels
The first snow angel looks so cute and seems to be enjoying it. But that is not the case with two snow angels in the second photo.
Before you start to get angry thinking about how could the parents put their babies on the snow with just one layer, you should know that the babies are wearing multiple layers.
This Baby Is Not Feeling It Today
The first photo is so adorable because the baby is placed in that position by a professional baby photographer. But we're not sure about the second one.
The baby in the second photo is in an awkward position and we feel that there was no need for it. What do you think about it?
Happy Valentine's Day Kiddo
We think that both babies are looking adorable. But if you ask us to pick one between the two, we'd go with the second one.
However, one must not get to ignore the fact that the second photo is way too cluttered. Still, the baby doesn't look in the mood for a Valentine's Day but it is still super cute.
Cute Patriotic Baby Photoshoot
We think both photos show how we are feeling right now. Some may say that the first photo shows how America was before 2020 vs how it is now.
One thing we know for sure that the COVID-19 pandemic has made us grumpy and sad in 2020. But hang in there because this time will pass.
"Yeah You Can Mess With Her"
The first photo shows four protective brothers telling everyone not to mess with their sister – which is so cute!
But that is not the case in the second photo. The brothers have a look on their faces which clearly shows they are mad at their sister.
Baby Carrot
It is best not to question the motive behind putting a carrot on a baby's face. It makes sense because the baby looks cute.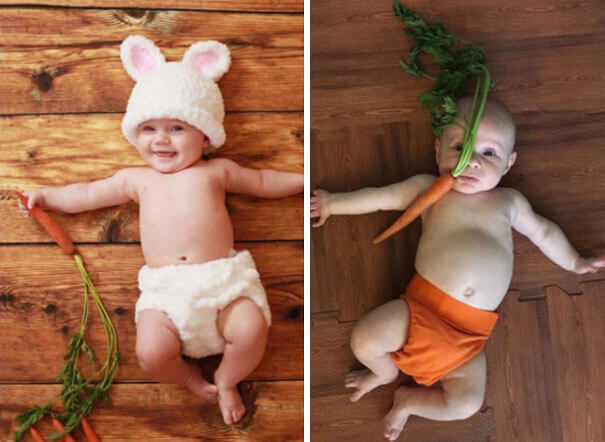 The baby on the right looks just like a cat when someone throws a slice of cheese on its face.
A Crying Peacock
Kids can be happy one moment and crying like little monsters the next. This little cutie on the right was just playing with her toys when mommy thought of a brilliant photoshoot idea.
The little girl didn't want to take part in it and tried to show some struggle but mommy was like "It'll take just one minute." After the photoshoot, it took mommy 1 hour to get things back to normal.
Not A Book Worm
The baby on the left photo looks like a book worm, but he is a smart kid. He knows very well that books, especially bedtime stories, can help get a night of better sleep. If you are not feeling sleepy, open a book.
The kid in the second photo looks like the average college kid during finals week. Although most people think that college students are more like the left baby, in reality, the majority of students are more like the right one.
"No, Not In The Mug Please!!!"
It took us a while to understand why the baby in the second photo is crying, but now we know. The first one is a cup of Friday and the second is a cup of Monday.
One thing we know for sure is that even babies don't like Mondays. It reminds us of a famous dialogue from the movie Office Space, which is "Oh sounds like somebody's got a case of the Mondays."
Someone Would Rather Walk The Plank
Hey, anyone else thinks the second baby looks like the Stay Puft Marshmallow Man?
We also have a strong feeling that the second baby looks very philosophical and existential. It seems like the baby has probably seen a lot in his life already.
"Help Me"
The baby is like, "Don't you think I'm getting too big for this?" He doesn't feel too safe as well.
But we have a feeling that the photo didn't turn out be as cute as the parents expected. What do you think about it?
Expectation Vs. Reality
When it comes to photoshoots, babies are the most difficult as it can be really tough to get them in the right position where they are comfortable.
This cutie pie didn't care about the photoshoot and just wanted a quick nap. Unlike adults, babies can sleep whenever they feel like it.
Baby Bunnies Are So Cute
The baby in the first photo really looks like a cute little baby bunny and the second one seems less interested in being anything.
It seems like the parents really wanted to a good photo but the baby was not having any of it.
I Said No Photos!
We really like how calmly the baby is sleeping in the photo on the left. But the baby on the right is not cut out for all this and decided to hide the face.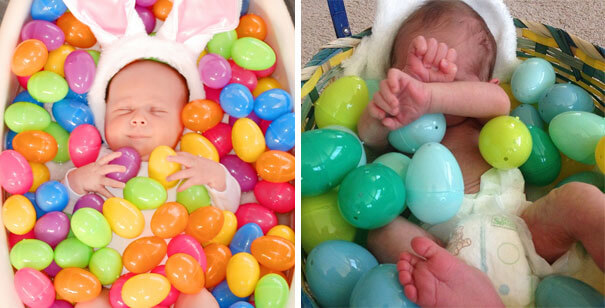 It seems like the baby on the right thinks he's not photogenic, but we are confident he is as cute as the baby in the left photo.
Hilarious Photos That Perfectly Sum Up Parenting
Ashley Lez
This article was originally published on 24/7Mirror
You can find tons of helpful material on parenting. After all, raising a human being is not easy at all. There is no denying that becoming a parent is one of the most beautiful things in the whole wide world, but the truth is that it isn't all sunshine and rainbows. So, here is a list of photos that everyone needs to see before becoming parents.
Lessons Were Learnt That Day
This photo gives one lesson loud and clear: never let your child use your laptop.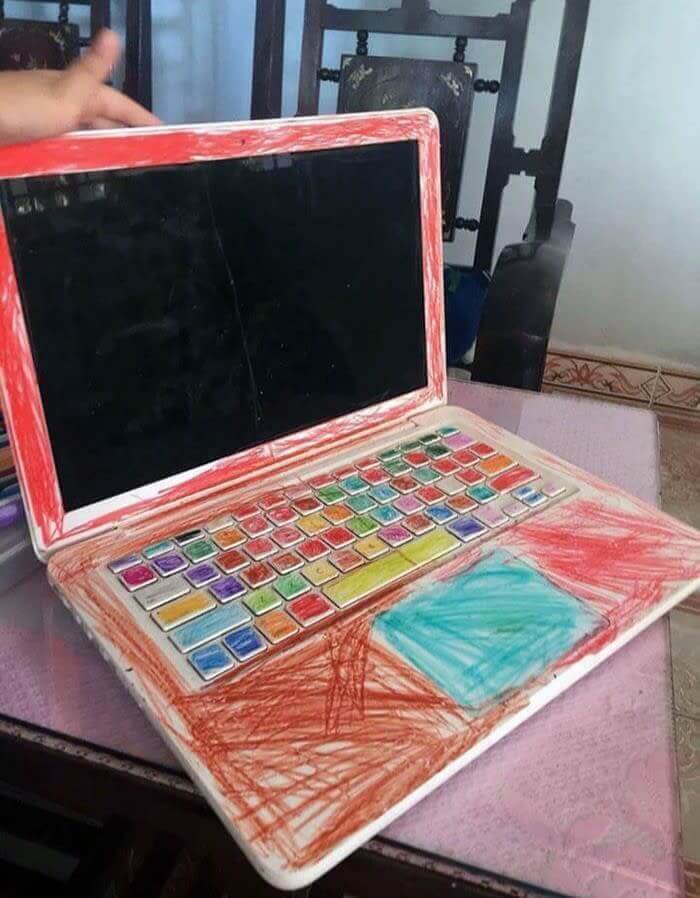 Although the laptop looks a mess (somewhat in a good way), it is really amazing to see the dedication of the kid to color every single key differently.
Peekaboo
This parent went to the bathroom and forgot to shut the door. Prepare to see this when you become a parent.
The kid looks like a salesman on the door who uninvitedly tries to enter the home to take a look inside. The kid must be like" excuse me sir, have you tried this new book titled: Let Your Child Do Everything?"
Imagine Waking Up To This
Kids are so innocent and they do whatever comes to their mind. This kid thought that the horse was feeling too hot and needed a fan.
One wonders did the parent told their kid "stop horsing around."
Impressive Climbing Skills
Kids love to do things which they are told not to do by their parents. This kid did exactly the opposite of what he was told not to do: not to be a Spiderman.
This sight could give any parent a heart attack. The look on the kid's face shows that he knows he messed up.
The Best of The Lot
This list would've been incomplete even after thousands of pictures without this one. This is pure gold and you can see why.
Most people who are parents must be saying, "Been there." This is going to happen one way or another, but make sure you try not to carry your toddler over the shoulder.
Toddler At A Wedding: What Could Go Wrong
Bring a toddler to a wedding they said, it will be fun and super cute they said. But they never said it could look this scary.
It looks cute, but here is our different take on this photo: this is actually an alien creature disguised as an attractive woman who absorbs children into her body.
Going Opposite
We know that playpen is a great thing to protect kids from crawling away or self-harming. But we didn't know it could protect the parents from kids as well.
This parent found a perfect way to keep his work environment safe from toddlers. If you are planning on becoming a parent, you might be trying this method as well.
That's One Way To Do It
You find TV remote close to you whenever you are doing some other work and just when you want to watch TV, you can't find it anymore.
With kids in the house, losing remote can be a normal occurrence. This is one of the best ideas you'll find out there to prevent remote from losing.
Little Girls Love Fashion and Junk Food
Any parent can tell you how much little girls love their fashion stuff and junk food.
These parents were out on a camping trip with the daughter and that's how she woke them up every morning.
It is So True
You may laugh at it now, but you won't be laughing anymore when it'll happen to you.
And yes, this is the real photo of a parent waiting for his daughter to finish her homework.
They Ask So Many Questions
This parent decided to keep track of how many times her 3-year-old asked her "Why" in one day.
We could've asked her "why" did she do it, but we can understand that it happens a lot. And it can't just be this word; it can be "mom" as well.
Keep Your Things Away from Them
As a parent, the first thing you need to do is to keep everything away from kids, even the smaller things like lipstick.
This toddler found his mom's lipstick and made sure he used it all on his baby sister and himself. And it all happened in a matter of a few minutes.
Children From The Cartoon World
When a paint party was hosted at their daycare, they thought "what could go wrong?"
After a few hours, these children look like a cartoon character when a bomb explodes. All we'll say is that, hang in there kids as we've all been there.
Kids Are Smart Nowadays
When the kid asked his mom to play army guys, he said something that was spot on and it shows us how much kids are smarter these days.
The kid said to his mom, "Mommy, let's play army guys. You can be this guy because he's vacuuming." That's so cute and spot on.
The Face of Betrayal
The kid made this face when he was fed real food for the first time. He won't ever trust his mom again.
If we make a wild guess, we think that the kid experienced the horror of Brussels sprouts.
Keep Everything Away from These Little Monsters
This is how it looks (and feels) like to parent a 3-year-old. RIP innocent strawberries.
On a bright side, we think that it is good because at least the kid ate some fruit and not candies.
Kids Are Like Little Angels…Really?
Every parent out there can relate to this photo and even hear the kid crying as well.
This parent used a decibel meter to show that parenting is not a bed of roses (but it is 1000 times more beautiful than roses).
The Apple Doesn't Fall Far from The Tree
Kids learn a lot from their parents and this smart kid learned something that is cute and must've saved him from the trouble as well.
This kid wanted to tell something to his lawyer dad, but before doing that he wanted his dad to sign this contract. We keep on saying that kids are way smarter now.
Time To Change Bathroom Doors
These parents got bathroom doors like this one because they were of the opinion that they were trendy. However, their opinion changed when they had a toddler.
By the way, we are not big advocates of these doors as anyone can see inside the bathroom. These are weird, that's all.
Ah, That Tired Look
Any parent out there has experienced the same (or more) level of weariness quite a lot and the expression on this woman's face tells you the entire story.
She had been baking and prepping for her 1-year-old's birthday party. And we are not going to talk about the mug in her hand (wink).
Mother's Day Gift
This mom was cutting her daughter's skirt out of a scooter on mother's day and the look on her face tells the entire story.
The mom must be like, "Why don't you do this? Don't just stand there taking pictures."
A Glance At What It Looks To Be A Parent
If you want to look at any picture that encapsulates any parent's life, this one perfectly fits the description.
As both brothers are fighting, the look on the daughter's face somehow says, "Who told to be a parent?" This is hilarious.
Little Darth Maul
When this 4-year-old found permanent markers, he knew what he had to do.
He loves Star Wars and it looks like he is a fan of Darth Maul. It is close enough, good job kid!
Memorable First Cooking Experience
When the kid told her mom that she is going to boil an egg to have on toast, the mom knew her daughter would create a mess. But she didn't know how much mess.
Just when the mom yelled back from the bathroom "just give me a sec and I'll show," there was a "Boom!!!" and this happened.
Parenting is So Fun
Ah, these are the joys of parenting that many people are not experiencing (where are the tissues?).
Some people may say that this is how the kids build their immune system, but we are more in favor of playing outside than licking the cart.
The Irony
Oh, this is probably one of the most hilarious photos in our list. This book is not baby proof anymore and we can't stop laughing now.
By the way, the parent walked into the bathroom to find her precious child "washing" a book he found.
A Perfect Illustration
For those people who wanted to know what it's like to have four children, here is a perfect illustration. You can thank us later.
The mom took apart the vent in the girls' room because it wasn't getting warm. This is what she found and at least she knows where all find all the missing socks and toys.
Saving It For Later
Have you ever as a kid saved your favorite candy for some other time while eating other candies that you didn't like much?
Well, the mom gave her 2-year-old a slice of cheese to eat while she was watching some Paw Patrol. She came to find the cheese on the wall.
It Won't Happen Again…You Wish
This naive parent thinks that she forgot to put up the baby gate and it won't happen again. We want to tell her that it will happen again and she is going to clean up the mess again.
Keep in mind everyone, kids look for opportunity and if they don't get it, they create one.
Another Lesson for You
By now, you have learned a lot about the do's and don'ts of parenting. Here is another lesson for you.
The mom forgot to put the diaper cream away from the reach of her children. This is how she found her daughter. Learn people learn!
Cool Baby
This baby ordered 94 dollar worth of pizza of an app called Slice that doesn't ask for payment info verification when placing an order. That's not cool, right?
Well, if you are Joey Tribbiani (from TV show Friends), then what this baby did would feel like a blessing in disguise.
One Simple Mistake and You Pay
This father used to be very careful with items in the house as he knew there is a kid on the loose who would try to get his hands on everything.
So, he made a big mistake of leaving the Nesquick out in the open. Fair to say, the kid looks more shocked here.
Kids Are Masters At Hiding Things
Kids know how to hide things from their parents. This child managed to hide a sippy cup for three weeks. Who knows what is growing in there now.
After three weeks, the milk has probably turned into cottage cheese. This dad is taking all precautions when it comes to touching the hazardous waste.
Time to Make Mismatched Pair
This parent found 30 pairs of her kid's socks and not a single one was complete.
She doesn't even remember buying so many socks. Well, the best solution is to start making the kid wear mismatched socks.
You Can't Argue With Them
Convincing your kid is one of the most difficult things for parents because they'll cry, roll on the floor, and don't get us started on the tears.
This kid was upset because mommy didn't let her have the corn oil. She was sure that it was indeed apple juice.
As If Parenting Wasn't Hard Enough
When parenting is already presenting many challenges, why go shopping with kids. This is what this mother is trying to tell everyone.
This parent decided that it was time to stop negotiating with a toddler and see what happened next.
This is Called Thug Life
We won't go into how the kid was able to find and use a shredder without supervision because the parents learnt their lesson in a big way.
Losing money is one thing, but have you noticed the look on that kid's face? He looks like he has no regrets whatsoever.
Stubborn Kid
This sleep-deprived father finally got one child to sleep, but the other one seems super stubborn.
The look on the dad's face tells the entire story so we don't need to tell you more about it.
Banana-on-a-cob!
This parent swears that he doesn't know how and when his kid learned to eat this way.
Maybe the kid thinks there are seeds in banana and doesn't want to eat them. The truth is that we'll never know.
Hey, Anyone Want To Eat "Pancake Soup"
Here is a future chef in the makings. This kid came up a different idea and we have to respect it.
The parent decided to let her child pour their own syrup and he came up with an invention called "pancake soup."
When You Bring Your Child to Work Day
After this incident, the office came up with an official announcement to end their years of tradition of bringing a child to work day.
By the way, why would you want to let your child ride a scooter in the office? That's just asking for trouble.
Try Again In Almost 5 and a Half Days
Instead of you going through the trouble of counting 7,810 minutes, we did it for you.
This photo was taken when the dad realized that the toddler spent 30 minutes trying to unlock his iPad.
The Smile on Her Face
We can understand what this mom must be going through when she saw toys of worth $300 getting delivered to her home.
What about the evilest expression on that kid's face? Always try to keep your electronic devices away from kids because they are getting smarter with each passing day.
It's All Just Garbage Places to Them
This is a perfect illustration of how kids see your car whenever they look at it.
And don't simply ignore it thinking you will teach your kid to not use the car as a garbage can.
It's a Winner
This is what you do when you've got glass shower doors and there is a toddler in the house that won't stay out.
Here is a tip for you: install a lock in your glass shower so you can have a much-needed bath without anyone coming inside.
'Mom, I'm Done Eating My Apple"
This mom told her son several times to eat his apple. So when he said "done with it," she thought he must've eaten at least half of the apple.
This is what she came to find out…just a small bite. If it had been a candy, there would've nothing left.
The Look on Her Face
The mom felt that everything is so pleasant in the car because the kid must've fallen asleep.
She didn't know that her little angel was applying butt paste to her face.
"Done With Dishwashing"
When mommy told her 7-year-old to be in charge of dishwasher duty, he said "done with it" in just a minute.
The mom soon found out why it took her son just one minute to get the chore done.
She Was Just Helping
The mom asked her little angel to help her with laundry and she was more than happy to help.
Later, the mom found her pants in the toilet. Be specific whenever you give a kid any task.
They Sleep Differently
This is how it looks like to sleep with a 4-year-old. All kids love to sleep in different styles and positions.
We just loved how calm and beautiful the mom is and she's smiling as well.