When you watch action movies and see your favorite celebrities doing death-defying stunts, there has to be some part of you that wonders how they can do them. For most actors, their secret lies with their stunt doubles who can do all the flips and tricks while the actor is safely waiting behind the camera. From earning Guinness World Records to being Judo champions, there are so many things people don't know about the stunt artists behind incredible action scenes. These amazing stand-ins will surprise you with their incredible talents and, most of all, the uncanny resemblance to the actors they play.
Andrew Garfield's Stunt Double Is A Professional Skateboarder
While filming The Amazing Spiderman, Andrew Garfield used a stunt double to perform all of the jumps, kicks, and flips. William Spencer, Garfield's double, is an accomplished stuntman, filmmaker, and skateboarder. Not only was he in Spiderman, but Spencer has also done stunt work for Project X, CSI: NY and The Kids Are Alright.
Besides his work as a double, Spencer has also directed and starred in a short film called Block Attack. The film combines stunts and 1980s video game nostalgia. He has traveled all over the world for his skateboarding career as well, and Spencer makes short clips of his incredible board skills.
Jennifer Lopez Uses A Male Stunt Double
If you look at this photo quickly, Jennifer Lopez and her stunt double look identical. However, her double is a male who happens to have a similar bone structure. For J.Lo's music video "Follow the Leader," she had a stand-in to complete some difficult stunts.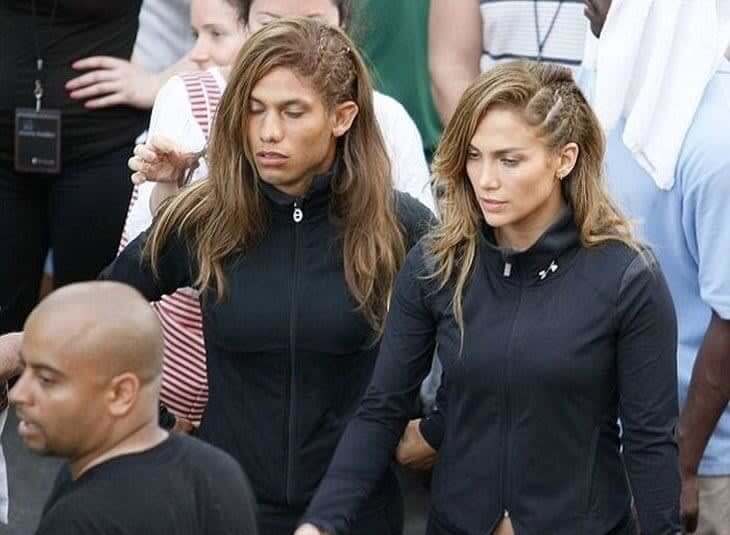 The music video was shot in Mexico, and J.Lo's double wore a matching black zip-up with the same braided hairstyle. It is actually common for women to have male doubles. In Lara Croft: Tomb Raider, Angelina Jolie had a male double for her stunts as well.
Brad Pitt's Double Was Forced To Shave His Hands
In Quentin Tarantino's latest film, Once Upon A Time In Hollywood, Brad Pitt plays the stuntman for Leonardo DiCaprio. However, Brad Pitt ended up needing his own stunt double for some of the scenes. Phil Ball was Pitt's double in this film and in World War Z.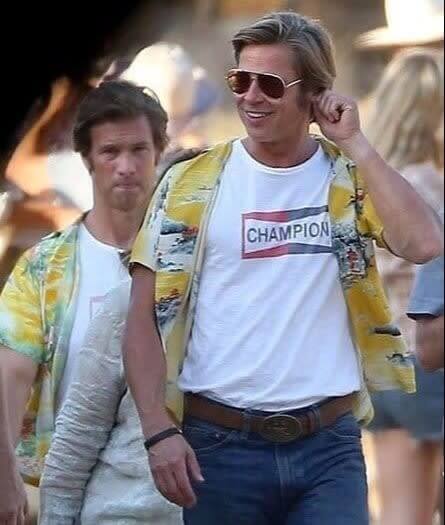 Ball described the experience as "strange and boring," which is hard to believe for a Tarantino film. During the filming period, Ball tweeted, "Just when I thought my day job couldn't get any more bizarre, I'm made to shave my hands." It's shocking that he wasn't more thrilled to work with some of the biggest names in Hollywood.
Megan Fox's Double Once Broke Her Neck And Continued To Work
In the movie Teenage Mutant Ninja Turtles, Megan Fox's character does crazy stunts that definitely require a stuntwoman. Stacy Carino was the stuntwoman for Fox, and she also happens to be a daredevil who makes her scenes look effortless. Carino even broke her neck once without knowing until years later when she had an x-ray.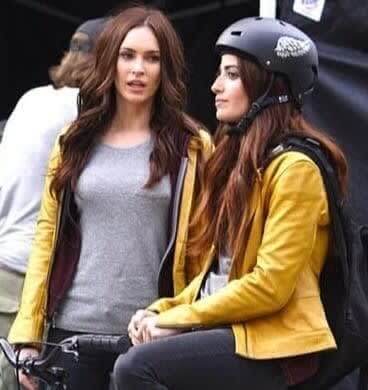 Carino thought that people who break their necks become paralyzed, so she didn't seek medical attention because she could walk. She is not afraid of anything, and it shows. Carino also said that Fox does some of her own stunts, and can handle some jumps and falls.
The Rock's Double Is A Judo And MMA Champion
It must have been challenging to find someone who looks similar enough to The Rock to be his stunt double. When Johnson discovered Tanaoai Reed, it was like a match made in heaven. After they met, Reed became Johnson's go-to stuntman.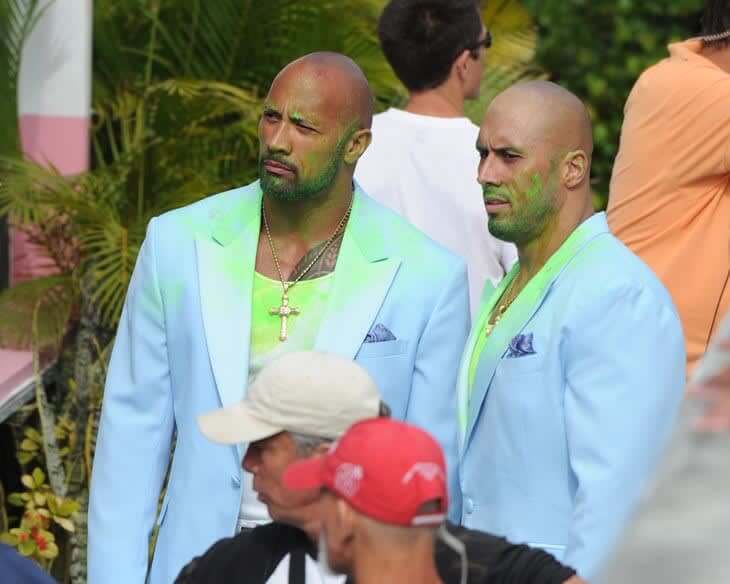 These two have the same bone structure, smile, and energetic personalities. Reed and Johnson have worked together on movies like Jumanji and the Fast and Furious movies. Reed is also a former MMA, boxer, and Judo champion.
Emma Watson Had Multiple Stand-Ins So She Could Focus On School
Emma Watson had not one, not two, but three stunt doubles while filming Harry Potter. Although throughout the series, she had many different doubles because of how she grew from movie to movie. These three doubles were just for one movie.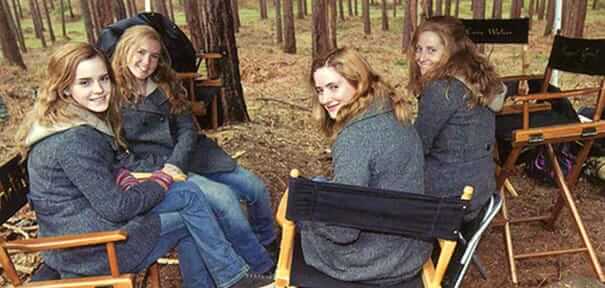 During the filming of the later films, Emma Watson was studying at Brown University, and she was splitting her time between set and school. Watson was there for the critical days, and her doubles played a significant part in allowing her to spend time studying.
Mark Ruffalo's Double Has Worked On Over 100 Films And TV Shows
Mark Ruffalo's longtime stunt double is Anthony Molinari. They snapped a selfie on the set of Now You See Me 2. Molinari is well known in the industry as he has been a stunt artist for over a decade, and he worked on over 100 TV shows.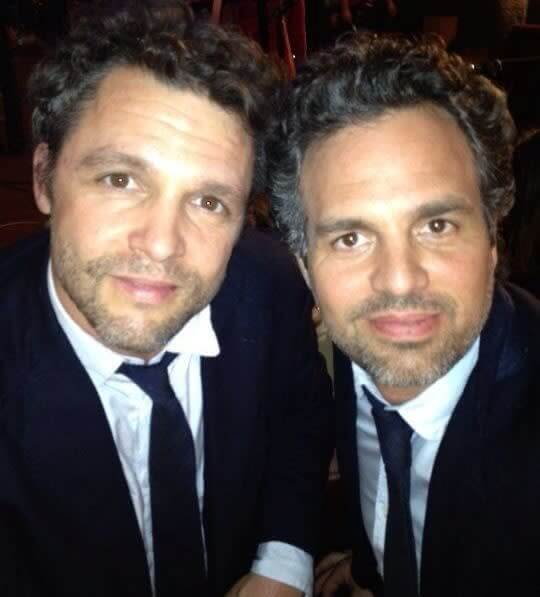 Molinari has won many awards for his stunt work, including a SAG award and a Taurus World Stunt Award for hardest hit and best high work. He picked up his love for action after playing multiple sports throughout his childhood.
Uma Thurman's Double Went On To Become A Star
Hailing from New Zealand, Zoe Bell is a talented stuntwoman who was the double for Uma Thurman in Kill Bill volume one and two. After the director saw her talents on set, she got the lead role in Death Proof. In an interesting twist, the movie was about a stuntman. Since this role, Bell has grown to fame in Hollywood.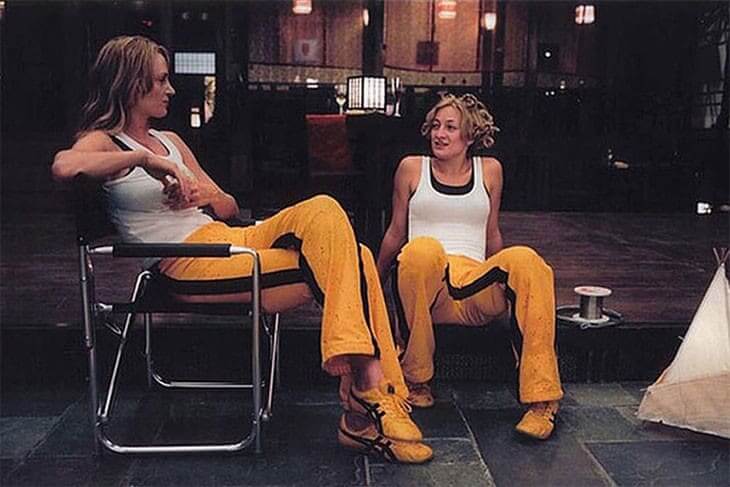 With her incredible skill and focus, Bell's career has gone further than she ever dreamed. She has starred and done stunts for movies like Once Upon a Time in Hollywood and Hateful Eight. She said, "I have physically kicked so many men's butts, and I can totally feel proud of that."
Sacha Baron Cohen's Double Fell Out Of Buildings And Got Third Degree Burns While Working
In The Dictator, Sacha Baron Cohen plays Aladeen who doesn't want democracy to come to his country. For this movie, Oliver Keller was Baron Cohen's stunt double. Keller was born in Switzerland and he had a craving for action since he was a young child. He started out as a downhill skier and then did an apprenticeship with a German stunt professional.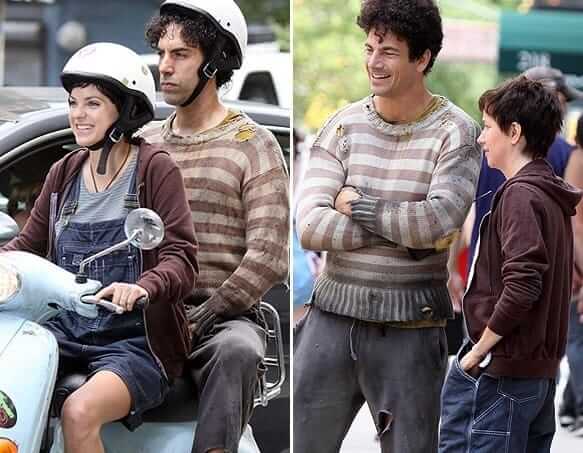 As a rising stuntman in Hollywood, Keller has worked on movies like Pirates of the Caribbean, Bruno, and Dhoom 3. While on the job Keller has gotten third-degree burns, fallen out of many buildings, and even got down to seven percent body fat for the movie Immortals.
Natalie Portman And Crew Lied About How Much Work Her Stunt Double Actually Did In Black Swan
While many actors and movie crews give credit to the stunt doubles who do incredible work, that was not the case for Sarah Lane. She was the stunt double for Natalie Portman in the movie Black Swan. There were many reports that most of the scenes were Portman and she spent months learning ballet. However, Lane said things were much different.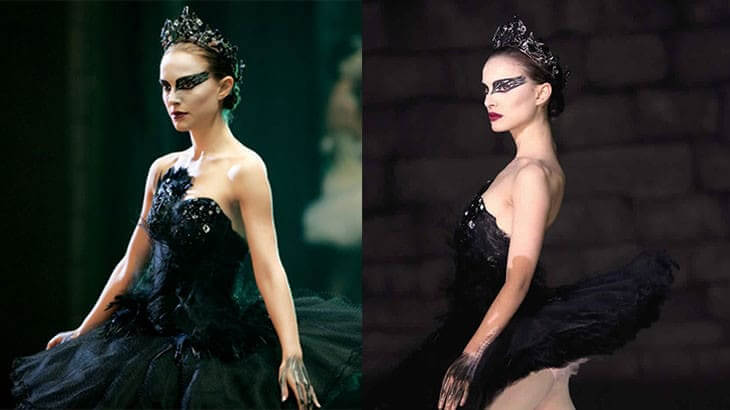 After reports came out stating the Portman did most of the dance scenes, Lane fired back and said that only five percent of the full-body shots were Portman; Lane did the rest of the dance scenes.
Harrison Ford Leaves Messages On His Double's Photographs
Harrison Ford brought the beloved Indiana Jones to life, but the person who made the character pop was his stunt double Vic Armstrong. For the first three Indiana Jones films, Armstrong was the stand-in for Ford, and the pair had a great working relationship.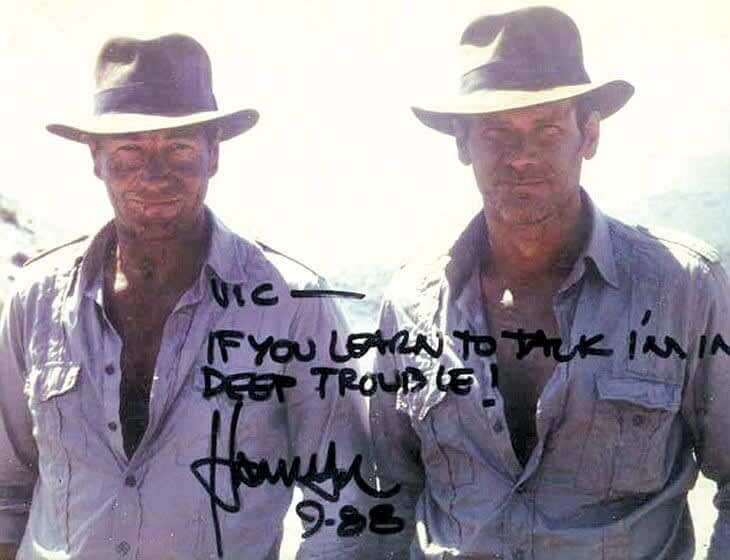 For each movie the pair worked on, Ford and Armstrong snapped a picture. Ford would leave sweet notes on the photos to commemorate their work together. On one of the photographs, Ford wrote, "Vic – If you learn to talk, I'm in trouble," and "Vic, we have got to stop meeting like this."
Michael Douglas Has Used The Same Double For 26 Years
Michael Douglas plays Dr. Hank Pym in Ant-Man, and he uses his longtime friend Mike Runyard as his stunt double. The two share an uncanny resemblance, which makes it easier for Runyard to stand in for Douglas.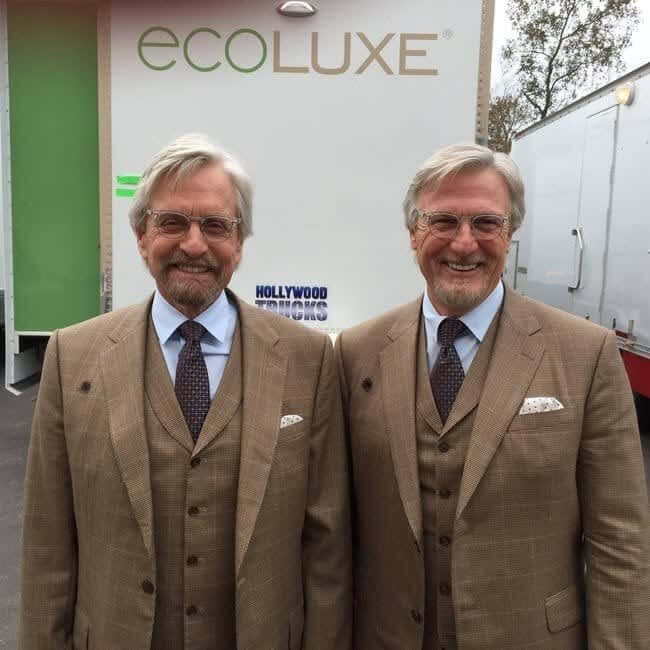 These two have been working together for over 26 years, and Runyard has appeared in many Marvel movies. Their working relationship dates back to 1989 when Runyard was Douglas's stunt double in Black Rain.
Anne Hathaway's Motorcycle Scenes Wouldn't Have Been Possible Without This Stuntwoman
In The Dark Knight Rises, Anne Hathaway played Catwoman, and throughout the movie, her character does all kinds of flips, tricks, and death-defying stunts. Although Hathaway is a talented actress, she did need the help of a stunt double to achieve the incredible action scenes.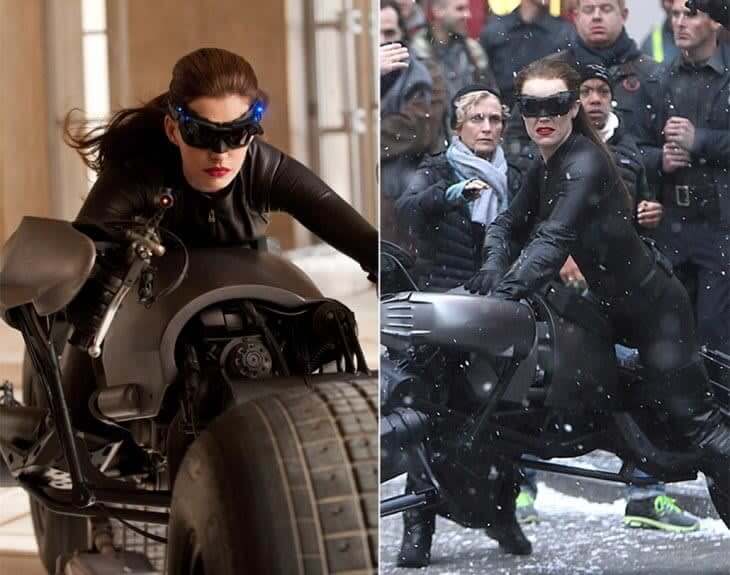 Whitney Coleman was just the stunt woman for Hathaway's character, and she performs many combat and motorcycle stunts throughout the movie. Besides The Dark Knight, Coleman has also appeared in Jurrasic World.
Johnny Depp Leaves The Stunts To Professionals
Recently, Johnny Depp revealed that he does not like to do his own stunts, so he has a double for every movie. Depp said, "I prefer to leave the jumping around to the professionals," so for Pirates of the Caribbean, Tony Angelotti was Depp's stand-in.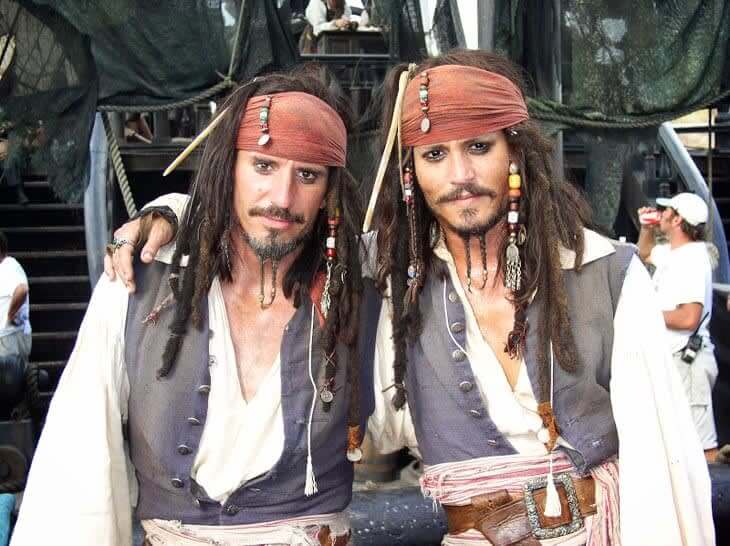 Angelotti has been a double for Depp in three of the Pirates of the Caribbean movies. He also did some stunts in The Amazing Spiderman. When he is dressed up as Jack Sparrow, it is difficult to tell the difference between him and Johnny Depp.
Scarlett Johansson's Stunt Woman Was An Accomplished College Gymnast
Scarlett Johansson plays the Black Widow in The Avengers movies, and she has one of the most sought-after stuntwomen in the industry, Heidi Moneymaker. Heidi studied at UCLA, where she earned her degree in History, and she gained attention for her accolades in the Gymnastics program.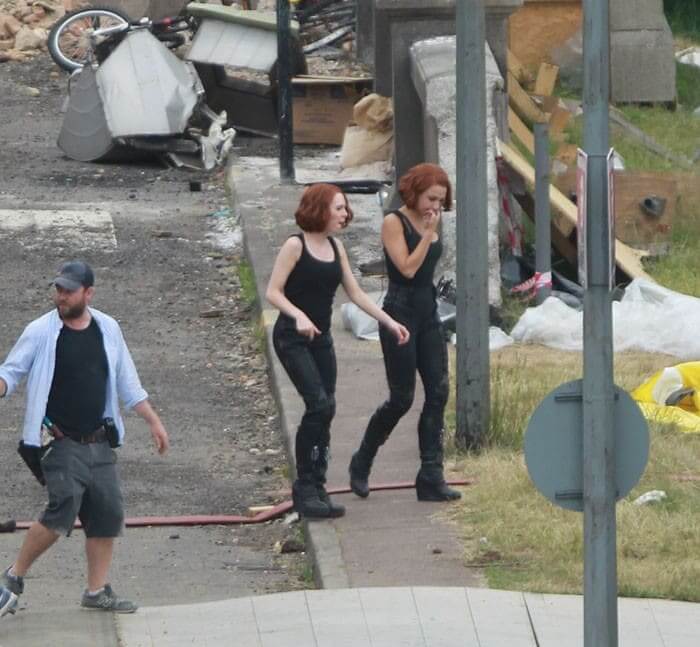 Heidi's gymnastics skills have helped her become one of the best stunt doubles in the industry. Besides Johansson, Heidi has also stepped in Julianne Moore, Ruby Rose, and Drew Barrymore.
Robert Pattinson Forgot The Name Of His Double When Thanking Him In A Speech
Robert Pattinson and Paul Darnell have a long-standing relationship as an actor and stunt double. For the Twilight movies, Darnell was the stunt artist on Pattinson's behalf. The two worked so well together, so Darnell became the stand-in for other movies with Pattinson.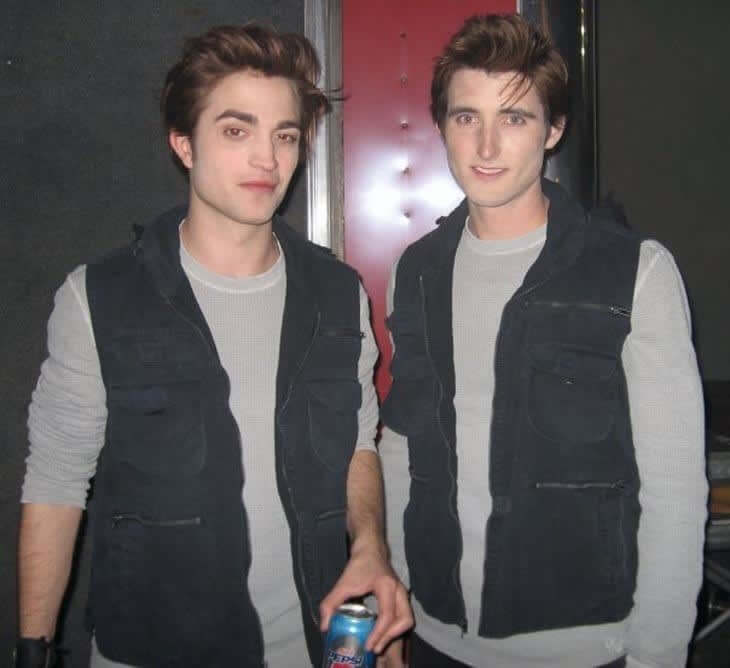 Thanks to Darnell's incredible work, Pattison won the best fight scene at the 2009 MTV Movie Awards. During his thank-you speech, Pattinson forgot Darnell's last name, making for an awkward TV moment. Although there was an uncomfortable moment, the two worked together in Water for Elephants and Remember Me​.
Chris Pratt And His Stunt Double Can Pass For Brothers
Although Chris Pratt is a hunky heartthrob, he still needs some help from a stunt double when it comes to action films. That's where Tony McFarr steps in. He has been working with Pratt for a few of his movies, and his career started back in 2011 on the set of Bones​.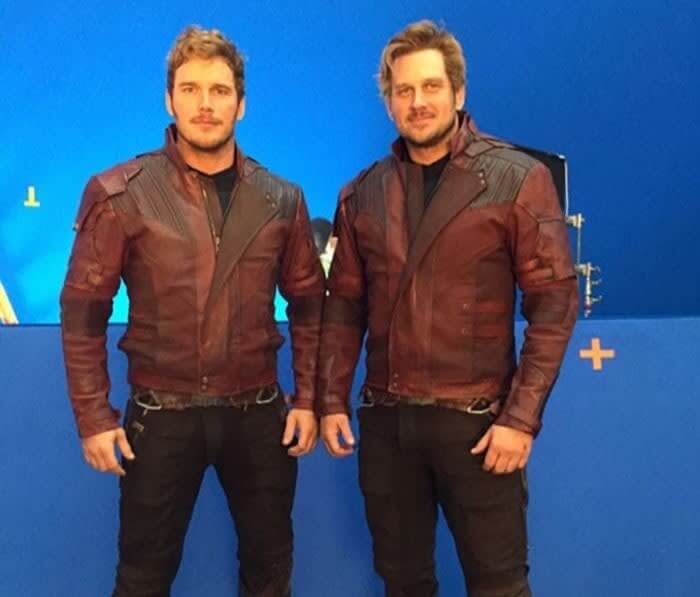 Since Jurrasic World: Fallen Kingdom, McFarr has been Pratt's go-to stunt double. It helps that the two look eerily alike, so they don't have to change much when McFarr steps in. The two have worked on films such as Guardians of the Galaxy and Passengers.
Carrie Fisher And Her Double Are Almost Identical
Carrie Fisher played Princess Leia, and her stunt double was Sandi Gross. The two are pictured on the set of Star Wars: Episode VI: Return of the Jedi, and they are both wearing the famous gold bikini. As they relax between scenes, it is difficult to tell these two apart, which worked out for the film crew.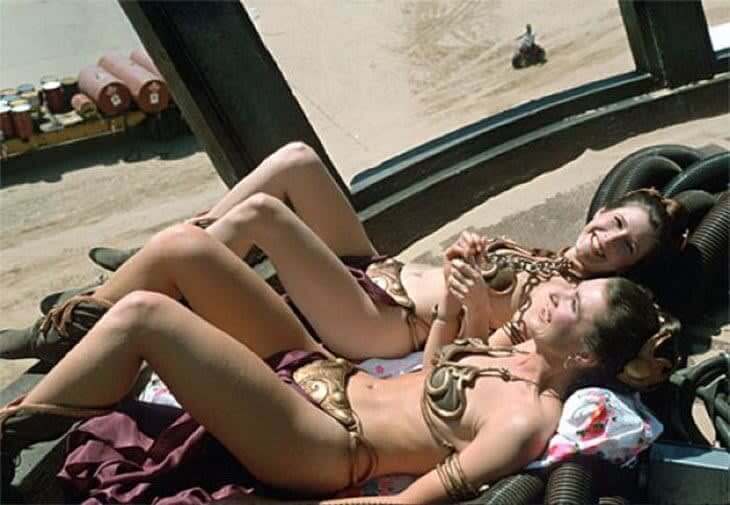 Not only did Gross do stunts for Star Wars she was also a stand-in for the movie Sister Act. She stopped working in the early '90s, but her work will forever be remembered.
Chandler Riggs Used A 29-Year-Old Female Double
Chandler Riggs played Carl Grimes on the hit AMC show The Walking Dead. His stunt double was actually a 29-year-old woman named Emily Brobst. As the two sat together on set, it was difficult to tell them apart, which makes for a good stunt double match.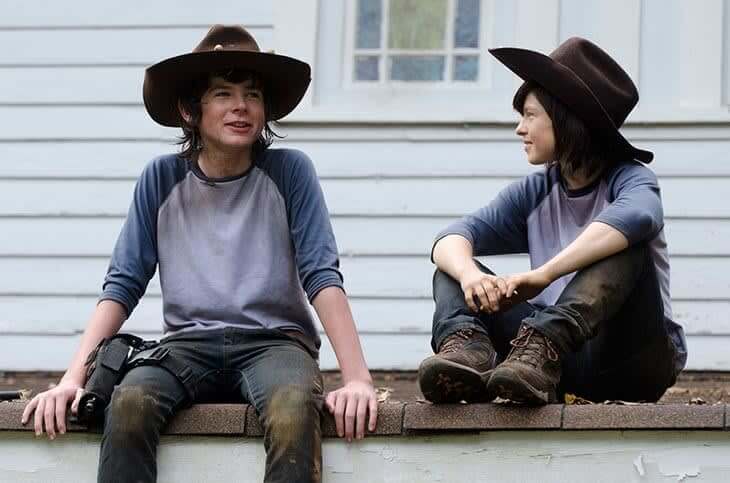 It is more common than people think for the actors to have stunt doubles of the opposite gender. In the movie Stand By Me, one of the girl's doubles was a boy because the director wanted someone skinny and lanky like the actress.
Elijah Wood's Body Double Was Half His Size
Elijah Wood starred in Lord of the Rings wherer Kiran Shah was his stunt double. Standing at four feet six inches, Shah's height makes him a more versatile stunt double, so he has been in high demand for years. In 2003, he was named the shortest professional stuntman working in film by the Guinness World Record book.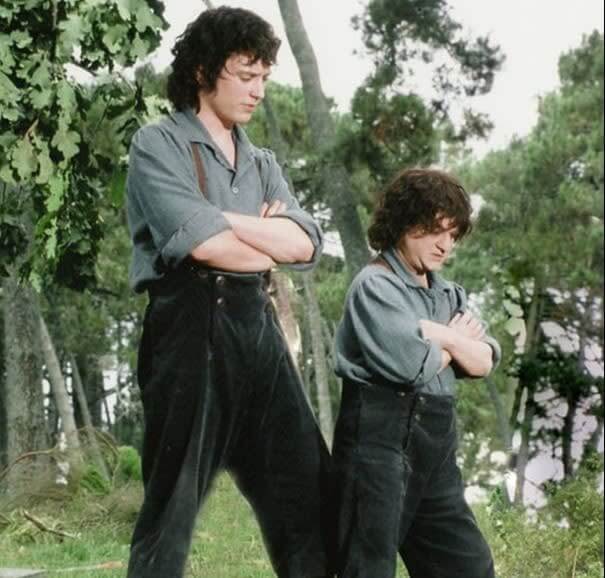 Shah auditioned for the role of R2-D2 and narrowly lost the part to Kenny Baker. He has played many notable characters, and most people do not realize how many people he has been a double for throughout the years.
Chris Hemsworth's Double Shares His God-Like Features
Since Chris Hemsworth began playing Thor, Bobby Holland has been working as his stunt double. While it is hard for the average person to achieve the godlike looks of Hemsworth, Holland bears an uncanny resemblance.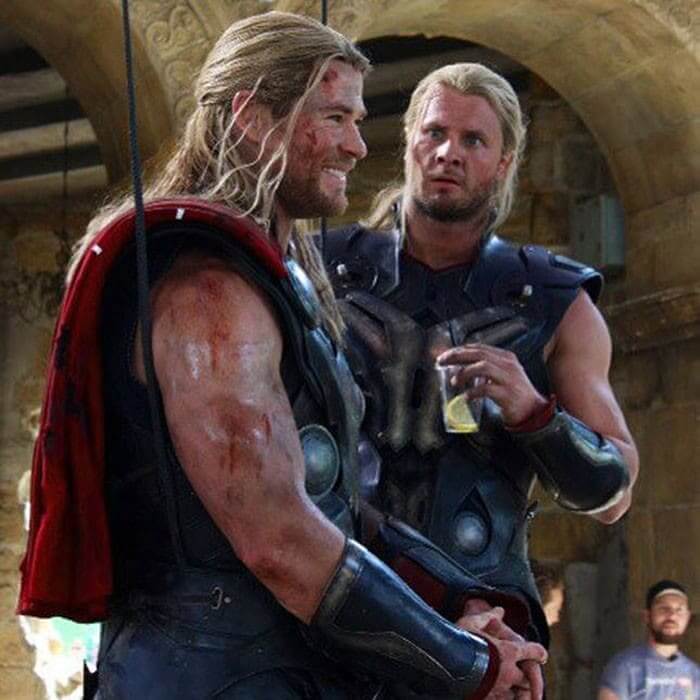 Holland has a wide range of skills that he worked his whole life to perfect. Not only was he the double for Thor, but Holland was also doubled for Batman in The Dark Knight Rises.
Ken Stott's Double Is A Notable Stuntman In Ireland And New Zealand
Ken Stott's stunt double for Lord of the Rings was Peter Dillon. He is known for his roles in Avatar, The Hobbit, and Underworld. Dillon is a notable member of the Stunt Guild of Ireland and New Zealand.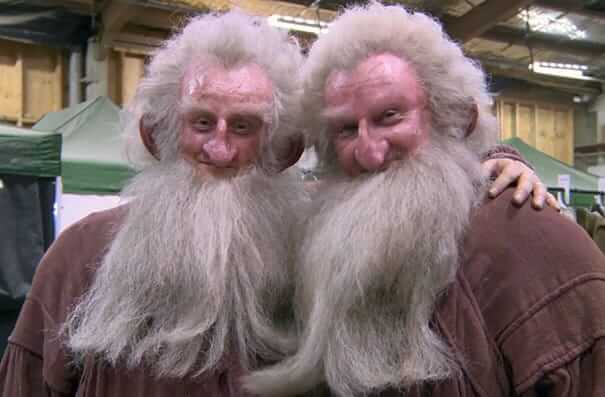 With all the makeup and prosthetics, Ken Stott and Peter Dillon were identical. People on the set of Lord of the Rings had a difficult time telling them apart while they were in costume.
Dave Bautista's Stand-In Shares The Same Muscular Physique
Dave Bautista is a famous wrestler who turned to acting after retiring from the ring. He plays Drax in Guardians of the Galaxy, and his stunt double is Rob de Groot. He is known for his work as a stunt man in the Marvel Cinematic Universe. Luckily, Groot shares the muscular physique and intimidating size with Bautista.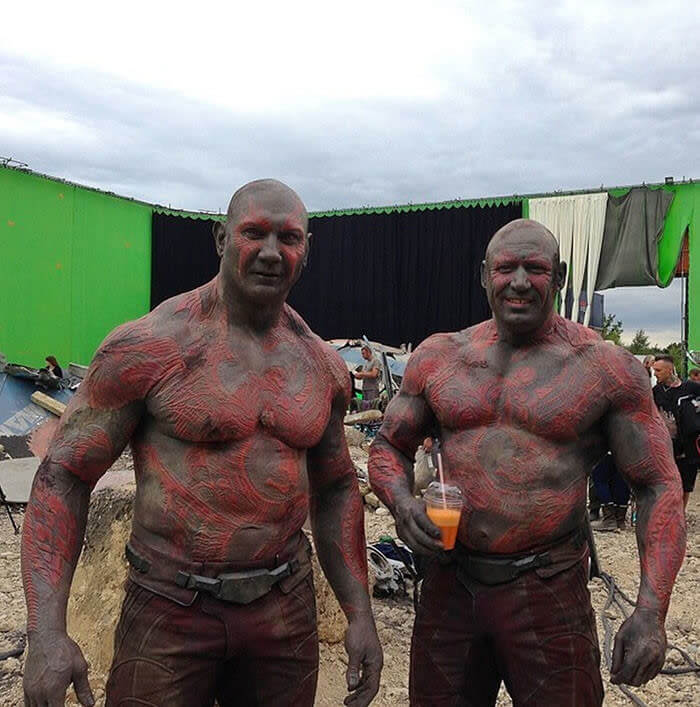 Like Bautista, Groot has to sit for hours in the makeup chair to recreate Drax's look. Although he is not the main actor, he has to look exactly the same for all the incredible stunts.
Tom Cruise Thought Up One Of The Biggest Stunts In This Movie
Award-winning actor Tom Cruise has been known to do some of his own stunts and even broke his leg once. However, in the movie Knight and Day, Cruise uses Casey O'Neill as a stunt double. These two look so alike, the resemblance is uncanny.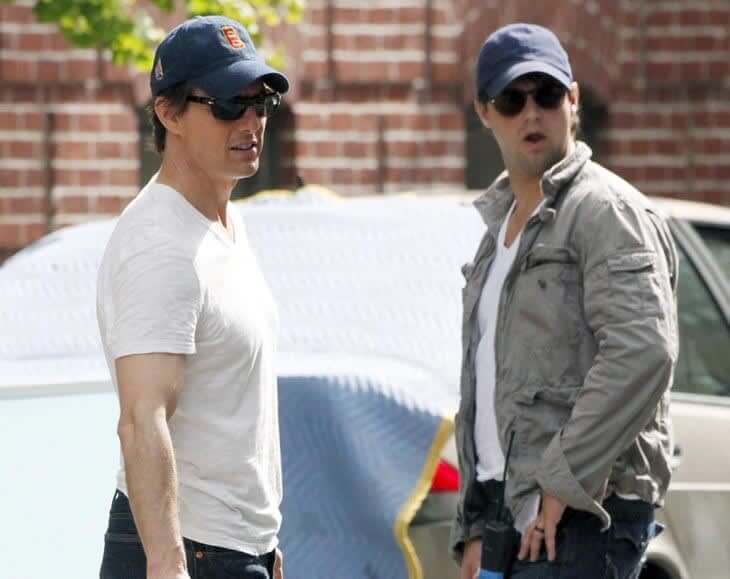 While O'Neill did many stunts for Cruise, there was one motorcycle scene that Cruise filmed himself. As an accomplished rider, Cruise thought of the stunt and asked the director to add it into the movie.
Christian Bale And Tom Hardy Worked With The Top Stuntmen
In the movie The Dark Knight Rises, Christian Bale and Tom Hardy both used stunt doubles because the film was filled with action-packed scenes. Bale's double was Bobby Holland, who is an accomplished stuntman in Hollywood. He is best known for his work on Inception, Avengers: End Game, and Wonder Woman. Holland trained for many years to perfect his incredible skill sets.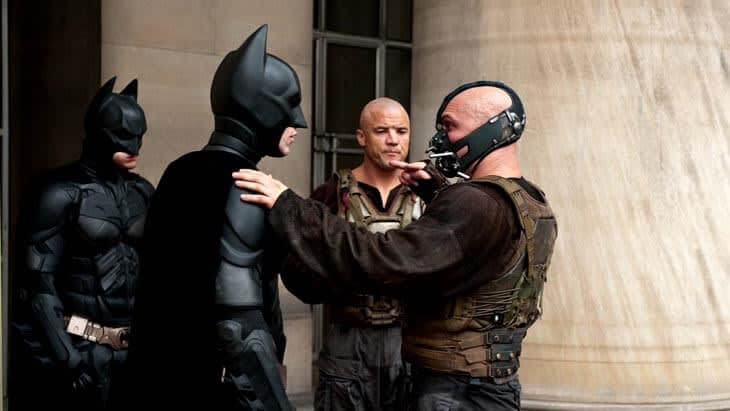 Hardy's stunt double was Buster Reeves, who began training in traditional karate when he was 11-years-old. Reeves earned a spot in the Guinness Book Of World Records for most kicks done at head height in a minute. Besides The Dark Knight, Reeves has also been a stuntman for Bourne Ultimatum and Mission Impossible.
Cameron Diaz's Go-To Stuntwoman Has Worked On The Biggest Hollywood Movies
In the film Knight and Day, Cameron Diaz has some pretty action-packed scenes that required a stuntwoman. Her double Kimberly Shannon Murphy took on the task of making these scenes look effortless. Murphy is the go-to stuntwoman who has quite the resume.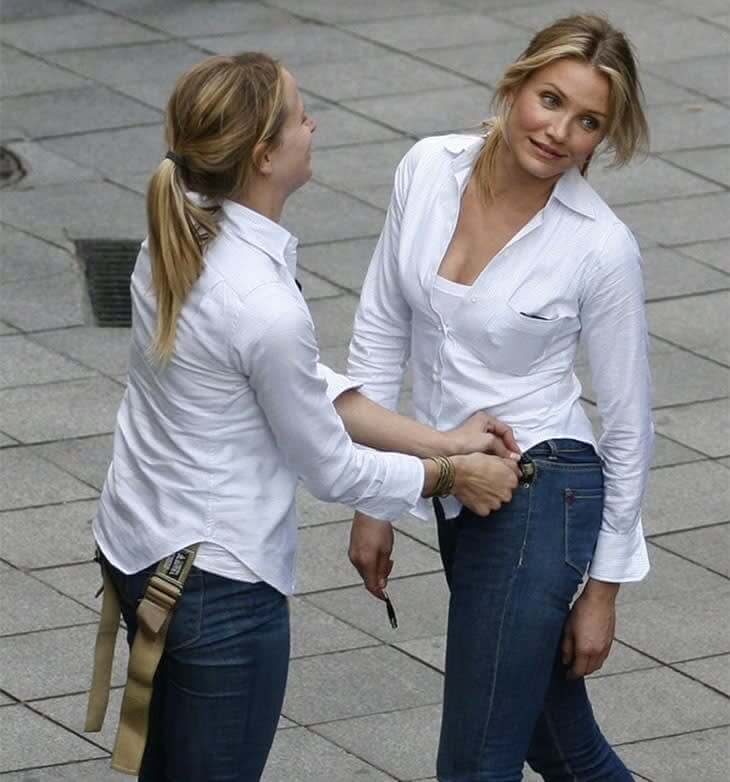 Jose Antonio De Lamadrid/Getty Images
Murphy has been a stunt double in top box office movies like The Hunger Games, Men in Black 3, and Oblivion. The list goes on and on, and Murphy is going to be a double in many upcoming films. It must be interesting to be the body double for some of the biggest names in Hollywood.
Lynda Carter Invited Her Double's Son And Classmates To The Set Of Wonder Woman
Lynda Carter played Wonder Woman in the 1975 film, and she had two stunt doubles including Jeannie Epper. Her most recent stunt credit was in 2015, but Epper had a very successful career throughout the '70s and '80s.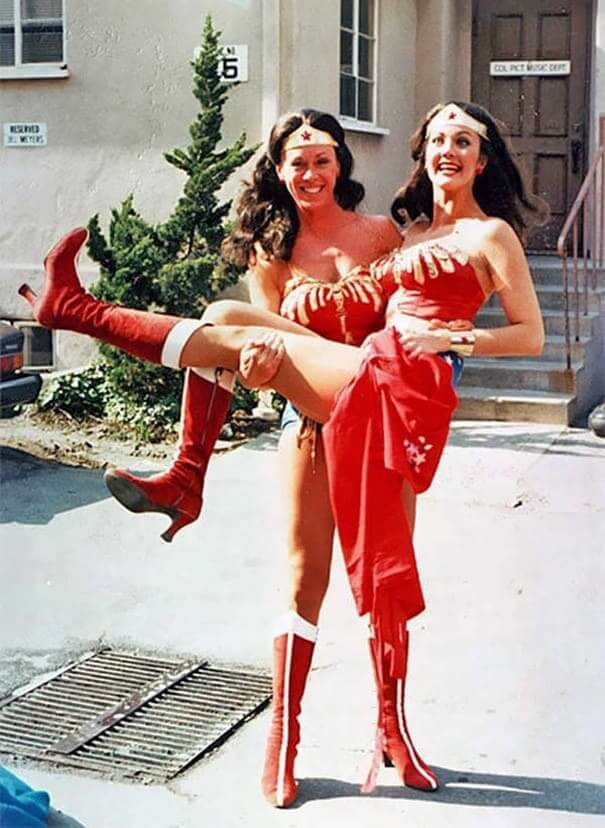 While Epper was working on Wonder Woman, her son told his classmates, but they didn't believe him, even after he showed a photo. When Lynda Carter heard about this, she invited Epper's son and all of his castmates to the set so they would know he was telling the truth.
Tom Hiddleston's Double Found His Love For Stunt Work Completely By Accident
Tom Hiddleston plays Loki in the Marvel Cinematic Universe, and his character has many fight scenes and does numerous stunts, so Hiddleston uses Paul Lacovara as his stunt double. Lacovara grew up in California and got a part as an extra during his senior year of college.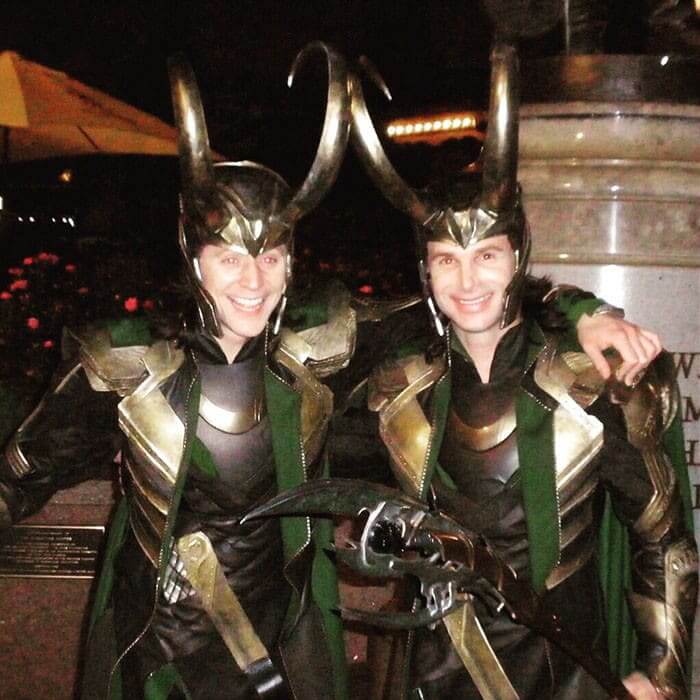 While on set, Hiddleson got Lacovara the opportunity to work as a stuntmen. After graduation, he decided to pursue a career in stunts, and he quickly made a name for himself. Today, he has over 200 credited films and TV shows under his belt, and he has worked with actors like Christian Bale, Chris Pine, and Ryan Reynolds.
Shia LaBeouf's Double Replaced Him For A Majority Of The Scenes In Transformers
Shia LaBeouf starred in the Transformers movies, and while he doesn't have many boundaries when it comes to performing, he does not do his own stunts. Instead, Dustin Dennard was the stunt double for LaBeouf in this popular film series. There is so much action throughout these movies, so many characters' stunt doubles had a lot of work in front of the camera.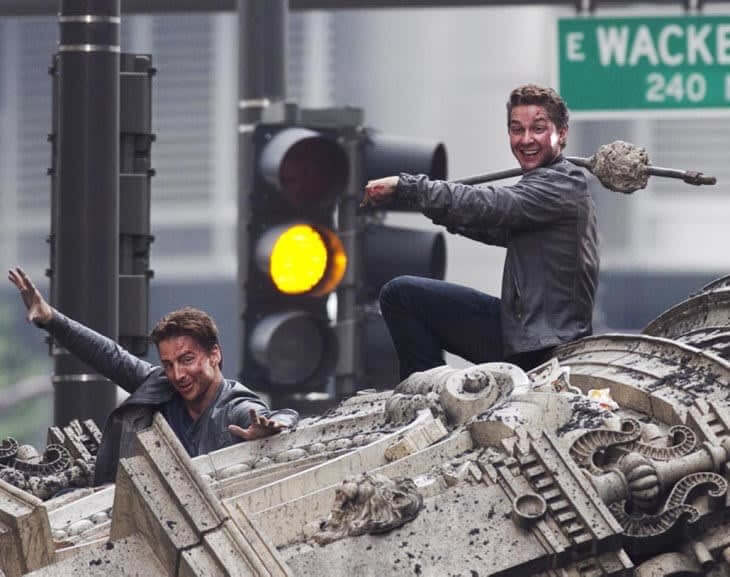 Dennard has worked on many major films including GI Joe, Gangster Squad, and Friday The 13th. From a young age he had an interest in action films and wanted to pursue a career as a stunt double.
Bruce Willis's Double Got Into The Stunt Business Accidentally
It was an accident that Stuart Wilson became Bruce Willis's stunt double. He wandered onto the set of Live Free or Die Hard, and the directors noticed an opportunity. Since then, Wilson has been Bruce's stunt double for over a decade.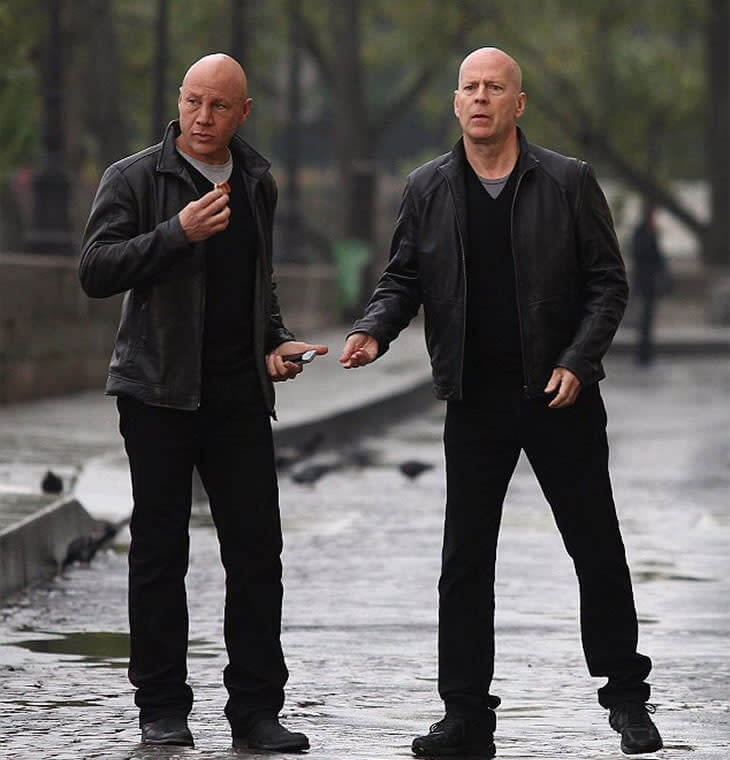 Not only does Wilson bear an uncanny resemblance to Bruce, but he also has the incredible skill set that is required for all action movies. They have an incredible friendship, and they work as a team on set.
Taylor Lautner's Double Takes All The Punches In This Movie
As the love-hungry werewolf in the Twilight movies, Taylor Lautner might seem like he does his own stunts. However, in the movie Tracer, he sat on the sidelines while his stunt double, Gabriel Nunez, did all the heavy lifting. These two look so alike, and they work well together.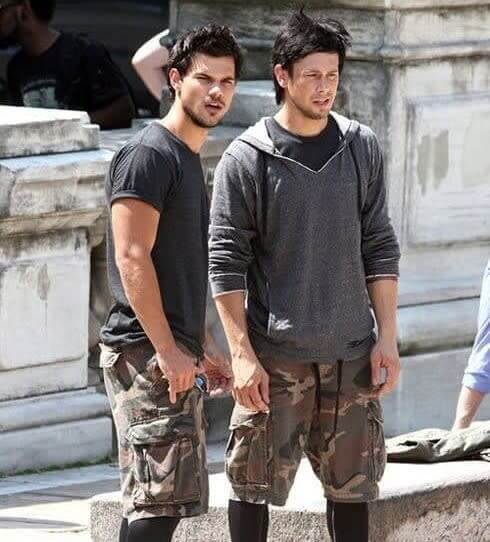 There are many photos of Nunez and Lautner on set goofing around, but Lautner gets to sit back and relax while Nunez takes all the punches. Besides Tracer, Nunez has also worked on impressive movies like Ant-Man, Total Recall, and After Earth.
Daniel Craig's Double Takes On All Of The Dangerous Stunts For The Bond Movies
Since Daniel Craig took over for Pierce Brosnan as James Bond, it only made sense for the director to hire one of the best stuntmen for the job. Jean-Charles Rousseau is Craig's stuntman in all of the Bond movies, and he has also worked on Mission Impossible and Jason Bourne.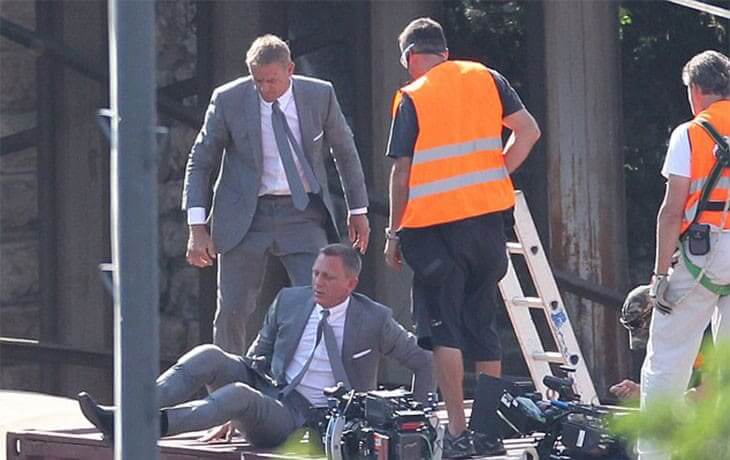 Craig and Rousseau have been working together for years, and the two have an incredible relationship. While Craig can do some of his own stunts, Rousseau takes over for the more complicated work.
Anthony Mackie's Stuntman Is The Go-To Man For Marvel Movies
Anthony Mackie plays the Iron Soldier in The Avengers movies, and Aaron Toney is his stunt double for all the intricate action scenes. Toney has been a double in many of the Marvel Cinematic Universe movies, including Black Panther, Avengers: Endgame, and Infinity War​.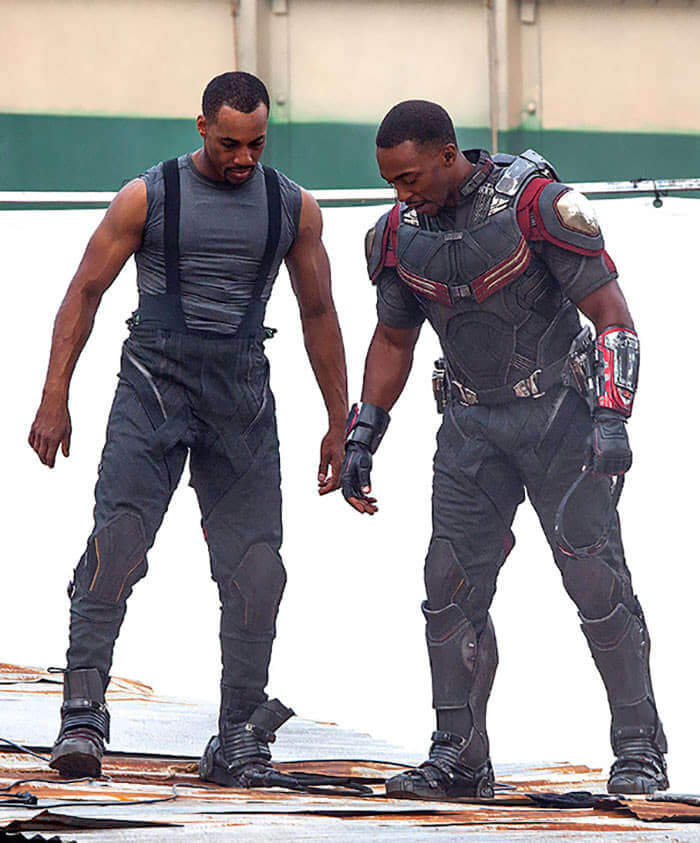 Toney has an incredible skill set that is perfect for the action-packed Marvel films. Mackie and Toney have partnered together on a few different movies, and these two have become close friends through their work.
Sean Connery's Stand-In Was Offered A Huge Role, But Turned It Down
Sean Connery starred in the movie Goldfinger and Alf Joint was his stunt double. Born and raised in England, Joint grew up during war times, and he wanted a better life for himself; he decided to try and make a go of it in the stunt industry.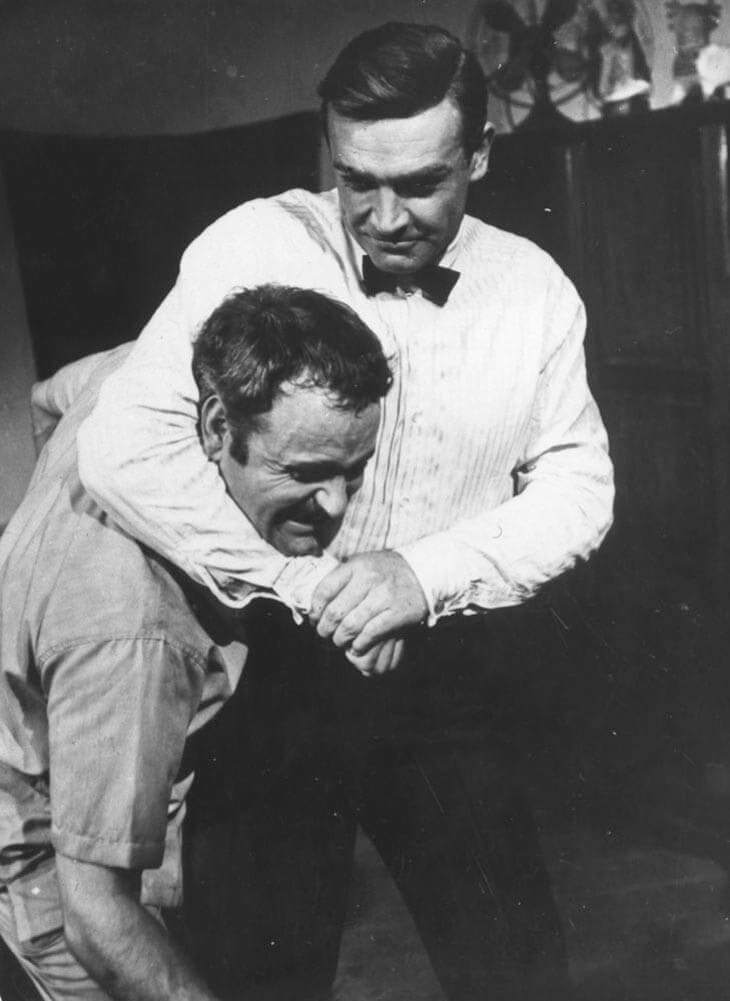 Joint's most notable roles were in Superman and Outland, aside from Goldfinger. He was also offered a part as the stunt man for The Spaniard in Dr.Who​, but he turned it down.
Jennifer Garner Is Best Friends With Her Stuntwoman
Jennifer Garner and Shauna Duggins are not only friends, but they are co-workers. Shauna has worked as Jennifer's stunt woman for years since the days on Alias and her role in 13 Going on 30.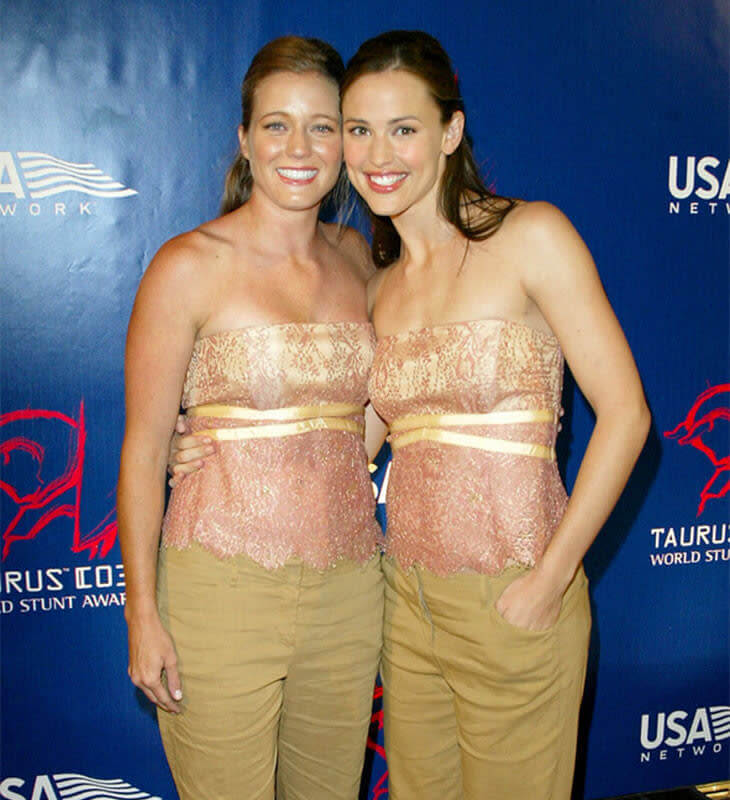 Duggins was the first stuntwoman to be nominated for an Emmy for Outstanding Stunt Coordination. She quickly became one of the most well-known names in the industry, and she has also worked with Charlize Theron, Anne Hathaway, and Chloe Sevigny.
Patrick Dempsey's Double Is Shorter Than Him
Yes, Dr. Mc Dreamy also uses a stunt double. In Transformers: Dark of the Moon, Dempsey uses Carl Paoli as his stunt double. Obviously, Dempsey can't risk ruining his face because that is his moneymaker, so he has someone do all his stunts.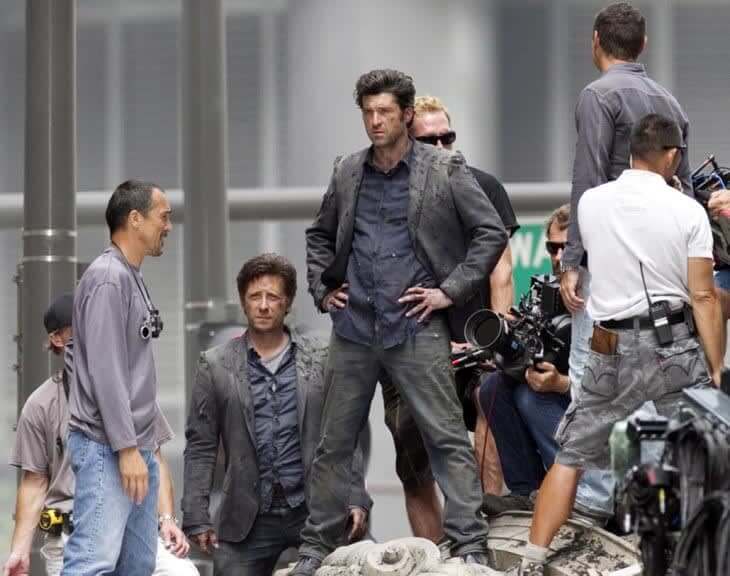 Although Paoli is a little shorter than Demsey, the two worked well together for the movie. Paoli has been in the stunt industry for more than 20 years, and his skills include motorcycles, cars, and bicycles.
Hugh Jackman's Stuntman Is His Brother-In-Law
When Hugh Jackman played Wolverine, he was in the best shape of his life, and totally ripped. Luckily, his stunt double Richard Bradshaw was also fit for the incredible stunts. Not only is Bradshaw Jackman's stunt double, but he is also his brother-in-law.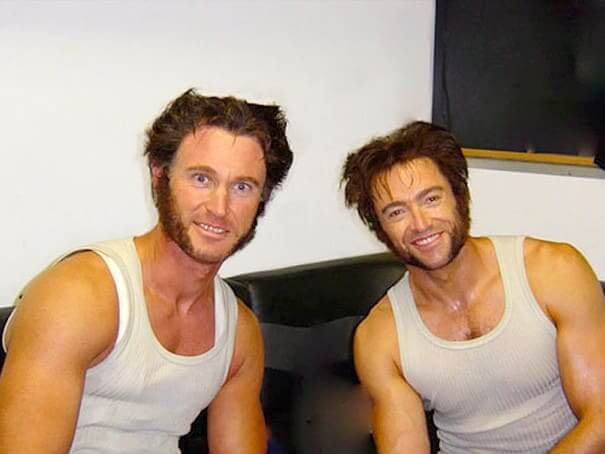 Bradshaw's skills include motorcycles, riding wires, and anything related to horses. He stepped in for Jackman on X-Men: Days of Future Past and Van Helsing. Besides Jackman, Bradshaw has also stepped in for Pierce Brosnan, Matthew McConaughey, and Colin Firth.
Melissa McCarthy's Go-To Stunt Woman Runs Her Parkour Gym
Melissa McCarthy is one of the most hilarious women in Hollywood. In many of her movies, McCarthy is seen doing bold flips, tricks, and feats, but she has a lot of help achieving these stunts. Her stunt double is Luci Romberg, and the two have been working together for years.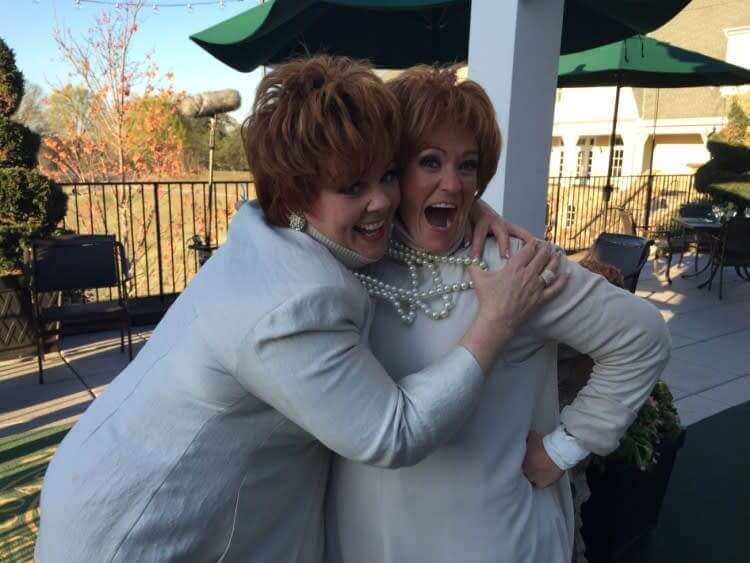 Romberg has stepped in for McCarthy in many movies including, Ghostbusters, The Boss, and Identity Thief. Romberg loves anything that gets her adrenaline pumping, and she took that passion and turned it into a business. She runs a parkour lifestyle brand that has multiple training facilities in LA.
Chris Evans' Double Was Featured For His Incredible Physique
As Captain America, Chris Evans has many scenes involving numerous stunts; therefore, Sam Hargrave steps in as his stunt double. Not only is he a renowned stunt double, but Hargrave is also a notable trainer.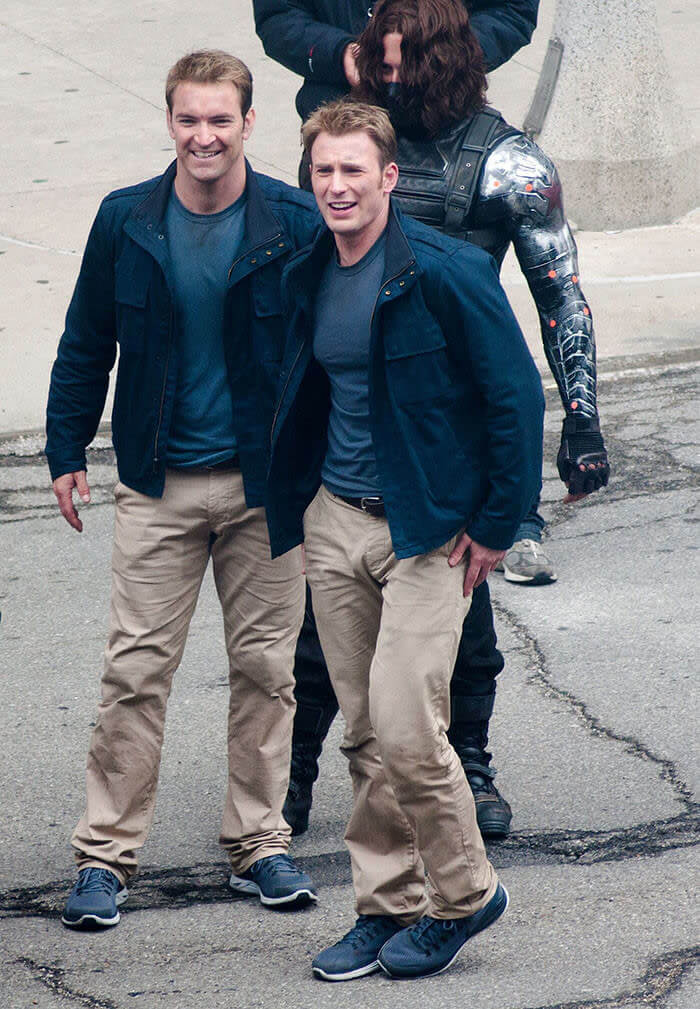 Due to his career, Hargrave has to stay in impeccable shape, which he has shown off in magazines like Men's Health. He keeps himself in tip-top shape to perform all the action-packed scenes in the Marvel Cinematic Universe.
Mark Wahlberg's Double Looked Nothing Like Him
Although Mark Wahlberg's stunt double looks slightly older than him, he was the perfect stand-in for the movie Ted 2. The movie was the sequel to the first Ted film about the talking teddy bear voiced by Seth MacFarlane.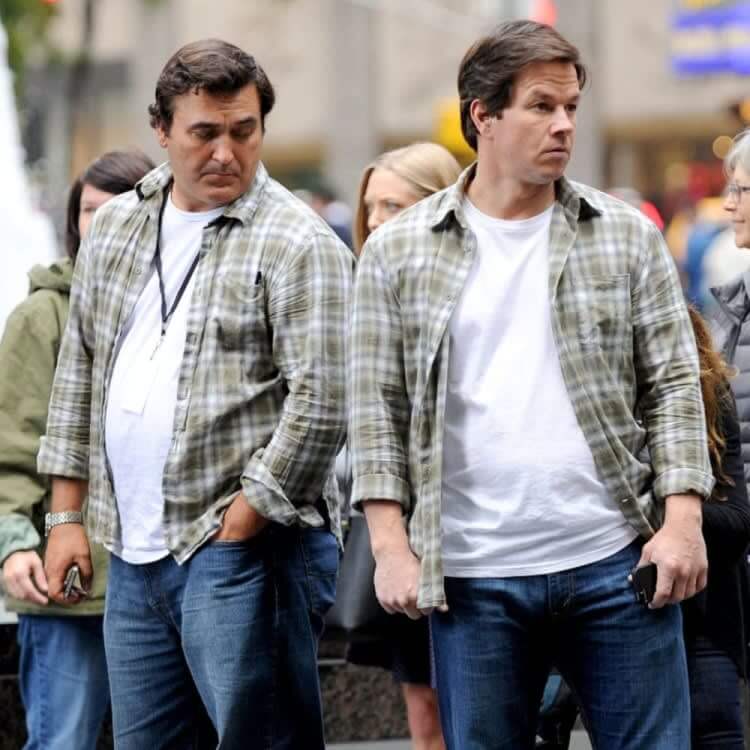 In the second film, Ted is fighting for the right to be considered as a human. The plot may be ridiculous, but it is a well-loved film by fans of both MacFarlane and Wahlberg. There weren't too many stunts involved in this film, but they still needed a body double for certain scenes.
Real Comics That Show Parenting Struggles When Having Another Baby
Tegan Holmes
This article was originally published on ParentMood
Parenting can be a lot of fun, but anyone with kids or a pregnant partner knows that some days are better than others. Artist Yehuda Devir does a stellar job of capturing these ups and downs of parenthood. He began documenting his relationship with his wife, Maya, through the comic series "One of Those Days." Over their years together, the funny couple welcomed a couple of babies. Yehuda's illustrations have since morphed into a relatable and funny series on family life. So if you're a parent or expecting to become one soon, you'll love these illustrations!
A Bun In The Oven
Before a new baby arrives, their siblings need to learn why mommy's belly is growing again. For older siblings, the addition of a younger brother or sister can be a confusing time. They are used to being the main focus of their parents' attention, and the addition of a sibling means they won't be anymore.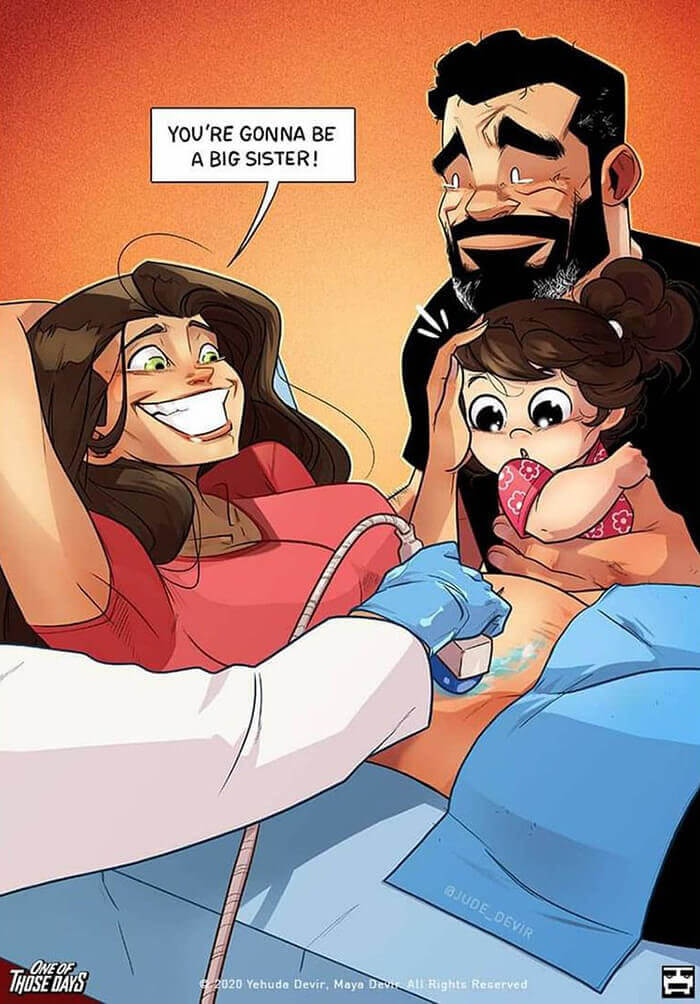 To help an only child get used to the idea of the new addition, it's a good idea to include them in big moments like ultrasounds at the doctor's office. That way, they begin to understand that a new life is growing, and they will have someone to play with in a couple of years.
Changing Bodies
It's pretty amazing that a human body can create new life. When a woman goes through a pregnancy her body changes in many different ways.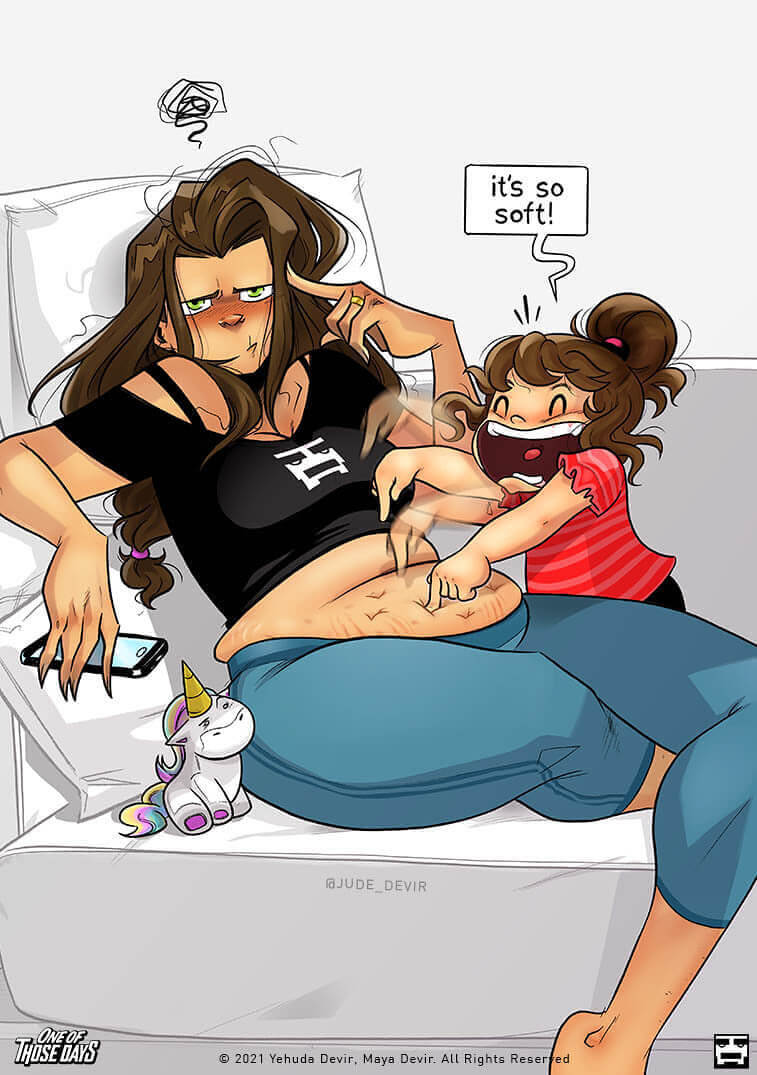 Most women will find that their bellies change because all of the organs must shift around to make room for the growing baby. On top of that, a few new stretch marks might appear, along with some general squishiness. That's okay though, it is all a part of this beautiful process.
Let The Romancing Begin
Every couple needs a little spice in their life, even if one of them is almost nine months pregnant. Just be mindful of a couple of things, especially when it comes to spatial awareness.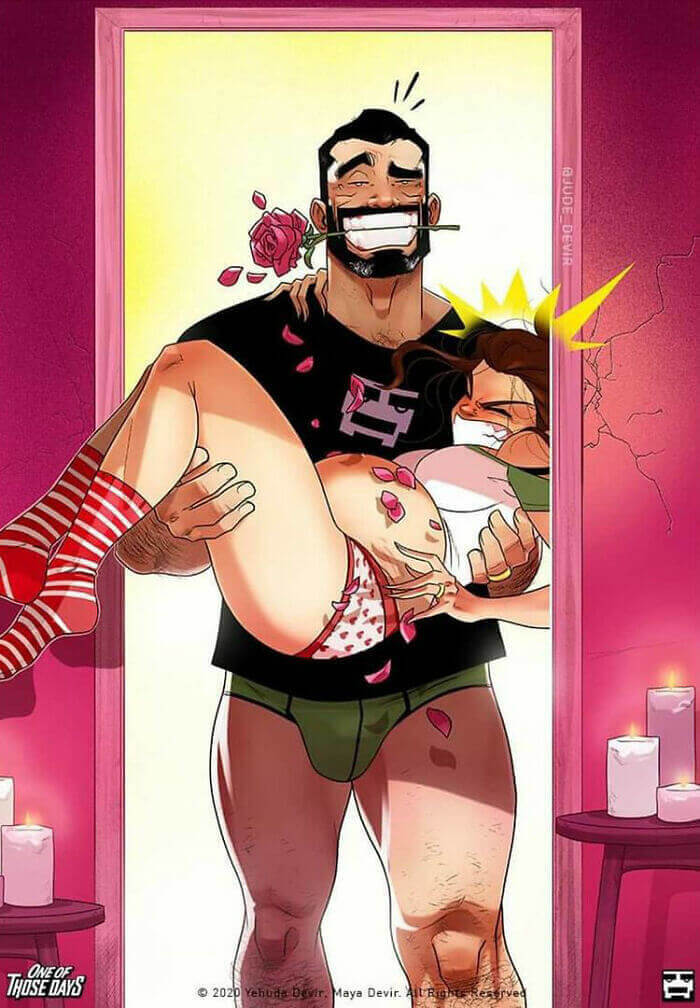 We are all for big gestures, but pregnant ladies do not need to have their head accidentally smacked on a door frame while their husband is attempting to be romantic. Save the grand gestures for post-pregnancy.
The Triple Spoon
A lot of kids don't like to sleep by themselves for the first couple of years of their lives. That's why parents tend to place the crib or bassinet in their own bedroom.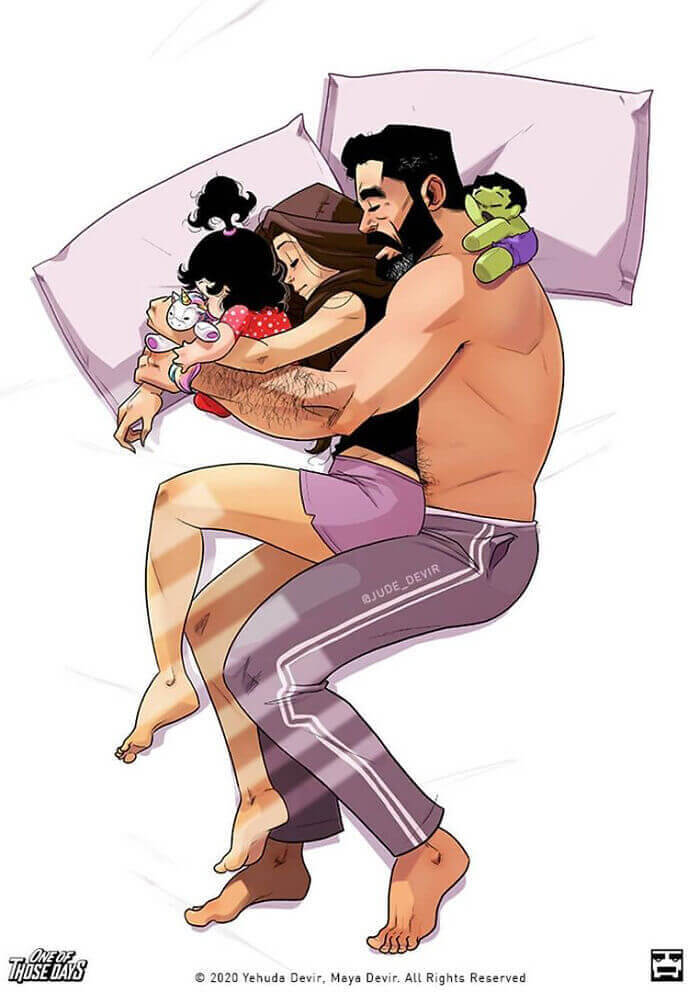 For this little family, they embrace group naps and cuddling together. This is an excellent way for everyone to get the affection they need.
Trying To Work
With everything being a new experience for babies and toddlers, they tend to think that the entire world is their playground.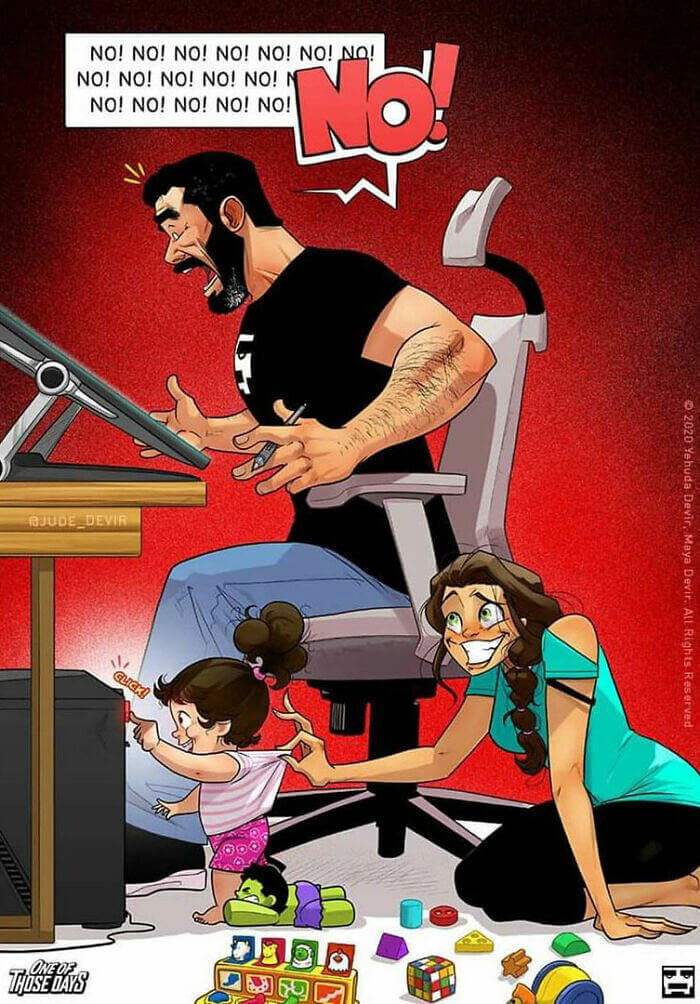 That means any buttons that are at eye level must be pressed. Even if it means a parent loses all of their new comics, and they need to start from scratch again – oops.
Let The Countdown Begin
Once kids enter the picture, major holidays like New Year's Eve tend to take on a bit of a different meaning. Instead of staying up until midnight, it is more about sleeping until midnight.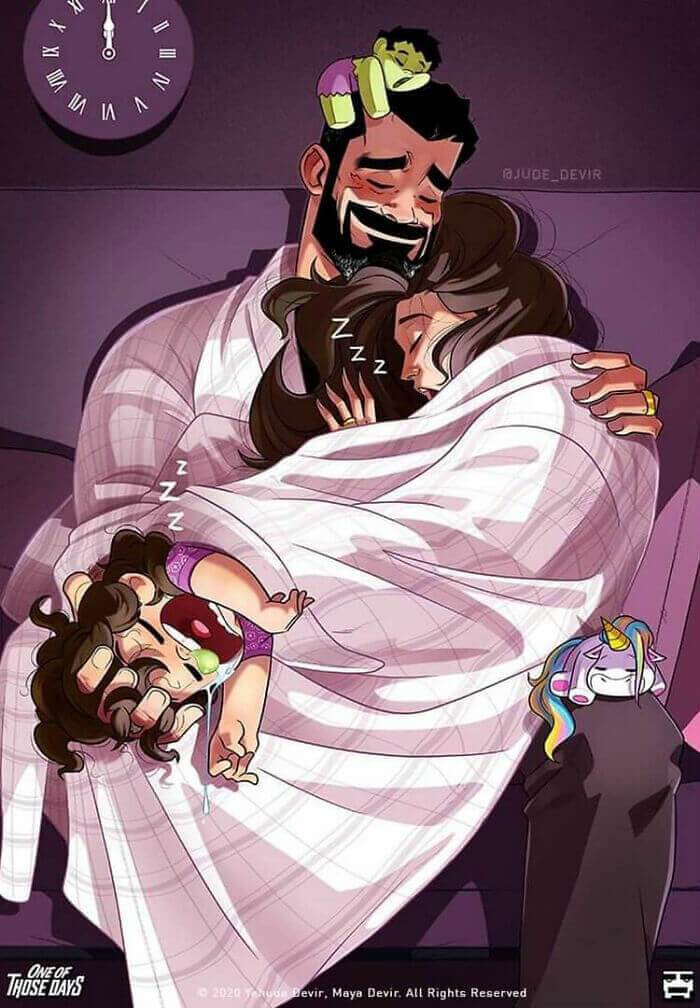 That doesn't mean parents need to stop having fun. It just means that priorities need to change, and fun can be had when kids are older.
New Life
Babies start to move at around the five-month mark in their mother's bellies. It starts with what feels like flutters, and as the baby grows it starts to visibly move.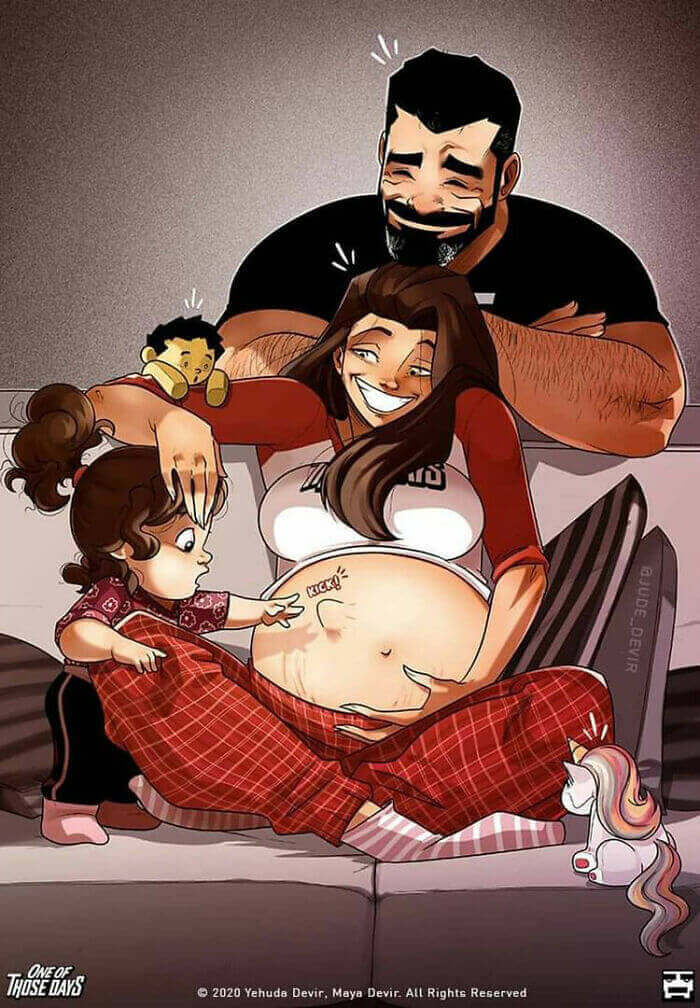 What may look like an alien moving around is actually a baby just kicking the stomach walls as it tries to get comfortable. Don't be alarmed.
Double Bellies
When a child's mom gets pregnant, it can be a bit of a confusing time. It's hard to understand that a new sibling is growing inside mommy's belly.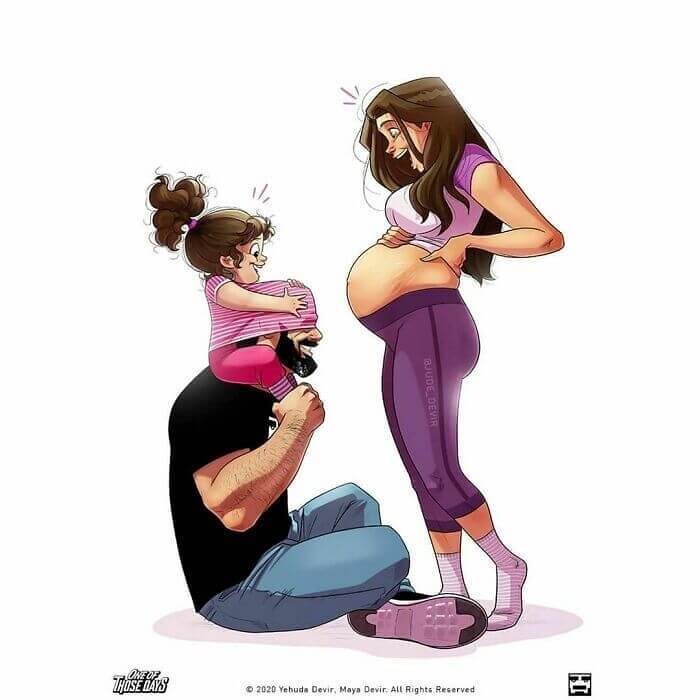 That's why it's important for parents to sit down with their child or children and explain that a new brother or sister is about to join them.
Filling Out
While stomaches definitely get bigger, so do other body parts as women get closer to giving birth. Bras may need to be adjusted, or even put away.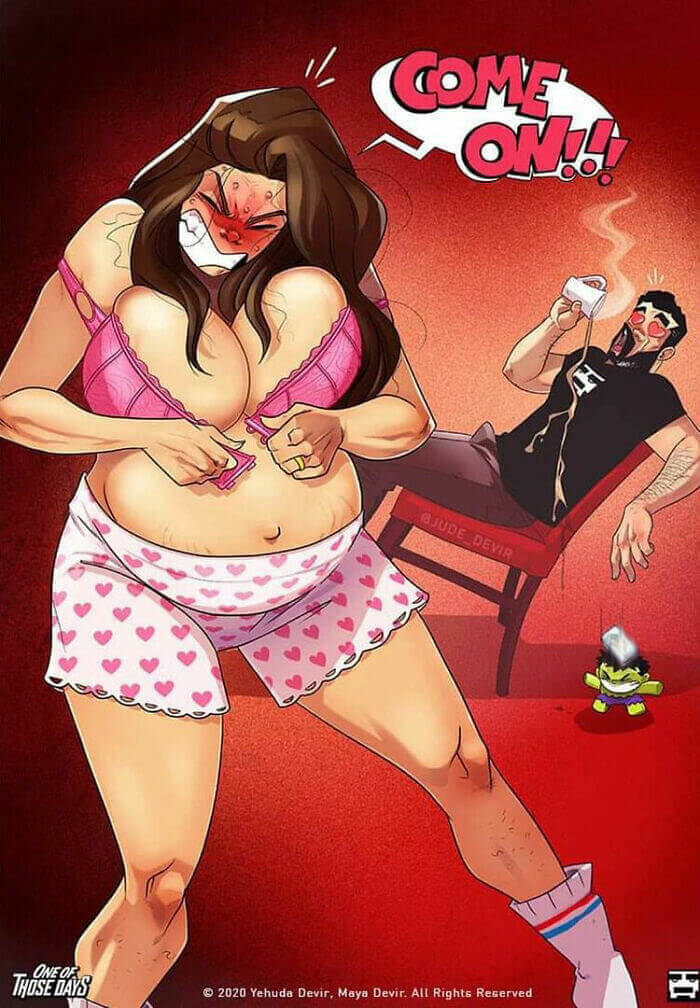 For women who are experiencing some major growth in their chest region, we would suggest grabbing a comfortable sports bra until it's time for nursing bras.
Scooting Around
Most babies learn to walk in the first year or two of their lives. Catching those first steps are one of the moments all parents want to remember.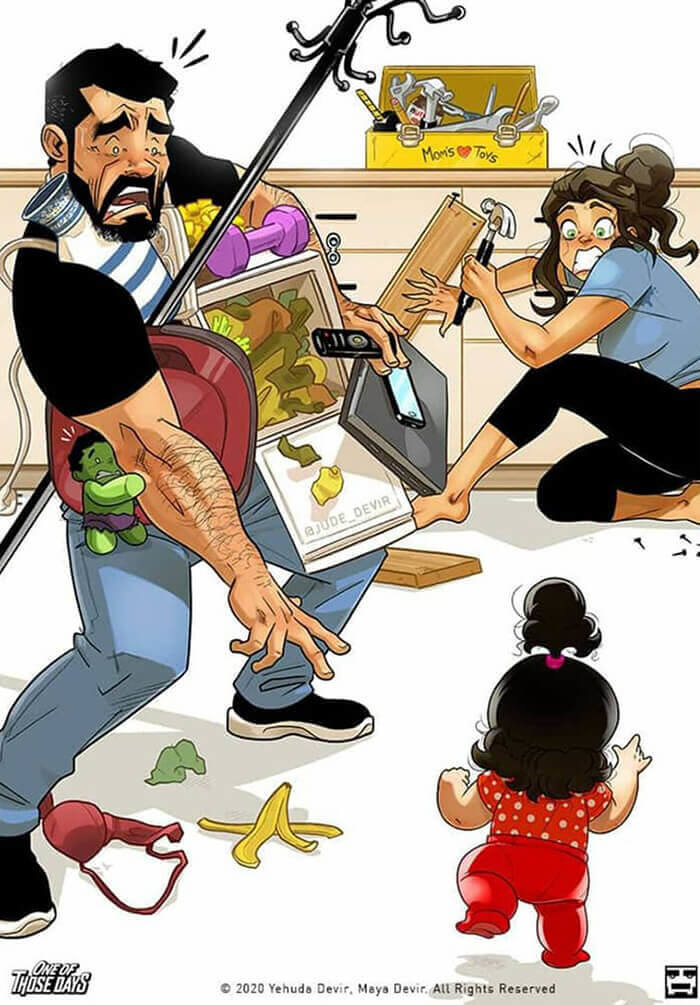 Once a toddler starts motoring around though, you will want to be careful that your home is childproofed. Little fingers like to get into everything!
First Words
Every parent remembers the first time their baby speaks. Maybe it is 'Da-da' or 'up' that are their first words. No matter what, this is a moment that needs to be remembered.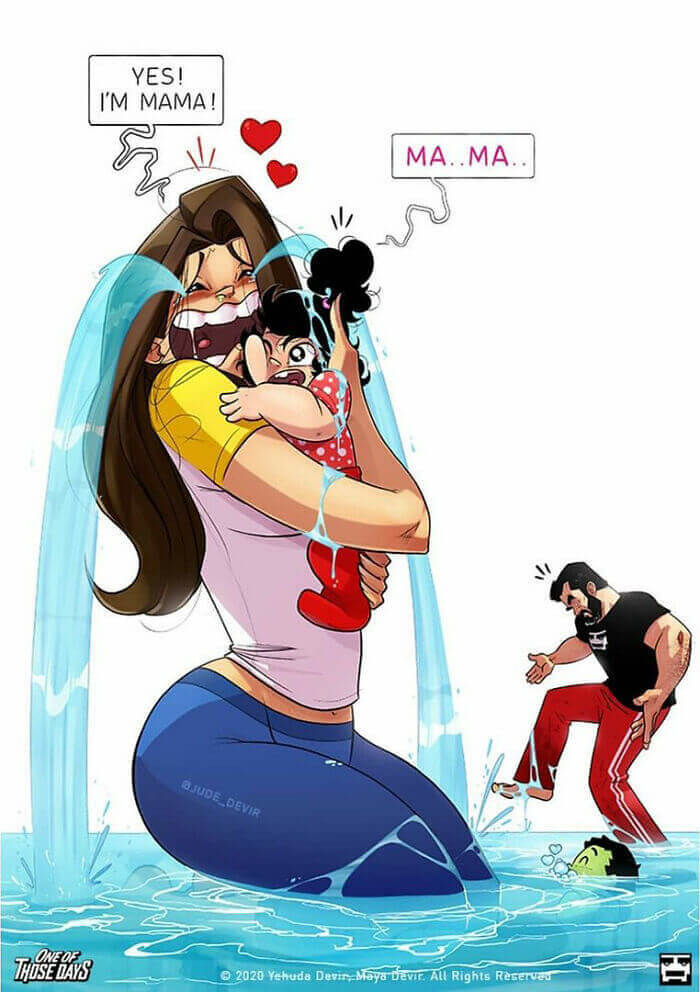 For Yehuda and Maya, their little one managed to say 'Ma..Ma' which was a tear-worthy moment for both of these parents.
All Tucked In
One of the greatest inventions of all time has to be the body pillow. Not only does it conform to your body, but for pregnant women, it provides the perfect resting place for a heavy baby belly.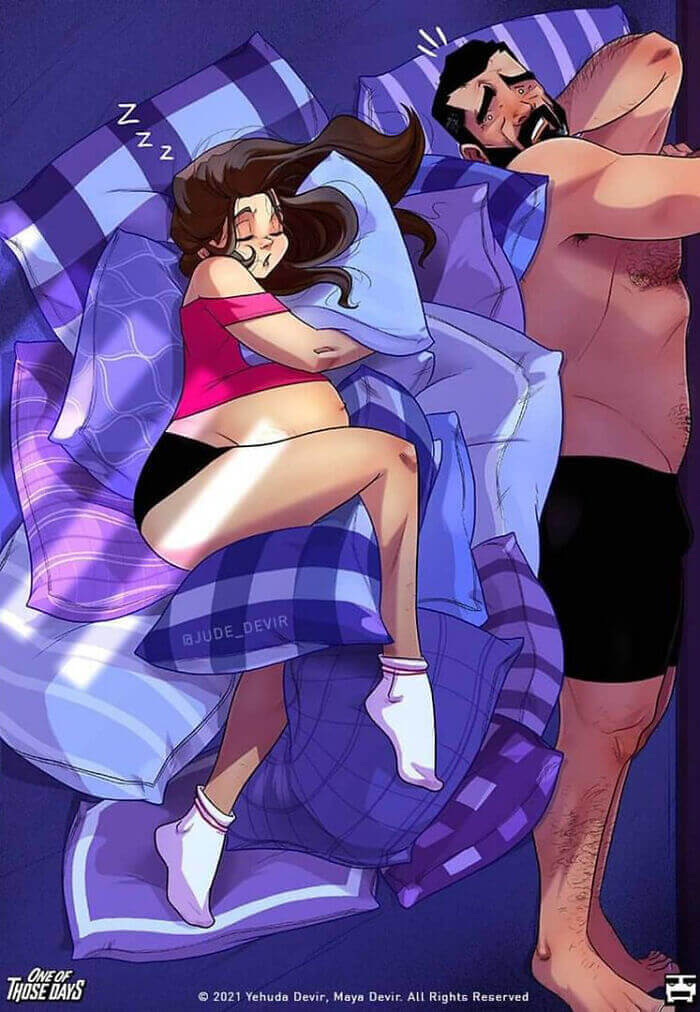 Body pillows may not fit perfectly in a bed with your partner, but that's a small price to pay for your own pregnant comfort, right? Getting a good night's sleep can be tough while pregnant.
Alone Time
Babymaking is a fun business, but after the baby has been born it can take a bit of time for things to get back to normal in the bedroom.
Sometimes a few new items need to be introduced to get the old motor going again so to speak. Couples that play together, stay together right?
Carrying The Load
A pregnant belly can weigh upwards of 20 pounds, depending on the woman. Most women will lose around 13 pounds as soon as they give birth, but until then, that extra weight can be hard on the back.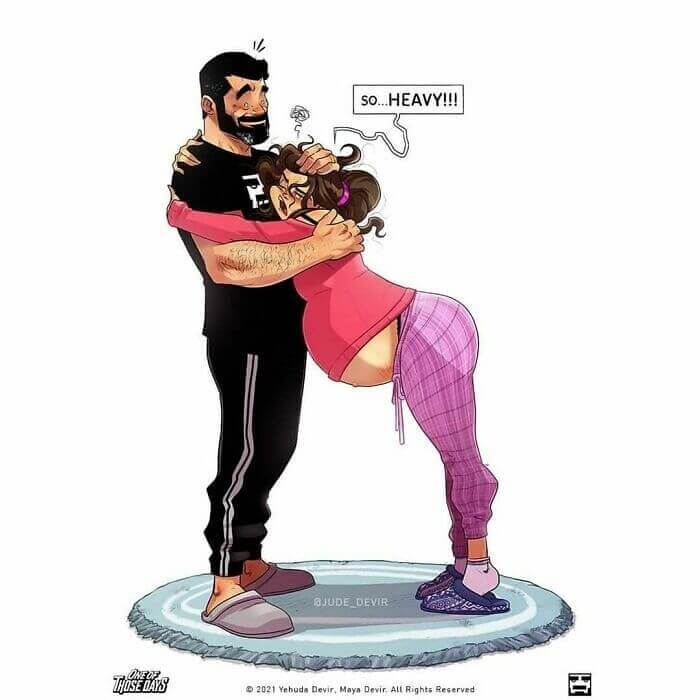 Sometimes simply leaning on a partner, or having your partner hold your belly up can provide some much-needed relief for back pain.
Feeling Insecure
For some women, acknowledging that your body has changed and being proud of it can take some time. Stretch marks are normal, as is saggy skin.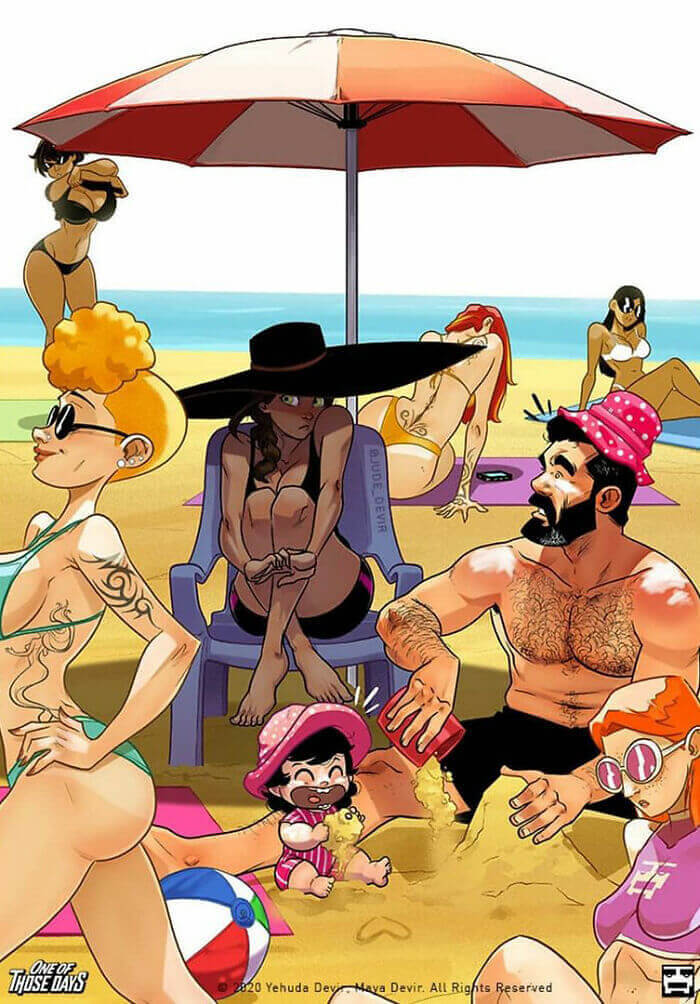 Throw on a one-piece or a bikini that makes you feel confident and let it all hang out. Nobody is watching, and your body has basically performed the miracle that is giving life. Be proud of it!
Time For School
Eventually, the day comes in every parents' life, where it is time to send your child off to preschool or kindergarten. This is a big day because it means you won't see your child 24/7.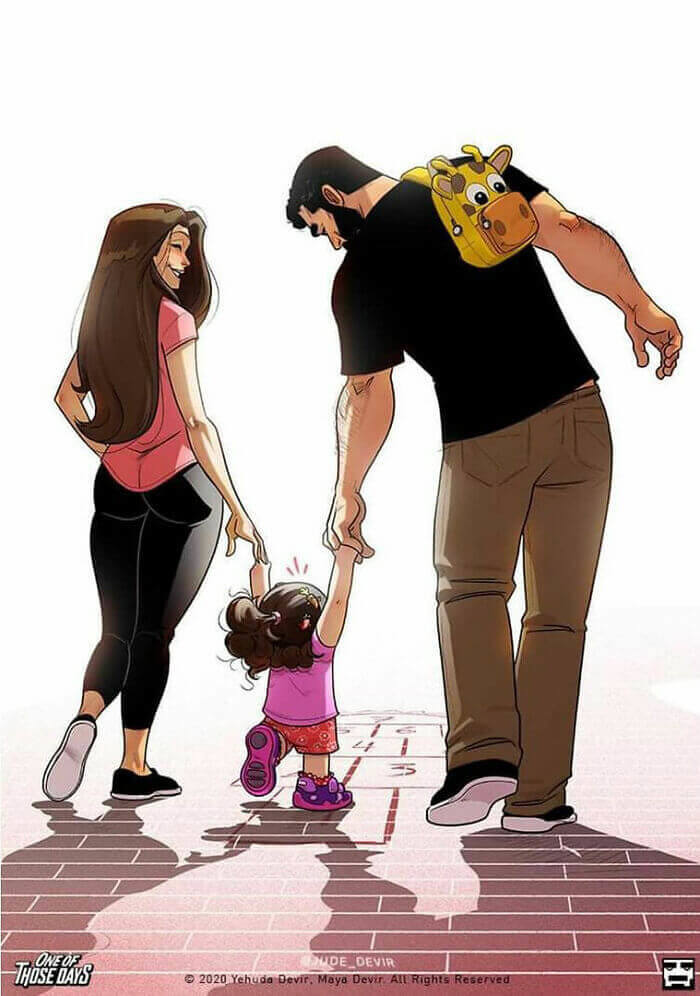 For many parents, they covet this newfound freedom, but the worry for your child will always be there. Growing up can take some getting used to.
A Helping Hand
You know the phrase, "Help I've fallen, and I can't get up"? The same can be said for pregnant women, except instead of falling it is simply lying down.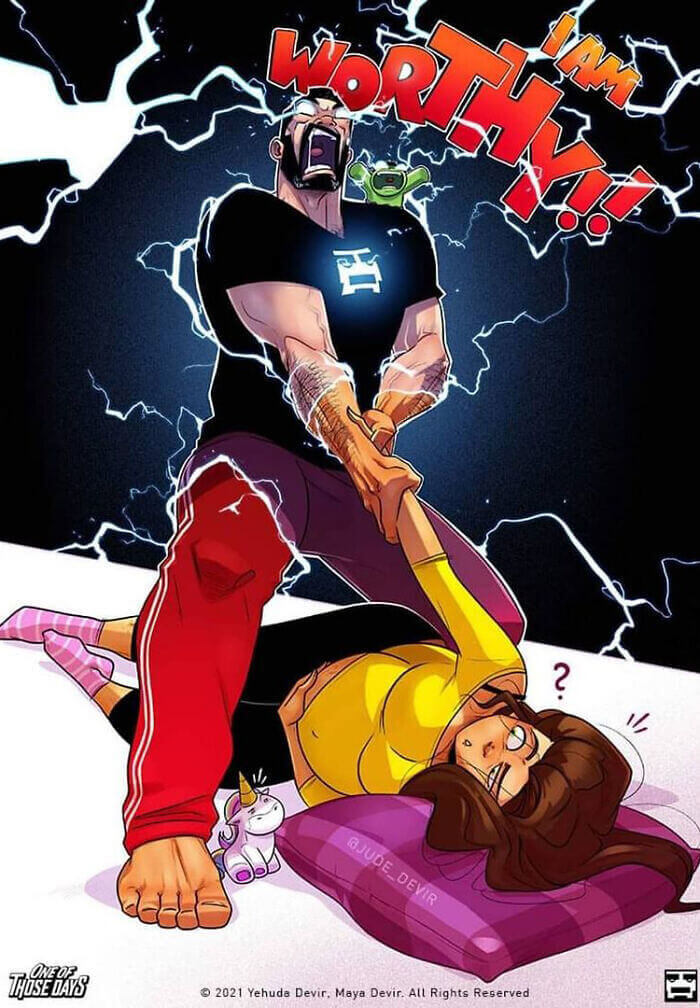 As babies start to get bigger, and bellies start to get heavier, it becomes harder for pregnant women to move around like they once did. That means their partners always need to be on hand to help them off the floor, or the couch.
Beach Bodies
Some partners like to sympathy eat with their pregnant loved ones. That tends to mean both the woman and the partner pack on a few additional pounds.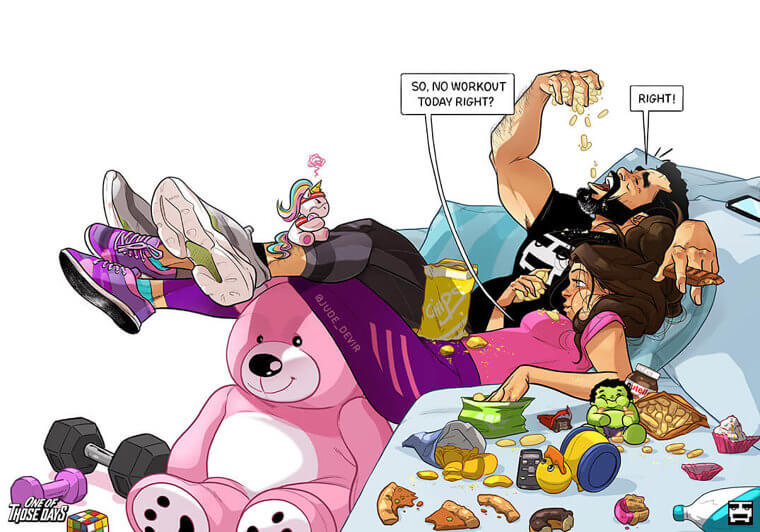 Those extra pounds will need to come off eventually, but that doesn't mean you need to hit the gym hard. Start doing some light cardio, cut back on the junk food, and the weight will come off on its own. Chasing a toddler around all day will do wonders for the physique.
Cover Your Nose
Children are like little sponges, and they need to absorb their manners and proper etiquette from their parents and those around them.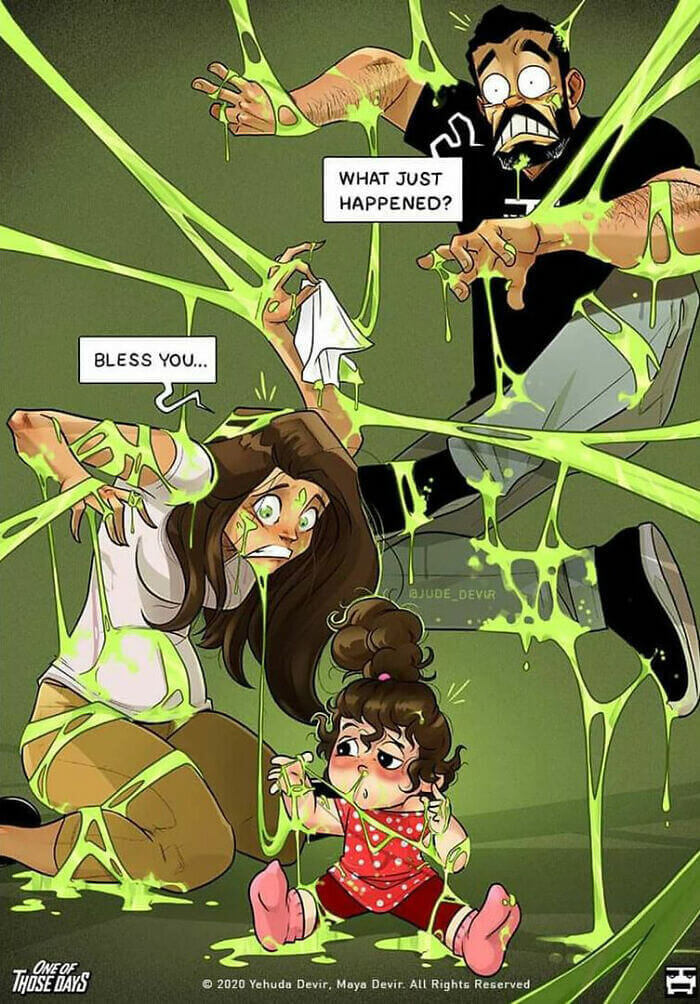 One of the most important things children learn is to cover their mouths when they cough or sneeze. This keeps snot and other germs from spewing all over the place, but it takes practice!
Glued To The Television
Toddlers need to be kept entertained. Otherwise, they will find creative ways to entertain themselves, like drawing on the wall with their favorite markers.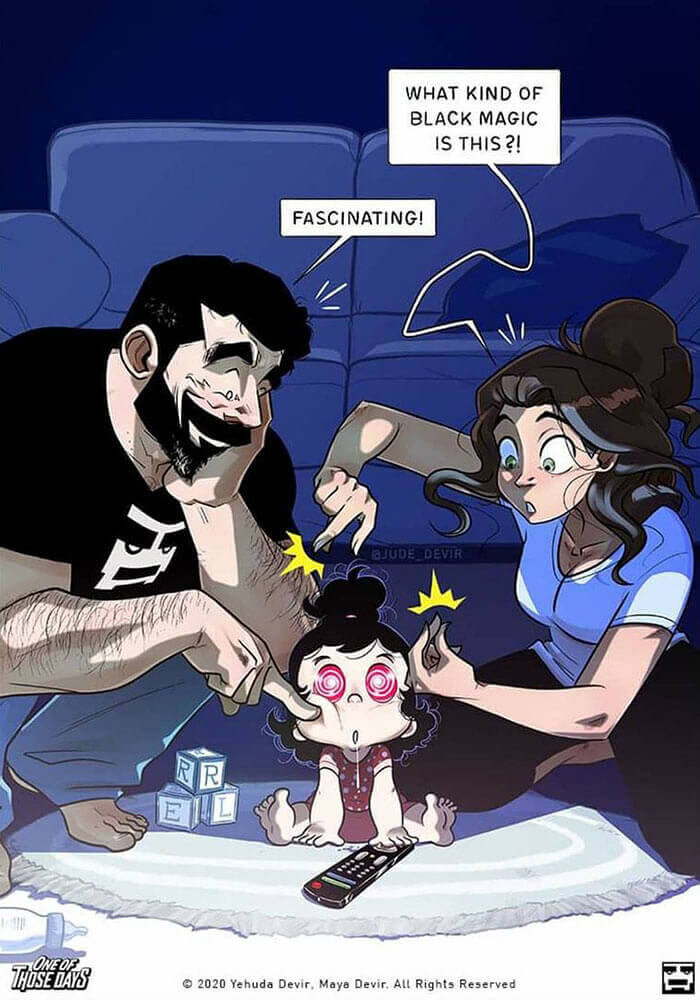 One method to keep kids quiet, and entertained is to switch on that magical screen known as a television. This can keep kids busy for hours.
Food Cravings
Ask any woman that has been pregnant, and she will admit to having some pretty strange food cravings. Some women crave salty foods like pickles.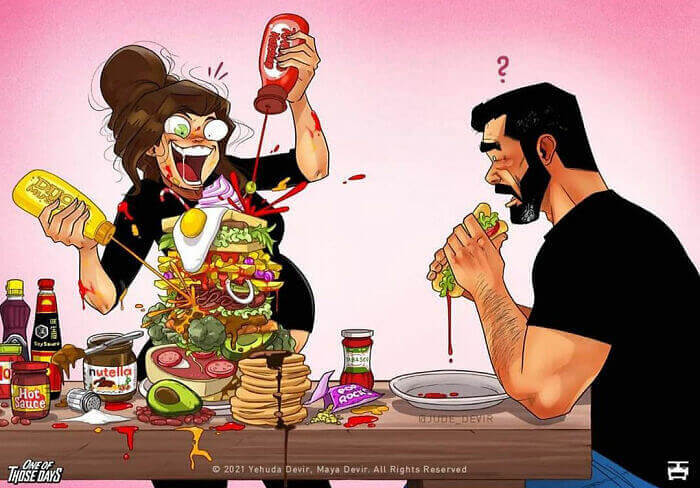 Others simply want to have a mish-mash of flavors in the form of every condiment known to man on their burger. While these concoctions might look kind of gross, try not to judge your partner's food choices. The baby growing in her belly is demanding these for a reason.
Getting Everything Done
Women are fantastic multitaskers, this is basically a fact. They can write an email, go shopping, and watch their child all at the same time.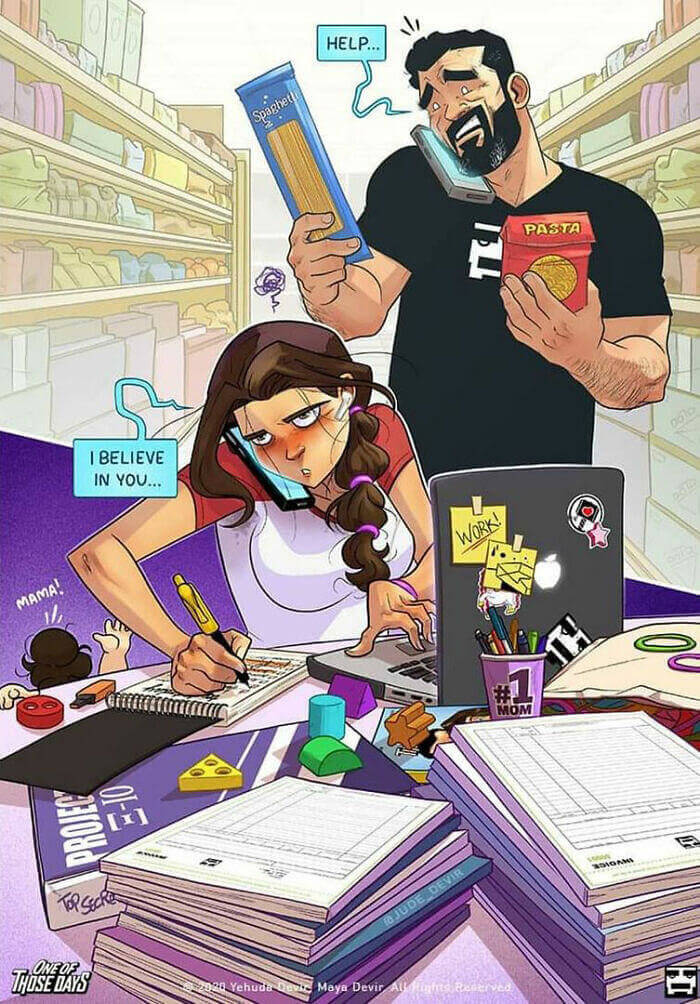 For some men, it is a bit of a different story. Yehuda comically made fun of himself and his lack of multitasking abilities which might resonate for some other dads out there.
Going On Vacation
Babies are born with a natural instinct for survival when it comes to water. Most know that they need to flip themselves upside down so that their face is not in the water. Once a baby is old enough, it can be introduced to swimming, first with water wings, and later all on their own.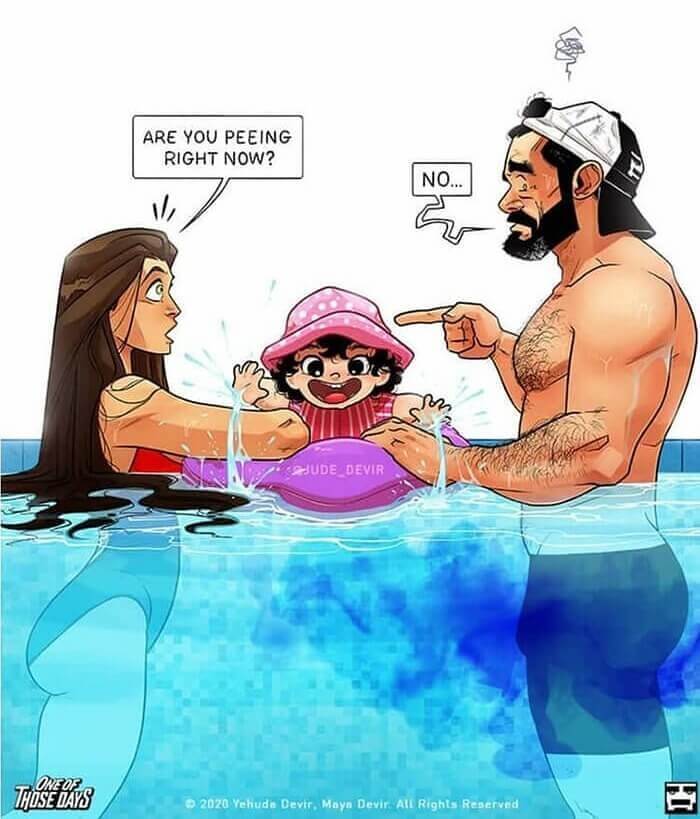 Family vacations give a baby time in the water with their parents, and they also learn a very important rule – don't pee in the pool. It seems like this parent might just have forgotten that rule, and needs a reminder.
Co-Parenting
Every family is different, which means each parent had a different upbringing growing up. These upbringings are what every parent either consciously or subconsciously brings to their own parenting style.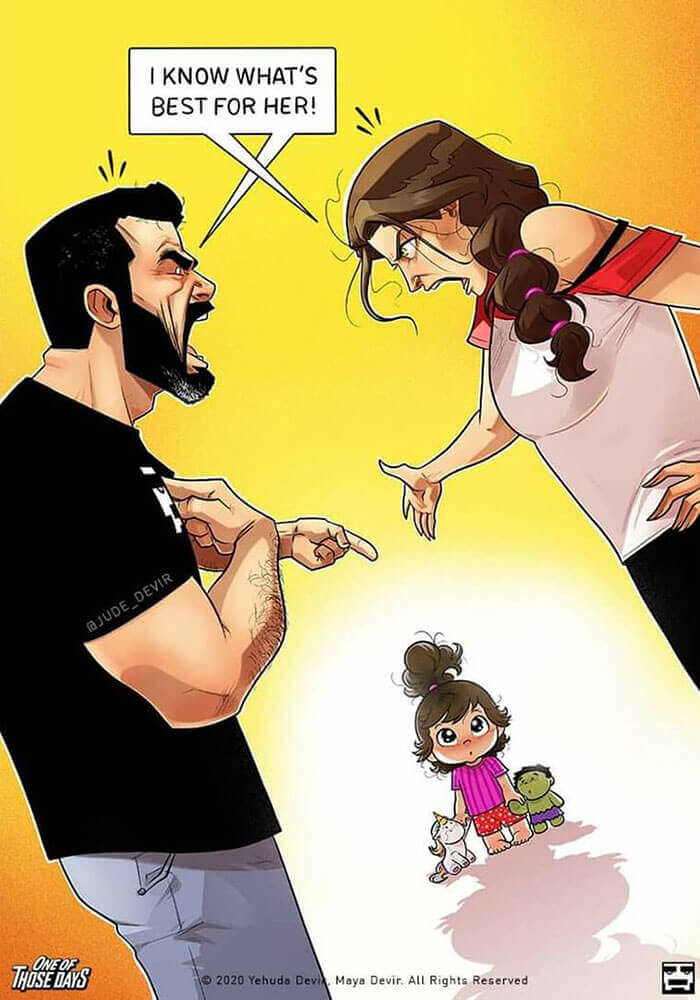 Sometimes these different methods of parenting can lead to a few arguments, but ultimately parents need to remember that this is a partnership. Everyone needs to find a common ground, and work together to raise their little one.
Getting A Boo-Boo
Part of growing up is learning how to fall down and get back up again. Children will fall down, scrape their knees, and understand what it means to get hurt.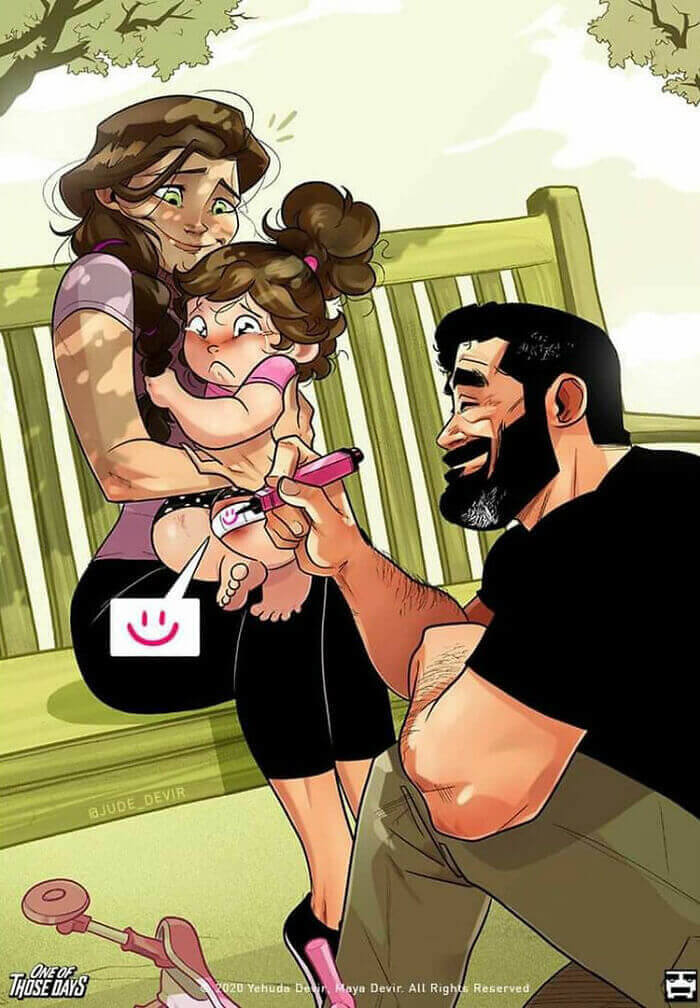 Having a boo-boo kissed better by mom or dad, and a cute little picture drawn on a bandaid shows that it is okay to hurt. A parent is always there to make it better.
A Time Out
Time outs aren't just for kids. Sometimes a parent needs a break from caring for their child. This isn't because they don't love them, but it can be overwhelming.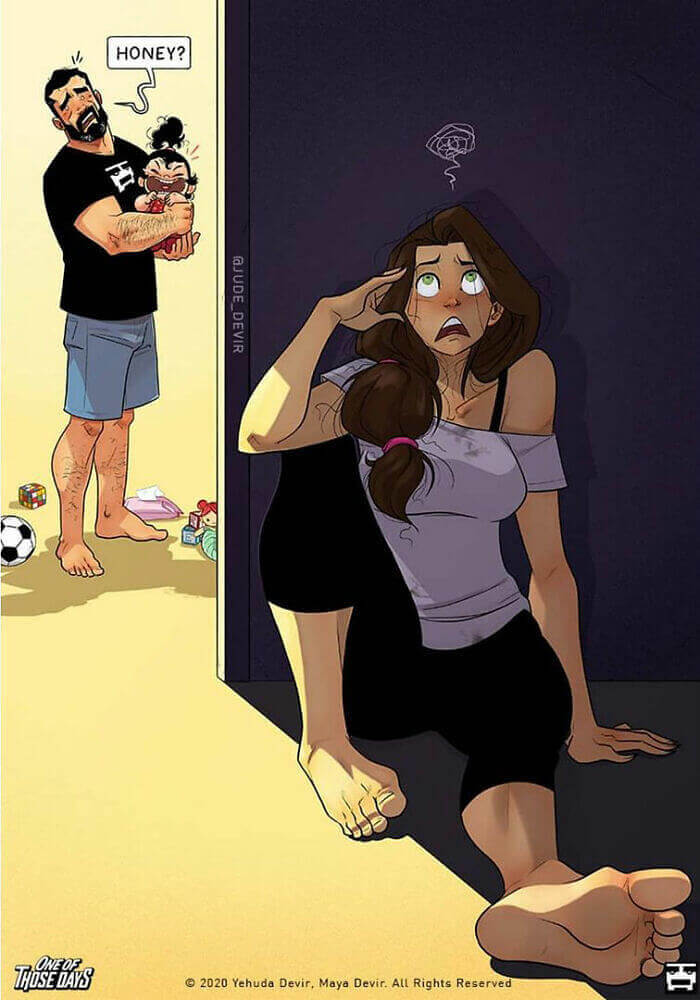 Partners need to make sure that each parent has some alone time, even if the baby is crying. When a mom or dad is feeling overwhelmed, make sure to communicate this and get some help.
A Stinky Surprise
Dinner time is the highlight of the day for many people. Maybe your partner spent hours cooking up some delicious spaghetti, or another scrumptious meal.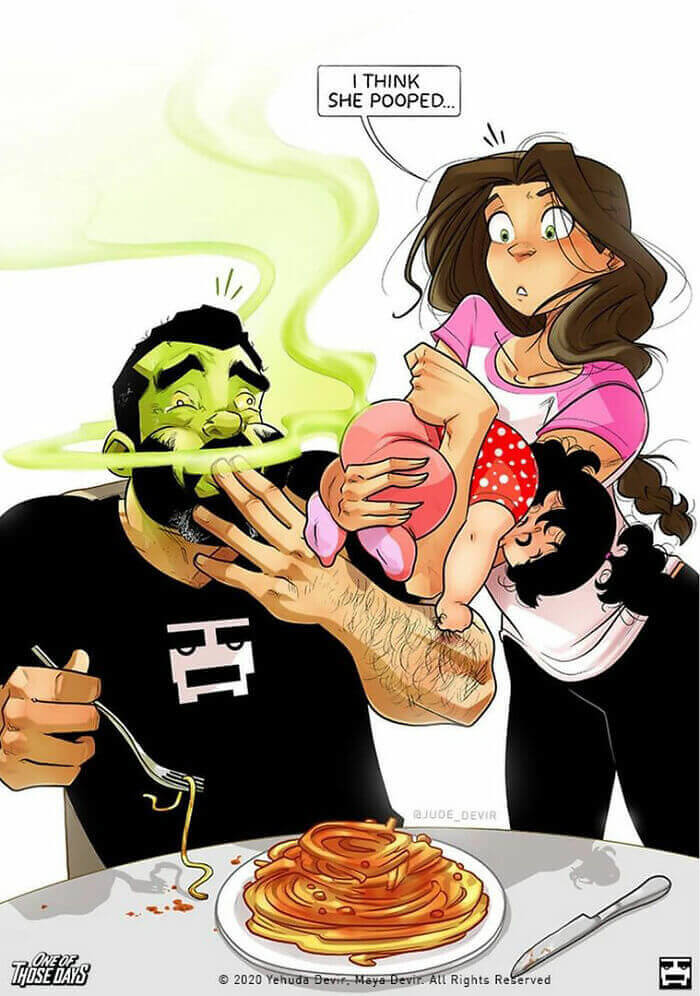 A dirty diaper and the smell wafting out of it is not one any diner wants to smell before mowing down. Always do a quick diaper sniff before sitting down to dinner to avoid any unappetizing smells.
Incoming Baby Alert
For most expectant parents, they have enough time to hop into the car and make it to the maternity ward once contractions start. Some women might be able to have their baby in a matter of hours, for others, it could take days.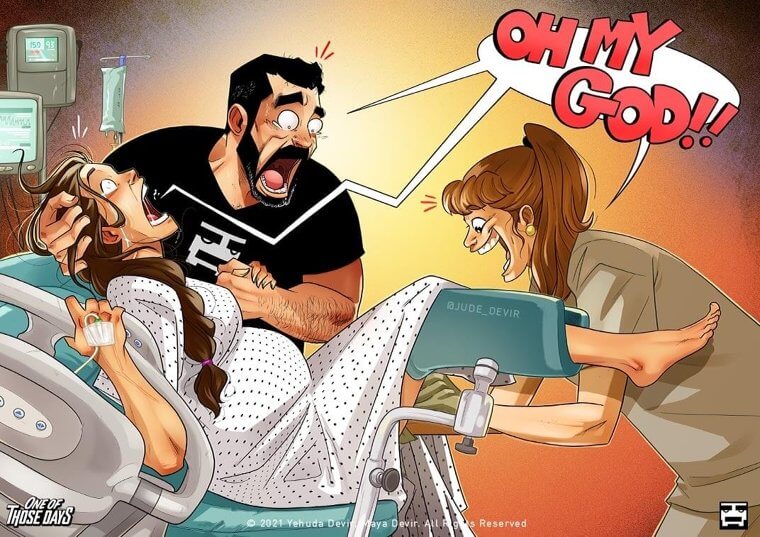 Everyone has their own birth journey to follow, and for Yehuda and Maya, it looks like it might have involved a bit of yelling and screaming. That's totally normal when a new life is about to enter the world!
Always Shut Your Mouth
One of the least exciting aspects of having a baby has to be changing diapers. It seems like every couple of hours, or sometimes even minutes, the baby needs a change, and that can lead to some messy situations.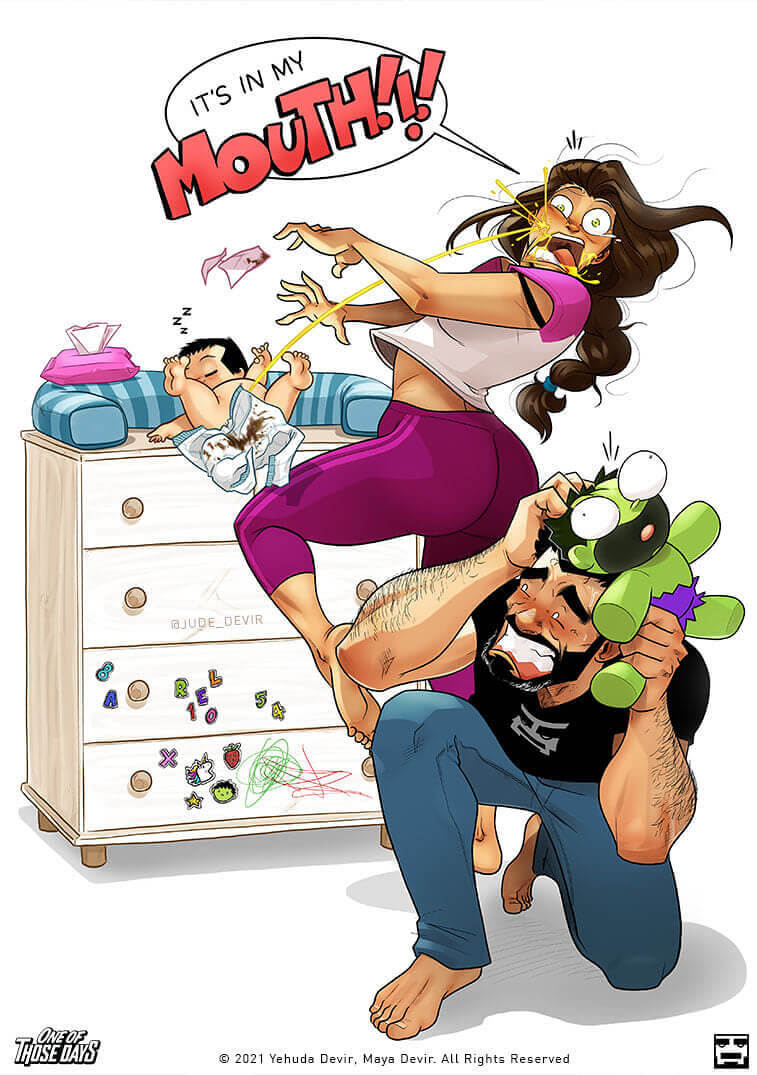 If this comic teaches you anything, it should be to always close your mouth when changing a dirty diaper. You don't want to end up with a surprise in your mouth.
A New Addition
This happy couple welcomed a baby boy into their family, which obviously meant a comic had to be created for the announcement.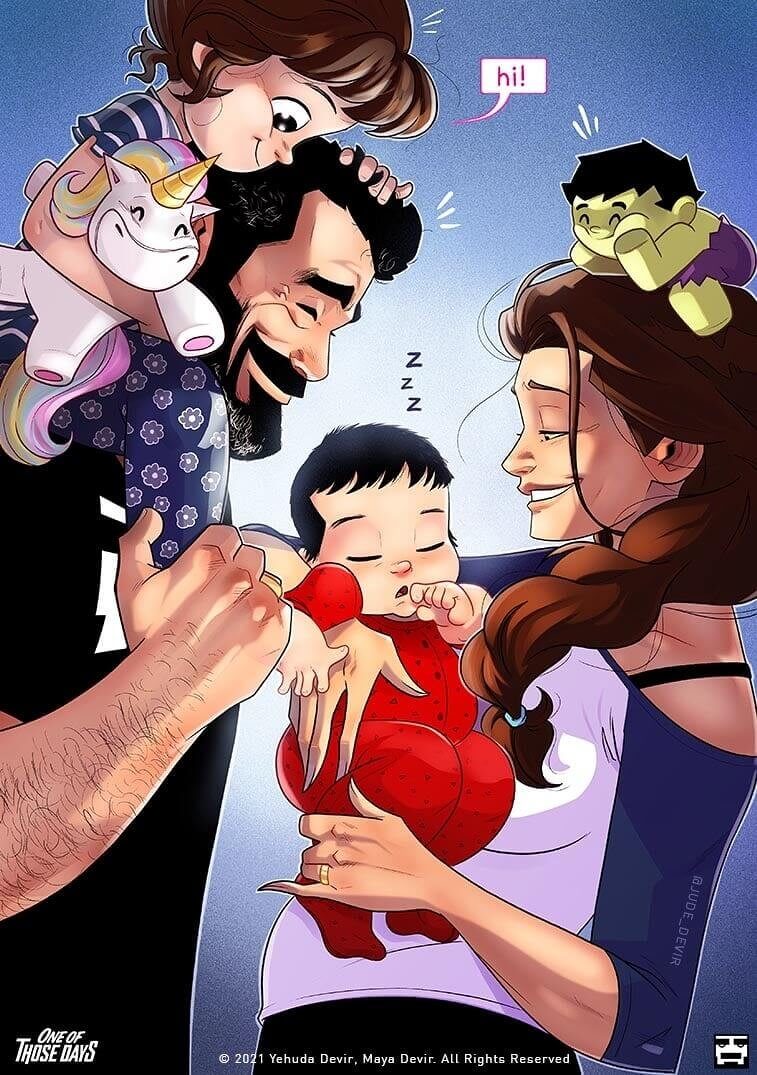 According to the caption for the cartoon, this new addition has been named Ethan and he is a "new super-ultra-mega baby boy." We can't wait to see how he is portrayed in Yehuda's work over the coming months.
All Tuckered Out
After a long day of caring for your child, both you and your partner will be all tuckered out. Bedtime is not just for the baby. Most parents try to match up their sleeping schedules with their little ones.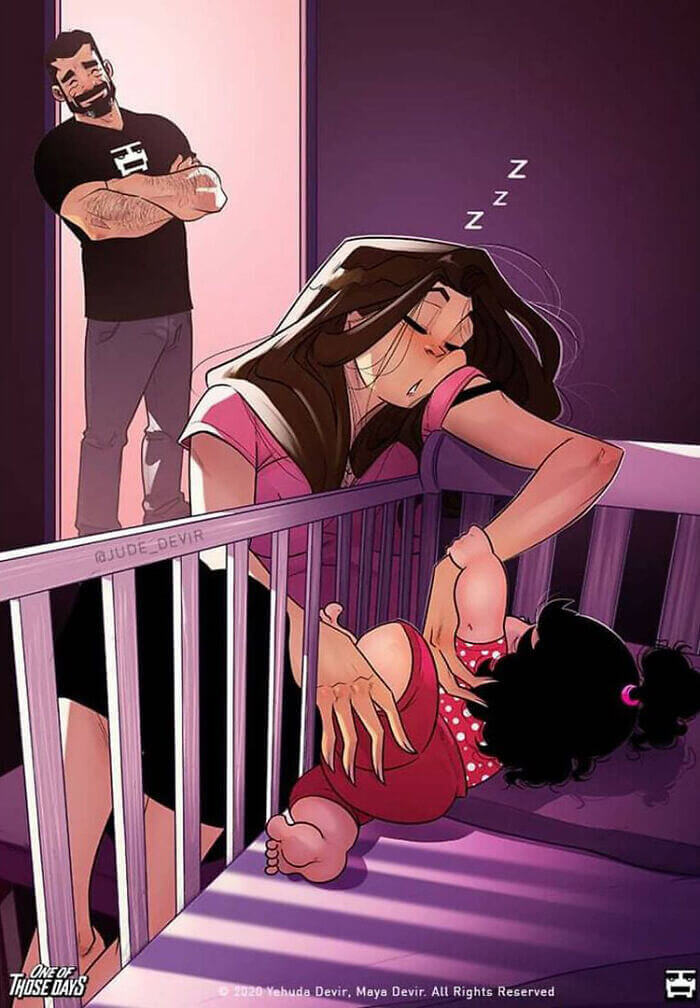 By matching up the sleeping schedules, parents can enjoy some much-needed shut-eye, until the baby wakes up and the whole saga has to start again. Sleep while you can when you have a baby.
A Few Tickles
A new baby is always cause for excitement. As soon as that little person enters the world, it feels like anything is possible.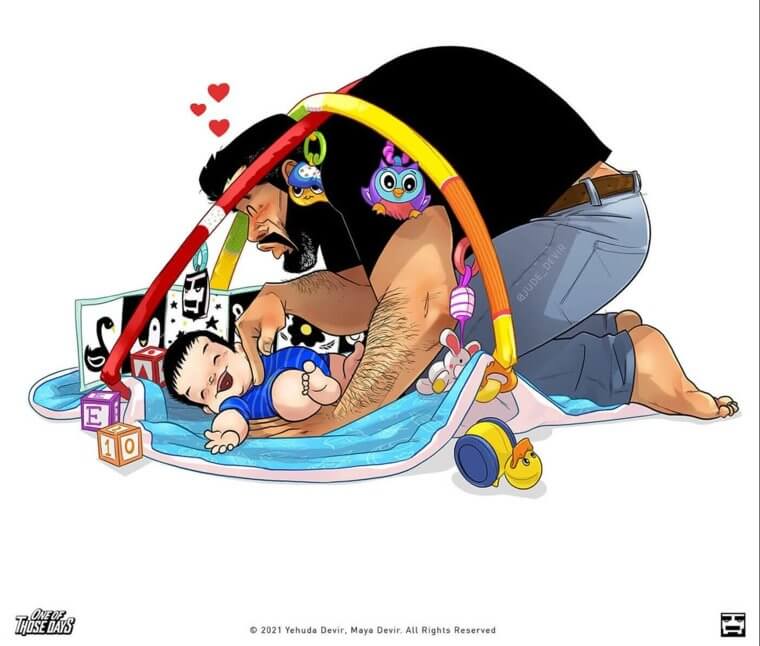 Baby Ethan seems to enjoy some coochy coo time with his dad, and a few little belly tickles. For babies, everything around them is a new experience that always leads to a sense of wonder.
Everyone Wants Mom
When you have children, they may favor one parent over the other when they are babies. Usually, they cry out for mom because she is the one that makes them their food. It might be hard when your partner is away, and the children won't stop crying, but it will get better eventually.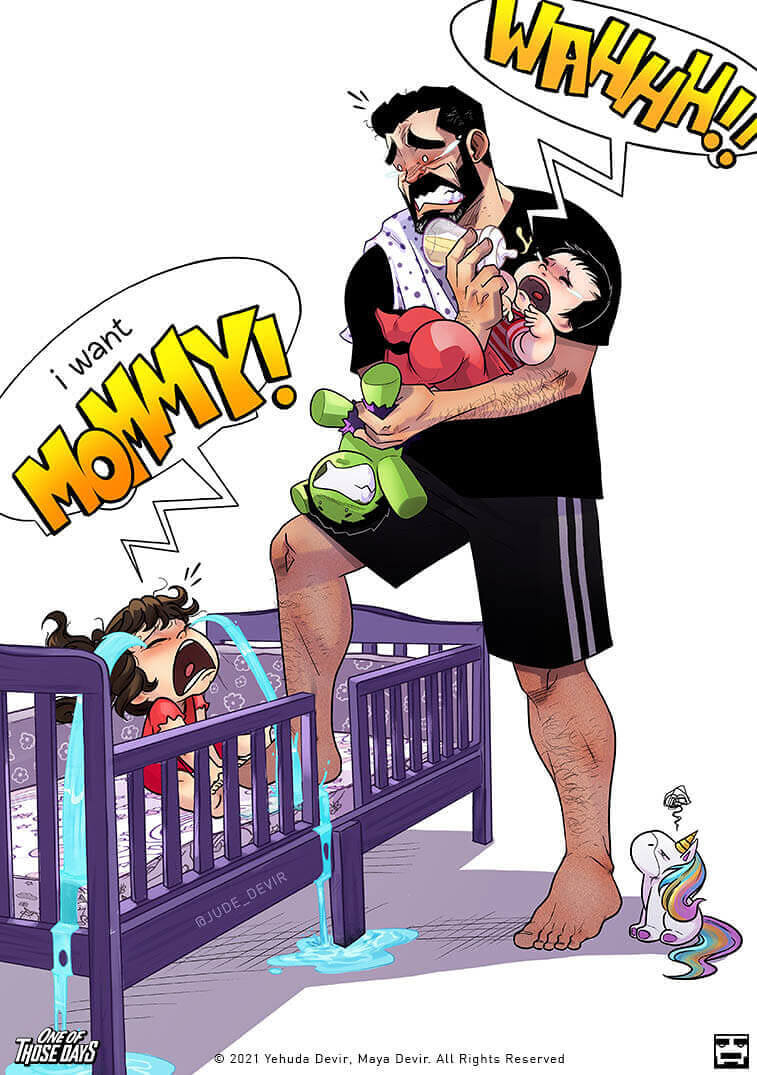 The tears and screams might be flowing, but parents do the best they can while their partners are away. The parent taking care of the children watches the clock and wonders, "how many minutes until they come back?" At some point, the kids tire themselves out, and the crying stops.
At Least Everyone Is Sleeping
When you have young children, it can be challenging to find time to sleep. But, in the rare moments that everyone is sleeping, it doesn't matter if the house is a mess or someone didn't get their bath; you just have to savor the peace and quiet.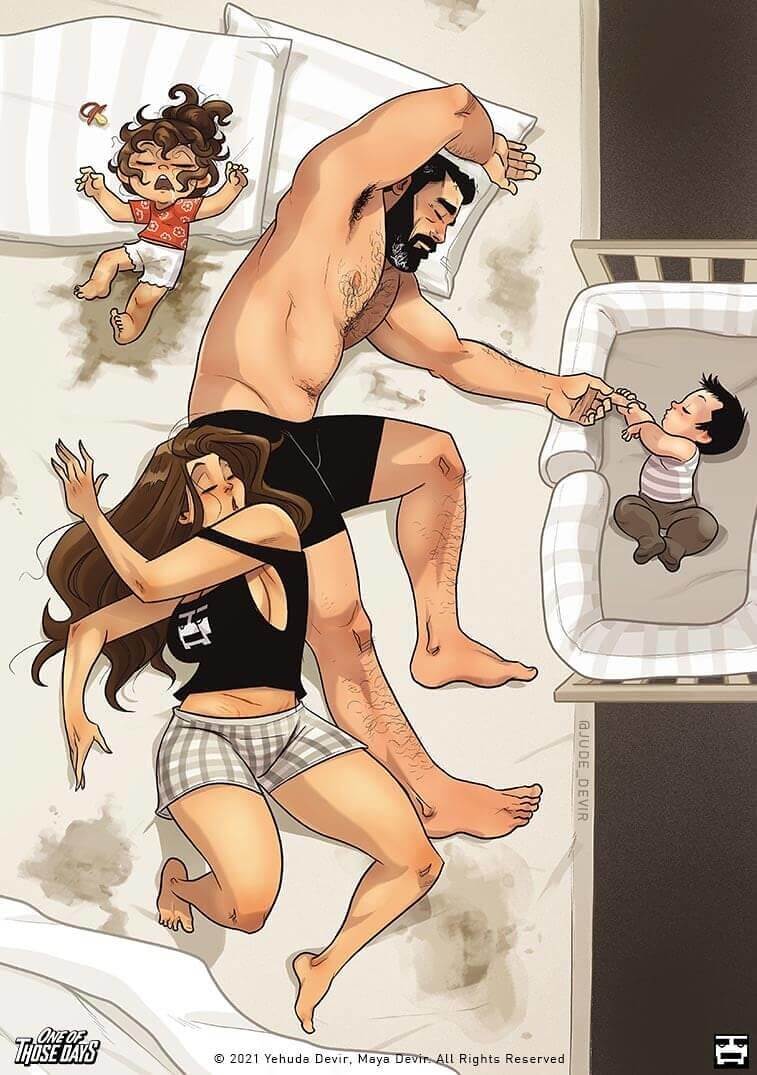 Being a parent is exhausting, and sleep is rare, so getting even a few minutes of rest with your children is a huge parenting win. However, we wonder if parents ever get used to not sleeping because they still have to go to work even if their children were up all night.
Getting Older
We all age, that is a fact. For some people that means getting wrinkles, and for a lot of men, that means thinning hair or going completely bald.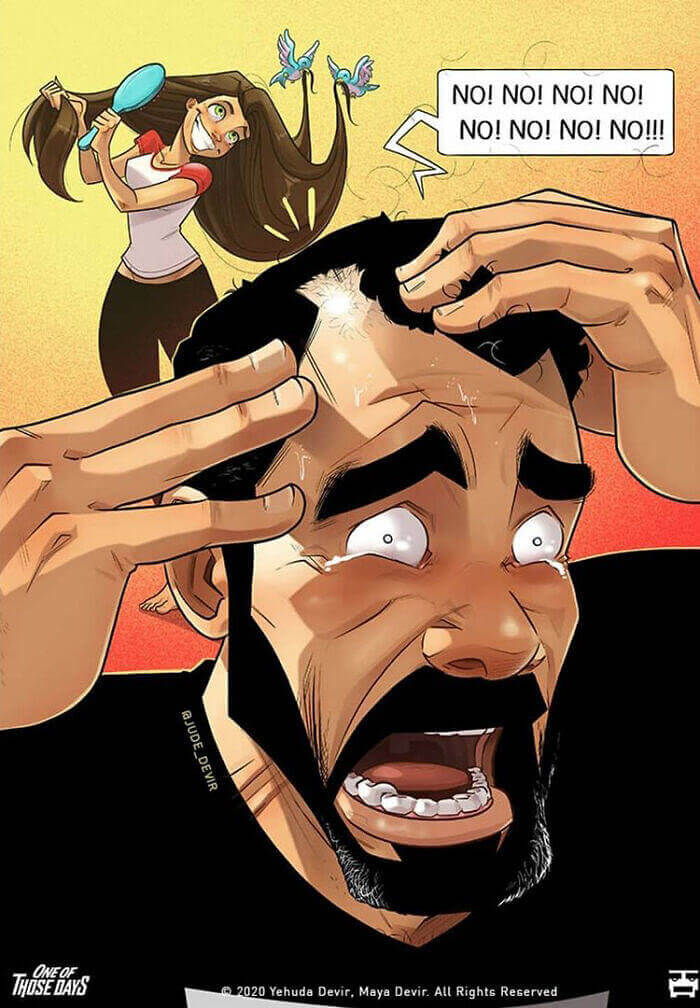 Losing hair can be a major source of anxiety, but it doesn't need to be. People age, and aging gracefully is a part of life. Own that balding head, and embrace the change. With age, comes wisdom, right?
Zoning Out
Every couple, whether they have been together for a couple of months, or a couple of decades has moments where they just need to zone out.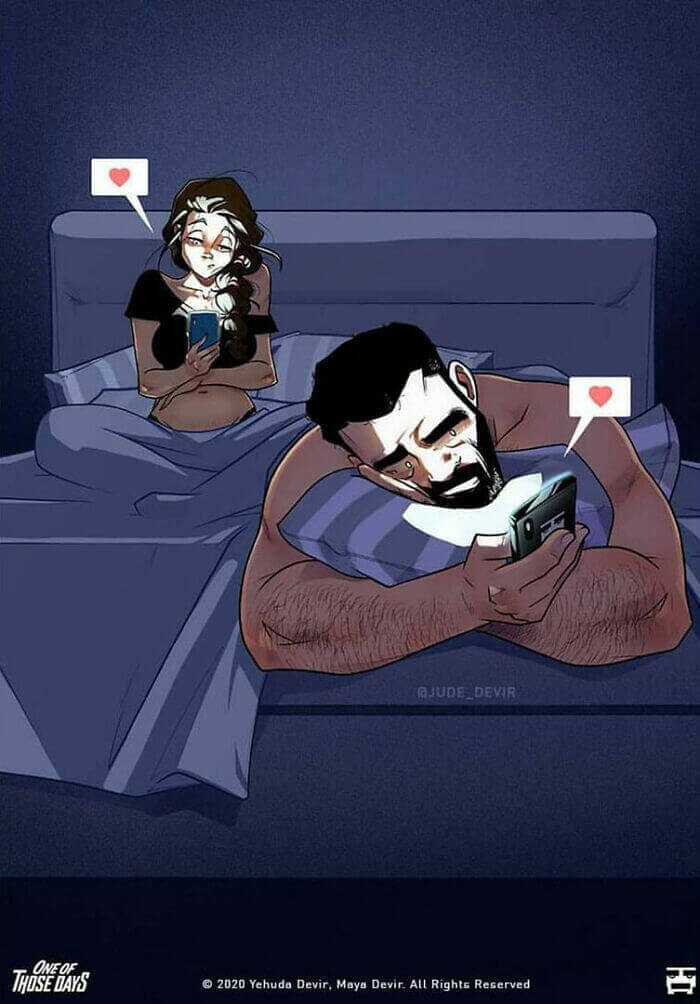 Social media is a great escape, and even if you and your partner aren't talking, you can be sending each other memes, and funny TikToks while you enjoy some quiet time together.
In It Together
At the end of the day, your partner is going to be with you through thick and thin. That means they are there for the highs and the lows, and no matter what, you will stand together.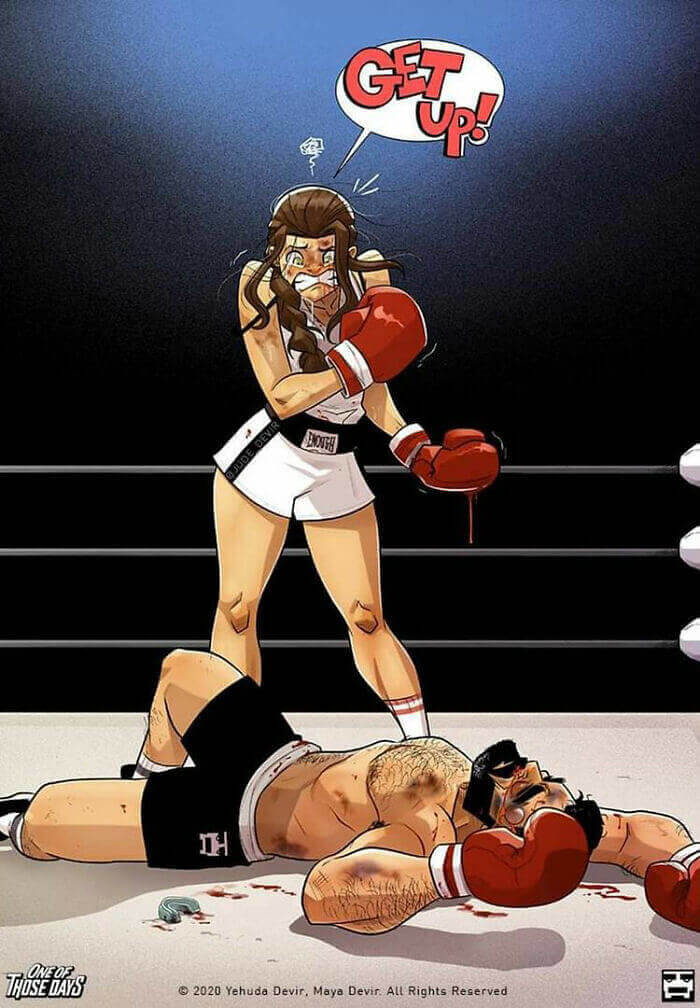 Some days will be tough, but communication is key. Make sure that you check in with your partner, and assess how you both are feeling. Bottling up feelings is never good.
Winter Is Coming
As soon as that first crisp breeze blows in, or the first flurries of snow appear, women everywhere know it is time to stop shaving. Of course, some women still shave, but if you're not showing your legs off in shorts it is definitely more of a choice.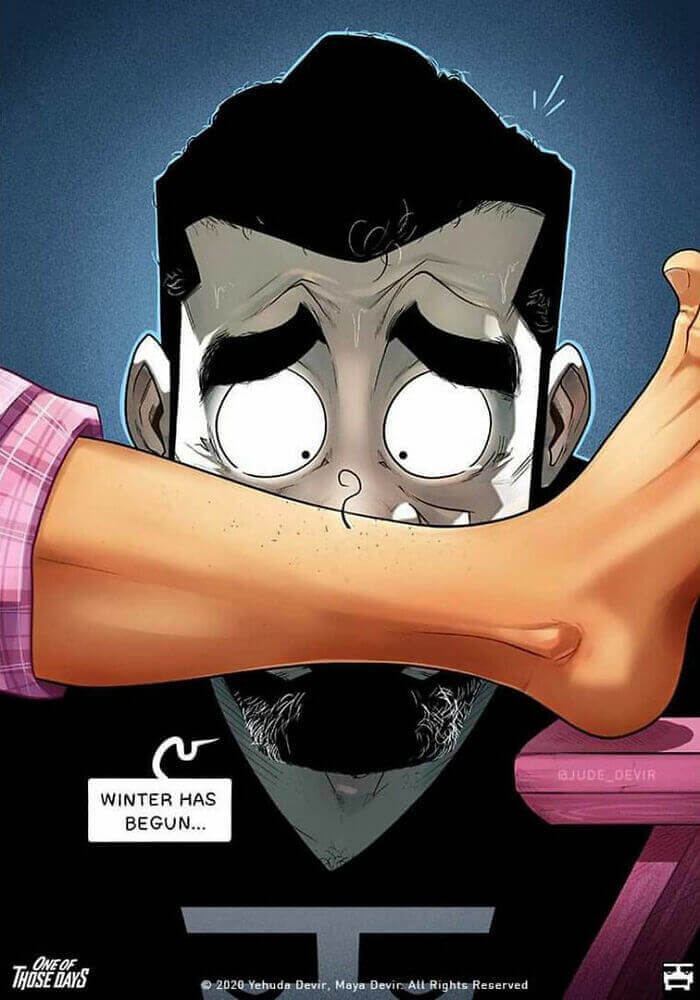 When winter hits, and women no longer have their legs on display, it is totally okay to say no to shaving, and embrace hairy legs.
Always Work Together
Being a part of a team in the workplace is just as important as being a team at home with your partner. You need to work together to raise your child, or your pet if you opt not to have kids. It takes two to clean up a baby that has gotten food everywhere or has managed to dip a hand into a dirty diaper.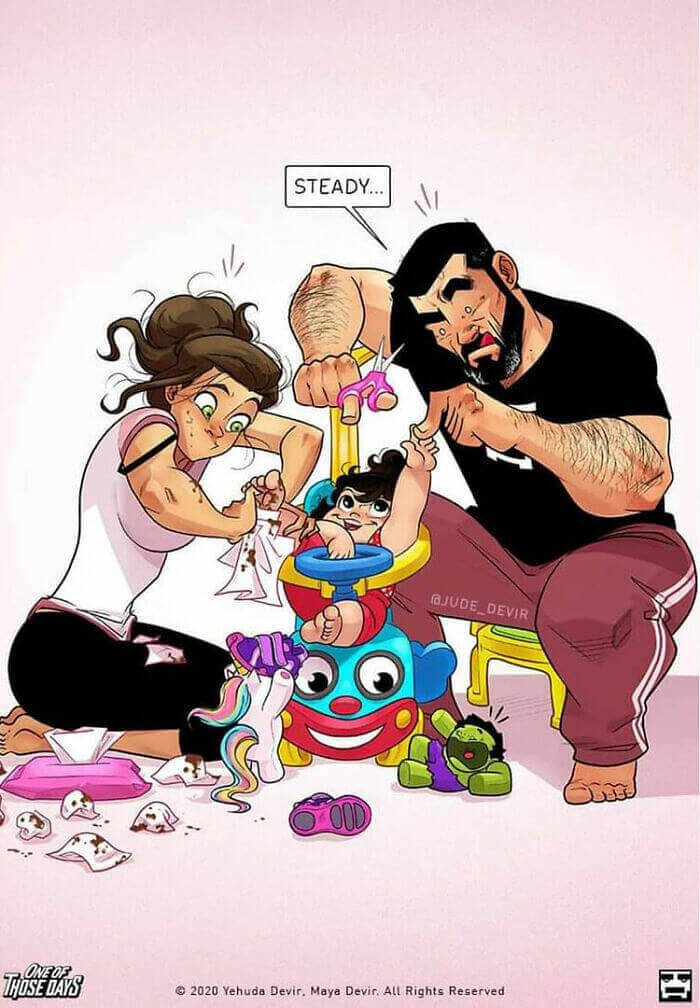 You can always rely on your partner to help. That teamwork spirit will help you raise your kids to perfection, and achieve the life you have always wanted – go team!
Hollywood Stars' Photos Recreated With A Funny Twist
Ashley Lez
This article was originally published on 24/7Mirror
Have you ever looked at a picture posted by your favorite A-lister and thought, "how do they look good wearing something like that or posing like that?" A woman named Celeste Barber started recreating ridiculous famous people's Instagram photos, and she has gained 6.9 million followers on Instagram in the process. She shows what the average person would look like if they were taking these photos in real life. Keep reading to see the hilarious results!
Instagram Vs. Gravity
Alexis Ren modeled this shirt with perky boobs drawn on it, but realistically, no one's chest naturally looks like that.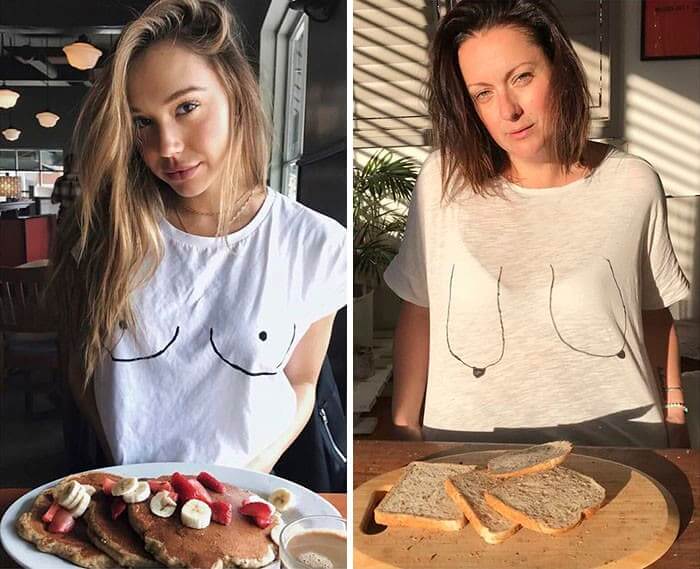 While Celeste made her shirt the exaggerated version, that is more realistic than the original Instagram. Let's be real; gravity starts to win as you get older.
Boats, Bikinis, Flexibility, and Humility
Gigi Gorgeous looks like she is floating on air in her photo, but it does not look easy to achieve that pose. Who would want to contort themselves onto some metal bars?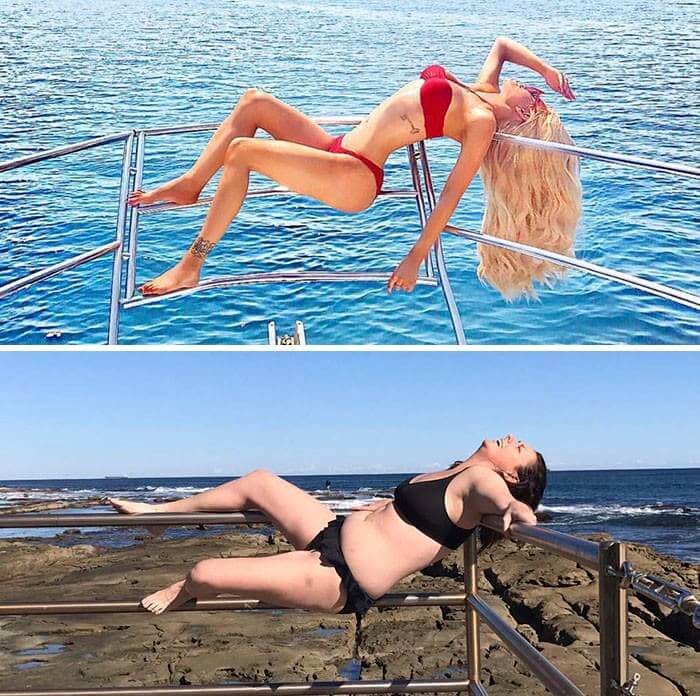 Celeste is how most of us would look if we tried this pose. It seems like she is on the struggle bus, and we can only imagine how uncomfortable that is.
Did Someone Say Flamingo?
When you wish you were on a private yacht with a giant flamingo floaty like Kendall Jenner, but you are stuck at home.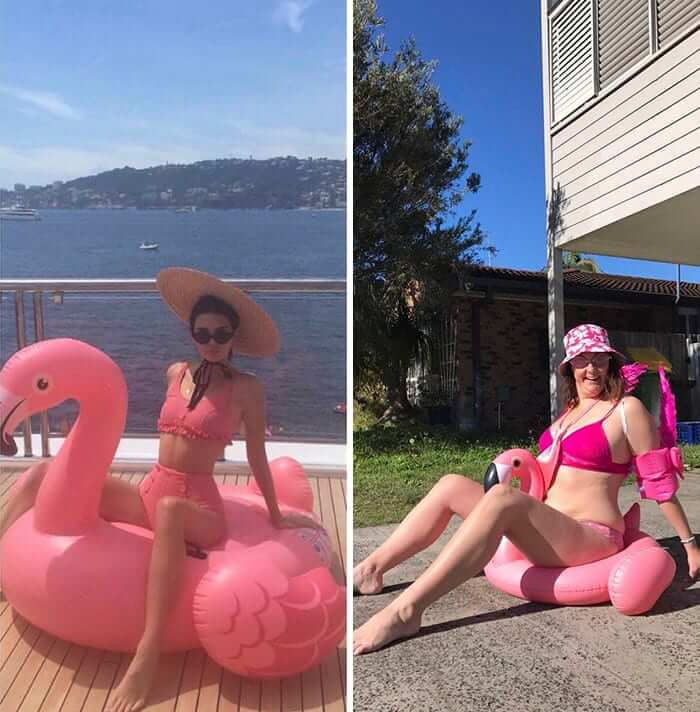 She traded the boat deck for her driveway and added some water wings because cement can be dangerous.
The Basis Of Any Good Relationship: Trust
Would you trust someone not to let go of your t-shirt while you lean face first over a pool? The models in the top picture messed up a few times because she is not dry.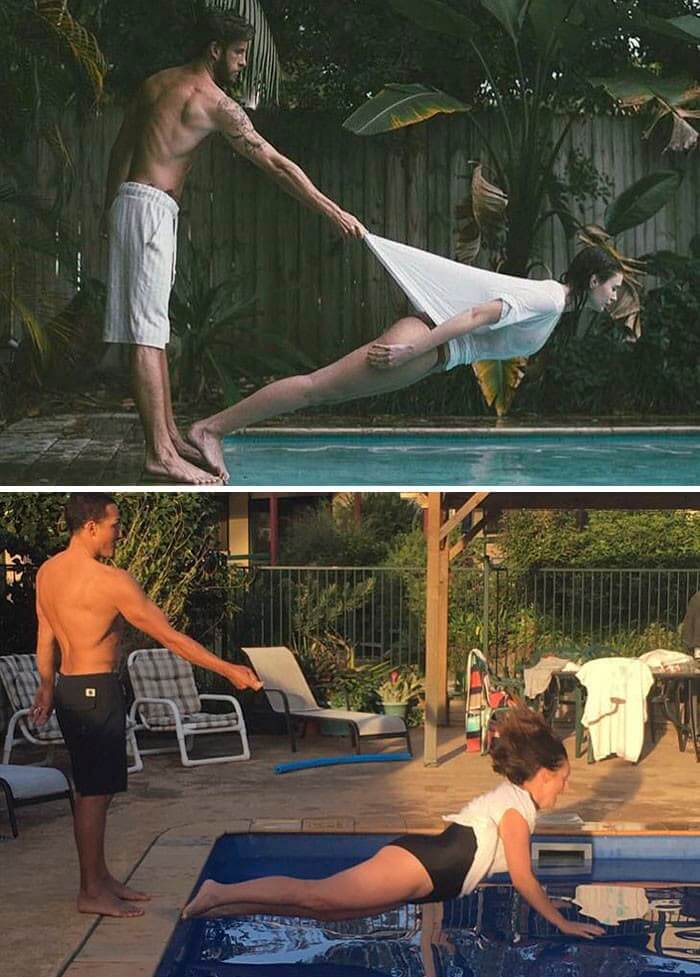 Even if you trust the person, that is not an easy task for someone to hold you only by your shirt.
Boys Lie, Carbs Don't
The truth hurts, doesn't it? Carbs don't lie, and they will stick by your side even when you don't want them.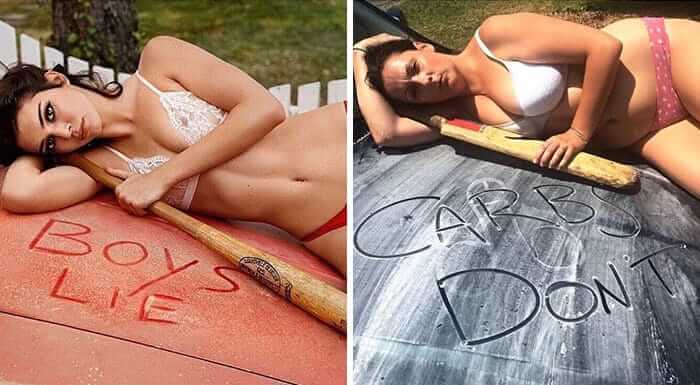 Both pictures are sharing truth bombs, and both pictures show that they both need to wash their cars.
Taking Advantage Of Morning Sunshine
When you try to recreate those perfect rainbow reflection pictures, but you are blinded by the morning sunlight. The rainbow also looks suspiciously perfect in the left image.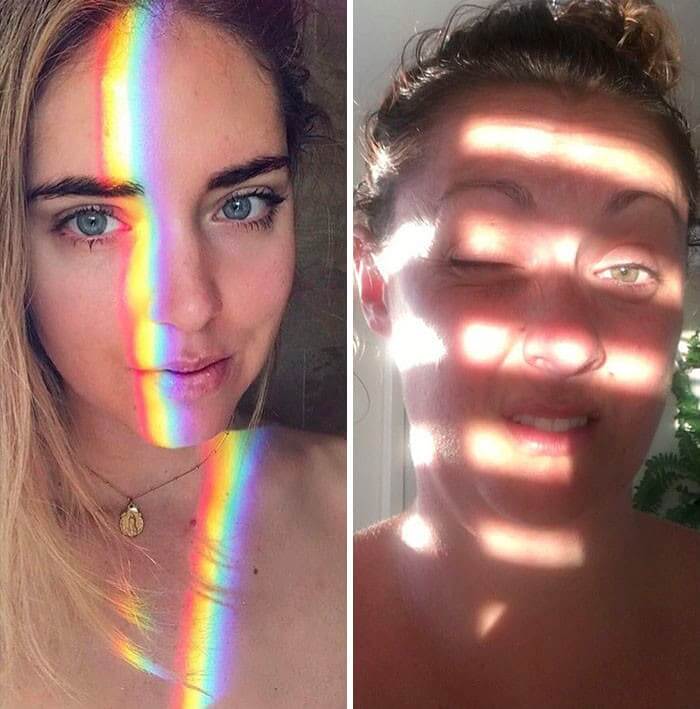 Trying to look directly into the sun right when you wake up is not something the average person could handle.
Breakfast Is Served
When you want to do something special for you your man so you bring him orange juice and pancake (mix) in bed.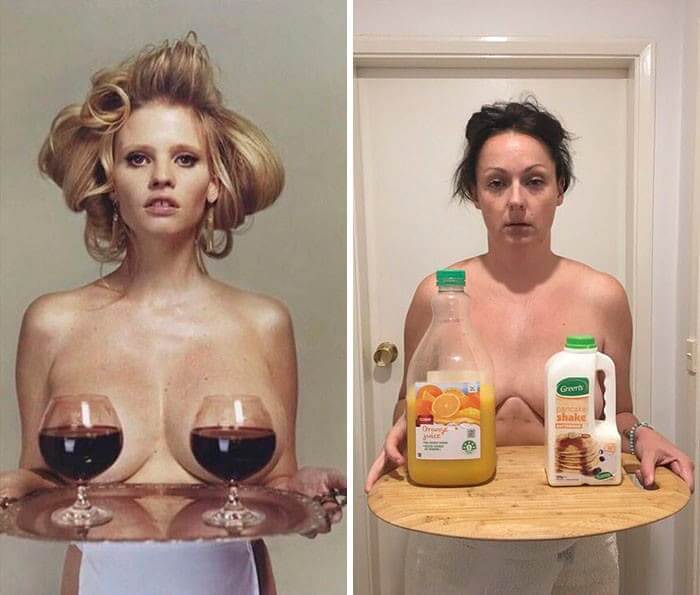 Serving people topless is not very sanitary, and people should refrain from this, especially if you want to carry something hot.
"Just Rolled Out Of Bed"
When you are trying to reach something on the floor without getting out of bed. You try to do acrobat moves just to keep some part of your body on the bed.
The hardest part is when you finally reach what you want, and then you have to figure out how to get back on the bed.
When You Successfully Cook Dinner
When you managed to cook dinner for everyone without getting any complaints or burning something, that calls for a celebration.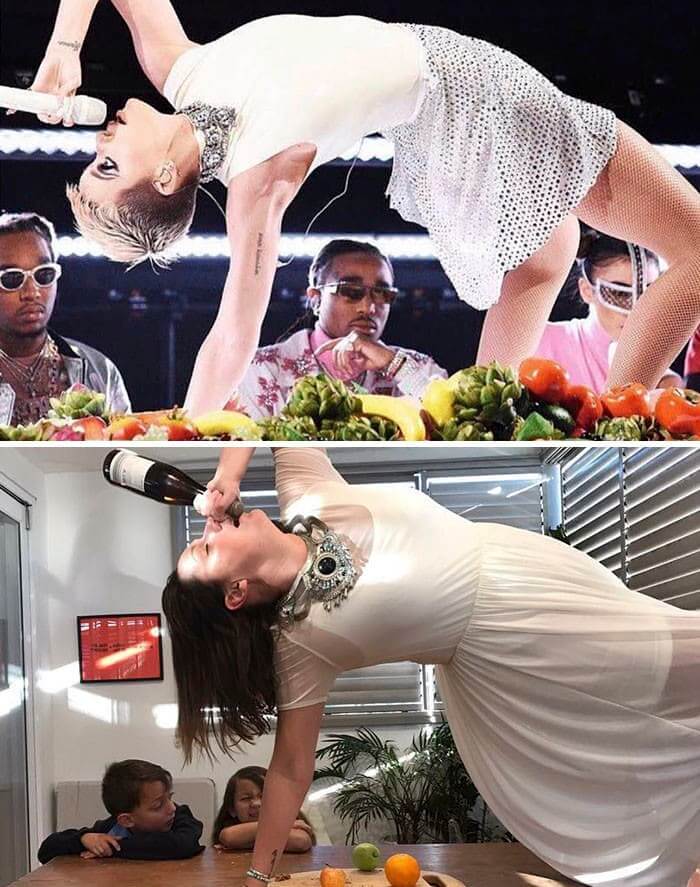 Her kids look unimpressed with her celebrations like, "Mom, please get off the table!"
Just A Light Scarf
No, this is not a giant scarf photoshopped onto Lenny Kravitz, he actually wore that. It is equally ridiculous to wear an actual blanket in public.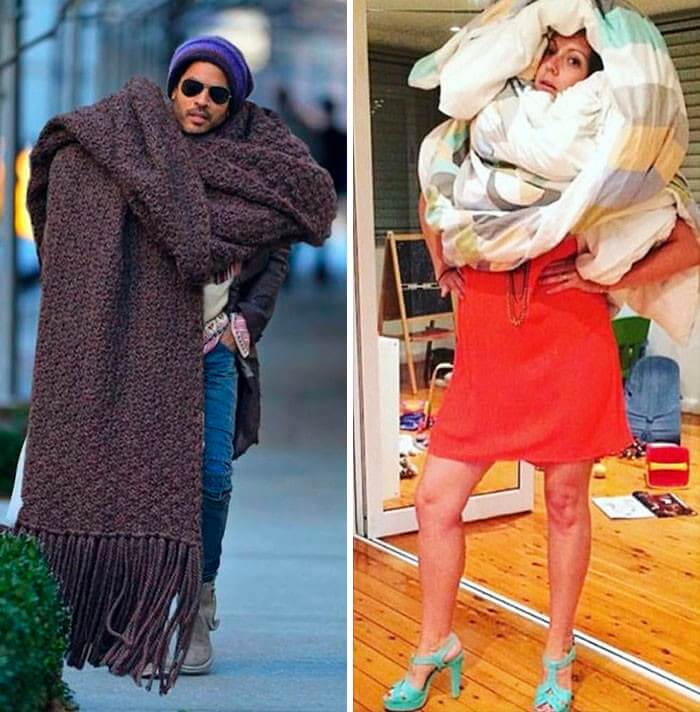 That must have been more annoying to wear around than a normal-sized scarf. Celeste captured the ridiculousness of this picture perfectly.
"I Really Need To Wash The Dishes"
When you want to show your kids how dirty they left the dishes, even though you asked them multiple times to clean up after themselves.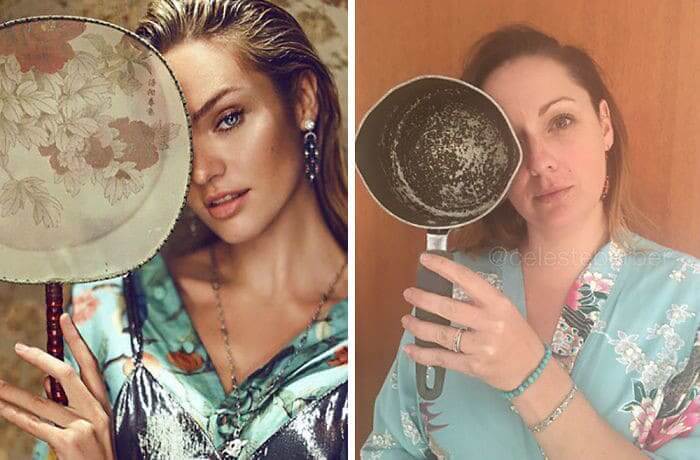 Even though she doesn't have a makeup team, lighting crew, and person doing her wardrobe, Celeste looks just as good as the original photo.
Style and Safety
We always wear heels when we ride our bikes too. Her son is probably asking his mom for his bike back.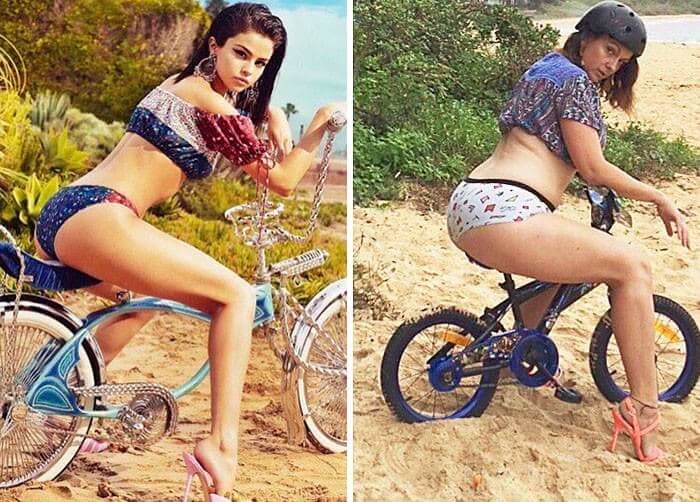 Both of them look amazing, but Celeste is demonstrating better safety practices.
Having Children Expectation Vs. Reality
Have children, they said, it will be fun, they said. J.Lo makes motherhood look like a breeze and manages to hold a drink and carry her child at the same time.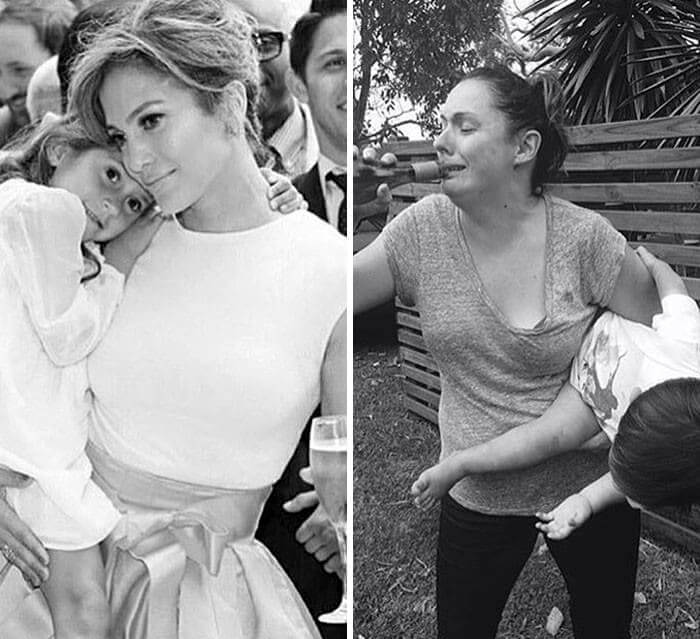 Motherhood is far from easy. She shows that holding a child and a drink is not an easy thing to do.
When You Have To Wash Your Own Car
Why Bethenny Frankel felt the neep to do a backbend on top of the car is a mystery. How did she get herself into that position without falling, and how did she get down?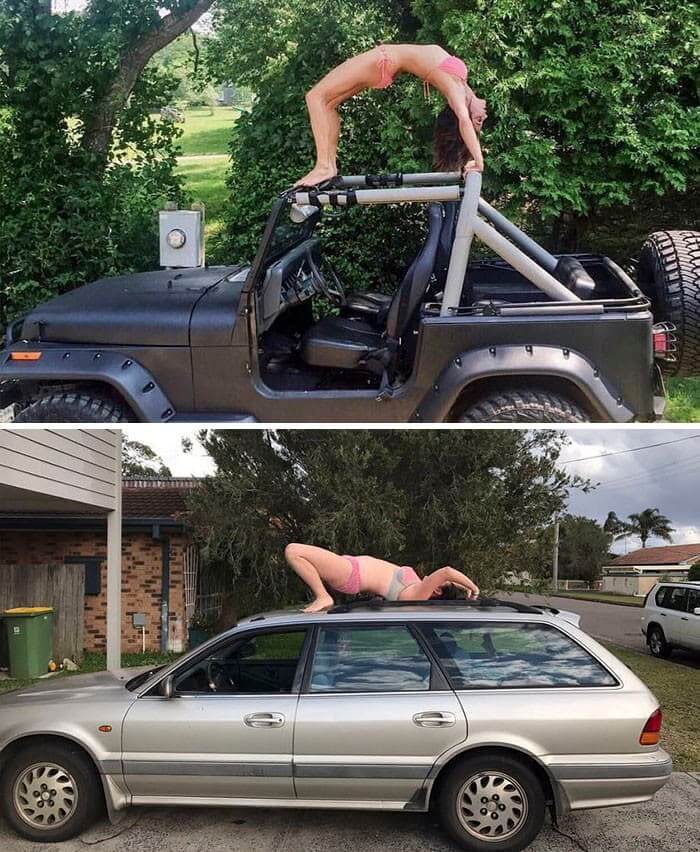 We love the dedication that went into recreating this picture because you know her neighbors saw her and thought, "what is wrong with that woman."
Sia: The Craft Store Version
When you want to dress up like Sia, but you are on a dollar store budget. It looks like she ran through the craft store and grabbed the first items she saw.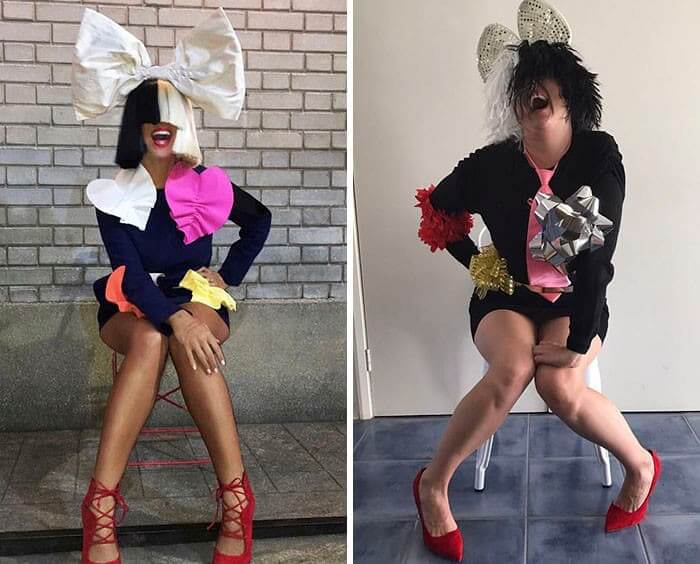 Even though it is more craft store than couture, we think Sia would approve of this recreation because she loves odd things.
Backyard Photo Shoot
Even though she looks like she is putting in minimal effort, Beyonce still looks glamorous, standing in front of a sheet in someone's backyard.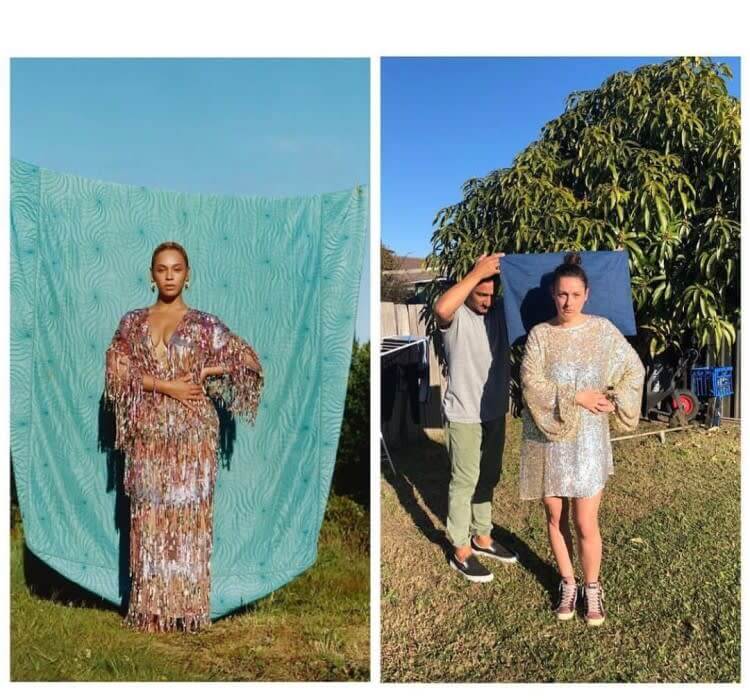 Anyone who isn't Beyonce would look weird if they tried to recreate this, like Celeste.
"Buy My Merch"
When you are trying to recreate a Kylie Jenner picture and promote your own merchandise at the same time.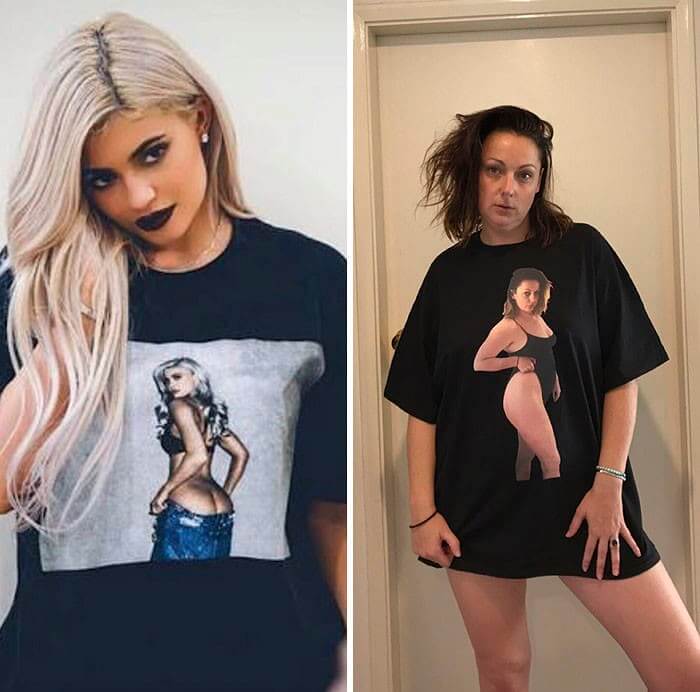 Whose shirt would you rather buy? We really like Celeste's take on Kylie Jenner's shirt.
When It Is Too Hot Outside, So You Sit In The Freezer
During the summer, have you ever been so hot you felt like sitting in a freezer? Don't worry; it's not that weird because celebrities have had the same thought too.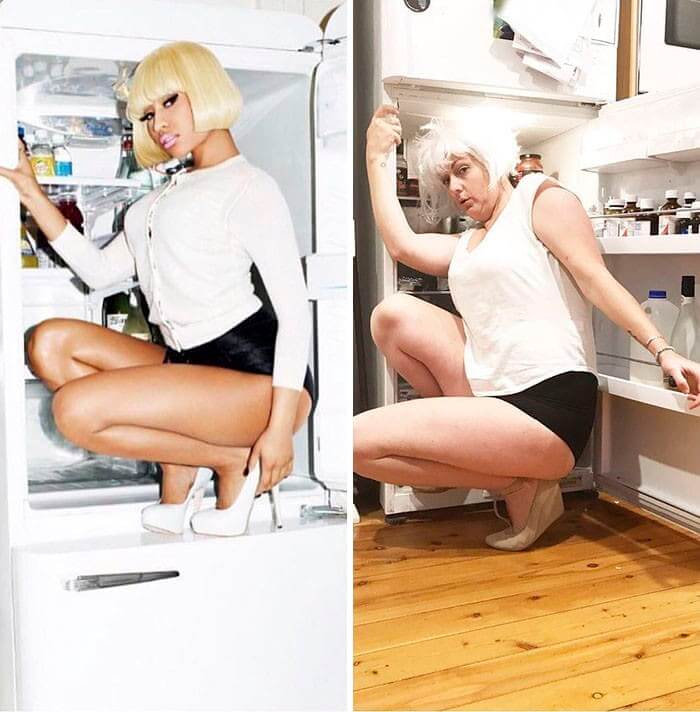 Sometimes you just want to escape the heat and climb into a freezing box, and that is ok. Just remember to take a picture so you can post it to Instagram.
Personal Hygiene is Important
Celebrities are just like ordinary people; they have to shave their armpits too. Although, when they shave their armpits, they document it for social media.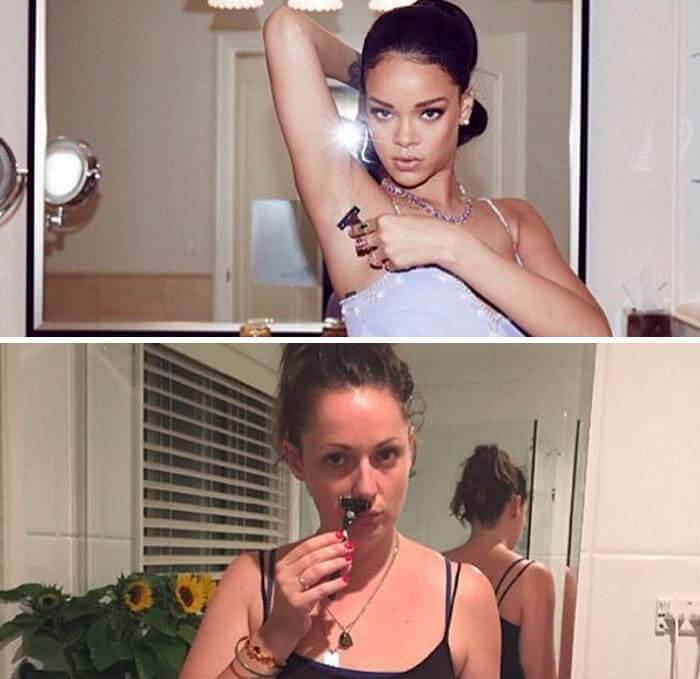 Self-grooming is important. Some people choose to shave, and others go natural. Whatever you decide, no one has to know about it.
Ready To Conquer The Day
Kyle Richards starts her days with a protein shake and a brightly colored Birkin bag. Not all of us are that blessed, so some of us are more like Celeste's recreation.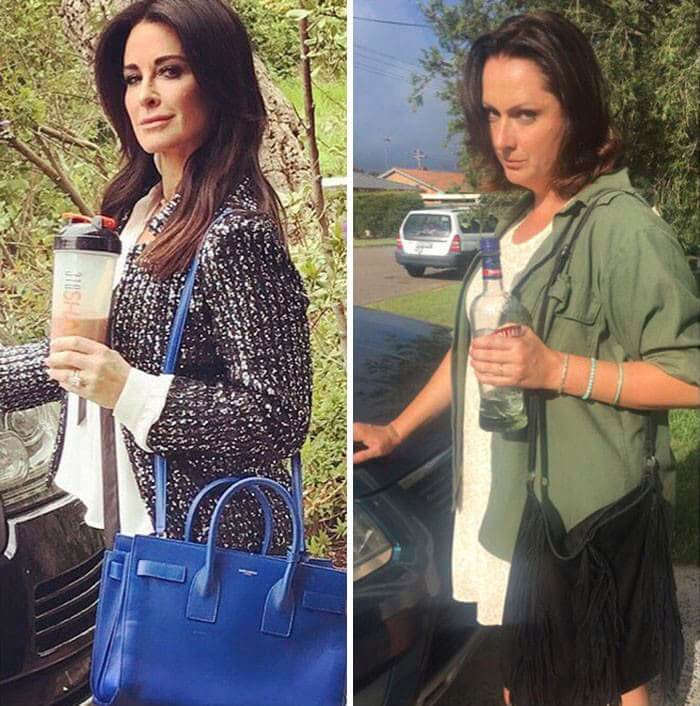 When you have children, starting the day with a bottle of wine doesn't sound like a bad idea. Although we know she is not promoting people to drink and drive.
Wet T-Shirt Contest
Again Emily Ratajkowski is stunning and sultry with her barely-there wet t-shirt. If you have ever been in a wet white shirt, you might feel like Emily, or you might feel like Celeste.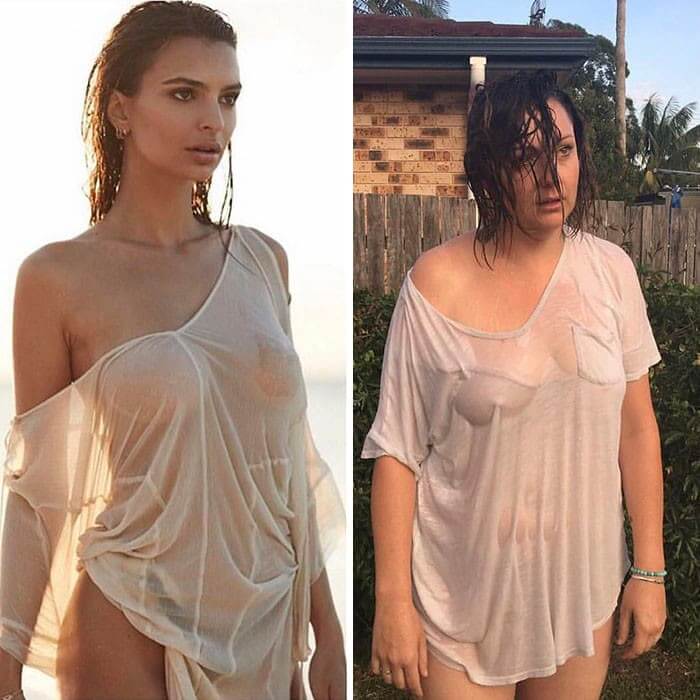 First of all, Wet shirts are not comfortable; you feel like you are being weighed down by this cold, wet fabric stuck to you. Second, no one looks like Emily, so it would be hard to pull off this wet shirt look.
When It's Too Hot For Clothing
Emily Ratajkowski is known for her lack of clothing, so recreating her pictures takes a lot of courage. No one actually walks their dog in a bra and underwear.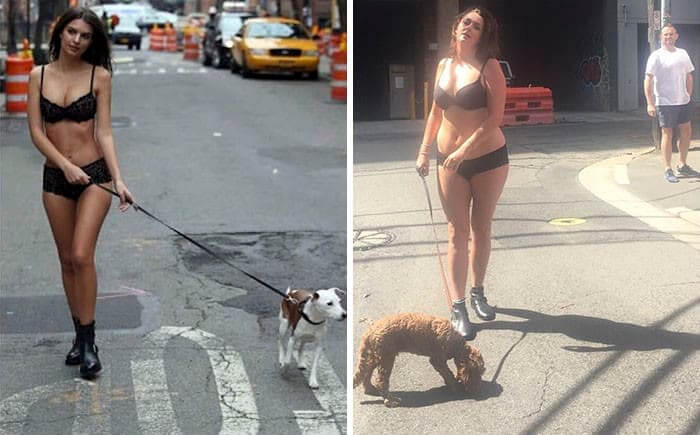 The guy in the background is wondering what she is doing, walking through the streets half-naked with her dog.
Happy Holidays
Kylie Jenner is giving us the holiday fantasy by wearing a giant bow as a hair accessory for her holiday collection promo shoot. Only she could make this look cool and high fashion.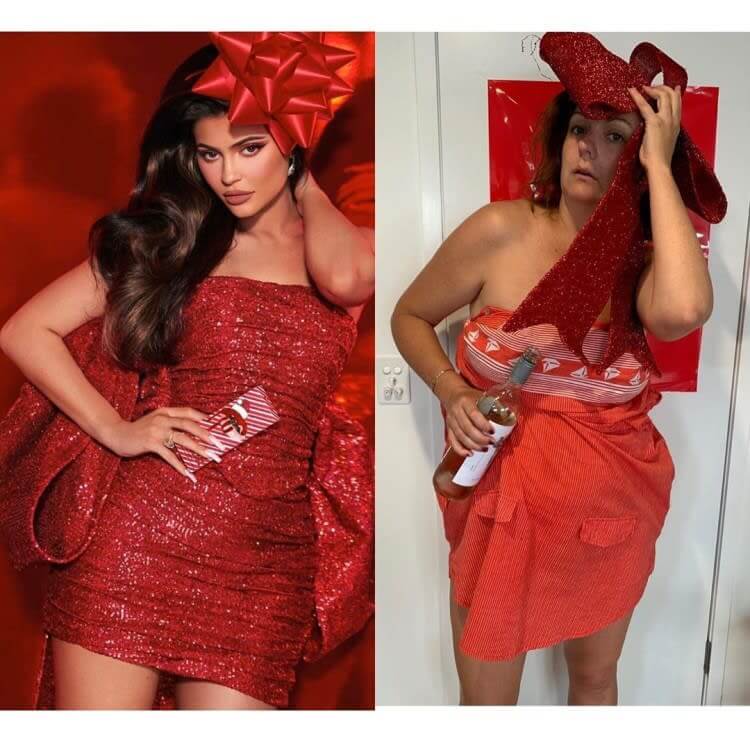 If the average person tried that it would look very strange. We don't know how anyone would look good with a giant gift bow on their head.
Holding Life's Most Precious Gifts
While some people value their children as the most precious gifts in the world, others value wine and bread, which is valid.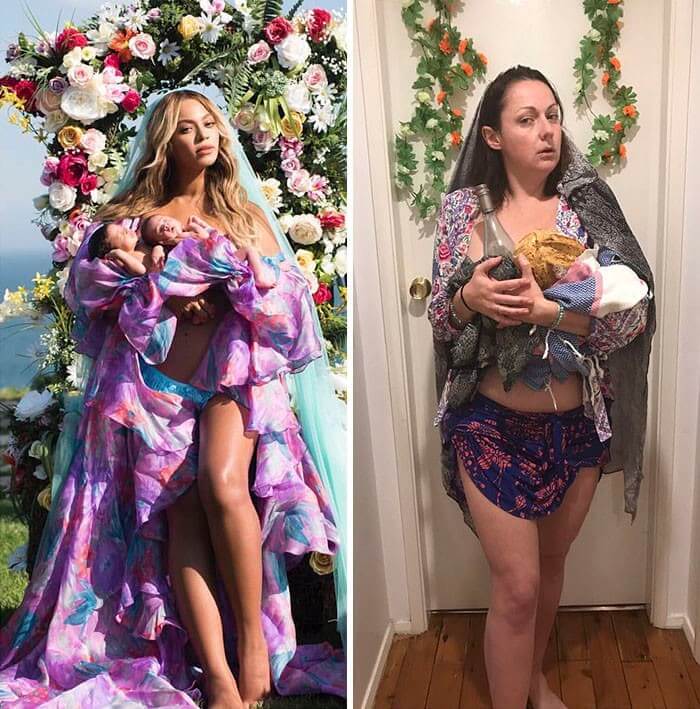 It must be hard to recreate the ethereal glow of Beyonce post-birth.
Spilled Wine Means The World Is Ending
Why does Selena Gomez look so unphased by the spilled wine and broken glass? Most people would be sad like Celeste because of the wasted wine.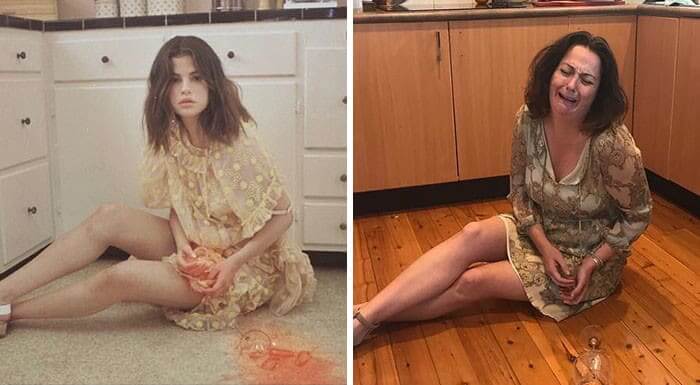 We know it's for an album cover, but how can she be so calm with broken glass in her hands?
Cooling Off
When you are in the club and you find a fan to help you cool off. Some people would look glam like Miley Cyrus, and the rest of us would look like we got stuck in a wind tunnel like Celeste.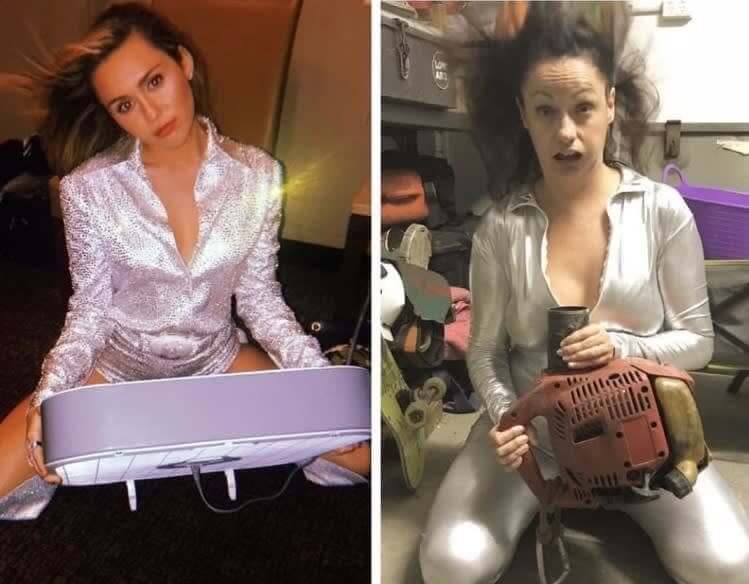 Maybe a leaf blower wouldn't be the best option because of how much wind power it has, but it still cools you off.
Self Love
As Ru Paul likes to say, "If you can't love yourself, how in the hell are you going to love someone else?"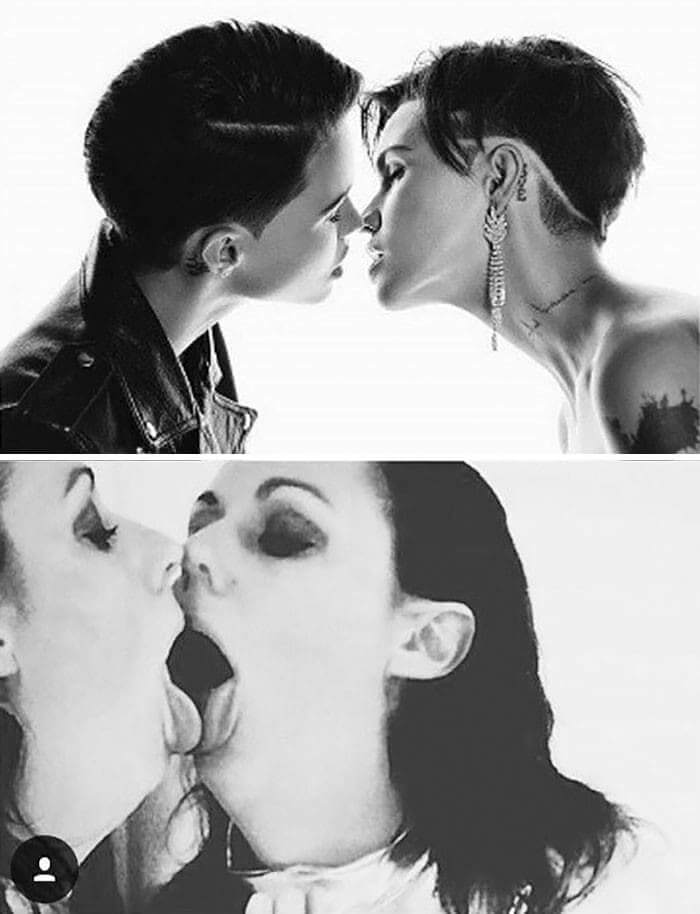 ​ Self-love is important, but we don't know if you have to make out with yourself in a mirror to get that point across.
Working That Spacesuit On The Beach
Brazilian model, Adriana Lima, can make anything work, even this silver lamé one piece.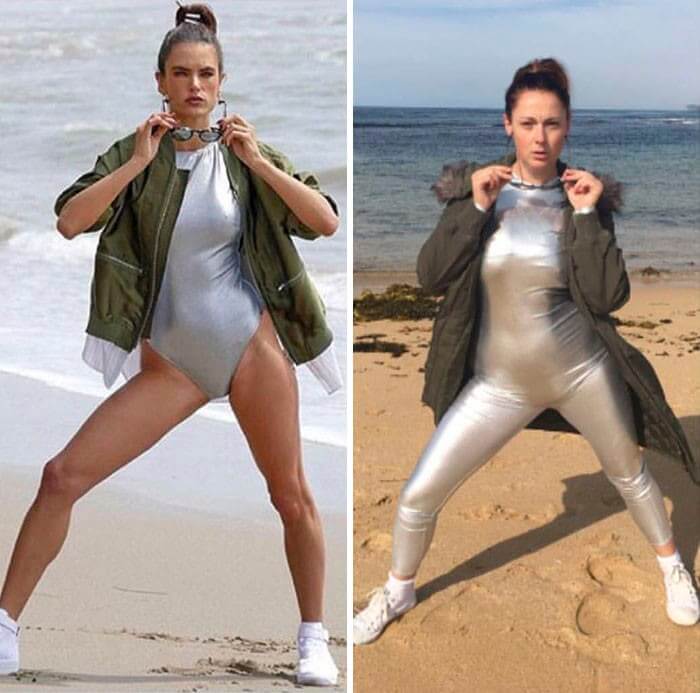 Who knew that silver catsuit would be so useful to recreate so many celebrity photos.
Giddy Up
She nailed this Miley Cyrus recreation. Her tiny horse is even better than Miley's larger one.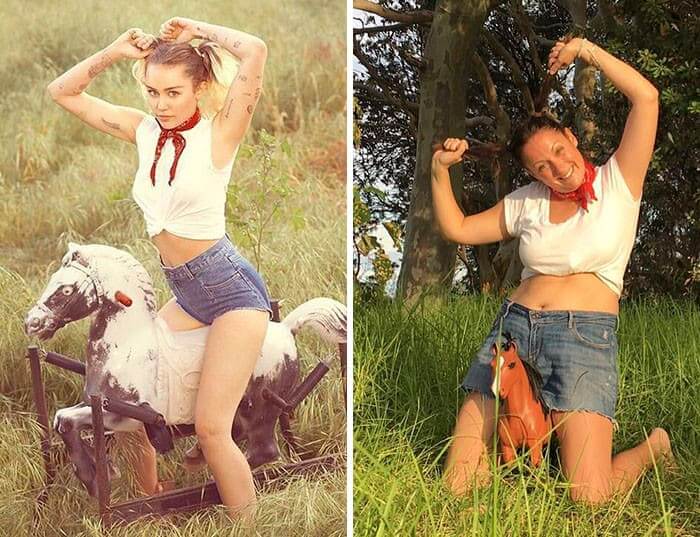 She makes it look much more fun than the celebrity originals. Ride'em cowgirl!
This Looks Comfortable
"Nothing to see here, just casually lounging on the chair like a normal person." This is such a bizarre pose. How did the model contort her body into this uncomfortable position and stay glamorous?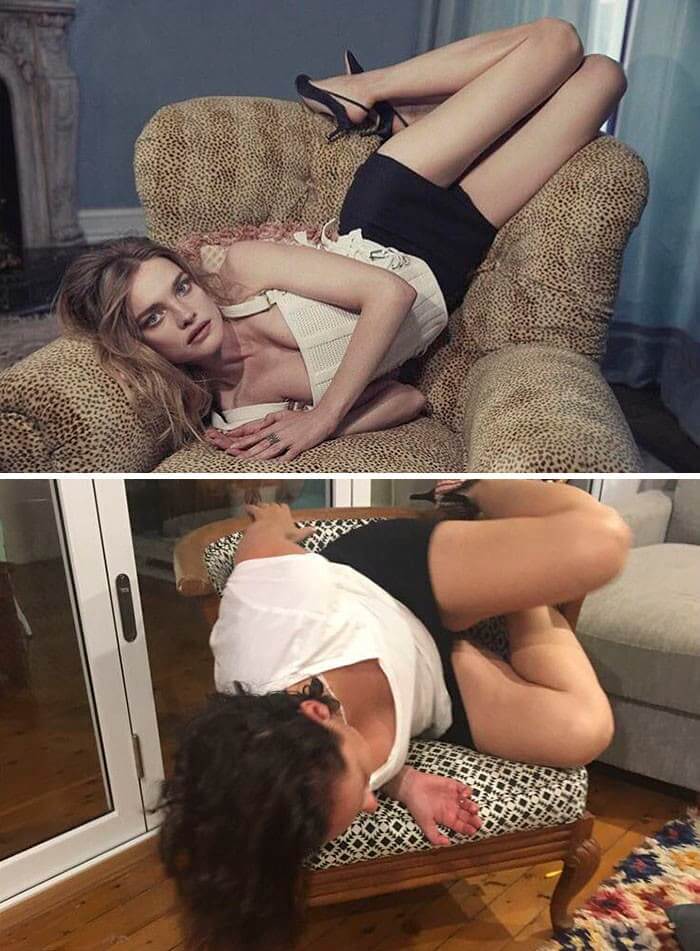 If we tried this, we would look more like Celeste and fall off the chair. Do not try this at home, people.
Peek-A-Boo
When you are trying to get dressed, and your friends keep asking you how much longer it will be until you are ready.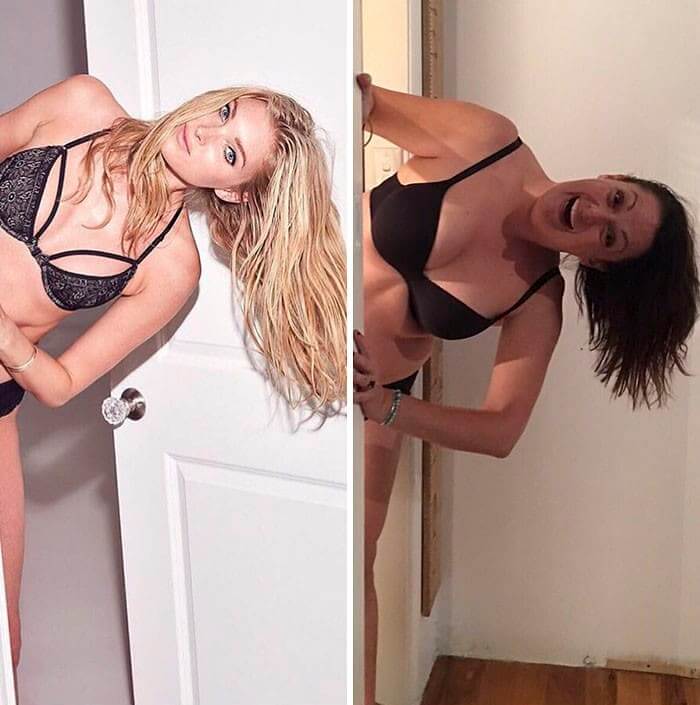 "Can you hurry up?" "I'm getting dressed as fast as I can, but it would go much quicker if you didn't continue to ask every few minutes."
I Woke Up Like This
The first picture is what everyone wishes to look like when they wake up. The second is what most people look like when they wake up.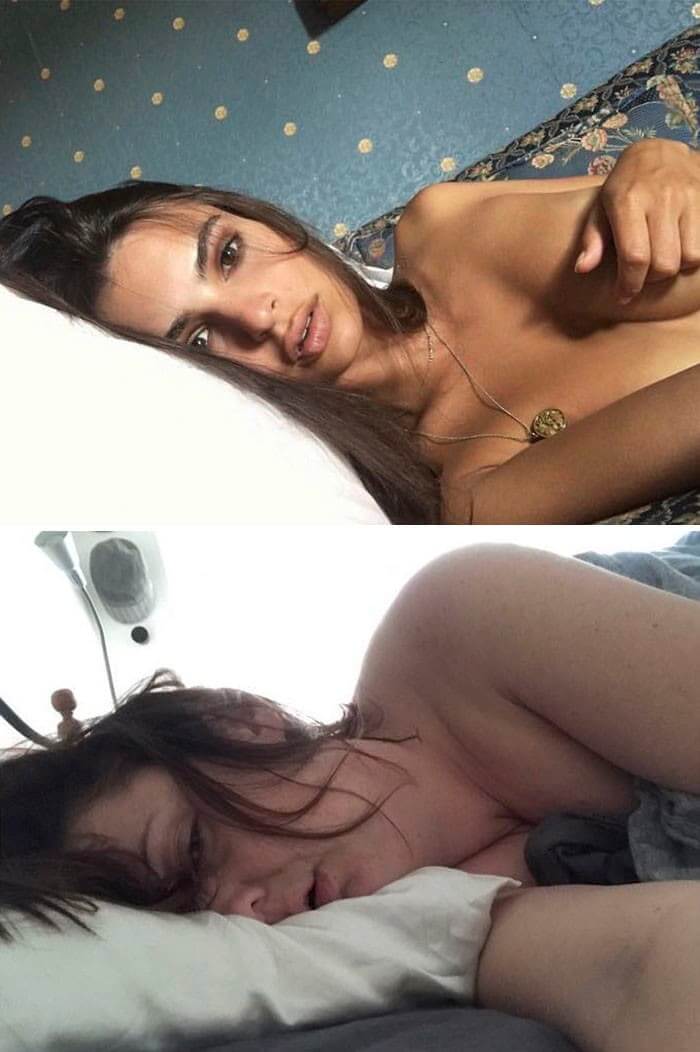 How is it possible to wake up looking perfect with your makeup and hair done? It is not possible, most of these "natural" "just woke up" selfies are posed.
Baywatch
The Rock and Alexandra Daddario co-starred in the reboot movie Baywatch and made lifeguarding look much more glamourous.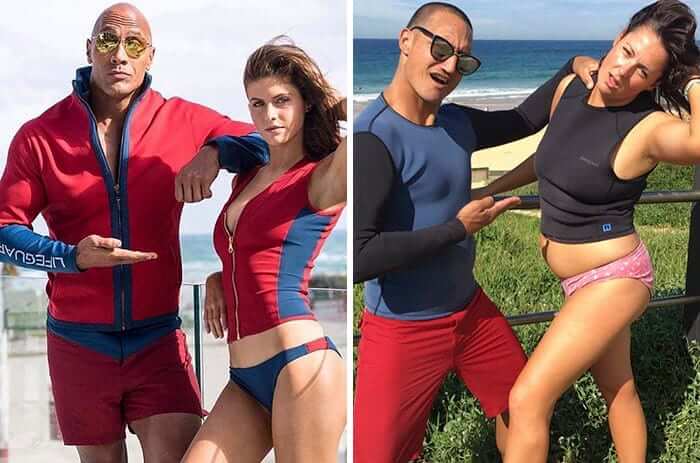 Celeste and her husband try to capture that glamour while still being effortlessly beachy, and they rocked it!
How You Think You Look Vs. How You Actually Look
When you walk towards the water and try to walk like Gisele Bundchen, but the uneven sand makes it difficult to look like a model.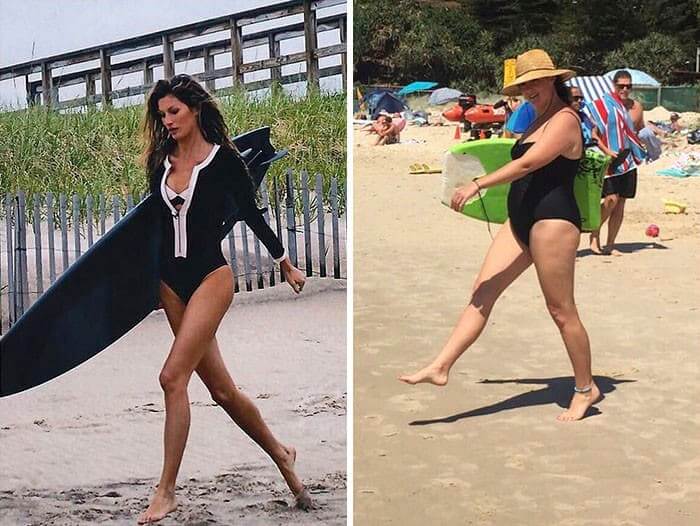 We all try our best to look effortless, but walking on the burning hot sand is harder than it seems.
No Pants, No Problem
When Kanye's merch is too expensive, so you can only afford one sweatshirt, or you have to make your own.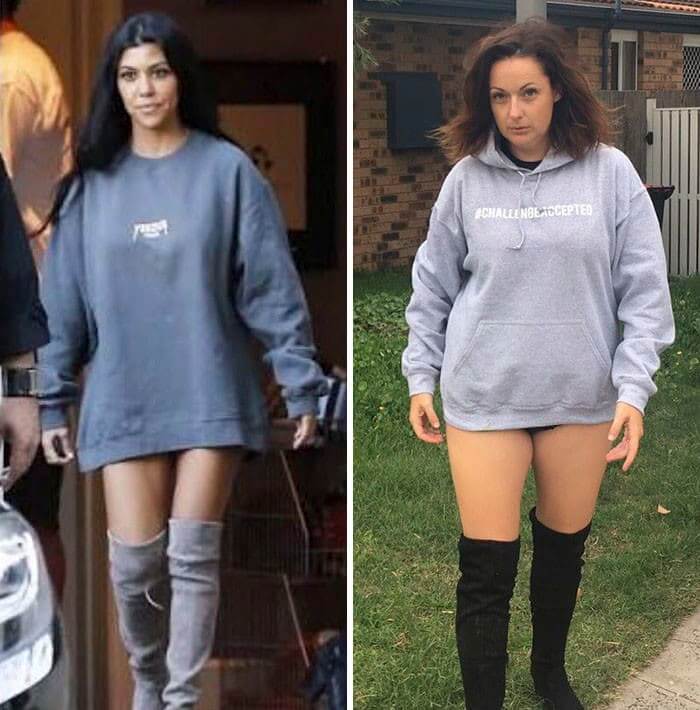 The oversized sweatshirt is an interesting trend that people were obsessed with for a while because of the Kardashians. To pull off this trend, your sweatshirt should probably cover your underwear.
Dipped In Silver
Why wouldn't an ordinary person cover their body in silver and lie in a tub? Kim was probably posing for a makeup campaign or magazine shot, but it is a strange scene.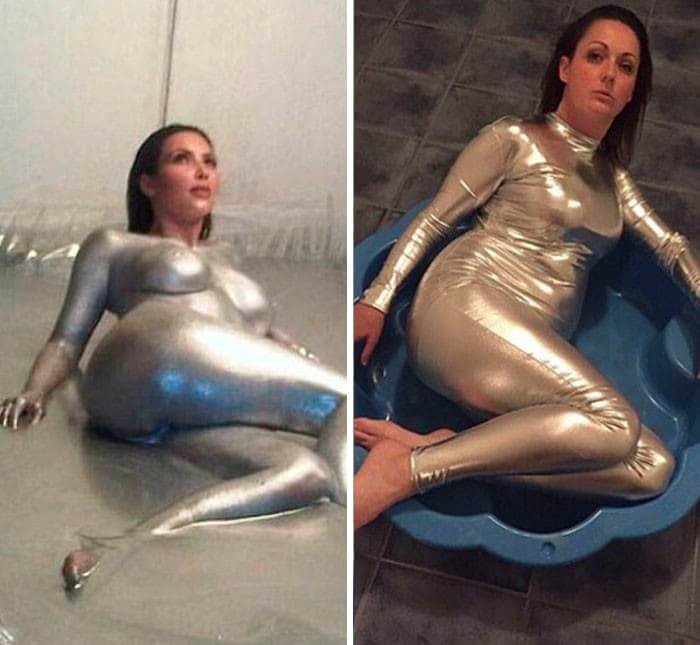 It is hilarious that she used a kiddy pool to replicate this one. She looks like a natural model, even comparing herself to Kim Kardashian.
Working Out Is Tiring
When you take a gym selfie hoping you will look toned and not like a sweaty mess. Working out is not easy, and after a difficult gym session, most people would look like the right photo.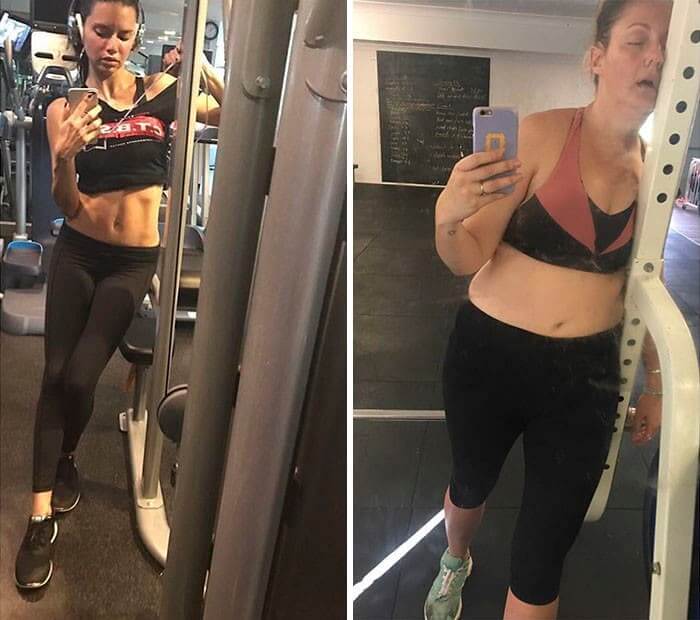 By the end of the workout, people are drenched in sweat, and too tired to actually pose.
Drop It Low
Can we take a minute to talk about cardi b's shoes? Are they sneakers, wedges, or platforms? It looks like the shoes are falling apart in slow-motion.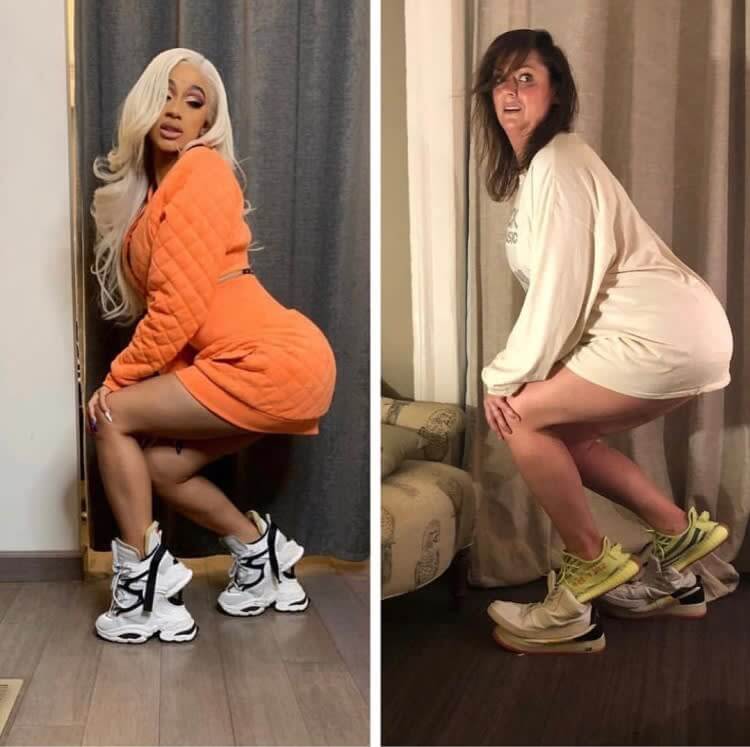 Celeste had to stack three pairs of shoes to try and replicate this look. How do you walk in shoes like those? Fashion is so interesting, and those weird sneakers probably cost over $1,000.
Just Catching Some Rays
When you have had a rough day, so you come home and collapse onto the floor. The bottom picture looks like she has had enough of these odd celebrity photos.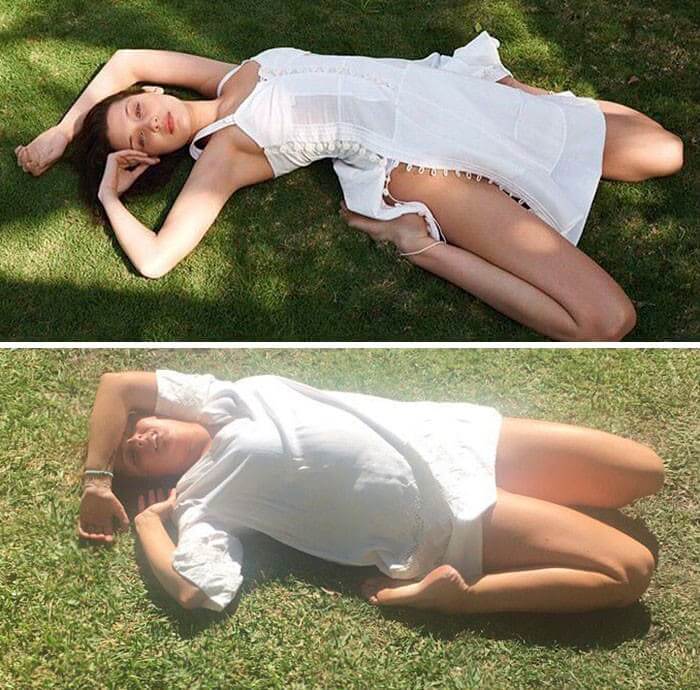 Bella Hadid makes this pose look relaxed and comfortable. This position seems like it would break your knees and back.
A Couple Of Cows
When you do something that makes you seem adventurous, so you have to document it to prove you did something in nature.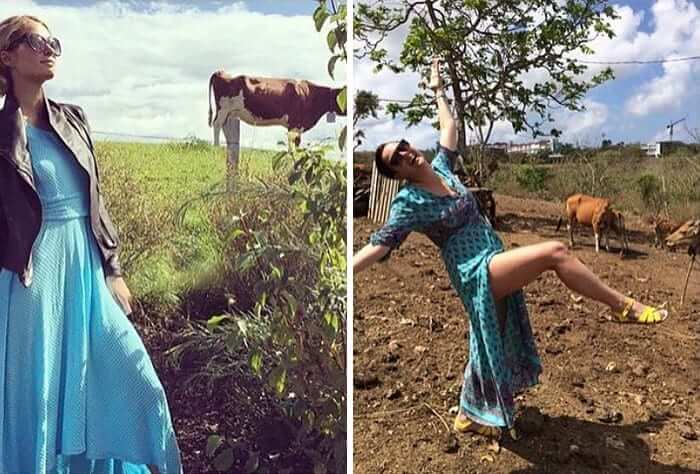 Celeste also looks like she went to a winery and had a few too many glasses.
Nailed It!
If you ever wanted sunglasses that will block the haters, these are the perfect pair. The foil pair and the real pair will surely make the haters invisible.
Nicki Minaj has an interesting sense of style, and this look is bizarre, even for her.
"What Do You Wear Around The House?"
Who wouldn't want to be Haily Bieber? She is married to every teenage girl's dream man, Justin Bieber. Hailey is also so stunning, even in these full coverage underwear.
The recreation is just as amazing and looks more like a body positivity advertisement.
Looking For The Remote
When you can't find the remote so you have to dig through the cracks in all the couch cushions.
"Look! I finally found that bracelet I lost three years ago, and the TV remote!"
Falling Down The Stairs But Make It Fashion
Nicki Minaj has some strange fashions choices and poses. She looks like a spider monkey hanging on for dear life, so she doesn't fall down the stairs.
How did she manage to keep a straight face while recreating this ridiculous pose? Even she looks like she knows how strange this is.
When You Think You Look Cute After Going In The Ocean
It is never glamorous when you go into the ocean and get pummeled by waves. There is salt in your nose, sand in places you didn't know sand could go, and your hair is matted to your face.
In our heads, we think we look like a character straight out of Baywatch, but it is never that glamorous.
Making Pregnancy Look Cute
Celebrities tend to make pregnancy look easy. They put on their matching Calvin Klein underwear and bra and depict it as a glamorous nine months.
In reality, most people don't have the energy to find the matching underwear to their bra, especially if they are pregnant.
"Can You Take A Picture Of Me In The Men's Bathroom?"
When you think of a good place to take a photo, is your first thought the men's bathroom? We are going to guess that you said no because who would go into the men's bathroom to take a picture besides Kim Kardashian.
Also, did the photographer think it was a good setting to capture her gorgeous gown? It ruins the beauty of her entire look.
When It's Really Cold Outside
Did Kylie steal Cookie Monster's fur to get this photo? She is someone who likes to show off her famous curves, so it is strange that she chose to cover her entire body and only show her face.
We love how she took a giant blanket to wrap around herself for this one. If only it were blue, it would be amazing.
Money Talks
When you have so much money that you start to think all those presidents are speaking to you. Also, have you ever noticed that some celebrities feel the need to flaunt their wealth by posing with stacks of money? We know you are rich, there is no need to rub in in our faces.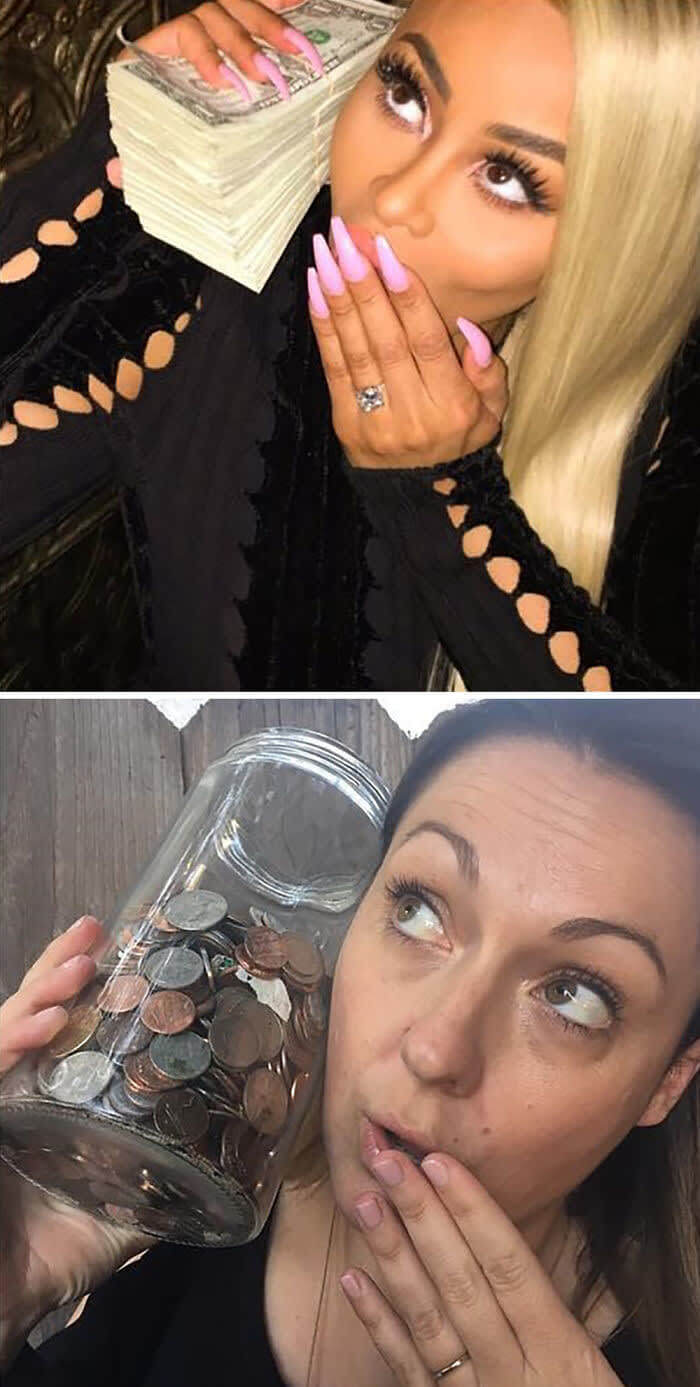 On the other hand, does anyone else keep a jar of change that they don't know what to do with? Like Celeste, the jar of coins is more realistic that stacks of $100.
Trying To Do Yoga For The First Time
"Hurry up and take the photo, all the blood is rushing to my head!" The top photo is trying to sell the lingerie, but we don't understand why they made her do a pose like that.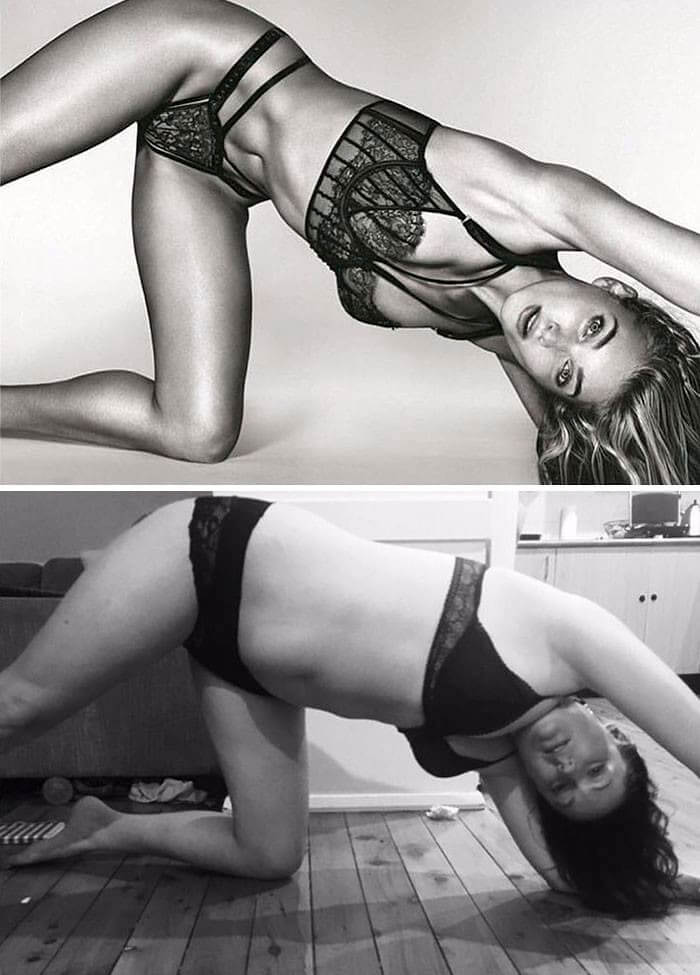 She looks like she is doing a mix of downward dog and something else that is uncomfortable.
"What Are You Doing In My Closet?"
"Ma'am, please put your clothes back on. This is a public place, and you are making the other customers feel uncomfortable."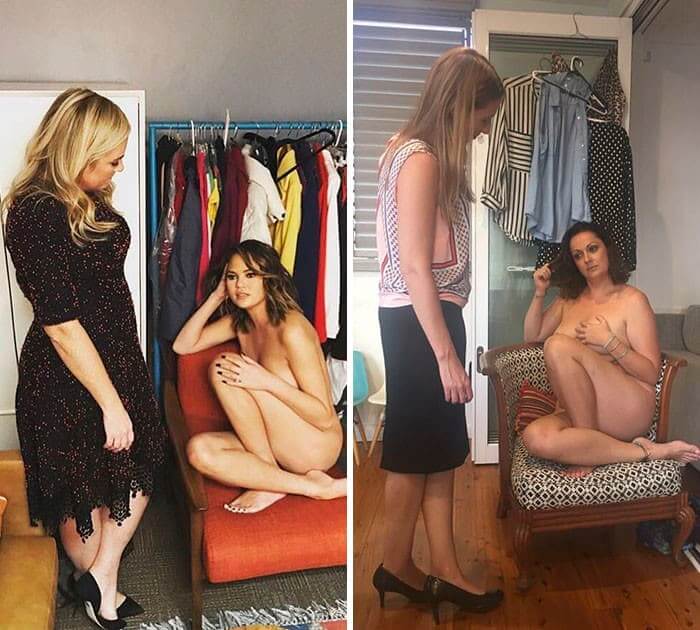 Chrissy Teigen has shared that she loves to be nude, but why does someone else have to be there to stare at her?
Fresh Out Of The Shower
When you get out of the shower and wrap yourself in a warm towel, it is a refreshing feeling. While not everyone looks as glamorous as Alessandra Ambrosio, we can all pretend.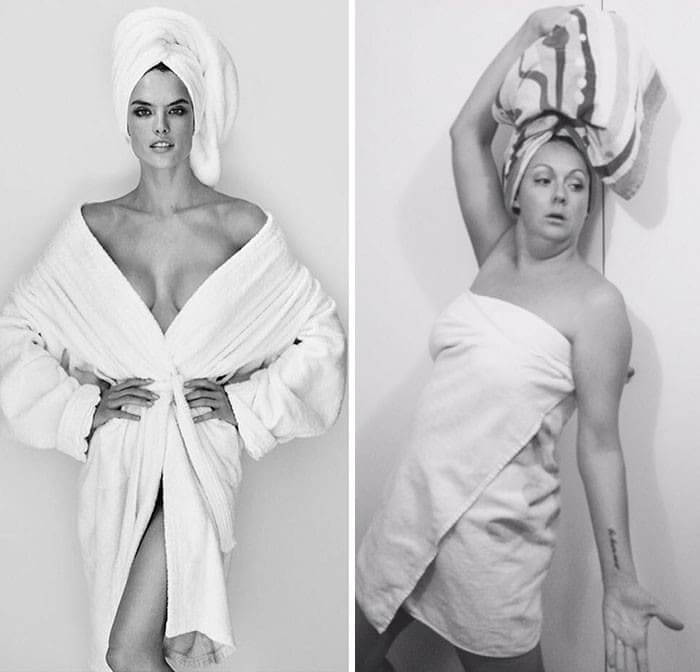 Celeste is feeling her post-shower look, and we don't blame her. It is like playing dress-up with a towel as your wig.
What Else Would You Wear To Do Laundry?
It's hard to believe that Paris Hilton might actually do her own laundry, but if she did, she would wear that silver suit.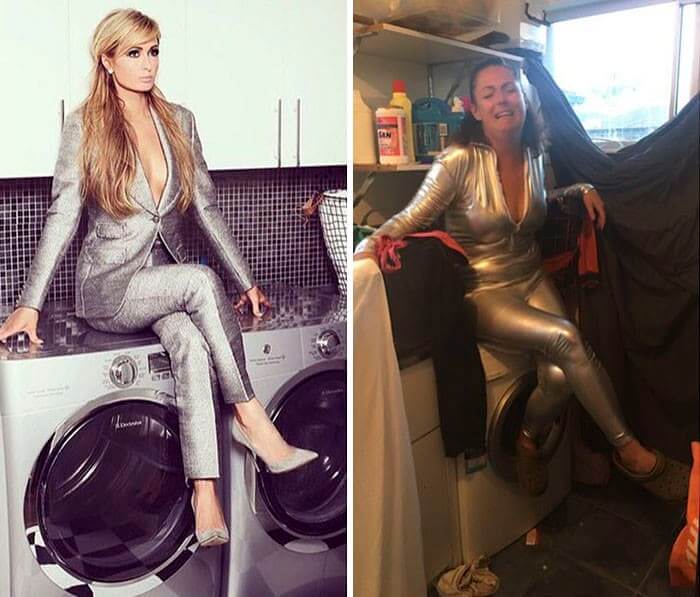 Doing laundry is tedious, and when it starts to pile up, it is not fun to do. It is even worse when you have to do laundry for your children or husband, and not just yourself.
When You Spend All Your Money On One Article Of Clothing
When you had to have that designer skirt, but it was so far out of your budget. Instead of saving up for it, you bought it and decided to sacrifice buying groceries for a few weeks.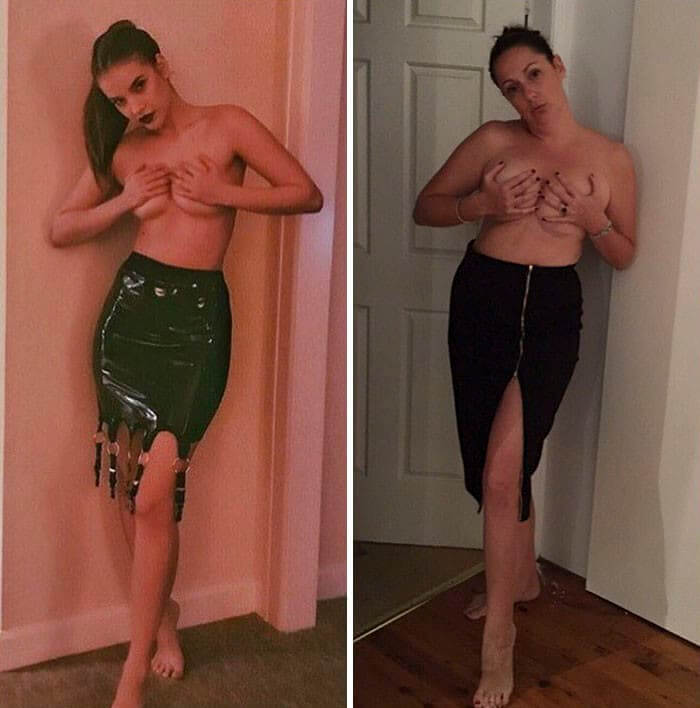 Then once you have it, you realize you have nothing that pairs with it, and it is too fancy for any event you have coming up.
Going On An Adventure
Take your family on vacation, they said. It will be fun, they said. When you take your children on vacation and have to bring so many extra things with you to accommodate young kids.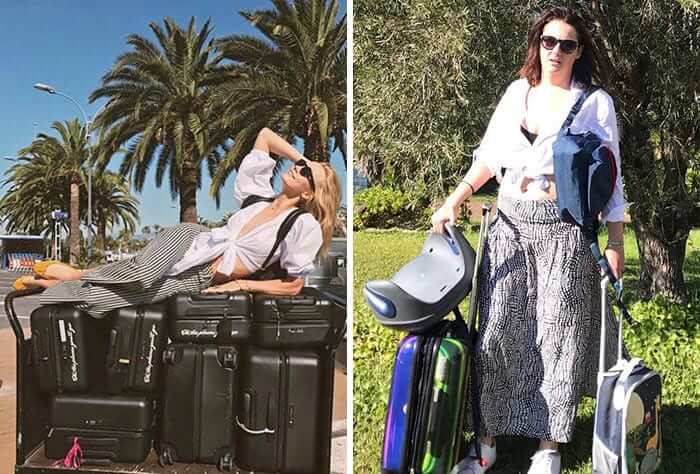 Karlie Kloss has all that luggage just for herself. How many outfit changes does she have planned with all that luggage?
When You Need To Be On The Phone All The Time
"Hey, what are you up to?" "Oh, nothing just sitting in the bathroom." "You're calling me from the bathroom?" "Obviously, why else would I have a phone in here."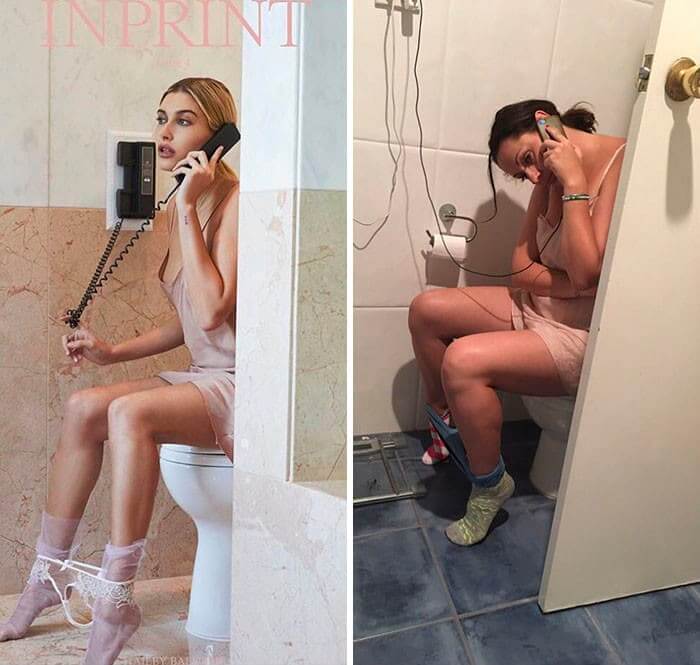 Have you ever noticed that hotels have phones in the bathroom? Who is that for, and why are they calling while sitting on the toilet?
"Where Did This Chair Come From?"
When you buy a new swimsuit and want to take pictures in it right away even though you are not at the beach or pool. Kylie found a solution to that problem; bring a chair and have a photoshoot in the backyard.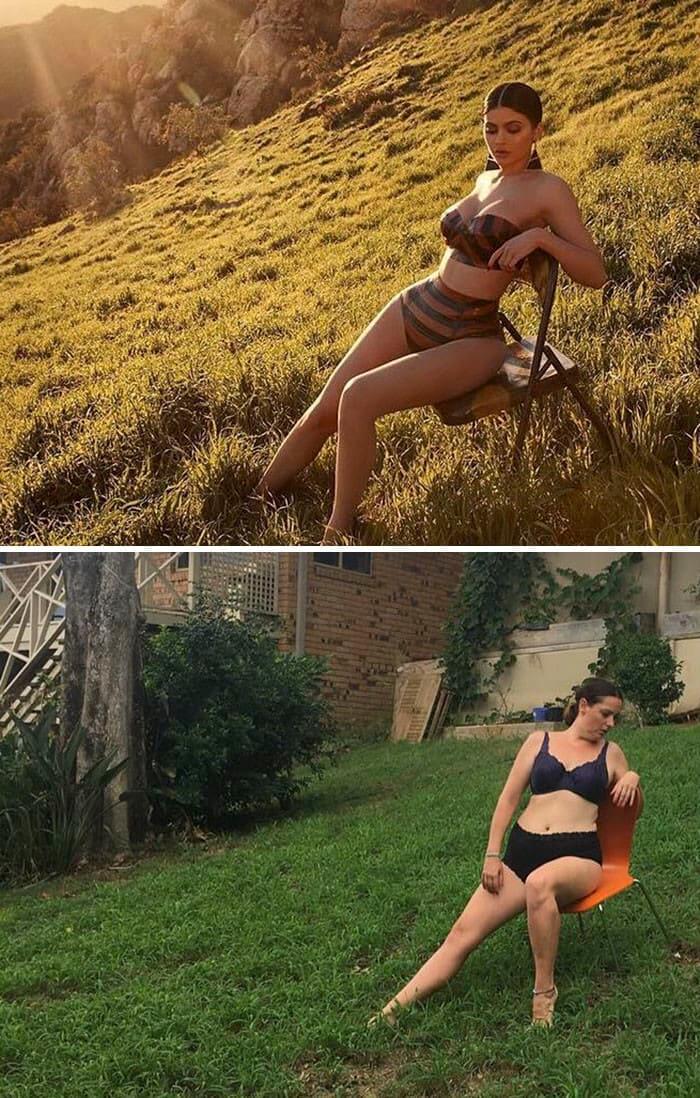 Why is the folding chair necessary? What did it add to this photoshoot?
Sexy Selfie Expectation Vs. Outcome
When you buy a new bra and underwear and want to take a sexy picture in it with the expectation of looking like Emily Ratajkowski, but then you see the selfie and realize no one looks like her.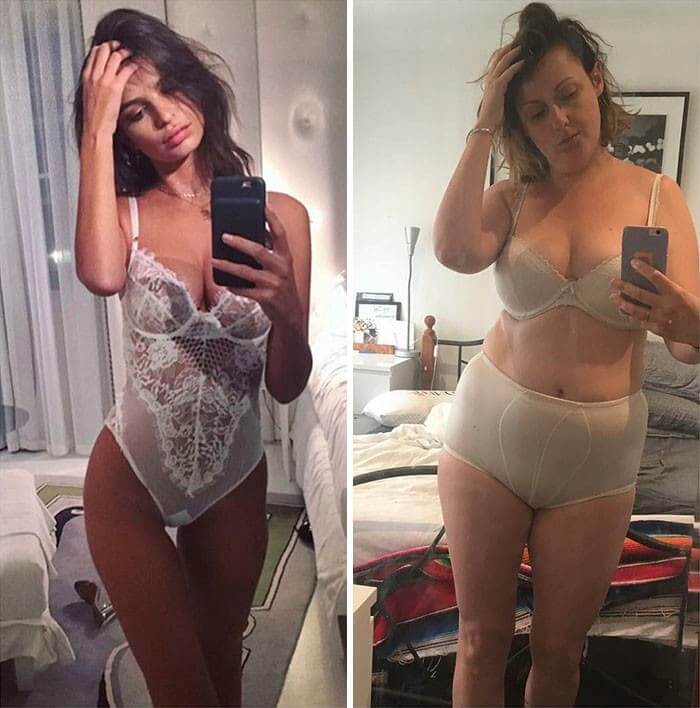 Even if you aren't a model, all bodies are beautiful in their own way and you should be proud of yours.
"I Do Not Bend Like That"
When your yoga instructor and photoshop guy are on vacation so you can't make yourself look like Miranda Kerr.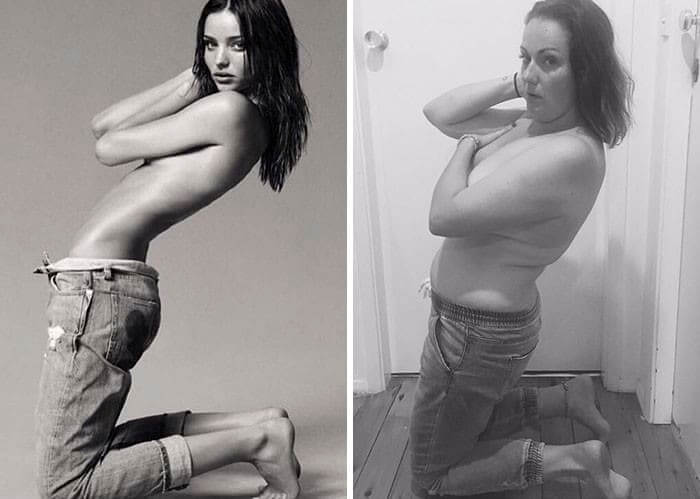 How did she manage to bend like that in the left photo? It looks like her torse is not connected to her legs.
"Have You Seen My House Plant?"
When you get a new house plant and want to subtly show it off to all your friends on the internet.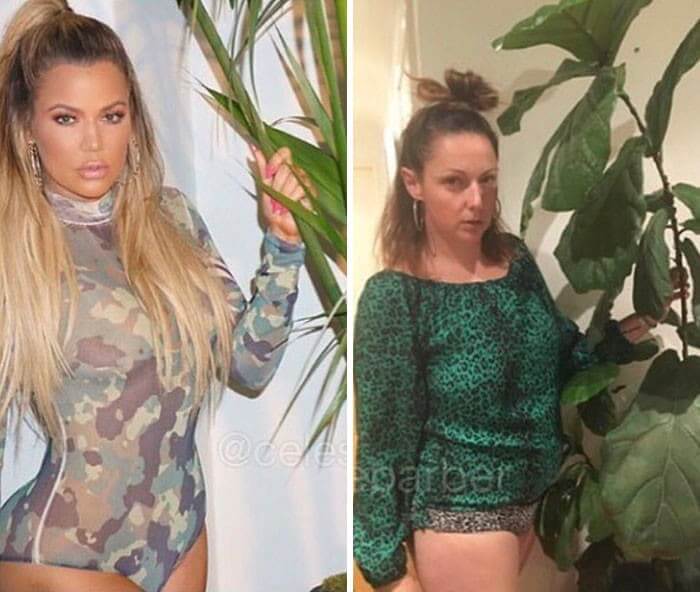 To get the perfect shot, you wear an outfit that matches the plant and casually holds one of the branches.
Questionable Designs That Are Sure To Make Anyone Laugh
John Travis
This article was originally published on WackoJaco
We can admit it, there are plenty of things that look ugly but they work just fine, so we don't really care. But there are also a lot of things that are just flat out terrible looking to the point where function no longer matters. Your eyes are so caught on how horribly designed the item is that you can't even begin to ask yourself if it works or not. Out of all the terribly ugly items in the world, these are the top 50 worst ones. After seeing how many people have them in their houses, you're going to feel like you have the asthetic eye of a fashion mogul.
Just A Centaur Having A Beer
Here's a classic bar joke: a centaur walks into a bar, the bartender says, "Hey, how's the throat?" The centaur replies, "My throat isn't horse but my legs are."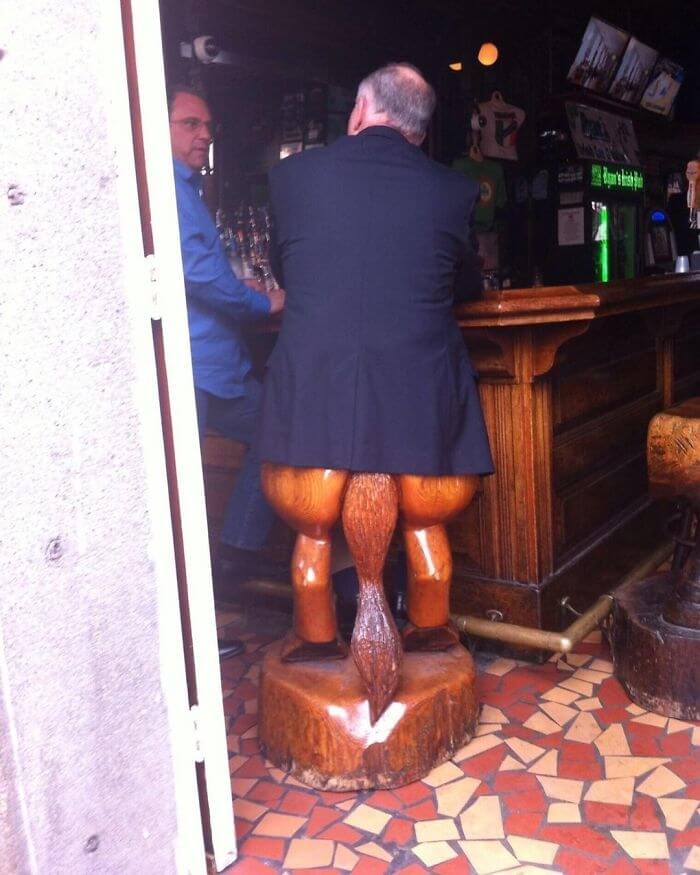 We can suppose that this design is supposed to be funny. Imagine you waiting to meet the girl of your dreams and she enters the bar and sees you sitting on it though.
Even He Knows The Design Looks Ugly
There are times when we try so hard to hide our emotions, but we fail to do it. This person is pretty aware of how ridiculous the entire design is and his face says it all.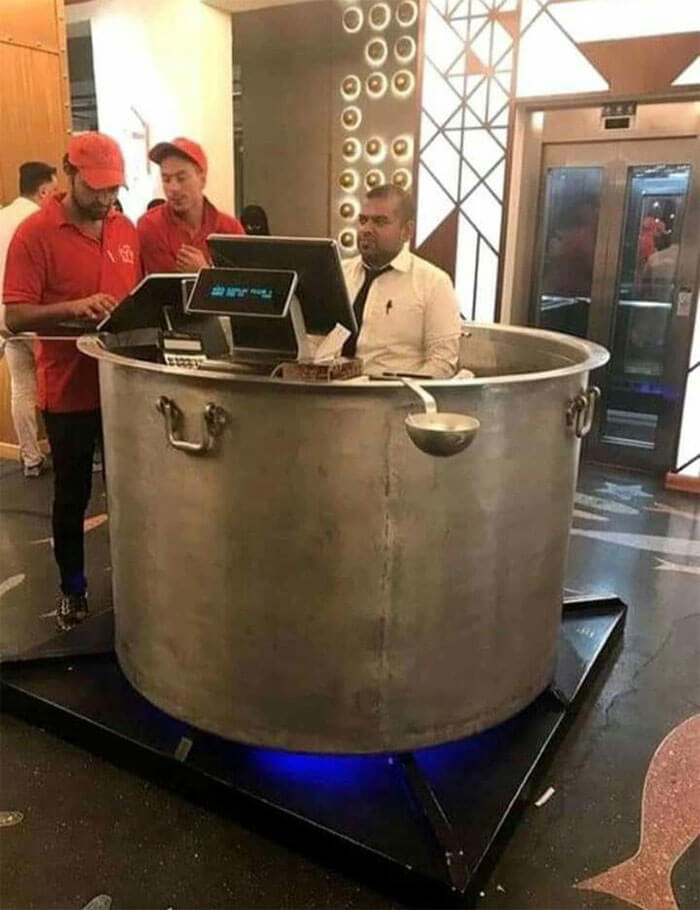 Some may say this is a cool theme for a restaurant, but most would probably disagree with that. By the way, the soup doesn't look very appetizing, and we can't control the urge not to say that this guy is the "Soup-ervisor."
10 Points For Slytherin!
Harry Potter fans will get our little nerdy title of 10 points for Slytherin. Some may say that it is scary, but we have a feeling that some people will think that it is cute.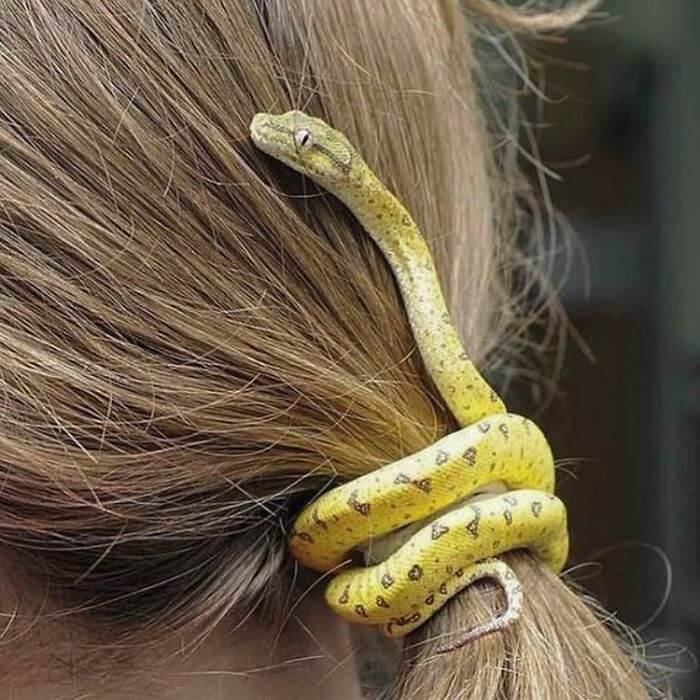 We feel that it would be super cool for Halloween with the right costume. Would you go with this one?
Looks Comfortable
Just give a call to any person who you don't generally like and invite them for dinner. When they come, make them sit on this comfy "thing."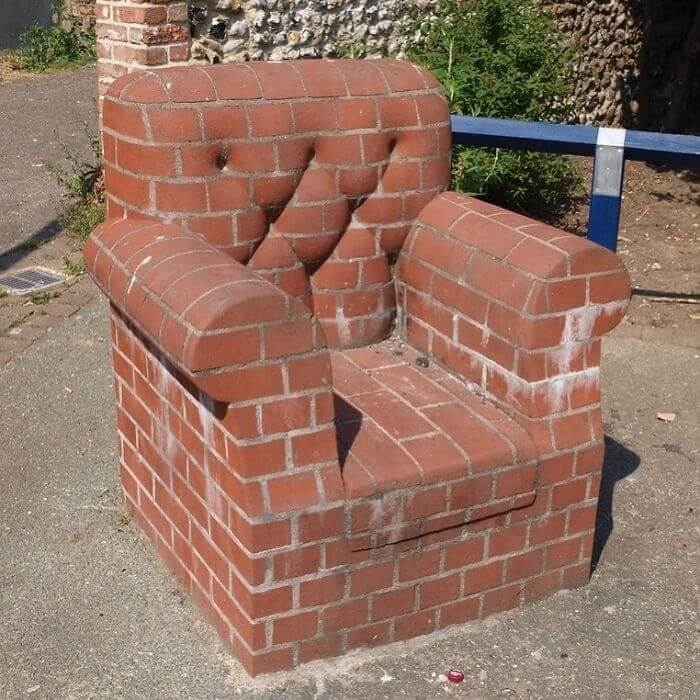 We do feel that this is perfect for your upstairs neighbors who might try to drag their indoor furniture and make noises all the time.
Where's The Giant Bird?
This is weird and somewhat cute. By the way, this is "le nid" (meaning "the bird's nest") in Nantes, France.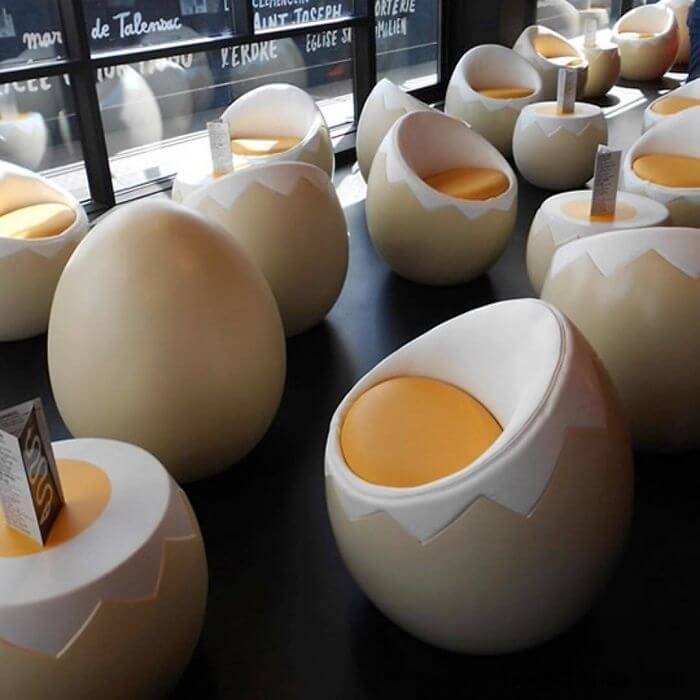 We do think that this is an "Eggcellent" idea that is quite unique. One wonders there is any point in this place if you can't get an omelette there.
50% Off Pants
Do you think you are confident enough to wear anything without worrying about what others would think? Well, imagine having this much confidence.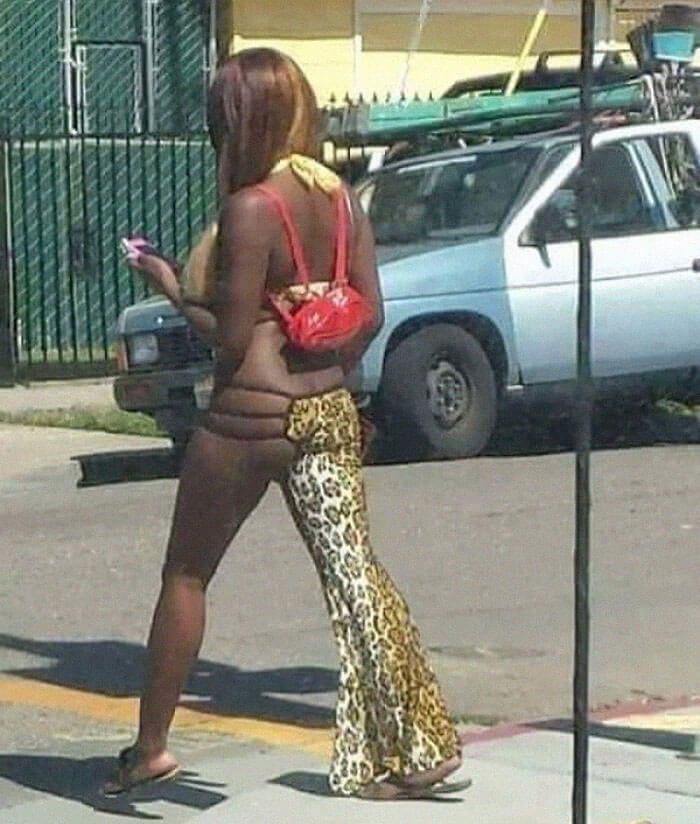 We are not here to judge anyone, but we do feel that this would be super uncomfortable.
Not The Most Appealing Egg Separator
This egg separator looks super disgusting. Moreover, it is a massive pain to clean it as well. You can imagine mold and/or yeast could easily start to grow in the nostrils.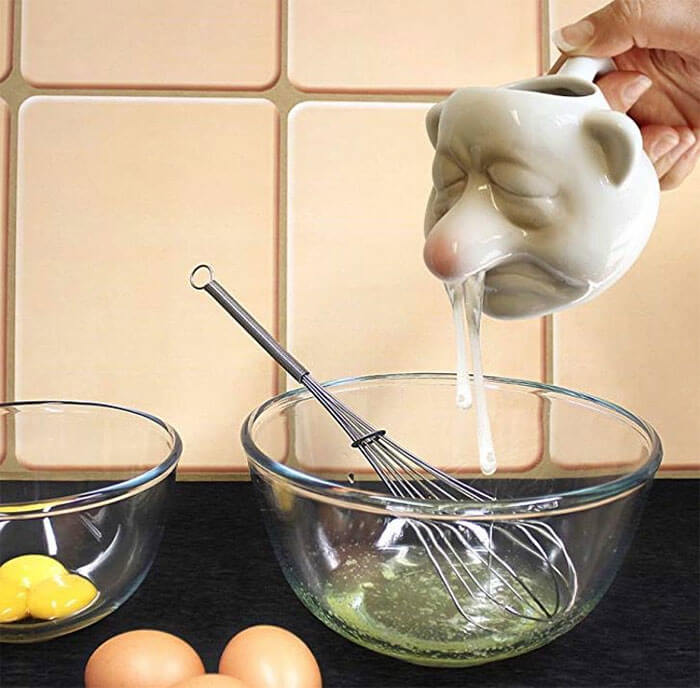 You can send it as a Christmas gift to someone you hate who also gets flu easily. By the way, it is supposed to be funny.
"Mommy, There's A Giant Under My Bed!"
Having this kind of bed in the room gives a whole new meaning to the phrase, "foot of the bed," right?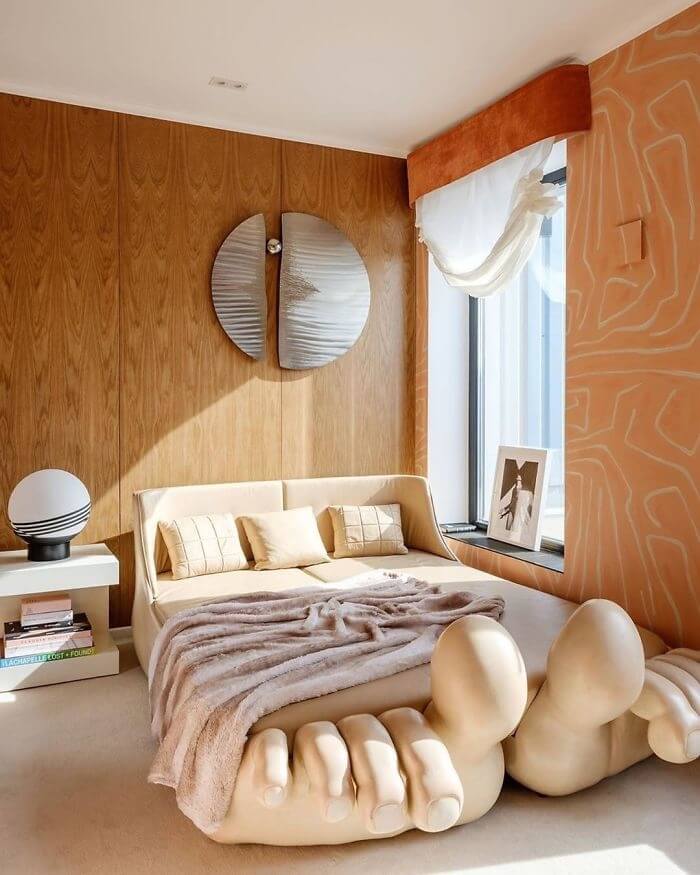 We do feel that this is Quentin Tarantino's bedroom because of his foot fetish (if you don't agree with us then just watch his movies). We are 100% confident that some kid will eventually paint the toenails.
The Worst Online Shopping Fail
His face shows disappointment and we are left wondering here what didn't meet his expectations. Maybe he knows that he is going to be popular.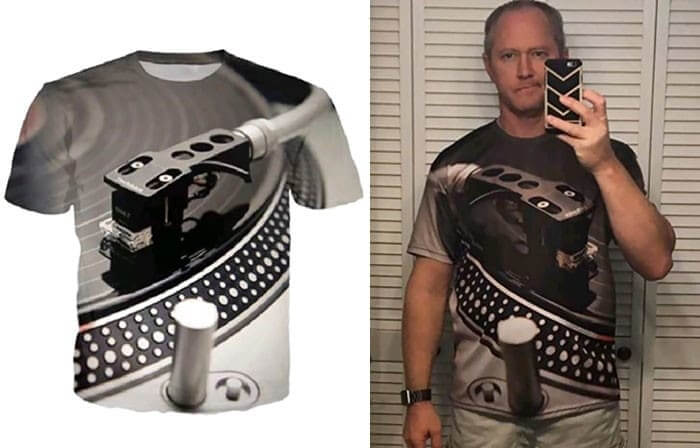 So, should we address the elephant in the room or there is no need for it? Well, it seems like there is no need. We all got it.
Why? We Just Want To Know Whyyy???
How creative is this, right? We don't know what made the designer think it was a good idea to have little lumps in the armpits in a color that looks like ancient sweat stains. What was the designer snorting when the idea came to them?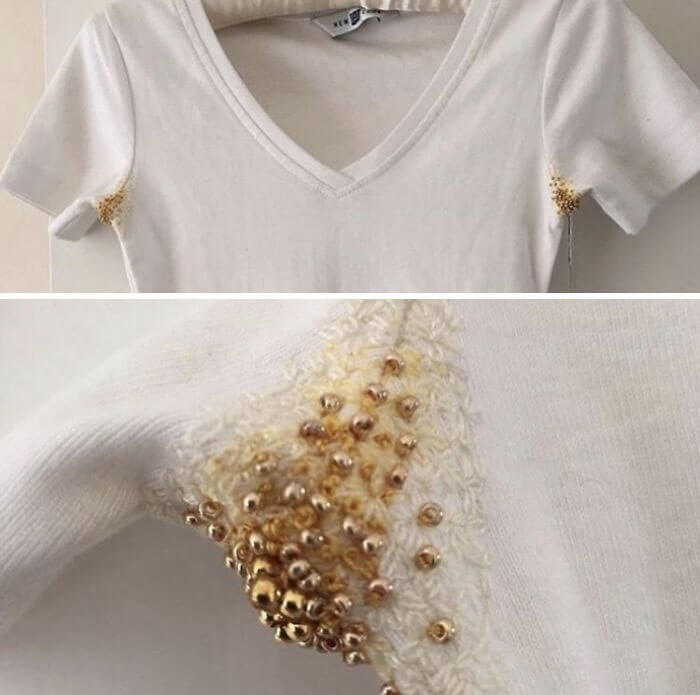 To be honest, it looks like the person is always sweating so much that insects have even laid eggs that are about to be hatched.
The Designer Is A Fan of SpongeBob SquarePants
Some people may think that this is obviously a church down in Bikini Bottom, an underwater city in the SpongeBob SquarePants series.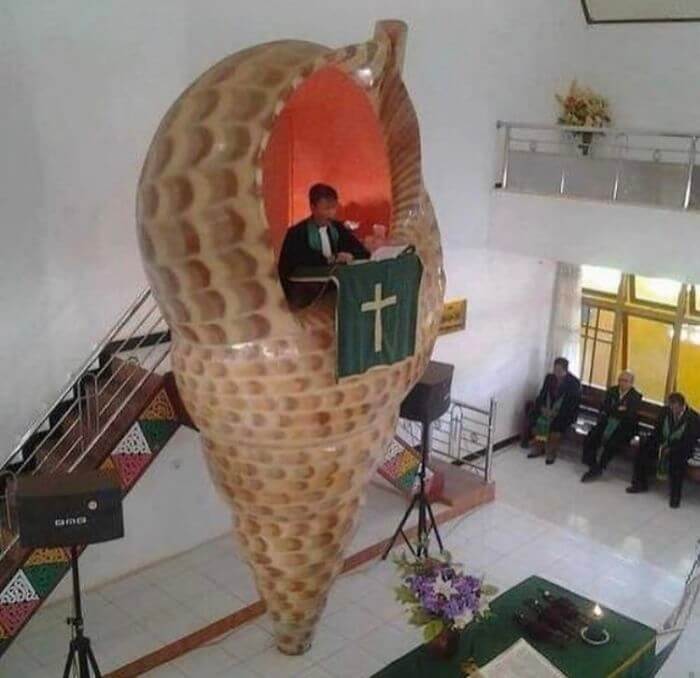 We are certain that whoever came up with this design is going to "sHELL" (we know you're impressed by what we did here). And hey, we have a question; can the priest hear themselves and others over the sounds of the beach?
That's How You Blend Into Your Environment
We're a bit confused now because it is hard to imagine how one goes about getting a shirt in the exact same print as the upholstery?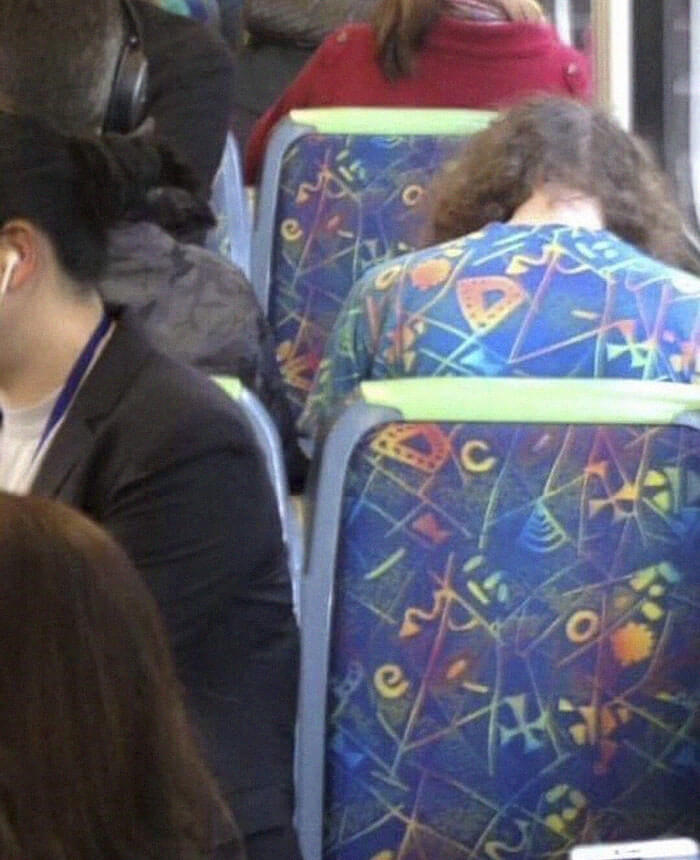 This must be a custom order. Someone pointed out that a transport company sells them as a joke. Well, that's one way to prank the passengers.
A Die-Hard Fan Of Tango
This lady made the mask during COVID-19 most probably because she's not a fan of regular masks as they are quite boring looking.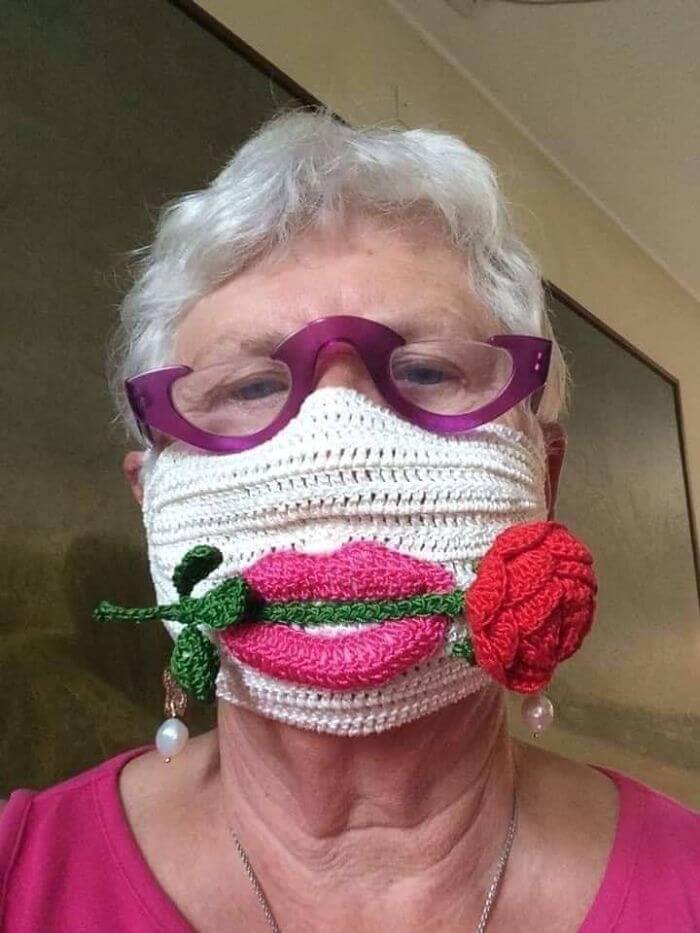 Despite the fact that it doesn't look effective at all, we have to give her an A for effort because we can bet a lot of time went into knitting it. If she wears a better mask underneath it, then it's still functional and might just brighten someone's day
Secret Agent Grandpa
This is what happens when your lovely and innocent-looking grandpa is a secret agent hiding highly valuable information.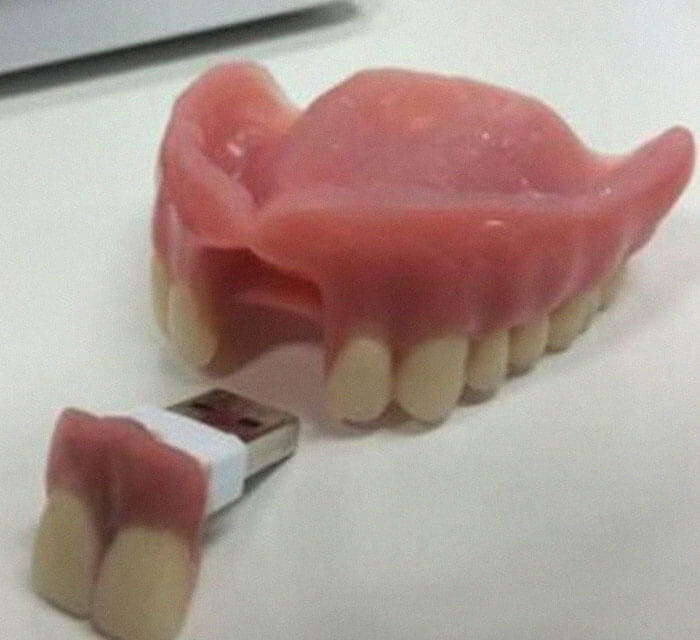 Or it can be just some guy hiding some of his personal collection from his wife…who knows!
When The Beach Is To "Die" For
There are some beaches on earth that make people want to stay there forever. Some of these are the breathtakingly beautiful beaches like Whitehaven Beach (Australia), Bai Sao (Vietnam), and Pensacola Beach (Florida).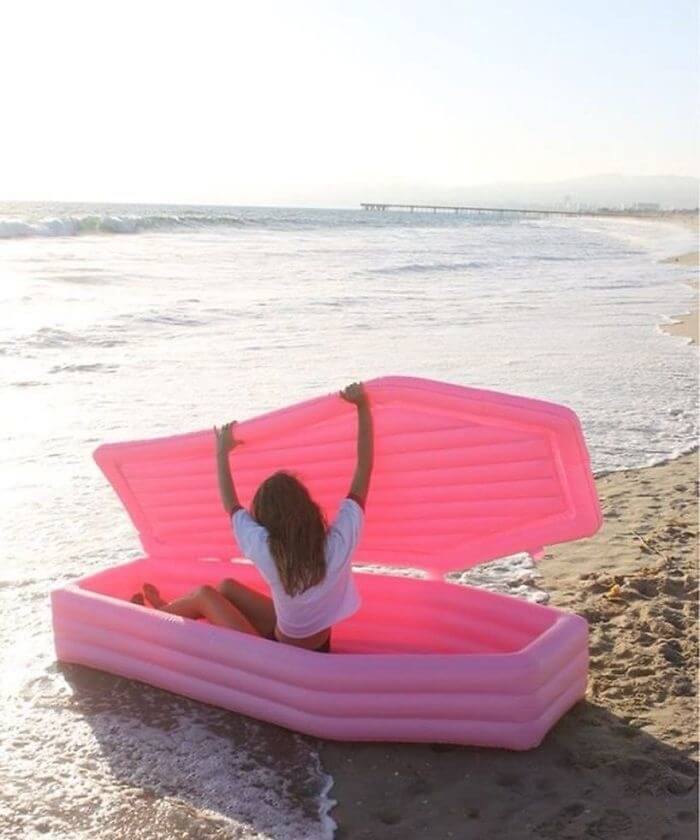 By the way, this has given a new meaning to RIP meaning Relax In Peace. And just so you may know, the sales of this new floaty skyrocketed because of vampires.
Who Thought Of This Design?
Hey look, don't judge us for what we are going to tell you. Is it wrong that it reminds us of the rhino scene from Ace Ventura?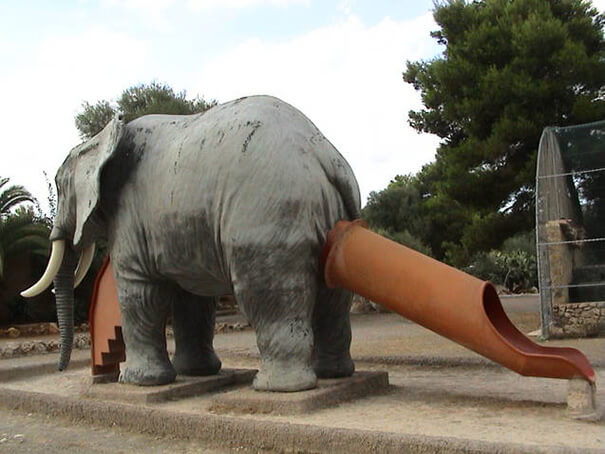 Although kids won't notice this, we are sure that adults can easily find issues with it.
The Eye Of Sauron
There are casual fans of The Lord of the Rings series and Harry Potter series, but then comes the die-hard fans of these series. The person who designed this one is a big fan of the Great Eye.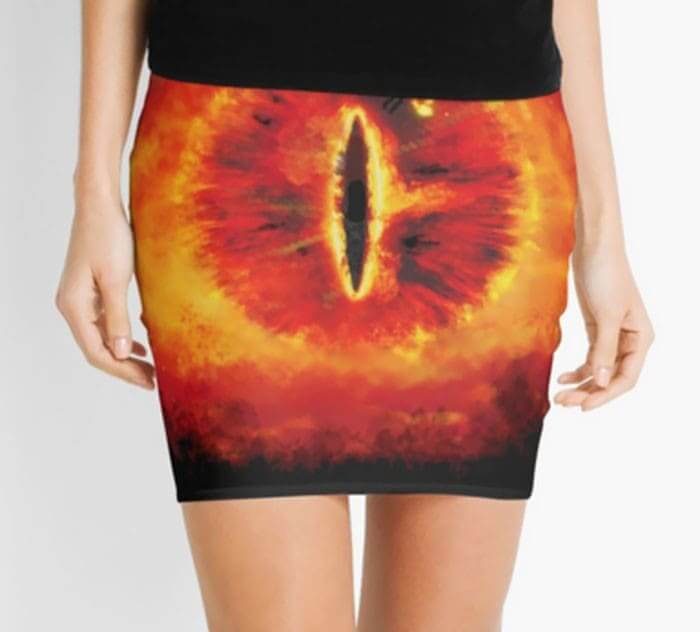 We find it scary because of Sauron's quasi-omnipotence and also its terrible gaze. Would he be okay with us wearing it?
PLEASE NO!
Seriously, anyone who buys these baby-faced candles cute needs to have themselves checked because we are sure that there can be no way any of us is going to have them in the house.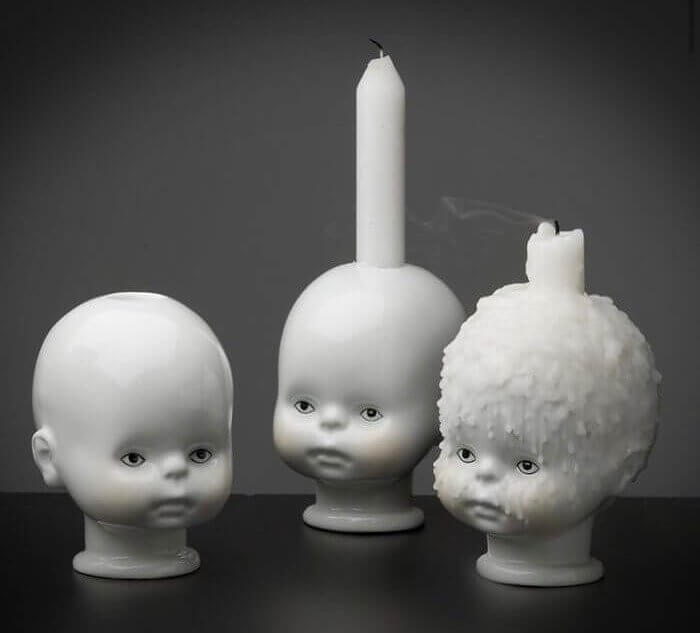 These are the candles that you find in horror movies like The Conjuring, If you still find them cute, imagine them in red color.
Absolutely Shocking
Got it, thanks! Well, we got to say that this is the sneakiest murder for hire ad we have ever seen.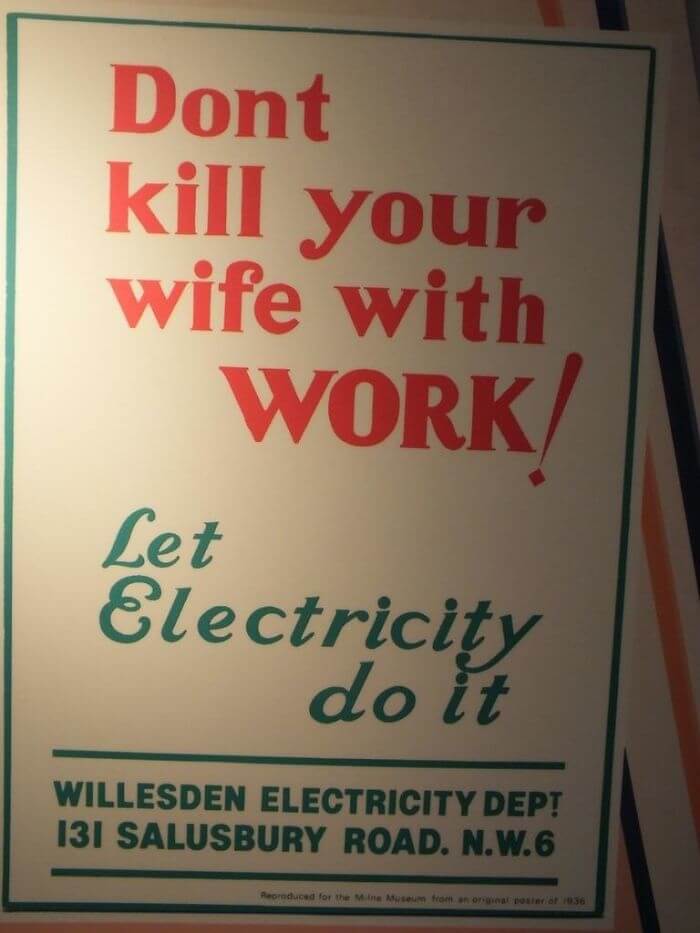 They should come up with another ad like, "Get your household electric chair today. It comes with an adjustable voltage!"
Throw Away This Handbag
It seems like the designer of this handbag thought that a personal silica bag helps keep you fresh all day.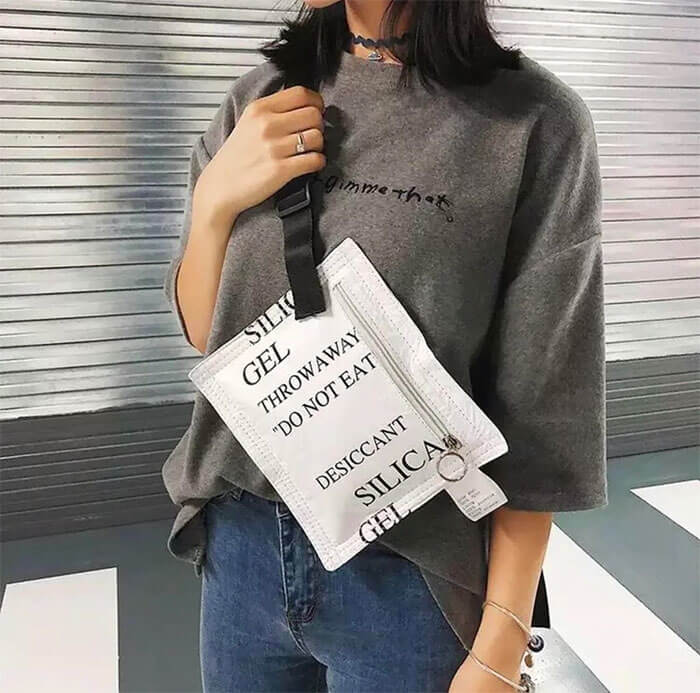 And we have a plot twist for you: Inside this handbag, you will find tiny leather handbags. If you don't get this it's because you don't understand the fancy world of fashion… but then again neither do we.
Yeah, It's A Swimsuit
This is a swimsuit by Black Milk Clothing Company that enables you to take a look at the human body in a different way. You can see the heart, lungs, and intestines.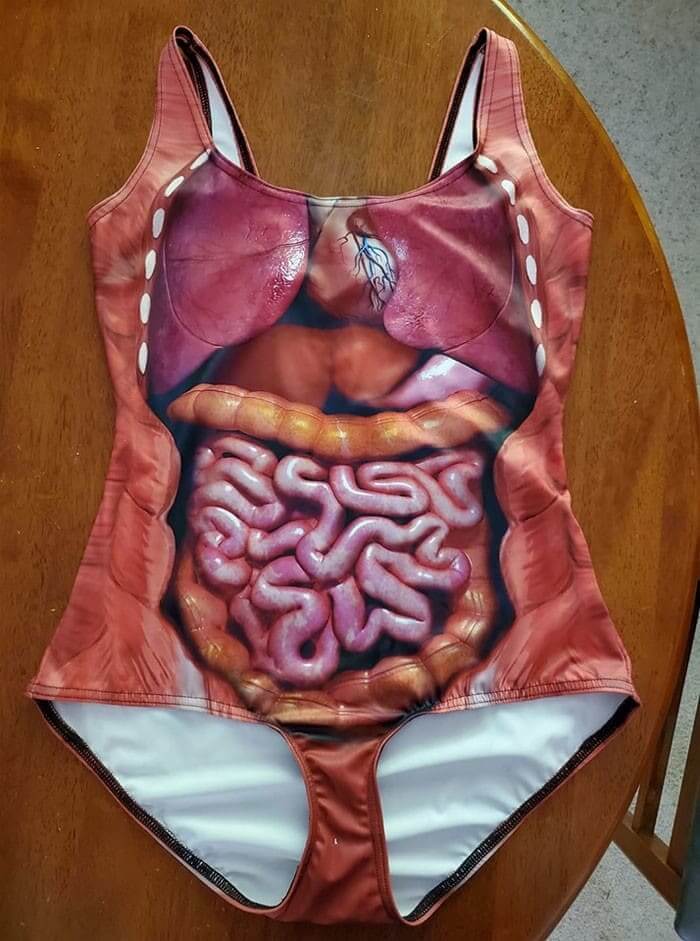 We really can't find the motive behind such a swimsuit and if we are honest here, we don't want to know. This person, for some reason, bought this swimsuit online and we can only imagine what it was like when they wore it to the beach.
A Mouse And A Flying Carpet
We actually loved this one. Although that's not the right place to use a carpet, we really like the idea behind it. We think it is could be a bigger movie than Aladdin.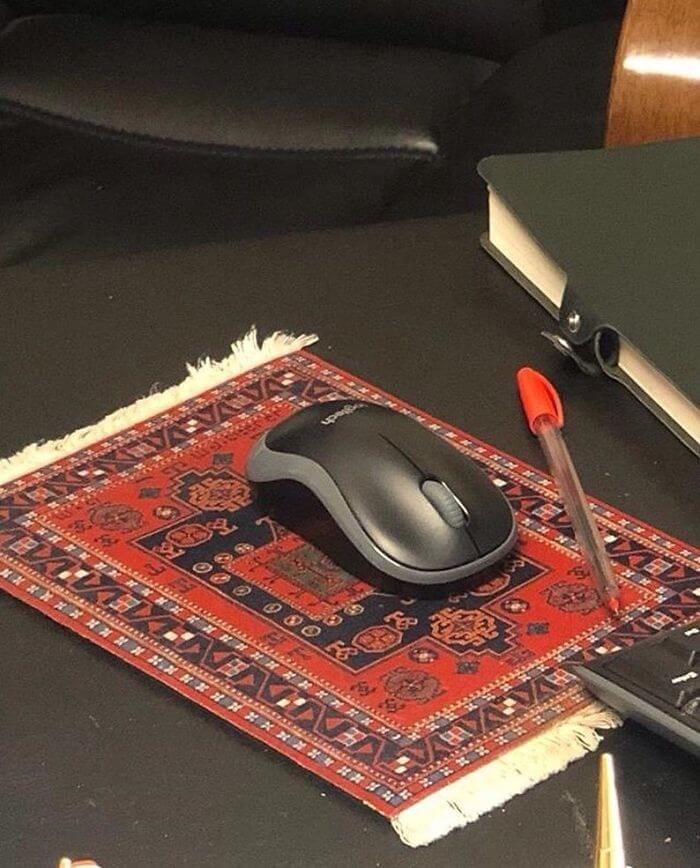 But how will the person use the mouse when the carpet starts flying around the house?
Guide 101: How To Make Ripped Jeans Look Cool
Why do we feel that these jeans belong to Lady Gaga? Imagine the headlines: Lady Gaga Meets The Gap. But let's be honest here. This jeans design is horrible.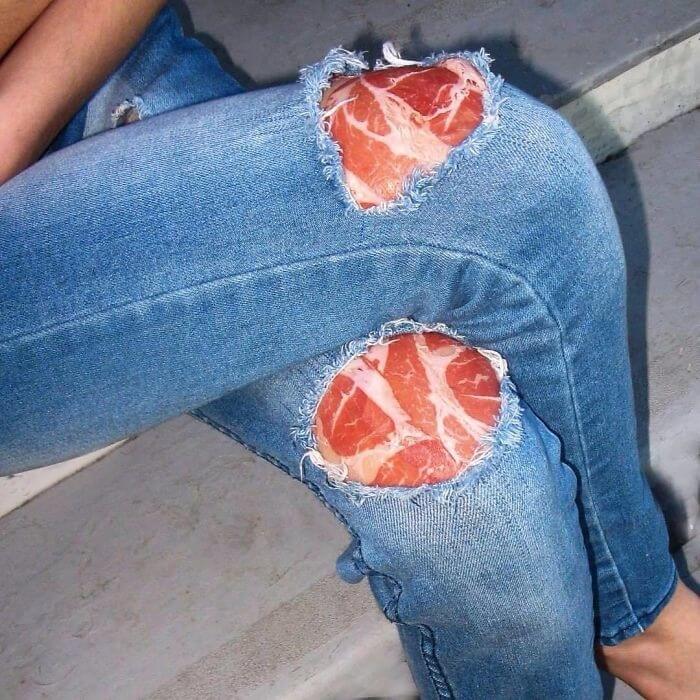 It looks like this woman had a severe accident where her skin was horribly burned off! You can only wear it on Halloween one time only if you burn these horrible jeans afterwards.
Definitely A Tech Person's Home
Although we don't consider ourselves tech nerds, we do feel that this is pretty cool.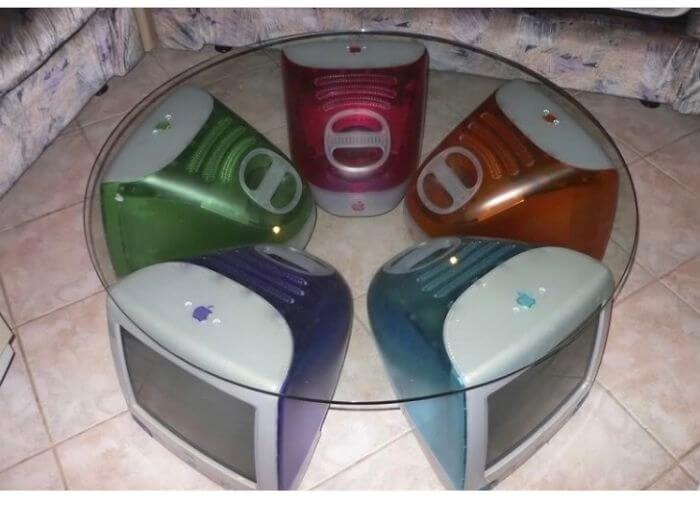 Still, people who are into aesthetics and classy looks will find it really uncomfortable. Let us know if you want it in your home or not.
Ugly Breakfast
One wonders what the pitch of this concept was. Like, why eat with a fork and knife when you can…when you can put little forks and knives on your fingers?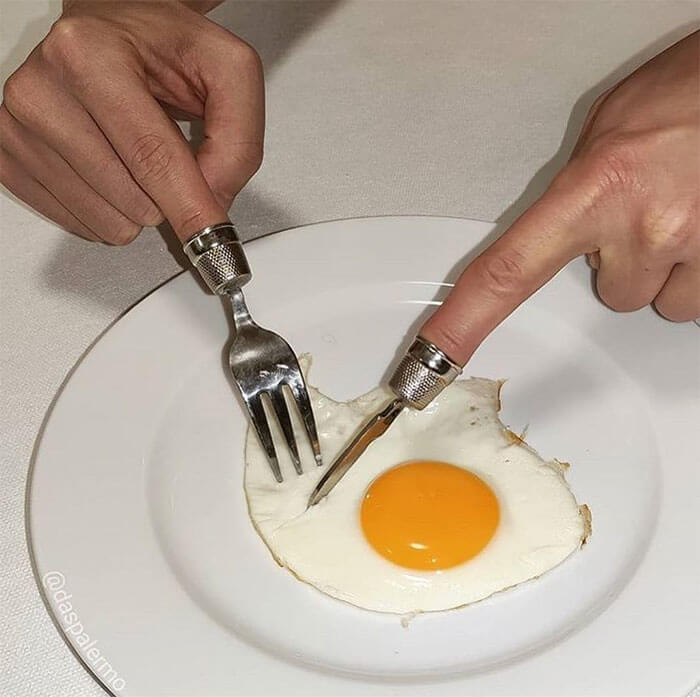 We feel that they'd keep falling off, so if you're eating hot food prepare to get burnt.
Is That A Fungus Infection?
Oh boy, are these supposed to be oyster fingernails? They don't look good at all, but then again, some people may like it.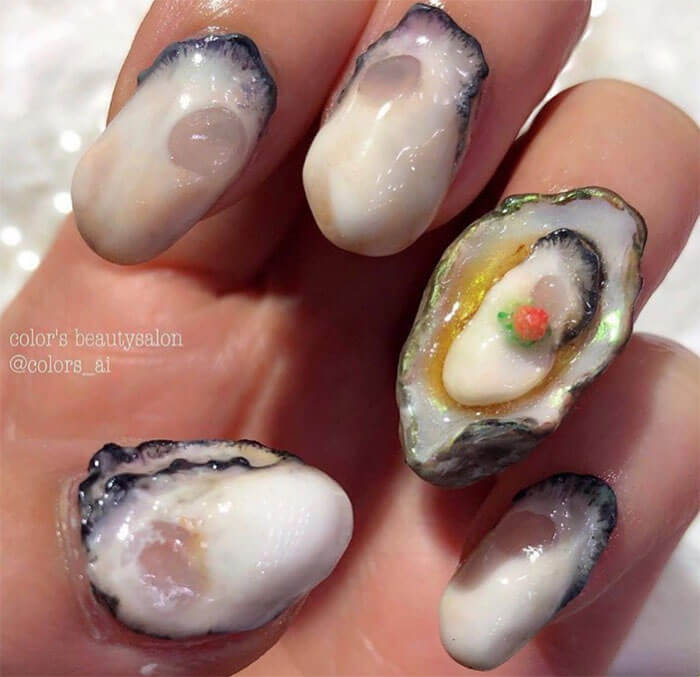 We can only recommend it to you if you are getting married to an expert in oyster aquaculture.
The Scariest Light Switch In The Kids' Room
Believe it or not, this is a light switch in the kids' room, and boy it is scary. The poor kids are going to suffer from a lack of sleep for the rest of their lives.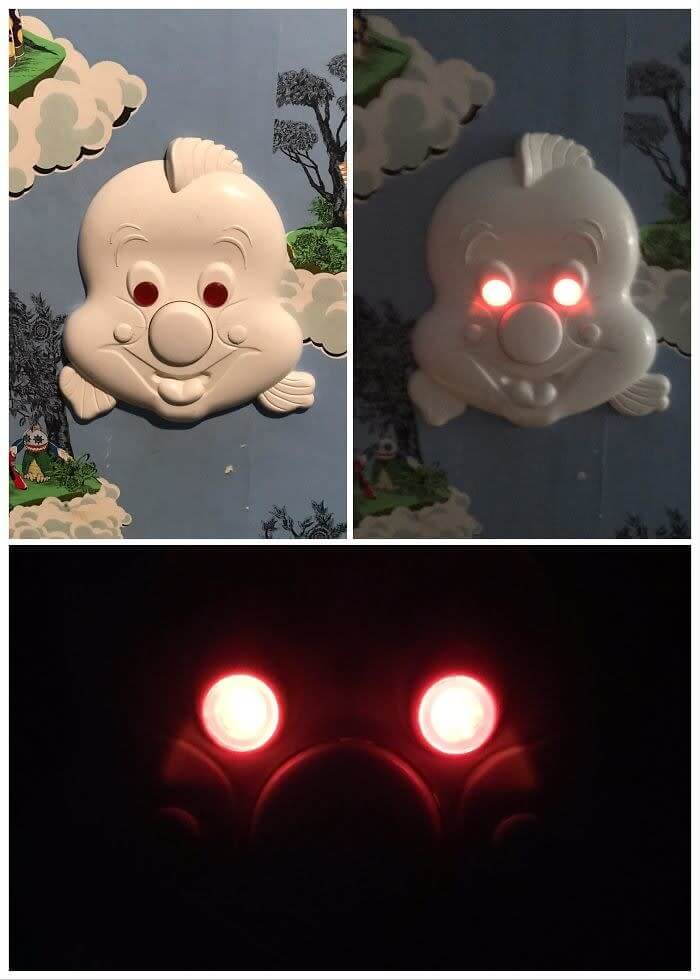 After seeing this every night just before they fall asleep these poor kids will need therapy for the rest of their lives… or maybe even an exorcism!
Must Be A Dentist's Office
Well, we are certain that it is a dentist's office. But the scariest part of this picture is all the clashing colors and misguided pattern combinations.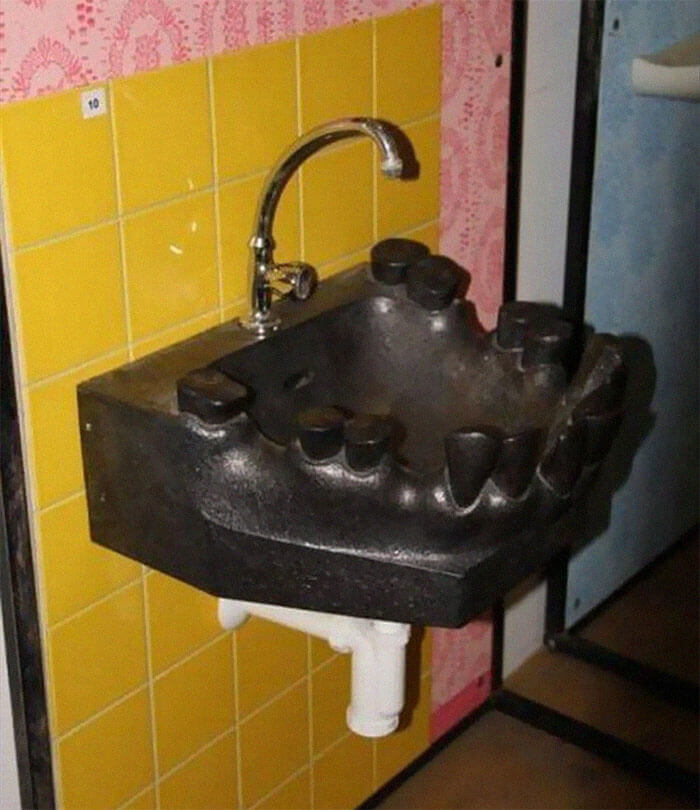 On second thought, it seems like a bathroom of a serial killer. Going into such a creepy bathroom should always be avoided.
A Giant's Shoe
We have an idea for this young man, as a hilarious prank you could lie face down and pretend a giant had mugged you.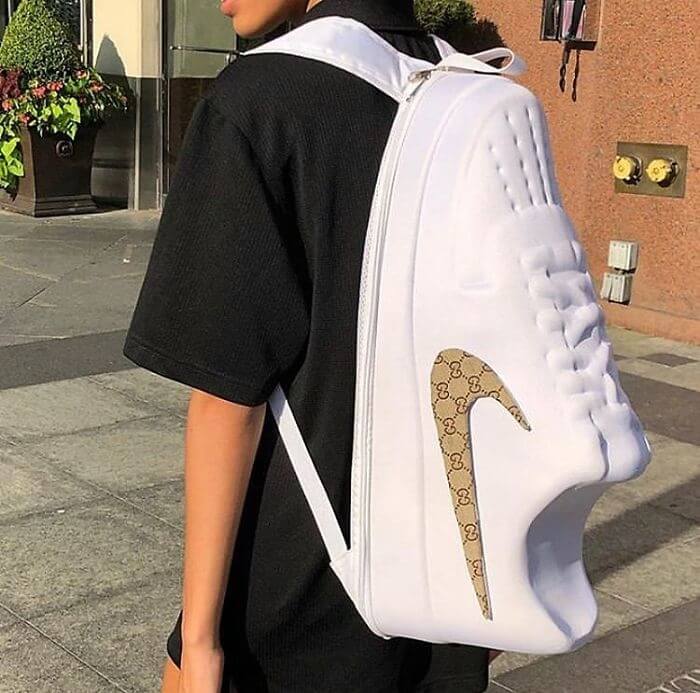 We're wondering if Nike thought this one up. We really wish that we could go to the designer of this bag and tell them "Just Don't Do It."
This Is Why You Gotta Know Your Audience
When someone was given the job to decorate the toilet for disabled people, all they said is "say no more, we got it."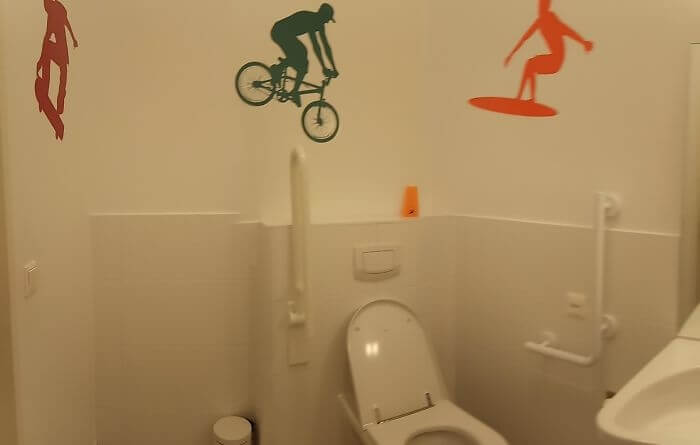 Incidentally, these are the sports likely to get you disabled. So whoever made this should really be a bit more considerate to the people who are going to be using this bathroom.
A Must Have Socks For Quarantine
Hey everyone. Here is our new collection. Check out the latest thing from the How To Embarrass Your Kids line! Although we found it funny and a bit lame, you're welcome to love it as much as you can.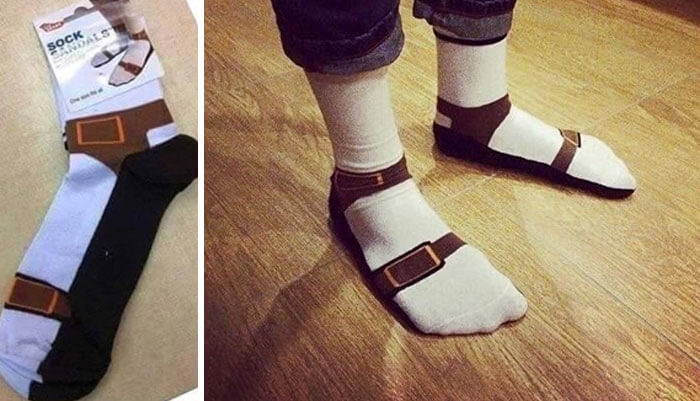 However, we have a feeling that this might trigger those who never understood this whole "no socks in the sandals" thing.
A Die-Hard Fan Of Bernie Sanders
We can't really figure out what's the reason behind this insane outfit. Is he a big fan of Bernie Sanders? Or did he lose a bet and is forced to walk around in this?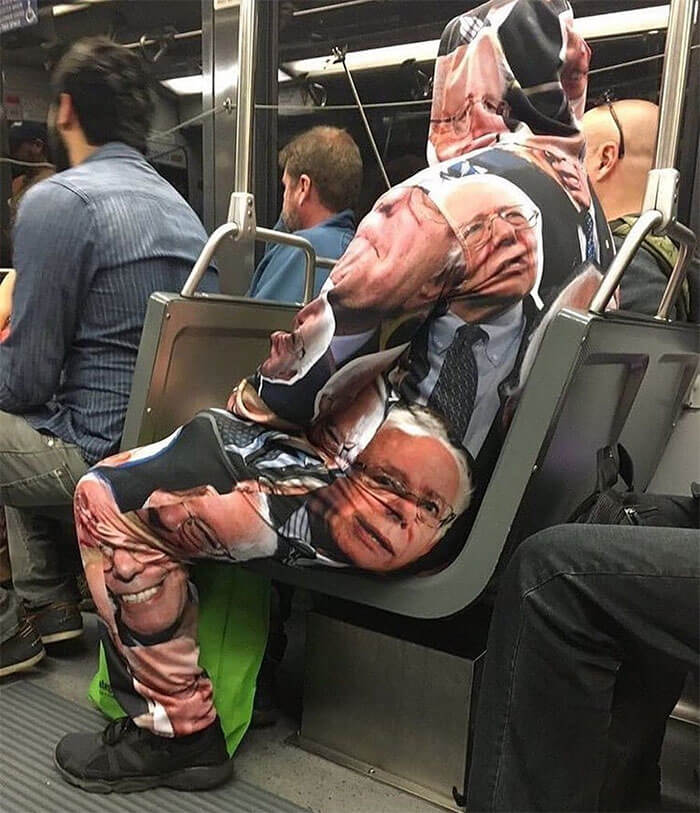 Who knows, maybe he's a fan of Donald Trump and he lost a bet. Whatever the reason is, we know one thing for sure that Mr. Sanders looks happy.
So Much For A Nice Childhood Memory
Kids love to play with toys and teddy bears. So, one parent decided to buy one toy online for their kid as well. This is how the bear came to their house.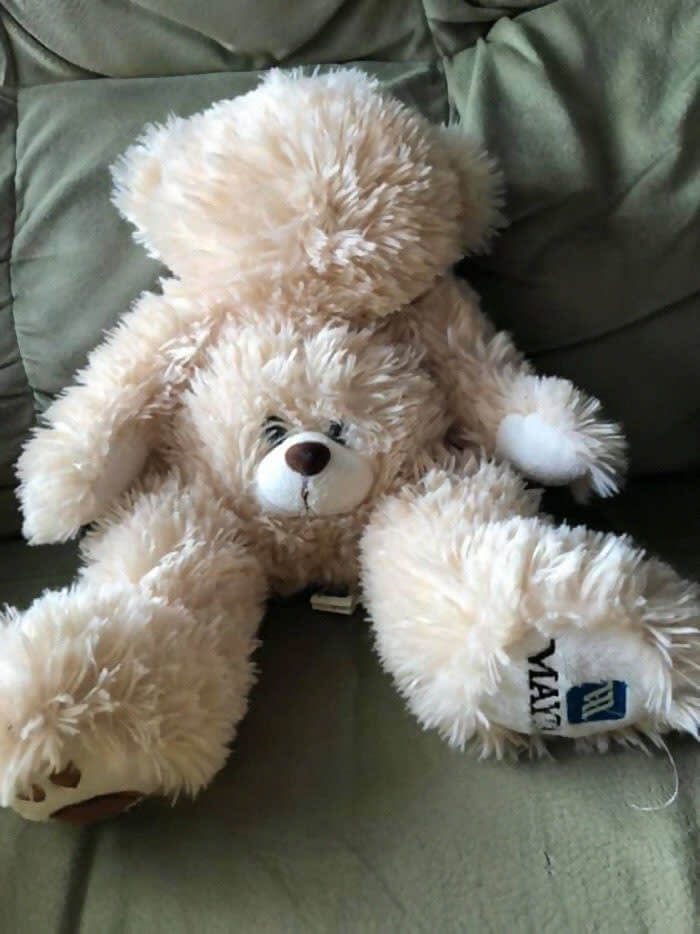 We're pretty sure that it is enough to give nightmares to that unfortunate kid.
Are These Buildings Kissing Each Other?
In these COVID-19 times, one of the most important things to follow is social distancing. While everyone is trying their best to keep at least a six feet distance from others, it seems like these two buildings are madly in love with each other.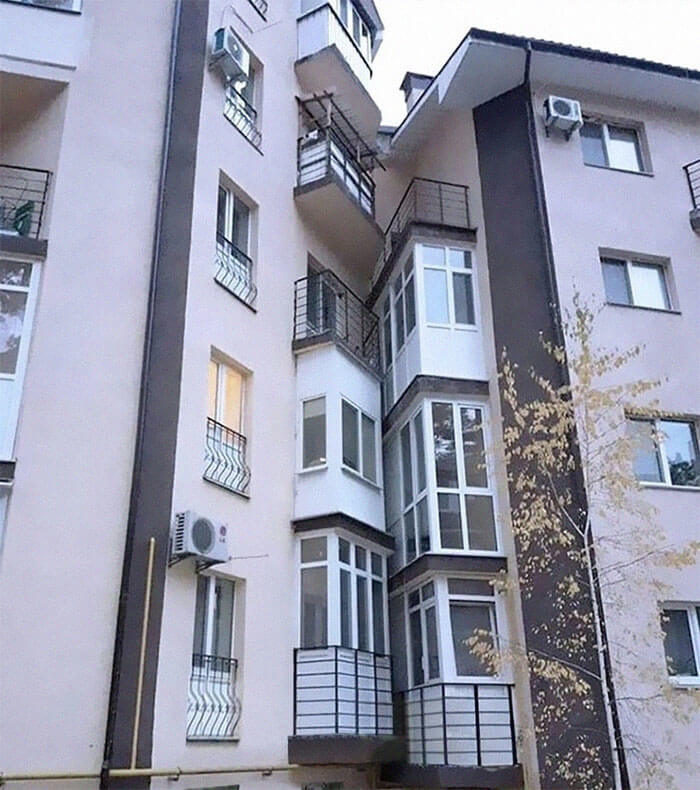 By the way, these buildings get fined every day for not following social distancing rules.
And There Goes The Eyes
Do you hate someone so much that you don't want them to interfere in your life? Here ya go, we are recommending that you serve them coffee or tea in this cup.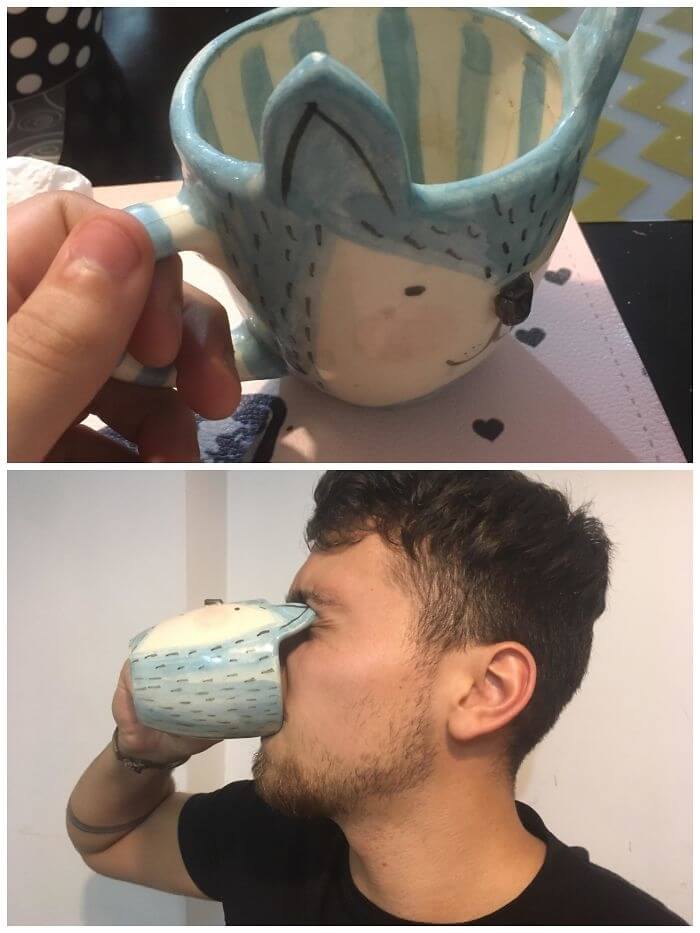 We're joking. We won't recommend this cup to even someone who has been the absolute worst to you. Someone needs to buy all these mugs and then break them.
That's One Way To Lose Weight
If you are finding it difficult to lose weight, consider this idea that will surely help you lose both weight and probably some blood as well.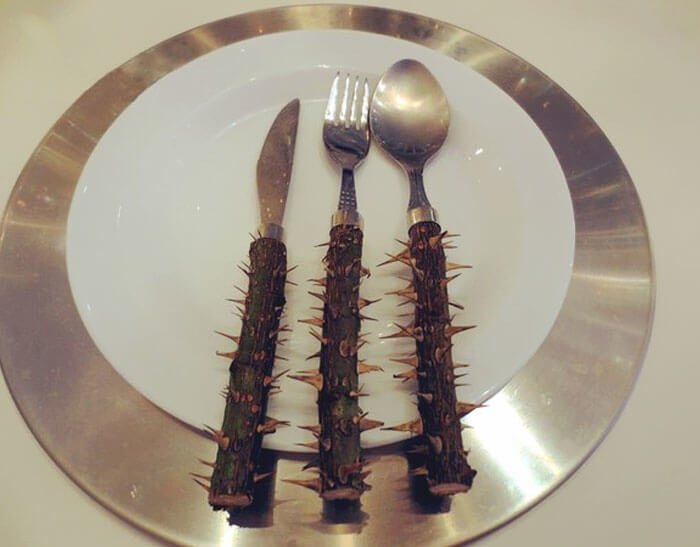 Or you can buy it and serve food to your mother-in-law the next time she comes to your home. You can thank us later
No More Back Pain
We can understand that COVID-19 has forced most people to work from home, but it doesn't mean that they should use awkward chairs for sitting while working. It looks super uncomfortable.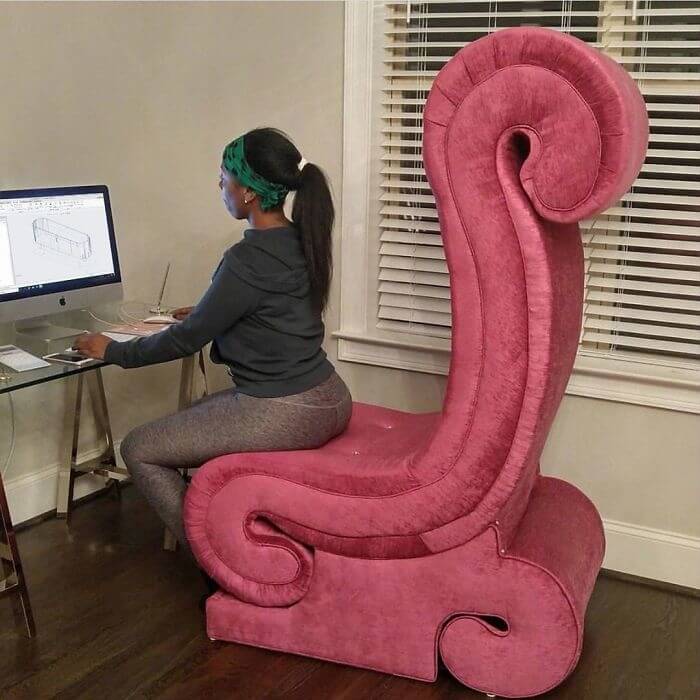 It just feels weird looking at her sitting at the very edge instead of just pulling the chair forward and sitting comfortably.
When You Love Meat Too Much
We have something awesome to tell you, so be ready. This is a "MEATing" place and we love it. Please say that our pun is fun just so that we don't make it more awkward.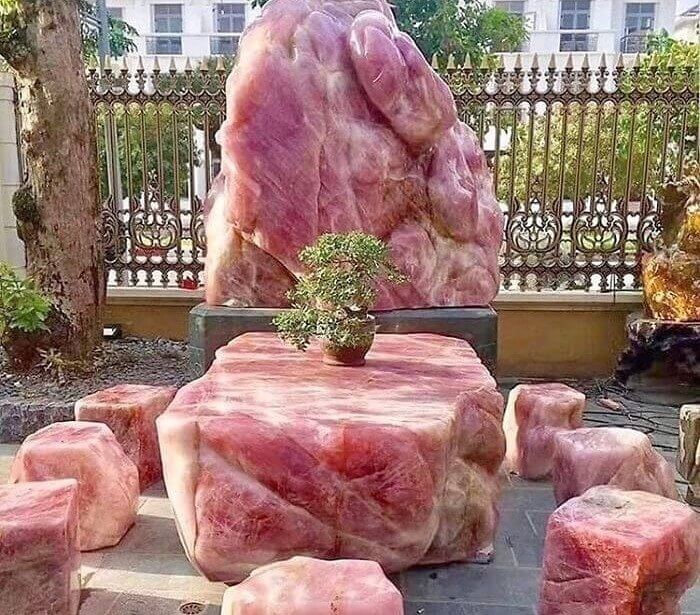 By the way, this is natural quartz and it looks super cool. What do you think about it? Yay or Nay?
Why? Please Tell Us Why?
We all know what was going through the designer's mind when they came up with this one. So, do we really need to say more about it?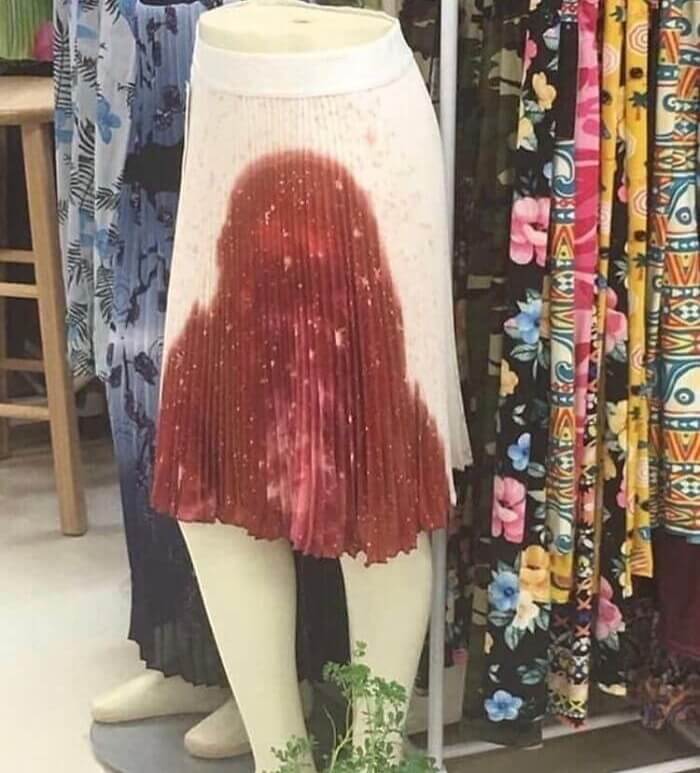 We don't know who will buy it but we have to admit that it can grab anyone's attention that enters the store.
This Is A Toe-Tally Cool Design
We don't know what will come next after this design. And please don't be Toe Toothpaste in Fungus flavor. Eww.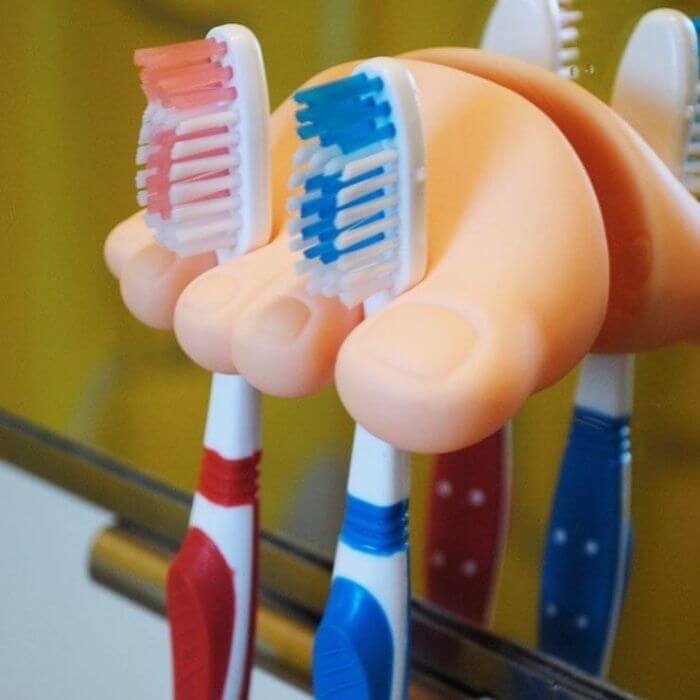 After seeing it, we highly doubt that you'll want this in your home. It is a big nope from us.
This Woman Is "Smoking Hot"
Any smoker out there can tell you that it is super difficult to quit smoking. Although you can quit smoking, you need to have the self-control to be able to do it.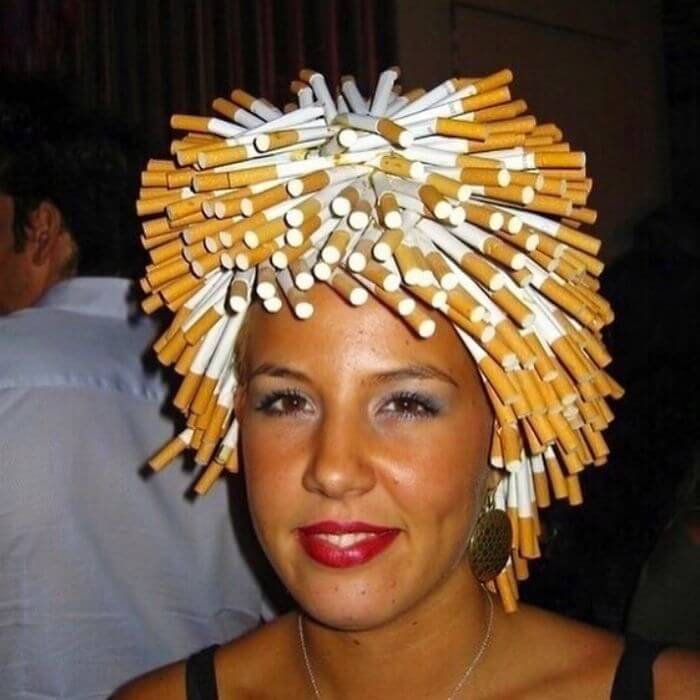 But that self-control remains no more when you haven't smoked for a couple of days and you see a lady with some sort of a hat that has cigarettes on it. You can say goodbye to the idea of quitting after that.
Wow, That Serves The Purpose
A touch-less automatic faucet is an excellent addition to any bathroom, but only when it is working, right? Well, not in this case.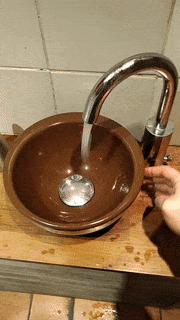 Here, the automatic faucet is working to some extent, but the problem is that it doesn't work when someone places their hand under it.
Another Cigarette Lover?
We don't think that the person who designed these curtains intended them to look like big cigarettes. We just feel that it's an innocent color combo that causes our minds to make associations where there are none intended.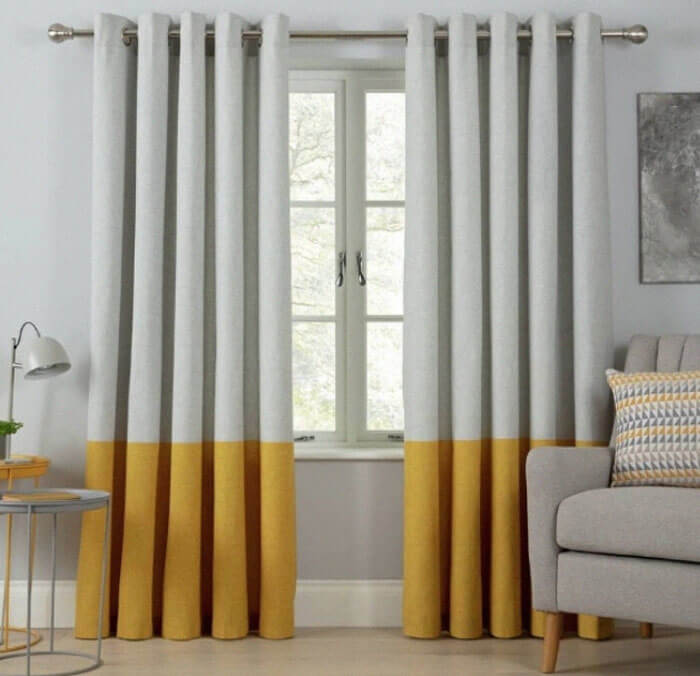 Even if the intention was to make us think of cigarettes, we feel that the curtains don't really light up the place.
When You Miss Your Friends
One of the ways COVID-19 has affected us is that we can no longer hang out with our buddies. Although you can play online games with them, it is not as fun as going to a bar or restaurant and having a great time hanging out.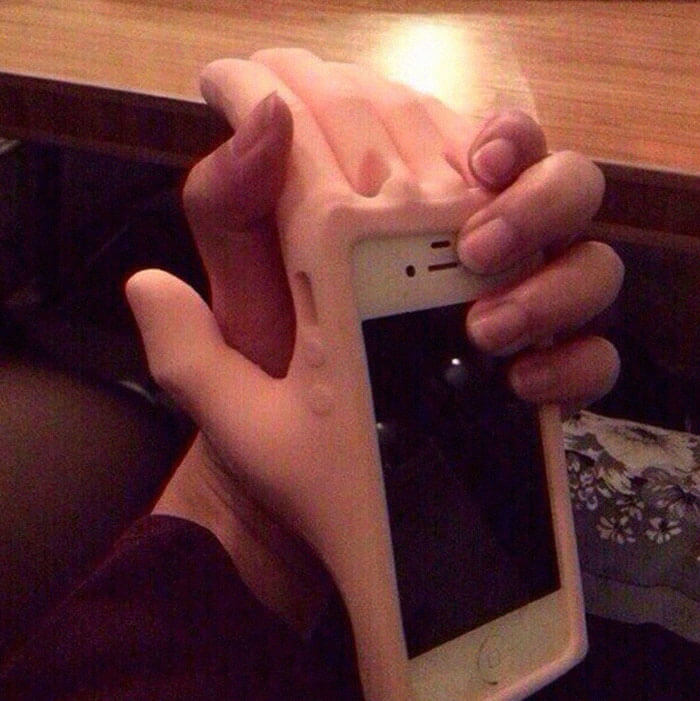 This person seems to miss their friend and, for now at least, they have no other option than this one. No matter how much they try to make it look cute, deep down we know that it is creepy.
Thanos Is That You?
It seems like Thanos snapped so hard that three of his fingers broke and fell off.
We can't say that we hate it because this is clearly a homemade project and honestly, they did a pretty good job. What do you think about it?
How To Get Killed By Police 101
No matter what you feel about police, there's no doubt that cops are going to get nervous when they see someone walking around with what looks like a pistol in their pocket.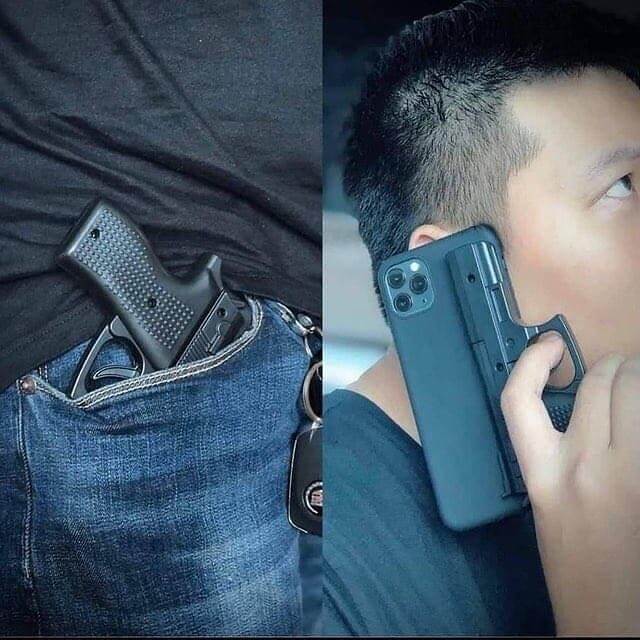 We just hope that he used that awful phone case one time and then tossed it before something horrible happens.
The Collector
We don't know what to say about this. At first, we thought she's the wife of the Green Lantern (yeah that Ryan Reynolds' film that failed miserably at the box office).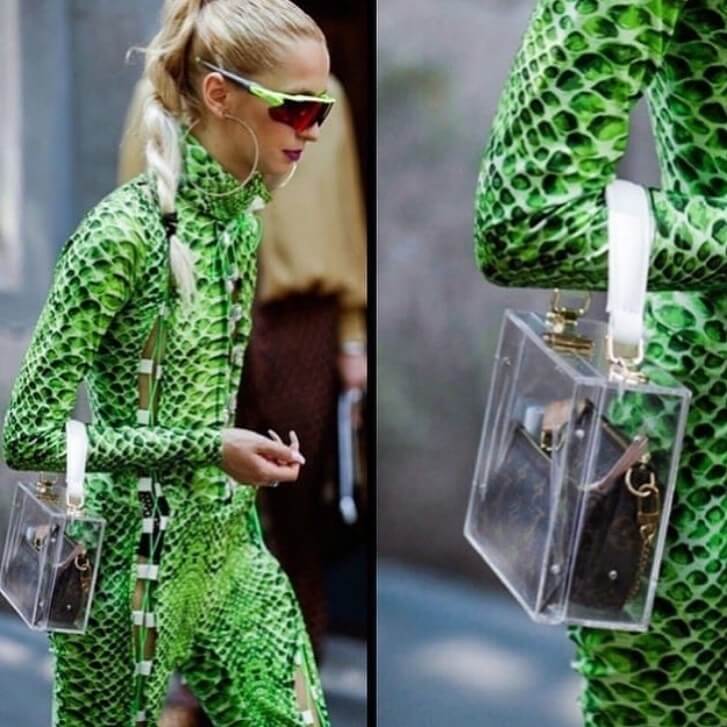 One wonders how many times she has to open the box which is carrying her handbag. There's no doubt that it's frustrating for everyone when they're waiting behind her in line and she opens the box to take money out of her bag.
That's A Big Nope
How can someone come up with such a scary shoe design and then wear it for others to see? It seems like this person is a big fan of a domestic dog breed the Rottweiler.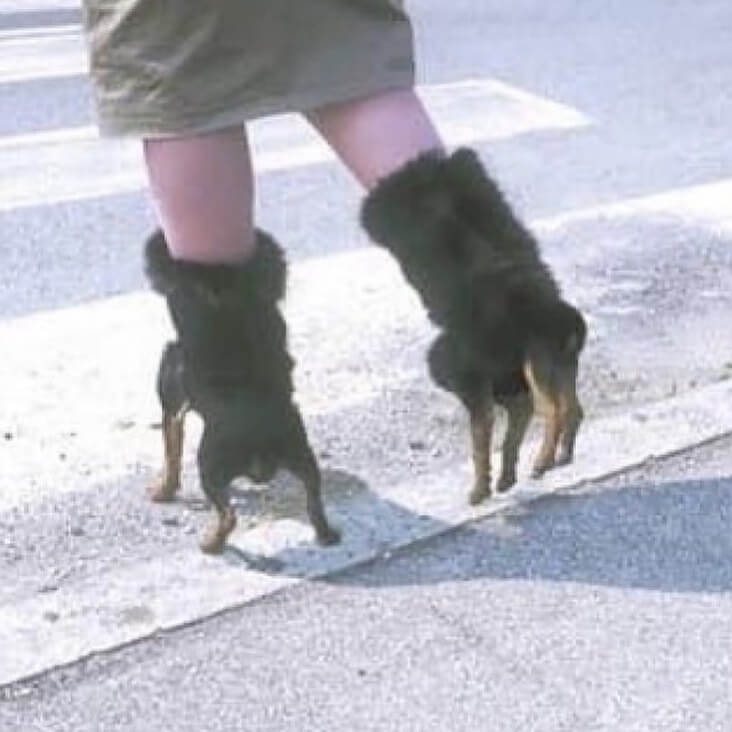 Moreover, the shoes look uncomfortable as well. We can only hope that this person's decision to wear these shoes doesn't come back to bite them in the….you know what we mean.
When You Can't Go To A Barber
Due to COVID-19, most of us are stuck at home, and even going to a barber seems risky. So, people are having haircuts and beard trimmings at home.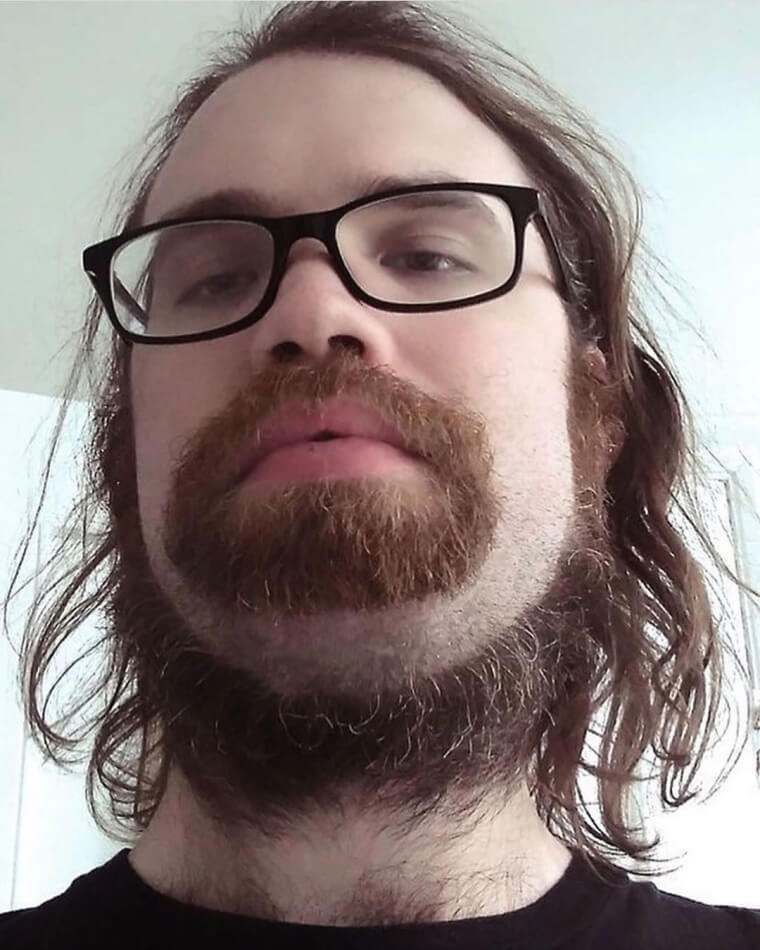 This person wanted to come up with a new style and we have to admit that he achieved it. We won't say anything mean but you are more than welcome to say anything that comes to your mind.
A Little Too Red?
Would you want this in your home? We can only imagine that someone wanted it specifically for Halloween or something.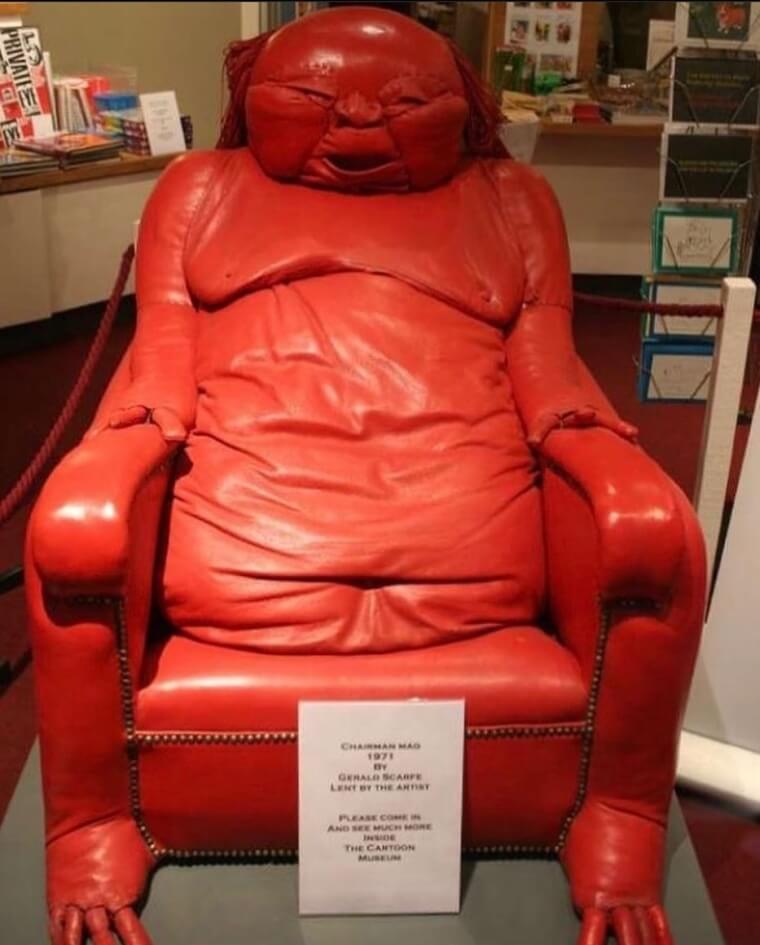 Given that it reminds us of horror movies, we would never want it in our homes no matter what.
Woman Hilariously Recreates Celebrity Instagram Photos And The Results Are Too Good
Ashley Lez
This article was originally published on TheFunPost
When you scroll through Instagram, it is hard not to roll your eyes at some of these celebrity photos. When you really look at what they are posting, it seems ridiculous because real people don't look like them or post pictures like them. But they are famous, so they get a free pass. However, Australian comedian Celeste Barber is back at it with a new collection of celebrity Instagram recreations to show everyone what ordinary people would look like if they took the same pictures. Remember, what you see online is not always the truth, and Barber's hysterical photos are the perfect reminder of that. See who she teases next with this new batch of hilarious pics.
"The Flash…It's Blinding!"
According to science, Bella Hadid is the most beautiful girl worldwide, and while we're still debating that, many people agree. However, looks aside, she does post some truly bizarre photos like this one. What was she going for with this shot? "Oops, forgot to turn the flash off."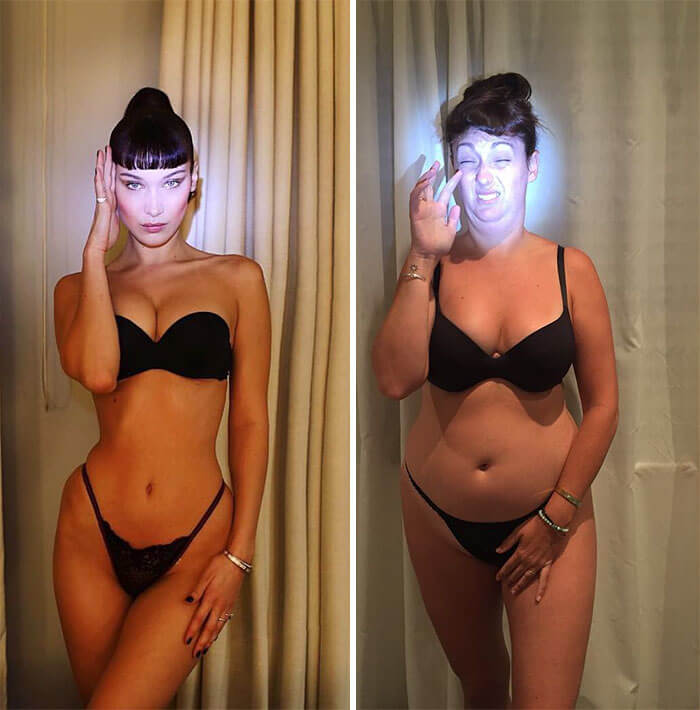 Celeste is all of us when someone takes a picture and they use flash. For the next few minutes, you just see spots and wonder if you are actually losing your vision permanently. How does Bella keep her eyes open like it is nothing? Is she even human?
"Tripped Over The Stool, Pants Fell Down, But I Must Save The Chips"
We don't know what is going on in either photo, but both of them look extremely uncomfortable. We can't imagine why the original model was asked to pose like this, and it makes no sense, but that's fashion, right? At least Celeste is reaching for something.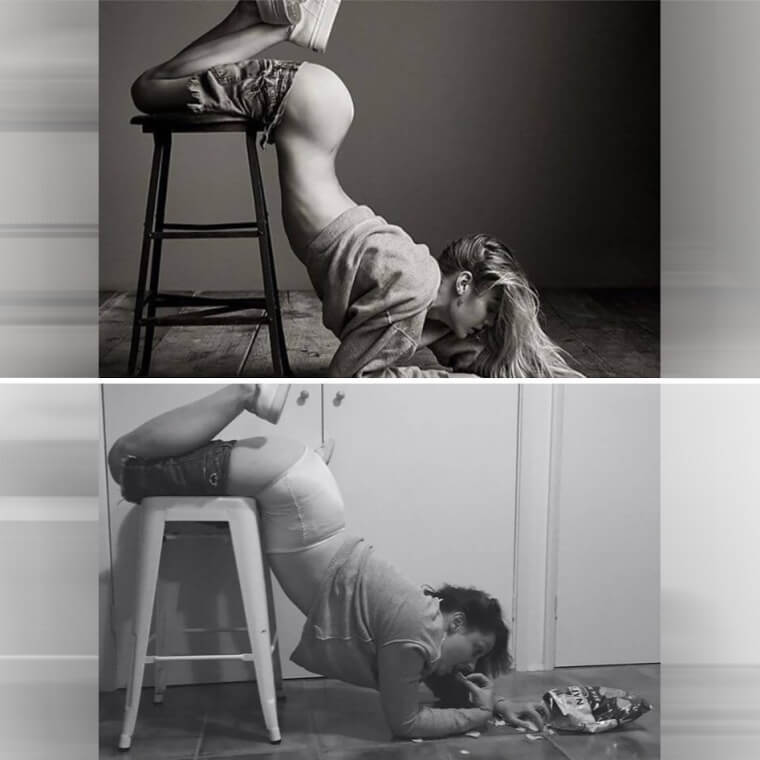 The bottom photo tells the story of a woman who dropped her chips and didn't want to get off the chair, so she reached as far as possible to grab them while keeping her legs on the stool. The only part we can't figure out is why her pants are falling off.
"All I Want For Christmas Is Realistic Tree Standards"
'Tis the season to be merry, go outside, kill a tree, bring it inside, then let it die and put it outside again. While we are all for Christmas trees because they are festive, we have to question why celebrities need one for every room? They also pick trees that are the size of a normal house.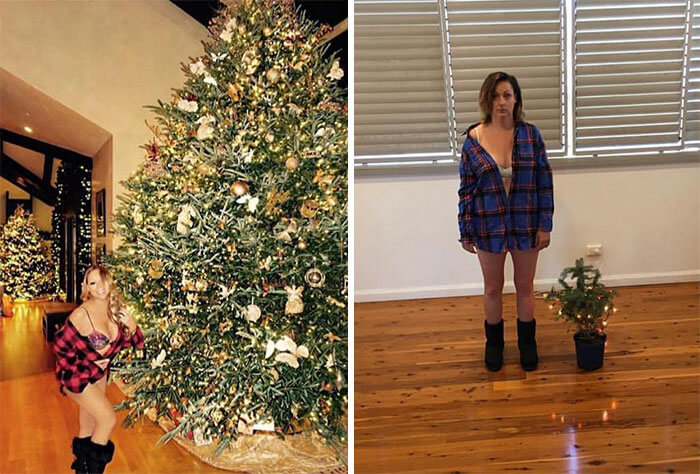 Most people don't have 12-foot pine trees in every room, and they look puny in comparison. Celeste was clearly going for the opposite feel with her Charlie Brown Christmas inspired tree. She can call it minimalism, and it will be trendy and eco-friendly.
KoKo And Kylie 2.0
Do you ever just hug your sister and rub your hands on her chin? We are going to guess that you don't, and although it was for a makeup advertisement, it still looks silly next to the bottom picture. Kylie and Khloe were showing off their makeup collaboration while Celeste is showing off her friend's dental work.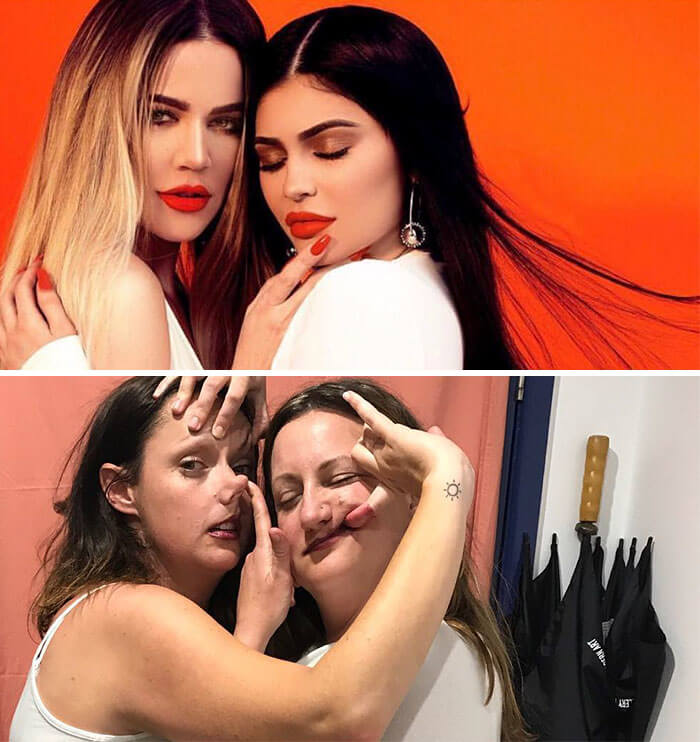 It's like we can barely tell the two photos apart. Celeste and her friend are a little more hands-on than Kylie and Khloe, but who isn't like that with their friends or siblings? We wouldn't let friends pick our noses but to each their own.
"Jingle, Jingle", Is That The Bank Calling?
When you have so much money that you start to think all those presidents are talking to you. Have you ever noticed that some celebrities feel the need to flaunt their wealth by posing with stacks of money? We know you are rich; there is no need to rub it in our faces.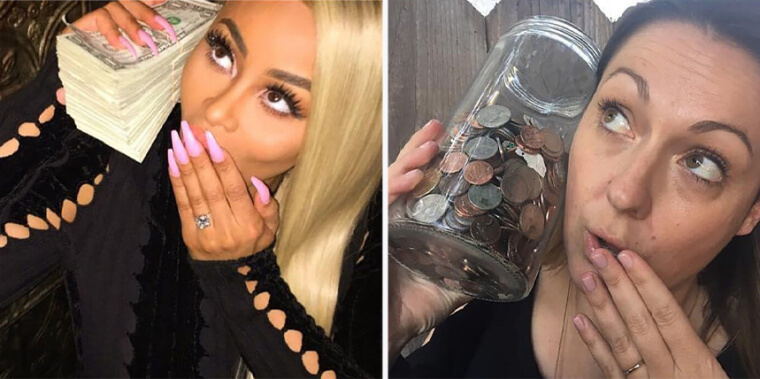 On the other hand, does anyone else keep a jar of change that they don't know what to do with? Like Celeste, the jar of coins is more realistic than stacks of $100. Over time it continues to accumulate until you can get to a Coin Star and find out it wasn't that much money.
"I Dream Of Eating"
While Bella Hadid is dreaming, the rest of the world is eating or dreaming about eating. They used to say that nothing tastes as good as skinny feels, but most people would rather eat a cheeseburger than starve themselves to lose a few pounds because everybody is beautiful.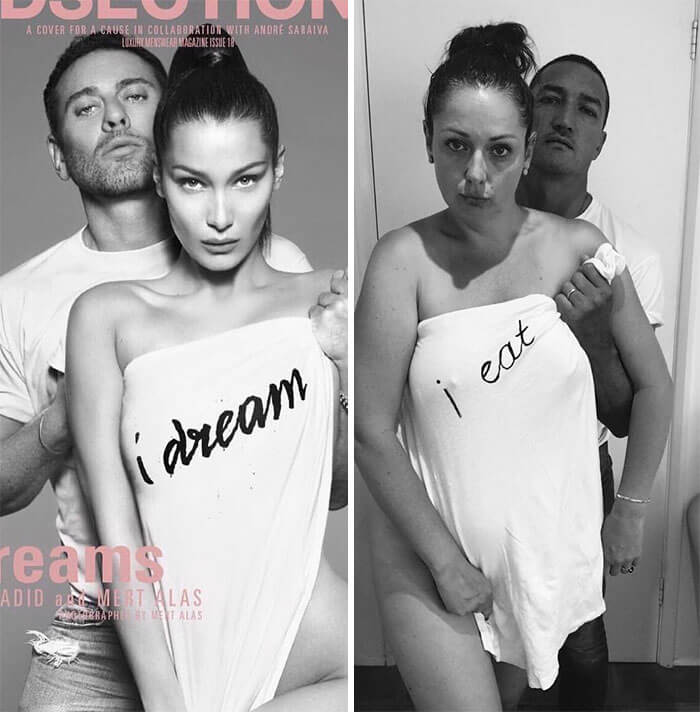 Besides the message, we just don't understand the concept behind this photoshoot. Did she lose her clothes and the only thing around to use as a cover-up was a piece of fabric with the words, "I dream" on it? When she found this piece of cloth, why did the guy have to hold it up for her? Someone explain!
"Fell Face First Into The Wall, No Big Deal"
This is how it looks when you drink too much at the pre-game and try to drag yourself out of the house physically, but you find a place to rest your head instead. The next thing you know, it's Monday morning, and you skipped an entire day because you got too drunk.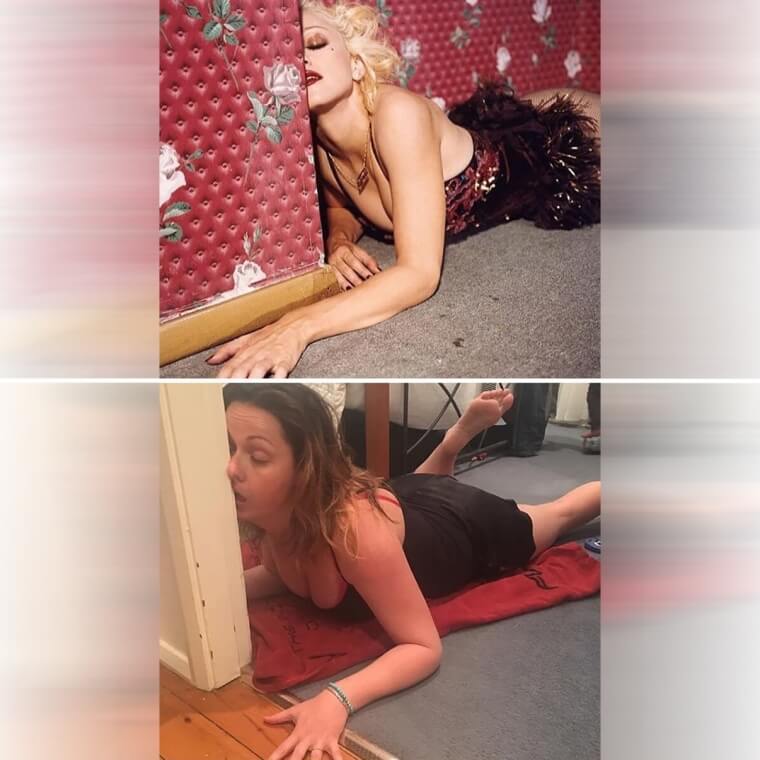 With or without alcohol, this is how we feel every morning trying to drag ourselves out of bed to get ready for work. Luckily most people are working from home these days, so you can just roll over and log on for the day without leaving the warmth of your bed.
He Is Going To Feel This Tomorrow
His back will be sore for the next few days after falling onto the water like that. When you kiss your significant other by the pool, don't you fall passionately yet gracefully into the water? Celeste showed that it's not as easy as they make it seem, and their photo looks painful.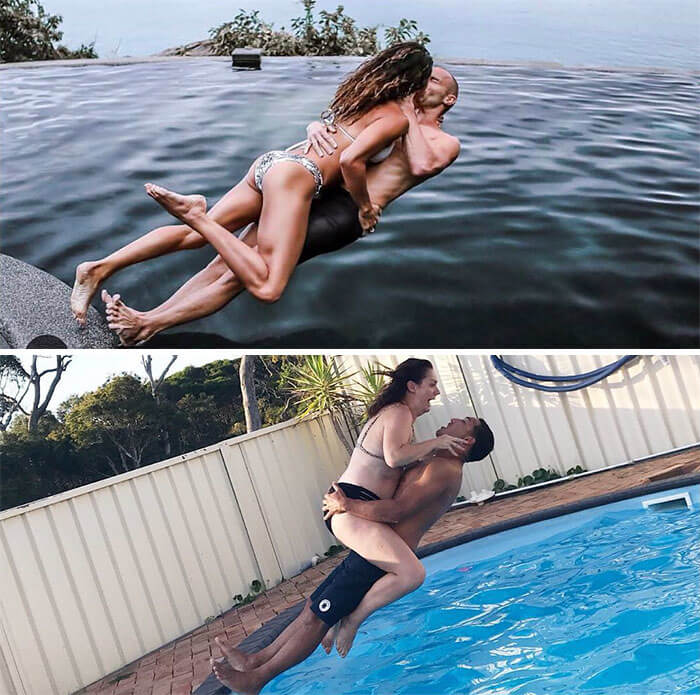 We understand that it's more about the art of the photo, but how do they look natural as they are falling? The two models should give everyone, including Celeste, falling lessons. At least her husband got his pose down, but we can only imagine his face as they hit the water.
Getting Out Of The Pool Gracefully Is Impossible
If you have ever gotten out of the pool gracefully, we commend you because it seems like an impossible task. It's easy to lift yourself out of the water, but no one looks good swinging their legs over the edge of the pool. No matter what we imagine, we always look like a gremlin crawling out of the depths.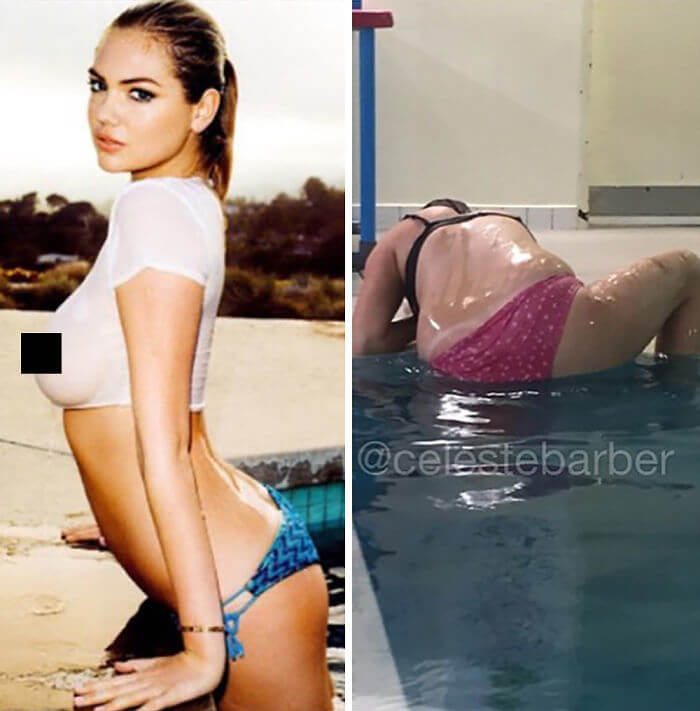 We would love to see this model try to get her legs out of the water. She looks good now, but wait until she starts swinging her legs over the edge, then she will be back on our level. Next time you go swimming, try to get out as gracefully as possible and see that it is nearly impossible.
Someone Needs A Weed Whacker
If this isn't attractive, we don't know what is. All jokes aside, why is something called the lady garden? Who would want to associate their perfume with their downstairs area? It just seems like the name is trying too hard.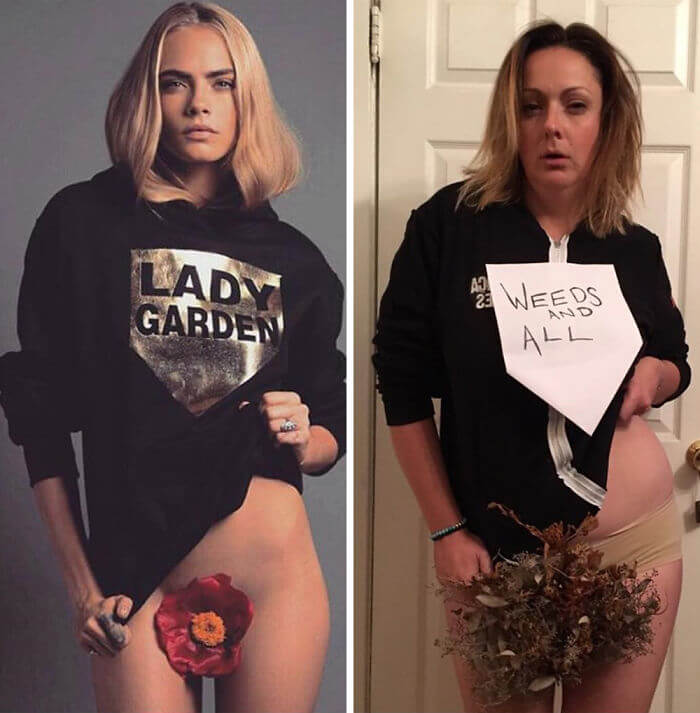 Plus, you can't have a lady garden without all the weeds and shrubs. No garden is perfect because they all need to be maintained through a series of painful tasks. Weed whacking isn't so bad; it's the weed pulling that makes people's eyes water.
Just A Light Poolside Workout
When you are chilling at the pool or beach, do you not randomly find the nearest wall to hang onto? Just for a light wall workout, you know, to make your muscles show for all the cute pictures you are about to take. If you don't do this, it is perfectly normal.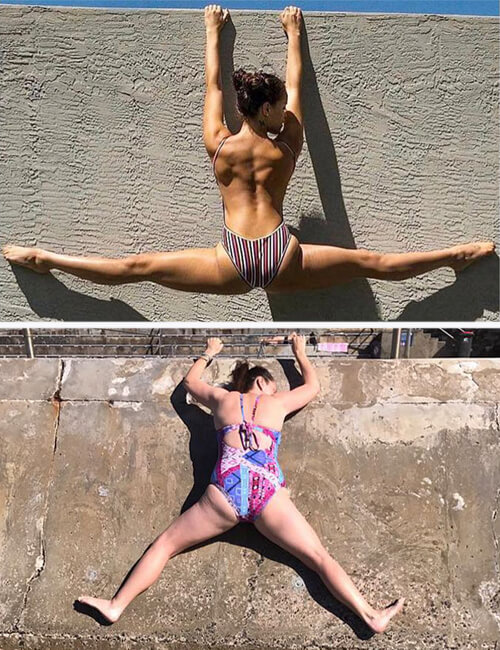 It's like when you are hanging out with your friends, and someone says your crush is coming so you "act natural," but end up looking forced. The top picture is what people think they look like, while the bottom photo is how they actually look.
"Oh, Were You Trying To Move This Couch?"
When movers come to take away your furniture, the natural thing to do is let them move it without any problems. However, celebrities are a bit different. They think their movers will also carry them on the furniture so they can feel like royalty.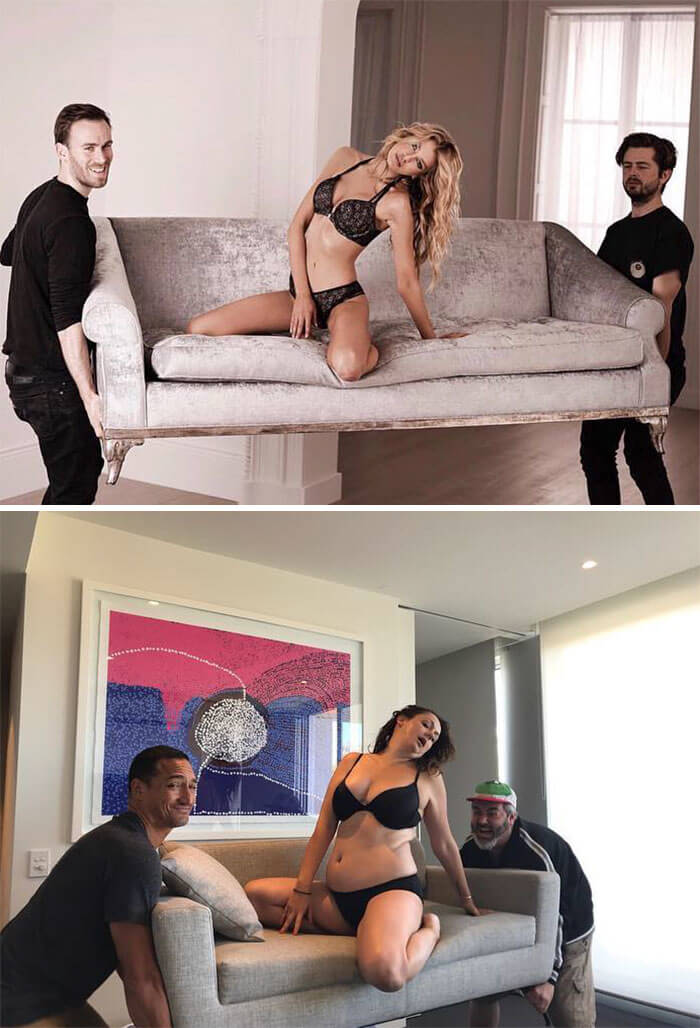 The men's faces in Celeste's photo are a much more realistic depiction of how people would feel if someone tried to sit on the furniture they were moving. Even the men in the top photo look awkward and uncomfortable. It is bizarre on so many levels.
"What Is Wrong With My Wife?"
"Hey babe, I'm ready for the photo shoot." "Where are your clothes?" "What do you mean?" "I thought we were doing family photos for our parents. Isn't it inappropriate that you are naked?" "It's not inappropriate; it's inspiring cause I just had a baby."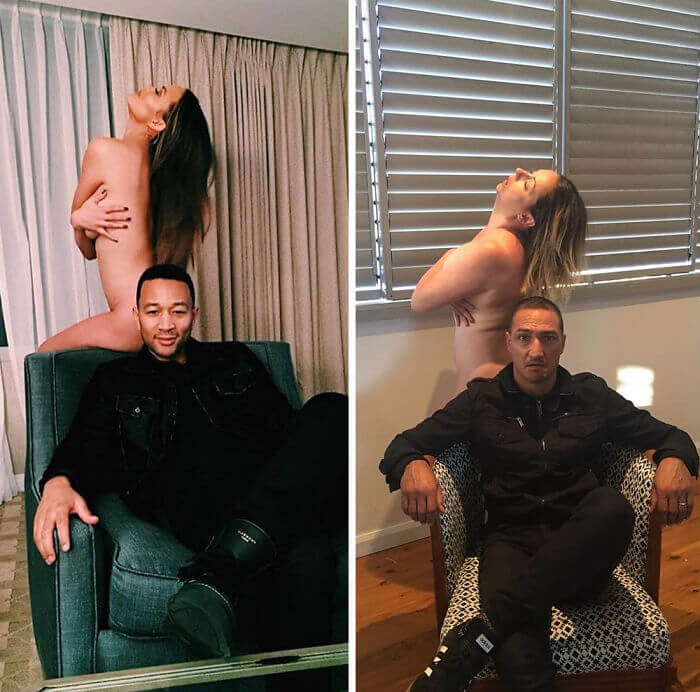 While her husband might not understand the no clothes aspect, she doesn't care because she gives the fans what they want… or even what they don't want. John might be happy, but Celeste's husband is thinking about what his parents will think when they get this as a Christmas card.
Wind In My Hair And Not A Care In The World
When you are in the club and you find a fan to help you cool off. Some people would look glam like Miley Cyrus, and the rest of us would look like we got stuck in a wind tunnel, like Celeste. Maybe a leaf blower wouldn't be the best option because of how much wind power it has.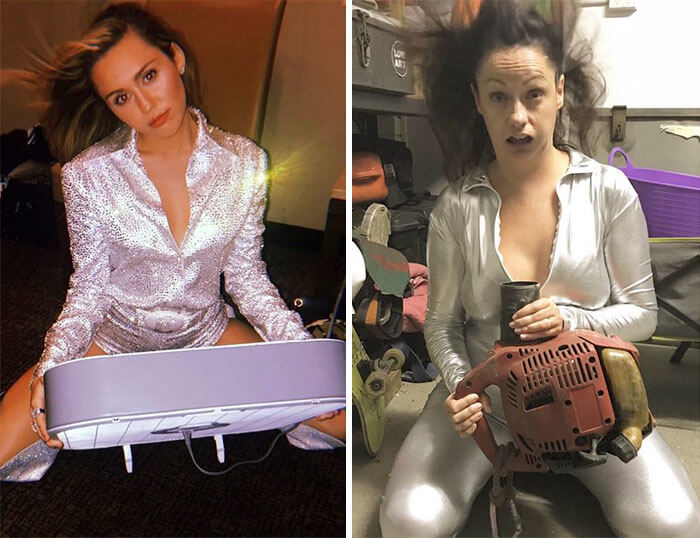 People can't be glamourous all the time, but we can do our best not to get overheated. A girl's got to do what a girl's got to do, especially when she is wearing a full-on spandex catsuit that traps heat and makes you sweat ten times more.
Doesn't Everybody Play The Piano Naked?
When you are trying to show off for your husband's friends, and then you remember you are nude, you don't know how to play the piano, and this is a horrible nightmare. Who goes nude except for a pair of Adidas sneakers to play the piano?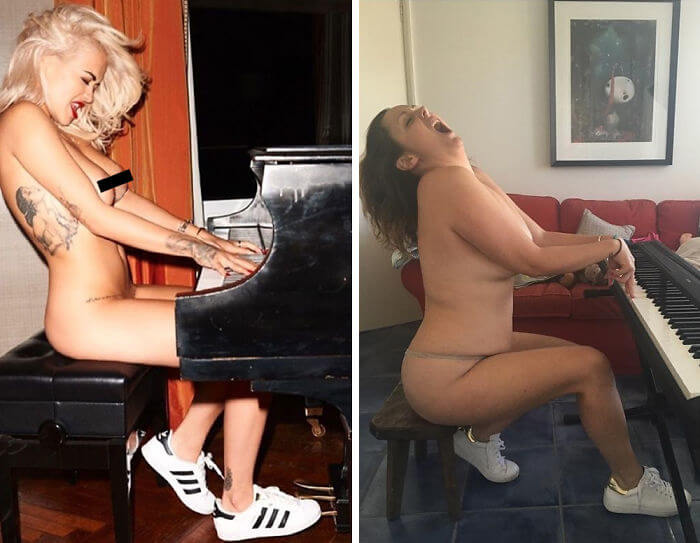 Just imagine how uncomfortable it would be to peel you bare behind off of a leather piano seat. Just thinking about it makes us uncomfortable. This must be the best way to absorb the music; if you are nude, it seeps right into your skin.
"New Tattoos, What Do You Think?"
When we look on Instagram, our feeds are filled with models who have unattainable bodies most of the time. When your main job is to keep yourself in shape, it is much easier to look perfect. However, the average person doesn't have time to work out for four hours a day.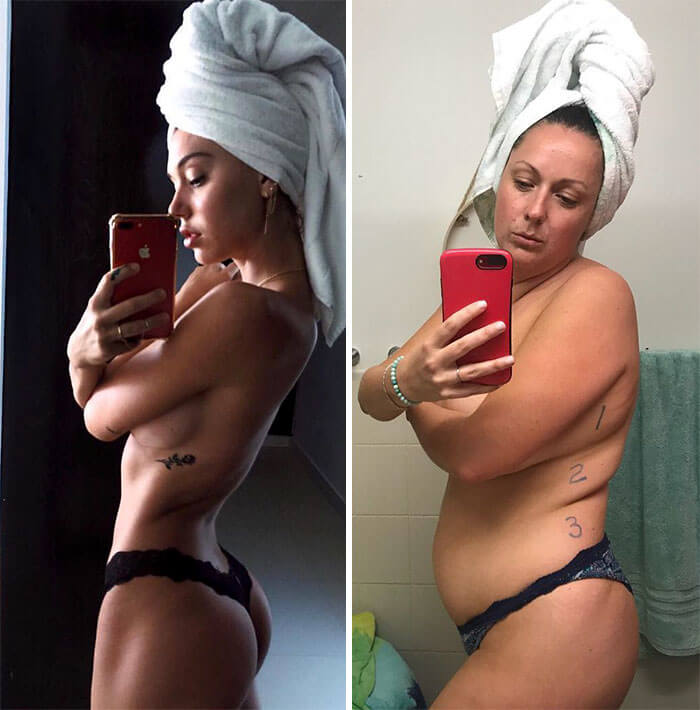 While this model may have an almost non-existent waist, most of us look like Celeste. It's ok to have curves and bumps because everyone is built differently, so you should love the body you have and everything it does. Comparing ourselves to models is a waste of time.
What Sisters Really Do At Meals
When you go out for a family brunch, and you and your sister start fooling around even though you are both adults. Your parents are embarrassed, but you are your sibling could care less because you're drunk off the mimosas and can't stop laughing.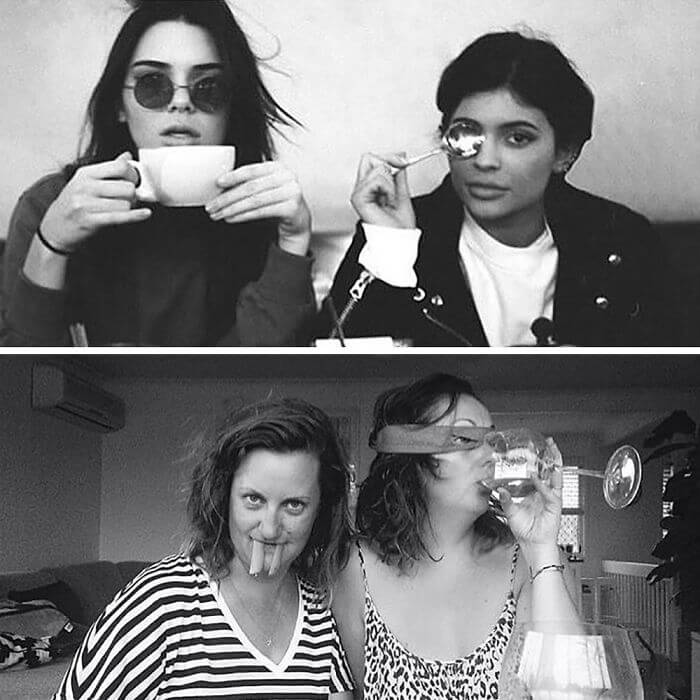 We can't all be as cool as Kendall and Kylie, but we can all be as silly as Celeste and her sister. There is nothing wrong with a little immaturity here and there to make life more exciting. Sometimes you have to pretend your fries are walrus teeth.
Casually Hanging In The Backyard With The Kids Toys
Have you ever stripped down to your undergarments and walked outside to play with a tractor? No, just these two? Out of all the strange photoshoots Kim Kardashian has done, this has to be the weirdest. She walked around a construction site in her underwear, and we don't know why.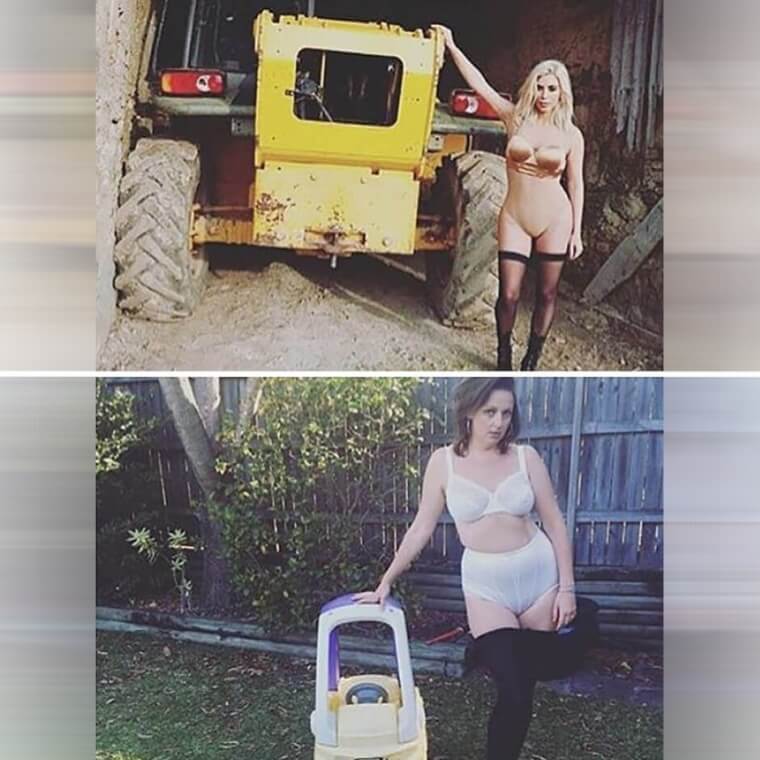 If anyone can explain that photoshoot, that would be great because we still think about it to this day. At least Celeste is in the comfort of her gated backyard, so people can't see what she is doing and wonder what is wrong with her.
After A Long Night Of Drinking Expectation Vs. Reality
When you get home from a long night of clubbing, and you hope that you can fall asleep with a sliver of dignity, even if it's by the front door. However, when you wake up, you look like a hot mess because you passed out the second you got in the door.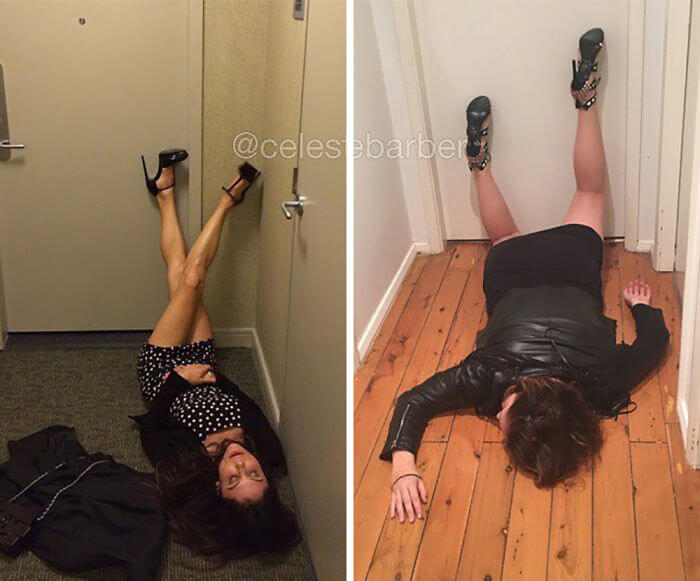 While we all aim to make it to the couch or the bed, sometimes that just doesn't happen, and we end up on the floor. Although it isn't the best option, at least we made it home that night. That's something to be grateful for.
If Gwyneth Rolls In The Mud, Everyone Should
When you go on vacation with nannies versus holidaying with your children. When people have five nannies to take care of one child, they can enjoy spa treatments and purposely put mud on their bodies. However, when you have to watch three children on the beach, you will probably get covered in mud involuntarily.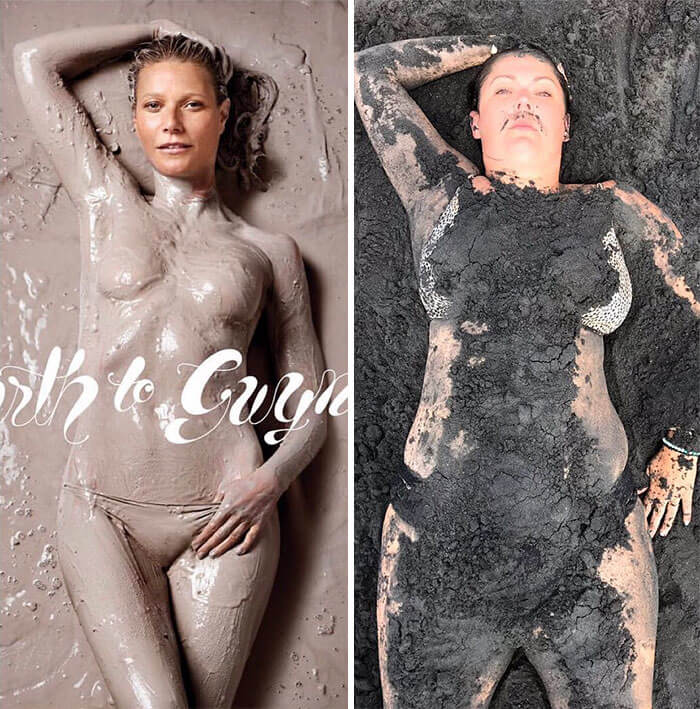 If Gwyneth Paltrow is rolling around in the mud, we should all be doing that because she never ages, so that must be her secret. Maybe she uses a particular type of mud, but we don't think Celeste's mud is very good for her skin. It looks closer to asphalt than mud.
The Glass Says Everything You Need To Know
If there is one thing to know about Celeste, her wine is ten times more important than coffee, so if you touch it, prepare for a throat punch. Rosie Huntington-Whiteley can drink all the coffee she wants; that just means there is more wine for Celeste.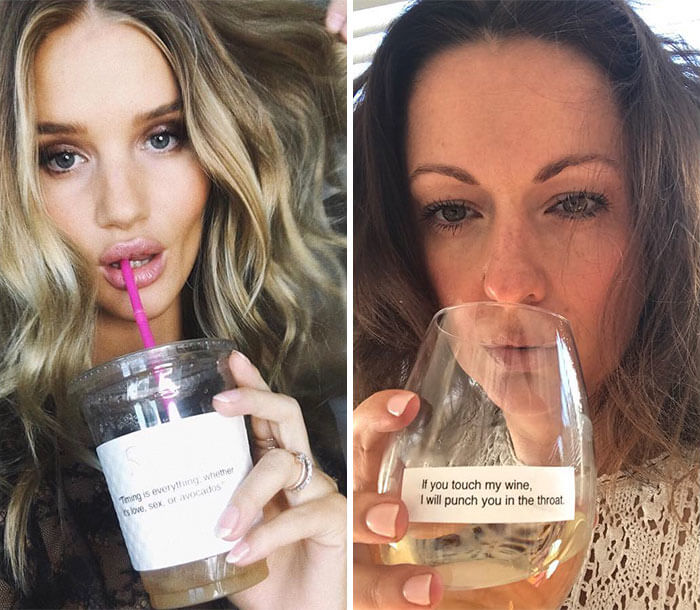 There must be something you love so much that you are willing to fight someone over it. Celeste's message is much more relevant, especially since all we have, during these troubling times, is our wine and a sliver of sanity to hold onto.
When Someone Says, "Act Natural"
When you are Beyonce, no one is paying attention to anyone else in the picture, but Celeste wanted to make sure her husband didn't steal the spotlight. Celeste said, "You know your place, babe. Stay in the background." When you wear a silver lamé catsuit, no one can steal your thunder.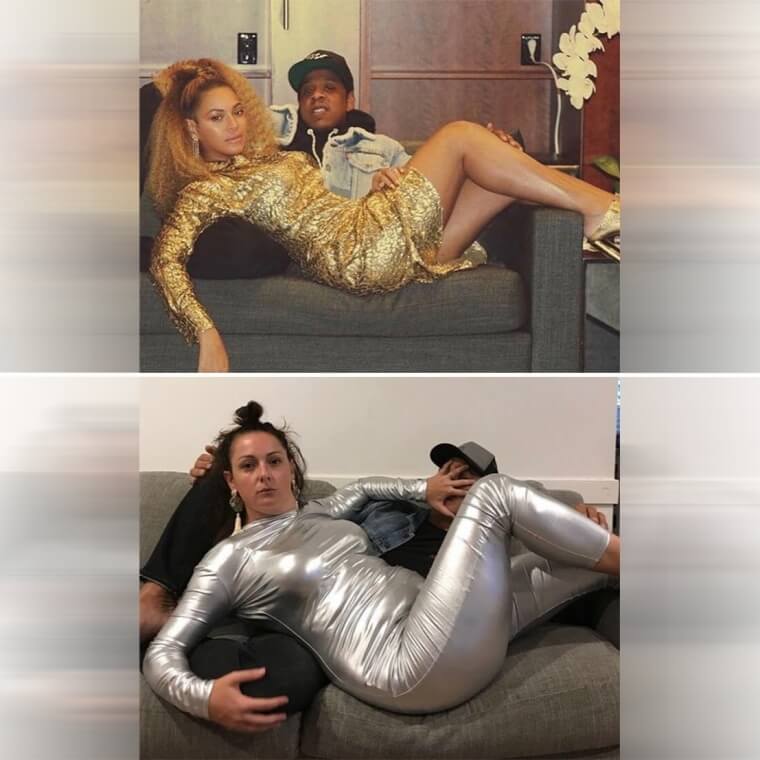 If you really want to stand out in a photo, just cover other people's faces so that you are the only one in focus. Beyonce would probably cover up Jay-Z's face if she could, but her fans would think he cheated again. However, that would mean a new album is coming, so it's really a win-win.
BBQ Is Way Better Than GQ
GQ might be all about looking sharp and living smart, but we don't know if sitting naked on a chair in an empty room is the smartest way to live. On the other hand, BBQ monthly has been changing your perception of women since its creation, and that is a message we can stand behind.
We love how she shamelessly shows everyone how ridiculous these celebrity photos are. If anyone else posted a picture like Bella Thorne, people would question their sanity, but she gets away with it because she is famous and fit.
When You Haven't Tried On Jeans In Months…
After spending months of doing nothing but taking trips to and from the refrigerator because that was the furthest we could all travel, some of us are having trouble buttoning our jeans. Sweatpants are great, but eventually, we have to pull on a pair of real pants and face the music.
Some of us might have an easier time buttoning those pants, while a few of us will have to do some jumps, squats, and wiggles to get the pants on. Lying down always helps when putting on a fresh pair of jeans, you just might not be able to stand up after.
Climbing A Tree Naked…Why Not?
When there isn't a star emoji big enough to cover you up, you have to improvise. Kim Kardashian must have wanted to connect with nature, so she took off her clothes and climbed up a tree. At least Celeste kept her underwear on because that is not a place you would want to feel tree bark.
Who doesn't spend their afternoons spying on neighbors from the tree while they only wear boots and star pasties? Is that not normal? Kim is probably spying on Kanye to make sure he doesn't try to run for president again.
Mind The Gap, Stay Behind The Yellow Line
We would advise against using the side of a subway car to prop your foot up because it could start moving, but that is just our opinion. If you try this, you might get some strange looks like Celeste, but ignore the haters because they know nothing about fashion photography.
While she might be getting a good stretch in her legs, it doesn't seem like a good idea to ignore the safety warnings. Those "mind the gap" signs are there for a reason, so people don't die. We aren't experts, but there are better ways to stretch and show off your legs.
If J.Lo Can Do It, So Can You
As much as we love J.Lo and A.Rod, we don't know many people who realistically wear diamond-encrusted underwear. That does not look comfortable, and we can't imagine the level of chafing someone would get from those undies. Celeste's granny knickers look much more comfortable.
When you are that established in your career and have a consistent fan-base, why is it still necessary to show off her butt? Everyone knows she is gorgeous, but this feels a little forced. The goofy version is so much better and more realistic.
When It's Monday Morning And You Don't Want To Get Out Of Bed
When you drag yourself out of bed for work on Monday morning, the thought of walking down the stairs before a cup of coffee is too much, so you crawl down face-first instead. Some people can't function until that first bit of caffeine kicks in, and we are like them.
We don't know who the original photo is trying to target, but it is hard to understand who their market is? Are they trying to show what this bodysuit would look like if you fell down some stairs? It makes no sense.
Doesn't Everyone Get Naked Before A Champagne Shower?
If you don't strip down to your birthday suit to open a bottle of champagne, we have a lot of questions. It is called a champagne shower for a reason, and you wouldn't take a normal shower with clothes on, so this isn't any different.
Unlike the model, we wouldn't be laughing because no one wants to feel cold, sticky alcohol all over their hair and body. It might be the next best thing in at-home DIY beauty treatments, but for now, we will stick to drinking the champagne instead of pouring it on people.
How To Create Your Own Strappy Bikini For Horrible Tan Lines
If you have ever wanted to know what it was like to wrap yourself in shoelaces, just grab a strappy bikini and head out to the pool. With that many strings, you might need a bottle of wine and a straw to get through the uncomfortable phase.
While most people think Celeste is channeling her sultry side, she is actually making that face out of pain. You can try out this look, too, when Celeste releases her line of shoelaces. If you stay in the sun long enough, you can get a ridiculous tan that will look like a mosaic.
"Do You Need Something?"
When you try to sneak off for a moment of peace and a snack because your kids are driving you up a wall, but they find your hiding spot. Everyone needs a break once in a while, and you deserve to treat yourself to your favorite snack at that moment.
It's like children have a sixth sense to know when you are relaxing, and then their senses tingle to come bother you. No matter where you try to hide, they will find you, and it might be in the bushes on the side of the house eating pringles.
Pink Is Not Just A Color, It's A Lifestyle
If you don't have a pink one-piece and matching cover-up, you can recreate Paris' look with two pink inner-tubes. No one will ever know the difference, and you will look just like a hotel heiress. If Paris saw this outfit, she would probably say, "That's hot."
If you don't have a tropical backdrop like Celeste and Paris, don't bother trying this at home. While most of us can't afford to fly to the next state, these two are showing off their tropical vacations so that we can live through them vicariously.
How Everyone Feels When They Have To Sit In The Corner To Charge Their Phone
If they want to complete this photoshoot, they will have to bring the camera to her because her phone isn't finished charging. As an important influencer, she needs to be on her phone at all times. If she doesn't give constant updates, her fans will wonder if something happened to her.
Why is the go-to "sexy" pose a finger in your mouth? Is sucking your thumb the newest way to attract a mate in the dating world? Did we miss the announcement about the newest flirting trends? Because we need all the help we can get.
"Hi Honey, You're Home From Work Early"
When you are having a dance party at home alone in your heels and bathing suit, feeling like a rockstar when your family walks in. "Oh, I didn't know you guys would be home so early. I can explain." There is no shame in having a little fun while no one is around.
This position looks extremely difficult to hold, especially in heels. It must be difficult for Coco with those two balloons on her chest. They both look pretty uncomfortable, and we don't blame them. Only the chosen ones can pull off this pose.
When You Drink One Green Drink, And Suddenly You Are A Yoga Guru
When you want to feel like you are in that scene of Titanic, but you don't have a boat. We have seen plenty of yoga poses, but this one looks more challenging than the rest. We give Celeste and her husband credit for pulling it off and staying in position long enough for a picture.
The girl in the original photo looks like she is posing in one of those tampon commercials claiming you can do anything during that time of the month even though most people would rather curl up in a ball and hide for a few days.
I Ain't Saying She A Gold Digger
When Kris Jenner sees this, she is going to be so annoyed that Kim is ruining her manicure. Those hands make her ten percent, and she can't afford for Kim to lose jobs because of a botched manicure. There is a "no nail-biting" clause in her contract that she is breaking.
On the other hand, Celeste is channeling one of Kanye's top songs, "Gold Digger," because she is really up there. She could practically scratch her brain, and that is something Kim would never be caught doing. She is too cool for public nose-picking.
When In Doubt, Draw Your Abs On
Here's a secret fitness tip: If you don't have defined abs, take a sharpie and draw them on. Since it is a permanent marker, you will always have abs drawn on whenever you need to show off your stomach. No one will ever know the difference because they look so realistic.
People will be asking you for workout tips, and you can say, "It's all-natural. I don't know what you are talking about." You can even start a fitness Instagram to show off your model-like abs, and people might say it's photoshop, but they are just haters.
Bieber Vs Boober
When you are in your room all alone and think, "I could really take this time to focus on a charity that helps the greater good of the world," but instead, you take your clothes off, cop a feel, and take a picture. Justin wanted everyone to know he has a handful to work with, just like Celeste.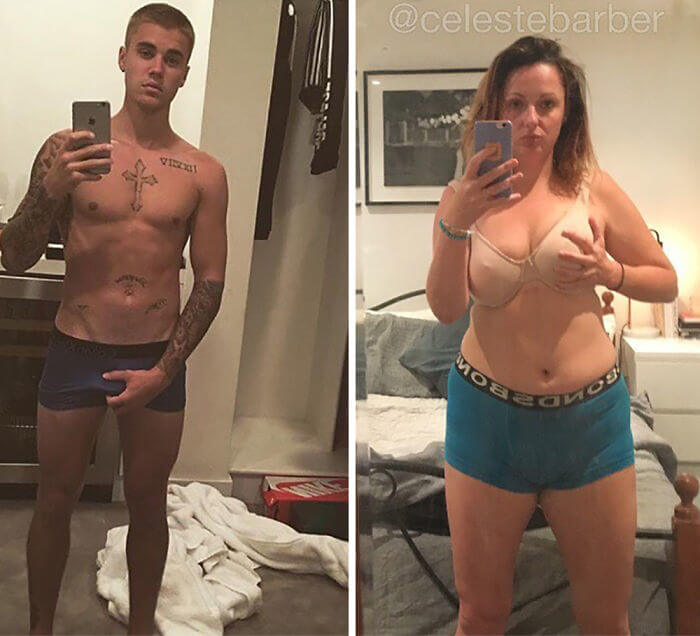 While we give Justin credit for bravely sharing this cringe-worthy picture, we can't help but wonder what his wife, pastor, mother, and grandparents think of this because they all follow him on social media. Who do you think saw this first, Instagram or Snapchat?
Don't Cry Over Spilled Milk
Kim's milk bath must have been a lot warmer than Celeste's fresh-out of the fridge milk shower. Kim was showing off her MILF status for a Fergie music video, and we understand that moms make milk, but why does she have to bathe in it?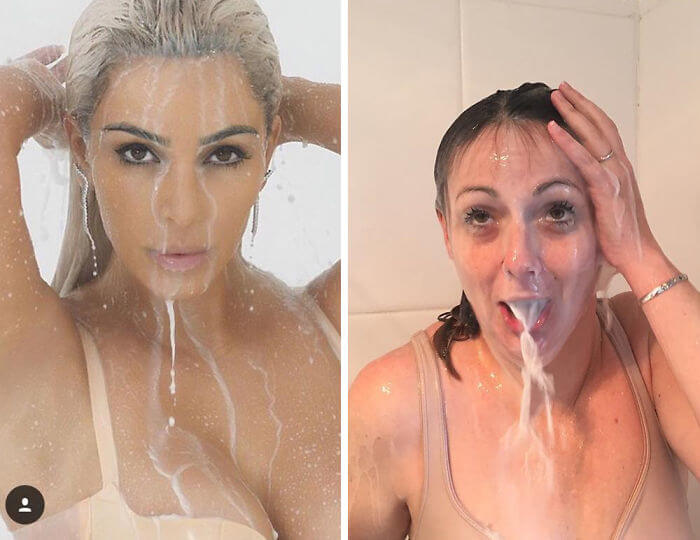 Sure, milk is excellent for your bones as you are growing, but we don't think doctors would advise milk showers for healthy skin and hair. Milk probably doesn't do much beauty-wise, and too much dairy can clog your pores.
Grocery Shopping Like A Star
If you don't have someone push you around the grocery store, you just aren't on the same celebrity level as Selena Gomez and Celeste. Celebrities are too good to walk around the grocery store on their own two feet; they need their assistants to push them.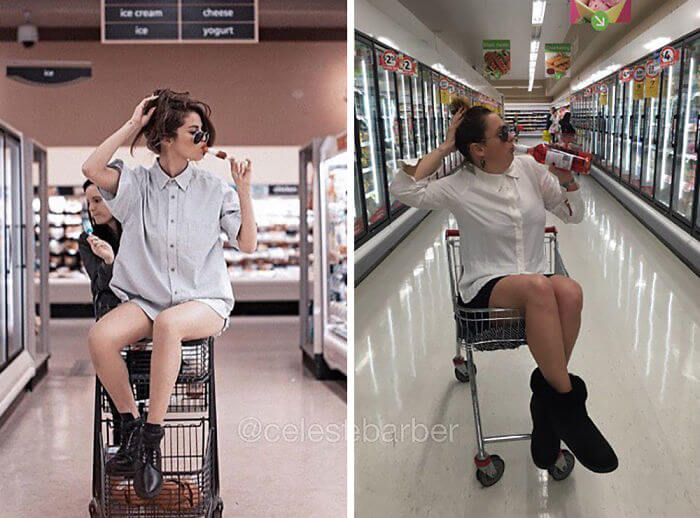 If we had to be pushed around the grocery store, we would want a bottle of wine to sip on because grocery stores are stressful with children running around and people not knowing how to act in public.
The Neighbors Must Be So Confused
Celeste and Victoria's Secret Angels have similar mating calls. They both put on the nicest tulle dresses and sit on the front stoop until someone cute walks by. Celeste's accessories are a bit different with her Viking hat to stand out from the crowd.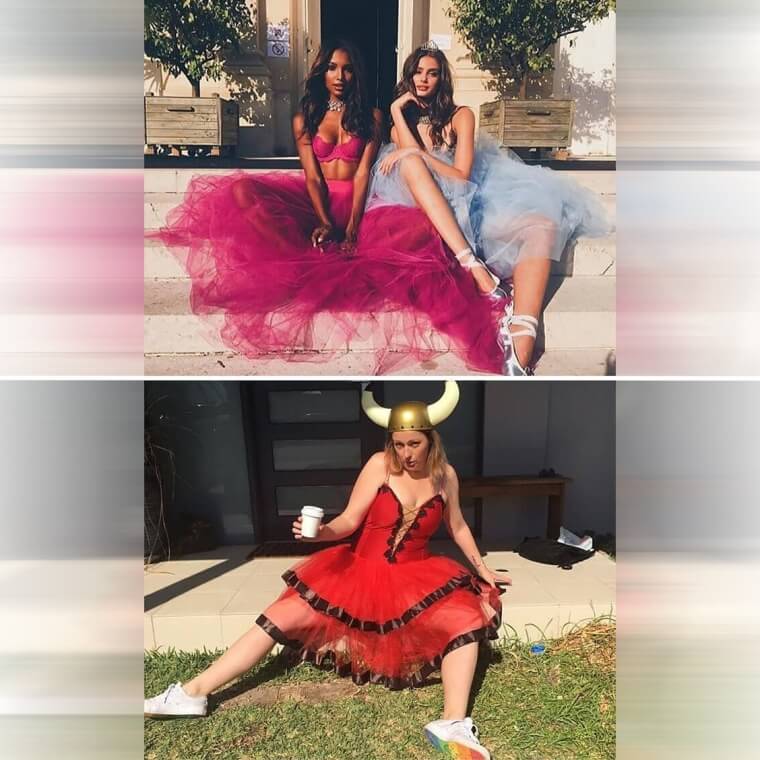 Her neighbors avoid passing her house because they think a crazy woman lives there, but it is just Celeste showing the world how ridiculous models and celebrities are. She also pretends to drink coffee when it is really wine, so her neighbors don't judge her too much.
Celebrity Lives Vs Real Life
While celebrities are drowning in designer bags, shoes, clothes, and luxury items, us regular folk are drowning in bills, work, and responsibility. It must be hard to spend most days shopping and getting free clothes from the biggest designers.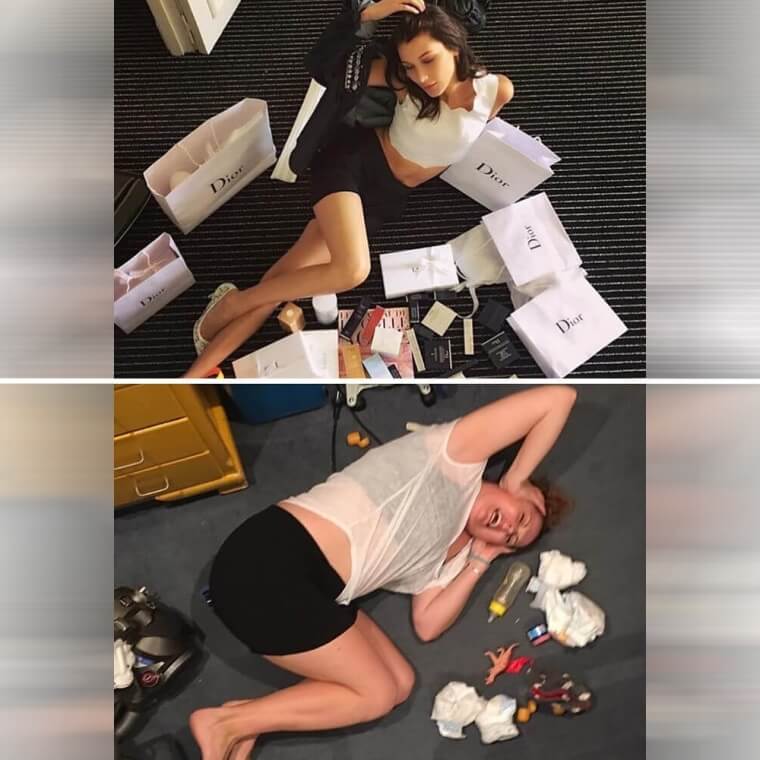 Instead of being surrounded by shopping bags, most adults are surrounded by dirty diapers, their children's toys, and a flood of tears from them and their children. It's hard to be a celebrity, but even harder to be an average person.
"Honey, Can You Take Just One More Photo?"
When you want to feel like an influencer, so you force your significant other to take pictures of you until you are satisfied with the perfect shot. At some point, they stop putting in the effort and lazily hold the phone, just waiting for you to let them leave.
Some people like to take pictures, while most significant others feel like Celeste's husband, who is sick of these impromptu photoshoots. He just wants to go about his day without being called into the bedroom to take a photo that won't be posted.
How Fishnet Tights Actually Feel On Your Stomach
Paris Fashion Week expectations versus the reality of being in a city where the most popular foods are bread, cheese, and wine. While Kim Kardashian has the will power to avoid foods that will make her bloated for a week, some of us don't have the same strength.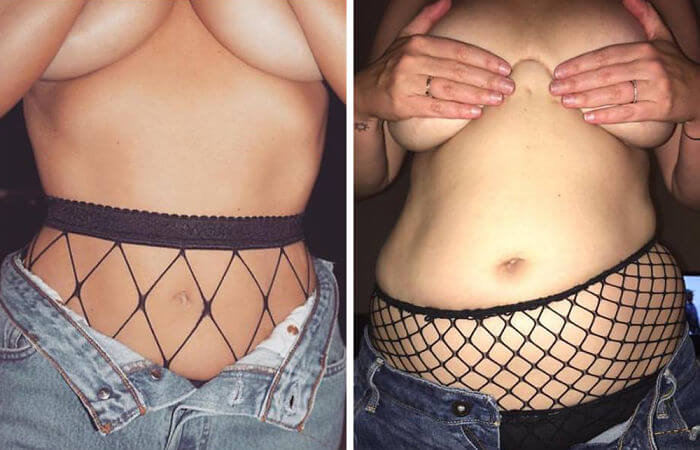 By the end of the week, the fishnets would look more like they are squeezing playdough rather than sitting nicely. We haven't met many people who could wear fishnets over their stomach without looking like a loaf of bread, but Kim Kardashian is always the exception.
"Five More Minutes, Please"
When you have to go to work the morning after going out to the bar, some people will get up with ease, but most of us are still hungover and wishing for another few minutes. No one wakes up with a cup of coffee and a smile right away.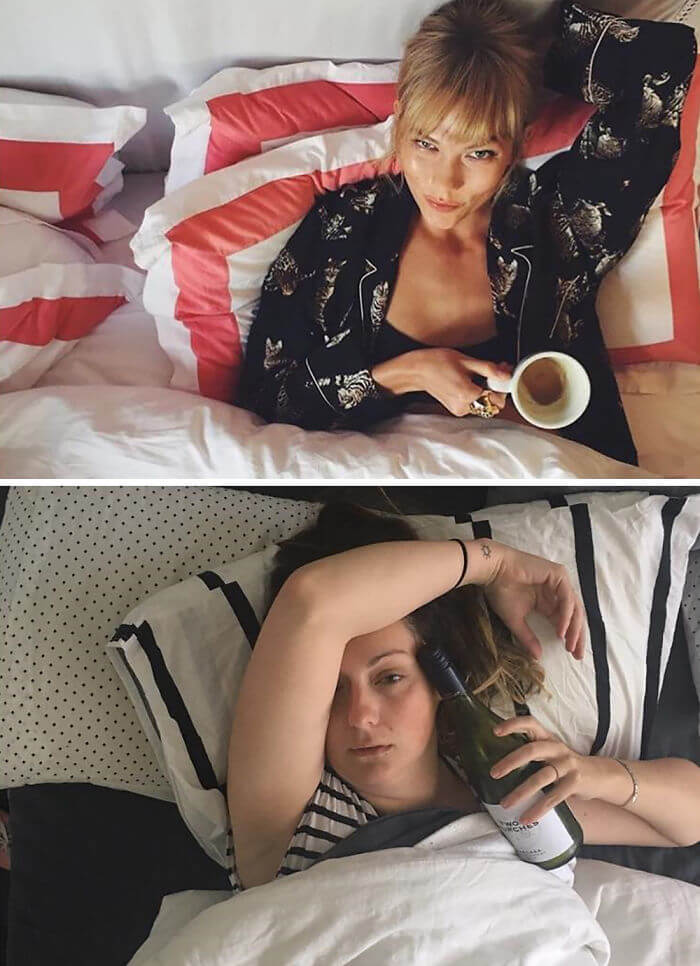 If you went out drinking the previous night, there is a high chance that you are still hugging the bottle. That's how you know things got out of hand because civilized people drink out of glasses while the rest of us throw caution to the wind and take the whole bottle.
40+ Hilariously Accurate Illustrations Any Parent Will Relate To
Brenda Miller
This article was originally published on 24/7Mirror
When you think about being a parent what's the first thing that comes to mind? Is it those adorable moments, the first words, or even the long sleepless and crying nights? For artist Yehuda Devir it was all of the above, and his illustrations depicting his and his wife's reality of parenthood on social media has since become world-famous for their honesty and their humor. See which of his photos you relate to the most, while also keeping an eye out for a few of the "real" photos we've sprinkled along the way. Don't forget to stick around for the end for a special surprise that the couple has!
1. You Can Stare At Your Baby For Hours
There is nothing more magical than welcoming a child after months of anticipation. When they arrive, any parent will agree that their innocence and cuteness is perfection itself, which makes it basically impossible to not stare at them for hours.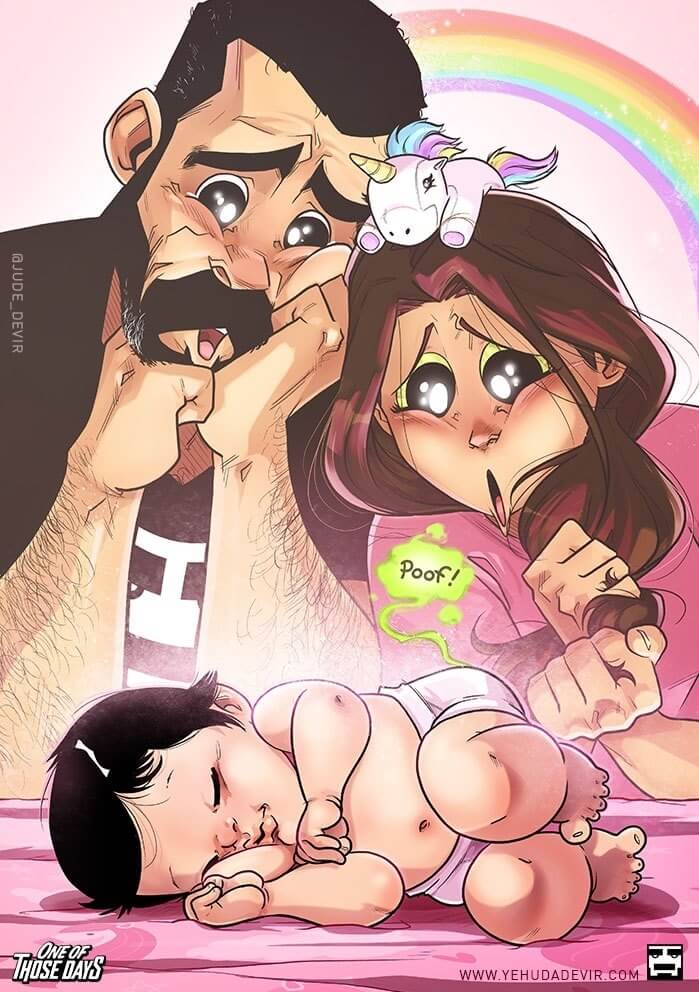 No matter how much of an adjustment it may be to bring a baby home, those peaceful moments remind us that it's all worth it.
2. Changing A Diaper Is Not For The Faint-Hearted
Many parents will agree that changing a diaper takes some skill. The experience can be incredibly messy and overwhelming at first, but nothing like some practice runs to learn it to perfection.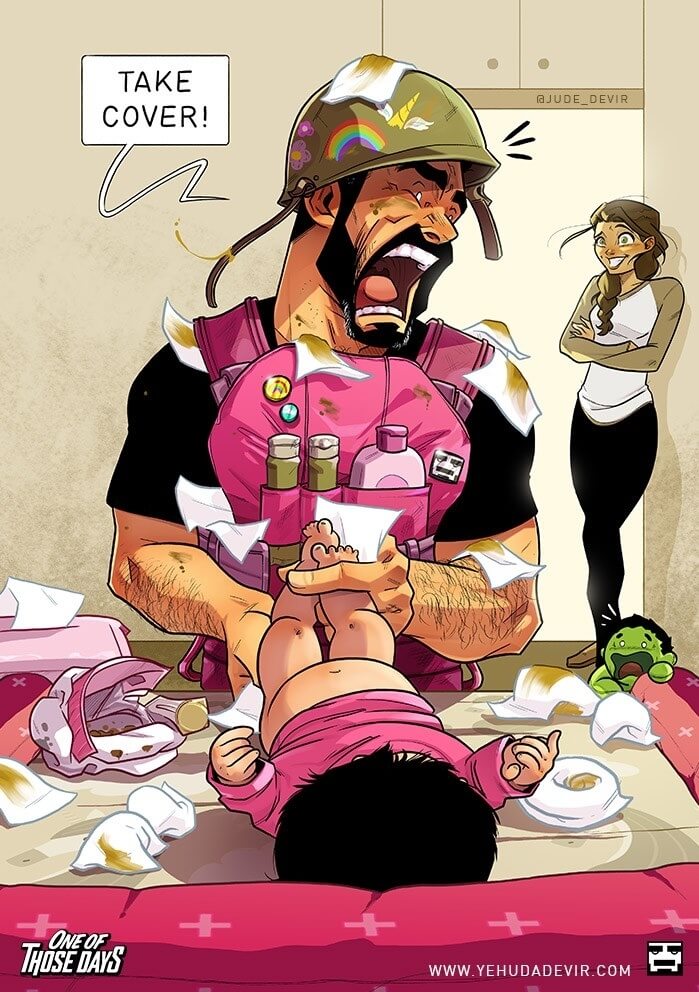 In this illustration though, the artist depicts how the situation is sometimes so messy down there that it requires taking cover. For the parent who is not on duty though, it can be extremely entertaining.
3. The First Time The Baby Latches
The first time the baby latches can be a magical and highly awaited moment for new mothers. But it is important to emphasize that breastfeeding can be a hard and often tumultuous journey, that its' not always easy for everyone.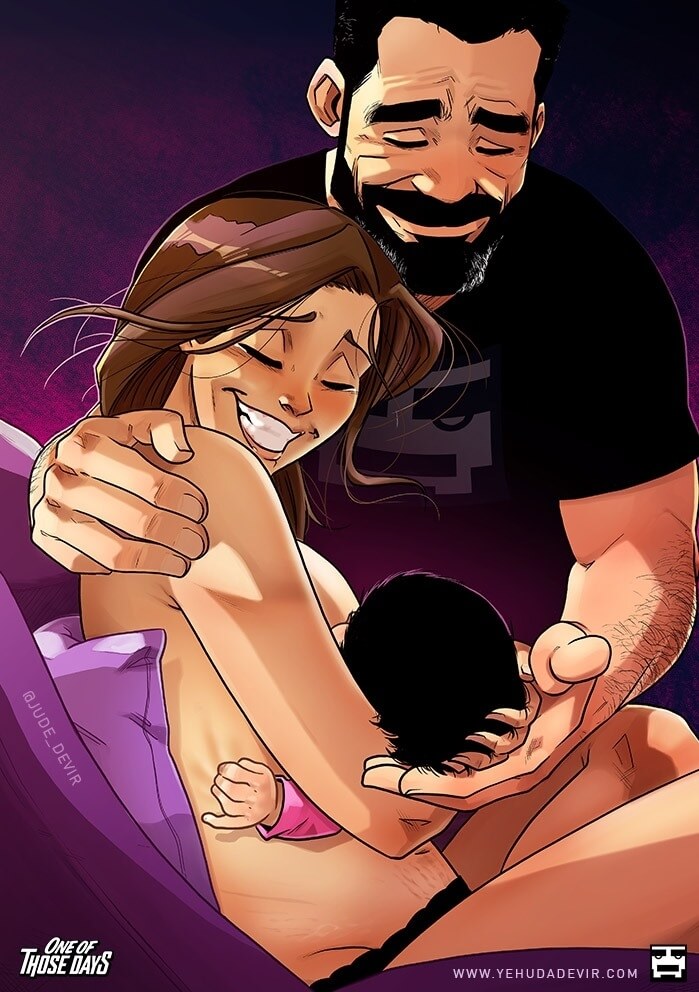 Yet, it can certainly serve as an incomparable bonding experience for the mother and the child, which makes that first moment one of the most special milestones of having a child.
4. When The Baby Refuses To Fall Asleep
Sleep deprivation is a huge thing once you have a baby. No matter how many times other parents tell you that sleep will never be the same, one only understands what that really means once the baby is there.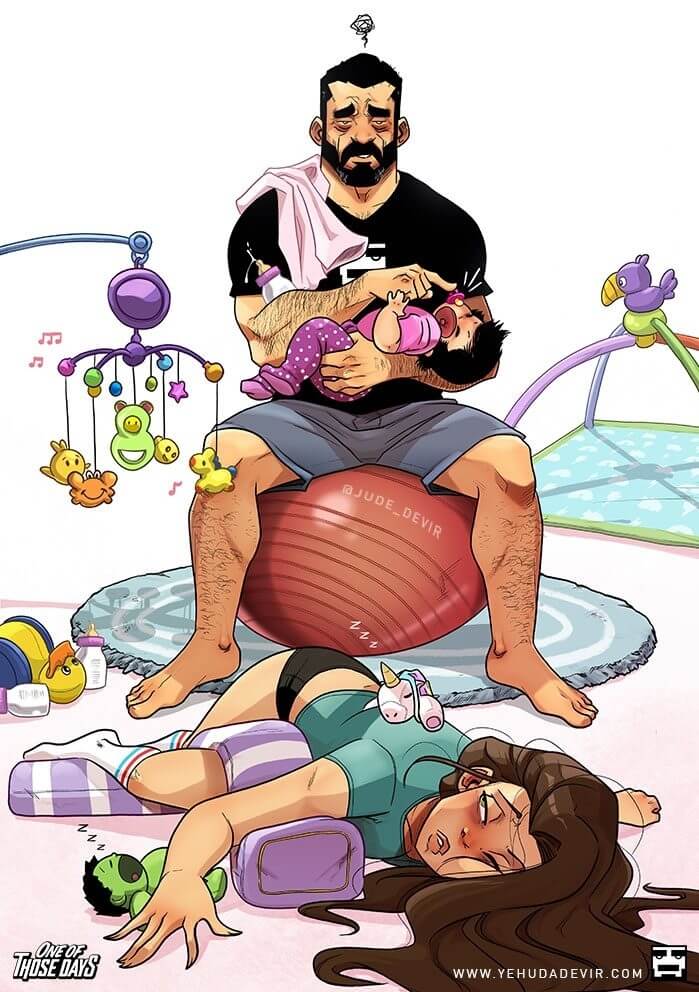 Here, the illustrator realistically shows just how exhausting some nights may be, especially when the baby simply refuses to fall asleep.
5. Their First Bath Doesn't Always Go As Planned
Since almost everything about having a small baby is an adventure, bath time is certainly not an exception. Most especially though, the first baths can definitely require two people managing the entire situation.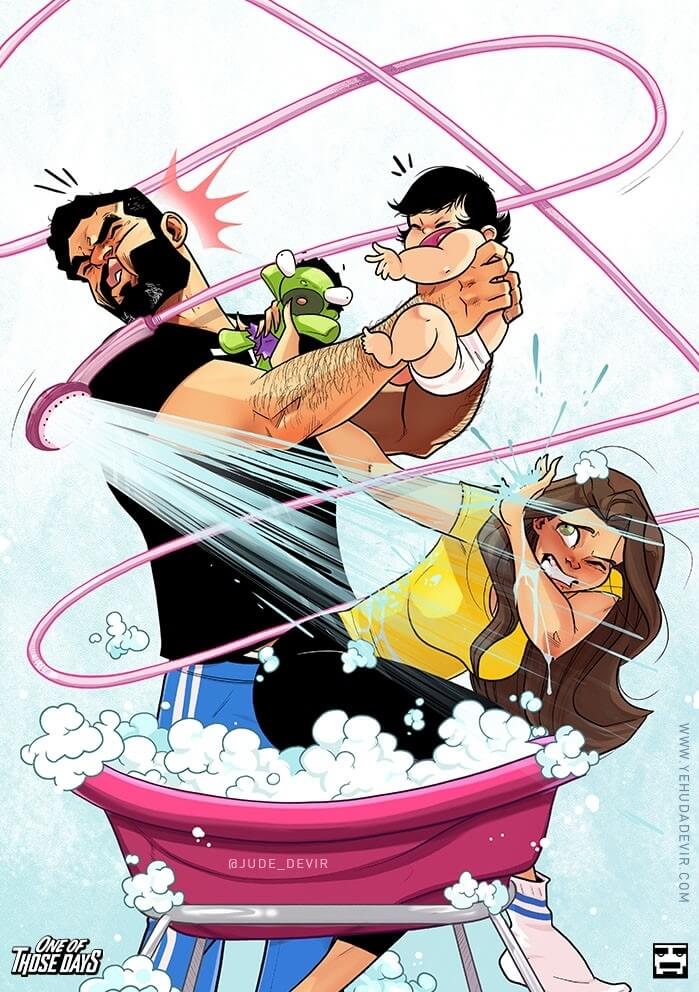 There are so many steps that go into bathing a baby: getting the right water temperature, choosing the perfect bathtub, but most of all, keeping the baby safe and happy during the entire process.
6. Those First Shots Are Also A Shot To The Heart
Getting vaccinated in general is already a tough experience, but watching your newborn go through their first few shots is incredibly painful.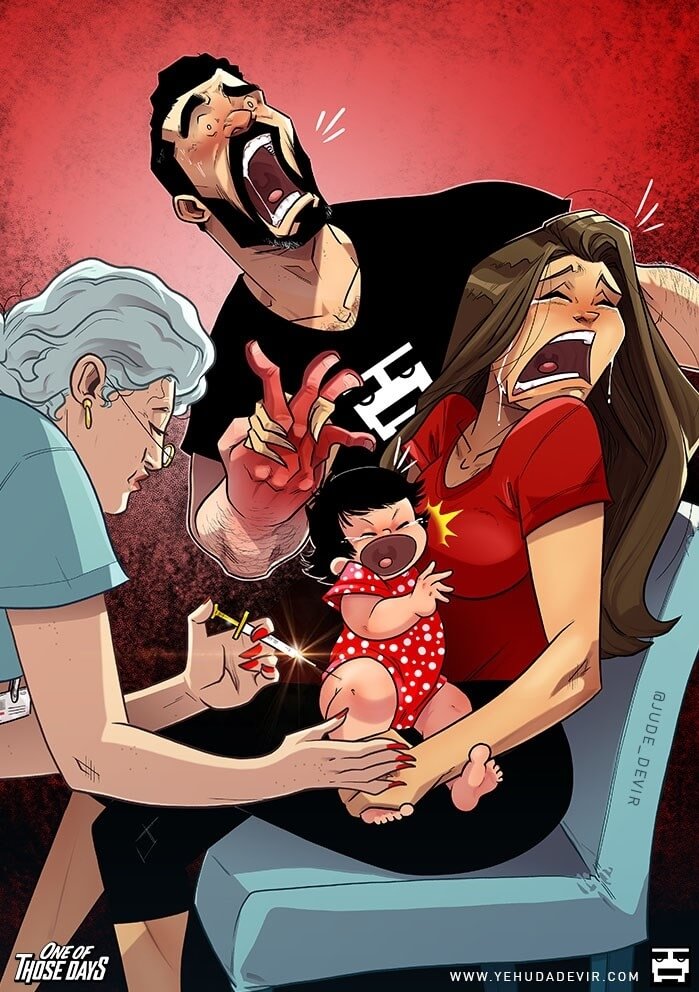 Though the pain is not inflicted directly on the parent, most parents can testify to the fact that they do "feel" the pain, mainly in their hearts. As both parents show here, the pain is shared.
7. It May Take Some Time Until You Sleep Again
When you have a baby, suddenly falling asleep absolutely everywhere and at any time may become a recurring situation. But there is nothing more rewarding than doing so together, since each parent will be exhausted.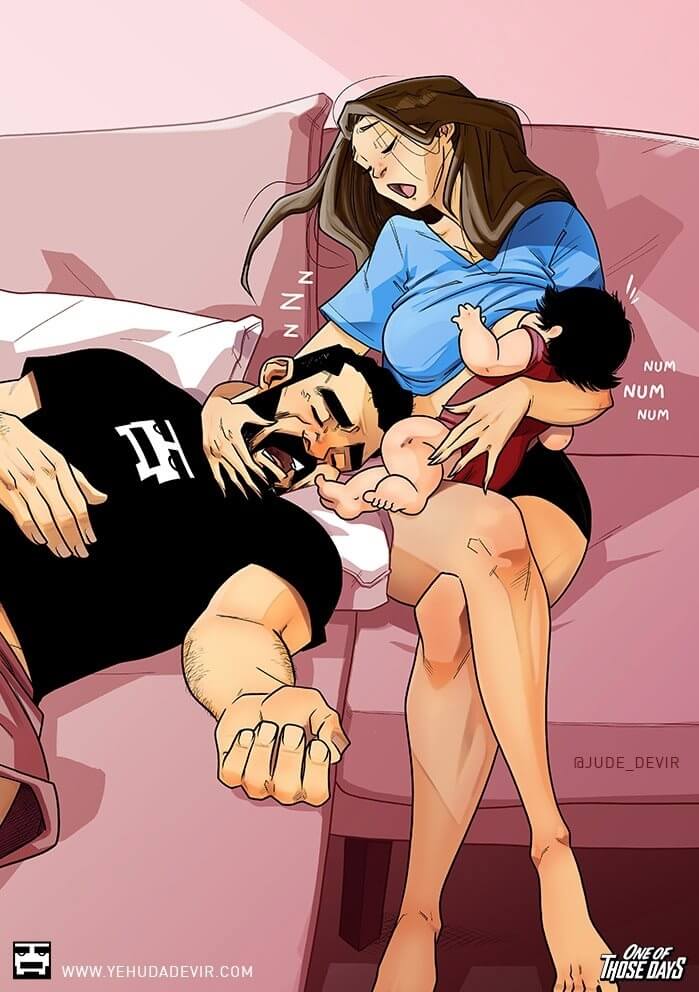 In this picture, the young couple depicts the beauty of going through something so hard together. As the real-life portrait of the family shared here, they have clearly survived and thrived despite those sleepless nights.
8. You Have To Be Prepared At All Times
Just like any adult can have acid reflux, babies have what's known as infant reflux. This means that most, if not all babies, do vomit from time to time, especially in the first weeks and months of their lives.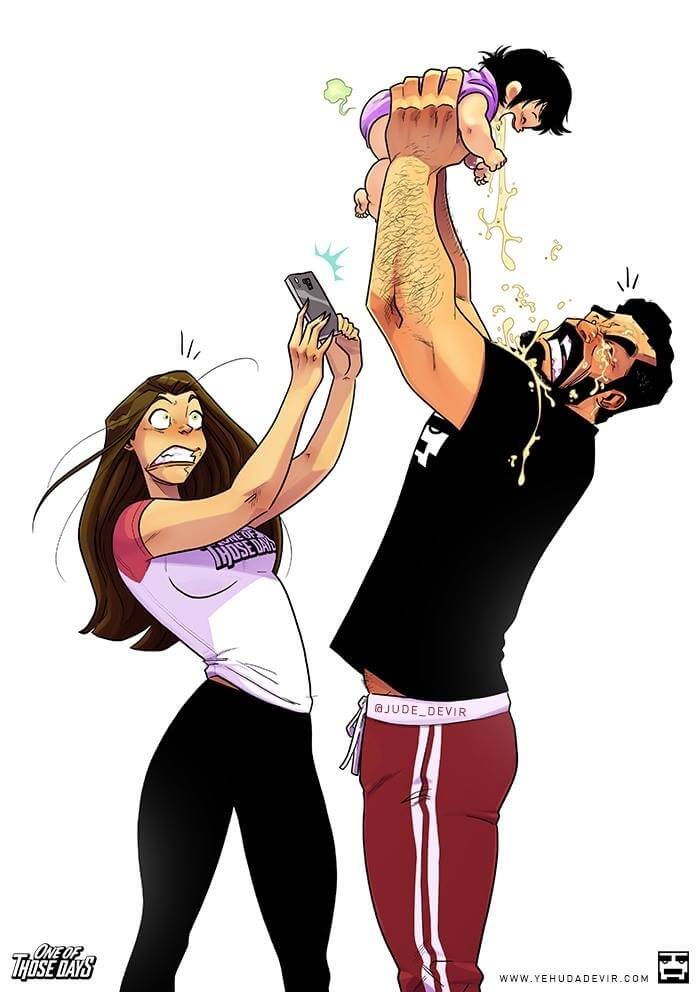 Anything from prolonged crying or regular indigestion may result in it. So brace yourselves new parents because the vomiting is about to begin.
9. Parenting Can Be Really Tough Sometimes
Times can get really tough when you're a first-time parent. Though the happy moments certainly make up for the hard times, anyone is susceptible to feeling like they're not doing a good job at being a dad or a mom.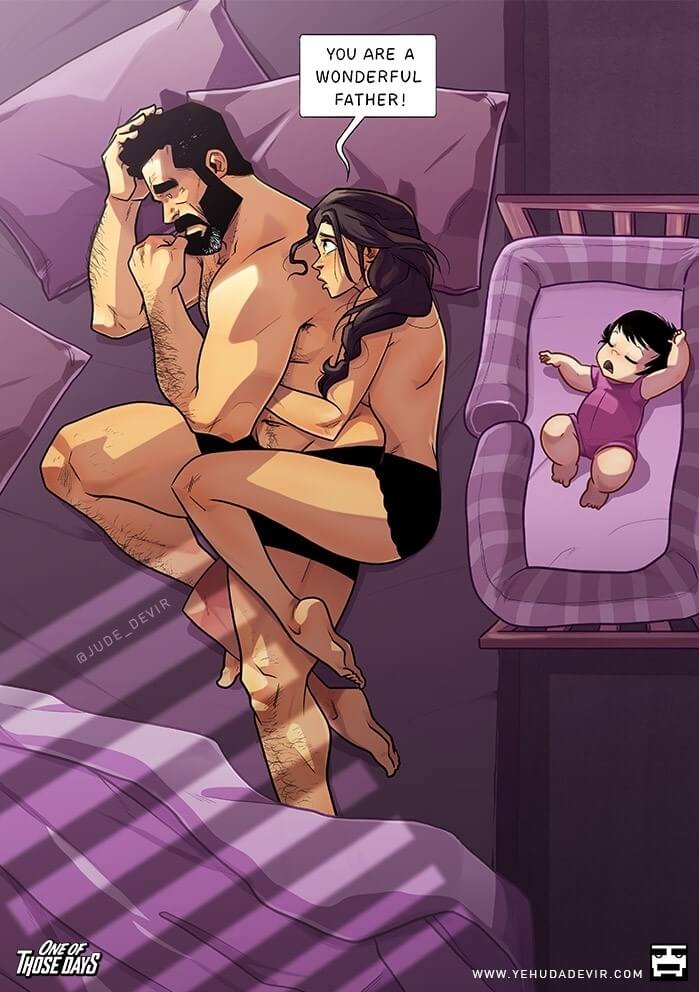 This illustration painfully shows that sometimes all we need is to cry in our partner's arms and to be reminded that we are worth it, and despite the difficulties, we are wonderful parents.
10. Going Anywhere Becomes The Ultimate Mission
When you have a baby going anywhere, even to a short walk to the park, becomes the ultimate mission. You always want to be as prepared as possible, meaning that you may need tons of things to keep your baby clean, fed, and happy.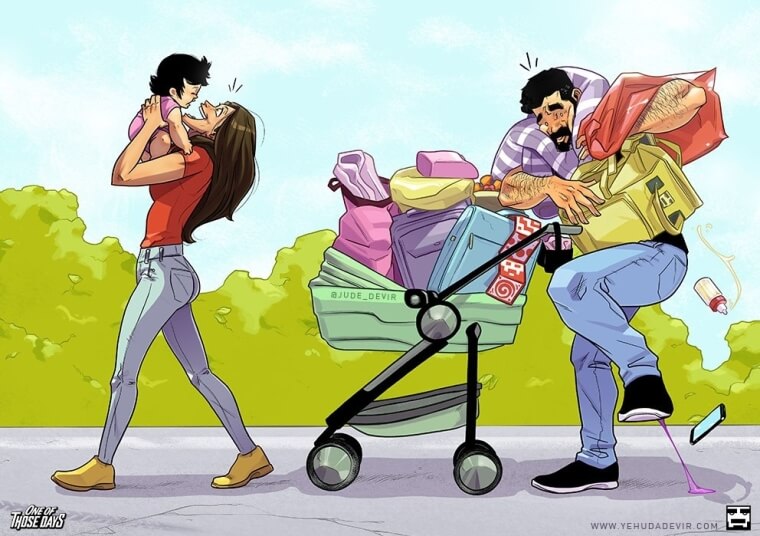 And of course, if the outing involves two people, there is always that one person that carries the entire thing.
11. Getting The Baby Dressed Is A Job For Two
Even though a baby is a tiny little thing in comparison to an adult, when they arrive, they rule the house. And sometimes simple jobs such as getting them dressed while they'rere constantly moving or throwing a tantrum can easily be a job for two.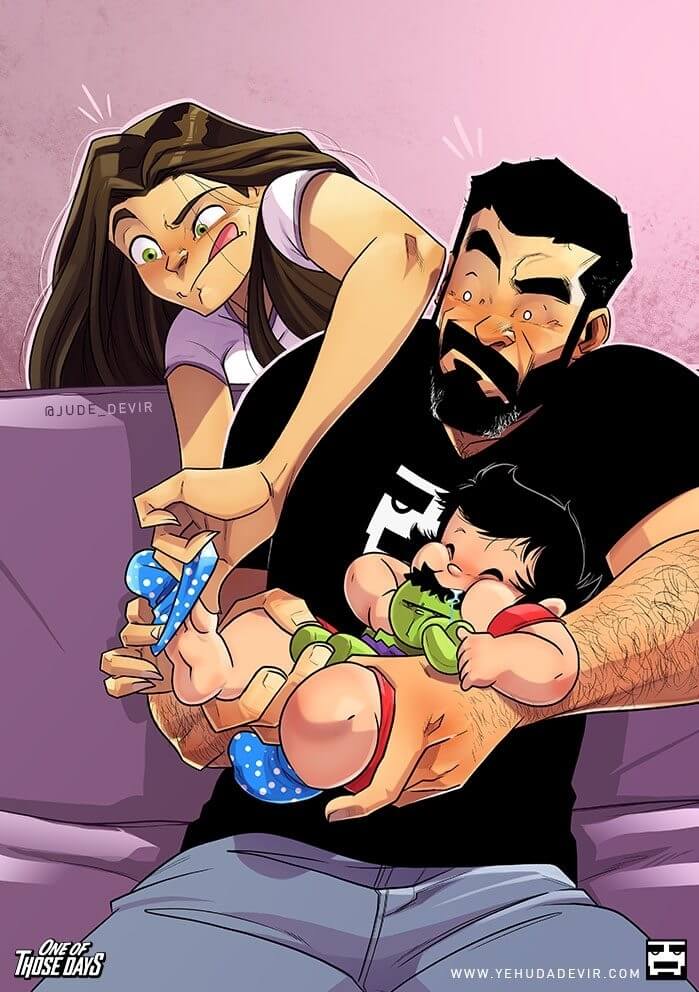 Here, the illustrator shows the struggle that he and his wife sometimes go through to get the baby dressed.
12. The First Time You Leave The Baby Overnight
There are a number of milestones parents go through as the baby grows up that can feel like the end of the world. Parents are still people after all, and they need some time for themselves every once in a while.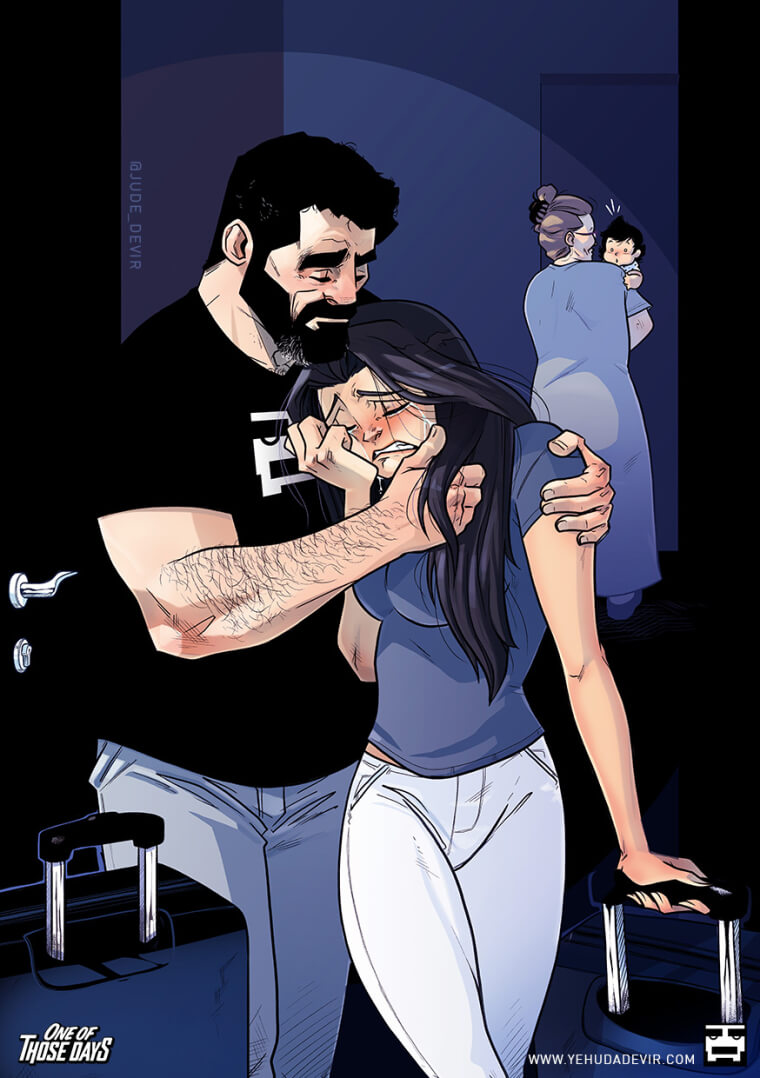 In this image, the parents have just left their baby with the grandmother overnight for the first time, and the mother is not taking it so easily.
13. Couples Who Get Chubby Together, Stay Together
Many of us have seen the hashtag #couplegoals going around, showcasing "perfect" couples with the most ripped bodies we can imagine. Well, this illustrator decided to keep things real.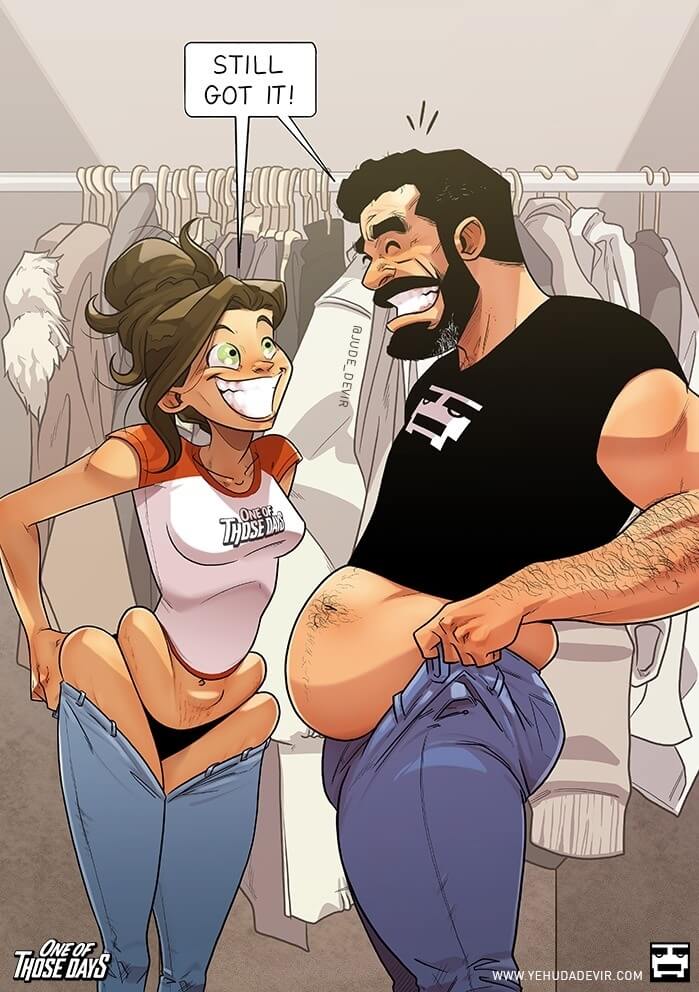 He shows that things do change over time, and our clothes may never look or fit the same. Yet, there is nothing more beautiful to go through this journey together, acknowledging that health and love are all that matters.
14. Those Aggressive Love Scratches
Babies have interesting ways of showing their love and affection. Just like grown-ups, some babies are very "independent". Other babies do certainly love to cuddle, and since they are babies, those hugs and kisses may come accompanied with some scratches and a lot of drool.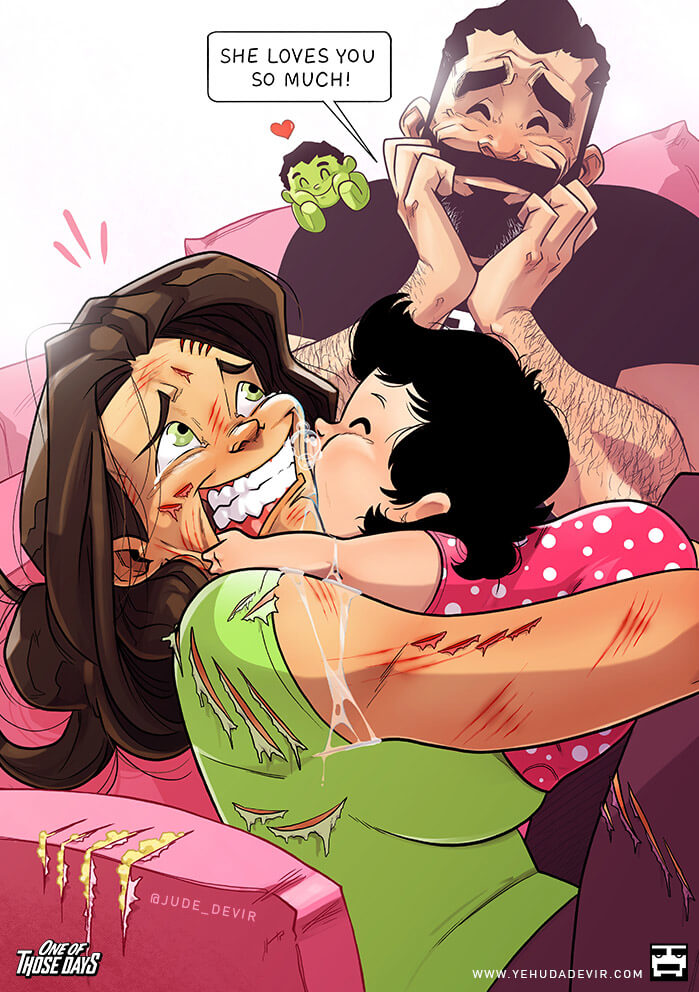 For parents though, those moments are cherished with so much love that the extra stuff doesn't matter.
15. The Baby Rules The Bed
Parents from all walks of life approach sleep training differently. While some try and have their babies sleep in their crib from the very beginnings, other parents are more flexible with sleeping with the baby on the bed with them.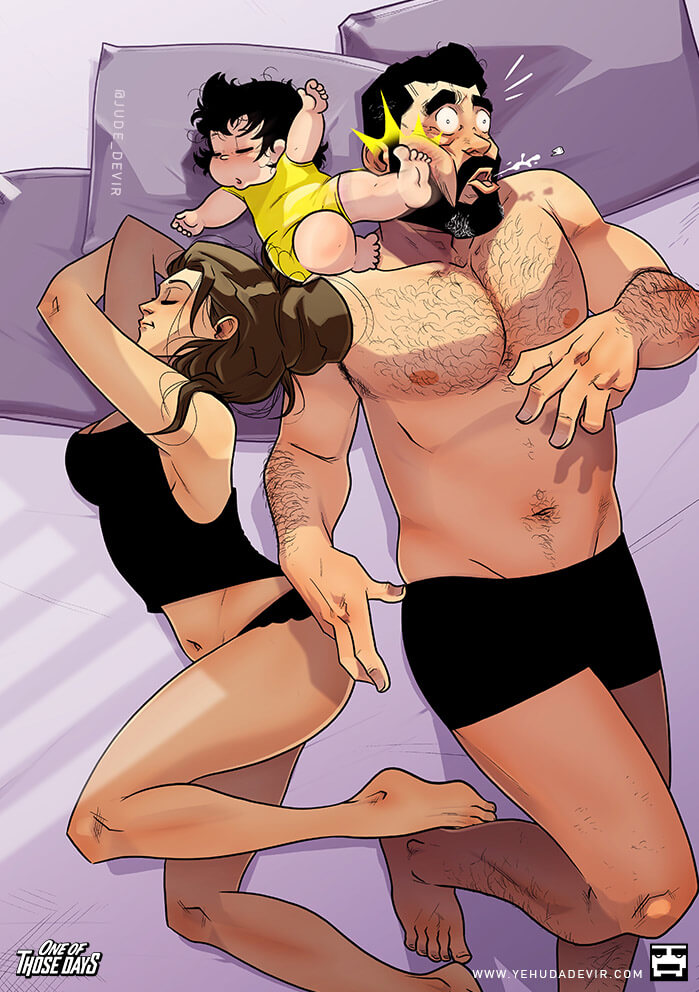 But those who do will most certainly identify with this hilarious image. The couple clearly shows just how the child completely takes over the bed at night.
16. Everything Shuts Down When You're Putting The Baby To Sleep
Putting the baby to sleep is another arduous ritual that most parents will relate to. When they finally figure out what helps their baby fall asleep they do everything in their power to keep the moment as uninterrupted as possible.
Absolutely anything can disrupt the moment, so when the baby finally falls asleep, everyone is determined to make it last.
17. The First Time They Go To Daycare Is Just Painful
Now here's another milestone that breaks many parents. It takes a lot of strength and determination to keep ourselves together the first day we leave our children at daycare.
The baby cries, the parents cry, other kids start crying, and the entire experience is just chaotic and heartbreaking. Yet, like many other things that are hard in parenthood, it gets better.
18. It's A Food Fight Every Day
In many ways, raising a baby means experiencing simple things for the first time through the eyes of a tiny human being. One of these things includes introducing solid food and different flavors that the baby may or may not like.
Here, the parents not only show the daily reality of feeding a baby (which means food all over the place), but also the struggle that it can be sometimes.
19. Showing Affection Becomes A Little Bit Different
It's undeniable that things change in a relationship once a baby joins the family. Life does become about the well-being of that child, and parents often put their relationship second.
Simple moments like giving a small kiss, lying down on the couch or in bed watching a movie, or going for a romantic picnic, are altered a little bit to accommodate the cute and tiny human being.
20. You Get To Create Masterpieces With Your Baby's Hair
Doing a child's hair is yet again another mission that may or may not take much longer than anyone would ever expect. To this father's satisfaction though, he seems to have just triumphed in making a cute hairstyle for his toddler.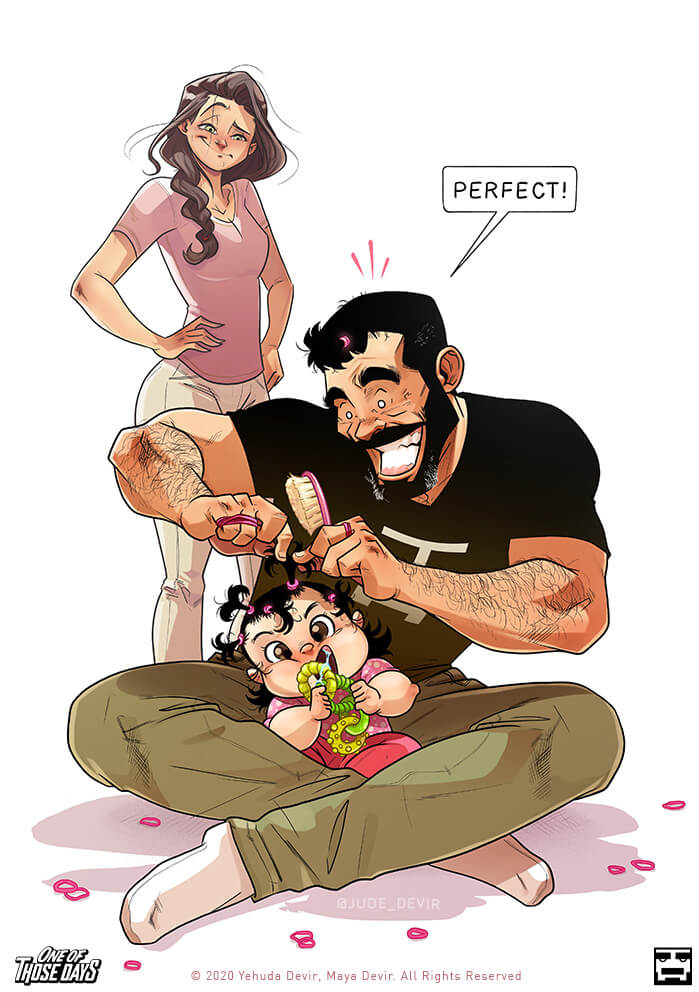 As the real-life photo coming up shows, creating different hairstyles is one of the father-daughter duo's favorite ways to bond.
21. This Is What Father And Daughter Get Up To In Real Life
As Kobe Bryant reminded the world, being a "girl dad" comes with some awesome perks. Here, we finally get to see the dad and the baby girl that has inspired some of the most relatable illustrations any parent will ever see.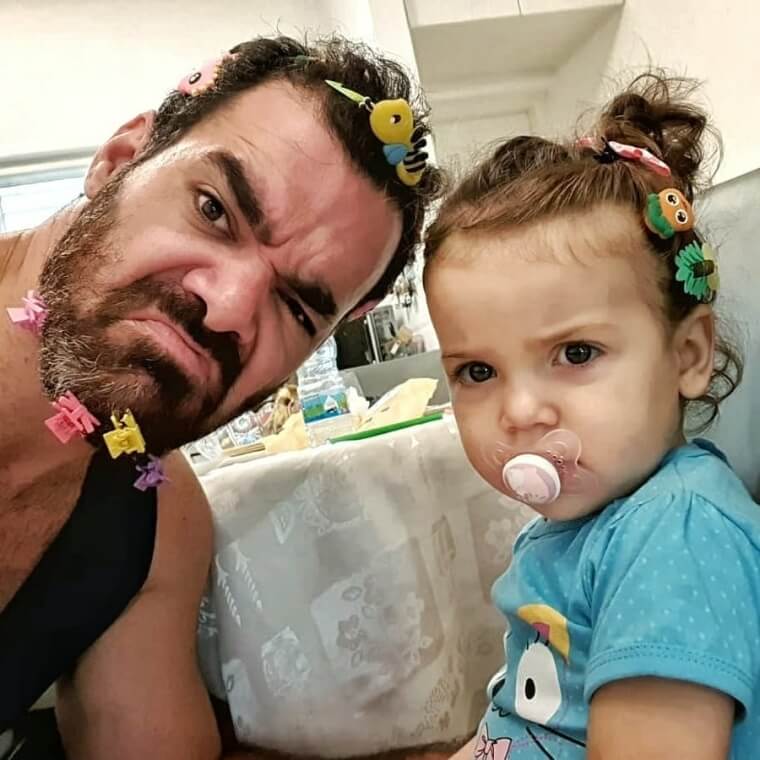 In this cute selfie, he shows just how much fun it is to do her hair while hilariously matching it with his. But if you think they look alike in this photo, wait until you see the entire family's real-life photo.
22. Nursing A Teething Baby
Not many things can describe the pain of breastfeeding a teething baby. While breastfeeding itself is already no easy task, when those little teeth start coming up the pain is inexpressible.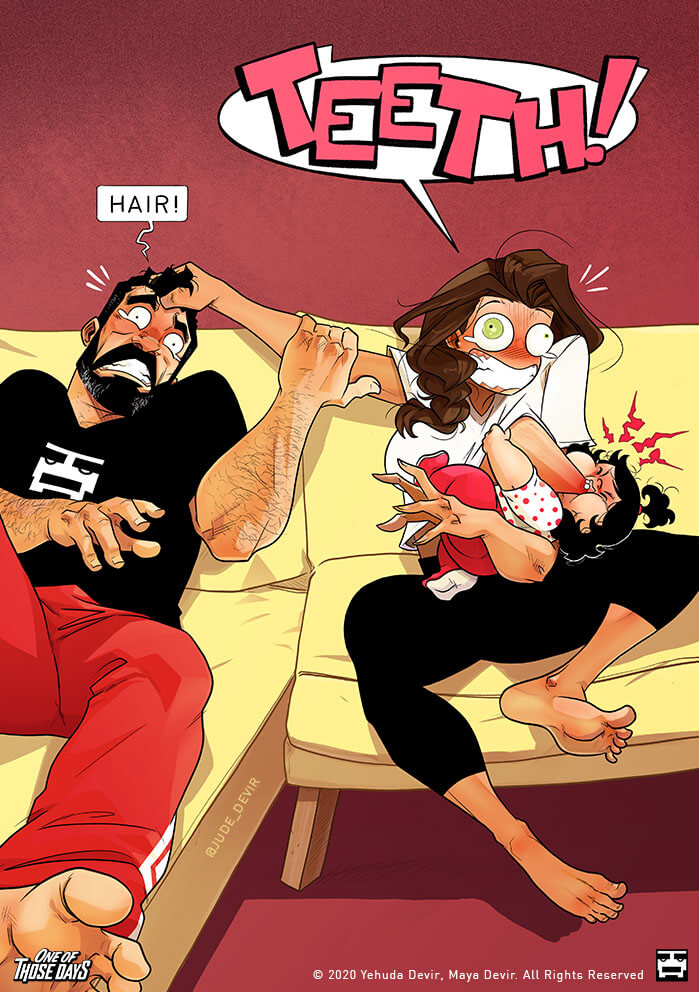 Needless to say that it's the kind of pain that one never gets used to, so it takes some teamwork to get through it. One thing that could help, as illustrated above, is squeezing your partner.
23. Your Life Become All About The Baby
It may take a while to grasp the full chaotic situation in this picture, so take your time. Perhaps there is no better illustration to show just how much goes on when raising a child.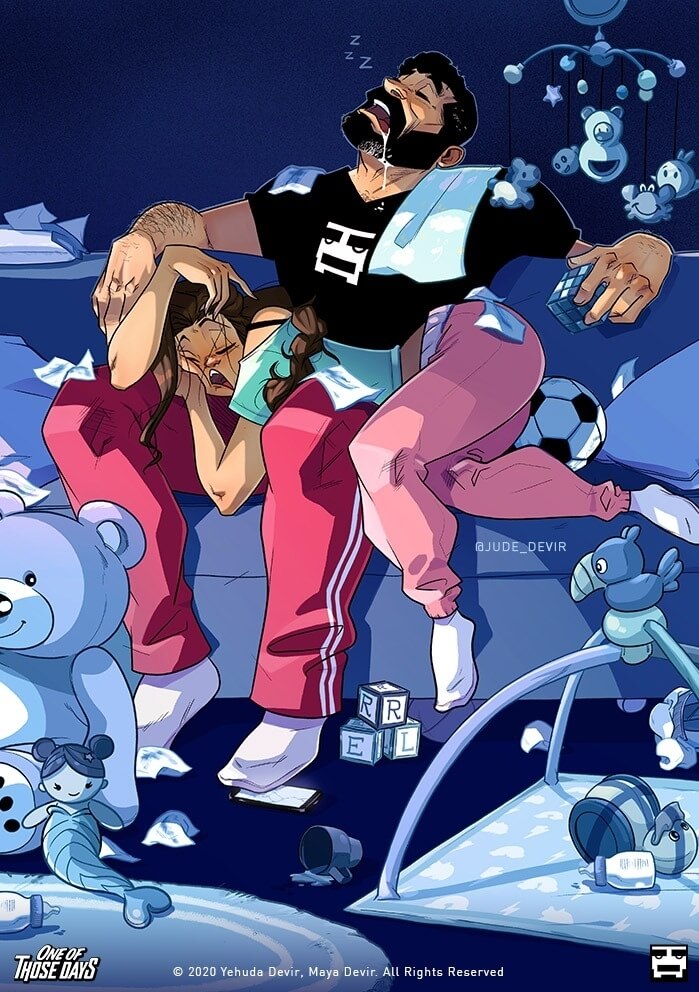 The exhaustion is constant, toys can be found everywhere, and a nap may happen at any time, or depending on the baby's schedule. Here, the parents are all wrapped up in each other taking a much-needed snooze.
24. Documenting Every Milestone
Documenting every step and every moment of a child's development is crucial for any parent. With phones being an integral part of our lives these days, we get to capture and sometimes even over-capture every important moment in a child's life.
Here, the couple is witnessing the first time their baby starts crawling. Quickly, they grabbed their phone and snapped every part of it.
25. Mama For Everyone
This might be one of the most hilarious and relatable pictures of the series. As we said, when a child is born, the dynamics of a couple's relationship may change a little.
In this drawing though, the illustrator decided to make one thing very clear. He was as excited to see his wife undress for her much-deserved shower as their child was.
26. You May Never Get To Do Anything Alone Again
Parents-to-be may not know this, but once there is a child in the home, almost nothing can ever be done alone again.
That includes sleeping alone, walking around the house alone, and even the most private moment like using the toilet alone. Children require attention and if that means following a parent absolutely everywhere, they are ready to do it.
27. Intimate Time Also Looks A Bit Different
Continuing the argument that nothing will ever be the same again, here's another perfect example of it.
Yes, even the most intimate and necessary moments in a couple's life become completely different when there is a baby in the picture. In this case, the new parents were in a "bonding moment" when their kid started crying – who can't relate?
28. When You Find Out You Have Less Hair
Many of us unfortunately experience hair loss as we get older, especially if we live stressful lives. Now, having a baby can be stressful, though our bodies react differently.
In this illustration, the artist shares his desperation when he realizes he's losing tons of hair, while his wife's "Rapunzel" hair becomes stronger by the minute.
29. The First Time Your Baby Says "Mama"
Any parent cherishes the anticipation of hearing their child calling them "mama" or "papa" for the first time. In this hilarious drawing, the artist illustrated his wife's reaction to their daughter saying "mama" for the first time.
He humorously suggests that her happy tears were so many that he barely managed to walk without getting completely wet. What can you do, that's what a mother's love looks like!
30. You Realize That Baby Poop Is Lethal
One thing's for sure, no matter how cute and adorable a baby may be, when it comes to farting and pooping there is nothing cute about it. Those very natural occurrences can have the most lethal smell one can imagine.
In this illustration, the guy alludes to the many times our partners walk up with the baby just after they pooped, not taking into consideration the fact that we may be in the middle of a meal.
31. Going To The Beach Looks Different
"Bouncing back" after having a child is hard, and unfortunately not enough people talk about this. Women all over the world struggle to come to terms with the fact that bodies change after literally growing, carrying, and birthing a child.
Here, the artist decided to pinpoint that it may take some time for the mother to feel comfortable again to show off that beach body again.
32. Mission Accomplished
There is something so powerful about seeing our partners grow into wonderful mothers and fathers. How many parents have had that appreciation and admiration moment for the exhausted yet incredible partners they chose to raise a child with?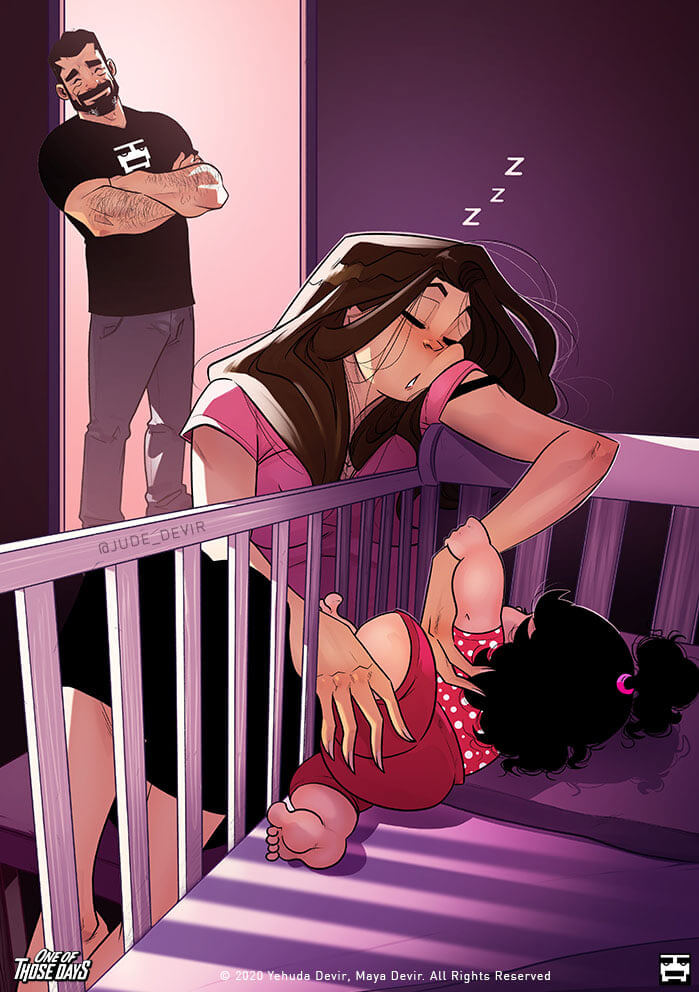 In this powerful documentation of their daily lives, the artist shares the moment his wife fell asleep putting their baby to bed while the baby instinctively clings to her mom's arms.
33. What Putting The Baby To Sleep In Real Life Looks Like
Now here's another incredibly cute picture that the illustrator himself graced his social media followers with – him as he holds his daughter. While the sacred moment of putting a baby to bed in the evening can come with its challenges, there are days where all the baby wants is a cuddle.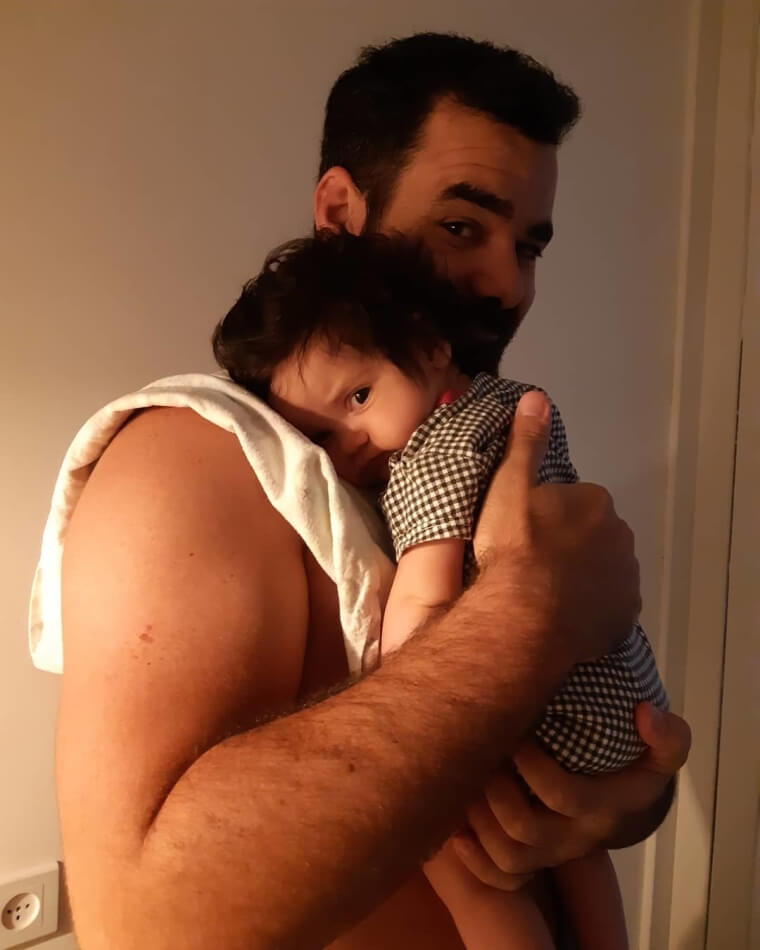 This picture is a clear example of one of those days, where holding that baby is a reminder that the challenges and the hard times mean little when we get to have our baby in our arms.
34. Desperately Baby Proofing The House
While each milestone may signify something enormous, there is something powerfully chaotic that happens once a child starts walking.
Not many parents realize how this completely changes things since the child can now reach and bump into places that she has never reached before. Here, both parents are quickly baby proofing the house as quickly as possible before the child destroys everything.
35. When You Swim As A Family
Needless to say that there is always that one person who loves peeing in the pool. But when you have a kid, you can basically blame all of these little things on the baby, especially when they can't talk yet.
Unfortunately for the dad though, he didn't realize that in some pools there is a little product that calls you out as soon as you pee underwater.
36. The Difference A Screen Makes
Introducing screens to small babies is one of the most debatable subjects in the parenting community everywhere in the world.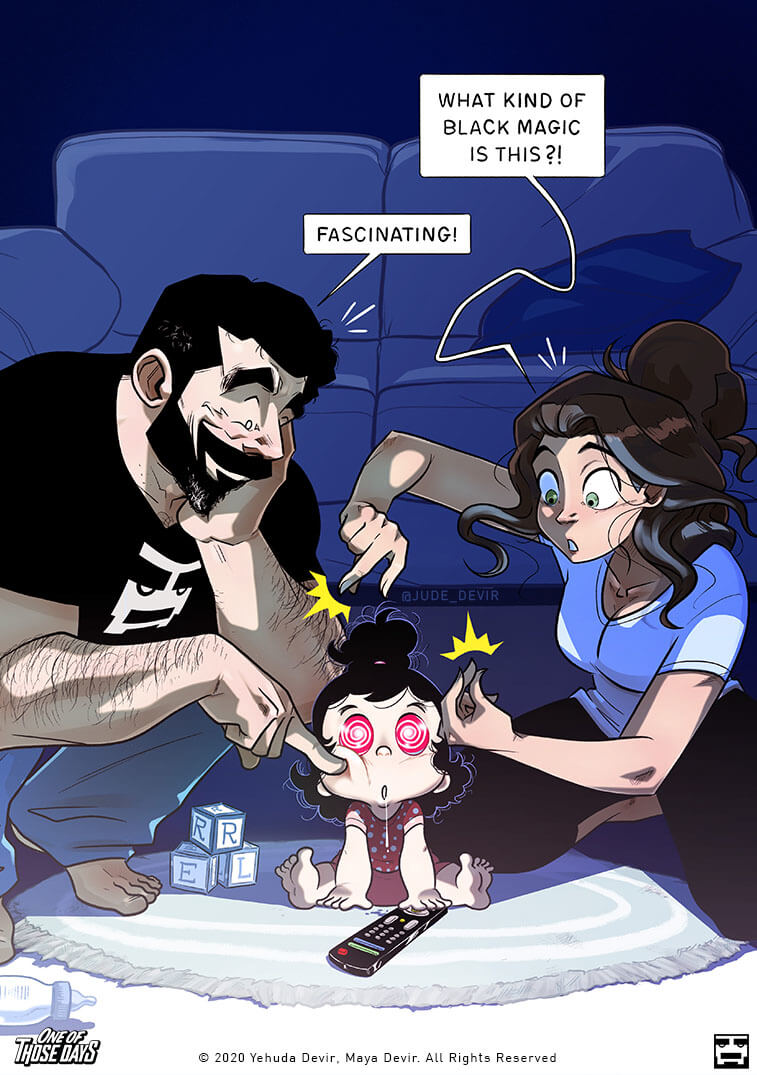 But for parents who do decide to introduce their kids to some screen time, the feeling of realizing that something can in fact keep them hypnotized for more than five minutes is humongous. In this picture, the artist shows just how fascinating that realization can be for parents.
37. Sometimes All You Need Is A Break
Another very relatable moment for a parent is that one (or two, or three) time that you simply can no longer deal with a crying baby.
Tantrums happen, and when they do, it can be extremely overwhelming. So if hiding in the closet or in a dark room for a bit while our partner deals with the situation are what is going to keep you going, then you do you!
38. It Takes A Team To Complete All Baby Tasks
It takes time to master the art of attending to all of our baby's needs. Parents worldwide will agree that in order to get things done, a support system is crucial.
Some jobs just need two pairs of hands to be done and this drawing emphasizes why. Both parents seem to be extremely concentrated as they do their best to follow through with a thousand baby tasks.
39. When You Just Need To Grow Up
Growing up has its perks, but it also comes with a bunch of responsibilities. Though the illustrator shared this one as a joke, it's a good wake-up call for those very supportive partners out there to step up in their home duties.
He jokingly shows the moment he was put on grocery shopping duty but had absolutely no idea what pasta to buy. Thankfully, his wife believes in him.
40. You Always Think You Know What's Best For The Baby
Now here's another one that really takes things home for any parent. Every single parent out there believes that they know exactly what is best for their child. An in some cases parents don't always agree, so the recurrent argument of "I know what's best for her" comes through every once in a while.
Yet, it's an important reminder that though it's tough, it all comes from love and wanting the wellbeing of their child.
41. When You Pass On To Another Stage
This illustration signifies so much for any parent. It highlights the different stages that every parent experiences with their children, be it the first time they walk, their first word, the first day of daycare, the first day of primary school, and the list goes on.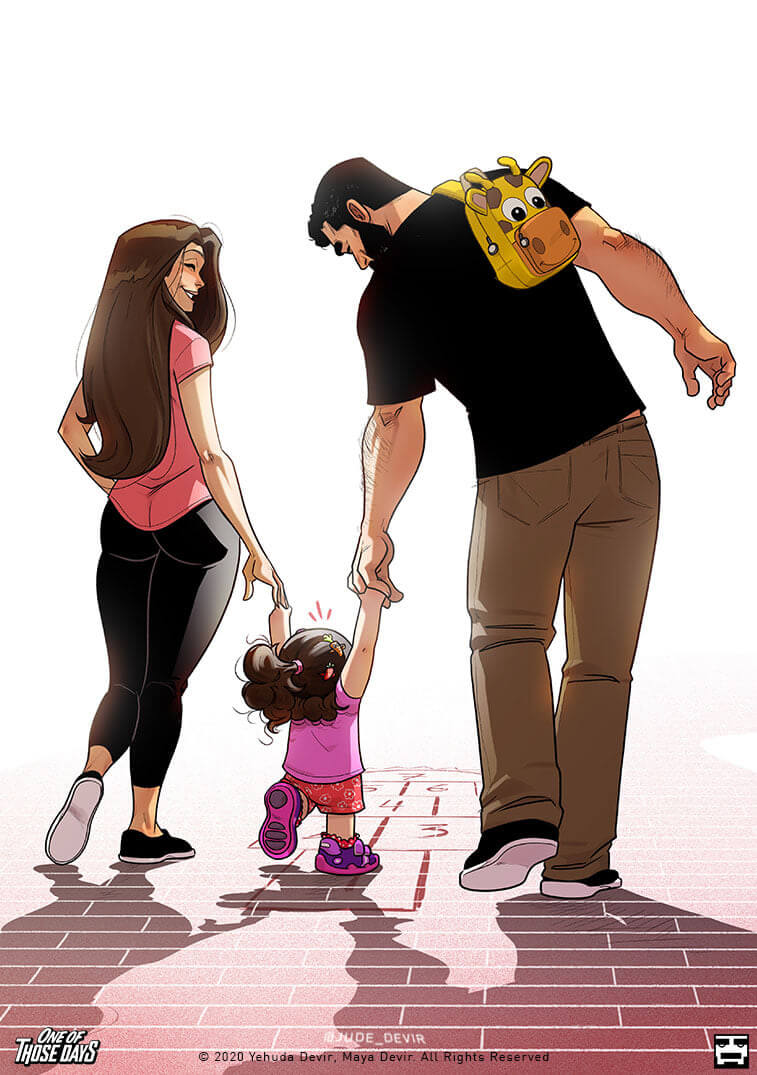 For the artist himself, he chose to share the day he and his wife had been parents for a year and a half, and despite the hardships, had been successfully raising a beautiful girl together.
42. When You Surrender To Tiredness Together
Having discipline is good and necessary, but seriously, which parents out there can't say that they haven't given in to the exhaustion every once in a while.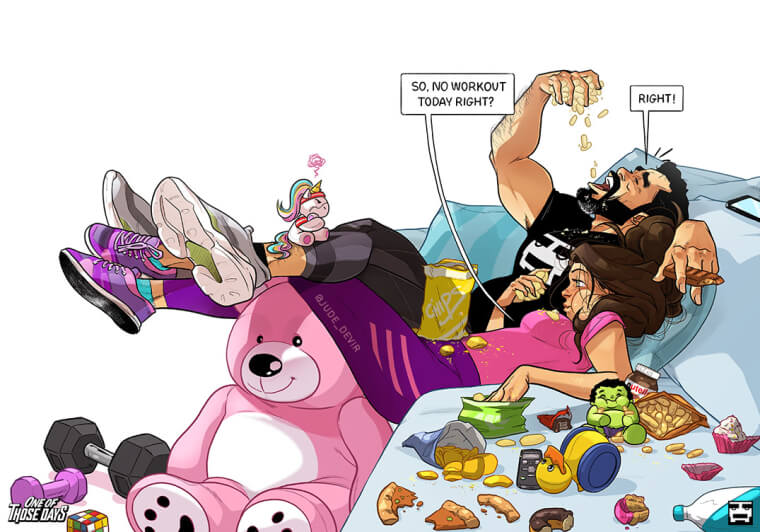 As much as it's important to keep eating healthy and exercising even when our routines completely change with a baby, we all need a break. So parents (and non-parents) will easily relate to choosing to eat snacks and lay on the couch instead of doing everything else.
43. "You Are Gonna Be A Big Sister"
Bringing a sibling to the world is a chapter that many parents dream of. Growing a family is a big thing, and one of the most magical and scariest moments for any parent.
This drawing, however, shares the joy and the hope that comes from the first ultrasound of a second baby in the family. It also shares the moment they get to tell their baby girl that she is about to become a big sister.
44. Here's The Actual Family!
In this family portrait, we finally get to see the entire family behind the incredible illustrations in this article. The pair began dating as students in college and since then, they have earned an avid following from all over the world, after going viral in 2017.
Since then, they have won several awards for their talented depiction of real-life scenarios, and perhaps, the next illustration couldn't be more accurate to real life.
45. Easing your Baby's Pain
And lastly, there is no better way to conclude this series of illustrations with one of the most relatable of all, doing everything in our power to ease our baby's pain.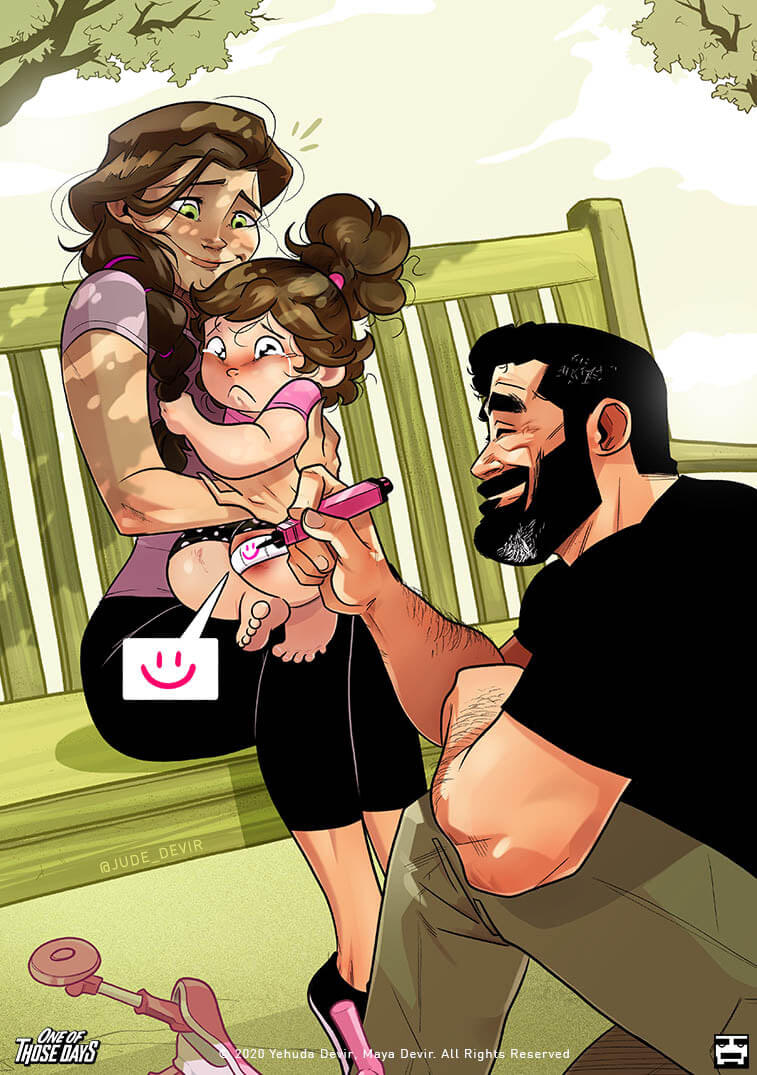 Our hearts hurt when our babies hurt themselves, so although the tactics are different, any parent will relate to making a drawing on a bandage, "hitting" the object that hurt the child, or giving a kiss on the wound so that it eases the baby's pain.