Who doesn't love Disney, right? For many of us, it represents our childhood. The characters have become icons and they are drawn in such a memorable way. But have you ever wondered what they would look like as real people? Finnish artist, Jirka Vinse Jonatan Väätäinen, created these 52 portraits of beloved Disney characters reimagined as real people. So, sit back and let the nostalgia sink in.
1. Ariel From The Little Mermaid
It was mandatory for us to include Ariel. Here, the artist was able to perfectly capture her innocence.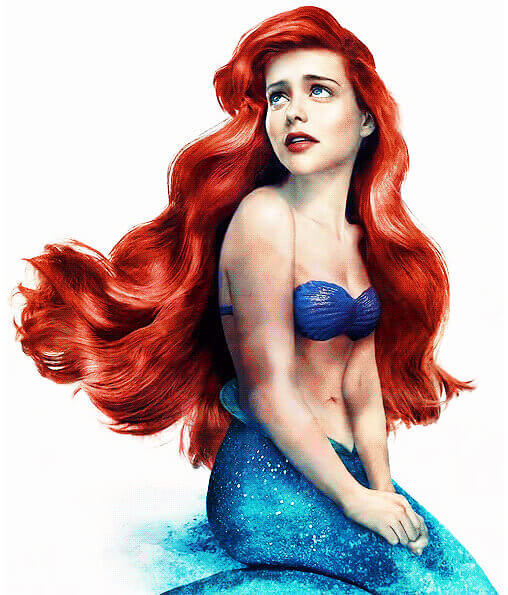 No matter how hard you try, you cannot get enough of this portrait.
2. Captain Li Shang From Mulan
In Mulan, Captain Li Shang is portrayed as a powerful, no-nonsense, steadfast character.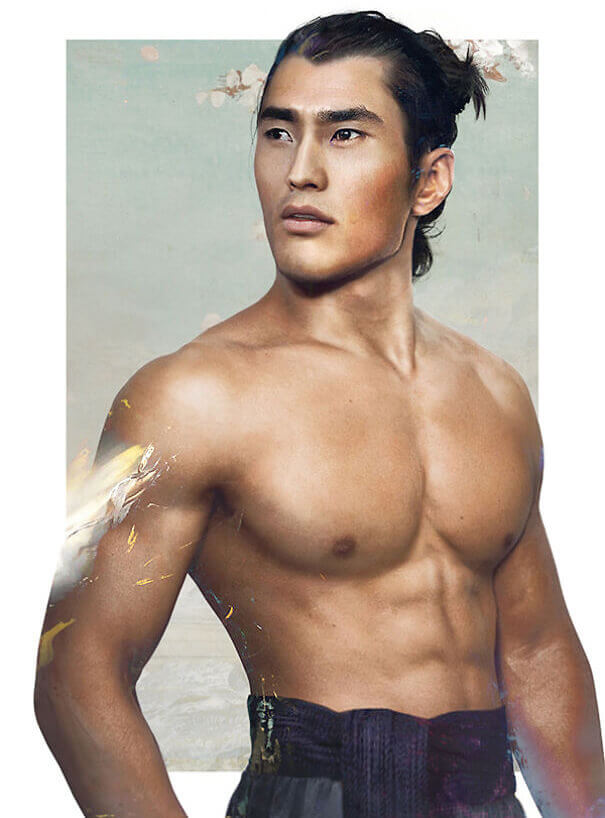 We have to admit that the artist did justice to the character with a portrait that shows Li Shang's dashing looks, strong physique, and determined personality.
3. Ursula From The Little Mermaid
Given that the artist went with Ursula to be his early work, we can't help but fall in love with his artistry.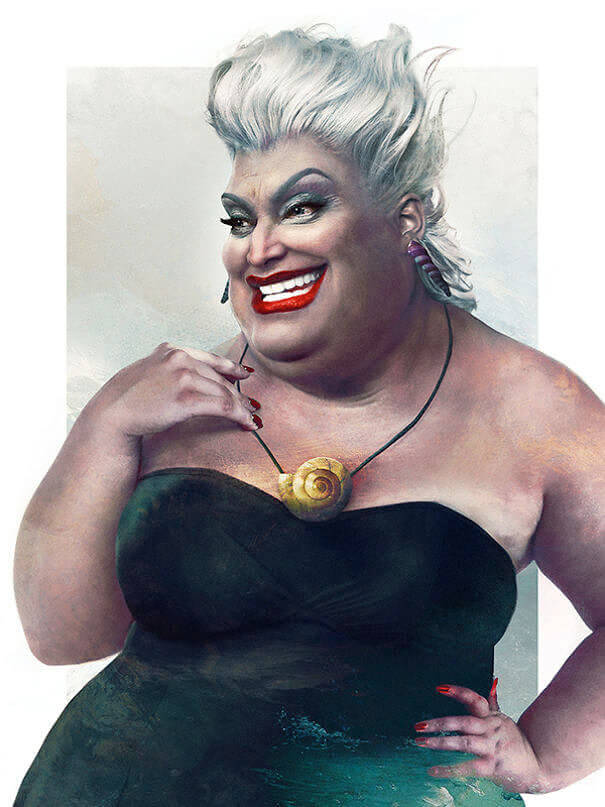 This portrait perfectly shows why the evil sea witch is considered one of Disney's best villains of all time.
4. Queen Elsa From Frozen
Born with the power of ice and snow, we can see Queen Elsa's classy and sophisticated look in this portrait.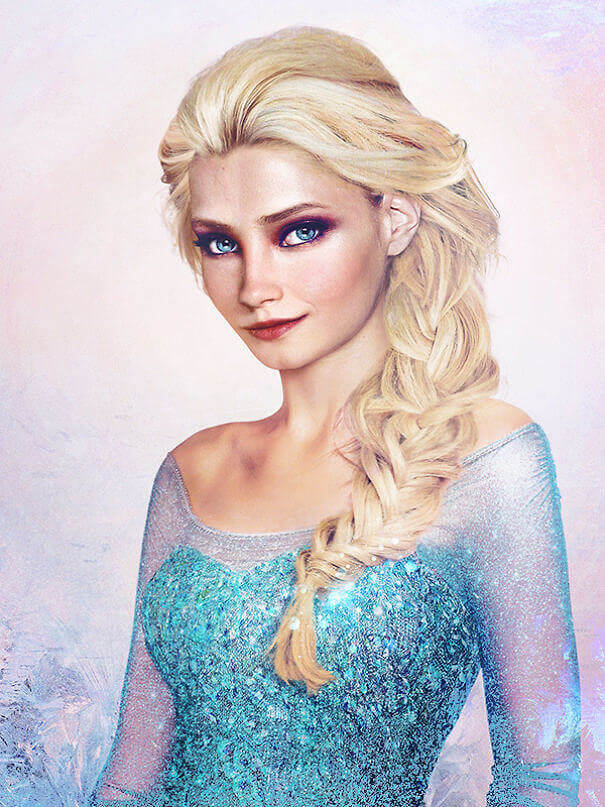 Did you know that Elsa was originally portrayed as a dramatic villain in early drafts of the film?
5. Belle From Beauty And The Beast
Ah, the beautiful and intelligent Belle from Beauty and the Beast. She looks flawless here.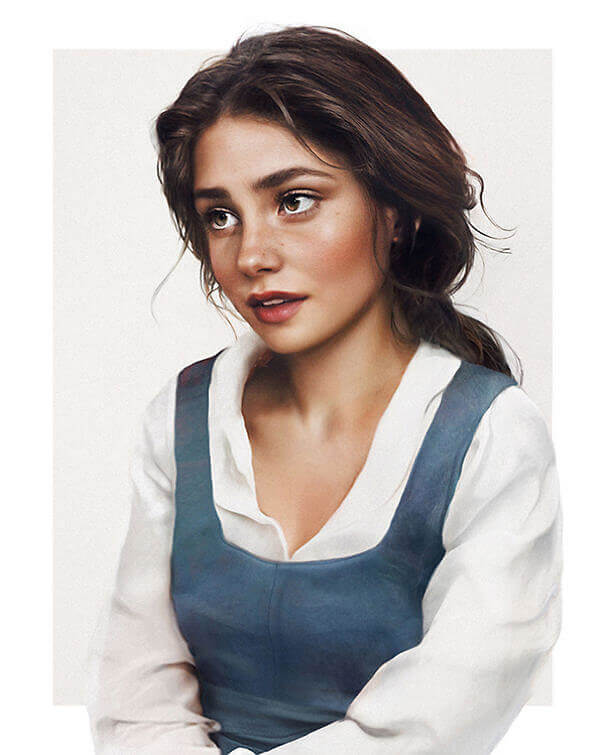 We are surprised how the artist was able to highlight her confident yet innocent personality in this portrait.
6. Prince Eric From The Little Mermaid
Seeing this would make most men think, "oh, thank God he doesn't exist in real life."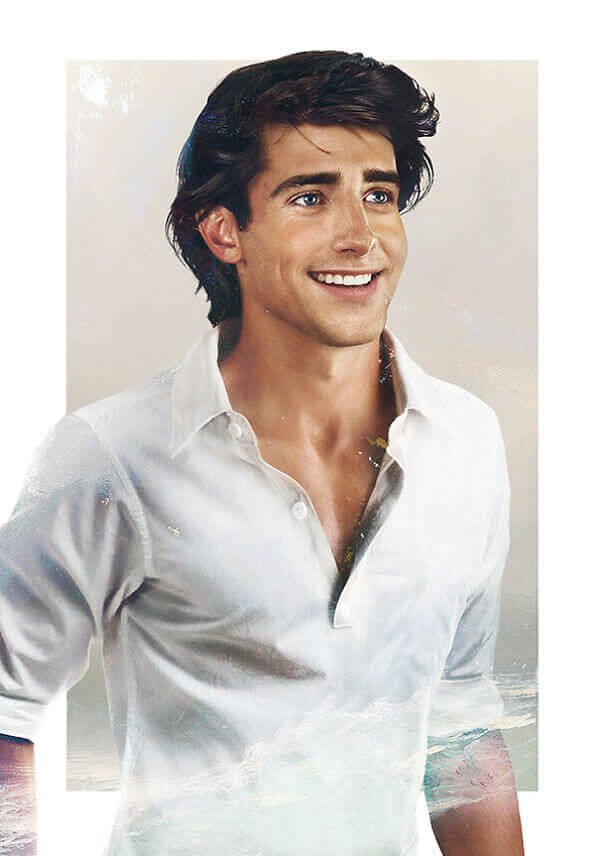 After looking at Prince Eric, it's okay to feel jealous of Ariel.
7. Cruella De Vil From 101 Dalmatians
You know the artist has done a fabulous job when he is able to captured the evilness of wealth, fashion-obsessed heiress, known as the Devil Woman.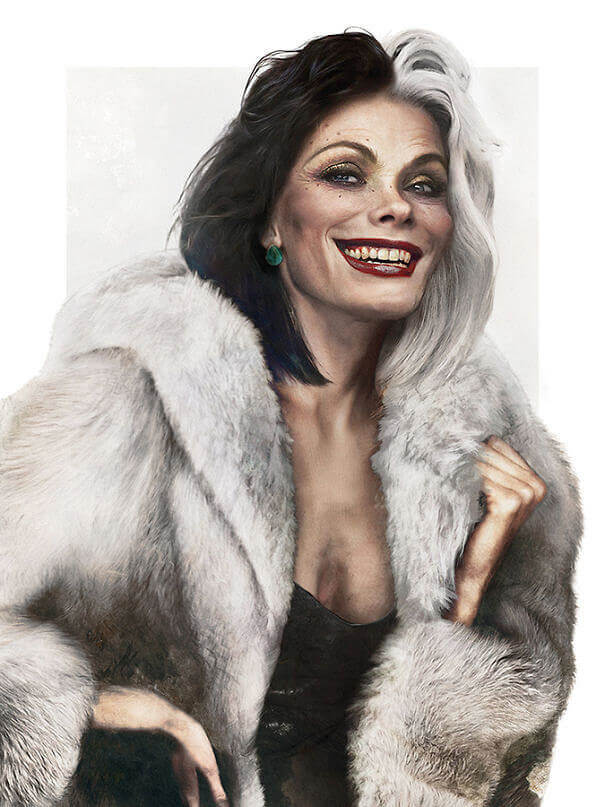 If you notice one thing, the artist worked on every little detail, even her yellow-colored teeth from smoking. Amazing work!
8. Moana From Moana
It must be challenging to make a near-perfect portrait of the vibrant and optimistic daughter of Chief of Motunui.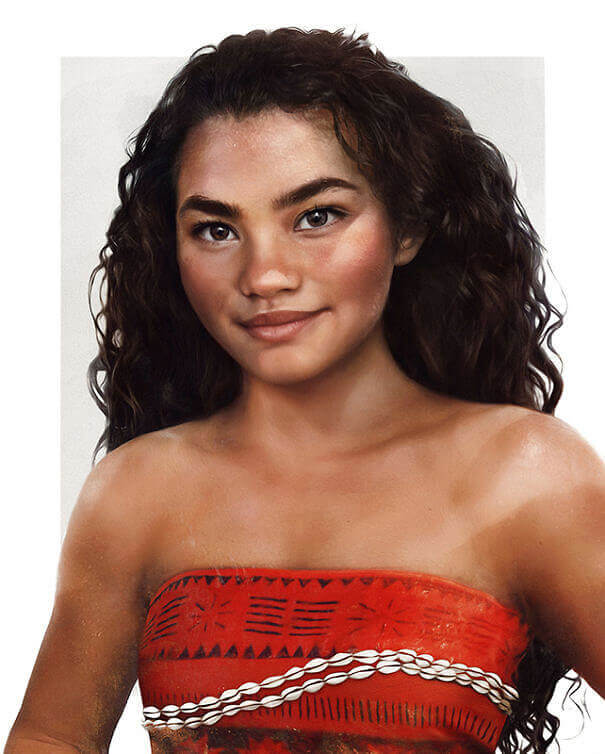 Well, the artist nailed it because it's stunning, and we love how he highlighted her natural beauty.
9. Tinker Bell From Peter Pan
It's incredible how you can see the mischief in the eyes of Tinker Bell in this portrait.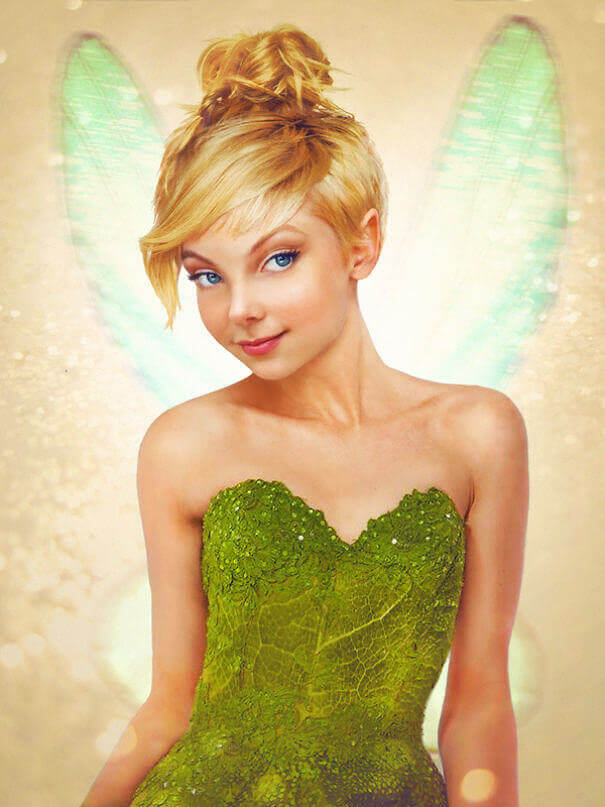 The artist certainly did a great job at capturing the sassy look of Tink.
10. Kocoum From Pocahontas
Here is a portrait of Kocoum, the Native American warrior who rarely smiles.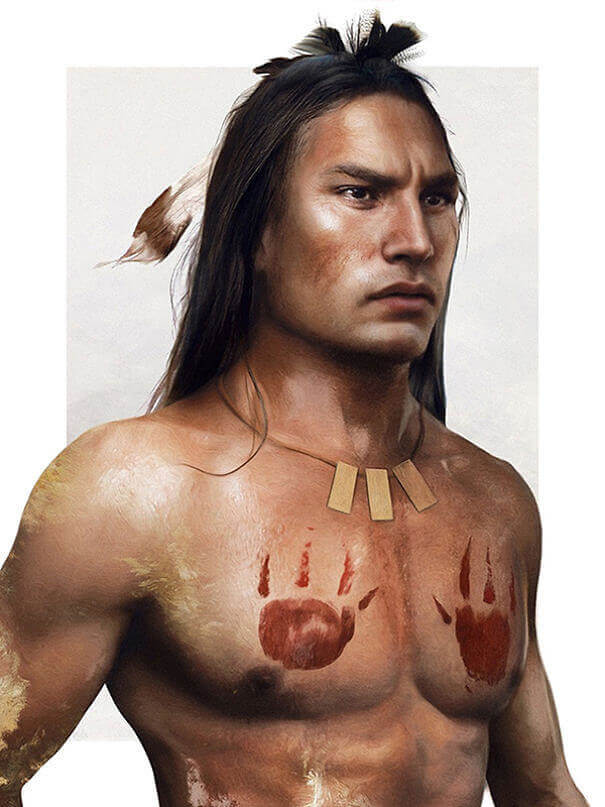 The artist was able to portray Kocoum's serious look quite flawlessly.
11. Hades From Hercules
Who else here loves Hades from Hercules? Just watch Hercules again for the sake of this funny yet evil character.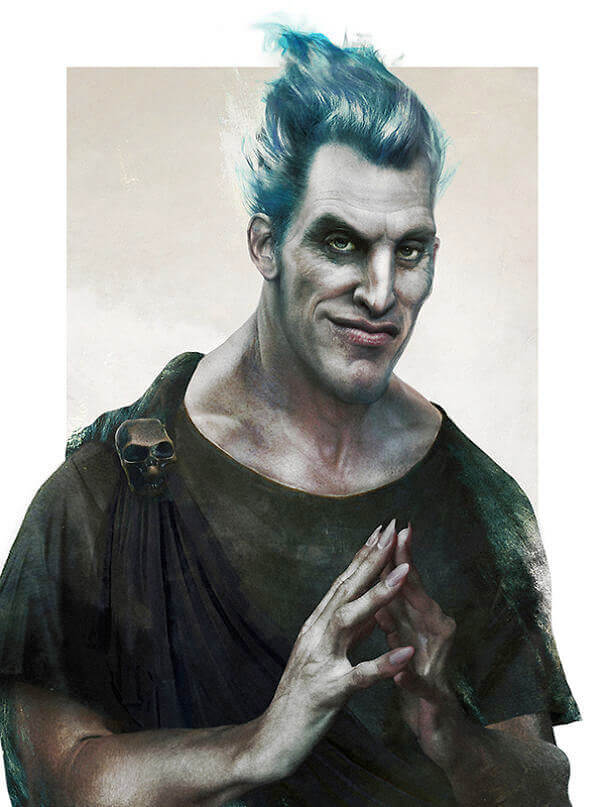 We can almost hear the voice of the fast-talking Lord of the Dead from this photo.
12. Snow White From Snow White
Ah, it's great to see that the artist didn't make many changes to the beautiful blush on Snow White's face.
This portrait is a magnificent combination of both beauty and innocence – two things that made Snow White such a beloved Disney character.
13. Mulan From Mulan
We love how the artist was able to capture her round face and rosy cheeks beautifully.
The artist paid attention to details and that's why she looks a bit absent-minded and naive, just like the character.
14. Jane From Tarzan
The artist knew how to capture the charismatic look on Jane's face.
Everything looks stunning, but we can't help, but admire her attractive eyes.
15. Princess Anna From Frozen
Is it just us or can you also hear Princess Anna's voice through this portrait? And what about those eyes?
It is inarguably a fantastic job by the artist at capturing the essence of the character while still keeping her look like a real person.
16. Eugene Fitzherbert / Flynn Rider From Tangled
We know you are wondering where that famous smolder of Flynn Rider is.
Yeah, we are also sad that he doesn't exist in real life. Why???
17. Nakoma From Pocahontas
We are surprised how the artist was able to make sure he didn't do any experimentation with Nakoma's simple and beautiful look here.
After all, there was absolutely no need for any experimentation. He has surely done justice to the best friend of Pocahontas.
18. Esmeralda From The Hunchback On Notre Dame
This portrait shows the cunning and independent character that knows how to evade Frollo.
Gorgeous as always, the artist made sure Esmeralda remains one of our favorite Disney characters.
19. Cinderella From Cinderella
After Prince Charming, here is a portrait of Disney's most beloved character, Cinderella.
The artist captured her true elegance and poise.
20. Princess Jasmine From Aladdin
Would it be wrong to think that this Princess Jasmine version is the all-time best version?
And ladies, hold your hearts because the next portrait will sweep you off your feet.
21. Prince Phillip From Sleeping Beauty
Oh boy, most of you would fall in love with the handsome Prince Phillip before he even said a single word.
We won't blame you because after seeing him, our eyes nearly popped out of our heads.
22. Alice From Alice In Wonderland
Don't we all love Alice from Wonderland? Here is a portrait that'll create a new memory of her and even bring back old memories.
The artist did justice to such an innocent and cute character with a perfect portrait.
23. John Smith From Pocahontas
John Smith looks so real and so handsome in this portrait and we won't judge you if you start kissing the screen.
If a Genie comes to us, all three wishes would be spent on: (1) Making him exist in real life (2) Having a chance to meet him in person, (3) Have him play a role in the live-action Pocahontas movie.
24. Pocahontas From Pocahontas
Not including the portrait of this beautiful Disney princess on our list would've been criminal.
This is spot-on work by the artist. If any of you haven't watched Pocahontas, watch it without wasting any time.
25. Kristoff From Frozen
This handsome hunk was raised by a colony of trolls and by the looks of it, they raised him well.
We can see his selflessness, fun-loving nature, and sweet personality in this portrait.
26. Lady Tremaine From Cinderella
All fans of Cinderella remember the Wicked Stepmother that is cruel, power-hungry, and manipulative.
It is amazing how the artist was able to show Lady Tremaine's wicked nature and hatred towards Cinderella just through a portrait.
27. Prince Adam / Beast From Beauty And The Beast
As Prince Adam was cursed by an enchantress as a punishment for his cruel and selfish nature, this portrait shows his arrogant side.
Nevertheless, if you show this portrait to your male friends, many of them would feel much better knowing that he does not exist in real life.
28. Tiana From Princess And The Frog
This version looks way more elegant and beautiful than the cartoon version.
In this portrait, Tiana is brought to life how everyone imagined her.
29. Rapunzel From Tangled
Rapunzel, the beautiful princess of Corona is kind, energetic, curious, and loving.
Thankfully, the artist was able to show most of her qualities through this portrait.
30. Tarzan From Tarzan
Although we loved Alexander Skarsgård in 2016 The Legend of Tarzan, we're having second thoughts after seeing this portrait.
It is fair to say that this one is a pretty accurate portrait of Tarzan. Can someone please take us to the jungle?
31. Thomas From Pocahontas
Although Thomas is John Smith's best friend and a sidekick in Pocahontas, this portrait shows that the cheerful character packs pretty attractive looks.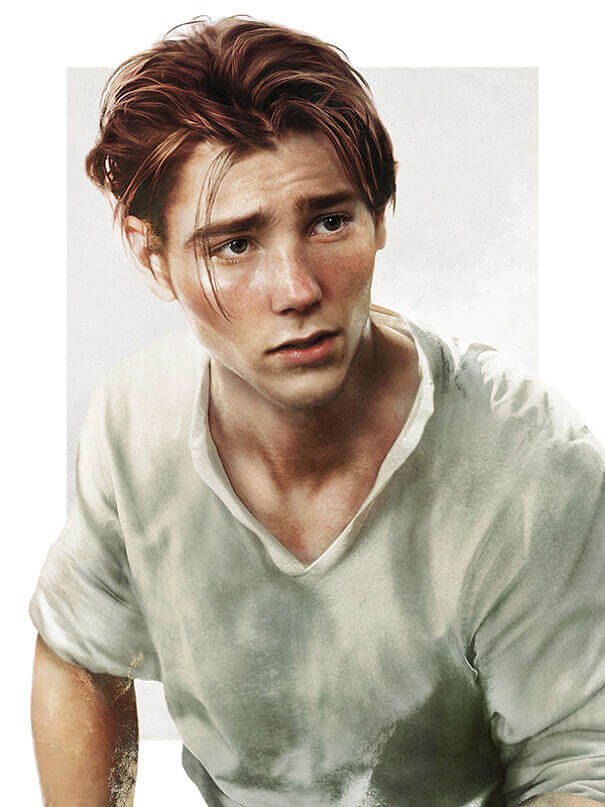 Kudos to the artist for making sure he captured the innocent and cute side of Thomas.
32. Hercules From Hercules
In the 1997 animated feature film, we all came to know about the godlike strength of Hercules, son of Zeus and Hera.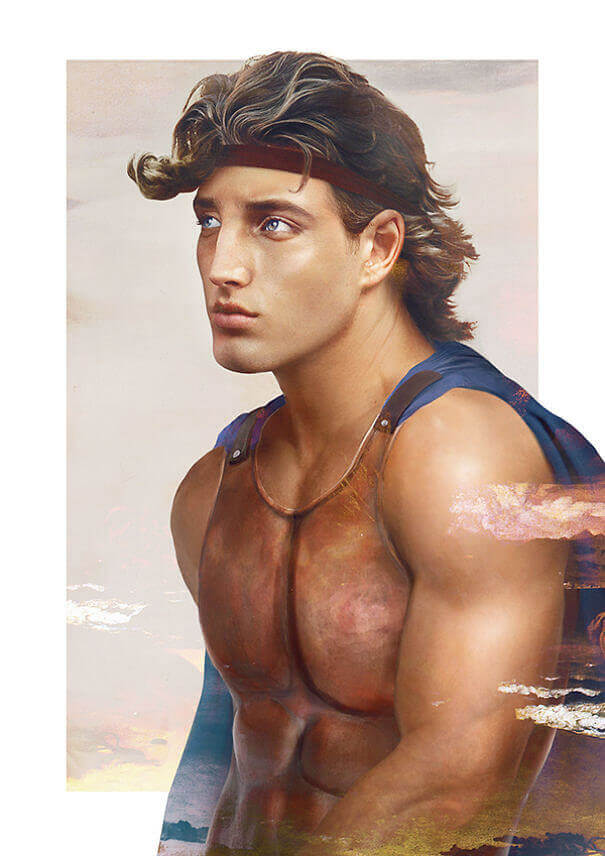 This portrait shows how the character would look like as a real person, and it is perfect.
33. Aladdin From Aladdin
Well, this is very much like live-action Aladdin and we think it is perfect.
We are not complaining, but it sure looks incomplete without Abu. What do you think about it?
34. Princess Jasmine From Aladdin
We are sure the artist spent many extra hours to perfect this portrait of Princess Jasmine.
She looks so elegant and beautiful here that we're short on words. By the way, this outfit is from the part of the movie where Jafar captures her and makes her wear it.
35. Captain Hook From Peter Pan
Captain Hook, the bloodthirsty commander of the Jolly Roger, never looked so real before.
This portrait is able to show the vengeful, ruthless, and greedy side of Captain Hook.
36. Prince Charming From Cinderella
Here, the Prince of the faraway kingdom has a graceful look. In fact, it exceeded our expectations.
With a handsome person such as Prince Charming, one could dance with him all night long.
37. Merida From Brave
We didn't know that the Scottish princess and the daughter of Queen Elinor and King Fergus would look so cute in this version as well.
Merida is correctly shown here as a brave and free-spirited girl – just like in the 2012 animated feature film.
38. Jafar From Aladdin
The artist did a splendid job of capturing the dark essence of Jafar in this portrait.
After all, we can see the evilness of the cold-hearted, power-hungry villain here.
39. Peter Pan From Peter Pan
Peter Pan, the leader of the Lost Boys, looks excited to spend his never-ending childhood enjoying the island of Neverland.
The portrait shows his careless attitude and mischievousness in his eyes.
40. Princess Aurora From Sleeping Beauty
Princess Aurora, the daughter of King Stefan and Queen Leah, was cursed to die by the evil Maleficent.
As the curse was broken by true love's kiss, we got to see this beautiful angel.
41. Wendy From Peter Pan
Here, Wendy Darling looks all ready to enjoy fantastical adventures with Peter Pan.
The portrait rightly shows her dreamy and adventurous side.
42. Evil Queen From Snow White And The Seven Dwarfs
The Evil Queen (aka the Wicked Queen) tried to remain the fairest one of all and that's why she becomes determined to poison Snow White.
Here, the portrait perfectly showed how she would look in real life, but it also showed her evil and insane personality.
43. Prince Naveen From The Princess And The Frog
Remember Prince Naveen's introduction when he says "I am Prince Naveen" and gets smashed by a book. Hilarious stuff!
It can't be more realistic than this, right? Although Prince Naveen prides himself as a charming and handsome man, we believe that he has every right to feel this way.
44. Ursula's Alter Ego Vanessa From The Little Mermaid
No wonder how the alter ego of Ursula was able to brainwash Prince Eric into loving her instead of Ariel.
With a thin, attractive, and young look, the artist was spot on with Ursula's alter ego here.
45. Maleficent From The Sleeping Beauty
Here is the evil fairy that uses the evil magic in revenge for not being invited to the christening of Princess Aurora.
This portrait is simply amazing. And who else thinks that Angelina Jolie is the one true actress to play the evil queen for like ever?
46. Mother Gothel From Tangled
It's like some of the drawings of the artist capture the essence of the character better than the original character itself.
This is a perfect portrait of Rapunzel's former foster mother-turned-enemy.
47. Megara From Hercules
As Megara (aka Meg) served as a minion of Hades, she was able to free herself because there was still some innocence in her.
In this portrait, her eyes show the sad story of how she gave her soul to the Hades (God of Underworld) to save her boyfriend, who then left her for another woman. #Relatable
48. The Prince From Snow White
Did you know that The Prince was the first "realistic" human male that the animators of Disney tried to bring to life?
Here, the portrait shows the romantic look of the charming prince.
49. Judge Claude Frollo From The Hunchback Of Notre Dame
As this religious fanatic uses his power and position to punish those who he considers inferior, this portrait shows his true evil nature.
We loved how the artist made sure we could see the evilness of this man.
50. Gaston From Beauty And The Beast
No matter how much we hate Gaston, a part of us would feel somewhat sad for him (or maybe it's just us).
Well, this portrait shows the greedy, arrogant hunter who was obsessed with marrying Belle.
51. Prince Hans From Frozen
The power-hungry Prince Hans of the Southern Isles is not a beloved character.
However, this work by the Finnish artist is making us reconsider it. He looks quite hot here.
52. Captain Phoebus From The Hunchback Of Notre Dame
This character seems like a villain at first, but his love for Esmeralda makes him betray his superiors and fight for the right side.
By the way, he looks super handsome in this portrait.
55 Incredible Optical Illusions That Will Leave You Rubbing Your Eyes In Disbelief
John Travis
This article was originally published on Kueez
One of the main reasons optical illusions most often go viral is that they leave your head spinning. It also shows how the human brain processes and interprets size, color, peripheral vision, and, quite frankly, everything else. You no doubt love them so much because one second you think you're looking at one thing and then in the next moment – it's something else! On that note, we've compiled a list of the most shocking and mind-bending illusions that you have to see. You won't get something like this anywhere else!
1. This Armadillo Lizard Looks Like It Should've Been In Game Of Thrones
Wait, so dragons are real now? What else is 2020 going to throw at us? Not so fast now, this is actually an Armadillo Lizard found commonly on the west coast of South Africa. This little guy isn't even a baby either, in fact, this is about the full size they grow to.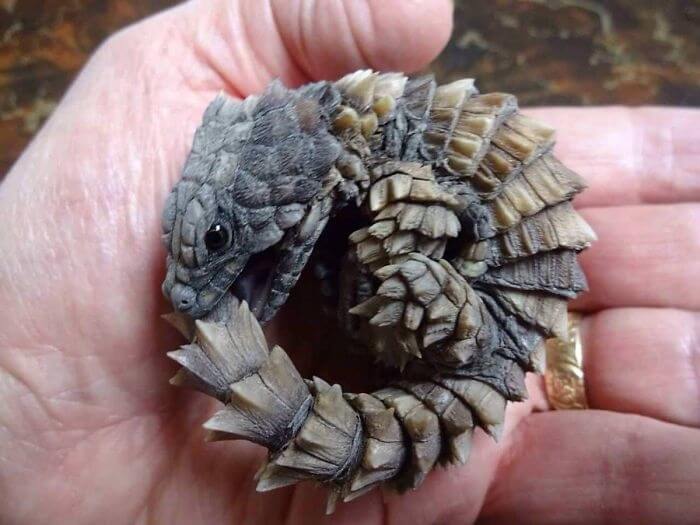 By the way, the high demand for these lizards is negatively affecting their number in the wild. As of now, they are listed as vulnerable and they may become endangered in a few years.
2. Nature Copying Van Gogh
Someone found a pattern on rocks in Sweden and it looks a bit like The Starry Night by Van Gogh. What do you think about it?
This is some museum bound stuff because it looks so much like Van Gogh's famous painting. In a way, it seems like nature wanted to give some strong competition to one of the most famous and influential figures in the history of Western art.
3. Went Outside And My Grandparents' Lake Looked Like This
This is the view of someone's grandparents' backyard and now we want to visit them (without making our trip look suspicious). Of course, if so many people visit at once, then it may freak out the owners.
And is it just us or does it looks like a scene from the movie The Lovely Bones?
4. Black Cat Looks Like White Cat's Shadow
There is nothing special going on here. It's just a white cat with its shadow and nothing else.
But wait, if you take a double look, you'll be surprised to know that there are two cats in this photo. The black cat looks like the white cat's shadow.
5. Actually The Top Of A Fence Post
Given how Covid-19 has almost killed off the exploring germs in us (no pun intended), an image like this one can reignite the fire.
But don't get too excited because it's just a photo of the top of a fence post. Although it looks like an entire ecosystem.
6. The Frost On The Roof Of This Car Looks Like A NASA Satellite Photo
This is the frost on the roof of a car and it looks like a view of the Earth from space. We have to say that it seems super real.
Even the way the light shines down on it looks like a perfect recreation of the sun hitting our planet. Looks like this person didn't have to become an astronaut to get an unbelievable view!
7. This Caterpillar Looks Like It's Wearing A Penguin Sweater
This is a forest tent caterpillar moth (Malacosoma Disstria) that looks a lot like it's wearing a penguin sweater. We think the scientists got this one's name wrong and we're renaming it to Penguin Sweater Caterpillar.
Nature, you are so crazy and awesome. And hey, are you feeling festive after seeing this photo?
8. This Stone Proves That Diamonds Are Overrated
Hey, we don't have anything against diamonds, but we strongly feel that Moss Agate (a semi-precious gemstone formed from silicon dioxide) should be the expensive one.
This one is from Indonesia and the "moss" is actually iron and other minerals in the stone. It looks like a secret forest that you can keep in your pocket.
9. What Looks Like A Concert Is Actually Cotton Being Farmed At Night
This was the biggest concert ever because famous DJ Cotton Picker rocked everyone that night. Oh wait, it seems like this huge concert crowd is actually just cotton.
This picture is so weird. When you look at it a second time, it's so obvious that it's big tractors out on a field. It's strange that most people – us included – first saw a concert. We could hear the music as well.
10. Frozen Spiderweb Looks Like Yarn
At first, we seriously thought it was some grandma's crochet project. In reality, this is a frozen spider web that looks like knitting.
It is so cool. Maybe grandma spider made this for one of her grandchildren.
11. Frozen Christmas Trees With Lights On Them Look Like A Rocket Launch
What do you get by combining Christmas lights and snow? Well, you get a rocket launch ceremony in your backyard for free.
These frozen trees in Switzerland had lights put on them. As you can imagine, the frost reflects the lights giving the trees the impression that they're moments away from blasting off into space.
12. It's Actually Just Two Chubby Pigeons Perched On A Ledge
This is a photo of two pigeons perched on the ledge and it seems like they are looking for their car. As if crapping on cars wasn't enough, now they have started to steal them as well.
Given that pigeons look a lot like gangsters, it makes sense. They must be thinking, "Why fly when you can drive?" Or maybe they were looking for a toilet.
13. Doggo Came Out Of The Bath Looking Like A Bear
We don't know about you, but our heart can't handle this much cuteness. After taking a bath, the doggo's face looks like a bear, and we think it is one of the cutest photos on the internet.
That face and expression look so freakin' cute. We just want to wrap him in a towel and cuddle him.
14. The Moon Looks Like Saturn
This strange and mysterious 2019 photo of clouds passing in front of the moon should've been taken as a warning of all the terrible things to come in 2020.
There is a thin cirrostratus cloud around the moon, which is making it look like Saturn. The photographer surely captured something really rare.
15. Slowly Melting Snow Looks Like An Ice Tornado
The snow that slowly melted on the front porch started to look like an ice tornado and we feel that it looks more impressive than the view (which, by the way, is splendid).
Given how beautiful this place is, we're wondering why the people are not outside. Maybe there's a real ice tornado out there.
16. Finally An Idea To End Humankind
The light coming from the bathroom window makes it look like the cat just had an evil idea on how to wipe off humans and take control of the world. The way she looms in the shadows makes us think that the great idea is probably a plot against humanity.
So can we say that a brilliant idea "popped" up in her mind? Maybe she's just thinking of ways to break her human's items.
17. This Moth's Wings Look Like Snakes
At first, it looks like there are two snakes. However, these are the wings of Atlas Moth that look like snakes to scare off the predators. Why is that? Well, no one wants to die.
This is indeed a realistic painting by Mother Nature. Ironically, Atlas Moths have a very short lifespan. Apparently, the wings don't help in living a long life.
18. A Glitch In The Matrix
These two adorable doggos appear to have merged and it seems like they just want to hear, "who is a good boy?"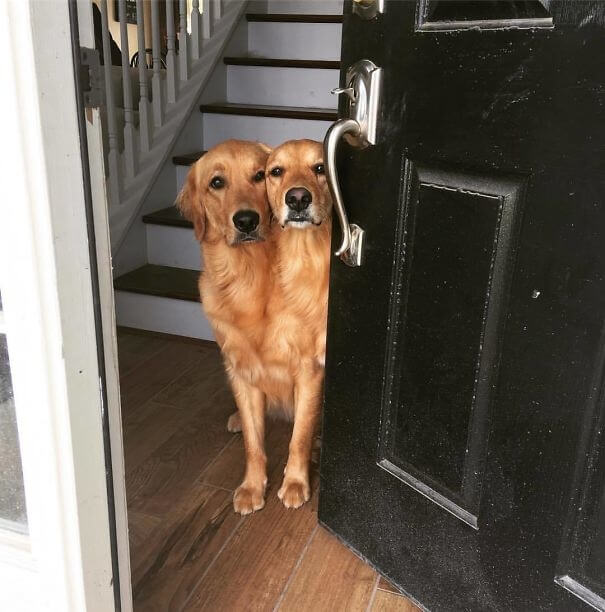 In reality, it's just one dog sitting in front of the door while the second dog tries to poke its head in there to get a better look. How about some personal space guys?
19. I Took A Picture Of A Window With Rain On It And It Looks Like A Galaxy In Space
One wonders if this person watched Guardians of Galaxy before going to sleep. At first, we legitimately thought it was the actual galaxy. But in reality, it is a picture of a window with rain on it.
Next time when it rains, do try to take a photo. Who knows, you might get to see a galaxy as well.
20. Almost Had A Heart Attack After Seeing My Dog Next To This Log
Although it will take you 2 seconds to figure out what's happening in this photo, we feel that you should say "it is a long log dog" at least 20 times. We think it is the best tongue twister ever.
Maybe this is what happens when you practice your magic tricks on family members.
21. This Photo From A Plane Makes The Clouds Look Like Lava
Oh boy, these sunset clouds look a lot like lava, right? Well, that's Mother Nature at its absolute best.
Not only do they look like lava, but they are also quite similar to old school video game lava.
22. This Window Looks Like A Painting
This window looks like a painting and we still think that's not true. One thing we know for sure is that Bob Ross would be so proud.
It is absolutely gorgeous and the view is stunning. So, please fix this house back up.
23. Bad Video Game Render
It seems like Hawaii starts looking like a bad video game render when the sun is directly overhead.
This phenomenon is called Lahaina Noon. It happens when the sun is directly over the ground. It only happens in certain parts of the world. The only US state where this is possible is Hawaii. It's very, very cool.
24. Perfect Camouflage Doesn't Exist…Oh, We Take It Back
Hold on, where is the bird? All we see is a pinecone on a blue towel. Well, this cute little baby bird looks like a pinecone. It is so adorable, right?
Mother Nature knows that being adorable can't save you in the wild so the camouflage helps a lot. This could have been a 100% Illusion without the beak.
25. This Hairless Guinea Pig Looks A Lot Like A Baby Hippo
This person encountered a hairless guinea pig that looks a lot like a baby hippo. If you haven't seen a baby hippo, please for once, go on Google and have a gander.
By the way, some people (Canadians) may think of House Hippo after seeing this photo. You know you're Canadian when this is what comes first to mind.
26. Is It A Bar Stool? Or A Row Of Espresso Martinis?
These espresso martinis look a lot like bar stools and we don't feel bad for getting fooled by optical illusion again and again.
At first, we thought "bar stools looking like cookies" is an illusion here. Guess we are just hungry.
27. Must Not Pet Flour
This little cutie patootie cat looks like a bowl of flour. We thought that was just flour until we saw the cute face. We are sure now that this recipe requires just one ingredient: cuteness.
Cats actually have several physical states, including solid, liquid, and, as demonstrated here, powder.
28. Wait Until They Hatch
These pebbles on the beach look a lot like eggs and we're betting it would be so nice to just lie down on them for a bit, under the sun.
So how would you like your egg? Fried? Scrambled? Rock hard-boiled? Just so you may know, this photo was taken on Ikaria Island, Greece.
29. The Reflection Makes It Seem Like The Coffee Shop Has A New Competitor
This mirage of a coffee shop window makes it look like the car is selling pies out of the trunk.
We think it also seems like a food delivery truck next to its bakery. It is a good business idea.
30. That's Not A Towel – It's Snow!
Most of you must have thought that someone put a towel over their car and took a photo. But in reality, it is a blanket of snow that looks like cloth.
The garage was cold and the car was probably warm for a bit. So it melted and froze again. Although it's a pretty cool illusion we're better the person taking the photo is now late for work.
31. It's Picture Perfect
Someone rented a house and the window looks like a painting. We would like to have a window 3X that size.
Imagine living in a house with a view like this one. Oh corona, please go away so we can enjoy the world again.
32. What Looks Like The Grand Canyon Is Actually A Puddle
At first, it looks like you are looking at a valley from a really high view. However, this really cool 'aerial view' is a puddle.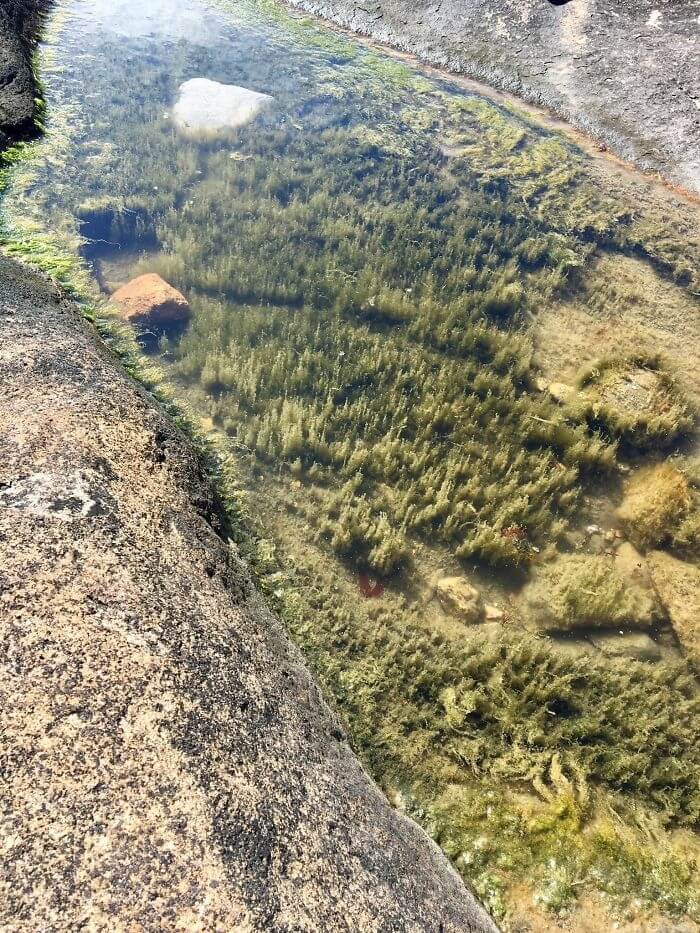 Imagine small insects living in that puddle, living in a world that looks like ours. This looks so beautiful.
33. Otherworldly Flower!
This new Petunia looks like a galaxy. Mother Nature, how many times are you going to win our hearts, please tell us?
So this person holds the power of stars in their hands. It looks like hundreds of galaxies, just waiting to be explored.
34. This House Looks Like An Arizona Green Tea Ad
This person's next-door neighbors' house looks like the picture on a can of Arizona Green Tea. It's making us thirsty just looking at it!
It seems like Mother Nature is telling humans, "I can do a much better job than you."
35. When You Have Seen Terrible Things
This cutie is Jubilee and she looks like bad taxidermy. It seems like she is always worried, but it is because of her eyelid deformity. It seems more like she's urgently saying, "I have to pee. Open the door, JANET!!"
A breeder gave this lovely girl to an animal shelter because she was "too weird" looking. Jokes on them, a family adopted her!
36. A Giant's Favorite Toy!
This cooling system becomes giant Lego bricks in the snow. This is both interesting and satisfying.
By the way, this would be an excellent location for filming a cinema adaptation of Metal Gear Solid's Shadow Moses Island.
37. Was This Modeled After The Easter Island Statues?
Hey, this oven kind of looks like an Easter Island head, right? And it is complete with a nose ring as well.
Our suggestion to this person is that they should return this oven to its forbearers.
38. Oh Boy, Almost Had a Heart Attack
This person almost died when they found their mom's new "USB Hub" sitting on her desk. One wonders if this USB hub is for those people who frequently get bored at the office.
Maybe in this busy world, you need to multitask. Given that it certainly looks like something "else," we think she didn't know anything about it.
39. Morro Rock In California Looks Like A Pile Of Lava In The Mornings
This Morro rock looks like a big pile of gold during sunrise and a bit like an explosion of fire as well.
Well, just fancy waking up to this sight in the morning. That will be pure "richness" in terms of freshness.
40. Is That Blue Meth Made By Walter White?
What do you think about this? Well, it is not blue meth made by famous Walter White, aka Heisenberg. It is also not stained glass either.
This is a photo of rice fields taken from above and we still can't believe it to be true. It is so impressive
41. Turtle Getting Ready For His Trip To Cabo
This cute little turtle's shell looks a lot like a Sombrero, aka Sombrero de Charro in Spanish. If you don't know what a Sombrero is, then let us enlighten you. It is one of Mexico's national and cultural symbols.
So is it time for the Mexican hat dance? Watch out when it hits its teen years – mariachi music will be blasting out of that shell at all hours of the night.
42. How To Train Your Snapping Turtle
This baby snapping turtle looks so much like a little dinosaur. It seems a bit like an Ankylosaurus.
And what about that beautiful tail? It is amazing. We just hope they cast this cutie in the new Jurassic Park installment.
43. Ever Looked Inside A Guitar? It Looks Like A Nice Apartment
This apartment is $500,000 per night. But you still can't live inside it even if you have the money. You know why?
Well, this is the inside of acoustic guitars and you have to admit that it looks better than most luxury apartments. Ants will be like, "Hey it's free real estate here!"
44. Looks Like Heart Fireworks
This is far more than mildly interesting. This is life imitating art as that bush grew up with a windows 98 computer. To some people, it may look like this bush won Solitaire and some may think it resembles heart fireworks.
By the way, how many of your remember Solitaire? People born in the 1990s must have felt nostalgic after seeing this photo.
45. You'll See It Once And Never Again
Once you know what it really is, the illusion is gone forever. Aww, don't feel sad because that's an illusion.
What are you thinking right now? All we have to say here is never try to underestimate the power of a dirty mind!
46. This Concert Looks Like A Galaxy
This aerial shot of a Burning Man festival looks like a galaxy. Given that only 70,000 people went to the Burning Man event in 2018 this would probably be the smallest galaxy in the universe.
It is an art festival held in the desert in the US every year. The main point is the burning of a giant wooden man. Just so you may know, the Burning Man event has been held annually since 1986.
47. Where is The Rest of The Building?
This building looks like a single, tall wall of windows and nothing else. And it is not some art project.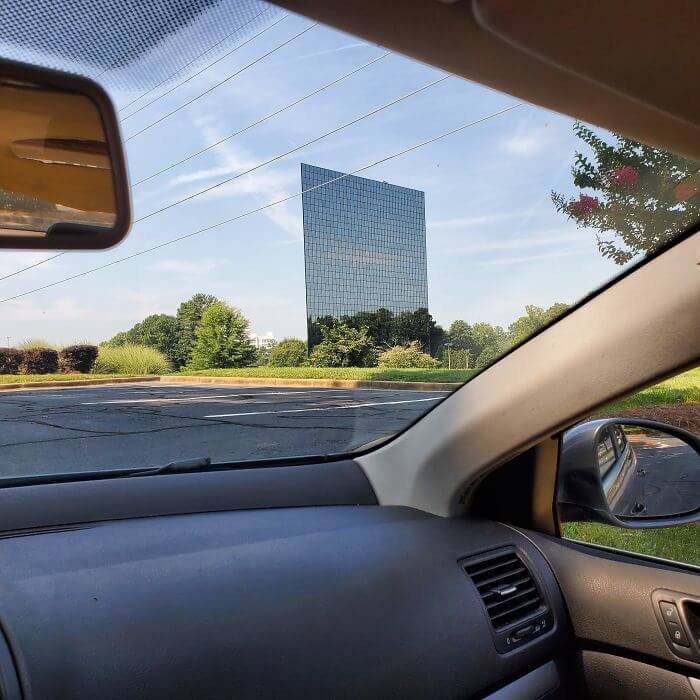 Is the building paper-thin or something else? Is your brain struggling to figure it out? Well, we won't tease you anymore. It's a triangle-shaped building.
48. A Mini Desert Oasis
What is this, a paradise for ants? These tiny weeds in a garden look a lot like a desert oasis. Just look at the cute mini palm trees.
All this person needs to do is put some toy camels there, some sand, and make a short movie.
49. Edible Gemstones
Did you know that there are purple potatoes as well? Imagine fries made of them. At least these purple potatoes look like gemstones.
By the way, they are rich in polyphenol antioxidants called anthocyanins and that's why they can help improve vision and reduce the risk of heart disease, diabetes, and certain cancers.
50. Oh, Be Still, My Beating Potato
We were a bit scared for a second. This small red potato looks like an anatomical heart and we couldn't agree more.
We have a question: if you eat it, do you gain its courage? We're just asking for a friend.
51. Look At The Ground: The Shadow Looks Like A City
The shadow of this person's bookshelf looks a lot like a city skyline. What do you think about it?
It is not surprising, considering books create alternate worlds. Books are a portal to another world, and the shadows have shown.
52. Finally Some Concrete Proof
So for how long NASA and the US government tried to hide this from us? Finally, we got proof of the UFO invasion.
Or maybe these are what people have been seeing for years. Could it be how those blurry photos from the UFO craze period happened?
53. We See A Tiny Colosseum!
Although the person who took this photo thinks that the moss growing in their bus stop gutter looks like a tiny ancient ruin on top of a hill, all we can see is a miniature Colosseum.
It does look a bit like a Roman Colosseum, doesn't it? And we think that the bottle somewhat ruins the whole illusion.
54. Won't Stop Us Now
Although this paella looks like a bunch of people in a dirty pool, it won't deter most of us from eating it. Who doesn't love paella?
Maybe it is a Coronavirus party at the Lake of the Ozarks this summer or a very crowded pool. You can play the guessing game all day long.
55. Is That Nimbus 2000?
This dead plant looks like it came from the Harry Potter world because it is a mini broomstick.
So, it seems like there are witches among the fairies as well. Or maybe Witch Barbie lost her ride, who knows.