What is the first thing that comes to your mind when you hear about North Korea? Kim Jong-un, right? Well, it is because North Korea is stringent when it comes to its privacy. There are many bans and restrictions, which is the reason many North Koreans only know what they have learned and seen inside their country. Under the dictatorship of the Supreme Leader of North Korea, it has become difficult and risky for Western photographers to take photos of the poverty-ridden country. However, some incredible images were smuggled out of the country. So, let's have a look at them.
Spending a Fortune on Armed Forces
It is difficult to get an exact figure of how much is spent on armed forces due to various bans and restrictions on media; it is believed to be a lot. No wonder why the country uses lasers and missiles that are banned in other countries. 
The country has an impressive cyber warfare unit, which shows that Kim Jong-un doesn't mind spending a considerable chunk of the country's budget on armed forces. Also, it is mandatory for every North Korean (even women) over 18 to enlist in the army.
Approximately 97% Unpaved Roads
From the first point, it is clear that the government doesn't spend a lot on the infrastructure of the country. And a clear example of that is only 3% of the roads are paved in North Korea.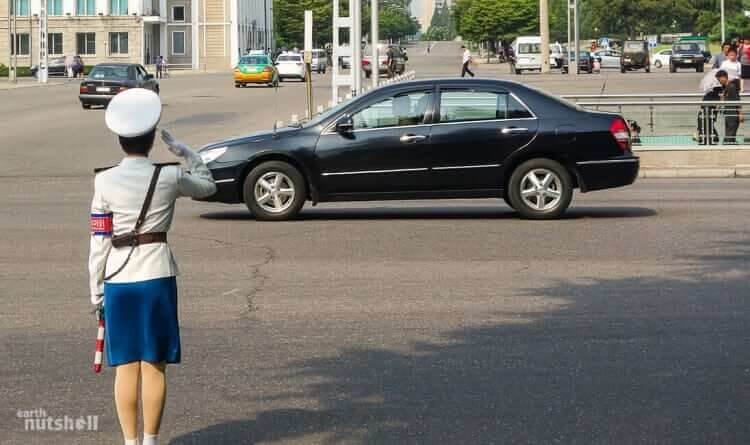 There are 120,538 square kilometers of roads in North Korea, and only about 2.83% of roads are paved. If you travel through the country, you wouldn't be surprised to find unpaved roads.
Among The Most Corrupt Countries In The World
Some reports confirm that corruption has significantly increased under the dictatorship of Kim Jong-un. The country was tied with Somalia for the most corrupt country in the world in 2015.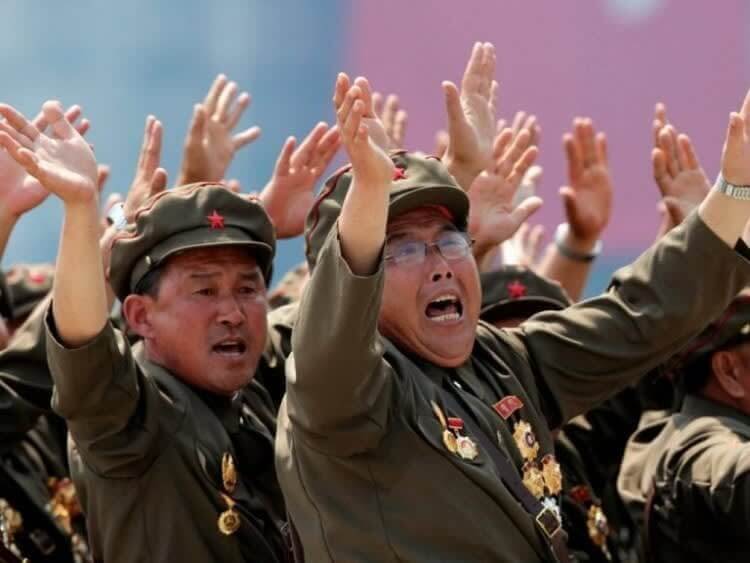 North Korea and Somalia are among the top five countries on the list of Corruption Perceptions Index with 14 points for North Korea and 10 points for Somalia. The rating is between 0 (highly corrupt) and 100 (very clean).
Child Labor?
You may not believe it, but then again, we're talking about North Korea. Students are required to have pay for their desks, chairs, and heating during the winter season. They must work while studying at school so that they can produce goods for the government.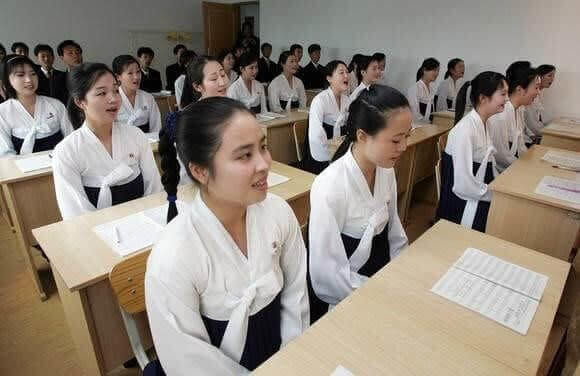 As children are forced to work at school, parents will either bribe the teachers or stop their children from getting any further education.
North Korea's GDP is Lower Than Net Worth of Bill Gates
The net worth of Bill Gates as of 2019 is 102.4 billion USD, which is way more than the North Korea's GDP of $17.4 billion (these are estimated stats). The people of the country mostly rely on their government even when it comes to fulfilling their basic needs.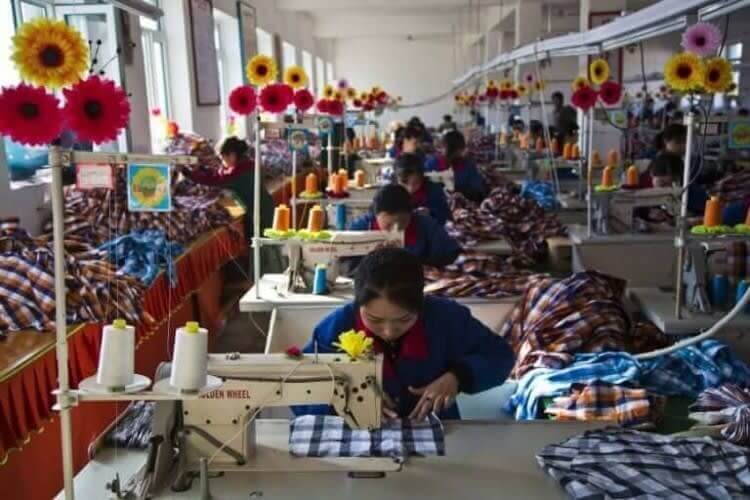 As North Korea's GDP is way lower than America's GDP of over 19.39 trillion USD, the government of North Korea has control over everything from production, distribution, prices, and so forth.
A Country That is About The Size of Pennsylvania
There is a perception that North Korea is a big country but in reality, it isn't. Korea used to be one nation, it divided into North and South Korea after World War II. North Korea is just slightly bigger than Pennsylvania.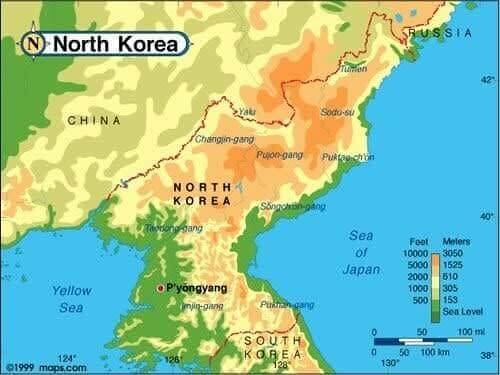 The total area of North Korea is 120,538 square kilometers, which is just slightly bigger than Pennsylvania. It is interesting to notice here that only 19.5% of the land of North Korea is sustainable to growing edibles.
Marijuana Smokers' Paradise?
Marijuana buying and smoking are pretty much legal in the country and it might attract some people to visit North Korea. Some reporters who visited the country were amazed to see that there are almost no rules against marijuana.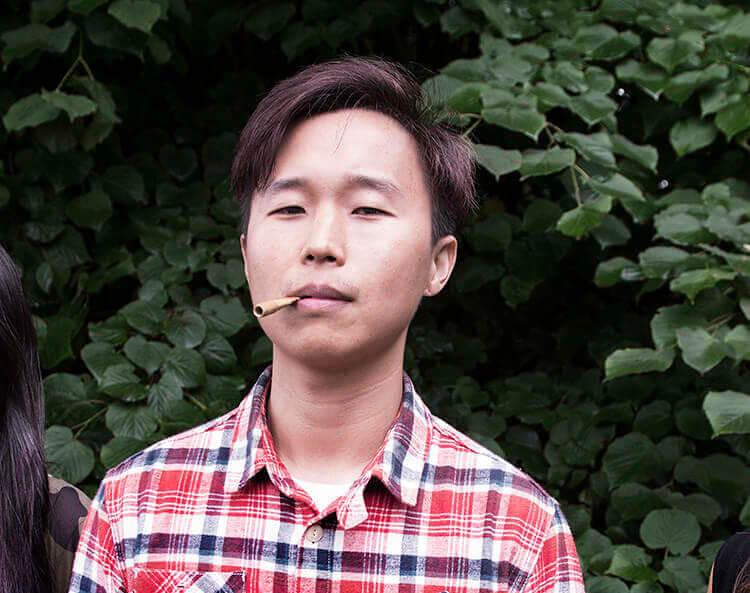 According to reporters, there are some rules against marijuana but they are not enforced at all. It is not clear whether the same rules apply both North Korean citizens and tourists. However, the government takes severe action against people who consume methamphetamines.
Western Tourists Are Assigned Guides
If you ever decide to visit North Korea, keep in mind that a guide will be assigned to you once you're approved by the party. You cannot say "no thank you" to your guide and he/she will accompany you wherever you go.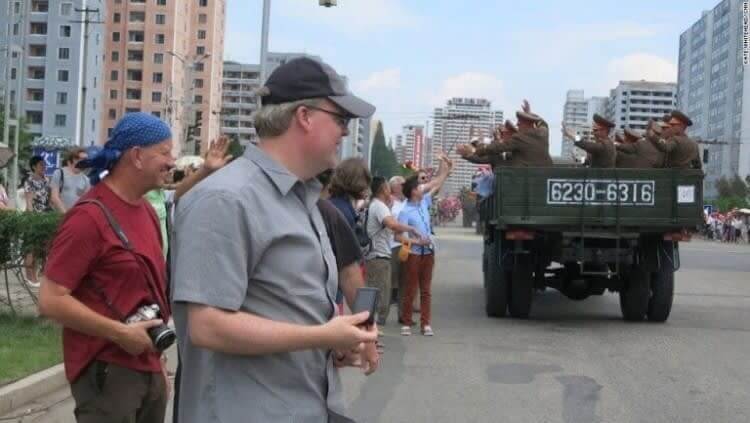 It is hard to enjoy your stay in North Korea when there is a guide who is too clingy and won't leave you. Photographer Michal Huniewicz shared his experience of visiting the capital city: "We were intercepted by our guides, who we could not leave during the entire stay, and who'd tell us when to sleep and when to wake up."
Taking Public Service to Next Level
In this picture, you can see uniformed girls sweeping one of the walkways at Mansu Hill Grand Monument. This is observed as a form of public service in the country.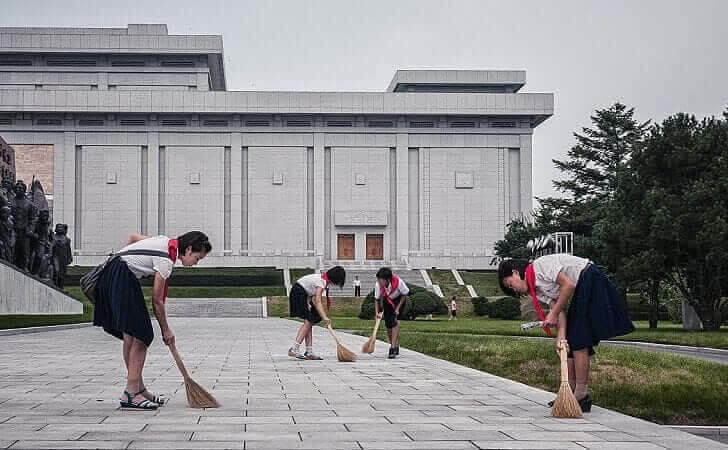 According to North Korean refugees, the government has divided the citizens into various groups based on their level of loyalty to the government. The loyalty of citizens is determined by his/her social status, behavior, political background, and the behavior of their family and relatives.
You'll Find Soldiers Everywhere in the Country
With over 1.2 million active soldiers, the North Korean army is considered one of the biggest armed forces in the world. The soldiers of the Korean People's Army or KPA can be found almost everywhere in the country.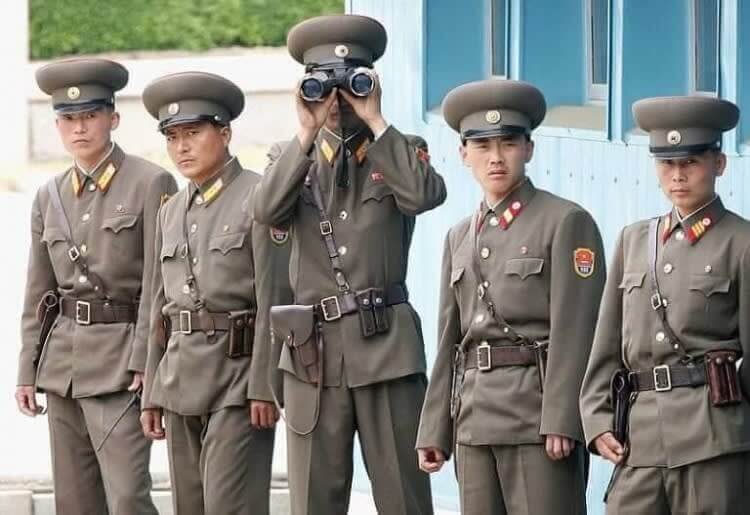 It is believed that 1 in every 25 North Korean citizens is an enlisted soldier. One of the largest KPA branches is the Ground Force that has about one million army personnel.
No Need to Get A Funky Haircut
We can assume that barbers in North Korea have a pretty boring job. After all, they can only give a certain haircut to their customers even if they want something else. All male citizens have to model their hairstyles after Kim Jong-un.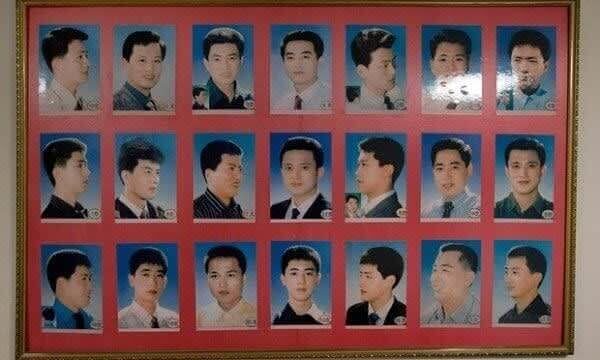 According to an anonymous source, men in the country are ordered to cut their hair so it isn't longer than 2 centimeters. Women are also not spared and they have to follow hairstyle of Kim's wife or choose from a selection of 14 approved styles.
Locals and Tourists Can't Shop in the Same Shop
When photographer Michal Huniewicz had a chance to get away from his guides, he went to a shop and took this photo. He was quickly removed from the shop because there is a rule that tourists and locals can't shop from the same shop.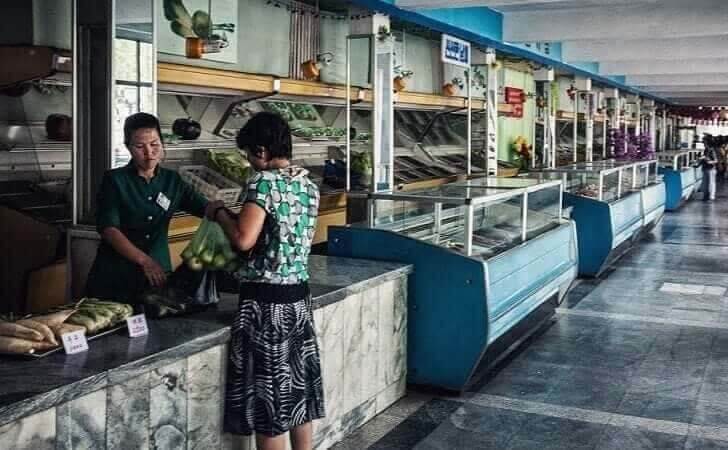 Western tourists cannot go anywhere in the country as they please. In fact, they have to let the authorities know about their plans ahead and have to do everything under the surveillance of guides, even if it's shopping.
Keeping the Streets Clean
The cleanliness of Pyongyang is quite noticeable. It is mainly because heavy fines are imposed on anyone who breaks the rules. Photographer Michal Huniewicz was lucky enough to take a picture of a man relieving himself on the side of the road.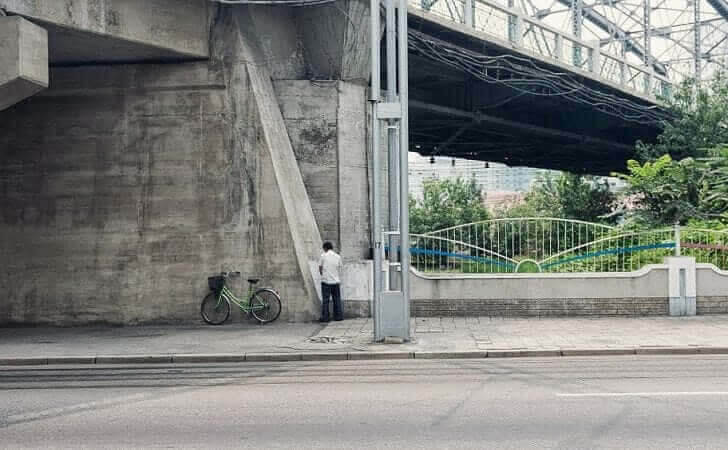 North Korea spends a lot of money to ensure that they have a clean capital to show to the world. However, it doesn't really hide the fact that the physical state of the country's capital is awful.
It Isn't Easy To Leave the Country
If someone is caught leaving the country, they're heavily punished for their actions. There is one way to avoid it, but it would require you to pay $8,000. Given that half of the country is living in extreme poverty, it seems impossible for most people.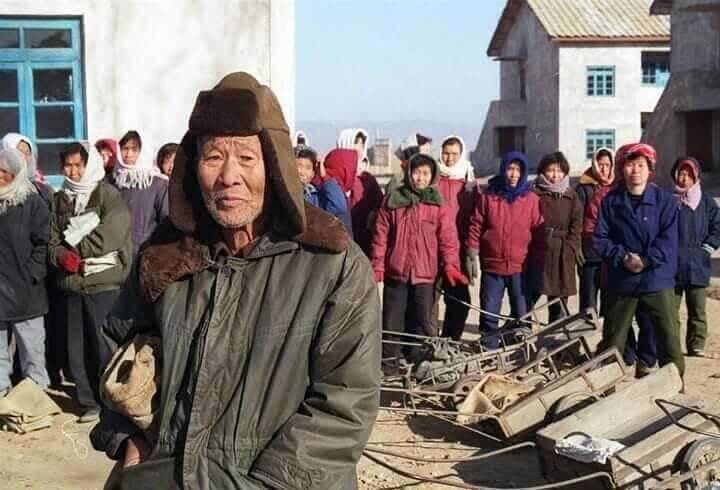 Even if someone can afford $8,000 to get out of the country, this amount of money can only take them as far as China. China doesn't give them refugee status as well.
Military Trucks In the Country Are Not What You Think They Are
Discard the picture of a military truck that you have in your mind because North Korea has military trucks that are used just to transport soldiers from one place to another.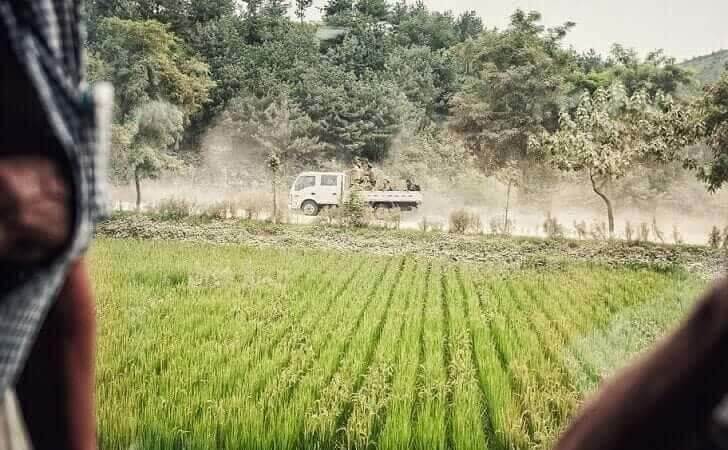 This photo is illegal, and taking a photo of army personnel can get you thrown in jail. The photographer took this photo from a distance and was luckily not caught.
Regulated Music
Jazz music was prohibited in the time of Kim Il-Sung (the country's previous leader) and he ordered that all music acts must be ideologically correct. His successor Kim Jong-il was more encouraging towards music and even allowed western music to be played in the country.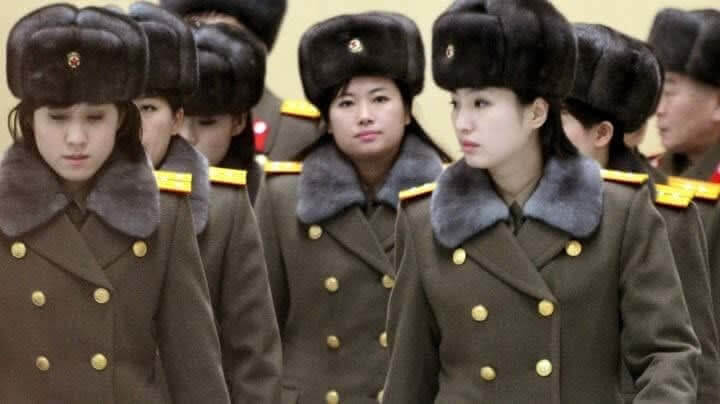 This is a picture of North Korean musical sensation, Moranbong Band, or Moran Hill Orchestra. They are handpicked by Kim Jong-un and they perform only at formal events and televised concerts.
Hardworking State Workers
It seems pretty evident from the picture that state workers do not have access to trucks or other modes of transportation, and they have to do the heavy work all by themselves.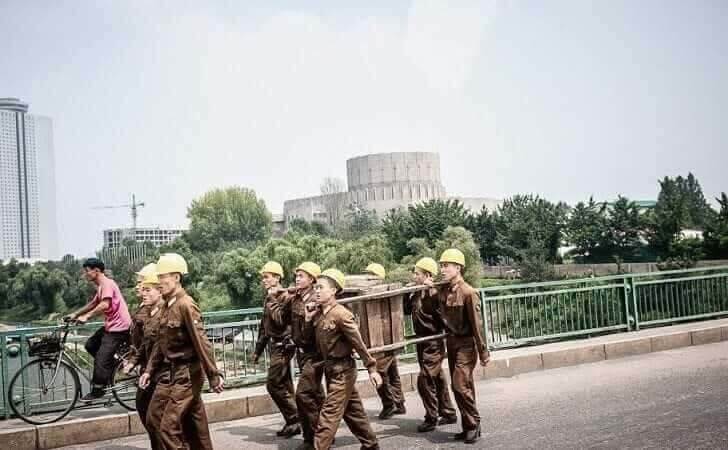 The country spends most of its budget on the army, and that's why it is not a big surprise that there isn't enough financial backing for other projects. In the end, common people have to suffer.
Even North Koreans Can't Travel Freely
Yes, you've read it right. The government keeps tabs on everyone and doesn't allow anyone to travel without getting a permit.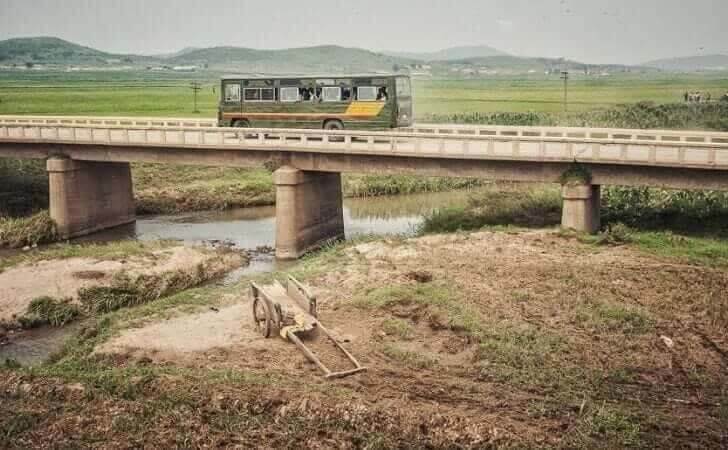 If any citizen wants to travel outside of his city/town, he needs to get a permit. Moreover, people are not allowed to travel long distances in their cars and they are required to take a bus or a train.
Everyone Loves Public Transport
The majority of people do not have cars in the country. The most common way people commute from work to the office is public transport. The bus is the most popular way of traveling.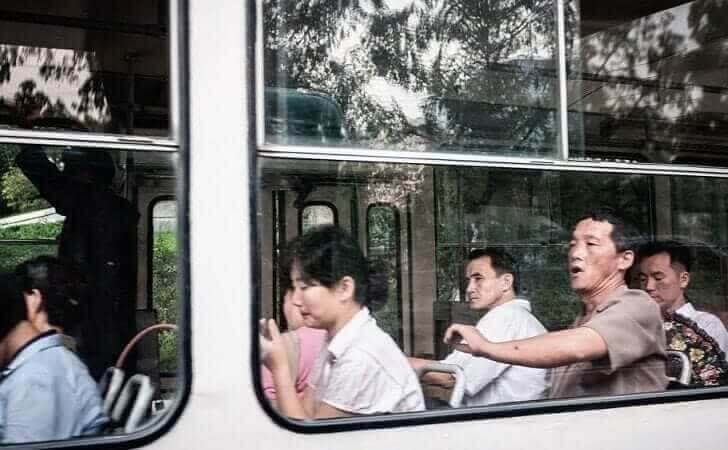 Even if you own a car, you cannot travel outside of your city without getting a permit. That's why most people prefer taking a bus.
County Takes Pride in its Capital City
Pyongyang became the capital of North Korea in 1948. It was almost destroyed in the Korean War. Today, this is the largest city in the country and they take pride in it.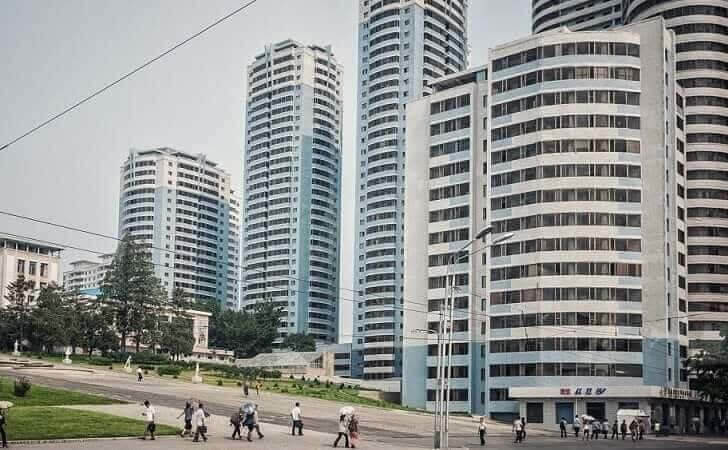 Photographer Michael Huniewicz took this picture. The photographer said that his guide was persistent in telling him how much North Koreans take pride in their capital for its cleanliness.
Basic Architecture
The country has a very basic architecture. The reason behind their modest architecture is still unknown. Except for a few essential and monumental buildings, the country's architecture is not too attractive.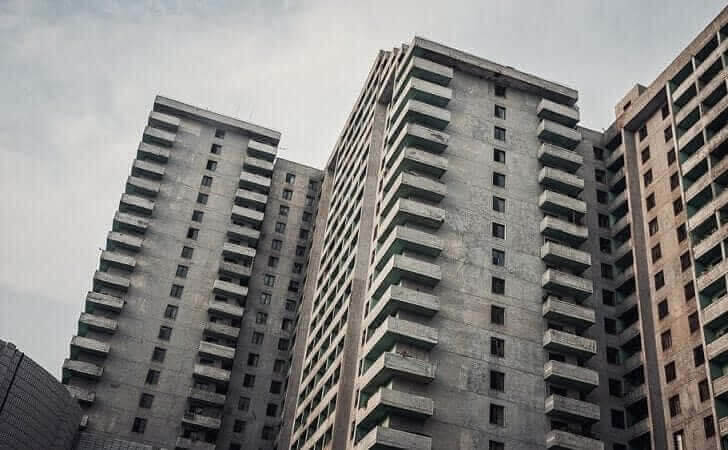 This kind of basic architecture can even scare some people, but this is where most North Koreans live and have no other option.
Empty Entry Points
Most entry points to board a train in the country are empty. Although most people use public transportation, the majority of entry points do not have crowds.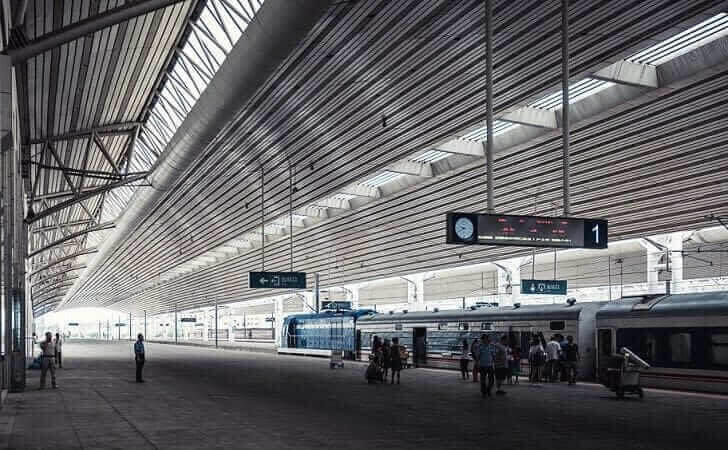 This entry point was empty when photographer Michael Huniewicz took this picture. We guess these places are perfect to make a good horror movie.
Normal Looking Streets
Photographer Michael Huniewicz was able to take a shot of everyday life. As there is not much traffic, lots of people walk in the streets.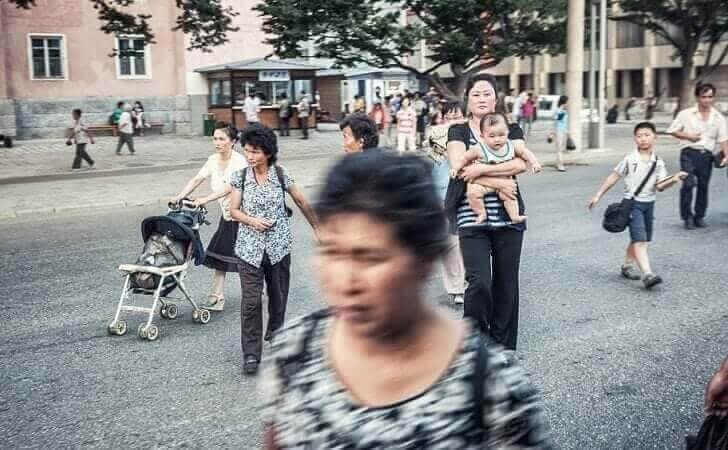 According to the photographer, the guide would slow down the car whenever there were pleasant surroundings, and speed up whenever the surroundings were less enjoyable.
Nowhere to Go
The people in North Korea do not have the freedom to leave their country. If caught, you will be thrown into a concentration camp for torture or even be put to death.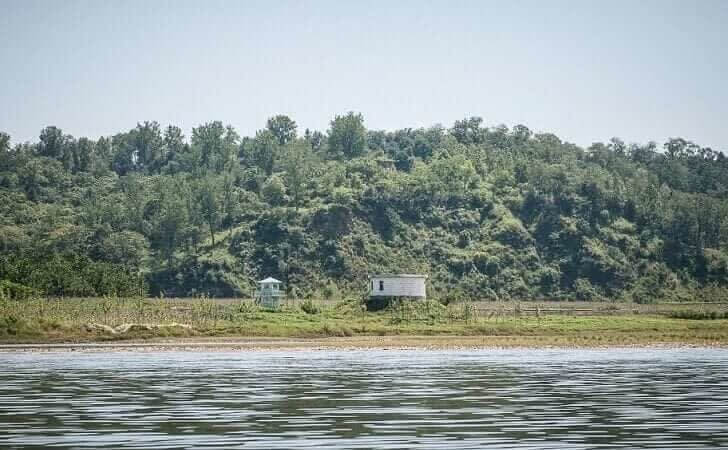 When some lucky people are able to escape, they are caught by the Chinese who then send back the men and hold onto women to later sell to Chinese men.
Staged Train Station?
Photographer Michael Huniewicz wanted to take a photo of the train station, but he found it a bit strange that there were a lot of people who were all dressed nicely. But the odd thing was that there was no scheduled train for that day except for one.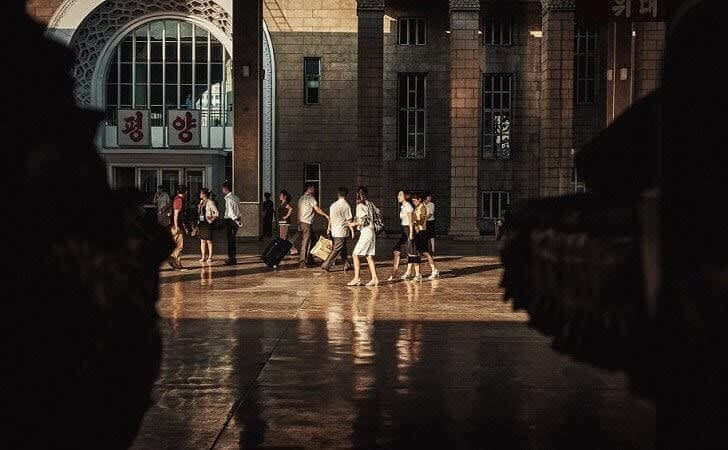 Given that it was the only train scheduled for that day, the photographer believed the train station was staged as most people were walking here and there aimlessly.
Vast Farmlands
When you are traveling through the countryside in North Korea, all you can see are the miles and miles of farmlands.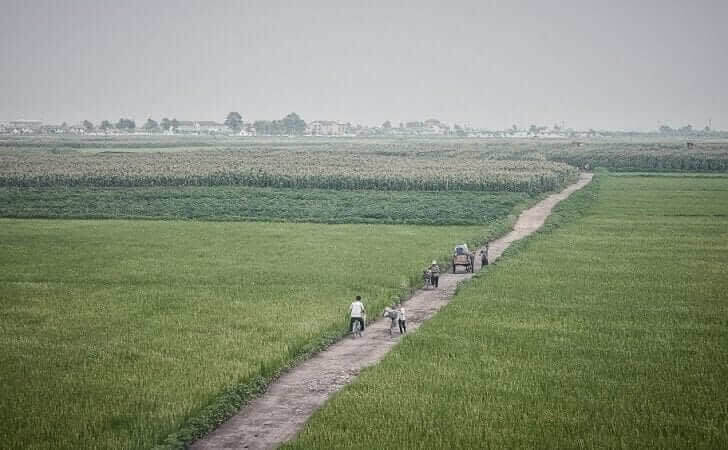 You can see the locals tending the rice fields. As the South Korean government has cut off fertilizers, the farmers have to use feces to make fertilizers.
No Taxis for Tourists
Photographer Michael Huniewicz really wanted to travel around the city in these colorful taxis, but he couldn't because of the law that prevents tourists from using taxis.
The photographer had to travel in the minivan of his guide because only locals are allowed to travel in taxis. This is really shady because taxi drivers can earn more with tourists paying them.
Watching Over
Perhaps this is one of the only photos that isn't illegal. There are two 22 meters tall bronze statues of Kim Il-sung and Kim Jong-il at the Grand Monument on Mansu Hill.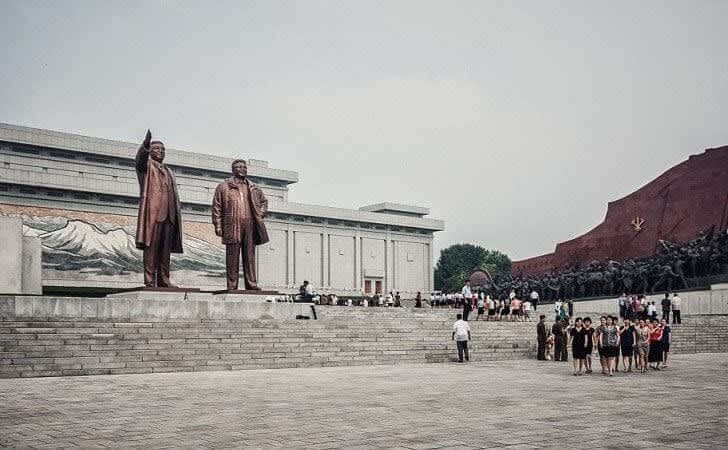 North Koreans take pride in these statues and believe that father and son are watching over them. The building behind the statues is the Korean Revolution Museum.
China and North Korea are Really Close (Distance Wise)
In this photo, you can see China (right) and North Korea (left). You can see there is a big difference between these two countries.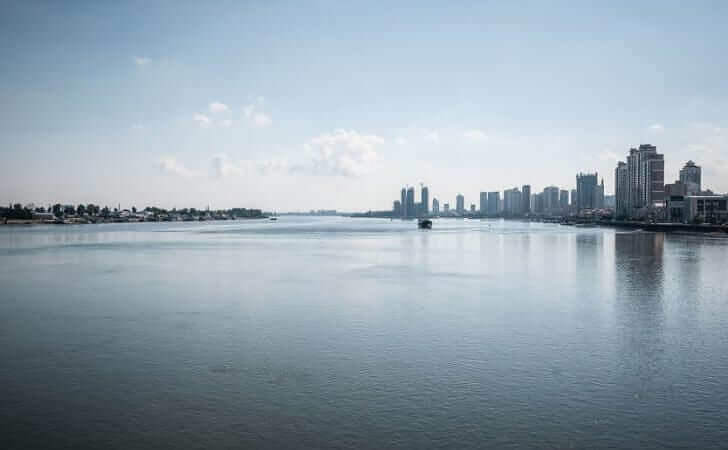 As China borders North Korea on the Yalu River, one can see how much developed one country is as compared to the other.
Letting the Train Pass
The photographer was able to take a photo of people waiting for the train to pass. Although the train takes some time to arrive, people have to wait for a few minutes in advance.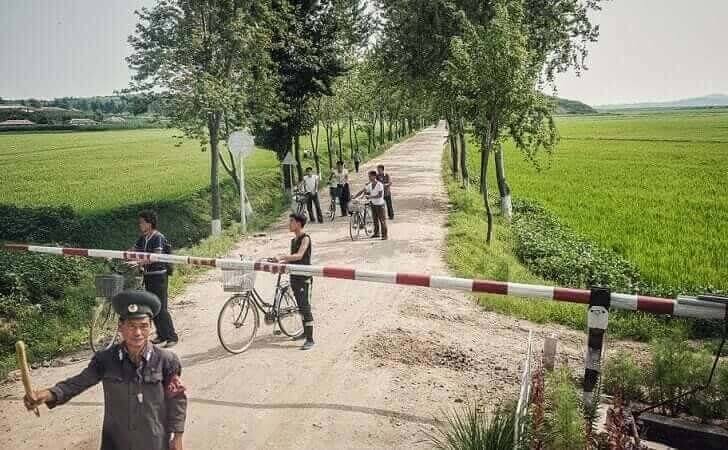 The activity on the road stops for a few minutes whenever a train is about to pass. There is a guard on every stop to ensure everything goes smoothly.
Can't Take Pictures of Certain Places
Although locals and tourists are not allowed to take pictures of certain places, the photographer did it. Even the guide told him to not take the picture; he did it without letting the guide know about it.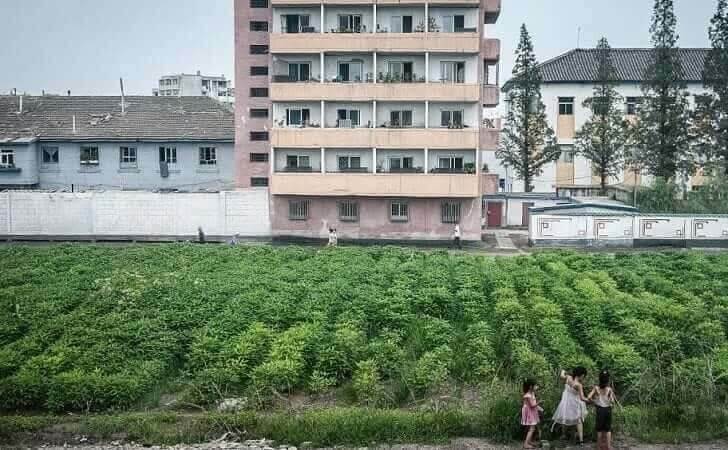 This is a picture of a rundown pink tower block. Given that it is an abandoned community, taking its photo wasn't allowed. Well, the only good thing in this picture is the crops and children.
Even Cars Are Considered A Luxury
As half of the population is living in extreme poverty, having a car is considered a luxury. Not many people are able to afford cars or trucks.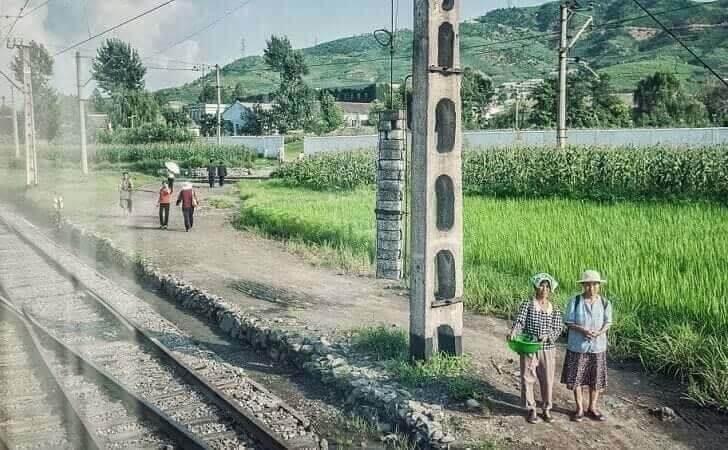 Most people in North Korea have to walk or use bike/carriages. One thing is for sure that no one makes the excuse of getting stuck in the traffic.
Everyone is Supervised By Soldiers
This photo was taken by Michael Huniewicz in one of the parks in Pyongyang. We can see that a soldier is watching over some women who appear to be street cleaners.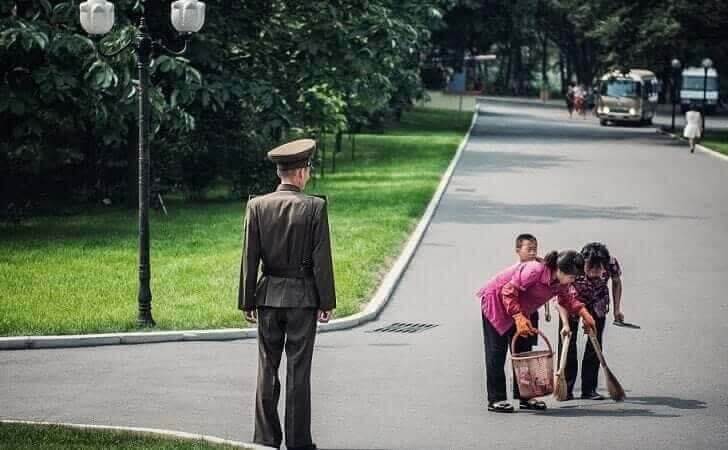 It is a really scary feeling that you're being supervised at any given moment. Even street cleaners are supervised by soldiers to ensure that they are doing their work. We wonder who supervise the soldiers then.
Commuting To Work
In this photo, we can see people commuting to work and they do not seem too much excited about it. One can only wonder how anyone can be happy when they're living in such harsh conditions.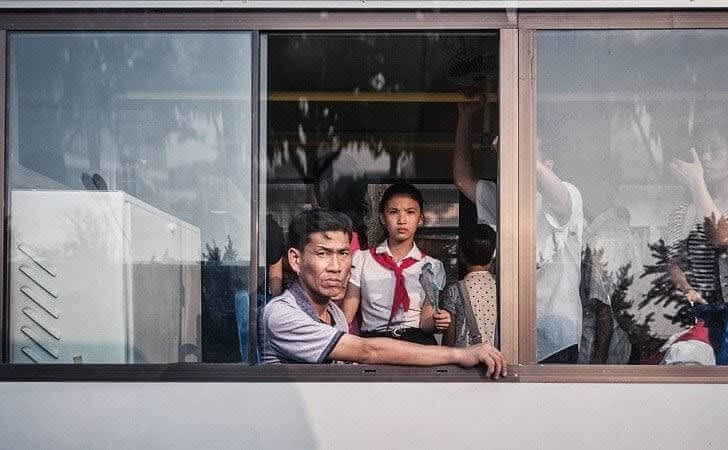 It can be observed from the picture and uniform of the girls that most people are a public servant (as we saw earlier). The photographer really captured some emotions here (or no emotions at all).
A Different Calendar From the Rest of the World
North Korea has a different calendar which is the North Korean Calendar (aka Juche calendar). The calendar borrows from both traditional Korean tradition and the Gregorian calendar used in most parts of the world.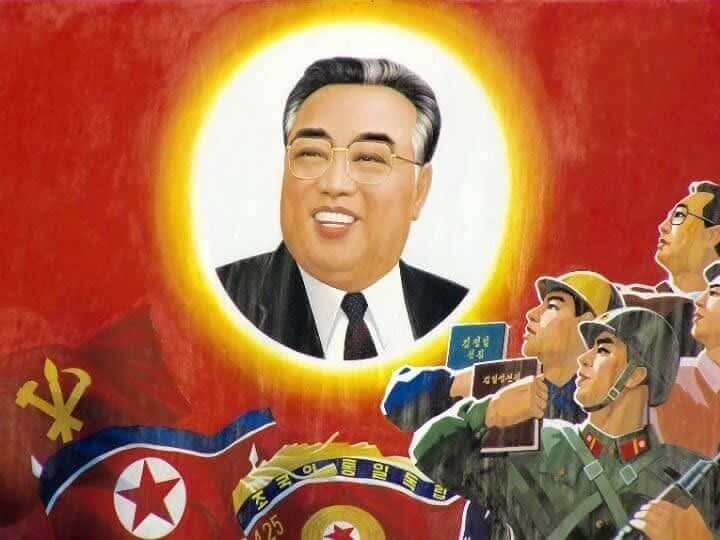 Although the calendar was adopted in 1977, it begins in 1912 which is the birth year of North Korean leader and grandfather to the current leader, Kim Il-Sung.
Story Behind The Peace Village (Kijong-dong)
Located next to the South Korea border is a village called Kijong-dong. Established in 1953, this is one of the two villages that were permitted to be in the Korean Demilitarized Zone.
As the village contains high-standard multi-story buildings and cultivated fields, many believe that Kijong-dong is a "propaganda village" that is created to intimidate the South Koreans.