When you first think about America, cities like New York, Los Angeles, and San Francisco probably come to mind first. While these cities are highly populated and attract thousands of tourists, residents have been leaving in droves during the last decade. The cost of living in these large cities has become too expensive, so people are moving in search of lower prices, less crime, and job opportunities. From St. Louis to Chicago, these places have seen a large number of people migrating elsewhere, and you might be surprised to find your city on this list.
Milwaukee, Wisconsin: 27,959 Leaving
Milwaukee is home to many attractions such as Miller Park and Milwaukee Art Museum, but people have lost interest over the years and opted to move to Chicago.
While Chicago isn't the safest place, it has a lower crime rate than Milwaukee. About 41 percent of the residents fear they will be robbed, and 31 percent fear they will be assaulted. It is no surprise that people would want to live somewhere else.
Washington DC: 8,542 Leaving
When you think of Washington DC, you probably think of people moving here for a career in politics, but the city's unemployment rate is 5.5 percent. The average cost of homes is around $564,400, which is double the national average.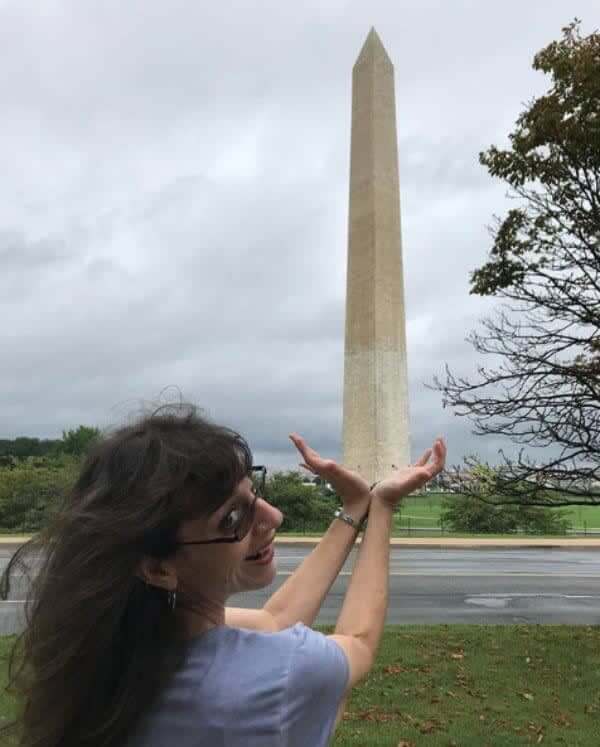 Many people who live in the suburbs of DC have found themselves moving to Pillidelphia because it is close by, and there are more job opportunities.
Johnstown, Pennsylvania: 7,070 Leaving
Johnstown is a city outside of Pittsburgh that has lots of hiking trails and scenic greenery, but people are still moving away for better opportunities.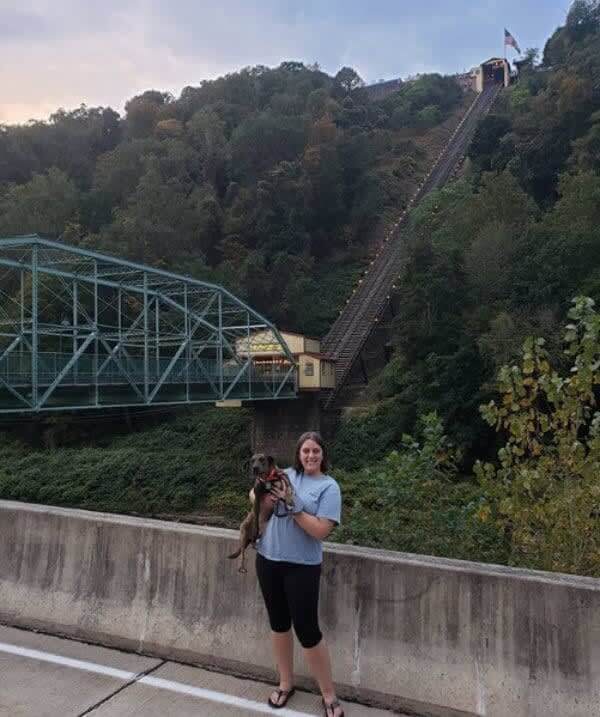 People have ranked it as the seventh-worst place to live in the state because of its high unemployment rates. About 38 percent of the city's residents live under the poverty line.
Hinesville, Georgia: 7,171 Leaving
Not every city can be exciting, and Hinesville understands that because it has been named the most boring town in Georgia, which is why many people have chosen to move away.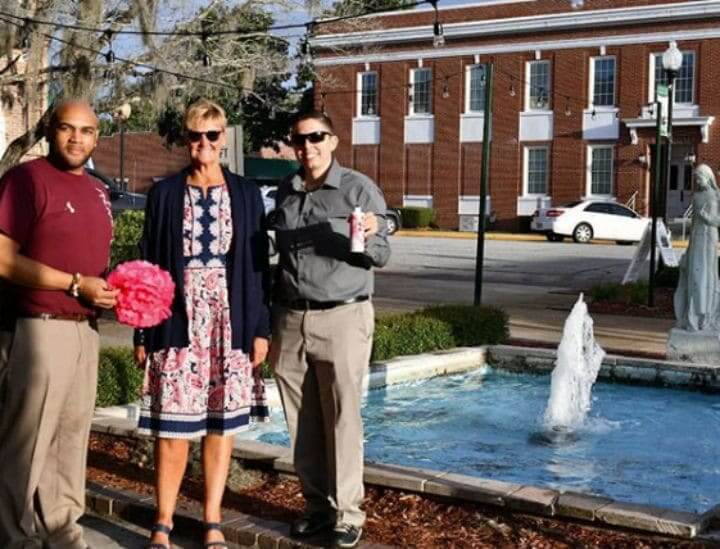 People have decided to move to other places for better futures. They probably wanted to live somewhere that had more to offer in terms of fun.
El Centro, California: 7,219 Leaving
El Centro, California, is a quaint city far from the coast. It has a considerable reputation because of the high unemployment rates. It holds the title for the highest in the nation.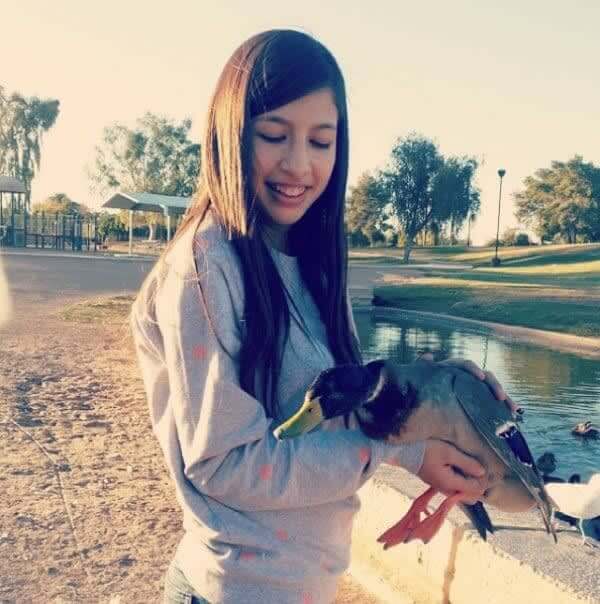 CNBC had listed El Centro as the worst city in the country. Times have been so tough that the cemetery went into forclosure in 2009. People have left to find more employment opportunities.
Fairbanks, Alaska: 7,011 Leaving
Fairbanks, Alaska, is a quaint city with lots of scenic views. The average home value is $226,000, which is relatively low compared to other states, and the unemployment rate is also average. Over the past decade, 7,011 people have moved away, and most of that occurred in the past two years.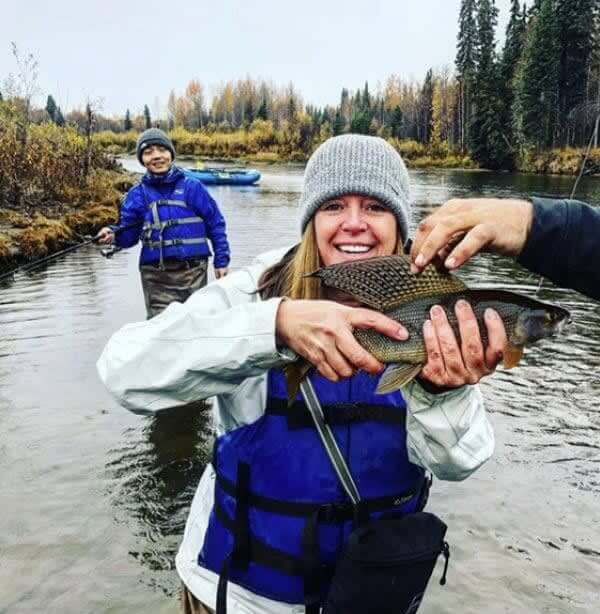 In general, Alaska is an expensive place to live because of the high costs of heating fuel, medical insurance, and other necessities. Most of the people who left wanted to find a place that would suit their needs while not breaking the bank.
Baton Rouge, Louisiana: 18,284 Leaving
Baton Rouge is known for its flavorful cajun food, vibrant culture, and soulful music. Each year people visit this colorful city for all the unique things it has to offer, but despite that, it saw a large population migration of almost 18,300 people.
One of the downfalls of Baton Rouge is the crime rate because it is comparable to Chicago. Also, there has been an increase in the unemployment rate, so residents are heading to Houston for more opportunities.
Bakersfield, California: 7,314 Leaving
If you aren't familiar with Bakersfield, it is a small city between San Fransisco and Los Angeles. While the city is a nice place to live, there are better opportunities elsewhere, which is why 7,314 people have left since 2010.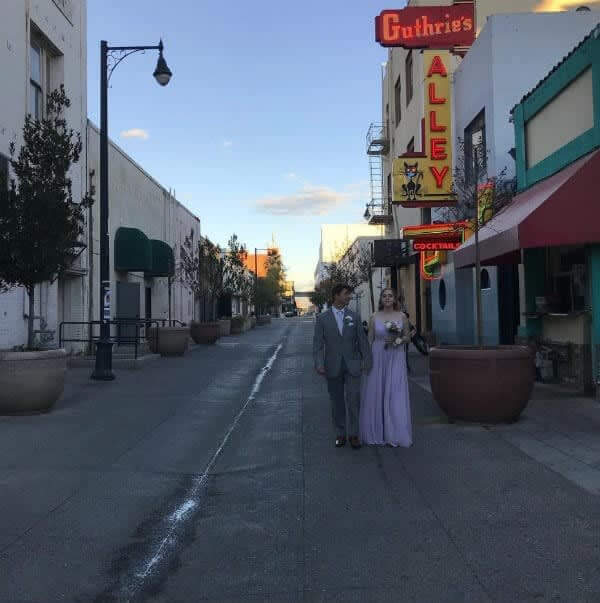 One of the most significant issues that Bakersfield faces is the number of people that live under the poverty line. It is one of the most polluted cities in America, so the town is usually covered in a cloud of smog.
New York, New York: 21,503 Leaving
"Concrete jungle where dreams are made of, there's nothing you can't do." New York City is entrancing with all the lights and hopeful dreams. Many people move to New York in hopes of making it big, but usually, their dreams are shattered, and they run out of money and have to move home.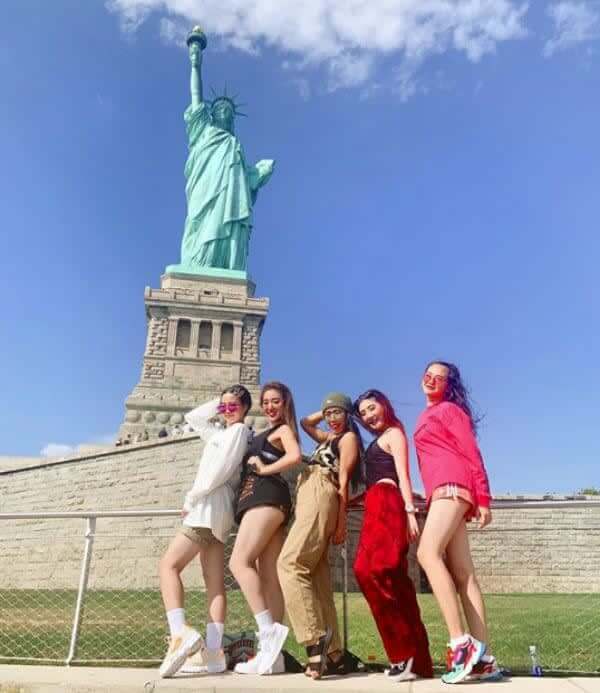 Each year, around 300,000 people leave New York while 200,000 move in. The city is known for its ridiculous housing costs, and often people joke about paying so much money just to live in a shoebox. Many people trade New York for Boston because it is less expensive.
Norwich-New London, Connecticut: 7,365 Leaving
Typically, Connecticut is associated with wealth and prestige, but not every town is thriving. Norwich-New London looks great, but those who live there know how difficult it is.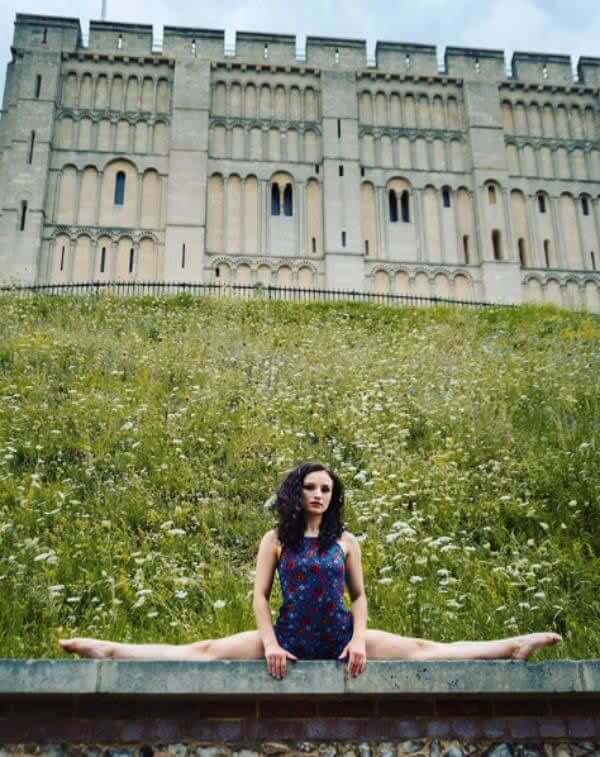 The town ranks number five for criminal activity in the state, and it has an unemployment rate of 12.2 percent.
Fresno, California: 7,571 Leaving
There are many different cities in California, and they all attract different kinds of people. Fresno, California, shows the less glamorous side of California. The city is hot, dusty, and there are issues with substance abuse.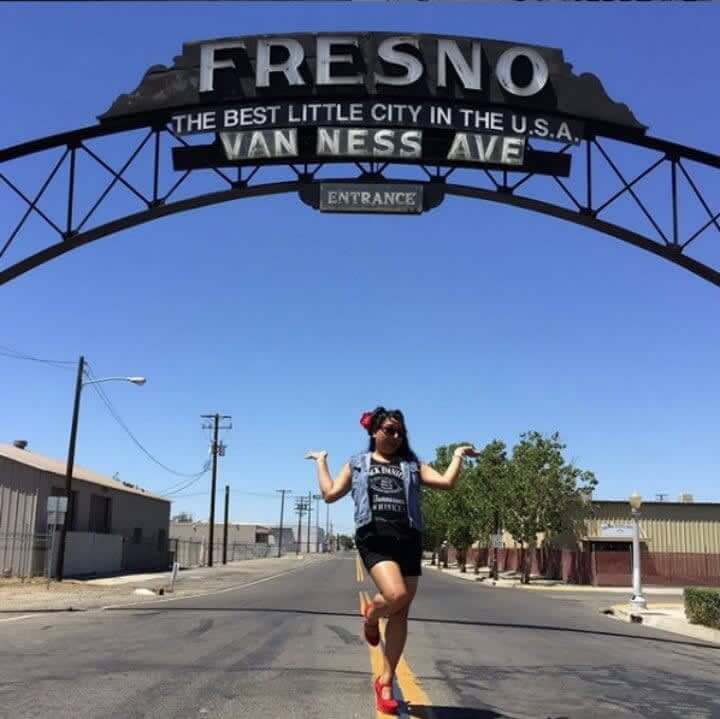 Fresno has a relatively high crime rate, and there is a one in 22 chance of being a victim of a crime. We can now see why 7,571 people decided to migrate to other places.
Farmington, New Mexico: 9,633 Leaving
New Mexico has dealt with many hardships over the past decade, and one city struggling the most is Farmington. Around 9,633 residents have said goodbye to their longtime home to find opportunities elsewhere.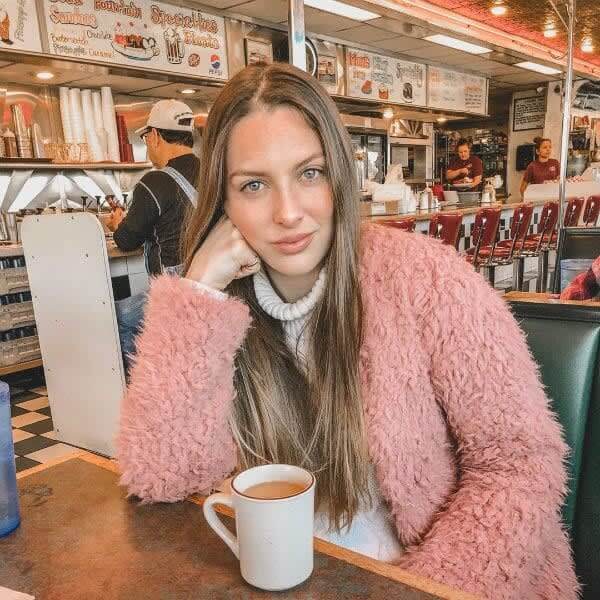 Farmington has a 7.8 percent unemployment rate. The oil and natural gas prices have dropped, and those used to be what helped the state thrive.
Memphis, Tennessee: 30,000 Leaving
Known for being the home of the legendary Elvis Presley, Memphis attracts many tourists, but residents have chosen to pack up and leave.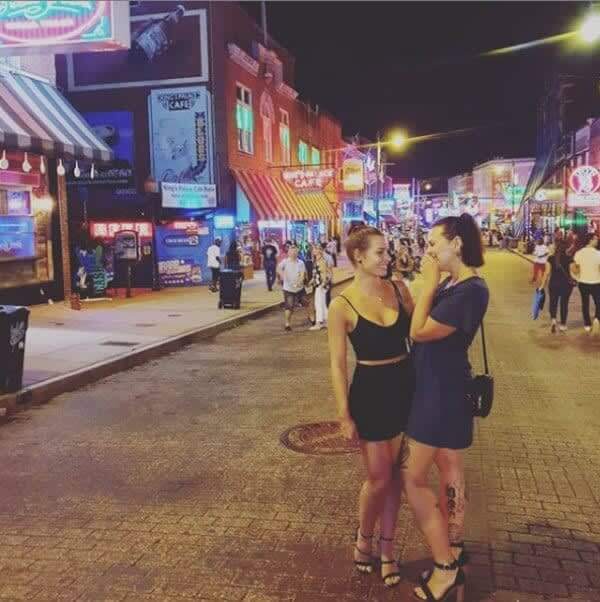 It is unclear why, but people are flocking to other cities instead of Memphis. With low housing costs and plenty of activities, it is mind-boggling why people are leaving in droves.
Macon, Georgia: 7,877 Leaving
Since the '80s, Macon, Georgia, has been on the decline in terms of population. In the last decade, 7,900 people have moved away for various reasons.
People have left in droves because of highway construction that made commuting easier. Citizens were unhappy with the suburbanization, and now there are many abandoned houses.
Los Angeles, California: 93,959 Leaving
Like New York, many people move to LA to pursue their dreams and become stars. However, people realize how expensive LA is and can't afford it. Once reality sets in, many people choose to move to nearby cities that are more affordable.
Despite its reputation of glitz and glamor, Los Angeles has a large homeless population of about 59,000 and rising.
Anchorage, Alaska: 8,464 Leaving
Anchorage is the biggest city in Alaska, which people assume would make it more appealing. However, people have been leaving to move to other states.
Many people want to live in warmer climates, and things are more expensive in Alaska. Around 8,500 people have packed their things and migrated to the mainland.
El Paso, Texas: 21,829 Leaving
El Paso, Texas, is known for being one of the safest cities in the country, but people are still choosing to move to other cities. Those who live in El Paso are not close to the other Texas hotspots, which is a big drawback.
There is a 20 percent poverty rate, which is higher than the national average. Also, people are hesitant about living in the city because it borders Mexico's Ciudad Juarez, which has one of the highest crime rates in the world.
Chicago, Illinois: 296,320 Leaving
While many people from surrounding cities and states have migrated to Chicago, the city has lost a massive amount of its population. For those who have decided to leave Chicago, they are typically moving to Pheonix, Arizona, because of the warmer weather.
People who have decided to leave Chicago have complained about the high cost of living, the education system, and property taxes. The city also has a high crime rate.
Vineland-Bridgeton, New Jersey: 8,476 Leaving
Due to the rising crime rate, about 8,500 people have left Vineland-Bridgeton, New Jersey. The town has seen a steady decline in its population over the past few years.
Bridgeton has been ranked as the fifth most dangerous city in New Jersey, and people do not want to live in a violent neighborhood.
Erie, Pennsylvania: 8,511 Leaving
Erie, Pennsylvania, sits on one of the beautiful Great Lakes, and it was once home to one of the biggest cast-iron manufacturers in the country. As the fourth biggest city in Pennsylvania, their economy has slowed down since large companies left the area.
The population in Erie has been dwindling throughout the past decade, as 8,511 people left. They saw a 2.1 percent decrease in the population, but we aren't sure why people wouldn't want to live right on Lake Erie.
Mobile, Alabama: 8,517 Leaving
What was once the "Paris of the South," Mobile, Alabama, is known for its vibrant history and culture. It sits on the Gulf Coast, and it is the fourth largest city in Alabama. In just seven years, the city has seen a decrease in population by 8,517 residents.
The problem with Mobile is that the city has a 22 percent poverty rate, which is above the national average. However, the unemployment rate is relatively low.
Yakima, Washington: 9,916 Leaving
In pictures, Yakima, Washington, looks beautiful with its luscious forests and scenic mountains, but it is actually a dangerous place to live.
The city ranks number three for aggravated assaults, and about 20 percent of the population lives under the poverty line. People are fleeing to find better lives for themselves and their families.
Atlantic City, New Jersey: 8,550 Leaving
When you think about Atlantic City, New Jersey, it is probably associated with gambling and weekend trips to the hotels. The tourism rates are high, which has affected the residential population. There was a 1.7 percent decrease in the last decade.
While it is fun for a weekend, living in Atlantic City is expensive because of the state's high property taxes. It used to be the Las Vegas of the East Coast, but lost popularity over the years.
St. Louis, Missouri: 39,894 Leaving
People are turning their backs on St.Louis to move north to Chicago. In the '80s, St. Louis has a substance epidemic that increased the crime rate. Today, the crime rate is still the second-highest in the country.
Although it has a low unemployment rate, it is still a hotspot for substance trafficking. It isn't an expensive place to live, but people want to live in safer cities.
Fayetteville, North Carolina: 8,741 Leaving
Fayetteville, North Carolina, is a beautiful city with lots of scenic nature trails, rivers, and beaches. You might be wondering why people would want to move away from a town like that. Well, 8,741 people have moved away in the last decade.
While many people have left, there has also been a 5.6 percent population growth. However, there is a six percent unemployment rate and an 18 percent poverty rate, which is above the national average.
Binghamton, New York: 9,470 Leaving
Binghamton, New York, is one of the least favorable places to live in the state because of the crime rate, poverty rate, and unemployment rate.
It is the second poorest town in New York, and the poverty rate is about 33 percent. Most people are only there because of the University of Binghamton.
Douglas, Arizona: 9,495 Leaving
Arizona has many attractions, including the Grand Canyon and Flagstaff, but Douglas is one of its downfalls. The city is struggling because 31 percent of its population is below the poverty line.
little.nowhere.ranch / Instagram
Douglas is seeing more of its citizens migrating elsewhere because it is not close to any of the big cities in Arizona or neighboring states.
Charleston, West Virginia: 9,772 Leaving
Not to confused with Charlotte, North Carolina, Charleston in West Virginia, has been seen a steady decline in their population since the recession. About 9,772 residents moved away in the last decade alone.
The town has around 91,000 children living below the poverty line, making it the fourth-highest child poverty rate in the country. Also, the crime rate in Charleston is 205% high than the national average.
Wichita, Kansas: 10,335 Leaving
Witchita, Kansas has seen a large group of people pack up and leave. According to United Van Lines, a moving company, Kansas was the fifth-most moved-from state in the country.
The reason for moving might be because of the high crime rate that is two times the national average. The police force is extremely underfunded and understaffed, which would explain the high crime rates.
Syracuse, New York: 17,717 Leaving
Syracuse is known for the large university that brings pride to the northern part of New York. It is much cheaper than living in Manhattan, yet 17,717 people still decided to leave.
9th_islander_eatravels / Instagram
Despite many appealing factors like the lower cost for a home, it is far from New York City where many jobs are, so people are relocating to suburbs outside the city. Also, Syracuse gets about 10-feet of snow each year, so if your aren't a fan of the cold, this is not the city for you.
Toledo, Ohio: 18,475 Leaving
Toledo, Ohio, has had a dwindling population for the past decade. Since 2010, 18,475 residents have left Toledo to find better lives despite the low cost of housing.
Residents of Toledo have moved away mainly because of high crime rates. Also, people have said that the city is boring and one dimensional. To top things off, the weather isn't the best either.
Rockford, Illinois: 18,789 Leaving
Rockford, Illinois, is a city outside of Chicago. In the 20th century, Rockford was known for producing heavy machinery, which made it successful in terms of industrial development.
Despite Rockford's growth in the 20th century, the city has recently hit an all-time high in its unemployment rate. As the third biggest city in Illinois, it is steadily shrinking.
Flint, Michigan: 22,658 Leaving
It should be no surprise why Flint, Michigan, has had such a large population migration over the past few years. The 2014 health disaster that poisoned the water supply with lead has not been fixed, and it has driven many people from the city.
Because of the water disaster, homes started to lose value and investments fell flat. The city billions of dollars of damage to fix and people are continuing to leave the city.
Cleveland, Ohio: 33,117 Leaving
Over the past dace, Cleveland has seen a large amount of its population leave the city because of the increasing poverty rate.
At the beginning of the decade, it was the poorest big city in the nation, but not much has improved. There is a 36.9 percent poverty rate that continues to rise.
Detroit, Michigan: 54,640 Leaving
Detroit was once a bustling city that was the heart of the auto industry. The cities population has since declined from 1.8 million to 673,000 and dropping. It is now common to see abandoned homes and businesses.
One of the major drawbacks is that Detroit has the highest crime rate in the country. People are fleeing from the dangers of the city and setting up homes in Chicago instead.
The Most Epic And Hilarious Sports Bloopers Of All Time
John Travis
This article was originally published on WackoJaco
We love sports because it helps us get an escape from the world around us and look at something that provides a sense of belonging and a connection to a wider world. Most sports can be super intense, as athletes give it their all to be the best of the best. Even though these men and women might seem like titans among us, they're only human, and they make mistakes. Hilarious mistakes. In fact, for us, these mistakes in sports are often the best part of the game – and after some digging, we found the most hysterically funny sports bloopers in all of sports history. You don't want to miss this!
Is This A New Bird Species?
A team of over a hundred experts sat down to determine whether this woman is a fancy-looking professional bowler or a gymnast. You can give your opinion on this one, but we doubt that it will settle the debate.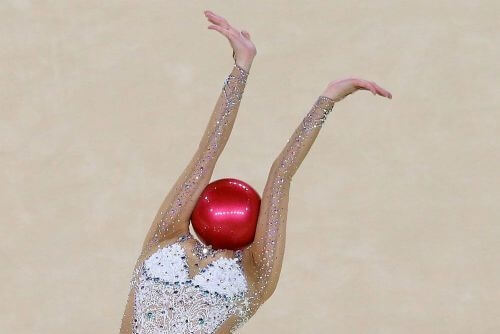 We don't have to put too much pressure on ourselves for this, so let's agree on one thing: that this picture is quite painful to look at. We should only acknowledge that the woman did nail a perfect landing with a ball on her face.
Keep Raising Me Up
If you don't know what is happening here, then let us clear things out for you. This is synchronized swimming and it is truly an art form. But don't make the mistake of thinking that these ladies just swim around in a pool. They do gymnastics and elaborate dances in water under intense pressure.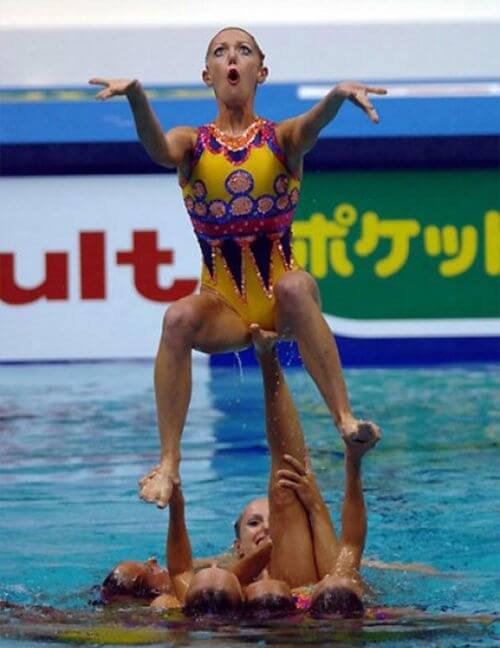 And yes, it is quite hard to do. They do look like cute mermaids, but aren't always as graceful. But we don't really mind it because they are strong women.
That's A Slam – Oh Wait Wrong Sport
First of all, this is not some sort of wrestling form. This is professional ice skating, which is a lot different than what we do when we go ice skating. After all, we do less skating and more of making weird faces as we try to balance ourselves to avoid an inevitable fall.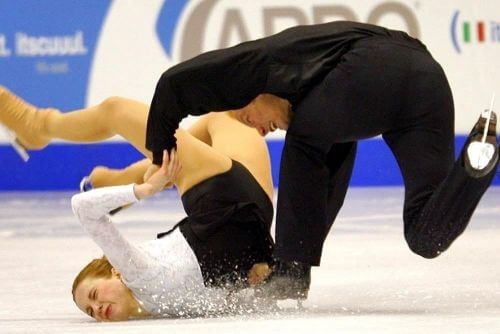 These professional skaters know how to twist and turn effortlessly in front of a large audience and judges. But sometimes they can make mistakes as well. We can hope that it was just a minor injury.
Up In The Air… And Then Down
This is one of those moments when you regret your decision to make a wrong move while diving.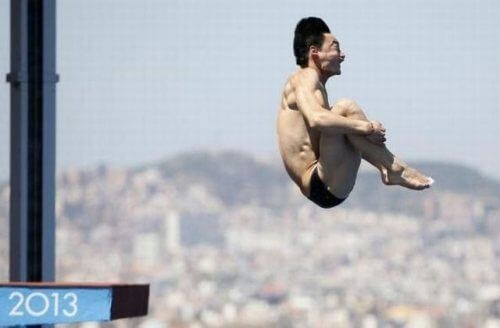 This guy's face looks like he has jumped from a plane without a parachute. We don't know if he was able to dive correctly or not.
Sucking In All The Air
Legend has it that people found it difficult to breathe in the stadium in which this sprinter was running because he had sucked in most of the air.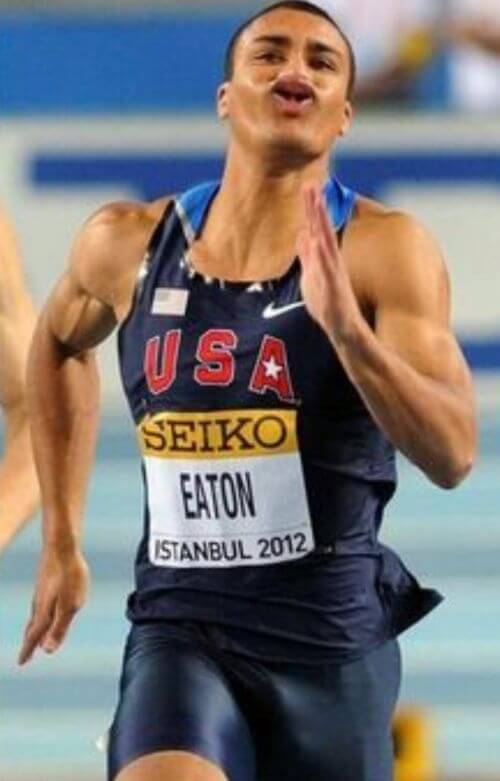 Jokes apart, track runners don't look like humans. It is because they have strong lungs and the capacity to run long distances. It reminds us of Usain Bolt and how effortlessly he used to beat his competitors.
Getting Closer Than Everyone Expected
We have to admit that figure skaters are so graceful and beautiful that they can easily leave viewers speechless with their athleticism.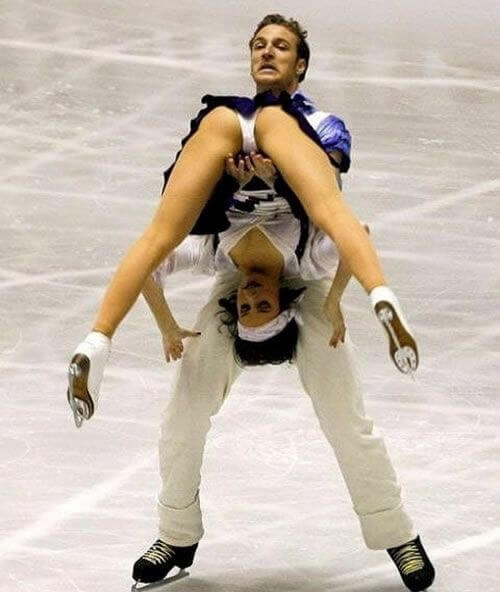 But a time comes when they fail to perform well. It can be really cringe-worthy moment to see one of the pros of the game fall or trip. Here we are looking at a photo where these two skating partners are getting a bit too close.
A Professional Table Tennis Player or A T-Rex?
You can make fun of the facial expressions of professional table tennis players, but one thing you need to keep in mind is that they are extremely competitive.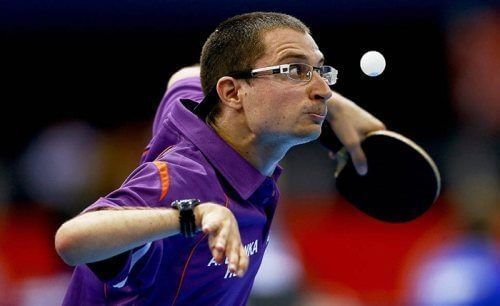 So, they usually make some weird faces – but that should never make anyone judge their capability to play the sport. And just so you know, the sport is called ping pong by recreational players and table tennis by professional players.
Almost Stuck The Landing
This impressive woman is a former Russian pole-vaulter, Yelena Isinbayeva, who also happens to be a three-time World Champion, two-time Olympic gold medalist, and also the current world record holder in the event.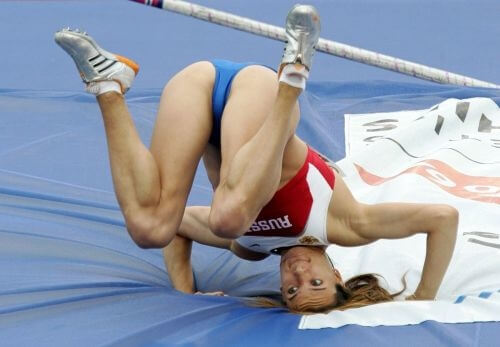 World Athletics (formerly known as International Amateur Athletic Federation and International Association of Athletics Federations) named her Female Athlete of the Year in 2004, 2005, 2008. She is, without any doubt, considered one of the greatest female pole-vaulters of all time. We really love this shot because it perfectly shows that even the greats and mighty fall sometimes.
Taking A Closer Look
There's no denying that wresting is one of those sports in which you really have to get up close to your competitors to take them down. In this picture, the wrestlers are trying their best to win the game, but the referee has something really important to check.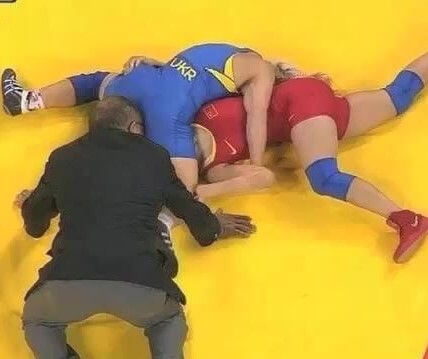 So, it seems, like the referee got super close to the players – maybe a bit too close. Perhaps he wanted to tell them something or who knows, maybe he's checking if the player is still breathing.
Beautiful Fabio
This is not a movie scene. We repeat that this is not a movie scene. After all, you see a scene like this in movies, but normally there is a gorgeous woman doing it. However, this hockey player won the internet with his impromptu hair modeling moment that will surely go down as one of the greatest moments in the history of this sport.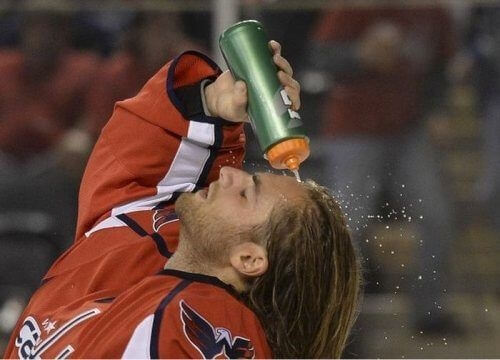 The way he is heating up the ice rink, we are sure that a few people had to take their shirts off because it got too hot in there.
She's Probably Still Trying To Find The Photographer That Took This One
Given that there are a lot of things happening in this photo, it is best that we break it down for you. One person's leg is acting as a chair for this highly professional synchronized swimmer, while the ladies are holding her feet down with smiles on their faces.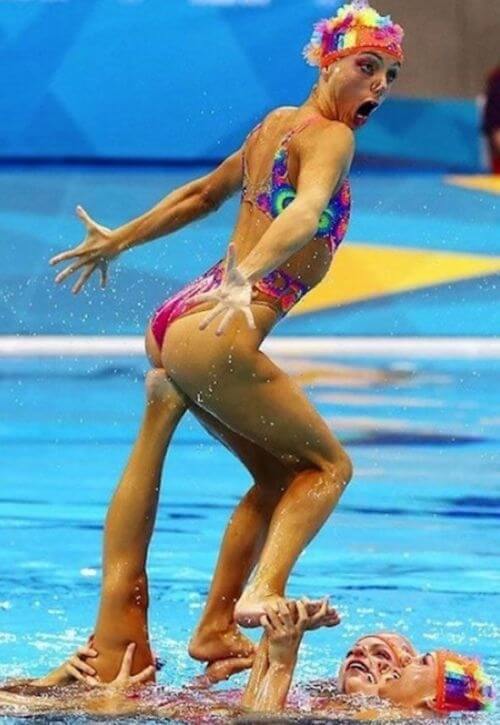 But the best thing in this photo is none other than the woman's face – that is just priceless. We are surprised that the face didn't become a famous meme.
This Is Not Wrestling
We see in WWE how wrestlers make this move to defeat their opponents, but this is not wrestling at all.
These professional ice skaters often make the sport look easy, but then there are times when one wrong move can cause an injury. After all, no matter how much you practice, there's always a chance for a slip-up.
Playing Volleyball With Legs
This game is Sepak Takraw (Kick Volleyball), a sport native to Southeast Asia. For the game, you have to defy gravity – and that's what makes the sport so interesting. The professional athletes who play this game know very well that strengthening the muscles is important, but so is stretching them.
In this photo, we can see the benefits of all that stretching, which has contorted these two men into quite a strange position. Looking at them reminds us of an octopus' tentacles and how freely they're able to move their legs around.
You're Supposed To Swing At It!
This batter is trying his best to avoid hit by pitch (HBP), which happens when a ball thrown from the pitcher hits a batter, his clothing, or equipment (basically anything other than his bat).
One thing we all know is that baseball is a fun and crazy sport. After all, hitting a ball thrown at you at high speed from a pitcher with a narrow bat is not an easy feat. And there is always a possibility that the ball won't go where the pitcher aimed…just like in this case.
Focus…Focus…Got It!
This is the face you make when you want to eat something so bad and you can't resist the temptation. This guy is a table tennis player who is focusing all his energies on hitting a tiny ball. If you have watched this game, you'll know how players make weird faces and even make loud noises before serving.
By the way, the game requires a lot of focus, but these professional players are hitting the ball again and again like it's a piece of cake.
"I'm Gonna Eat You"
We got to admit that at first we thought this person was trying to let one rip without a single worry of anyone noticing it, but it seems quite clear that he's a professional powerlifter.
He looks more focused than that one friend who is trying to devour pizza so that they could have the last piece. We can come up with all sorts of explanations as to why he made this face.
"Hey Judge, Can You Do This?"
When it comes to synchronized swimming, athletes have to be super flexible and strong all over.
In duet or team competition, the swimmers have to make sure everything is perfect because one wrong move can ruin their practice and their months of hard work. Moreover, they get judged on everything from their smile to their routine.
A Pose You Won't Forget
The athletes in synchronized swimming are quite similar to gymnasts because they also need to keep a smile on their faces at all times. And there is a lot of importance to the pose. That's why they train for months to perfect their routine and everything else.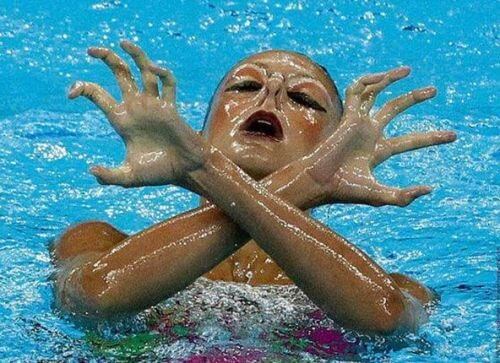 We are not taking away this swimmer's hard work and effort, but it just seems like she was at the depths of the ocean and she crawled her way out of it. It goes without saying that this image can terrorize some people.
A Bad Decision
We are pretty sure that this high diver didn't intend to make this face. It is because no one can intentionally make such a face that doesn't look human at all. Maybe he's regretting his decision or trying his best not to do anything that may embarrass himself in front of so many people.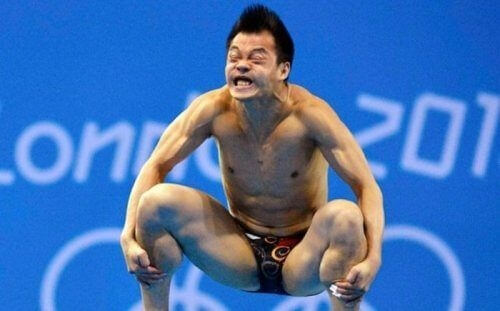 This is certainly a crazy sport because these guys throw themselves off such high places and then walk out of the water with a smile on their faces.
A Throw In Slow Motion
Do you love slo-mo videos? If haven't seen them, then just go to YouTube and watch them. Trust us on this one, you will absolutely fall in love with them.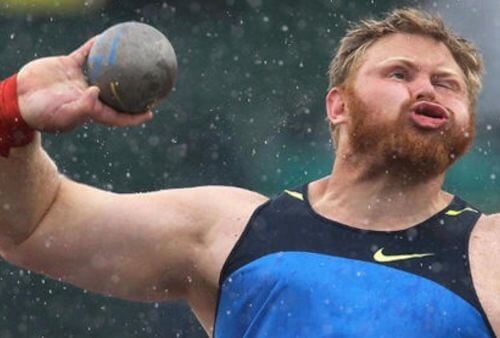 This guy may look a little different while throwing the ball, but slow-motion showed how he is looking not so pretty. Slow-motion can make everything look awesome, but it doesn't guarantee that everything will look pretty.
Just Look At The Weight
As compared to other sports, powerlifting is all about strength and technique. But mostly, it is just power. That's why you see such bulky people lifting heavy weights.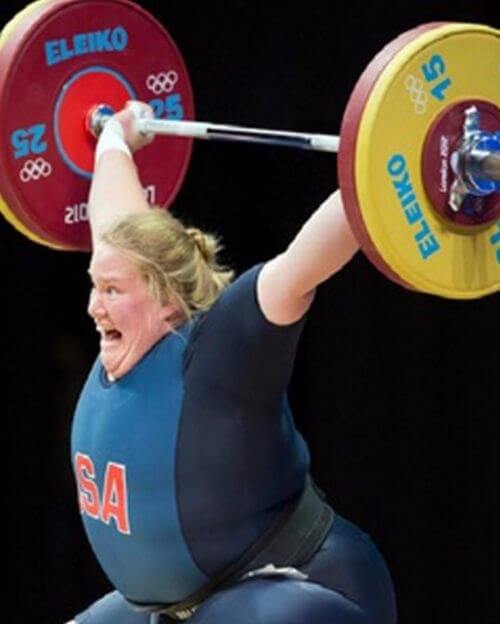 Although people who are not fans of powerlifting laugh at the strange facial expressions of powerlifters, it is best to look at the weight they're lifting rather than their faces. After all, you might find it difficult to lift 100's of pounds of weight without injuring yourself.
Cringe-Worthy Face
We feel that this lady is super beautiful and she's just doesn't know that her face looks so cringy. Before laughing at the face she made, try making a video of your face when sneezing.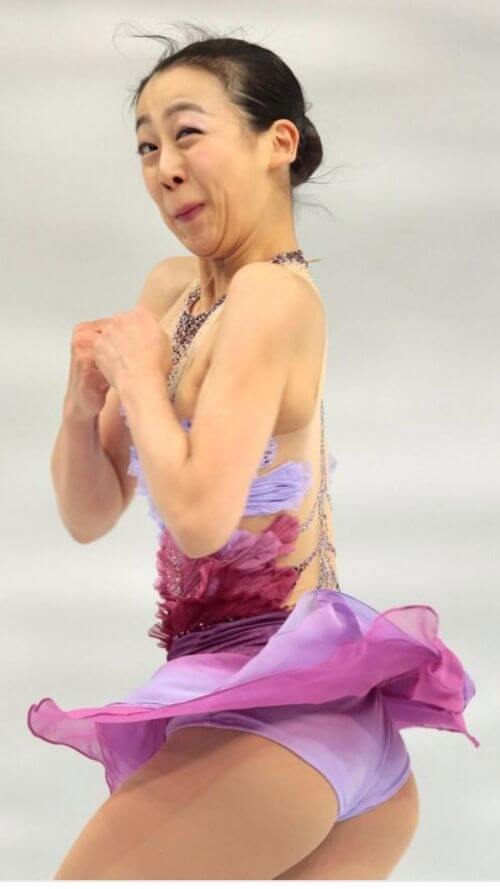 By the way, she's a top athlete who knows how to display her immense talent on the ice.
Hold Up! Don't Move A Muscle
Hey, it looks like we can hear the screams of this high diver from the look on his face. Maybe he's showing you what to do when the police catch you robbing a donut shop.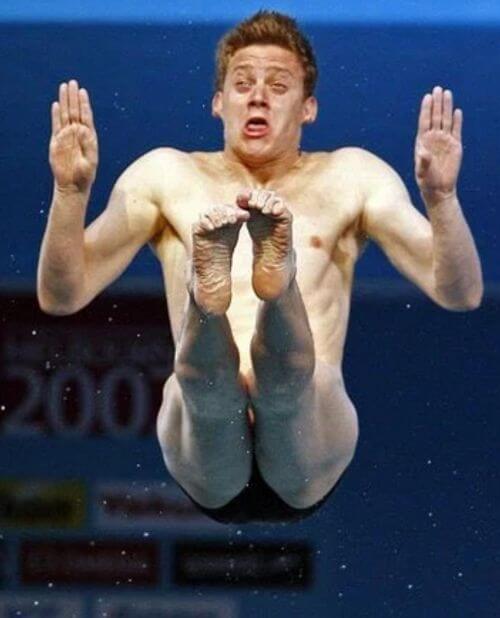 From his face, it looks like he has decided not to high dive again. We are pretty sure that the photographer must be jumping with excitement because they got lucky with this one.
What Do You See Karen?
When it comes to Figure Skating, it takes a lot of practice and a lot of falls to be good at it. Another thing to notice is that figure skating partners have to be close because they have to tangle and get close to each other during practice and performances. But why do we feel that this is a new level of closeness?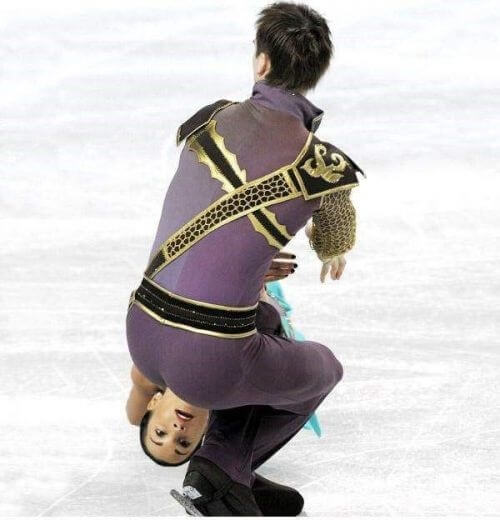 Given how the lady is in such a compromising situation, one wonders she must know her figure skating partner quite well.
Must Be A Winning Shot
People who follow tennis can go as far as calling it the best sport in the world, even better than soccer or cricket (it has over 2.5 billion fans). Those who don't know much about the sport can only see the ball going from one side to the other and hear a lot of grunts made by the players.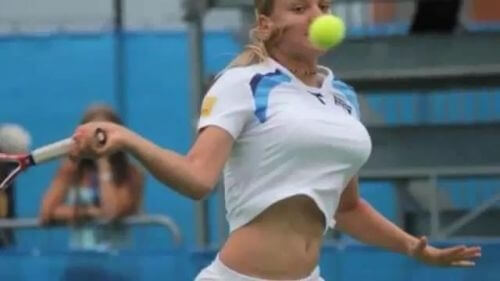 Here, it seems like this player is on the verge of winning the match. From the looks of it, we're sure it must be her power shot.
A Bubbly Swimmer
We don't want to look rude here but it seems like this professional swimmer's real name is not Diana. We have a strong feeling that her spirit animal is the Loch Ness Monster and that's why her real name is Nessie.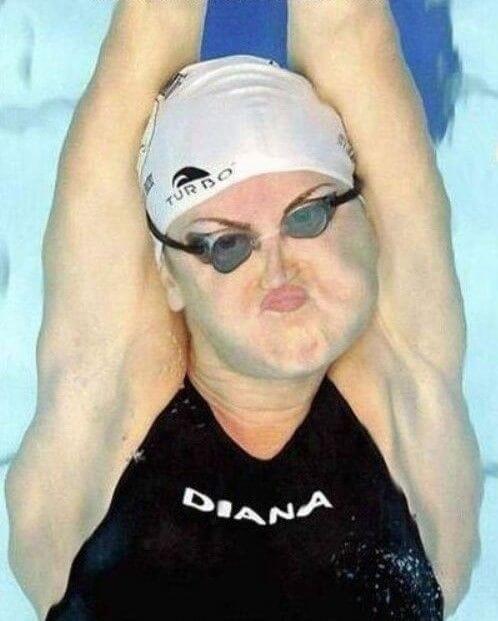 Instead of judging us, be honest and answer: did you think the same? Given how she made such a funny face and the photo seems perfect in every way, we feel that she really deserves a medal. Amazing shot!
Female Crabs?
An athletic event can become memorable due to the high energy in it and that is exactly what happened here. This effort from the team made people stand on their feet and applaud such a remarkable performance.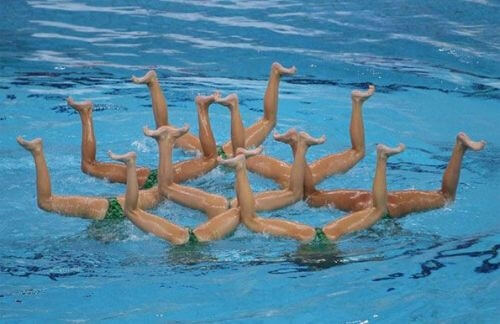 However, we do feel that they look like some crabs trying to defend their home against an enemy.
Oh My God!
Have you ever tried holding your breath underwater? Most people can't hold their breath underwater for more than a minute and it is totally understandable. This is the face you make when you've been underwater for some time because your lungs start to beg for air and you have to burst out of the water.
Did you know that German freediver Tom Sietas holds the record for holding his breath underwater for 22 minutes and 22 seconds?
Use Your Head Lady
For an athlete to succeed, it is imperative that they work hard and be totally focused. That's why you can see so many successful athletes always telling others to remain dedicated and stay focused no matter what happens.
But athletes are human and they can make mistakes as well. This volleyball player got distracted during the game and that single lapse in concentration caused her to fall. Looks like she took the expression "get your head in the game" to the next level.
The Perfect Soccer Face
We saw how professionals made faces during lifting heaving weights and jumping into the water, but we have to admit that this one tops them all for now. Soccer is an intense sport, and it also happens to be the most popular sport in the world as well.
Fans can get super emotional for the soccer team they support and you can imagine how the fans of Manchester United felt when their favorite player got sucker-punched in the face with a football. But it must have been funny for the other team!
Now That's A Grab
This is the face you make when you grab the ball from your brother but your mom quickly steps in by shouting from the sidelines, "Boys, play fair!"
Although this doesn't happen during professional basketball matches, we're quite sure that these players are looking at the referee for validation.
Not A Traditional Dance
At first, we thought it might be some traditional dance or something, but that is not the case. Whatever these beautiful ladies are doing, we absolutely love it.
One of the coolest things about professional synchronized swimming is that every teammate must be aware of their moves and their team's moves all while being flawless in executing anything.
"I'm A Butterfly"
One thing that all professional players need to know is that everything they do on the field is being recorded and also shown live on TV.
Take a look at this soccer player who is so much into the game that he doesn't even know he's unintentionally showing a somewhat hidden glimpse of his – you know what – to so many people. We're quite sure that this must be super uncomfortable for everyone.
Not A Slam Dunk
If someone tells you that you can't feel pain through images, show them this picture. It is because people who play and watch basketball know well how much it hurts to have a basketball slammed on your face.
If you think there is any other dangerous sport in the world, show it to us. Till then we will keep on believing that basketball is the world's most dangerous game ever.
Chaos Among Cheerleaders
We all have to acknowledge the fact that cheerleaders play an important role in keeping the energy levels up. They make the crowd cheer which helps teams perform better. But sometimes, cheerleaders need some cheering and support because they can make mistakes as well…they are not robots after all!
These young ladies were all set to energize the crowd, but one mistake led to this chaos. We are sure they stood up, organized themselves, and learned from their mistake.
Double Tap
Soccer players know very well the danger of their sport. You can find a lot of videos and photos of players getting hit in sensitive areas. Just like it is the case in most of these on-field accidents, one player was looking at the big ball while the other player was looking at something else (you know what we mean).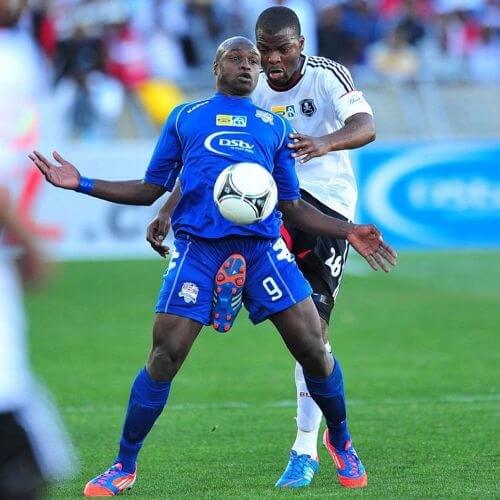 No matter how many expensive coaches you get for a team, they can never teach players the defensive tactic against such an attack. If a player gets a blow on their leg or arm, it can be treated at the spot with sprays and medicine, but what about the sensitive part? It is a cruel game.
What Kind of Dance Is This?
We have seen so far how athletes found themselves in some pretty compromising positions and this one is no different.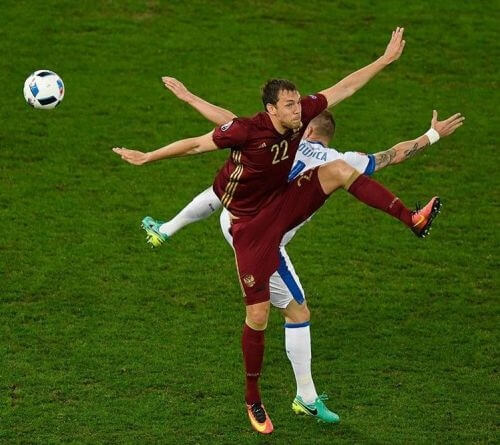 At first glance, it may seem like they are in some sort of ritual, but that is not the case. These two players are trying to get hold of one thing.
That's One Big Jump
Just when you thought you had seen everything crazy happening in the world of sports, this track and field jumper was like "hold my beer."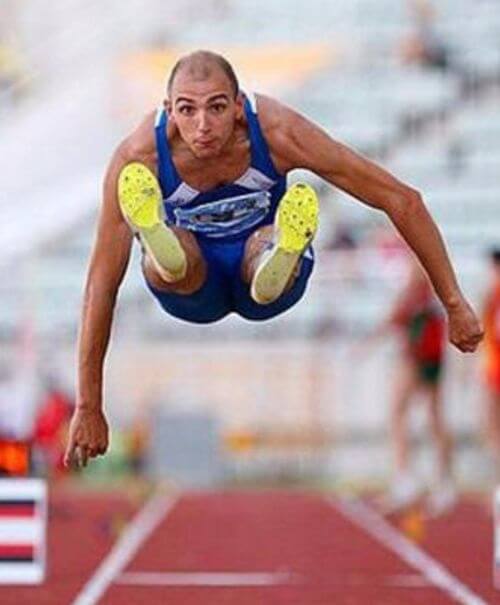 It is truly spectacular how a thin guy like him managed to squeeze his body into something like a pancake and take a flight. This is seriously mind-blowing. Highly impressive!
This Game Sucks
You have already seen that wrestling is impossible without players getting close to each other. So, when wrestlers do try to defeat their opponent, they have to do everything necessary.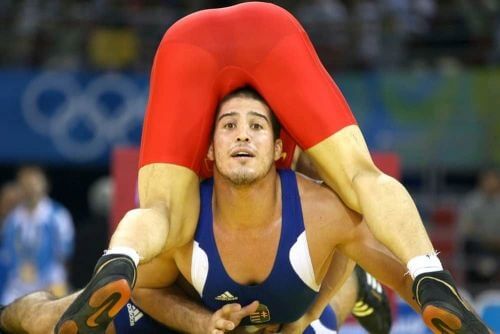 There are some moves that can take a wrestler's mouth pretty close to the opponent's armpit. In this case, the wrestler's face is under something else. One can expect that he must be thinking, "This game sucks."
Not My Face…Not My Face…Ahhh
The game of cricket is followed by billions of people and it is a really interesting sport. It is similar to baseball. It can also get a bit physical as seen by this photo here.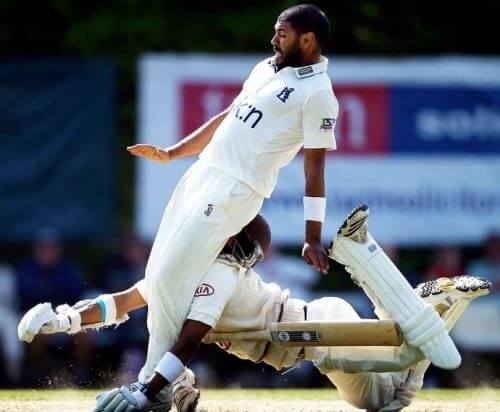 The batsman was trying to take a run when he fell and his face was at a place where it shouldn't be. We believe that it was the defining moment of the match.
Hey, What is Happening Here?
This is what photography can bring to you. How often you get to see this happening on a soccer field, right?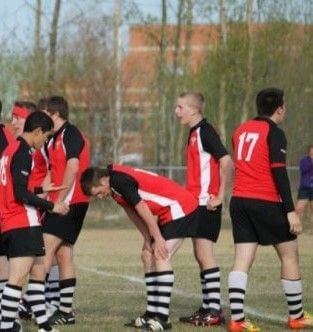 We feel a little bad for the photographer because that person went to the field thinking they would take good photos of the game, but they had to take photos of another ongoing game. What more can we say about it?
A Kiss On The Eye
In some sports in which players can get close to opponent players, things like these tend to happen and there's nothing new in it. When it comes to sports like soccer, ice skating, or basketball, winning depends a lot on teamwork.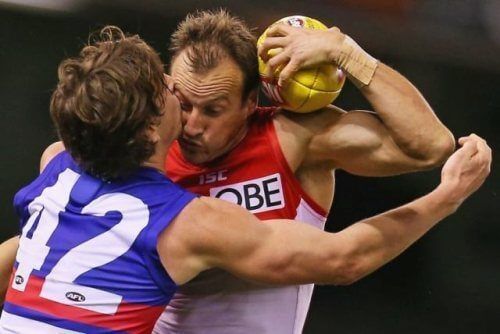 So, we don't feel bad for the guy with a ball because we feel that he took one for the team. Above all, it wasn't a kiss of death so there's nothing to worry about.
A True Champ
If you have ever turned on the TV and watched pole vaulting, then you must know that this sport is super crazy. If you don't know about it then let us help you. So the idea behind the sport is to get your body over the bar. Your body can't touch the bar while you jump over it. Seems easy right?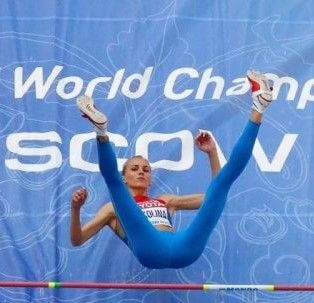 Well, the player holds a giant stick and runs down a track at a top speed only to launch them 20 feet in the air with the help of the stick. It may sound crazy, but the sport is pretty fun to watch.
Right Before Submission
Any UFC fans here? Well, The Ultimate Fighting Championship (UFC) is American mixed martial arts. It is quite popular all over the world. It is a super crazy sport in which you get to see some of the best fighters compete with each other.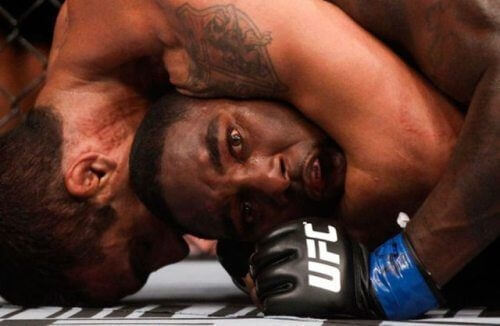 Like wrestling, one player is trying to defeat the other player. In this photo, the player knows that he's about to lose the game. Although he's looking right into the camera, a submission is pretty much on the way. If you watch UFC, who do you support?
Watch Me Dance
It seems like this player recently took ballet classes and now wants to show his talent to the world. Maybe he recently discovered his passion and is trying to let the world know that basketball is no longer the sport he wants to play.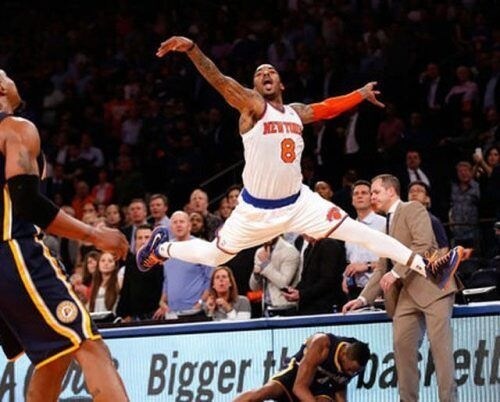 We do feel that he can be a good ballet dancer. What do you think about it? By the way, ballet reminds us of 2010 Natalie Portman's movie Black Swan. We highly recommend you watch it.
Must Be A Scathing Skater
This image is just gold and we don't have many words to describe it. Most people may think it looks like this person just saw his girlfriend kissing someone else, or there is a possibility that he just doesn't like people at all.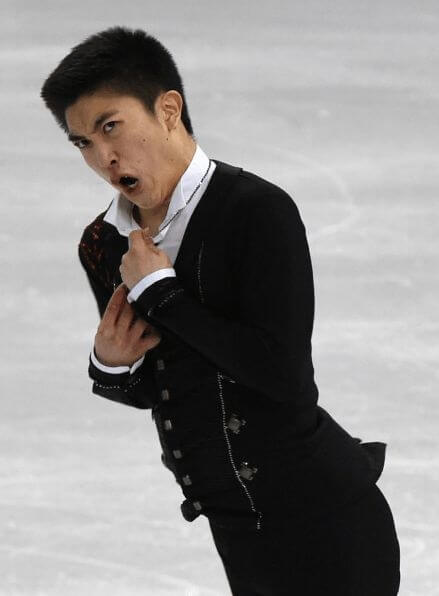 Regardless of the reason, we just hope the photographer who took this picture gets a pay raise because it's a pretty good shot as it has everything from high energy, the drama, and brilliant facial expression. What more do you want from a photo?
Double Punch
Every face in this photo tells a different story and that's what we love so much about this photo. The goalkeeper has his eyes closed and though he is trying to push the soccer ball away from the opponent player, and in doing so he has accidentally punched him.
The goalkeeper's teammate is not looking at what's happening, but he seems super excited about it. The referee in the back is looking at the entire accident with a look shock. No wonder why this game is so popular.
Taking One For The Team
This photo is super hilarious on so many levels. You know it is gold because of the reaction of two players in it. Although both players are from the same team, it seems like one had to make his face work as a launching pad for his teammate.
We are certain that this is not what the player underneath thought. At the extreme left of the photo, you can find the referee looking at it with absolutely no emotions on his face.
Don't You Dare Look At Me
We feel that it would have been more convenient if this guy was standing like this in front of another human and not a helpless animal.
It seems like standing in front of an angry bull and making a weird face is not a wise decision, but they are experts at doing it. What do you think happened next? Did the bull play with this guy like a dog plays a balloon?
A Helping Hand
Although most of you thought of something else, we like to look at the other side of the picture. All we're looking at is a man helping another man, what's wrong with it? This guy was brought up in a way that he is always trying to help others in need, and we find it inspirational.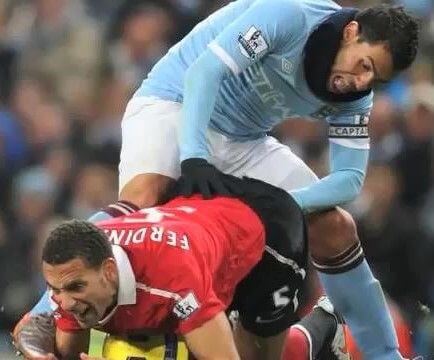 If you think something else is going on here, you need to get yourself checked. You all need to learn from us. Okay, we can't do this anymore. This photo is hilarious and we all know why.