Let's face it – online shopping is a hit or miss, and you'll never know what you got until the package is at your doorstep. You could get a stylish shirt at a price you'd never find in-store, or you could end up with a product whose quality more than justifies its low price. But one thing is a constant in the world of clicking and buying: shoppers will post reviews of what they got in the mail. And luckily for you, those reviews are accompanied by hilarious photos. Check them out and prepare yourself for a good laugh!
Nice Tank Top, Bro
So, is this a tank top? No. Is that a bad thing? Well, not necessarily. Sure, this person did some online shopping and thought he ordered a tank top that he could wear to the gym. But in the end, he got something much better: a tank top dress. And we have to admit – he looks absolutely terrific in it. You can really see his gym gains in this fit!
Hopefully, this guy also saw the positive side of the whole thing. Judging by how much he's feeling himself in that mirror selfie, we're pretty sure he did.
She Couldn't Have Picked a Better Time to Take This Photo
This is one of those "when you see it" moments. There seems to be nothing wrong with this picture at first sight; it's just an everyday gal showing off her latest crop top bought online at the bargain price of 6.95 Australian dollars. Then you look closer and then take yet another look – and you finally see it. A guy is sitting on the toilet seat, relieving himself. Surely this woman could've waited for him to finish his business before taking this photo.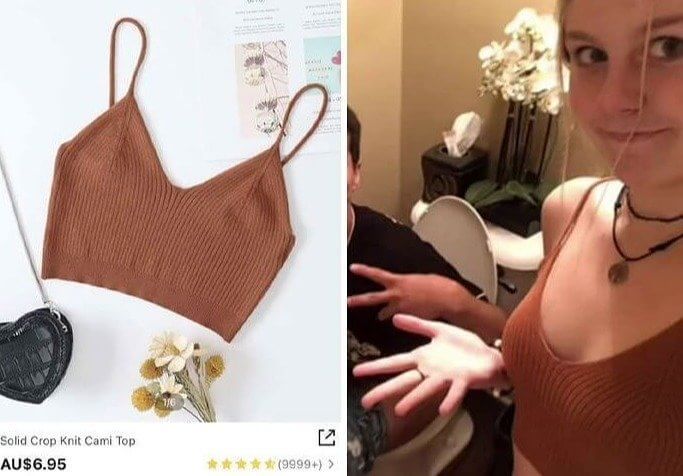 But she didn't, and this guy's potty moment is now immortalized in this photo which shall remain on the Internet forever. The good news is that he was also posing for the photo.
We Could Hardly Spot the Difference Here
First of all, we're really impressed by the price of this wig, considering it looks like it's of decent quality in this guy's review photo. Then again, his photo is pretty blurry. Anyway, this photo landed a spot on this list because it was a fan favorite of Shein shoppers. People couldn't get over how iconic this man looked in that wig he bought and his confidence in posting it for the world to see.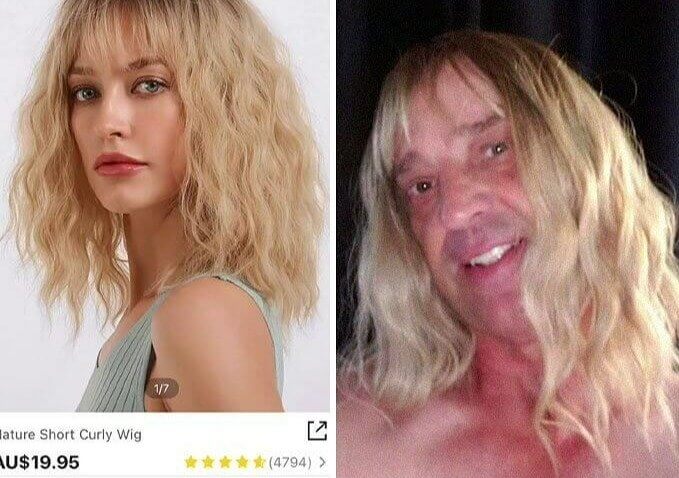 We love this guy for making this wig so unisex. He's really causing quite a bit of a stir with his customer review picture, and we think he's a rockstar.
Maybe It Shrank in the Mail
This is one of those things that make absolutely zero sense to us. Why on Earth would the people who made this dress go out of their way to totally screw up in the production of it when they put the time into designing it, getting a model to wear it, and so on? That doesn't make sense to us. You might as well make the thing properly at that point. But then again, if they did that, we wouldn't have this hilarious review photo.
This is the risk you take whenever you shop online. You never know whether the delivered package will have what you ordered or a different version of it with the proportions all wrong.
Imagine Doing Your Makeup With This Thing
These are the kind of mirrors you should buy if you're trying to build some sort of a fun-house or wacky mirror room within the confines of your own home. But this isn't the kind of mirror you would purchase if you wanted to see your reflection on it daily. The way these mirrors contort whatever they reflect makes them no good for that – you'll just end up with wacky makeup!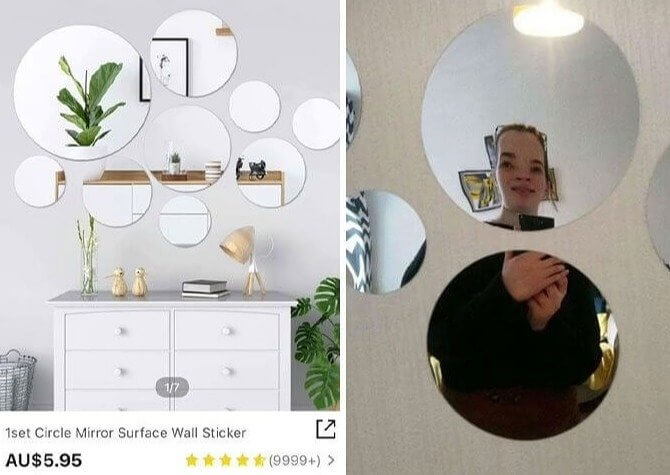 It seems as though this woman had to find that out the hard way after she bought these "affordable" items online. And while she didn't get the mirror she wanted, we all ended up with something much better: this review.
He Just Wanted a Pillow of His Face for His Girlfriend to Take to College
Okay, so there's quite a funny story behind this photo. Apparently, the original poster of this photo went out of his way to get his girlfriend a pillow of himself that she could use while she was away at college. It didn't work out as planned. Like, seriously, imagine cuddling with this thing. His girlfriend wouldn't dream at night as long as this cursed pillow (which looks more like a potato) was nearby.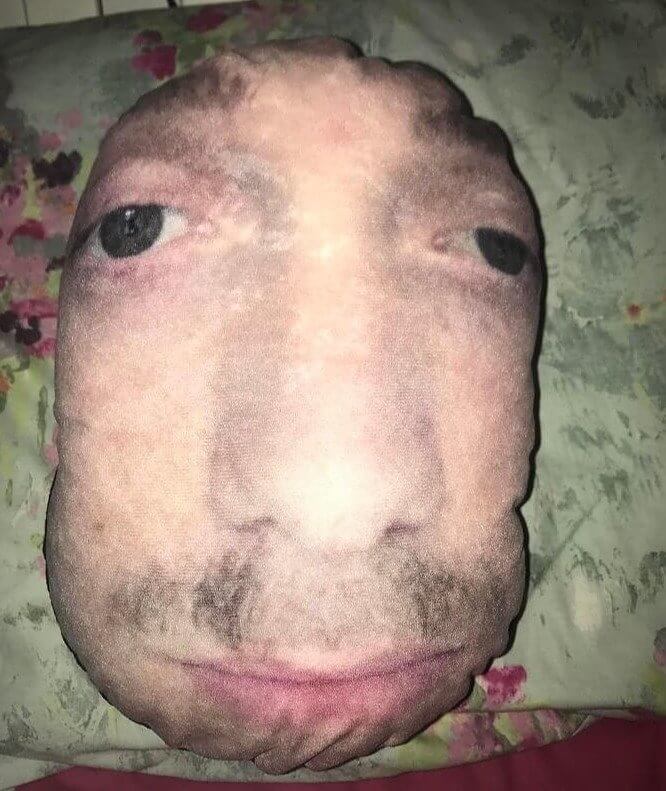 Nevertheless, this boyfriend made a cute gesture for his girlfriend. And they said romance is dead, right? Well, if this is how romance looks, maybe it is dead.
When You Buy a Haircare Accessory That Doubles as a Halloween Costume
Okay, so look – we know this is a hair drying cap, and that hair drying caps should be worn on one's head, and that's exactly how the woman below wears her hair drying cap, and therefore she is using this product precisely as the designers intended. We know that, yet we still can't shake the feeling that there has got to be some other kind of use for this product.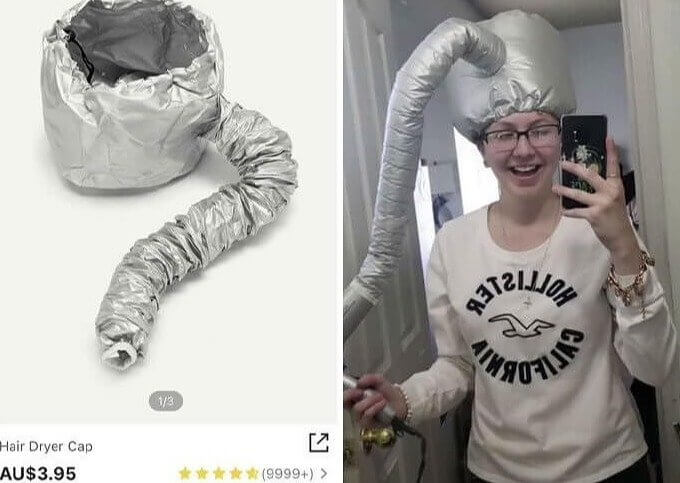 There is just absolutely no way that this is an actual hair-drying cap. Have you ever seen a hair-drying cap as silly as this one? It looks like something from a low-budget Sci-Fi flick.
Ma'am, Those Were Meant to Hang From Your Ears
We're not sure what kind of Halloween-related vibe this woman was going for when she bought these earrings for herself. But really, she isn't the main culprit here – the person who designed these earrings is to blame. Why on Earth did they decapitate dolls and put them on earrings? It feels a little creepy to us. Maybe this customer agreed and was trying to make a statement when she put the earrings through her nose piercings instead.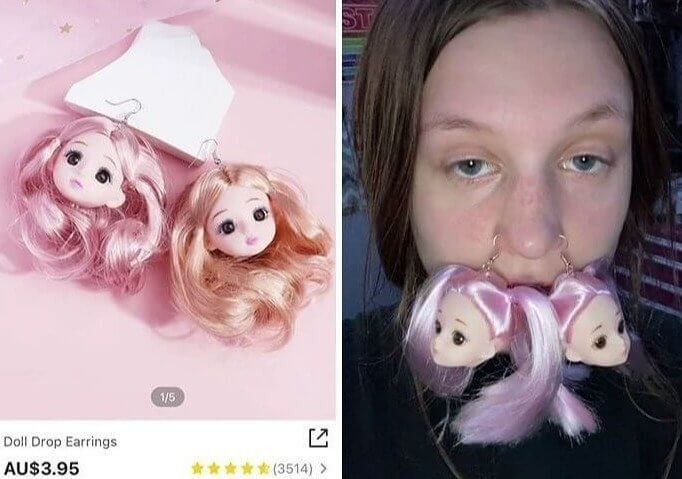 Or maybe she put them through her nose because she's dissatisfied with the product. After all, it promised two doll heads with luscious locks, and she got ones with ponytails in their hair.
Animal Pillow Case and Child Are Not Sold Separately
This might sound controversial, but we can't even be mad about this one. We were finessed, bamboozled, and tricked, yet we cannot help but take our hats off to the seller. They just fooled us on this one – we were sure this product would be a dinosaur-shaped pillowcase, but it turns out it's just a regular pillowcase with a kid sleeping on a dinosaur-shaped pillowcase printed on it.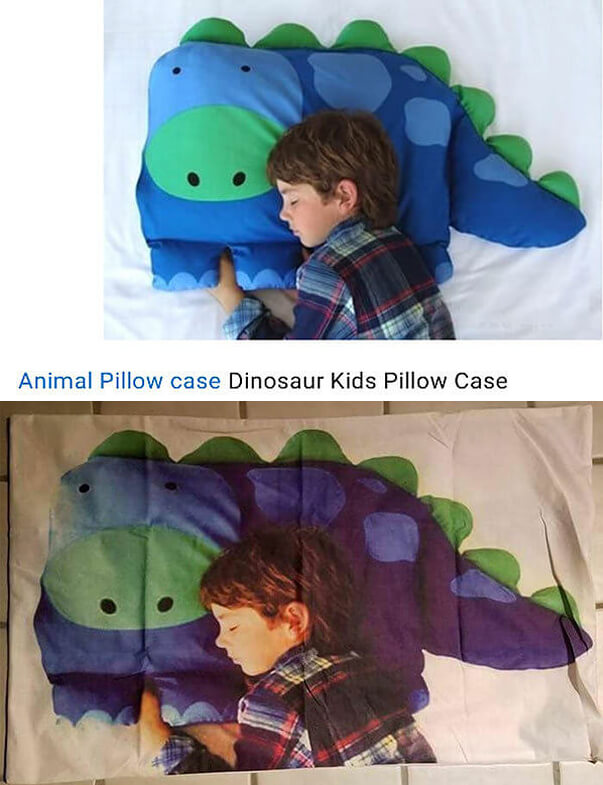 Like, this is obviously so, so wrong, but it's also hilarious. Like, we almost feel ashamed for getting fooled like this. We truly should have known better.
Not the Customer Base People Were Expecting
These flower drop earrings are pretty cute if we do say so ourselves. They might be a bit long, but if you love flowers, springtime, and bright colors, they might be perfect for you, which is why online shoppers loved this photo left by someone who bought these earrings. Her aesthetic is quite dark and moody – the total opposite of what people expected from someone interested in this jewelry style.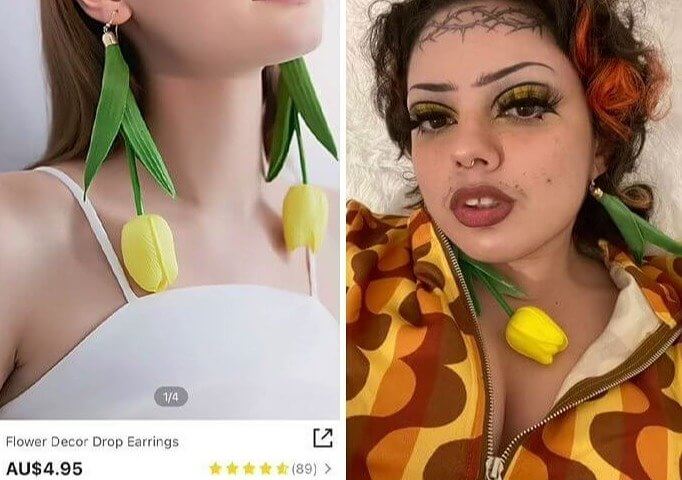 We'd expect her to buy flower drop earrings of dark red roses if we had to bet our money on something. Maybe those just haven't come out yet, and she settled.
The One Time Reality Was Better Than Expectations
You know, if we didn't know that the dog in the picture on the right is actually wearing the hoodie that the dog on the left is wearing, we would have never been able to guess. It looks like two completely different pieces. And, if the photo on the left didn't have the price and item details, we would obviously assume the dog on the right is the model.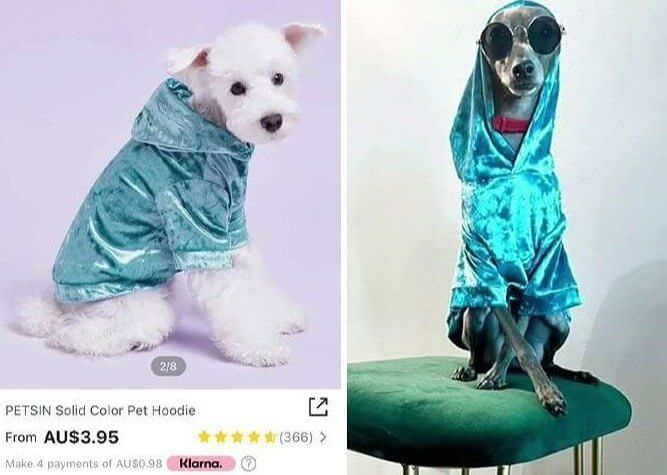 And that's because the dog on the right is rocking that sweater in the most natural, chic way we naturally assumed it's a professional supermodel. This is one of those rare cases of reality turning out better than expectations.
She Accidentally Bought the Newborn Baby Size
Beauty products nowadays, are we right or are we right? You know, this definitely would've fitted a cat if cats wore face masks, but there's no way this was designed to be used by a human being. We just refuse to believe that. Or maybe it's meant to be worn by a newborn baby; that's the only human this facial care mask would fit on. But don't the producers know this isn't safe for babies?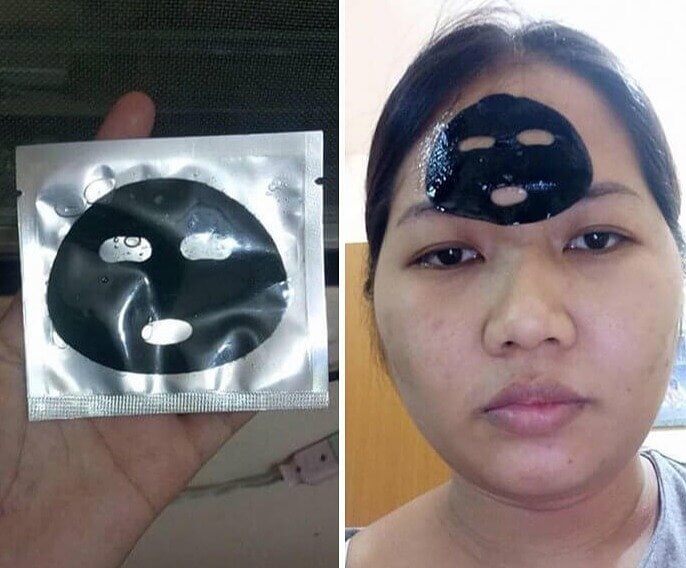 While this product may be somewhat of a travesty, it made for one hilarious photo. If you end up in a situation like this, there's really nothing to do about that but laugh.
These Sunglasses Match Perfectly With Her Hannah Montana Lunchbox
There are stylish, oversized sunglasses, and then there is this… these are just oversized, not stylish. In fact, they're so strangely shaped that we think they might be made for minions. But this go-getter decided not to let disappointment consume her and put her newly bought sunglasses to good use. What she did was make one hell of a costume. It looks as though she's on her way to flying a 1920s plane (with a Hannah Montana lunchbox for good luck).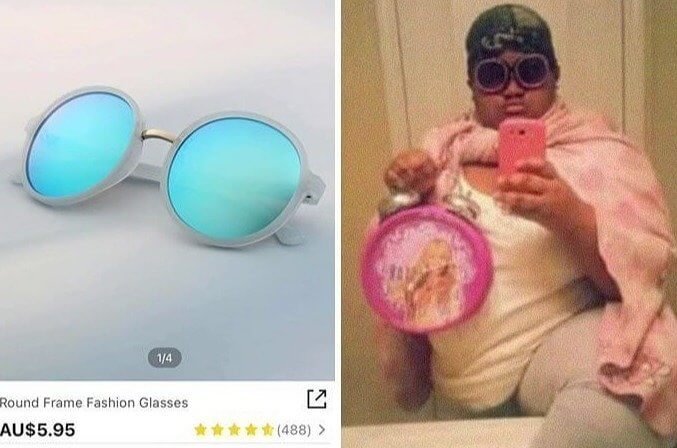 We have got to say that we appreciate the fit. If she were to turn up with that outfit to a social gathering of some sort, she would for sure be the life of the party.
What? These Are Just Disposable Finger Covers
We know, we know; we were pretty caught off guard when we saw these for the first time, too. But we promise it's not what it looks like. These are finger cots or disposable finger covers, as the sellers here call them. Those of us who've worked in a kitchen might have recognized them. You see, cooks tend to, unfortunately, injure their fingers. When that happens, they use these things to make sure their injured finger doesn't get infected.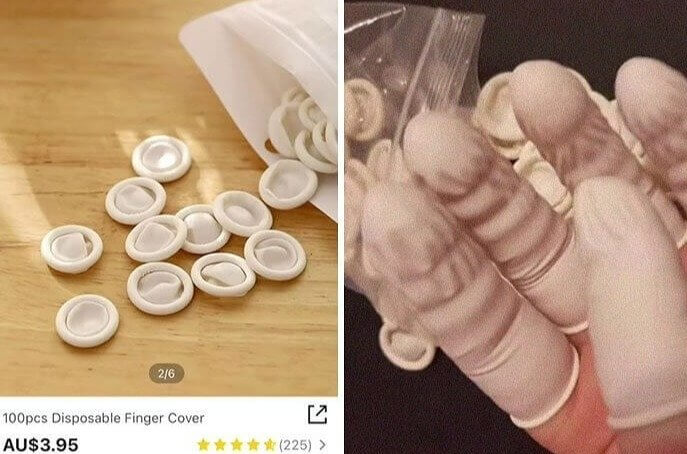 And yet, many people across the world who know these things still call them a different name. Truth be told, we can't say that that's inaccurate. They do have a point.
The Hero Gotham Deserves
You know, in modern urban life, which is full of wrongdoers and bad people with evil intentions, you never know when you'll need a hero to come in and sweep you out of trouble. That's exactly what this person had in mind when they went ahead and bought these Batman glasses – when things get bad, you know they're going to summon Gotham's savior to come and help out.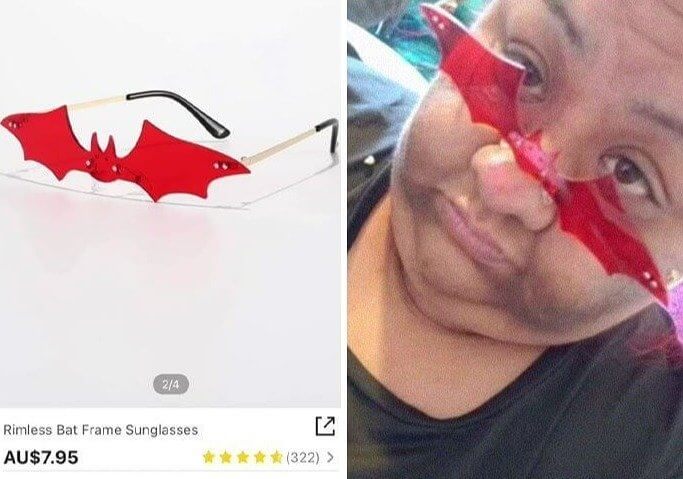 Yes, it's true; in this dark world we live in, full of pain and suffering, sometimes the only thing we need is a hero. This person's got the right idea.
Grandma Was Trying to Make an Extra Buck
Hey, look! Grandma's teeth are fashionable again! Who would have ever thought that a pair of fake teeth would become the pinnacle of alternative fashion? We sure didn't, but maybe that just means we aren't fashion-forward enough, which is definitely something we'd be willing to accept about ourselves. If this is all the rage in alternative fashion circles right now, then we truly don't get it, and that's okay.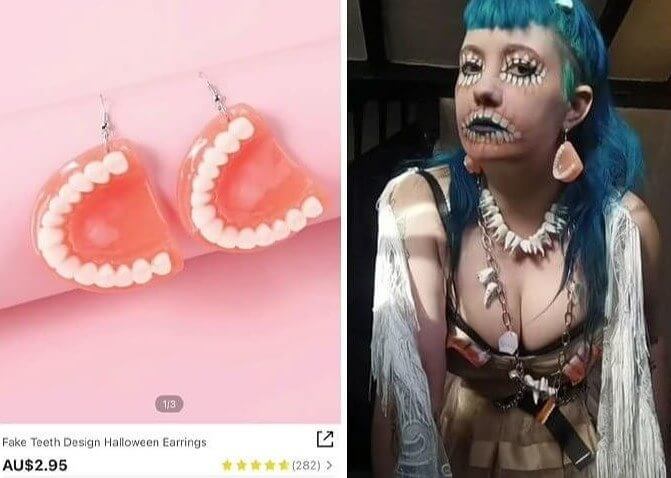 The times sure are a' changin', aren't they? Grandma was just trying to make an extra buck selling her dentures online when she accidentally started a new trend.
Yes, Someone Shamelessly Posted This Foot Pic for the World to See
Feet pics are all the rage nowadays, and many people refuse to post them for free. But not this person. No, they posted a foot photo for everyone on the internet to see for free. And the image has left us pretty speechless. We honestly can't even tell if the sandals she got match the sandals she bought because all we can focus on are those long toenails.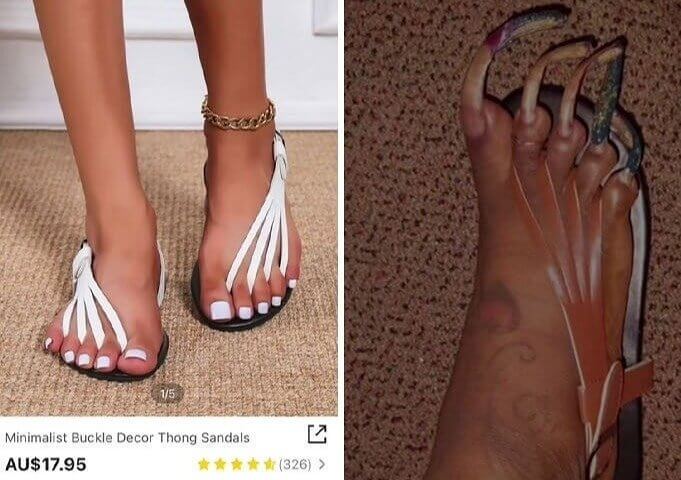 We'll just say this: it looks like the toenails have outgrown the nail polish, which means it might be time for a pedicure.
Fried Chicken Necklaces – Perfect for Eating On-The-Go
Have you ever loved something so much that you just felt like having it around you (or, more specifically, around your neck) at every possible moment? Well, that's how much this girl loves chicken, specifically fried chicken. She loves it so much that she bought a necklace with a very realistic-looking friend chicken wing hanging from it. Maybe it is real, and this is a new way to snack on the go.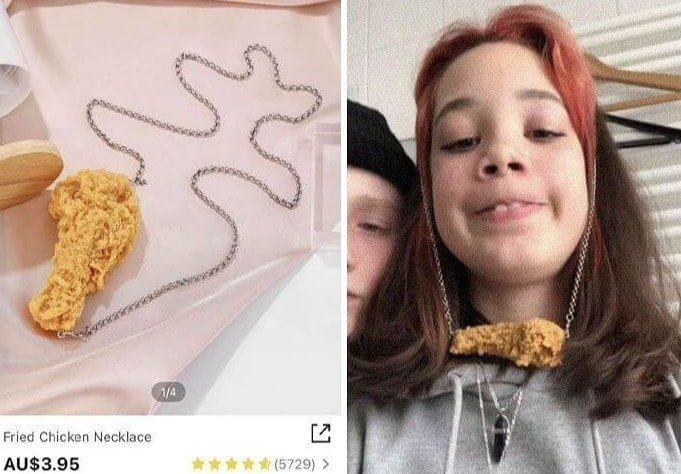 Whether it's real or fake, this product is pretty hilarious. If one of our friends were to show up at our house wearing this necklace, we would be overjoyed.
The Smallest Chair Ever Made
Ladies and gentlemen, we are proud to present the world's smallest chair! Behold! Look at this tiny chair in all its minuscule glory! Truly, there's nothing in this world quite as exciting as a comically-sized chair, whether it be large or hilariously small. Still, our hearts go out to the poor person who bought this chair, thinking they would get an actual, usable chair. Sorry, not this time. You get the small chair!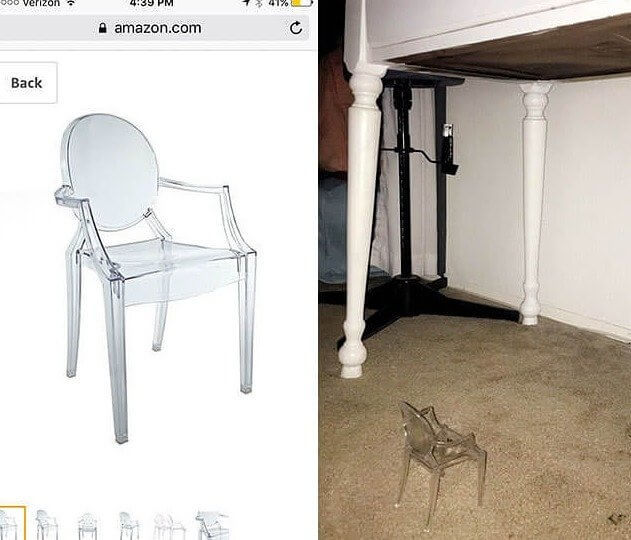 Like, we're pretty sure this chair is smaller than a toddler's finger. It's that small. Crazy how online shopping works – when a deal seems too good to be true, it probably is.
Ice Age's Very Own Sid
The thing about buying things from the internet is that you never truly know what you'll get – sometimes you order one thing and get something different, other times you get exactly what you asked for (which, as we know from the proverb "be careful what you wish for," can end up being much worse than what you had imagined). This seems like a case of somebody getting precisely what they wished for.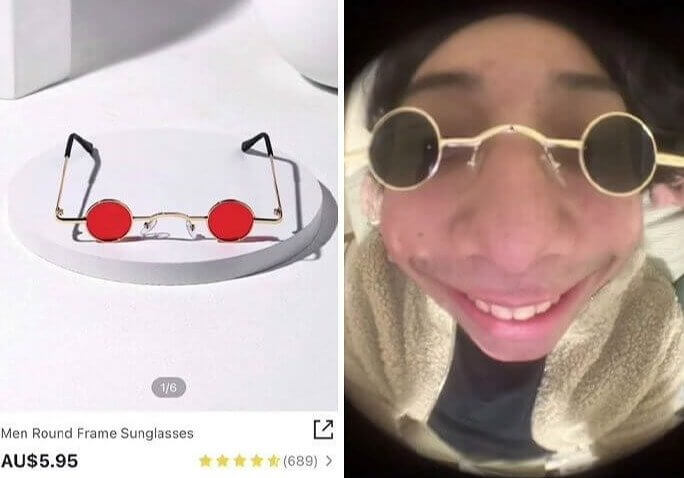 We can't even say that he seems disappointed or unsatisfied in any shape or form. Just look at this guy rocking his little shades. Good on you, pal, rock those shades.
Who's a Good Girl?
Look, we love dogs. What we love even more than dogs are dogs in clothes. There truly is nothing cuter in this entire world. We totally stand behind that statement. That being said, these kinds of cutesy dresses made for tiny dogs don't really fit the bigger canines, do they? Like, it's not like the bigger dogs can't wear them, but they always seem to look just a tiny bit off.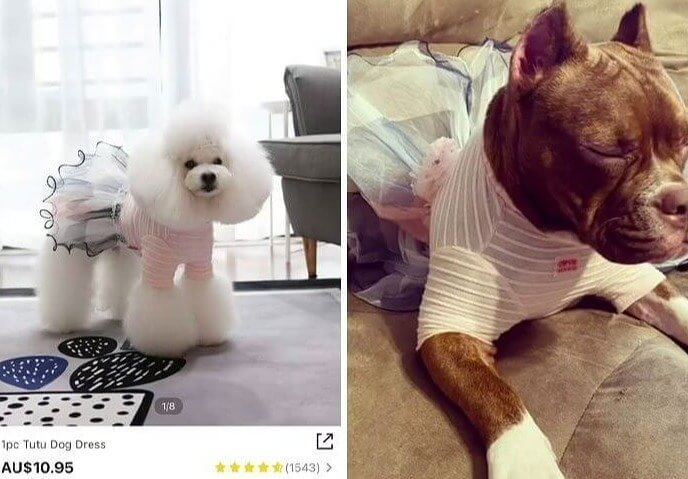 But that's probably what makes this reality versus expectations so endearing. That pitbull might be about to pop out of the dress, but it's an adorable photo.
Yes, Work It!
This is exactly like all those avant-garde and experimental outfits that models in high-end fashion shows wear. Are they pretty? Maybe. Are they interesting? They sure are. Are they wearable on a day-to-day basis? Considering how comfortable both women look, we're going to assume the answer to that is "yes." And while they both look fabulous, it's pretty shocking how different the fit looks on the model versus the buyer.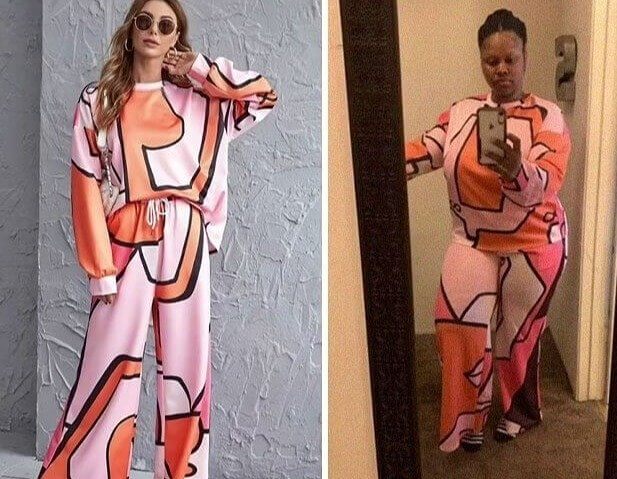 We hope the buyer was happy with her look despite it being a different vibe than when the model sported it. She is rocking it!
Our Manic Pixie Dream Guy
So this wig was tailor-made for all the Manic Pixie Dream Girl aspirers. And this guy, while not exactly fitting the "girl" part of the Manic Pixie Dream Girl description, didn't care at all and went ahead and bought himself this wig. We have to say, he is totally rocking that wig and his fancy glasses feel like the perfect piece of eyewear to go with the rainbow look.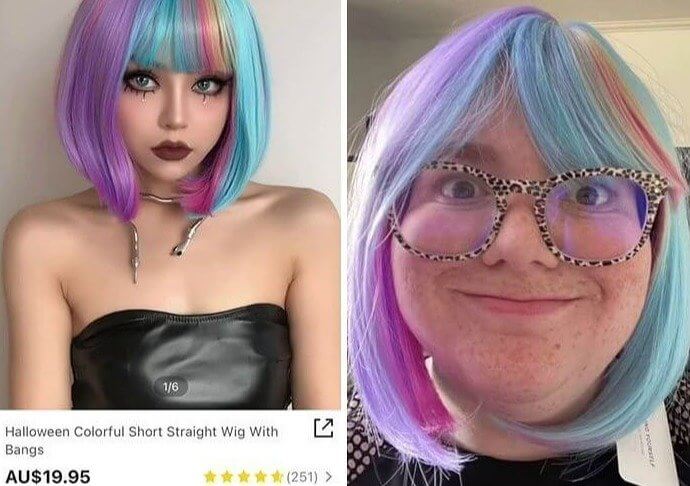 While he may not have been the exact person the people who made this wig had in mind, we're pretty sure this funny review photo will get plenty of others to buy the product.
When You Order "50 Shades of Grey" on eBay and Expect a Novel
This has got to be one of the funniest cases of online shopping gone wrong that we have ever seen. This is just like a perfect example of the potential risks of using eBay – you never know who the seller is and what kind of trick they have up their sleeve to make sure that you don't receive whatever was advertised. And yet, this has got to be one of the most creative yet goofiest scams we've ever seen.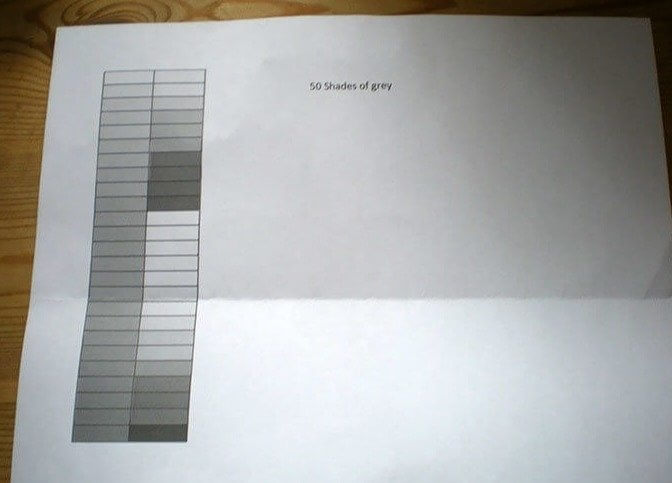 It's not like the seller even got that much money off of this; how much does a copy of 50 Shades of Grey even cost? Not a lot, we imagine. But we guess it's still a lot less than printing these shenanigans.
He's Crazy for Turkey
What's amazing about this picture is the difference between how the cat's wearing that chicken hat and how the dog's wearing the exact same hat. The cat seems dignified and royal, as though he were the king of all turkeys. The dog, however, seems as though he totally lost his marbles. He looks like the turkey hat made him go absolutely feral, and we love it.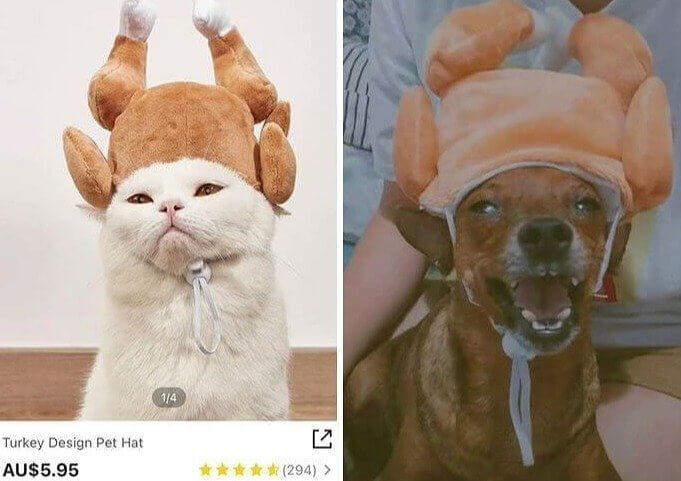 It's safe to say that this dog is totally crazy. Crazy for turkey, that is. We wonder how he would react when given an actual piece of turkey. He'd probably burn the house down.
We Didn't Want These Glasses but Now We Do
Now, we're definitely no experts when it comes to time travel, but it's painfully obvious to even the most uneducated observers that this woman right here has come from the future. There is just no other way we could ever possibly explain that attire of hers. All that's left is to try and figure out what year she came from. We're willing to bet that she's from 2150 AD.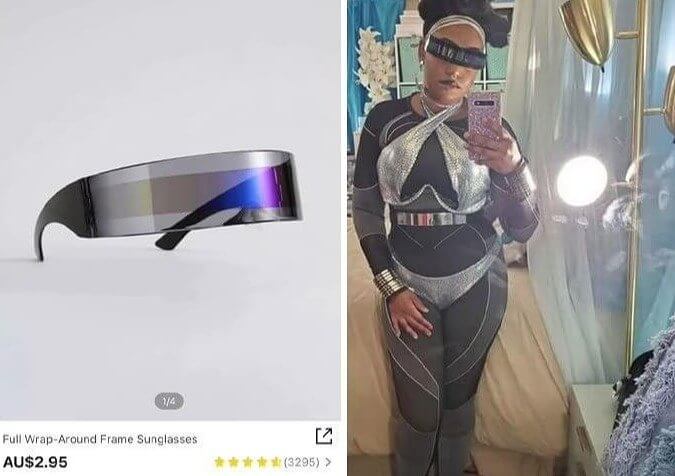 Well, whether she's truly from the future or not, what's certain is that this lady is incredibly fashion-forward. Her sense of style is certainly futuristic, and we respect that.
Don't Tell Anyone, But This Guy's Wearing a Wig
Hey, listen. Come close for a second; we have a secret to tell you. Not many people will be able to tell, but this guy is actually wearing a wig. Now, keep this between us, alright? We're sure this person doesn't have his reputation tarnished by his wig-wearing ways. Alas, you cannot have your cake and eat it too. You can, however, have a Halloween Two Tone Long Curly Wig for only 16 Australian Dollars.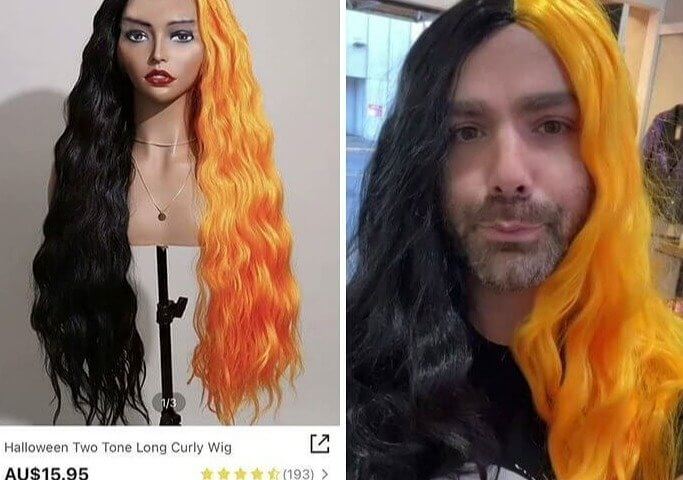 Yeah, you read that right – isn't that a steal? All this could be yours at the low, low price of 16 Australian dollars, which, for all the non-Aussies out there, is approximately 10 USD.
Those Toes Are Being Suffocated
Oh dear lord, those shoes are suffocating those feet. Please, just loosen up those straps just a tiny bit, and if that isn't possible – you're probably better of just totally giving up on these shoes altogether. Like, come on. We know some people believe in suffering for fashion, yet there has to be a point where one says: enough is enough. Choking your feet like this is just going overboard.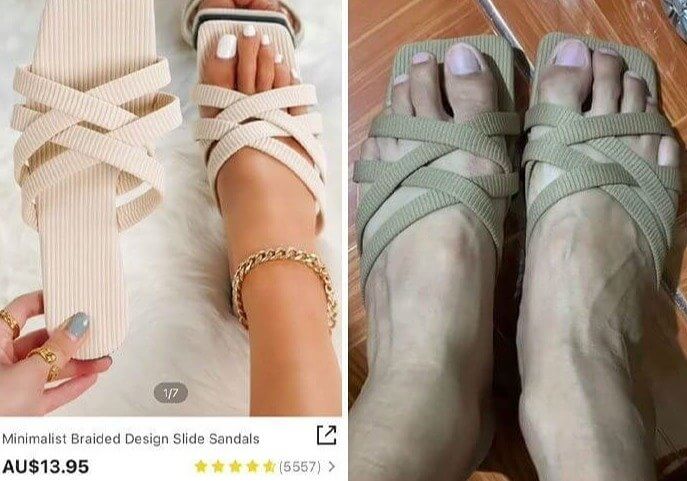 We're sure this picture persuaded any interested shoppers to go ahead and give these shoes a miss. They just aren't worth putting your feet through hell for.
He Didn't Choose the Thug Life, the Thug Life Chose Him
So while we were all busy going about our daily routines, doing unimportant and inconsequential things such as working, eating, breathing, or whatever it was that we were doing, this guy went ahead and got himself a pair of the Thug Life shades as seen in the ubiquitous Thug Life meme. Now, if that's not dedication, then we don't know what is. That guy is seriously dedicated to this meme.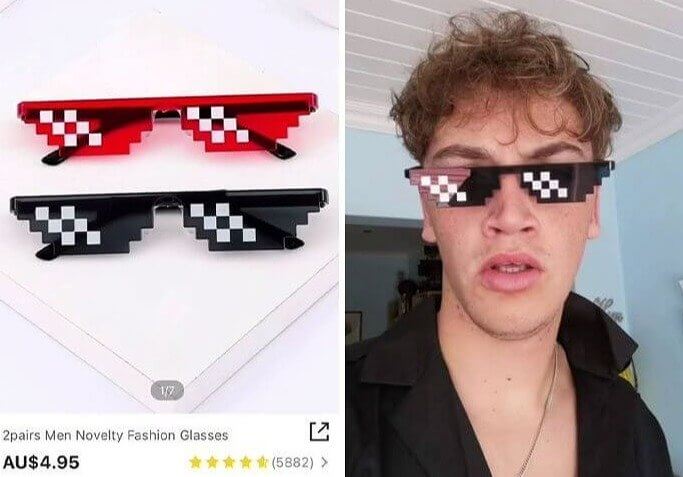 The most impressive thing about this is that the Thug Life meme has been dead for quite a while. And yet, this man did not care. He went all in.
The Least Helpful Review of All Time
You know, you would expect a pink-skirt-wearing dog to be a delightful creature full of joyful whimsy and jovial elegance. But those words could only apply to this dog if you were looking for his antonyms. Seriously, this little pupper is giving off some angry vibes. We're not sure what made him so mad (it might be the fact that he's wearing a skirt), but we do not want to mess with him.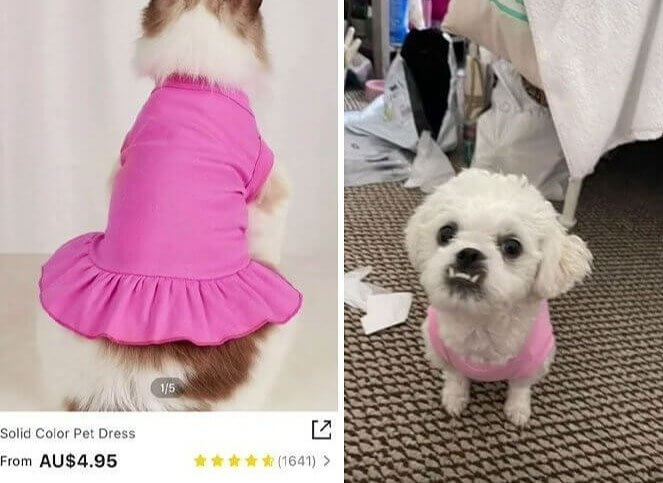 It's funny how the smallest dogs are always the craziest. It's like, the weaker they are physical, the more insane and aggressive they get for absolutely no reason. Dogs are strange.
The Fish Got Moldy by the Time They Arrived
It's truly a shame how things that seem to be vivid and colorful and full of life when you check them out while shopping online turn out to be lifeless and drab in real life. What's even more of a shame is that you always have to pay for them before actually getting the chance to check them out in person. This has made for quite a bit of disappointment over the years.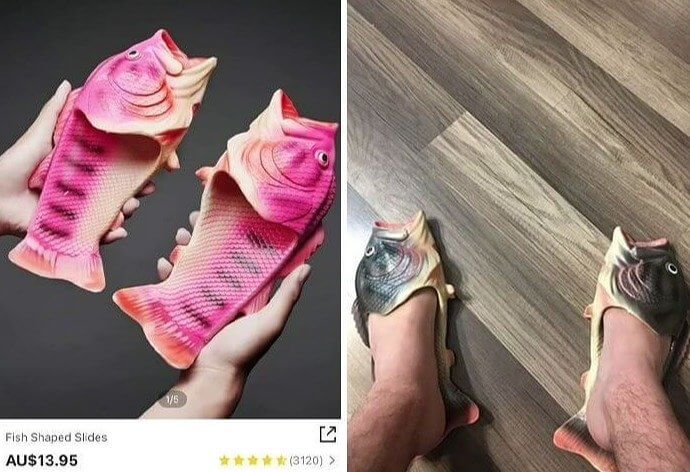 But that's just one of the ills of online shopping as we know it. Nothing to do about that, really. Besides, you can always return the item to the sender.
This Dog Is Cooler Than All of Us
This is what the creators of this dog dress had in mind when they spent a really long time designing it, finding the suitable materials for it, finding a good place to make it, and so on and so forth. We wonder what we would've thought about this picture were we to pour our blood, sweat, and tears into making this doggy dress. Truth be told, we'd probably like it.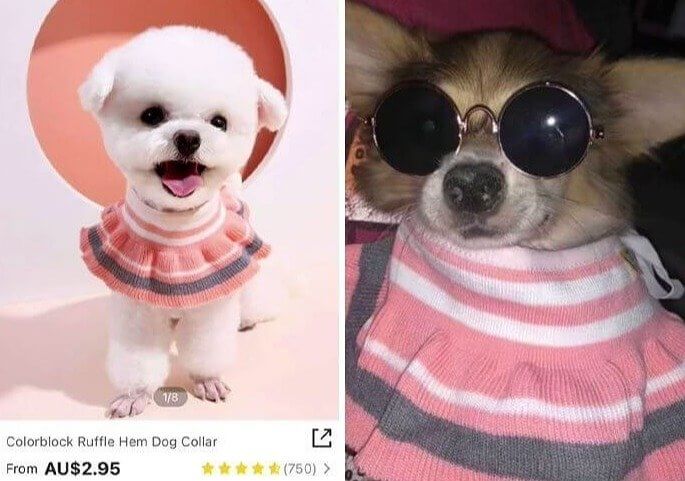 But we do understand how the creator of this dress could have seen this picture and felt incredibly troubled. After all, this isn't what he had in mind at all.
This Is What Triggered the Age Old Feud Between Cats and Dogs
There's one reason and one reason only why this hat looks quite silly on that dog – it was obviously made for cats. There's just no getting around that. Sure, that dog seems cute; he truly does, but he should try sticking to his own lane for once. He can't keep biting off cat culture forever. At some point, he's going to have to get a personality of his own.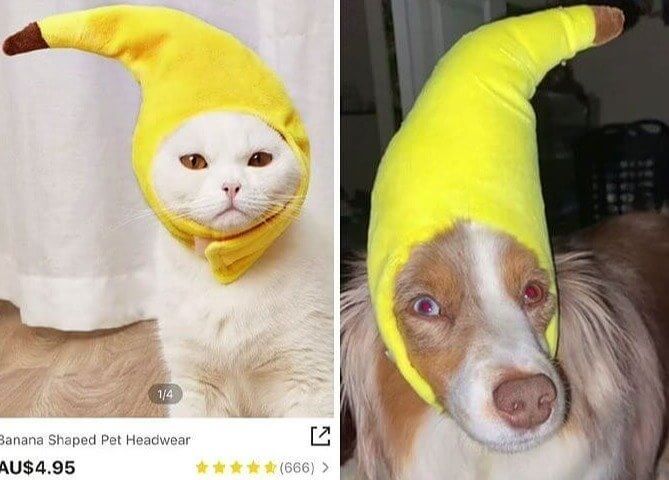 This is yet another horrendous case of cultural appropriation between cats and dogs. We're beginning to believe that they'll truly never get along. Pet peace may just be an impossible project.
Secret Agent Richards, Reporting for Duty
This man seems capable. He seems more than capable – he's ready, willing, and able. This is the kind of guy that'll take care of a task for you. You give him something to do, and he'll get it done. It's right there; you can see it on his face. He will go to hell and back to do whatever it is he was meant to do, and he won't complain about it.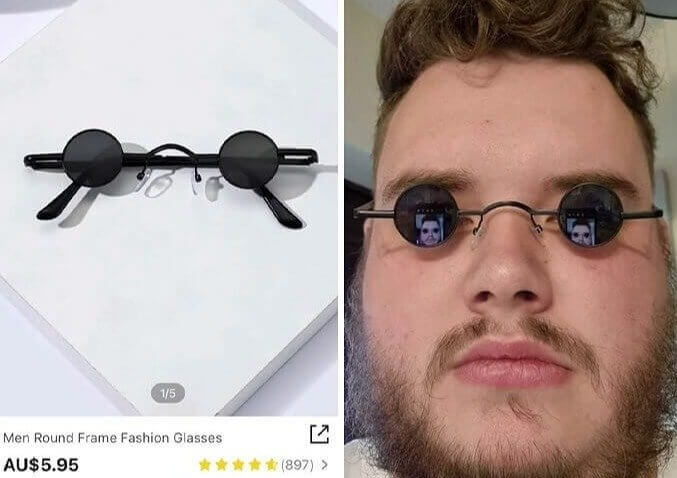 Now, we have no idea if this man is actually like that, but the sunglasses he's wearing sure make it seem that way. There's something about really tiny sunglasses that just gives off that vibe.
Look, They Discovered A Lost Dinosaur!
This photograph documents the discovery of an ancient breed of dinosaur hitherto unknown – the Puppersorous Rex. Look at him, with his majestic, long neck and his pink scarf going all the way up to his forehead. Truly, this has to be one of the most graceful and delicate species of the ancient, prehistoric world. We are so glad that scientists finally managed to uncover his remains. This is huge for the world of science.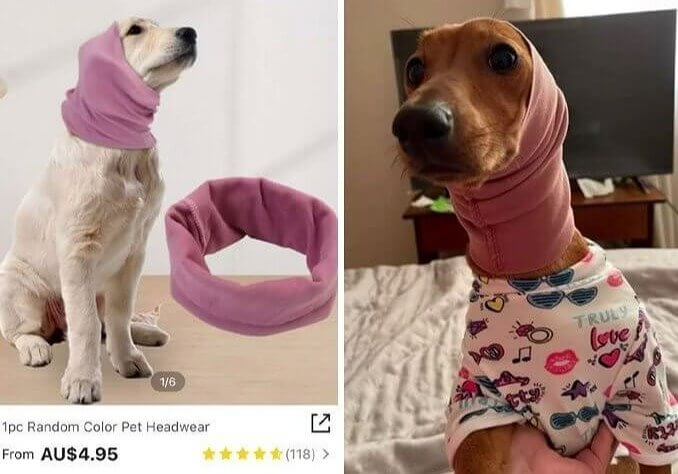 Okay, in all seriousness now – this isn't an ancient dinosaur (obviously); it's just a dog with a funny little Headrester wrapped around his head. Isn't he just so adorable, though?
People Were Obsessing Over This Person's Pedicure
This is just one of those products that we truly, in no shape or form, understand. We don't get why anyone would make something like this; we do not understand why anyone would purchase something like this; heck, we don't even get how any online shopping website with an ounce of self-respect would ever let something like this be sold on their domain. Seriously, we just do not get this at all.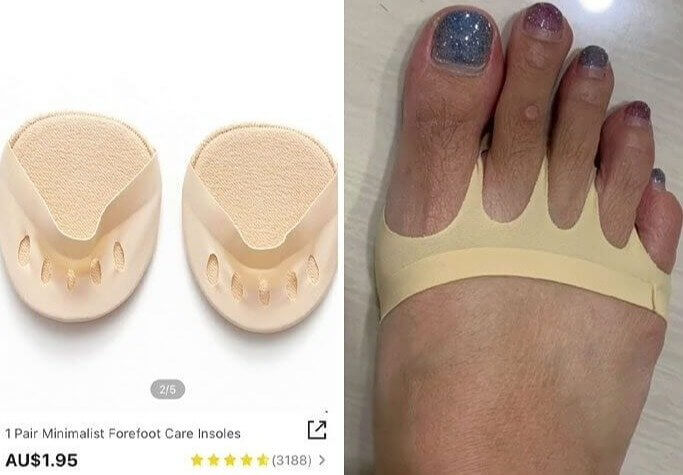 But just because we don't get it, that doesn't mean other people haven't found this product useful in some way. Well, more power to them, we guess.
A Size (or Three) Too Large
Man, this guy thought he was Harry Potter. It turns out that he definitely isn't Harry Potter – he can't be Harry Potter if the glasses don't fit him. How disappointed was he when the glasses he so adored finally arrived in the mail, only for them to be two times larger than his actual face? We can only imagine just how crushed this person was.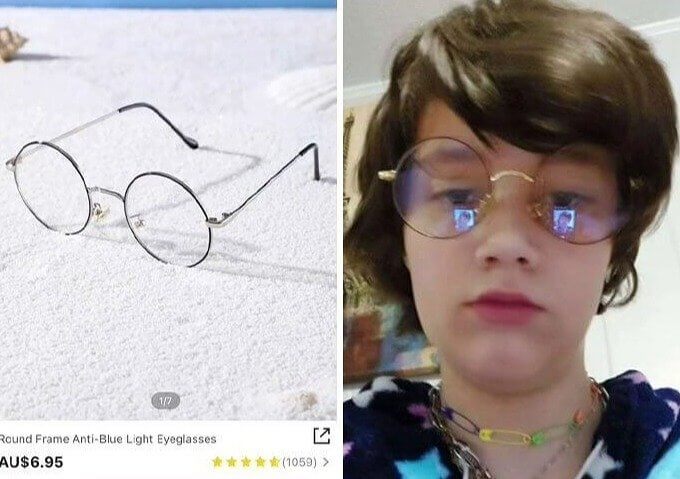 We truly feel for this person. It's not easy to be so thoroughly disappointed. We should know; our lives have been a long and tiresome journey filled with misery and disappointment.
Get the Plasters
We're not sure what kind of demon had possessed the person who designed this when he came up with the idea of a pair of plastic slippers, but what we are sure of is that they have got to hurt. Those pieces of plastic will definitely scrape this poor woman's feet, so she better prepare for a world of hurt if she's thinking about walking around town in those things.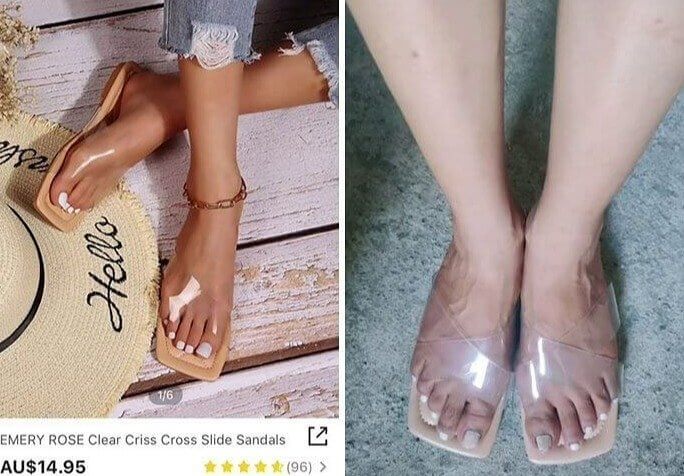 We're praying for this woman, and her poor choice of shoes and her even poorer chafed feet. Some day, she'll find a pair of shoes that'll treat her right.
The Most Epic And Hilarious Sports Bloopers Of All Time
John Travis
This article was originally published on WackoJaco
We love sports because it helps us get an escape from the world around us and look at something that provides a sense of belonging and a connection to a wider world. Most sports can be super intense, as athletes give it their all to be the best of the best. Even though these men and women might seem like titans among us, they're only human, and they make mistakes. Hilarious mistakes. In fact, for us, these mistakes in sports are often the best part of the game – and after some digging, we found the most hysterically funny sports bloopers in all of sports history. You don't want to miss this!
Is This A New Bird Species?
A team of over a hundred experts sat down to determine whether this woman is a fancy-looking professional bowler or a gymnast. You can give your opinion on this one, but we doubt that it will settle the debate.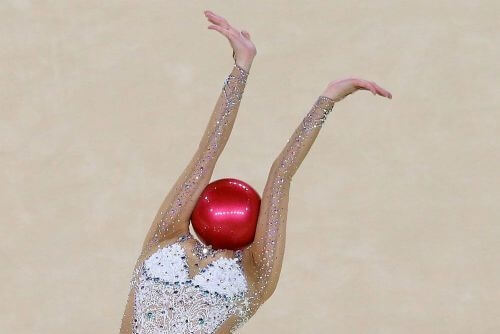 We don't have to put too much pressure on ourselves for this, so let's agree on one thing: that this picture is quite painful to look at. We should only acknowledge that the woman did nail a perfect landing with a ball on her face.
Keep Raising Me Up
If you don't know what is happening here, then let us clear things out for you. This is synchronized swimming and it is truly an art form. But don't make the mistake of thinking that these ladies just swim around in a pool. They do gymnastics and elaborate dances in water under intense pressure.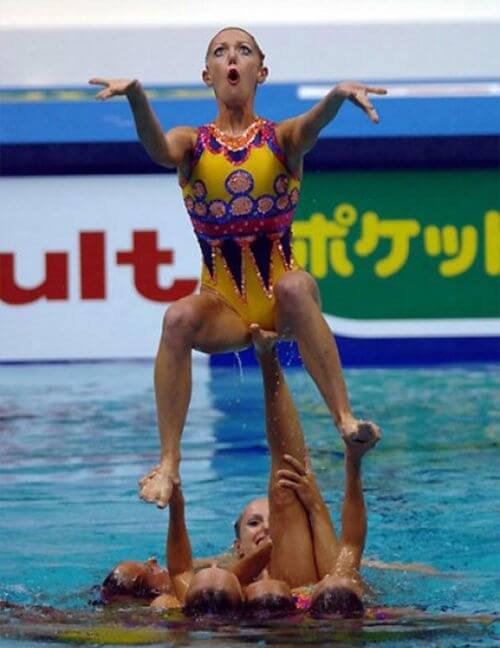 And yes, it is quite hard to do. They do look like cute mermaids, but aren't always as graceful. But we don't really mind it because they are strong women.
That's A Slam – Oh Wait Wrong Sport
First of all, this is not some sort of wrestling form. This is professional ice skating, which is a lot different than what we do when we go ice skating. After all, we do less skating and more of making weird faces as we try to balance ourselves to avoid an inevitable fall.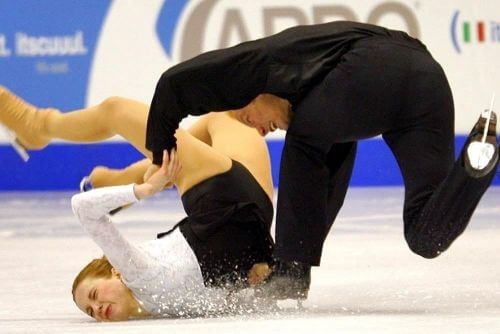 These professional skaters know how to twist and turn effortlessly in front of a large audience and judges. But sometimes they can make mistakes as well. We can hope that it was just a minor injury.
Up In The Air… And Then Down
This is one of those moments when you regret your decision to make a wrong move while diving.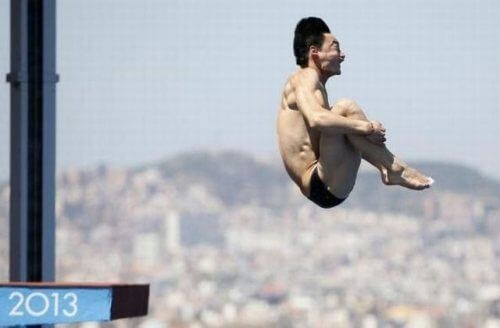 This guy's face looks like he has jumped from a plane without a parachute. We don't know if he was able to dive correctly or not.
Sucking In All The Air
Legend has it that people found it difficult to breathe in the stadium in which this sprinter was running because he had sucked in most of the air.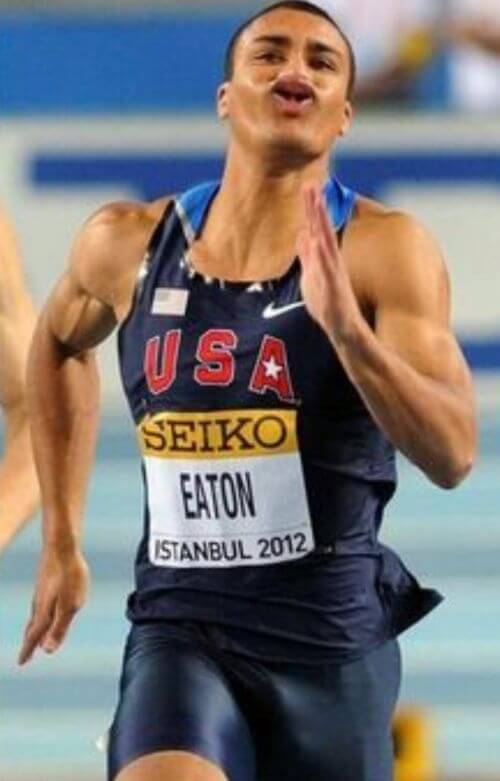 Jokes apart, track runners don't look like humans. It is because they have strong lungs and the capacity to run long distances. It reminds us of Usain Bolt and how effortlessly he used to beat his competitors.
Getting Closer Than Everyone Expected
We have to admit that figure skaters are so graceful and beautiful that they can easily leave viewers speechless with their athleticism.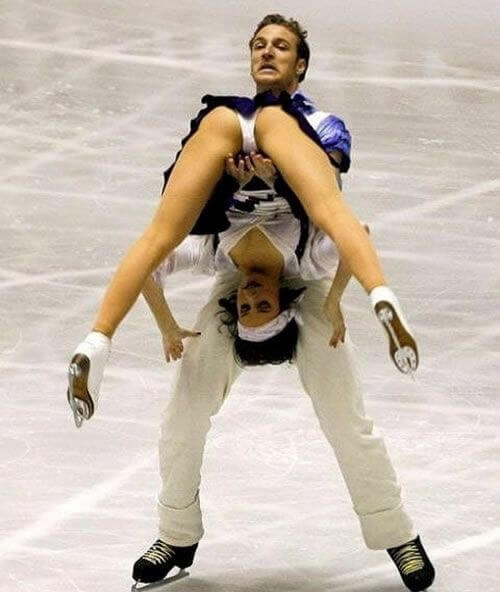 But a time comes when they fail to perform well. It can be really cringe-worthy moment to see one of the pros of the game fall or trip. Here we are looking at a photo where these two skating partners are getting a bit too close.
A Professional Table Tennis Player or A T-Rex?
You can make fun of the facial expressions of professional table tennis players, but one thing you need to keep in mind is that they are extremely competitive.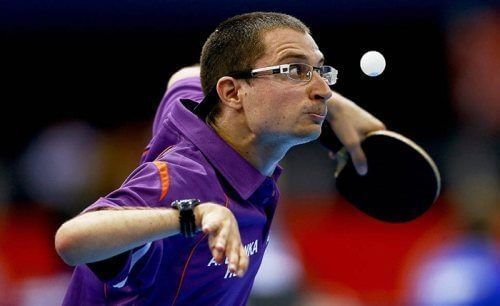 So, they usually make some weird faces – but that should never make anyone judge their capability to play the sport. And just so you know, the sport is called ping pong by recreational players and table tennis by professional players.
Almost Stuck The Landing
This impressive woman is a former Russian pole-vaulter, Yelena Isinbayeva, who also happens to be a three-time World Champion, two-time Olympic gold medalist, and also the current world record holder in the event.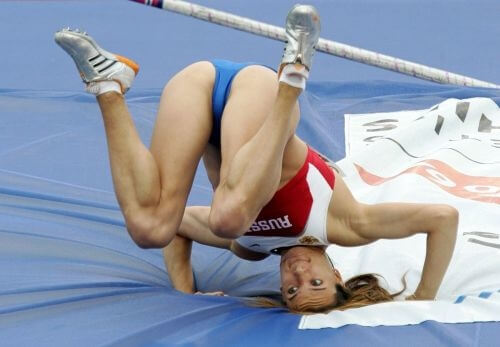 World Athletics (formerly known as International Amateur Athletic Federation and International Association of Athletics Federations) named her Female Athlete of the Year in 2004, 2005, 2008. She is, without any doubt, considered one of the greatest female pole-vaulters of all time. We really love this shot because it perfectly shows that even the greats and mighty fall sometimes.
Taking A Closer Look
There's no denying that wresting is one of those sports in which you really have to get up close to your competitors to take them down. In this picture, the wrestlers are trying their best to win the game, but the referee has something really important to check.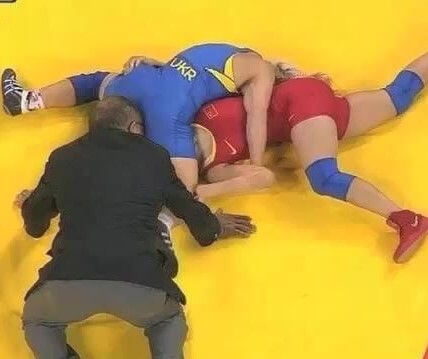 So, it seems, like the referee got super close to the players – maybe a bit too close. Perhaps he wanted to tell them something or who knows, maybe he's checking if the player is still breathing.
Beautiful Fabio
This is not a movie scene. We repeat that this is not a movie scene. After all, you see a scene like this in movies, but normally there is a gorgeous woman doing it. However, this hockey player won the internet with his impromptu hair modeling moment that will surely go down as one of the greatest moments in the history of this sport.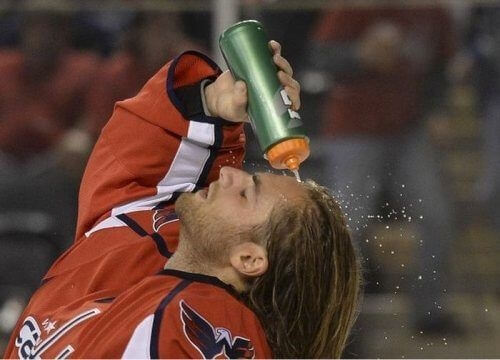 The way he is heating up the ice rink, we are sure that a few people had to take their shirts off because it got too hot in there.
She's Probably Still Trying To Find The Photographer That Took This One
Given that there are a lot of things happening in this photo, it is best that we break it down for you. One person's leg is acting as a chair for this highly professional synchronized swimmer, while the ladies are holding her feet down with smiles on their faces.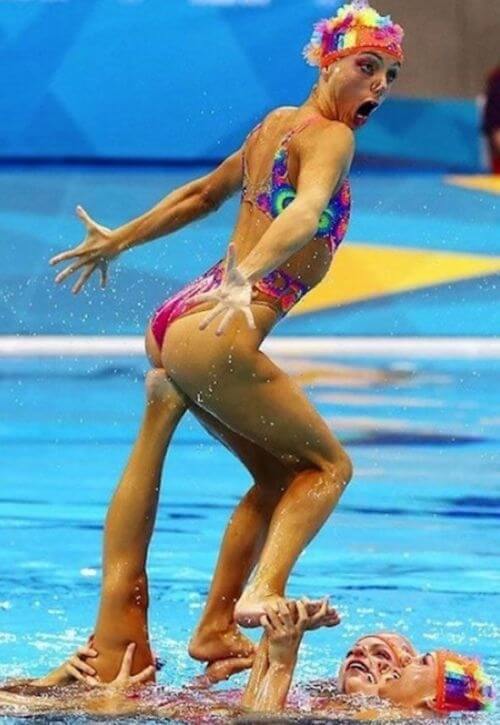 But the best thing in this photo is none other than the woman's face – that is just priceless. We are surprised that the face didn't become a famous meme.
This Is Not Wrestling
We see in WWE how wrestlers make this move to defeat their opponents, but this is not wrestling at all.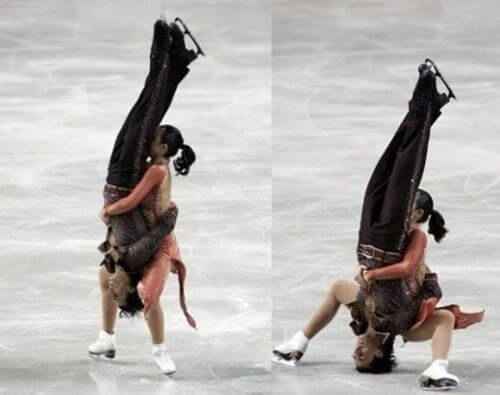 These professional ice skaters often make the sport look easy, but then there are times when one wrong move can cause an injury. After all, no matter how much you practice, there's always a chance for a slip-up.
Playing Volleyball With Legs
This game is Sepak Takraw (Kick Volleyball), a sport native to Southeast Asia. For the game, you have to defy gravity – and that's what makes the sport so interesting. The professional athletes who play this game know very well that strengthening the muscles is important, but so is stretching them.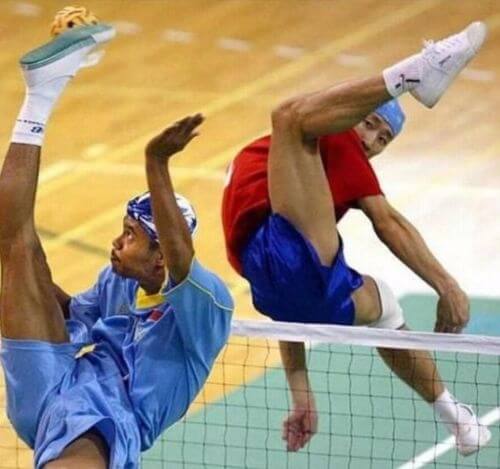 In this photo, we can see the benefits of all that stretching, which has contorted these two men into quite a strange position. Looking at them reminds us of an octopus' tentacles and how freely they're able to move their legs around.
You're Supposed To Swing At It!
This batter is trying his best to avoid hit by pitch (HBP), which happens when a ball thrown from the pitcher hits a batter, his clothing, or equipment (basically anything other than his bat).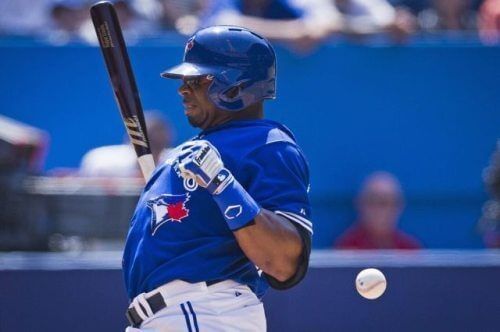 One thing we all know is that baseball is a fun and crazy sport. After all, hitting a ball thrown at you at high speed from a pitcher with a narrow bat is not an easy feat. And there is always a possibility that the ball won't go where the pitcher aimed…just like in this case.
Focus…Focus…Got It!
This is the face you make when you want to eat something so bad and you can't resist the temptation. This guy is a table tennis player who is focusing all his energies on hitting a tiny ball. If you have watched this game, you'll know how players make weird faces and even make loud noises before serving.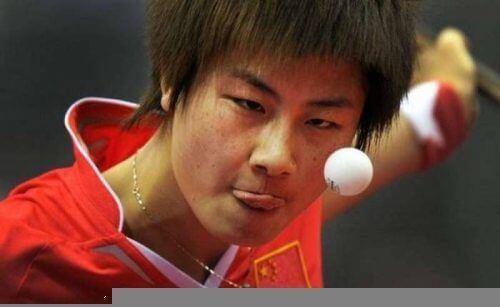 By the way, the game requires a lot of focus, but these professional players are hitting the ball again and again like it's a piece of cake.
"I'm Gonna Eat You"
We got to admit that at first we thought this person was trying to let one rip without a single worry of anyone noticing it, but it seems quite clear that he's a professional powerlifter.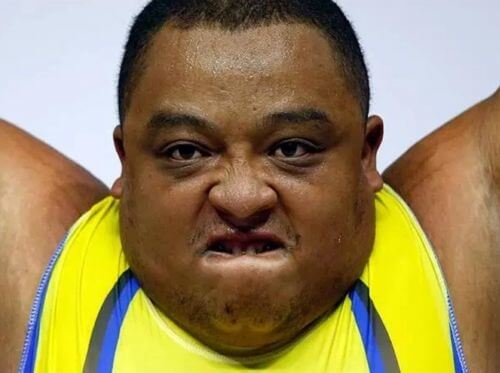 He looks more focused than that one friend who is trying to devour pizza so that they could have the last piece. We can come up with all sorts of explanations as to why he made this face.
"Hey Judge, Can You Do This?"
When it comes to synchronized swimming, athletes have to be super flexible and strong all over.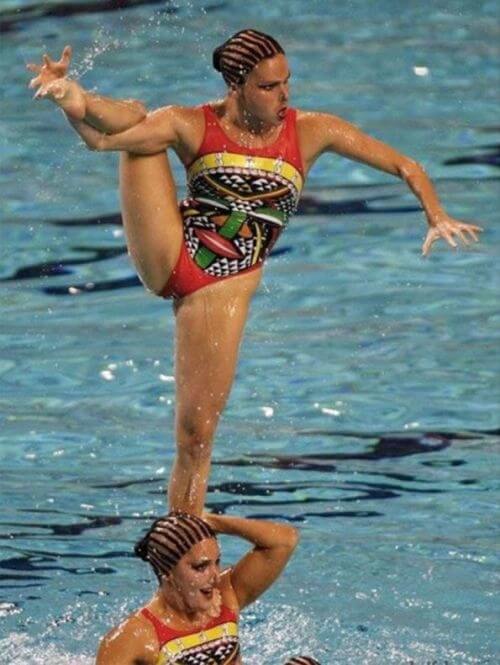 In duet or team competition, the swimmers have to make sure everything is perfect because one wrong move can ruin their practice and their months of hard work. Moreover, they get judged on everything from their smile to their routine.
A Pose You Won't Forget
The athletes in synchronized swimming are quite similar to gymnasts because they also need to keep a smile on their faces at all times. And there is a lot of importance to the pose. That's why they train for months to perfect their routine and everything else.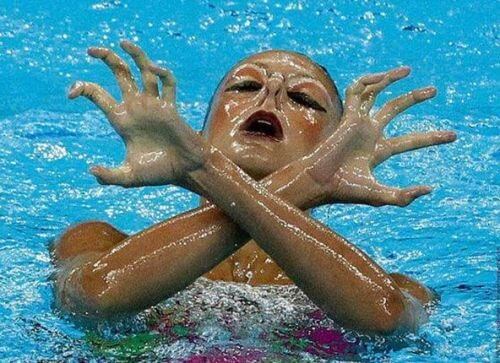 We are not taking away this swimmer's hard work and effort, but it just seems like she was at the depths of the ocean and she crawled her way out of it. It goes without saying that this image can terrorize some people.
A Bad Decision
We are pretty sure that this high diver didn't intend to make this face. It is because no one can intentionally make such a face that doesn't look human at all. Maybe he's regretting his decision or trying his best not to do anything that may embarrass himself in front of so many people.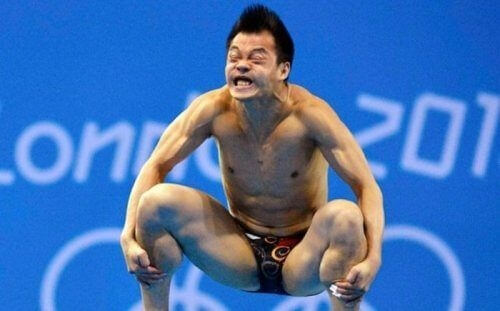 This is certainly a crazy sport because these guys throw themselves off such high places and then walk out of the water with a smile on their faces.
A Throw In Slow Motion
Do you love slo-mo videos? If haven't seen them, then just go to YouTube and watch them. Trust us on this one, you will absolutely fall in love with them.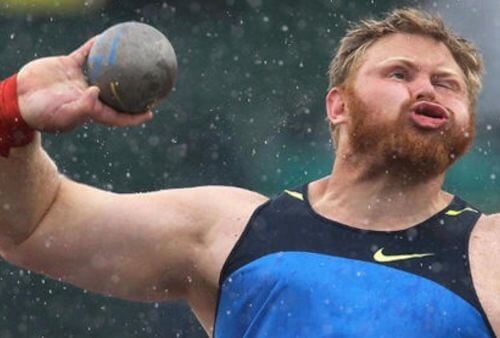 This guy may look a little different while throwing the ball, but slow-motion showed how he is looking not so pretty. Slow-motion can make everything look awesome, but it doesn't guarantee that everything will look pretty.
Just Look At The Weight
As compared to other sports, powerlifting is all about strength and technique. But mostly, it is just power. That's why you see such bulky people lifting heavy weights.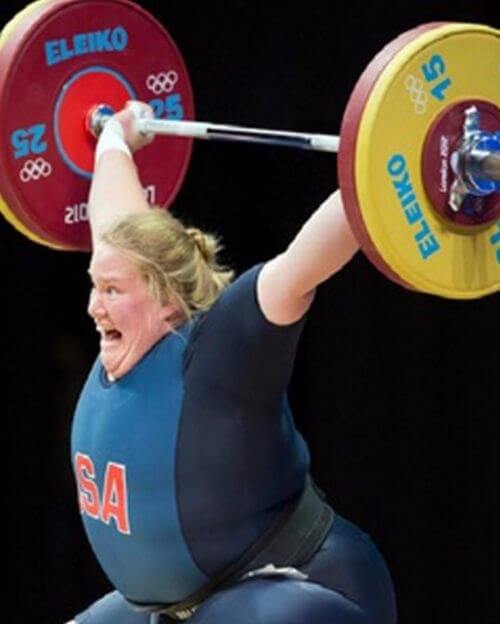 Although people who are not fans of powerlifting laugh at the strange facial expressions of powerlifters, it is best to look at the weight they're lifting rather than their faces. After all, you might find it difficult to lift 100's of pounds of weight without injuring yourself.
Cringe-Worthy Face
We feel that this lady is super beautiful and she's just doesn't know that her face looks so cringy. Before laughing at the face she made, try making a video of your face when sneezing.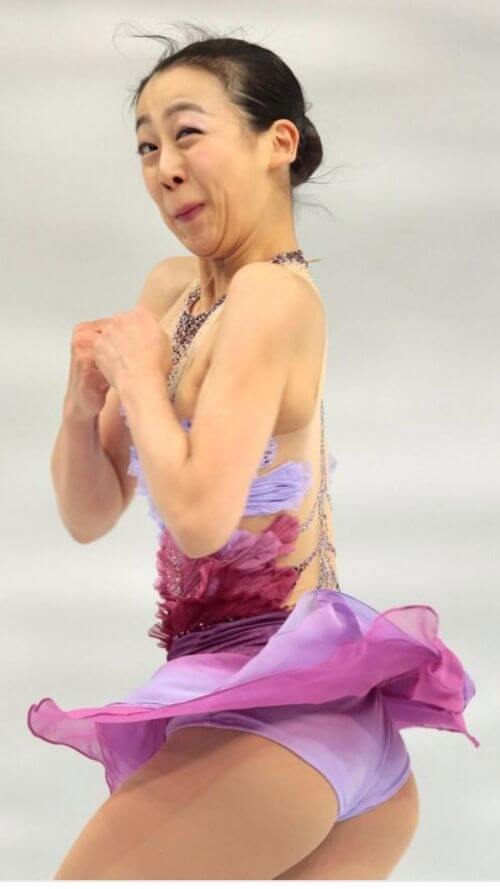 By the way, she's a top athlete who knows how to display her immense talent on the ice.