When we think about movies we don't always think about how we pause them from time to time, either to examine something more closely or to show our friend something funny or interesting that nobody else has noticed. It turns out though, that pausing movies isn't as rare as we think. In fact, many people are coming forward and admitting (either proudly or shamefully) the moments that they had to stop for a closer look. Read on to see the most paused scenes in Hollywood's biggest films, and find out once and for all what everybody is too ashamed to admit they like to gawk at.
Fast Times at Ridgemont High (1982)
Fast Times at Ridgemont High is without a doubt a classic '80s coming-of-age movie. It marked early appearances by several actors who later became famous such as Forest Whitaker, Nicolas Cage, Anthony Edwards, and Eric Stoltz.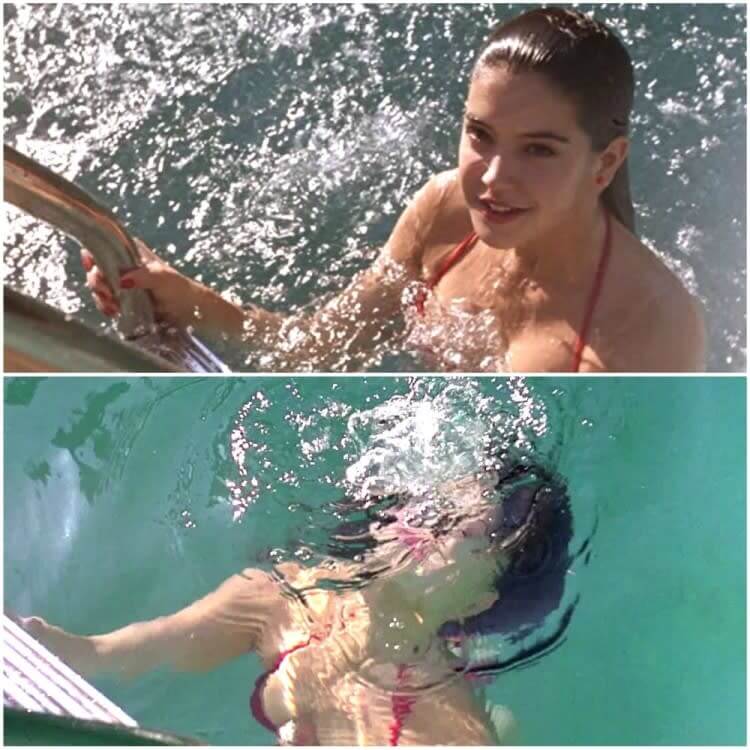 While the home viewers liked some good performances, they couldn't control the urge to pause one scene the most. In the scene, Phoebe Cates' character Linda enjoys a swim with her friend Stacy. But the most paused moment comes when Linda climbs up the steps.
Basic Instinct (1992)
It won't be wrong to say that this is one of the most iconic and provocative scenes in movie history. This neo-noir erotic thriller was so huge it grossed $352 million worldwide and became the fourth highest-earning film of 1992.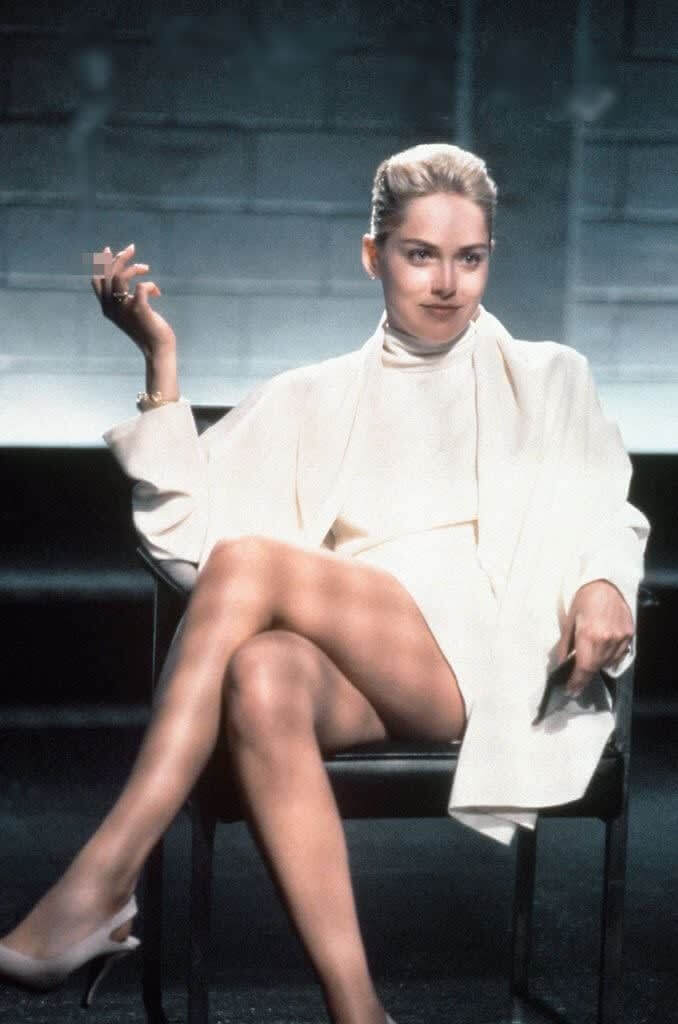 Sharon Stone was spectacular in the movie and this scene overshadowed the entire film. It is because Stone's character seems to be fully dressed and then her leg crossover gives viewers a lot more than any of them expected before going to watch the movie. So, there is no surprise it became one of the most paused scenes in Hollywood history.
The Little Mermaid (1989)
Ah, the golden days of Disney when 2-D animation was so popular. Back then, The Little Mermaid had its fair share of references and shots that were somewhat considered inappropriate.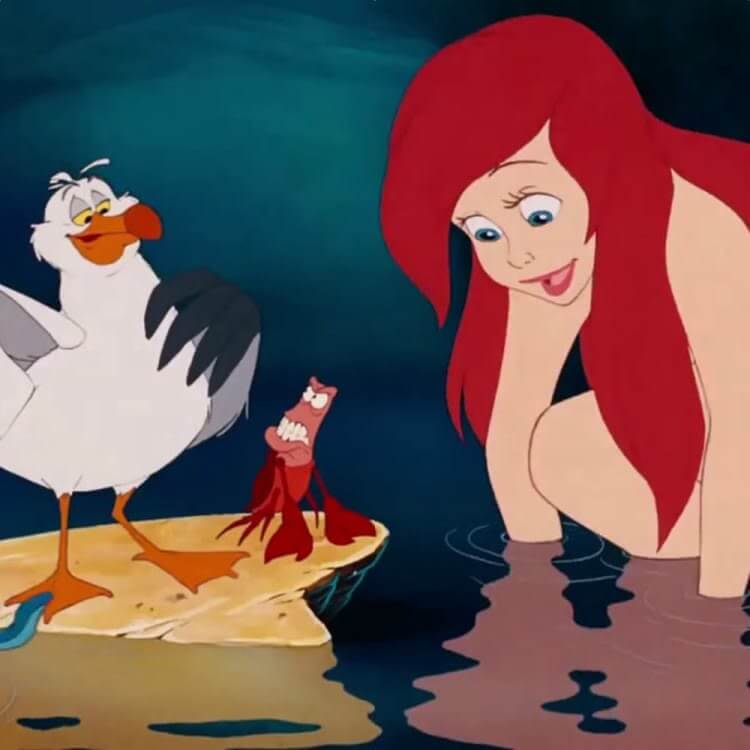 For instance, Ariel is given human legs and the viewers say that they saw way more than what they anticipated to see in a children's movie.
The Wizard of Oz (1939)
The fans of The Wizard of Oz have picked out several dark references in the movie, but the strangest one is in this scene. As Dorothy and her friends walk down the yellow brick road, you can see a figure there.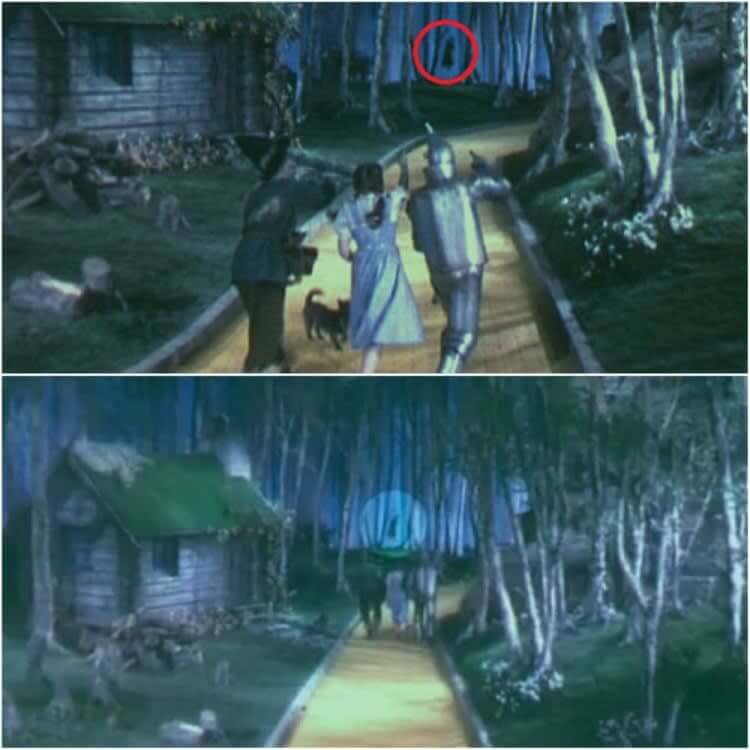 The official story describes the figure as a bird, but viewers have developed a theory that it is munchkin that hung himself – what do you think about it?
Fight Club (1999)
Most of you may have watched Fight Club and fallen in love with the movie. But did you notice one scene in the film where we are not properly introduced to Brad Pitt's character and yet we get a quick shot of him?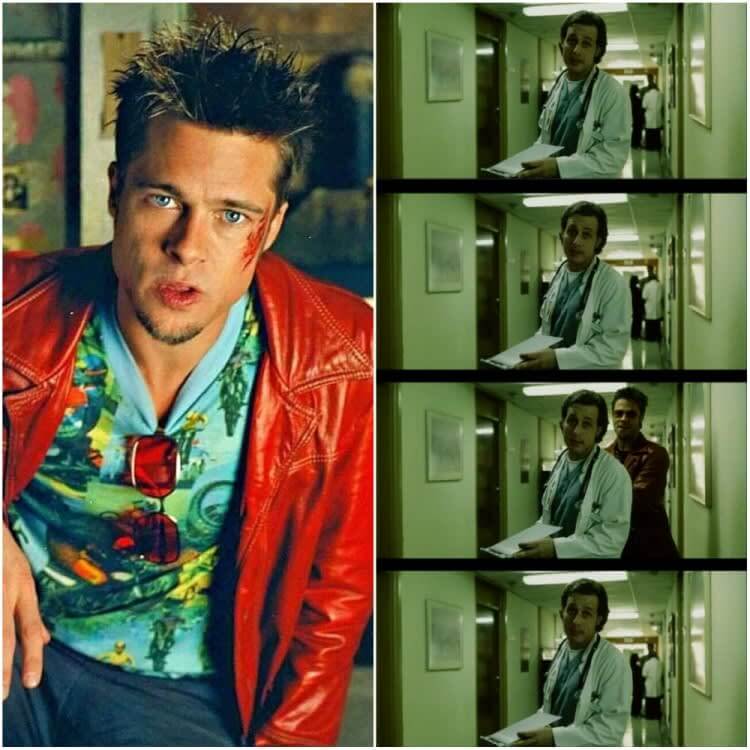 It is a mission to get ahold of that scene because it's just a frame of him and even if you blink, you'll miss it.
Star Wars: A New Hope (1977)
There is one scene in Star Wars: A New Hope that people rewind and playback again and again. In the scene, a group of stormtroopers walk through the door and one of them accidentally hits their head on the frame.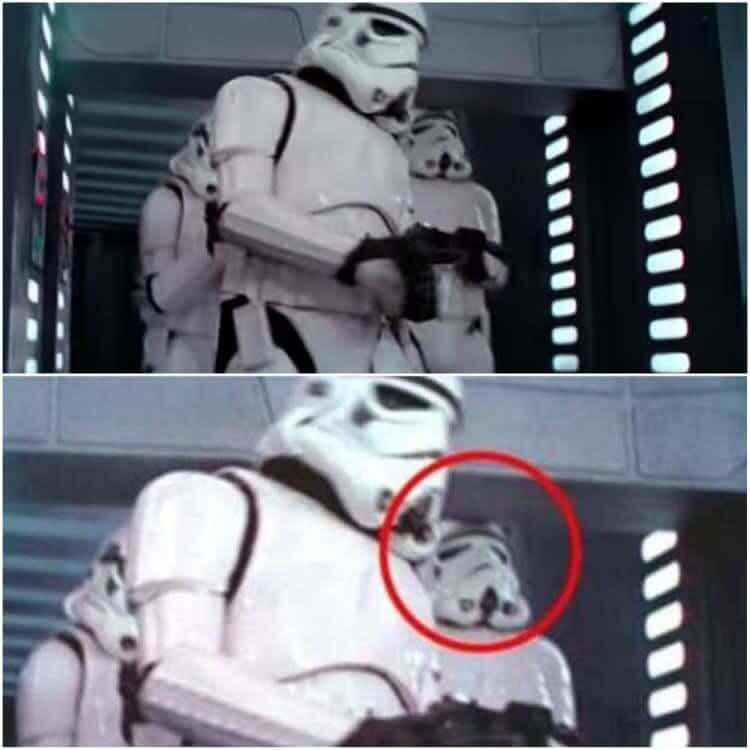 Amazingly, the scene made it into the final cut and we are so happy that it did. It is a super hilarious moment that fans really love.
Jurassic World (2015)
Fans of Jurassic Park appreciated the recent installment, and there were some memorable scenes in this movie as well. For instance, Jimmy Buffett is running in this scene from a pterodactyl.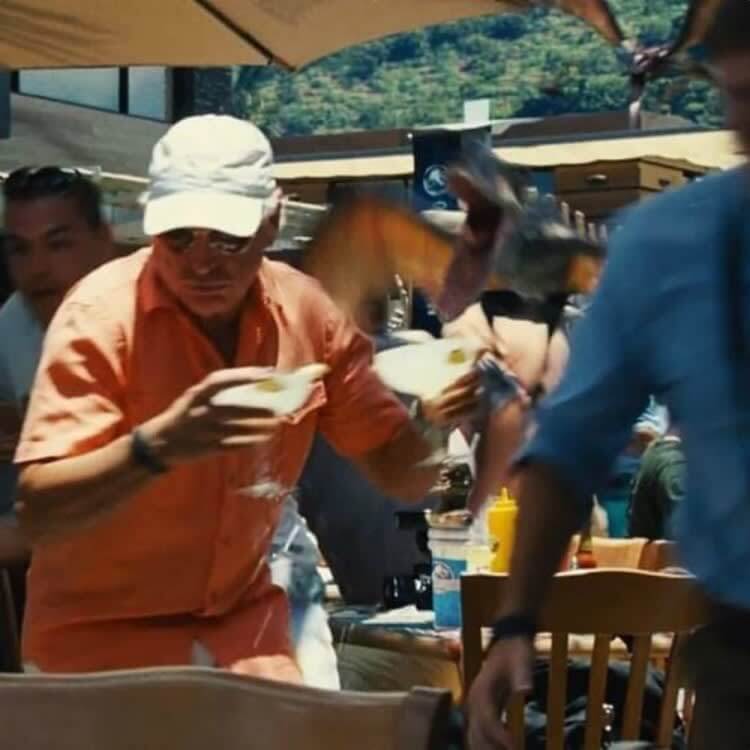 What's so special is this scene? Well, he is carrying two drinks when everyone is running for their lives. It seems like the party can never stop for him.
Who Framed Roger Rabbit? (1988)
There's no denying the fact that Jessica Rabbit is a bodacious animated character. In the 1988 live-action/animated mystery comedy film, the red-haired woman is dressed in red and her attractiveness makes her the center of attention wherever she goes.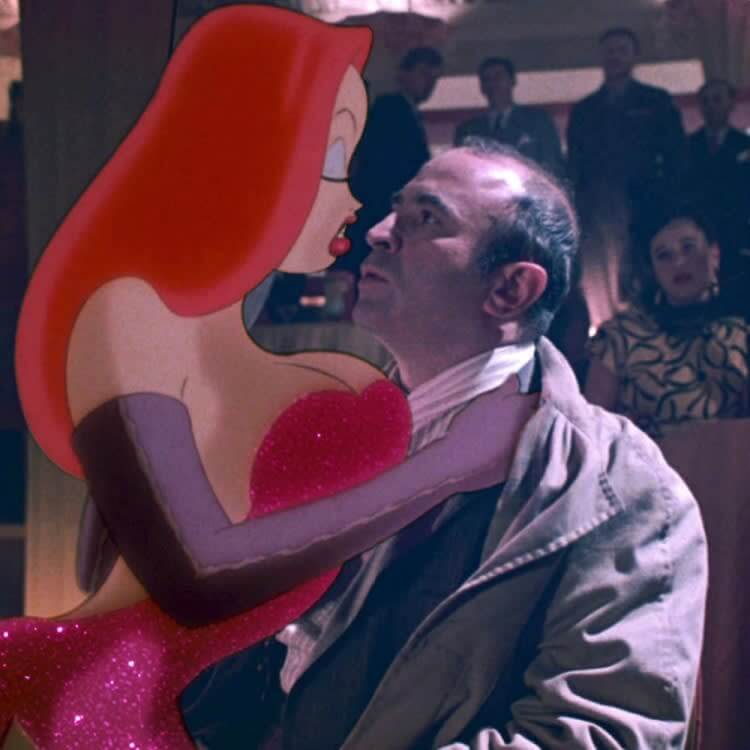 There is one scene in which the animated character reveals a lot more than many viewers expected to see. But it is important to keep in mind that it is not a real character.
Psycho (1960)
This American psychological horror film by Alfred Hitchcock has had a significant impact on the horror genre. To make this movie into a masterpiece, Anthony Perkins delivered an outstanding performance as a creepy Norman Bates.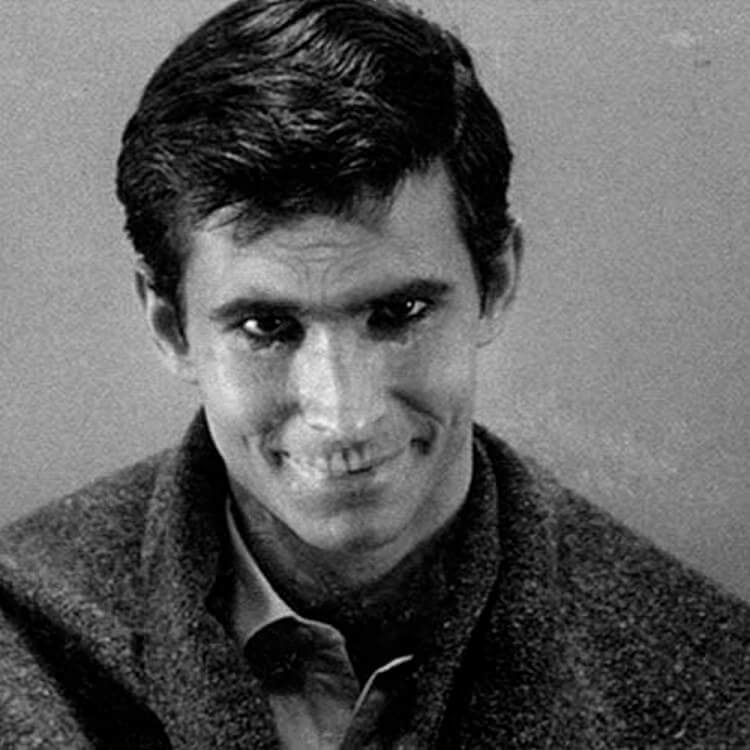 If you have seen the movie, you know how it ends. We can see Norman Bates is arrested in the end and taken to jail. The scene which is paused the most comes when Bates looks at the camera and the viewers can see the image of a skull over his creepy face for a brief moment.
The Lion King (1994)
90s kids grew up watching The Lion King again and again, but we are not sure many of them noticed this one scene that we are going to discuss. Viewers saw one thing, which is quite funny.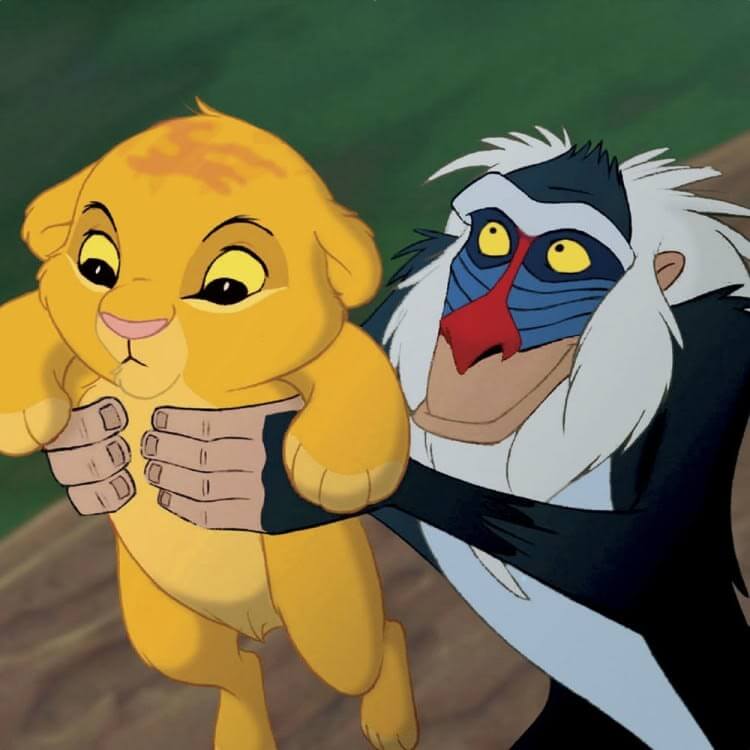 As Mufasa and Sarabi are stilling on the rock, the dust and the falling stars spell a specific three-letter word. We won't spell that word out here but here's guess for you: it had something to do with bringing Simba into this world. Lol.
Wild Things (1998)
The 1998 American neo-noir crime film went on to make $67.2 million in the box office. It gained notoriety for its more explicit scenes than what was common in the mainstream.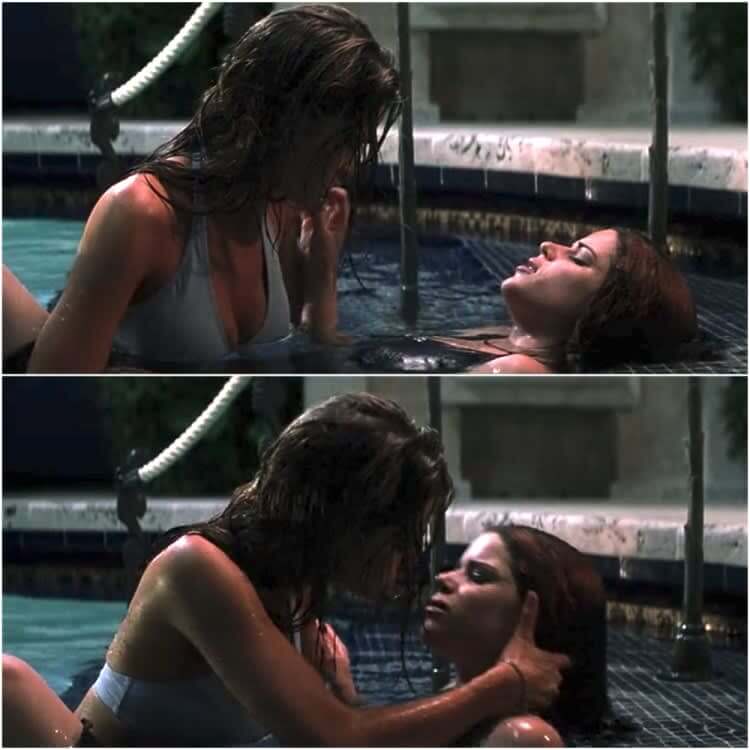 There was one scene in the movies in which actress Neve Campbell and Denise Richards share a passionate kiss in a pool. So, many viewers couldn't help but press the pause button again and again.
Tron (1982)
Although there has been a sequel of 1982's Tron, it will always have a warm place in the hearts of many people. After all, it has many scenes in the movie that won people over.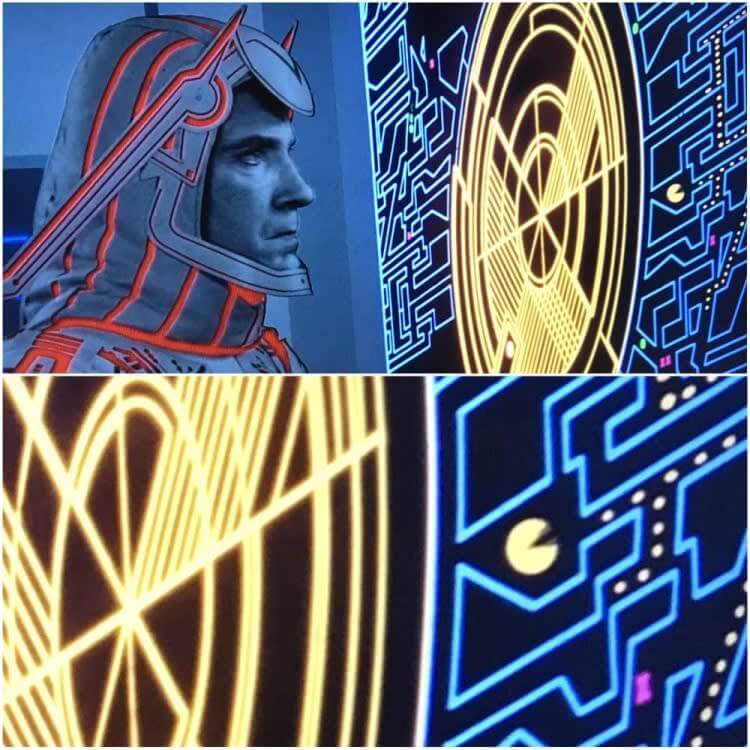 For instance, David Warner, who plays Ed Dillinger, can be seen playing a quick game of Pac-Man. If you don't believe us, look at the iconic circular character.
She's the Man (2006)
Although 2006 comedy film She's the Man is not based on the works of William Shakespeare, it is somewhat of a modernized version of the play Twelfth Night.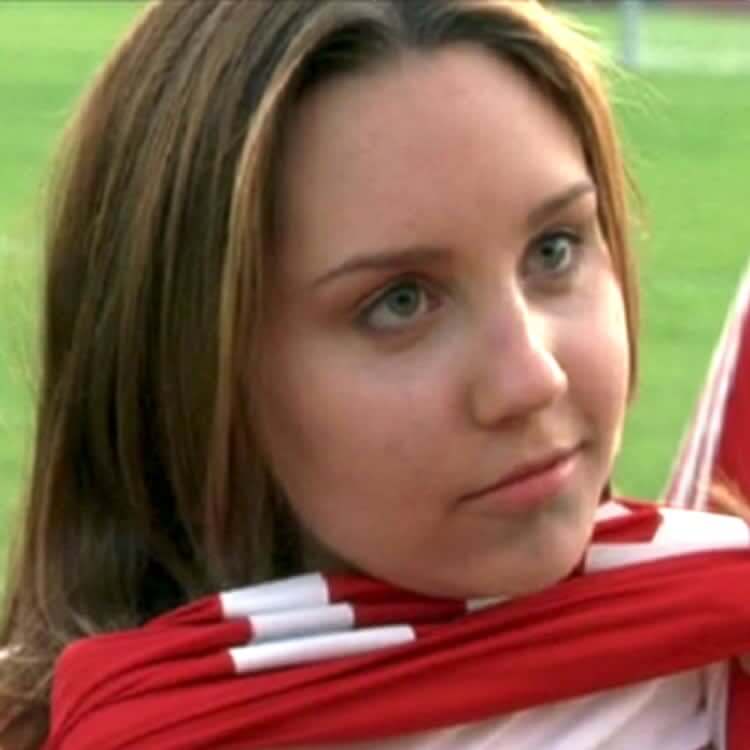 In the movie, Amanda Bynes gets into a soccer team while posing a man. When she is caught, she pulls her top up to confirm the fact that she is a young woman. So, it is quite obvious that many viewers paused that scene.
Boogie Nights (1997)
The subject matter of Paul Thomas Anderson's Boogie Nights is quite unique. In the movie, Mark Wahlberg's character Dirk Diggler is an aspiring adult movie star who starts to become someone else.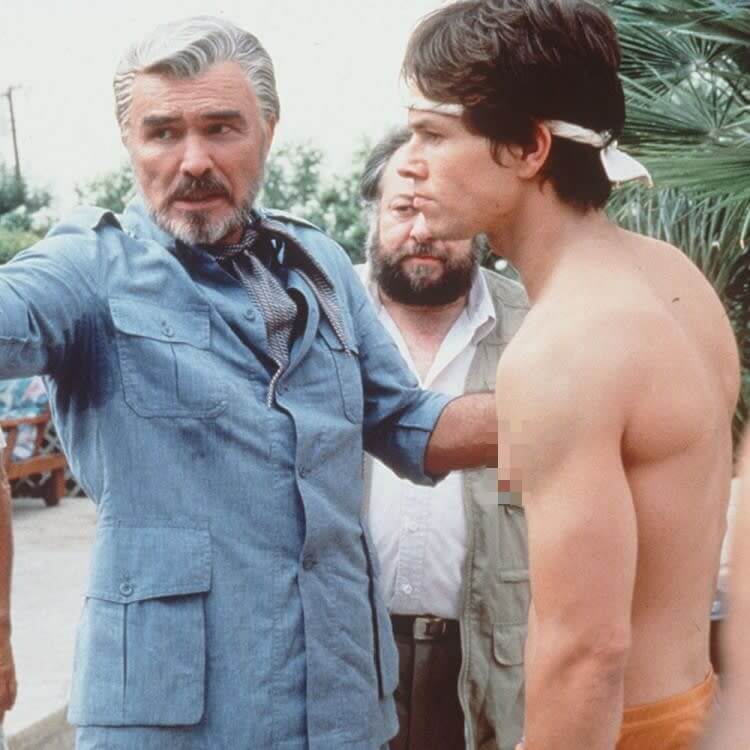 While viewers did pause for a number of scenes, there is one particular scene in which almost everyone had to pause it. In the scene, Diggler takes his shirt off in front of the crew and people get to see whatever was underneath.
Teen Wolf (1985)
This coming-of-age rom/com fantasy film was a huge commercial success. 1985 was the year of Michael J. Fox as he was the star of Back to the Future as Marty McFly and also the entertaining movie Teen Wolf (which later influenced a supernatural drama series of the same name).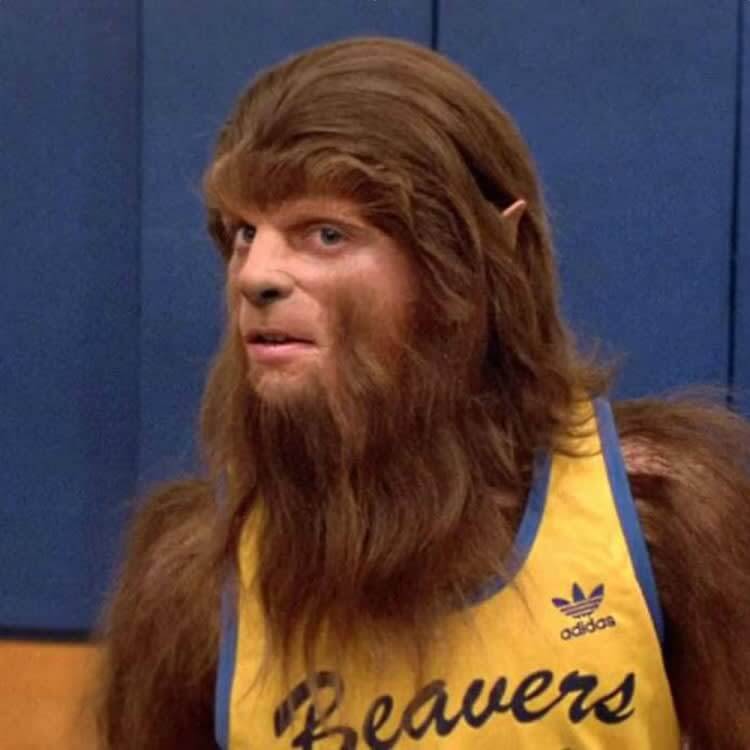 The end of the movie was quite predictable, but there was one thing that viewers didn't expect to see. At the end of the movie, a random guy is standing in the background with his pants down! Yeah, so now you know why it was the most paused scene of the film.
Star Wars: Episode I – The Phantom Menace (1999)
Did you notice the little Easter Egg in the corner of one scene in Star Wars: Episode I – The Phantom Menace? You can see that a group of aliens that appeared in E.T. can also be seen cheering.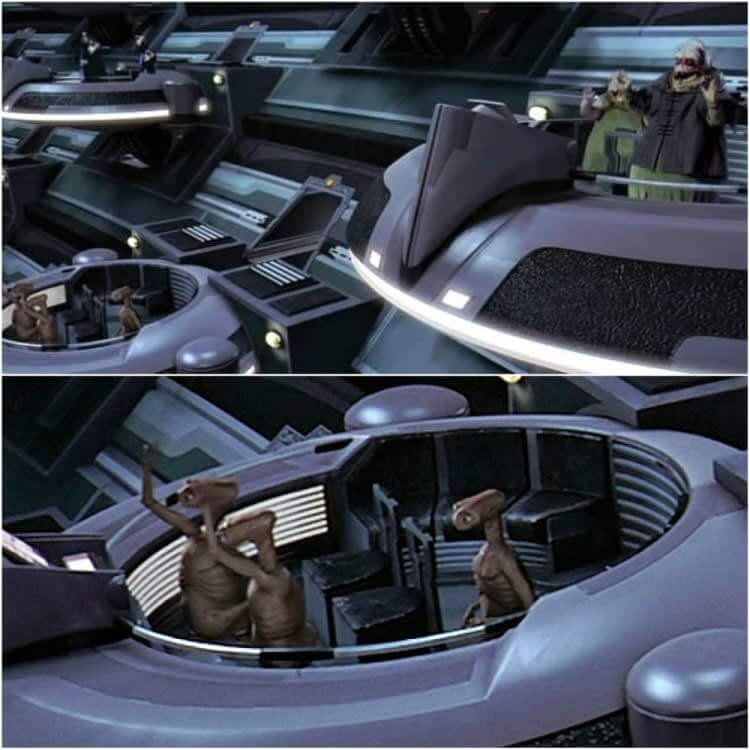 It is because George Lucas was paying homage to Steven Spielberg since Spielberg did the same thing when he dressed up a child in a Yoda costume in his movie E.T.
Cabin in the Woods (2012)
This 2012 American horror comedy received rave reviews and became an instant cult-favorite. Although it is a horror-comedy film, it has one of the most paused scenes for very different reasons. There is a scene in which scientists are trying to figure out what could happen to the main characters. The viewers can see a whiteboard that has a list of creatures that are under the control of scientists.
Fans of horror movies pressed the paused button to get a look at all the monsters on the list. If you haven't watched the movie yet, give it a try – Chris Hemsworth is in the movie as well (not as a monster).
Toy Story 3 (2010)
Remember Sid, the evil kid who loves to dismember toys? In the first Toy Story (1995), Buzz and Woody get locked up by him.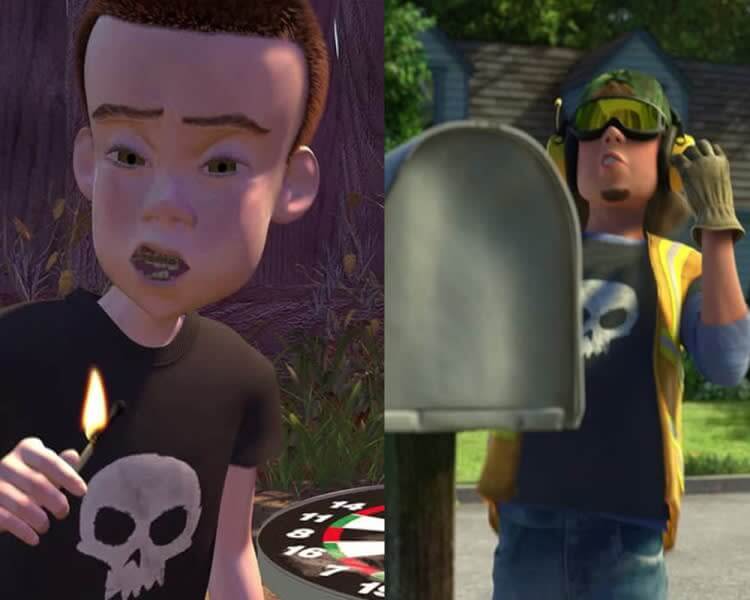 Only die-hard fans of the movie series noticed that Sid showed up as a garbage man in Toy Story 3. Sid was mean to everyone and it is rather a fitting end for en evil kid like Sid.
Titanic (1997)
Titanic was released in 1997 and the entire world fell in love with it. While the movie went on to become the highest-grossing film of that time, there was one scene that left everyone speechless. Yes, we are talking about the scene in which Jack draws Rose "like one of his French girls."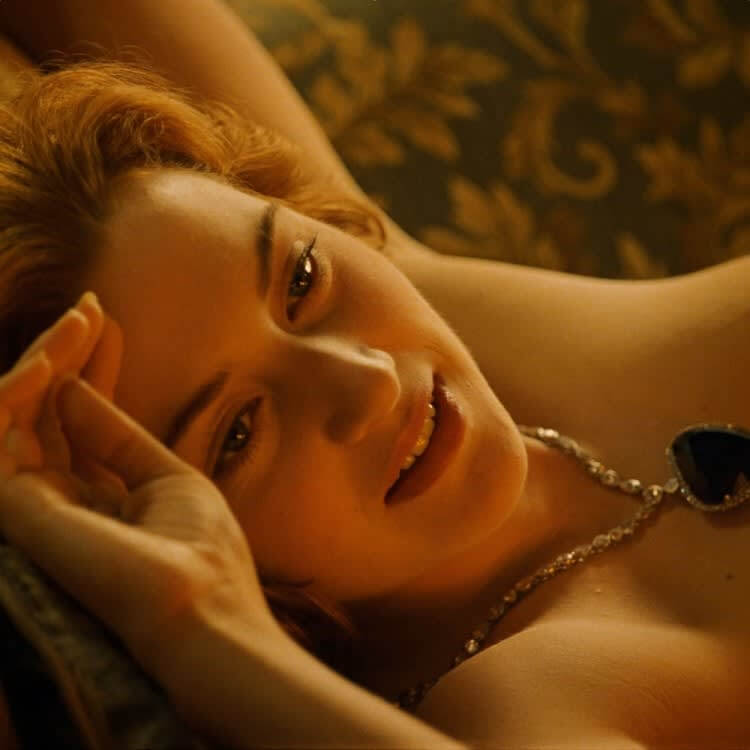 We have to say that it is not a cheap scene to make the movie hit. The drawing plays an important role at the end of the story. If you haven't watched it yet, we urge you to give it a shot. You'll fall in love with the movie.
The Wolf of Wall Street (2013)
Some people love it and then there are people who don't like it. But there is absolutely no denying the fact this film of Martin Scorsese takes enormous risks. In one of the scenes, Margot Robbie teases Leonardo DiCaprio so much that viewers can't get enough of the steamy scene.
If you haven't watched the movie, waste no time reading about it here and just watch it. You can thank us later.
Total Recall (1990)
Although Total Recall is an exciting movie, it has a fair share of strange and bizarre imagery. For instance, this scene shows a woman with three body parts instead of two.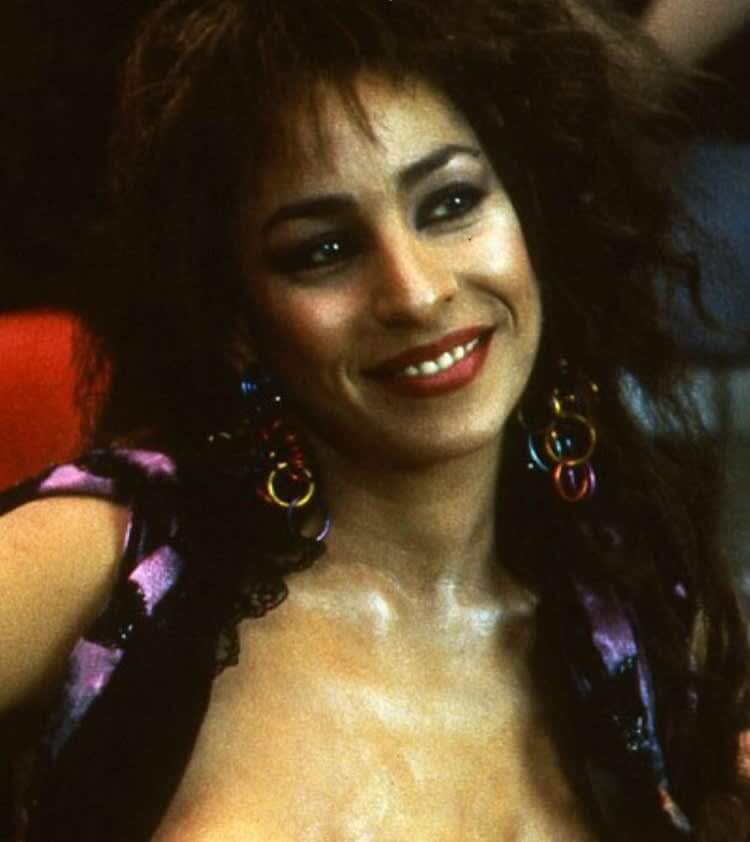 While many fans pretty much skimmed through the entire movie, they had to do a double-take to confirm the bizarre moment in an overall entertaining film.
The Rescuers (1977)
Disney has a habit of sneaking strange extras into its movies. For instance, in this animated flick, The Rescuers, the "mouse" decided to include some individuals getting changed in their room and the shots are quite questionable.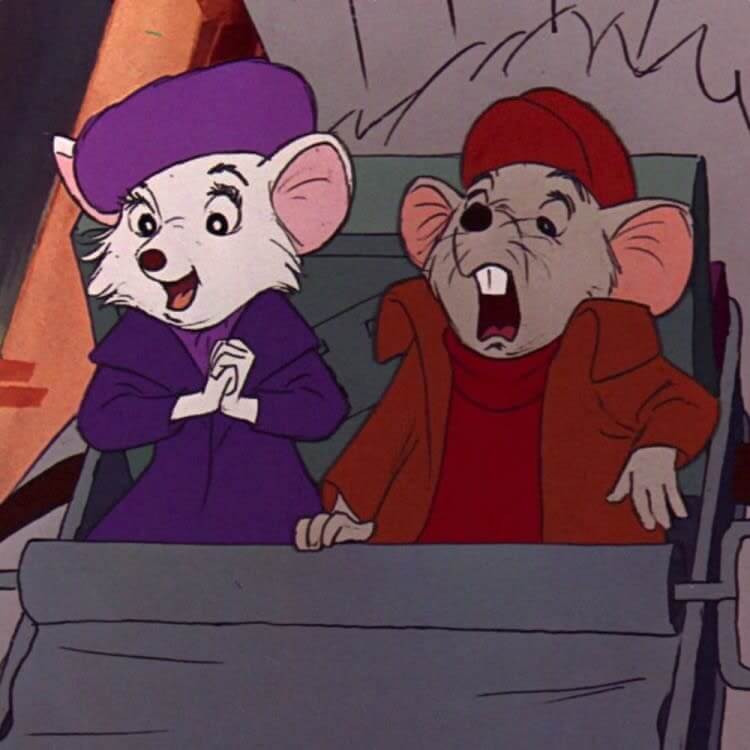 We have no idea at all how they got away with it, but it is what it is.
Star Wars: The Force Awakens (2015)
Star Wars: The Force Awakens received positive reviews and was the third-highest-grossing film of all time at the time of its release (now it sits at the fourth position). The film was about finding out where exactly Luke Skywalker was, and how Rey finds him in the end (although we won't say where).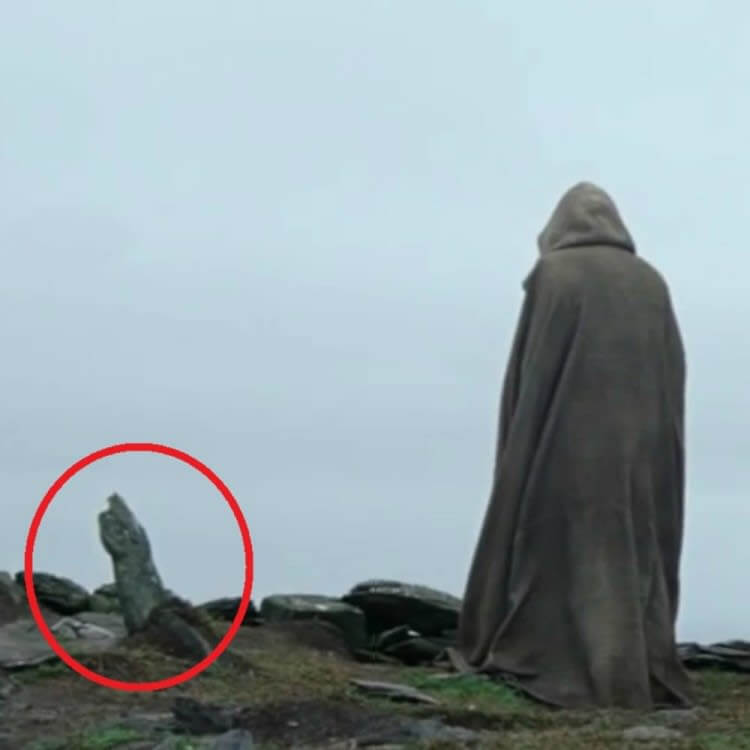 As she hands over his lightsaber to him, the movie ends on a cliffhanger. Many fans of Star Wars paused the moment where it is believed that he is standing next to a gravestone.
Three Men and a Baby (1987)
Did you know that Spock himself directed Three Man and a Baby? Many people find it hard to believe that Leonard Nimoy was behind this 1987 classic.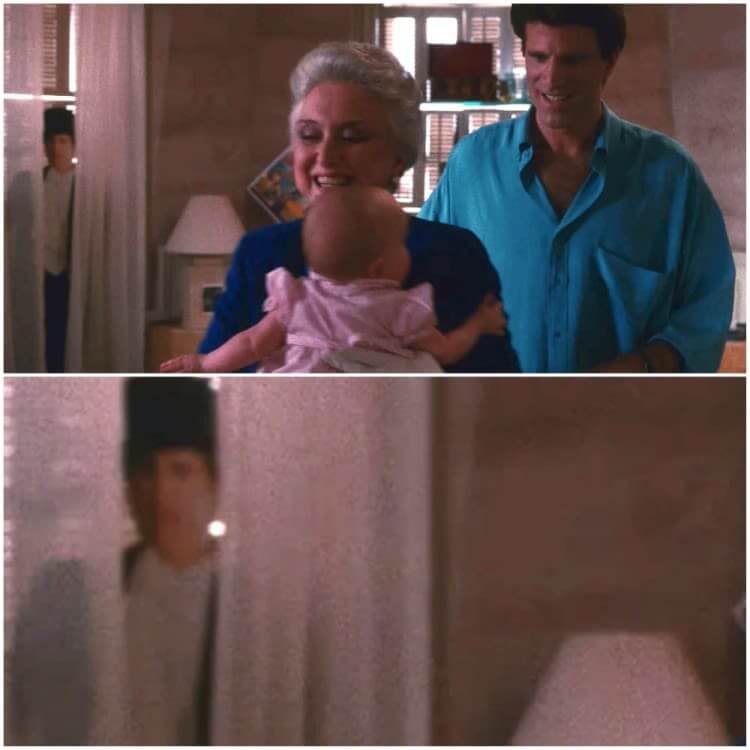 He also did something in the movie that made many people pause one particular scene. He decided to have a cardboard cutout of Ted Danson standing in the background. That's crazy stuff.
Iron Man (2008)
This 2008 American superhero film was a big hit. As all Marvel fans know, the movies are connected through Easter Eggs and references. So, there is something for the fans in the first movie of the franchise.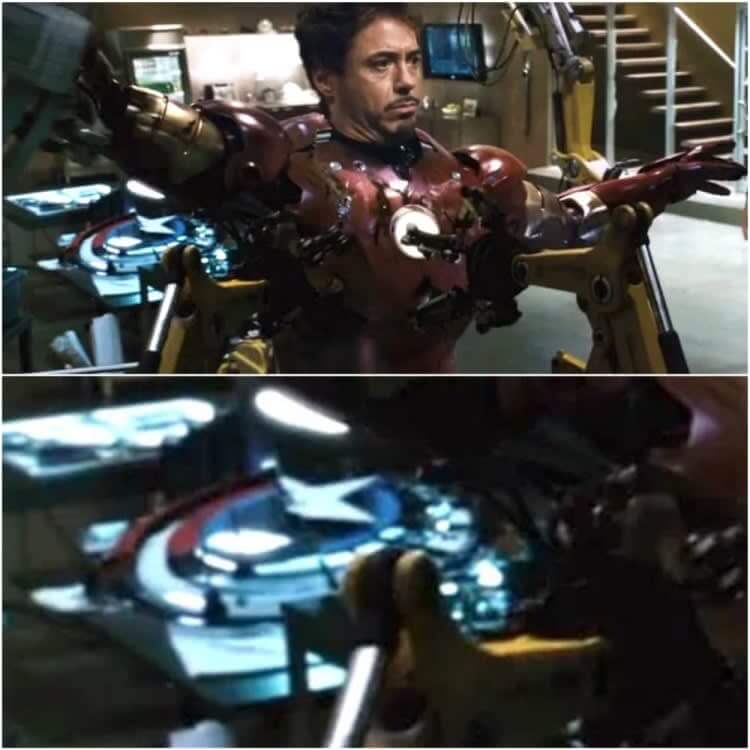 In one scene, Tony Stark is putting on his Iron Man suit when you can see Captain America's shield (half of it). So, fans knew that Captain America was in the middle of production at that time.
Raiders of the Lost Ark (1981)
There are some super unforgettable moments in this first installment of the Indiana Jones film franchise. And there's no denying one of the most despicable villains of the franchise is Dr. Rene Belloq (played by Raul Freeman).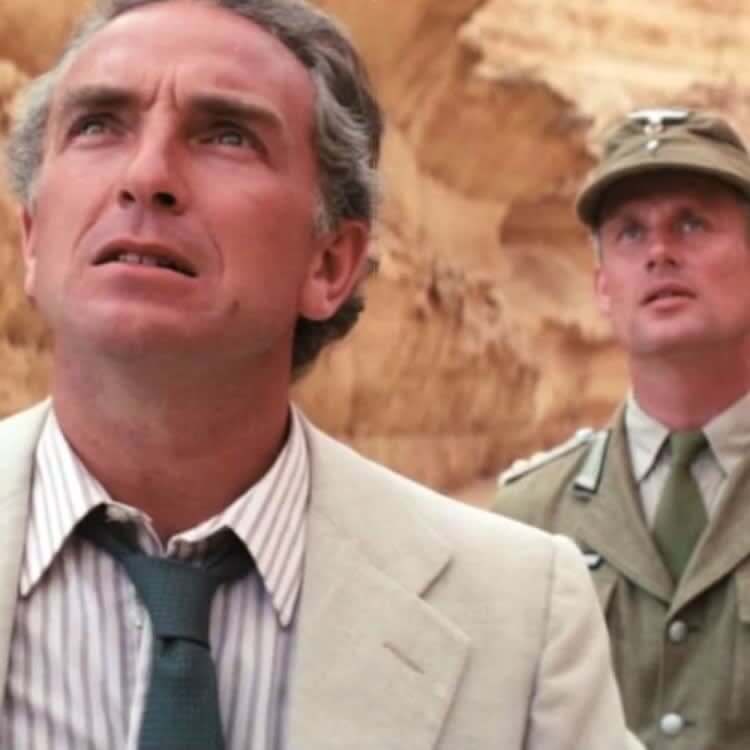 In a classic paused scene from the film, we can see Belloq delivering some brilliant lines even though a fly was crawling into his mouth. The fact that even a crawling fly didn't make him lose his focus is quite impressive.
Man of Steel (2013)
Man of Steel is another superhero movie that enabled us to enjoy a different cinematic universe. Although there were some mixed feelings of people about the portrayal of Henry Cavill as Superman, there is one reference that many viewers missed.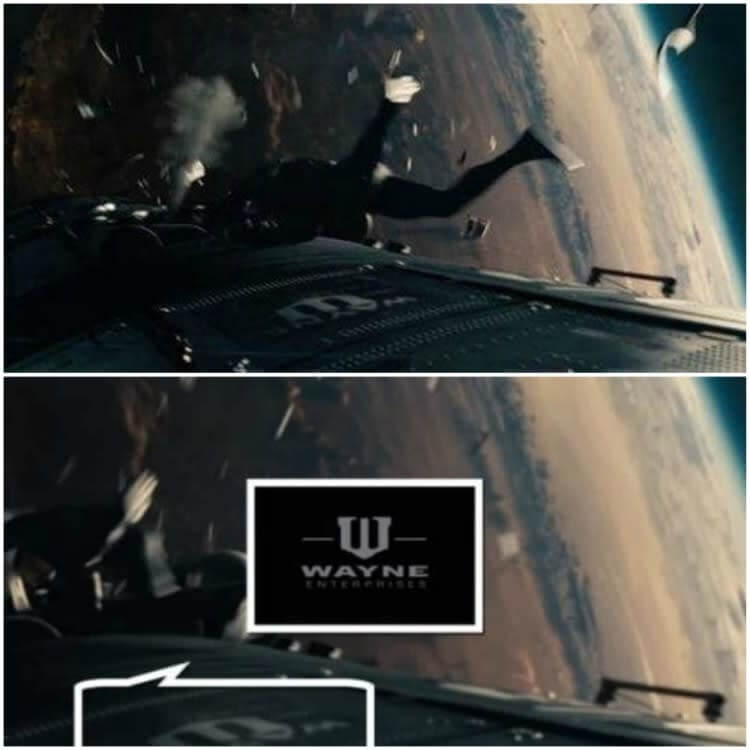 As Superman is fighting in space, viewers can see a satellite with a logo of Wayne Enterprises on it.
Burn After Reading (2008)
This 2008 black comedy crime film did extremely well at the box office, grossing over $168 million. There is one scene in the movie in which Brad Pitt's character is hiding in the closet and George Clooney's character finds him. And, without any hesitation, he shoots him dead.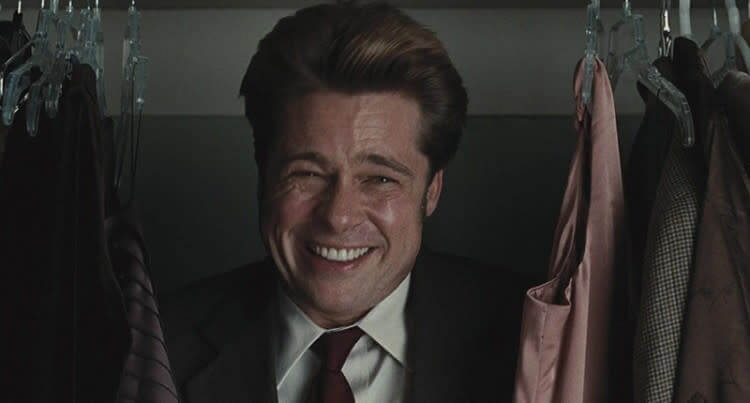 As many Coen Brothers' movies have very quick moments of violence, this scene happens so quickly that viewers have to pause it to make sure he is dead.
Signs (2002)
If you have seen the classic movie Signs, you know that aliens are revealed at the end of the movie. However, did you know that we get to see a brief glimpse of them early on as well?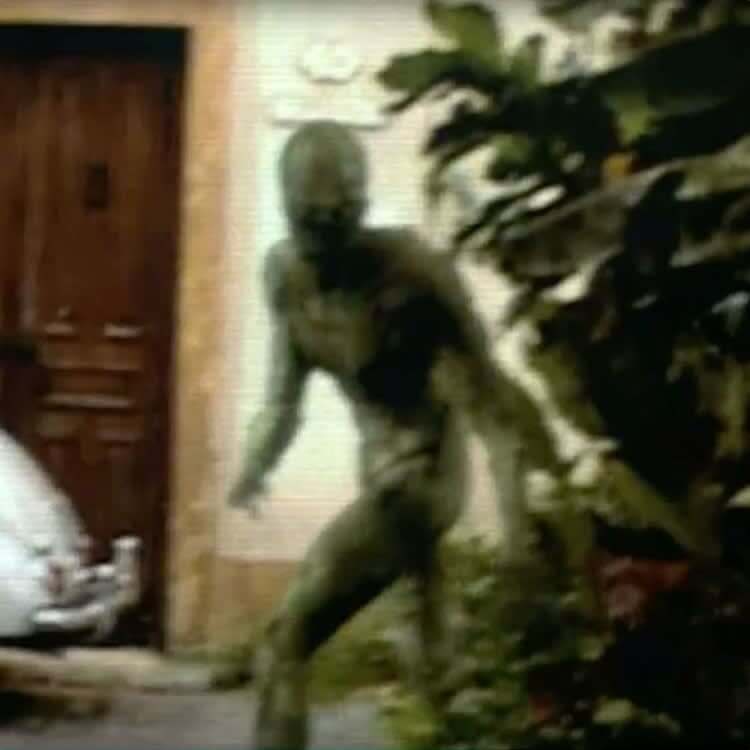 It is such a brief scene that you have to pause it to get a closer look at them. Although the scene is not quite clear, it was done intentionally for a build-up to their actual reveal.
Finding Dory (2016)
When Finding Nemo hit the big screen, it became a huge success both critically and financially. Its sequel, Finding Dory, was released after 13 years and fans were surprised to see one of the main villains of the first movie making a cameo.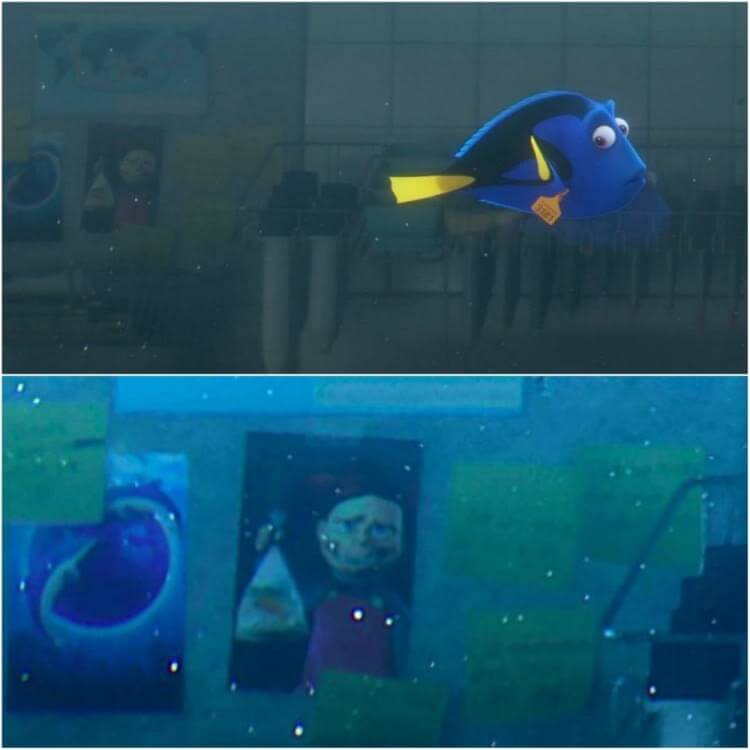 You can press the pause button for the scene to take a look at Darla, the niece of the scientist, when Dory is quarantined. This is indeed amazing Easter Egg by Pixar.
Before I Go to Sleep (2014)
As it is the case with a popular scene from Basic Instinct and other movies, fans wanted to see one of the most beautiful actresses in Hollywood when she was walking in one scene without clothes on.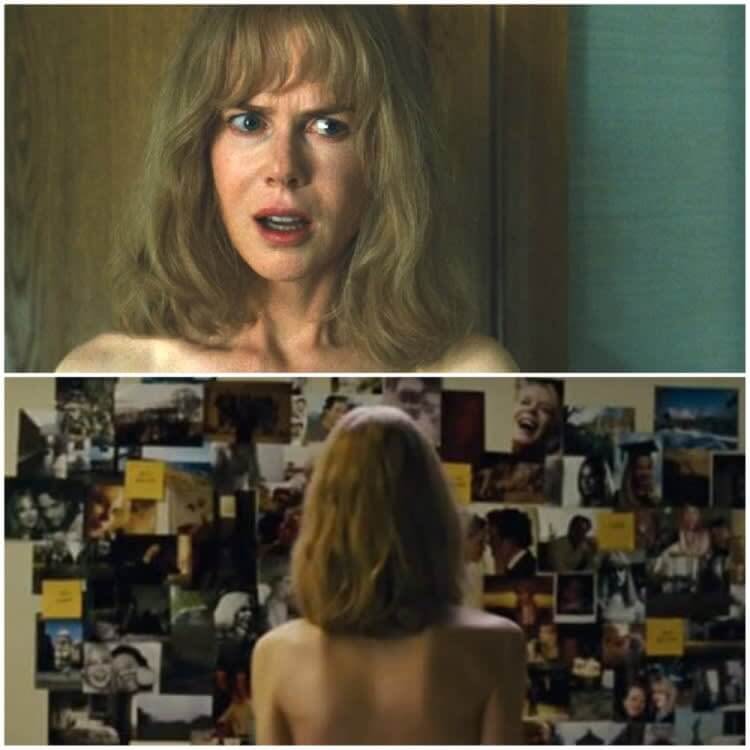 The funny thing is that the actress was wearing some clothes during the scene but fans still wanted to see whatever they could.
The Exorcist (1973)
This movie has a lot of shocking images and scary moments. There are some scenes that you want to see again and again and that's the fun about the horror genre as it keeps on surprising you.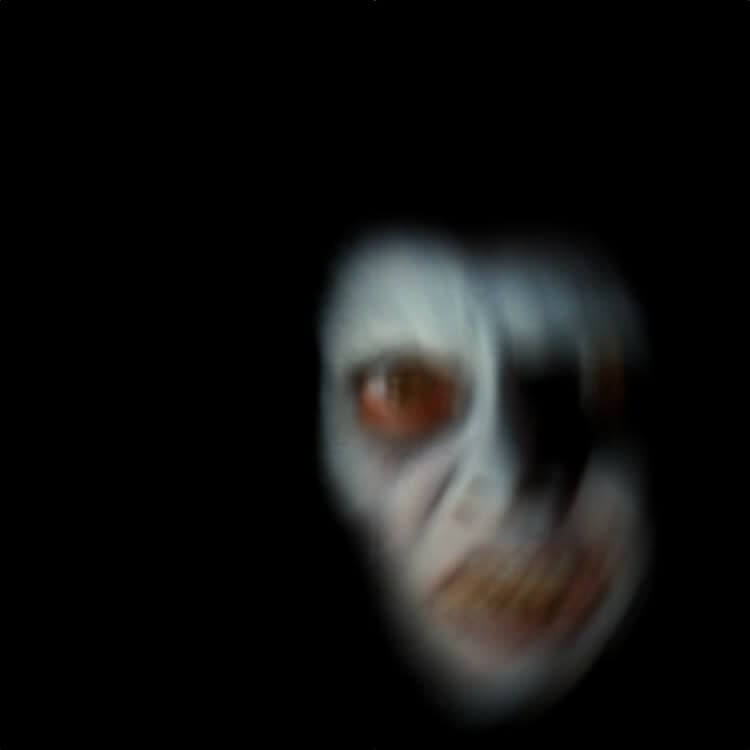 In one scene, viewers can press the pause button in the movie at the right time and see the demon that possesses Regan, Pazuzu.
Anchorman: The Legend of Ron Burgundy (2004)
This 2004 American comedy film is packed with so many Easter Eggs and in-jokes. For instance, the restaurant Escupimos en su Alimento is a name that only Spanish-speaking movie-goers will understand.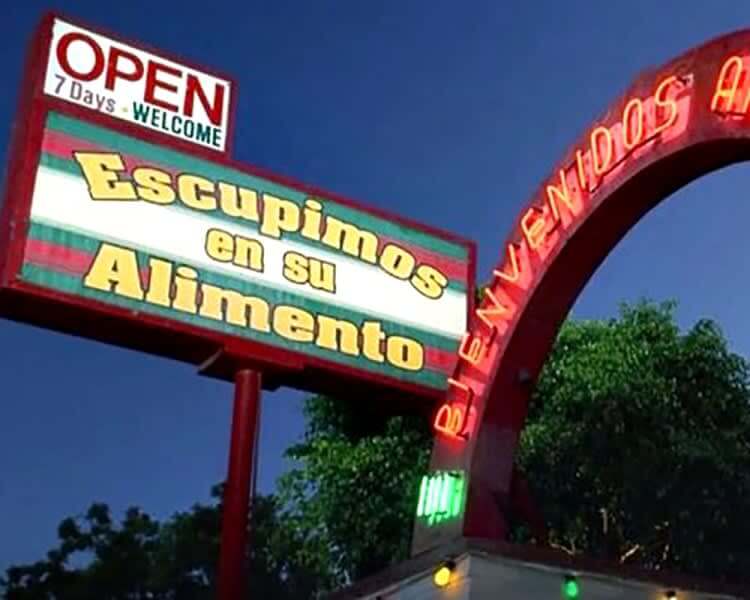 The name means "we spit in your food" and this funny detail acted as a reward for those people who went through the trouble of pausing the movie and using Google Translate to find out what it means.
Pulp Fiction (1994)
In this Quentin Tarantino film, there is a scene you can easily miss if you blink. It is an intriguing chapter of the story in which Bruce Willis's character is on the run from Marcellus Wallace.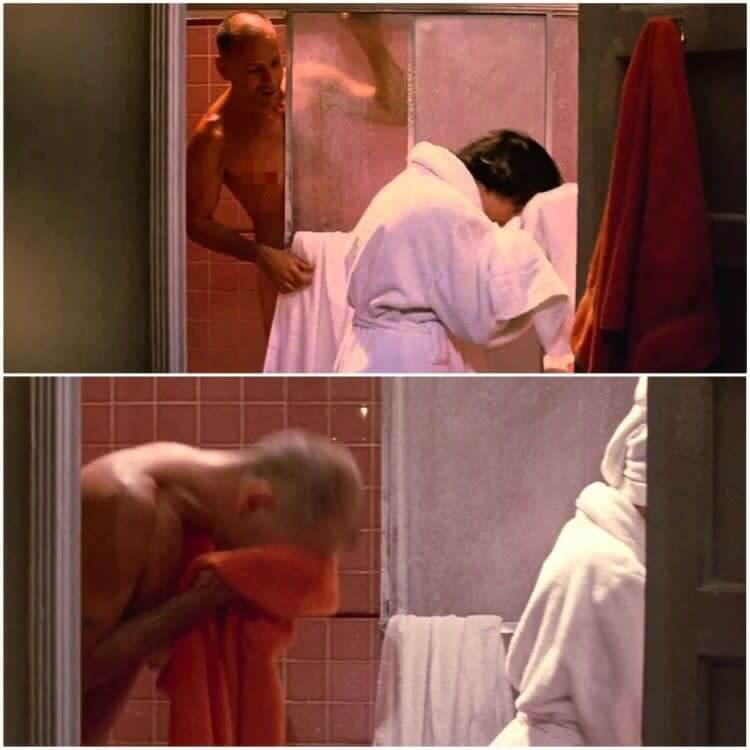 Although it is quite a trivial moment, many viewers had to pause the scene to see the actor in his glory as he stepped out of the shower. All we can say here is that what anyone saw after pausing the scene is true.
Frozen (2013)
As we know, Disney doesn't mind adding some references that can help appeal to the adults, Frozen is no exception as well. In one scene, Hans and Anna are discussing sandwiches and it makes adults feel like they know that line from somewhere.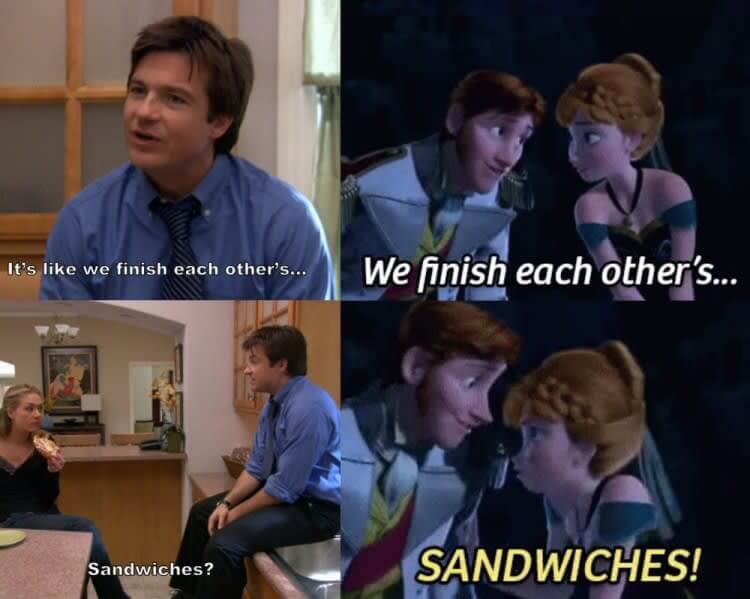 Well, that scene in Frozen is a play by play repeat of a scene in Arrested Development. If you think that it is not crazy enough, you should know that the line also featured in The Simpsons. So, it is fair to say that Disney writers absolutely love Easter Eggs.
Back To The Future (1985)
The fans of this movie must have noticed this clever sign change. Marty McFly and Doc Brown have to travel back in time to 1955, so they meet up at Twin Pines Mall.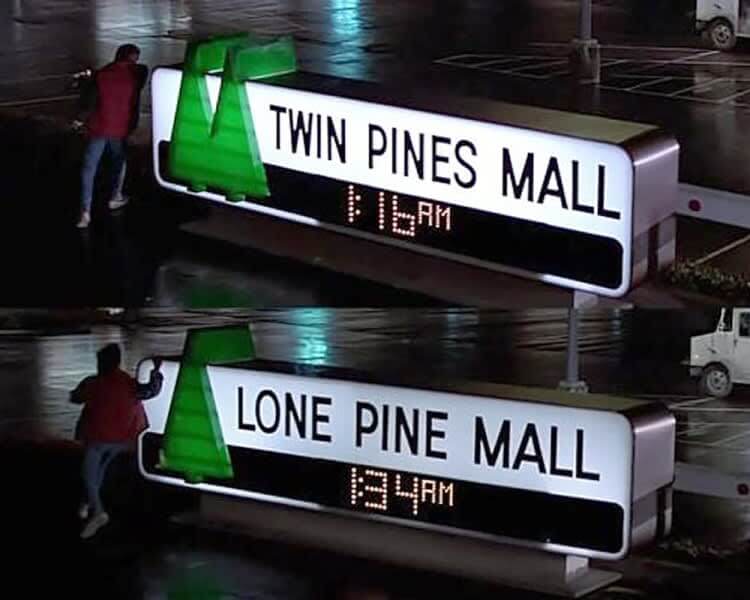 Later on in the movie, McFly accidentally runs over one of the two pines when he is being chased. His action changed the future and he returns at the end of the movie to find that the mall's name has been changed. This was a clever little sign change that is quite impressive.
Beauty And The Beast (1991)
In Beauty And The Beast, there is one scene which you can easily miss if you blink. In the final scenes, Gaston attacks the castle with the help of the villagers.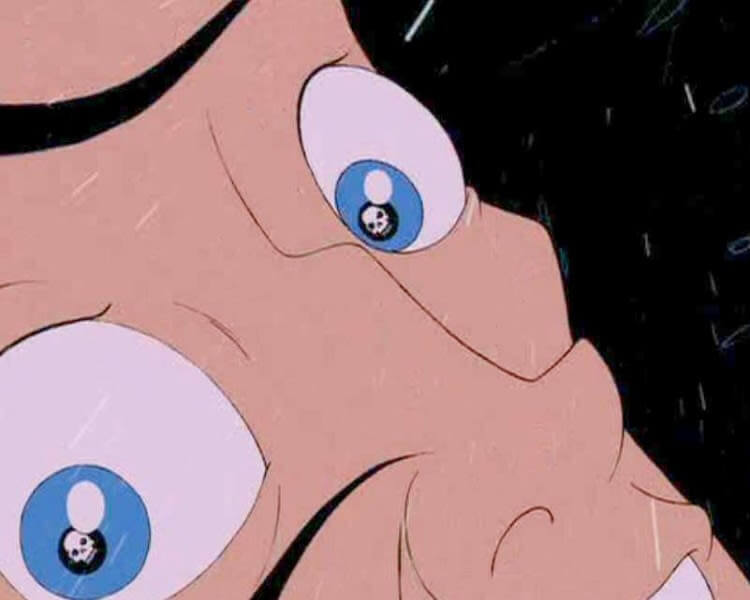 As he traverses the turrets to fight with the Beast, he ultimately stumbles and falls to his death. There, viewers notice little skulls in his pupils, showing the evil within him.
Bohemian Rhapsody (2018)
Rami Malek portrayed Freddie Mercury in this 2018 biographical drama film and won an Academy Award for Best Actor. Viewers with a keen eye were excited to see the cameo of Adam Lambert as a trucker who questions Freddie Mercury's sexuality.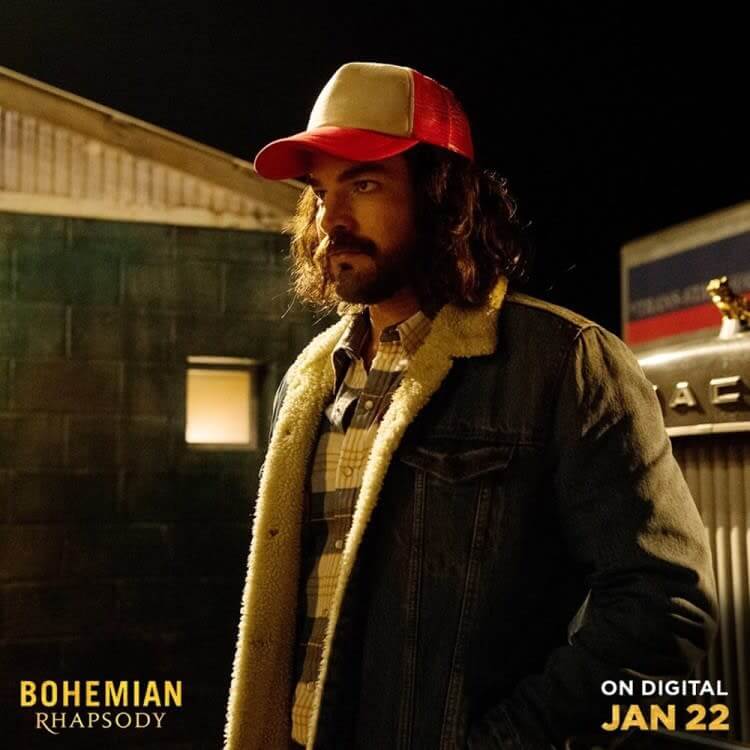 Thanks to the clever makeup, a mustache, and busy hair, Adam is almost entirely unrecognizable. What makes Adam's cameo so special and touching is that he has been stepping into Mercury's shoes as the touring lead singer of Queen since 2011.
Jurassic Park (1993)
In the movie, viewers had to hit the pause three times because of the incredible costume changes that pay homage to The Goonies.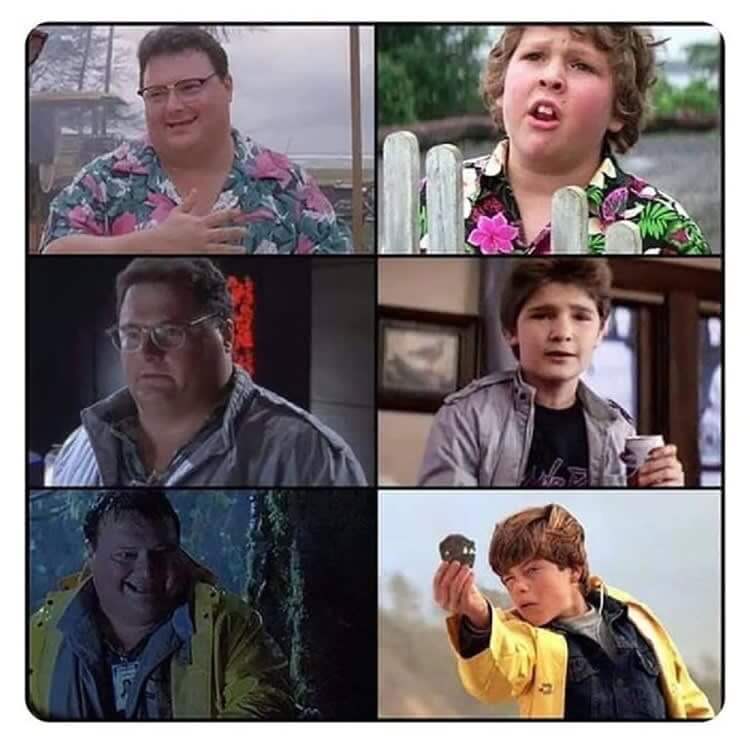 We know that The Goonies was a huge hit in the box office and thanks to some Reddit users, people were able to notice the reference. Given that Steven Spielberg wrote the script for The Goonies and directed Jurassic Park, the Easter egg makes a lot of sense.
Spider-Man: Homecoming (2017)
Sometimes, there are little parts in a movie that deserve a pause and this is exactly what we are talking about in Spider-Man: Homecoming. In the movie, Michelle (played by Zendaya) is reading a book called Of Human Bondage.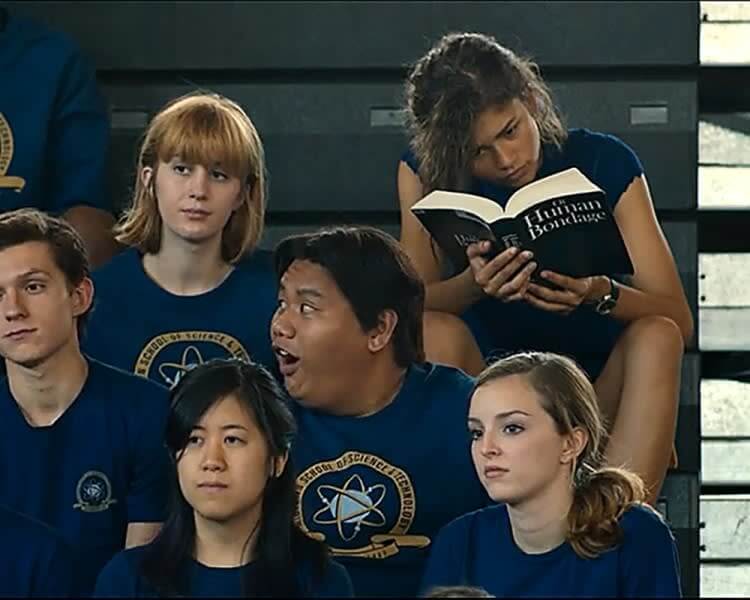 It is a 1915 novel by W. Somerset Maugham and you know what it is about? Well, it is about an orphaned boy who lived with his aunt and uncle. Now that's a clever reference.
Zootopia (2016)
Zootopia is, without any doubt, one of the funniest and cutest animated films. In the film, Judy Hopps joins the police force and try to solve a case. There is one cute detail in which many viewers looked closely after pausing the scene.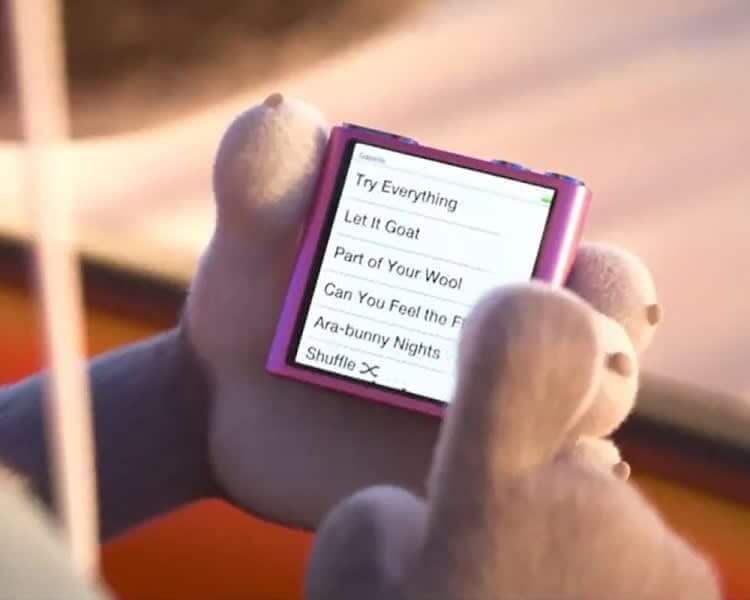 The hilarious animal-based puns are out of this world. There are Fur Fighters, Let it Goat, Kanine West (OMG!!!), and Hyena Gomez. We have to admit that some of these names sound way better than the original ones.
The Matrix (1999)
Although this shot contains no Easter egg, it is the trick shot that made the scene so popular. When Morpheus says "I can only show you to the door," Neo reaches for the doorknob and there you can the reflection of a cameraman.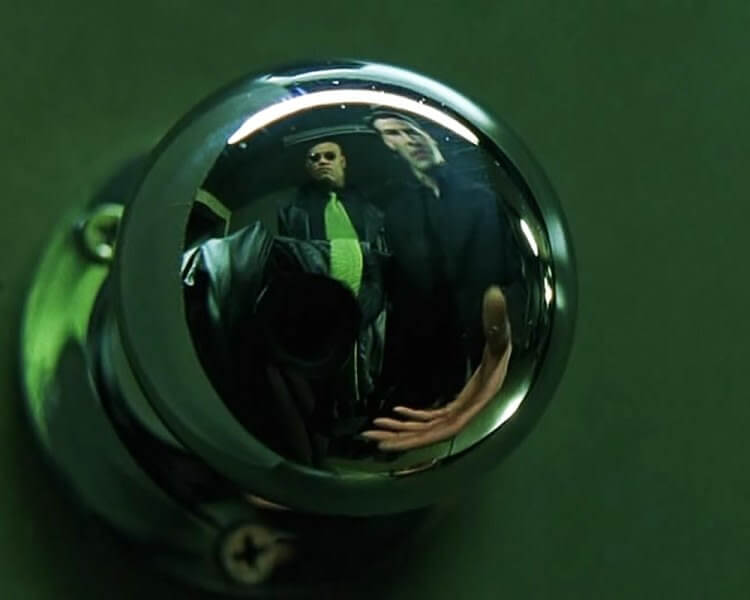 To shot the scene in such a way, there was no other way than the doorknob shot. And that's why they couldn't hide the camera. Nevertheless, it is a good shot that deserves our attention.
Passengers (2016)
Some keen-eyed fans of Stanley Kubrick noticed how the film Passengers drops Easter eggs, referring to The Shining. It is because the director of Morten Tyldum is a huge fan of Kubrick and wanted to show it to the world in a subtle way.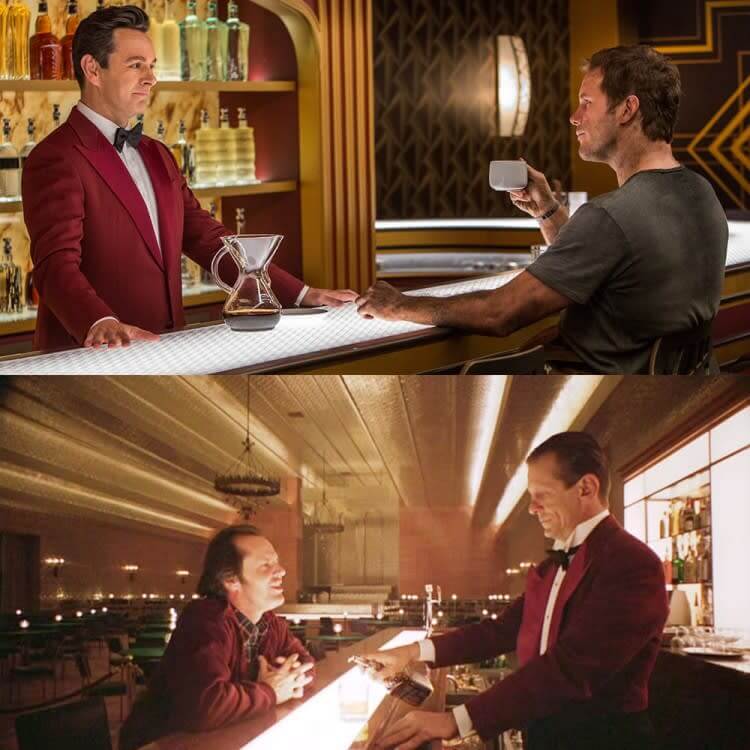 Moreover, the robot-bartender resembles a lot the bartender in the 1980 psychological horror film.
Jaws (1975)
Steven Spielberg's Jaws scared a lot of people with his classic shark flick and the movie is good enough to give you creeps even now. In the opening scene, Chrissie dies and then you know what happens.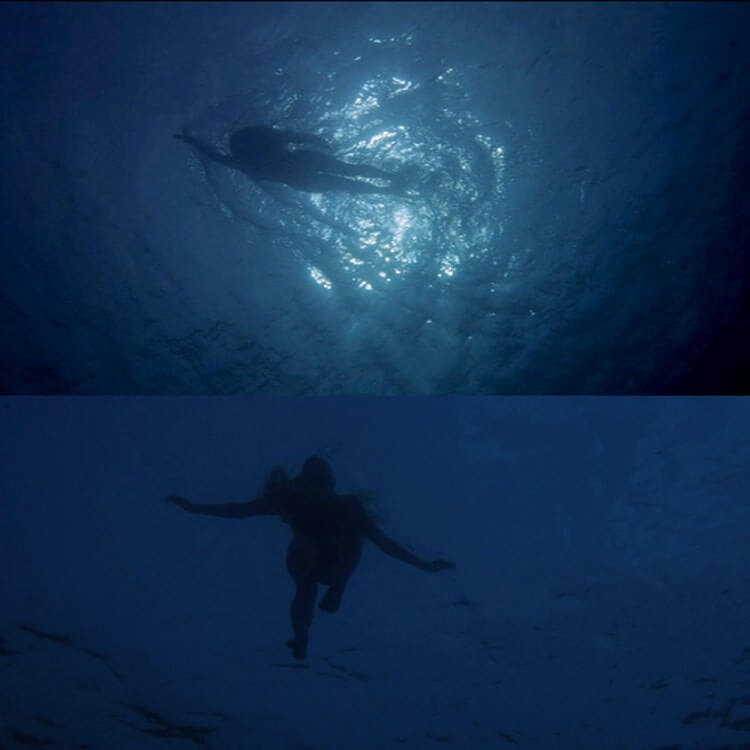 Audience members couldn't pause it at that time, but they surely did it later on. After all, the scene stunned everyone.
The Crying Game (1992)
This thriller from Neil Jordan was a huge success. While there were some remarkable performances in the movie, there is one infamous scene that made jaws drop.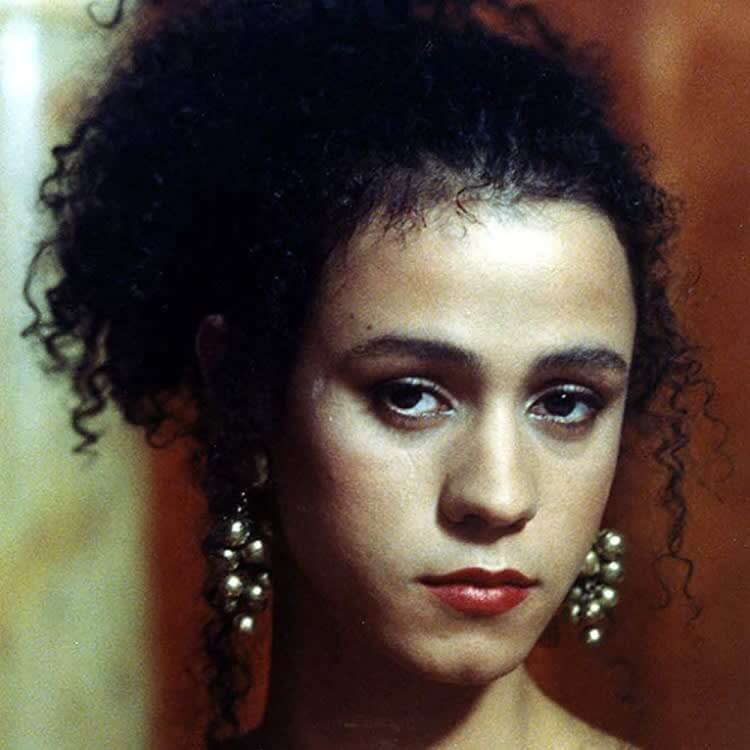 Nightclub singer, played by Jane Davidson, reveals that she's transgender and it shocked the audience so much that they had to respond with a collective double-take.
Deadpool 2 (2018)
You may find it hard to believe that some die-hard fans of Deadpool don't know Brad Pitt was in the Deadpool 2. Yes, it is true. So when our beloved anti-hero hires a team of misfit superhumans, there is a skilled member on his team: the Vanisher.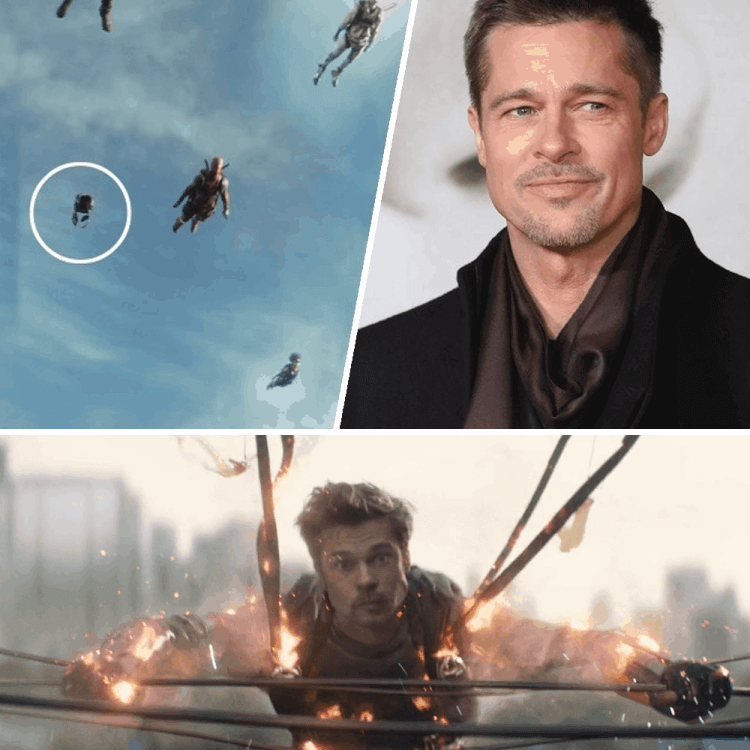 In a scene when the Vanisher and others jump off an airplane and most of them die before reaching the surface, the Vanisher's actual form is revealed for a split second to be Brad Pitt.
Tarzan (1999)
When Tarzan arrived in theaters, the animated movie won the hearts of many, and the soundtrack of Phil Collins still echos in our heads today. Did you know that it has a fascinating crossover with another Disney movie?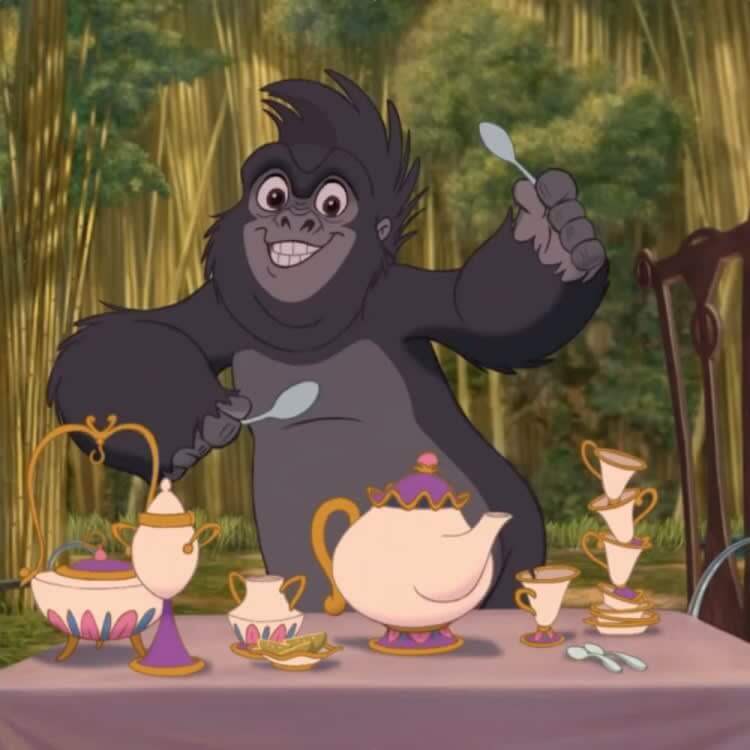 Ever wonder why the teapot and cup look so familiar? Well, it is because they are supposed to be Mrs. Potts and her son Chip from – yes, you've guessed it right – Beauty and the Beast. And please don't start asking how they got into the jungle.
Captain America: The Winter Soldier (2014)
Thanks to one Reddit user, we got to know about this Easter egg in the movie. So, a lot of people paused and started looking at the notes. The list is about the things to catch up as Captain America is awake.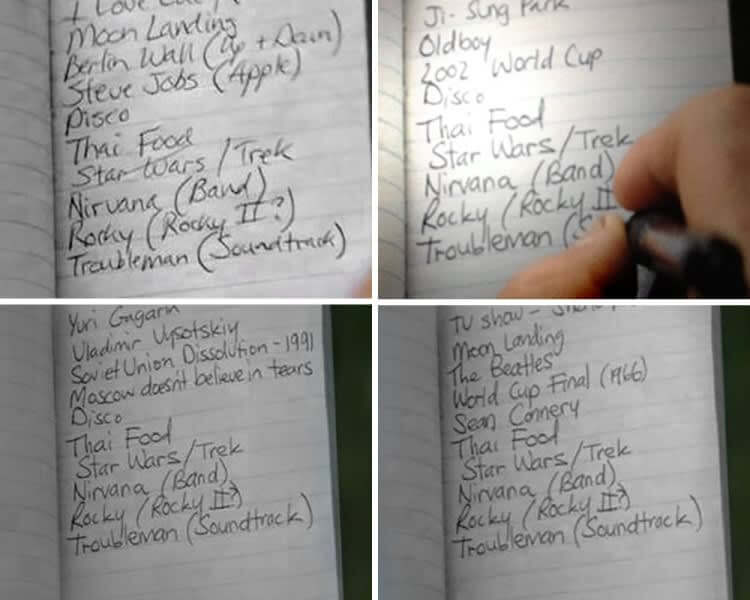 This interesting thing about the list is that it changes depending on the country in which it is shown. So, the Reddit user DavinderB went on to compile screenshots of all the lists. The lists are for (clockwise from top left) USA, South Korea, UK, and Russia.
Suicide Squad (2016)
Although Suicide Squad has many wild scenes in it, there is one scene that got paused the most. The scene comes when Margot Robbie makes her first appearance as the sidekick of Joker, Harley Quinn.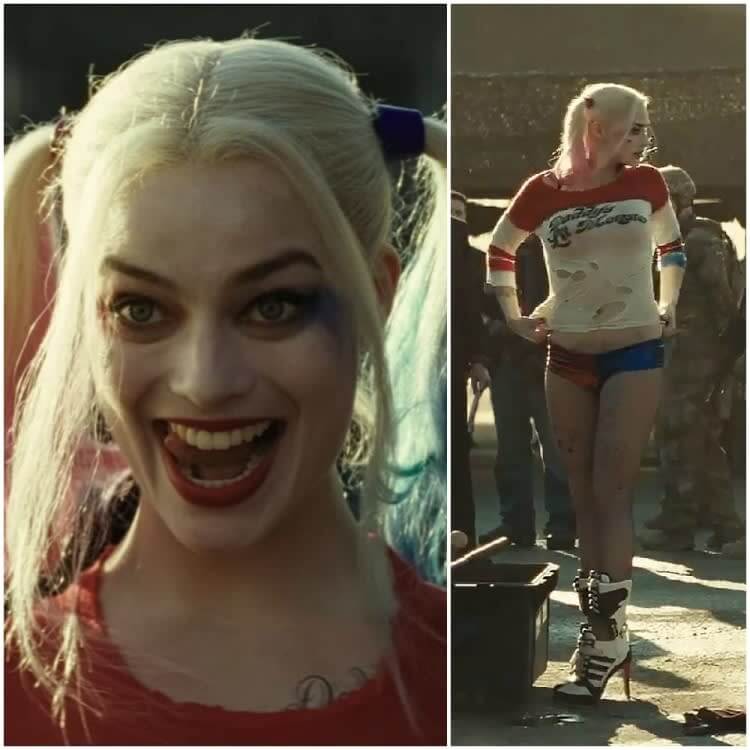 People simply couldn't get enough of the scene. As Quinn lifts her top, the viewers had just enough time to pause it. We have to say that it was probably the best thing for some viewers because the movie is not so great.
Scanners (1981)
This 1981 movie is not one of the most famous films on our list, but it has developed a strong following ever since releasing in 1981. Not many know that the movie also kick-started the career of David Cronenberg. There is one scene in the film that has been paused due to its gory nature.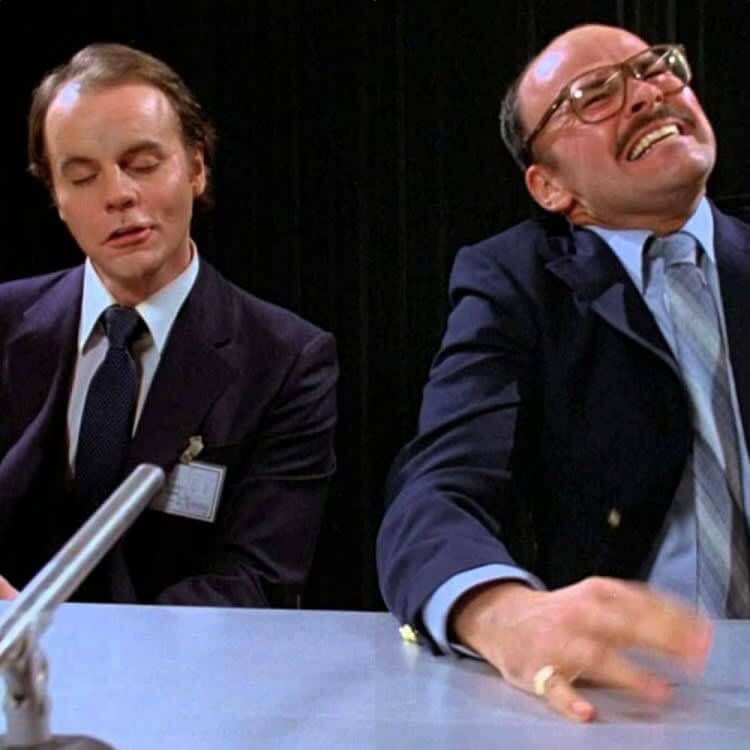 It is best we don't spoil it for you. So, you should watch the movie for two reasons: 1) it is fun 2) the gory scene is too good to miss.
Take This Waltz (2011)
This relationship comedy-drama really flew under everyone's radar in 2011, a rather weak year for movies in general. It was made more famous by some revealing scenes with New York-based comedian Sarah Silverman, who is already well known for her dirty sense of humor. But because she's usually only seen on stage in comedy specials or on network TV shows, one scene in particular got a lot of attention from fans wanting a closer look.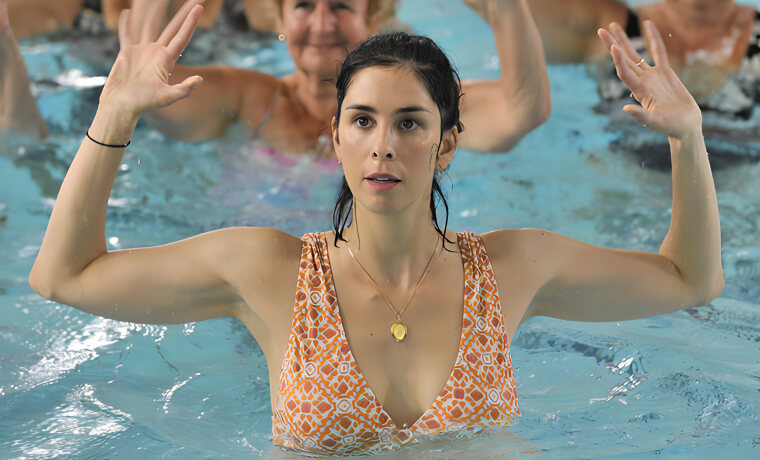 Silverman said that her motivation to do the scene was that it was a true reflection of everyday life. And she probably knows that everyday life also includes tons of people pausing a scene like this one.
Forgetting Sarah Marshall (2008)
Truly a modern classic romcom brought to us by the great Judd Apatow, this 2008 hit is still a fan favorite. Anyone who has ever seen the film will never forget the opening scene, but there are even more adult situations peppered in throughout the rest of the movie. Among all of them, though, one stands out as particularly engaging with audiences–Mila Kunis got her own share of enthusiasm, but Kristen Bell takes the award on this one.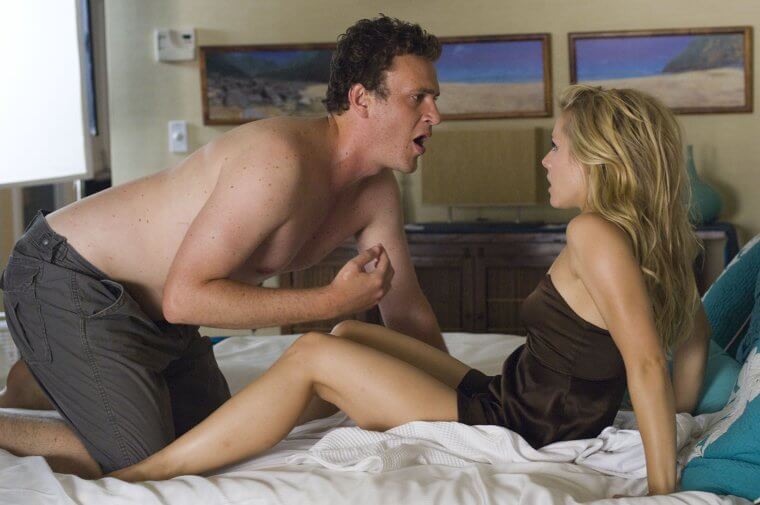 Kristen Bell is mostly associated with different types of characters, ones generally less raunchy than Sarah Marshall. Perhaps that change in tone is what has gotten everyone so hyper-focused on this particular scene.
Wedding Crashers (2005)
The 2005 film that began an incredibly strong run of comedies that offered a shift from what fans got in the 90s. It may not hold up entirely in 2022, but it's still remembered fondly by comedy fans. While Owen Wilson and Vince Vaughn got to flex their comedy chops and become even more solidified as household names, Isla Fisher had a standout role that made a strong impression on anyone who's seen the film.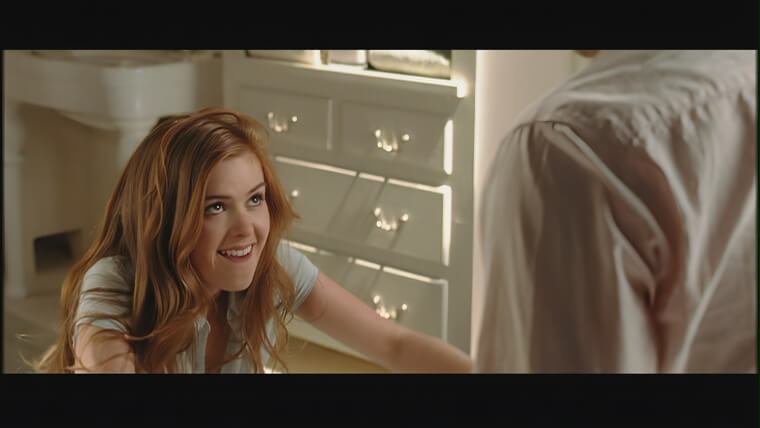 Apparently, Isla Fisher was perfect for the role from the outset–she was reportedly crawling all over the casting director in the audition and immediately got the part. It's no wonder the wildest scene of a wild character has gotten so much attention over the years.
Hilarious Prom Photos That Nobody Will Ever Forget
Brenda Miller
This article was originally published on 24/7Mirror
Prom night: the excitement is palpable, the music is loud, the hormones are… definitely making everyone awkward. As much as we love to imagine that prom night is some magical and romantic night that you'll never forget, the reality often clashes with the dream. After putting out a request for the most embarrassing and hilarious prom photos out there we were rewarded with prom photos that will make you switch between hysterical laughter and a pound of cringe. We know that these photos will transport you back to your high school "golden days," all while giving you the biggest laugh of your day.
A Little Too Much 'Young Love'
Isn't it just wonderful to be young and in love? Quite nothing in this world compares to it, so it's always important to remember and enjoy every single second of it. Even if that means taking an awkward photo or two, who cares? Clearly, this young couple doesn't, since they can't keep their hands off each other.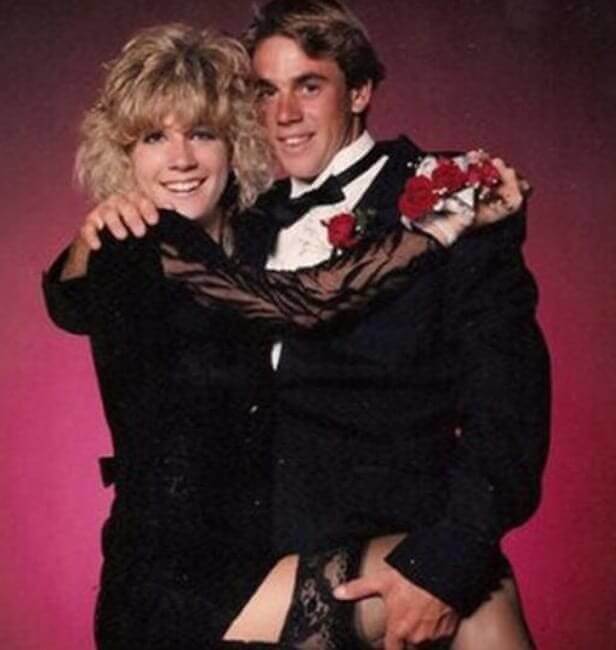 And though we'd like to say that there is a time and a place for things to get a bit steamy, they seem to be up for showing their love for each other the same second their profile picture was taken. As awkward as they are, they look kind of cute though.
Try Explaining This One To Your Parents
This funny couple certainly took their originality to a whole other level. Instead of choosing to take just another regular prom photo, you know, the typical side-by-side picture, they chose something else.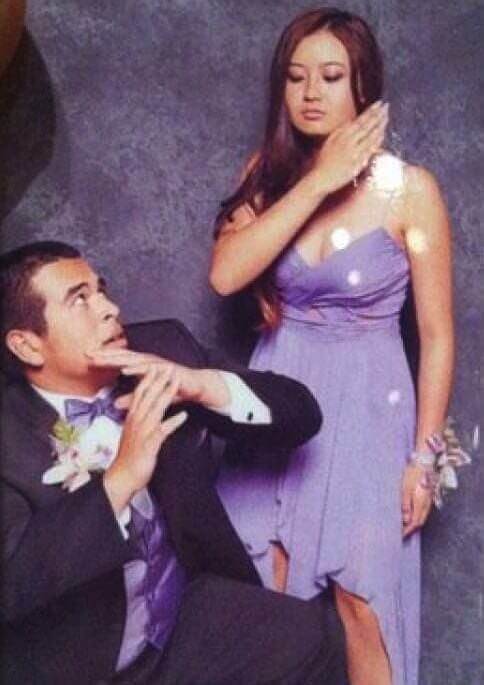 Either that, or she is actually trying to send out a message with the pose she chose, as it seems like she is pretending to be about to slap the guy, and he is seriously scared. In any case, they both look stunning and will forever have an original prom photo to reminisce about.
​He Cannot Keep His Eyes Away
Sometimes, we can just not take our eyes off the person we like. And this guy is one of those people. In the hilarious picture, he was caught staring at his date, without being able to hide his awe for the girl sitting next to him.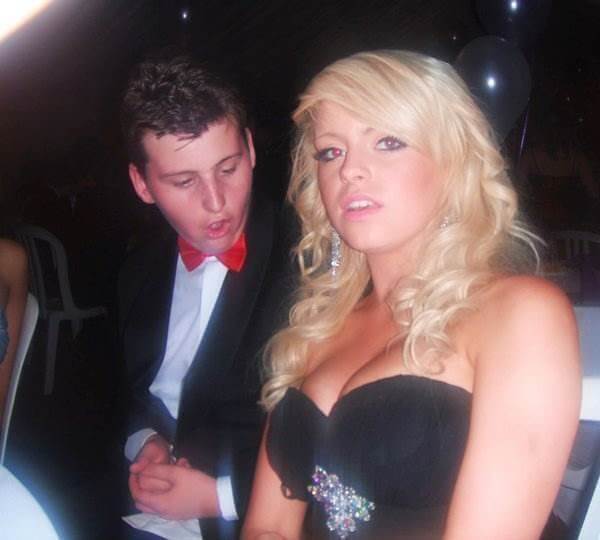 But he did so in a way that became a little bit much, and we're guessing that many people felt uncomfortable about it, including her. Seriously, if you absolutely have to look, then at least try to make it less obvious, you know?
​Photobombed In The Creepiest Way
We can't really point out if one of the girls in the picture was the date of the guy in the back, but there is no doubt that he wishes he was in that photo too. Instead, he is standing behind them while holding a bouquet of flowers and looking real disappointed and even creepy.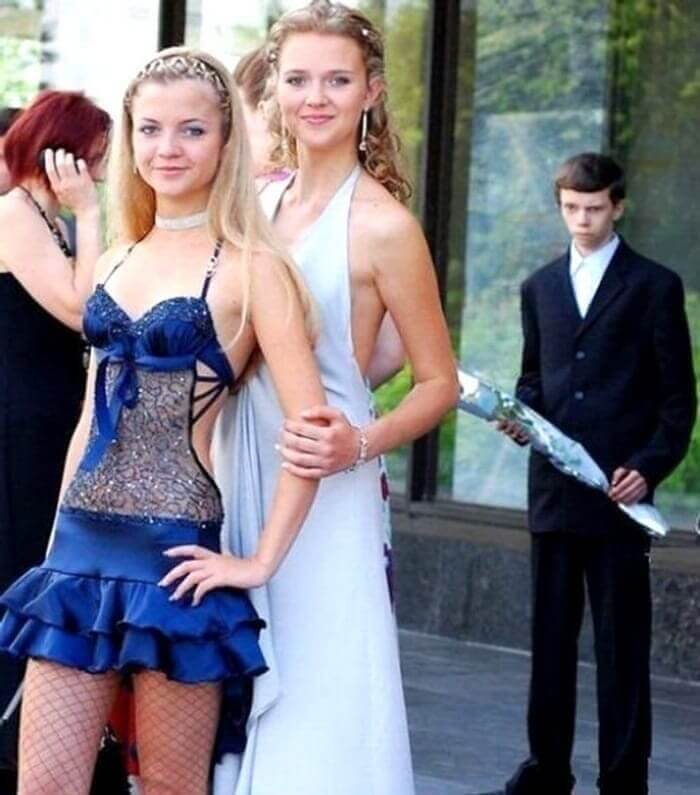 Looking at the bright side though, at least the girls seem to be having a good time.
​ A Strange Carpet Ride
We don't really get what is happening in this picture, but let's just go with the flow for the sake of the awkwardness in it. The two teenagers certainly deserve to get props for how much effort they both put into this photo.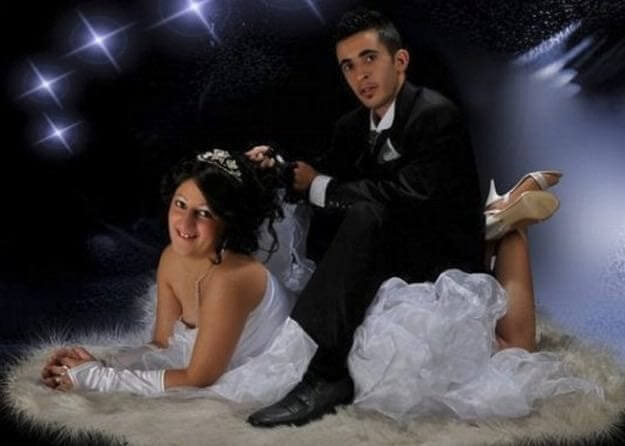 They certainly decided to think outside of the box for this one, and well, they easily succeeded in creating one of the most original prom photos we've ever seen! That's not to say that their pose isn't weird though, because even though we're not there, it kind of makes us a little bit uncomfortable.
Can We Get Some Context Please?
The guy in this picture looks so happy while he poses on his prom day. For some reason, he is also holding a random sewing machine, as if his background didn't look bad enough.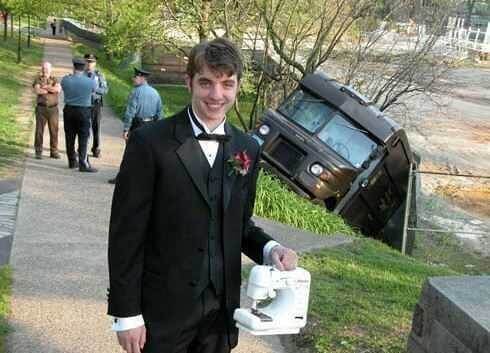 He seems completely oblivious to the fact that someone was just in an accident, only a few moments before he is posed for his photo. One thing's for sure, the entire thing makes for a sadly great photo.
Incoming!
When prom night comes, we get all dressed up and seriously look forward to the wonderful evening ahead of us. In many ways, we can't even believe the moment is there since we have waited in anticipation for so long. But then, when the time comes to take the magical photos that will always remind us of these special moments, just imagine someone ruining it?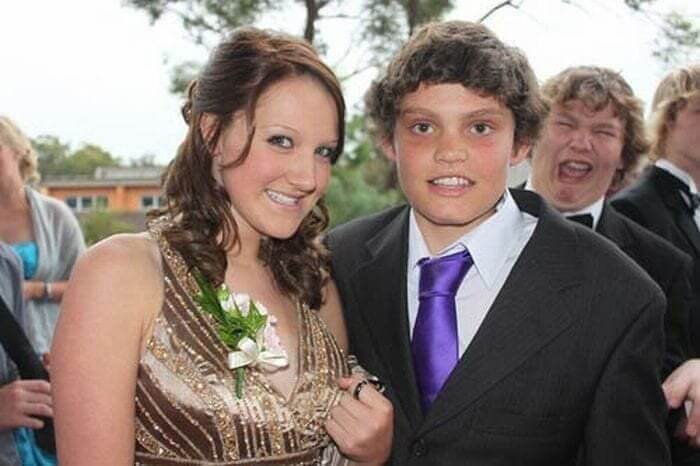 How annoying. And that's exactly what this guy in the back did. He simply decided to photobomb his friends' photo by making an unforgettable face, and that is literally all anyone will remember about this photo.
​The Staring Game Is Strong
Well, that's just not a nice thing to do young man! We understand, his prom date looks absolutely stunning, and is wearing a dress that he can't simply stop looking at. But his staring game is so strong that it might be making others slightly uncomfortable. But we all know how those teenager hormones are killers sometimes, leaving young boys and girls going completely crazy whenever they see a bit of cleavage or some very prominent muscles.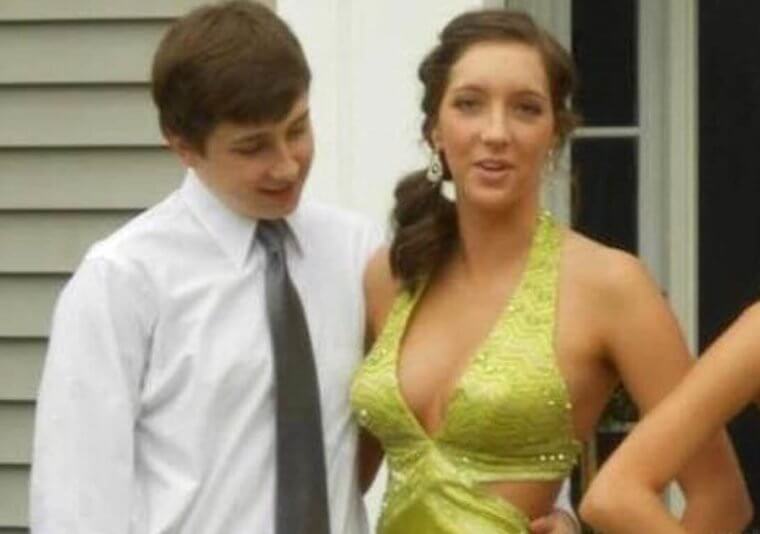 Good thing this cameraperson caught the entire inappropriate moment on camera, and this guy will be forever reminded of the moment he couldn't keep his eyes away from his date's cleavage. But looking at the positive side of things, at least he only had eyes for her!
​Pick-A-Boo Dad
It is always so scary when dads have the quirkiest sense of humor. We never know when they're going to use it, and unfortunately for this girl, her dad was ready to strike as soon as she was ready to go to prom.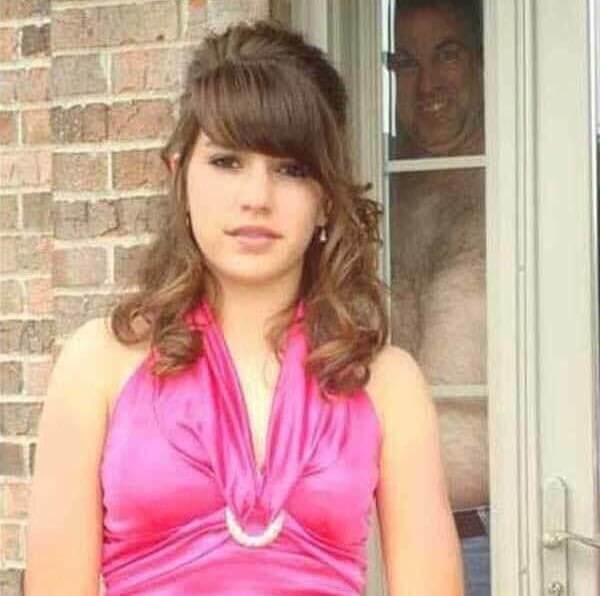 Out of the blue, her dad decided to play pick-a-boo and to create a photo that would become so cringy in the end. We can only imagine what this girl felt when she saw the photo afterward.
Blink And You'll Miss It
Closing your eyes at the exact moment that a shot is taken is the absolute worst! Seriously, it's never fun to take an important photo and to realize too late that your eyes were actually closed. That's what this poor guy experienced on his prom day.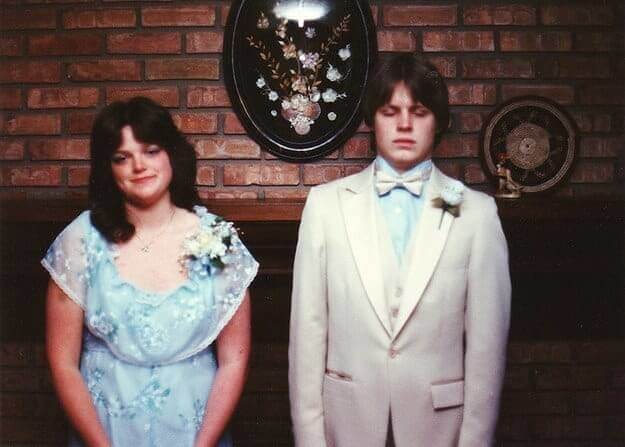 At least these days we get to take several photos as soon as we realize that our eyes were closed. Imagine back in the days when we only had one or two chances, and if we ruined it, our prom photos would be ruined and unchanged forever!
When You're Supposed To Choose Between Two Dates But Find A Third Option
For a love triangle, these three are totally rocking and owning theirs! The guy not only decided to take two stunning girls to prom, but he also wanted to make sure that they both knew he was dedicated to both of them equally.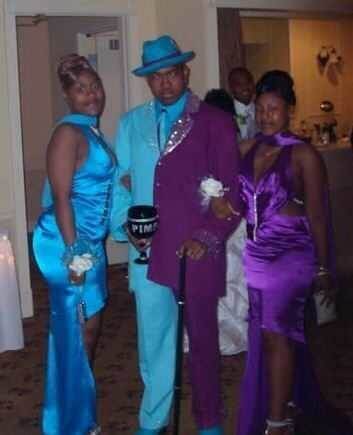 The solution for that? To wear perfectly colored outfits – each of the girls wore a colorful dress to which the guy matched with each half of his outfit.
Equally Awkward Attire
There is nothing any of us can say that will take away the fact that these two couples look incredible in this photo. Their matching outfits really worked out for them. Even though '70s clothes aren't always a favorite by many, these plaid outfits were probably amongst the few things that were awesome back then, and these two teenagers knew exactly how to rock them.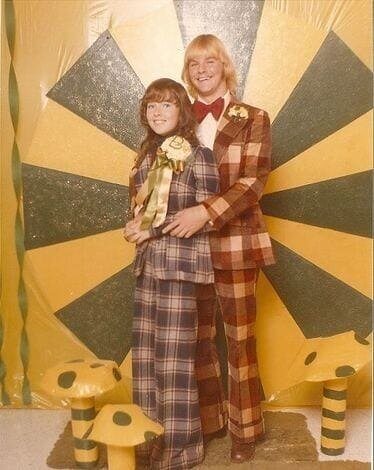 It's also really cool that the girl decided to defy traditional rules and went on with her cool suit instead of a fancy prom dress.
​Riding A Llama In Style
Who on this earth thinks about including a llama in their prom photos? These guys. We have no idea what they had in their minds, what we do know, is that they wanted to make their prom night special and so they went and did it.
And how did they do it? Well, instead of choosing to make an entrance with a fancy vintage car or a limo, they chose something a little bit more unusual, a llama. Yes, folks, these teenagers literally posed for their prom photo with a llama in the middle, and we're certain that no one will ever forget it.
​An Unfortunate Event
Oh man, if this is not one of the most unfortunate pictures we'll be seeing on this list, then we're not too far from it. Someone had the not-so-brilliant idea to get everyone standing on a bridge for a group photo. Sadly, they didn't consider the fact that the added weight could possibly become a problem, which it did.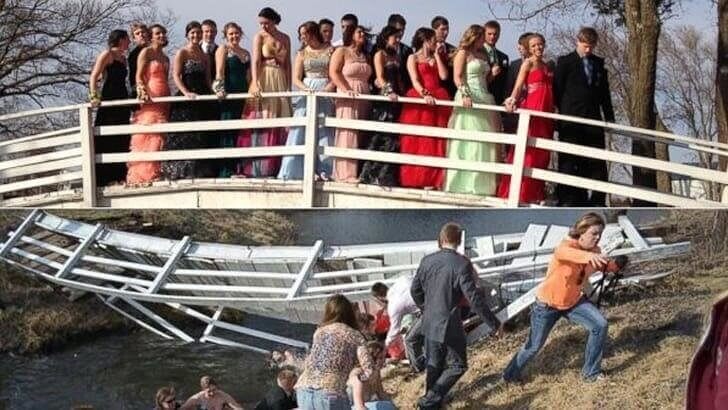 The inevitable happened when the entire thing tipped over, and one by one, the prom kids began falling into the water. Though the moment must have totally sucked, at least they can laugh together about it today.
​Wearing Shorts To Prom
Feeling like wearing a pair of shorts to prom, why not? Clearly, this guy saw no boundaries out there when he decided to wear a pair of wonderful shorts to the prom. We're assuming it was hot or something, or he simply wanted to defy prom culture.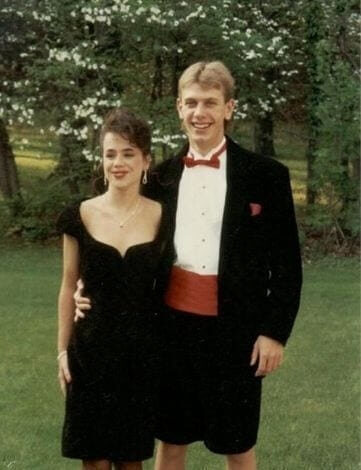 His date looks absolutely stunning next to him, and she doesn't seem too bothered by the guy wearing shorts. While it may be kind of inappropriate to wear them to prom, props to him for doing whatever he felt was right.
​The Superhero Prom Dates
Now here's a pair of very creative guys who were like, "Why don't we wear some superhero costumes to prom?" And though some may say that that was going a little bit overboard, Batman and Spiderman here seemed to be very pleased with their decision.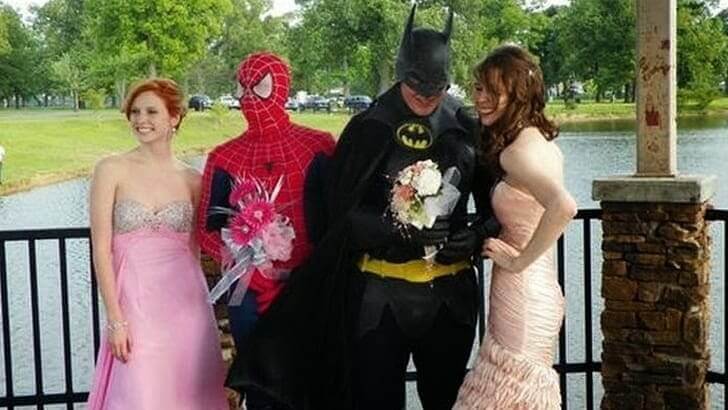 And their dates obviously look stunning and seem to find it cool to go with superheroes as their dates to prom. They for sure had a total blast that evening!
​Every Possible Color
Now, how cool is this? The group of guys thought together about the most creative thing they could do to make their prom day even more fun, and we're guessing that they got to the perfect solution.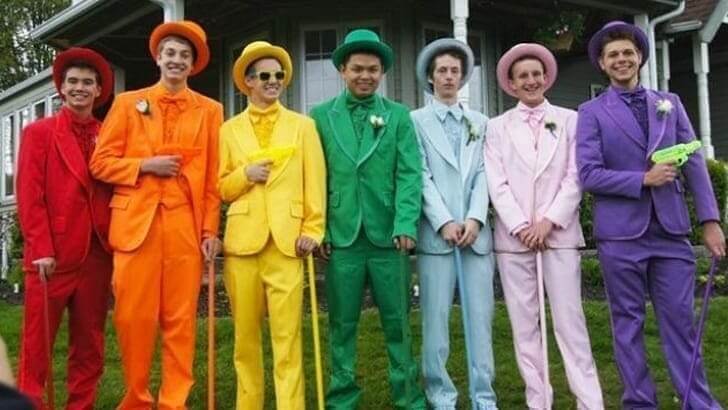 Instead of wearing a suit, they decided to go for some really colorful outfits perfectly contrasting with one another. Their color coordination definitely flies on this one, and they get to have this awesome photo to remember the big day.
​Another Photobomb
It's inevitable that a few prom photos will have a person or two photobombing. But this guy's photobomb skills are so sharp that we are close to believing that they are some of the best we've ever seen!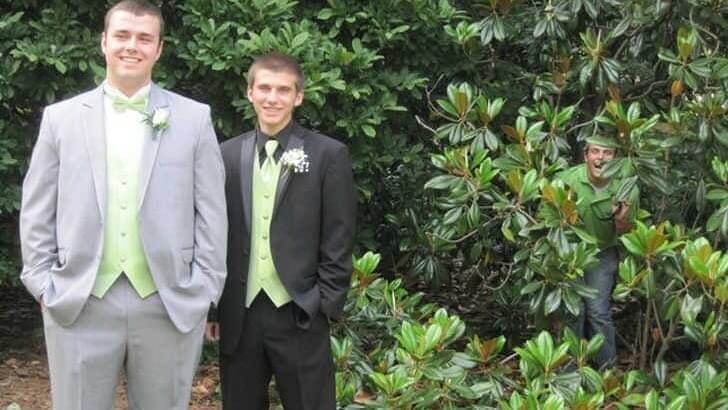 He is literally hiding behind the bushes while the clueless guy is happily smiling at the camera as he poses for his memorable prom photo.
A Fish As A Prom Date
It's impossible not to feel a little bit bad for this guy. We're not sure if this was a joke, but if it wasn't, the poor kid probably didn't deserve to stand there alone with a huge fish as a date.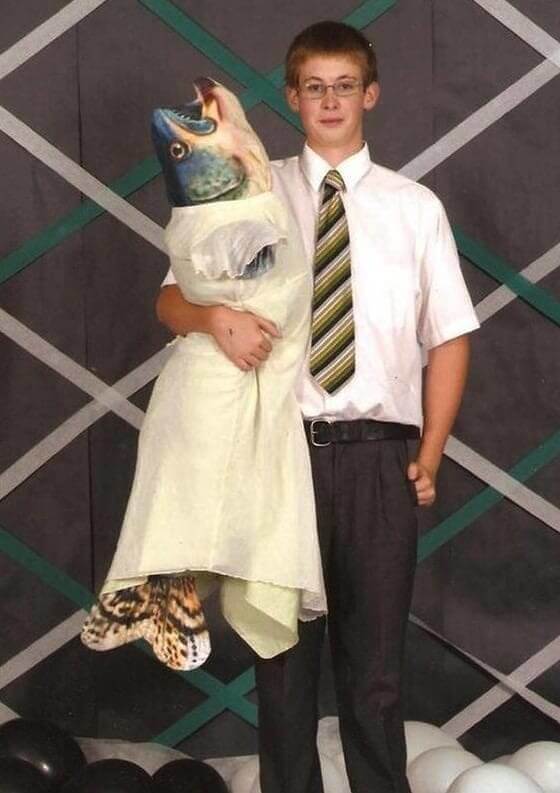 Many of us know how hard it can be to not be the popular kid in school, so it is somewhat painful to see the lonely guy. On the other hand, if this joke was his own doing, then props to him for rising up and not caring about what others think.
​The Devil Goes To Prom
This is pretty creepy, that's for sure. I mean, we've seen people wearing so many different costumes to prom, but nothing was ever like what this guy is wearing.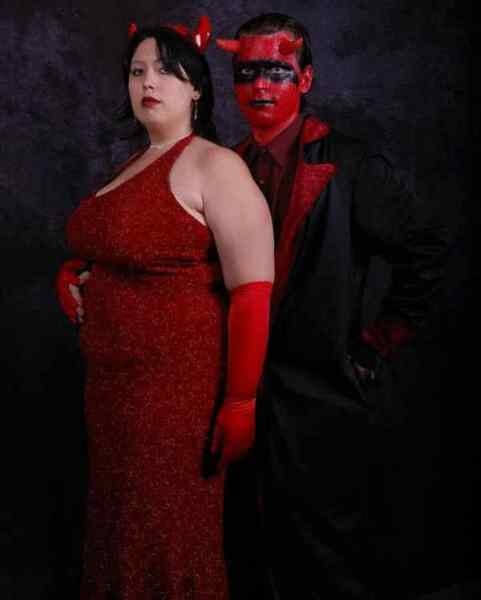 Who on earth would think of going to prom wearing a devil costume? At least the couple was in sync, as they both wore their fair share of devilish stuff, and all that matters is that they're happy, right?
When You Come Wearing The Same Thing As The Room
You know how things go. You just wake up at your regular time in the morning, look for your favorite dress, do everything in your power to look really nice, and then boom!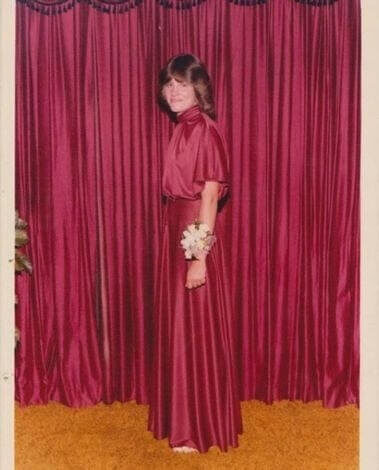 You look at the curtains in your house and realize that what you're wearing is exactly the same color as the curtains and even the same material. So well done to this girl for owning the outfit and taking a photo right in front of the embarrassing curtains.
So Many Prom Dates, How To Choose?
Well, good for you, man! The guy is surely making an impression, or at least he is feeling himself posing next to so many dates! Clearly, he managed to snag not just one date to prom, nor two, he actually convinced three young women that he was the right date for them.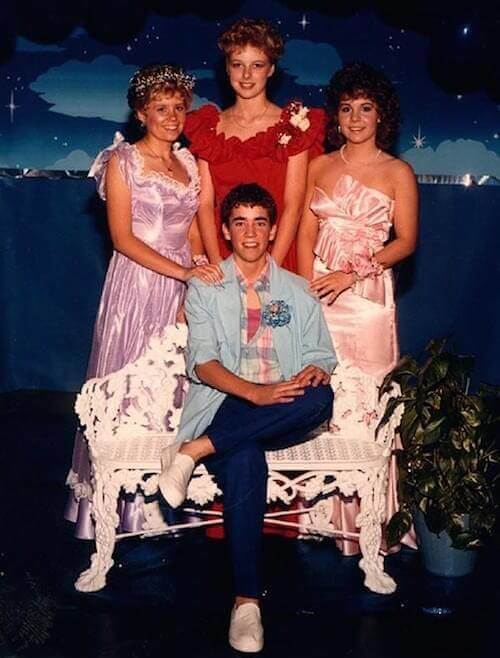 And as cool as it looks, we hope the girls don't let the guy break their hearts with all of his "coolness."
​Taking Mrs. Robinson To Prom
So, something about this picture is a tiny bit weird. Okay, maybe it's more than a tiny bit, the photo just confuses us a little bit. The boy is so adorably dressed in his grey suit, which is not so awkward and tacky like many prom suits out there.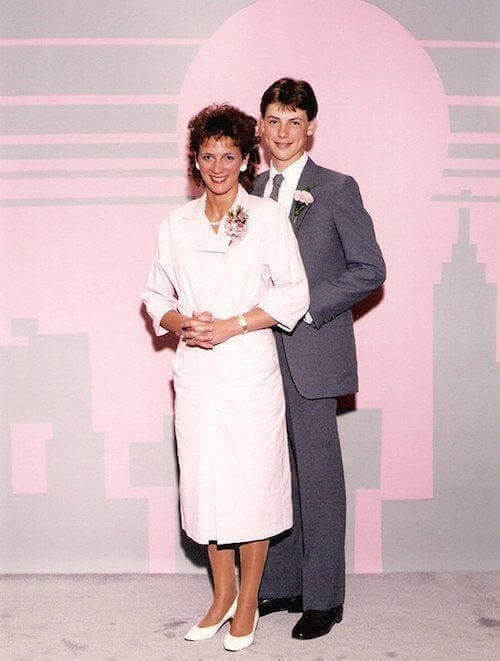 But then it seems like he is either taking one of his teachers to prom, his mom, or a much older date. They do look adorable though.
The Dad Is Not Happy
Many dads love showing just how unhappy they are with the entire prom date situation, and so they do their best to make sure their daughter's date knows where they stand.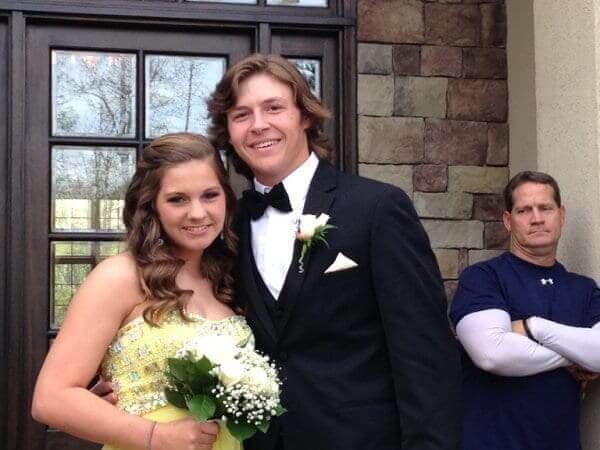 And this dad made sure that the guy knew his little girl was very precious to him. We guess that it can take a little while for dads to realize the fact that their daughters eventually get all grown up.
​A Cardboard Date
Here's another idea for when you realize you don't have a date to prom but you still want to take those cute photos. You can always just create a cardboard person the size of a real one, and do the photoshoot exactly how you want it.
Take this girl for example. She is probably a fan of Doctor Who, so she took matters into her own hands and created her own date made of the series' main actor.
​The Wonderful Stormtrooper
Take a look at this guy who also decided to dress up in a completely different outfit for his prom night. We are even starting to suspect that maybe some girls really do love to have a date as unusual as this one for their prom night.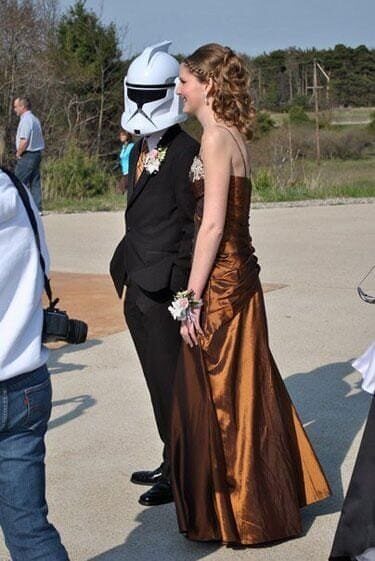 The stunning girl looks so good in her bronze dress and really fancy hairdo, and her date, well… her date is apparently a storm stopper.
​Challenging Gender Norms
Nothing like taking every opportunity to challenge some societal rules, right? They are all just socially constructed anyway. So these teenagers totally rocked their "reversed" outfits when the guy decided to go for that wonderful corsage and dress, and the girl went for the suit.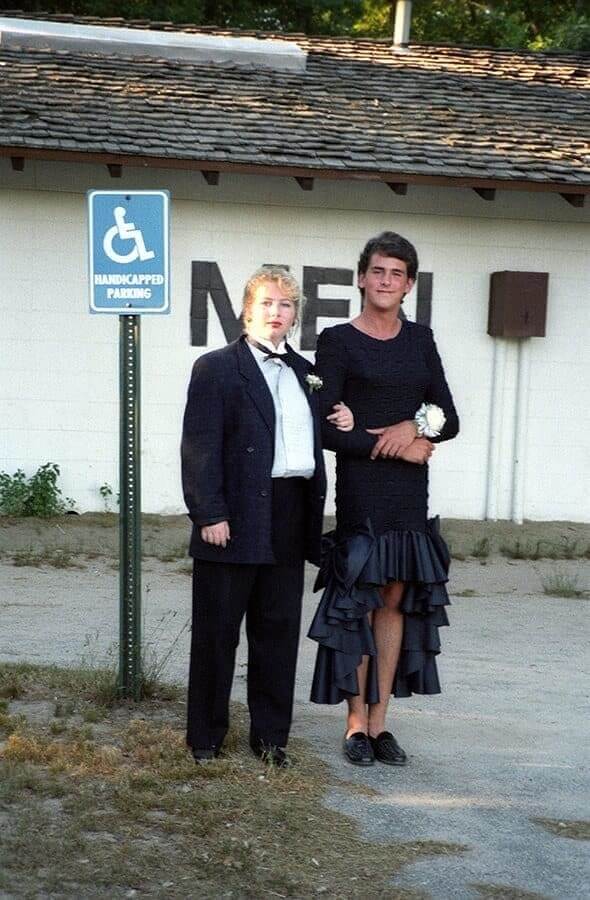 And the best thing of all is that they did it all together, rocking it in the best ways possible.
​Is That Barney?
We always suspected that Barney had a bit of a way with the ladies, and this photo is definitely proof of that. But what motivates someone to dress up as Barney for their prom is really beyond our understanding.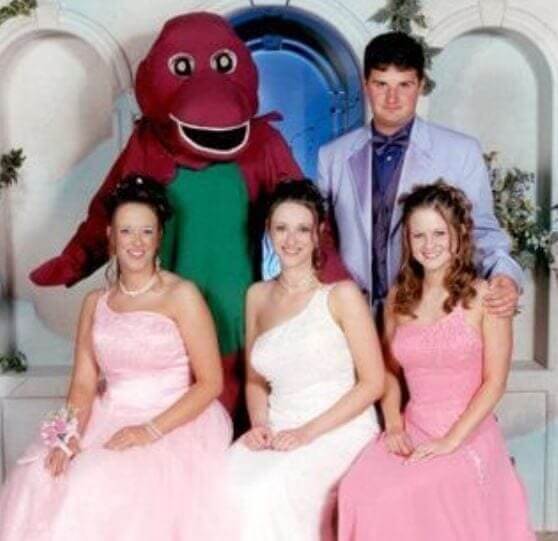 One thing's for sure, everyone will certainly remember the guy/girl who decided to dress up as Barney for their prom, so at least there's that. Whether they want it or not, the attention is all on them.
​Another Angry Dad
Yet another angry dad who can't seem to get over the fact that his daughter is all grown up. Apparently, this one is handling the situation a little bit more dangerously than the previous dad we featured.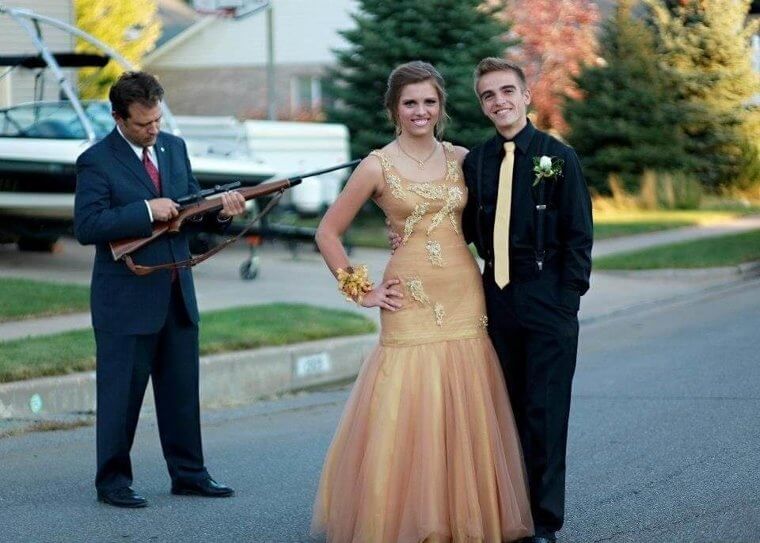 This one actually chose to hold a freaking gun during her daughter's photoshoot with her date, and we're not sure whether we should laugh or cry about it.
​Posing In Front Of Planned Parenthood
We absolutely love how this couple was able to use their sense of humor to create one of the most hilarious photos out there. They got all dressed up for prom and chose the perfect place to take their photos, planned parenthood.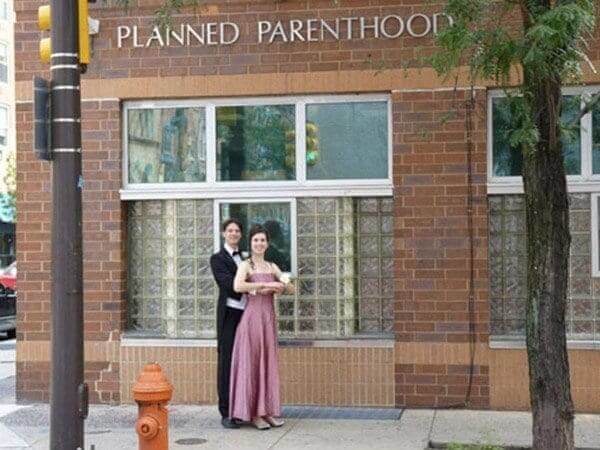 The photoshoot ended up coming out full of irony, because we all know what some people love doing on prom night, wink wink!
​A Really Furry Occasion
There are no words in this world that could accurately describe this situation. Okay, fine, maybe we can think of a few. The couple thought that maybe taking their prom photo next to the poor wall tiger would be a great idea, while holding their cat, of course!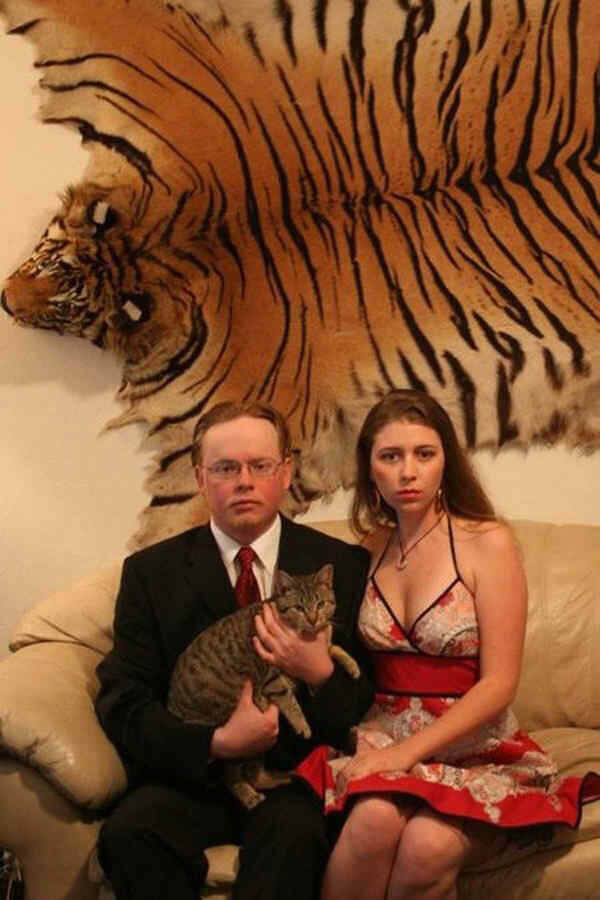 We don't exactly know what the deal is, but we're pretty sure the picture would be much less creepy if they had smiled a bit or something.
​Trying To Break Free
In a group, there is always that one person who doesn't really like to go with the flow, right? Well, this group has one for sure. The group of guys looks so good as they get ready to head out to their prom night, but one of them wasn't really feeling it.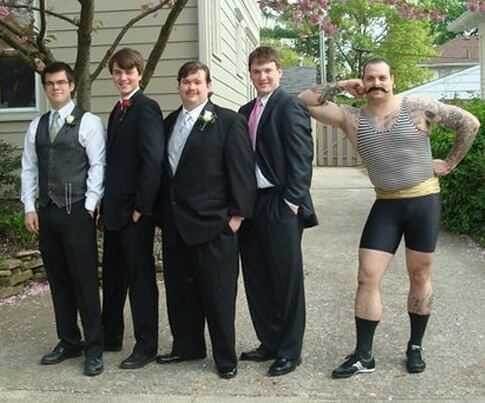 So instead, he rocked up wearing an outfit that reminds us a bit of a '70s rock band or something, or whatever he is trying to refer to.
​Just Him And His Xbox
Yet another guy who didn't have a date, but was happy to make fun of the situation with one of his favorite things in life, his Xbox!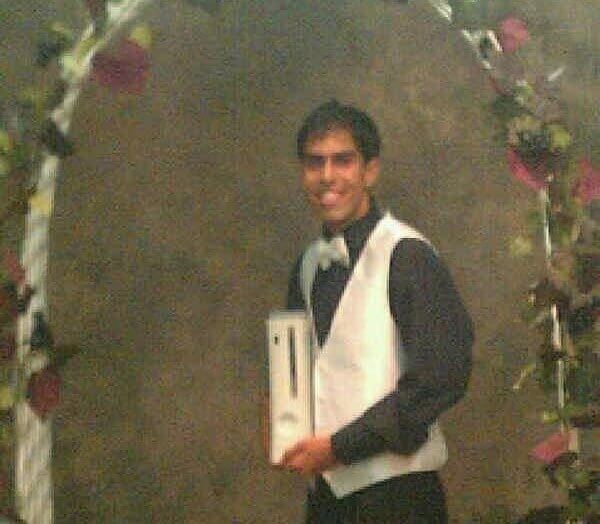 Yep, since he didn't manage to secure a date for the important night, he just went ahead and grabbed his Xbox, and created the funniest pose. He will for sure have a good laugh when he takes another look at this picture one day.
​Why Is He So Mean?
All this wonderful couple wanted to do was to have a beautiful picture of the two of them posing before prom. But they forgot to look behind them, and unfortunately, someone was hiding there super ready to ruin their photoshoot.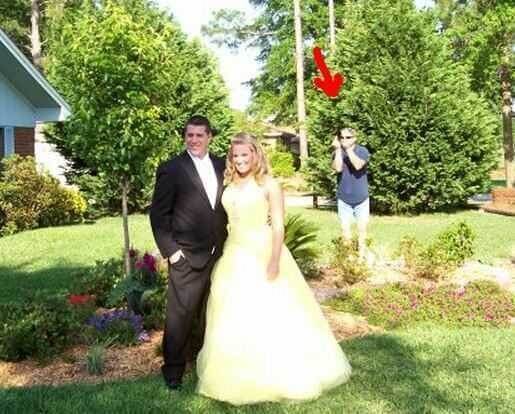 The guy crashed the photo in the funniest way and managed to do it so silently that we're pretty sure the happy couple will only notice it when they go through the photos later on.
Looking At The Other Guy's Date
Now, this is just not cool. We get that the snap was taken at the wrong moment, but could this be worse? The guy is literally staring at his friend's date, instead of his.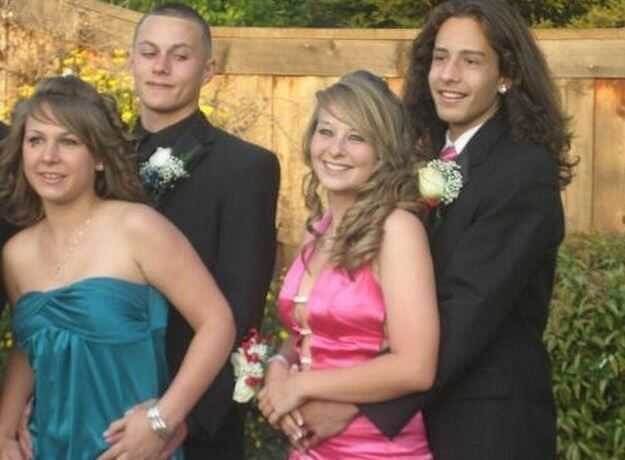 And while the beautiful girl in pink is definitely rocking her looks, all of them look so good though! Maybe that is the date he really wanted to take to prom but then his friend beat him to it, who knows?
An Interesting Haircut
We have no idea when this picture was taken, but it seems like mohawks were definitely in style at the time. The guy decided to go for one of the most original haircuts we've seen in a while, and even managed to overdo it in the most hilarious way.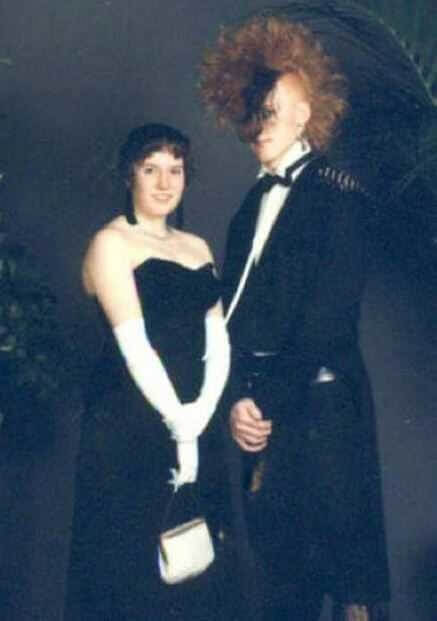 And yet again, his prom date doesn't seem to mind at all, as his eccentric style didn't seem to be embarrassing to her. In fact, we might even say she looks proud.
​Spot The Odd One
Just look at how beautiful everyone in the photo looks. The girls are totally rocking their wonderful outfits, while the guys too, look fairly handsome in their perfectly made prom suits.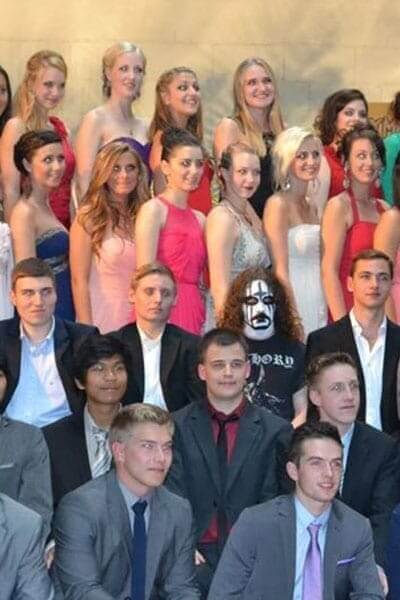 But then… if we look at it for a little longer, we can easily spot the odd one out. He is hiding in the middle of the third row, and instead of going for the conventional outfit, he really went all the way with his heavy metal style.
​Creeping Up On The Background
Another beautiful prom day, and yet another photobomb. We can probably bet that the guy photobombing the picture is the girl's brother, because what else do siblings do, right?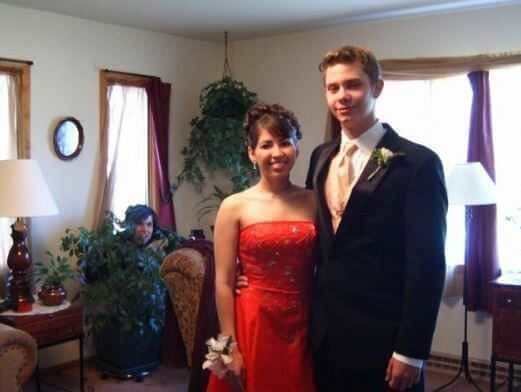 And we have to admit that his hiding skills are on point, and make for a hilarious picture. And well, just imagine if all prom photos were of conventional prom dates smiling at the camera, that wouldn't be so fun anyway.
The Mask Goes To Prom
Who doesn't absolutely love the classic Jim Carrey movie, The Mask? The legendary actor made it really cool to rock a green mask, to which this guy decided to adhere to on his prom day.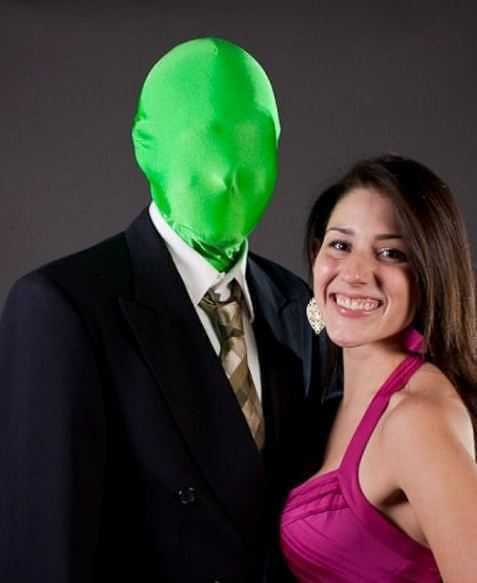 He loved his green mask so much that he decided to surprise his date with his perfectly green outfit, and she seems to be totally up for it. We just hope he can breathe easily in there.
​Feeling Left Out
It's not a surprise that this girl looks really pissed off in this photo. Her two best friends were posing alongside one another for a stunning prom photo, and so she found a way to be a part of it too.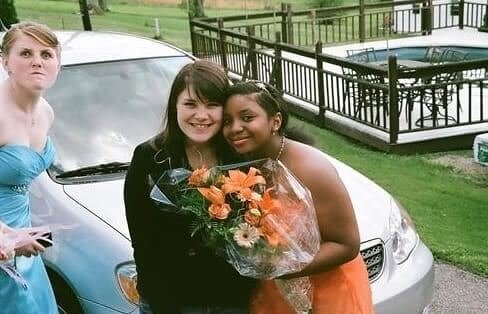 But the moment she made her decision to rock up at the photo, the photographer snapped the shot in the second she made her most determined face.
Rocking Similar Hairstyles
Hmm, the sweet '80s. When color was in fashion and some of the most unpredictable hairstyles were easily accepted, or at least tolerated. And what better time than prom night to wear exactly the same hairstyle as your date?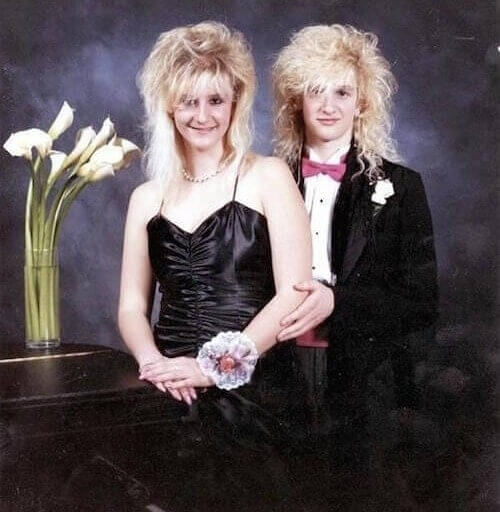 Their matching game is so fly that the two of them almost look like twins as they pose for the big day. We can't help but think that they will have a good laugh when they look at this photo years later.
​Posing With The Little Chicks
Some people really go all the way when it comes to being creative for their prom photo. And sometimes it can get pretty… awkward.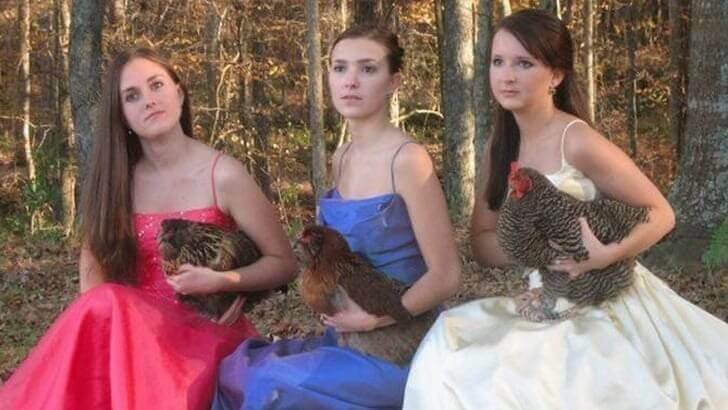 The three girls are looking great in their impeccable dresses, but to spice things up, they decided to grab their little chickens from the yard and happily posed with them. Though it ended up being a hilarious photo, we do hope they meant this as a joke.
​A Good Laugh
What's so funny here, you might wonder? Well, we're wondering too. One of them is either really funny, or they decided in unison to laugh hysterically before their prom photo was taken.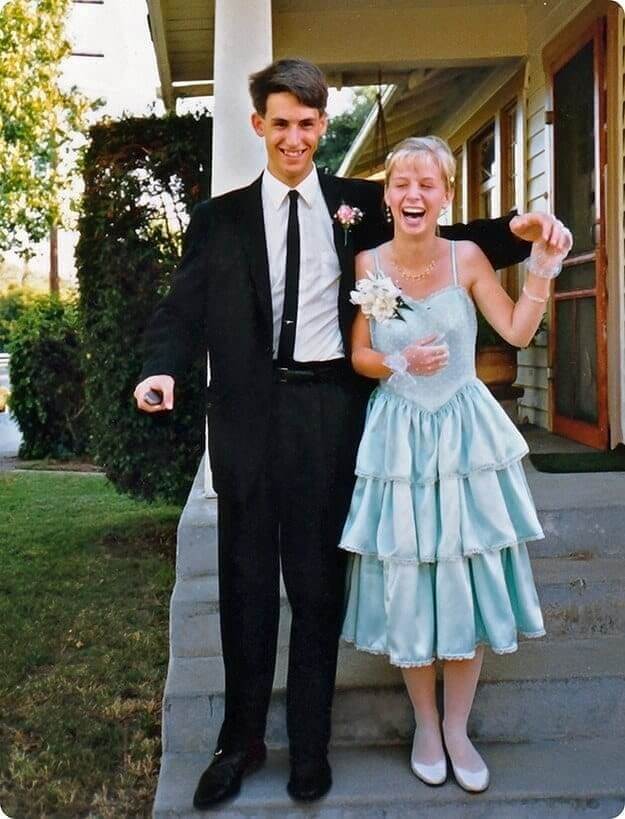 The other option here is that he just smoothly put her hand around her shoulder, and she couldn't help but laugh at the prospect of accepting his invitation to be his date.
​An Unexplained Prom Photo
And once more, an embarrassing dad strikes on his daughter's prom photo. We have no idea what goes through the minds of these hilarious dads, but one thing's for sure, they want their daughters to remember they were definitely there that day.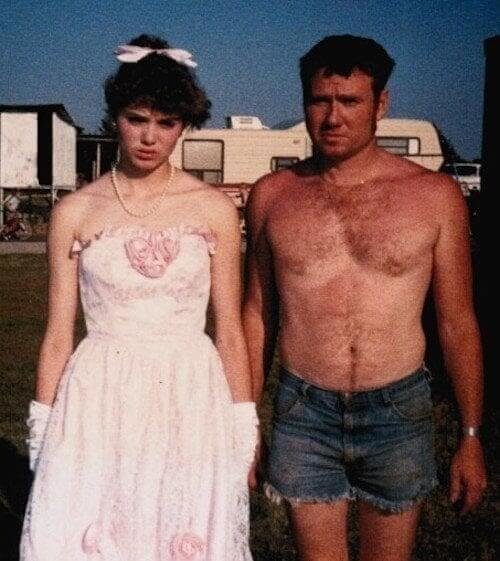 And in this case, the girl for sure doesn't look happy to be standing next to her quirky dad for the photo.
Remember To Look Alive
Man… Who forced this girl to accept this guy as her prom date? We tend to feel bad for both of them, since she is certainly not looking happy at all, and neither does he.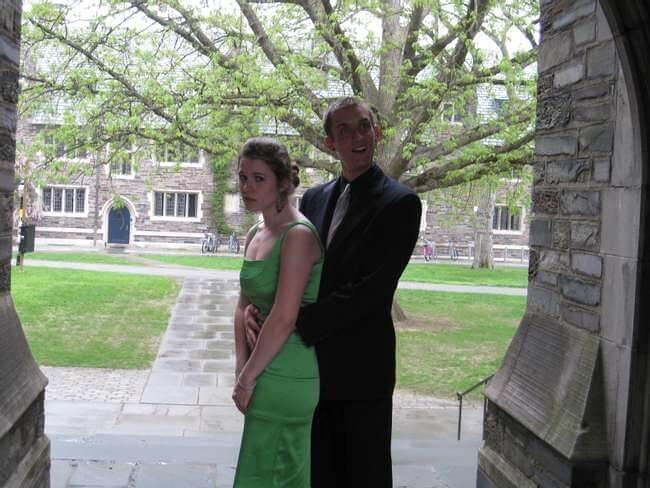 He is either completely oblivious to the situation here, or he realized that the match was not made in heaven and that they had a long night ahead of them.
Adding Some Scottish Pride To Prom
Nothing like the day of prom to show our appreciation for our cultures, isn't it? And this guy knew exactly how. He decided to not pass on the idea of wearing his culture's typical outfits, and by the look on his face, he couldn't be prouder.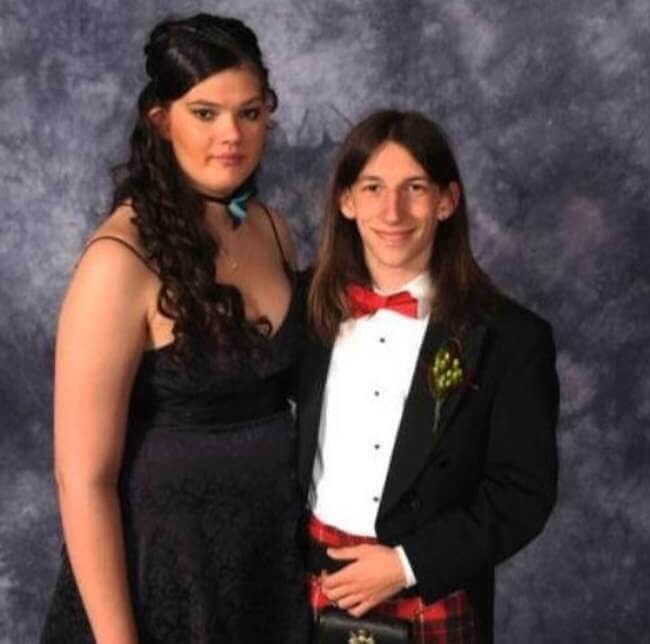 While it may look a little bit much for a prom photo, at least he will be able to look back and feel proud of his wardrobe choice.
The Wind Ruined It
Nothing like a wonderful breeze to completely ruin a family's prom photo. Funny enough, the gust of wind blew exactly at the right time. At least the person who took the photo was able to perfectly time it to snap the moment the wind blew really hard.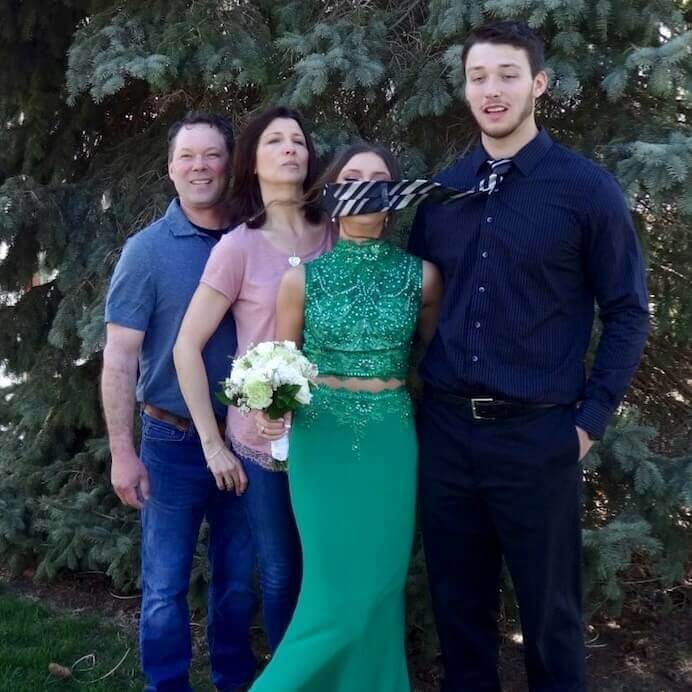 Not to talk about these awkward parents posing proudly next to the kids. What on earth are they doing there?
​Nope, Not Doing It
It's not a secret that the Charlie's Angels pose is one of the most common poses prom goers choose for their prom photo. But these girls convinced themselves to go with something a little bit different.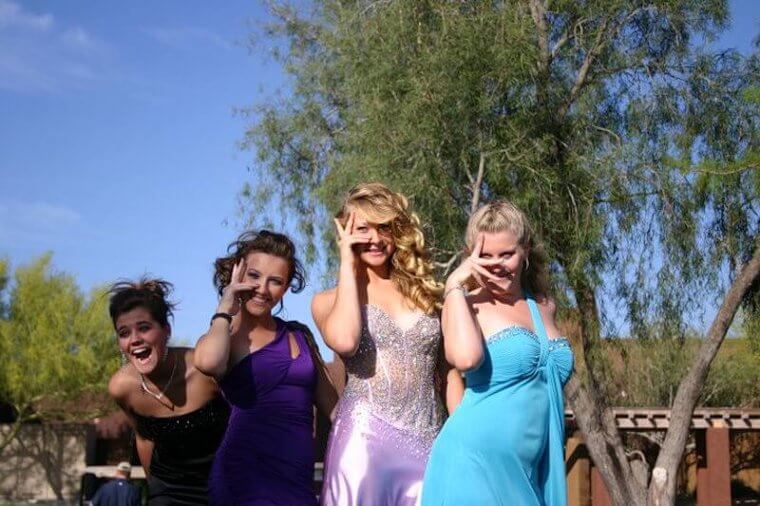 Instead, they chose to do something three of them planned ahead, but the fourth one clearly wasn't on time to get the memo. Oh well, too bad!
Magical Photos Of Our Favorite Stars 'Hanging Out' With Their Younger Selves
Ashley Lez
This article was originally published on VisualChase
Although it might come as a surprise, there was a time when some of our favorite celebrities weren't famous (what?? That's right, it's true!). With the exception of some childhood actors like Drew Barrymore and the Olsen twins, famous people had ordinary childhoods like the rest of us. After going through the goofy family photo albums, graphic designer Ard Gelick made it look like these stars were magically hanging out with their younger selves. If these celebs could really see themselves as children, they would probably have a lot of advice to share. Continue reading to see those adorable little faces next to the Hollywood superstars that you know today!
Dwayne "The Rock" Johnson
Based on how The Rock looked as a child, not many people would have guessed that he would turn into a powerhouse of a man and an actor. Born in California, Dwayne Johnson was a tough kid, and he got arrested multiple times for fighting, theft, and check fraud, all before he was 17.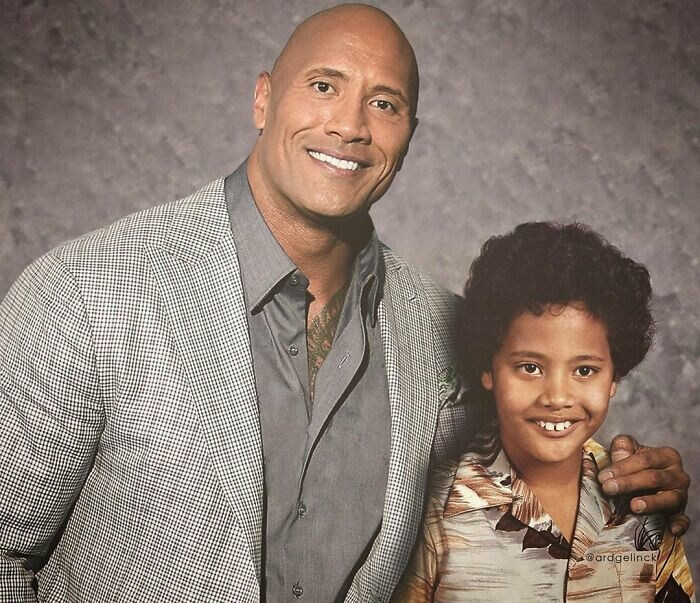 If The Rock could talk to his younger self, he would probably advise himself to do better and not get into trouble, at least we hope so. It is incredible how much hair he had as a kid and how bald he is today. There is no denying that his troubled path turned out just fine, and we have films like The Fast and Furious series and Moana to attest to that.
Emma Watson
She is a beauty, she is grace – she is Emma Watson. At just 11-years-old she shot to fame as Hermione Granger in the Harry Potter film series. We came to know and love Watson as the brilliant wizard who never forgot a homework assignment, and she was always there to get Harry and Ron out of trouble.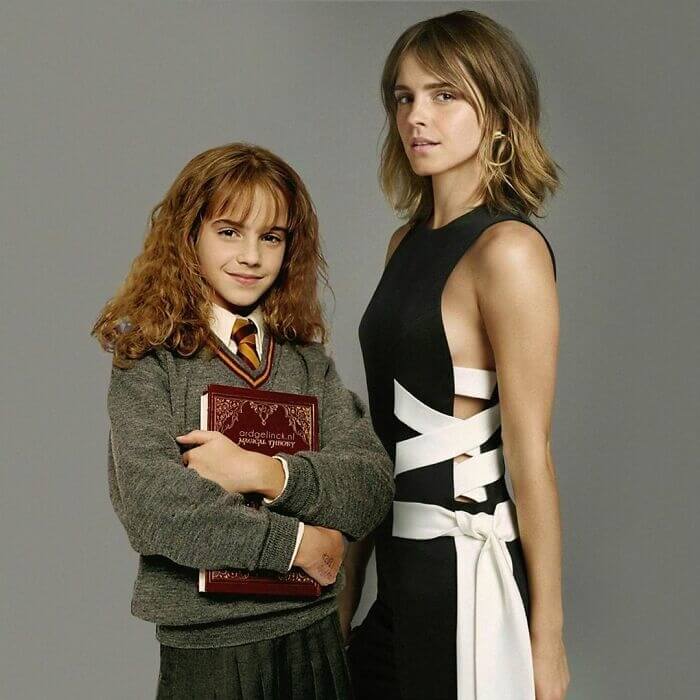 While being a hugely successful actress, Watson got her Bachelor's degree from Brown University. Is there anything she can't do? Watson will forever be remembered for her role at Hogwarts, but she has plenty of new projects in the works.
Leonardo DiCaprio
"Never let go, little Leo, never let go!" Leonardo DiCaprio got into acting early when he was just fifteen years old. Many people remember his roles in Romeo and Juliet and Titanic, but he had a few other film roles prior to those.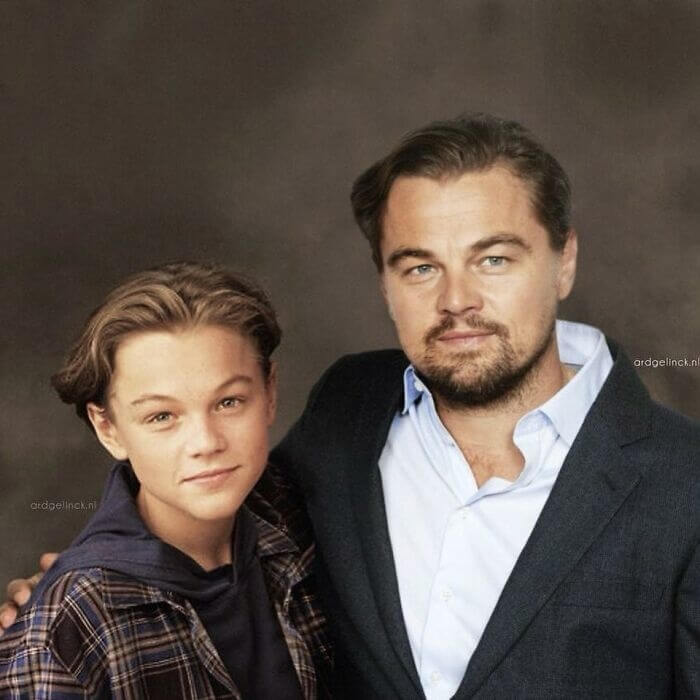 Over time, Leo became one of Hollywood's biggest names, and his movies have earned $7.2 billion as of 2019 worldwide. As an ambitious child, this is probably what he hoped his career would look like, and he is living his ultimate dream.
Macaulay Culkin
After Macaulay Culkin uttered the words, "Merry Christmas, ya filthy animals!" the world fell in love with him and his career as a childhood actor took off. To this day Home Alone is watched traditionally around the holidays. However, unlike other stars on this list, he hasn't done anything as iconic since.
Although his acting career plateaued after Home Alone, he has taken on other successful ventures like his comedy website and a podcast called Bunny Ears, which parodies celebrity websites such as Gwyneth Paltrow's, Goop. Culkin is one of the few people that truly owns his childhood fame and wears it as a badge of honor.
Jennifer Aniston
When people think of a younger Jennifer Aniston, they might think back to her years on Friends, but we are going back further to a time before she was famous. The adorable little Jennifer enjoyed life in sunny California before moving to New York when she was about six-years-old.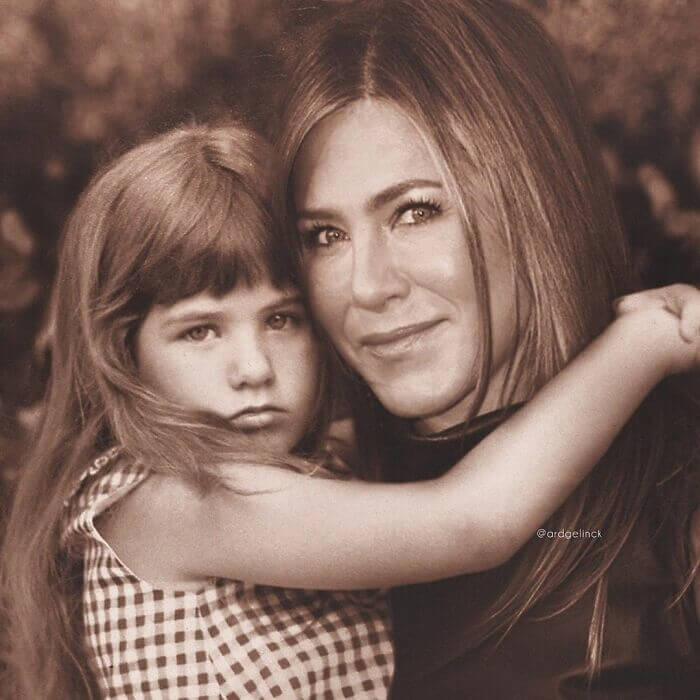 In New York, Aniston discovered her passion for acting and decided to attend a performing arts high school. It's rare to see photos of Aniston so young, and we hope she shares more. Present-day Aniston would probably tell her childhood self, "No one will tell you how life is going to go, but someone will always be there for you."
Barak Obama
The 44th President of the United States of America, Barak Obama, served from 2009 to 2017. This Hawaiin native was the first African American president. Since his presidency, he has dedicated time to his wife, two daughters, and lots of golf.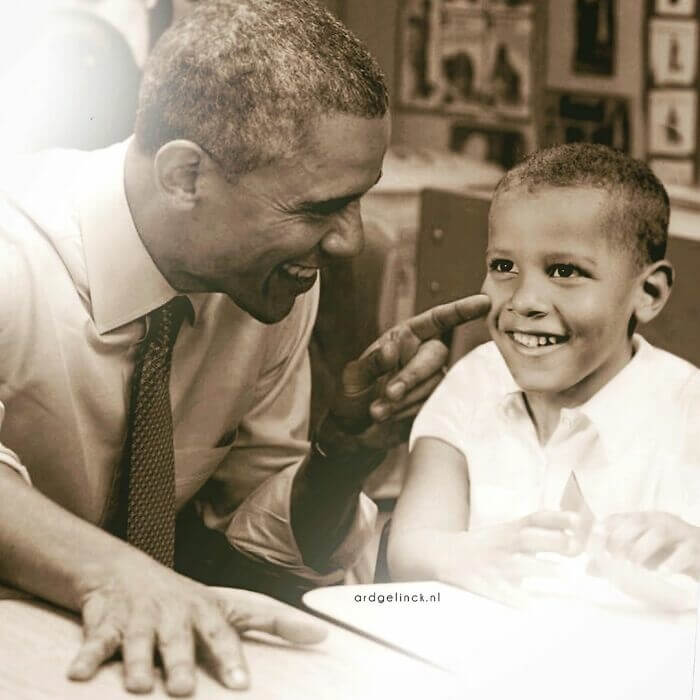 Although he is no longer in office, many people still look at Obama as a leader. He probably would have told his younger self that things will get hard while living with his grandparents, but he has to keep pushing because he is destined for great things.
Jimmy Fallon
Although today we know JImmy Fallon as the hilarious late-night talk show host, there was a time when he was just a normal child dressed as a sailor. While growing up in New York with two very protective parents, Fallon attended a catholic school, which explains the uniform.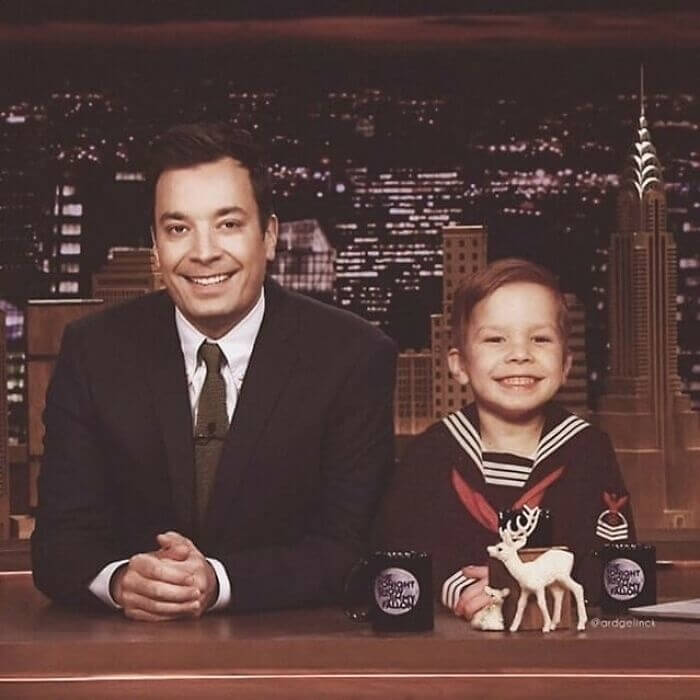 While his chubby cheeks deflated and he got his adult teeth, Fallon still has a childlike sense of humor. Fallon actually thought about becoming a priest after spending his youth as an altar boy, but it's a good thing he decided against that. Where would the world be without his iconic "Ew" sketches?
George Clooney
From adorably dorky boy to silver fox stud, George Clooney is one of those people who age like fine wine. As a teen, Clooney developed Bell's Palsey, and half his face was paralyzed for most of the first year of high school. He found ways to laugh at himself, which helped him prepare for fame in the future.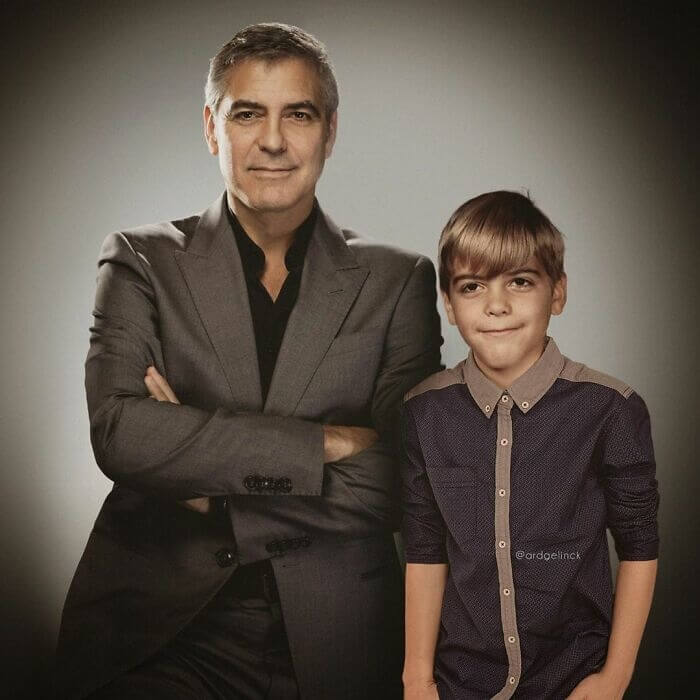 Between Ocean's Eleven and Confessions of a Dangerous Mind, we don't know if Clooney would want to change anything about his career. He would probably tell his younger self that everything is going to get much better. It's a good thing that he grew into his looks.
Julia Roberts
Julia Roberts always seems to remain in the spotlight because her career is everlasting. It all started when Roberts was a child, and her parents co-founded the Atlanta Actors and Writers Workshop, which sparked her love for acting. She was quite the southern belle as a child.
Since Roberts grew up, she has been named the most beautiful woman by People magazine seven times! Her iconic look and many major roles have made her a beloved household name. In 2018, she had a recurring role in the series Homecoming, and Roberts has a few upcoming projects.
Reese Witherspoon
Originally born Laura Jeanne Reese Witherspoon, she grew up in New Orleans, Louisianna, and had a vibrant childhood. As a child, Witherspoon loved candy necklaces, reading, and cheerleading. Her love of acting began when she was selected to be in a local TV commercial, so she took acting lessons.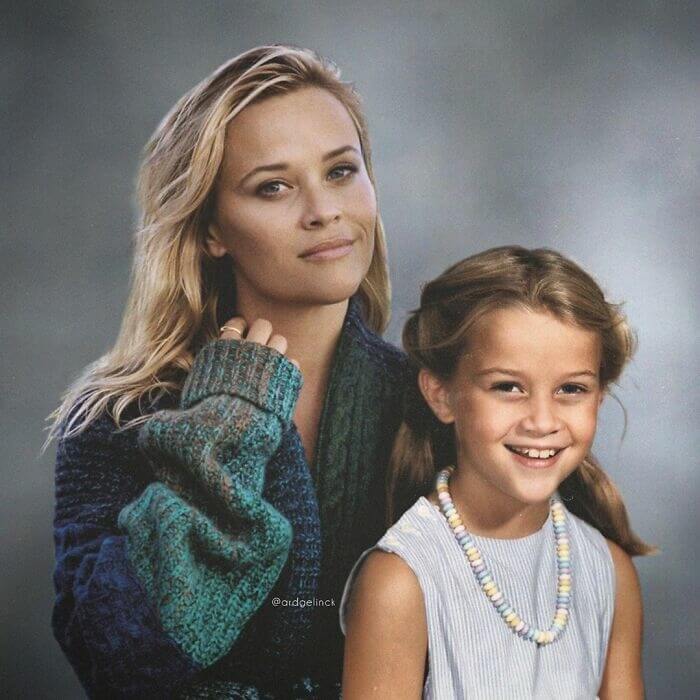 As she has grown up, Reese Witherspoon has achieved many great things throughout her career, from Legally Blonde to Big Little Lies. She still holds onto her southern roots, and even though she has grown up, Witherspoon still looks pretty much the same as her childhood self.
Selena Gomez
From Barney and Friends to topping the Billboard charts, Selena Gomez inspires and shows how amazing of an artist she is. At 10-years-old, she got her first acting role alongside Demi Lovato, which lead her on a path towards her big Disney break. Gomez was inspired to act when she saw her mother getting ready for stage shows as a child.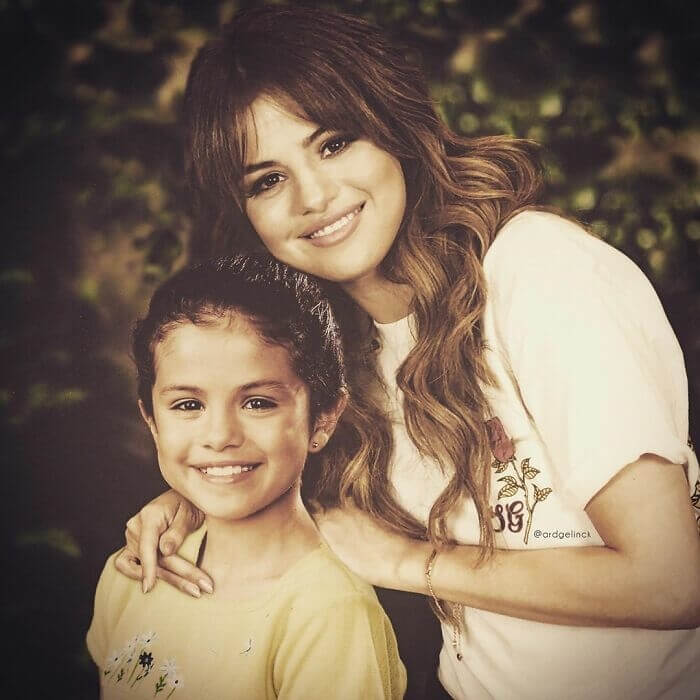 In a recent interview, Gomez said she would tell her younger self, "Go ahead and do it." Although she has already achieved so much in her acting and singing career, she is always looking for her next venture. Gomez recently released her makeup line called Rare Beauty, and it is already a huge success.
Lady Gaga
Gaga oh la la! It's almost as if Lady Gaga has barely aged since she was a child. Originally born Stefanie Germanotta, Lady Gaga grew up in New York and started practicing music at just four years old. She always felt like a misfit, and her classmates made fun of her for being too eccentric and provocative.
Gaga took those insecurities and made a career out of them – so who is laughing now? Through her incredible music and wild sense of style, she has embraced her unique personality. Her younger self would be proud of the person she is today and hopeful for the incredible future.
Usher
If you needed a reason to smile today, then here it is; Big Usher holding little Usher is simultaneously adorable and strange. Usher Raymond IV grew up in Tennessee and started singing by the time he was ten. From his first R&B group, he got discovered by LA Reid and was offered a recording contract.
After over three decades in the music industry, Usher has topped the Billboard charts more times than we can count, and he grew into a handsome man. Baby Usher would probably be so inspired by the life he created and the accomplishments he achieved in life.
Neil Patrick Harris
In the late '80s to mid-'90s, Neil Patrick Harris starred as Dr. Doogie Howser, the teenage doctor who balances practicing medicine and his everyday adolescent problems. In this role, NPH was nominated for his first Golden Globe. It was a role that would help him make it big in Hollywood.
NPH then went on to play another prominent role as Barney Stinson in How I Met Your Mother. His dynamic range of talents has allowed him to work on various projects, from Broadway shows to the Netflix adaptation of A Series of Unfortunate Events. He is like a chameleon when it comes to acting.
Bruno Mars
Originally born Peter Gene Hernandez, his father nicknamed him Bruno at a young age. Since he was a child, Bruno Mars has always had swag, and that continued into adulthood. While growing up in Hawaii with his musical family, Mars was exposed to many music genres, which influenced his style.
Mars would impersonate celebrities for shows in Hawaii, and he clearly loved Elvis. After graduating from high school, Mars moved to LA to pursue a serious music career. While he hasn't released an album in a while, Bruno Mars must pinch himself every day because he lives his childhood dream.
Amy Winehouse
Who knew that adorable ballerina would turn into a bold singer with powerhouse vocals? Although her story didn't have a happy ending, it didn't start so tragic. Amy Winehouse was born in London, where a family of musicians surrounded her. She started playing with her brother's guitar and bought her own when she was 14.
It didn't take long for Winehouse to start writing her music and performing with local groups. After being discovered, Winehouse quickly became an international success with her unique sound and soulful vocals. Sadly her career ended too soon when she passed away due to an alcohol overdose.
Michelle Obama
The former first lady of the United States, Michelle Obama, is an American lawyer, best-selling author, and mother, among other things. During her eight years as the first lady, she created an initiative for fitness and nutrition across the United States. She has also become a fashion icon.
Michelle is still a role model for many women because of her ambition and the message she carries. She has been an advocate against injustice, and a proud supporter of the Black Lives Matter movement. She has also voiced her opinions against the current political state in America.
Mick Jagger
As the lead singer and founder of The Rolling Stones, Mick Jagger found international success in his early twenties. However, before his rocker days, he was just a regular child. While growing up in England, he was always singing as a child, even though his father wanted him to become a teacher.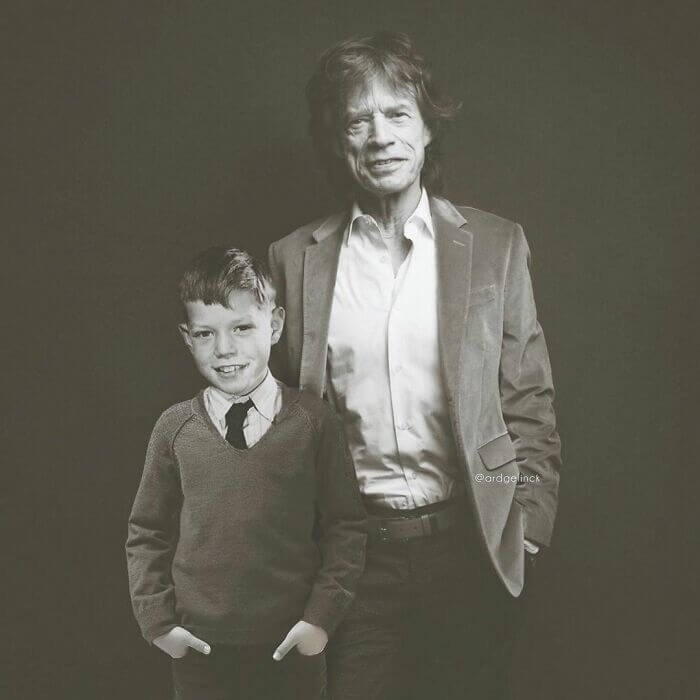 Instead of teaching, Jagger followed his dreams, and it paid off grandly. While he doesn't look like his younger self anymore, he is grateful for his upbringing and the childhood his parents provided. No one imagined that the adorable little boy would become an international rock legend.
Margot Robbie
Little Margot Robbie, with her bowl cut, makes us want to pinch her adorable cheeks. The Australian-born actress grew up on a farm, and had to work three jobs by the time she was 16 to make ends meet. Robbie found her love for acting while taking drama classes in high school.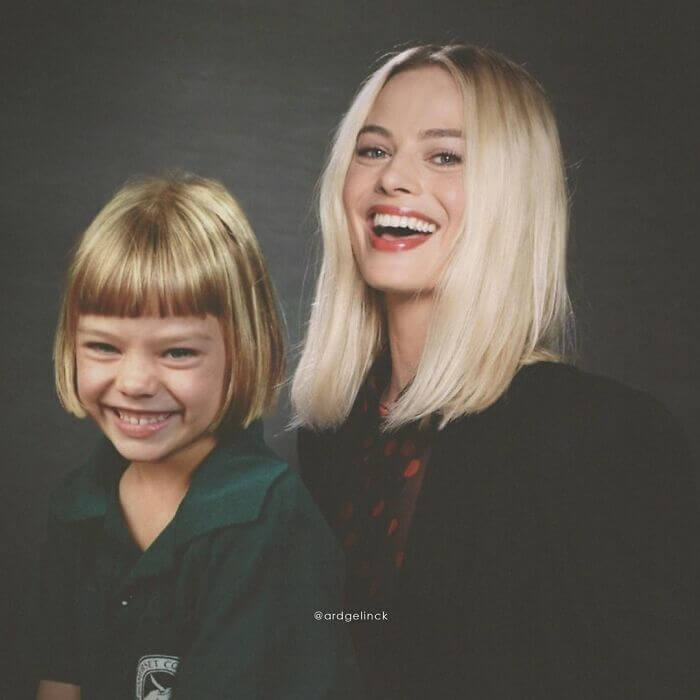 Determined to have a brighter future, Robbie worked hard and took whatever roles she could get until her international break-through in Wolf of Wall Street. That little girl with the ear-to-ear smile would be so proud of the woman she has become today, and the successful career she built.
Haley Joel Osment
"I see young people." While that might not be the exact quote he originally uttered, the present-day version of Haley Joel Osment would say that if he saw this photo. As a child, he signed up with a talent scout and started auditioning for small roles. His big break and most iconic role was in The Sixth Sense, co-starring Bruce Willis.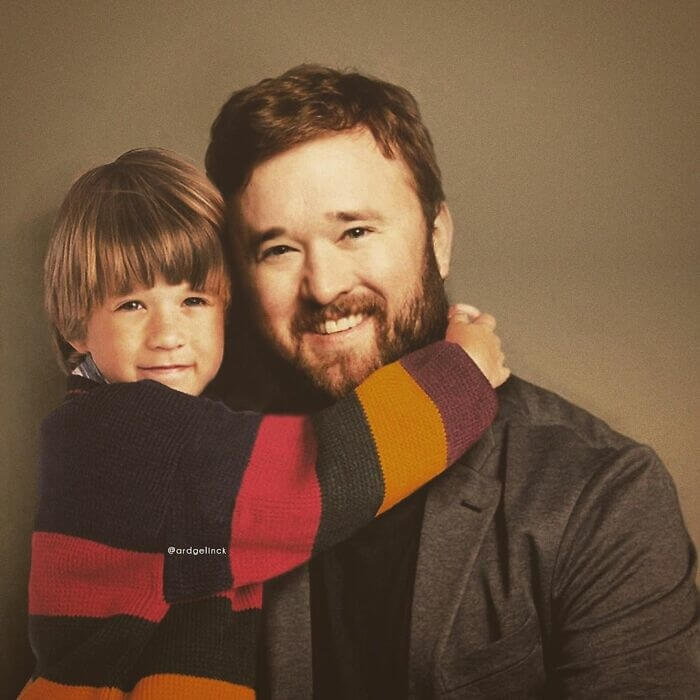 After this role, Osment decided to take a break from acting to study. After graduating from college, he got back in the acting game, and it has been slow going. When you earn an Oscar nomination at age 12, it probably feels like he already peeked. Besides his career, the only thing that has changed about Osment is his hairstyle and facial hair. Underneath it all, he is still that baby-faced kid.
Sylvester Stallone
It's funny to see tough-guy Sylvester Stallone as a baby-faced boy. During birth, the doctor severed a nerve, which caused part of Stallone's face to become paralyzed, but that didn't keep him down. It actually created a persona for him because he has a permanent snarl and slurred speech.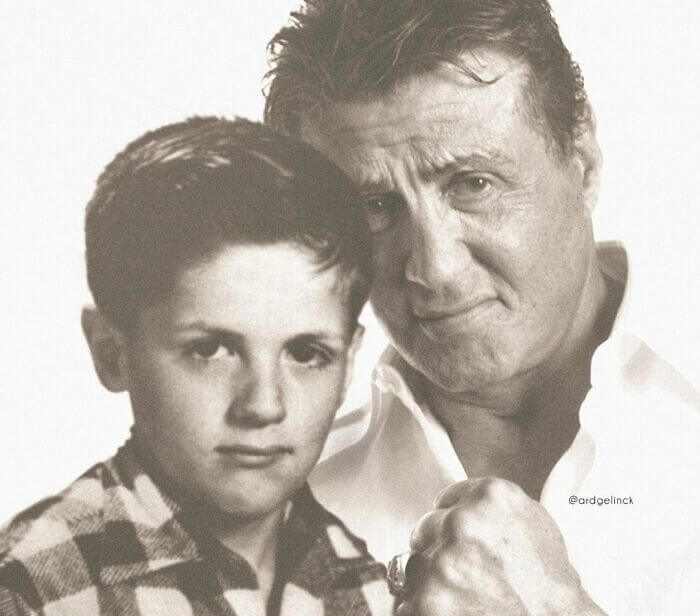 Although it was tough to grow up with his facial problem, Stallone never gave up. It took him a while to really break into the acting scene, but he eventually made it, and now he is one of the most well-known actors in Hollywood. If he could go back in time, Stallone would probably give his Rocky "Believe in yourself" motivational speech to his childhood self.
Rupert Grint
"Red hair and a hand-me-down robe; you must be a Weasley." Rupert Grint made his acting debut in Harry Potter and the Sorcerer's Stone as little Ron Weasley, and the world fell in love with him. The movie became one of the highest-earning series of all time, and since the wrap of the final film, Grint hasn't done much.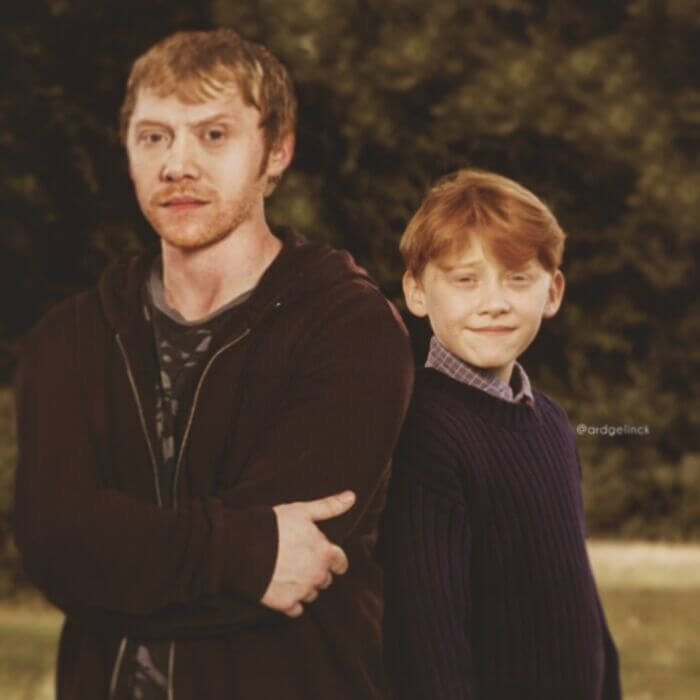 While he has worked on different shows and stage work, nothing has been as successful as Harry Potter. However, Grint has something more meaningful in his life now. In mid-2020, Grint welcomed his first daughter, and he recently made his Instagram debut. No matter what, that little red-headed boy will always have a special place in the hearts of Harry Potter fans.
Harry Styles
If you love Harry Styles as an adult, you are going to love him even more now that you have seen how adorable he was as a child. The world first got to know Styles when he auditioned for X-Factor UK, and Simon Cowell put him in a group that would become One Direction.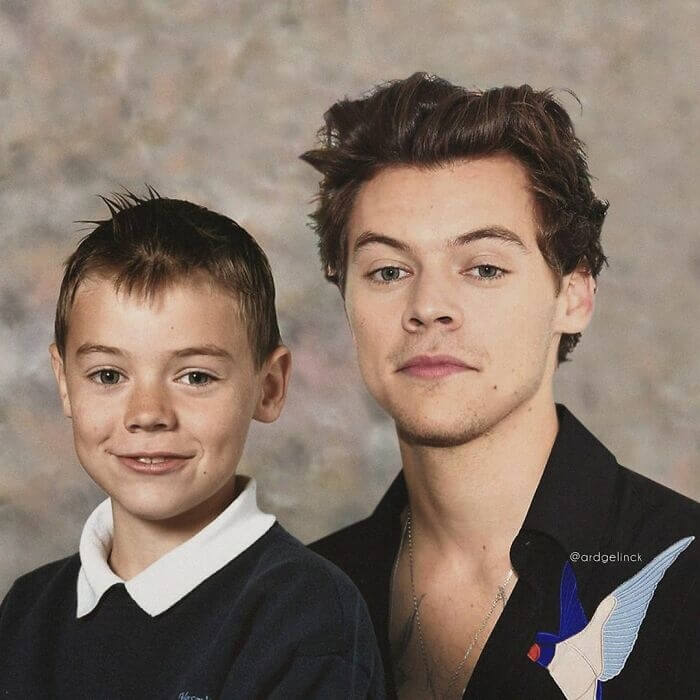 Although the band members recently went their separate ways, Harry Styles has been having a highly successful solo career. Fans can't get enough of his beautiful voice and unique style. Thankfully he still has those adorable dimples, but his hair got a lot better since his childhood.
Janet Jackson
As the youngest of the ten Jackson children, Janet Jackson grew up surrounded by famous people. While she was still young, five of her brothers started The Jackson 5, and they quickly became widely successful. Although she was more interested in acting, her father wanted her to sing.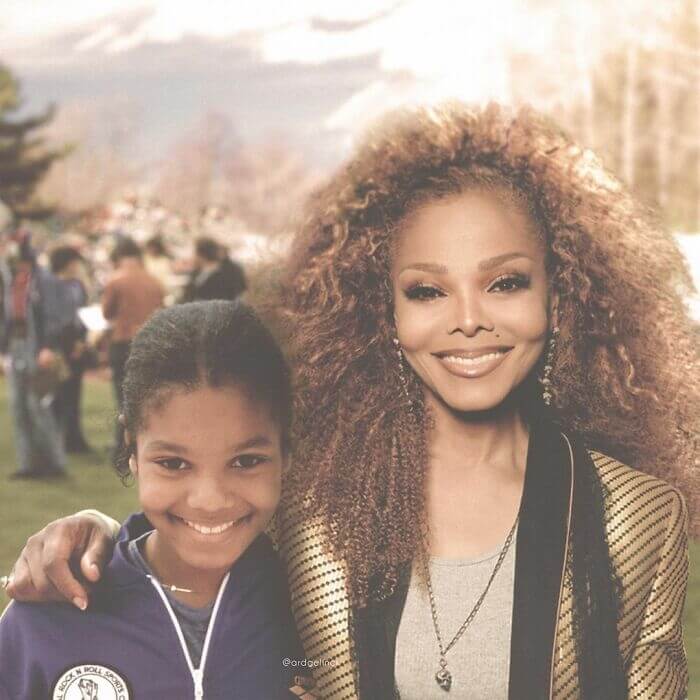 Although she terminated business affairs with her family after her second album, that didn't hinder her success, and Jackson would be proud of the woman she turned out to be. Just like her late brother, she's changed drastically since childhood.
Kevin Costner
Kevin Costner has been a household name for decades now, starring in some of the most noteworthy films of the 1980s and 1990s, like "Field of Dreams", "Dances with Wolves", amnd "JFK". In fact, he won both the academy award for best director and for best picture for "Dances with Wolves", his directorial debut from 1991. His more current work includes the hit TV series "Yellowstone" which has multiple seasons starring the veteran actor.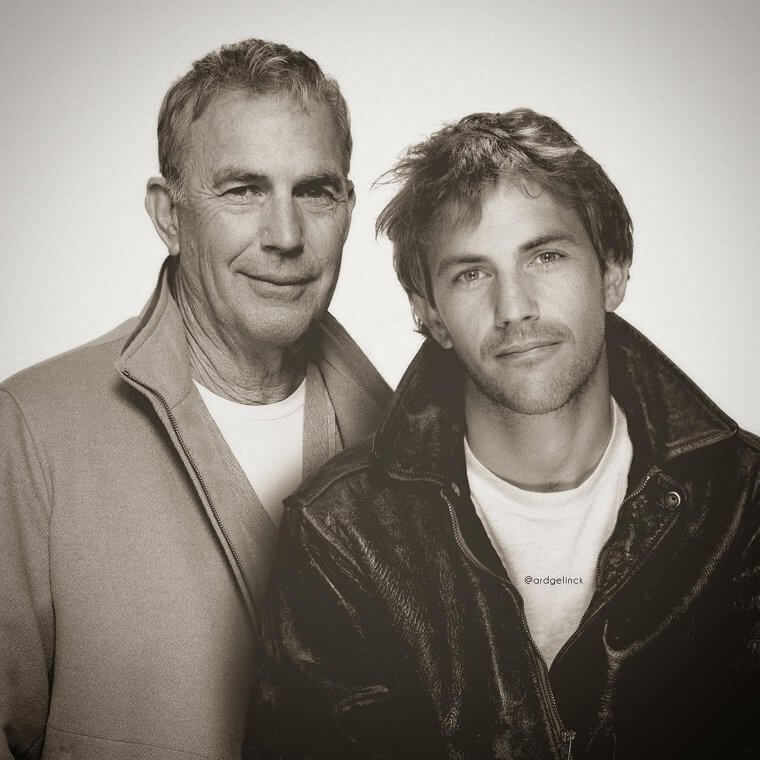 Anyone who has been in Hollywood going on five decades has to have some special about them, and Kevin Costner is certainly no exception. There's a reason his face from 40 years ago is just as recognizable as it is now.
Conan O'Brien
Although he didn't adapt his signature hair swoosh until later in life, little Conan O'Brien was rocking his red locks since the day he was born. Growing up in Massachusetts, O'Brien served as the editor for his school newspaper, and throughout high school, he showed his writing talents in many ways.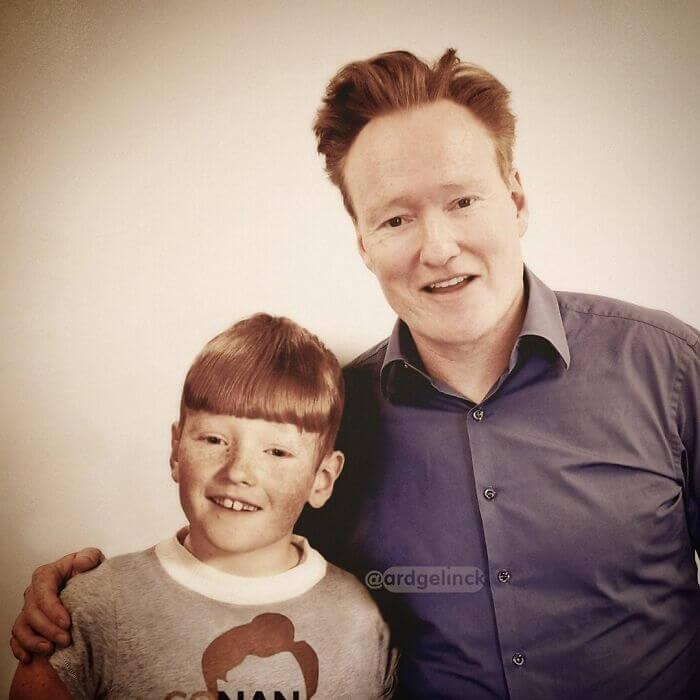 O'Brien joined the writing team at HBO after graduating from Harvard University. From there is career blossomed into what it is today. Although O'Brien just announced he would be leaving his late-night talk show for an HBO Max show, it is thankfully not the last we will be seeing of this red-headed comedian.
LeBron James
LeBron James, with his turtleneck and elephant stuffed animal, is too adorable for words. As a child, LeBron grew up in Ohio, and he did not have the easiest time because he and his mother moved around a lot as his mom tried to find steady work. He found solace in basketball in fifth grade.
From his early days of playing, LeBron grabbed the attention of people everywhere. Today he is one of the best players in NBA history, and his career has been crazy successful. As someone who had a rough childhood without a lot of money, LeBron is grateful for where life has taken him and how he can help his mom.
Eminem
Marshall Mathers, aka Eminem, grew up between Missouri and Michigan because he and his mother never stayed in one house for more than a year. Eminem's childhood was rough because his mom had addiction problems, and kids in his neighborhood would beat him up.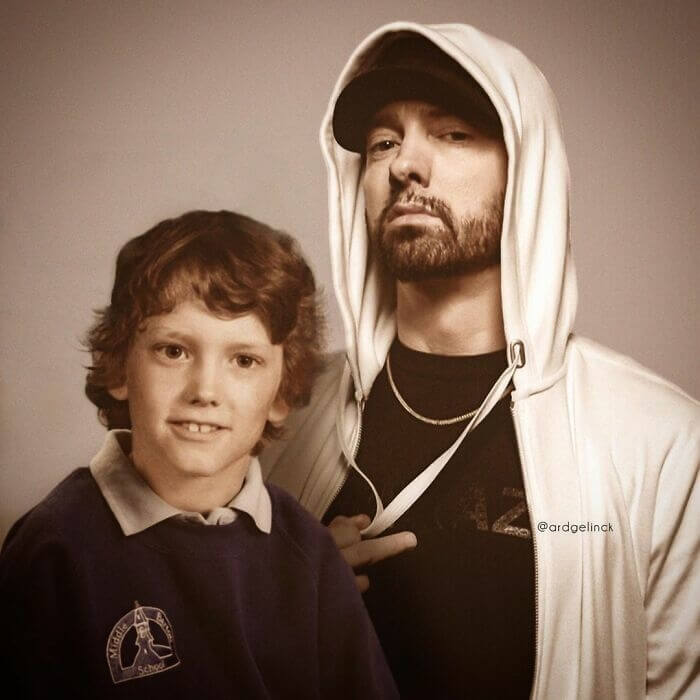 Many people know Eminem's story because of the movie 8 Mile; however, not many people believed he would become so successful. As one of the most recognized rappers globally, Eminem could retire now, but we hope he releases some more music first.
Justin Timberlake
We have never seen a picture of little Justin Timberlake until now, and he was the most adorable child ever. Timberlake grew up in Memphis, Tennessee, where he was exposed to many different genres of music. From The All-New Mickey Mouse Club, to NSYNC, to his successful solo career, the world watched him grow up and mature into the person he is today.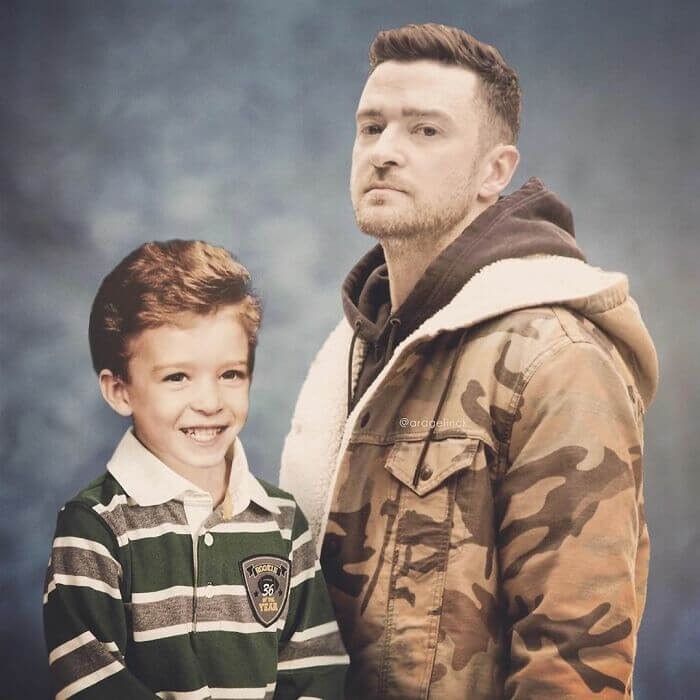 Although Timberlake hasn't released new music recently, everyone hopes he has a new album in the works. Lately, he has been focusing on his family with his wife, Jessica Biel. Timberlake also has a new movie called Palmer, which is different from anything he has done before.
Drake
He might be running through the six with his "woes" now but as a child Aubrey Graham, aka Drake, was a bit of a nerd. The sweater vest-wearing boy attended a Jewish day school in Toronto, where he was raised, and fell in love with acting. Drake got his first acting debut on Degrassi: Next Generation.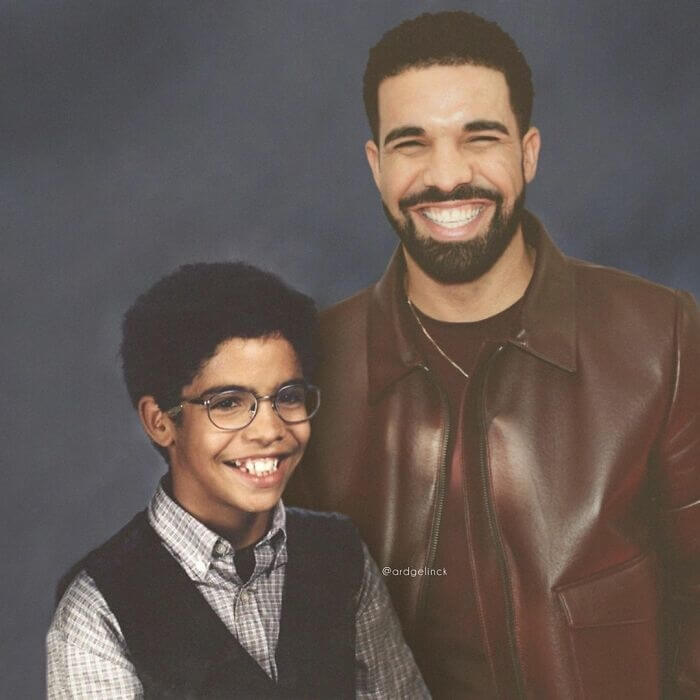 It seems like Drake's TV money paid for his dental work. After Degrassi, Drake was inspired by Jay-Z, so he released a mix-tape. Quickly his career took off, and the rest is history. We are sure little Aubrey Graham would look up to the person Drake has evolved into because of his success and fortune.
Pink
Pink has had many chart-topping hits since the mid-'90s, but she wasn't always in the spotlight. As a child, Pink trained to be a gymnast until she was 12. Around the time that she stopped gymnastics, she developed a passion for singing. When she started performing locally, "Pink" was something people would call her as an insult, but she adapted it to be her stage name.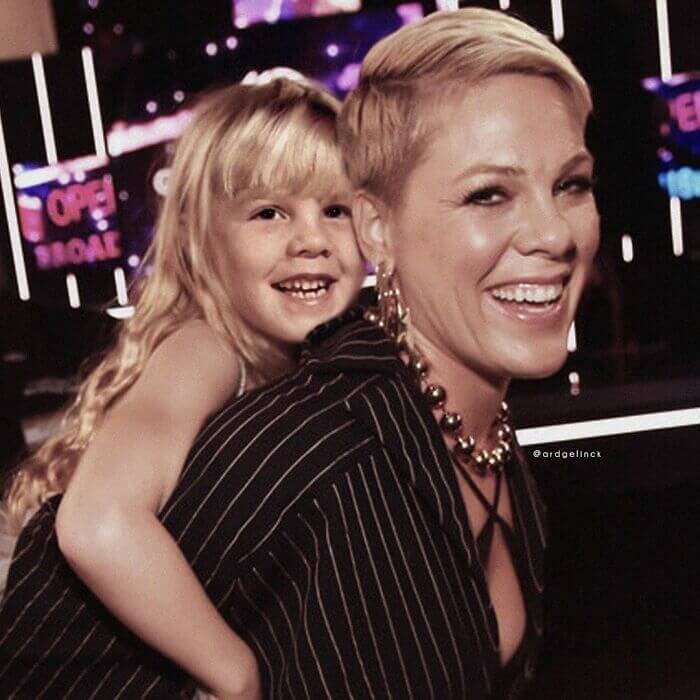 That sweet little girl grew up to be a powerhouse musician, and those who made fun of Pink are biting their tongues now. Although she quit gymnastics early on, she still incorporates acrobatics into many of her performances. This year she decided to take a break from music to focus on her family.
Daniel Radcliff
"You're a wizard Harry." Starring as Harry in the film series Harry Potter, Daniel Radcliffe has made a successful name for himself. Look at how much he has grown over the years. From his adorable days at Hogwarts to today, he continues to be an amazing actor.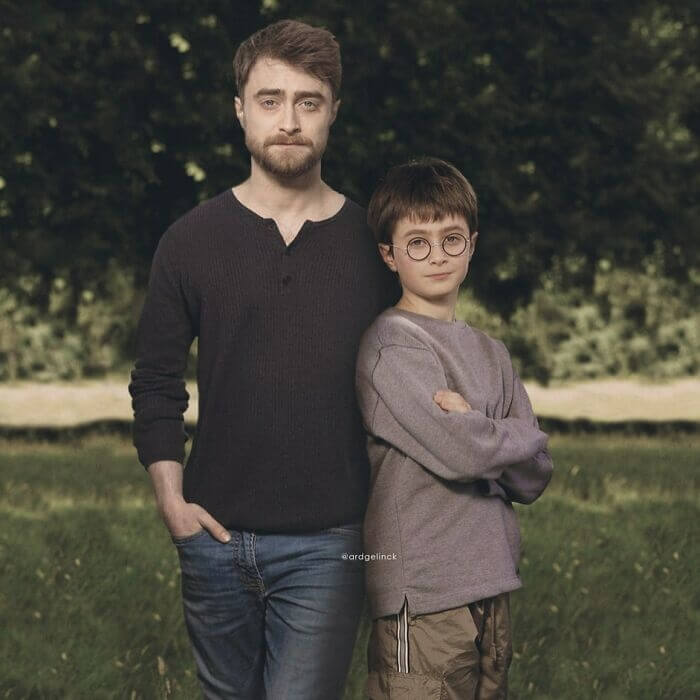 While we keep hoping and praying there will be another Harry Potter movie in the future, those chances are slim to none. Today, Radcliffe mainly works on independent projects and in the theater. We can't wait to see if he will do another Blockbuster movie again.
Tom Felton
Although he played the character everyone loved to hate, Tom Felton became a fan favorite in the Harry Potter universe. Felton had a few small roles before Draco Malfoy, but this role shot him to international fame. Surprisingly, he only had about 31 minutes of screen time throughout the entire movie series.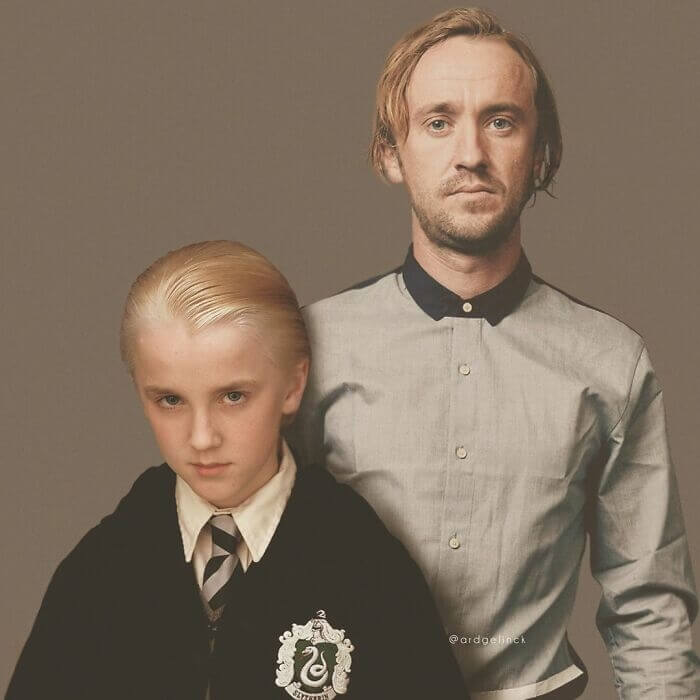 After Harry Potter, Felton acted in many TV and film roles. While nothing will likely ever compare to the success of Harry Potter, we can't deny Felton's talents outside the walls of Hogwarts. He definitely looks less like a prick than he did as a child with his pasty skin and slicked-back hair.
Drew Barrymore
Drew Barrymore first rose to fame for her role in E.T. the Extra-Terrestrial when she was just 7-years-old. Since she outgrew her pigtails, Barrymore has gone on to create a successful career and has her own cosmetics company called Flower Beauty.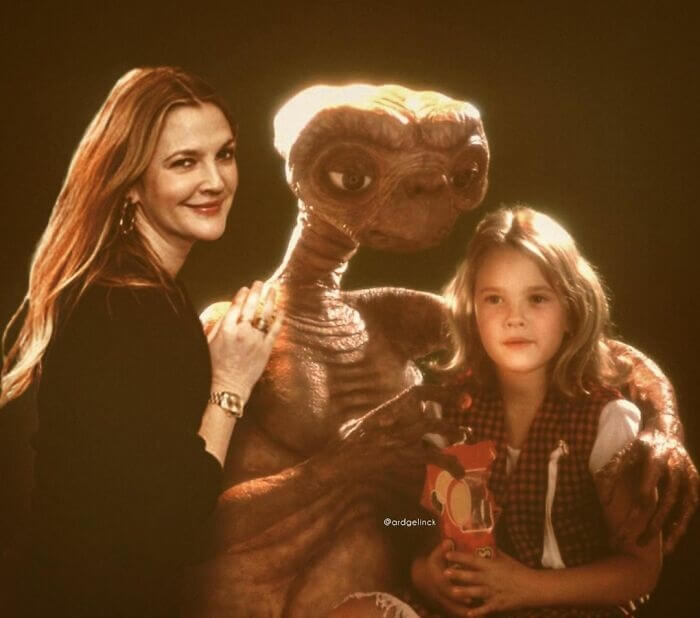 Barrymore also starred in Netflix's Santa Clarita Diet as a woman who was turned into a zombie. If you haven't seen it, we highly recommend it. As a young child, she probably never assumed how big her career would be, but she is still a household name many decades later.
Taylor Swift
As a child, Taylor Swift grew up in Pennsylvania, where she had an average childhood. Although she writes that she was bullied in many of her songs, classmates remember her hanging out with the popular kids and being well-liked by everyone. After her family moved to Tennessee to help her singing career, Swift began writing music with country pros, and her career quickly took off.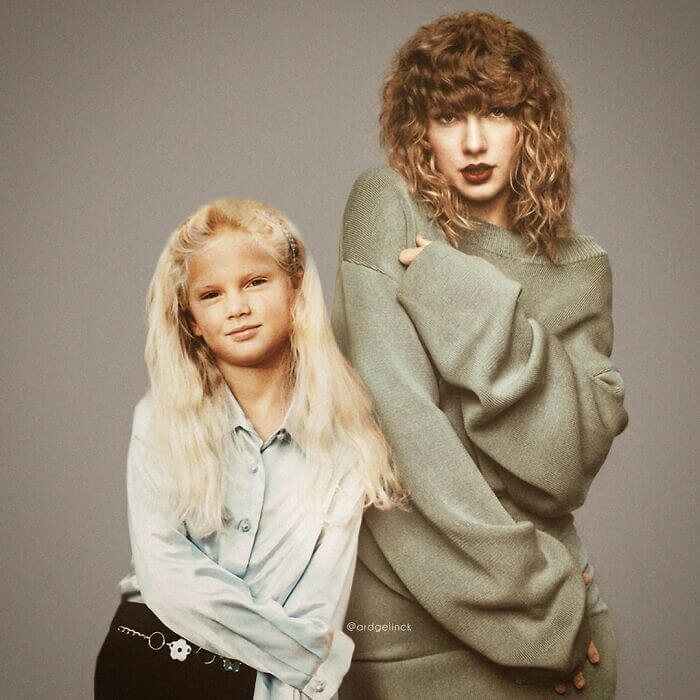 While she might have grown away from her country roots, she continues to impress fans with her new music. With everything she has been through in the past few years with Kim Kardashian, Kanye West, and her former manager, Scooter Braun, Swift would have a lot of advice for her younger self.
Prince Harry
As a member of the British Royal Family, Prince Harry has been in the spotlight since the day he was born. Every significant moment of his life has been well documented, but it is sweet to see how much he has changed throughout the years. Everything was much simpler when he was just a baby and couldn't be judged for his every move.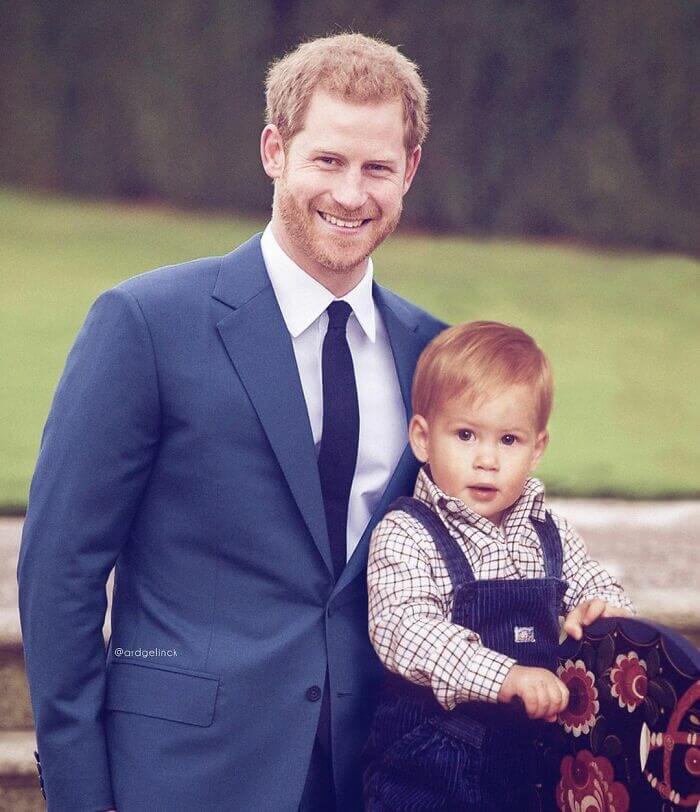 We have all seen Prince Harry in the news recently because he departed from the Royal Family with his wife, Meghan Markle. If he could go back in time, do you think he would tell himself to avoid this situation? From his experience, we would not want to be on the Queen's bad side.
Viola Davis
Viola Davis has made history for her acting achievements, but she was also part of history before she could remember. As a child, Davis's mother was part of the Civil Rights Movement, and she was arrested during a protest, so she and Viola were taken to jail. Her childhood was anything but easy, but she came out on top.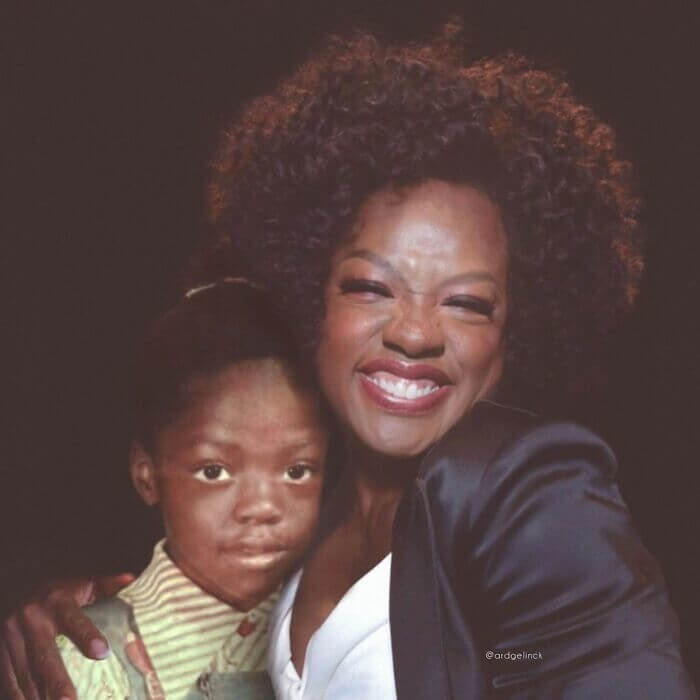 Davis was the first African-American actress to earn the "Triple Crown of Acting," winning an Academy Award, Tony, and an Emmy. As a child, she loved acting in school plays, but she probably never imagined where life would take her. Once she found her happiness, it just continued to grow.
Cristiano Ronaldo
As one of the most well-known footballers globally, Cristiano Ronaldo has achieved a level of success that no one could have predicted. Growing up in Sao Pedro, he began playing football early and quickly caught the eye of many teams. Shockingly, his mom revealed that when she got pregnant, she wasn't sure she wanted to have him – and we can't imagine a world without Ronaldo.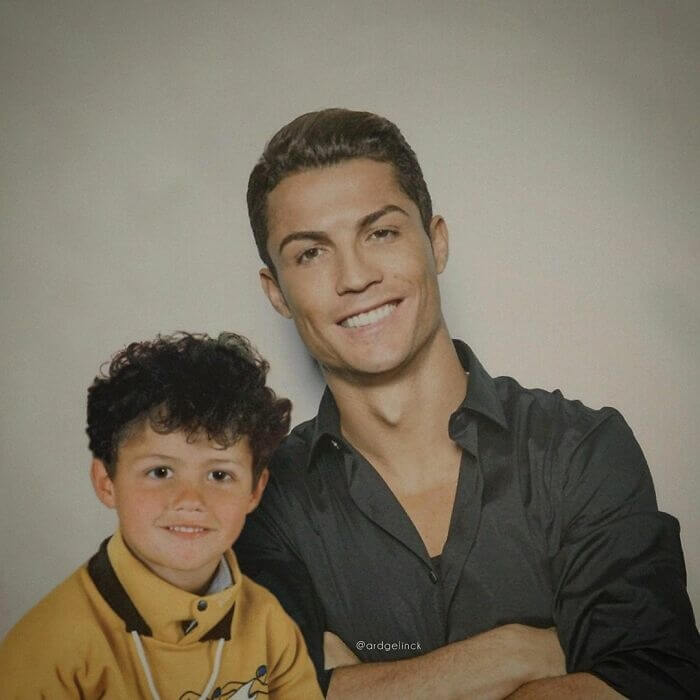 As Ronaldo rose in the ranks, people started to believe he could make it in the pro leagues. Today he is compared to the likes of Lionel Messi and Pele. That sweet little boy grew into one of the most gorgeous men in the world, and we are glad his mom decided to raise him.
James Corden
Who would have thought that the sweet little English boy would grow up to be rubbing elbows with some of the biggest names in Hollywood? James Corden was born in London, and he didn't get into TV hosting until he graduated high school. Corden began his career on a BBC morning show and worked his way up to having his own show.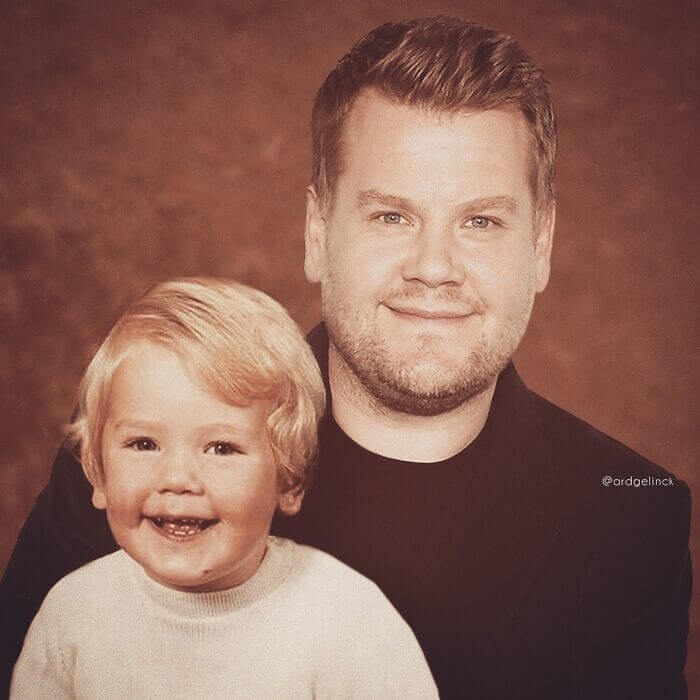 Today he has revolutionized late-night talk shows with his Carpool Karaoke and the Spill Your Guts or Fill Your Guts segments. His charismatic personality and loveable British accent make him the perfect combination for a talk-show host, and he is just as cute as he was as a child.
RuPaul Charles
While RuPaul Charles is best known for his drag persona, he wasn't always a fabulous queen. It wasn't until he was 15 that he started performing in drag in Atlanta. Although he struggled to breakthrough in the music and film industry, he started to find success performing in the club scene.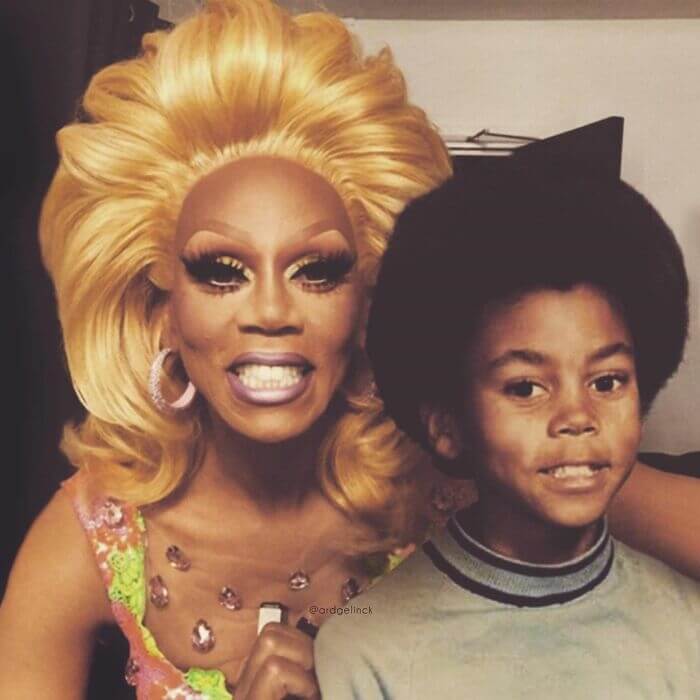 On every final runway episode of RuPaul's Drag Race, he shows finalists a picture of themselves as children and asks what advice they would give themselves as children. If RuPaul had to answer the same question, he would probably tell himself that life will be challenging, but he will come out on the other side stronger.
Jodie Foster
Little Jodie Foster looks adorable in her dress and matching bow. Foster grew up in California, where she had a privileged childhood, and started her acting career early. Her mother left her job to manage Jodie's career, and success came quickly for the young actress.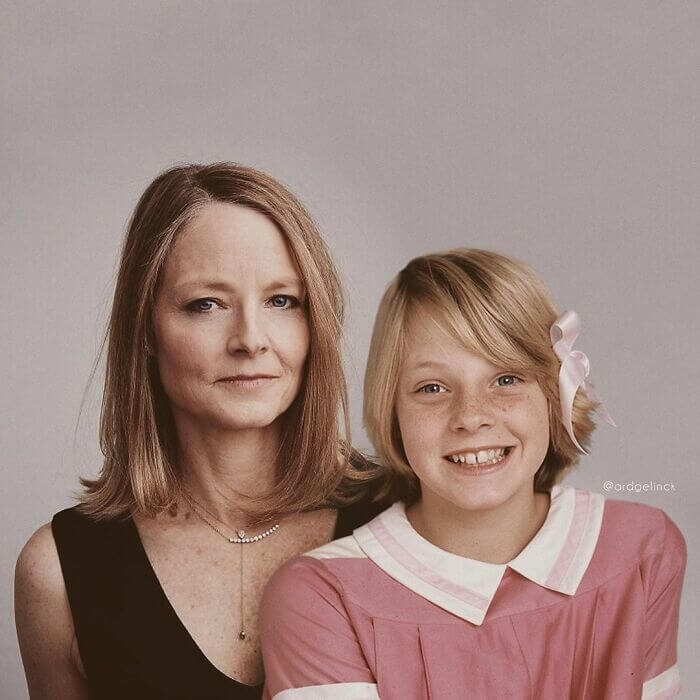 While Foster's career began as the Coppertone girl, she took on more serious roles and has become a Hollywood legend over time. Since 2014, Foster took a step back from TV roles to focus on her film career, and she has a few projects in the works.
Billie Eilish
Although only a few years have passed between these pictures, Billie Eilish has changed her look drastically. At just 18-years-old, Eilish is selling out stadiums and having her albums go double platinum. After releasing "Ocean Eyes" in 2016, Eilish's career took off, and she grew to superstardom within four years.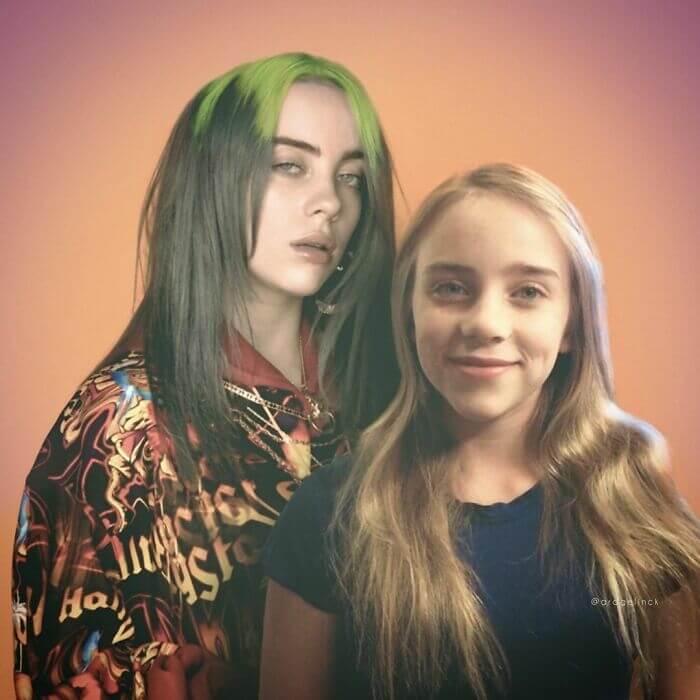 Eilish is known for her unique sense of style that many fans have tried to emulate. While her career is only just beginning, we can't wait to see how she continues to change and evolve. Her voice is so powerful, and she is such an incredible young artist.
Ed Sheeran
No one probably believed that this little red-headed boy would grow up to become the artist of the decade. While growing up in England, Ed Sheeran sang at his local church and learned to play guitar by the time he was eleven. Everyone who knew him said he was a natural performer right from the start.
Today, Sheeran has sold 58.3 million singles and continues to create chart-topping music. We can't get over this transformation. While he is still rocking his bright red locks, he has definitely grown into his looks. Although he is taking a break from music, we can't wait for him to return and release a new album.
Sean Astin
Most of us know Sean Astin as Mikey Walsh from The Goonies, but he has done so much more in his career. Astin grew up in California, where he had a confusing childhood. Since he gained fame early on, he was able to find out who his biological father was.
After the success of The Goonies, Astin went on to have many huge film and TV roles. He was recently in Stranger Things, and he has a few more projects in the works. As a young kid, he probably welcomed this film's success and hoped to continue down the acting path.
Amy Schumer
While Amy Schumer may look like a sweet and innocent child, she grew up to say some pretty vulgar things. Schumer grew up in New York, and people always thought of her as the funny girl. In high school, she was voted "Class Clown" and "Teacher's Worst Nightmare."
While it took her some time to come up in the world of comedy, once she got discovered, it didn't take long for her to become a household name. Schumer has been so successful because she is different than most Hollywood actresses; she is real, honest, and not afraid to be herself.
Miley Cyrus
As the daughter of Billie Ray Cyrus, Miley Cyrus was exposed to fame at a young age. Her father inspired her to pursue an acting career, and she began auditioning for Disney shows. Once she landed the role of Hannah Montana, her life changed forever.
Although Cyrus has greatly departed from her Hannah Montana days, you can still see that sweet and innocent child behind all the weird hairstyles and marijuana smoke. While we wish she would break out her blonde wig and sing a few bars of "The Best of Both Worlds," that probably won't happen.
Side By Side Photos of Hollywood Stars and Their Children At The Same Age
John Travis
This article was originally published on JustStarz
It's no secret that many people work hard to attain the same looks as iconic celebrities – but imagine being born with them. That's what happened to the lucky kids of these famous moms and dads. Keep reading for a list of stars whose children look strikingly like them at the same age. Did they clone themselves, or is this just a coincidence? You be the judge.
Clint Eastwood & Scott Eastwood – In their 30s
Who isn't familiar with Clint Eastwood – the 89-year-old iconic American actor, filmmaker, musician, and politician? Scott Eastwood is the son of actor Clint Eastwood and flight attendant, Jacelyn Reeves. The photos of Scott clearly show that his facial features are similar to his fathers when Clint was in his 30s. Scott could've opted for another career, but he is continuing his father's legacy by pursuing an acting career.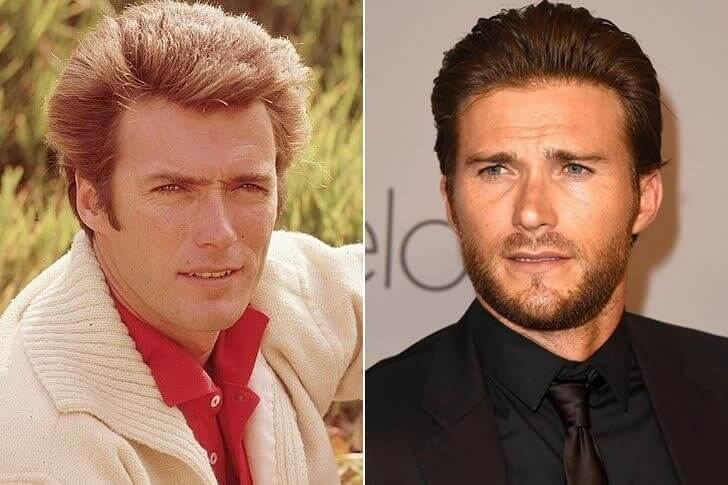 Ever since Scott started his career with a 2006 movie Flags of Our Fathers, he has starred in many movies. To date, his most famous roles are in movies such as Texas Chainsaw Massacre, The Longest Ride, and Pacific Rim: Uprising. Currently, he is starring in a new film, The Outpost.
Blythe Danner and Gwyneth Paltrow – 30s
Gwyneth Paltrow is a world-famous actress known for acting skills and distinctive soft blonde features. Obviously, she has inherited these attractive features from her mother, Blythe Danner.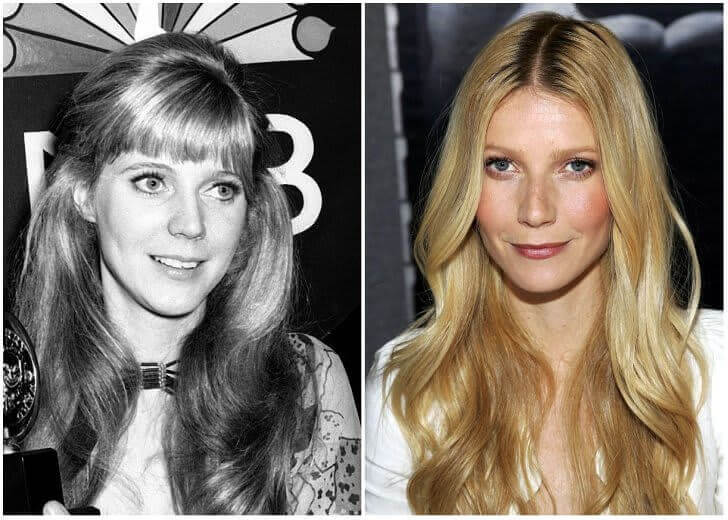 As we look at the Blythe in her 70s, we see a gorgeous woman. So, Gwyneth can rest easy knowing that she will also look as beautiful as her mother when she gets older. By the way, Gwyneth was last seen in the mega-hit movie Avengers: Endgame.
Jerry Stiller & Ben Stiller – 40s
With famous hit movies like Zoolander, Tropic Thunder, and Night at the Museum, Ben Stiller needs no special introduction. Did you know that Ben revealed in 2016 that he was diagnosed with prostate cancer in 2014?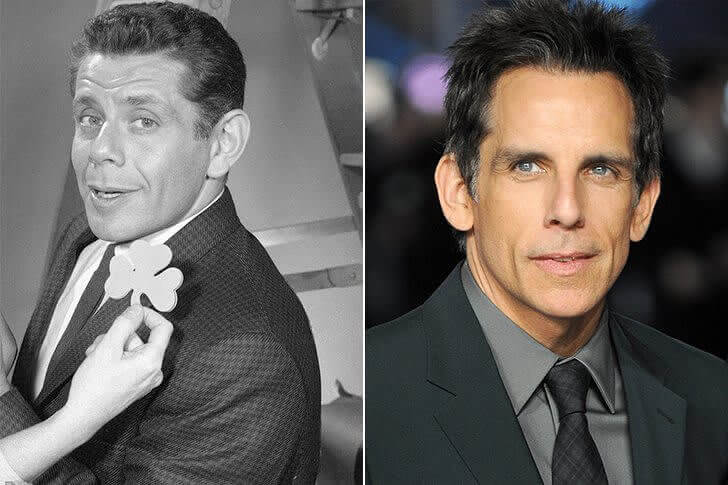 The actor made a full recovery and continues to showcase his unique acting. Ben is the son of famous American comedian, Jerry Stiller – known for his appearances in Seinfeld, King of Queens, and others.
Reese Witherspoon & Ava Elizabeth Phillippe – Age 18
This mother-daughter duo is hard to tell apart. Reese Witherspoon's daughter Ava Elizabeth is almost a clone of her mother.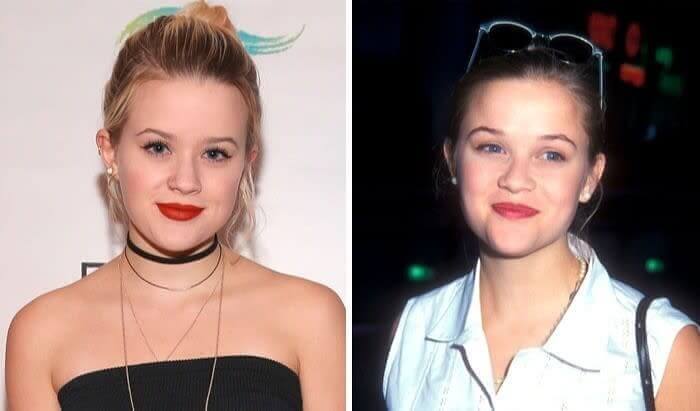 The American actress has won an Academy Award for her work. Her daughter decided to take up photography and scultpting rather than acting.
John Lennon & Sean Lennon – Age 31
Here comes the son of John Lennon and Yoko Ono. He is the only child of this couple. We all remember John Lennon from his years singing as one of "The Beatles".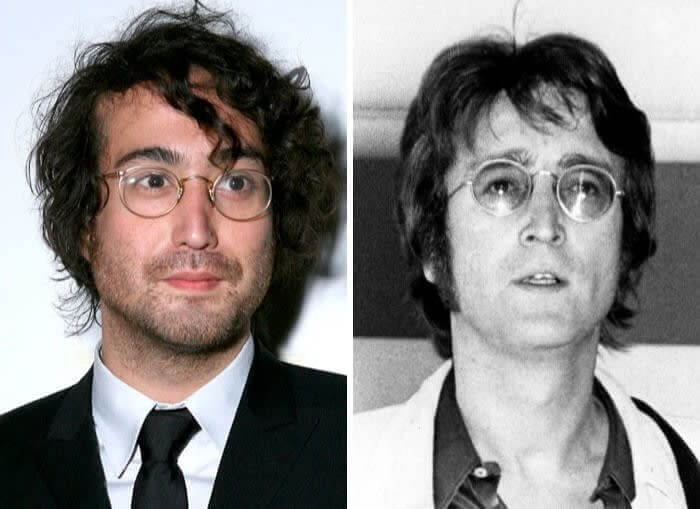 His son, Sean, followed in the singers footsteps and became a singer and songwriter as well. He even wears similar round glasses like his fathers iconic pair.
Goldie Hawn and Kate Hudson – Mid-20s
We all know that the beautiful and cute Kate Hudson is the daughter of famous veteran actress Goldie Hawn. Just like her mother, Kate decided to start acting and was nominated for the Academy Award for Best Supporting Actress in the film Almost Famous.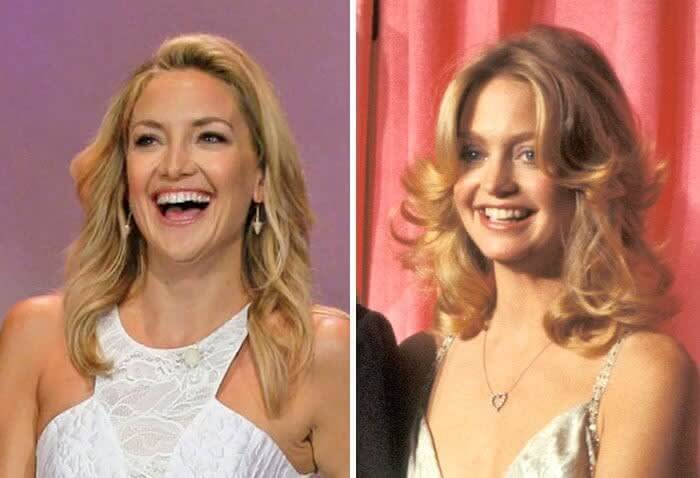 It is common knowledge that Kate looks like her mother when she was at the peak of her career. We can't argue with this one.
Kris Jenner & Kendall Jenner – Early 20s
Kendall Jenner is a renowned name in the modeling industry and has a net worth of $18 million as of 2019. Born on November 3, 1995, she is the daughter of Kris Jenner and Caitlyn (formally Bruce) Jenner.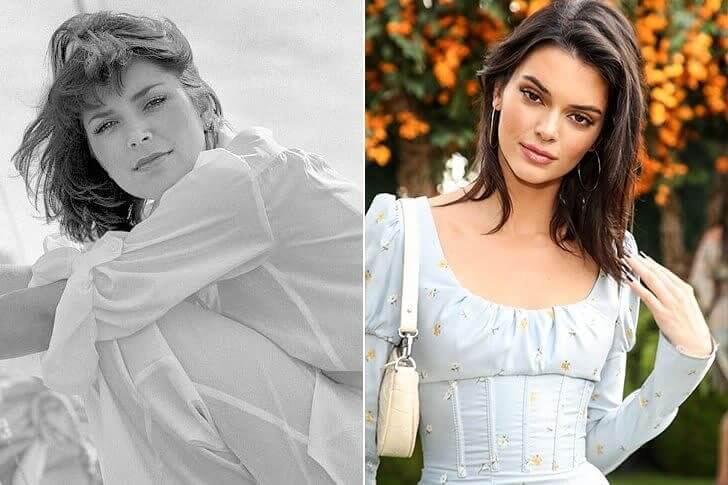 Kendall is part of what Vogue calls "The Instagirl Era." Kris also appears on the Keeping Up with the Kardashians show and has over $60 million in her bank account.
Angelina Jolie and Vivienne Marcheline Jolie-Pitt – Childhood
Angelina Jolie is an actress that is equally attractive and talented. As she is also known for her humanitarian work, most of her children are adopted. However, three of her children are biological ones with her ex-husband Brad Pitt.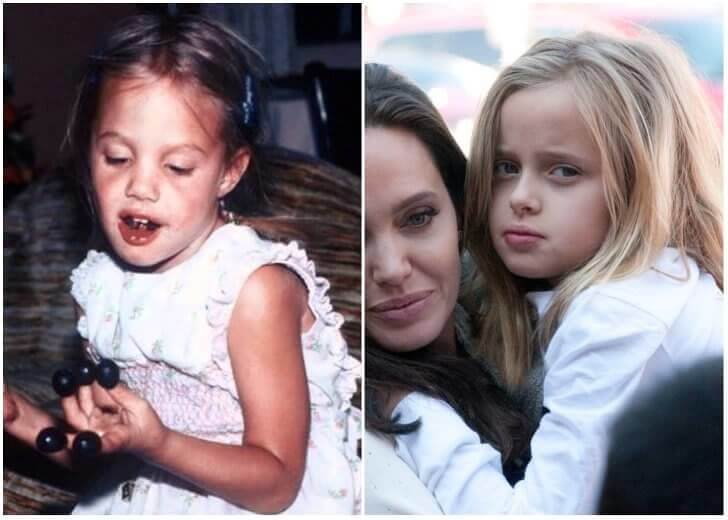 Interestingly, her youngest daughter, Vivienne Marcheline Jolie-Pitt, is the spitting image of her mother. She has also starred opposite her mother in Maleficent.
David Beckham and Brooklyn Beckham – Late teens
If you look for some of the best soccer players of all time, you'll definitely find David Beckham on the list. His eldest son, Brooklyn Beckham, looks a lot like his father, and it automatically means that he is super-hot.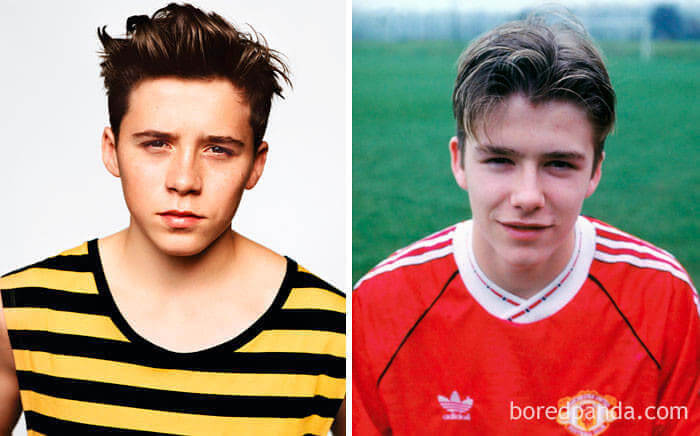 It seems quite certain that he won't be following his father's footsteps because he has a passion for photography.
Kate Moss & Lila Grace Moss – Teens
Kate Moss is a name in the world of fashion that needs no introduction. She began her career in 1988 when she was only 14-year-old. Sarah Doukas found her at JFK airport, and it didn't take long for her to become famous and one of the most well-known supermodels.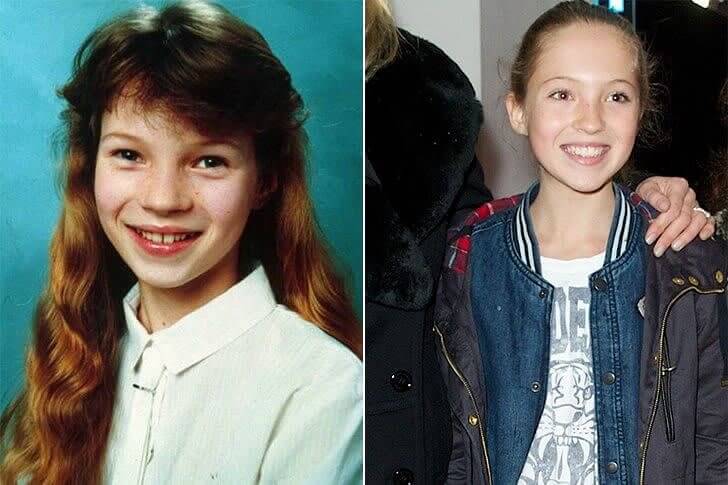 Her daughter, Lila Grace Moss, was born in 2002 and has starred in a short movie titled Love. Lila has kept her life private, and it is unclear whether she will have a career in acting or modeling or something else.
Uma Thurman and Maya Hawke – In Their Teens
Before the unfortunate divorce of Uma Thurman and Ethan Hawke, they were considered one of the most powerful couples of Hollywood.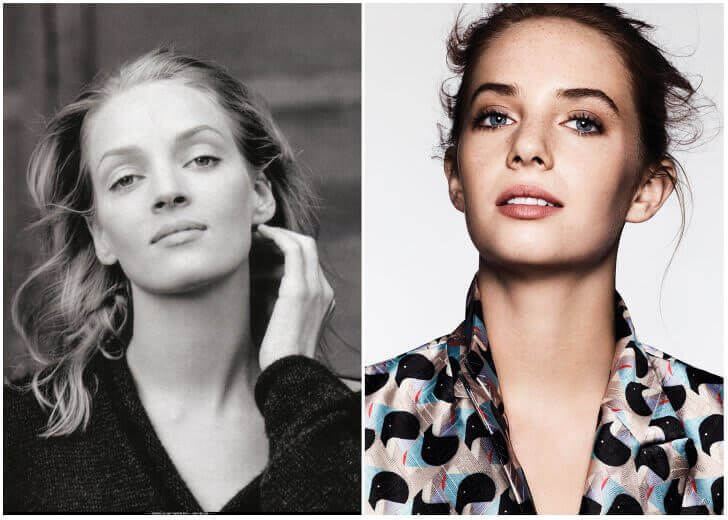 Their daughter, Maya Hawke, has grown up now and looks very much like her mother. She has shown her acting talent with roles in Little Women and Stranger Things.
Kim Basinger and Ireland Baldwin – In Their 20s
Although the marriage of actor Alec Baldwin and actress Kim Basinger ended in divorce, it doesn't mean that they haven't produced gorgeous offspring.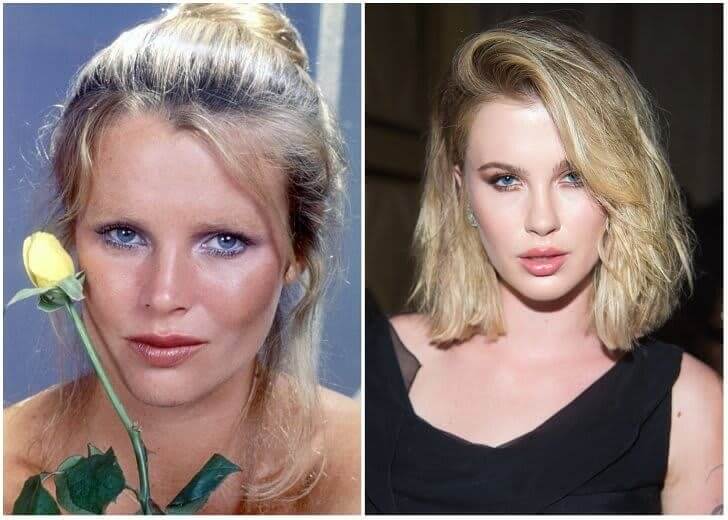 If you haven't heard of their daughter Ireland Baldwin, you will very soon enough. Ireland is a model and an aspiring actress. If you look at her, you'll feel super happy to find out that she has inherited her mother's classic blonde looks.
Prince Charles & Prince Harry – Early 20s
Prince Harry is a member of the British Royal family. He was Prince until he married Meghan Markle in 2018. Their wedding received worldwide media attention and was celebrated all over the world. He is the son of Charles, Prince of Wales and the late Princess Diana.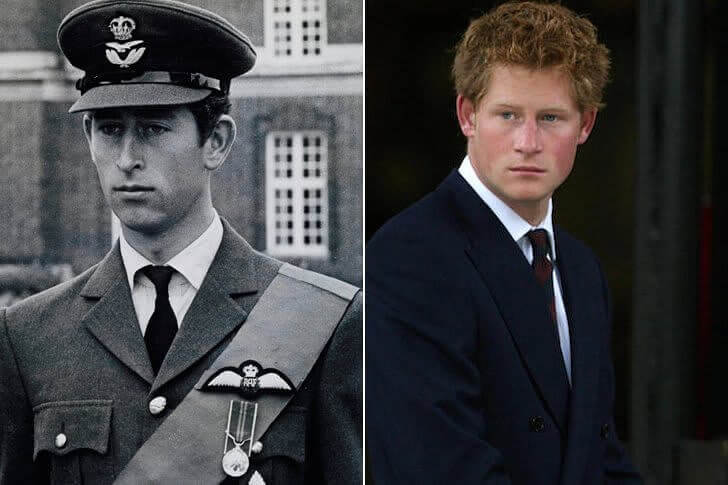 Prince Charles is actually the longest-serving British throne heir. He has written, narrated, and illustrated several dozen books in his life.
Duchess Catherine & Princess Charlotte – Preschooler
Kate Middleton (Katherine, Duchess of Cambridge) is a member of the Royal Family. She is married to Prince William, the Duke of Cambridge.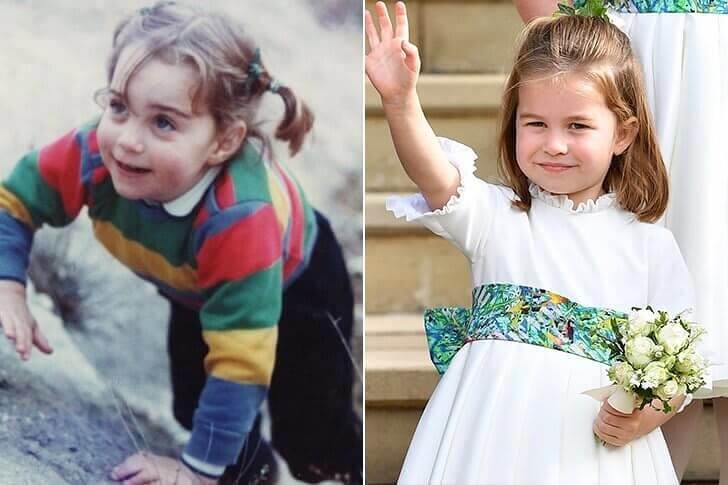 As William is next in line of succession to the British Throne, it will make Kate the Queen when the time comes. She is known for her charity work. Princess Charlotte is the second child of William and Kate. She was born on May 3, 2015.
Steven Tyler and Liv Tyler – In their 30s
Liv Tyler was just nine years old when she found out that Steven Tyler (the rock star) was her father.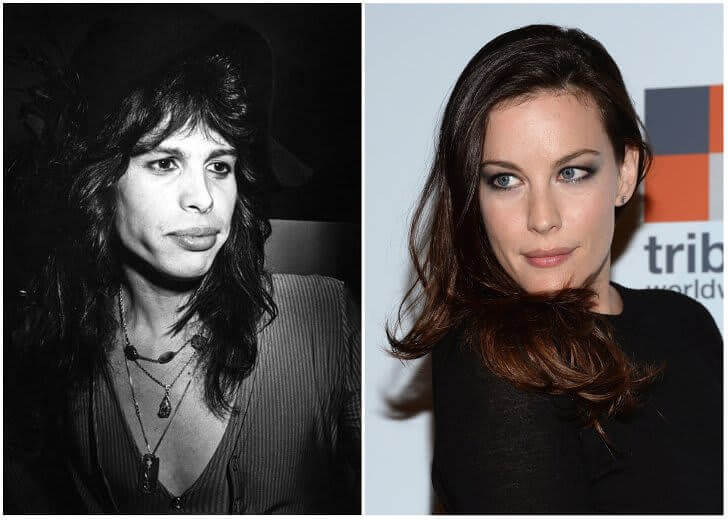 If you look at both father and daughter, you can find some uncanny resemblance. Through the years, they developed a close father-daughter bond.
Minnie Ripperton & Maya Rudolph – 20s
Maya Rudolph worked very hard to become a master of impressions, and we love her a lot. She is the daughter of Minnie Ripperton, a well-known singer and songwriter from the '60s and the '70s. Minnie made a name for herself with some remarkable performances such as Lovin' You, her whistle register, and coloratura soprano.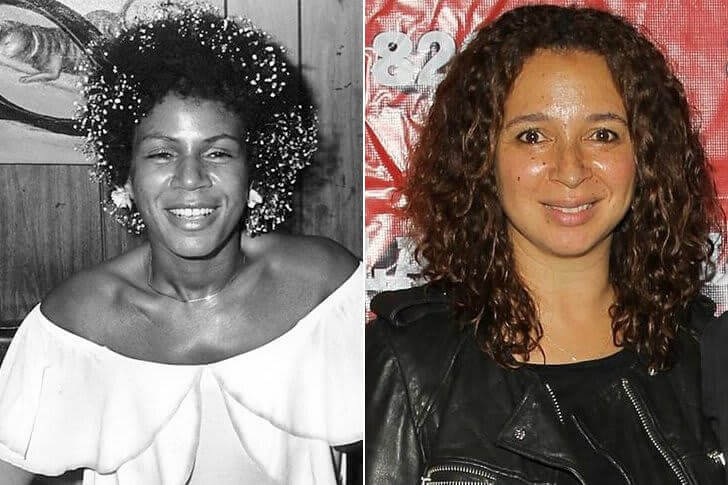 Did you know that Minnie was even dubbed as the Queen of the Whistle Register? She passed away in 1979, leaving behind two children (Maya is the youngest child). Just like Minnie, her daughter also got into singing and then into voice acting, acting, and comedy. Maya is known for her roles in hit movies such as Bridesmaids, Shrek the Third, Big Hero 6, and The Good Place.
Meryl Streep and Mamie Gummer – Early 30s
Meryl Streep is considered to be the "best actress of her generation," and you can't argue with it as she has been nominated for a record 21 Academy Awards and won 3 times.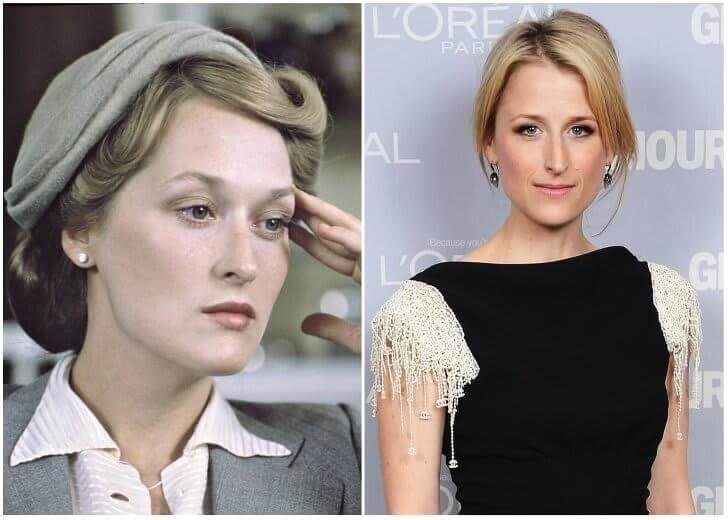 Her daughter, Mamie Gummer, is also following her mother's footsteps. So, it won't be wrong to say that Mamie still has a long way to go, but she is trying her best. The good news is that there is always her mother ensuring that she's on the right track.
Jada Pinkett & Willow Smith – Teens
Jada Pinkett rose to prominence with her role in The Nutty Professor. She has also showcased her acting and voiceover skills in films such as The Matrix franchise, Bad Moms, and the Madagascar movies.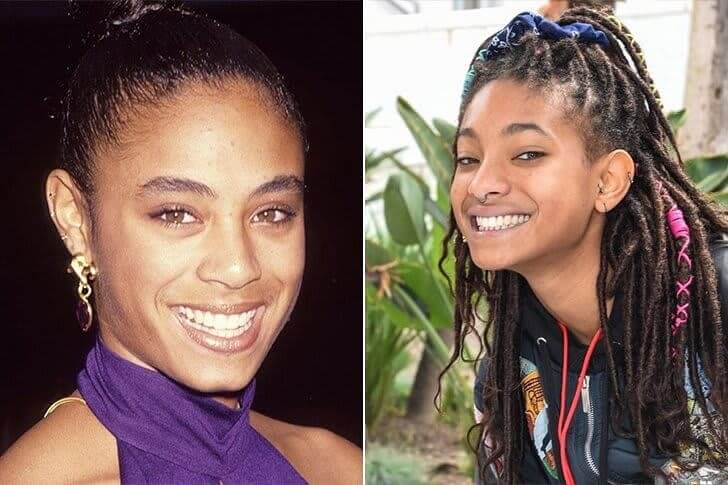 Jada and famous actor Will Smith married in 1997, and their daughter Willow Smith was born in 2000. She made her acting debut in I Am Legend and has also been successful in singing and acting. Her hits include Whip My Hair, 21st Century Girl, and others.
Stellan Skarsgård and Alexander Skarsgård – 30s
Alexander Skarsgård is considered one of the hottest Hollywood actors. It's not his looks that make him famous; it is his acting as well. He is following the footsteps of his renowned father, Stellan Skarsgård, who was also quite handsome in his time.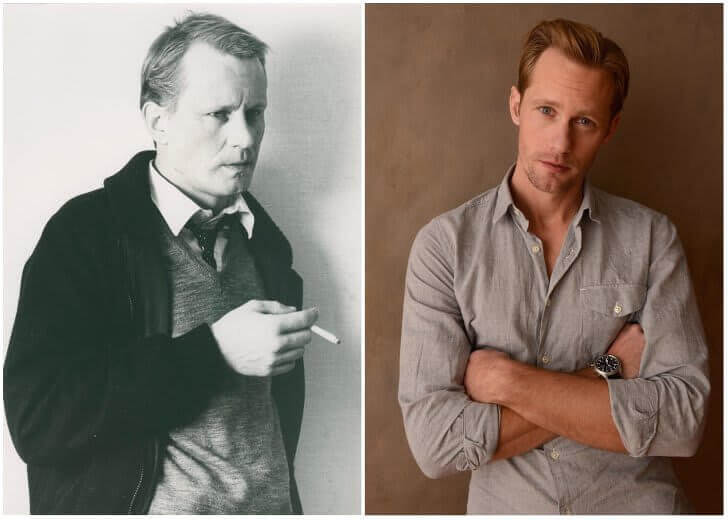 The talent runs in the family as Alexander's brothers have also starred in various movies, especially Bill Skarsgård in horror movie It (2017).
Peggy Lipton & Rashida Jones – Late 20s
Peggy was a model and actress who remained active since 1965. Sadly, she passed away on May 11, 2019. She played many notable roles in her career, such as in David Lynch's Twin Peaks.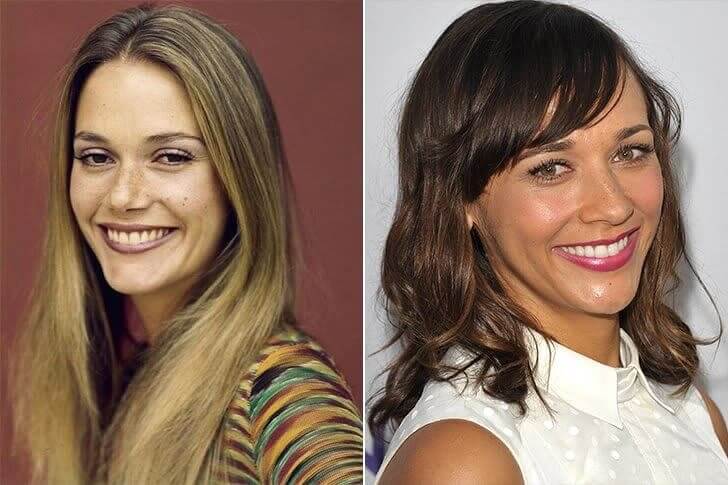 Her daughter, Rashida Jones, has made a name for herself in the industry with hit roles on Parks and Recreation, The Social Network, The Muppets¸Celeste and Jesse Forever, and Angie Tribeca. Rashida's father, Quincy Jones, was a famous American music producer and she co-wrote and co-produced Quincy (a documentary about her father) in 2018.
Christie Brinkley & Sailor Brinkley – Between 18 & 20
Modeling and acting work has helped Christine Brinkley gain worldwide fame. She first rose to prominence with her Sports Illustrated Swimsuit Issues cover appearances throughout the '70s and for 25 years she remained the face of cosmetics brand CoverGirl.
Many top magazines have called her one of the most attractive women ever. She had assets of $250 million by 2018. Among her three children, Sailor was born in 1998 and she is also following the footsteps of her mother. She was also seen in 2018's Sports Illustrated Issue.
Damon Wayans & Damon Wayans Jr. – 30s
Damon Wayans is a famous stand-up comedian and actor who enjoyed immense popularity in the '80s. He was on Night Live, the Lethal Weapon TV series, Major Payne, and The Last Boy Scout.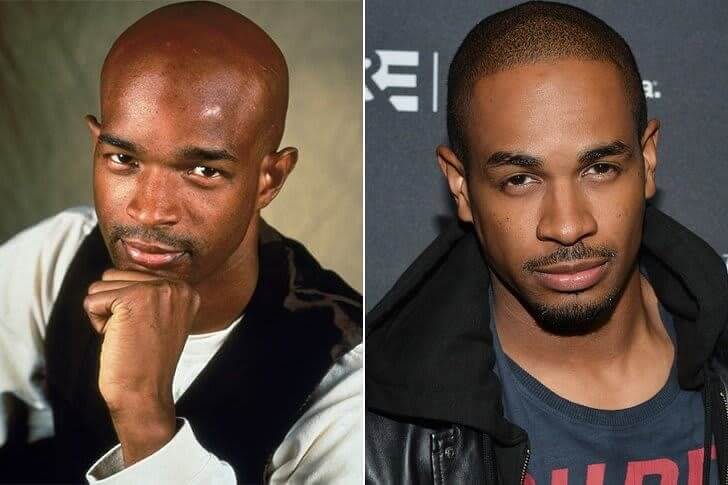 Most of us know the successful actor, comedian, and writer Damon Wayans Jr. as Brad Williams from the sitcom Happy Endings. He even won the Critic's Choice Award for his role. His son, Damon Jr., starred in New Girl, Let's Be Cops, and on Big Hero 6 (he voiced Wasabi in it).
Kirk Douglas and Michael Douglas – In their 30s
The legendary actor Kirk Douglas is 102 years old and is enjoying his retirement to the fullest. The great thing is that his Hollywood legacy continues to live on in the shape of his son and grandchildren.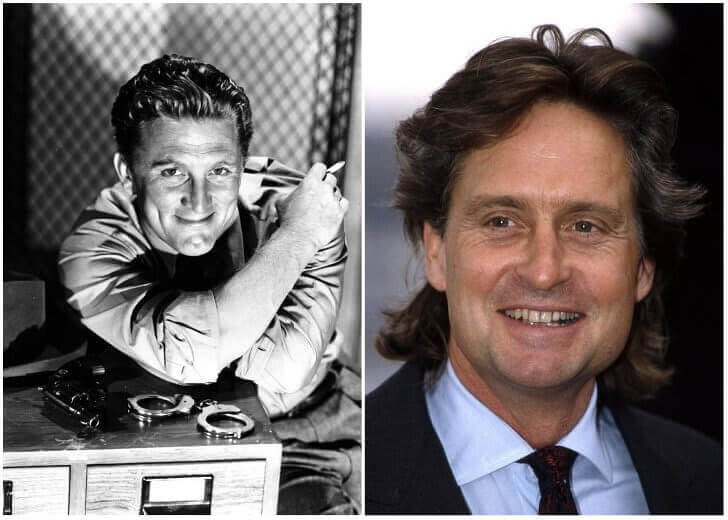 His son, Michael Douglas, is considered one of the most respected and highly paid actors in the industry. If we look at the images of both father and son (in their 30s), we notice some striking resemblance.
Tom Hanks and Colin Hanks – In their 20s
We can all agree on one thing that Tom Hanks needs no introduction at all – his name is enough. His son, Colin Hanks, has also made a name for himself in the industry as well and is enjoying a successful career in Hollywood.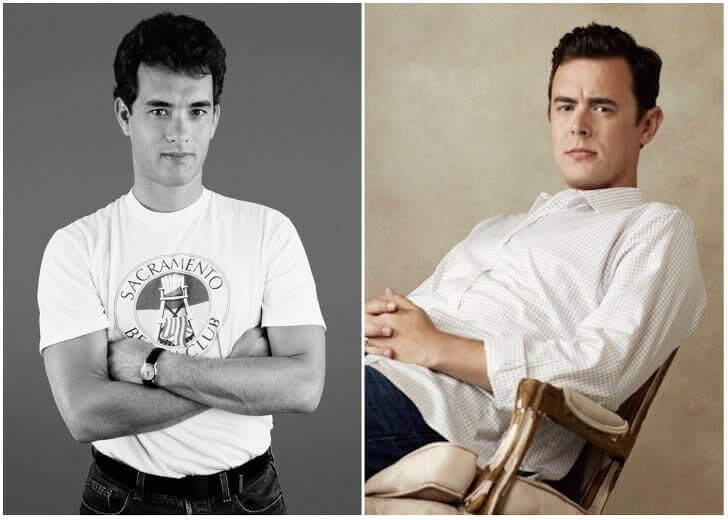 If you look at any of Collin's work, it will bring back the memories of younger Tom Hanks. Let's hope Collin wins Oscars for his performances just like his father (who has won two Oscars in consecutive years).
Charles Delevinge & Cara Delevinge – 20s
Cara left school in 2009 and went on to make a name for herself with her modeling, acting, and singing performances. Her first roles include Paper Towns and London Fields.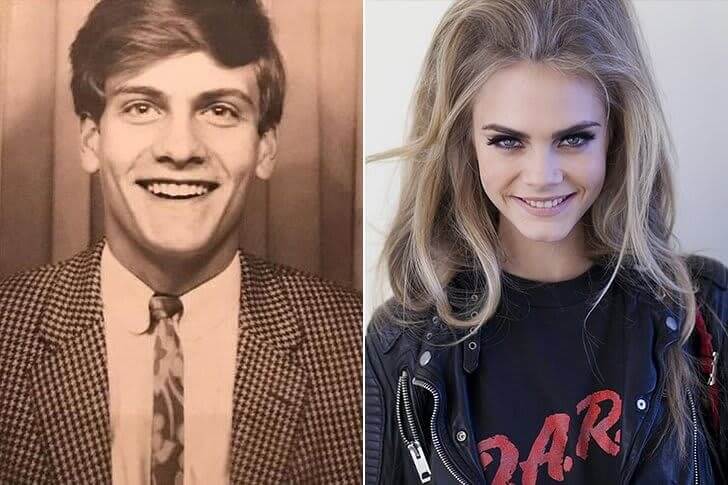 Her fame grew when she played the role of Enchantress in Suicide Squad and Laureline in Valerian and the City of a Thousand Planets. She is the daughter of Charles Delevingne, a property developer. He is also the director of The Ultimate Travel Company.
Mandy Teefey & Selena Gomez – Teens
Mandy Teefey gained many fans when she produced The Ant Bully, 13 Reasons Why, Lucky Lance 6, and others. She has been married twice and Selena Gomez is her eldest child.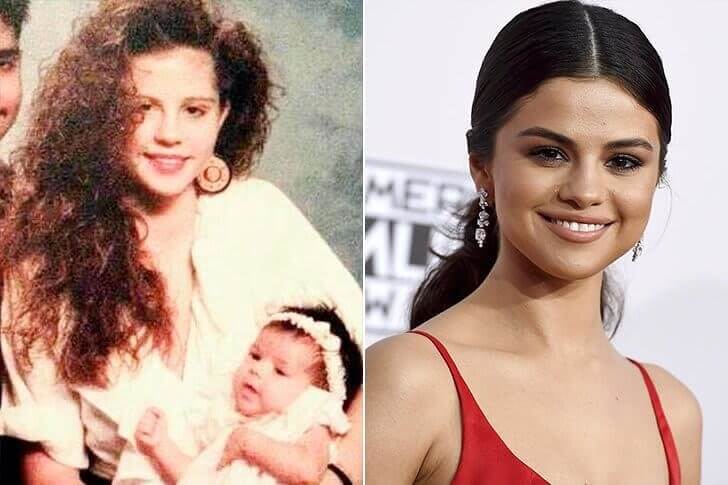 Selena has a quite prolific career as an actor and singer. She has starred in tv-series and movies such as Wizards of Waverly Place, Another Cinderella Story, Spring Breakers, and Getaway. As of 2019, Selena's net worth is $60 million.
Yolanda Foster and Gigi Hadid – Late teens
People from all over the world recognize Gigi Hadid as the hot & sexy supermodel, but not many people know that her mom, Yolanda Foster, was also a big hit back in the day.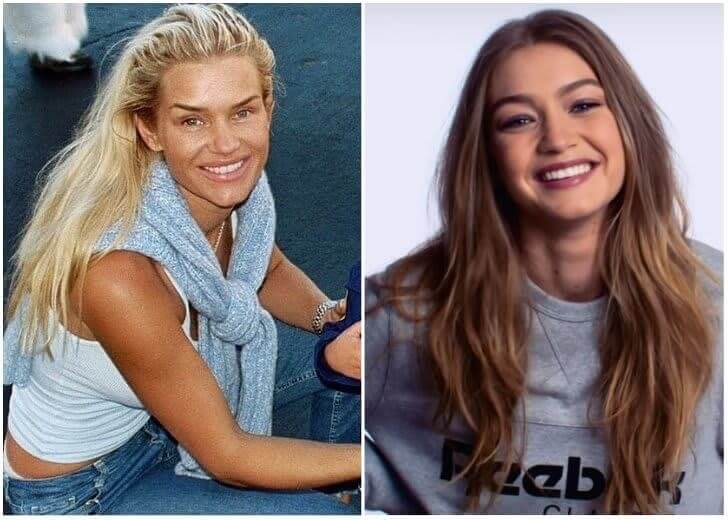 After looking at Yolanda, it is no surprise that Gigi has inherited her mother's good looks.
Brian Williams & Allison Williams – Late 20s
Brian Williams is known to a broader audience, the presenter of news program The 11th Hour. He anchored the NBC Nightly News as well, but he was demoted in 2015 when he misrepresented the Iraq War events.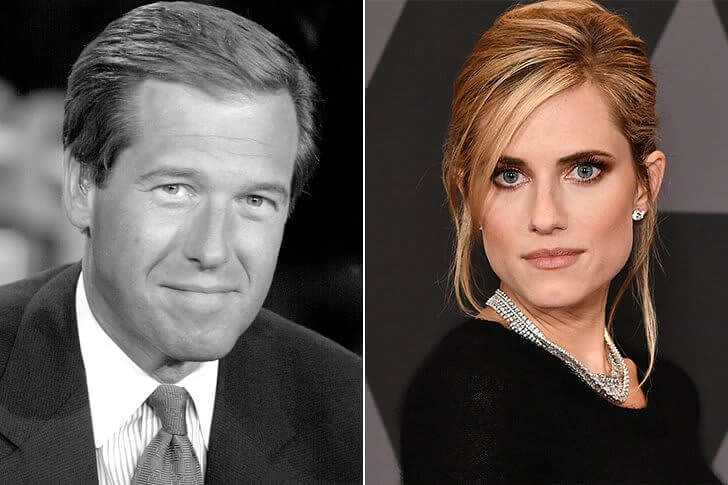 His daughter, Allison Williams, is an actress, comedian, and singer. She is known for her roles in Girls, Get Out, Jake and Amir, Peter Pan Live!, A Series of Unfortunate Events, and more.
Jon Voight and Angelina Jolie – In their 40s
Actor Jon Voight (winner of four Golden Globes) and his daughter Angelina Jolie have a rather inconsistent relationship throughout these years. When they reconciled, it was widely reported.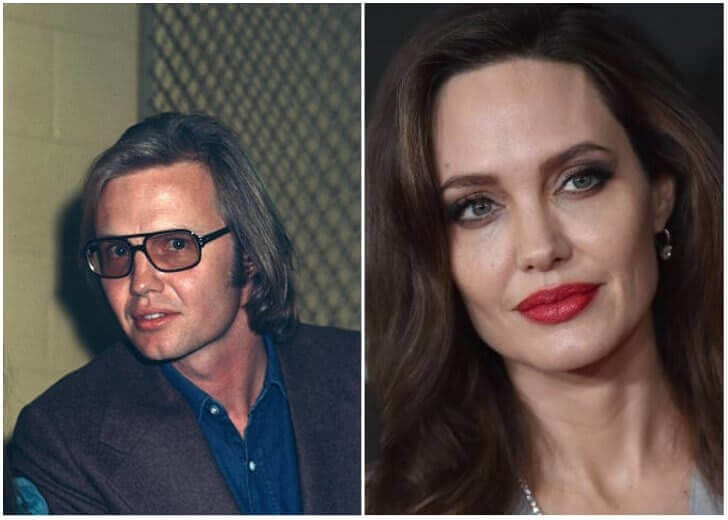 Although they have an unstable father-daughter relationship, one cannot neglect the fact that both of them have successful careers, large bank accounts, and similar physical features.
Mel Gibson & Milo Gibson – 20s
Mel Gibson is a famous actor and filmmaker who is known for roles in Lethal Weapon movie series and Mad Max. He won an Oscar for his fantastic acting in the movie Braveheart. As a director, he has received widespread critical acclaim for his works that include Apocalypto and The Passion of the Christ.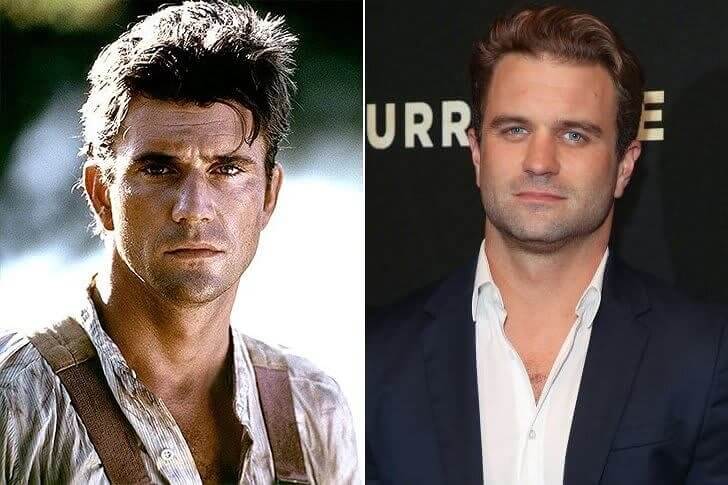 It is estimated that his net worth is around $425 million. He has nine children, and Milo (born in 1990) is one of them. Milo is also an actor like his dad and has worked in projects such as Hacksaw Ridge, All the Devil's Men, Breaking & Exiting, and a lot more.
Faith Hill and Maggie McGraw – Late teens
Maggie McGraw has walked most of her life on the red carpet alongside her famous parents, country singers Tim McGraw and Faith Hill.
As a teen, Maggie is currently studying to earn her university degree from Stanford. She has inherited her mother's classic blonde looks and if she ever decides to enter the show business, she won't find much difficulty in it.
Robert Pine & Chris Pine – Early 30s
We all know Chris Pine as the handsome, blue-eyed hottie. He has played roles in films like The Princess Diaries 2: Royal Engagement, Into the Woods, The Star Trek movie reboots, and Jack Ryan: Shadow Recruit, and of course, Wonder Woman.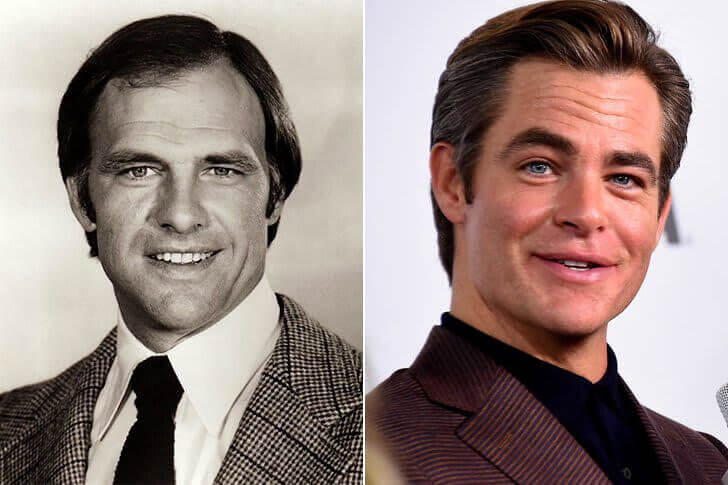 He is the son of Robert Pine, a former actor known for CHiPs (a crime TV show). Robert has appeared in films such as The Wild Wild West, Knight Rider, Lost in Space, Star Trek: Voyager, and Star Trek: Enterprise.
Melanie Griffith and Dakota Johnson – Mid-20s
There is no denying that Dakota Johnson is one of Hollywood's most successful young actresses, and we can say for sure that she inherited good looks from her mother who enjoyed the same distinction back in the day.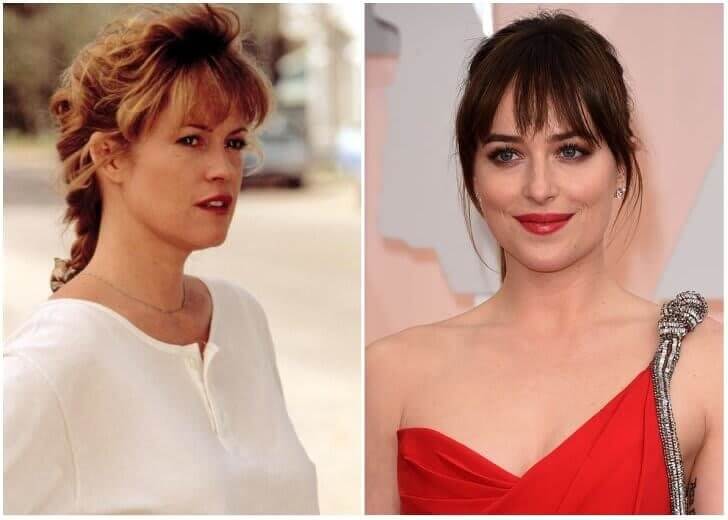 Melanie Griffith inherited her attractive looks from her mother, Tipp Hedren. So, it won't be wrong to say that talent and beauty run in the family.
Martin Sheen & Charlie Sheen – 20s
Martin Sheen is the father of well-known actor Charlie Sheen (who, of course, needs no introduction). Martin has worked with prominent directors like Martin Scorsese, Ford Coppola, and Terrence Malick and starred in films like The Subject Was Roses, The West Wing, Badlands, and Apocalypse Now.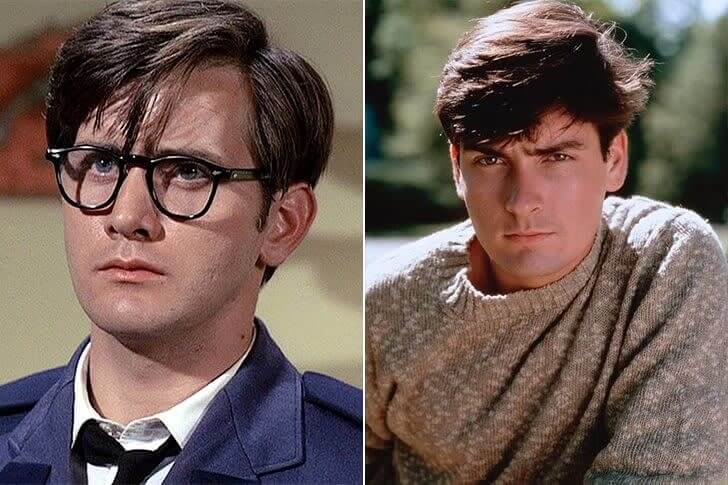 His son, Charlie, made a name for himself with hit roles in movies like Platoon, Wall Street, Young Guns, Major League, Hot Shots!, The Three Musketeers, and others. What took him to new heights of popularity was his role in Two and a Half Men.
Nancy Kerrigan & Matthew Eric Solomon – 30s
Nancy Kerrigan is a well-known name in figure skating and the film industry. She won many medals at the Olympics in the early '90s and was the US National Figure Skating Champion in 1993. After Nancy retired in 1994, she started working in the TV industry and served as a correspondent for The Inside Edition during the Super Bowl in 2018.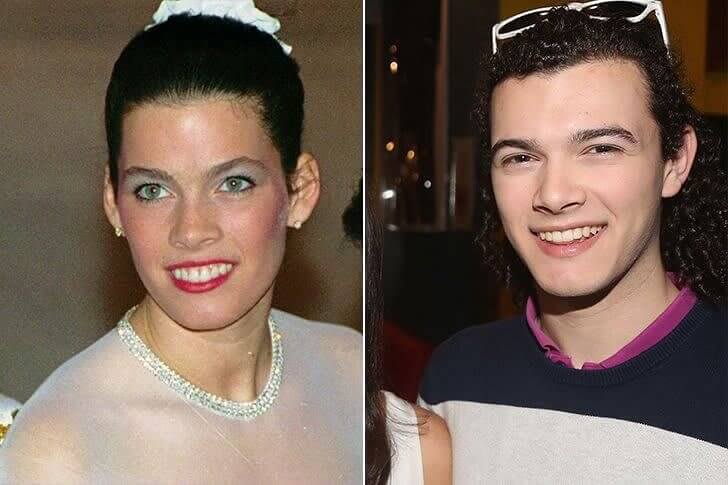 Her eldest son, Matthew Eric Solomon, is a costume designer and majorly works in stage productions in Massachusetts.
Janet Leigh and Jamie Lee Curtis – In their 20s
Janet Leigh is known for her iconic role in Hitchcock's Psycho, which helped her become the undisputed queen of thriller films.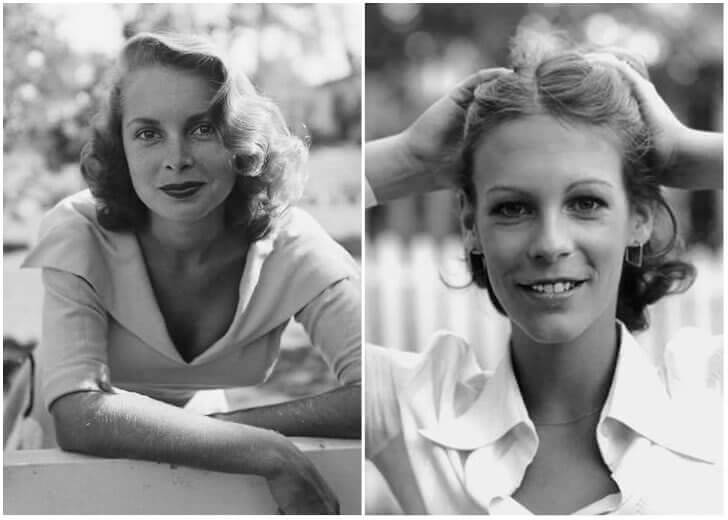 Her daughter, Jamie Lee Curtis, not only inherited the attractive looks of her mother but also worked in some popular slasher films throughout the 80s and 90s.
Andie MacDowell & Rainey Qualley – 20s
Andie MacDowell had been known for her roles since the '80s. Ever since her debut in Greystoke: The Legend of Tarzan, she has starred in movies such as Four Weddings and a Funeral, Michael, Multiplicity, Beauty Shop, and the 2011 remake of Footloose.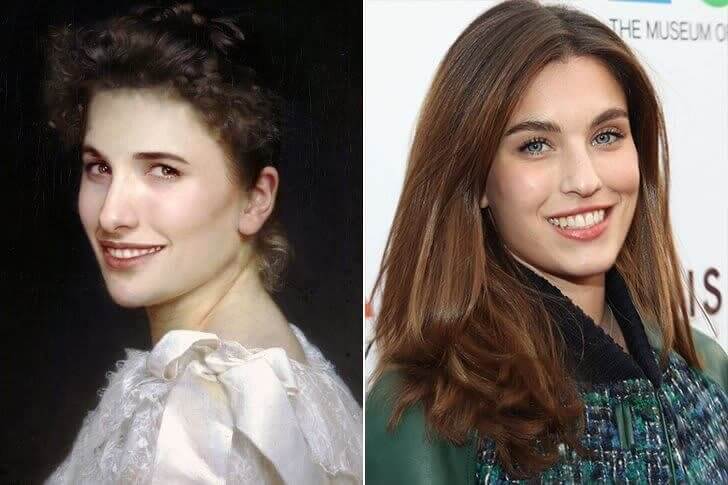 Andie has three children, and Rainey is her middle child (born in 1990). Just like her mother, Rainey has also started acting as her career and has done films like Perfect, Mighty Fine, and Ocean's Eight (cameo).
Naomi Judd and Ashley Judd – Late 30s
Ashley Judd was a huge deal in the 90s and early 2000s. Not many people know that she comes from a family of entertainers. She is the daughter of country singer Naomi Judd.
Although Ashley did not inherit her mother's musical gene, she did inherit the facial features that helped with her acting career.
Mick Jagger & Georgia May Jagger – 20s
Mick Jagger is considered a rock and roll icon. He is the founding member and lead singer of The Rolling Stones. Did you know that he was an actor before he tried his luck in singing? He worked in movies such as Performance, Ned Kelly, and Sympathy for the Devil.
His recent project was The Burnt Orange Heresy in 2018. Georgia May Jagger is Mick's daughter. She is a fashion designer and has modeled for some big names such as Versace, Miu Miu, Chanel, and Vivienne Westwood.
Denzel Washington & John David Washington – Early 30s
Denzel Washington has received critical acclaim for many of his works in movies such as Cry Freedom, Malcolm X, Remember the Titans, Glory, and Training Day.
John David Washington (former NFL running back) is the son of two times Oscar winner Denzel. John is also an actor and has appeared in movies such as BlacKkKlansman, Monster, The Old Man & the Gun, and Monsters and Men.
Anthony Perkins & Oz Perkins – 30s
Anthony Perkins was an Oscar nominee actor who became well-known after his iconic role on Alfred Hitchcock's movie Psycho. He then went on to star in films such as Fear Strikes Out, The Matchmaker, The Trial, Murder on the Orient Express, The Black Hole, and Crimes of Passion. Due to complications from AIDS, he died in 1992; leaving behind two sons, Oz and Elvis.
Oz was born in 1974 and he followed his father's footsteps and even starred in Psycho II. He was also in movies, such as Six Degrees of Separation, Legally Blonde, and others.
Carrie Fisher and Billie Lourd – Early 20s
The late Carrie Fisher was known for playing Princess Leia in the Star Wars films and she looked a lot like her mother, Debbie Reynolds.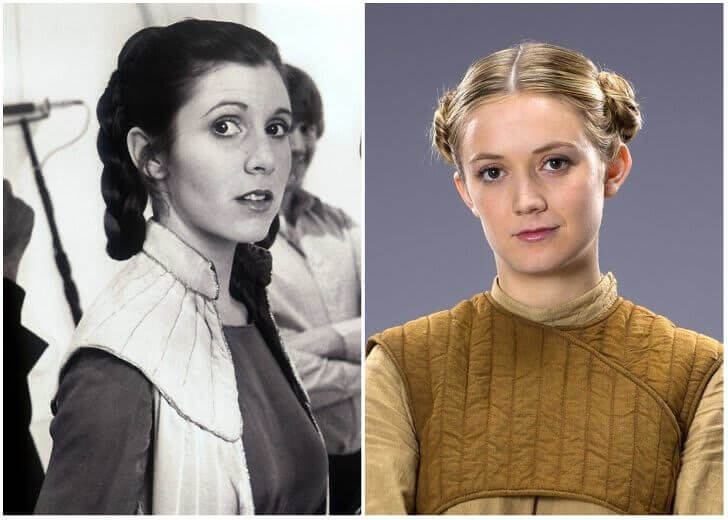 Carrie's daughter, Billie Lourd is also following in her mother's footsteps and looks very much like Carrie as well. Today, Billie is one of the most sought-after rising stars of Hollywood. She has played roles in Scream Queens, American Horror Story, and Star Wars sequel trilogy.
Lisa Bonet and Zoë Kravitz – In Their 20s
Actress Zoë Kravitz is no longer identified as just the daughter of her famous parents, rocker Lenny Kravitz and actress Lisa Bonet, because of her hit and acclaimed roles in numerous films.
However, it seems like Zoë favors her mother in a lot of ways, and she also has the same looks and style similar to her mother.
Dustin Hoffman & Jake Hoffman – 30s
We all know and love Dustin Hoffman. He is a legendary actor and a winner of two Oscars for his roles in Rain Man and Kramer vs. Kramer, along with numerous other awards.
Jake Hoffman was born in 1981 to Dustin Hoffman and Lisa Hoffman. He is an actor, writer, and director and has played roles in movies like The Wolf of Wall Street and Ray Donovan.
Susan Sarandon & Eva Amurri Martino – Late 20s
With a successful career of over 50 years, Susan Sarandon is a well-known name all over the world. She has won an Oscar for her role on Dead Man Walking and was nominated for an Oscar for Atlantic City, The Client, Thelma & Louise, and Lorenzo's Oil and recently in the Ray Donovan TV series.
She has three children. Eva Amurri (born in 1985) is the eldest. She is also a movie and TV actress and has played roles in Saved!, That's My Boy, The Banger Sisters, and Middle of Nowhere.
Heather Locklear & Ava Sambora – Early 20s
Heather Locklear is known for her portrayal in the original Dynasty series. She has also played roles in Melrose Place, Hot in Cleveland, Money Talks, Franklin & Bash, and The Perfect Man.
Her only child, Ava Elizabeth Sambora (born in 1997) is also an actress. Ava was in the film This is 40 and TV series such as Fresh Off the Boat and Good Luck Charlie.
Phil Collins and Lily Collins – Late 20s
Actress Lily Collins has transformed herself a lot over the years and is becoming one of Hollywood's most bankable actresses.
Her dad, Phil Collins, needs no introduction as well. He has an estimated net worth of $260 million. Lily looks a lot like her father, and thankfully, she does not lack talent or attractiveness.
Patrick Swayze and Jason Whittle – Early 40s
When the famous actor Patrick Swayze passed away in 2009 due to cancer, he left behind a grieving wife and no children.
However, it was a complete shock for everyone when a man named Jason came forward with a claim that he is the love child of Patrick. Jason said he could even prove it with a DNA test. However, no official statement was made by Mrs. Swayze on it.
Elizabeth Taylor & Naomi Wilding – 30s
One of the legendary actresses of Hollywood's golden age was Elizabeth Taylor. She achieved immense fame in the '50s and '60s with roles in movies such as Father of the Bride, A Place in the Sun, and Cat on a Hot Tin Roof.
Did you know that she was the first actress to get $1 million for her iconic role in Cleopatra? She was married seven times and had three children. Naomi DeLuce Wilding (born in 1975) was her granddaughter from her son Michael. Today, Naomi is an ambassador of several foundations that are proudly named after Elizabeth.
Charlize Theron & Jackson Theron
To every mother, her child is special. However, little Jackson is, indeed, a special kid. When Charlize Theron adopted the baby, she was under the impression that she was going to raise a boy. But, Jackson identified himself as a girl.
As a supportive mother, the gem of Hollywood accepted his choice and has since been upbringing her son as a female. You can see that Jackson has a great fashion sense like her mother.
Matt Lauer & Romy Lauer
Matt Lauer is a former television news anchor. There is one person who has always supported the former NBC show host, and that is his daughter Romy Lauer. As she is all grown up now and looks a lot like her father.
Romy is the second of Matt's three kids with his ex-wife Annette Roque. Both father and daughter can be seen sharing their great bond on TikTok.
Then And Now: 20 Of The Most Famous Landmarks From Around The World
Brenda Miller
This article was originally published on Kueez
All around the world, there are tons of incredible landmarks that often serve as a source of pride to many. For the people living near these structures, they offer a sense of shared history, values, or a communal memory that will never be forgotten. From buildings to bridges, monuments, and statues, there are several landmarks that have withstood the test of time no matter what they've had to endure. In fact, how these landmarks ended up there in the first place is often as interesting as the structures themselves! So we decided to find out more about the historical background of some of the most iconic landmarks in the world. Take a look at the most memorable ones and be prepared to not recognize what some of them looked like 100 years ago.
The Lincoln Memorial – Then
When the 16th President of The United States was assassinated back in 1865, there was a huge demand to memorialize the president. So after two years, Congress passed a number of bills that would result in the construction of a monument in the honor of Abraham Lincoln.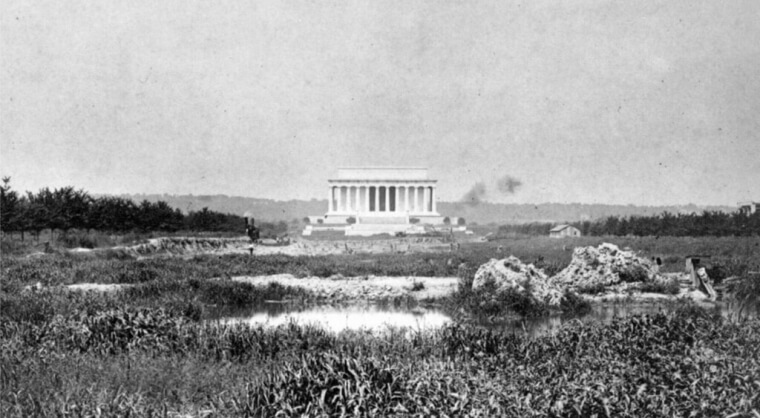 Believe it or not, it took 60 years in total to finalize the structure – 50 years to start building it plus another ten until it was really completed. Though initially, the plan was to build 31 pedestrian statues, six equestrian statues, and a 12-foot statue of Lincoln, in the end, only the simple stately version of the statue lasted.
The Lincoln Memorial – Now
The famous Lincoln Memorial includes several excerpts from Lincoln's two most memorable speeches: "Lincoln's Second Inaugural Address" and the unforgettable "Gettysburg Address". To this date, several people still regard him as the "Savior of the Union", which is in line with the fact that many protests and speeches continue to happen where his memorial is until today.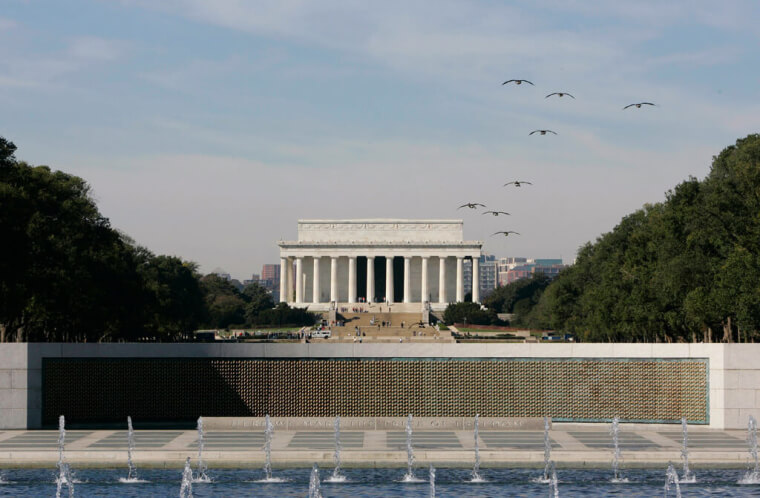 In fact, that's where one of the most memorable events in history took place when Martin Luther King delivered his 1963 speech "I Have A Dream". Today, the memorial sees some 6 million visitors on an annual basis.
The Berlin Wall – Then
The Berlin Wall was built in 1961 with the intent of dividing East from West Germany. Before it was put up, approximately 3.5 million East Germans crossed over to West Berlin. For decades, the Wall has been regarded as the "wall of shame".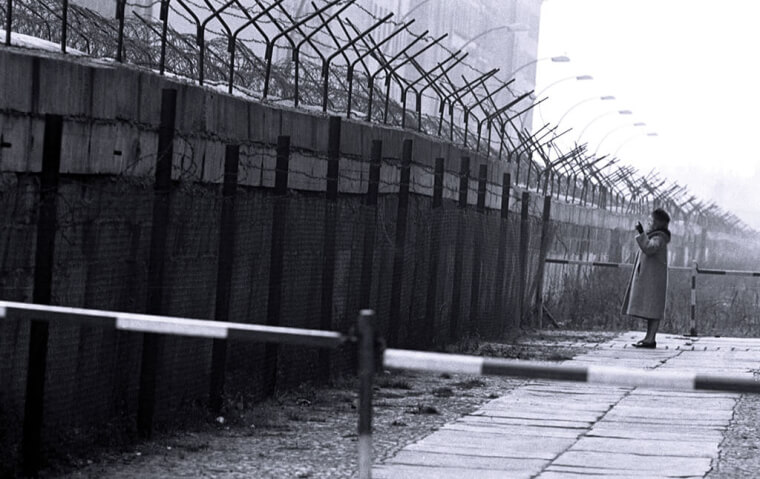 The wall was guarded heavily as it aimed to prevent Western "fascists" from making their way into Eastern Germany. Though there was wide criticism against it, the Wall lasted for almost three decades. Ironically, the wall wasn't that tall, but it served as a constant reminder of the country's deep division.
The Berlin Wall – Now
After decades of controversy around the Berlin wall, people finally said enough in 1989. With revolutions happening in Hungary and Poland, and social change taking over most of Europe, people began making their voices heard. Celebrities such as Bruce Springsteen, David Bowie, and David Hasselhoff also put some pressure on the government with their star status.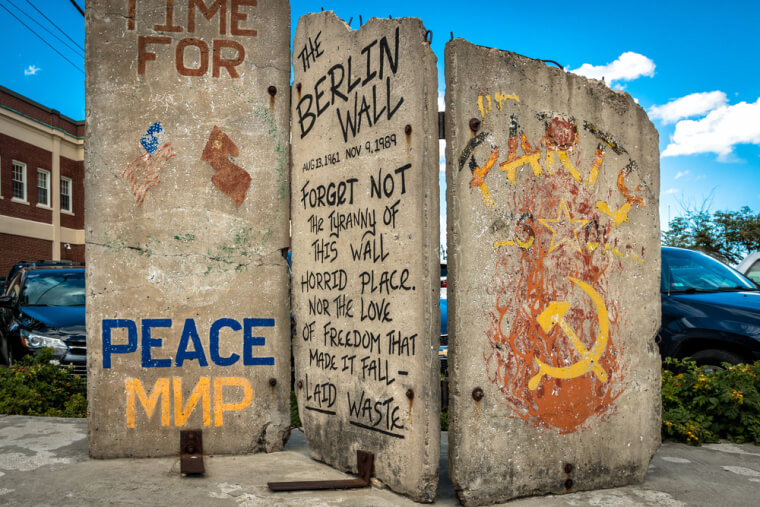 Finally, the German government gave in to the pressure and announced to all citizens that they would now be able to visit West Berlin freely. Almost immediately, people began tearing different parts of the wall until it officially and completely fell in October of 1990.
Las Vegas – Then
When one thinks of Sin City, the Las Vegas Strip is probably one of the first places that come to mind. But some might not know that before a Strip even existed, there was what was known as Fremont Street. The street exists since the founding of Las Vegas back in 1005 and became the pioneer of absolutely anything that took place in Vegas.
The Street became the first Las Vegas paced street in 1925, and also had the first traffic light in Las Vegas in 1931. Even more, the first official gambling license for Nevada also happened in Fremont street. Today, the street looks completely different.
Las Vegas – Now
Today, Fremont Street is nothing more than a walkway, looking completely different from the magical place it was back in the days. The "Golden Nugget" now has an impressive barrel vault canopy cloaking it, looking bright and as if it received some sort of facelift.
The main attraction of the place is a narrow pedestrian mall with several attractions, giving tourists the possibility of venturing off the strip directly into Downtown Las Vegas. More recently, the Fremont Street Experience was enriched by sound shows and nightly lights that are displayed on the impressive LED canopy that is located above the street.
The Flatiron Building – Then
In this picture from 1903, we can see New York City's Flatiron Building. When the building was built it was aimed at serving as offices for George A. Fuller Company, the famous Chicago contracting firm. This picture was taken roughly a year after the place was built, featuring its iconic street sweepers and horse-drawn carriages.
The building's memorable shape is believed to have been behind the building's name. Fight Avenue, Broadway, 22nd, and 23rd Streets contained a triangular space of land in the area.
The Flatiron Building – Now
Today, the area around the Flatiron Building is almost unrecognizable. It is populated with huge skyscrapers that look into lower Manhattan. Yet, the 22-story building still contains some office space, welcoming several publishing companies over the years.
The building holds several quirks. For example, it is said that some offices are very strangely-angled and are some of the most sought-after offices due to their marvelous views. According to people who work in the building, the gendered bathrooms are also oddly placed on alternating floors.
The World's Tallest Building- Then
It's pretty hard to picture Dubai without its huge skyscrapers and billion-dollar cars, but can you believe that in 2000, Dubai was merely a barren of sand? Yep, it looked pretty much like what you can see in this picture. But it was also around that time that Dubai was becoming the city with the most number of people in the United Arab Emirates.
Though at the time Dubai was already one of the best places for farming, fishing, and pearl diving, it's economy got a huge bump thanks to its oil trade. In this picture taken in 2005, we're able to see the beginning stages of the world's tallest building.
The World's Tallest Building – Now
Though this picture was taken in 2009, it's possible to see that the Burj Khalifa is the tallest building amongst several other really tall structures in the area. To this date, the Burj Khalifa still remains the tallest building in the world at 2,717 feet.
Once, Dubai's ruler claimed that Dubai would not allow any other building to take its "first place" status. In addition to claiming to be the world's tallest building, Dubai also has the tallest hotel, shopping center, and the largest indoor theme park.
The Brandenburg Gate – Then
The Brandenburg Gate, also known as the Brandenburger Tor is located in Berlin and characterizes one of the most iconic symbols in Germany. The Gate was built all the way back in 1971, commissioned by the Prussian King Frederick William II.
Throughout time and the many bumps in Germany's history, the Gate has continued to stand tall. Its design is very much inspired by Acropolis in Athens, a decision made by the architect Carl Gotthard Langhans. Probably the most distinctive feature of the gate is The Quadriga, the four-horsed sculpture chariot being driven by goddess Victoria – once stolen by Napoleon during the war.
The Brandenburg Gate – Now
The Gates were restored in the past, passing through some of the worst times Germany has ever seen. During the Cold War, the Brandenburg Gate player an important role as part of the Berlin Wall. In 1963, when President John F. Kennedy visited Germany, Soviet authorities went on to hang red banners across the entire gate.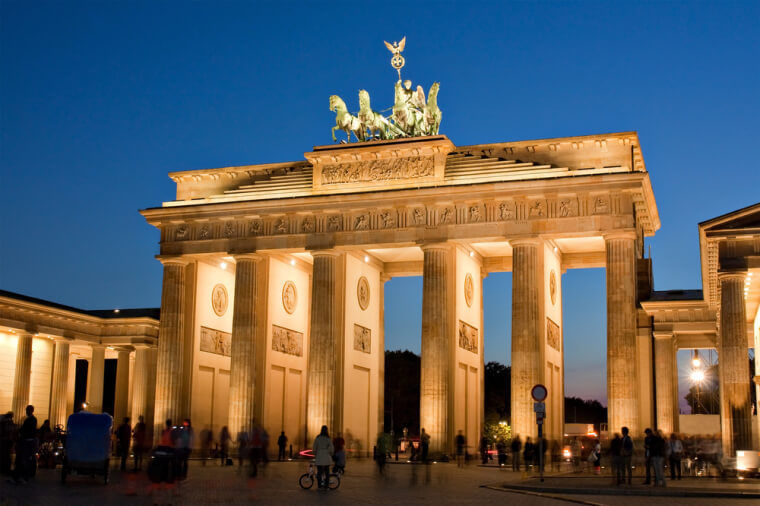 In 1987, the gate also had another emblematic role in history. When Ronald Reagan delivered his speech, he famously said: "Mr. Gorbachev, tear down this wall!" When the Cold War finally ended this appeal was eventually met.
The Eiffel Tower – Then
When the Eiffel Tower was originally built in 1889, it had the purpose of being the entrance to the World's Fair for the 100th anniversary of the French Revolution. More than a hundred artists hoped to be chosen for the monument, but the honors were eventually given to Alexandre-Gustave Eiffel, one of the world's most acclaimed bridge builders.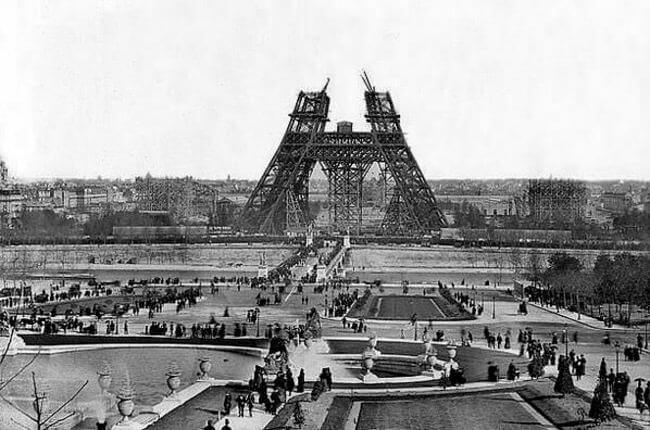 The idea for the wrought-iron tower came from one of his employees at the time, a man named Maurice Koechlin.
The Eiffel Tower – Now
It took at least two years to create the complex iron framework for the tower – which had to happen before the assembly even started taking place. Curiously, this wasn't the first time that Eiffel and Koechlin worked on a monument before.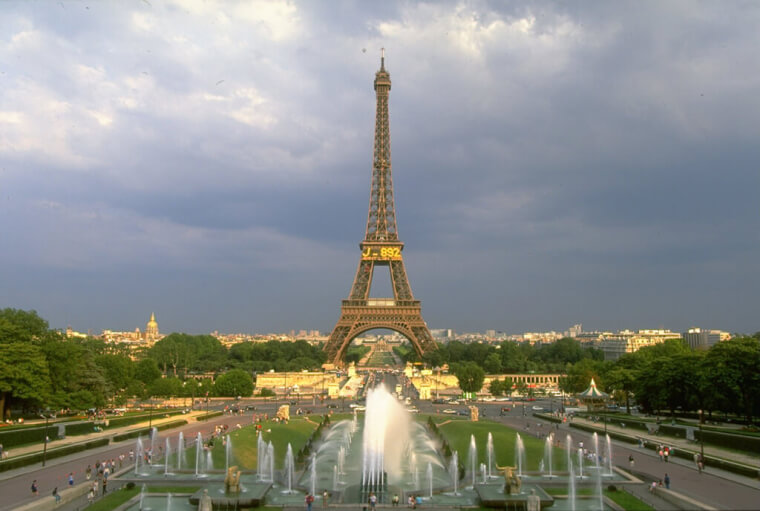 They were also behind the one and only Statue of Liberty. In 1889, the Eiffel Tower finally made its debut and was the world's tallest building back then, at 1,000 feet high.
The Golden Gate Bridge – Then
This vintage photo depicts the Golden Gate Bridge when it was being built. Joseph Strauss was the engineer behind the bridge, hired in 1919. When he was hired, he quickly said that it would cost $30 million or less to build the bridge.
Underwood Archives/Getty Images
Though the bridge is obviously beautiful, it was also inspired by the necessity for people from San Francisco to travel easily to its northern suburban neighbors. At the time, a good number of people opposed the construction of the bridge claiming that it would take away the natural beauty of the area
The Golden Gate Bridge – Now
Building the bridge was no easy task, and engineers had to find safe ways of preventing workers from falling into the ocean. For that, they installed a net right under the construction site, which eventually saved nineteen workers who would have otherwise fallen to the ocean.
During the four years that it took to build the bridge, there was one major casualty. In 1937, 10 workers were sadly killed when a scaffold fell through the net. Today, the Bridge is one of the most photographed bridges in the entire world.
The Gateway Arch – Then
The tallest arch in the world is located in St. Lois, Missouri, standing at 630 feet. The Gateway Arch was designed by Eero Saarinen, a Finnish-American architect who designed the arch's plans in 1947, with construction beginning over ten years later, in 1963.
Pictorial Parade/Archive Photos/Getty Images
The stainless steel arch was completed in 1965, representing the westward expansion in America. A ton of public money was spent on the arch, which raised concerns amongst citizens – today, the cost for building the arch would be equivalent to $77.5 million.
The Gateway Arch – Now
Though some people would still characterize it as some sort of superficial project, the truth is that the arch stands to this date. In 1987, the arch was officially classified as a national landmark, being ranked the fourth on the list of "most-visited human-made attractions" in the world in 1974.
Thanks to careful thinking by city planners, developments around the arch were thought around it so that nothing could obstruct or block its view.
The World Trade Center – Then
In 1943, the concept of the World Trade Centre was introduced, but only when David Rockefeller encouraged the project was when it actually went through. Though the World Trade Center consisted of seven buildings located in lower Manhattan, the Twin Towers quickly became the most iconic of them all.
Several construction firms and engineers joined their forces to come through with the plans for the buildings, which began construction in 1966 and were completed in 1973.
The World Trade Center – Now
The devastating terrorist attack that took place on September 11, 2011, targeted the Twin Towers of the World Trade Center, and killed 2,606 people from in and around the towers, in addition to 157 who were on board the two aircraft.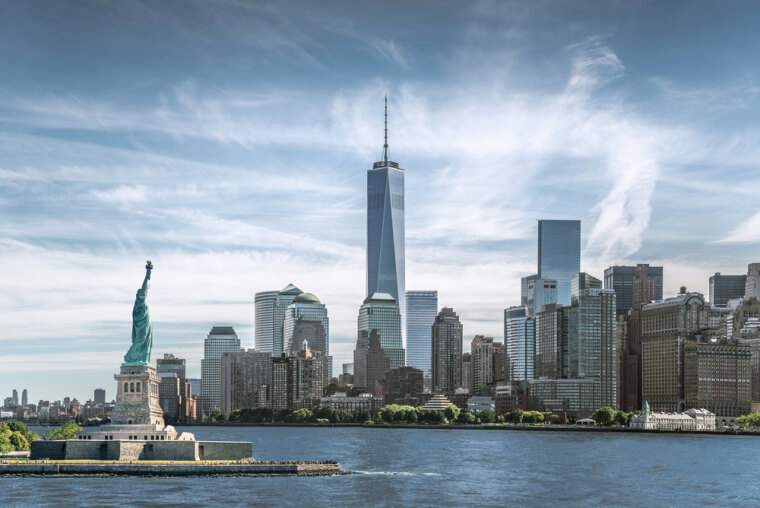 The horrible attack affected Americans and global citizens greatly but also inspired people to come together. Since the attack, a memorial has been created at Ground Zero, honoring the many victims and heroic firefighters, and other first responders.
"Hollywoodland" – Then
Though probably everyone knows or has heard of Hollywood, many probably don't know that it used to be called Hollywoodland. When the iconic Hollywood sign was built on Mount Leet in 1923, it intended to attract developers from the area to start building real estate around it. Well, it's safe to say that the plan worked.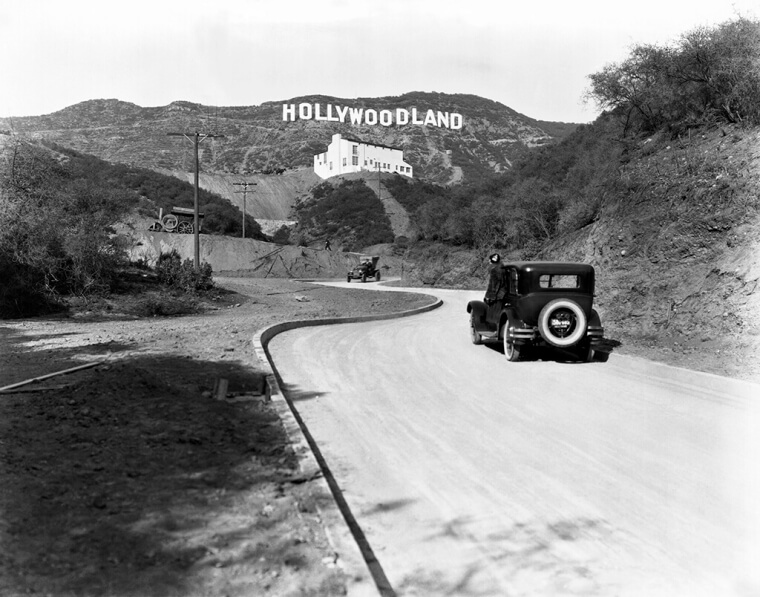 Underwood Archives/Getty Images
Each letter of the sing was initially 50 feet tall and 30 feet wide, requiring some 4,000 light bulbs. Each section of the word (Holly-wood-land) would light up at different times, and then as a whole.
Hollywood – Today
Today, the Hollywood sign is widely known and the area is also one of the most prestigious areas in the world. The area poses as the center of the entertainment and pop culture industry.
The "land" part of the word was eventually dropped and the letters have changed to 352 feet long and 44 feet tall. Because the sign looked pretty bad in 1978 due to time, Hugh Hefner and eight other donors contributed $250,000 to restore it.
Disneyland – Then
It might be hard to believe that before 1955 a world without Disneyland actually existed. When Walt Disney visited Griffith Park in Los Angeles he had the vision of creating a theme park inspired by his films
In his vision, families would be able to "walk into" the magical world that his movies created. So between 1954 and 1955, the theme park was built with some essential funding from ABC.
Disneyland – Now
Since its grand opening in the 1950s, Disneyland has continued to be one of the most magical places in the world.
Entertainment and technology have been on their prime at the theme park, though several changes and restorations had to happen throughout the years. On a daily basis, an average of 44,000 people visit the park with it being considered one of the happiest places on earth.
The Seattle Space Needle – Then
Some would say that Seattle without the iconic Space Needle would have never been the same Seattle we love today. The Space Needle was built in 1961 with the sole purpose of being an observation tower. The tower is enormous, standing at 605 feet tall while being prepared for natural disasters such as earthquakes with a 9.1 magnitude.
Edward E. Carlson and John Graham were the ones behind the design of the Needle as a project for the 1962 World Fair.
The Seattle Space Needle – Now
To this date, people from all over still travel from different places around the country to experience the incredible view from the Seattle Space Needle. Though it's not particularly as tall as the CN Tower located in Toronto, it sure does hold its ground well. In 41 seconds, one is able to climb the entire 520 feet of the tower through its elevators.
Though there were once two restaurants located at the top of the Needle, today there is only a Northwest cuisine restaurant that rotates 360 degrees every 47 minutes.
Morandi Bridge – Then
In 1963, the Morandi Bridge (or Ponte Morandi) located in Genoa, Italy, began its building processes but only opened four years later. The bridge, which belongs to the A10 motorway, has been one of the most important links to not only France but the entire European route E80.
Davide Papalini/Wikimedia Commons
The bridge helped link two huge parts of Genoa that were otherwise separated by the Polcevera river. Riccardo Morandi was the designer behind the bridge, an Italian Civil engineer widely renowned for his skills in reinforced concrete in his projects. The bridge is composed of different smaller parts that form an overpass, thus being built as a viaduct.
Morandi Bridge – Now
Sadly though, the Morandi Bridge didn't last. This was discovered by Gnoan citizens in August of 2018 when the bridge eventually collapsed in the midst of torrential rainfall. Just like that, what was once an incredible bridge, simply collapsed, with almost 700 feet of it falling on to the ground and to the river below it.
At the time it collapsed, the bridge had three heavy vehicles and 35 cars traversing, resulting in 43 people dead and some 15 people injured in critical condition. Though there are many theories around why the bridge collapsed, the main two involve lightning and the structural weakness of the bridge.
Shanghai – Then
For decades Shanghai has continued to be considered one of the fastest-growing cities in the world. In this picture, we're able to see the view overlooking Shanghai's Pudong district and the Huangpu River during the 1980s.
Before that though, famine, drought, reform, and suppression were characteristic of the now magical city as a result of the Communits Party establishing the People's Republic of China in 1949. The situation improved drastically though after the Cultural revolution that started in the 70s when the Shanghai Communiqué was signed by then-President Nixon and Shanghai's then-leader Premier Zhou Enlai.
Shanghai – Now
Here we get to see present-day Shanghai. Shanghai ended up becoming a cultural and economic hub that is recognized all over the world, largely thanks to Deng Xiaoping, China's leader in 1990. Xiaoping had the vision of developing the city and creating the hub it is today, allegedly stating once: "If China is a dragon, Shanghai is its head."
Liqun Liu/Construction Photography/Avalon/Getty Images
In less than 25 years, Shanghai has developed at a rapid pace and is now called the "vertical" city home to some of the tallest and largest buildings in the world, such as the Shanghai Tower (measuring 2,037-foot).
Dresden Frauenkirche Old Church – Then
When World War II finally ended, hopeful citizens of Dresden started salvaging what had become the mere fragments of Dresden Frauenkirche. They hoped that the landmark would be rebuilt once the war had ended, but unfortunately, the Communist regime refused to do so.
Imagno / Contributor/Getty Images
Though there were many efforts made into transforming the area into a parking lot, citizens felt so emotionally attached to the area that it eventually became a memorial against the horrors caused by the war in 1966. When the Berlin Wall fell in 1989, the city rebuilt the church, which wasn't completed until 2005.
Dresden Frauenkirche Old Church – Now
In front of the old Church laid the statute of Martin Luther, who amongst many other things, was the forerunner of the Protestant Reformation. He was memorialized with the statue pictured here, located in Dresden Frauenkirche (Church of Our Lady) which was originally built in the 18th century.
When Anglo-American forces attacked Dresden in 1945 with a ton of firebombs, the church's dome that had stood proudly until then was destroyed. Some 25,000 people were killed in the attack, and all that remained from the church was a pile of rubble that remained untouched for at least 45 years.
The World Exposition Buildings – Then
When the World Exposition took place in 1900, 48 million visitors came from all over the world to experience the huge event. Several countries from around the world were represented in buildings during the event. This picture showcases some of these countries, with the United States, the Ottoman Empire, Bosnia-Herzegovina, Belgium, Germany, Spain, and Macaco represented.
Though the buildings were really stunning, they were eventually demolished not too long after the exhibition was concluded.
The World Exposition Buildings – Now
If you look closely enough you'll be able to see the only remaining structure in the area today, which is the Eiffel Tower. Other than that, it's actually really hard to believe that the area is the same one today. Because the buildings were built with mostly cheap materials, it would have simply cost way too much to maintain the entire structures.
In addition to the Eiffel Tower, the Passerelle Debilly is also still intact, but both monuments remain the only landmarks still standing since the 1900 World Exposition. Today, the area remains a sort of open-air area, and constructions are not really being encouraged there.
A Polish Apartment Complex – Then
This crushing picture shows yet another devastating landmark by World War II. The war caused widespread destruction all over the world, and some of the most important buildings have been affected by it. This particular photo shows an apartment complex in Poznań, Poland, located in the corner of Św. Marcin and Ratajczaka Streets.
During the war, over 6 million Polish citizens lost their lives, which was almost one-fifth of the whole population of Poland. Citizens not only endured attacks on their homes but were also killed and tortured in camps and prisons.
A Polish Apartment Complex – Now
With over seven decades passed since the end of WWII, the beautiful structure that was basically demolished in the previous picture now stands gorgeously tall. In fact, many people might not even know that the picture once looked the way it did in the previous photo since today it shows a beautiful facade. After six horrible years of war, everything ended in May of 1945.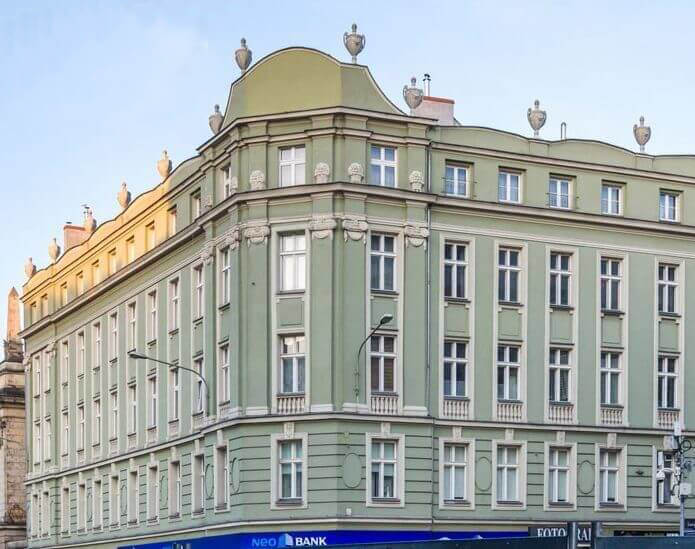 Miejski Konserwator Zabytków / Wikimedia Commons
The Germans had surrendered to the Allied Forces and Hitler was dead, which meant that several concentration camps were liberated. The country finally started rebuilding its structures including the Polish Apartment Complex in the emblematic corner.
The Azure Swimming Pool – Then
The Azure Swimming Pool was recognized as one of the most popular and emblematic indoor swimming pools located in Pripyat, Ukraine. At the time, there were only three popular indoor swimming pools, and The Azure was certainly one of the favorites.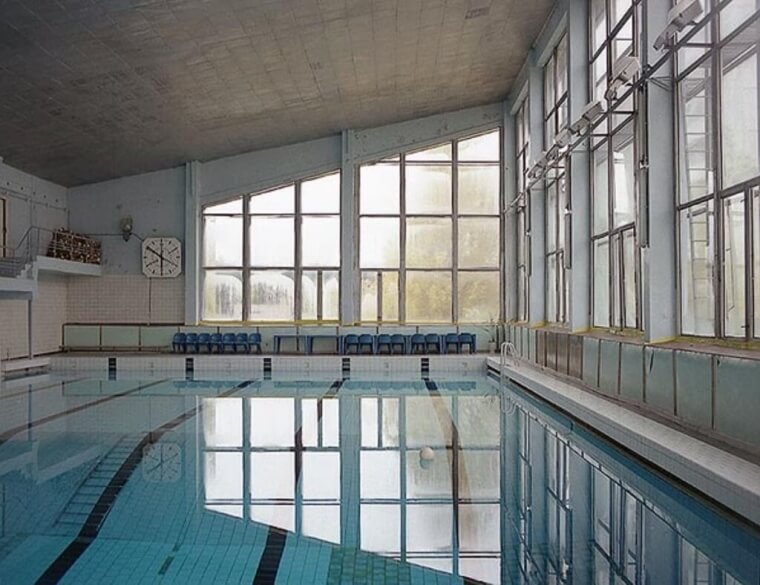 It was built during the 1970s and could often be seen full of young people spending hours having fun and doing sports. But sadly, the Azure Swimming Pool bore the consequences of one of the most devastating nuclear accidents in history. In April of 1986, the Chernobyl Nuclear Power Plant had an explosion, and the area became completely uninhabitable.
The Azure Swimming Pool – Now
After the Chernobyl disaster took place, many buildings in the "ghost town" stayed open so that workers that were still involved or working in and around the plant could use them. The Azure Swimming Pool was amongst some of the open structures, being characterized as one of the cleanest buildings in Pripyat.
However, for 20 years now the Swimming Pool has been completely abandoned. Because no one knows what the long-term effects of radiation exposure could be yet, only in 2065 there will be a more accurate estimation of the death rate caused by the disaster.
The Dharahara Tower – Then
The Dharahara Tower is a grandiose nine-story tower that was built by Mukhtiyar in 1932. The tower is located right at the center of Sundhara in Kathmandu and was the tallest building in Nepal for a while. It has 213 steps displayed in a spiral staircase that visitors love to hike to the top.
Though the trek was pretty difficult to climb, it was apparently really worth it. Allegedly, there was a circular balcony with panoramic views located on the eighth floor – showing a perfect picture of the Kathmandu Valley. Since it was built though, the tower has experienced a ton of challenges that included two earthquakes, one in 1834 and the other one in 1934. Yet, the tower survived both of them.
The Dharahara Tower – Now
Sadly though, the tower wasn't invincible after all. It wasn't so lucky when a 7.9-magnitude earthquake struck the entire area in April of 2015 resulting in a complete collapse of the tower, except for the base. Several people were in the area and ended up being trapped under the rubber, with at least 60 lives being lost due to the disaster.
The year after, the government declared that the tower would be rebuilt, this time ensuring that the tower would be earth-wake resistant. They started building it back in June of 2018.
45 Of the Most Amazing and Unexpected Photos Of Frozen Things You'll Ever See
Brenda Miller
This article was originally published on Kueez
With some of the coldest months of the year slowly approaching, there is nothing like the mystery and the beauty of winter to get us excited. For those of us who live in areas that get particularly cold during these months, we often get to see mother nature doing its thing, freezing everything around us in a powerful and incredible way. For those who don't get to experience winter's miracles, we decided to put together some of the most fascinating photos of frozen things from all over the world. From breathtaking images to strange and scary moments "frozen" in time, these beautiful images will surely make you appreciate the beauty of winter on an entirely different level.
1. ​Trapped Frozen Bubbles
How about some bubbles trapped below a source of water in ice? Now that's certainly something we don't see every day! Though this is a completely natural phenomenon, bubbles of highly-flammable methane freezing in iced-over water is always a mesmerizing sight during winter.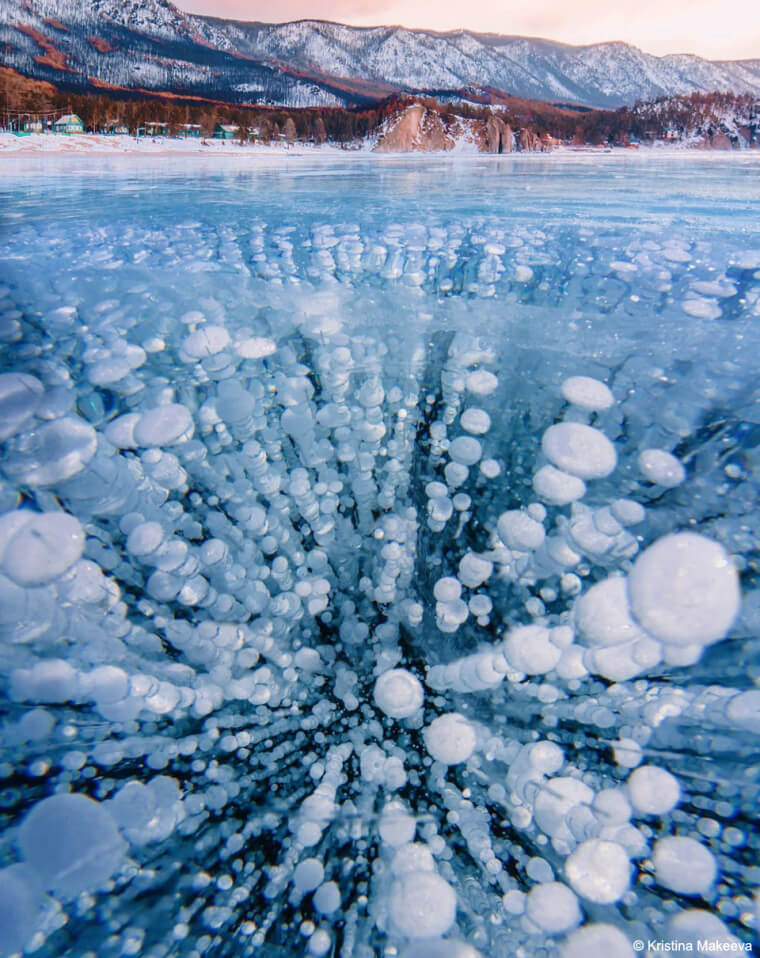 Interestingly, it is said that if someone "pops" one of these bubbles, a harmless explosion could occur. Of course, you'll have to travel to Lake Abraham in Alberta, Canada to find out for yourself.
2. ​A Ghost Ship
This ghost ship, known as the "Sunken Yacht", was a Brazilian yacht that got completely wrecked somewhere around Ardley Cove in Antarctica. The yacht was populated with a Brazilian film crew that planned to film a documentary, but they were unfortunately knocked with strong winds and a sea storm.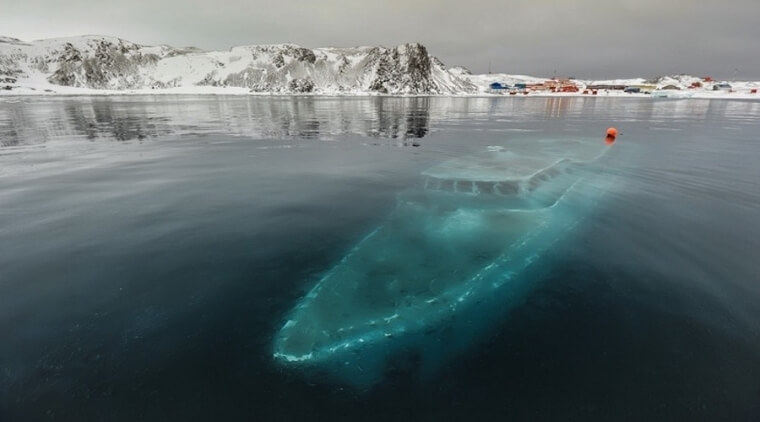 The crew had to abandon the ship, and the ship was completely washed away, eventually freezing with time.
3. ​Frozen Stop Sign
Some pictures taken in the frozen ice look completely unreal, just like this one. In fact, without a caption, not anyone would be able to identify what is in this picture.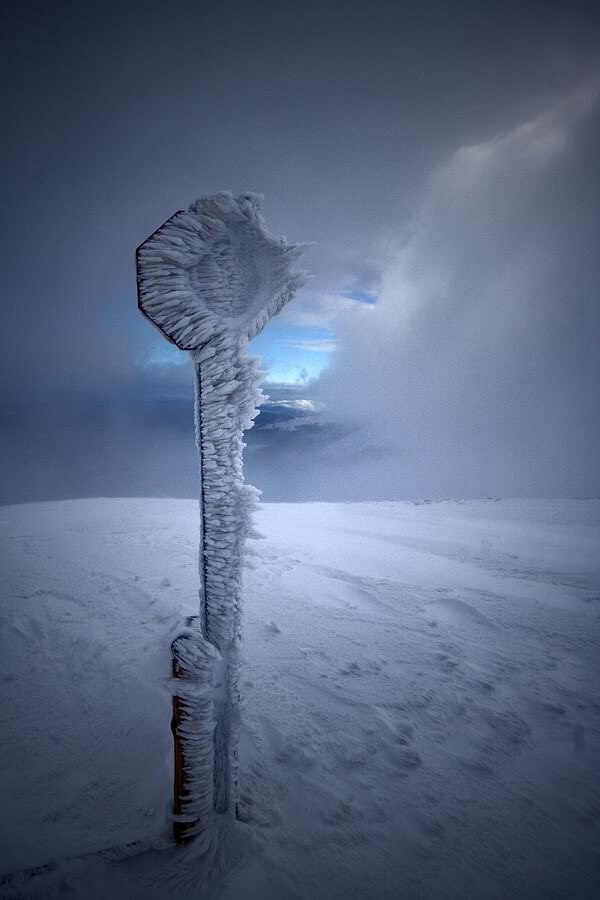 The frozen stop sign can be found in Russia when the temperature becomes way too cold for anything in the streets to remain intact. Hopefully, there are no drivers around this road, otherwise, things might get pretty dangerous.
4. Frog Who Got Frozen To The Top Of A Fence
Looks like this poor guy was just hopping around on top of a fence when he got caught in the middle of a snowstorm. Unfortunately for him, he wasn't prepared for the harsh winter and, sadly, that ended up being where he did his final hop.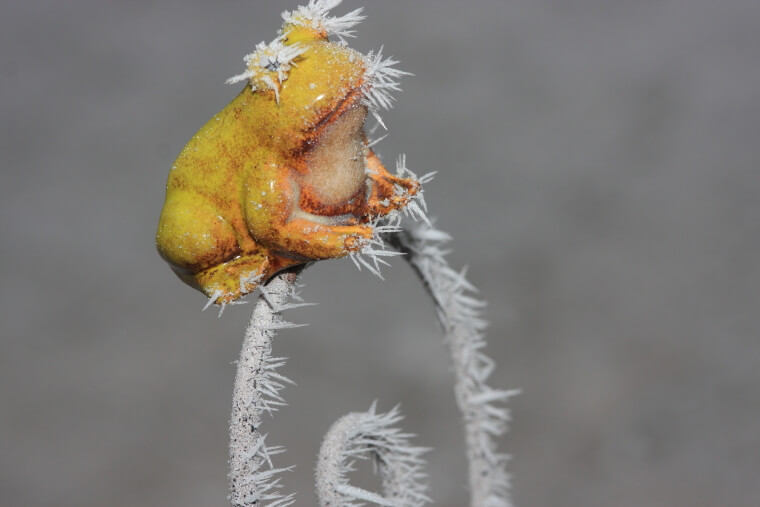 While it is sad that this little frog froze to death, it's quite startling how the yellow skin manages to stay so bright and vibrant. It's certainly noticeable enough for someone to come along and give him a propper froggy burial.
5. ​A Huge Wall Of Ice
Not many things in this life are as mesmerizing as a wall of ice. If you like hiking, it might be really hard to find the motivation to do it during the really cold months, so getting up and putting those shoes on better be worth it when you decide to do so.
And if you're lucky to live in a place that gets cold enough, it's definitely worth it to still go for that hike. You might be able to see a frozen waterfall like this one, showing the wonders of what our powerful Earth can do.
6. ​A Frozen Truck
Many people don't realize how powerful a snowstorm can really be unless they've experienced it. In a single night, an entire layer of snow can cover and completely freeze something as big as a car, a truck, or even a house.
While it may be unfortunate, we have to say that the sight of this frozen truck is pretty magical, especially with the contrast of the blue sky and white ground.
7. Flower Buds In Ice
This picture was captured by someone who is lucky enough to live right next to an area full of wilderness landscapes. This photographer, for example, was mesmerized when they found young flowering buds completely frozen.
It seemed like the stunning buds were preserved in the ice while they waited for spring to arrive. As soon as the sun arrives, they should easily melt and blossom!
8. ​A Trail Of Frozen Flowers
It's safe to say that amongst many things in nature, flowers are sadly some of the most affected during the cold weather.
Be it flowers, leaves, or entire trees, these natural beauties are often caught up in snowstorms and left frozen for us to appreciate. In this picture, we get to see the beauty of a trail of frozen flowers caught right after they got stuck in the ice.
9. ​Geysers Caught In A Snowstorm
Natural geysers are undeniably one of the most fascinating geographical anomalies ever. They can usually be found in the wilderness, where volcanic areas are either prevalent or close by.
Because of its volcanic characteristic, the water that comes out of these captivating visual treats is usually hot because of the high temperatures. When these temperatures breach the sub-zero surface, a frozen explosion takes place, resulting in the majestic geysers we see in this picture.
10. ​A Frozen Dragonfly
While nature can create stunning things, it is heartbreaking to see animals caught up in its frozen nature. Dragonflies are another animal that often gets caught up in snowstorms, with their tiny bodies and wings eventually ending up completely frozen.
At least, we are comforted with the fact that the animal is believed to exist for some 300,000 years by now.
11. ​A Trash Can That Didn't Survive Winter
Though the cold weather manages to result in some pretty insane frozen objects sights, it also freezes the most unusual and random things. Like this trash can for example.
It got caught up in the storm so deeply that it became almost impossible to open the can. That is one of the reasons why many people decided to keep their trash inside during the coldest winter months, only taking it out when necessary.
12. ​A Spider Web Stopped In Time
Nature has its own way of creating some of the most amazing wonders out there, and this picture is proof of it. A spider web was somehow caught in the snowstorm but managed to remain intact.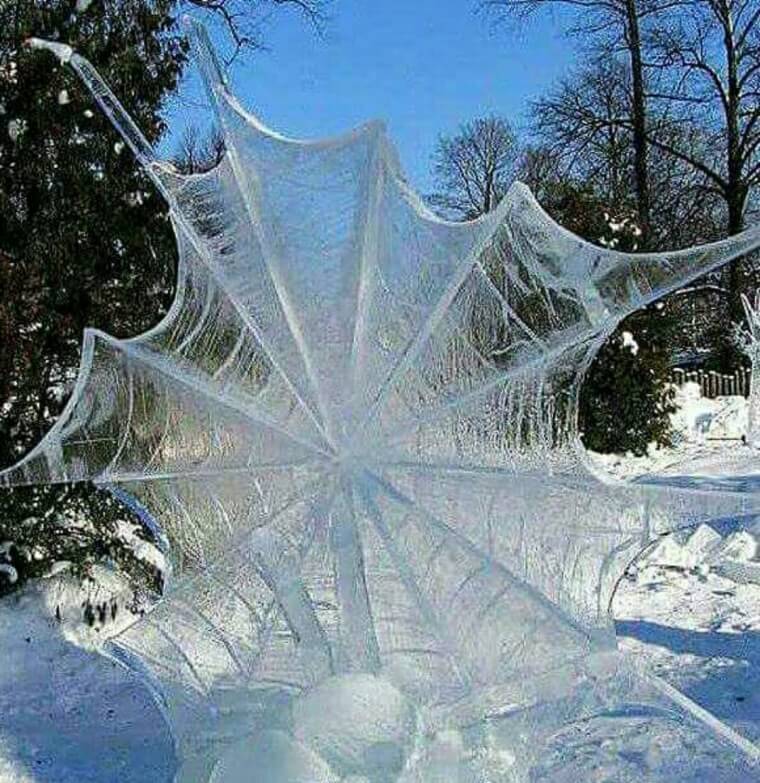 What happened instead, was that the web became completely frozen, turning out into what looks like a piece of art in its natural form.
13. A Lighthouse Caught In Sub-Zero Temperatures
Lighthouses are often located close to the ocean, and this one is no exception. The stunning lighthouse can be found in Wisconsin, where the winter season can be really powerful.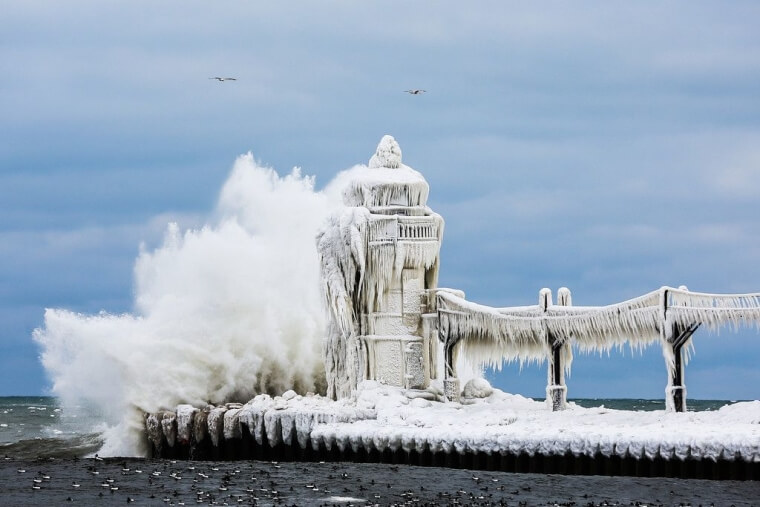 When it's cold enough, the chances of even large bodies of water becoming frozen are high, which sometimes results in the freezing of anything the water touched as well, such as this lighthouse. Because it was so cold, the air froze in place, and as time passed each wave brought moisture that eventually became ice.
14. A Cherry Tree Completely Iced
The first signs of spring usually come when we get to wake up and see fields of colorful flowers blooming in the most stunning forms. But that also usually means that winter is approaching, and a different kind of beauty is about to come.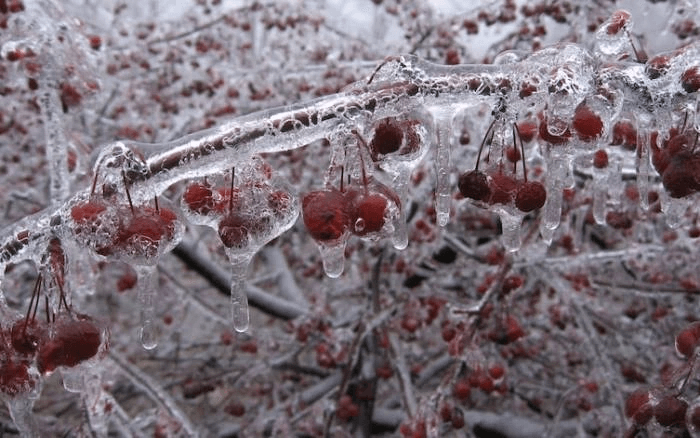 When winter arrived, this cherry tree was caught up in an unexpected cold front and created this really cool looking cherry tree.
15. A Random Sesame Street Frozen Object
When winter gets really bad, it's not uncommon for an entire town to be completely shut down until the winter storm calms down. Heaters are turned on full blast and the streets have hardly a single person.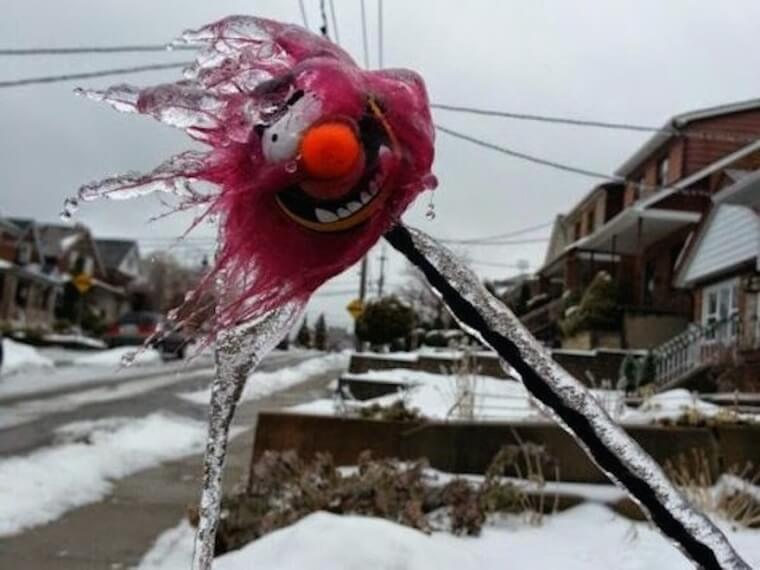 Unfortunately for someone though, they forgot their Sesame Street toy outside, and the icy snow completely took over it resulting in a frozen happy toy.
16. ​Frozen Toilet Paper
Well, when we think about frozen things we're pretty sure that the first thing that comes to our mind is not alwyas a toilet paper roll. We think of trees, cars, and anything that can be caught outside during a snowstorm.
Somehow though, this person's toilet paper seems to have been caught up in the storm, and we're unsure whether it's possible at all to use it again once it defrosts.
17. ​The Plane On Ice
Crashed technology and objects are amongst the very strange and mesmerizing things scientists find in ice. This plane, for instance, is obviously not ancient but is old enough to get us all completely by surprise. The military plane crashed in 1953 when it was on the way to Anchorage, Alaska.
The plane sadly came a little bit short and crashed near a glacier killing 41 passengers and 11 crew members. Even more sadly though, the conditions in the area were so unsafe that rescue workers and the police weren't able to retrieve any of the plane's wreckage. It took some 50 years for the glacier to melt and allow a rescue team to finally approach it.
18. ​Bye Bye Staircase
Those who have watched the classic Titanic will probably feel some sense of familiarity once they see this picture. Not that it has anything to do with it, of course, but something about this frozen majestic staircase reminds us of Rose and Jack's last moments of intense love.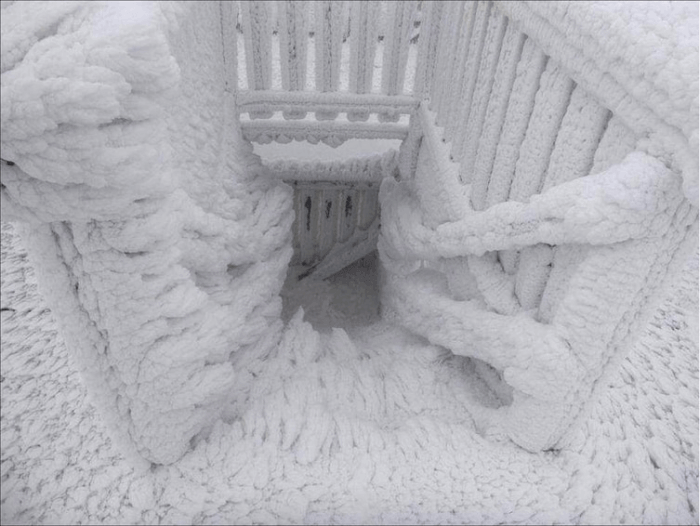 Also, if you've heard the phrase "when hell freezes over", then this might be familiar too. It totally looks like a frozen staircase to hell.
19. The "Glacier Fox"
We promise, not many images will be as daunting and sad as this one of a frozen fox. The unlucky animal fell into a river and drowned, becoming completely frozen along with the river itself.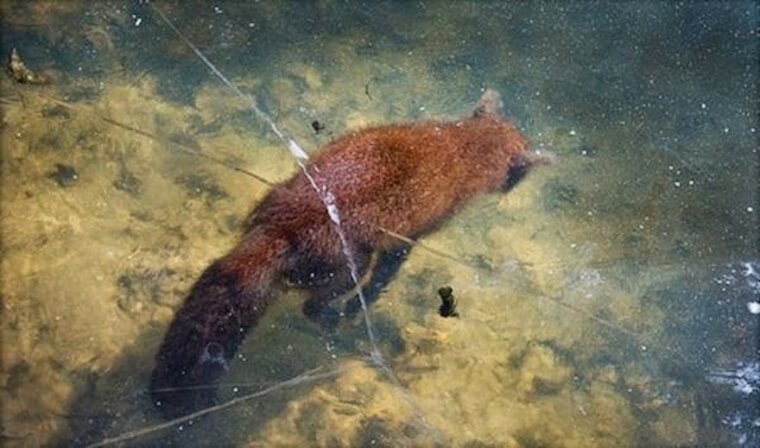 The person who found the macabre image didn't think that what he was seeing was possible. What's even worse, is that animals being found frozen is not such an unusual sight in places where temperatures are way below zero. Especially tiny animals like foxes.
20. The Brains Of A Woolly Mammoth
Well, yes, you heard it right. This picture shows a woolly mammoth found by scientists in ice. This particular one is actually one of the only preserved species of a mammoth with an intact brain to this date.
The specimen is 39,000 years old but, unfortunately, scientists concluded that when the mammoth was caught in the storm, it was just a child (six to nine years old). So even though the poor animal made a resounding contribution to scientific research, it didn't live much.
21. ​A Fox In Solid Ice
Animal scientists find the most unusual things on ice, and they can range from ancient animals to the most contemporary ones. Take this poor fox for example.
Certain foxes can often get caught up in the frozen cold, with not enough heat and protection to prevent them from becoming frozen solid – especially in the Arctic conditions. This one, in particular, was found in a German lake and is now displayed in a German hotel.
22. ​A Frozen Alligator
Believe it or not, scientists sometimes find things that are not dead but are still completely frozen. This alligator, for example, was found by someone who thought it was dead due to its state and the cold ice that surrounded it. Apparently, though, some alligators have the "superpower" of surviving in ice for the duration of the entire winter.
For some reason, the alligator's psychology allows them to keep their internal organs preserved in the coldest frozen waters out there. In fact, they use this frozen stage as a period of temporary hibernation, allowing them to live through several months in these temperamental conditions.
23. ​A Fish Caught In The Cold
Now here's an interesting finding. This fish was actually caught in the middle of its process of catching another fish, what are the odds? The water must have gotten cold so quickly, that neither of the fish had time to do anything but to freeze forever.
A fisherman in the area was able to retrieve the specimen and share it with his colleagues. His finding reminds us of the ongoing methods of predation taking place at its fullest, only this time someone was able to catch it in the moment.
24. ​The Dinosaur Mummy
Let's be honest, some things found on ice are just scary! In fact, woolly mammoths are not the only ancient things found by scientists. These creepy dinosaur remains that are now found on display at a museum, were discovered by scientists during an excavation.
Its remains show that the dinosaur had unfortunately been caught up in a snowstorm, and ended up succumbing to the cold. This specific one, called the nodosaur, was found when it was about 110 million years old, meaning that it existed in the middle of the Cretaceous period. During this time, predation was pretty intense, and the animals that managed to survive had to grow spikes and armor to defend themselves.
25. ​Another Woolly Mammoth
We don't know about you, but Woolly Mammoths are easily some of the most majestic and beautiful ancient animals to ever exist. The prehistoric woolly beast used to exist in the lands of the Arctic in several places like Siberia and Alaska.
One mammoth specimen that was found recently was resurrected from an ice tomb in Siberia, dating some 39,000 years of age. The specimen was so well conserved that scientists defined it as one of the most well-preserved mammoths in history. Surprisingly, the fossil was found still with its muscle and blood tissue completely intact.
26. ​Remembering The Dive
It's so sad to think that these birds were simply trying to find their daily meal when they were caught up in ice-cold water, and ended up frozen. Sadly, the sharp dive actually resulted in a deep freeze that was just too shocking to their bodies, preventing any hope for recovery.
The sterling specimens featured in the picture were found in Wesendorf, Northern Bavaria. The frozen kingfishers are now on display at a museum, reminding us just how dangerous the cold weather can be.
27. ​Ice Age Puppies Frozen
Some frozen things found are a little bit closer to home! Scientists managed to locate an ice age puppy frozen in the ice, and they were lucky to find it really well preserved. The cold had allowed it to stay as preserved as possible, though researchers suspect that the animal was 12,460 years old.
In this picture, they show the frozen ice age puppy's teeth found in the deep Siberian tundra. The find was so phenomenal that it has caused many researchers to reconsider the history of the relationship between dogs and people, seeing that it goes this far back. Interestingly enough, when scientists stumbled upon it they were actually looking for mammoth tusks but were unsuccessful.
28. ​A Sign Of The Frozen Vikings
During one of their long excursions on ice, scientists also managed to find an incredible trace of the Vikings. Norwegian scientists found Viking gear, like the one pictured here, lost in several glaciers. They found sticks, a Viking boat, arrows and bows, and even a couple of leather parts from shoes.
This was all found in the vast territory of Juvfonna, Norway, and it was believed that the materials were 3,400-years-old. But arguably one of the most interesting pieces were the reindeer traps, usually described as bound sticks that would make a trap that would allow them to capture the reindeer more easily.
29. 'Bloody' Falls Glacier
Several mysterious and unexplained things happen in Antarctica, especially when the cold begins freezing everything in the glaciers. For example, one of these weird sights includes the spooky flow in this picture that looks like blood.
In reality, however, it's just a lot of iron-rich water that was eventually named "Blood Falls" glacier due to its color and texture. Though it's not clear where the iron comes from, it sure results in quite the site. According to scientists, the "bloody-like" substance is believed to be a mix of particles from the ocean, rock, and glacier ice.
30. ​Old Frozen Forests
As the glaciers continue advancing during the wintertime, they eventually begin crushing every single thing that is found in their way. This has a name, it's called sediment moraine. This particular event can actually serve as a cushion for some of the things that the glacier would eventually crush on its way to collapsing.
This is not found everywhere though, only in certain forests. Basically, the glacier doesn't uproot the trees or destroy the forest, instead, a layer of non-abrasive material is enabled by the moraine. That results in the forest beneath it continuing to exist in peace.
31. ​A Copper Arrowhead
Now here is something we hadn't seen yet, frozen weapons. This copper arrowhead was found within a bunch of ice patches, showing evidence of its ancient beginnings.
An interesting fact is that the weapon was created by people who understood metallurgy, dating back to a time where modernity and certain developments already existed. In other words, humans had created these materials for efficient hunting, only continuing to evolve since then.
32. Bacteria Preserved By The Ice
You might be wondering by now, how does ice preserve so many materials? Well, it's because the ice-cold manages to prevent bacteria and any other decomposers from penetrating whatever is being preserved.
That is why several sections of the Arctic are so cold that they are completely deprived of oxygen, and if they do manage to function, they don't do so at the same rate in warmer climates.
33. ​A Devastating White War
War is one of the most devastating things in the history of humankind, and unfortunately, there is tons of evidence of how heartbreaking it can be. This picture is one of them. These soldiers from WWI were found in the ice, showcasing the consequences of the battles that were fought really high up in the Alps.
Many soldiers succumbed to the frigid temperatures and were left there. In fact, the temperatures were sometimes so bad that many of the people who fought in those conditions would end up dying because of the cold, and not the war directly. Because of the freezing temperatures, the bodies remained preserved throughout the decades.
34. ​People From The Past Found In The Alps
Unfortunately, soldiers haven't been the only people found on ice over the years. Several people have suffered similar fates, and scientists found a little bit more about this recently. Scientists and anthropologists found a body on ice that is about 300 years old, but it was preserved in ways that it wouldn't have been if it wasn't on the ice.
It was discovered that the body was an ancestor to the First Nations people, which scientists named the "Long Ago Man". When he was found, he was wearing a robe made from skins that combined ninety-five pelts, a fur coat, a walking stick, and several scales of a fish in his pocket. It's safe to say that whenever the man lived, he was pretty well off.
35. ​Tons Of Frozen Spears
Several other human implements have continued to be found in the ice over the years. In Yellowstone, an area where no signs of humans have been found for centuries, a spear that dates 10,300 years was surprisingly found.
The spear is believed to have been used to hunt and kill the local fauna back then, and in Yellowstone in particular, that includes bison and elk, and a wolf or two. One of the most important facts about the finding was that it revealed the human presence in a place that wasn't so obvious. In fact, no one expected humans living in the cold Idaho, Montana, and Wyoming climate back in the days.
36. ​The Otzi Ice Man
Okay, we know it's getting creepier, but hang in there. This Otzi Man is one of the most famous human discoveries of a human in the snow. The body is of a 5,300-year-old man, who was found alone in the Alps between Italy and Austria. It was found that he is a genetic ancestor to several people from the Austrian area.
When he was discovered, scientists found an arrow embedded in his shoulder, and apparently, he had been killed by a huge blow to the skull. This is not to mention all diseases he allegedly had, including gallstones, gum disease, worn joints, Lume disease, and the list goes on.
37. The Wooly Rhino
It only makes sense that animals with tons of fur are found in abundance in areas where extreme cold prevails. That is why the wooly rhino used to exist in areas such as Sakha, Russia. This particular one was found recently in the coldest region of northern Russia and is believed to be one of the last of its species to have died around 10,000 years ago.
According to scientists, the Wooly Rhino was about 18-months-old then. The find has been an essential part of learning more about the animals that lived in ancient times, how they lived, what they ate, and which habits they had.
38. ​Ancient Sabretooth Tigers
The ancient sabretooth tigers, also known as cave lions, used to roam in the arctic circle for decades or maybe even centuries. Russian scientists recently discovered unique specimens of the animal in Yakutia, Siberia, which allowed them to learn a little bit more about the mysterious animal.
Because of the ice-cold, the tiger was well-preserved and taken to a museum, weighing around 881 lbs. Scientists have discovered several other spooky animals from these same icy waters, including mastodons and other interesting creatures from the times.
39. ​A Lighthouse In Michigan
Those from Michigan will easily recognize this one. It's not uncommon for certain pieces of architecture to succumb to the cold, and eventually becoming frozen. But this majestic image catches the magical aspect of winter.
The frozen lighthouse located right next to Lake Michigan was caught up in the cold, but still looks completely stunning with the sunset illuminating the ice in the surrounding area.
40. ​The Ancient Darts
There have been so many fascinating items found in the ice over the centuries, and the discoveries simply keep on coming! For instance, these atlatl darts pictured here were one of the first-ever forms of weaponry made in modern times.
Humans would make them anatomically customized to each owner, and the items eventually became what we know as darts and arrows. Basically, the weapon was made of a handle with a small notch at the end that would be able to hold a spear that was about four to six feet long. Back then, they were built individualized for each item owner and carved into some very impressive ornate structures.
41. ​A Dart Shaft Found In Poop
Believe it or not, there have been some phenomenal finds in poop in the history of humans and animal-kind. Though it sounds super gross, some deeply informative dart shafts were found by scientists in the poop of caribou just like the one pictured here.
In fact, there have been hundreds of darts found in the same area, implying that the hunters back then were pretty crafty.
42. Bacteria From The Ancient Times
Yes folks, bacteria can also be pretty ancient, and it can make for an incredible ice-cold find. Recent specimens found in the ice date back to around a quarter-million years ago!
Not all bacteria can survive this long though, and in the crazy amounts of cold that the most recent bacteria were found in. In order to make it, the bacteria have to be able to form spores, which are basically a form of hibernation.
43. ​Some More Ancient Bacteria
Though the bacteria found in the ice in the picture above was pretty harmless, there are other kinds out there that are incredibly dangerous. Those that are carried in the bodies of dead animals for example, or even some bacteria that manage to exist on their own.
What's even worse is that when these bad bacteria are preserved in ice, they become pretty dangerous to us because we have never been exposed to them, therefore not developing any immunity.
44. ​The Dangers Of Global Warming
Though global warming is undeniably a very important and dangerous topic, many of the findings we have seen in ice are due to the shifting climate.
Because the atmosphere continues to warm up, the rate at which snow melts is much faster, resulting in several bodies and elements that were previously buried in the snow showing themselves. Yet, the warming of the climate is potentially one of the worst disasters of our time.
45. The Solid Lake
Here goes another picture that shows just how powerful nature is. Like we've mentioned before, lakes, oceans, and rivers are prone to becoming totally frozen when the temperatures are low enough.
This picture of a frozen lake shows methane bubbles trapped under the surface because they are unable to penetrate the ice layer and end up becoming frozen with the lake.
People Share What's Normal For Their Country And Bizarre To The Rest Of The World
Ashley Lez
This article was originally published on Kueez
The more you learn about people, the more you might find out that what is normal for you might not be customary for others around the world. There are so many different cultures and traditions that might seem totally bizarre to us; but then again perhaps our cultures and traditions could also be seen as strange to others. To broaden all of our horizons, we found the most unusual things people do in their own countries that you won't find anywhere else around the world. Some of these you'll be glad you don't have where you live, and others you'll be wishing you did. But no matter what, these cultural norms will get you thinking about life in other parts of the world and how it relates to your life.
In Denmark, They Tie You To A Pole And Throw Cinnamon At You If You Are Not Married By Your 25th Birthday
Who else remembers the cinnamon challenge? Why people tried to eat a spoonful of cinnamon, still baffles us, but people in Denmark are showering others with cinnamon for very different reasons. If you aren't married by the time you turn 25, there are some interesting traditions.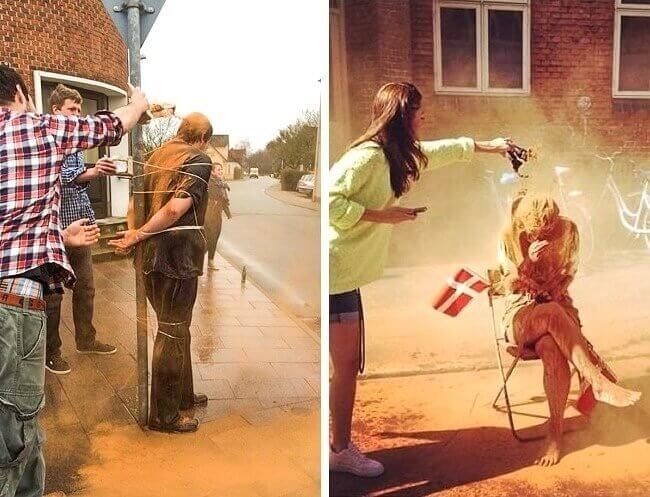 When you turn 25, you get tied to a pole, and cinnamon is thrown on you. If you aren't married by the time you are 30, they might throw pepper on you. That seems like a lot of pressure because who would want to get showered with cinnamon? It sounds very uncomfortable.
In Norway, Leaving Your Baby Alone Outside In The Snow Or Rain Is Normal
It's a sad but true fact that some countries have high kidnapping rates, but Norway is not one. In Norway, it is normal for people to leave their strollers outside with babies sleeping in them. It doesn't matter if it's winter or not; you will see them lined up outside most restaurants and cafes.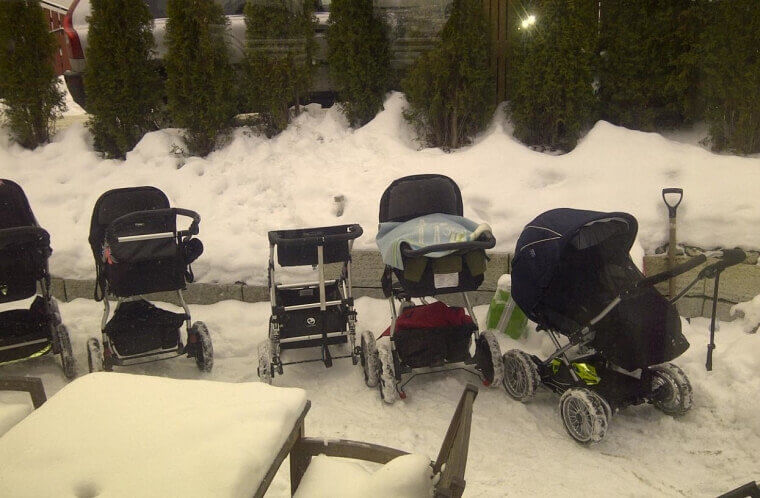 However, the babies are not cold during the winter because parents pack the stroller with blankets and the children wear many layers. When the children go to kindergarten, during naptime, you will see them sleeping in strollers outside. That probably wouldn't work in America with all those stories about kidnappers on the loose.
Saunas Are A Normal Part Of Homes In Finland
Usually, we only see saunas in gyms or spas. However, if you live in Finland, it is normal to have one in your house or apartment. For Finns, saunas are much more than a place to warm up from the freezing tundra outside; they are a sacred place for ultimate relaxation.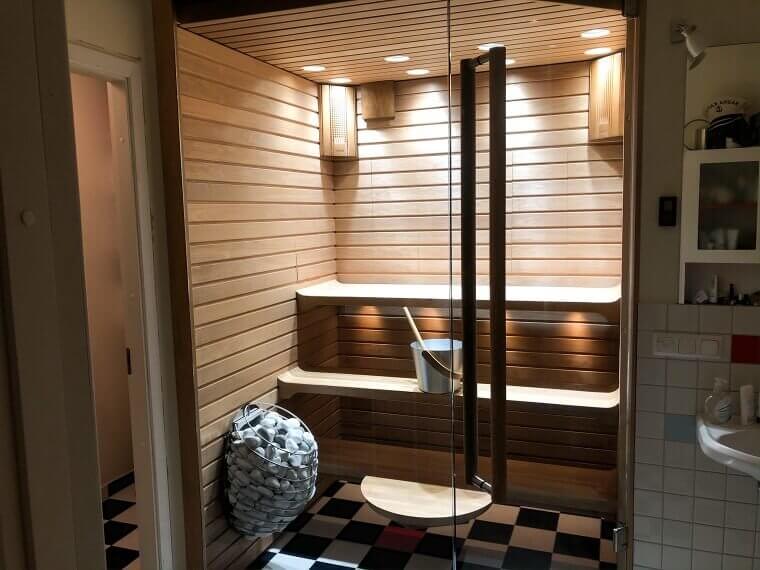 For centuries, saunas have been used as a place for purification rituals before marriage, and it was considered the holiest room in a Finnish home. They even call it the "poor man's pharmacy." They believe the sauna can cure anything, and we wish we had a sauna in our home.
People Keep Fish In Bathtubs Before Christmas In Slovakia
You might be wondering why anyone would put a fish in their bathtub because, where would they shower? But there is a perfect explanation for this. In Slovakia, live fish are kept in the tub before Christmas. They use carp, which lives in muddy waters, so it has to be cleansed before it is eaten on Christmas.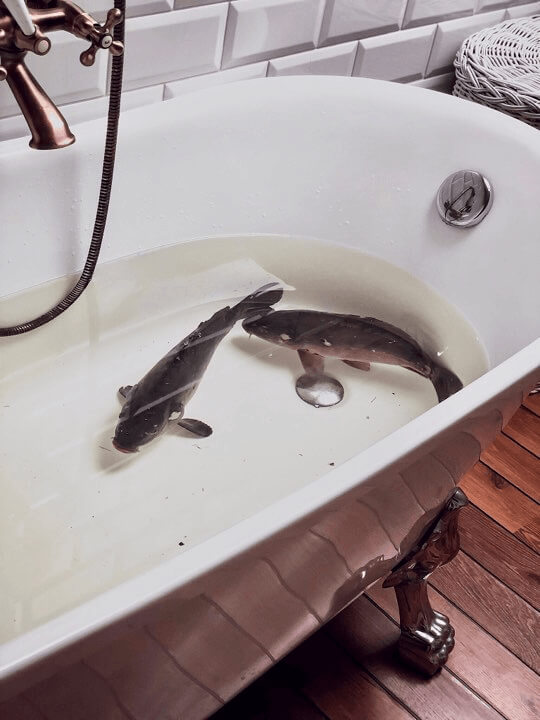 Some people name the fish, and when they have to take showers, they put the fish in a bucket. Imagine going to someone's home in Slovakia for the first time and walking in on a giant carp swimming around the bathtub. That would definitely be the shock of a lifetime.
In Ireland, If Your Friend's Mom Offers You Food, You Have To Say No A Few Times Before Accepting
Next time you go to Ireland and get invited to someone's home for dinner, you might want to remember this rule. In Ireland, they speak English, but there is a different way to accept food. If your someone's mom offers you food, you would say, "Ah, no, sure, I'm grand."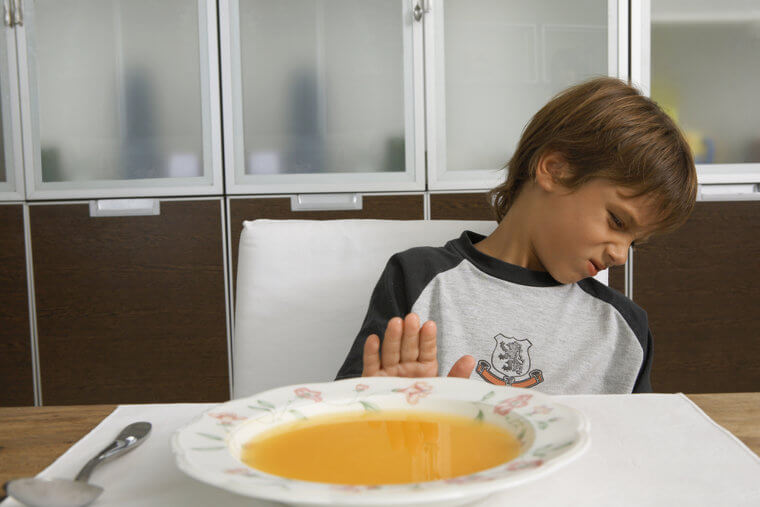 The person's mom will reply, "Ah, go on, you will." Then, you will respond with, "Ah, no, honestly." That will go on a few times even though you might be starving. Don't worry; you will eventually get food, even though it isn't the most time-efficient process.
People Love Flip Flops In Australia, Oh And They Also Call Them Thongs
Australia is known for many things, like its venomous snakes and spiders, but besides the creepy crawlies, Australia has beautiful weather most of the year. Therefore, people there love wearing flip-flops, or thongs, as they call them. They don't care what other shoes are available; they will find a pair of thongs to wear whenever possible.
For example, one Reddit user said her dad couldn't find his thongs, so he squeezed into his wife's shoes just to go into the backyard to grab the laundry. We can imagine that there were plenty of other shoes by the door, but he had to have the thongs.
Women Have To Watch Out On Easter In Slovakia
If you decide to visit Slovakia during Easter, don't wear a white t-shirt, and watch out for groups of men with water. During Easter time, groups of boys roam around the countryside, pouring water over girls and "gently" beating them with sticks. And Slovakia isn't the only place to engage in this custom.
In the Czech Republic, Easter is celebrated by whipping women gently with sticks. And in Hungary, they are splashed with water. All of these traditions were once used to symbolically ensure unmarried women stayed fertile.
This Is How People Greet Each Other In The UAE
All around the world, people from different cultures greet each other differently. People in France kiss each other on both cheeks, people in America shake hands, and in the UAE people greet each other by tapping noses twice. However, this is only done between men.
In other cultures, this might seem like a strange thing to see if you are not used to it, but it is very normal to them. We wonder how they adjusted this greeting during the past year with everything going on in the world. It is interesting to see how people do something as simple as saying 'hello' around the world.
In Argentina, When You Graduate University You Are Attacked With Food And Paint
While most people have a family gathering to celebrate their college graduation, there is a messier way to commemorate this achievement in Argentina. When you graduate from university, your friends and family attack you with eggs, flour, condiments, oil, and paint.
They drench you from head to toe as a celebration after you let everyone know when your final exam is, and only if you pass. In the past few years, it has changed from food and paints to foam and confetti as not to waste food. It seems like a strange way to congratulate someone, but who are we to judge?
Bears Are Actually Spotted On Motorcycles In Russia
We have come to find out that Russia is an interesting country with unique cultural differences from any other country in the world. Somethings that seem like they are too bizarre to be real actually happen in Russia, and bears on motorcycles are one of them.
Bears playing trumpets and riding in the sidecar of a motorcycle might be a regular occurrence there, but in most other countries, people would be running for their lives in fear of the bear. Maybe they have a better understanding of the animal than the rest of us.
In Israel Nobody Drives On Yom Kippur Leaving The Streets Completely Empty
Also known in the Jewish faith as the Day of Atonement, Yom Kippur is an important day for Jews worldwide to stop and reflect on the past year. During prayer, they ask for forgiveness for their sins, and make plans to be better people for the future. While this is a common practice for Jews all around the world, it's celebrated a little differently in Israel.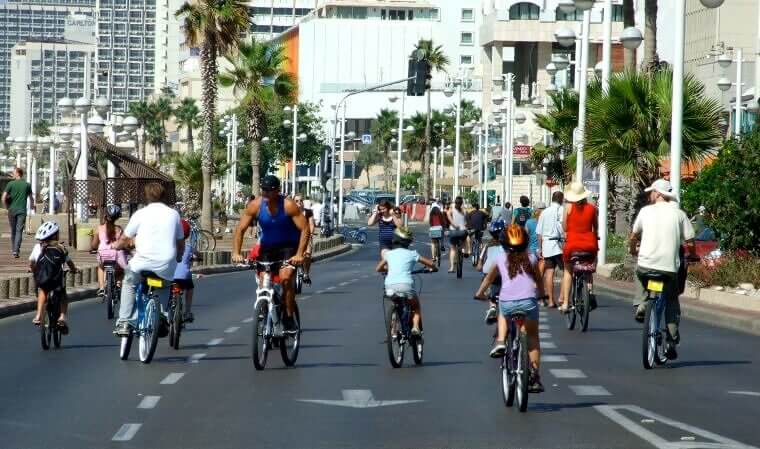 For 24 hours during Yom Kippur, the whole country basically shuts down. For first-timers, it's an odd and almost eerie scene to be in the middle of a major city and see that no stores are open and no cars are driving on the road. Israelis take advantage of this fact by hopping on bicycles and riding around their normally crowded streets. It's every child's dream come true!
Fast Food Battle Of Some Large Size Drinks
It's safe to say that America is known for having much larger things than other countries are used to. While other countries have large drink sizes, America blows them out of the water with their super-sized soft drinks that are enough for multiple people to share.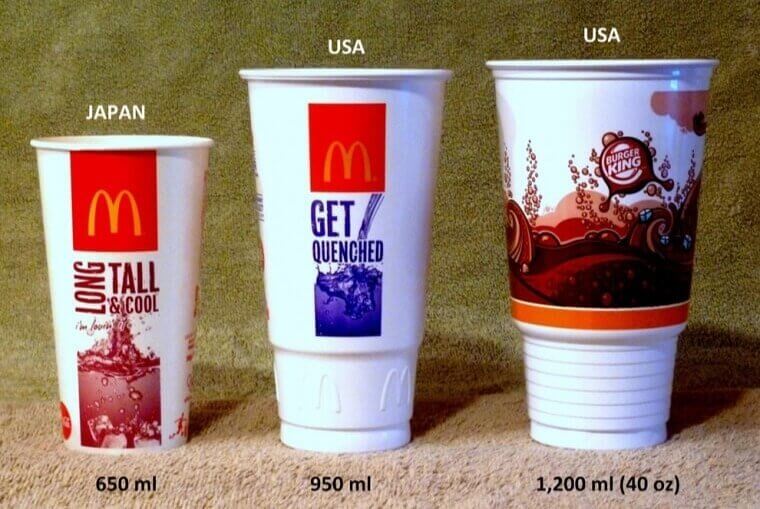 We don't know anyone who needs 40 ounces of soda but to each their own. If we drank this, our sugar levels would be through the roof, and we would be making trips to the bathroom every few minutes. Maybe they should only offer that size for water.
Everyone In Russia Has Two Passports
While most countries only give you one passport because it makes the most sense, Russia does things a bit differently. Every Russian has a passport for internal use, which is basically like an ID card, except it is the size of a passport book because it has information about citizens, like who your children are and where you live.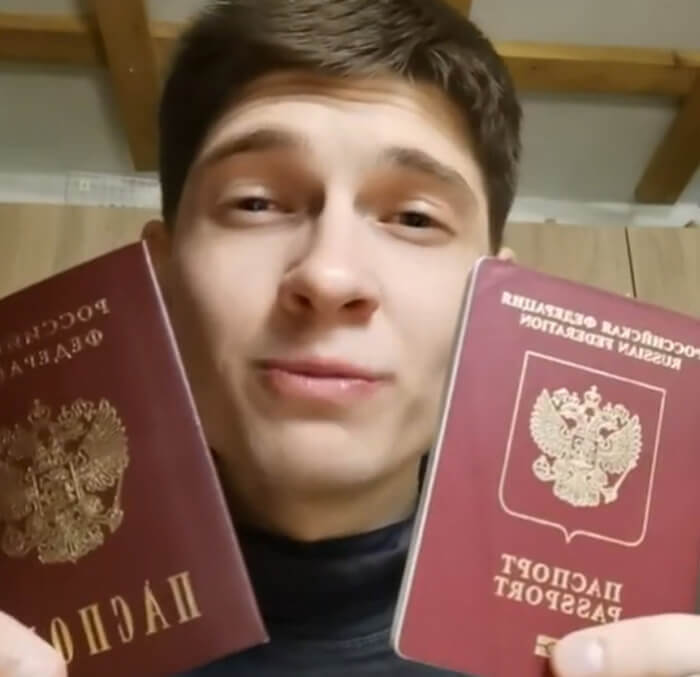 The second passport is for international use, but not every Russian has one because they are not cheap. You have to pay between $60-$70 to get one, and this is also where all your visas are stored. We like that our IDs are wallet-sized, unlike Russia.
In Brazil People Put Broken Glass Around Their Walls For Protection
Brazil might be a country obsessed with its hygiene, but they are not up to date with security systems. For a country with a pretty high crime rate, you would think homes would have more advanced security, but this gets the job done just as well.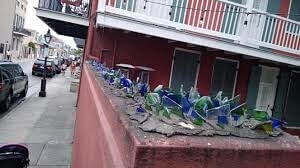 People will put broken glass bottles on the walls around their homes so burglars can't jump them and rob them. In other places, there aren't even fences around people's homes. It's a much cheaper option than what the people in South Africa do to keep their homes safe.
In Sweden, You Can Find Most Of A Person's Personal Information With A Quick Google Search
While you can Google anyone your want, most of the time, their personal information doesn't come up in a quick search. However, in Sweden, you can google a citizen's name, birth date, where they live, what kind of car they drive, and how much they earn.
That seems like a violation of privacy, but the Swedes must not have stalker issues. We would feel very uncomfortable with strangers being able to access our financial information because that is too personal. Why would anyone want people looking up all their information in the first place?
In Papua New Guinea People Chew This Stuff For Energy
If you ever visit Papua New Guinea, you might be shocked to see people walking around with red-stained teeth. Don't be alarmed; it is caused by chewing on the betel nut. It is a social practice that every Papua New Guinean does, from the elders to the young people.
There are two ways that people chew the betel nut. You can crack it open and chew the flesh, or you can dip the sake, which is the green stem, into the kambang, a white powder to produce the red paste in your mouth. It is basically a stimulant like coffee, which gives you bursts of energy. As a result, people chew it in the morning.
Brazilians Are Obsessed With Oral Hygiene
We should all be taking notes from the Brazilians. They are hardcore about their oral hygiene to the point where it is common to see people brushing and flossing in public restrooms. They also take multiple showers a day because no one wants to be smelly.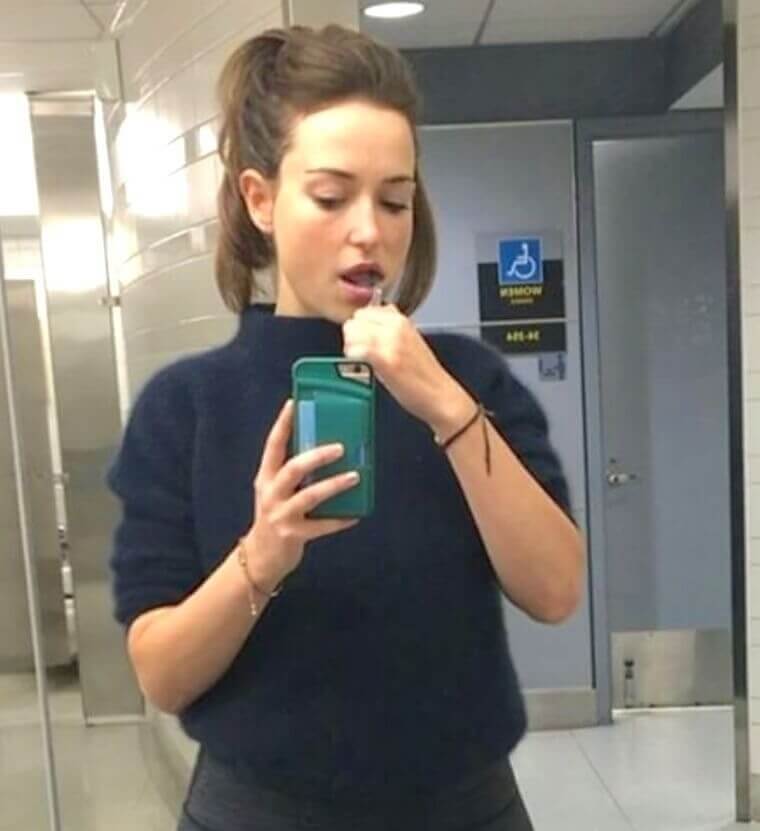 Brazilians also eat their pizza with a fork and knife because it is less messy. Not only do they have fresh breath and good hygiene, but they also eat in a polite manner, so props to Brazil for becoming a superior country in those aspects.
Japan's Festival Called Kanamara Matsuri Is A Parade About Fertility With Penises Everywhere
While it might seem confusing to parade through the streets with penises everywhere, there is a whole festival in Japan where this happens. On the first Sunday of every April, the Kanamaa Matsuri festival takes place at the KanAyama Shrine. It is centered on a local penis-venerating shrine.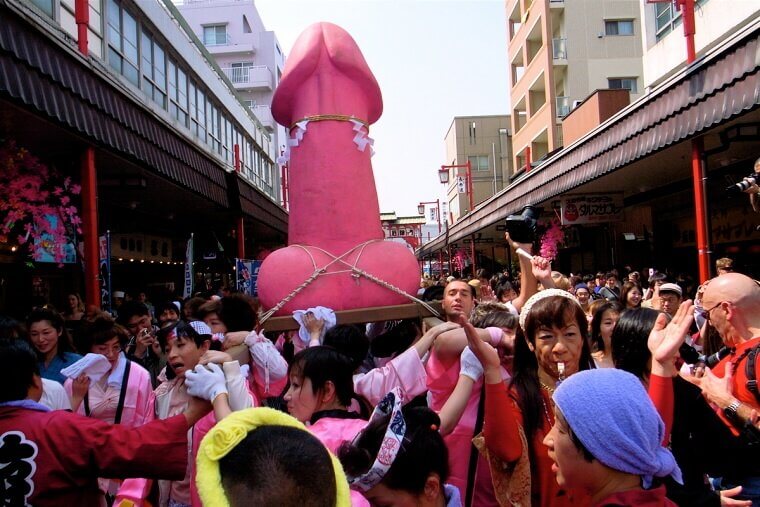 The legend says that a jealous sharp-toothed demon hid inside the nether regions of a young woman whom the demon fell in love with and bit off the penises of two young men on their wedding night. After that, the woman sought help from a blacksmith, who fashioned an iron phallus to break the demon's teeth.
People In Switzerland Are Baffled That Other Countries Don't Have Direct Democracy
Many countries around the world struggle to agree with their government or political system completely, and that is fair because not everyone has the same beliefs. However, in Switzerland, they are shocked that the rest of the world doesn't have direct democracy.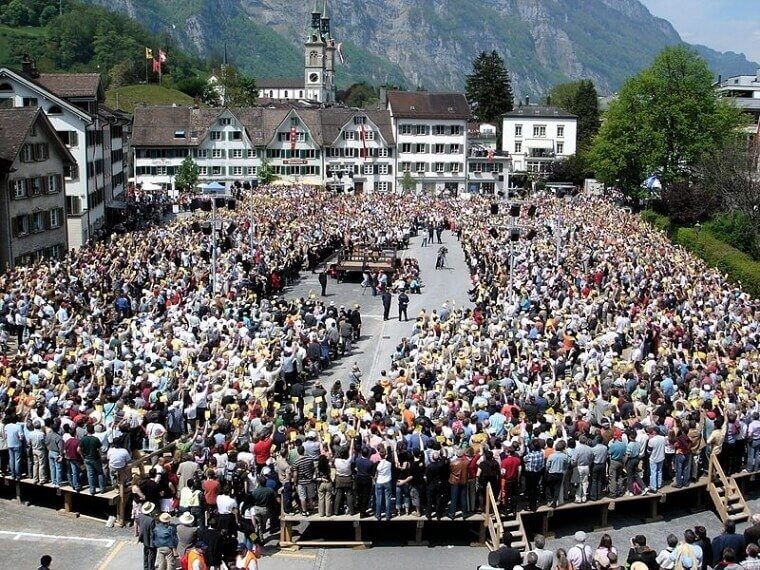 The citizens get to decide on policy initiatives, and they are directly involved in the decision-making process. In most places, people are a few steps removed from actual decisions after someone elects someone else, and it feels like your voice isn't heard.
Everything In Switzerland Is Translated Into At Least 4 Languages
Like many countries around the world, people speak multiple languages in Switzerland. The only difference is that everything in Switzerland has to be translated into at least four different languages: German, French, Italian, or Rhaeto-Romance. If it's a tourist area it's translated into English as well. From road signs to work meetings, everything is translated.
If you have a nation-wide business in Switzerland, the website needs to be translated into four languages, including brochures, instructions, and product boxes. When large companies do presentations, they will actually do it in multiple languages, or people get headphones with live translation. In some places, even cinemas have four sets of subtitles.
Toilets In Iran Have Bidet Sprayers
Bidets are common in many European countries to give you that extra sense of cleanliness in the bathroom. In Iran, they have adapted this idea in a unique way. Instead of having a separate bidet in the bathroom, the normal toilet has a hose attached to it.
If you feel like you need a little extra cleaning power, you can use the bidet sprayer. Some people refer to it as the bum gun, but we will call it a bidet. They have become more and more common in other countries throughout South East Asia as well.
People From Abroad Feel Like The Pledge Of Allegiance Is Creepy And Kind Of Cultish
Growing up, we always thought the pledge of allegiance was a normal thing that everyone did, but we were wrong. Outside of the US, the pledge of allegiance seems creepy and cult-like. Imagine being a foreign exchange student, and first thing in the morning, the whole school salutes the flag.
William Thomas Cain/Getty Images
We say it is the land of the free and home of the brave, but this is pretty forced, and there are students who would prefer not to do this. It gave us a sense of routine, but now that we look back on it, it is pretty strange, and we don't blame people for the judgment.
The US Has The Most Ridiculous Medical Costs
It's sad, but in America, medical care costs are exponentially higher than in any other country. Unlike our northern neighbors, we don't have socialized health care, and it is very frustrating. When people need to go to the hospital for life-saving treatments, they could be in debt for years.
If you are just getting an aspirin, a hospital will charge upwards of $25, and newborn diapers are over $100. Even when you have good insurance, it costs you an arm and a leg to get the treatments needed. The health care industry will take every penny you have.
The UK Uses Both Metric And Imperial When Talking About Measurements
While everyone is going around ragging on the US for using the imperial system, no one is talking about the UK and its inconsistencies. For example, you can buy a pint of milk or beer, but a liter of coke and 25 ml of whiskey. People know how many miles to the gallon their cars get, but you buy fuel by the liter.
Also, the weather forecast is in Celcius, but the wind speed is in miles per hour. It seems like they can't make up their minds about which system to use. The people must be very confused when they go anywhere else in Europe because most places just have one set way of measuring everything.
Tea Is The Cure For Everything In The UK
Speaking of strange things in the UK, they might be the only country that thinks tea is the cure for everything. Upset? Have a cup of tea. Happy? Have a cup of tea. Bored? Have a cup of tea. Feeling any type of way? Have a cup of tea.
We didn't know tea could solve all of our problems, but if we knew it was that easy, we would have been drinking much more tea. It's like it has magical powers that only people from the UK understand. They would probably laugh at southern sweet tea.
In The Philippines People Eat Exclusively With Their Hands
While some countries take pride in using different utensils for every food course, other countries ditch the rules and eat with their hands. In 1969, during the preliminary questioning for Miss Universe, Gloria Diaz represented the Philippines, and they asked her, "Is it true that you Filipinos use your hand when you eat?"
group3philippinecustomsandtraditions.wordpress.com
Taken aback by this question, she replied, "Why? Do use your feet?" She then went on to win the crown, and people stopped questioning why they eat food differently. Who are we to judge how a country eats its meals?
Swedish People Utilize The Snow As A Drink Cooler
Sweden is known for its snowy winters, and people take advantage of that. Instead of wasting space in their refrigerators, they keep drinks in the snow outside because it keeps them perfectly chilled. They might as well utilize all that snow.
Next time there is a massive snowstorm and your fridge is too full or stops working, use the snow as a fridge because it does that same job. You can even mold the snow to look like a fake refrigerator. These people are clearly looking to have a boozy snowstorm.
In The US Tax Isn't Included On The Price
If you visit any other country, the sales tax is included unless you are shopping in the United States. They like to make life harder by including the price of the item before tax is added. You only find out how much the tax is when you get to the register.
If you are trying to figure out how much something is, you have to whip out your calculator and start adding everything up to be prepared before you get to the register. There are a few states though that don't have sales tax, so it isn't like this in 100% of the US.
People Wore Masks In Asia Even Before The Pandemic
While we are now used to wearing masks every time we leave the house these days, there used to be a time where that would be so strange. It might be hard to remember those days because it seems like it has been years; however, this has always been a norm in most Asian countries.
In places like Hong Kong, even if you are slightly sick, you wear a mask. Japanese women wear them when they don't have time to put on makeup, and people also wear them for environmental reasons. Most people grew up knowing that as a society, they need to protect each other.
South Africans Take Their Home Security Seriously
Like Brazil, there is a lot of crime in South Africa, so people try to keep their homes as safe as possible. You can find many middle-class properties with 6-foot walls, electric fencing linked to an alarm, automated gates, and garage doors, and even barbed wire fencing.
stuartexploresjoburg.wordpress.com
Some people go as far as having infra-red sensors linked to armed response with a reaction time of under three to four minutes. It seems like a terrifying place to live if they have to take such drastic measures just to feel safe at home. It sounds more similar to a prison than a house.
Imagine Having Had A Reality Show Host As President
Well, it was funny at first until it wasn't funny anymore. Whatever side you might be on, we can all admit that it is pretty strange to see a TV personality in office. When Kanye West decided to run for president, we all questioned that a lot more than Trump because at least Trump was a businessman.
In the past, we have seen celebrities like Arnold Schwarzenegger and Ronald Reagan have successful careers in politics. However, we don't know if this is such a great idea moving forward. Maybe politicians should stay in politics, and celebrities should stay in Hollywood.
Men In Afghanistan Hold Hands All The Time
It might be strange to see male friends holding hands in public in some places, but in Afghanistan, it is the norm. People in other countries find this very strange, but it is their way of showing their platonic friendship. It seems stranger because being open about your gender or sexuality can get you in trouble with the law in Afghanistan.
Not everyone is into holding hands for personal reasons, but this is a nice way to show your friendship. Maybe it is an easier way to hide their sexuality since that is so frowned upon there. We wish more people would walk around holding hands.
People In The Netherlands Bike Ride Everywhere
While it might be hard to bike everywhere in places like the United States or Canada, in the Netherlands, this is the common practice. Cars are less common in the cities, and people use bikes as their main source of transportation. Even for longer distances, people use trains or public transportation.
When you visit the Netherlands, be prepared to ride a bike everywhere you go in the cities. This is not to say that cars are nonexistent because families still need a way to get around together, and sometimes biking isn't an option.
When A Polish Person Asks How You're Doing, They Mean It
In many places around the world, small talk is just a common courtesy. We ask people how they are, or talk about the weather, but no one is really interested in those conversations. However, Polish people are actually quite sincere with their small talk.
If someone says, "what's up," you can tell them exactly how you are feeling. You don't have to hide your emotions just to make it seem like you are doing well. Maybe we could all be a little more open and honest, and people would seem less fake.
New Zealanders Are Used To Being Left Off Maps
There are plenty of small countries in the world, but that doesn't mean they deserve to be left off the map. New Zealand can normally be found right next to Australia on the map, but they are sometimes left off. Even the New Zealand government posted a map that left out their country.
We understand that it is a small country next to Australia, but that doesn't mean it should be left off the world map. People probably don't even know where New Zealand is because it is always the forgotten country.
In The UK People Cheer When A Waiter Drops Everything
As a waiter or waitress, did you ever feel so embarrassed when you dropped a whole tray of food or drinks? While some people would be mad that you dropped their order, they almost celebrate a waiter or waitress's mistakes in the UK.
When a waiter or waitress drops a glass or plate, the whole restaurant cheers, "Wheyyyyy." Some cultures scream other words, but it is a nice testament to the fact that people can make mistakes, and they are trying hard.
During The Winter, There Is Almost No Sun In Canada
Canada is known for its freezing winters, and with that comes a few months without sun. Sunlight is a great source of vitamin D, and without it, people can become vitamin D deficient. Therefore, people will start taking vitamin D supplements.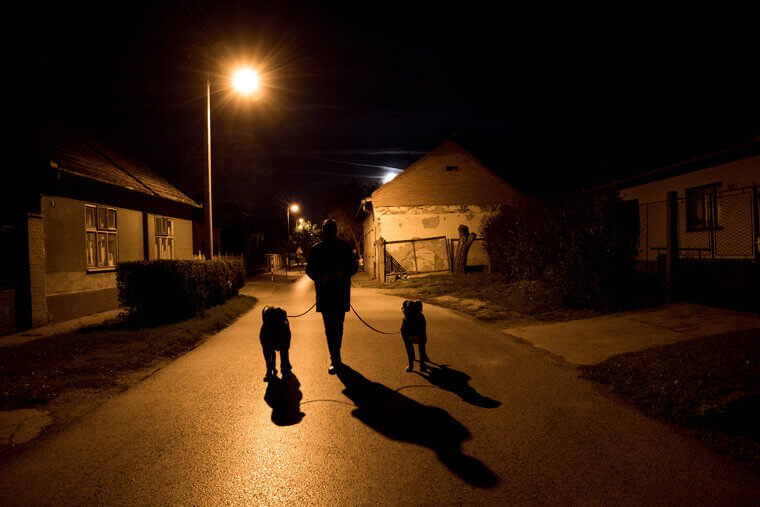 It doesn't matter if you are feeling sad, have the flu, or missing limbs; someone will ask you if you are taking your vitamin D. Make sure to go outside once a day when it is sunny to keep your vitamin D levels stable.
You Get Money When You Recycle Bottles In Germany
In Germany, you can get money when you recycle your plastic bottles. There are machines in the grocery stores where you can bring bottles, and it gives you money in return. It has actually become more popular in other countries, such as Norway and the United States, and you can make 25 cents per bottle depending on where you are.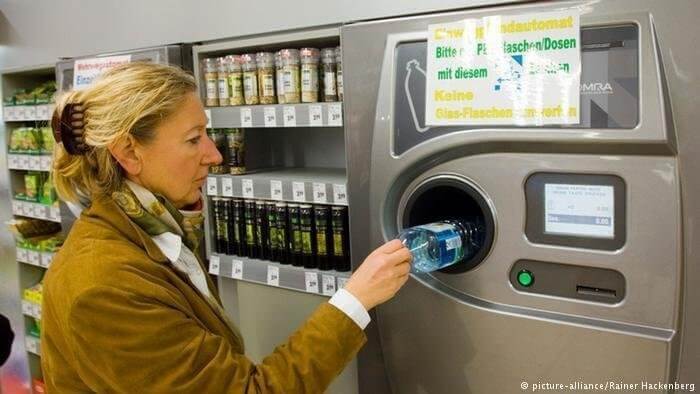 This is a great idea to get people to recycle rather than people littering. However, it's not just for plastic bottles; it is for glass as well. It should be implemented in every country, so people actually want to recycle. Let's save the planet together.
In Japan, Men Don't Give Presents On Valentine's Day
In most places, the tradition on Valentine's Day is for the man to give his partner chocolates or flowers. But in Japan, they break the stereotypical gender norms because women are the only ones giving gifts. They only give chocolate, though.
Even if they don't have a man in their life, women also get chocolates for their male co-workers. A month later, on March 14, the men reciprocate with chocolate, jewelry, nice clothes, or time. The money he spends correlates to the amount of chocolate he received.
People In Romania Eat Almost Every Part Of An Animal
Food traditions are some of the things that vary most between countries. In Romania, instead of just eating the traditional parts of the animal, they eat most of the organs, including the brains and heart. If you have ever eaten Chick McNuggets, you've eaten all the parts of the chicken.
While we may think some country's food delicacies are bizarre, it is delicious to them, and no one should judge that. Maybe we would like these things if we traveled there and tried them. You'll never know until you taste something, whether you like it or not.
Restroom Stalls In America do Not Have Enough Privacy
People worldwide are always shocked when they come to America and realize how poorly the bathroom stalls are constructed. The stalls are made in a way that you can pretty much see everything through the large cracks in the doors.
People are also always confused that we call them "public" restrooms when they are actually in private businesses that sometimes make you purchase something just to use it. If there were genuinely public bathrooms, the streets would smell a lot less like pee and other things.
People Line Up Politely In England
In some countries, we have all given up on manners, and lines are none existent. Instead of lining up one by one, some people will cut or jump ahead because they don't think they have to wait their turn. However, in the UK, they do things differently.
In England, people politely line up and wait their turn wherever they go. In times where social distancing was required, they followed the marked placers on the ground and have no trouble staying far away from each other. That is a foreign concept where we live.
In Australia, People Make Strange Scarecrows To Keep The Magpies Away
There are scarecrows in many places with farms, but Australians like to be unique in that sense. They put cable ties, branches, fake eyes, helmets on buckets, and many other wacky things to keep the birds away. The magpies are a vicious bunch.
These must be effective, but imagine how scary it would be to see one of these things at night. You would be in for the scare of your life and have nightmares for a while. They might look funny in the daylight, but once the sun goes down, that's when the terror begins.
Interesting Comparison Images That Offer A New Perspective
John Travis
This article was originally published on DailyBee
So many ordinary everyday things turn out to be extraordinary when you look at them from a different perspective. Perspective is a powerful thing that reveals the unseen side of things that we never see. Today, we have compiled an exciting collection of comparison images that will surely give you a fresh perspective. We assure you, you won't be able to look at these things the same way again!
Who's A Big Boy?
The transformation from a 2.5 months pup to a nearly 2-year-old big boy is amazing. You can ride this wolfdog and conquer places. We just want to snuggle him. This absolute dream of a wolfdog and his owner are giving us Little Red Riding Hood vibes.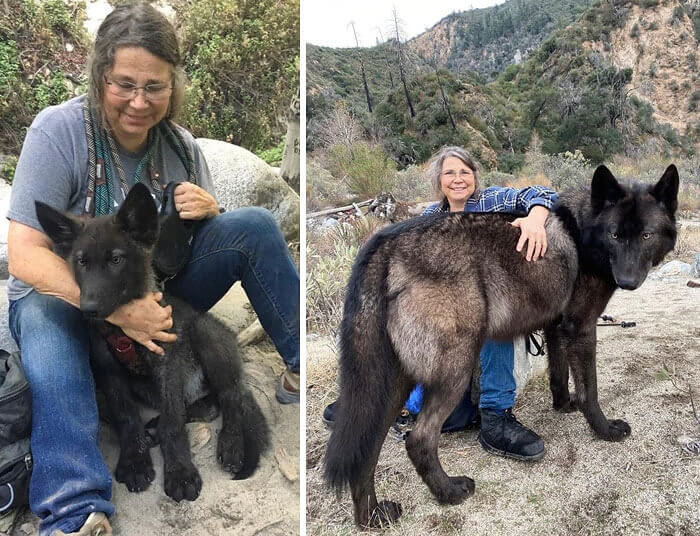 As the name implies, a wolfdog is part wolf and part domestic dog. Advocates of wolfdogs say that these affectionate and loving companions can be wonderful pets. However, others argue that they are difficult to train and are unpredictable.
Before & After Photo Shows Real Side Of Depression
The photo on the left was taken when this guy was at the peak of his depression. The second photo shows the result of almost a year of self-care and medication.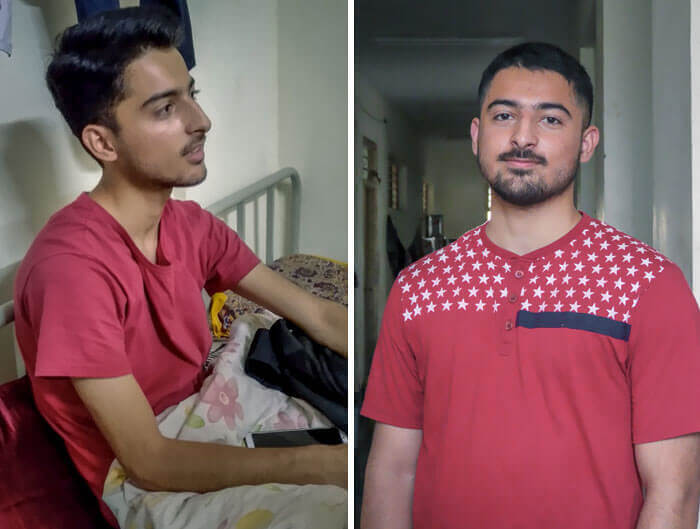 It is important to understand that depression has no face. Some people look happy from the outside, and they're depressed and lonely from the inside. Never lose hope, and keep in mind that anyone can fight depression and win the battle.
A True Fighter
We're not crying, you're crying. The smile of hope versus the smile of the conqueror queen is all she needed to beat illness and become cancer-free.
We absolutely love her positivity. She looks fabulous at the end after kicking some cancer butt. It just shows that you should keep on fighting and never lose hope.
Age 12 Vs. Age 16
Honestly, both drawings are better than anything most of us can do. This person has a special gift, and we're feeling a bit jealous. After all, most of us were drawing stickmen at the age of 12.
This talented artist needs to keep working on her skill. She perfectly showed the innocence of cats, and we call it a big victory because they are pure evil geniuses who want to rule the world.
That's One Amazing Transformation
This person lost 200 pounds in a year. He went from 360 lbs to 160 lbs through sheer dedication and commitment.
This is some next level inspiration to anyone who is trying their best to lose weight. It shows that nothing is impossible to achieve. Save this photo and look at it anytime you feel lazy or disheartened.
A Smile Worth A Million Dollars
This before and after photo of being told she's a good girl is pure gold. She has such a sweet happy face.
You can hear heavy breathing and excitement in the second picture. She probably said, "Well, of course, I am a good girl."
Cuteness Too Strong, Must Resist!
Becoming a mother is one of the most powerful things in the world. It makes you feel empowered, joyful, and invincible. What you are seeing is truly incredible. Do you know why?
Well, this beautiful woman found a stray mama cat and they became the cutest pregnancy buddies. Amazingly, both went into labor at the same time.
Genetics Is Awesome
In the left photo, the grandmother is holding the dad of the person who uploaded this photo and in the right photo, the original poster is holding her son.
These two photos were taken 63 years apart. She never got to meet her grandmother, but it is an uncanny resemblance.
FALL In Love
How often do you get to see the same waterfall in 3 different seasons? Hörður Kristleifsson from Iceland took these photos of the Skógafoss waterfall in his native Iceland.
The vibrant colors give a surreal experience that cannot be expressed in mere words. We looked at these three photos for a minute and still can't choose the most beautiful one.
That's A Great Investment
This woman bought her first bike, and you can see the amazing transformation in just one year. At first glance, it looks like the woman on the right stole the bike. We're just kidding.
That is one impressive commitment. Keep riding the bike, girl. You look amazing. If you also want to get in shape, bike riding is not just fun, it simply works!
Grandma Totally Rockin' It!
Imagine the awesome feeling of taking your grandma on her first bike ride in 59 years. That's a lovely lady with a great smile.
The best part is that she looks so comfortable and natural on the bikes in both pictures and really youthful, too. You could say that it is absolutely Grantastic (see what we did here?).
The Handbag Industry Disapproves This Photo
This woman just wanted a bigger pocket. Seriously, is that too much to ask? After seeing this photo, we recommend cutting off your husband's pocket and sewing it in your pants.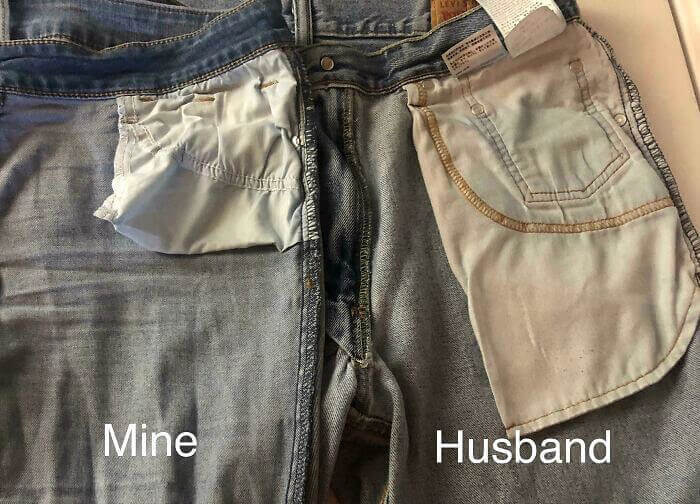 If women don't start demanding bigger pockets, they should start buying jeans for men. After all, men's jeans usually aren't as tight and have much more useful pockets.
The Unsung Heroes
This person thought that they'd never be able to use their hand again. But the surgeon and therapist thought otherwise.
He was removing a glass window that snapped in half. He got away with both arteries and 14 tendons severed, but he braved through.
Straight Out Of A Fairytale
Let us be clear that it is not a tiny, cute rabbit. It is not a bunny. It is a floof and you cannot deny it. It looks like the baby rabbit (called Kit) is sucking its thumb.
Our hearts are melting faster than ice cream under the hot sun. Here's a fun fact for you: A rabbit's teeth never stop growing.
The Result Of 6 Years Of Practice
The art on the left was created in 2015, and the right one in 2021. We like them both. The first one is good, just a little bit more abstract, and the second one is more realistic.
What we can learn from this talented person is that no matter what your skill is, there is always room for improvement. You just gotta keep going.
Tail Wagging Gives Away Her Feeling
When the parent of this doggo asked her if she knew how cute she was, her tail started wagging, which is a thousand times better than any other response.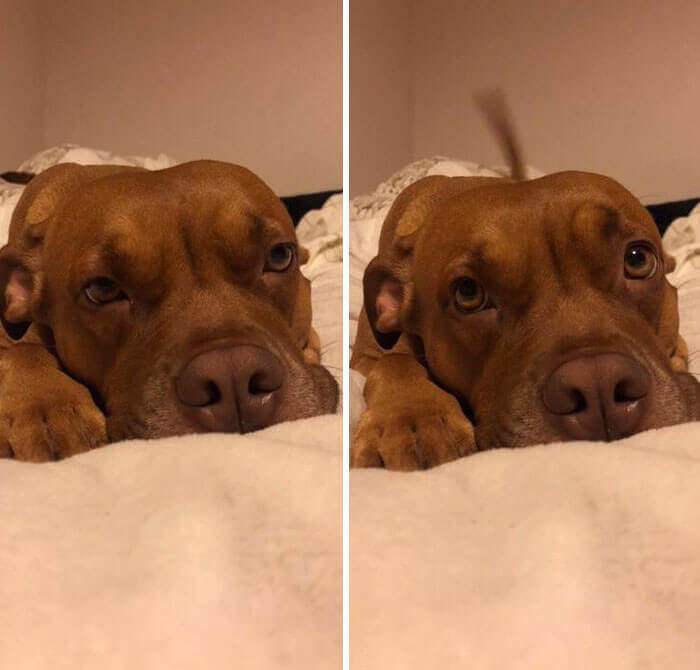 Okay, we cannot control it. Her raised eyebrows make us want to kiss her. She is flawlessly cute, and every person can agree that she's a pretty girl. We seriously want to snuggle with her forever.
Like Father, Like Son
This person shared photos of his dad (taken in 1982) and his photo (taken in 2021), both aged 20 with 39 years apart.
Both look handsome, but is there any chance they are twins? Seriously, genetics is so freaking cool.
Perfection Achieved
This person finally recreated a photo of their adorable cats, and we can understand the struggle. Any cat parent out there can tell you how difficult it is to recreate cat pictures.
We just hope it was not the case of the calm before the storm. Who knows, maybe a CATastrophic event happened right after this picture was taken.
Cheers To Healthy Life
This woman lost 100 lbs. in 2 years and maintained it. Where are the fireworks? She deserves some major praise for her hard work.
If you have been trying to lose weight for some time without much success, you can always find motivation from people like this lady. One thing to keep in mind is that losing weight is not impossible. So, stay strong, and always remain persistent.
Whale Hello There
This photo demonstrating the size of the humpback whale is astonishing. It is a massive male humpback whale trying to say Hello to humans. The original poster titled it "Tip of the Iceberg", and we couldn't agree more.
This species of baleen whale can grow to 60 feet (18 meters) long. Can you guess their weight? Well, they can weigh around 40 freakin' tons (half the size of a blue whale, the largest species in the animal kingdom).
Well Spent 8 Years
This person worked for 8 years on his 1972 Datsun 240z Restomod and it resulted in one of the most beautiful cars we've ever seen!
At that time, the total cost of restoration was about $50k, and he was given an offer of $100k, which he turned down without even giving it a thought. It must be worth a lot in 2021.
A Massive Cane Corso
This head size difference between a man and an adult Cane Corso is mind-blowing. We wonder how big his food bowl is. It must be the size of a bucket.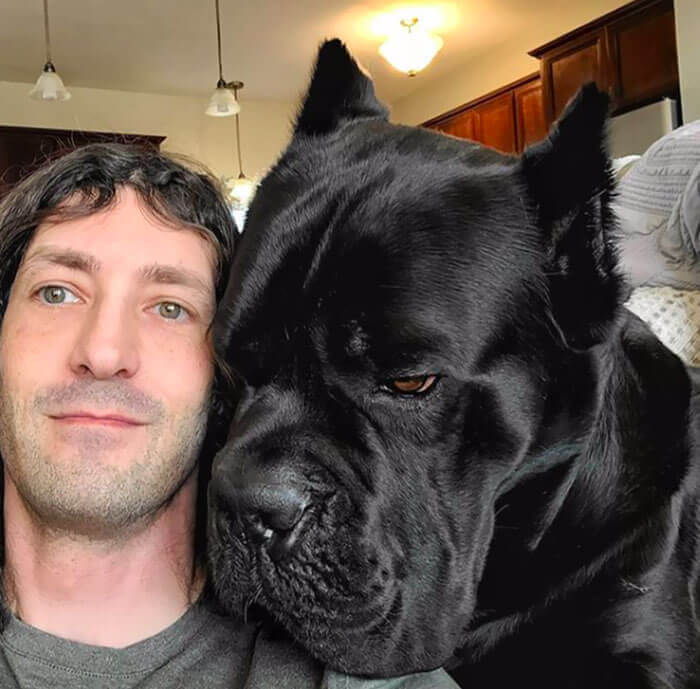 The Cane Corso dog breed can make an affectionate and loving companion. It is also an excellent guard dog due to its sharp sense of alertness.
Another Reason To Love Canada
This seemingly normal-looking Canadian passport becomes awesome under a black light. Some of you may think that it is one more reason to move to Canada.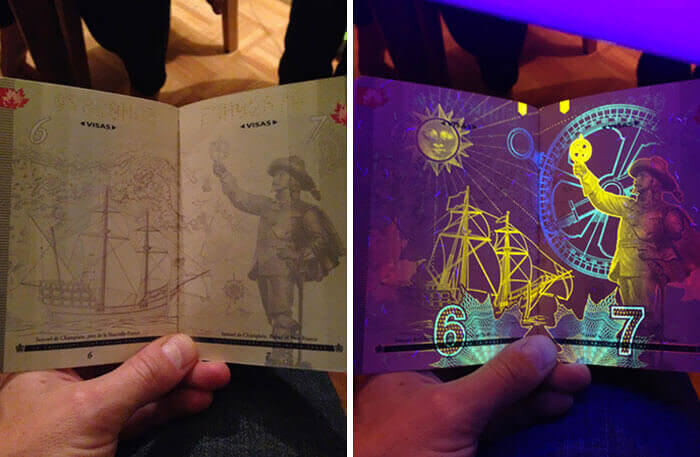 We don't know what you think, but it seems pretty obvious that Canada's sole goal is to make non-Canadians jealous. We cannot think of any other reason why they would create such an awesome-looking passport.
Too Much Cuteness
This is something that is irreplaceable. The love in his eyes can tell how much this means to him. The woman who tweeted it wrote that she didn't plan for the photos to be almost identical to each other.
She wrote, "He is the only man who has taught me what true love is and what a human with a heart of gold looks like. I pray that life continues to give me time with him. to understand him better, to learn about him better. And time for my daughter to remember him too."
Result Of Spine Straightening Surgery
This person had surgery to straighten up their spine. The work those surgeons did is incredible.
According to the person who uploaded this photo, it was one difficult operation, and the recovery took a long time. They had to stay in the hospital for one week and did absolutely nothing for two months.
Before And After Photos of A Restored Parquet Flooring
The old 1930s parquet flooring got a new life after restoration. It shows why parquet is worth the money.
We love restoration jobs like this. It gives great satisfaction when you step back and look at it. It's a shame when people cover up this kind of beauty with carpets. Well done taking the before and after pictures.
It Is Driving Us Crazy
Wow, this is one impressive DIY driveway. It took a lot of effort to create the paving stones and the driveway, and he saved some money as well.
Some people are in favor of asphalt driveway, but this one looks a bit more natural. Nevertheless, it is impressive craftsmanship.
Not Trying To Make The First Move
We hope this size comparison of an Orangutan and a human has put a smile on your face. Look how at ease they are together.
Although Orangutans are large, they are quite gentle. Male orangutans can be up to twice the size of females. The adult males, like the one sitting near the woman, can be aggressive. However, the males try to keep to themselves and remain calm most of the time.
He Walked Across China For A Year
In these before and after photos, you can see the transition of a man's appearance after walking across China for a year. He reminds us of the movie Forrest Gump. At first glance, we thought maybe he was bitten by a werewolf. He started in 2007 with an initial plan of walking from Beijing to Germany.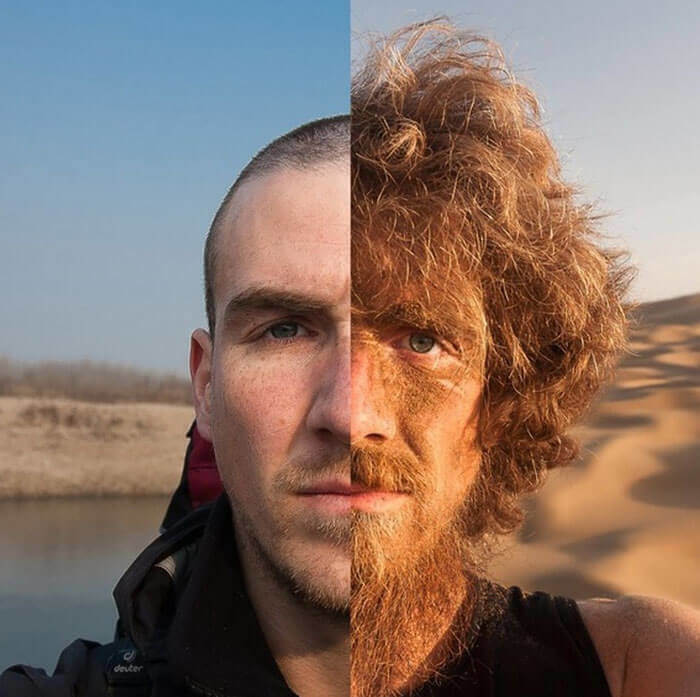 So, you can say that it was a hair-raising experience for him. The lesson for you to learn here is to always pack a travel razor and take a bath from time to time.
Doggo With His Hooman
Meet Pierre, nicknamed Shaggy, the coolest dog of all time. Pierre was just 8 weeks old when his human took the first photo. In just 8 months, he turned into a fully-grown cutie pie.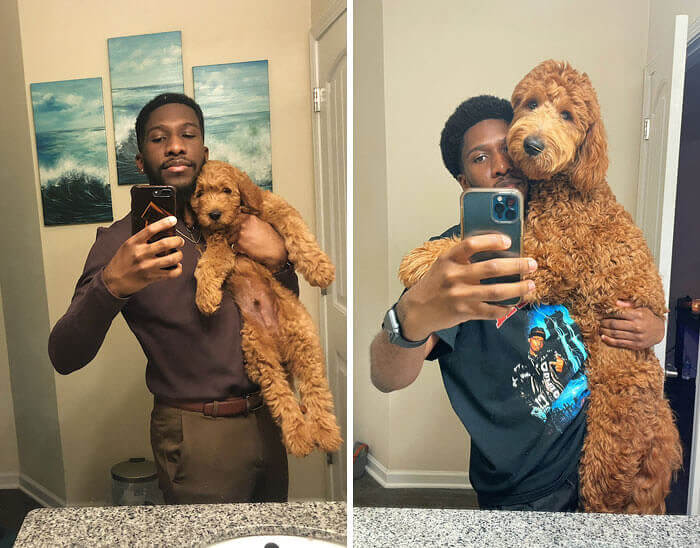 Now, the doggo should be carrying his human. Honestly, both human and pupper look very handsome.
Never Regret
This person shared before and after photos with his girlfriend when they first met and next to them now. Apparently, they regret the Emo phase.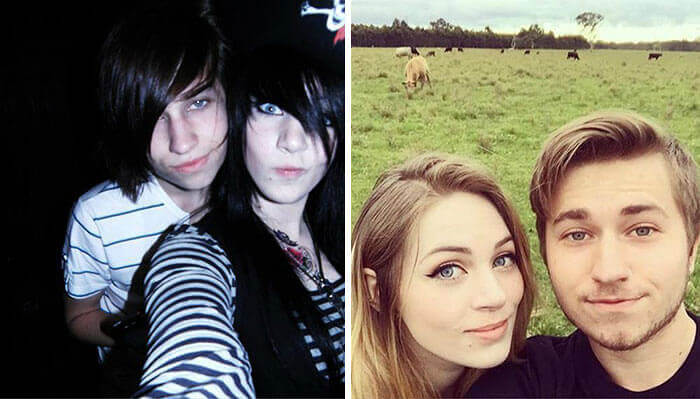 We feel that exploring fashion when you are a teenager is normal. Let's all embrace our awkward teen years. We have done a lot of stuff, and there's no reason to feel embarrassed about them. And It's really cute that they stayed together through their emo phase.
So Close Yet So Far
This is an example of the class disparity in South Africa. It's not just South Africa, as you can find this kind of disparity anywhere in the world. Have you noticed that even the trees in the poor area look less green?
It reminds us of a quote, "Neither a rich man or a poor man gets to enjoy his money. One is too busy trying to hold on to it, and the other is too busy trying to get it." That's the harsh reality of the world we live in.
A Green Thumbs-Up For This Bad Boy
Someone was really happy sharing a photo of their first-ever house plant that turned 5 about two months ago.
The plant's name is Fred, and it got its first flower this year. We just think that we should have pet names for our plants.
Hummingbird Eggs And Nest
This is so tiny and precious. It is not that the hummingbird is bad at hiding the key to their home. The person who took the photo used a key for scale, and hopefully, they removed it after taking the photo.
Did you know that a hummingbird is the only bird that can fly backwards? The average weight of this bird is less than a nickel. And hey, if you find a passed-out hummingbird, feed it sugar water. Make sure not to use brown sugar, honey, or any other type of natural sweetener.
A Unique Perspective On Skin Color
This girl shared a photo she took with her twin brother. There is a difference in their skin color because he goes outside a lot and she does not.
This is another reason more to see why "race" is a ridiculous concept. We can bet that a lot of people wouldn't say that the person on the right is "white" when they see both together. If you strip off the skin of every single human, we will all look exactly alike. It is important to understand that color is NOT culture. It is just color, nothing more, nothing less.
Say NO To Drugs
This strong woman shared her pictures to show how she won a battle against opiate addiction. The first photo was the peak of her addiction and the second one shows a healthy and sober woman with strong determination.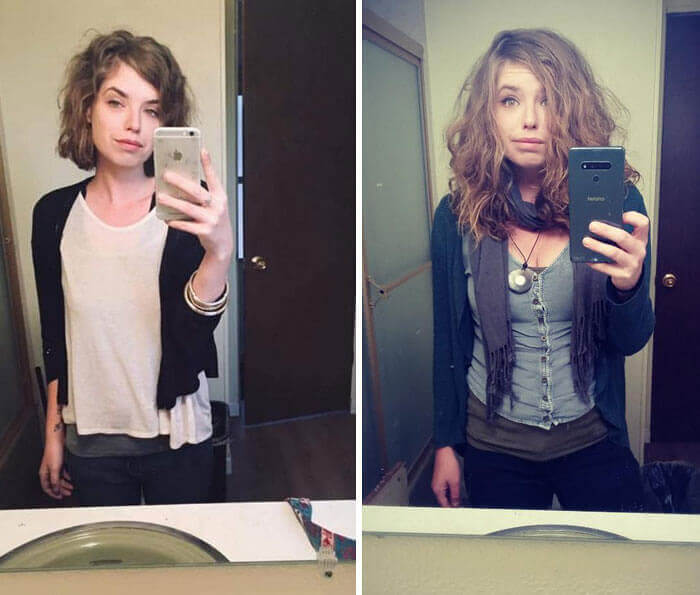 We're so happy for her. Anyone who is currently fighting through a tough time, just stay strong and don't give up.
The Satisfaction You Get From Organized Rocks
This person found a bunch of rocks on a beach and organized them by color. That's a great collection! Such a pretty range of colors that really catches the eye.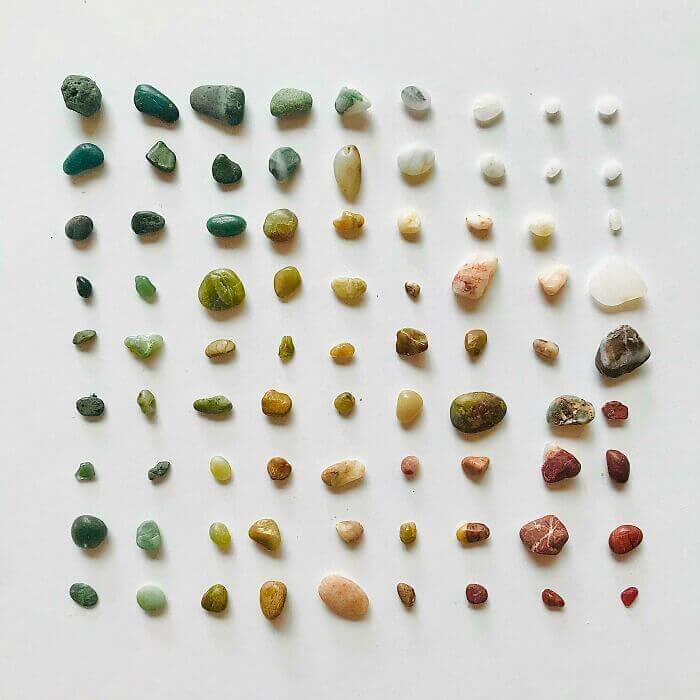 Honestly, it looks like an album cover. We have even started hearing mellow ocean wave sounds.
"It Wasn't Me Officer! It Was The Chimpanzee!"
This comparison between a chimpanzee fingertip and a human fingertip is pretty awesome. Well, now we can tell who stole the banana.
Did you know that koalas also have fingerprints? Interestingly, they have fingerprints that are almost identical to human ones.
Chichen Itza In 1892 vs. Present Day
Chichén Itzá is Mayan ruins in Mexico's Yucatán Peninsula. It is one of the most visited archaeological sites in Mexico, with over 2.6 million tourists in just 2017 alone.
It must be so cool to rediscover something like this. Maybe someone thought, "Let's dig to find what's under that hut, I guess it won't take long."
Choose Your Favorite Color
This is how titanium gets color based on different voltages. Do you still want to choose your favorite color? Don't say it is 100 volts.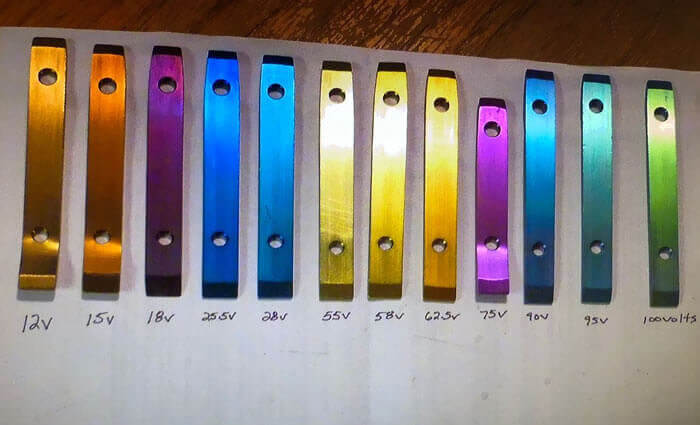 In titanium anodizing, the voltage dictates the color. The volt range for color titanium anodizing is between 15 and 110 volts. A bronze color, with the thinnest oxide layer, can be achieved with about 16 volts. A green color, with the thickest oxide layer, can be achieved with 106 volts.
Getting Better With Time Like Wine
The SFX makeup skills of this artist have improved a lot over time. The left photo was taken when the artist was 16-year old. Now the artist is 24-year old and is going to get better with time.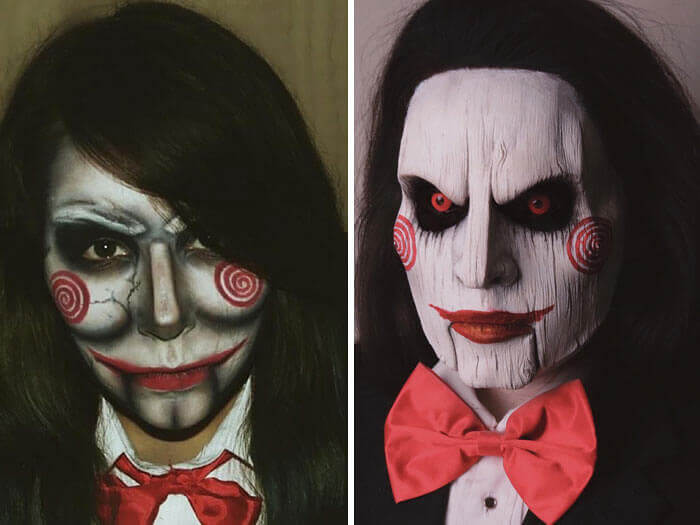 The left photo is impressive and the right is out of this world. It looks like CGI. We honestly thought the second picture was a still from a movie. This person is extremely talented!
So No BBQ Today?
This is how the weather changes so many times in a day in the Netherlands. We bet they don't even care enough to check the weather forecast.
However, you cannot complain when you can experience 4 seasons in one day. The Netherlands certainly has crazy weather and good people.
When Life Gives You Lemons…Never Mind
Someone found this weird lemon that grew on their lemon tree. They even placed it near a normal lemon for comparison.
We hate to break it to this person, but it seems like their lemon tree has been unfaithful to them. Maybe it had an affair with the banana or chilli. What would be their reaction if they found a round banana?
The Evolution Of Cellphones
This person's parents stored all the used phones in their kitchen drawer, and we can see the evolution of cell phones from the massive brick phone to the smaller phones to the bigger, flatter phones.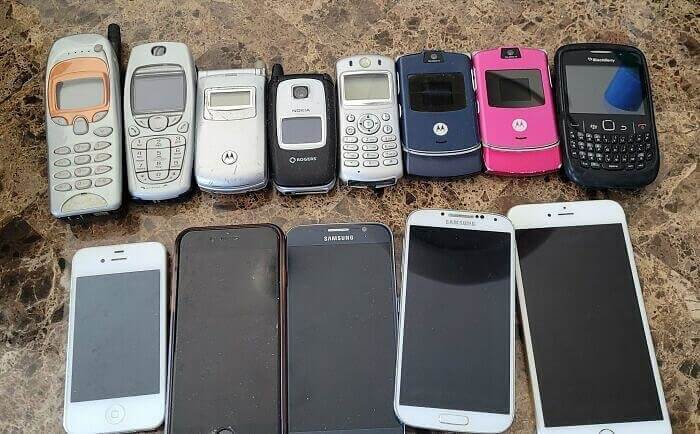 We can bet that the Nokia STILL has 90% battery left. Why is this photo making us feel nostalgic?
A Word To The Wise: If Someone Says "Trust Me," DON'T.
When her sister said, "You can do the half-marathon with me! Trust me, it's not that bad," she made a big mistake of trusting her sister.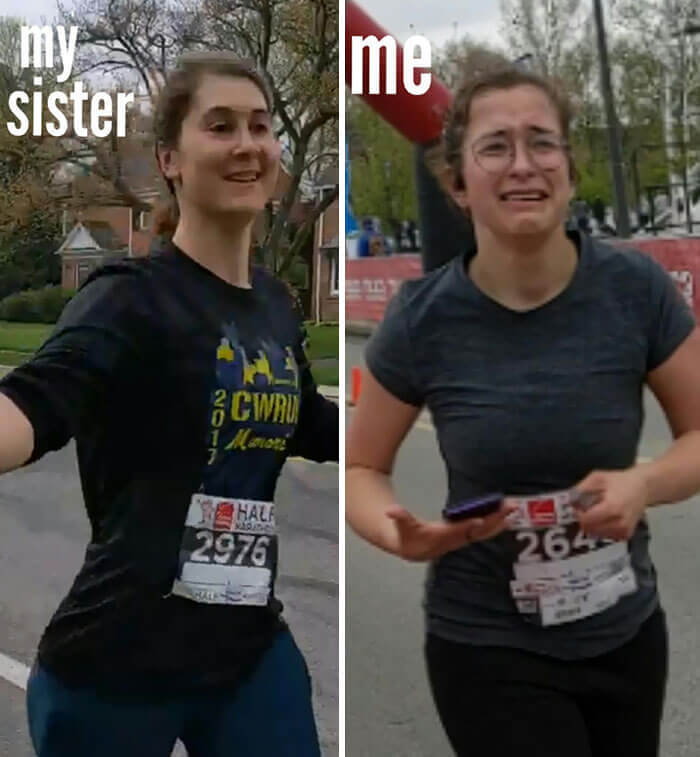 At least she tried, but the facial reactions are priceless. It seems she's about to scream, "YOU LIED TO ME!"
Strawberry Or A Purse?
This person bought a comically huge strawberry from the grocery store, and we want to know if it tastes like strawberry or not.
We believe that someone sat on an average-sized strawberry. Or maybe the fear of being eaten made the strawberry take extreme measures.
Anime vs. Reality
That's some amazing adherence to reference photos. It took us a moment to spot the difference.
These photos show that Japanese anime is the best. It makes us wonder why can't the world be so pretty? Maybe it can if we take care of it.
Pizza Is Love
This is the biggest pizza that can be ordered in the US. We believe that any pizza can be a "personal pizza" if you try hard enough.
We get that the pizza is really big, but why did they use a dead guy for scale? Maybe he was the delivery guy who was super late in delivering the pizza.
Lara Croft Progression – 1996 To 2018
Lara Croft is considered one of the best heroines in gaming history. It just goes to show that our imaginations did a lot of work! The character has been massively popular since her debut in 1996.
Seriously, 3D graphics have come a long way in such a relatively short time. And hey, why does it look like the current one seems confused and disgusted by her former selves?
That's A Fiber Optic Wire
What you're seeing is a fiber optic wire capable of supplying high-speed internet to a home.
If that hasn't blown your mind, you should know that the real size is 1/3 of the transparent part at the top; the core of fiber used for transmission.
Farmed Versus Wild
If you like eating salmon, you must know that it grows in cold climates. That said, people living in warm climates get to enjoy the fatty fish all throughout the year. How is that possible? Salmon farming! Think of it as growing cattle, only underwater. More demand equals more salmon farming, but the difference between the natural, wild fish on the right, and the farmed fish on the left is undeniable.
We've never had wild salmon in our lives, and we can't say we're not curious to try it seeing how different it is.
Tan Vs. Zombie-Looking
No, this person is not a white walker fro Game of Thrones. They simply suffer from a condition called Raynaud's disease, causing some of their limbs to turn numb and cold in cold weather. Their hand looks perfectly normal, but their foot looks icy blue after wearing a pair of combat boots in the desert. It looks painful to say the least, and we hope a pair of fresh socks can help.
It's amazing what the human body is capable of – we never thought a person's limbs could look so different.
Before and After Corrective Surgery
On the left, we see a girl's body before she underwent a procedure called guided growth surgery, in which supportive plates were inserted into her knees, to help the bone grow properly. On the right, we see her after the operation – looking perfectly normal. We're so happy for her, and for what modern medicine is capable of! Just look at the difference.
It's amazing what two simple-looking plates can do to a person's spine. It's like wearing a cast, but from the inside!
Farmed Vs. Wild
If you like salmon, you know that wild salmon tastes completely different than the farmed kind. Well, here's a visual representation of that. It's clear to see that the farmed and wild fish have very little in common – the tissue is is hardly similar, and don't even get us started on the color. Is it even the same fish?
The healthy benefits salmon is so famous and loved for aren't the same, too. It's meant to live in the wild!
A Grandmother And Her Granddaughter
If you look at your family photos, you will notice that some of the obvious features are passed down generations. Some family members have a stronger resemblance than others of course, but you do get some relatives like this grandmother and granddaughter who are so similar in appearance that you almost can't tell where one's face ends and the other begins. Obviously one telltale sign would be the difference in hair color.
This 61-year-old grandmother and her 12-year-old granddaughter could almost be twins from a different time period. It would be interesting to see how much the other family members resemble each other– maybe this family just has extremely strong genes.
Ken 1985 Vs. Ken 2018
​Is it just us or does the Ken of 1985 kind of look like Robert Redford? There are some noticeable differences between these two Ken dolls: The hairstyles definitely represent the time periods that they are from, Ken from the 1980s is more tan and also has blue eyes. We're not sure why the eye color needed updating, but maybe it would have been too much contrast against the blonder hair.
After all, Kenneth Sean "Ken" Carson was introduced in 1961 and surely has come a long way since then. Something you may not have noticed is that 1985 Ken could swivel his head around whereas 2018 Ken cannot. Is that representative of the times we live in? Only Mattel could say for sure.