They say "behind every successful man there's a strong woman" for a reason. A lot of important things happen in the background! When it comes to photos, the foreground is extremely important, but the list we have compiled for you guys is a bit different. This list is all about the backgrounds that made the foreground less critical. Buckle up because you're going to enjoy some savage photobombs.
The Smile That Matters The Most
The horse had a dream; he wanted to photobomb an average looking photo. He tried to make someone's photo 1000 times awesome.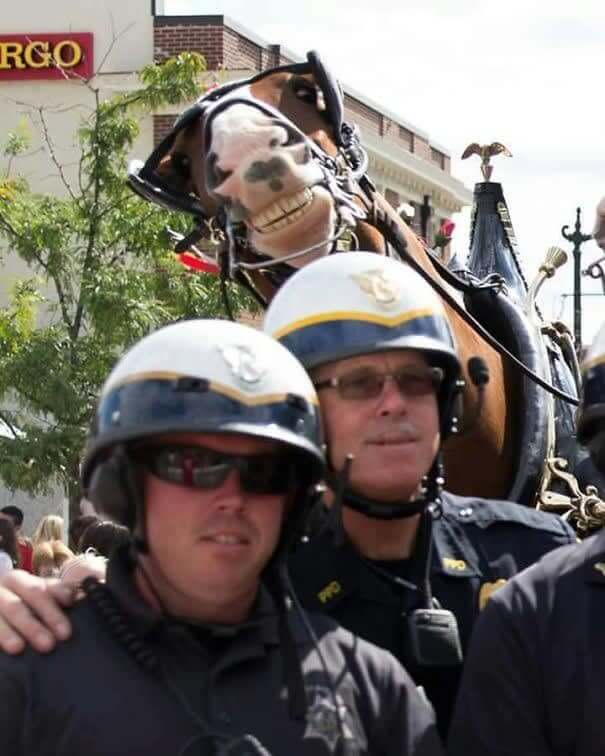 He waited for the right moment and did an excellent job. And is it just us, or are his teeth pretty white for a horse?
Perfect Photobomb Doesn't Exi…Never Mind
When the Australian field hockey player Jayde Taylor decided to take a selfie with The Queen in the background, it was destined to become hit.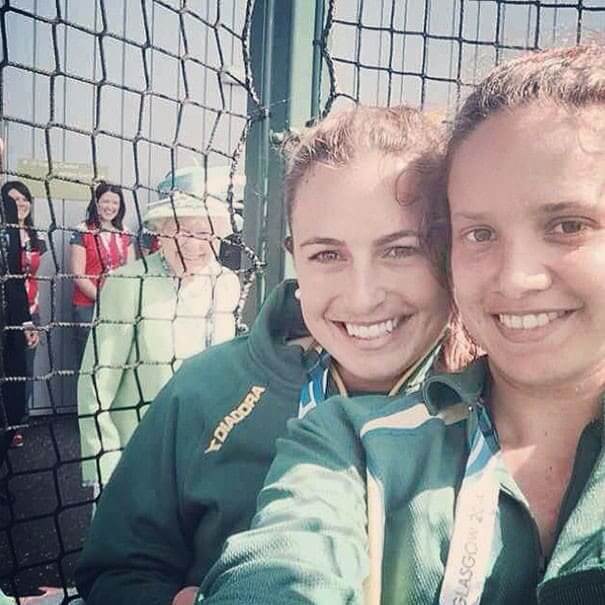 We still consider it a photobomb. And who said the Queen never smiles.
Is It Behind Me? Please Say NO!
If you have a cat in your home and a pet fish, chances are they didn't get along so well at the start.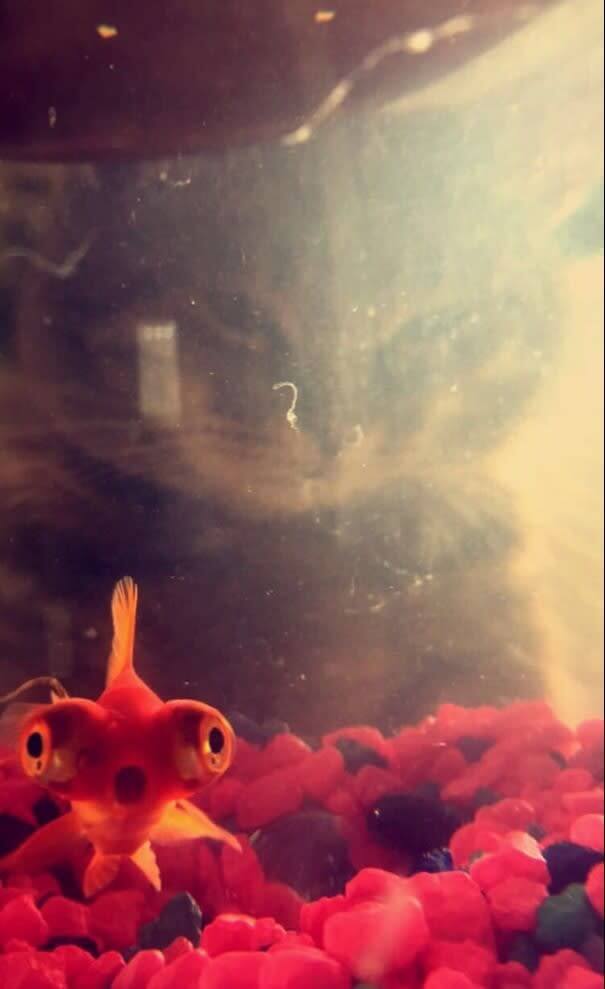 Cats are super curious animals, and this fish's expression tells you that he knows his time is up. Thankfully, cats hate water, and there is a glass in between them.
The Struggle Is Real
We do feel bad for the guy in the background, but we can't stop laughing at it. We're sorry, whoever you are in a red lifejacket.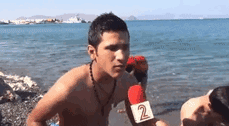 The real irony here is that the kid is struggling with the "life" jacket. Oh, this is just pure gold.
Nom, Nom, Nom!
Aww, this is so cute. One wonders what the girl's reaction was when she turned around.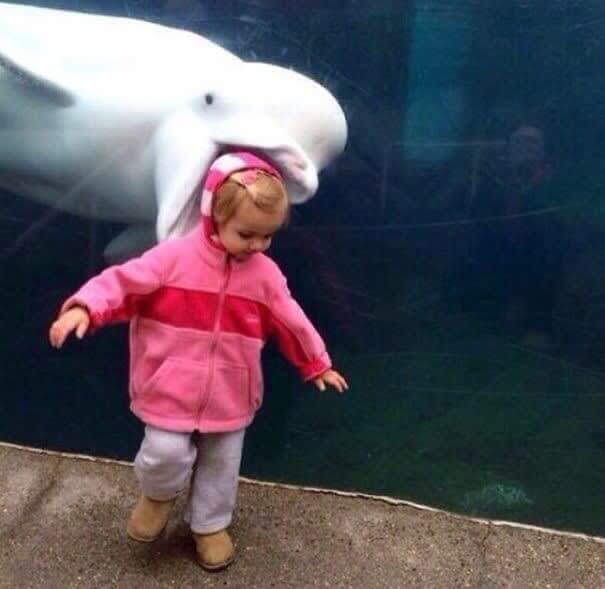 This beluga whale sees the cute little girl as a pink marshmallow and wants to take a bite of it.
For God's Sake Please Look Behind
This old lady seems like a big fan of Slash, but she isn't aware of the fact that Slash is standing behind her.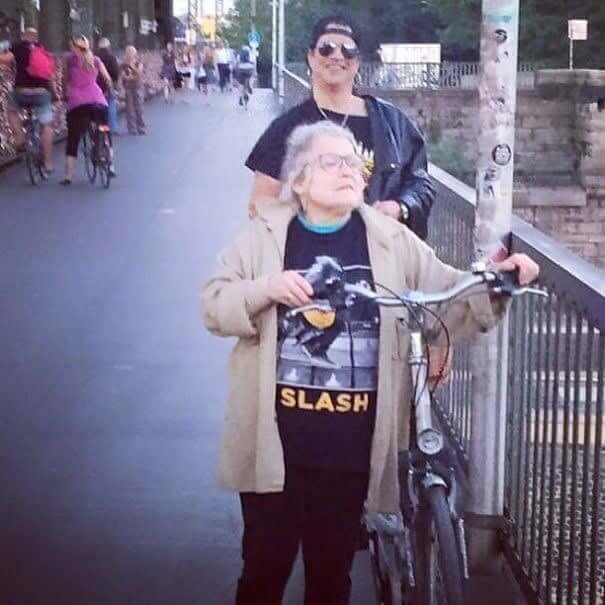 It is like you have a TV remote in your hand and you spend an hour searching for it all over the house.
Not The Right Place
We have to admit that this is undoubtedly one of the best accidental photobombs ever. The expression on that man's face is priceless.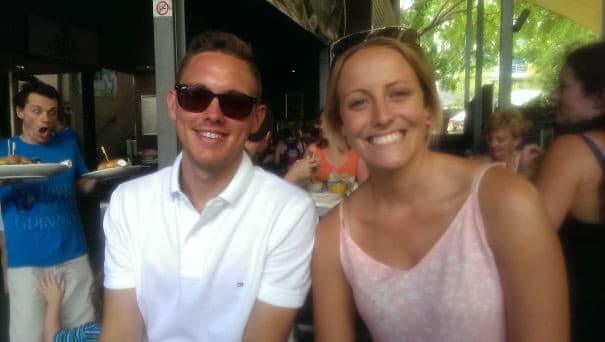 And someone really needs to tell that kid that this is not how you hi-five someone.
The Most Impressive Photobomb Ever
This is photobomb by nature, and it couldn't get any better. The whale is like, "stop taking silly selfies and check my moves, ladies."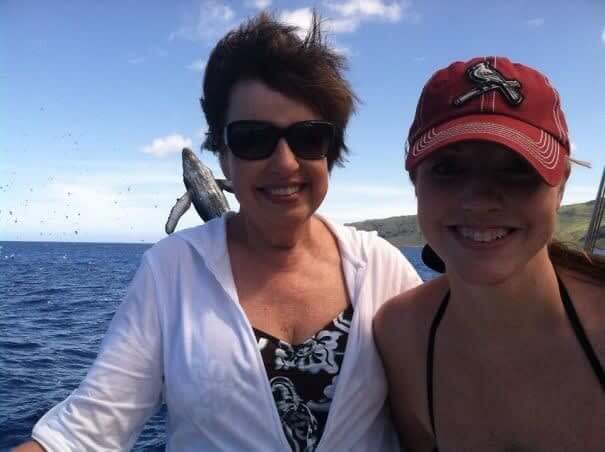 By the way, the woman doesn't realize that a mini-whale is leaping out of her hoodie.
This is Beautiful
So a person found these two fathers with their daughters and took a photo that shows the younger father and daughter what they would look like in ten years.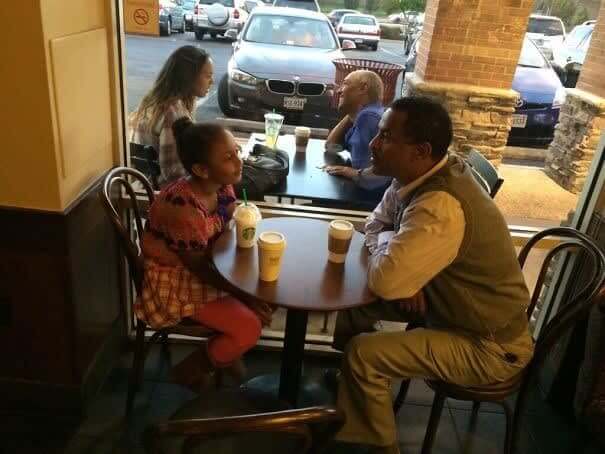 Where are the tissues? No one is crying here; we just spilled some coffee.
Some Was Having A Rough Night
After looking at this photo, we are thinking, what the heck did that person do to deserve the "double bird?"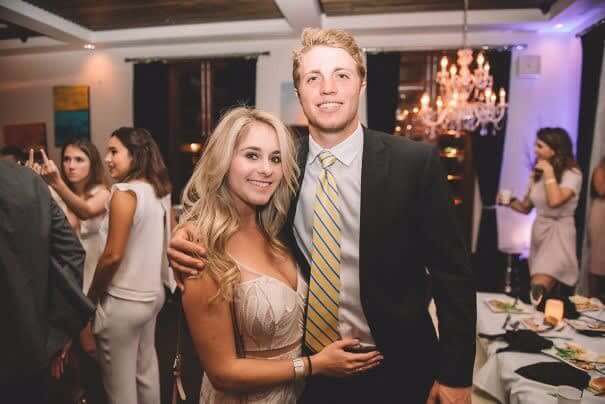 He must have done something really terrible. She looks super pissed and we wish somehow we could know the reason behind it.
Someone Feels Betrayed
This person found Woody in Times Square and took a photo with him, but that didn't sit well with someone.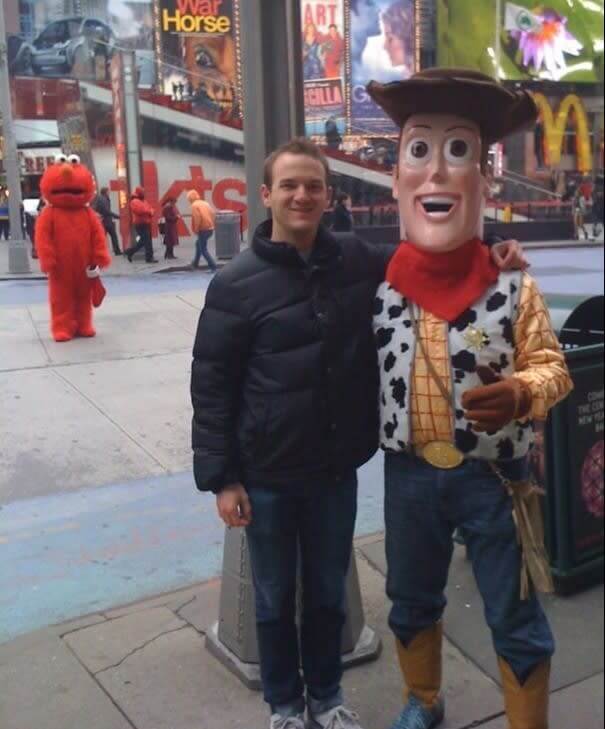 Poor Elmo must be like, "Hello darkness my old friend." We feel sorry for you Elmo as you have every right to feel gutted.
Fiona Is That You?
This guy proposed to the love of his life, but none of them knew that there was a spectator as well.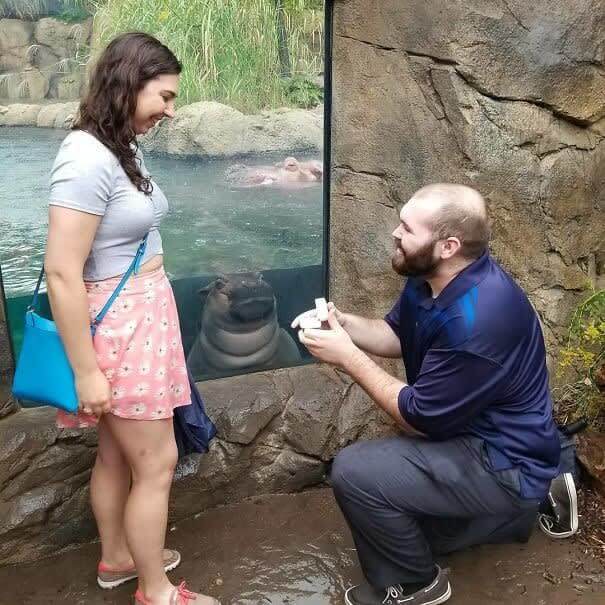 Fiona is hopelessly romantic and this sight made her emotional. By the way, the girl said "yes."
Fighting Crime Together
This person took a photo with his friends, and it was only when they looked at it they noticed the cops in the background.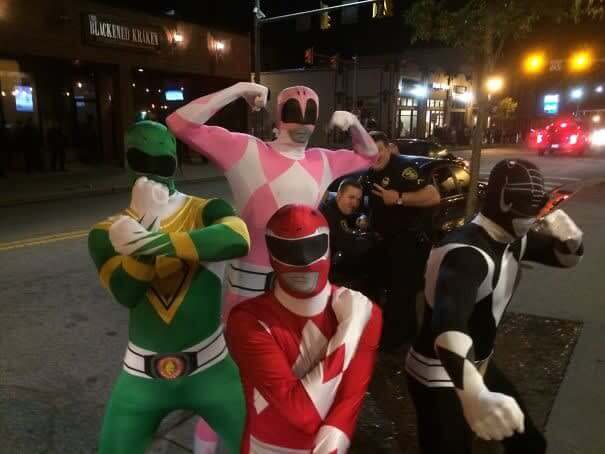 After the photo, the cops must be like, "Guys, we're gonna need to see your cosplaying licenses."
He Looks So Beautiful in His New Dress
If you don't believe in magic, here is a photo that will convince you that magical people do exist in this world.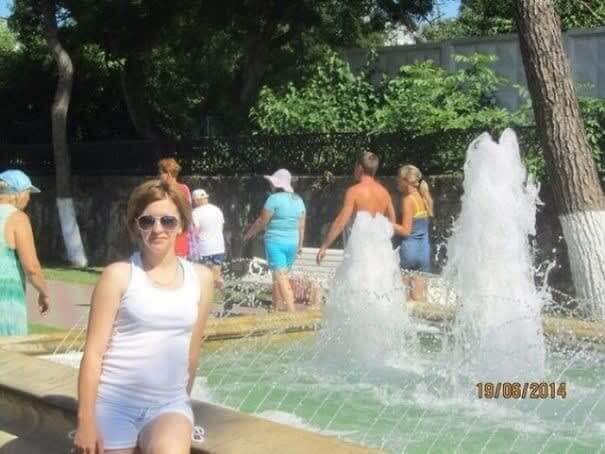 This man with a dress made of water can walk on water with ease. This is some really mind-blowing stuff.
"Hey Dude, Come Out of The Cage. I Have Something Important To Tell You."
We have to admit that we were so wrong about sharks, thanks to movies, making them look evil. Sharks are so damn cute.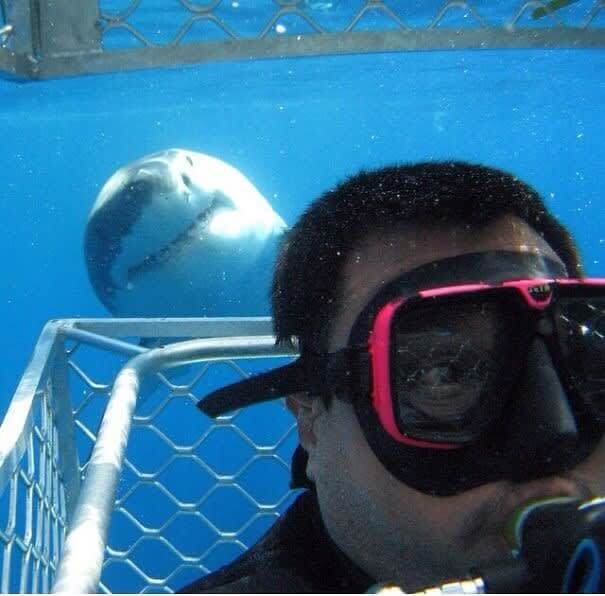 This one is adorable, and though this shark looks a bit terrifying, we cannot get enough of it.
"I Love Myself"
There are two schools of thought behind this picture: 1) the kid loves himself a lot and can't get enough of his pretty face.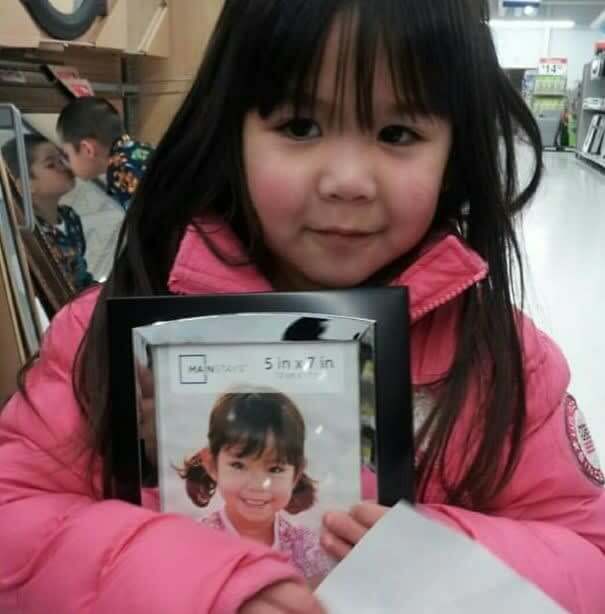 2) Or maybe he's getting in some early practice and preparing himself for the later years.
Cheerleading Practice Gone Wrong
We now know why she always used to say, "I am a very down to earth type girl!"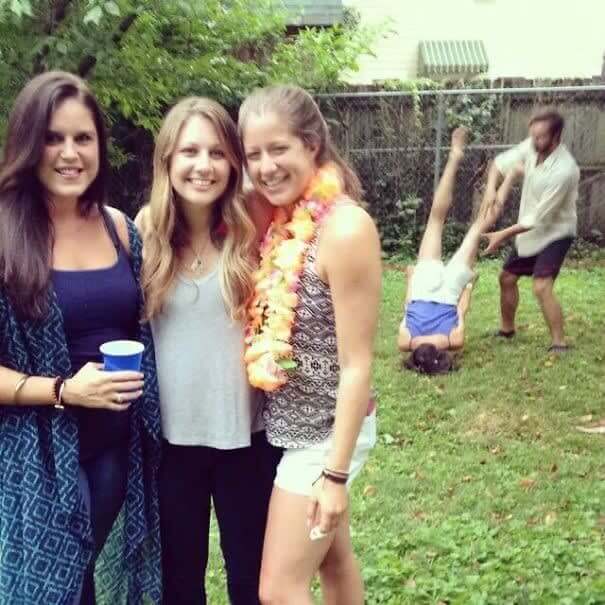 We have to acknowledge that she is very dedicated as she didn't even move her hands to try and save her head. She is going places, like the hospital.
Mmm, Tender
This accidental photobomb of Tim Duncan is high-quality stuff that you can't find on the internet nowadays.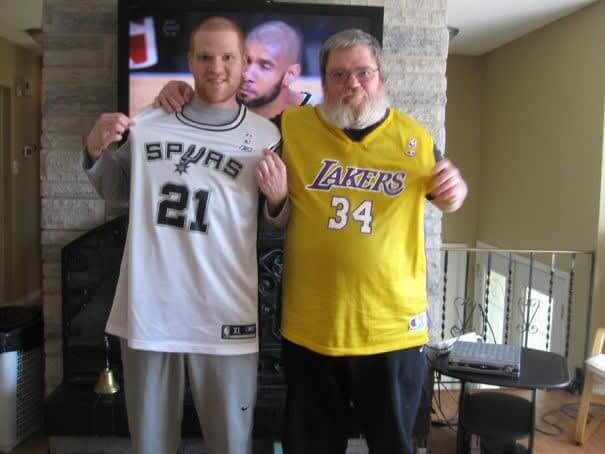 And we didn't know that George R. R. Martin is a Lakers fan. It is astounding that there is so much that we don't know.
The Cutest Thing On The Internet
No, we are not referring to the couple as "cutest thing" because there is something far more beautiful than their relationship: an excited doggo.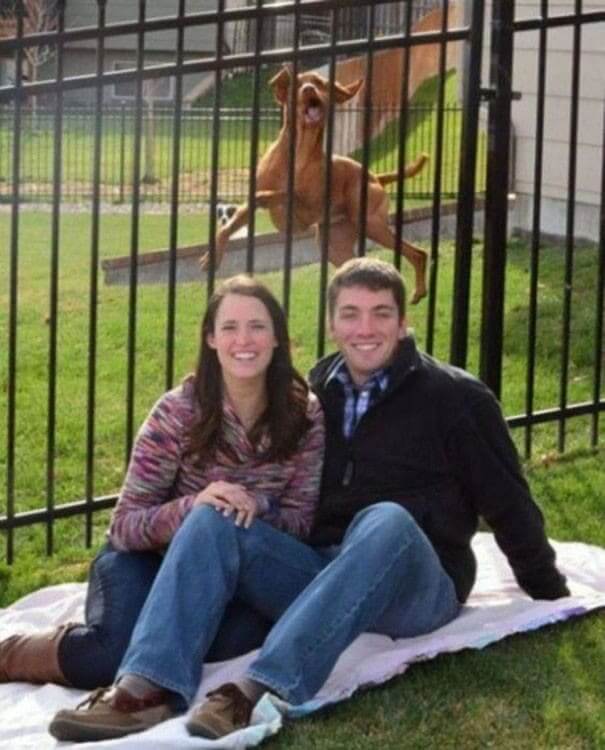 This doggo knows how to photobomb like a pro, and we have become a big fan of him.
A New Friendship is Blossoming
We are pretty sure they didn't know each other, but they must have gotten to know each other after this photo went viral.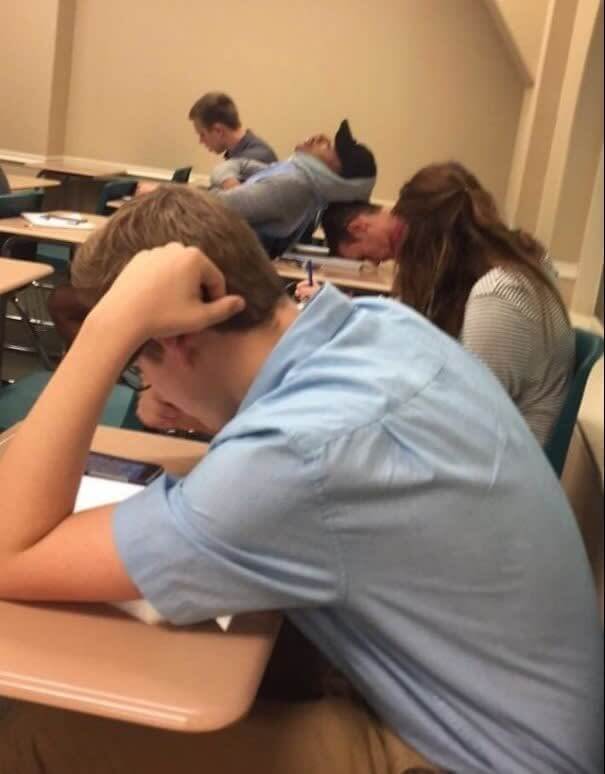 This is a photo dedicated to teamwork. And is it just us or is the guy in the front is picking his nose. Eww!
Teamwork Makes The Dream Work
This is hilarious; as his wife is taking the picture, thinking that her husband is just holding up the tower. The good thing is that she can't see from our perspective.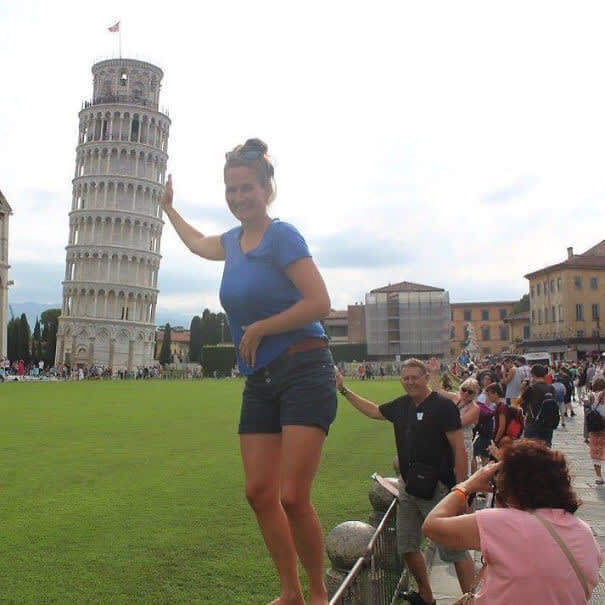 By the way, it is quite the balancing act by the woman. People are amazing!
Rainbow Poop
Who knew that dogs could poop rainbows. Although it is a cute photo, we are a bit concerned here.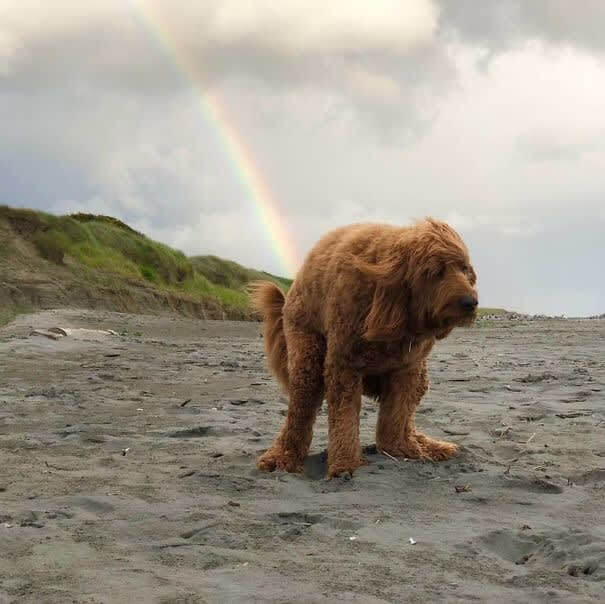 It looks like the doggo is having a hard time pooping rainbow.
Wait What?
This guy was on vacation in California with his best friend and took a photo. But we doubt the timing of this photo was on purpose.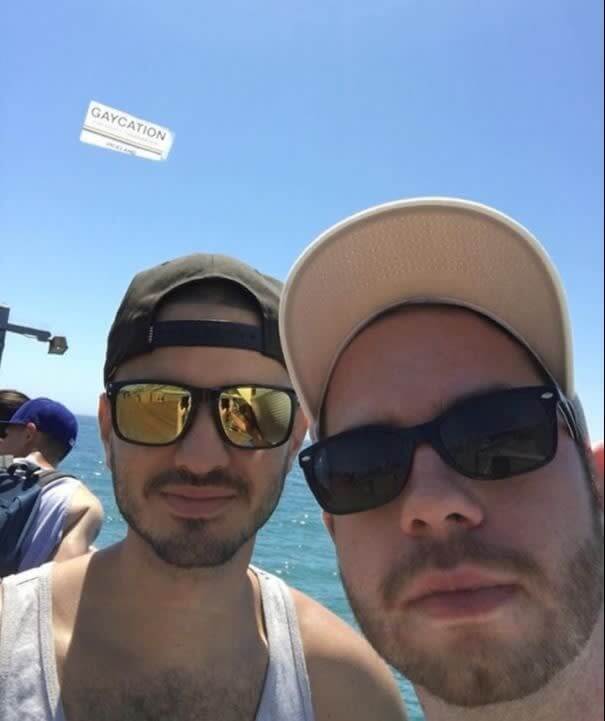 Who knows this is one of their cheeky ways to come out. We're just shooting in the dark; we don't know anything.
Too Much Information
Okay, first of all, we looked at this photo, and we got so pumped up. This entire photo matches the shirt of this man.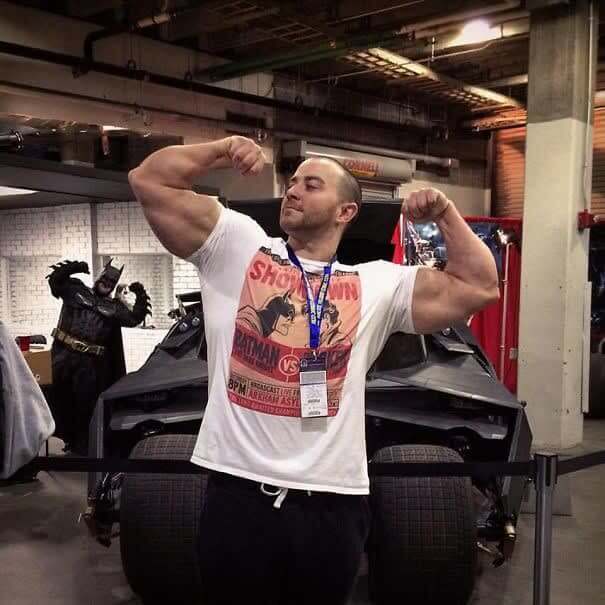 Another crazy thing is we noticed the Joker in the mirror behind Batman. Tell us we're not seeing things that aren't there.
When Horse Goes Burp
Who cut this guy's fringe? He wants his money back as the horse behind keeps laughing at him.
One thing that we can say with certainty that the horse behind knows how to steal attention.
Free As A Bird
With not a single care in the world, the kid is flying along the beach as free as bird.
You've got to love kids with their lack of impulse control; it is refreshing. It is so funny to see that the mom is running after him, and he looks fast.
Family Photobombing
Is this the largest photobomb ever? We really want the back story of this hilarious photobomb.
One thing can be said with surety that the family in the background was more eager to be in the picture than these four lovely ladies.
Someone Had A Really Bad Day
This person who uploaded this photo wrote that it was a photo of Halloween 1989, and the girl who was about to fall is her sister.
We like this photo because in 1989 there were no cellphones and pictures like this were really a lucky shot.
Indeed It Is
Do you have any idea who these "Super Quiet Neighbors" are? Here's a hint for you: That's a cemetery in the background.
And these super quiet neighbors better stay quiet or else it'll become a big worry for everyone.
What Is He Thinking About?
This young lady caught the bouquet, and her boyfriend had the best reaction.
No one really knows what he thought when this photo was taken, but you can assume he was not ready to think about marriage.
Chewbacca Spotted
For a moment, we honestly thought that it was some guy in a Chewbacca costume.
Amazingly, that is a lady's hairdo in the background, and isn't it stunning.
Look At My Body Everyone
Ladies, please have a look at this one-pack guy. He is definitely preparing for the future.
The kid must be like, "can you handle my one-pack? Of course, you can't. Nobody can!"
Nothing To See Here, Move Along
This may seem like an average photo at first, but if you look closely, you will notice that there are people in the background stuffing a baby in a cannon.
Do you think it is right or wrong? If you laughed at it like us, then we all have the same sick sense of humor.
"That's Trouble Coming For You"
The person who uploaded this photo wrote that she found the cute picture of her and her sister, and the kid behind them is her psycho brother.
The kid is going through the "I hate girls" stage, and most boys out there can relate to it. The same goes for girls as well.
Is That The Monopoly Man?
This average looking photo becomes super awesome when you notice that there is a Monopoly man in the background during the Equifax Senate hearing.
Monopoly guy must be like, "So when will my money come in?" And just so you may know, we also noticed that shiny head.
Cute Photobomb
This baby photobomb is going to melt many hearts. The best part of it is that it gets funnier the more you look at it.
By the way, it looks like the kid in front must be a celebrity in the land of toddlers.
Excited Much
This groom's sister passed out at the exact moment the minister said, "You may kiss the bride."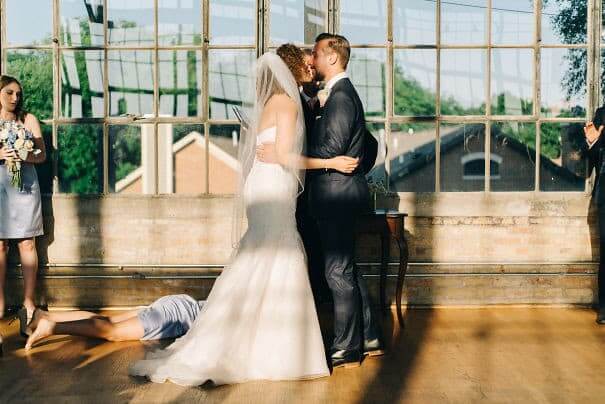 Interestingly, the groom's sister fell right out of her shoe. It looks like the other bridesmaid is about to faint as well.
When Food Is Everything
That's what you get for inviting your ex to your wedding, Harry. We're just joking here. That woman was hungry and wanted a quick bite.
Or who knows, maybe she is a wedding crasher. Nevertheless, we love this photo and it deserves a lot of love from everyone.
It's Sniff Time
Calm your horses, everyone, they're all saying hello! Dogs say hello like this so there is no need to feel awkward about it.
We blame the photographer here because he should've cropped it before uploading the photo.
Glitch in Matrix!
This woman decided to take a photo of her son when she noticed that the dog in the background and her son's t-shirt match perfectly.
He looks like he got caught stealing some snacks that weren't his.
Flaming Duck
This cute duck with a burning background looks like it is the lead role in a horror film about ducks taking over the world. The title of the film is "What The Duck, Man."
Is it just us, or does the flaming Mohawk on this duck make it look like the "Ghost Duck Rider"?
Congrats! You Found Waldo
This person's brother posted a picture on his birthday, and everyone started laughing after seeing who he captured in the background.
But we have to say that the weird clown head in the middle stole our attention. Nevertheless, Waldo is a big deal in this picture.
Run For Your Life
The woman in the back is afraid of a butterfly. Imagine what she does when she sees a bee or a cute little ladybug.
Nevertheless, we are going to ignore her facial expression on this one because she is pretty adorable. What are you afraid of? Please don't tell us you're scared of baby goats.
The Perfect Selfie
Unfortunately, the girls fell off of the horse; we don't have any idea why we laughed so hard at it. Do we need to have ourselves checked?
Maybe we laughed because of this man's perfect timing or how calm he is as two girls are falling behind him.
The Power of Zoom
This is one of the best photos ever. Here, we can see Hodor and Bran. There is nothing special about it, right? Well, we invite you to look closely.
What we see is a man who spent over $1000 on a seat to try and watch the game, but his bad luck is that he is sitting behind Hodor, who makes it almost impossible for others to see the game.
There's Nothing Going On Back There
By any chance, does the person who took this photo remember a headline at the time: "Mickey eats children at Disneyland"?
By the way, this photo uncovered Disney's secret cannibalism scandal. What are your valuable thoughts on this one? We are so eager to know them.
Cool Body Man
It took us a minute to figure out what exactly is going on in this picture. The man you see has a unique body, and what we see is something we cannot discuss here.
Overall, it is a photo that can mess with your mind a little bit and may even tempt you to say something about that man's bottom. We controlled the urge to say something, but you can express freely.
"Dad, Really?"
We end our list with a bang. The boy looks great in his tuxedo; we're talking about the dad who took the photo. To make matters worse, this boy sent the photo to his girlfriend.
So, the lesson for everyone is to always check the mirrors and photos before sending or uploading them.
Unusual People We Would Only See At Walmart
Ashley Lez
This article was originally published on Kueez
Going to Walmart is always an adventure. The superstore attracts people from all walks of life, which means that you never know who you are going to see or what strange situations you will encounter. From people with exotic pets to unique fashions, these are the strangest people spotted at Walmart. Continue reading to see the hilarious people of Walmart.
"Uggs"
There are some people who love designer brands, but those brands can be very expensive. This person wanted a pair of genuine Uggs but they cost a lot of money.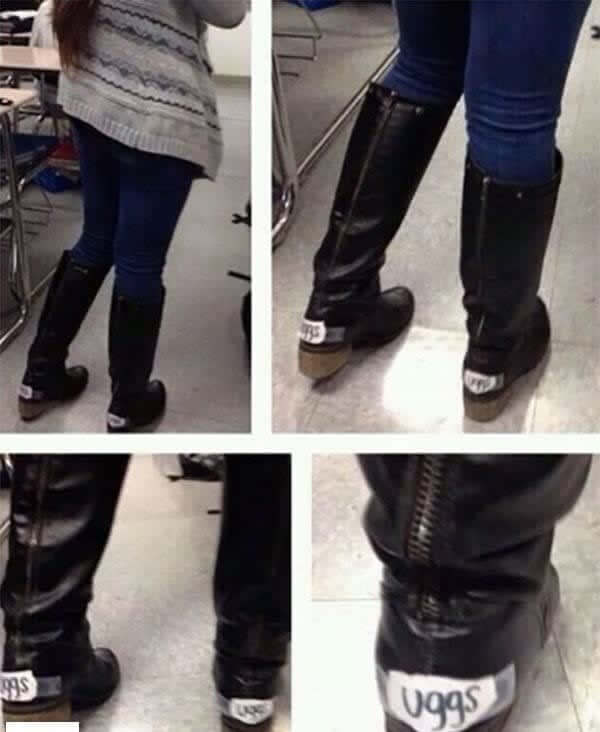 Instead of buying a knock off pair that looks similar, this person chose to tape on a piece of paper with the word "ugg." Interesting choice, but not very believable.
Roles Reversed?
Okay, we are a bit confused here. Don't you think the mom should be pushing the shopping cart and not the kid?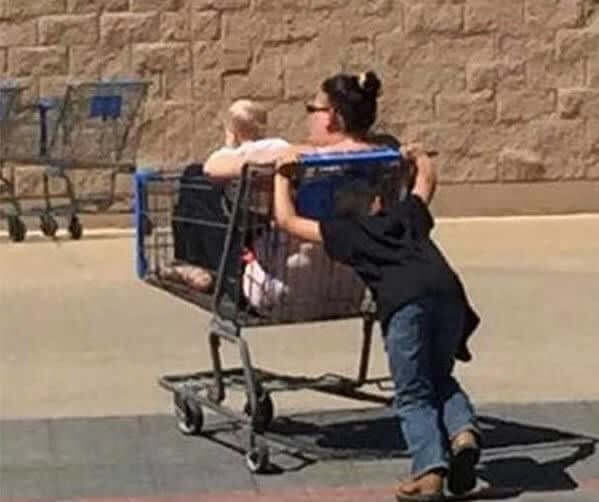 We are not judging anyone here but we cannot think of any possible explanation of this one, especially when the lady has a toddler with her. Needless to say, it could be dangerous for her and the toddler.
Men… Take Notes
If any man wants to look classy and sexy at the same time, now is the time to take notes. We can't really explain what type of look this guy wanted, but he surely nailed it big time.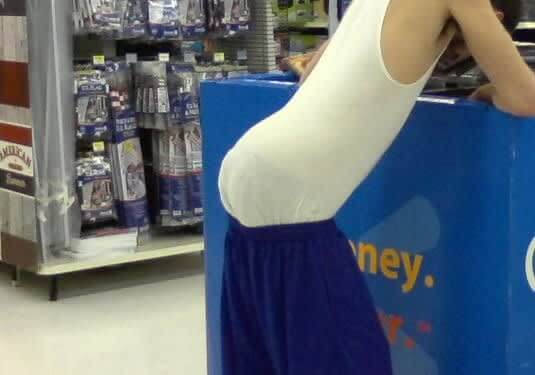 We thought those days are gone when jeans were low enough that the underwear was hanging out. Well, we were wrong.
Advice: Don't Mess With Her
Some may find this t-shirt funny, but our guess is that most people will find it intimidating. As your well-wishers, we would highly advise you not to mess with a person wearing a shirt like this.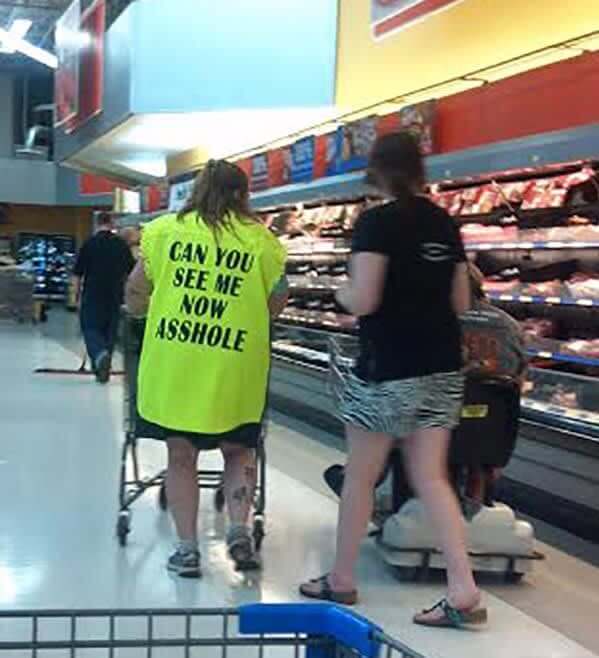 In reality, maybe she is capable of a lot more than this. But we have to look at the other side of the story as well. There is a possibility that this woman had some really bad experiences in the recent past.
Conga Line Scooter Style
Whenever you shop at large superstores like Walmart, you are bound to see people using electric scooters. Although, you might not see them in a conga line style like this picture.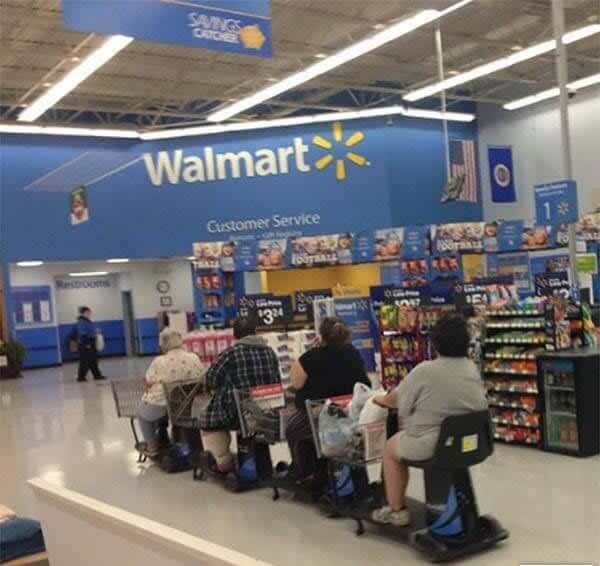 These carts are for people unable to walk around the store, and we are guessing that these people are using them to mess around.
She Can Walk!
As we said before, electric scooters are supposed to be used by people who cannot get around the store easily. This woman seems to be perfectly capable of climbing, so we're confused as to why she chose to use one of those scooters, but to each their own.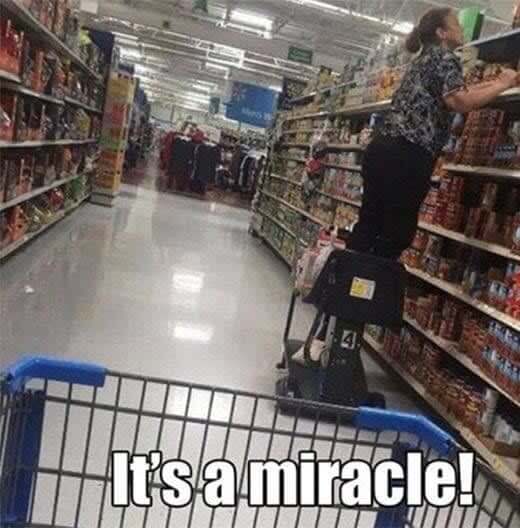 She got caught on camera, and it's a miracle she didn't fall. We do not suggest using scooters as step ladders, that's for sure.
"By The Power Vested In Me By This Walmart Store, I Now Pronounce You Man And Wife"
People dream about their weddings for their entire lives. When you picture the venue for your wedding, you might be envisioning a church/temple or a wedding hall, but we bet you weren't picturing the aisles of Walmart.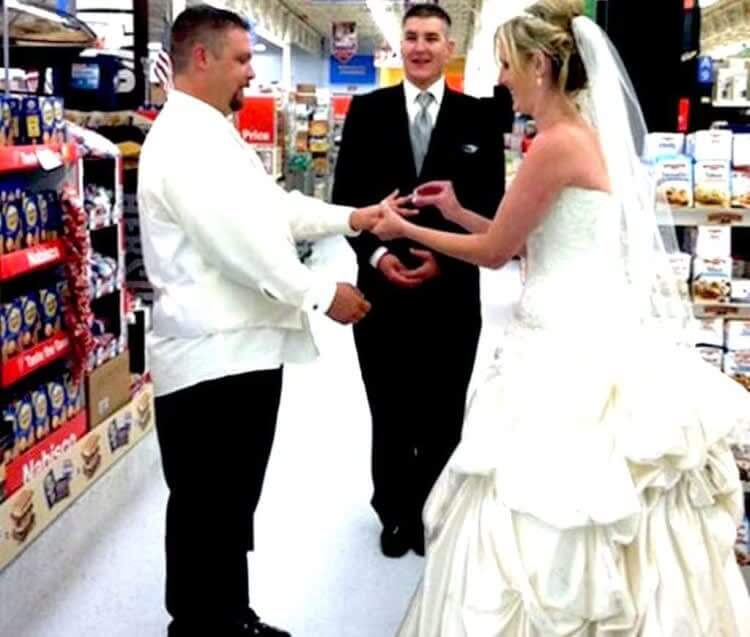 This couple must have a deep connection to this store because they decided to have their special day in the snack aisle. That is bizzare, yet romantic.
Monkey Business
When you think of the average pet, you might think of dogs, cats, fish, or maybe a hamster. Typically, monkeys are found in the wild, and should not be pets, but this woman is going against the norms.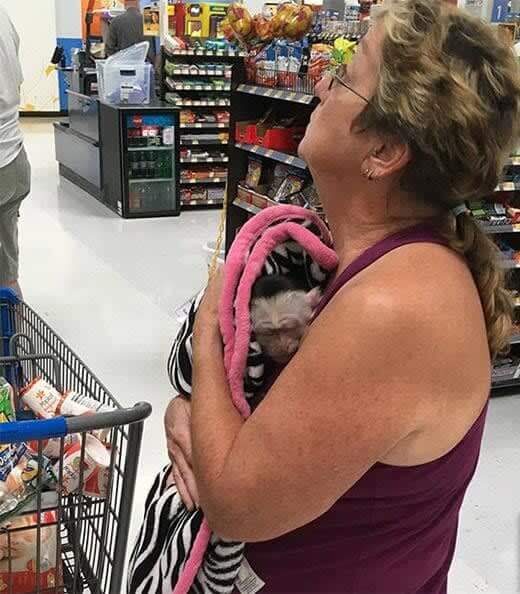 Animals become part of your family, and this woman thinks of her monkey as a child. Maybe people thought the monkey was a newborn baby. Surprisingly, you will find more exotic animals people have seen in Walmart on this list.
No Shirt, No Sunscreen, No Problem
During the summer, many people enjoy catching some sun, and sometimes they forget to apply sunscreen. This girl might want to pick up some aloe while she is in Walmart because that is a severe looking sun burn.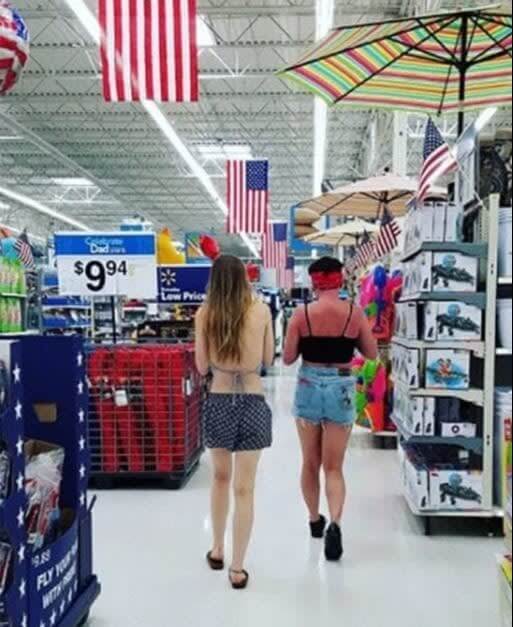 She should also pick up some strong sunscreen for her future beach days. Your skin is important; try to protect it as best as you can.
Information We Didn't Need
One must admit that this is a pretty crude t-shirt. Some people may find this t-shirt funny, but we'll speak for the masses here when we call this type of humor unpleasant.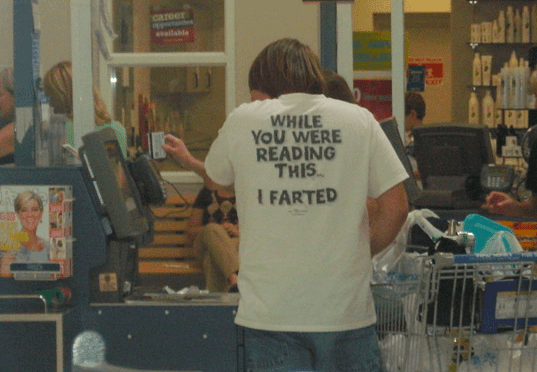 We would recommend wearing something that doesn't share too much information.
Starting a New Clothing Trend
After looking at this picture, we started a Gofundme campaign to collect enough money that we could leave planet earth. We are just speechless. If this is the way that people dress nowadays, we're not sure how to handle it.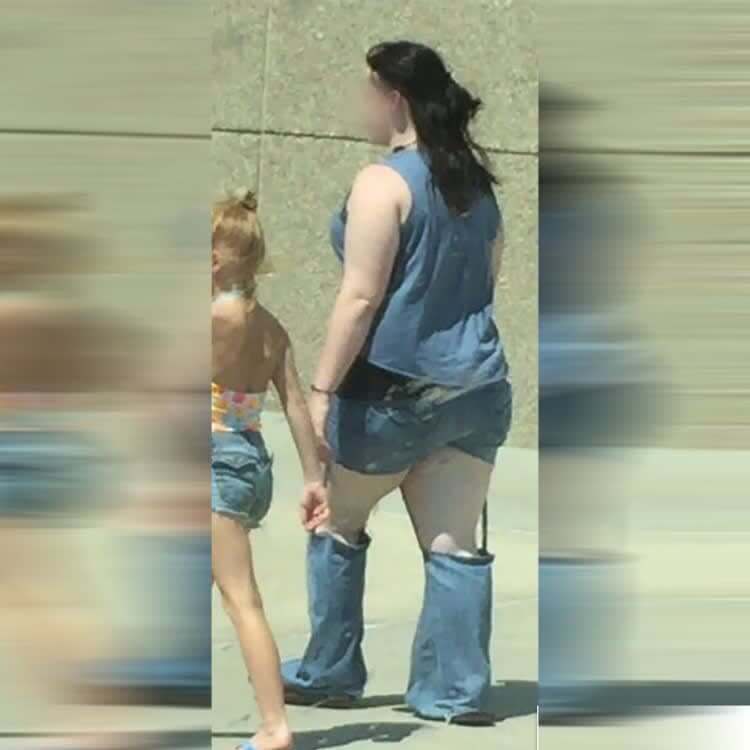 This – we don't know what to call it – is an odd look to say the least. We hope it's at least comfortable.
Shop 'til You Drop
Well, this man literally took the saying "shop 'til you drop" too seriously. He is obviously really tired from his shopping trip and just wants to get some rest.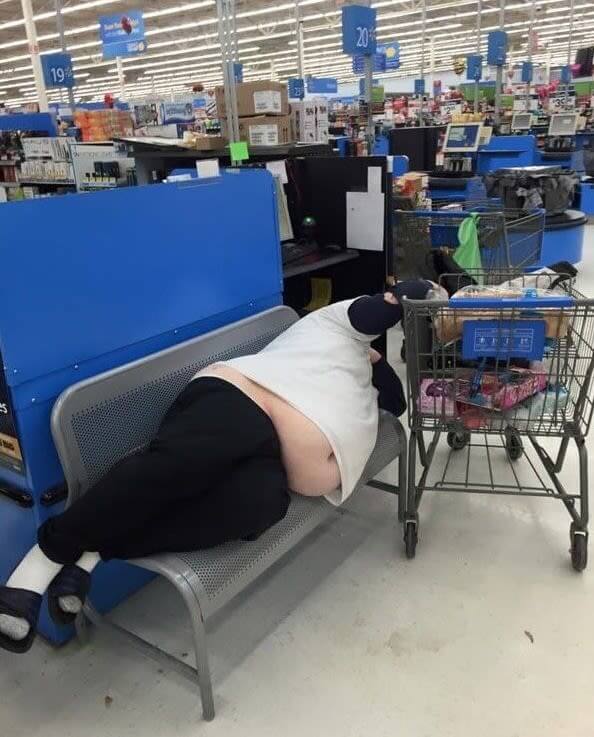 Sometimes a power nap is needed is regain the energy levels in the body, even if it means taking a nap in the middle of Walmart.
Emotional Support Animal
Here is another exotic animal that someone brought to the store. This lizard is clingy and didn't want to be left at home while his owner went to the store.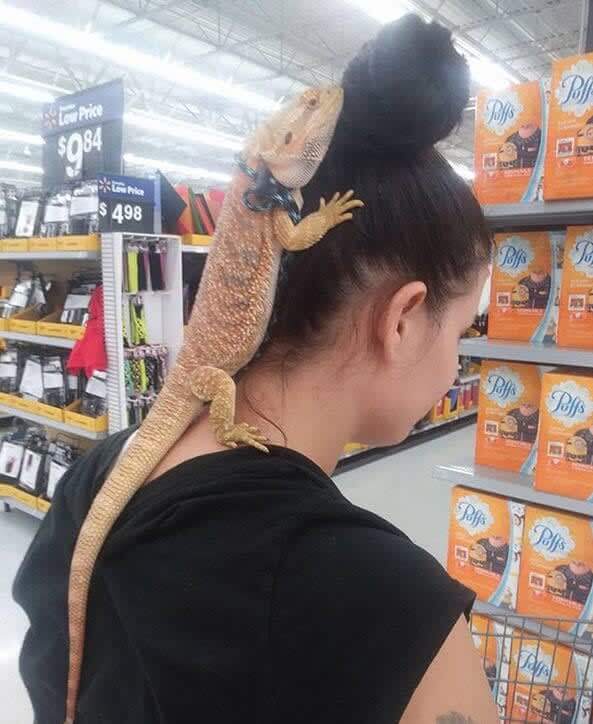 He could be an emotional support lizard because these days, when every animal is a basically an emotional support animal.
Poor Parenting
We have seen some parents doing weird things with their kids at Walmart, but this one certainly tops the list. The fact alone that the mother is unbothered by her child putting a bag over their head is a little concerning.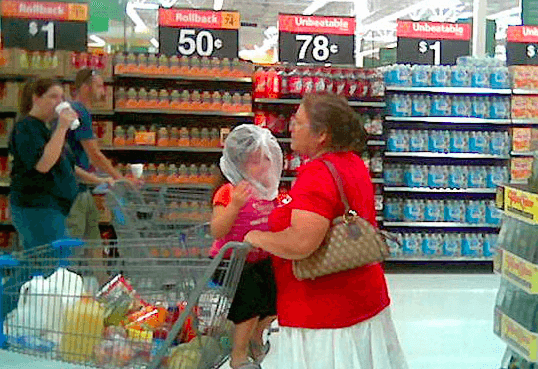 It may seem like poor parenting to us, but who knows it may just be another day in her hectic life as a mother.
Multi Tasking
Taking time to unwind and put on a facemask is a great way to practice self-care. This girl was in the middle of her mask when she remembered she needed to grab a few things from the store.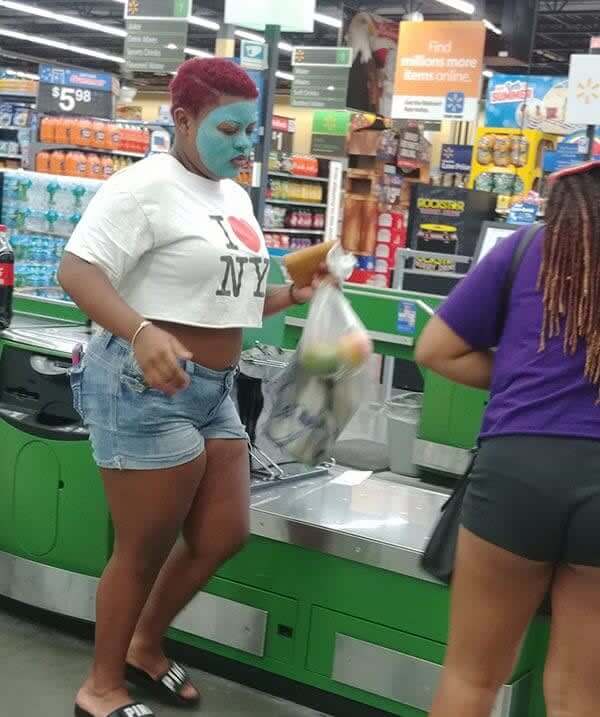 When she realized she had to go to the store, she was so flustered that she forgot to take off her face mask. At least she is multi-tasking.
"I Love Meat!"
Some people work demanding hours and rarely find time to sleep. When they can find a place to lie down and close their eyes, it doesn't matter if they are in the meat section at Walmart.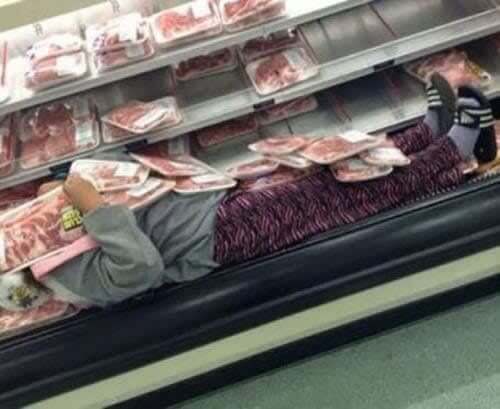 This woman was past the point of needing a nap and decided to make a bed on top of the steaks. She also used other packs of meat as a blanket to keep her… warm? We're confused.
That Thing Looks Heavy
If their goal was a record for the longest and thickest dreadlocks, this man would probably win. That must be heavy to carry around.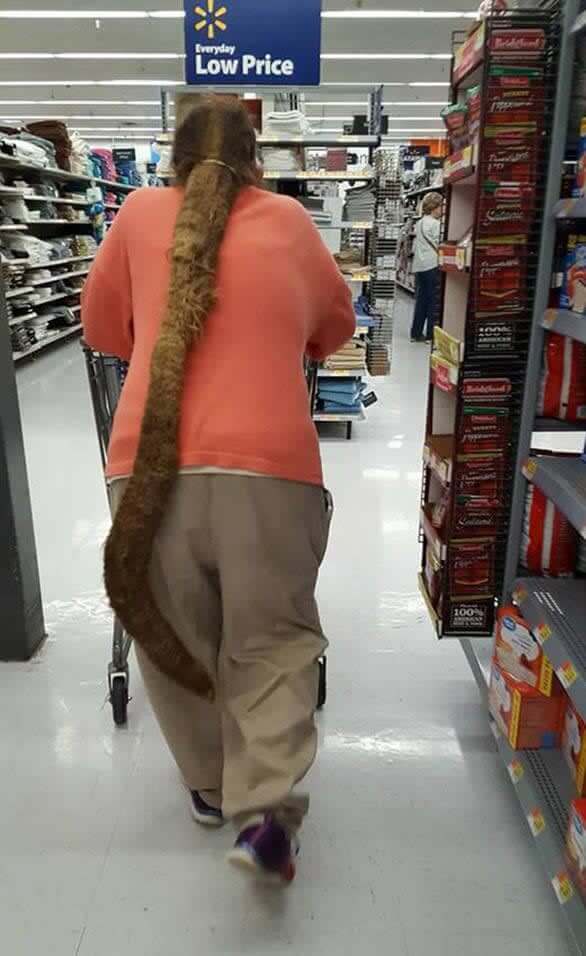 We wonder what this man would look like without his giant dreadlock. It's a commitment for sure!
Turtle Time
If you can bring pretty much any other animal into Walmart, why not bring your turtle. We didn't know that they made leashes for turtles.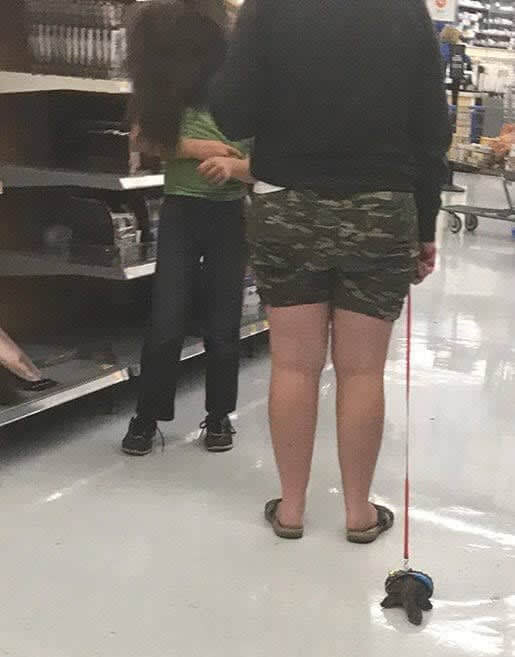 Turtles are known for being slow, so it might take a long time to walk it around the store. This person would be better off carrying the turtle.
"That's $100 for the Baby"
We know that babies can sleep almost everywhere. This photo proves that babies don't mind sleeping anywhere.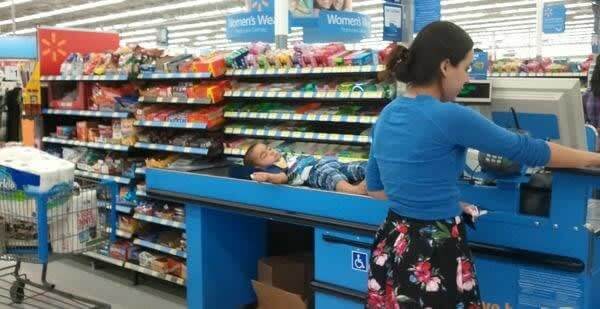 The mother had to shop for household items and the baby was exhausted. The baby looks cute sleeping on the conveyer belt.
Sneaker Sandals
When you grow out of an old pair of shoes, your first instinct might be to throw them away or donate them. Instead, you should think about redesigning them.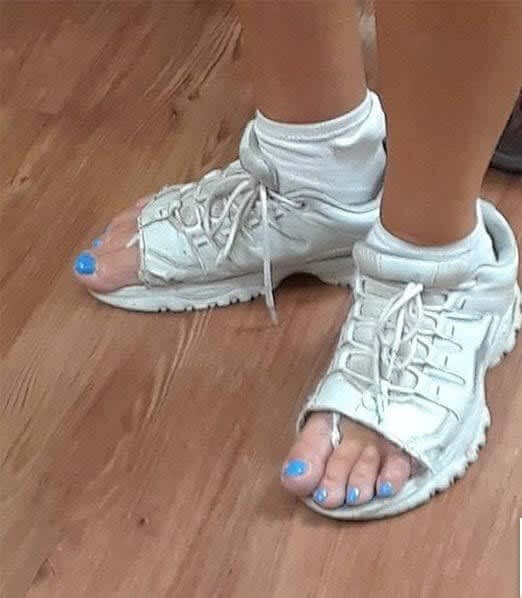 This person took a pair of old sneakers and made them into sandals. This look is unique, and you can say that you have a one-of-a-kind shoe.
The Sign Says It All
These days, it is important to be politically correct. Sometimes people make mistakes because they don't know any better, but this person is here to tell you exactly how you should address them.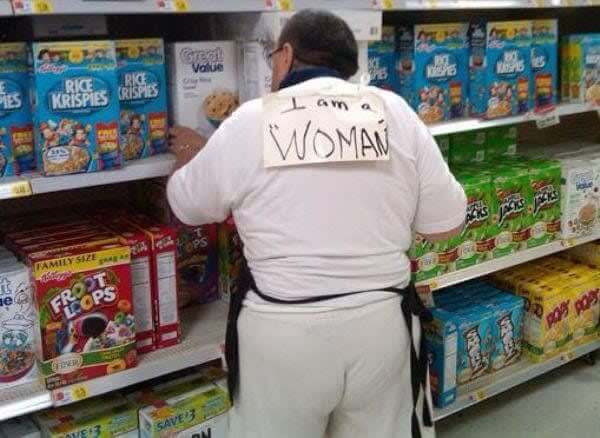 He identifies as a woman, and he is wearing a sign to show that because he wants people to call him by the correct pronouns. More power to them!
No Pants No Problem
To be fair, this is not the first or last time someone took off their pants in the middle of Walmart.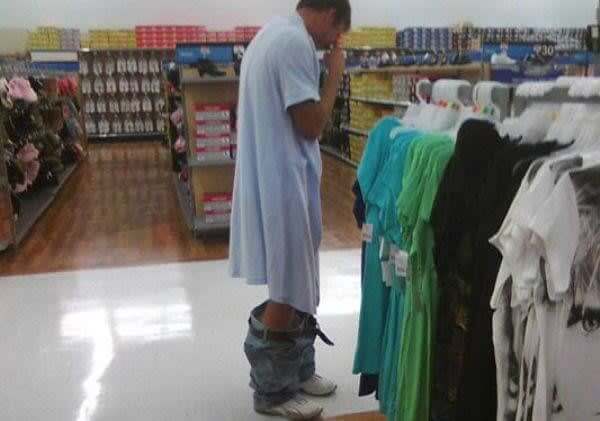 Looks like he wanted to try on the nightgown, but going to the dressing room was too much effort, so he changed in the middle of the store.
They See Me Rollin'
Putting your hair in rollers is a long process, and you have to leave them in for hours. Instead of sitting at home and waiting for your hair to have the perfect curl, why not go out and get some errands done while your hair sets?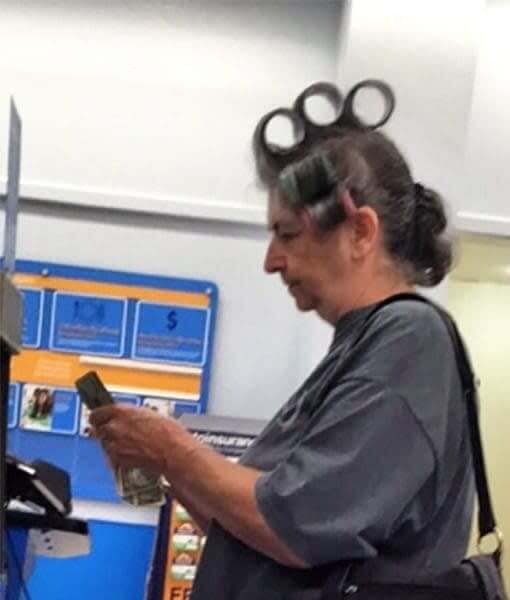 This woman did not have the time to sit around and wait for her hair to be ready. She decided to go to Walmart and do some shopping to be productive while she waits.
Laundry Day?
When all your clothes are in the wash, so you have to borrow your wife's dress to run to the grocery store. Although it is unexpected, he is working this look.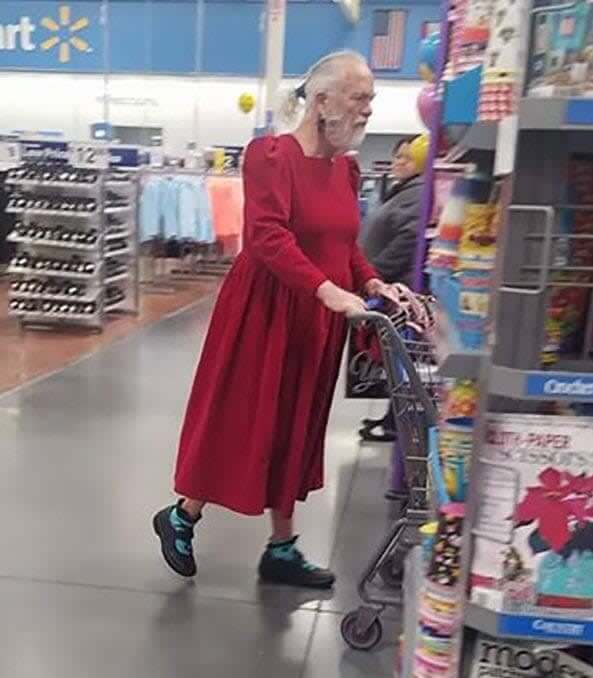 Even if it's not laundry day, we support him and his authentic self. Who are we to judge?
Taking The Children To Walmart
Have you ever thought of your dogs like children? You have to bathe them, feed them, and make sure they go to the bathroom. This woman thinks of her dogs as her children and wouldn't leave them at home while she went to Walmart.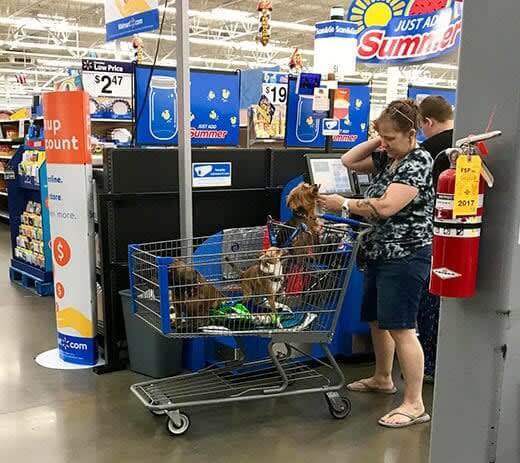 They are better behaved than most human children. They aren't screaming, and they are staying in the cart instead of running around the aisles touching everything.
A Man And His Ferret
From lizards to monkeys to puppies, we have seen some strange animals at Walmart, and now we have seen a ferret, too. This is one of the weirdest animals to bring to a store.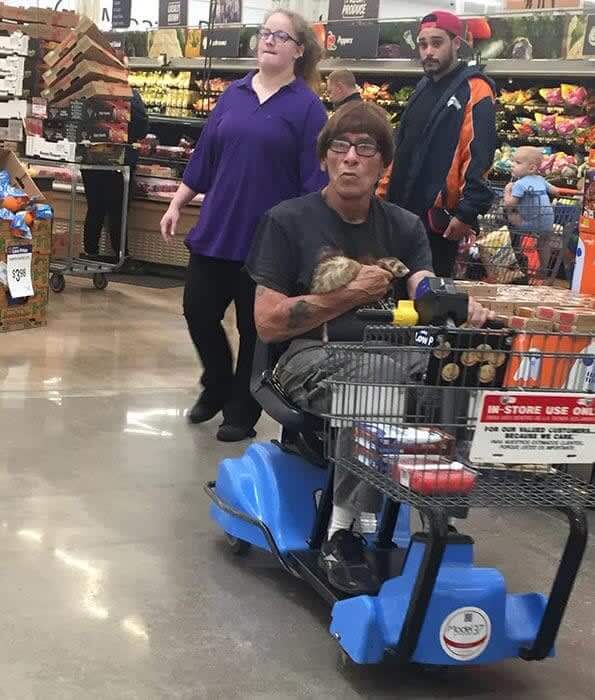 This man does not see anything wrong with bringing his ferret to the store. He is perfectly calm, and so is his pet.
"Can You Tell Me Where The Nail Clippers Are?"
We have so many questions for this woman. First of all, how would you grow your nails that long? Second, how long does it take to paint them?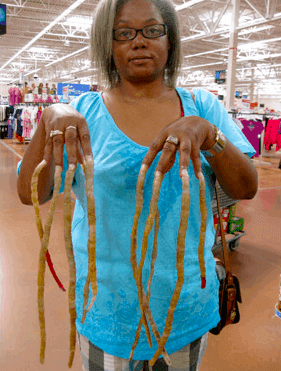 Also, how does she do anything? Her nails would always be getting in the way, right?
Eye See You
Have you ever heard your mom say, "I have eyes in the back of my head." This man took that literally and had an eye tattooed onto his head.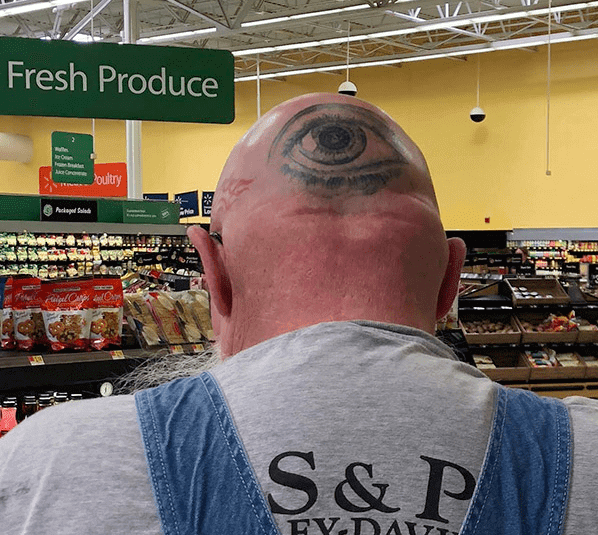 He wanted to keep an eye out for people that might sneak up behind him. We wonder if it worked!
Joker On The Loose
As you have seen, people wear unusual outfits to Walmart, and this is a prime example. We hope this was taken around Halloween time because that would be more logical.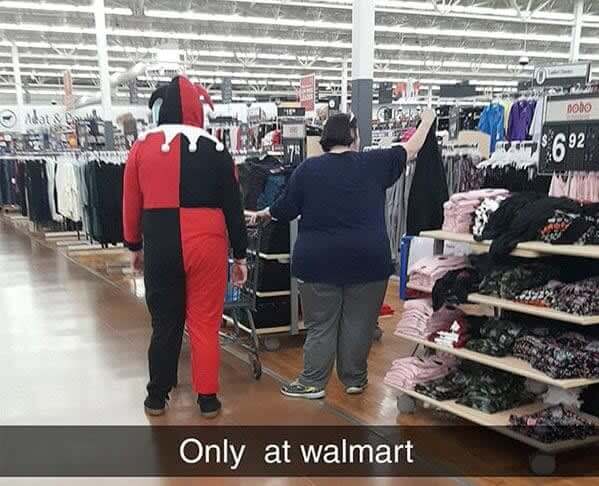 However, the store doesn't seem to have any Halloween decorations up, so we are going to assume this person just wanted to wear their joker outfit to the store for fun.
MJ Is That You?
It looks like Michael Jackson has risen from the dead to go for a shop at Walmart. Why would the King of Pop be shopping at Walmart of all places? Ok, so it is not Michael Jackson, but this could be his doppelganger.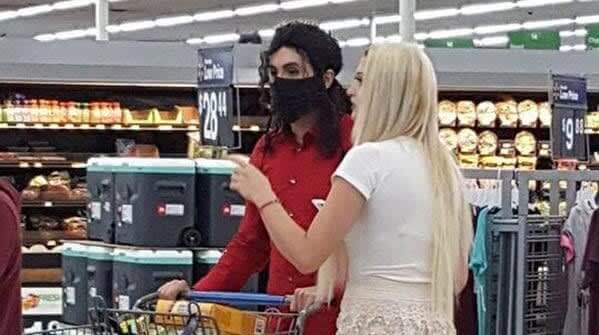 Maybe this man is a Michael Jackson impersonator on the way back from a job. He does not look thrilled to be shopping at Walmart.
What Does The Fox Say?
"But there's one thing that no one knows, what does that fox buy?" This guy must have been on his way to a Halloween party or else this would be really bizarre for him to be wearing a foxtail.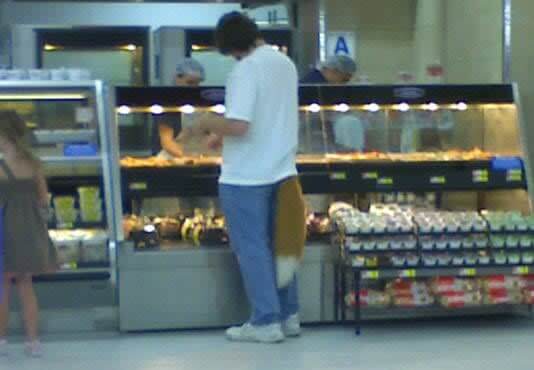 Everyone is entitled to their own style choices, but we have never seen someone sport a foxtail. Maybe it is the newest style and he is ahead of the trend.