Have you ever stopped to think about the everyday items you use on a daily basis? It's easy to take things for granted when they're always within reach, but what if we told you there's a whole world of hidden uses and meanings behind them? That's right, from a ketchup bottle to the iconic McDonald's logo on a box of fries, there's a wealth of knowledge waiting to be uncovered. Join us as we take a closer look at these everyday items and discover the secrets behind their designs.
That Plastic Disc Under Bottle Caps Keeps a Drink Fizzy
Most people hardly ever notice the little plastic disc under the cap of a soda bottle, let alone know its purpose. Surprisingly, it's not just for show – it actually serves a crucial role in keeping your drink carbonated. The disc helps trap the carbon dioxide inside the bottle, preventing it from escaping and keeping the fizz intact. Next time you twist open a bottle of soda, take a moment to appreciate the importance of that little plastic disc!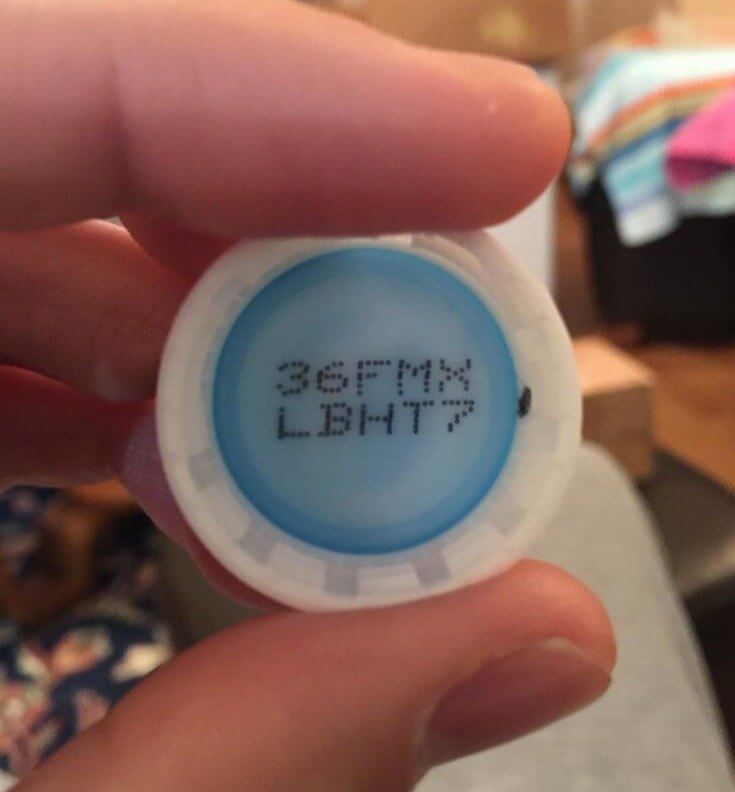 While we won't go into the scientific details, it's safe to say that without this small piece, your soda wouldn't have that satisfying burst of bubbles that we all love.
The Mystery of the Arrow on Your Car Dashboard Finally Solved
Have you ever found yourself pulling up to a gas pump only to realize you can't remember which side your gas tank is on? Fear not! Your car dashboard has a secret arrow or triangle symbol located near the gas gauge that indicates which side your gas tank is on. If the arrow is pointing left, your tank is on the left. If it's pointing right, your tank is on the right!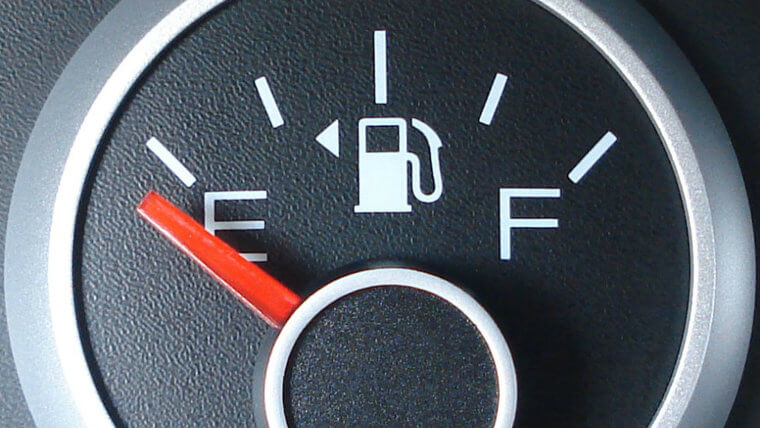 This helpful feature has been hiding in plain sight, and now that you know, you'll never struggle to find your gas tank again.
The Surprising Function of Pom-Poms on Beanies
Have you ever wondered about the history of the adorable pom-poms on hats? It turns out that they were not just a cute accessory, but they had a practical purpose. French sailors used to wear hats with pom-poms so that they wouldn't hit their heads on the ceilings of the ship during rough weather. The pom-pom served as a cushioning effect, protecting their heads from injury. Now you'll never look at pom poms the same!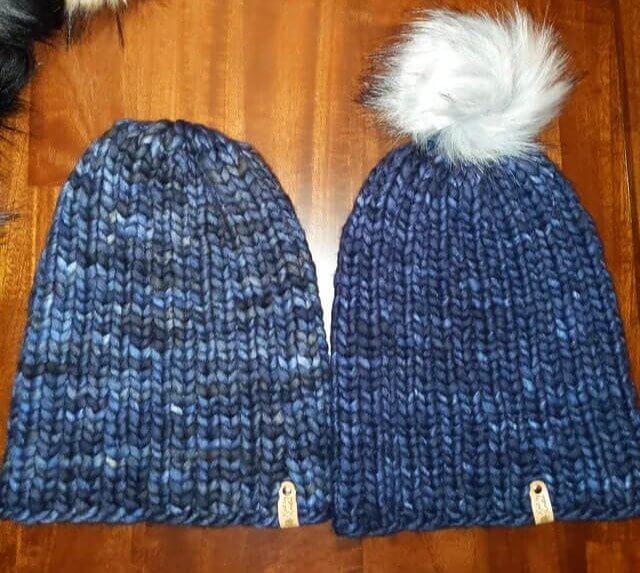 While we may not face the same danger today, the pom-pom continues to be a popular adornment on winter hats with a history you would've never known.
Milk Jugs Have Circular Indentations so They Don't Explode When Dropped
You may have noticed the circular dimples on the sides of milk jugs and wondered about their purpose. As it turns out, those little circles serve an important function. The semi-flexible plastic used to make the jug is prone to cracking or shattering if dropped. The circular indentations allow the jug to flex slightly, which reduces the risk of cracking or breaking. The indents provide a place for the jug to expand outward when pressure spikes!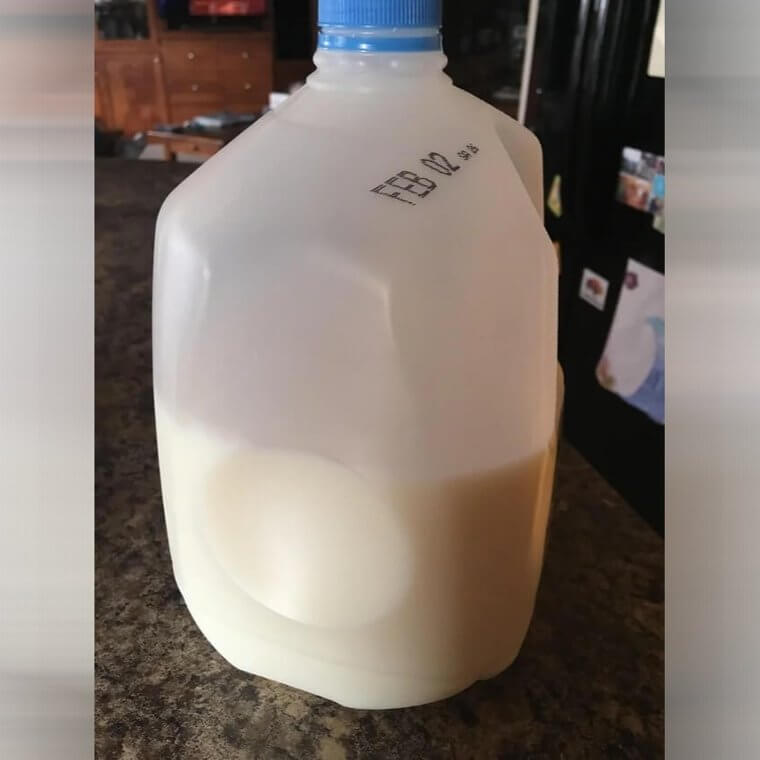 It's just like how water balloons squash and then bounce back up unharmed when dropped. Whenever you pick up a gallon of milk now, you won't help but remember this hidden feature.
Plastic Rings on Soda Bottles Let You Know if It's Been Tampered With
You've probably noticed those small plastic rings attached to the lid of your favorite drink bottle and thought, what's the point? That little ring is actually part of tamper-evident packaging or TEP, that is designed to protect you from any possible product tampering. When you purchase a new bottle, the plastic ring is connected to the lid by a perforation that breaks when the bottle is opened for the first time.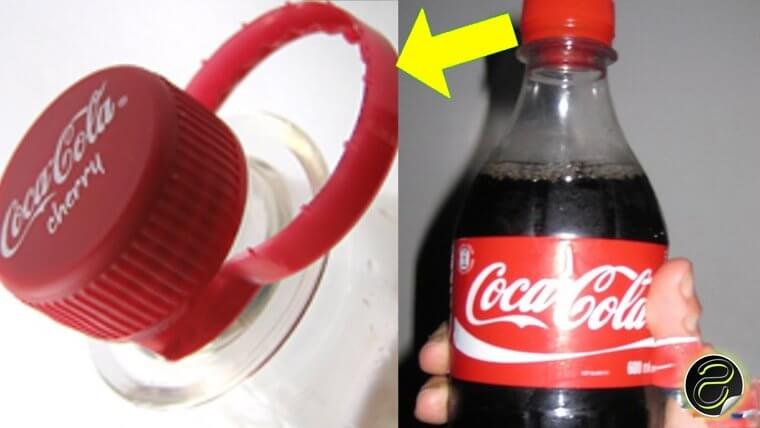 This indicates that the product is now safe to consume and has not been opened or tampered with before.TEP is used in drink bottles and many other products, from medications to food items, to ensure consumer safety!
McDonald's French Fry Boxes Double as Ketchup Holders
If you're a fan of McDonald's fries, you'll be happy to know that there's a hidden feature on the French fry box that you probably didn't notice. That bendable flap on the box isn't just there for decoration – it's actually a ketchup holder! Yes, you read that right. You can fold the flap outwards and use it as a convenient little plate for your ketchup or any other dipping sauce.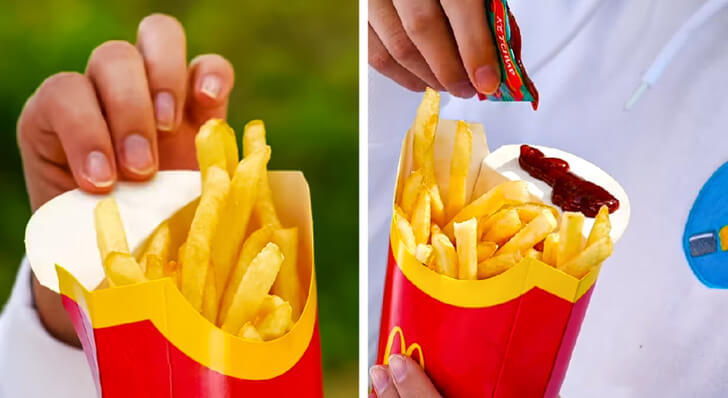 It's a clever design that is often overlooked, but once you try it, you'll wonder why all fast-food restaurants don't have this feature on their fry boxes.
Tie Shoes to the Lash-Tab of a Backpack
If you've ever noticed a diamond-shaped design on the front of your backpack, you might think it's just a simple fashion statement or part of a brand logo. However, that design actually serves a purpose. It's called a lash tab, and it's designed to hold extra items that may not fit inside your backpack. You can use this loop to tie on shoelaces and hold a pair of sneakers, for example.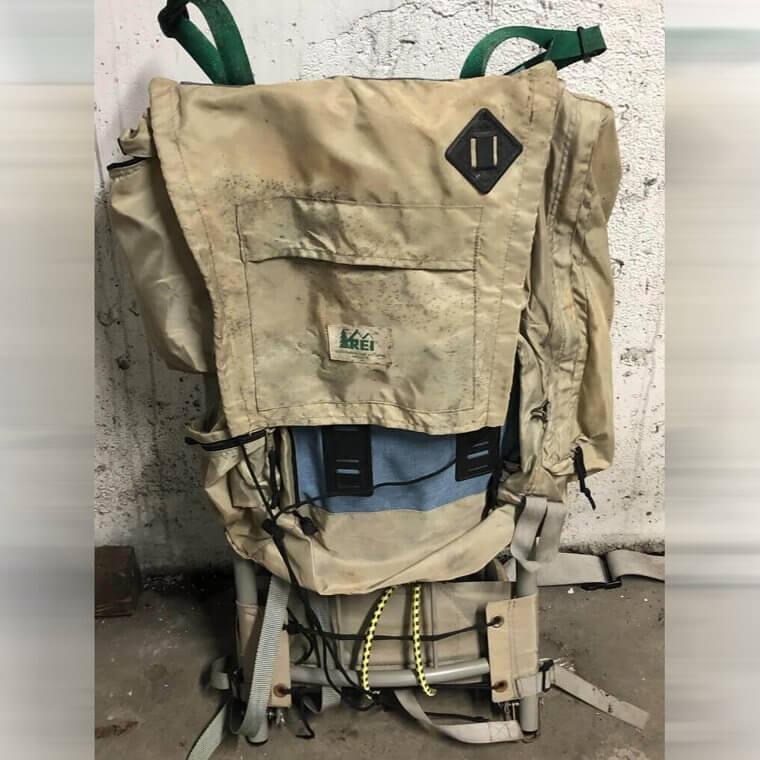 This simple function can come in handy when you need to carry more items than your backpack can hold. And the best part? It adds a trendy touch to your backpack while also providing practical use.
Advil Gel Capsules Can Be Used as Pimple Spot Treatment
Did you know that Advil, a common pain reliever, can also help you get rid of pesky pimples? If you pierce an Advil capsule, the gel inside can be used as a spot treatment for pimples. This is because Advil contains ibuprofen, which has anti-inflammatory properties that can reduce redness and swelling caused by acne. Simply apply the gel to your pimple, let it sit for 15 minutes, and then wash it off.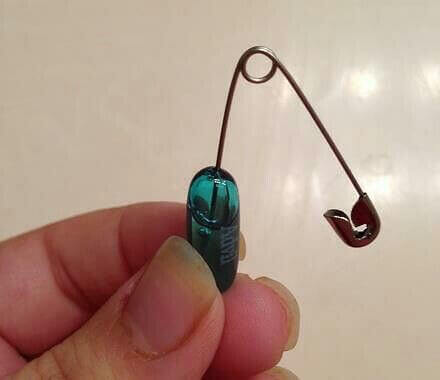 Not only can Advil provide relief for headaches, but it can also be a useful addition to your skincare routine. Who would've known?
There's an Extra Hole on Padlocks That Act as a Drain
Did you know that the tiny hole at the bottom of your padlock serves a crucial purpose? It's not just a random design feature but has a very specific function. The hole acts as a drain that helps to prevent water from building up inside the lock. This is important because water can cause the lock's internal mechanisms to rust, which can lead to the lock failing to function properly.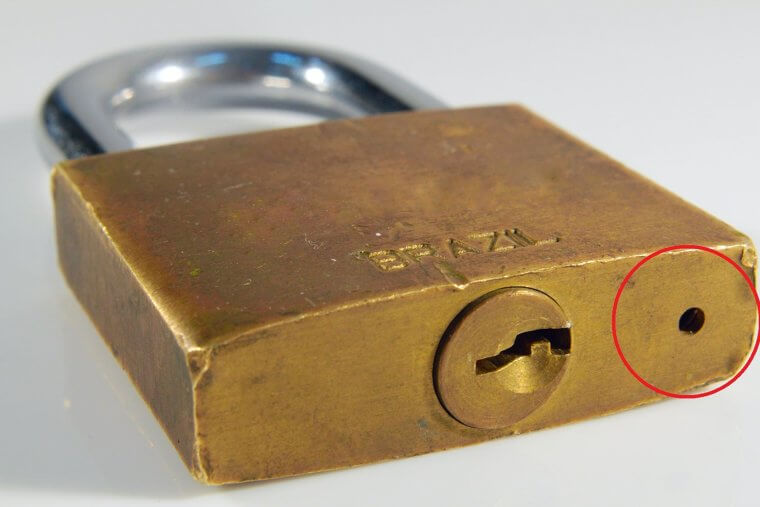 Despite its unassuming appearance, the hole plays a critical role in maintaining the durability and effectiveness of the lock, so it's just as important as any other part of the lock.
That Drawer You Store Pans In Is Actually to Keep Food Warm
Have you ever wondered what the little drawer under your oven is for? It's not just a random storage space for your baking pans and trays! The manufacturers originally designed that drawer to keep food warm after it's been cooked until you're ready to serve it. If you're hosting a dinner party, make use of this little drawer to keep your dishes at the perfect temperature while you finish preparing the rest of the meal.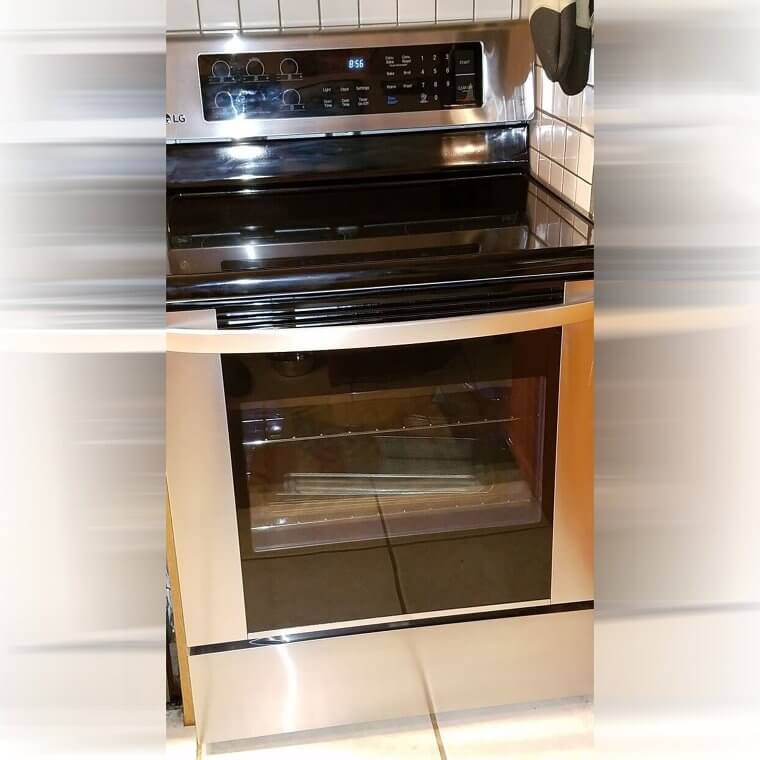 No more worrying about cold food when it's time to eat! Just slide your cooked dishes into the warm drawer and they'll stay nice and toasty until you're ready to serve.
Discover the Secret to Prolonging Your Utility Knife Blade's Lifespan
Utility knives are a common tool in many households, and they are usually made of plastic with a retractable blade that can be pushed in when not in use. However, when the blade becomes dull, many people assume that they need to buy a new knife or a sharpener. But did you know that there's actually a hidden feature that can help you get more use out of your utility knife?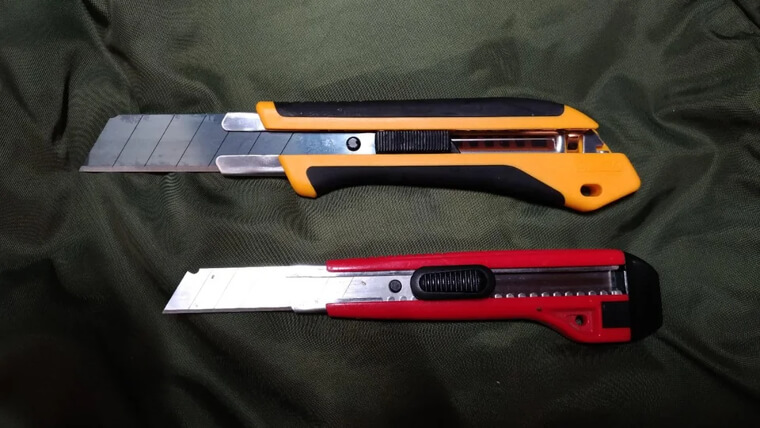 Those diagonal lines on the blade are there for a reason! Once the blade becomes too dull, you can grab the first section with a pair of pliers or the plastic component at the back of the knife, and it will snap right off. Then you are left with a new and sharp knife again.
Without This, Your Towels Would Completely Unravel
Those stripes on your bath towels are there for a reason, but have you ever wondered why? Well, it turns out that there are several reasons. Firstly, it's a design concept that helps to add a decorative touch to the towel. Secondly, it serves as an indentation that allows for easier folding and storage. But the main reason for the stripe is that it's a selvage, or hem, that runs along the entire length of the towel on either side.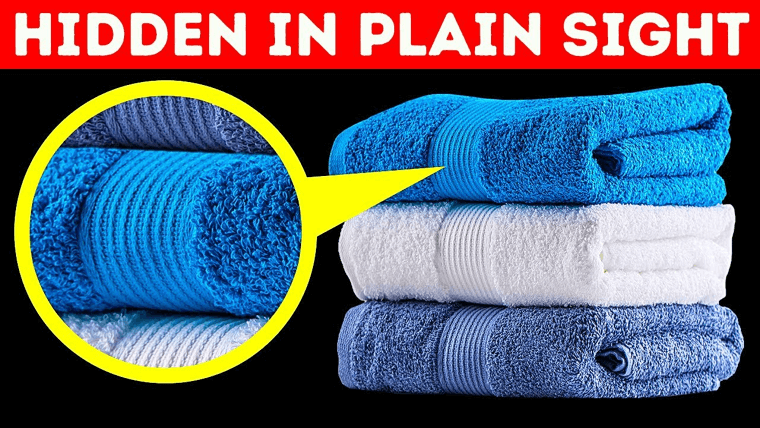 This reinforced edge helps prevent the fabric from fraying and ensures the towel stays intact over time. So when you use a bath towel and feel that rougher part and think, why isn't it all just fluffy? Now, you'll know exactly why it's there!
The Real Reason Women's Underwear Has A Pocket
Have you ever wondered about the small pocket in the crotch of women's underwear? It turns out that this pocket, called a gusset is not meant for storage or decoration but instead serves a very important purpose. The gusset is made from breathable cotton fabric and helps protect your lady parts by keeping them dry and ventilated. This simple yet crucial feature also reduces your risk of developing uncomfortable conditions like yeast infections and urinary tract infections.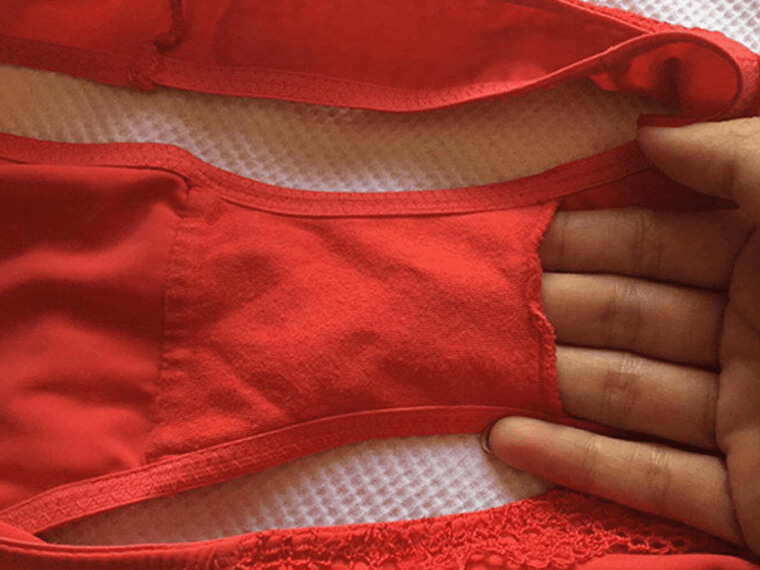 So, while the gusset may seem like a weird or unnecessary addition to underwear, it serves an essential purpose in keeping women healthy and comfortable!
Coins Have Ridges to Prevent People From Tampering With Them
Have you ever wondered why some coins have ridges around the edges while others don't? It turns out that this is actually a security measure designed to prevent fraud. Back in the day, coins were stamped in different weights to reflect their true value. To prevent people from shaving the edges and melting them down to create new coins, ridges were added to make it obvious if a coin had been tampered with.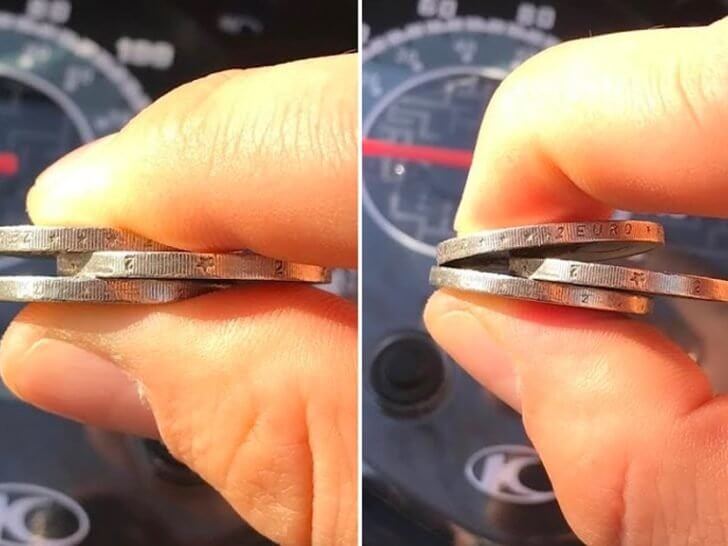 Quarters and dimes have rough edges, while nickels and pennies do not. If you're ever counting change, take a moment to appreciate the history and security measures behind those ridges!
French's Yellow Mustard Lids Have This Secret Feature to Prevent Messes
Yellow mustard is a versatile condiment that adds a tangy kick to your meals. But let's be real; it can also be messy! That's where French's Yellow Mustard comes in with a secret feature that will change your condiment game. The lid has a nub that holds it open, allowing you to squirt out the mustard without the cap getting in the way. But there's a secret function on the bottle that helps with this!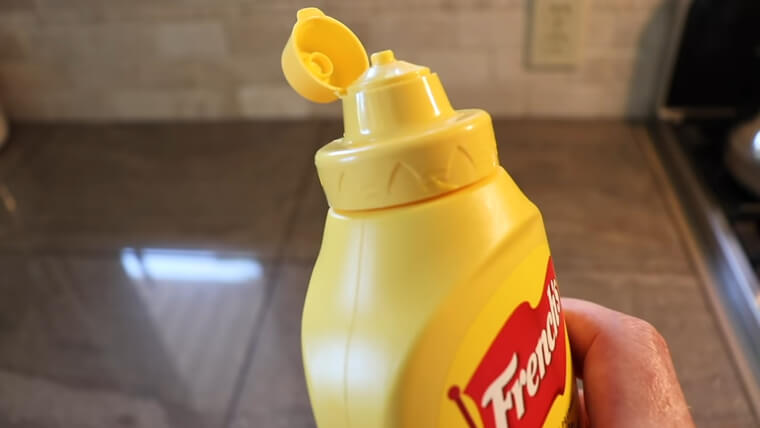 The nub is behind the lid, and when you flip it as far back as it can go, it latches onto that notch with a satisfying click. This hidden feature may not be advertised, but it will make using French's mustard a mess-free experience.
The Hidden Purpose of the Lollipop Stick Hole
Have you ever wondered why there's a small hole in the lollipop stick? It may seem like an odd design feature, but it actually serves a crucial purpose! This hole is necessary for the candy to stay attached to the stick while it's being manufactured. When the hot candy mixture is poured into the mold, it seeps into the hole and hardens, securing the candy to the stick. This way, the candy won't fall off the lollipop stick!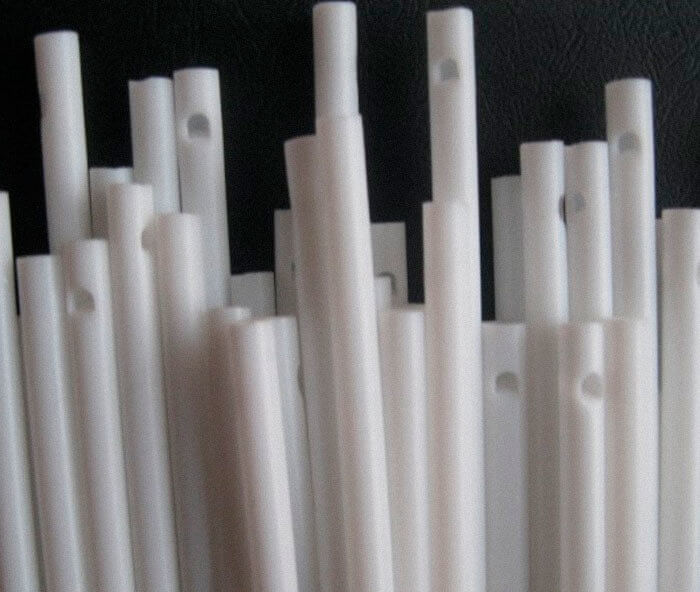 Although some people like to blow air through the hole, thinking it's a built-in whistle, it's not! Now when you enjoy a lollipop, you'll know that the hole in the stick is there for a reason.
Use a Tape Measure Like Never Before
When it comes to home improvement projects, having the right tools on hand is essential. One of the most important tools in your toolbox is the humble tape measure. While it may seem like a simple device, it actually has some hidden features that can make your measuring tasks even easier. For example, have you ever noticed the small slot on the end hook of your tape measure? Well, get ready for this surprise!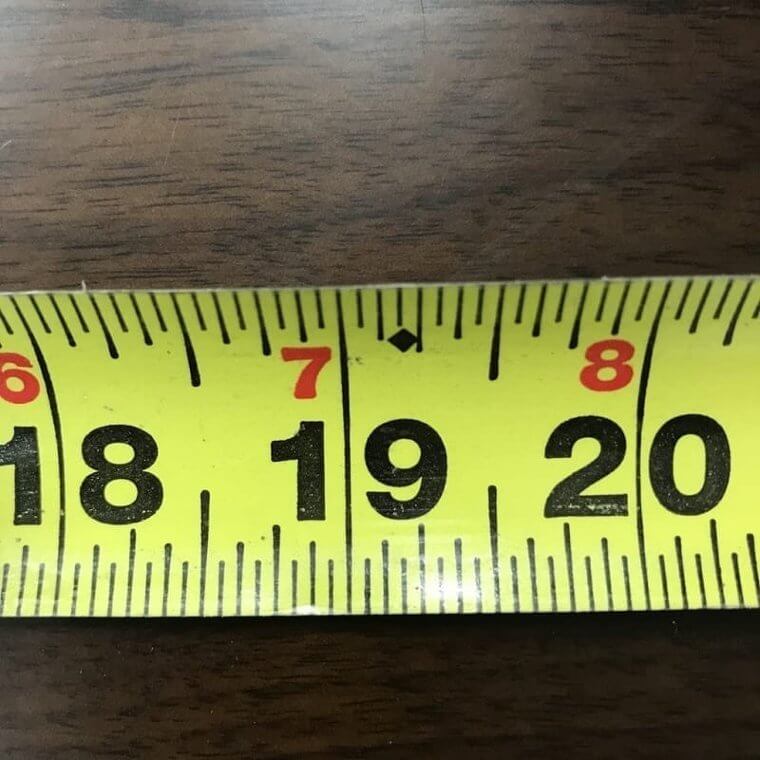 This feature is designed to grab onto the end of a nail or screw, making it easier to measure flat surfaces when you don't have anyone to hold the other end of the tape. Simply hammer in a nail or insert a screw and hook the end of the tape onto it for a precise measurement.
The Colors on Erasers Are Meant to Erase Specific Things
Did you know that erasers have two different colors for a reason? The pinkish-orange side is for erasing lighter pencil marks on softer paper, while the blue side is meant for grainier, tougher paper and darker marks. Interestingly, the blue side was later found to be effective at removing pen marks too. This may be why some people find the blue side more useful than the pinkish-orange side. But we've gone our whole life thinking the colors didn't matter!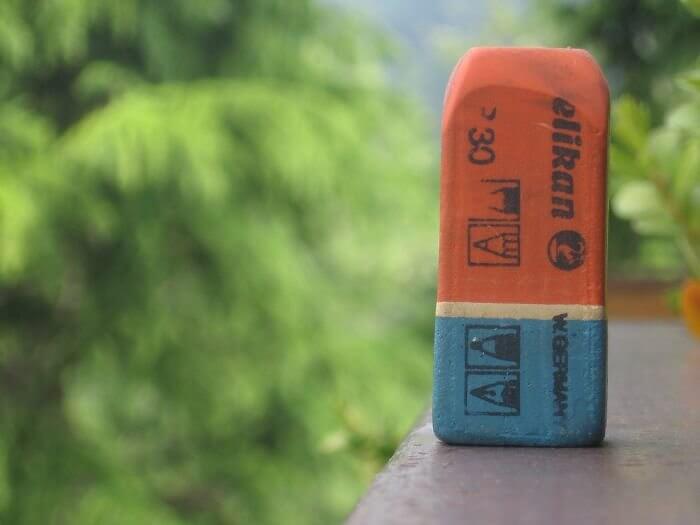 With this trick, you'll finally be able to erase pen marks to heart desire without wondering why it's not entirely erasing; just use the blue side!
Your House Key Can Unlock Shopping Carts
If you frequent grocery stores and use shopping carts, you know that forgetting to bring a quarter can be a real problem. The store's policy of requiring a quarter to release a shopping cart can leave you empty-handed and frustrated. However, there is a simple cart hack that can save the day. Simply use the back end of almost any key you have on your keychain in place of a quarter.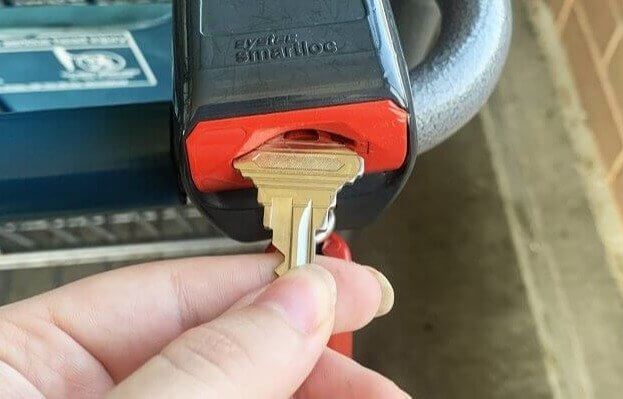 The deposit lock is designed to hold a quarter-sized object, so your house key should fit perfectly. This simple trick will allow you to release the cart and continue your shopping without any hassle.
That Little Button on a Seat Belt Helps It Stay in Place
If you have ever used a vehicle seat belt, you may have noticed a small button on it. This button is a useful feature that helps keep the latch plate in place when the seat belt is not in use. The latch plate is part of the seat belt that clicks into place to secure you in your seat. Without the button, the latch plate may slide all the way down to the bottom of the seat belt, making it harder to buckle up.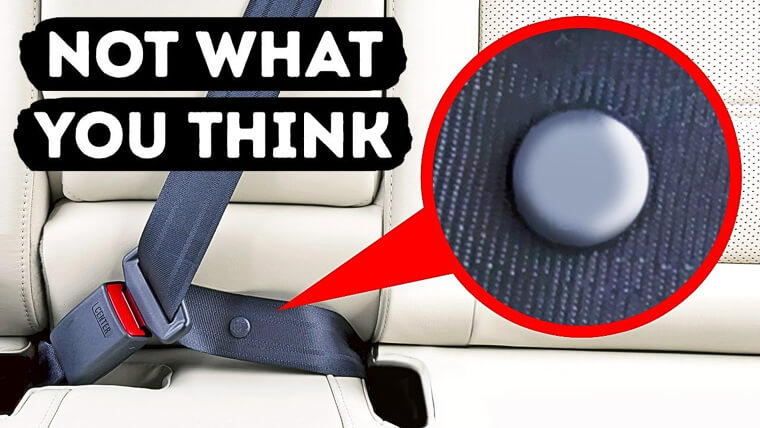 You probably never noticed it before, but the button makes using the seat belt easier and more convenient! But you probably never noticed it before.
Rumble Strips Are There to Prevent Car Accidents
You may have seen those ridges on the side of the road and had no idea what their purpose was. They are called rumble strips and play a crucial role in road safety. Rumble strips are designed to alert inattentive drivers that they are veering off the road and potentially putting themselves and others in danger. These strips create a loud noise and a vibration when a car drives over them, which can wake a sleepy driver or alert a distracted one!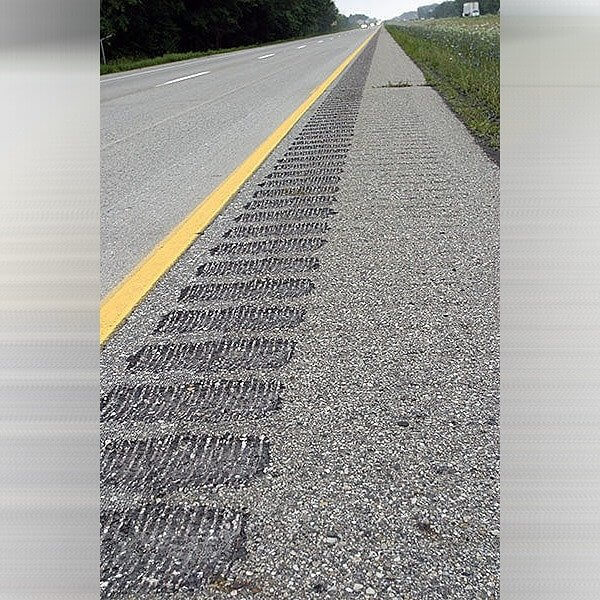 In fact, 90% of all cycling fatalities are caused by collisions with cars. This is where rumble strips come in because it keeps cars from drifting into the path of a cyclist or other vehicle.
A Measuring Tape Can Keep Your Child's Car Seat Safe
Did you know that one of the most important features of a measuring tape is its ability to help you keep your child's car seat safe and secure? By using a measuring tape to perform the "inch test," you can ensure that the car seat is installed correctly and won't move more than an inch in any direction. Simply give the seat a firm handshake at the belt path with your non-dominant hand, and use the measuring tape to check for any movement.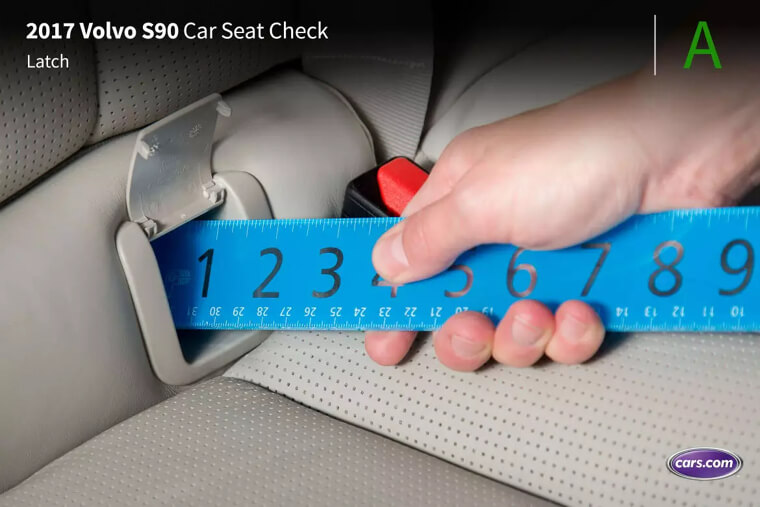 It's one of the best-hidden features of a measuring tape, and it can give you peace of mind when it comes to your child's safety on the road. Remember to keep a measuring tape in your car for this reason!
The Secret Door Hack Accessory Every Car Should Have
Getting caught in the rain without an umbrella can be a frustrating experience, especially if you have one, but it's all the way in the boot of your car. But if you drive a Rolls-Royce or Skoda, you're in luck. These car brands offer their drivers a clever solution to this problem – an umbrella holder built right into the car door cavity that even has air vents to push warm air from the engine to dry out the umbrellas.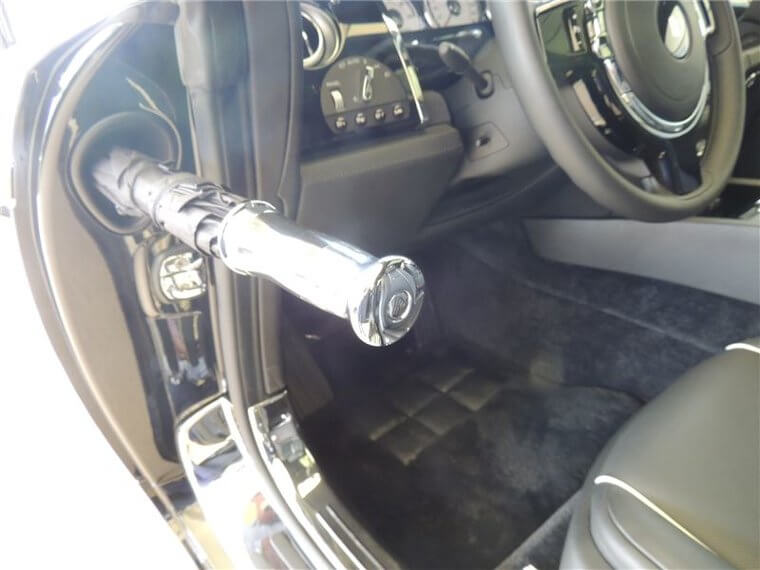 It's a simple feature that makes a big difference and begs the question – why don't more car brands have this handy feature?