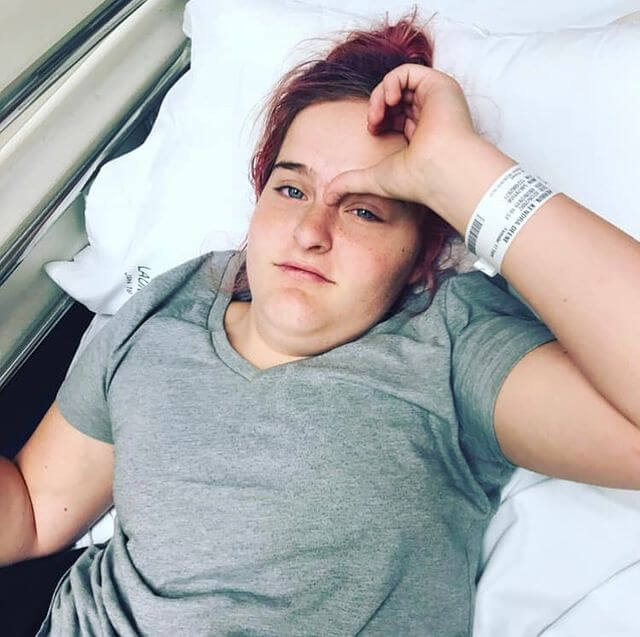 She underwent surgery and stayed in the hospital for the next few days, undergoing treatment with a wound vac to help remove the infection. So, while things may seem to be going well for Maliyah and Kendra, it's important to remember that their journey is far from over.
They Started a YouTube Channel as an Outlet for Their Experience
The power of social media is undeniable, and Kendra and Maliyah Herrin have experienced it firsthand. Their YouTube channel has not only allowed them to express their personalities, but it has also given them a platform to share their inspiring story with the world. They like the idea of bringing a smile to people's faces and sharing a silly side of themselves that people don't always get to see or wouldn't know from first impressions.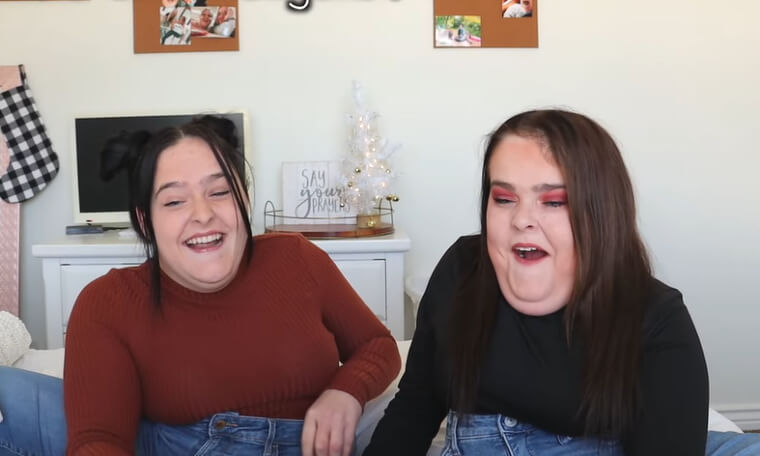 Who knew that making videos on YouTube would have such an impact on their lives? But it turned out to be the perfect thing for them.
Social Media Has Brought Them the Confidence They Never Thought They'd Have
Kendra and Maliyah have come a long way since they first started their YouTube channel, and it's not just their confidence that has improved. Their videos have made an impact on people's lives around the world. They never thought they would be the type of people to get in front of a camera, but now they can't imagine their lives without it. The girls' positive outlook and humor shine through in their videos, making them an inspiration to many.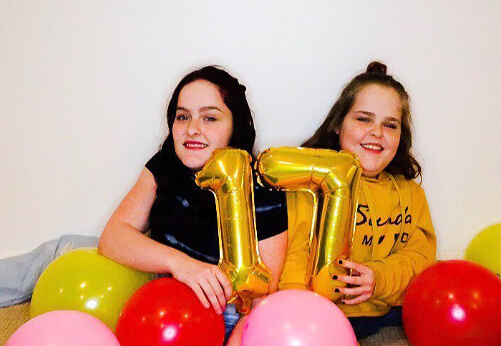 But surely, putting themselves all over social media can come with backlash or rude comments. So how do they stay positive through all of the adversity?
Not Surviving but Thriving Against All Odds
The Herrin twins have overcome tremendous obstacles in their lives, but their journey has not been without darkness and mystery. Despite their unwavering positivity, it's impossible not to wonder about the challenges that still lie ahead for them. Will their health hold up? Will they continue to face discrimination and challenges in a world that is not always welcoming to those with disabilities? Only time will tell what lies ahead for them.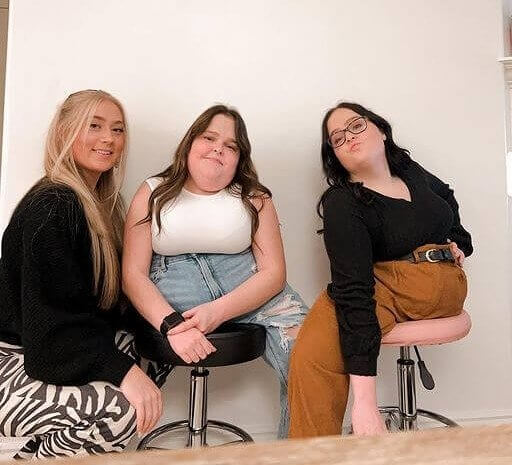 The future is uncertain, but what we do know is that the Herrins have already proven themselves to be survivors, fighters, and inspirations to us all.
From Unlikely Survival to Graduating School
Against all odds, the Herrin twins were given a slim chance of survival at birth. But today, they have defied expectations and overcome challenges that many would find insurmountable. From their early years as conjoined twins to their current status as healthy and thriving young adults, their journey has been nothing short of inspirational. They both graduated from school, something no one thought was possible. They continue to defy expectations and break barriers.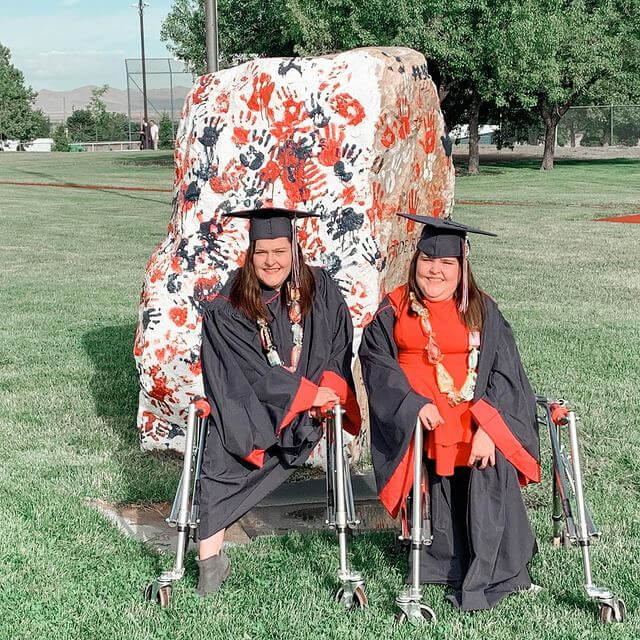 Who could have guessed that these once-fragile babies would make it this far? The Herrin twins are a testament to the power of perseverance and the resilience of the human spirit.
Overcoming Struggles to Party and Enjoy Life
Doctors gave them only 24 hours to live, but against all odds, they are thriving in their twenties. Despite the many challenges they've faced, their lives are filled with joy and fun. They make time to hang out with friends and have attended numerous school dances, creating unforgettable memories. They even work full-time jobs and have attended work parties with their co-workers. Even with their disabilities, they lead a fun life that once seemed impossible.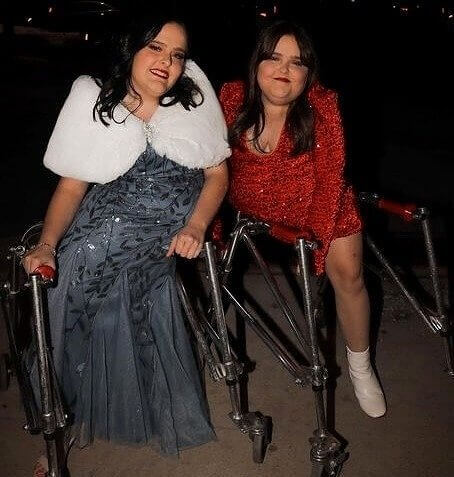 Having shown their strength by maintaining their health, pursuing education, making friends, and living life to the fullest, what could be the next challenge for these sisters? What might they aim for that seems beyond their grasp?
They Made It to Their Twenties
They say that life begins at twenty, and for Maliyah and Kendra, that couldn't be truer. After over a decade of being separated, enduring countless surgeries, and even kidney transplants, they have officially entered their twenties, ready to face all life's new challenges. But navigating through the turbulent waters of one's twenties is no easy feat. Maliyah and Kendra have already overcome so much, but can they handle this new phase of their lives?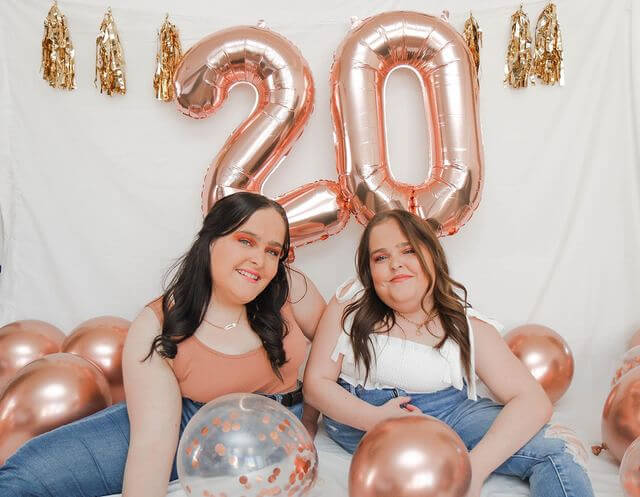 Will their bond and shared experiences give them the strength to handle anything life throws at them? Only time will tell, but we're rooting for them every step of the way.
They Refuse to Let Anything Stand in Their Way
Maliyah and Kendra have proven time and time again that there's nothing they can't do. Despite facing countless challenges and obstacles, they've persevered and found ways to enjoy life to the fullest. Many assume that their health condition holds them back, that they can't walk, drive, or even swim. But Maliyah and Kendra refuse to let anyone else dictate what they can or cannot do. Their lives have had their fair share of ups and downs, but they've never let that stop them.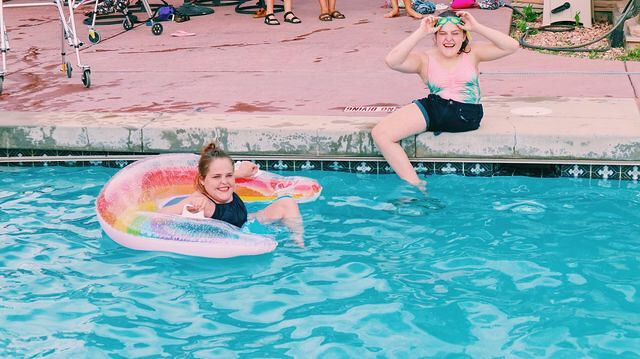 Maliyah and Kendra have proven that life is what you make of it. They've taken their challenges and turned them into opportunities, and in doing so, they've inspired us all to do the same.
People With Unique Genetic Traits That Show How Unpredictable Nature Can Be
Brenda Miller
This article was originally published on DailyBee
Every single person is born with their own unique traits, however, the genes that are passed on to us may sometimes be stronger than usual. From looking almost the same as an ancestor, to having different colored eyes, or being born with both blonde and brown hair at the same time, there are some unique people out there. Take a look at some of the most unusual and powerful genetic traits people experience worldwide, and be prepared to be amazed!
​These Sisters Were Born With Opposite Genes
You might have never heard about it, but it turns out that any of us could be born with the genes of one parent, and our sibling with genes from the other parent. That's what happened to these two sisters.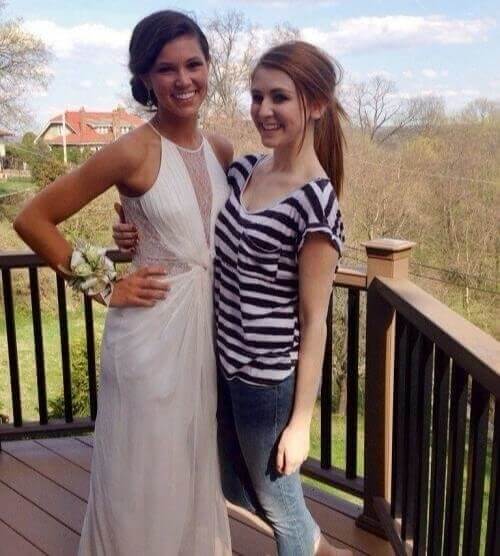 One of their parents is Irish, and the other one is Italian. Clearly, each sister inherited only one side. The result? They look like polar opposites!
This Guy Who Looks Exactly Like His Dad
Ever since he was really young, this guy kept being told that he looked exactly like his dad. Unfortunately, he didn't remember much, since he lost him at the young age of four.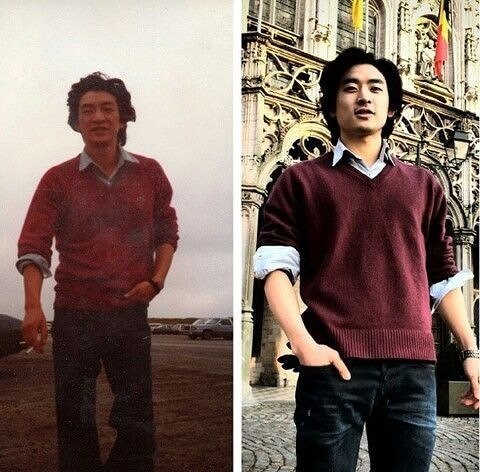 But his father's unique genetic traits stayed strong, and to everyone's surprise, he just kept looking more and more like him. In this side-to-side picture collage, it's very easy to see that the resemblance is uncanny.
When The Genes Are Simply Too Dominant
We've all heard and probably seen families where one parent's genes are extremely strong. This family is probably the perfect example of this. Just after one look, there is absolutely no doubt that these girls are sisters.
Their mom's red hair genes prevailed, and we can only imagine how they will continue being dominant in the generations to come.
A Little Boy Who Met A Cat That Looked Like Him
Some stories out there just warm our hearts, and this little boy's story is definitely on that list. 7-year-old Madden lived in Oklahoma with his family from a young age, and sadly, he always struggled with the unique color of his eyes and his cleft lip.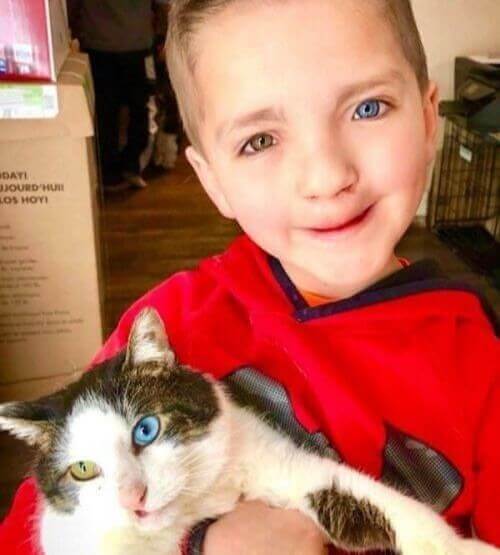 But one day, he got to meet his doppelgänger cat and he couldn't be more ecstatic about it! What are the odds?
Dimples On The Forehead Through Generations
Now here's a unique genetic trait that you wouldn't necessarily expect. While the little girl is still a baby, it is impossible to ignore how much she looks like her dad already. And what's even cooler?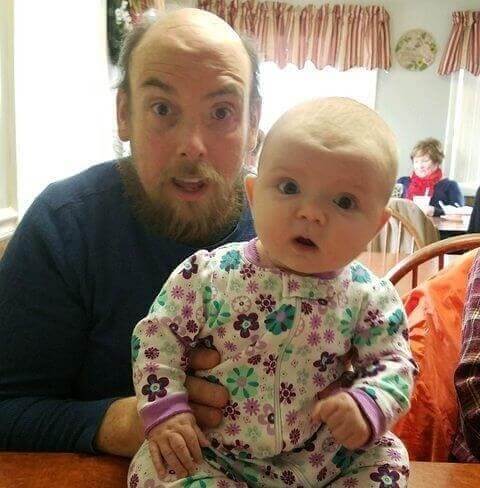 From a young age, her dad had a dimple on his forehead, a feature he would often joke about. In the end, his daughter was born with the exact same trait.
A Newborn Baby And A Mother With The Exact Same Birthmark
After giving birth to her daughter, no one in the room could believe how similar the little girl was to her mother already. And the coolest thing was that she was born with the exact same birthmark that her mother had on her hair.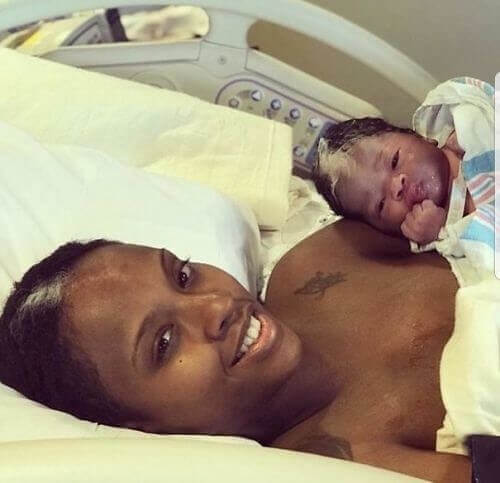 They both have a single white streak at the root of their hair that shows to be extremely dominant in the family's genes.
​Mom-And-Daughter Look Alikes
You know those times that you look at two people and you try really hard to tell who is the mother and who is the daughter, and you just can't? Then meet this mother-and-daughter duo.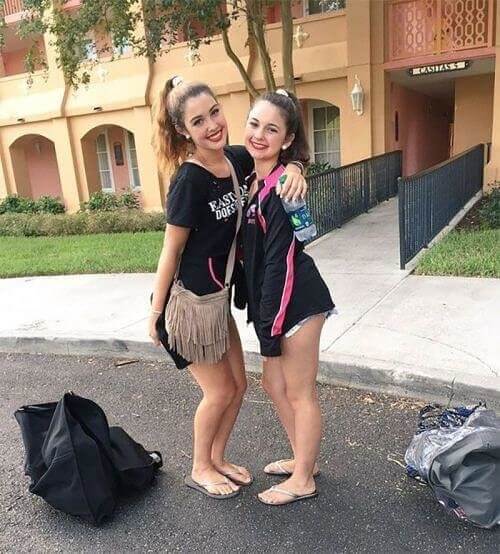 The two of them literally look like twin sisters, which they probably hear on a daily basis. We wonder if the mother had her daughter at a very young age, or is it just an incredible gene pool.
​This Girl Who Is Literally One In A Million
For those who do not know, Heterochromia is a condition in which a person is born with different colored eyes. But this girl's unique condition went one step further because she was also born with red hair (there is a less than 2% chance of that happening to anyone), on top of having one green and one blue eye.
In her sister's words, she is a "genetic masterpiece." We couldn't agree more!
This Daughter Who Was Born With The Same Sized Finger As Her Dad
Okay, so this might not sound so impressive when you read it at first. You might ask, "So what if she was born with the same sized finger?" The thing is though, that her dad had an accident when he was 10, which resulted in his index finger being cut off.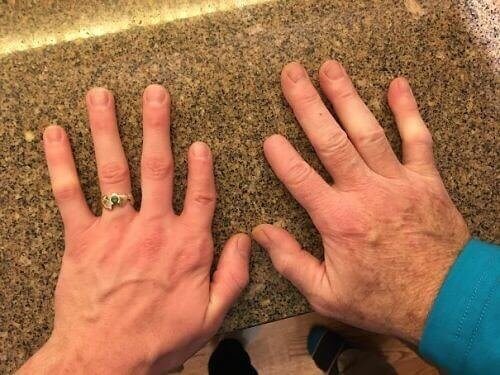 Years later, his daughter was born with an index finger that was the same size as her dad's cut finger. Genetics can be weird sometimes.
An Ear With An Extra Hole
For years, this guy was aware of the fact that he had an extra hole in his ear, but he never put too much thought into it. One day though, he decided to ask someone to take a picture of it so that he could take a better look.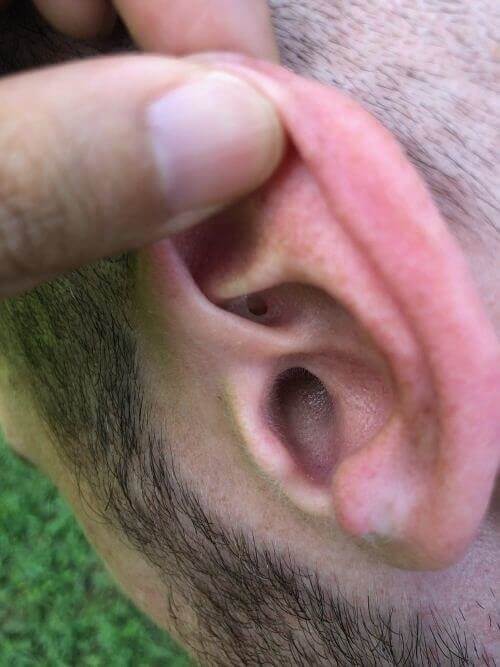 And when he did he was incredibly surprised! The hole is tiny, and it doesn't seem like it affects much of his day-to-day life, but it's definitely a unique genetic trait.
This Person Who Was Born With Both Brown And Blonde Hair
Now, we've seen people with different colored eyes, but have you ever heard about a person who was born with different-colored hair? Well, this person exists and it looks incredibly unique!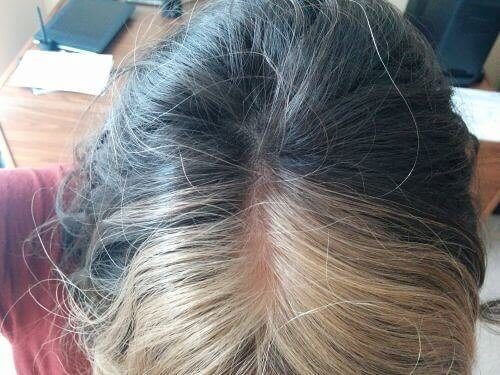 Just imagine her parents' surprise when they realized that their daughter's hair was completely blonde on one side, and the other side was fully brown? Clearly, she's rocking it though!
These Twins Who Born To Biracial Parents
If you're an avid internet reader, you have probably seen the picture of twins Lucy and Maria Aylmer before. The two of them made it to the news when their unique genetic traits took people completely by surprise.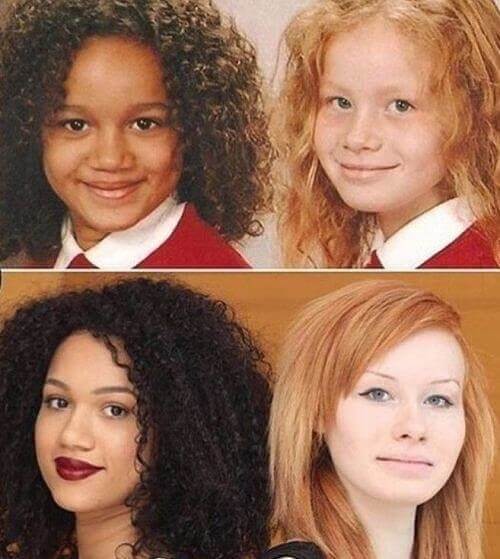 The twins were born to biracial parents, and while one of them took one parent's side of the family, the other twin took the other side. We're pretty sure that people have a hard time believing that the two girls are indeed twins, born from the same mother and father at the very same time.
This Woman Was Born With Syndactyly Connected Toes
At first glance, you might not instantly understand what you're looking at. The tattoo looks pretty cool, but it has an even cooler story behind it. Apparently, this woman was born with a condition called syndactyly, which basically means that her toes are joined together.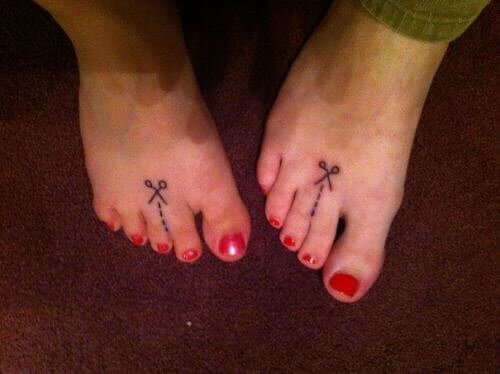 Obviously, she wasn't only born with connected toes, but also with the best sense of humor because her tattoo couldn't fit the situation more perfectly.
Jim Carrey, Is That You?
Brace yourselves because this one is certainly one of the most unique things we've ever seen. And if you thought that you knew flexible people, then just take a look at this guy's flexibility abilities.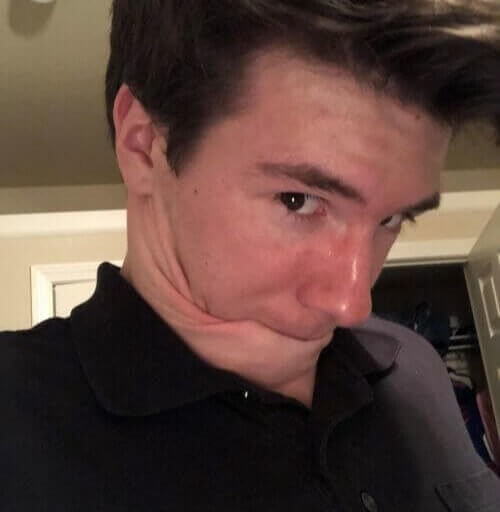 His neck was so stretchy that he was literally able to suck on it without using his hands at all. His ability just proves how nature can be incredibly cool and unpredictable with some people out there.
This Mom Who Passes As Her Daughter's Sister
Once again, we get to see a wonderful mom-and-daughter duo with some of the strongest genes out there. Everywhere they go, people often fail to point out who in the duo is the mother and who is the daughter – in fact, they are often mistaken for twin sisters.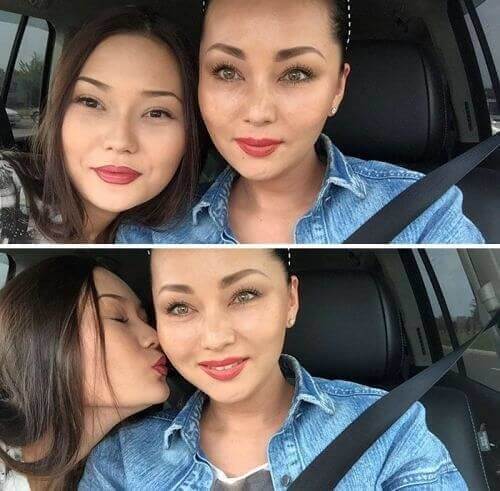 And yet, the picture here is of 20-year-old daughter Aissaule Yessentayeva (on the left) and her 43-year-old mom Bayan.
Jessica Alba Looks Exactly Like Her Grandmother
Here's another case of an extraordinary case of genetics. It's simply mind-blowing how much Jessica Alba looks like her grandmother, Cathy Alba, who was also an actress back in the day.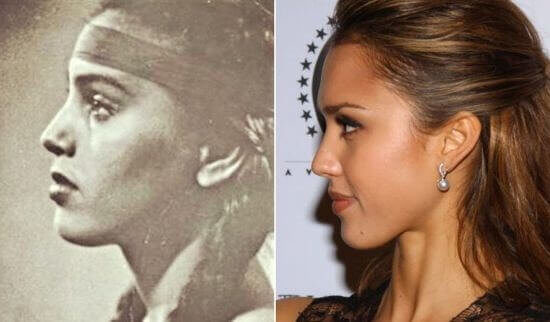 Jessica Alba is known for her endless talent, character, and of course, for being one of the most stunning actresses in Hollywood. Well, now we know where all of those amazing genes came from.