Although an airplane has a broad spectrum of uses that range from transportation of goods and people to military and research use, there are some people who believe that the potential of airplanes is much more than their intended use. Meet Bruce Campbell, a retired electrical engineer who also happens to be a very inventive man. Bruce is known for using his imagination and creativity to turn planes (that would have otherwise turned to scrap) into really impressive masterpieces. So, keep on reading to know how he turned an old airplane into his home.
A Big Dreamer From the Very Start
Bruce Campbell always had big plans and a creative vision. He knew planning ahead was important. He was only in his early 20s when he purchased a 10-acre piece of land in the forest of Hillsboro, Oregon for $23,000.
He always had a keen interest in creating new things with old objects and materials. His initial plan was to use several freight vans to create a home for himself. It was a good innovative idea until he heard someone else had already built a similar home.
Change of Plans
As Bruce came to know that someone else had already built a home using several freight vans, he still decided to move forward with his initial plan. However, it all changed when he heard about Joanne Ussery, a hairdresser from Mississippi whose previous house was burned down and she bought a Boeing 727 and turned it into her new home.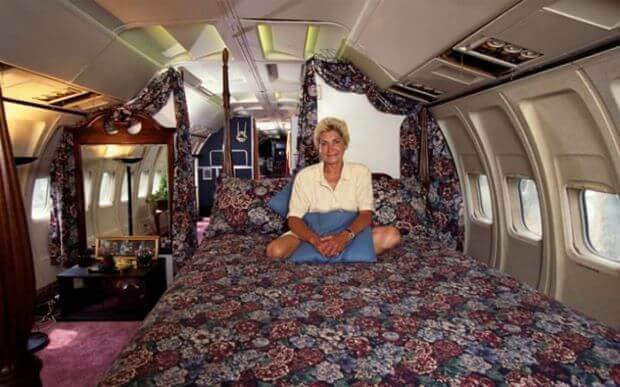 The thought of turning a gigantic plane into home sounded more innovative and fun. He strongly started to consider the idea as he believed that old airplanes shouldn't become scrap metal. Hence, he changed his plans and all he needed now was money.
Buying A Boeing 727
Campbell had already done the research and collected enough money by 1999 to purchase a Boeing 727 from Olympic Airways based at Athens Airport. He acquired the airplane for $100,000. But this wasn't the difficult part.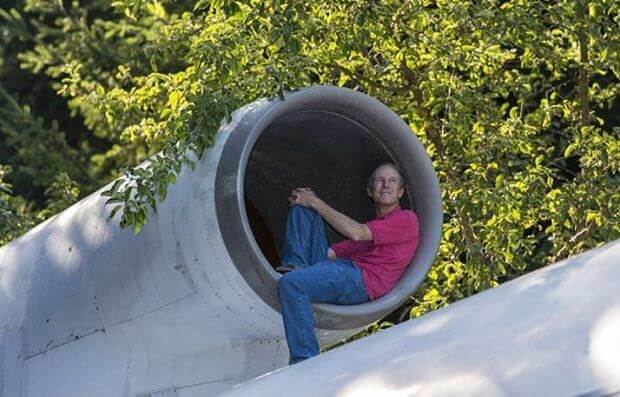 Transporting the gigantic aircraft to the woods was turning out to be a really challenging task. From staging to carrying out the move, it cost him another $120,000. However, he was happy to pay the extra expenses as he was confident in his plan.
Moving the Airplane
Campbell couldn't wait to start working on his dream project. But first, he had to move the airplane deep into the woods of Oregon. It took several men to take the wings of the plane apart to transport it to the required location.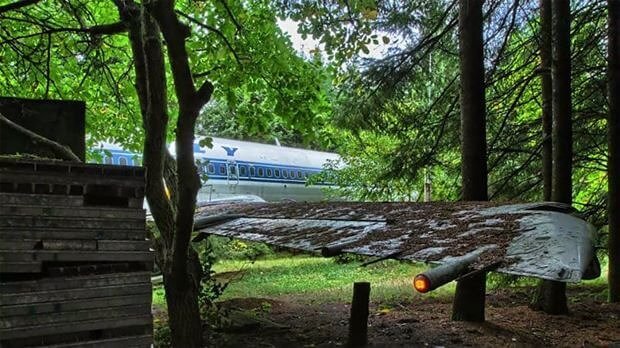 The wings of the airplane were deconstructed in such a way that they were easily reinstalled once it reached its destination. Campbell thought that his project would just start off, but he didn't know that it had morphed into something really big that would require many years to complete.
Learning Hard Lessons
Bruce Campbell bought the plane as a fun undertaking and he certainly didn't have a vision for it. One thing that was clear for him was that he wanted to upcycle the airplane. He believed that jetliners should never be turned to scrap and they can be transformed into homes.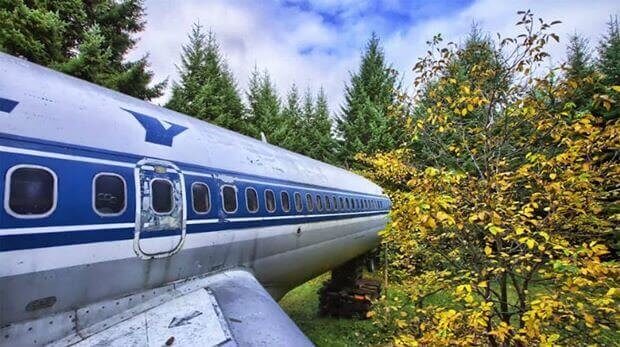 For many years, he resided in the fright vans nearby while working on the fuselage. However, he was forced to move to the airplane when his van was infested with mice. That's when he truly started to understand the space.
A Resolute Mindset
He believes that shredding a magnificent airliner is a tragedy in waste. He thinks that some people may find an airplane in woods strange or lonely living environment, but to him, it feels totally natural. He said in an interview: "engineering grace unmatched by any other structures people can live within."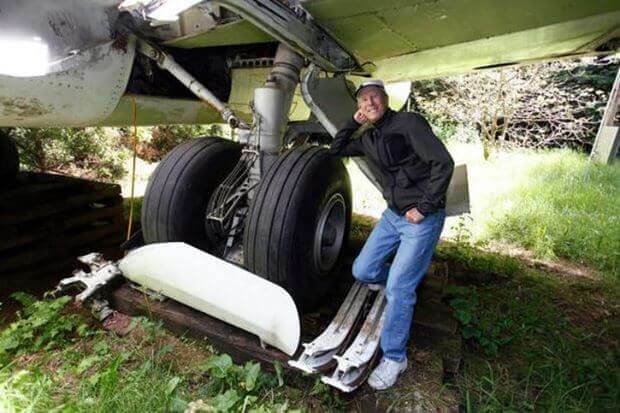 He had no plans for the interior of the aircraft, but it all changed once he moved in. he told Business Insider: "Next time you're in a jetliner, close your eyes for a moment and remove all the seats, all the other people from your mind. Then open your eyes with that vision and consider the expanse of the living room. It's a good environment; it really is."
Showing the Masterpiece to the World
Before Bruce Campbell was ready to show his masterpiece to the world, he used a high-pressure water spray to completely wash the exterior of the fuselage. He told Daily Mail that using water spray to clean the exterior sounds easy, but it takes about four days to do it.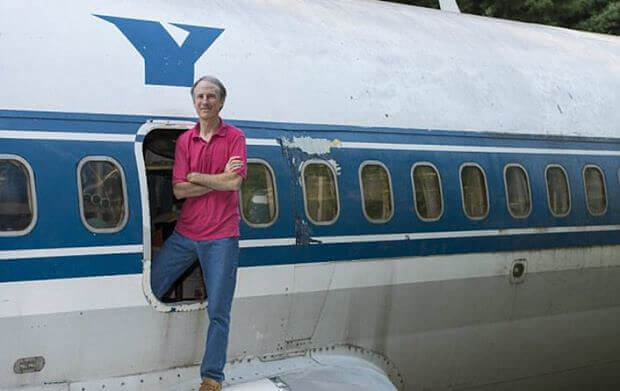 The exterior of the airplane needs to be washed every two years and Campbell has to use ladders to access the top of the plane and the engines (which could be quite dangerous in case of any incident).
Aerospace Class Castle
Campbell believes that the destiny of every plane can become "aerospace class castle" as it is suitable for everyone to live in. During an interview with Daily Mail, he said: "If a conventional home is a legacy age family Chevy or Ford, an airliner is a fresh new Tesla or Porsche Carrera."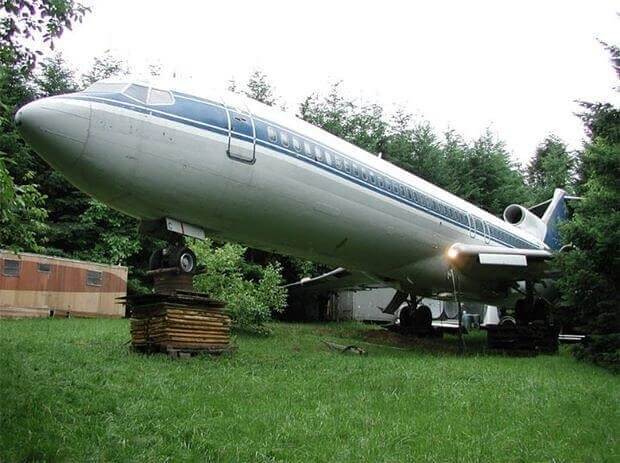 It won't be wrong to say that the airplane indeed looks like a castle and Campbell has put in a lot of effort behind it. Even the huge Boeing 727 airliner is propped on concrete pillars.
Making Constant Modifications
Campbell made sure that he used most of the equipment of the plane while also made changes to the interior of the plane to make it more suitable for living. He believes that his new home is still work in progress.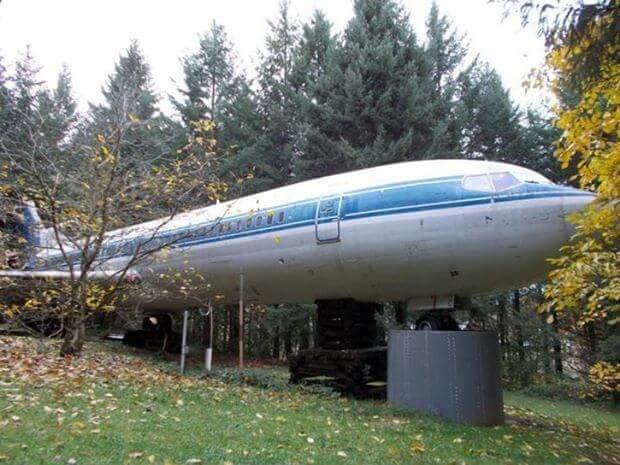 He is trying to restore some of the original features of the plane such as the flight stairs, LED lighting, the airplane style lavatory, and some of the original seating.
Welcome to My Beautiful Home
When you enter Bruce Campbell's home, you'll need to use the airplane's original fold-down stairwell. It'll feel like you're getting on a regular plane, but you will be shocked when you look inside.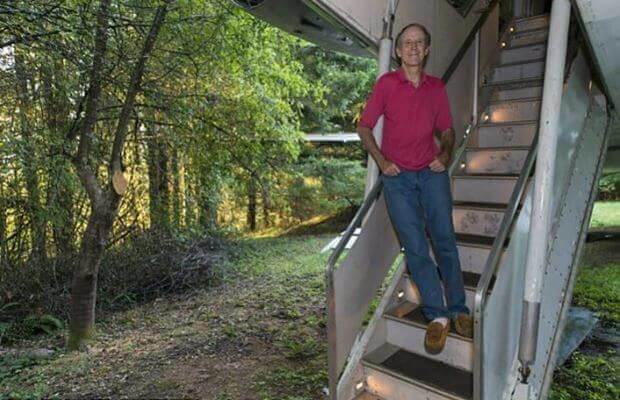 Campbell has worked on every little detail. There is even a shoe rack filled with slippers at the front of the plane for anyone who visits his Boeing 727 home. Given that cleaning such a big home is not easy, he prefers that everyone wear socks and slippers inside the aircraft.
First Rule of the House is Extremely Important
As you can see there is a glass floor, it is understandable that Campbell ensures no one enters his house without wearing socks/slippers. Even he strictly follows this rule as well because keeping the house in pristine condition is really important to him.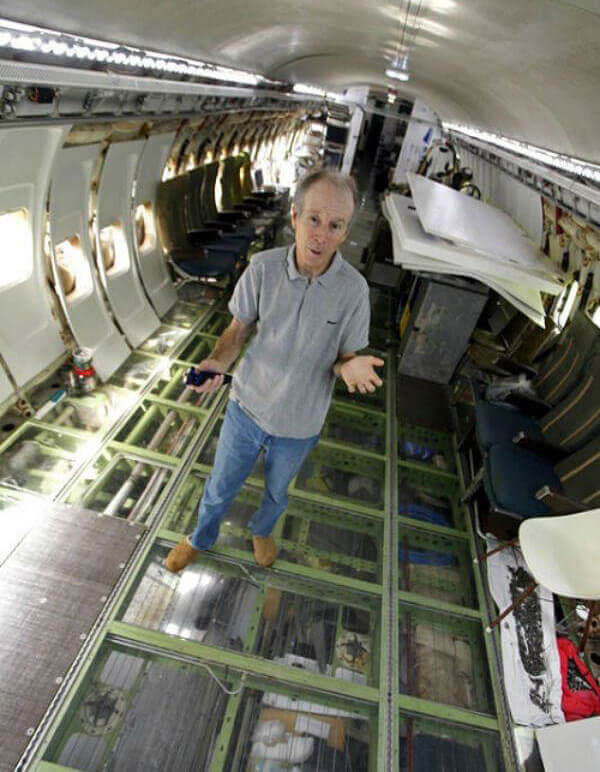 He absolutely loves the Plexiglas flooring and takes extra care to prevent it from getting dirty. When you come to think of it, the glass floor certainly adds to the look of his home.
Living a Simple Life
Although Boeing 727 is quite spacious, Bruce Campbell likes to live a modest life. He cooks with a toaster and microwave and eats mostly canned food. And yes, he sleeps on a futon.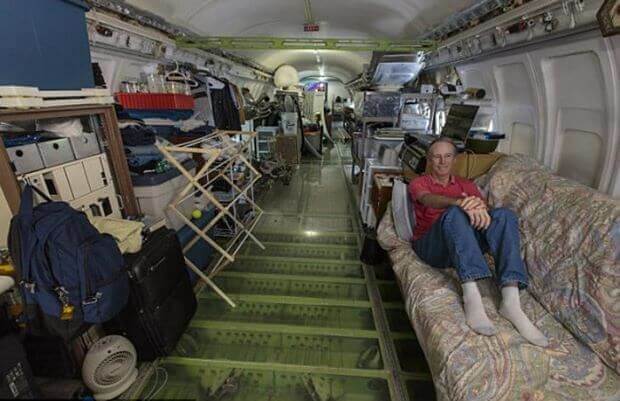 In this picture, Campbell is relaxing but the truth is that most of the times he isn't chilling and is thinking about new ways to enhance his home.
Makeshift Shower
Campbell constructed the shower close to the tail of the plane. He had to dig a trench so that he has easy access to running water and electricity to heat the water. From the trench, he had to reroute a well power line.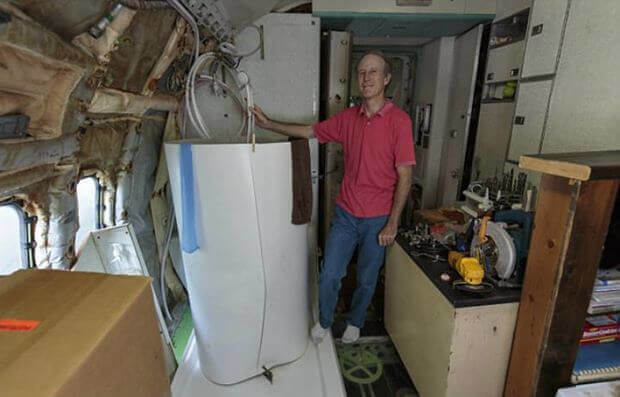 As we know that he is a retired electrical engineer, his makeshift shower gives him access to clean water to easily shave and brush his teeth.
Ready for Takeoff
Although the cockpit still has all the original equipment, Campbell was happier in converting it into his reading and entertainment area. Nevertheless, he still has plans to make more renovations because of all the cool gadgets in it.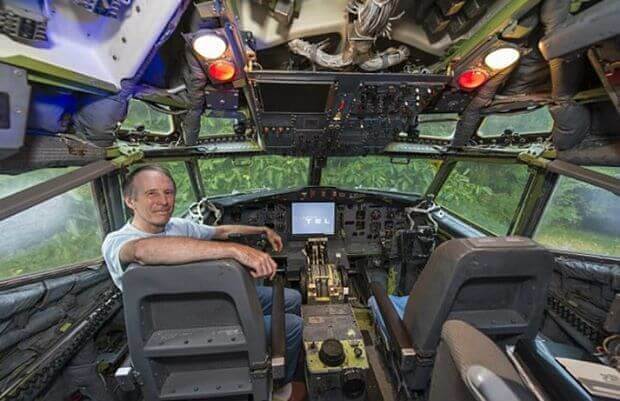 In an interview with Business Insider, he told: "It's a great toy. Trick doors, trick floors. Hatches here hatches there. Star Trek movies in a Star-Trek-like setting." He considers himself a tech nerd and believes that the plane is his constant source of adventure.
Home Used as Working Station
Campbell spends most of the day in his new home. He loves doing work on his computer and figuring out new ways to enhance the design of his home further. "I think most people are nerds in their hearts in some measure. The point is to have fun," he told Daily Mail.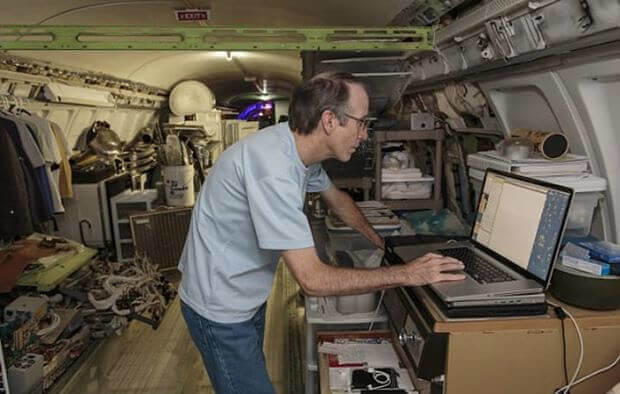 It looks quite obvious that Campbell loves what he is doing. He derives so much fun and excitement from planning what he needs to do next with his truly impressive home.
Maintenance Matters
Just like someone would take care of their garden, Campbell also takes extra care of the surrounding forest area.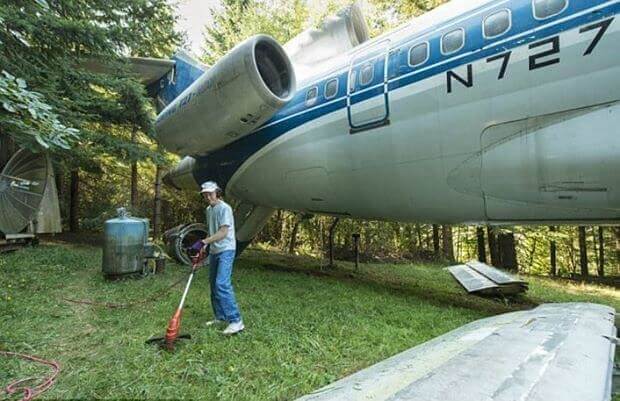 Once a week, Campbell mows the surrounding forest area and cuts the weeds and grass around the airliner to keep up the perfect appearance of the Boeing 727.
Flashing Lights
As we know that Campbell constructed the running water system of the plane all by himself, he also restored the lighting of the plane, from both inside and outside.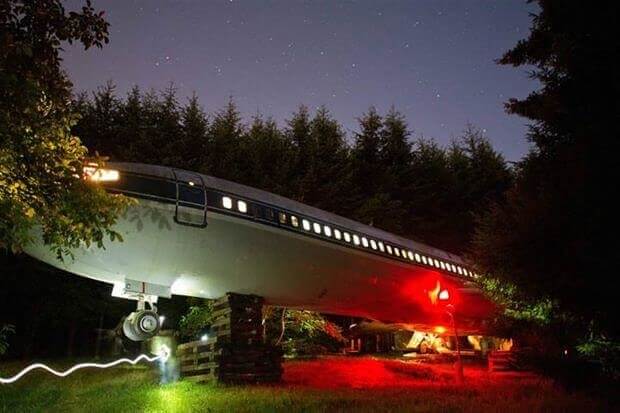 He also repaired the original LED, which is more environment-friendly. Campbell knew that living alone in the forest without lights is not safe and that's why he ensured all the basic amenities are fully covered.
Innovation That Has Environmental Benefits
When the Daily Mail asked Campbell why he is so dedicated to upcycling aircrafts and transforming them into homes, he mentioned the environmental benefits of his efforts. He pointed out that planes are really strong and perfect for living because they can withstand earthquakes and storms.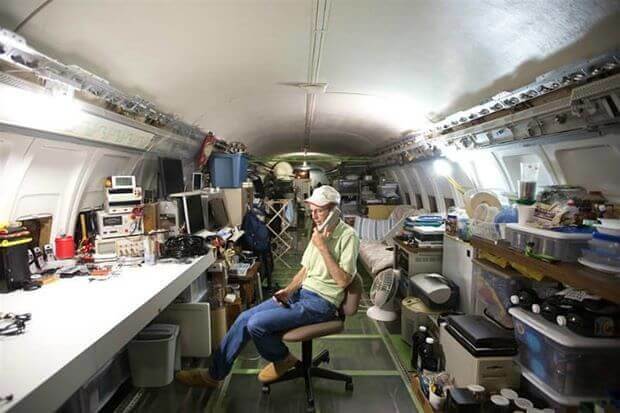 In addition to environmental benefits, Boeing 727 is quite easier to clean. "Their interior is easy to keep immaculately clean because they are sealed pressure canisters. They could last for centuries," he said.
A Fully Stocked Kitchen
Some people may not consider the idea of living in a plane due to lack of supplies and amenities, but Bruce Campbell is prepared for everything. As he doesn't live far from the city, getting supplies isn't a big worry for him.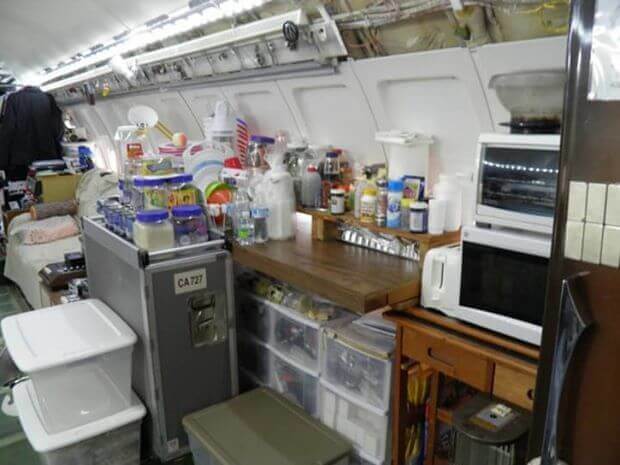 His kitchen is filled with all the supplies and condiments he needs. The kitchen has a toaster, microwave, and running water, so making food isn't difficult for him. Another way to look at it is that he isn't eating actual airplane food, right?
Persevering What Matters
Bruce Campbell may have changed a lot of the interior of the plane, but he has still kept some seats in pristine condition to preserve that exciting feeling of going up in the air.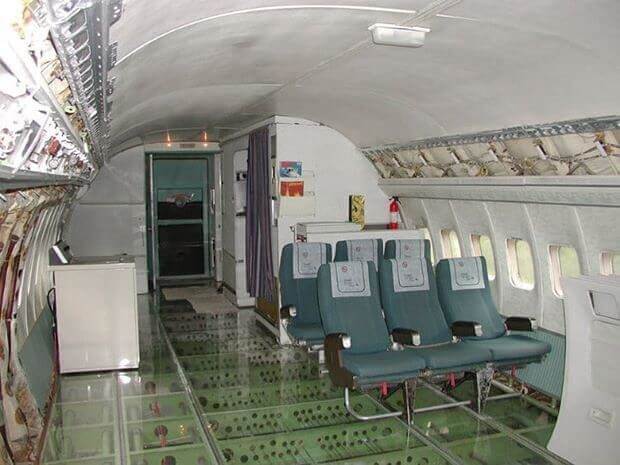 Although he took most of the seats out, he did keep a few of them to remind him why his idea of having an airplane home is so good. Besides, these seats are best for guests.
Pilot in Real Life?
Campbell isn't a pilot, but he loves to hang out in the cockpit area. His time in the cockpit gives him an opportunity to imagine how pilots feel like when they have full control of such a heavy flying machine.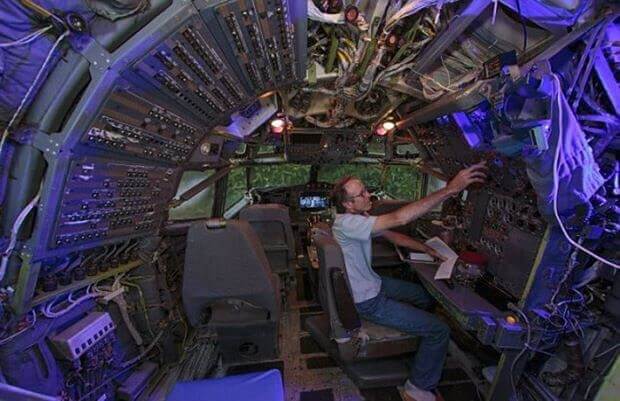 Spending time in the cockpit area relaxes his mind and helps him come up with new ideas for his home. He has really done some good work in keeping the vibe of a cockpit alive.
Hygiene Matters
Bruce Campbell has everything covered from basic necessities to clean, washed clothes. He has a top loader machine to keep his clothes look fresh and clean.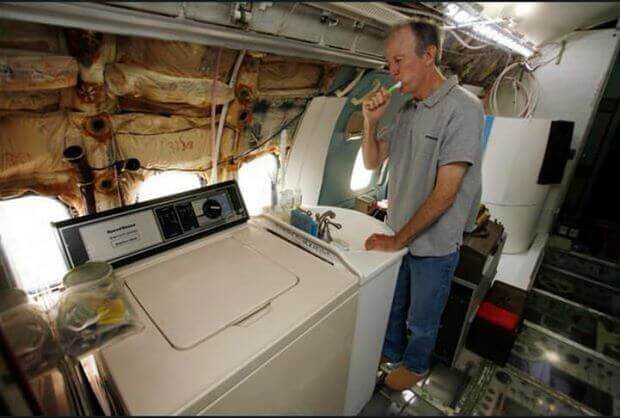 Campbell is a perfect example for those who always make excuses when it comes to laundry. He is just using his imaginations and skills to find a solution to almost any problem.
A Typical Man
Although he lives on an aircraft, it doesn't mean he doesn't care about his physical appearance. Some people forget to look after themselves during holidays, but Campbell makes sure he is always neat and clean.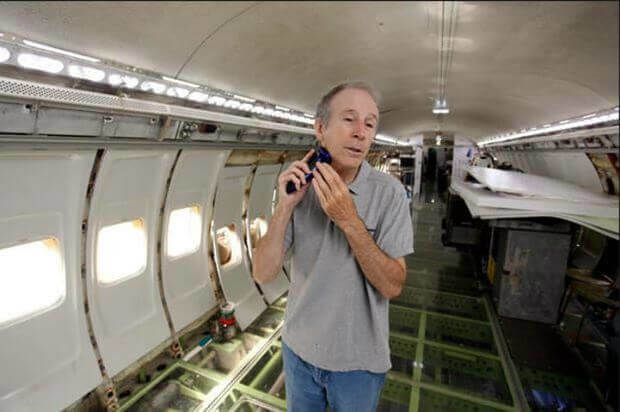 This picture shows that living on an aircraft doesn't mean he is cut off from civilization. He is just living a normal life in an unconventional home, that's it.
A Man Who Thinks Differently
According to Campbell, living in an airplane is a lot beneficial than a home that is made of wood. He believes that wood is not a good building option as it biodegrades and can catch fire as well.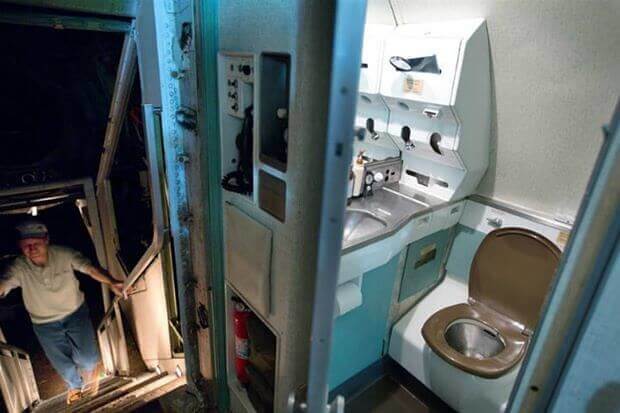 He is not a big fan of traditional rectangular houses. "To me it makes no sense at all to destroy the finest structures available and then turn around and build homes out of materials which are fundamentally little better than pressed cardboard, using ancient and inferior design and building methods," he said.
A Fan of Logical Questions
Campbell gets asked a lot of times two questions: did the plane crashed in Oregon? Or did he simply restore the airplane?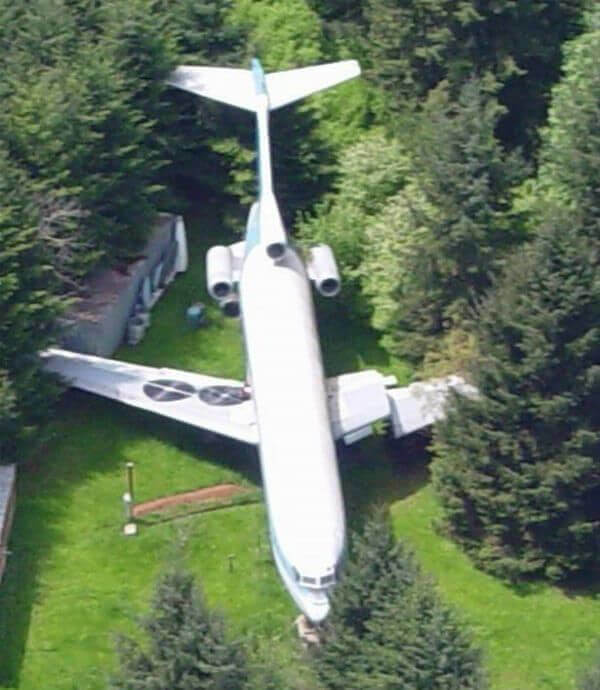 He doesn't care to give answers to such questions as he believes that they are totally unreasonable and illogical.
He is a Proud Owner
As he posed for this picture, one thing can be said with absolute certainty that he is proud of his creation.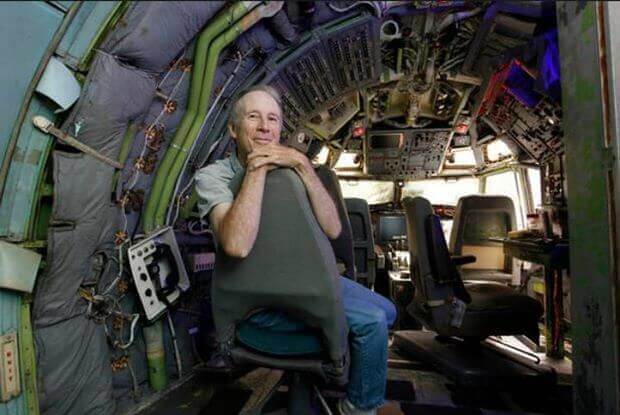 This is just a glimpse of his innovative mind because he has many plans for the future. Keep on reading to know more about them.
Living Out and About
If you were feeling a little bit uncomfortable thinking about how can he live all year long in an airplane, you should know that he spends about six months in his airplane home.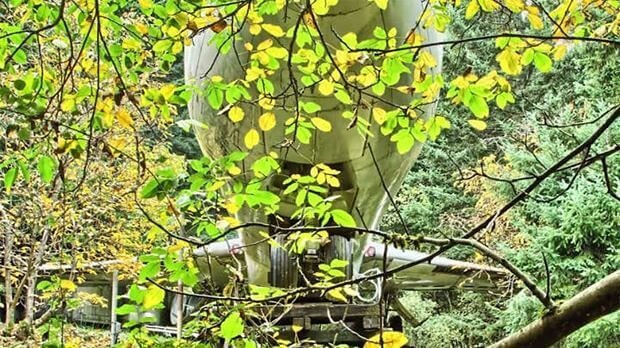 As he spends half of the year in his Boeing 727, he lives the other half in Japan because he likes a change in scenery.
Thinking About an Upgrade
If you think that Campbell may just stop after this, maybe you haven't been reading this article closely. He is an innovative guy and he is thinking about duplicating his project but with a bigger airliner.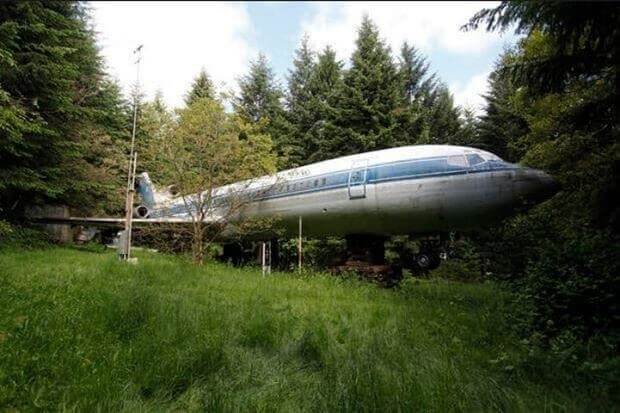 He is planning about doing the same thing in Japan by purchasing a retired 727 airplane. Seeing that he's been so dedicated to his passion, we are confident he will be able to pull this off in Japan as well.
Making a Difference in the World
Campbell has a firm belief that he can make a difference in the world of humanity and the environment. He is certainly doing a lot to make his point.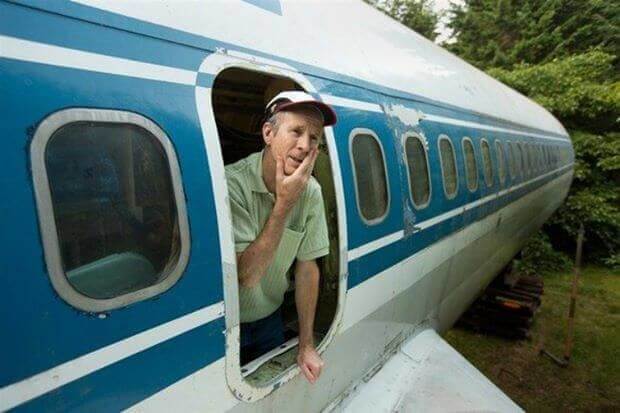 His biggest asset in doing this is going to be his innovative mindset."My goal is to change humanity's behavior in this little niche," Campbell said as he stood with his airplane home.
One of a Few
There are a small number of people who also think like Campbell. There is a group of people has also transformed aircraft and airliners into functional living spaces.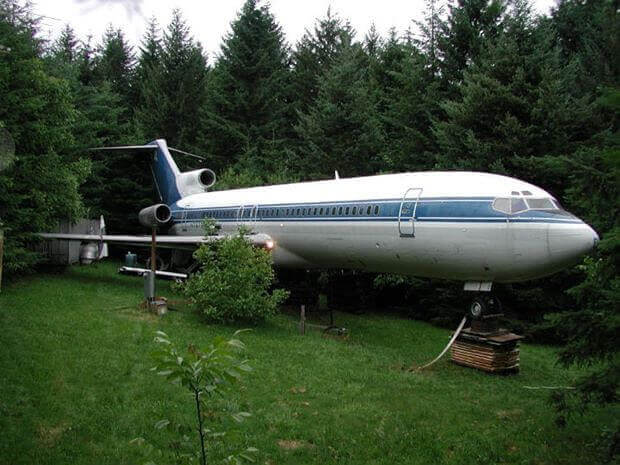 Martin Todd, a spokesman for the Aircraft Fleet Recycling Association, said that the group "is happy to see aircraft fuselages re-purposed in a range of creative ways. We would want them to be recovered and to be re-used in an environmentally sustainable fashion."
But Why Oregon?
According to Campbell, he chose the woods of Hillsboro, Oregon for two reasons: (1) he was offered a job in the area after he graduated in the 70s (2) he really loves the greenery of the area.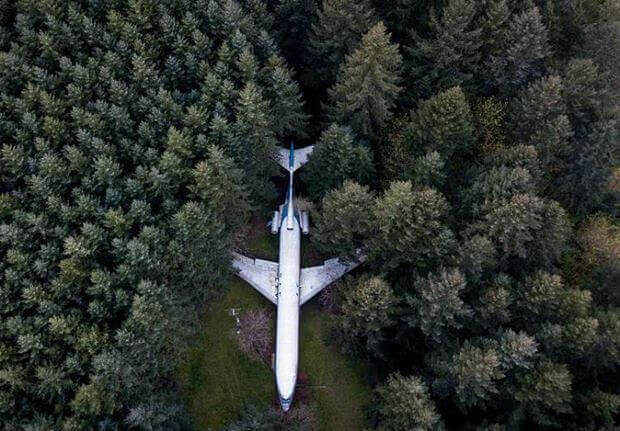 He wrote on his website: "I like the area and it's very green and Oregon is a little independent-minded which appealed to me. It's a country setting, it's very nice. It's more than enough for the aircraft."
It is an Open House
Bruce Campbell wants to inspire people and make a change in the world. That's why he is always happy to give a tour to curious onlookers and tourists.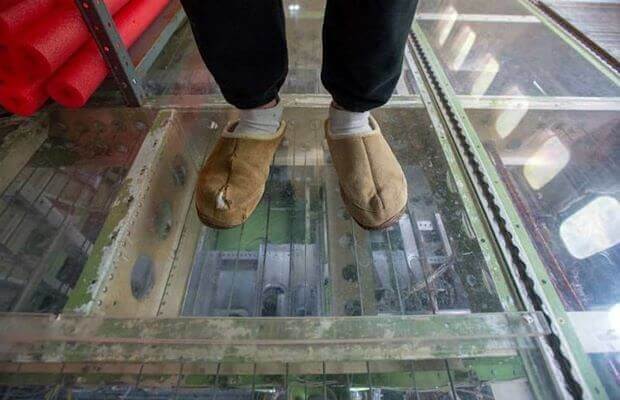 When asked about people coming to see his place, Campbell told Daily Mail: "It happens frequently; it happens almost every day now and I encourage it." He also told that he wants people to know that it is "one of the finest structures mankind has ever built."
"Oh, Don't Mind Me!"
As many people come to see Campbell's amazing airplane house, there have been some awkward moments. For instance, one time he was taking a shower when some visitors walked in unannounced.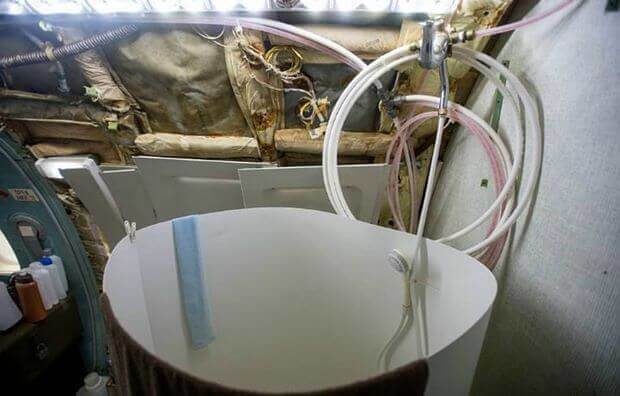 "I live in a pretty transparent environment. I go about living while people are touring my aircraft and sometimes it's very intimate," he told Daily Mail. Nevertheless, he loves meeting new people as he gets to learn a lot from them.
A Cool Place for a Concert
Campbell is a good-hearted, cool guy. Not only Campbell has his house open for everyone, but he also hosts events during the year.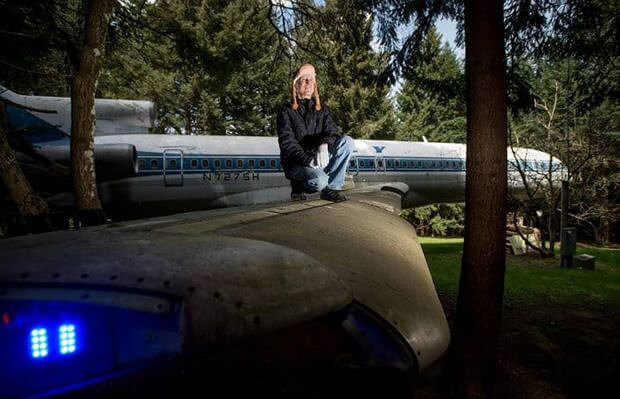 Last year in between the months of June and July he hosted Yuko Pomily, a vocalist from Tokyo, and other artists for a one-of-a-kind show. On his website, he advertised the show as "A new concert option: Superb music rendered from a wing of a scintillating aerospace home."
Party Scene on a 727
For those who missed the music show, Campbell hosted a massive DJ dance party at the end of last year.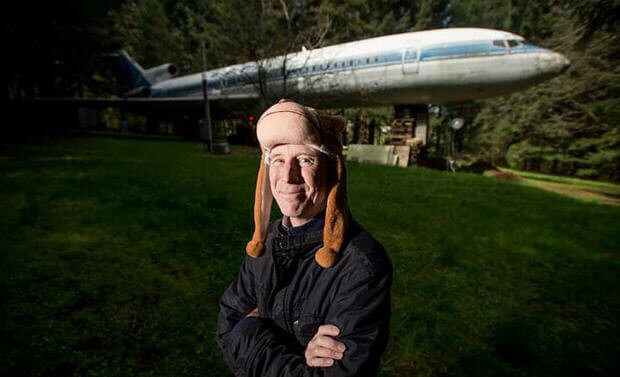 Once he announced the dates of the party, thousands of people showed interest in it. Needless to say, it was an amazing party of art, beer, and food with the permission of the Oregon Liquor Control Commission.
His Social Life
He has a modest lifestyle and it seems like he is really enjoying being a bachelor. He really loves his nontraditional home and believes that the concept of love and marriage is just as restricting as a mortgage.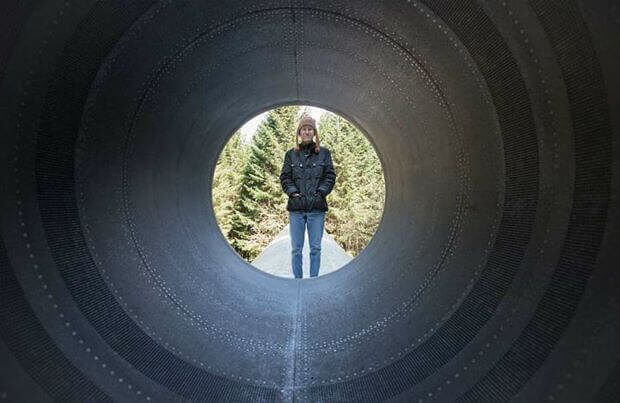 "I will not marry and will not generate kids. I'm 68 so it's too late anyway, but I simply never desired to be married or have kids. I enjoy romance and love and I indulge in it as much as civilization will allow," he declared to Daily Mail.
Bigger Plans
As we know that he spends his time living in his Oregon Aerospace Castle and Japan, he is hoping to purchase land in Japan to create his second airplane home with a bigger Boeing 747-400.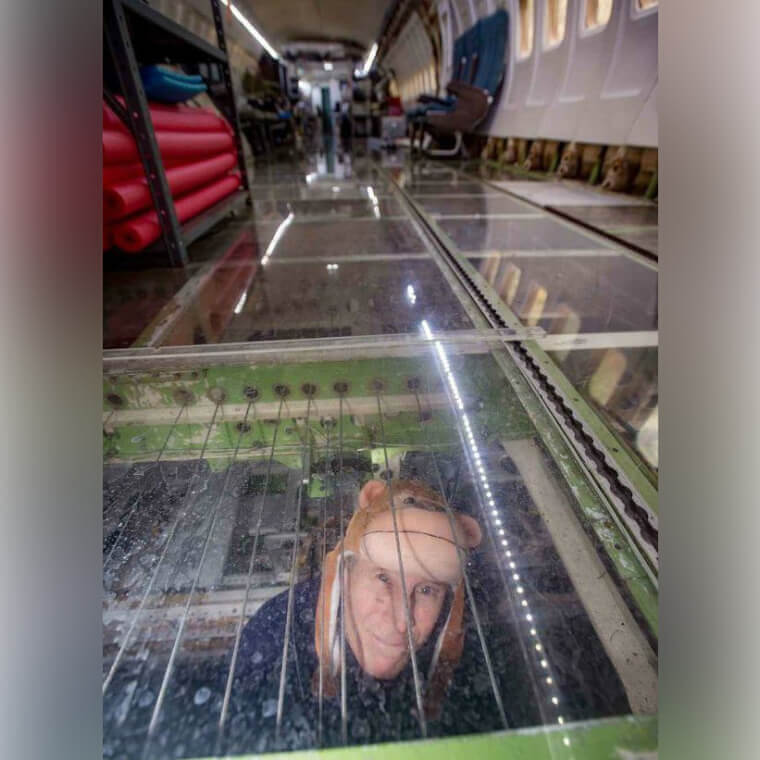 It won't be wrong to say that he finds his thrill in upcycling airplanes. It is because he feels that more and more people will start thinking like him once they visit his planes.
A Person With a Bigger Cause
He plans on starting to work on his second airplane on the shores of the island of Kyushu. His vision is to transform the plane into a tsunami lifeboat.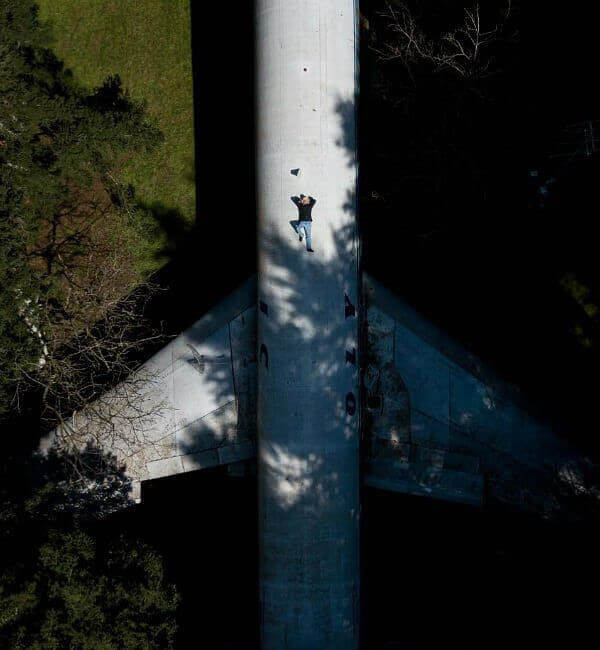 He wants people to know about the durability of airplanes and how they can withstand harsher conditions and last for centuries. We are certain that the talented engineer will soon complete his project.
A Unique Aircraft Model
Bruce Campbell used the Boeing 727-400 model which was produced by Boeing from 1960 to 1984. The model was considered suitable for shorter runways at smaller airports.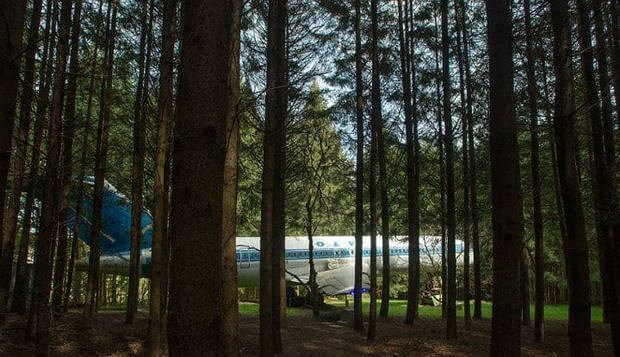 It was the only aircraft model built by Boeing that had three engines and could seat 149-189 passengers. Today, only Iran Aseman Airlines uses three of 727-200s for passenger service.
A Gloomy History for Sure
As we know by now that Campbell is a dedicated person, we are sure he knew that the Boeing 727 he purchased once transported a dead body of someone really famous.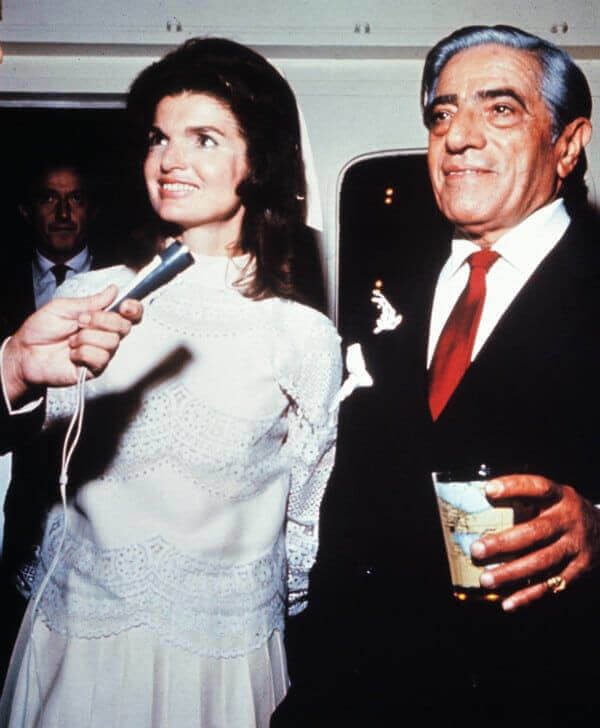 Yes, the new home of Campbell once transported the dead body of Greek tycoon Aristotle Onassis to Greek after he died in France of respiratory failure on March 15, 1975. His dead body was accompanied on the plane by Aristotle's long-time friend and wife at the time, Jackie Kennedy Onassis.
Flight Attendants Reveal the Things That Airlines Don't Want Us To Know
John Travis
This article was originally published on Travlerz
Are you ever curious how often they clean the inside of a plane or where the food really comes from? After years of experience in the industry, flight attendants have seen it all and are ready to spill all of the secrets they've learned. Since flying is supposed to be a fun experience, it's about time to feel more adequately prepared. So if you're ready to uncover the things that have been kept under wraps for so long, here's your sneak peek at the inner workings of the airline industry.
Think Twice Before Asking For Diet Coke
Of course one of the best parts of a flight is when the flight attendants come around with the snack and beverage cart, free soda, coffee, tea, maybe even cookies. As strange as it may sound, one thing that really annoys flight attendants is when passengers order Diet Coke. It's because the carbonated fizz in a Diet Coke takes a long time to settle at an altitude of 35,000 feet. Therefore it takes the most time to pour Diet Coke as compared to any other beverages on the plane!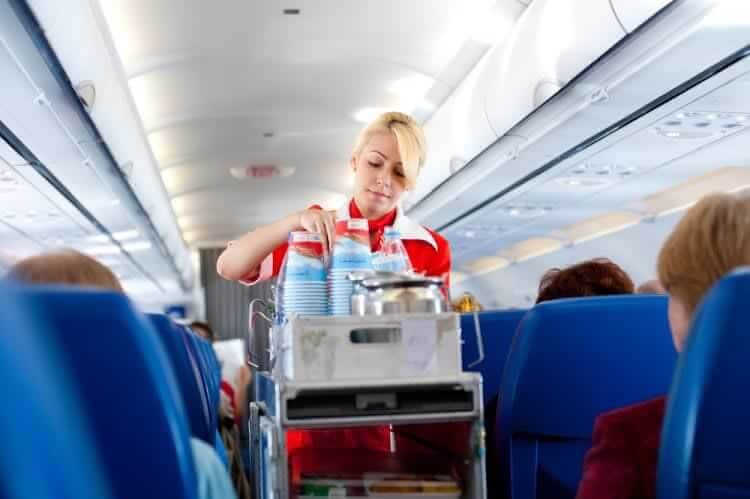 Of course, you will still be served Diet Coke regardless of the flight attendant's preference, it's just something interesting to remember the next time you ask for your soda on board.
Flight Attendants Are Assessing You Once You Step Foot on the Plane
When the flight crew greets you upon entering the aircraft, do you think it is just a polite formality? Well, most people think this practice is intended to make passengers feel comfortable and show how friendly the flight attendants are. It is true to some extent, but the crew members also use this as an opportunity to assess the passengers and look for anything suspicious or out of the ordinary.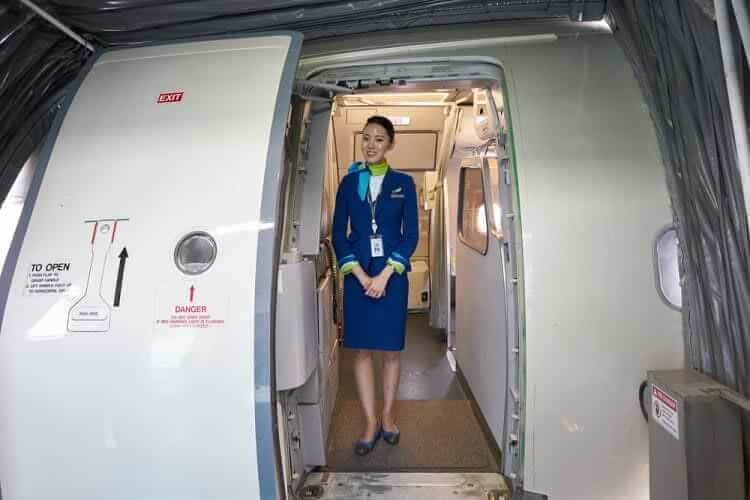 The greeting is a way to get a better idea of passengers who could possibly be problematic or may be intoxicated.
There Are Policies Against Dating Passengers
You may find it shocking but many big airlines don't have an official policy against fraternizing between flight attendants and passengers. Unfortunately, it's more common for flight attendants to find themselves in situations where they are actively trying to avoid unwanted attention from creepy passengers. But every once in a while, sparks fly and there is no policy that prevents a flight attendant from meeting a potential partner, or maybe the love of their life.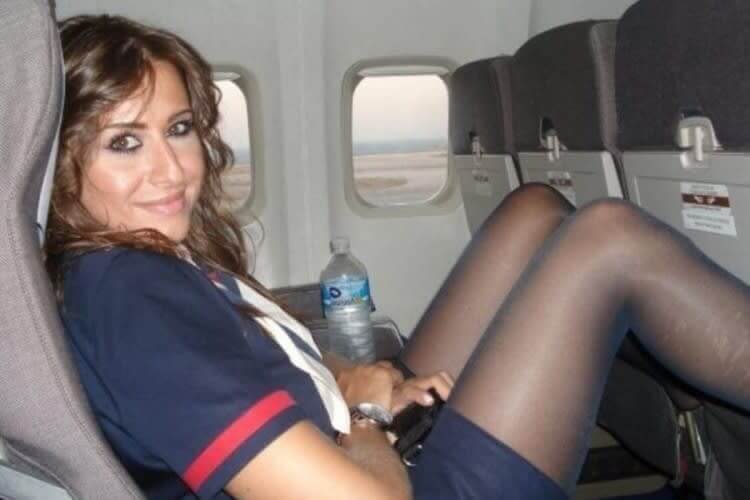 Flight attendants may focus more on their professional duties instead of finding potential partners on a flight, but when love strikes, why pass up the opportunity?
Your Pets Can Fly Too
There has been a never-ending debate over the most effective way to travel on planes with pets. When it comes to traveling with your furry companions, it is undoubtedly a stressful ordeal. It is best to do your research beforehand and make sure your airline can accommodate your pup. There are special parts of the cargo area that are kept at the same temperature and pressure as the cabin, so pets can be placed there.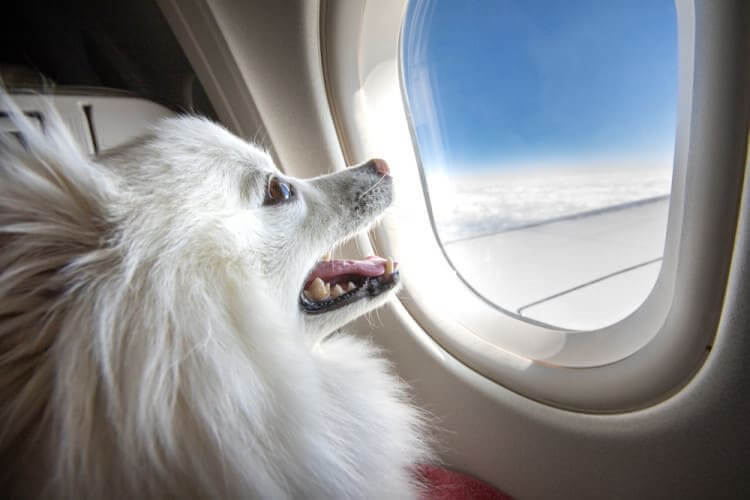 But don't worry, it's also very common to have your dog in your lap or the seat next to you if they fit.
The Water Is Not as Clean as You'd Think
Researchers advise airline passengers to never drink water aboard an airplane. But what about the potable water that's used in tea and coffee? Many flight attendants also recommend sticking to bottled water or beverages only. This is because the coffee and tea on board are filled with water from tanks that aren't cleaned frequently. Many major airlines even tested their water and found E. coli and coliform bacteria present.
It's probably best to ask for a water bottle next time you're thirsty during your flight!
The Airplane Food Can Be Very Unhealthy
Sometimes ignorance is bliss, right? Well, you might've wondered if the pre-packaged food that is provided to passengers during their flights is healthy or not. The food tends to be processed and usually lacks fresh ingredients that wouldn't be able to stay good during long travel. It turns out that these mid-flight meals are usually quite unhealthy for you because they have almost zero nutritional value. They are loaded with fat, sugar, salt, and carbs, and are not always the tastiest.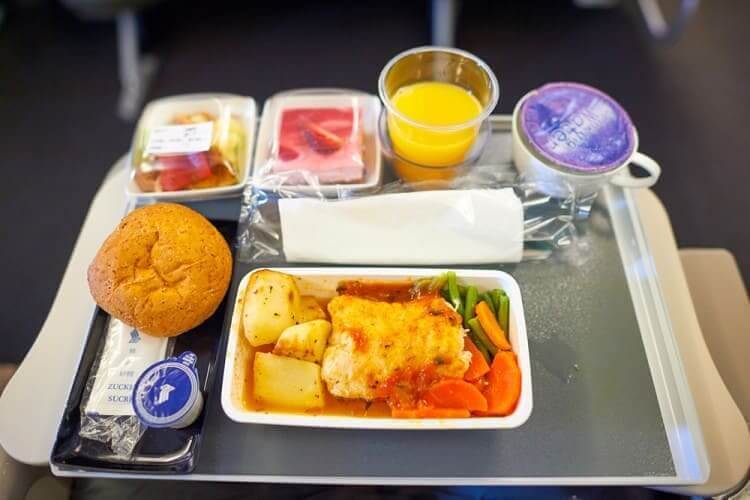 We would highly recommend you eat something before you board, especially if you are a frequent flyer or health-conscious.
The Job Doesn't Pay Very Well
There is a common misconception that flight attendants live a very glamorous lifestyle. They are able to travel the world, explore different places, stay in hotels, and eat at restaurants all the time, all on the job! However, the truth is that they are almost always extremely busy and usually have very hectic schedules. Allegedly they are only paid once the main cabin doors shut too, meaning when there are delays and cancellations, they're affected also!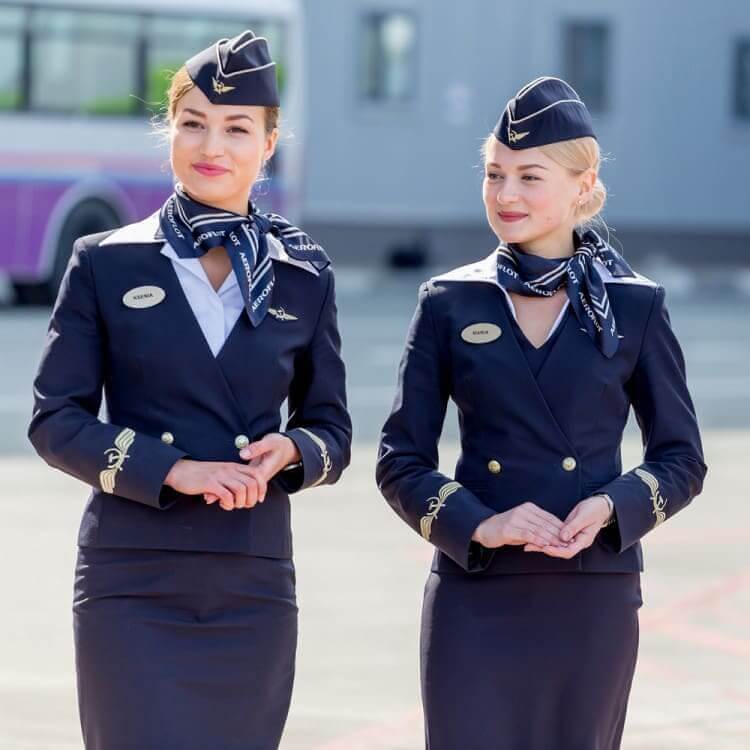 Flight attendants are paid by scheduled flight times, so if a five-hour flight is delayed five hours, then they are only paid for the actual five hours on board!
Everyone Wants an Upgrade, but Not Everyone Gets It
An upgrade is like winning a lottery in the air travel world. No one has a full-proof way of getting an upgrade every time, but here's some insight into how they are chosen. Sometimes flight attendants need to move people around for weight and balance purposes. This means moving passengers from the back of the plane to the front cabin classes to redistribute weight. So the trick is always to book your seats in the back of the plane!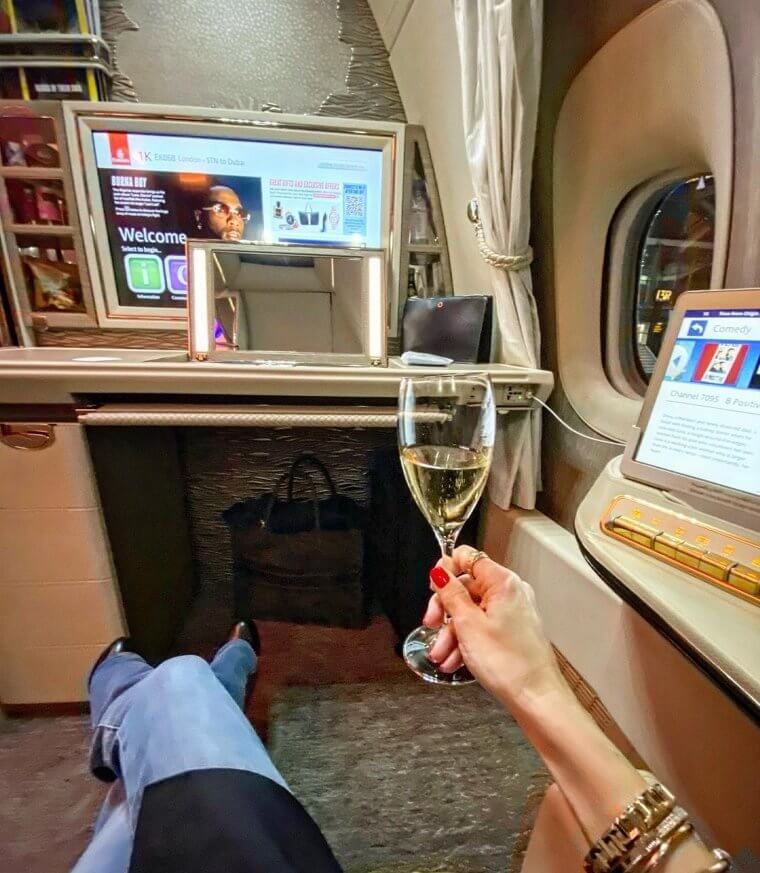 Now, if they need to move people to first class, you will be the first to know!
Turning Off Your Cell Phone Isn't That Necessary
Well, let's clear up one thing, the airplane won't suddenly go down if you leave your phone on or forget to put set it to airplane mode. Flight attendants simply urge passengers to turn off their electronic devices because they could potentially interfere with the frequencies that are used for air control. This is precisely why it is advised to especially turn it off during take-off and landing.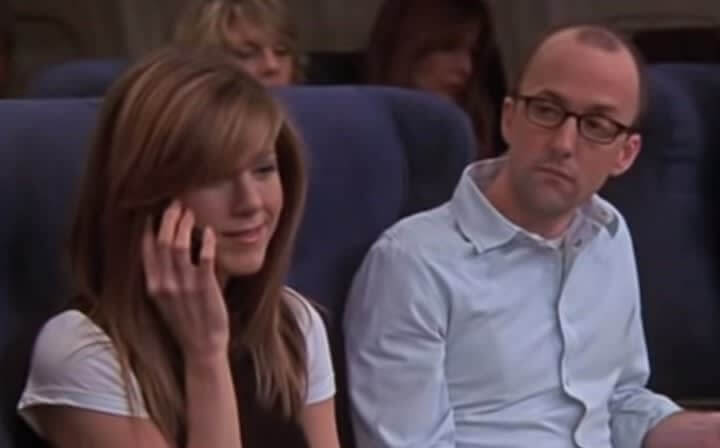 Even if your aunt is calling you to check if you are okay or you want to watch just one more Tik-Tok video, it can probably wait.
Those Blankets and Pillows On-Board Aren't as Clean as You Think
There is no denying that the pillows, blankets, and headphones provided on airplanes are not thoroughly cleaned after each use. Even though they are repackaged with plastic wrap, airlines don't spend money on providing new amenities to passengers every single flight. According to experts, the dirtiest part of a plane actually happens to be the tray tables. So, hopefully, this can bring you some relief knowing that what you're using to sleep isn't as bad as what you're eating your food on.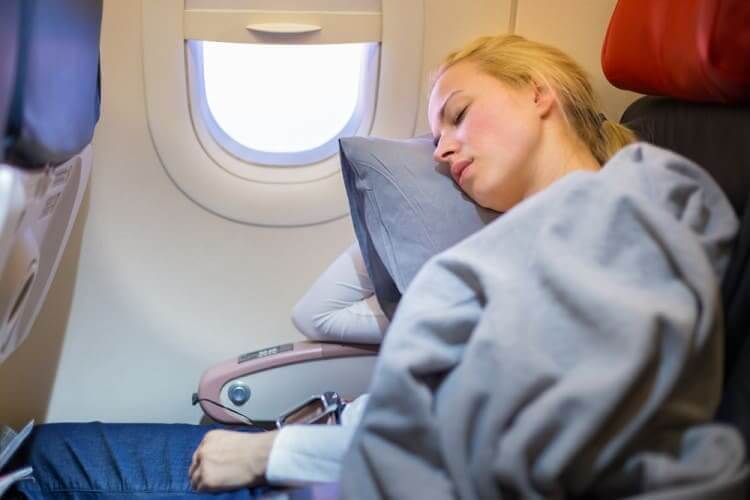 On the other hand, you're less likely to get fresh blankets and pillows in the coach class so it's probably safest to just bring your own blanket and pillow.
You Can Tip Your Flight Attendant
Most people don't know you can tip your flight attendant! It's, of course, not required by any means, but they would gladly accept them. One flight attendant even shared, "If you offer me a gift, or even your used magazines, it's appreciated, and I'll see what I can do to take care of you!" It's the thought that counts and can really go a long way. Maybe they'll even give you some snacks for free.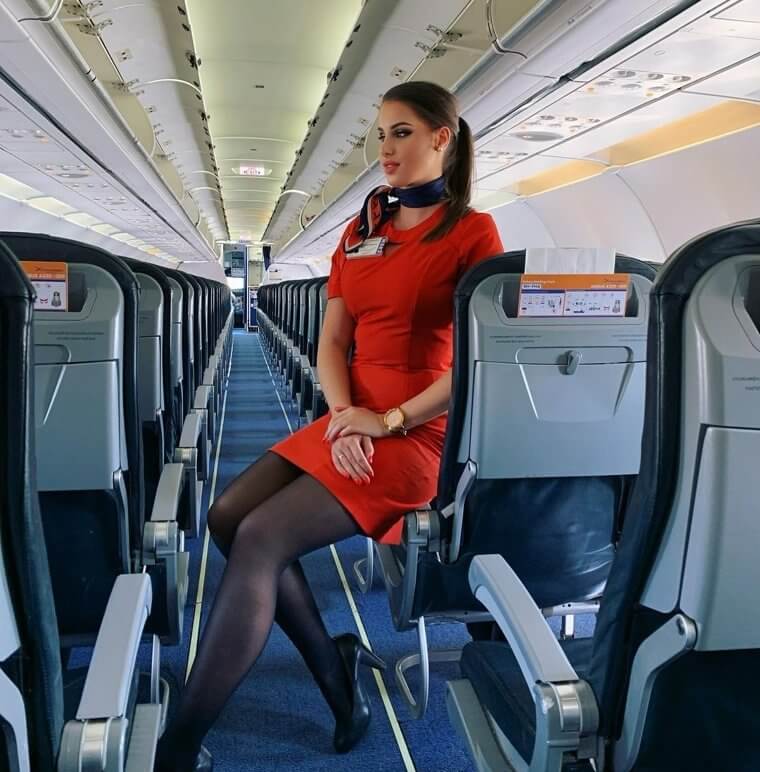 Most service workers receive tips, so why not share them with those taking care of you on your next flight?
There's a Reason Safety Protocols Are Demonstrated Each Flight
Some people may have noticed the same safety tactics are explained at the beginning of every flight, and this is because they are proven to work! Do you know the safety tutorials about bracing for a crash and using an oxygen mask? Well, most people like to sleep or listen to music while the flight attendants explain these procedures, but they are crucial to keeping you safe. In fact, these tactics are so important they save lives.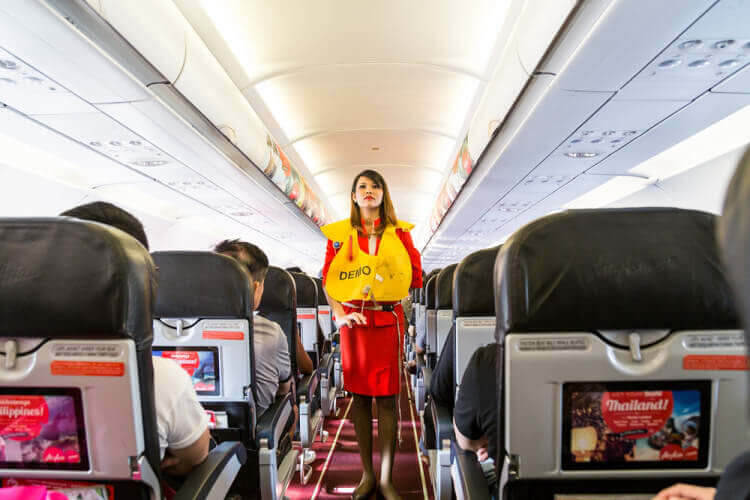 Have you ever wondered if the turbulence on a flight is dangerous? It's very common and will not harm the plane, better to just buckle up and sit back until it ends.
Flight Attendants Are Trained for Any Emergency
Have you ever wondered what happens if there's a medical emergency on a plane? Well, the flight attendants are given enough training to act as first responders! They can perform the Heimlich maneuver or administer CPR if needed. There are also first aid kits and any plane that carries over thirty passengers has defibrillators on board. Some aircrafts even have a facility called 'MedLink' where the flight crew can establish direct contact with a medical professional on the ground to gain advice.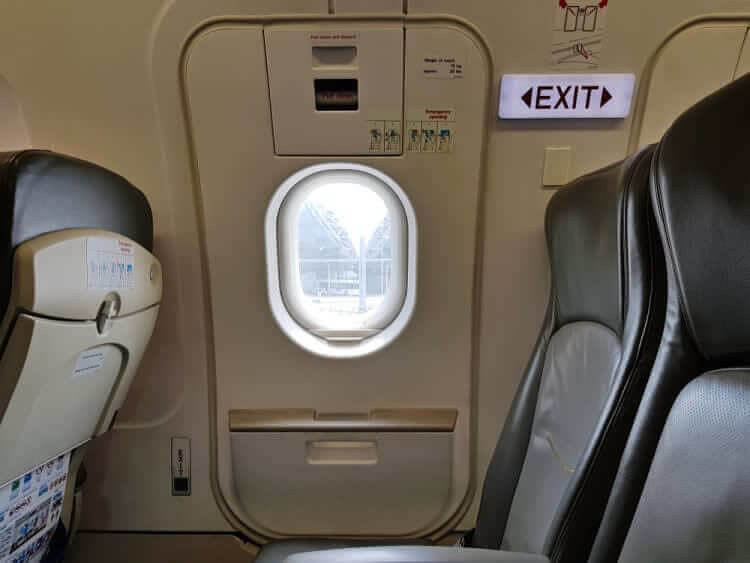 Also, whenever there's an emergency, the cabin crew asks if there's a doctor on board. Research has shown that there are doctors onboard as many as 70% of all commercial flights, so the chances of someone being present are pretty high.
Think Twice Before Getting Drunk on a Flight
Most people get excited seeing the mini bottles of alcohol on their flight, but sometimes drinking can get carried away, even on an airplane. If a flight attendant thinks that you're getting a bit too buzzed, she can cut you off, no questions asked. It is because getting intoxicated on a plane is actually illegal! Flight attendants are forbidden from providing more alcohol to passengers who are already drunk. And if they are caught doing so, they can face big repercussions.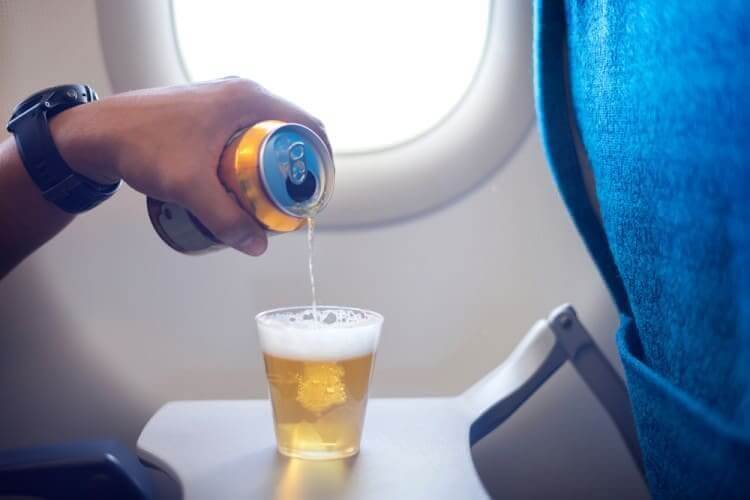 If you are intoxicated on a plane and cause a major disturbance, you can face criminal charges and a lengthy federal prison sentence. It's also good to know that because of the changing cabin pressure, each glass of alcohol can affect you much more strongly than it would on land.
Undercover Air Marshals Are Real
A sky or air marshall is someone who protects passengers and crewmembers from any criminal and terrorist attacks on board a civil aircraft. You may have watched the movie Non-Stop, in which a US air marshal receives threatening messages from someone demanding that his airline immediately transfer 150 million dollars to an offshore account. Just like Liam Neeson in this movie, air marshals must remain unnoticed and you really shouldn't be able to recognize him or her on your flight.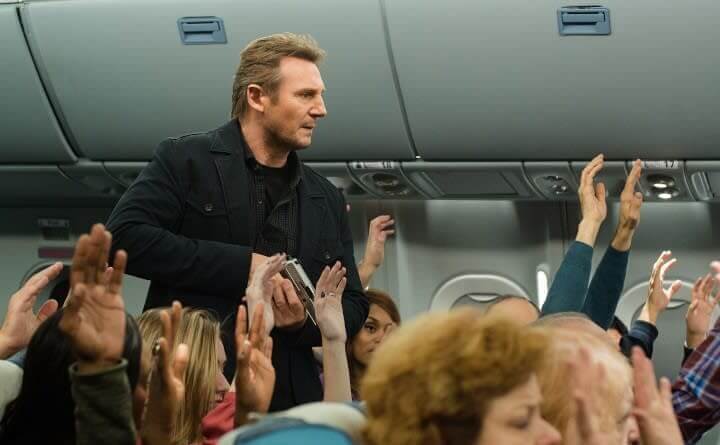 Moviestore collection Ltd / Alamy Stock Photo
You might think that there would be an air marshal on every flight however, they're actually only on approximately 5% of flights.
Flight Attendants Must Meet Certain Beauty Standards
Some flight attendants shared that there are very rigid sets of criteria that they need to follow in terms of presenting themselves before each flight. And even beforehand, in the interview and hiring process! Things like age, weight, personal grooming, makeup, and outfit choices are all carefully considered. Although some airlines don't make their flight staff follow these strict beauty standards anymore, they once dominated the industry.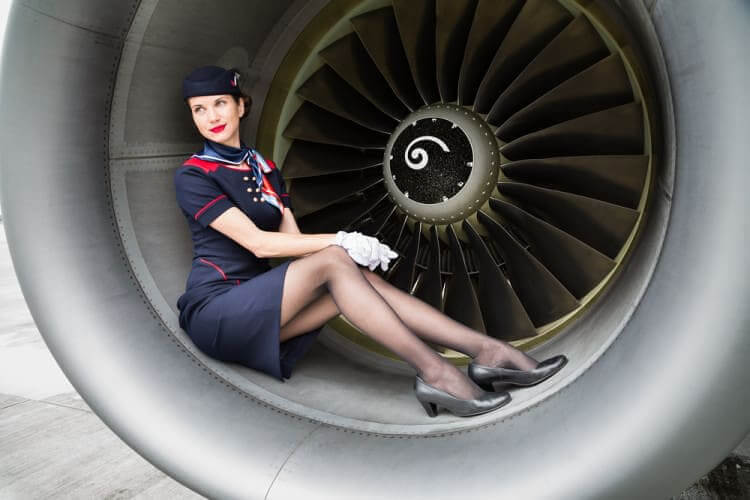 Airlines do however continue to emphasize that flight attendants must have a professional appearance of course. They even have height parameters to ensure that the flight staff can easily perform all of their duties.
Plane Seats Really Are Getting Smaller
Many people have complained about airplane seats being way too smaller; it even feels like they're shrinking as the years go by. Well, that's not exactly a lie. The amount of legroom has gone from an average of 35 inches to just 31 inches today, including the seats themselves being around 16 inches as opposed to 18. Now airlines can squeeze more seats onto a plane than ever before to increase profits.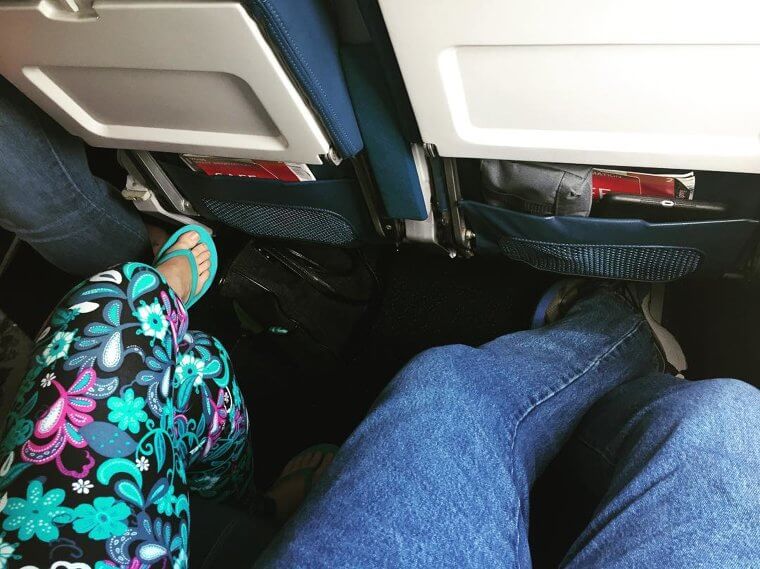 Before you know it, airlines are going to start asking for height and weight; otherwise, there's no way people can continue booking seats and expecting to fit if they're only getting smaller.
Here's the Safest Place to Sit on a Plane
If we look at the statistics from studies of aircraft crashes, we'd find that the seats in the rear of the plane have the highest rates of survival. This data is so specific that it even shows us, that those in the rear third row of the plane have the best chance of survival as compared to the front or middle rows. Your chances also increase if you are sitting on the aisle seat or near an exit.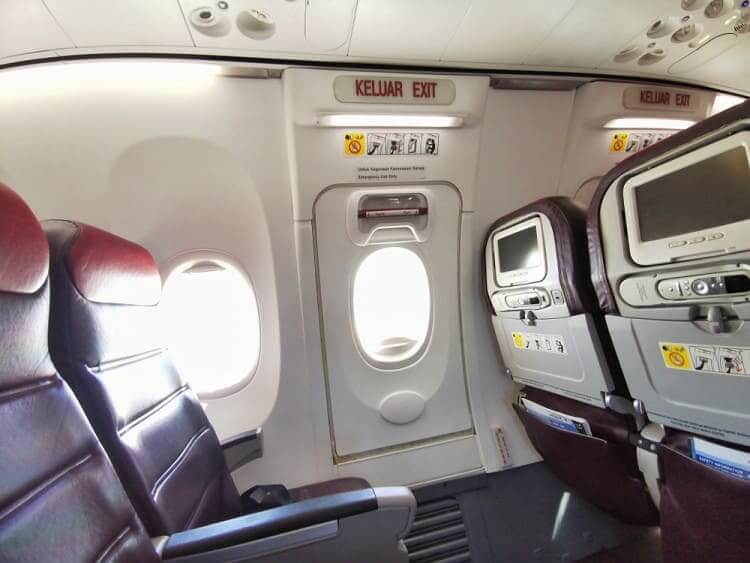 Despite your seat choice, your chances of survival severely drop if you don't fasten your seat belt. Though this is all very scary information, the US government suggests that the majority of airplane accidents are indeed survivable.
Planes All Over the World Get Struck by Lightning Almost Daily
It's actually incredibly common for planes to get struck by lightning! Although that sounds scary, your flight crew is used to it. In fact, aircrafts are designed nowadays to withstand lightning strikes and undergo many tests to ensure they can withstand hits. Maybe there will be a temporary flickering of the lights, but for the most part, all is fine. So if the weather is terrible, don't be too scared to fly!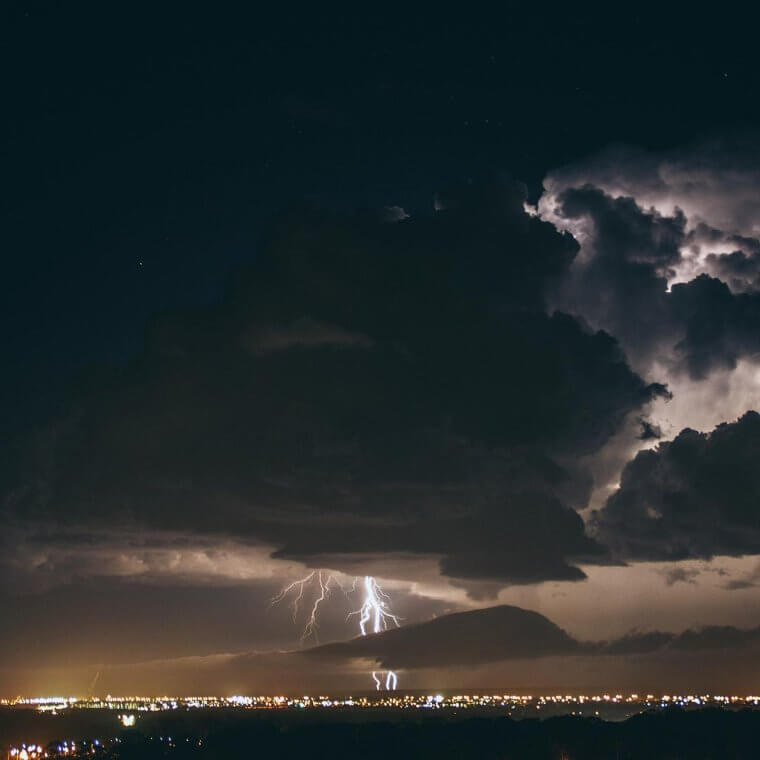 Even if the plane is hit, it undergoes complete inspections to ensure everything is perfect once it arrives at its destination.
Pilots Have The Ultimate Authority
Pilots hold a lot of power and have the ultimate authority in an airplane. This includes leading the flight crew, making command decisions, and even handling passengers who may be causing trouble. There is an urban legend that if someone on an airplane is being problematic, there is nothing you can do! Well, pilots actually can make an arrest mid-flight, they can contact authorities and have someone arrested once the plane lands.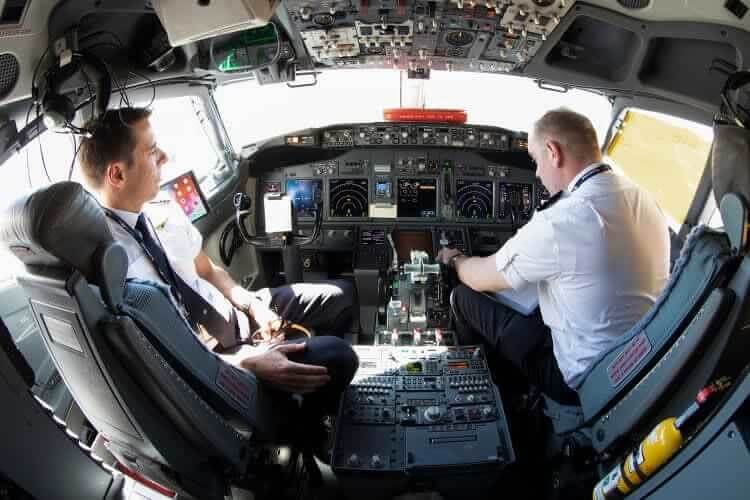 Pilots have to undergo large amounts of training to qualify for their position, after all, they have to communicate with air traffic control and monitor the plane with hundreds of lives on their hands!
This Is the Best Time to Travel By Plane
As flight crews travel the most, they are the ones who know all about the best times to fly. The bad news is, you'll have to wake up early. Although there is no guarantee, it is said that morning flights have less turbulence and therefore fewer cancellations or rescheduled flights. There is also usually less hassle at the airport. Your plane is even less likely to run into thunderstorms or weather issues.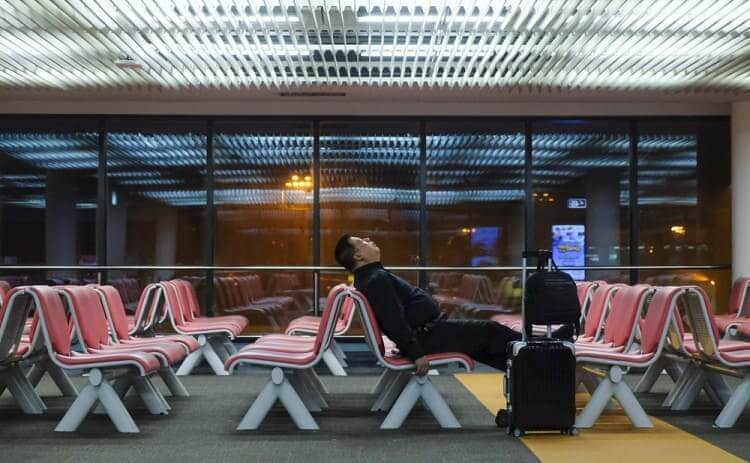 The basic rule about choosing the best day of the week to fly is Tuesday or Wednesday. Since there are fewer people who would like to fly mid-week it usually ends up being the cheapest and the least busy.
Planes Don't Carry That Much Gas
You would assume airplanes need tons of fuel for a long flight, but actually, they are only allowed to carry up to 45 minutes of extra fuel onboard. That seems concerning, but apparently, it's because if it were to carry more fuel, the plane would be much heavier and release more carbon emissions. So it's best to avoid this by carrying the minimum. In this case, the plane just has to fuel up more frequently!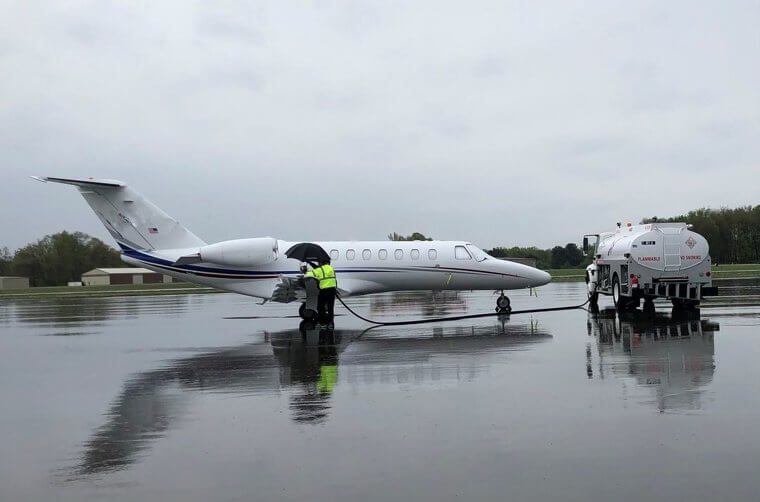 Luckily, fuel exhaustion is not very common, so it doesn't need to become a cause for concern. You can continue to fly in the friendly skies without worrying.
The Crew Members Usually Skip the Airplane Food
Did you know that those in the cockpit usually eat different meals? While there is no written rule by aviation authorities, airlines sometimes like to differentiate the meals between pilots and co-pilots. The reasoning behind this is, that if there happened to be a rare occurrence in which the pilots had food poisoning, it's better to have one healthy pilot than two sick! The flight attendants are often offered the same food as the passengers but more often opt to bring their own food on board.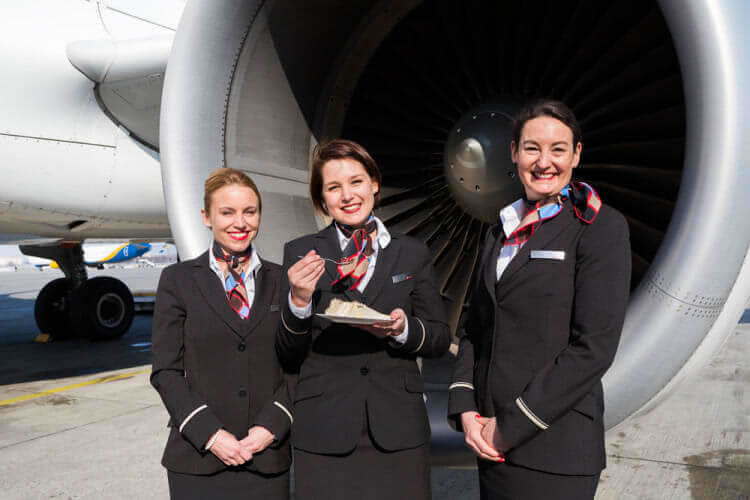 Airplane food is not exactly known to be gourmet so packing your own food on your next journey isn't that bad of an idea.
Flight Attendants Go Through Extensive Training
Believe it or not, there were days when flight attendants used to only serve food and beverages to passengers on flights. But those days are long gone! Now, they do much more than wait on passengers, they must go through rigorous training and be prepared to handle various incidents regarding safety. Flight attendants are currently trained to administer CPR, AEDs, EpiPens, and defibrillators. It is definitely reassuring to know if any medical emergency happened on board, they would be prepared.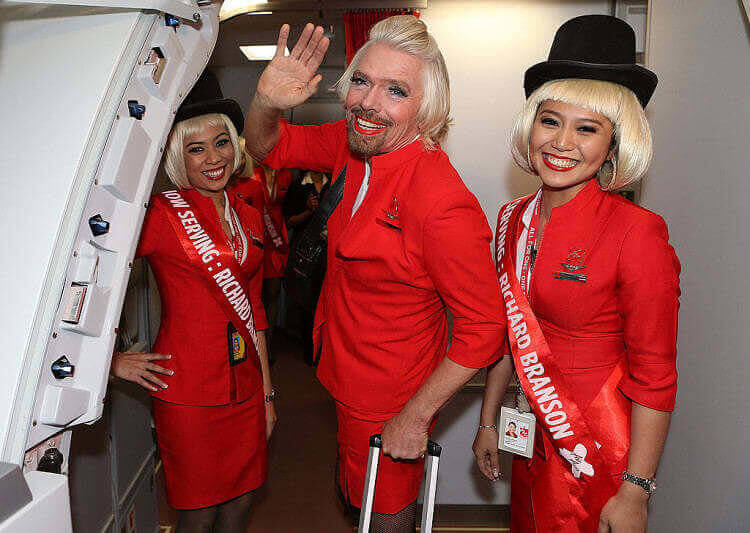 Flight attendants are also given courses in self-defense to handle unruly passengers. As well as being equipped with any knowledge necessary for an emergency evacuation or attempted hijacking of the plane.
The Brace Position Myth
Okay, let's talk about the brace position myth. Do you know the one where you bend over in your seat, head between your legs, and hands on your neck? Well, the commercial aviation security procedures always recommend passengers adopt this specific position to brace themselves for impact, whether that be on water or land. Though many conspiracies have come about that insist this position actually leads to a quicker death. But good news, experts reject these conspiracies and say it is completely safe.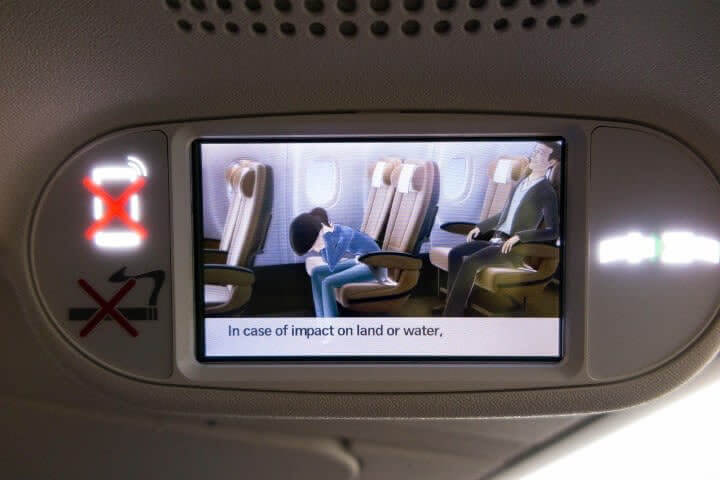 According to experts, the purpose of this brace position is to compact the body in a way that your vital organs are protected from any injury.