Let's face it: unless you're one of those unique people who love housework, chores and home improvement projects can be a bore. After all, It's time away from having fun, binging television, seeing our friends and family, etc. So if you're looking for time-saving tips to keep up with your housekeeping responsibilities, you've come to the right place. From storage and cleaning to home repair tricks, we've compiled some of the best hacks for making your domestic life easier.
Use A Dustpan To Fill a Bucket
Have you ever needed to fill a bucket with water from your sink and realized it's either impossible, super-messy, or you have to stand there with the pail at an angle forever before it's full? If so, you'll welcome this helpful household time-saving hack. All you need is a dustpan, a sink, and a pail. Angle the dustpan beneath the tap. Then, place the bucket beneath the kitchen sink and turn on the tap (as pictured here).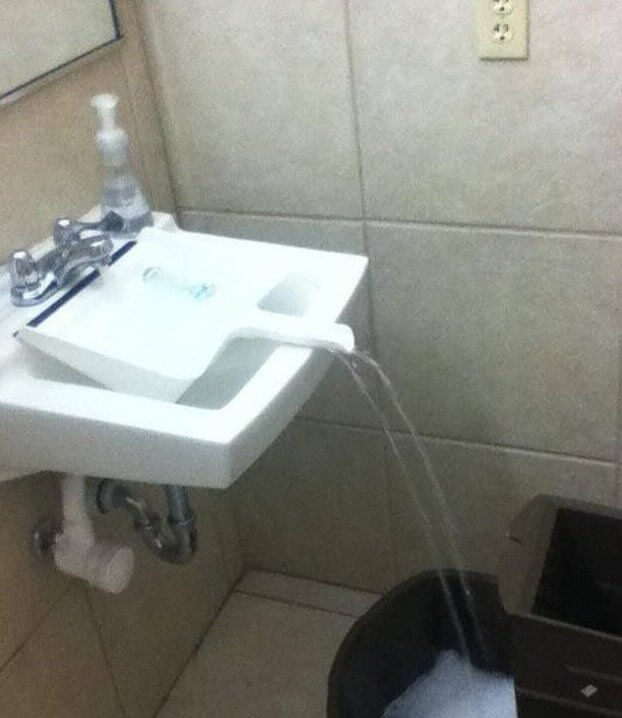 The water will run through the dustpan, down to its handle, and collect in the pail. To avoid any mess, just ensure the dustpan and bucket are positioned right before you start!
Keep Cords Organized Using Old Toilet Roll Tubes
We're pretty sure most homes are full of tangled cords that make your head hurt when you look at them. We're talking about extension cords, cables, phone and laptop chargers, and so on. Sometimes they can linger, ignored for years in a drawer. But keeping them dust free and organized can be consuming, annoying, and boring. So this is where recycling your toilet and kitchen towel by transforming them into cable storage solutions comes in handy.
Just pop each individual cord inside a tube, label the outside with a permanent marker, and there you have it, a home organization hacks that'll keep you out of a tangle.
Use Your Dishwasher to Clean Your Air-Con Vents
There's one super-easy way to discover just how grubby your home is. Go and check your air-con vents. The beauty of an A/C system is obvious. Still, the downside is that it will pick up dirt over time and potentially be less effective and efficient. Imagine all the dust, animal hair, and human and animal skin flakes in your home, then imagine some of them getting caught in your vents. Bleugh.
Simply unscrew the vents, and pop them in your dishwasher in a cool setting instead of handwashing them in the sink. Once done, blow dry any excess water, and you're done!
Use Shoe Organizers to Store All Kinds of Things
When you're over at a friend's house and need to use the bathroom, have you ever wondered why the door feels heavy when you open it? Take a look, and you may find one of these handy home storage solutions: a shoe organizer stuffed full of toiletries! This person has cleverly hung the organizer to the door and stuffed it full of beauty products, toiletries, medicines, hair accessories, and more.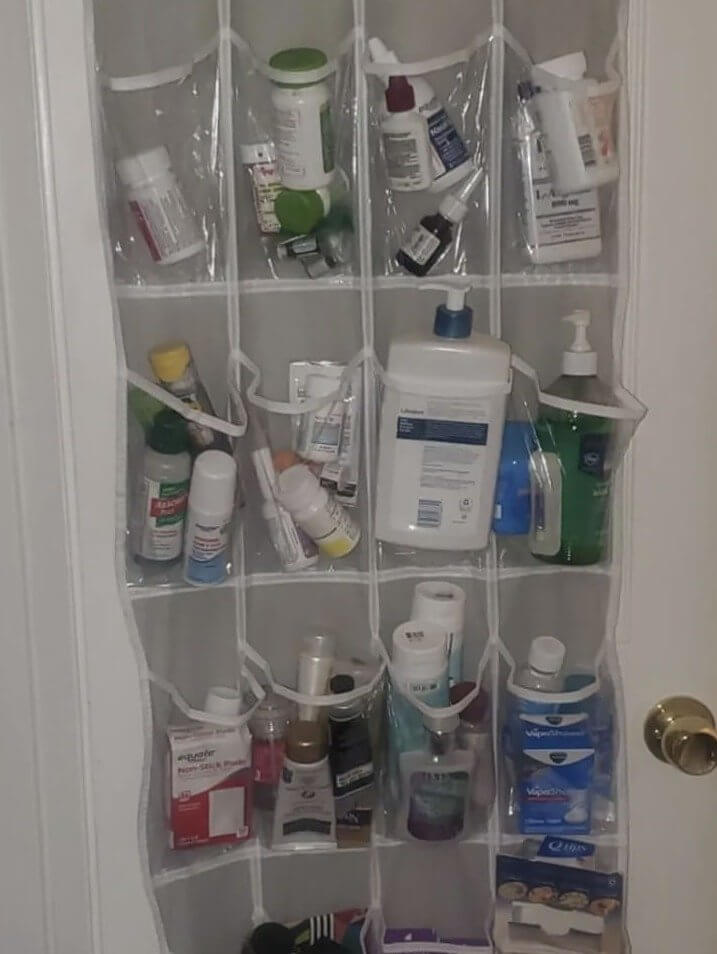 This home hack can be used anywhere you're short on space, for example, in a downstairs cupboard or garage where you keep all your electrical cords, screws, and other DIY items.
Plaster Painting Tape Onto the Walls Before Hammering Nails Into Them
Hammering nails into walls can be hit or miss. But, of course, if you miss, you've got a wonky nail or dent in your wall to contend with. So, to prevent any unnecessary damage, place a strip of masking tape over the area where the nail or screw will be inserted, ensuring that it is straight and level. The masking tape provides a protective barrier between the wall and the hammer.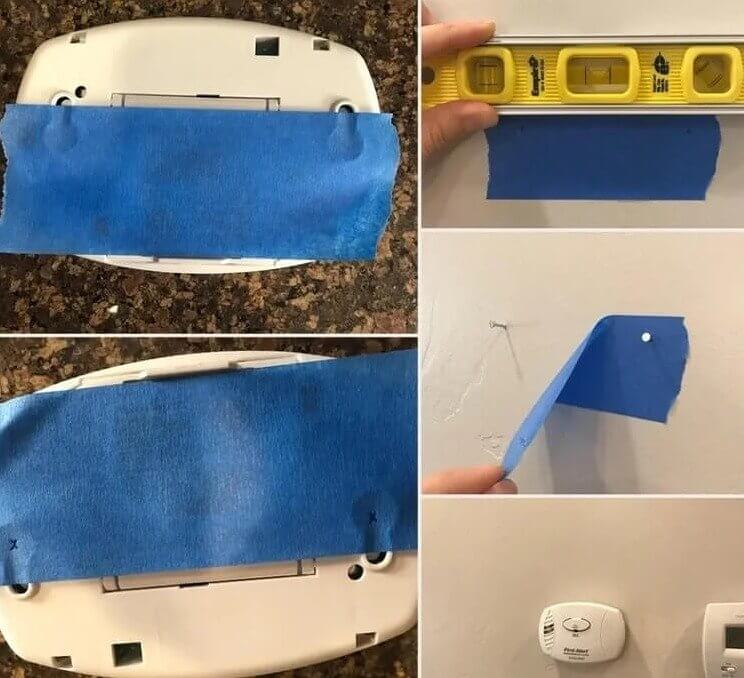 This goes a long way to preventing scratches, dents, and other damage. Once the nail or screw is inserted, the tape can be removed easily, leaving behind a clean and undamaged wall surface.
Easily Round up Pet Hairs With a Squeegee
Vacuuming is one of those boring daily tasks that's made even worse when there are pet hairs all over the place! We all love our pets, but pet hairs can drive even the most ardent animal lovers around the bend. Believe it or not, the answer might be your old squeegee. You just run the squeegee across your carpet in one direction, using firm and even pressure. The rubber blade will create static electricity that attracts and collects pet hairs from your carpet. This DIY hack is a great way to keep your carpets clean.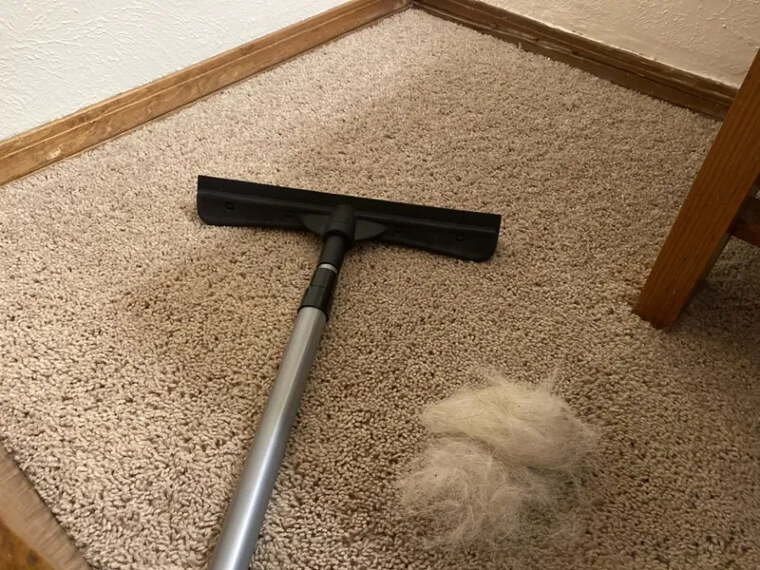 You can easily keep your floors free from pet hair without the need for expensive cleaning products. Instead, it'll help you collect the hairs, so you can vacuum them up in one go.
Keep Plastic Bags Tidy With A Tissue Box
Anyone conscious of recycling will try to reuse plastic bags when they can; they can double up as bin liners, dog poop bags, and more. However, the problem arises when you have nowhere to put all the bags you pick up at various stores, and suddenly your kitchen cupboards are bursting with plastic. There is, however, a handy home hack to fix this. Instead of throwing your empty tissue boxes away, reuse them to house your stray plastic bags.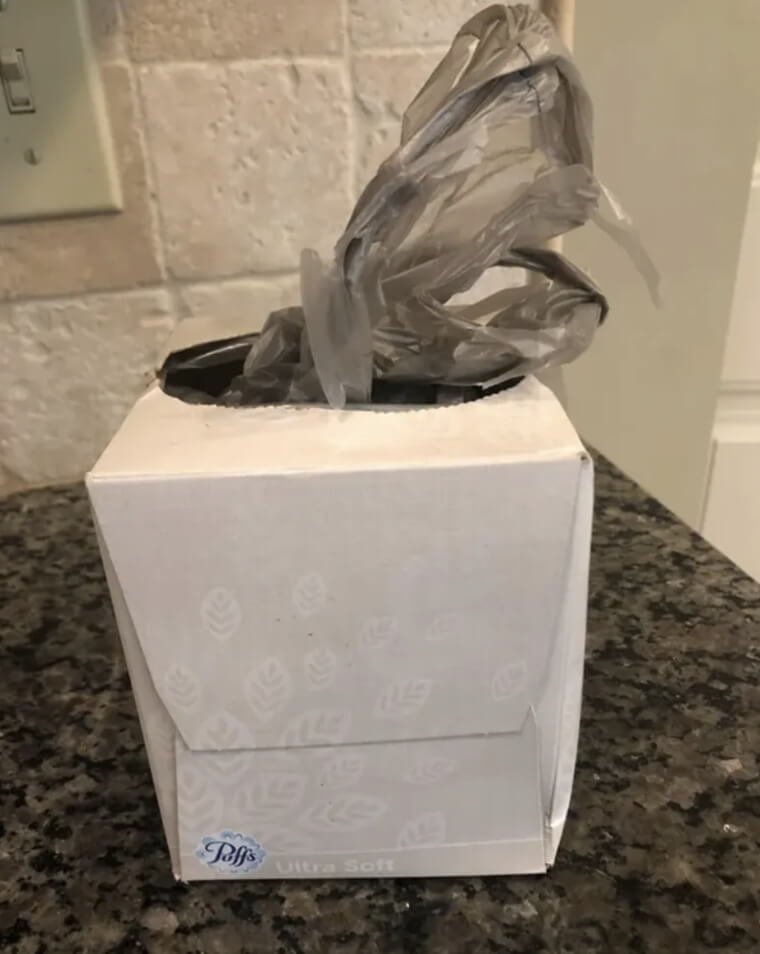 Just roll each bag tightly with its loop handles sticking up and push them into the box, so each time you need a fresh bag, it's easy to pull one out of the tissue box.
Keep Freezer Items Sealed and Organized With Binder Clips
Suppose your freezer storage space is limited, and you struggle to see what's inside because all the plastic bags of food are muddled together. In that case, there's a simple household solution. Just grab any binder clips you might have lying around. Then, take each bag of food, roll the opening down as low as possible, and attach each bag to the middle rack of your freezer using the binder clips.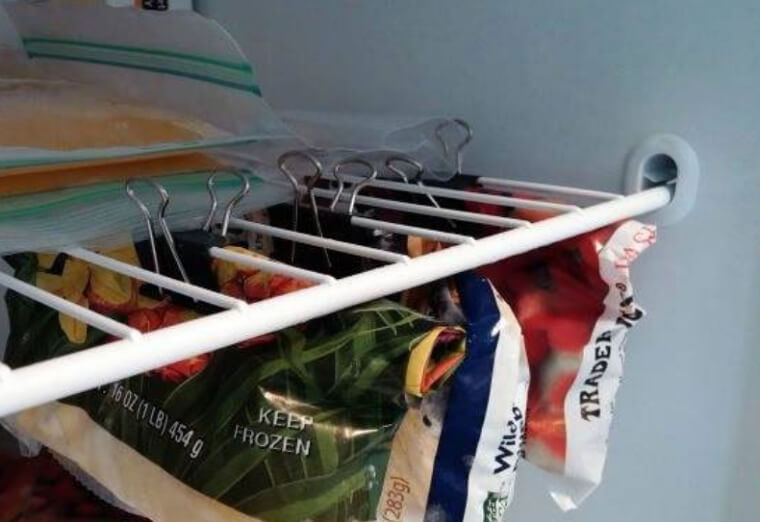 This goes a long way to creating more storage space in your freezer. Plus, there's the added bonus of no more random vegetables lurking at the bottom of your freezer drawer.
Use Your Vacuum and PVC Pipes to Clean Your Gutters
This is a nifty and creative hack that can actually save you a good deal of money in lieu of hiring someone to do the same job. You'll need a vacuum cleaner and some PVC piping that's duct-taped together. You might also want to attach an angled elbow joint to the end of the PVC pipe. This will allow you to position the PVC pipe in the gutter without holding it by hand.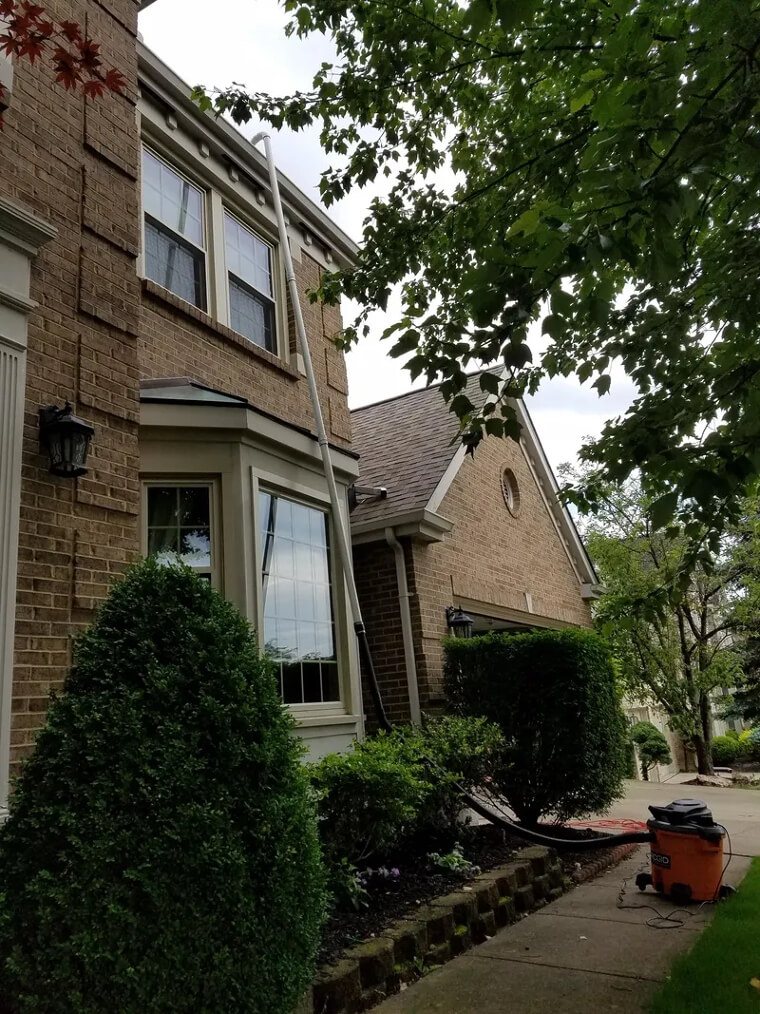 Then use the vacuum cleaner to suck up the debris, moving the PVC pipe along the gutter to clean it thoroughly. This makes a difficult and often dirty home maintenance job much easier.
Use Hot Glue to Create Non-Slip Hangers
Suppose you've got a few silky numbers lying around in your closet. In that case, you'll know how easily they fall off hangers, making it hard to find what you want and creating clutter. So rather than going out and buying new hangers specifically for a few items of clothing, you can make your own non-slip hangers with a hot glue gun. The glue creates a non-slip surface that grips onto clothes, preventing them from sliding off the hanger.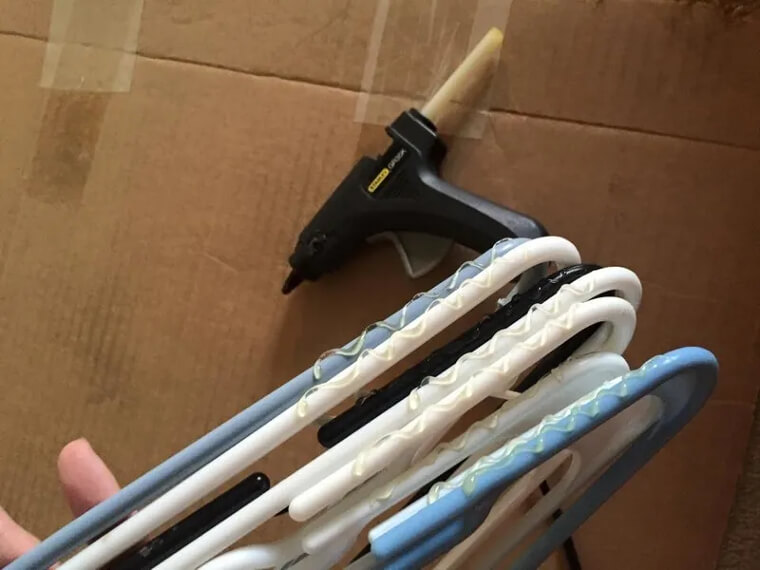 This is especially useful for delicate fabrics or items with slippery straps. It's easy to do, and the hot glue dries quickly, so you can use your new hangers near-on right away.
Remove Carpet Indents With Ice
Hardwood floor lovers can skip past this home maintenance hack. But if you have carpets in your home, one of your likely chores is taking care of them. Inevitably, you will get carpet dents. These arise when you move furniture around, and you're left with unsightly marks that spoil the look of your rooms. There is, however, a simple yet effective fix. All you need is ice from your freezer.
Put an ice cube in each dent. When it melts, wipe away excess water and fluff your carpet. Allow around 12 hours to see the full effect of this hack.
Flatten Your Ground Beef Before Freezing
Suppose you have some delicious ground beef you're saving for when it's warm enough to make burgers and barbeque, but you have little or no room in your freezer. Fortunately, help is at hand with this household fix. Simply put the beef in a good-sized freezer bag, and secure the bag shut, making sure there's no air in the bag. Then flatten your beef by gently pressing down on it.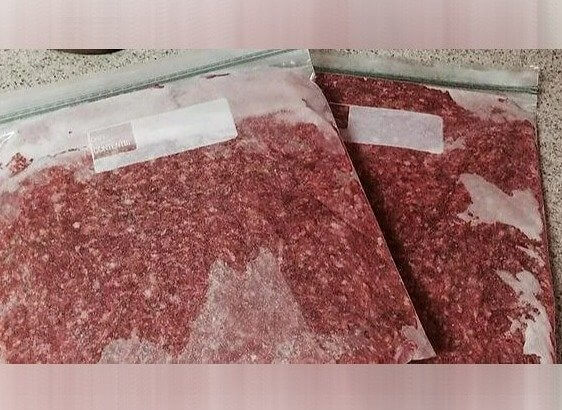 The genius of this handy hack is that not only does it save space in your freezer, but the ground beef will also thaw out faster. That sounds like a win-win, right?
Keep Your Blinds Clean With Kitchen Tongs
There are hundreds of household cleaning tools and implements on the market, including ones we use for challenging tasks such as cleaning our blinds. But you can save money by using your kitchen tongs instead. First, give them a good clean. Then, keeping the handle clear, cover the rest of the tongs with a duster, microfiber cloth, or even an old T-shirt, and secure it in place with a rubber band.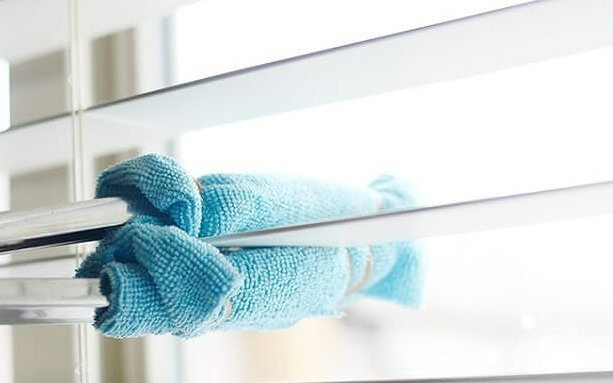 YouTube/Rachel Sprinkle Some Fun
Now slide the tongs along each slat of your blinds and watch as the cloth picks up all the dust and dirt. When the cloth is dirty, take it off, give it a shake, and repeat.
Organize Cleaning Product Cabinets With a Tension Rod
The cleaning cupboard, ironically, is often one of the messiest places in the house! It can be quite a mishmash of all your products and tools. However, a tension rod might be just the trick to keep things in order, making them easier to access. Install the tension rod at the back of the cabinet and hang cleaning bottles over it. This home organization hack uses vertical space in the cupboard, creating a convenient storage solution that keeps cleaning supplies within reach.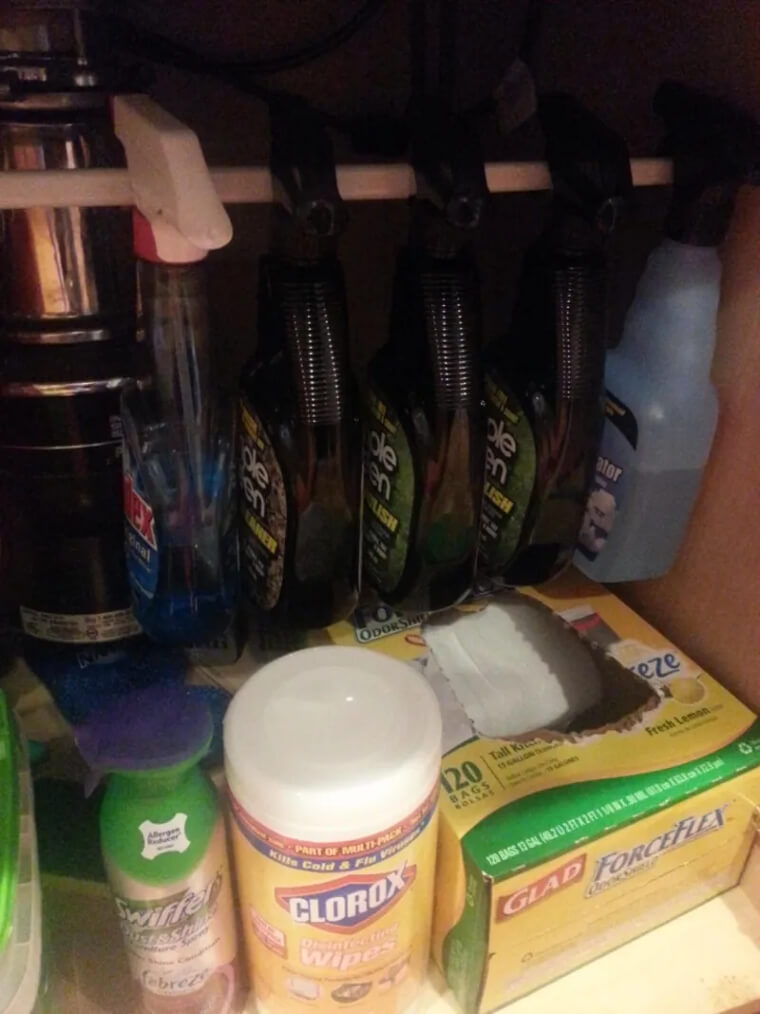 It's also worth noting that tension rods can be easily adjusted to fit the size of your cabinet, making it a versatile solution for organizing cabinets in various rooms of your home – not just your cleaning cupboard!
Blend Dish Soap in Your Blender to Clean It
One of the downsides of your smoothie blender and fruit juice mixes is the clean-up each morning. But did you know that your blender itself can help with that daily task? Just fill your blender or mixer with warm water and add a squirt of washing-up liquid. Next, turn the blender or mixer on and let it run for a few seconds. The soapy water will clean the blades and any residue or food particles stuck to the sides.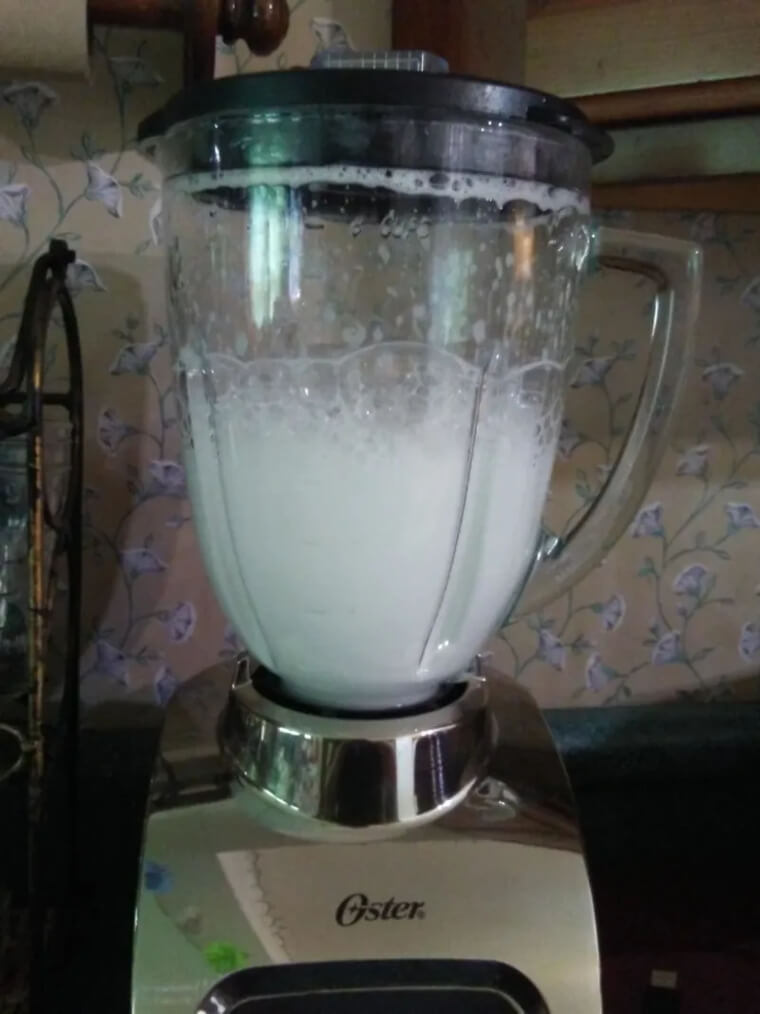 Lastly, pour out the dirty water into your kitchen sink. Then, give the blender jug a quick rinse to get rid of any soap suds, and leave it to dry on your drying rack.
Save Closet Space With Can Pull Tabs
Let's face it, most of us are light on storage space – and insufficient room in our closets to hang new clothes is a pain. So here's a handy household solution to blow that problem out of the water. Rather than throwing out clothes that you still enjoy wearing, hold onto them by hanging two or even three hangers onto one hanger. To get started, you only need soda can pull tabs with two holes.
Using the tab's top hole, hang it onto the first clothes hanger. Now, thread another hanger through the lower of the two tag holes. Repeat as many times as the weight of your clothes allows.
Organize Purses Using a Pot Lid Rack
Purses, bags, and clutches are a great addition to your outfits…. but often not to your wardrobe. They pile up, get lost, and make an otherwise pristine wardrobe look messy. Luckily, this home storage hack can help to easily organize your space. All you'll need is an old lid rack with multiple dividers or slots. Simply attach the pot lid rack to the inside of a closet or pantry door using screws or adhesive strips.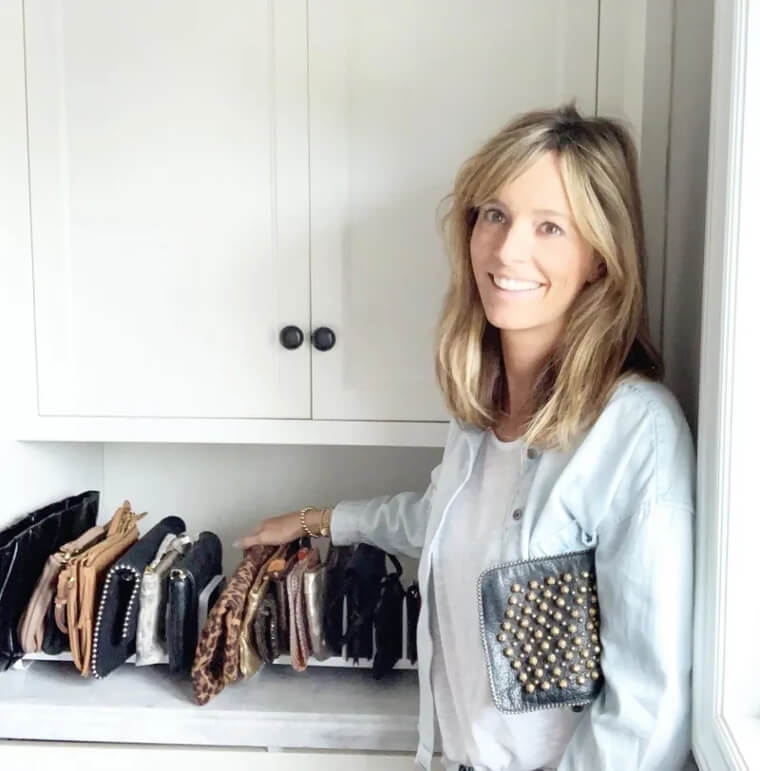 Then, slide your purses into each slot or divider, and organize them how you like. Job done! Who says kitchen storage hacks have to stay in the kitchen? Not us.
Store Spaghetti in a Pringles Tube
How many times have you bought a packet of spaghetti only to open it the wrong way or find sticks mysteriously scattered around your cupboard? Well, this is an easy hack to prevent mess and keep your spaghetti in its place. Just take an old Pringles can, wash and dry it out, then slot in your spaghetti. Keep the lid, and the can will hold the spaghetti in place.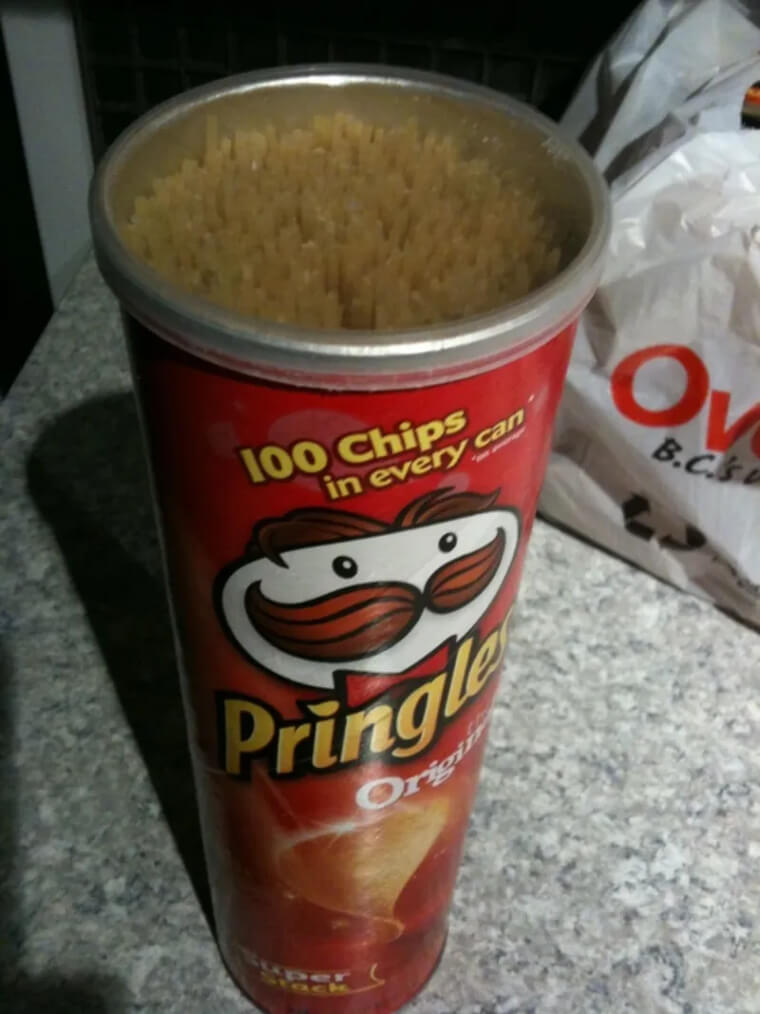 This works wonders for preventing your spaghetti from spilling out and becoming tangled with other items in your pantry. It's an easy and cheap way to keep the pantry organized and repurpose your Pringles can while you're doing it.
Use Tags to Organize Your Cables
We all love our tech, but this doesn't usually extend to the bundle of wires that comes with them. So let's say you are plugging in a new electronic, you pull out one cable, and bam – you've managed to power down the whole thing. Annoying, right? Well, no more! Just collect a handful of bread tags and label them according to the device or appliance the cord belongs to.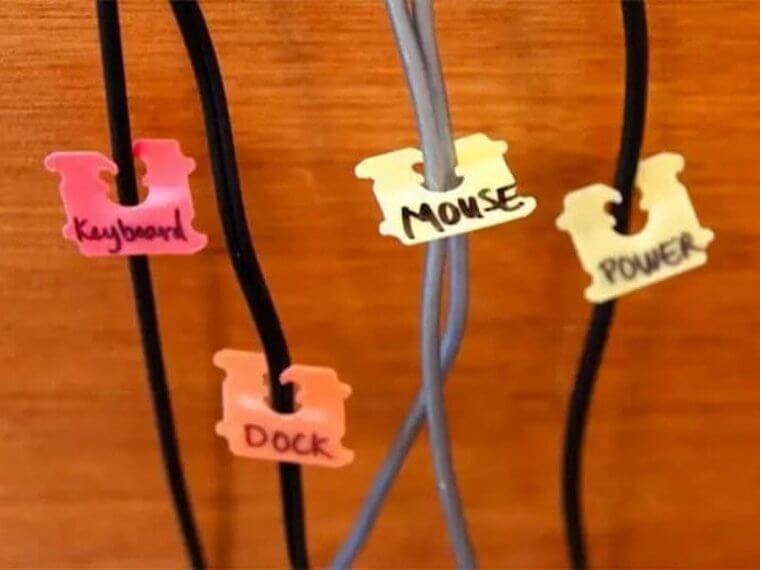 Then, attach the bread tag to the cord or cable, securing it tightly. The labeled bread tags make it easy to identify each cord and keep them organized, preventing tangles and confusion.
Use Plastic Bottles Tops to Seal Bags in the Best Way
Where has this hack been all our lives? It's so simple, yet it might not have occurred to you that you can use old bottle tops to seal plastic bags. To start, cut off the top of a plastic bottle, leaving a section wide enough to seal the bags you plan to use it on. Next, slide the open end of the bag through the bottle top, folding it over and securing it in place with the bottle lid (as pictured here).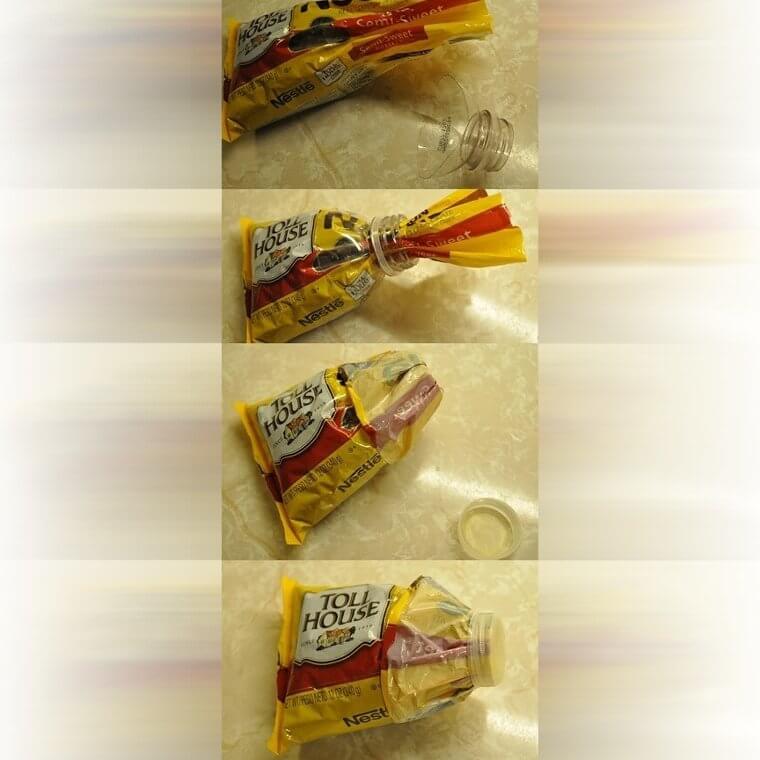 This creates an airtight seal that will keep your food fresh and prevent spills or leaks. In addition, it's inexpensive, can give your old bottles a new life, and, best of all, can be reused time and again.
Never Scrape Your Car in the Garage Thanks to a Pool Noodle
DIYers can prevent accidental scrapes and scratches to their car by installing pool noodles on either side of the garage entry. This hack is especially helpful for those with limited space or narrow garage entrances. Attaching pool noodles to the sides of the garage creates a cushioned barrier that absorbs any accidental impact, preventing damage to both the car and the walls. Foam noodles are inexpensive and easy to install with adhesive strips or hooks.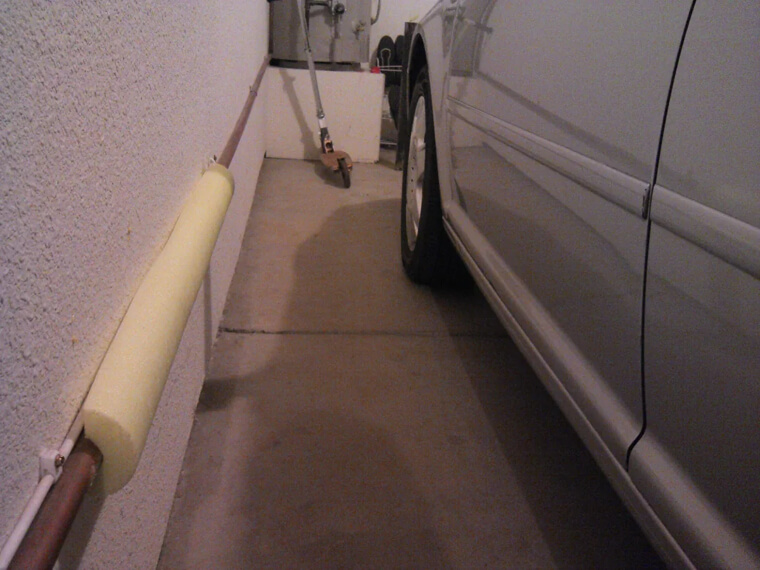 Needless to say, this handy hack can save car owners time and money on costly repairs and give them peace of mind to confidently park or reverse into their garage.
Hang Pots and Pans to Save Kitchen Space
Pots and pans aren't the easiest to store. They're bulky, take up space, and can be annoying to pull out of whatever cupboard you've crammed them in. Fortunately, one easy solution is to install a rod in one of your kitchen cupboards or on a kitchen wall. Then grab some hooks, and hang your pots and pans. It's an easy way to better utilize your space and add a decorative touch to your kitchen.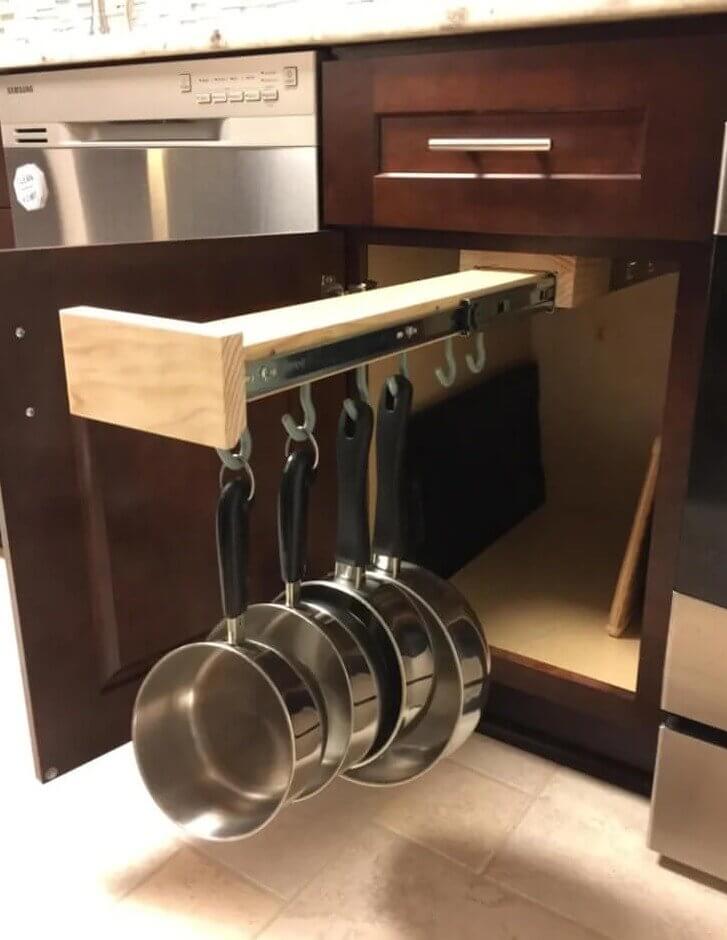 It's also a great way to save time when cooking because things are much easier to grab on the go. Gone are the days when things would fall out of your kitchen cupboard while you grappled with a saucepan!
Keep Boots in Shape With a Foam Noodle
If you are a fan of boots, you'll know that they can often lose their shape over time. They're also not the easiest to store and make things look messy. But, rather than buying expensive boot fillers, cut the foam noodle to the length of your boot and insert it into it. The pool noodle will fill the boot, helping maintain its shape, especially for boots prone to creasing or collapsing.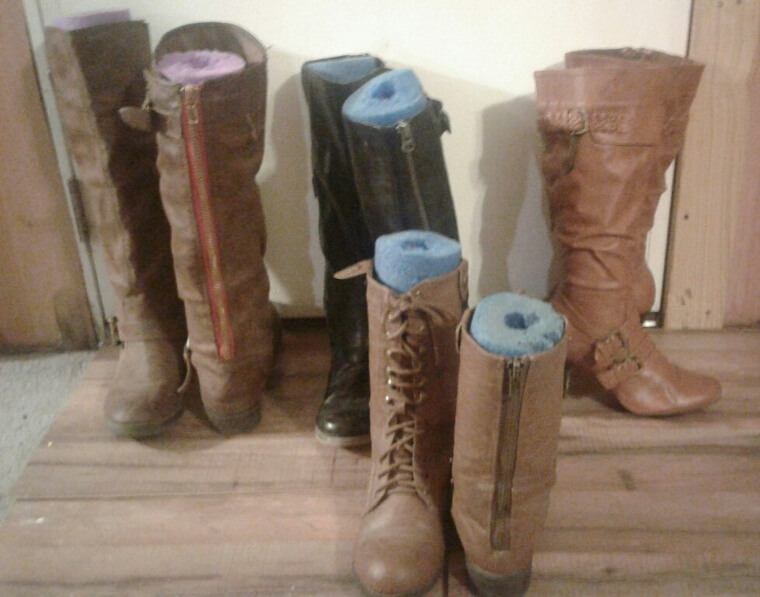 By keeping your boots in shape, not only are they easier to store, but they'll also likely last longer, so you can enjoy them without the additional expense of having them repaired.
Make Your Own Aluminum Foil Dispenser
Foil rolls have a seemingly miraculous ability to get lost or disappear into the cupboard somewhere. Here is where a pair of command hooks and a tension rod comes to the rescue. Just mount the hooks on the wall or inside your cupboard door, thread the aluminum foil through the tension rod, and hang it onto the hooks (as pictured here). Voila, you'll never misplace your aluminum foil rolls again.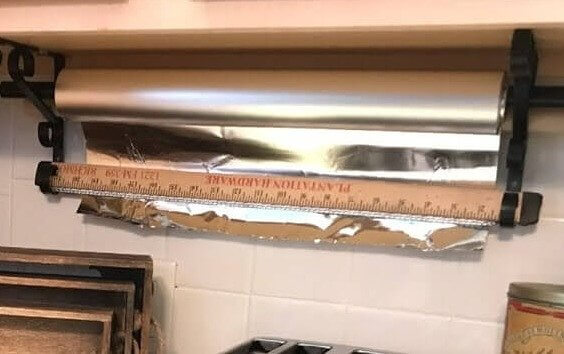 Not only will you have your aluminum foil at your fingertips while you're cooking, but this DIY hack is also a great way to save space in your kitchen – win-win!
Keep Sponges Clean With a Binder Clip
Not surprisingly, sponges are slippery things. They quickly attract and pick up dirt that can spoil your clean dishes. So, if you don't have a sponge holder, why not consider a binder clip instead? After using a sponge to clean dishes or surfaces, clip it onto the binder clip and hang it on the edge of the sink or a dish rack. This allows air to circulate around the sponge.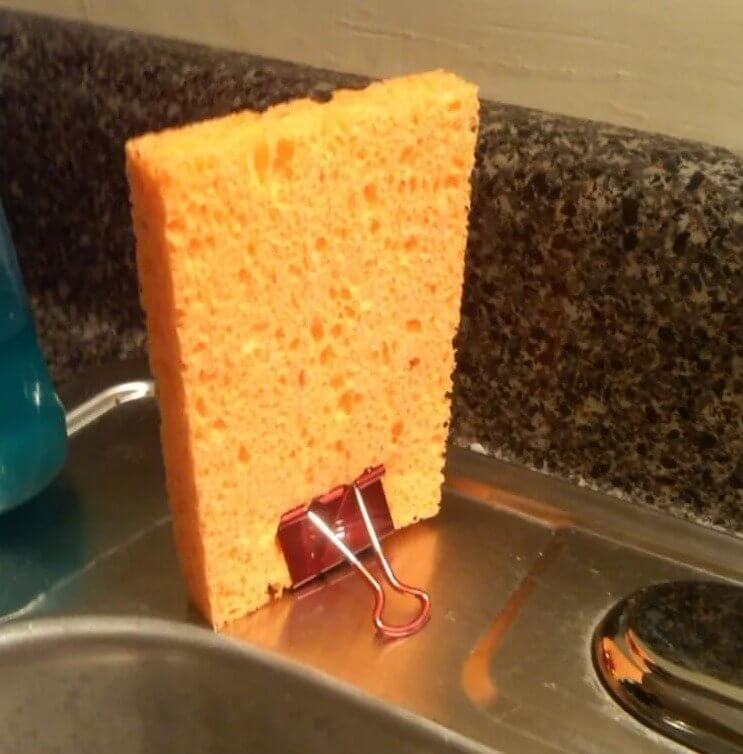 This helps it dry quickly and prevents bacteria and mold growth, so there's no need to invest in special sponge holders or racks. Instead, head to your home office to see if you have any binder clips knocking around!
The Hole in Your Pot Handle Can Hold Your Cooking Spatula
Okay, so this is an easy one. Still, it's surprising how many people don't know about it: You can use the hole in your pot handle to hold your cooking spatula, helping to avoid mess and make cooking more efficient. While cooking, insert the handle of your spatula into the hole in the pot handle, with the spatula resting on top of the pot. This simple trick keeps your spatula within easy reach while cooking.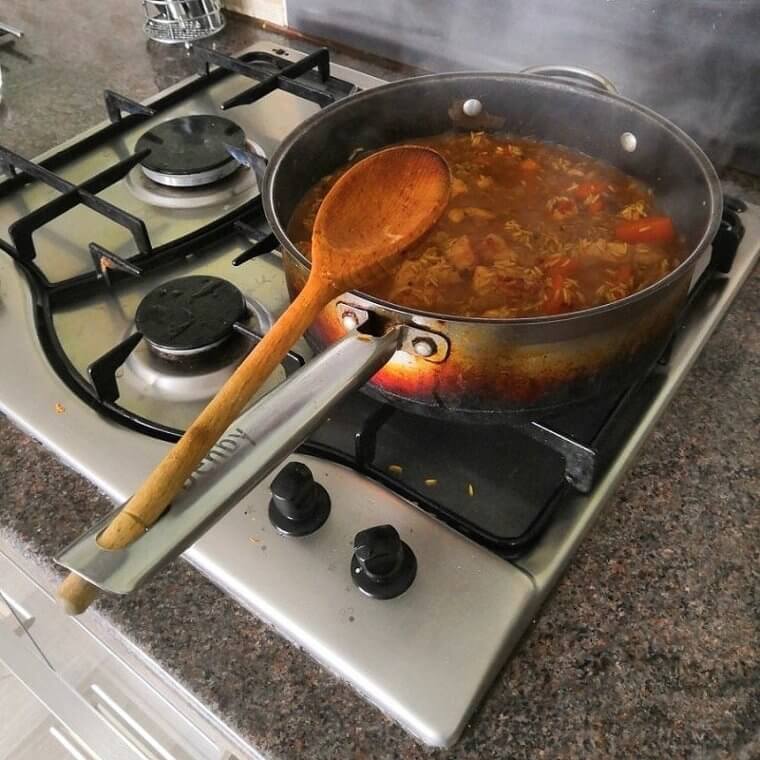 That way, you don't have to set it down on the countertop or stove, which can cause a mess and increase the risk of contamination. So, why not try this hack the next time you cook dinner?
Secure Car Fresheners Onto Your House Fan For Sweet Smelling Air
This may be an unconventional way of keeping your home smelling sweet. Still, there is a solution when it's hot outside, and you want the air inside to stay cool and smell fresh as a daisy. First, you'll need some car air fresheners (the kind that can clip onto vents) and a household fan. Now all you need to do is attach them to your fan's wire or plastic outer cage (as pictured here).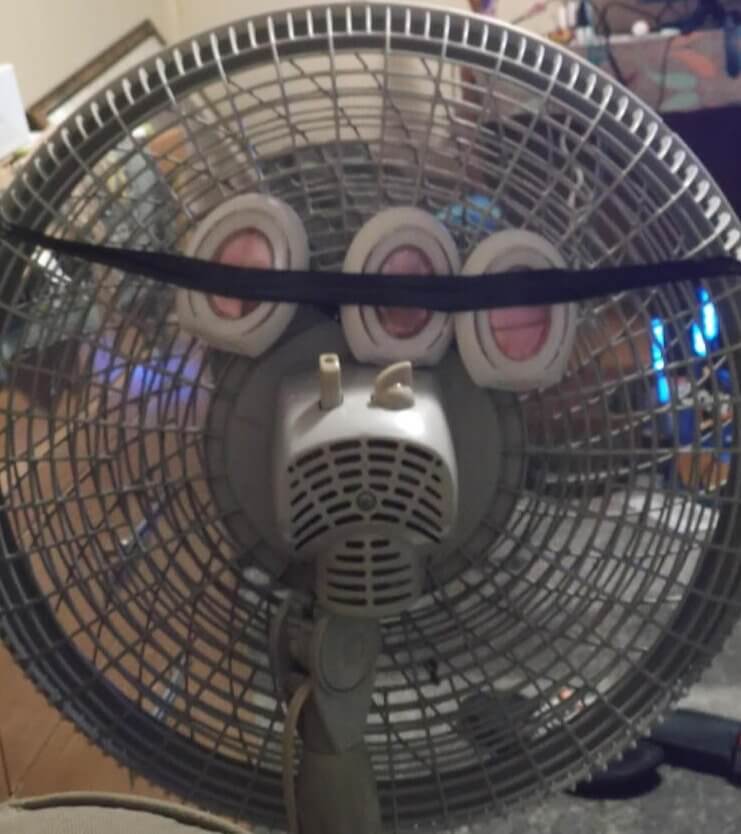 Safety tips: Don't attempt to secure the fresheners onto the fan while it's on. Keep it switched off while you're attaching them. Also, before switching the fan back on, ensure the fresheners aren't in the way of the blades.
Use Clothes Pegs to Evade Germy Toothbrushes
If you haven't got a toothbrush holder but want a quick and cheap way to keep your toothbrushes from getting confused, messy, or dirty, then this tip's for you. Just grab a couple of clothes pegs from the line, clean them with some dish soap, dry them, and then use them to hoist the head of your toothbrush away from germs and bacteria. It's a simple and hygienic way to get around the daily sink mess while saving space.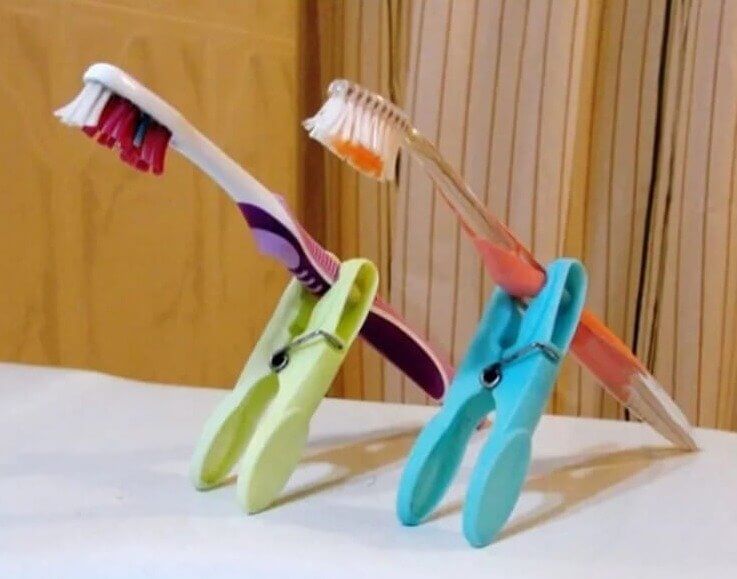 Feel free to go the extra mile by adding a few labels on the pegs or using different colors so that everyone can find their brushes with even greater ease.
Use Magnets to Keep Your Hammer and Nails Together
When you've got lots of nails to hammer, the last thing you need are nails flying left and right. Even if you've got a box for them, it's easy to strain your back, bending up and down to grab them mid-job. Instead of doing that, DIYers can use magnets to keep their hammers and nails together. To do this, attach a small magnet to the hammer's handle using a strong adhesive.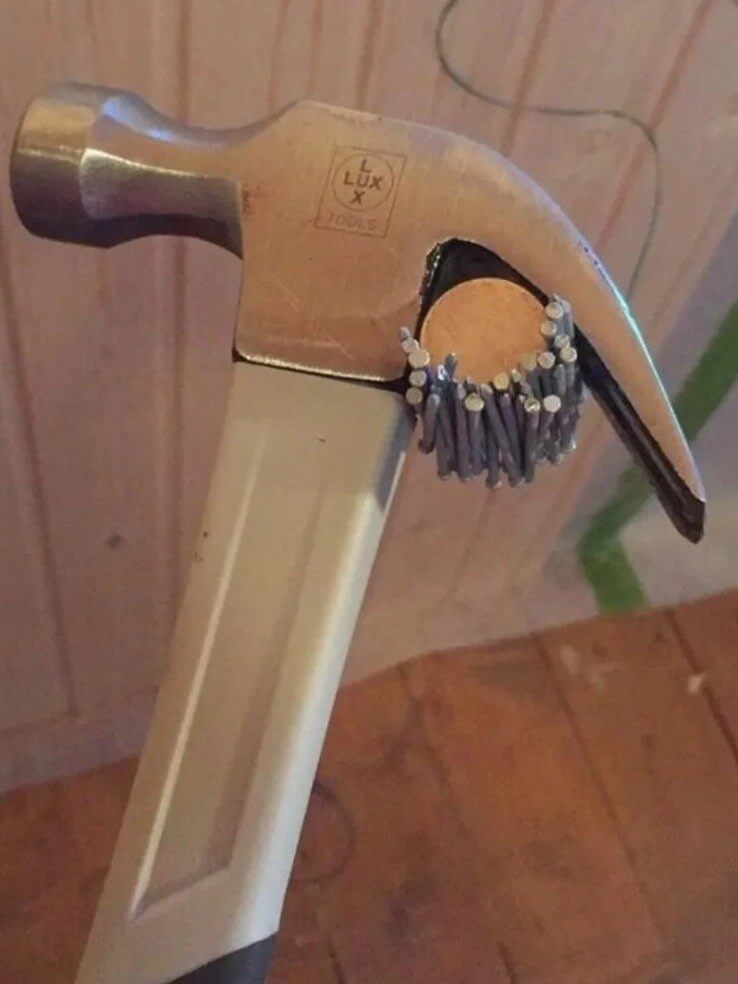 Reddit/Ruki_iz_zho via heraldweekly
The magnet will attract and hold the nails securely (as pictured here), preventing them from getting lost or scattered around the work area. Genius, right? If only we'd stumbled across this hack sooner!
Easily Calculate Individual Spaghetti Portions Using the Spoon's Center Hole
When you have people over for spaghetti bolognese for dinner or a big family to feed, it's tough to work out how much to cook per person and avoid waste. You don't want your guests or family members to go home hungry! (We've all been to dinner parties where we've had to order takeout on the way home, right?) So how do you calculate how much pasta to cook per person? Simple: with your pasta spoon.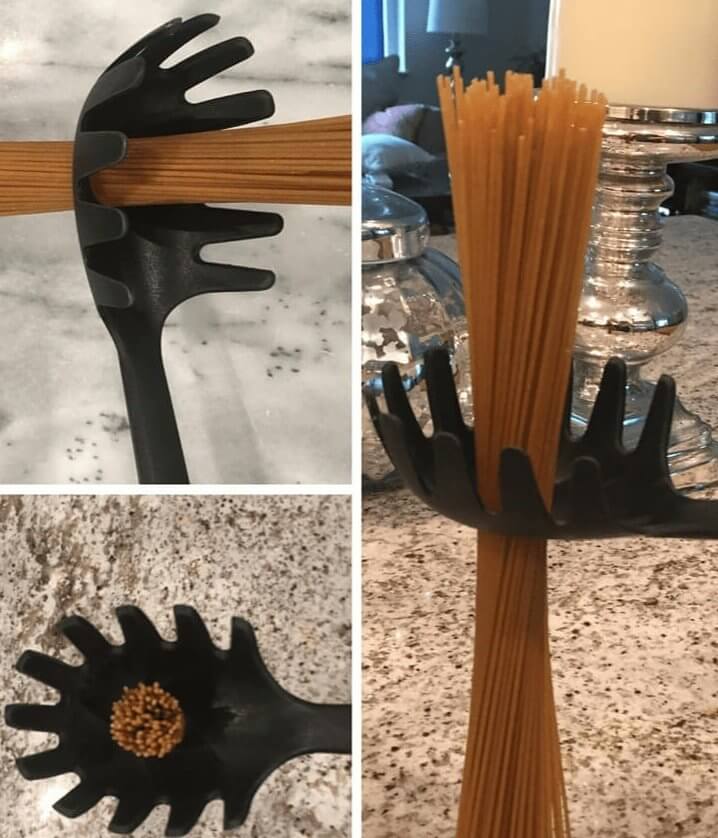 Grab a handful of spaghetti. The amount that fits into the hole in the middle of your pasta spoon is your suggested individual portion size. Repeat to correspond with your guest numbers.
Use Toothpaste to Fix up Car And Furniture Scratches
Furniture and cars are put through lots of wear and tear. It doesn't matter if your kids accidentally scratch and scrape items when playing, put their feet up somewhere they shouldn't, or you accidentally knock into it while going about your busy day. Or perhaps your family pet is the culprit? Whatever the source, you get the point we're making; scratches easily occur. That's where a tube of toothpaste comes in handy.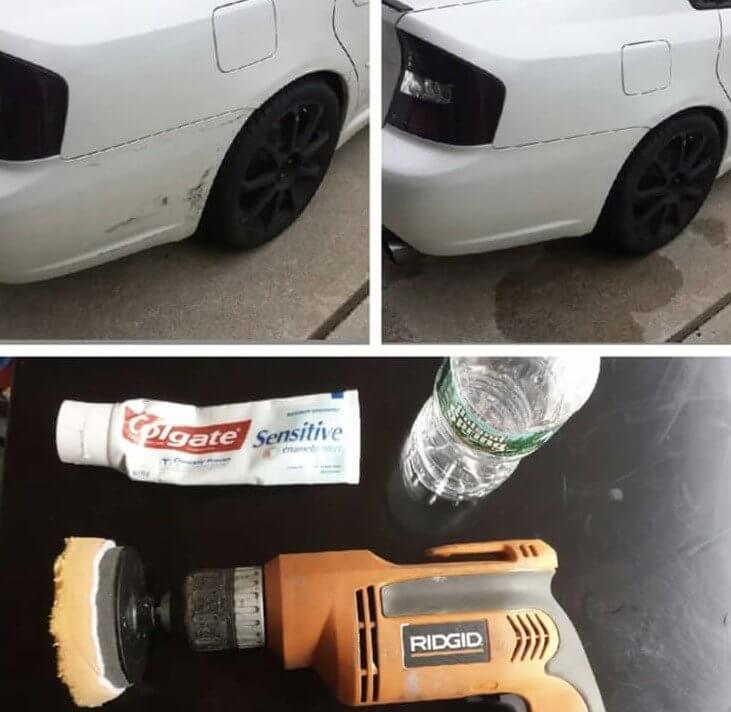 Rub a little toothpaste on each mark and slowly polish the area with a cloth, using a circular motion. Once done, use a damp towel to clean away any excess.
Transform Shower Hooks Into Trouser Hangers
Hanging trousers can be an awkward and frustrating endeavor. But if you want to maximize your storage space without all the hassle, try repurposing some old shower hooks into hangers. You can create a practical and functional storage system that can be used in various settings. Just slide your shower hooks across a rod, and you can hang trousers through the belt loops. On top of that, you can hang scarves, ties, belts, and even handbags.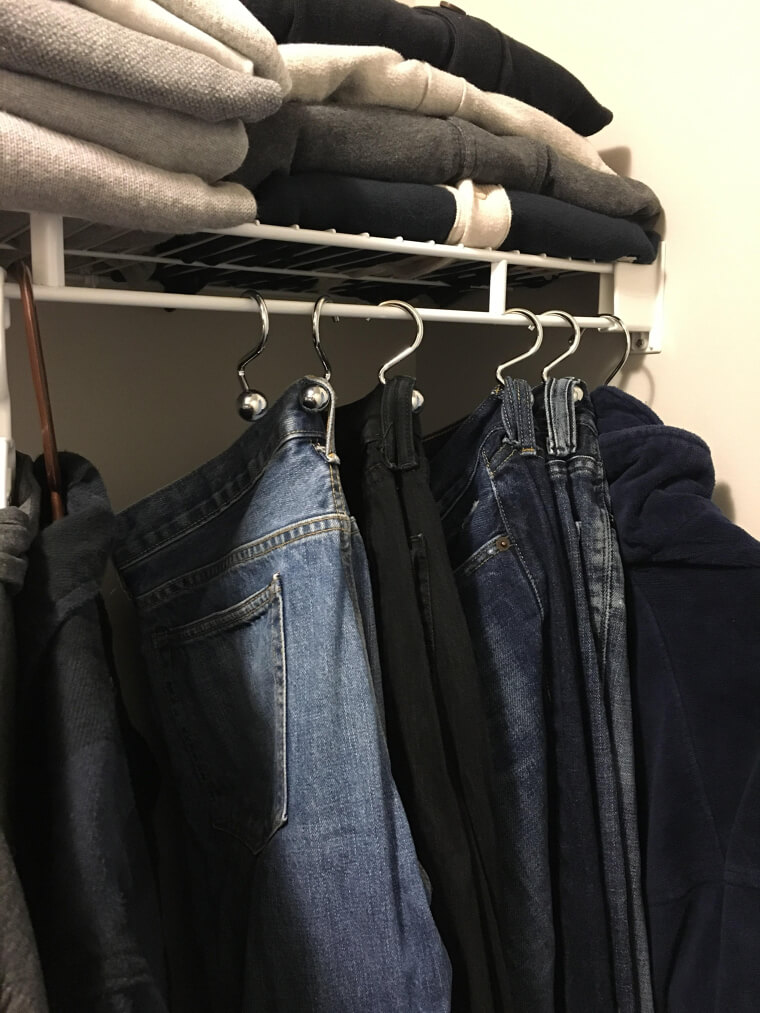 But it doesn't have to stop there! Shower hooks can be a cheap and handy hack for storing utensils, towels, loofahs, or really anything that gets in your way. It's versatile, inexpensive, and clutter-free – what's not to love?
Transform Old Beverage Dispensers Into a Detergent Container
Wouldn't it be so much easier if there was a fast, quick way to squirt out your detergent without having to scour the cupboard every time? Well, there is! Simply take one of your old beverage dispensers or containers, wack on a label, and fill it with your preferred washing soaps and liquids. It'll make it easier to find exactly what you need. The dispenser can be placed on a shelf.
Alternatively, you can mount your dispenser(s) on the wall for easy access. Then, when you're ready, press the soap pump to dispense the desired amount of detergent, and you're good to go.
Stop Sheets From Slipping With Suspenders
Elastic sheets are a great way to cover the bed without folding or work. At least, that's what they're supposed to do. Unfortunately, in reality, these suckers often slip off the edges of the bed, making them more or less redundant. But, no fear – suspenders are here. Attach a suspender clip to each corner of the bedsheet, ensuring they are evenly spaced. Next, lift the mattress slightly and attach the suspender clip to a corresponding point on the underside of the mattress.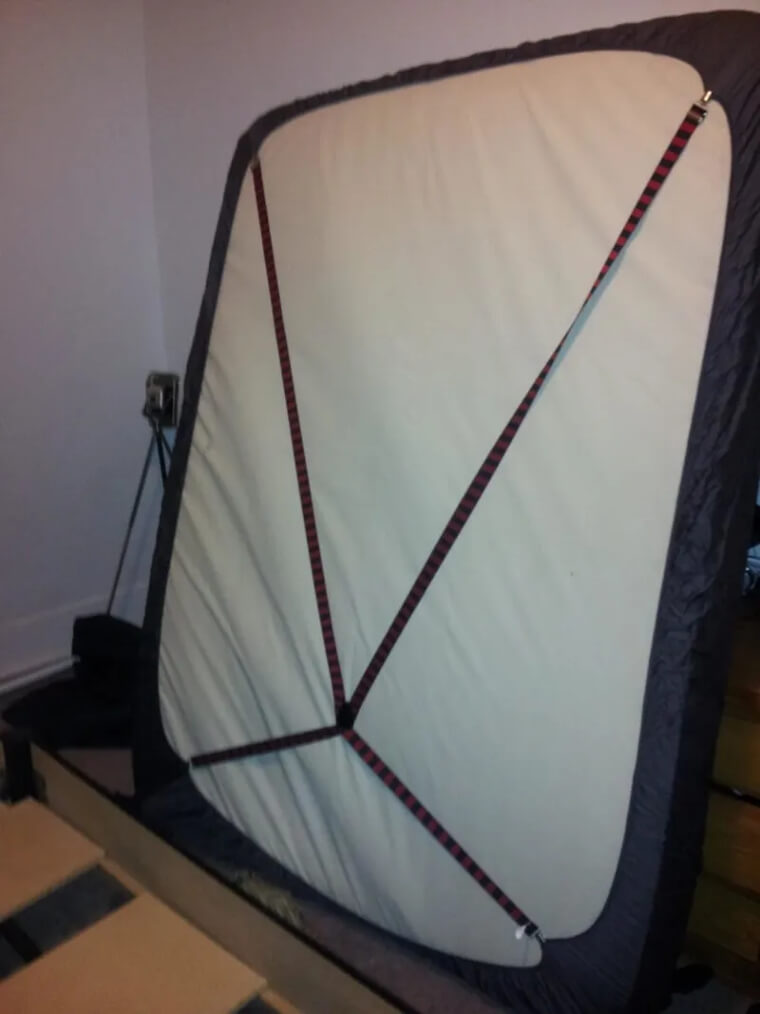 Adjust the tension of the suspender clips as needed to ensure a snug and secure fit. Then, Voila! Now you shouldn't have to wrestle with bed sheets pinging off the mattress again!
Keep Trash Bags in Place With Command Hooks
When it comes to trash bags, it's so annoying when the liner slips over the bin's edge and falls into the trash can. Not only does this make a mess, but you also have to dig it out -yuck! To avoid this, add command hooks to the edge of your bin with a bit of glue and use these to prop up the liner. Loop the top of the bin bag over the hooks, ensuring it's secure and tight.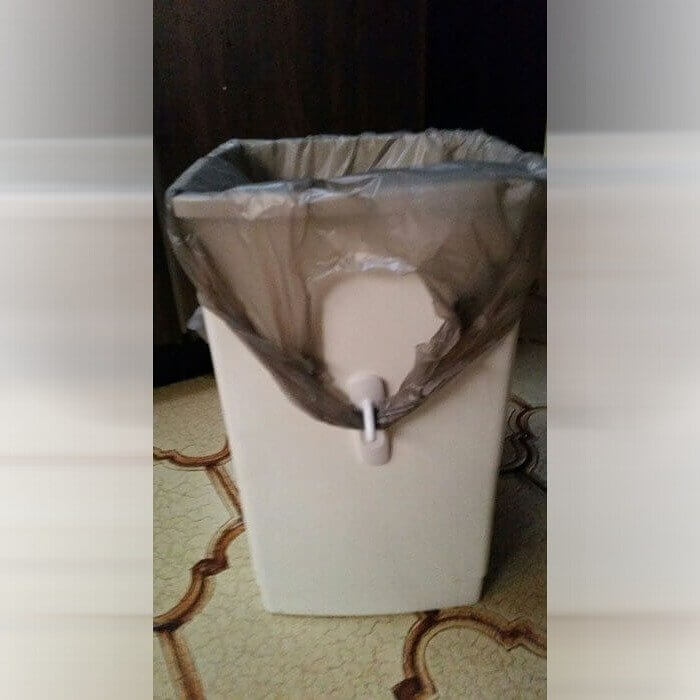 This will hold the bag in place, preventing it from slipping or falling into the trash can. You can buy command hooks from most DIY stores for next to nothing.
Use a Staple Remover to Add Keys to Your Chain the Easy Way
Think of all the chipped nails and battles you've had trying to do the relatively simple job of attaching a new key to your chain. Now, replace that with this pain-free and easy solution. Trust us; this hack will save you tons of time and frustration. All you need to do is insert the pointed end of the staple remover into the keyring, making sure that the flat side of the remover is facing up.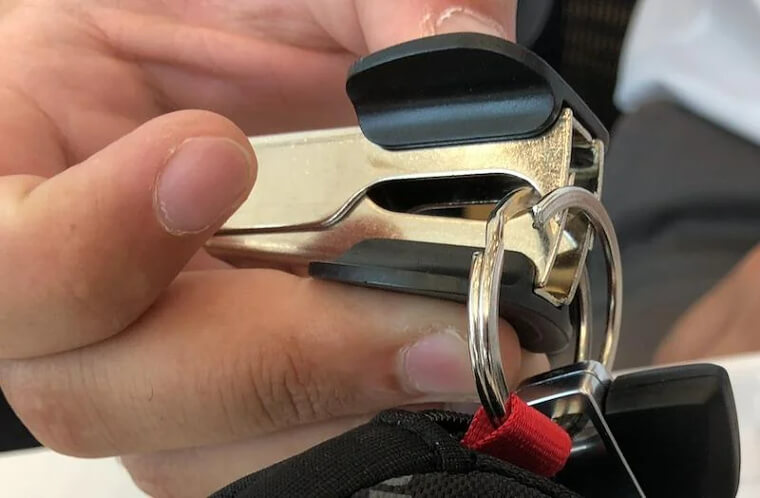 Next, gently pry open the keyring by pressing down on the remover's handle, creating a small gap in the ring. Then, slide the key onto the keyring through the opening created by the remover.
Use Caulk to Get a Cleaner Finish on Your Paint Job
While painter's tape is always an excellent start to any DIY touchup, sometimes it doesn't quite achieve the smooth finish you're looking for. This is especially true of baths and sinks, where the ceramic coating seems to make a clean look even harder. In these instances, a great assistant – if you will, is caulk. The caulk can help to fill in any gaps in your tape, stopping your lovely paint job from getting ruined.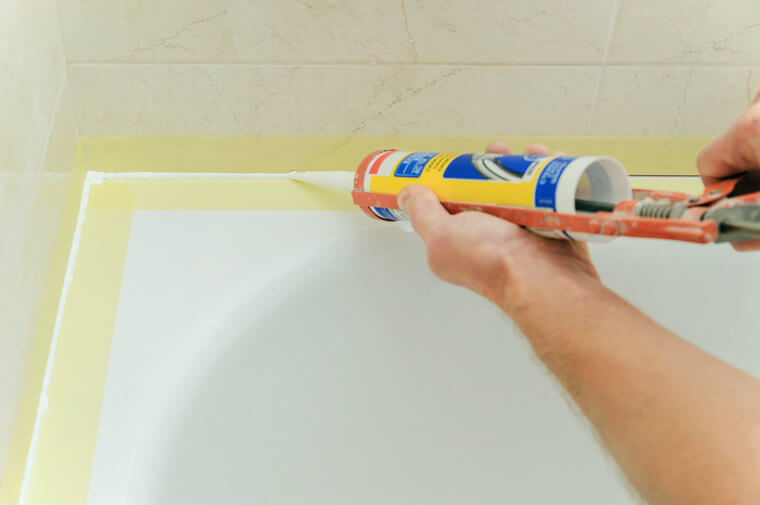 It'll create the clean lines you're looking for, and you can buy it relatively cheaply from your local hardware store. As pictured, tape either side of where you'll caulk, apply the caulk, and peel off the tape.
Keep Plastic Bags in Old Wet Wipe Containers
Plastic bags can become the bane of one's kitchen without you even realizing it. You start collecting them, and then they end up in nooks and crannies, making it easy to forget where they are when you actually need them. But, little did you know, you had the solution all along. All you need is an old wet wipe container. You just fold your plastic bags and place them inside the container.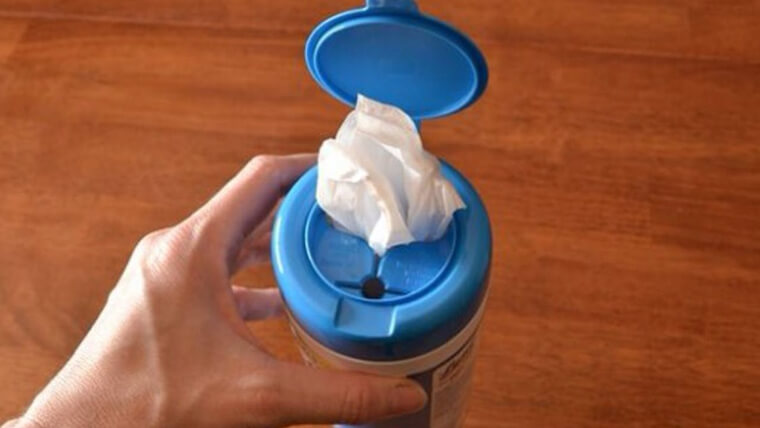 Just ensure they're arranged in a way that makes them easy to access. This DIY hack is a great way to keep your plastic bags tidy and easy to find.
Drill Holes to Stop Bin Bags From Getting Stuck
Some household tasks, like taking out the trash, are nothing short of a drain. The moisture and humidity of a full trash can results in it getting stuck to the bottom of the base, sometimes tearing the bag. Fortunately, a straightforward option to avoid this dilemma is to drill small holes in the bottom of the trash can to prevent bin bags from getting stuck. The holes allow air to flow into the bag, preventing a vacuum seal from forming. This makes it easier to remove the bag when it's full.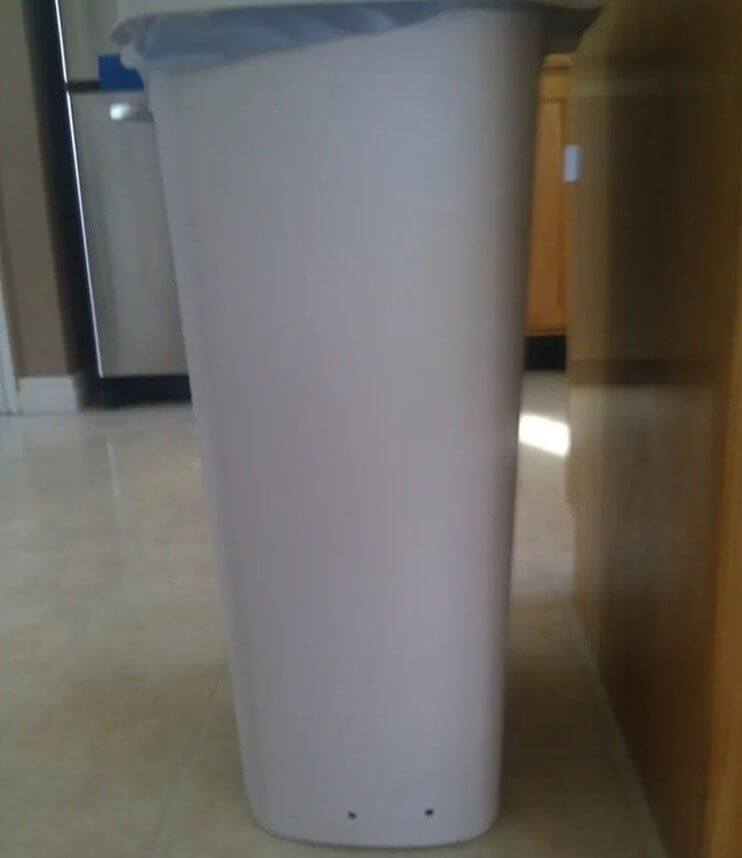 This is particularly useful for those who struggle with removing full bin bags and have experienced the frustration of a bag that just won't budge. It's a simple, effective solution that saves time and prevents messes.
Use a Mug's Ceramic Edges to Sharpen Your Knives
A sharp knife is a cornerstone of cooking perfection. However, sometimes, buying sharpeners can become a burden on your budget. So instead of buying new, why not use your old ceramics to do the job for free? The unglazed ring on the bottom of ceramic plates or mugs contains a rough surface that can sharpen the blade. To sharpen a knife, hold the ceramic object with one hand. Then, run the blade at a 20-degree angle across the unglazed ring.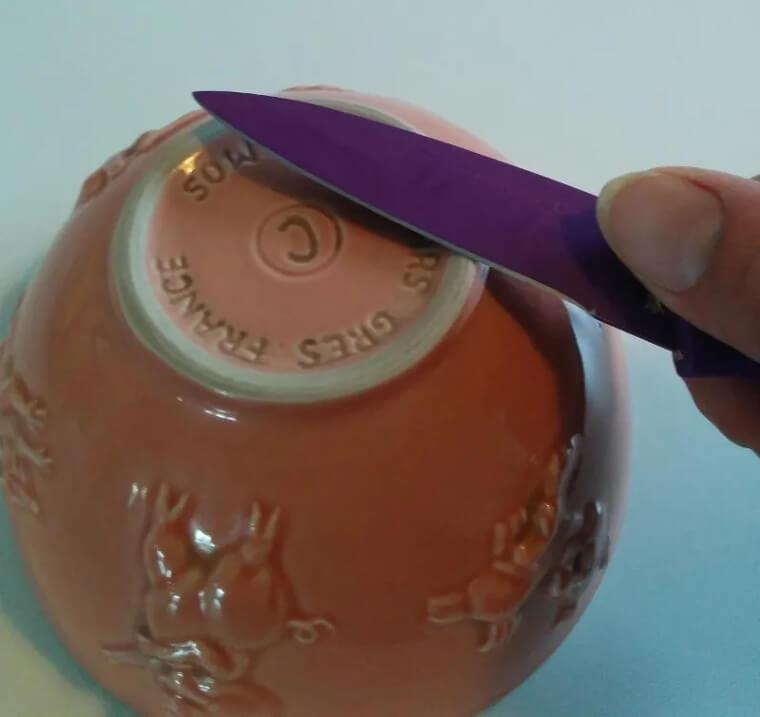 Be sure to use light pressure. Repeat this process several times, alternating between each side of the blade until sharp. You should be ready to chop your veggies in no time!