Everyone has had one of those awful days when you just can't catch a break. It seems like everything is going wrong, and you just want to go to call it quits and start fresh tomorrow. From having the printer explode ink in your face to grabbing the cat litter instead of your lunch on the way out the door, these things are definitely going to ruin your day. Luckily, there is a cure, laughing at other people who are having a worse day than you. Continue reading to make yourself feel better about the terrible and annoying problems in your life.
Never Sculpt Dr. Who Characters Out Of Snow
This woman learned from experience that she would never build a Dalek from Dr. Who out of snow. She realized that her snow Dalek was upsetting to the neighbors once it started to melt.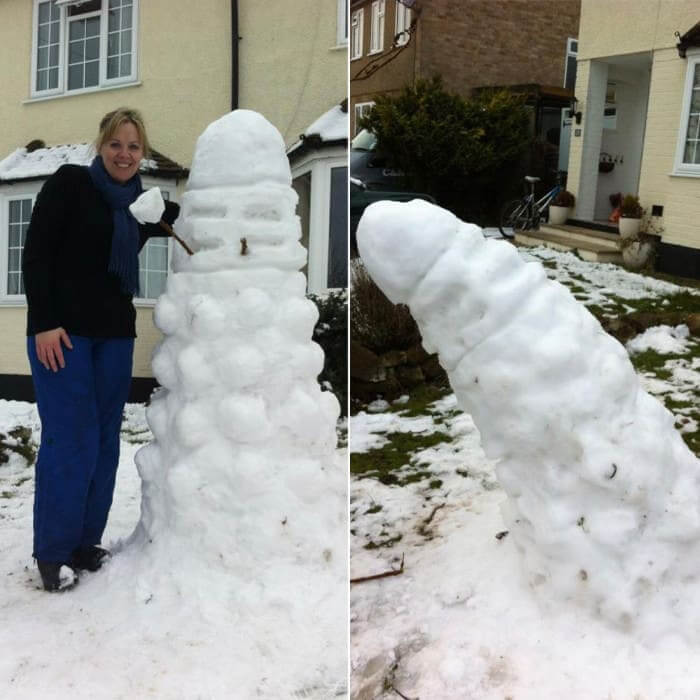 If you are unfamiliar with the show Dr, Who, a Dalek, is an extraterrestrial race of mutants portrayed in the show. This quickly went from a snow Dalek to snow phallic.
The Printer Exploded
This could be confused for a coal mining mishap, but it is actually ink from a malfunctioning printer. The problem here is that ink stains, and he is going to be scrubbing for days before this entirely wipes away.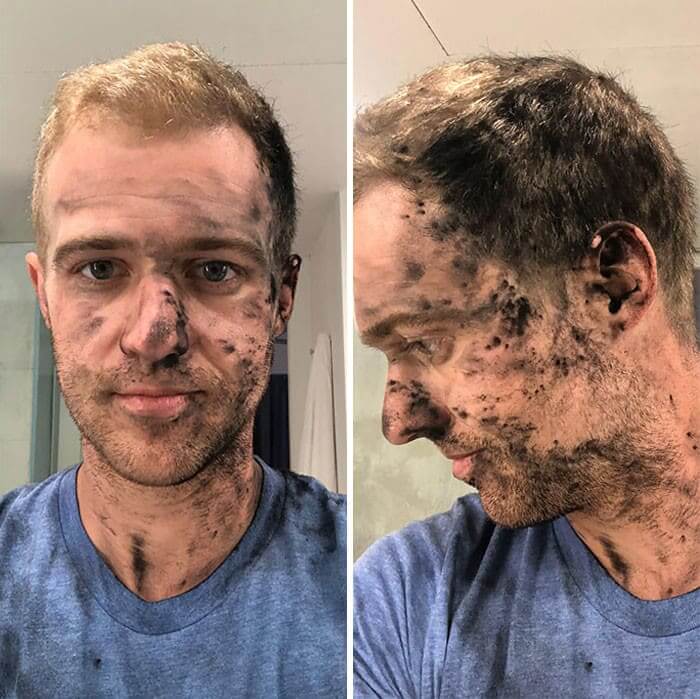 Never mess with an angry printer; you will most likely end up with a face full of ink and toner. It's like they say, "you mess with the bull you get the horns."
Mom And Dad Think You're Stupid
This guy was going through some old stuff at his mom's house, and he found this old book. It took him 49 years to find out his parents have thought he was stupid since he was a child. It took him half his life to find the book, so is the title correct?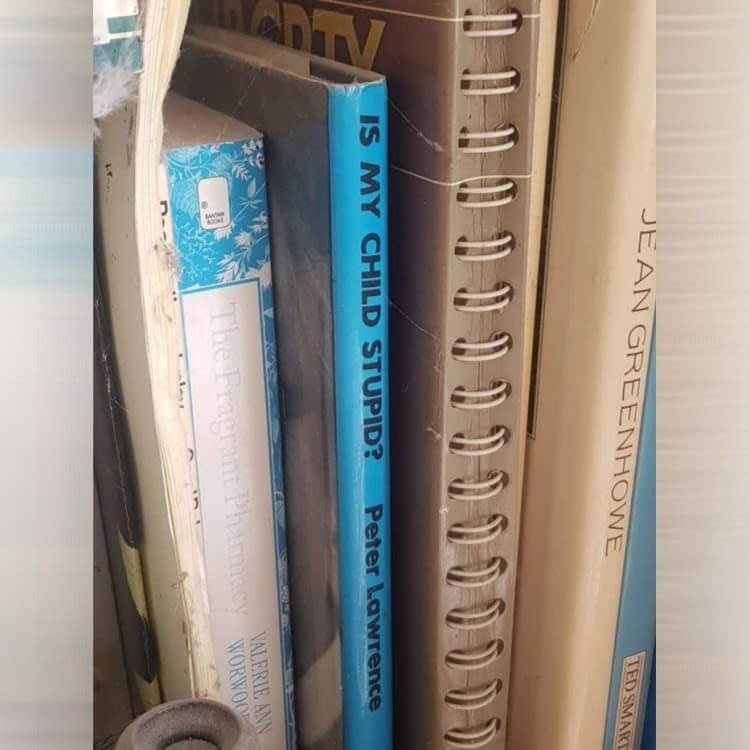 If you look on the bright side, it seems like it hasn't been read in a while, so his parents must have stopped questioning his level of intelligence. At least his mom cared enough to ask those questions and seek information.
Finding Out Your Secret Hair Dye Allergy
On the bright side, her hair looks fabulous, so she has that going for her. On the downside, her face looks like a pufferfish because she didn't know how allergic she was to hair dye. This must be why people recommend that you do a skin patch test before you use new products.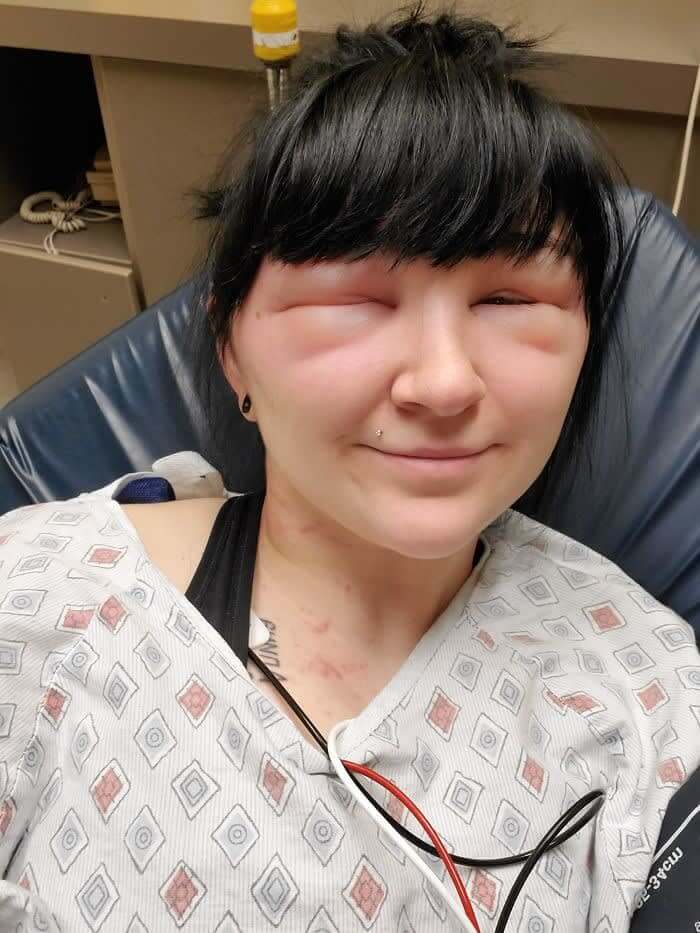 This is a unique way to get rid of wrinkles at once, but it is probably not safe to do this every few months like botox. "Maybe she's allergic; maybe it's Maybelline."
That Awkward Moment When It's Not An Automated Message
Usually, doctor's offices will send automated text messages to remind patients about upcoming appointments. This guy thought it was one of those texts, so he replied with a childish response, but he was embarrassed to find out that someone read his message.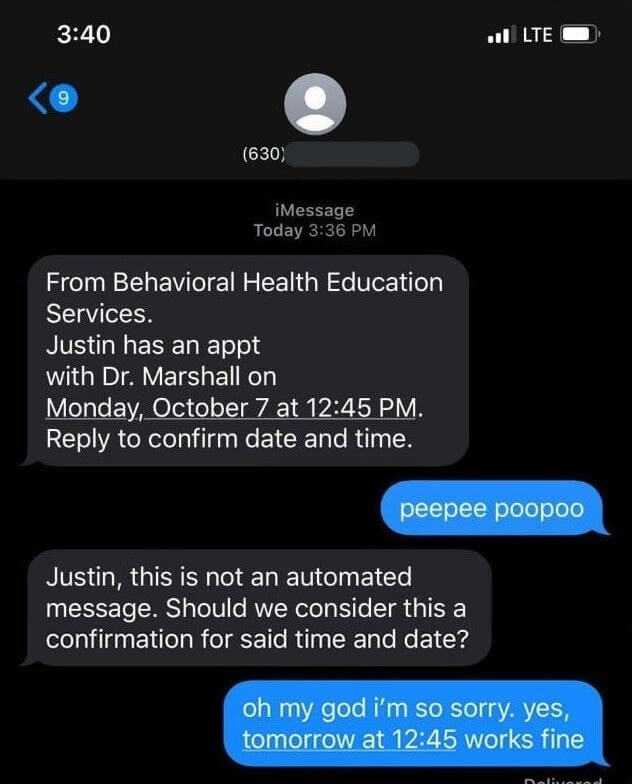 It looks like this guy is going to be searching for a new psychiatrist. Good thing he is seeing a psychiatrist so that he can recover from that level of embarrassment.
The Not So Cute Side Of Getting A Puppy
Puppies are adorable, aren't they? They are so cuddly and warm, and would never do anything to gross you out, right? The truth is that puppies will have explosive diarrhea all over you, but you still love them because of those adorable faces.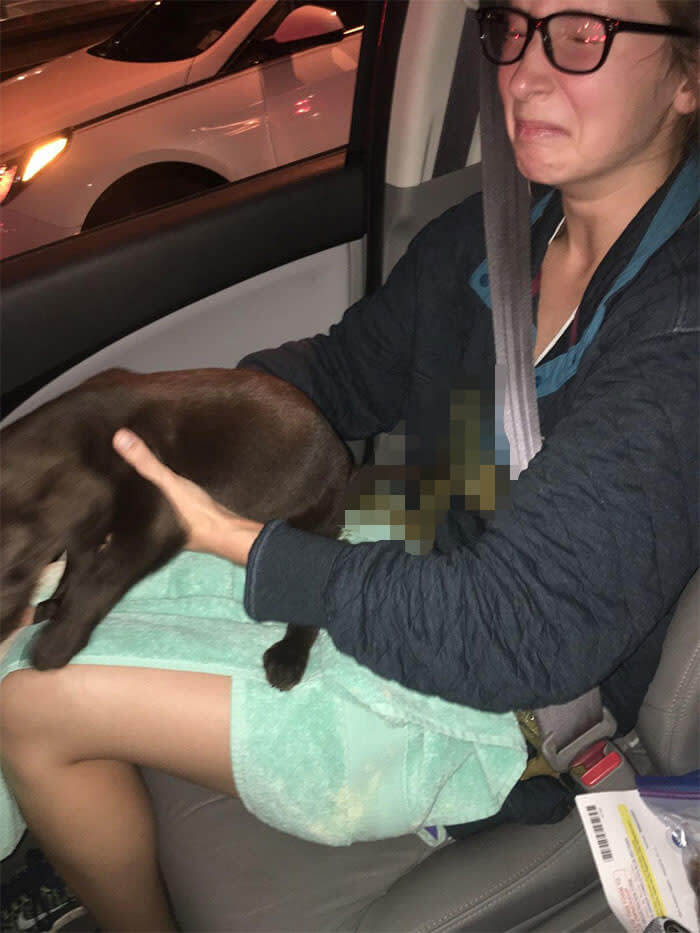 We guess she learned not to hold a new puppy on her lap in the car. At least if it were in a crate, the poop wouldn't be all over the woman. You can wait a few minutes to get home and cuddle your new puppy instead of holding it in a dangerous position.
A Picture Is Worth A Thousand Words, This One Just Says, "Ouch"
"And I'm free, free fallin', fallin'." This person was enjoying an exciting day on the slopes, right before they face planted off a hill into the snow like a cartoon character. It looks like Wile E Coyote was chasing after Roadrunner on the slopes.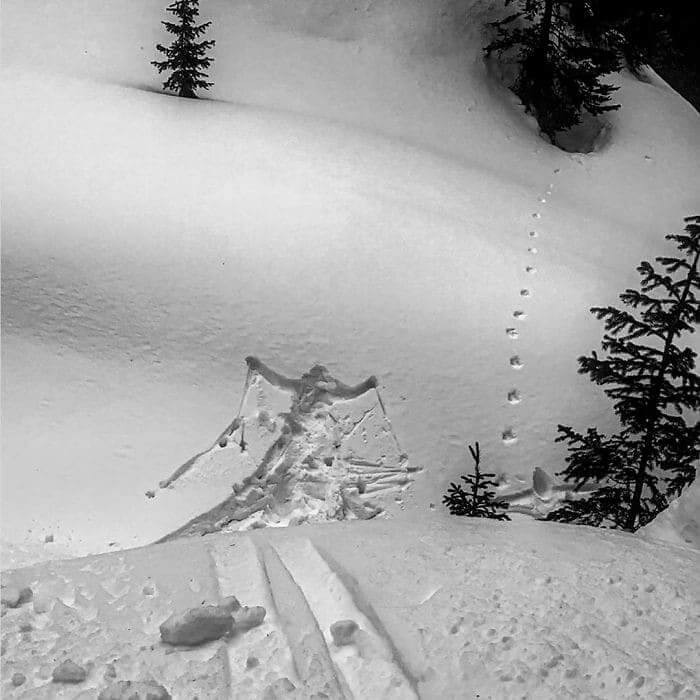 The weirdest thing is that there are no footprints or ski marks to indicate the person got up or got help. Did they blast out of the other side in a snowball like a cartoon as well?
That's An Unfortunate License Plate
This Grand Rapids, Michigan, reporter got her new license plates in the mail only to find out she has to drive around with "Dicks 24/7" on her car for everyone to see.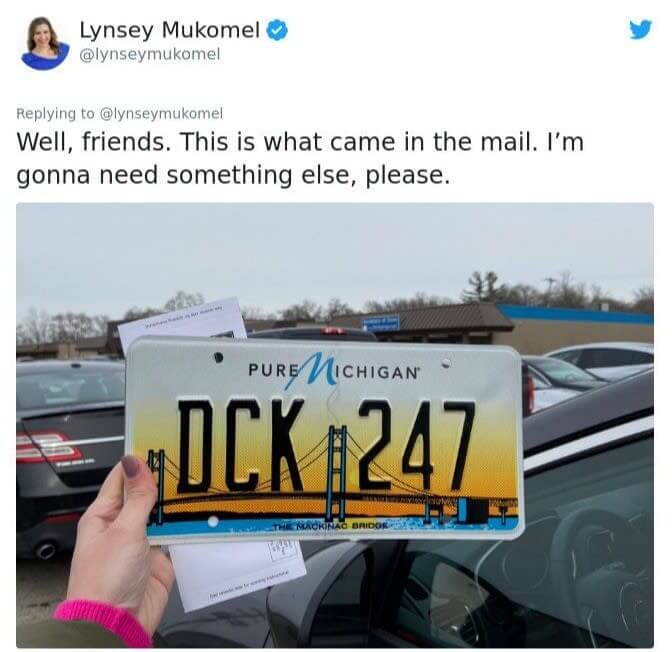 This is the result of men making license plates; they become dirty and childish jokes. At least she will never forget her license plate number, and an officer might let her out of a speeding ticket because he is laughing too hard.
The World's Saddest Birthday Party
This little girl is named Elizabeth. Her parents call her Liz or Lizard, and for her birthday they wanted to get a cake with her nickname on it. The woman at the bakery must have heard something else because they did not get the cake they wanted.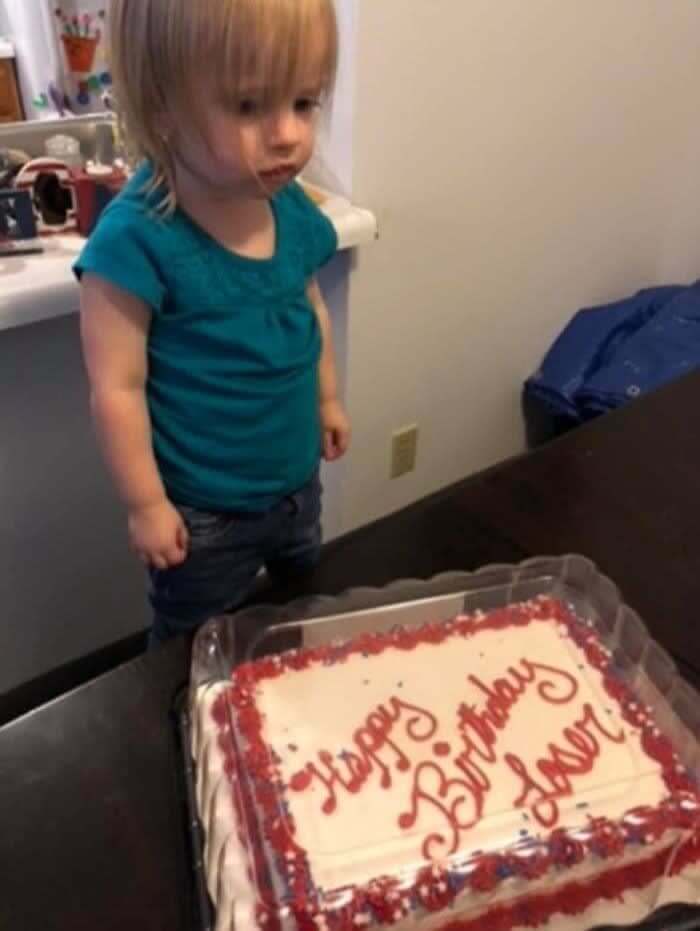 The cake says, "Happy Birthday Loser," instead of what they ordered. The little girl looks so sad and defeated about her birthday cake. Luckily, she is young enough to laugh about this when she gets older.
The Pillsbury Dough Boy Rises Again
When the bakers made the wrong dough mix, they threw the batch in the dumpster, but they didn't think that the yeast would continue to make the dough rise once it was thrown away. This looks like a job for the Ghost Busters to clean up.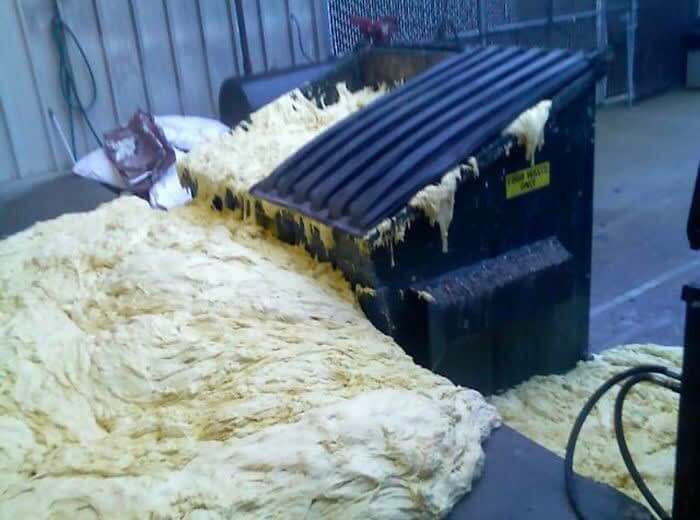 Can you imagine walking through that alley and stumble upon this scene? You might think an alien creature is growing out of the dumpster. You have to wonder how much dough they threw away for it to rise this much.
When Sausage Rolls Go Terribly Wrong
If you are reading this at work, you might want to keep scrolling past this photo because it is NSFW. Yes, these are only sausage rolls that have gone wrong, but you can't unsee the phallic objects.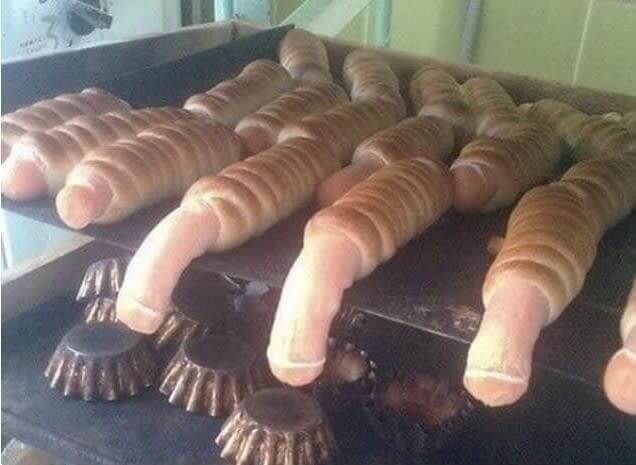 Although it is difficult to not stare at the three rolls in front, we could not help but notice what looks like giant Reese's cups on the lower rack. Sometimes you have to find something more appealing to look at.
She Is Reflecting On The Refraction Of Water
This girl is self-aware enough to know this is the worst photo of her on the internet. She almost looks like a grumpy lawn gnome that got thrown into the pool, but there aren't many people who would look their best in this situation.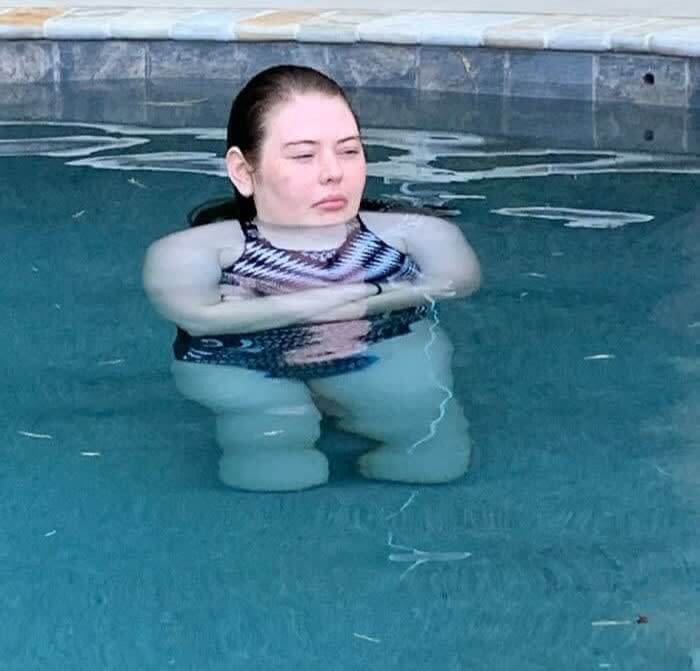 Things look different when they are underwater because of the refraction that occurs there. Basically, you will always look morphed when looking into the water from above the surface.
"I'm Not A Regular Priest, I'm A Cool Priest"
Live streaming can be challenging to navigate if you are not well-versed with technology. This priest accidentally did his entire live stream service with the hat and sunglasses filter. It is hard not to laugh at him even though he is in the middle of a religious ceremony.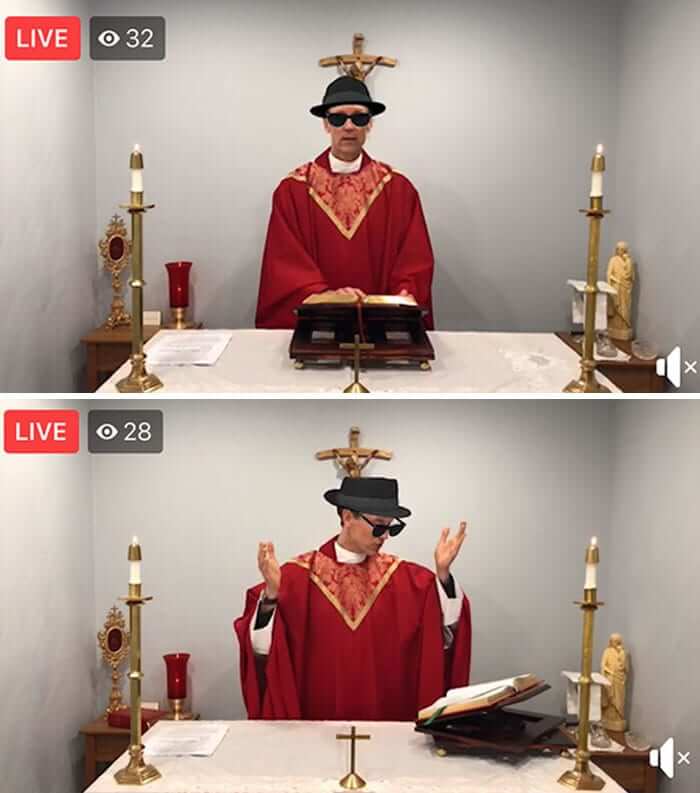 It would make Mass much more entertaining if more priests used filters like these during their live streams. Since many things have become virtual, like work meetings, people are accidentally using filters more often than they know.
Who Let Bobble Heads Report The News?
​Her head must be so large because it is filled with so much news and information. Also, it is a mystery how she can hold up her head with such a small body. She must fall over because of the weight of her head.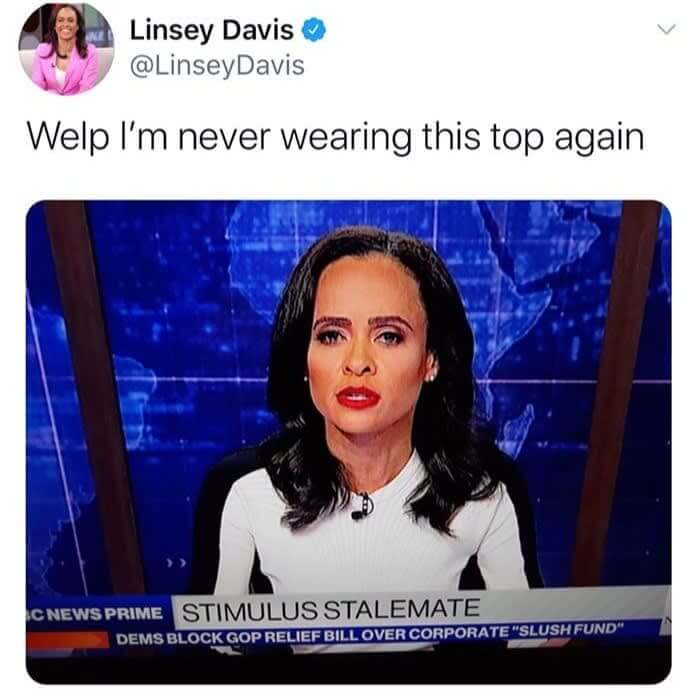 ​Between the color-blocked shirt and the forced perspective, this photo will have you scratching your own head, trying to figure out why she looks so disproportional.
That's One Way To Try Out A Tattoo
Some people have to learn lessons the hard way, and this woman learned that even on a cooler day, the sun can still burn you. Now she is stuck wearing pants until her burn goes away or she can even out her tan, but that will be difficult.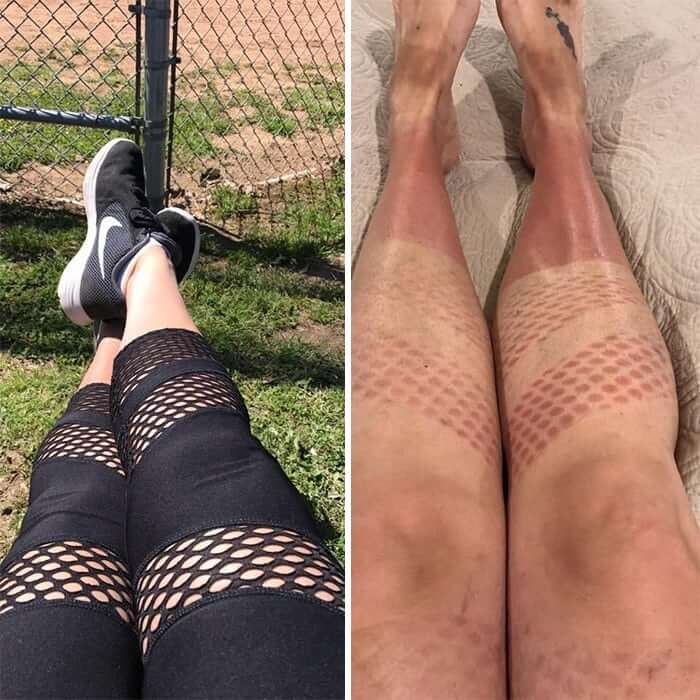 There is always that one summer where you get a horrible burn, in some horrible pattern, and it never fully fades for at least a year. That is usually when people learn their lesson about wearing sunscreen.
Welcome Home New Puppy!
Get a puppy, they said, it will be cute and cuddle, they said. This guy just picked up his new puppy, and he is already wondering why he let her sit on his lap for her first car ride. The first fact about puppies is that they get carsick easily.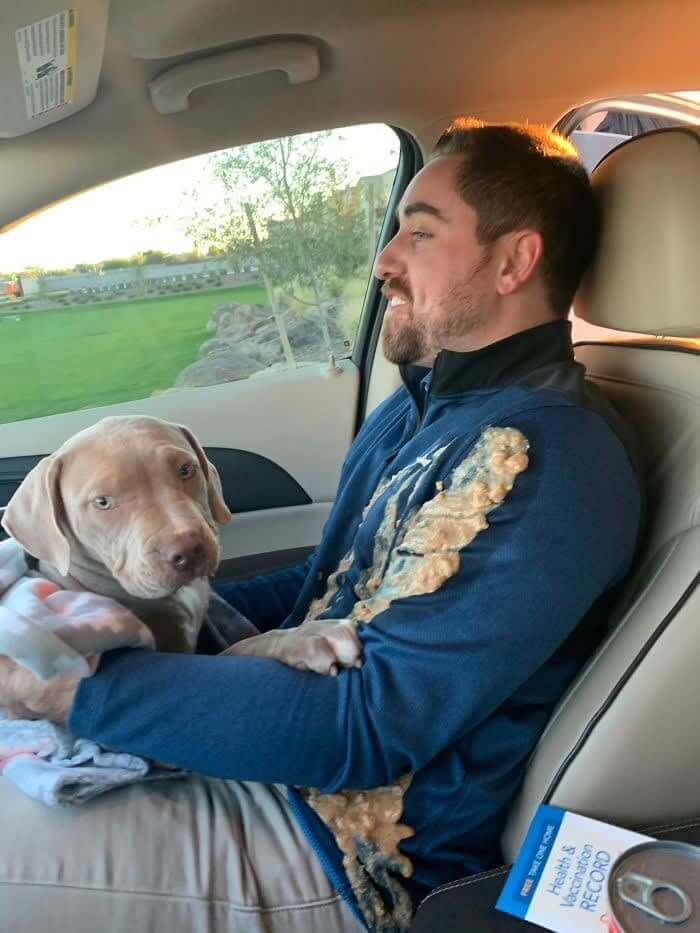 His face says it all because you know he is about to say a particular word that starts with "F." Also, puppies should be caged or secured during car rides because they can get hurt sitting in the front seat just like a baby.
That Pretty Much Sums Up Senior Year 2020
Anyone who was in the class of 2020, our sincerest condolences go out to you because your senior year was basically canceled. Senior year is supposed to be the most exciting with so many events to look forward to right before summer, but that was not the case this year.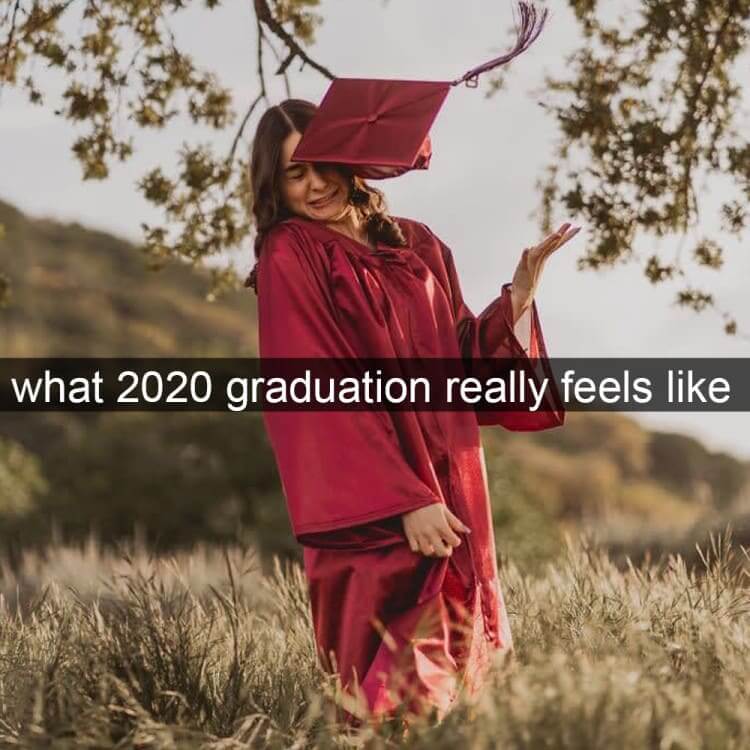 Everyone had to complete all their work in the confines of their homes, and graduation ceremonies were canceled. Therefore there isn't even a day to commemorate all your hard work. Can we fast forward to 2021 already?
"Where The Heck Is My Drill?!?"
This person was searching for over an hour to find the drill. It blended right into their bedspread, and we can only imagine the level of frustration they experience. We would be at the level of smoke blowing out of our ears in this situation.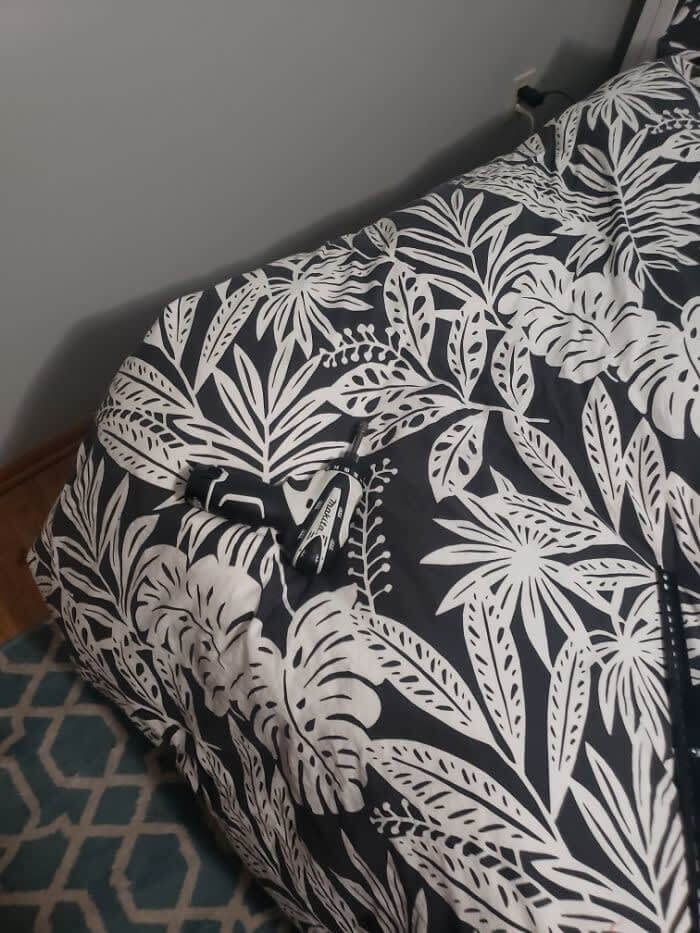 The drill must have been switched onto stealth mode, but now we understand the need for bright orange tools. You can never lose those things on a black and white bedspread.
The Cat Brought Back Someone Else's Keys
Outdoor cats spend most of their days outside, and they are allowed to roam. This is an outdoor cat who brought home someone else's keys after a day of roaming.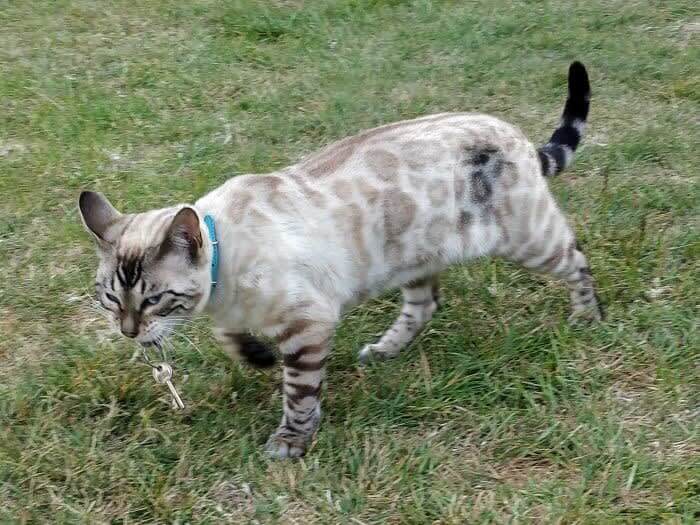 Now we know where the term "cat burglar" came from. Instead of bringing his owner a dead mouse or bird, he brought the keys to a house. Thoughtful, but someone is probably looking for those.
They Need An Intervention, Not A Convention
This man should not look so disappointed on his wedding day, but we would make that face too if the event hall booked a furry convention for the same day. They ruined his wedding pictures and annoyed him on the most special day of his life.
If the groom is this upset, think about how the bride must feel. She just spent months planning the perfect day, and then the venue makes a huge mistake. Also, we would like to meet someone who attends these furry conventions to see what they are like without the costumes.
Prepare To Be Terminated
Sweet, sweet autocorrect will get you into a world of trouble if you are not careful about proofreading your text messages. It's almost like the phone chose not to send the important messages just to screw this person over and make their mom mad.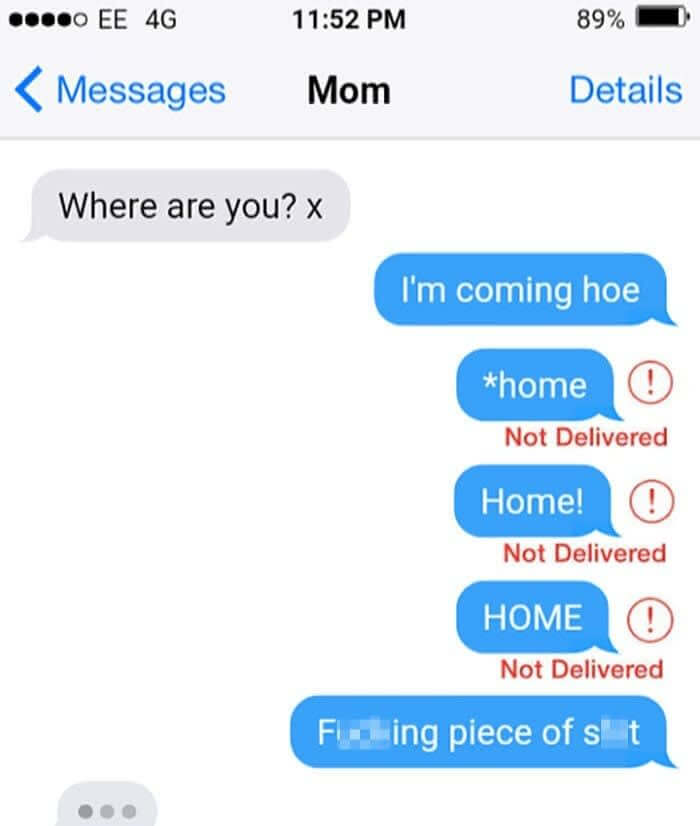 We would probably stay out for a little while longer, so our mom had time to cool off. She will probably be too angry to look at his phone which has the evidence that he wasn't saying derogatory things to her
It's As Simple As Having A Dog License
Why would Facebook need a copy of your driver's license if you are locked out of your account? What if you are one of those people who never got their license or you are a dog, so you don't have one to show.

The dog prefers to chase cars rather than drive them, hence no driver's license. Maybe Facebook would accept an ASPCA license. We guess it's her fault for making her dog its own profile in the first place.
An Honest Yet Hilarious Mistake
Why is it that people who happen to have speech impediments always happened to have names they can't pronounce. Poor Reid can't say his own name, so his counselor was calling him "Weed" for a few days.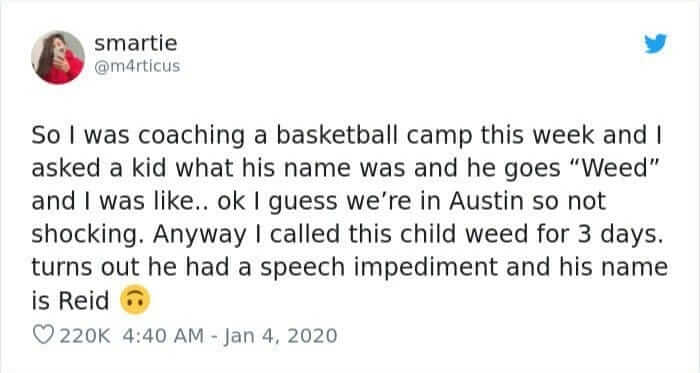 The best part about this is that she didn't double-check his name; she just thought that "Weed" was a regular name. Who knows though, maybe in thirty years, that will probably be a trendy name for children.
Cover It With Icing And The Problem Is Solved
When baking, you should expect the end result to look much different from the batter that you put in the oven. Although the top looks like the backend of a unicorn, this is something that can easily be fixed with icing.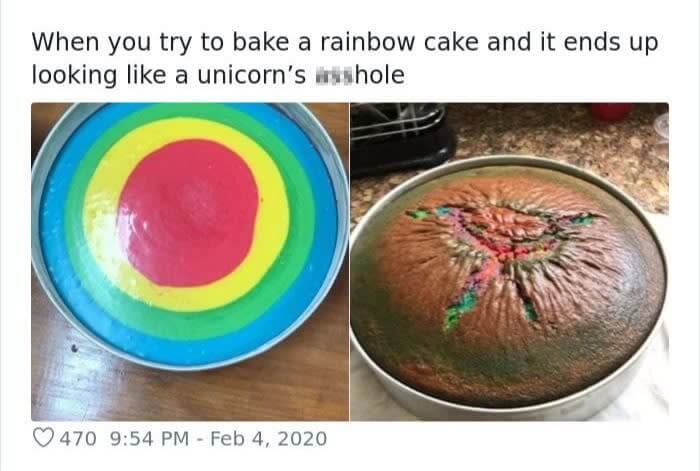 You can see in the cracks on top that there is still hope for this cake. It is still bright and colorful inside, so once the cake is covered in icing and cut, people will be able to see the beauty.
Pigeons Are The Absolute Worst
Birds are rude, and pigeons are objectively the rats of the sky, so they are the worst of the worst. Don't believe us? This person came back to their apartment after being away for a few weeks and found this scene in the bathroom.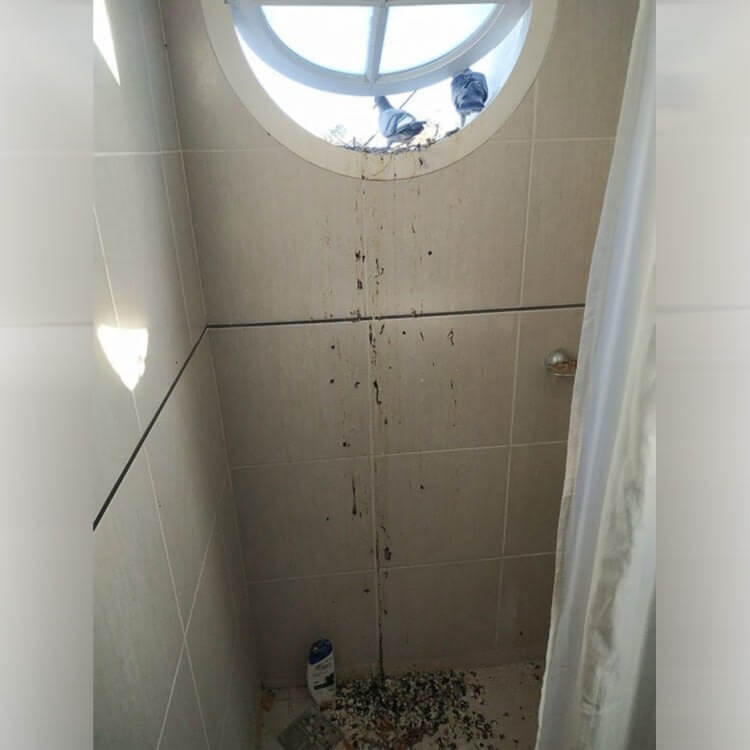 The funny thing is that the birds learned to use the bathroom, but they didn't aim for the toilet. We would not want to be this person who has to clean all that up.
When Your Parents Have Security Cameras At Home
Have you ever craved a snack in the middle of the night, so you sneak down to your kitchen to grab something quietly as not to wake anyone up? This girl was just trying to get some cereal and ended up falling in her tired state.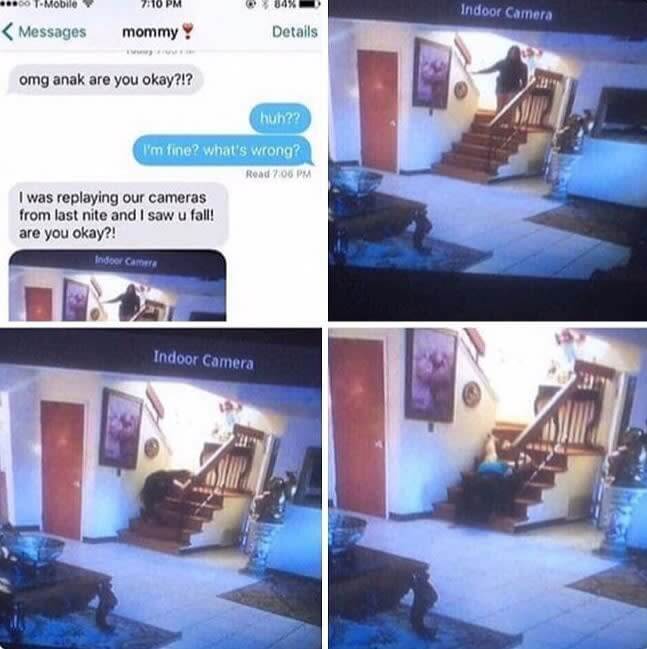 Now she knows her parents have security cameras; that's one way to find out your parents are always watching. Also, how did she fall down the stairs without injuring herself? It looks quite painful.
After You Lost The Rights To Your Stock Photos
This guy posed for some stock photos in between some small acting jobs, and he didn't know what the images were going to be used for since anyone can buy the rights to stock photos. His friend then sent him a picture of his face on the side of the bus.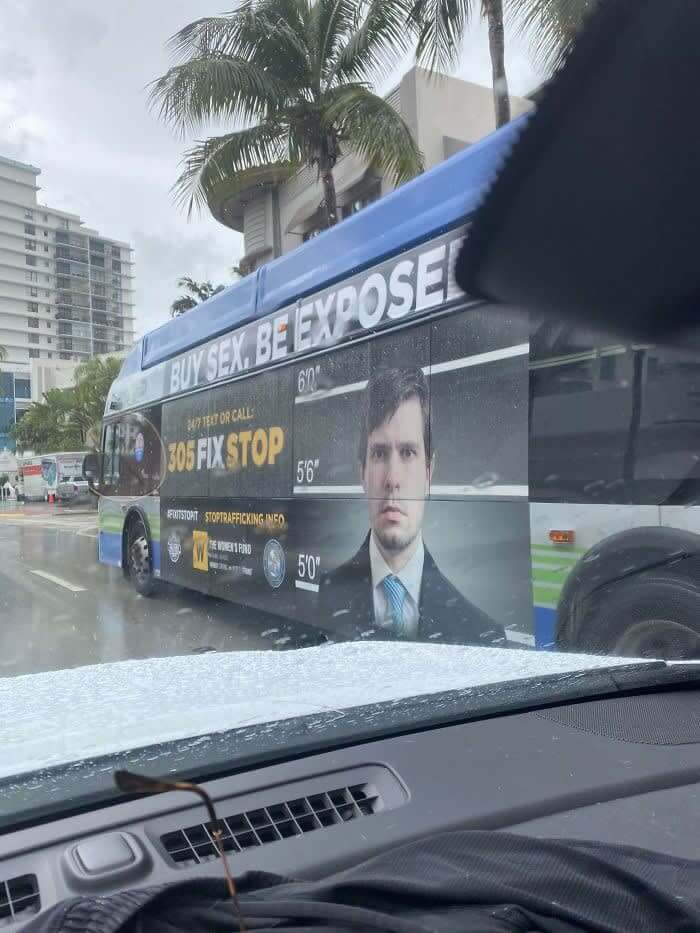 His face is being used for a sex offender ad, and there is nothing he can do because they bought his stock image. Hopefully, no one recognizes him for this as he walks down the street. Otherwise that could get awkward for him.
Just A Little Ice, No Big Deal
While we are sure they are grateful that no one was in the car when the ice fell, they are probably pretty upset about their wrecked vehicle. With a bit of buff and a fresh coat of paint, it could look like a prettier piece of trash.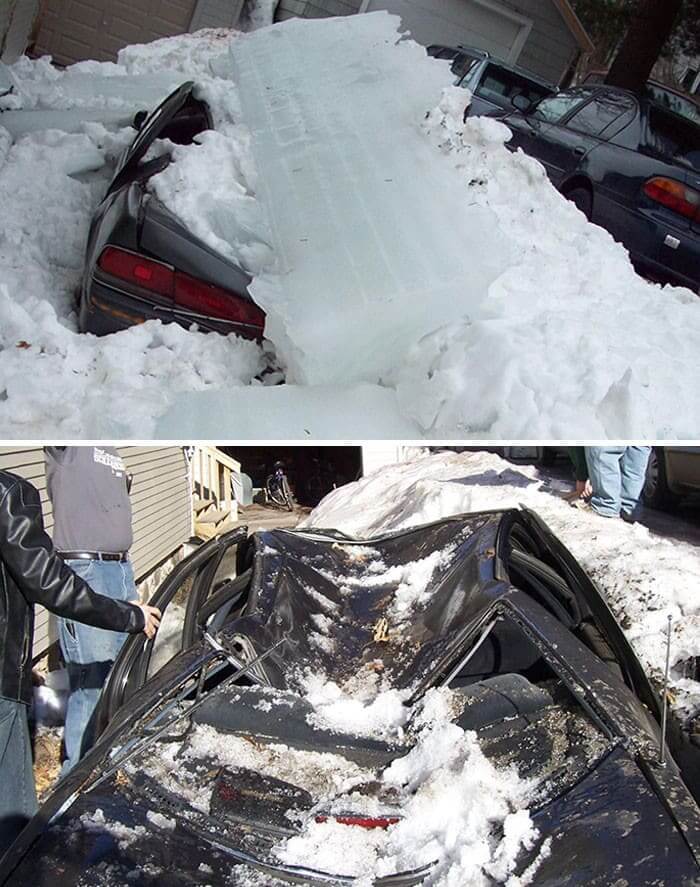 Where does this person live that there are giant blocks of ice falling from roofs? That seems like it was an issue with the roof itself because ice shouldn't build up that much.
When You Throw Away The Wrong Bag
This person brought two bags out of the house, one with used cat litter to throw away, and the other had his lunch. He accidentally threw away his lunch and drove around with used cat litter, not realizing the situation until he had already gotten to his office.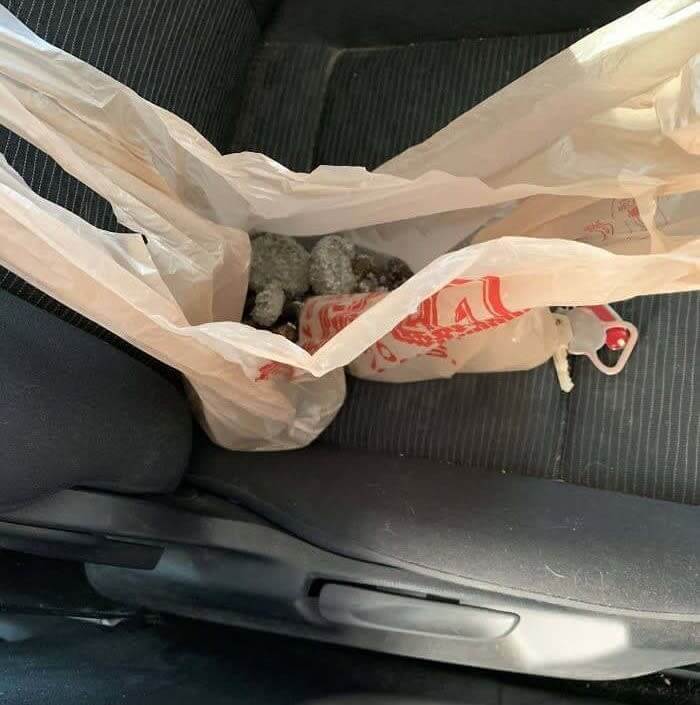 At least no one at work will be stealing his lunch today. Can you imagine his co-worker's reaction if he didn't realize and put the cat litter into the office fridge. Someone would walk in and say, "who brought cat poop for lunch?"
I'm Lovin' It?
This is what happens when you order from Doordash and accidentally de-select meat and bun from your cheeseburger order. That is exactly what happened to this person, so they ended up paying $6 for two slices of American cheese.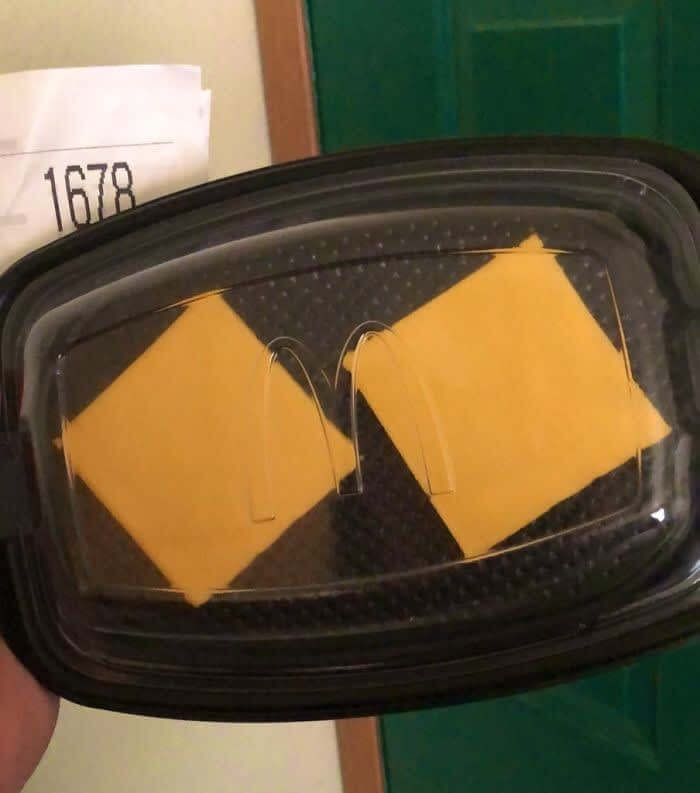 Why would McDonald's think that someone actually ordered two slices of cheese and nothing else? Wouldn't they think to just include the bun and patty just in case?
They Might Need A New Tooth Brush
When his toothbrush didn't make a sound after it fell, he was confused and then instantly disgusted. We are praying that this person replaced their toothbrush instead of just rinsing it off.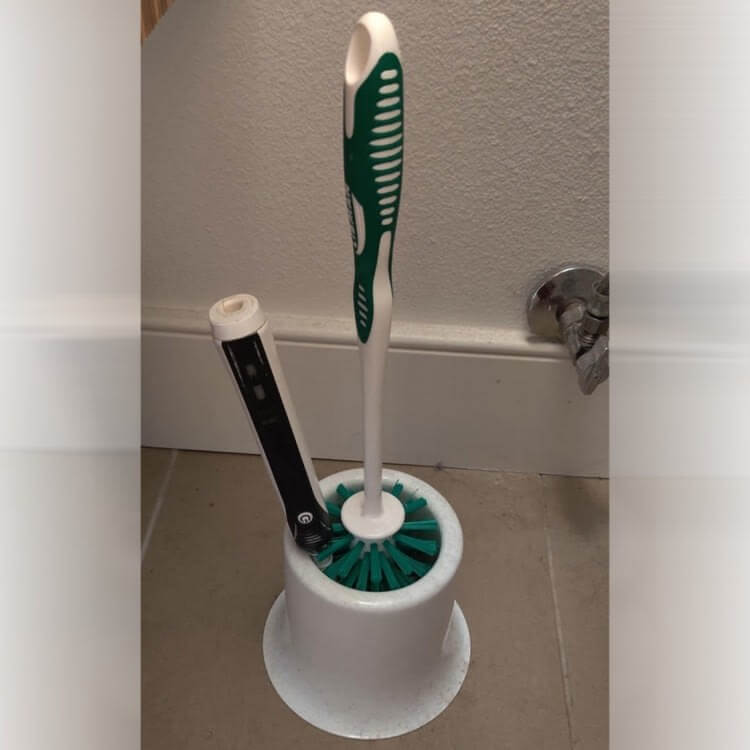 To be fair, this person should also check out the cleaning supply aisle when they go to pick up a new toothbrush. We don't mean to criticise but it looks like they haven't dusted in quite some time.
Ox Marks The Spot
After hiking for two hours and setting up a lovely picnic spot, these people walked away for a minute and returned to an ox on their blanket. The ox was grateful that the people set up a meal for her, so she wanted to thank them.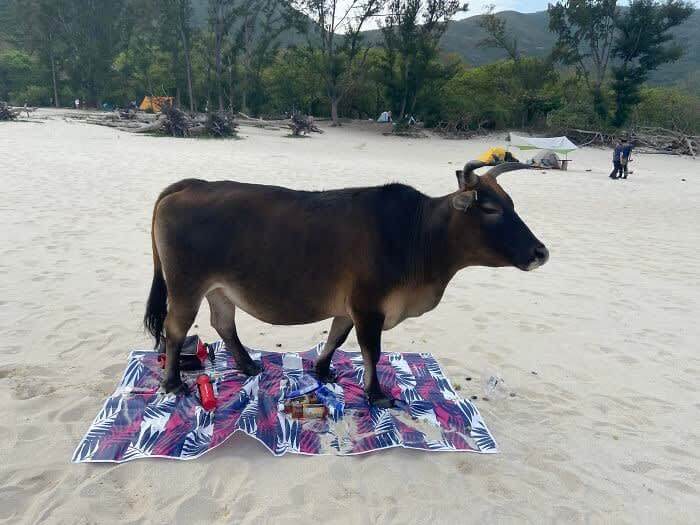 In the ox's defense, they shouldn't have walked away right after setting up the picnic. She just felt the need to teach them a lesson about leaving your stuff unsupervised.
Try Finding Your File In This Room
This must be an ancient company for its filing system to not be digitized. Let's bring them into the 21st century. This guy is going to have a hard time finding the exact file he needs in this mess of paper.
He might be in there for a while, so he should make it his personal office. Those files must date back to the early 1900s based on the sheer amount that is visible in the picture.
Not The Chili!!
If you are a fan of The Office, you will remember the episode where Kevin brings in his homemade chili that takes him days to make, and then he spills the entire pot. This image is reminiscent of that moment in the show.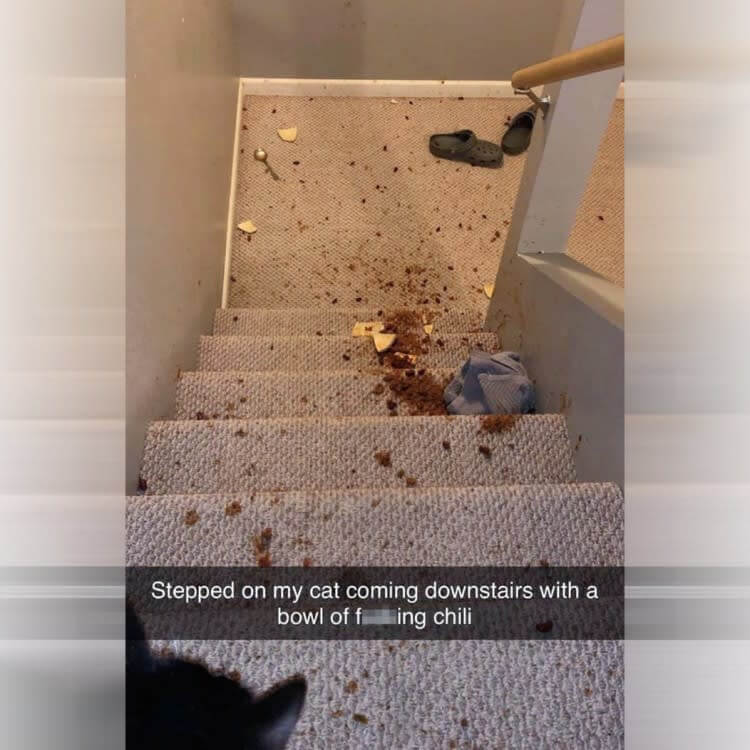 This guy stepped on his cat, and his bowl of chili went flying down the stairs and all over the wall. That is not going to be fun to clean out of the carpet. The cat, meanwhile, is proudly staring at the chaos she created.
When You Lose The Last Piece Of A 2,000 Piece Puzzle
After spending plenty of hours working on finishing this 2,000 piece puzzle, this person made it to the last piece and realized it was nowhere to be found. There is nothing more frustrating than one missing puzzle piece because you feel like it is never completed.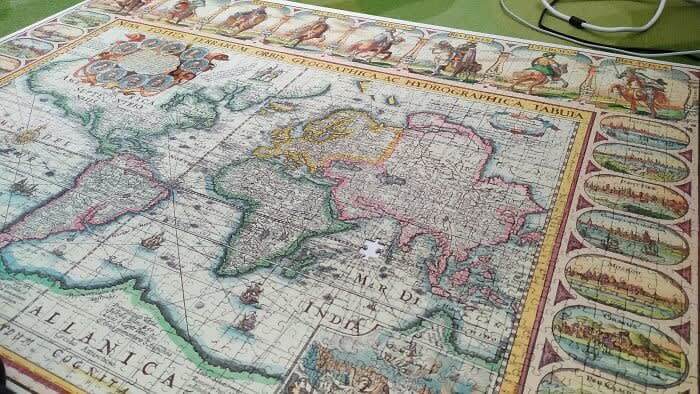 If they have a cat, that should be the first place they look for the piece. Cats are notorious for stealing things and making your life ten times more complicated than it has to be.
The Gobble Stone Streets Will Get You
The streets were hungry, so they decided to eat someone's car. We thought the potholes were bad where we lived, but this is much worse than we ever could have imagined.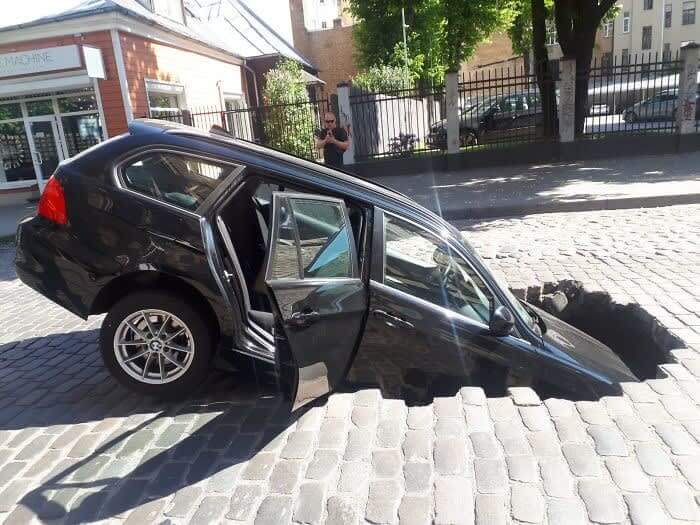 Were they trying to get to the underground parking faster? Wouldn't you be terrified if your car started falling through the middle of the street as if a portal to another world opened beneath you?
There Goes $300 Headphones
This dog knows she did something wrong, so how can you be upset with that face? She was probably annoyed that her owner would always ignore her while wearing the noise-canceling headphones, so she took revenge.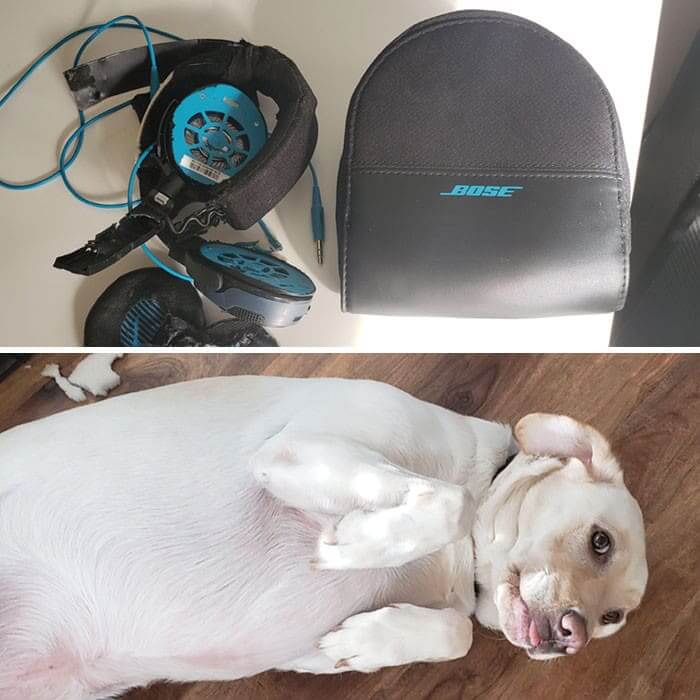 This person not only has to replace the $300 headphones, but he also has to pay to take his dog to the vet to make sure she didn't swallow any of the pieces. That was expensive revenge on the dog's part.
We All Know Who The Favorite Child Is
When you send your mom flowers for her birthday with a card that says, "from your favorite child," and she automatically assumes they are from your sibling. Now this person knows who the favorite child really is after all these years.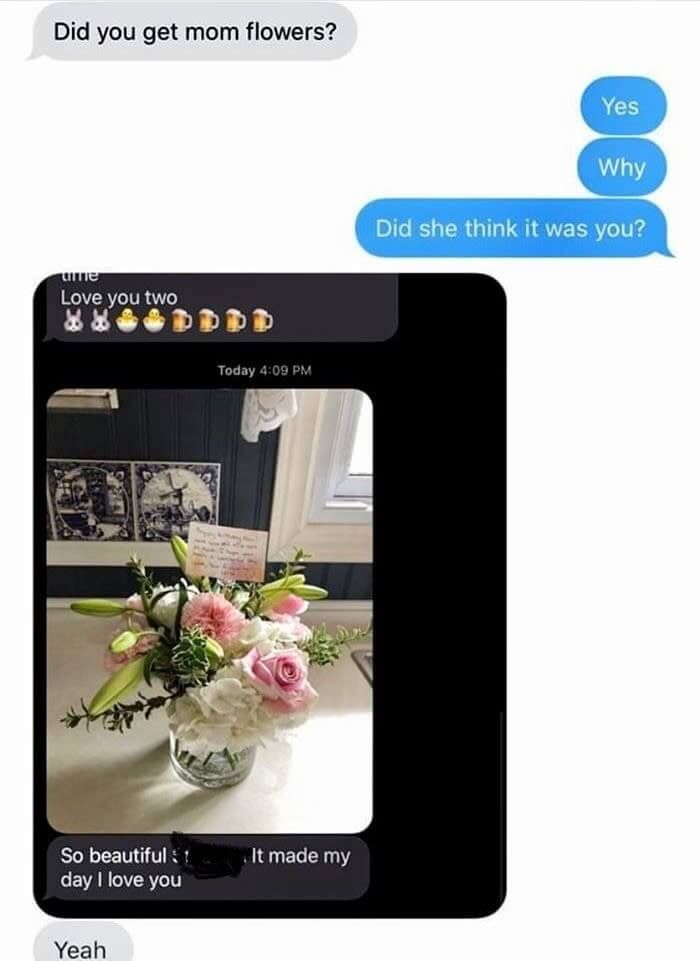 It must really hurt to find out you are not the favorite. This will make for an exciting discussion at the next family gathering. Get ready for the real family feud all because you tried to do something nice for your mom.
After Freshly Seeding The Lawn
This person put fresh grass seed on his lawn, and a week later, this was the progress. We didn't know you could grow snow from lawn seed. That would have been good to know when we wanted snow days in high school.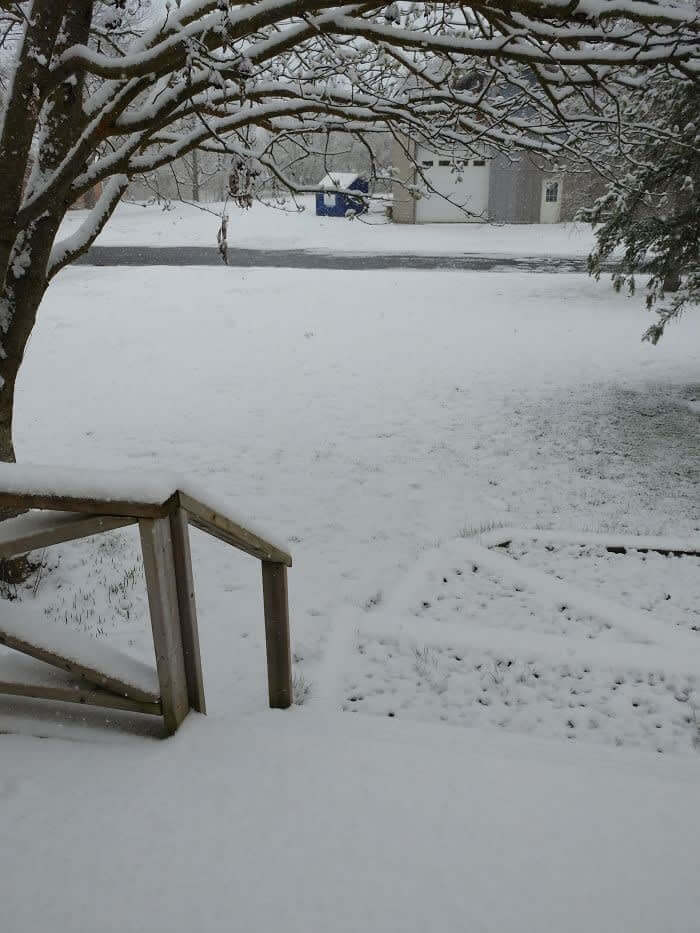 Hopefully, the moisture helps the lawn grow in nicely. If there isn't a deep freeze, this snow could be very beneficial to the new grass. It is also better than sprinklers because snow doesn't break disturb the bare ground.
Ever Wondered What Happens After You Wash Leather?
Instead of having gloves that fit his adult-sized hands, he now has leather gloves for a child or an adult with child-sized hands. OJ Simpson would have called this guy an amateur. "If it doesn't fit, you must acquit."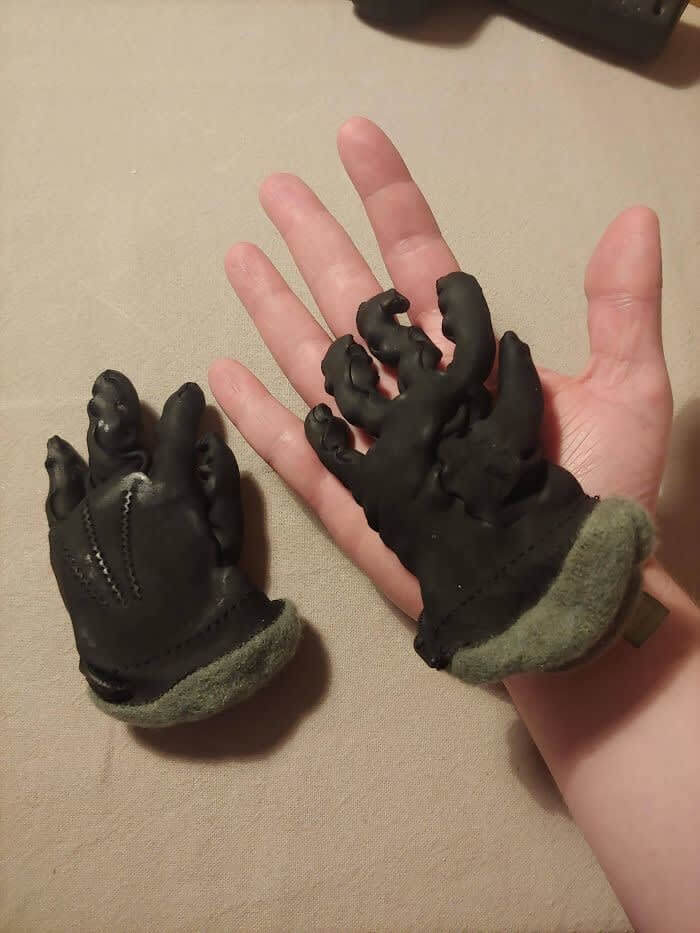 There is probably a Google entry on how to stretch leather gloves back to their original size, but we don't know if that could save this misshapen set and make them wearable again.
This Is An Eggstra Bad Situation
Whoever's job it was to strap in the egg trolley on the truck is getting fired. They are going to have some very angry chickens on their hands because they did all that hard work to lay eggs, and it went to waste because of a minor mistake.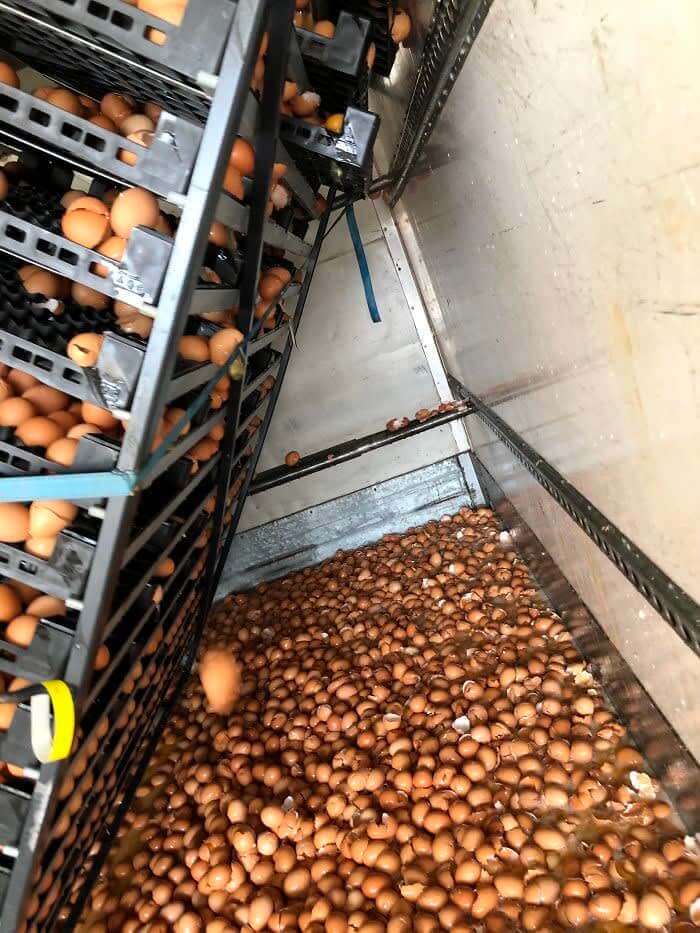 The person who is stuck cleaning this up is having the worst day out of anyone. They have to get rid of all the shells and insides. That's like cleaning up a giant pool of snot.
Indoor Pool Or Flooded Basement?
It was a lovely Valentine's evening when this man and his girlfriend sat down for dinner. He went down to the basement to check why the heater wasn't working and discovered he had an indoor swimming pool in his basement.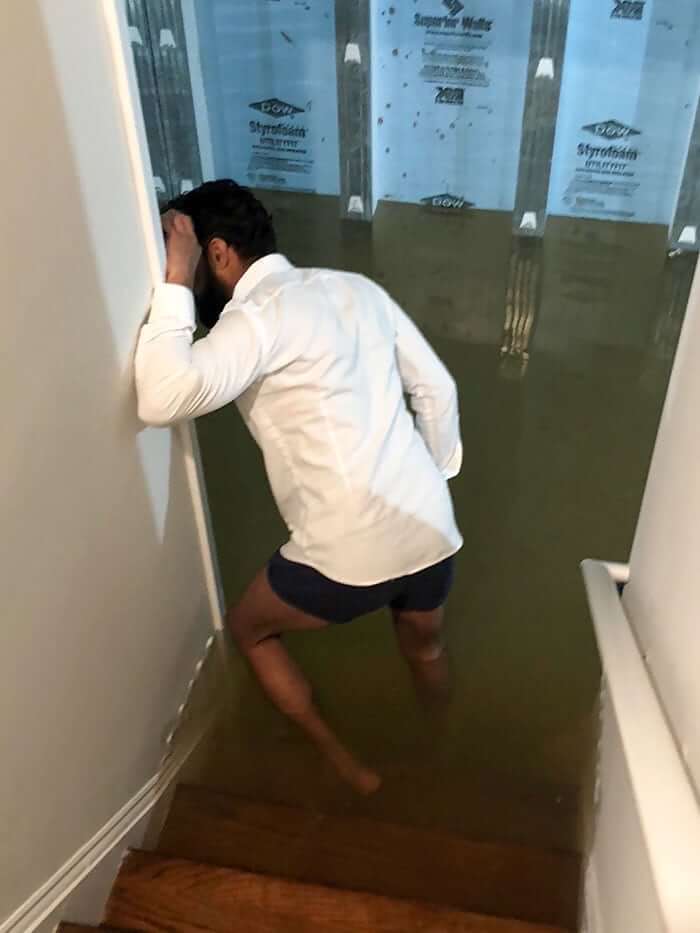 He probably shouldn't put his feet in the water, considering he could be electrocuted but to each their own. That is one way to ruin the mood during a romantic night in with your significant other.
When You Are Allergic To Almost Everything
This boy found out he was allergic to almost everything on the skin scratch test. The doctor couldn't distinguish between each mark because they were swollen together. Maybe the boy is allergic to the doctor, that would make much more sense.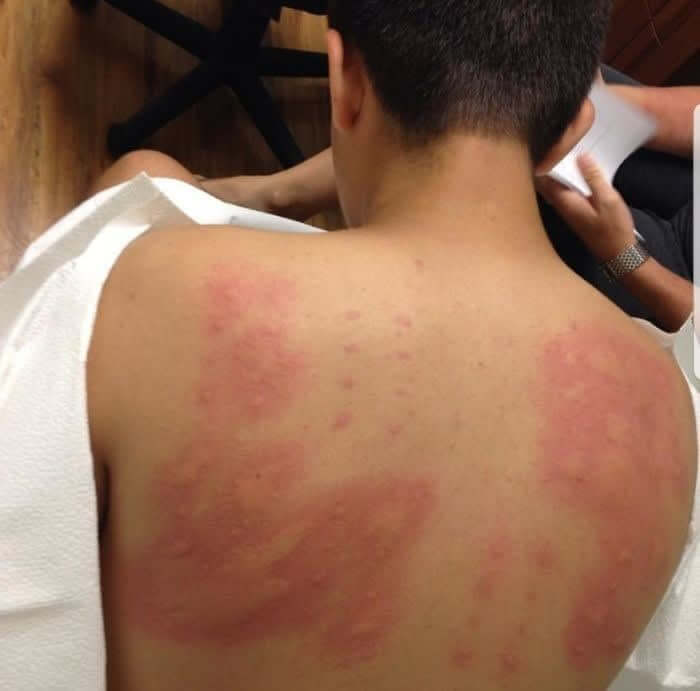 Having scratch tests done on your back must be the most infuriating thing because you can't reach most of the spots when things start to itch. That is a cruel and unusual form of torture.
Concrete Explosion
Who is going to be the one to tell the boss about this mess before he walks in on it? They should get to shoveling as soon as possible before all of it hardens, and it becomes an unfixable situation.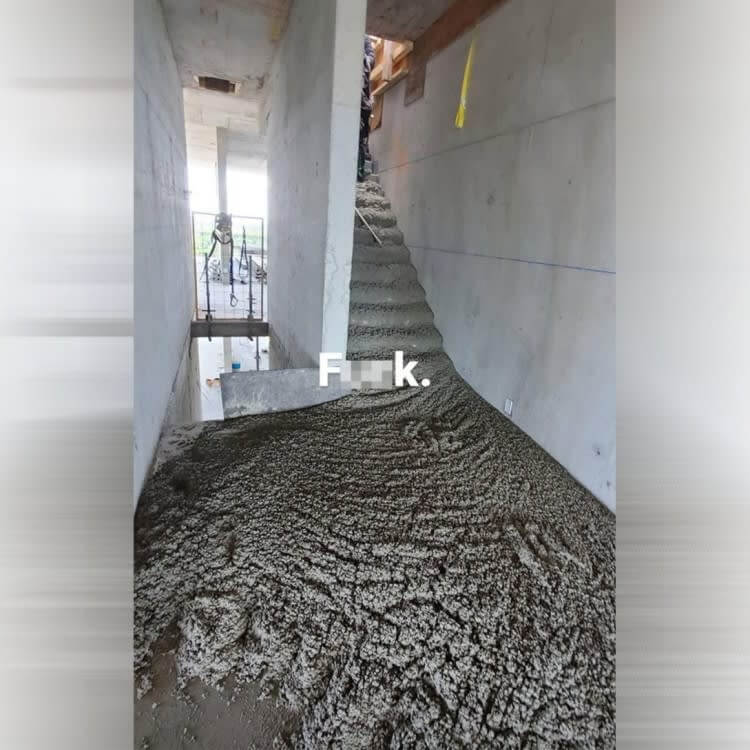 They are too busy taking pictures of the situation to do anything useful. Now the stairs have become a ramp, but it might be an improvement because no one likes taking the stairs.
This Is Why Wireless Headphones Are Popular
Just when you thought your headphones couldn't get any more tangled, this person proved you wrong. Their headphones got caught in the Roomba, and we don't think there is any way to fix them.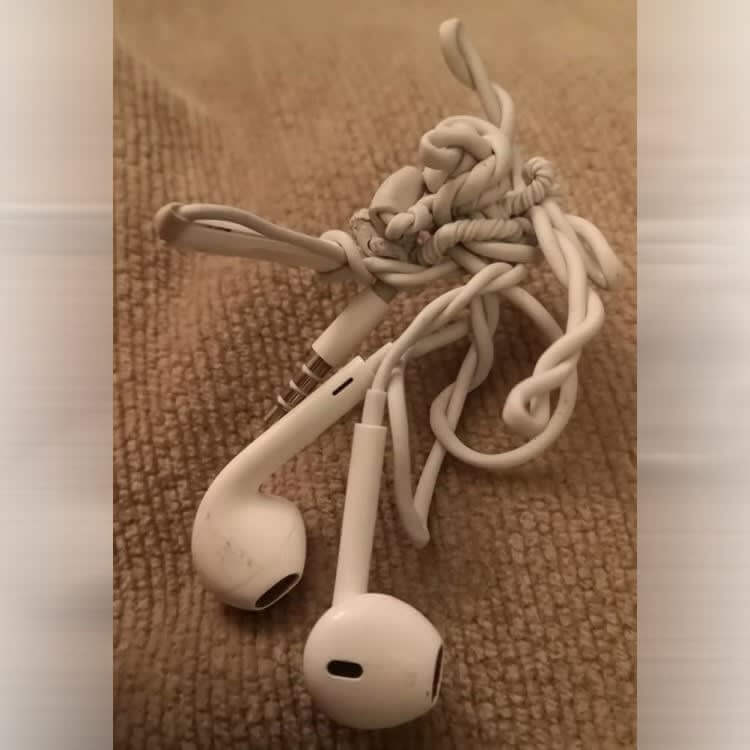 Can you imagine trying to untangle this mess of wires? You might as well invest in a pair of wireless headphones anyways because wires were so last season.
Celebrities Who Spent A Fortune Changing Their Looks
John Travis
This article was originally published on 24/7Mirror
One of the Hollywood taboos is also a "hobby" for many, going under the knife. Although not many celebrities admit to having plastic surgery, it all becomes quite evident sooner or later. As some celebrities openly admit it – like the Kardashians – others hide it. So, here are some of the most expensive celebrity plastic surgeries. ​
Heidi Montag – $1,000,000
As Heidi Montag appeared with her boyfriend (now husband), Spencer Pratt, in the TV show The Hills, the couple received a lot of love and hate.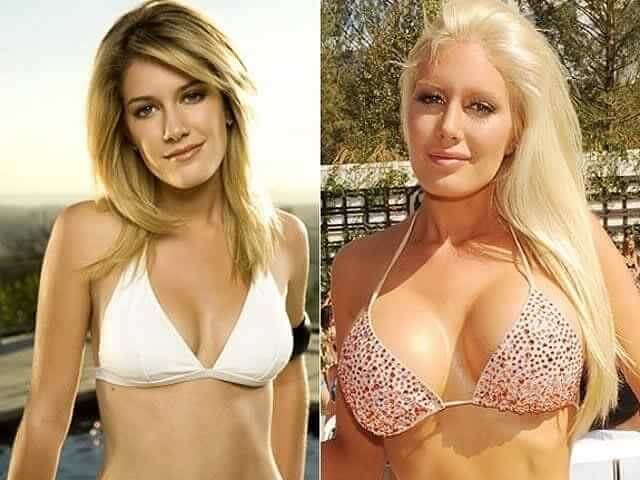 She was insecure about her looks and had a lot of grief for her plastic surgery decisions that have cost her a lot of money. She was so addicted to it that she even had ten procedures in one day.
Jennifer Aniston – $30,500
Ah, the beautiful Rachel Green from famous American sitcom still looks younger, and we absolutely love her. She hasn't admitted to going under the knife, but experts suggest that she has had at least two nose jobs and a facelift in the past two decades. However, she has admitted to treatments such as famous laser and ultrasound 'no-scalpel' facials, which she has at least once a month.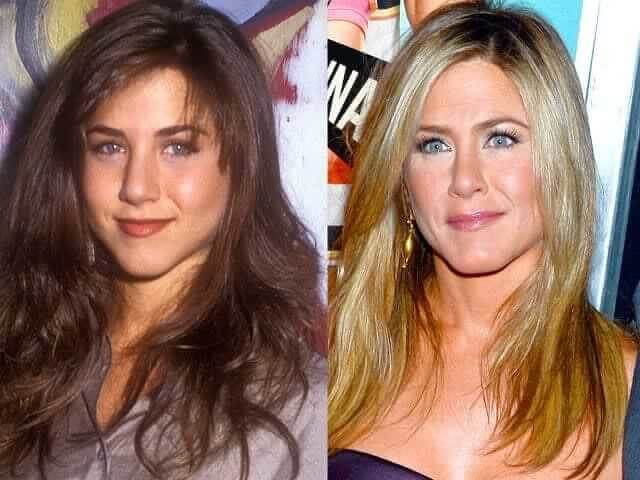 On the other hand, many people believe that she still looks younger because of her extensive skincare and beauty regimen. It is rumored that her eyebrows alone cost around $900 per year.
Kourtney Kardashian – $25,000
As expected, the Kardashians will take up a fair share of our list. Kourtney Kardashian was in college when she decided to have breast augmentation, and she was not happy with the results. According to her, she wishes she hadn't had it done.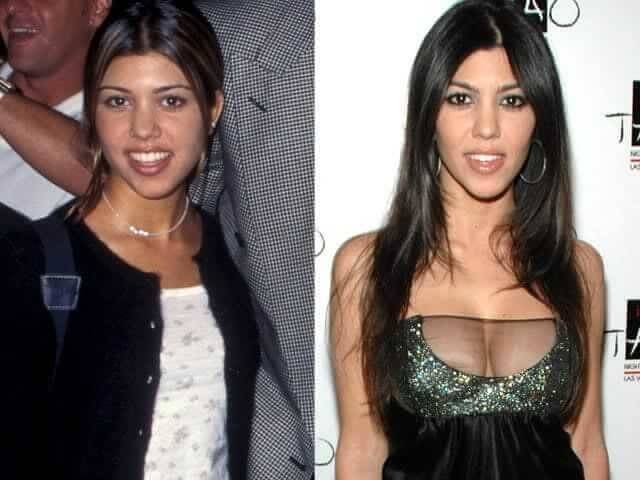 Kourtney believes that surgery is an extreme first step, and that's why she might even consider lasers as an alternative method if she decides to make any future changes to her face or body.
Nicki Minaj – $11,500
Nicki Minaj is a huge celebrity and a role model for many young black women. However, it is worth mentioning that her signature look is not natural.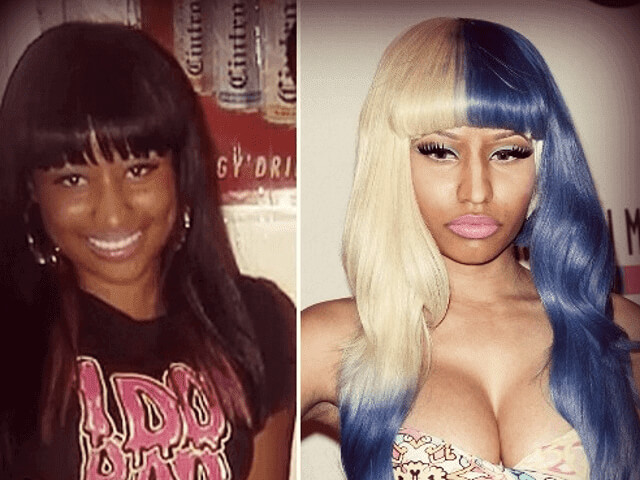 It took over $11,000 to give her the look that she has today. The procedures include buttock implants, skin bleaching, and a nose job.
Victoria Beckham – $12,956
Victoria, the wife of David Beckham, has a love-hate relationship with plastic surgery. It is because she had bits and pieces done on her body and then removed as well.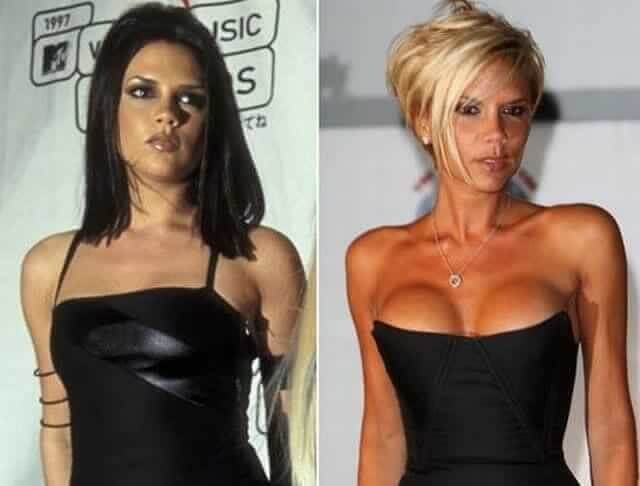 She has openly admitted about her breast augmentation and regrets her decision to get them done. She is quite outspoken about it and says that she did it due to insecurity. "Don't mess with your boobs, just celebrate what you've got," she said.
Pete Burns – $38,000
The late English musician was known for his ever-changing and sometimes androgynous appearance, and he did not shy away from admitting that they were possible because of a lot of cosmetic surgeries.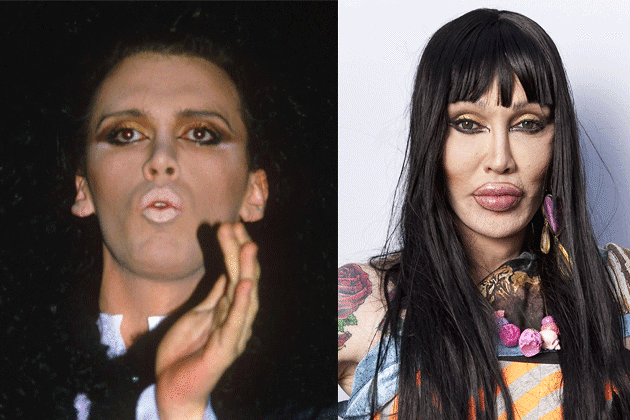 Although he had many other procedures, the common ones he had were lip fillers, cheek implants, and nose jobs.
Kylie Jenner – $2,000,000
It was reported by "OK! Magazine" that the entire sum of Kylie Jenner's surgeries might be about two million dollars. Yes, you've read it right.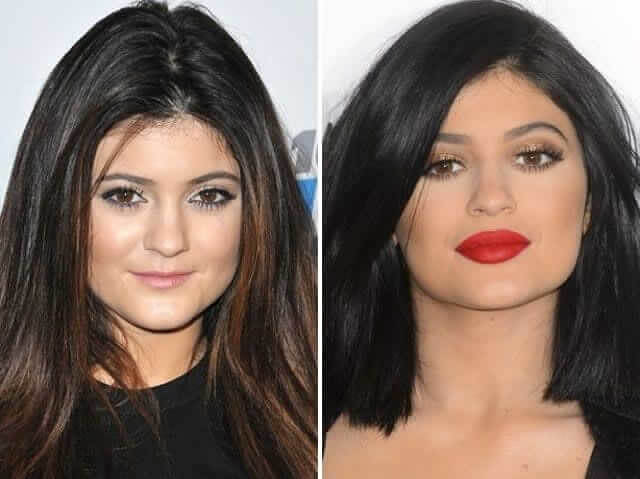 However, she has publically admitted only to lip fillers because (allegedly) her date said to her that he didn't think she would be any good at kissing. There are rumors that she's had Botox, breast implants along with other procedures.
Jocelyn Wildenstein – $6.500,000
These pictures are not photoshopped. Jocelyn is known as the Catwoman. there is speculation that she did all the extensive surgeries because her late husband liked cats.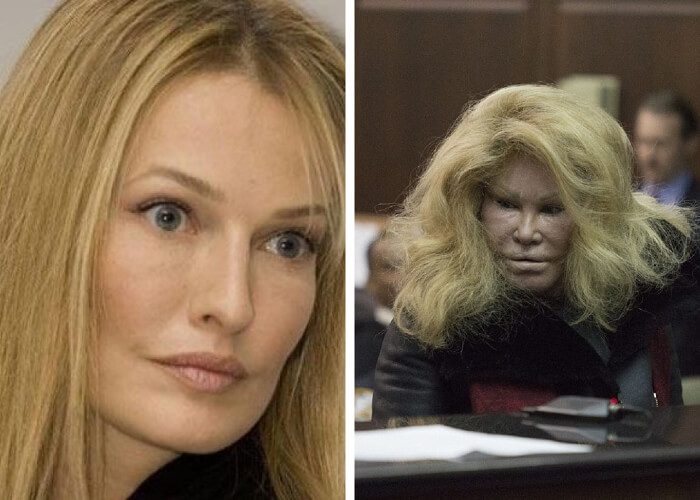 She has no plans to stop. She even said that if she ever wanted work done, she would continue to have a plastic surgery into her nineties
Angelina Jolie – Unknown
Although some celebrities get plastic surgery in an attempt to look younger, this wasn't exactly the case with Angelina Jolie. She had a double mastectomy and was at serious risk for breast cancer. Therefore, she got implants after the removal of her breasts.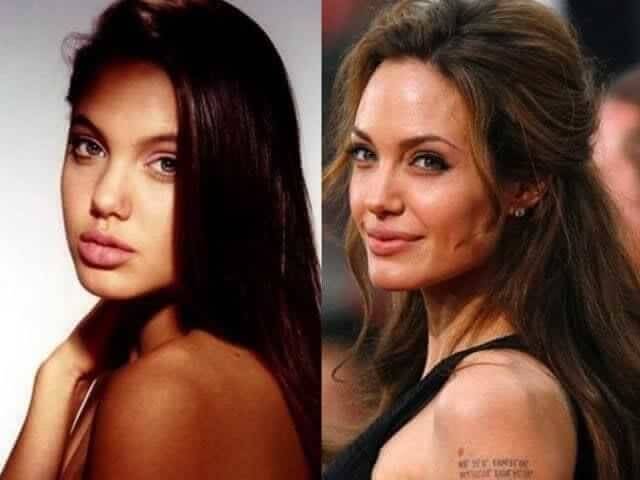 However, some experts firmly believe that she's had a facelift and nose job at some point. Look at her comparison photo and decide for yourself.
Caitlyn Jenner – $60,000
After many years of battling with her gender identity, Caitlyn Jenner (formerly Bruce Jenner) had gender reassignment surgery to fully transition into a woman. Caitlyn was empowered when she finally got to express her true self.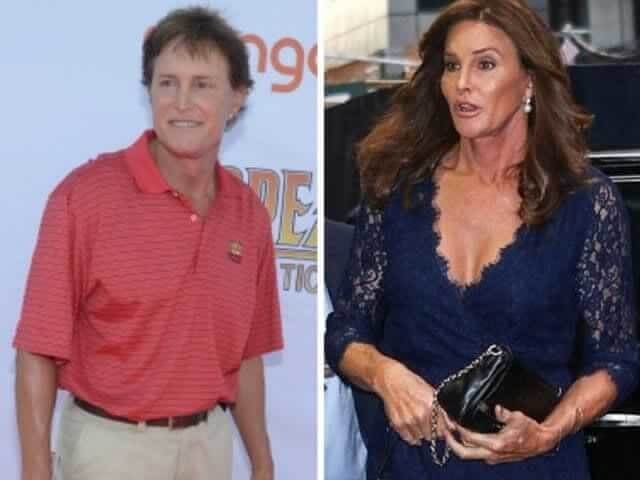 Caitlyn also had breast implants and facial surgery to give her a more feminine look. She is and will always be an icon.
La Toya Jackson – $21,500
La Toya Jackson is also a plastic surgery enthusiast, just like her famous brother. It resulted in giving her an unrecognizable look just like Michael Jackson.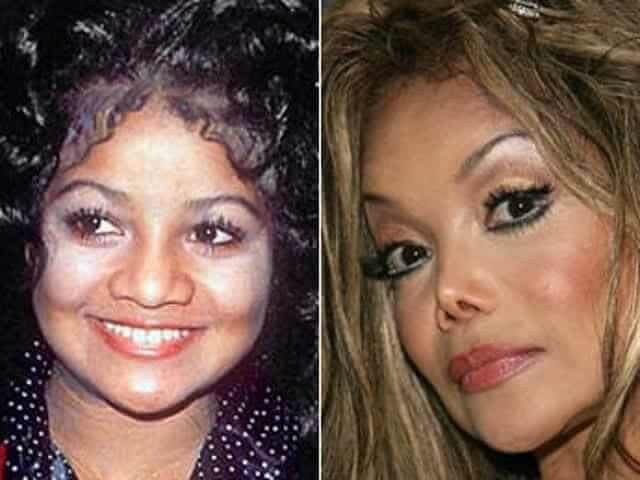 It is reported that she has had an eyebrow lift, at least one rhinoplasty, and breast augmentation as well.
Kim Kardashian – $16,500
It has been up for debate if Kim Kardashian has or has not had plastic surgery. She started in her early days working for Paris Hilton before she made a name for herself.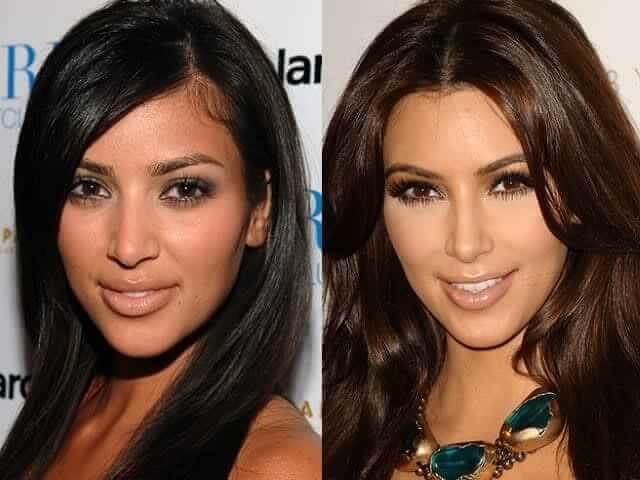 It is no secret that the TV personality, model, and reality TV star Kim has made some changes to her appearance. She has spent money on nose jobs, liposuction, and both breast and buttock implants.
Mickey Rourke – $36,000
So far, you have seen that most of the big spenders on our list are women, but Mickey Rourke is undoubtedly one of those male actors who wanted to give them fierce competition.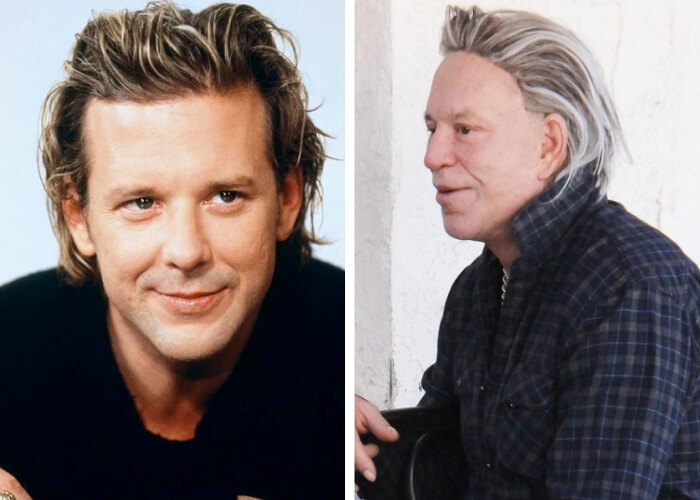 It is rumored that he has had six facelifts and a nose alteration at some point in his career. Decide for yourself.
Michael Jackson – $1,000,000
The "King of Pop" is one of the most famous people who entirely changed themselves with the help of plastic surgery. He started having work done at a young age and he never really stopped.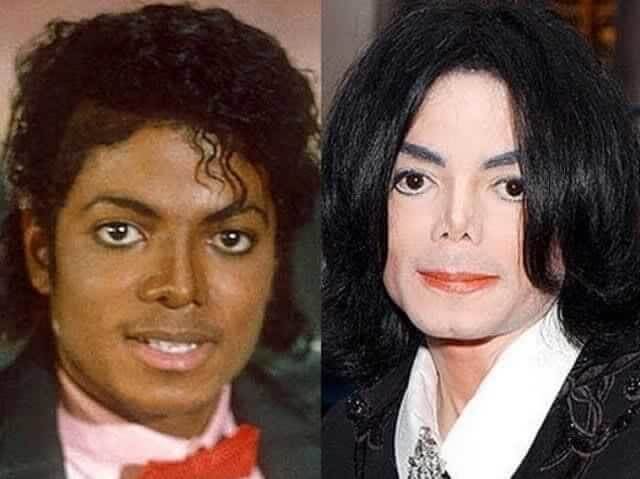 Even though he is known for changing his skin to completely white, he also had rhinoplasty along with many other procedures.
Nadya Suleman – $12,180
Remember Octomom? Well, if you don't then you'll be a bit surprised to know that she is popular because she gave birth to eight babies at once. She was heavily criticized by some people as they thought she did it for fame and money.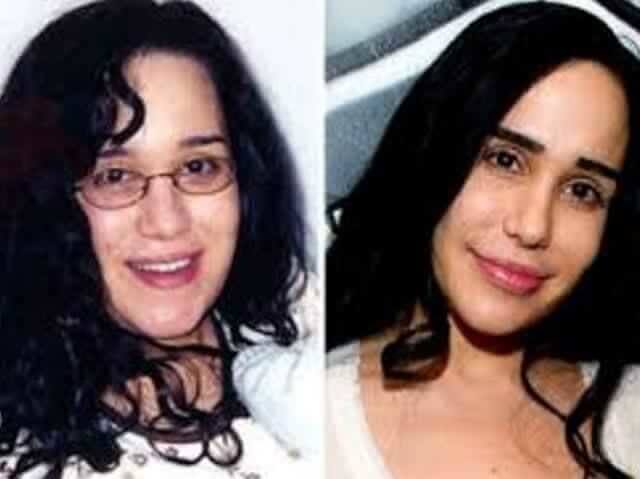 She has gone through surgeries that include nose jobs, lip injections, and yes you've guessed it right, vaginal rejuvenation. Some people believe that she went under the knife several times because she wanted to look like Angelina Jolie.
Tori Spelling – $13,000
This actress is widely known for her roles in television shows like "Beverley Hills" as well as in movies like the blockbuster hit "Scary Movie."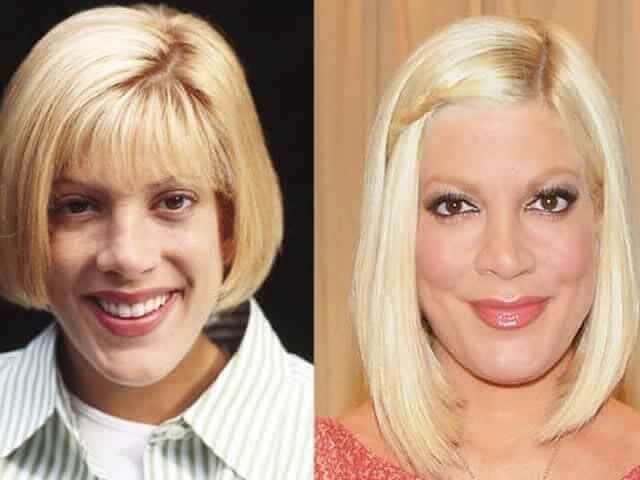 Unlike many celebrities, she did not hesitate in admitting to having some work done. She has some regrets about her breast augmentation because it caused problems with breastfeeding her children. The actress wanted to create awareness about the drawback of breast augmentation and admits that she would have never done it if she had known about it.
Pamela Anderson – $10,500
The Canadian-American actress and model is known for her appearances in Playboy magazine and TV series such as V.I.P. and Baywatch.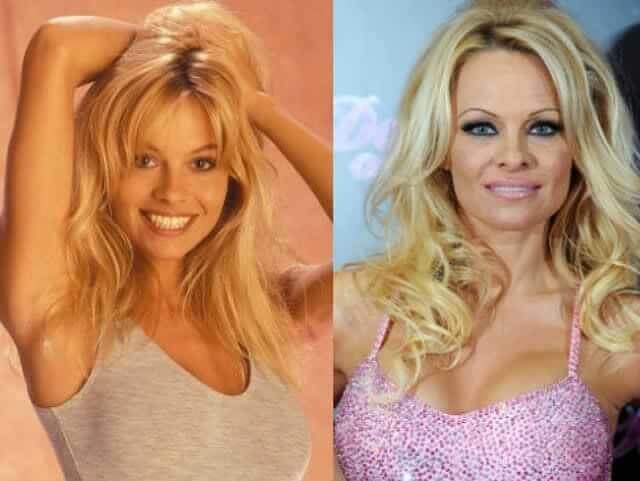 As she grew older, she found it hard to remain in the public eye. Therefore, she decided to go for breast implants and facial tightening procedures in a quest to remain young. She certainly succeeded in doing it and now her boob jobs are one of the most standout things about her.
Denise Richards – $13,000
You may have recognized this American actress, television personality, author, philanthropist and former fashion model from the currently running reality TV show The Real Housewives of Beverly Hills. She is best known for her work in TV shows such as Blue Mountain Slate, Twisted, and The Bold and The Beautiful.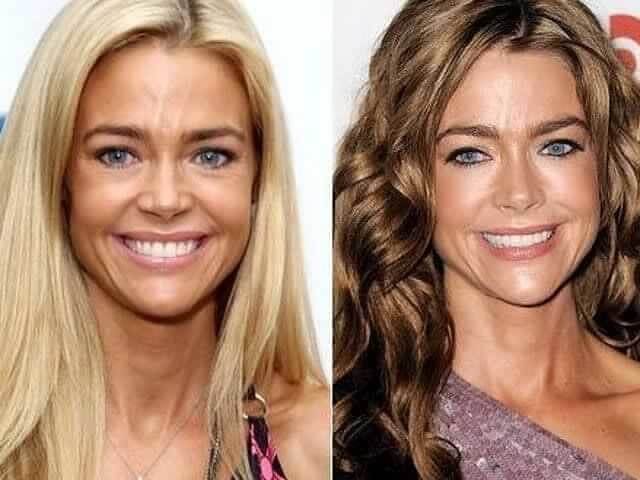 She was only 19 when she decided to have a breast augmentation. However, her breast was too large for her frame and she had to go through the procedure two times before she got the results she wanted.
Kelly Rowland – $22,000
She became immensely popular in the late 1990s as a member of one of the world's best-selling girls group, Destiny's Child.
She once told the media that she wanted to get her breasts enlarged when she was 18 years old. However, her mom and Beyoncé advised her to give it some time. She finally got them a decade later.
David Gest – $20,000
This transformation won't surprise you once you learn that this American producer and television personality was a great friend of Michael Jackson, a plastic surgery enthusiast.
Many believe that there was a time in his life when he became addicted to plastic surgery. That explains why he has had many facelifts, an eyebrow lift, and Botox, as well as surgery to his chin to give him a stronger jaw. He regrets that he went to great lengths and it even cost him way more than what he could afford.
Lil' Kim – $19,625
Well, this is definitely one of the most shocking transformations on our list. Lil' Kim did it all when she was on a break from her music career.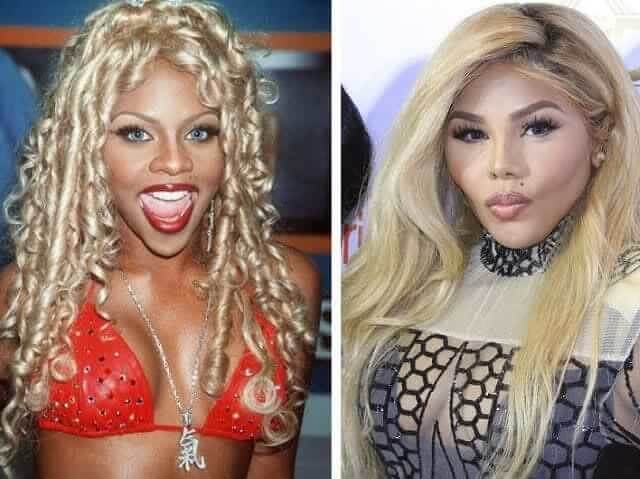 She has had liposuction, lip implants, a rhinoplasty, and breast augmentation. She has also bleached her skin a few shades lighter. The public opinion hasn't been so kind to her after this dramatic transformation.
Donatella Versace – $25,000
The Italian fashion designer like many others wanted to look her best all the time, but her cosmetic surgeries did not deliver results as expected.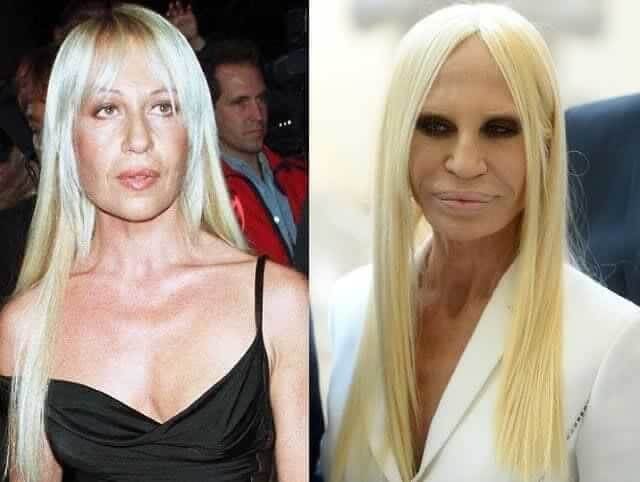 Her facelift did not go as planned and even the injections took away any sign of movement in much of her face. She is often called as the human waxwork and she replied to it in this way: "I am not a fan of the natural look."
Amanda Bynes – $18,000
Once an adorable child star and a teenage actress, Amanda Bynes has certainly made such a transformation that she might be overdoing it in later life.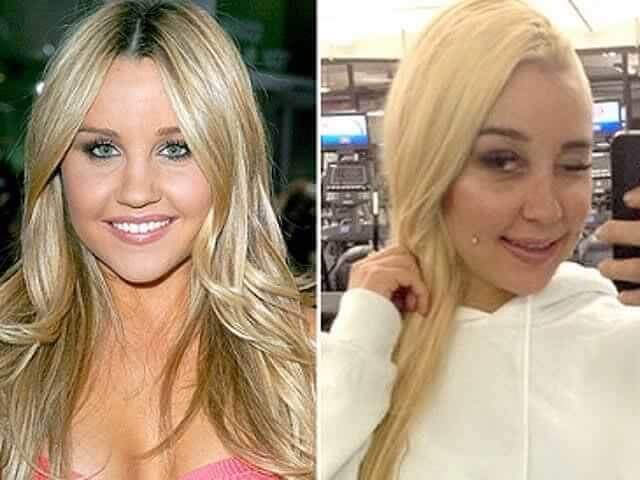 However, she is quite open about her love for plastic surgery. As she has also had a boob job, she isn't planning on stopping. She said on Twitter, "I plan on having surgery on my whole face, straight up."
Holly Madison – $32,000
It is hard to understand how a Playmate can feel insecure about her looks, but that's how Holly Madison felt. Living in the Playboy Mansion created some serious self-esteem issues.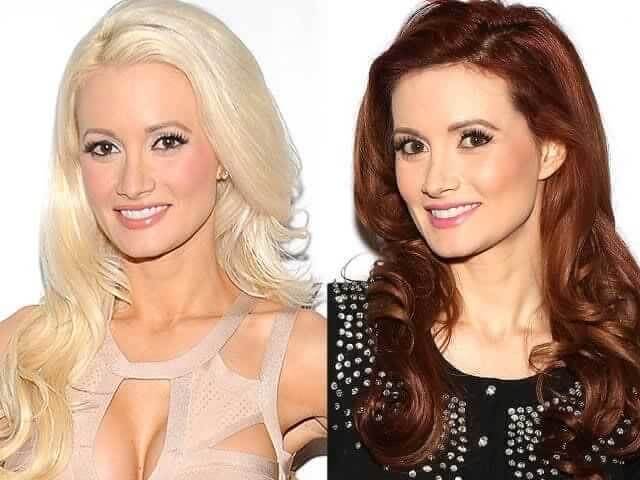 "I was comparing myself to the other girls … You have to look a certain way at the mansion. Plastic surgery made it easier for me to get things I wanted in my career. Without it, I wouldn't be where I am today," she said.
Kris Jenner – $71,000
Kris spent over $70,000 on plastic surgery before airing it on the episode of "Keeping Up with the Kardashians."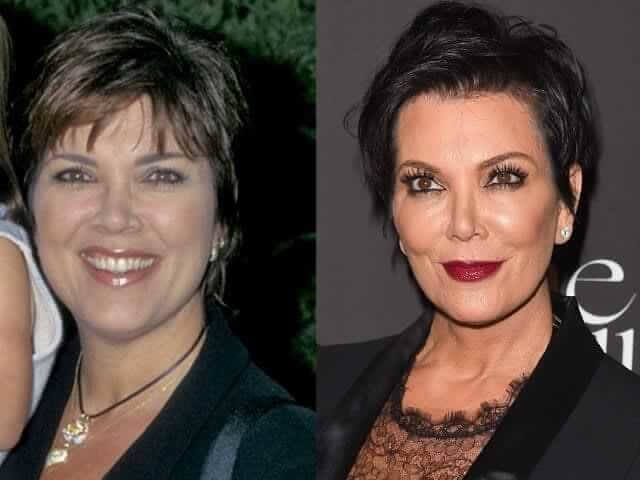 Kris has gone with procedures such as nose jobs, breast enhancements, laser surgery, facial fillers, and more. How much has she changed her appearance? You decide.
Cher – $750,000
You can either love her or hate her, but you cannot deny the fact that she has been in the spotlight her entire life.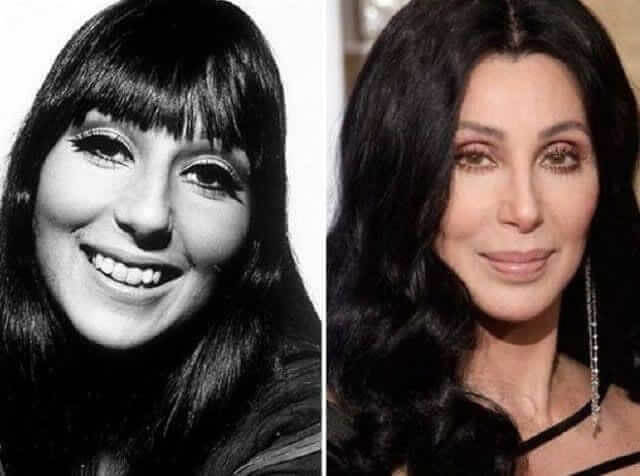 The singer, actress, and a model have a lot of enhancements procedures done which include eyelid alterations, nose jobs and chest augmentations. She has relied a lot on Botox injections to keep her skin looking smooth.
Kaley Cuoco – Unknown
The star of famous American sitcom The Big Bang Theory openly admits that she has had cosmetic surgeries.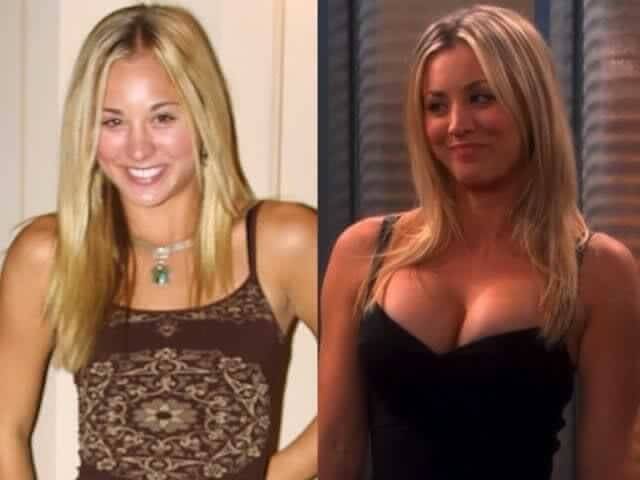 She had a breast implant in 2004 and she believes it to be one of the best things she has ever done. She also had a nose job and we love that she is quite open about her procedures.
Joan Rivers – $99,000
The late Joan Rivers is considered among some of the best comedians of all time. Apart from comedy, she was also known for her plastic surgery.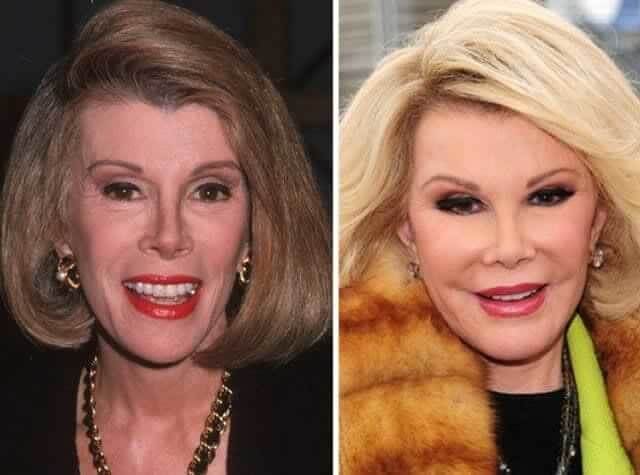 It is because she had a startling 739 procedures in her lifetime. It can be said that this high number of procedures might be a record amongst celebrities.
Kathy Griffin – $30,000
Here is a famous comedian and an actress who is creating laugh lines on others while making her wrinkles less visible.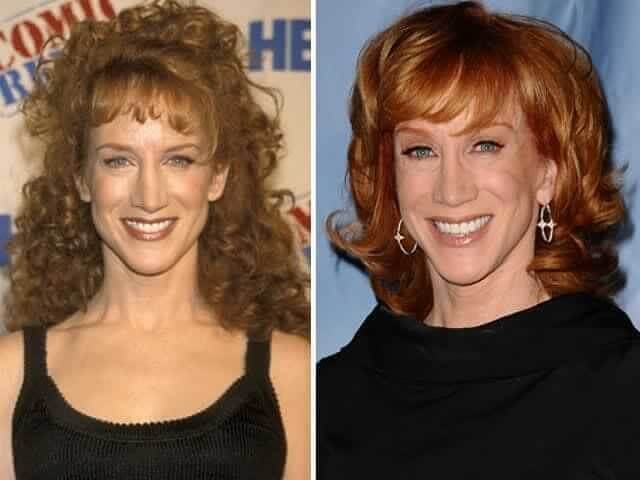 She has had a number of procedures on her eyebrows, breasts, nose, and eyes, as well as Botox, and chemical peels. We think she hasn't overdone it and she looks beautiful.
NeNe Leakes – $20,500
Best known as Linnethia Leakes, the reality TV star became famous from the Real Housewives of Atlanta. She has since worked in TV shows such as Glee and also became a judge on the show Fashion Police.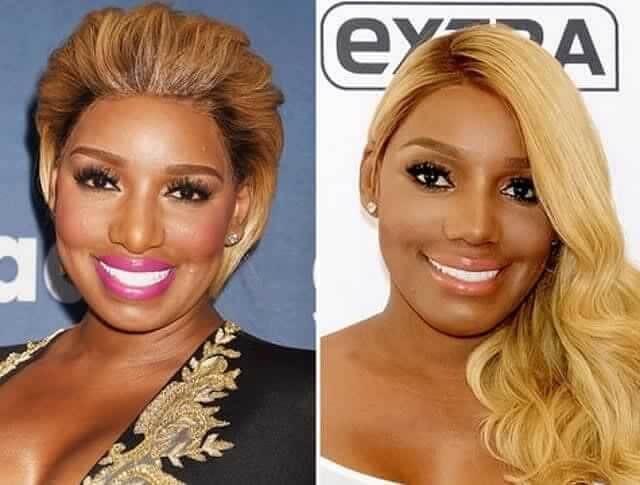 She isn't too shy to admit that she has had a fair share of plastic surgery that includes one nose job, a breast lift and a breast reduction along with some liposuction. Well, she looks super gorgeous as always.
Tara Reid – $9,500
Tara captivated everyone with her innocent looking face in the hit comedy series American Pie. It won't be wrong to say that she is a good reminder that plastic surgery doesn't always deliver results as expected. The damages were caused by her breast augmentation and tummy tuck.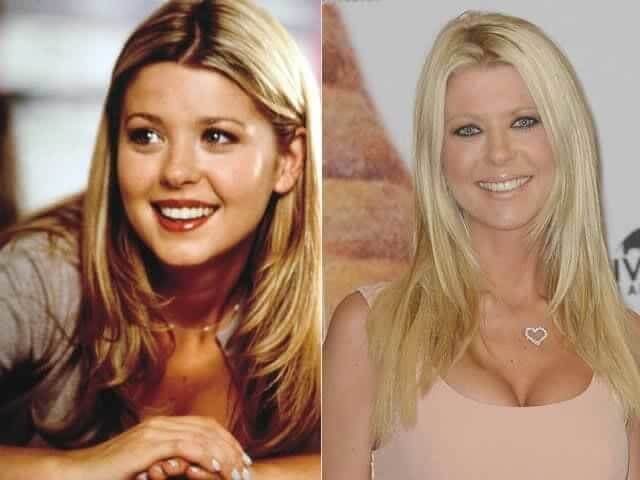 She featured in a Playboy magazine of 2009 and said that the damage caused by surgeries to her skin and torso have been corrected.
Courtney Love – $9,800
The American singer and actress have a career that spanned over four decades and she has changed many looks over the years.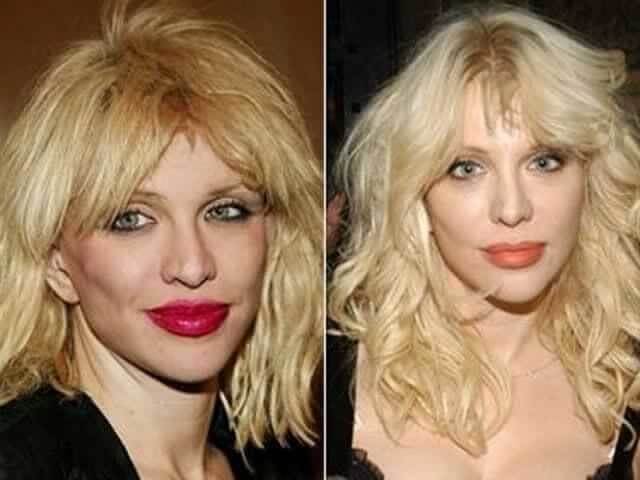 Although the wife of late rock star Kurt Kobain has had experimented with long flowing blonde locks and short messy hair with punk clothes, it didn't stop people from noticing that she had made changes to her face and body as well e.g. nose job, lip fillers, and breast augmentation.
Meg Ryan – $11,750
Although it isn't the most expensive transformation on our list, it looks like Meg went a bit overboard with her procedures.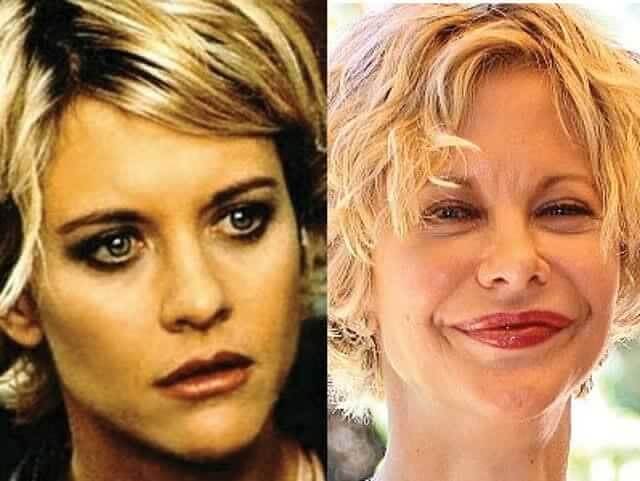 She has had quite a few procedures, including neck lifts and many facial fillings. Once known as the "fresh-faced" actress, she has definitely shocked everyone with her look.
Lindsay Lohan – Unknown
This Mean Girls star has never confirmed any rumors regarding her cosmetic surgeries, but there are a lot of speculations that she has a lot of experience of going under the knife. Supposedly, she had it all from boob jobs, facial implants, to nose jobs.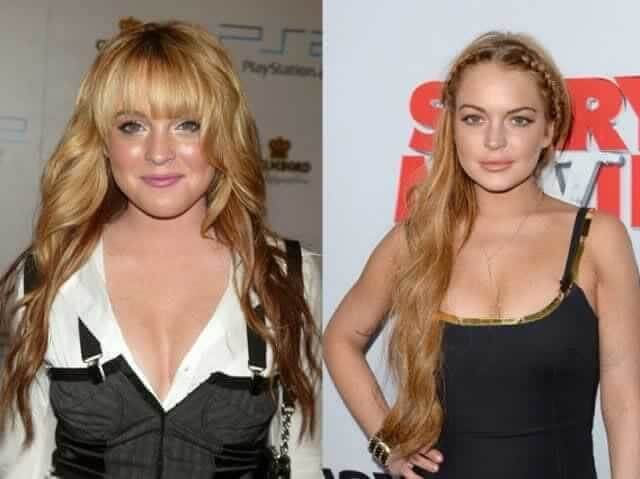 Lindsay even denies having Botox to keep her looks younger. However, she has admitted to trying a treatment called Caci in which electrical current is used to keep the skin muscles smooth.
Heather Locklear – $18,500
She has made a name for herself with her role as Amanda Woodward on "Melrose Place" and as Sammy Jo Carrington on "Dynasty." And she is also known for being associated with famous men such as Tommy Lee Jones and Richie Samborra.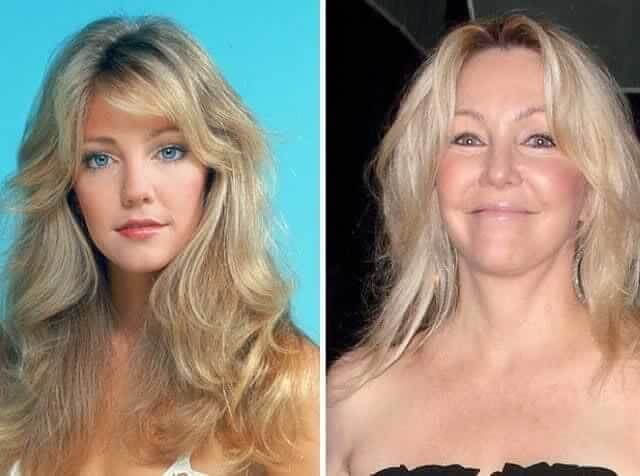 Although she has had many surgeries over the years (a nose job, a boob job, a cheek implants procedure, and a facelift along with Botox injections), it is amazing that she doesn't look dramatically different and even her overall bill of treatments isn't too high as well.
Janice Dickinson – $20,000
It can be said that Janice is not one of the cosmetic surgery's success stories. Even her son, Nathan Fields, begged her to not do any more plastic surgery but it seems like she has no plans of stopping anytime soon.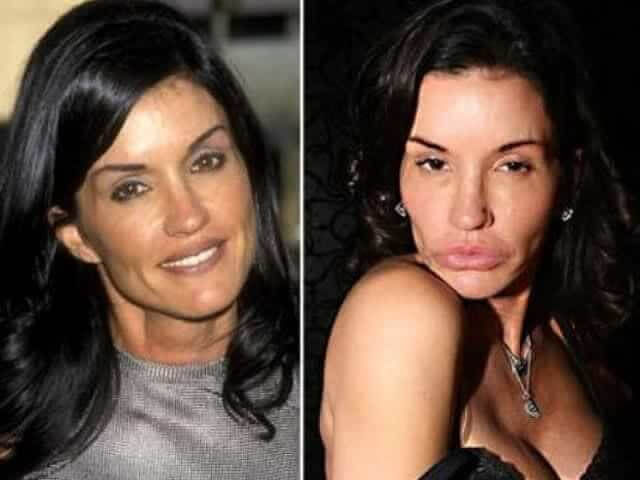 Her dramatic transformation has taken place slowly over the years. It is unfortunate that her name is quite often used on lists of nightmare plastic surgery gone wrong.
Barbie Girl – Unknown
Valeria Lukyanova wanted to look like Barbie since high school and says that she has had only breasts changed to achieve the look. But we find it hard to believe.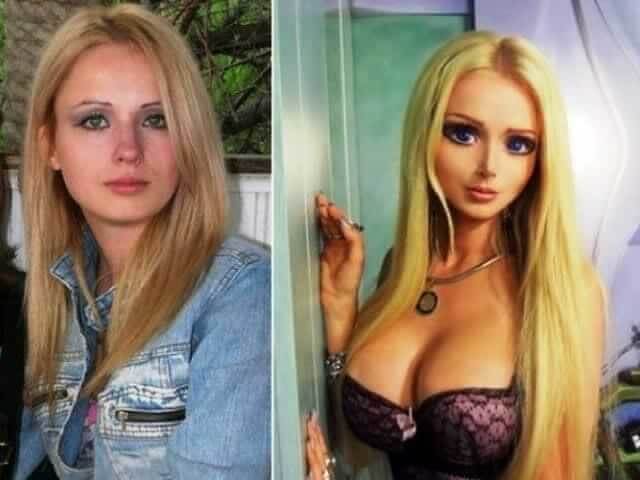 From her face to her wrists to her overall image, everything looks transformed. She hopes to inspire others as she believes that there is always room for improvement.
Renee Zellweger – Unknown
Although the actress is known for making changes to her body for her roles in movies (she bulked up for her role as Bridget Jones), she was totally unrecognizable when she stepped out on the red carpet in 2014.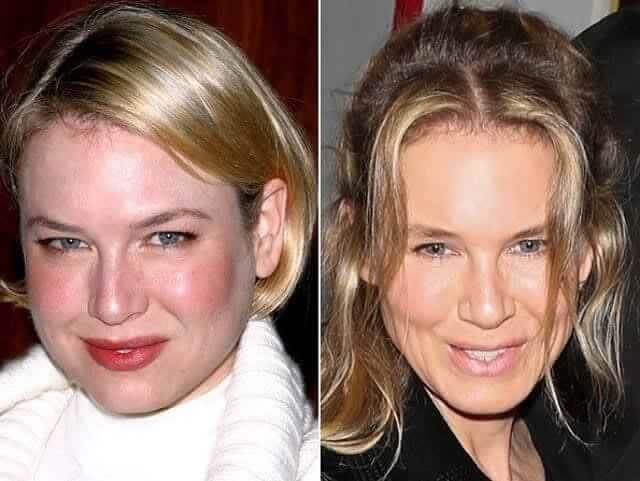 She totally denies the rumors and says that she was just preoccupied that day. She says that "a woman only gets more interesting as she gets older".
Brad Pitt – Unknown
This inclusion in our list proves that celebrities are humans as well and even they have insecurities. It is rumored that Brad was conscious of his ears and decided to have surgery to pin them back.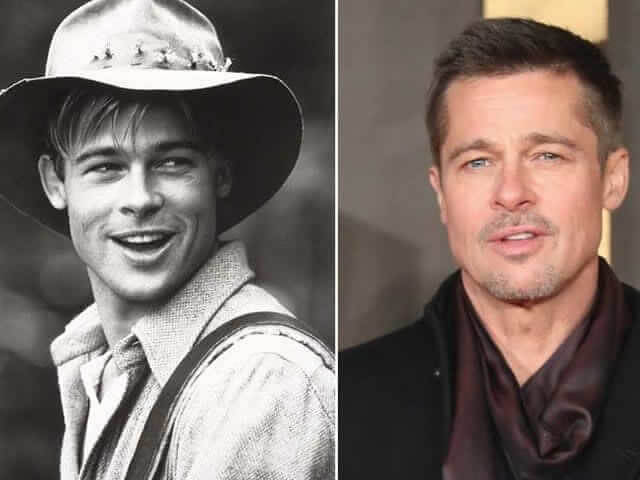 However, he isn't much interested in other treatments to make him look younger. He is getting old gracefully and he is looking hotter than ever.
Diana Agron – $15,000
It won't be wrong to say that Diana is like a role model for many teenagers. It is mainly because of her role of Quinn Fabray in hit TV show Glee. She did not shy away from admitting that she had a nose job.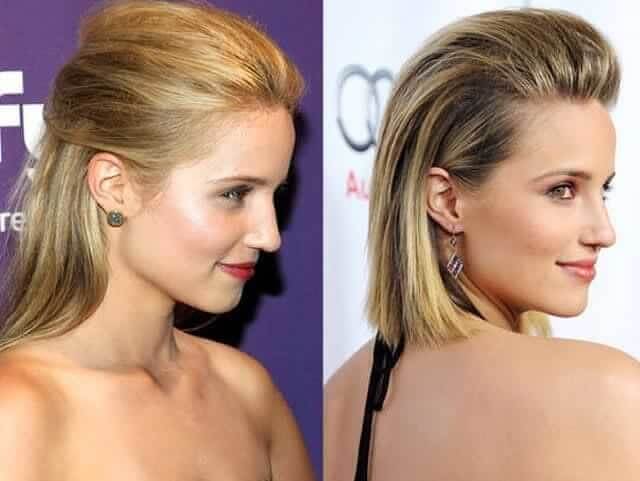 Although she admitted to having the desire to make a change, she had no option but to get her nose fixed after a collision with her friend when they were out dancing in a party. By the way, she looks as gorgeous as ever.
Tom Cruise – Unknown
The Bafta award of 2016 went into a shock when Tom Cruise made an entrance. It exploded into rumors that Tom has done something really drastic to his face.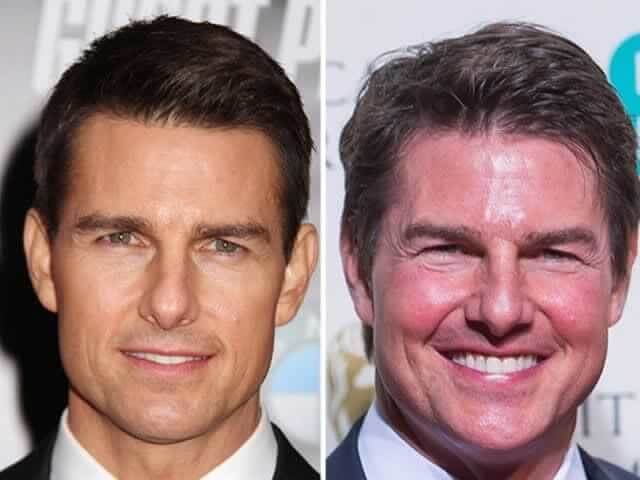 One Twitter user even went on to say that "Looks like Tom Cruise has just been on a Mission Impossible type mission to steal all the world's Botox supply for his face." Some even compared his puffy face to a bee sting. Ouch!
Barry Manilow – $70,000
Although many of Barry Manilow's surgeries are because of his 2003 accident when he walked into a wall and needed dental work and facial reconfiguration, he went under the knife for other reasons as well.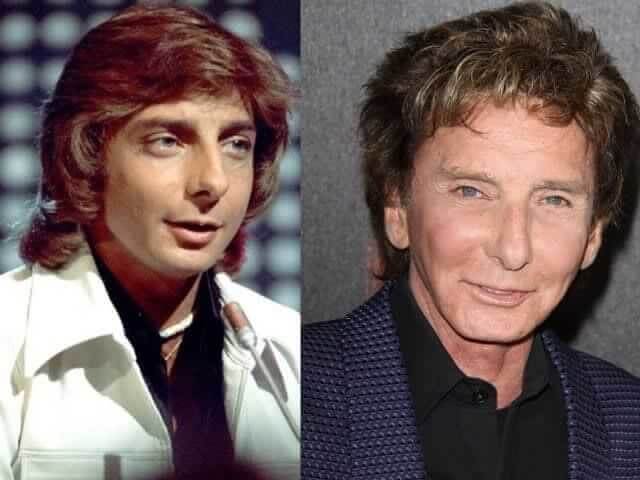 Many plastic surgeons suggest that he also had a nose job and Botox injections. He also had a medical plastic surgery to remove tumors or cysts.
Megan Fox – $8,000
She is considered a sex symbol and everyone is captivated by her attractive looks. Her role in the Transformer was her first shot at fame and since then she has never looked back.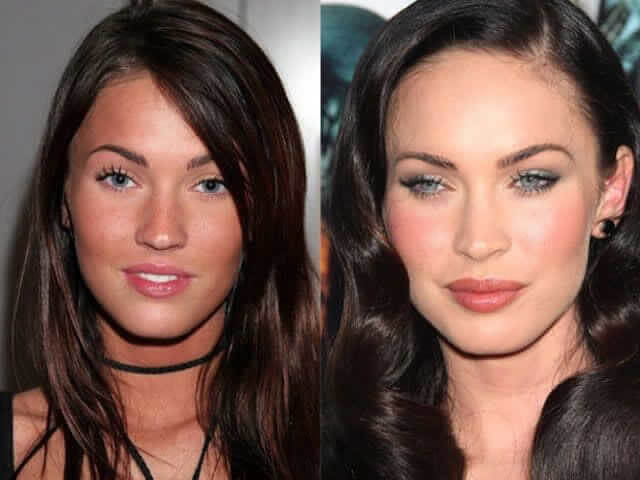 There are rumors that she has had two nose jobs, as well as cheek implants, breast augmentation surgery, and both Botox and lip fillers. However, it is surprising that she was already one of the world's sexiest women before she decided to make the changes.
Rumer Willis – $100,000
It can be said that Rumer Willis, daughter of Bruce Willis and Demi Moore, is the offspring of one of the famous celebrity couples of all time.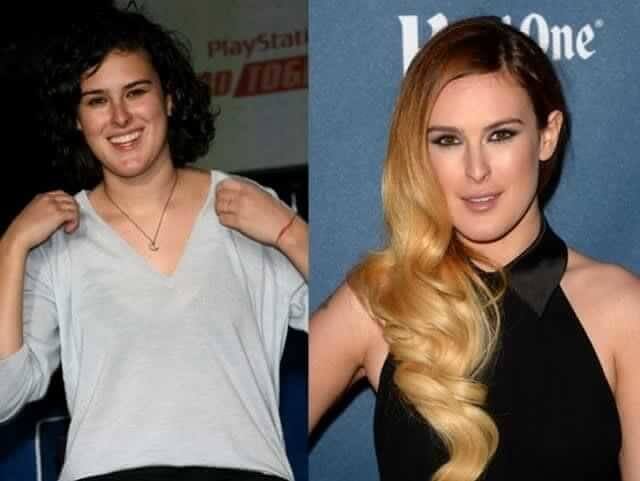 Although she is beautiful, she followed her mother's footstep and chalked up to $100,000 on cosmetic surgeries that include jawline reconstructive surgery and a rhinoplasty along with lip injections and Botox.
John Travolta – Unknown
The famous Hollywood actor has been in the public eyes for decades and it was no surprise when fans started to call out his clear hair transplant and so-called 'frozen face.'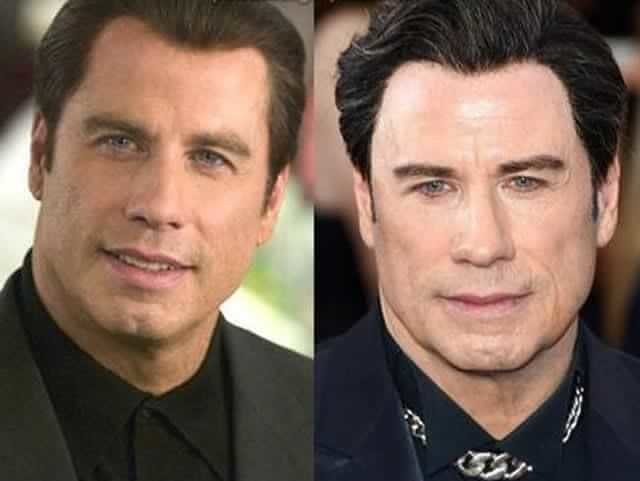 Although the actor has denied the rumors of him getting a Botox and facelift, we are going to let you decide after looking at these two pictures of past and present.
Dwayne Johnson – Unknown
It is really commendable that Dwayne Johnson aka The Rock has made a huge transition from his wrestling career to Hollywood. But did you know that he had to receive plastic surgery to reduce the size of his chest?
Dwayne is never shy to admit that he has been under the knife several times. He is quite open about it because he does not want to raise the bar of "unattainable perfection."
Courtney Cox – Unknown
Who isn't still in love with Monica Geller, right? Well, the Friends star looks beautiful and it is hard to tell that she is 55 years old.
Although she has never admitted to having a nose job or any work done on her face, she has spoken about getting facial fillers and Botox injections.
Roseanne Barr – $45,000
The American actress, comedian, writer, and television producer rose to popularity with her role in the hit TV sitcom, Roseanne.
Unlike many other celebrities, her surgeries (tummy tucks and gastric band surgery) were focused on weight loss. It is most probably because she knew she was working in an image-conscious world.
Adele – Unknown
The beautiful and powerful Adele lost a lot of weight in a small time and that helped create some rumors.
Although she claims that she had throat surgery and it prevented her from eating for some time, many believe that she had liposuction and a nose job. We love her and even if she had liposuction then it still won't change how we see her.
Demi Moore – $500,000
Demi is a natural beauty, but even she had to go under the knife in an attempt to prevent the inevitable aging.
She has admitted to having facelifts, breast implants, liposuction, and at least one nose job. we must say that it all seems to work because she does not look like a woman in her fifties.
Kenny Rogers – Unknown
If you love country song then you must be a fan of Kenny Rogers. Apart from singing, he has also acted in several movies and TV shows.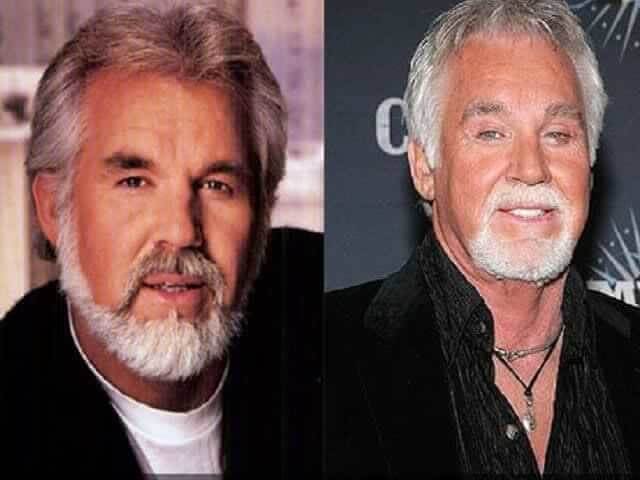 He had a botched plastic surgery that includes an eyelid lift which did not turn out as planned. Hence, it didn't take him much time to come out against plastic surgery. "I'm not happy about it" he said, "it drives me crazy!"
Britney Spears – $2,000
It is really surprising that there are not many rumors about Britney having plastic surgery. After all, she has been in the limelight for over two decades. She has always said that she will never get cosmetic surgery.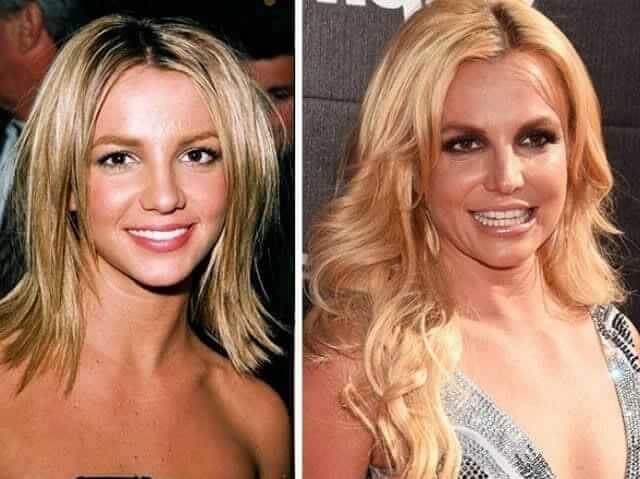 It is fair to say that she is doing a wonderful job at naturally aging. She has admitted to getting lip fillers and facials and we must say that her lips look quite natural (it is not the case with many celebrities).
Stephanie March – Unknown
Stephanie's experience with plastic surgery did not go as planned and it was like a never-ending nightmare for her.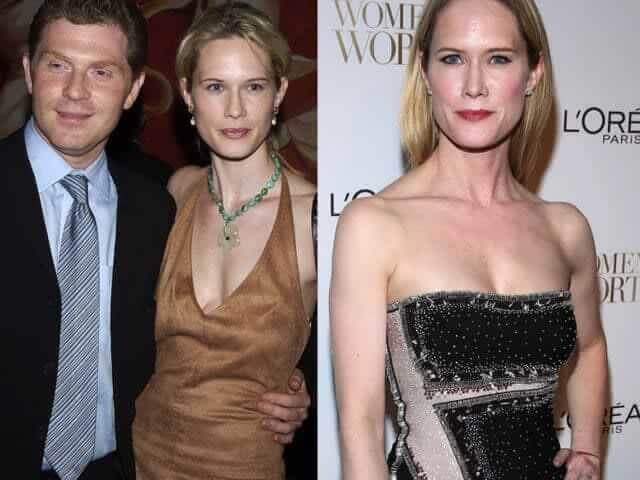 In an interview with Refinery29, she revealed that she wanted to fix her falling apart life and got herself a breast augmentation. However, the surgery was a complete failure as one of her breasts became infected at the cut. As a result of it, she had to go to the emergency room to clear up the infection and she ended up removing all of the work she had done.
Sharon Osbourne – $200,000
As she is married to Ozzy Osbourne, it means that her life is always under media scrutiny. That's why she was always extra careful about her looks before going out.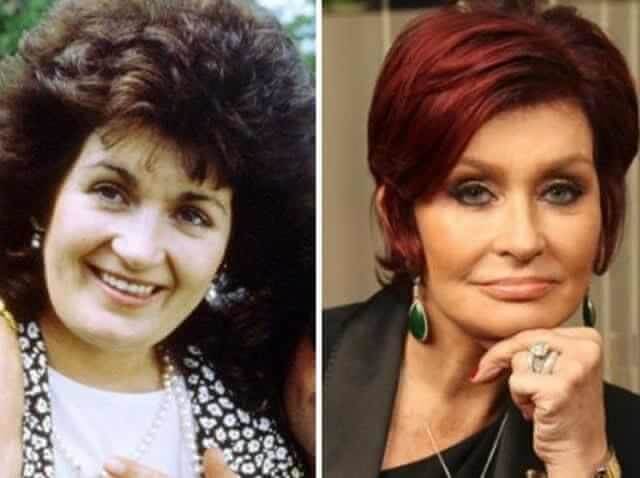 She has now admitted that she was really worried about her looks and had to go under the knife. According to her, she will never do it again. She said: "There's not much I haven't had tweaked, stretched, peeled, lasered, veneered, enhanced or removed altogether."
Clare Danes – Unknown
This pretty actress has said that she is quite open to plastic surgery and it doesn't come off as a big surprise. After all, staying young and hiding the signs of aging can put immense pressure on anyone and here we are talking about one of Hollywood's famous actresses.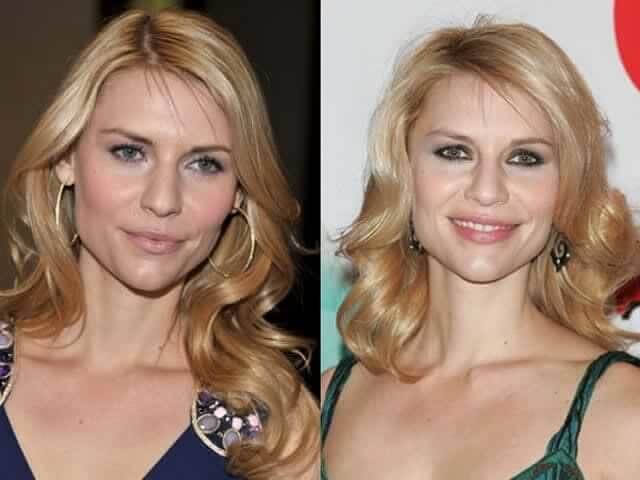 Many experts believe that she has undergone treatments such as lip fillers, an eye lift, and even facial implants. She still looks super beautiful and way younger than her 40 years.
Lara Flynn Boyle – $28,000
Fans of TV show Twin Peaks will recognize her in an instant, others may not. It is reported that she was worried about acting roles going to younger women and decided to do something about it.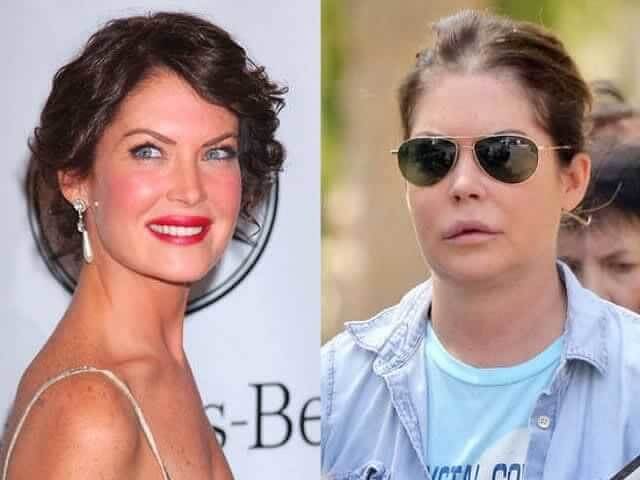 That explains her drastic plastic surgery. It is unfortunate that she didn't get the results she expected.
Kim Novak – $9,200
Known for movies such as "The Man with the Golden Arm" and "Vertigo," Novak was quite famous in the 50s and 60s. She worked with some of the prominent leading men of the era, but work started to dry up in the late 60s and she announced her retirement in 1991.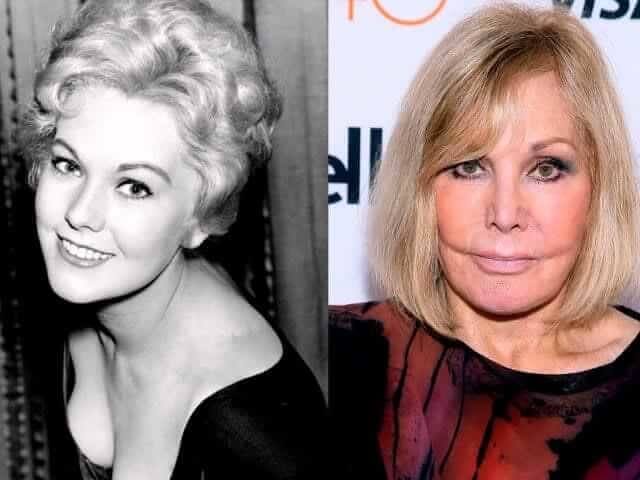 She was totally unrecognizable when she attended 2014 Oscars after having cheek implants, a brow lift, and some Botox injections too.
Nicole Kidman – $1,400
Nicole Kidman is an amazing actress and although she hasn't admitted to getting any work done, she did admit about extensive Botox injections. And she didn't like the result as well.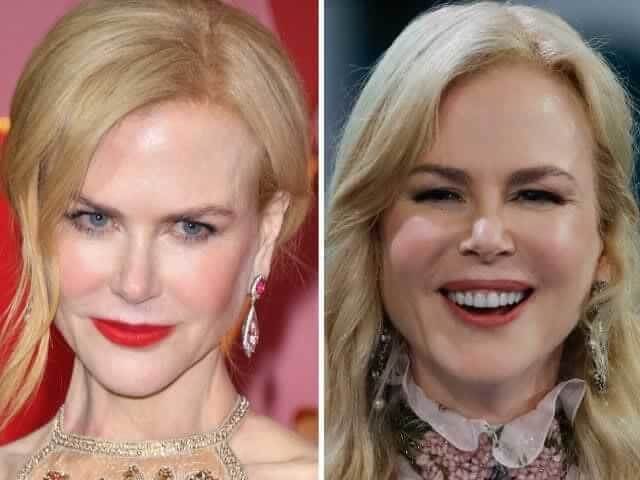 She said, "sometimes you have to find out if the grass is greener on the other side for yourself." However, there are rumors about her getting facial fillers and rhinoplasty.
Blake Lively – $7,300
Blake became famous when she played the role of Serene Van Der Woodsen in TV show Gossip Girl. She is married to Ryan Reynolds and the couple has two adorable kids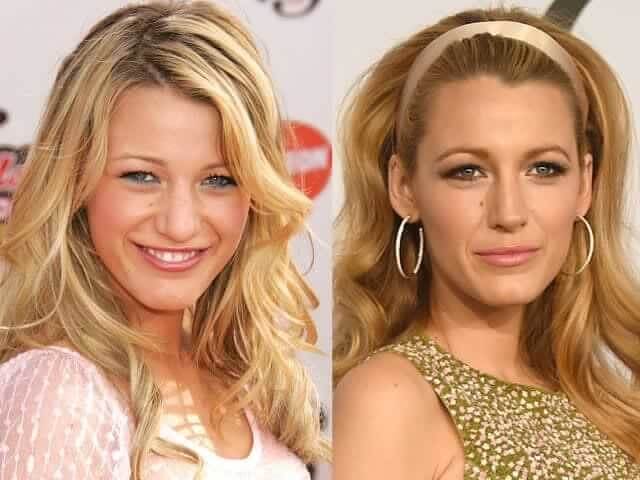 However, there was a gossip about the pretty Blake that she wasn't happy with her face and got some surgery to remove freckles on her face and also enhanced her facial features with rhinoplasty and an eyelid touch up.
Anna Faris – Unknown
Despite rumors of her going under the knife and needles, Anna Faris does not admit to having any work done to enhance her facial appearance. She has only admitted to trying Botox injections.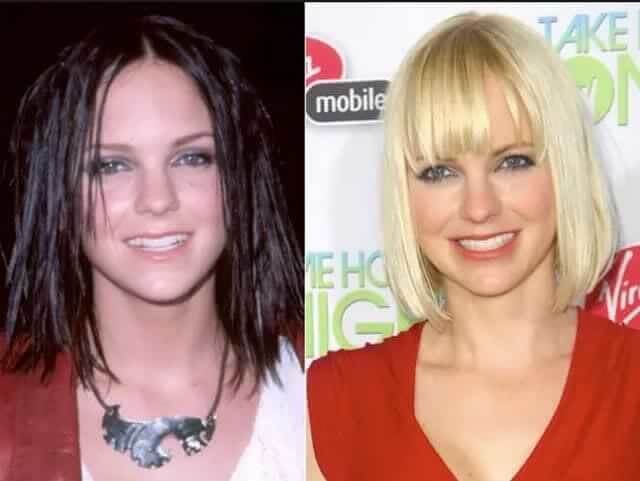 However, experts do suggest that she might have had facial fillers and an eye lift. If you look at her recent photos, it seems like she also had a nose job. Nevertheless, we think that she still looks super pretty.
Michael Douglas – Unknown
This amazing actor openly admitted to having a facelift before getting married to the gorgeous Catherine Zeta Jones in 2000.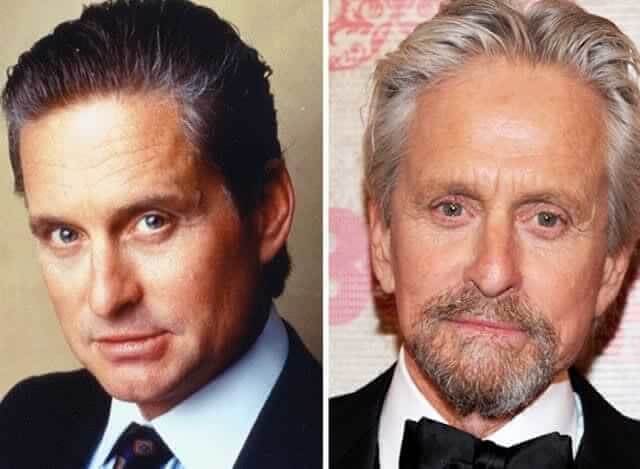 It seems like he gets cosmetic surgeries before big events in his life. He got facial augmentation before his son was born in 2003. We think he still looks handsome.
Dolly Parton – $23,000
Dolly Parton is a multitalented woman and an inspiration for many out there. She seems to age like fine wine, but is not afraid to rely on technology to enhance her appearance.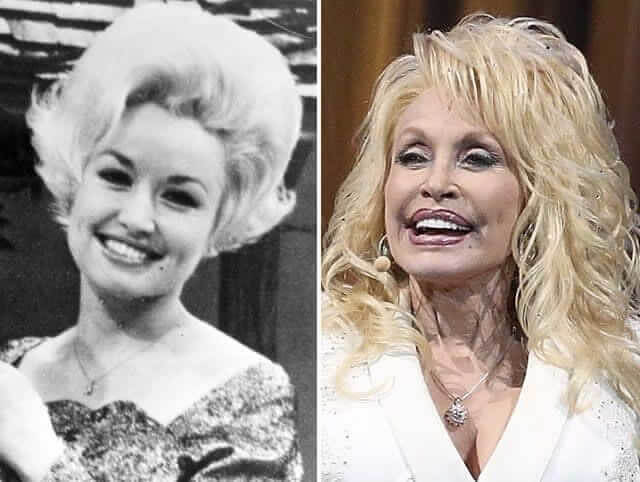 Although Dolly is in her seventies, she is still going strong. As some people believe that all the procedures (a nose job, facial fillers, a lip lift, neck lift, brow lift, and eyelid lift) over the years have made her look terrible, but that's not what we think. She is still a beautiful woman who knows how to carry herself gracefully.
Robert Pattinson – Unknown
If you are wondering why would the Twilight heartthrob need cosmetic surgery, then you should know that he wasn't always in high demand. There is a rumor that he couldn't go into modeling as a teen and that's why he got himself a rhinoplasty.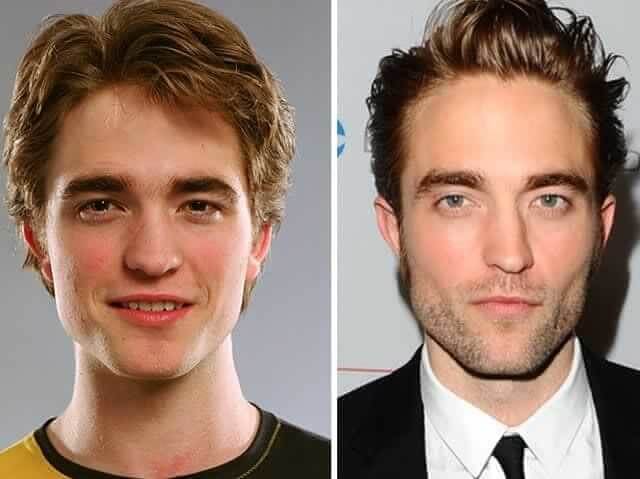 Even if the rumor is true, we are glad he made this choice because it has done no harm to his popularity.
Trista Sutter- $10,650
This reality TV star has made a quite a name for herself with shows like Survivor, Big Brother, and both the Bachelor and Bachelorette. However, the beautiful actress was never quite satisfied with her looks.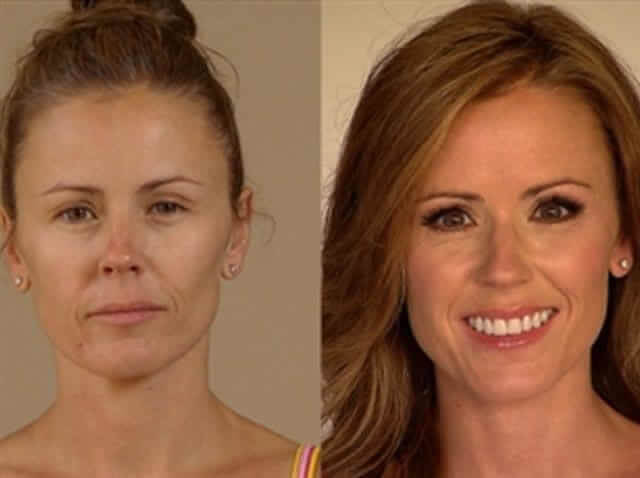 When she was 40, she decided to have her eyelids lifted and reconstructed along with a breast augmentation surgery. That's when she featured in US magazine and Life and Style magazine. According to her, plastic surgery helped her love her body.
Ashlee Simpson – $13,000
The younger sister of actress Jessica Simpson is not only famous because of her sibling. She has a great career of her own as a TV star and she even had her own show on MTV.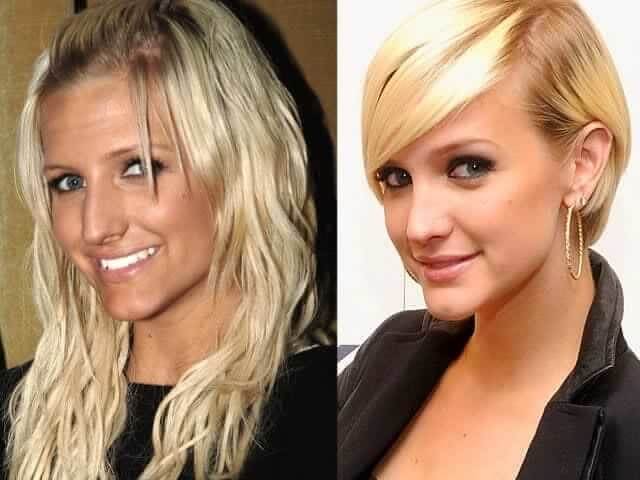 Ashlee admitted that she always felt like she was less attractive than her sister and she would even look at other celebrities and think she could never be as good-looking as them. Her cosmetic surgery includes rhinoplasty among other treatments, though she did not disclose them.
Ryan Gosling – Unknown
It is hard to think of resisting the charm of Ryan Gosling. Considered among Hollywood's sexiest male actors, Ryan has looked classier and way more attractive than before.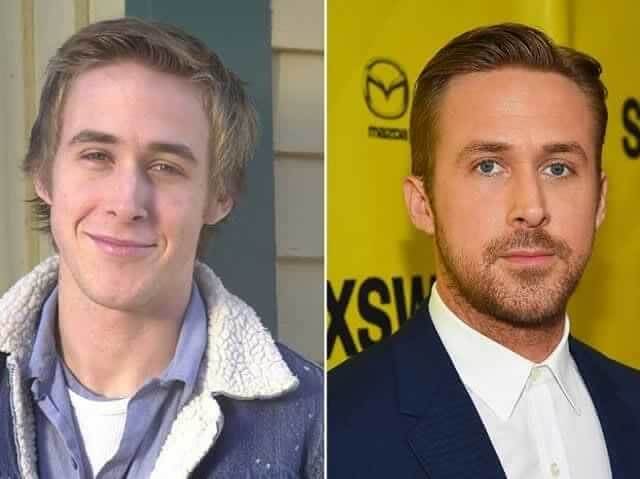 But there is a high possibility that he had a rhinoplasty before his career took off. The pictures do suggest that he may have had got some work done on him.
Nicole Richie – $13,000
Now here is a celebrity who openly admits that she is a fan of cosmetic surgery. She is quoted as saying "Why grow old gracefully when you have the technology to prevent it?"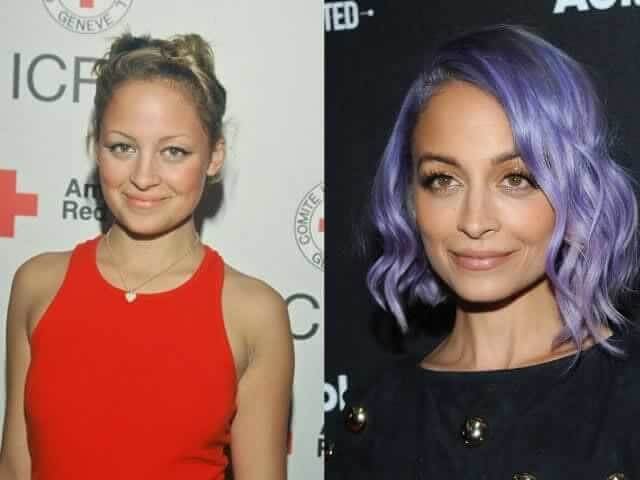 She has a mini boob job (that's what celebs call it) as in it the breast implants have a natural look and there isn't a large amount of cleavage. It is speculated that she had rhinoplasty as well.
Iggy Azalea – $20,000
The Australian rapper's rivalry within the charts with Nicki Minaj is not hidden from everyone. As she had an attractive blonde looks, she wanted more and decided to get a breast augmentation to have a larger chest.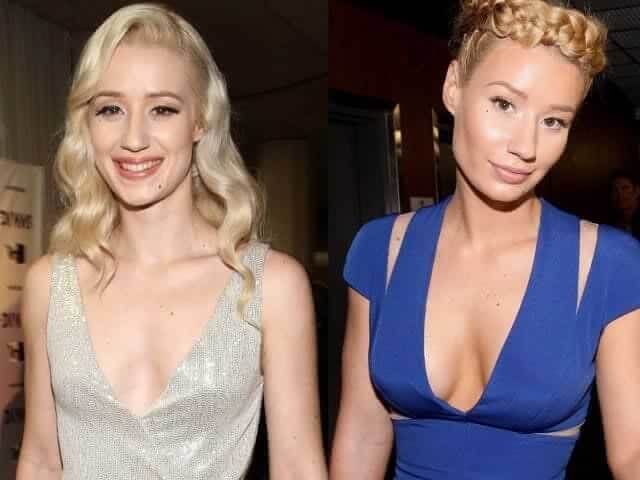 "There was nothing wrong with me. I think it's a personal choice and anybody, man or woman, they should be able to make an informed decision, and if you want to change something, then that's up to you," she said on the Ellen show.
Vivica Fox – $26,085
This beautiful actress made a name for herself after starring in one of the longest-running scripted television programs in the world, Days of Our Lives.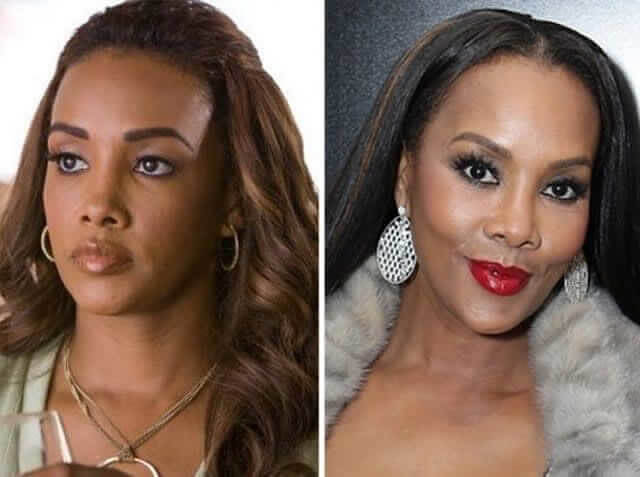 Known for her past relationship with Rapper 50 cent, the actress has paid for Botox and lip injections, as well as a facelift, and both breast and jaw implants.
Christopher Maloney – $92,000
Now this is something that is quite sad and disappointing. Chris was a contestant on the popular talent show The X Factor in 2012. His life was made hell by some hateful comments from people and he even got death threats because some people thought he had a large nose and he was not good looking enough.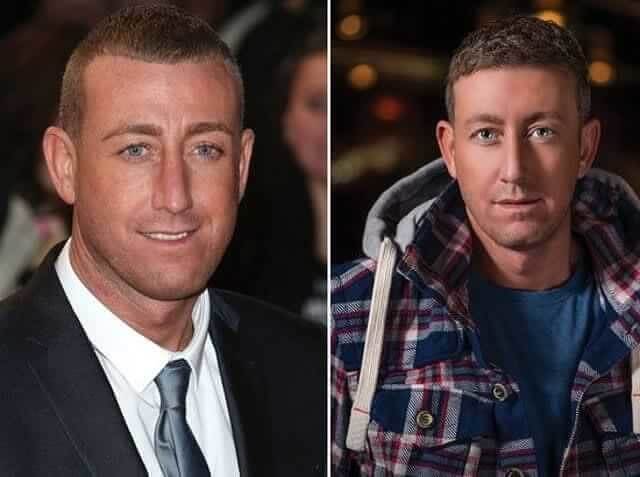 Unfortunately, the hate shattered his self-esteem and he had to to get two nose jobs, an eye lift, teeth veneers, and even hair transplants to regain his confidence. Today, he is happy with his new look but he doesn't recommend such a drastic change.
Ellen Pompeo – Unknown
Ellen Kathleen Pompeo garnered worldwide recognition for her portrayal of the character Dr. Meredith Grey in hit medical drama Grey's Anatomy. The 49-years old actress looks as beautiful as she was 15 years ago.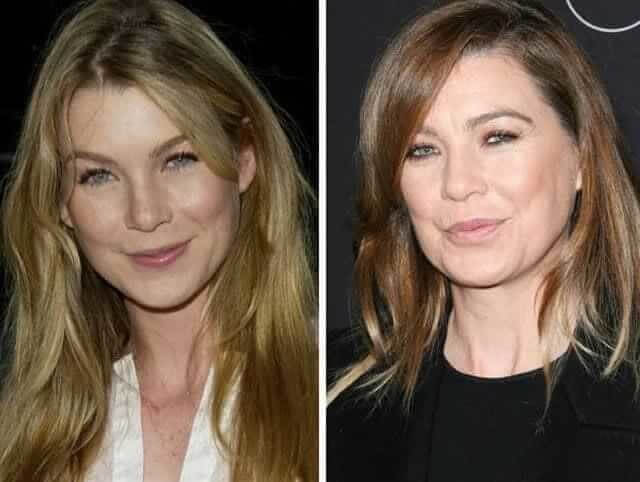 Is it possible that the secret behind her everlasting beauty is plastic surgery? Well, experts suggest that she may have had a neck lift or facelift. One thing can be said with certainty that she has shied away from Botox all these years.
Nikki Cox – Unknown
It is quite clear that the American actress and comedy writer has had lip augmentation and fillers. Her mouth is literally double the size it was.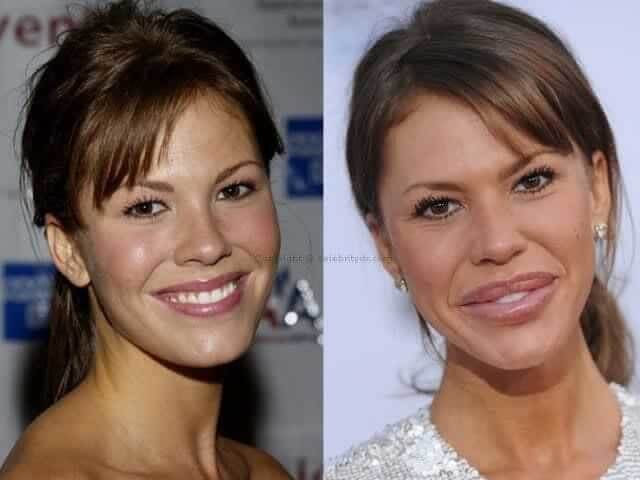 There are rumors that she had Botox and breast implants and that her drastic changes in looks have almost killed her career. However, she completely denies all the speculations.
Tom Jones- $90,000
We have no hesitation in saying that Tom Jones is still the heartthrob for middle-aged women everywhere. Well, he does take good care of his health but he is able to stay hot thanks to plenty of work done on him.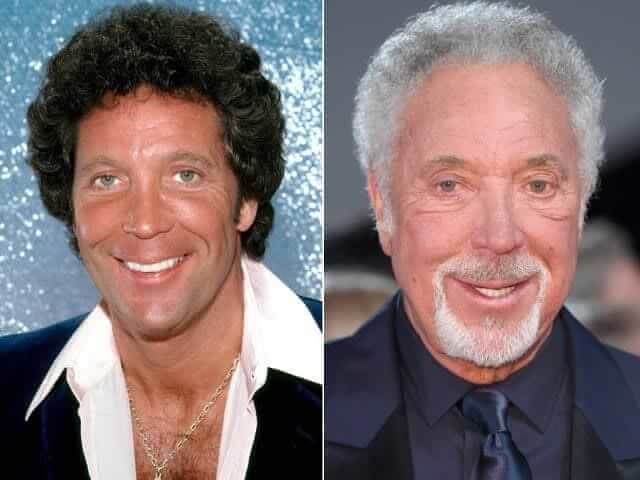 From facelifts, dental work to alternations to his eyelids and his nose, he has been under the knife a lot of time.
Hailey Baldwin – Unknown
Hailey Baldwin has gained immense popularity and it is partially because of her famous father, her modeling career, and her tabloid-worthy marriage to pop star Justin Bieber.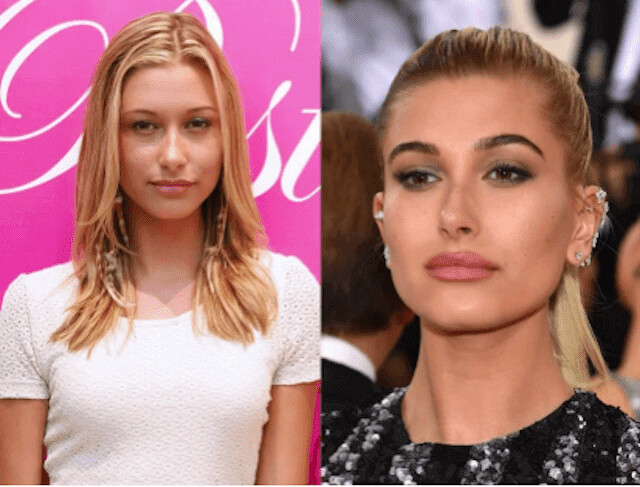 These pictures do show that she has changed a lot and there are rumors that her drastic change is due to facial injections.
Suzanne Somers – $9,000
She was somewhat known as the babe back in the day, but those times are gone. Well, at least that's not what she thought before she decided to regain some of her lost youth.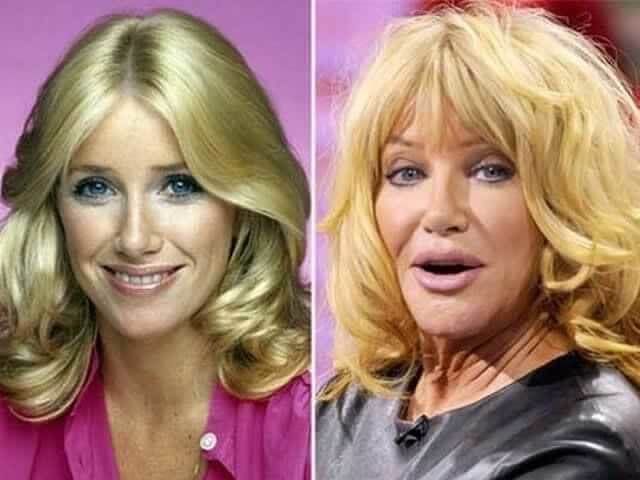 She has spent over $9,000 on her face and neck, as well as her breasts, lips, and jaw. She has certainly changed her look.
Ashley Tisdale – Unknown
Ashley rose to prominence with her hit roles in "High School Musical" and "The Suite Life of Zack and Cody."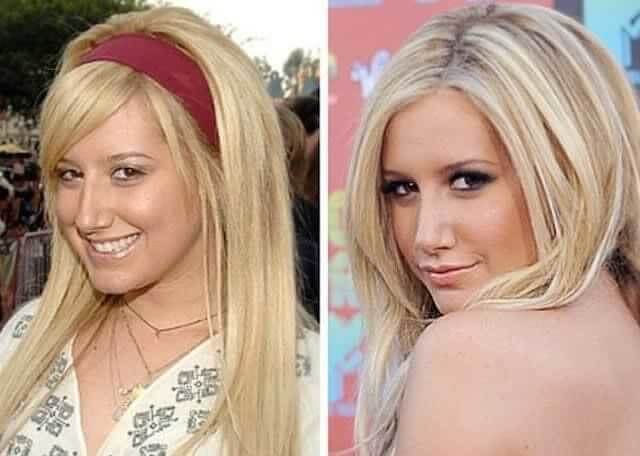 The actress got a nose job due to her deviated septum. There was media criticism that she did it to advance her career, but she maintains that the nose job was for health reasons.
Clay Aiken – $11,000
Clayton Holmes "Clay" Aiken was thought to become the next American Idol. Although he didn't quite make it, his singing career turned out to be quite good as he went on to become the fourth-highest-selling American Idol alumnus.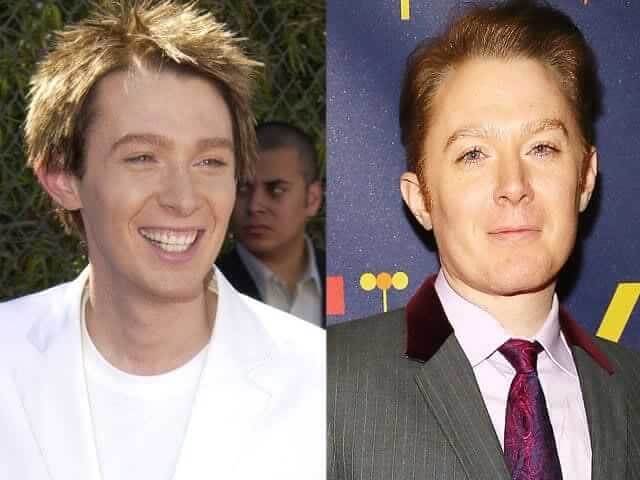 According to Clay, he went under the knife due to a Temporomandibular disorder (aka TMJ). As he needed to have his jaw reconstructed, he decided to some fat removed from chin and neck as well. We must admit that he looks pretty much the same after the surgery as well and we are happy he is doing great now.
Daryl Hannah – Unknown
The American actress and environmental activist made her debut in a supernatural horror film The Fury. Since then, she has starred in some hit movies.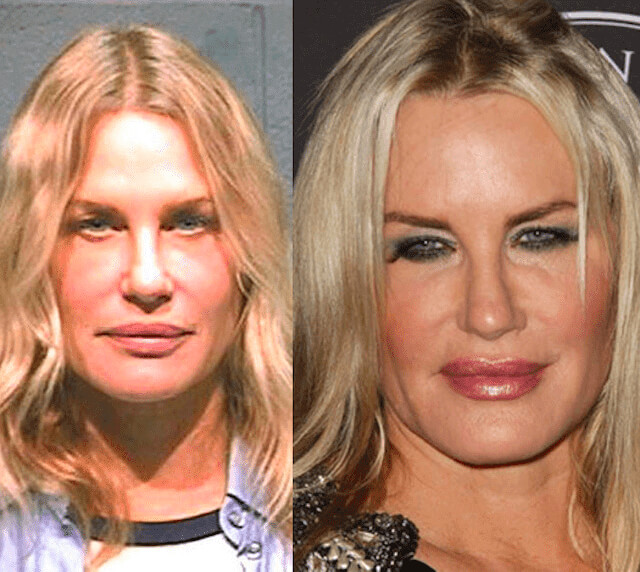 There are speculations that the actress had cheek and lip implants as well as dermal fillers and Botox, but she has not yet spoken about it.
Eiza Gonzalez – Unknown
The Mexican actress and singer became quite popular in recent years, thanks to her elegant style and her fling with sizzling hot Liam Hemsworth.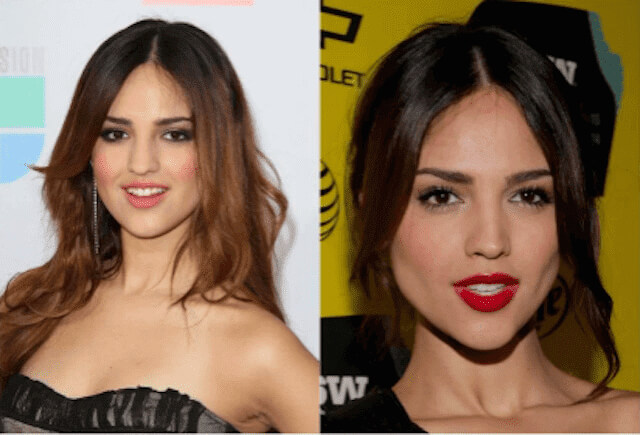 Although she has admitted to getting a nose plastic surgery, there are speculations that she has had more than just one surgery. What do you think about it?
Charlotte Crosby- $20,000
This Geordie Shore star isn't afraid to admit she's a fan of the scalpel. As you can see, there's a huge difference between her 2011 look and today- Charlotte has spent about $20,000 on her nose, lips, eyebrows, and tons and tons of botox. Even professionals have warned she's going too far and needs to slow down, but we don't think this filler fanatic will stop anytime soon. Once you start, it's hard to stop after all.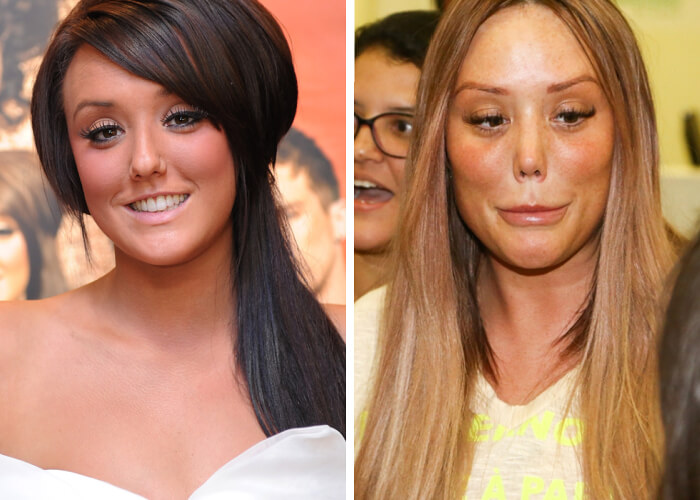 We think Charlotte looked great before and is still beautiful now, but let's hope she doesn't let things get too far out of hand.
Bella Hadid- Unknown
Clearly, you can see Bella looks very different in these two photos. Experts theorize that she's had a whole handful of procedures from a brow lift to face fat removal, but the only thing the star will fess up to is a nose job which she later regretted, saying "I wish I had kept the nose of my ancestors." That's a nice sentiment, and we really do think she's a beauty either way- but we still think there's more to this snatched face than Bella owns up to.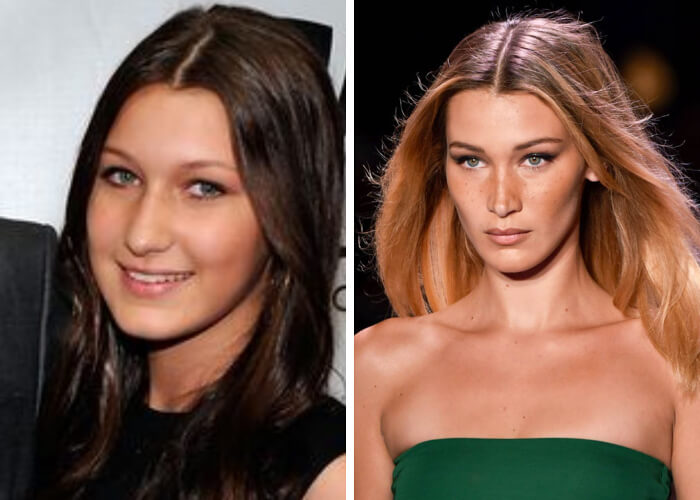 Well, fine, Bella, keep your secrets! We've seen enough of Hollywood to know that it's easy for stars to keep things under wraps and ultimately, she is entitled to her privacy- we just want the number of the surgeon, you know, for a friend.