Have you ever stumbled upon a photo on the internet and thought, "What in the world is going on here?" Well, that's because sometimes what we think we're seeing isn't actually what it is. These pictures might look like ordinary snaps at first, but once you do a double-take, you'll realize there's more to them than meets the eye. Get ready to question your eyesight because it's time to enter the world of optical illusions, full of photos that will have you saying, "Wait, what?!"
Care for Some Pasta and Guacamole?
Wow, it seems someone snapped a photo of their delicious lunch! A big bowl of pasta with a side of guacamole must be yummy. But why would the food have eyes? You may have thought you had this photo all figured out, but in fact, it's just two amphibian pets hanging out! These toads are just enjoying their life, resting in some bowls, and probably do not want to be eaten.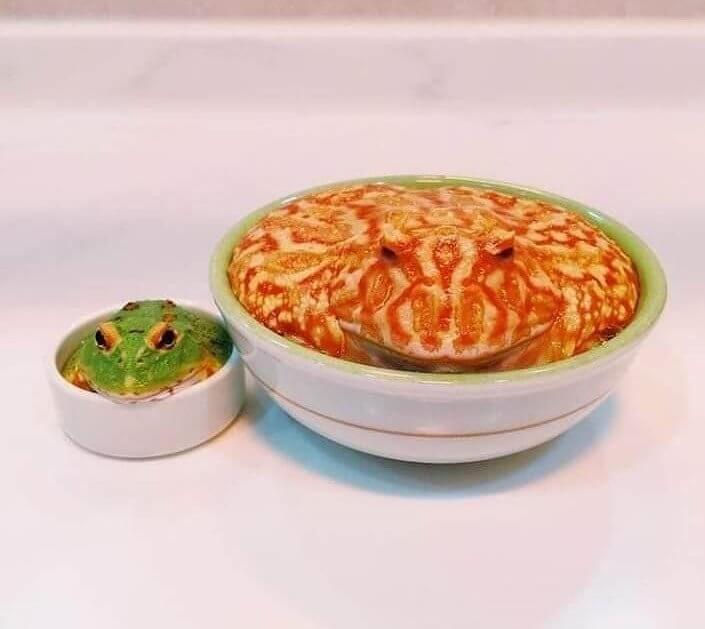 They may look like a nice lunch, but they're not food at all. And we're sure they wouldn't taste so good.
This Bride Does the Splits
Remember the days when you tried to do the splits and failed miserably? Well, one bride has shown us all up with her impressive splits during her wedding photoshoot. She effortlessly hit the splits with legs that seem to go on forever! But, seriously, what was the photographer thinking when he asked for this pose? It's a wonder the wooden plank she was perched on didn't break under all that strain.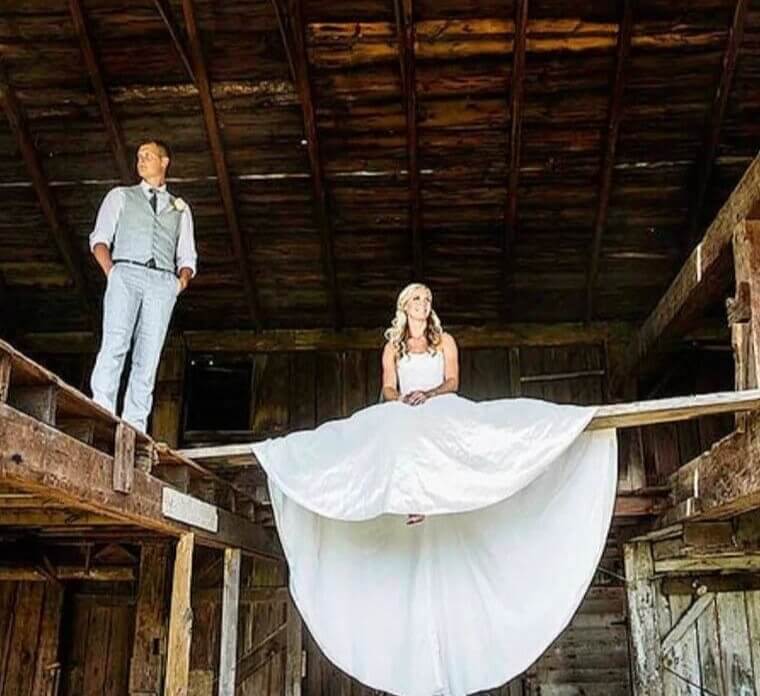 We can only imagine the gasp from the wedding guests when this photo was revealed. So, next time you're feeling down about your inability to do the splits, think of this bride and how she's got it all figured out.
A Slithery Banana
It seems like bananas are a staple food in every household, but have you ever encountered the wrong variety? Sure, these may look ripe and ready to be peeled, but one bite into it, and you might regret it. With a loud hiss, you'll realize these bananas are not your average fruit and might just be poisonous. It's almost like a scene straight out of the iconic movie Indiana Jones!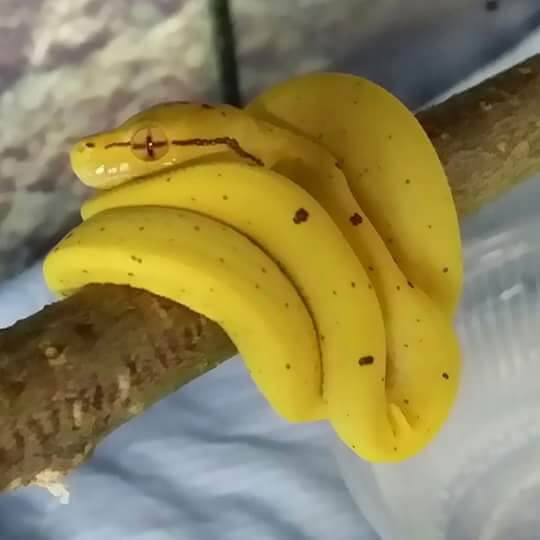 Just remember, the next time you reach for a banana, take a close look because who wants to be in a situation where they have to dodge a snake while trying to eat their breakfast?
Not A Gorgeous Aerial View of the Amazon River
Take a bird's eye view of the mighty Amazon River and be awed by its sheer size and magnificence. It's a haven for nature lovers and thrill seekers, home to the largest tropical rainforest on earth! But wait, if you look closely, it seems like a little caterpillar. That's right; it's actually a caterpillar munching its way through a leaf! It's mind-boggling how different an image can appear when viewed from a fresh perspective!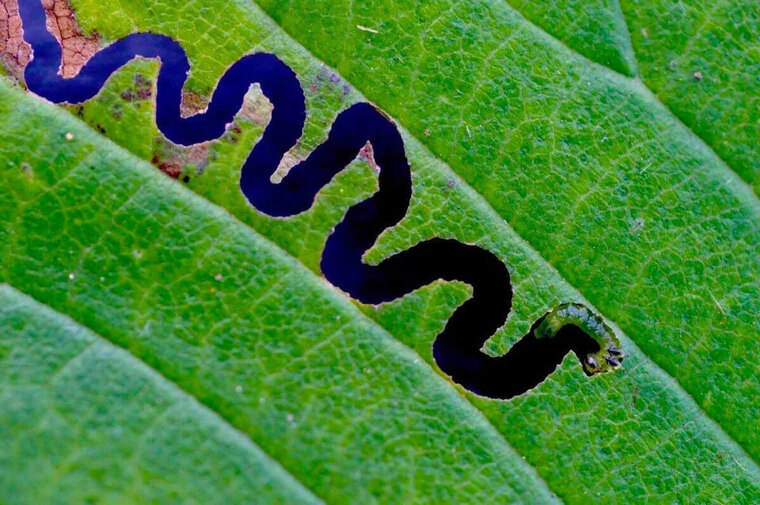 So you may have been convinced that it was the Amazon River, but now all we can see is this caterpillar having a snack!
This Salad Bowl Looks Extra Crunchy
It's time to challenge the notion that salads are bland and unappetizing. With the right mix of greens, seasonings, dressing, and textures like nuts and croutons, salads can be both delicious and nutritious. But have you ever taken a closer look at that seemingly perfect salad and realized it's not greens you're looking at? That's right; those crunchy bits aren't croutons but birds! It looks like a salad isn't on the menu today.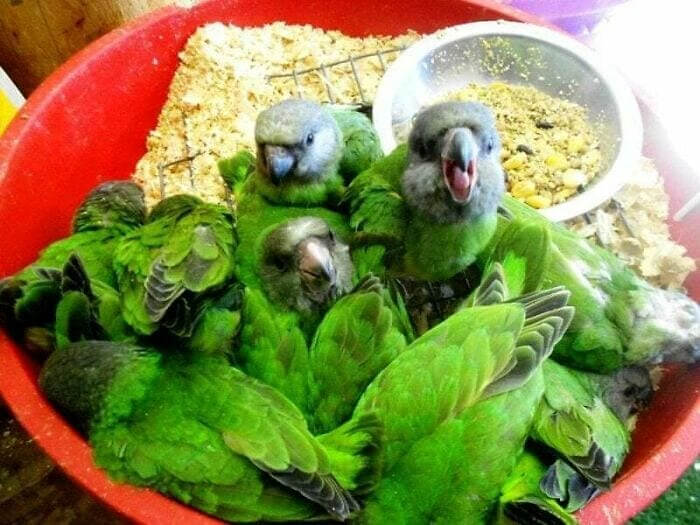 This bowl of green birds has all the fixings of a delicious salad minus the greens, but hey, who needs greens when you have birds, right?
This Cake Looks Delicious
You may have thought you were looking at a freshly-baked baguette or cake, but take a closer look, and you'll see a little kitty snoozing in a tin meant for plants! It seems that this cat found the perfect spot for a nap. Their owner might not be too happy because it looks like they can't move those pots any time soon. But who can blame them when there's a cute, furry loaf of kitty taking up all the space?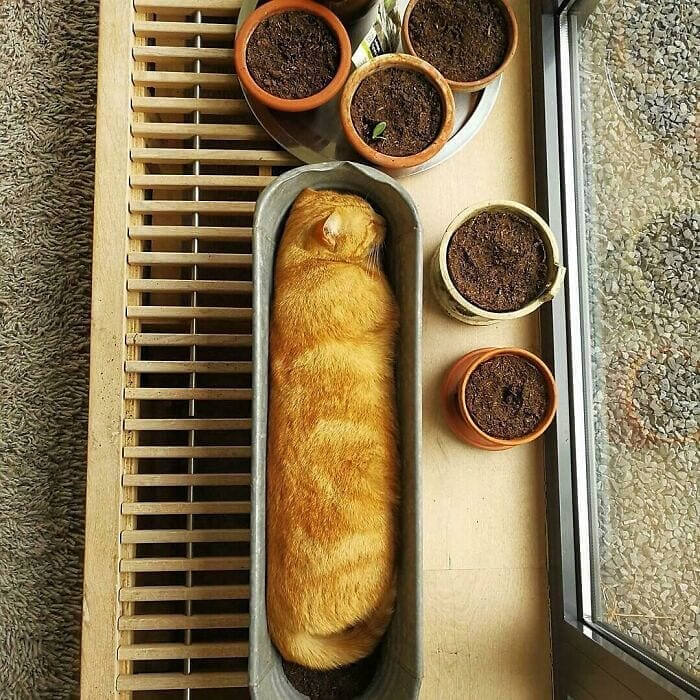 It's a good thing this cat didn't entirely fly under the radar, and the owner noticed before dumping soil in the tin!
That Sure Is a Ton of Chickens
Who knew chickens were such calm creatures and would just sit still while driving around town? Just look at them, cooped up in a truck, headed to their next adventure. It looks like they won't be flying away any time soon or ever because they are, in fact, just gallons of milk. But it really tricked you there for a second, right? Who packs milk gallons in a car like that anyway?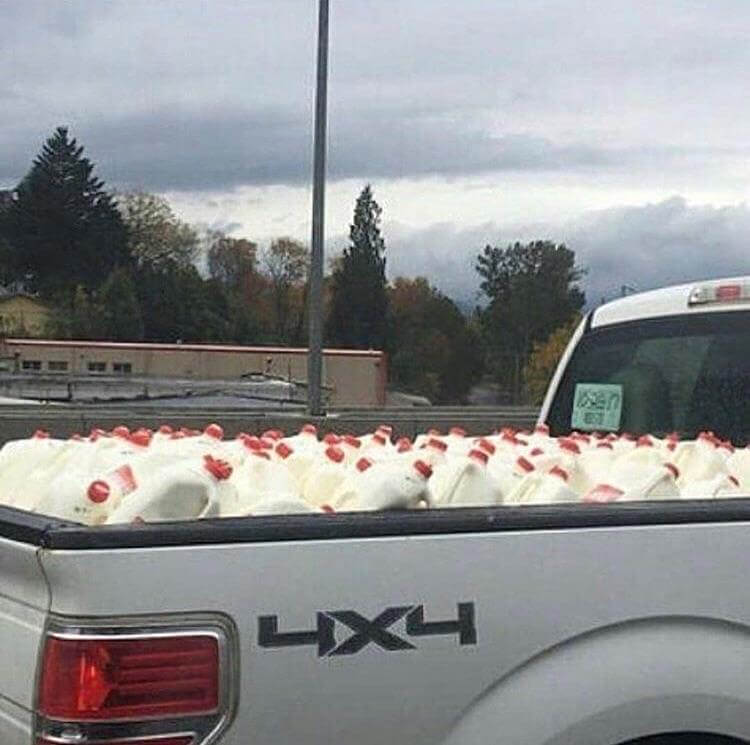 We bet the person who snapped this photo was in disbelief. Good thing they got this photo, or no one would believe them!
What a Yummy McFlurry
Ladies and Gentlemen, get ready for a dessert revolution! Introducing the 'Chubby Sundae' from the one and only McDonald's. This sundae isn't just a treat for your taste buds; it's a sight for sore eyes. With its roly-poly figure and cute little eyes, this sundae is living proof that McDonald's has upped its dessert game. Who knew that amphibians would be the next popular ingredient used in desserts? It sure looks yummy.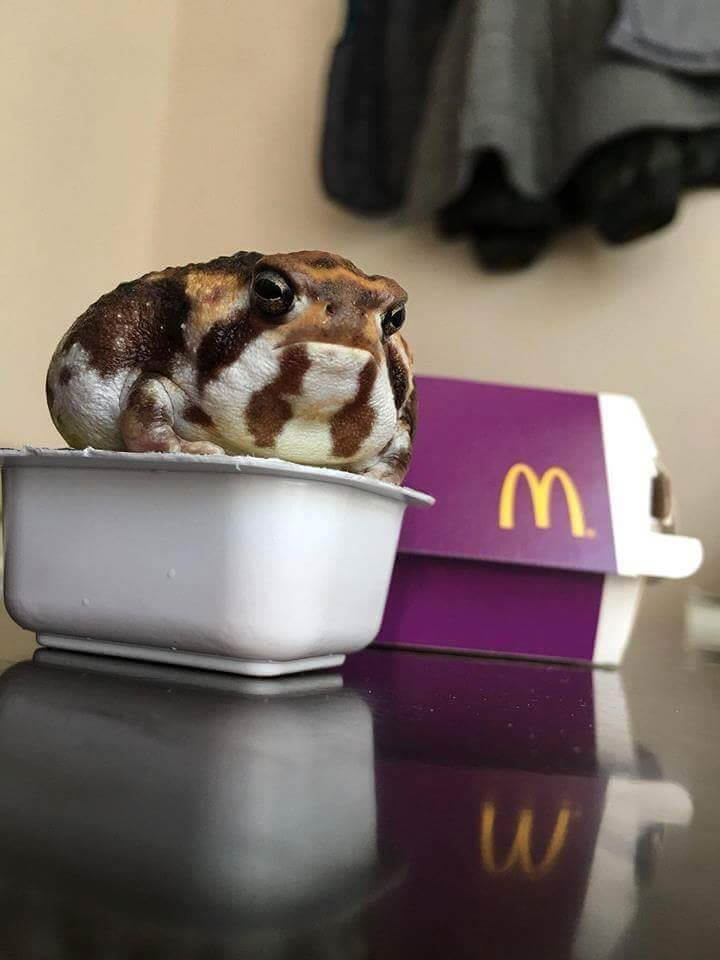 So it may not be actual ice cream, but at first glance, that frog definitely looks like a vanilla and chocolate swirl McFlurry! We just hope no one tried to take an actual bite out of it.
Someone Must Save That Pupper
Hold the phone, folks. We've just come across a picture that has shaken us to our very core. It's a man throwing a dog out of a helicopter, the horror. How could someone be so cruel to a man's best friend? But wait, there's more. We discovered that it's not a heartless act after all. It's just a man tossing his beloved Corgi into the snow, and boy, did that pup have a blast!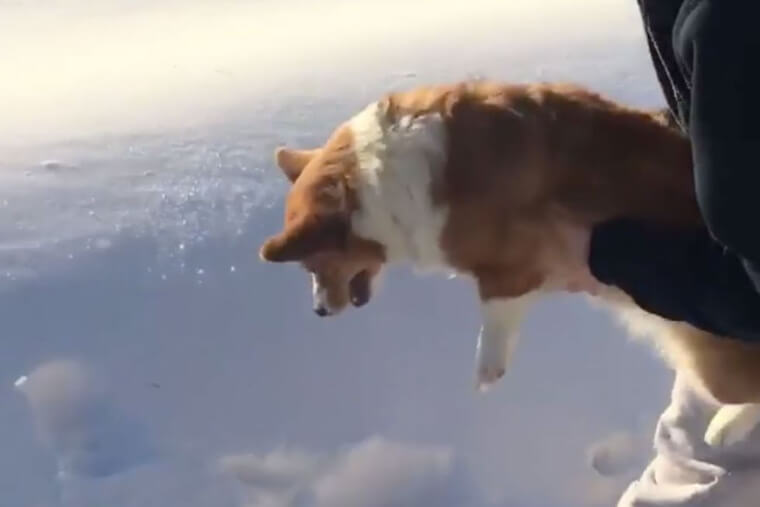 That layer of snow looks just like a fluffy cloud in the sky. So it's no wonder people thought this dog was about to go sky-diving when he really was making snow angels.
This Might Be the Cutest Petri Dish Ever
Attention germaphobes! Prepare to have your minds blown. Bacteria and germs are usually the stuff of nightmares, but hold on to your hats because we've just stumbled upon the cutest little bugs you've ever seen. Well, they may not be actual bacteria floating around a petri dish, but they sure look like it. They're really just little turtles swimming around in a small fountain. We guess there will be no sneezing or coughing here!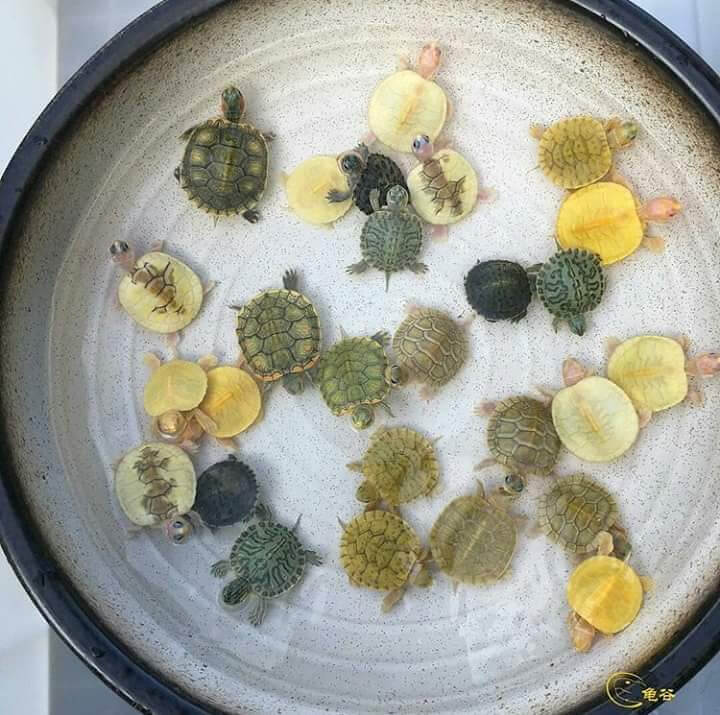 So before you reach for the hand sanitizer and run for the hills, take a closer look at this photo! It may look like a petri dish full of germs, but it's a group shot of some of the cutest little turtles you've ever seen.
Either This Bride Has Her Backside Out or This Wedding Guest Has Perfect Timing
Just glancing at this image, we were ready to call this bride a fashion faux pas. But hold your horses, people! Before you jump to conclusions, take a closer look because it's not what it seems. It definitely looks like this bride is wearing a tiny dress with her backside hanging out. However, it's actually just a case of a perfectly-timed photo bomb by another woman! Phew, that was a close one.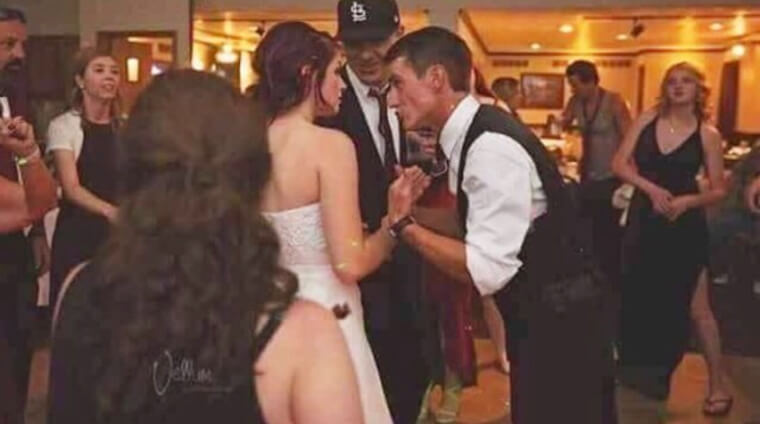 This photo looks a bit odd at first glance, but give it a second look, and you'll see your eyes were just playing some mischievous tricks.
Daisy Dukes Are Back in Style
This guy is absolutely rocking and owning those teeny-tiny shorts better than most! But wait just a minute, is that his girlfriend peeking out from behind his shoulder? At first, we thought this guy had the confidence of a king in his daisy dukes. But then you realize he's actually sitting down, and his girlfriend is just hugging him from behind. Either way props to this couple for giving everyone a good laugh.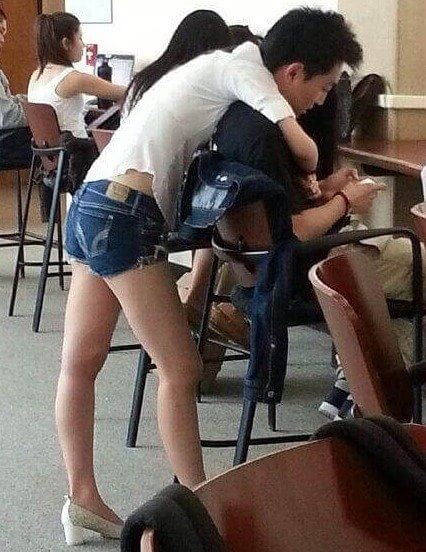 These are the types of funny photos that cause so much confusion at first until you realize it was all an illusion!
Glazed Donuts Don't Get Any Scarier Than This
Mmm, who doesn't love a good, gooey pastry for breakfast or snack time? But hold the sugar, folks! We've stumbled upon a batch of pastries that just won't do. These slithering, hissing delights may look like they're begging to be devoured, but we'll have to pass. Why would anyone pass on a delicious glazed donut? Well, take a long look because these donuts might have some serious repercussions if you take a bite!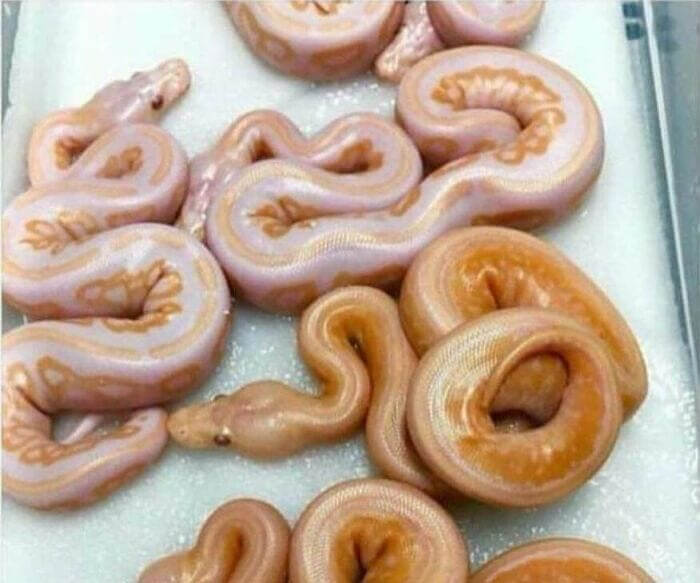 So, we'll just stick to our trusty old muffins and croissants; thank you very much. Who knew pastry danger was a real thing?
Beautiful Giraffes Made of Steel
Who says you have to travel all the way to Africa to see some magnificent giraffes? Not anymore! Just head on over to the nearest construction site, and you'll find some towering giraffes made of cranes. They may not be real, but they sure do bring some humor to an otherwise boring construction site. These giraffe-cranes stand tall, stretching their necks toward the sky as if admiring the beauty of the sunset.
Admit it, even though these majestic creatures are just made of cranes, this photo is still pretty cool! Don't let appearances deceive you.
It's Either a Two-Headed Monster or a Cuddle Puddle
When you first see this photo, it may seem like someone got their hands on a very special creature right out of a fairy tale or a Hary Potter film! This extra-long two-headed kitty monster is just taking a well-needed snooze on a couch. Okay, so maybe these two cats haven't morphed into one long, luscious feline, but these kitties cuddling sure look comfy. All we know for sure is that these cuddle-puddle kitties are simply purr-fection.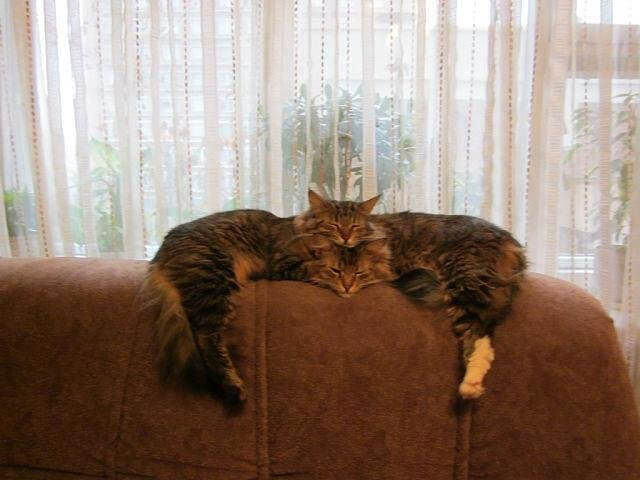 This photo will have you doing a double-take, with the angle that makes it appear as if someone is the proud owner of a unique two-headed monster of a cat. But, in reality, it's just two mischievous cats playing a trick!
A Dog's Deformed Snout or a Hanging Critter, You Decide
With a quick glance, you probably thought this adorable golden retriever had an extraordinarily big nose, that is until you realize its nose is fluffy and moving. We've never seen a hamster holding onto a dog's nose like that! It's hilarious that the dog remains so calm as if it's no big deal, and this happens every day. This photo will surely bring a smile to anyone's face; how can you resist this cuteness?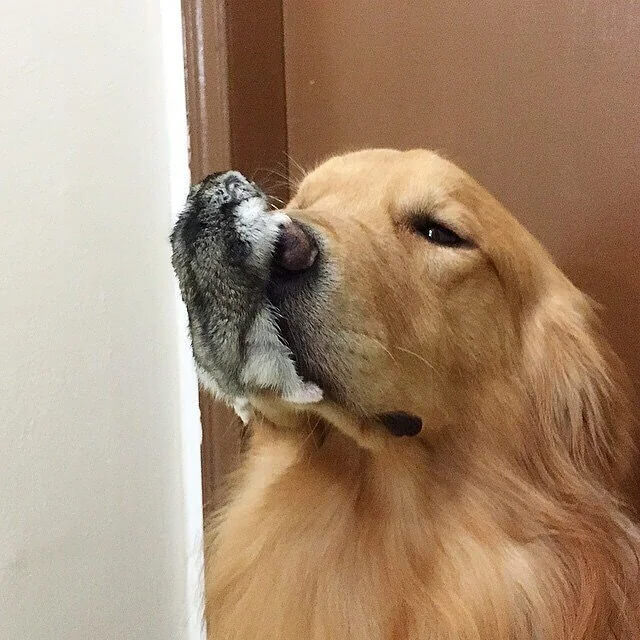 It looks like this dog's snout got a hamster-size makeover, and now it's the cutest snout-hamster-pendent in town! It's amusing how a second glance is necessary to unravel the truth behind this picture.
What a Massive Orange
This microscopic photo has got everyone talking and wondering what it really is. Is it a tweezer picking up an organism from a dish or an airplane soaring through the sky? The orange-like shape and the contrails behind it have left us all baffled and intrigued. But one thing is for sure, with the advancement of photography, we can expect to see more of these mind-bending images in the future.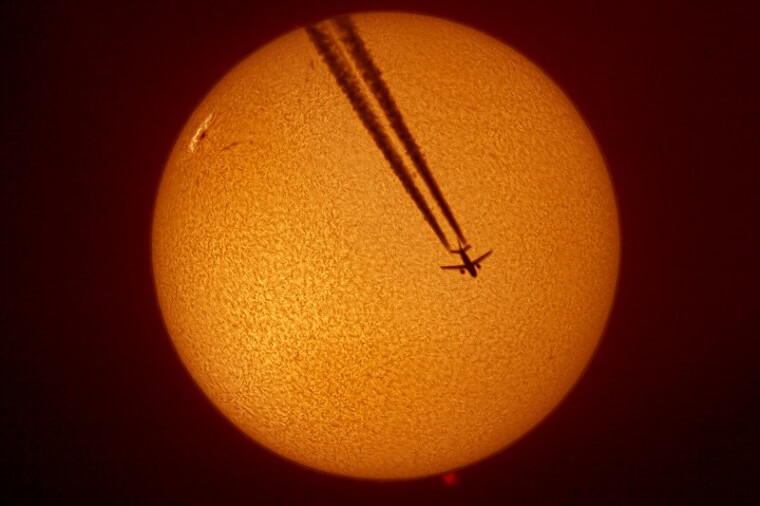 Who knew a simple photo could leave us so bewildered and captivated at the same time?
This Sea Urchin Is Taking a Plunge
For those of you who never learned to swim, the idea of diving into the water is daunting. But fear not, as this curly-haired diver is about to show you how it's done. Just one catch – there's actually no one diving! It seems this brave snorkeler is just holding a sea urchin in the palm of her hand! It really looked like someone was jumping in the water beside her.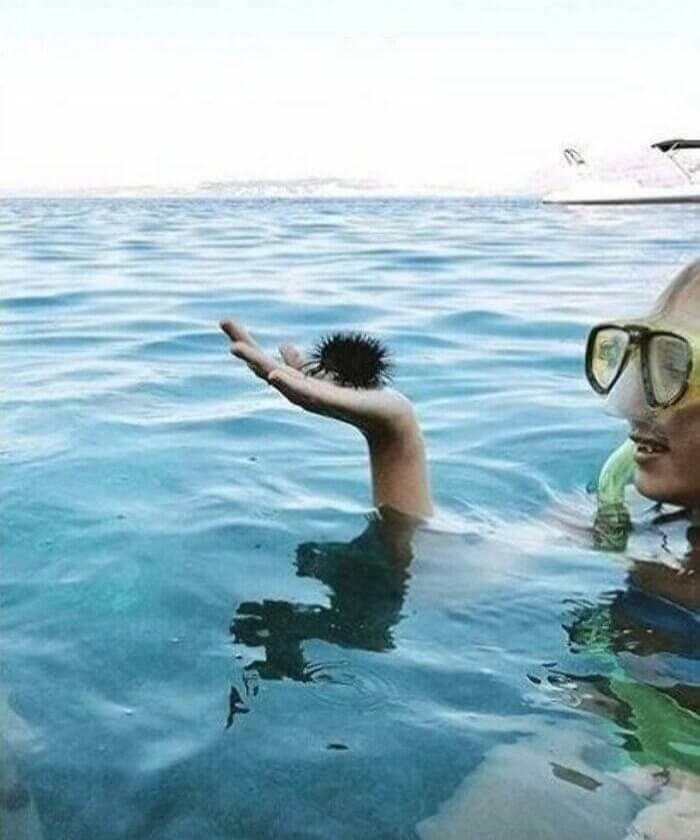 Don't look over these photos too quickly, or you might miss what they really are! Just like this sea urchin turned curly-haired diver!
Quick, Someone Check on This Woman
Why does this girl look so happy? It definitely looks like she got bitten by a shark or something similar and is bleeding out! All of the muscles in her leg look completely exposed; this is horrifying! Someone needs to rush her to the hospital unless it's, of course, an illusion. Right, it's actually just her brown slouchy purse strategically placed next to her to look like her leg is torn apart!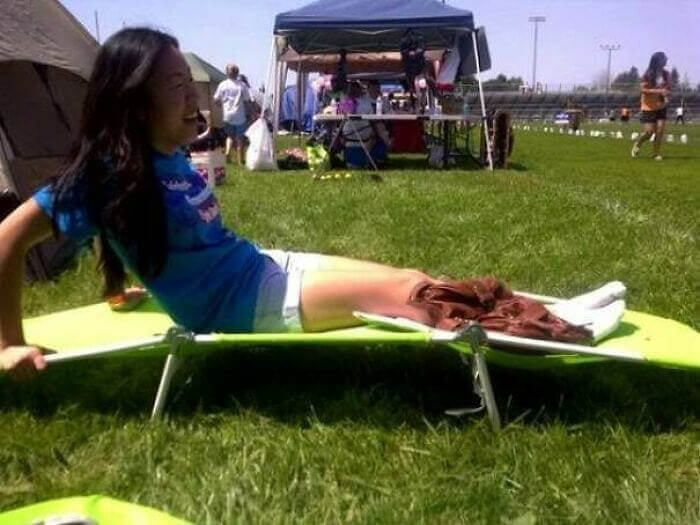 This is exactly why these photos require a second look to fully understand. Otherwise, this picture could've been really scary; thankfully, it's just a joke.
That's Not a Boat in the Water
Nice quality leather couches are hard to come by and usually cost a lot of money. Well, what does a leather couch have to do with a boat in the water? We bet you really thought it was an aerial view of a boat in the ocean. It's hard to believe, but this photo is, in fact, an up-close shot of a tear in a leather sofa. Your eyes can really deceive you!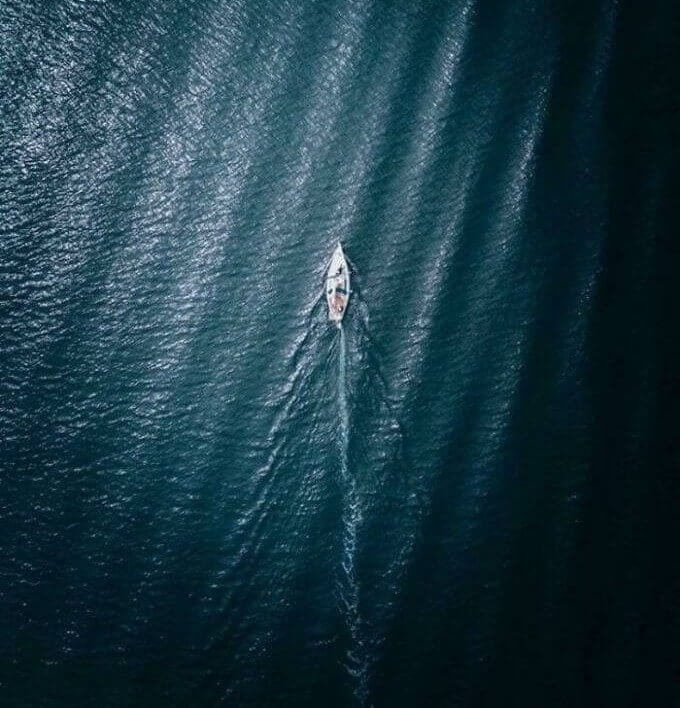 Photos like this can completely alter your perception of reality! The mind can really play tricks on you, and this boat in the ocean, which is a leather couch, is proof enough.
An Ice Glacier Poses for a Portrait
This photo of an ice glacier is a real head-turner. With its striking blue water and sky set against a blanket of white snow, it's a feast for the eyes. But wait, is that really just an ice glacier? Although it looks more like a beautiful woman lying down, with curves and contours that trick the mind. Mother Nature sure has a sense of humor, shaping the snow in such a way as to create an illusion that's so convincing.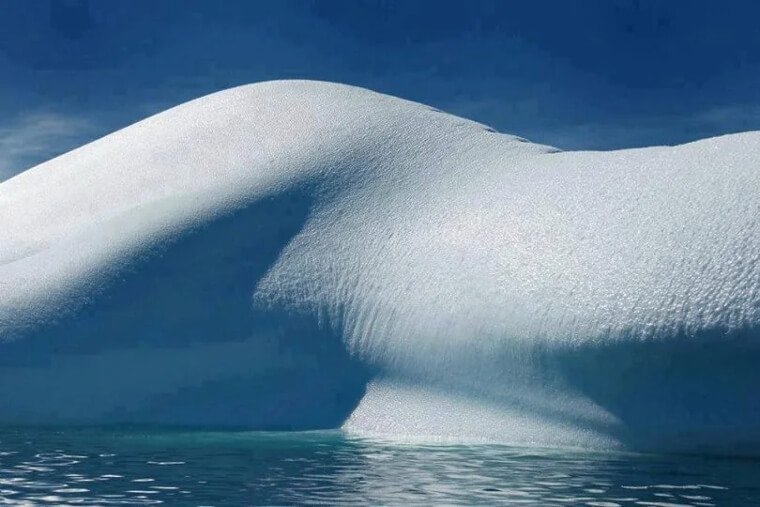 Who knew a mass of ice and snow could be so alluring and create a truly stunning work of art?
A Hot Pan Left a Cat-Shaped Burn Mark
This guy put a scorching hot cast iron pan on his bed, and we're left wondering what could have possibly been going through his head. We all know the dangers of placing a hot pan on your bed sheets – burn marks and holes galore. But lucky for him, this burn mark doesn't come with a side of pain. In fact, it purrs and loves catnip! That's right, this burning thing is none other than a feline friend.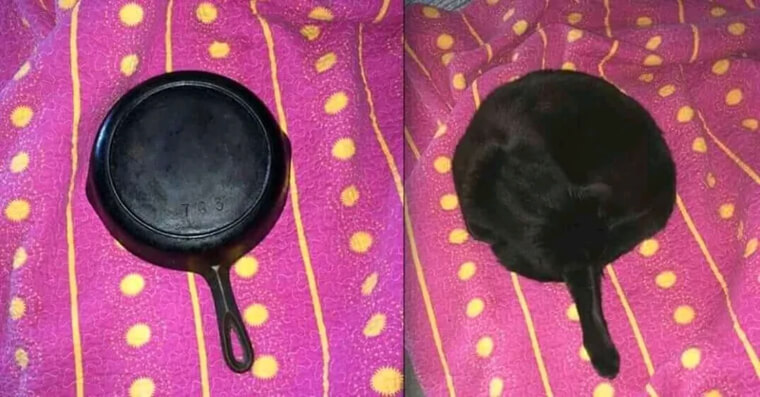 No one ever thought you could possibly mistake a cat for a pan or vice versa, but with this photo, it's surprisingly easy to do.
A Pond Full of Ducks or a Flood With Motorcycle Handlebars Peeking Out
We've got a case of mistaken identity on our hands. At first glance, those ducks swimming around the pond look like they're having the time of their lives. But upon closer inspection, it's revealed that they're actually motorcycles drowning! Can you believe it? The handlebars peeking through give it away, but for a moment there, it was a case of "what the duck?" This really had you fooled for a second!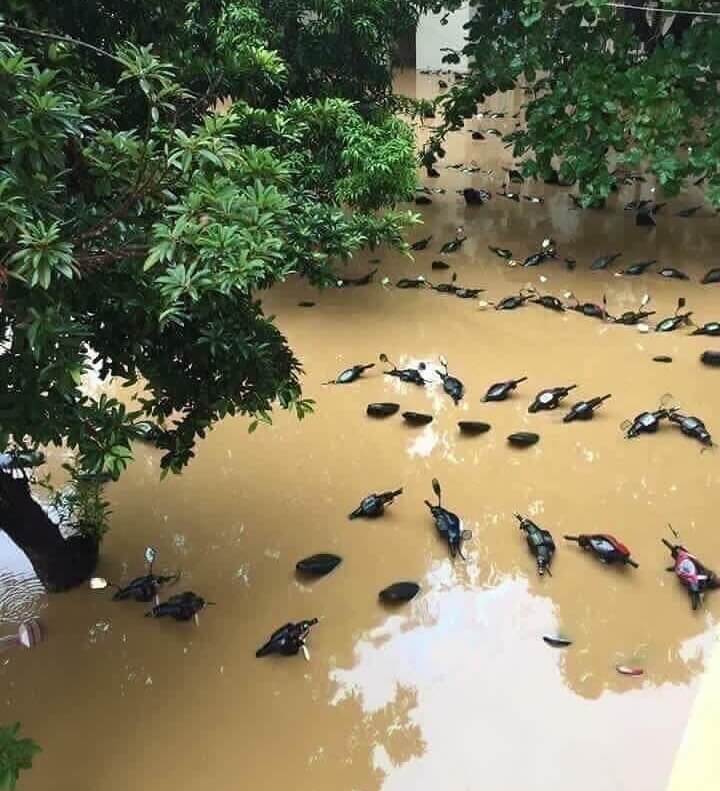 This may be surprising, but the photos only get better. Keep scrolling for more hilarious cases of mistaken identity, optical illusions, and pictures that are not what you expected.
Quick, Your Sushi Might Fly Away
Sushi lovers gather around! We've got a twist on the classic Japanese dish that might leave you pleasantly surprised or just shocked. This unique sushi, complete with a beak and two eyes, can actually sing like a canary! So it may look like a yellowtail roll, but it's really a live bird wrapped in a cozy little blanket. It might not be a tasty treat after all, but a fun pet!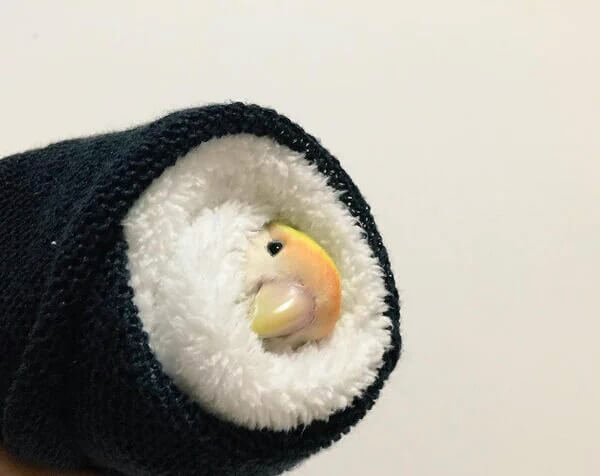 This photo, which appeared straightforward, has taken a surprising turn that truly deceives you!
This Is One Confusing Sport
Surfing is one of the most iconic sports, but this one takes the cake for being the most confusing. At first glance, it looks like a beautiful blue-green wave, ready for a surfer to tackle. But wait a minute, why is this surfer dressed in full winter gear? That's right; she's not surfing in the ocean but climbing an ice tunnel! As much as this photo can trick the eye, it sure is gorgeous.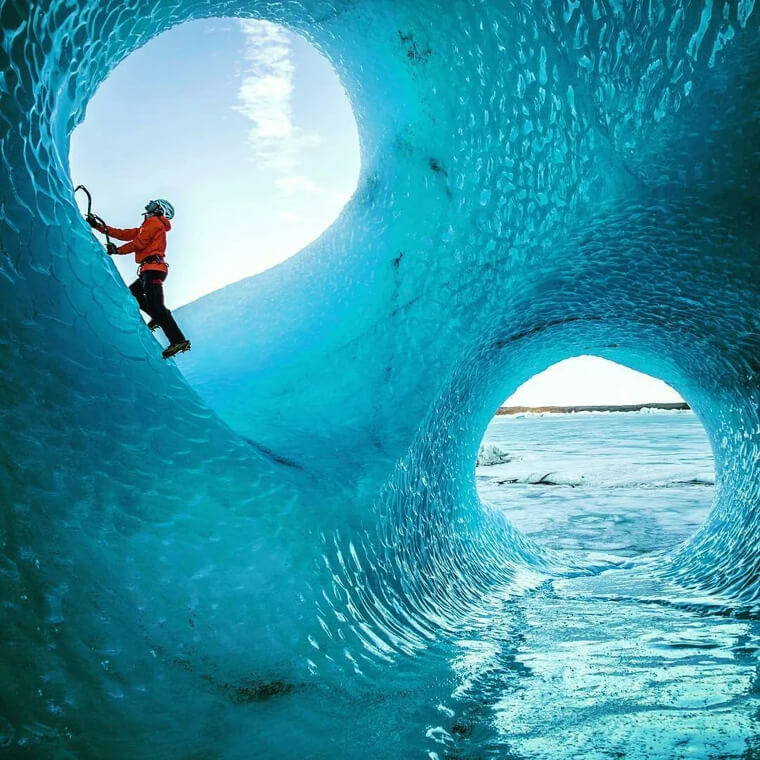 Talk about having a love for adrenaline-pumping sports; this takes it to the next level. It looks slightly terrifying and incredible at the same time.
The Cat at the End of the Tunnel
While some folks have nightmares about getting hit by a train, we wouldn't mind if it was this adorable kitty train. You might've thought it was a photo of a dark tunnel and a train heading right for you, but let's take a closer look. It's not what it may have appeared; it's a bright-eyed feline! We'd put money on the fact that this train loves squeaky toys and scratch posts too.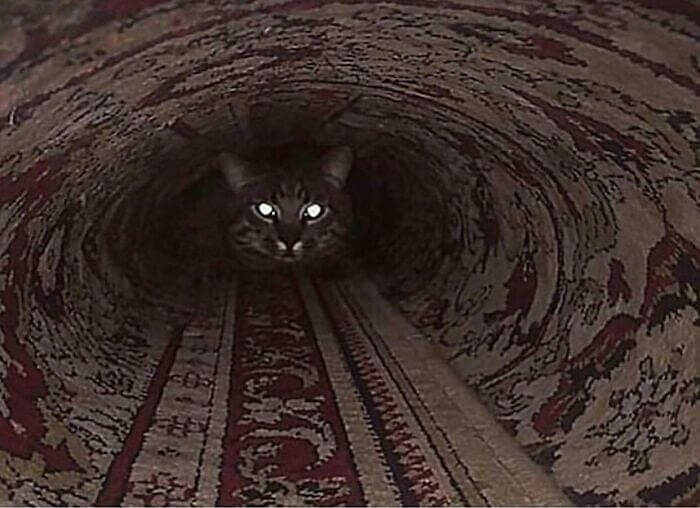 Many people have a phobia of trains, but we bet they would change their tune if they saw this cute kitty train in action.
That Antelope Skull Is Such a Couch Potato
When venturing through the desert, it's not uncommon to come across antelope skulls like the one in the picture. It seems as though this skull has had a long day and has taken a nap on the couch. But wait! This picture is not what it seems. It may look like an antelope skull, but it's actually just a dog stretching and getting comfortable. Talk about a case of mistaken identity!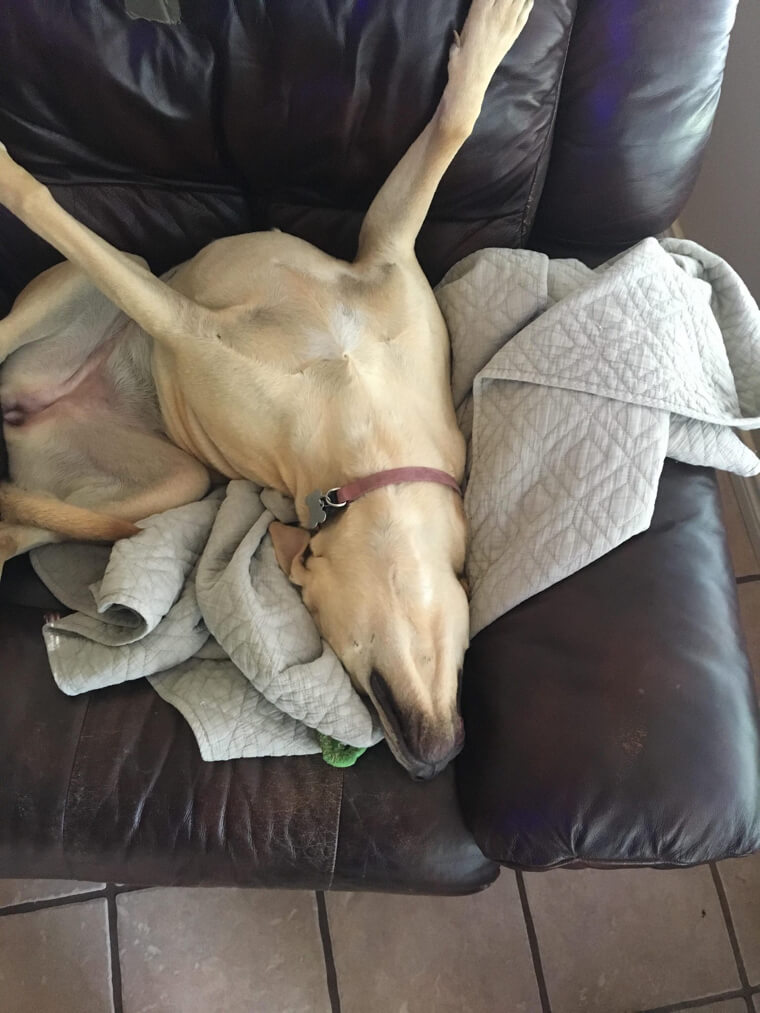 This picture is a classic example of how our minds can play tricks on us. Some folks decorate their homes with skulls for a western vibe, but this antelope-turned-dog is definitely not what they had in mind.
This Lady Is Just Casually Showing off Her Shrunken Head
At first glance, this picture might make you think of a poppet – a doll used in witchcraft to cast spells on a person. However, the lady in the picture doesn't appear to be a witch, just someone showing off her "doll" to friends. Or is she? Upon closer inspection, it turns out she's only holding a brown bag. The other lady in the photo just happened to be passing by at the moment the picture was taken.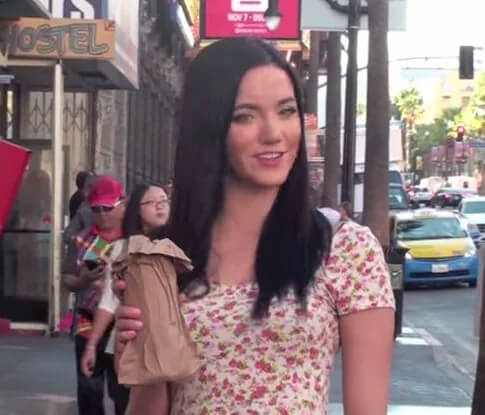 Appearances can really be deceiving; it's so easy for your imagination to take an image and run wild with it! Thankfully, this isn't a real shrunken head.
The Most Adorable Black Hole You've Ever Seen
It's not every day you see a black hole in the kitchen, but that's exactly what appears to be happening in this photo. One might think black holes are only found in the depths of space, but this one seems to have made its way into a home. The black hole has taken on an unusual form with two eyes, a nose, and a shiny coat. Who knew black holes could be so adorable?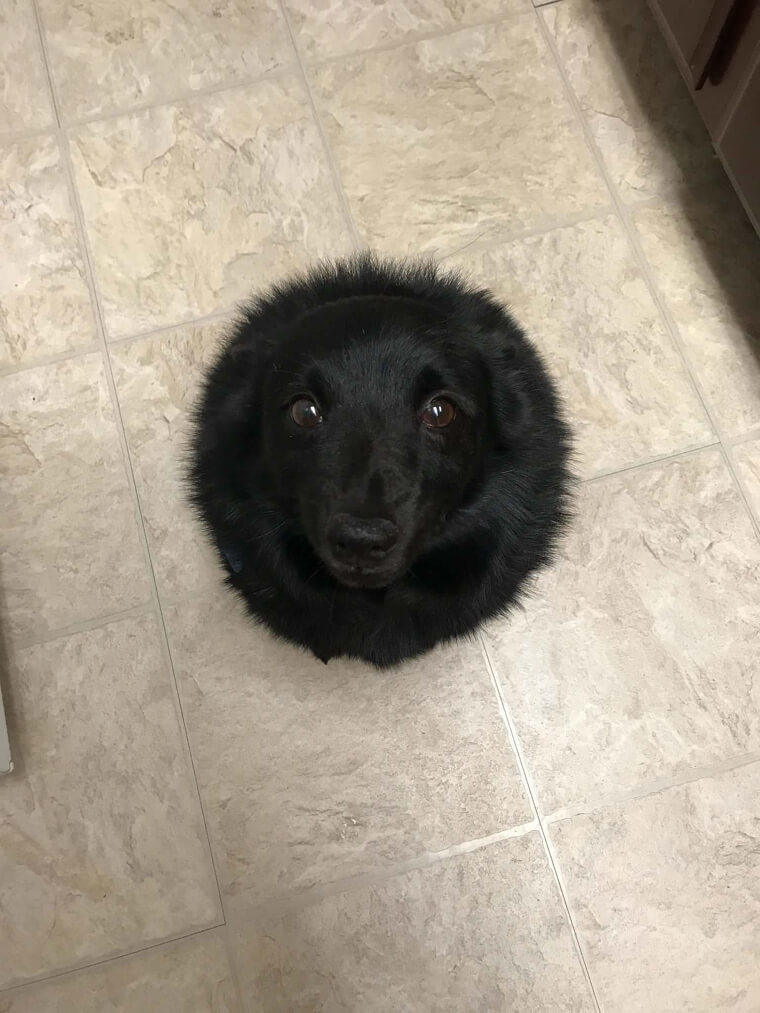 One can't help but want to give this kitchen black hole a good cuddle and maybe even play a game of fetch.
No, This Isn't a Computer Screen With Code
The photo captures an almost otherworldly scene, reminiscent of the iconic moments in The Matrix movie where computer hackers are seen working away at code, illuminated by the eerie green glow of the computer screen. But, on closer inspection, we are brought back to reality as we see a farmer hard at work! It's an aerial view of a field, and you can see the hat of a farmer working away.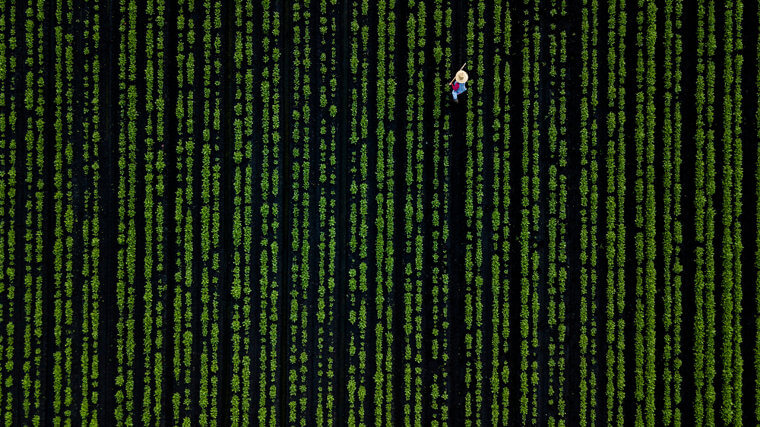 Or is your mind playing tricks on you? Maybe it really is a computer screen; we will let you decide.
Those Are Some Extra Large Bacon Slices
Bacon, oh bacon, why do you tempt us so? Is it your salty, smoky flavor or your crispy texture? Imagine slices of bacon as big as these pieces; now, that is a feast fit for a king! Unfortunately, this giant bacon doesn't seem to be available in stores, leading us to believe it might be a specialty item. But be warned, rumors have circulated that this giant bacon could lead to some stomach discomfort; why you may wonder?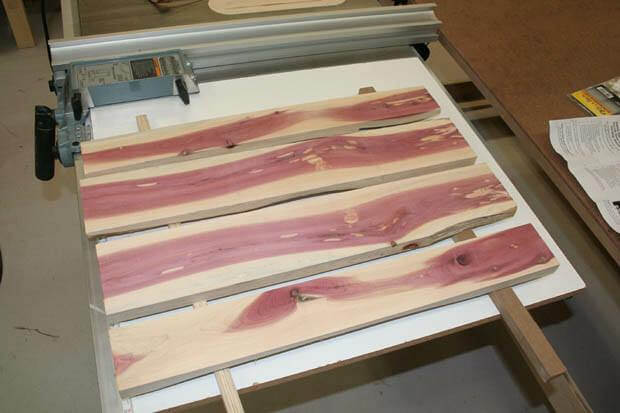 Well, considering these enormous slices of bacon are actually made of wood, we wouldn't advise munching on this.
Why Do Those Pieces of Wood Have Faces
Gathering and splitting firewood may not be a task most people are familiar with, but it usually consists of having a thick piece of wood and using an axe to slice it into smaller pieces. It seems here someone was in the middle of cutting the wood and, just as it began to split, gave up. However, the wood appears to have eyes which is weird. Something is definitely off, but what can it be?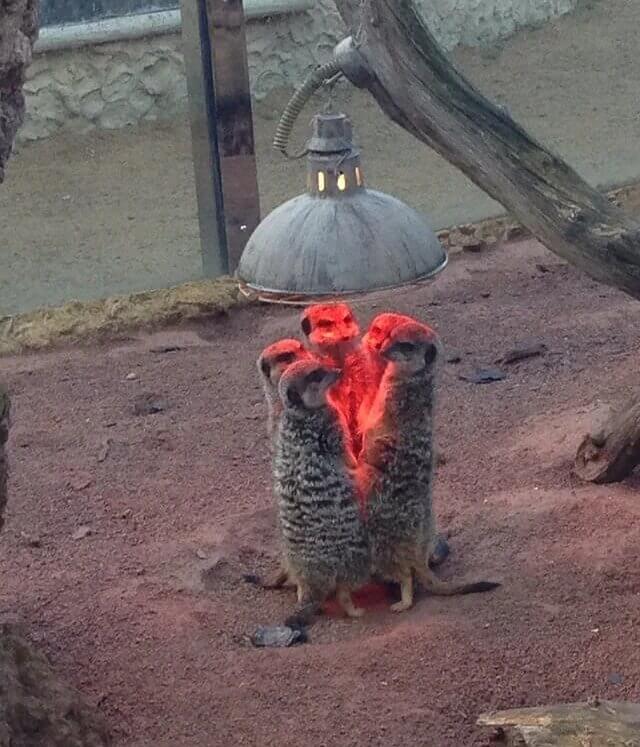 It's actually a group of meerkats trying to warm themselves under a light! If you didn't do a double-take, it would be easy to misinterpret this photo.
Easter Island Has Made It's Way to This Local Landfill
It appears as though unknown forces have descended upon this landfill from Easter Island, or, wait a minute… is that actually an Easter Island statue? It turns out it's just a piece of litter in a landfill that bears a striking resemblance to the ancient figures. Who would have thought that a simple plastic bottle could cause such confusion and alarm? The fact that this bottle really looks like a statue is bizarre.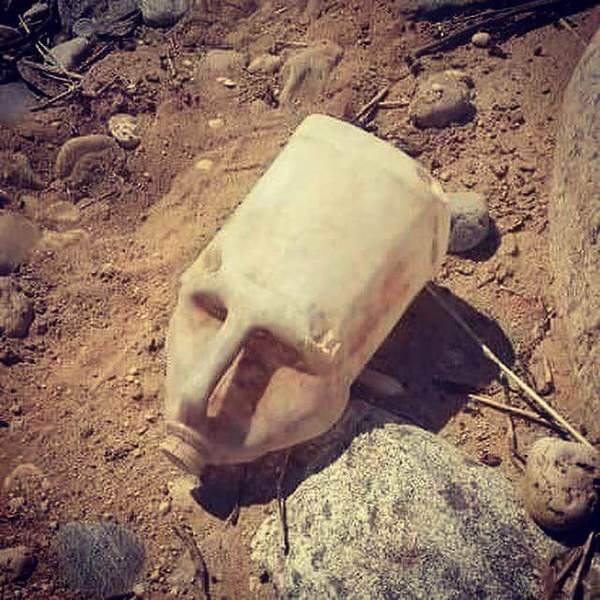 Your eyes can certainly deceive you, as a plastic bottle is not even close to being comparable to ancient figures.
The Clearest Photo Ever of Jupiter, You Can Even See Ducks
This is an amazingly clear photo of Jupiter from a telescope! You can see so much detail on this planet, from the colors and texture to even little animals. That's right; there are ducks, grass, and even bodies of water. Who would have thought that Jupiter could be so… duck-friendly? Okay, so maybe it's not Jupiter, but it sure does look like it. Then what is this image really of?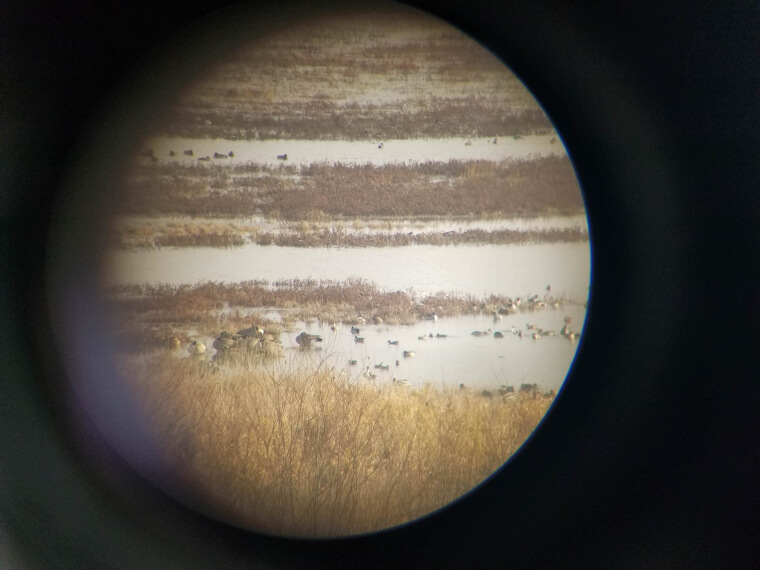 If you look closely, it's a zoomed-in image of ducks in the water! It really had you fooled there, but it just goes to show that optical illusions are real!
This Must Be What It Looks Like for Someone Without Glasses
Here's an optical illusion if you've ever seen one! It appears to be someone holding prescription glasses in front of the camera to show the difference between what the world looks like around them and how they see it through their glasses. But, in fact, it is just an image of a bridge suspended over a pretty body of water. The reflection of the water is causing it to look blurry, which is confusing.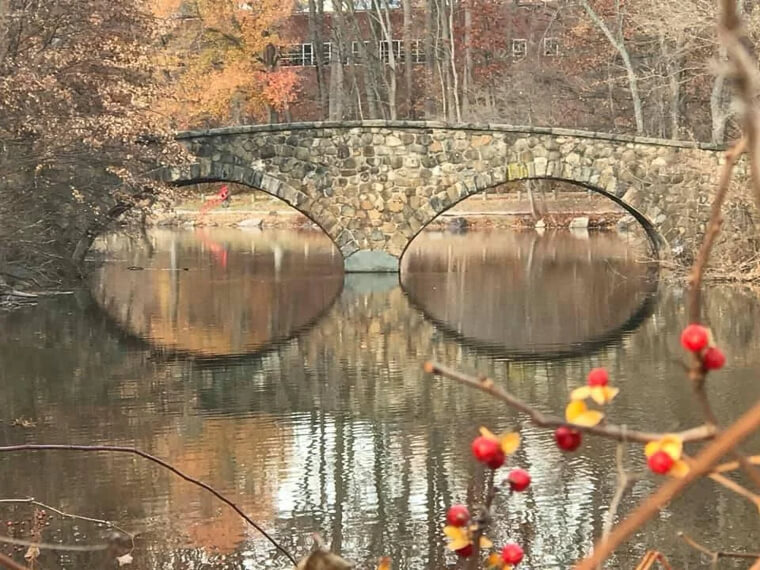 It really does resemble what it would look like for someone without glasses, so it's a mind-boggling image to look at!
This Shaggy Carpet Sure Does Look Like a Crowd of People Jamming Out
One of the best feelings is going to a concert and jamming to your favorite musician in the crowd in the crowd. Just like the people in this photo, dancing and singing along to the music is a moment you don't want to forget. However, this concert is different because it takes place on the carpet! Those aren't people dancing around; it's just a zoomed-in photo of a shaggy carpet. Who knew these things could look so similar?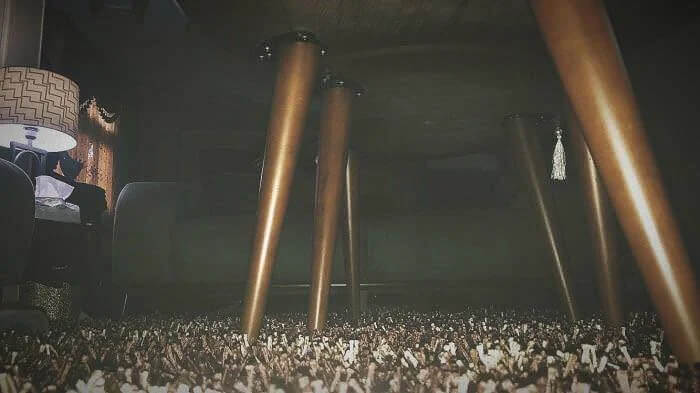 Those aren't huge gold pillars; those are the legs of a chair! It's a weird angle to take a photo, but it definitely tricks the eye into thinking it's something completely different.
A Crab Surprisingly Got Caught on Sheet Music
Here's another classic case of your eyes playing tricks on you. At first glance, it appears that a crab has found its way onto the sheet music, leaving the pianist with an unexpected note to play. But on closer inspection, the image reveals itself to be something much more mundane: a dog's face peeking out from the snow. Whoever snapped this photo probably didn't realize just how different it would be perceived.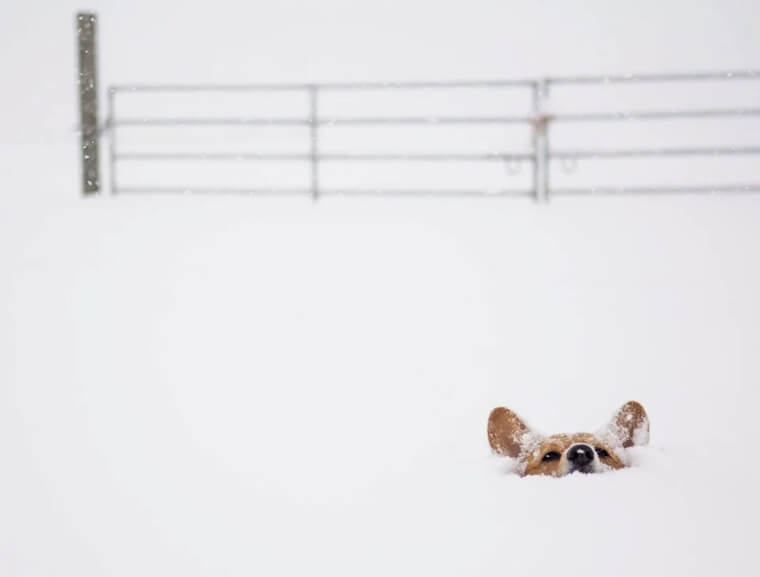 Whether it's a crab on a music sheet or a dog in the snow, these photos surely bring a smile to anyone's face!