You've probably heard about the Amish, and if you live in Pennsylvania or the midwest, you may have even seen them now and again. But the truth is that few people really know a whole lot about this mysterious group of people who happily live throughout the United States. Within their own communities, they have shunned technology and, although friendly people, generally shut themselves from the rest of the world. This has caused them to create a whole new set of norms and traditions which are as interesting as they are mysterious and strange. ​From their wedding traditions to their thoughts on modern medicine, we are taking you on a deep dive into the Amish lifestyle.
What Is It With Amish People And Electricity?
Many people often think that Amish people use zero electricity, but that is not always the case. While they do shun technology, there are occasions when electricity is used, including in times of emergency. There is a particular reason why they don't allow technology, and it goes back to their strong belief in God.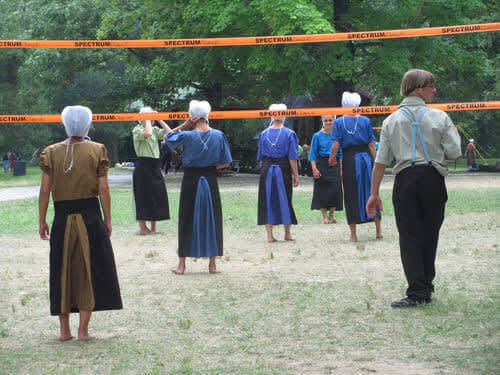 The reason they follow this practice is because of "Gelassenheit," which is a German word meaning the community should use the earth as God intended. Some Amish communities allow people to have landline phones in their barns because it is a necessity, but it cannot be used in their homes.
Amish Men Shun Mustaches, But Grow Long Beards For An Interesting Reason
If you look at all the pictures of Amish men, you will probably notice that they typically have a long beard, but a clean-shaven face. This tradition dates back to the 1800s when mustaches were seen as a symbol of wealth or for people who were in the armed forces, but that goes against the Amish beliefs.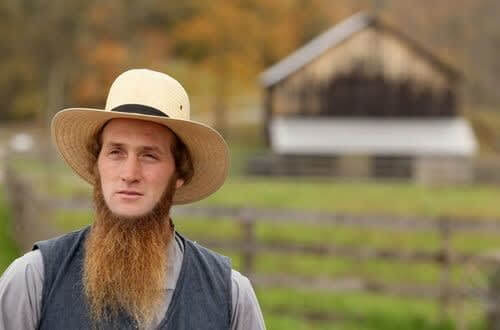 The Amish believe that they should look how God intended, so they don't cut their beards. They decided to shave their mustaches because they didn't like what it symbolized and how it was a fashion trend at the time. Sometimes you can see men with shorter beards, but they usually allow them to grow long.
Those Who Are Not Amish, Are Considered Something Else
There is a tradition among Amish people that dates back to when they first settled in the United States. They call all non-Amish people English regardless of race or ethnicity. They started this because they had no word to refer to outsiders since they considered themselves Americans just like everyone else.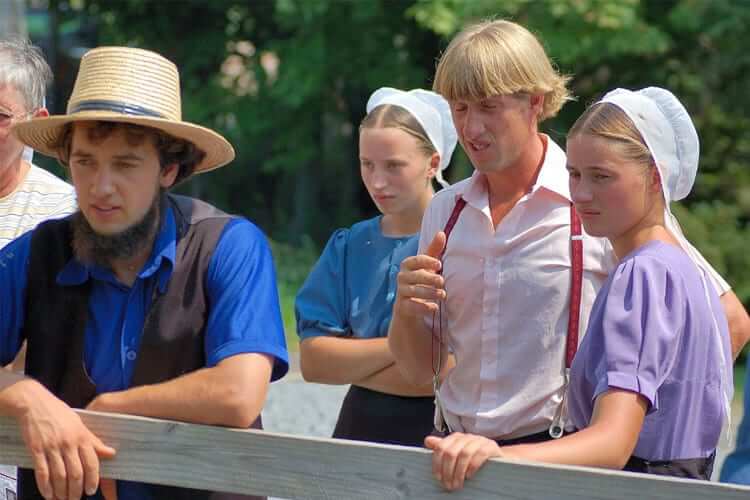 They started calling outsiders English because that was the language their "outsider" neighbors spoke, and it stuck throughout time. Things don't typically change in Amish society when it comes to tradition, so to this day, they still call outsiders "English people."
Teens Are Not Considered Amish Until They Are Baptised
After teens have returned from their Rumspringa, they can officially be baptized and accepted as a member of the Amish community. There is no cutoff age for baptisms because the Rumspringa can last many years, or until they realize the outside world is not for them. People are always welcome to return to the community.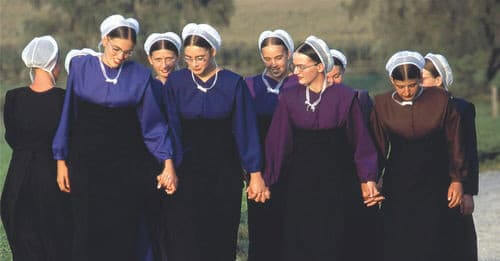 For many teenagers, leaving the community and experiencing the "English world" is a huge shock. They have never been around that much technology, and they are not used to the norms of our world. This makes them crave the simplicity of their communities, and they end up returning rather quickly. In other cases, these teens never return because they enjoy the outside world more.
They Do Not Take Pictures Unless It Is Someone From Outside The Community
You will not find anyone in the Amish community with an Instagram, Facebook, or Twitter account. They do not use electricity or technology, so they don't even take pictures of each other. In fact, they don't even allow paintings of people, which involves zero electricity, so why is it banned?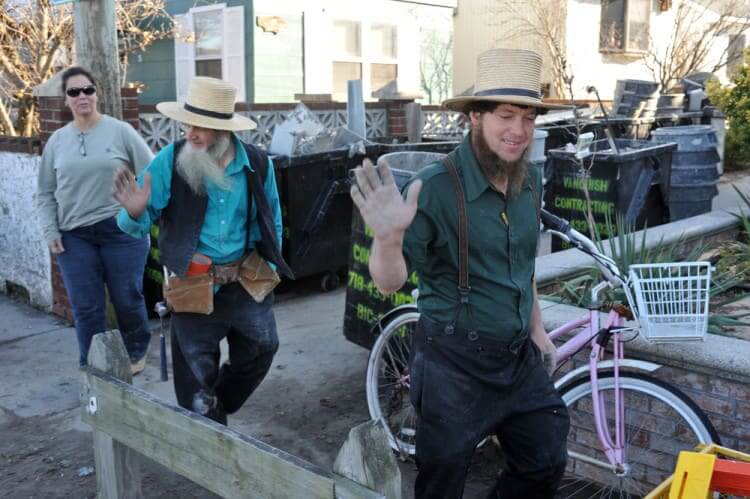 In the Amish world, it is strictly forbidden for someone to own images of people, whether it is of their family or themselves. When a member of the Amish community dies, there are no images to remember them by, so people only have their memories. Pictures of people are seen as graven images.
Women Have A Very Specific Role In Their Society
After women leave school, they start to learn how to sew, cook, keep a house, and tend to their families. This is because Amish women are meant to be housewives; that is their role in the Amish society. They are made to take care of the children like glorified babysitters.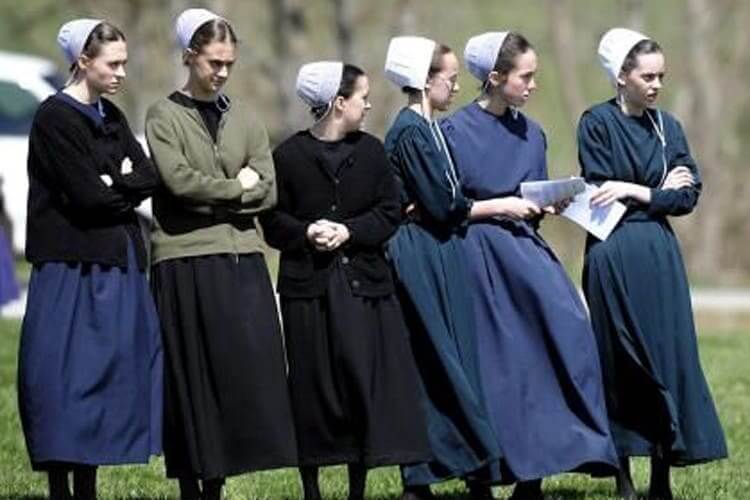 Amish women have no right to become leaders in their communities, and they cannot make decisions for themselves. While this may be sad to most people, for them, it is all they know. Once they are married, their husbands have total control, and they are there to serve and oversee the daily house chores.
You Must Learn All Of Their Rules
As you could have guessed, the Amish are known for their many, many rules. There is an entire book dedicated to all these rules, and everyone must learn them. This neatly fashioned book is called the Ordnung and each member of the community carries a copy with them at all times.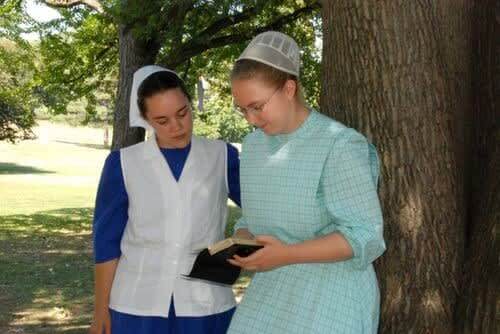 If any rules are broken, there can be serious consequences depending on which rule it was. Some of the regulations in the Ordnung include the particular dress code, rules about children and technology, and the way buggies should look. They have a specific way of life, and they want everyone in the community to stick to certain guidelines.
What Happens When You Don't Follow The Rules?
You might be wondering what kind of consequences there are if you break the rules, and it varies from time to time. The rules in the Ordnung are taken seriously, so breaking them can lead to harsh punishment. One form of punishment is called a Meidung or time out. This is when someone is shunned from the community for some time but still lives with the confines.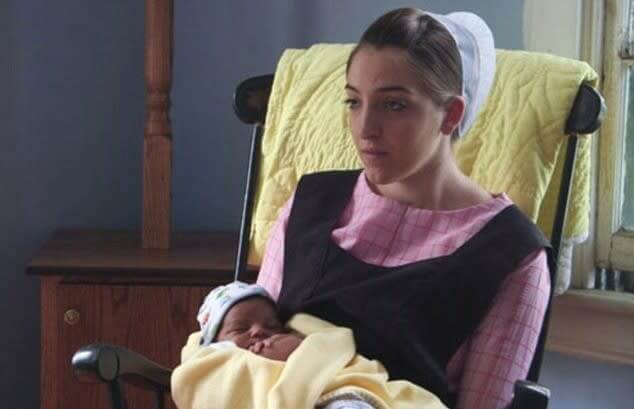 Another form of punishment is ex-communication. This means that you are shunned from the community entirely and can no longer live within its boundaries. This punishment can last for months on end. The Amish use this punishment to help people learn from their mistakes and hopefully return apologetically so that they won't commit a crime again.
The Amish Believe In God Over Science
In the Amish community, there is a strong belief in God, and they have a strong commitment to their faith. In their communities, things like DNA testing are illegal. Many people want to know where they are from or a little bit more about their ancestors. Since this testing is not allowed, many people end up marrying close relatives.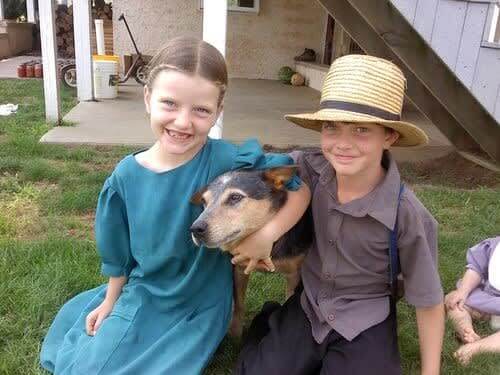 Since their communities are small and there are not many options, inbreeding does accidentally occur. They do not marry their cousins on purpose, but they do take the risk of having genetic complications. The Amish believe that if you marry your third cousin, God simply intended it to be that way.
There Is A Ceremonial Right Of Passage That Can Last From A Week To A Few Years
When teens want to leave the community, it is part of a right of passage called "Rumspringa," which is derived from German meaning "running around." This period of time can last for a week, or even a few years. However, the time frame is not that important to the Amish people.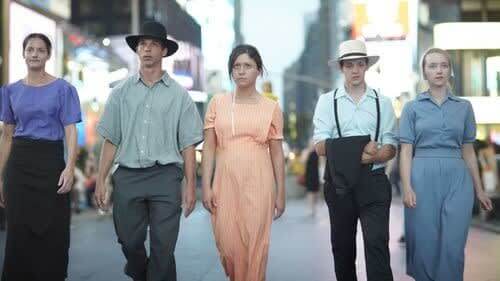 By allowing teens to explore the outside world, they hope it will encourage them to return once they have had enough. This willingness to return and accept the Amish way of life is what allows them to be entirely accepted into the community as an adult. This period enables teens to realize that the "English" way of life is not for them.
Who Said Amish Teens Couldn't Have Fun?
While many people assume Amish teens don't get to have fun like regular teenagers, that is false. The elders in the Amish community understand that teens will rebel, so they allow them to experience the outside world before adulthood. They cannot be punished for anything they do or experience outside the Amish world during this time.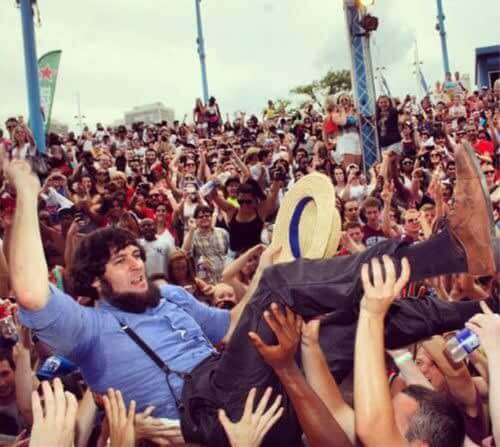 Between the ages of 14 and 18, Amish teens have the right to leave the community and experience the outside world. You might have seen this on the TLC show, Breaking Amish. The show followed five Amish teens who left the Amish world to see what big cities and technology were like before they became adults.
Amish Couples Share A Bed Before Marriage For One Night Only
There are many traditions within the Amish community, especially when it comes to courtship and marriage. Before a couple gets married, they are allowed to spend one night in the same bed, but intimacy is still forbidden on this night. The Amish are very religious, so pre-marital encounters are strictly not allowed.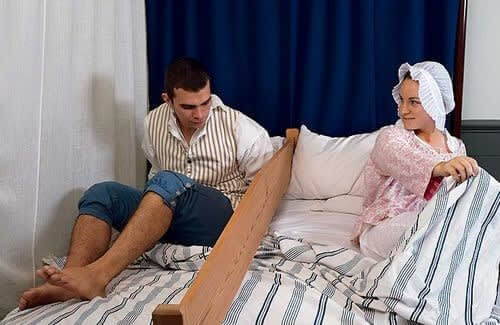 The couple is allowed this one night together before marriage because the Amish believe it brings the couple closer. They can talk and get to know each other on a deeper level before fully committing to one another. They say that this night can strengthen their bond or determine whether the couple is truly meant to be.
They Cannot Use Cars, But They Allow Them To Drive By
If you live near an Amish community, you may have seen them riding in their horse and buggy along a busy road. While they are not allowed to drive, they can be around other cars. It may not be the safest mode of transportation, but cars aren't necessarily that much better.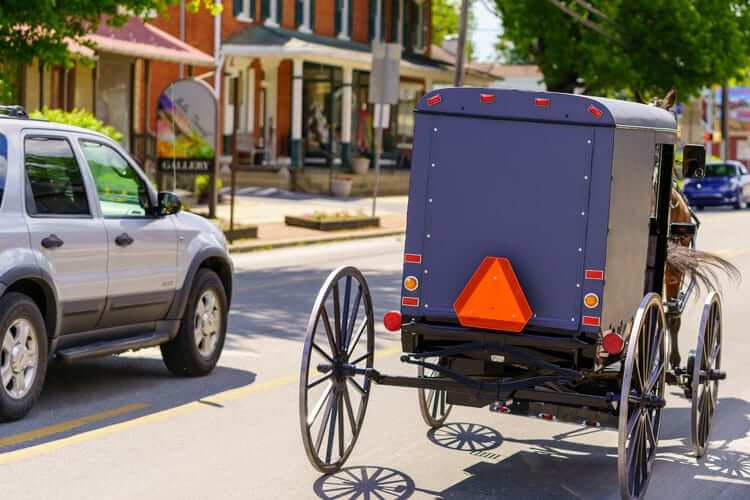 The Amish believe that owning a car will cause you to abandon your faith because it is a symbol of wealth and modern society. It is illegal to own a car because it also gives you access to the outside world. If they do need to go to a business meeting, someone outside the Amish community can drive them.
They Believe Your Partner Has To Share The Same Faith
When you decide to date someone, the Amish believe that your partner must have the same faith. They think that this leads to a successful marriage. Before you can even start dating, you must be baptized into the Amish church along with your partner.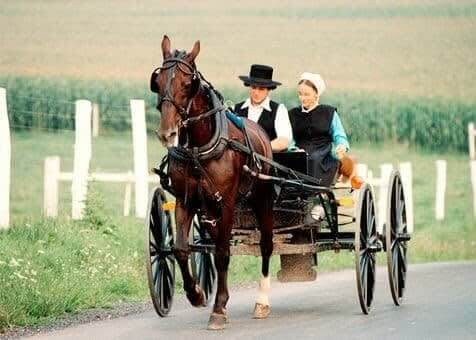 In Amish society, a couple must have all their dates in a public space so that nothing can happen intimately before marriage. Also, these are not arranged marriages. They believe you can marry whomever you like as long as they are also in the Amish community and share the same beliefs.
Amish Toys Are Made Without Faces For A Very Strange Reason
You may be wondering why any child would want to play with these creepy faceless toys. The Amish make all their toys without faces, and they have a perfectly rational explanation. The toys are always handmade, and they look like something that is from the Amish way of life.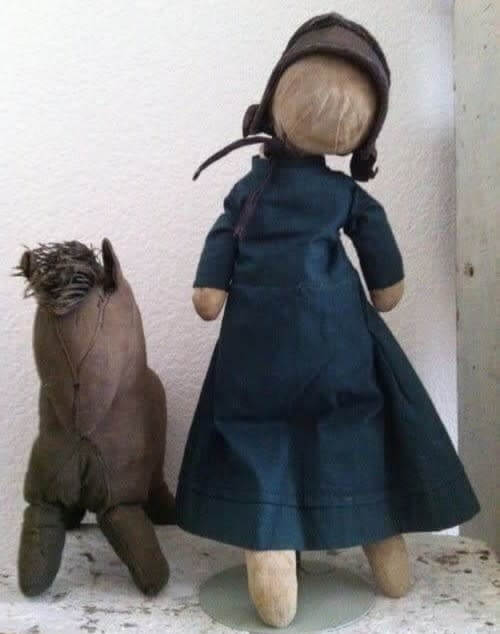 Whether it is a little girl in Amish attire, a horse, or a vegetable, they are all plush and generally look the same. These toys do not have faces because they want to teach children that it doesn't matter what you look like since everyone is important and loved. That is an important lesson for children to learn while they are young.
The Amish Don't Believe In Formal Government
There is only one authority in the Amish society, and that is the word of God. While they do have their own rule book, it is not considered a form of government, and rather allows them to keep their lives in line with God. The government does not affect their way of life, and they dismiss all forms of it.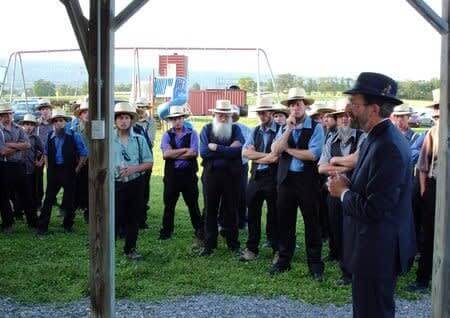 Since they do not believe in the government, the church decides how crimes are judged and punished. If there is a severe crime within their society though, they will hand it over to the police because they understand the church cannot handle some things.
If You Are An Outsider, You Can Join The Community
Although Amish people try to isolate themselves from the outside world, that does not mean they will turn away an outsider who wants to join them. There are specific steps a person has to take to join the Amish community entirely, and that starts with an internship within an Amish family.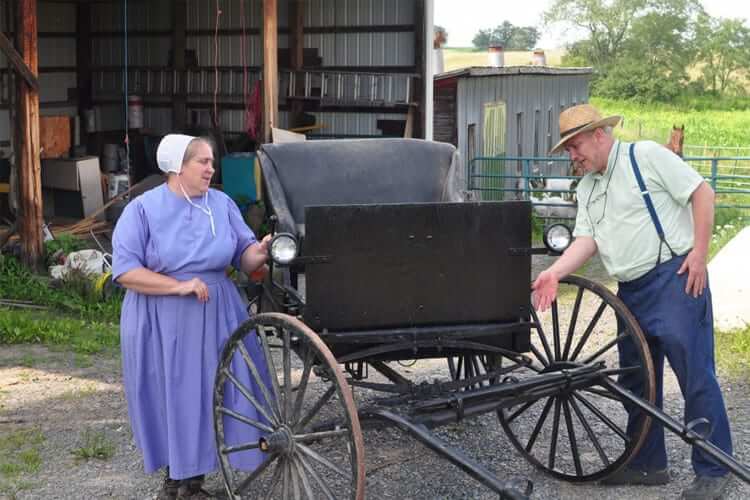 When you want to join the community, you have to go on a journey to see if the Amish life is really for you. It is not something you can halfway commit to; you are either all in or not at all. You have to leave all of the things from the outside world behind, including your phone with all the social media apps. Once you have completed the steps, it is up to the church to decide if they accept you.
It Is Rare For An Amish Person To Have Cancer
This one might be a long shot, but within the Amish community, it is extremely rare for someone to have cancer. There are a few hypotheses as to how this could correlate to their way of life. The first is that they grow all their own fruits and vegetables, so there are no harmful chemicals in anything they eat, which could cause cancer.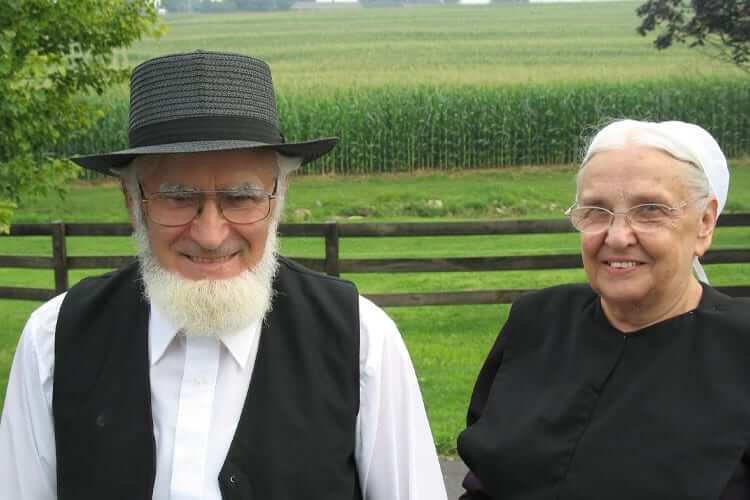 Another reason could be that the Amish do not use any kind of electricity or modern technology, so they are not exposed to harmful waves. This could be why they have low rates of cancer and serious illness.
You'll Never Guess Where They Spend Their Wedding Night
After you get approval from the church and you have your lengthy ceremony, you can finally celebrate being a married couple in Amish society. To begin the honeymoon, the newlywed couple will spend their first night at the bride's parents' home. It may seem odd, but this is their tradition.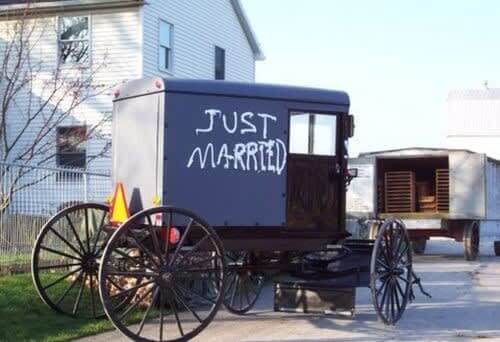 The morning after, the couple traditionally cleans the house as a sign of gratitude. The couple will then move onto other relatives and bounce around between houses. After this process, the newlyweds are allowed to spend their first night entirely alone.
There Are A Few Different Languages
There are three different languages used by the Amish people, and they are fluent in all three. The most prominent one is German because back in the 1700s, when they were settling, they carried over many German traditions, including the language. All religious services are performed in German.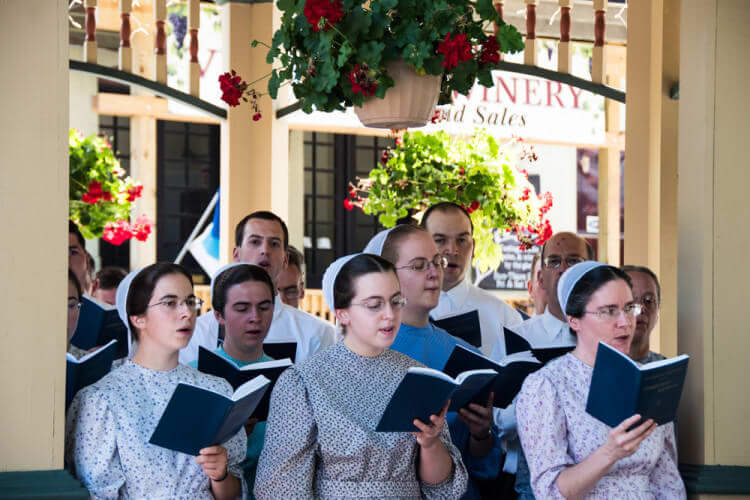 The other two languages are English and Pennsylvanian Dutch. The settlers first learned English so they could communicate with the already established European immigrants when they reached North America. Pennsylvanian Dutch is a form of German that the Amish adopted, and they typically use this in everyday discussions.
Babies Are Not Baptised
In many religious communities, it is customary for babies to be baptized, but the Amish have different traditions. The Amish don't baptize babies because they believe that people should be able to decide to be brought into the Amish faith.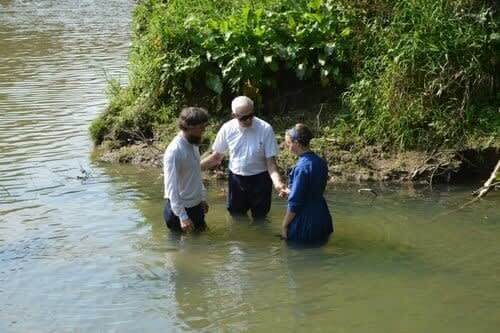 Since babies cannot make their own decisions, their baptisms usually happen between the ages of 16 and 24. This is because they believe that people are now responsible enough to make the decision to be part of the Amish community or not.
There Needs To Be A Blessing For The Marriage To Be Accepted
Before a couple can get married it is not their parents who need to give them a blessing; it is the church. This longstanding Amish tradition happens not long after the couple begins dating. Usually, the man proposes and it can only be accepted if the church approves.
In the case that the church does not approve of the couple, they are not allowed to be married. When the church does approve a couple's engagement, the news is posted in the town's paper, and they get married shortly after.
What Does Amish Mean?
There are many misconceptions about the Amish people because they do not interact with people outside of their communities. The word "Amish" was derived from a Swiss Anabaptist named Jakob Ammann. He is the head figure of the Amish people and the person who built the foundation of their beliefs.
Ammann broke off from the Mennonites to create his own church for people who wanted a more straightforward way of life. This group settled in Pennsylvania, Ohio, and other parts of the midwest starting around 1720. They have since established thriving communities, and people find their very simple way of life fascinating.
The Amish Have Very Specific Wedding Traditions
When an Amish couple gets married the process is very lengthy. The ceremony is simple, and the couple does not have lavish dresses or tuxedos. The bride wears a simple blue dress with a bonnet, but she cannot wear makeup or jewelry, not even a diamond ring to symbolize their marriage.
Also, in Amish tradition, the man does not give his fiance a diamond ring when he proposes. Jewelry is a symbol of vanity, so a woman never wears it even when she gets married. Amish people don't get married for money of material objects because they shun those things; it is purely for love.
No House, No Problem
As the Amish honeymoon continues, couples bounce around from each of their relative's houses because this period involves many parts. It is a tradition for them to spread their honeymoon period out in various places. After the first night at the bride's parents, they visit more people as husband and wife.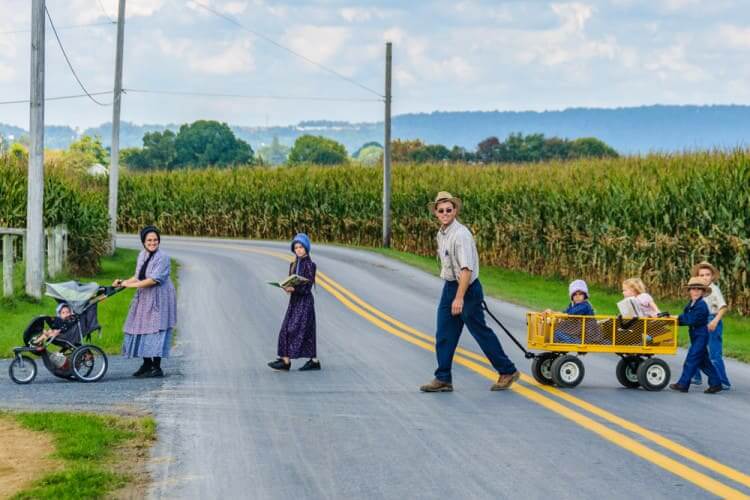 Once the honeymoon is over, the couple might not have a house of their own yet. In this case, the newlyweds will live with their parents until they can have their own place. For most people, this seems like a horrible idea, but for them, it is a normal occurrence.
They Have A Communal Way Of Life
Sharing is caring when it comes to Amish communities. They build barns for each other and even have large potlucks for everyone to enjoy. Each member of the community has to bring something to this meal, and it gives people time to socialize. This idea of hosting many people for a meal is a fundamental principle among the Amish.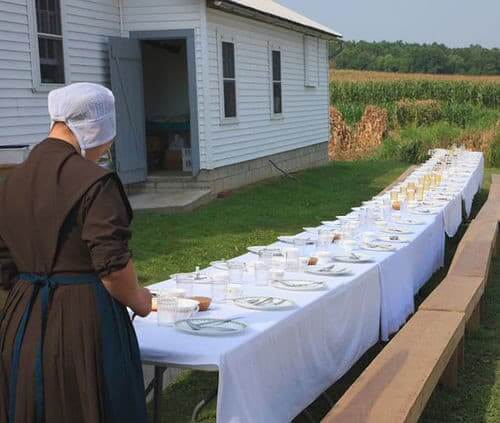 Not only do they share meals, but whenever someone is in need, they offer to help. Medical bills are expensive, especially if you don't have insurance. The Amish will ban together to help whoever needs help regardless of the cost.
The Community Builds Barns For Specific People
Amish people have a very strong sense of community; they help each other out and always stick together. There is a longstanding tradition where members of the community will build a barn for a selected person. Everyone gets involved when it comes to building the barns and it is a popular activity.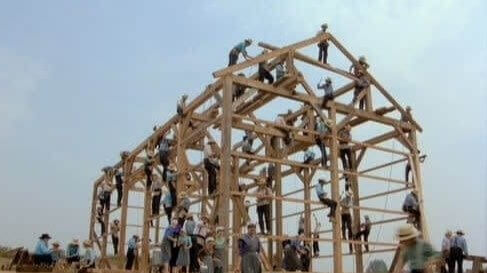 The Amish know how to build strong and stable barns that usually last for centuries. They build these without any use of electricity, so there are no power tools or cranes to help; it is all done by hand. This act of service is to show selflessness by helping those in need.
There Is A Big Difference Between Amish And Mennonites
One of the biggest mistakes by people from the "English world" is getting Mennonites and Amish confused. If you called a member of the Amish community a Mennonite or vise versa, it would be highly offensive to each group. While the Amish are derived from the Mennonites, they have big differences in their way of living.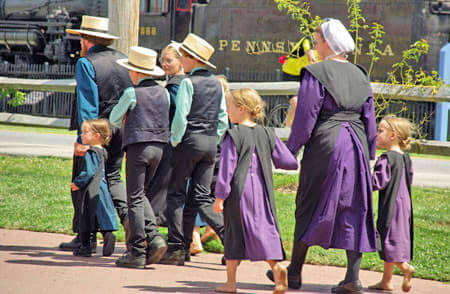 Mennonites are strictly Christian, and they are incredibly modern in comparison to the Amish. On the other hand, the Amish follow their own version of faith, and they keep their lives as simple as possible without the use of modern technology. They might dress in similar ways, but do not confuse them.
They Have A Specific Way Of Dressing
As you can see from all the photos, there are dress codes that Amish people have to follow according to the rules in the Ordnung. According to the rules, the Amish cannot wear form-fitting clothes or bright colors. The clothes have to be made of plain material. They cannot wear hoods or sweatshirts as well.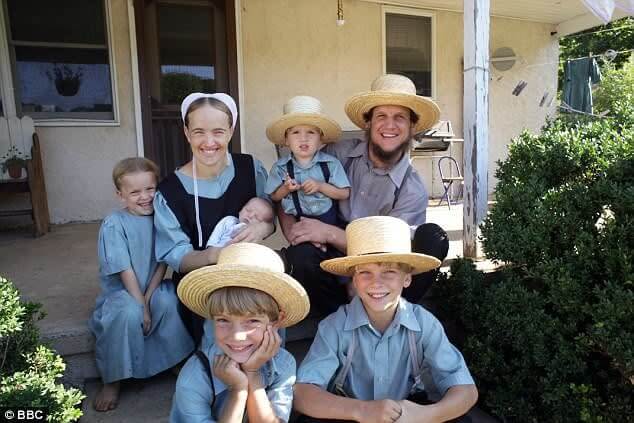 For women specifically, the sleeves cannot be too short, and they can't be transparent. There can't be ruffles or low necklines, and they have to wear an apron or bib. Men only have rules about their facial hair, and they have to wear a specific hat. The rule book states that it cannot be a "western cowboy-style hat."
When Children Reach 8th Grade, They Stop Going To School
It may seem odd in today's times, but the Amish stop going to school in eighth grade. After they have completed school, girls become housekeepers and start learning skills to be homemakers. They learn to sew, cook, and crochet so that they can be wonderful wives and mothers someday.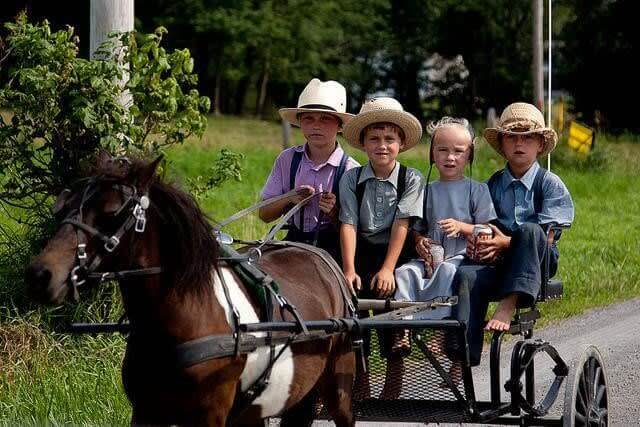 Unlike the girls, when the boys finish eighth grade, they have to know already what their fixed profession is going to be. For the Amish, they do not need to continue school because they learn everything by working since their society is based on hands-on activities.
After 8th Grade, They Learn Skills To Be Functioning Members Of The Community
When the Amish children finish formal schooling in the eighth grade, they start something similar to a vocational school. The children learn different skills to be helpful members of the Amish society. The kids have the freedom to learn whatever they want.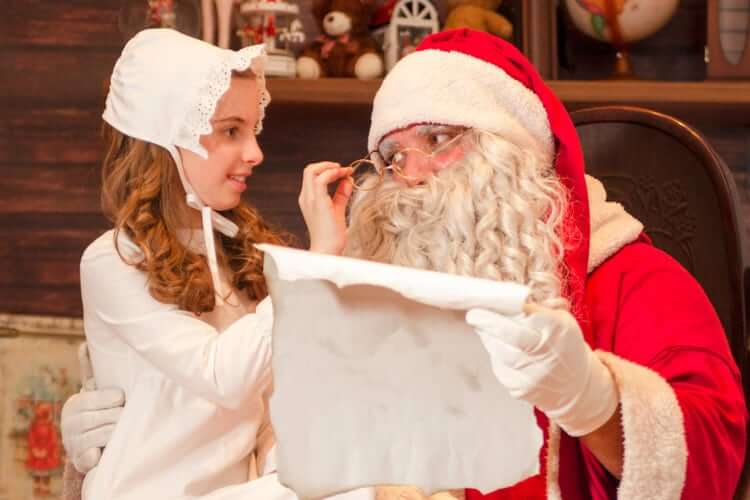 Some children decided to become homemakers, carpenters, or tradesmen. There are so many options for them to choose from because everybody eventually becomes a working member of the community.
There Are No Churches
This might come as a shock but there is no specific building for the church. Many churches have stained glass windows with cathedral ceilings, but the Amish see no need for something extravagant like that. They like to keep things simple and plain and believe that a building for a church would be too much.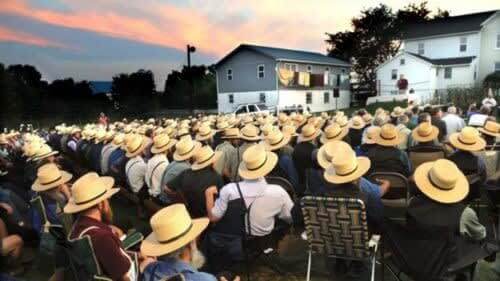 Instead, the Amish hold services anytime and anywhere. It could be outside as the sun sets or inside someone's barn; it really doesn't matter to them, as long as they can practice their faith. The Amish also believe that their religion is what works for them, but they won't force you to have the same beliefs, and they never pass judgment on other religions.
Romans 8:12 Is A Passage They Live By
The Amish live an isolated life away from the rest of society, and there is an explanation behind it. The most important passage to the Amish people is Romans 8:12. This passage basically says that they should not conform to the world. Therefore, they do everything against the norm of the outside world.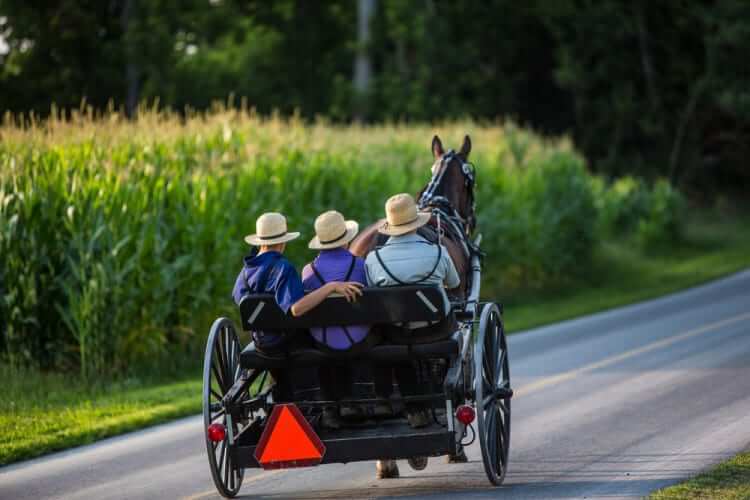 The Amish community has been extremely successful in isolating themselves from the outside world. This passage is the foundation for everything they believe in, and it has guided them for hundreds of years to be a thriving group.
They Do Believe In Modern Medicine
Despite the fact that they shun electricity and almost all forms of technology, the Amish do believe in modern medicine. If someone needs a doctor, they will leave to go to a modern office or hospital. There is nowhere in the bible that states people should not receive medical treatment, so the Amish allow it.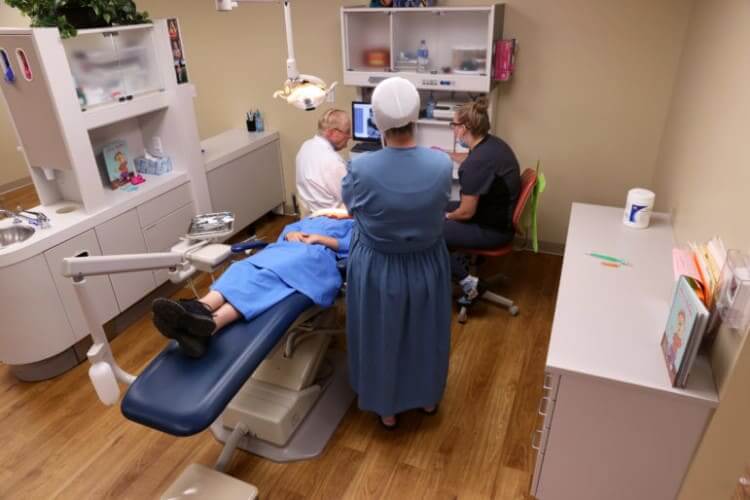 Although the Amish prefer holistic and homemade remedies, if it is an emergency or something that cannot be fixed with a natural treatment, they will go to the doctor. The only thing that is not allowed by modern medicine is birth control. Like many other religious communities, they believe that people should have large families with five to seven children because pregnancy is a blessing.
They Are A Peaceful Group Of People
You definitely won't be seeing any Amish people enlisting in the army anytime soon. They won't be suffering through boot camp or wearing a uniform because they do not believe in forms of violence. They are pacifist by nature, and it has been that way since they settled in America.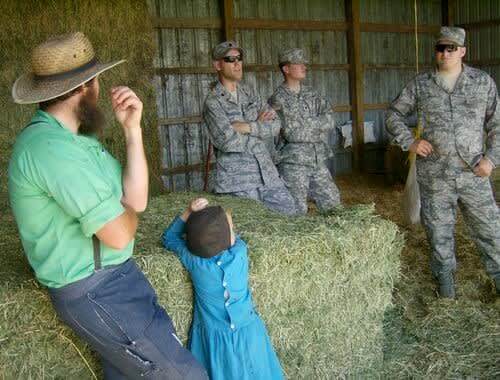 The Amish want to keep the peace between each other and the outside world, and they will not use force on another human being. They will do everything in their power to avoid the military and war because it goes against everything they are taught throughout their lives.
The Amish Population Is Rather Large In America
Although they are hidden away from the rest of the world, and people don't hear about the Amish that much, they have a surprisingly high population in the United States. With over 325,000 people across 31 states, the Amish population is going strong and continues to rise. They are starting to move more towards the west as well.
Among those 325,000 are two types of Amish; the new and the old. The modern Amish believe in welcoming innovations into their society while the old continue to shun new changes and advances in technology. Those who have continued not to use technology are called "Old Order Amish Mennonite Church."
The Youngest Family Member Is The Most Important
In many cultures and religions, the oldest son is the one who receives the inheritance from their family, and they are the most praised. However, in the Amish tradition, the youngest son is the one who receives everything when their parents pass away.
They leave everything to the youngest because the Amish believe that by the time they die, their oldest children should have everything sorted out in their lives. It actually makes the most sense when you think about it logically.
Only One Type Of Music Is Allowed
This might sadden many people, but the Amish way of life believes that there should be no form of self-expression. Therefore, the Amish are not allowed to play any musical or listen to music. This rule is in place so that people do not commit a crime of pride.
Although there is one form of music they can listen to, and those songs come from the German songbook called Ausbunch. It is one of the oldest songbooks used today. These hymns have no musical notes, but the tunes are passed down from each generation. No one really knows what the original songs sounded like because they have been passed down so many generations.
There Is A Strict Rule About Wedding Dresses
One of the many traditions of an Amish wedding is the dress that the bride wears. The bride herself must sew the dress, and it has to be blue. They must follow the rule of "something old, something borrowed, something blue." They do not get anything new, however.
Unlike traditional weddings outside of the Amish community, the dress a bride wears for her wedding is what she will wear to church every Sunday after the wedding. This is also the dress she will be buried in. They really know how to get the most wear out of one garment.
They Only Have One Store That They Can Shop In
Most things within the Amish community can be found within their society from farming or making things by hand. They want to keep everything in their little bubble so that they can remain separate from the rest of the world.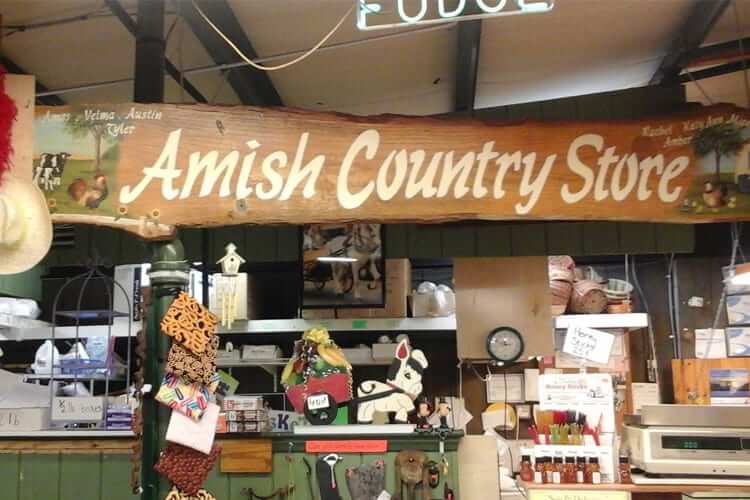 However, there is one store the Amish are allowed to shop in where they can buy stationery, candles, and other things that they cannot grow themselves.
Rare Photos Of A-Listers That Offer A Look At Who They Were Before Hollywood
Ashley Lez
This article was originally published on JustStarz
While we think we know celebrities inside and out, there is a good portion of their lives that we have never seen before. Here's something you've probably wondered about – what were they like as kids? Did they show signs of one day becoming the world-renowned stars that they are today? What was life like for them growing up? In order to give us an idea of what these beloved Hollywood figures were like, we found these rare photos of your favorite celebs before they were famous. You will be surprised to see that they were once ordinary people just like us.
Robin Williams In His Senior Year Of High School In 1969
When Robin Williams was a senior in college, he decided to go to college and study political science. However, he quickly realized it wasn't the field for him and dropped out to pursue acting. He studied theater for three years at the College of Marin in California.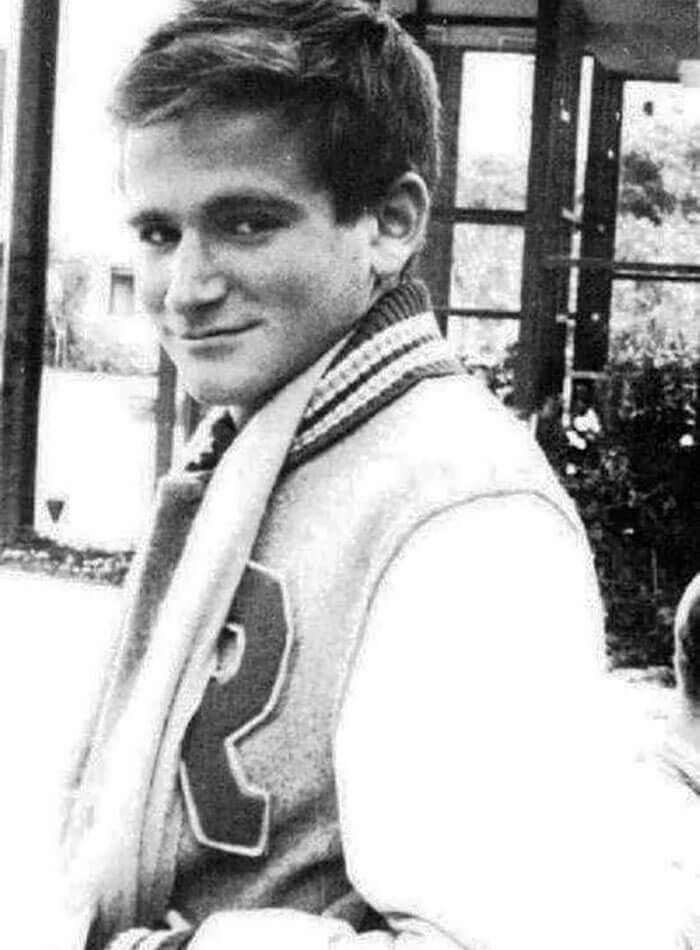 One of his professors realized how talented Williams was and cast him in the musical Oliver!. He later attended Julliard, and during the summers he worked as a busboy. After graduating, Williams worked odd jobs until he got his big break on Mork & Mindy.
Adele Was A Huge Spice Girls Fan
In case you missed it, Adele was and probably still is the biggest Spice Girls fan in the world. The British singer grew up with their music and had their posters plastered all over her bedroom walls. As a child, Adele was already interested in singing, and she became obsessed with voices.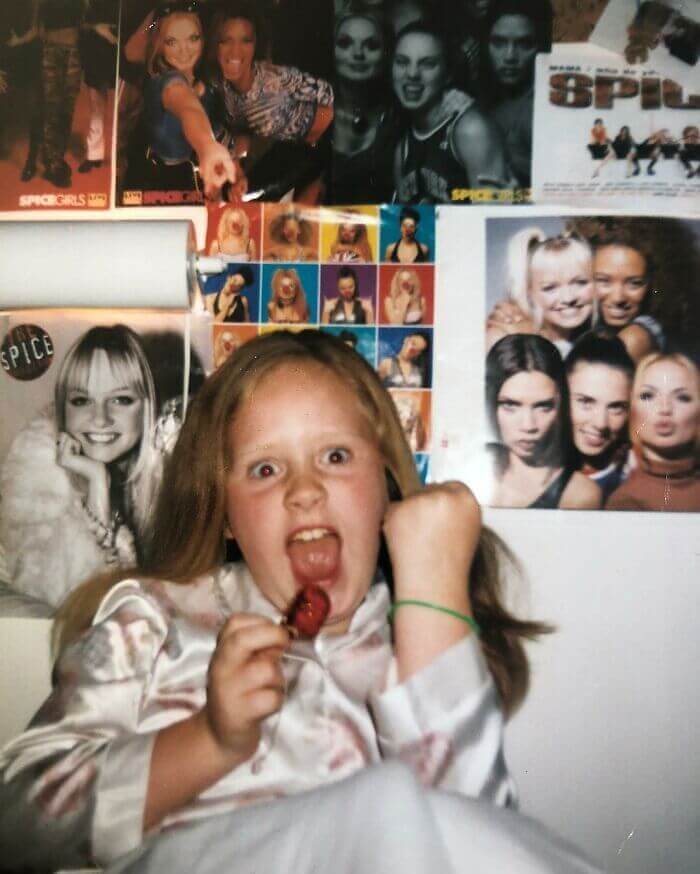 Adele spent much of her youth in Brockwell Park, playing the guitar and singing to friends. Years later, she drove by and started crying because she really missed the memories she made in that special place.
Keanu Reeves Circa 1984
In high school, Keanu Reeves was a successful ice hockey goalkeeper and considered going pro but decided to pursue acting when he was 15 instead. He made his debut in 1984 on an episode of the series Hangin' In, which allowed him to get more roles on teen dramas.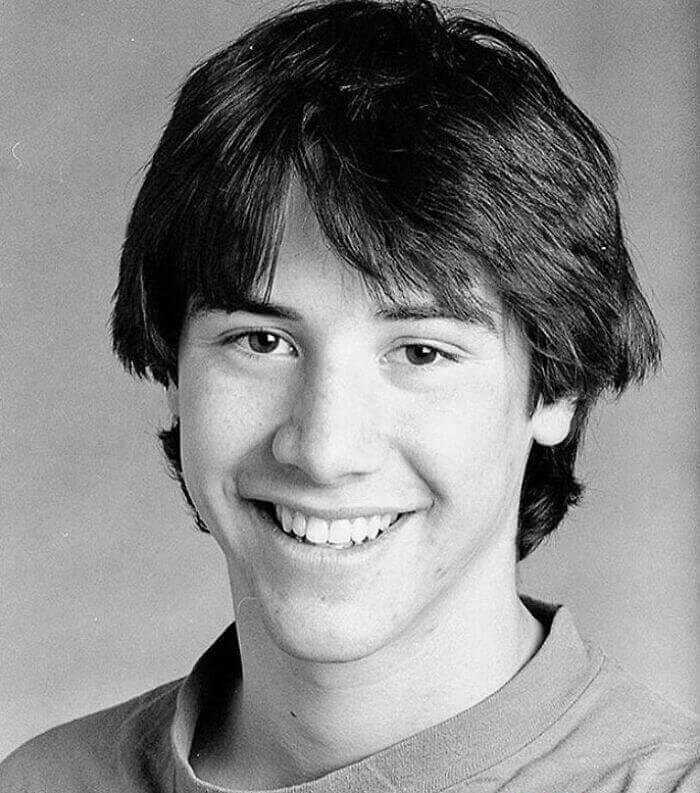 Reeves was also interested in music and formed an alternative band in 1991. Surprisingly, it was moderately successful, and they were active until the early 2000s. His big break was in Point Break, and this helped him shoot to stardom.
Catherine Zeta-Jones In Her Grade School Photo
Catherine Zeta-Jones' school uniform made her look like she belongs to the Gryffindor house. She must have been in first or second grade at the time, and she couldn't be cuter. The actress was born in Wales, and in school, she would participate in stage shows.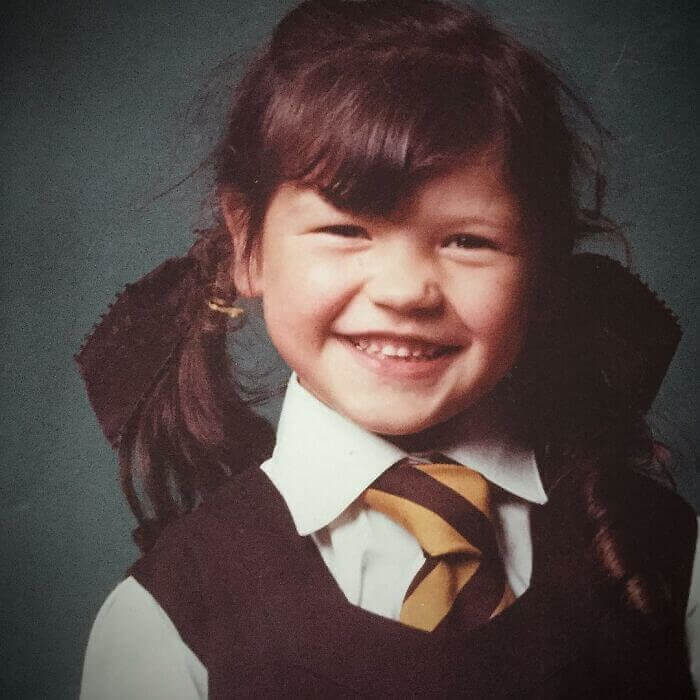 At a young age, she gained local media attention when her rendition of a Shirley Bassey song won a Junior Star Trail talent competition. Zeta-Jones would take trips to London with her dance troupe, where she also auditioned for shows.
Morgan Freeman In The Air Force
When Morgan Freeman was just nine years old, he starred in his school play and later won a statewide drama competition. He performed in the radio show in high school, and it earned him a drama scholarship from Jackson State University.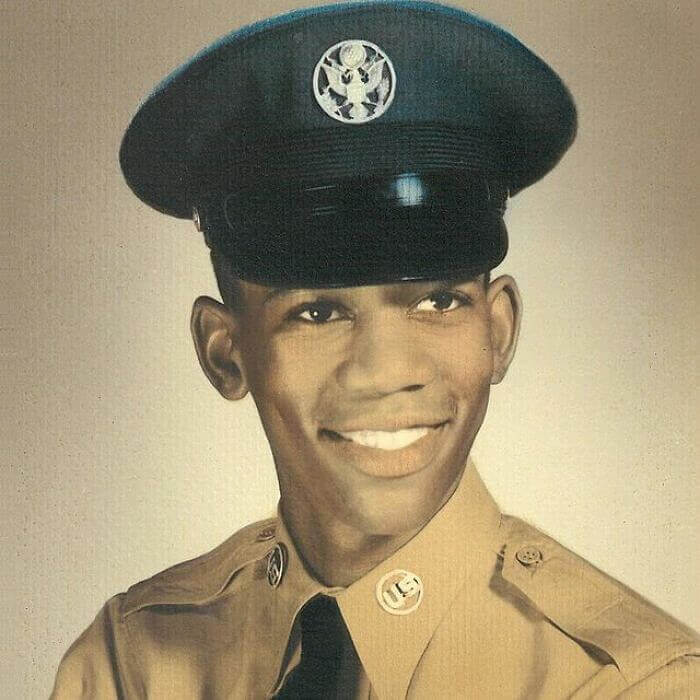 However, instead of taking the scholarship, he enlisted in the Air Force and served between 1955 to 1959. After his service, Freeman worked as a transcript clerk for Los Angeles City College and studied arts there. He was also a dancer until he started getting steady acting jobs.
Anne Hathaway As A Clown Witch
It seems that Anne Hathaway was practicing for The Witches before she was even famous. Besides looking exactly the same, she seems to have confused a witch and a clown in this mashup of a costume. Surprisingly, Hathaway's parents didn't want her to pursue acting.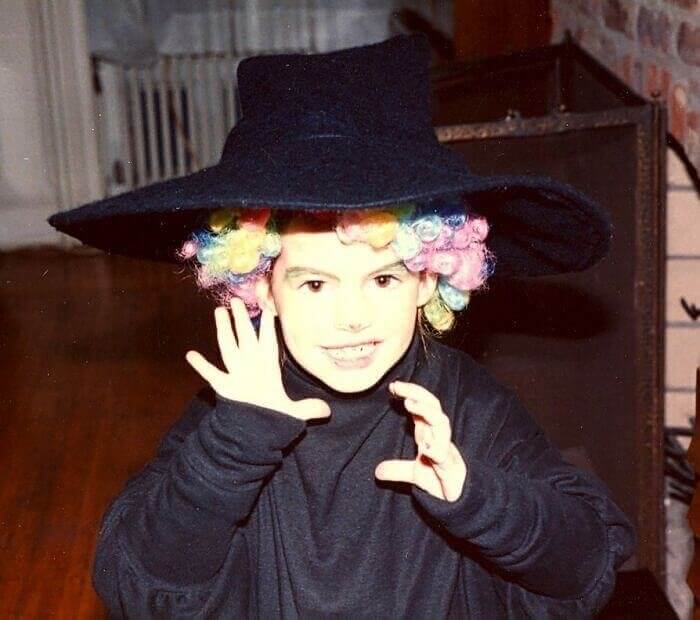 Hathaway wanted to become a nun during childhood because she was raised with really strong Roman Catholic values. However, acting was always in the back of her mind, and we're grateful she chose to entertain us on the big screen.
Joe Biden When He Was 26
Unsurprisingly, Joe Biden was the class president in school and played on the basketball team. He also briefly played football in college but decided to focus on his studies instead. When he graduated from the University of Delaware, he worked as a clerk at a law firm.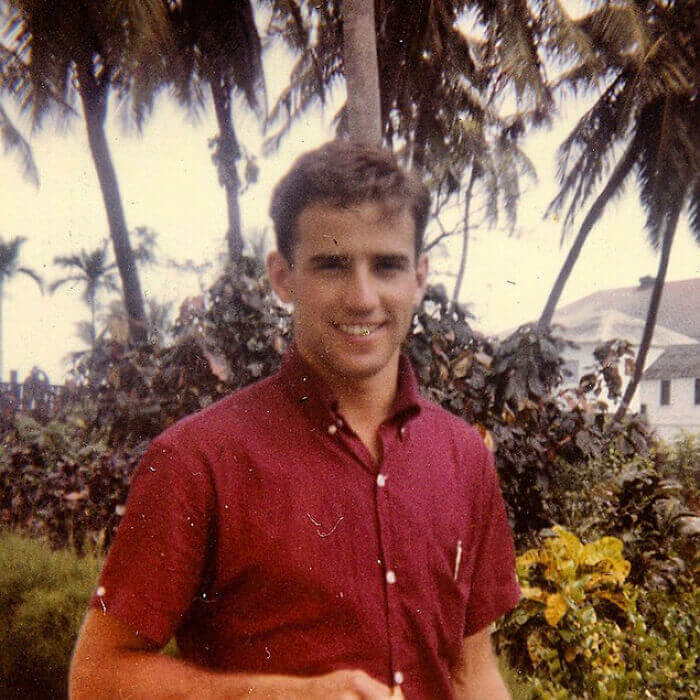 Biden eventually took the bar exam and began practicing law. This helped propel his career, and he served in the US Senate for 36 years before serving as vice president with Barack Obama from 2009 to 2017. Say what you will about his politics but it's undeniable that he was so handsome back in his day.
Madonna's Childhood Close-Up
Little Madonna was bright-eyed and looking towards the stars as a child. The singer grew up in the Detroit suburbs with her five siblings, and her family would call her "Little Nonnie" because her mom was also named Madonna.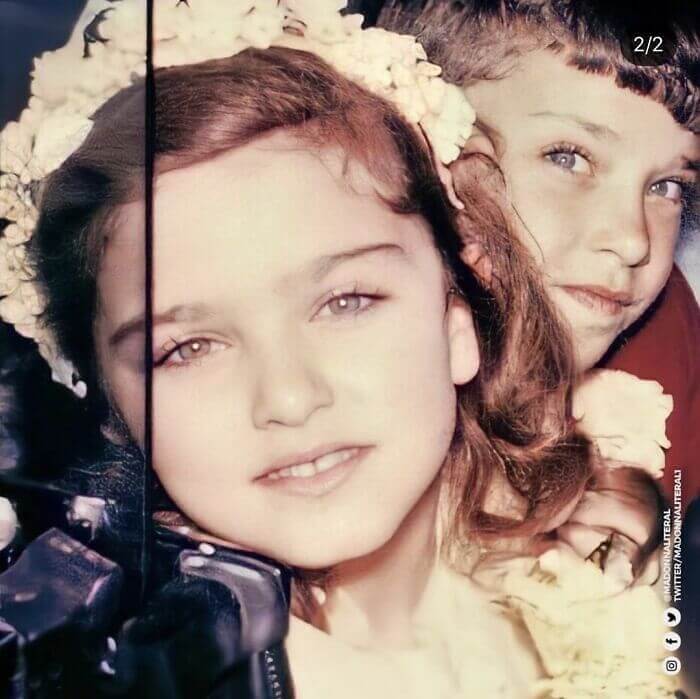 Madonna was known for rebelling at school after her mother passed away, and her dad decided to sign her up for piano lessons and ballet classes. Her dance teacher was the one who encouraged her to pursue a career in dance.
Jim Carrey In The '80s
As teenagers, Jim Carrey's family struggled financially. Therefore, he and his brother John took up jobs as a janitor and security guard at a tire factory. While working at the factory, Carrey dropped out of school to perform comedy in downtown Toronto.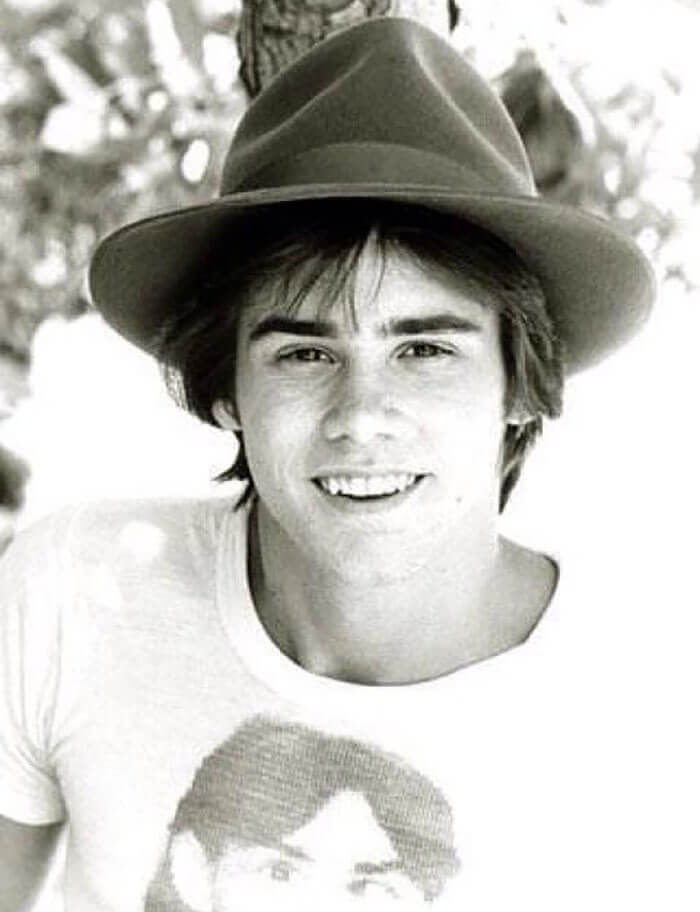 He steadily increased his local popularity as an impressionist and stand-up comic going on tour and appearing on television. His shows made him more popular and landed him the roles in Ace Ventura: Pet Detective and The Mask, which helped him become the actor he is today.
Taylor Swift Made Tie-Dye Trendy Before Everyone
Born and raised in Pennsylvania, Taylor Swift became interested in musical theater and started performing in the local youth theater. She also traveled regularly to New York for vocal and acting lessons. She was inspired by Shania Twain and shifted her focus to country music.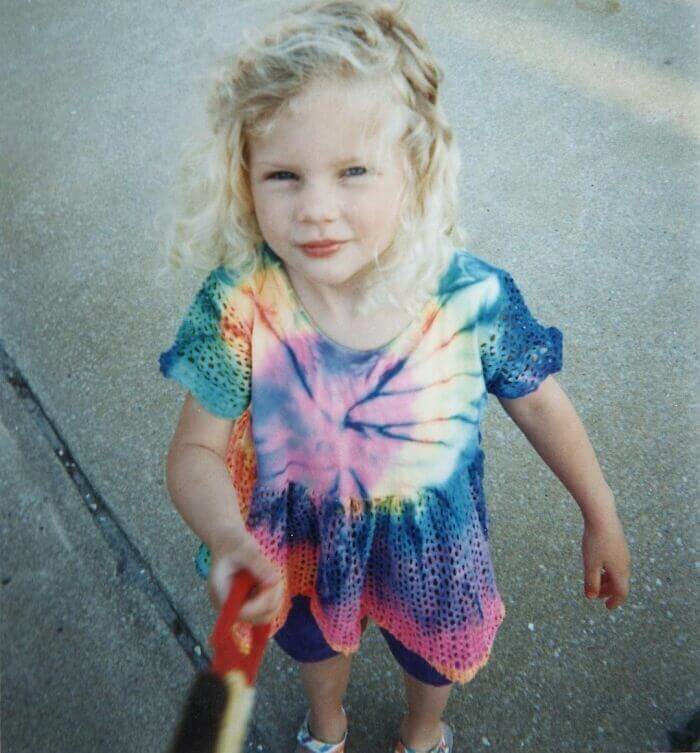 At age 11, Swift traveled with her mom to Nashville to pursue her music career dreams. Swift submitted demos to record labels but was rejected. However, she kept trying until someone finally took her seriously when she was a bit older.
Susan Sarandon When She Was 17
Not only was Susan Sarandon gorgeous as a teenager, but she was also very talented. In her college years, she studied drama and supported herself by cutting hair, cleaning houses, and working as a switchboard operator.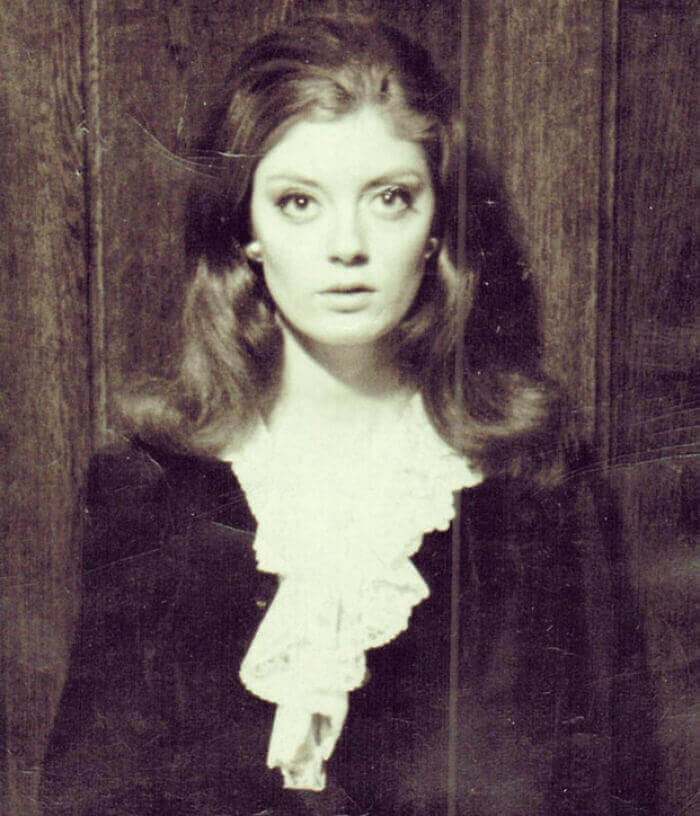 Not long after she graduated, Sarandon landed a role in the film Joe, which propelled her to get more parts in movies like The Rocky Horror Picture Show. It turned into a cult classic, and people knew her name wherever she went.
Selena Gomez's Face Has Not Changed
Selena Gomez has always been the most adorable human ever since she was a little girl. Born and raised in Texas, Gomez first became interested in entertainment when she saw her mom preparing for stage productions. Gomez then began to audition for many roles.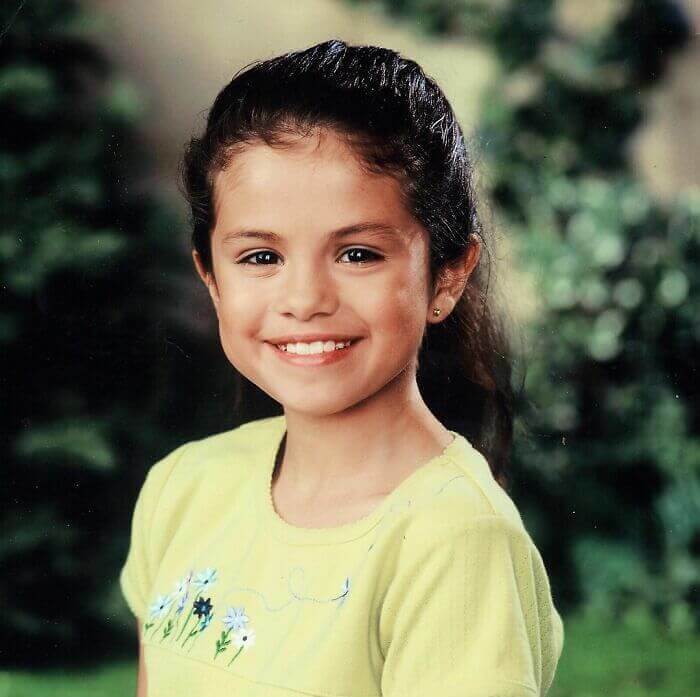 While auditioning for Barney and Friends, Gomez met Demi Lovato and the two both landed roles on the show. She said she learned everything about acting and stage production while working on Barney, and she was released when she got too old for the show.
Peter Dinklage In The 1980s
We could never imagine Peter Dinklage with a mullet until now. Dinklage realized he wanted to start acting when he was just a teenager after he saw the production of True West by Sam Shepard. That play ended up determining the direction of his life.
After studying drama in college, Dinklage struggled to get well-paying roles, so he worked at a data processing company to make ends meet. He wasn't getting any parts because he refused to play characters that focused on his achondroplasia. Finally, in 2003, he got his big break in The Station Agent and was nominated for a SAG Award for it.
Little Baby Beyonce
You might not recognize her as a baby, but this tiny tot grew up to be Queen Bey herself. As a child, Beyonce enrolled in dance classes, and the teacher discovered she was also a talented singer when she heard her humming a song.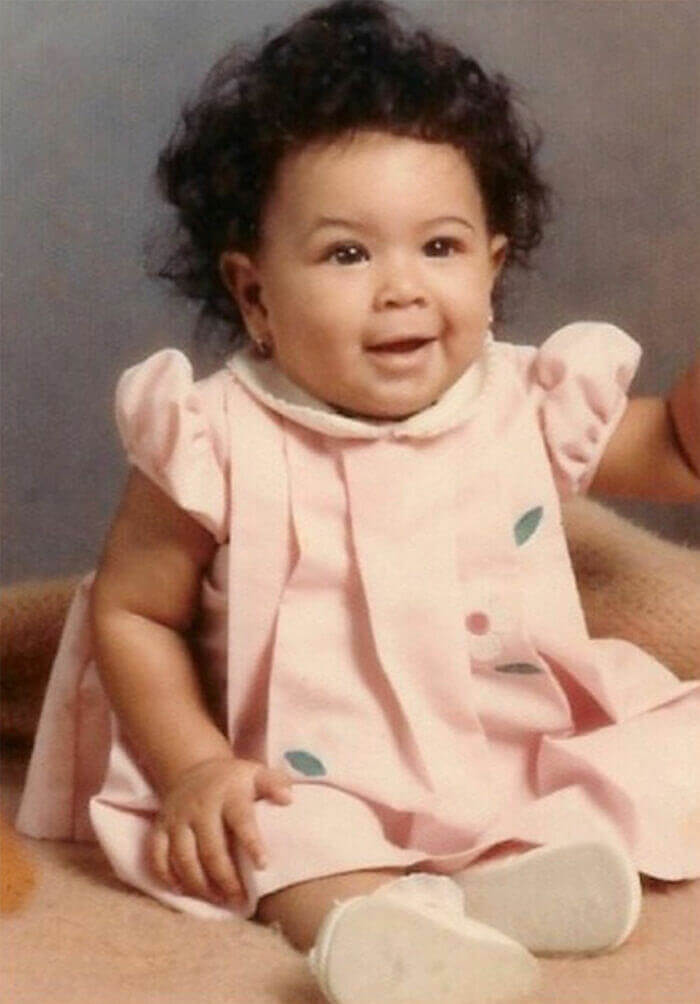 Beyonce's interest in performing continued after she won her school talent show when she was seven. Her parents enrolled her in a music school after that to develop her talents, and Beyonce continued onto an arts high school as well.
Tom Hanks In His High School Yearbook
After reading Eugene O'Neill's The Iceman Cometh and watching the performance, Tom Hanks decided he wanted to become an actor. He enrolled in the theater program at California State University Sacremento and would work in the theater when he wasn't studying.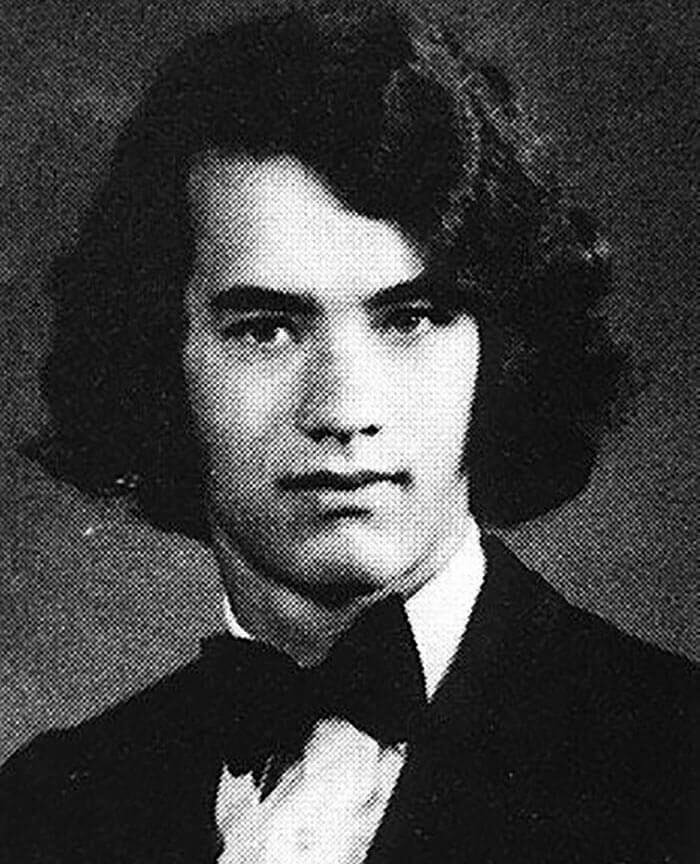 Eventually, Hanks decided to drop out and went on to audition for any small role he could find. After the success of Splash, he became a recognizable face and landed the role in Big. It was that movie that made him an established actor in Hollywood.
Jennifer Garner Hanging Out On The Swings
When Jennifer Garner was little, her mother used to call her "ragamuffin," and we can see why now. The actress had an interesting upbringing that she joked was practically Amish because her parents were so strict about what she and her sisters did.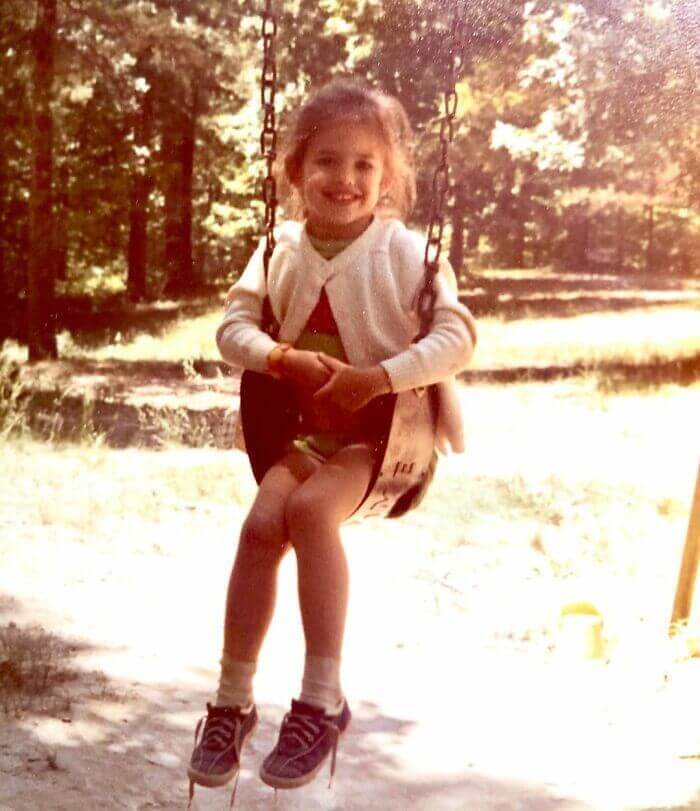 Initially, Garner went to college to study chemistry but quickly changed her major to theater. She would spend her summers working stock theater and found a passion for acting through this job. She also moved from South Carolina to LA once she graduated.
Dwayne "The Rock" Johnson Looking Ripped At 15
Is anyone really surprised that The Rock was already a muscle man by the time he was a teenager? Before starting his acting career, he was succeeding in sports and started playing professional football not long after he graduated from college.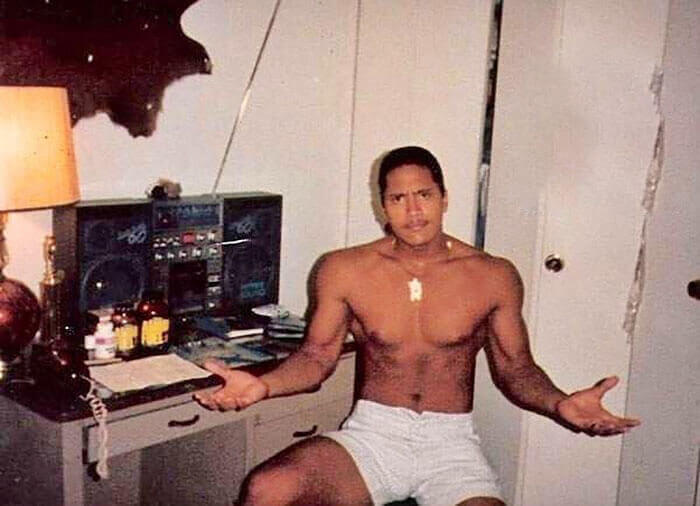 His nickname "The Rock" came from his days in the wrestling ring, and by the late 1990s, he was already a star being offered roles in movies. The movie that really changed his career was The Mummy Returns in 2001.
Nirvana In 1990
Three years before Nirvana was formed, Kurt Cobain and Krist Novoselic met at school. They had a few drummers before being introduced to Dave Grohl in 1990. Their first album, Bleach, was released in 1989 and became a favorite for college radio stations.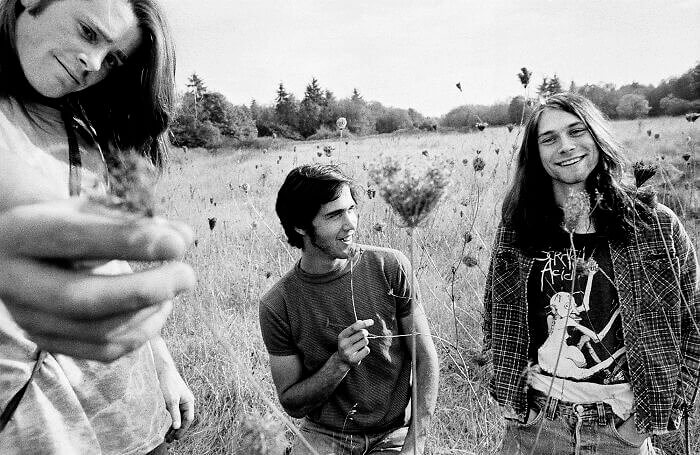 Nirvana found mainstream success with their single "Smells Like Teen Spirit" in 1991 from the album Nevermind. The album sold 400,000 copies in just a week and 30 million worldwide.
Sean Connery During His Time With The Royal Navy
Mr. 007 wasn't always an action-fighting international man of mystery. Sean Connery used to be a milkman in Edinburgh before joining the Royal Navy when he was 16. After three years, he was discharged on medical grounds and returned to his hometown.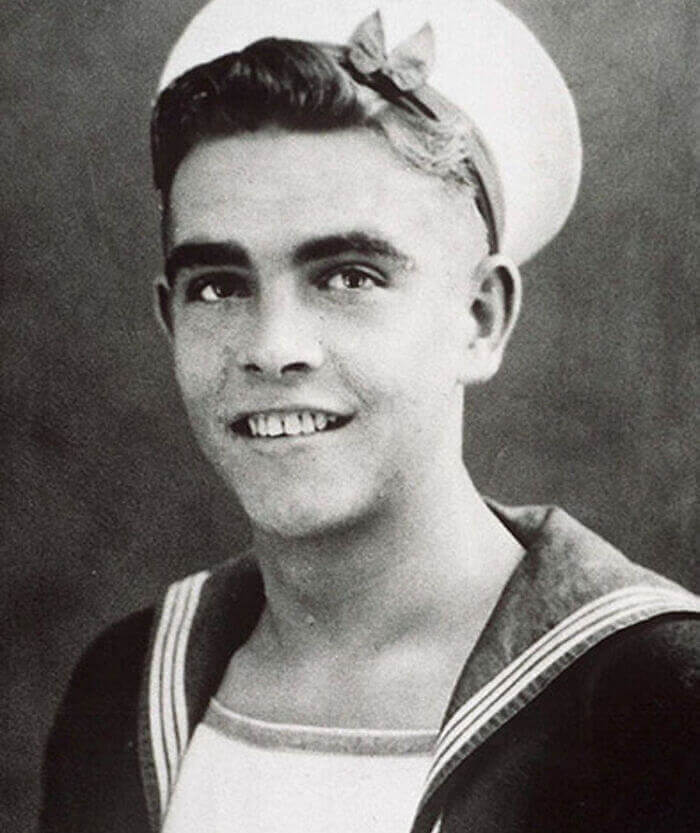 After the navy, Connery carried a few jobs like a lorry driver, a lifeguard, a laborer, and an artist's model for Edinburgh College of Art. In the 1950s, he finally started getting roles and an extra, but it wasn't enough to make ends meet. He had to work as a babysitter until he got more significant parts.
Angelina Jolie Has Always Been Gorgeous
When we were 16, we certainly didn't look like this, but Angelina Jolie has always been stunning. As a child, she enjoyed watching movies with her mother, which inspired her to start acting. Jolie attended the Lee Staberg Theater Institute for two years and appeared in a few productions.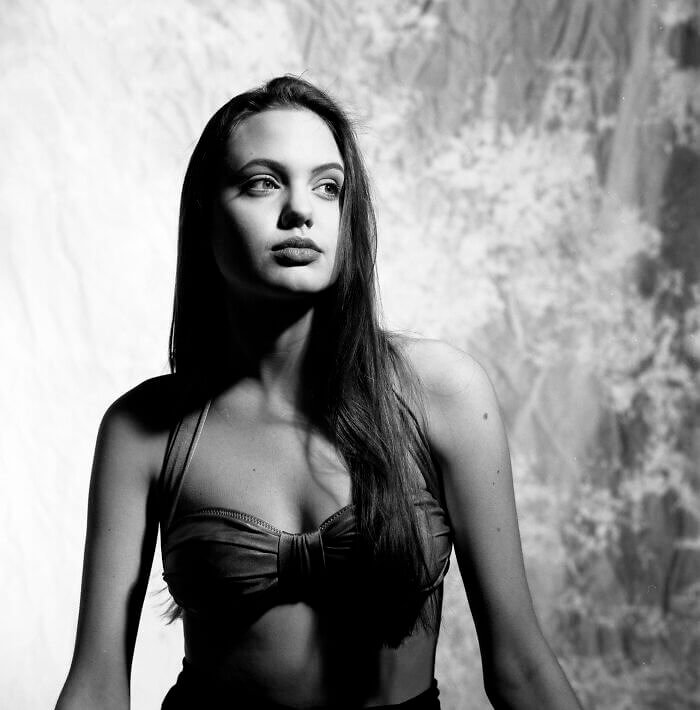 Jolie later studied drama at NYU and starred in her brother's student films. However, her first leading role as a professional actress wasn't until 1992 in Cyborg 2, but she didn't like the outcome and didn't audition for anything else for a year.
Millie Bobby Brown Looks Like She Is Up To Something
While it hasn't been that long since Millie Bobby Brown was a child, the 17-year-old actress has blossomed into a beautiful young lady. Born in Spain to English parents, she found a love for acting early on in life and made her acting debut when she was nine in Once Upon A Time.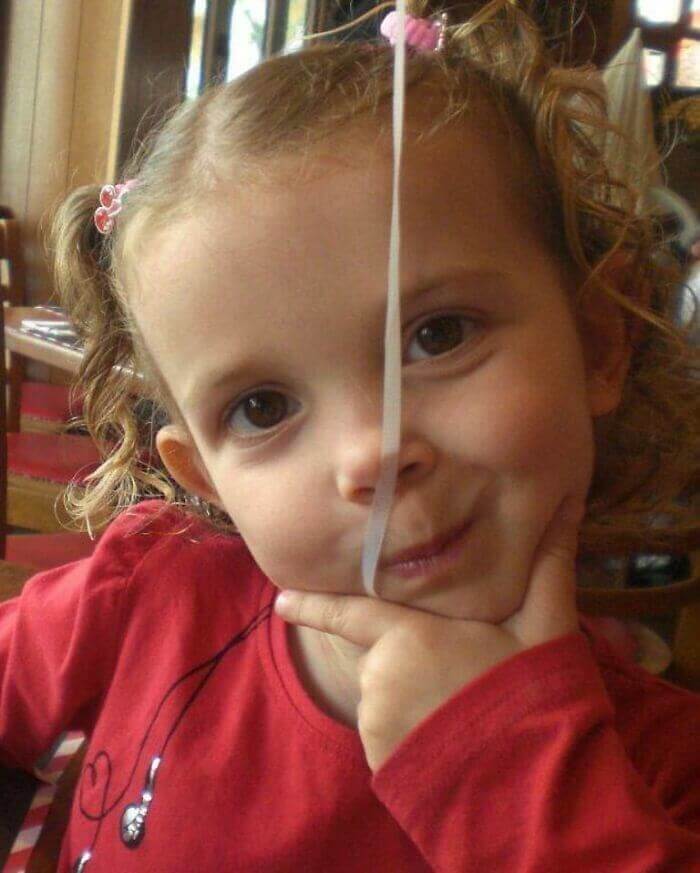 After just a few performances, Brown landed her breakthrough role in Stranger Things as Eleven. Her performance earned her many nominations at such a young age. Today she is a little older but just as sassy as she was in this photo.
Christoph Waltz In 1975
You might know Christopher Waltz from Inglorious Basterds or Django Unchained, but before he was a huge star, he was just a boy with a dream. Waltz was interested in theater early on since he went to the opera for the first time when he was 10. After that, he would go twice a week.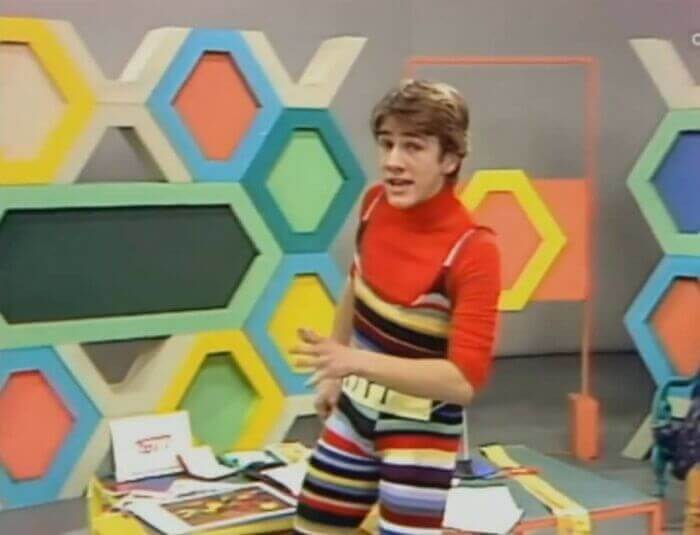 When Waltz attended University, he studied acting, but his true passion was singing and opera. Eventually, he realized his voice wasn't meant for singing, and he started working as a stage actor and director on a German television show called Wenn Man Sich Traut before his breakthrough role in 2009.
Eminem In The '80s Before He Was Rap God
Will the real Slim Shady please stand up. The first rap song Eminem ever heard was "Reckless" by Ice-T, Chris "The Glove" Taylor, and David Storrs in 1984. It inspired him to start rapping himself when he was 14. About ten years later, he released his first album, which was a commercial failure.
Everything in Eminem's career changed when he adopted the name Slim Shady and released a new album in 1997, Slim Shady EP. The album caught the attention of Dr. Dre and he invited Eminem to work together to release another EP two years later.
Lady Gaga In The 2000s
Since she was a child, music has been a part of Lady Gaga's life, when she started learning the piano at age four. Her passion only grew over the years, and she started performing at open mic nights when she was a teenager.
Gaga also studied method acting for ten years but didn't get any significant roles in her auditions. While studying in New York, she was performing when a talent scout helped her find her way to superstardom.
Bob Marley Without His Dreadlocks
If you are like us, you have probably never seen Bob Marley without his dreadlocks, but there was a time when he didn't have them. In 1964 when he released his song "Rude Boy," he had a buzz cut and dressed much differently.
Marley started playing music in primary school with his friends before moving to Kingston and starting a vocal duo. However, the group didn't rise to fame until the '70s when they signed a contract with Island Records.
Christian Bale As A Dashing Teenager
As a teenager, Christian Bale was inspired to become an actor after he studied the work of Gary Oldman. The first time he appeared on television was in a commercial for the fabric softener Lenor in 1982. However, Bale's first stage debut wasn't until 1984 in The Nerd with Rowan Atkinson.
Two years later, Bale appeared in his first movie Anastasia: The Mystery of Anna. He then gained attention and more roles, which made him question his career choice. However, Kenneth Branagh talked him out of giving up on his career.
Jennifer Aniston Dressed As A Witch For Halloween In 1986
Jennifer Aniston discovered her love of acting when she was attending a Waldorf school at age 11. Her first job was in an off-Broadway production, but she had to take jobs on the side to support herself. She was a telemarketer, waitress, and bike messenger.
Anniston's first regular TV role was on a show called Molloy in 1990 before she got her big break as Rachel Green in Friends. She was just 17 when she took this picture, and we wonder if she knew how famous she would be back then.
Tommy Lee Jones While Playing As An Offensive Guard At St. Mark's School Of Texas
As a teenager, Tommy Lee Jones got a football scholarship that allowed him to attend a boarding school in Dallas, where he took an interest in theater and played in some student productions. He then graduated and attended Harvard University, where he continued to play football and appear in theater productions.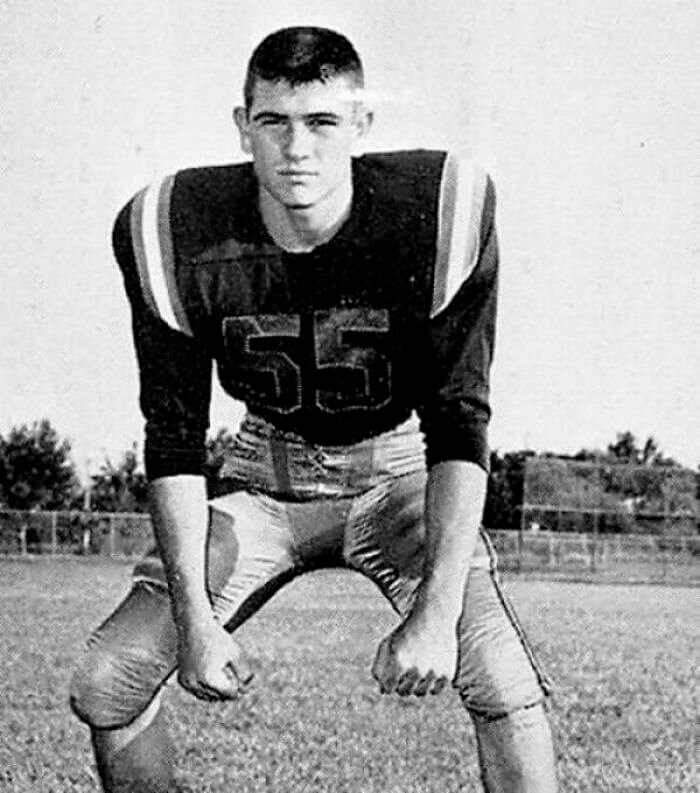 After graduating, Jones decided to move to New York to pursue acting, and he got his first movie role in 1970, playing a Harvard student in Love Story. It must not have been hard for him to play this role, considering he had just graduated from Harvard.
Quentin Tarantino In 1983
Quentin Tarantino started showing an interest in films when he was just a young boy. At age 15, he worked as an usher for an adult movie theater and worked in a video store for five years. By watching movies at the store, Tarantino learned a lot about movie-making.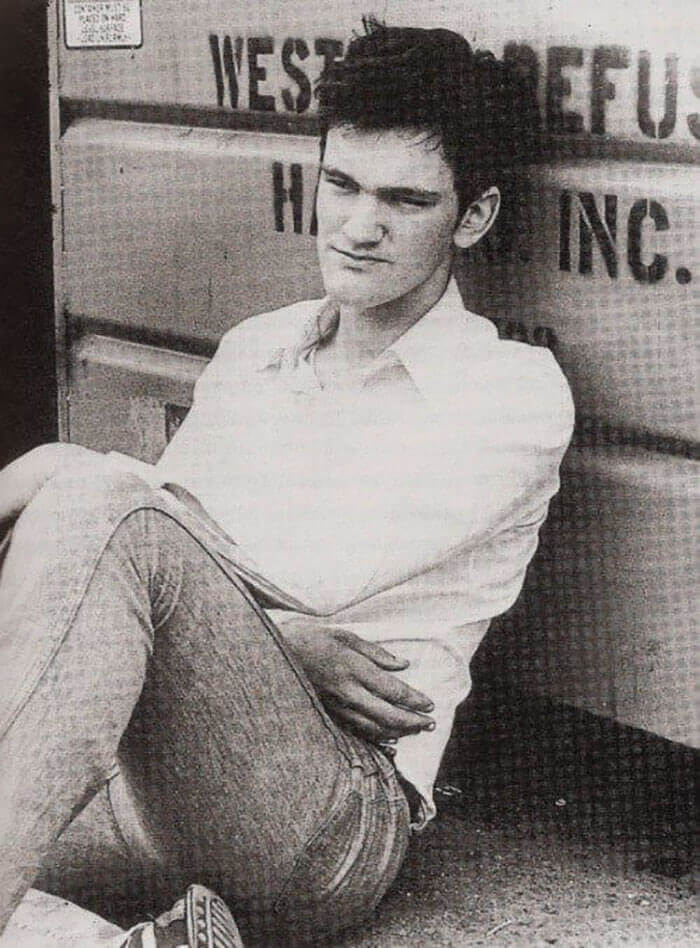 Tarantino was later paid to watch movies (how do we get that job?) and got his first job in Hollywood in 1986 as a PA. A few years later, he wrote his first movie, launching the career of one of the most admired film directors in Hollywood today.
Clint Eastwood As A High School Senior
Clint Eastwood looks much different than we know him today with his dapper hair and babyface. After graduating from Oakland Technical High School, he held various jobs, including hay baler, logger, and truck driver, before being drafted into the Army during the Korean War.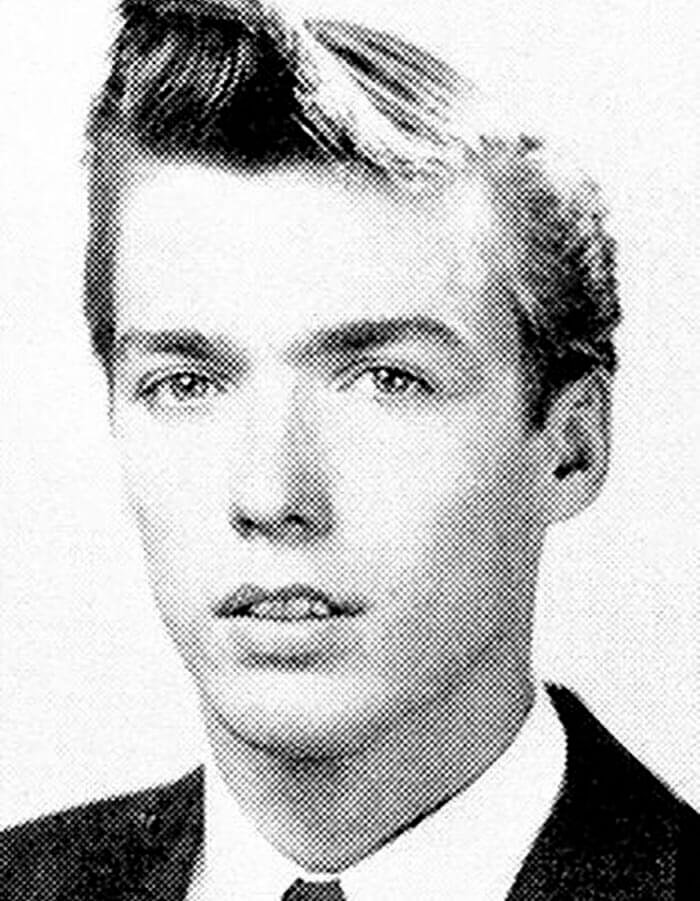 Eastwood was stationed in California, where he served as a swimming instructor. After the army, he appeared in a few TV series before he got his big break in 1959 in Rawhide. Eastwood gained international fame and is still acting today at 90-years-old.
Vin Diesel When He Had Hair
We had no idea what color hair Vin Diesel had before seeing this picture. The famously bald actor started performing on stage when he was just seven years old in the children's play Dinosaur Door in New York. Theater continued to be a big part of his life when he was a teenager as well.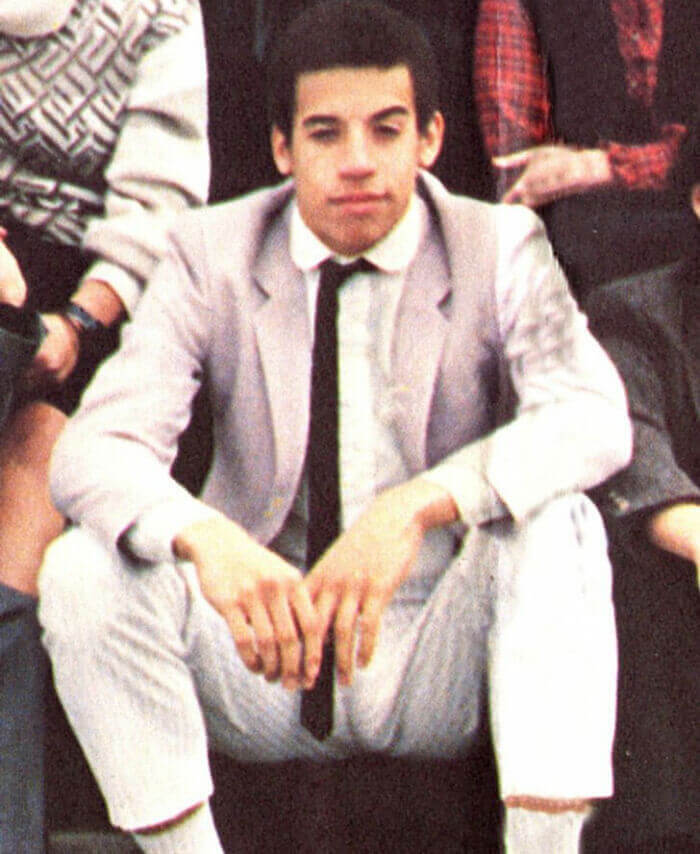 Vin Diesel started college but dropped out to begin screenwriting. Diesel's first role was in 1990 in an uncredited role, but Steven Spielberg later cast him in Saving Private Ryan, which helped him get his foot in the door for more parts.
Katy Perry In 2001
You might not recognize Katy Perry without her signature black locks, but her hair is naturally dirty blond. The pop star began vocal lessons at age nine while singing in church. For her 13th birthday, Perry received a guitar and started playing songs she wrote.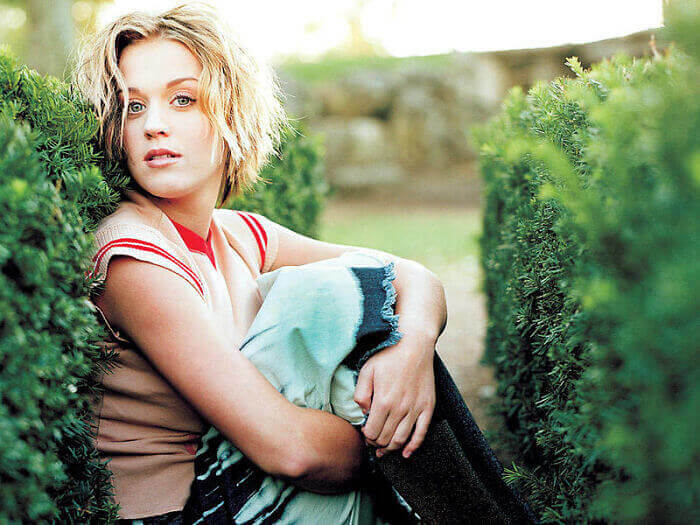 Perry took dance lessons to learn swing, Lindy Hop, and jitterbug, all popular dance styles in the '50s. Also, her first album was released under the name Katy Hudson, and it had a lot of Christian music before she changed up her style.
David Harbour In 1994
David Harbour hasn't changed much over the years besides his hairstyle. Harbour began acting in the 1990s, and his first professional job was on Broadway in the revival of The Rainmaker. He also had minor roles in Law & Order: SVU.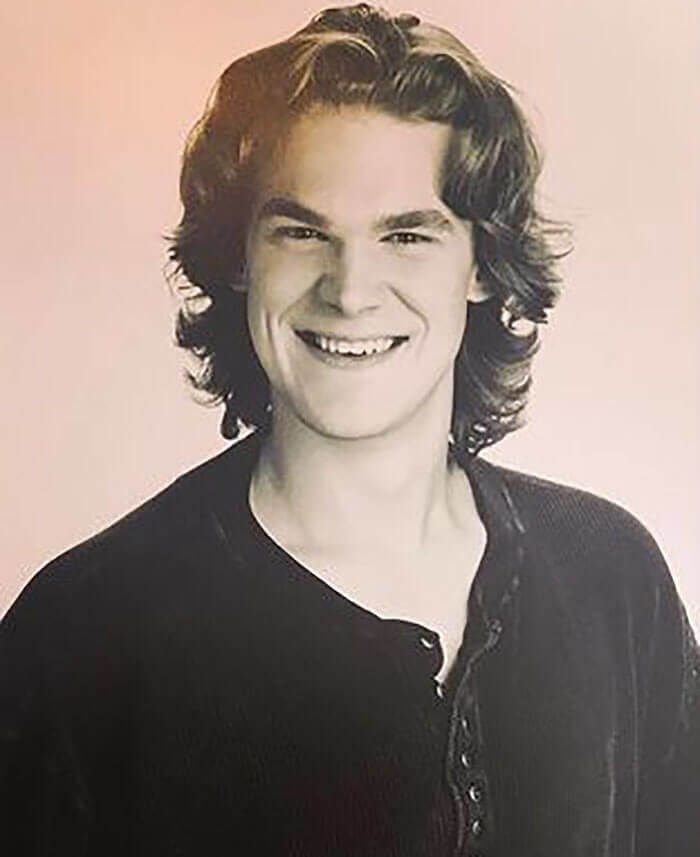 As he gained notoriety in Hollywood, Harbour became a more recognizable face. However, it wasn't until he was cast in Stranger Things that a role really changed his life. This role actually helped him land other parts.
Mark Zuckerberg At Harvard Where He Created Facebook
Mark Zuckerberg looked less like a robot back in his college days, but someone should have told him to clean up his room. The Facebook founder began writing software when he was in middle school, and his father hired him a private tutor to help his son's interests.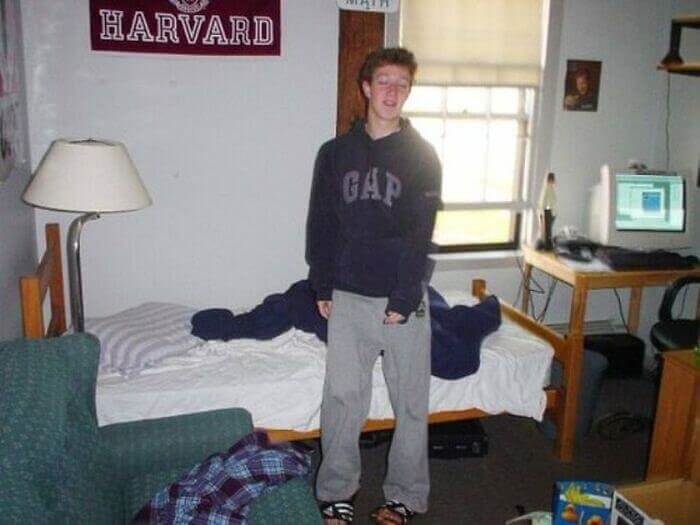 Zuckerberg would create video games, and his artistic friend would draw the graphics. In college, he became a programming prodigy and created a few new programs before Facebook. It's funny that this teenager is now one of the richest men in the world.
Dwayne "The Rock" Johnson In His Childhood Class Picture
Before he was a buff action star, The Rock was just a cute little buck-toothed child. He grew up in New Zealand and across the US as his family moved around often. As a child, he was always into sports and looked up to his dad, who was a former professional wrestler.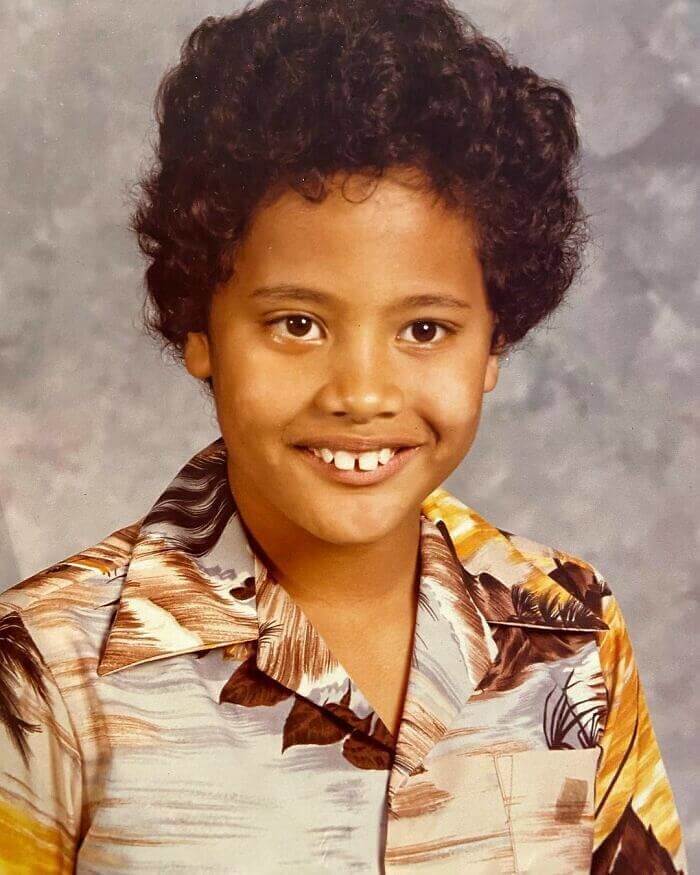 Because of his connections with the wrestling world, The Rock secured a contract with WWF for eight years before pursuing an acting career. Today he is one of the highest-grossing and highest-paid actors in Hollywood.
Rihanna Looks Exactly The Same (Sort Of)
Little baby Rihanna before she was the CEO of Fenty and Savage X Fenty. The Barbados native grew up listening to reggae music, which later inspired her own sound. However, she didn't get into singing right away as she was an army cadet at a sub-military program.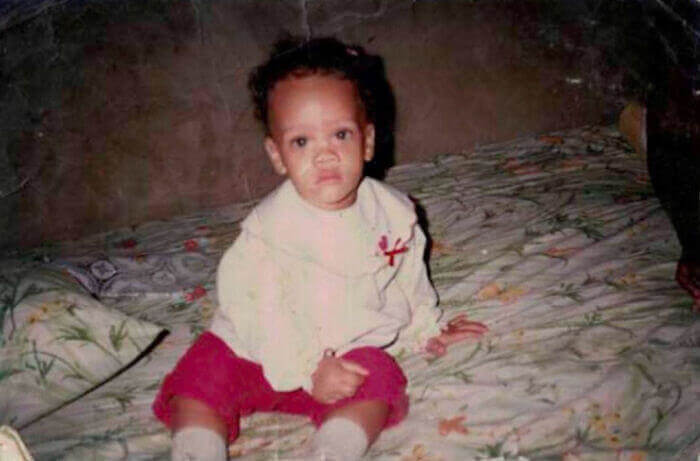 While in the program, Rihanna met a singer-songwriter who inspired her to pursue a music career. Although we aren't getting new music any time soon, we have to appreciate how far this baby came from a small island to worldwide fame.
Usher Was Probably Flirting With The Camera
Usher is known for his smooth RnB jams that make women everywhere swoon, and we can imagine he was a very flirty baby too. At his young age, he was already showing off his smolder for the camera.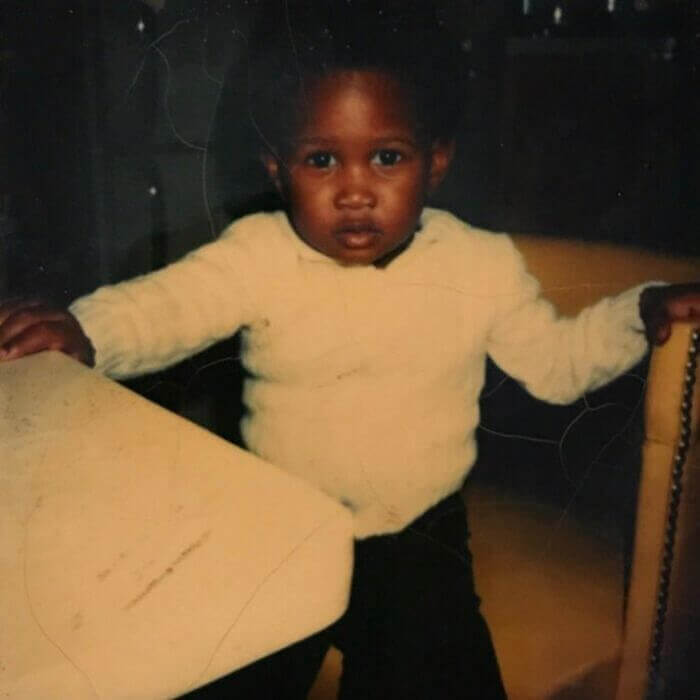 As a child, his mother told him to join the church choir because he was so talented. Then his grandmother considered he could sing professionally once she heard him. The family decided to move to Atlanta to give him a better opportunity to become something.
Heidi Klum Collecting Easter Eggs
As a child growing up in Germany, Heidi Klum was known for her beauty. A friend convinced her to join a modeling contest, and she won out of 25,000 contestants, and she was offered a modeling contract. After graduating from high school, she accepted the contract.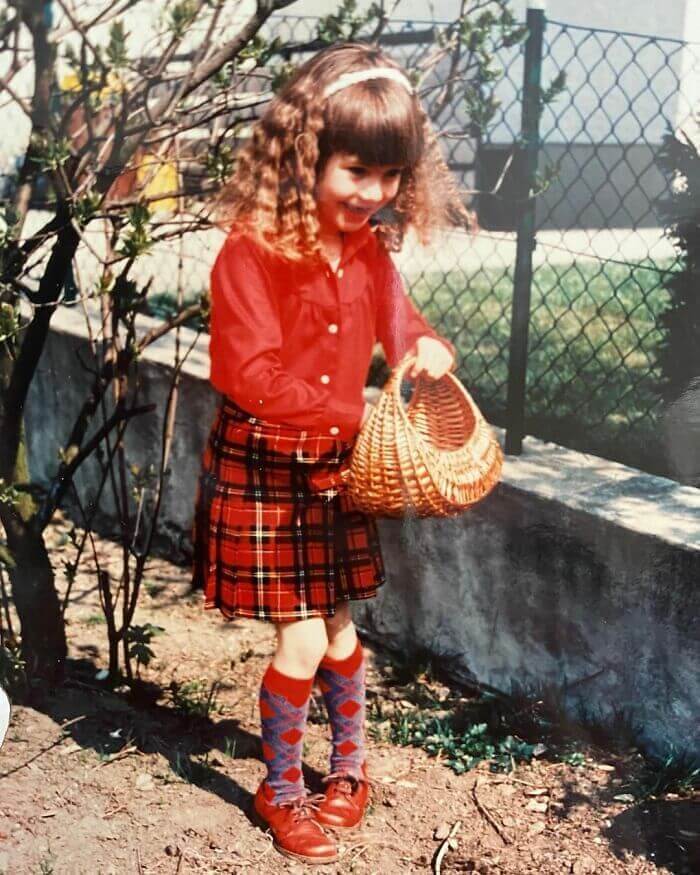 She was going to try for an apprentice position at a fashion design school, but the modeling contract was more promising. Klum proved herself quickly and landed on the cover of French, German, Portuguese, and Spanish Vogue.
Julia Roberts Practicing Her Vocals
We can't tell if Julia Roberts was in shock, singing, or yelling in this picture, but we would like to think she is singing. She looks a lot like her niece Emma Roberts here, and we can see the resemblance in their family.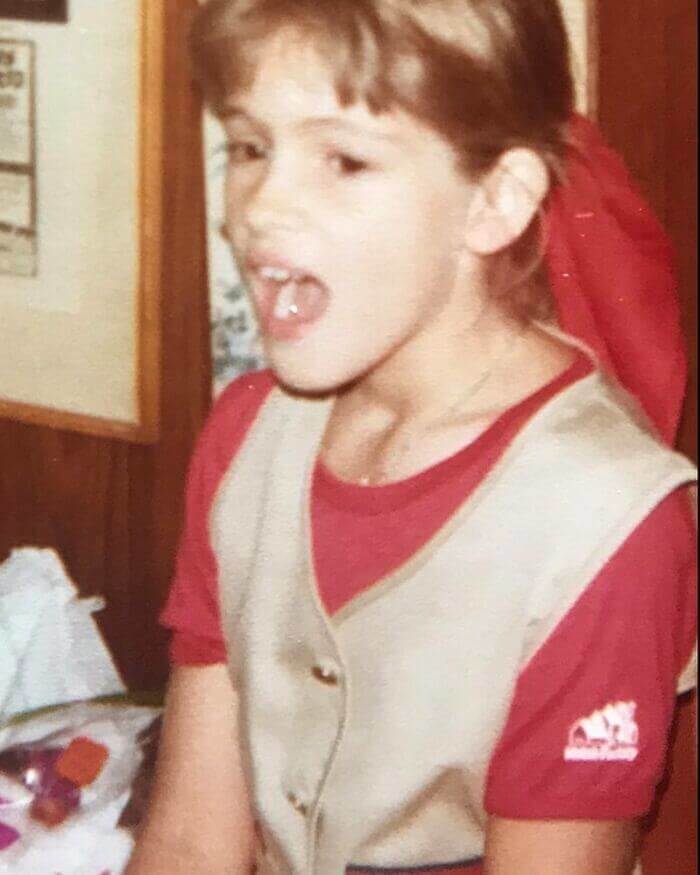 As a child, she wanted to be a veterinarian, but once she made it to college, she decided to drop out, move to New York and pursue acting. Once there, she signed with a modeling agency and enrolled in acting classes.
Amanda Seyfried Was Beautiful Even As A Baby
It's no surprise that Amanda Seyfried was a gorgeous baby because she is such a beautiful adult. As a child, she began modeling when she was ten in print ads for Limited Too with Leighton Meester. She was also featured on the cover of three Sweet Valley High novels.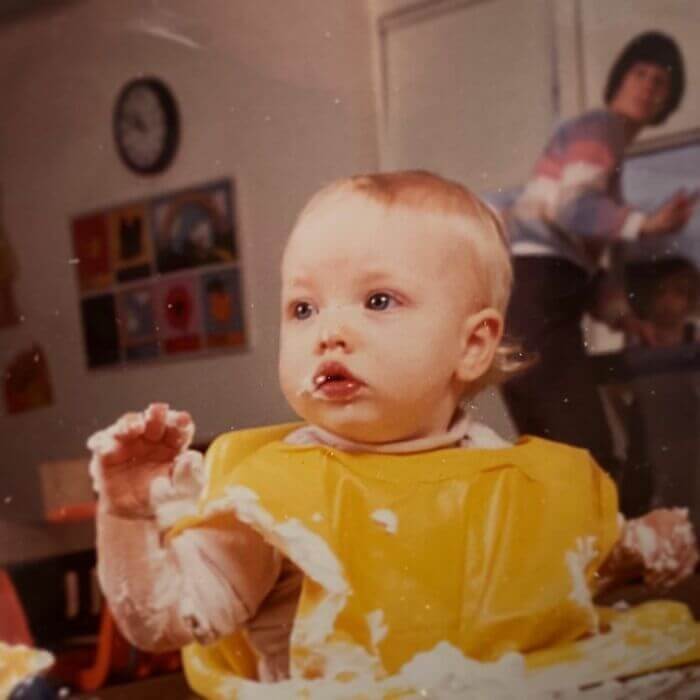 At 17, Seyfried decided to stop modeling and started working as a waitress in a retirement community. During that time, she took vocal lessons, studied opera, and trained with a Broadway coach. From here, she slowly got roles on TV as she continued to audition.
Britney Spears In Her Original Diva State
Oops, she did it again! Britney Spears always had that star power, and you can see it here in her childhood photo. From a young age, she already had an interest in singing, dancing, and entertaining people with her vibrant personality.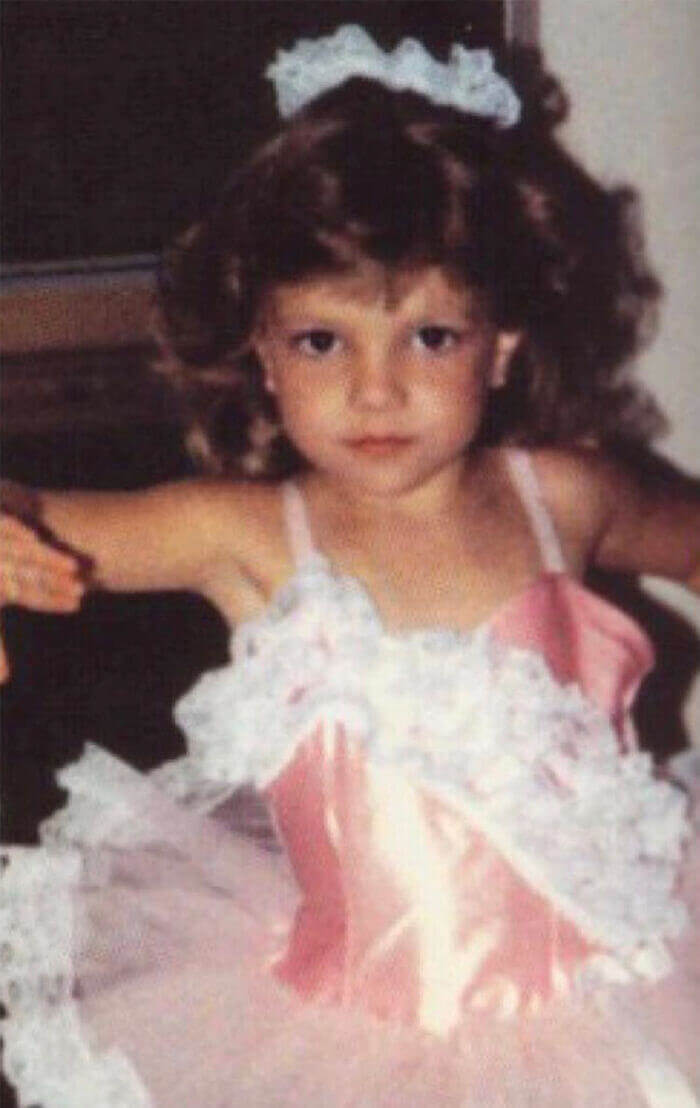 While her adult life hasn't been so easy, one thing is for sure; that little girl grew up to be one of the best performers. If only people would let her make her music and live her life the way she wants to, she would be so much happier.
Christina Aguilera Halloween Circa 1985
This looks nothing like the Christina Aguilera we know and love today, but she was an adorable little girl. As a child, she moved around a lot because of her father's military service. However, when her parents divorced, she used music as a way to escape.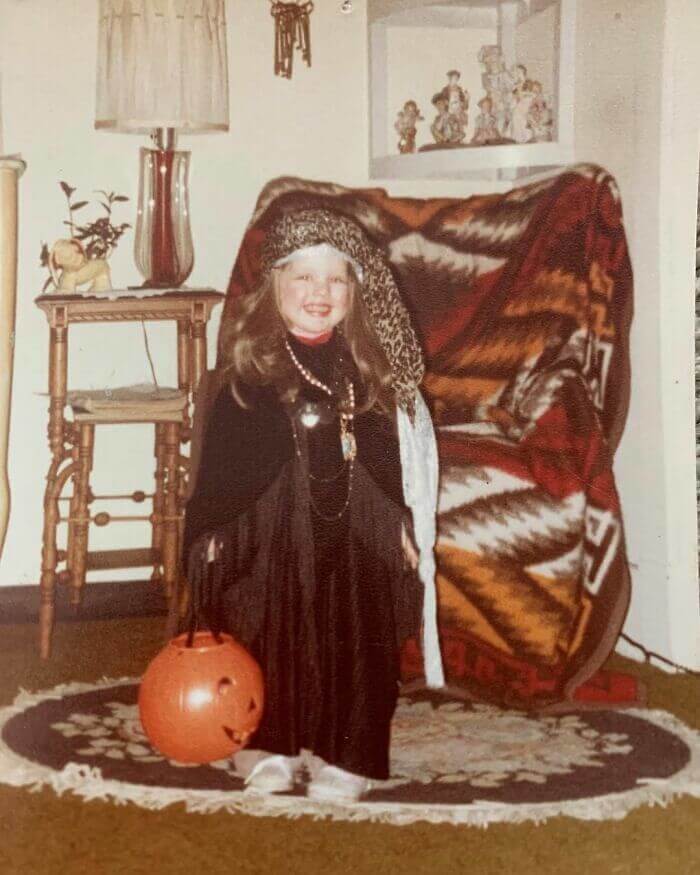 As a child, Aguilera was drawn to soul and blues music because of her grandmother's records, and she would practice singing to them. She won her first talent show at age eight for her rendition of Whitney Houston's "I Will Always Love You."
Gigi Hadid With Her Grandma
Gigi Hadid was ready to be a model since the day she was born. As a child, she considered herself a tomboy because she was always into sports, especially basketball, but that changed as she got older, and her mom saw the potential she had as a model.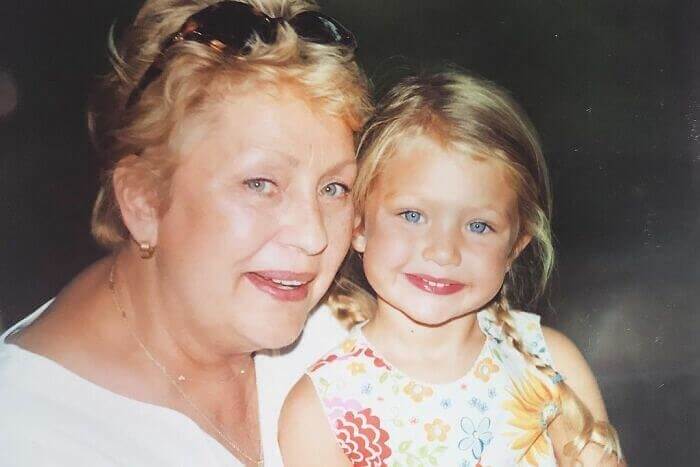 Hadid comes from a family of models, and you can see she gets her beauty from her mother's side. She is pictured here with her late grandmother, who she would visit in Holland, where her mom grew up.
Katy Perry And The Easter Bunny
Have you ever noticed how creepy the Easter bunnies at the mall used to be (and still are)? Although it is hard to recognize her, that is a little Katy Perry posing in her pastel Sunday best with the Easter bunny.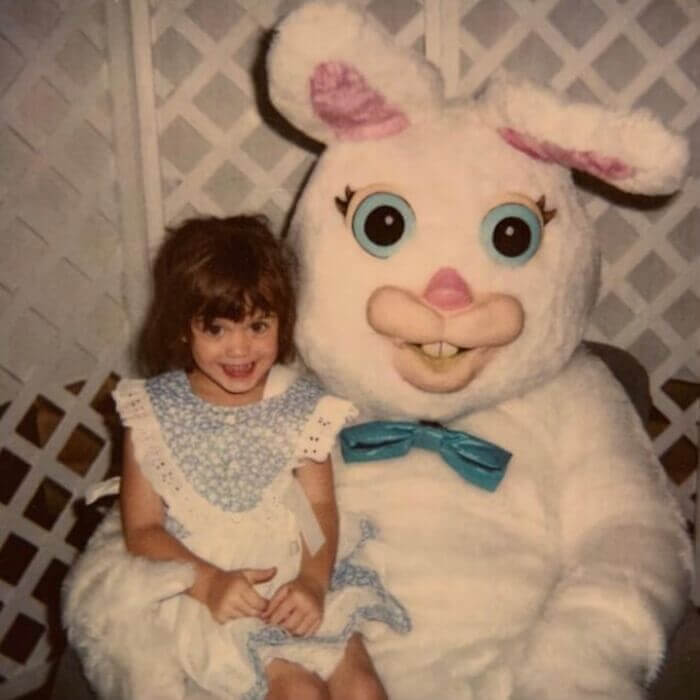 Perry grew up in a religious household, so the holidays were very important to celebrate for her family. Her family didn't have a lot of money, and they sometimes had to get food from the church's food bank, but Perry enjoyed everything her parents were able to provide.
Miley Cyrus And Her Newborn Sister
When Miley Cyrus was first born, her parents named her Destiny; however, she was such a smiley baby, and they started calling her "smiley Miley" before legally changing her name. While missing one of her front teeth, she still has a huge grin on her face because she is holding her baby sister.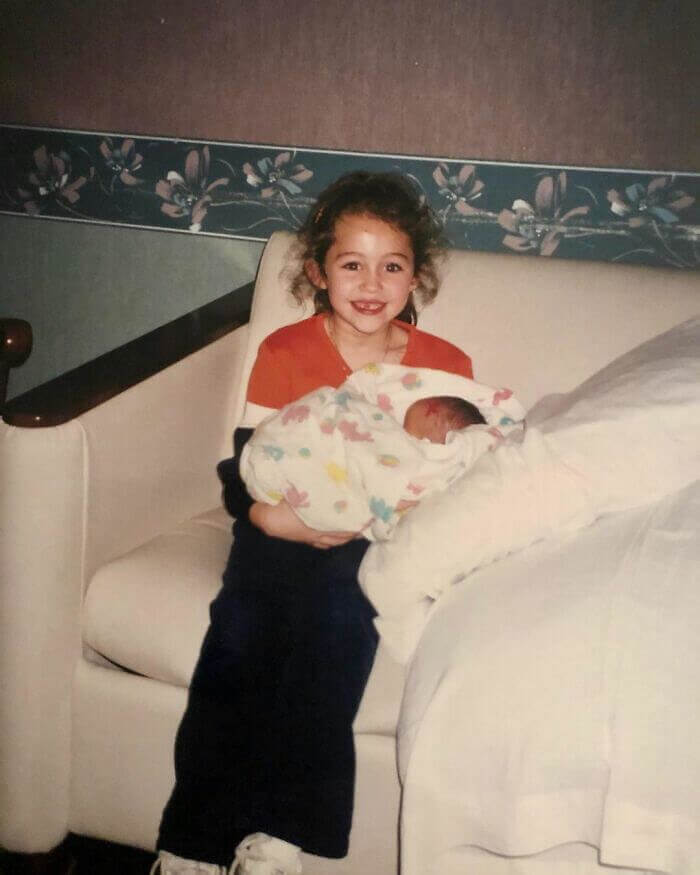 Miley and her younger sister Noah may have a seven-year age gap between them, but they are the closest sisters we have ever seen. Miley even said that Noah sometimes takes care of her even though she is the little sister.
Justin Timberlake Rocking Around The Christmas Tree
It seems that Justin Timberlake was always destined to be a musician. As a child growing up in Memphis, Tennessee, he was always surrounded by music. His grandpa introduced him to Johnny Cash and Willie Nelson, and Timberlake would perform the songs for his family.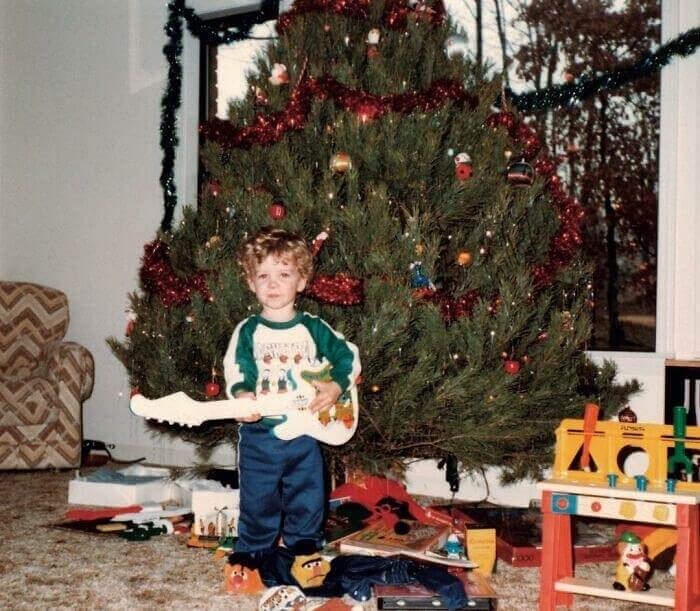 When Timberlake was 11, he appeared on the show Star Search performing country music. However, it was around that time that he started to get into RnB music like Stevie Wonder and Marvin Gaye. He was so talented that he landed a spot on The All-New Mickey Mouse Club with Britney Spears and Christina Aguilera.
Margot Robbie And Her Big Brother
Margot Robbie and her big brother were adorable as children. Robbie grew up in Dalby, Queensland, where she was raised by a single mom after her parents divorced. She lived on a farm and was always an energetic child putting on shows around her house.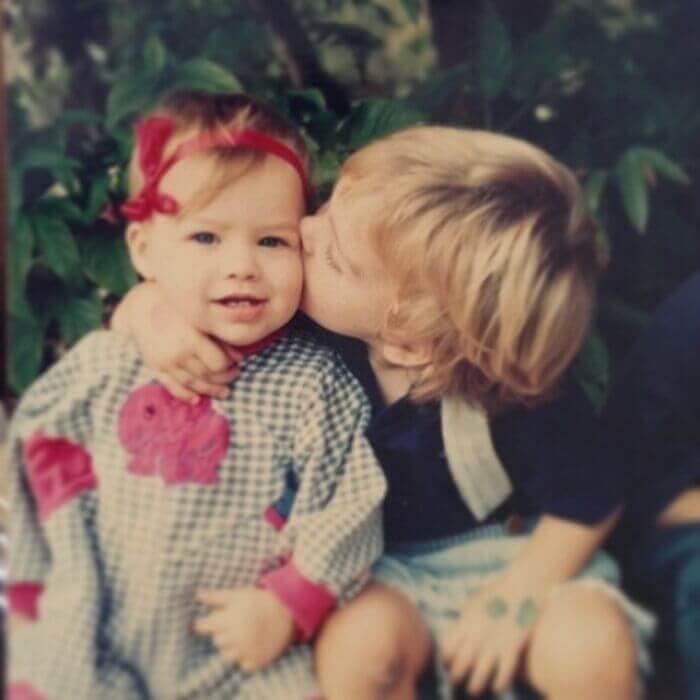 In an interview, Robbie once said that she was really dramatic and loved performing. She would watch any movie she could find on TV and re-enact it for her mom. She would even make her family pay to watch her shows, especially her magic shows.
Ariana Grande's School Photo
If anything, we can thank Ariana Grande for her consistency with her high ponytail. As a child, Grande was already a natural performer and would participate with the Fort Lauderdale Children's Theater, playing her first title character in their version of Annie.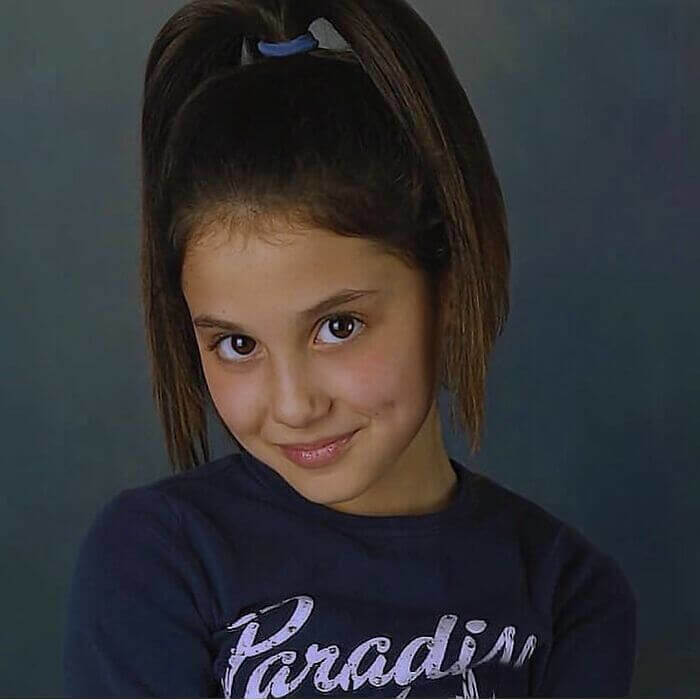 Grande also performed in The Wizard of Oz and Beauty and the Beast. When she was eight, she also performed on cruise ships, with South Florida Philharmonic. Everyone knew she would be a star with her vocal range, and she was just waiting to be discovered.
Sarah Jessica Parker Reading With Her Mom
As a child, Sarah Jessica Parker was one of eight children, and although her mom barely had time, she still found a moment to read to all of her children. Growing up in Nelsonville, Ohio, her parents tried to provide a lifestyle they couldn't afford.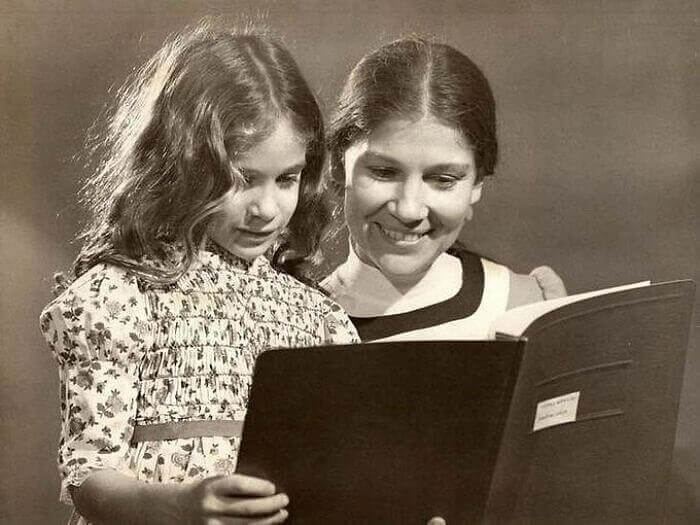 Parker remembers that the electricity would be shut off, or they would have to forgo Christmases and birthdays because her parents couldn't afford the holidays. However, her mother found any free extracurricular activity to sign them up for so they would have "full, rich lives."
Hilary Duff's First Headshot Session
Although we know Hilary Duff as the bubbly Disney channel child, she looks pretty angry in her first headshot. When Duff posted this picture, she said she couldn't believe how many auditions she took this picture to, and we wonder how many of those roles she actually got.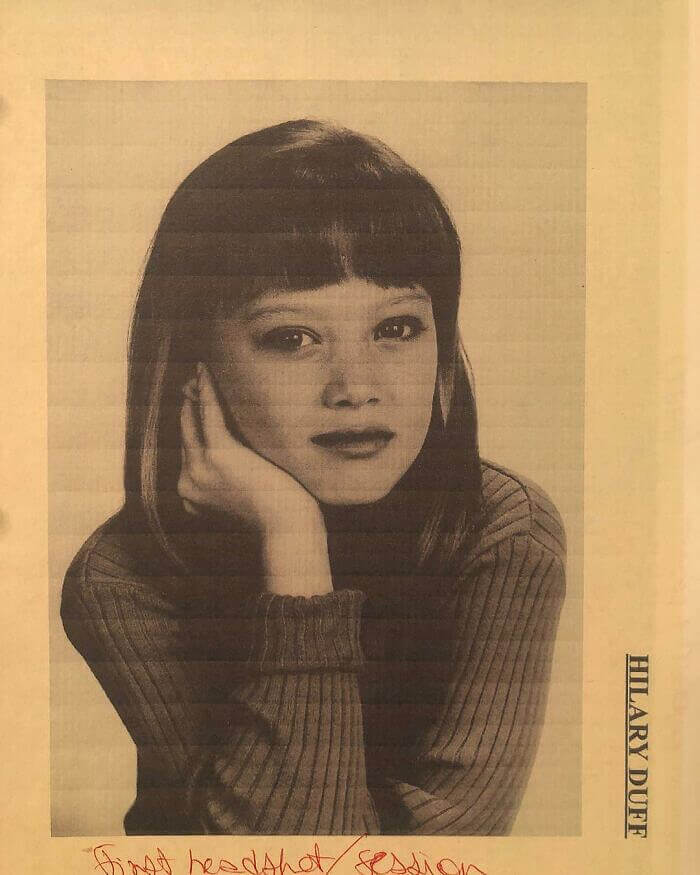 Duff wanted to be an actress from an early age, and her mom even relocated her family from Texas so her children would have more opportunities. Because of her acting career, she was homeschooled from age 8, and she got many minor roles until she landed Lizzie McGuire.
Hollywood Stars' Photos Recreated With A Funny Twist
Ashley Lez
This article was originally published on 24/7Mirror
Have you ever looked at a picture posted by your favorite A-lister and thought, "how do they look good wearing something like that or posing like that?" A woman named Celeste Barber started recreating ridiculous famous people's Instagram photos, and she has gained 6.9 million followers on Instagram in the process. She shows what the average person would look like if they were taking these photos in real life. Keep reading to see the hilarious results!
Instagram Vs. Gravity
Alexis Ren modeled this shirt with perky boobs drawn on it, but realistically, no one's chest naturally looks like that.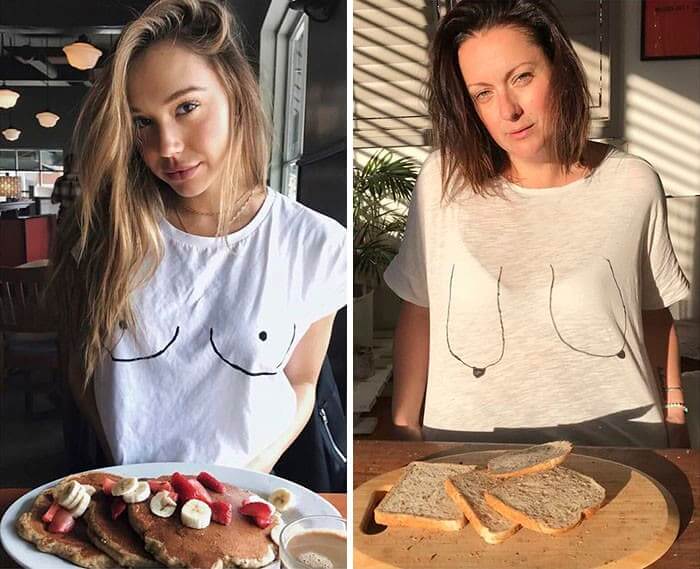 While Celeste made her shirt the exaggerated version, that is more realistic than the original Instagram. Let's be real; gravity starts to win as you get older.
Boats, Bikinis, Flexibility, and Humility
Gigi Gorgeous looks like she is floating on air in her photo, but it does not look easy to achieve that pose. Who would want to contort themselves onto some metal bars?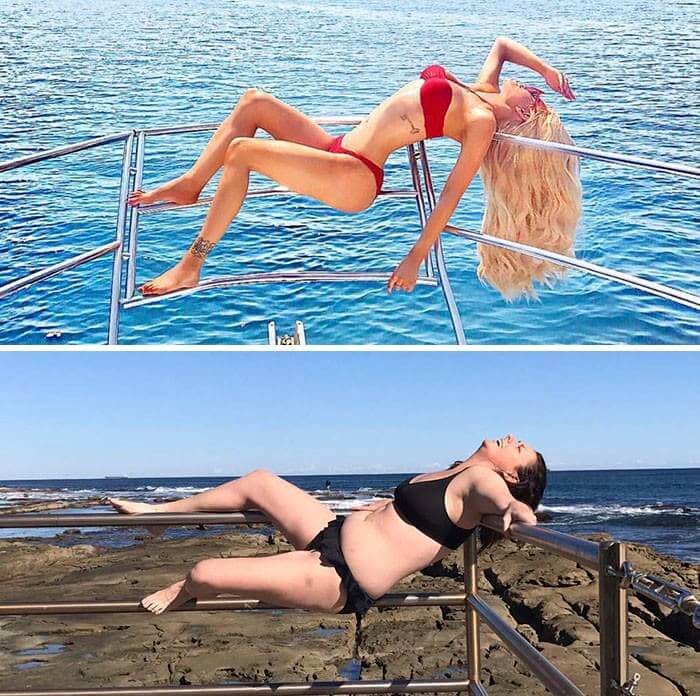 Celeste is how most of us would look if we tried this pose. It seems like she is on the struggle bus, and we can only imagine how uncomfortable that is.
Did Someone Say Flamingo?
When you wish you were on a private yacht with a giant flamingo floaty like Kendall Jenner, but you are stuck at home.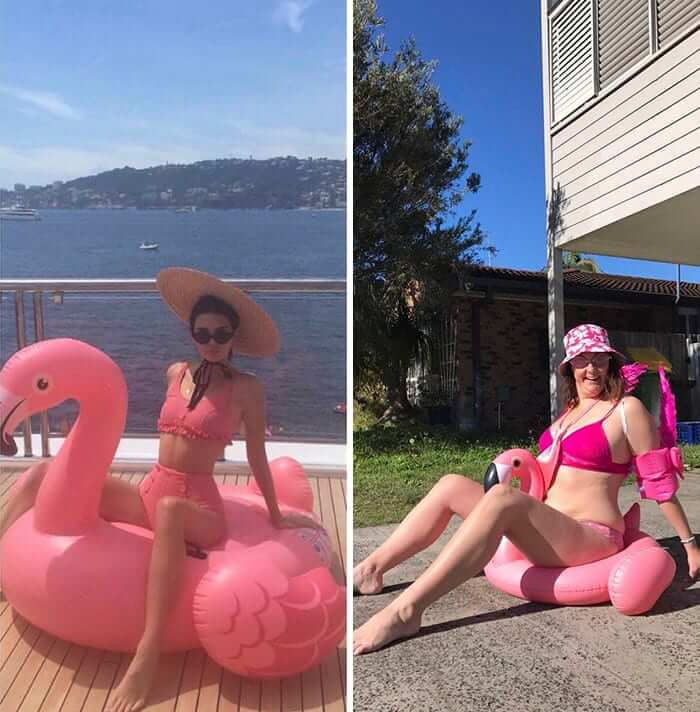 She traded the boat deck for her driveway and added some water wings because cement can be dangerous.
The Basis Of Any Good Relationship: Trust
Would you trust someone not to let go of your t-shirt while you lean face first over a pool? The models in the top picture messed up a few times because she is not dry.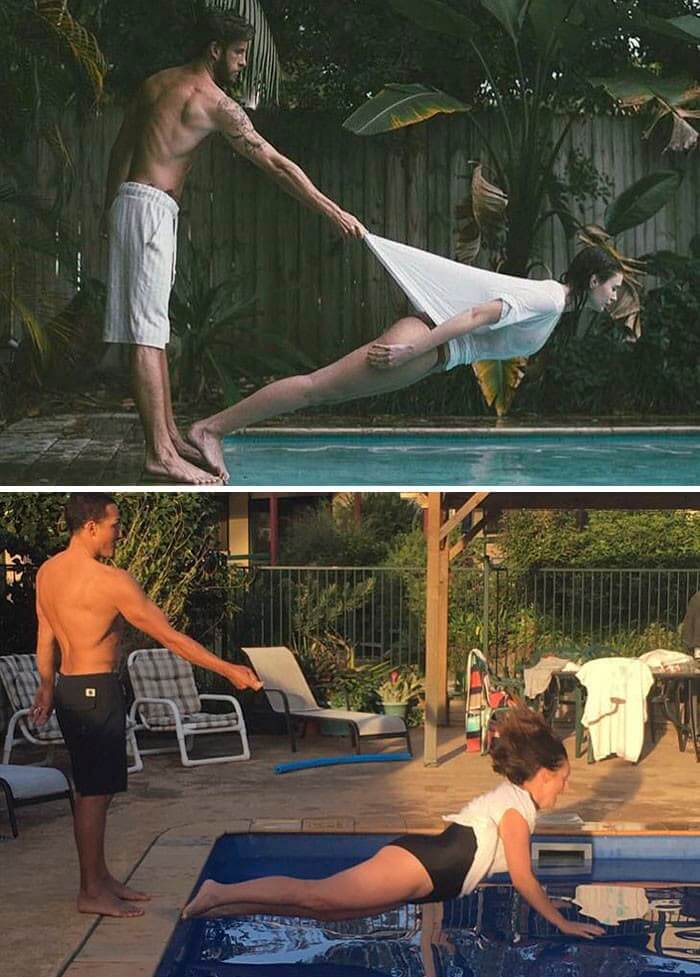 Even if you trust the person, that is not an easy task for someone to hold you only by your shirt.
Boys Lie, Carbs Don't
The truth hurts, doesn't it? Carbs don't lie, and they will stick by your side even when you don't want them.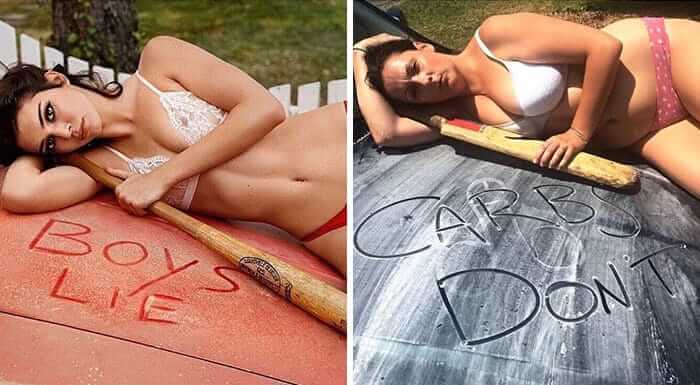 Both pictures are sharing truth bombs, and both pictures show that they both need to wash their cars.
Taking Advantage Of Morning Sunshine
When you try to recreate those perfect rainbow reflection pictures, but you are blinded by the morning sunlight. The rainbow also looks suspiciously perfect in the left image.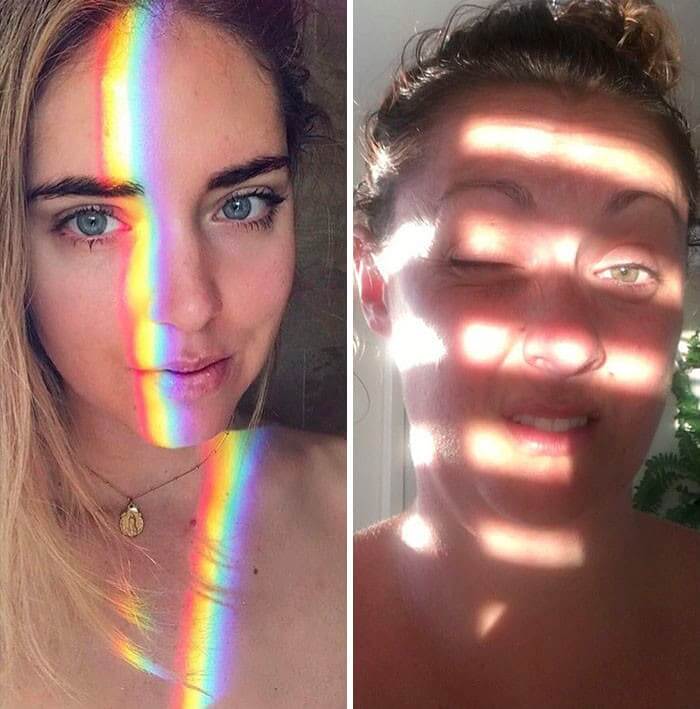 Trying to look directly into the sun right when you wake up is not something the average person could handle.
Breakfast Is Served
When you want to do something special for you your man so you bring him orange juice and pancake (mix) in bed.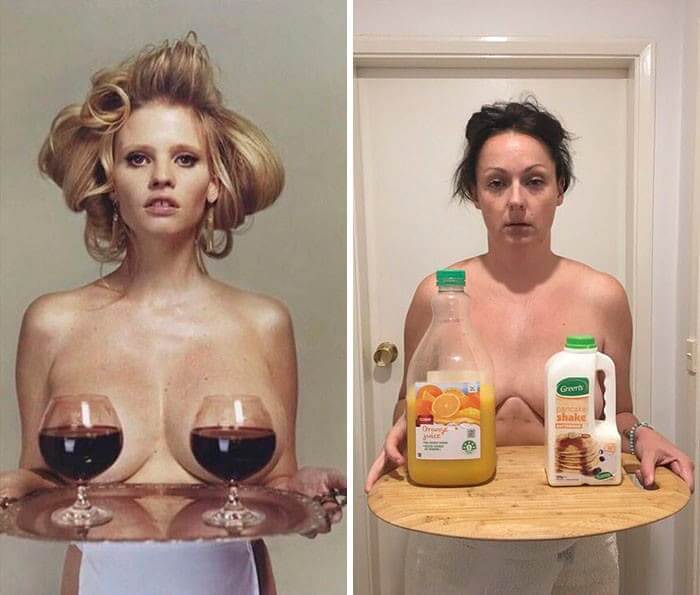 Serving people topless is not very sanitary, and people should refrain from this, especially if you want to carry something hot.
"Just Rolled Out Of Bed"
When you are trying to reach something on the floor without getting out of bed. You try to do acrobat moves just to keep some part of your body on the bed.
The hardest part is when you finally reach what you want, and then you have to figure out how to get back on the bed.
When You Successfully Cook Dinner
When you managed to cook dinner for everyone without getting any complaints or burning something, that calls for a celebration.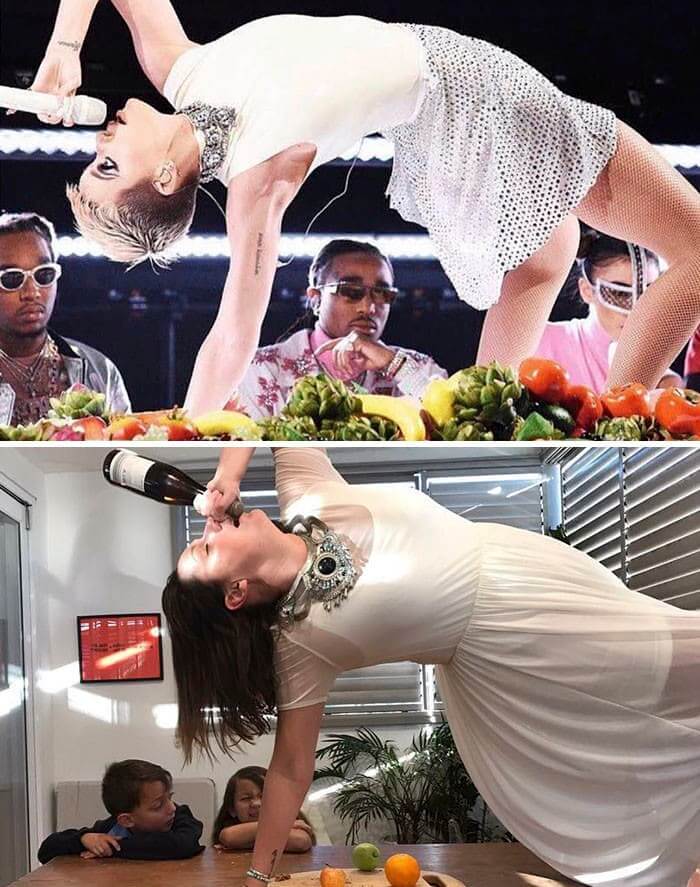 Her kids look unimpressed with her celebrations like, "Mom, please get off the table!"
Just A Light Scarf
No, this is not a giant scarf photoshopped onto Lenny Kravitz, he actually wore that. It is equally ridiculous to wear an actual blanket in public.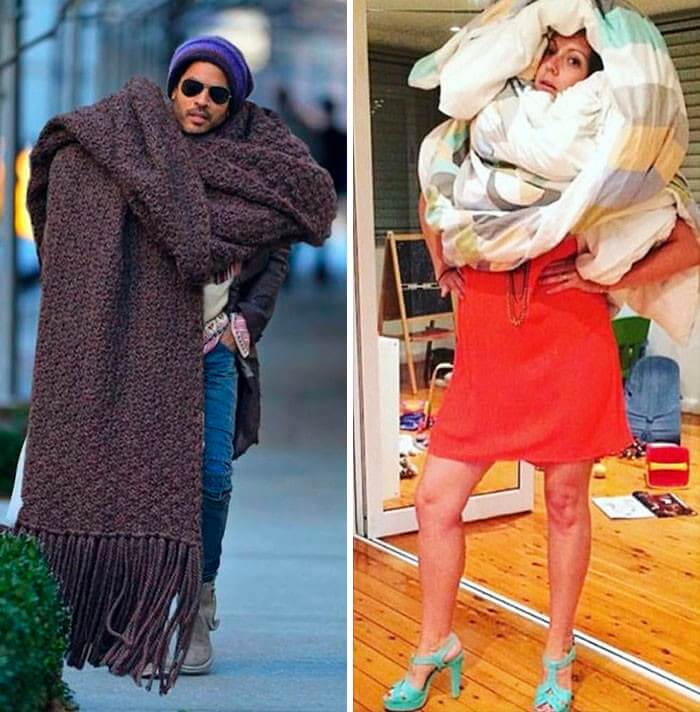 That must have been more annoying to wear around than a normal-sized scarf. Celeste captured the ridiculousness of this picture perfectly.
"I Really Need To Wash The Dishes"
When you want to show your kids how dirty they left the dishes, even though you asked them multiple times to clean up after themselves.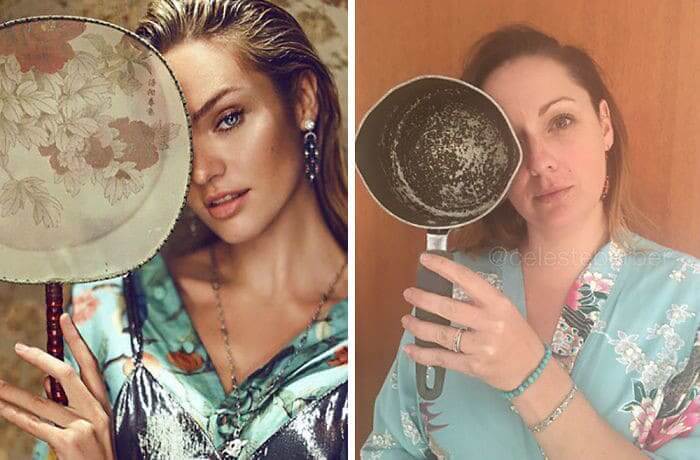 Even though she doesn't have a makeup team, lighting crew, and person doing her wardrobe, Celeste looks just as good as the original photo.
Style and Safety
We always wear heels when we ride our bikes too. Her son is probably asking his mom for his bike back.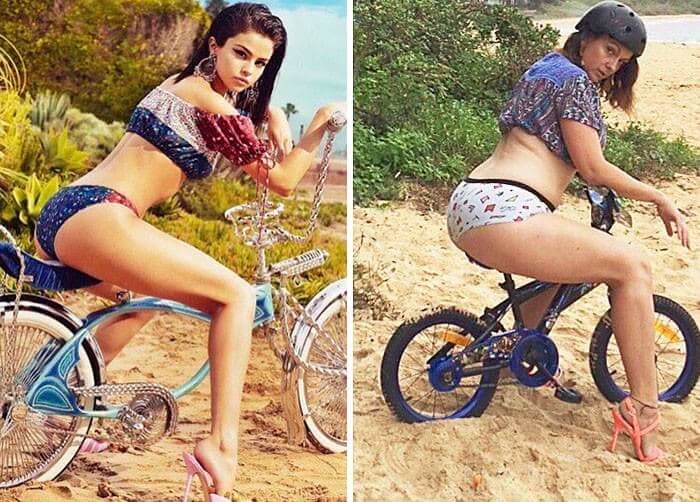 Both of them look amazing, but Celeste is demonstrating better safety practices.
Having Children Expectation Vs. Reality
Have children, they said, it will be fun, they said. J.Lo makes motherhood look like a breeze and manages to hold a drink and carry her child at the same time.
Motherhood is far from easy. She shows that holding a child and a drink is not an easy thing to do.
When You Have To Wash Your Own Car
Why Bethenny Frankel felt the neep to do a backbend on top of the car is a mystery. How did she get herself into that position without falling, and how did she get down?
We love the dedication that went into recreating this picture because you know her neighbors saw her and thought, "what is wrong with that woman."
Sia: The Craft Store Version
When you want to dress up like Sia, but you are on a dollar store budget. It looks like she ran through the craft store and grabbed the first items she saw.
Even though it is more craft store than couture, we think Sia would approve of this recreation because she loves odd things.
Backyard Photo Shoot
Even though she looks like she is putting in minimal effort, Beyonce still looks glamorous, standing in front of a sheet in someone's backyard.
Anyone who isn't Beyonce would look weird if they tried to recreate this, like Celeste.
"Buy My Merch"
When you are trying to recreate a Kylie Jenner picture and promote your own merchandise at the same time.
Whose shirt would you rather buy? We really like Celeste's take on Kylie Jenner's shirt.
When It Is Too Hot Outside, So You Sit In The Freezer
During the summer, have you ever been so hot you felt like sitting in a freezer? Don't worry; it's not that weird because celebrities have had the same thought too.
Sometimes you just want to escape the heat and climb into a freezing box, and that is ok. Just remember to take a picture so you can post it to Instagram.
Personal Hygiene is Important
Celebrities are just like ordinary people; they have to shave their armpits too. Although, when they shave their armpits, they document it for social media.
Self-grooming is important. Some people choose to shave, and others go natural. Whatever you decide, no one has to know about it.
Ready To Conquer The Day
Kyle Richards starts her days with a protein shake and a brightly colored Birkin bag. Not all of us are that blessed, so some of us are more like Celeste's recreation.
When you have children, starting the day with a bottle of wine doesn't sound like a bad idea. Although we know she is not promoting people to drink and drive.
Wet T-Shirt Contest
Again Emily Ratajkowski is stunning and sultry with her barely-there wet t-shirt. If you have ever been in a wet white shirt, you might feel like Emily, or you might feel like Celeste.
First of all, Wet shirts are not comfortable; you feel like you are being weighed down by this cold, wet fabric stuck to you. Second, no one looks like Emily, so it would be hard to pull off this wet shirt look.
When It's Too Hot For Clothing
Emily Ratajkowski is known for her lack of clothing, so recreating her pictures takes a lot of courage. No one actually walks their dog in a bra and underwear.
The guy in the background is wondering what she is doing, walking through the streets half-naked with her dog.
Happy Holidays
Kylie Jenner is giving us the holiday fantasy by wearing a giant bow as a hair accessory for her holiday collection promo shoot. Only she could make this look cool and high fashion.
If the average person tried that it would look very strange. We don't know how anyone would look good with a giant gift bow on their head.
Holding Life's Most Precious Gifts
While some people value their children as the most precious gifts in the world, others value wine and bread, which is valid.
It must be hard to recreate the ethereal glow of Beyonce post-birth.
Spilled Wine Means The World Is Ending
Why does Selena Gomez look so unphased by the spilled wine and broken glass? Most people would be sad like Celeste because of the wasted wine.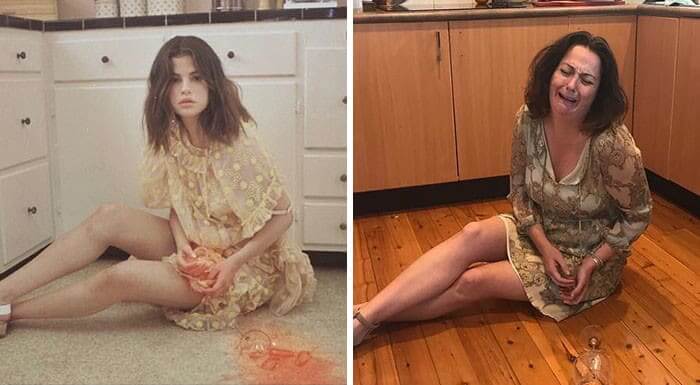 We know it's for an album cover, but how can she be so calm with broken glass in her hands?
Cooling Off
When you are in the club and you find a fan to help you cool off. Some people would look glam like Miley Cyrus, and the rest of us would look like we got stuck in a wind tunnel like Celeste.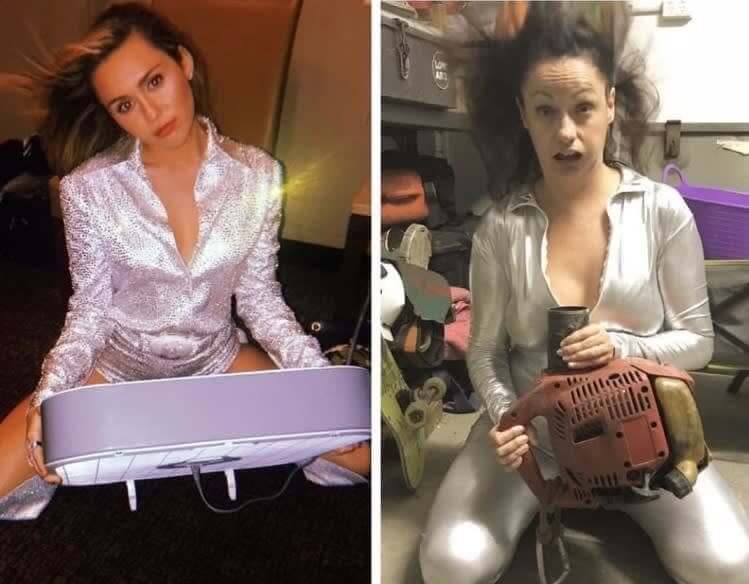 Maybe a leaf blower wouldn't be the best option because of how much wind power it has, but it still cools you off.
Self Love
As Ru Paul likes to say, "If you can't love yourself, how in the hell are you going to love someone else?"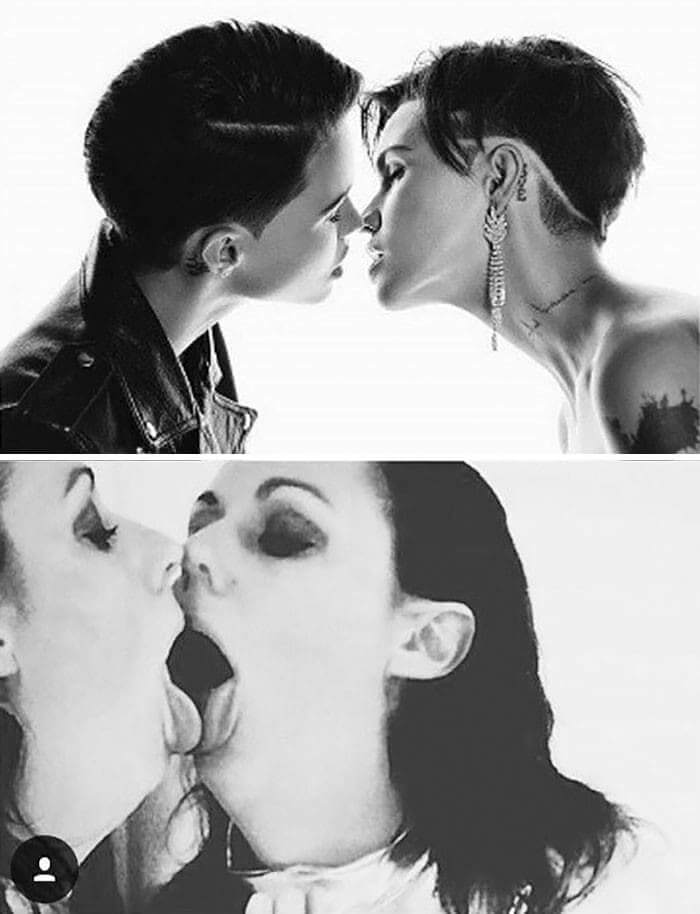 ​ Self-love is important, but we don't know if you have to make out with yourself in a mirror to get that point across.
Working That Spacesuit On The Beach
Brazilian model, Adriana Lima, can make anything work, even this silver lamé one piece.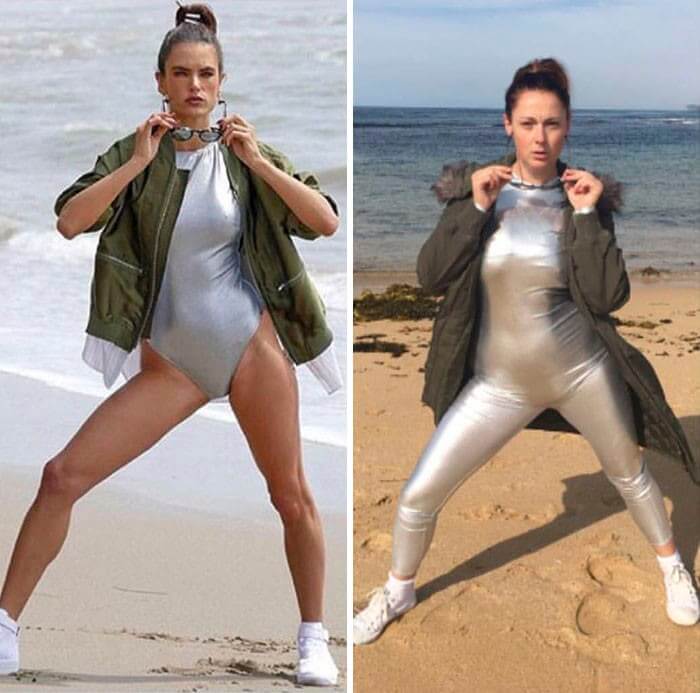 Who knew that silver catsuit would be so useful to recreate so many celebrity photos.
Giddy Up
She nailed this Miley Cyrus recreation. Her tiny horse is even better than Miley's larger one.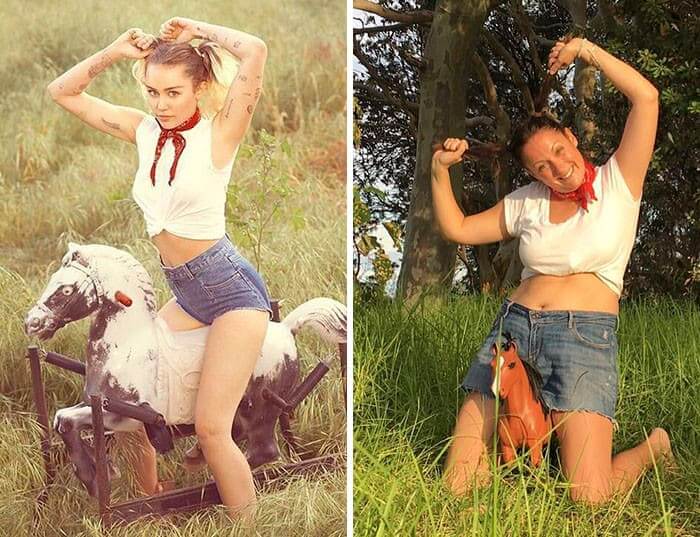 She makes it look much more fun than the celebrity originals. Ride'em cowgirl!
This Looks Comfortable
"Nothing to see here, just casually lounging on the chair like a normal person." This is such a bizarre pose. How did the model contort her body into this uncomfortable position and stay glamorous?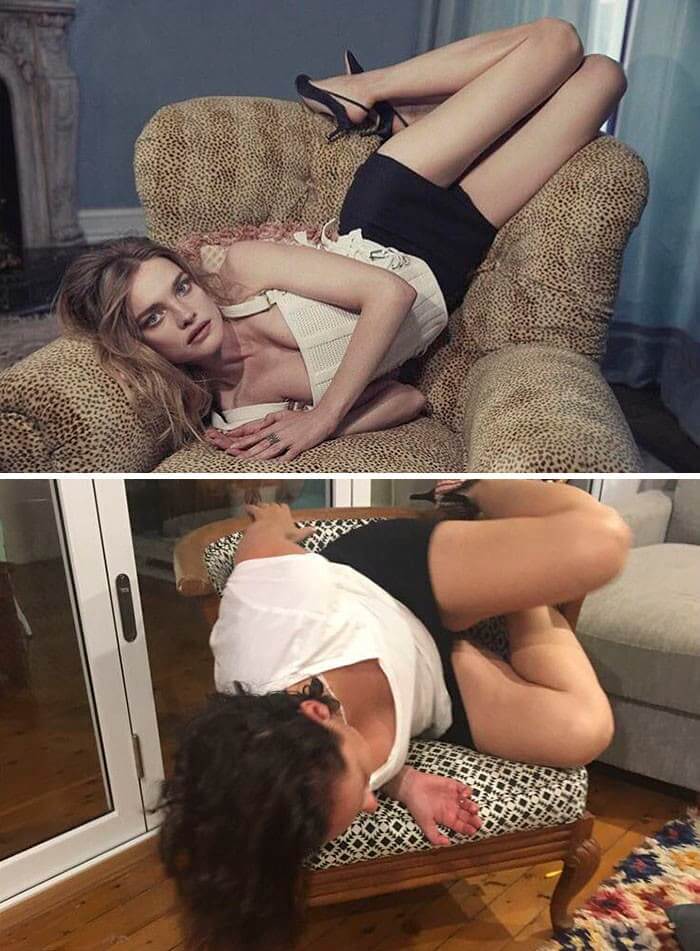 If we tried this, we would look more like Celeste and fall off the chair. Do not try this at home, people.
Peek-A-Boo
When you are trying to get dressed, and your friends keep asking you how much longer it will be until you are ready.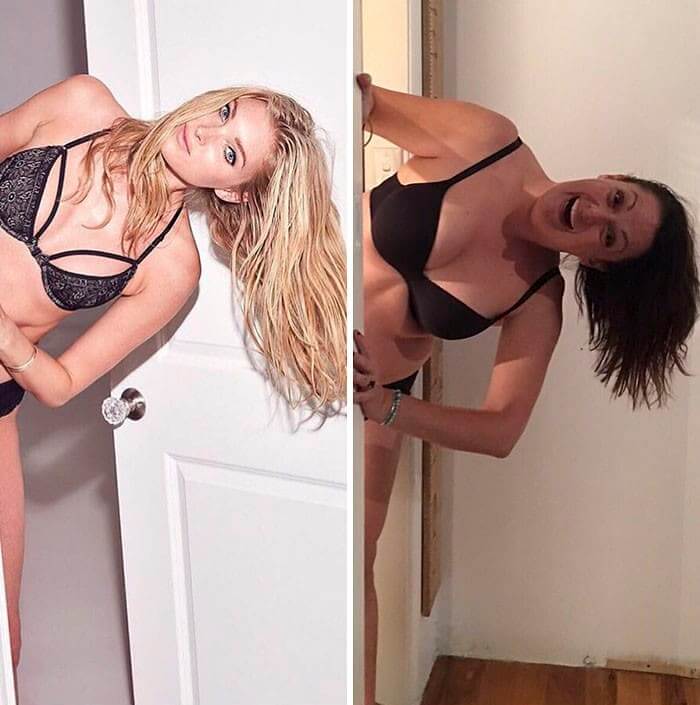 "Can you hurry up?" "I'm getting dressed as fast as I can, but it would go much quicker if you didn't continue to ask every few minutes."
I Woke Up Like This
The first picture is what everyone wishes to look like when they wake up. The second is what most people look like when they wake up.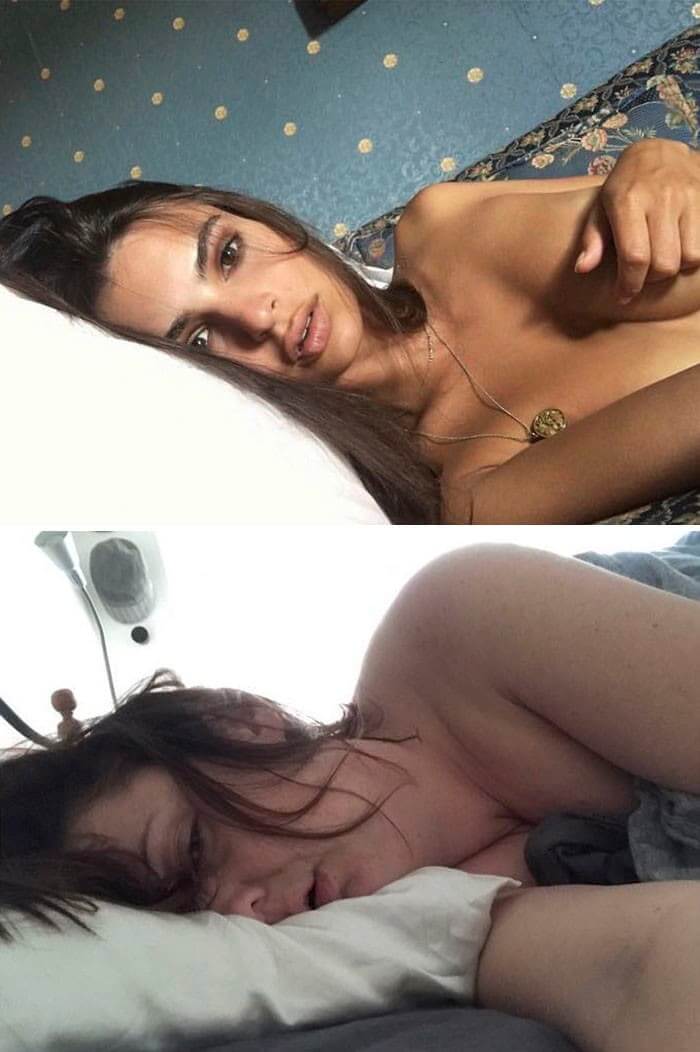 How is it possible to wake up looking perfect with your makeup and hair done? It is not possible, most of these "natural" "just woke up" selfies are posed.
Baywatch
The Rock and Alexandra Daddario co-starred in the reboot movie Baywatch and made lifeguarding look much more glamourous.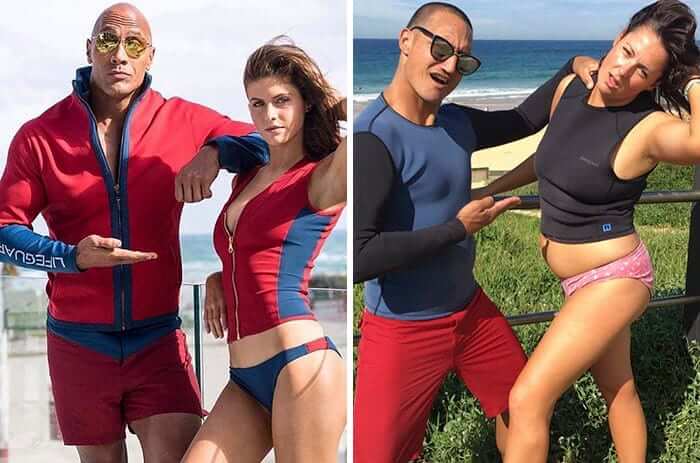 Celeste and her husband try to capture that glamour while still being effortlessly beachy, and they rocked it!
How You Think You Look Vs. How You Actually Look
When you walk towards the water and try to walk like Gisele Bundchen, but the uneven sand makes it difficult to look like a model.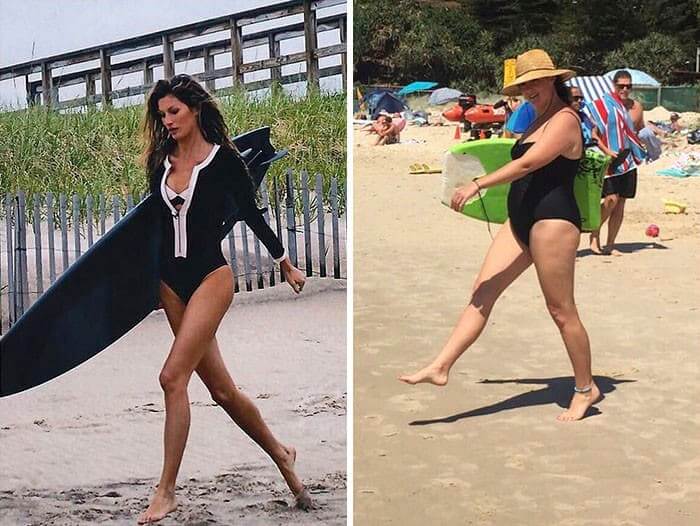 We all try our best to look effortless, but walking on the burning hot sand is harder than it seems.
No Pants, No Problem
When Kanye's merch is too expensive, so you can only afford one sweatshirt, or you have to make your own.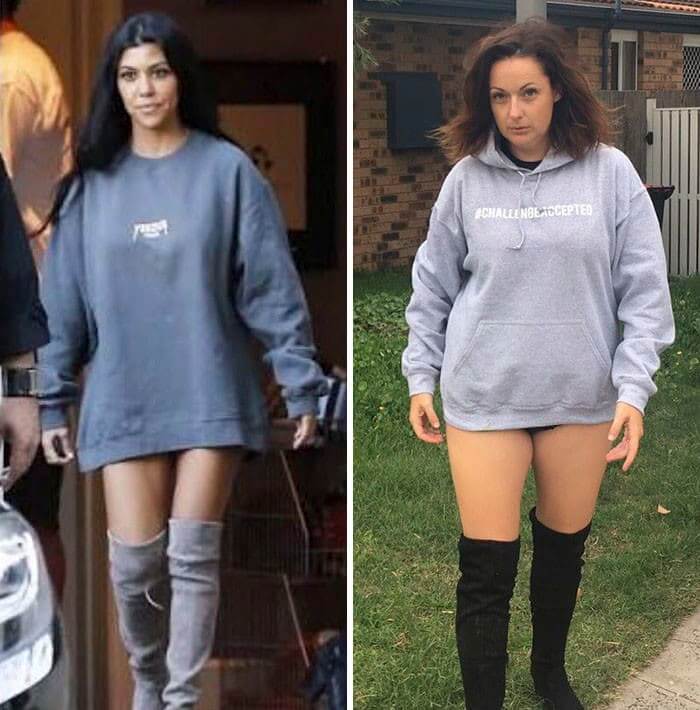 The oversized sweatshirt is an interesting trend that people were obsessed with for a while because of the Kardashians. To pull off this trend, your sweatshirt should probably cover your underwear.
Dipped In Silver
Why wouldn't an ordinary person cover their body in silver and lie in a tub? Kim was probably posing for a makeup campaign or magazine shot, but it is a strange scene.
It is hilarious that she used a kiddy pool to replicate this one. She looks like a natural model, even comparing herself to Kim Kardashian.
Working Out Is Tiring
When you take a gym selfie hoping you will look toned and not like a sweaty mess. Working out is not easy, and after a difficult gym session, most people would look like the right photo.
By the end of the workout, people are drenched in sweat, and too tired to actually pose.
Drop It Low
Can we take a minute to talk about cardi b's shoes? Are they sneakers, wedges, or platforms? It looks like the shoes are falling apart in slow-motion.
Celeste had to stack three pairs of shoes to try and replicate this look. How do you walk in shoes like those? Fashion is so interesting, and those weird sneakers probably cost over $1,000.
Just Catching Some Rays
When you have had a rough day, so you come home and collapse onto the floor. The bottom picture looks like she has had enough of these odd celebrity photos.
Bella Hadid makes this pose look relaxed and comfortable. This position seems like it would break your knees and back.
A Couple Of Cows
When you do something that makes you seem adventurous, so you have to document it to prove you did something in nature.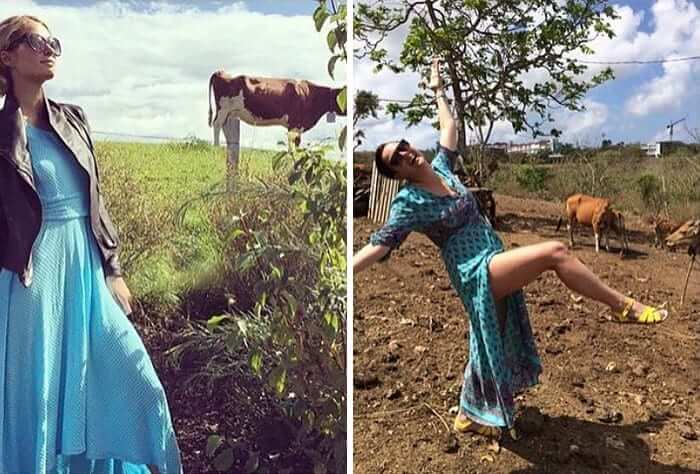 Celeste also looks like she went to a winery and had a few too many glasses.
Nailed It!
If you ever wanted sunglasses that will block the haters, these are the perfect pair. The foil pair and the real pair will surely make the haters invisible.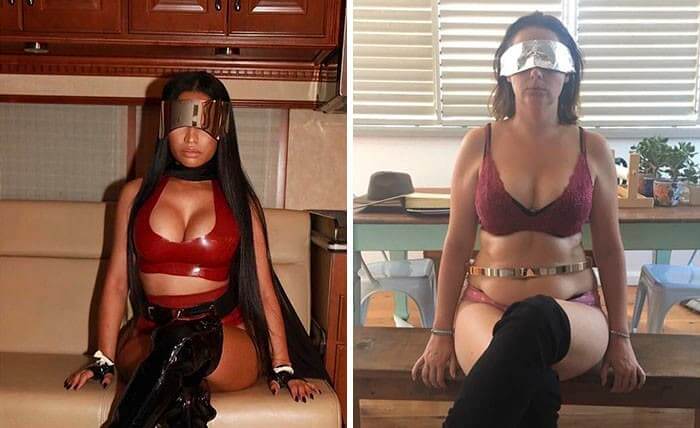 Nicki Minaj has an interesting sense of style, and this look is bizarre, even for her.
"What Do You Wear Around The House?"
Who wouldn't want to be Haily Bieber? She is married to every teenage girl's dream man, Justin Bieber. Hailey is also so stunning, even in these full coverage underwear.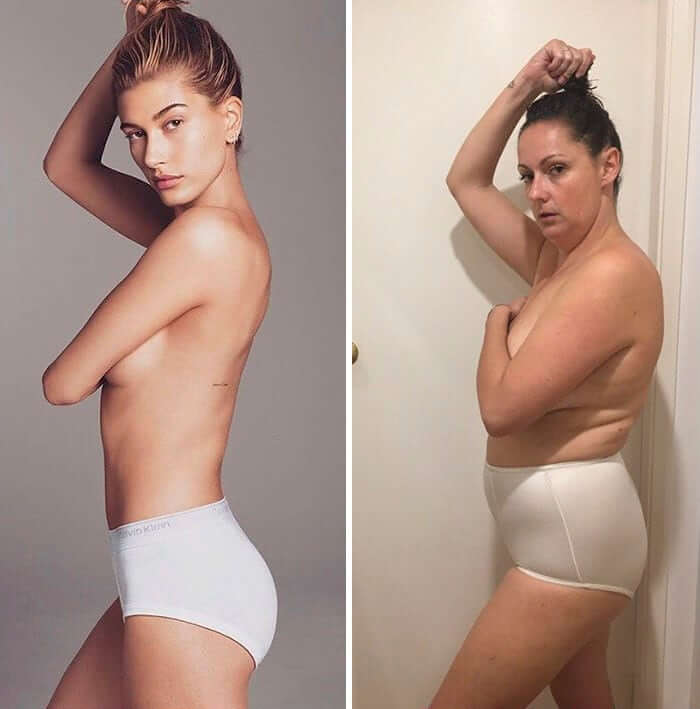 The recreation is just as amazing and looks more like a body positivity advertisement.
Looking For The Remote
When you can't find the remote so you have to dig through the cracks in all the couch cushions.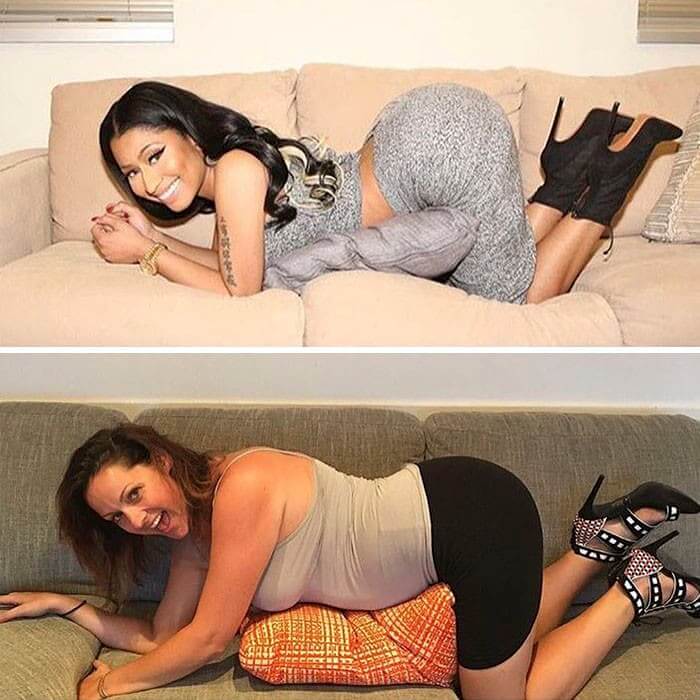 "Look! I finally found that bracelet I lost three years ago, and the TV remote!"
Falling Down The Stairs But Make It Fashion
Nicki Minaj has some strange fashions choices and poses. She looks like a spider monkey hanging on for dear life, so she doesn't fall down the stairs.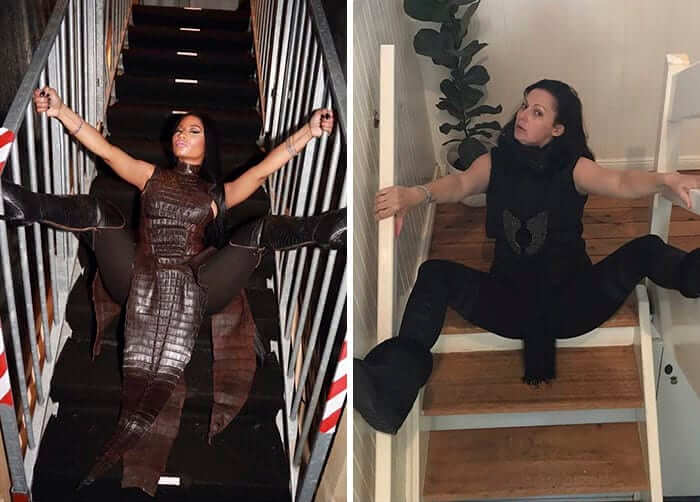 How did she manage to keep a straight face while recreating this ridiculous pose? Even she looks like she knows how strange this is.
When You Think You Look Cute After Going In The Ocean
It is never glamorous when you go into the ocean and get pummeled by waves. There is salt in your nose, sand in places you didn't know sand could go, and your hair is matted to your face.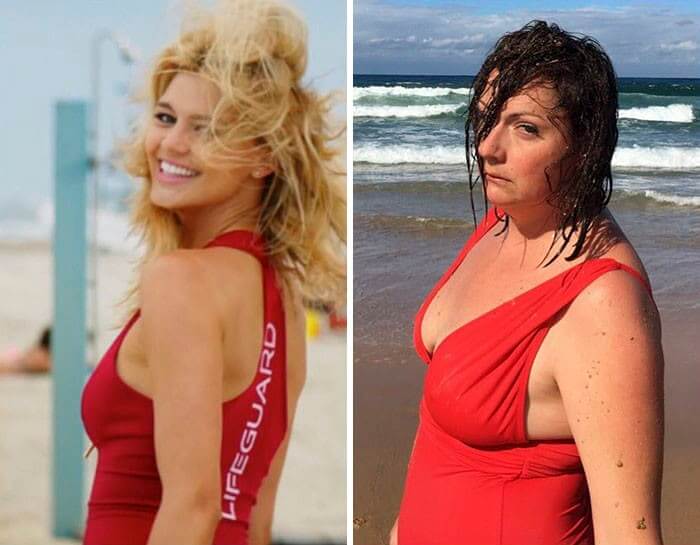 In our heads, we think we look like a character straight out of Baywatch, but it is never that glamorous.
Making Pregnancy Look Cute
Celebrities tend to make pregnancy look easy. They put on their matching Calvin Klein underwear and bra and depict it as a glamorous nine months.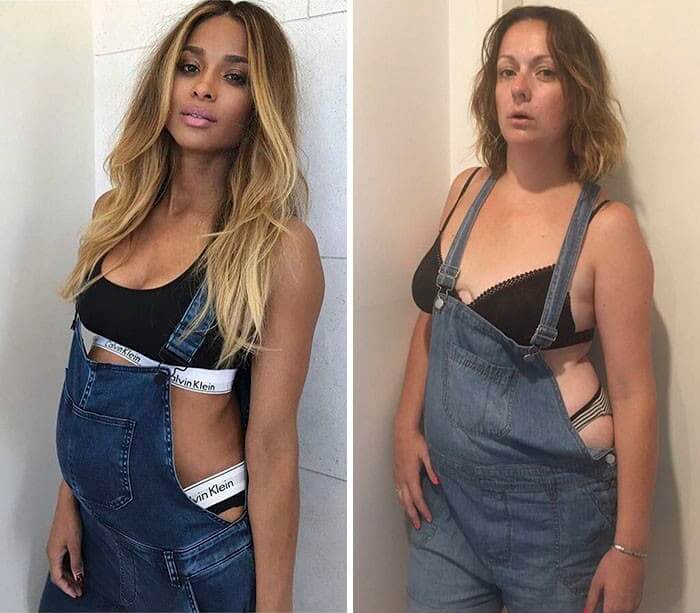 In reality, most people don't have the energy to find the matching underwear to their bra, especially if they are pregnant.
"Can You Take A Picture Of Me In The Men's Bathroom?"
When you think of a good place to take a photo, is your first thought the men's bathroom? We are going to guess that you said no because who would go into the men's bathroom to take a picture besides Kim Kardashian.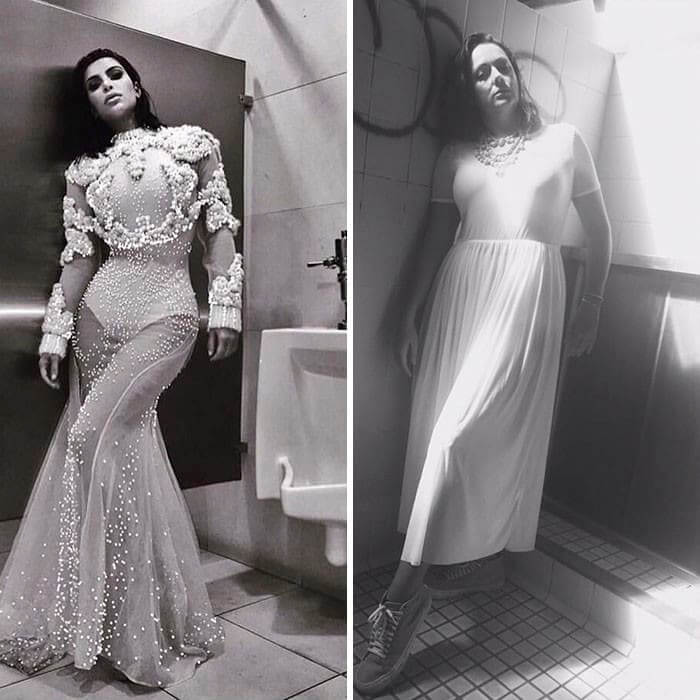 Also, did the photographer think it was a good setting to capture her gorgeous gown? It ruins the beauty of her entire look.
When It's Really Cold Outside
Did Kylie steal Cookie Monster's fur to get this photo? She is someone who likes to show off her famous curves, so it is strange that she chose to cover her entire body and only show her face.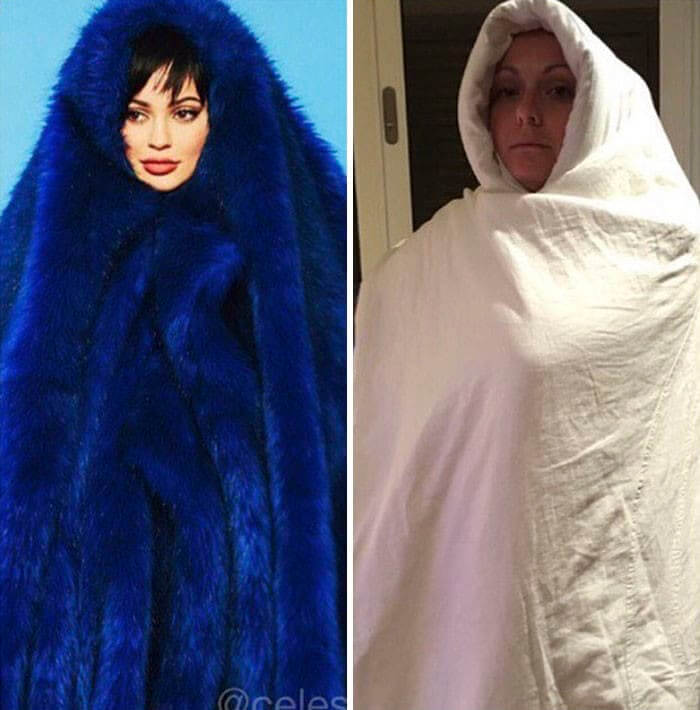 We love how she took a giant blanket to wrap around herself for this one. If only it were blue, it would be amazing.
Money Talks
When you have so much money that you start to think all those presidents are speaking to you. Also, have you ever noticed that some celebrities feel the need to flaunt their wealth by posing with stacks of money? We know you are rich, there is no need to rub in in our faces.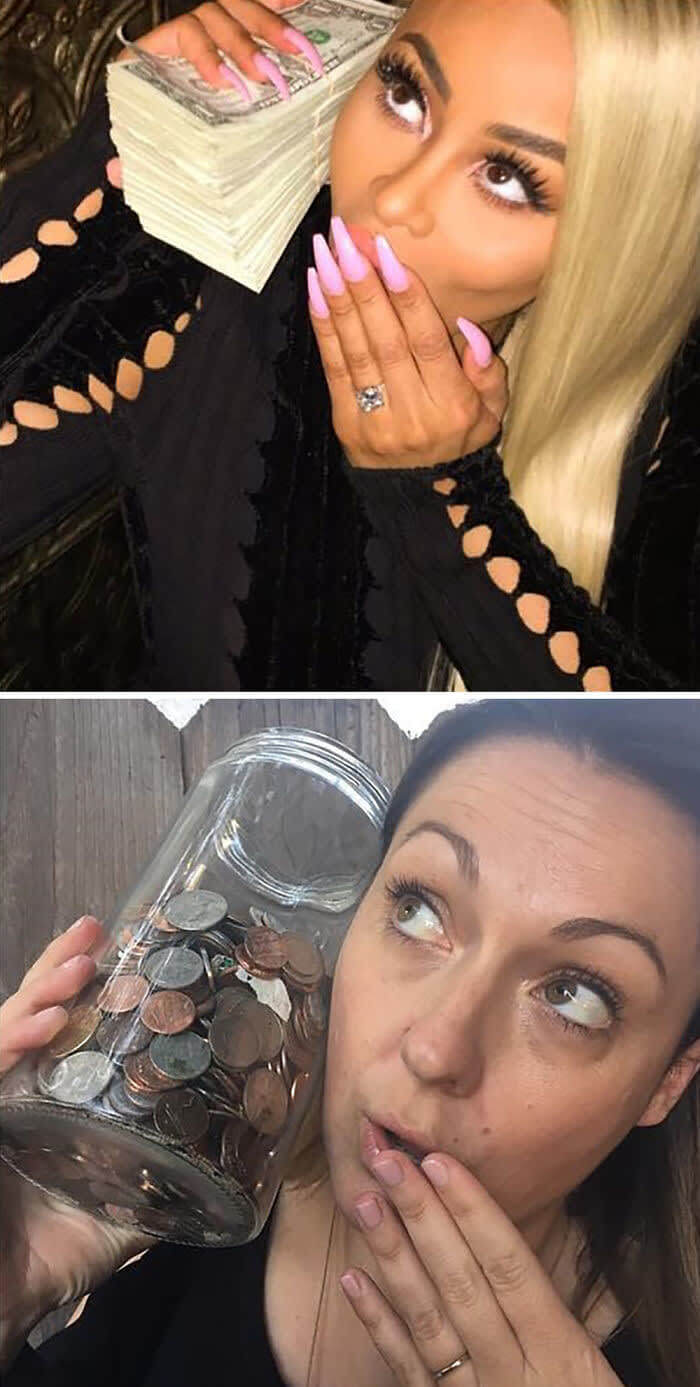 On the other hand, does anyone else keep a jar of change that they don't know what to do with? Like Celeste, the jar of coins is more realistic that stacks of $100.
Trying To Do Yoga For The First Time
"Hurry up and take the photo, all the blood is rushing to my head!" The top photo is trying to sell the lingerie, but we don't understand why they made her do a pose like that.
She looks like she is doing a mix of downward dog and something else that is uncomfortable.
"What Are You Doing In My Closet?"
"Ma'am, please put your clothes back on. This is a public place, and you are making the other customers feel uncomfortable."
Chrissy Teigen has shared that she loves to be nude, but why does someone else have to be there to stare at her?
Fresh Out Of The Shower
When you get out of the shower and wrap yourself in a warm towel, it is a refreshing feeling. While not everyone looks as glamorous as Alessandra Ambrosio, we can all pretend.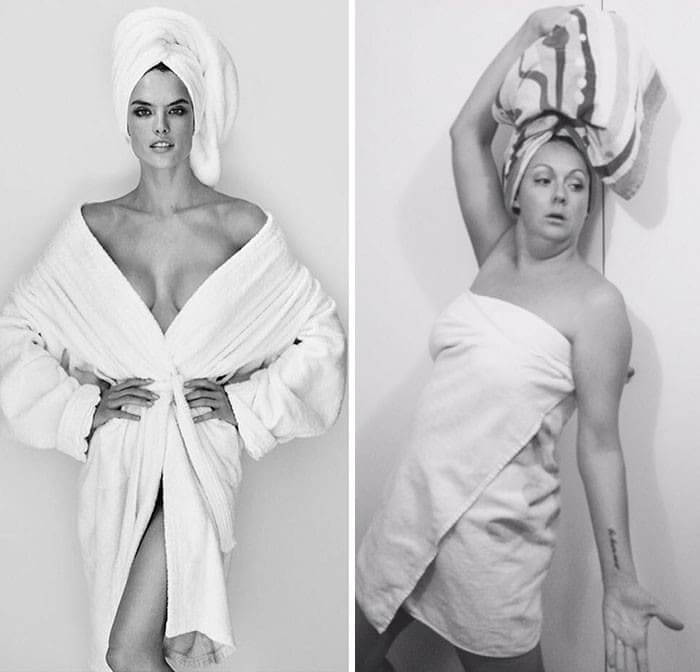 Celeste is feeling her post-shower look, and we don't blame her. It is like playing dress-up with a towel as your wig.
What Else Would You Wear To Do Laundry?
It's hard to believe that Paris Hilton might actually do her own laundry, but if she did, she would wear that silver suit.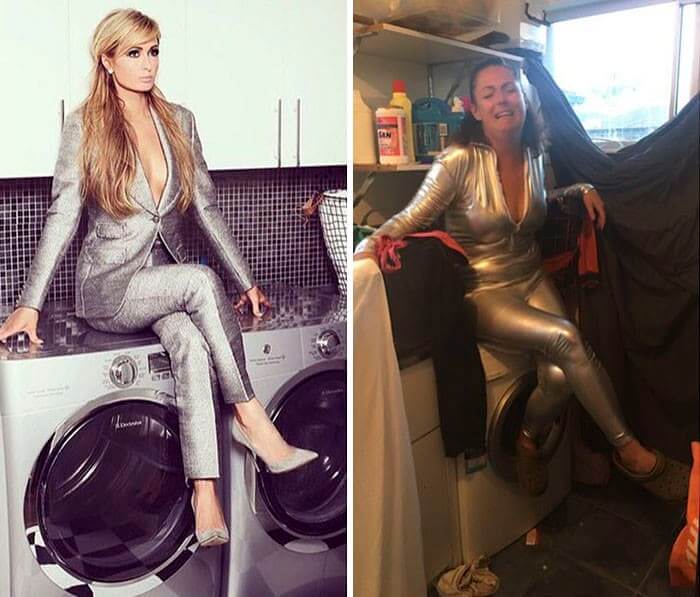 Doing laundry is tedious, and when it starts to pile up, it is not fun to do. It is even worse when you have to do laundry for your children or husband, and not just yourself.
When You Spend All Your Money On One Article Of Clothing
When you had to have that designer skirt, but it was so far out of your budget. Instead of saving up for it, you bought it and decided to sacrifice buying groceries for a few weeks.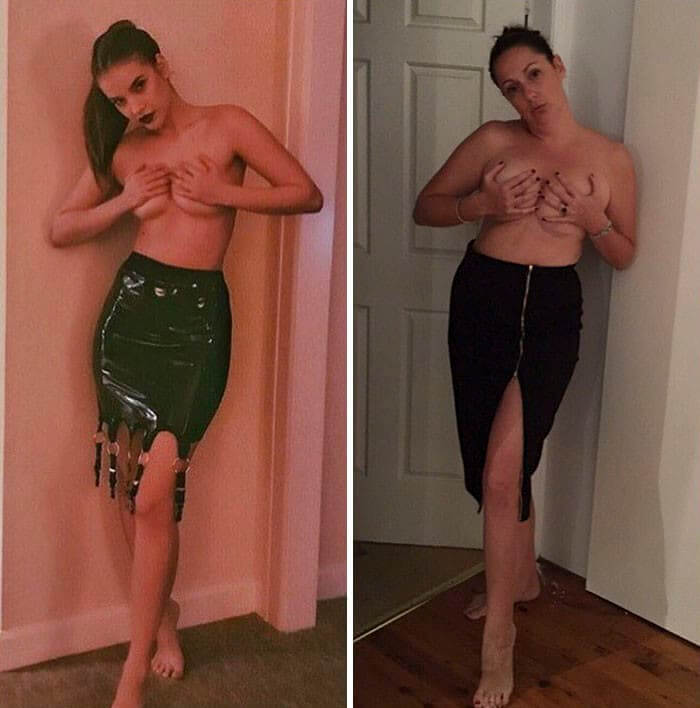 Then once you have it, you realize you have nothing that pairs with it, and it is too fancy for any event you have coming up.
Going On An Adventure
Take your family on vacation, they said. It will be fun, they said. When you take your children on vacation and have to bring so many extra things with you to accommodate young kids.