Whether you drive the car to work every day, or whether you just use it for your weekend family outings, there's no doubt about the fact that driving a car comes with its challenges. Gas is becoming more expensive, the roads are getting busier, and maintaining a car seems almost impossible if you don't have a reliable mechanic on speed dial. But it doesn't have to be that way! These easy car repairs and maintenance hacks will make car ownership a breeze, and they won't cost you a fortune. After all, you can do all of these at home.
Use Coffee Filters to Collect Dust
If you're someone who can't go about their day without that first hit of caffeine, there's a high chance that you already have a load of coffee filters in your kitchen. And while you probably intended to use them to make a delicious cup of Joe, it turns out that coffee filters could also help you clean your car. After all, they're designed to be lint-free – which makes them perfect for your dust-ridden car.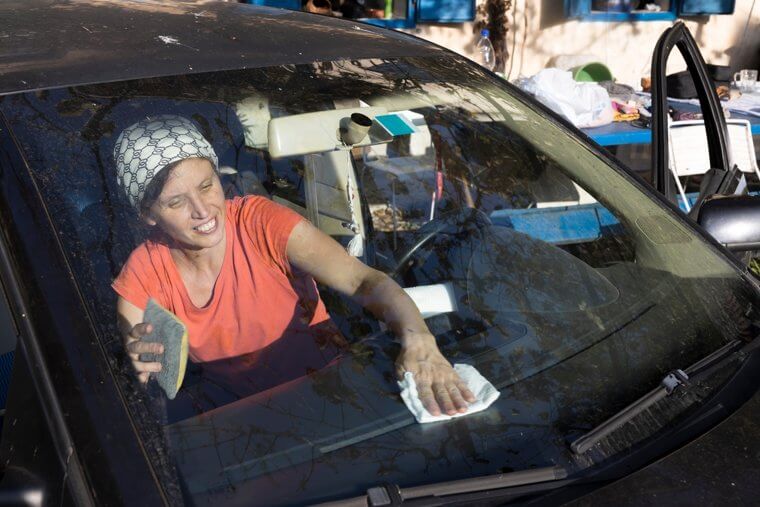 If you want to clean your dashboard or give your windscreen a wipe, these coffee filters will instantly pick up any dust on there. And that's literally all you need to do.
Remove Dents With a Plunger
There's nothing more annoying than seeing a dent in your car – especially when the dent was caused by someone else. And while you could take your car to the mechanic for repairs, sometimes there's no need to shell out that kind of cash. If the dent isn't too big, you could do it yourself with just some hot water and a plunger! It's also super easy, and anyone can do it.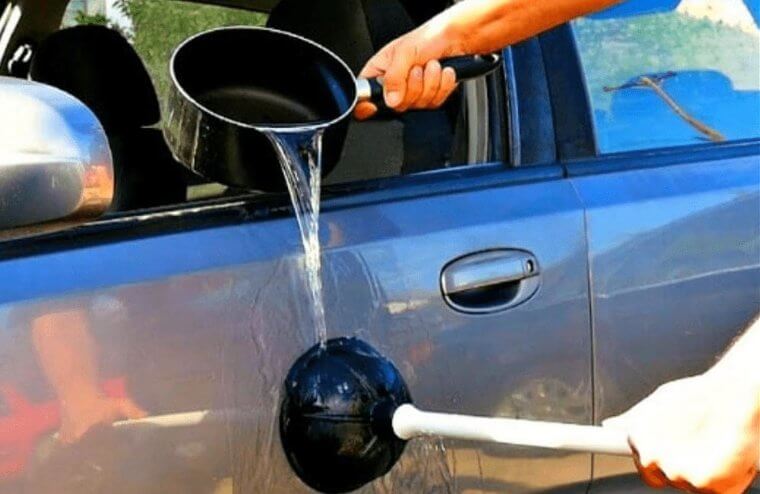 All you need to do is pour some hot water over the dent and the plunger and then stick the plunger over the dent. As you start to pull the plunger back towards you, the dent should come with it.
Apply Toothpaste on Your Headlights
Many people forget about their headlights when it comes to their car maintenance. But this area of the car is actually one of the most susceptible areas to dirt and grime, which can be dangerous when you need the brightness of the headlights to see in the dark. So, it's important that you give them a good clean every now and then. And whitening toothpaste could be your saving grace when you do this!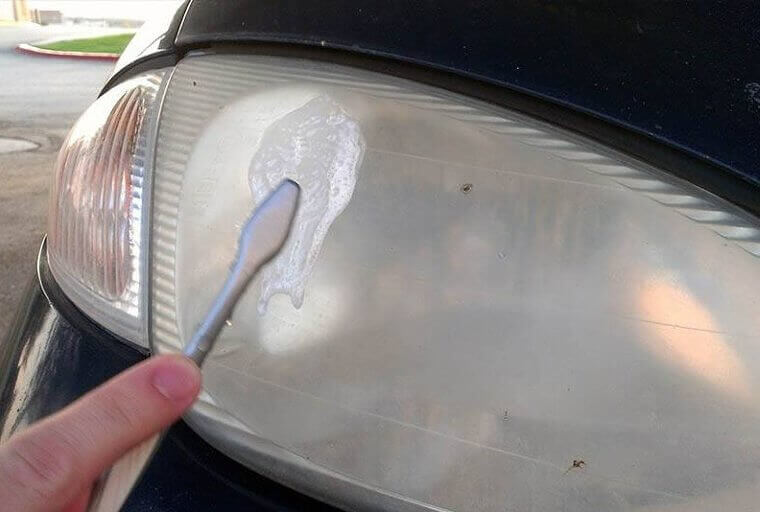 After washing your headlights with soap and water, apply a thin layer of whitening toothpaste to the headlight and then let it dry. Then, wipe it with a damp cloth for a few minutes to give it a good polish.
Turn Your Phone Hands-Free
It's no secret that using your phone while you're driving is extremely dangerous. Focusing on anything other than your driving is a recipe for disaster, but that doesn't mean that you can't use the hands-free features on your phone! Of course, you could shell out your hard-earned money to buy a proper hands-free phone holder – but why would you do that when you could use things you already have lying around the house?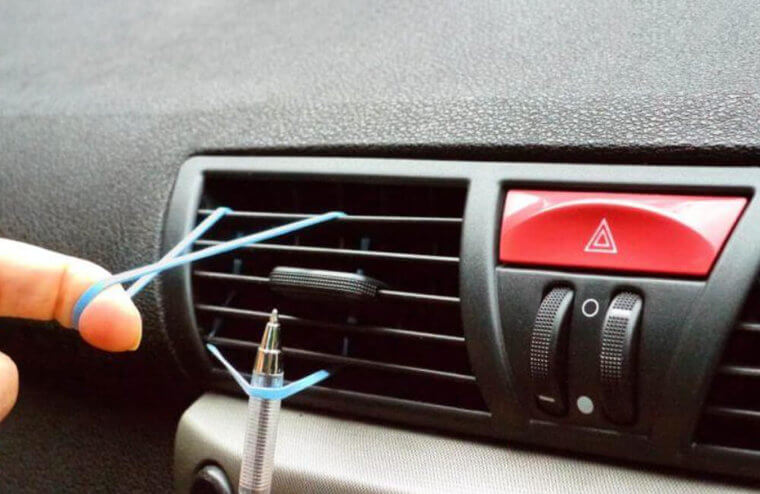 Yes, if you have a rubber band and a pen in your stationery drawer, you can easily construct a system that allows you to attach your phone to your ventilation system.
Use Baking Soda Before Vacuuming
Many people think that car maintenance revolves around trips to the mechanic or vehicle repairs, but that's not always the case. One of the biggest parts of car maintenance is keeping your car clean and tidy, and that includes vacuuming. But if you find that your car still stinks of wet dogs or smelly kids after you've vacuumed, baking soda will always come to your rescue. It'll rid your car of smells in an instant.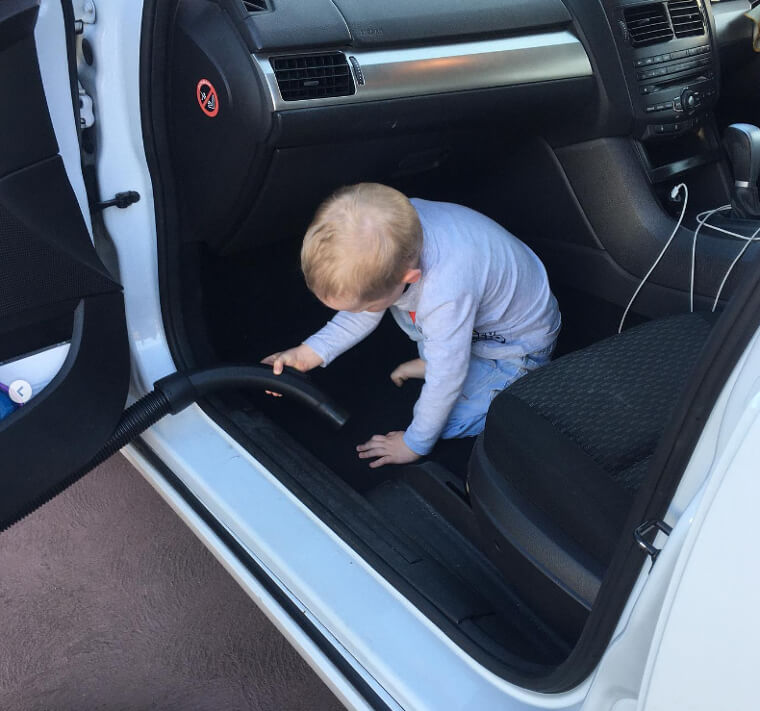 All you have to do is spread some baking soda onto the seats before you vacuum, as it's the perfect odor-neutralizer. Don't worry if you use too much, either. You just vacuum it up, anyway.
Have Paper Towels on Hand
Paper towels are great for your kitchen and bathroom, but have you ever been in a situation where you've tried to clean up a spill in your car, or wanted to check your oil levels? Well, paper towels would have come in pretty handy then – which is why you should always have paper towels on hand in your vehicle. And one way to keep them from getting lost in your trunk is to attach them to the trunk roof.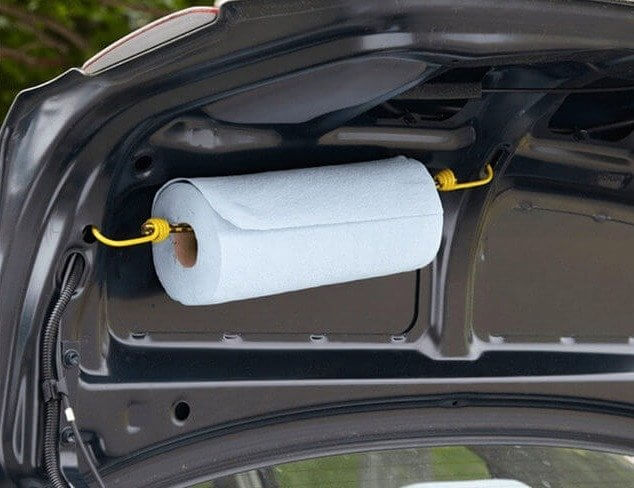 By attaching an elastic cord to the lid of the trunk, you can hang paper towels there and leave them in easy reach whenever you need them. It'll make car maintenance easier than ever.
Avoid Bumps With a Pool Noodle
If you're lucky enough to have a garage, you have the privilege of being able to protect your car from potential thieves and weather systems. But sometimes fitting your car into a garage can be a bit of a squeeze, and you may have knocked your car doors on the walls of the garage way too many times for your liking. If this is the case, why not use some of your old pool noodles?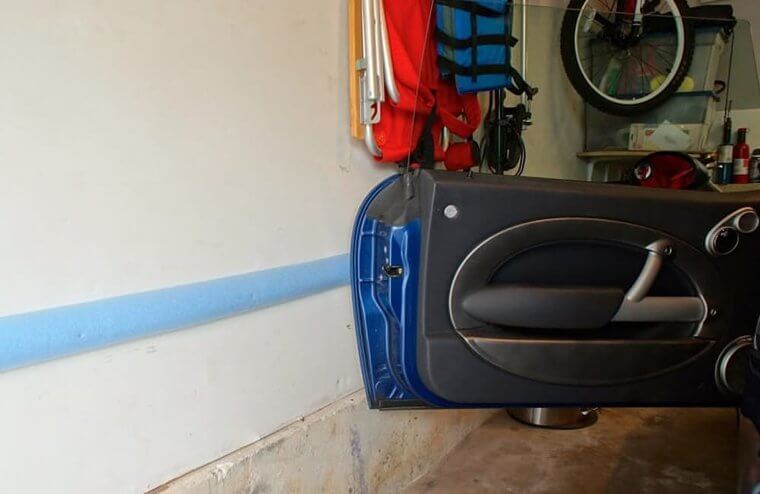 By cutting your pool noodle in half lengthways, you can then stick the noodle to the wall where you open your car door. Then, if you accidentally open the door too much, it'll hit the noodle instead!
Easily Defrost Frozen Door Handles
Let's be honest; vehicles and frost don't exactly see eye to eye. In the winter months, you might find that your car struggles to start, your windscreen is covered in ice, and your door handles refuse to open! And this is super annoying when you have a hot coffee in your hand and you're running late for work. But don't worry. If you have cooking spray in your pantry you can be off in no time.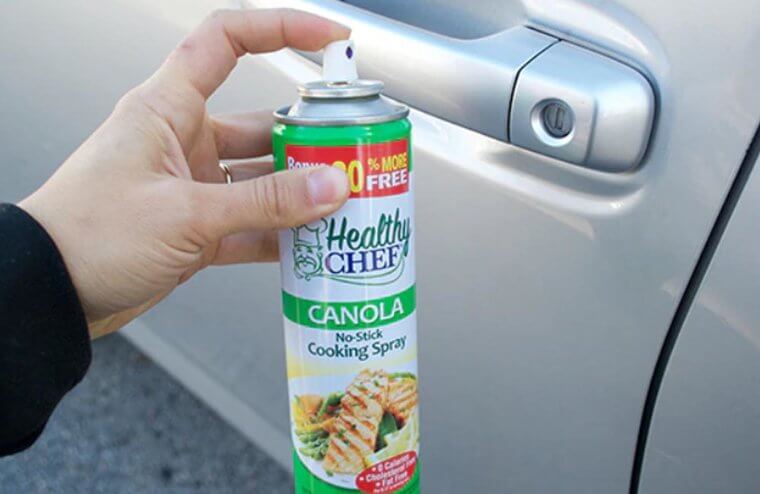 When you spray a little cooking oil onto the handles, you'll find that the ice will instantly melt away. So, you'll be able to open up your car door in seconds.
Make Use of Vaseline
There's a high chance that you already have a tub of Vaseline in your house, but it's probably in your bathroom rather than in your garage. But it turns out that this product has so many other uses than just softening your cracked lips. That's because Vaseline can also become your car's best friend, and there are so many uses for this product in regard to car maintenance and repairs.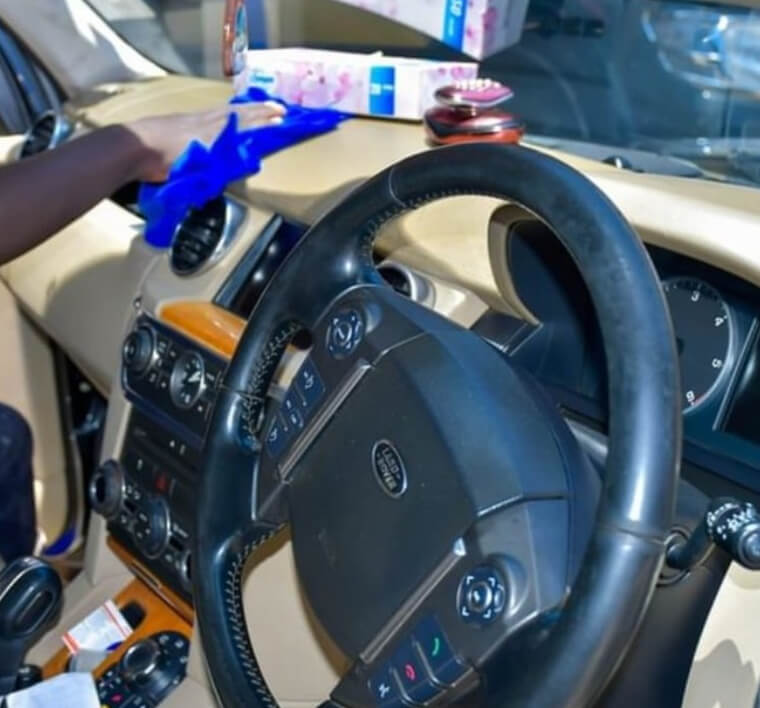 In fact, Vaseline is considered to be one of the best car cleaners out there. Wipe everything with a damp cloth first, but then wipe over a slather of Vaseline to give it that extra sheen!
Make Sure to Do the "Penny Test"
If you've paid a mechanic good money to check whether your tires are still fit for purpose, then you may have wasted your money. Checking the tread of your tire has never been easier to do at home, as all you need to help you is a penny! A penny can tell you whether your tires are worn or whether they're still safe to drive, and whether it's time to buy new tires.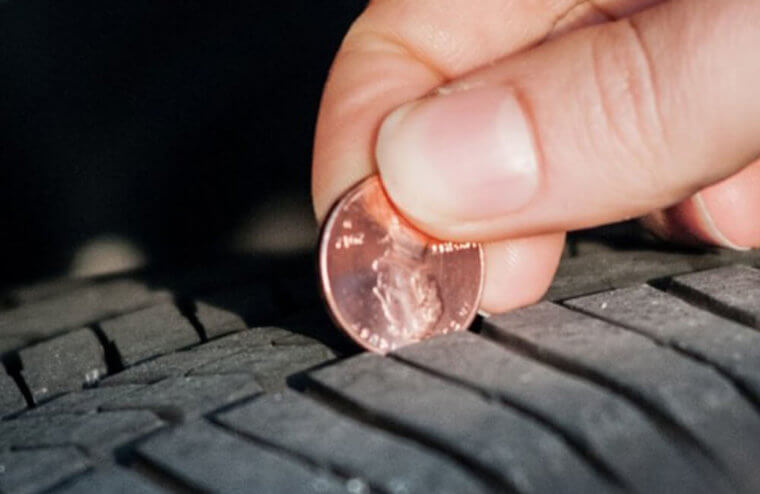 Simply place the penny down into the tread of the tire, and see where Lincoln's head is facing. If the tread doesn't go over his forehead, it's time to fork out on some new tires.
De-Frost Glass With a Potato
Potatoes are one of the most versatile vegetables out there. They can be fried, boiled, mashed, and even baked. But did you know that potatoes can also be used to defrost the glass in your car? Yes, you don't have to worry about having foggy or icy windows when you have a spare potato lying around, as this thing can defrost your whole car with just a few little wipes.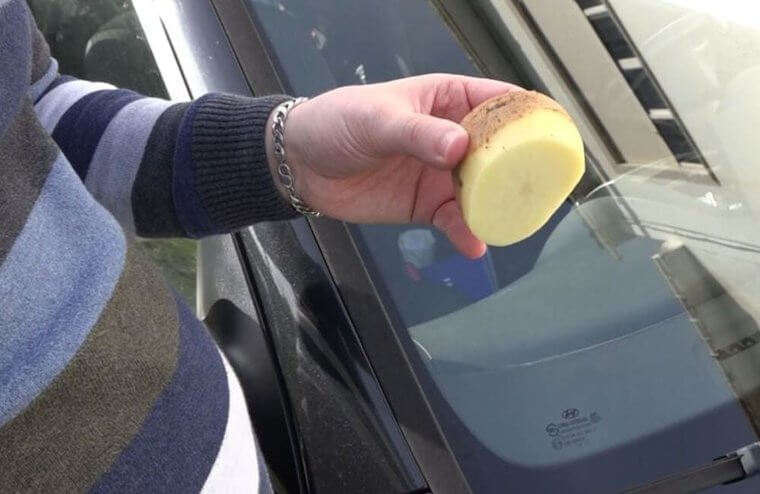 All you have to do is cut a raw potato in half and wipe the skinless and starchy side over the glass. Not only will this help defrosted glass immediately, but it should also prevent frosting in the future.
Buy a Plug-In Electric Blanket
Whether you're a fan of the drive-in movie theater or if you have to watch your kids play soccer in the cold each weekend, this plug-in electric blanket could be your lifesaver. Although it's not advised that you use this while you're actually driving, it could be perfect for those occasions when you're stationary in your vehicle. These blankets won't break the bank, and they plug into your car – meaning they won't go cold!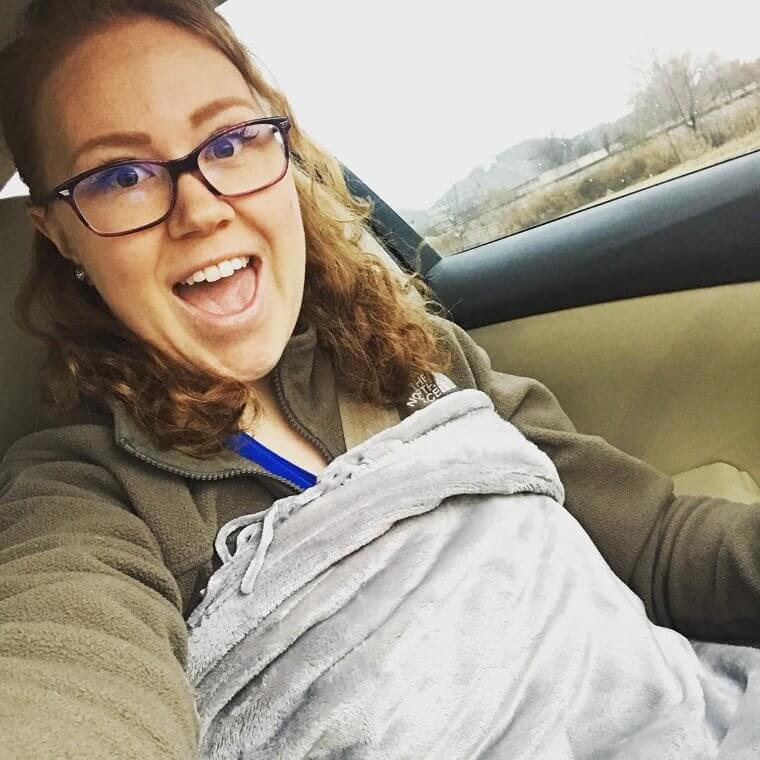 Most of the electric car blankets on the market also come with a long cord, which means your cold soccer players in the back can also make use of it when their game is finished.
Use a Spare Pair of Socks on Your Wipers
Hands up if you have a few pairs of old socks lying around? Perhaps they've shrunk in the wash, maybe they have a couple of holes in them, or maybe they're just not your style anymore! But instead of throwing them out, use them to protect your windshield wipers instead. After all, we all know how annoying and time-consuming it is when your wipers get stuck to your frozen windshield.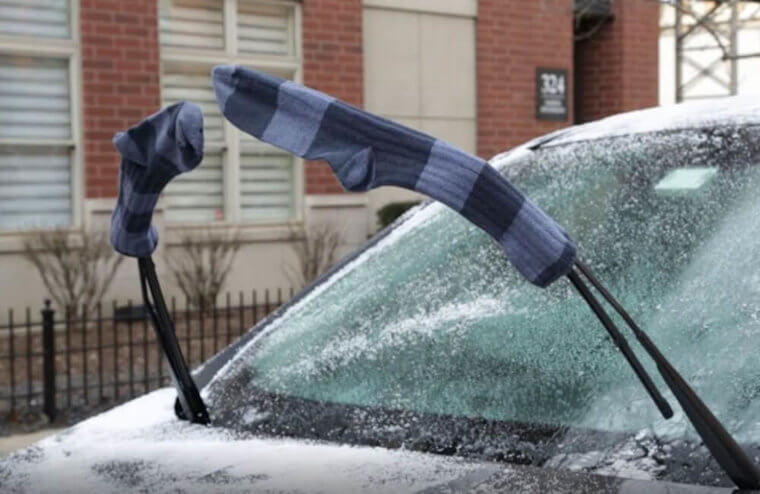 By placing socks over the wipers and lifting them off the windshield, you can be sure that you won't have to defrost them before you head off on your morning commute.
Clean Your Leather Interior With Oil
When choosing your next car, what do you look for? Some people look for the fastest car on the market, others look for the prettiest, and some even ask specifically for leather interiors. And while leather interiors are chic and hard-wearing, they do require a fair bit of maintenance. But you don't have to buy expensive products to do this. All you have to do is buy some extra olive oil when you go grocery shopping.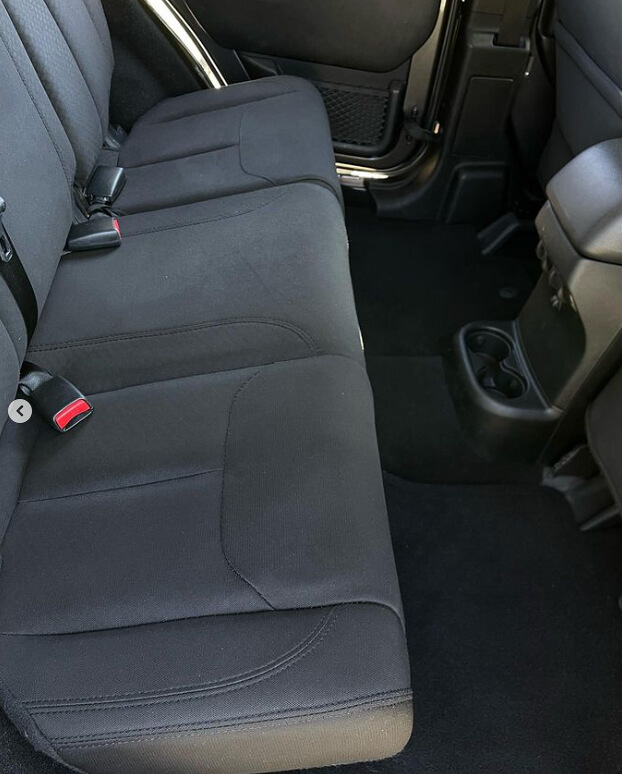 Although it's important to wash leather seats with soap and water, when you've done that you can spread an even coat of olive oil on them. This will keep the leather hydrated and stop cracking.
Keep Your Belongings Safe
If you're someone that can't leave the house without your purse, an umbrella, some snacks, and the kitchen sink, then you probably spend your time driving around with all of these things rolling over in the back seats. By the time you get to your destination, your purse has emptied all over the floor, and you have to waste your time putting everything back together! Thankfully, you don't have to put up with that any longer.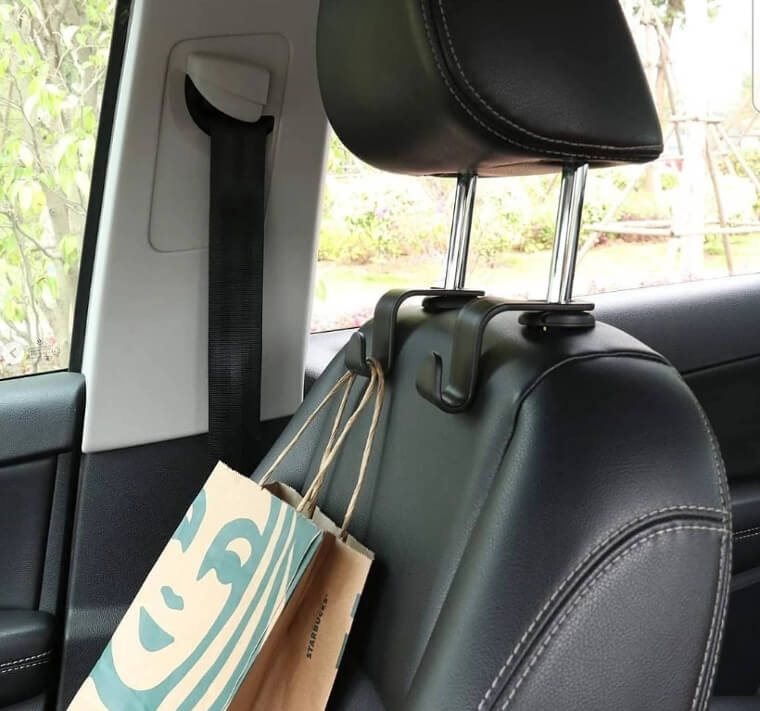 By attaching some car hooks or carabiners to the back of the passenger seat, you can hook all of your important items up. So, you can stay organized and keep everything in one place.
De-Fog Your Windshield With Cat Litter
Have a cat and struggle with a foggy windshield? Well, you're in luck. If you have some spare kitty litter lying around the house, this could be your saving grace when the winter cold strikes. After all, driving with a foggy windshield can be extremely dangerous, which is why an important part of car maintenance is de-fogging it before you drive off. And kitty litter can help you with that.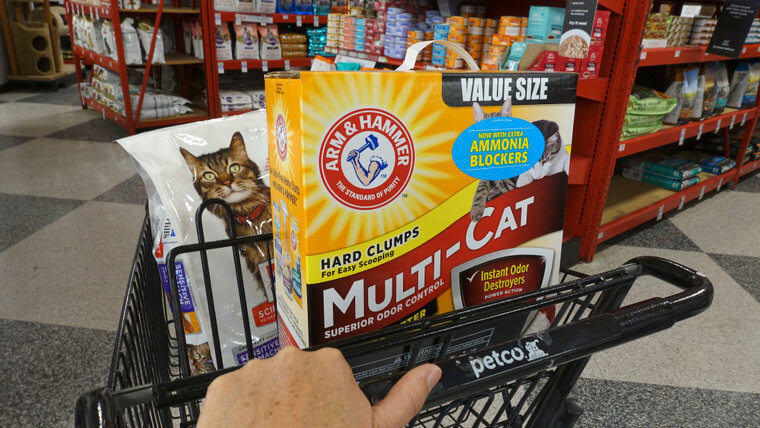 As kitty litter is full of silicate, it's designed to absorb moisture – which is exactly what you need when you have a foggy windshield. So, if you put the litter into a sock and place it in your car, it should stop the moisture in its tracks.
Polish Out the Imperfections
One of the main reasons people head to the mechanic is for car repairs. And while there's nothing wrong with that if you have an engine problem or your car won't start, why are you shelling out your hard-earned money on small little scratches and imperfections? If you have minor body scratches on your vehicle, don't bother driving to the mechanic. Head to the bathroom and get some nail polish instead.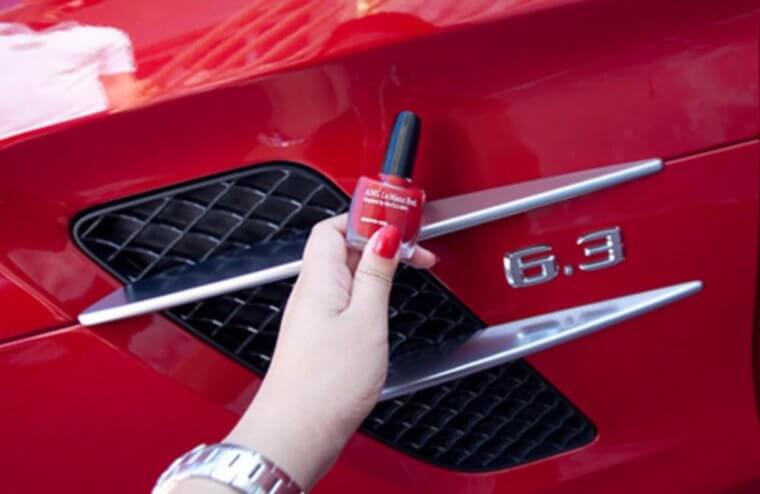 Nail polish is perfect for painting over those small imperfections. Just make sure that you choose one that's the same color as your car bodywork! Otherwise, it'll look pretty odd.
Remove Corrosion With Coca-Cola
We're going to go ahead and assume that you have a bulk buy of Coca-Cola cans sitting in your pantry. After all, everyone loves this drink, right? And while everyone knows that this product is meant for human consumption, what some car owners don't realize is that Coca-Cola can also be used to remove corrosion in your engine. So, we guess this popular soda drink is also ok for car consumption, too!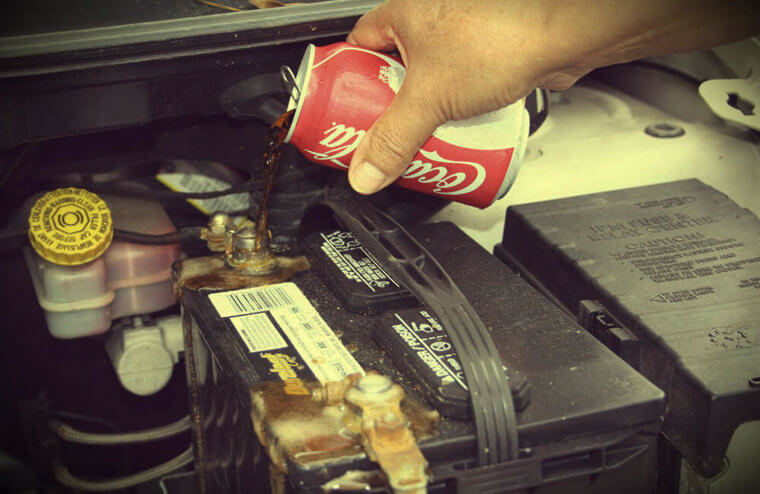 By pouring some of the fizzy drink into the engine terminals, you can remove corrosion instantly. If you don't want to pour it into the engine, you could simply wipe it with a cloth that has Coca-Cola on it instead.
Always Keep Your Pizza Warm
Being able to drive and having a vehicle means that you also have to take on a few other roles. You have to be the designated driver sometimes, and you have to be the pizza deliverer for you and your family! But there's nothing worse than getting home and having to eat cold pizza, right? Thankfully, there is a way to ensure that your pizza stays warm in your car – even if you do get stuck in traffic.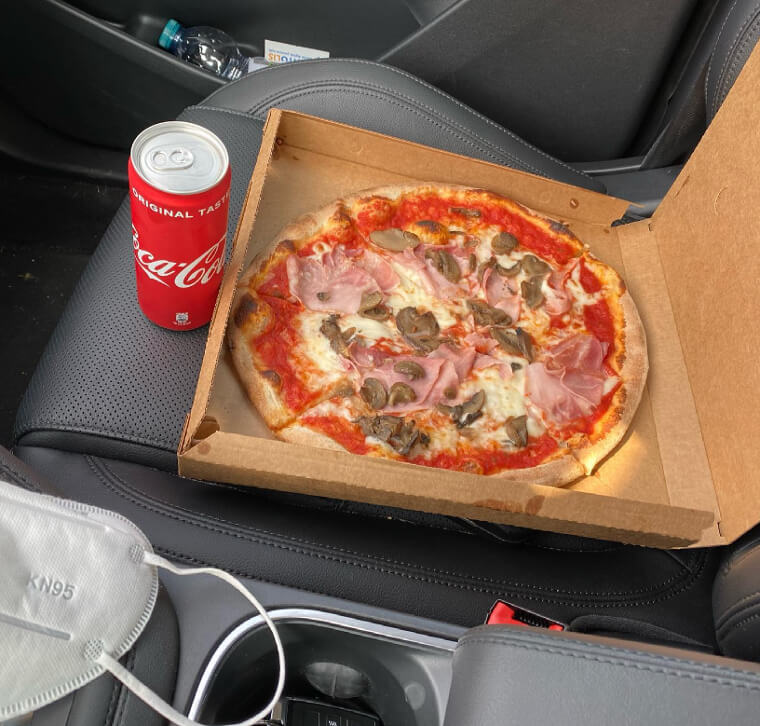 Most modern cars have seat warmers to warm you up on a cold day, but why not use them when you have pizza in the car, too? It'll keep your pizza nice and hot!
Use Slime During Cleaning
If you have children, there's a high chance that you have some leftover slime around the house. This toy was hugely popular a few years ago, and while kids used it to mold in their hands, it turns out that this toy can also be used for car maintenance. More specifically, it can be used for cleaning! That's because it can get in every nook and cranny, cleaning every inch of your car.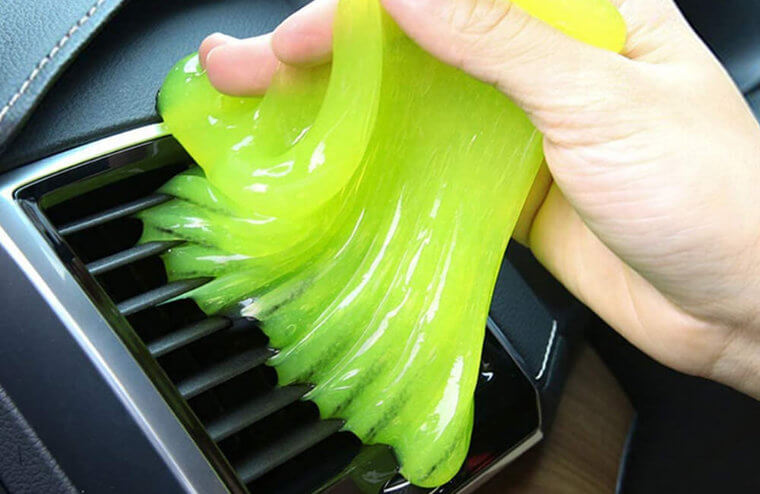 By using slime over your air conditioning vents and other little crevices, you can pick up any loose dirt or dirt that dusters or vacuums won't reach. Then, you can just wash the dirt off the slime and use it again.
Use Hand Sanitizer to Beat the Freeze
Many people rely on the kettle boiling to unfreeze their car doors and their vehicle locks in the winter. And while that's certainly an option, if you don't have time to wait for the kettle to boil, then why not grab the hand sanitizer out of your purse, instead? After all, normal anti-freeze products are largely alcohol-based – and so is the hand sanitizer we use on a regular basis.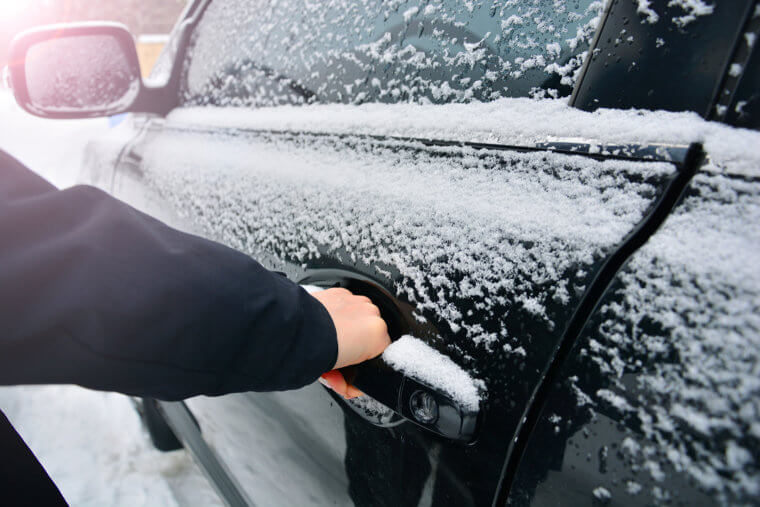 Due to the high alcohol content, the sanitizer will instantly heat up the ice and thaw it so that you can easily open your door and get on your way to work.
Make Use of Your Mayonnaise
Whether you make your own mayonnaise or whether you just buy it from the store, you'll already know that this condiment has so many uses. You can slather it on your sandwiches or your salads, but it turns out that you can also use it for car maintenance and vehicle repairs! This is especially true if you have tar stains on your bodywork, as mayonnaise will get them out in no time.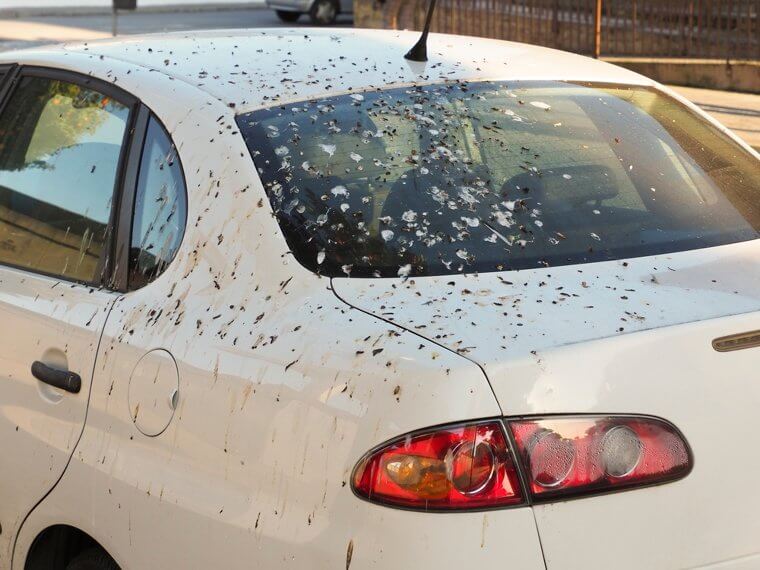 By rubbing mayonnaise onto the affected areas and then leaving it for a few minutes, you should be able to buff the stains right out. Just remember to clean the mayonnaise off afterward!
Peel off Stickers With Some Heat
Let's be honest; you either love or hate bumper stickers. Some people stick as many as humanly possible onto their bumpers, while others prefer theirs to be clean and tidy. But if you've just bought a new car that has some unwanted stickers on there, you'll be happy to know that it's super easy to remove them. No, you don't have to spend hours painstakingly trying to peel from the corner.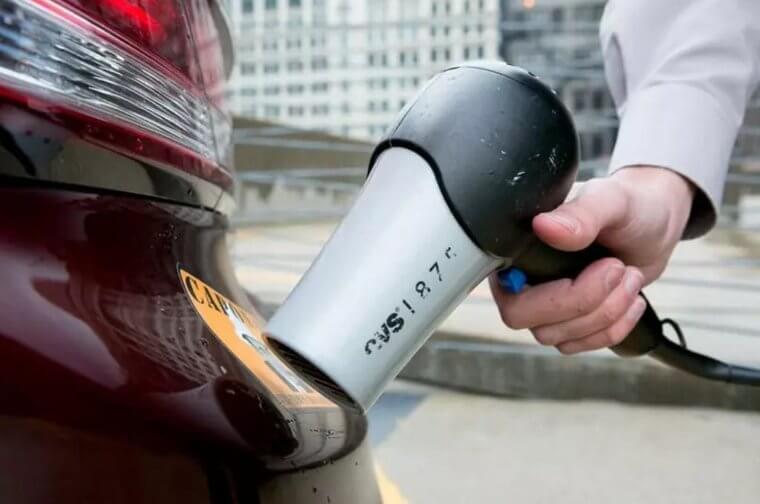 By grabbing your hairdryer and applying some heat to the bumper sticker, it should start to peel off by itself. Of course, you'll need to be there for some extra peeling.
Make a Homemade Car Freshener
When you buy a new car, the smell is delightful. That "new car smell" is something that most people wish they could bottle, but before too long it starts to fade and is ultimately replaced with less pleasant smells that make your nose wrinkle. But instead of buying a car freshener, why don't you make one yourself? It's super easy to DIY your own car freshener, and all you'll need is a container and some scented candles.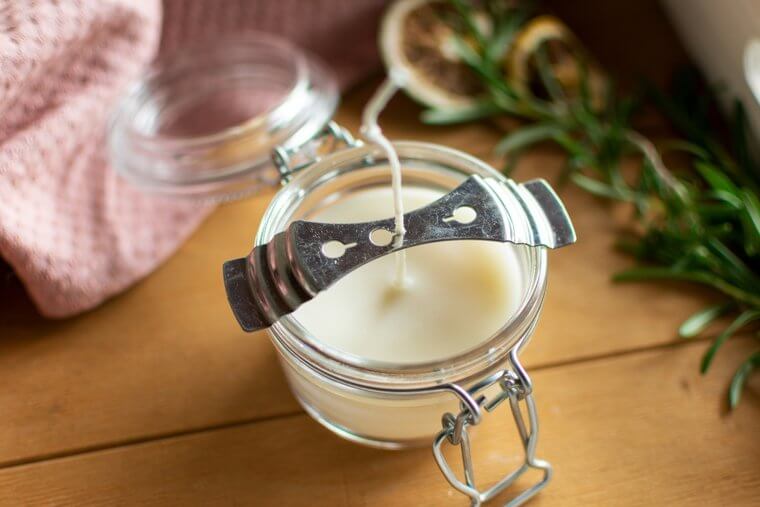 Simply place the candles in the container and stick some holes in the lid. When you put it all together and place it in your car, the scent of the candles will fill it in no time.
Secret Hidden Features
When you buy a car, most of the time there's no introductory class that teaches you about the car, its safety systems, or how to use the complex multimedia center. This is even more true when you buy a used car, as the previous owner might not have known everything either. That's why it's a good idea to thoroughly inspect the entire car, from top to bottom, just in case you overlooked something.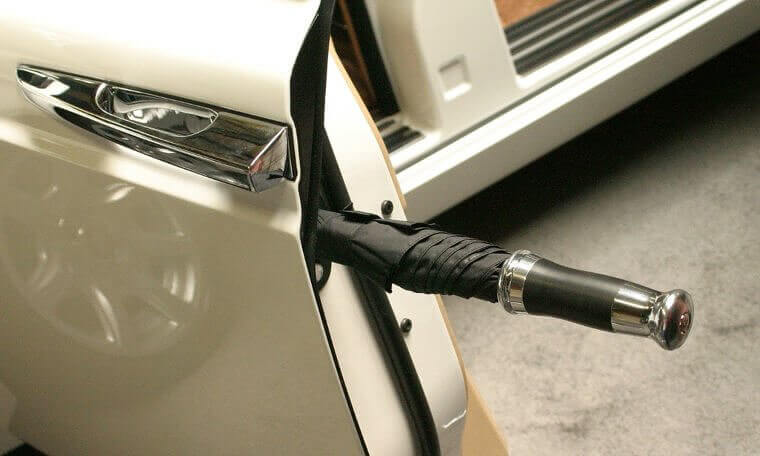 Let's consider this luxury car as an example, which includes a hidden compartment in the passenger door with a built-in umbrella. How could anyone know to look there? We usually wouldn't think of checking door panels for hidden accessories, but now we might start.
Remove Your Keys in No Time
Let's be honest; keyrings are super handy. They're a great way to keep all of your important keys on one single ring, and they make life a lot easier. But sometimes you need to remove a certain key, and doing this is basically impossible. Trying to get your finger between the rings takes brute force and strength, and it can take way too long to get the key off. But it doesn't have to be that way.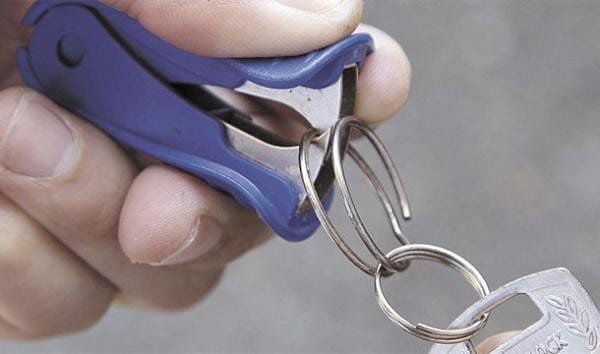 Yes, just grab your staple pin remover instead! By using the teeth on this tool, you can save your fingers the hassle – and save a huge amount of time in the process.
Stop Your Car From Sliding Around
If you live somewhere that gets extremely cold, you'll probably know how dangerous it can be to drive during the winter months. Not only can you slide around in the snow, but you also have to be extremely careful about black ice. Sometimes, it can seem impossible to drive on the roads – but what happens when you really need to leave the house? Well, that's where some extra weight can help.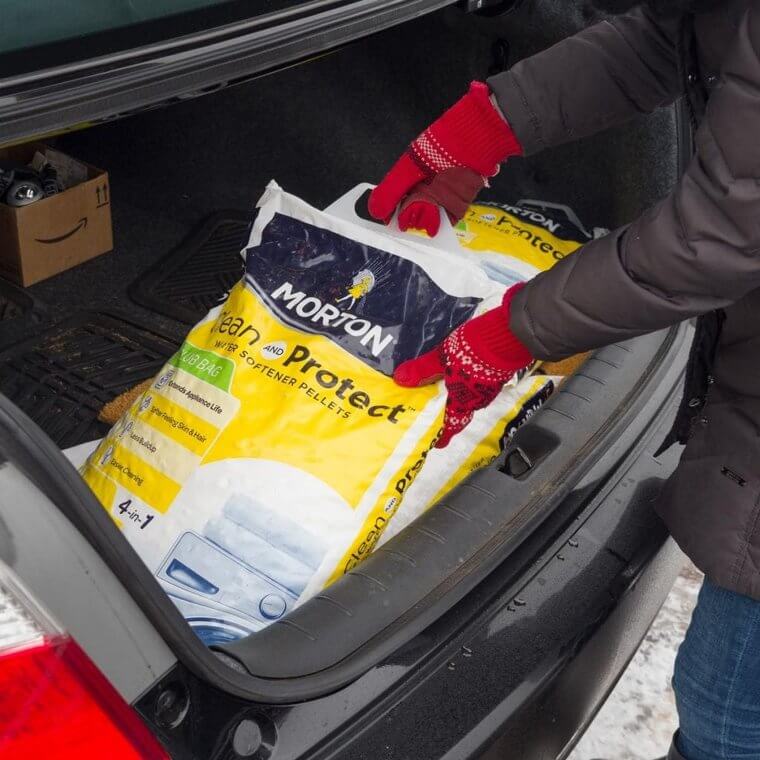 By placing bags of stones, concrete, or anything else that's heavy into the trunk of your car, you can give yourself some extra weight and offer your tires some extra help on the slippery roads.
Clean Your Cup Holders
Whoever invented car cup holders is a certified genius. There's nothing better than being able to reach down and grab a refreshment when you're driving, and these cup holders are also great when you want to store some loose change or candy. But these small little crevices are susceptible to dust and grime, which means that they can get pretty dirty if you don't keep on top of cleaning them.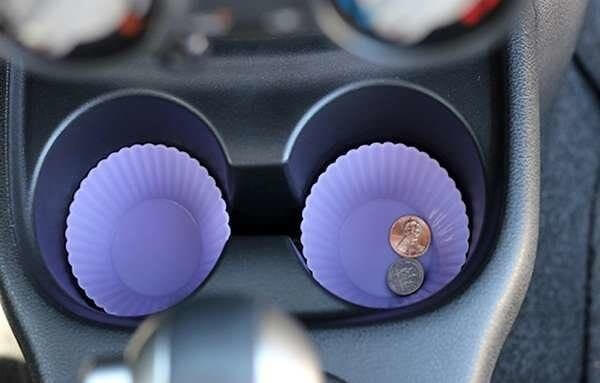 Amazingly, one of the best ways to keep these cupholders clean is to place a cupcake case in there! By doing this, you can remove the cupcake holder and clean it – rather than trying to clean the cup holder itself.
Store Your Things With Ease
If you're someone who likes to be ready for any eventuality, then your car is probably full of "stuff." You might have spare clothes, deodorant, candy, a phone charger, and so much more. But aside from the glove compartment, where else do you have space in your vehicle to store these things? Well, it might be an idea to buy a shoe organizer for your car. You don't have to fill it with shoes, after all.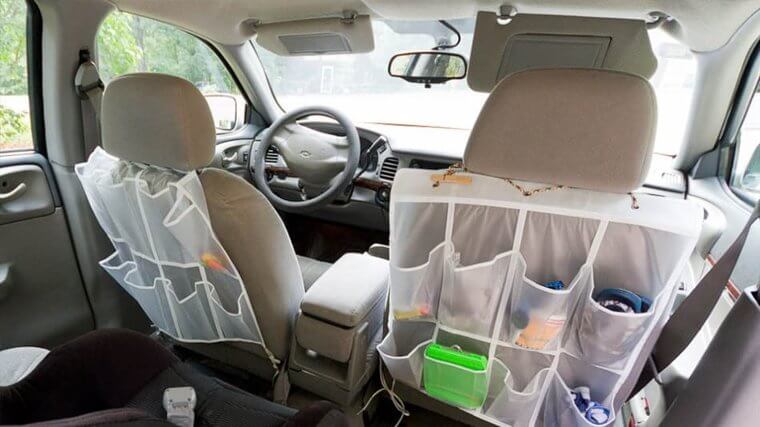 By hanging these organizers off the back of your car seats, you'll instantly have storage space for you to organize all of your things. And they won't slide around in the back anymore!
Make Use of the Manual Lock
In today's day and age, most modern cars come with electric locks that are opened and locked with the press of a button on a key fob. And while this a great feat of modern engineering, everyone should know that the battery of these things can drain – and this could leave you locked out of your car. But don't worry; car manufacturers thought of that when they were designing this feature.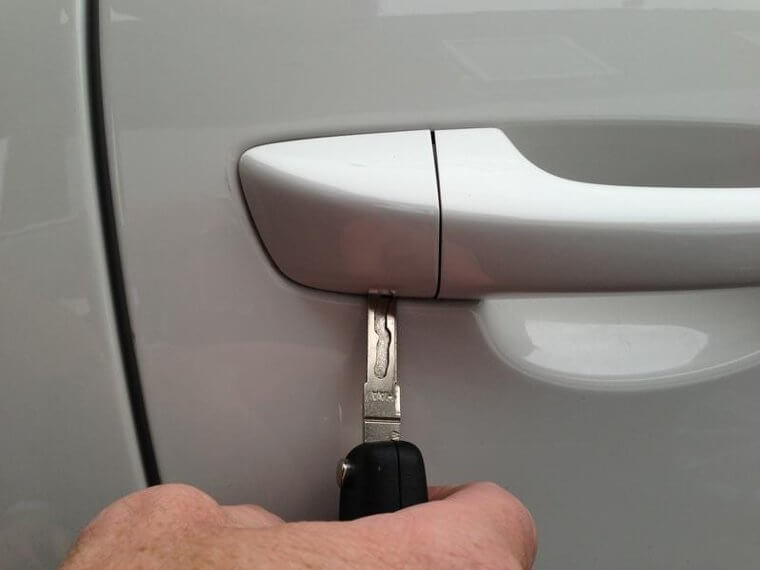 Although many people don't realize it, there is also a manual lock on cars with electric locks. This manual lock can normally be found underneath the plastic of a door handle.
Know When to Stop With Tennis Balls
Garages are great for keeping your vehicle safe. But while most people put their car in the garage to avoid taking it to the mechanic for car repairs, some people struggle to safely park their car in the garage. In fact, they can't work out when to stop! So, they drive right into the wall and mess up their bumper in the process. But tennis balls could help you know when to stop.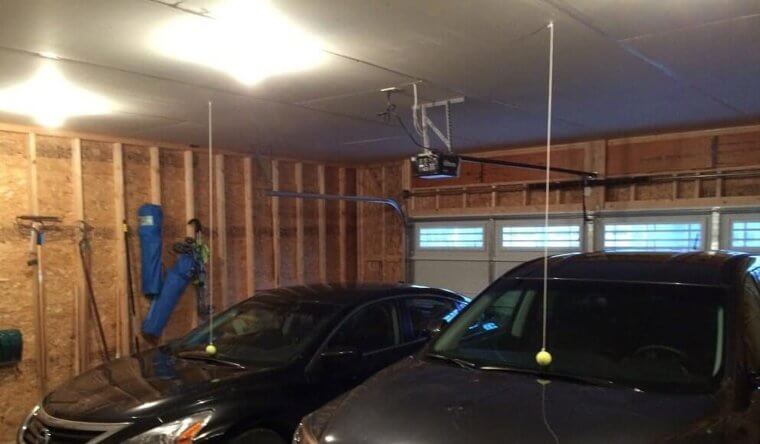 By hanging some tennis balls on a string from the ceiling, you can place them in a way that tells you to stop. So, when the tennis ball hits the windscreen, it's time to brake.
Clean Your Dash With Oil
Most people try to avoid adding cooking oils to their cars. After all, that's not the kind of oil that cars need! And while certain cooking oils would cause a mess if you were to use them on the interior of your car, it turns out that olive oil could be your saving grace. Especially if you have a dashboard that you just can't clean, despite your efforts for trying!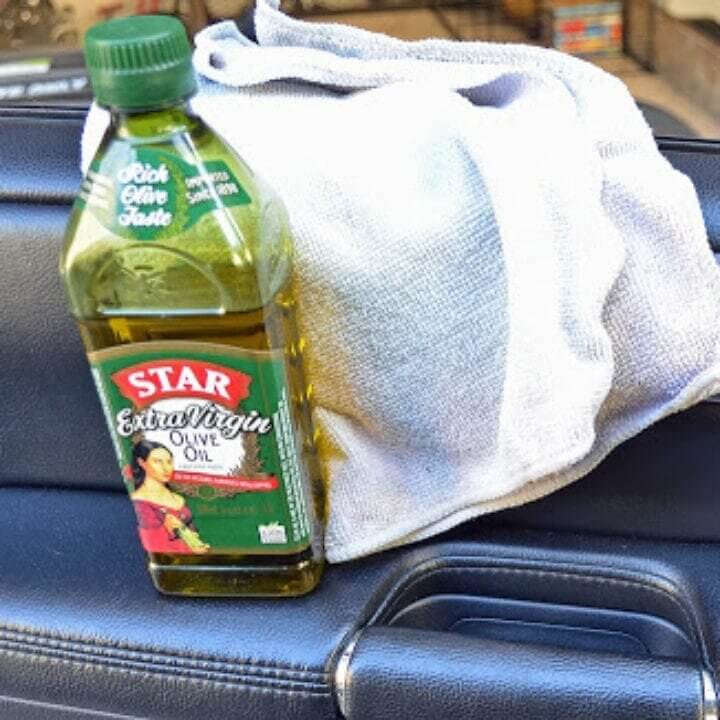 By dropping a few drops of olive oil onto a coffee filter or rag and then rubbing it over your dashboard, you'll be able to see it sparkling for the first time in years.
Give Yourself an Extra Cup Holder
If you're someone that likes to stay hydrated with a variety of drinks, two cup holders in your car might not be enough for you. So, what do you do when you pick up a giant fountain drink from the drive-thru? You grab an extra shoe, of course! It's important that you don't take the shoe that you're wearing at the time, but having an extra shoe in your car could seriously help you out.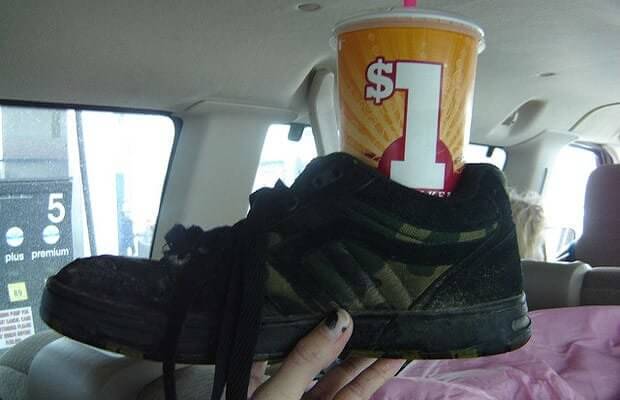 That's because you can simply put your extra drink into the shoe on your floor. This will keep it safe, and stop it from tipping over and causing a mess.
Use Rice to Rid Your Car of Fog
If you've ever dropped your phone down the toilet or in a pool, you'll probably already know that rice can work wonders. It can draw out moisture and save your phone from going to cell phone heaven, but did you know that it can also do the same thing in your car? If you have a lot of moisture and a foggy windshield in your car, rice could solve your problems.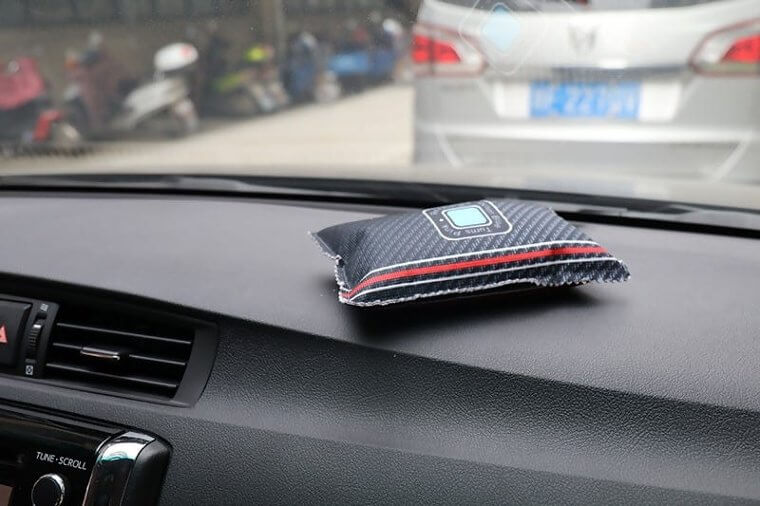 By keeping a rice bag on your dashboard, you can ensure that you never have a foggy windshield ever again. Just remember to change out the rice every so often.
Tint Your Windows for Safety
Although most vehicles come complete with sun visors to keep the sun out of your eyes, sometimes they're too small or in the wrong position. And while sunglasses can also come in handy, the sun can still be blinding – and this can be extremely dangerous for those who are driving. Because of this, you might want to invest in some window tints that you can normally buy from the nearest home store.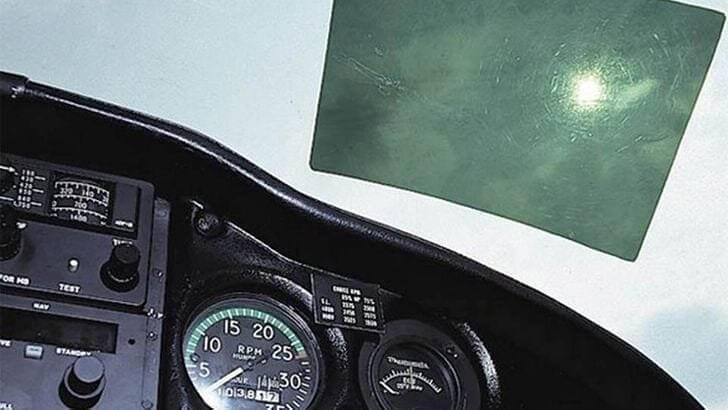 These tinted plastic sheets can be placed on the glass in front of you, and they should instantly alleviate the brightness shining into your eyes. Then, you'll be able to continue driving safely.
Keep Your Car Smelling Fresh
When you're driving your car, there's nothing worse than smelling something you can't quite place. Is it the pizza you picked up a week ago? Is it those old shoes on the back seat? Or did your dog roll around in something before getting in your car? Whatever the case, it's a good idea to always keep your car smelling fresh. And that's where dryer sheets can come in handy.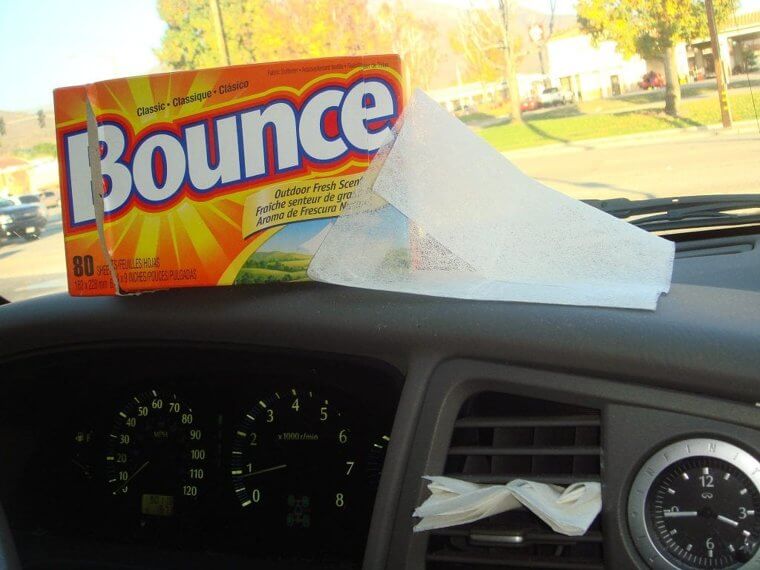 By placing these dryer sheets under your seat and in your air vents, you can keep your car smelling fresh. Of course, you can choose whatever scent of dryer sheets you'd like!
Invest in a Car Trash Can
There are two kinds of people in this world; there are those who keep their cars clean and immaculate at all times, and then there are those who spend their days driving around in a glorified trash can. Yes, they turn their vehicles into a garbage piles – and this can be pretty unsanitary. So if you're one of those people, why not invest in a car trash can? It's a small step but will make a big difference.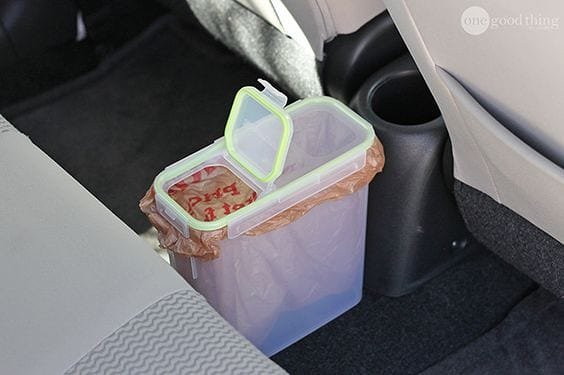 By placing this between the back seats, you can ensure that you have somewhere to put your trash when you're done with it. Then, just empty the car trash can every now and then.
Use Stockings to Save the Fan Belt
Car maintenance and car repairs can be a tricky and very expensive business, which is why it's often best to head to a mechanic who knows exactly what they're doing. But if you ever find yourself in an emergency situation and can't call a mechanic to where you are in time, you might want to have some stockings on hand. Especially if your problem revolves around a broken fan belt.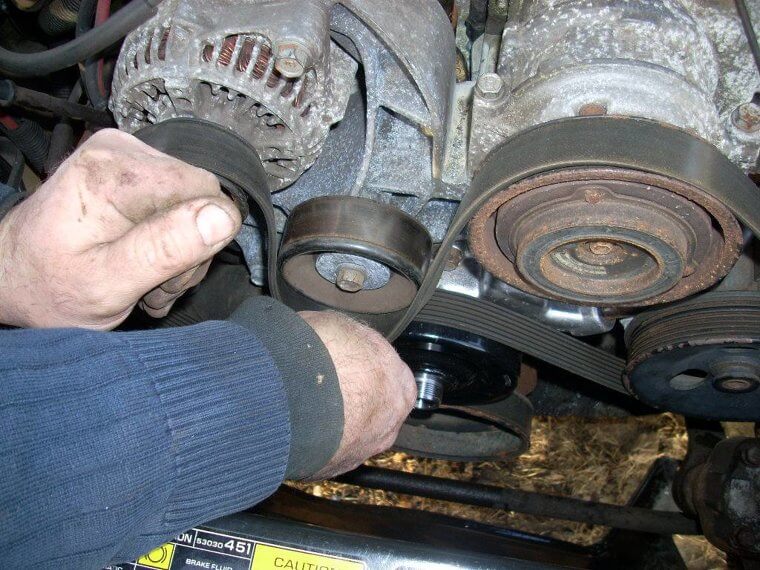 If your fan belt breaks and you need to drive your car to the nearest safe space, stockings can act as a replacement. However, it's important to remember that this will only be temporary!
Take a Picture of Your Car in the Parking Lot
Whether you head to the mall or a tourist attraction on your vacation, there's nothing more annoying than losing your car in the parking lot. Most of the time, you just want to get back into your car and start driving home as soon as possible – and you don't want to embark on a rescue mission to find your vehicle. But you can stop this from happening as soon as you park up if you remember this hack.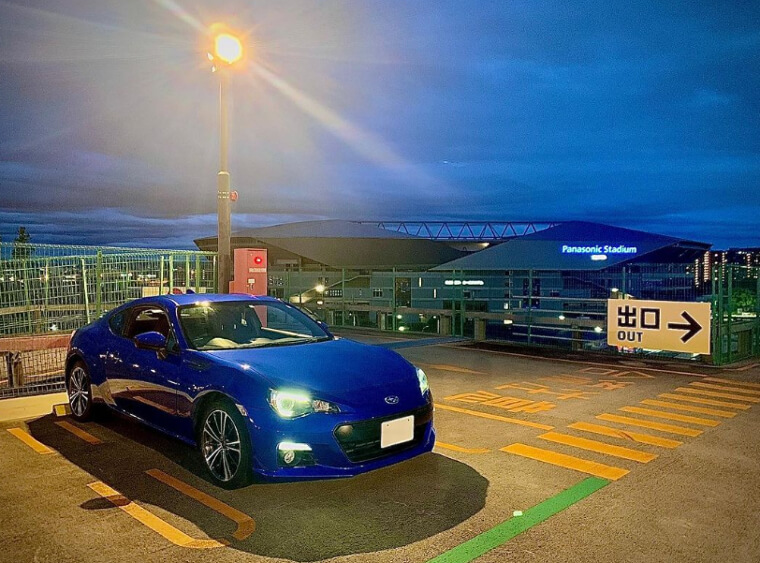 When you park your car, take a picture of it and the surrounding areas. That way, you can refer to the picture when you lose your car and head in that direction.
Keep Your Trunk Organized
The trunk of every vehicle is designed for storage, and we all know that it can come in pretty handy. Whether you keep things in the trunk of your car all the time or whether you just fill it up when you're on the way back from the grocery store, you'll know that driving around can cause things in the trunk to roll around and fall out of the bags. But what if you could stop that?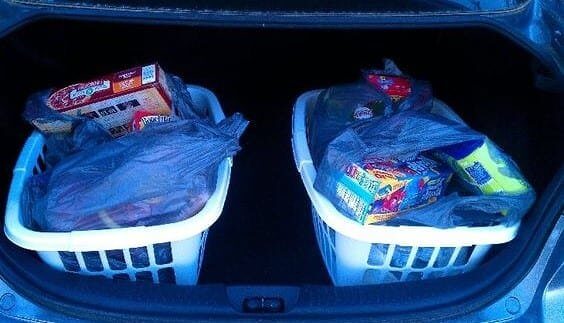 By putting a couple of laundry baskets in your trunk, you can place everything you need in them. Plus, you can just carry the baskets into the house with your groceries, rather than carrying six separate bags!
Increase Your Key Fob Range
If you have a key fob to open your car, you'll know that it won't work if you're too far away from the car. This can be a nightmare if you've lost your car, as you can spend hours searching the parking lot for your vehicle. But did you know that there is a nifty way to increase the range of your key fob? And what makes this hack pretty weird is the fact that your chin does the hard work!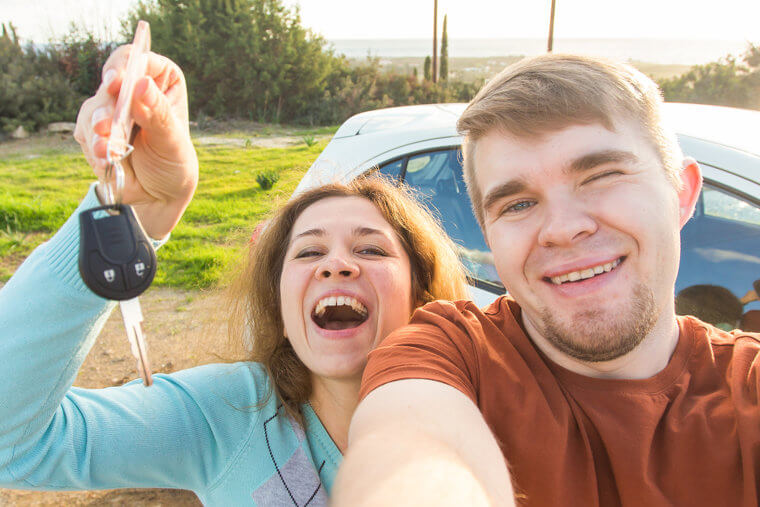 By rubbing the fob on your chin, you can use your brain waves to increase the range. This sounds totally made up, but we promise you, it really does work!
40+ Hilariously Accurate Illustrations Any Parent Will Relate To
Brenda Miller
This article was originally published on 24/7Mirror
When you think about being a parent what's the first thing that comes to mind? Is it those adorable moments, the first words, or even the long sleepless and crying nights? For artist Yehuda Devir it was all of the above, and his illustrations depicting his and his wife's reality of parenthood on social media has since become world-famous for their honesty and their humor. See which of his photos you relate to the most, while also keeping an eye out for a few of the "real" photos we've sprinkled along the way. Don't forget to stick around for the end for a special surprise that the couple has!