One of the most-wanted pets that kids these days request from their parents are dogs! And as much as we want to grant our youngsters' requests on having an additional member of the family, we know that we have to make sure if it will be safe for both your kid and for the dog that you're thinking of getting. Yes, we know dogs are fast learners given that they are trainable but not all breeds are meant to have around the house and still have a wild side. You need to reconsider if you're thinking about getting one of these incredibly dangerous dog breeds.
Chihuahua
Upon seeing this breed as the first item on the list, we know what came into your mind. Yes, this breed known as the "little devil" may be small and cute – when they're asleep – but you might want to reconsider keeping them with a youngster around.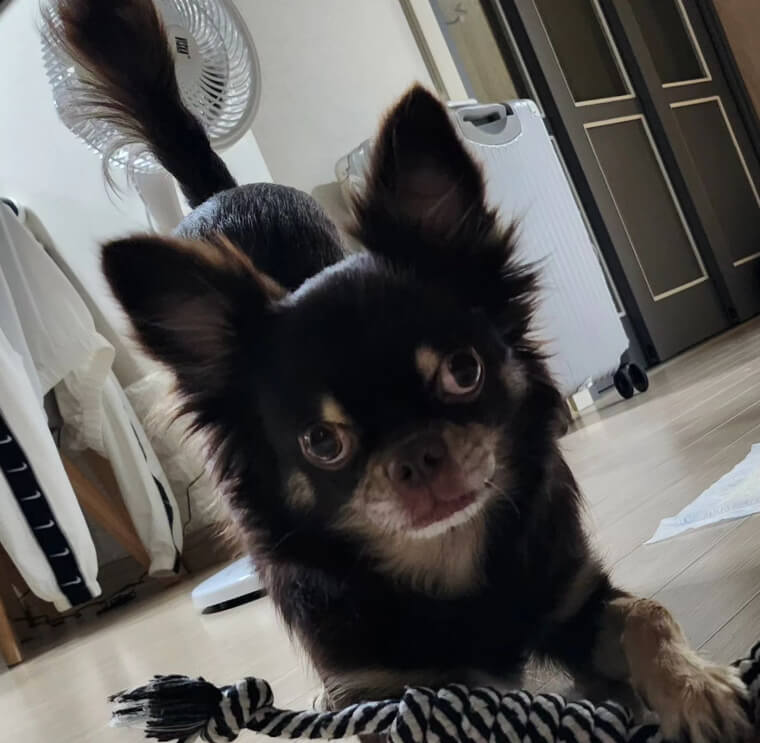 It's in their nature to be territorial and they want to stay being the youngest in the family so they might be overly aggressive and stubborn.
Rottweiler
Rottweilers are famous for their size and their expertise in bringing livestock together. And due to the fact that they are naturally brave and devoted to their owners, they tend to scare away strangers leading to violent tendencies.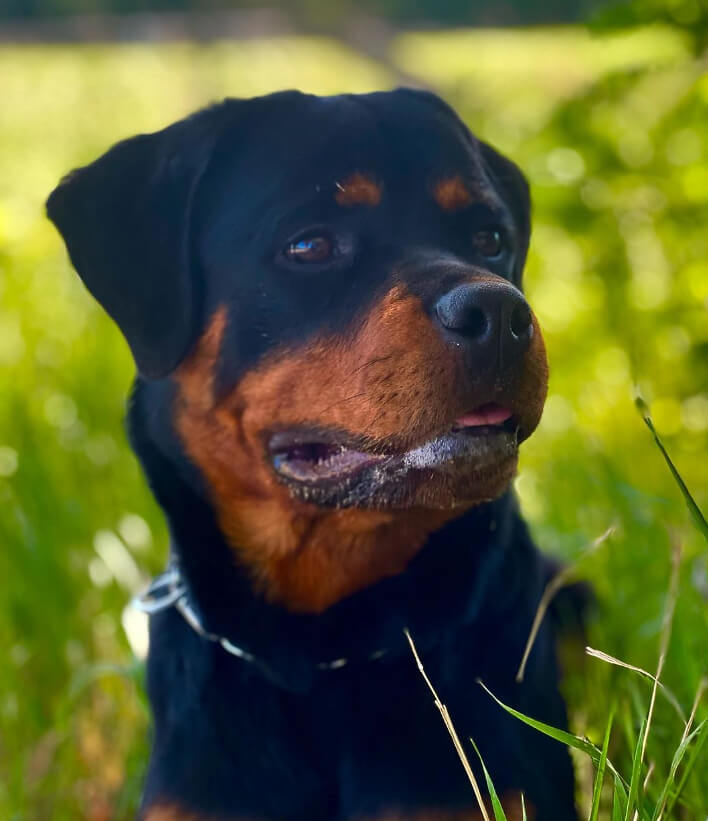 This may be good for kids but you have to be extra careful for they tend to misinterpret rough play to true danger.
Bullmastiff
This breed acts as if they are small creatures but would often have aggressive tendencies. They are trainable and can be your kid's best buddy since their loyalty is heightened to a whole new level, but only when your youngster has developed control over them.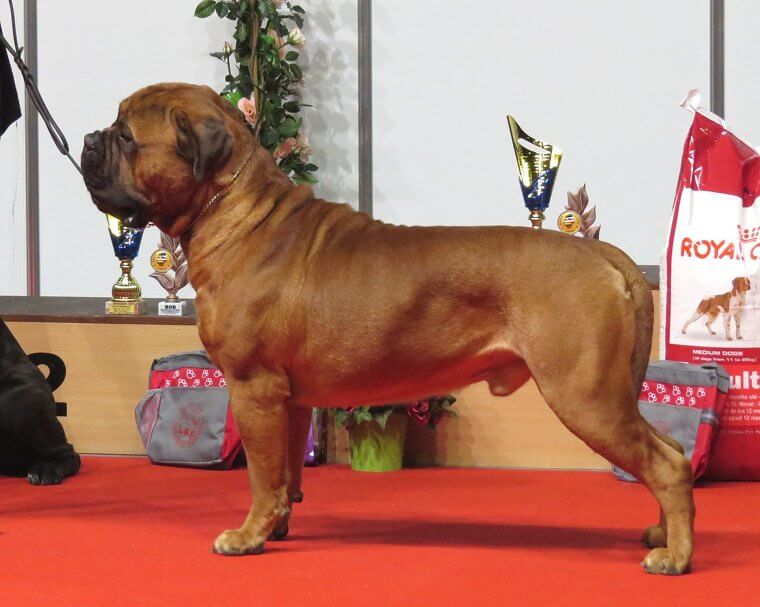 Bullmastiffs see their owners as leaders so dominance is very much needed.
Saint Bernard
Saint Bernard dogs are known to be one of the biggest and sweetest dog breeds who can also be dangerous around kids simply because of their playfulness and their tendency to knock things over almost every time.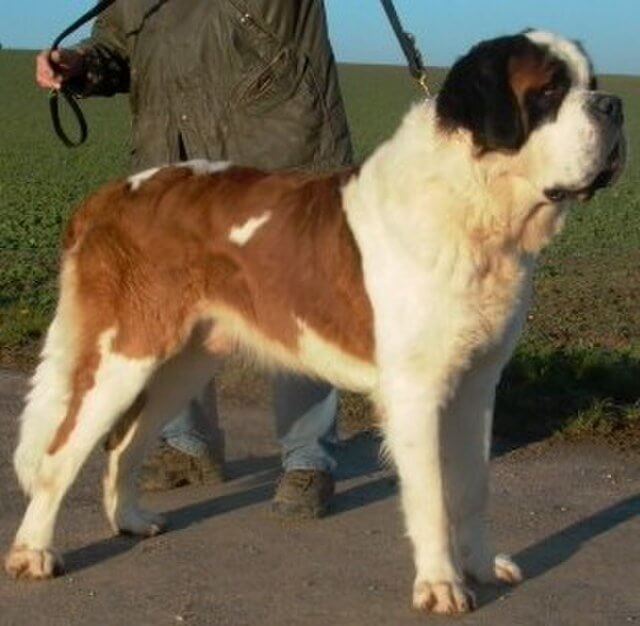 So before committing to this giant, you have to be sure that you have enough space for both your Saint Bernard and your toddlers.
Weimaraner
Just like Saint Bernards, Weimaraners tend to knock over things in their way, which can include your toddler who's learning how to walk.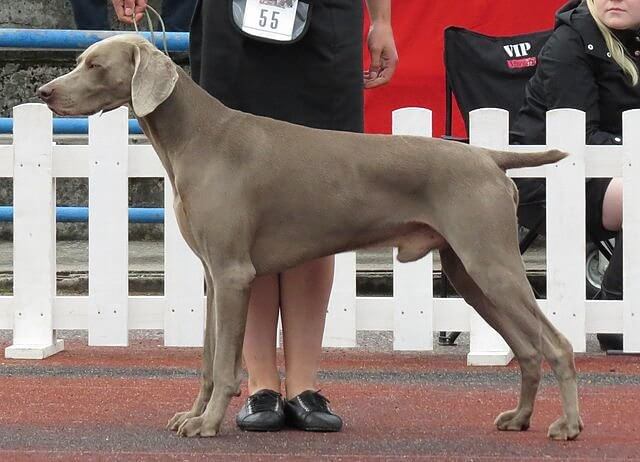 They are often too energetic to handle themselves due to their stature. And with little kids around, you'll surely feel like you're handling a daycare center rather than a home.
Australian Shepherd
The Australian Shepherd breed also needs constant physical activity or else you will have to handle their bothersome behavioural problems.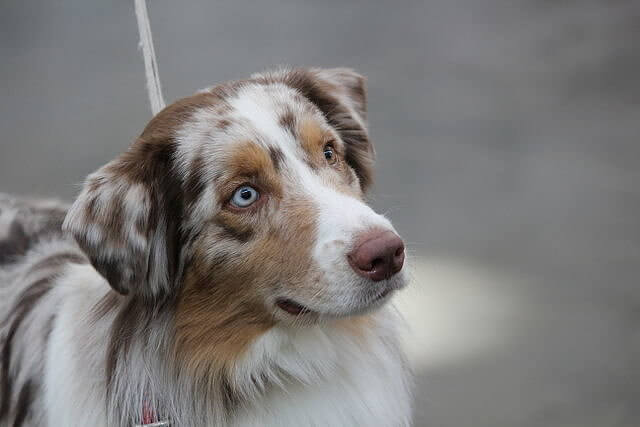 They are also unusually anxious when meeting strangers so they might not be too friendly when it comes to weekly playdates with your kids' friends.
Siberian Husky
Continuing down the list of energetic dogs, Siberian Huskies are also known to fit under this category. They are also very clingy which means constant affection is needed.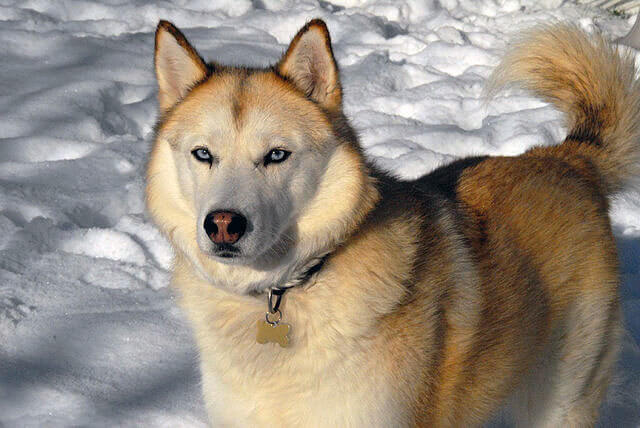 However, with kids around who also need the same amount of attention from you, they might end up feeling the need to compete with them. Thankfully, this breed is easily trainable.
Affenpinscher
Another overly energetic breed, Affenpinschers belong to this category with additional pranks up their sleeves. However, their size makes little kids mistake them for toys and may play roughly with them, not thinking that they're live animals.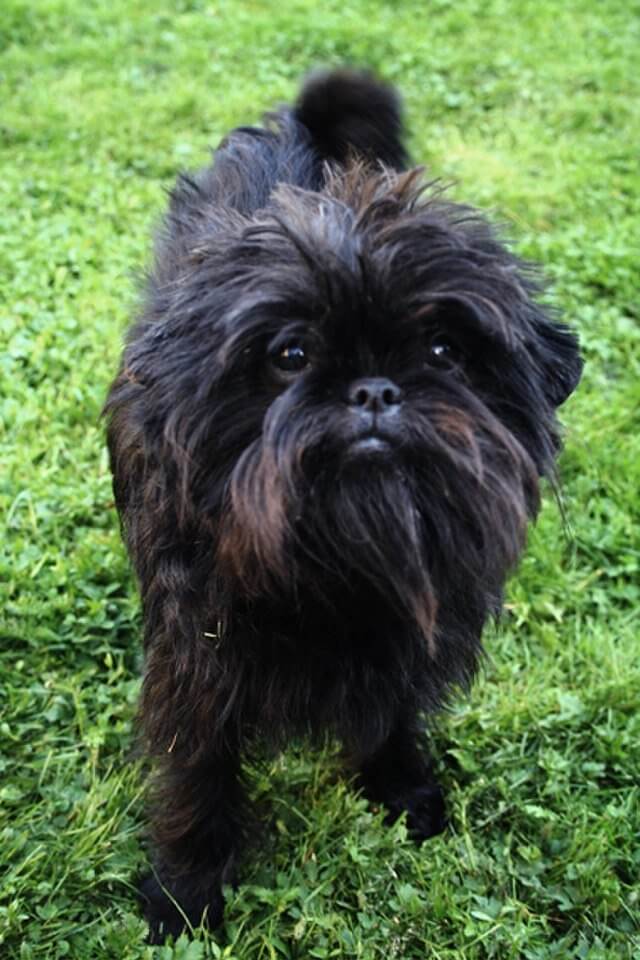 This breed may act violently when they feel anxious, and kids definitely don't help.
Chow Chow
Due to their thick fur and large size, kids often see them as life-sized stuffed toys. However, this breed can and will get aggressive if they feel like they are threatened. And with their size, knocking things over is not impossible and may harm your kids.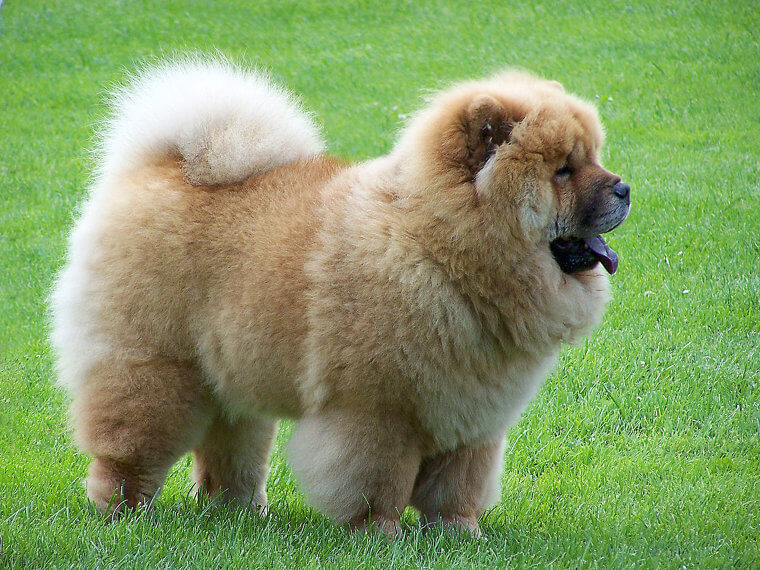 They are also in constant need of affection and may end up competing with your actual human babies.
Afghan Hound
These sassy Afghan Hounds are dominant in nature which is why they need dominant owners to handle them.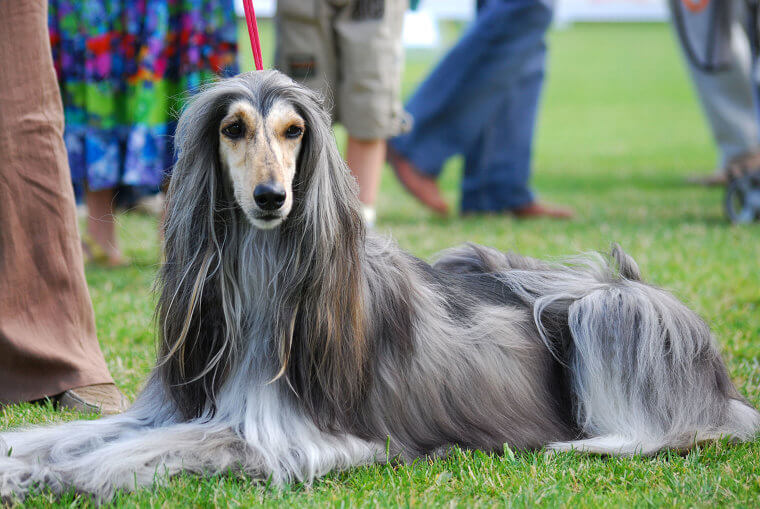 Showering them with gentleness is very much needed when you have this breed and we know how the little ones can cause a raucous.
The English Toy Spaniel
English Toy Spaniels may be cute little furries, but you might want to reconsider keeping them when you have a kid.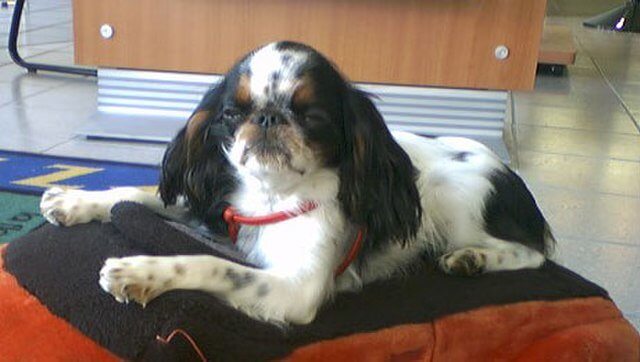 Rough play with them can be too risky since they often see it as the real deal and would end up being violent as a way of protecting themselves. Proper training can be the solution for them.
Greyhound
Due to their energetic nature, they are known to become breeds for racing thus requiring extra space and time for running around.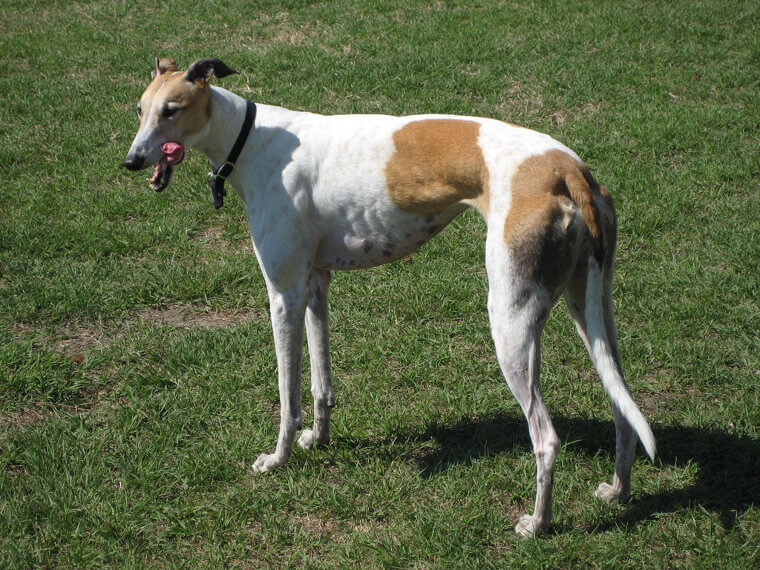 Aside from making sure to have a huge space inside and outside your house, you might need to be careful as they might run over your crawling babies.
French Bulldog
French Bulldogs are known to be very affectionate but do require a lot of attention to stop them from making them see your babies as a competition.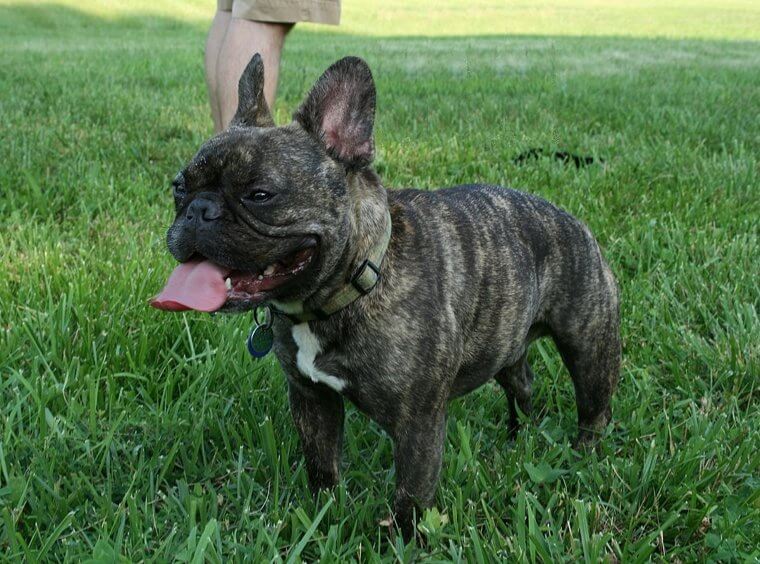 They can suffer from separation anxiety when left alone for too long. Proper training with regards to obedience and attention is needed to be a compatible family pet with babies around.
Japanese Chin
Japanese Chins were always meant to be a royalty pet, thus making them so used to getting all the attention and being pampered.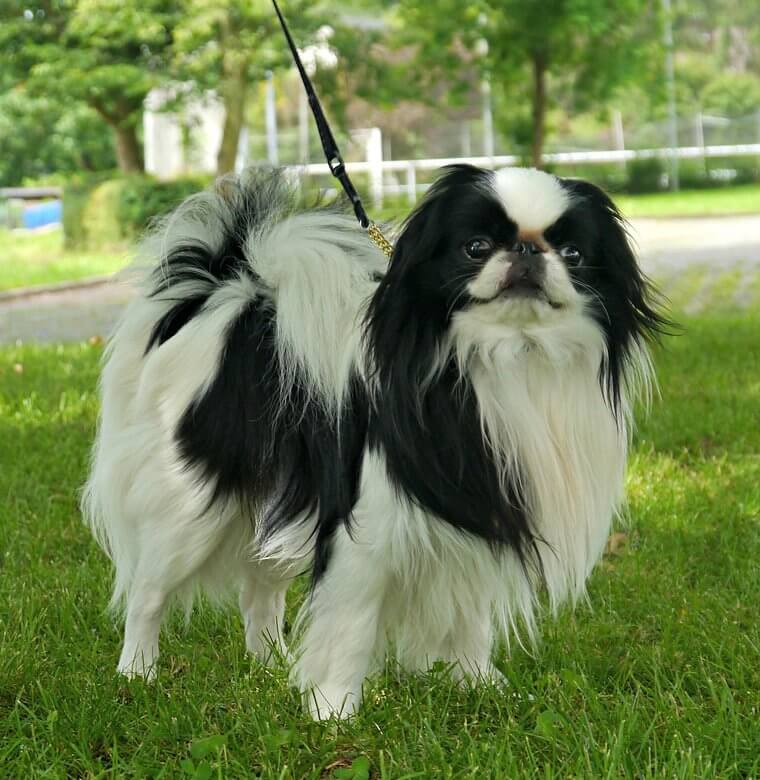 If these dogs had their way, they'd certainly want to stay on your lap all day. Having kids around might make them show you their jealous side.
Shih Tzu
Shih Tzus are famous pets these days but they actually need to have constant companions with them given that they tend to get separation anxiety when left alone.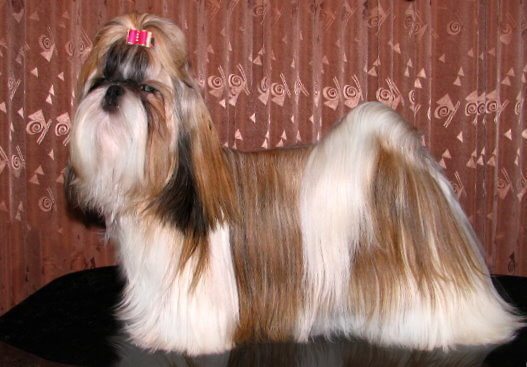 They may be lazy most of the time, but they also get moments of hyperactivity. They are always affectionate but can turn aggressive when taken by surprise.
Alaskan Malamute
This beautiful breed was meant for isolation and the cold, and are often known for their survival instincts which can cause them to attack smaller creatures such as babies.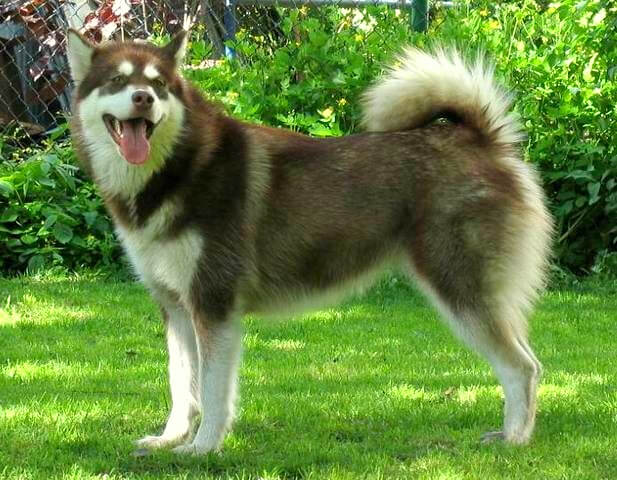 You must be very assertive when owning this breed so kids are not exactly someone they would listen to. And if your kid has breathing problems such as asthma, their constant shedding might harm you.
Pekingese
Pekingese may look small and fragile but they are actually individualistic and brave. More surprisingly, they actually do not require your affection 24/7.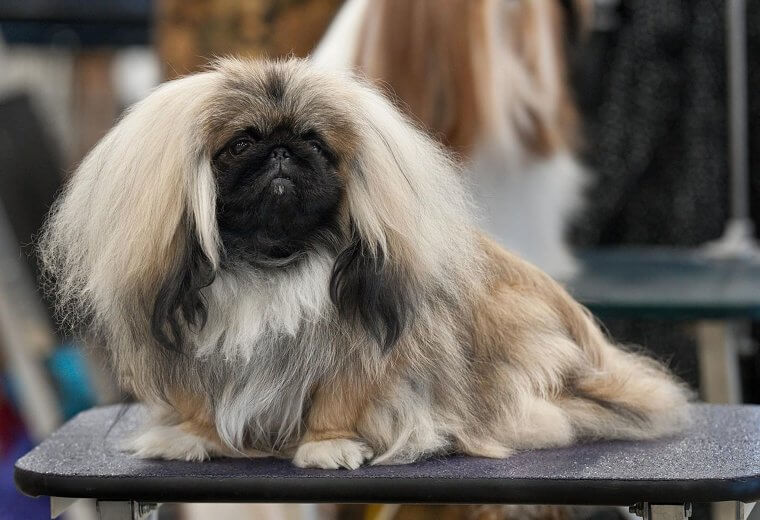 That said, they're sometimes too individualistic. In order to have a Pekingese, your child must be aware of the dog's distinct traits and must learn to exert authority over them.
Jack Russell Terrier
Jack Russell Terriers are surely one of the most energetic dog breeds that have existed. They require tons of outdoor space but make sure to let kids avoid rough play since they tend to protect themselves through biting.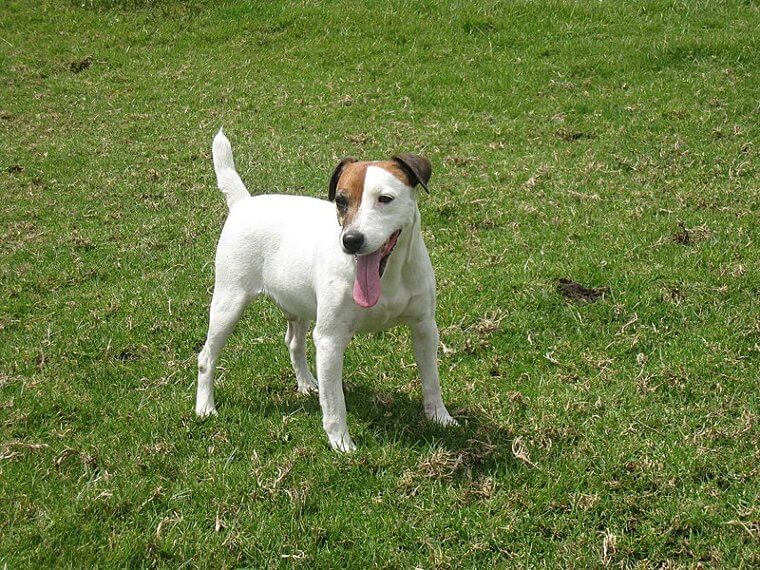 They certainly wouldn't hesitate to bite a child they deem annoying.
Chinese Shar Pei
Appearance-wise, Chinese Shar Peis are a pawfect fit for your kids since they will both look so adorable together. However, with such cuteness comes great health issues.
When they get sick, children can also get infected which can be a disaster when that happens! They can also be aggressive and training them is close to impossible.
Dachshund Standard Smooth
Dachshunds may be small hotdogs but they are actually hunters – of the small kinds. And just like chihuahuas, they tend to compensate for their size through their attitude.
Just like some of the breeds we have mentioned so far, rough plays with Dachshunds are not that welcome.
Dalmatian
This spotty breed became famous thanks to Disney's 101 Dalmatians and are known to be guard dogs and a great companion.
They also need extra attention from their owners or else they will end up biting or scratching them. Older kids can be the perfect match for this breed since they would equal in energy levels, but that might be exhausting for you.
Neapolitan Mastiff
Neapolitan Mastiffs are known to be another breed of gentle giants and are very affectionate in nature.
However, what makes them dangerous is their unintended tendencies to sit or knock down little creatures given their clumsy nature.
Skye Terrier
Being too fearless in nature, Skye Terriers end up being unwelcoming towards other dogs. And just like other mentioned breeds beforehand, they need extra affection and may act out by being too noisy when not shown much love.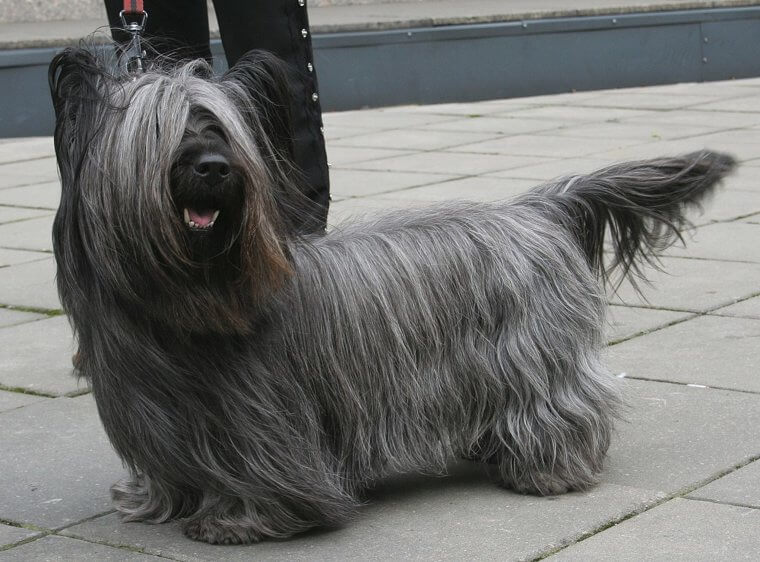 They love hunting smaller creatures, so they might not be the best pick around your little angels.
Akita
Akitas are guard dogs originating from Japan since they are very wary around strangers.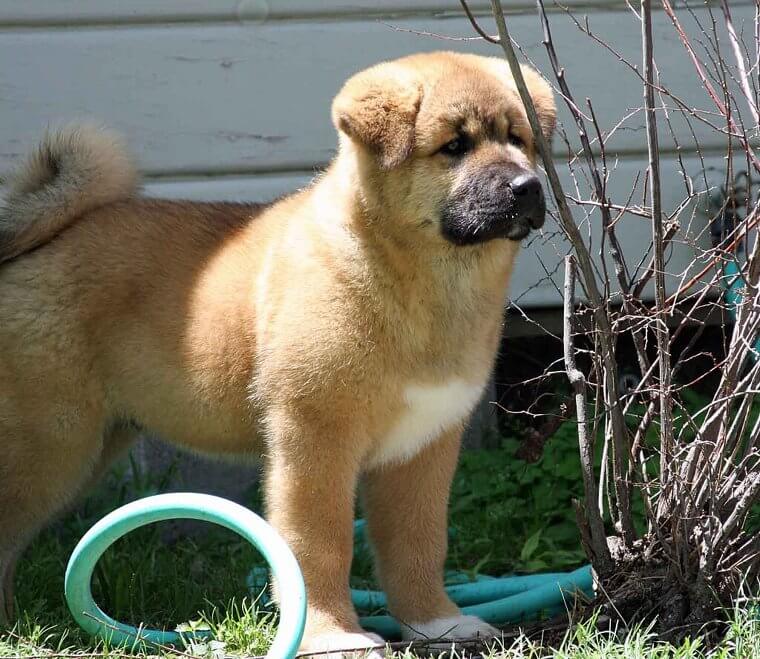 Friends of your little ones may be perceived as unwanted beings, thus, making them dangerous around other kids.
The Xoloitzcuintli
The Xoloitzcuintli, also known as the Xolo, or the Mexican hairless dog, is an ancient breed considered by the Aztecs to be a guide for the dead towards the underworld. This dog of the gods is, appropriately, a vigilant watchdog and fiercely loyal companion. Pronounced "show-low-eats-QUEENT-lee", this dog is extremely intelligent and covered in tough, smooth skin. The other side of the coin of being a loyal companion, however, is the characteristic of being very territorial and overprotective.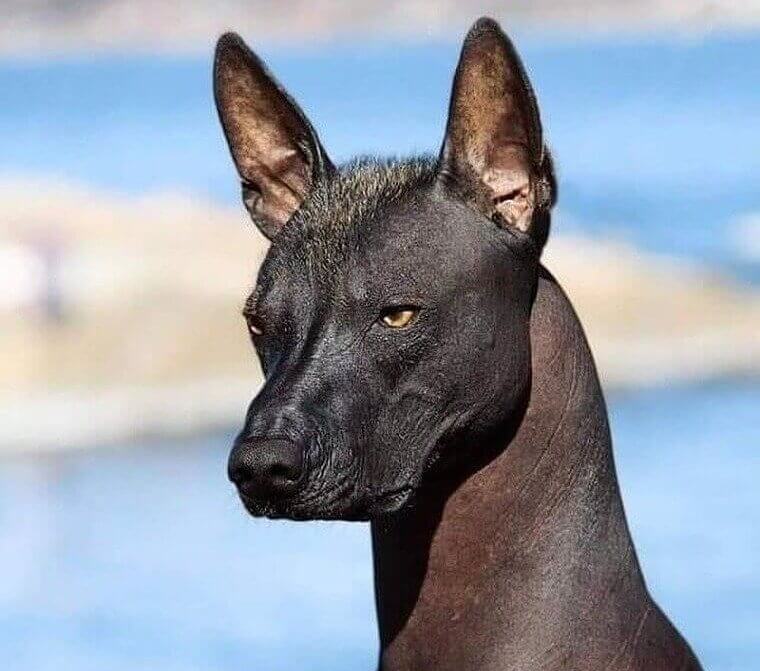 This mythical-looking canine can appear intimidating, but it doesn't necessarily have to be so. However this requires a very high level of training from a very early age. Therefore, many experts recommend leaving this handsome dog to the pros.
Pit Bull
Pit Bulls are an infamous breed of dogs since they are tagged as "dangerous" given their temper due to their fighting nature.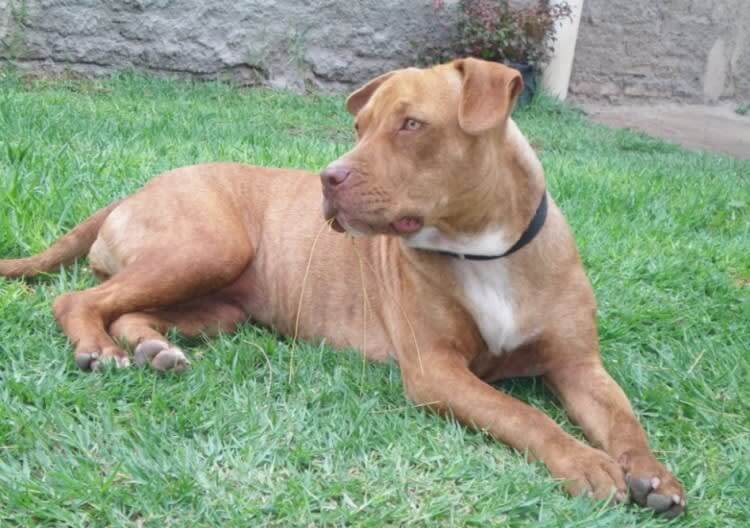 Despite being family-friendly in general, their dogfighting nature can make their attitude be very unpredictable and unsafe for your kids.
Doberman Pinscher
Known for being a soldier's help, Doberman Pinschers have aggressive tendencies and used to be famous in the 70s for causing dog bites.
Stories are also present where they end up attacking their owners for no reason. These must be taken into account when considering keeping them as pets around your babies.
German Shepherd
German Shepherds are famous for helping out law enforcement, and for their incredible intelligence, loyalty, and obedience.
However, they are very aggressive so you must put that into consideration. But then again, they can be very good family companions who would not think twice when protecting them.
Great Dane
Scooby-Doo has got to be the most famous Great Dane out there which made this breed family-friendly. Great Danes are known to be one of the tallest dog breeds, thus, making them dangerous since they can easily overpower small creatures such as children.
Thankfully, they rarely attack, but it's definitely not pretty when it happens. You wouldn't exactly know what to do!
Wolfdog
As seen in their name, this breed is indeed half-wolf making them creatures of the wild. Since their breed is not totally domesticated, it can be very difficult to train them – close to impossible.
This can be very dangerous around you and your little kids.
Staffordshire Terrier
Due to their physique, the Staffordshire Terrier is often mistaken as a Pit Bull. However, one great note about them is that with training, they can be more affectionate towards humans.
But you still have to remember that they are naturally fighting dogs making them a risky family pet.
Japanese Tosa
Hailing from Japan, Japanese Tosas are fighting dogs that have actually been banned from numerous countries. They are now considered rare since not a lot of breeders specialize in them nowadays.
It must also be noted that their nature of showing aggression towards animals and human beings makes them difficult to control in most cases.
Dogo Argentino
The Dogo Argentino is an Argentinean breed meant to be a hunter's help. They are also naturally the help of the visually impaired and the police.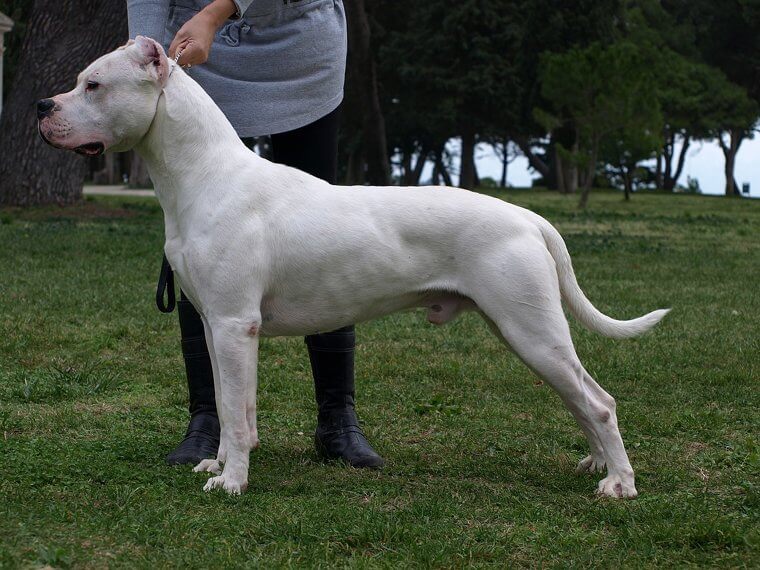 However, they have also been legally banned in some countries due to their aggressive tendencies such as attacking for no reason. Such a shame, considering how cute they are.
Tosa Inu
This breed was originally meant to be a fighting dog but is considered to be an exotic breed, originating from Japan, making it difficult to find and expensive.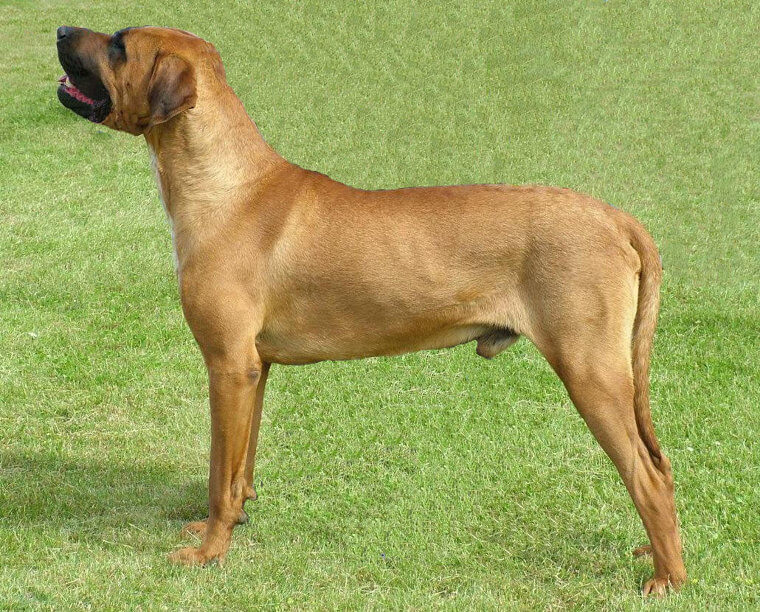 Aside from that, a Tosa Inu is also tagged as dangerous causing them to be banned in certain countries. So if you are thinking of having this as a family pet, you might want to reconsider.
American Bandogge
This crossed-breed dog comes from a Neapolitan Mastiff and an American Pitbull Terrier. They are not originally meant for fighting but are easily trained for such purposes.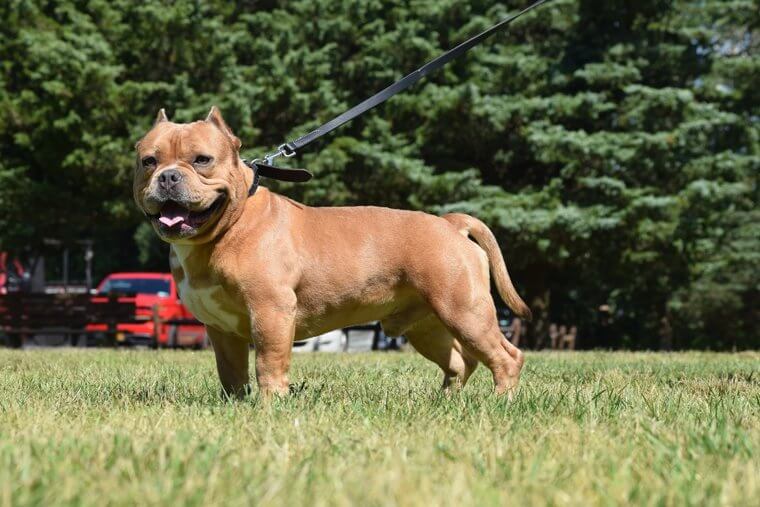 They are very strong animals who have no problem getting into fights when needed. This raises an unpredictable trait that may be unsafe for your kids.
Cane Corso
A Cane Corso is another type of Mastiff, but with constant puppy dog eyes that can be so difficult to resist! Being a descendant of a Canis Pugnax, which is known to be a fighting dog, can have unpredictable traits that may not be suitable for family gatherings.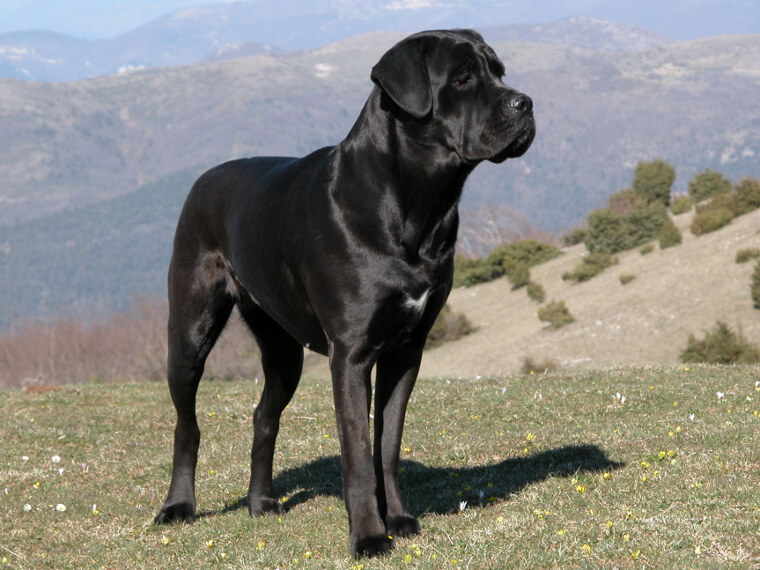 You better know how to train your dog to avoid fights, or learn how to break them up. Either way, this breed of dog is simply not for everyone.
Bull Terriers
Famous for their egg-head appearance, the amazing thing about a Bull Terrier is their ability to be affectionate and aggressive at the same time. With the right amount of training in handling themselves, they would be a better family pet.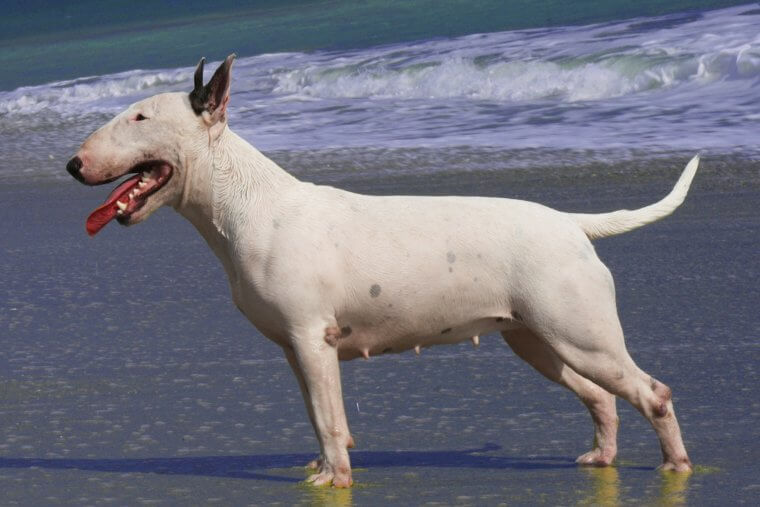 But keep in mind that without such training, you might want to rethink other breed choices. These might be too much for you to handle.
Boer Boel
The Boer Boel is another huge dog breed that was originally meant to be for defense and predators. Boer Boels are smart and super loyal and would kill to protect their family. And we mean really kill, since these dogs will never back down from a good fight, even if it risks their lives in the process.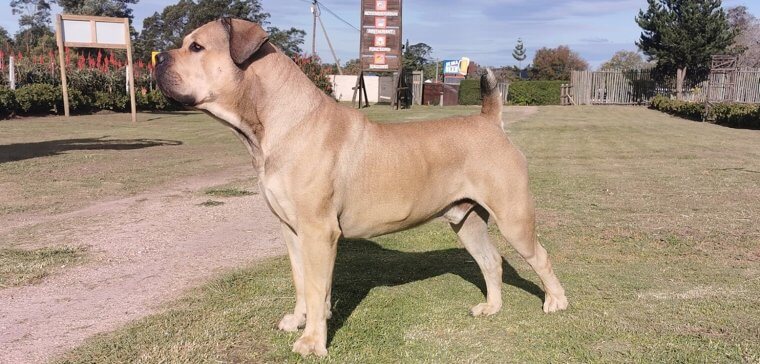 But if you are not ready for that type of dog in your life, you might consider a more gentle and lazy pet.
Gull Dong
Primarily known as a fighter breed, the Gull Dong is a hybrid between a Gull Tarrier and a Bully Kutta. They are an independent and dominating breed making them difficult to control. And like all terriers, they tend to be overly protective, unafraid of strange dogs and humans. Their aggressive side can easily show during those moments.
So if none of you are strong enough to handle them, this might not be a good pick for you.
Basenji
The Basenji breed is known as a hunter. They can show tons of affection towards their owners but can also feel anxious towards strangers. And you might also want to take note that they are difficult to train which makes them difficult to be domesticated.
As you know, that kind of difficulty translates to how they behave around kids as well.
American Bulldog
The American BullDog is another hunky breed known to be the perfect guard dogs. Their feisty nature may be difficult for your kids to handle, and the presence of stubbornness from your child and this breed may be too much for you.
They won't hesitate to snap if they get irritated, which isn't good for children.
Fila Brasileiro
With an intimidating physique, Fila Brasileiros are famous for their tracking skills. However, their hostile nature made them infamous in other countries leading to banishment. So not only is this Brazilian breed hard to find, they can be very dangerous around kids too.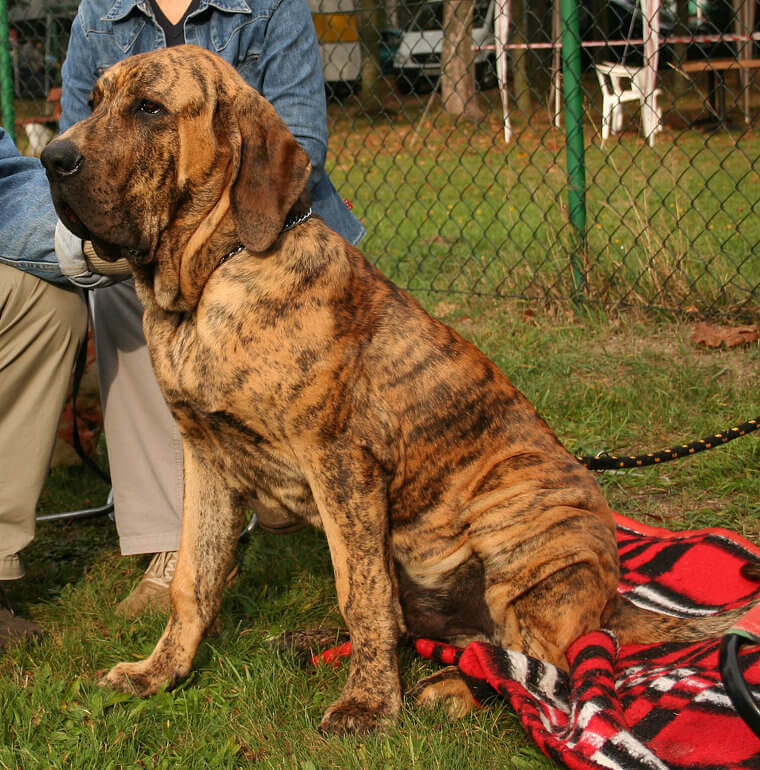 Don't leave them unsupervised, especially with younger children, or else you're looking for trouble.
Perro de Presa Canario
The Perro de Presa Canario is another giant breed that is also known to specialize in herding. They can be aggressive towards strangers – may it be other dogs or humans – but they are trainable.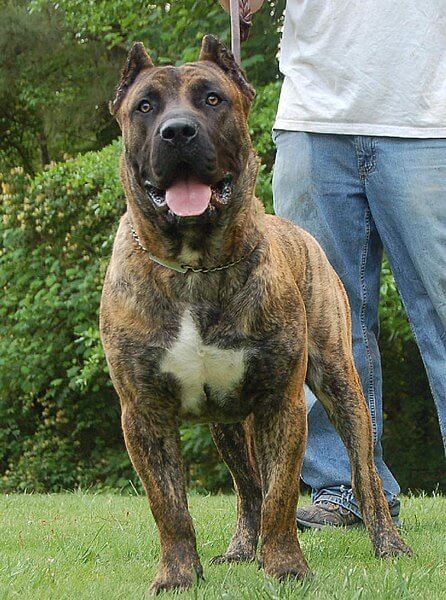 You may just want to focus on developing their social skills. They tend to be very wary around strangers, human or dog alike.
Boxer
Boxers are known to be on the giant side of the dog breeds given they are a crossbreed of an Old English BullDog and a Bullenbeisser. But despite being known as a gentle, loving giant, they can be very aggressive when provoked, something kids can be very good at.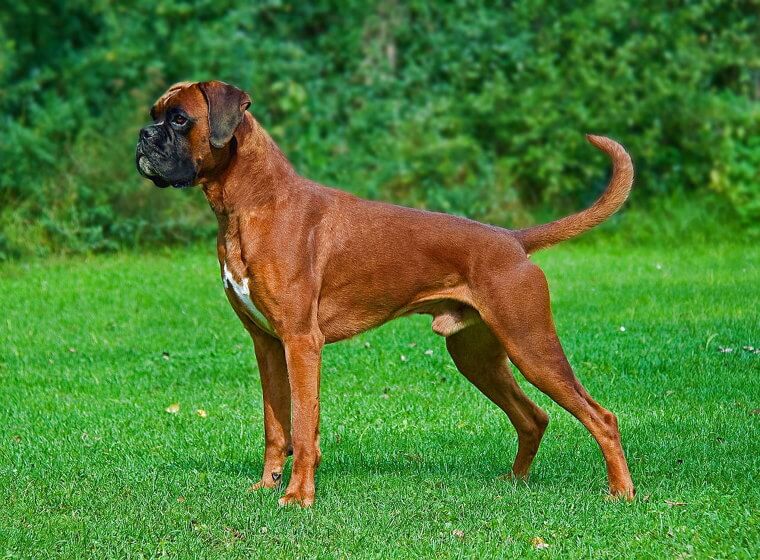 If you're going to introduce this pooch to your kids, better make sure they stay supervised all the time.
Wolf Hybrid
Yes, this is a Wolf Hybrid and from its name alone, you can already predict the scenarios that may or may not happen to your youngster with this breed around and in your house. We're telling you, it's not a very good scenario.
The combination of its genes presents an unpredictable set of traits so it's better to be on the safe side instead.
Huskies
Huskies are a famous breed and are perfect companions for adventurous owners. They are also famous for being loyal and having tons of energy. But you might want to take note of their tendencies to prey on smaller creatures and be aggressive towards them.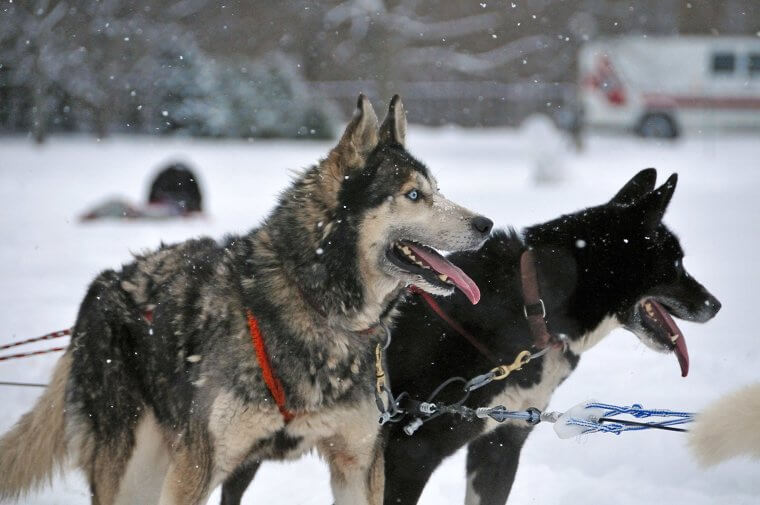 They actually look pretty similar to wolves, so keep in mind that they may have some behavioral similarities to them.
Caucasian Ovcharka
Originally known to be protectors of the herd, Caucasian Ovcharka, or Caucasian Shepherds, are dominant, courageous, and protective.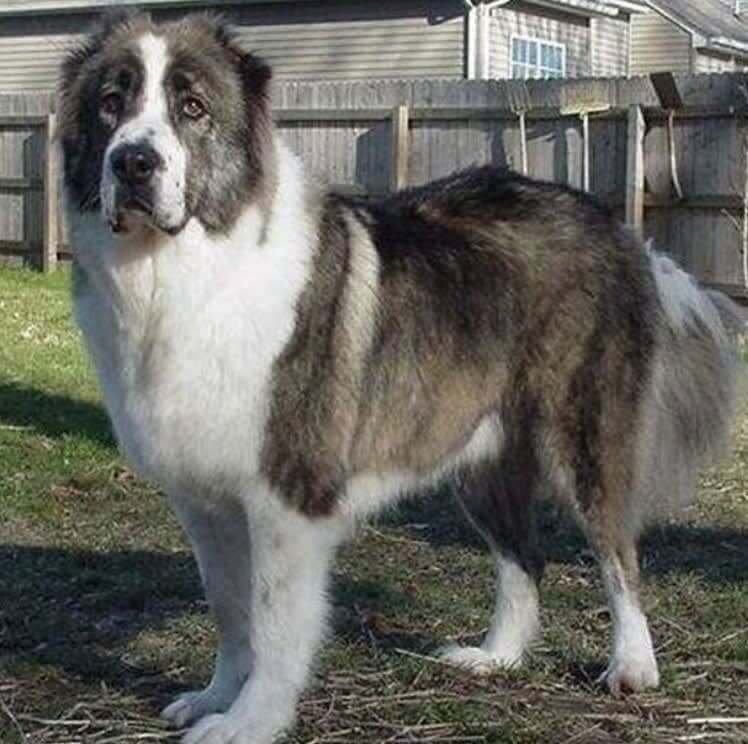 They are overtly loyal and must be socially trained to resist their urges to defend their owners. But we do have to admit, they do look the part.
Borzoi
Borzoi dogs are known to be another breed of gentle giants given that they can act with class and be sociable with proper training. However, it may take a lot of patience when you start handling them.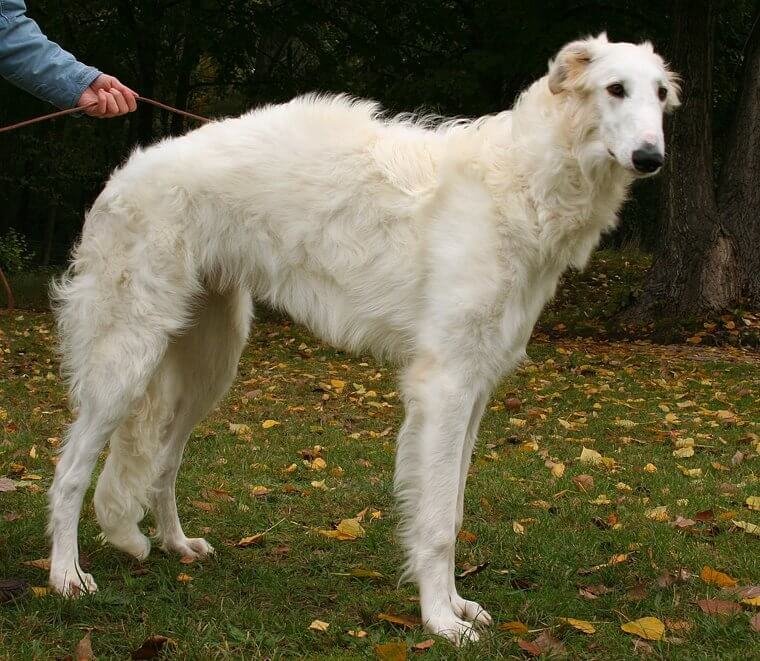 They are not usually aware of how strong they are when doing rough play.
Belgian Malinois
As the name suggests, Belgian Malinois was first bred in Belgium. Bursting with intelligence and boundless energy, they excel as guard dogs and even in law enforcement and are often confused for German Shepherds. But be aware, their protective instincts can lead to aggression, particularly towards small children and other animals. With a formidable bite force of 195 PSI, they command respect. These dogs are a force to be reckoned with, combining power, smarts, and a touch of unpredictability.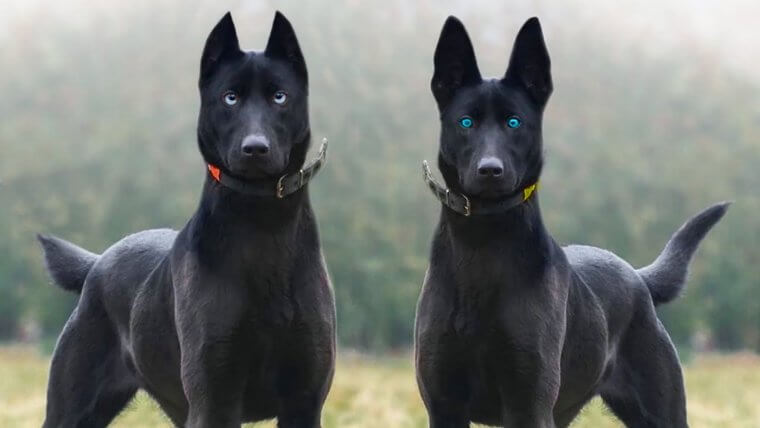 They are a very handsome breed but, like any dog, they must be treated with respect and caution, especially if you're not familiar with each other. There's a good reason they're one of the most effective dogs for the military.
Hilarious Prom Photos That Nobody Will Ever Forget
Brenda Miller
This article was originally published on 24/7Mirror
Prom night: the excitement is palpable, the music is loud, the hormones are… definitely making everyone awkward. As much as we love to imagine that prom night is some magical and romantic night that you'll never forget, the reality often clashes with the dream. After putting out a request for the most embarrassing and hilarious prom photos out there we were rewarded with prom photos that will make you switch between hysterical laughter and a pound of cringe. We know that these photos will transport you back to your high school "golden days," all while giving you the biggest laugh of your day.
A Little Too Much 'Young Love'
Isn't it just wonderful to be young and in love? Quite nothing in this world compares to it, so it's always important to remember and enjoy every single second of it. Even if that means taking an awkward photo or two, who cares? Clearly, this young couple doesn't, since they can't keep their hands off each other.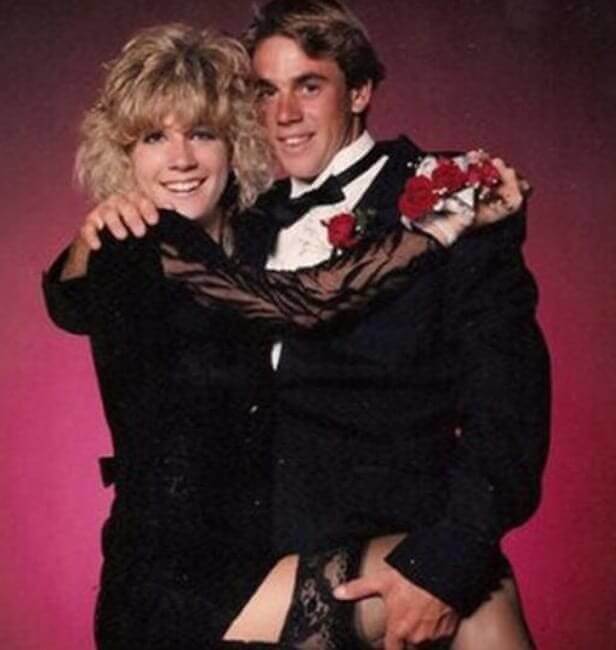 And though we'd like to say that there is a time and a place for things to get a bit steamy, they seem to be up for showing their love for each other the same second their profile picture was taken. As awkward as they are, they look kind of cute though.
Try Explaining This One To Your Parents
This funny couple certainly took their originality to a whole other level. Instead of choosing to take just another regular prom photo, you know, the typical side-by-side picture, they chose something else.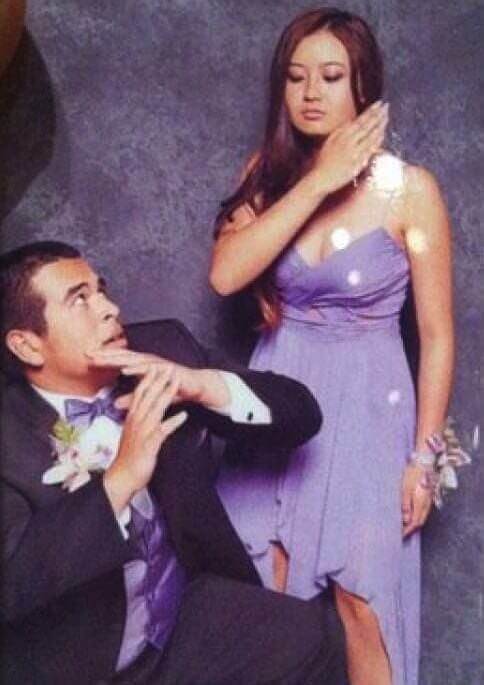 Either that, or she is actually trying to send out a message with the pose she chose, as it seems like she is pretending to be about to slap the guy, and he is seriously scared. In any case, they both look stunning and will forever have an original prom photo to reminisce about.
​He Cannot Keep His Eyes Away
Sometimes, we can just not take our eyes off the person we like. And this guy is one of those people. In the hilarious picture, he was caught staring at his date, without being able to hide his awe for the girl sitting next to him.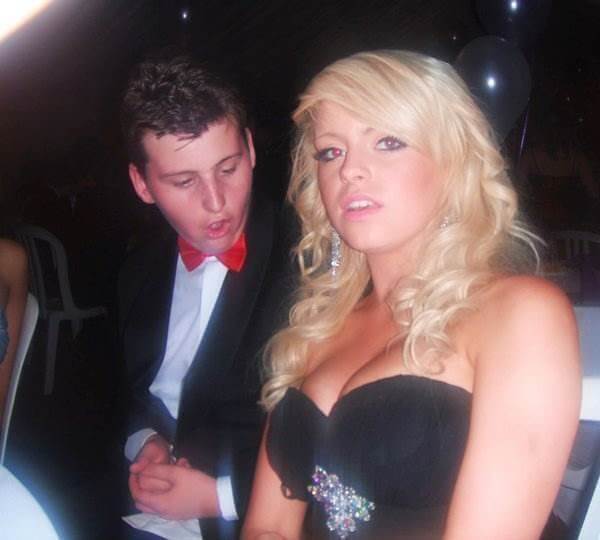 But he did so in a way that became a little bit much, and we're guessing that many people felt uncomfortable about it, including her. Seriously, if you absolutely have to look, then at least try to make it less obvious, you know?
​Photobombed In The Creepiest Way
We can't really point out if one of the girls in the picture was the date of the guy in the back, but there is no doubt that he wishes he was in that photo too. Instead, he is standing behind them while holding a bouquet of flowers and looking real disappointed and even creepy.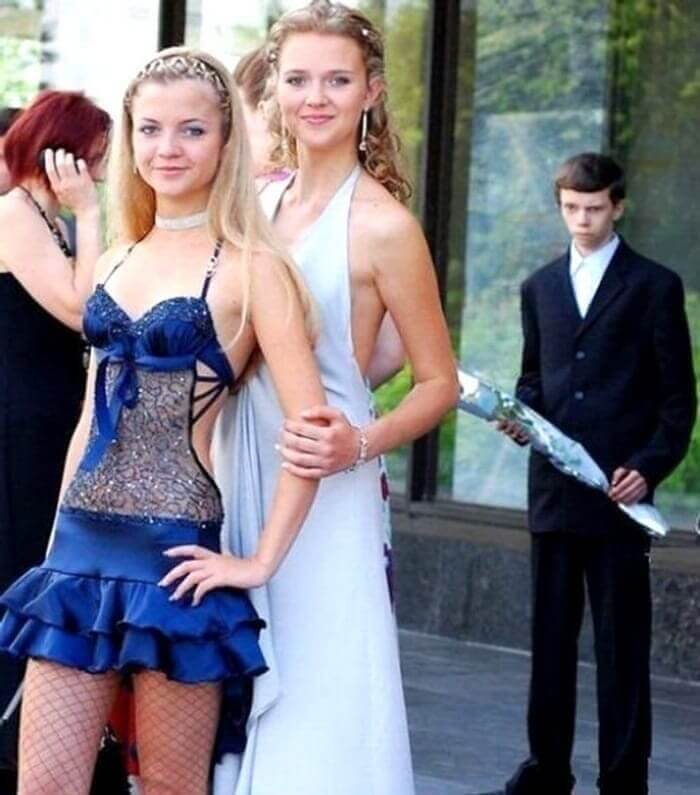 Looking at the bright side though, at least the girls seem to be having a good time.
​ A Strange Carpet Ride
We don't really get what is happening in this picture, but let's just go with the flow for the sake of the awkwardness in it. The two teenagers certainly deserve to get props for how much effort they both put into this photo.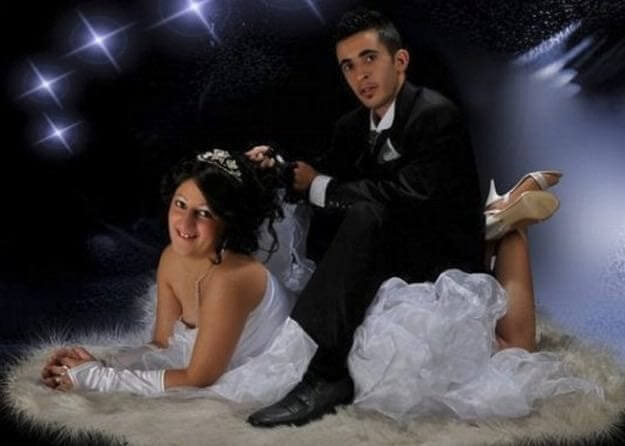 They certainly decided to think outside of the box for this one, and well, they easily succeeded in creating one of the most original prom photos we've ever seen! That's not to say that their pose isn't weird though, because even though we're not there, it kind of makes us a little bit uncomfortable.
Can We Get Some Context Please?
The guy in this picture looks so happy while he poses on his prom day. For some reason, he is also holding a random sewing machine, as if his background didn't look bad enough.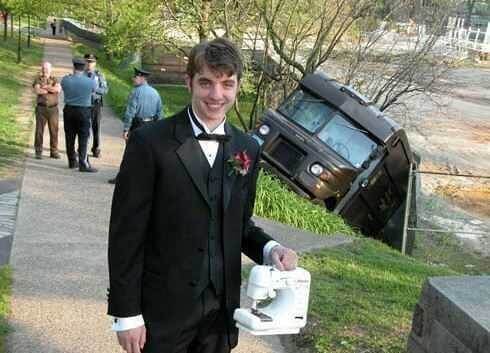 He seems completely oblivious to the fact that someone was just in an accident, only a few moments before he is posed for his photo. One thing's for sure, the entire thing makes for a sadly great photo.
Incoming!
When prom night comes, we get all dressed up and seriously look forward to the wonderful evening ahead of us. In many ways, we can't even believe the moment is there since we have waited in anticipation for so long. But then, when the time comes to take the magical photos that will always remind us of these special moments, just imagine someone ruining it?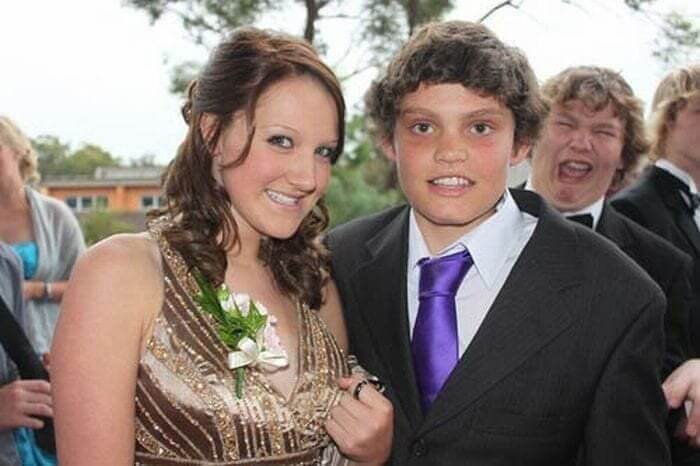 How annoying. And that's exactly what this guy in the back did. He simply decided to photobomb his friends' photo by making an unforgettable face, and that is literally all anyone will remember about this photo.
​The Staring Game Is Strong
Well, that's just not a nice thing to do young man! We understand, his prom date looks absolutely stunning, and is wearing a dress that he can't simply stop looking at. But his staring game is so strong that it might be making others slightly uncomfortable. But we all know how those teenager hormones are killers sometimes, leaving young boys and girls going completely crazy whenever they see a bit of cleavage or some very prominent muscles.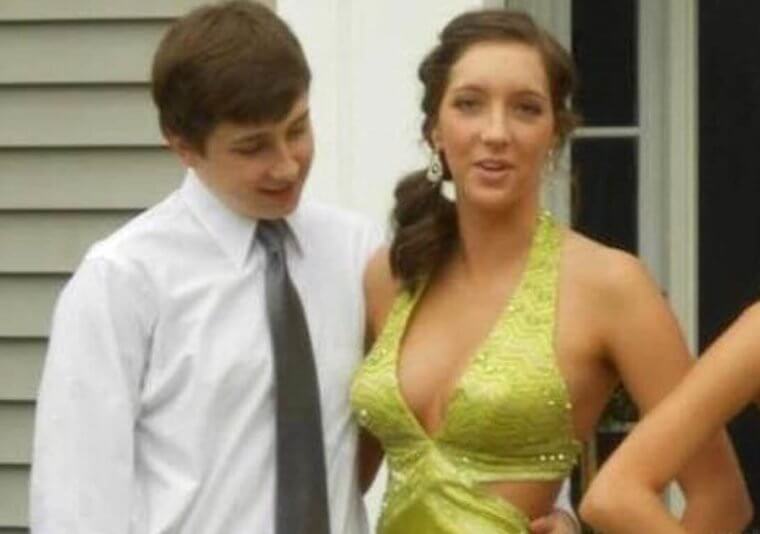 Good thing this cameraperson caught the entire inappropriate moment on camera, and this guy will be forever reminded of the moment he couldn't keep his eyes away from his date's cleavage. But looking at the positive side of things, at least he only had eyes for her!
​Pick-A-Boo Dad
It is always so scary when dads have the quirkiest sense of humor. We never know when they're going to use it, and unfortunately for this girl, her dad was ready to strike as soon as she was ready to go to prom.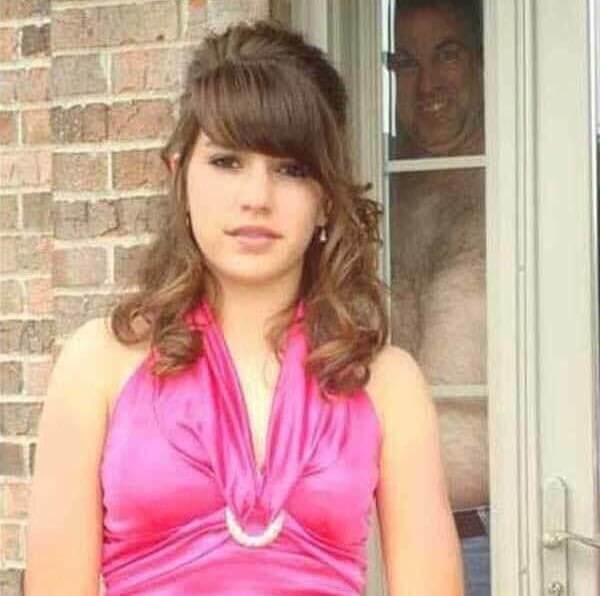 Out of the blue, her dad decided to play pick-a-boo and to create a photo that would become so cringy in the end. We can only imagine what this girl felt when she saw the photo afterward.
Blink And You'll Miss It
Closing your eyes at the exact moment that a shot is taken is the absolute worst! Seriously, it's never fun to take an important photo and to realize too late that your eyes were actually closed. That's what this poor guy experienced on his prom day.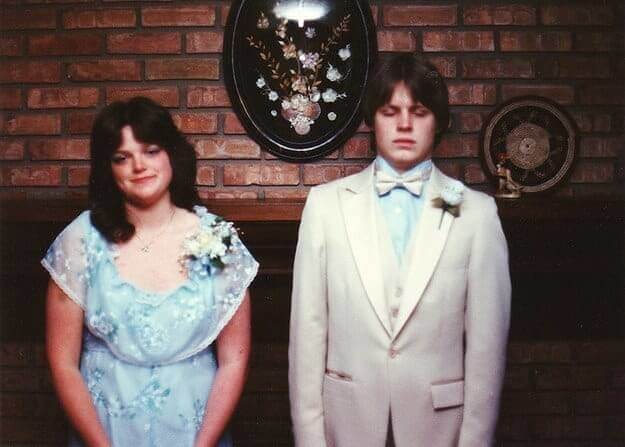 At least these days we get to take several photos as soon as we realize that our eyes were closed. Imagine back in the days when we only had one or two chances, and if we ruined it, our prom photos would be ruined and unchanged forever!
When You're Supposed To Choose Between Two Dates But Find A Third Option
For a love triangle, these three are totally rocking and owning theirs! The guy not only decided to take two stunning girls to prom, but he also wanted to make sure that they both knew he was dedicated to both of them equally.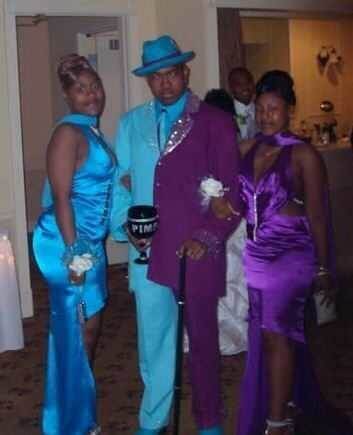 The solution for that? To wear perfectly colored outfits – each of the girls wore a colorful dress to which the guy matched with each half of his outfit.
Equally Awkward Attire
There is nothing any of us can say that will take away the fact that these two couples look incredible in this photo. Their matching outfits really worked out for them. Even though '70s clothes aren't always a favorite by many, these plaid outfits were probably amongst the few things that were awesome back then, and these two teenagers knew exactly how to rock them.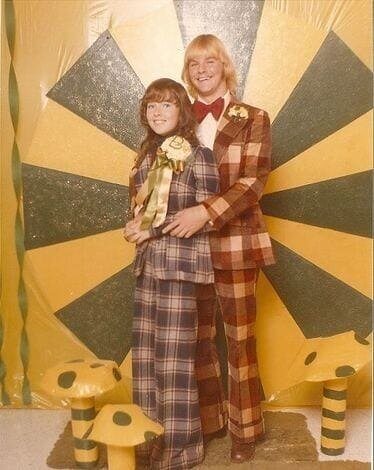 It's also really cool that the girl decided to defy traditional rules and went on with her cool suit instead of a fancy prom dress.
​Riding A Llama In Style
Who on this earth thinks about including a llama in their prom photos? These guys. We have no idea what they had in their minds, what we do know, is that they wanted to make their prom night special and so they went and did it.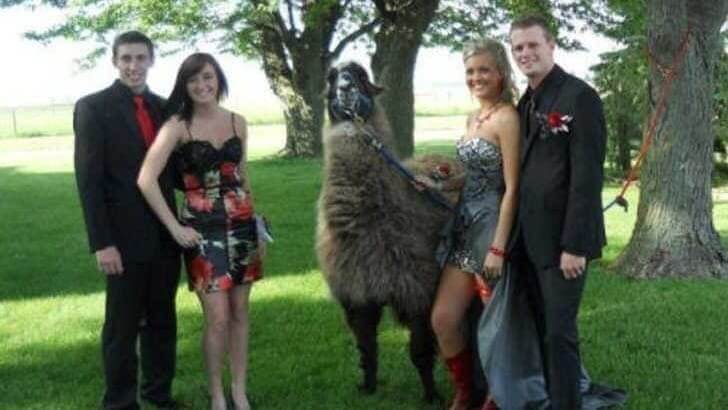 And how did they do it? Well, instead of choosing to make an entrance with a fancy vintage car or a limo, they chose something a little bit more unusual, a llama. Yes, folks, these teenagers literally posed for their prom photo with a llama in the middle, and we're certain that no one will ever forget it.
​An Unfortunate Event
Oh man, if this is not one of the most unfortunate pictures we'll be seeing on this list, then we're not too far from it. Someone had the not-so-brilliant idea to get everyone standing on a bridge for a group photo. Sadly, they didn't consider the fact that the added weight could possibly become a problem, which it did.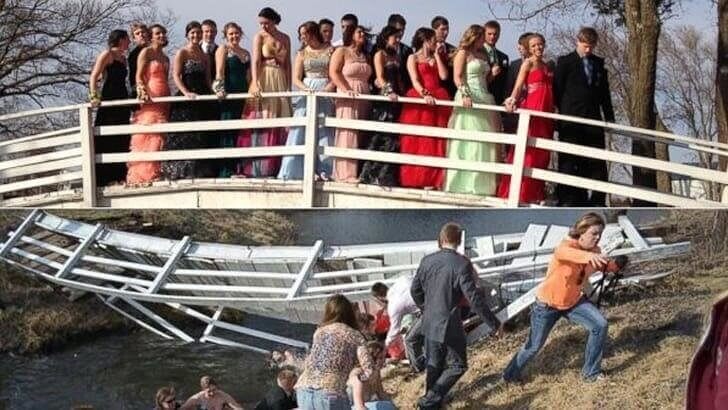 The inevitable happened when the entire thing tipped over, and one by one, the prom kids began falling into the water. Though the moment must have totally sucked, at least they can laugh together about it today.
​Wearing Shorts To Prom
Feeling like wearing a pair of shorts to prom, why not? Clearly, this guy saw no boundaries out there when he decided to wear a pair of wonderful shorts to the prom. We're assuming it was hot or something, or he simply wanted to defy prom culture.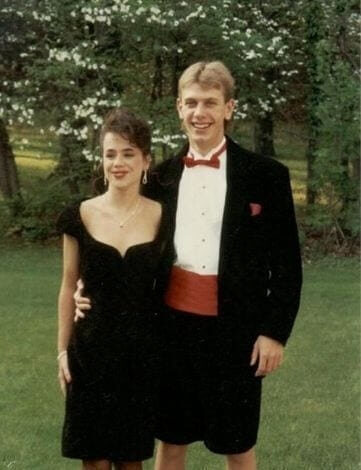 His date looks absolutely stunning next to him, and she doesn't seem too bothered by the guy wearing shorts. While it may be kind of inappropriate to wear them to prom, props to him for doing whatever he felt was right.
​The Superhero Prom Dates
Now here's a pair of very creative guys who were like, "Why don't we wear some superhero costumes to prom?" And though some may say that that was going a little bit overboard, Batman and Spiderman here seemed to be very pleased with their decision.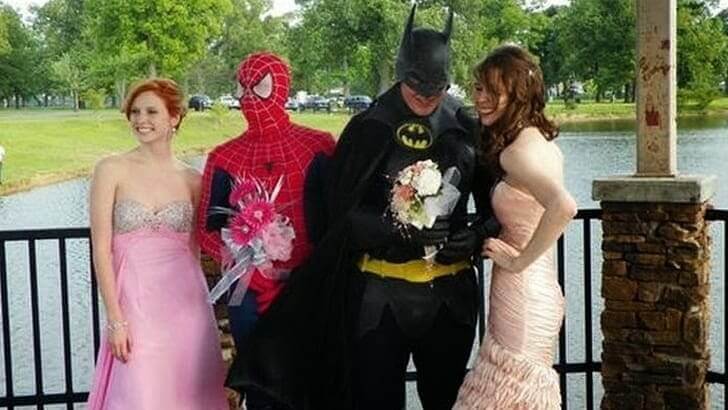 And their dates obviously look stunning and seem to find it cool to go with superheroes as their dates to prom. They for sure had a total blast that evening!
​Every Possible Color
Now, how cool is this? The group of guys thought together about the most creative thing they could do to make their prom day even more fun, and we're guessing that they got to the perfect solution.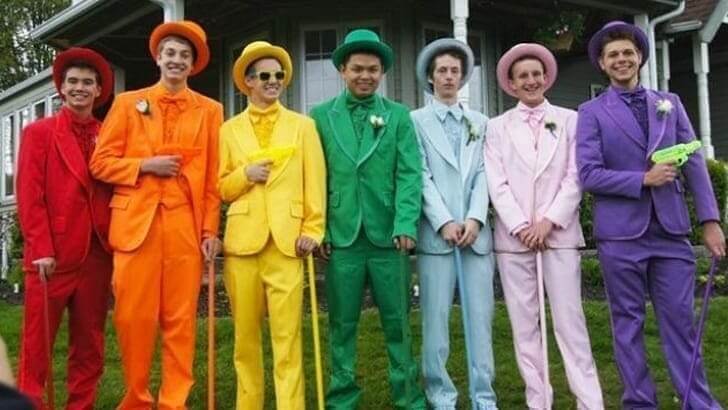 Instead of wearing a suit, they decided to go for some really colorful outfits perfectly contrasting with one another. Their color coordination definitely flies on this one, and they get to have this awesome photo to remember the big day.
​Another Photobomb
It's inevitable that a few prom photos will have a person or two photobombing. But this guy's photobomb skills are so sharp that we are close to believing that they are some of the best we've ever seen!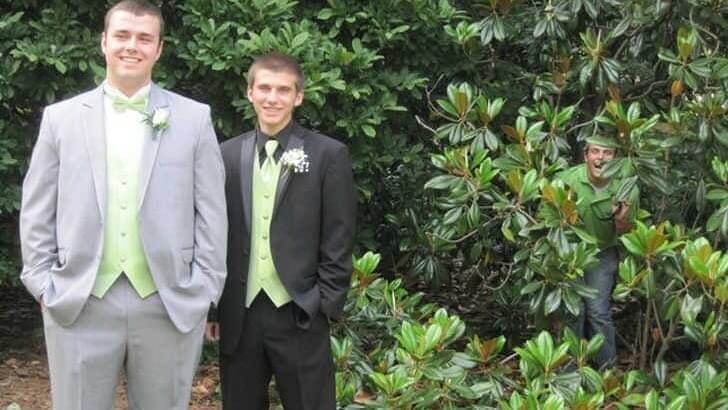 He is literally hiding behind the bushes while the clueless guy is happily smiling at the camera as he poses for his memorable prom photo.
A Fish As A Prom Date
It's impossible not to feel a little bit bad for this guy. We're not sure if this was a joke, but if it wasn't, the poor kid probably didn't deserve to stand there alone with a huge fish as a date.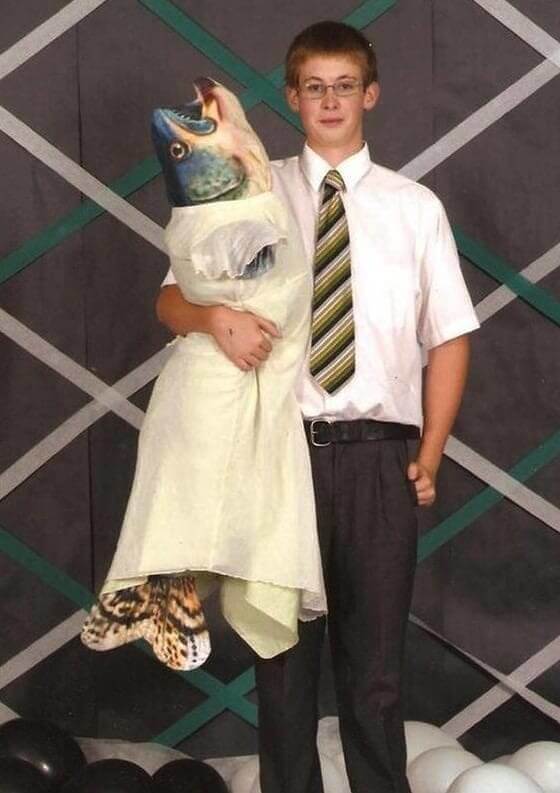 Many of us know how hard it can be to not be the popular kid in school, so it is somewhat painful to see the lonely guy. On the other hand, if this joke was his own doing, then props to him for rising up and not caring about what others think.
​The Devil Goes To Prom
This is pretty creepy, that's for sure. I mean, we've seen people wearing so many different costumes to prom, but nothing was ever like what this guy is wearing.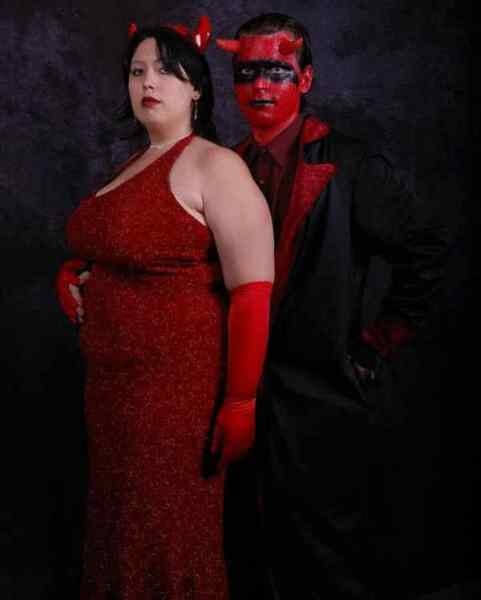 Who on earth would think of going to prom wearing a devil costume? At least the couple was in sync, as they both wore their fair share of devilish stuff, and all that matters is that they're happy, right?
When You Come Wearing The Same Thing As The Room
You know how things go. You just wake up at your regular time in the morning, look for your favorite dress, do everything in your power to look really nice, and then boom!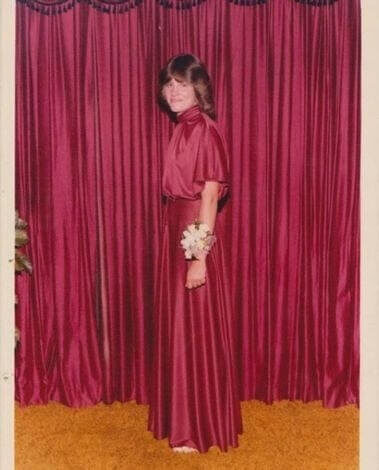 You look at the curtains in your house and realize that what you're wearing is exactly the same color as the curtains and even the same material. So well done to this girl for owning the outfit and taking a photo right in front of the embarrassing curtains.
So Many Prom Dates, How To Choose?
Well, good for you, man! The guy is surely making an impression, or at least he is feeling himself posing next to so many dates! Clearly, he managed to snag not just one date to prom, nor two, he actually convinced three young women that he was the right date for them.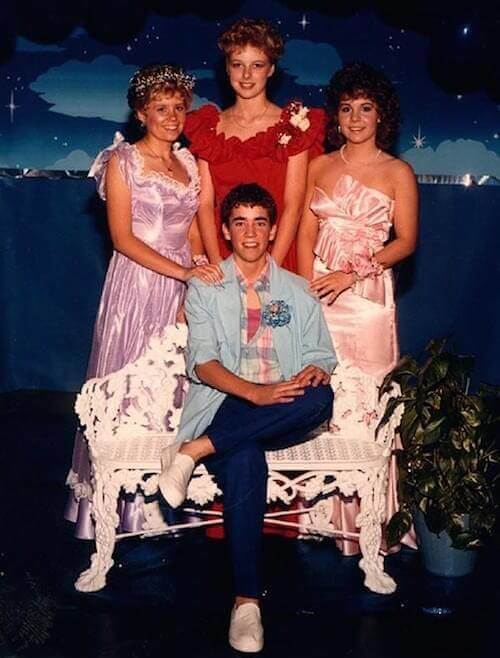 And as cool as it looks, we hope the girls don't let the guy break their hearts with all of his "coolness."
​Taking Mrs. Robinson To Prom
So, something about this picture is a tiny bit weird. Okay, maybe it's more than a tiny bit, the photo just confuses us a little bit. The boy is so adorably dressed in his grey suit, which is not so awkward and tacky like many prom suits out there.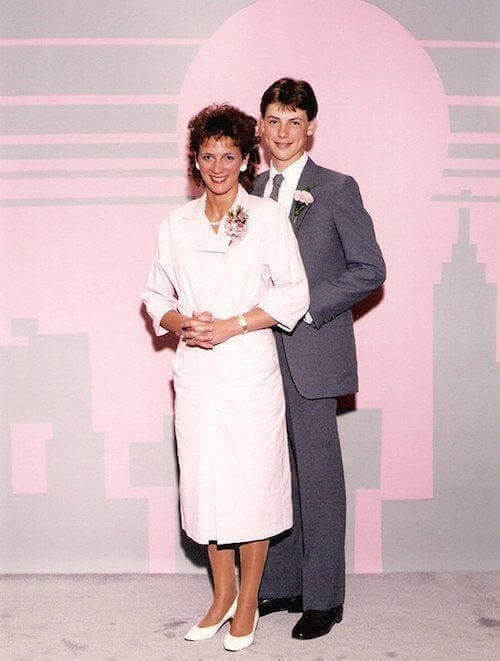 But then it seems like he is either taking one of his teachers to prom, his mom, or a much older date. They do look adorable though.
The Dad Is Not Happy
Many dads love showing just how unhappy they are with the entire prom date situation, and so they do their best to make sure their daughter's date knows where they stand.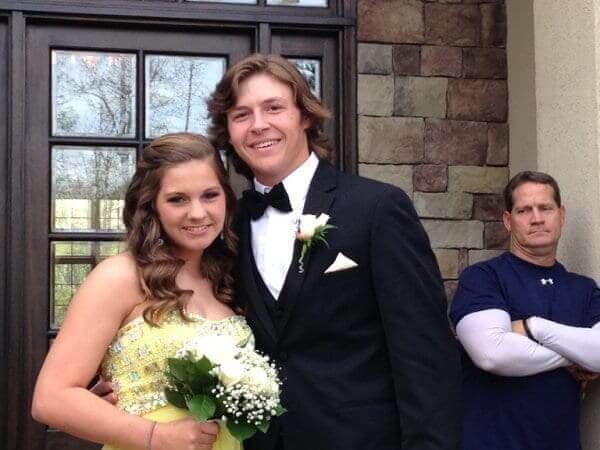 And this dad made sure that the guy knew his little girl was very precious to him. We guess that it can take a little while for dads to realize the fact that their daughters eventually get all grown up.
​A Cardboard Date
Here's another idea for when you realize you don't have a date to prom but you still want to take those cute photos. You can always just create a cardboard person the size of a real one, and do the photoshoot exactly how you want it.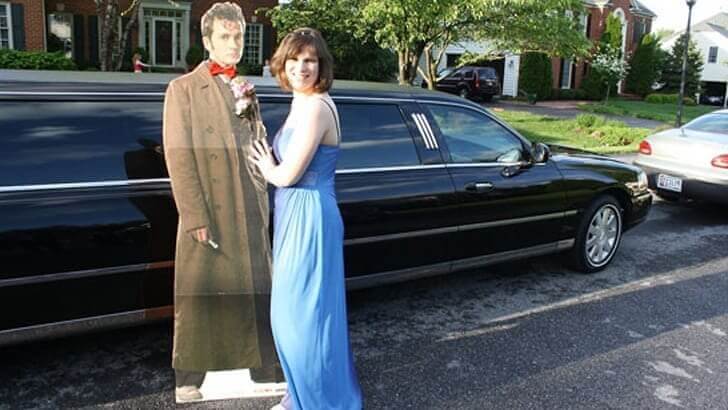 Take this girl for example. She is probably a fan of Doctor Who, so she took matters into her own hands and created her own date made of the series' main actor.
​The Wonderful Stormtrooper
Take a look at this guy who also decided to dress up in a completely different outfit for his prom night. We are even starting to suspect that maybe some girls really do love to have a date as unusual as this one for their prom night.
The stunning girl looks so good in her bronze dress and really fancy hairdo, and her date, well… her date is apparently a storm stopper.
​Challenging Gender Norms
Nothing like taking every opportunity to challenge some societal rules, right? They are all just socially constructed anyway. So these teenagers totally rocked their "reversed" outfits when the guy decided to go for that wonderful corsage and dress, and the girl went for the suit.
And the best thing of all is that they did it all together, rocking it in the best ways possible.
​Is That Barney?
We always suspected that Barney had a bit of a way with the ladies, and this photo is definitely proof of that. But what motivates someone to dress up as Barney for their prom is really beyond our understanding.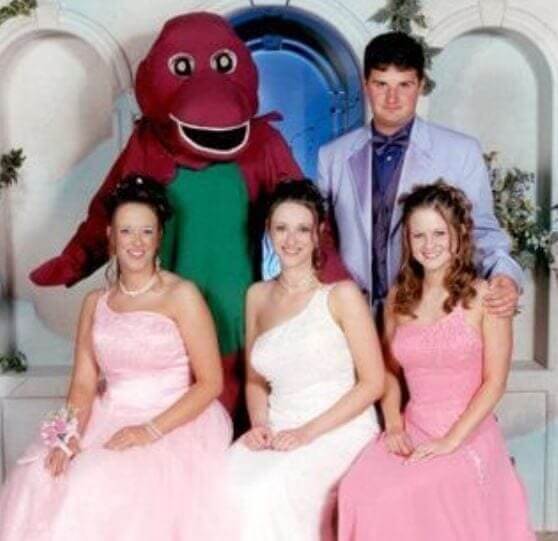 One thing's for sure, everyone will certainly remember the guy/girl who decided to dress up as Barney for their prom, so at least there's that. Whether they want it or not, the attention is all on them.
​Another Angry Dad
Yet another angry dad who can't seem to get over the fact that his daughter is all grown up. Apparently, this one is handling the situation a little bit more dangerously than the previous dad we featured.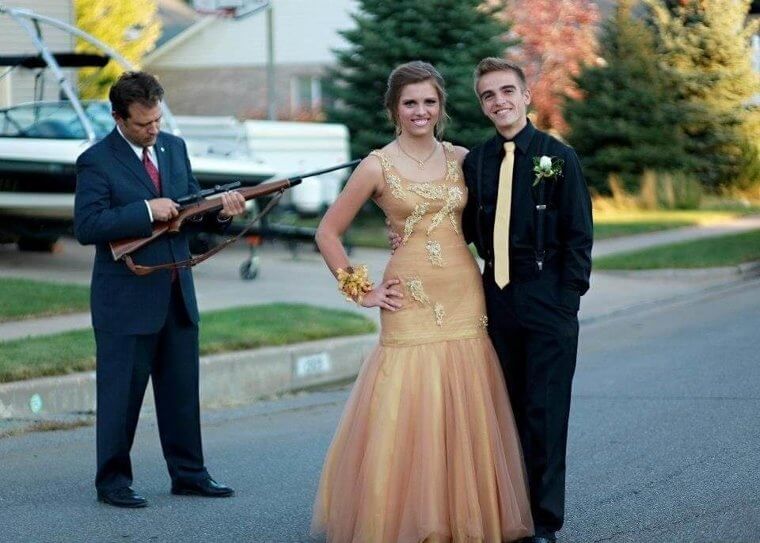 This one actually chose to hold a freaking gun during her daughter's photoshoot with her date, and we're not sure whether we should laugh or cry about it.
​Posing In Front Of Planned Parenthood
We absolutely love how this couple was able to use their sense of humor to create one of the most hilarious photos out there. They got all dressed up for prom and chose the perfect place to take their photos, planned parenthood.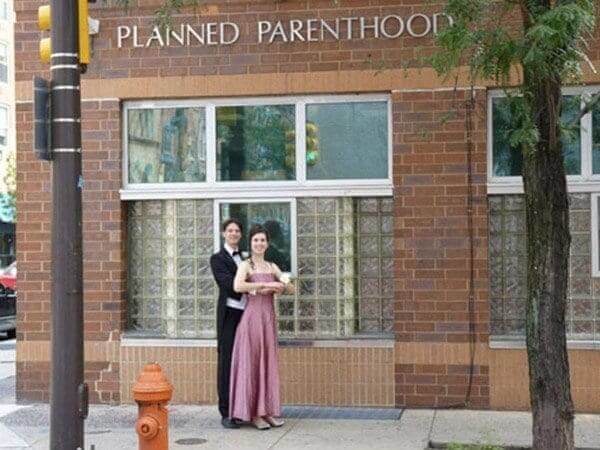 The photoshoot ended up coming out full of irony, because we all know what some people love doing on prom night, wink wink!
​A Really Furry Occasion
There are no words in this world that could accurately describe this situation. Okay, fine, maybe we can think of a few. The couple thought that maybe taking their prom photo next to the poor wall tiger would be a great idea, while holding their cat, of course!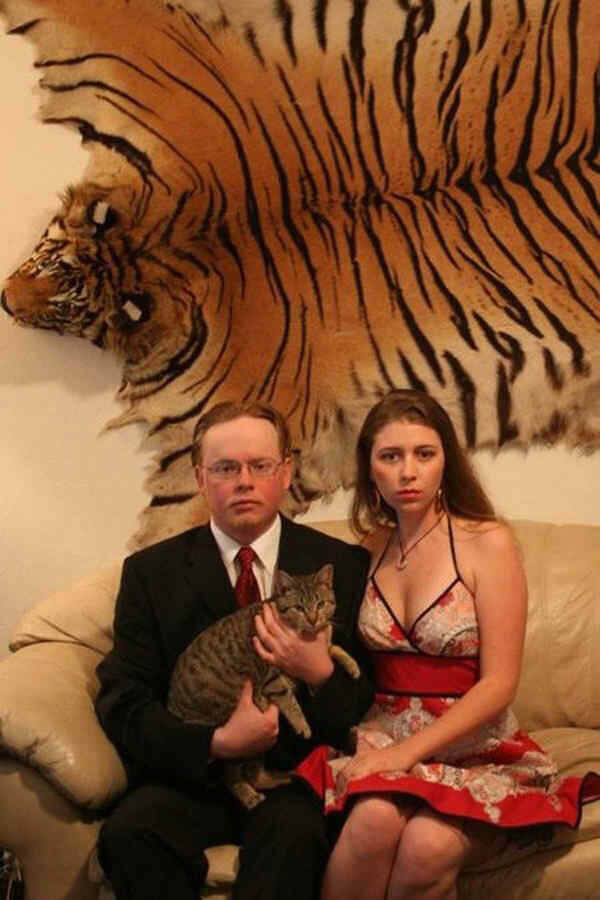 We don't exactly know what the deal is, but we're pretty sure the picture would be much less creepy if they had smiled a bit or something.
​Trying To Break Free
In a group, there is always that one person who doesn't really like to go with the flow, right? Well, this group has one for sure. The group of guys looks so good as they get ready to head out to their prom night, but one of them wasn't really feeling it.
So instead, he rocked up wearing an outfit that reminds us a bit of a '70s rock band or something, or whatever he is trying to refer to.
​Just Him And His Xbox
Yet another guy who didn't have a date, but was happy to make fun of the situation with one of his favorite things in life, his Xbox!
Yep, since he didn't manage to secure a date for the important night, he just went ahead and grabbed his Xbox, and created the funniest pose. He will for sure have a good laugh when he takes another look at this picture one day.
​Why Is He So Mean?
All this wonderful couple wanted to do was to have a beautiful picture of the two of them posing before prom. But they forgot to look behind them, and unfortunately, someone was hiding there super ready to ruin their photoshoot.
The guy crashed the photo in the funniest way and managed to do it so silently that we're pretty sure the happy couple will only notice it when they go through the photos later on.
Looking At The Other Guy's Date
Now, this is just not cool. We get that the snap was taken at the wrong moment, but could this be worse? The guy is literally staring at his friend's date, instead of his.
And while the beautiful girl in pink is definitely rocking her looks, all of them look so good though! Maybe that is the date he really wanted to take to prom but then his friend beat him to it, who knows?
An Interesting Haircut
We have no idea when this picture was taken, but it seems like mohawks were definitely in style at the time. The guy decided to go for one of the most original haircuts we've seen in a while, and even managed to overdo it in the most hilarious way.
And yet again, his prom date doesn't seem to mind at all, as his eccentric style didn't seem to be embarrassing to her. In fact, we might even say she looks proud.
​Spot The Odd One
Just look at how beautiful everyone in the photo looks. The girls are totally rocking their wonderful outfits, while the guys too, look fairly handsome in their perfectly made prom suits.
But then… if we look at it for a little longer, we can easily spot the odd one out. He is hiding in the middle of the third row, and instead of going for the conventional outfit, he really went all the way with his heavy metal style.
​Creeping Up On The Background
Another beautiful prom day, and yet another photobomb. We can probably bet that the guy photobombing the picture is the girl's brother, because what else do siblings do, right?
And we have to admit that his hiding skills are on point, and make for a hilarious picture. And well, just imagine if all prom photos were of conventional prom dates smiling at the camera, that wouldn't be so fun anyway.
The Mask Goes To Prom
Who doesn't absolutely love the classic Jim Carrey movie, The Mask? The legendary actor made it really cool to rock a green mask, to which this guy decided to adhere to on his prom day.
He loved his green mask so much that he decided to surprise his date with his perfectly green outfit, and she seems to be totally up for it. We just hope he can breathe easily in there.
​Feeling Left Out
It's not a surprise that this girl looks really pissed off in this photo. Her two best friends were posing alongside one another for a stunning prom photo, and so she found a way to be a part of it too.
But the moment she made her decision to rock up at the photo, the photographer snapped the shot in the second she made her most determined face.
Rocking Similar Hairstyles
Hmm, the sweet '80s. When color was in fashion and some of the most unpredictable hairstyles were easily accepted, or at least tolerated. And what better time than prom night to wear exactly the same hairstyle as your date?
Their matching game is so fly that the two of them almost look like twins as they pose for the big day. We can't help but think that they will have a good laugh when they look at this photo years later.
​Posing With The Little Chicks
Some people really go all the way when it comes to being creative for their prom photo. And sometimes it can get pretty… awkward.
The three girls are looking great in their impeccable dresses, but to spice things up, they decided to grab their little chickens from the yard and happily posed with them. Though it ended up being a hilarious photo, we do hope they meant this as a joke.
​A Good Laugh
What's so funny here, you might wonder? Well, we're wondering too. One of them is either really funny, or they decided in unison to laugh hysterically before their prom photo was taken.
The other option here is that he just smoothly put her hand around her shoulder, and she couldn't help but laugh at the prospect of accepting his invitation to be his date.
​An Unexplained Prom Photo
And once more, an embarrassing dad strikes on his daughter's prom photo. We have no idea what goes through the minds of these hilarious dads, but one thing's for sure, they want their daughters to remember they were definitely there that day.
And in this case, the girl for sure doesn't look happy to be standing next to her quirky dad for the photo.
Remember To Look Alive
Man… Who forced this girl to accept this guy as her prom date? We tend to feel bad for both of them, since she is certainly not looking happy at all, and neither does he.
He is either completely oblivious to the situation here, or he realized that the match was not made in heaven and that they had a long night ahead of them.
Adding Some Scottish Pride To Prom
Nothing like the day of prom to show our appreciation for our cultures, isn't it? And this guy knew exactly how. He decided to not pass on the idea of wearing his culture's typical outfits, and by the look on his face, he couldn't be prouder.
While it may look a little bit much for a prom photo, at least he will be able to look back and feel proud of his wardrobe choice.
The Wind Ruined It
Nothing like a wonderful breeze to completely ruin a family's prom photo. Funny enough, the gust of wind blew exactly at the right time. At least the person who took the photo was able to perfectly time it to snap the moment the wind blew really hard.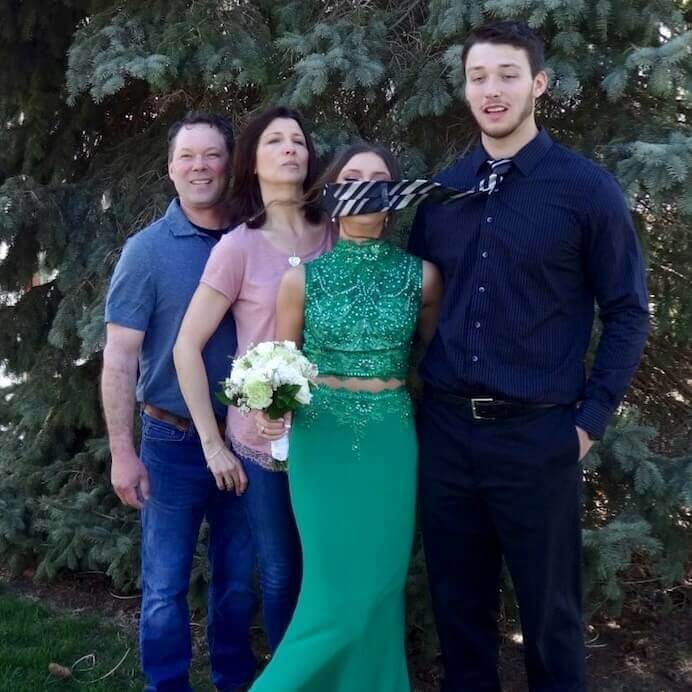 Not to talk about these awkward parents posing proudly next to the kids. What on earth are they doing there?
​Nope, Not Doing It
It's not a secret that the Charlie's Angels pose is one of the most common poses prom goers choose for their prom photo. But these girls convinced themselves to go with something a little bit different.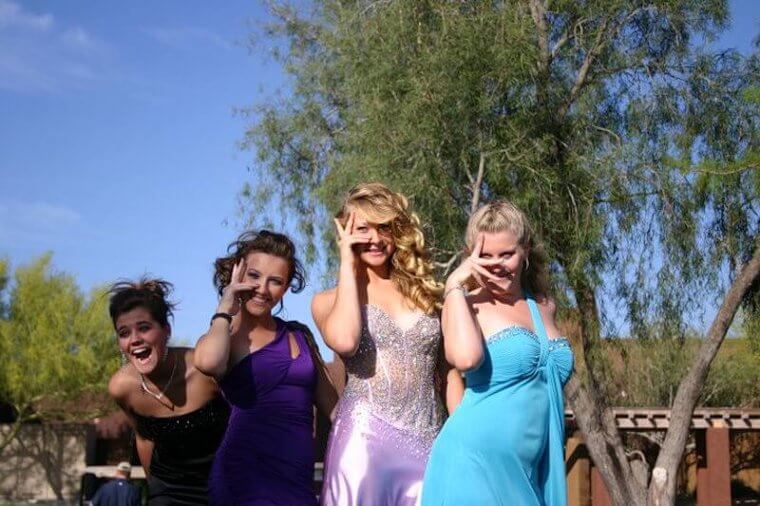 Instead, they chose to do something three of them planned ahead, but the fourth one clearly wasn't on time to get the memo. Oh well, too bad!
Rare Photos Of A-Listers That Offer A Look At Who They Were Before Hollywood
Ashley Lez
This article was originally published on JustStarz
While we think we know celebrities inside and out, there is a good portion of their lives that we have never seen before. Here's something you've probably wondered about – what were they like as kids? Did they show signs of one day becoming the world-renowned stars that they are today? What was life like for them growing up? In order to give us an idea of what these beloved Hollywood figures were like, we found these rare photos of your favorite celebs before they were famous. You will be surprised to see that they were once ordinary people just like us.
Robin Williams In His Senior Year Of High School In 1969
When Robin Williams was a senior in college, he decided to go to college and study political science. However, he quickly realized it wasn't the field for him and dropped out to pursue acting. He studied theater for three years at the College of Marin in California.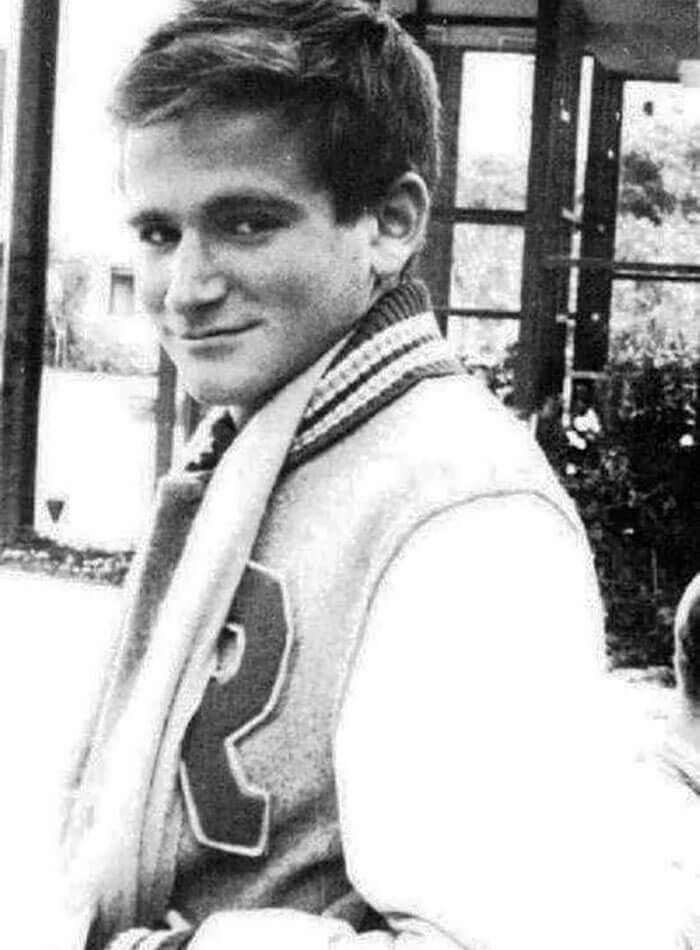 One of his professors realized how talented Williams was and cast him in the musical Oliver!. He later attended Julliard, and during the summers he worked as a busboy. After graduating, Williams worked odd jobs until he got his big break on Mork & Mindy.
Adele Was A Huge Spice Girls Fan
In case you missed it, Adele was and probably still is the biggest Spice Girls fan in the world. The British singer grew up with their music and had their posters plastered all over her bedroom walls. As a child, Adele was already interested in singing, and she became obsessed with voices.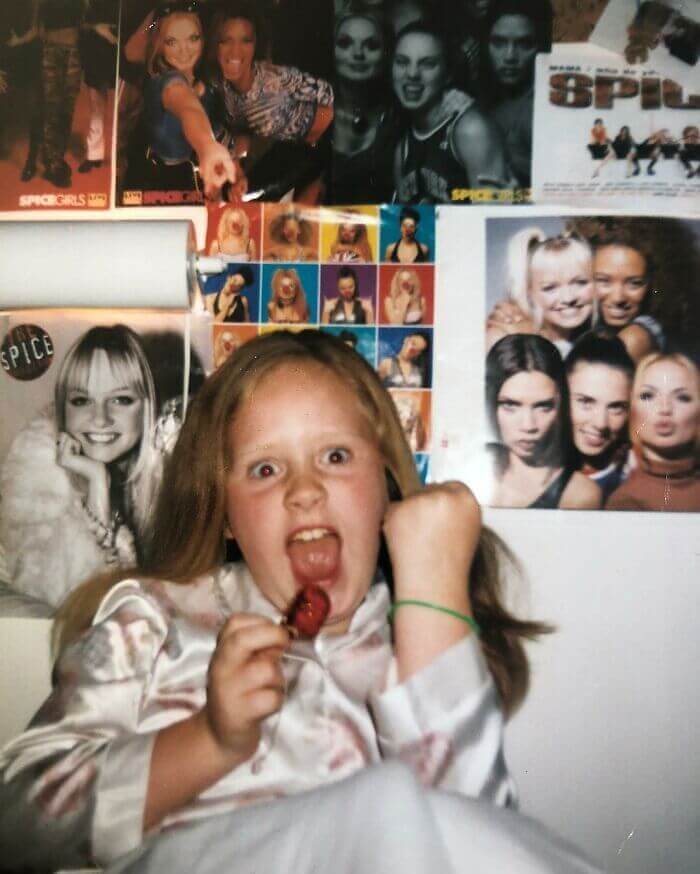 Adele spent much of her youth in Brockwell Park, playing the guitar and singing to friends. Years later, she drove by and started crying because she really missed the memories she made in that special place.
Keanu Reeves Circa 1984
In high school, Keanu Reeves was a successful ice hockey goalkeeper and considered going pro but decided to pursue acting when he was 15 instead. He made his debut in 1984 on an episode of the series Hangin' In, which allowed him to get more roles on teen dramas.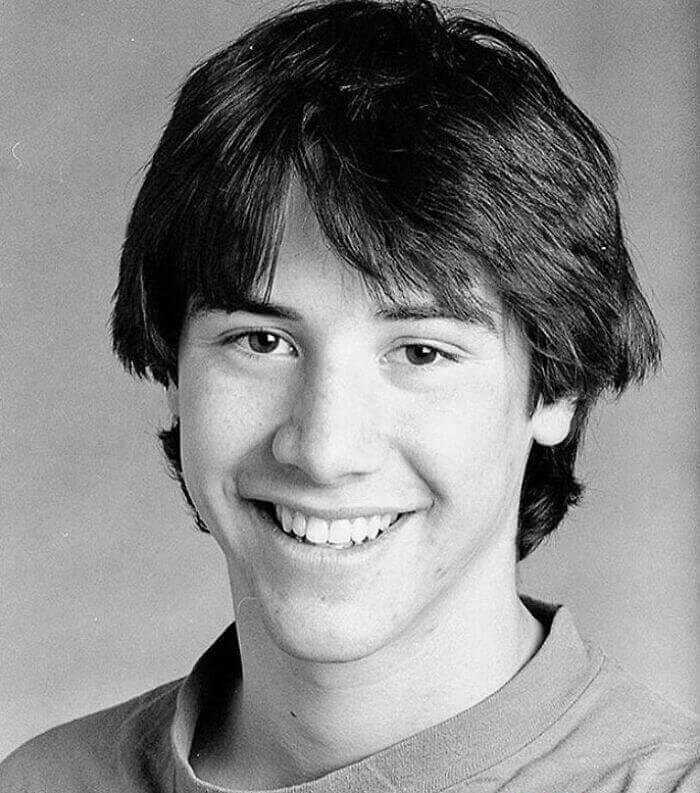 Reeves was also interested in music and formed an alternative band in 1991. Surprisingly, it was moderately successful, and they were active until the early 2000s. His big break was in Point Break, and this helped him shoot to stardom.
Catherine Zeta-Jones In Her Grade School Photo
Catherine Zeta-Jones' school uniform made her look like she belongs to the Gryffindor house. She must have been in first or second grade at the time, and she couldn't be cuter. The actress was born in Wales, and in school, she would participate in stage shows.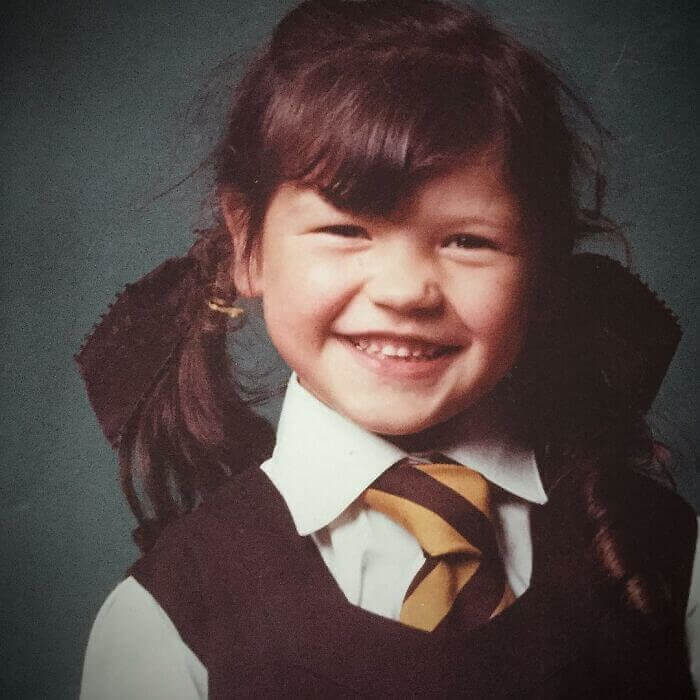 At a young age, she gained local media attention when her rendition of a Shirley Bassey song won a Junior Star Trail talent competition. Zeta-Jones would take trips to London with her dance troupe, where she also auditioned for shows.
Morgan Freeman In The Air Force
When Morgan Freeman was just nine years old, he starred in his school play and later won a statewide drama competition. He performed in the radio show in high school, and it earned him a drama scholarship from Jackson State University.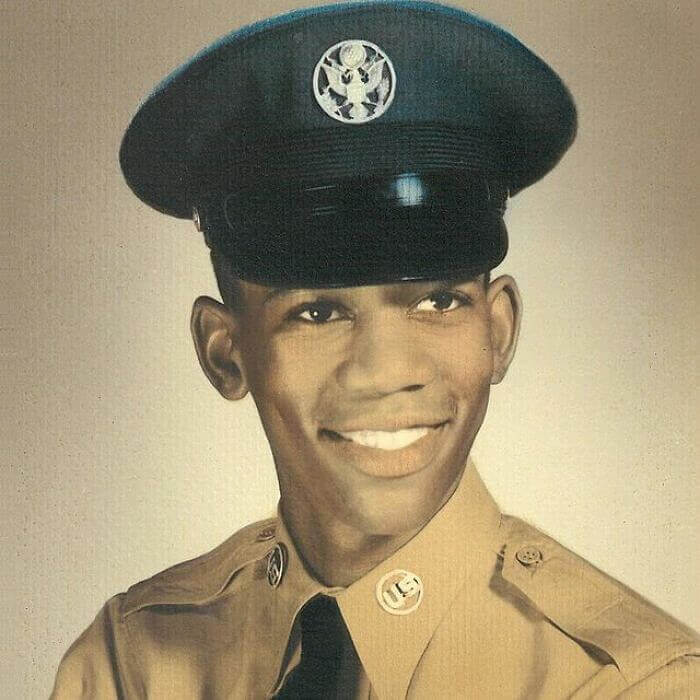 However, instead of taking the scholarship, he enlisted in the Air Force and served between 1955 to 1959. After his service, Freeman worked as a transcript clerk for Los Angeles City College and studied arts there. He was also a dancer until he started getting steady acting jobs.
Anne Hathaway As A Clown Witch
It seems that Anne Hathaway was practicing for The Witches before she was even famous. Besides looking exactly the same, she seems to have confused a witch and a clown in this mashup of a costume. Surprisingly, Hathaway's parents didn't want her to pursue acting.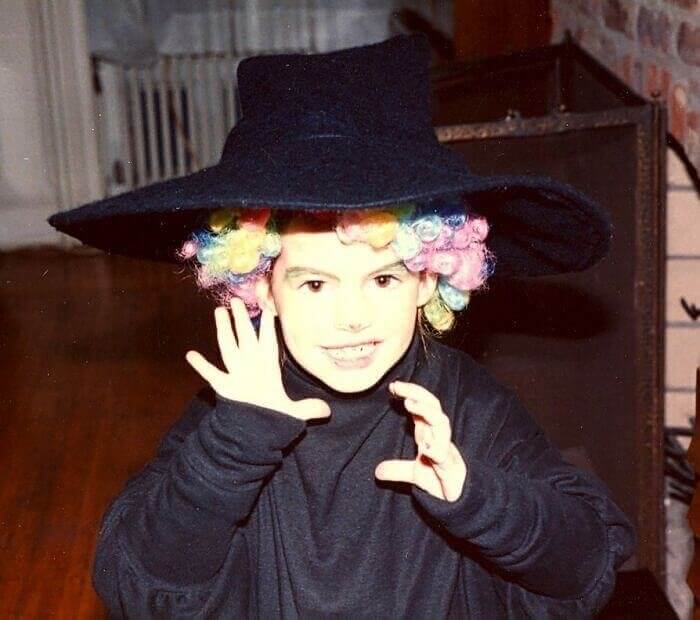 Hathaway wanted to become a nun during childhood because she was raised with really strong Roman Catholic values. However, acting was always in the back of her mind, and we're grateful she chose to entertain us on the big screen.
Joe Biden When He Was 26
Unsurprisingly, Joe Biden was the class president in school and played on the basketball team. He also briefly played football in college but decided to focus on his studies instead. When he graduated from the University of Delaware, he worked as a clerk at a law firm.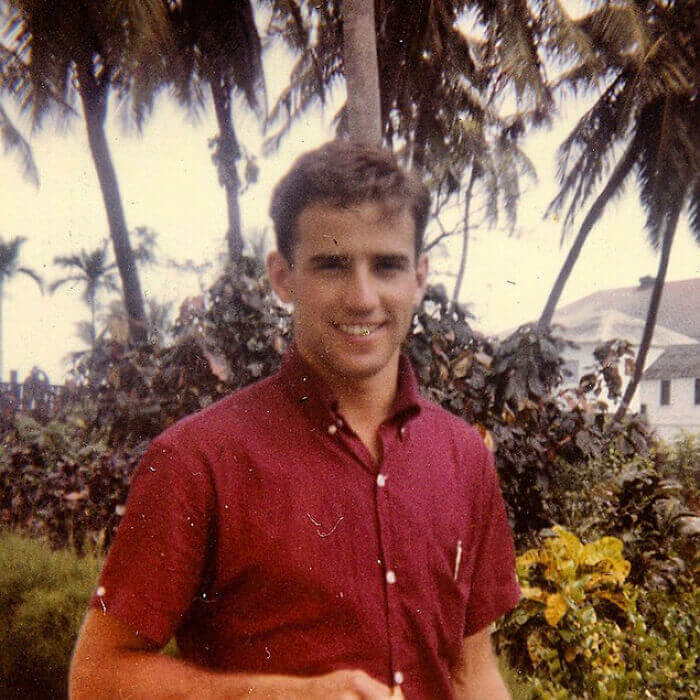 Biden eventually took the bar exam and began practicing law. This helped propel his career, and he served in the US Senate for 36 years before serving as vice president with Barack Obama from 2009 to 2017. Say what you will about his politics but it's undeniable that he was so handsome back in his day.
Madonna's Childhood Close-Up
Little Madonna was bright-eyed and looking towards the stars as a child. The singer grew up in the Detroit suburbs with her five siblings, and her family would call her "Little Nonnie" because her mom was also named Madonna.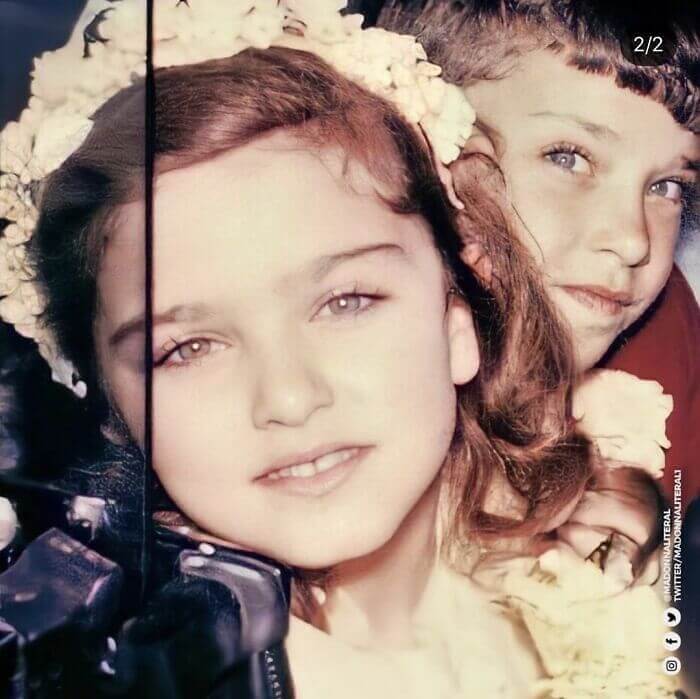 Madonna was known for rebelling at school after her mother passed away, and her dad decided to sign her up for piano lessons and ballet classes. Her dance teacher was the one who encouraged her to pursue a career in dance.
Jim Carrey In The '80s
As teenagers, Jim Carrey's family struggled financially. Therefore, he and his brother John took up jobs as a janitor and security guard at a tire factory. While working at the factory, Carrey dropped out of school to perform comedy in downtown Toronto.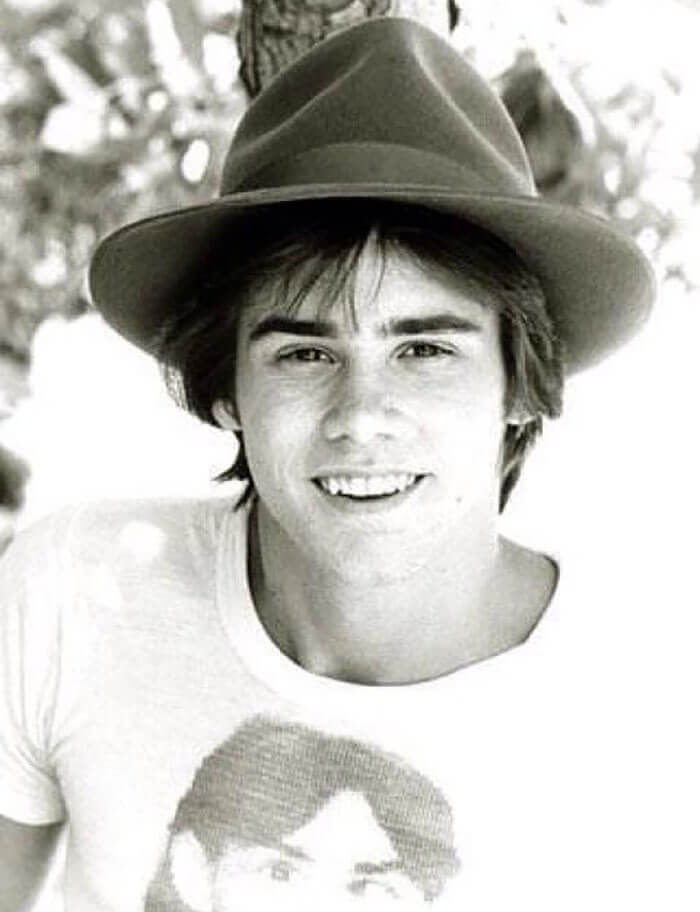 He steadily increased his local popularity as an impressionist and stand-up comic going on tour and appearing on television. His shows made him more popular and landed him the roles in Ace Ventura: Pet Detective and The Mask, which helped him become the actor he is today.
Taylor Swift Made Tie-Dye Trendy Before Everyone
Born and raised in Pennsylvania, Taylor Swift became interested in musical theater and started performing in the local youth theater. She also traveled regularly to New York for vocal and acting lessons. She was inspired by Shania Twain and shifted her focus to country music.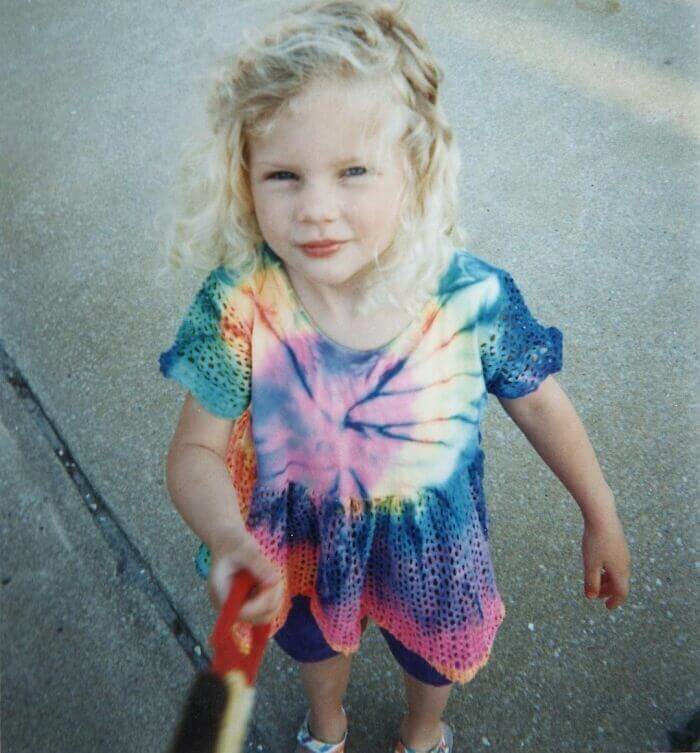 At age 11, Swift traveled with her mom to Nashville to pursue her music career dreams. Swift submitted demos to record labels but was rejected. However, she kept trying until someone finally took her seriously when she was a bit older.
Susan Sarandon When She Was 17
Not only was Susan Sarandon gorgeous as a teenager, but she was also very talented. In her college years, she studied drama and supported herself by cutting hair, cleaning houses, and working as a switchboard operator.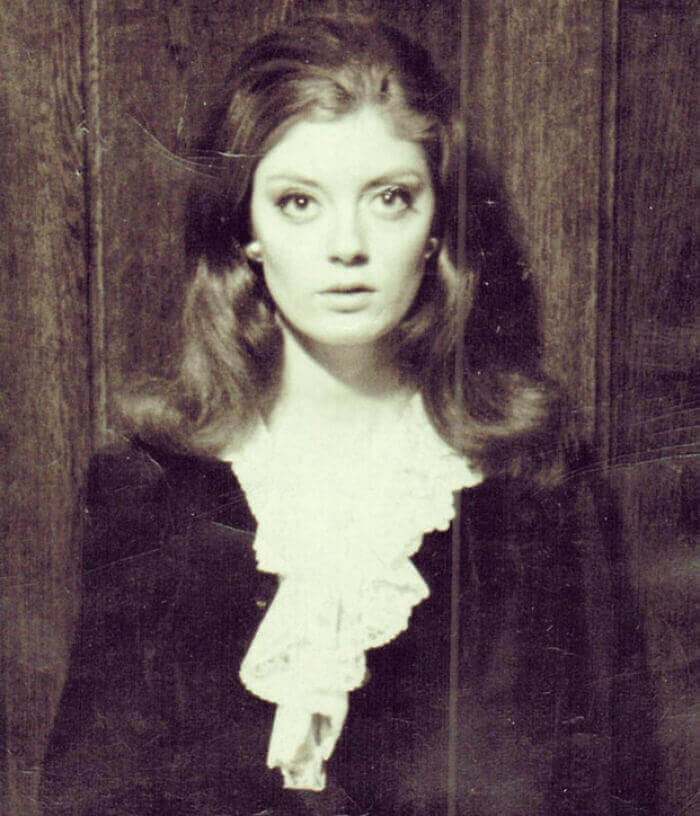 Not long after she graduated, Sarandon landed a role in the film Joe, which propelled her to get more parts in movies like The Rocky Horror Picture Show. It turned into a cult classic, and people knew her name wherever she went.
Selena Gomez's Face Has Not Changed
Selena Gomez has always been the most adorable human ever since she was a little girl. Born and raised in Texas, Gomez first became interested in entertainment when she saw her mom preparing for stage productions. Gomez then began to audition for many roles.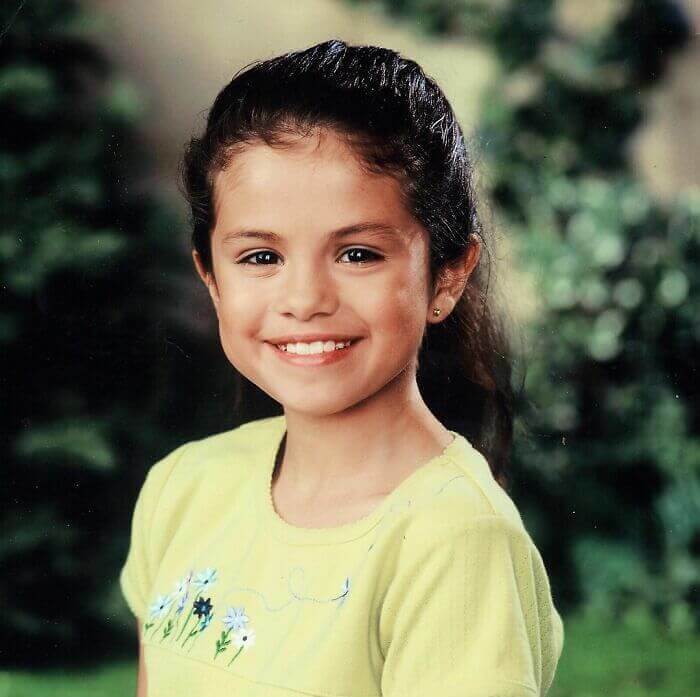 While auditioning for Barney and Friends, Gomez met Demi Lovato and the two both landed roles on the show. She said she learned everything about acting and stage production while working on Barney, and she was released when she got too old for the show.
Peter Dinklage In The 1980s
We could never imagine Peter Dinklage with a mullet until now. Dinklage realized he wanted to start acting when he was just a teenager after he saw the production of True West by Sam Shepard. That play ended up determining the direction of his life.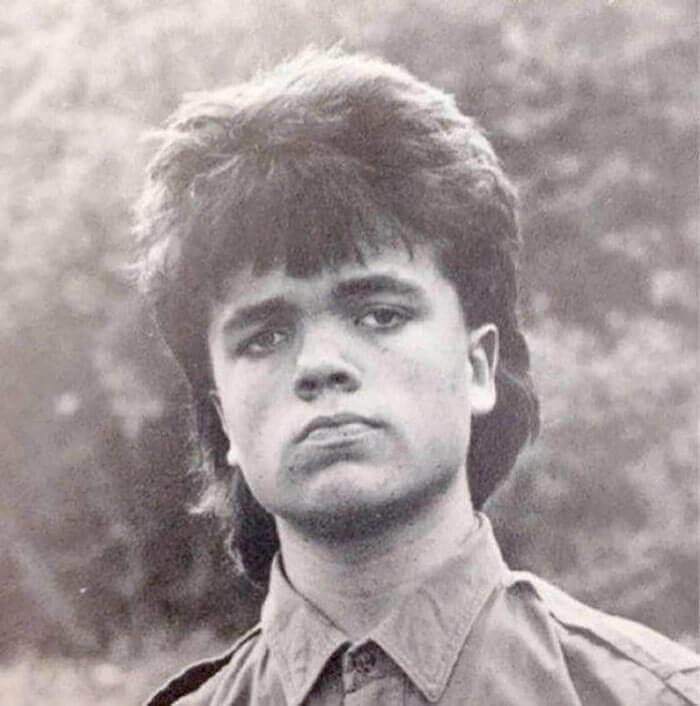 After studying drama in college, Dinklage struggled to get well-paying roles, so he worked at a data processing company to make ends meet. He wasn't getting any parts because he refused to play characters that focused on his achondroplasia. Finally, in 2003, he got his big break in The Station Agent and was nominated for a SAG Award for it.
Little Baby Beyonce
You might not recognize her as a baby, but this tiny tot grew up to be Queen Bey herself. As a child, Beyonce enrolled in dance classes, and the teacher discovered she was also a talented singer when she heard her humming a song.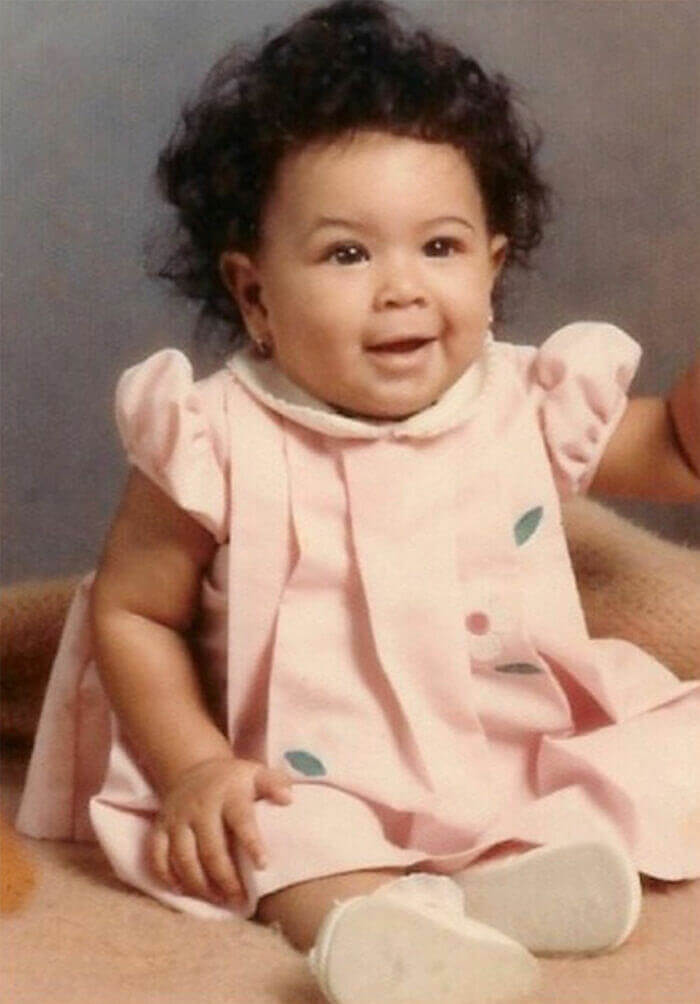 Beyonce's interest in performing continued after she won her school talent show when she was seven. Her parents enrolled her in a music school after that to develop her talents, and Beyonce continued onto an arts high school as well.
Tom Hanks In His High School Yearbook
After reading Eugene O'Neill's The Iceman Cometh and watching the performance, Tom Hanks decided he wanted to become an actor. He enrolled in the theater program at California State University Sacremento and would work in the theater when he wasn't studying.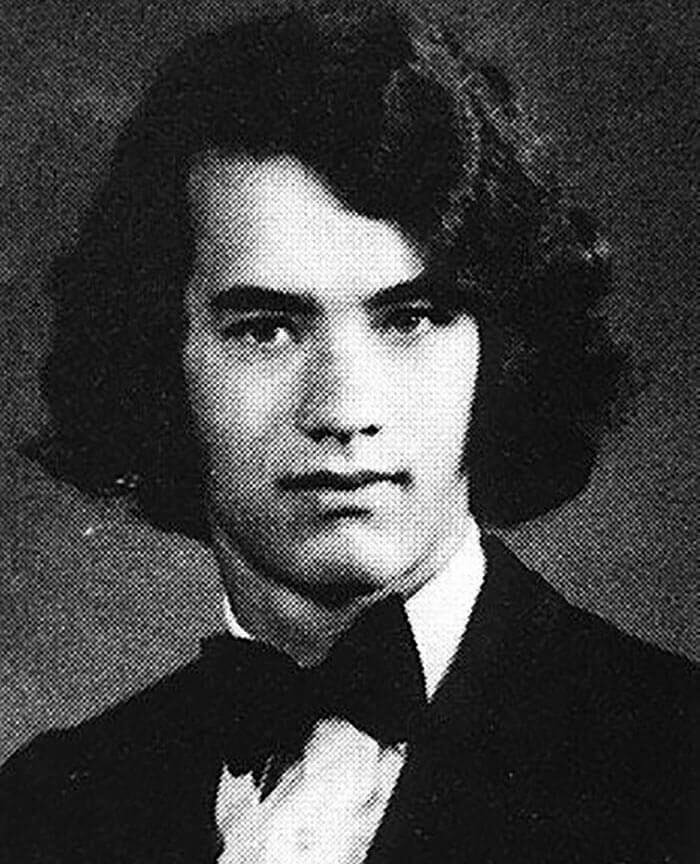 Eventually, Hanks decided to drop out and went on to audition for any small role he could find. After the success of Splash, he became a recognizable face and landed the role in Big. It was that movie that made him an established actor in Hollywood.
Jennifer Garner Hanging Out On The Swings
When Jennifer Garner was little, her mother used to call her "ragamuffin," and we can see why now. The actress had an interesting upbringing that she joked was practically Amish because her parents were so strict about what she and her sisters did.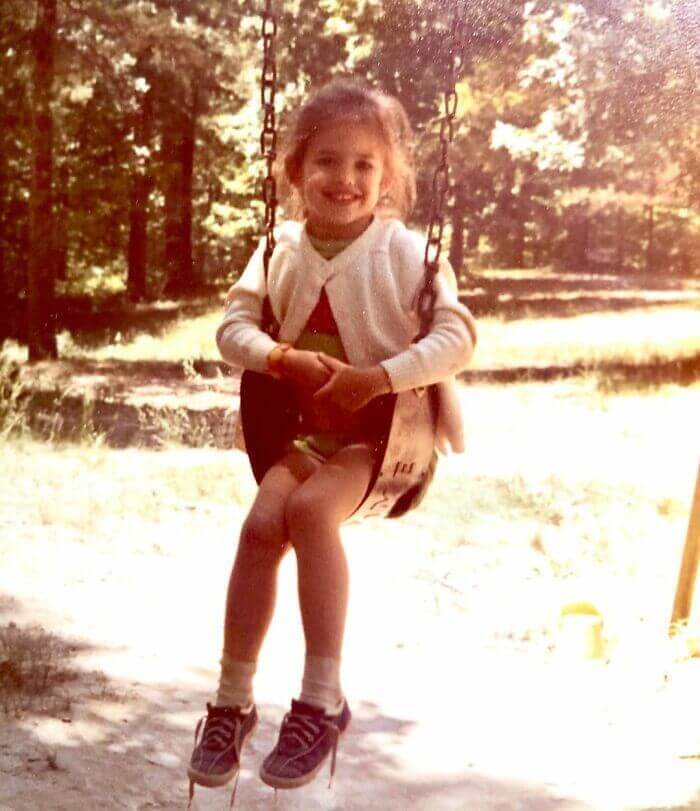 Initially, Garner went to college to study chemistry but quickly changed her major to theater. She would spend her summers working stock theater and found a passion for acting through this job. She also moved from South Carolina to LA once she graduated.
Dwayne "The Rock" Johnson Looking Ripped At 15
Is anyone really surprised that The Rock was already a muscle man by the time he was a teenager? Before starting his acting career, he was succeeding in sports and started playing professional football not long after he graduated from college.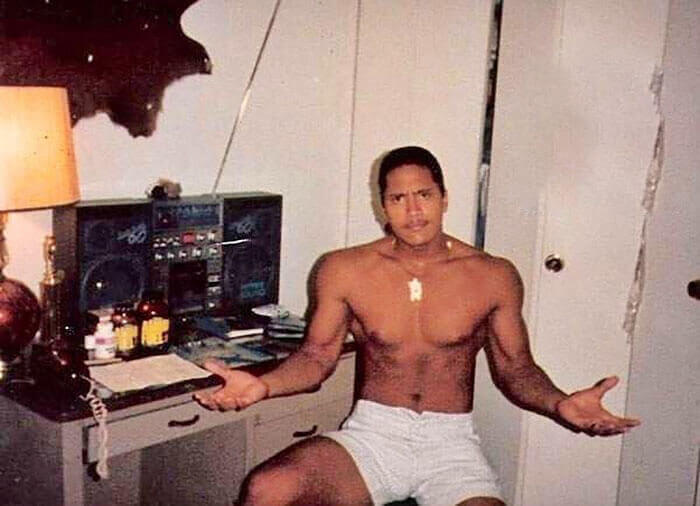 His nickname "The Rock" came from his days in the wrestling ring, and by the late 1990s, he was already a star being offered roles in movies. The movie that really changed his career was The Mummy Returns in 2001.
Nirvana In 1990
Three years before Nirvana was formed, Kurt Cobain and Krist Novoselic met at school. They had a few drummers before being introduced to Dave Grohl in 1990. Their first album, Bleach, was released in 1989 and became a favorite for college radio stations.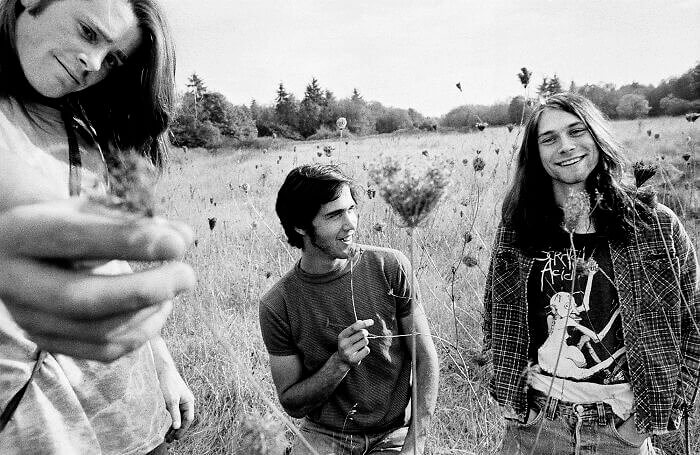 Nirvana found mainstream success with their single "Smells Like Teen Spirit" in 1991 from the album Nevermind. The album sold 400,000 copies in just a week and 30 million worldwide.
Sean Connery During His Time With The Royal Navy
Mr. 007 wasn't always an action-fighting international man of mystery. Sean Connery used to be a milkman in Edinburgh before joining the Royal Navy when he was 16. After three years, he was discharged on medical grounds and returned to his hometown.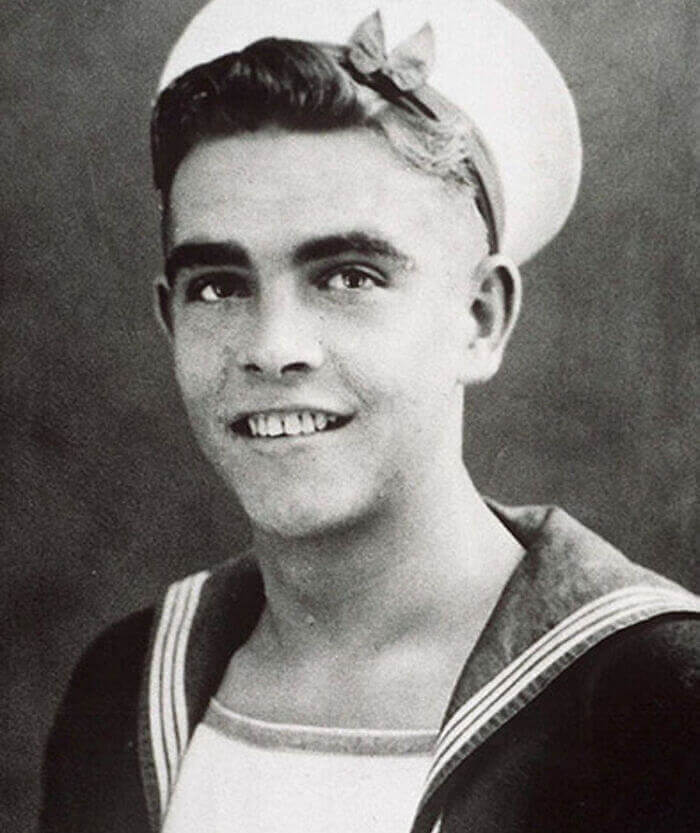 After the navy, Connery carried a few jobs like a lorry driver, a lifeguard, a laborer, and an artist's model for Edinburgh College of Art. In the 1950s, he finally started getting roles and an extra, but it wasn't enough to make ends meet. He had to work as a babysitter until he got more significant parts.
Angelina Jolie Has Always Been Gorgeous
When we were 16, we certainly didn't look like this, but Angelina Jolie has always been stunning. As a child, she enjoyed watching movies with her mother, which inspired her to start acting. Jolie attended the Lee Staberg Theater Institute for two years and appeared in a few productions.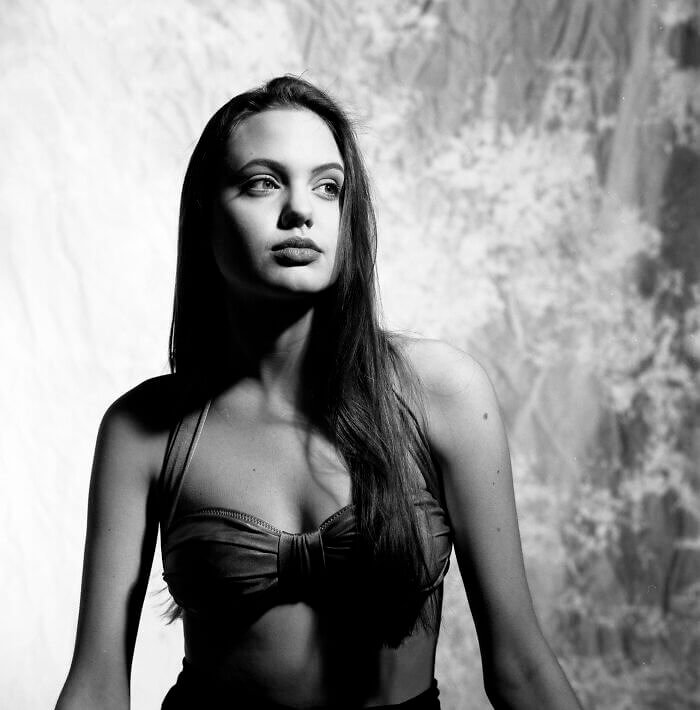 Jolie later studied drama at NYU and starred in her brother's student films. However, her first leading role as a professional actress wasn't until 1992 in Cyborg 2, but she didn't like the outcome and didn't audition for anything else for a year.
Millie Bobby Brown Looks Like She Is Up To Something
While it hasn't been that long since Millie Bobby Brown was a child, the 17-year-old actress has blossomed into a beautiful young lady. Born in Spain to English parents, she found a love for acting early on in life and made her acting debut when she was nine in Once Upon A Time.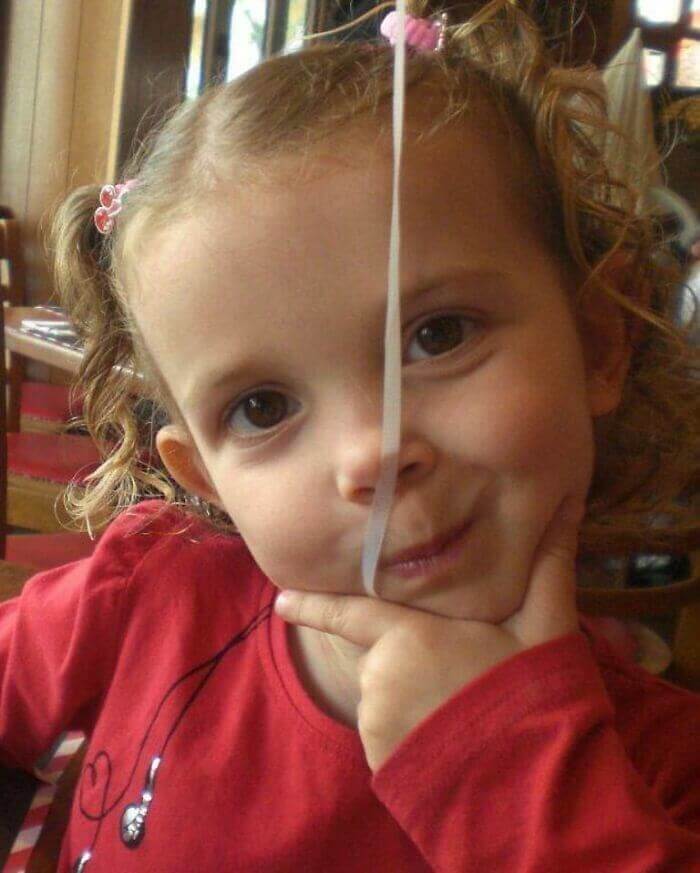 After just a few performances, Brown landed her breakthrough role in Stranger Things as Eleven. Her performance earned her many nominations at such a young age. Today she is a little older but just as sassy as she was in this photo.
Christoph Waltz In 1975
You might know Christopher Waltz from Inglorious Basterds or Django Unchained, but before he was a huge star, he was just a boy with a dream. Waltz was interested in theater early on since he went to the opera for the first time when he was 10. After that, he would go twice a week.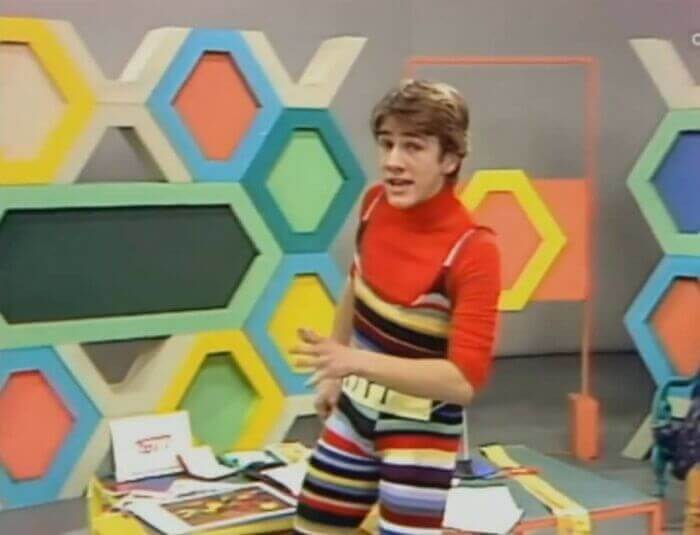 When Waltz attended University, he studied acting, but his true passion was singing and opera. Eventually, he realized his voice wasn't meant for singing, and he started working as a stage actor and director on a German television show called Wenn Man Sich Traut before his breakthrough role in 2009.
Eminem In The '80s Before He Was Rap God
Will the real Slim Shady please stand up. The first rap song Eminem ever heard was "Reckless" by Ice-T, Chris "The Glove" Taylor, and David Storrs in 1984. It inspired him to start rapping himself when he was 14. About ten years later, he released his first album, which was a commercial failure.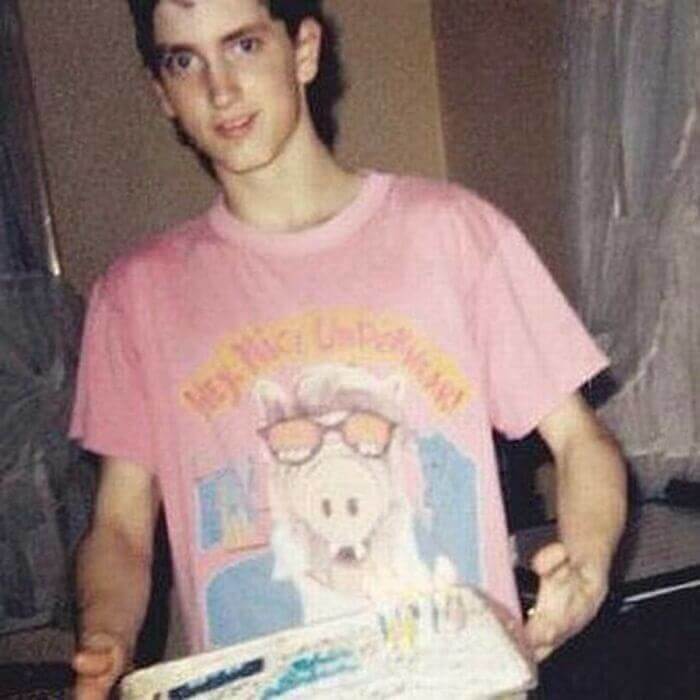 Everything in Eminem's career changed when he adopted the name Slim Shady and released a new album in 1997, Slim Shady EP. The album caught the attention of Dr. Dre and he invited Eminem to work together to release another EP two years later.
Lady Gaga In The 2000s
Since she was a child, music has been a part of Lady Gaga's life, when she started learning the piano at age four. Her passion only grew over the years, and she started performing at open mic nights when she was a teenager.
Gaga also studied method acting for ten years but didn't get any significant roles in her auditions. While studying in New York, she was performing when a talent scout helped her find her way to superstardom.
Bob Marley Without His Dreadlocks
If you are like us, you have probably never seen Bob Marley without his dreadlocks, but there was a time when he didn't have them. In 1964 when he released his song "Rude Boy," he had a buzz cut and dressed much differently.
Marley started playing music in primary school with his friends before moving to Kingston and starting a vocal duo. However, the group didn't rise to fame until the '70s when they signed a contract with Island Records.
Christian Bale As A Dashing Teenager
As a teenager, Christian Bale was inspired to become an actor after he studied the work of Gary Oldman. The first time he appeared on television was in a commercial for the fabric softener Lenor in 1982. However, Bale's first stage debut wasn't until 1984 in The Nerd with Rowan Atkinson.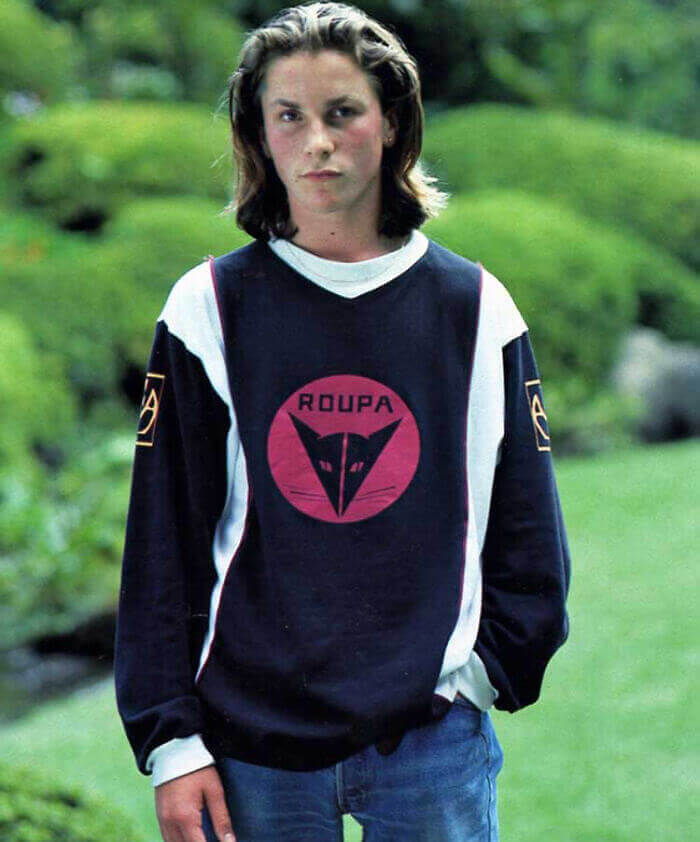 Two years later, Bale appeared in his first movie Anastasia: The Mystery of Anna. He then gained attention and more roles, which made him question his career choice. However, Kenneth Branagh talked him out of giving up on his career.
Jennifer Aniston Dressed As A Witch For Halloween In 1986
Jennifer Aniston discovered her love of acting when she was attending a Waldorf school at age 11. Her first job was in an off-Broadway production, but she had to take jobs on the side to support herself. She was a telemarketer, waitress, and bike messenger.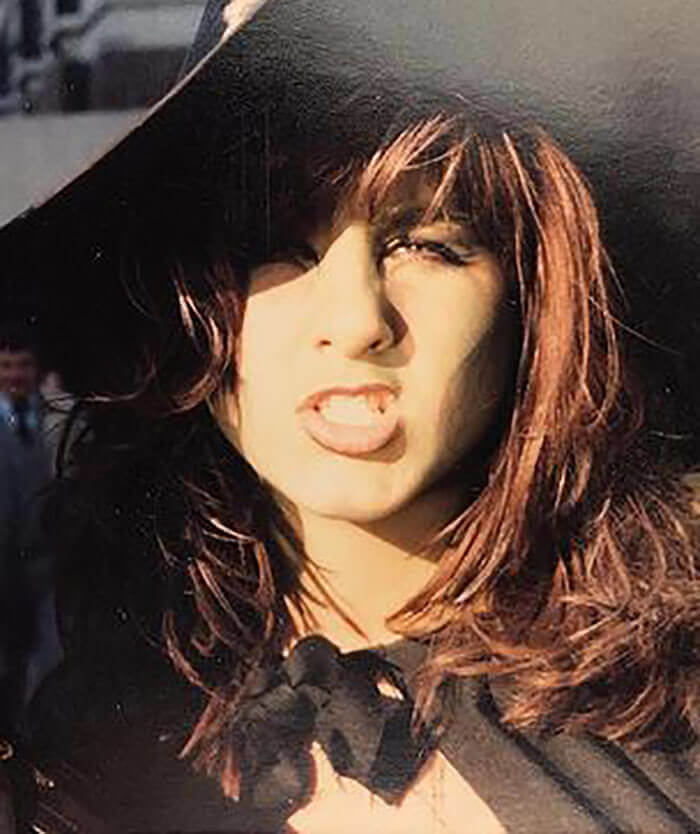 Anniston's first regular TV role was on a show called Molloy in 1990 before she got her big break as Rachel Green in Friends. She was just 17 when she took this picture, and we wonder if she knew how famous she would be back then.
Tommy Lee Jones While Playing As An Offensive Guard At St. Mark's School Of Texas
As a teenager, Tommy Lee Jones got a football scholarship that allowed him to attend a boarding school in Dallas, where he took an interest in theater and played in some student productions. He then graduated and attended Harvard University, where he continued to play football and appear in theater productions.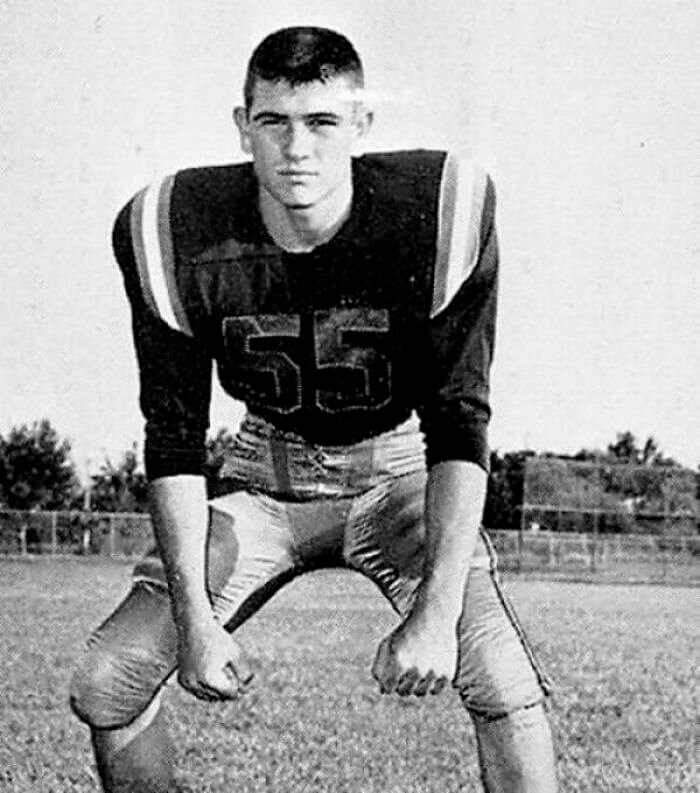 After graduating, Jones decided to move to New York to pursue acting, and he got his first movie role in 1970, playing a Harvard student in Love Story. It must not have been hard for him to play this role, considering he had just graduated from Harvard.
Quentin Tarantino In 1983
Quentin Tarantino started showing an interest in films when he was just a young boy. At age 15, he worked as an usher for an adult movie theater and worked in a video store for five years. By watching movies at the store, Tarantino learned a lot about movie-making.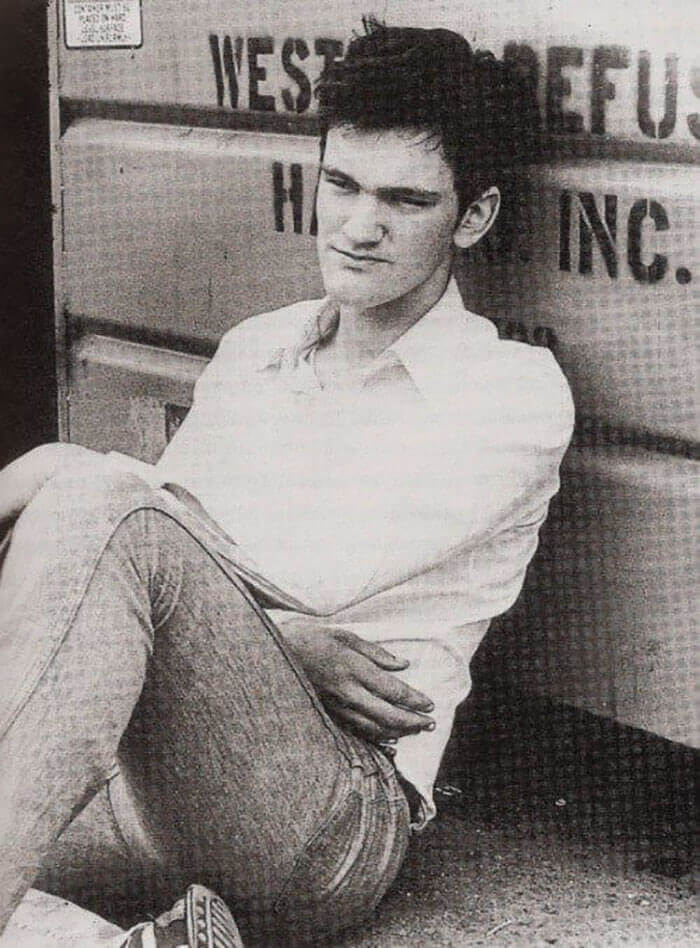 Tarantino was later paid to watch movies (how do we get that job?) and got his first job in Hollywood in 1986 as a PA. A few years later, he wrote his first movie, launching the career of one of the most admired film directors in Hollywood today.
Clint Eastwood As A High School Senior
Clint Eastwood looks much different than we know him today with his dapper hair and babyface. After graduating from Oakland Technical High School, he held various jobs, including hay baler, logger, and truck driver, before being drafted into the Army during the Korean War.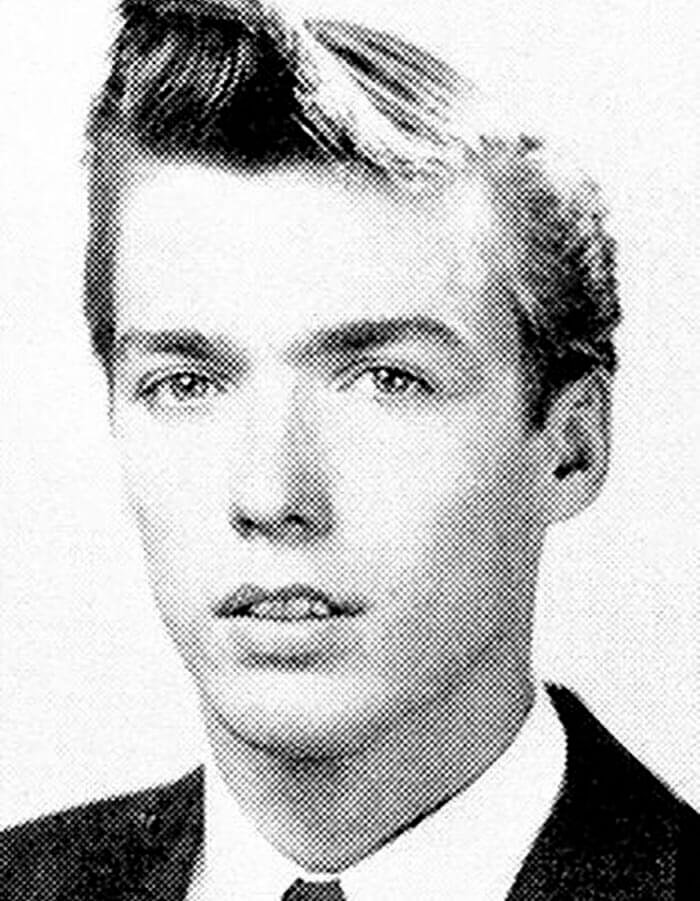 Eastwood was stationed in California, where he served as a swimming instructor. After the army, he appeared in a few TV series before he got his big break in 1959 in Rawhide. Eastwood gained international fame and is still acting today at 90-years-old.
Vin Diesel When He Had Hair
We had no idea what color hair Vin Diesel had before seeing this picture. The famously bald actor started performing on stage when he was just seven years old in the children's play Dinosaur Door in New York. Theater continued to be a big part of his life when he was a teenager as well.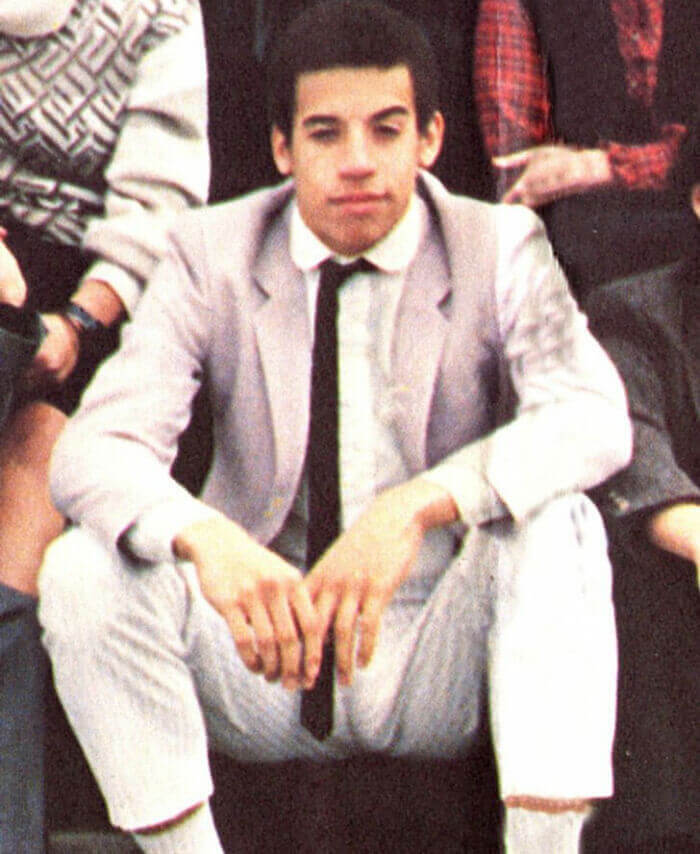 Vin Diesel started college but dropped out to begin screenwriting. Diesel's first role was in 1990 in an uncredited role, but Steven Spielberg later cast him in Saving Private Ryan, which helped him get his foot in the door for more parts.
Katy Perry In 2001
You might not recognize Katy Perry without her signature black locks, but her hair is naturally dirty blond. The pop star began vocal lessons at age nine while singing in church. For her 13th birthday, Perry received a guitar and started playing songs she wrote.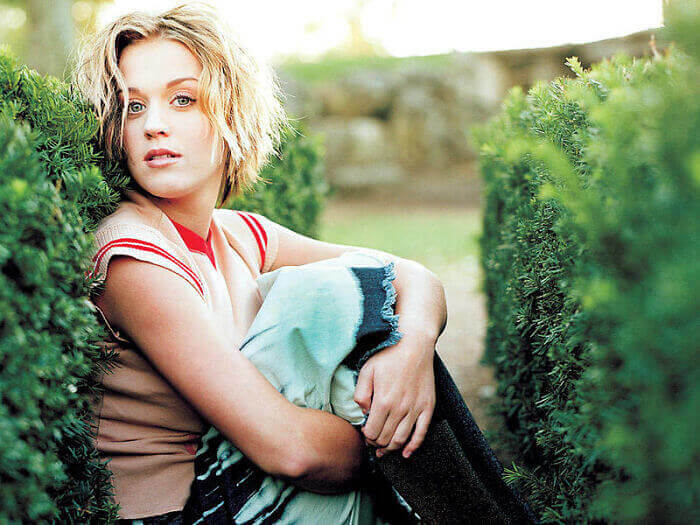 Perry took dance lessons to learn swing, Lindy Hop, and jitterbug, all popular dance styles in the '50s. Also, her first album was released under the name Katy Hudson, and it had a lot of Christian music before she changed up her style.
David Harbour In 1994
David Harbour hasn't changed much over the years besides his hairstyle. Harbour began acting in the 1990s, and his first professional job was on Broadway in the revival of The Rainmaker. He also had minor roles in Law & Order: SVU.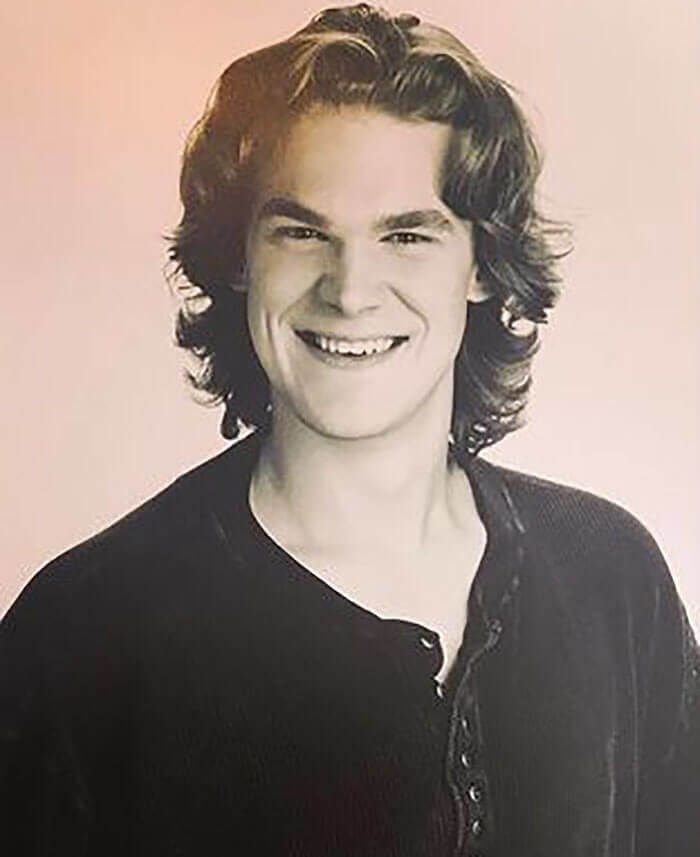 As he gained notoriety in Hollywood, Harbour became a more recognizable face. However, it wasn't until he was cast in Stranger Things that a role really changed his life. This role actually helped him land other parts.
Mark Zuckerberg At Harvard Where He Created Facebook
Mark Zuckerberg looked less like a robot back in his college days, but someone should have told him to clean up his room. The Facebook founder began writing software when he was in middle school, and his father hired him a private tutor to help his son's interests.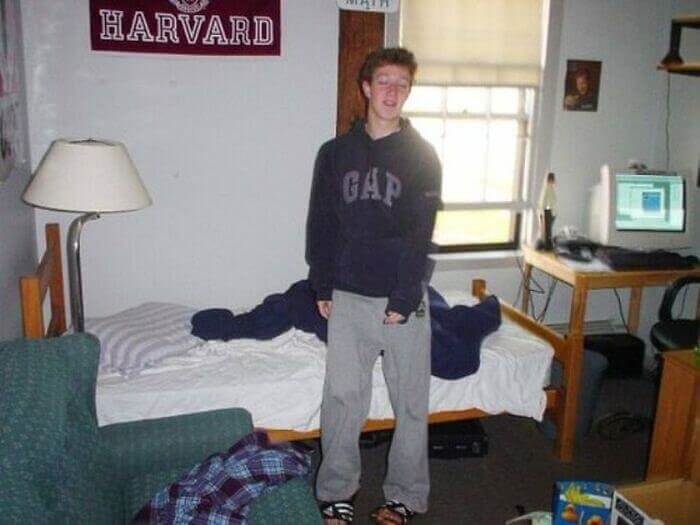 Zuckerberg would create video games, and his artistic friend would draw the graphics. In college, he became a programming prodigy and created a few new programs before Facebook. It's funny that this teenager is now one of the richest men in the world.
Dwayne "The Rock" Johnson In His Childhood Class Picture
Before he was a buff action star, The Rock was just a cute little buck-toothed child. He grew up in New Zealand and across the US as his family moved around often. As a child, he was always into sports and looked up to his dad, who was a former professional wrestler.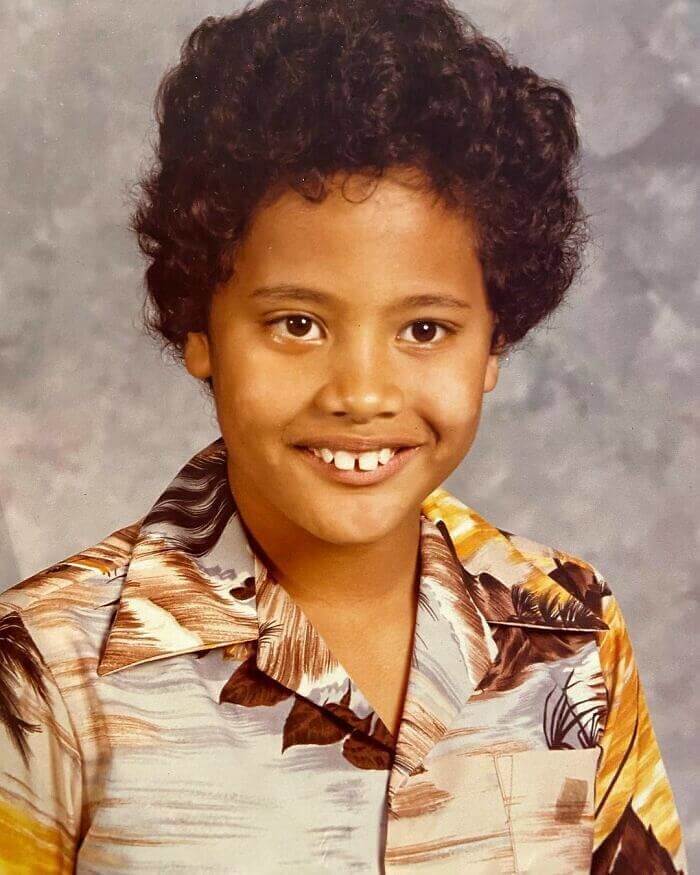 Because of his connections with the wrestling world, The Rock secured a contract with WWF for eight years before pursuing an acting career. Today he is one of the highest-grossing and highest-paid actors in Hollywood.
Rihanna Looks Exactly The Same (Sort Of)
Little baby Rihanna before she was the CEO of Fenty and Savage X Fenty. The Barbados native grew up listening to reggae music, which later inspired her own sound. However, she didn't get into singing right away as she was an army cadet at a sub-military program.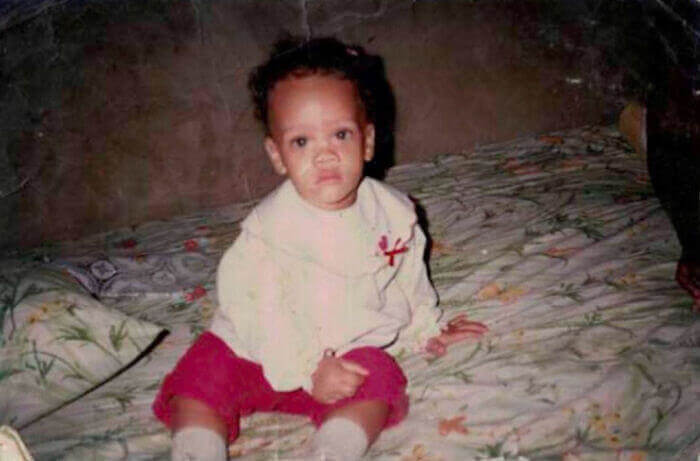 While in the program, Rihanna met a singer-songwriter who inspired her to pursue a music career. Although we aren't getting new music any time soon, we have to appreciate how far this baby came from a small island to worldwide fame.
Usher Was Probably Flirting With The Camera
Usher is known for his smooth RnB jams that make women everywhere swoon, and we can imagine he was a very flirty baby too. At his young age, he was already showing off his smolder for the camera.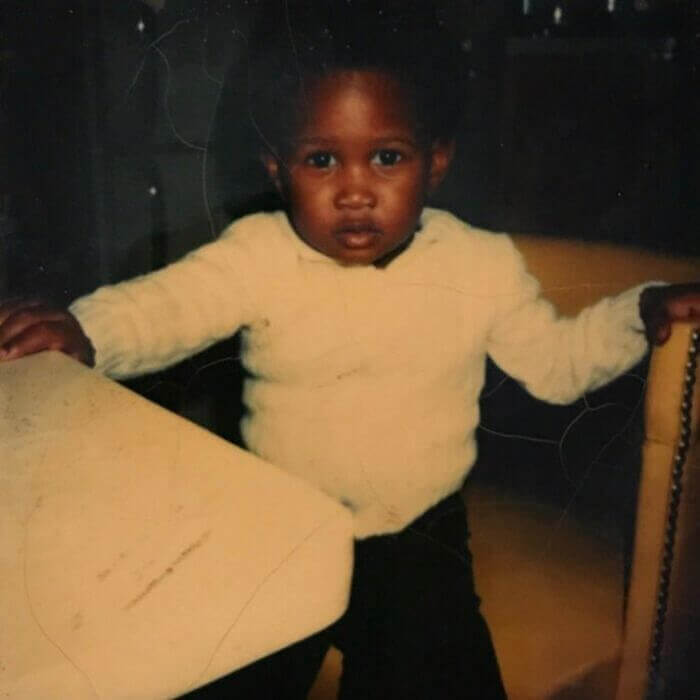 As a child, his mother told him to join the church choir because he was so talented. Then his grandmother considered he could sing professionally once she heard him. The family decided to move to Atlanta to give him a better opportunity to become something.
Heidi Klum Collecting Easter Eggs
As a child growing up in Germany, Heidi Klum was known for her beauty. A friend convinced her to join a modeling contest, and she won out of 25,000 contestants, and she was offered a modeling contract. After graduating from high school, she accepted the contract.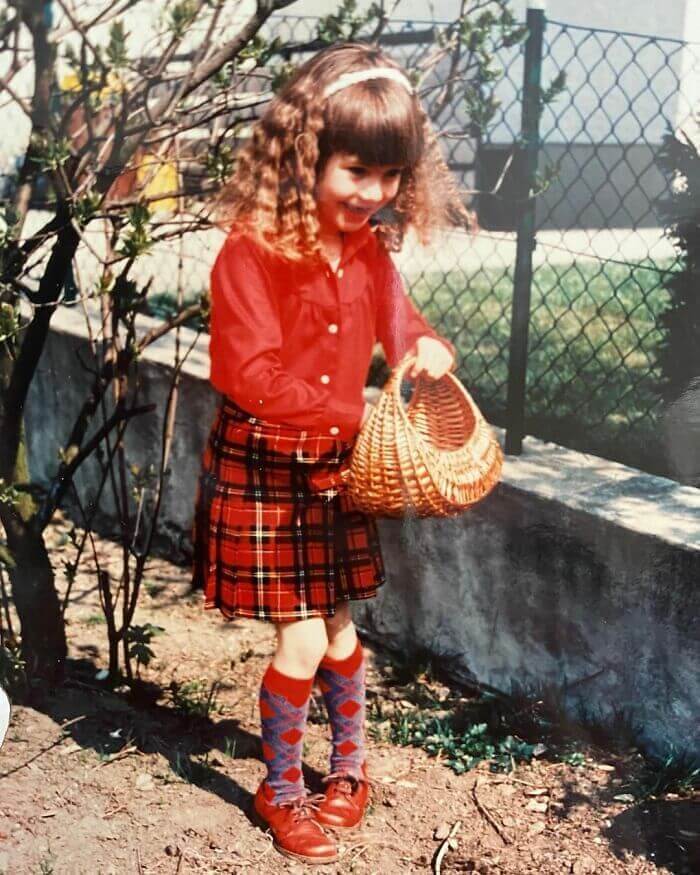 She was going to try for an apprentice position at a fashion design school, but the modeling contract was more promising. Klum proved herself quickly and landed on the cover of French, German, Portuguese, and Spanish Vogue.
Julia Roberts Practicing Her Vocals
We can't tell if Julia Roberts was in shock, singing, or yelling in this picture, but we would like to think she is singing. She looks a lot like her niece Emma Roberts here, and we can see the resemblance in their family.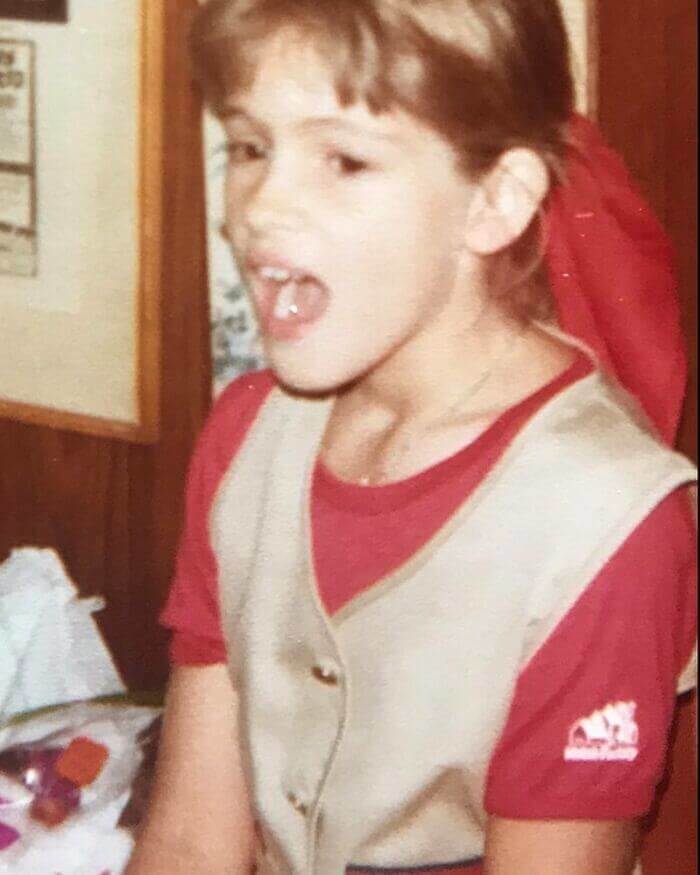 As a child, she wanted to be a veterinarian, but once she made it to college, she decided to drop out, move to New York and pursue acting. Once there, she signed with a modeling agency and enrolled in acting classes.
Amanda Seyfried Was Beautiful Even As A Baby
It's no surprise that Amanda Seyfried was a gorgeous baby because she is such a beautiful adult. As a child, she began modeling when she was ten in print ads for Limited Too with Leighton Meester. She was also featured on the cover of three Sweet Valley High novels.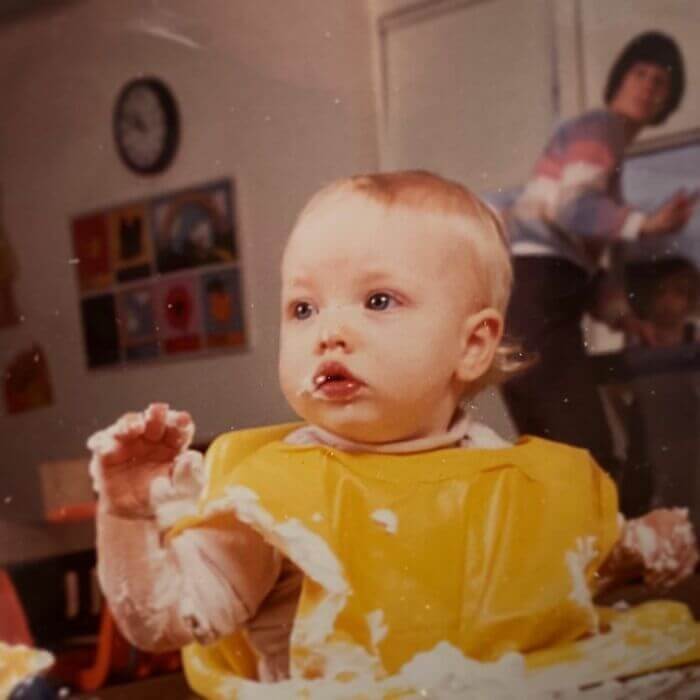 At 17, Seyfried decided to stop modeling and started working as a waitress in a retirement community. During that time, she took vocal lessons, studied opera, and trained with a Broadway coach. From here, she slowly got roles on TV as she continued to audition.
Britney Spears In Her Original Diva State
Oops, she did it again! Britney Spears always had that star power, and you can see it here in her childhood photo. From a young age, she already had an interest in singing, dancing, and entertaining people with her vibrant personality.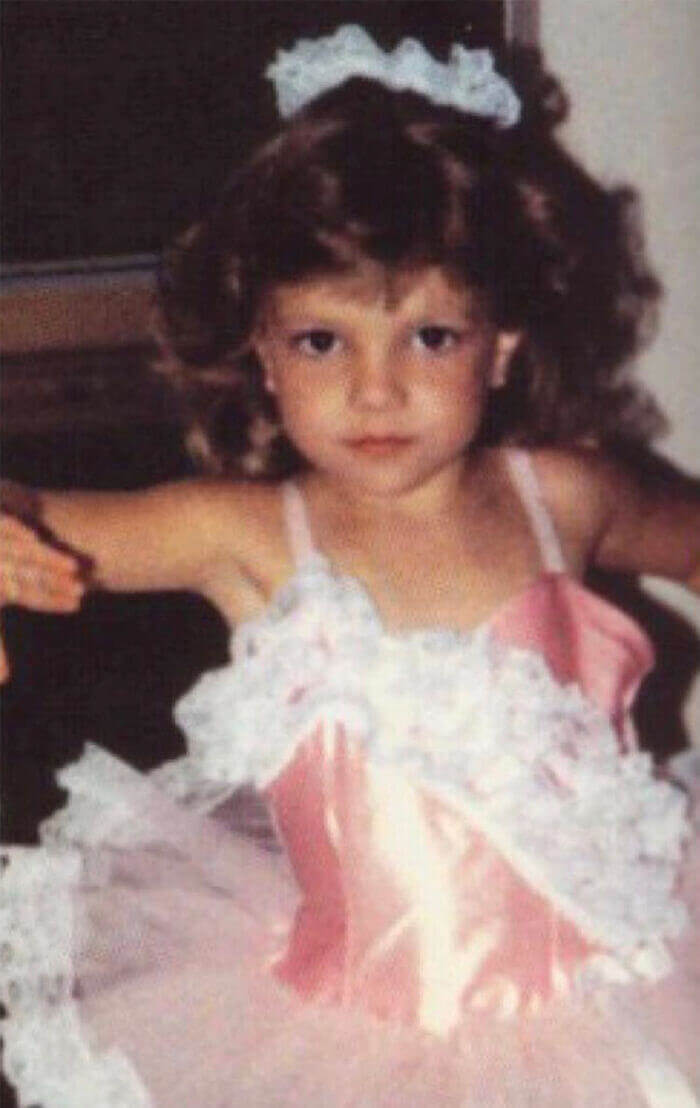 While her adult life hasn't been so easy, one thing is for sure; that little girl grew up to be one of the best performers. If only people would let her make her music and live her life the way she wants to, she would be so much happier.
Christina Aguilera Halloween Circa 1985
This looks nothing like the Christina Aguilera we know and love today, but she was an adorable little girl. As a child, she moved around a lot because of her father's military service. However, when her parents divorced, she used music as a way to escape.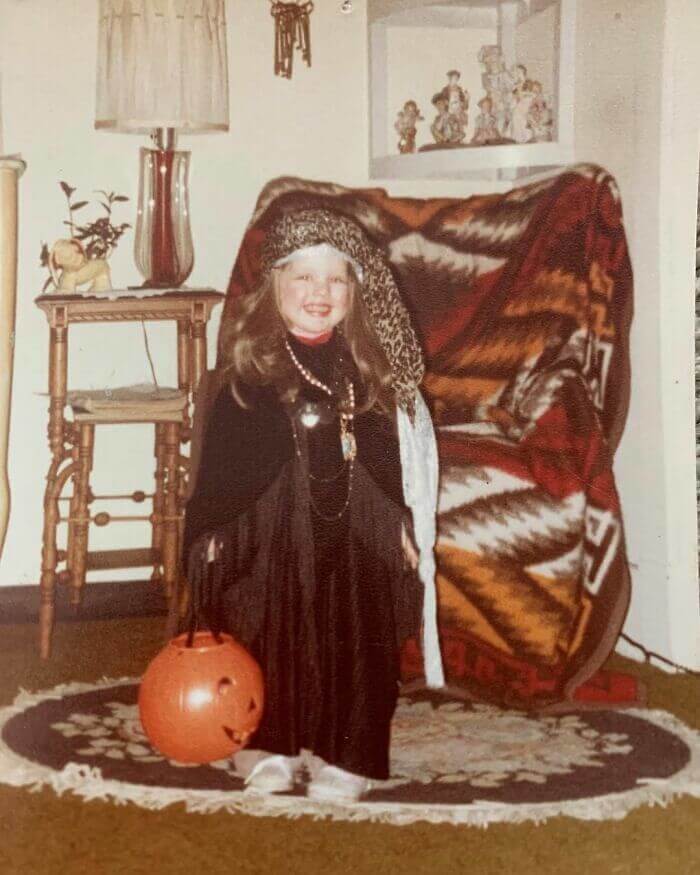 As a child, Aguilera was drawn to soul and blues music because of her grandmother's records, and she would practice singing to them. She won her first talent show at age eight for her rendition of Whitney Houston's "I Will Always Love You."
Gigi Hadid With Her Grandma
Gigi Hadid was ready to be a model since the day she was born. As a child, she considered herself a tomboy because she was always into sports, especially basketball, but that changed as she got older, and her mom saw the potential she had as a model.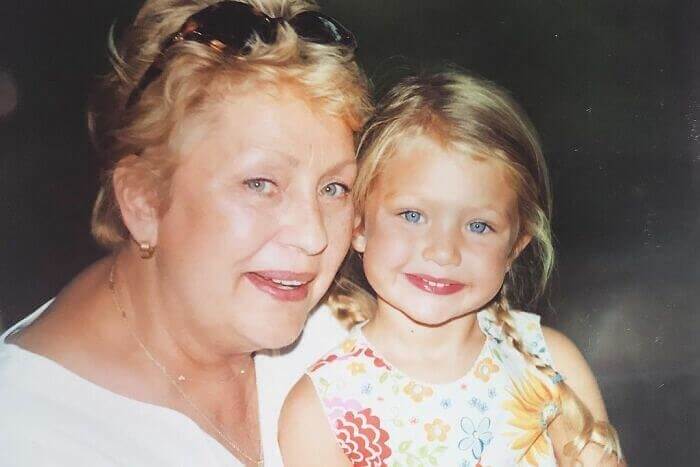 Hadid comes from a family of models, and you can see she gets her beauty from her mother's side. She is pictured here with her late grandmother, who she would visit in Holland, where her mom grew up.
Katy Perry And The Easter Bunny
Have you ever noticed how creepy the Easter bunnies at the mall used to be (and still are)? Although it is hard to recognize her, that is a little Katy Perry posing in her pastel Sunday best with the Easter bunny.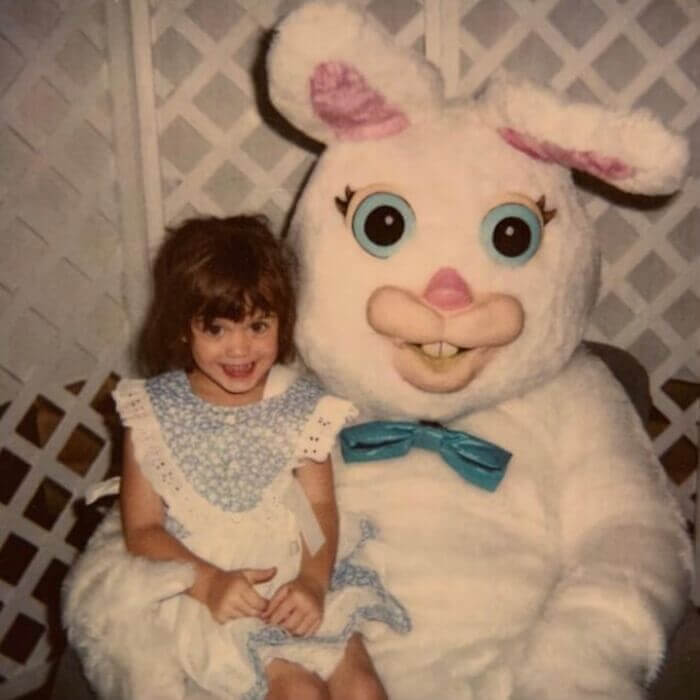 Perry grew up in a religious household, so the holidays were very important to celebrate for her family. Her family didn't have a lot of money, and they sometimes had to get food from the church's food bank, but Perry enjoyed everything her parents were able to provide.
Miley Cyrus And Her Newborn Sister
When Miley Cyrus was first born, her parents named her Destiny; however, she was such a smiley baby, and they started calling her "smiley Miley" before legally changing her name. While missing one of her front teeth, she still has a huge grin on her face because she is holding her baby sister.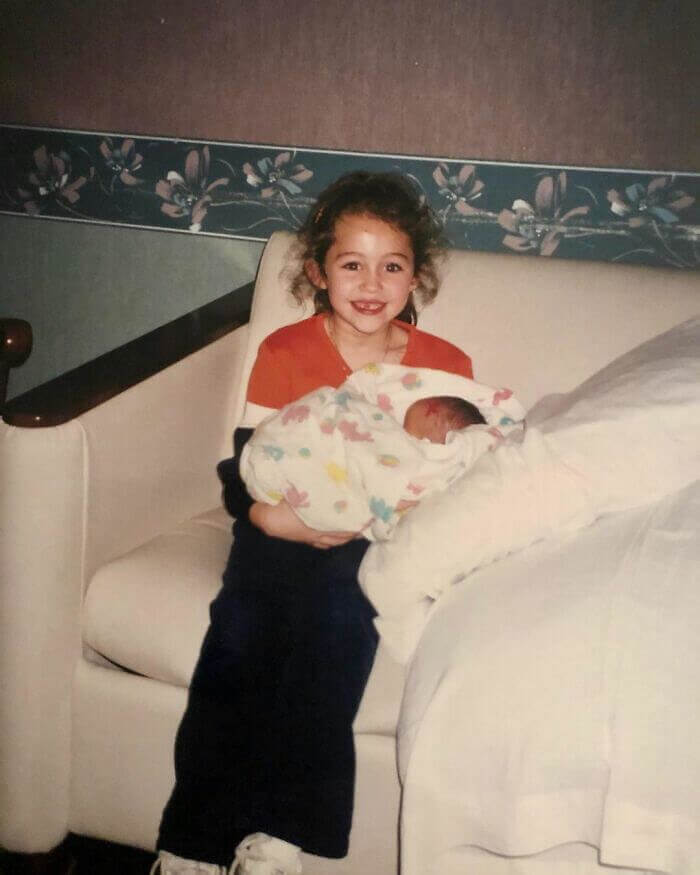 Miley and her younger sister Noah may have a seven-year age gap between them, but they are the closest sisters we have ever seen. Miley even said that Noah sometimes takes care of her even though she is the little sister.
Justin Timberlake Rocking Around The Christmas Tree
It seems that Justin Timberlake was always destined to be a musician. As a child growing up in Memphis, Tennessee, he was always surrounded by music. His grandpa introduced him to Johnny Cash and Willie Nelson, and Timberlake would perform the songs for his family.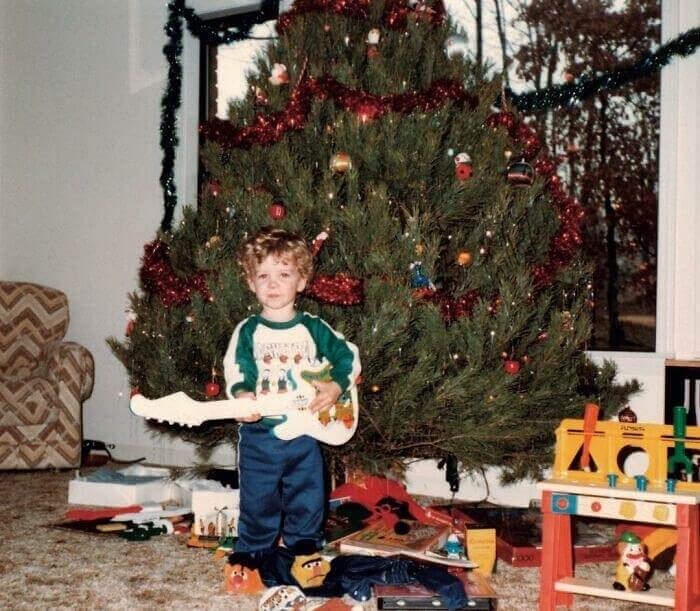 When Timberlake was 11, he appeared on the show Star Search performing country music. However, it was around that time that he started to get into RnB music like Stevie Wonder and Marvin Gaye. He was so talented that he landed a spot on The All-New Mickey Mouse Club with Britney Spears and Christina Aguilera.
Margot Robbie And Her Big Brother
Margot Robbie and her big brother were adorable as children. Robbie grew up in Dalby, Queensland, where she was raised by a single mom after her parents divorced. She lived on a farm and was always an energetic child putting on shows around her house.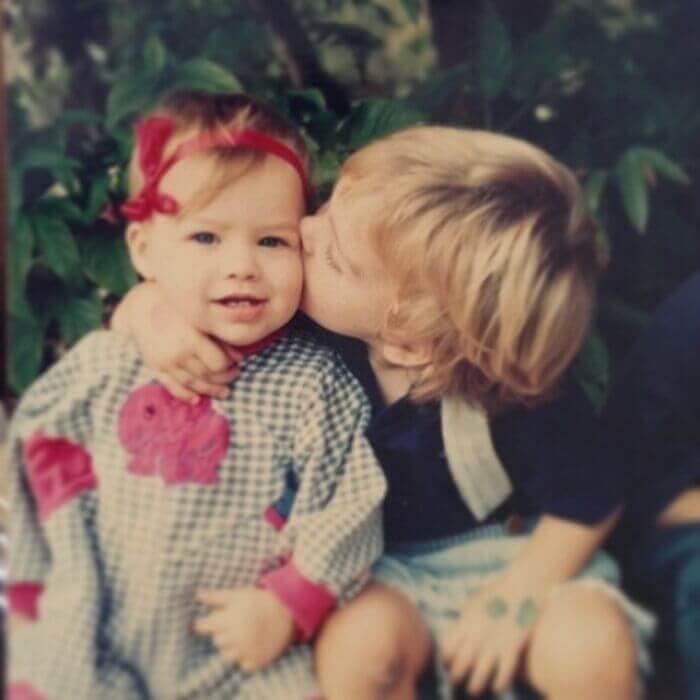 In an interview, Robbie once said that she was really dramatic and loved performing. She would watch any movie she could find on TV and re-enact it for her mom. She would even make her family pay to watch her shows, especially her magic shows.
Ariana Grande's School Photo
If anything, we can thank Ariana Grande for her consistency with her high ponytail. As a child, Grande was already a natural performer and would participate with the Fort Lauderdale Children's Theater, playing her first title character in their version of Annie.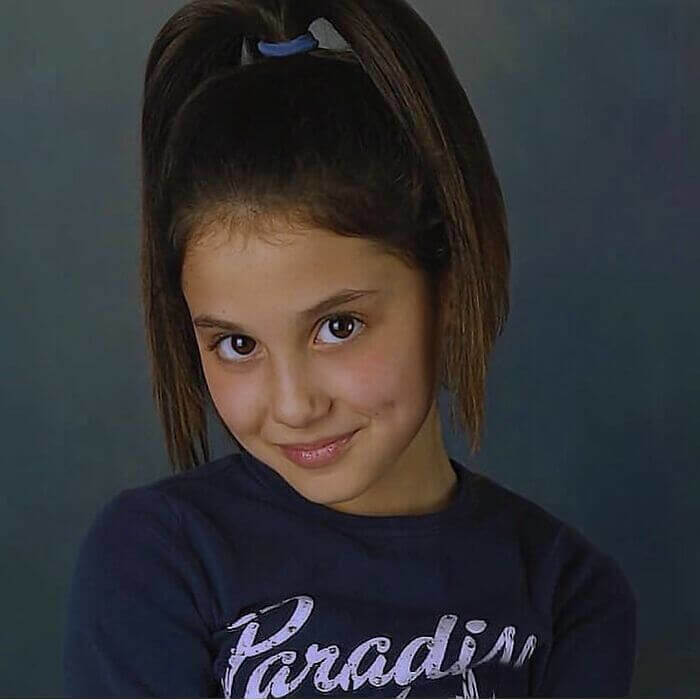 Grande also performed in The Wizard of Oz and Beauty and the Beast. When she was eight, she also performed on cruise ships, with South Florida Philharmonic. Everyone knew she would be a star with her vocal range, and she was just waiting to be discovered.
Sarah Jessica Parker Reading With Her Mom
As a child, Sarah Jessica Parker was one of eight children, and although her mom barely had time, she still found a moment to read to all of her children. Growing up in Nelsonville, Ohio, her parents tried to provide a lifestyle they couldn't afford.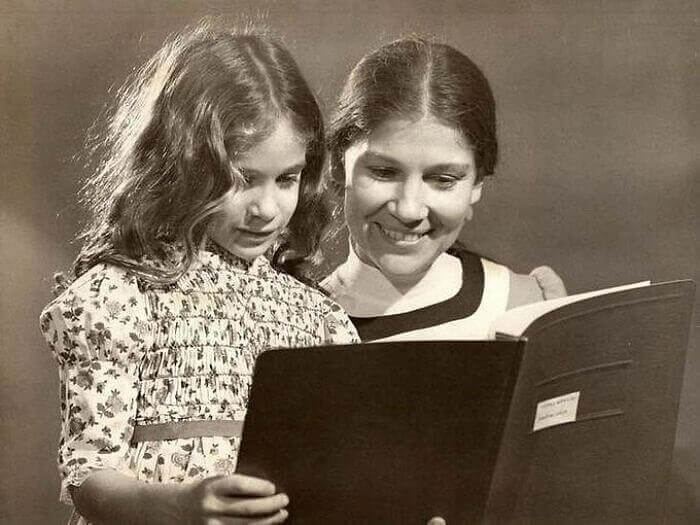 Parker remembers that the electricity would be shut off, or they would have to forgo Christmases and birthdays because her parents couldn't afford the holidays. However, her mother found any free extracurricular activity to sign them up for so they would have "full, rich lives."
Hilary Duff's First Headshot Session
Although we know Hilary Duff as the bubbly Disney channel child, she looks pretty angry in her first headshot. When Duff posted this picture, she said she couldn't believe how many auditions she took this picture to, and we wonder how many of those roles she actually got.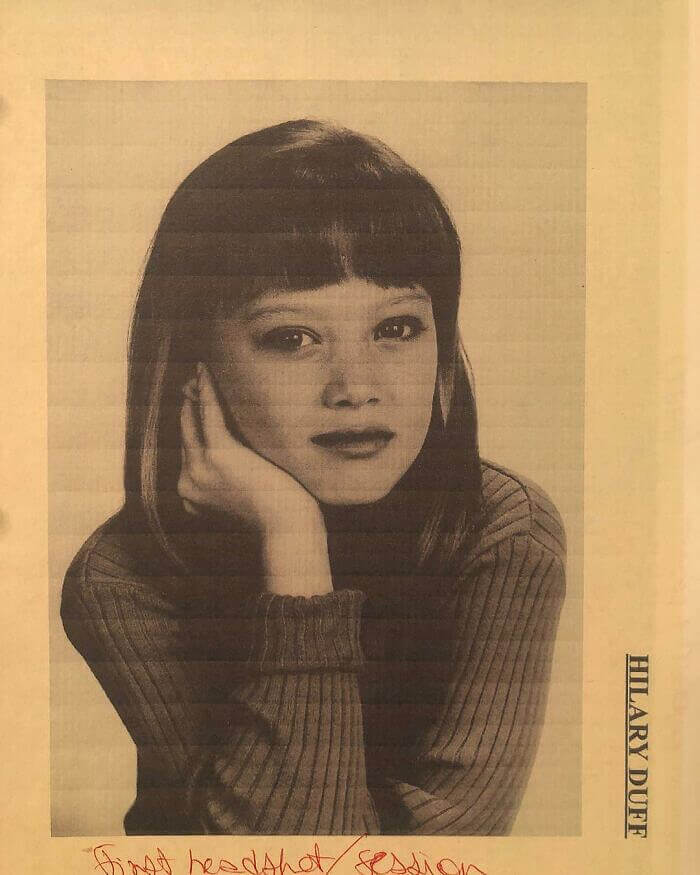 Duff wanted to be an actress from an early age, and her mom even relocated her family from Texas so her children would have more opportunities. Because of her acting career, she was homeschooled from age 8, and she got many minor roles until she landed Lizzie McGuire.
People Who Proved That Posing With Sculptures Is Not Boring At All
John Travis
This article was originally published on 24/7Mirror
Like most of us, you probably have some poses that you repeat quite often when taking a picture next to a sculpture. So, if you want to get some inspiration and stand out in a crowd of photos, we urge you to have a look at these super cool photos of people who did not go with conventional poses and took posing with sculptures to another level.
1. His Facial Expression is Pure Gold
"I'll punch you if you don't give me back my bow and arrow." You don't want to mess with the Cupid, trust us!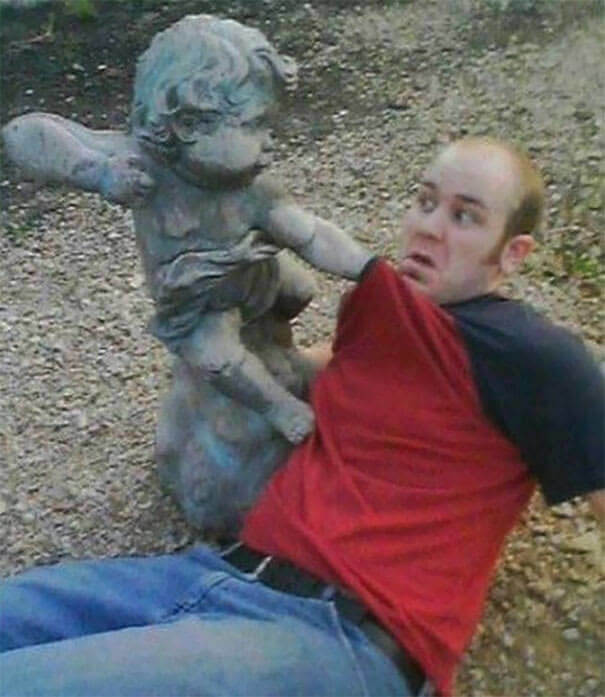 This is an adorable picture not only because of baby cupid, but this man's facial expression is perfect for this situation.
2. Empathy Level: 1000
"Here, I'll help you." This cute picture reminds us of the importance of small deeds.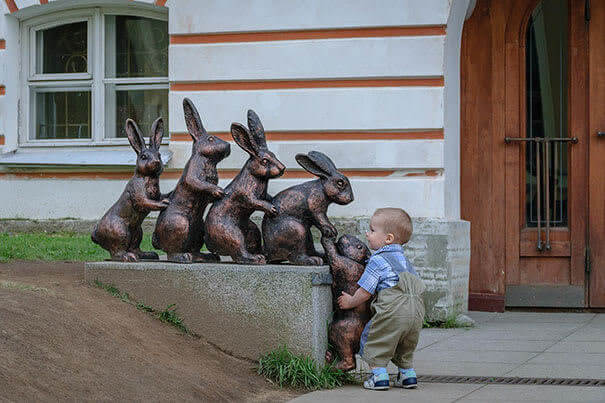 The heart of this child is filled with kindness and care.
3. Nobody is Watching
"You can count on me, but make sure you don't blow my cover," the statue had some concerns.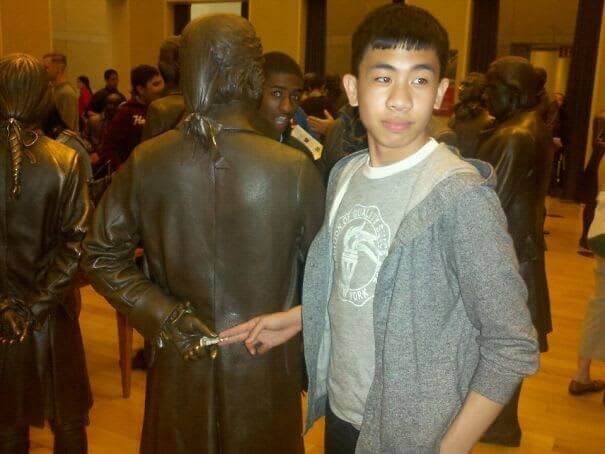 Nobody saw it, except for the photographer. Oh, and the guy in the back.
4. Joining Others
"Hey! Let go of him!" Hopefully, they are holding on very tight.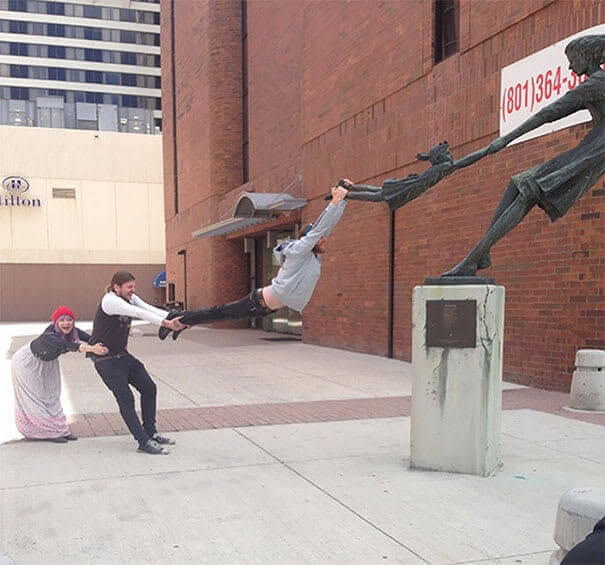 Also, if enough people are doing this, we hope this statue doesn't break.
5. Hygiene is Important
Hygiene is one of the main things that can either turn on or turn off a woman. This is what this statue thought, as well. Maybe it was going on a date, who knows.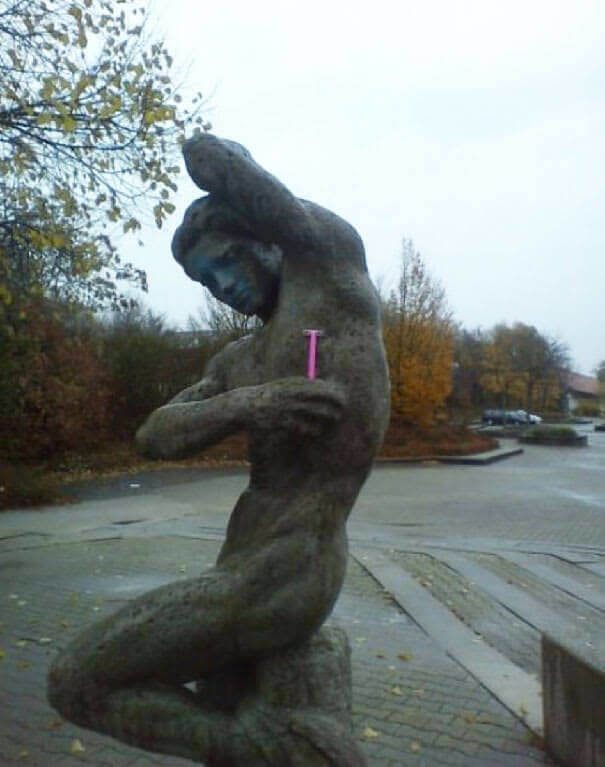 Although the original razor was lost through the tides of time, someone was kind enough to lend him a new one.
6. All The Single Ladies
"If you like it, then you shoulda put a ring on it."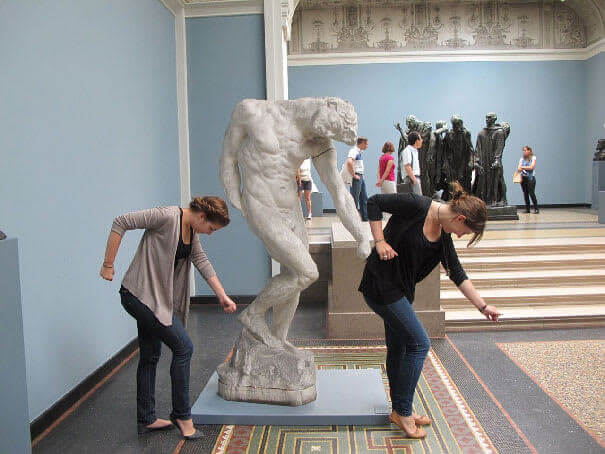 This must be where Beyonce got the idea for her "Single Ladies" dance.
7. Another Reason to Fear Clowns?
Why so many people are afraid of clowns? Oh, that's why! The fact that this clown just backslapped Superman, we know a big fight is going to break out real soon.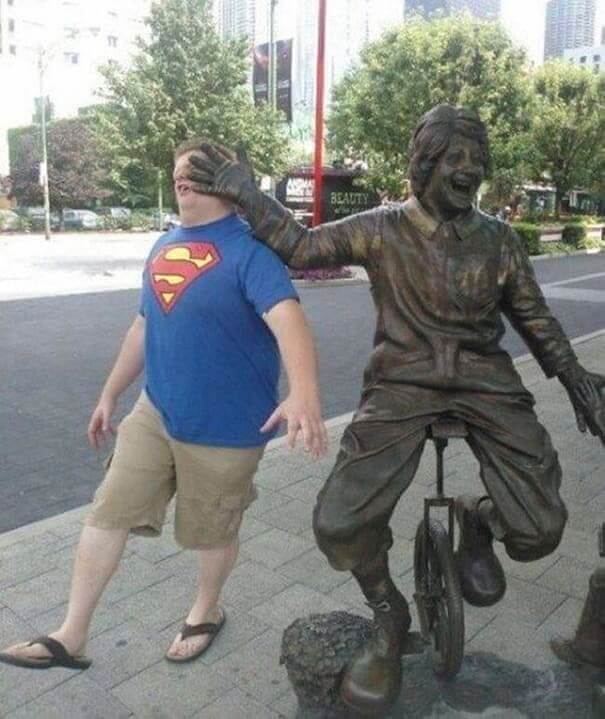 Who knows, maybe this clown is Pennywise the Dancing Clown.
8. "Let's Dance"
The kid behind this cute little girl said, "Hey, stop dancing and fall in line."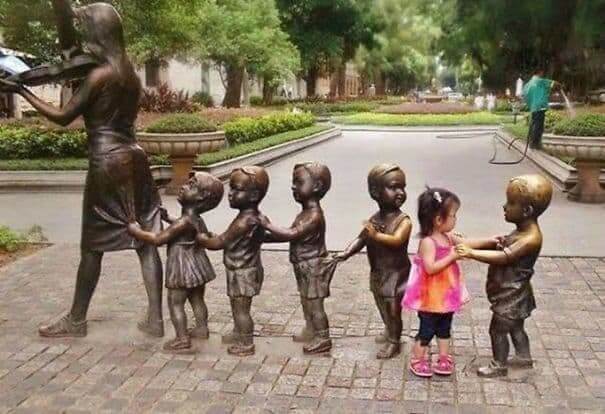 But kids do whatever they want, and it looks like she is having a great time there.
9. "You Shall Not Pass"
We know it would've been much better if Sir Ian McKellen said, "you shall not pass", but this little snowman is doing a pretty good job as well.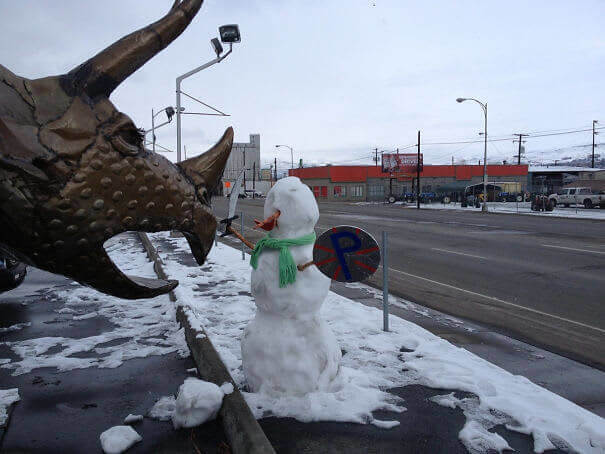 We appreciate the creativity of the person who came up with this idea. Respect earned.
10. "Seriously, Dude!"
"What is this wizardry?" Ben Franklin is seriously confused by this space-age technology.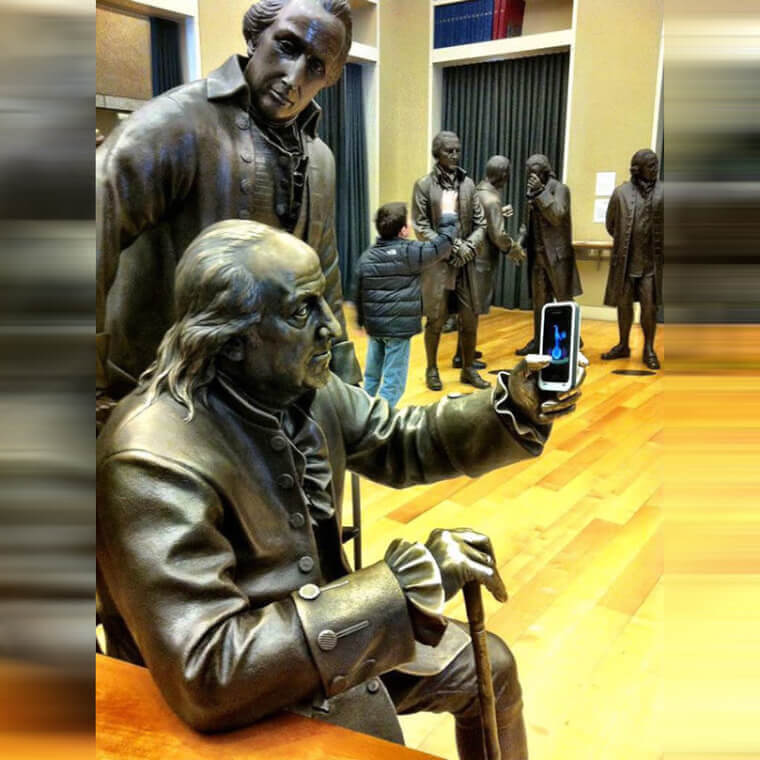 He is about to take an amazing selfie, once he figures out how to use this strange contraption.
11. Run Like Hell
Why do you have to take advantage of a man who is distracted by his lady?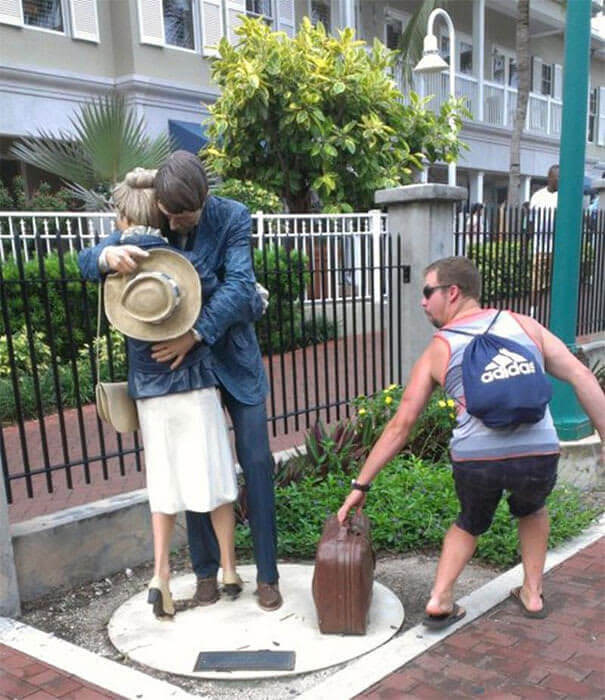 The bag looks a little too heavy to carry, so he won't be getting anywhere fast.
12. Powerful Mommy
Statue tug-o-war, who will win this match? Our money is on the statue.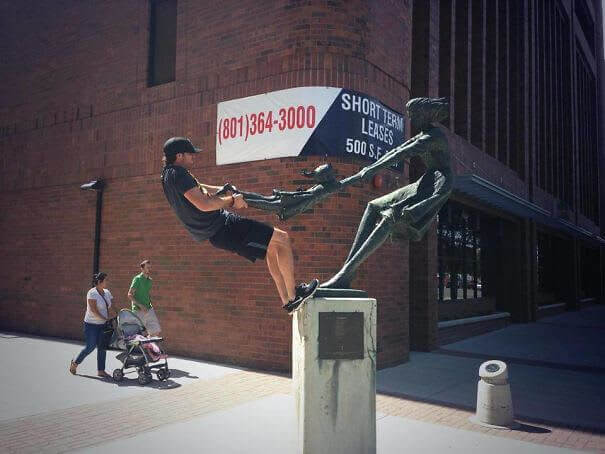 This strong mom isn't letting go of her child anytime soon.
13. Aww…Can Someone Pass the Tissues, Please?
Pictures like these are the reason we love the internet. As you can find both good and bad stuff on the internet, you just need to know where to look.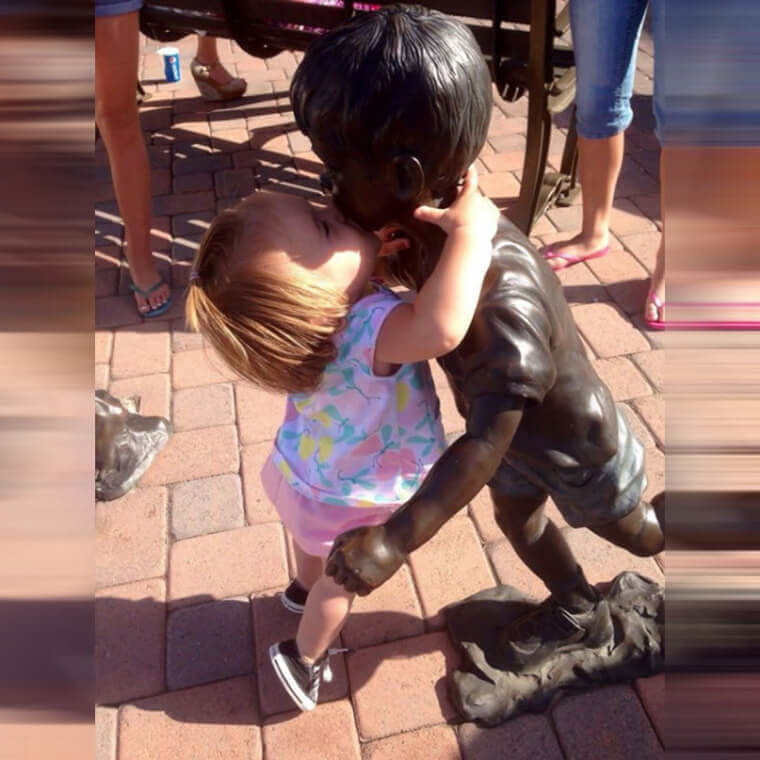 It is an adorable picture that shows a hopeless romantic in the making.
14. "Back Off, He's Mine!"
We will give full marks to her for turning a powerful-looking image into something entirely different.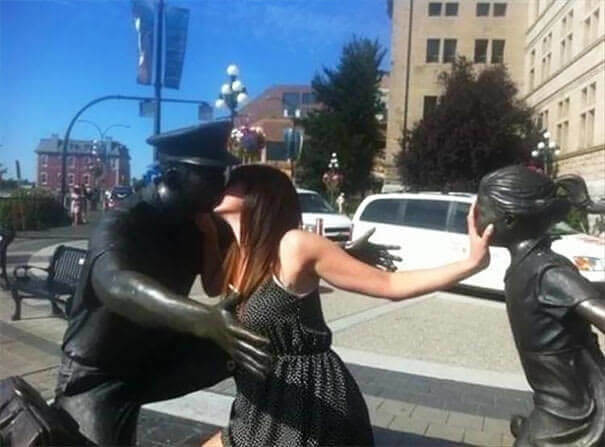 Certainly, she isn't shy to take what belongs to her, even if she has to do it forcefully.
15. "Ahh, What Have I Done!"
If you encounter a bear in the wild, we hope you don't end up like this, even though it is fake.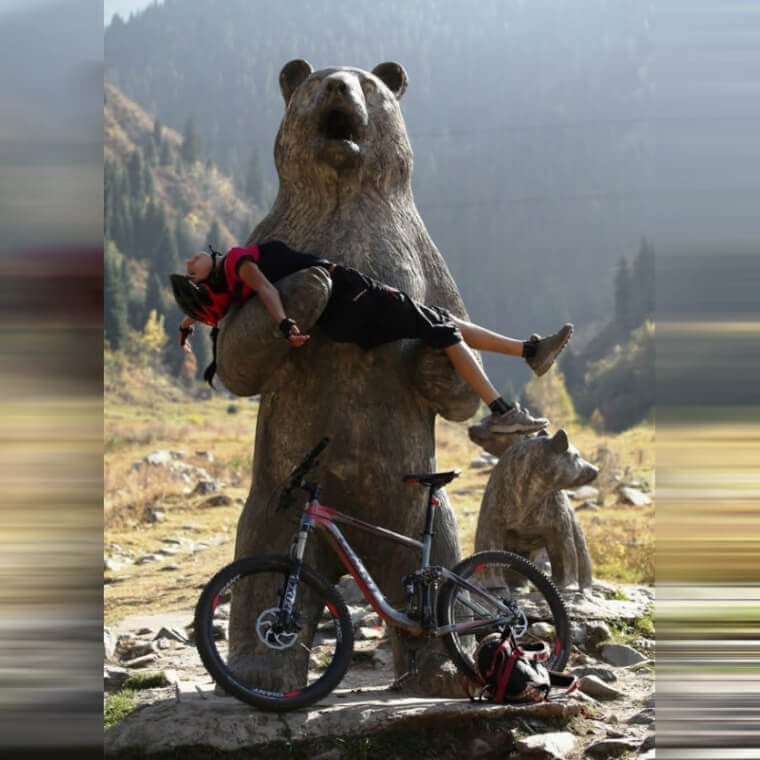 Or maybe, the bear is helping this person back on their bike. You be the judge.
16. Timing is Everything
We hope that it didn't take too many shots to get this super fun photo. The timing of this photo shows their commitment level.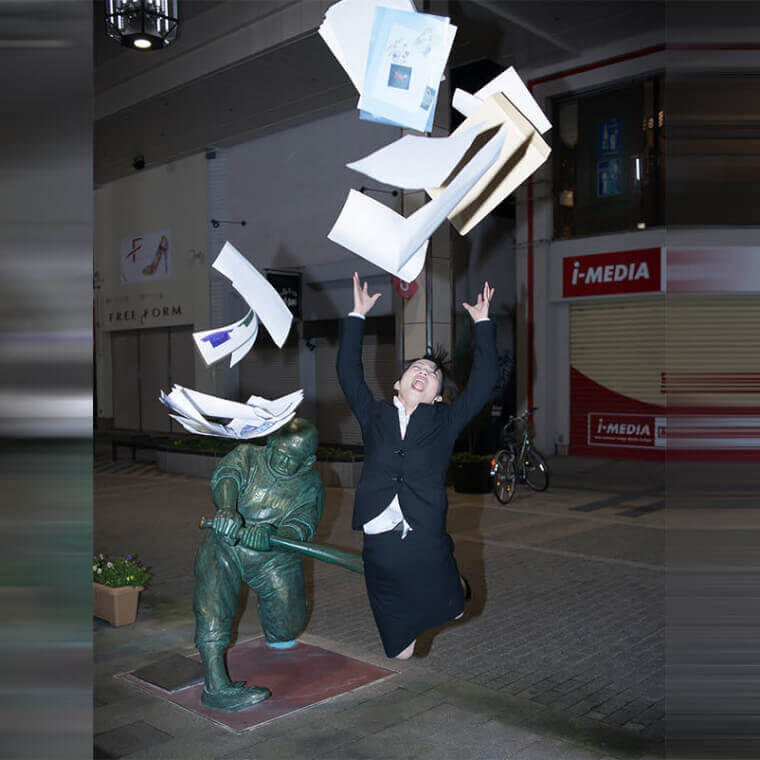 This statue is in Niigata City, Japan, and it celebrates the character, Taro Yamada, from popular manga comic "Dokaben."
17. Keep on Trying
"Honey, I said I am sorry. The traffic was terrible. I'm sorry I was so late getting here."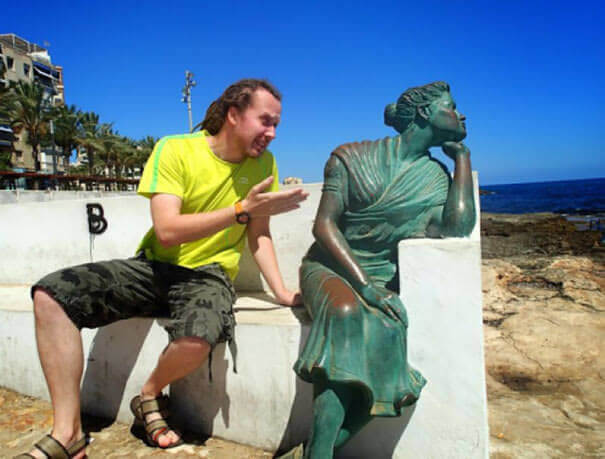 This guy should keep on trying, even though she has a heart of "stone."
18. It is Scary!
Okay, let's be honest here. This is not funny and it actually freaked us out.
This must be the eggheads getting revenge on humans for having arms, legs, and bodies to walk around with.
19. Spidey in Big Trouble
Introducing a new villain to the Marvel Universe, Gold Face.
He is big. He is Bad. He is here to beat Spiderman, but spidey won't let that happen on his watch.
20. "Lady, I Have No Idea Where The Bathrooms Are"
"Do I look like a directory?" This woman asked the wrong statue for directions.
He is not in the mood to be answering everyone's pointless questions.
21. Dragging Done Right
"You are going home, putting on a suit and going to that interview. We are not going to have any more discussion on it."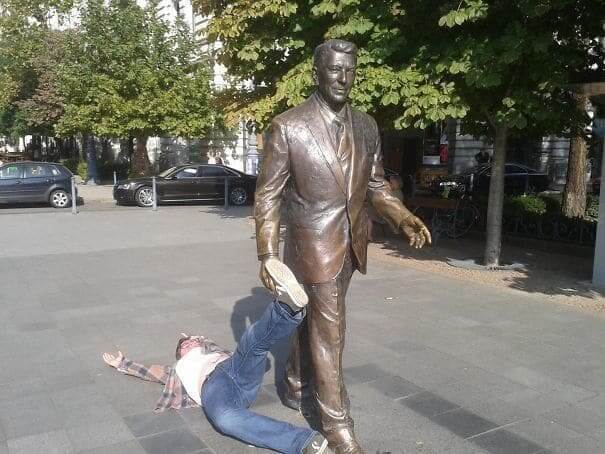 When your parents "subtly" tell you they want you to get a job and move out.
22. Pigeon From Another World
At first, this looked like a photo taken from the set of an upcoming movie, "Attack of the Pigeons."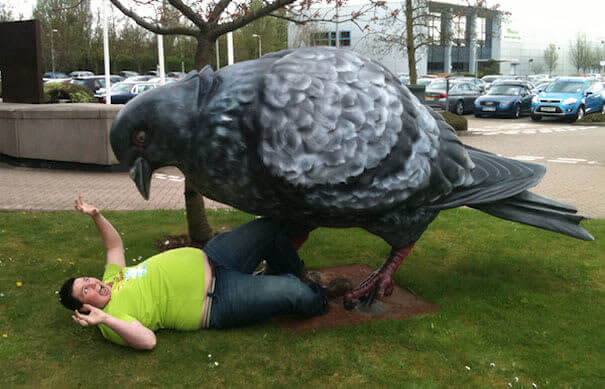 Why is this human being attacked? Because he was complaining about pigeons always pooping on cars and statues. We guess this guy won't be complaining anymore.
23. Showing Cat Pictures
These two seem to be hitting it off. We see a beautiful friendship in their future.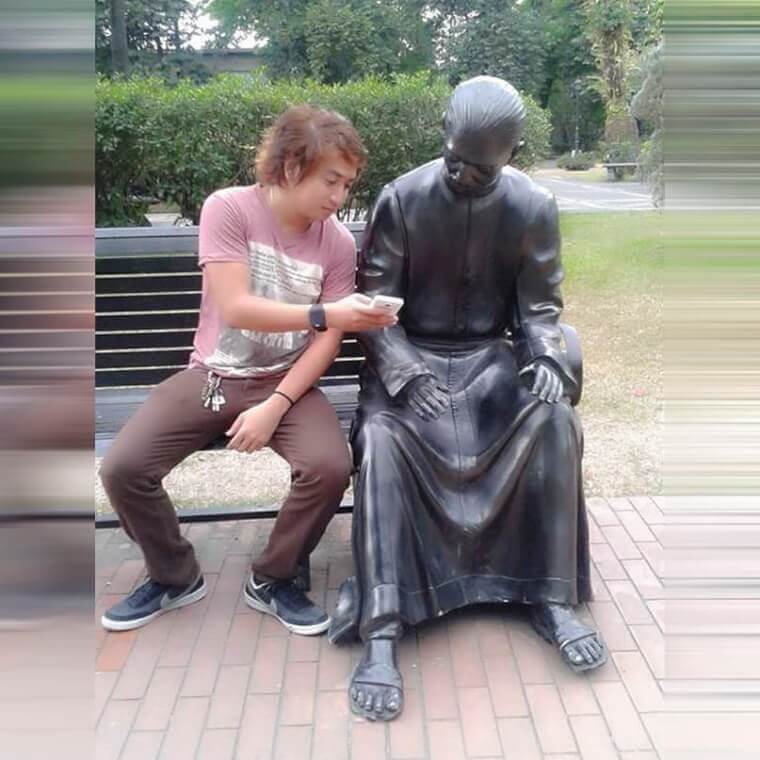 We can say without a doubt that the master is impressed by his student.
24. Kung Fu Fan
The fact that statues look like they did not expect this to happen makes this picture even more impressive.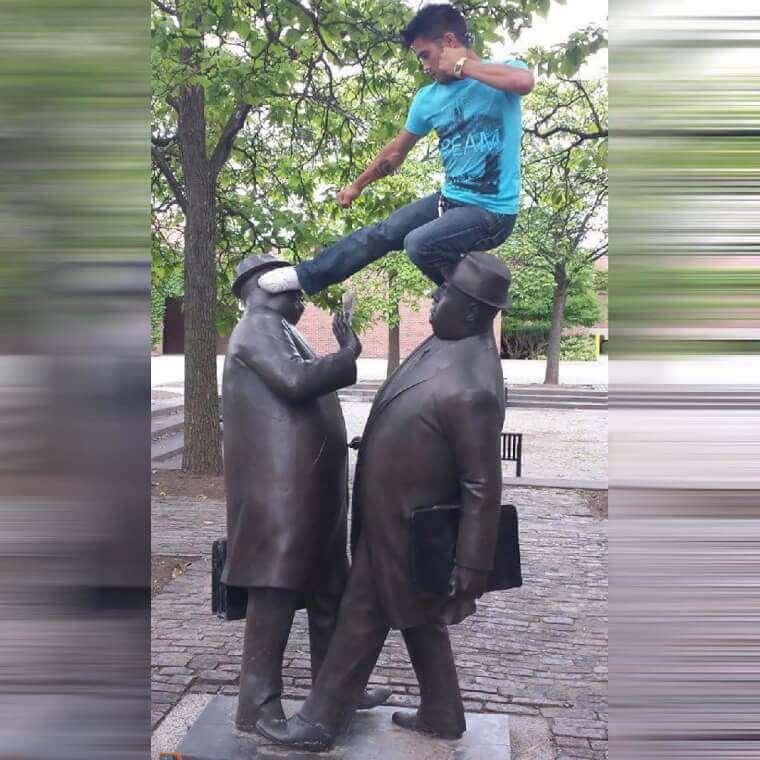 After seeing this photo, the only thing we thought about was the song "everybody loves Kung Fu fighting."
25. Super Realistic
At first, it took us a second to identify the statue in this picture.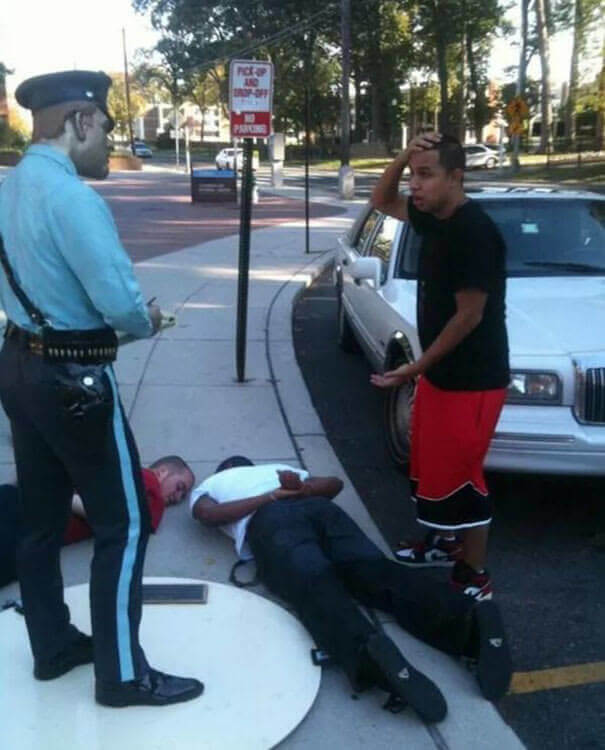 This statue is very realistic and quite creepy.
26. 50 Shades of Sculpture
This is one provocative sculpture. He is getting a little too handsy.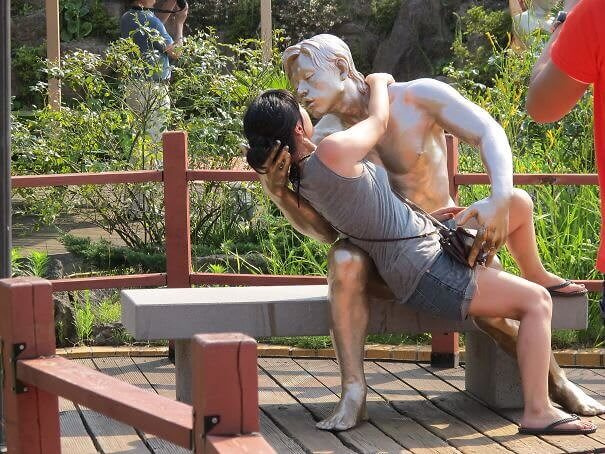 She doesn't seem to mind though. She is enjoying his tender embrace.
27. Listening Carefully
"Hey listen, did you know that Jamie and Suzie broke up?"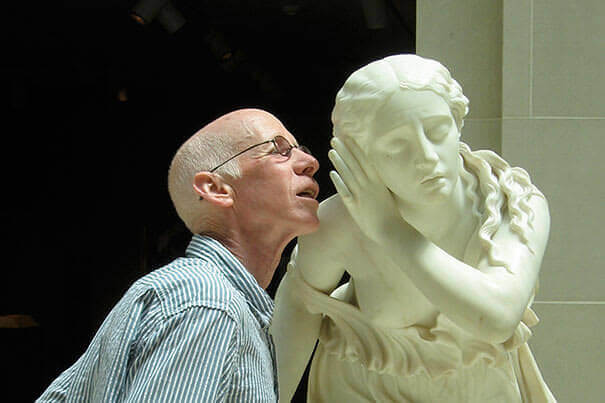 XOXO, Gossip (Statue) Girl
28. A Thorough Inspection
Well, this cowboy must be saying "just what I thought…you are no man!"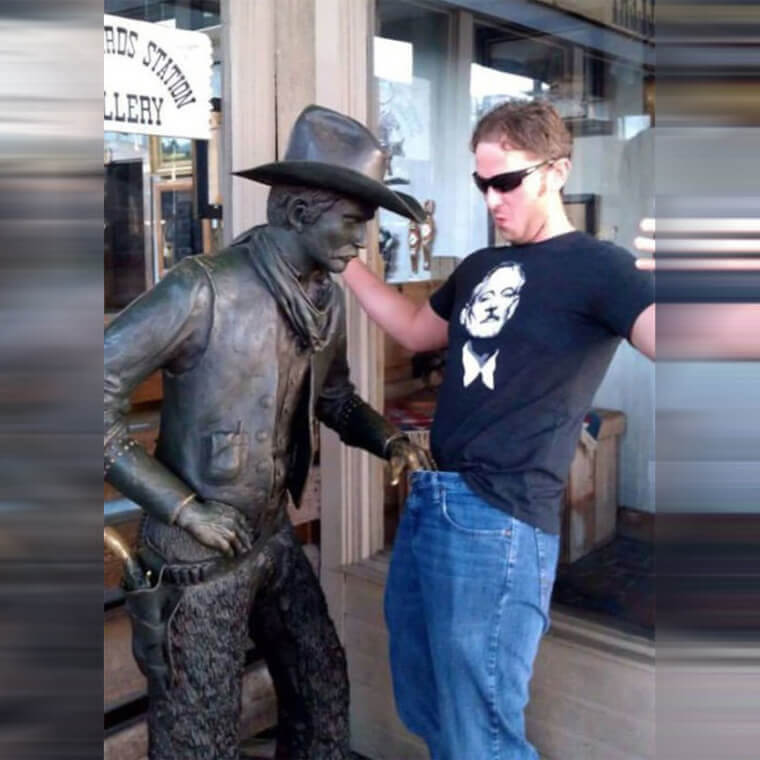 We are sure something really extraordinary came into your mind as well, but we are not going to talk about it. Let's just hope that it was some random checking.
29. Great Timing
It looks like this warrior is crushing that woman's head and thinking "I am so great that I can squish your puny little face with ease."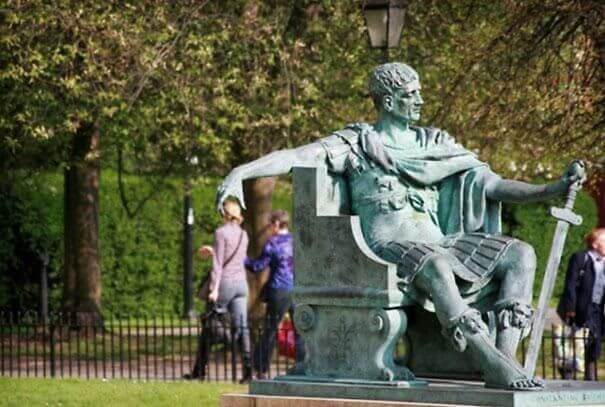 The woman has nothing to do with this photo and all credit must be given to the photographer to taking the photo at the right moment.
30. "Hey, Thanks Lady"
Although we're strongly against smoking and don't promote it, we must admit that it is a pretty cool photo.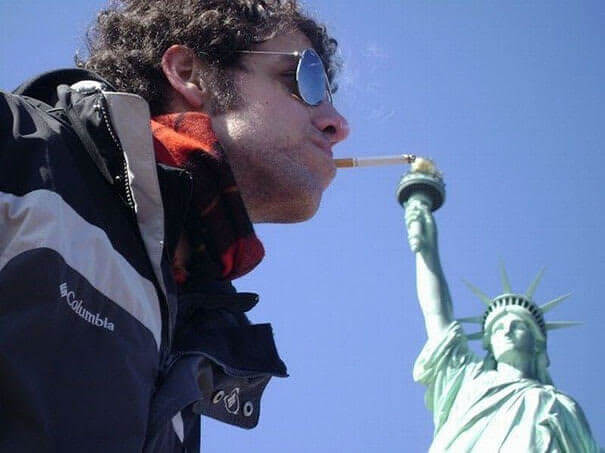 Given that this colossal neoclassical sculpture is not like other sculptures, all credit must be given to this person's creativity.
31. Right in The Stomach
Okay, this sculpture is quite famous among people in Japan who want to take photos with hilarious poses.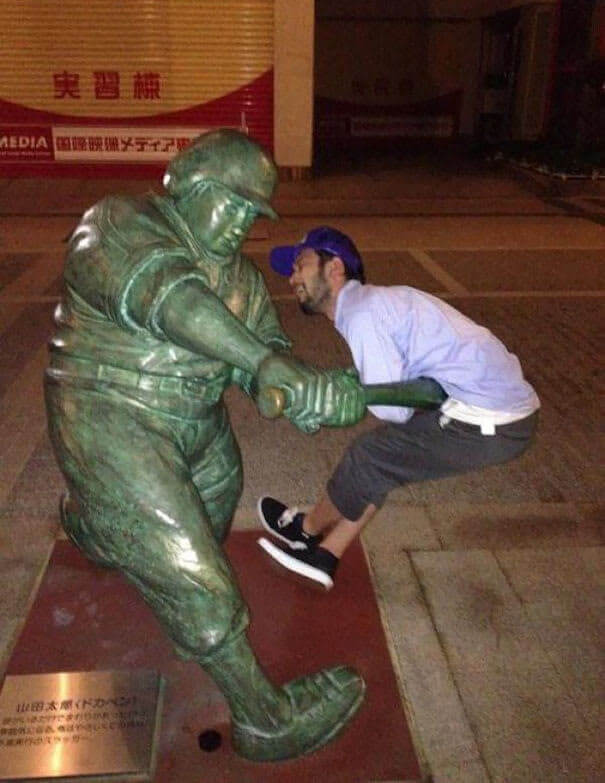 It could've been much better if he wasn't smiling in this picture. Nevertheless, it was definitely worth including in our list.
32. Teaching a Lesson
"Hey missy, this is what you are going to get if you don't follow dress rules." And God, her face made this photo so realistic.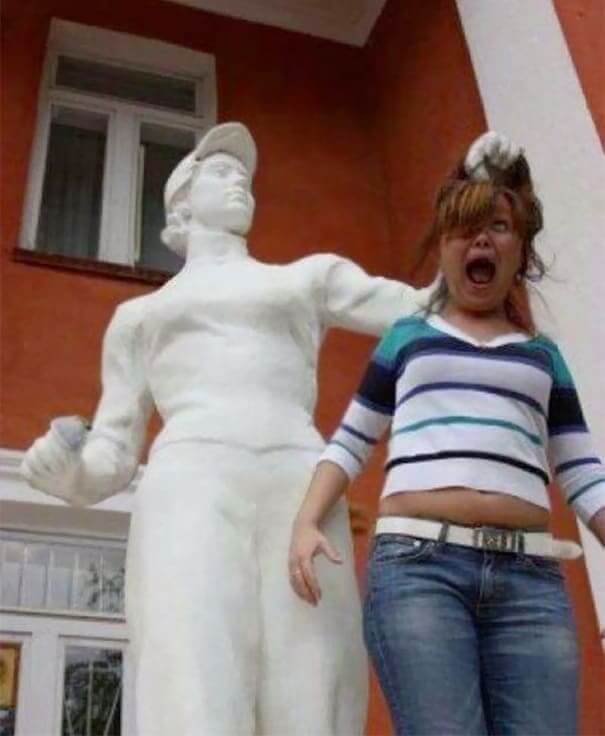 Have you watched the movie Matilda? Well, this particular photo reminded us of that movie. You should definitely watch it.
33. Just Breaking in The Line
We all know someone who doesn't like to follow the rules and is always trying to do something different.
This kiddo broke into the line and acted so normal as if nothing had happened. Even if his parents told him to do it, we find this photo super cute.
34. "This is Not Sparta"
This lady looks like she takes karate classes, and she knows how to kick some butt. This sculpture was harassing people, and she decided to do something about it.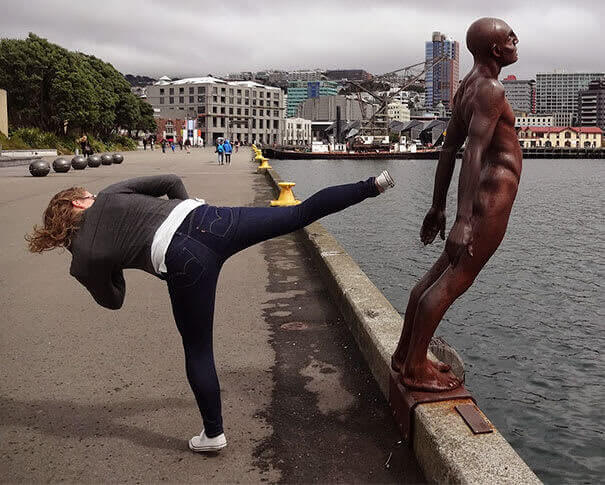 One thing you should learn from this photo is that you should never mess with a woman. Who knows she might kick your butt like this one.
35. Mean Man
We all have that one friend who is always pranking everyone else.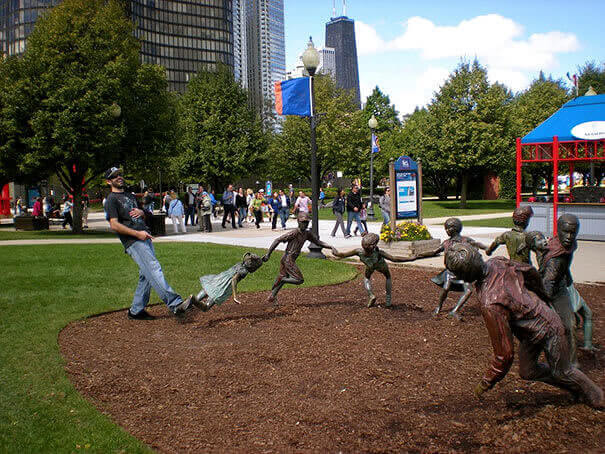 Sir, pick on someone your own size, not the little girl.
36. "I Said Eat It"
When conventional marketing tactics don't work, you have to think outside of the box.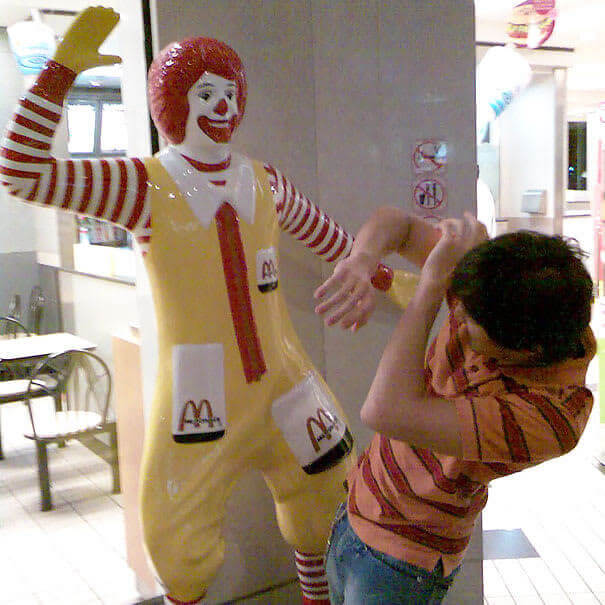 As people are switching to organic food, Ronald McDonald is forcing people into eating it (well, at least that what this picture shows).
37. Obama Having Fun
We can't help but think that this is a really random place for a statue. Don't you think?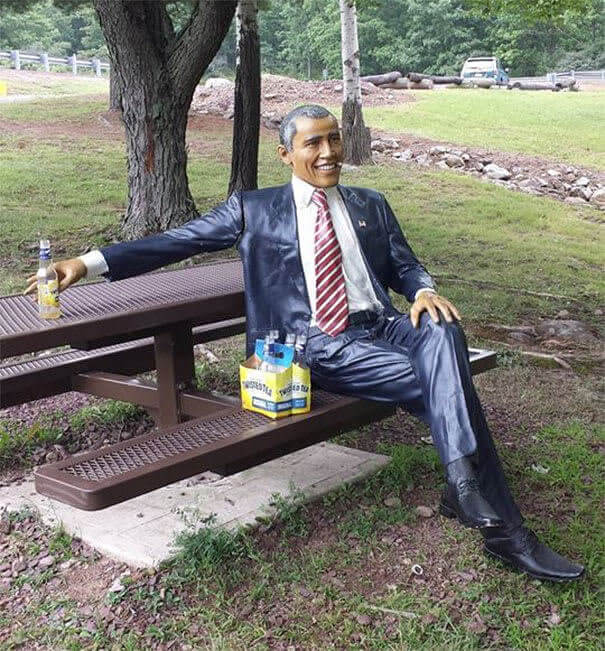 But hey, who wouldn't want to share a meal or a drink with Obama?
38. Attack on Titan
Are you a fan of manga series Attack on Titan? If you haven't watched it yet then please go watch it.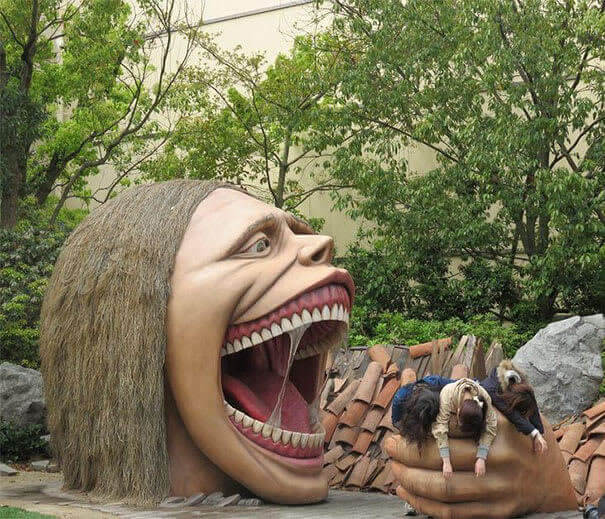 Universal Studios in Japan constructed an Attack on Titan experience that enables people to enjoy the feeling of being trapped inside the massive jaws of a Titan. So, these people knew what they had to do to create this nightmarish photo.
39. Shhh Don't Tell Him
"First you gave me this backpack and though I wasn't okay with it, I still agreed to wear it. Now it feels like I'm carrying dead weight."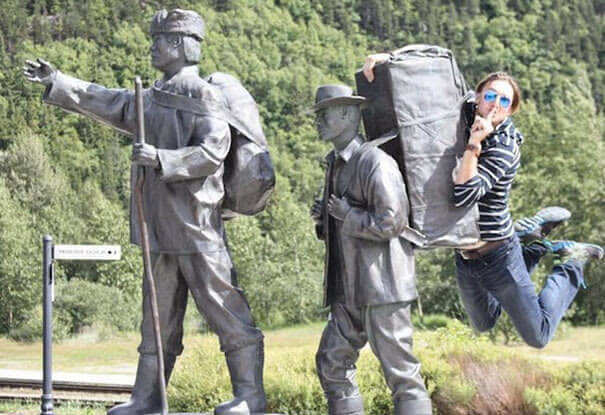 This woman took freeloading to a whole new level with this hilarious photo.
40. Playing the Drinking Game
Instead of just trying to win the game, this thoughtful gentleman is trying to make his opponent stay in the game as well.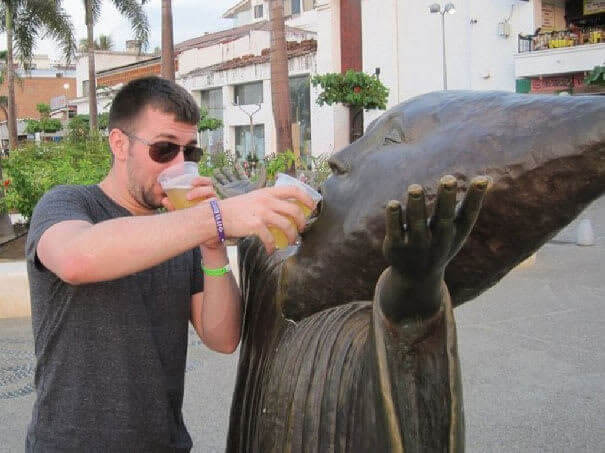 We can hear words coming out of this photo: chug, chug, chug!
41. Not Cool, Man
We are a little concern for this guy here. Why put someone else's finger in your nose, especially in public? Even if it is the finger of sculpture, there is no need to put it in your nose.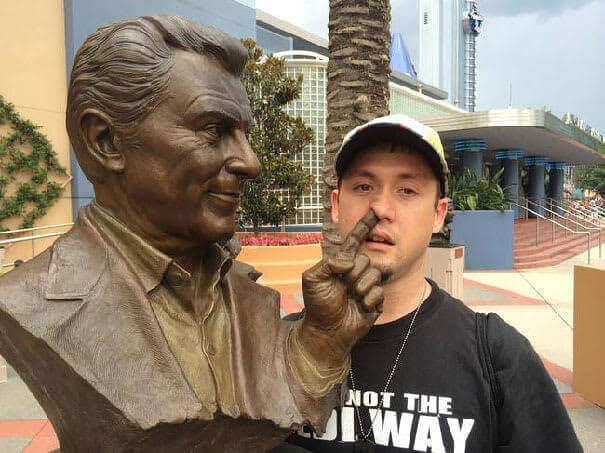 Who knows a bird sat on the finger and pooped? There is also a possibility that this finger has been in other people's noses as well. Yuck…
42. The Kid Nailed It
When you take something from your older sibling, and they come to you looking for it.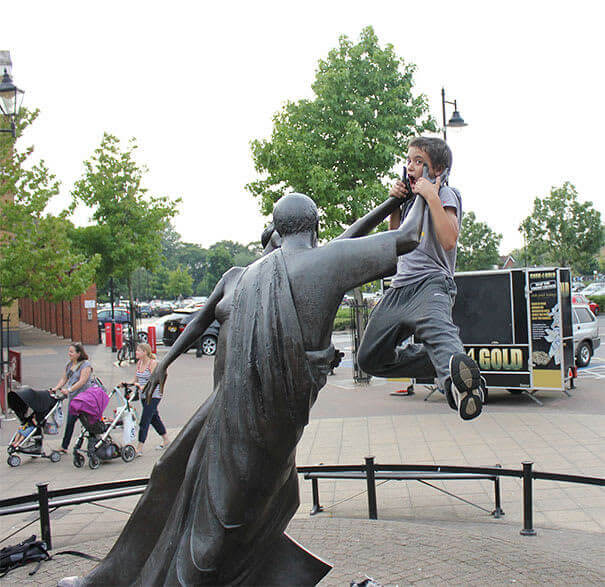 We must appreciate this kid who had to go through all the trouble to get this cool photo and even his facial expression just made it more convincing.
43. The Grin Says It All
"Those ate some nice buns you got there."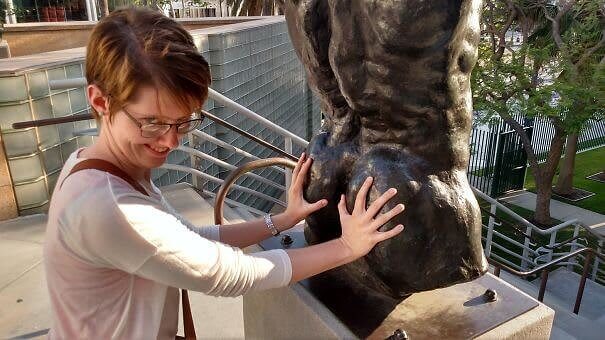 Her grin says it all. She couldn't be happier to touch those buns of steel.
Celebrities Who Spent A Fortune Changing Their Looks
John Travis
This article was originally published on 24/7Mirror
One of the Hollywood taboos is also a "hobby" for many, going under the knife. Although not many celebrities admit to having plastic surgery, it all becomes quite evident sooner or later. As some celebrities openly admit it – like the Kardashians – others hide it. So, here are some of the most expensive celebrity plastic surgeries. ​
Heidi Montag – $1,000,000
As Heidi Montag appeared with her boyfriend (now husband), Spencer Pratt, in the TV show The Hills, the couple received a lot of love and hate.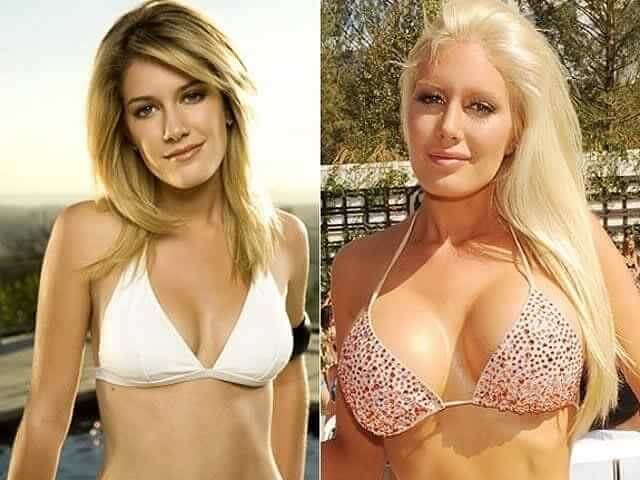 She was insecure about her looks and had a lot of grief for her plastic surgery decisions that have cost her a lot of money. She was so addicted to it that she even had ten procedures in one day.
Jennifer Aniston – $30,500
Ah, the beautiful Rachel Green from famous American sitcom still looks younger, and we absolutely love her. She hasn't admitted to going under the knife, but experts suggest that she has had at least two nose jobs and a facelift in the past two decades. However, she has admitted to treatments such as famous laser and ultrasound 'no-scalpel' facials, which she has at least once a month.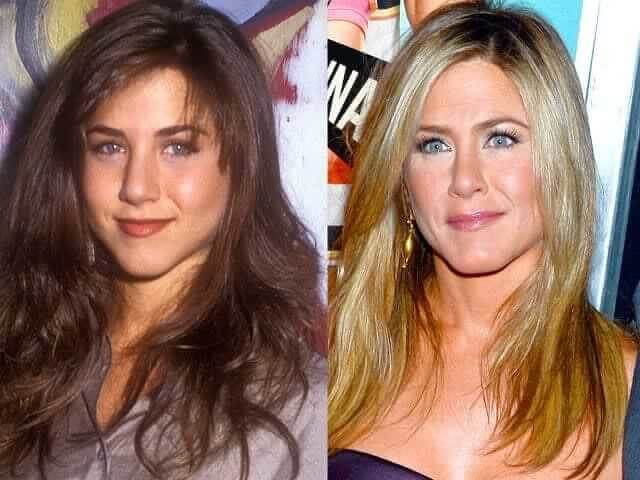 On the other hand, many people believe that she still looks younger because of her extensive skincare and beauty regimen. It is rumored that her eyebrows alone cost around $900 per year.
Kourtney Kardashian – $25,000
As expected, the Kardashians will take up a fair share of our list. Kourtney Kardashian was in college when she decided to have breast augmentation, and she was not happy with the results. According to her, she wishes she hadn't had it done.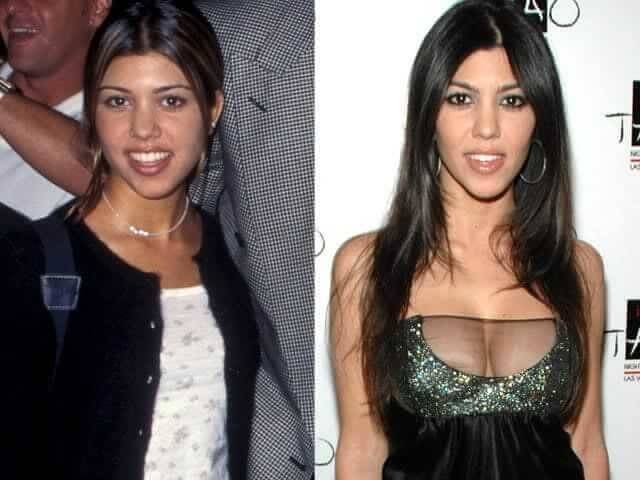 Kourtney believes that surgery is an extreme first step, and that's why she might even consider lasers as an alternative method if she decides to make any future changes to her face or body.
Nicki Minaj – $11,500
Nicki Minaj is a huge celebrity and a role model for many young black women. However, it is worth mentioning that her signature look is not natural.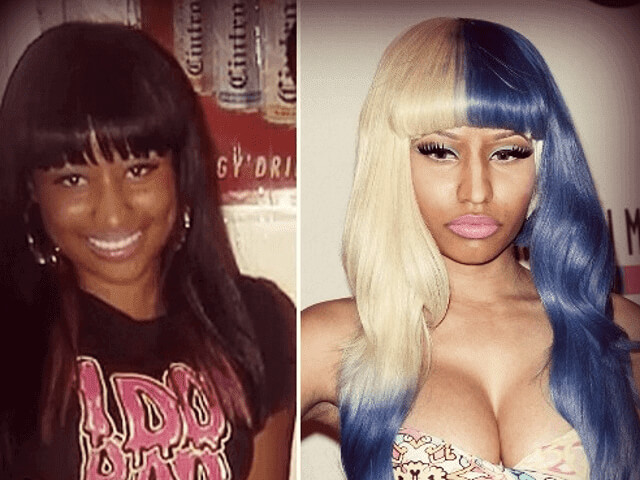 It took over $11,000 to give her the look that she has today. The procedures include buttock implants, skin bleaching, and a nose job.
Victoria Beckham – $12,956
Victoria, the wife of David Beckham, has a love-hate relationship with plastic surgery. It is because she had bits and pieces done on her body and then removed as well.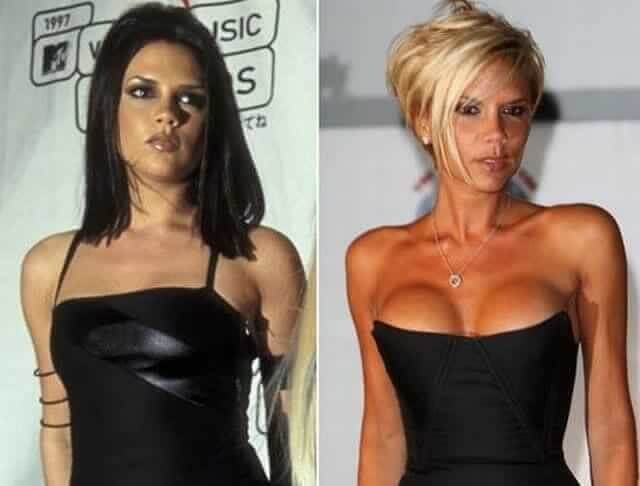 She has openly admitted about her breast augmentation and regrets her decision to get them done. She is quite outspoken about it and says that she did it due to insecurity. "Don't mess with your boobs, just celebrate what you've got," she said.
Pete Burns – $38,000
The late English musician was known for his ever-changing and sometimes androgynous appearance, and he did not shy away from admitting that they were possible because of a lot of cosmetic surgeries.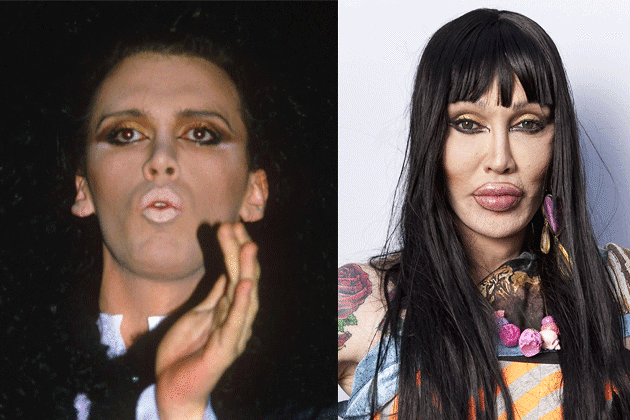 Although he had many other procedures, the common ones he had were lip fillers, cheek implants, and nose jobs.
Kylie Jenner – $2,000,000
It was reported by "OK! Magazine" that the entire sum of Kylie Jenner's surgeries might be about two million dollars. Yes, you've read it right.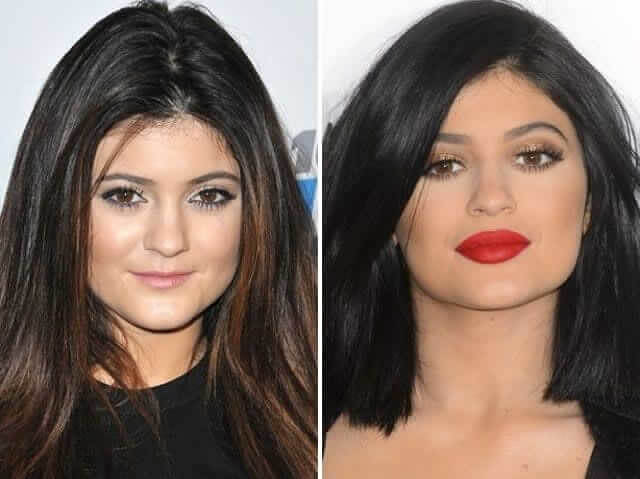 However, she has publically admitted only to lip fillers because (allegedly) her date said to her that he didn't think she would be any good at kissing. There are rumors that she's had Botox, breast implants along with other procedures.
Jocelyn Wildenstein – $6.500,000
These pictures are not photoshopped. Jocelyn is known as the Catwoman. there is speculation that she did all the extensive surgeries because her late husband liked cats.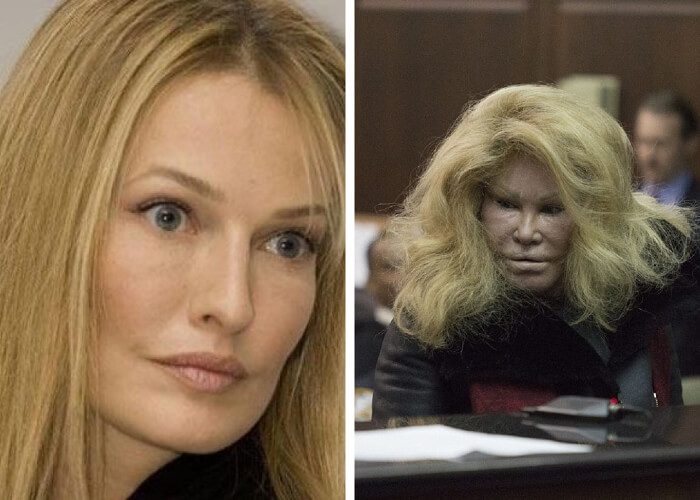 She has no plans to stop. She even said that if she ever wanted work done, she would continue to have a plastic surgery into her nineties
Angelina Jolie – Unknown
Although some celebrities get plastic surgery in an attempt to look younger, this wasn't exactly the case with Angelina Jolie. She had a double mastectomy and was at serious risk for breast cancer. Therefore, she got implants after the removal of her breasts.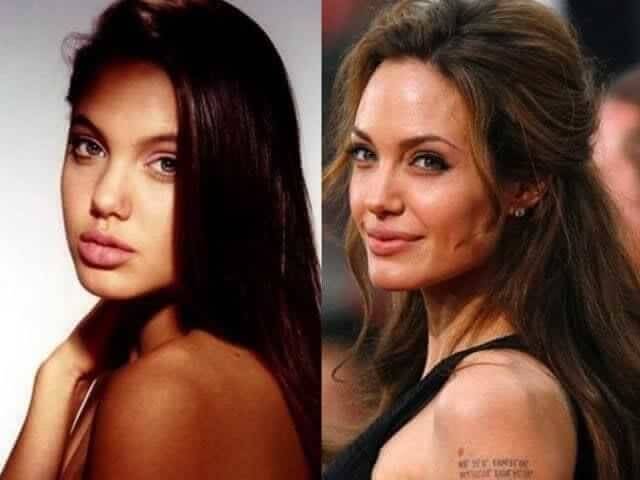 However, some experts firmly believe that she's had a facelift and nose job at some point. Look at her comparison photo and decide for yourself.
Caitlyn Jenner – $60,000
After many years of battling with her gender identity, Caitlyn Jenner (formerly Bruce Jenner) had gender reassignment surgery to fully transition into a woman. Caitlyn was empowered when she finally got to express her true self.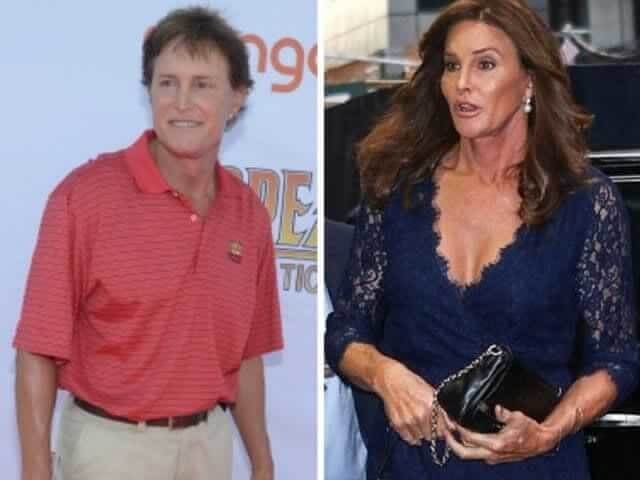 Caitlyn also had breast implants and facial surgery to give her a more feminine look. She is and will always be an icon.
La Toya Jackson – $21,500
La Toya Jackson is also a plastic surgery enthusiast, just like her famous brother. It resulted in giving her an unrecognizable look just like Michael Jackson.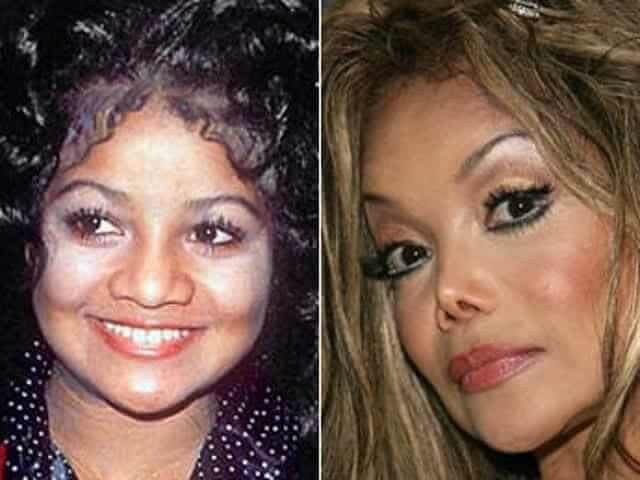 It is reported that she has had an eyebrow lift, at least one rhinoplasty, and breast augmentation as well.
Kim Kardashian – $16,500
It has been up for debate if Kim Kardashian has or has not had plastic surgery. She started in her early days working for Paris Hilton before she made a name for herself.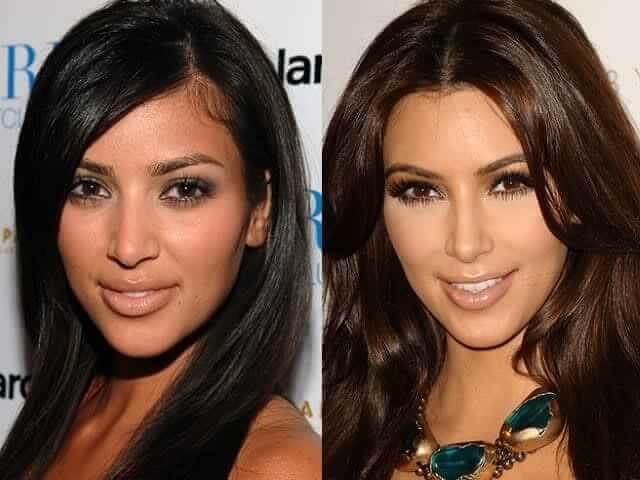 It is no secret that the TV personality, model, and reality TV star Kim has made some changes to her appearance. She has spent money on nose jobs, liposuction, and both breast and buttock implants.
Mickey Rourke – $36,000
So far, you have seen that most of the big spenders on our list are women, but Mickey Rourke is undoubtedly one of those male actors who wanted to give them fierce competition.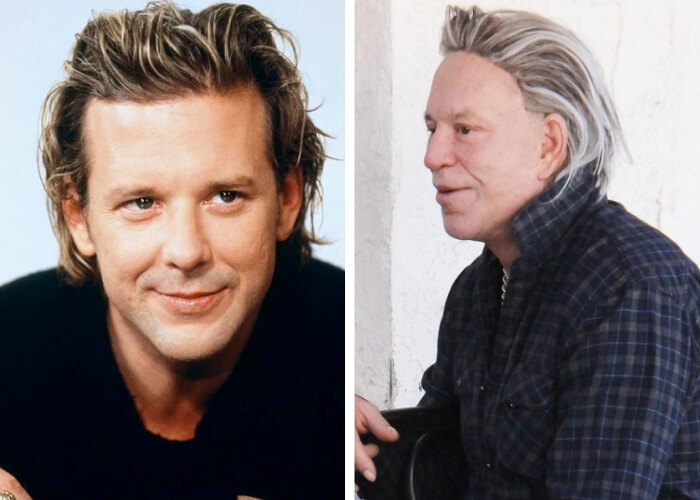 It is rumored that he has had six facelifts and a nose alteration at some point in his career. Decide for yourself.
Michael Jackson – $1,000,000
The "King of Pop" is one of the most famous people who entirely changed themselves with the help of plastic surgery. He started having work done at a young age and he never really stopped.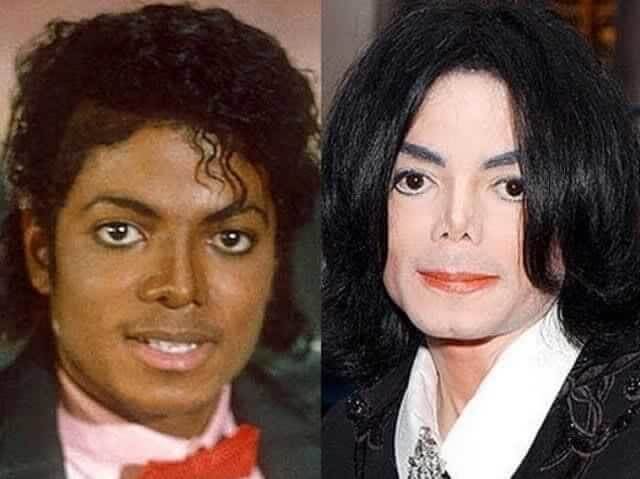 Even though he is known for changing his skin to completely white, he also had rhinoplasty along with many other procedures.
Nadya Suleman – $12,180
Remember Octomom? Well, if you don't then you'll be a bit surprised to know that she is popular because she gave birth to eight babies at once. She was heavily criticized by some people as they thought she did it for fame and money.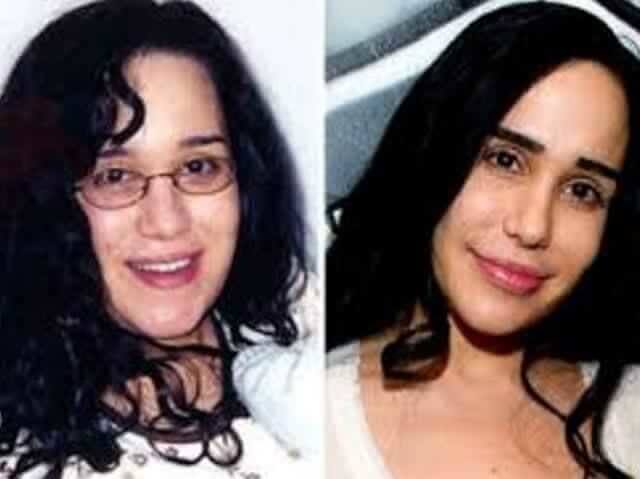 She has gone through surgeries that include nose jobs, lip injections, and yes you've guessed it right, vaginal rejuvenation. Some people believe that she went under the knife several times because she wanted to look like Angelina Jolie.
Tori Spelling – $13,000
This actress is widely known for her roles in television shows like "Beverley Hills" as well as in movies like the blockbuster hit "Scary Movie."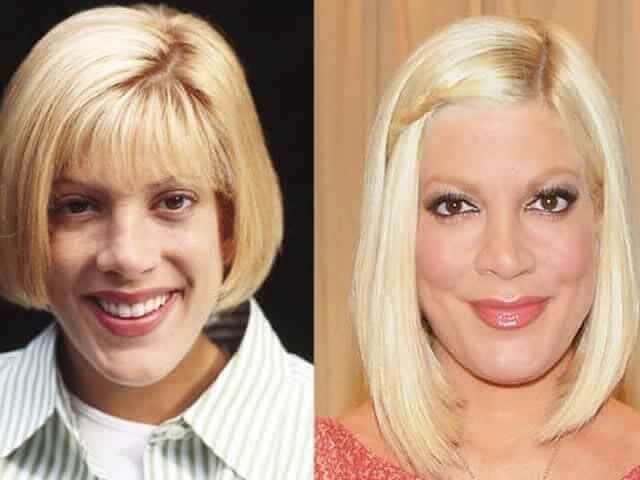 Unlike many celebrities, she did not hesitate in admitting to having some work done. She has some regrets about her breast augmentation because it caused problems with breastfeeding her children. The actress wanted to create awareness about the drawback of breast augmentation and admits that she would have never done it if she had known about it.
Pamela Anderson – $10,500
The Canadian-American actress and model is known for her appearances in Playboy magazine and TV series such as V.I.P. and Baywatch.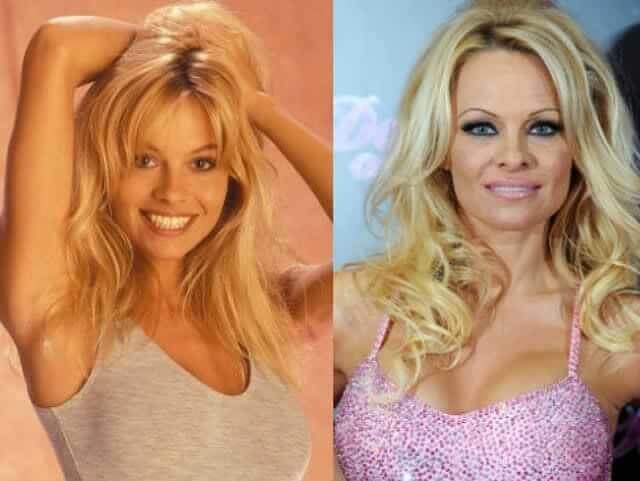 As she grew older, she found it hard to remain in the public eye. Therefore, she decided to go for breast implants and facial tightening procedures in a quest to remain young. She certainly succeeded in doing it and now her boob jobs are one of the most standout things about her.
Denise Richards – $13,000
You may have recognized this American actress, television personality, author, philanthropist and former fashion model from the currently running reality TV show The Real Housewives of Beverly Hills. She is best known for her work in TV shows such as Blue Mountain Slate, Twisted, and The Bold and The Beautiful.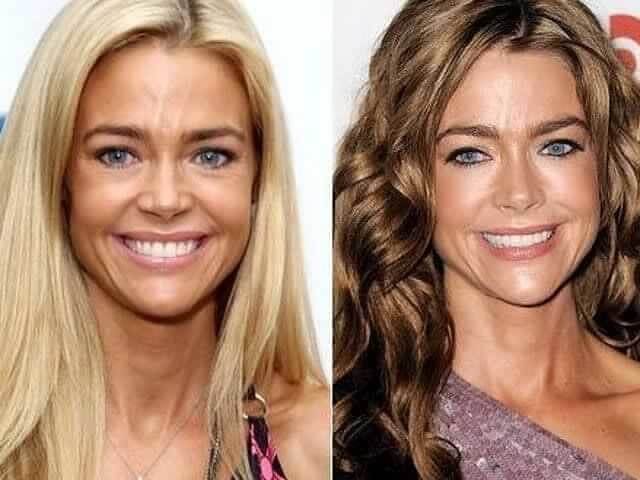 She was only 19 when she decided to have a breast augmentation. However, her breast was too large for her frame and she had to go through the procedure two times before she got the results she wanted.
Kelly Rowland – $22,000
She became immensely popular in the late 1990s as a member of one of the world's best-selling girls group, Destiny's Child.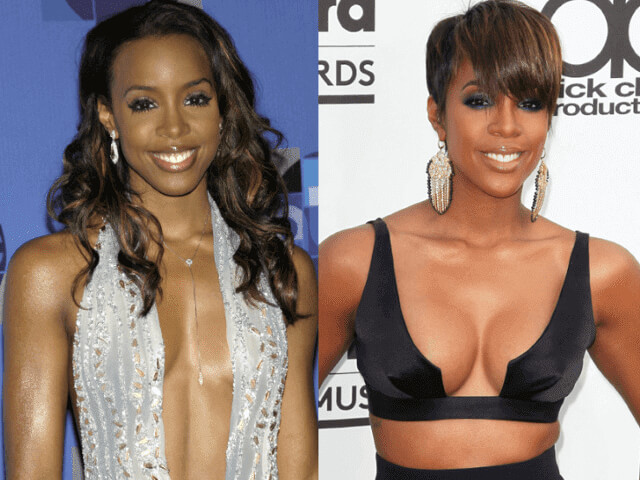 She once told the media that she wanted to get her breasts enlarged when she was 18 years old. However, her mom and Beyoncé advised her to give it some time. She finally got them a decade later.
David Gest – $20,000
This transformation won't surprise you once you learn that this American producer and television personality was a great friend of Michael Jackson, a plastic surgery enthusiast.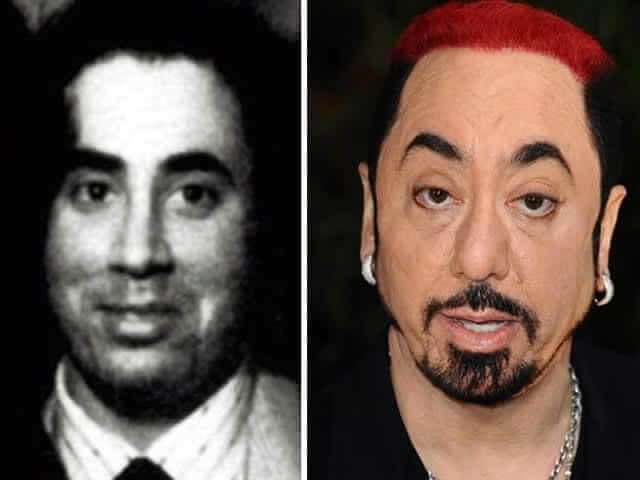 Many believe that there was a time in his life when he became addicted to plastic surgery. That explains why he has had many facelifts, an eyebrow lift, and Botox, as well as surgery to his chin to give him a stronger jaw. He regrets that he went to great lengths and it even cost him way more than what he could afford.
Lil' Kim – $19,625
Well, this is definitely one of the most shocking transformations on our list. Lil' Kim did it all when she was on a break from her music career.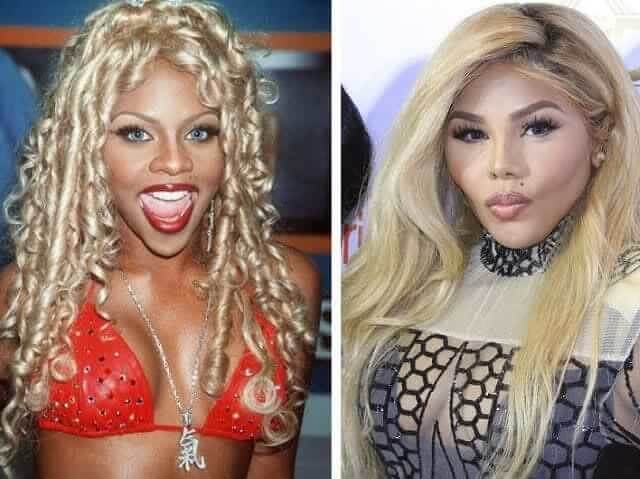 She has had liposuction, lip implants, a rhinoplasty, and breast augmentation. She has also bleached her skin a few shades lighter. The public opinion hasn't been so kind to her after this dramatic transformation.
Donatella Versace – $25,000
The Italian fashion designer like many others wanted to look her best all the time, but her cosmetic surgeries did not deliver results as expected.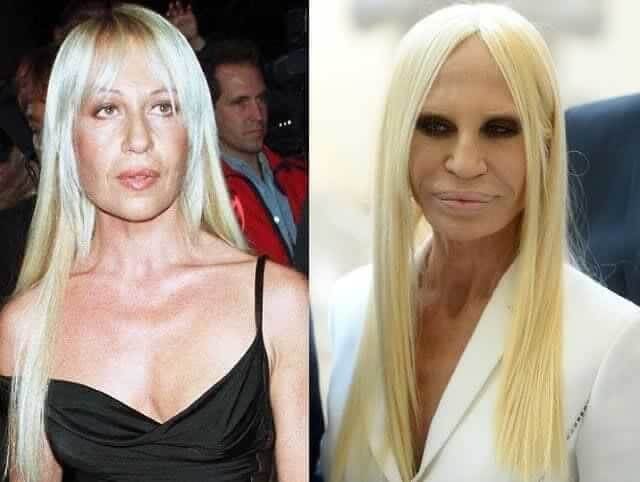 Her facelift did not go as planned and even the injections took away any sign of movement in much of her face. She is often called as the human waxwork and she replied to it in this way: "I am not a fan of the natural look."
Amanda Bynes – $18,000
Once an adorable child star and a teenage actress, Amanda Bynes has certainly made such a transformation that she might be overdoing it in later life.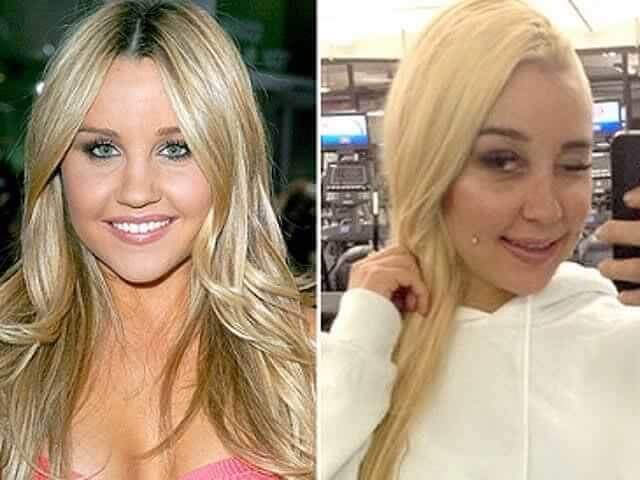 However, she is quite open about her love for plastic surgery. As she has also had a boob job, she isn't planning on stopping. She said on Twitter, "I plan on having surgery on my whole face, straight up."
Holly Madison – $32,000
It is hard to understand how a Playmate can feel insecure about her looks, but that's how Holly Madison felt. Living in the Playboy Mansion created some serious self-esteem issues.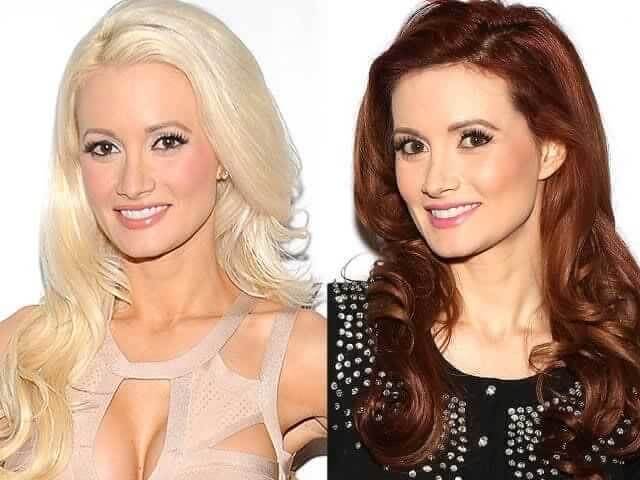 "I was comparing myself to the other girls … You have to look a certain way at the mansion. Plastic surgery made it easier for me to get things I wanted in my career. Without it, I wouldn't be where I am today," she said.
Kris Jenner – $71,000
Kris spent over $70,000 on plastic surgery before airing it on the episode of "Keeping Up with the Kardashians."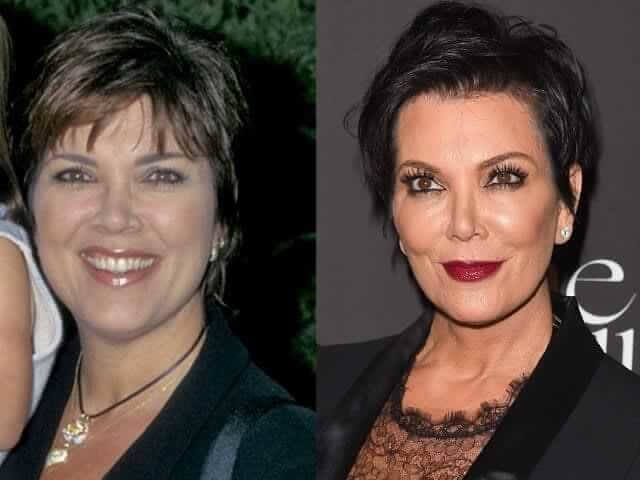 Kris has gone with procedures such as nose jobs, breast enhancements, laser surgery, facial fillers, and more. How much has she changed her appearance? You decide.
Cher – $750,000
You can either love her or hate her, but you cannot deny the fact that she has been in the spotlight her entire life.
The singer, actress, and a model have a lot of enhancements procedures done which include eyelid alterations, nose jobs and chest augmentations. She has relied a lot on Botox injections to keep her skin looking smooth.
Kaley Cuoco – Unknown
The star of famous American sitcom The Big Bang Theory openly admits that she has had cosmetic surgeries.
She had a breast implant in 2004 and she believes it to be one of the best things she has ever done. She also had a nose job and we love that she is quite open about her procedures.
Joan Rivers – $99,000
The late Joan Rivers is considered among some of the best comedians of all time. Apart from comedy, she was also known for her plastic surgery.
It is because she had a startling 739 procedures in her lifetime. It can be said that this high number of procedures might be a record amongst celebrities.
Kathy Griffin – $30,000
Here is a famous comedian and an actress who is creating laugh lines on others while making her wrinkles less visible.
She has had a number of procedures on her eyebrows, breasts, nose, and eyes, as well as Botox, and chemical peels. We think she hasn't overdone it and she looks beautiful.
NeNe Leakes – $20,500
Best known as Linnethia Leakes, the reality TV star became famous from the Real Housewives of Atlanta. She has since worked in TV shows such as Glee and also became a judge on the show Fashion Police.
She isn't too shy to admit that she has had a fair share of plastic surgery that includes one nose job, a breast lift and a breast reduction along with some liposuction. Well, she looks super gorgeous as always.
Tara Reid – $9,500
Tara captivated everyone with her innocent looking face in the hit comedy series American Pie. It won't be wrong to say that she is a good reminder that plastic surgery doesn't always deliver results as expected. The damages were caused by her breast augmentation and tummy tuck.
She featured in a Playboy magazine of 2009 and said that the damage caused by surgeries to her skin and torso have been corrected.
Courtney Love – $9,800
The American singer and actress have a career that spanned over four decades and she has changed many looks over the years.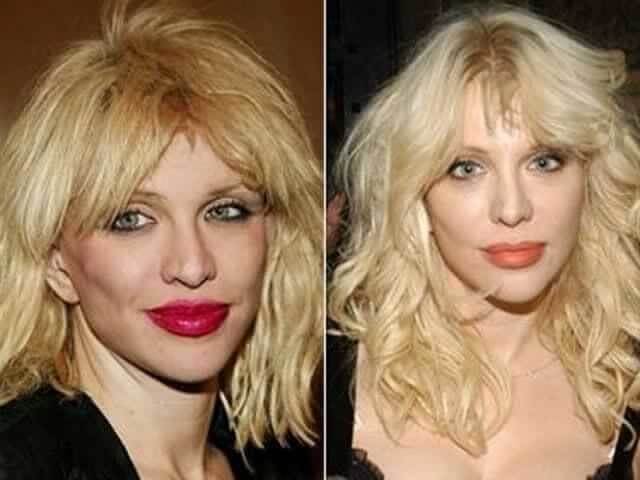 Although the wife of late rock star Kurt Kobain has had experimented with long flowing blonde locks and short messy hair with punk clothes, it didn't stop people from noticing that she had made changes to her face and body as well e.g. nose job, lip fillers, and breast augmentation.
Meg Ryan – $11,750
Although it isn't the most expensive transformation on our list, it looks like Meg went a bit overboard with her procedures.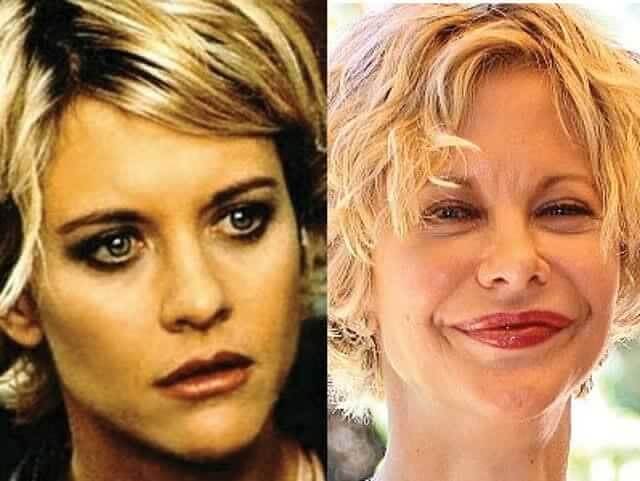 She has had quite a few procedures, including neck lifts and many facial fillings. Once known as the "fresh-faced" actress, she has definitely shocked everyone with her look.
Lindsay Lohan – Unknown
This Mean Girls star has never confirmed any rumors regarding her cosmetic surgeries, but there are a lot of speculations that she has a lot of experience of going under the knife. Supposedly, she had it all from boob jobs, facial implants, to nose jobs.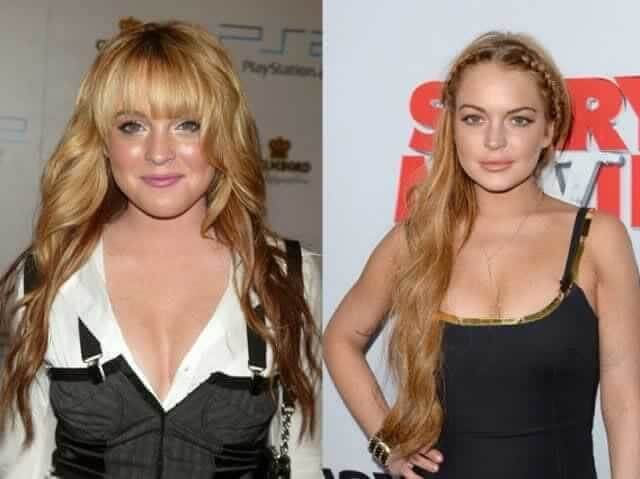 Lindsay even denies having Botox to keep her looks younger. However, she has admitted to trying a treatment called Caci in which electrical current is used to keep the skin muscles smooth.
Heather Locklear – $18,500
She has made a name for herself with her role as Amanda Woodward on "Melrose Place" and as Sammy Jo Carrington on "Dynasty." And she is also known for being associated with famous men such as Tommy Lee Jones and Richie Samborra.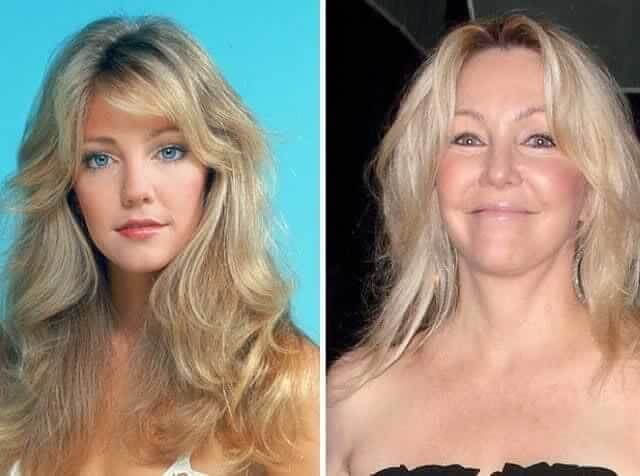 Although she has had many surgeries over the years (a nose job, a boob job, a cheek implants procedure, and a facelift along with Botox injections), it is amazing that she doesn't look dramatically different and even her overall bill of treatments isn't too high as well.
Janice Dickinson – $20,000
It can be said that Janice is not one of the cosmetic surgery's success stories. Even her son, Nathan Fields, begged her to not do any more plastic surgery but it seems like she has no plans of stopping anytime soon.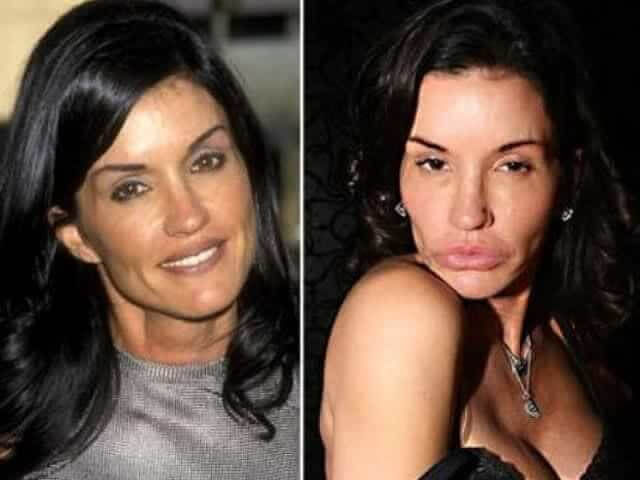 Her dramatic transformation has taken place slowly over the years. It is unfortunate that her name is quite often used on lists of nightmare plastic surgery gone wrong.
Barbie Girl – Unknown
Valeria Lukyanova wanted to look like Barbie since high school and says that she has had only breasts changed to achieve the look. But we find it hard to believe.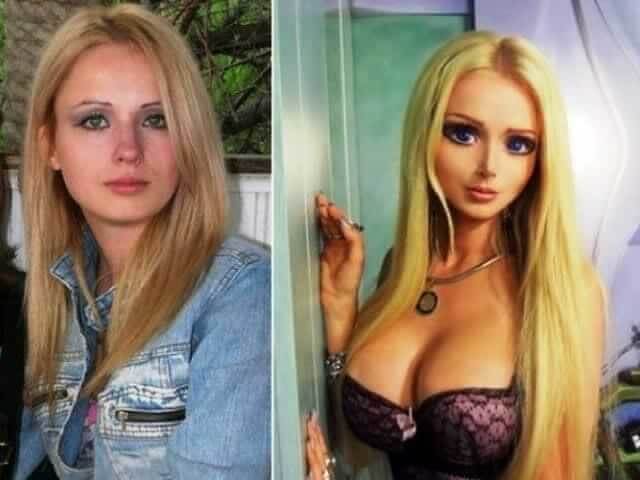 From her face to her wrists to her overall image, everything looks transformed. She hopes to inspire others as she believes that there is always room for improvement.
Renee Zellweger – Unknown
Although the actress is known for making changes to her body for her roles in movies (she bulked up for her role as Bridget Jones), she was totally unrecognizable when she stepped out on the red carpet in 2014.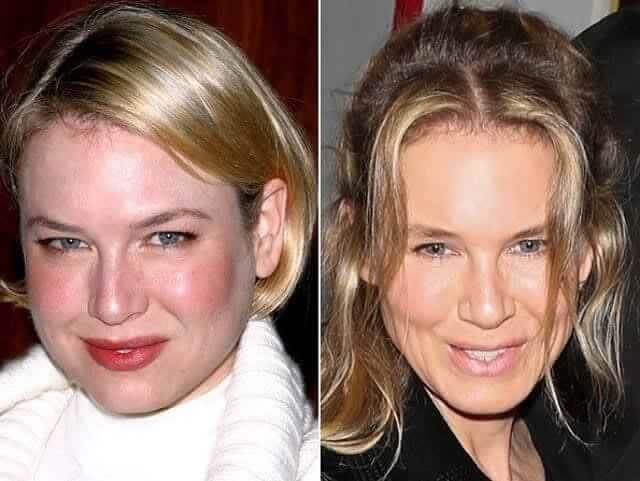 She totally denies the rumors and says that she was just preoccupied that day. She says that "a woman only gets more interesting as she gets older".
Brad Pitt – Unknown
This inclusion in our list proves that celebrities are humans as well and even they have insecurities. It is rumored that Brad was conscious of his ears and decided to have surgery to pin them back.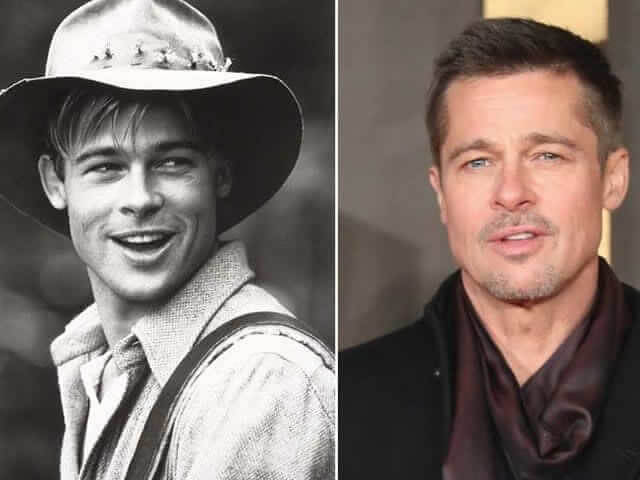 However, he isn't much interested in other treatments to make him look younger. He is getting old gracefully and he is looking hotter than ever.
Diana Agron – $15,000
It won't be wrong to say that Diana is like a role model for many teenagers. It is mainly because of her role of Quinn Fabray in hit TV show Glee. She did not shy away from admitting that she had a nose job.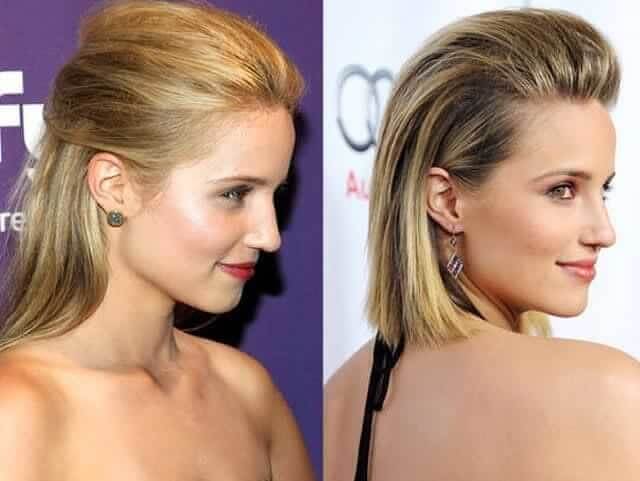 Although she admitted to having the desire to make a change, she had no option but to get her nose fixed after a collision with her friend when they were out dancing in a party. By the way, she looks as gorgeous as ever.
Tom Cruise – Unknown
The Bafta award of 2016 went into a shock when Tom Cruise made an entrance. It exploded into rumors that Tom has done something really drastic to his face.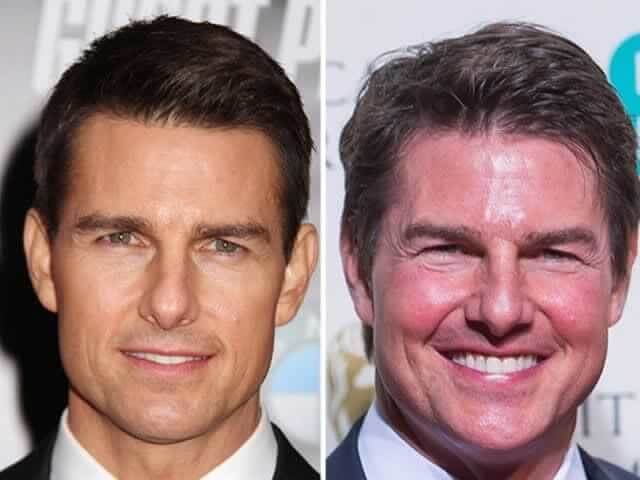 One Twitter user even went on to say that "Looks like Tom Cruise has just been on a Mission Impossible type mission to steal all the world's Botox supply for his face." Some even compared his puffy face to a bee sting. Ouch!
Barry Manilow – $70,000
Although many of Barry Manilow's surgeries are because of his 2003 accident when he walked into a wall and needed dental work and facial reconfiguration, he went under the knife for other reasons as well.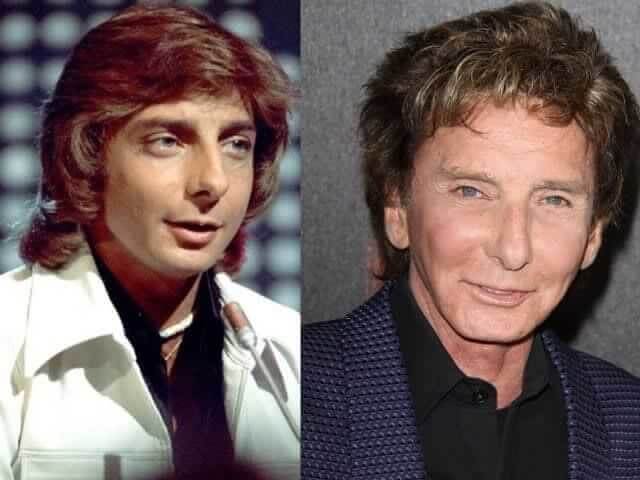 Many plastic surgeons suggest that he also had a nose job and Botox injections. He also had a medical plastic surgery to remove tumors or cysts.
Megan Fox – $8,000
She is considered a sex symbol and everyone is captivated by her attractive looks. Her role in the Transformer was her first shot at fame and since then she has never looked back.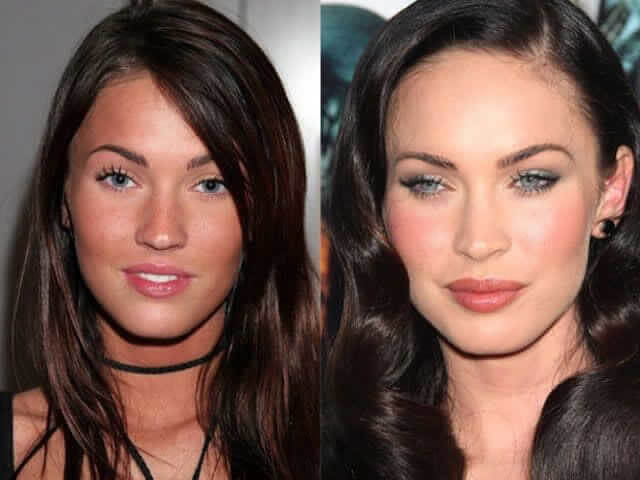 There are rumors that she has had two nose jobs, as well as cheek implants, breast augmentation surgery, and both Botox and lip fillers. However, it is surprising that she was already one of the world's sexiest women before she decided to make the changes.
Rumer Willis – $100,000
It can be said that Rumer Willis, daughter of Bruce Willis and Demi Moore, is the offspring of one of the famous celebrity couples of all time.
Although she is beautiful, she followed her mother's footstep and chalked up to $100,000 on cosmetic surgeries that include jawline reconstructive surgery and a rhinoplasty along with lip injections and Botox.
John Travolta – Unknown
The famous Hollywood actor has been in the public eyes for decades and it was no surprise when fans started to call out his clear hair transplant and so-called 'frozen face.'
Although the actor has denied the rumors of him getting a Botox and facelift, we are going to let you decide after looking at these two pictures of past and present.
Dwayne Johnson – Unknown
It is really commendable that Dwayne Johnson aka The Rock has made a huge transition from his wrestling career to Hollywood. But did you know that he had to receive plastic surgery to reduce the size of his chest?
Dwayne is never shy to admit that he has been under the knife several times. He is quite open about it because he does not want to raise the bar of "unattainable perfection."
Courtney Cox – Unknown
Who isn't still in love with Monica Geller, right? Well, the Friends star looks beautiful and it is hard to tell that she is 55 years old.
Although she has never admitted to having a nose job or any work done on her face, she has spoken about getting facial fillers and Botox injections.
Roseanne Barr – $45,000
The American actress, comedian, writer, and television producer rose to popularity with her role in the hit TV sitcom, Roseanne.
Unlike many other celebrities, her surgeries (tummy tucks and gastric band surgery) were focused on weight loss. It is most probably because she knew she was working in an image-conscious world.
Adele – Unknown
The beautiful and powerful Adele lost a lot of weight in a small time and that helped create some rumors.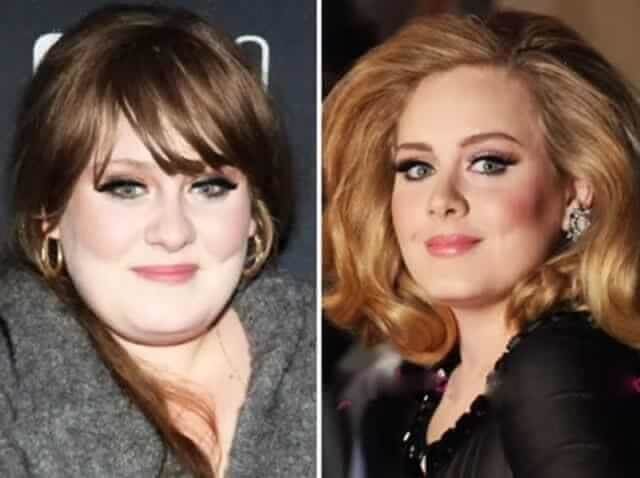 Although she claims that she had throat surgery and it prevented her from eating for some time, many believe that she had liposuction and a nose job. We love her and even if she had liposuction then it still won't change how we see her.
Demi Moore – $500,000
Demi is a natural beauty, but even she had to go under the knife in an attempt to prevent the inevitable aging.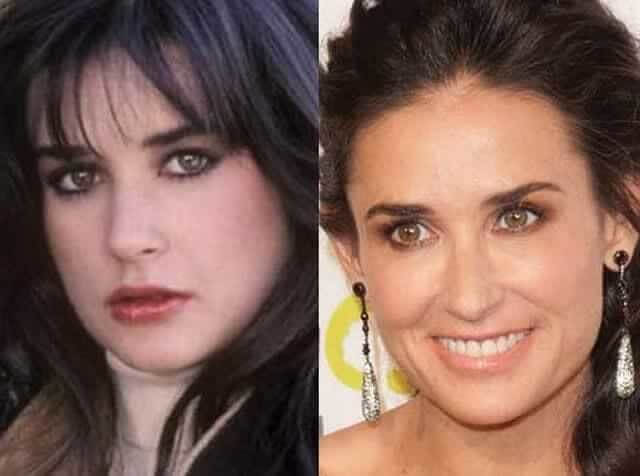 She has admitted to having facelifts, breast implants, liposuction, and at least one nose job. we must say that it all seems to work because she does not look like a woman in her fifties.
Kenny Rogers – Unknown
If you love country song then you must be a fan of Kenny Rogers. Apart from singing, he has also acted in several movies and TV shows.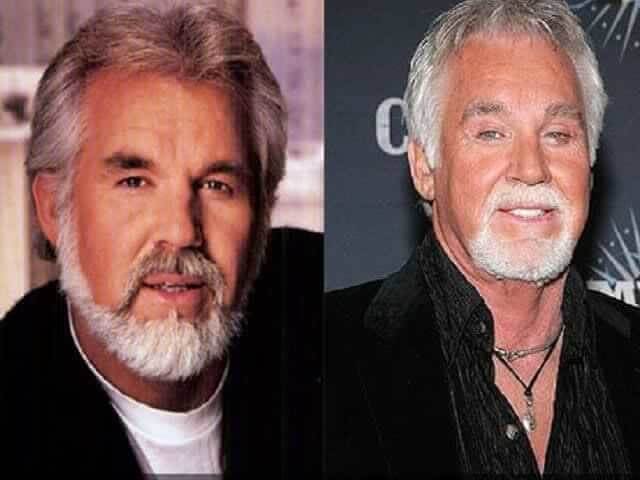 He had a botched plastic surgery that includes an eyelid lift which did not turn out as planned. Hence, it didn't take him much time to come out against plastic surgery. "I'm not happy about it" he said, "it drives me crazy!"
Britney Spears – $2,000
It is really surprising that there are not many rumors about Britney having plastic surgery. After all, she has been in the limelight for over two decades. She has always said that she will never get cosmetic surgery.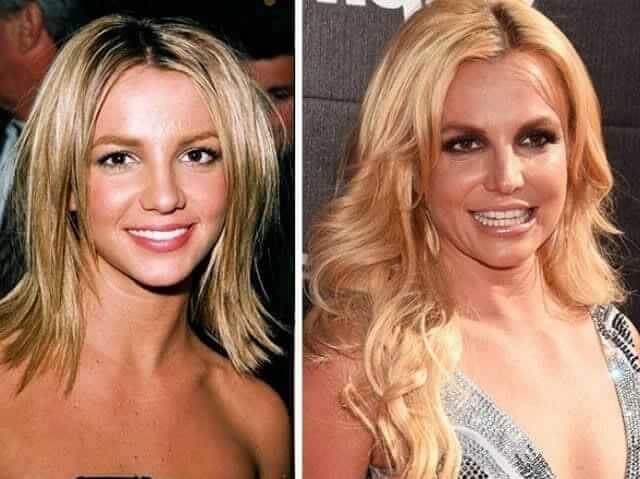 It is fair to say that she is doing a wonderful job at naturally aging. She has admitted to getting lip fillers and facials and we must say that her lips look quite natural (it is not the case with many celebrities).
Stephanie March – Unknown
Stephanie's experience with plastic surgery did not go as planned and it was like a never-ending nightmare for her.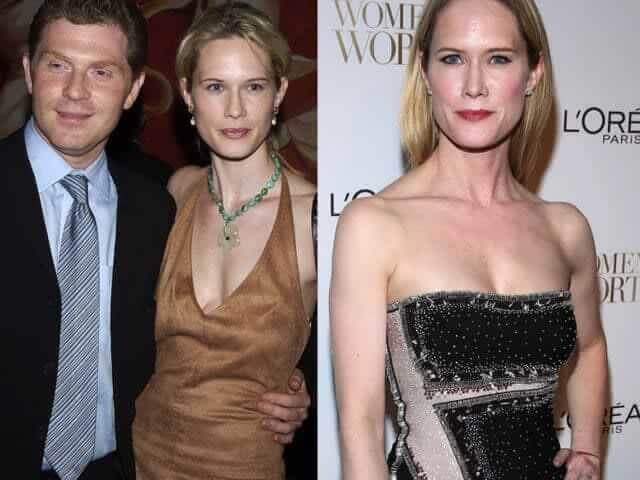 In an interview with Refinery29, she revealed that she wanted to fix her falling apart life and got herself a breast augmentation. However, the surgery was a complete failure as one of her breasts became infected at the cut. As a result of it, she had to go to the emergency room to clear up the infection and she ended up removing all of the work she had done.
Sharon Osbourne – $200,000
As she is married to Ozzy Osbourne, it means that her life is always under media scrutiny. That's why she was always extra careful about her looks before going out.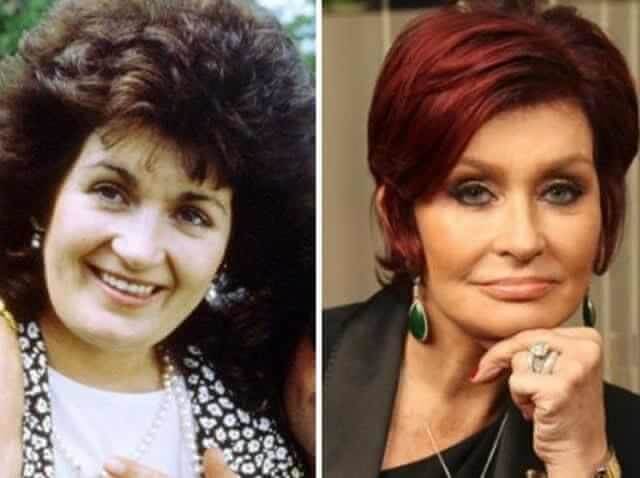 She has now admitted that she was really worried about her looks and had to go under the knife. According to her, she will never do it again. She said: "There's not much I haven't had tweaked, stretched, peeled, lasered, veneered, enhanced or removed altogether."
Clare Danes – Unknown
This pretty actress has said that she is quite open to plastic surgery and it doesn't come off as a big surprise. After all, staying young and hiding the signs of aging can put immense pressure on anyone and here we are talking about one of Hollywood's famous actresses.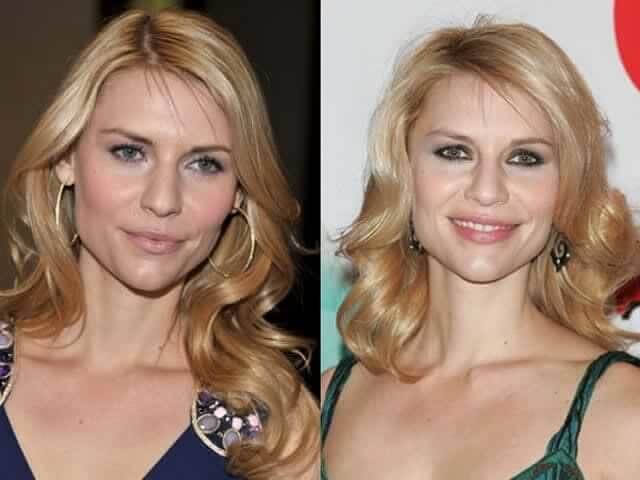 Many experts believe that she has undergone treatments such as lip fillers, an eye lift, and even facial implants. She still looks super beautiful and way younger than her 40 years.
Lara Flynn Boyle – $28,000
Fans of TV show Twin Peaks will recognize her in an instant, others may not. It is reported that she was worried about acting roles going to younger women and decided to do something about it.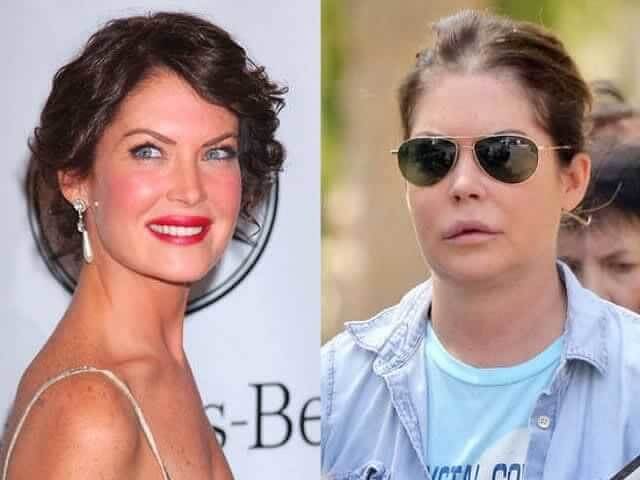 That explains her drastic plastic surgery. It is unfortunate that she didn't get the results she expected.
Kim Novak – $9,200
Known for movies such as "The Man with the Golden Arm" and "Vertigo," Novak was quite famous in the 50s and 60s. She worked with some of the prominent leading men of the era, but work started to dry up in the late 60s and she announced her retirement in 1991.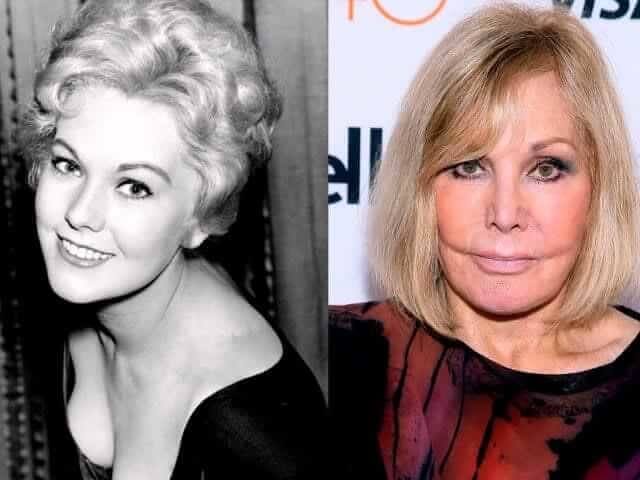 She was totally unrecognizable when she attended 2014 Oscars after having cheek implants, a brow lift, and some Botox injections too.
Nicole Kidman – $1,400
Nicole Kidman is an amazing actress and although she hasn't admitted to getting any work done, she did admit about extensive Botox injections. And she didn't like the result as well.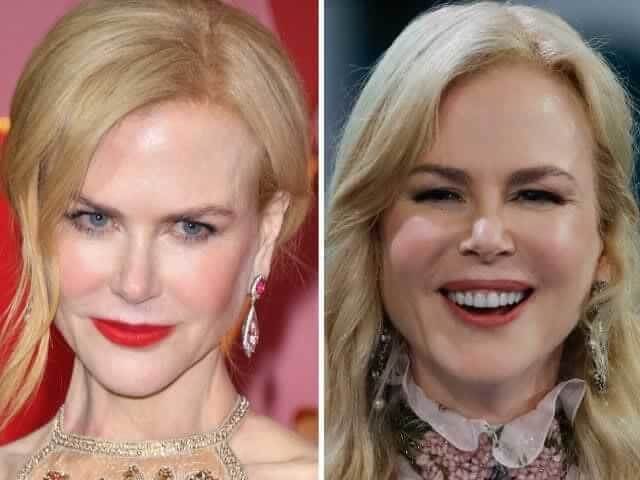 She said, "sometimes you have to find out if the grass is greener on the other side for yourself." However, there are rumors about her getting facial fillers and rhinoplasty.
Blake Lively – $7,300
Blake became famous when she played the role of Serene Van Der Woodsen in TV show Gossip Girl. She is married to Ryan Reynolds and the couple has two adorable kids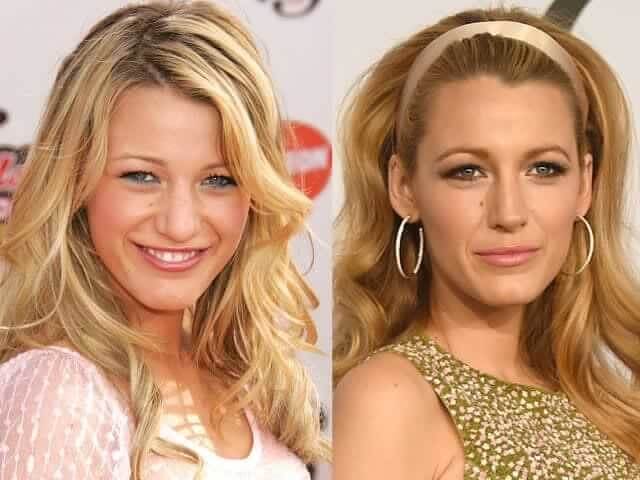 However, there was a gossip about the pretty Blake that she wasn't happy with her face and got some surgery to remove freckles on her face and also enhanced her facial features with rhinoplasty and an eyelid touch up.
Anna Faris – Unknown
Despite rumors of her going under the knife and needles, Anna Faris does not admit to having any work done to enhance her facial appearance. She has only admitted to trying Botox injections.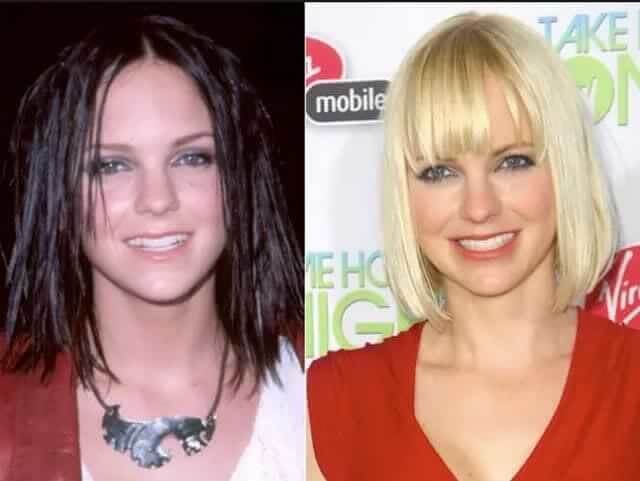 However, experts do suggest that she might have had facial fillers and an eye lift. If you look at her recent photos, it seems like she also had a nose job. Nevertheless, we think that she still looks super pretty.
Michael Douglas – Unknown
This amazing actor openly admitted to having a facelift before getting married to the gorgeous Catherine Zeta Jones in 2000.
It seems like he gets cosmetic surgeries before big events in his life. He got facial augmentation before his son was born in 2003. We think he still looks handsome.
Dolly Parton – $23,000
Dolly Parton is a multitalented woman and an inspiration for many out there. She seems to age like fine wine, but is not afraid to rely on technology to enhance her appearance.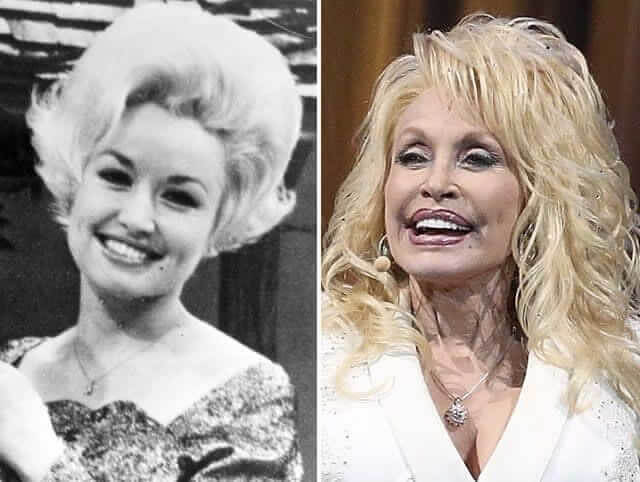 Although Dolly is in her seventies, she is still going strong. As some people believe that all the procedures (a nose job, facial fillers, a lip lift, neck lift, brow lift, and eyelid lift) over the years have made her look terrible, but that's not what we think. She is still a beautiful woman who knows how to carry herself gracefully.
Robert Pattinson – Unknown
If you are wondering why would the Twilight heartthrob need cosmetic surgery, then you should know that he wasn't always in high demand. There is a rumor that he couldn't go into modeling as a teen and that's why he got himself a rhinoplasty.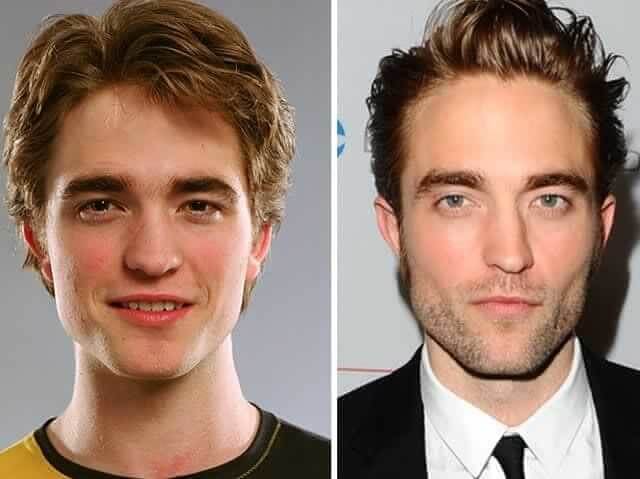 Even if the rumor is true, we are glad he made this choice because it has done no harm to his popularity.
Trista Sutter- $10,650
This reality TV star has made a quite a name for herself with shows like Survivor, Big Brother, and both the Bachelor and Bachelorette. However, the beautiful actress was never quite satisfied with her looks.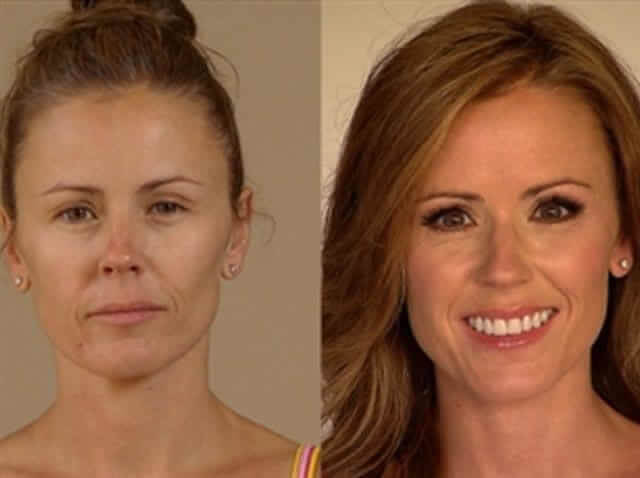 When she was 40, she decided to have her eyelids lifted and reconstructed along with a breast augmentation surgery. That's when she featured in US magazine and Life and Style magazine. According to her, plastic surgery helped her love her body.
Ashlee Simpson – $13,000
The younger sister of actress Jessica Simpson is not only famous because of her sibling. She has a great career of her own as a TV star and she even had her own show on MTV.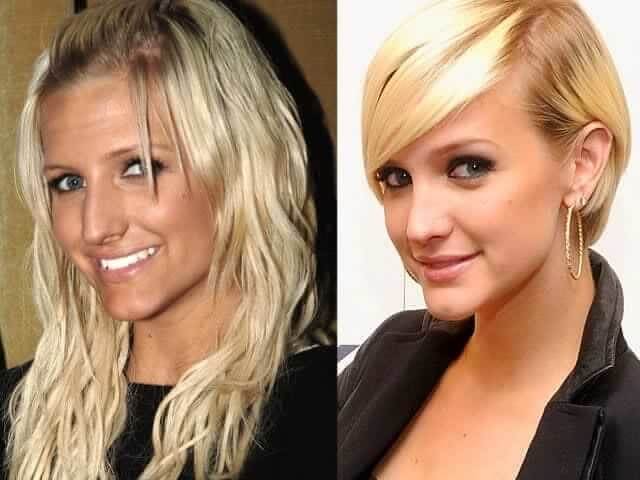 Ashlee admitted that she always felt like she was less attractive than her sister and she would even look at other celebrities and think she could never be as good-looking as them. Her cosmetic surgery includes rhinoplasty among other treatments, though she did not disclose them.
Ryan Gosling – Unknown
It is hard to think of resisting the charm of Ryan Gosling. Considered among Hollywood's sexiest male actors, Ryan has looked classier and way more attractive than before.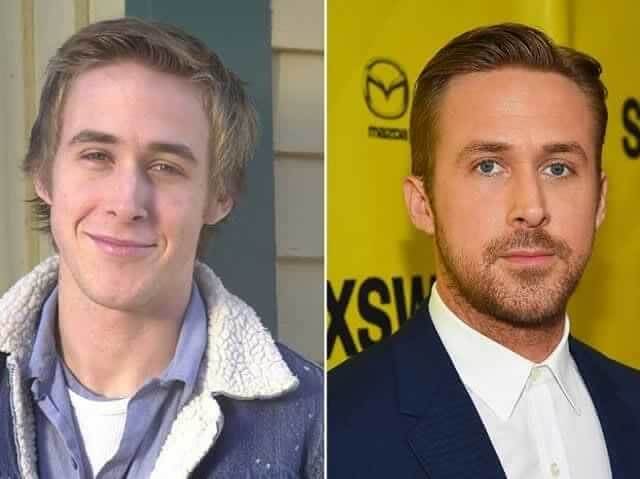 But there is a high possibility that he had a rhinoplasty before his career took off. The pictures do suggest that he may have had got some work done on him.
Nicole Richie – $13,000
Now here is a celebrity who openly admits that she is a fan of cosmetic surgery. She is quoted as saying "Why grow old gracefully when you have the technology to prevent it?"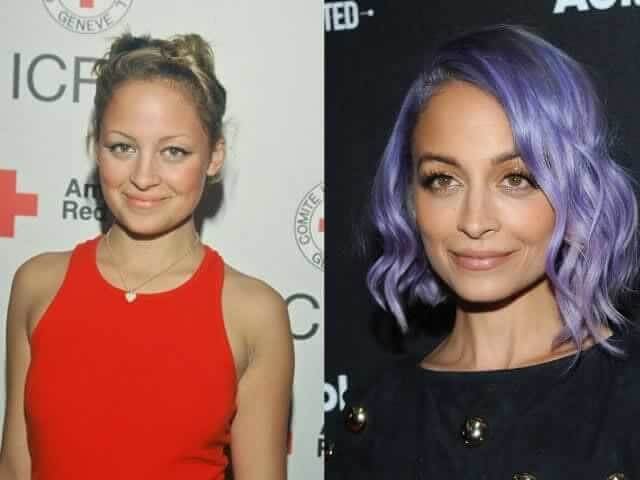 She has a mini boob job (that's what celebs call it) as in it the breast implants have a natural look and there isn't a large amount of cleavage. It is speculated that she had rhinoplasty as well.
Iggy Azalea – $20,000
The Australian rapper's rivalry within the charts with Nicki Minaj is not hidden from everyone. As she had an attractive blonde looks, she wanted more and decided to get a breast augmentation to have a larger chest.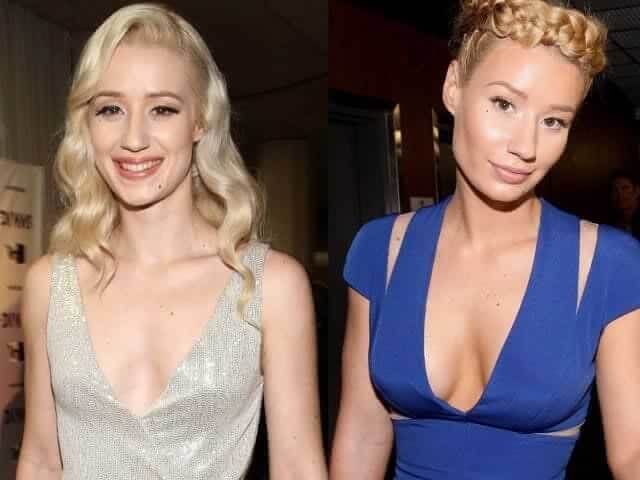 "There was nothing wrong with me. I think it's a personal choice and anybody, man or woman, they should be able to make an informed decision, and if you want to change something, then that's up to you," she said on the Ellen show.
Vivica Fox – $26,085
This beautiful actress made a name for herself after starring in one of the longest-running scripted television programs in the world, Days of Our Lives.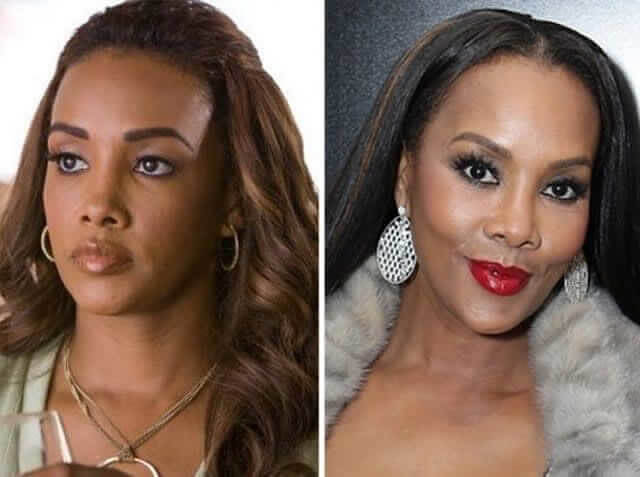 Known for her past relationship with Rapper 50 cent, the actress has paid for Botox and lip injections, as well as a facelift, and both breast and jaw implants.
Christopher Maloney – $92,000
Now this is something that is quite sad and disappointing. Chris was a contestant on the popular talent show The X Factor in 2012. His life was made hell by some hateful comments from people and he even got death threats because some people thought he had a large nose and he was not good looking enough.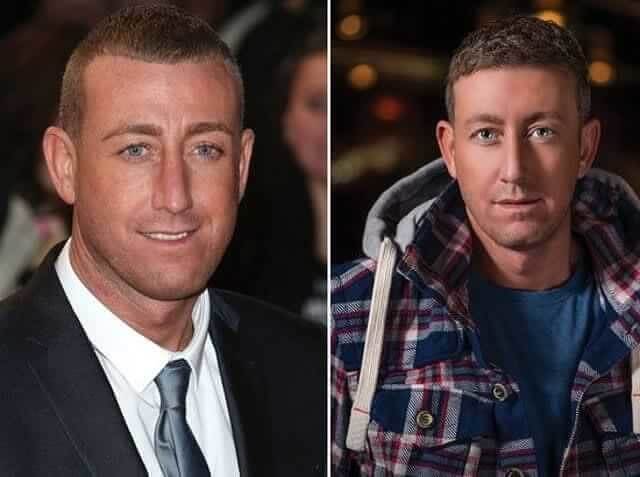 Unfortunately, the hate shattered his self-esteem and he had to to get two nose jobs, an eye lift, teeth veneers, and even hair transplants to regain his confidence. Today, he is happy with his new look but he doesn't recommend such a drastic change.
Ellen Pompeo – Unknown
Ellen Kathleen Pompeo garnered worldwide recognition for her portrayal of the character Dr. Meredith Grey in hit medical drama Grey's Anatomy. The 49-years old actress looks as beautiful as she was 15 years ago.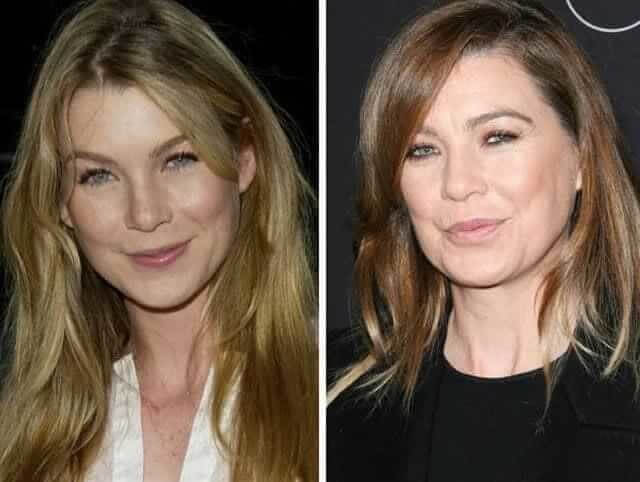 Is it possible that the secret behind her everlasting beauty is plastic surgery? Well, experts suggest that she may have had a neck lift or facelift. One thing can be said with certainty that she has shied away from Botox all these years.
Nikki Cox – Unknown
It is quite clear that the American actress and comedy writer has had lip augmentation and fillers. Her mouth is literally double the size it was.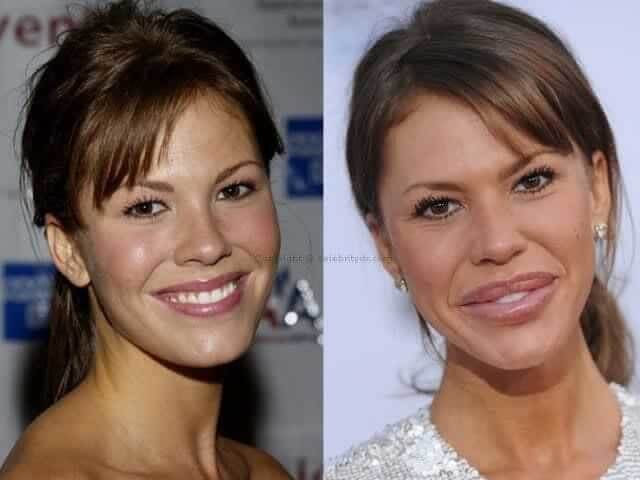 There are rumors that she had Botox and breast implants and that her drastic changes in looks have almost killed her career. However, she completely denies all the speculations.
Tom Jones- $90,000
We have no hesitation in saying that Tom Jones is still the heartthrob for middle-aged women everywhere. Well, he does take good care of his health but he is able to stay hot thanks to plenty of work done on him.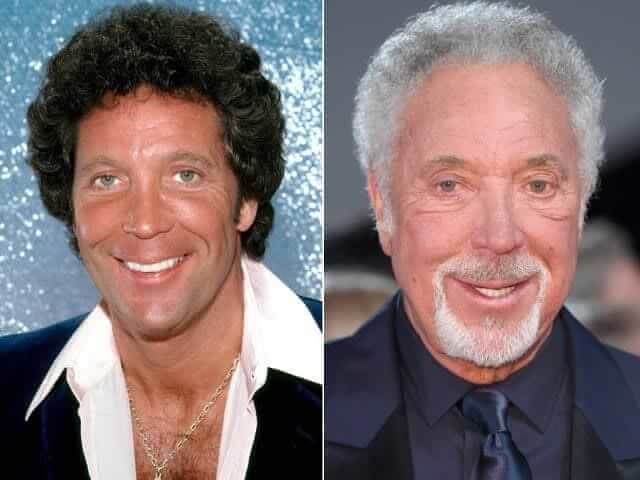 From facelifts, dental work to alternations to his eyelids and his nose, he has been under the knife a lot of time.
Hailey Baldwin – Unknown
Hailey Baldwin has gained immense popularity and it is partially because of her famous father, her modeling career, and her tabloid-worthy marriage to pop star Justin Bieber.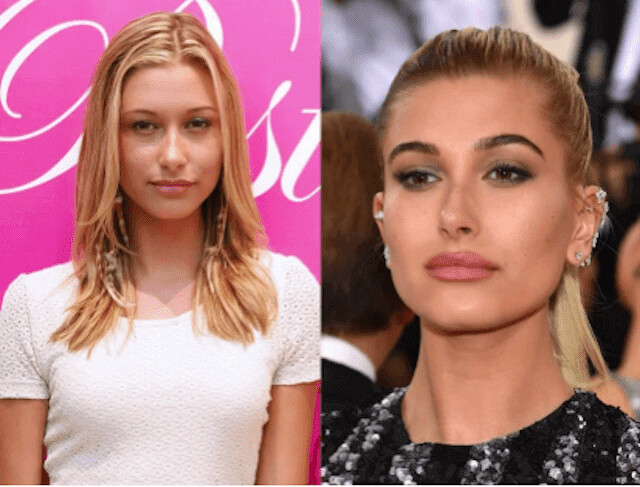 These pictures do show that she has changed a lot and there are rumors that her drastic change is due to facial injections.
Suzanne Somers – $9,000
She was somewhat known as the babe back in the day, but those times are gone. Well, at least that's not what she thought before she decided to regain some of her lost youth.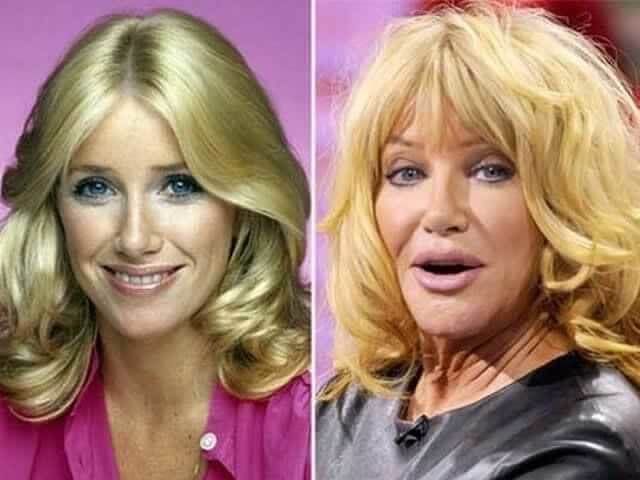 She has spent over $9,000 on her face and neck, as well as her breasts, lips, and jaw. She has certainly changed her look.
Ashley Tisdale – Unknown
Ashley rose to prominence with her hit roles in "High School Musical" and "The Suite Life of Zack and Cody."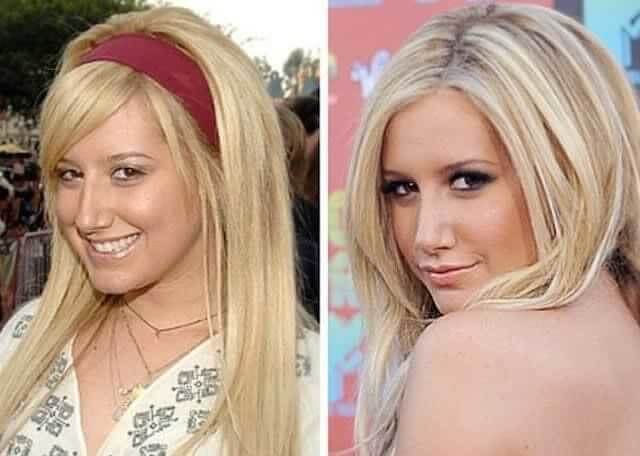 The actress got a nose job due to her deviated septum. There was media criticism that she did it to advance her career, but she maintains that the nose job was for health reasons.
Clay Aiken – $11,000
Clayton Holmes "Clay" Aiken was thought to become the next American Idol. Although he didn't quite make it, his singing career turned out to be quite good as he went on to become the fourth-highest-selling American Idol alumnus.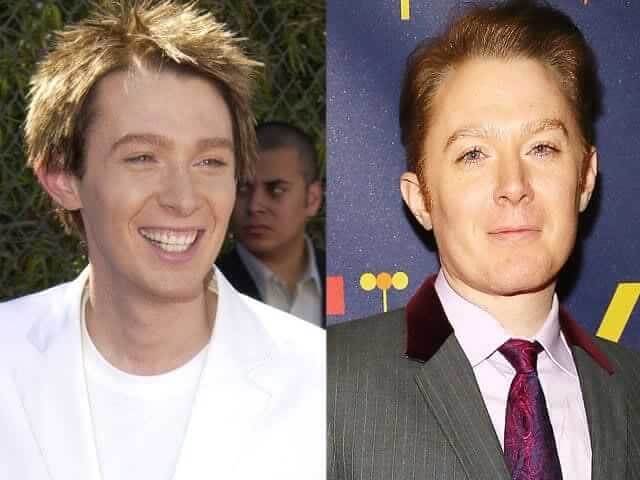 According to Clay, he went under the knife due to a Temporomandibular disorder (aka TMJ). As he needed to have his jaw reconstructed, he decided to some fat removed from chin and neck as well. We must admit that he looks pretty much the same after the surgery as well and we are happy he is doing great now.
Daryl Hannah – Unknown
The American actress and environmental activist made her debut in a supernatural horror film The Fury. Since then, she has starred in some hit movies.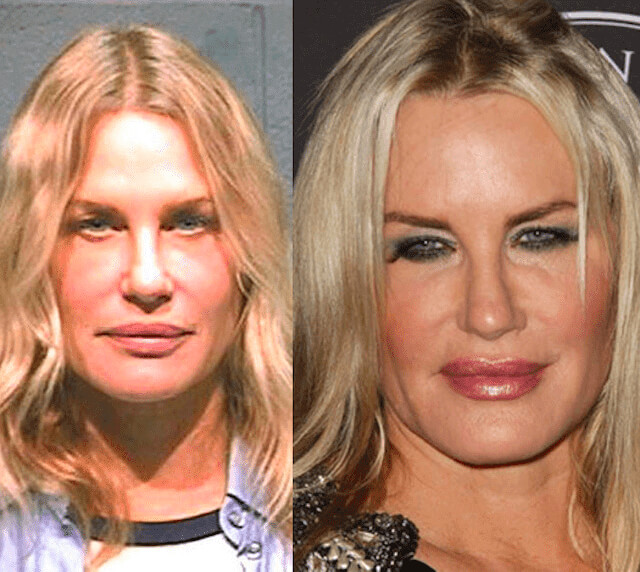 There are speculations that the actress had cheek and lip implants as well as dermal fillers and Botox, but she has not yet spoken about it.
Eiza Gonzalez – Unknown
The Mexican actress and singer became quite popular in recent years, thanks to her elegant style and her fling with sizzling hot Liam Hemsworth.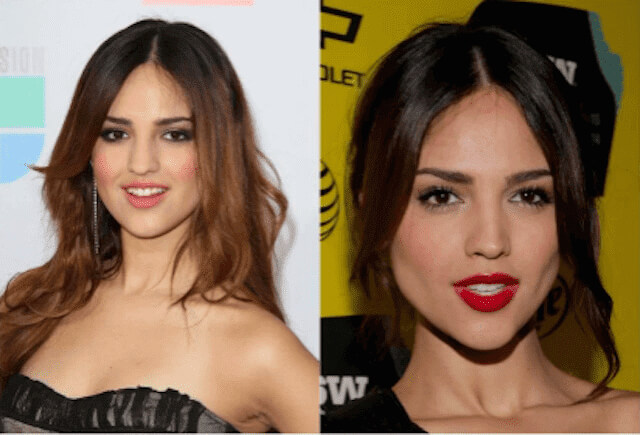 Although she has admitted to getting a nose plastic surgery, there are speculations that she has had more than just one surgery. What do you think about it?
Charlotte Crosby- $20,000
This Geordie Shore star isn't afraid to admit she's a fan of the scalpel. As you can see, there's a huge difference between her 2011 look and today- Charlotte has spent about $20,000 on her nose, lips, eyebrows, and tons and tons of botox. Even professionals have warned she's going too far and needs to slow down, but we don't think this filler fanatic will stop anytime soon. Once you start, it's hard to stop after all.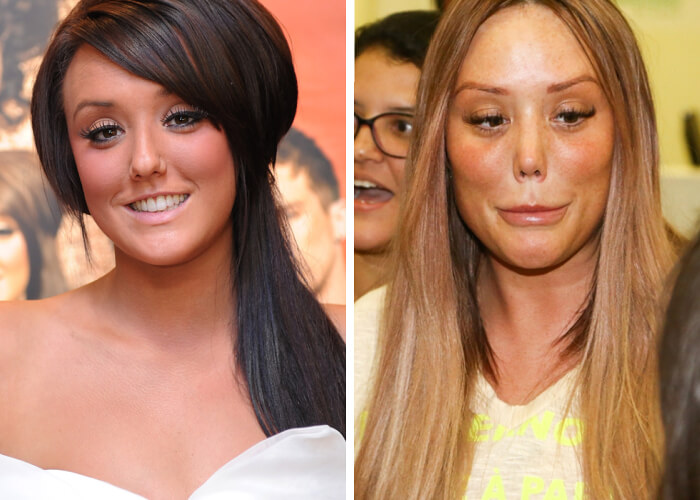 We think Charlotte looked great before and is still beautiful now, but let's hope she doesn't let things get too far out of hand.
Bella Hadid- Unknown
Clearly, you can see Bella looks very different in these two photos. Experts theorize that she's had a whole handful of procedures from a brow lift to face fat removal, but the only thing the star will fess up to is a nose job which she later regretted, saying "I wish I had kept the nose of my ancestors." That's a nice sentiment, and we really do think she's a beauty either way- but we still think there's more to this snatched face than Bella owns up to.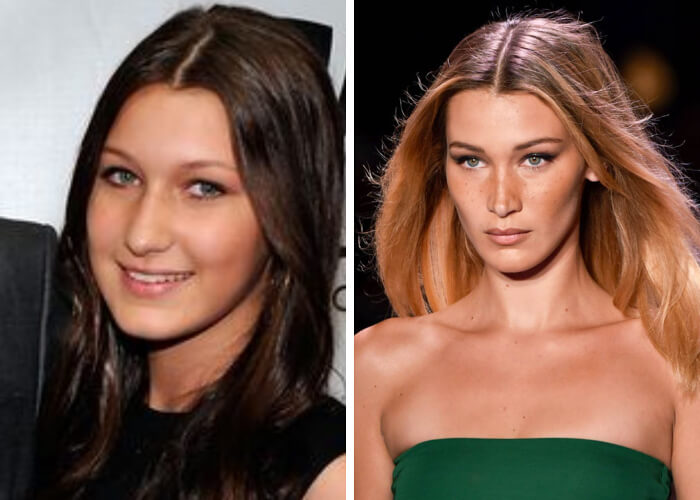 Well, fine, Bella, keep your secrets! We've seen enough of Hollywood to know that it's easy for stars to keep things under wraps and ultimately, she is entitled to her privacy- we just want the number of the surgeon, you know, for a friend.