There's a reason we pay contractors big bucks for their services: a lot of hard work and skill goes into perfecting a construction project, whether a minor home improvement or a complete renovation. But that doesn't stop people from thinking they can save some cash by doing it themselves – and these hilarious photos are proof that some do-it-yourself ideas should be left in dreamland. Get ready because the mishaps on this list really are something else and will leave you with one simple question: D-I-Why?!
A Toilet That Says, "Tricked Ya"
Some people are good at DIY without really trying, but then there are others who take a little while to warm up. And we can only assume that this person took on this home improvement project at the beginning of the day – and probably before their morning coffee, too! Instead of really thinking about the toilet seat and lid they were trying to install, they just shoved them on without much thought.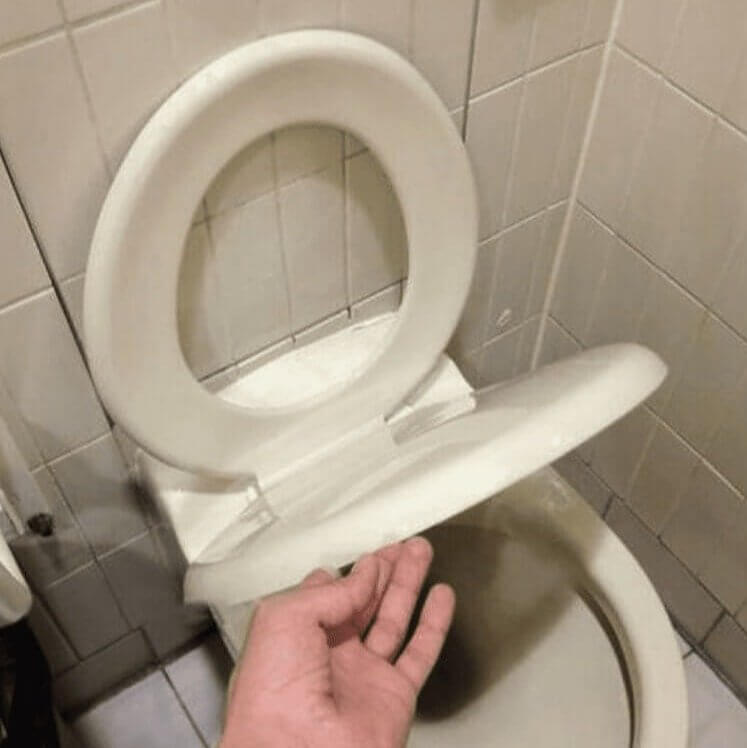 The end result is one that is definitely not practical. They're either going to have an unsavory liquid on the floor of their bathroom, or they're going to fall right into the toilet every time they sit down!
These Amateur DIYers Are Turning Into Little Engineers
The art of DIY extends way further than home improvements and renovation. People can DIY anything, from the clothes they put on their backs to the cars that they drive in. But if you want our opinion, you should probably always consult a professional every time you discover a problem with your vehicle, especially if you plan on using a clothes hanger to prop up an important component of the car.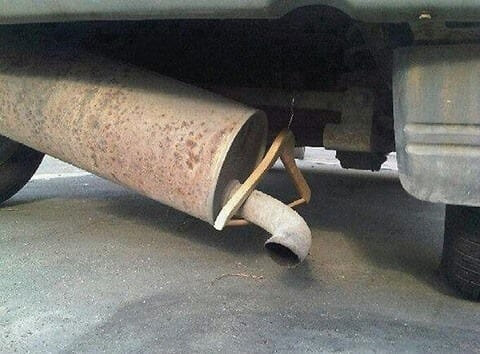 This just doesn't look very safe, but if this person is happy with what they've done, then we'll happily let them get on with their day and wave at them when they break down at the side of the street!
Pro Tip: Learn How to Properly Close Paint Containers Before Driving Some Around
If you're new to DIY and looking to do a little home improvement, here's a little tip for you; always secure the lids on your buckets of paint! If you don't, you might find yourself shelling out for a brand-new car, too. After all, we doubt this giant paint explosion would have been easy to clean, so it was probably easier to just scrap the car and buy a new one altogether.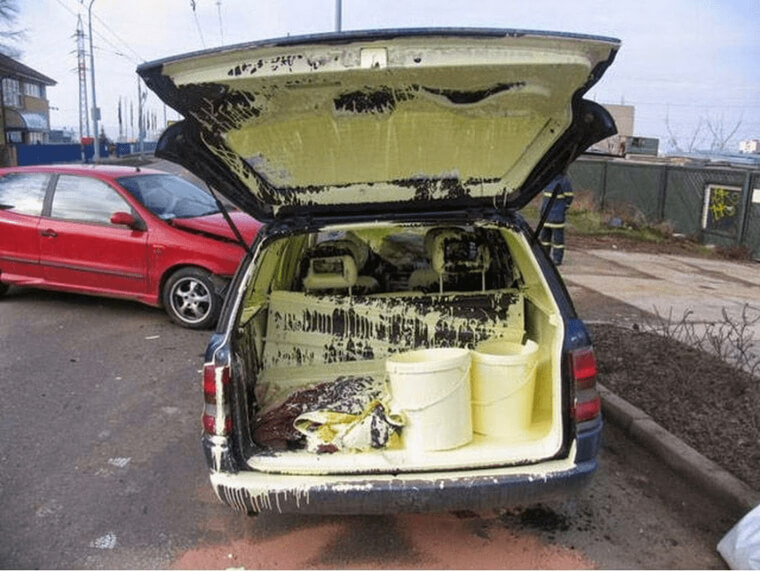 We don't know what kind of speed bump this car drove over to cause such a giant paint explosion, but we doubt they had any left to paint their walls after this.
Only the Brave Are Welcomed Into This Home
There's nothing more annoying than learning that your doorbell has broken. This means that you miss your deliveries, ignore your friends, and have to come up with a fix. Of course, most of the time, it's as simple as replacing the batteries, but some doorbells are a little more complicated. And while this person was in the process of finding a fix for this broken doorbell, their temporary fix was a little worrying.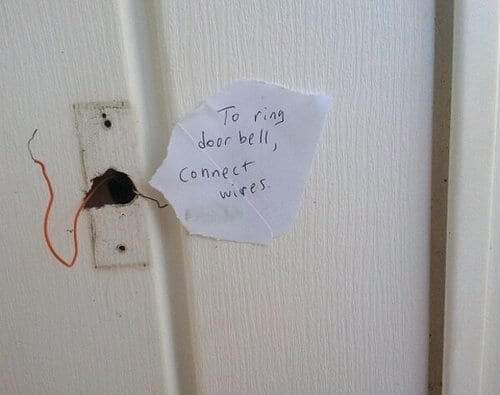 If we turned up to this door, there's no way we'd risk connecting these two wires for the sake of saying 'hello.' We think we'd stick to an old-fashioned door knock instead – just to be safe!
At Least Their Cat Can Just Learn to Climb the Door Frame
Sometimes it's important to undergo construction work for the sake of your animals. You might want to install a baby gate so your dog doesn't go upstairs, you might want to install a cat flap in your door, or you might even want to build a circular kitty door! That's what this person did, and they didn't think they needed the help of a contractor to bring this vision to life.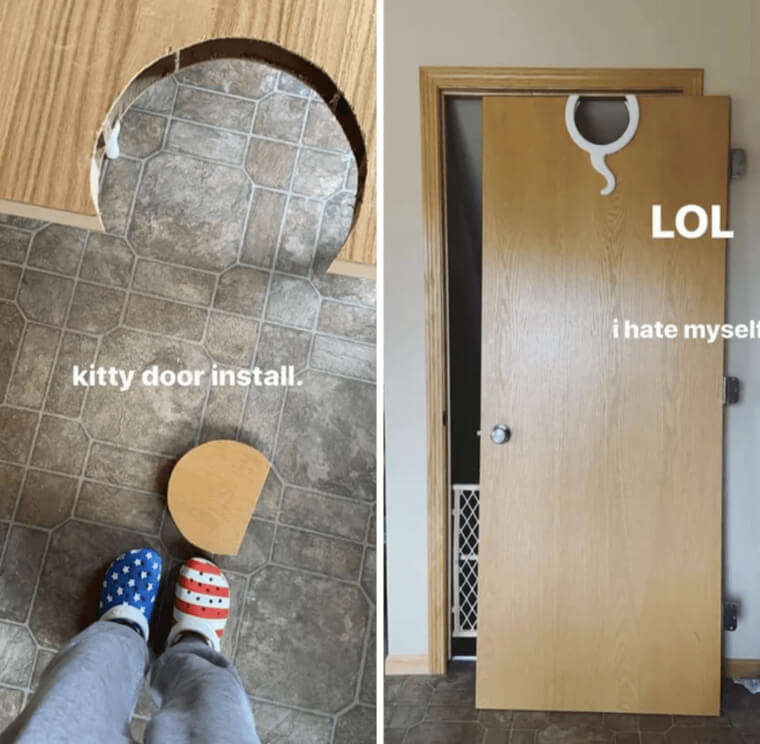 Although their kitty door idea is one of the coolest things ever, their DIY skills weren't exactly perfect. Unless they have a cat that can jump extremely high and has perfect aim, too.
A Thoughtless Paint Job
Painting is one of those home improvement jobs that most people can do. Of course, it does take a bit of skill to cut into the corners and keep the paint within the lines, but it's not a difficult job if you know what you're doing. And we can only assume that the person who did this didn't really know what they were doing. Or they just didn't really think their plan through.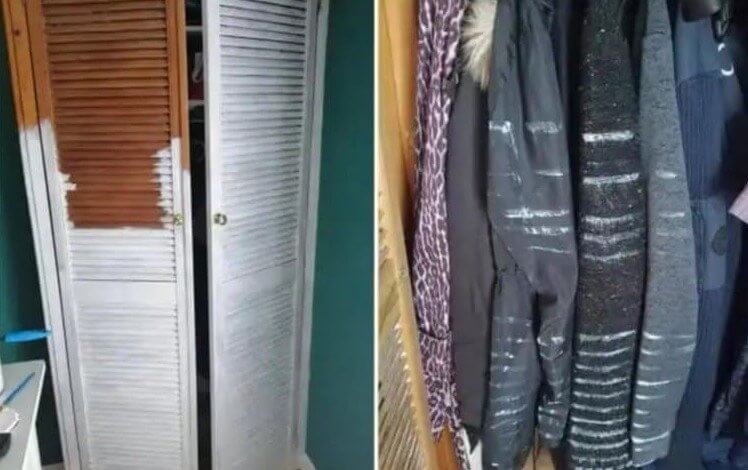 Instead of removing the doors or removing the clothes from this closet, they decided to paint everything in situ. The end result is an awful DIY job that has ruined their clothes.
Not the Kind of Cold Beer We Want in the Shower
Part of being an adult is finding solutions to problems around the house, no matter how small or annoying they may be. And while this person could have hired a contractor to fix their broken shower head, why would they do that when they could save oodles of cash and make their own instead? They didn't even have the money to shell out for a new showerhead itself, so they improvised.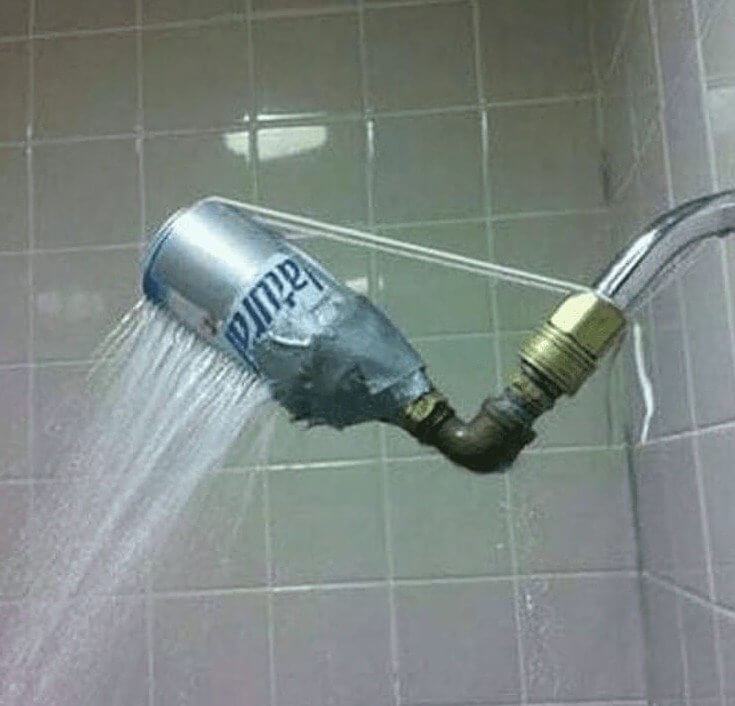 There's no denying that these DIY skills are impressive, but the shower head isn't so impressive. Sure, it does the job. But who wants to stand under a drink can that's been taped to a pipe?
Have Fun Cleaning That Toilet
Most homeowners go through a bathroom renovation at some point in their home ownership. And while there's no doubt about the fact that this is a unique DIY project, we can't help but wonder why someone would cover the bottom half of their bathroom in large stones. It looks very unique, but we bet this offers them a very cold wake-up call. After all, there's nothing worse than sitting on a cold toilet seat.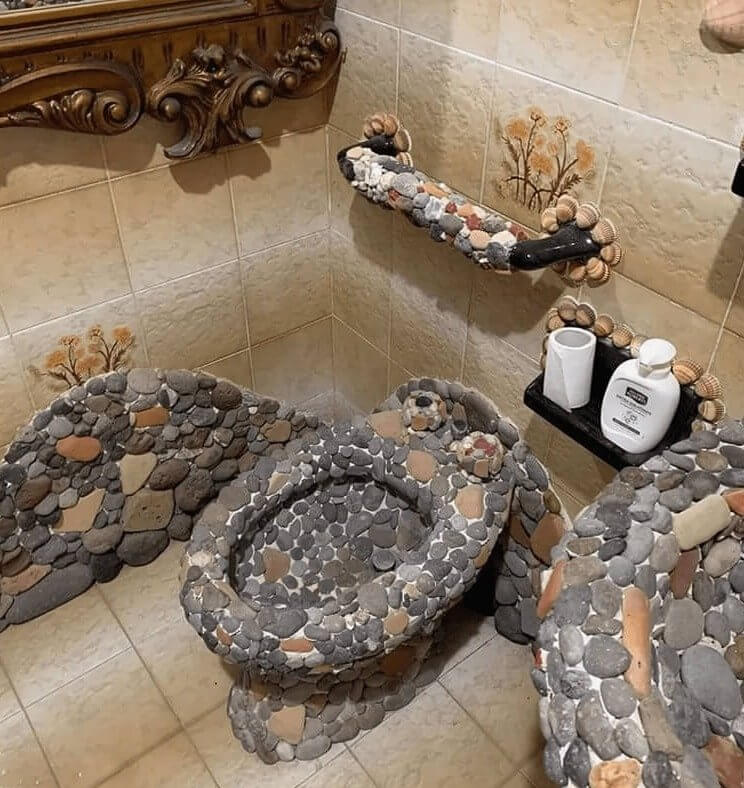 But there's something so fun about seeing your own DIY projects in front of your eyes every day, so we can imagine this person gets a lot of joy out of seeing their stone bathroom every morning.
This Fan Is Breaking Down Barriers for Inanimate Objects Everywhere
Although most houses in hot locations come with air conditioning units, it's not uncommon to find houses that still have ceiling fans, too. And while we'd always encourage people to book a professional contractor to install or fix one of these things, you can probably do it yourself if you want to. But just remember this picture next time you embark on a DIY ceiling fan project, as this is exactly what you shouldn't do!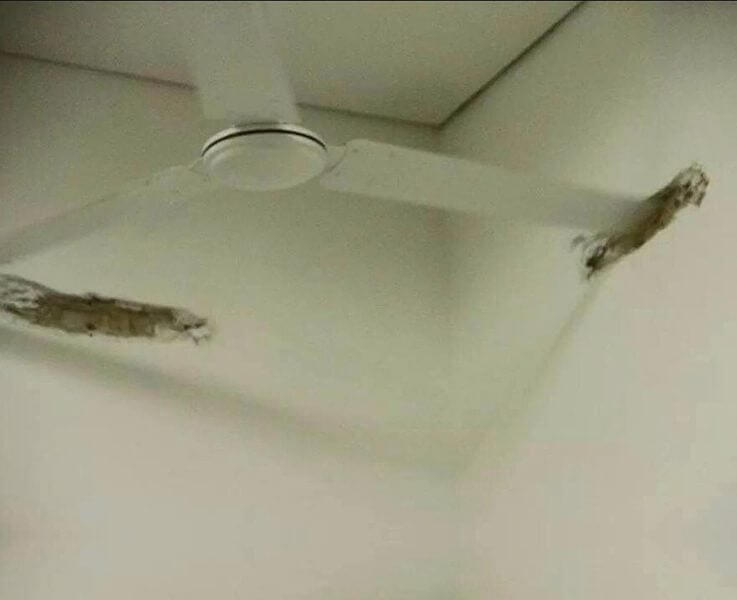 We're not sure why this person decided to install a fan so close to their walls, but now they have an even bigger job to do. Fingers crossed, they hired someone for that job, though.
Honestly, We're Not Sure Even a Professional Could've Predicted This One
Let's be honest; people who see this picture are going to fall into two camps. There are going to be the people who think these shadows are vulgar and the result of a DIY mishap, and then there are going to be those who see this as a major DIY win! But whatever camp you fall into, there's no doubt about the fact that these shadows weren't planned. Instead, they're the result of a hilarious DIY mistake.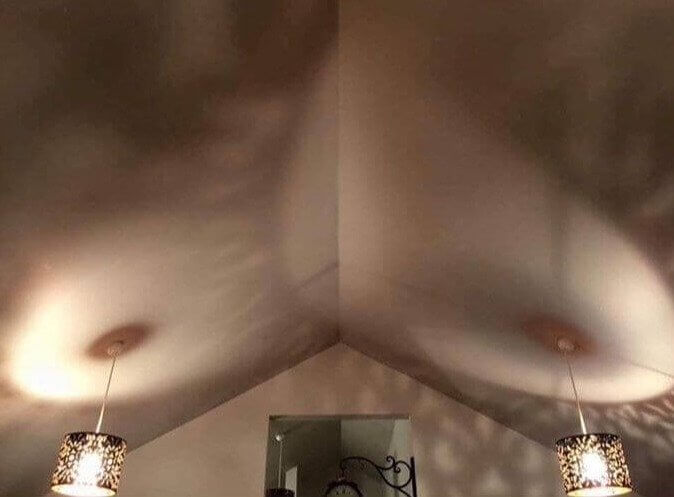 We bet the person who installed these lights was also surprised to see the final results, but at least there's nothing actually wrong with them. In terms of the installation and the practicality, they're perfect!
Close Enough
Tradespeople spend years training to become electricians, carpenters, and plumbers. But despite this, DIY novices just assume that they can do these jobs without any proper training or experience. And this person obviously thought that they could renovate their bathroom without having to pay someone else to do it! Do you spot what they've done wrong, though? The shower cubicle looks fairly ordinary, but just take a look at where the drain is!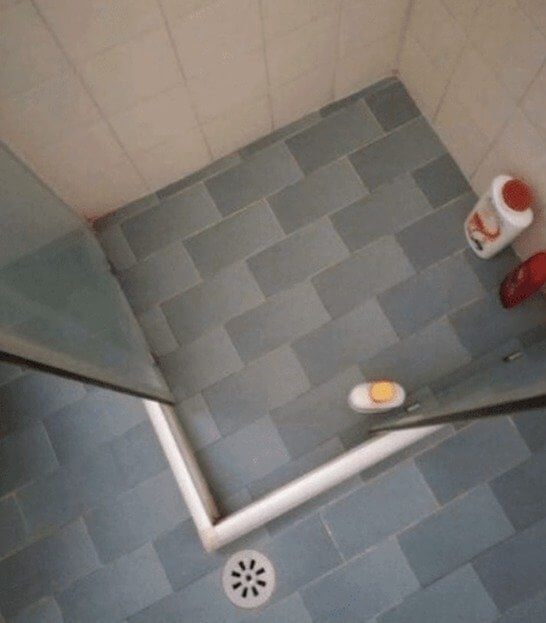 Having a shower drain outside of the actual shower cubicle seems a little pointless if you ask us, which is why it's always a good idea to plan your DIY projects before you get started.
A Real-Life Game of Jenga
Construction workers and contractors put their lives at risk every single day – which is why they should always have insurance to cover their backs. But everyday DIY wannabes don't have that same privilege – so why risk it?! This guy obviously decided that fixing his roof was more important than staying alive, which is why he opted to balance his ladder on other (very precarious) objects. This doesn't look safe at all!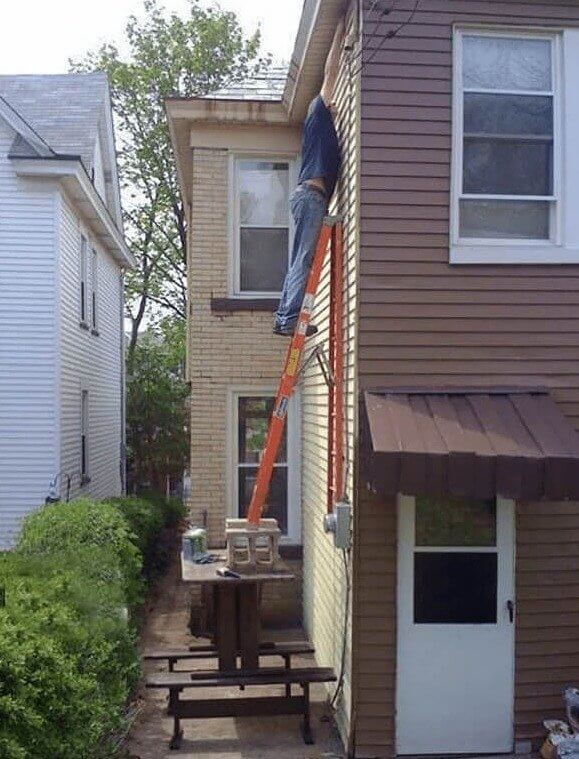 No home renovation or DIY project is worth losing your life, and it's definitely not a good idea to rest one leg of a ladder onto a small cinderblock. And don't even get us started on the other leg!
They Almost Fooled Us
You probably don't need us to tell you that problems can be expensive. Home renovation and construction problems can cost you thousands, and the same can be said for car problems! And when this person's back lights were damaged, they obviously knew they didn't have the money to get them fixed. So, they used their DIY skills to fill them in their own way. Plus, they stuck to their budget.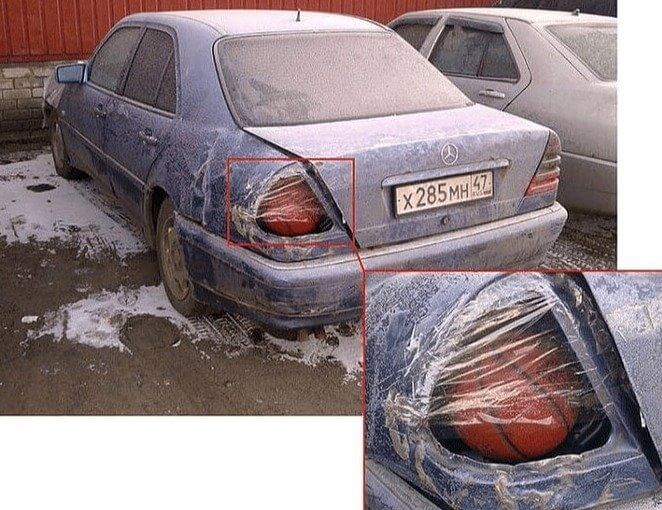 While there's no doubt about the fact that this is very illegal and not very practical in the slightest, you have to admire the creativity here. Who would have thought of a basketball?
This Flat-Screen TV Is Totally Legit
We live in a world where more and more people are renovating their homes to suit technological upgrades. People have smart features that allow them to turn the air con on before they get home and even turn their lights off with a clap! But perhaps even more popular than that is a flat-screen TV. And when this person couldn't afford to buy a flat-screen TV from the store, they decided to make one themselves!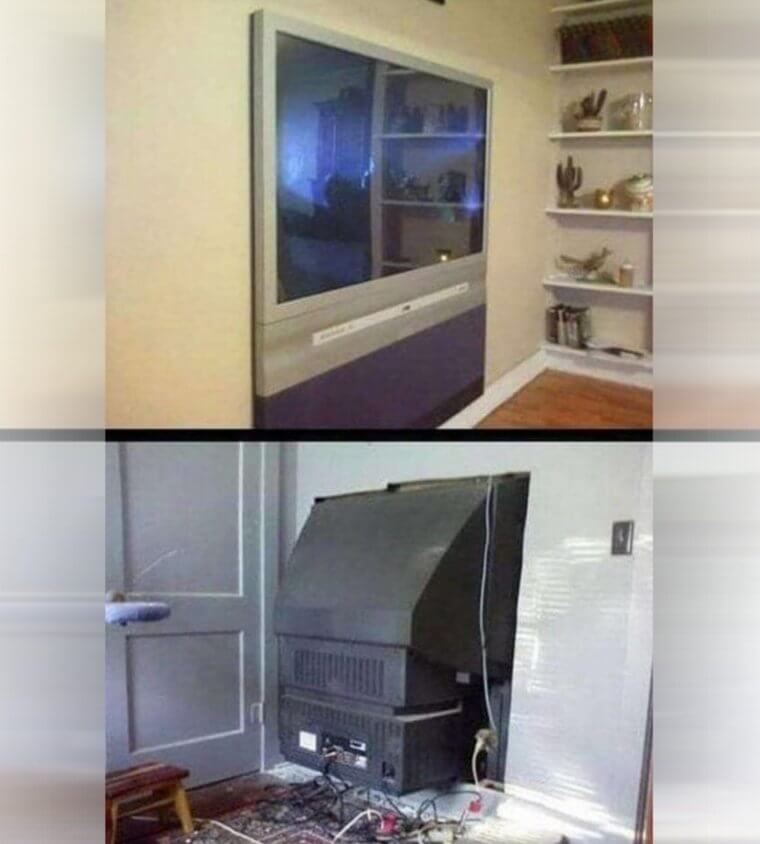 From the front, this is a genius idea. But let's hope that they don't need to use the room behind the living room, as it's not exactly a usable space anymore!
The Staff Room of Nightmares
DIY projects often make their way outside of the house. Sure, people love to remodel their own homes, but sometimes they're also given free rein over other spaces in their lives – such as their office cubicle or even their staff room! This DIY lover obviously decided to grab the opportunity to decorate their staff room, and they opted for a wet forest floor theme. And there's no doubt about the fact that it's very different.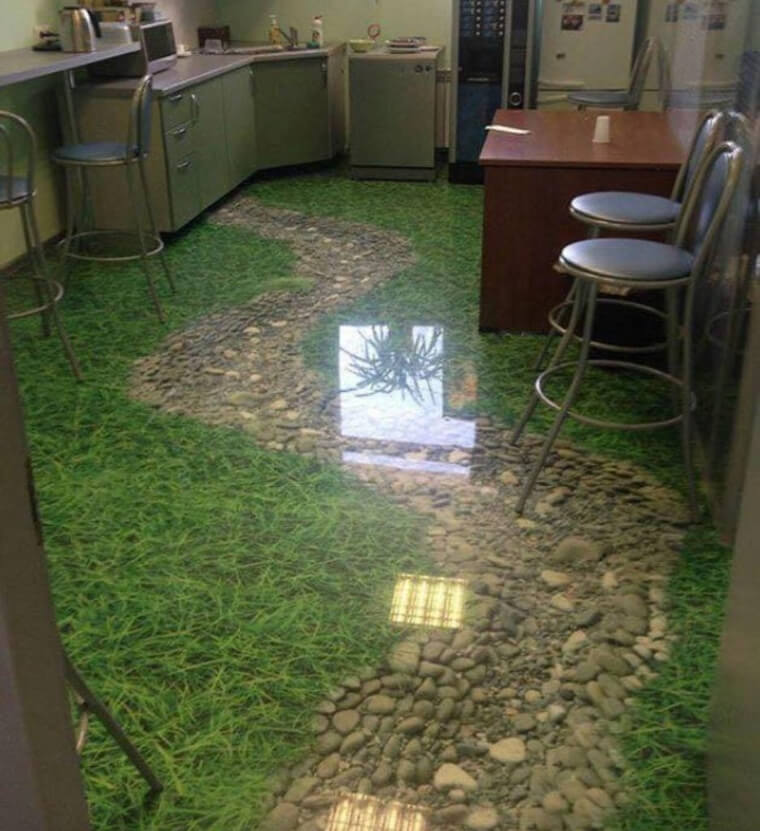 For some, this would be the staff room of nightmares, especially as it looks as though this design has actually been made using plastic flooring! But others might find it pretty intriguing.
Seconds Before Disaster
We love seeing people taking on their own DIY projects, and we really do have to admire their bravery in attempting something new. And while some people absolutely nail their first attempt at DIY, there are others who scare us to death. You know, like this guy who decided to lift up his car using a tree. To make matters even more terrifying, he then proceeded to stand under it while fixing it!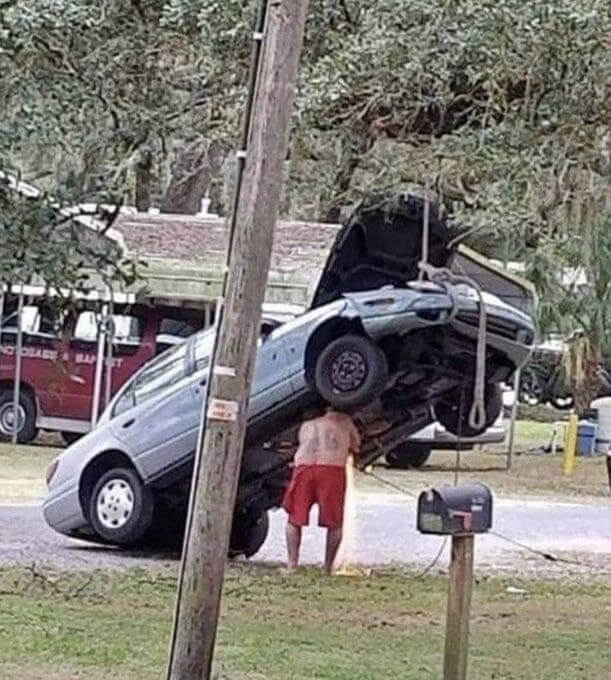 Facebook/Lems Auto Recyclers Inc
This just looks like a disaster waiting to happen, and we really hope this guy is ok after this. We bet the last thing he wanted to hear was the sound of snapping branches.
"I Knew That Stud Was in There Somewhere"
Contractors can be pretty expensive, which is why we really don't blame people for giving DIY a go themselves. But if you're going to try these things for the first time yourself with no prior DIY knowledge, you need to be ready for any potential problems or consequences! And it seems as though this woman took the many holes in her wall with a pinch of salt when she hung her TV on the wall herself.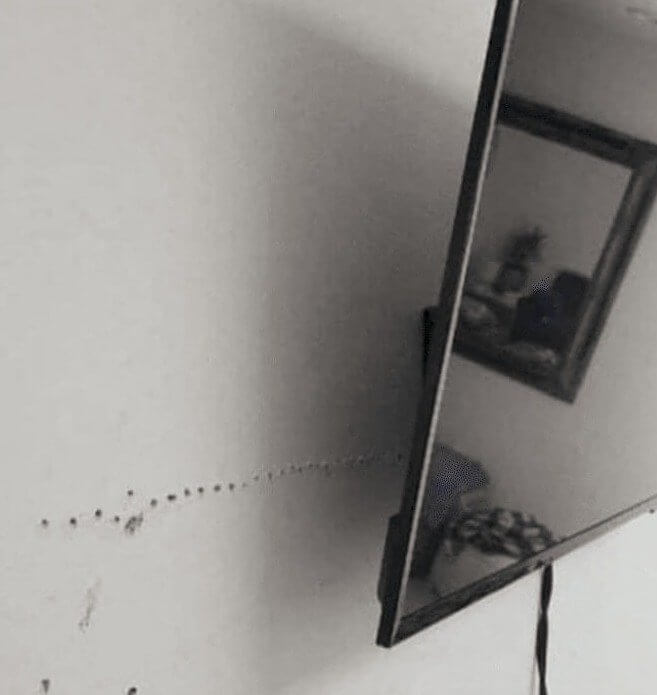 Thankfully, this is a pretty easy fix, so this woman won't have to worry about these holes for too much longer. And we bet she watches TV with a smile on her face now.
Recessed Lighting on a Budget
If you're looking to make a few home improvements to your house, then why not think about some new lighting? Switching up the lighting in your house can be a real game changer, and this person obviously realized that when they decided to ditch their old lights for some recessed ones instead. At least, that was their plan. They didn't want to pay for a contractor, so they attempted to do it themselves.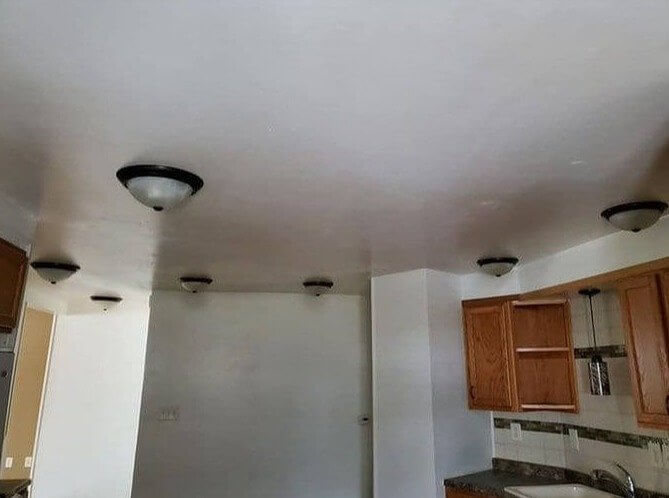 As you can see, the attempt wasn't very successful! The "recessed" lighting isn't exactly recessed, and the whole thing looks pretty mediocre. But at least they tried to do something themselves, we guess?
A Sprinkling of DIY
Home improvement projects can be big or small – and sometimes, they can be tiny! And when this person wanted to renovate their kitchen, they decided to first start with the countertops. Sure, they could have opted for marble or quartz, but they decided to complete this DIY project on a budget. They made their way into their kitchen cupboards, pulled out their giant packet of sprinkles, and got to work.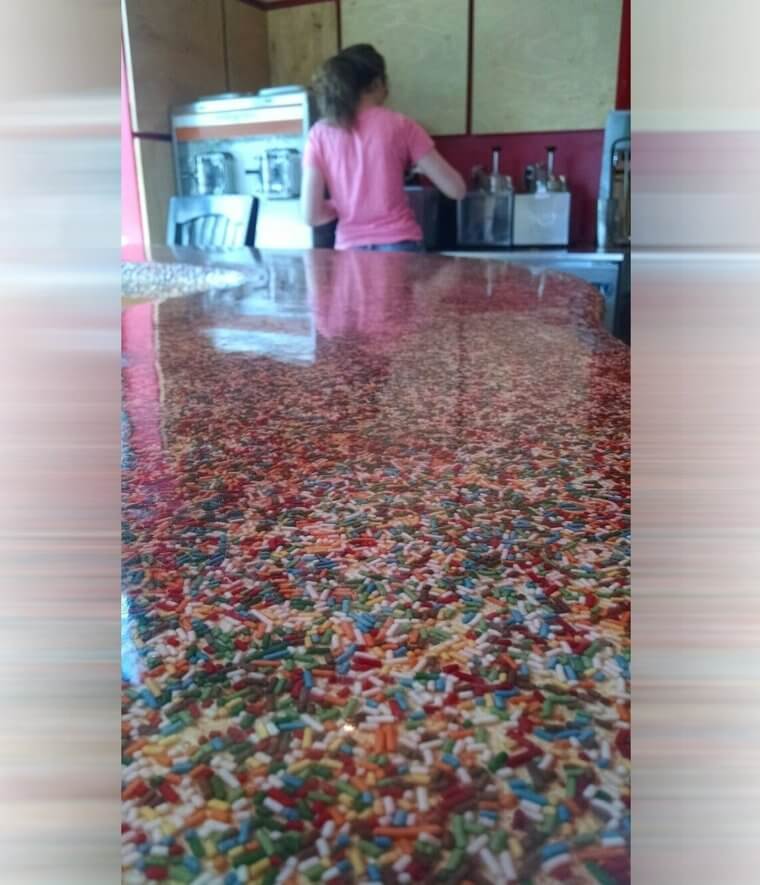 Yes, that really is a countertop made from different colored sprinkles! We've never seen anything quite like it before, and there's probably a good reason for that. It's certainly unique, though.
Barbie's Dreamhouse Is Sturdier Than This
You don't have to be a professional contractor to know that the roof of any house is extremely important. A roof needs to be well made, well maintained, and fixed to a high standard to maintain the integrity of the house and the safety of the individuals who live in it. But if you need an example of what not to do, take a look at this! This roof is unmatched – and not in a good way.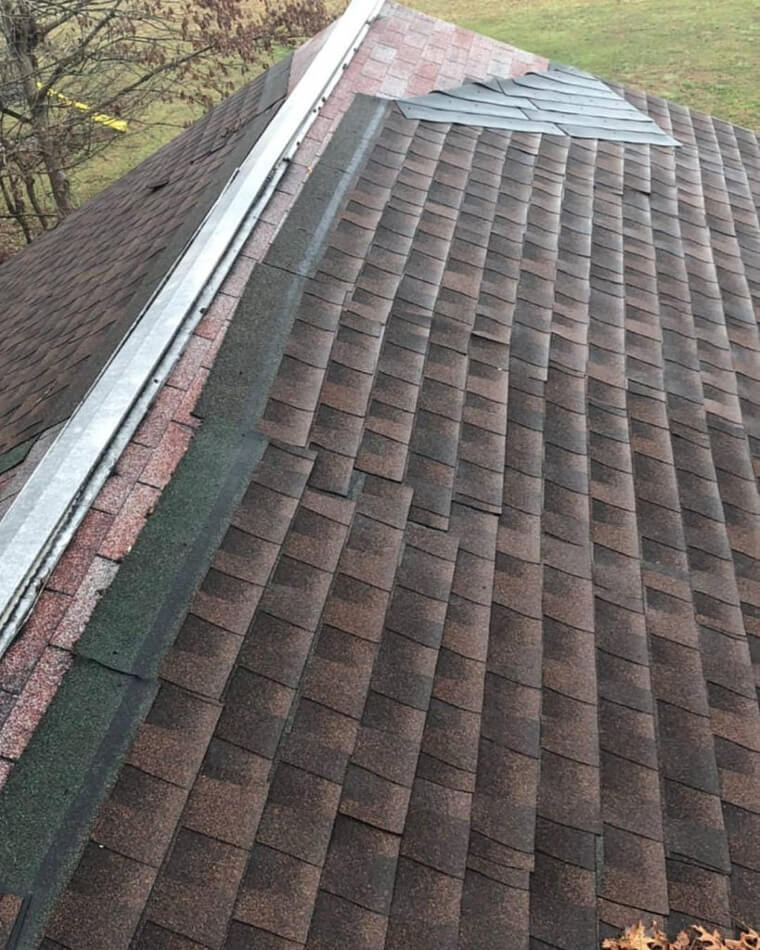 We don't know if this is a DIY project gone wrong or the result of a contractor who didn't have their coffee in the morning, but we feel sorry for the people in this house when it rains.
That Seems Safe…
When it comes to the electrics in your home, you can't play around. Faulty wiring or a damaged plug could result in a devastating fire – so why would you risk it? Well, it seems as though this DIY novice wasn't too worried when they realized that their outlet and their plug were damaged. They decided to put a quick fix in place, but last time we checked, metal scissors and electricity don't mix!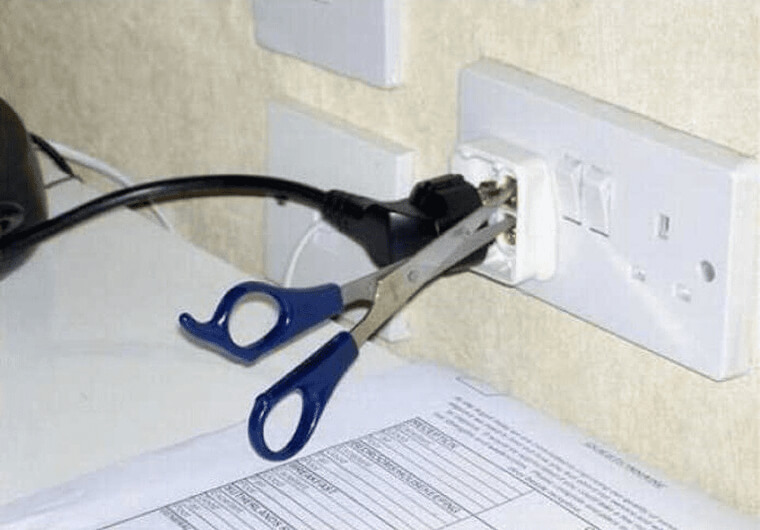 This picture is making us feel extremely uncomfortable. And while we really hope everyone in this house is ok, we also urge them to use an electrician in the future!
Some Really Did This and Thought, "There, That Should Do It"
No homeowner wants to learn that the bricks of their home are crumbling. Fixing a wall is a huge job that would require some serious construction work and is one that would require a professional construction worker to complete the job. But that doesn't stop some people from ignoring expert advice and opting to go down the DIY route instead. And we probably don't need to tell you this, but this is a serious blunder!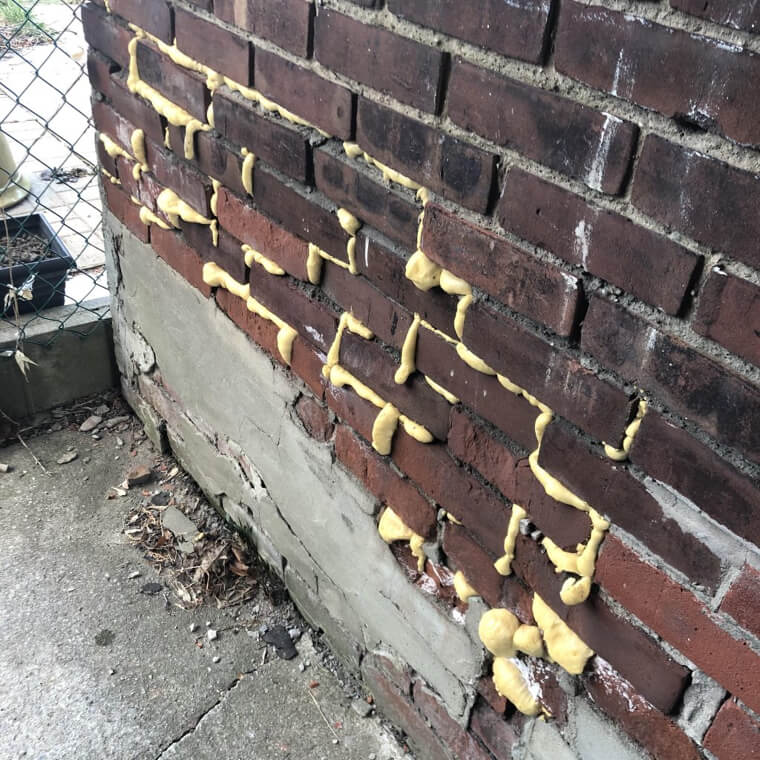 Why anyone would think they could use expanding foam to fix their broken wall is beyond us, but kudos to them for being confident enough in themselves to give it a go. It's a shame it won't work for very long.
Sometimes, the Key to Success Is Calling a Professional (pun Intended)
Maintaining a house can be hard sometimes. It can seem as though you're constantly on the home improvement bandwagon, whether you want to be on it or not. Perhaps one of the most common home complaints is a broken or leaky faucet – and that's exactly what happened here. But instead of hiring a contractor to fix this for them, they decided to improvise and use something else they had at their disposal.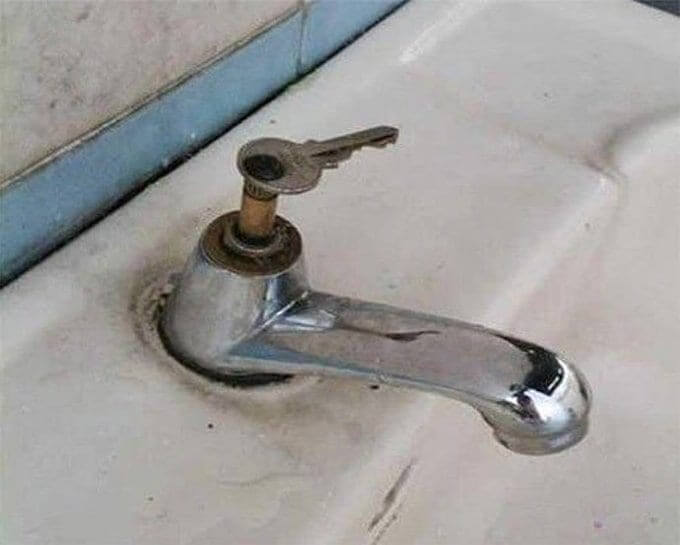 This key handle is the ultimate DIY fail, but in a way, it's also a win. Sure, it's not what keys are designed for, but it does work as a temporary measure.
Small but Mighty
It's important to think about safety when you're undertaking your home improvement projects. There are even rules you must follow when it comes to these construction projects, and some buildings require you to install a handrail when you have two or more steps. But the person behind this DIY project decided to be extra cautious with their steps and found the tiniest handrail to go with their single small step.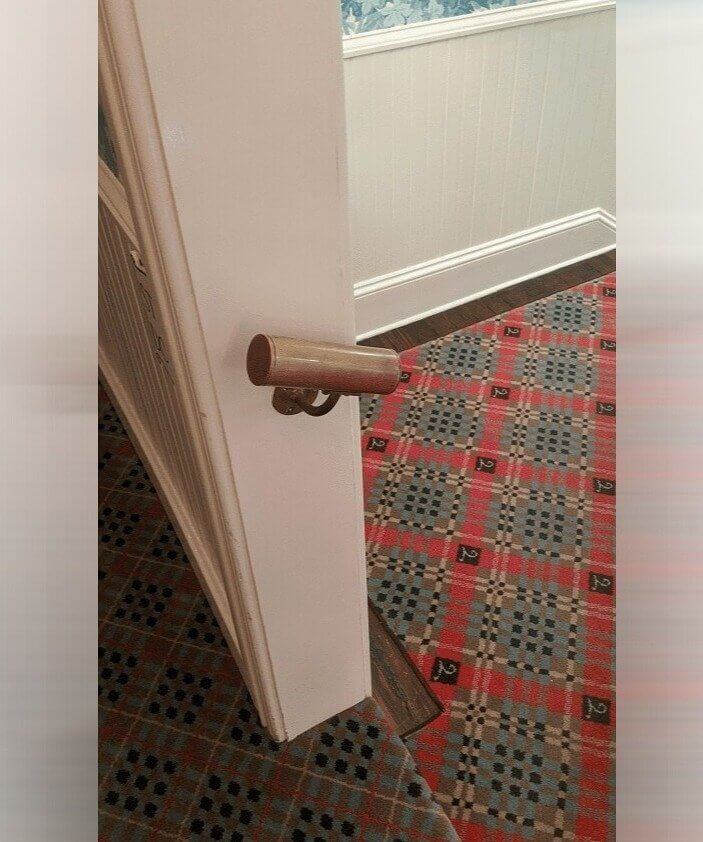 You have to give them credit for being extra cautious and making health and safety their priority, but you also have to question why they would do such a thing. It looks a little silly!
Doors Are Not a "one-Size-Fits-All" Situation
Doors are often the last things to be installed during a home renovation, which means that they can either finish off a construction job or cause even more problems! But when doors are installed by professionals, it's highly unlikely that you'll encounter any problems. The same can't be said for DIY-ers, though. On this occasion, this homeowner obviously didn't measure the doors correctly – and we hope they don't mind a lack of privacy!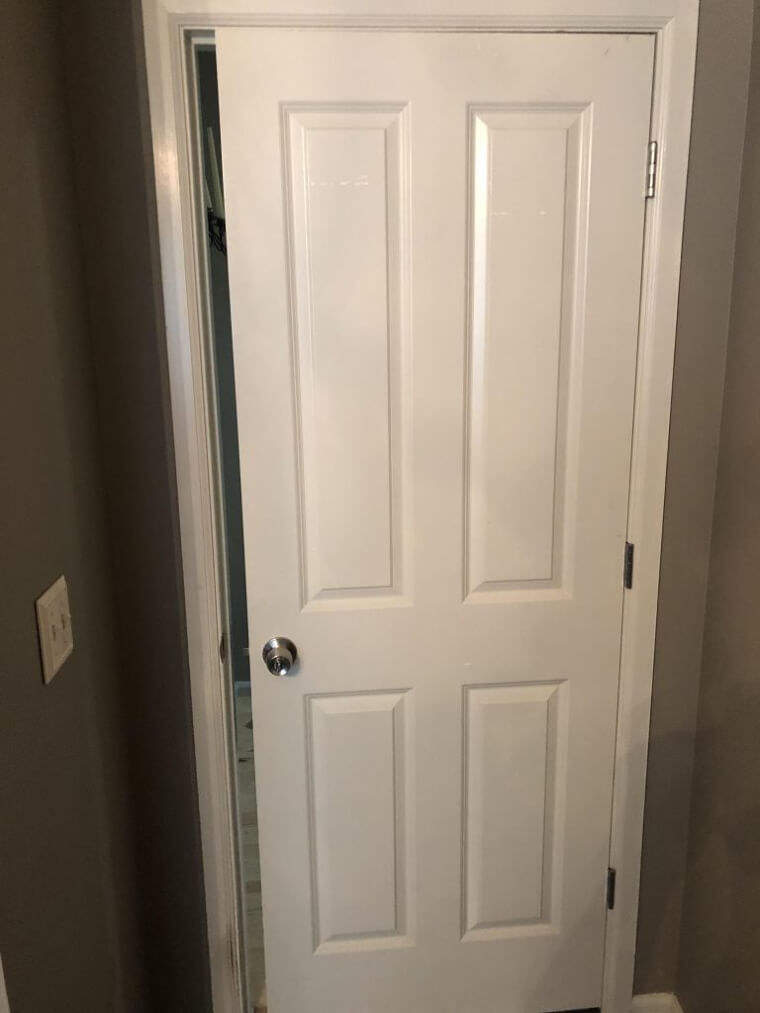 This door definitely wouldn't keep you safe from any thieves or peeking Toms, but at least it was installed on the right side. You've got to take the little wins when you can!
This Wasn't Very Well Thought Out, Was It?
It's important for houses to function practically. They need to work as they should, and every aspect needs to work in unison for things to run smoothly. So, we bet the people who own this kitchen regret their decision to bypass using a contractor. They opted to design and build it themselves, and now they can barely use any of the space they hoped to build in the first place!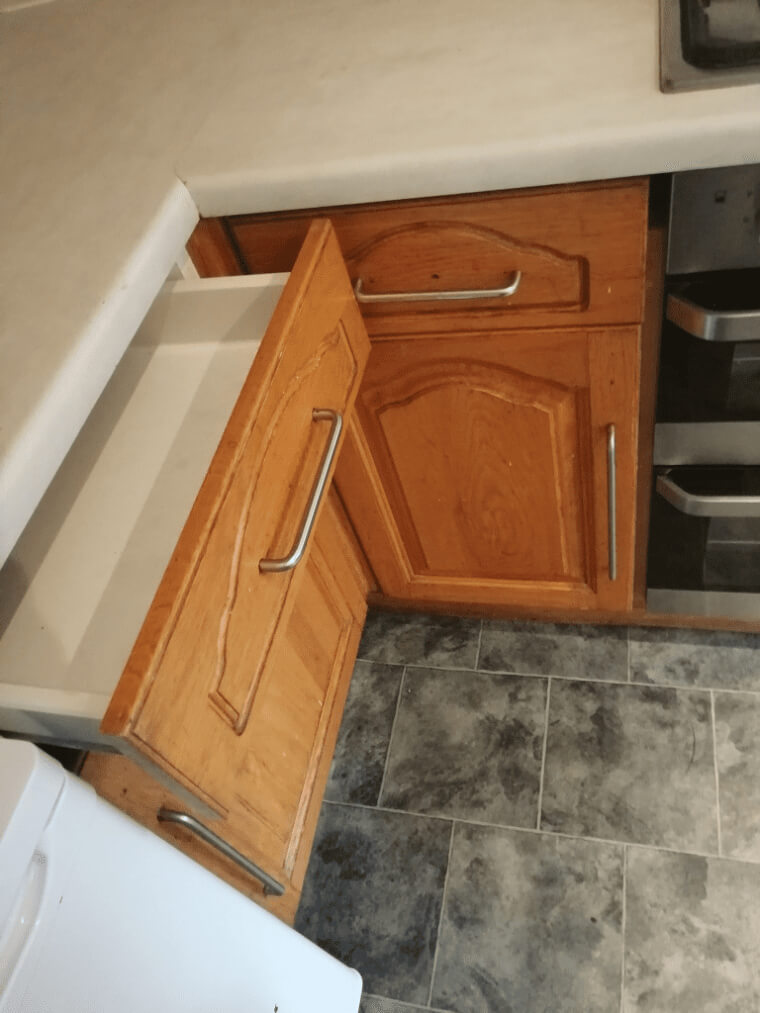 By building these drawers so close together in the corner, they've basically rendered them useless. Changing the long handles wouldn't even save this kitchen nightmare, as they still wouldn't open as they should.
Watch Your Step
Home improvement comes in all shapes and forms. And while this room was the result of home improvement plans, we think they should have gone back to the drawing board on this one. We don't know how anyone signed off on a floating doorway with a giant step on top of the main staircase, but this design is asking for a disaster. It's making our heads hurt just looking at it.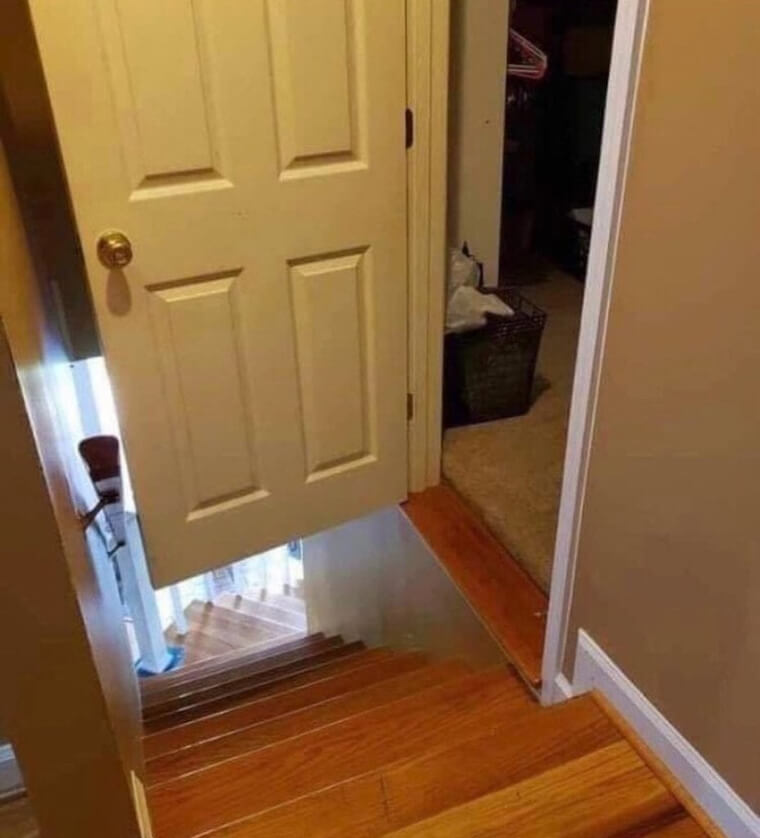 You definitely wouldn't want to walk out of this room while you were drunk, as a fall from this room would be a major hit on the body – and the ego!
"a Shoelace That I Diy Superglue to Stop the Wires Being Exposed"
Unfortunately, nothing lasts forever. Most of the items in your house will one day need the DIY touch, and this person realized this for themselves when their cell phone charger started to break. But instead of shelling out their hard-earned money to replace the charger, they decided to go down the DIY route and see if they could fix it themselves. And while "fix" is a loose term here, they've certainly managed the problem!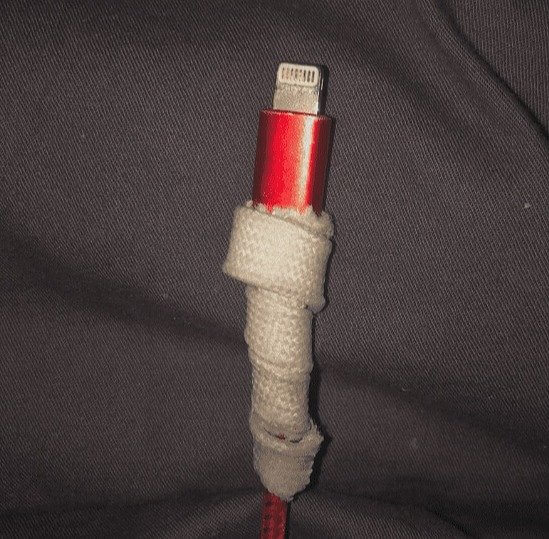 Although they have just used a shoelace to their advantage, the one benefit of this DIY project is that the dangerous wires are no longer exposed. So, there's always a silver lining.
All They Wanted to Do Was Hang a Picture on the Wall – But Now They Don't Have a Wall
Sometimes, it just doesn't make sense to hire a contractor. Why would you spend $100 calling someone out to hang a picture on the wall? It's a pretty easy job if you know what you're doing – but it can be made a little bit more complicated if you have a stud somewhere back there. This person thought they'd have a go at hanging their picture themselves but soon realized that it wasn't as easy as it seemed.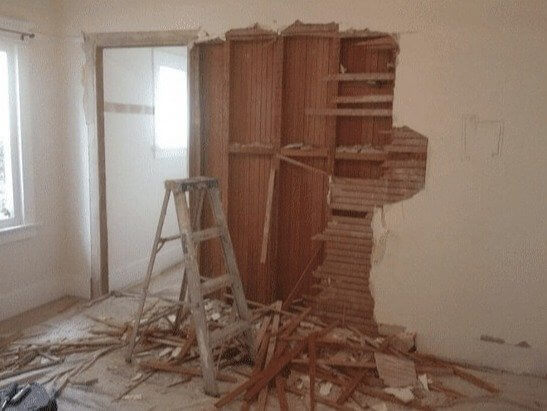 "I knew there was a stud back there somewhere. Now I can hang that picture," they jokingly tweeted. Yeah, they'll need a whole new wall before they can do anything at all.
Only One Can Survive This: The Beam or the Ladder
If you plan on undertaking any home improvement or renovation project, you're going to need a ladder. This tool is essential, no matter whether you're building something from scratch or just hanging something on a wall. And while it's easy to assume that you can't really go wrong where ladders are concerned, this DIY mistake proves otherwise. Although they were using this ladder correctly, they forgot about it when they were fixing this beam in place.
Yes, that ladder is now stuck! And the only way to solve this problem is to un-do all of the work they've just done so they can bring the ladder back down again.
When Your Spouse Insists They Can Handle the Small Door Repair
It's easy to assume that hanging a door is pretty easy. And while the average DIY lover could definitely do it themselves, sometimes it does pay to enlist the help of a professional contractor. They have construction experience and the know-how to do this properly – especially if you want the door to be useful! But the person who hung this door didn't enlist the help of a professional, and it shows.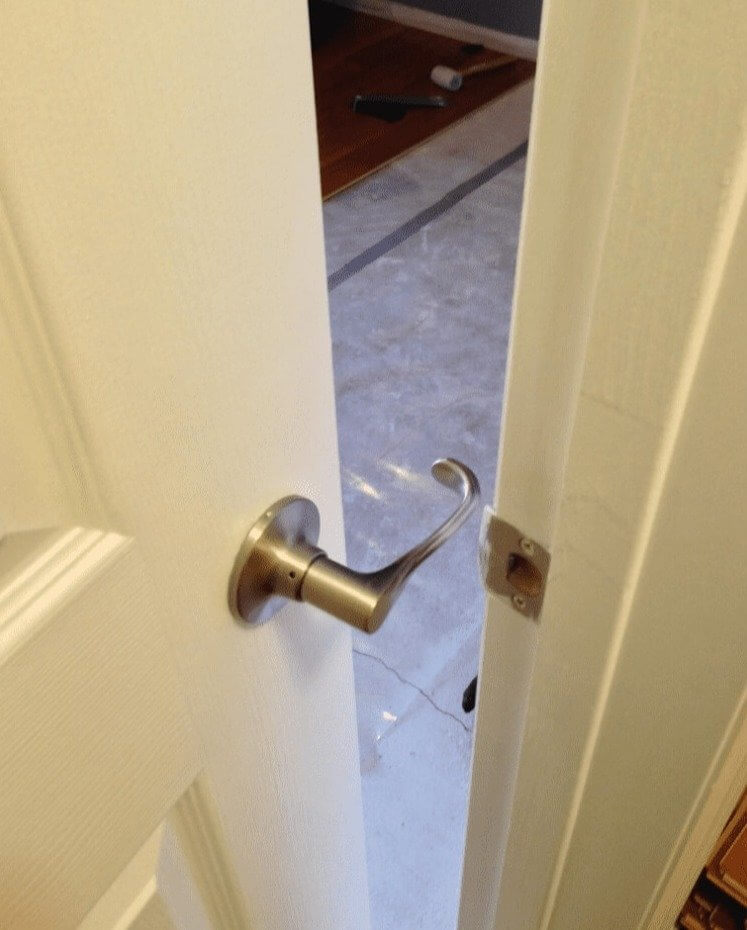 Of course, the only real problem here is the handle. And while it's a pretty easy fix, we bet this person was pretty embarrassed when they realized their door was useless for a little while.
Now What?
If you're someone who works in construction or just looking to undertake a few renovations in your home, you'll need some tools! You'll need a hammer, a saw, screwdrivers, a drill, and so much more. But it's important that you know how to use these tools properly before getting started. Otherwise, you could end up like this guy who managed to snap his drill in half while drilling some wood!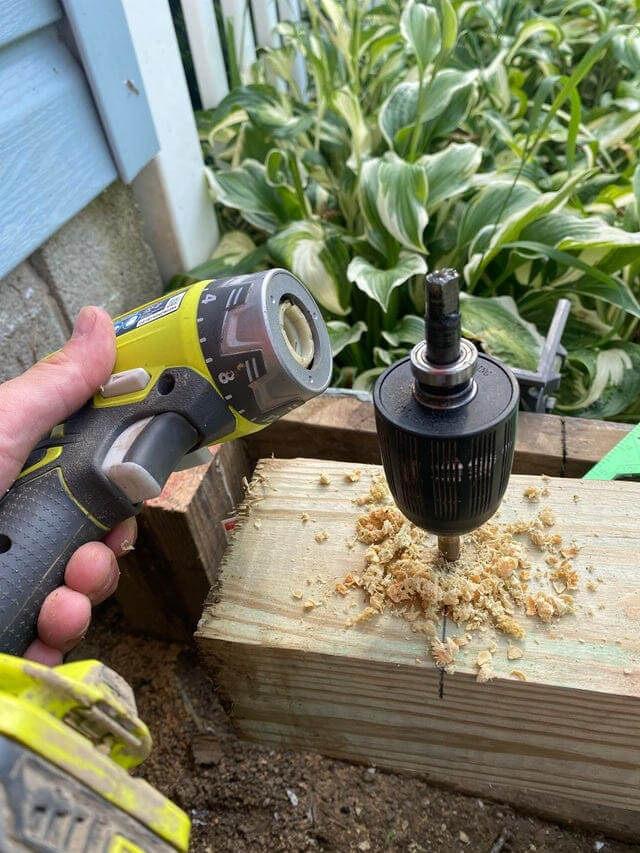 We don't know how this happened, but we can't imagine this happening to professional contractors. So, maybe it's worth taking a break from your DIY dreams for a little while?
The Worse They're Installed, the Harder They Fall
If you're ever in doubt about your own DIY skills, it's probably best to hire a contractor. They know exactly what they're doing, and you lessen the chances of encountering problems in the long run. But this person obviously realized that a little too late, as they'd already tried to attach this ceiling fan to the ceiling before they realized they could pay someone to do it for them. And it didn't go well.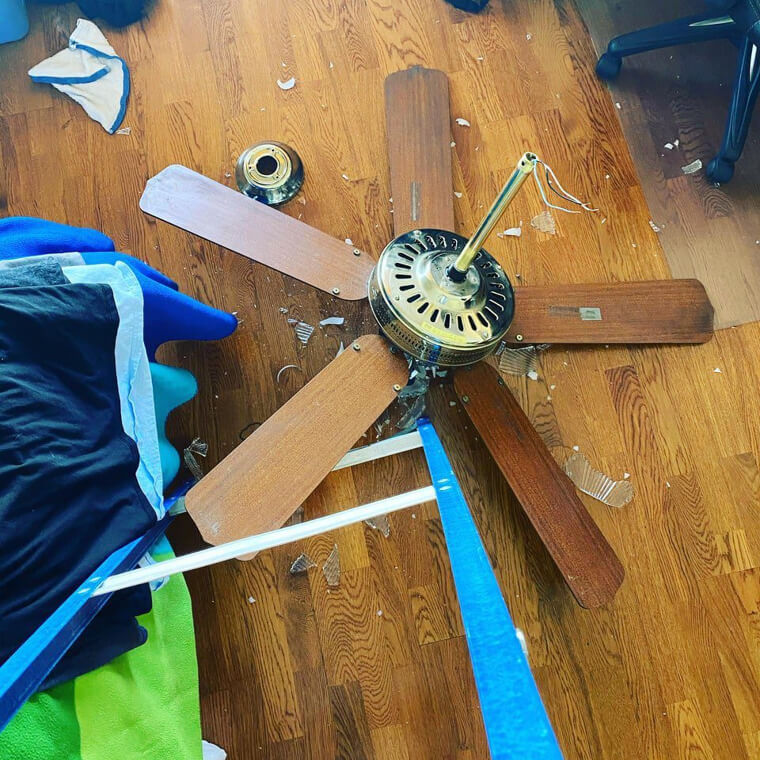 We bet it probably cost more to fix this problem than it would have cost them to hire a contractor in the first place. But you know what they say about karma!
Note to Self: Never Self-Install a Built-In Microwave
You know when people say 'break a leg'? Well, this person obviously got that phrase a little confused – as they decided to break their stovetop instead! Although they could have hired a professional contractor to install their awkwardly placed microwave, they opted to try and do it themselves. And while it would have been a good idea to cover and protect the stove while they were installing it, they decided against it.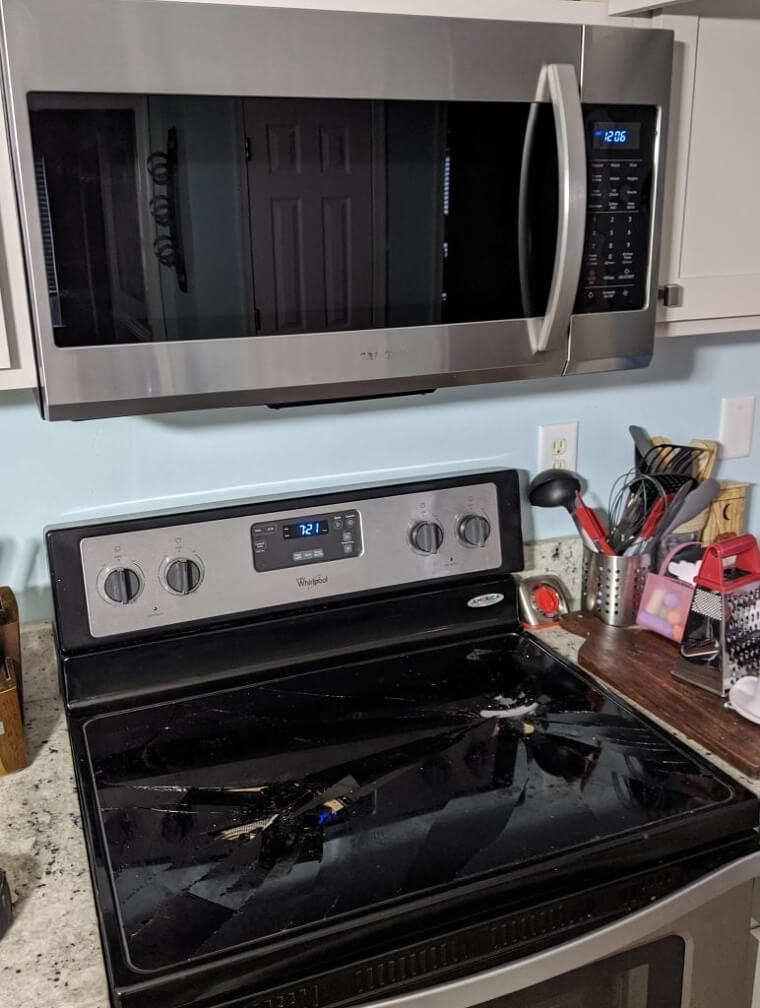 The end result is a stove that will no longer work and a bruised ego that means that they'll probably never attempt DIY ever again. Don't worry, though; there are contractors for that.
Fixed It!
There are some things that DIY novices can attempt themselves, and then there are things that DIY novices shouldn't go anywhere near. This wall is one of them, as you can clearly see that it's not structurally sound! But that didn't stop this homeowner from attempting to fix it themselves. So, armed with some expanding foam, they got to work. Unfortunately, their plan didn't quite work in their favor.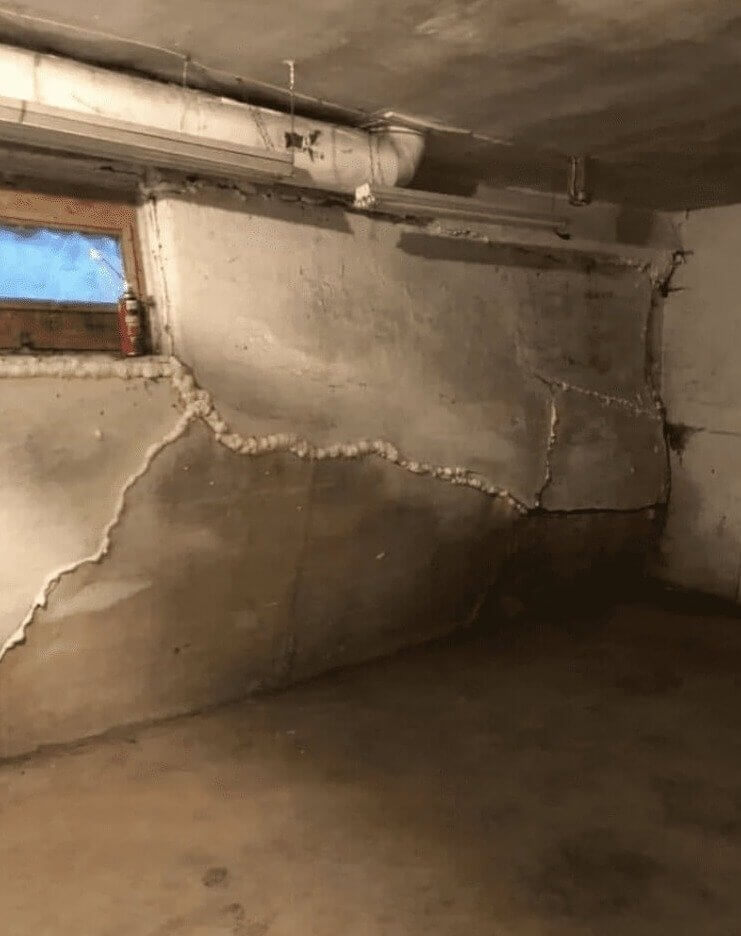 This wall still looks like it's crumbling and folding in on itself, and it definitely doesn't look safe at all. That's why you leave construction jobs like this to the experts, people!
A Lock on the Emergency Fuel Shut-Off Button? Genius
If there's one thing you take away from this list of D-I-Whys, it's that safety should always come above your pride. Sure, you might want to complete your home improvement project without enlisting the help of a contractor, but if this will affect the safety of yourself or others, you should probably leave your ego at the door and hire some help. This person definitely should have done that when installing this emergency shut-off switch.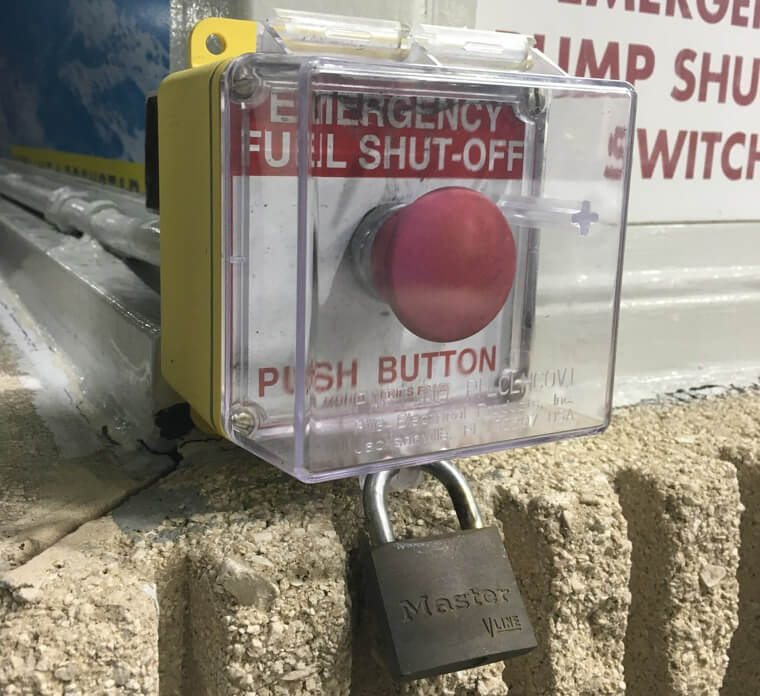 Although this switch needs to be accessible to all at all times, the person who installed this decided to place a lock on it! Why they did that, we'll never know.
An Explosive DIY Grill
If you're looking to upgrade and renovate your backyard, why not add a fireplace or even a pizza oven into the mix? Of course, we'd always encourage people to buy a ready-made fireplace or pizza oven from the store – but some people don't like to play by the rules. This person obviously wanted a DIY challenge, which is why they decided to construct their own using some leftover bricks in the garage.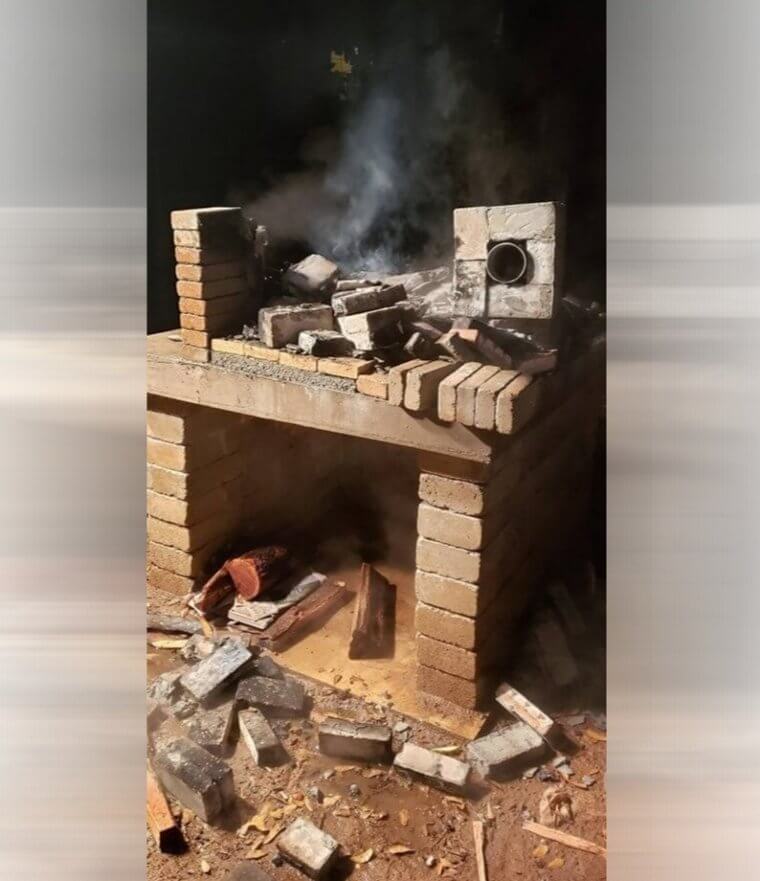 While this probably looked like a cool pizza oven when it was cold, things went south as soon as things started to heat up. This is the end result, and it doesn't look pretty.
When You Accidentally Leave the Paint Can on the Wrong Side of the Room
Most people are used to seeing footprints in the sand or even on the Hollywood Walk of Fame, but not footprints on the floors of your own home! But it seems as though this person found themselves in the midst of a real DIY dilemma when they finished painting their kitchen floor. Should they leave a paint-pot-shaped space on the floor, or should they bravely step on the wet paint to grab the pot? Well, we think it's pretty obvious which one they chose.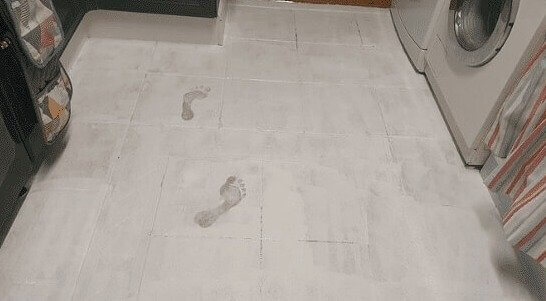 Thankfully, this DIY disaster won't take too much to rectify, but now we understand why so many people choose to hire painting and decorating contractors to do jobs like this.
A Bit Wonky
Could you live in this house? Well, we're going to assume that there are a few people reading this who couldn't live with something that's so wonky – and we don't blame them. If you're going to bypass using a professional contractor and undertake home improvement works yourself, you really need to put your time and effort into making sure it's perfect. But we guess this DIY wannabe was running late for an appointment when they fixed these lights on the wall.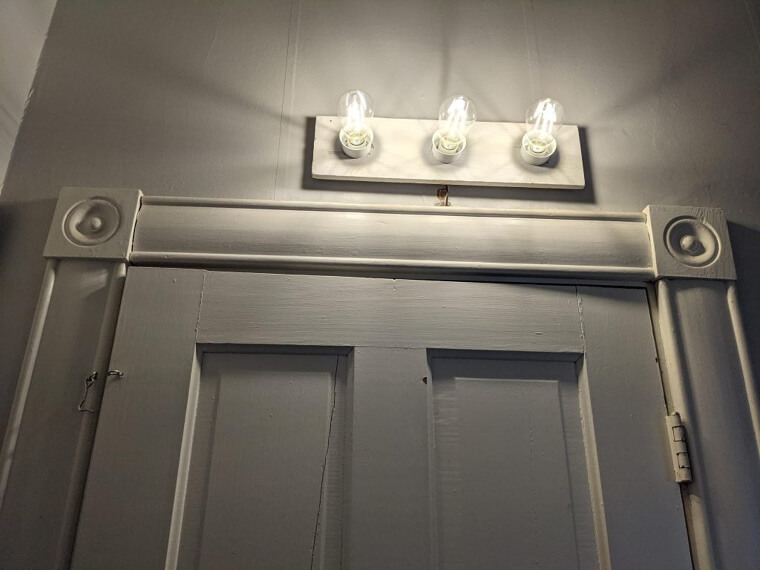 The fact that this is off-center would bug us for the rest of eternity, but let's just hope that the person behind this DIY isn't quite as detail-orientated as the rest of us.
These Perfectly Timed Sports Photos Should Totally Win a Gold Medal
Sarah Schuman
This article was originally published on Kueez
From the Olympic games to the NBA finals, modern sports are televised all around the world. The events produce some glorious moments on camera for the entire world to enjoy. But lesser known are the bloopers, sometimes so perfectly timed that they deserve their own award. Some fans even prefer seeing the silly outtakes. Are you one of them? If so, it's time to enjoy a reel of the worst (or best) moments in athletics, snapped at just the right second. Read on for the most giggle-worthy sports photos taken at just the right moment!
Hockey Is All About Stepping Over Dead Bodies These Days
Field hockey doesn't get the attention it deserves, but today is the day. Here, a motivated opponent is running full speed ahead to the ball. No one is going to get in her way if she has any say in the matter.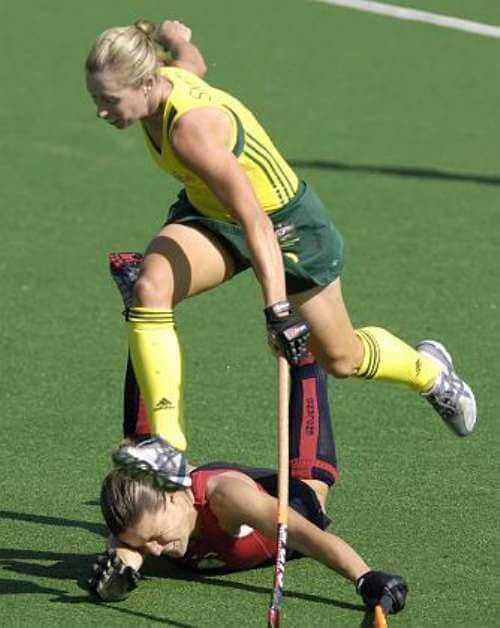 The competition has been shoved to the ground, just like that. And as the lady in red cringes in pain below, the game goes on. It is hard to imagine the sounds that went on in this scene since we only have a visual representation. A crunch, perhaps?'
Diving Can Get Ugly on the Way Down, We Must Admit
Diving can be a graceful event to watch, for those who appreciate the art. But most of us never formally train to jump from a high post. We just enjoyed doing cannonballs at the local pool. Looks like we weren't alone!
Here, a camera caught a trained diver in action. As he falls with the force of gravity, we can see his emotional journey, too. The wind distorts his face a bit, though. Is he smiling, or frowning? Maybe it's a bit of both, and we're intrigued.
When You Merge Souls to Reach Those Ice Dancing Goals
Ice dancing is the most playful of the Olympic contests, without a close second. Even those who claim they hate sports tune in for a few segments. Maybe the audience would be even bigger if more people knew that literal magic was happening on the ice, like right here!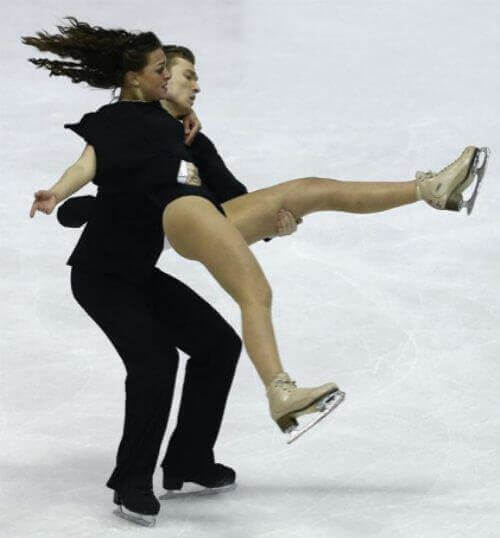 As this man and woman glide about, their bodies and heads seem to merge. Something is unnatural about the way this looks. We pray this is just an optical illusion, captured at the perfect moment. It's a good one, if so!
Rumor Has It Hockey Is More Intense Than Any American Sport
Sure, Canada is passionate about it. But that doesn't mean that the country below has noticed. Americans seem to be busy with baseball, basketball, and even lacrosse, at times. There just doesn't seem to be room for hockey in their hearts.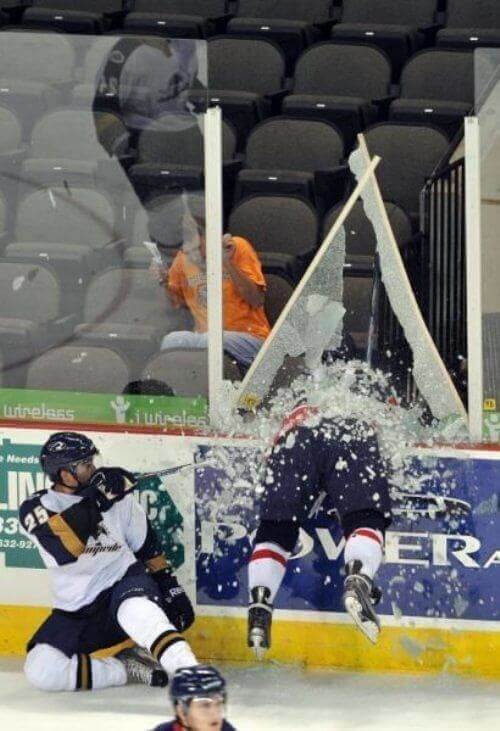 But maybe this photo will change minds out there. The impact of the skater right through the glass here shows incredible speed if nothing else. Allegedly basketball is the sport of choice for adrenaline junkies on the sofa. But come on — have they not seen ice fighting?
Take Me Out to the Ballgame, Take Him Away From That Bat
Baseball might seem like a dull game. There's a whole lot of standing around and throwing back and forth. Fans claim this part is fascinating, like a secret chess match with interesting moves to watch. But the game will always have its haters.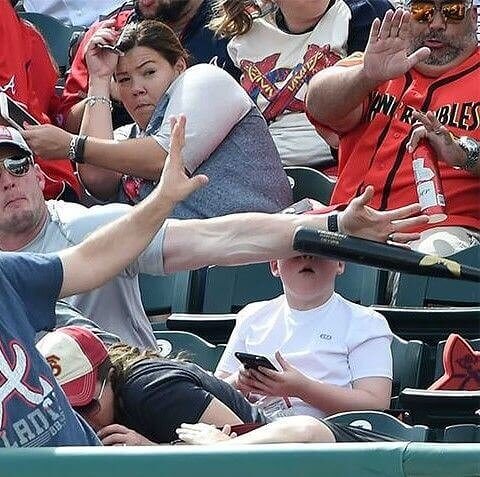 Today, there is a lot more action than usual. But it's deadly stuff, and scary to see! As a bat swings forward, a boy innocently sits in the way. Through some sort of miracle, an arm in the stands blocks the impact. Photographically, it's quite a sight!
Getting Punched in the Kisser Is Great in Slow Mo
Boxing is literally the sport of punching each other in the face. Ideally, you would defend that space with soft gloves. But sometimes, a boxer is caught off guard. Here, a photographer captured exactly that moment for all to analyze.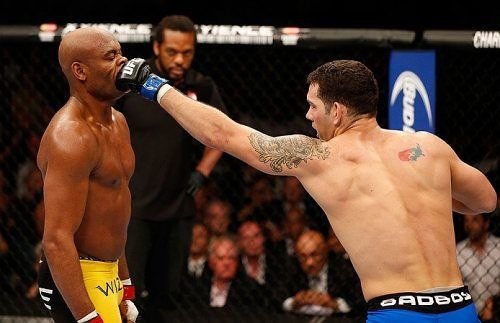 The fact is, pros can generate speeds of 25 miles per hour with their fists. It's best to stay at a distance, you must agree. But sadly, that just didn't happen here. Hopefully, he had a good dentist on speed dial!
No One Knew That Prancing Was a Pro Tennis Move
Tennis is a sport that has high viewership for both genders. There are a few differences in playing style, and the men tend to hit harder and faster. Even Serena Williams admits that men's tennis is like a whole different world.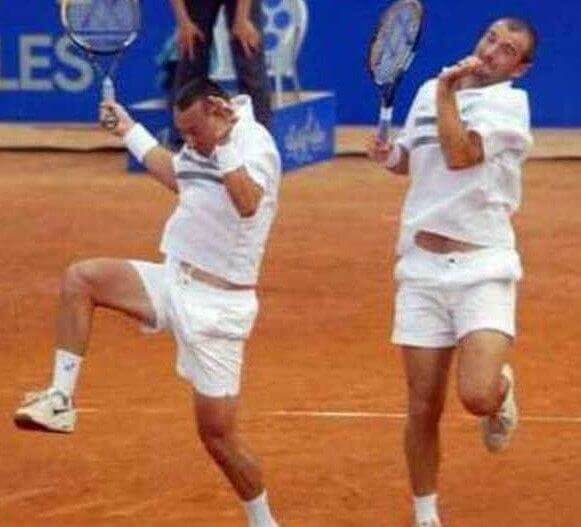 Her statement got a lot of attention. But was she aware that it involved skipping and dancing around? Unlikely. Perhaps the ladies should adopt a victory dance like this one. They're bound to look better doing it, with this low bar!
I Believe I Can Fly, I Believe I Can Touch the Sky
Basketball stars all seem to have one thing in common. They're incredibly tall, and this allows them to soar to heights most of us would consider a struggle. But there still has to be some method to shooting hoops, besides height. What's the strategy, right here?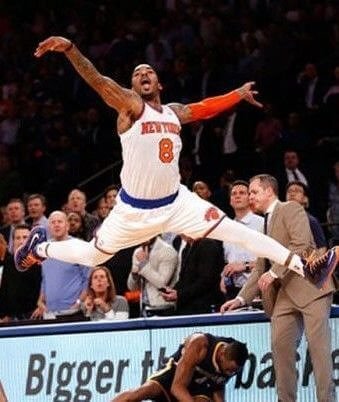 Fans really aren't sure. Many of them missed it on the original video. But pictures slow things down to see what really happened, in an instant replay that lasts forever. New York Knicks number 8 is neither a bird nor a plane. But does he know that, deep down?
Volleyball Seems A Lot More Intense Than We Knew
Volleyball is a team sport that usually takes place at the beach. There are practices in gyms, too. But where is the harder terrain to play? This perfectly timed and sandy photo seeks to answer that question, once and for all.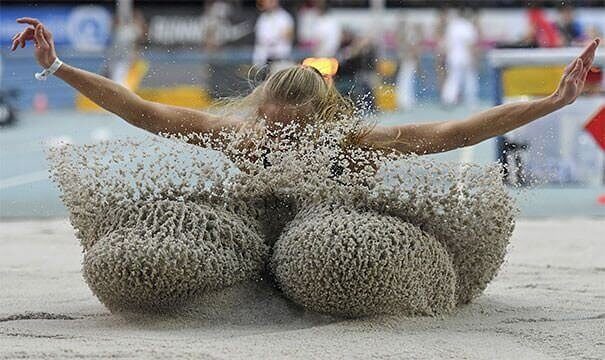 As this gal lands on the outdoor court, she finds herself in an explosion of particles. On camera, she looks like a human bomb. But no one was hurt during this move. It's just an average day near the net!
He Faced That Hurdle Like No One Else in the Race
We sometimes talk about jumping over hurdles as a metaphor for the tough things in life. But it actually is a track and field sport, and there are athletes who specialize in the task. Here, one runner fails to hop on time. How does it go for him?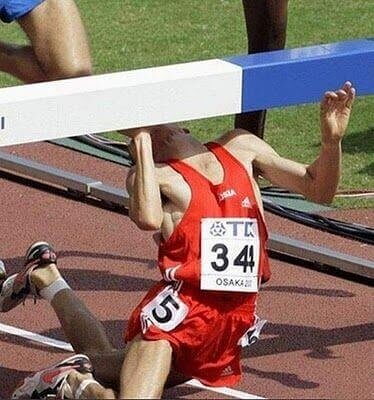 Not well, to be honest. This is just not one of those sports where precision is optional. He has jumped too soon, or too late. Or maybe, he didn't jump at all. Perhaps he tripped? At the end of the day, even the picture is painful.
True Friends Are Always There to Give You a Hand
They say that sportsmanship is dead in modern athletics. But here, opponents prove them wrong in a perfectly timed photo. As mister red bends forward, his blue friend decides to give him a boost from behind. A true blue friend, right?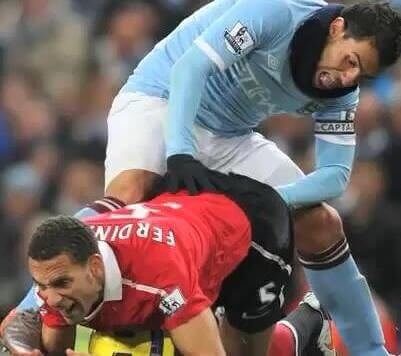 That's what we imagine, anyway. Someone should ask the squatter how he feels about it. In case he forgot this all happened, a picture has captured the exact moment everything went wild. The internet is bound to remind him, forever.
He Was Caught With His Pants Down and the Ball Up
As one determined ball boy tried to win the game, all heck broke loose. Right behind him, a challenger introduces a new move no one saw coming. It's not even allowed, according to the rules. But official papers stopped nothing!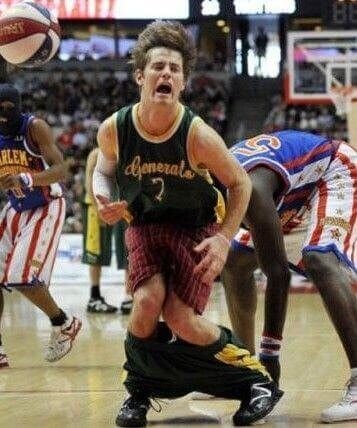 It's just not fair to pull down your rival's pants when he gets the better of you. It's not sportsmanship, by any definition. And by the look on his face, he knows he has been robbed of some game glory. His internet glory will be more significant, undoubtedly.
The Tumbling Track Star Who Might Be Meant to Model
The high jump is an event that is not easy for anyone in track and field. The shorter, stockier athletes usually turn to shotput and hammer throwing. The long-legged are the real stars of the show when it comes to the high jump. But is that their only career path?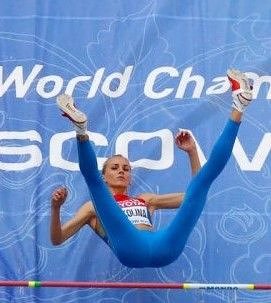 Actually, it might be the least advisable path. Captured at just the right second, the crowd can see her true destiny. Not only does she have a lanky build, but she is super photogenic. This girl was meant for the catwalk, somewhere!
This Shocking Gas Attack Turned Out to Be a Power Move
American football has a name that the rest of the world doesn't understand. The sport is mostly played with your hands! It's also full of rules no one else knows well, but Americans hold dear to their hearts. Is it also full of farts?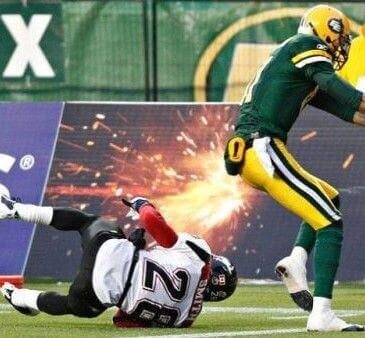 If so, there need to be some regulations on gas. Some sparks have been set off here, and they look very dangerous. The combustible butt in question should be disqualified! That is, unless it's just a freak accident photo in front of an ad. That's possible, too.
A Packer Who Was the Butt of Jokes After His Win
When the Green Bay Packers won the Superbowl over and over, fans wanted to show their appreciation. Most offered the players a firm handshake or a hug. Here though, one fan decided to say congrats in a much warmer way.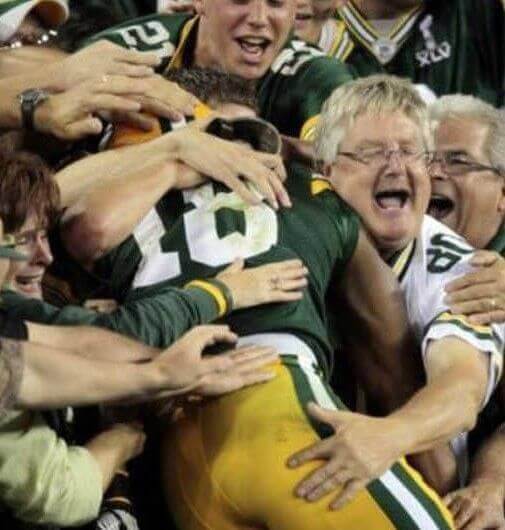 A sneaky hand has migrated all the way to the back. Then, it crept lower. As a result, this professional athlete is experiencing a very intimate thank you. With so many other hands holding him close, it's hard to run away!
This Is a Cheerleader Tower, Not a High Diving Board
Anyone who saw Bring It On knows that cheer is not only a serious social club. It's also a real athletic endeavor, and it has its risks. Those tall towers you see? Spirit team members have to be in tip-top shape to pull it off safely and gracefully.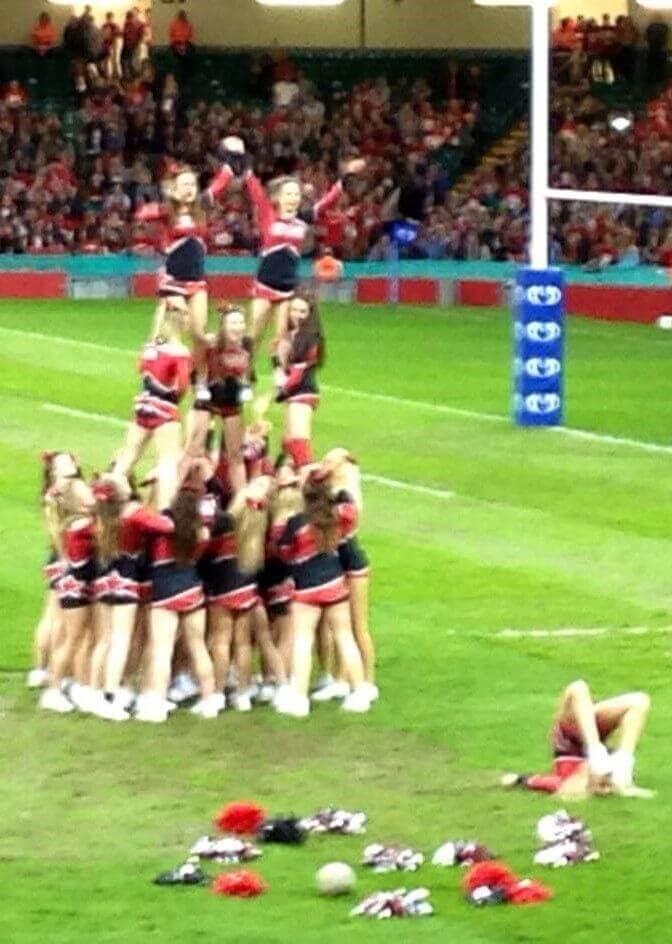 Here, a pyramid on Friday night is almost perfect. But the star who belongs on top has taken a nosedive, and it's anything but pretty. Odds are, things got even uglier after this moment on camera. But for now, let's chuckle!