"Go, Team!" "Defense!" When you think of these chants, it might bring you back to the days of high school football games with the cheerleaders chanting on the sidelines, but you probably don't think of celebrities. While many stars play cheerleaders on TV and in movies, you might be surprised to find out that they were pom-pom yielding spirit squad members at their schools before they became famous. From Meryl Streep to Jenna Dewan, continue reading to be surprised by which of your favorite celebrities was a cheerleader back in the day.
Fergie
Back when Fergie was still Stacie Ann Ferguson, she was a straight-A student and a cheerleader at Glen A Willson High School. After high school, she went on to study dance.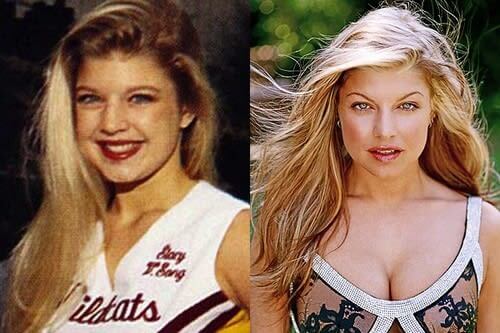 In 2003, she replaced Kim Hill as the lead singer of the Black Eyed Peas. Her cheerleading and dance background has definitely helped keep her shows entertaining.
Reese Witherspoon
With her peppy attitude and her big smile, it is no surprise that Reese Witherspoon was a cheerleader as a child. Her character in Legally Blonde seems like she was the popular high school cheerleader.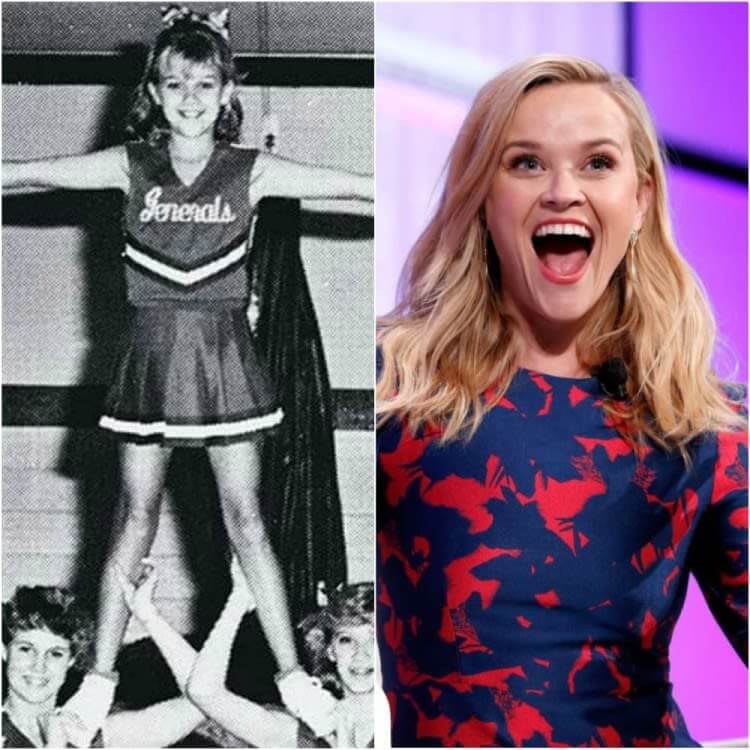 The talented actress has won an Academy Award for her role in Walk the Line, and she continues to show off her brilliant talent.
Chrissy Teigan
The dark-haired girl with a bright smile is none other than the beautiful Chrissy Teigan. She was a member of the Snohomish High School cheer team before her modeling days.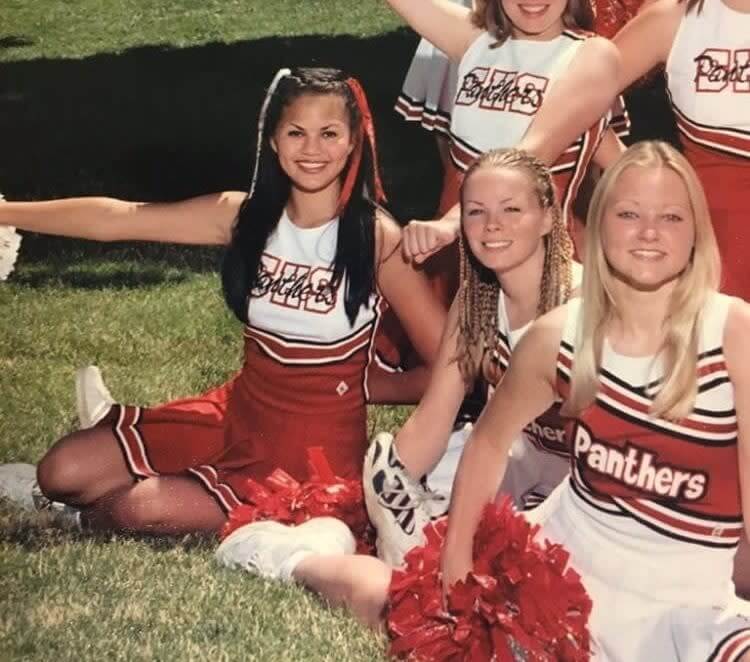 Teigan shared this throwback photo to her Instagram, and her fans went wild. She looks almost exactly the same.
Eva Longoria
It seems as if Eva Longoria hasn't aged a day since her days as a cheerleader for Roy Miller High School in Texas. After high school, she continued to cheer at Texas A&M-Kingsville.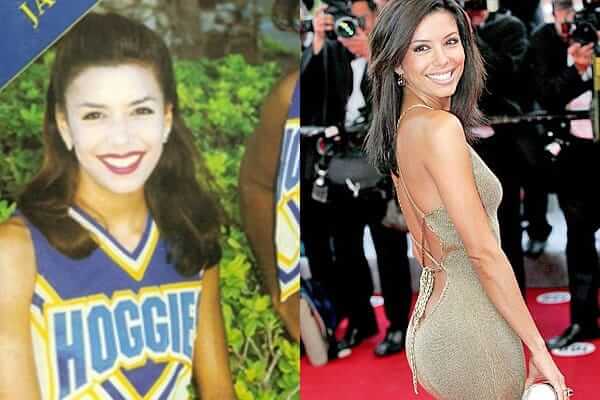 In 1998, Longoria won the Miss Corpus Christi pageant, where a talent agent discovered her. Her most famous role was in Desperate Housewives.
Rachael Ray
The vibrant culinary star was not always well known. She used to be a cheerleader for Lake George High School in Lake George, New York.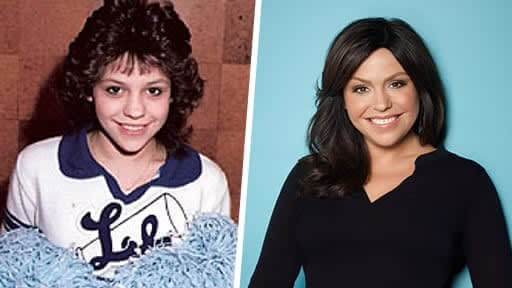 Today, she spends most of her time cooking on TV and hosting her Food Network Talk Show.
Meryl Streep
Most people would never assume that Meryl Streep was a cheerleader in high school. She grew up in New Jersey and attended Bernards High School.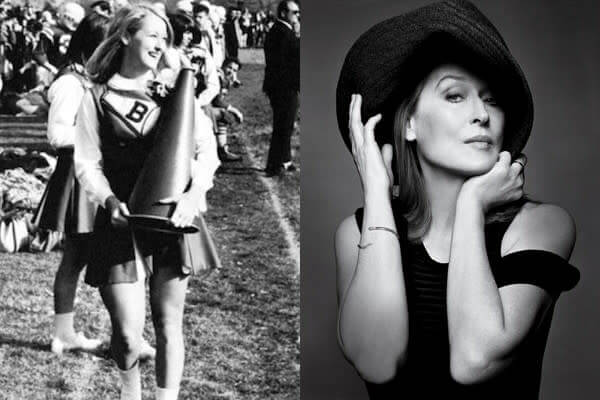 Today, she is one of the most well known and accomplished actresses in the world. Would her character Miranda Priestly from The Devil Wears Prada approve of this outfit?
Cameron Diaz
Before her days on-screen, Cameron Diaz was doing high kicks and shaking her pom-poms for Long Beach Polytechnic High School. At 16, she started modeling for Calvin Klein and Levi's.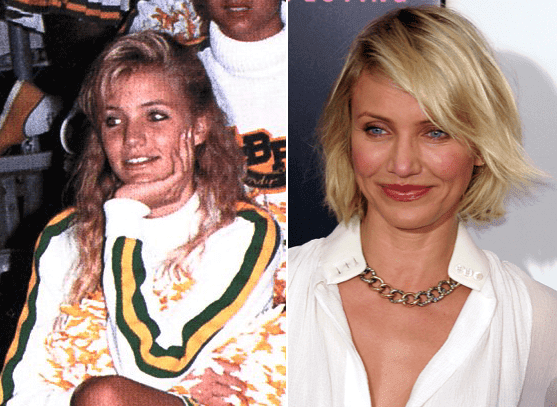 Her career really took off in 1994 when she starred in The Mask alongside Jim Carrey.
Sandra Bullock
Before Sandra Bullock was an award-winning actress, she was cheering on the sports teams at Washington-Lee High School in Arlington, Virginia.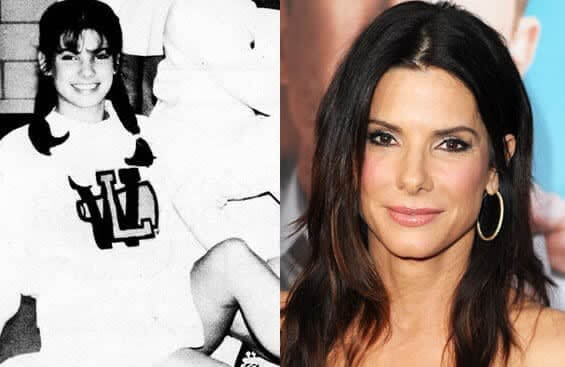 She found her love for acting by performing in her high school's theatre productions. Now she is an adored Hollywood actress who has won many awards for her work.
Alicia Silverstone
"As if!" The Clueless actress looks fresh-faced in her high school cheerleading photo. She was raised by her British parents in San Fransico and attended San Mateo High School.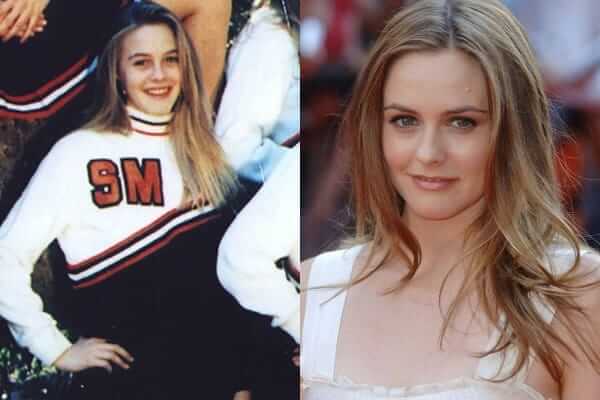 Silverstone probably never imagined that she would have the lead role in a now iconic movie back when she was in high school.
Kendall Jenner
Although Kendall Jenner has been famous since she was younger, she tried to have a traditional childhood by joining her high school's cheer team. She and her sister Kylie both cheered for Sierra Canyon School.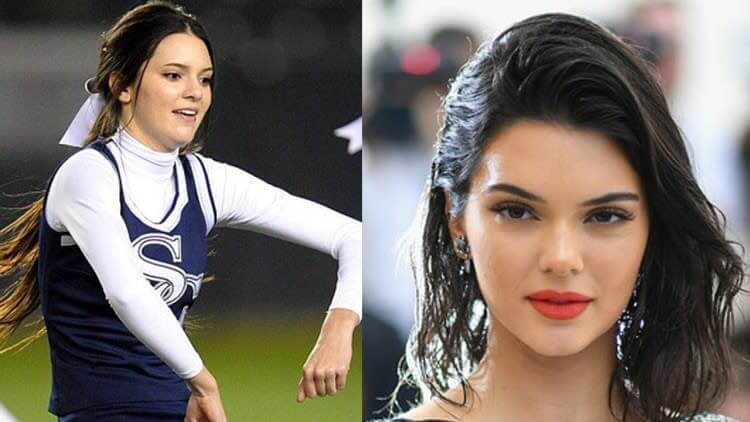 She stayed in school until she started booking more modeling jobs, and then switched to home schooling so she could pursue a full-time modeling career.
Jenna Dewan
Jenna Dewan grew to fame after she starred alongside Channing Tatum in the dance movie, Step Up. She must have learned some of those moves from her cheerleading days back in Texas.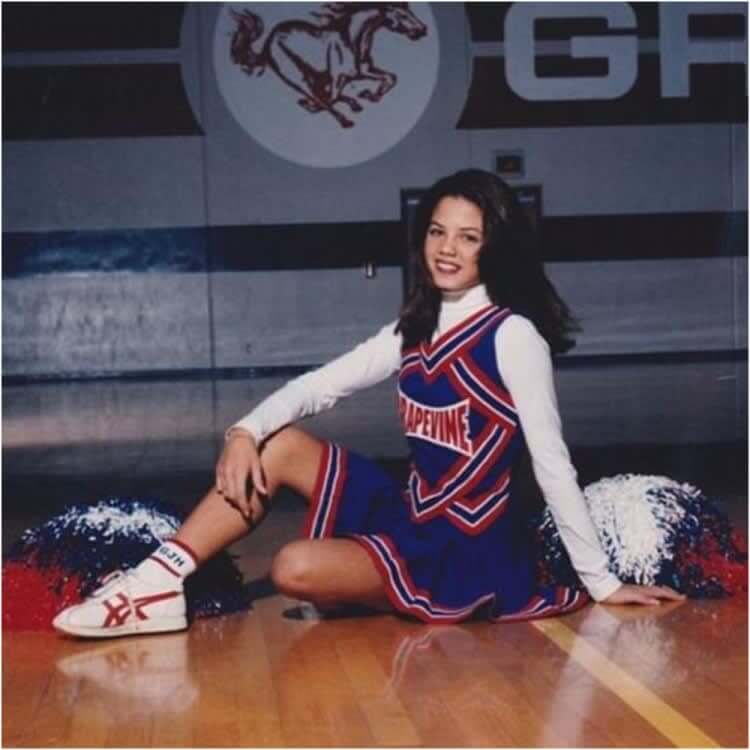 Before Step Up, Dewan was a back -up dancer for Janet Jackson. She started to grow in popularity before her big movie break.
Kelly Ripa
Kelly Ripa grew up in southern New Jersey and attended Eastern Regional High School where she was a cheerleader. Her high school drama teacher was the one who suggested she pursue acting.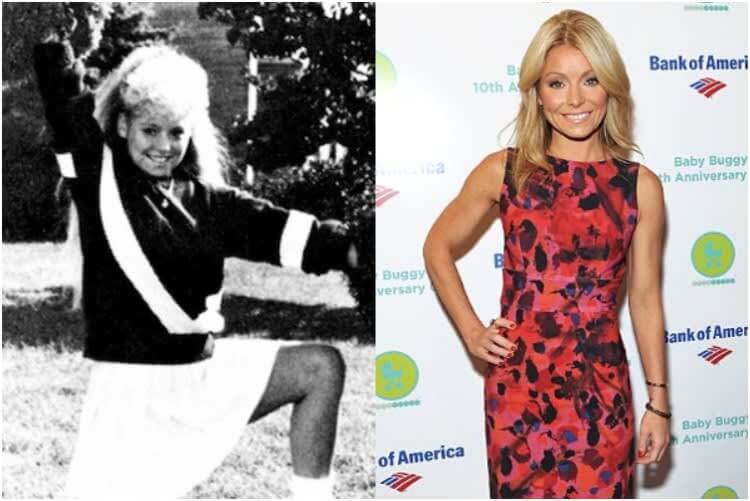 She dropped out of college and moved to New York City to become an actress. She got her big break on All My Children. Since then she has been the host of Live With Kelly And Ryan.
Blake Lively
Blake Lively is a girl who can do it all. Her father was an actor, and her mother was a talent scout, so she was destined for Hollywood.
She attended Burbank High School in California, where she was a cheerleader along with filming Sisterhood of the Traveling Pants.
Meghan Fox
Meghan Fox played the popular cheerleader in Confessions of a Teenage Drama Queen, and she channeled some personal experience to play the role well. Fox attended Morningside Academy in Port St. Lucie, Florida.
Although cheerleaders are usually perceived as bullies, Fox was the one who was being bullied often.
Olivia Munn
Olivia Munn spent most of her life in Japan because her stepdad was stationed there for the Air Force, but when it was time for high school, she moved back to Oklahoma, where she was a cheerleader for Putnam City North High School.
In college, she studied journalism, and after graduating, she moved to Los Angeles to work in Hollywood.
Brooklyn Decker
Besides lightening her hair color, Brooklyn Decker has not changed since her days as a high school cheerleader. She went to Butler High School in Charlotte, North Caroline, and was the class president.
We wonder if she planned her 10-year reunion because her classmates must have wanted to reconnect after hearing about her success.
Dakota Fanning
Dakotas Fanning has been acting since she was a little girl. She starred in many movies when she was younger, but still managed to attend school and have an active social life.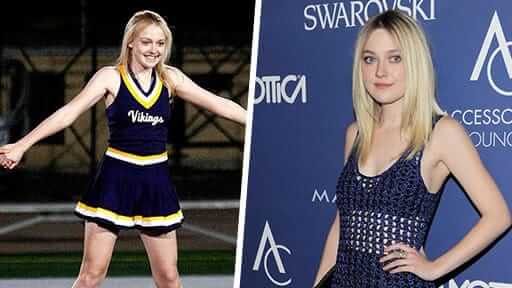 She attended Campbell Hall School, and where she was not only a cheerleader, but she also won homecoming queen.
Lucy Hale
Long before she was the artistic writer of the group on Pretty Little Liars, Lucy Hale was a school cheerleader. She grew up singing and acting and made her first TV appearance on American Juniors.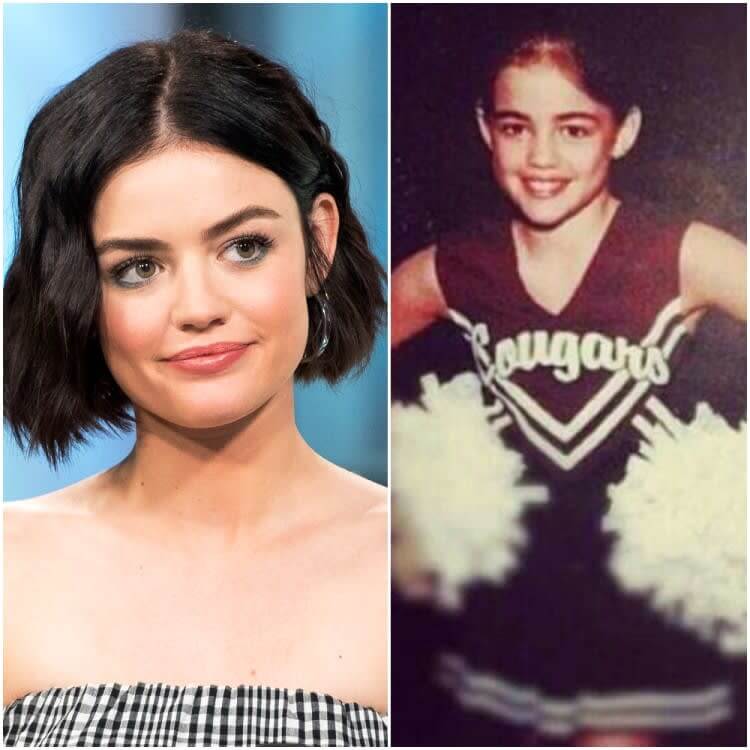 In 2008, she had her big break when she starred alongside Blake Lively and America Ferrera in Sisterhood of the Traveling Pants 2.
Danielle Brooks
You might recognize Danielle Brooks from the hit Netflix show, Orange Is the New Black. Prior to being an inmate at Litchfield, she was a cheerleader for her high school.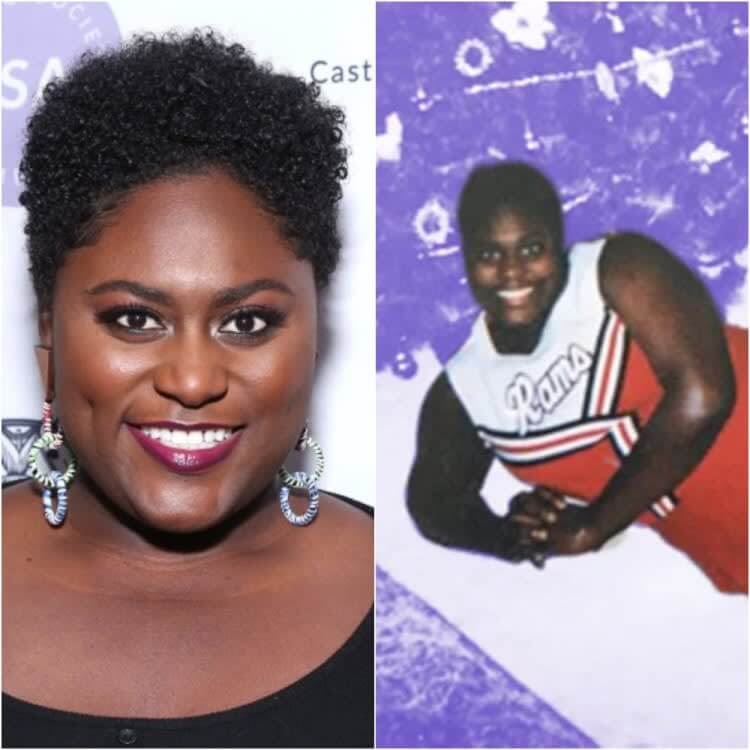 She is now very body positive, but back when she was a cheerleader, she quit the team because she felt self-conscious in the uniform. On Instagram, she shared her cheerleading photo, and in the caption, Brooks wrote that she would never quit anything because of what others might think again.
Kirsten Dunst
Everyone remembers Kirsten Dunst for her role as Torrance Shipman in Bring It On. She had prior experience in cheerleading before the movie because she was a cheerleader at Laurel Hall School and Notre Dame High School.
Dunst was signed with a modeling agency at three years old and mainly appeared in TV commercials. She was destined to be in the spotlight since she was a little girl.
Olivia Wilde
Olivia Wilde attended Phillips Academy in Andover, Massachusetts. She was on the step team, which is their equivalent of a cheer team.
Wilde said she had fun participating on the step team. She said that George Bush attended the same high school and was also on the step team. The most famous photo of him is in the school's uniform performing.
Amy Poehler
Amy Poehler looks straight out of the '80s in her cheerleading photo from high school. She attended Burlington High School in Burlington, Massachusetts.
The Parks and Recreation star graduated in 1989 and attended Boston College, where she studied communications. She later moved to Chicago to work on her comedy.
Miley Cyrus
Some might say that performing is in Miley Cyrus' blood because of her father, Billy Ray Cyrus. When she was just seven, she joined the cheerleading team for her hometown of Franklin, Tennessee.
Most people wouldn't have guessed that this little girl would grow up to swing on a wrecking ball, and twerk at the MTV Music Awards.
Lindsay Lohan
Although Lindsay Lohan has been a notable name since she was a child, she tried to have normal schooling by attending public high school. She was a cheerleader for Cold Spring Harbor High School and Sanford H Calhoun high school before she switched to homeschool.
She wanted to fit in with her classmates, but it was too complicated as she gained more fame and took more acting jobs.
Ciara
You might not recognize this one, but that is Ciara. She was the captain of Riverdale High School's cheerleading team, and she loved it.
In an interview, she once said that she wasn't able to be as involved as she wanted to her senior year because her music career was starting to take off.
Kathie Lee Gifford
When Kathie Lee Gifford was just four years old, her family moved from Paris, France to Bowie, Maryland. ten years later, she became a cheerleader at her high school, and went on to win Maryland's Junior Miss Pageant in 1970.
After high school, she studied music and drama at Oral Roberts University in Oklahoma. Most recently, she was the co-host for Kathie Lee and Hoda, but she left to pursue other things.
Halle Berry
Hally Berry grew up in Cleveland, Ohio where she was not only a cheerleader, but she was also an honor student, editor of the school newspaper, and prom queen. Her parents were a hospital manager and a psychiatric nurse, so she had big shoes to fill.
In 1989 she got her breakout role in Jungle Fever. She went on to win an Academy Award for her role in Monsters Ball.
Madonna
Madonna Louise Ciccone first started entertaining people when she was a high school cheerleader. She attended Rochester Adams High School in Detroit and she was a straight-A student.
Madonna received a dance scholarship for the University of Michigan but dropped out to move to New York City.
Paul Rudd
When Paul Rudd was ten, his family moved from New Jersey to Kansas, and he joined the cheer team in high school. Rudd was also the student body president.
Seth Poppel / Yearbook Library
His charisma and talent helped him become well-liked at his high school, and then he attended the University of Kansas where he majored in theatre.
Denise Richards
The Saved By The Bell actress, Denise Richards, grew up in Illinois, where she was an athletic tomboy. When she joined the El Camino High School cheerleading team, she started to act more girly.
After high school, she graduated and spent most of the '90s on Saved By The Bell and Married With Children.
Kathy Griffin
Kathy Griffin is unrecognizable in this picture from her high school cheerleading days. She grew up in Oak Park, Illinois, and attended Oak Park and River Forest High School.
Griffin often talks about the cosmetic procedures she has had, so it is no wonder she no longer looks like her teenage self. We can't deny that she had great form in her stunts.
Renee Zellweger
During her time at Katy High School in Katy, Texas, Renee Zellweger was a high school cheerleader. She did flips, stunts, and kicks, and she still remembers how to do them today.
She went on the Jimmy Fallon Show to show off her cheerleading moves, and she did not disappoint.
Steve Martin
We all know and love Steve Martin for his iconic roles in Father of the Bride, The Pink Panther, and Cheaper By the Dozen, but you probably didn't know that he was a cheerleader. He is the boy on the far right.
Martin went to school in Garden Grove, California, and he would make up funny cheers for his squad to perform.
Diane Sawyer
The ABC Journalist and television personality, Diane Sawyer, wasn't always the confident woman we see on TV. She often felt overshadowed by her older sister before she joined the cheerleading team at Seneca High School in Louisville, Kentucky.
She got her first break when she toured to promote the Coca Cola Pavilion for the World's Fair. In 1978 she presented on ABC News and has been with the network ever since.
Jennifer Lawrence
Jennifer Lawrence grew up in Louisville, Kentucky. During high school, she was very involved by playing softball, basketball, field hockey, and she did cheerleading.
Since she graduated, she has been in some major movies like The Hunger Games, X-Men: First Class, and Silver Linings Playbook.
Gabrielle Union
Gabrielle Union was a convincing cheerleader in Bring It On because she had prior cheerleading experience in high school. She went to school in Pleasanton, California, and was a cheerleader for her high school.
She originally auditioned for a different cheerleading movie but didn't get the part because she is black, but it was a blessing in disguise because that movie flopped and Bring It On ​became a classic.
Kirstie Alley
Before she became a popular actress, Kirstie Alley was a cheerleader at Witchita Southeast High School in Kansas. Alley dropped out of Kansas State University to pursue Scientology and try to make a career of acting.
She got her big break when she replaced Shelley Long on Cheers. She got many Emmy nominations and won one for her role as Rebecca Howe.
Jayma Mays
Jayma Mays played Emma Pillsbury on Glee and before her days as an actor, she was a cheerleader in high school.
She stood out from the crowd with her bright red ringlets and a big smile. She was destined to be in the spotlight.
Katie Couric
The 60 Minutes and Yahoo! News anchor was the most adorable cheerleader at her high school in Arlington, Virginia. After high school, Katie Couric attended University of Virginia and graduated with a degree in journalism.
Couric has been a host on the three biggest television networks in the US, and she has made a significant impact in the world of journalism.
Rashida Jones
The Parks and Recreation star does not exactly look like the all-American cheerleader here, but she was a very involved member of the spirit squad. Not only was she a cheerleader, but she also was a member of the math club and national honor society.
After grade school, she used her good grades and extracurriculars to get into Harvard University. In college, she was an active member of the drama and theatrical clubs.
Phaedra Parks
Before Phaedra Parks became a power attorney and star of Real House Wives of Atlanta, she was a high kicking cheerleader. She grew up in Athens, Georgia, and went to Clarke Central High School.
After she graduated high school, she went to the University of Georgia and then Wesleyan College for law school.
Ann Margret
This is a blast from the past. The Swedish-American actress went to New Trier High School in Winnetka, Illinois, where she was a cheerleader.
Based on this picture, it looks like she loved her cheerleading days with her wide smile and jumping pose.
Kirk Douglas
The late Kirk Douglas had a long and successful career in Hollywood, but before he rose to fame he was cheering on his high school sports teams in Amsterdam, New York.
He passed away earlier this year, but his son, Michael Douglas, carries on his acting legacy.
Nicole "Snooki" Polizzi
The Jersey Shore star often talks about how fond of cheerleading she was in high school, and has even gotten her daughter into the world of competitive cheerleading. Snooki went to high school in Marlboro, New York and she was a flier for her cheer team.
Cheerleading wasn't always healthy for her because she wanted to stay skin so she could continue to be a flier, so she would starve herself.
Michael Douglas
Not only did Michael Douglas follow in his father's footsteps when it came to acting, but he also joined his school's cheerleading team. Douglas went to Choate Preparatory School, and he joined the squad.
The Douglas men are talented in unexpected ways, and they must have had a special bond.
Paula Abdul
It is not that surprising that Paula Abdul was a cheerleader. She has the spirited attitude and dance moves of a former cheerleader. Abdul went to Van Nuys High School in Los Angeles, California and she was nominated head choreographer for the squad.
After graduating, she went on to become a Lakers Girl but decided to move forward with her music career instead.
Mandy Moore
In The Princess Diaries, Mandy Moore played the head cheerleader who was popular, and she got the inspiration for that role in her own life.
She went to Bishop Moore Catholic High School in Orlando, Florida. She started her music career at age 15 and then started getting more acting roles.
Jesse James Decker
Jesse James Decker is just as gorgeous now as she was when she was 15. She went to Warner Robins High School where she was a member of the cheer squad.
She had been passionate about music, but her career didn't come easy. Most Nashville labels rejected Decker after auditioning for the first time, but that didn't stop her from continuing with her career goals.
Stacy Keibler
Stacy Keibler has been passionate about dance and cheerleading since she was very young. She grew up in Rosedale, Maryland where she was a cheerleader and took dance classes after school.
Keibler went on to study at Towson Univerity and graduated with a degree in communications. She also became a cheerleader for the Baltimore Ravens when she was 18.
Sally Field
Sally Field has had a long-lasting career and has starred in movies such as Forrest Gump and Mrs. Doubtfire. Feild went to Van Nuys High School in California and was a cheerleader for her high school.
She went on to play a cheerleader in The Flying Nun and Gidget. Field is a remarkable actress who continues to impress her fans.
Woman Hilariously Recreates Celebrity Instagram Photos And The Results Are Too Good
Ashley Lez
This article was originally published on TheFunPost
When you scroll through Instagram, it is hard not to roll your eyes at some of these celebrity photos. When you really look at what they are posting, it seems ridiculous because real people don't look like them or post pictures like them. But they are famous, so they get a free pass. However, Australian comedian Celeste Barber is back at it with a new collection of celebrity Instagram recreations to show everyone what ordinary people would look like if they took the same pictures. Remember, what you see online is not always the truth, and Barber's hysterical photos are the perfect reminder of that. See who she teases next with this new batch of hilarious pics.
"The Flash…It's Blinding!"
According to science, Bella Hadid is the most beautiful girl worldwide, and while we're still debating that, many people agree. However, looks aside, she does post some truly bizarre photos like this one. What was she going for with this shot? "Oops, forgot to turn the flash off."
Celeste is all of us when someone takes a picture and they use flash. For the next few minutes, you just see spots and wonder if you are actually losing your vision permanently. How does Bella keep her eyes open like it is nothing? Is she even human?
"Tripped Over The Stool, Pants Fell Down, But I Must Save The Chips"
We don't know what is going on in either photo, but both of them look extremely uncomfortable. We can't imagine why the original model was asked to pose like this, and it makes no sense, but that's fashion, right? At least Celeste is reaching for something.
The bottom photo tells the story of a woman who dropped her chips and didn't want to get off the chair, so she reached as far as possible to grab them while keeping her legs on the stool. The only part we can't figure out is why her pants are falling off.
"All I Want For Christmas Is Realistic Tree Standards"
'Tis the season to be merry, go outside, kill a tree, bring it inside, then let it die and put it outside again. While we are all for Christmas trees because they are festive, we have to question why celebrities need one for every room? They also pick trees that are the size of a normal house.
Most people don't have 12-foot pine trees in every room, and they look puny in comparison. Celeste was clearly going for the opposite feel with her Charlie Brown Christmas inspired tree. She can call it minimalism, and it will be trendy and eco-friendly.
KoKo And Kylie 2.0
Do you ever just hug your sister and rub your hands on her chin? We are going to guess that you don't, and although it was for a makeup advertisement, it still looks silly next to the bottom picture. Kylie and Khloe were showing off their makeup collaboration while Celeste is showing off her friend's dental work.
It's like we can barely tell the two photos apart. Celeste and her friend are a little more hands-on than Kylie and Khloe, but who isn't like that with their friends or siblings? We wouldn't let friends pick our noses but to each their own.
"Jingle, Jingle", Is That The Bank Calling?
When you have so much money that you start to think all those presidents are talking to you. Have you ever noticed that some celebrities feel the need to flaunt their wealth by posing with stacks of money? We know you are rich; there is no need to rub it in our faces.
On the other hand, does anyone else keep a jar of change that they don't know what to do with? Like Celeste, the jar of coins is more realistic than stacks of $100. Over time it continues to accumulate until you can get to a Coin Star and find out it wasn't that much money.
"I Dream Of Eating"
While Bella Hadid is dreaming, the rest of the world is eating or dreaming about eating. They used to say that nothing tastes as good as skinny feels, but most people would rather eat a cheeseburger than starve themselves to lose a few pounds because everybody is beautiful.
Besides the message, we just don't understand the concept behind this photoshoot. Did she lose her clothes and the only thing around to use as a cover-up was a piece of fabric with the words, "I dream" on it? When she found this piece of cloth, why did the guy have to hold it up for her? Someone explain!
"Fell Face First Into The Wall, No Big Deal"
This is how it looks when you drink too much at the pre-game and try to drag yourself out of the house physically, but you find a place to rest your head instead. The next thing you know, it's Monday morning, and you skipped an entire day because you got too drunk.
With or without alcohol, this is how we feel every morning trying to drag ourselves out of bed to get ready for work. Luckily most people are working from home these days, so you can just roll over and log on for the day without leaving the warmth of your bed.
He Is Going To Feel This Tomorrow
His back will be sore for the next few days after falling onto the water like that. When you kiss your significant other by the pool, don't you fall passionately yet gracefully into the water? Celeste showed that it's not as easy as they make it seem, and their photo looks painful.
We understand that it's more about the art of the photo, but how do they look natural as they are falling? The two models should give everyone, including Celeste, falling lessons. At least her husband got his pose down, but we can only imagine his face as they hit the water.
Getting Out Of The Pool Gracefully Is Impossible
If you have ever gotten out of the pool gracefully, we commend you because it seems like an impossible task. It's easy to lift yourself out of the water, but no one looks good swinging their legs over the edge of the pool. No matter what we imagine, we always look like a gremlin crawling out of the depths.
We would love to see this model try to get her legs out of the water. She looks good now, but wait until she starts swinging her legs over the edge, then she will be back on our level. Next time you go swimming, try to get out as gracefully as possible and see that it is nearly impossible.
Someone Needs A Weed Whacker
If this isn't attractive, we don't know what is. All jokes aside, why is something called the lady garden? Who would want to associate their perfume with their downstairs area? It just seems like the name is trying too hard.
Plus, you can't have a lady garden without all the weeds and shrubs. No garden is perfect because they all need to be maintained through a series of painful tasks. Weed whacking isn't so bad; it's the weed pulling that makes people's eyes water.
Just A Light Poolside Workout
When you are chilling at the pool or beach, do you not randomly find the nearest wall to hang onto? Just for a light wall workout, you know, to make your muscles show for all the cute pictures you are about to take. If you don't do this, it is perfectly normal.
It's like when you are hanging out with your friends, and someone says your crush is coming so you "act natural," but end up looking forced. The top picture is what people think they look like, while the bottom photo is how they actually look.
"Oh, Were You Trying To Move This Couch?"
When movers come to take away your furniture, the natural thing to do is let them move it without any problems. However, celebrities are a bit different. They think their movers will also carry them on the furniture so they can feel like royalty.
The men's faces in Celeste's photo are a much more realistic depiction of how people would feel if someone tried to sit on the furniture they were moving. Even the men in the top photo look awkward and uncomfortable. It is bizarre on so many levels.
"What Is Wrong With My Wife?"
"Hey babe, I'm ready for the photo shoot." "Where are your clothes?" "What do you mean?" "I thought we were doing family photos for our parents. Isn't it inappropriate that you are naked?" "It's not inappropriate; it's inspiring cause I just had a baby."
While her husband might not understand the no clothes aspect, she doesn't care because she gives the fans what they want… or even what they don't want. John might be happy, but Celeste's husband is thinking about what his parents will think when they get this as a Christmas card.
Wind In My Hair And Not A Care In The World
When you are in the club and you find a fan to help you cool off. Some people would look glam like Miley Cyrus, and the rest of us would look like we got stuck in a wind tunnel, like Celeste. Maybe a leaf blower wouldn't be the best option because of how much wind power it has.
People can't be glamourous all the time, but we can do our best not to get overheated. A girl's got to do what a girl's got to do, especially when she is wearing a full-on spandex catsuit that traps heat and makes you sweat ten times more.
Doesn't Everybody Play The Piano Naked?
When you are trying to show off for your husband's friends, and then you remember you are nude, you don't know how to play the piano, and this is a horrible nightmare. Who goes nude except for a pair of Adidas sneakers to play the piano?
Just imagine how uncomfortable it would be to peel you bare behind off of a leather piano seat. Just thinking about it makes us uncomfortable. This must be the best way to absorb the music; if you are nude, it seeps right into your skin.
"New Tattoos, What Do You Think?"
When we look on Instagram, our feeds are filled with models who have unattainable bodies most of the time. When your main job is to keep yourself in shape, it is much easier to look perfect. However, the average person doesn't have time to work out for four hours a day.
While this model may have an almost non-existent waist, most of us look like Celeste. It's ok to have curves and bumps because everyone is built differently, so you should love the body you have and everything it does. Comparing ourselves to models is a waste of time.
What Sisters Really Do At Meals
When you go out for a family brunch, and you and your sister start fooling around even though you are both adults. Your parents are embarrassed, but you are your sibling could care less because you're drunk off the mimosas and can't stop laughing.
We can't all be as cool as Kendall and Kylie, but we can all be as silly as Celeste and her sister. There is nothing wrong with a little immaturity here and there to make life more exciting. Sometimes you have to pretend your fries are walrus teeth.
Casually Hanging In The Backyard With The Kids Toys
Have you ever stripped down to your undergarments and walked outside to play with a tractor? No, just these two? Out of all the strange photoshoots Kim Kardashian has done, this has to be the weirdest. She walked around a construction site in her underwear, and we don't know why.
If anyone can explain that photoshoot, that would be great because we still think about it to this day. At least Celeste is in the comfort of her gated backyard, so people can't see what she is doing and wonder what is wrong with her.
After A Long Night Of Drinking Expectation Vs. Reality
When you get home from a long night of clubbing, and you hope that you can fall asleep with a sliver of dignity, even if it's by the front door. However, when you wake up, you look like a hot mess because you passed out the second you got in the door.
While we all aim to make it to the couch or the bed, sometimes that just doesn't happen, and we end up on the floor. Although it isn't the best option, at least we made it home that night. That's something to be grateful for.
If Gwyneth Rolls In The Mud, Everyone Should
When you go on vacation with nannies versus holidaying with your children. When people have five nannies to take care of one child, they can enjoy spa treatments and purposely put mud on their bodies. However, when you have to watch three children on the beach, you will probably get covered in mud involuntarily.
If Gwyneth Paltrow is rolling around in the mud, we should all be doing that because she never ages, so that must be her secret. Maybe she uses a particular type of mud, but we don't think Celeste's mud is very good for her skin. It looks closer to asphalt than mud.
The Glass Says Everything You Need To Know
If there is one thing to know about Celeste, her wine is ten times more important than coffee, so if you touch it, prepare for a throat punch. Rosie Huntington-Whiteley can drink all the coffee she wants; that just means there is more wine for Celeste.
There must be something you love so much that you are willing to fight someone over it. Celeste's message is much more relevant, especially since all we have, during these troubling times, is our wine and a sliver of sanity to hold onto.
When Someone Says, "Act Natural"
When you are Beyonce, no one is paying attention to anyone else in the picture, but Celeste wanted to make sure her husband didn't steal the spotlight. Celeste said, "You know your place, babe. Stay in the background." When you wear a silver lamé catsuit, no one can steal your thunder.
If you really want to stand out in a photo, just cover other people's faces so that you are the only one in focus. Beyonce would probably cover up Jay-Z's face if she could, but her fans would think he cheated again. However, that would mean a new album is coming, so it's really a win-win.
BBQ Is Way Better Than GQ
GQ might be all about looking sharp and living smart, but we don't know if sitting naked on a chair in an empty room is the smartest way to live. On the other hand, BBQ monthly has been changing your perception of women since its creation, and that is a message we can stand behind.
We love how she shamelessly shows everyone how ridiculous these celebrity photos are. If anyone else posted a picture like Bella Thorne, people would question their sanity, but she gets away with it because she is famous and fit.
When You Haven't Tried On Jeans In Months…
After spending months of doing nothing but taking trips to and from the refrigerator because that was the furthest we could all travel, some of us are having trouble buttoning our jeans. Sweatpants are great, but eventually, we have to pull on a pair of real pants and face the music.
Some of us might have an easier time buttoning those pants, while a few of us will have to do some jumps, squats, and wiggles to get the pants on. Lying down always helps when putting on a fresh pair of jeans, you just might not be able to stand up after.
Climbing A Tree Naked…Why Not?
When there isn't a star emoji big enough to cover you up, you have to improvise. Kim Kardashian must have wanted to connect with nature, so she took off her clothes and climbed up a tree. At least Celeste kept her underwear on because that is not a place you would want to feel tree bark.
Who doesn't spend their afternoons spying on neighbors from the tree while they only wear boots and star pasties? Is that not normal? Kim is probably spying on Kanye to make sure he doesn't try to run for president again.
Mind The Gap, Stay Behind The Yellow Line
We would advise against using the side of a subway car to prop your foot up because it could start moving, but that is just our opinion. If you try this, you might get some strange looks like Celeste, but ignore the haters because they know nothing about fashion photography.
While she might be getting a good stretch in her legs, it doesn't seem like a good idea to ignore the safety warnings. Those "mind the gap" signs are there for a reason, so people don't die. We aren't experts, but there are better ways to stretch and show off your legs.
If J.Lo Can Do It, So Can You
As much as we love J.Lo and A.Rod, we don't know many people who realistically wear diamond-encrusted underwear. That does not look comfortable, and we can't imagine the level of chafing someone would get from those undies. Celeste's granny knickers look much more comfortable.
When you are that established in your career and have a consistent fan-base, why is it still necessary to show off her butt? Everyone knows she is gorgeous, but this feels a little forced. The goofy version is so much better and more realistic.
When It's Monday Morning And You Don't Want To Get Out Of Bed
When you drag yourself out of bed for work on Monday morning, the thought of walking down the stairs before a cup of coffee is too much, so you crawl down face-first instead. Some people can't function until that first bit of caffeine kicks in, and we are like them.
We don't know who the original photo is trying to target, but it is hard to understand who their market is? Are they trying to show what this bodysuit would look like if you fell down some stairs? It makes no sense.
Doesn't Everyone Get Naked Before A Champagne Shower?
If you don't strip down to your birthday suit to open a bottle of champagne, we have a lot of questions. It is called a champagne shower for a reason, and you wouldn't take a normal shower with clothes on, so this isn't any different.
Unlike the model, we wouldn't be laughing because no one wants to feel cold, sticky alcohol all over their hair and body. It might be the next best thing in at-home DIY beauty treatments, but for now, we will stick to drinking the champagne instead of pouring it on people.
How To Create Your Own Strappy Bikini For Horrible Tan Lines
If you have ever wanted to know what it was like to wrap yourself in shoelaces, just grab a strappy bikini and head out to the pool. With that many strings, you might need a bottle of wine and a straw to get through the uncomfortable phase.
While most people think Celeste is channeling her sultry side, she is actually making that face out of pain. You can try out this look, too, when Celeste releases her line of shoelaces. If you stay in the sun long enough, you can get a ridiculous tan that will look like a mosaic.
"Do You Need Something?"
When you try to sneak off for a moment of peace and a snack because your kids are driving you up a wall, but they find your hiding spot. Everyone needs a break once in a while, and you deserve to treat yourself to your favorite snack at that moment.
It's like children have a sixth sense to know when you are relaxing, and then their senses tingle to come bother you. No matter where you try to hide, they will find you, and it might be in the bushes on the side of the house eating pringles.
Pink Is Not Just A Color, It's A Lifestyle
If you don't have a pink one-piece and matching cover-up, you can recreate Paris' look with two pink inner-tubes. No one will ever know the difference, and you will look just like a hotel heiress. If Paris saw this outfit, she would probably say, "That's hot."
If you don't have a tropical backdrop like Celeste and Paris, don't bother trying this at home. While most of us can't afford to fly to the next state, these two are showing off their tropical vacations so that we can live through them vicariously.
How Everyone Feels When They Have To Sit In The Corner To Charge Their Phone
If they want to complete this photoshoot, they will have to bring the camera to her because her phone isn't finished charging. As an important influencer, she needs to be on her phone at all times. If she doesn't give constant updates, her fans will wonder if something happened to her.
Why is the go-to "sexy" pose a finger in your mouth? Is sucking your thumb the newest way to attract a mate in the dating world? Did we miss the announcement about the newest flirting trends? Because we need all the help we can get.
"Hi Honey, You're Home From Work Early"
When you are having a dance party at home alone in your heels and bathing suit, feeling like a rockstar when your family walks in. "Oh, I didn't know you guys would be home so early. I can explain." There is no shame in having a little fun while no one is around.
This position looks extremely difficult to hold, especially in heels. It must be difficult for Coco with those two balloons on her chest. They both look pretty uncomfortable, and we don't blame them. Only the chosen ones can pull off this pose.
When You Drink One Green Drink, And Suddenly You Are A Yoga Guru
When you want to feel like you are in that scene of Titanic, but you don't have a boat. We have seen plenty of yoga poses, but this one looks more challenging than the rest. We give Celeste and her husband credit for pulling it off and staying in position long enough for a picture.
The girl in the original photo looks like she is posing in one of those tampon commercials claiming you can do anything during that time of the month even though most people would rather curl up in a ball and hide for a few days.
I Ain't Saying She A Gold Digger
When Kris Jenner sees this, she is going to be so annoyed that Kim is ruining her manicure. Those hands make her ten percent, and she can't afford for Kim to lose jobs because of a botched manicure. There is a "no nail-biting" clause in her contract that she is breaking.
On the other hand, Celeste is channeling one of Kanye's top songs, "Gold Digger," because she is really up there. She could practically scratch her brain, and that is something Kim would never be caught doing. She is too cool for public nose-picking.
When In Doubt, Draw Your Abs On
Here's a secret fitness tip: If you don't have defined abs, take a sharpie and draw them on. Since it is a permanent marker, you will always have abs drawn on whenever you need to show off your stomach. No one will ever know the difference because they look so realistic.
People will be asking you for workout tips, and you can say, "It's all-natural. I don't know what you are talking about." You can even start a fitness Instagram to show off your model-like abs, and people might say it's photoshop, but they are just haters.
Bieber Vs Boober
When you are in your room all alone and think, "I could really take this time to focus on a charity that helps the greater good of the world," but instead, you take your clothes off, cop a feel, and take a picture. Justin wanted everyone to know he has a handful to work with, just like Celeste.
While we give Justin credit for bravely sharing this cringe-worthy picture, we can't help but wonder what his wife, pastor, mother, and grandparents think of this because they all follow him on social media. Who do you think saw this first, Instagram or Snapchat?
Don't Cry Over Spilled Milk
Kim's milk bath must have been a lot warmer than Celeste's fresh-out of the fridge milk shower. Kim was showing off her MILF status for a Fergie music video, and we understand that moms make milk, but why does she have to bathe in it?
Sure, milk is excellent for your bones as you are growing, but we don't think doctors would advise milk showers for healthy skin and hair. Milk probably doesn't do much beauty-wise, and too much dairy can clog your pores.
Grocery Shopping Like A Star
If you don't have someone push you around the grocery store, you just aren't on the same celebrity level as Selena Gomez and Celeste. Celebrities are too good to walk around the grocery store on their own two feet; they need their assistants to push them.
If we had to be pushed around the grocery store, we would want a bottle of wine to sip on because grocery stores are stressful with children running around and people not knowing how to act in public.
The Neighbors Must Be So Confused
Celeste and Victoria's Secret Angels have similar mating calls. They both put on the nicest tulle dresses and sit on the front stoop until someone cute walks by. Celeste's accessories are a bit different with her Viking hat to stand out from the crowd.
Her neighbors avoid passing her house because they think a crazy woman lives there, but it is just Celeste showing the world how ridiculous models and celebrities are. She also pretends to drink coffee when it is really wine, so her neighbors don't judge her too much.
Celebrity Lives Vs Real Life
While celebrities are drowning in designer bags, shoes, clothes, and luxury items, us regular folk are drowning in bills, work, and responsibility. It must be hard to spend most days shopping and getting free clothes from the biggest designers.
Instead of being surrounded by shopping bags, most adults are surrounded by dirty diapers, their children's toys, and a flood of tears from them and their children. It's hard to be a celebrity, but even harder to be an average person.
"Honey, Can You Take Just One More Photo?"
When you want to feel like an influencer, so you force your significant other to take pictures of you until you are satisfied with the perfect shot. At some point, they stop putting in the effort and lazily hold the phone, just waiting for you to let them leave.
Some people like to take pictures, while most significant others feel like Celeste's husband, who is sick of these impromptu photoshoots. He just wants to go about his day without being called into the bedroom to take a photo that won't be posted.
How Fishnet Tights Actually Feel On Your Stomach
Paris Fashion Week expectations versus the reality of being in a city where the most popular foods are bread, cheese, and wine. While Kim Kardashian has the will power to avoid foods that will make her bloated for a week, some of us don't have the same strength.
By the end of the week, the fishnets would look more like they are squeezing playdough rather than sitting nicely. We haven't met many people who could wear fishnets over their stomach without looking like a loaf of bread, but Kim Kardashian is always the exception.
"Five More Minutes, Please"
When you have to go to work the morning after going out to the bar, some people will get up with ease, but most of us are still hungover and wishing for another few minutes. No one wakes up with a cup of coffee and a smile right away.
If you went out drinking the previous night, there is a high chance that you are still hugging the bottle. That's how you know things got out of hand because civilized people drink out of glasses while the rest of us throw caution to the wind and take the whole bottle.