Make no mistake; it's the season of Barbie. And while the classic doll from Mattel has seen many, and we mean many, iterations over the years, as far as we know, there's never been a Barbie for each U.S. state — until now. Someone asked AI to reimagine the United States of America as Barbies, and the results leave us wishing these dolls were actually available on store shelves. Keep scrolling to see for yourself.
Hawaii
You just knew that there were going to be some floral patterns when it came to Hawaii Barbie, didn't you? The state's Barbie reflects Hawaii's lush and distinct native fauna, as well as native Hawaiin's distinct and cultural style. She's dressed in an all-floral dress with added flowers in her hair and glitzy jewelry. She's also got beautiful black hair. Hawaiin Barbie looks like she might be getting ready for a festival of some kind with Ken.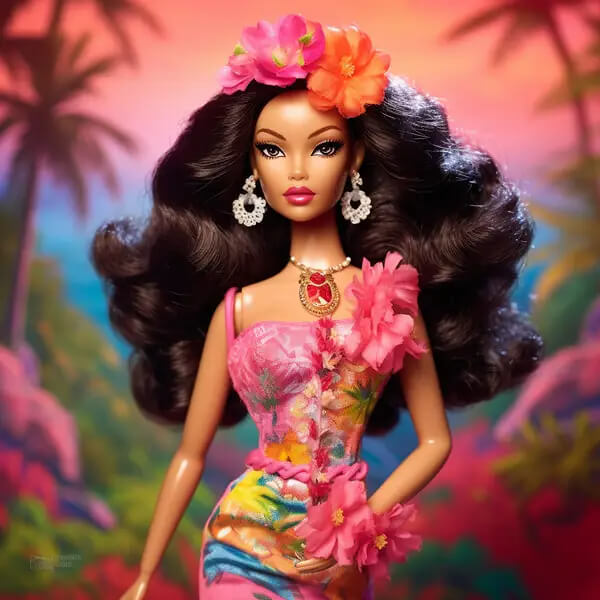 We also absolutely love the background, which is dreamy yet still very distinct, with pink skies and flowers everywhere. It reminds us of a paradise, which is what Hawaii is.
Massachusetts
Massachusetts Barbie is another stylish entry, and best of all, it appears to be fall in the state. The area is known for its absolutely beautiful fall colors, and this Barbie might be out to take it all in. She's dressed in a super stylish coat so that the chilly fall weather doesn't hinder her stroll. If there's one thing that the New England Barbies on this list are, it's fashionable.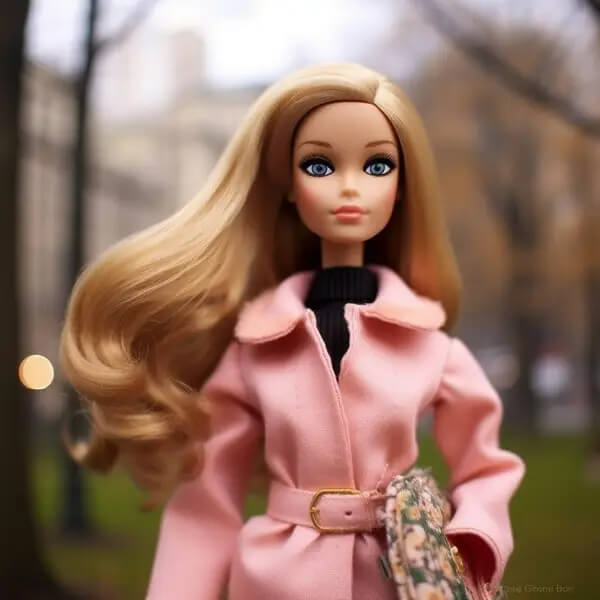 Honestly, this looks like a great fall afternoon in Mattel, Massachusetts, and we could totally see ourselves taking a similar walk through a small New England town like this one.
Arizona
Arizona Barbie should come as no surprise to most. She's fitted out in a classic but still very Barbie western button-down shirt and cowboy hat. She's even got the oversized belt buckle to match. It's all a nod to the southwest and Arizona's iconic cowboy culture. This Barbie doesn't need Ken and looks like she should come with a matching horse and maybe even some rope in case she has to wrangle up some cattle.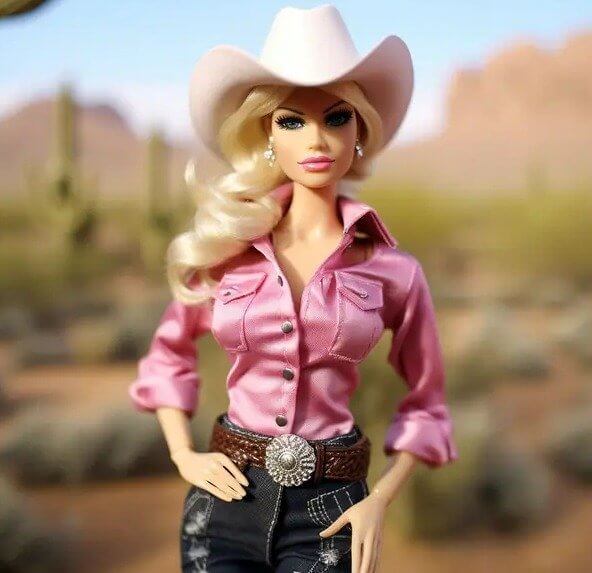 The Southwest has its own very distinct culture and history, and this particular Barbie fits the bill perfectly. As soon as we saw it, we immediately knew what region it would be from.
Maryland
Maryland Barbie might just have some of the best hair on this list. You can also tell that she works in design or art, which isn't surprising given the state's history and those that came from there. We love her studio, which is probably in her Barbie dreamhouse. However, even with all of those bold pops of colors and modern patterns, you can tell that she's heavily influenced by coastal style, which makes perfect sense for the state home to Chesapeake Bay.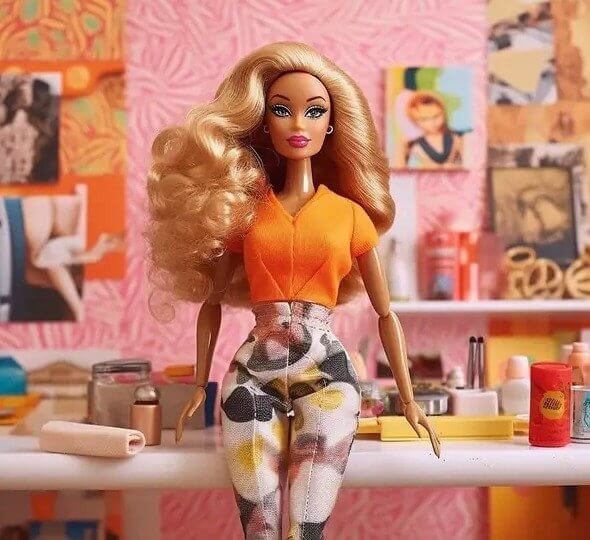 Maryland has tons of scenic waterways while also being stuck between some of America's largest and most cosmopolitan cities, so this one makes a lot of sense.
Alabama
Alabama Barbie looks like she embodies every bit of the Southern charm and hospitality the state is known for. She's probably getting ready to host a gathering in her Barbie dreamhouse, from what we can tell from this image. It looks like there are all kinds of refreshments and food on the table in the background. Her long and curled blonde hair, as well as her pink dress, also all scream Alabama.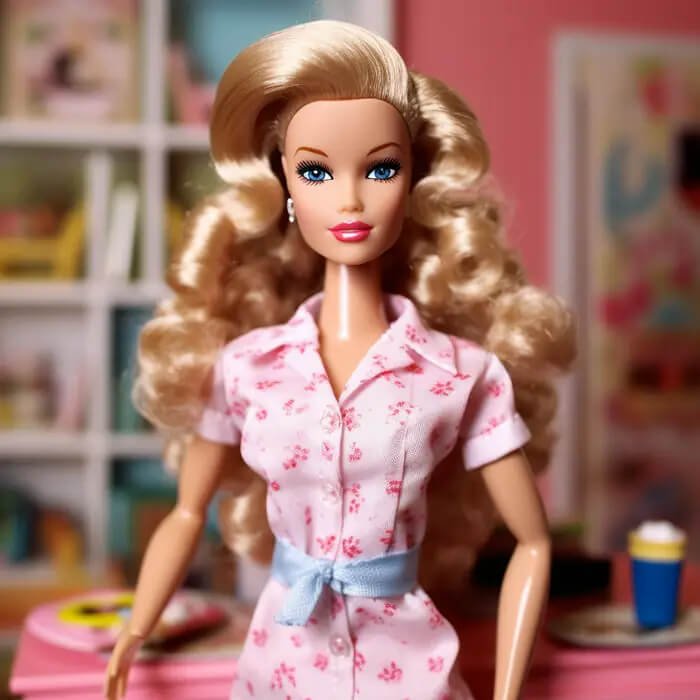 Together, everything looks like it's shaping up to be a party to remember. We just kind of wish that we were invited because there's nothing better than some good Southern food.
West Virginia
West Virginia is one of the most rural states in the U.S. and also the setting for one of its most beloved songs, which might be why West Virginia Barbie looks equally at home in a small town or out on the trails. We could see her walking down the main street of a quaint town in a valley in West Virginia or exploring some of the state's beautiful woodland.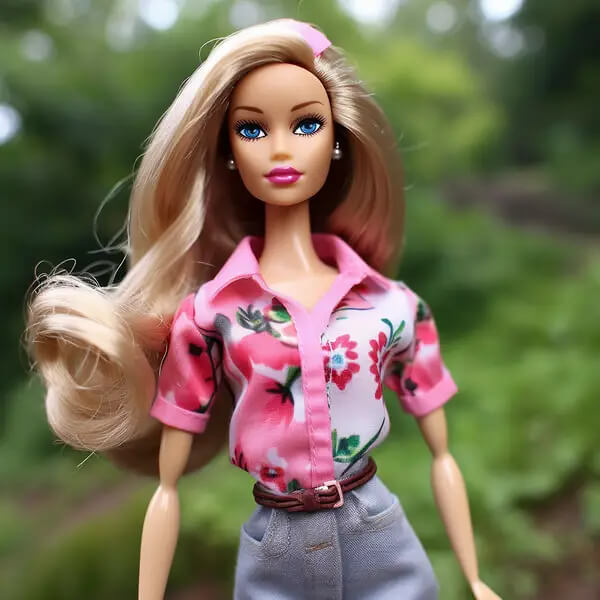 Either way, West Virginia Barbie manages to capture the state's rural but exceedingly charming roots with her outfit. The background in this image also looks like it's really nice wherever she is. This is another one that's great but very different from the Barbie movie.
South Carolina
South Carolina Barbie is out for a stroll in one of the state's many historic Southern cities. We can just imagine oaks with Spanish moss lining the streets and shading some of the old brick buildings. We can also taste some of the coastal Southern seafood that the state is so renowned for. South Carolina Barbie is sporting a pretty stylish dress to help deal with some of the state's heat and humidity.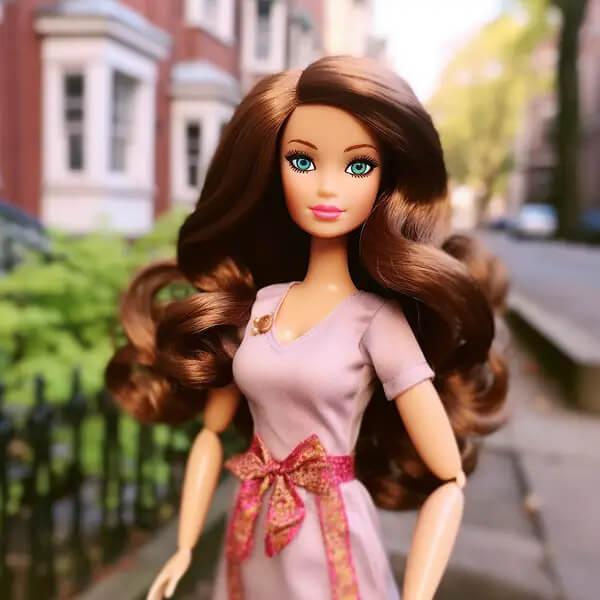 There's also the giant bow, which is a staple in the region. All in all, it looks like a really enjoyable walk and afternoon wherever South Carolina Barbie is.
Florida
Florida is called the Sunshine for a reason. Throughout most of the year, flip-flops and shorts are the norm. Florida Barbie, like her movie counterpart, seems to have the style down pretty well, with a tropical shirt and bright pink pants. And if the clothes didn't tip you off to where she is, the palm trees in the background surely must've. Florida Barbie probably spends her days lounging around the beach, or close to it, while soaking up all of that Florida sun.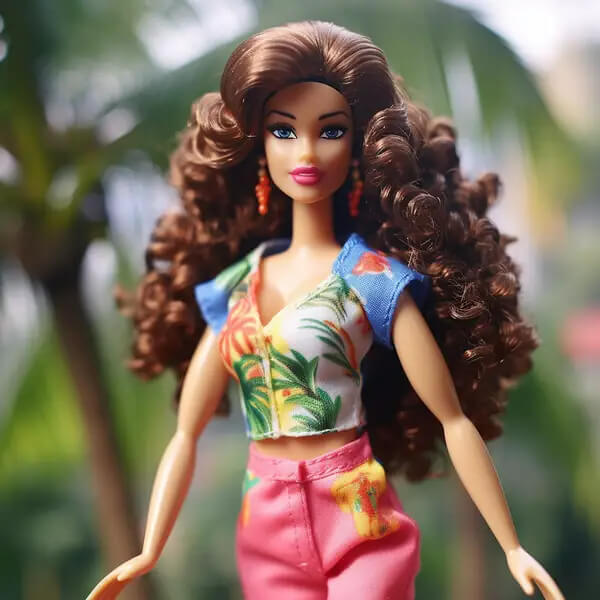 Between beach visits, Florida Barbie can probably be found enjoying some fresh seafood or strolling through one of the state's many iconic beach towns, which sounds like a lot of fun.
Indiana
Indiana and other states like it are sometimes referred to as flyover states, but that's not really fair. There's a lot going on in Indiana, and the state's Barbie proves it. It looks like she's a student at one of the state's universities, and she's probably on her way to class in this image. She's dressed in a casual yet stylish t-shirt and button-down and has her hair curled.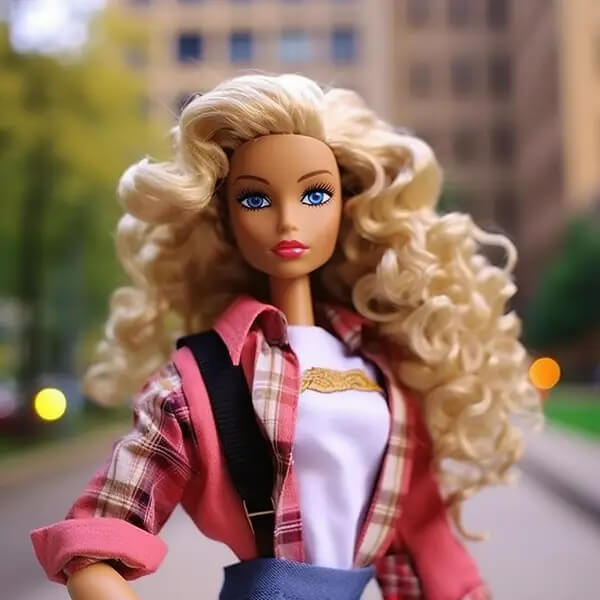 It looks as though she's also on one of the state's many campuses, probably enjoying a bit of relaxation before having to head back to class or take part in some other part of college life with Ken.
Louisiana
We can practically hear Louisiana Barbie speaking in the state's iconic accent in this image. She embodies the state's iconic mixture of Southern, French, and Creole cultures. Louisiana Barbie probably even speaks a bit of French herself while she's entertaining guests in her elegant home and serving jambalaya or blackened seafood of some kind. Her dress also reminds us of the state's diversity and long history, as does her background.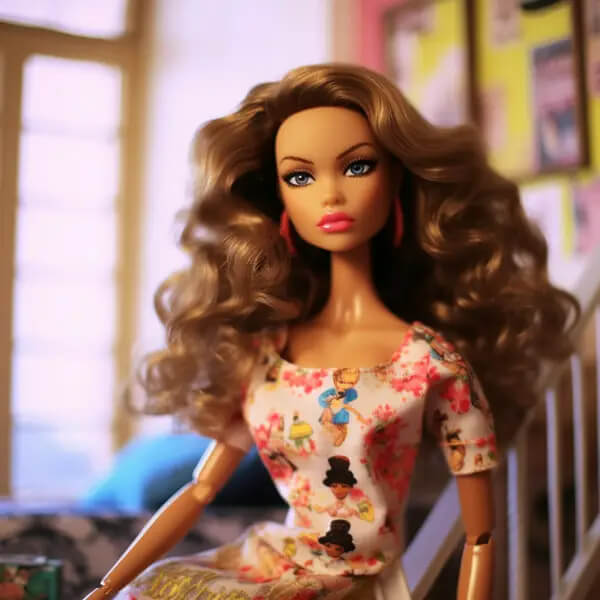 Her home looks as though it contains some French architecture, at least the parts of it that we can see, including the French windows or doors off to the left. If so, that would make for a pretty cool Barbie dreamhouse.
Wyoming
Wyoming is a pretty diverse state when it comes to terrain, but even so, we think the AI managed to capture Wyoming Barbie pretty well. She's dressed in rugged yet stylish flannel and a beige undershirt. She's probably out for a walk around the ranch or maybe even a hike in the woods. Whatever she's doing, she's doing it in style, and her outfit reflects the colors of the environment around her.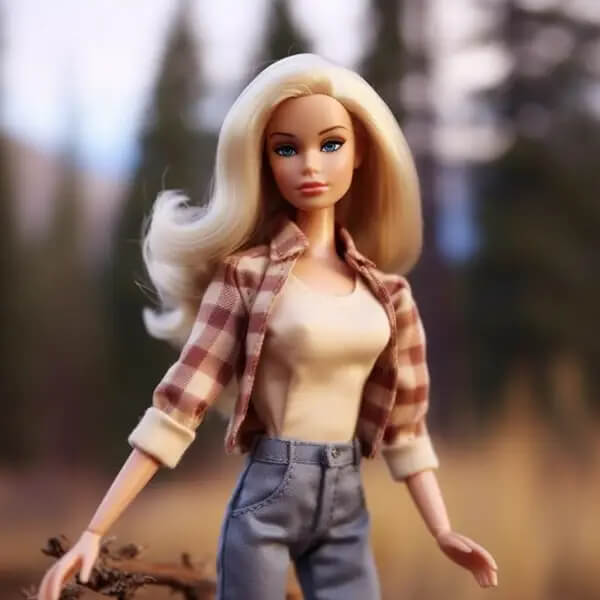 Like Utah, Wyoming also has a number of famous national parks, including Grand Teton National Park and Yellowstone National Park, which could be where Wyoming Barbie is in this image.
California
It was always going to be hard to predict what AI would make California Barbie look like since the state is so huge and diverse in terms of landscapes and cultures. However, it looks like California Barbie could be from one of the state's larger cities, such as San Francisco or Las Angeles. She's also driving around a very Barbie-esque Mattel pink sports car that's probably pretty fun on California's roads.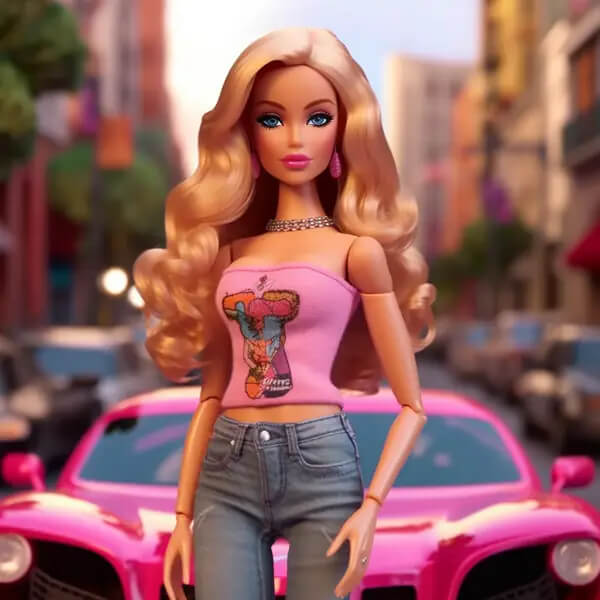 Like most in California, she's also wearing a very modern printed t-shirt and some stylish jeans and jewelry. We think AI did pretty well with California Barbie and the route it chose.
New York
New York City is one of the style capitals of the world, so would you expect anything less from the state's Barbie? Yes, we know that the state is home to some pretty beautiful places outside the big city, but this Barbie still captures what most think of when they think of New York. It looks like she's taking a stroll down the street while bundled up and protected against the wind.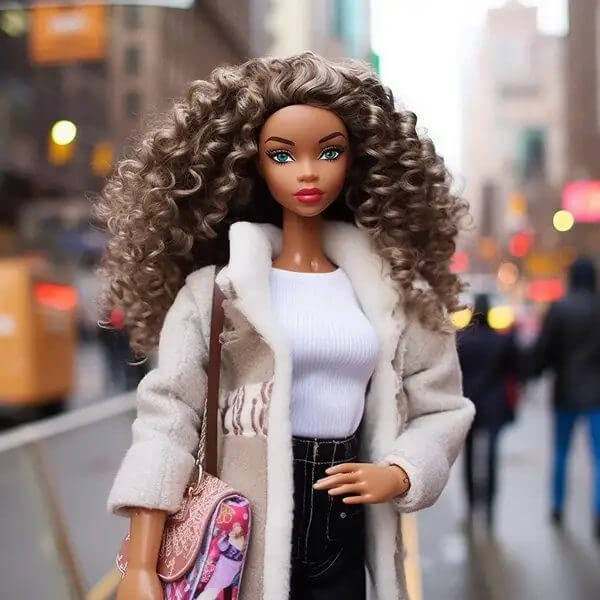 Everything about this Barbie says she's super fashion-forward and is probably heading to some fancy job in a big building somewhere for work in marketing, modeling, or some other artsy career. This Barbie probably also has a pretty luxurious Barbie dream apartment.
Oklahoma
Given Oklahoma's long history of cowboy culture, this is another one that shouldn't have been too hard to predict. Oklahoma Barbie is sporting a cowboy hat and flannel shirt, which is a similar outfit to her neighbor to the south. She's also got the curls we usually think of when we think of a cowgirl from Oklahoma. Oh, and let's not forget her oversized leather belt, which is a ranch staple.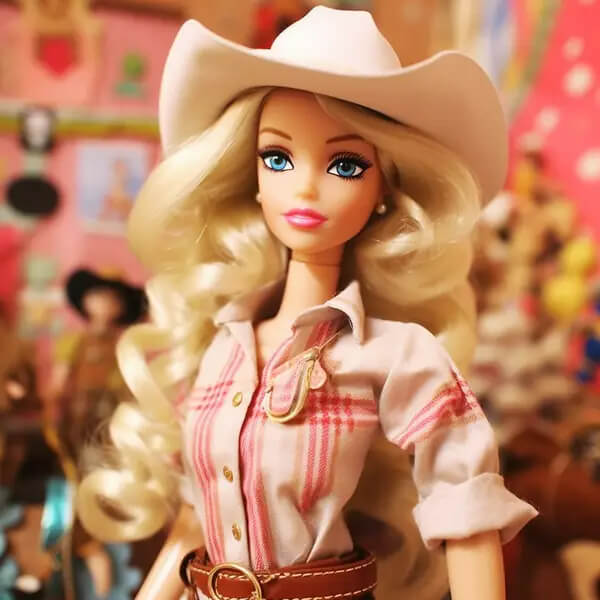 Oklahoma Barbie probably also spends a lot of her time tending to the ranch that is her Barbie dreamhouse. And when she's not doing that, we could see her showing off her horse riding skills at the rodeo.
New Hampshire
Situated between Vermont and Maine, New Hampshire is no stranger to cold weather. So, the cozy sweater New Hampshire's Barbie is wearing makes a whole lot of sense. But the best part might be that it's still very fashionable, which makes sense for Barbie, but it also makes sense for New Hampshire, where it seems like just about everyone has this style staple completely figured out. Everything about this Barbie screams cozy winter days.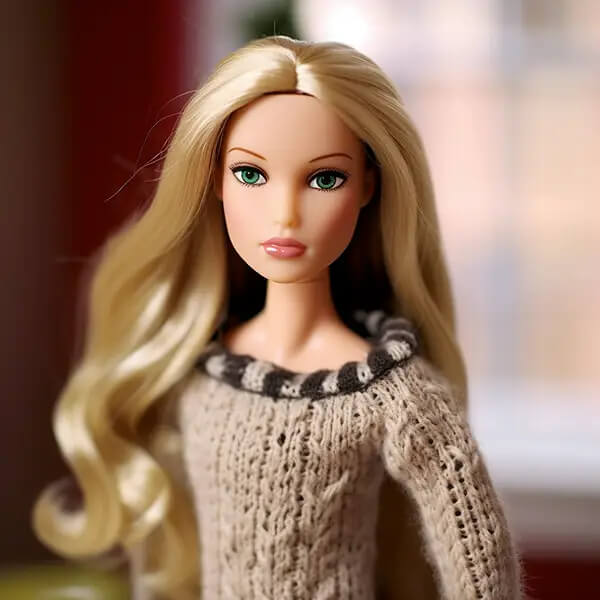 This just makes us think about warming up next to a fireplace with a good book and dreaming the day away in her Barbie dreamhouse, which honestly sounds like a pretty good time.
Alaska
The huskies in this image might be the best accessory on this list. Alaska Barbie is all bundled up and ready for the state's harsh winter. She's donning a puffy jacket that looks like it was inspired by clothes native Alaskans wear. And, of course, there are the dogs, which are an ode to the huskies, which are sometimes used to pull sleds. It's hard not to see Alaska when you look at this image.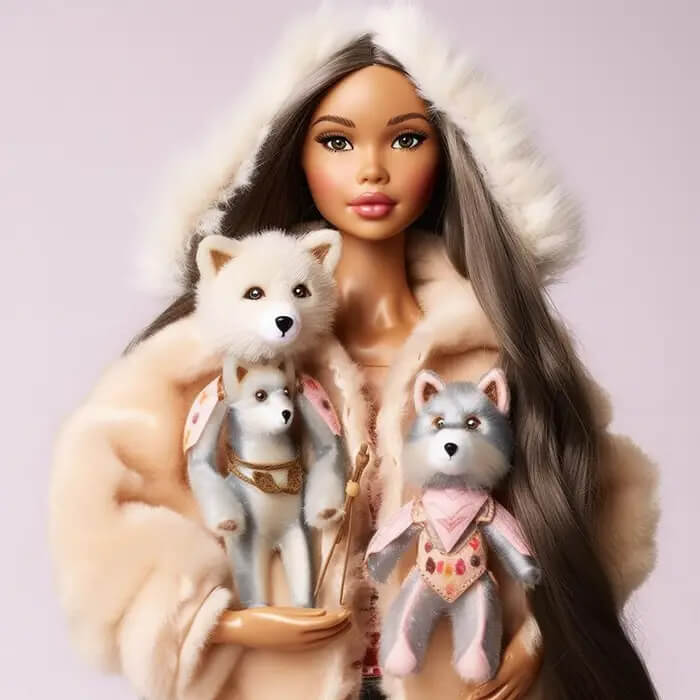 Like Hawaii, this one is very distinct, and we love it. The jacket in this image might also be one of our favorites on the list just because it looks incredibly comfortable. This is another outfit Mattel needs to make.
Wisconsin
Wisconsin Barbie looks like she's more of a free spirit. Her curly hair and fashionable wardrobe tell us that she's probably an artist or designer of some kind. It doesn't hurt that her background looks to be a studio. Her shirt looks like it might be a nod to the state's dairy industry, for which it's probably most known. However, the state is also known for one of its most famous businesses.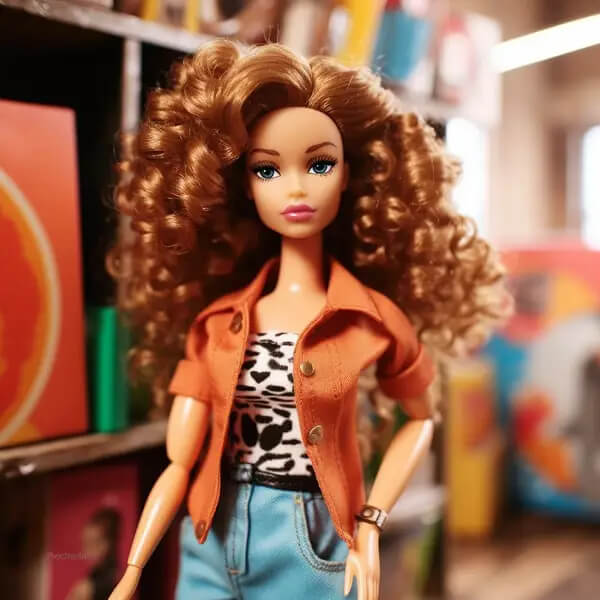 It's the home of Harley Davidson, and we could totally see Wisconsin Barbie riding a Harley alongside Ken to work or to school dressed in an outfit like the one she's wearing in this image.
New Mexico
When we think of the Southwest, this is the style that we usually think of. New Mexico Barbie has the Southwestern style all figured out, with a large, sombrero-like hat and an outfit that looks like it was inspired by both the desert landscape and the area's history. We'd love to see her Barbie dreamhouse. Her entire wardrobe reflects the diverse cultures and iconic environment that have, and still do, call the state of New Mexico home today.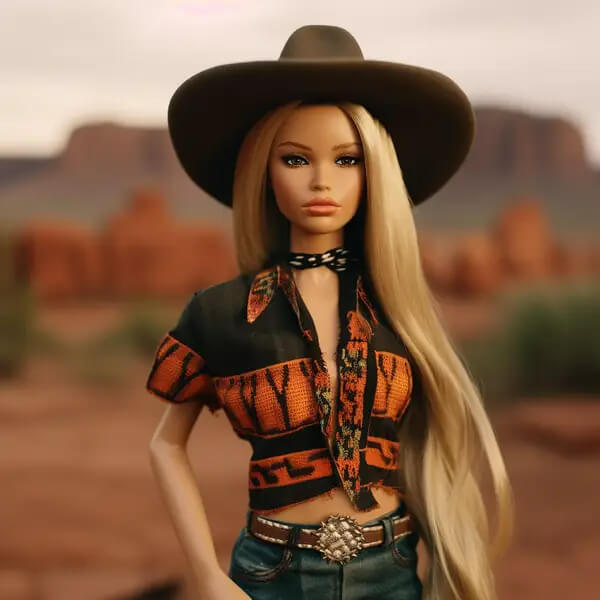 The red, mountainous background in the image also looks really beautiful, and it speaks to why the state is sometimes referred to as "the land of enchantment."
New Jersey
New Jersey Barbie is one of the most unique on this list, and we love it. She's edgy and looks more at home at a rock concert or breaking some played-out traditional convention than heading into the office for a boring old nine-to-five. We also really like the Barbie dreamhouse wall in the back, which reminds us of walls covered in portraits or rock posters. It also kind of reminds us of a tattoo parlor.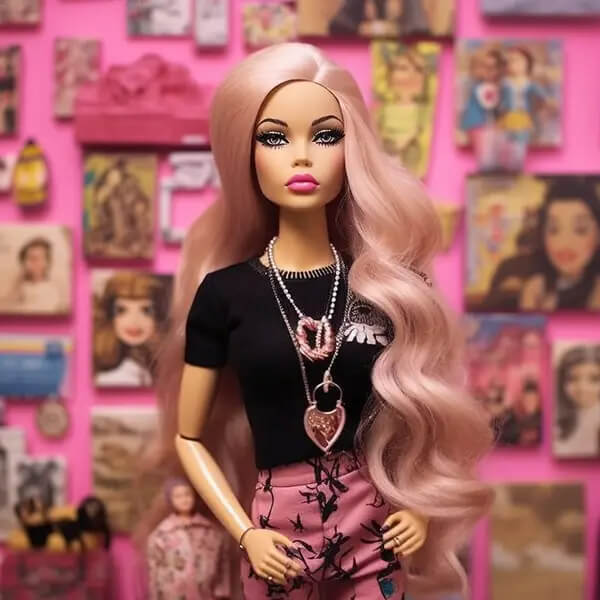 New Jersey Barbie captures the spirit of places like Atlantic City pretty well, and she makes us want to give the Garden State a visit the next time we're up that way.
Arkansas
Arkansas Barbie has a very distinct look, and we knew where it was from the moment we saw her. She's dressed in all black, like who might be the state's most famous resident. And no, we're not talking about Bill Clinton. She's dressed like the late Johnny Cash, who famously wore a black button-down shirt to a lot of his performances. She's also got the big hair that many of the other Southern Barbies have.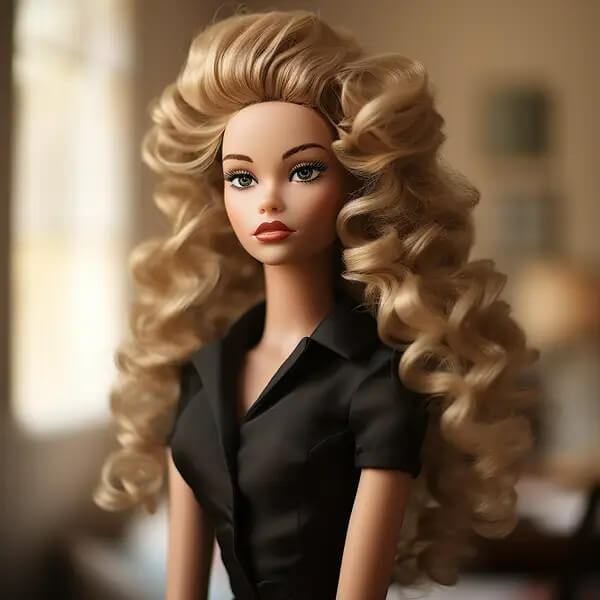 However, her hair is slicked back in the same style as Cash or maybe even Elvis. Either way, there's no mistaking who the AI thought of when it made AI Barbie. This Barbie would make for a pretty interesting Barbie movie.
Oregon
When we think of Oregon, we usually think of ancient, lush forests or hauntingly serene coasts. We get one of those here with Oregon Barbie. She's out enjoying a hike in the wilderness while sporting a very outdoorsy flannel shirt. The colors also kind of reflect those you'd see in some of the Pacific Northwest's forests. It's very stylish, yet also very distinct to the region and state that she's in.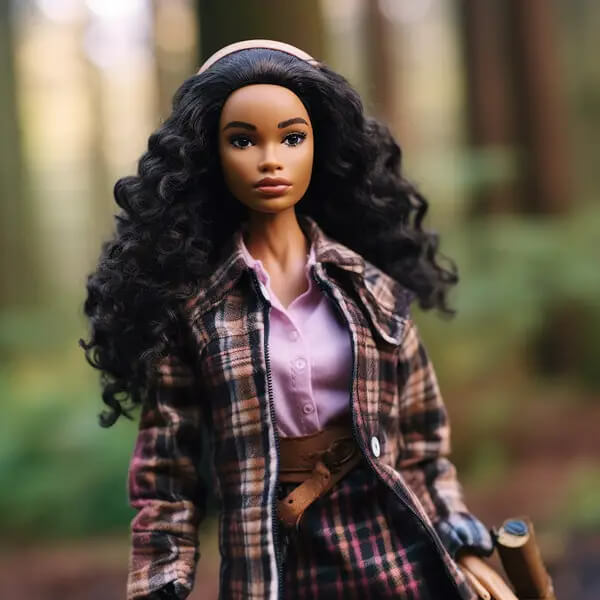 Oregon Barbie pretty much sums up and reflects everything we think of when we think of states in the far Northwest of the country, that is to say, style and iconic Northwestern wilderness.
Illinois
Illinois is known for some of its vibrant and bustling cities, including places like Chicago and Springfield. Illinois Barbie looks straight out of the city with her stylish Mattel pink jacket and briefcase. She's probably getting ready to catch a train and head to her job as CEO in one of the state's growing business districts. Her hair also looks as though it's perfectly curled and ready for a business meeting of some kind.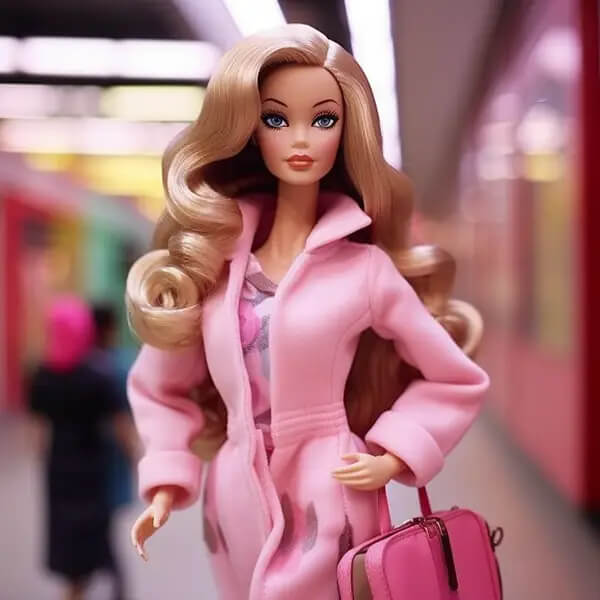 In addition to its cities, Illinois is also known for its extremely rural farmland and small towns, which is where we like to think Illinois Barbie grew up before moving to the big city.
Tennessee
Next up is the beautiful state of Tennessee, with rolling mountains, quaint towns, and tons of musical and culinary history. Tenessee Barbie looks as though she could have come straight out of Nashville, dressed in a very Southern plaid flannel shirt. She probably sings in a band and spends her free time hiking through the state's iconic wilderness with Ken. Her long, red, and curly hair also reminds us of the state for some reason.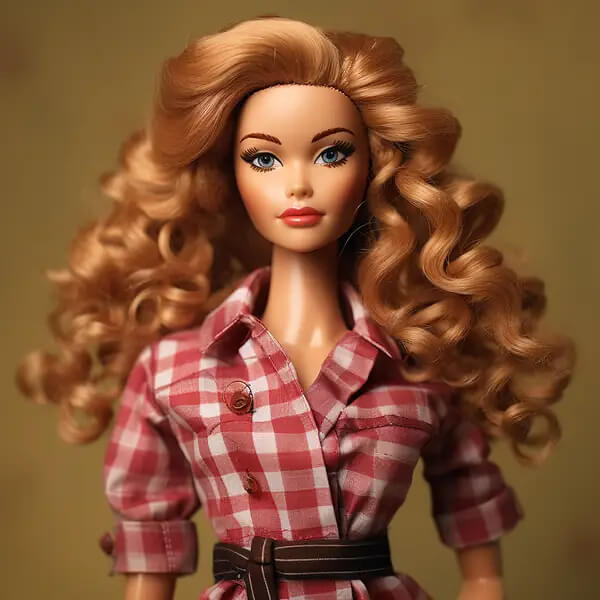 Tennessee Barbie looks like she's ready for just about anything, from a night out on the town to a weekend getaway in the mountains with Ken, and we're super jealous.
North Dakota
North Dakota Barbie is dressed a bit differently from her neighbor to the south. This Barbie looks a bit more like the one we got in the Barbie movie. Instead of a cowboy hat and belt buckle, she's rocking a stylish sweater and jacket, along with a puffy hat. That might be because she's simply getting ready for a hike in one of the state's many wild parks or possibly heading out to the city for a meetup with a friend. Either way, her stylish ensemble is sure to keep her warm.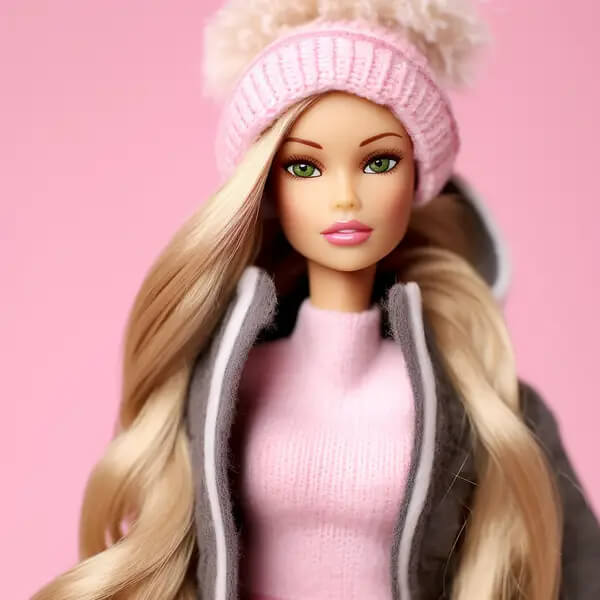 And that's a good thing because North Dakota winters can get pretty chilly, as the state mostly consists of plains, and it borders Canada to the north.
Texas
It was never going to be very hard to imagine what a Texas Barbie would look like, was it? The state's Barbie is everything we imagined it would be, with the state's iconic cowboy hat, colorful shirt, and blue jeans. She's also rocking a couple of really stylish and cool leather belts and oversized belt buckles. Texas Barbie probably spends most of her time on the ranch or attending rodeos.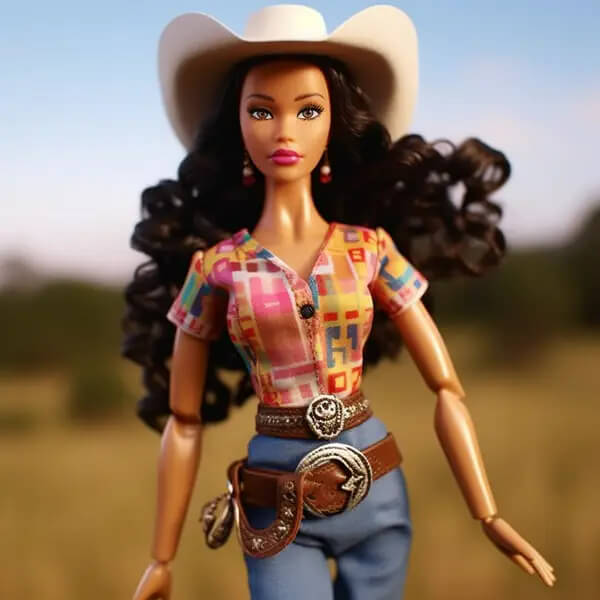 When she's not working, Texas Barbie probably heads out for a night on the town in one of the state's many charming small towns, where she plays pool or enjoys some barbecue.
Ohio
Ohio is known both for its history of innovation and its agriculture. Ohio Barbie looks like she could either be from a big city, like Cleveland, or the countryside. Either way, she's dressed in a stylish jacket and scarf, with hair that looks as though she just had it done. We're not exactly sure what's going on in the background and if those are friends, fans, or other toy Mattel Barbies, which would raise all kinds of questions.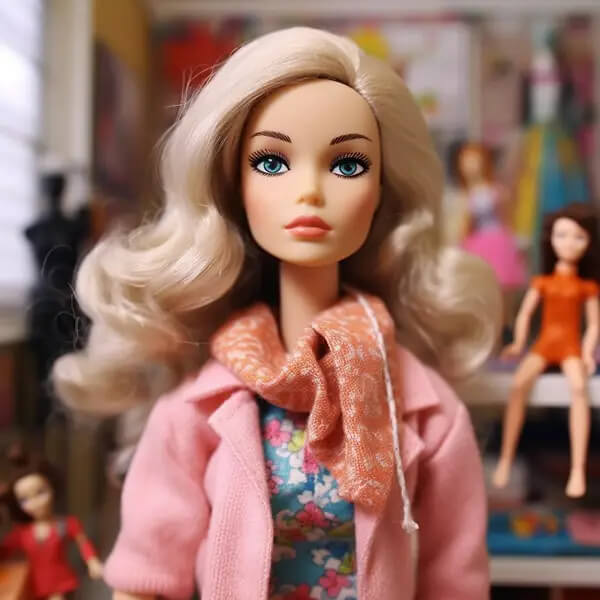 In this image, Ohio Barbie is probably getting ready to leave the house and head to work, where she'll probably help push innovation just like so many from the state have before her.
Nebraska
Out of all the winter wear on this list, Nebraska Barbie's winter wardrobe might be our favorite. Mattel should take notes. But she's going to need it because it can get pretty cold in the Cornhusker State. It must be winter in this image of Nebraska Barbie because you can see what looks like Christmas decorations in the background, and the whole image makes us think of a warm and cozy winter night with snow.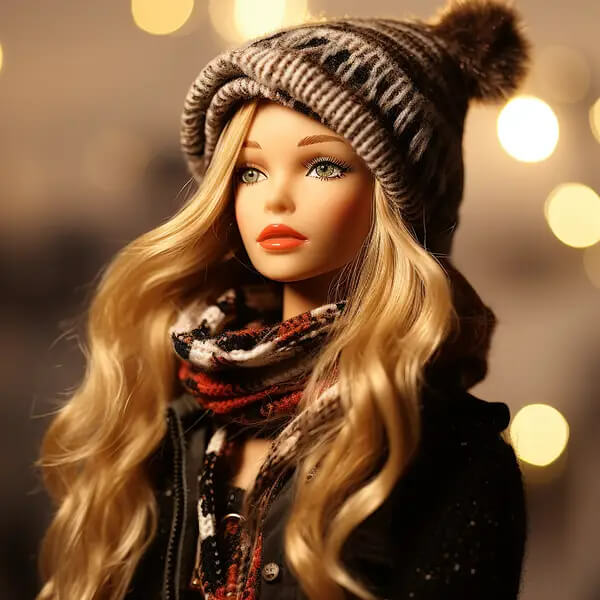 Nebraska Barbie's black and red winter ensemble is pretty stylish, too, and that, along with the many lights in the background, makes us think that she's in a city somewhere.
Colorado
Colorado is known for its beautiful mountains and vast open scenery. And it looks like Colorado Barbie spends most of her time taking advantage of all of it. She's dressed in an outdoorsy yet stylish jacket and beanie, with a sweater underneath, which is good because it looks like it's probably winter. Either that, or she's just hiked to the very top of one of the state's beautiful mountains.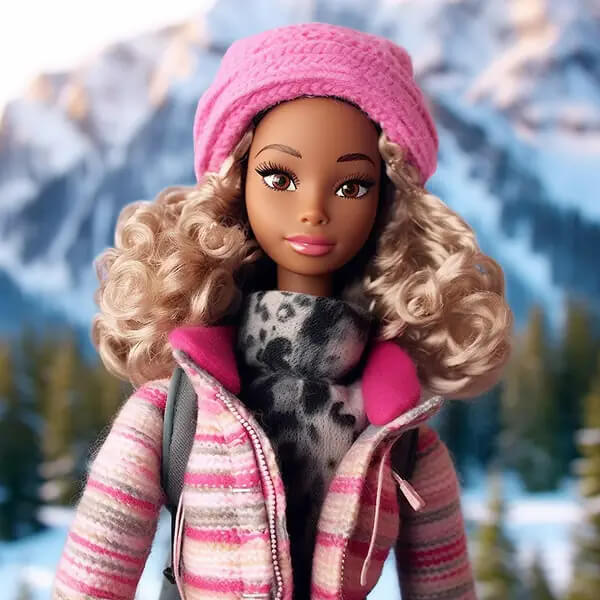 People from Colorado are known for their healthy, outdoorsy lifestyles, so if she did just hike all the way to the top of a mountain, it wouldn't really surprise us.
Vermont
Similar to other New England Barbies on this list, Vermont Barbie is layered down in some fashionable winter gear. She's also enjoying some time out in the snow, probably taking in some great Vermont scenery or going out on a winter hike. Whatever she's doing, she's going to stay warm with what looks like a wool sweater and flannel jacket. There's also the very winter-appropriate pink and puffy hat.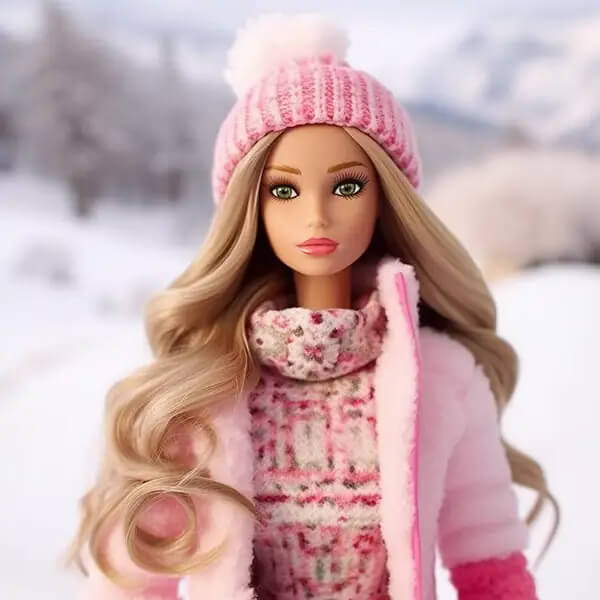 It also looks like she could be enjoying some of Vermont's iconic mountain slopes, although we don't see any ski gear. Maybe she's taken a break to head back to the lodge or cabin that is this Vermont Barbie's dreamhouse.
Maine
What's usually the first thing most people think of when they think of Maine? We're not exactly sure, but we know we usually think of the wilderness, and this Barbie definitely looks like she's ready for a hike out in the woods. She's got her pack but also some warmer, but still very stylish, layers for Maine's colder climate. Of course, the background also kind of screams New England.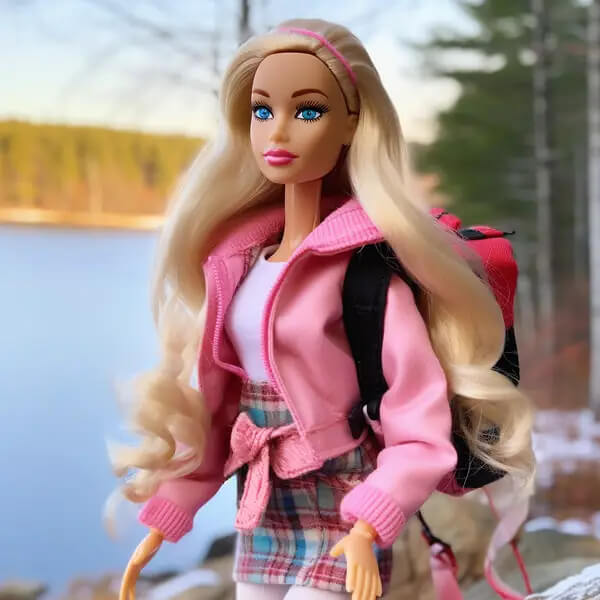 A short or long excursion out into Maine's wilderness doesn't look like it'd be a problem for Maine's Barbie, no matter the weather. The only thing we wish is that Mattel had added a camera and more backpacking gear.
Rhode Island
Rhode Island is known for its small beachside towns, and this Barbie looks like she'd be at home taking a stroll along the wharf or relaxing while overlooking the coast. She's dressed in a very Barbie button-down shirt that looks perfect for hanging out near the water with Ken and having a nice meal at a picturesque restaurant. We just wish this image had more background to show off Rhode Island's dreamy scenery.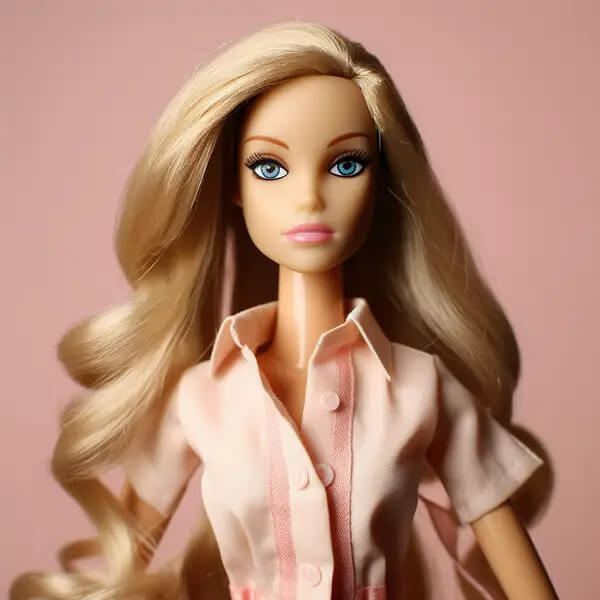 Rhode Island is filled with iconic early American buildings that overlook the water in towns all over the state, and those colonial-era buildings are a joy to see.
Connecticut
Another one of the original 13 colonies, Connecticut boasts beautiful seaside towns and has a long history on the coast. Connecticut's Barbie is just as fashionable as her neighbors in other New England states, rocking a summery dress while walking through what appears to be a park. It's a very different scene from the one we get in the Barbie movie. Like in other New England states, those in Connecticut are known for their no-fuss yet elegant style, which this Barbie perfectly captures.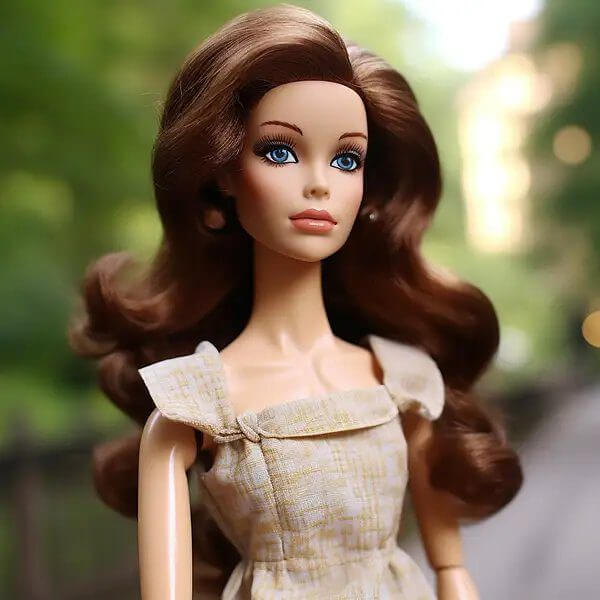 The khaki dress is a bit less modern and more of a homage to the state's rich history that has usually centered around the sea. You can also spot a glimpse of some of Connecticut's beautiful scenery in the background.
Pennsylvania
Pennsylvania is known both for its beautiful rural landscapes and for its larger historic cities. This Barbie looks like she could be from either. She's dressed for a Pennsylvania winter or fall in what looks like an understated flannel jacket. However, she also looks like she could be working in an important job in the city somewhere. Either way, there's definitely something charming and chic about Pennsylvania Barbie and her attire.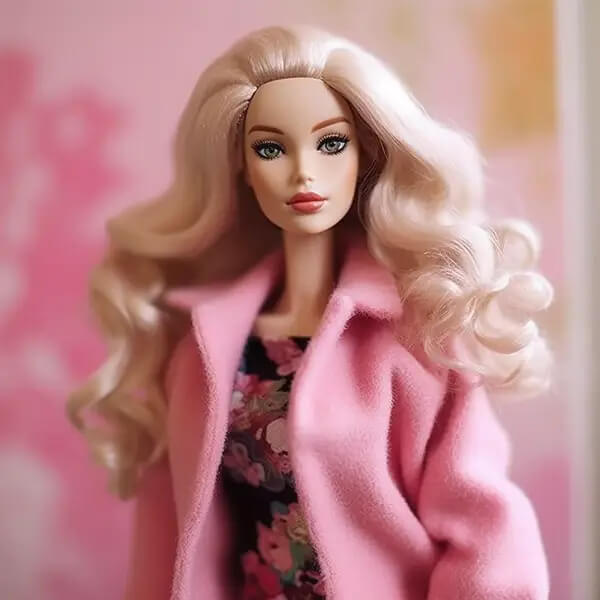 That's also very true about the state of Pennsylvania itself, so we guess this Barbie captures that about the state pretty well. She also makes us want to go and check it out for ourselves.
Delaware
The good people of Delaware must really enjoy their rock music because that's the vibes we're getting from Delaware Barbie. However, that wouldn't surprise us considering how many famous people are or were from the state, which definitely punches above its weight. That said, Delaware Barbie is still super fashionable in a classy yet understated way. She also looks like she's about to take a trip, maybe to a concert or something with Ken.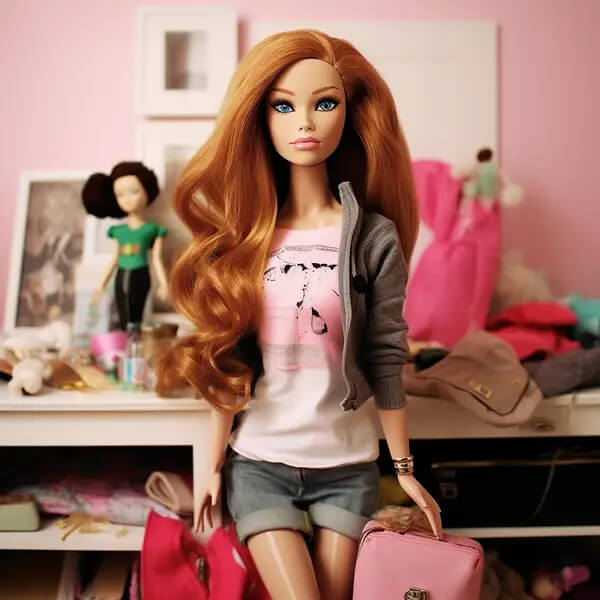 The small, coastal state has plenty of great venues, and maybe she's going to catch a show by the water somewhere, which sounds like it'd be a pretty fun time.
Virginia
Virginia is a state of many things, as is the state's Barbie. She looks like she could be working and enjoying life with Ken in a small, charming city as a painter or in a studio of some kind. That makes sense for Virginia since the state is home to plenty of smaller, more artsy cities and towns while also having plenty of parks, beaches, and other natural activities for residents to enjoy.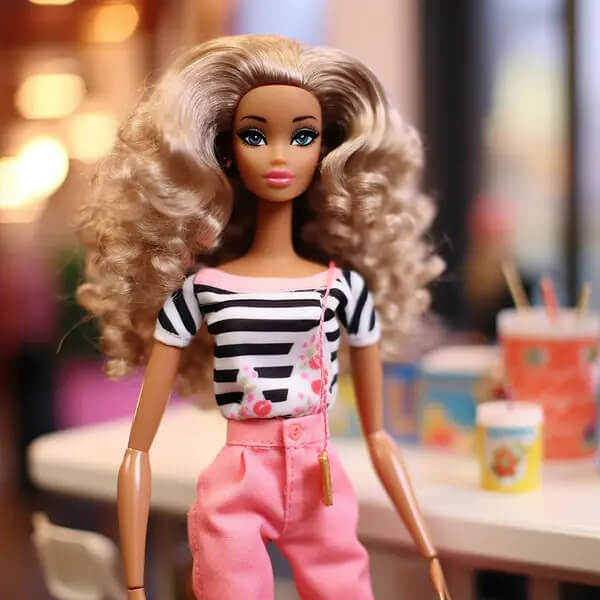 It looks like Virginia Barbie is living the life, and she has the style to match, with a striped shirt and plenty of fashionable accessories both on her dress and on the table in the background.
North Carolina
North Carolina is filled with scenic mountains, small towns and cities, and beautiful beaches. The state's Barbie probably owns a beautiful home in the foothills and is spending this day sitting on the porch sipping coffee and reading while watching the time go by. Honestly, that sounds like the dream life, and we're kind of jealous of North Carolina Barbie. She also looks like she could own a farm or ranch, and she's getting ready for the day.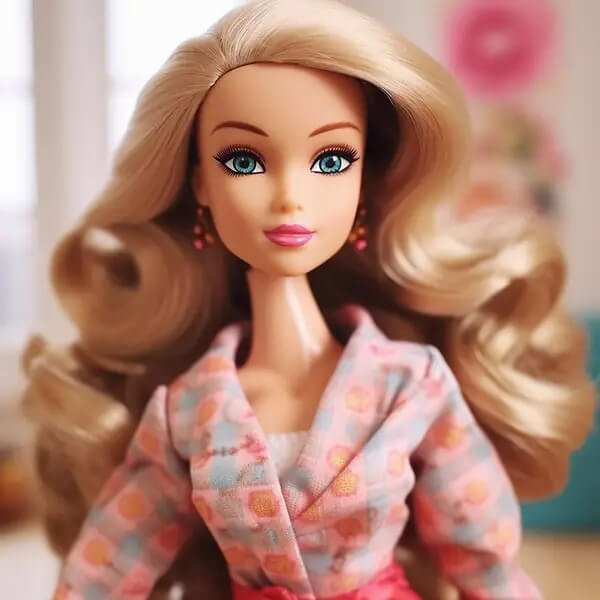 Whatever North Carolina Barbie is doing, she's looking pretty stylish doing it in her very Barbie-esque/Mattel robe. Her home also looks really beautiful in the background, with a huge dining area and large windows.
Georgia
Georgia, like many other states in the South, is known for its hospitality and its beautiful scenery. Georgia Barbie looks like she could've stepped straight out of an ad for the state. She's rocking a spotted t-shirt, along with a light jacket, because it can get pretty warm in the Peach State. Her clothes tell us that she's ready for just about anything, from a stroll through one of the state's large cities to a hike out in the mountains.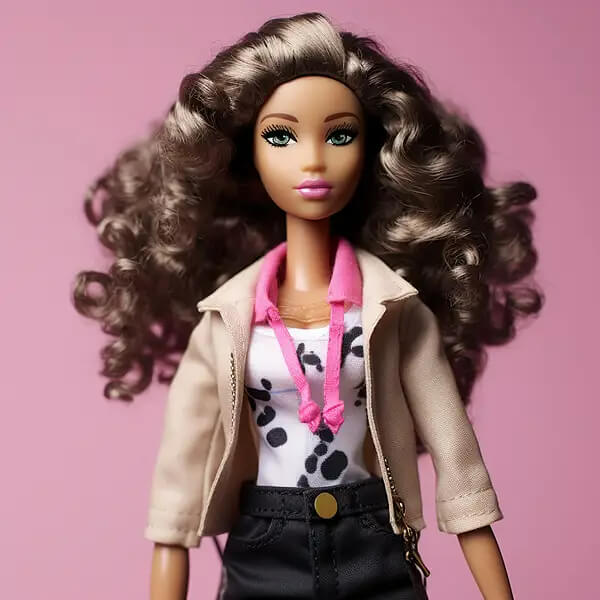 If you couldn't tell from Georgia's title as the Peach State, it's also known for its agriculture, and Georgia Barbie is also dressed like she could own a ranch or farm with Ken.
Kentucky
Kentucky is a great state with a lot of history. It's mostly known for its bourbon, the Kentucky Derby, its southern food and hospitality, as well as being the birthplace of former president Abraham Lincoln. Many of its towns and cities are smaller in size but extremely charming in nature. Kentucky Barbies looks like she's from a small mountain town in Kentucky, with her throwback floral patterned shirt and curly red hair.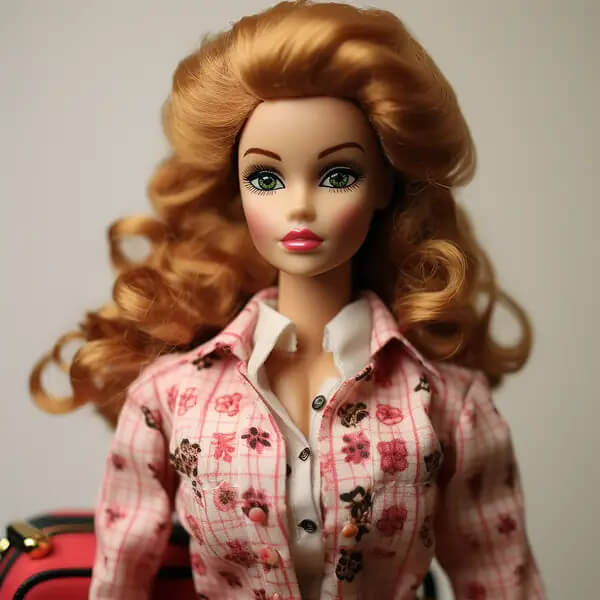 We could see Kentucky Barbie walking through just about any town in the Bluegrass state while sporting this shirt and a pair of cowboy boots on her way to shoot some pool or meet someone on main street. We could see that becoming the basis for a Barbie movie.
Michigan
The great state of Michigan is just about as diverse as it can get in terms of the environment. One could enjoy some of America's best wilderness in the upper peninsula or spend their time in the revitalized city of Detroit, soaking up history and the vibrancy of life in a big city. Michigan Barbie looks like she's probably enjoying some time in the city in this image, with a very stylish patterned jacket.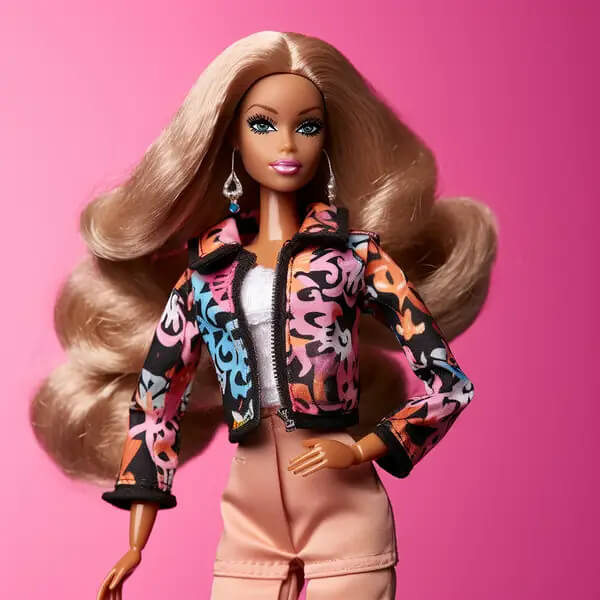 Her jacket and turquoise earrings probably reflect the diversity of the state, from the scenic beaches of Lake Michigan to the green forests of the state's upper peninsula.
Mississippi
Big Hair has been a recurring theme with Southern state Barbies, and Mississippi Barbie is no different. Her vintage look reminds us of the 70s and 80s, which isn't surprising considering the state has a long history of being at the forefront of musical innovation. Mississippi was the birthplace of the blues and rock-n-roll. And Mississippi Barbie looks like she harkens back to this era in musical history.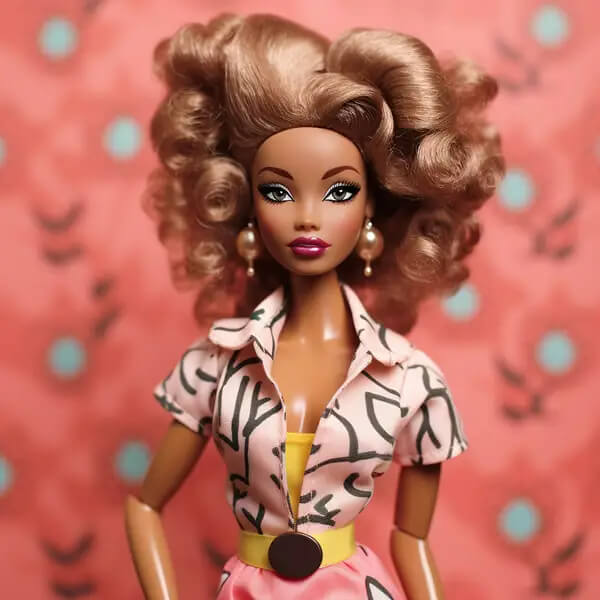 Her big hair and retro Mattel outfit tell us that she's getting ready for a night on the town, probably in one of the state's small but vibrant towns that dot the state's rural landscape.
Missouri
We're going to be honest; we didn't know a whole lot about Missouri before seeing Missouri Barbie. (Sorry, all you Missourians out there.) However, after a little bit of research, Missouri Barbie makes a lot of sense. The state is known for its mix of Midwestern and Southern cultures, and we get both of those from Missouri Barbie. It also has a long history of being the birthplace of some pretty famous artists, including Mark Twain.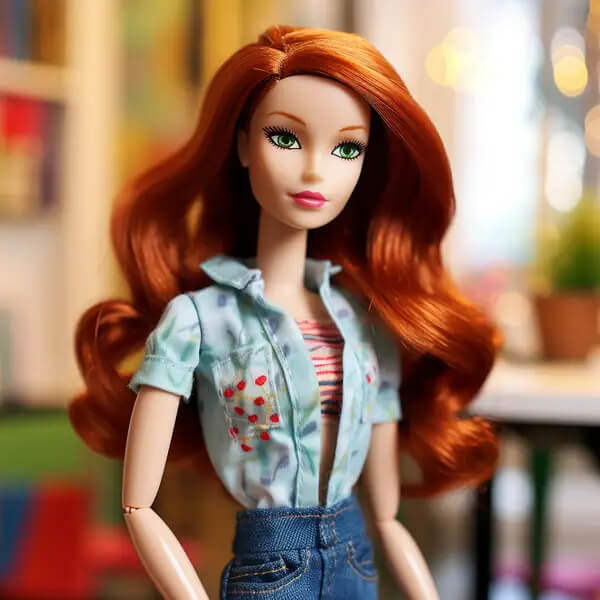 Missouri Barbie looks like she could be the state's next big artist, with a very stylish striped t-shirt underneath a denim shirt. In fact, she looks like she's working in a studio in her Barbie dreamhouse in this image.
Iowa
Iowa Barbie embodies everything we think of when we think of the great state of Iowa. Her yellow background also reminds us of one of the state's beloved football teams, the Iowa Hawkeyes. Iowa Barbie looks like she would be at home in a charming Iowa town or out on the farm with Ken. Her denim shirt definitely speaks to the state's long history of being a center for agriculture and farming.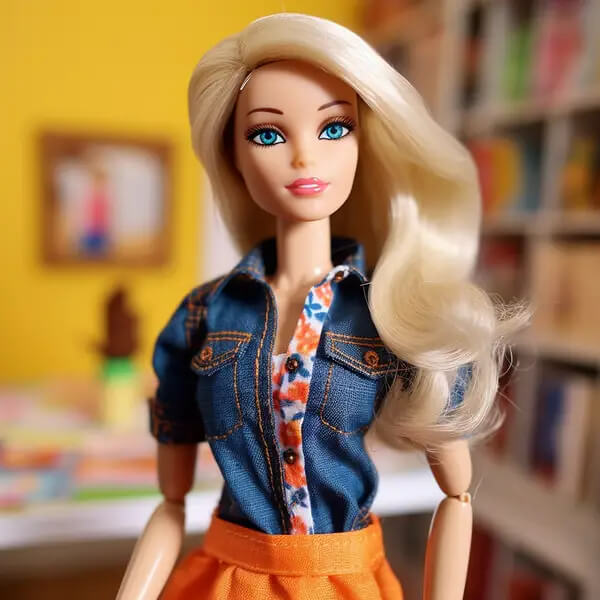 However, she could also be from one of the state's many cities, where her stylish orange skirt would make a bit more sense than on a farm.
Minnesota
Here's another Barbie that perfectly reminds us of the state she's supposed to be from. Minnesota Barbie is all bundled up in preparation for the state's harsh winter. Her puffy jacket and thick sweater would be hallmarks of people from the Midwestern state. However, we can also see some of that iconic Midwestern warmth that people from Minnesota are known for. She also looks like she could be getting ready for some time spent outdoors with Ken.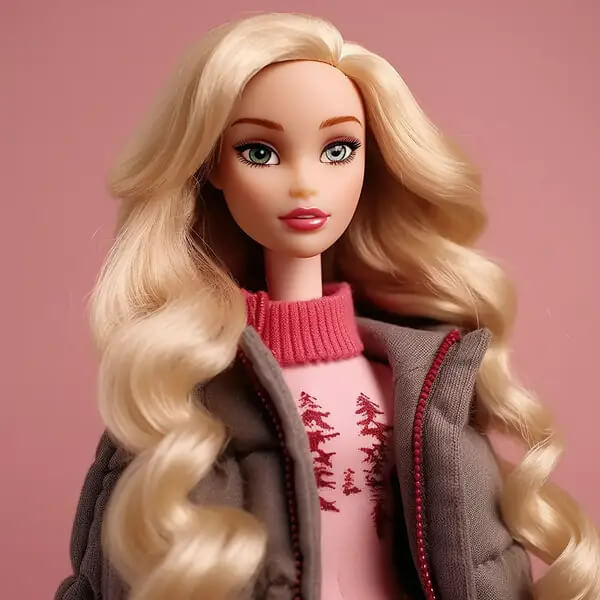 Minnesota is known as the "land of 10,000 lakes," and as you might imagine, it contains a whole lot of beautiful and lush scenery and parks. It also borders one of the Great Lakes.
Nevada
When most people think of Nevada, they think of beautiful red-rock scenery. That's certainly true, but the state is also known as being a great place for road trips, as well as for enjoying some nightlife. After all, it is the home of Las Vegas. Nevada Barbie is dressed up in a really slick jacket and what looks like a riding shirt. She's also sporting some stylish and bold pink hair.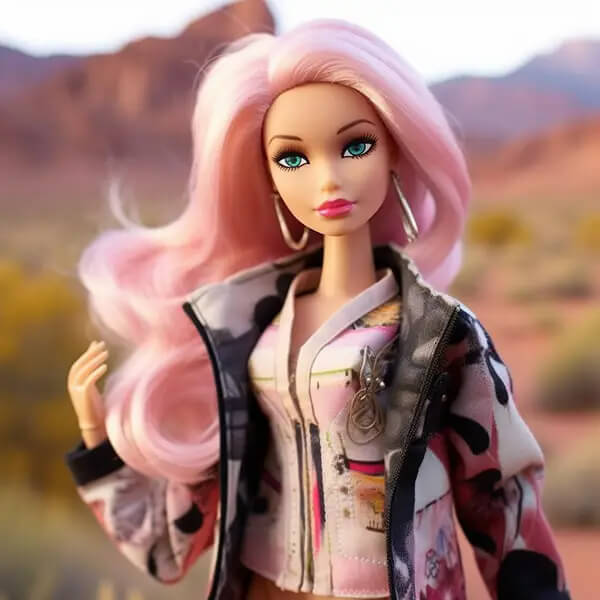 We could see Nevada Barbie riding through the desert on a motorcycle or stopping by one of the state's oasis-like cities for a night out on the town. Mattel, if you're reading this, it needs to happen.
Kansas
Kansas, which is situated in the heartland, is known for its immense rural areas and iconic prairies. It's also known as the Sunflower State, which is easy to see from Kansas Barbie's outfit. Her bright yellow dress reflects both the state's nickname as well as the beige prairies it's known for. Kansas is also known as being the iconic home of Dorothy from "The Wizard of Oz," and we're definitely getting some of those vibes from Kansas Barbie's dress.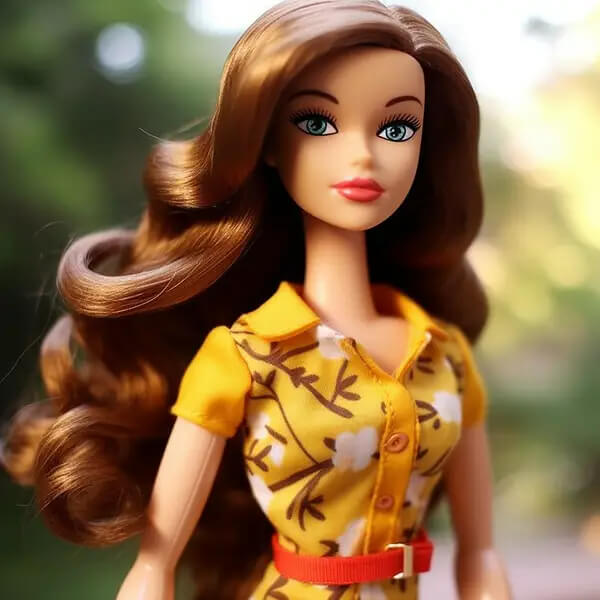 This state's Barbie looks like her dream house might be located in a city in this image, such as Wichita or Kansas City, both of which are smaller but incredibly charming.
South Dakota
Next up is South Dakota, which is a state that we think of often when we think about America's heartland. South Dakota's Barbie is rocking a cowboy hat, along with a thick beige jacket and oversized belt. It just might be the perfect outfit for a Barbie from the state, and it reflects South Dakota's rugged landscape and history of cowboy culture. There's also the background, which looks very rural.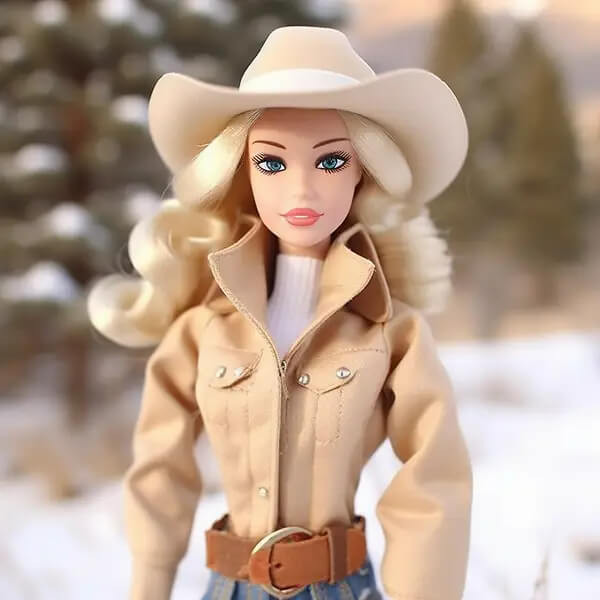 The snow-covered trees remind us of one of the famous national monuments or forests in the area, such as Mount Rushmore or Black Hills National Park. Altogether, South Dakota Barbie looks like she's at home in this image, and we could see both her and Ken riding into the sunset together in South Dakota.
Utah
People don't really give Utah the credit it deserves sometimes. The state is home to some of America's most beautiful scenery and some of its most iconic parks, but most people don't know it. Utah Barbie certainly knows it, though, because it looks like she's out enjoying a nice hike in the wilderness. She could be at Zion National Park or maybe even Arches National Park. The state has five in total, so she's never going to be short on places to hike with Ken.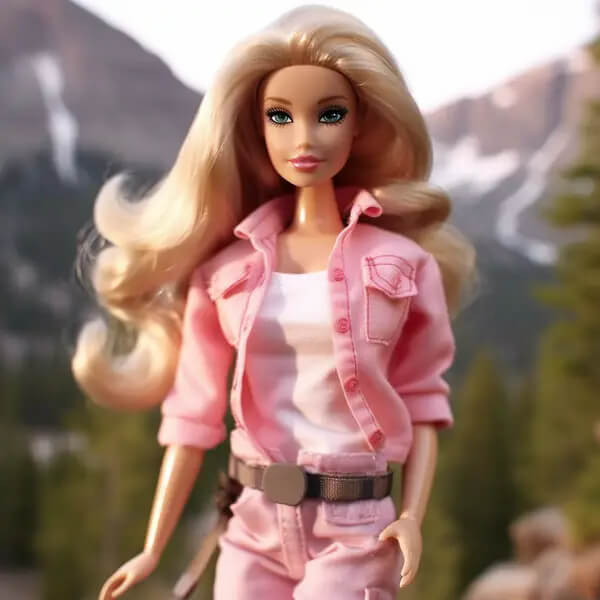 It also looks like she hikes in style; with her all-pink and white outfit, she's ready for a quick hike and then a night on the town for some fun with friends.
Montana
Montana is one of those states that usually always comes up when discussing the heartland. There's just something really rugged and beautiful about the state. And Montana Barbie reflects that pretty well by wearing a flannel shirt and sporting big, curly hair. You can also see some of those iconic snow-capped Montana mountains in the background. If we had to guess, we'd say that Montana Barbie owns a ranch Barbie dreamhouse of some kind.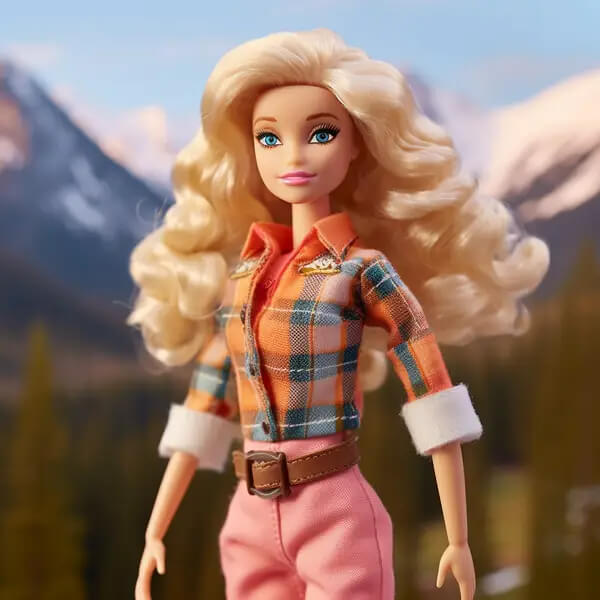 She probably also rides horses and competes in her spare time. The state, like many others throughout the central U.S., is known for its cowboy culture and self-reliance.
Idaho
Like many of its neighbors, Idaho is known for its many national parks. However, it's also known for its forests, which stretch out and cover large portions of the state. And it looks like Idaho Barbie is spending some of her time hiking in one of those forests. However, she's doing so in style by wearing a glitzy black and gold shirt and sporting some stylish curly blonde hair.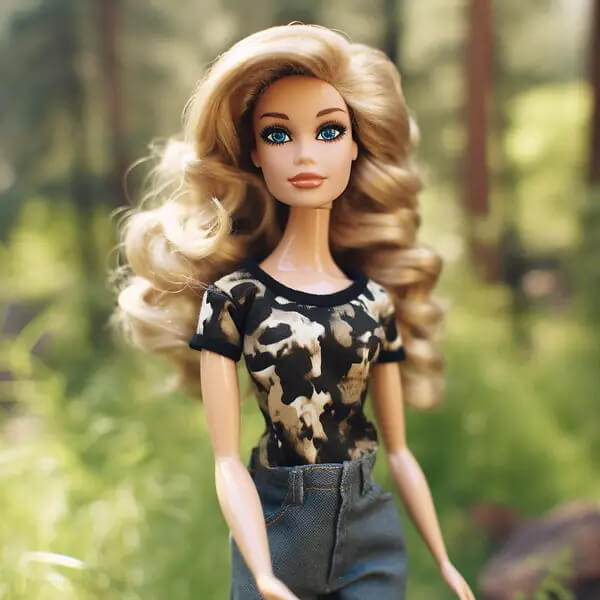 Idaho is actually one of the larger states in the U.S., which means that Idaho Barbie has plenty of places to visit and explore and plenty of outdoor activities for her and Ken to spend their time on.
Washington
Like her neighbor in Oregon, Washington, Barbie is dressed up in more earthly tones. She's rocking a gorgeous brown jacket over a light pink sweater, which might be a reference to the state's cold winters and falls. However, it also looks as though she's in a more cosmopolitan setting than her neighbor in Oregon. She might be living in Seattle or maybe even one of Washington's many small and vibrant towns and cities, which makes us want to see a Barbie movie set in a smaller town or city.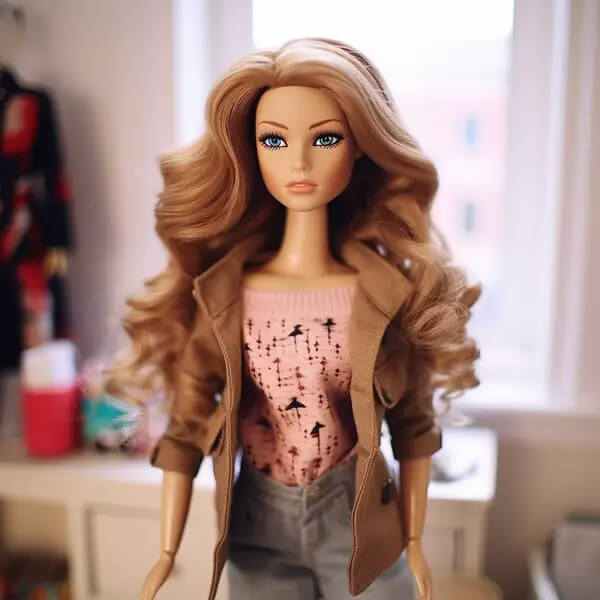 Wherever she's at, we're sure that she's got a glamorous job in an artsy field and enjoys spending time with friends in the evening when she's not out hiking or kayaking.