When you own a cat, there's always some sort of surprise waiting for you in the kitchen, bathroom, bedroom, or any other room in your house. They are unpredictable, but who are we to judge cat logic? From sleeping in litter boxes to begging for more food, these cats will have you saying "aww" as you scroll through these hilarious photos. Even if you're not a fan of cats, and you stumbled on here by accident, by the time you're done you'll be a cat lover for sure!
"I Shall Call Him Squishy And He Shall Be Mine"
This cat has found the perfect bed to sleep on, and he loves it so much that he started to look like it. He could not be more content with life than he is sleeping on his seal bed.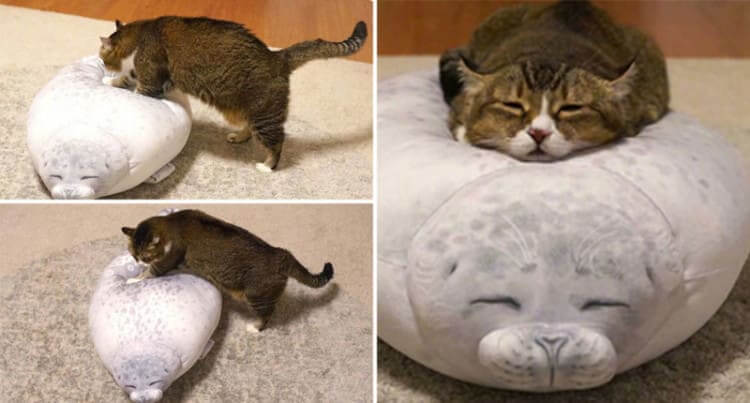 It looks so comfortable and squishy that we are almost jealous of him. It would be awesome if these came in human sizes because we would, for sure, buy one.
When You Lie On Your Resume, But Get The Job Anyway
This cat has more discipline than most humans. He wants to learn from the soldiers so he can train his own army of cats to rise up and take over the world. That seems logical, right?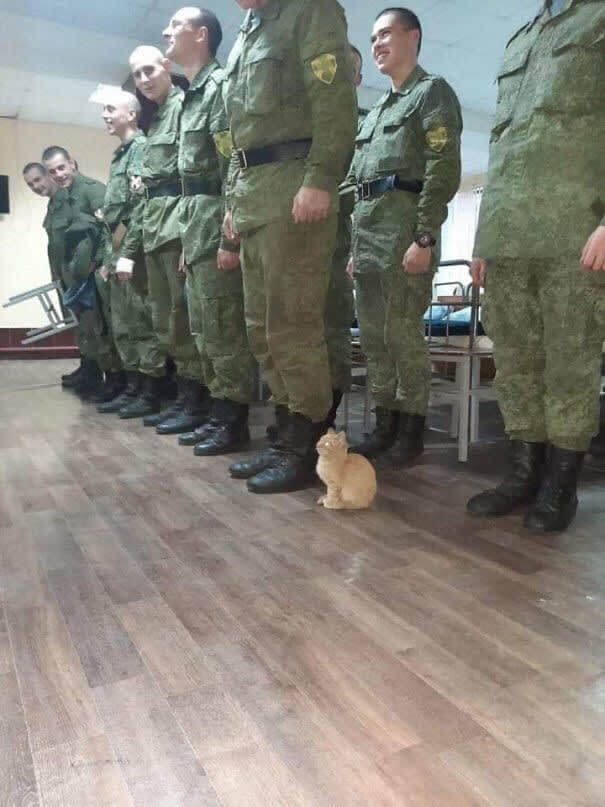 Since he already has stripes, do that automatically promote him to sergeant level? Would anyone be surprised if the cat advanced faster than the humans? We are going to say no.
"I See You, Susan"
Cats are getting smarter by the day. This cat is using holes in the bed frame to track his owner's movements. He is looking for the perfect moment to attack.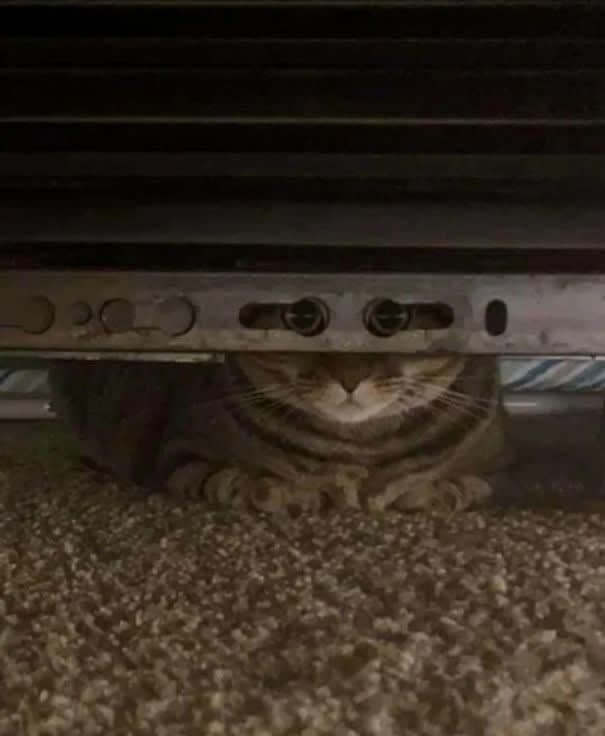 What he doesn't know is that his owner can still see him even though he is trying to be incognito with his hiding skills.
Wakey, Wakey!
When you sleep in, your cat has to wait longer for his food to be served. This cat took matters into his teeth and attempted to pull the human out of bed. Sadly, he was not strong enough to carry the human's weight.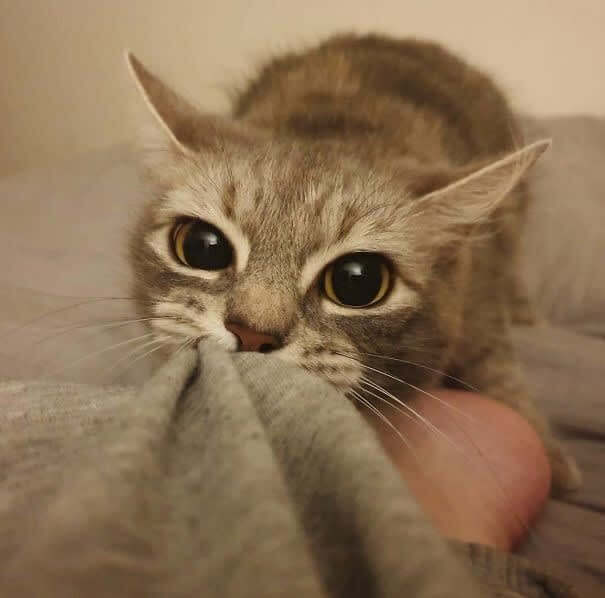 You can see the determination on this cat's face. If only it were five times bigger, then it would be able to pull his owner out of bed with ease. Sorry kitty, you have to wait a little longer for food.
When You See The Waiter Bringing Out Your Food
Have you ever been so hungry at a restaurant, and the second the waiter brings out your food, it is the only thing you can focus on. That must be what happened with this cat; his owner probably brought out his breakfast.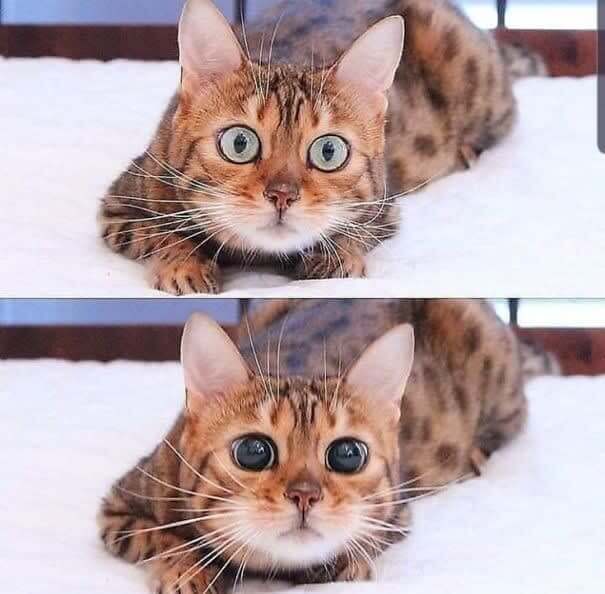 Once his pupils widen like this, he is ready to pounce on the food waiting in the bowl. This happens to the cat's eyes because it allows more light so they can easily distinguish more minute movements.
"Hello There, I'm Goomba"
This is Goomba, he has two teeth that stick out of his mouth, and some people make fun of him for it. However, Goomba is a good kitty and just wants to play in the laundry and be loved.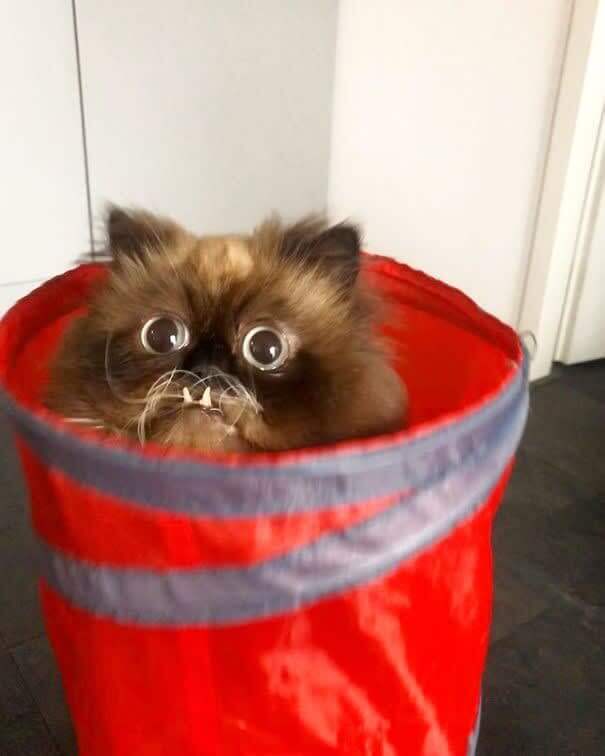 Goomba brings joy to all that come into contact with him. Now that you have seen his picture, your day will be significantly better.
His Name Should Be Mittens
Although this cat is incredibly adorable, we do have to take note that cats are starting to evolve so they can do more things with their paws. If they have opposable thumbs, there is only a short amount of time before they take over the world.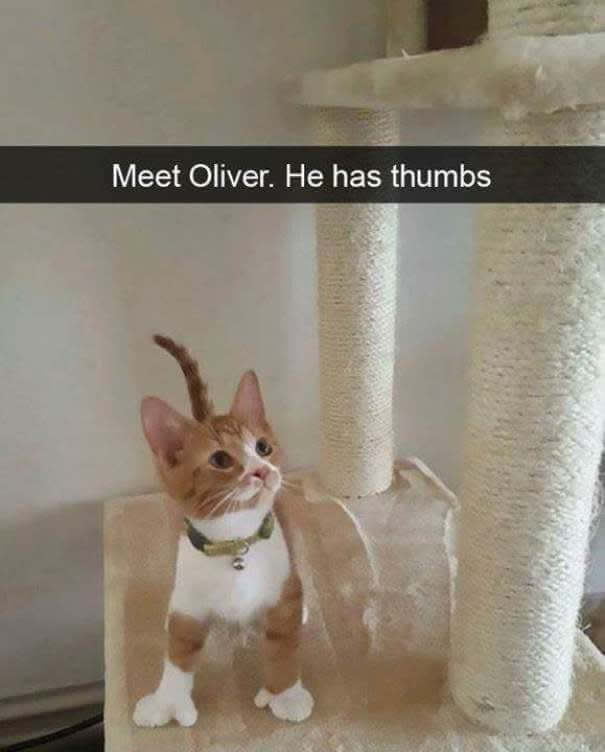 Oliver may seem sweet and innocent, but behind that adorable face is the calculated brain of a leader. He is waiting for his humans to be vulnerable before he takes full control.
"Where Do You See Yourself In 10 Years?"
Is this what people mean when they ask you to cat sit? Are you supposed to go over to their house and have all the cats sit on you while you watch TV or stare at a wall?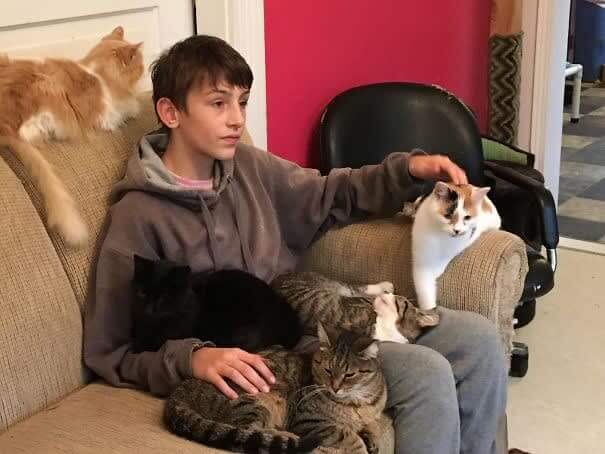 There must be something special about this boy because we have never seen so many cats cuddle with a human at once. Maybe he lined his pockets with catnip so they would want to sit with him.
The Dog Ate Her Food, So She Went To Tell On Him
"Mom, you will never believe what the dog did. She ate a bite of my food without asking, and I am upset." You can see the anger on the cat's face, and the dog almost looks like she is saying, "Don't tattle on me please!"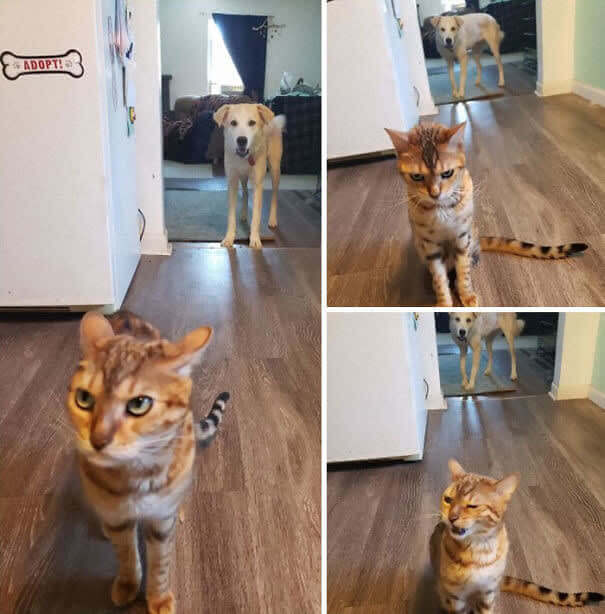 We have never seen a cat look more like an angry human until the photo. If there were cat versions of Karen, this is what it would look like.
Fooled By a Piece Of Cardboard Again
Just when we all started to think about how smart cats are, they got fooled by a lizard-shaped piece of cardboard. We wonder how long it took them to realize the lizard wasn't real.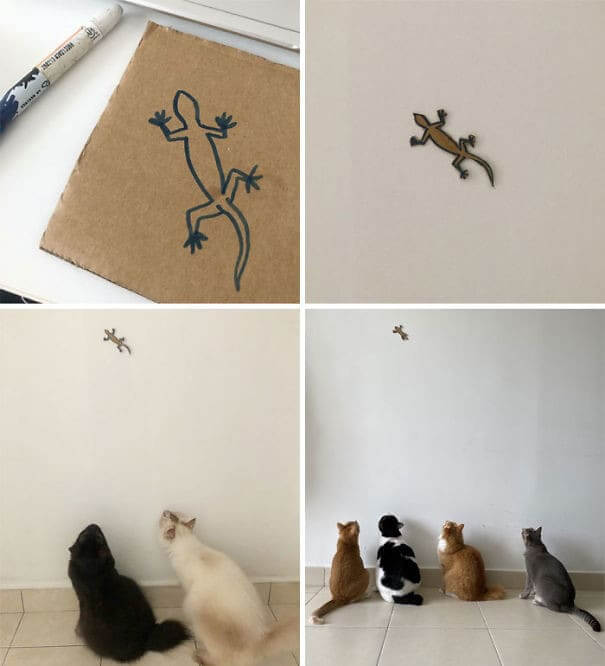 One of them probably had to jump and attack it for them to figure out that it wasn't going to start moving. This is a great way to keep cats entertained for a few hours.
Besties Forever
This woman got a puppy, and she was nervous about introducing her cat to her new dog. Luckily, the cat eventually got used to the puppy's need for cuddles constantly.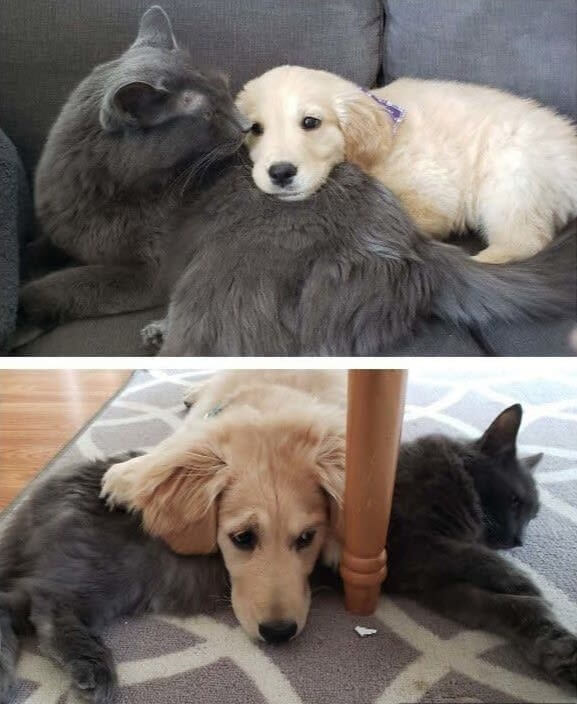 After about a month, the puppy got bigger, and the cat decided she was going to have to tolerate the dogs cuddling. The cat has forgotten what it's like to be an only child.
When You Start To Look Like Your Pets
They say you start to look like your pet after having them for a while, and this photo is evidence that it's a fact. The guy in front looks exactly like the orange cat right down to the blue-green eye color.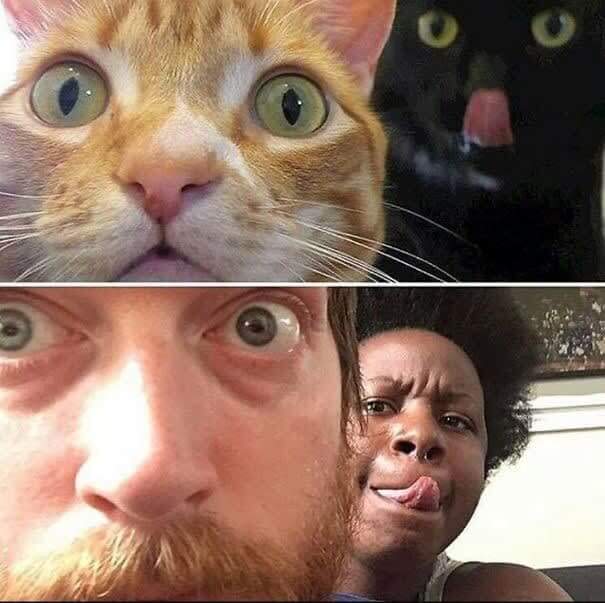 It's also funny that he got his girlfriend to imitate the other cat for the perfect photo. This will go down as one of the best cat selfie impersonations of all time!
Target Acquired
This cat saw something moving and acquired his target. As his pupils widened, he got ready to pounce and attack the prey. All we need to know now is what was he getting ready to attack.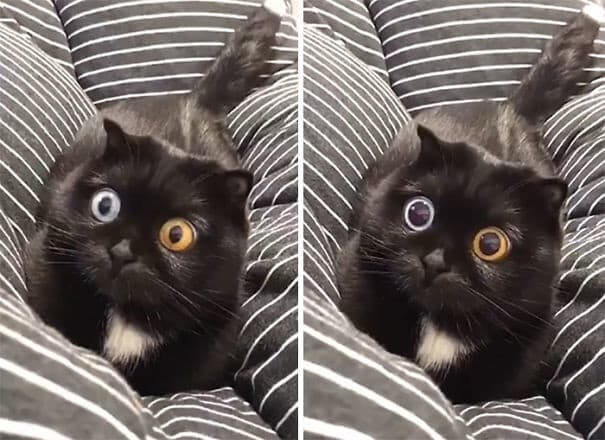 This could also be one of those posters that shows what a person's eyes look like on different drugs, but in the cat's case, the drug would be catnip.
"Time To Get Up And Pay Attention To Me"
This woman adopted a cat, and every morning the cat brought her slippers to her bedside. Finally, she captured the cat bringing her slippers on camera.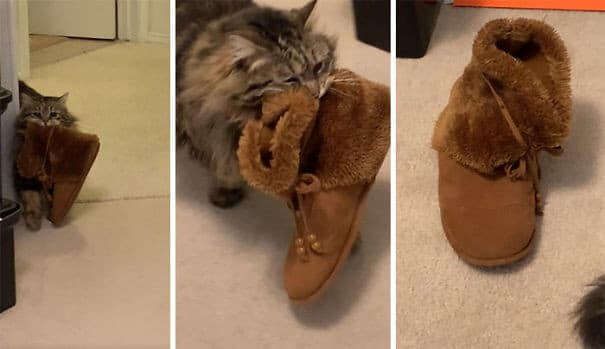 Who needs a slipper-bringing dog when you can have a cat that does the same job. She probably wants her owner to get out of bed and play with her.
These Two Really Don't Like The Vet
Unfortunately for these cats, it was time for their check-up at the vet, and they knew exactly where they were going the second they heard the carrier unzip. By the time they arrived at the vet, they refused to leave their carrier.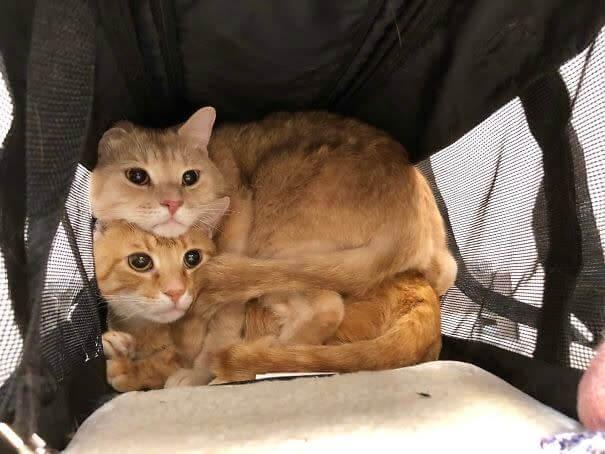 We would not want to be the person who has to stick our hand inside the carrier to get them out. That person will be left with lots of scratches and bite marks from two very angry and afraid cats.
The Moment She Found Out She Was Pregnant
This owner captured the moment her cat found out she was having kittens. We can't tell if she is excited or scared to be a mother, but we are sure her instincts will kick in when the time comes to give birth.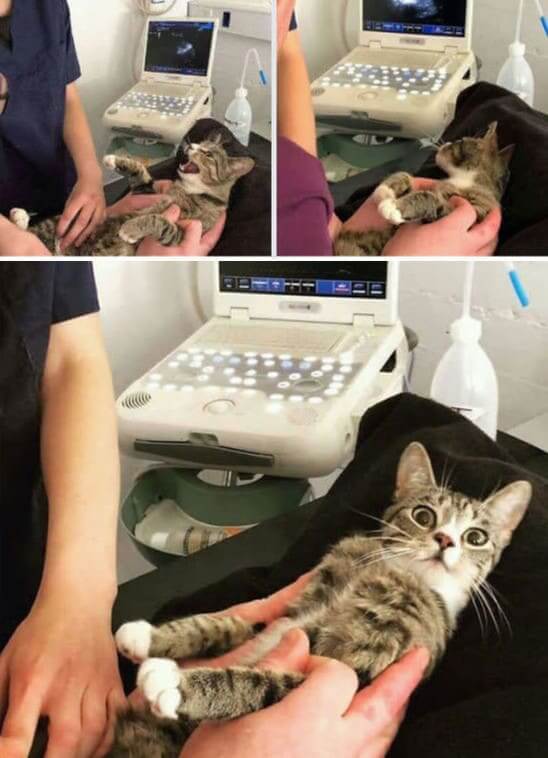 She thought she and her boyfriend were being safe, but her surprised expression tells a different story. Who is going to break the news to the father of the kittens?
The Watermelon Gave Her The Perfect Pink Pout
This cat has been watching too many 5 Minute Hacks videos on YouTube. She saw a hack that watermelon could give you pink lip stain, so she had to try it out to see if it actually worked.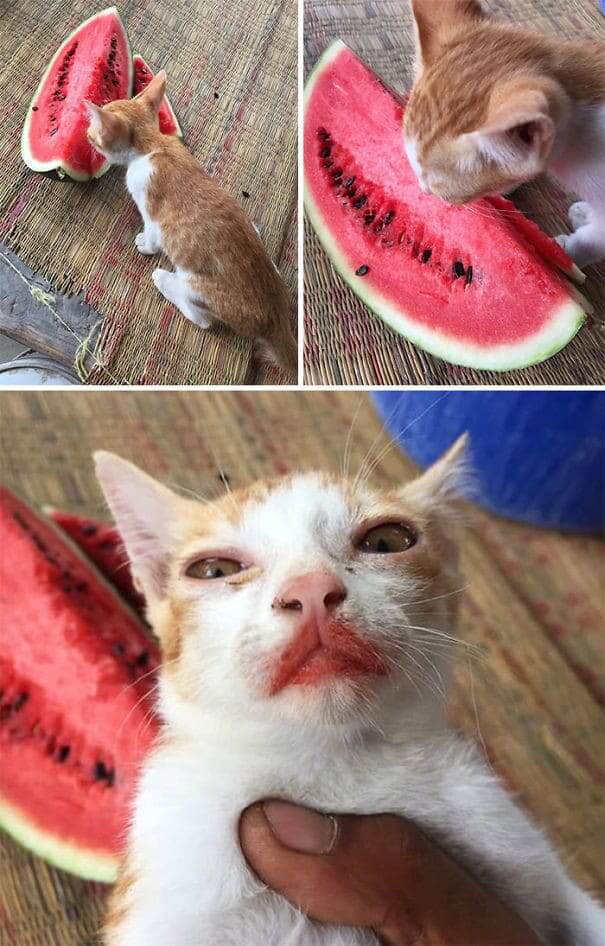 Now that she has mastered the subtle overdrawn lip hack, she feels qualified to start her own YouTube channel as a beauty guru.
Give'em The Old Razzle Dazzle
With a shimmy here and a kick there, and a sprinkle of jazz hands, this cat had the perfect dance routine to audition for the French X Factor. He is going to charm the judges with his razzle-dazzle attitude.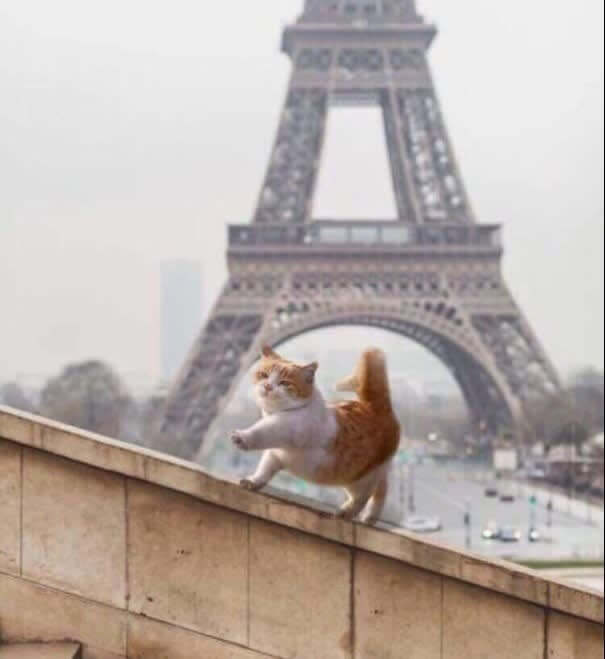 This looks oddly similar to the cats from Disney's Aristocats. Those kittens knew how to play the piano and dance across the keys with perfect timing and pizazz, and this cat would fit right into the talented bunch.
Family Photo Time
"Ok, kittens, everyone get on a step so we can take a family photo to send to all our friends." This mother looks so proud to show off her adorable kittens who have finally learned to sit still for more than five minutes.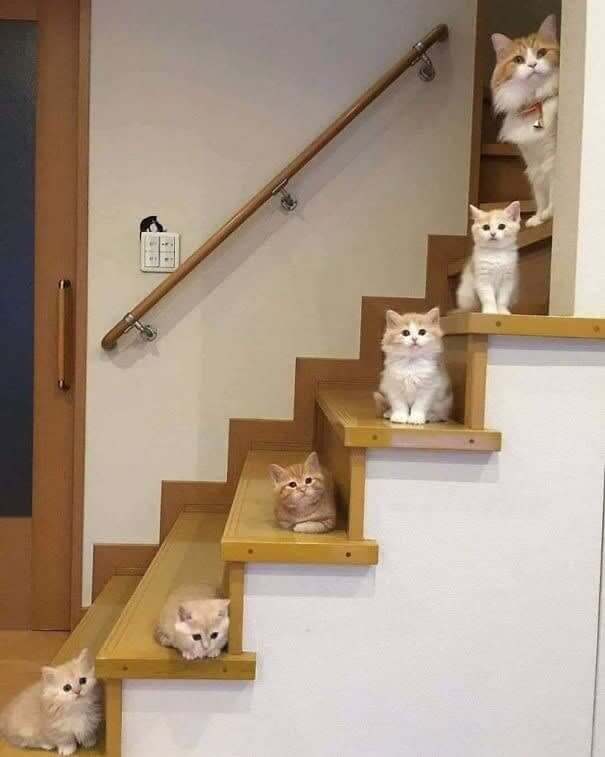 Even the smallest one got his own step! As someone who is not a "cat person," this could change the way we look at cats, and we can understand why they are so loved.
"Freeze, Put Your Hands In The Air"
First of all, we have to take a second to appreciate how stinking cute this kitten is. Secondly, look at its little paws in the air as her owner points the fake gun.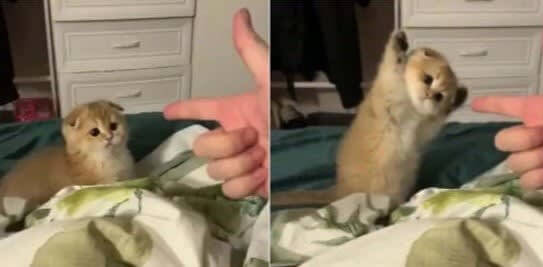 She is confusing her owners to think she will follow their orders, but her cuteness is masking her plans to plot against the humans. She will rise to power one day.
"They Took Away My Catnip And Now My Life Is Ruined"
We aren't sure why this cat is so upset, but this photo is relatable on so many levels. He is probably profoundly saddened by the fact that his owners got a dog, or they reduced his treats to only one a day.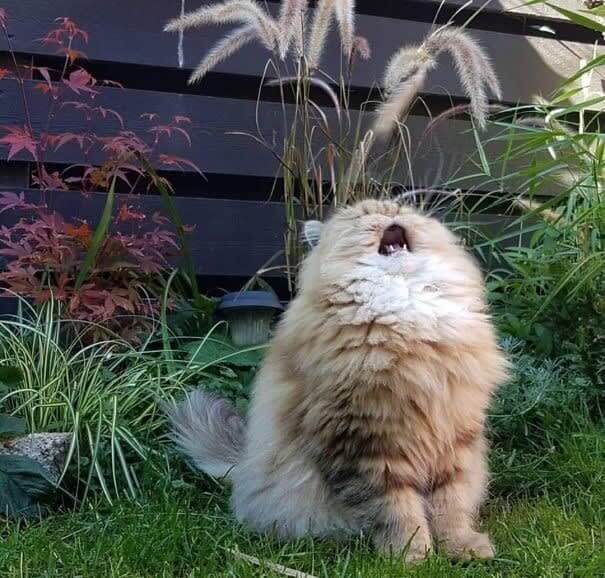 If this cat is not upset, this photo was probably taken while he was in the middle of belting out a song. "Country road, take me home to the place I belong, WEST VIRGINIAAAAA!"
When You Get In A Fight With Spiderman
This cat spent the entire day outside, and when he returned home, his owner assumed he had gotten in a fight with Spiderman and clearly lost.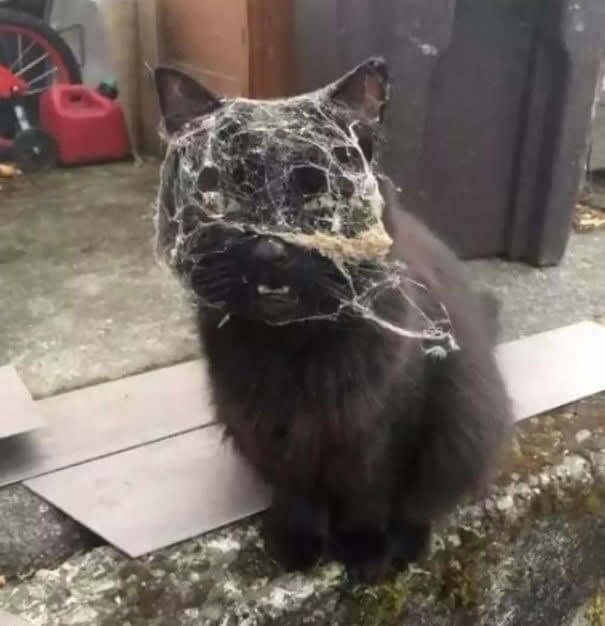 The cat is thinking, "So you are just going to leave this web on my head while you take a picture and laugh at me? Well, now I know where your loyalty lies."
Why You Always Lying?
As we have said many times, do not trust the adorable faces that cats show because they can be quite the manipulators. This cat tries to use her cuteness to get extra food after she has already been fed.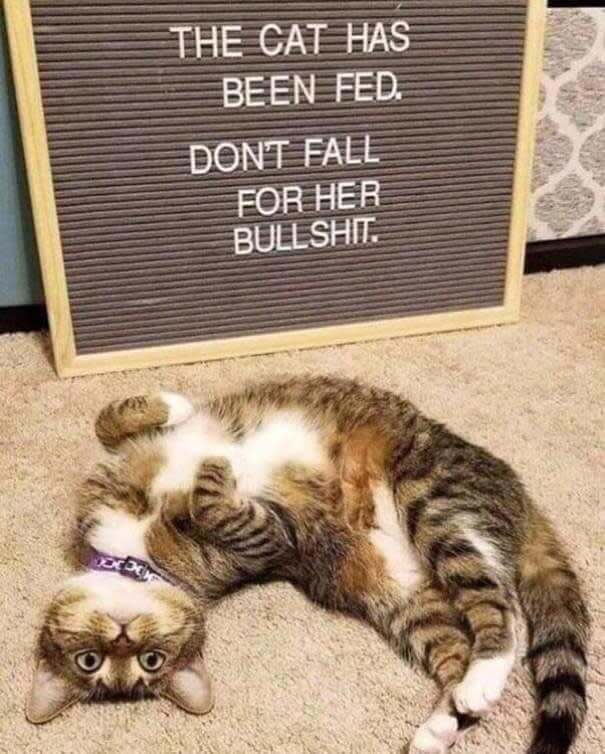 She makes it extremely difficult to resist giving her a treat or extra food when she rolls over and tries to be extra cute. Luckily there is a sign so no one can fall for her tricks.
"Are You Sure You Need Another Glass Of Wine, Karen?"
This couple got their cat his own couch where he just sits and judges them all day long. He looks like he is about to say something about their sleeping habits or the amount of cake they have been eating.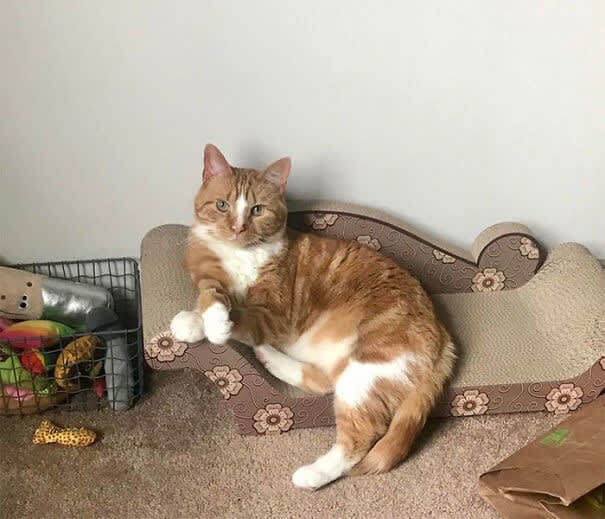 He looks like he has a sassy name like Steve or Kevin. Whenever animals have human names, they are ten times sassier than the average pet.
Save Money And Give Them Plastic Bags To Play With
Why purchase an expensive cat toy when you could give them a plastic bag, and they will be just as satisfied. Cats are more satisfied with random household objects than the toys their owners purchase for them.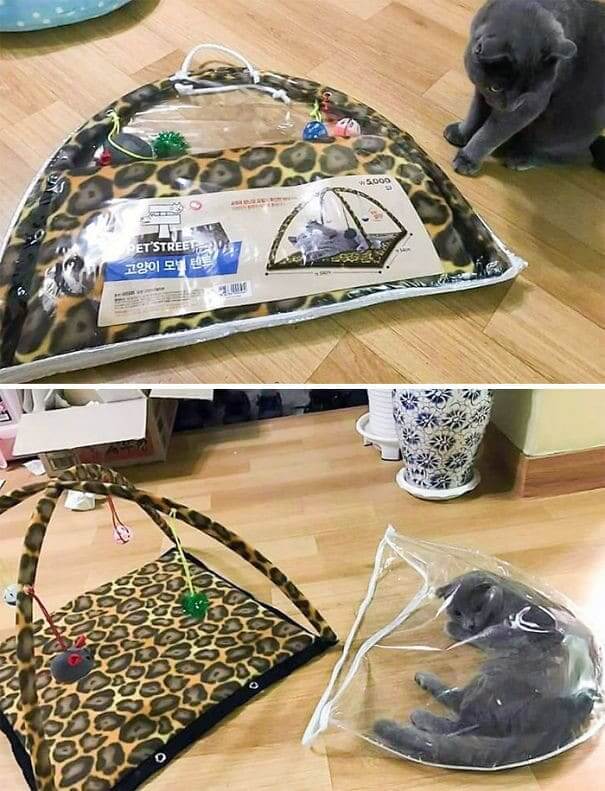 The cat saw the bag as a better version of the tent that came inside because the bag is waterproof and see-through. They can watch you while they stay protected from outside elements.
He's Having An Identity Crisis
Some people go through a mid-life crisis, while cats go through a mid-life identity crisis. This cat no longer identifies as a cat, he now wants to be a bird, and we just have to respect that.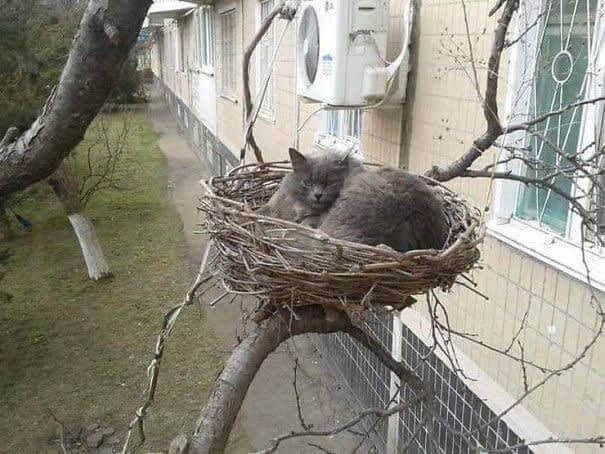 We wouldn't worry for now. When the cat starts laying eggs, that's when you have a serious problem. Maybe the cat is just waiting for his lunch to return to the nest.
When You Forget To Save The Family Cat, It Comes For Revenge
You might not notice at first, but right next to the window engulfed in flames is a cat jumping out of it. The man in the photo saved the family dog and disregarded the cat because it was probably hiding.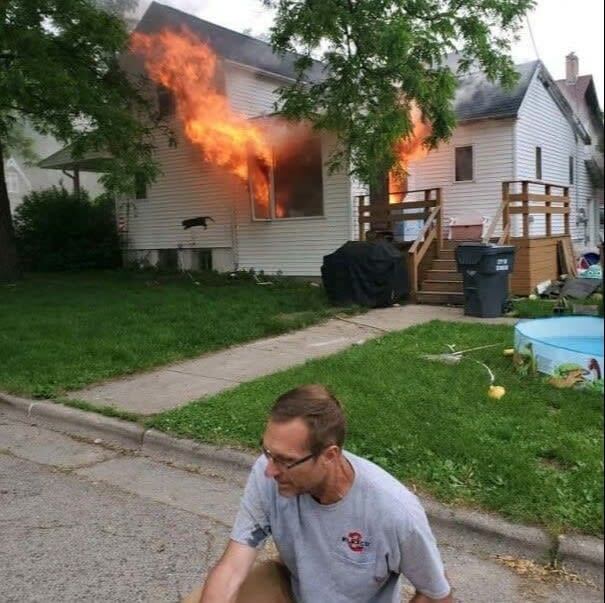 Maybe the cat thought he was in an action movie, so he jumped through the blazing fire in an attempt to create the perfect scene. Either way, we are glad the cat got to safety.
After Many Injuries, They Finally Posted This Sign
Every time someone opens the fridge, the cat runs to try and grab something. After too many times of almost closing the cat's arm in the door, they decided to post a sign.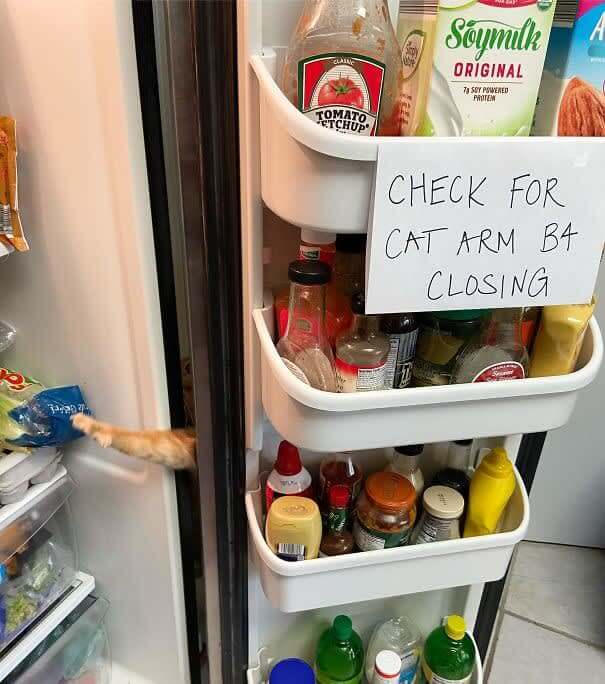 This cat does not care if it gets injured; the only motivation is food, and it is a strong motivator. Next time you go to the fridge, look out for random cat arms.
Treat Yo Self
This cat lives a life of luxury and refuses to sleep anywhere besides the doll bathtub. She knows what she wants, and she wants to treat herself to a relaxing bath, but without real water.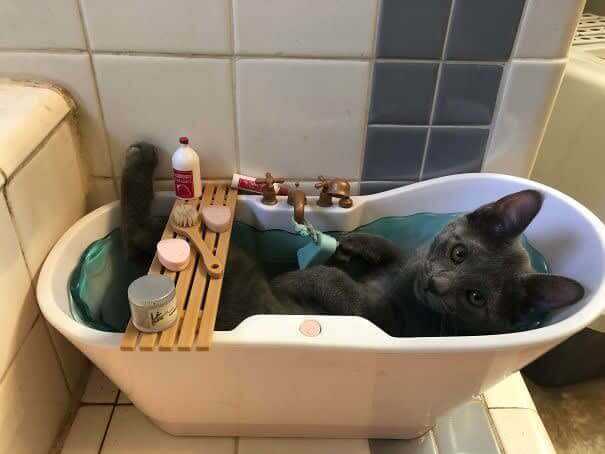 You would think that the kitten would avoid anything that resembles a bath because cats hate water, but she is smart and knows that just a tub is relaxing.
You're Not Fooling Anyone
In hopes of tricking humans and birds alike, this cat was posing as a bird feeder, but no one is buying this foolery. If he changed the words on the box from "bird feeder" to "bird eater," it would make much more sense.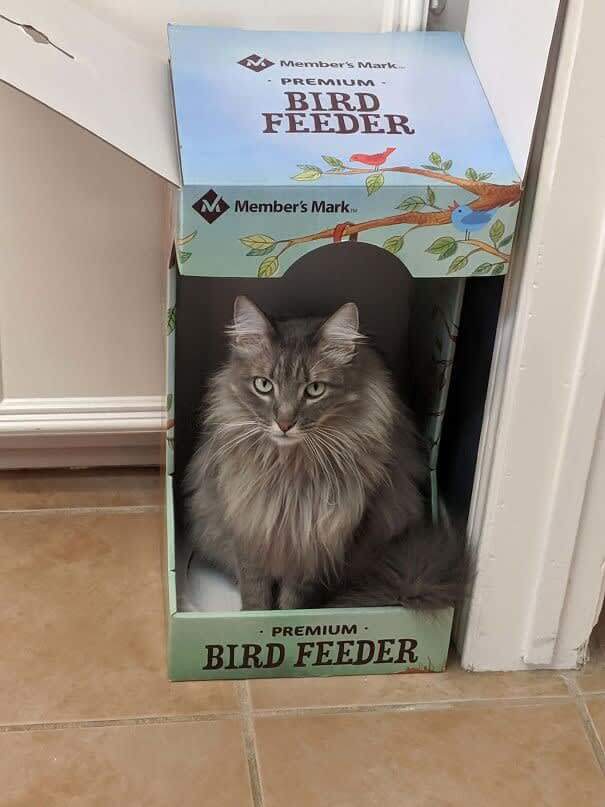 He must have taken notes from Sylvester, the cat, but he should have known that Sylvester's plans are always foiled in the end.
She Had To Fulfill The Prophecy
This cat saw her owners eating alphabet soup, so she thought the letter board would taste just as good. She found out quickly that it doesn't have the same taste, but it does annoy her humans.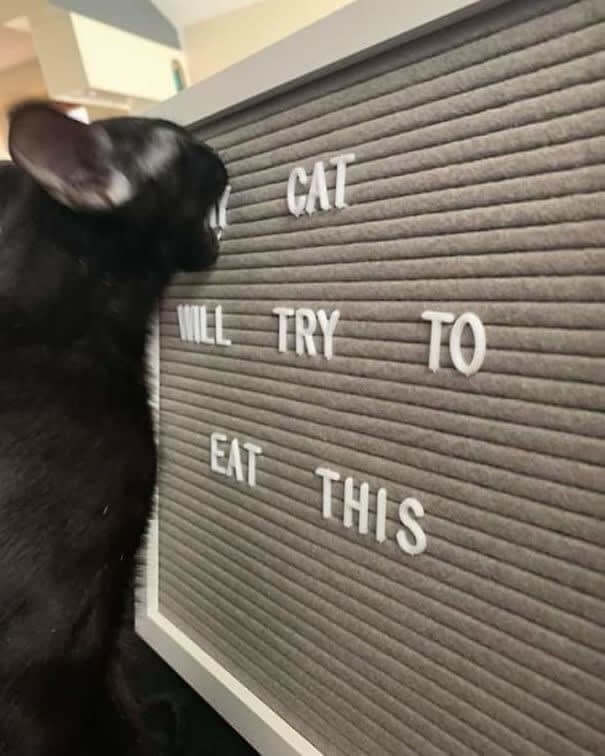 The cat was probably offended that her owner would put her on blast like that for everyone to read. "How dare you tell people about my letter eating habit, Jessica."
Peaceful AF
When the cat entered the temple, he realized their message was to be at peace with oneself, so he wanted to respect their wishes. We have never seen a more relaxed cat than this one.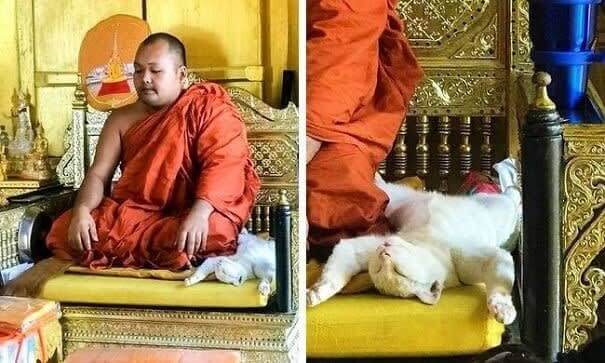 Is it just us, or do you also aspire to achieve that level of peacefulness one day? This cat was promoted to zen master after they realized how quickly he achieved nirvana.
Catwoman In Real Life
Usually, Catwoman is depicted in the skin-tight black latex catsuit, and she is supposed to be sexy, but this is probably closer to what the writers were envisioning when they named the hero.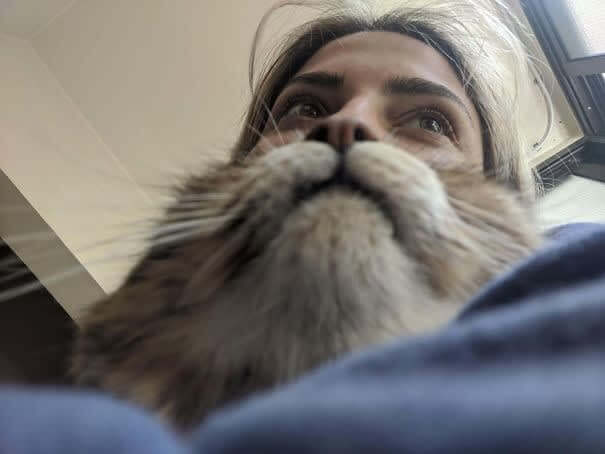 If she is not Catwoman, then she is definitely on her way to audition for the latest version of Cats. Since the movie was a flop, she might be able to land the role since their expectations are so low.
When You Get Asked The Same Questions Repeatedly
This cat belongs to the store manager, and she enjoys going to work to sleep in the box. She doesn't bother any of the customers, but they regularly ask the same questions over and over again.
Instead of the cashier having to answer the same questions, they wrote all the answers on her box so that people could focus more on her cuteness and less on her private life.
"Soaring, Flying, I'm Breaking Free"
These people have two normal cats, and they pushed their luck by getting a third cat. Unlike their first two cats, the third one likes to try dangerous stunts when it thinks no one is paying attention.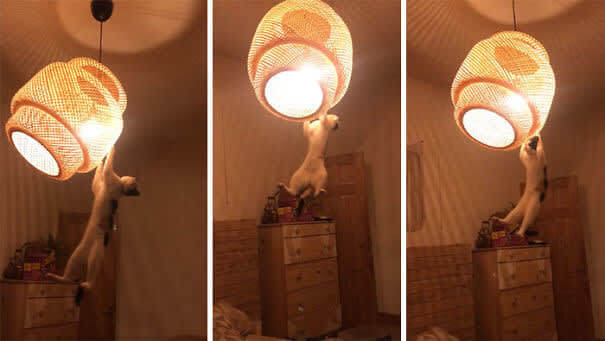 The cat must have watched Miley Cyrus's "Wrecking Ball" music video, and wanted to recreate it with the hanging light fixture. In case you were wondering, no cats were harmed in the making of this stunt.
Clearly Plotting Against Their Owner
After being stuck in quarantine with their owner for two days, the cats gathered for a meeting to decide how they would kill their owner or the family dog. Whoever pisses them off first will get the chop.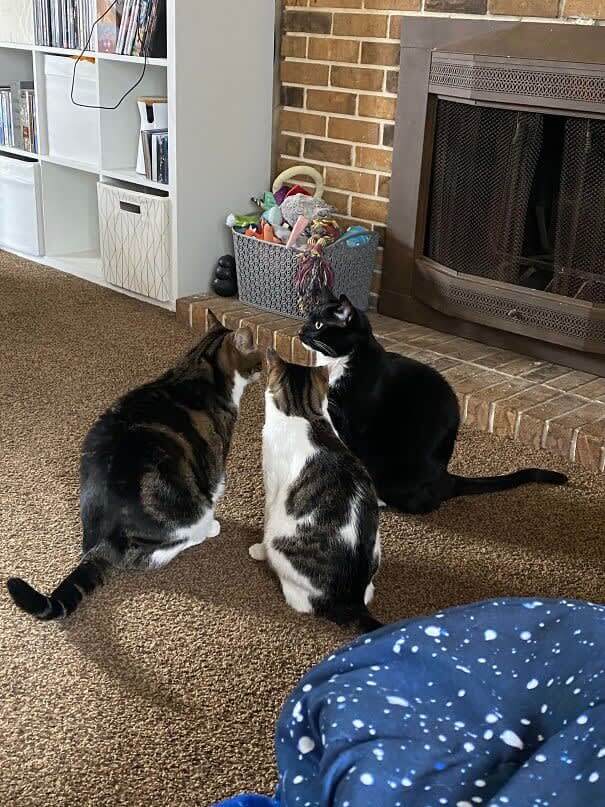 "Why are humans home all day? Something is wrong, and we must get to the bottom of it before the situation progresses." Little did they know their humans would be home for a few months…
Meowgic
We do not have a great deal of knowledge about cats, but we can certainly say that a cat's head should probably be attached to their body. This cat's head ran away from the body to hide on top of the cat tree.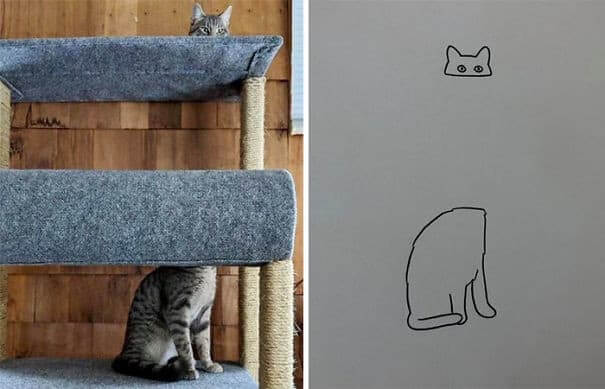 Maybe this cat tree has a magical portal, so when he puts his head through, it appears at the top while his body remains on the bottom. It is a phenomenon that we may never understand.
Glass Full Of Kitty
After a long day at work, it's nice to come home, put on comfortable clothes, and pour yourself a large glass of kitten. Interestingly, the brand of wine is Black Cat. The kitten must have gotten confused.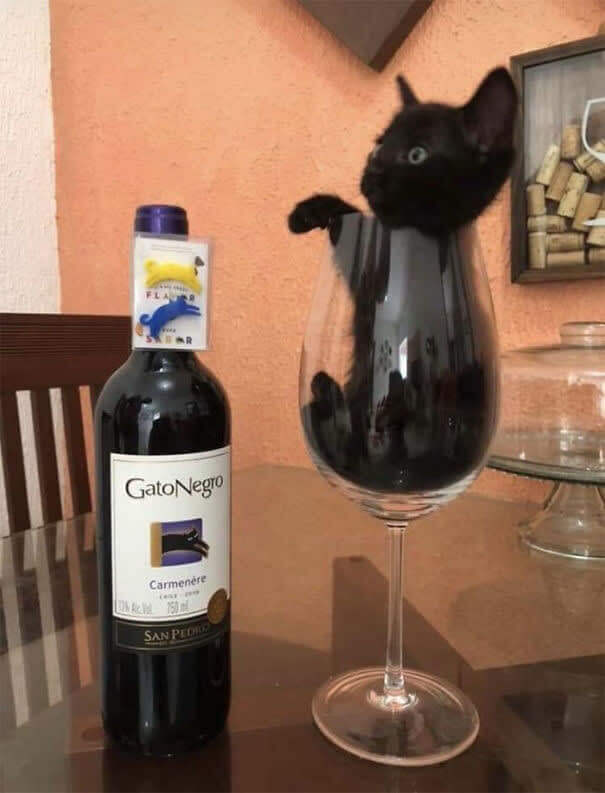 After one sip, we would send this glass back because of all the hair in the glass. "Waiter, this wine is giving me a hairball. I would like a new glass of wine."
"She's Sleeping In The Toilet Again"
"Mom, can you come help? I need to go to the bathroom, but she is hogging it again!" The cat in the litter box looks so content with life like she doesn't have a care in the world.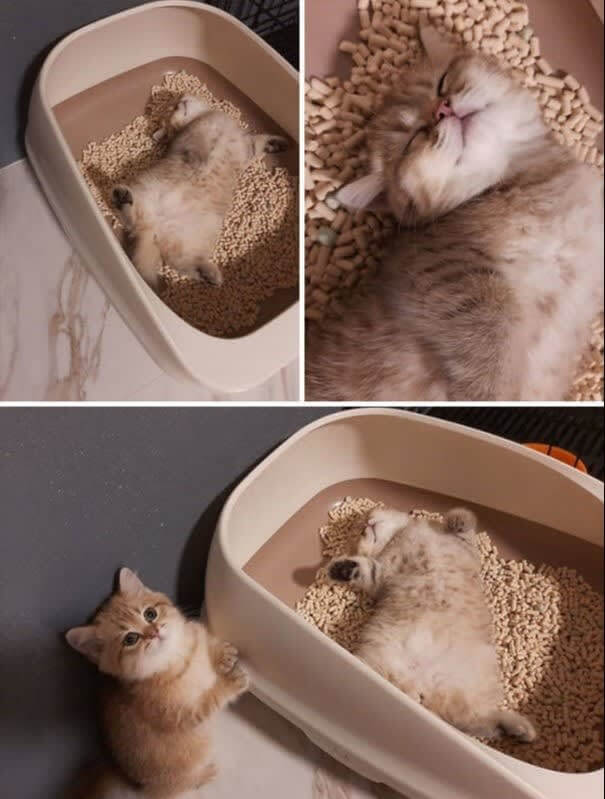 On the other hand, the kitten waiting for the litter box looks distressed about not being able to do her business how she was taught. She might just have to teach her sibling a lesson about sleeping in their bathroom.
Just When You Thought You Outsmarted The Cat…
"So you thought I could be fooled, Tracy? You thought I wouldn't be able to reach these heights? Well, you were wrong again, and your plans are ruined." This cat outsmarted the office workers yet again.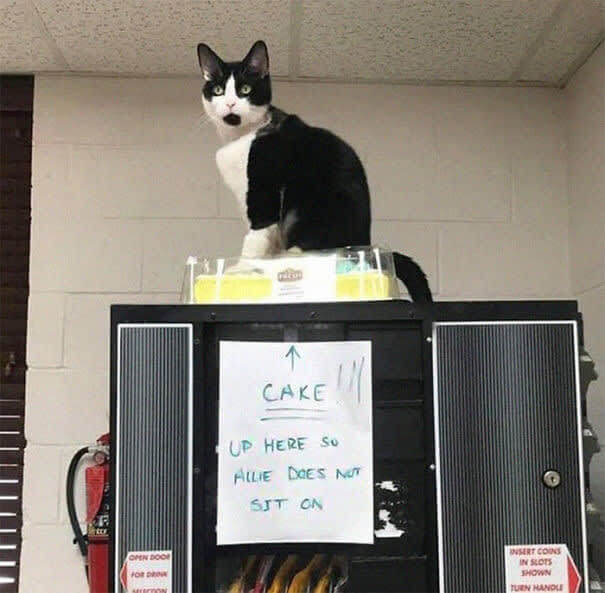 All she wants to do is sit on the cakes people bring in, and her co-workers do not like it when she does that. No matter where they try to hide the cake, she will find a way to sit on it.
"Heyyyy, How Y'all Doing."
Someone was making their morning coffee when they looked out the window and saw these two cats. The person was very confused because they don't own either one of them, so they don't know where they came from.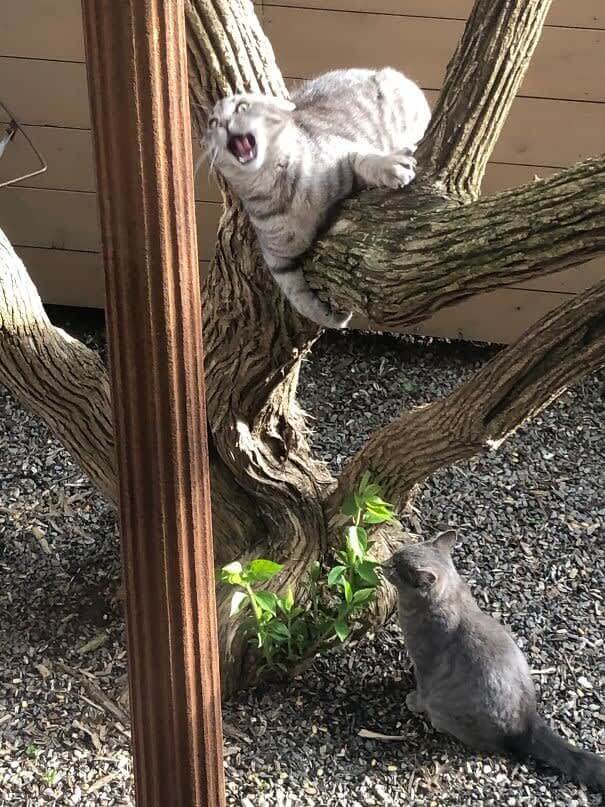 The cats look just as stunned as the person probably was. They were in the middle of something sneaky when they got caught.
"I Don't Have A Flour Addiction"
This is Manchester. He would like everyone to know that he is currently in treatment for his flour addiction, but it is difficult to resist the temptation. Once someone opens the flour jar, he can't resist sticking his head in.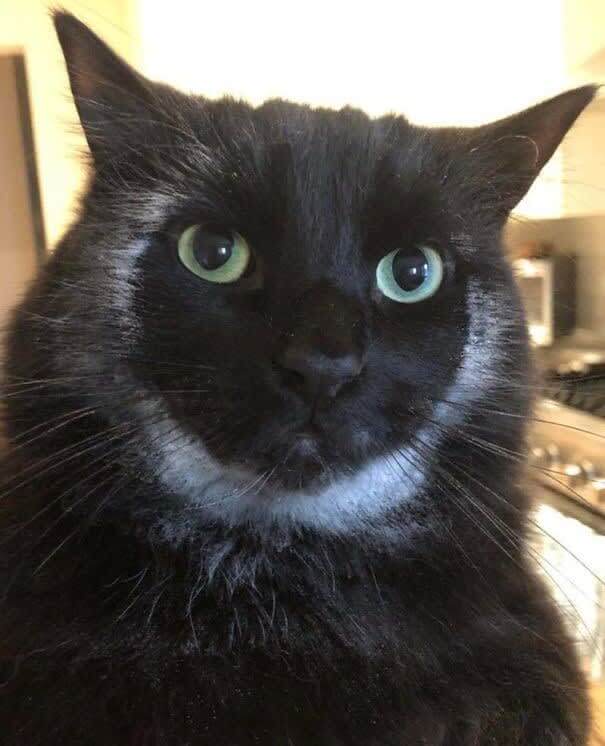 He claims that there is no evidence to prove that he was the flour culprit, but the white ring on his face says otherwise. We hope that Manchester can get the help he needs to beat his addiction.
She Came Back With Someone Else's Keys
Outdoor cats spend most of their days outside, and they are allowed to roam. This is an outdoor cat who brought home someone else's keys after a day of roaming.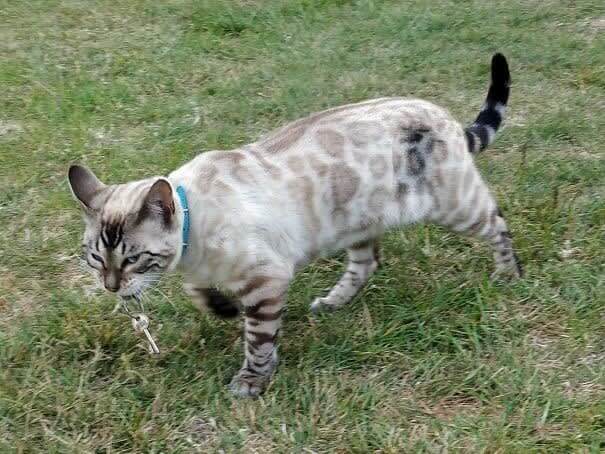 Now we know where the term "cat burglar" came from. Instead of bringing his owner a dead mouse or bird, he brought the keys to a house. Thoughtful, but someone is probably looking for those.
Cat See, Cat Do
This cat was watching TV with his owner when he saw these cats marching across the screen. In a moment of curiosity, he decided to copy them, and he put on quite the show.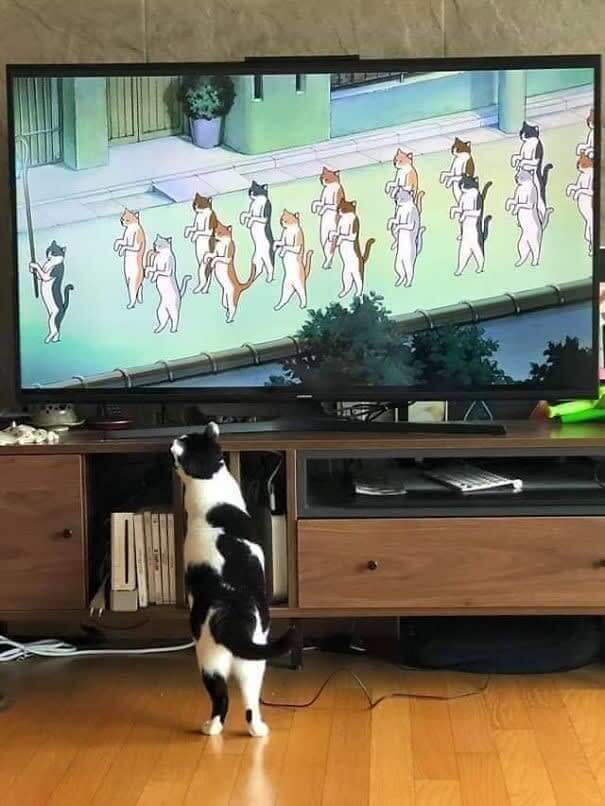 He was very disappointed when they marched off the screen, never to be seen again. Now he knows how to walk on his hind legs, but there is no one to join him.
"Oh, Were You Going To Eat This?"
Just when you thought cats couldn't be anymore calculated, this one proved that they could ruin anything. This person put their breakfast down for just a minute, and the cat quickly sat on it and ruined their sandwich.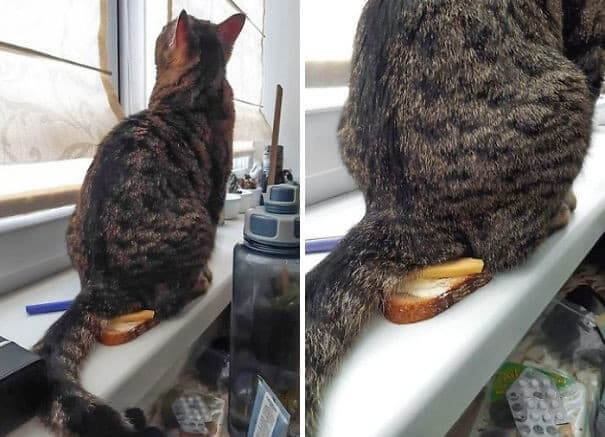 The cat probably wanted to eat the sandwich, so he thought, "If I sit on it, they will have to give it to me because there is no way they will eat it after it touched my butt."
Instead Of A Zen Garden, Rake Your Cat
This cat saw her owner using a tiny rake for a zen garden, and decided she also wanted to be a zen garden. You can see that she succeeded in getting her human to use the tiny rake to pet her.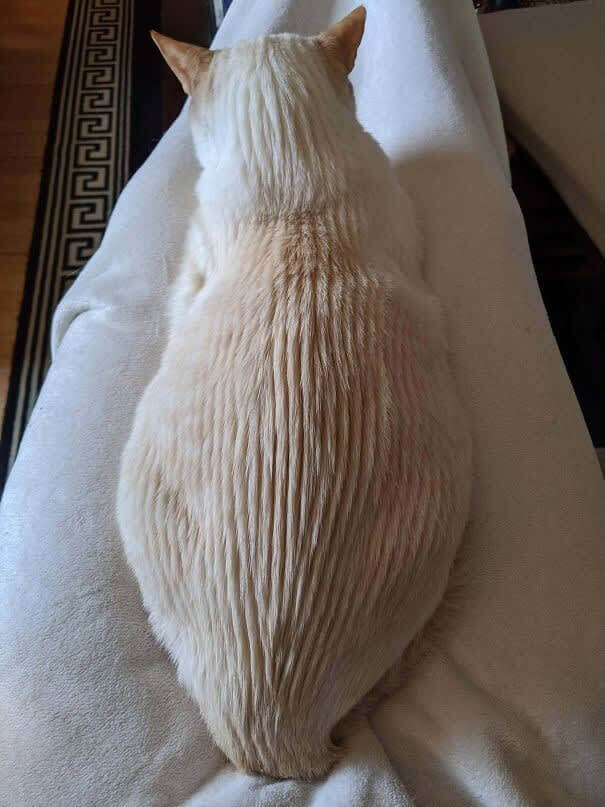 The cat's fur now looks like a field right after corn has been planted. We expect a great harvest this year. Instead of corn, maybe you will get kittens.
Not The Brightest Bulb In The Bunch
This cat likes to sneak into the bathtub and bite the faucet. One day his owners will have to teach him a lesson, so he stops ruining the tub. Although it may seem mean, he needs to learn that not all risks pay off.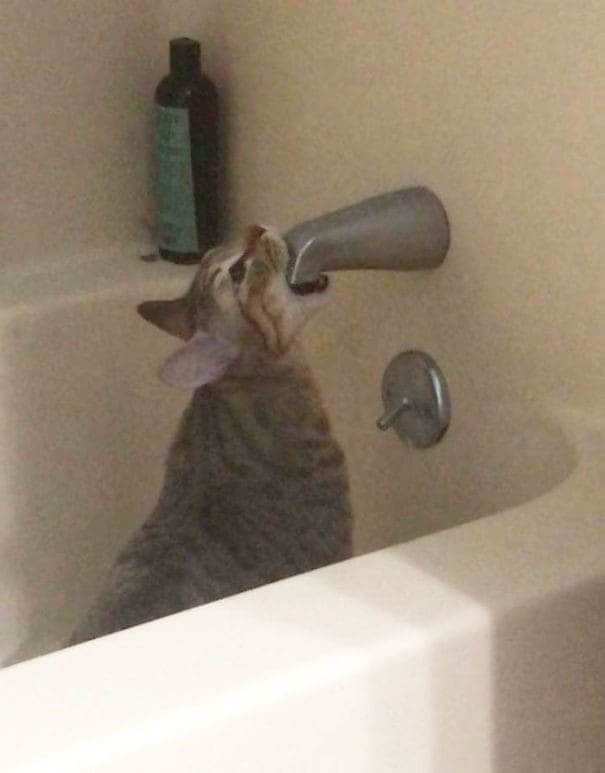 They should just leave the water dripping one day and see what the cat does. Maybe he will sit under it instead of biting the metal.
"It Looks Just Like Me"
This is Peanut, and she is a special cat. When she was born, she was tiny compared to her siblings. Her owners quickly realized that she was missing an eye, and she had a cleft lip. This made her vulnerable to infections, but her mother and owners cared for her properly.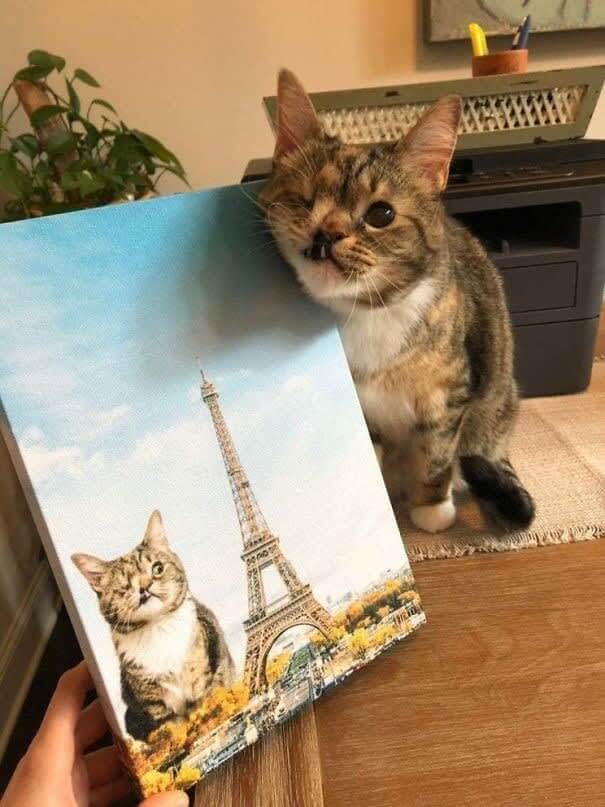 Although Peanut has deformities, she is still a sweet loving cat who enjoys when people send her gifts, like this painting of her next to the Eiffel tower.
"We Wanted To Know What Was Taking You So Long In The Bathroom"
This woman heard her husband screaming from the bathroom, so she went to see what all the commotion was about. She never thought she would find one cat hanging onto the shower curtain for dear life while the other one watches the entire thing play out.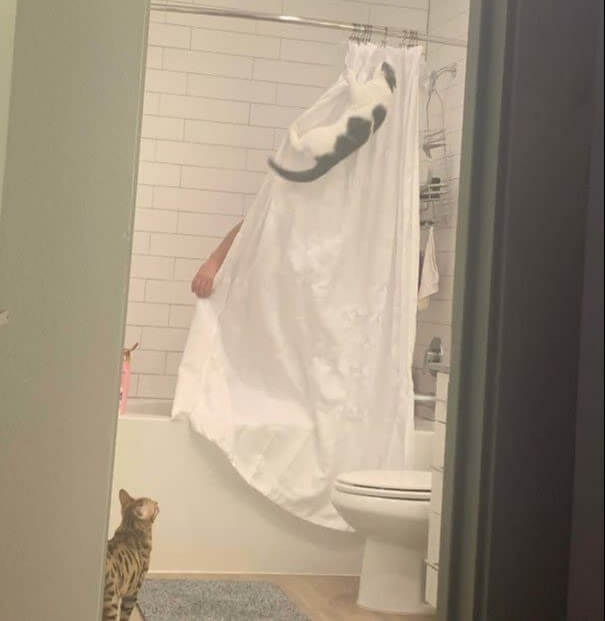 The cat must have been watching Psycho and wanted to reenact the shower scene, but failed in the process.
She May Or May Not Be Practicing Witchcraft
"There is nothing to see here, I simply knocked over the plant accidentally, of course, and it formed a perfect circle mysteriously." Should her owner let her perform witchcraft in peace or put a stop to the madness.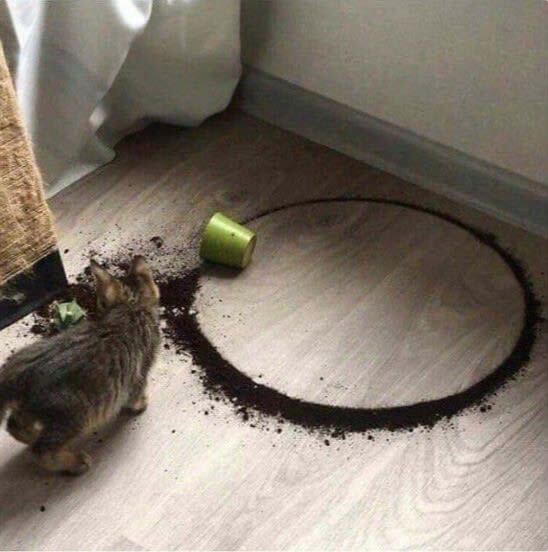 If cats start practicing witchcraft, humans will be in danger. Who knows what the cats would have planned for us if they were able to perform spells.
Surprising Details About Harry Potter That Everyone Completely Missed
Brenda Miller
This article was originally published on JustStarz
It doesn't matter how much time has passed, once a Harry Potter fan, always a Harry Potter fan. And with the recent release of Harry Potter 20th Anniversary: Return to Hogwarts, there is no doubt that a marathon of the magical movies is due! But what if we told you that there are more than a few facts about the books and the movies that even the most avid fans never noticed? Check out some of Harry Potter's best behind-the-scenes, hidden details, and inside jokes that most of us never knew about – there's real magic in there!
​​Magic Was Made Through Creative Tricks
Though most of us would probably love to believe that there is real magic in Harry Potter, the hard truth is that everything we saw was a result of very creative filming tricks. In this picture, we can see a part of the scene in the Half-Blood Prince film, in which Hermione is talking to Harry while returning her books to the shelves. What we see are floating books being returned to each shelf space, when in truth, there were production members standing behind the shelves wearing green gloves.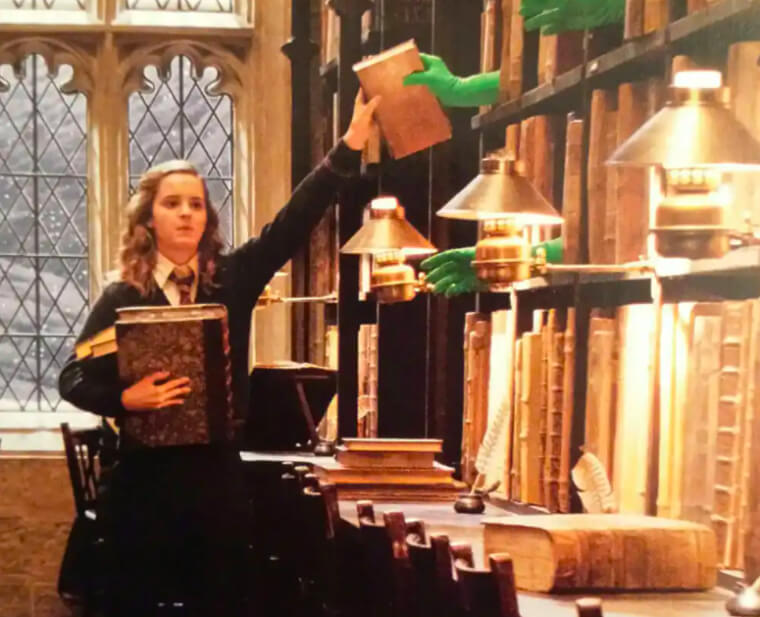 Each person would grab a book directly from actress Emma Watson, creating the illusion that the books were flying on their own.
​Alan Rickman Was A Huge Mentor For The Younger Cast
Professor Severus Snape was most certainly one of the most important and impactful characters in the books and in the Harry Potter movies. Though his character could be really dark sometimes, the actor who played the part, Alan Rickman, was considered the sweetest and most talented person behind the screens. In no time, Rickman transformed into one of the cast's most important mentors, both for the younger actors and the older ones.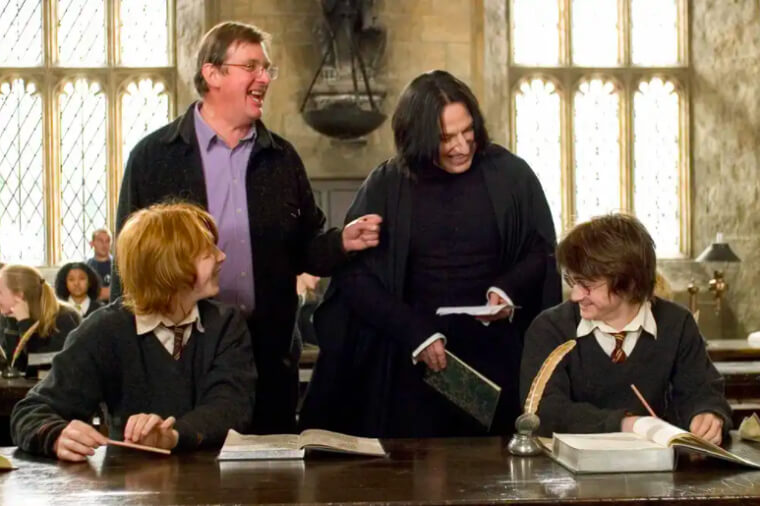 So, when Rickman passed away tragically in 2016, his passing created a huge hole among the Harry Potter cast, including Daniel Radcliffe. According to Radcliffe, he often looked up to Rickman as he established himself as an actor.
The Harry Potter Films Were Robert Pattinson's Debut Into Hollywood
Although it's easy to forget by now, Robert Pattinson wasn't actually that known before he appeared in the Harry Potter movies. The actor, who is a household name in the movie industry today, actually made his debut at the age of 19 in Harry Potter and the Goblet of Fire. Cedric Diggory's character delivered an impeccable performance as Hufflepuff's competitor against Harry during the "Triwizard Tournament." Though he was part of the franchise for a very short time, his character had a tremendous impact on the storyline.
Pattinson went on to win the British Star of Tomorrow title in 2005 and then eventually became one of the main characters of the Twilight franchise.
J. K Rowling Already Knew That Robbie Coltrane Would Play The Giant
Some actors were just made to play a specific role, and we're pretty sure Hagrid's character could have not been played by anyone other than Robbie Coltrane. In fact, when asked about who she had in mind for the half-giant role, J.K Rowling didn't flinch for even once second before asserting that Coltrane would be the one. By that time, the actor had already played a few known roles, including some within the James Bond franchise.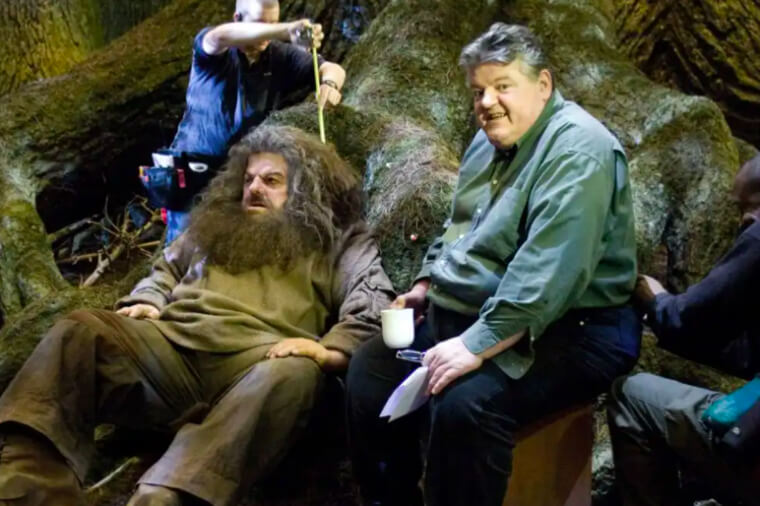 Coltrane went on to not only get the part, but he was also part of the group of 14 actors that played in all eight of the Harry Potter movies. You might not know that actor Robin Williams was actually pretty interested in the role too, but Rowling prioritized a British cast.
Daniel Radcliffe Was Known For Destroying Props
One of the things that actor Daniel Radcliffe was known for the most was for not keeping Harry Potter props tidy and safe. The actor constantly broke or lost different props, including the pair of glasses he wore on a daily basis. Apparently, he managed to wear about 160 different pairs of glasses throughout the entirety of the Harry Potter movie franchise. He also often played around with his wands, pretending that they were drumsticks.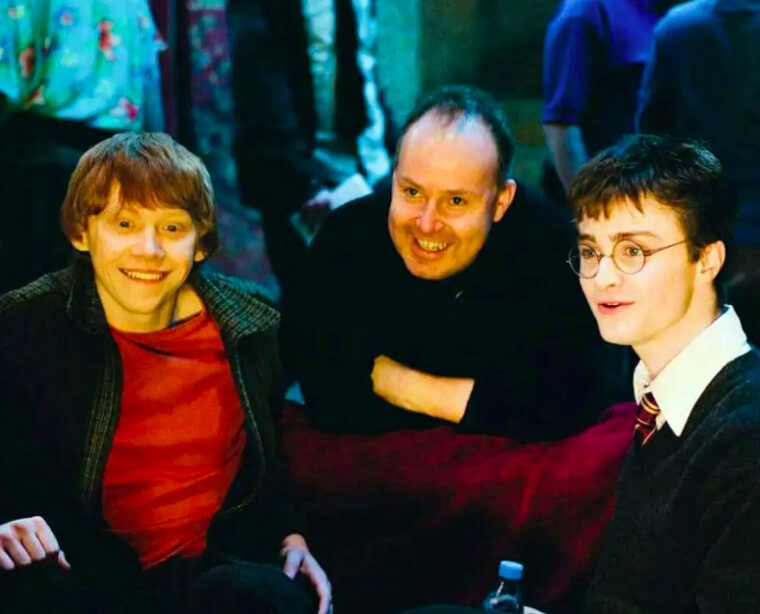 Of course, that resulted in a few of them breaking, and at least eight had to be replaced. Since every single wand was specifically designed for each film, they had to make more and more new ones!
Hagrid's Character Was Based On A Real Person
Hagrid's character was in fact based on a real person, and although the person wasn't the biggest giant on earth, they were pretty big. The character was inspired by a West Country biker who was pretty intimidating when it came to his physique but was the sweetest person from the inside, just like Hagrid. J.K. Rowling actually met the "Hell's Angel from the West Coast" a few years back, and his image was so remarkable that the author just had to write a character with him in mind.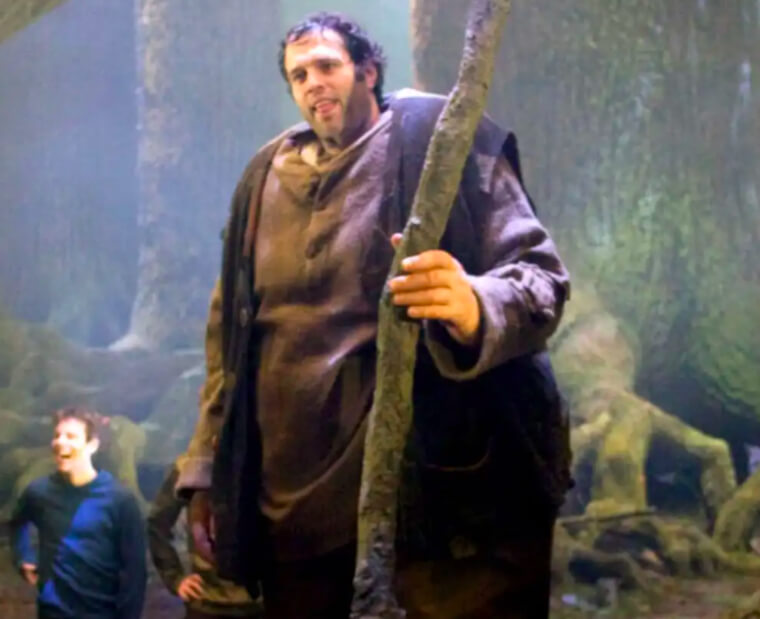 In this picture, we get a sneak peek of Coltrane's stunt double, Martin Bayfield, who was also quite big and had been a rugby player prior to entering the stunt scene.
​Helena Bonham Carter Took Bellatrix A Little Further Than Planned
The more we look into individual characters, the more we feel like every single Harry Potter actor couldn't have been more perfect for the roles they played. Helena Bonham Carter is certainly on that list, as there will never be any other Bellatrix. The actress has shared in the past that she was ecstatic when she was invited to play the part, claiming: "I love magic, I love witches, I love the whole Harry Potter world. I was all too happy to play a witch."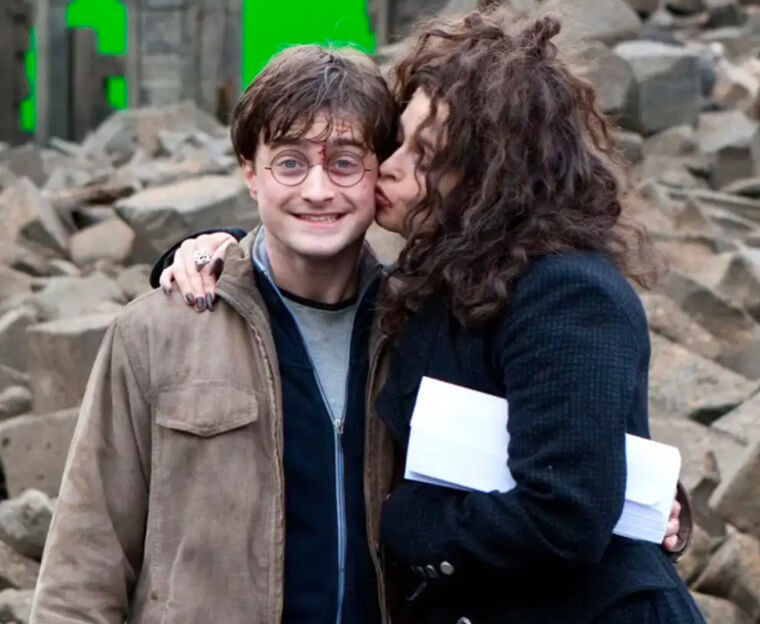 She did admit, however, that because of her love for the character and her investment in Bellatrix's "dark craziness," she might have made the character a tiny bit crazier than it was initially intended.
​Fred And George Are Not Real Gingers
Believe it or not, the twin actors who played Fred and George are not actually redheads, although they easily fooled all of us. The actors were only 14 when they got the part, which became their breakthrough role in the movie industry. The beloved characters are twins in the real world, but both of them are brunettes with quite dark hair. Since they had to have ginger hair in the films, they not only dyed their hair but also had to have touch-ups done every single week to keep their looks impeccable.
Not only that, but they also bleached their eyebrows to make things more believable, which they weren't very big fans of.
​The Older Actors Often Learned a Lot From The Younger Crew
It was pretty known that the younger Harry Potter crew felt incredibly lucky to star alongside a group of such experienced and talented actors. They got to learn a whole lot from them, but at times, they also managed to teach their older counterparts a few skills. During a specific scene in Harry Potter and the Deathly Hallows: Part 2, Hermione completely transforms herself before entering Gringotts, taking on Bellatrix's character.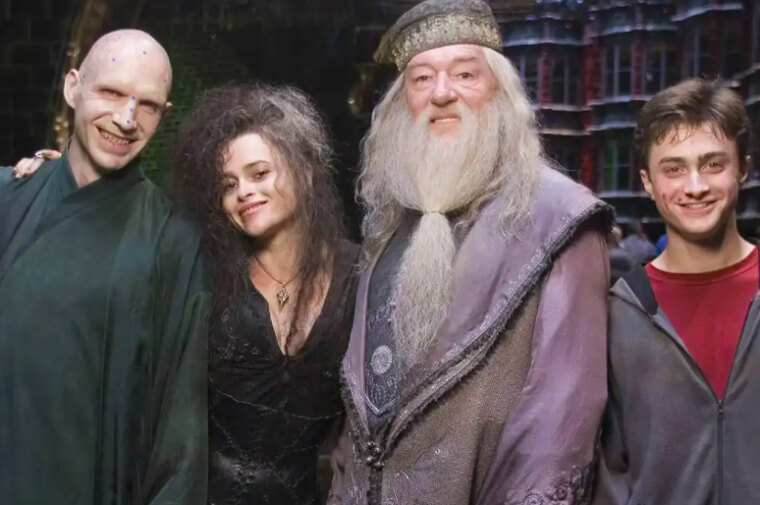 To accurately portray the scene, Helena Bonham Carter took some time to learn from Emma Watson what would be the most accurate way to imitate her. In an interview, Watson claimed: "It's a really interesting way of working because you suddenly become aware of your mannerisms. Watching Helena do me was bizarre. She's uncanny."
​They Were Surrounded By More Than a Few Green Screens
It could be really hard sometimes for the actors to portray their characters in the magic world they were seen in. That is because most of the time they were actually surrounded by green screens that looked nothing like the majestic settings we see in the movies. In this scene, for example, we see Harry running alongside his friends during an Order of the Phoenix scene. When he reflected on this, Daniel Radcliffe shared that he took for granted that he actually played an action hero for a whopping 10 years.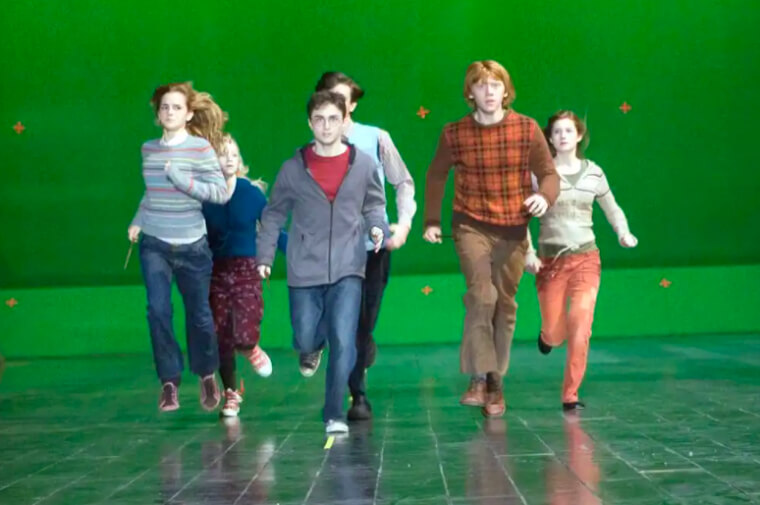 He even gave some examples of extreme things he did: "I got to slide 40ft down a roof, I got to burst out of a ring of fire. I got to do some really cool stuff. I probably won't get to do that so much anymore."
​Radcliffe's Double, David Holmes, Was Paralyzed On Set
In this picture, we get a glimpse of Radcliffe's relationship with his double, David Holmes, in between takes of one of the movies. The duo became really close friends as the years passed since the gymnast acted alongside Radcliffe from the first film. Radcliffe has been heard several times saying how important Holmes is in his life. Sadly though, during the filming of a scene in Harry Potter and the Deathly Hallows, Holmes suffered from a pretty bad accident that injured his spine.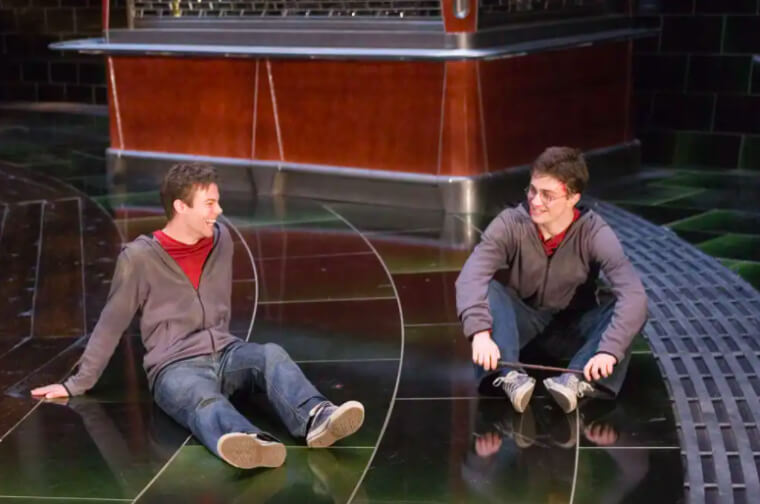 While that resulted in Holmes becoming paralyzed, it didn't mean that he didn't continue to live his life as fully as possible. He now owns his own production company named Ripple Production, he also raises money for the Royal National Orthopaedic Hospital and spends some time racing cars.
They Upped Their Wand Capabilities Through Dance Lessons
When it was time to film Harry Potter and the Order of the Phoenix, Harry, Hermione, and Ron were already at a level where their wand skills were almost elite. So, if they wanted to perfect those skills even further, there had to be something done in order to take the technique to different limits. In this picture, we see director David Yates and the big trio discussing different logistics involving their wands.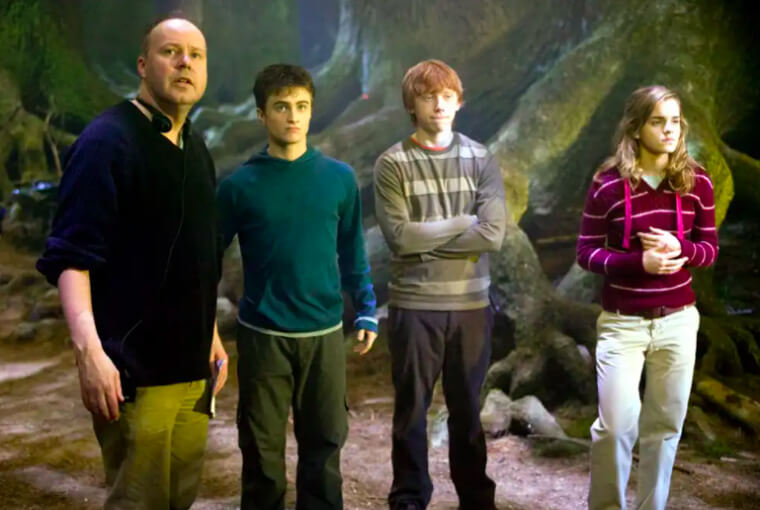 Yates eventually brought in a professional dancer called Paul Harris who would teach the crew different wand choreographies. The cast got to learn five specific moves that were used in several scenes throughout the films.
​The Cast's Reaction When They First Enter The Great Hall Is Real
While some people believe that the Great Hall scenes were actually filmed in a castle, the Hogwarts castle scenes were all filmed in England's Leavesden Film Studios. Yet, set designers really put a whole lot of work into making it seem like a real castle, and they obviously did an impeccable job. The team of designers chose to base the main design of the hall in The University of Oxford's hall of The Christ Church College.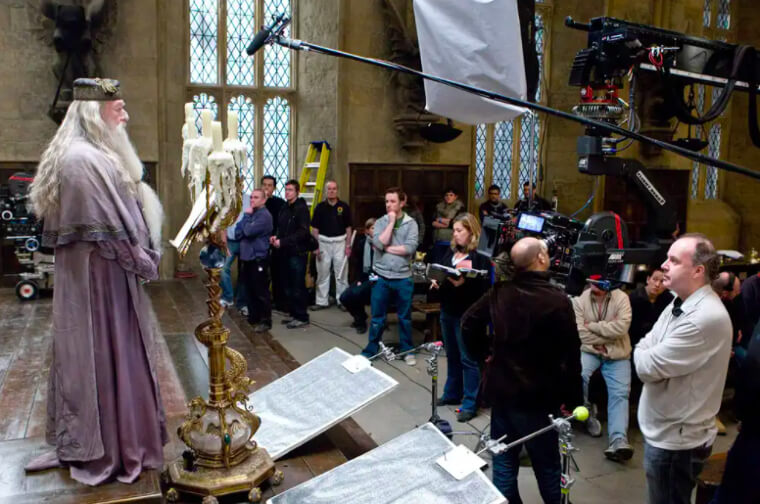 When the first scene in the hall was filmed, Harry, Hermione, and Ron had not been in there prior to that moment. This means that their reaction on screen was as genuine as it gets. The food they served was also real!
​There Was A Lot Of Competition For The Role Of Luna Lovegood
If you've watched the Harry Potter reunion (spoilers alert), then you'll have heard this little detail told by actress Evanna Lynch herself. While we cannot imagine Luna being played by anyone other than Lynch, there was a huge chance that that would happen. Apparently, hundreds of people auditioned for the role and Lynch was placed as ninth among 30 finalists. Lynch had been a huge fan of the books and films for a while by then, and she truly wanted to get the part.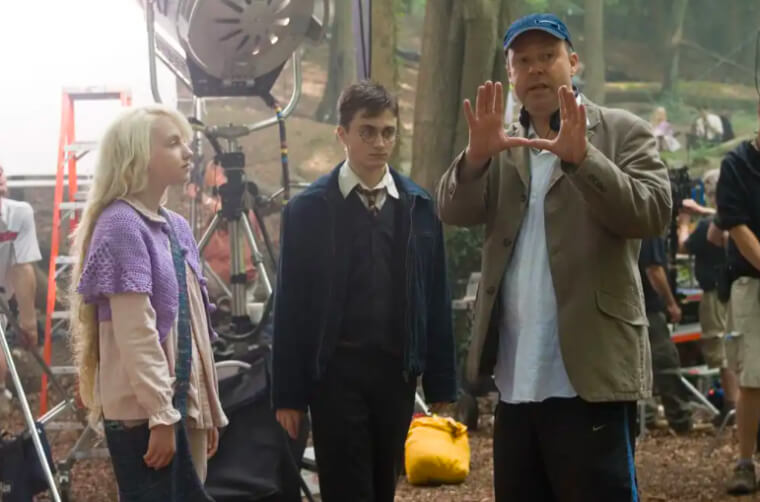 Eventually, after producer David Barron watched her tape, there was no doubt in his mind that Lynch was Luna, and the actress went on to star in three Harry Potter films.
Draco Malfoy Had a Real Sweet Tooth
Draco Malfoy, played by Tom Felton, was one of Harry Potter's opponents throughout the series and was a hard character to like most times. The actor was only 12-years-old when he got the part, but it didn't take time until he completely nailed the role. Felton, who is an absolute charmer in real life, once shared: "It's a lot more fun when you get to step into the shoes of someone really horrible. It's not very nice to be horrible in real life. So it's great to be able to do it on camera."
He also shared that he used to sneak in so many snacks on set, that at some point the costume designers had to sew his pockets so that he wouldn't be able to do it anymore.
There Was A Lot Of Training Involved To Create The Magical Gillyweed
In Harry Potter and the Goblet of Fire, part of the movie involves the existence of Gillyweed, which obviously, does not exist in real life. And while some things were a little bit on the easier side to create for the film, the lack of gills was a tough one. The actors actually had to undergo a 6-month training program before they even began the filming process. The training involved a lot of practicing underwater, in order to ensure that the actors would be as safe as possible.
Filming took place in a big tank full of water, made to look like an enormous lake full of sea creatures.
​Director Chris Columbus Thought Hagrid Should Have Been Bigger
Several times, director Chris Columbus shared that one of the things he wishes the team had done differently was in the way they portrayed Hagrid. He expressed that from the start, he always planned to make Hagrid a little bit bigger than he was, but there was not enough budget to create a CGI version of the half-giant, which meant that the crew was very limited in how big they could make him look.
In his own words: "He was actually walking there with the kids, and then we did forced perspective sets for Robbie (Coltrane) and created an image of Robbie being much bigger than he was, but I always thought Hagrid should be about two feet taller and about 100 pounds heavier."
​The Reason Why Dolores Umbridge Always Wore Pink
Have you ever wondered why Dolores Umbridge always wore pink in Harry Potter and The Order of the Phoenix? Turns out that her wardrobe choices were never a coincidence. Throughout the movie, the shades of pink she wore became darker and darker, which was a decision that was made to match her progression throughout the film. Umbridge, played by actress Imelda Staunton, has her mind going continuously out of control as the movie progresses.
As impeccably explained by Jany Temime, the movie's costume designer: "I started with a lighter pink, and then as the film developed the pinks are getting hotter and hotter and hotter because she's getting more and more hysterical."
The Actors Couldn't Stop Laughing Before The Kissing Scene
Here's another cool behind-the-scenes fact that both Rupert Grint and Emma Watson brought up during the Harry Potter reunion. Turns out that many of the romantic kisses that everyone had been waiting for, were actually pretty chaotic moments behind the scenes. Because the actors were such close friends, to the point that they considered themselves siblings, kissing each other was extremely weird. When they were filming the part where Harry and Hermione had to kiss, the three of them could simply not stop laughing.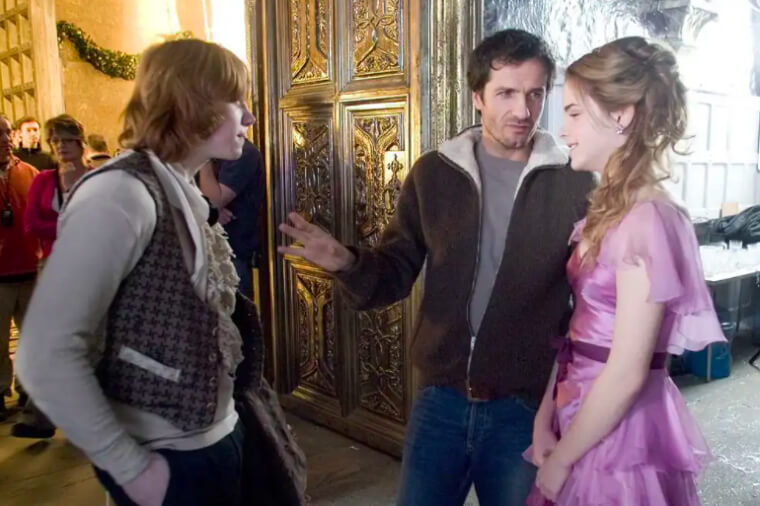 Grint, in specific, kept getting laugh attacks before Harry and Hermione had to kiss, to the point that Watson had to kick him out of the room.
The Underwater Christmas Card
Since several members of the Harry Potter cast and crew gained several new underwater skills as a result of the months-long training they went through, Daniel Radcliffe thought that this was a reason for celebration. So he brought everyone together and suggested they did an underwater Christmas card with everyone who was a part of the process. While the idea seemed weird at first, the entire cast eventually grouped together 20 feet under water in the tank they filmed the Gillyweed scenes in.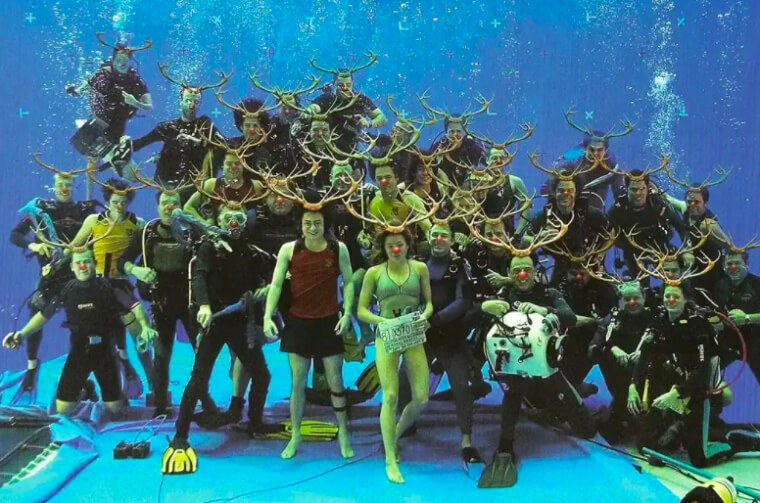 The picture was taken on the very last day of filming for the movie and is undoubtedly iconic.
Rupert ​Grint Was Terrified Of Spiders
In Harry Potter and the Chamber of Secrets, we get to meet Hagrid's famous giant pet spider named Aragog. In this picture, director Chris Columbus gives Radcliffe and Grint a few instructions on how to act during the scenes involving the scary spider. While it is not completely surprising, it does turn out that throughout the entire time, Grint was actually cringing with the thought of such a spider due to his very difficult case of arachnophobia. In simple words, he is terrified of spiders.
In fact, he was so uncomfortable throughout the scenes involving Aragog that it is rumored that to this date the actor hasn't watched any scenes with it. Poor Rupert, we can't blame him at all!
Hermione Was Almost Replaced
Though it's hard to imagine anybody else as this character, it turns out that at some point, we almost lost the original Hermione. The televised reunion brings up a few moments of difficulty amongst the cast, that most fans were completely unaware of. For instance, after filming five movies in a row, Emma Watson reached a point of exhaustion in which she wasn't sure she wanted to continue being a part of the films.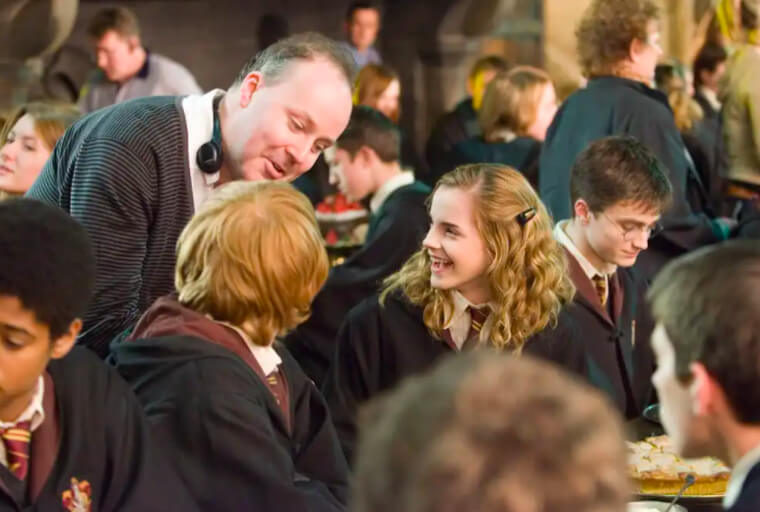 She had grown from being a child into a teenager and was truly struggling with the impact that fame had on her. After doing a lot of thinking, including considering giving up her role to another actress, she ended up deciding to stay and we are extremely grateful she did.
The Access Code To The Ministry Of Magic Spells Out Magic In Numbers
In The Order of the Phoenix, we get to experience the Ministry of Magic through Harry's eyes for the first time. If you remember the scene, Harry used magic outside of school by using the patrons charm on a few random dementors. When he was summoned to attend the ministry, Arthur Weasley decided to go with him. In order to get there, the two of them got into a bright red phone box, in which Arthur dialed the number 6-2-4-4-2.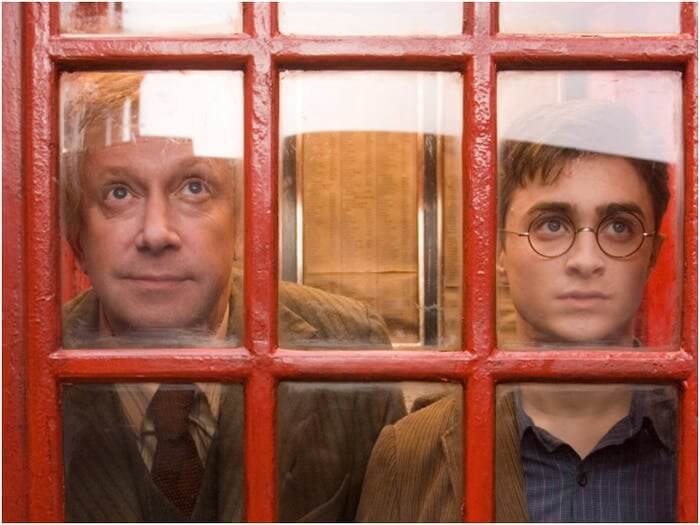 Just like that, the box began to slowly sink into the Ministry of Magic. You might have missed this Easter Egg, but the numbers dialed by Arthur actually spell m-a-g-i-c on any telephone dial, making it the most obvious password the Ministry of Magic could have.
The Deathly Hallows Symbol Is Hidden In A Shot In The Goblet of Fire
Before we even knew what the Deathly Hallows were going to be, filmmakers decided to hide a symbol of the Hallows in a scene during The Goblet of Fire. While most of us probably missed it, there were some avid viewers that did notice, even though the film was a whole three movies behind Harry Potter and the Deathly Hallows. If you pay attention to this picture, you'll notice the triangle symbol in front of Dumbledore, which represents the invisibility cloak.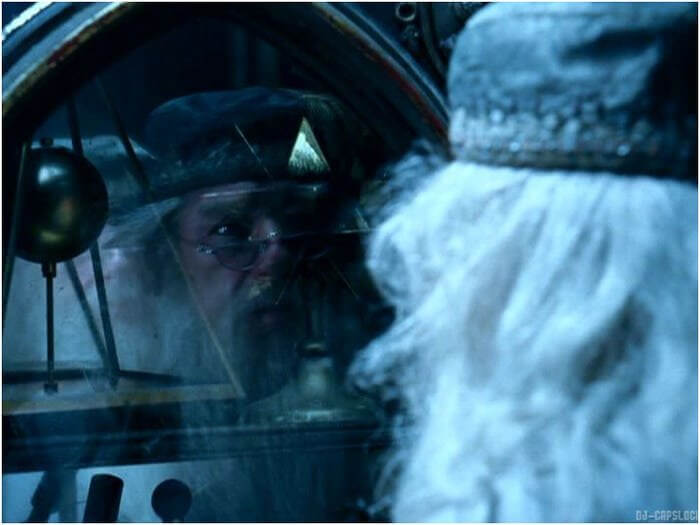 Then, we should be able to identify a line that runs through the center part of the triangle, which refers to the elder wand. And finally, the circle within represents the resurrection stone.
The Scene In Which The Beauxbatons Dance, They're Just Doing The Macarena
There was so much excitement when students from other magic schools joined Hogwarts in Goblet of Fire. This happened just when the entire cast (and characters) were becoming teenagers, which only made more sense to bring a bunch of charming and unknown boys and girls to the mix. Funny enough though, while the dance that the Beauxbatons do during the film looks wonderful, they're actually just doing the same moves that muggles out there do when they dance the macarena.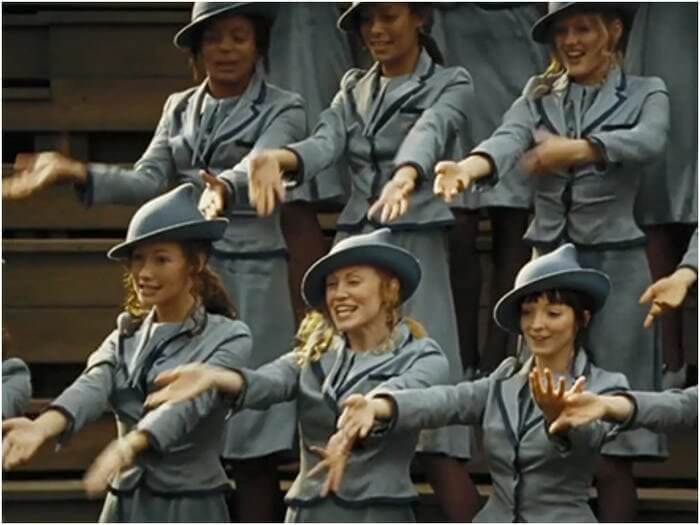 During their entrance, they begin doing a stunning choreographed dance, and just before the start of the third trial, the moves start getting way too familiar.
The Giant Spiders, Troll, Dementors, And Werewolf The Trio Fights During Deathly Hallows — Part II Have A Meaning
Here's another cool Easter Egg that you might have missed while watching the Harry Potter movies. In Harry Potter and the Deathly Hallows — Part II, Harry, Ron, and Hermione fight exactly the same enemies they fought throughout the first three movies. This is not so obvious at first, but the sequence is pretty clear if you go back and look at it. During the tumultuous Battle of Hogwarts, the trio and their friends fight giant spiders, also known as acromantula, and they also fight Fenrir Greyback, the werewolf, and a bunch of dementors.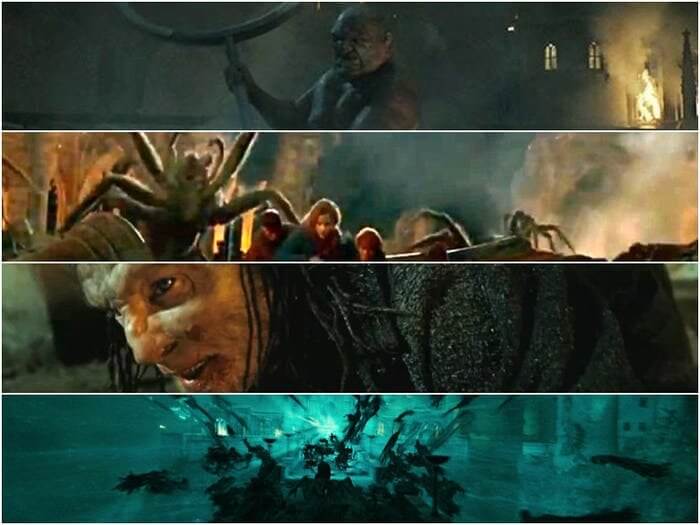 Though terrifying, these enemies were pretty familiar to them, since they had fought the exact same ones during the first three Harry Potter movies.
Sirius Screams "Nice One, James" To Harry In Order Of The Phoenix
Every time we remember Sirius Black, we just can't help but wish he had had a better fate than he did – Harry's godfather deserved more. But while he didn't have the best life, he made an incredible mark in Harry's and in all of our lives! This heartwarming throwback is another moment that might have been missed by some viewers. During Harry Potter and the Order of the Phoenix, Harry manages to disarm Lucius Malfoy during the scene in the Ministry of Magic.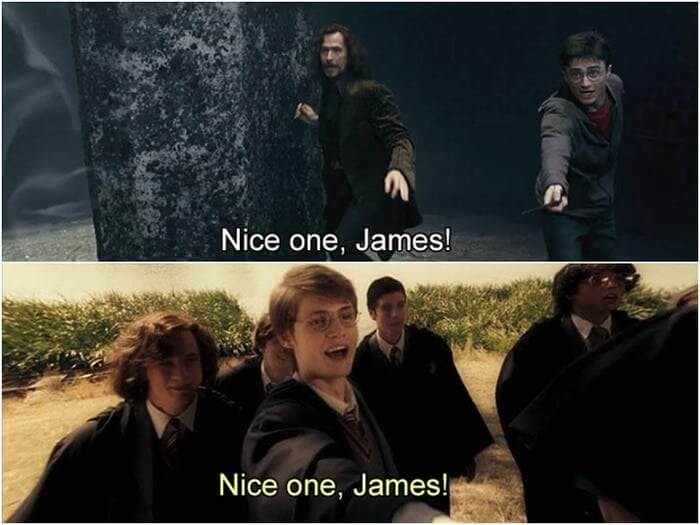 Sirius quickly approves and yells "nice one, James." If you remember, this was exactly the same thing he said to Harry's dad during a flashback to Snape's childhood.
When Snape Duels McGonagall During Deathly Hallows — Part II, He Is Still A Good Guy
While readers and fans of the film may go through several stages of skepticism trying to figure out whether Severus Snape is good or bad, the character does several things that smoothly show he is on the good guys' side. Besides, Dumbledore trusted him, and we trust Dumbledore, so it seems like a pretty obvious choice. Interestingly, just before the Battle of Hogwarts in Harry Potter and the Deathly Hallows — Part II, Professor McGonagall duels Snape to defend Harry.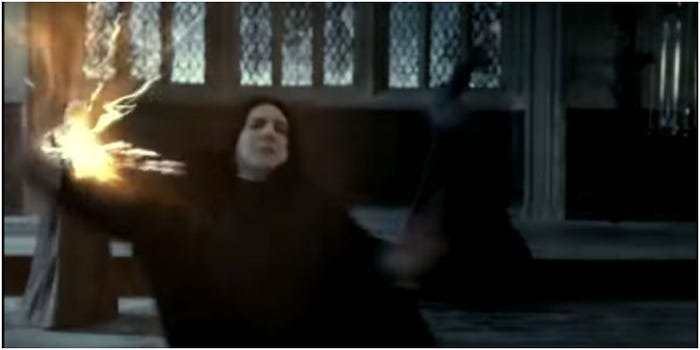 But even though Snape is dueling McGonagall in that scene, he actually barely attacks her if you look closely. He keeps using defense charms as McGonagall attacks and even manages to deflect some of her spells to attack two death eaters who were standing behind him.
Tom Felton's Girlfriend At The Time Played His Wife In Deathly Hallows — Part II
We will never forget that epilogue at the end of Harry Potter and The Deathly Hallows – Part II in which we get a glimpse of what happens to Harry, Hermione, Ron, Ginny, and Draco. The entire crew is all grown up, married, and with kids at that point, and are seen sending off their kids to their own experiences in Hogwarts. Interestingly, many of us won't recognize the actress who plays Malfoy's wife, but she was actually much more familiar to Tom Felton than we'd think.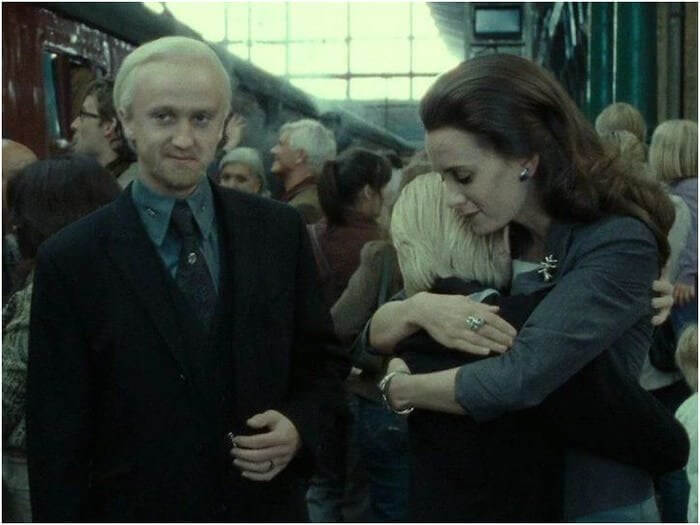 His wife was played by Felton's girlfriend at the time, to which Felton once said: "She was at first reluctant, but I pulled her arm and twisted it. She was filming with me for three days at King's Cross [railway station in the U.K.]; we were very excited."
In Harry Potter And The Sorcerer's Stone, Harry's Scar Burns Because Voldemort Is Secretly Facing Him
In this scene of Harry Potter And The Sorcerer's Stone, there is a moment in which Harry's scar starts burning. This happens when Snape and Quirrell are in front of him, and he interprets it (as well as viewers) as his scar giving him a warning sign about not trusting Snape. We find out later in the movie that Snape is actually trying to help him, while Quirrel is the terrible villain.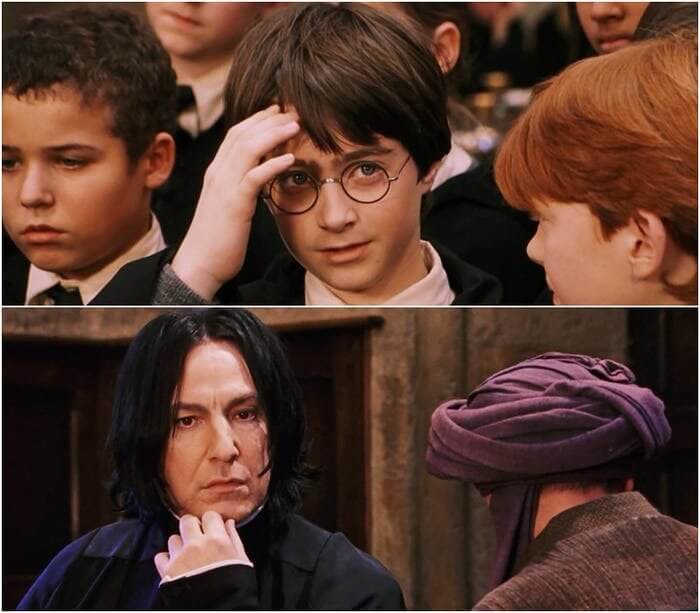 We now understand that the scar was burning as a warning sign for Quirrel, rather than Snape because of Quirrel's connection to Voldemort. Voldemort's head was hiding inside Quirrel's turban, which means he was facing directly at Harry, which is incredibly creepy when we think deeply about it.
​Emma Watson Had To Wear Fake Teeth For A While
During the first couple of Harry Potter films, the production team was invested in trying to make the actors look like the Harry Potter characters were portrayed in the books as much as possible. For example, in the books, it was mentioned several times that Hermione's teeth were quite an overbite. Since Emma Watson's teeth were almost perfect, it was suggested that she used fake teeth for a period of time.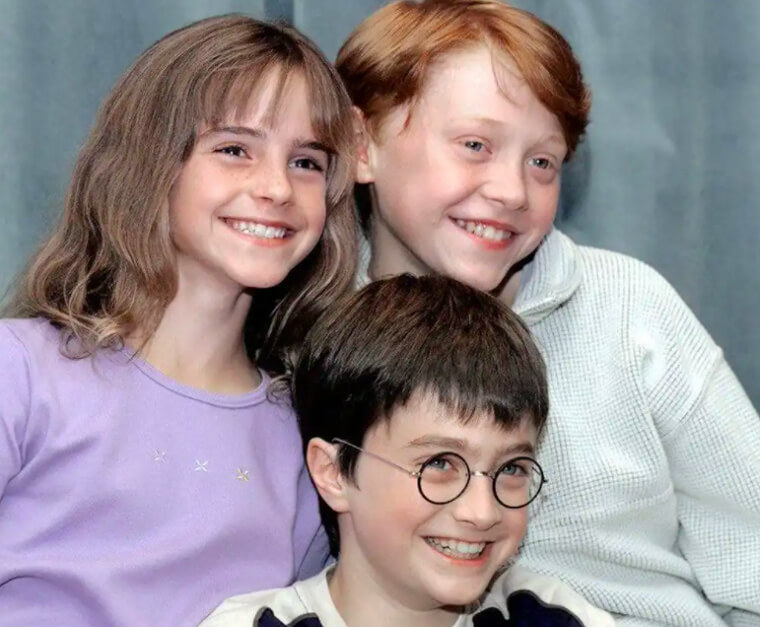 In Sorcerer's Stone, for example, you might be able to notice that during the train sequence her teeth were quite different – this was among the first scenes they filmed. But eventually, Director Columbus understood that it didn't make sense to make the actress struggle with the fake teeth for much longer.
​It Took Two Hours Or Three Every Day To Make Voldemort Look Scary
While we know that Voldemort and Dumbledore's relationship wasn't actually that dark behind the scenes, it might still be a little surprising to look at this picture of the two of them smiling at each other. The truth is that while Ralph Fiennes really made it believable that he was the Dark Lord thanks to his impeccable acting skills, he is just a really good guy in real life.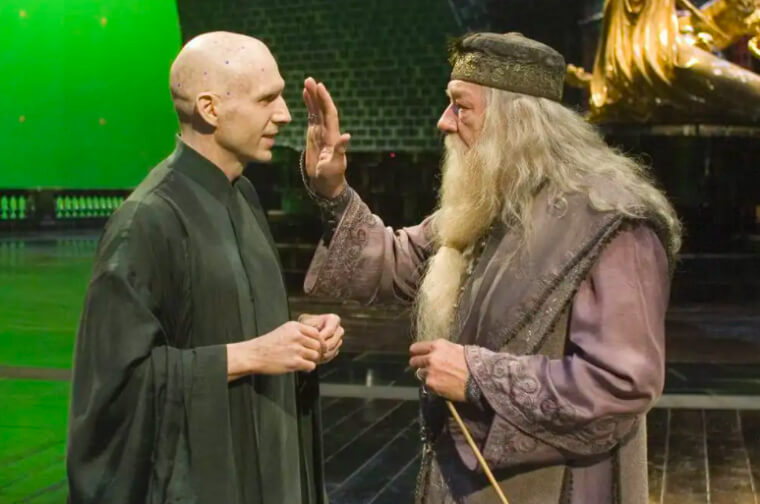 In order to make him look scary, it took the make-up team about two hours or three to carefully transform his face. Producers also decided to use CGI to remove his nose in order to make him even scarier.
McGonagall's Name Is Placed Right Next To James Potter's Name On The Quidditch Trophy With A Strange Year
In Harry Potter and The Sorcerer's Stone, there is a scene in which Hermione helps Harry when he starts feeling anxious about his upcoming Quidditch game. Hermione takes Harry to the place where all Quidditch trophies are displayed, showing him his dad's name in one of the trophies. When Harry sees James Potter's name he instantly becomes emotional, making it a very heartwarming scene to watch. Interestingly though, Professor McGonagall's name can also be seen in one of the trophies, showing that she won the award in 1971.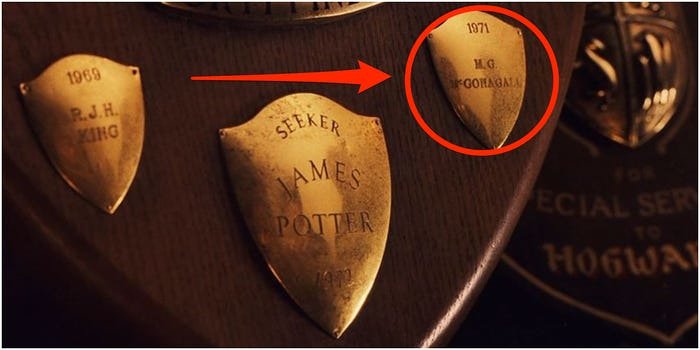 When thinking about it, that doesn't make any sense, since the storyline says that she was a Professor in Hogwarts in "Fantastic Beasts: The Crimes of Grindelwald," which took place in 1927.
Why Ron Wears Run Down Robes In Chamber Of Secrets
It's not a secret that in comparison to his peers, Ron comes from a considerably less affluent home. This is a detail that is constantly pointed out by Draco Malfoy during Harry Potter and The Sorcerer's Stone. In order to emphasize this detail about Ron's life, the movie's costume designers wanted to add little features that would make sense with the storyline. That is why throughout the movie, we see Ron wearing robes that were much more run-down than the others because he was most probably inheriting them from his older siblings.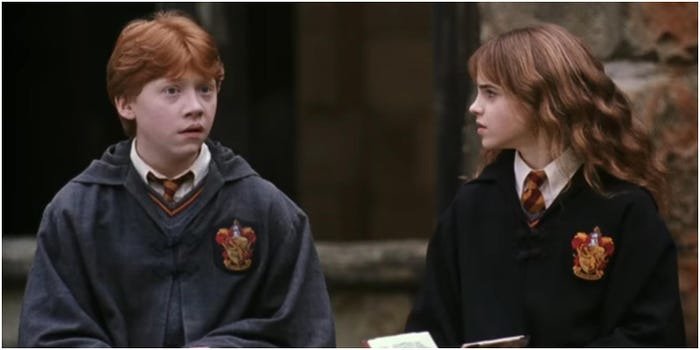 The robes were clearly older, scruffier, and paler in color than the other students' robes, helping to highlight his background throughout the film.
A Scottish Deerhound Played The Other Syrius Black
Syrius Black is another one of those characters that one could not help but completely root for. While his character started a little bit off, as the film continued to unfold, we understood that Syrius was actually a crucial character in Harry Potter's life. Not only that, but he was also incredibly special. Syrius was one of the only seven wizards who were able to completely transform themselves into an animal.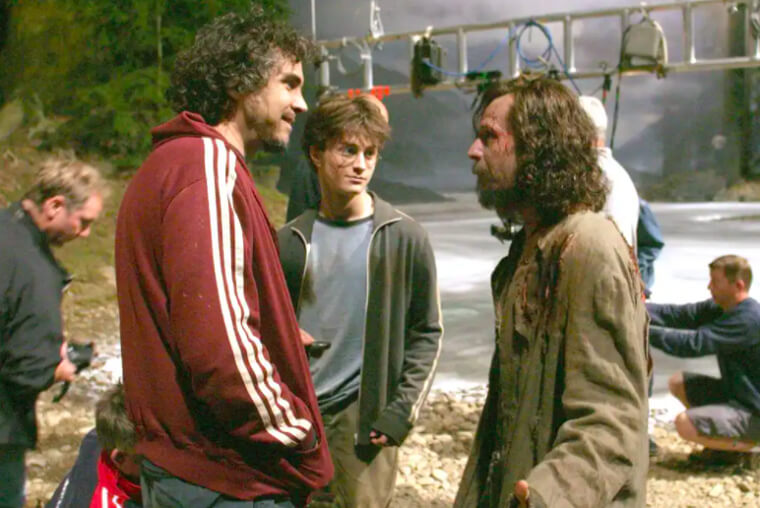 Each of them transformed into something else, with Syrius being a wolf, Wormtal transforming into a rat, and professor McGonagall transforming herself into a cat. Obviously, it wasn't really a wolf that played Syrius after his transformation. It was actually a majestic Scottish Deerhound named Cleod.