HuskMitNavn is a Danish artist who is known for his black-and-white and colorful drawings of things as simple as taking toothpaste out of the tube or as difficult as getting hold of a toilet paper when it is out of your reach. With over 200k followers on Instagram, his list of admirers keeps on growing. He brings simple things to life by using clever 3D tricks. So, let's have a look at his super cool works.
A Silent Message For All Of Us
Global warming is a serious issue that is not only affecting us but also animals all over the world. As glaciers are melting, many animals are losing their habitat.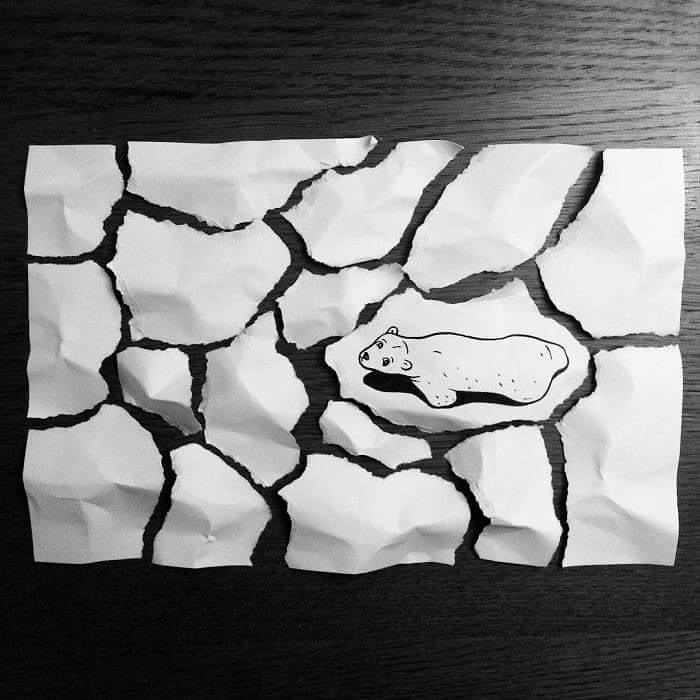 It is a sad photo that depicts reality and gives us a strong message that we need to play our role in controlling this problem.
Iron It Out
Here is a pretty good pun for you: Stop the Presses. Did you like it? Please say you liked it.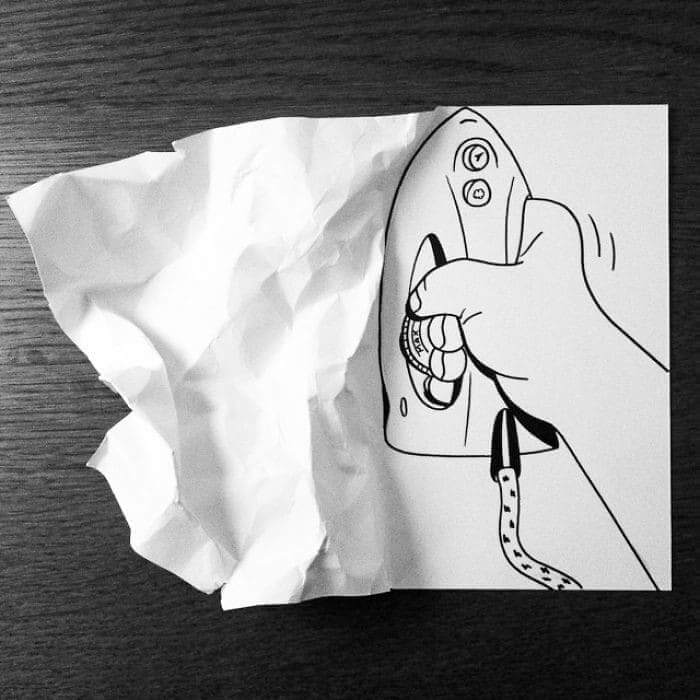 And tell us why we feel such a sense of relief looking at this. Amazing work HuskMitNavn!
Fisherman: I Think I Need A Bigger Hole
It is amazing to even think of such a thing. This would be the most perfect birthday card to give to anyone who loves fishing.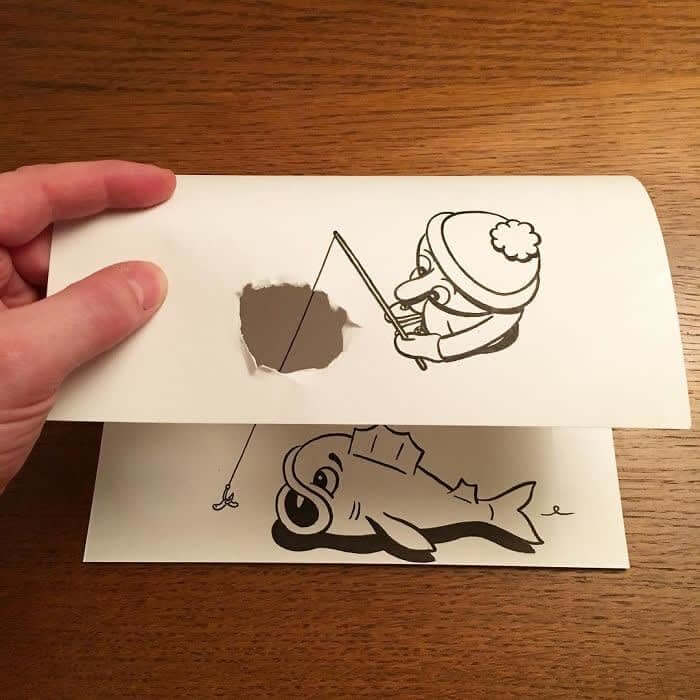 By the way, the work of this artist is quite thought-provoking as it looks like a shark and their numbers are declining due to over hunting.
Snowman Love
We love this one. It is quite clever though. The artist must have a great sense of humor and quick wit.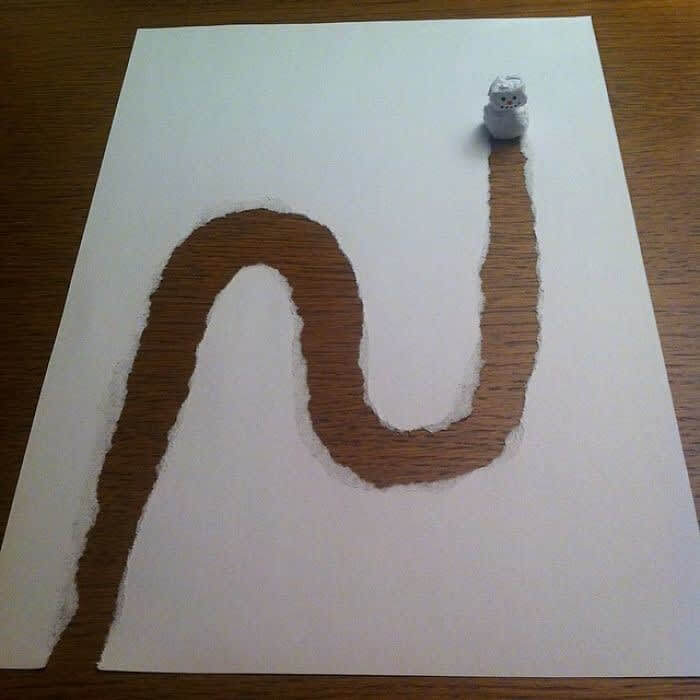 First of all, that is very precise paper tearing. Secondly, we have to give some sort of applause for the artist's creativeness.
Livin' On The Edge
We love the artist as he shows us how perspective works and he does a pretty good job at it.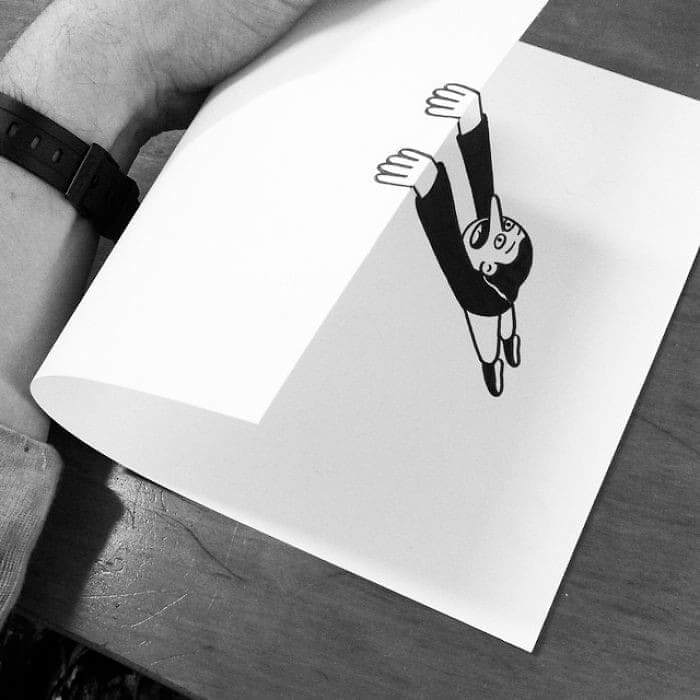 After all, you can take a look at this work and understand it from your perspective.
Reminds Us of Sideshow Bob
Oh hello there. This must have happened to some of us and the artist hits bull's eye with this work.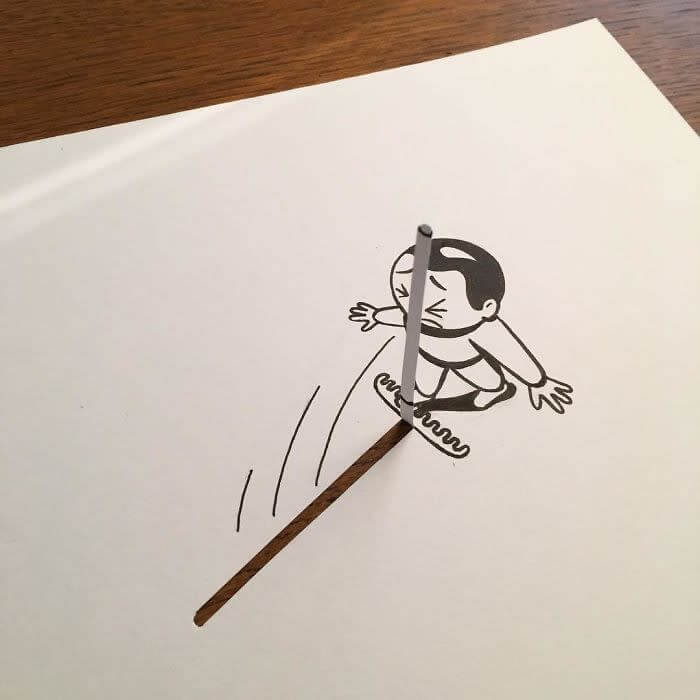 Looking at it, the first thought that came to our mind was of Sideshow Bob and then Tom & Jerry.
Ah, The Struggle Is Real
This one hit the spot the moment you look at it and you have to admit that it is quite funny.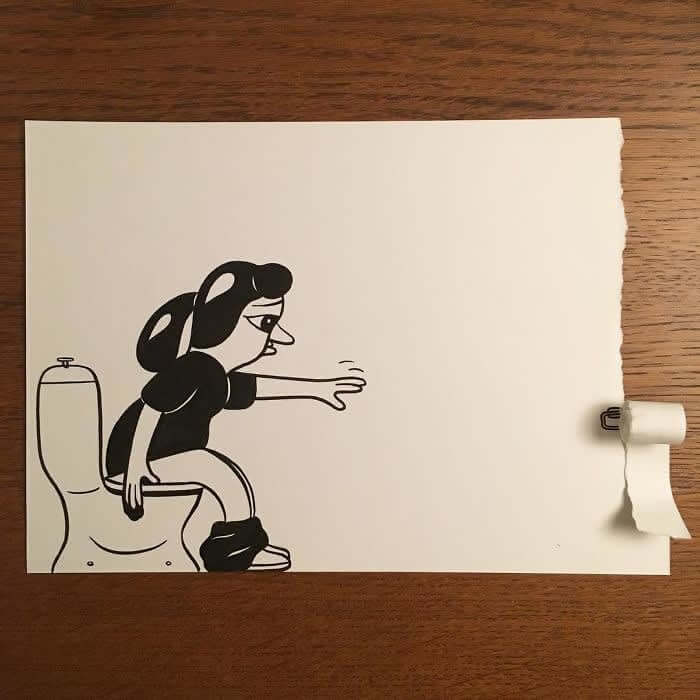 It must have happened to you at least once in your entire life. We just hope that may the force be with you whenever it happens to you in the future.
We've All Been There
When was the last time you had to squeeze the toothpaste out because you were too lazy to buy a new one?
This is quite clever as it is the case with most of us. We are too lazy to buy new toothpaste and then we end up squeezing it out.
Run, Boy, Run
This is just super creative stuff by the artist. It may take a couple of seconds to understand it, but it is quite hilarious.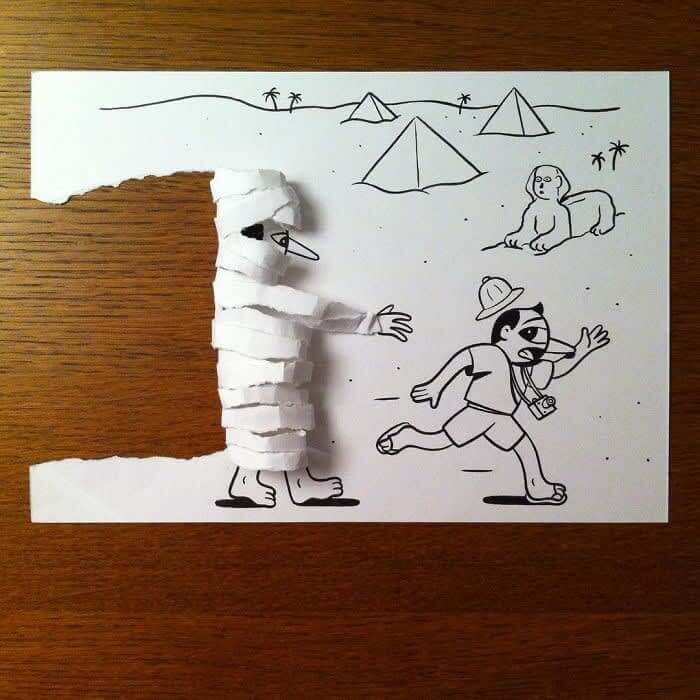 We noticed that the sphinx looks more shocked that the guy running from the mummy.
Wading In The Ocean
This is so amazing and creative. After all, when there is skinny dipping, you're like, "ah, this is the life."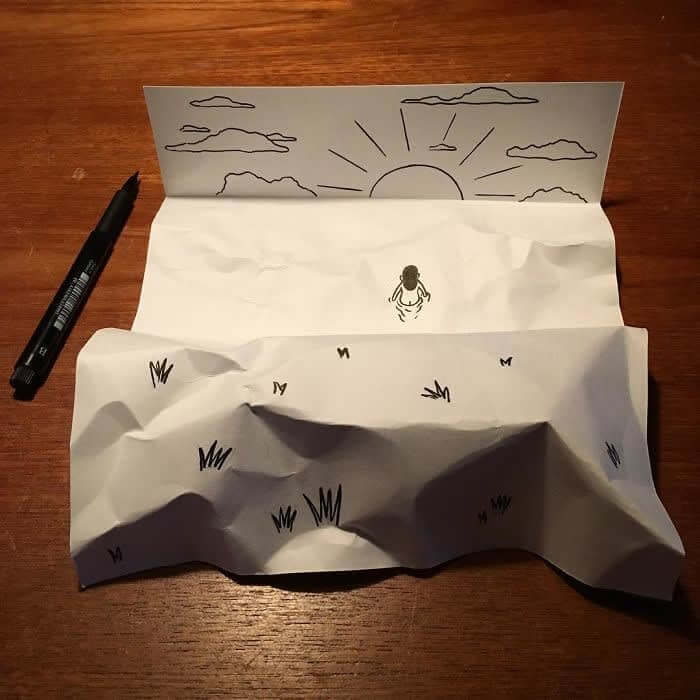 Now, we want to go skinny dipping somewhere there is calmness and peace.
Oh, Crap!
This is just great. You "wood" think that this photo needs to get some sort of award. You saw what we did, right?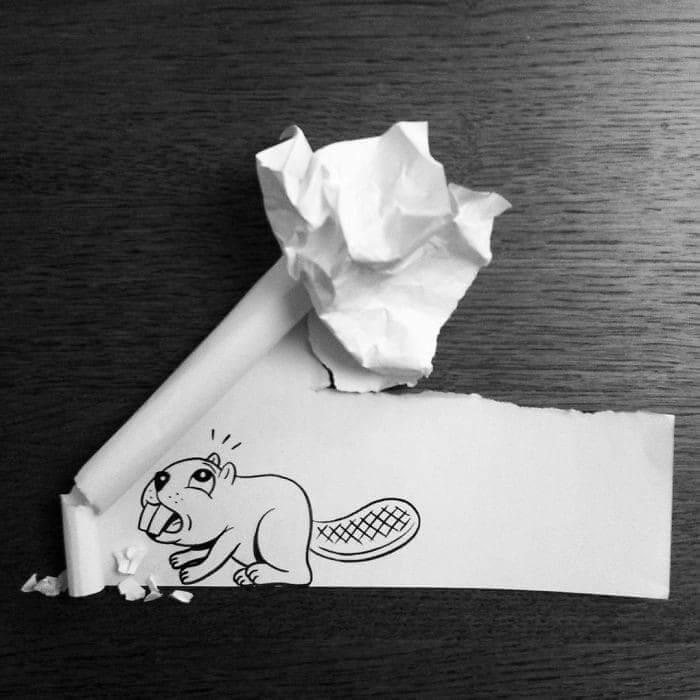 The beaver in his tiny voice would be like, "Oh crap, I bit off more than I should have." Amazing stuff!
Different Destinations
Each year, millions of people travel by plane and this one shows how at some point they cross path.
We really like how subtle the artist is when it comes to portraying his message. Impressive work!
Walk The Ledge
Wow, this is awesome perspective work. We cannot get enough of this guy.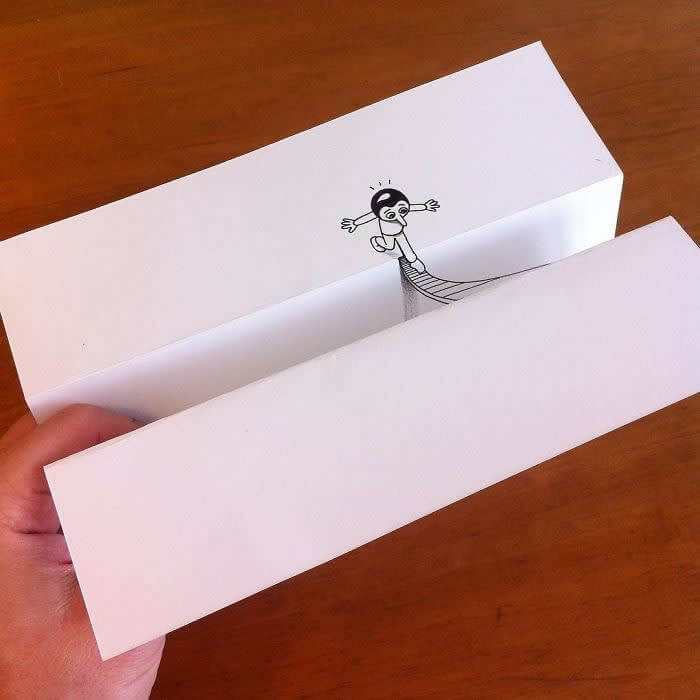 This one reminded us of the Walk movie. If you haven't watched it yet, we urge you to try it as it is a must-watch movie.
That's Quite A-Peeling
As foodies, we always appreciate edible art and this one is awesome. We absolutely loved it!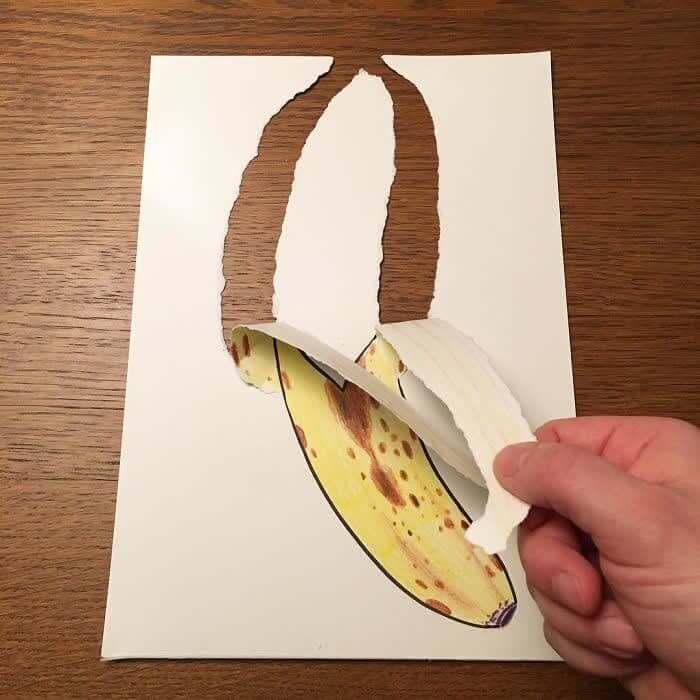 The artist didn't convince us to eat a banana right now, but we have started craving for a banana shake.
The Fear Is Real
It looks like this guy is about to enter another dimension or about to enter the Twilight Zone.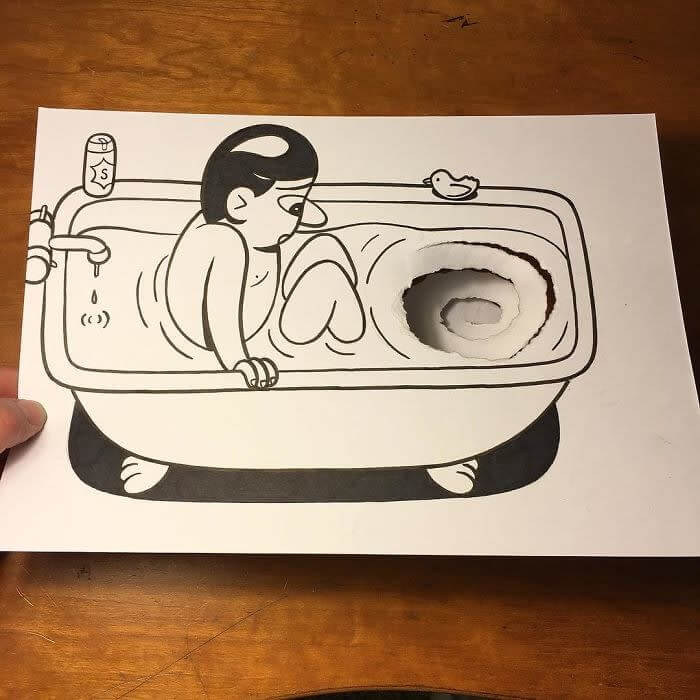 But the fear is real as we remember that gulp and used to think that it would suck us down the drain.
It Seems Fishy
It seems like he had plans of eating sardines for dinner. But everything looked fishy from the start.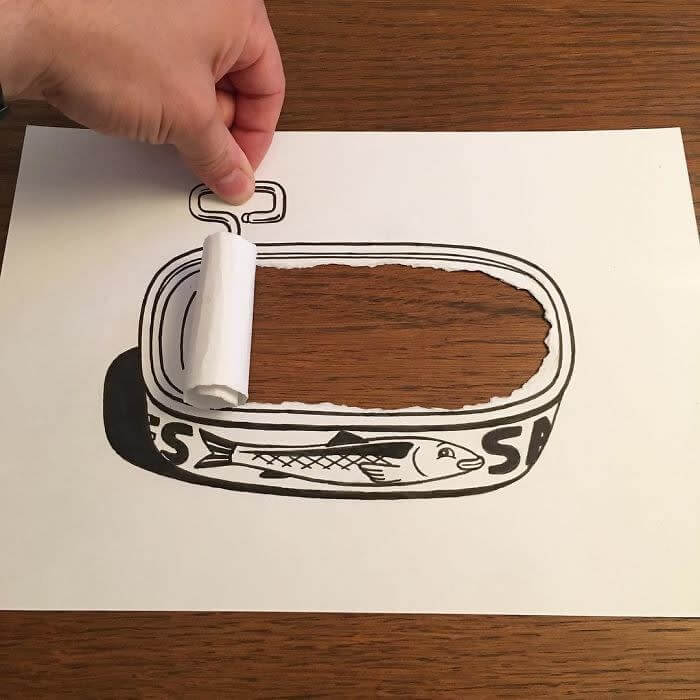 It is all because the can is empty and there is no freaking fish inside.
Hello Human
It is a clever piece of work. It is like, "I have no idea what I am doing here."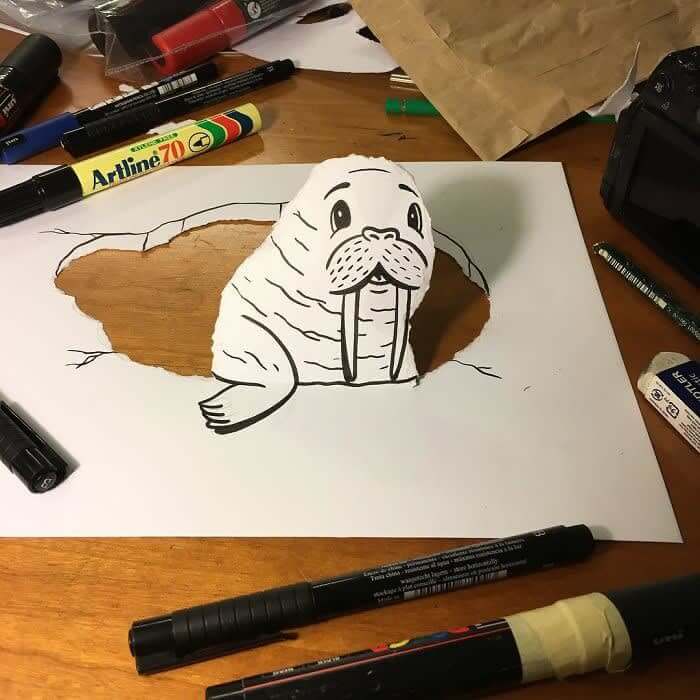 By the way, that face made us smile and an unintentional "aww" came out of our mouth.
Why Is He Looking Angry?
Everyone who saw this piece wondered why the giraffe is looking angry here.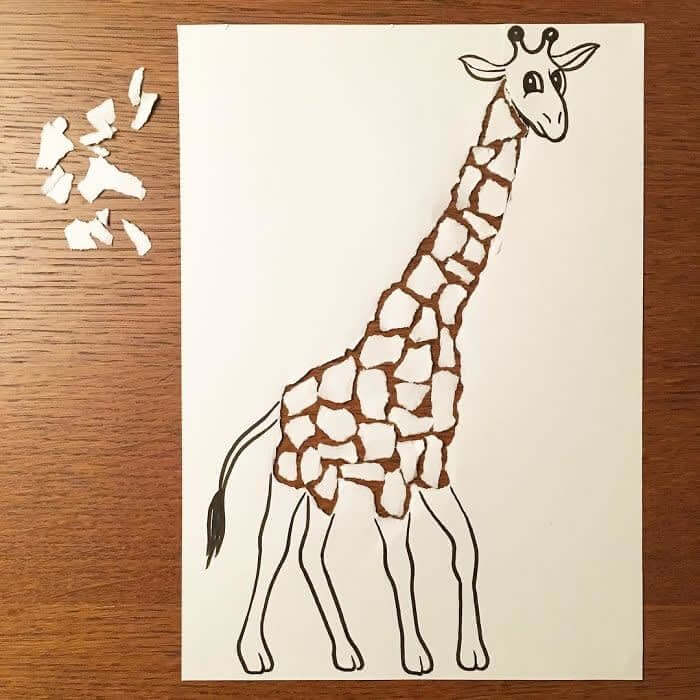 Well, someone pointed out that it is because its torso is coming apart and the comment really cracked us up.
The Dark Side of The Moon!
What does this piece remind you of? We thought of it as the dark side of the moon, but it does kind of look like the Death Star.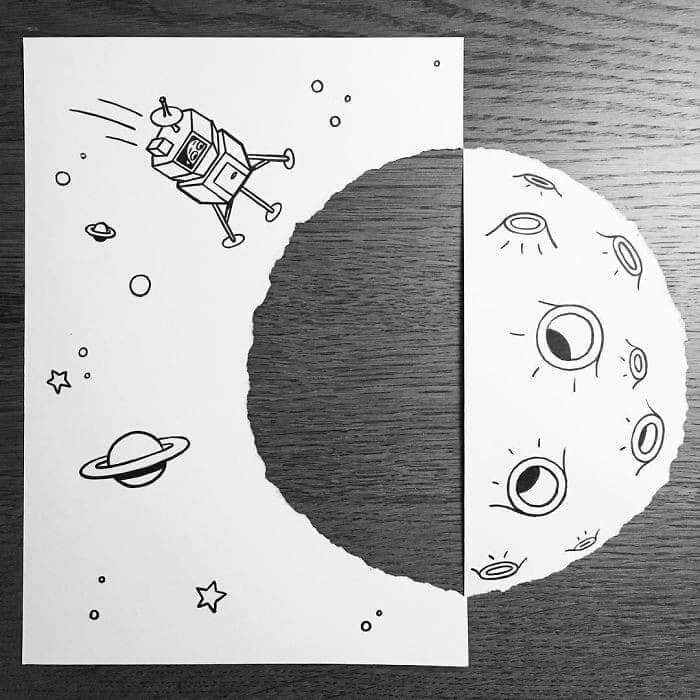 As fans of Rick and Morty, we want to believe that it is just another planet where Rick and Morty go.
Not Much of An Upside Here
This one may look a bit funny at first, but we think that it is completely the opposite. This kid needs a playmate and the sadness on his face is quite evident.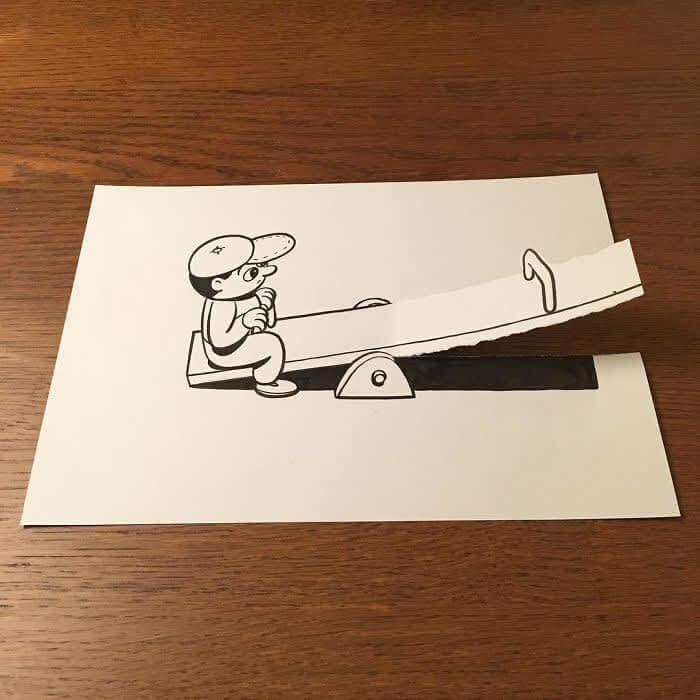 It gives us a message that we don't need to leave those people who are a bit shy or are introverts. And please don't try to push them to do something they are not comfortable doing.
Smiley Knick Knack
Okay, this is super creative work by the artist. We didn't know that he could be this much creative with his work.
Perhaps, we underestimated his talent. Thank you so much HuskMitNavn for reminding us of those times when we used to play for hours with them.
Wonderful and Sad Work
Although the artist wasn't indicating the refugees' crisis, looking at it made us think of all the refugees from war-torn countries.
That is why most of them have sad faces. It is a really good work by the artist.
Caught Ya!
Graffiti is something that can be really creative, but then there are fines by the government if you're caught doing it.
Perhaps the artist wanted to point out the work of graffiti artists and how they have to deal with the risk of getting caught.
Noodles. Yummmmm!
We really like it how the artist used pencils instead of real chopsticks.
It is because he could have easily used chopsticks for it, but what we have understood so far about him is that he thinks outside of the box on most occasions.
Disjointed?
This one reminds us of how Tom in Tom & Jerry would drool over the turkey leg piece.
By the way, the artist just wanted to show us how human joints work.
A Real Crack Up
When this happens, it is time to lose a few pounds or just buy new pants. Has it ever happened to you, especially as a kid?
Nevertheless, it is the reality and quite fun reality for others (of course).
Oh, Crap!
The expression of this character suggests that he didn't do it on purpose. But what could be the reason behind it? Maybe he lost some weight and wore his old pants and that's why they dropped down.
This wouldn't be his expression if it had happened in the jail (it reminds us of Key & Peele sketch in which a rapper accidentally drops a bar of soap in a shower in front of other inmates).
Start Again!!!
It reminds us of American former competitive swimmer Michael Phelps. He is one of the most successful Olympians of all time with a total of 28 medals.
It may seem like no.2 started again, but we think that character refers to Michael Phelps. Nevertheless, this 3D art would certainly put a smile on a lot of swimmers' faces.
Attention to The Details
This one is just superb. It reminds us of all those cartoons in which you could see lines in the newspaper.
The artist also made sure there are lines and a few photos in the newspaper. Brilliant work!
The Freaking Cold
People living in cold areas can relate to this work and say, "this so damn true."
From the running nose to the scarf to the shivering legs, everything about this photo is perfect.
Moms Are The Best
This one shows the motherly love and how they inspire their kids to do things. Moms are awesome and this is dedicated to all moms out there.
By the way, the mailbox is pretty tall. Maybe it is because they want to avoid Santa being spammed with so many mails from their kid.
History In 3D
The artist doesn't just show us what's happening in today's world, he also gives us history lessons. After seeing it, we feel so bad for the dinosaurs.
We can only wish they didn't see it coming and it all happened quickly.
Reimagining Hansel and Gretel
We really like the characters. We mean the style of the cartoon; it's funny, simple, and strong and remind us of our old favorite comic.
We have to admit that we are quite impressed with this artist. He knows what points to touch and he highlights every important point quite well.
The Wait Is Over Man
The artist was great up until this point and then he elevated his game with this masterpiece.
It looks so real and one wonders how many hours he spent to complete this project. He just keeps on impressing us.
The Scoop of Heavenly Taste
All ice cream lovers can start to imagine themselves eating ice cream after looking at this work.
What is your favorite flavor when it comes to ice cream? Tutti Frutti or Vanilla?
"You're Dead!"
It seems like the fly is doomed and the fly knows it very well. The fly must be having a flashback of how it spent its entire life and what decision led to its downfall.
Although we don't like any particular fly too much, this one seems cute and now we have a soft corner for this little creature.
Let's Grind
Can we please have a pound of hamburger, please? Is it okay to imagine burgers after looking at it?
And most importantly, is it okay to have the mouth-watering feeling after looking at this meat grinder? We have so many questions and no answers.
For The Love of Hiking
All fans of hiking say "yayy." If this one cannot ignite the passion for hiking in you, we don't know what will.
It is impressive work and look how amazingly he used the rolled paper as a stick. Nowadays, rolled paper isn't used like this (if you know what we mean).
The Love for Bowie
Are you wondering what is Aladdin Sane? Well, it is the name of one of David Bowie's albums.
Aladdin Sane was the sixth studio album by English musician David Bowie, released on 13 April 1973. In fact, it was the follow-up to his breakthrough The Rise and Fall of Ziggy Stardust and the Spiders from Mars.
Next Dig Dug Version?
What is the first thought that comes to your mind after looking at this art?
The first thought that came to our mind was, "what does this person eat that he has such a creative mind?"
Wakesurfing is Love
For those who don't know a lot about wakesurfing, they should know that they are missing out on a lot of fun by not doing it.
For those who don't know a lot about wakesurfing, they should know that they are missing out on a lot of fun by not doing it.
Let It Go!
We just want him to let go of the hose and then watch the reaction of the person holding the hose. It would be really fun.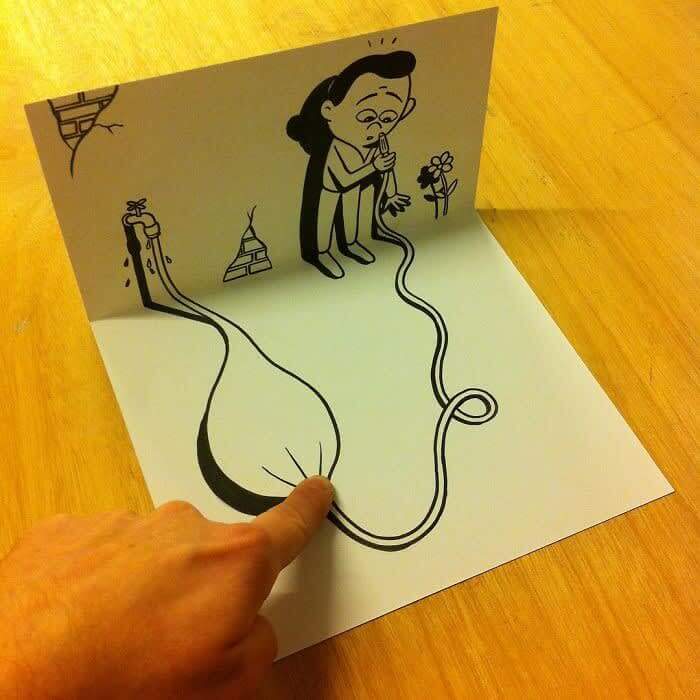 We need to try this on one of our friends or sibling. If only we were living in a cartoon world (sigh).
Years of Practice Needed
This person doesn't look like he could hit the target if it comes 2 inches closer to him.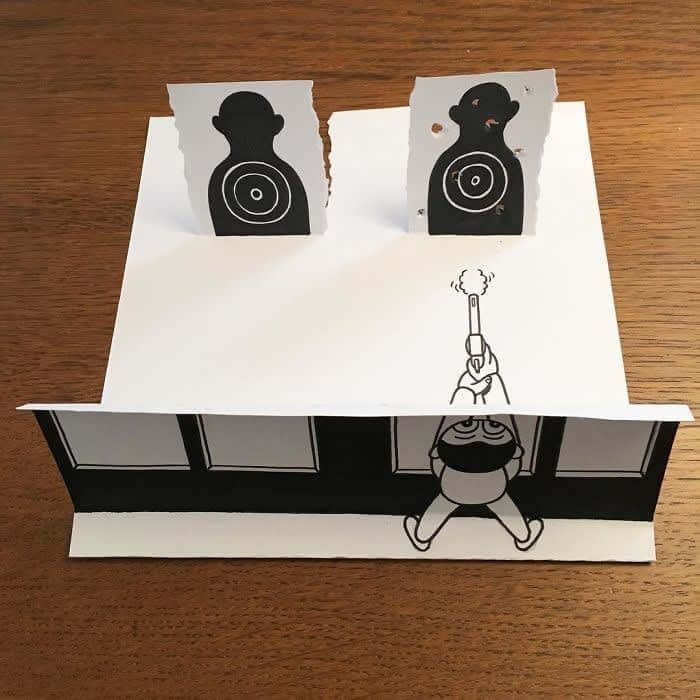 The people who know a thing about shooting would say that he is not standing right.
I Quit!
The snail is like, "that's it. I am leaving and taking my home with me."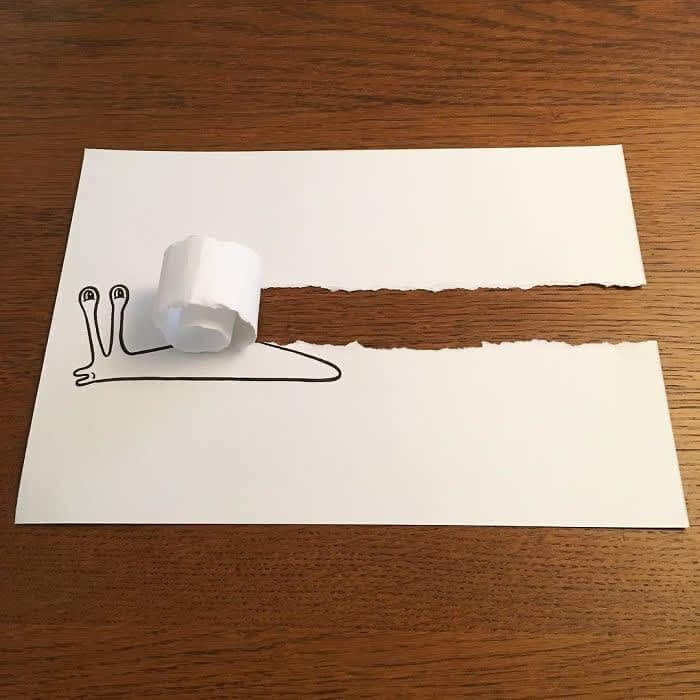 The life of snails is quite simple, right? They can go wherever they want to go and they don't need to worry about leaving their home behind.
It's A Cat Burglar
This peeping Tom is ready to steal the most precious thing in your home and you can't do anything about it.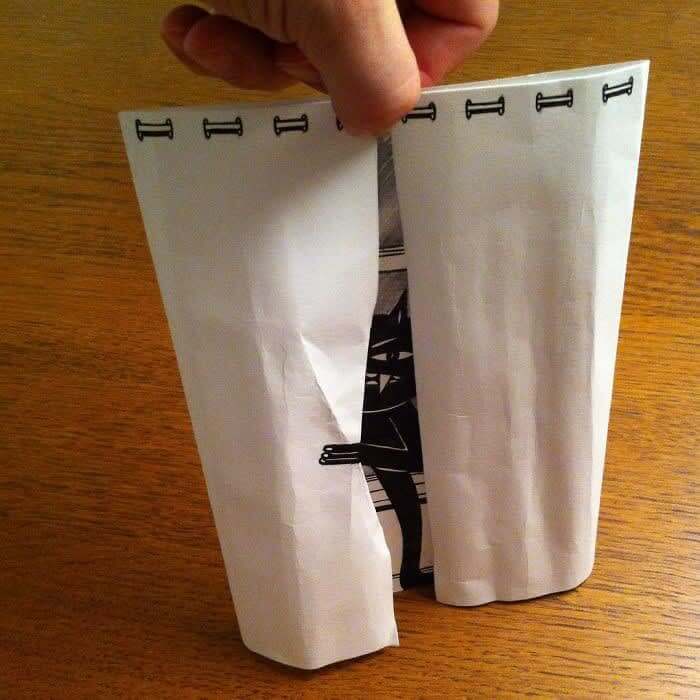 Or maybe you forgot to feed your cat and now it has hired a hit-cat to come and kill you.
Love Is In The Air
As fans of Titanic, we absolutely loved this work. Jack and Rose look like having a time of their lives and the couple in the car are inspired by the famous on-screen couple.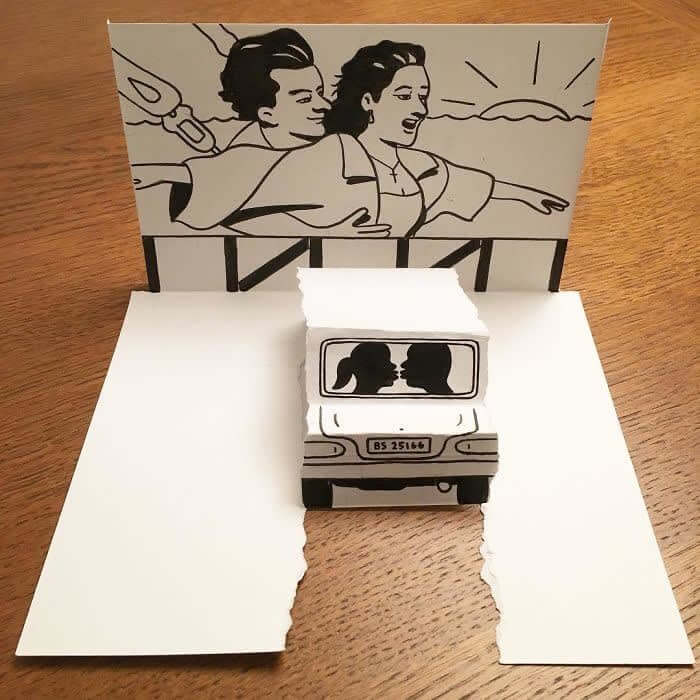 By the way, You don't see much of that anymore. We need to do something about it.
A.W.E.S.O.M.E
At first, we thought that the artist is referring to the sewer scene from the horror movie IT.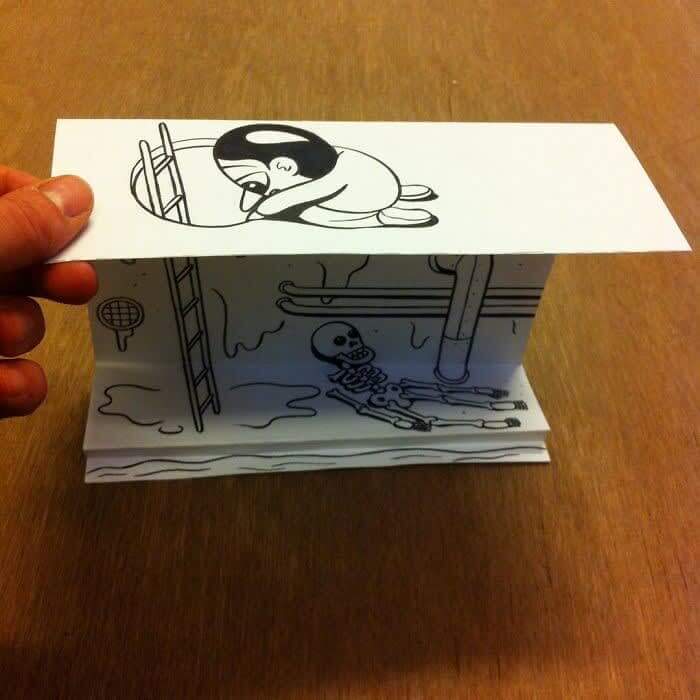 But now we are a bit confused. Maybe this person hides the bodies down there or maybe he is going down there only to find a skeleton and a creature that kills people.
No Help For You
You can see this piece and think of hundreds of reasons. He is hitchhiking on the wrong side of the road.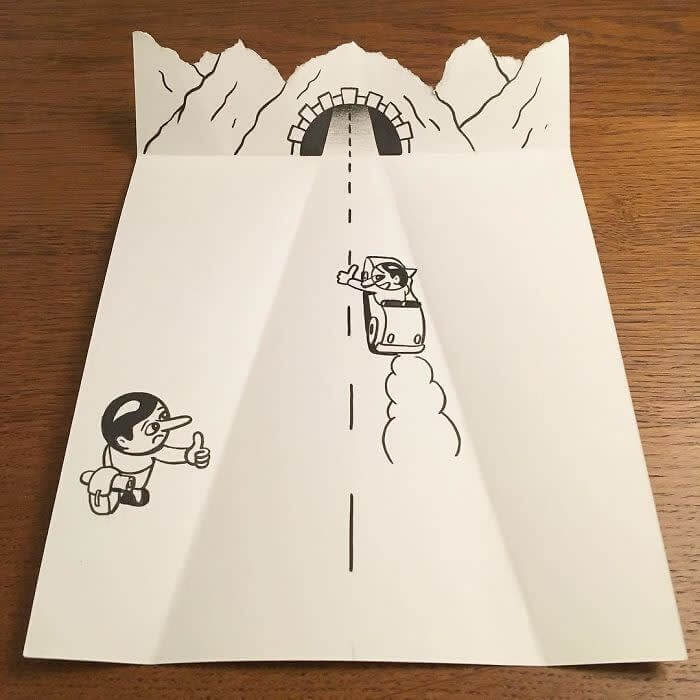 And then there is also a possibility that no one wants to give him a ride because of the fear of the unknown. Nevertheless, it is a pretty awesome work done by the artist.
Homer, Is That You?
The fans of Simpsons would really like it as Homer Simpson is super amazing.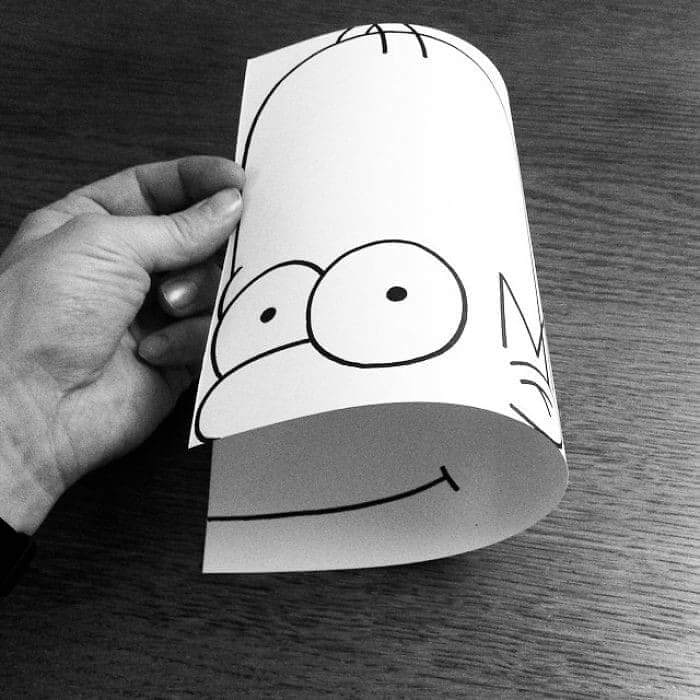 We just wish he'd make more 3D arts of other characters of the hit show. We'd like Bart Simpson for starters.
When Pizza Is Everything
Thank you so much HuskMitNavn for making us feel hungry now. We really like how the mushroom kinds of looks like a skull though.
By the way, this also looks like the human version of Pac-Man, right?
Smoking is Injurious To Health
Although the artist doesn't promote smoking, he came up with this brilliant 3D art that is just superb.
All smokers out there can relate to this work. We hope those who quit smoking don't get the temptation to start smoking again after looking at it.
Too Tired To Go To Bed
It looks like the artist finally fell asleep after doing all these great pictures.
We really love how his hands are so much a part of this 3D art. It is highly impressive work and attention to detail is admirable.
Long Way To Go
This one reminds us of a story, so please bear it with us. A man and his son were walking by a village with their donkey. People saw them and started to tell them, "One of you should sit on the donkey." The father sat on the donkey and they started to move on. In another town, people saw the father on the donkey and said, "How selfish he is that his young son is walking and he's riding the donkey like a king."
The father decided to let his son sit on the donkey. In the next town, people said to the son, "how can you ride the donkey when your old father is walking?" The point of this story here is that do whatever you want to do because people will keep on talking no matter what you do.
A Sad and Comforting Reality
This looks like a homeless man who only has one companion in this world; his dog.
It is quite sad that he doesn't have a proper pair of shoes and he is living on the street, but it is comforting to know that they both got each other for support.
This is Beautiful!
Like we said earlier, we have become big fans of this artist because of the way he thinks.
This may seem like one of his works, but here he is giving us a strong message about living together and breaking the walls that we have built among us. He wants to tell us all that we can still mend our relationships and live in peace.
Taking Doggo For A Walk
Dogs are beautiful and loyal animals. They don't mind even if you come home late or don't do what they want you to do e.g. play with them or take them for a walk.
Here, you can see how the artist is showing happy doggo. And we loved the shadow work of the dog.
It's Movie Time
Movies without popcorns look so incomplete, right? The artist just wanted to show us how one thing completes the other thing. Just like our work is incomplete without you.
Just like we feel incomplete if you don't share the beautiful articles we create for you (we know it's a cheeky way to make you realize it but we hope it worked).
Waxing Nightmare
Ladies know pretty well that waxing hurts like hell. The ladies should feel happy that now men understand the severe pain of waxing as well.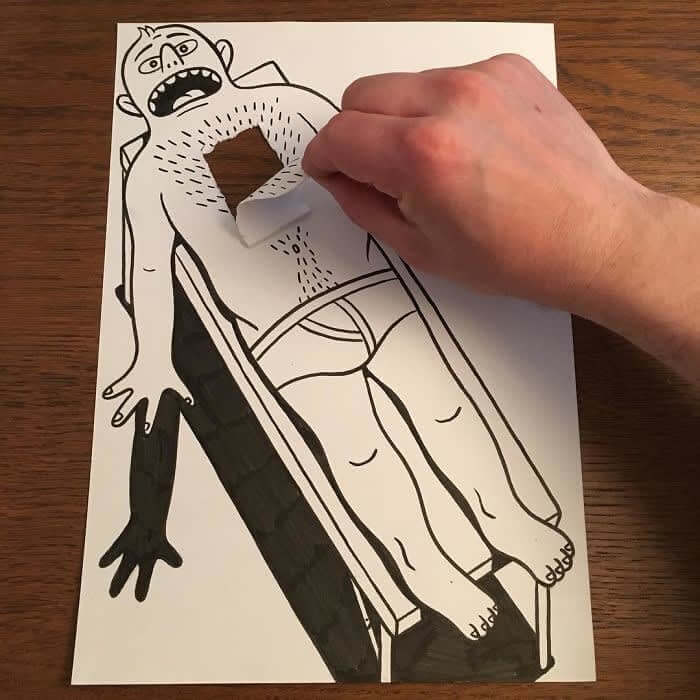 As men are trying waxing to remove unwanted hair from their bodies, they are shouting and screaming more than babies.
Football Lover Spotted
Hey, is this scene taken from the movie Shaolin Soccer? If you don't know much about this sports comedy movie by Stephen Chow, we highly recommend you to watch it.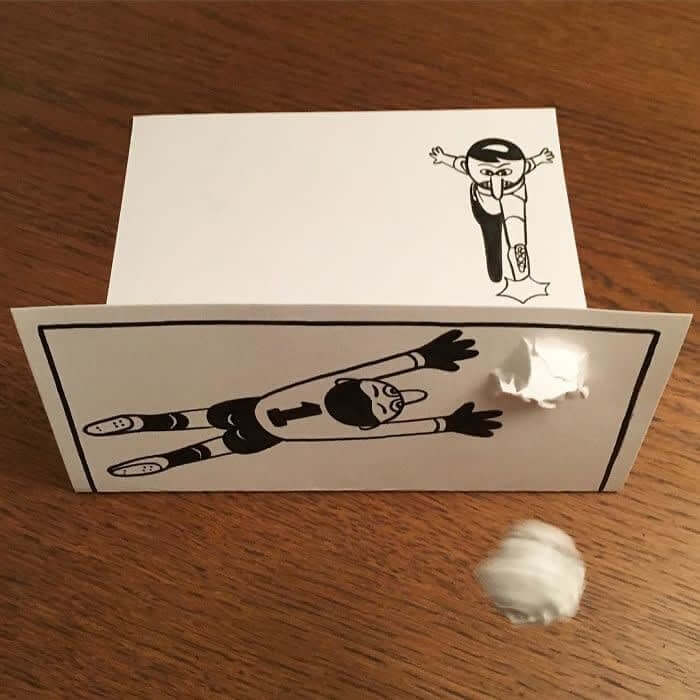 By the way, he must have done some serious homework getting that paper ball hanging.
But First, Let Me Take A Selfie
This work is dedicated to the craze of selfies all over the world.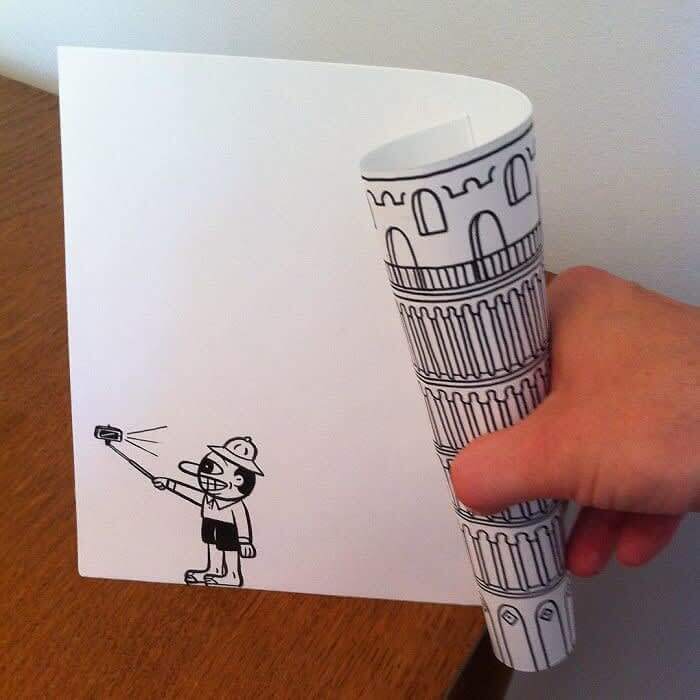 We used to think that it would go away, but it is getting more severe than ever. And please stop taking selfies…pleaseeeee!!!
Woman Hilariously Recreates Celebrity Instagram Photos And The Results Are Too Good
Ashley Lez
This article was originally published on TheFunPost
When you scroll through Instagram, it is hard not to roll your eyes at some of these celebrity photos. When you really look at what they are posting, it seems ridiculous because real people don't look like them or post pictures like them. But they are famous, so they get a free pass. However, Australian comedian Celeste Barber is back at it with a new collection of celebrity Instagram recreations to show everyone what ordinary people would look like if they took the same pictures. Remember, what you see online is not always the truth, and Barber's hysterical photos are the perfect reminder of that. See who she teases next with this new batch of hilarious pics.
"The Flash…It's Blinding!"
According to science, Bella Hadid is the most beautiful girl worldwide, and while we're still debating that, many people agree. However, looks aside, she does post some truly bizarre photos like this one. What was she going for with this shot? "Oops, forgot to turn the flash off."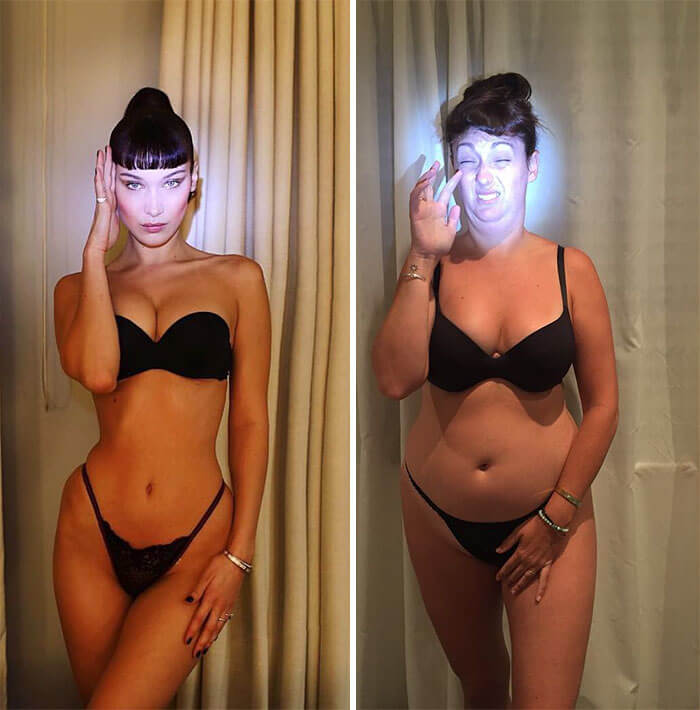 Celeste is all of us when someone takes a picture and they use flash. For the next few minutes, you just see spots and wonder if you are actually losing your vision permanently. How does Bella keep her eyes open like it is nothing? Is she even human?
"Tripped Over The Stool, Pants Fell Down, But I Must Save The Chips"
We don't know what is going on in either photo, but both of them look extremely uncomfortable. We can't imagine why the original model was asked to pose like this, and it makes no sense, but that's fashion, right? At least Celeste is reaching for something.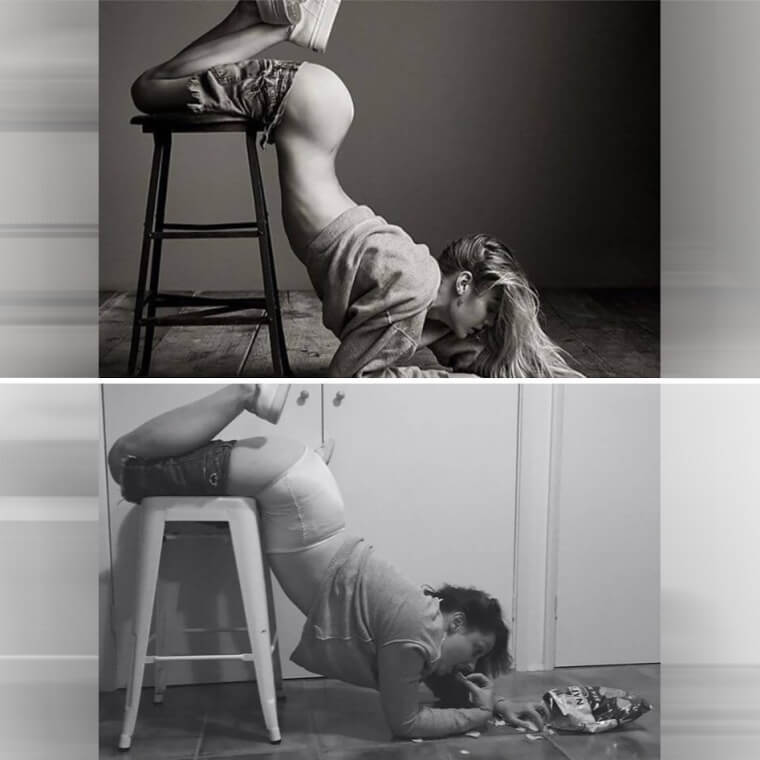 The bottom photo tells the story of a woman who dropped her chips and didn't want to get off the chair, so she reached as far as possible to grab them while keeping her legs on the stool. The only part we can't figure out is why her pants are falling off.
"All I Want For Christmas Is Realistic Tree Standards"
'Tis the season to be merry, go outside, kill a tree, bring it inside, then let it die and put it outside again. While we are all for Christmas trees because they are festive, we have to question why celebrities need one for every room? They also pick trees that are the size of a normal house.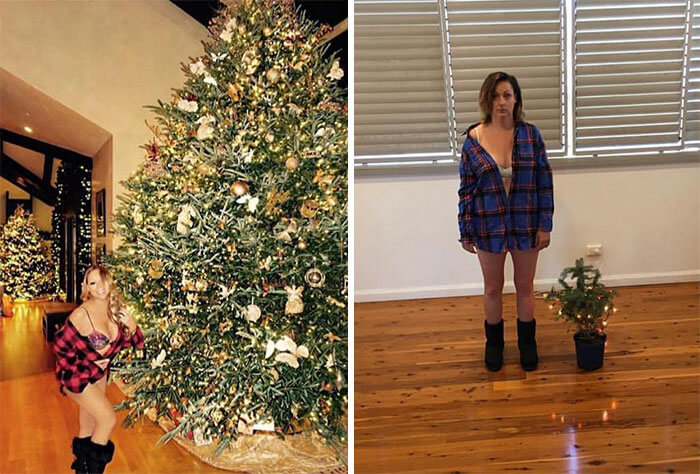 Most people don't have 12-foot pine trees in every room, and they look puny in comparison. Celeste was clearly going for the opposite feel with her Charlie Brown Christmas inspired tree. She can call it minimalism, and it will be trendy and eco-friendly.
KoKo And Kylie 2.0
Do you ever just hug your sister and rub your hands on her chin? We are going to guess that you don't, and although it was for a makeup advertisement, it still looks silly next to the bottom picture. Kylie and Khloe were showing off their makeup collaboration while Celeste is showing off her friend's dental work.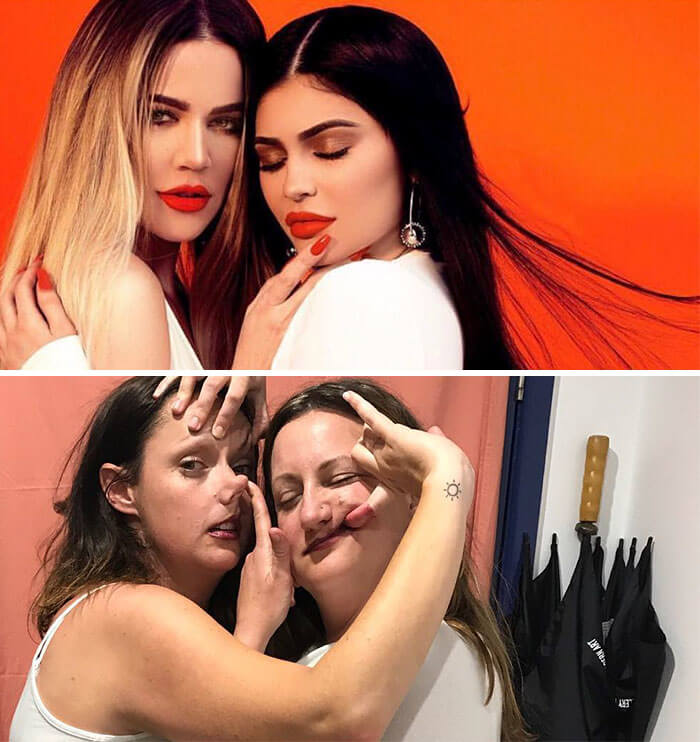 It's like we can barely tell the two photos apart. Celeste and her friend are a little more hands-on than Kylie and Khloe, but who isn't like that with their friends or siblings? We wouldn't let friends pick our noses but to each their own.
"Jingle, Jingle", Is That The Bank Calling?
When you have so much money that you start to think all those presidents are talking to you. Have you ever noticed that some celebrities feel the need to flaunt their wealth by posing with stacks of money? We know you are rich; there is no need to rub it in our faces.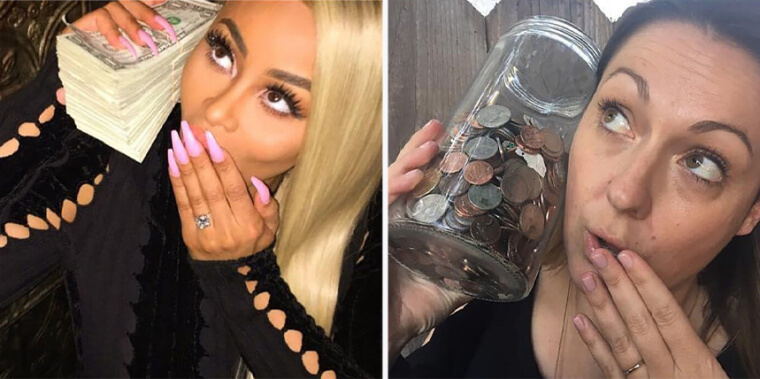 On the other hand, does anyone else keep a jar of change that they don't know what to do with? Like Celeste, the jar of coins is more realistic than stacks of $100. Over time it continues to accumulate until you can get to a Coin Star and find out it wasn't that much money.
"I Dream Of Eating"
While Bella Hadid is dreaming, the rest of the world is eating or dreaming about eating. They used to say that nothing tastes as good as skinny feels, but most people would rather eat a cheeseburger than starve themselves to lose a few pounds because everybody is beautiful.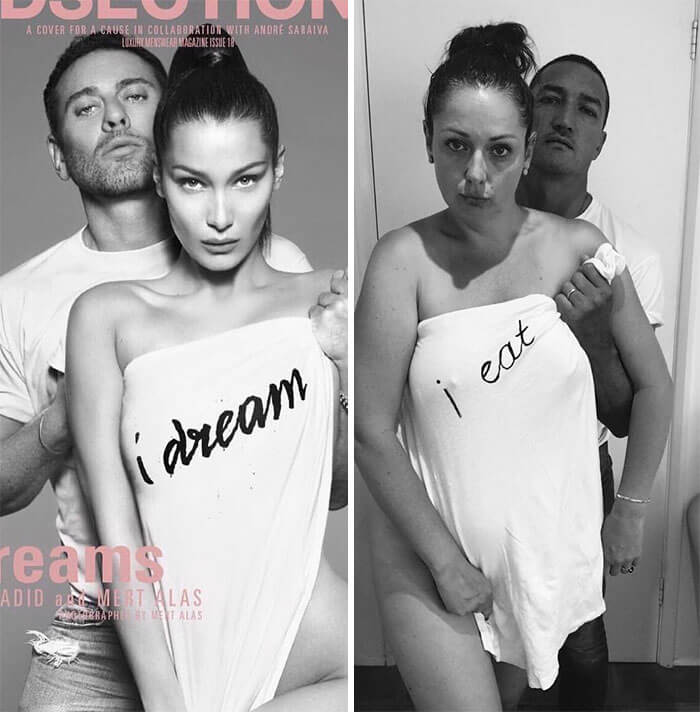 Besides the message, we just don't understand the concept behind this photoshoot. Did she lose her clothes and the only thing around to use as a cover-up was a piece of fabric with the words, "I dream" on it? When she found this piece of cloth, why did the guy have to hold it up for her? Someone explain!
"Fell Face First Into The Wall, No Big Deal"
This is how it looks when you drink too much at the pre-game and try to drag yourself out of the house physically, but you find a place to rest your head instead. The next thing you know, it's Monday morning, and you skipped an entire day because you got too drunk.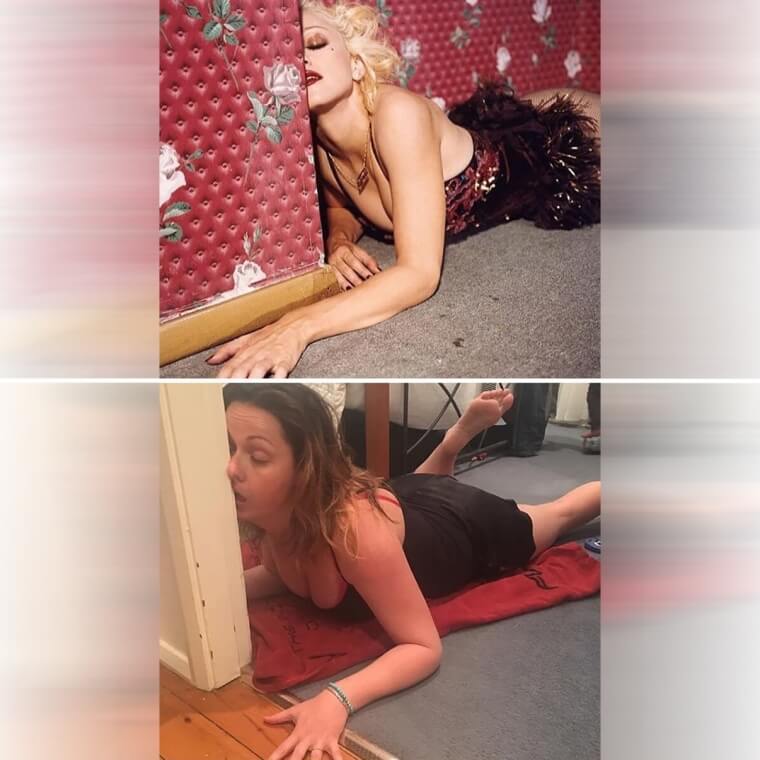 With or without alcohol, this is how we feel every morning trying to drag ourselves out of bed to get ready for work. Luckily most people are working from home these days, so you can just roll over and log on for the day without leaving the warmth of your bed.
He Is Going To Feel This Tomorrow
His back will be sore for the next few days after falling onto the water like that. When you kiss your significant other by the pool, don't you fall passionately yet gracefully into the water? Celeste showed that it's not as easy as they make it seem, and their photo looks painful.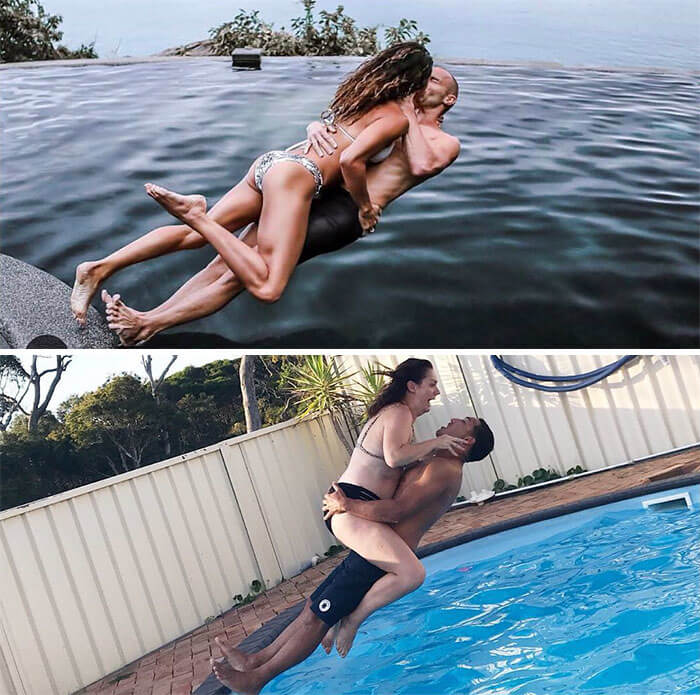 We understand that it's more about the art of the photo, but how do they look natural as they are falling? The two models should give everyone, including Celeste, falling lessons. At least her husband got his pose down, but we can only imagine his face as they hit the water.
Getting Out Of The Pool Gracefully Is Impossible
If you have ever gotten out of the pool gracefully, we commend you because it seems like an impossible task. It's easy to lift yourself out of the water, but no one looks good swinging their legs over the edge of the pool. No matter what we imagine, we always look like a gremlin crawling out of the depths.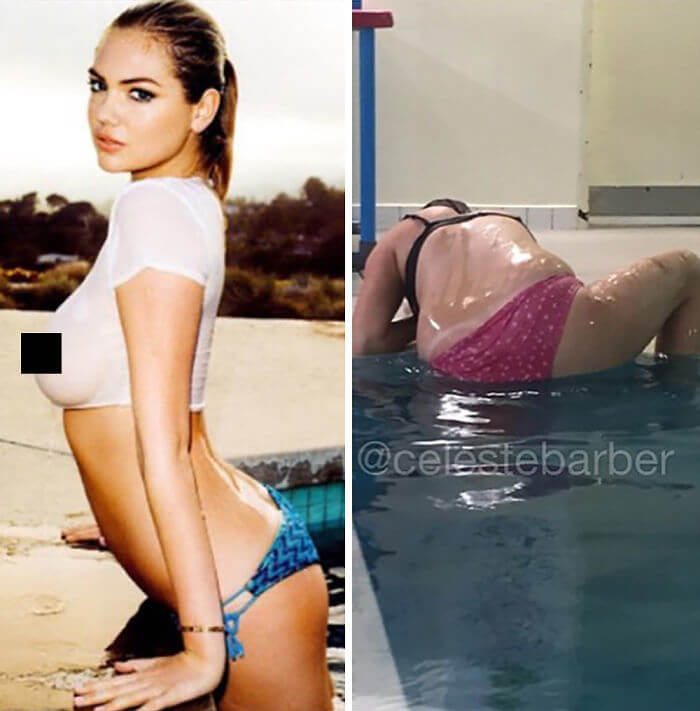 We would love to see this model try to get her legs out of the water. She looks good now, but wait until she starts swinging her legs over the edge, then she will be back on our level. Next time you go swimming, try to get out as gracefully as possible and see that it is nearly impossible.
Someone Needs A Weed Whacker
If this isn't attractive, we don't know what is. All jokes aside, why is something called the lady garden? Who would want to associate their perfume with their downstairs area? It just seems like the name is trying too hard.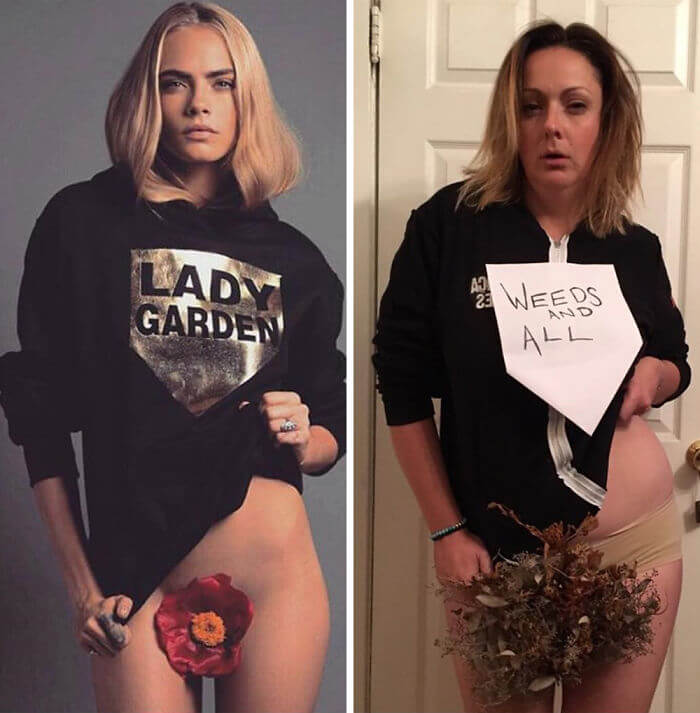 Plus, you can't have a lady garden without all the weeds and shrubs. No garden is perfect because they all need to be maintained through a series of painful tasks. Weed whacking isn't so bad; it's the weed pulling that makes people's eyes water.
Just A Light Poolside Workout
When you are chilling at the pool or beach, do you not randomly find the nearest wall to hang onto? Just for a light wall workout, you know, to make your muscles show for all the cute pictures you are about to take. If you don't do this, it is perfectly normal.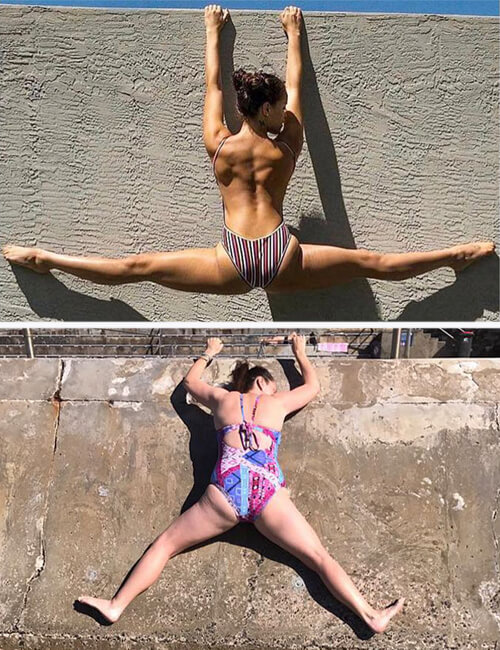 It's like when you are hanging out with your friends, and someone says your crush is coming so you "act natural," but end up looking forced. The top picture is what people think they look like, while the bottom photo is how they actually look.
"Oh, Were You Trying To Move This Couch?"
When movers come to take away your furniture, the natural thing to do is let them move it without any problems. However, celebrities are a bit different. They think their movers will also carry them on the furniture so they can feel like royalty.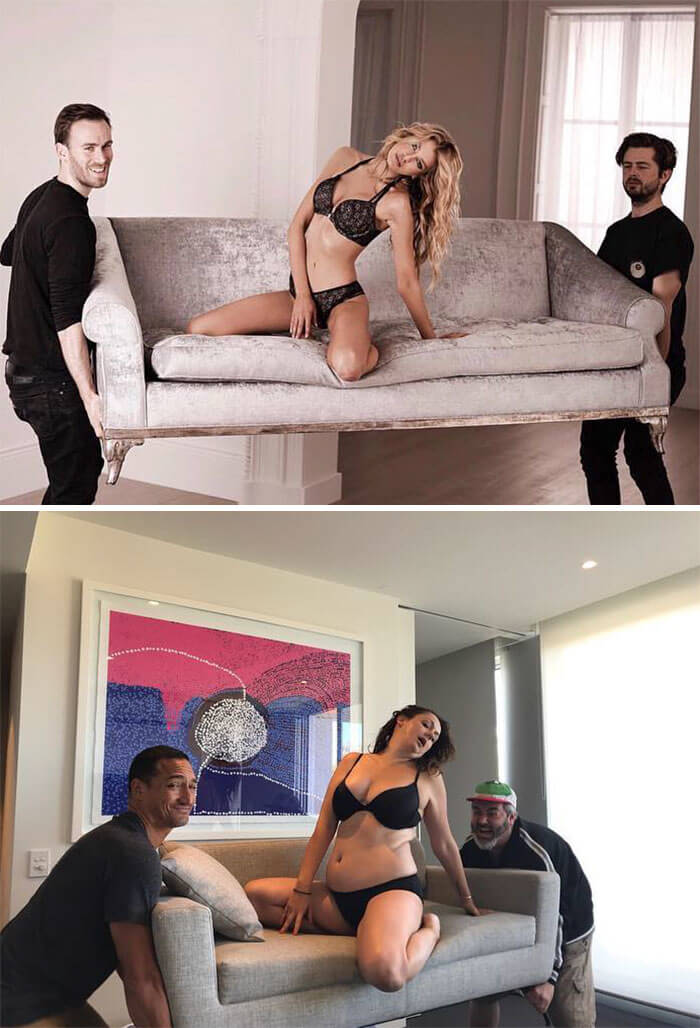 The men's faces in Celeste's photo are a much more realistic depiction of how people would feel if someone tried to sit on the furniture they were moving. Even the men in the top photo look awkward and uncomfortable. It is bizarre on so many levels.
"What Is Wrong With My Wife?"
"Hey babe, I'm ready for the photo shoot." "Where are your clothes?" "What do you mean?" "I thought we were doing family photos for our parents. Isn't it inappropriate that you are naked?" "It's not inappropriate; it's inspiring cause I just had a baby."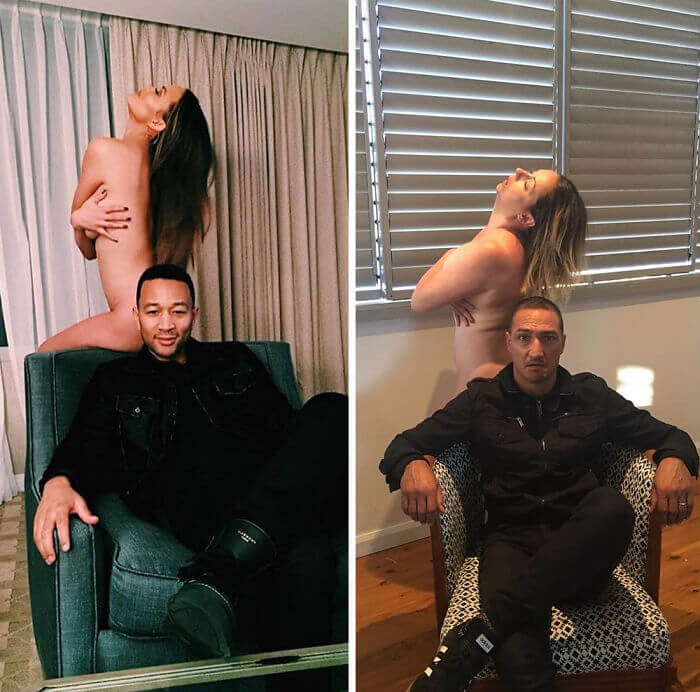 While her husband might not understand the no clothes aspect, she doesn't care because she gives the fans what they want… or even what they don't want. John might be happy, but Celeste's husband is thinking about what his parents will think when they get this as a Christmas card.
Wind In My Hair And Not A Care In The World
When you are in the club and you find a fan to help you cool off. Some people would look glam like Miley Cyrus, and the rest of us would look like we got stuck in a wind tunnel, like Celeste. Maybe a leaf blower wouldn't be the best option because of how much wind power it has.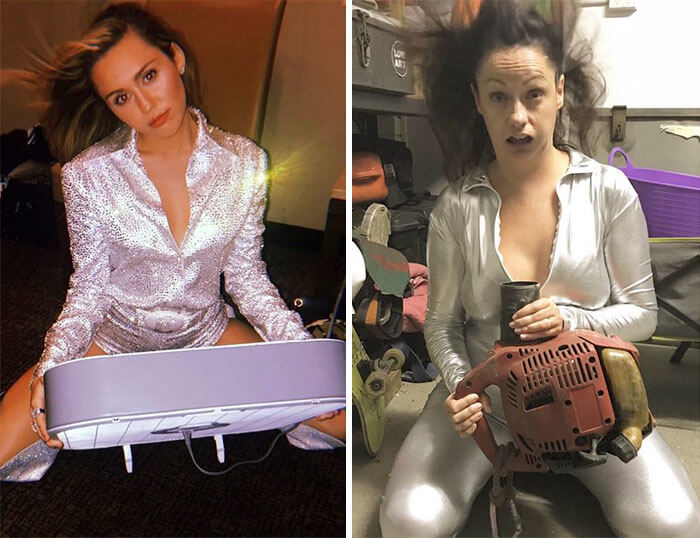 People can't be glamourous all the time, but we can do our best not to get overheated. A girl's got to do what a girl's got to do, especially when she is wearing a full-on spandex catsuit that traps heat and makes you sweat ten times more.
Doesn't Everybody Play The Piano Naked?
When you are trying to show off for your husband's friends, and then you remember you are nude, you don't know how to play the piano, and this is a horrible nightmare. Who goes nude except for a pair of Adidas sneakers to play the piano?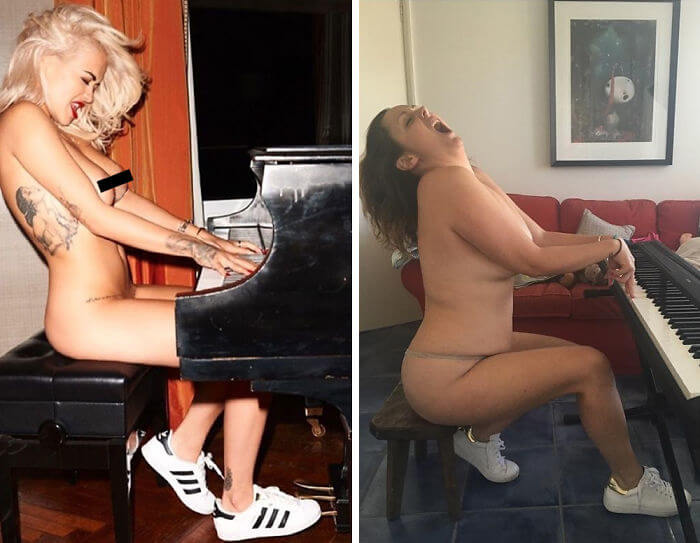 Just imagine how uncomfortable it would be to peel you bare behind off of a leather piano seat. Just thinking about it makes us uncomfortable. This must be the best way to absorb the music; if you are nude, it seeps right into your skin.
"New Tattoos, What Do You Think?"
When we look on Instagram, our feeds are filled with models who have unattainable bodies most of the time. When your main job is to keep yourself in shape, it is much easier to look perfect. However, the average person doesn't have time to work out for four hours a day.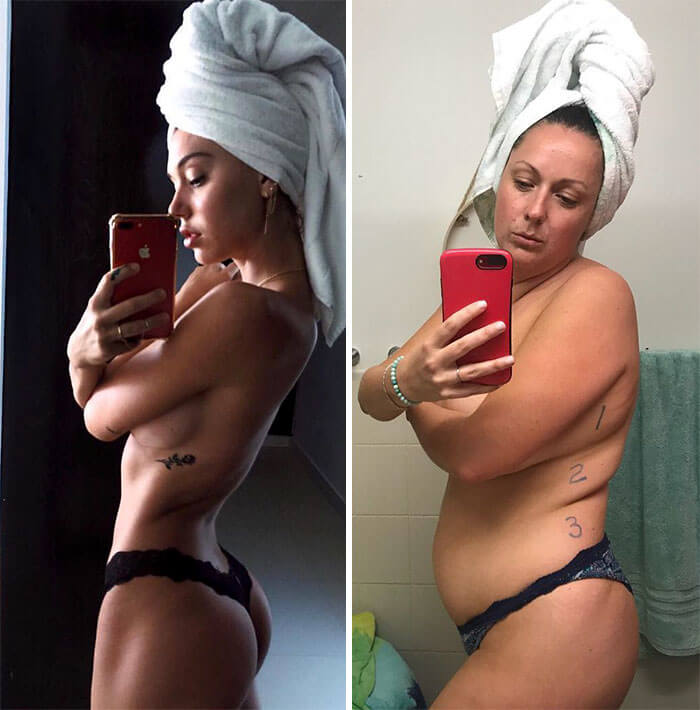 While this model may have an almost non-existent waist, most of us look like Celeste. It's ok to have curves and bumps because everyone is built differently, so you should love the body you have and everything it does. Comparing ourselves to models is a waste of time.
What Sisters Really Do At Meals
When you go out for a family brunch, and you and your sister start fooling around even though you are both adults. Your parents are embarrassed, but you are your sibling could care less because you're drunk off the mimosas and can't stop laughing.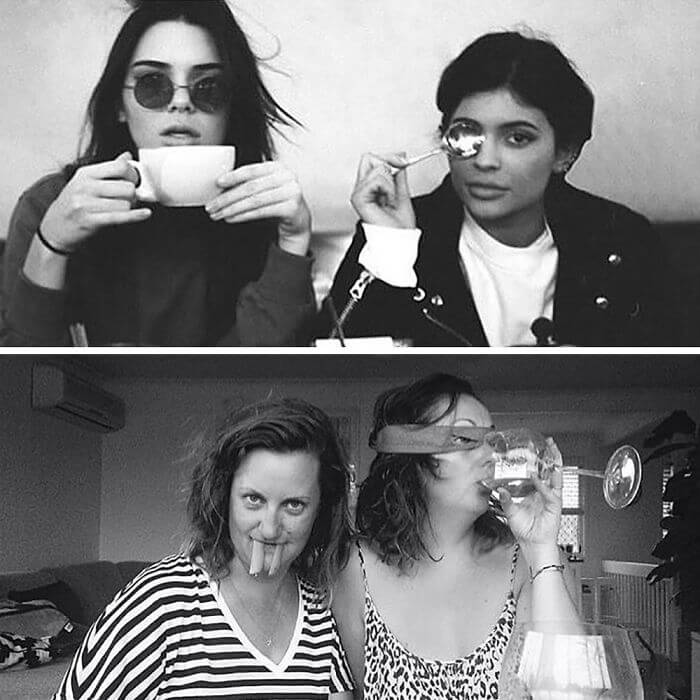 We can't all be as cool as Kendall and Kylie, but we can all be as silly as Celeste and her sister. There is nothing wrong with a little immaturity here and there to make life more exciting. Sometimes you have to pretend your fries are walrus teeth.
Casually Hanging In The Backyard With The Kids Toys
Have you ever stripped down to your undergarments and walked outside to play with a tractor? No, just these two? Out of all the strange photoshoots Kim Kardashian has done, this has to be the weirdest. She walked around a construction site in her underwear, and we don't know why.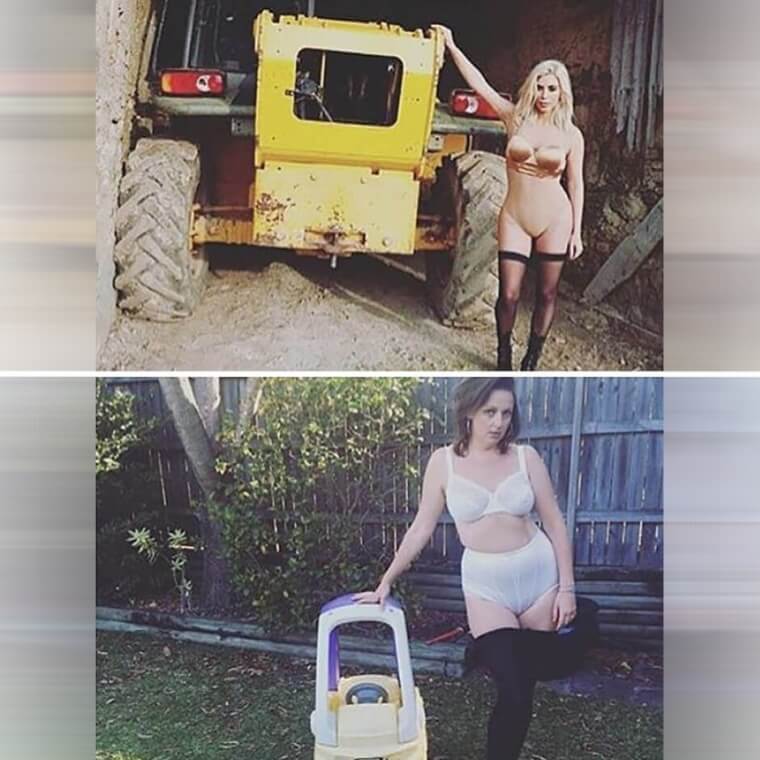 If anyone can explain that photoshoot, that would be great because we still think about it to this day. At least Celeste is in the comfort of her gated backyard, so people can't see what she is doing and wonder what is wrong with her.
After A Long Night Of Drinking Expectation Vs. Reality
When you get home from a long night of clubbing, and you hope that you can fall asleep with a sliver of dignity, even if it's by the front door. However, when you wake up, you look like a hot mess because you passed out the second you got in the door.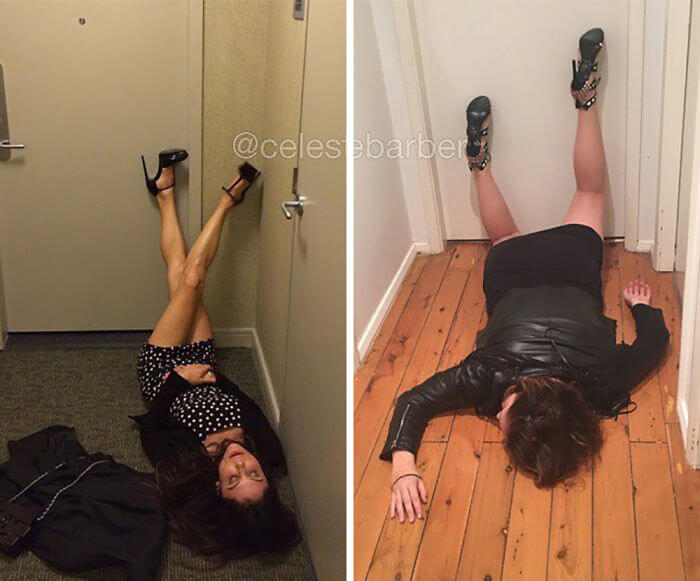 While we all aim to make it to the couch or the bed, sometimes that just doesn't happen, and we end up on the floor. Although it isn't the best option, at least we made it home that night. That's something to be grateful for.
If Gwyneth Rolls In The Mud, Everyone Should
When you go on vacation with nannies versus holidaying with your children. When people have five nannies to take care of one child, they can enjoy spa treatments and purposely put mud on their bodies. However, when you have to watch three children on the beach, you will probably get covered in mud involuntarily.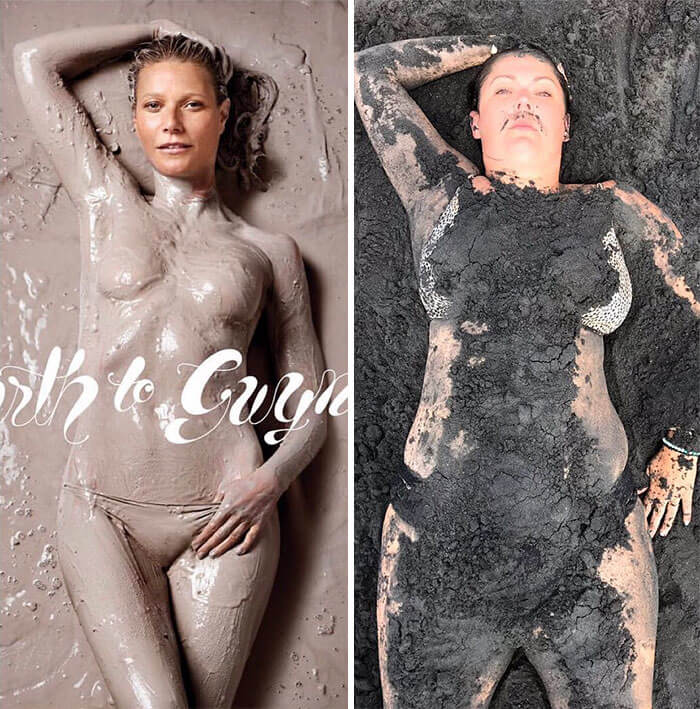 If Gwyneth Paltrow is rolling around in the mud, we should all be doing that because she never ages, so that must be her secret. Maybe she uses a particular type of mud, but we don't think Celeste's mud is very good for her skin. It looks closer to asphalt than mud.
The Glass Says Everything You Need To Know
If there is one thing to know about Celeste, her wine is ten times more important than coffee, so if you touch it, prepare for a throat punch. Rosie Huntington-Whiteley can drink all the coffee she wants; that just means there is more wine for Celeste.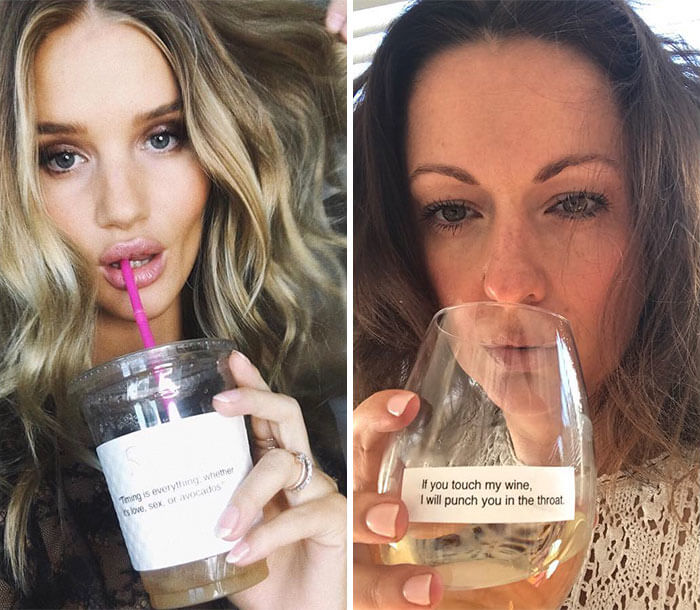 There must be something you love so much that you are willing to fight someone over it. Celeste's message is much more relevant, especially since all we have, during these troubling times, is our wine and a sliver of sanity to hold onto.
When Someone Says, "Act Natural"
When you are Beyonce, no one is paying attention to anyone else in the picture, but Celeste wanted to make sure her husband didn't steal the spotlight. Celeste said, "You know your place, babe. Stay in the background." When you wear a silver lamé catsuit, no one can steal your thunder.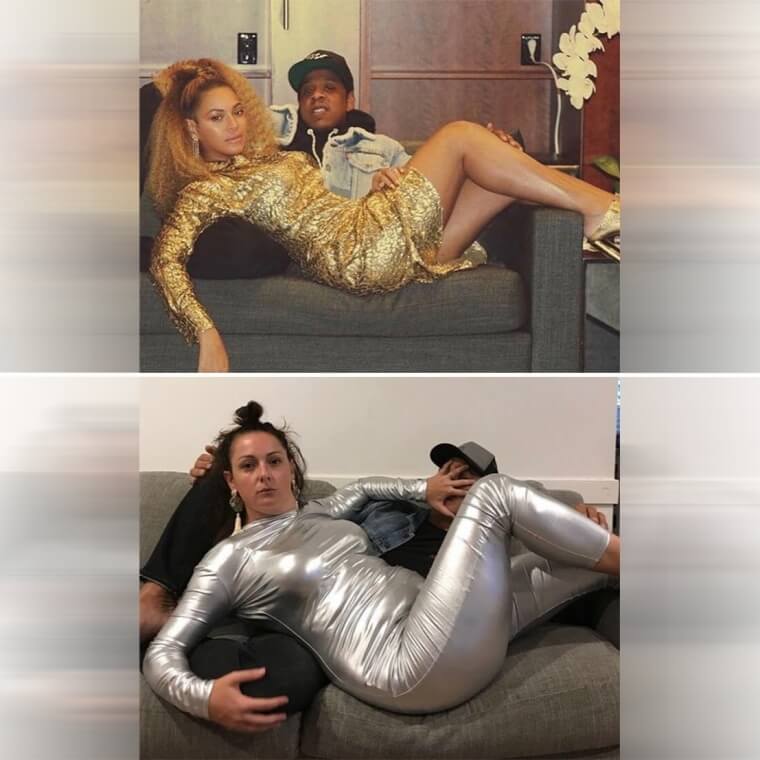 If you really want to stand out in a photo, just cover other people's faces so that you are the only one in focus. Beyonce would probably cover up Jay-Z's face if she could, but her fans would think he cheated again. However, that would mean a new album is coming, so it's really a win-win.
BBQ Is Way Better Than GQ
GQ might be all about looking sharp and living smart, but we don't know if sitting naked on a chair in an empty room is the smartest way to live. On the other hand, BBQ monthly has been changing your perception of women since its creation, and that is a message we can stand behind.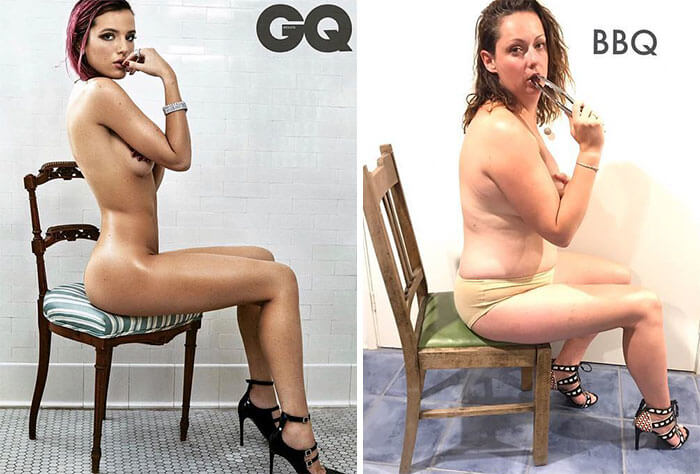 We love how she shamelessly shows everyone how ridiculous these celebrity photos are. If anyone else posted a picture like Bella Thorne, people would question their sanity, but she gets away with it because she is famous and fit.
When You Haven't Tried On Jeans In Months…
After spending months of doing nothing but taking trips to and from the refrigerator because that was the furthest we could all travel, some of us are having trouble buttoning our jeans. Sweatpants are great, but eventually, we have to pull on a pair of real pants and face the music.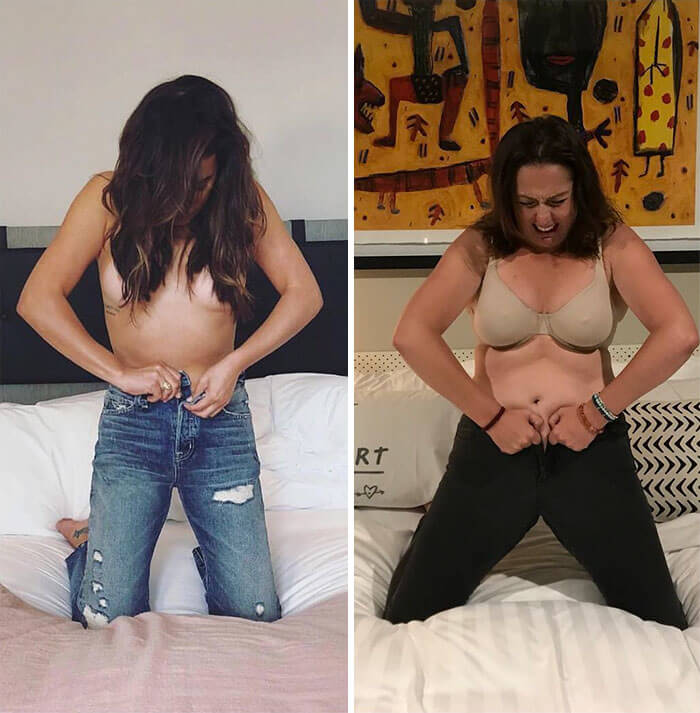 Some of us might have an easier time buttoning those pants, while a few of us will have to do some jumps, squats, and wiggles to get the pants on. Lying down always helps when putting on a fresh pair of jeans, you just might not be able to stand up after.
Climbing A Tree Naked…Why Not?
When there isn't a star emoji big enough to cover you up, you have to improvise. Kim Kardashian must have wanted to connect with nature, so she took off her clothes and climbed up a tree. At least Celeste kept her underwear on because that is not a place you would want to feel tree bark.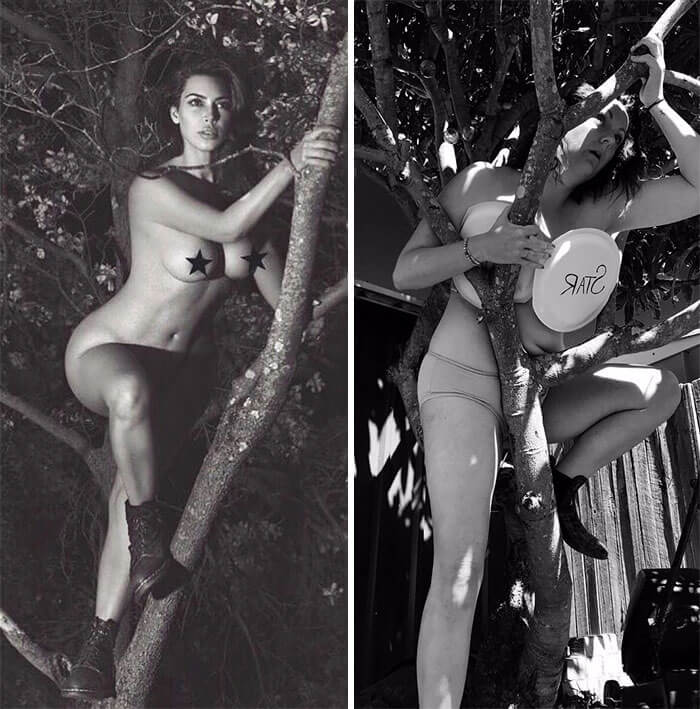 Who doesn't spend their afternoons spying on neighbors from the tree while they only wear boots and star pasties? Is that not normal? Kim is probably spying on Kanye to make sure he doesn't try to run for president again.
Mind The Gap, Stay Behind The Yellow Line
We would advise against using the side of a subway car to prop your foot up because it could start moving, but that is just our opinion. If you try this, you might get some strange looks like Celeste, but ignore the haters because they know nothing about fashion photography.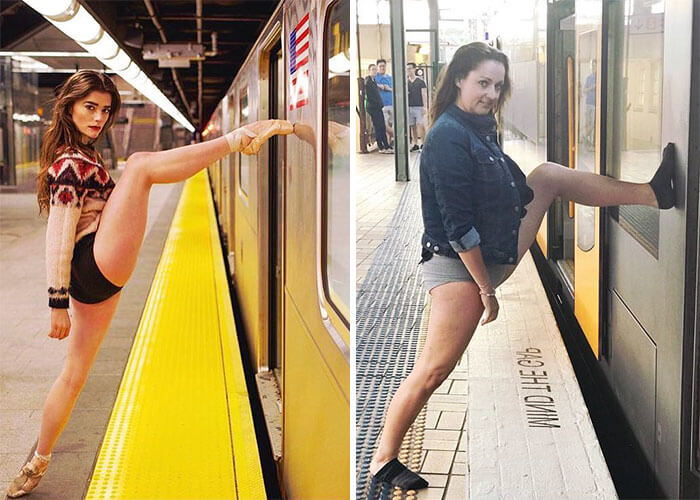 While she might be getting a good stretch in her legs, it doesn't seem like a good idea to ignore the safety warnings. Those "mind the gap" signs are there for a reason, so people don't die. We aren't experts, but there are better ways to stretch and show off your legs.
If J.Lo Can Do It, So Can You
As much as we love J.Lo and A.Rod, we don't know many people who realistically wear diamond-encrusted underwear. That does not look comfortable, and we can't imagine the level of chafing someone would get from those undies. Celeste's granny knickers look much more comfortable.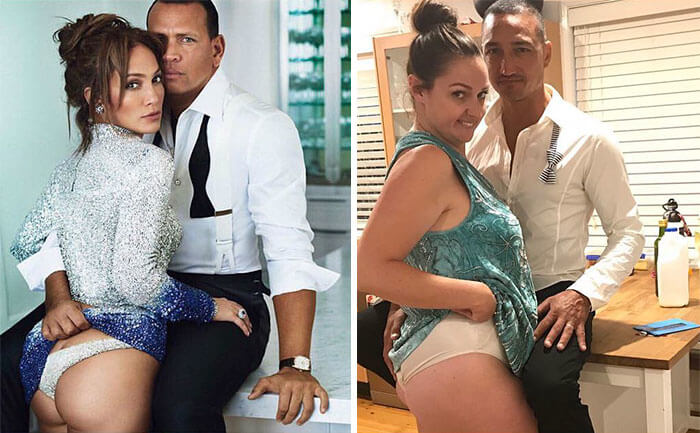 When you are that established in your career and have a consistent fan-base, why is it still necessary to show off her butt? Everyone knows she is gorgeous, but this feels a little forced. The goofy version is so much better and more realistic.
When It's Monday Morning And You Don't Want To Get Out Of Bed
When you drag yourself out of bed for work on Monday morning, the thought of walking down the stairs before a cup of coffee is too much, so you crawl down face-first instead. Some people can't function until that first bit of caffeine kicks in, and we are like them.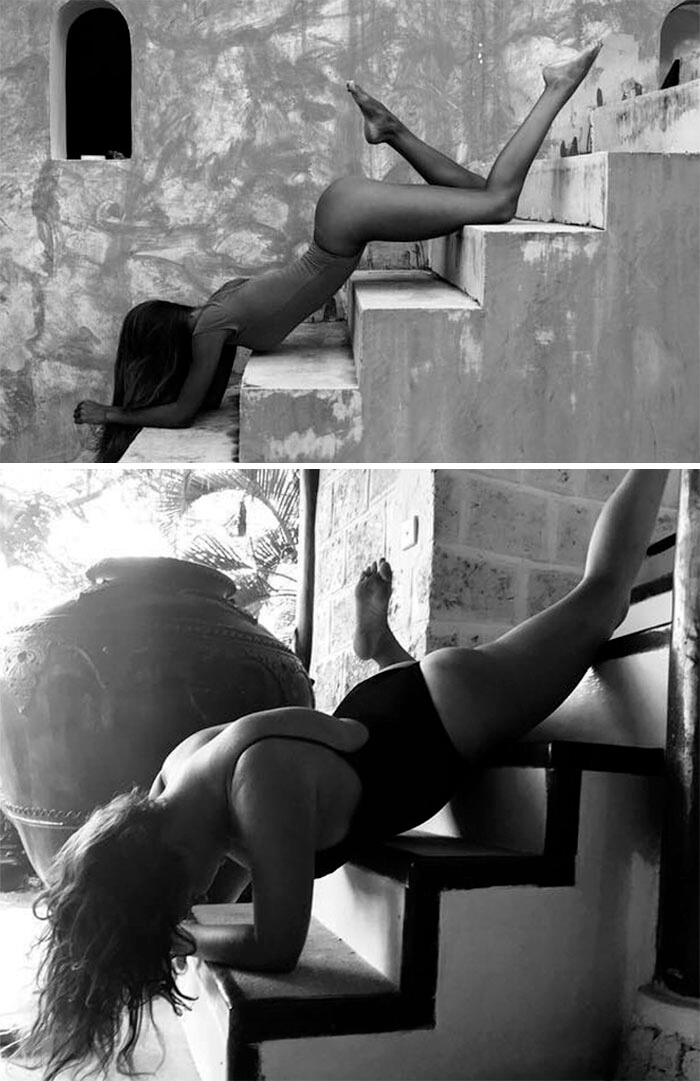 We don't know who the original photo is trying to target, but it is hard to understand who their market is? Are they trying to show what this bodysuit would look like if you fell down some stairs? It makes no sense.
Doesn't Everyone Get Naked Before A Champagne Shower?
If you don't strip down to your birthday suit to open a bottle of champagne, we have a lot of questions. It is called a champagne shower for a reason, and you wouldn't take a normal shower with clothes on, so this isn't any different.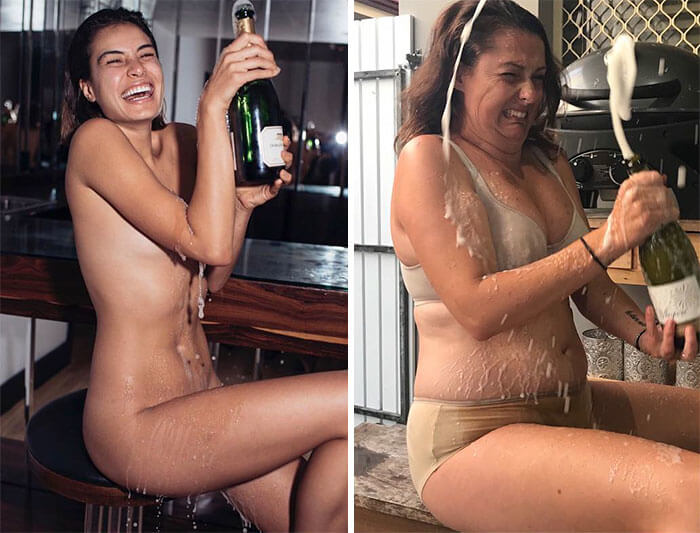 Unlike the model, we wouldn't be laughing because no one wants to feel cold, sticky alcohol all over their hair and body. It might be the next best thing in at-home DIY beauty treatments, but for now, we will stick to drinking the champagne instead of pouring it on people.
How To Create Your Own Strappy Bikini For Horrible Tan Lines
If you have ever wanted to know what it was like to wrap yourself in shoelaces, just grab a strappy bikini and head out to the pool. With that many strings, you might need a bottle of wine and a straw to get through the uncomfortable phase.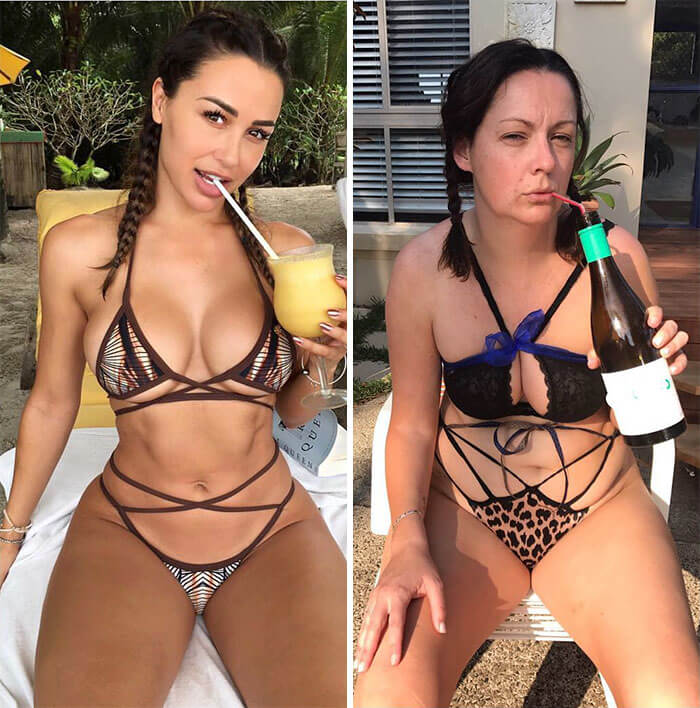 While most people think Celeste is channeling her sultry side, she is actually making that face out of pain. You can try out this look, too, when Celeste releases her line of shoelaces. If you stay in the sun long enough, you can get a ridiculous tan that will look like a mosaic.
"Do You Need Something?"
When you try to sneak off for a moment of peace and a snack because your kids are driving you up a wall, but they find your hiding spot. Everyone needs a break once in a while, and you deserve to treat yourself to your favorite snack at that moment.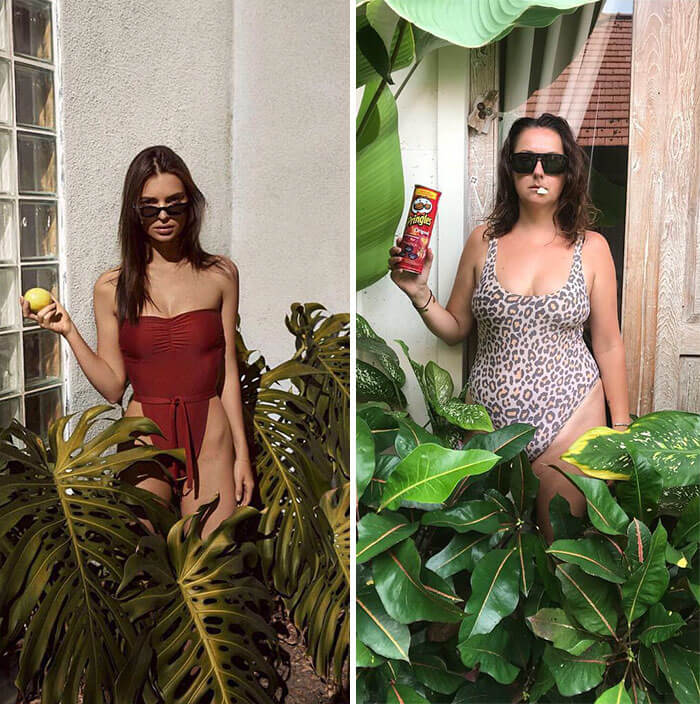 It's like children have a sixth sense to know when you are relaxing, and then their senses tingle to come bother you. No matter where you try to hide, they will find you, and it might be in the bushes on the side of the house eating pringles.