Everyone has a dream of owning their own house. However, building a house or even owning one is not cheap at all. People save for years before they are able to build or buy their own house. But that's not what the talented 13-year old Luke Thill wanted. He showed the world that you could build your own home even with limited resources, and what he did is truly unimaginable. Let us take you on the journey of how young Luke built his tiny home, completely by himself, for just $1,500 (yeah, it is as unbelievable as it looks). Get ready to feel inspired and motivated.
Small Hands, Heavy Work
One can say that "how on earth a young boy got the idea of building his own 89-square-foot home?" Believe it or not, this young guy refers to the structure as his "starter home." Yeah, he is destined for BIG things.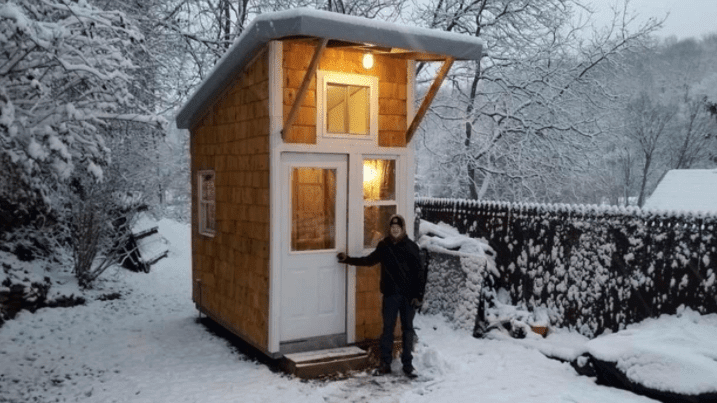 Luke was bored of summer break and wanted to do something fun. So, he did one thing that every boy of his age does nowadays. He turned to the Internet in search of interesting DIY projects. As an energetic boy, he was certain that he wanted to do something interesting instead of just sitting around.
Luke's Inspiration
So, what inspired Luke to do something different? Well, he decided that he was not going to spend his summer break feeling bored and sitting in the house for hours doing nothing.
He told ABC News, "I was just on YouTube looking around and came across a tiny house idea and then that spiraled into looking at almost every YouTube video there is, it felt like." He added, "I got obsessed with them and decided to build my own home."
Not Just An Ordinary Kid By Any Means
As a kid who is always finding ways to keep himself occupied, Luke wasn't going to spend his summer break complaining (just like most other kids) or playing PlayStation.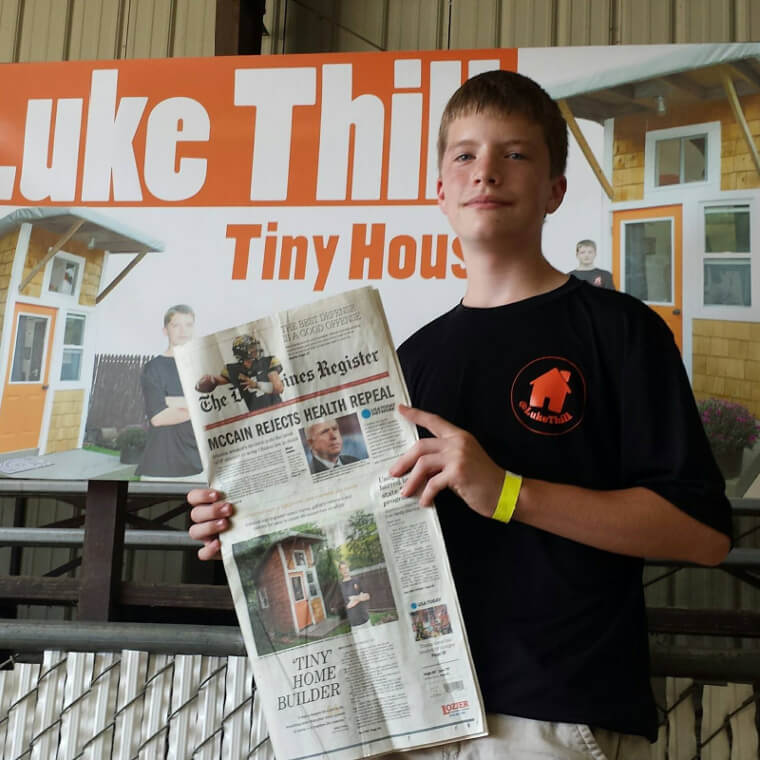 He decided that he wanted to build his own home and he knew that his age wouldn't come in his way.
Getting Permission Was The Easy Part
As Luke had the monumental task ahead of him to build his home, first he needed to ask for his parents' permission and it seemed like a small task.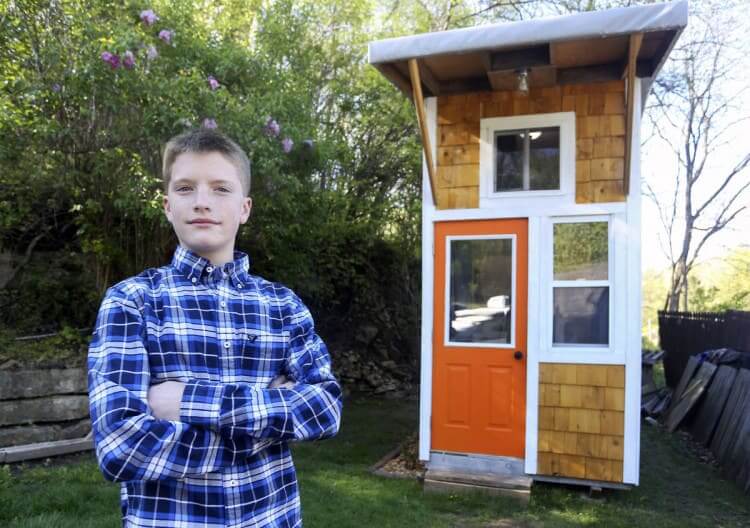 His parents, Greg and Angie Thill, had already recognized their son's potential and they didn't take much time to give him a green signal. They gave him permission to build his home on the family's four-acre property.
Not Forgetting Dad Rules
Luke's dad gave him full permission to start working on his project. But he laid a few simple rules for his son to follow. Luke had to raise the money on his own and build his home completely by himself. Greg Thill told ABC News, We said, 'If you're that serious we have to set some ground rules. We told him he had to have the financial responsibility of it, raise the money and choose the materials and stay in the budget."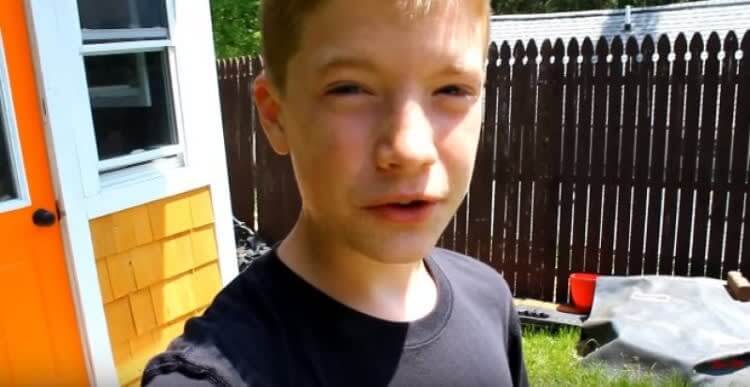 As a kid who is planning on building his home, these rules weren't harsh next to his determination. He knew what he wanted to achieve it and he was ready to follow all the rules.
Learning On His Own
Greg Thill's excitement didn't tempt him to help his son in a lot of things. It is because he wanted his son to learn a lot all on his own.
It included everything from framing a structure, dealing with adults, wiring the home, and making financial decisions so that everything remains within the budget.
Important Life Lessons
Luke's father knew that the experience of building a home without much help from others would be a great learning curve for his son.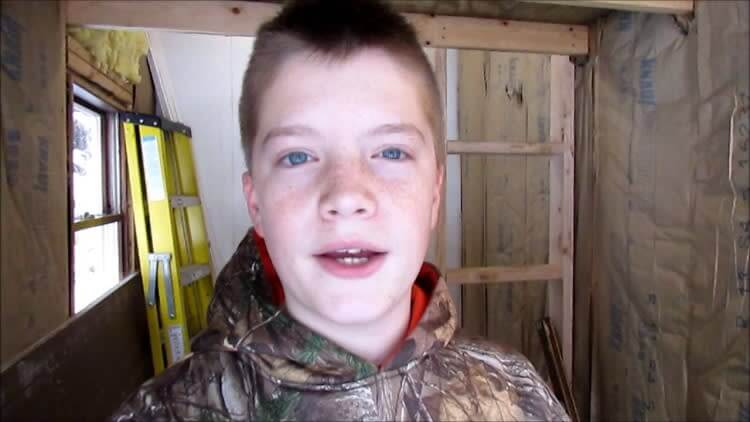 "It was a chance for a kid to do something more than play video games or sports," Greg said. "It teaches life lessons."
First Thing First: Earn Money
Luke and his father had to set a budget of $1,500 for the house. To get that sum of money was the first task. It may sound like little money to others, but it was still a huge sum to little Luke.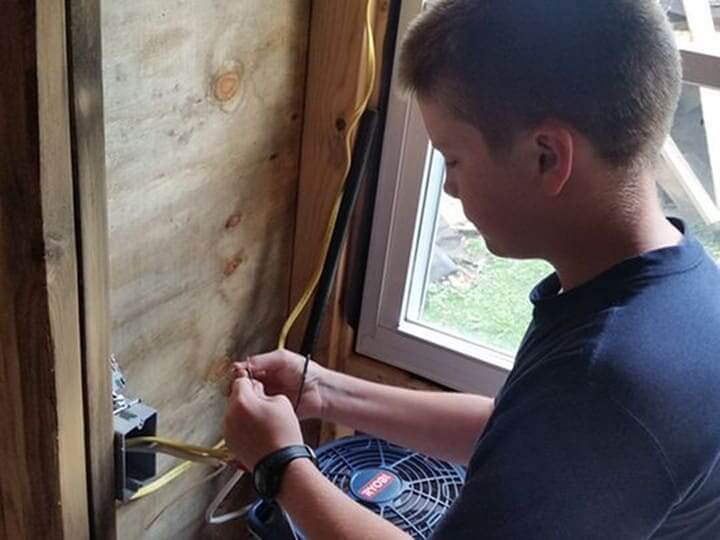 So, he started to raise money by mowing lawns, using reclaimed materials, and getting some online help as well. As it was Luke's first big project, there were a few extra hands to help him out.
Work Hard Dream Big
Luke could've easily called off his plan of building a home, but he remained persistent. He rolled up his sleeves and started working whatever task that came his way.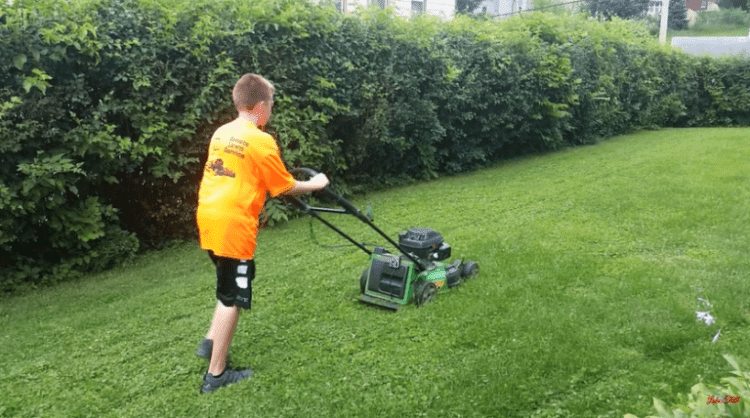 He cut the lawn of Scout leader so that he'd be able to add a carpet in the loft bedroom and cleaned the garage of his electrician neighbor so he would in return help in wiring Luke's house.
Proud Dad
What Luke achieved at such a young age has made his dad incredibly proud. "He's a very driven kid for his age," said Luke's dad."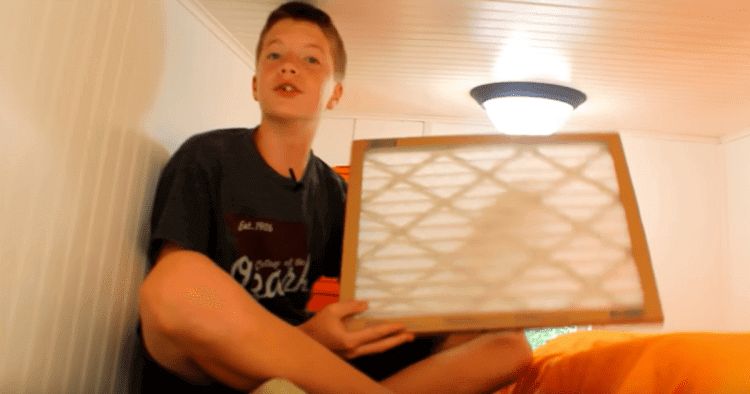 After all, Luke stayed determined even when the project got stalled due to problems with money or the execution of plans.
Adapting Minimalism
It would've been almost impossible for Luke to build his home in just $1,500 without adapting minimalism.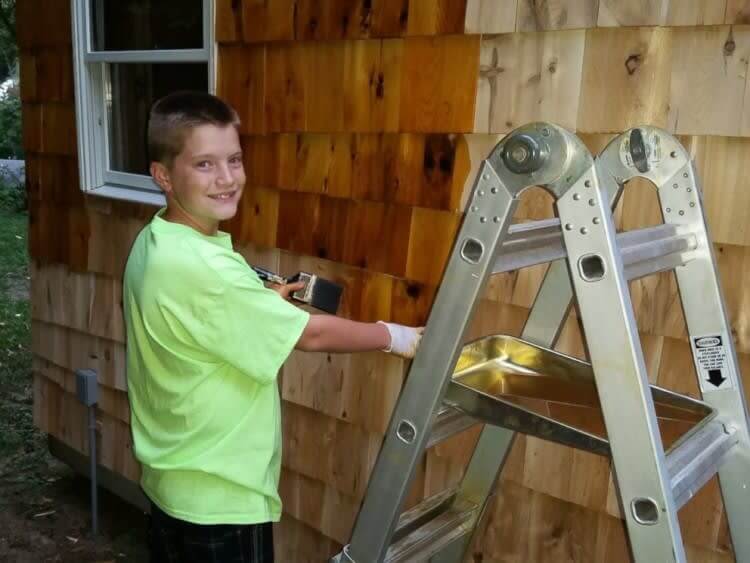 He recycled leftover siding from his grandma's house and used the front door which was given to him by his uncle's friend. "I liked the minimalism," Luke said. "And I wanted to have a house without a huge mortgage."
Generous Help
Luke didn't have to buy a new door and then his uncle's friend came in with old windows as well.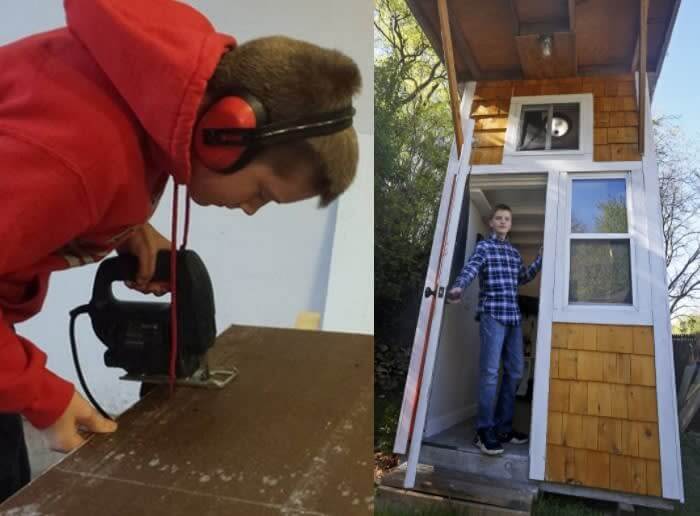 It is because he just didn't want Luke to have a house without any windows. No one likes nosy neighbors, right?
Recycled and Reused
The philosophy of tiny house advocates a simplistic lifestyle and using recycled items. You have no idea how many useful items we throw in the junk every day.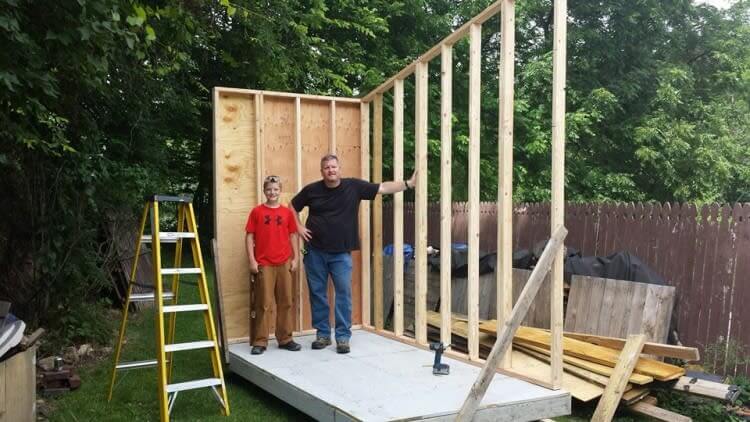 Luke's house is made of almost 75% of recycled materials. Going to recycled materials was not just economical, but it was environmentally friendly as well.
Dimensions
Luke's home has a small deck outside and has a pretty stable floor plan. The used sliding is made of half vinyl and half cedar shakes.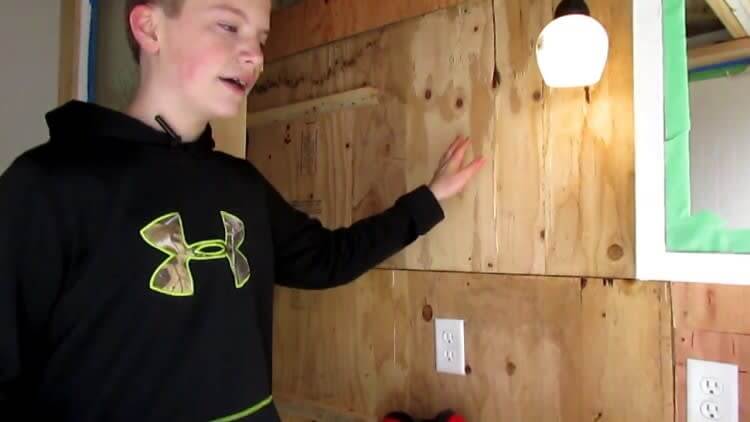 The beautiful little home is 5½ feet wide and 10 feet long. Is it livable? Keep on reading to find it out.
Welcome In My Humble Abode
When Luke finally completed his project, he welcomed everyone to take a look inside his newly built house.

There is a small kitchen area with a counter and a sitting area with a large ottoman, a mounted TV, and a flip-down table.
Technically, It's A Shed
Although it is a small home for Luke that has a ladder that leads to an upstairs loft, it is not a home (technically).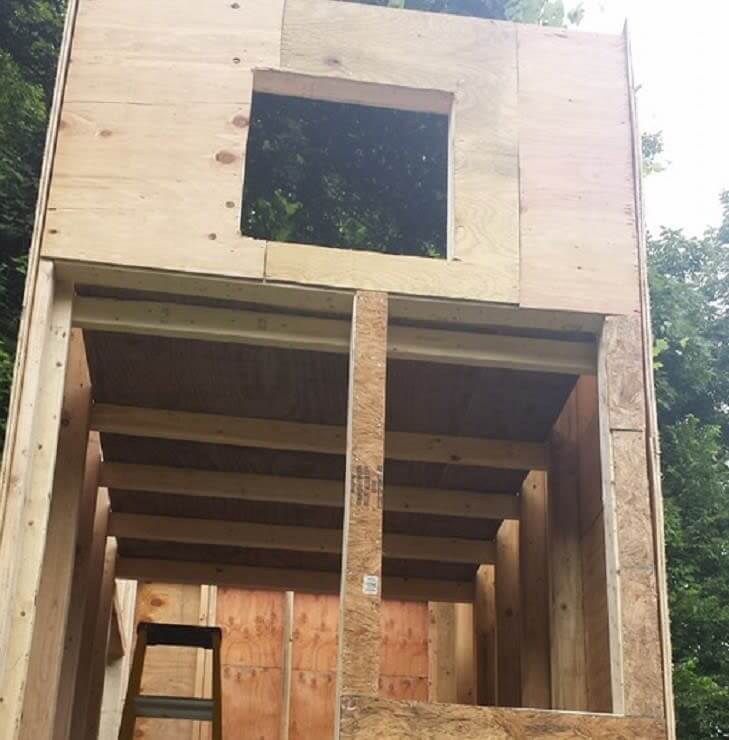 Luke's father told reporters that according to the city codes it is a "glorified shed."
Getting Viral
Once Luke completed the home, he made a video tour of the house and uploaded it to his YouTube channel.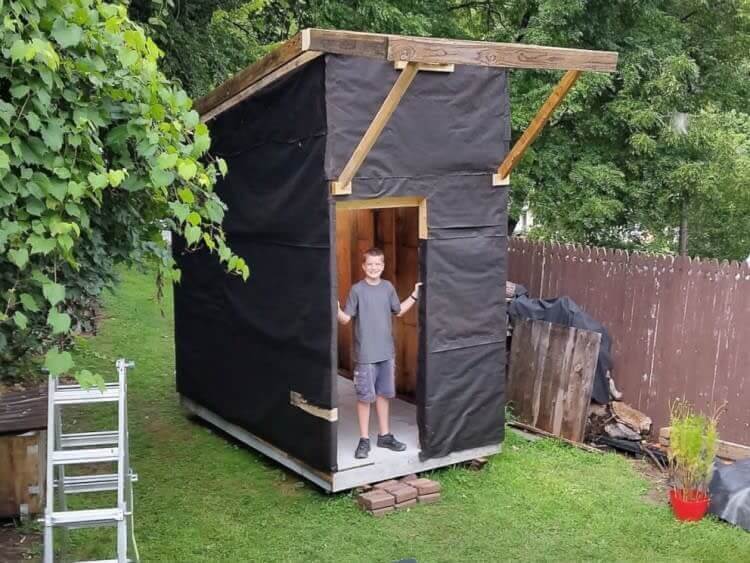 As expected, the video went viral and got millions of views. There are hundreds of comments on the video of people praising his efforts.
Hard Work Always Pays Off
There was negative feedback from some people at school, but Luke didn't care a lot about it.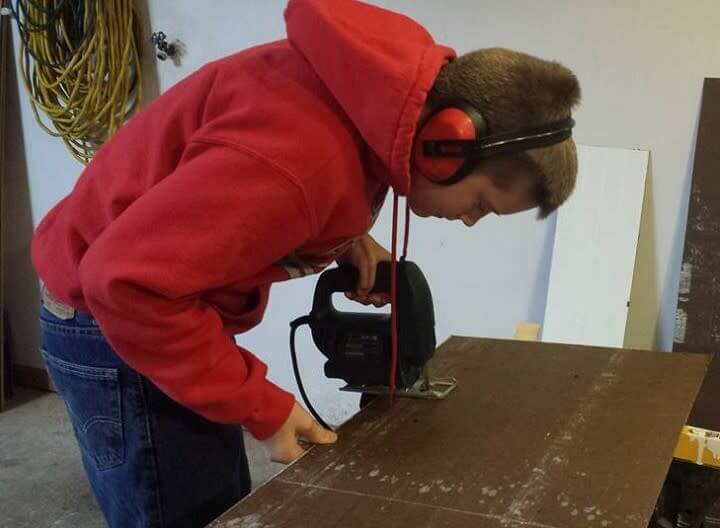 He kept on working hard to make his dream home and the final result astounded everyone, even those who criticized him.
Media Attention
In a town with a population of about 58,000 people, the news about the incredible young boy spread like wildfire. Everyone was eager to see the project of a 13-year-old boy.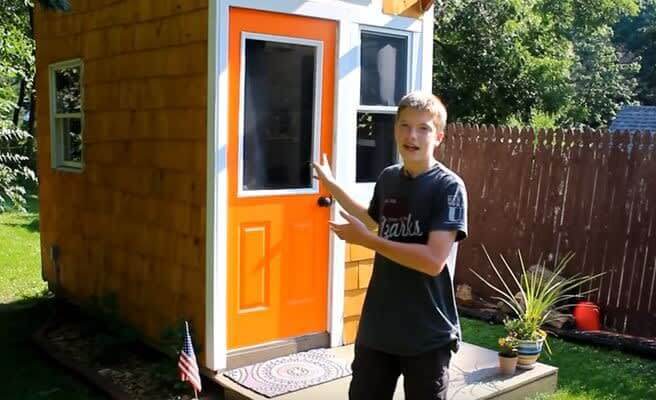 That's why Luke created a YouTube channel to show the world the progress of his project. His channel got media attention in no time.
An Exceptional Case
When Luke started watching videos of people constructing tiny homes, he noticed that there was no one younger than him.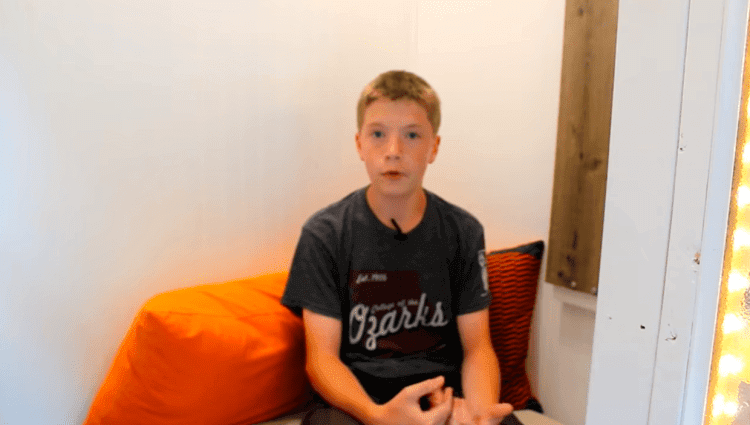 "I couldn't find anyone younger than 14. I thought if no one is out there, I might as well do it so I started documenting the whole process and putting it on YouTube."
Inspiration for Others
Luke created a YouTube channel to show everyone how he was building his tiny house. He didn't know that his little project could inspire so many young children out there.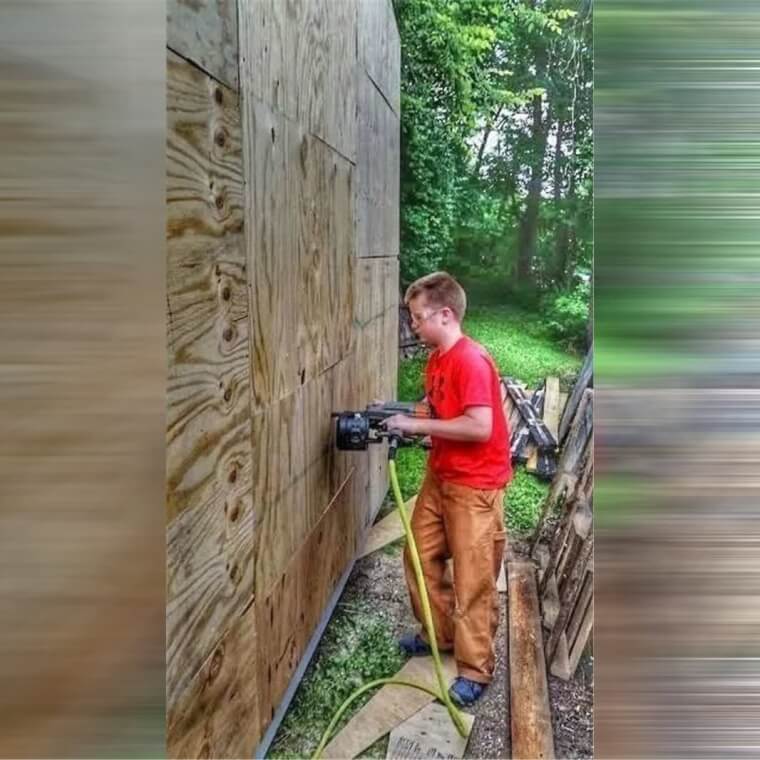 "Now lots of kids have messaged me and showed pictures of their tiny houses that they're building and they're even younger than me," he said.
Getting Nervous for Another Reason
In one of the videos which Luke uploaded on his YouTube channel, he tells about how he was called down to the principal's office. As he is a student with good grades, he became nervous because he couldn't think of any reason behind it.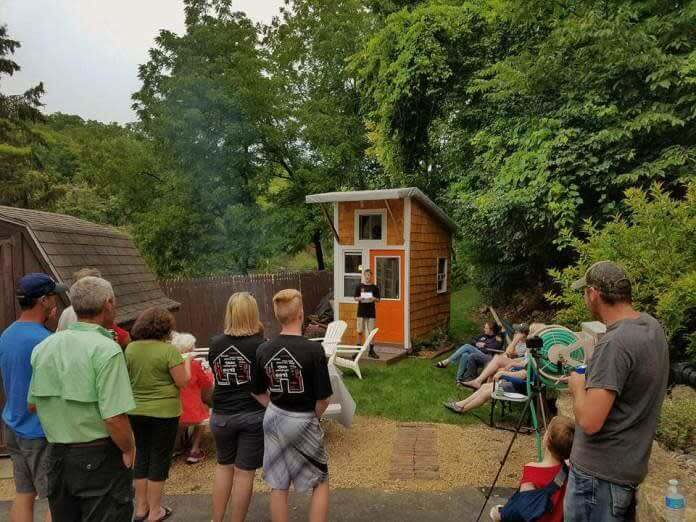 To his surprise, the principal wanted to appreciate his efforts. There was a reporter in the office who wanted to cover Luke's story. It was cool news for a 13-year-old to hear that the paper wanted to do a story on him.
He Had To Take Care of A Lot of Mess
One of the things Luke learned from his experience is how to overcome disappointment.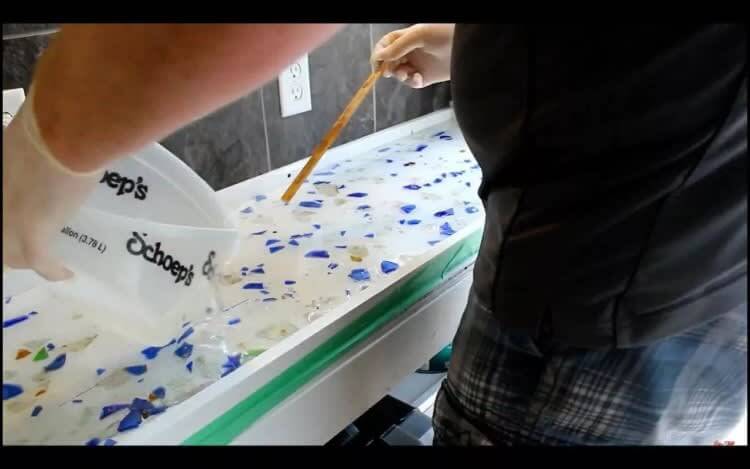 He recalls his counter-top fail when he used broke colored glass and poured the lacquer on it but it ran all over everything.
"Small" Home But "Big" Lessons
Luke had to overcome a lot of failures that could've easily shattered the confidence of even an adult, let alone a young boy.
He did not give up and learned from his mistakes. Just like Alfred said in Batman that "Why do we fall? So we can learn to pick ourselves up."
Is The House Livable?
One look at the house can make you shout, "I wanna live in it." It has electricity, running water, and a bathroom.
However, there is no A/C or plumbing. The reason behind no plumbing is that the house is built in the backyard of Luke's parents. Nevertheless, the house is truly livable.
A Multitalented Boy
Luke is not only a talented builder, but he is also a good chef. Okay, you can't call him a cook just because he knows how to make an egg, but still it is pretty impressive.
That's why he proudly posted a video of his "first meal" in his new house on his YouTube page.
TinyFest
As Luke's home became more popular (thanks to his YouTube page), he was contacted by a representative from TinyFest Midwest – a festival that promotes and celebrates tiny houses.
He was asked to give a speech and he delivered an inspiring speech in front of special guests.
A Perfect Home
When Luke completed working on his home, it measured a full 89 square feet. The home is equipped with an electric stovetop, a small fridge, and a separate bedroom.
There is a storage area under the marble countertop in the kitchen. It is a perfect home to live in, especially for a young boy.
Comfortable Setup
It took about a year for Luke to complete his tiny home. But it wasn't just a project for him as he also wanted to live in it.
He not only sleeps a few nights a week in his new home but also does his homework there. It is like a little "man cave' for little Luke.
A Great Hanging Out Place
Although the house is small, it has a massive backyard, which is perfect for parties.
Luke's friends gather there to have fun parties and the backyard is capable of hosting great cookouts as well.
Worthy Front Page News
Many people have made tiny homes ever since Sarah Susanka, famous architect and bestselling author, started the Tiny House Movement with her book The Not So Big House in 1997. But why Luke got so much attention?
Well, it was big news because just a 13-year-old boy did something that many people are unable to do in their entire lives. Luke's story made the front page of Des Moines Register and the Telegraph Herald.
Good Morning America Interview
As the news spread all over the country about a young boy who built his tiny home, it didn't take long before Good Morning America approached Luke's parents for the interview.
They wanted to interview him and take a tour of his tiny house. That's not it. Luke was also contacted by a house designer. He couldn't believe his luck.
Meeting Your Idol
Luke felt like he was dreaming when he was contacted b Derek Diedricksen, an author and design and building tiny homes.
It is because Diedricksen was the inspiration behind Luke's decision to build his home. He heard words of encouragement from his idol and it meant a lot to him.
It Runs in The Family
Just like Luke, his brother, Cole, built his own teardrop camper by using tons of reclaimed and recycled materials.
Cole had one extra advantage – the expertise and experience of his brother.
That's Not It
The YouTube channel of Luke and Cole has thousands of subscribers and it is still growing. The channel has over 65k followers as of December 2019.
They also upload videos of their mom doing her projects, like the renovation of a 1972 camper.
His Own Space
Luke always wanted to have his own space where he could spend his some alone time.
"I have a twin brother so it gives me the chance to have my own space," said the impressive builder.
Total Expenses
So, when Luke gave a complete tour of his little home, he also mentioned the total expenses on building the house.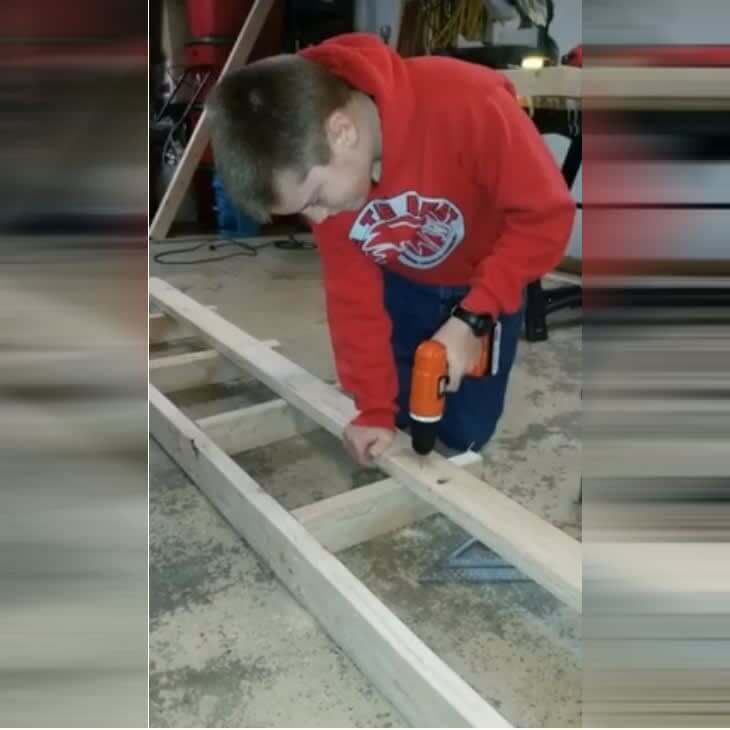 Although he spent a total of about $1,200, he said that he rounded it up in case he forgot something.
An Inspiration for Others
When Luke started working on his tiny home, he didn't know that it would get so much attention.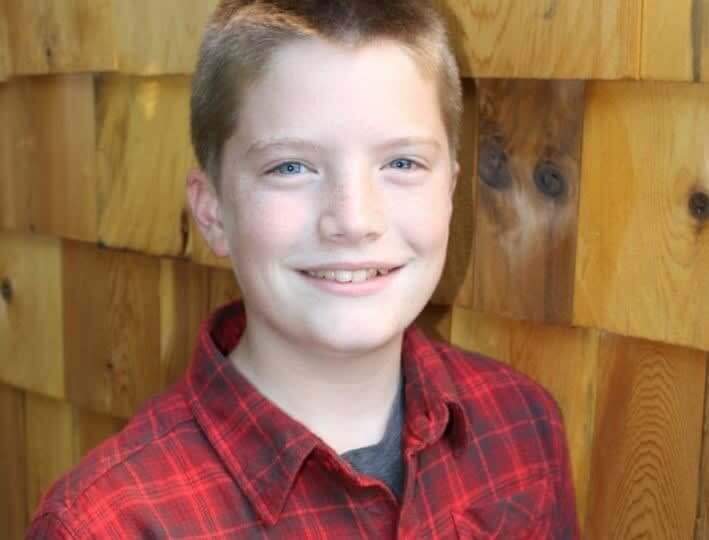 Once all was said and done, he had a message to share. "I want to show kids it's possible to build at this age."
Start of Something Big
Luke has no plans of stopping anytime soon. In fact, he has made big plans for his future.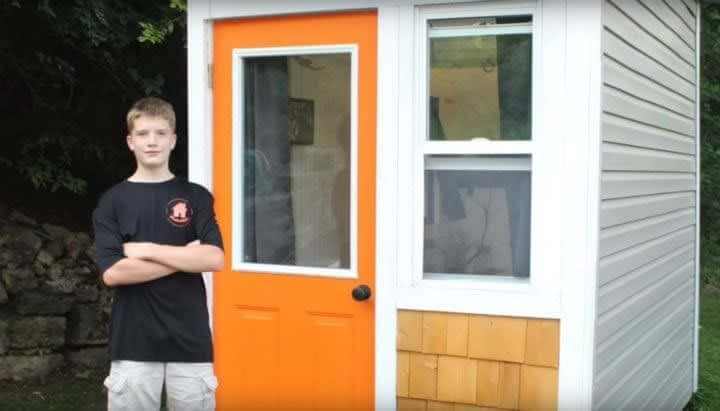 His main purpose is to expand his starter home. "I'm going to save money and expand," he said.
No One Can Doubt Him
So when Luke told ABC News that he has plans of building a bigger house and staying in it full-time, everyone knew in their hearts that he is very much capable of doing it.
"I guess if you've built a tiny home, you're probably better equipped to build a large one too," he said.
Tiny T-Shirts
Luke is not just a builder, but there is also an inventive entrepreneur inside of him.
He even launched his own line of merchandise with T-shirts and sweatshirts, which he designed himself. It looks like a great way to get funds for his upcoming projects.
Special Bonding
Luke really enjoyed the entire building home experience, but there was another thing that really made him happy: it was the bonding with his dad.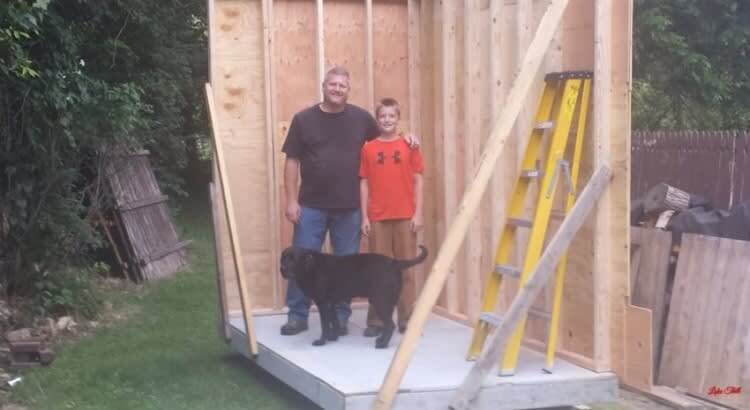 "Me and my dad really bonded through the process…he was really busy but he made sure to spend time with me," he said.
Smart Boy
The smart Luke is on his way to becoming an advocate of small homes and a minimalistic lifestyle.
"Everyone had to have a big house, and now people have changed and realized it's not practical," said Luke Thill. "You can save money, travel the world and do what you want instead."
People Like Luke Thill
Meet Renee McLaughlin; she also built her tiny home like Luke Thill. But before she did that, she sold her 3,300-square-foot home to live in her new tiny home which is only 87 square
"I think we've reached a threshold where this 'stuff' is running our lives. We spend all our time working to buy it, clean it and organize it," said Mclaughlin
Becoming The Latest Sensation
Tiny homes that are less than 500 square feet are becoming quite popular.
The TinyFest organizer who contacted Luke was Renee McLaughlin. She invited young Luke to be a guest speaker at the festival. She loves her tiny home and cannot imagine living anywhere else.
Affordable and Simple
Although some people made fun of Renee's choice to live in a tiny home, she doesn't mind it at all. "I now own everything outright with no debt. I can move around. It's nice to know I can just go," she said.
There is no doubt in saying that tiny homes can save you a lot of money and they can make your life stress-free as well.
Minimalistic Lifestyle
Renee advocates for living a simple life and she hopes to inspire others to live a life in which they can get rid of excessive things. She gives away clothes that she doesn't need, she recycles, and she shops less.
She did admit that getting rid of excess clothes and shoes was difficult at first but not anymore. "I'm a simple girl, but a girl, nonetheless," she said.
It's A Good Idea
Today's "tiny home movement" is not just a great architectural idea but also a way to live a simple life in which you get to save a lot of money.
The movement is definitely a good idea for people who are looking to downsize.
Slow Progress
Although the idea of living in a small house is exciting, one cannot deny the fact that it hasn't influenced a large number of people. Still, it is not a bad start.
According to a recent survey, there are just over 3,000 homes in the United States that are listed as "tiny homes." We hope this number grows in the coming years.
There is No Mortgage!
As an average tiny home costs around $23,000 to $25,000, it means that almost 70% of owners of tiny homes don't have to worry about mortgage.
If you want to save money, then a tiny home is a great solution to your problem. After all, a part of your monthly income won't be going to paying off your mortgage.
We Have to Play Our Role
We can learn a lot of things from 13-year-old Luke Thill. We can learn about determination, recycling, and living a simple life.
We can play our part in creating a better world. How can you do it? For starters, it is important to decrease your carbon footprint. Try to recycle and use environmentally friendly products. Try to create a better world for us and for our future generations.
Honest Drawings Show The Challenges & Joys of Married Life
Ashley Lez
This article was originally published on Kueez
Whoever said, "marriage is work" was not joking. Once the honeymoon is over, life kicks in, and you go through many ups and downs with your partner. Israeli artist Yehuda Devir has been married to his wife, Maya, for a while, and he illustrates the most relatable moments in their relationship. From leaving hair all over the place to deciding who has to do the dishes, they show you the real side of married life, and it is perfect for everyone who is in a relationship or was in one in the past. Continue reading to see that your struggles and happy moments are much more common than you thought.
Just Five More Minutes!
Sometimes you just want to lay in bed with your partner all day, but that doesn't happen because you both have to work. There should be an extra day of the weekend because two days is not enough sleeping-in time. Who else wants a day to cuddle in bed with their partner each week?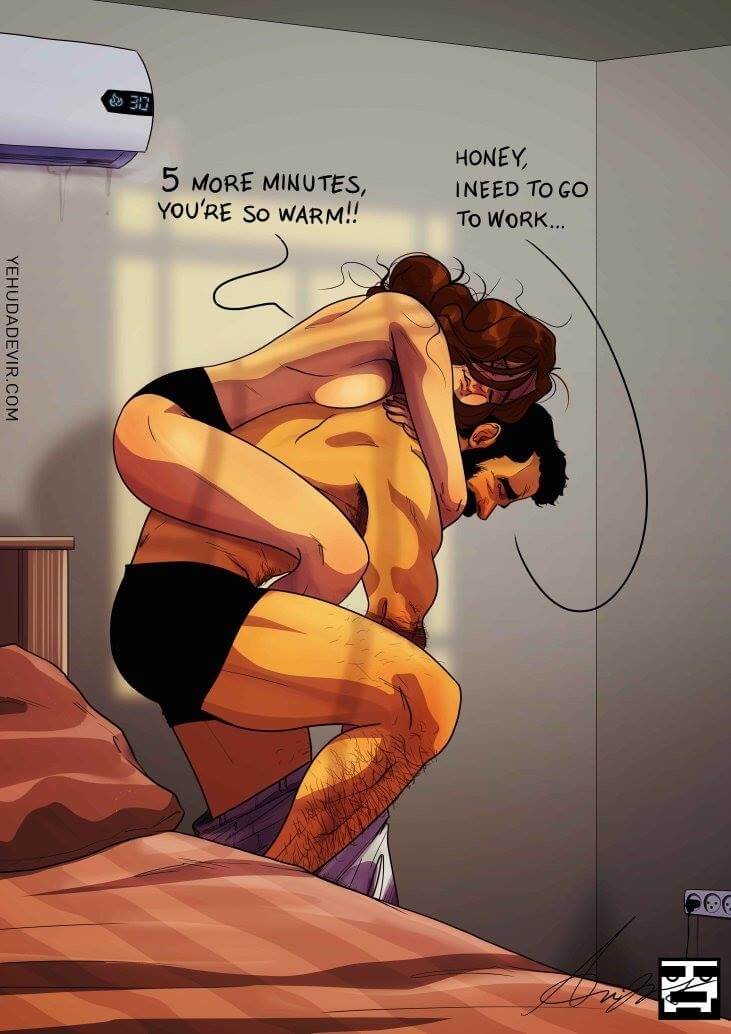 If you aren't a morning person, it must take a lot to drag yourself out of bed each day to go to work, but that is life. Who else misses being a toddler when your parents would beg you to take a nap? We are regretting those missed opportunities now.
Don't Be Shy
While your partner might be confident with their body, it is hard not to compare yourself to others. Even though she loves him, and only has eyes for him, it is hard to be confident all the time. Everyone goes through those moments of feeling a little uncomfortable.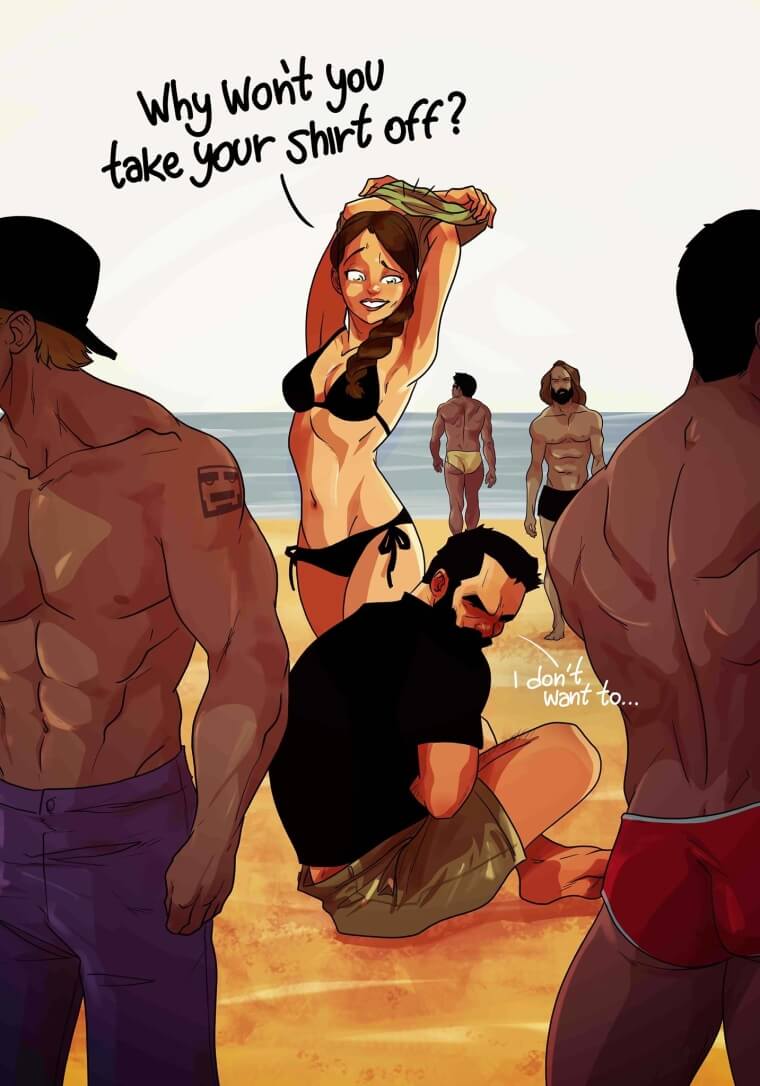 Whenever you or your partner starts to feel self-conscious, remind them, "if they aren't paying your bills, don't pay them no mind." Don't worry about what other people think because their opinions are irrelevant and shouldn't matter.
"It's Your Turn To Do The Dishes"
When you live with someone, you usually split the household chores evenly. While one person does the cleaning, the other person might offer to do the dishes. This is the number one source of couples' arguments because no one truly enjoys cleaning up after dinner.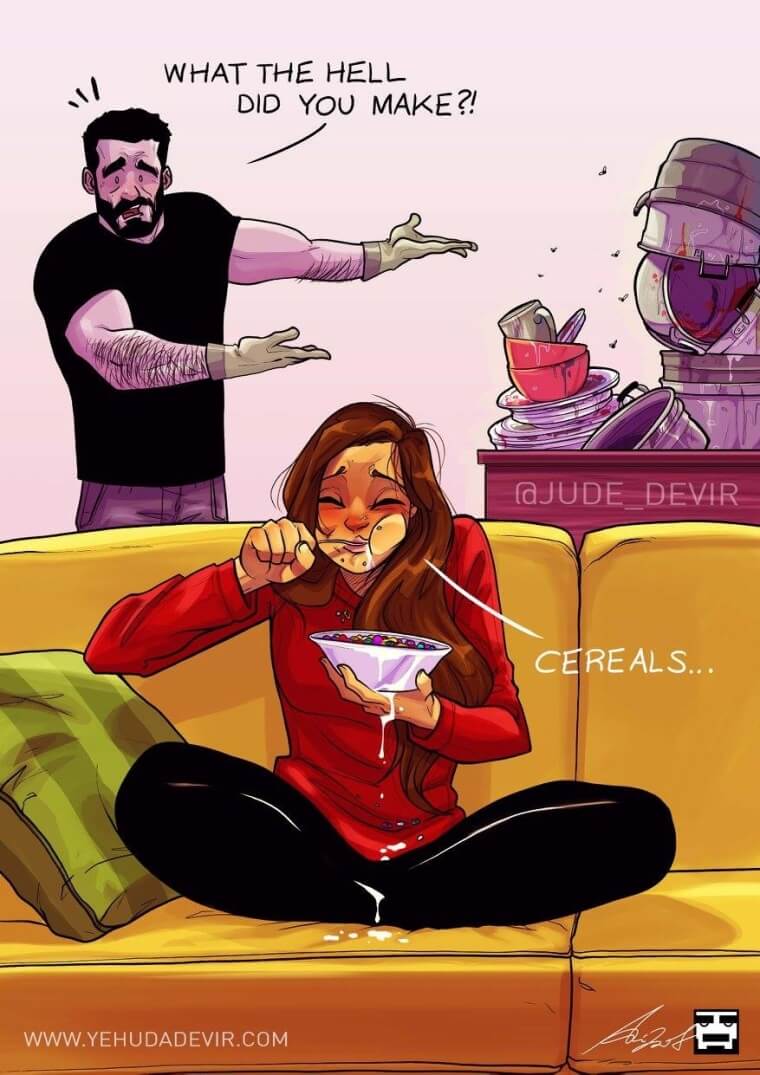 No one likes standing over the sink washing piles of dishes, but someone has to do it. It always feels better when one partner offers to clean up without being asked, but how often does that really happen? If you think you are the couple that gets in small spats all the time, you are not alone.
"Hey! Stop That!"
The holidays are a notorious time for people to gain weight because of all the parties and delicious foods. However, once the holiday season is over, it might be difficult to see the results of all those cookies. To make matters worse, he decided to prank her by making the scale show a higher number.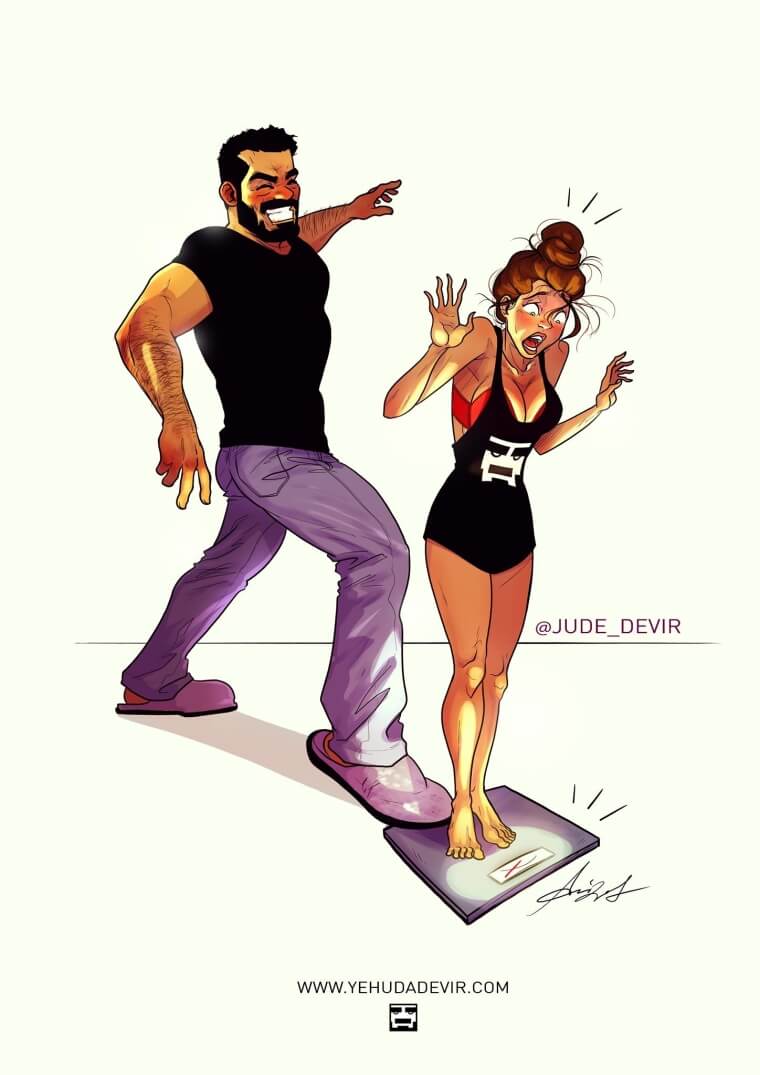 Although it may feel bad to put on a couple of pounds, weight gain isn't the end of the world. It's ok to let yourself indulge a little more during the holiday, but don't be too hard on yourself. The number on the scale doesn't matter; it's how you feel inside.
"I'm Using It…As A Back Rest"
When you and your partner made new year's resolutions to work out more and bought a fitness machine to help with that goal, but no one ends up using it. It probably turns into a coat hanger or a waste of space in the house because all those goals went out the window.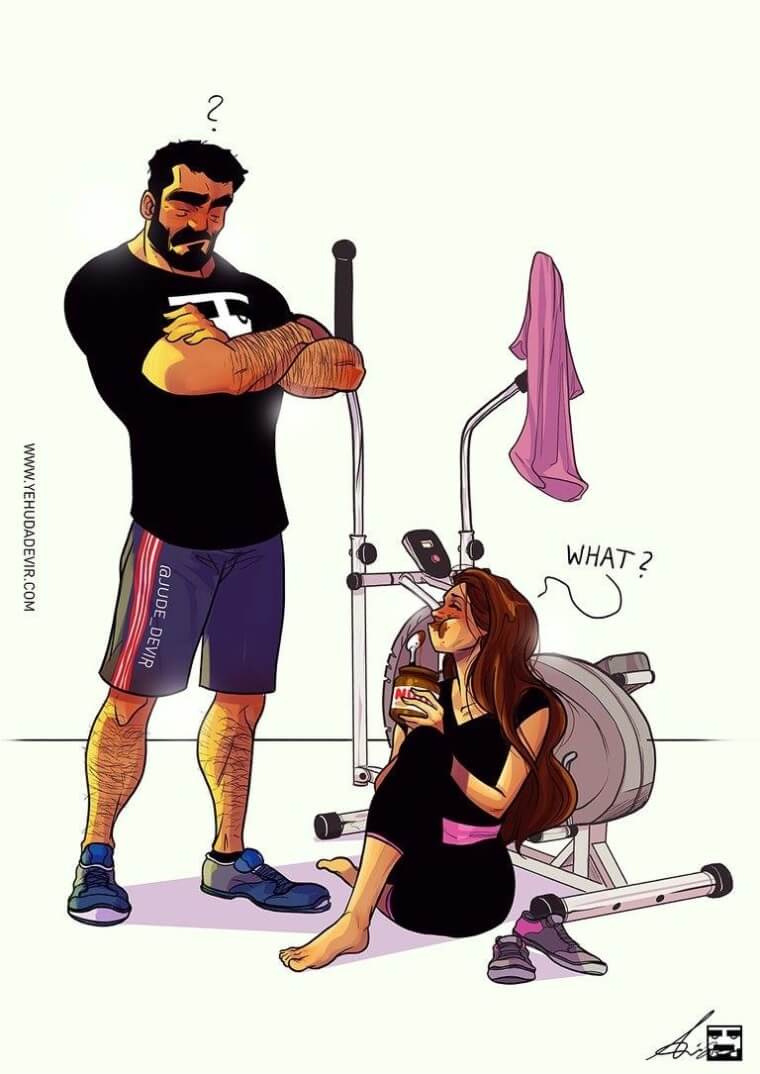 This has happened to many people, so don't feel alone. Who wants to use some weird contraption when they can sit and eat Nutella instead. Maybe it would be reasonable to eat Nutella while using the exercise machine, so it doesn't totally go to waste.
Fights Are a Part Of Every Relationship
In every relationship, it is normal to argue and fight. It isn't always rainbows and sunshine, and some fights are bigger than others. They can be about anything from not remembering an anniversary to saying the wrong thing, but a fight doesn't mean the couple no longer loves each other.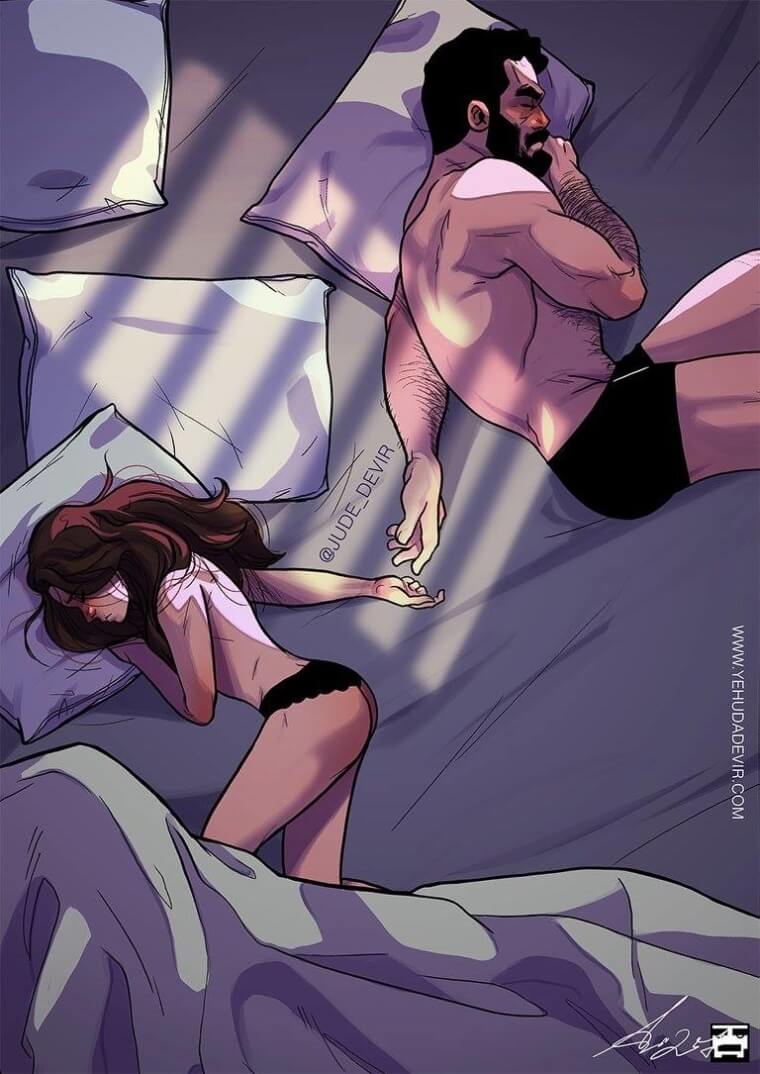 However, even if you argue, it is important to work through those problems because it will only make you a stronger couple. One relationship rule we have heard repeatedly is, "Never go to sleep angry." It is better to work through the problem and resolve the issue sooner than later.
"How Could I Forget?"
The longer you are in a relationship, the harder it is to remember every important anniversary. From your first date to the day you got engaged to your wedding date, there are so many numbers to remember that they can start to blur together.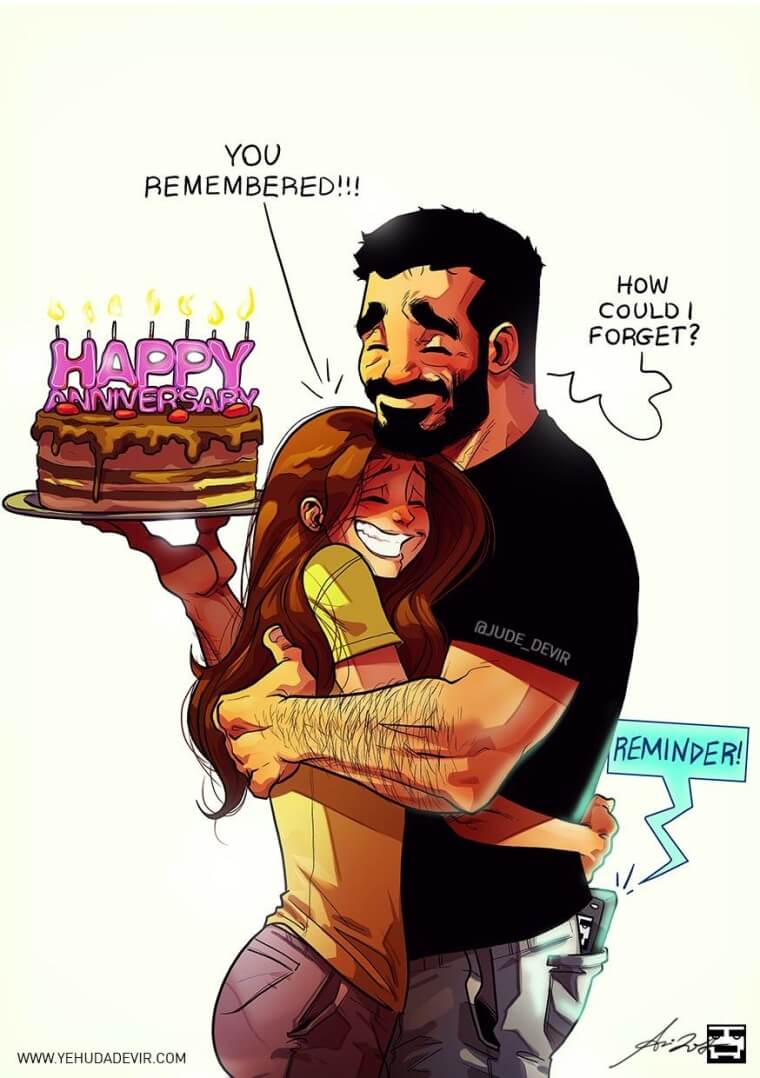 It always feels good when your significant other remembers the anniversary without you reminding them. Even if they have to put an alarm on their phone or mark their calendars, it shows they care to commemorate important milestones in the relationship.
"How Do You Have So Much Hair?"
If you have ever lived with a woman who has long hair, you know the struggle of finding hair everywhere. On the floor, on the couch, on the tables, and even on your clothes. No matter where you look, there is probably hair on that surface.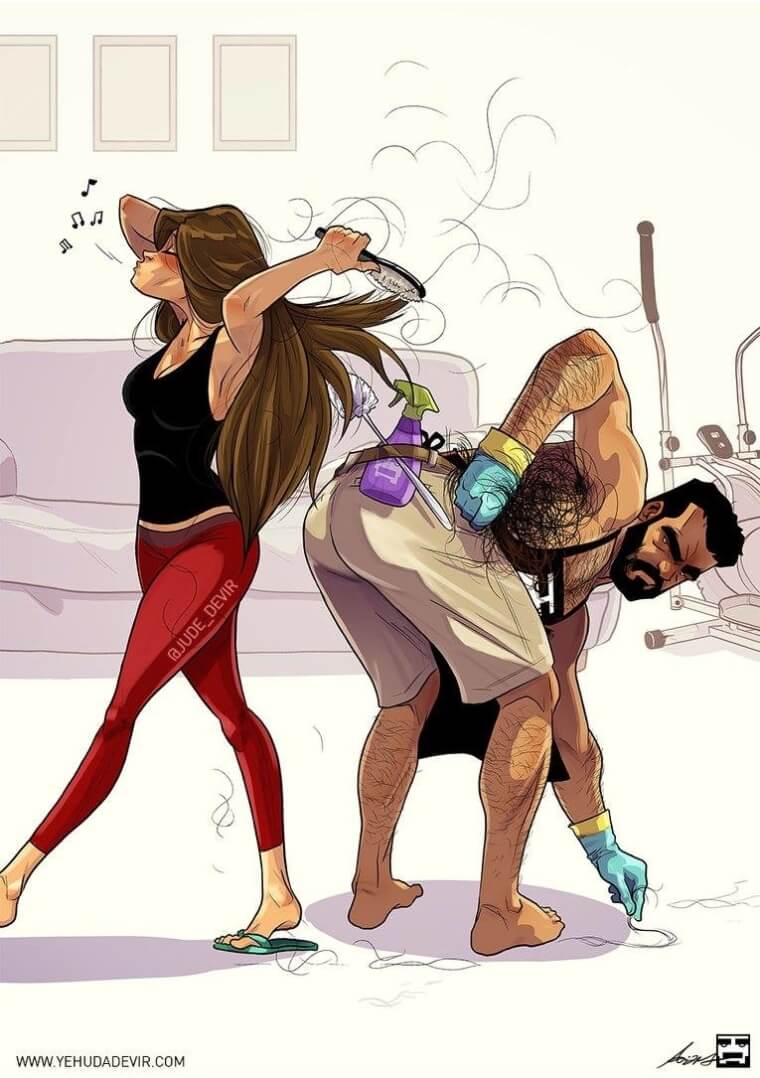 Even if you clean or vacuum all of it up, somehow, you still find strands seconds later. How does someone lose so much hair, yet they still have so much left on their head? It is a question people will be asking themselves for the rest of their lives.
"I Found A Grey Hair! You're Getting Old"
When women find grey hair, it is like the end of the world, but when you find grey hair on your man, it makes us feel better. It makes you wonder what they will look like with a full head of grey. Will they be a silver fox or the complete opposite?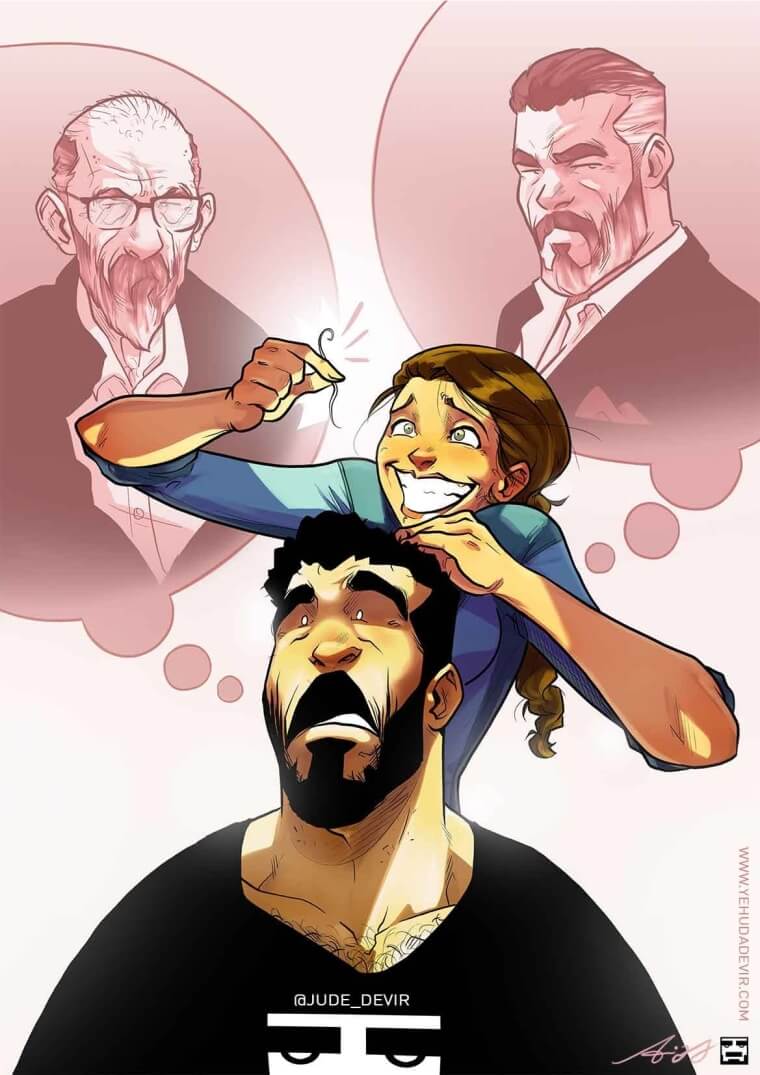 It's fun to mess around because it doesn't matter what happens as long as you can grow old together. Those little signs of aging aren't so bad, and people can look at them as having more wisdom.
Relationship Bodies
Nothing says getting into a relationship quite like gaining a few extra pounds. When you are in love, it just kind of happens without anyone noticing. Some people don't mind it, and others hate it, but it's your body, and you can change what you want to.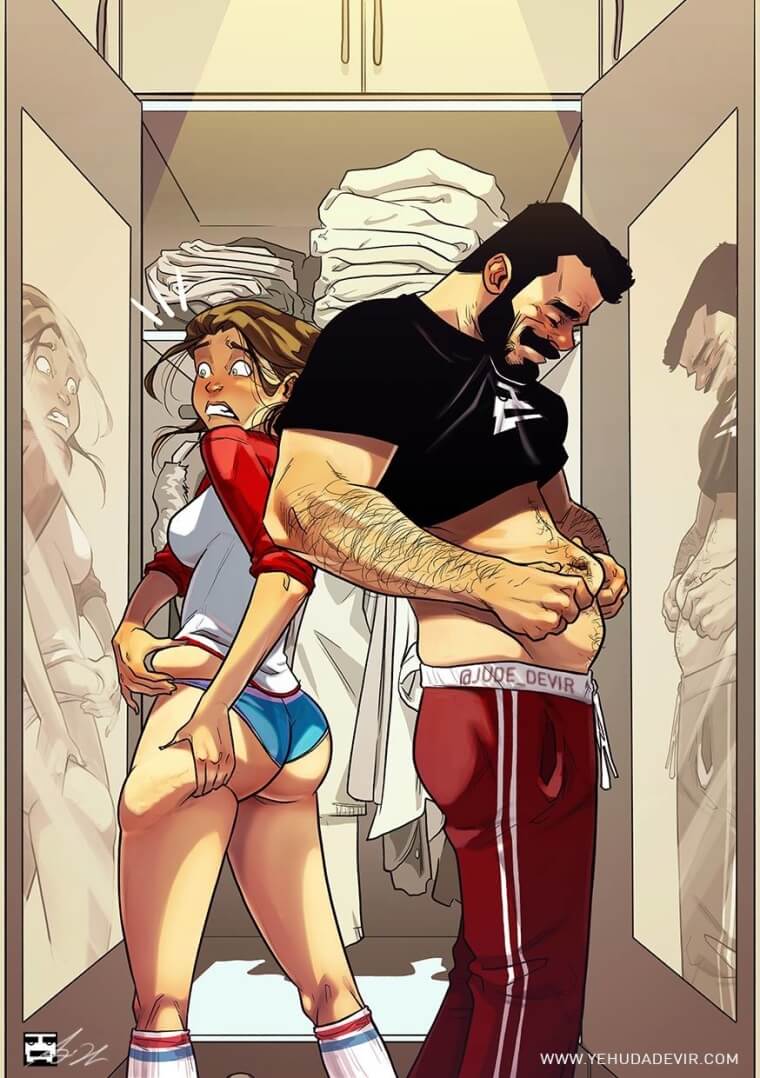 Sometimes we catch ourselves looking in the mirror at all the different parts of our body and judging them. However, in those times, we have to catch ourselves and remember that changing bodies are normal. He doesn't seem to mind his belly, so she shouldn't care about hers.
"It's Not What You Think"
When you live with your partner and have a show you watch together, but they watch the new episode without you. It is one of the biggest betrayals because now they know what happens, and you are left in the dark. It also means you have to watch it alone.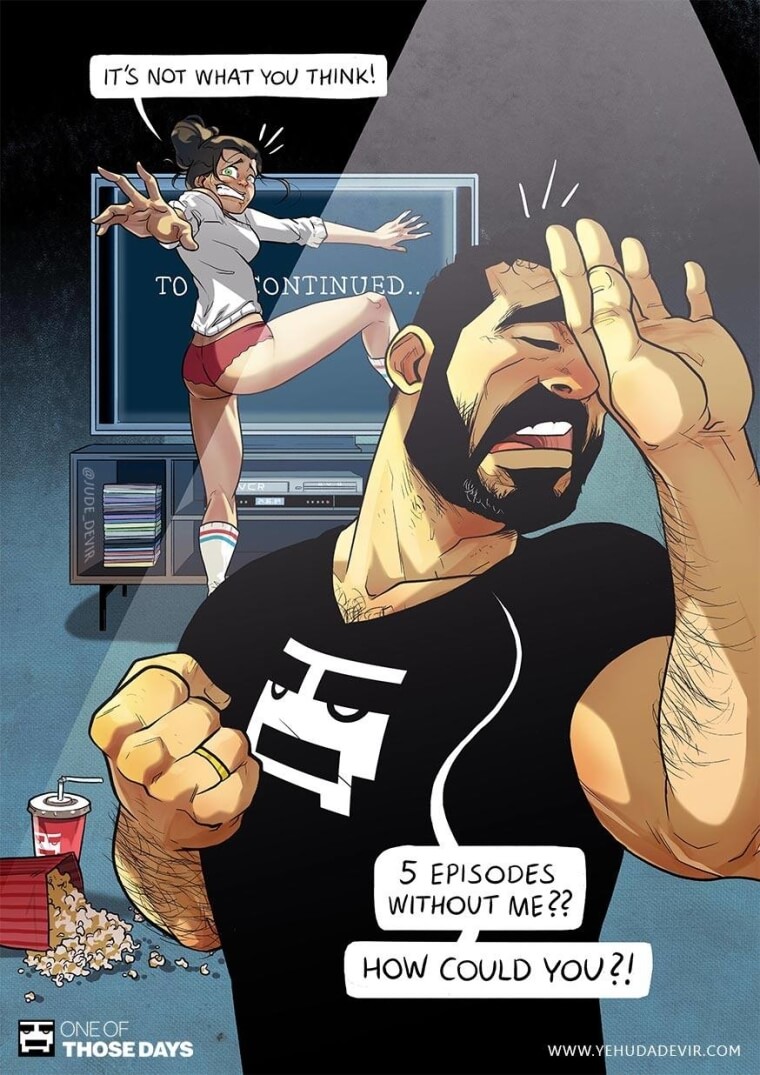 How could they? You left the house for a few hours, and that was the first thing they thought to do. How will you ever trust that they will wait to watch again? They need to earn your show trust back again because it will never be the same.
A Hairy Situation
When you cook for your significant other, and they find one of your hairs in their dish. "How did that get there?" You can play it off and say that your hair adds more flavor or that it is your secret ingredient, but they know by now that they will find hair no matter where they look.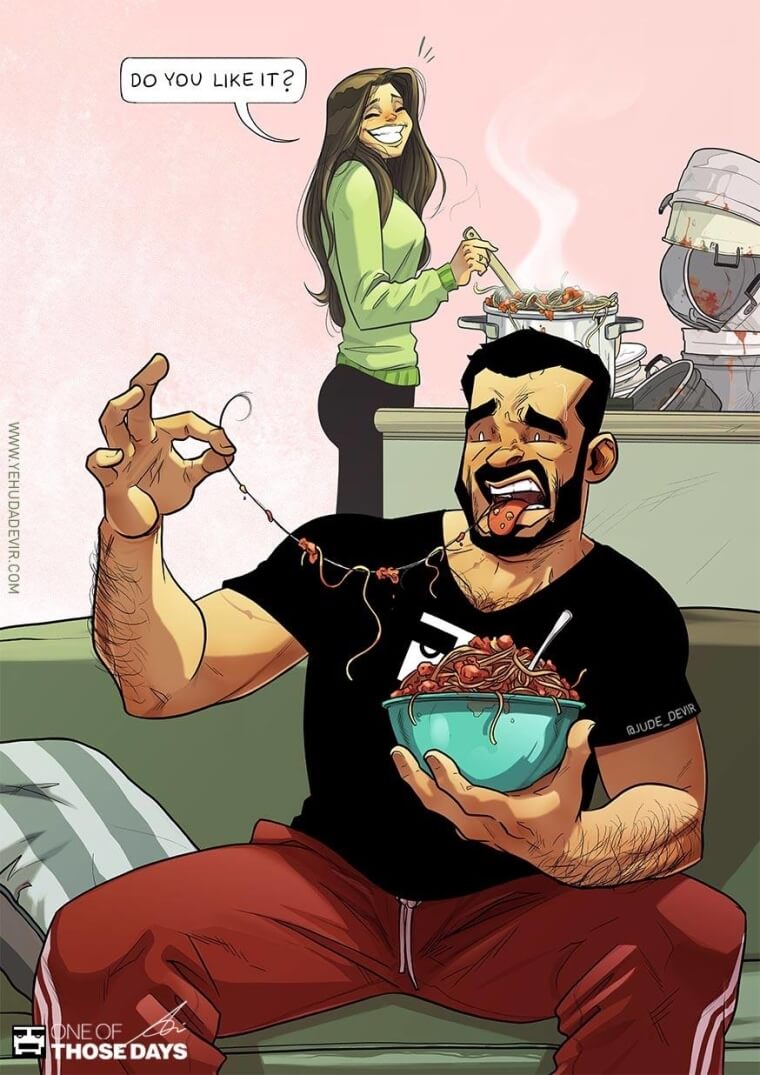 When you have been in a relationship long enough, it's easier to tell them that it's gross for hair to be in the food. At some point in the relationship, they will learn to love your hair all over the house. Hair won't hurt anyone; it's just not the original flavor you were going for.
"Yes! A Thousand Times Yes!"
Most people dream of the day someone gets down on one knee and asks them to spend the rest of their lives together. When someone loves you so much that they want to be with you forever, it is an overwhelmingly incredible feeling. She was clearly waiting for this and had her answer prepared.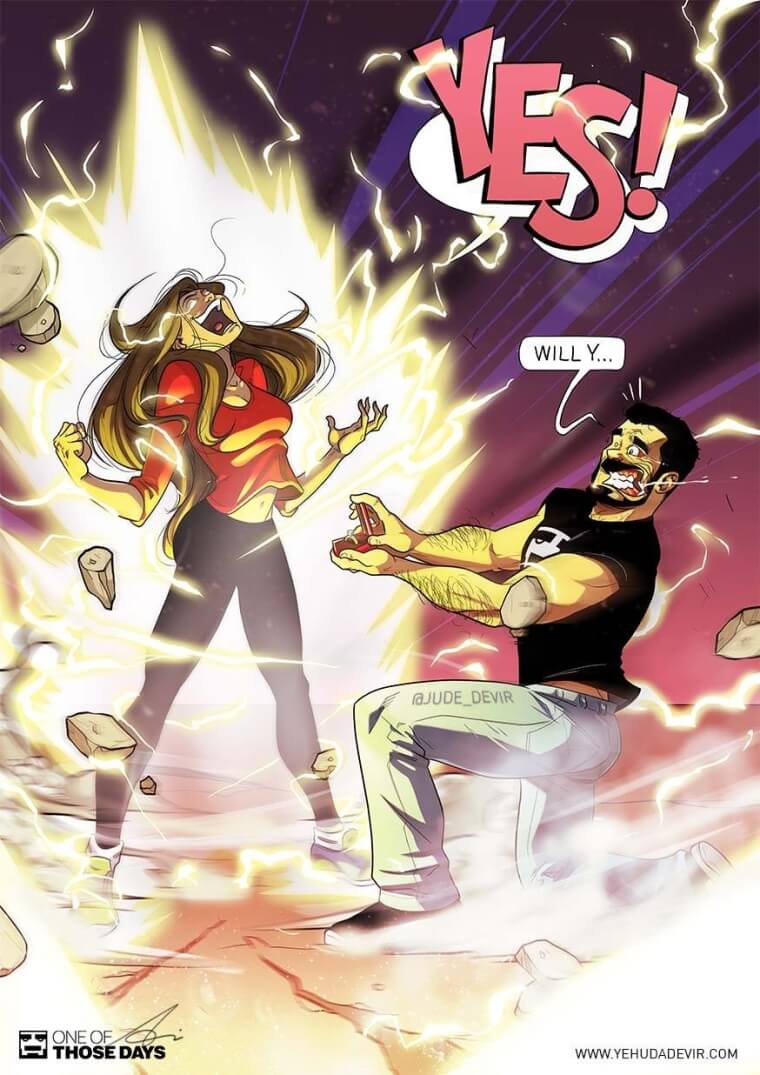 Sometimes you don't see it coming, or you had a feeling that it would happen soon, but it is so exciting when they finally ask that long awaited question. It's not about the ring or how big the proposal is; it's just about you and them taking the next big step in your partnership.
Time To Focus On Our Health
When one person goes on a health kick, both of you are along for the ride, especially when you live together. You might be perfectly satisfied with your lifestyle, but they will replace everything in the fridge with kale because a magazine article said it was the best way to live.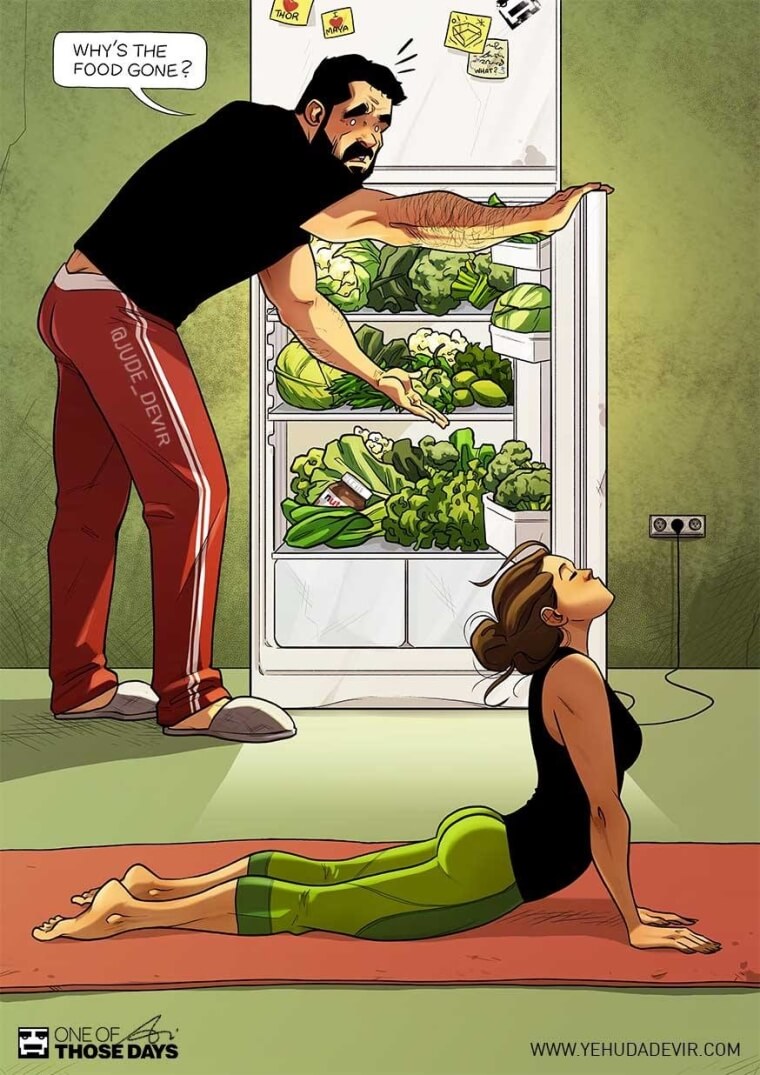 It might only last for a few days before they start craving carbs again, but be supportive and make the most of it. You can complain when they start making you do pilates and yoga because you didn't sign up for that.
Who Is This Morning Monster?
When you go to sleep at night next to your partner but wake up next to a hairball monster. It might be terrifying at first, but eventually, you get used to the way they look in the morning. Even Hulk is startled by the sight of her in the early hours.
Just imagine how nice they look once they brush their hair and wipe the drool off the side of their mouth. No one wakes up looking flawless (except Beyonce), so let's give everyone a break for not looking perfect in the morning.
Knowing When To Say Sorry
Relationships aren't perfect. There will be arguments when people say things they don't mean, but it is how you get through those things that determines the strength of your relationship. Sometimes you have to know when to say sorry because words can hurt.
Some people are more sensitive, but these spats are part of any relationship. Whether you have been together for two months, two years, or two decades, those little arguments will happen because no relationship is perfect all the time.
Busted!
When you move in with someone, you start to find out the strange habits they developed when they lived alone. Whether it is eating out of the fridge or leaving the toilet seat up, we all have weird habits. It is just slightly more embarrassing when people discover them.
What's the point of taking the food out of the fridge to warm it when you can eat it right out of the cold container. He didn't think he would get caught, but this time he was wrong. There is no way to get out of this one.
Baby Fever Level: 1000
When baby fever kicks in, there is no turning back. As long as you and your partner have talked about this and are ready to take those steps, it might be time to start trying before she starts smelling random babies to cure the fever.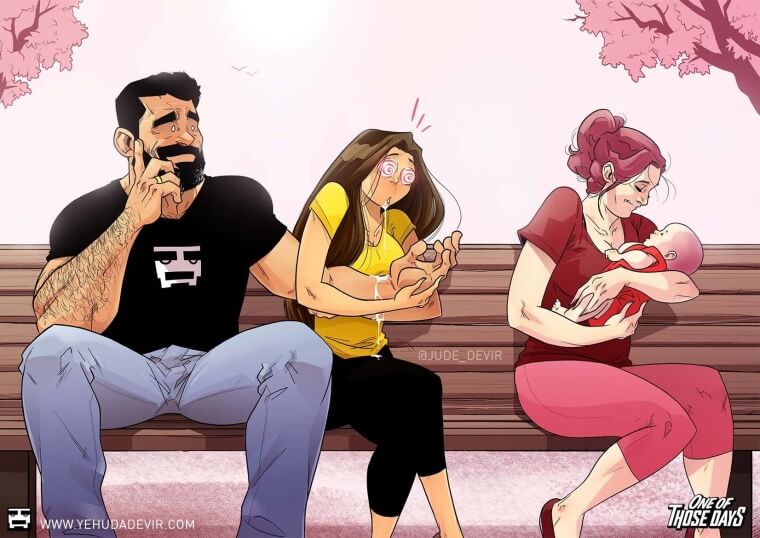 Who knew that babies could be so infatuating once you get to a certain point in your life. Their cute little rolls and tiny toes can drive any woman wild, and he seems to appreciate his wife's longing stares.
Operation Make A Baby
When couples decide it is time to start trying for a baby, they have to strategically think about it. There is a small window when women can get pregnant, so she will make sure they are in bed with a plan on those days.
Plenty of couples can relate to this situation, where she is the sergeant, and they have to follow her attack plan. He has to be ready at any moment and ready for battle because it usually doesn't happen overnight for most couples.
Send Help!
When couples start trying for a baby, it can take a few tries. She might not get pregnant on the first try, so there are tips and tricks to increase a couple's chances. However, there are only so many times you can try in one day, and he looks like he is about to tap out.
He looks like he is about to wave the white flag because he can't go another round. There are too many positions to try and get through, but he only has so much energy. When will it be acceptable to stop for the night and try again tomorrow?
Baby Potion In The Works
As she is trying her best to get pregnant, she is doing everything to increase her chances. She is taking everything from folic acid to random vitamins to make sure she is ready when she does get pregnant. Do you think her potion will help?
Her husband is confused by all the pills, serums, and concoctions, but she doesn't care as long as they can have a baby. When you want to get pregnant, you will do everything in your power to make sure it can happen.
The Red Monster Returns
Trying for a baby is a rollercoaster of an experience, which is why couples have to prepare for all the emotions that come with the journey. It might be emotional when the test doesn't show a positive sign or her period shows up, but that doesn't mean they should give up.
Trying to have a baby is an emotional rollercoaster for not only the woman but also her partner. It can take a toll on a relationship when pregnancy doesn't happen right away, but it is important to remember that you are doing this to start a family with the person you love, and that is what really matters.
"Don't Be Such A Baby"
It's a common stereotype that when women are sick, they don't stop working. When men are sick though, the world comes crashing down, and he makes it seem like this is the worst illness of his life. It might be a minor cold, but he pretends he is dying.
Sometimes men can be so dramatic, especially when they are sick. Women will work through a 104-degree fever, but he can't manage to get over this sniffle. They just want to be taken care of and coddled because that makes them feel better.
We Did It!
For so many couples, it is a dream to get pregnant and start a family. After trying for a while, Yehuda and Maya finally got a positive result and couldn't have been happier. It is a celebratory moment because they are so excited to begin this new chapter of life.
They talked about starting a family for so long, and their plans finally came to life. This is one of the most memorable moments in their relationship, and it is something a couple will never forget. They were so excited for this journey to begin and see what experiences it would bring.
Taking It Easy Is Not So Simple
It's time to move to a bigger place for their growing family, but he does not want his pregnant wife to do any work because he is protective of her. Pregnancy can cause a lot of strain on the body, and he wants her to take it easy and avoid heavy lifting.
Some women are determined to be independent throughout their entire pregnancy, and it's hard to take it easy. While a partner does all the heavy lifting, it is hard to stand aside and rest when you are not used to that role. That being said, you have to think about your baby and put your ego aside during this crucial juncture. For many expectant mothers, that's easier said than done.
"My Face…My Beautiful Face"
Your body goes through many changes during pregnancy, and your hormones are all over the place. Sometimes, that can cause acne, which you thought you got rid of as an adult. It might be annoying at the time, but he still thinks she is perfect. Pregnancy isn't perfect all the time, but the outcome is worth it.
Eventually, your hormones will go back to regular levels, but it takes time for your body to adjust to these changes. It might feel like you are back in high school struggling to cover up pesky zits, but remember, it is all part of growing a human.
Belly Kisses
There is nothing more special than the excitement you have to meet your baby finally. This is a time full of love and lots of kisses. This baby is going to be so loved, and as soon-to-be parents, they are patiently watching as she develops and gets ready to enter the world.
Dad's love giving belly kisses because it helps them feel connected during the pregnancy. Yehuda was so excited to be a dad, and they were counting down the days until the due date. Every twist and turn that came with pregnancy was wonderful and nerve-racking.
What An Interesting Discovery
As we said before, the body goes through many changes throughout pregnancy, and Maya was excited to share her changing body with Yehuda. He doesn't seem to mind how excited she is that her boobs now touch her belly.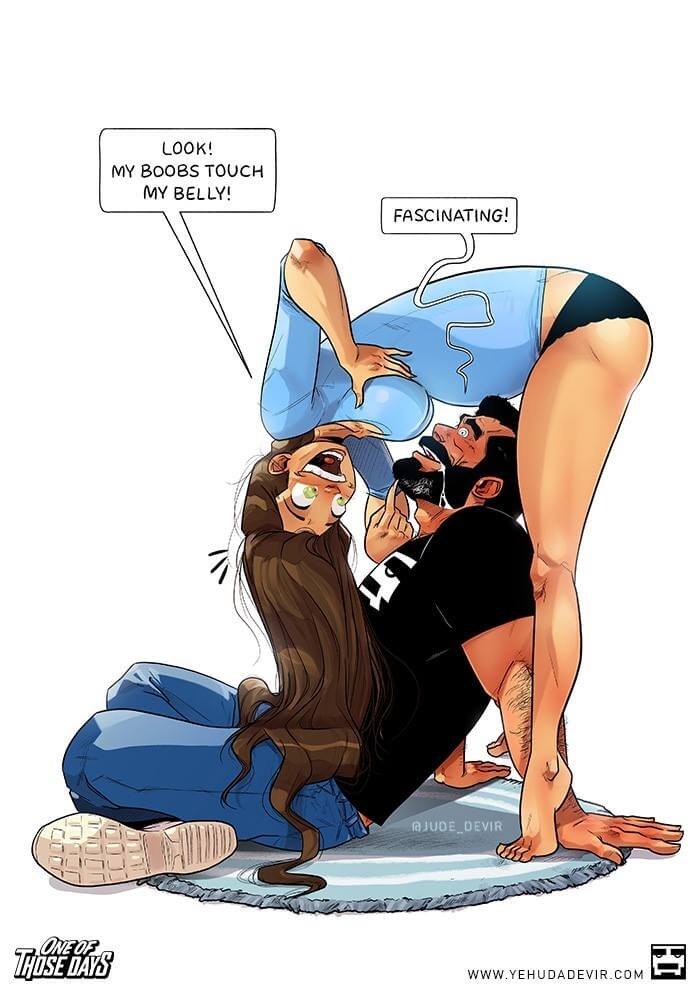 A woman's body can do so many things, and those changes that make people self-conscious or excited are ways that will help the baby grow healthily. Although it is hard to be excited about bloating, growing bellies, and widening hips, these are all signs that your baby is getting bigger.
"Stop, Nobody Move!"
When the baby kicks for the first time, it is a magical moment. She couldn't contain her excitement and wanted him to stop what he was doing to see. You can finally feel your baby moving around, and it becomes very real that a human is growing inside you.
Between pregnancy tests and doctor's visits, she knew she was pregnant, but it finally hits you when the baby starts to move. Nothing can prepare a person for that odd moment or feeling, but it is something that will comfort you to know they are doing great inside the womb.
As Long As She Is Comfortable
As your belly starts to grow, it can be uncomfortable to sleep. While most people buy a special pillow to support their bellies, some opt to use their husbands as pillows. She is sleeping peacefully for once while he is trying not to be smothered by her hair.
Although he is incredibly uncomfortable in that position, he knows she barely gets any rest and deserves to feel comfortable for the first time in a while. At that moment, he is planning his day around buying a comfortable pregnancy pillow so she can use that instead of him.
They Need Another Bathroom
As your baby grows, it applies more pressure to your organs, including your bladder. Move out of the way because she has to go to the bathroom, and he is in the wrong place at the wrong time. He was in the middle of going when she barged in because she could not wait any longer.
When your pregnant wife says she has to go to the bathroom, don't hesitate to make sure there is a free toilet. With all her hormones going crazy, you do not want to mess with a pregnant woman who has a bathroom emergency.
"Are You Sure You Don't Need Help?"
As we all know, when your belly starts to grow, everyday tasks become the biggest challenge because the bump gets in the way. At some point, putting on a pair of sneakers is like mission impossible because it is too hard for your arms to reach your feet.
Your partner might lend you a helping hand, but if you are anything like this cartoon, that is not an option. Holding onto some sense of independence gets harder and harder as you get further into your pregnancy. Sometimes it is best to let someone put your shoes on.
It's Time!
It's finally time to go to the hospital, but you might want to only bring the essentials instead of everything in the house. Instead of bringing everything you own, it is best to prepare a bag for the hospital, so you aren't running around when its go time.
After the long nine months, it is finally time to meet their baby. Although they look panicked, they are over the moon about bringing home their new baby. This is a milestone moment in many people's lives, and it is a joyous and scary time.
The Miracle Of Life
"Push, Push!!" The beautiful and painful moment is finally here, and they are about to meet their baby. He is beaming with excitement. After nine long months, you get to see the baby you created and start to enjoy parenthood.
Every woman says that labor is one of the hardest things they have physically gone through, and it most terrifies most people. Although they can grow babies, we don't think anyone is prepared to push a watermelon through a pinhole.
Baby Ariel Is Here
When you can't get enough of your newborn baby, and you want to stare at her all day long. Everything she does is adorable, even her drool and dirty diapers. They can't believe that they created such an adorable baby girl. Most people would enjoy her sleeping moments while they last.
There are so many exciting moments when you bring your baby home, and everything they do is something to document. Even though she might have a smelly diaper, they can't get over how sweet she looks. They might not think the baby is so cute when they go to change that diaper.
She Is Perfect In Every Way
After the pain and pushing comes the moment you get to hold your baby for the first time. You try to figure out which features the baby got from each parent and count all of her fingers and toes until you are sure there are ten of each.
It is like a halo of bliss is surrounding the new family, and nothing could compare to the way they feel at that moment. The nine months can sometimes feel like it is dragging on the more excited you get to meet your child, and then suddenly they are there, and it changes your world.
Exhausted Is An Understatement
"She never stops crying!!!" Once the baby is up, it is hard to put her back to sleep. It seems like she never stops crying. ​There are many exciting moments, but the sleepless nights are not something that you can prepare for. It might be time to get some caffeine and prepare for another long sleepless night.
Some people who are not parents might ask you why you are exhausted all the time because babies are supposed to sleep a lot, but they don't understand. No one will ever understand a parent's exhaustion until they experience it first hand. For one small baby, she has a lot of power.
New Dads Struggle Too
Raising a child doesn't come with a manual; it's something you learn as you go along and, just like with everything else, you're bound to make mistakes. It's those moments, laying in bed with your partner when your mind starts to race, and that self-doubt starts creeping in.
Being a dad is challenging because the baby is automatically connected to their mother. Sometimes it is more difficult to form that special bond, and it can be frustrating when she only wants her mom. Many new fathers go through this period where they question a lot of things, but it is ok to ask for help.
The First Time Away Is The Hardest
"Are you sure we need to leave her? She can fit in my suitcase!" The first trip away without the baby is difficult, and it is emotional. ​Nothing will happen to the baby, they will be just fine, but there is still a feeling of longing to be with them and protect them.
Although you deserve a break with your partner, you still want to see your baby every day and make sure they are ok. What if they forgot about you after a day? What if your baby misses you? These are all questions that might run through your mind, but remember, your baby is doing just fine.
We Still Got It
After having children and changing lifestyles, you should embrace the changes that your bodies go through. ​You love your partner no matter how their body changes, and you both embrace them together. Just because a pair of jeans doesn't fit doesn't mean you aren't beautiful.
Although it can be hard to accept that your body looks different, you have to remember that you brought a beautiful child into the world. It's ok to gain weight, and it is ok to lose weight. You are not alive just to pay bills and lose weight.
Mad But In Love
After a confrontation or argument, there is a slight tension in the air, and you are waiting for the other person to speak first. It is important to put your ego aside and try to work problems out together because nothing is more important than the love you share.
Communication is key in every relationship. No matter how stubborn you might feel, it is important to break down those barriers and talk things through with your partner. Arguments are inevitable, but the way you get through them will make the relationship stronger.
Stuck At Home
Just when they were getting in the hang of this parenting thing, a pandemic strikes, and everyone had to stay in their homes for what felt like decades. How do you keep your toddler active and get housework done without leaving the confines of your apartment?
No matter how much you love your child, you can always use a break from them each day. When you are stuck inside, you have to think of exciting things to keep them active. They will run a muck through your house if they aren't occupied at all times.
Not Again!
After the baby is born and you start to feel like yourself again, you might want to have some special time with your partner. However, that is a little more challenging when there is a crying baby one room over. Just when you thought she was sound asleep and things were going smooth, she woke up.
"Do we let her cry? Is there time to finish? Are you even in the mood anymore?" Those questions run through both your minds, and someone has to decide because you are in a compromising position. This is why parents need a getaway every once in a while.
"This Can't Be Happening"
Just as your wife is walking around shedding hair like it is no problem, you discover a bald patch. It is like sirens are going off in your head that you are getting older, and questions are racing around your mind. How long do you have before it gets bigger? Do you need hair plugs?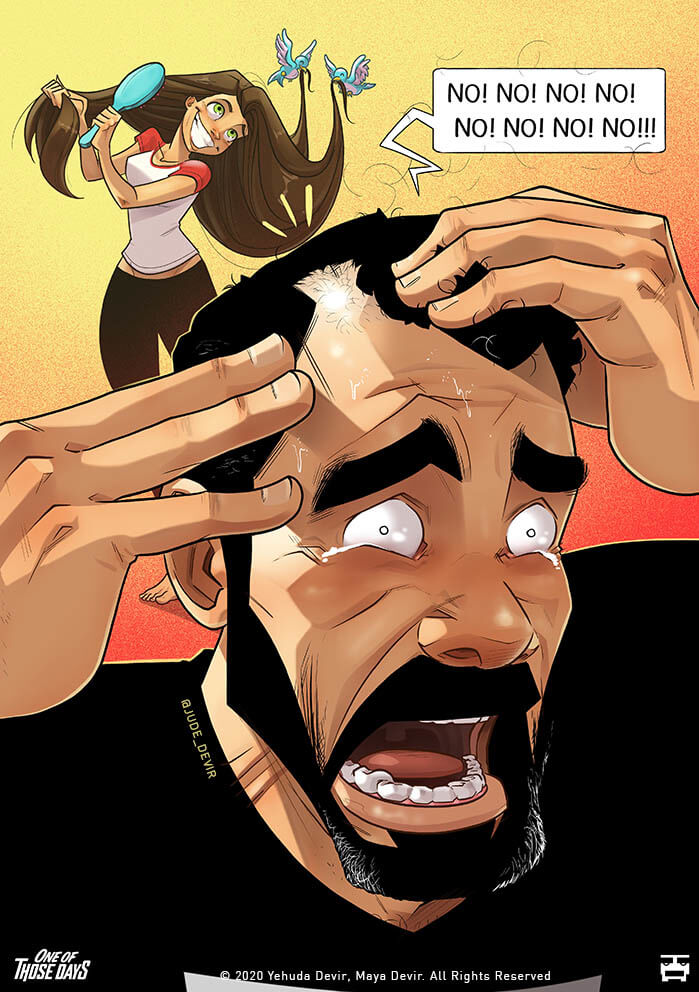 Not to worry, just brush your hair in a different way to hide the patch. You can even use all the hair your wife sheds to create a mini toupee to cover up the spot. While it might seem like your world is crumbling around you, it is just one of the small problems that comes with age.
Mommy Needs A Break
There comes a time in the first year of having a baby when every parent needs a break. You might have found a hiding spot when things get crazy, or you just hide in another room to get a few moments of silence. Even just a minute to gather your thoughts is helpful.
Maybe it's best to develop a code word with your partner when you start to feel overwhelmed. Being a parent is one of the hardest jobs, and it takes a lot of mental strength to keep going until you are running on fumes. It doesn't mean you love your child any less; everyone needs a break.
Team Work Makes The Dream Work
"Honey, what pasta shape is better?" "It doesn't matter. I know you can handle this on your own." When you are the one who usually does the shopping, but you are too busy to go that week. Someone has to buy groceries, and they might not be the most experienced one in the house.
While you are at home doing all the work that has been piling up while watching a toddler, it can be frustrating to get phone calls about pasta. "How does he not know how to grocery shop without needing my help?" These are the thoughts running through her mind.
Mr. And Mrs. Know-It-All
When you really think about it, they are fighting about who loves their daughter more. Everyone wants the best for their children, but it's hard to make the right decisions all the time. Parenting doesn't come with set rules to help you make tough decisions, so it is up to you.
At that moment, you and your partner might have differing opinions about what is best for the child. However, it is best to sit down and discuss them calmly, so you can both think rationally about it. Maybe your combined decision is better than the two individual decisions.
Time For Baby #2
Just when you thought life couldn't get crazier, another baby is on the way. While some people only want one child, others want to have big families. One baby was fun, but now you will get to experience it all over again and watch your child become an older sibling.
Although pregnancy is challenging, it is rewarding to grow your family. The second time around, people know what to expect more or less, so they don't have as many surprises. It might be hard to get your first child adjusted to sharing time with the new baby.
Quality Time
In the age of technology, everyone is glued to their phones until they go to sleep. Even though bedtime is the only free time some people have with their partner, it doesn't mean you have to do something together every night. Lying in bed and relaxing in different ways is still time together.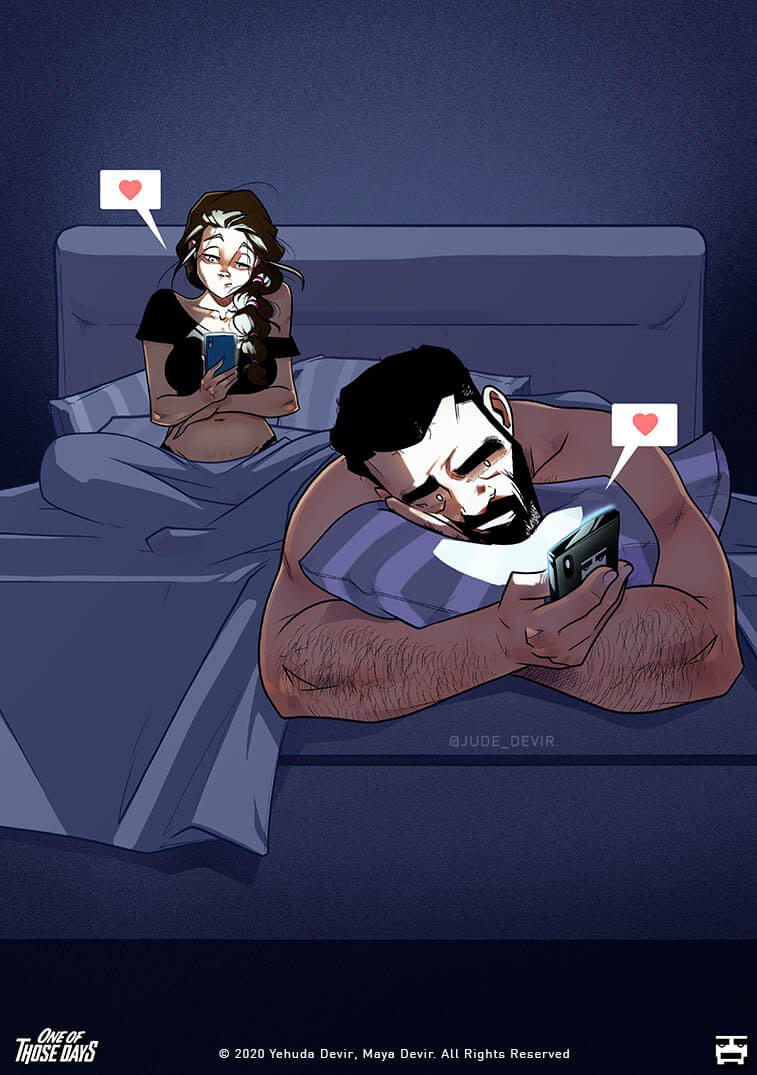 She is probably looking up things to expect with a second child while he watches Hulk cartoons. Sometimes you don't feel like talking and just want to do something alone. That is ok, and no one has to feel bad for needing time to themself.
40+ Hilariously Accurate Illustrations Any Parent Will Relate To
Brenda Miller
This article was originally published on 24/7Mirror
When you think about being a parent what's the first thing that comes to mind? Is it those adorable moments, the first words, or even the long sleepless and crying nights? For artist Yehuda Devir it was all of the above, and his illustrations depicting his and his wife's reality of parenthood on social media has since become world-famous for their honesty and their humor. See which of his photos you relate to the most, while also keeping an eye out for a few of the "real" photos we've sprinkled along the way. Don't forget to stick around for the end for a special surprise that the couple has!
1. You Can Stare At Your Baby For Hours
There is nothing more magical than welcoming a child after months of anticipation. When they arrive, any parent will agree that their innocence and cuteness is perfection itself, which makes it basically impossible to not stare at them for hours.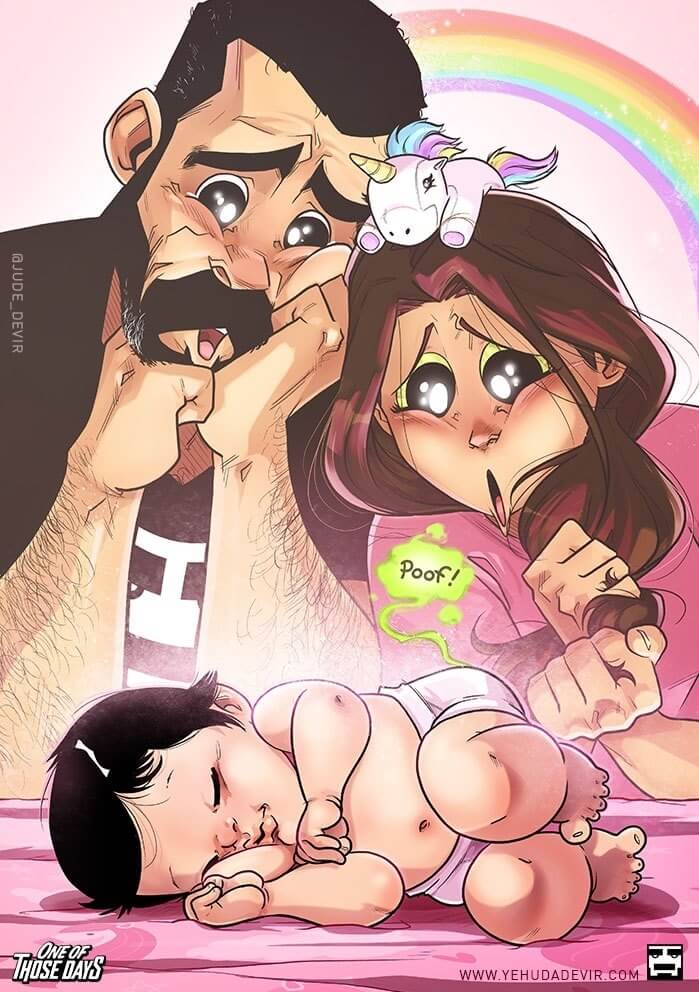 No matter how much of an adjustment it may be to bring a baby home, those peaceful moments remind us that it's all worth it.
2. Changing A Diaper Is Not For The Faint-Hearted
Many parents will agree that changing a diaper takes some skill. The experience can be incredibly messy and overwhelming at first, but nothing like some practice runs to learn it to perfection.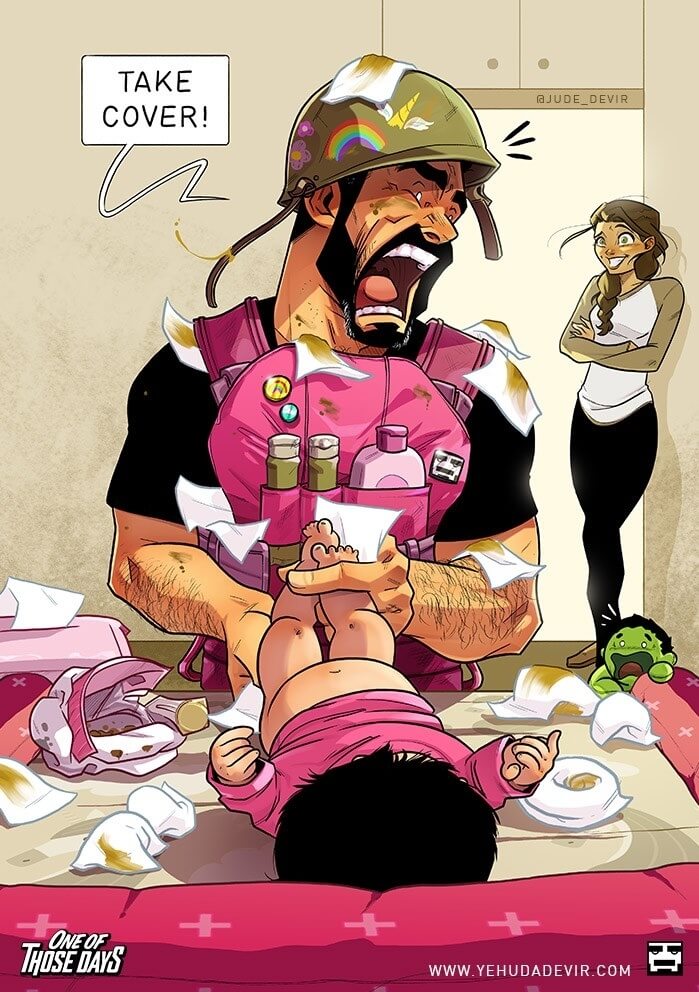 In this illustration though, the artist depicts how the situation is sometimes so messy down there that it requires taking cover. For the parent who is not on duty though, it can be extremely entertaining.
3. The First Time The Baby Latches
The first time the baby latches can be a magical and highly awaited moment for new mothers. But it is important to emphasize that breastfeeding can be a hard and often tumultuous journey, that its' not always easy for everyone.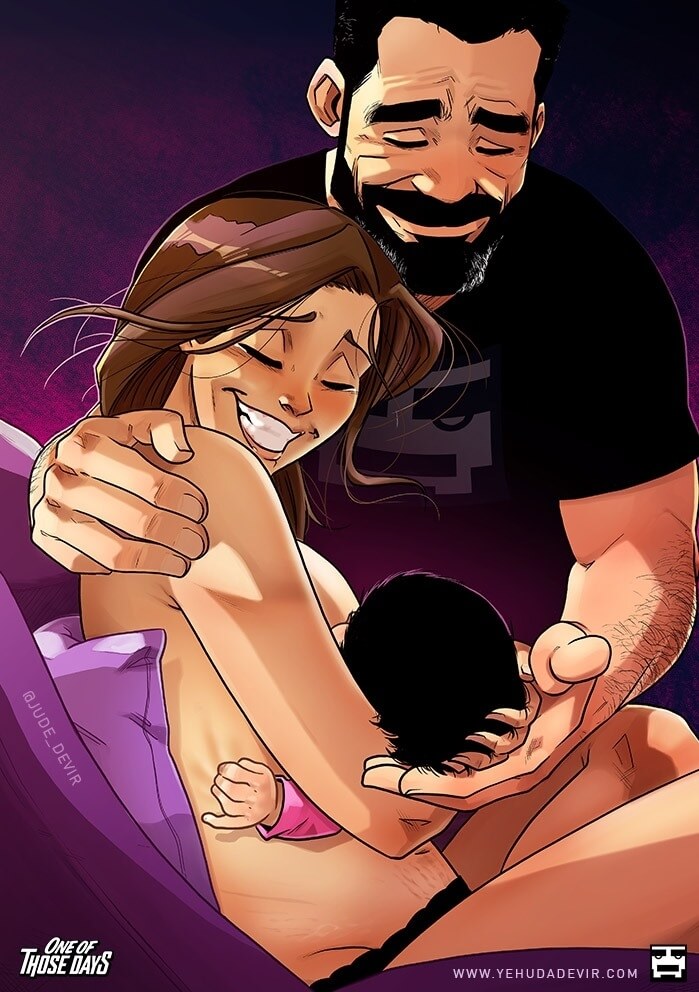 Yet, it can certainly serve as an incomparable bonding experience for the mother and the child, which makes that first moment one of the most special milestones of having a child.
4. When The Baby Refuses To Fall Asleep
Sleep deprivation is a huge thing once you have a baby. No matter how many times other parents tell you that sleep will never be the same, one only understands what that really means once the baby is there.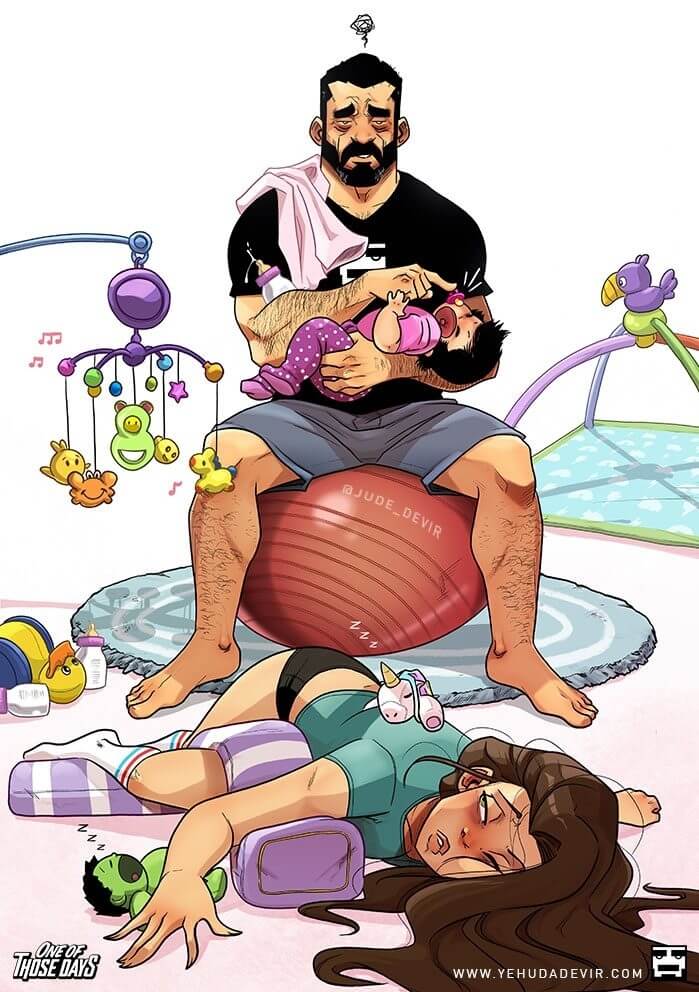 Here, the illustrator realistically shows just how exhausting some nights may be, especially when the baby simply refuses to fall asleep.
5. Their First Bath Doesn't Always Go As Planned
Since almost everything about having a small baby is an adventure, bath time is certainly not an exception. Most especially though, the first baths can definitely require two people managing the entire situation.
There are so many steps that go into bathing a baby: getting the right water temperature, choosing the perfect bathtub, but most of all, keeping the baby safe and happy during the entire process.
6. Those First Shots Are Also A Shot To The Heart
Getting vaccinated in general is already a tough experience, but watching your newborn go through their first few shots is incredibly painful.
Though the pain is not inflicted directly on the parent, most parents can testify to the fact that they do "feel" the pain, mainly in their hearts. As both parents show here, the pain is shared.
7. It May Take Some Time Until You Sleep Again
When you have a baby, suddenly falling asleep absolutely everywhere and at any time may become a recurring situation. But there is nothing more rewarding than doing so together, since each parent will be exhausted.
In this picture, the young couple depicts the beauty of going through something so hard together. As the real-life portrait of the family shared here, they have clearly survived and thrived despite those sleepless nights.
8. You Have To Be Prepared At All Times
Just like any adult can have acid reflux, babies have what's known as infant reflux. This means that most, if not all babies, do vomit from time to time, especially in the first weeks and months of their lives.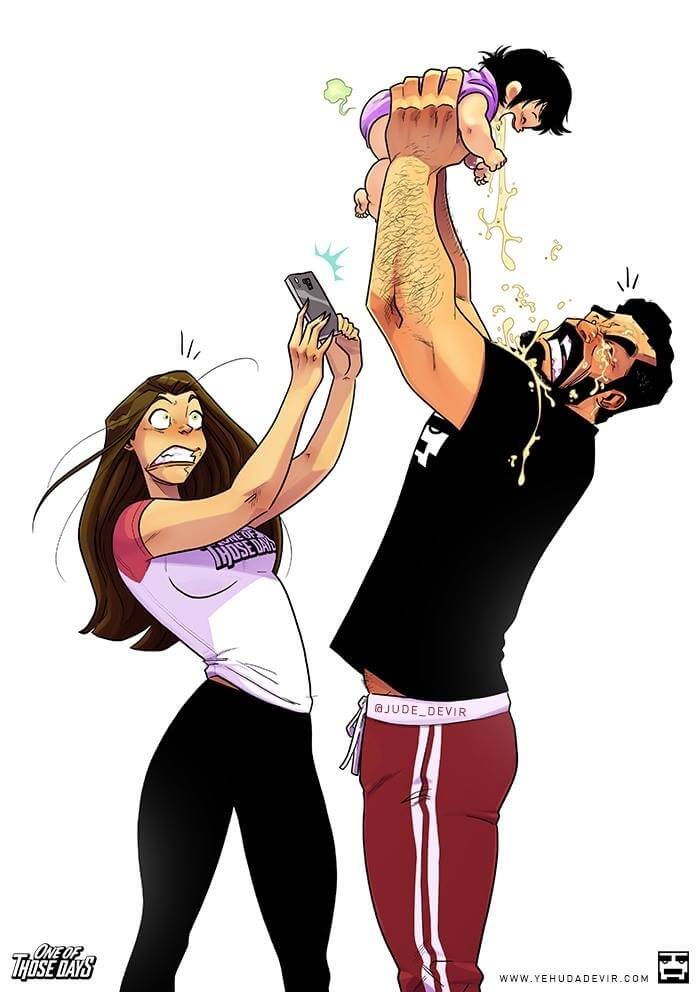 Anything from prolonged crying or regular indigestion may result in it. So brace yourselves new parents because the vomiting is about to begin.
9. Parenting Can Be Really Tough Sometimes
Times can get really tough when you're a first-time parent. Though the happy moments certainly make up for the hard times, anyone is susceptible to feeling like they're not doing a good job at being a dad or a mom.
This illustration painfully shows that sometimes all we need is to cry in our partner's arms and to be reminded that we are worth it, and despite the difficulties, we are wonderful parents.
10. Going Anywhere Becomes The Ultimate Mission
When you have a baby going anywhere, even to a short walk to the park, becomes the ultimate mission. You always want to be as prepared as possible, meaning that you may need tons of things to keep your baby clean, fed, and happy.
And of course, if the outing involves two people, there is always that one person that carries the entire thing.
11. Getting The Baby Dressed Is A Job For Two
Even though a baby is a tiny little thing in comparison to an adult, when they arrive, they rule the house. And sometimes simple jobs such as getting them dressed while they'rere constantly moving or throwing a tantrum can easily be a job for two.
Here, the illustrator shows the struggle that he and his wife sometimes go through to get the baby dressed.
12. The First Time You Leave The Baby Overnight
There are a number of milestones parents go through as the baby grows up that can feel like the end of the world. Parents are still people after all, and they need some time for themselves every once in a while.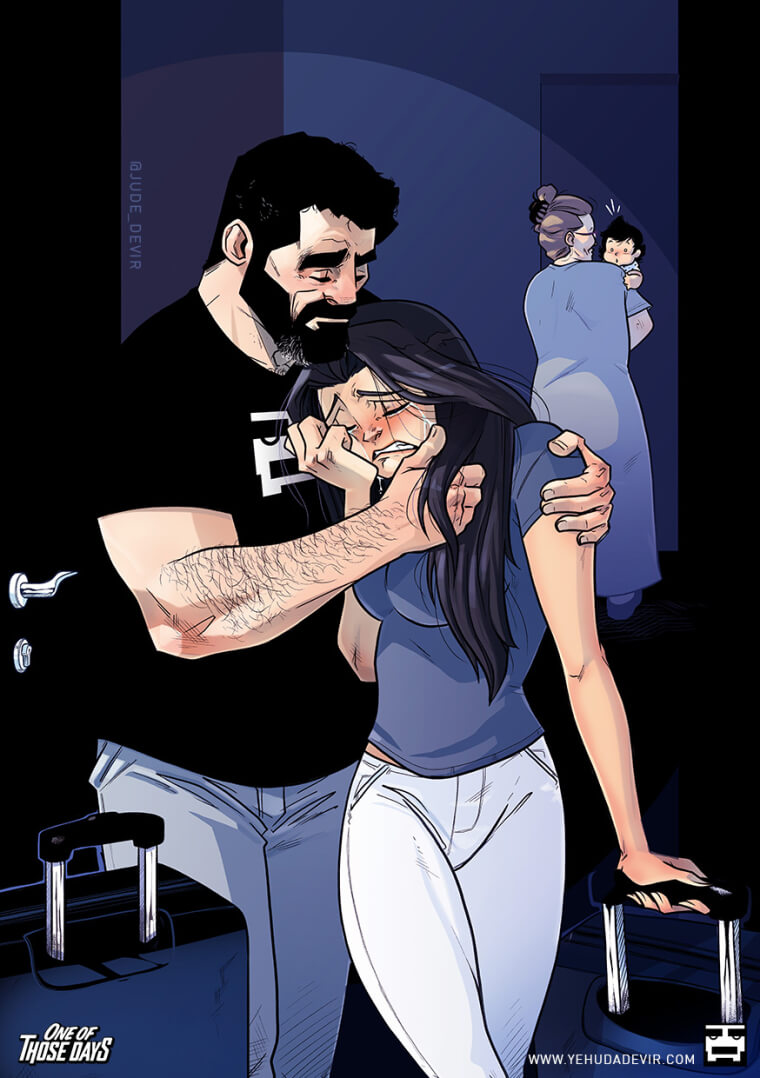 In this image, the parents have just left their baby with the grandmother overnight for the first time, and the mother is not taking it so easily.
13. Couples Who Get Chubby Together, Stay Together
Many of us have seen the hashtag #couplegoals going around, showcasing "perfect" couples with the most ripped bodies we can imagine. Well, this illustrator decided to keep things real.
He shows that things do change over time, and our clothes may never look or fit the same. Yet, there is nothing more beautiful to go through this journey together, acknowledging that health and love are all that matters.
14. Those Aggressive Love Scratches
Babies have interesting ways of showing their love and affection. Just like grown-ups, some babies are very "independent". Other babies do certainly love to cuddle, and since they are babies, those hugs and kisses may come accompanied with some scratches and a lot of drool.
For parents though, those moments are cherished with so much love that the extra stuff doesn't matter.
15. The Baby Rules The Bed
Parents from all walks of life approach sleep training differently. While some try and have their babies sleep in their crib from the very beginnings, other parents are more flexible with sleeping with the baby on the bed with them.
But those who do will most certainly identify with this hilarious image. The couple clearly shows just how the child completely takes over the bed at night.
16. Everything Shuts Down When You're Putting The Baby To Sleep
Putting the baby to sleep is another arduous ritual that most parents will relate to. When they finally figure out what helps their baby fall asleep they do everything in their power to keep the moment as uninterrupted as possible.
Absolutely anything can disrupt the moment, so when the baby finally falls asleep, everyone is determined to make it last.
17. The First Time They Go To Daycare Is Just Painful
Now here's another milestone that breaks many parents. It takes a lot of strength and determination to keep ourselves together the first day we leave our children at daycare.
The baby cries, the parents cry, other kids start crying, and the entire experience is just chaotic and heartbreaking. Yet, like many other things that are hard in parenthood, it gets better.
18. It's A Food Fight Every Day
In many ways, raising a baby means experiencing simple things for the first time through the eyes of a tiny human being. One of these things includes introducing solid food and different flavors that the baby may or may not like.
Here, the parents not only show the daily reality of feeding a baby (which means food all over the place), but also the struggle that it can be sometimes.
19. Showing Affection Becomes A Little Bit Different
It's undeniable that things change in a relationship once a baby joins the family. Life does become about the well-being of that child, and parents often put their relationship second.
Simple moments like giving a small kiss, lying down on the couch or in bed watching a movie, or going for a romantic picnic, are altered a little bit to accommodate the cute and tiny human being.
20. You Get To Create Masterpieces With Your Baby's Hair
Doing a child's hair is yet again another mission that may or may not take much longer than anyone would ever expect. To this father's satisfaction though, he seems to have just triumphed in making a cute hairstyle for his toddler.
As the real-life photo coming up shows, creating different hairstyles is one of the father-daughter duo's favorite ways to bond.
21. This Is What Father And Daughter Get Up To In Real Life
As Kobe Bryant reminded the world, being a "girl dad" comes with some awesome perks. Here, we finally get to see the dad and the baby girl that has inspired some of the most relatable illustrations any parent will ever see.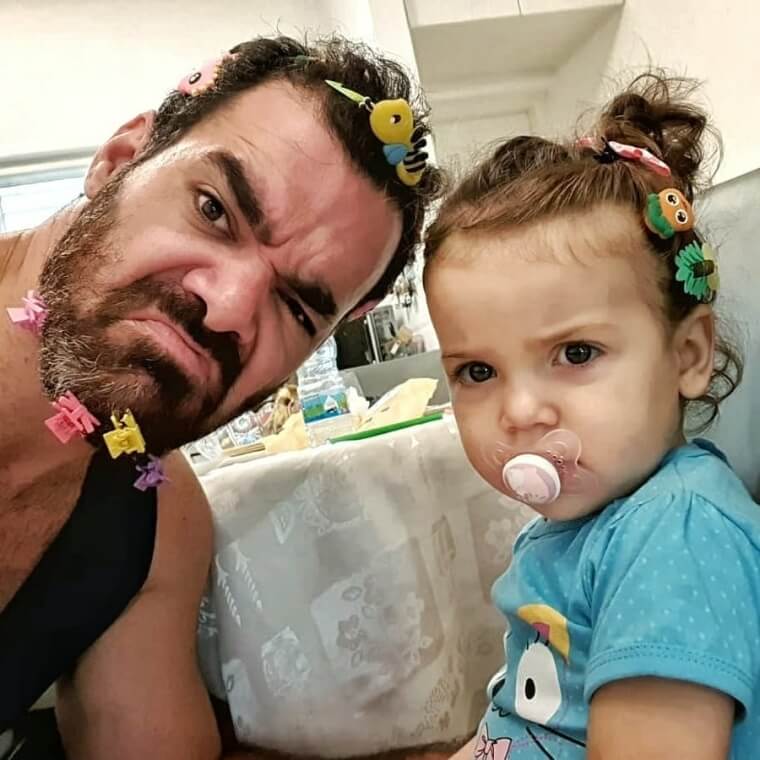 In this cute selfie, he shows just how much fun it is to do her hair while hilariously matching it with his. But if you think they look alike in this photo, wait until you see the entire family's real-life photo.
22. Nursing A Teething Baby
Not many things can describe the pain of breastfeeding a teething baby. While breastfeeding itself is already no easy task, when those little teeth start coming up the pain is inexpressible.
Needless to say that it's the kind of pain that one never gets used to, so it takes some teamwork to get through it. One thing that could help, as illustrated above, is squeezing your partner.
23. Your Life Become All About The Baby
It may take a while to grasp the full chaotic situation in this picture, so take your time. Perhaps there is no better illustration to show just how much goes on when raising a child.
The exhaustion is constant, toys can be found everywhere, and a nap may happen at any time, or depending on the baby's schedule. Here, the parents are all wrapped up in each other taking a much-needed snooze.
24. Documenting Every Milestone
Documenting every step and every moment of a child's development is crucial for any parent. With phones being an integral part of our lives these days, we get to capture and sometimes even over-capture every important moment in a child's life.
Here, the couple is witnessing the first time their baby starts crawling. Quickly, they grabbed their phone and snapped every part of it.
25. Mama For Everyone
This might be one of the most hilarious and relatable pictures of the series. As we said, when a child is born, the dynamics of a couple's relationship may change a little.
In this drawing though, the illustrator decided to make one thing very clear. He was as excited to see his wife undress for her much-deserved shower as their child was.
26. You May Never Get To Do Anything Alone Again
Parents-to-be may not know this, but once there is a child in the home, almost nothing can ever be done alone again.
That includes sleeping alone, walking around the house alone, and even the most private moment like using the toilet alone. Children require attention and if that means following a parent absolutely everywhere, they are ready to do it.
27. Intimate Time Also Looks A Bit Different
Continuing the argument that nothing will ever be the same again, here's another perfect example of it.
Yes, even the most intimate and necessary moments in a couple's life become completely different when there is a baby in the picture. In this case, the new parents were in a "bonding moment" when their kid started crying – who can't relate?
28. When You Find Out You Have Less Hair
Many of us unfortunately experience hair loss as we get older, especially if we live stressful lives. Now, having a baby can be stressful, though our bodies react differently.
In this illustration, the artist shares his desperation when he realizes he's losing tons of hair, while his wife's "Rapunzel" hair becomes stronger by the minute.
29. The First Time Your Baby Says "Mama"
Any parent cherishes the anticipation of hearing their child calling them "mama" or "papa" for the first time. In this hilarious drawing, the artist illustrated his wife's reaction to their daughter saying "mama" for the first time.
He humorously suggests that her happy tears were so many that he barely managed to walk without getting completely wet. What can you do, that's what a mother's love looks like!
30. You Realize That Baby Poop Is Lethal
One thing's for sure, no matter how cute and adorable a baby may be, when it comes to farting and pooping there is nothing cute about it. Those very natural occurrences can have the most lethal smell one can imagine.
In this illustration, the guy alludes to the many times our partners walk up with the baby just after they pooped, not taking into consideration the fact that we may be in the middle of a meal.
31. Going To The Beach Looks Different
"Bouncing back" after having a child is hard, and unfortunately not enough people talk about this. Women all over the world struggle to come to terms with the fact that bodies change after literally growing, carrying, and birthing a child.
Here, the artist decided to pinpoint that it may take some time for the mother to feel comfortable again to show off that beach body again.
32. Mission Accomplished
There is something so powerful about seeing our partners grow into wonderful mothers and fathers. How many parents have had that appreciation and admiration moment for the exhausted yet incredible partners they chose to raise a child with?
In this powerful documentation of their daily lives, the artist shares the moment his wife fell asleep putting their baby to bed while the baby instinctively clings to her mom's arms.
33. What Putting The Baby To Sleep In Real Life Looks Like
Now here's another incredibly cute picture that the illustrator himself graced his social media followers with – him as he holds his daughter. While the sacred moment of putting a baby to bed in the evening can come with its challenges, there are days where all the baby wants is a cuddle.
This picture is a clear example of one of those days, where holding that baby is a reminder that the challenges and the hard times mean little when we get to have our baby in our arms.
34. Desperately Baby Proofing The House
While each milestone may signify something enormous, there is something powerfully chaotic that happens once a child starts walking.
Not many parents realize how this completely changes things since the child can now reach and bump into places that she has never reached before. Here, both parents are quickly baby proofing the house as quickly as possible before the child destroys everything.
35. When You Swim As A Family
Needless to say that there is always that one person who loves peeing in the pool. But when you have a kid, you can basically blame all of these little things on the baby, especially when they can't talk yet.
Unfortunately for the dad though, he didn't realize that in some pools there is a little product that calls you out as soon as you pee underwater.
36. The Difference A Screen Makes
Introducing screens to small babies is one of the most debatable subjects in the parenting community everywhere in the world.
But for parents who do decide to introduce their kids to some screen time, the feeling of realizing that something can in fact keep them hypnotized for more than five minutes is humongous. In this picture, the artist shows just how fascinating that realization can be for parents.
37. Sometimes All You Need Is A Break
Another very relatable moment for a parent is that one (or two, or three) time that you simply can no longer deal with a crying baby.
Tantrums happen, and when they do, it can be extremely overwhelming. So if hiding in the closet or in a dark room for a bit while our partner deals with the situation are what is going to keep you going, then you do you!
38. It Takes A Team To Complete All Baby Tasks
It takes time to master the art of attending to all of our baby's needs. Parents worldwide will agree that in order to get things done, a support system is crucial.
Some jobs just need two pairs of hands to be done and this drawing emphasizes why. Both parents seem to be extremely concentrated as they do their best to follow through with a thousand baby tasks.
39. When You Just Need To Grow Up
Growing up has its perks, but it also comes with a bunch of responsibilities. Though the illustrator shared this one as a joke, it's a good wake-up call for those very supportive partners out there to step up in their home duties.
He jokingly shows the moment he was put on grocery shopping duty but had absolutely no idea what pasta to buy. Thankfully, his wife believes in him.
40. You Always Think You Know What's Best For The Baby
Now here's another one that really takes things home for any parent. Every single parent out there believes that they know exactly what is best for their child. An in some cases parents don't always agree, so the recurrent argument of "I know what's best for her" comes through every once in a while.
Yet, it's an important reminder that though it's tough, it all comes from love and wanting the wellbeing of their child.
41. When You Pass On To Another Stage
This illustration signifies so much for any parent. It highlights the different stages that every parent experiences with their children, be it the first time they walk, their first word, the first day of daycare, the first day of primary school, and the list goes on.
For the artist himself, he chose to share the day he and his wife had been parents for a year and a half, and despite the hardships, had been successfully raising a beautiful girl together.
42. When You Surrender To Tiredness Together
Having discipline is good and necessary, but seriously, which parents out there can't say that they haven't given in to the exhaustion every once in a while.
As much as it's important to keep eating healthy and exercising even when our routines completely change with a baby, we all need a break. So parents (and non-parents) will easily relate to choosing to eat snacks and lay on the couch instead of doing everything else.
43. "You Are Gonna Be A Big Sister"
Bringing a sibling to the world is a chapter that many parents dream of. Growing a family is a big thing, and one of the most magical and scariest moments for any parent.
This drawing, however, shares the joy and the hope that comes from the first ultrasound of a second baby in the family. It also shares the moment they get to tell their baby girl that she is about to become a big sister.
44. Here's The Actual Family!
In this family portrait, we finally get to see the entire family behind the incredible illustrations in this article. The pair began dating as students in college and since then, they have earned an avid following from all over the world, after going viral in 2017.
Since then, they have won several awards for their talented depiction of real-life scenarios, and perhaps, the next illustration couldn't be more accurate to real life.
45. Easing your Baby's Pain
And lastly, there is no better way to conclude this series of illustrations with one of the most relatable of all, doing everything in our power to ease our baby's pain.
Our hearts hurt when our babies hurt themselves, so although the tactics are different, any parent will relate to making a drawing on a bandage, "hitting" the object that hurt the child, or giving a kiss on the wound so that it eases the baby's pain.