As cosplaying has become quite popular around the world, it has given an opportunity to many female cosplayers to achieve new heights of fame. If you are into cosplays, what you are about to witness is pure mind-blowing stuff. We have compiled a list of 50 female cosplay artists that can blow your mind with their skills. Don't forget to check Harley Quinn cosplay. So, let's start it.
1. Superwoman
Enji Night is a cosplay and costume artist from Budapest who has over 901k followers on Instagram. When Enji uploaded a photo of Superwoman cosplay on Instagram, she impressed everyone with her attention to detail.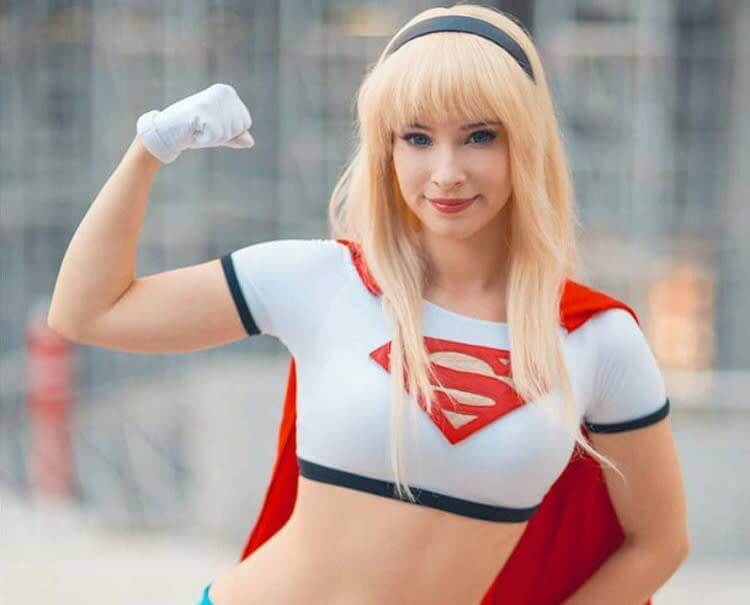 All she needs is to shoot lasers out of eyes and she'll be our Superwoman for real. By the way, she is regarded as one of the best cosplay artists. So, you'll be seeing more of her impressive work on our list.
2. Green Lantern
Jessica Cruz looks terrific in this Green Lantern cosplay outfit. And just look at the eyes, mind-blowing. This fantastic outfit is all because of Surfingthevoid, a self-proclaimed film nerd and comic book lover.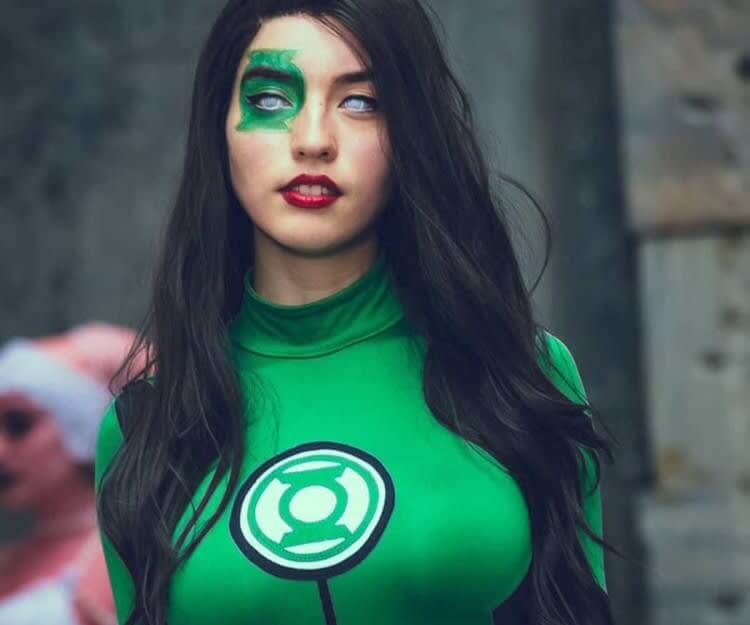 The talented Cruz is 23 and a film nerd and lover of comics. She does her own makeup and believe it or not, made the Green Lantern outfit entirely by hand.
3. Tinker Bell
If you ever wanted to see Tinker Bell in real life, here you have it. Twerkin Gherkin is a 23-year-old talented cosplay artist from Brisbane, Australia.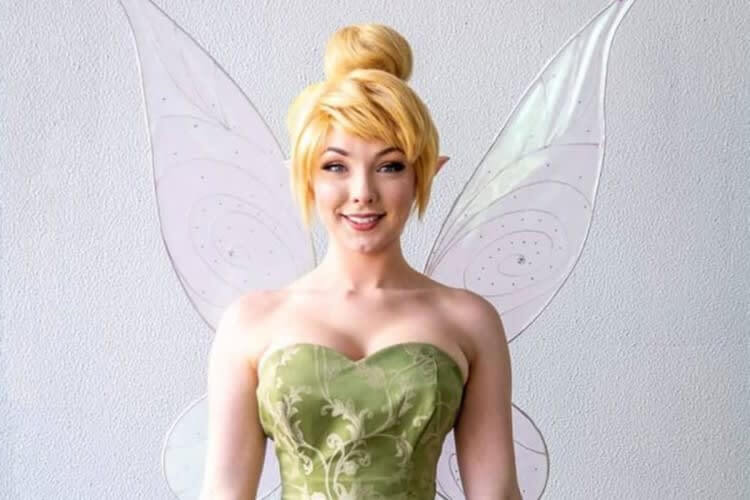 She sells her incredible cosplay outfits and also has a Ko-fi account to fund her new projects. As of now, she is working on the stunning Black Widow costume from Avenger's End Game. We're quite sure she will blow us out of the water this time as well.
Keep Watching
x
4. Rogue
Cosplay artist Liz Katz is known for her incredible work and she completely nailed it with Rogue. But this for her is just another costume out of many. With over 1k posts and 1.2 million followers on her Instagram account, one can easily tell how amazing she is at what she does.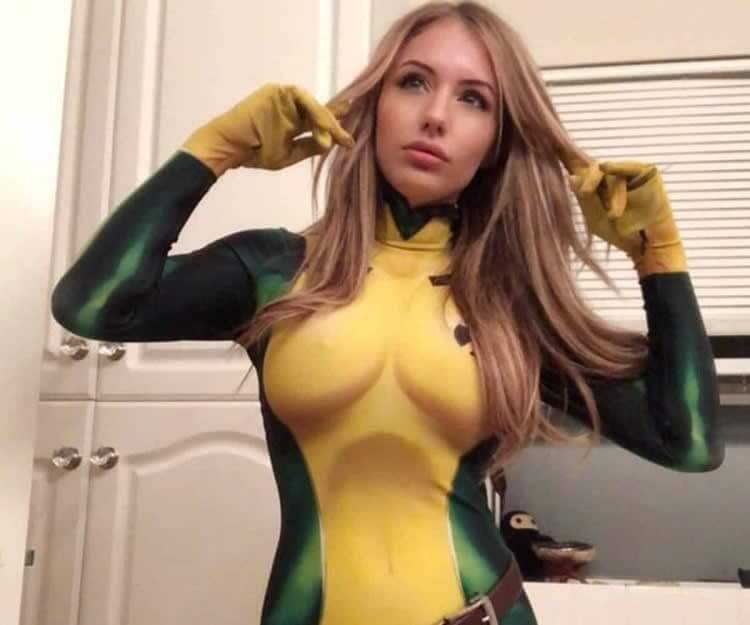 In her profile description, she proudly wrote, "Feisty lil Cosplay Model, Retoucher, Gamer, Inferior Actress Half Elf, Professional Eccentric & Muse." No wonder why she has gone Rogue.
5. Mystique
At San Diego Comic Con 2018, this was an award-winning costume. So, you can get an idea about how talented this cosplayer is and if you still want to see more of her work, you can check her Instagram account @magnetomystique.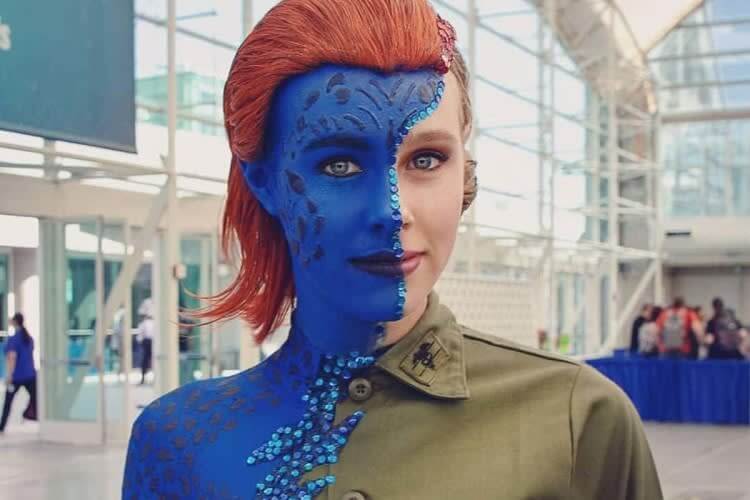 By the way, this mid-transformation Mystique is sporting a lycra bodysuit (the one Jennifer Lawrence wears in the X-Men movies).
6. Kida
Doesn't Atlantic Princess/Queen Kida look amazing here? We find this cosplay highly impressive because it is one of those outfits that don't require much in the way of costuming work. But it has to look perfect and the person who achieved perfection is Polish cosplayer "Merrysynth."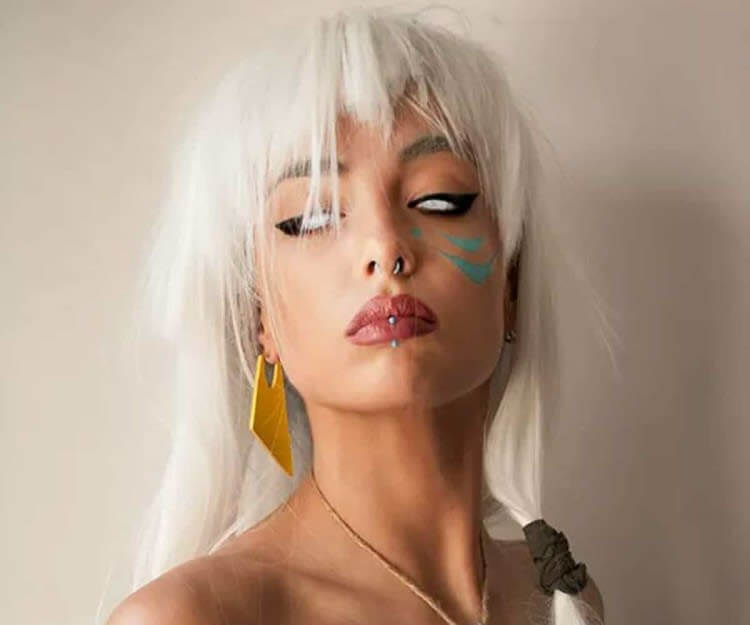 If you check Merrysynth's Instagram account, you can find how incredible she is when it comes to makeup skills. She also loves changing contacts and which is one of the Hallmarks of her costumes. And she has dark hair in real life. That shows how much effort she puts into each cosplay outfit.
7. Princess Bean
Veronika has baffled us many times and here, she pulled off Princess Bean with extreme perfection. And yes, she looks super incredible as Daenerys as well.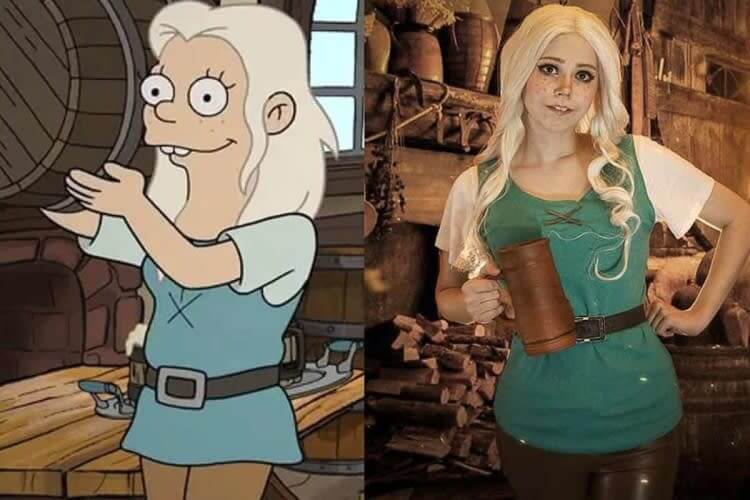 The 23-year-old is from Russia and focuses a lot on cinematic cosplay. One thing is for sure that she takes her craft quite seriously. Her attention to the details of the character's costume and personality is apparent in this photo.
8. She-Hulk
Photographer Jeff Zoet is quite skillful and this photo shows how good he is at his work. In this photo, Ginger Kutschbach is just a lean, mean She-Hulk. For this costume, all she needed was a coat of green paint, distressed jeans and a white t-shirt.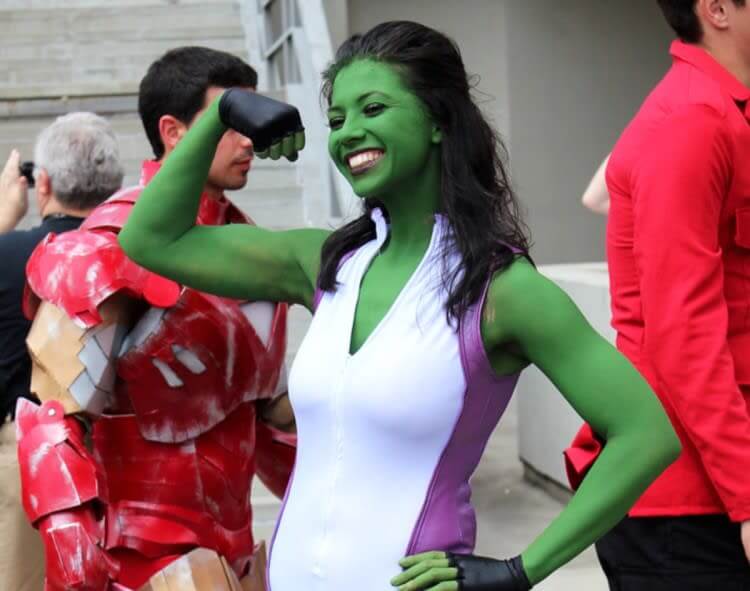 She may not look bulky, but she works out like a beast. In addition to cosplay outfits, her Instagram account is full of her pumping iron and working hard in the gym.
9. Aquawoman
Jason Momoa was splendid as Aquaman, but how about Janey Lad as Aquawoman. It seems like she is determined to set new standards for herself with every new cosplay creation. Her previous ones include Miss Marvel, Supergirl, and Harley Quinn.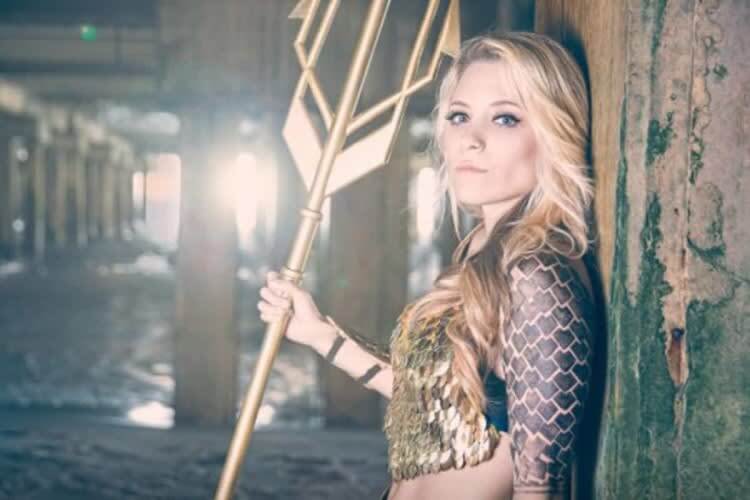 Her Instagram account @LaneyFeni has over 64k followers and you can find a lot of amazing photos there.
10. Elsa
Just wow! This Elsa cosplay is stunningly beautiful. But then again, this is what you can easily expect from cosplayer Hannah Eva. In her career so far, she has astounded everyone with works such as Ariel, Cinderella and other Disney princesses.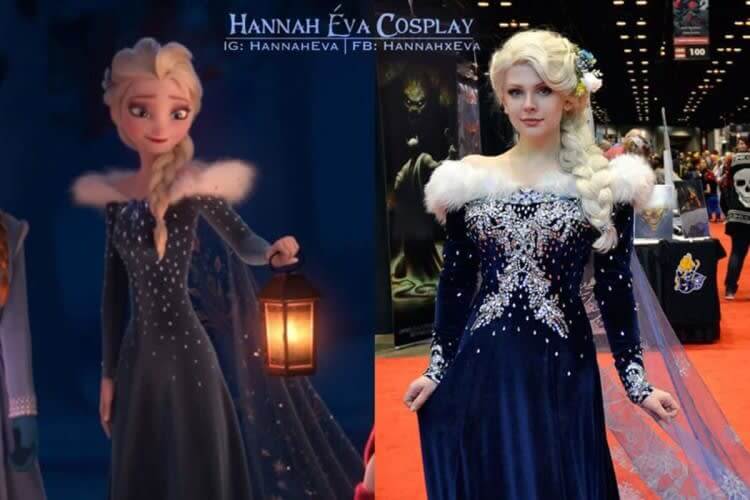 Her Instagram account has over 31k loyal followers. This sort of attention isn't something that Hannah is used to since, according to her, she considers herself to be a shy introvert.
11. Valkyrie
@maweezy is a Filipino cosplayer and dancer with over 1600 posts and 30k followers. So when she decided to go for the Valkyrie, everyone was stunned by her looks. She has also impressed everyone by dressing as Harley Quinn, Bumblee, and Buzz Lightyear.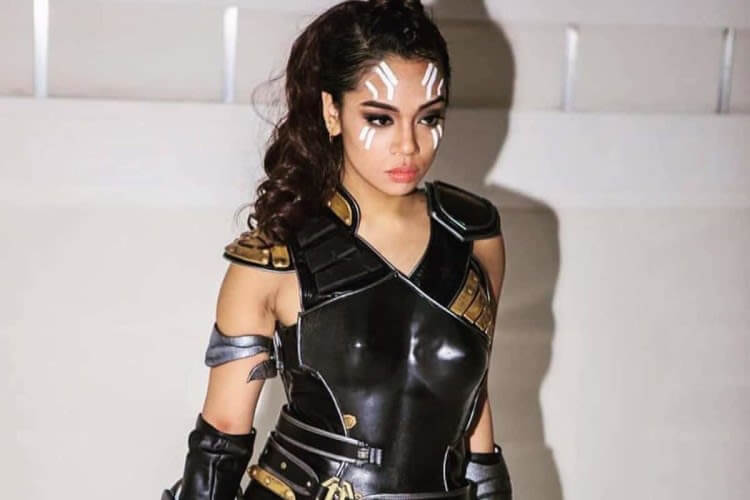 During D.C.'s Awesome Con in 2019, she was also a part of a panel discussion on the topic of "Being a Professional Cosplayer." The panel included other notable names such as Lua Stardust, Maki Roll, and Mikal Mosley.
12. Harley Quinn and Poison Ivy
We all have to admit that both Ryoko-Demon and Rei-Doll look spot-on here. These cosplayers are from Russia and have been best friends since 2002.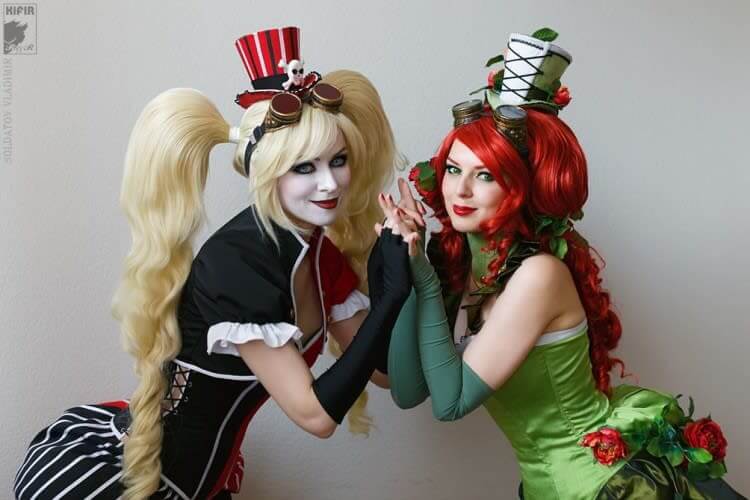 They formed the R&R Art Group to showcase their talent and passion to the world. You should take a look into their social media accounts for more mind-blowing content.
13. Hellgirl
This gender-bend by cosplayer Tanuki Tinka Asai is incredible. If you look at every little detail, you will notice that she has nailed it. From red paint to cloven hooves and leather accessories, everything is perfect.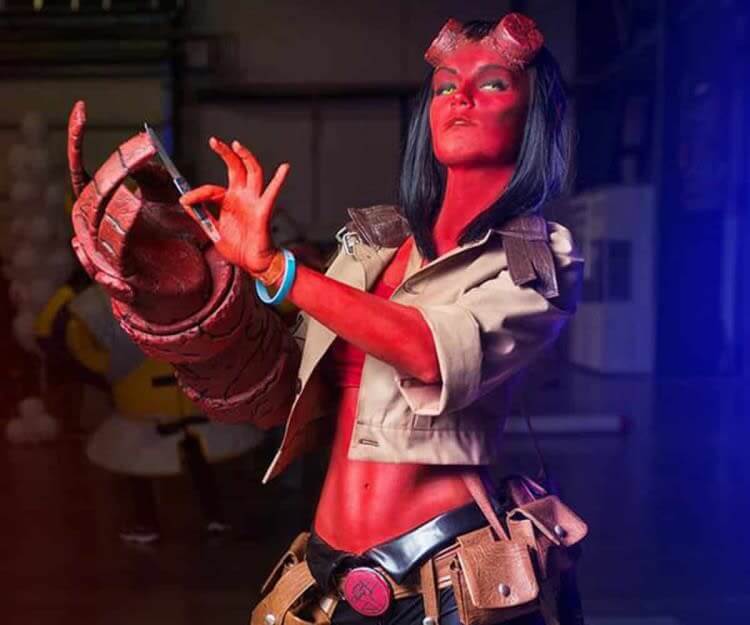 It makes sense because she says Hellboy is the comic book character she likes the most. We recommend you to watch her "Winter Ginger" picture series as well.
14. Lara Croft
Even if you're not a fan of Tomb Raider video games and movies or not, you have to take a moment to appreciate how effortlessly @enjinight pulled off this cosplay costume.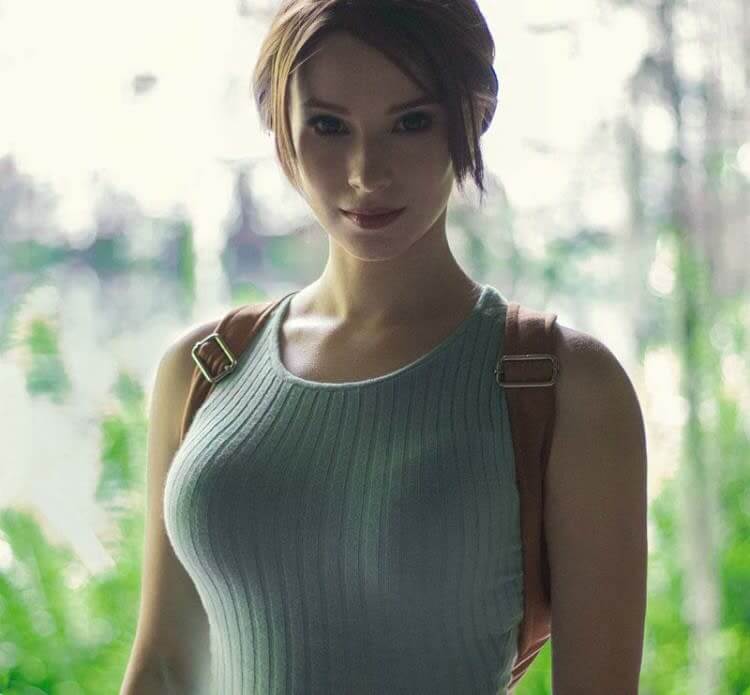 If you don't know who Lara Croft is, well, think of her as a female version of Indiana Jones.
15. Captain Marvel
This talented cosplayer picked the perfect costume. A Dallas, Texas native, she could easily become Brie Larson's double in the future Captain Marvel movies.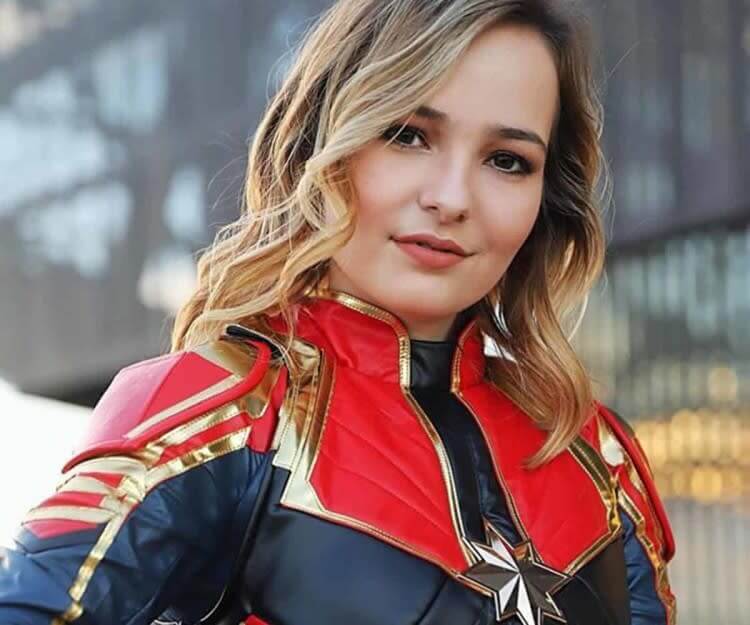 Better known as OMgCosplay, this talented cosplayer is on Instagram under the same name as well. Do check out her Amazing Spiderman cosplay as it will leave you stunned.
16. Daenerys Targaryen
Christina Fink is a famous Russian cosplayer. Her Instagram account @kalinkafox has over 168k followers. It won't be wrong to say that her cosplay skills are second to none. Take this one as an example. Her cosplay costume of the queen became a big hit.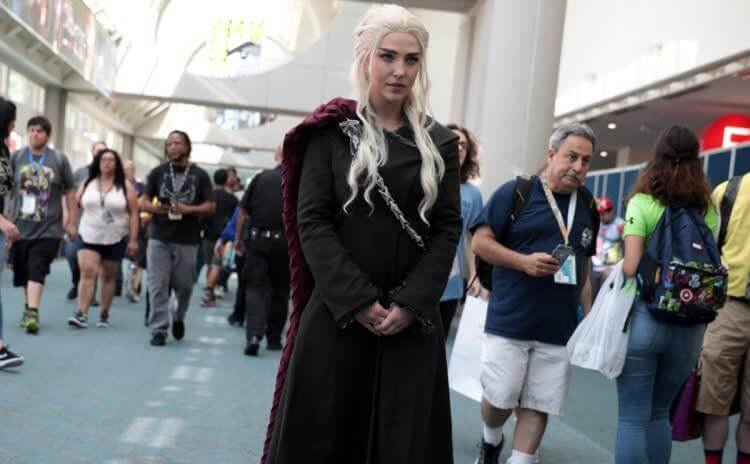 To become in love with her work, make sure to see her epic Wonder Woman and Harley Quinn cosplay costumes as well.
17. Domino
What makes the 23-year-old Unique Sora so popular is that she can turn herself into nearly any character; including Deadpool's newest sidekick Domino from Deadpool 2. She's so freaking good that sometimes fans need a double-look to tell the difference.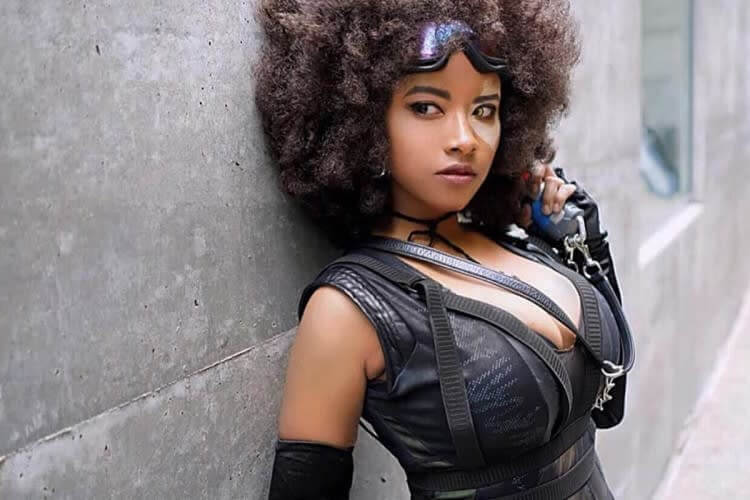 Her Instagram account @uniquesora has over 337k followers. Follow the account to see her cosplay costumes of Esmeralda, Nani from Lilo and Stitch and many others.
18. The Wasp
You find someone in a cosplay costume and can't help but admire their beauty and the effort that they had put into their costume. This is exactly the case with this gorgeous lady.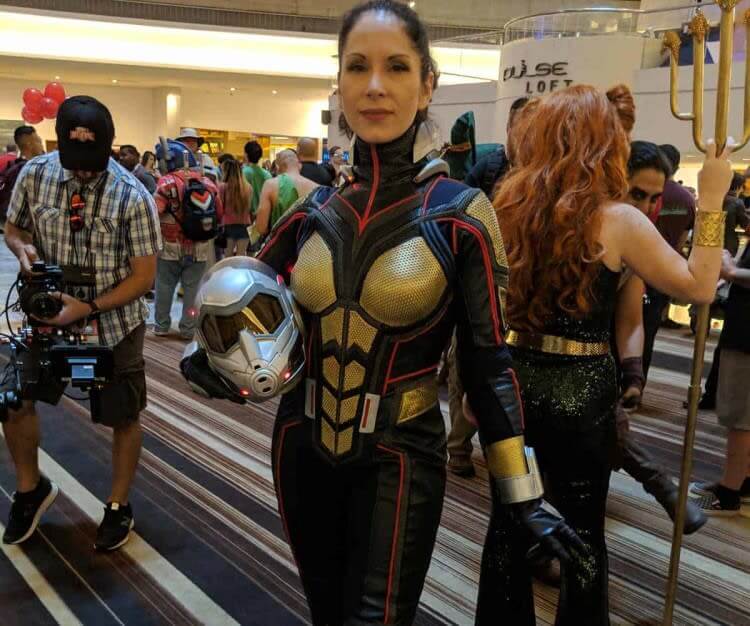 This cosplayer not only had the creativity into creating The Wasp cosplay costume, but she also had the grace and confidence to wear it. 10/10 is a must here.
19. Storm
This cosplayer is actually an amazing model for Coser Cosplay. It is a company established in 2005 which manufactures and sells costumes that range from anime/videogames/comics to Halloween costumes that people love.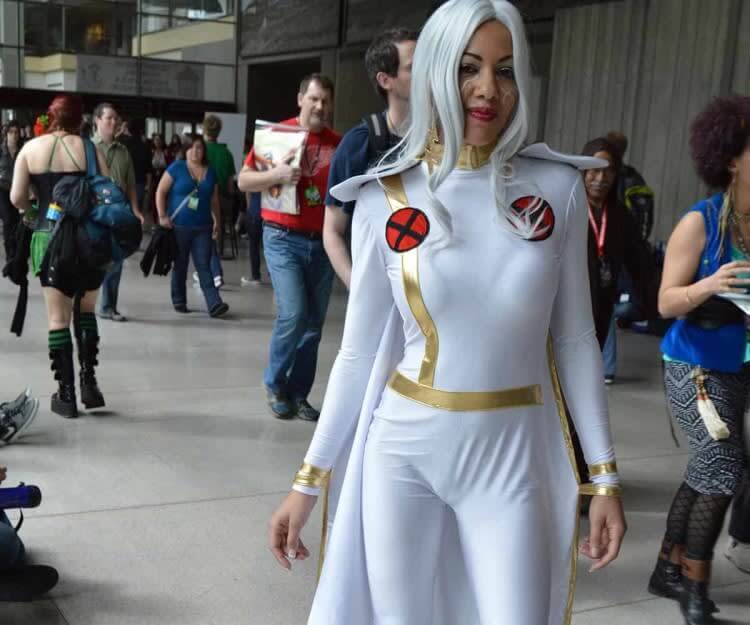 We liked the costume and the way the model carried it. You can give Coser Cosplay a shot if you need custom-sized costumes.
20. Wonder Woman
Many cosplayers have tried to pull off the Wonder Woman outfit, but it is quite rare to see someone doing it so well that we actually thought it was a scene from the film. This is @RocioCosplayer, an avid fashion designer, video gamer, and a huge cosplay enthusiast.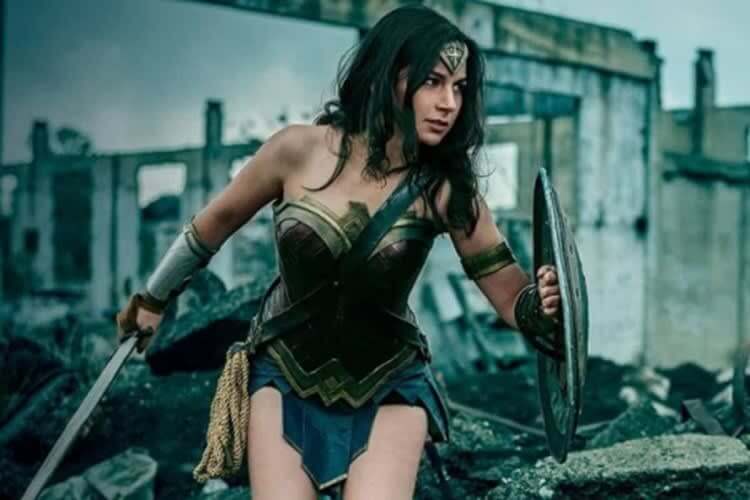 She has also amazed fans with some of our favorite video game characters and as Batwoman. And yes, she did a Freddy Krueger as well. This girl just keeps on impressing us.
21. Dr. Strange
Do you love Dr. Strange's character? If not, then perhaps this might persuade you to change your mind. Rachel Meikle is a talented cosplay artist. We urge you to watch her work, especially of Aurora and Cinderella.
She's on Facebook and Deskgram as @rachelmeiklecosplay. The unique part about her work is that she hand-makes most of her outfits. She is no stranger to creativity and hard work.
22. Hades
If you were among those lucky people who attended LBM15 (Leipziger Buchmesse Manga Comic Convention), then you must have seen this fantastic costume. German Cosplayer Jacqueline purchased this costume from online cosplay dealer Coserz.
she looks amazing in the costume, and even did her own makeup and even made the wig herself. You can check her work on Deviant Art or find tutorial videos on her YouTube channel.
23. Mantis
This LA native have two accounts (@lianne507 and @lianne.cosplay) and a YouTube channel where you can find finished cosplay projects and some of the most epic transformations.
Here, doesn't she look stunning as Mantis? You'll be amazed at some of the other Guardians' characters that she pulls off.
24. Batgirl
If you haven't watched American superhero television series Batwoman, then you should give it a shot. But here is something that amazed us all. Lola V went for a Batgirl and perfectly nailed it. We really loved it how she went with the same yellow kicks as the cartoon batgirl.
She's definitely showing the world that New Zealand is not behind in stunning cosplays as well. And do check her Instagram account, @lola_v_cosplay.
25. Raven
UK cosplayer Oh My Sophii can blow anyone's mind with her craft. She fell in love with cosplay thanks to her friend Cissa who took her to a convention in 2009. Her focus is mostly on comics, video games, and anime characters.
By the way, her husband is usually her photographer. You can follow her on Instagram, @OhMySophii.
26. Kitana
Fans of Mortal Kombat will love this cosplay costume. The first thing that comes to your mind after looking at this picture is, "Finish Him!"
This person is not the real-life Kitana (sorry to break your heart) as she is a costume model for an Etsy store. But hey, fans don't mind as long as the costume looks cool, right?
27. Pennywise
Polyvore made this epic Pennywise costume and anyone can get it for just $60. However, you'd have to come up with perfect makeup and pigtails.
And how can we forget a red balloon? Without it, you can't completely pull off Pennywise's look.
28. Pepper Potts
This talented cosplayer is Katharina Kastian and she's from Germany. She is known for making original designs and outfits like this Pepper Potts/Iron Man costume. It seems like she's all ready to be cast in the next Avengers movie.
If you are wondering how she made it, then here's what you need to know. The suit is built entirely from high-density foam and then custom painted. You can check her Etsy store if you want this costume.
29. Samus
This gorgeous cosplayer is Amanda and she is from Seattle, Washington. Although we don't know how exactly she pulled this stunner, we have absolutely no complaints here.
She's originally from Canada and is a multi-talented woman. She is a self-professed raver, dancer, traveler, gamer, and a dreamer.
30. The Bride
All Kill Bill fans should be excited about seeing this. After all, it is quite difficult to pull off this bad-ass look. This is the Bride costume from the movie which you can get for about $150.
But the sword is not included in it. One thing we know for sure that no one should mess with this model. Simply mind your own business and stay out of her way.
31. Snow White
Although Snow White costume is not difficult to pull off, you still need everything to be spot on. And that is exactly what this beautiful lady achieved.
She's already good looking and she bought the costume from an Etsy store. We love it, what about you?
32. Deadpool
Stephanie Roozu such a talented cosplayer that anything she wears perfectly fits her. She has become a prolific cosplayer because of her talent and sheer dedication.
You can check her portfolio on her website as well as 30 sponsor relationships. Her Deadpool costume was part of a photoshoot by Stephanie Roozu. You can check her work on Instagram, @sutefaniiroozu!
33. Captain America
This gender-bent Captain America just shows you how stunning someone can look with the right costume.
This is a bodysuit style outfit and the short and white boots completed her look. What are your thoughts on this one? We are going to give it 10 out of 10 marks without any hesitation whatsoever.
34. Sailor Jupiter
This spectacular cosplay is the creation of gillykins (her deviant art handle as well). Do check out her handle to be amazed as you will find incredible cosplay images of her outfits.
What makes her IG account different from others is that she posts about everything from her personal life to her cosplays as well.
35. Punisher
Hannah Ray is more than just an average cosplay enthusiast. And people, don't let her puppy dog eyes fool you.
She is a genius when it comes to cosplays and marketing. She is making good money out of selling signed prints of her. You can find her on twitter and Instagram under @HannahRayNinja.
36. Elektra
Although it is an Elektra cosplay, it does have some resemblance with Ann Tamaki from the video game Persona 5.
Nevertheless, it is quite impressive work done by the cosplayer. By the way, you can find more about her under the name "shiroganesama".
37. Spiderwoman
This phenomenal cosplayer is Lakette. She's from Spain and has her own YouTube channel where she shows the world her cosplay skills and also gives tips to beginners.
You can check her Instagram account @barraza_lakette. When she's not wowing us with her costumes she spends her time working as an architect.
38. Ant-Man
If you ever thought there would be no gender-bent Ant-Man, it is time to change that thought. And here's an interesting fact for you. Most ants are female, except for soldier ants.
So, maybe this cosplayer Eternal Rose wanted to make a statement with this costume. Her helmet was a Christmas gift, the black is stretch vinyl and the red is a stretch knit fabric.
39. Supergirl
The Aquawoman cosplayer Laney Jade strikes again with Supergirl cosplay costume. She lives in Washington D.C. and keeps on impressing us with her amazing costumes.
When one of her fans asked her about why she became a cosplayer, she said on her Facebook page: "I suppose I like to dress up." We just hope that she keeps on doing this brilliant work.
40. Black Panther
This is an incredible gender-bent Black Panther cosplay. Amazingly, it also glows in the dark. @cutiepiesensie (IG) made this cosplay and shocked everyone with her stunning looks and an infectious smile.
Follow her on Instagram and if you just fell in love with her, then you should know that she's already married.
41. Gamora and Nebula
Mind-blowing! This Gamora and Nebula cosplay looks out of this world. We promise that this isn't the actual Gamora and Nebula from the movies but are cosplayers Sara Moni and Amber Skies, who created and wore these outfits.
You can find Sara on IG @saramonicosplay and Twitter @KrayolaKid. If you want to see Amber's work, you can find her on Facebook (amberskiescosplay) and Twitter @theamberskies.
42. Kim Possible
Lola V featured on our list earlier and here she is pulling off stunning Kim Possible cosplay and we have no words to describe how much she has impressed us. After all, she has done everything right from the incredible stomach to her smile.
Although the outfit seems simple, there are actually quite a few minor details that most people wouldn't notice, but that hasn't been lost on Lola V.
43. Cyclops
Camila Menezes is showing us why we love cosplays so much. This outfit is made at home and looks spectacular.
She is more of an old school cosplayer as she always tries to honor the original characteristics of the craft. Check out more of her work on Instagram @camenezesx.
44. Sakura
This is too good because female cosplayer DidsRainfall perfected everything down to the stare. She is one of those cosplayers that take the utmost pride in their craft.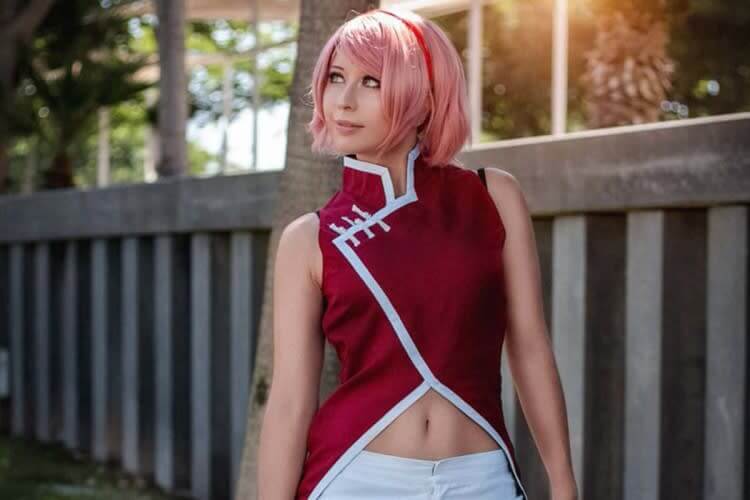 She made the top all by herself and went with a pink wig and white pants to pull off a great look. This cosplayer from Spain is, without any doubt, one of the best cosplayers around.
45. Lana Kane
Unique Sora features on our list again as Lana Kane and you have to admit that she has impressed us more than once before.
She is one of those cosplayers that work super hard to achieve perfection and we can see that in this cosplay costume in which she did everything right.
46. Jessica Rabbit
Wow! Just Wow! You have to understand that pulling off Jessica Rabbit requires everything to match from sequin laden to gorgeous long red hair.
This cosplayer did everything perfectly and we have to pinch ourselves to believe that she exists in real life. This is simply one of the best female cosplay costumes.
47. Pink Ranger
Angela Domanico is a gorgeous female cosplayer, also known as LadyDoombats (@angeldomanico_ on Instagram).
She is the Pink Power Ranger here and we all can see how much time and effort must be needed for this costume. Supergeek Designs made this suit and sewing was done by Zentai Zone. Do follow this cosplayer for more incredible cosplay outfits.
48. Black Cat
CutiePieSensei is one of the most popular female cosplay artists around and she sure does know how to say Meow.
Everything about this cosplay outfit is spot on and we can't find anything to complain about. All we can do is look at her outfit and take some time to just admire her work.
49. Wolverine
It really doesn't matter if Wolverine is missing a claw when someone has put so much effort into creating an impressive cosplay costume like this one. The cosplayer is Rebecca from Maryland. She is on Instagram and you can find her by searching @becksters_lab.
We can assure you that her account is filled with impressive characters like Batgirl and Captain Marvel. For her work, she is a fan favorite at Comic Cons.
50. Harley Quinn
We conclude our list of 50 amazing female cosplays with this masterpiece. Russian cosplayer widely known as Karishma Cosplay did this vintage Harley Quinn and everyone just couldn't believe what they saw. Many thought that it was the real Harley Quinn.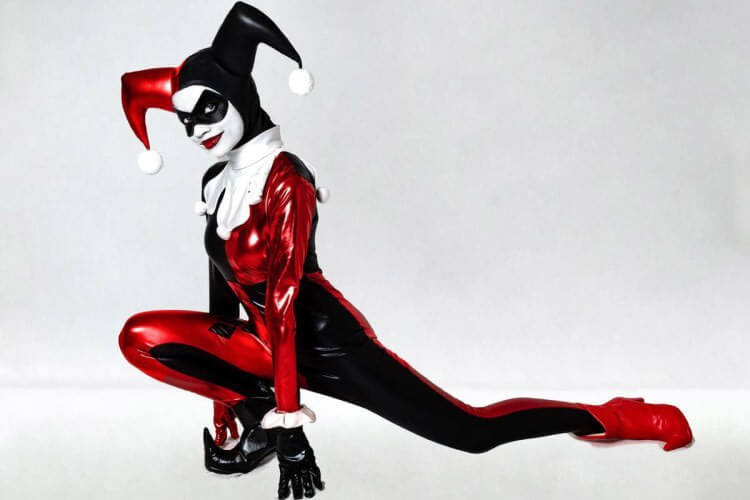 You can check her page model for @gamegirlscentral to see why fans are crazy about her. Follow her on IG by searching @karishma_cosplay_magic and we can say with absolute confidence that you won't be disappointed by her work.
Hilarious Prom Photos That Nobody Will Ever Forget
Brenda Miller
This article was originally published on 24/7Mirror
Prom night: the excitement is palpable, the music is loud, the hormones are… definitely making everyone awkward. As much as we love to imagine that prom night is some magical and romantic night that you'll never forget, the reality often clashes with the dream. After putting out a request for the most embarrassing and hilarious prom photos out there we were rewarded with prom photos that will make you switch between hysterical laughter and a pound of cringe. We know that these photos will transport you back to your high school "golden days," all while giving you the biggest laugh of your day.
A Little Too Much 'Young Love'
Isn't it just wonderful to be young and in love? Quite nothing in this world compares to it, so it's always important to remember and enjoy every single second of it. Even if that means taking an awkward photo or two, who cares? Clearly, this young couple doesn't, since they can't keep their hands off each other.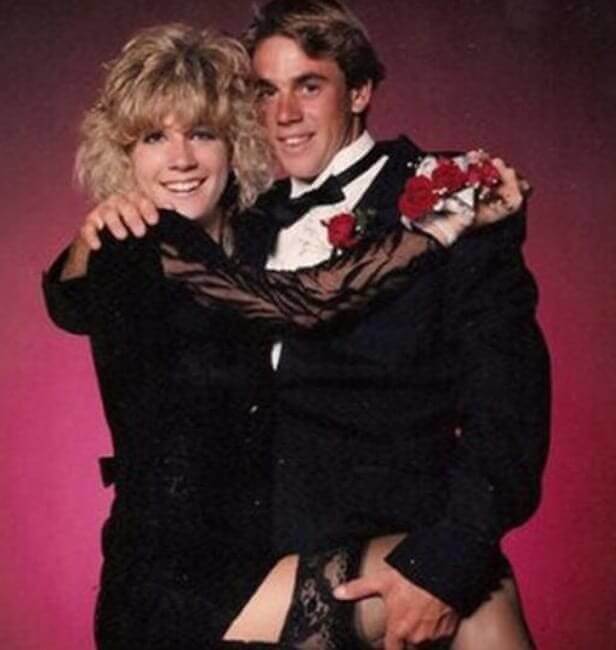 And though we'd like to say that there is a time and a place for things to get a bit steamy, they seem to be up for showing their love for each other the same second their profile picture was taken. As awkward as they are, they look kind of cute though.
Try Explaining This One To Your Parents
This funny couple certainly took their originality to a whole other level. Instead of choosing to take just another regular prom photo, you know, the typical side-by-side picture, they chose something else.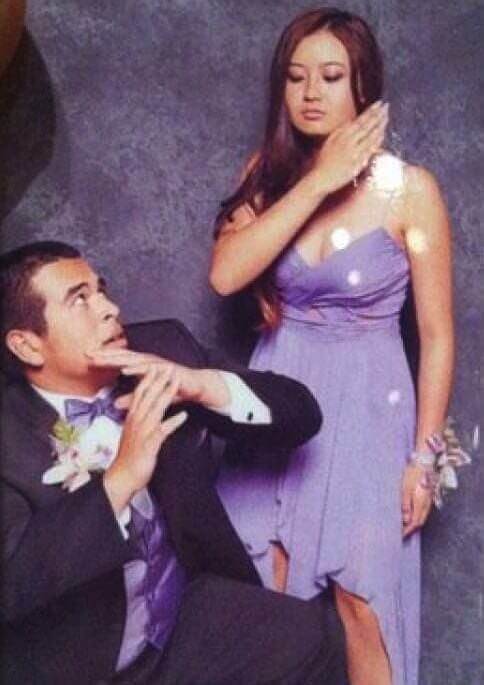 Either that, or she is actually trying to send out a message with the pose she chose, as it seems like she is pretending to be about to slap the guy, and he is seriously scared. In any case, they both look stunning and will forever have an original prom photo to reminisce about.
​He Cannot Keep His Eyes Away
Sometimes, we can just not take our eyes off the person we like. And this guy is one of those people. In the hilarious picture, he was caught staring at his date, without being able to hide his awe for the girl sitting next to him.
But he did so in a way that became a little bit much, and we're guessing that many people felt uncomfortable about it, including her. Seriously, if you absolutely have to look, then at least try to make it less obvious, you know?
​Photobombed In The Creepiest Way
We can't really point out if one of the girls in the picture was the date of the guy in the back, but there is no doubt that he wishes he was in that photo too. Instead, he is standing behind them while holding a bouquet of flowers and looking real disappointed and even creepy.
Looking at the bright side though, at least the girls seem to be having a good time.
​ A Strange Carpet Ride
We don't really get what is happening in this picture, but let's just go with the flow for the sake of the awkwardness in it. The two teenagers certainly deserve to get props for how much effort they both put into this photo.
They certainly decided to think outside of the box for this one, and well, they easily succeeded in creating one of the most original prom photos we've ever seen! That's not to say that their pose isn't weird though, because even though we're not there, it kind of makes us a little bit uncomfortable.
Can We Get Some Context Please?
The guy in this picture looks so happy while he poses on his prom day. For some reason, he is also holding a random sewing machine, as if his background didn't look bad enough.
He seems completely oblivious to the fact that someone was just in an accident, only a few moments before he is posed for his photo. One thing's for sure, the entire thing makes for a sadly great photo.
Incoming!
When prom night comes, we get all dressed up and seriously look forward to the wonderful evening ahead of us. In many ways, we can't even believe the moment is there since we have waited in anticipation for so long. But then, when the time comes to take the magical photos that will always remind us of these special moments, just imagine someone ruining it?
How annoying. And that's exactly what this guy in the back did. He simply decided to photobomb his friends' photo by making an unforgettable face, and that is literally all anyone will remember about this photo.
​The Staring Game Is Strong
Well, that's just not a nice thing to do young man! We understand, his prom date looks absolutely stunning, and is wearing a dress that he can't simply stop looking at. But his staring game is so strong that it might be making others slightly uncomfortable. But we all know how those teenager hormones are killers sometimes, leaving young boys and girls going completely crazy whenever they see a bit of cleavage or some very prominent muscles.
Good thing this cameraperson caught the entire inappropriate moment on camera, and this guy will be forever reminded of the moment he couldn't keep his eyes away from his date's cleavage. But looking at the positive side of things, at least he only had eyes for her!
​Pick-A-Boo Dad
It is always so scary when dads have the quirkiest sense of humor. We never know when they're going to use it, and unfortunately for this girl, her dad was ready to strike as soon as she was ready to go to prom.
Out of the blue, her dad decided to play pick-a-boo and to create a photo that would become so cringy in the end. We can only imagine what this girl felt when she saw the photo afterward.
Blink And You'll Miss It
Closing your eyes at the exact moment that a shot is taken is the absolute worst! Seriously, it's never fun to take an important photo and to realize too late that your eyes were actually closed. That's what this poor guy experienced on his prom day.
At least these days we get to take several photos as soon as we realize that our eyes were closed. Imagine back in the days when we only had one or two chances, and if we ruined it, our prom photos would be ruined and unchanged forever!
When You're Supposed To Choose Between Two Dates But Find A Third Option
For a love triangle, these three are totally rocking and owning theirs! The guy not only decided to take two stunning girls to prom, but he also wanted to make sure that they both knew he was dedicated to both of them equally.
The solution for that? To wear perfectly colored outfits – each of the girls wore a colorful dress to which the guy matched with each half of his outfit.
Equally Awkward Attire
There is nothing any of us can say that will take away the fact that these two couples look incredible in this photo. Their matching outfits really worked out for them. Even though '70s clothes aren't always a favorite by many, these plaid outfits were probably amongst the few things that were awesome back then, and these two teenagers knew exactly how to rock them.
It's also really cool that the girl decided to defy traditional rules and went on with her cool suit instead of a fancy prom dress.
​Riding A Llama In Style
Who on this earth thinks about including a llama in their prom photos? These guys. We have no idea what they had in their minds, what we do know, is that they wanted to make their prom night special and so they went and did it.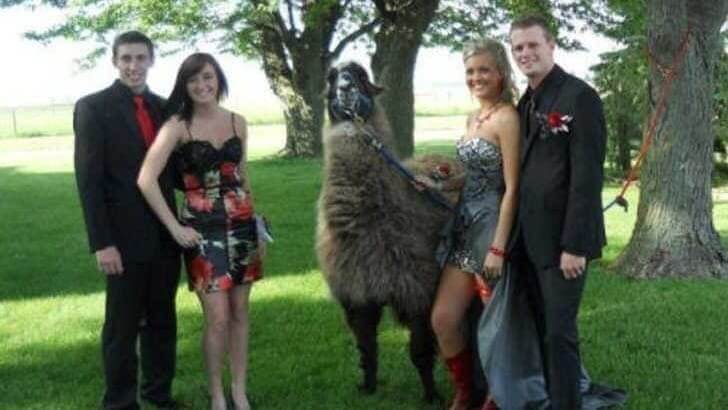 And how did they do it? Well, instead of choosing to make an entrance with a fancy vintage car or a limo, they chose something a little bit more unusual, a llama. Yes, folks, these teenagers literally posed for their prom photo with a llama in the middle, and we're certain that no one will ever forget it.
​An Unfortunate Event
Oh man, if this is not one of the most unfortunate pictures we'll be seeing on this list, then we're not too far from it. Someone had the not-so-brilliant idea to get everyone standing on a bridge for a group photo. Sadly, they didn't consider the fact that the added weight could possibly become a problem, which it did.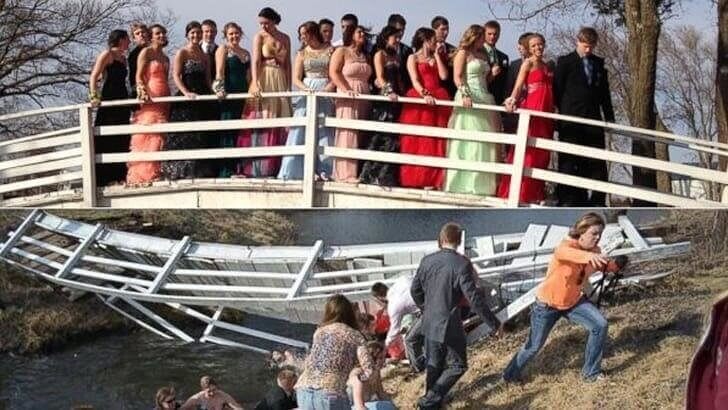 The inevitable happened when the entire thing tipped over, and one by one, the prom kids began falling into the water. Though the moment must have totally sucked, at least they can laugh together about it today.
​Wearing Shorts To Prom
Feeling like wearing a pair of shorts to prom, why not? Clearly, this guy saw no boundaries out there when he decided to wear a pair of wonderful shorts to the prom. We're assuming it was hot or something, or he simply wanted to defy prom culture.
His date looks absolutely stunning next to him, and she doesn't seem too bothered by the guy wearing shorts. While it may be kind of inappropriate to wear them to prom, props to him for doing whatever he felt was right.
​The Superhero Prom Dates
Now here's a pair of very creative guys who were like, "Why don't we wear some superhero costumes to prom?" And though some may say that that was going a little bit overboard, Batman and Spiderman here seemed to be very pleased with their decision.
And their dates obviously look stunning and seem to find it cool to go with superheroes as their dates to prom. They for sure had a total blast that evening!
​Every Possible Color
Now, how cool is this? The group of guys thought together about the most creative thing they could do to make their prom day even more fun, and we're guessing that they got to the perfect solution.
Instead of wearing a suit, they decided to go for some really colorful outfits perfectly contrasting with one another. Their color coordination definitely flies on this one, and they get to have this awesome photo to remember the big day.
​Another Photobomb
It's inevitable that a few prom photos will have a person or two photobombing. But this guy's photobomb skills are so sharp that we are close to believing that they are some of the best we've ever seen!
He is literally hiding behind the bushes while the clueless guy is happily smiling at the camera as he poses for his memorable prom photo.
A Fish As A Prom Date
It's impossible not to feel a little bit bad for this guy. We're not sure if this was a joke, but if it wasn't, the poor kid probably didn't deserve to stand there alone with a huge fish as a date.
Many of us know how hard it can be to not be the popular kid in school, so it is somewhat painful to see the lonely guy. On the other hand, if this joke was his own doing, then props to him for rising up and not caring about what others think.
​The Devil Goes To Prom
This is pretty creepy, that's for sure. I mean, we've seen people wearing so many different costumes to prom, but nothing was ever like what this guy is wearing.
Who on earth would think of going to prom wearing a devil costume? At least the couple was in sync, as they both wore their fair share of devilish stuff, and all that matters is that they're happy, right?
When You Come Wearing The Same Thing As The Room
You know how things go. You just wake up at your regular time in the morning, look for your favorite dress, do everything in your power to look really nice, and then boom!
You look at the curtains in your house and realize that what you're wearing is exactly the same color as the curtains and even the same material. So well done to this girl for owning the outfit and taking a photo right in front of the embarrassing curtains.
So Many Prom Dates, How To Choose?
Well, good for you, man! The guy is surely making an impression, or at least he is feeling himself posing next to so many dates! Clearly, he managed to snag not just one date to prom, nor two, he actually convinced three young women that he was the right date for them.
And as cool as it looks, we hope the girls don't let the guy break their hearts with all of his "coolness."
​Taking Mrs. Robinson To Prom
So, something about this picture is a tiny bit weird. Okay, maybe it's more than a tiny bit, the photo just confuses us a little bit. The boy is so adorably dressed in his grey suit, which is not so awkward and tacky like many prom suits out there.
But then it seems like he is either taking one of his teachers to prom, his mom, or a much older date. They do look adorable though.
The Dad Is Not Happy
Many dads love showing just how unhappy they are with the entire prom date situation, and so they do their best to make sure their daughter's date knows where they stand.
And this dad made sure that the guy knew his little girl was very precious to him. We guess that it can take a little while for dads to realize the fact that their daughters eventually get all grown up.
​A Cardboard Date
Here's another idea for when you realize you don't have a date to prom but you still want to take those cute photos. You can always just create a cardboard person the size of a real one, and do the photoshoot exactly how you want it.
Take this girl for example. She is probably a fan of Doctor Who, so she took matters into her own hands and created her own date made of the series' main actor.
​The Wonderful Stormtrooper
Take a look at this guy who also decided to dress up in a completely different outfit for his prom night. We are even starting to suspect that maybe some girls really do love to have a date as unusual as this one for their prom night.
The stunning girl looks so good in her bronze dress and really fancy hairdo, and her date, well… her date is apparently a storm stopper.
​Challenging Gender Norms
Nothing like taking every opportunity to challenge some societal rules, right? They are all just socially constructed anyway. So these teenagers totally rocked their "reversed" outfits when the guy decided to go for that wonderful corsage and dress, and the girl went for the suit.
And the best thing of all is that they did it all together, rocking it in the best ways possible.
​Is That Barney?
We always suspected that Barney had a bit of a way with the ladies, and this photo is definitely proof of that. But what motivates someone to dress up as Barney for their prom is really beyond our understanding.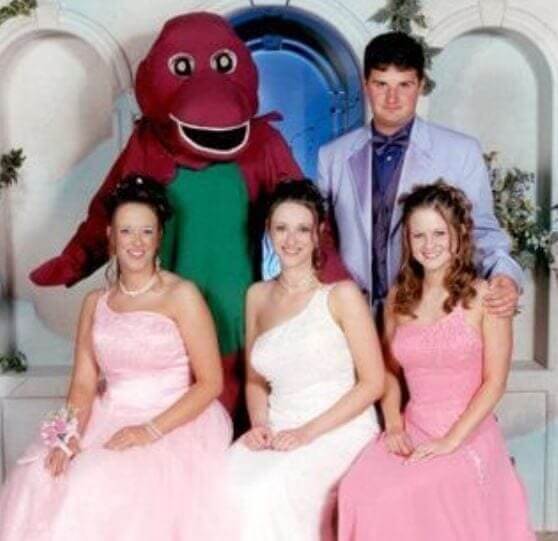 One thing's for sure, everyone will certainly remember the guy/girl who decided to dress up as Barney for their prom, so at least there's that. Whether they want it or not, the attention is all on them.
​Another Angry Dad
Yet another angry dad who can't seem to get over the fact that his daughter is all grown up. Apparently, this one is handling the situation a little bit more dangerously than the previous dad we featured.
This one actually chose to hold a freaking gun during her daughter's photoshoot with her date, and we're not sure whether we should laugh or cry about it.
​Posing In Front Of Planned Parenthood
We absolutely love how this couple was able to use their sense of humor to create one of the most hilarious photos out there. They got all dressed up for prom and chose the perfect place to take their photos, planned parenthood.
The photoshoot ended up coming out full of irony, because we all know what some people love doing on prom night, wink wink!
​A Really Furry Occasion
There are no words in this world that could accurately describe this situation. Okay, fine, maybe we can think of a few. The couple thought that maybe taking their prom photo next to the poor wall tiger would be a great idea, while holding their cat, of course!
We don't exactly know what the deal is, but we're pretty sure the picture would be much less creepy if they had smiled a bit or something.
​Trying To Break Free
In a group, there is always that one person who doesn't really like to go with the flow, right? Well, this group has one for sure. The group of guys looks so good as they get ready to head out to their prom night, but one of them wasn't really feeling it.
So instead, he rocked up wearing an outfit that reminds us a bit of a '70s rock band or something, or whatever he is trying to refer to.
​Just Him And His Xbox
Yet another guy who didn't have a date, but was happy to make fun of the situation with one of his favorite things in life, his Xbox!
Yep, since he didn't manage to secure a date for the important night, he just went ahead and grabbed his Xbox, and created the funniest pose. He will for sure have a good laugh when he takes another look at this picture one day.
​Why Is He So Mean?
All this wonderful couple wanted to do was to have a beautiful picture of the two of them posing before prom. But they forgot to look behind them, and unfortunately, someone was hiding there super ready to ruin their photoshoot.
The guy crashed the photo in the funniest way and managed to do it so silently that we're pretty sure the happy couple will only notice it when they go through the photos later on.
Looking At The Other Guy's Date
Now, this is just not cool. We get that the snap was taken at the wrong moment, but could this be worse? The guy is literally staring at his friend's date, instead of his.
And while the beautiful girl in pink is definitely rocking her looks, all of them look so good though! Maybe that is the date he really wanted to take to prom but then his friend beat him to it, who knows?
An Interesting Haircut
We have no idea when this picture was taken, but it seems like mohawks were definitely in style at the time. The guy decided to go for one of the most original haircuts we've seen in a while, and even managed to overdo it in the most hilarious way.
And yet again, his prom date doesn't seem to mind at all, as his eccentric style didn't seem to be embarrassing to her. In fact, we might even say she looks proud.
​Spot The Odd One
Just look at how beautiful everyone in the photo looks. The girls are totally rocking their wonderful outfits, while the guys too, look fairly handsome in their perfectly made prom suits.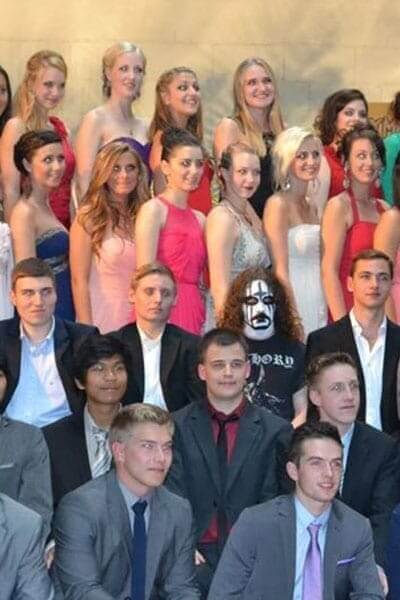 But then… if we look at it for a little longer, we can easily spot the odd one out. He is hiding in the middle of the third row, and instead of going for the conventional outfit, he really went all the way with his heavy metal style.
​Creeping Up On The Background
Another beautiful prom day, and yet another photobomb. We can probably bet that the guy photobombing the picture is the girl's brother, because what else do siblings do, right?
And we have to admit that his hiding skills are on point, and make for a hilarious picture. And well, just imagine if all prom photos were of conventional prom dates smiling at the camera, that wouldn't be so fun anyway.
The Mask Goes To Prom
Who doesn't absolutely love the classic Jim Carrey movie, The Mask? The legendary actor made it really cool to rock a green mask, to which this guy decided to adhere to on his prom day.
He loved his green mask so much that he decided to surprise his date with his perfectly green outfit, and she seems to be totally up for it. We just hope he can breathe easily in there.
​Feeling Left Out
It's not a surprise that this girl looks really pissed off in this photo. Her two best friends were posing alongside one another for a stunning prom photo, and so she found a way to be a part of it too.
But the moment she made her decision to rock up at the photo, the photographer snapped the shot in the second she made her most determined face.
Rocking Similar Hairstyles
Hmm, the sweet '80s. When color was in fashion and some of the most unpredictable hairstyles were easily accepted, or at least tolerated. And what better time than prom night to wear exactly the same hairstyle as your date?
Their matching game is so fly that the two of them almost look like twins as they pose for the big day. We can't help but think that they will have a good laugh when they look at this photo years later.
​Posing With The Little Chicks
Some people really go all the way when it comes to being creative for their prom photo. And sometimes it can get pretty… awkward.
The three girls are looking great in their impeccable dresses, but to spice things up, they decided to grab their little chickens from the yard and happily posed with them. Though it ended up being a hilarious photo, we do hope they meant this as a joke.
​A Good Laugh
What's so funny here, you might wonder? Well, we're wondering too. One of them is either really funny, or they decided in unison to laugh hysterically before their prom photo was taken.
The other option here is that he just smoothly put her hand around her shoulder, and she couldn't help but laugh at the prospect of accepting his invitation to be his date.
​An Unexplained Prom Photo
And once more, an embarrassing dad strikes on his daughter's prom photo. We have no idea what goes through the minds of these hilarious dads, but one thing's for sure, they want their daughters to remember they were definitely there that day.
And in this case, the girl for sure doesn't look happy to be standing next to her quirky dad for the photo.
Remember To Look Alive
Man… Who forced this girl to accept this guy as her prom date? We tend to feel bad for both of them, since she is certainly not looking happy at all, and neither does he.
He is either completely oblivious to the situation here, or he realized that the match was not made in heaven and that they had a long night ahead of them.
Adding Some Scottish Pride To Prom
Nothing like the day of prom to show our appreciation for our cultures, isn't it? And this guy knew exactly how. He decided to not pass on the idea of wearing his culture's typical outfits, and by the look on his face, he couldn't be prouder.
While it may look a little bit much for a prom photo, at least he will be able to look back and feel proud of his wardrobe choice.
The Wind Ruined It
Nothing like a wonderful breeze to completely ruin a family's prom photo. Funny enough, the gust of wind blew exactly at the right time. At least the person who took the photo was able to perfectly time it to snap the moment the wind blew really hard.
Not to talk about these awkward parents posing proudly next to the kids. What on earth are they doing there?