Besides the weather app on your phone, there is actually a more attractive way to find out the weekly forecast. From Columbia to California, beautiful weather girls are gracing their local news stations, and they have amassed large followings on social media. The women not only have the looks, but they also have the brains with degrees ranging from broadcast journalism to atmospheric physics. Continue reading to see how these weather girls are turning up the heat even on the coldest days.
1. Sonya Hill
Hailing from the Lone Star State, Sonya Hill currently reports the weather in Corpus Christi, Texas, for KZTV Action 10 News. Hill studied at Texas A&M University and then worked as a weather anchor and reporter for three years before landing the job with KZTV.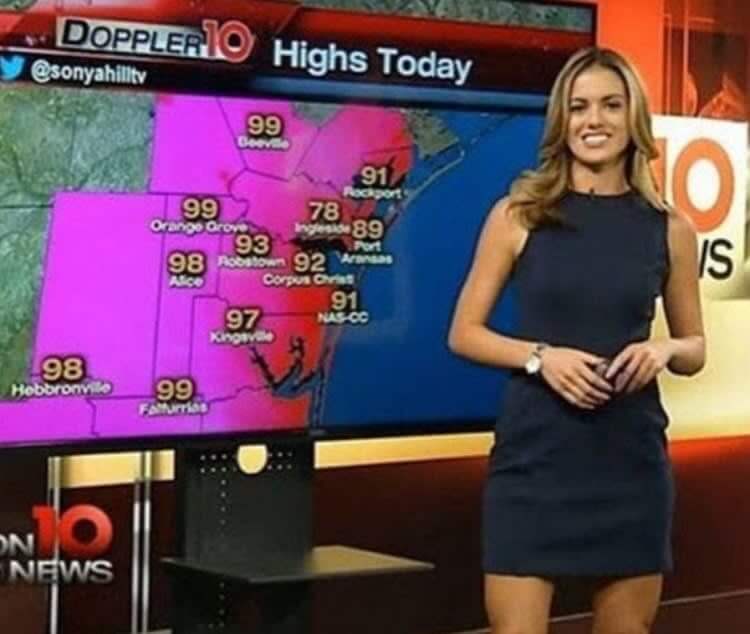 Before she was sharing the weekly forecast, Hill was doing beauty pageants. She competed in the Swimsuit USA International competition, and out of more than 70 women, she placed in the top ten. Hill has also done ambassador work for Harley Davidson.
2. Ximena Cordoba
When you think about watching the weather, you probably aren't expecting to be entertained. You are probably more focused on finding out the information you need to know so that you can be prepared for the week ahead. If you are watching the weather with model and actress, Ximena Cordoba, it might be a little more intriguing.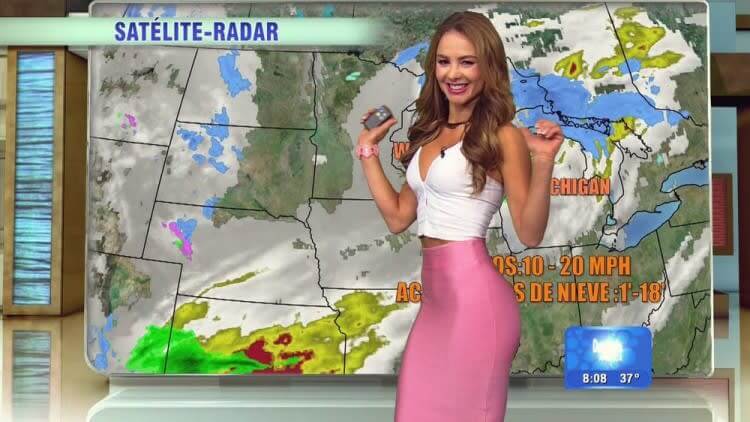 Hailing from Columbia, Cordoba got her start on the reality show Protagonistas de Novela. She went from reality TV to working on numerous telenovelas, and she has also worked with Fox Sports, Fox Deportes, and TNT. Whenever Cordoba is on doing the weather, you can always find her smiling in rain or shine.
3. Carolina Ramirez
With a growing fanbase on Instagram, Carolina Ramirez is an up and coming weather girl from Columbia. She got her start in the pageant world and starred on the reality show Nuestra Belleza in 2010. She won over the judges and fans with her bubbly personality and a bright smile.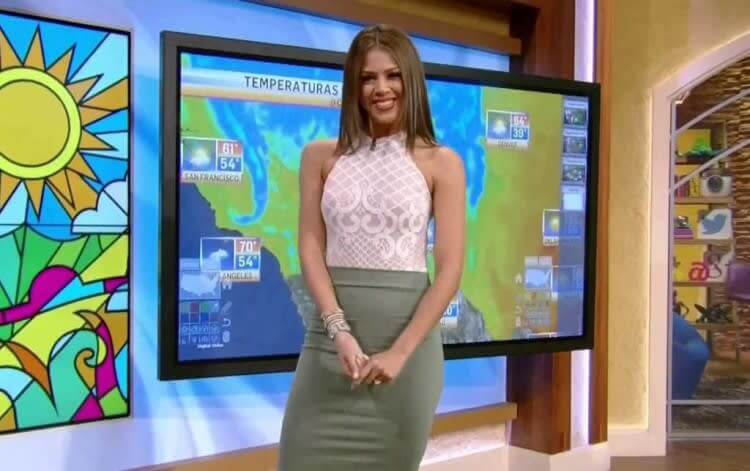 When Ramirez started as a weather girl, people quickly noticed her sense of style and gorgeous looks. As her fan base grew, Ramirez got other opportunities like presenting at the Latin Grammy Street Parties. When people turn on the weather on Univision, they can always expect to see her shining.
4. Yanet Garcilla
Although many people know her for her work as a model, Yanet Garcia got her start as a weather girl. Born in Mexico, she has amassed over 12 million Instagram followers because of her rather revealing photos. She has her own modeling academy for young women as well.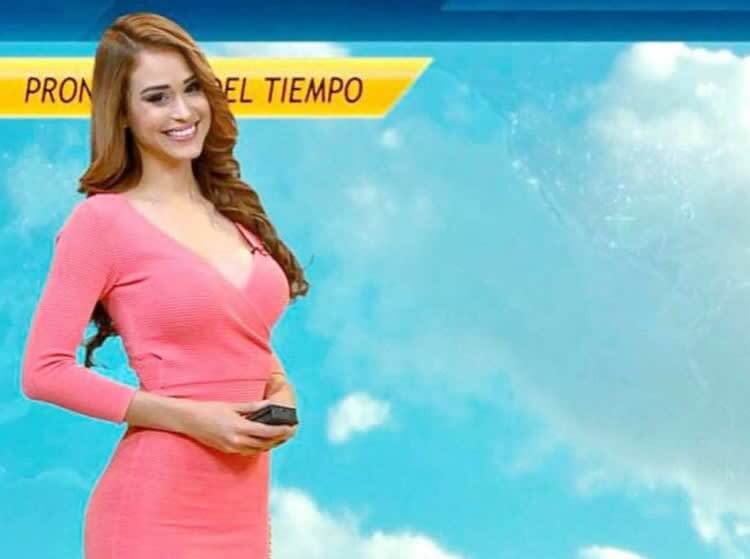 Yanet gained fame for her work as a weather girl when someone put together a compilation of her segments on YouTube. She was also in the news a few years back for her public breakup with a video game YouTuber who was six years younger than her.
5. Jackie Guerrido
Before moving to Miami, Florida, Jackie Guerrido was born and raised in San Juan, Puerto Rico. She had a rough childhood because she and her mother had to flee from her abusive father. After moving to the US, she started doing voice-over acting to make money, and then Guerrido was discovered by a producer who gave her a job at WRMA.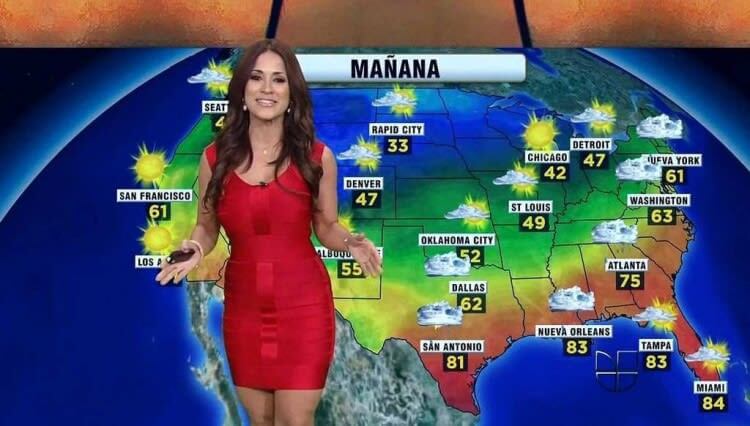 Guerrido studied meteorology at the University of Miami and has since worked for Univision and Despierta America. People love her fiery personality and fashionable dresses. Guerrido is definitely a strong presence when she presents the weather.
6. Araksya Karapetyan
This Armenian-born beauty was raised in Palos Verdes, California. Araksya Karapetyan attended Syracuse University where she studied international relations and broadcast journalism. After university, she moved back to her home state of California and quickly landed an internship with KABC-TV.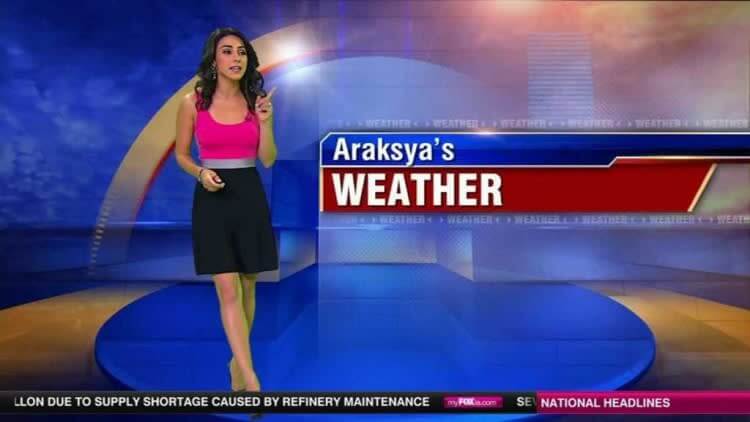 Today, people can find Karapetyan on Good Day LA, where she is the morning weather girl. She also works as an anchor and reporter for news that broadcasts in Idaho and Oregon. She is not only gorgeous, but she also is brilliant. Karapetyan speaks four languages, including Russian and Spanish.
7. Cristina Blackwell
Despite being one of the most beautiful weather women on TV, Cristina Blackwell spent most of her childhood as the victim of bullying. She was born in San Antonio to a Mexican mother, and her father was from Alabama. They moved around a lot, and she had trouble making friends.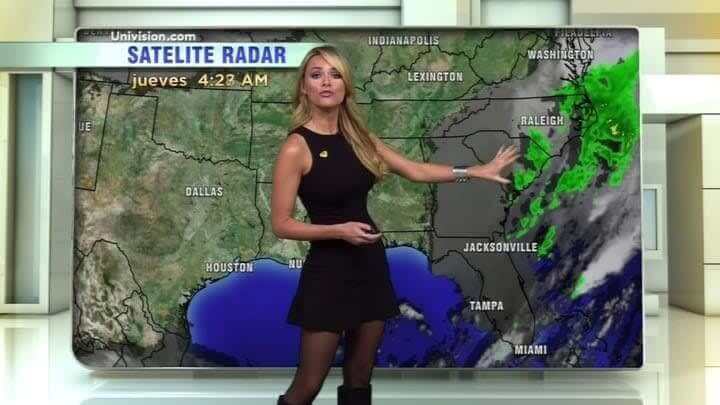 Blackwell attended the University of Texas at San Antonio where she studied speech and communications. She is bilingual and often broadcasts the weather in Spanish and English. Blackwell works with Univision and recently left her position at Great Day, San Antonio.
8. Raegan Medgie
Although Raegan Medgie has been widely recognized for her work as a newscaster, it was not always her passion. For a long time, Raegen was unsure of what she wanted to do but decided to study broadcast journalism at Temple University.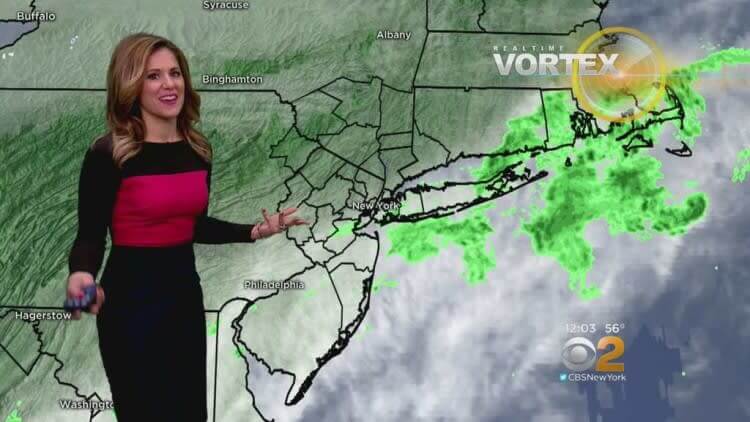 Raegan's first position after college was as an anchor for ABC News in Scranton. She is also well known for her work on the Fox 5 News Team and also for her work on The Weather Channel. She likes to keep her personal life out of the spotlight and doesn't post much on social media.
9. Janice Villagran
After earning her degree in communications, Janice Villagran began working on the show En Vivo USA where she presented the weather and other TV events. Janice then worked for a show called I Testigo TV.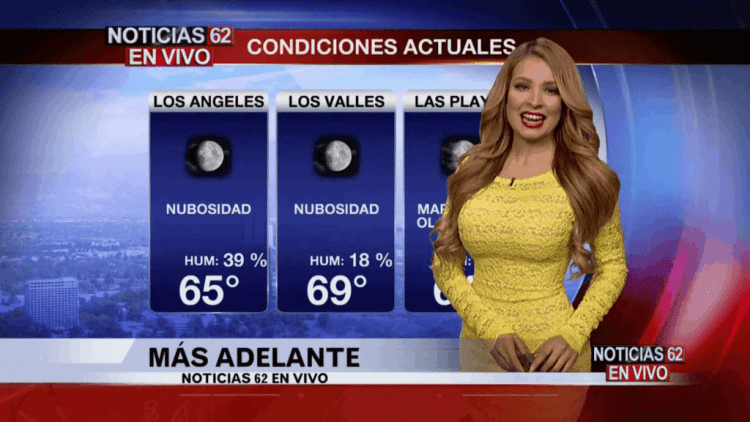 When she isn't gracing the TV screens of many, Janice can be found playing chess because she is an avid player. She was previously engaged, but the couple broke up.
10. Robin Meade
Robin Meade is not only a country music artist and former Miss Ohio, but she is also an accomplished newscaster. She grew up in New London, Ohio, and attended Ashland University, where she got her degree in television broadcasting and political science.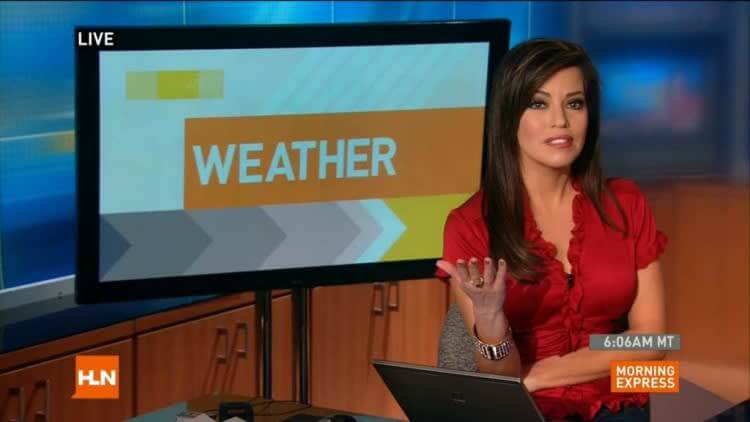 Robin has worked on shows such as Headline News, and her first day on-air was September 11, 2001. She began her career on the day that would change US history, and she has gracefully handled herself throughout the years. Robin has also worked in cities like Miami, Chicago, Cleveland, and Columbus.
11. Gabriella Grechi
Known for her tiny skirts and big personality, Gabriella Grechi is an Italian weather girl who knows how to turn up the heat. She started her career with small acting roles on Italian TV shows and worked her way up to reporting.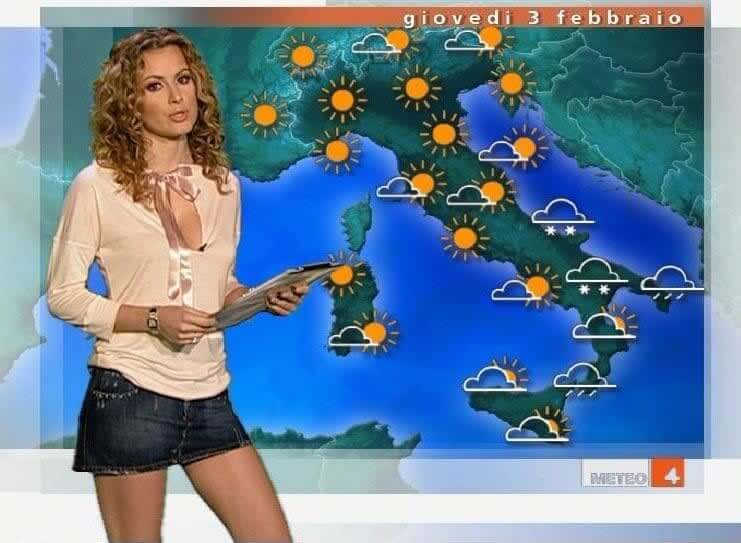 Grechi has appeared in TV commercials, sports programs, and chat shows, while she works as a weather girl. In recent years she gained international fame for her talent and her looks.
12. Sabrina Fein
After experiencing Hurricane Andrew in 1992, Sabrina Fein's interest in meteorology peaked, and she decided to pursue a degree in it. She moved from San Diego to Florida to study at the University of Miami. She got her bachelor's degree in climatology and meteorology.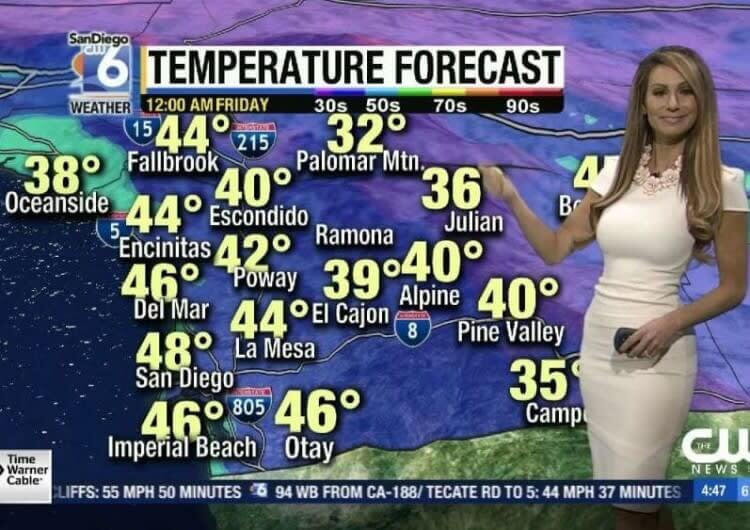 Sabrina began her broadcasting career soon after graduation. She started working in Springfield, Missouri, then moved to Lubbock, Texas. Finally, she moved back home to San Diego, where she works for as the evening meteorologist.
13. Maria Quiban
You might recognize Maria Quiban from her time as a weather anchor on Fox 11 in LA. She was born in the Philippines, and her family moved to Hawaii when she was young. After studying journalism at the University of Hawaii, she began working for NBC at KHNL in Honolulu.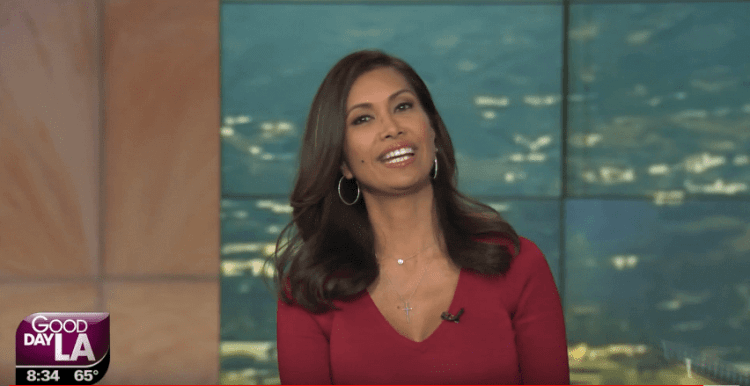 In 1998, she moved to Los Angeles and started working for the Orange County News, but only stayed for two years. Since then, Quiban has been working for KTTV as the weather girl, and she has also had minor roles in movies like Step Brothers and Bruce Almighty.
14. Leticia Castro
Leticia Castro can capture your attention from the second she steps on the screen. As a bilingual newscaster, she has reported in both English and Spanish for stations like Telemundo and Univision. Not only is she a weather girl, but she also has a vlog channel on Youtube where she shows fans an inside look at her life.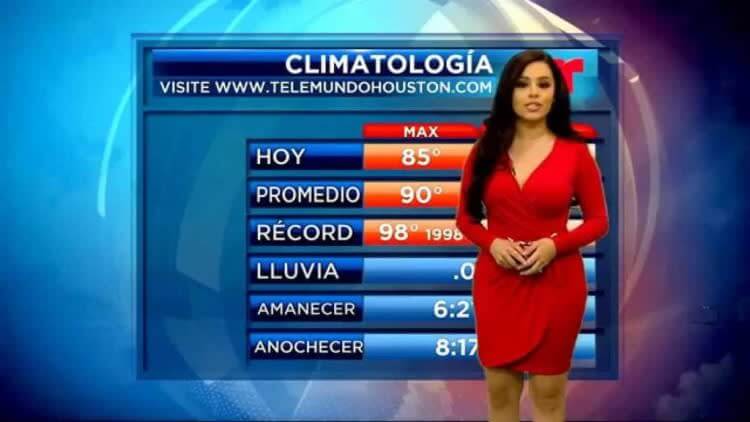 Besides her Youtube channel and working as a forecaster, she has also worked as a ring girl and hosted the show Lucha Libre USA: Masked Warrior. Leticia has also tried acting as well, but her passions remain with vlogging and reporting the weekly forecast.
15. Sheena Parveen
Indian-born Sheena Parveen is best known for her weather forecasts on NBC 10. After graduating with a degree in Meteorology from Florida State University, she interned with Tallahassee News.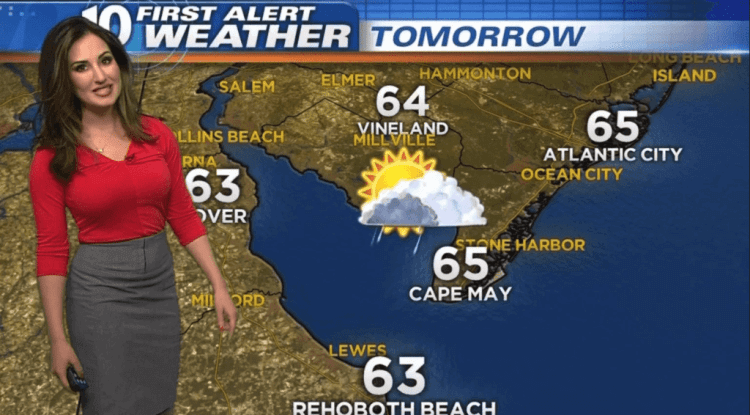 In 2011, Sheena's career got a boost when she started working at Philadelphia's NBC 10 as a weather forecaster. She stayed at this staying for two years before moving to NBC 4 in Washington DC. On several occasions, Sheena has been the best TV weather person and an "It Girl," according to Daily News.
16. Mayte Carranco
Mayte Carranco was born and raised in Monterrey, Nuevo Leon, Mexico, where she dreamed of becoming a singer. As a teen and into her early twenties, she competed and won many beauty parents before pursuing a career in newscasting.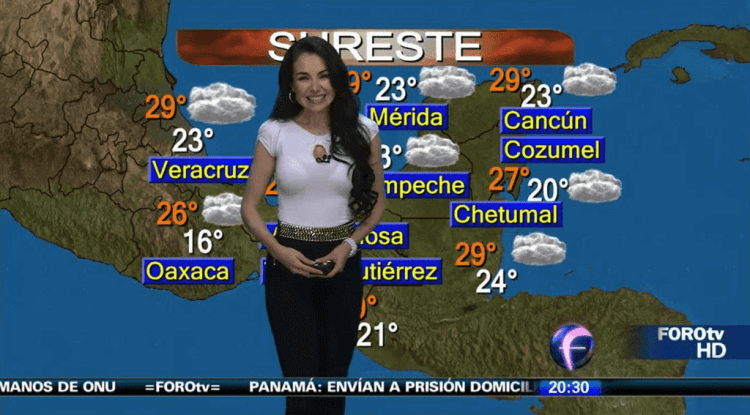 Mayte is well-loved not only in Mexico but around the world. She started reporting the weather on Televisa Monterrey in 2007 and has continued to heat up the screen ever since. In 2009, she won the title of Miss Televisa Monterrey.
17. Vera Jimenez
When she was just four-years-old, Vera Jimenez moved from Mexico to California. She started studying at Santa Ana Community College and transferred to Cal State Long Beach. Vera worked hard and graduated with honors. Unlike many other weather women on the list, her career started behind the scenes.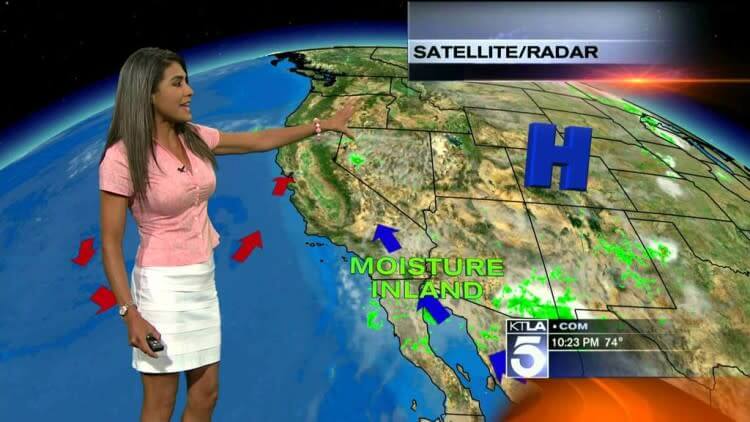 Vera's first broadcasting position was producing the traffic segment for Shadow Broadcasting. She has won many awards for her accomplishments in broadcast journalism. Today, you can see Vera on her cooking show called Cooking with Vera, and doing the evening weather report on KTLA.
18. Maria Timmer
Maria Timmer is not only drop-dead gorgeous, but she is also a Ph.D. student at Central Michigan University. The brilliant woman worked for six years as the weather girl on Fox News, and people could not get over how beautiful she looked each day.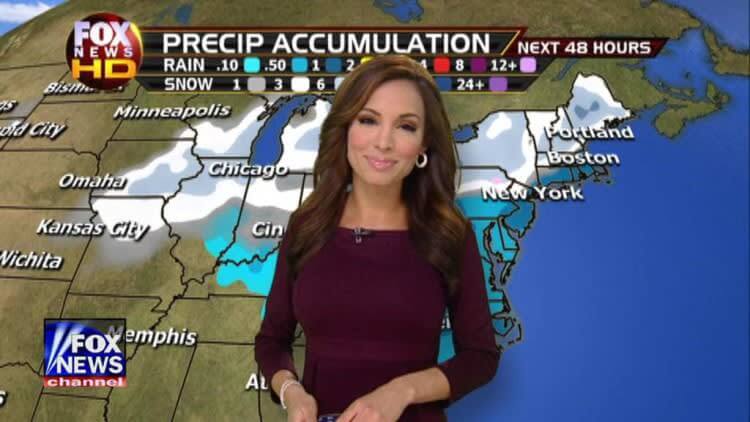 Timmer discovered her passion for meteorology while growing up in South Florida because the area gets many hurricanes per year. She pursued her dream by studying meteorology at Florida State University, and then went on to get her masters at Columbia University. Today she has over 15 thousand Instagram followers, and she often posts about climate change.
19. Jackie Johnson
Jackie Johnson first started her career in meteorology back in 2000. She grew up in Michigan and attended Middle Tennessee State University where she studied broadcast journalism. After school, she moved to Florida and started working for WCTV as the weekend weather girl.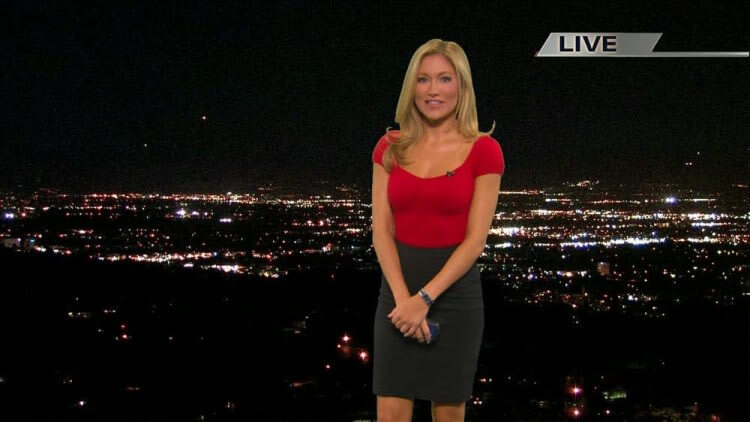 After a few years, Johnson accepted a prime-time weather position with KCBS-TV. She was the blonde bombshell that everyone loved to watch. In 2018, Johnson retired but has stayed relevant with acting jobs here and there. She is now married for the second time, and the couple had their first child in 2019.
20. Lluvia Carrillo
Mexican-born meteorologist Lluvia Carillo got her start as a sportscaster for Televisa Deportes. She then moved on to work as a weather girl for Televisa Monterrey. Carillo replaced Yanet Garcia as the weather anchor, but meteorology isn't her only passion.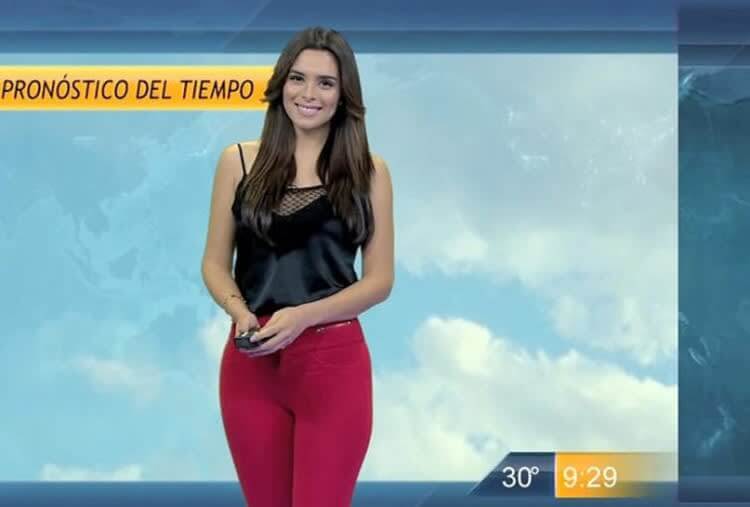 Besides her job as a weather girl, Carillo is also a model. She took second place in the Mexicana Universal Nuevo Leon pageant in 2014. She has also been featured in many significant publications in Mexico. Carillo was once romantically linked to Javier Aquino, who was a national soccer team member for Mexico.
21. Julie Durda
From cheerleader to meteorologist, Julia Durda has made quite the name for herself in the world of broadcasting. She was born and raised in Sacramento, California, and she studied at Mississippi State University. Before becoming a newscaster, she was a cheerleader for the San Fransisco 49ers.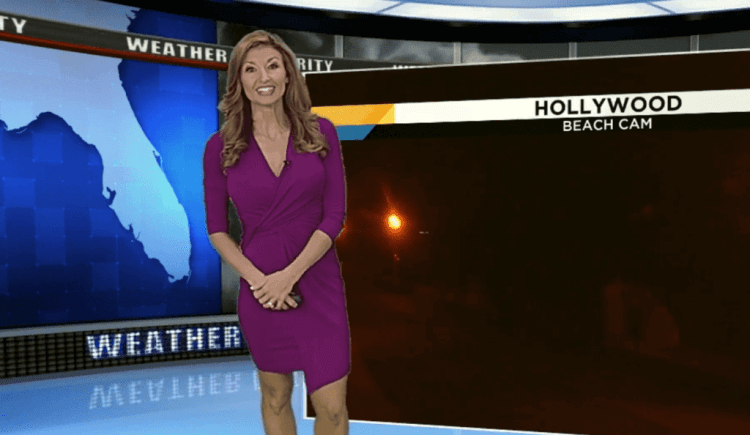 Julie has worked at new stations in Sacramento, Pheonix, Miami, and Fort Lauderdale. She has also appeared on Good Morning America and ABC's World News. In 2012, she broke her contract and switched stations, which caused much controversy.
22. Roxana Vancea
Roxana Vancea comes from Romania, and she makes things just a little bit hotter. The presenter is known for her quirky segments, including doing jumping jacks and dancing while reporting the weather. Her gorgeous looks have also gained her attention.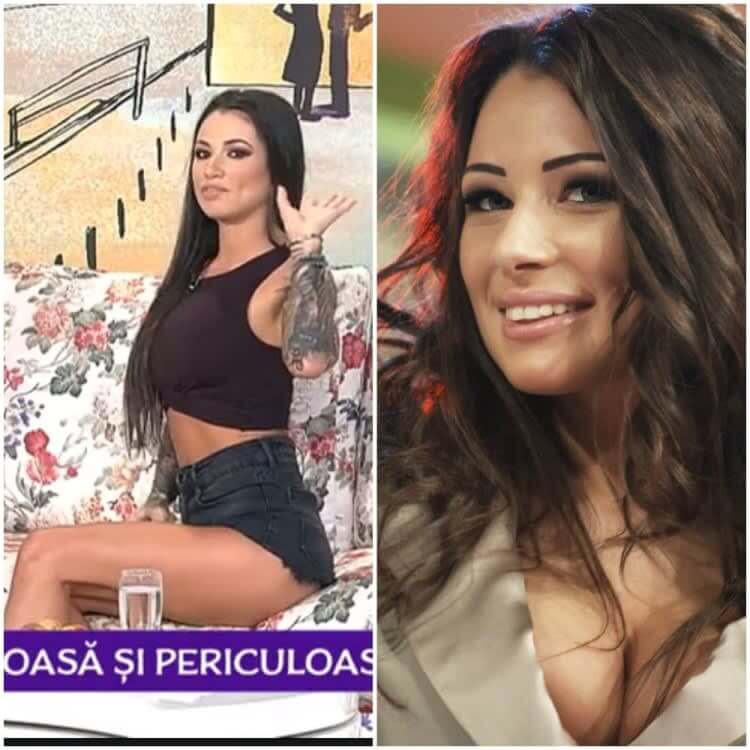 Roxana can often be seen on-air, showing off her body in skimpy outfits that also give viewers peaks at her tattoos. On Instagram, she posts videos of her workouts and revealing shots that prove hard work pays off.
23. Chita Craft
Southern belle, Chita Craft, was born in Knoxville, Tennessee, and attended school at Arizona State University. While working in California for KRCR, Craft won the best media personality two years in a row. She then moved to Houston, where she has been the morning weather girl ever since.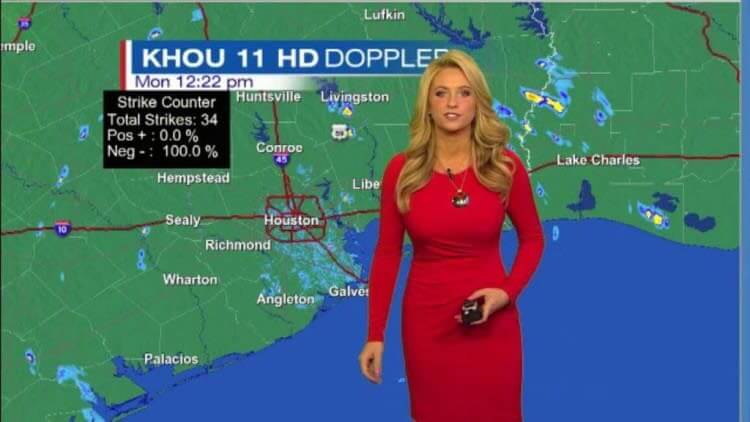 Craft's weather segment is between 4:30 to 9:00 AM, so she must love waking up while it's still dark to get people their weekly forecast. Her bubbly personality and stunning looks have won over many fans. She recently welcomed her second child in 2019, and her supporters were so excited when she posted the news to her social media pages.
24. Megan Glaros
Meghan Glaros used her beauty and brains to achieve many things throughout her career. After earning a degree in atmospheric sciences and journalism from Indiana University, Meghan moved to Florida to work at a local news station.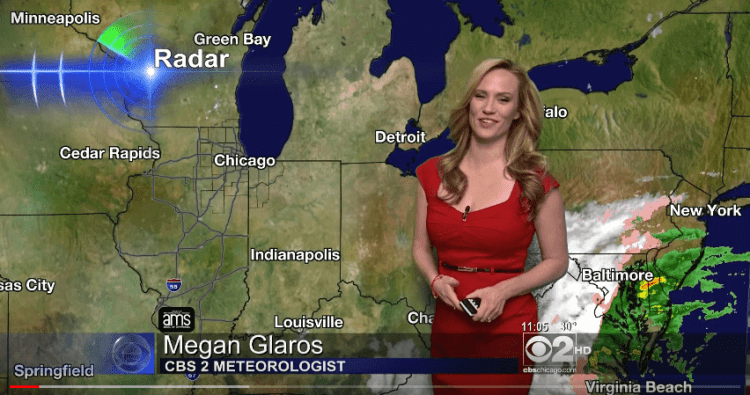 Meghan covered hurricanes Katrina, Rita, and Wilma, which gave her valuable experience in the meteorology world. She has made frequent appearances on Good Morning America, and she is the current meteorologist and entertainment reporter for an NBC affiliate station in Chicago.
25. Sian Welby
Sian Welby is not only known for her looks, but she is also known for her hilarious weather forecasts sprinkled with perfectly timed puns. She is one of England's most popular TV and radio personalities, and there is a good reason for that. She makes the weather fun and engaging.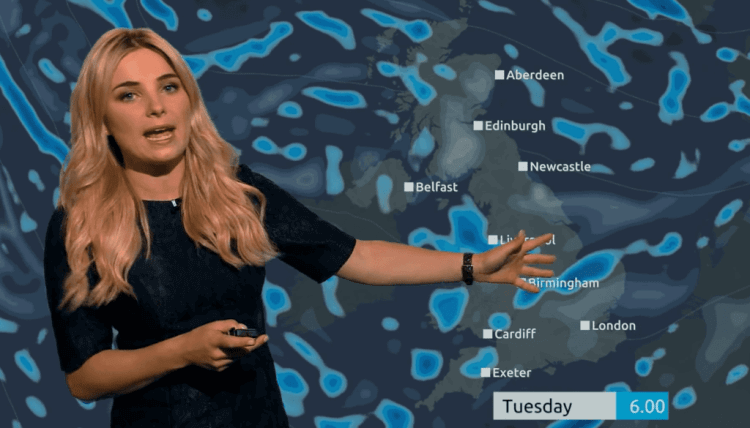 Throughout her broadcasting career, Sian has worked for stations like the BBC, ITV, Channel 4 and 5. She took her talent and started a daily radio show in 2016. Now, she is on the widely successful Capital FM Breakfast Show with Roman Kemp and Sonny Jay.
26. Liberté Chan
Liberte Chan is best known for her career as a competitive figure skater who was nationally ranked. She is not only a gorgeous woman, but she also has the brains to boot. Liberte has a master's degree in public health and works for KTLA 5 as a meteorologist and reporter.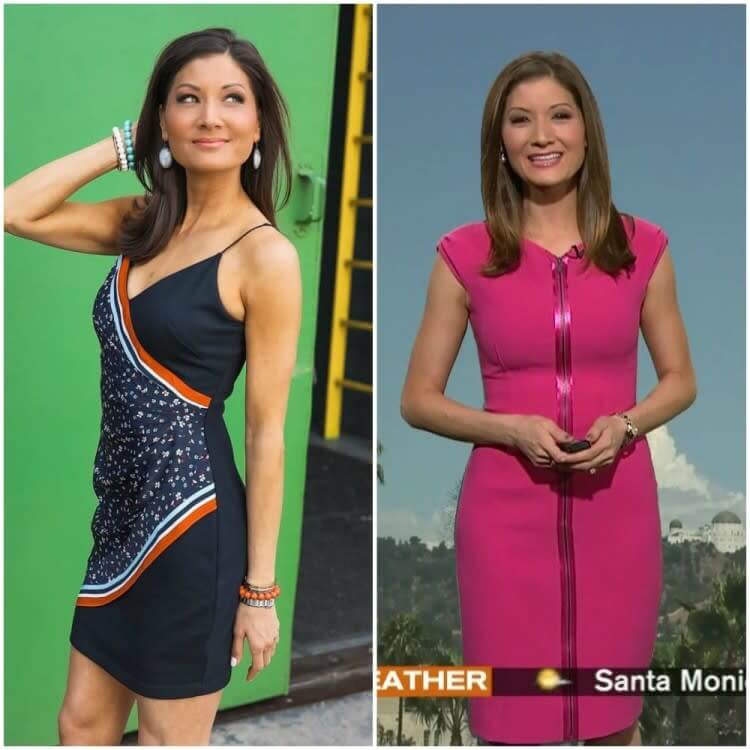 Liberte keeps her fit figure by practicing yoga, and she often shares short clips on her Instagram page. She also has a fashion and beauty blog, where she talks writes about her athleisure lifestyle.
27. Dylan Dreyer
Dylan Dreyer is one of the most well-known female meteorologists in the country. Although she is a household name, it took her a while to achieve this status. Her career started in Erie, Pennsylvania, and then she moved to Rhode Island, and later Boston, Massachusetts.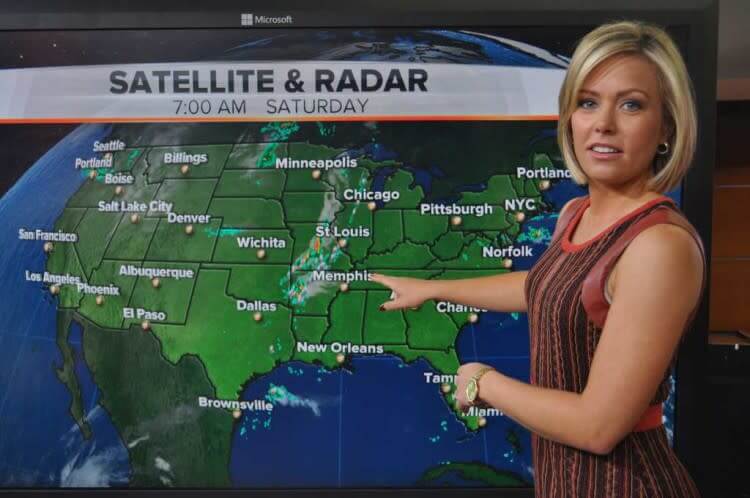 Dylan got her big break in meteorology when she landed a position with NBC News. She currently works for MSNBC, The Orange Room on Weekend Today, and NBC Nightly News.
28. Naile Lopez
If you are looking for a weather girl that also knows how to turn out the glamour and swimsuit pics on Instagram, then Naile Lopez is your girl. Hailing from Mexico, Naile is quite the head-turner when she steps in front of the weather green screen. She has gained quite the following, and has high viewership, especially from males.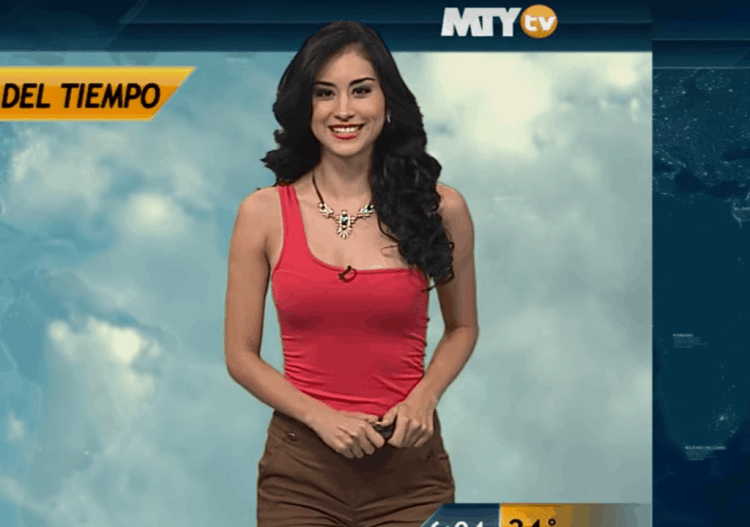 Lopez is known for her promiscuous outfits, which heat up the screens of viewers everywhere. Currently, she is the weather girl for Las Noticias Televisa Monterrey, but she has also appeared in many Mexican TV shows, including Como dice el Dicho and The Two Lives of Estela Carrillo.
29. Domenica Davis
Domenica Davis was born in Italy, and she moved to the US to study at Boston University. She graduated with a degree in broadcast journalism and then pursued a second degree in meteorology at Mississippi State University.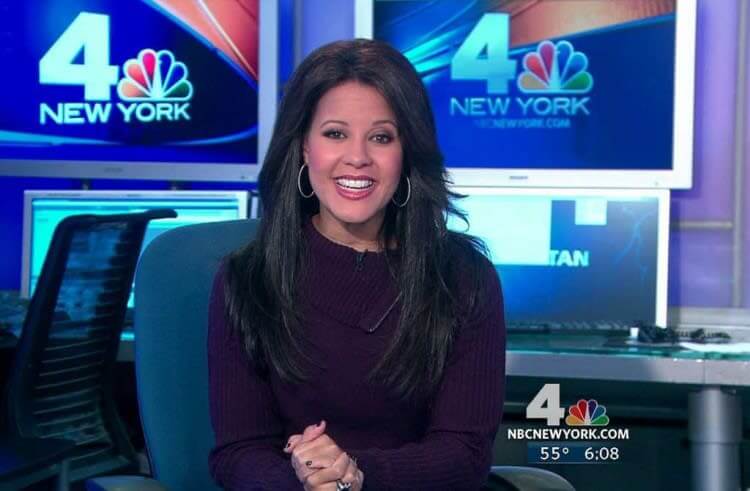 Domenica's beautiful smile and sunny attitude have made the weather forecast more enjoyable for many. She worked for a while with Fox News, cut currently she works a weather forecaster for NBC News in New York.
30. Evelyn Taft
This multi-talented bombshell is the total broadcasting package. Evelyn Taft was raised in San Fransisco and attended USC for broadcast journalism. She spent much of her life traveling in Israel, Europe, and Asia where she learned about different cultures and languages.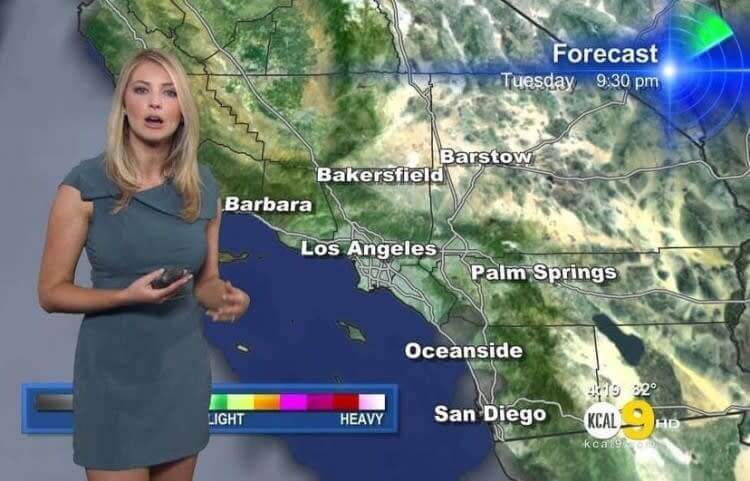 After university, she worked for a CBS affiliate station as a weather and news reporter. She spent her first few years as a reporter covering the Santa Barbra county wildfires. Currently, she is the evening meteorologist for CBS LA.
31. Elita Loresca
The Filippino-American beauty currently works for KTRK-TV in Houston, Texas, but that isn't where Elita got her start. Her career began after she graduated college in California, and began working as a weather girl in Los Angeles.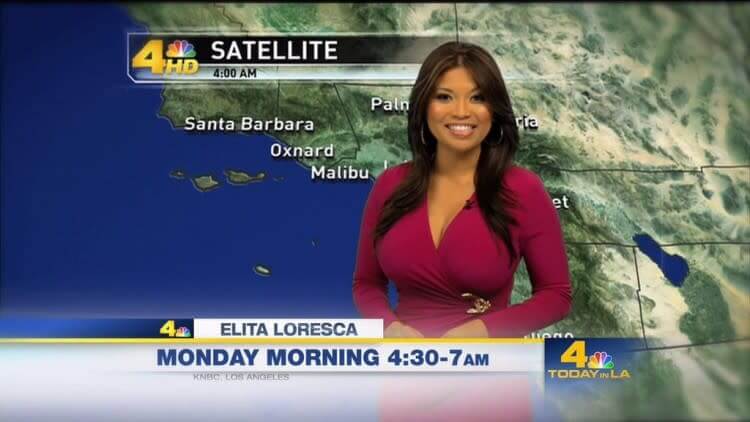 Elita was the noon weather girl in Bakersfield, California, for a year before moving to Fresno for a similar position. She gained more experience because she covered Hurricane Katrina, Rita, Wilma, and Frances.
32. Bri Winkler
Bri Winkler grew up in southern Massachusetts, where she sadly suffered from a stroke. She didn't let that stop her from pursuing her dreams. She earned her degree and began working as a weather forecaster for KAMR-TV in Amarillo, Texas.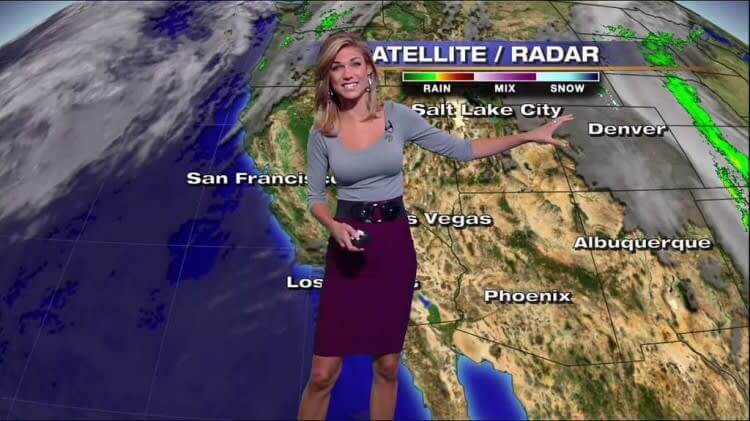 Bri is best known for her position on ABC7's Eyewitness News Weather Team. Since she was only 24 when she suffered from her stroke, she has been a strong advocate for others who go through the same experience.
33. Susana Almeida
Susana Almeida is from Mexico. This natural beauty works for the local news station in Guadalajara, Jalisco, Mexico as the weather girl. She is well known internationally, not for her reporting skills, but for an unfortunate viral video.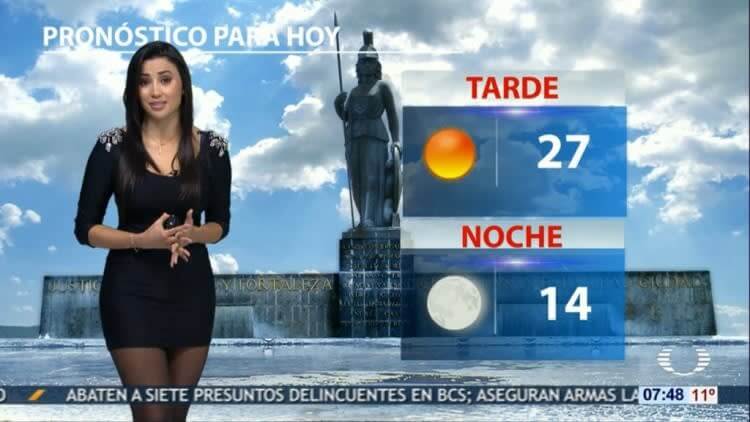 In 2016, Susana nearly broke the internet after she suffered from a wardrobe malfunction on-air. The video blew up, and she started receiving the attention she didn't want. However, she has since recovered from this embarrassing video and moved passed to continue with her career.
34. Alex Wilson
After graduating from Syracuse University with a degree in broadcast journalism, Alex Wilson went on to study meteorology at Penn State. Alex began her career by working at local news stations in South Carolina and West Virginia.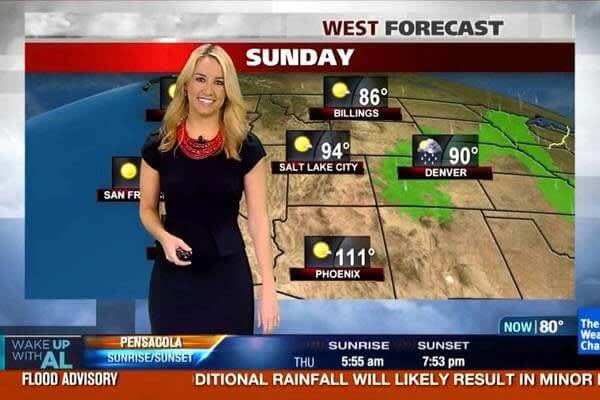 Alex worked her way up the ladder to land a position as a meteorologist for the Weather Channel. She has been working there since 2013, and she is fulfilling her dreams. Alex reports the weather in the late afternoon alongside Dave Schwartz.
35. Alejandra Medina
Between her funky costumes and bubbly personality, Alejandra Medina is a standout on TV. Before working in broadcasting, she was a beauty queen and model. Alejandra made the transition to meteorology, which was the best decision for her.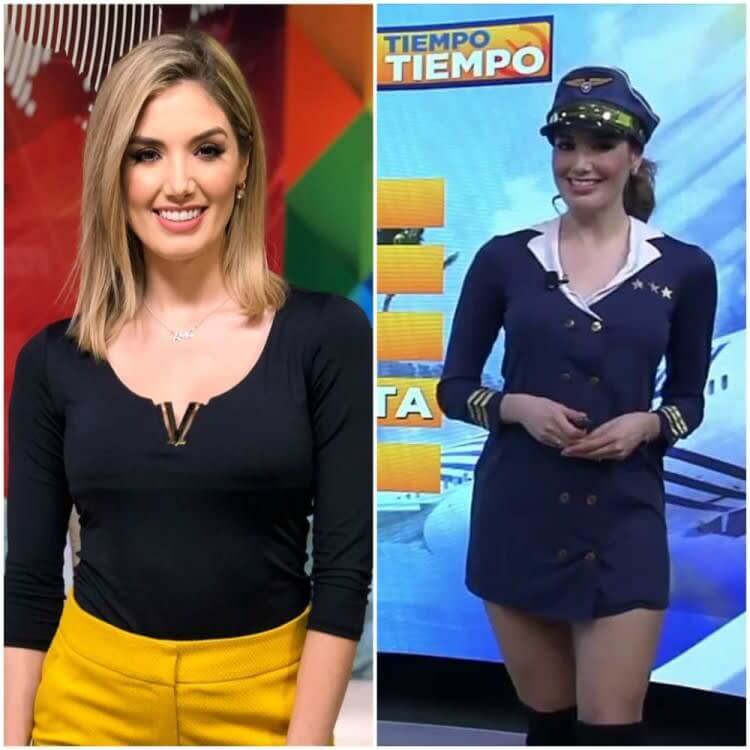 Alejandra is in high demand all over Mexico and even in Texas. She keeps her fans intrigued by posting her workouts to Instagram and doing CrossFit.
36. Indra Petersons
Born and raised in LA, Indra Peterson has always had a bubbly personality meant for TV. She went to school in Arizona where she studied atmospheric physics. After graduation, Indra was hired by KVIA in El Paso.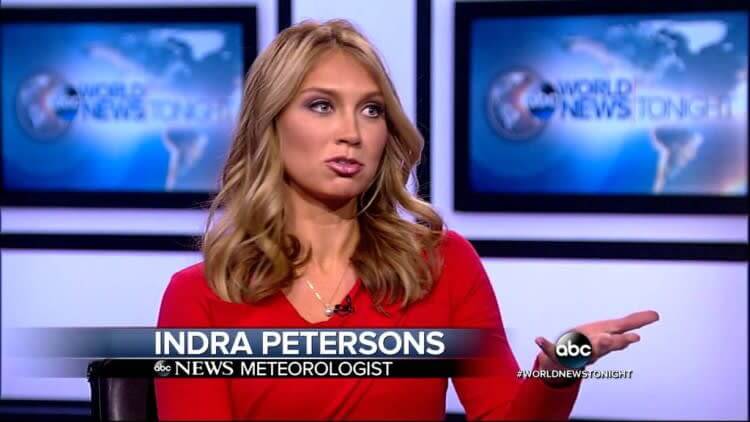 In 2003, Indra moved back to LA for a meteorologist and weather reporting position with KABC. She held this position for ten years and then left for a job with CNN's New Day and Newsroom. Indra is also a correspondent for The Today Show​.
37. Kait Parker
As someone with the "girl next door" type of look, Kait Parker was the perfect fit for television. Kait began studying at the University of Missouri and after graduating she took a job as a fill-in reporter for KOMU-TV in Columbia. In 2009, she landed a midday and afternoon slot for a local station in Mongomery, Alabama.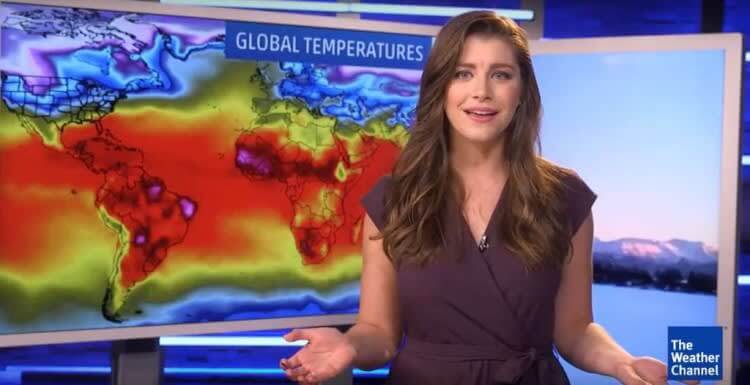 As an atmospheric scientist, Kait has been on many major networks and shows, including Good Morning America, and she worked on the Weather.com app. Kait uses her platform to educate people about climate change, and she was named one of the top 50 climate fixers in 2017.
38. Marilu Kaufman
Like a few other women on this list, Marilu Kaufman hails from Monterrey, Nuevo Leon, Mexico. Before working for Multimedios Television, she worked for her local news station. Since working her way up in the industry, Marilu has become a household name in Mexico.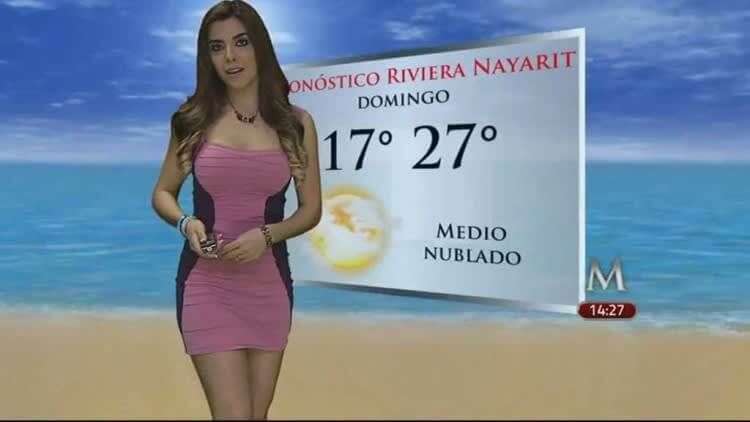 Not only is she known for rocking those tight dresses, but she is also recognized for her work as an actress and model. Marilu has appeared in multiple TV commercials and music videos. She also has a large following on social media, and it is easy to see why.
39. Llarissa Abreu
If you are looking for the weather forecast in Spanish and English with a beautiful presenter, then Llarisa Abreu is your girl. Currently, she works as an on-air broadcaster for Accuweather, and she has had a wildly successful career.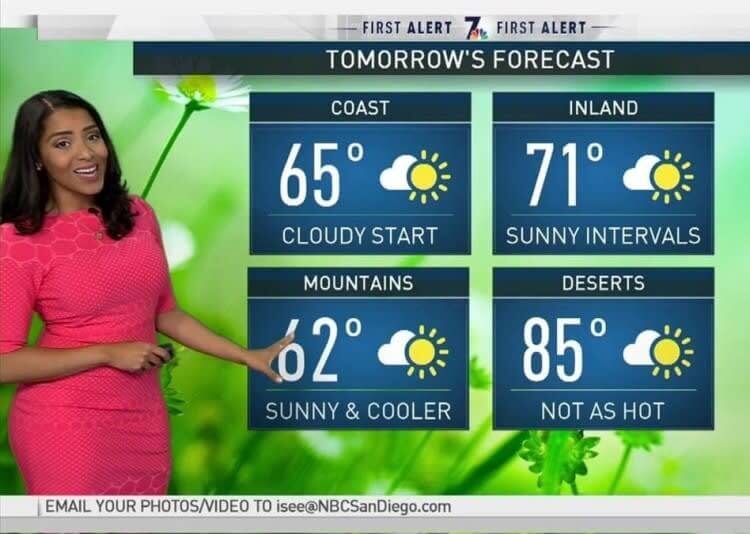 Llarisa works on and off-camera as a meteorologist, and she found her passion for predicting weather when she realized the importance of advanced warning systems for extreme weather. Prior to Accuweather, Llarisa worked for NBC News, Latino Vision TV, and Univision.
40. Jennifer Delgado
Jennifer Delgado may be gorgeous, but she hasn't always had a positive spotlight on her. She made headlines back in 2016 while reporting on Hurricane Matthew. Jennifer claimed that Haitian children were "eating deforested trees." There was so much public outrage, and 20,000 people signed a petition to have her fired.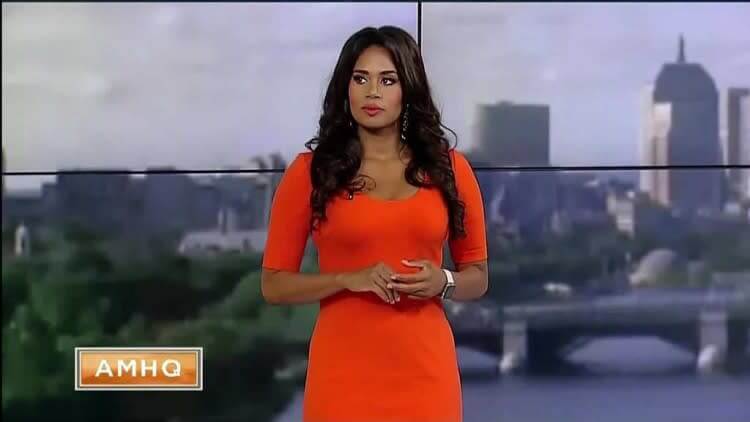 Jennifer also worked for CNN, and while she was there, she reported on many important events such as Hurricane Sandy, typhoons in the Pacific, and the 2012/13 tornado seasons. Jennifer was diagnosed with blood cancer not long after her comments about Haitian children, but she made a full recovery, and now works at the Weather Channel.
41. Patricia Jaggernauth
Patricia Jaggernauth has been dubbed as "the next Tyra Banks." The weather specialist and remote reporter won an Emmy, and she currently works for CP24 in Toronto. She reports on the latest breaking news with her bubbly personality and shining smile.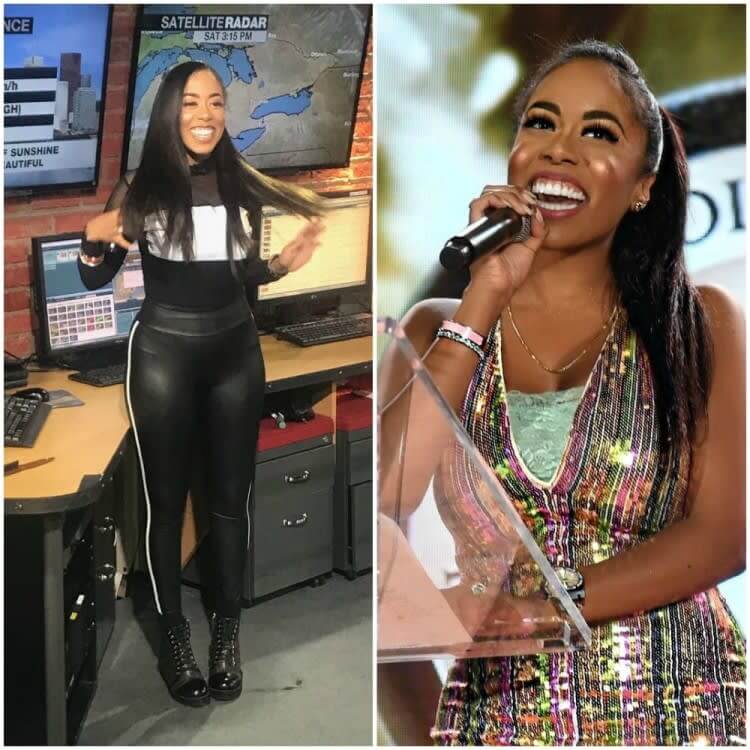 Not only has she made a name for herself as a TV presenter, but she also has her own clothing line called PJ Glamgirl. Patricia has hosted her own talk show, and she has a large social media following. Is there anything she can't do.
42. Diana Alvarado
As the former Miss America International, Diana Alvardo is not only a gorgeous weather reporter, but she also uses her platform to highlight the identity of Latin women. She currently keeps the weather spicy on Mexico's Channel 44 for Juarez.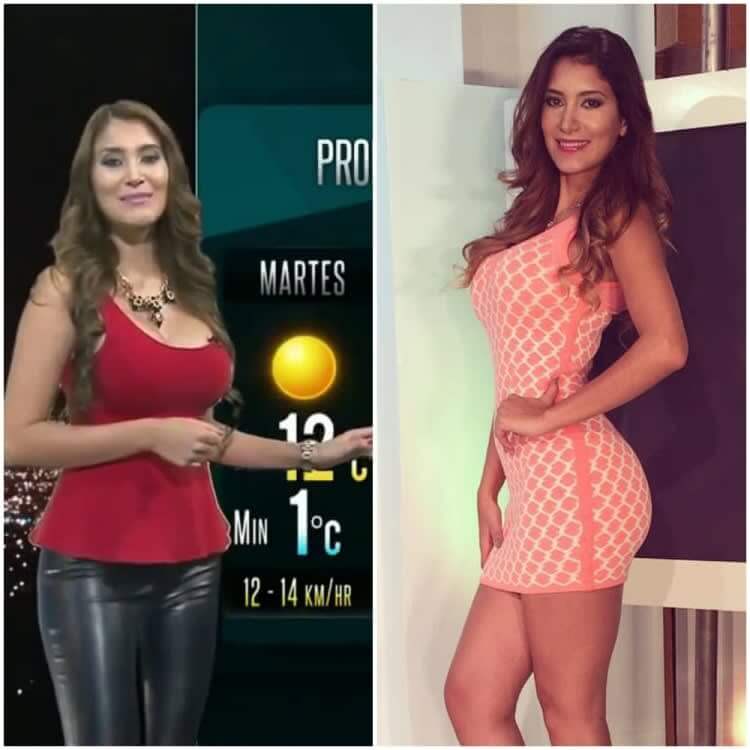 Diana has a large social media fan base, which has helped her grow her career in Mexico. She uses voice to encourage other women with her motivational speeches.
43. Lauren Sanchez
Born and raised in New Mexico, Lauren Sanchez moved to LA after high school to pursue her dream. She studied at USC and got her degree in communications. Lauren began her career as an assistant for a local news station in LA.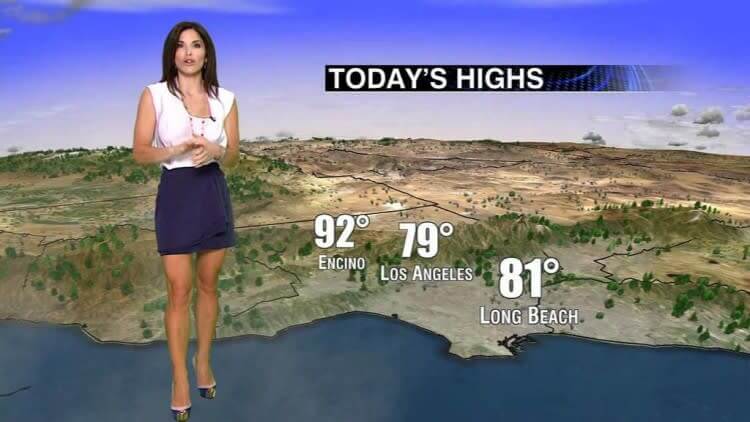 After working as an assistant, Lauren got a job in Pheonix as an anchor and reporter before landing a role on Extra. She worked her way up the ladder, and it paid off. Lauren has also worked for Fox Sports Net and The View.
44. Lissette Gonzalez
Lissette Gonzalez is the former Miss Miami and Miss Florida, so her charming personality and beautiful looks are something she has always had. After earning her degree in meteorology from Mississippi State University, Lissette was the runner-up of the Miss America contest.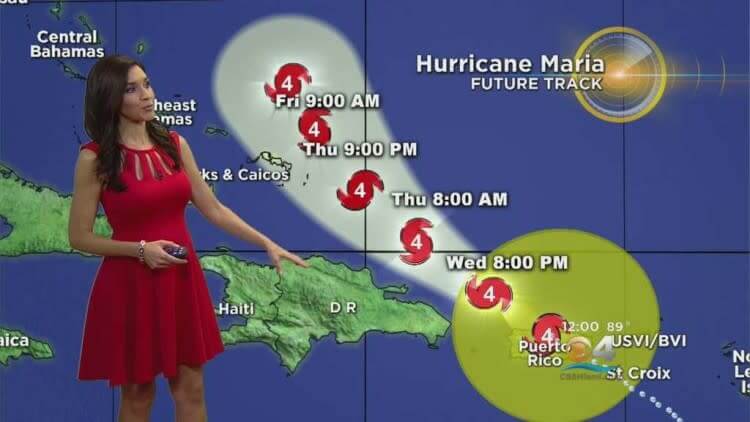 In 2007, Lissette started working for CBS4 News in Miami as a reporter, and then she moved to LA to work on the primetime news. She often visits schools to spread her message about the importance of education.
45. Erin Nicole
After graduating from high school in Michigan, Erin Nicole moved to New York to pursue her dreams of working in the broadcast and entertainment industry. In 2002, she started working in Detroit for UPN and CBS.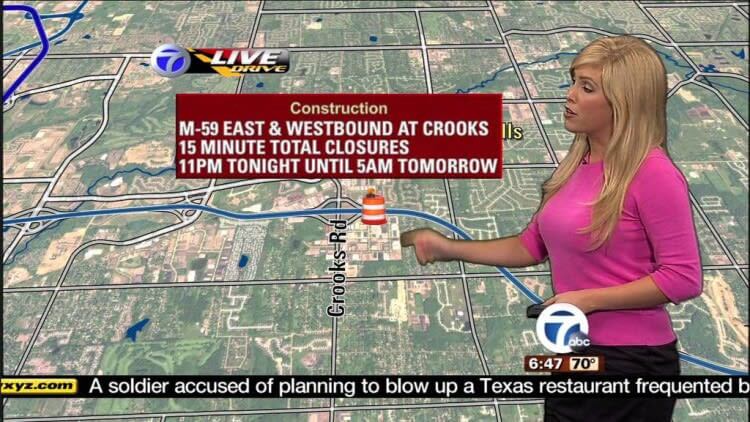 In 2004, Erin worked as the Detroit Pistons Arena hostess for home games where she finally fulfilled her lifelong dreams of working in entertainment. In 2016, after more than a decade in the industry, she took a step back to focus on her growing family.
46. Magda Palimariu
Hailing from Romania, where she works for Pro TV, Magda Palimariu was born in a small town in Transylvania. After getting her master's in journalism, she began her broadcasting career in Bucharest.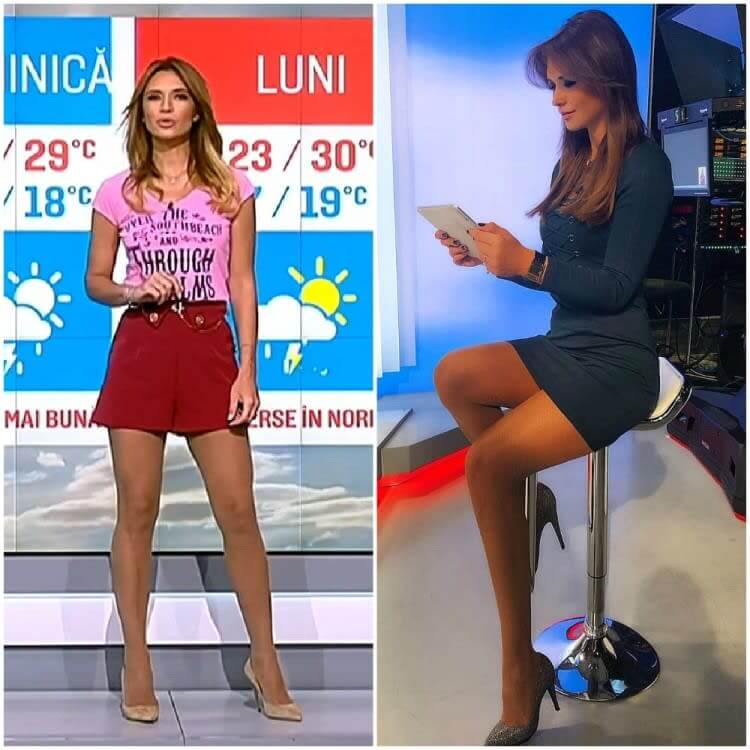 With over 92 thousand followers on Instagram, Magda has gained a loyal fanbase. In addition to working as a weather girl, she is also a model who has posed for Playboy and Pro TV Magazine.
47. Angie Gonzalez
Angie Gonzalez was born and raised in Mexico, where she found her passion for broadcast television. Before she was of legal age, she was selected by Multimedia network to be the weather girl, but she had to wait to turn 18.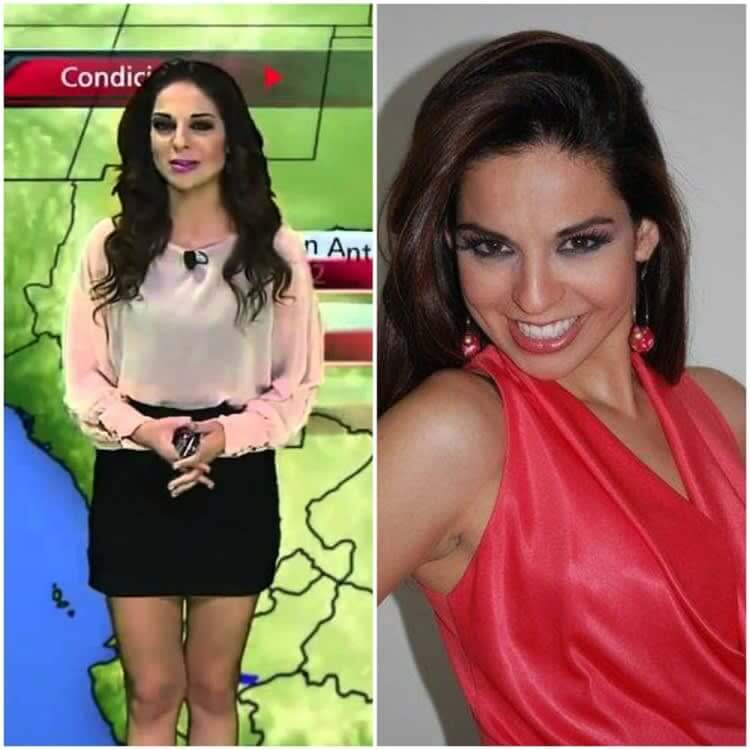 While Angie waited to begin her career, she worked hard to study meteorology. She has stunned people with her stunning figure but claims she doesn't diet or go to the gym.
48. Sugey Abrego
Sugey Abrego is an actress, model, and weather reporter in Veracruz, Mexico. She has made a name for herself in her home country as she presents on Channel 4.
Not only has she reported the weather Sugey has also acted in numerous telenovelas. Some of her riskier work includes posing for Playboy and Maxim Mexico. She also has a large following on Instagram, where her fans can keep up with her work.
49. Christina Loren
Christina Loren grew up in Palm Springs, California, and studied meteorology and theology. Christina has worked for major networks, including CBS Miami and NBC in San Fransico because she wanted to be closer to home.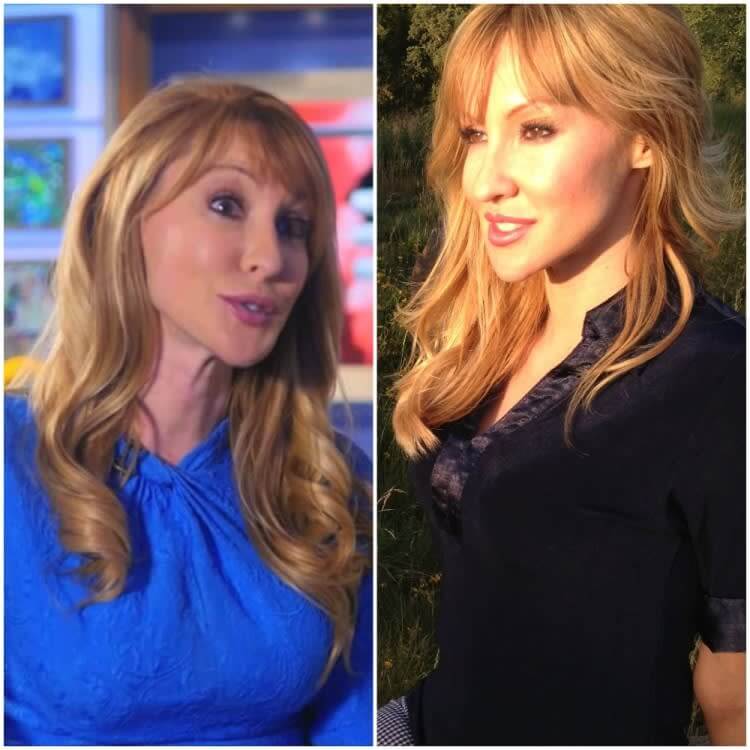 In 2015, she became a news anchor and agriculture meteorologist for RFD-TV in Nashville, Tennessee. She has been in this position ever since. Her gorgeous looks and vibrant personality have helped her to be successful in the broadcasting industry.
50. Kristi Capel
Kristi Capel is used to being in the spotlight since her days as a teen athlete and going through the beauty pageant circuit. In 2006, she competed in Miss USA, representing Missouri. After getting her degree in broadcasting and communications, she decided to pursue a career in reporting.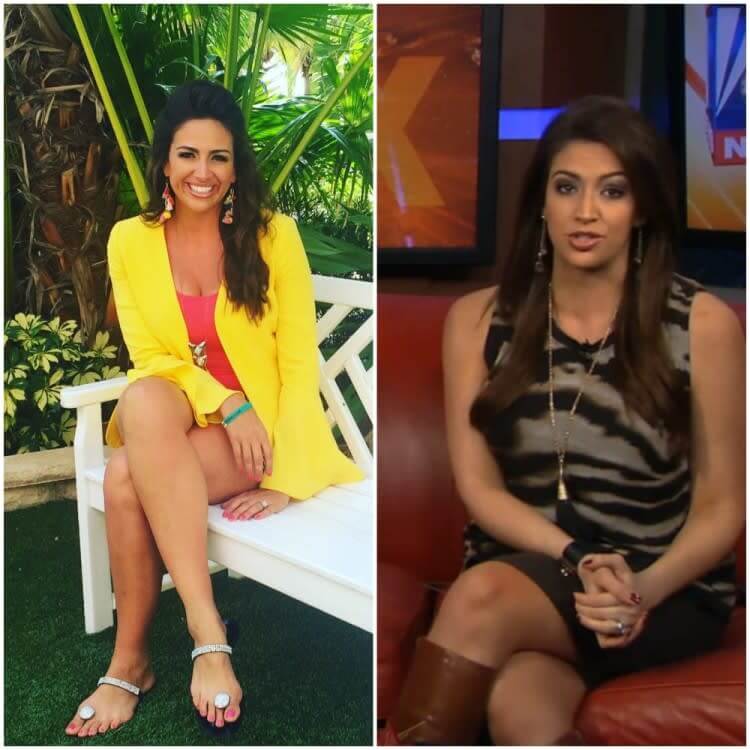 After university, Kristi worked as a weather anchor for KSPR-TV in Springfield. She gained more recognition when she took a position at WBRE-TV as the morning weather anchor.
51. Shay Ryan
Shay Ryan grew up in sunny Fort-Lauderdale, where she experienced many hurricanes throughout her youth. This encouraged her to pursue a degree in telecommunication. After obtaining her bachelor's, Shay got her master's in geoscience.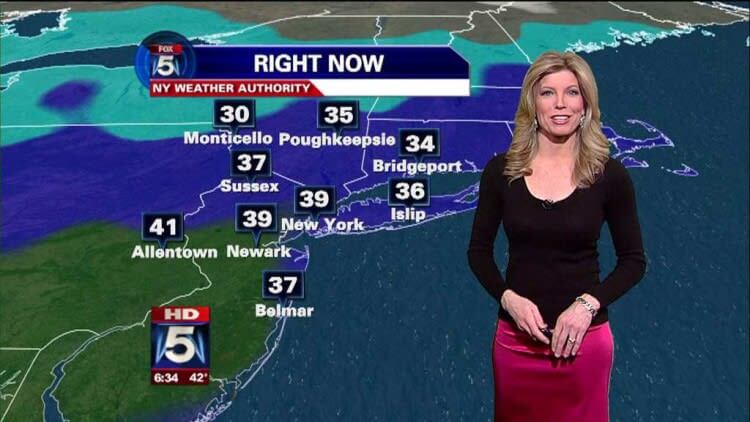 Throughout her career, Shay has worked in New York, Michigan, Georgia, and Mississippi. She has reported on significant storms, tornadoes, and other natural disasters. She is currently a weather reporter in Florida for WFTS-TV.
Laugh Out Loud Yearbook Quotes From High School Seniors
Ashley Lez
This article was originally published on 24/7Mirror
High school yearbooks are a fun way to look back on your time in school. Years from now you will reminisce on all the memories you made in those four years. The best way to be remembered in your yearbook is by having a funny quote. These high school seniors came up with the most hilarious quotes that will have you laughing for days. Take a look, have a laugh, and get some inspiration if you need a yearbook quote.
No One Noticed Her Haircut
This girl is going places! She knows how to make a joke at her own expense.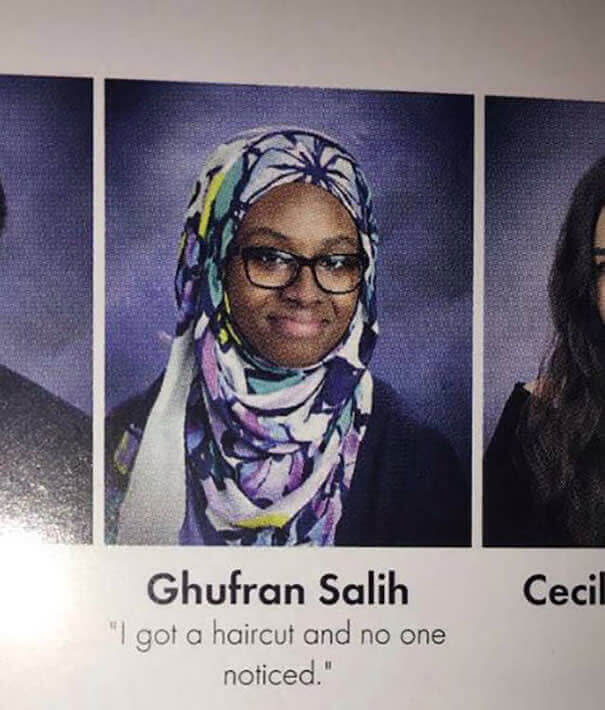 We bet her hair is beautiful under her stylish hijab. Even if she got a bad haircut, no one would ever know!
High School Will Be Fun, They Said
Just wait till you get to college Randey. The bike will turn into a motorcycle, and the firey ground will become lava.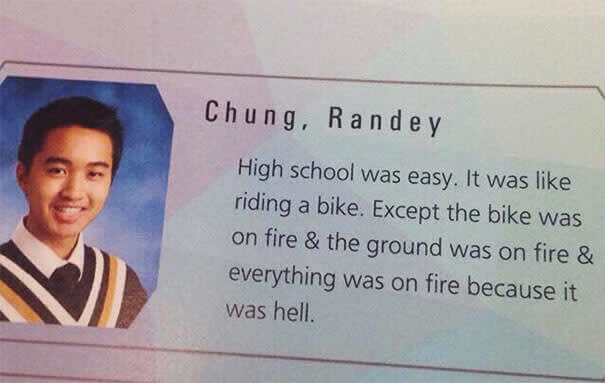 Then, once you graduate college, it is even worse than a fiery hell. It's slow-burning and painful.
"We Are Not Related"
The last name Nguyen is a very popular last name around the world. In Australia, it is the seventh most common family name!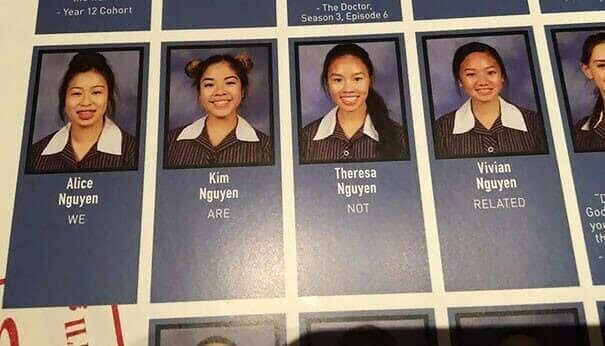 It is cute that they all coordinated their yearbook quotes just so no one can look back and think that they are quadruplets.
He Must Be Really Happy To Graduate
It is hilarious when people can make a joke about the stereotype that people have about their ethnicity.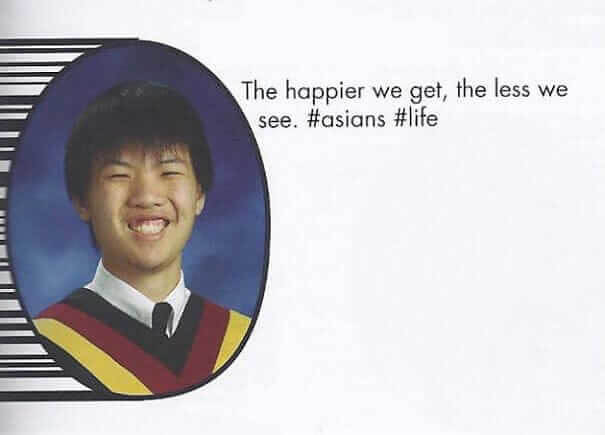 When you are happy, your eyes get all scrunched up. Combine that with already having smaller eyes, he can barely see!
Never Use The Unforgivable Curses
His name does sound like a former Hogwarts student who was probably in Slytherin house. He probably was trying to make some Horcruxes and they realized he was the second coming of Voldemort.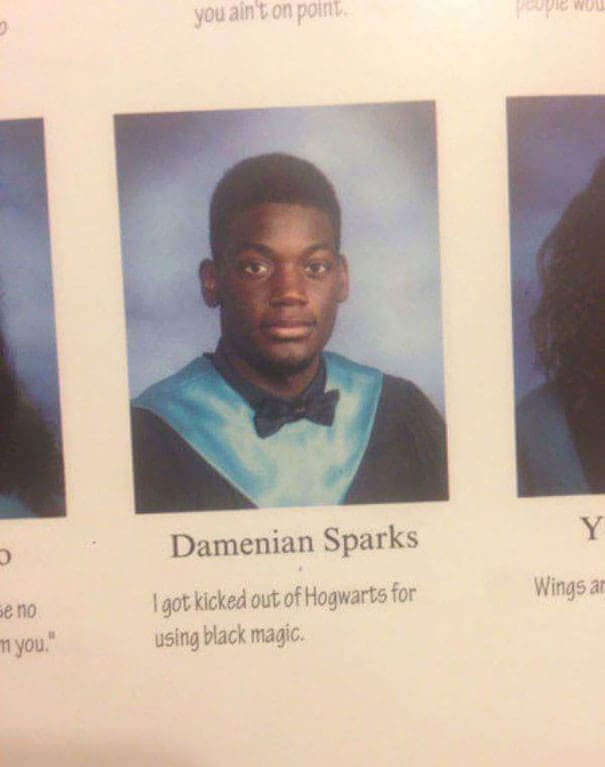 Also, this reminds us of the Key and Peele skit when he takes attendance and says everyone's names wrong. The teacher has probably messed up this name before.
Her Positivity Is Refreshing
When you start laughing at yourself, there are few things that can actually offend you.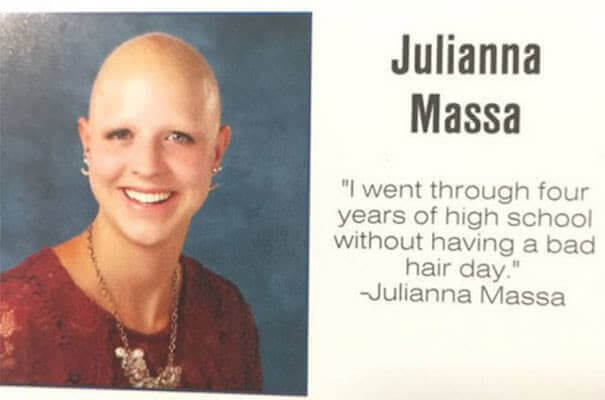 In our society today, everyone is obsessed with their looks and how they are seen on social media. This girl is a positive role model!
Sibling Rivalry
Any older sibling, even if they are only older by a few minutes, would probably say the same thing — those times when they were an only child and had all their parent's attention.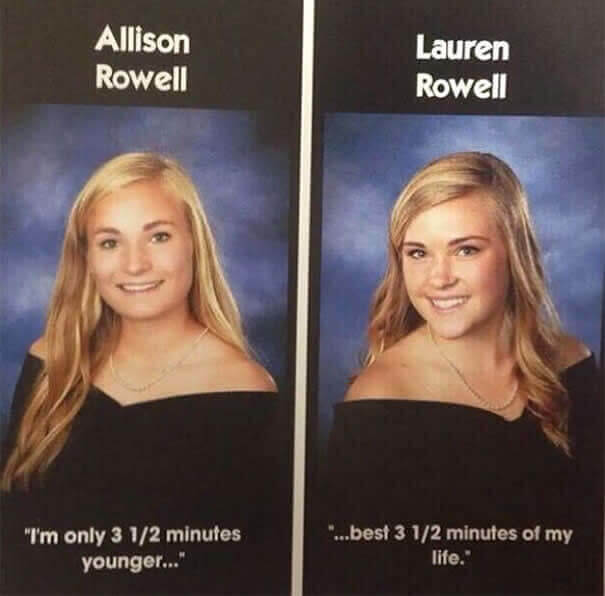 If you are an older sibling, did you enjoy the time better before your siblings were born?
Don't Let Him Fool You
Have you ever received a spam email saying that a prince or princess from a foreign country needs you to help them by sending them money? Hopefully, you knew it was fake and didn't send money.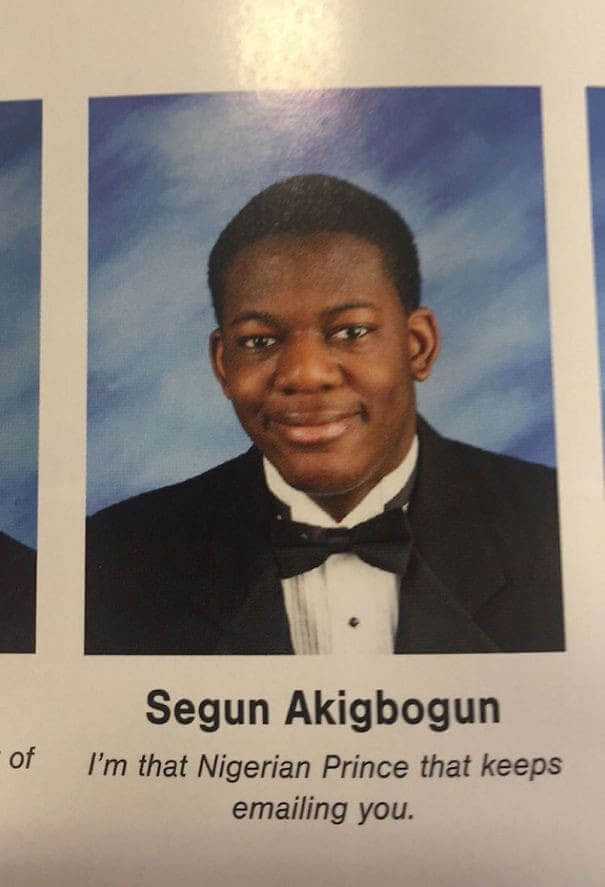 No one else could pull off this joke like him, and it's so creative. The person next to him should have written, "I won't fall for that scam a Segun time."
If You Can't Laugh At Yourself, No One Can
Can he wiggle his ears like Alfalfa from The Little Rascals? Don't try to whisper around him because he hears everything.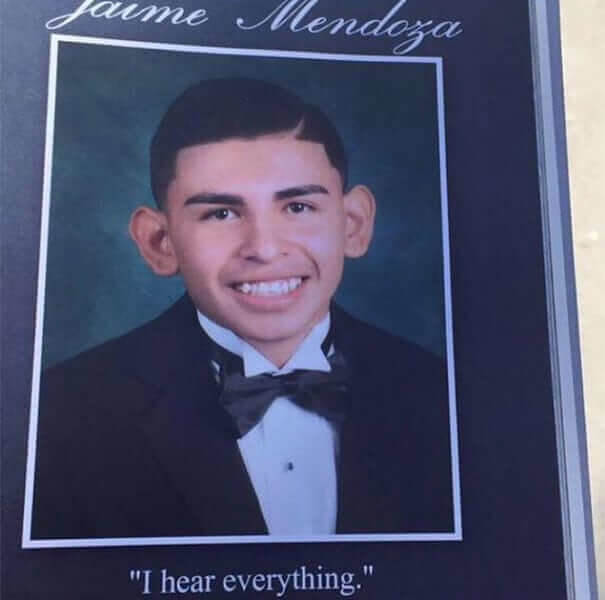 His ears might be big, but his eyebrows are perfection.
"It's Hard Being A Single Mother, Especially When You Have No Children And Are A Teenage Male."
This is the most random quote ever, but it is absolutely hilarious. How did he come up with this brilliant quote that will gown down in yearbook history?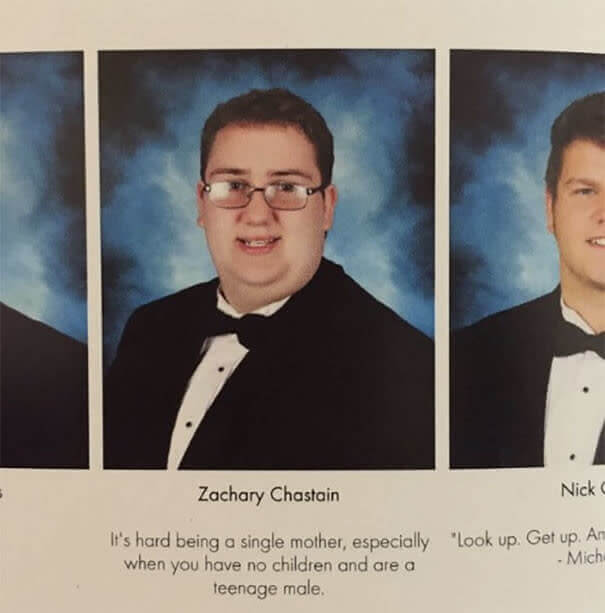 Years from now, his children will see this and wonder what their dad was thinking.
Professor Quirrell Is That You
A hijab is worn by women to maintain modesty, typically for Muslim women. In Harry Potter and the Sorcerer's Stone, Professor Quirrell wore a head wrap to hide the fact that Voldemort had possessed him.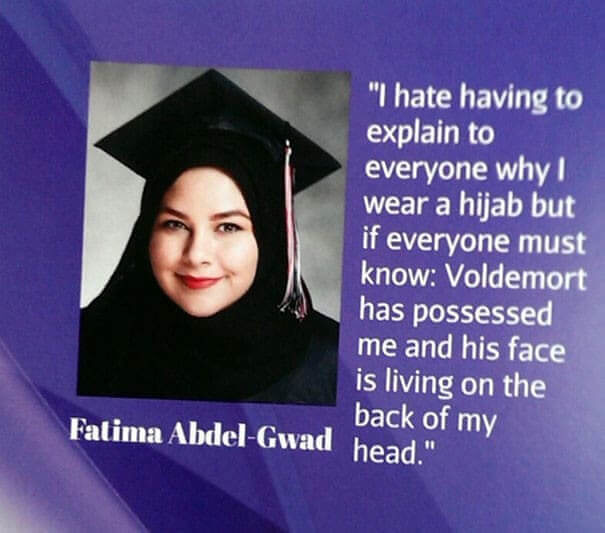 It is much funnier to tell people that you are walking around with Voldemort than giving them an actual explanation.
A "Can Do"Attitude
Wow, this guy should be a motivational speaker. He made being called trash a compliment. No one wants to be called trash, but now it is something positive.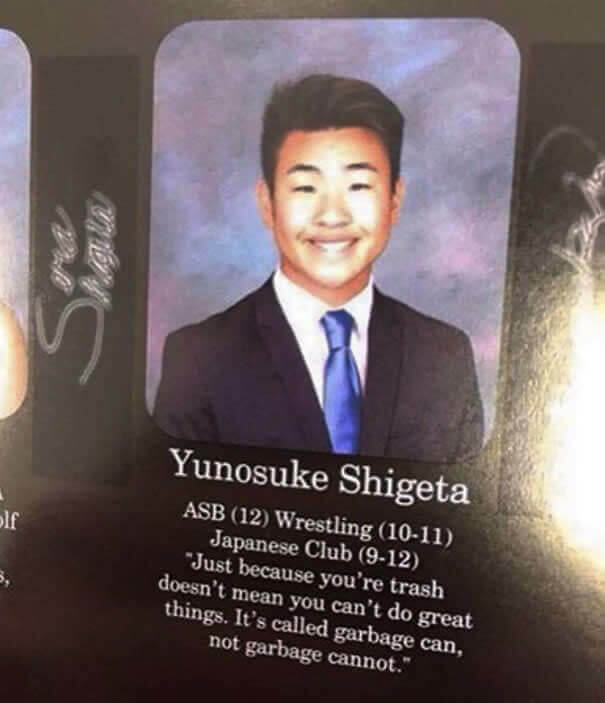 Also, it's like saying, "yeah you're trash, but that doesn't mean you fully suck."
He Prefers Tea
It would be amazing if this was the moment he chose to come out. He says nothing and hopes that everyone reads his yearbook quote.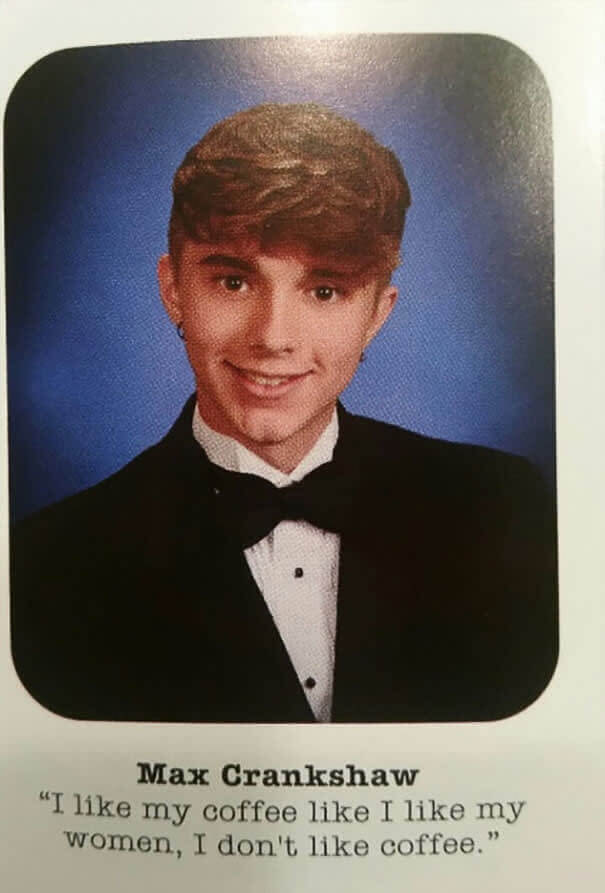 More power to you for being so true to yourself and admitting that you don't like coffee.
What A Poet
Well, there is not much to say about this one other than the fact that he is a great poet.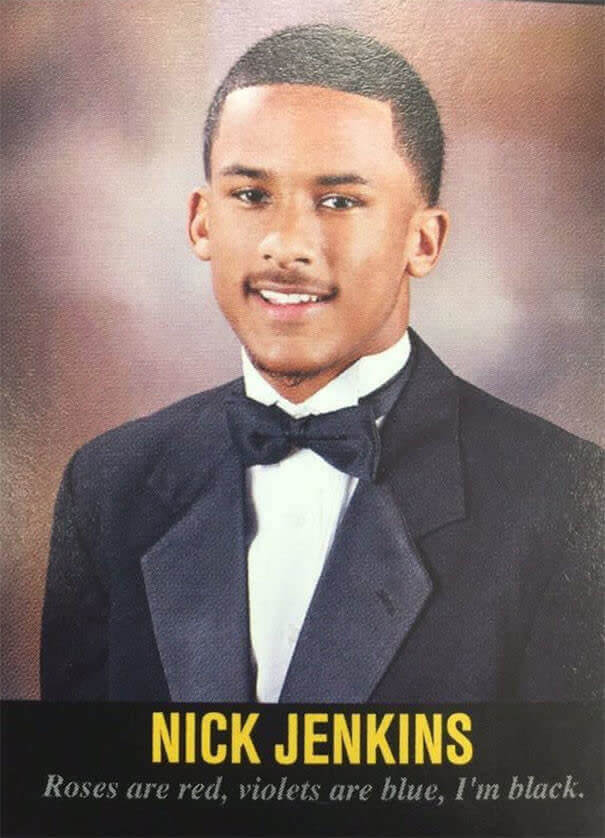 You can't really argue with his logic. Those are all true statements.
Joe McDonald Didn't Have A Farm, Ee I Ee I O
"With a moo-moo here and a moo-moo there, here a moo, there a moo, everywhere a moo-moo." Maybe his grandpa was the one with the farm.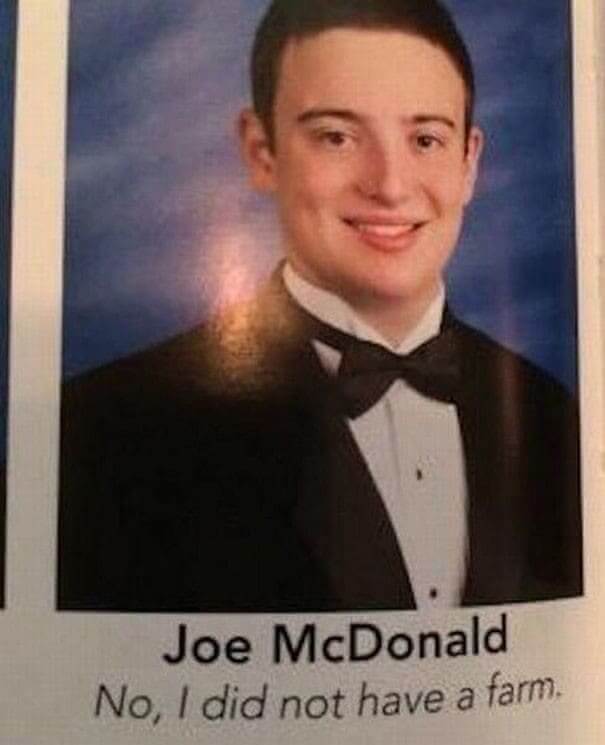 The song does say Old McDonald had the farm, and this boy is not nearly old enough to have a fully functioning farm.
He Should Have Listened To His Mom
When you do something just to irritate your mom, but now it is in your yearbook forever, and there is no way to get rid of it.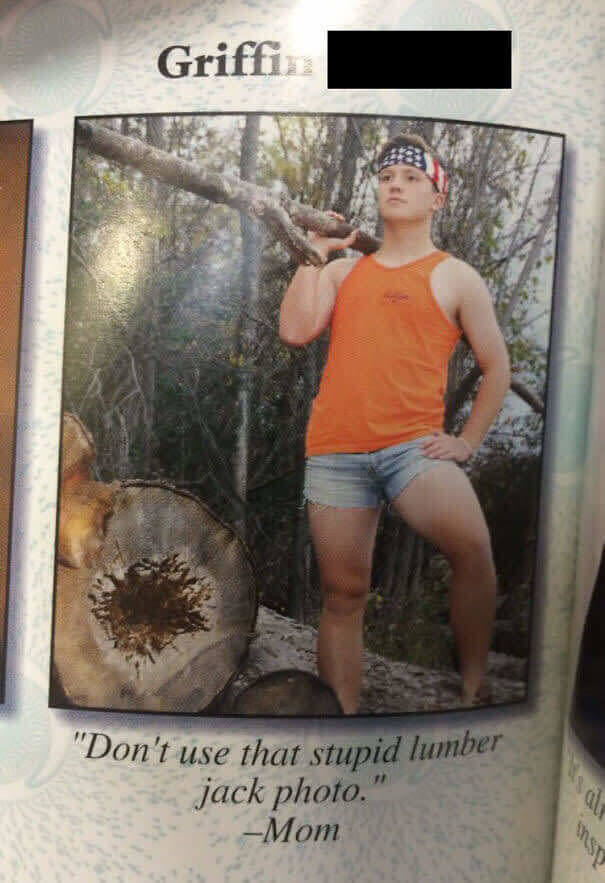 His mom clearly didn't understand that he wanted to show off his muscular legs in his jorts and muscle tank. This photo could also be captioned, "'Merica."
His Parents Did That On Purpose
He's so nice they named him twice! It's a good name because no one can know your first name without knowing your last name and vice versa.
This quote alone isn't funny, but the fact that his first and last name is the same makes it hilarious.
Megan Is A Free Elf
Don't get too excited, Megan. You have college next which traps you with student loans, and then once you graduate, you have to pay bills.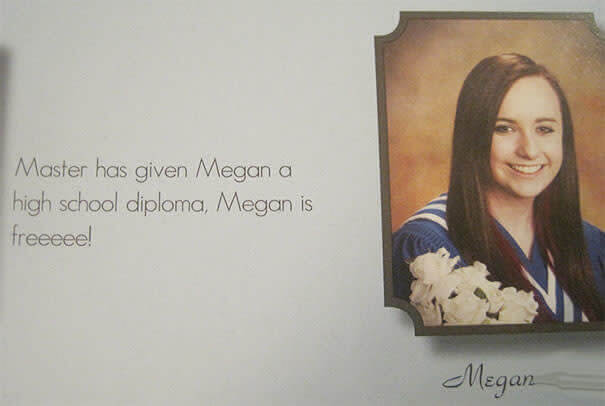 You get to be a free elf for the two months following graduation, and then you are trapped in school again.
Don't Forget Your Hips For Never Lying
It is nice to see that he can always be thankful for his body. If he only thanked one finger, does that mean he can only count to one?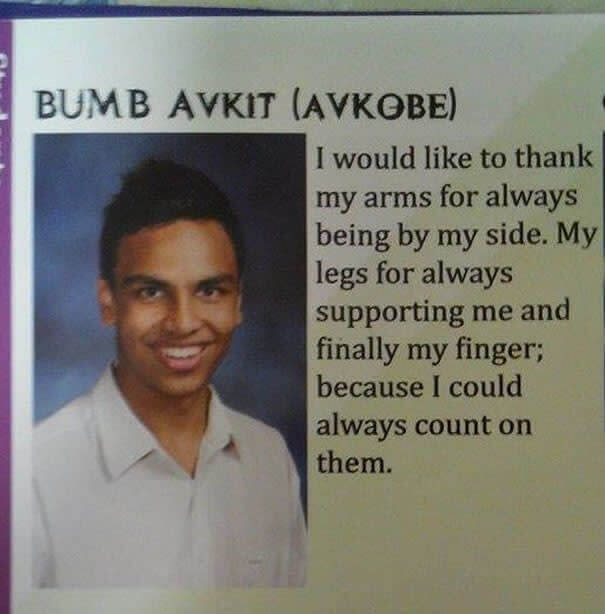 Can you imagine if he held up his hand and he only had one finger, but everyone thought it was a spelling mistake?
She Has A Point
To be completely honest, no man can compete with the pure joy you get from a good night's sleep.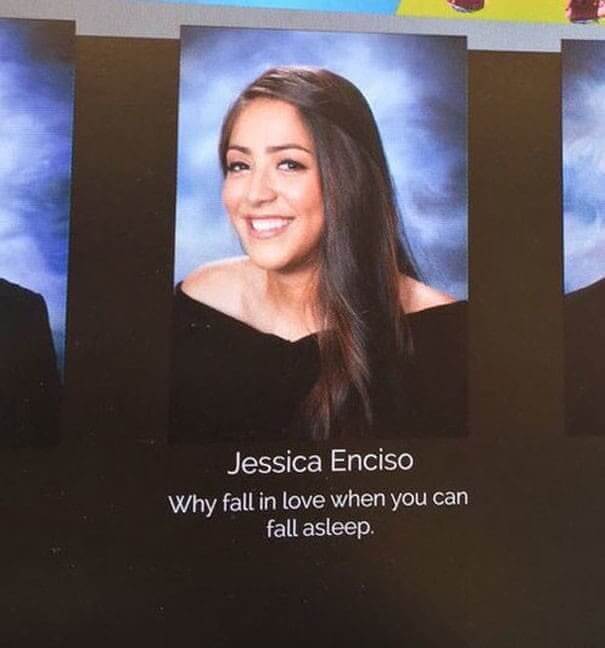 Everyone needs to sleep. Sleeping is fun, it's good for your brain and health, and it makes you happier.
Beat Them To The Punchline
If she marries someone with the last name Hum, she can be Ho-Hum. Or she if she marries someone also with he last name Ho, she can be Ho-Ho.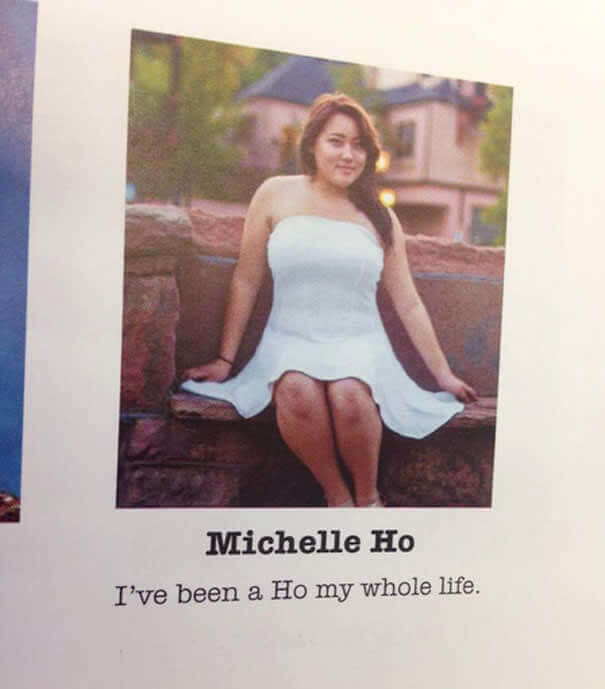 This is the one time you can turn a Ho into a wife. Michelle Ho has made her family proud.
Pronounced "Pareekeet"
He must have had to say this all the time when he got a new teacher, there was a substitute, or he met someone new.
He made it his senior quote cause that was the thing he said over and over throughout high school.
Unexpected But Still Loved
You know what they say, "Two is always better than one." Their parents have more children to love and now, two college tuitions to pay.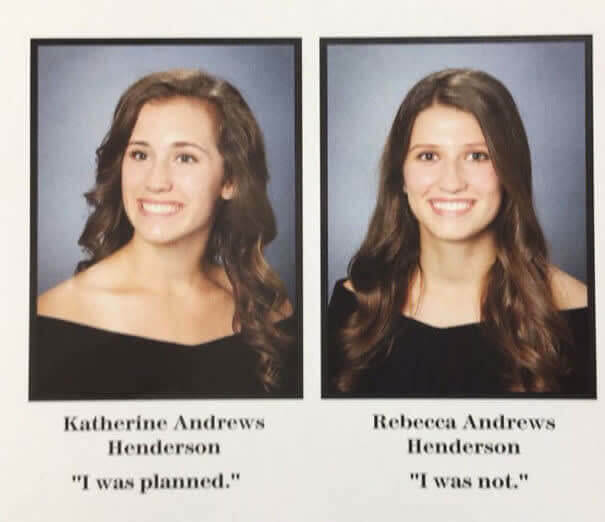 How do these twins know who was planned and who was not? Did they flip a coin to decide that one was the original embryo?
Clever
She used her smarts to get around this loophole and still got to use her original quote. This girl is our hero.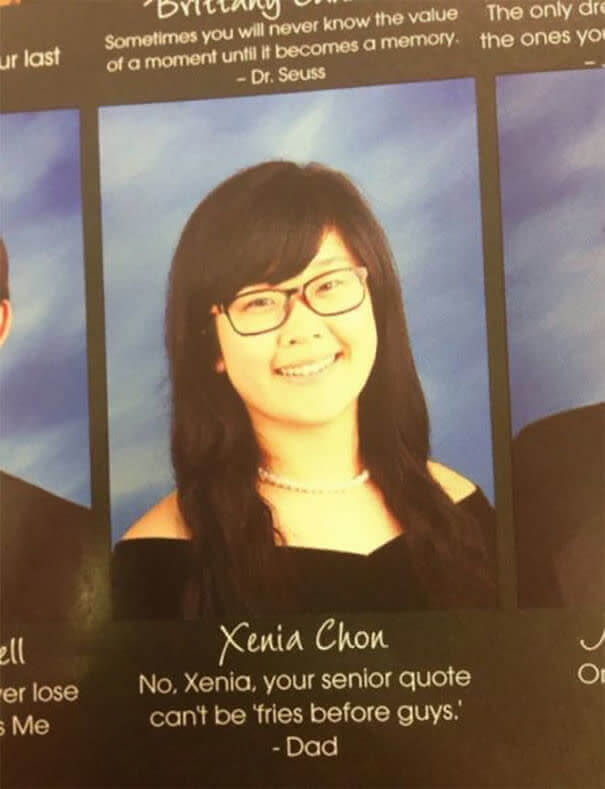 Do you think her dad laughed or got mad when he saw what she ended up putting in the yearbook?
How Did This Get Approved?
Shockingly, the school let this quote stay in the yearbook. Either the yearbook coordinator knows how to take a joke, or they didn't understand the joke.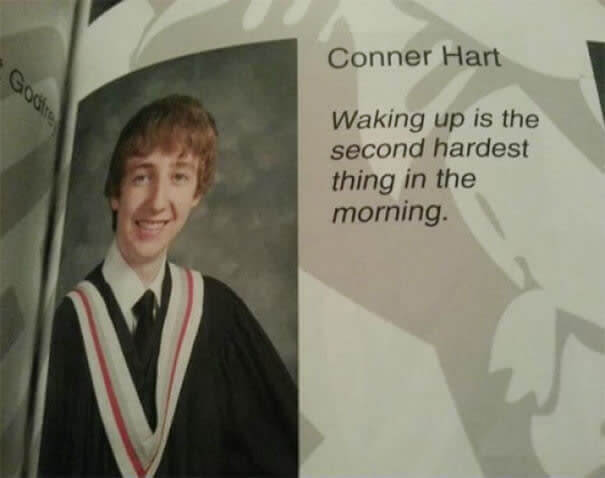 Is this really the legacy you want to leave when you graduate, Connor? What will you think about that in 20 years?
"Dad I'm Only In High School"
When you are just graduating high school and your parents expect you to have a full-time job that requires years of schooling.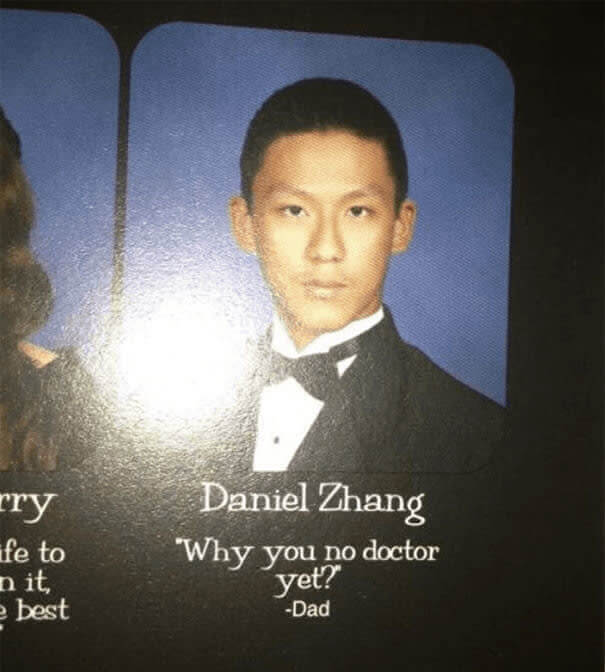 That is a reasonable request for an 18-year-old, right? Maybe Daniel will pursue a different career.
High School Helped Her Find Herself
High school is a time to find out who you really are. You can reinvent yourself and try out different looks, hairstyles, and attitudes. Amberlyn was able to discover her sexuality during her four years in school.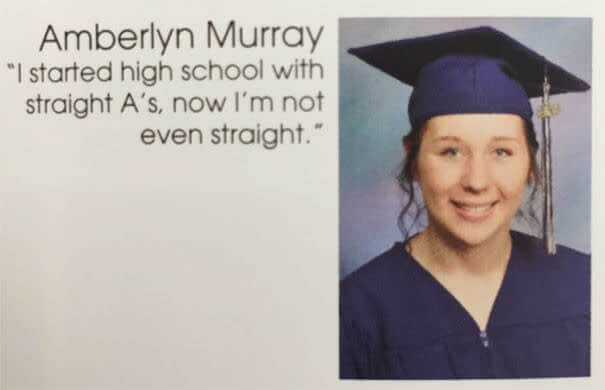 Once you are comfortable with who you are, you can be your true self and life is better.
Every Guy On Every Dating App Ever
Have you ever gone on a dating app, and the person's pictures turn out to not be a good representation of them? This guy feels like his yearbook picture is not the best representation of him.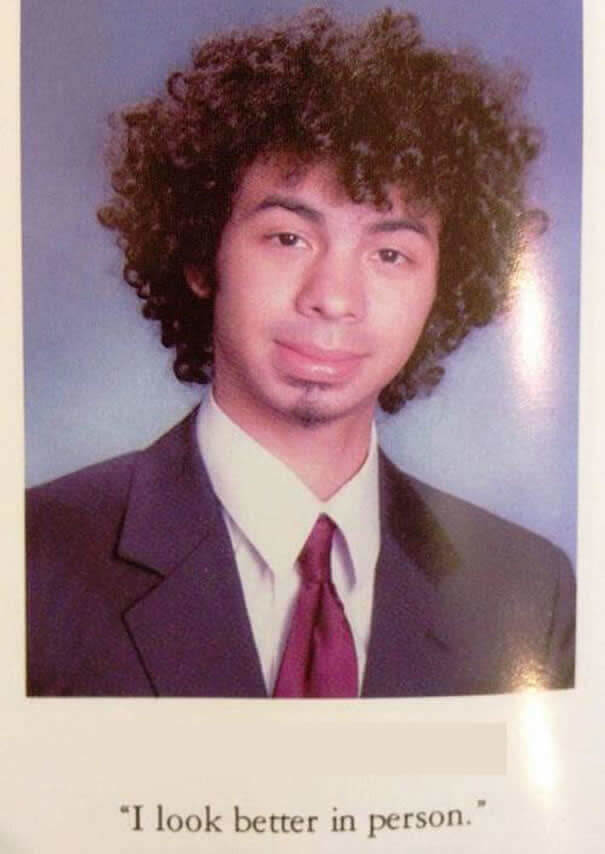 Some people just aren't photogenic, and that's ok. Not everyone is meant to be a model.
He Turnips In The Garden
This quote is bizarre beyond anything we could imagine. Does this person actually roll around and pretend to be a carrot? Does their neighbor still not know?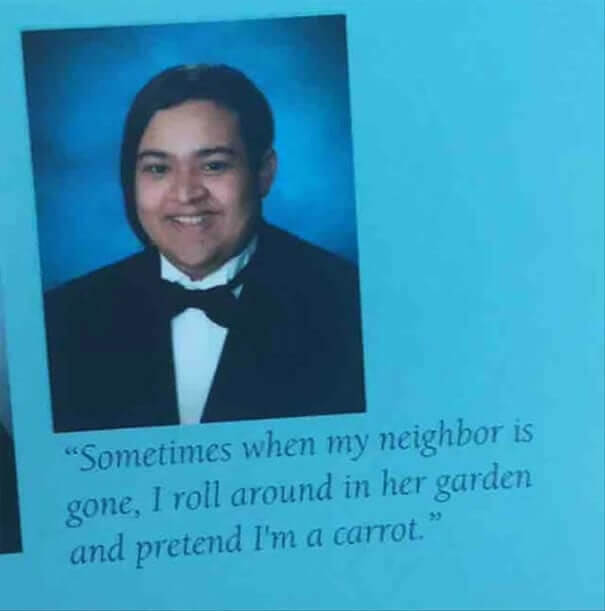 We are not sure where this quote originated, but whoever thought of it must be an interesting person.
Was This Planned?
Noah and Mason, we need some answers about these quotes. Did you plan this, or do you both love bubbles? Maybe someone saw the quotes and saw a good opportunity and put their quotes together.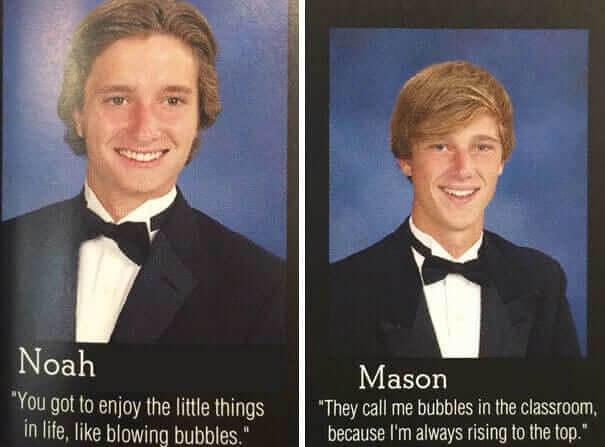 Where are Noah and Mason today? Are they still trying to convince people that the quotes were a coincidence?
That's One Excuse For Bad Grades
When you have tried as hard as you can to improve your grades, but that hasn't worked so you put them up for adoption instead.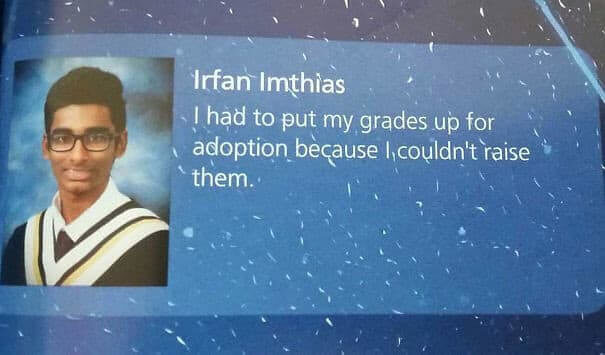 Maybe someone else can improve them for you, not that we are promoting cheating.
And It's All Down Hill From There
One hundred thirteen thousand eight hundred eighty hours is 4,745 days and about 13 years/ That is a lot of time to spend in school, only to have to go to more school. You spend that much time in school, and when you graduate, you are only qualified to work at a fast-food chain.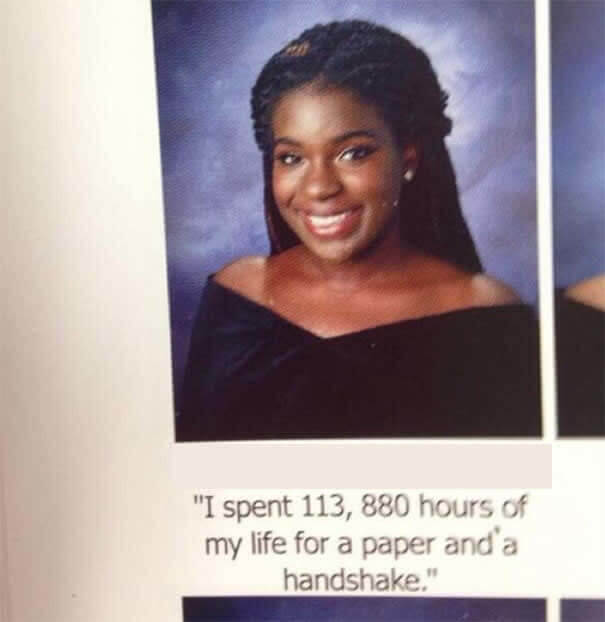 We wonder what her quote would be when she graduates college. "I spent four years and hundreds of thousands of dollars for a piece of paper and no job opportunities."
You Monster!
Some people choose to not eat meat because they feel bad for animals, and others choose to be vegetarian in spite of plants.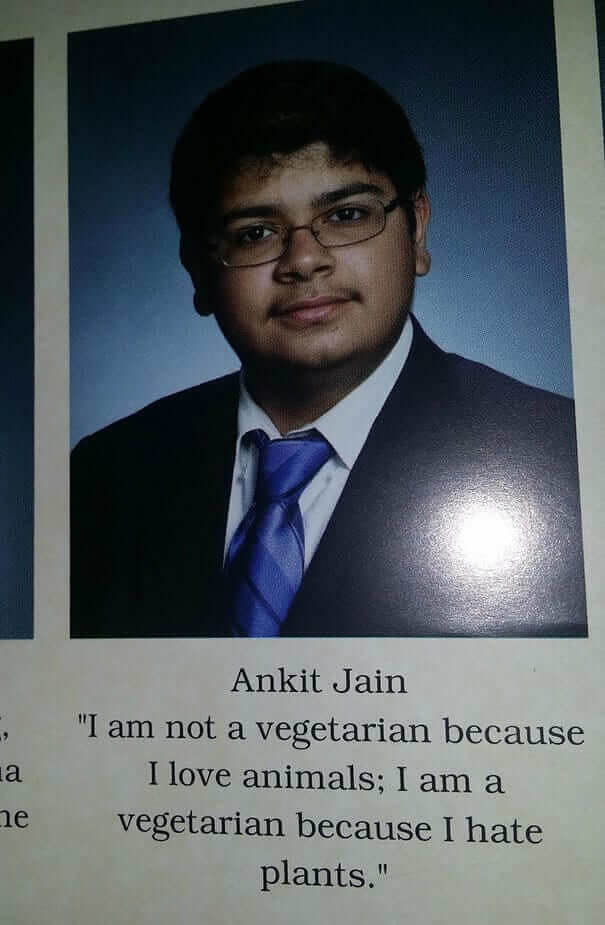 Plants and animals are friends, but eating them is part of the food chain.
Copy + Paste
These identical twins are copies of each other, and it is hard to tell them apart, so they made a joke out of it. Did you know people named their children "Dollar?"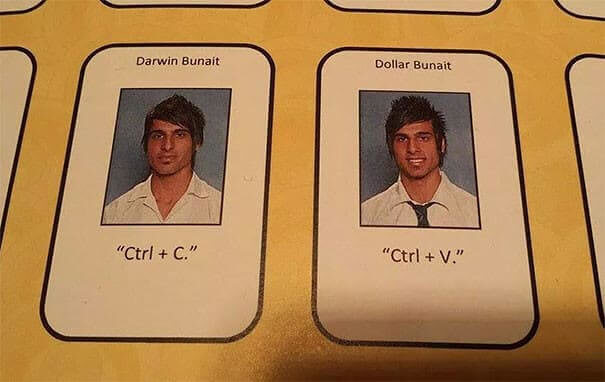 They also look way too old to be in high school. Some seniors must mature faster than others.
"I Always Knew Brooke Would End Up On Top Of Me."
Blake has had a crush on Brooke for the entirety of high school. He never got a chance with her, so this was his time to shoot his shot.

The yearbook may be the only chance he has to be close to Brooke, and we respect his bold attempts to get her attention.
That's A Funny Joke
Triplets are a rarity, so when there is a set of them, everyone in school knows who they are. These three were excited to graduate because they can stop being called "the triplets."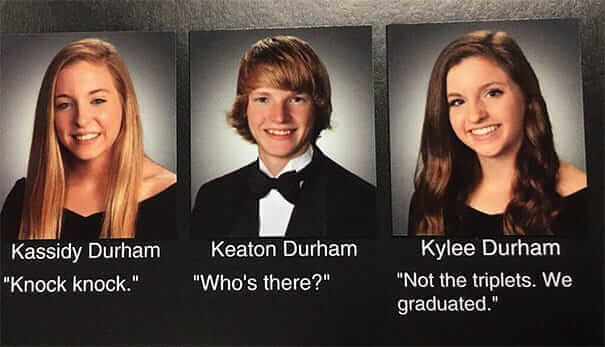 We wish our yearbook had quotes as funny as these. Usually, people use inspirational quotes, and they don't get creative.
But Everyone Wears The Same Thing For Yearbook Pictures
When you claim to dress well, but you are wearing the same tuxedo as every other male in your graduating class.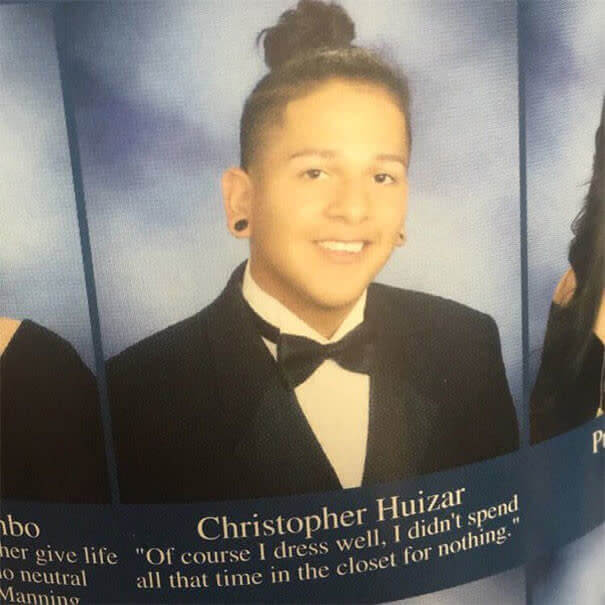 We applaud them for stepping out of the closet and hope they are finally living their best life, but a black tux is hardly an inspired fashion choice.
Try Now Ask For Forgiveness Later
You know what they say, "It is easier to ask for forgiveness than beg for permission." Instead of asking for the bike he took one and will seek forgiveness later.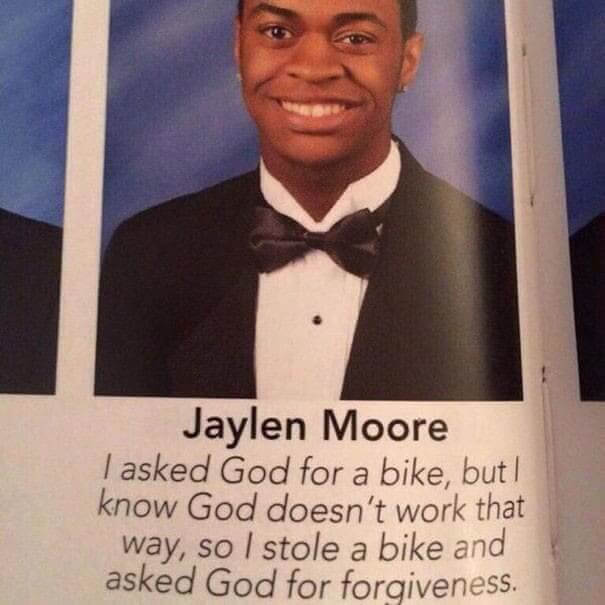 Will he be forgiven for taking the bike? The owner probably wasn't too happy, so it might not be easier to ask for forgiveness in this situation.
Mission Impossible
When you have suffered through thirteen years of school and teachers mispronouncing your name, and you are tired of it.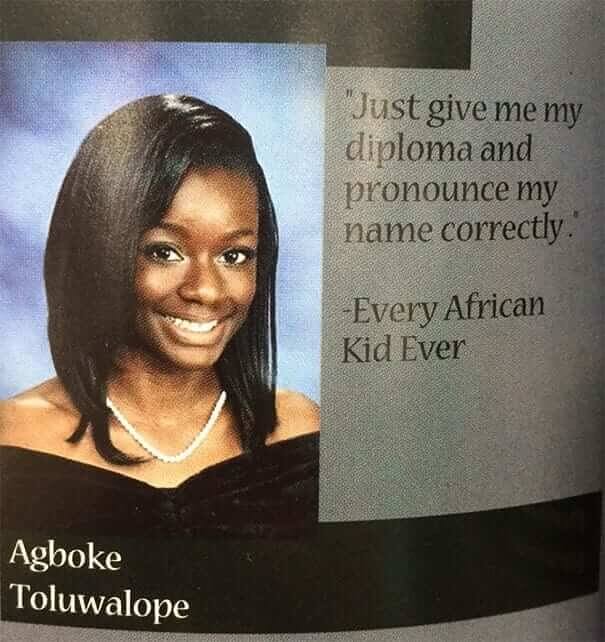 Sometimes you have to take matters into your own hands and call out the teachers that didn't even try to pronounce your name correctly.
Paige Just Changed Yearbook Quotes Forever
Now people will know that they can write sentences in emoticons, and the senior quotes will be even more enjoyable.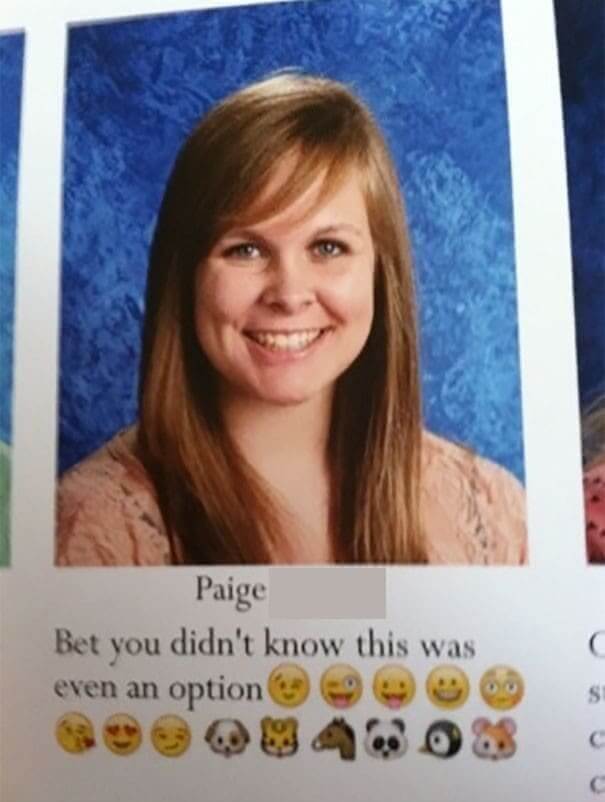 She is an innovator, and yearbooks will never be the same because of her.
This Is A Mind Game
This one is very confusing. If we understood this correctly, whoever is before Steven, their quote is the truth, and whoever is after Kristian, their quote is a lie. Or, it's a paradox.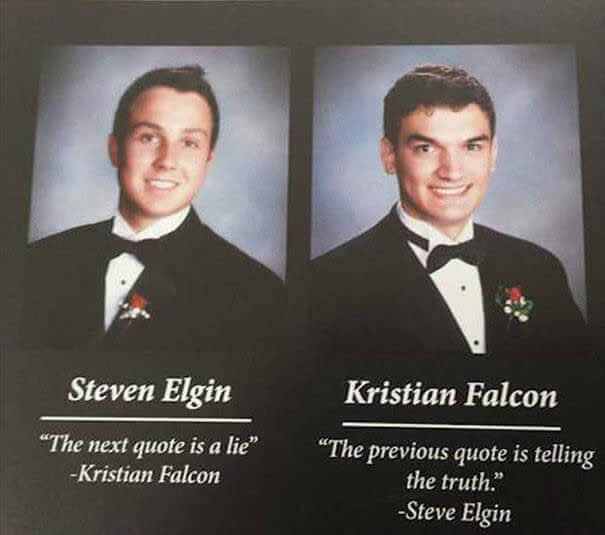 If you were able to understand this, props to you. We are still trying to unravel this mystery.
That's Unfortunate
Previously, we saw Carlos Carlos, who said he hated his name, but that is nothing compared to Christopher Gaylord. He didn't choose his last name, but he has to live with it and all the jokes that come with it.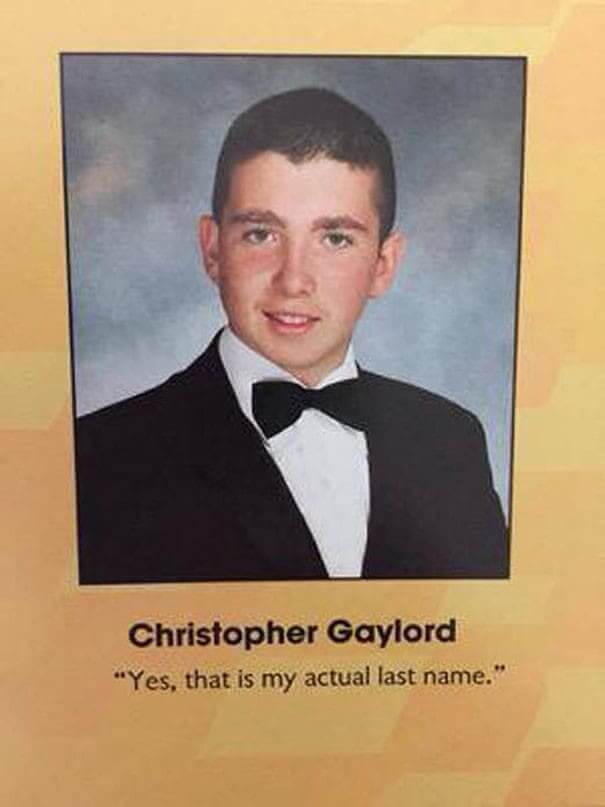 At this point in his life, he is probably used to all the jokes and teasing. At least he has a regular first name.
That's Deep
This girl must be popular with the nerds. This quote really makes you think about life and who you are as a person.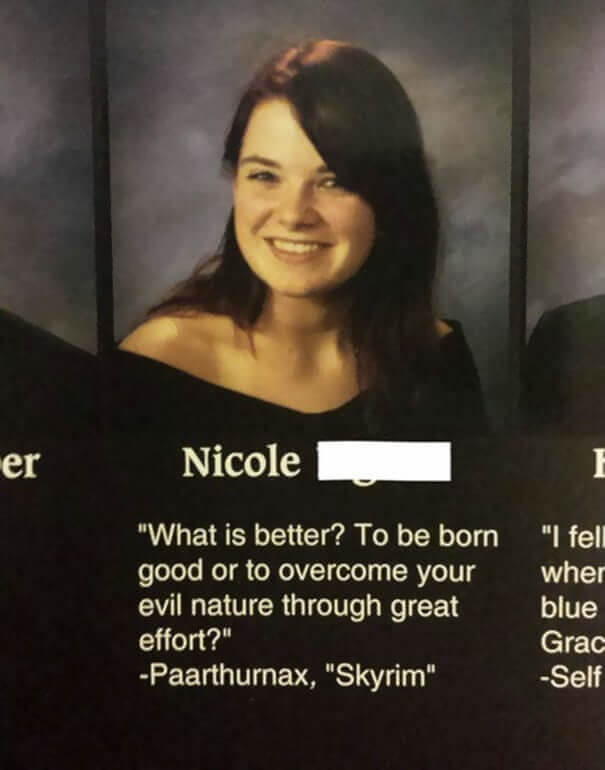 Would you rather be born good or overcome an evil nature inside of you?
Smile For The Camera
Waves hand in front of their face and yells, "You can't see me." That's how John Cena would do it obviously.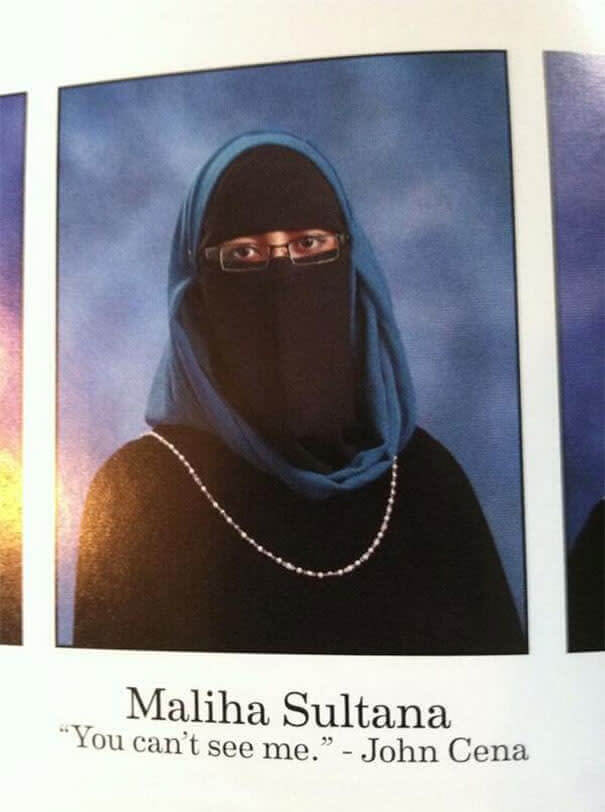 These students are able to make a joke out of all the things that may have made them feel different throughout their time in high school, and that is an important lesson to learn.