Celebrities make a lot of money and they have all that we dream of having one day. So after spending money on lavish lifestyles, they turn to super expensive purchases. There are some celebrities that have purchased some crazy items because they love to flaunt their wealth. So, let's have a look at 40 ridiculously expensive celebrity purchases. You'll be surprised at the purchase of Kim Kardashian and Kayne West.
1. Beyoncé: Golden Leggings
We told you about the husband of Beyoncé spending $55 million on a horserace. The singer's net worth is $500 million as of 2020. She wanted to look amazing on the 2007 BET Awards and spent $100,000 on Balenciaga leggings.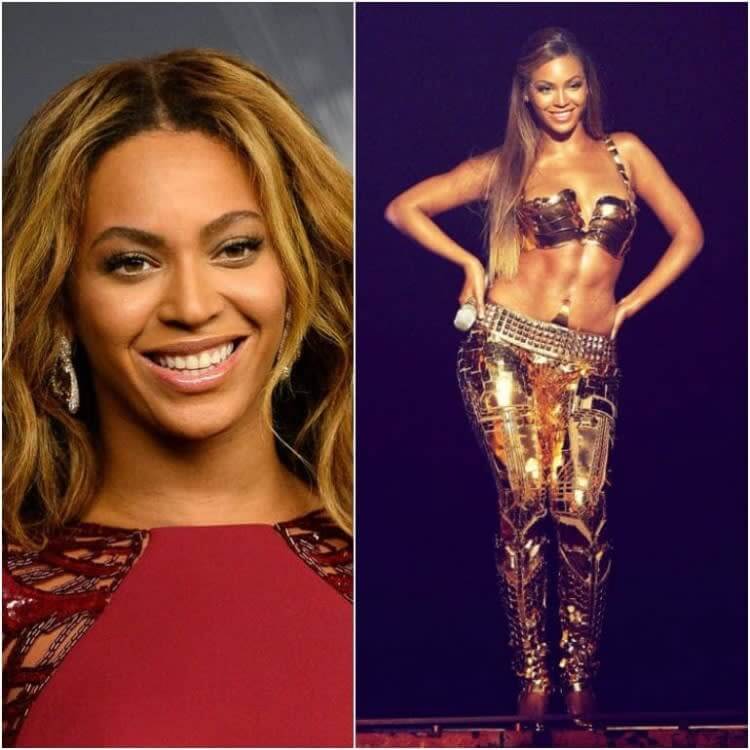 While most of us are happy with Forever 21 black leggings, she purchased golden leggings for herself. It is a pretty outrageous amount to pay, given that she only wore them one time.
2. Justin Bieber: Custom-Made Gold Grillz
Although buying grillz (a decorative teeth accessory) is not new in the Hollywood world, it is something that is not quite common yet. But Justin Bieber went on to buy a gold grill for a Halloween costume by paying $5,000 for it.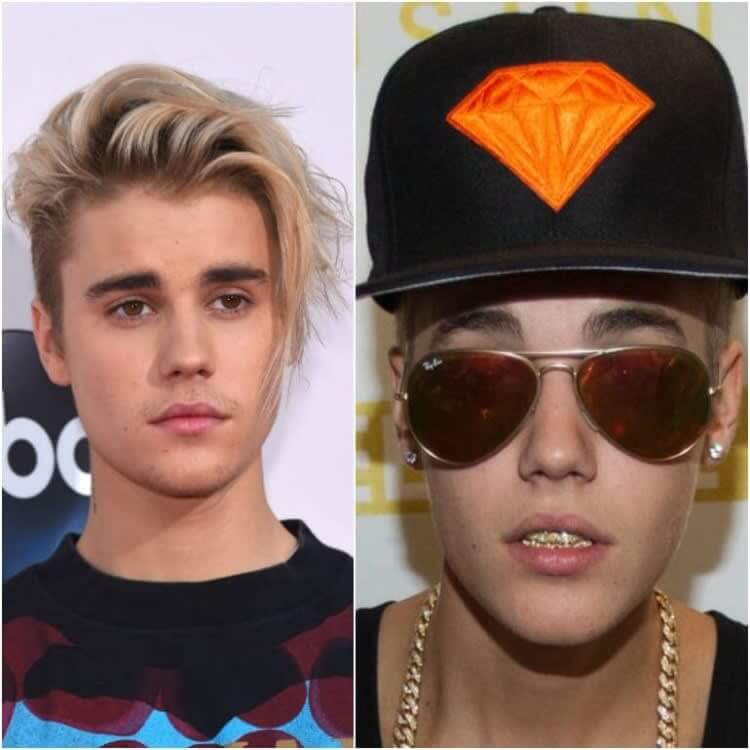 To have the blingy piece made, Bieber hired Ben Baller from the jewelry company If & Co. And yes, it happened in 2013 when he was still a child. If you ever wondered why child stars spend so much money, well, they buy things like this.
3. Kendall Jenner: A Sofa
Kendall Jenner moved to her own place in 2016 and bought a new sofa to decorate her mega-mansion. Although most people would opt for modern and chic furniture, the supermodel had something else in her mind as she spent $52,000 on a sofa from the avant-garde Italian brand Edra.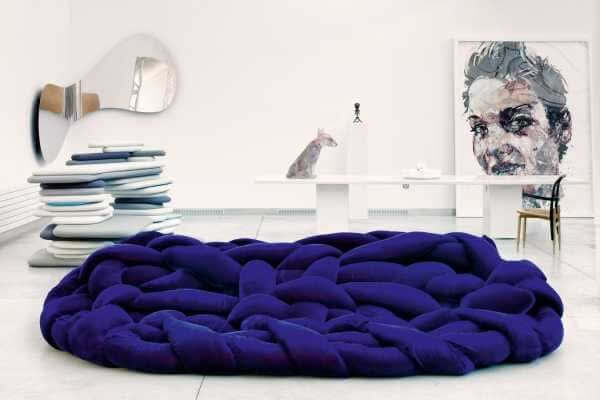 This scarf-looking sofa is a giant nest of soft tubes. For most people, spending this much money on just a sofa is way too much. However, celebrities don't mind spending a lot of money when it comes to something they really like.
4. Johnny Depp: Monthly Spend on Wine
In the 2018 interview with Rolling Stone, Johnny Depp revealed some shocking things about him. One of them was that he spends over $30,000 a month just on wine. The brilliant actor admitted that he was actually upset that it was reported he spent this much money on wine because the expenses go way beyond the amount of $30,000.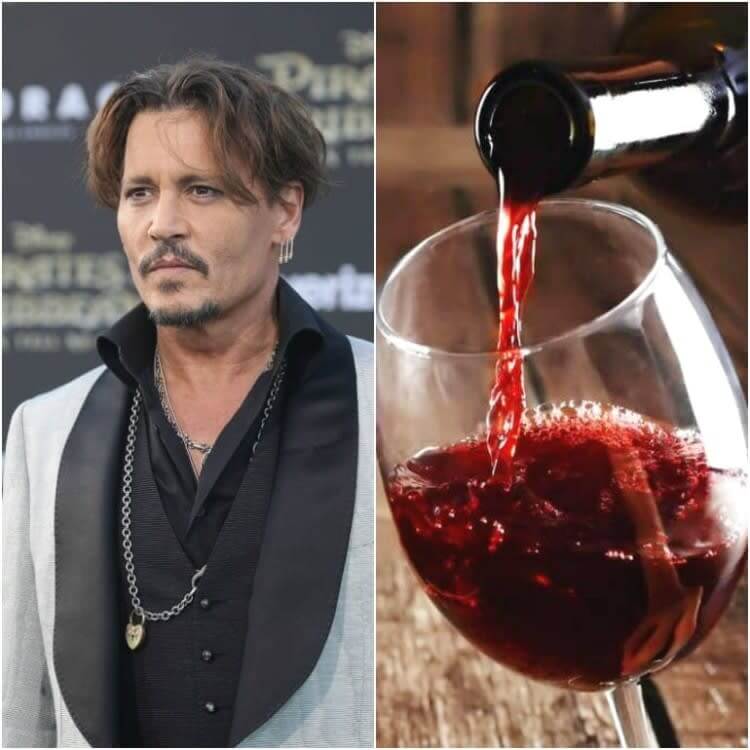 It has been reported that he is in debt and he is still able to spend so much money on wine. It makes us wonder if he's buying so much wine then when is he ever sober!
5. Kelly Rowland: A Crystal-Encrusted Tub
Kelly Rowland bought an opulent tub and it wasn't even for herself. She bought it from Baby Diamond Bathtub for her friend Beyoncé's baby, Blue. The tub's retail price is over $5,000 and what makes it unique is that it is encrusted with Swarovski crystals.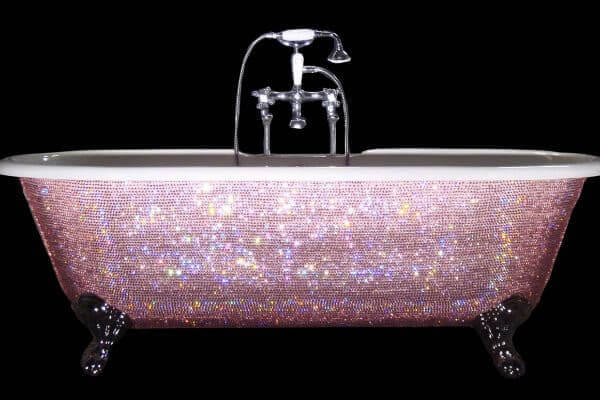 It came as no surprise because celebrities tend to buy expensive gifts for their friends and family. But it will seem like a small amount in front of other purchases. Keep on reading to find out about them.
6. Miley Cyrus: Hair Extensions
With a net worth of $160 million, spending $24,000 on hair extensions doesn't seem much, right? When Miley was 17, she used to rock her hair extensions constantly.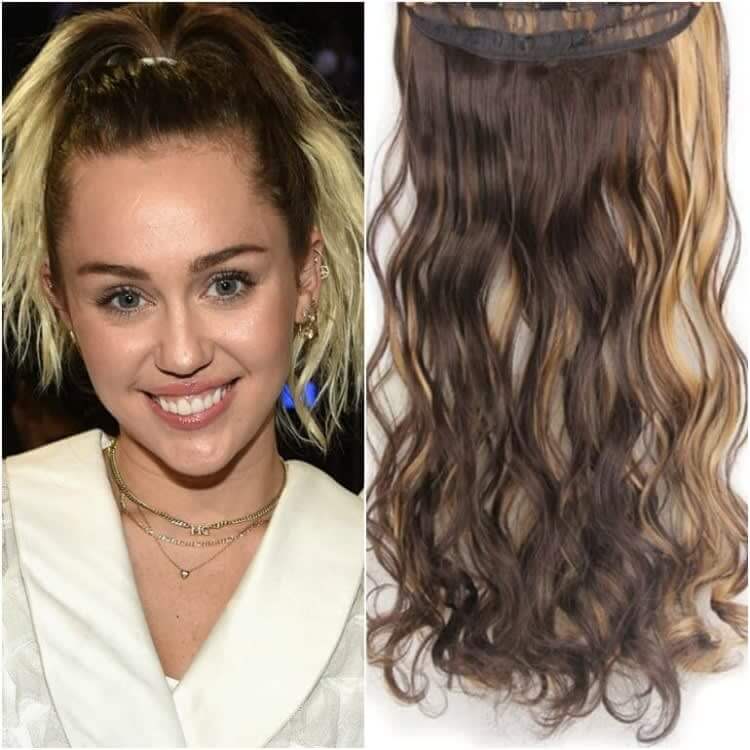 Her die-hard fans know that she spent a lot of money on extensions. Her highest-quality $24,000 faux locks were flown in from Italy. Experts dyed the extensions to ensure they matched her hair.
7. Rachel Hunter: A Dog House
Supermodel Rachel Hunter lives a luxurious life and she wanted her dogs to live in the same luxury as well. So, she went on to have a super chic house made just for them. She hired a contracting company La Petit Maison to build a beautiful dog mansion.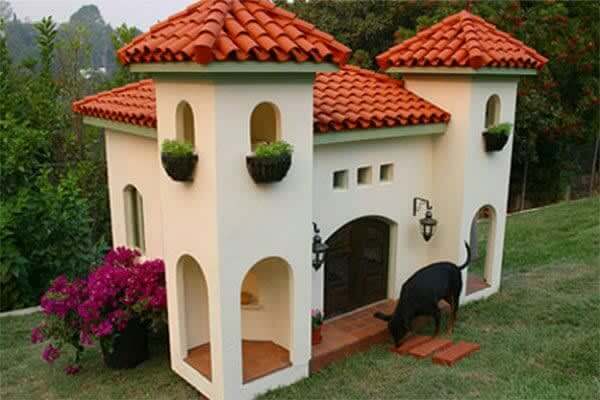 The specialty of the company is that they make miniature versions of celeb houses for dogs and charge over $50,000 for it. She didn't think twice before spending a huge amount for two dogs (a Labrador Retriever and German Shepherd).
8. Daniel Radcliffe: A Mattress
The net worth of Daniel Radcliffe is approximately $110 Million and it seems like he did not want to compromise on his sleep. The Harry Potter star spent $17,000 on something that may look unnecessary to most people.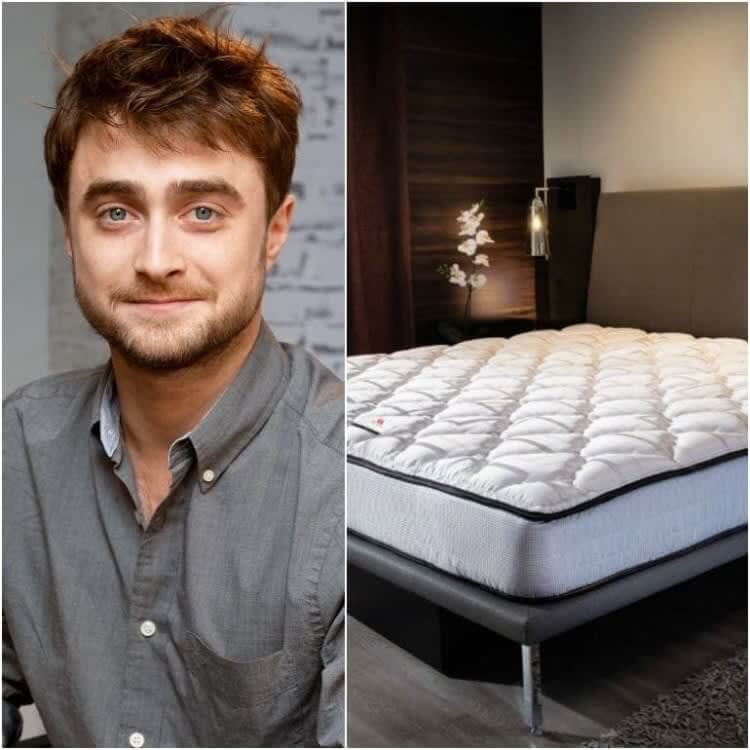 Of course, a mattress is an essential household item, but spending this much money is a little bit unnecessary, don't you think. Anyways, the celebrity is rich and he had no second-thoughts in purchasing a super soft mattress to get a good rest and sleep.
9. Kate Moss: A Gold-Plated Vibrator
Although it is not an extreme celebrity purchase, it becomes one when you think about the item she bought. There is nothing wrong in purchasing toys like these, but a gold vibrator, really?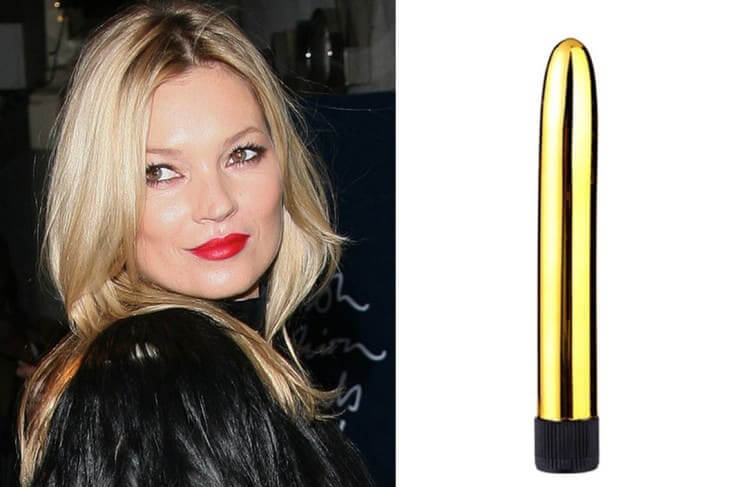 She purchased the Jimmy Jane brand toy at a pop-up shop for La Petite Coquitte in NYC. And what about the price? Well, this is probably the most expensive toy we've seen: 424$.
10. Kesha: Glitter
Kesha has made many fans around the world. According to the pop singer, she used to spend thousands of dollars a month on glitter. Given that a small vial of glitter costs about $1, it seems like she used a lot of…lot of glitter. But it seems like she spent most of it in her live show where she had glitter all over body after being shot out of cannons.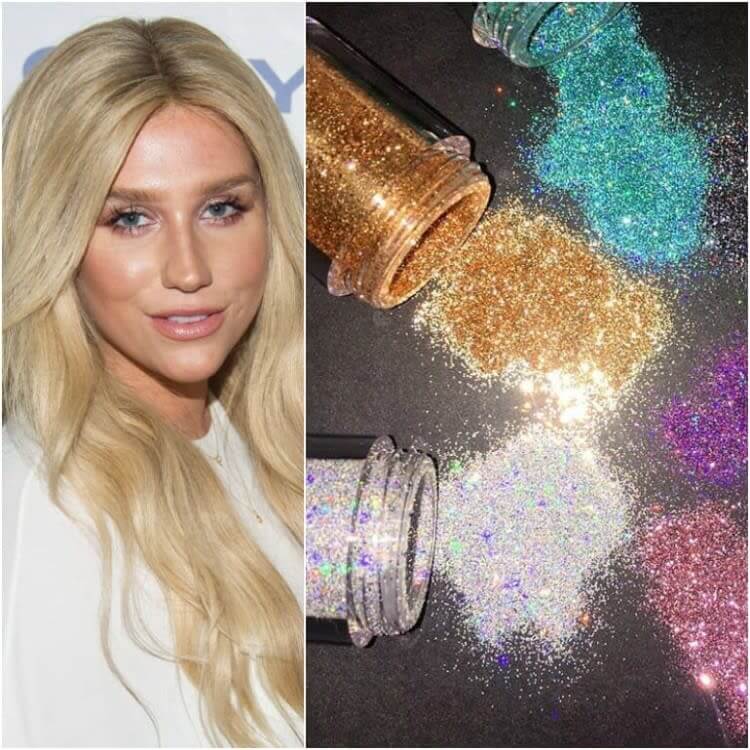 She told it in an interview in 2011 and we're pretty sure she still has remnants of that glitter somewhere in her house.
11. Kim Kardashian and Kanye West: Gold-Plated Toilets
With Kim Kardashian's net worth of $350 million and $1.3 billion of Kayne West, there's nothing wrong with going to the bathroom in style. So, both of them decided to get gold toilets for $750,000 after buying their Bel Air mansion. After all, they wanted the best throughout their mansion.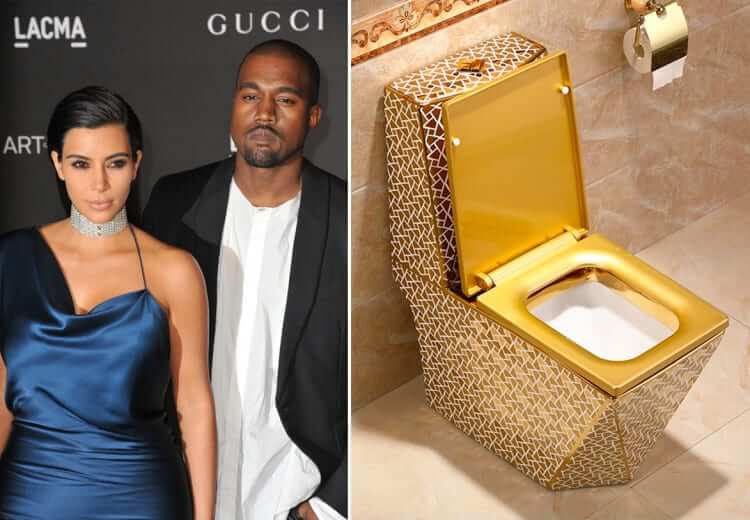 There are rumors that the couple even decided to spend double the house cost on the upscale interior decorating. That explains why they almost spent $1 million on just their bathroom.
12. Jay-Z: A Racehorse
According to Forbes, the net worth of Jay-Z is one billion as of 2020, which makes him one of the richest rappers of all time. Besides rapping, he got into the equestrian business in 2014 with a big bang.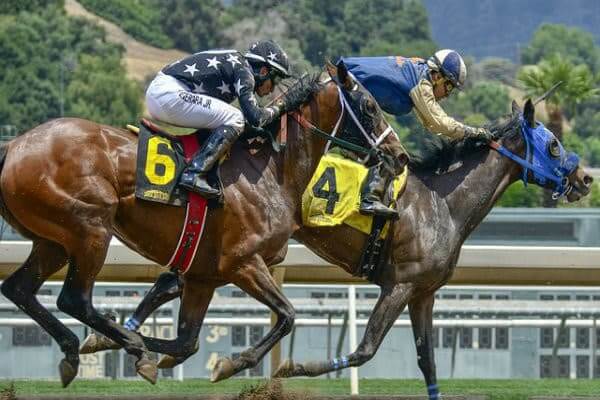 He went on to buy a racehorse California Chrome, a Kentucky Derby and Preakness winner, for $55 million. It was undoubtedly a big and different venture for Jay-Z because of such a huge investment.
13. Bono: A Plane Ticket For His Hat
After reading that Bono spent that much money on his hat's plane ticket, you'll be like "wait what?" This is exactly how we felt as well. It was 2003 and Bono was in Italy to perform and realized that he left his signature hat back in London.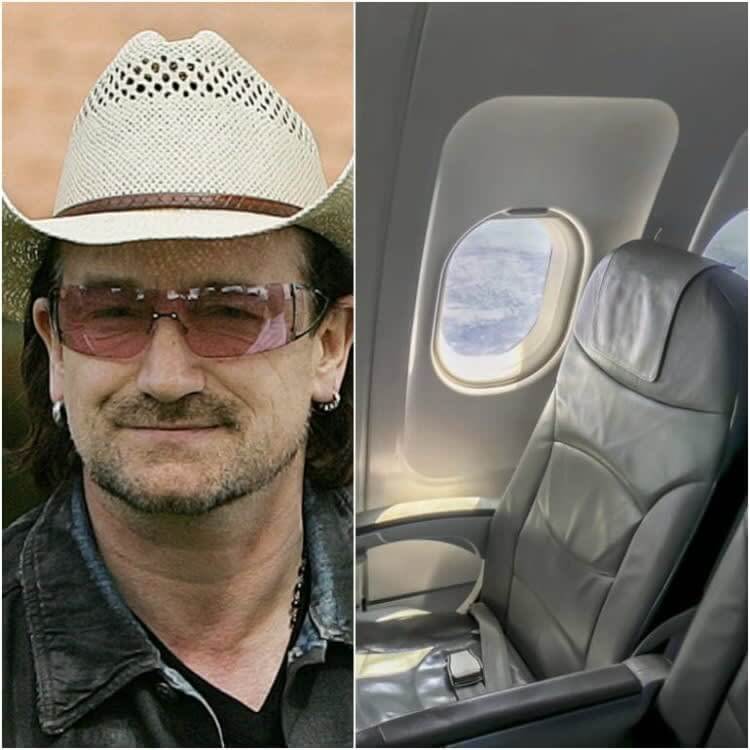 Instead of buying a new hat or using any courier service to get back his hat, he went for a much better option. He flew the hat to him on a first-class seat. He spent over $1,500 just so that he could have his hat with him before the concert.
14. Akon: A Diamond Mine
Although we do not know how much the rapper paid for the diamond mine, we're quite sure it must be pretty expensive. After all, diamonds can be costly and just imagine how much he had to pay for an entire mine full of diamonds.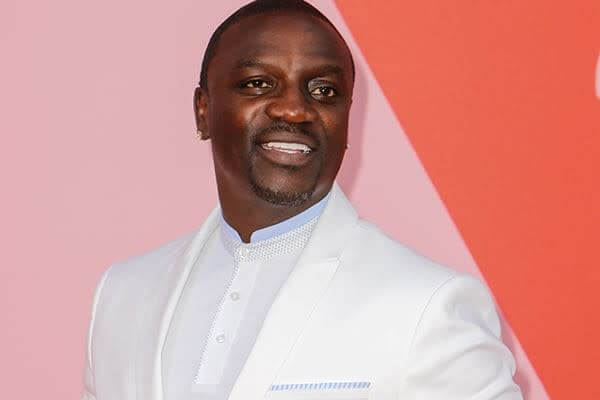 The rapper invested his money into the diamond business and got himself a diamond mine in South Africa. It seems like he's making a lot of money out of his diamond mine, even though he has problematic views about diamonds. He believes that "blood diamonds" doesn't even exist.
15. Holly Madison: Breast Insurance
Holly Madison is known for her Playboy centerfolds and also for being one of Hugh Hefner's former girlfriends. She makes a lot of money, thanks to her breast. So, it makes quite some sense that she will invest a lot of money in insurance. 1 million dollars, to be exact.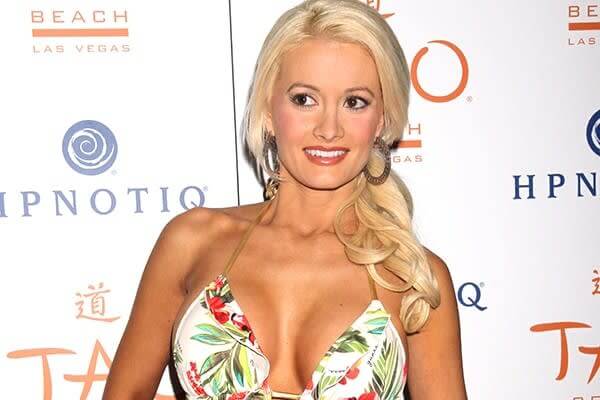 She recognized that her breast is the money maker and making a living would become difficult if anything happens to them. Given that celebrities have insured their body parts in the past, this is not surprising at all.
16. Victoria Beckham: A 24K Gold-Plated Cell Phone
iPhone 4 was, without a doubt, one of the hottest things on the market in 2011. That's when Post Spice had a really posh 24k gold-plated phone.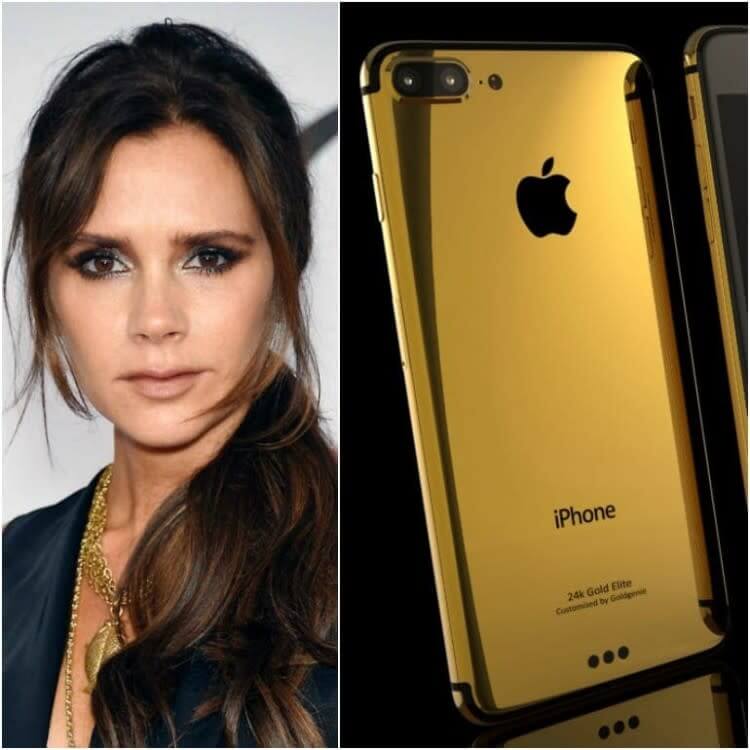 Designer Stuart Hughes custom made the phone and it had 150 grams of 24k gold. Victoria paid 33,000$ for that case. We can imagine that the phone would have become heavy to carry because she has ditched that phone now.
17. Rihanna: Hair Stylist
If you ever wondered why Rihanna is always looking so gorgeous, there are many years behind it and one of them is this one. She spends over $1 million just to make sure her hair looks fabulous every single day.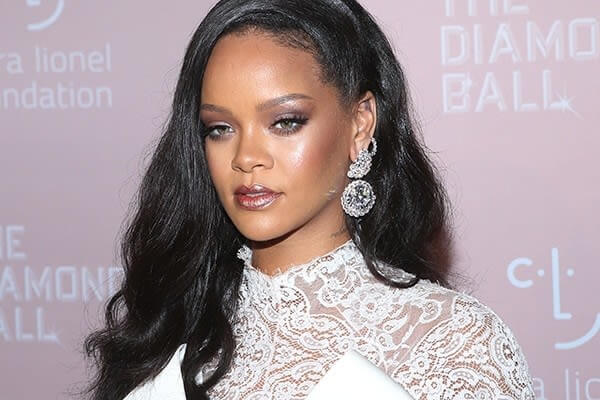 Her hairstylist Ursula Stephen gets a yearly salary of seven figures to keep the singer look perfect. There is a daily retainer fee of $3,200 that she pays to her hairstylist. It makes sense because you always need to look on point when you are as big of a global star like Rihanna.
18. Katy Perry: Ticket to Space
Oh boy, 2010 was a wild year. At that time, Katy Perry and Russell Brand were all set to tie the knot and then there was Richard Bronson all ready for a space excursion. Who knew at that time that those two things would converge. Perry went on to buy a $200,000 space ticket for Brand so that he could ride the Virgin Galactic spaceship on its maiden voyage.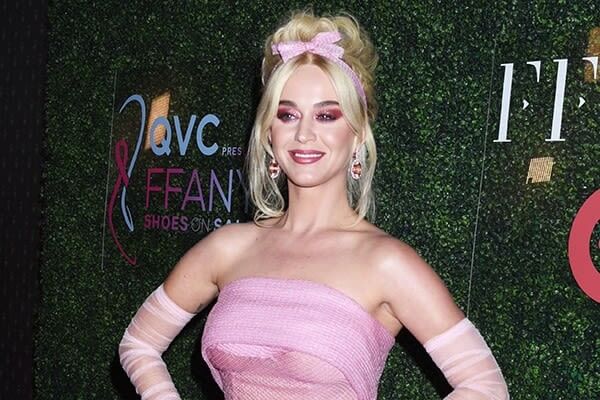 The ship was going to enter into space and stay there in zero gravity for some time before coming back to earth. However, the trip and the marriage didn't happen. One wonders if Russell Brand still has that ticket.
19. Celine Dion: A Humidifier
Celine Dion started living in Las Vegas in 2002 and felt that if she was going to perform in the same room every single night, then she needs to have special room accommodations. Therefore, she decided to buy a $2 million humidifier to combat the dry desert weather and protect her singing voice.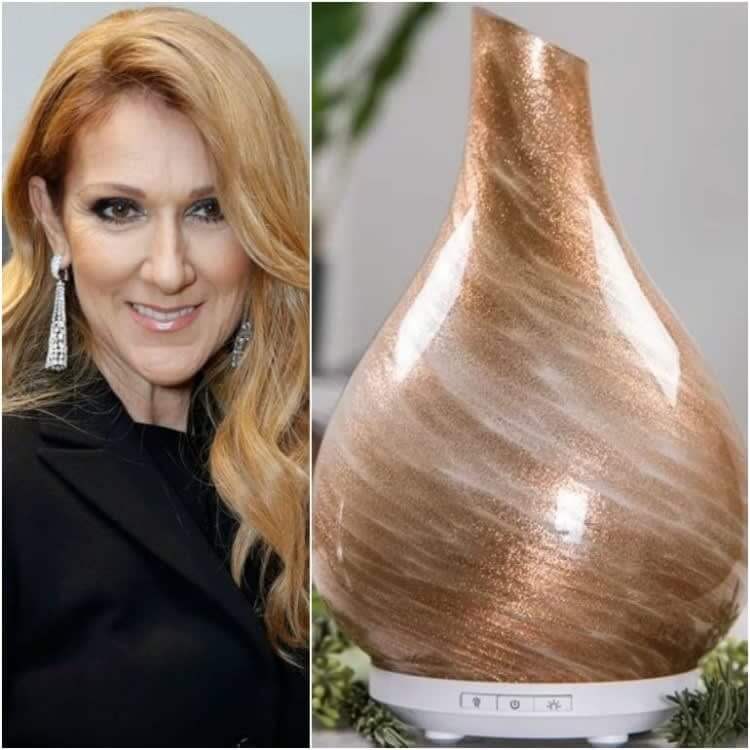 You might say that a simple humidifier would have easily gotten the job done, but the singer would disagree with you. The super-expensive humidifier hung from the ceiling above her as she sang in her powerful voice. Do you think it was an absurd purchase?
20. Johnny Depp: Private Island
When Johnny Depp can spend over $30,000 a month on just wine, he can pretty well buy a private island as well. However, he purchased the island before he was in dept. He bought a Little Halls Pond Cay in Bahamas for $3.6 million in 2004.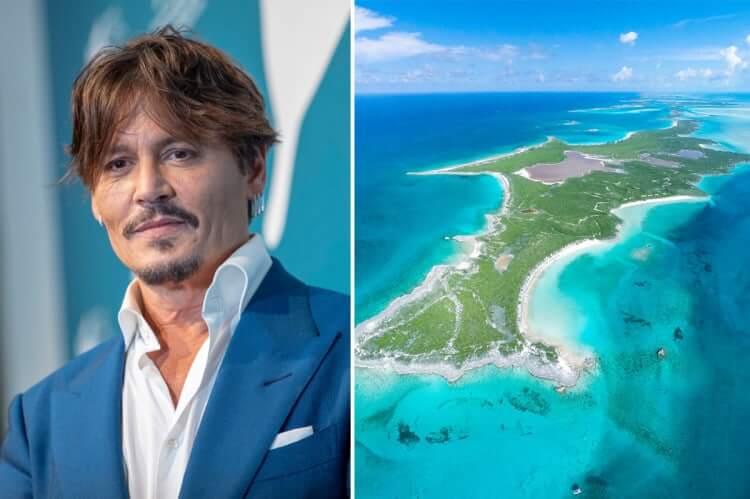 Johnny has always been a huge spender and this one isn't different as well. The beautiful private island offers 45 acres of privacy to the actor. Aside from a private island, he also owns over a dozen houses.
21. Mariah Carey and Nick Cannon: A Candy Room In Their Home
Okay, this one is just a ridiculous purchase. Back when Carey and Cannon were married, they made sure to provide everything imaginable to their kids. And it includes an entire candy room in the mansion. Although they didn't disclose the price for the candy room, one can easily assume that it must be expensive.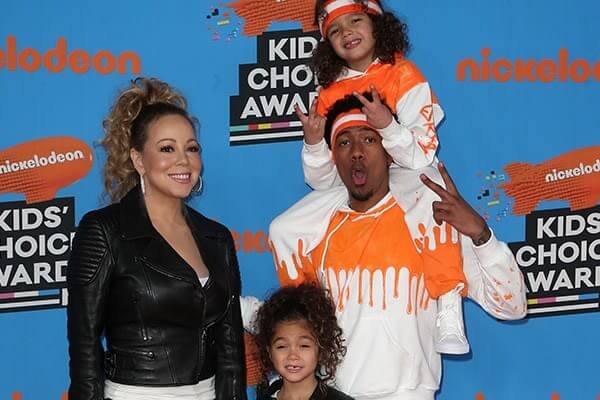 The room had a different variety of confections and they even maintained the inventory. We hope that they did it after considering problems like sticky surfaces and cavities.
22. Michael Vick: A Fish Pond
As Michael Vick started his NFL career and making tons of money, he was a little careless when it came to spending money. For instance, having a fish pond in the house can affect your bank balance, but he wanted a lavish fish pond. So, he got what he wanted and it cost him $85,000. Just like many celebrities, the problem for him was that he was also spending a lot of money without any worry in the world.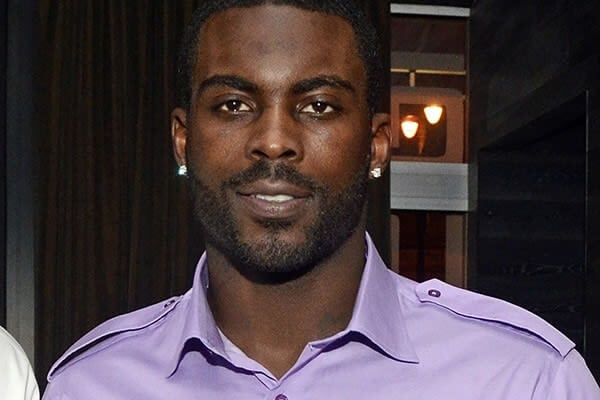 He spent a lot of money on dogfighting and went to prison for 21 months as well. Unexpectedly, he lost his NFL career and a lot of money. Although he did make a comeback, he never earned as much as he was before going to prison. He officially retired in 2017.
23. Jamie Foxx: A Crocodile Skin Jacket
Jamie Foxx is an exceptional actor, but he can make mistakes because he is human. Once, he paid way too much on a clothing item, and to make matters worse, he spent $18,000 on a crocodile skin jacket. However, he said in an interview that he has never worn the jacket.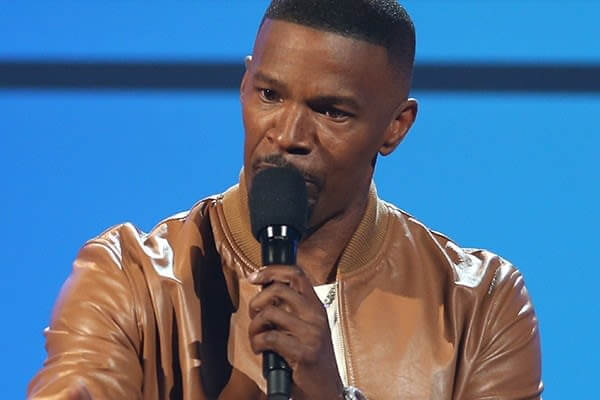 According to Foxx, some pretty girls convinced him to buy the jacket and he regrets the decision. He also said that the jacket doesn't fit him and that's why he'll probably never wear it. One can assume that luxury brands that charge so much that they don't accept returns so easily.
24. Courteney Cox: A Chanel Bike
Celebrity purchases can be crazy and they can get crazier when it comes to giving gifts. Cox went on to buy a $12,000 Chanel bike for his friend Jennifer Aniston after hearing that she'd like to start biking. The bike had the classic Chanel logo, a leather seat, and jeweled pant clips to ensure your pants don't get caught in the bike chain.
The die-hard fans of the famous sitcom Friends must be wondering that she should've gifted a bike to Lisa Kudrow (Phoebe Buffay).
25. George Lucas: An Entire Fleet of Fire Trucks and Firefighters
George Lucas is the man who is responsible for bringing Star Wars to the big screen. So, it is quite obvious that he has a lot of money. Even his Skywalker Ranch, a movie ranch and workplace of George Lucas, is pricey as hell. Therefore, he bought a fleet of fire trucks and firefighters just to protect his property.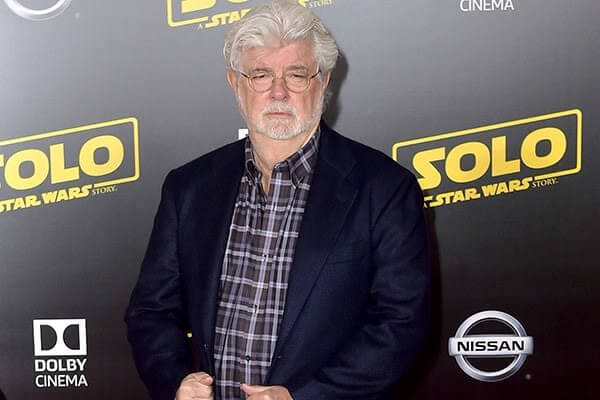 Dave Starbuck/Future Image/WENN.com
Although he hasn't disclosed how much money he spent on buying them, we're sure that operating an entire fire department is not cheap at all. What's the benefit of it? Well, fires broke out across California in 2018 and the Skywalker Ranch firefighters stepped in to help protect the homes and save lives.
26. Justin Bieber: A Customized Batmobile
Justin Bieber strikes again on our list with another insane purchase. When Bieber was only 17 years old, he was already working on his premier cars collection.
In his fleet, there is a customized Cadillac CTS-V, which was transformed to look like Batmobile. It cost him $100,000!
27. Donald Trump: Gold Plated Jet
Our list would be incomplete without Trump and his extravagant celebrity purchase. The President of America is known for his luxurious lifestyle. In 2011, he purchased the Boeing 757 from Paul Allen (co-founder of Microsoft) for $100 million.
Trump made sure the jet had all the amenities of a house and also most things are plated in 24k gold. Given that now President Trump uses Air Force One, his beautiful jet must be sitting in some hanger.
28. Steven Spielberg: The Sled from Citizen Kane
We all know how brilliant a filmmaker Steven Spielberg is and this purchase makes a lot of sense as well. He was more than willing to pay any price for this piece of cinematic history. There were three "Rosebud" sleds used in the classic film Citizen Kane and Spielberg bought one of them for $60, 500.
Given that the filmmaker purchased the sled in 1982, he has owned it for about four decades. We totally understand the reason behind buying the sled as Citizen Kane is undoubtedly one of the greatest movies of all time. So, money doesn't matter when you get to own a movie prop that was used in a film that many filmmakers, critics and fans consider the greatest movie of all time.
29. Magic Johnson: 30 Burger King Locations
If you consider all the celebrity purchases on our list, this is certainly the smartest celebrity purchase. If you don't believe us then you can compare it with gold plated toilets by Kim Kardashian and Kayne West.
The American basketball player bought 30 Burger King locations for Undisclosed Amount in 2014, having previously purchased T.G.I. Friday's and Starbucks locations. Given that the fast-food chain has been going steady for some years, it means that Johnson is earning good money out of it.
30. Jay-Z: One Night's Worth of Champagne
With a net worth of over $1 billion, it is no surprise that Jay-Z spent a lot of money on booze. He is the undisputed king when it comes to insane celebrity purchases. The rapper was partying hard during the release of Watch of Throne, a collaborative album with Kayne West.
In a Miami night party, he bought bottles of champagne for a total bill of $250,000. Reportedly, the rapper was trying to upstage Dallas Mavericks owner Mark Cuban as he had spent $100,000 on booze in one night after the Mavs won the NBA championship. Jay-Z bought bottles of Ace of Spades, an expensive brand that costs $100,000 for a 15-liter bottle.
31. Mike Tyson: A 24K Gold Bathtub
When Mike Tyson was at the top of his boxing career, he was spending so much money that it was like he was giving it for free. It changed after his rape conviction. Before that, he purchased a 24k gold bathtub for his now ex-wife Robin Givens.
It is a crazy purchase because he paid over $2.2 million just for a bathtub. Now that Tyson and Givens are no longer married, who got the bathtub?
32. Paris Hilton: A Dog House
Just when you thought Rachel Hunter's dog house was super expensive, Paris Hilton said, "Hold my beer" and came up with an even more expensive dog house. It is quite surprising how big dog houses are topping the list of insane celebrity purchases.
Hilton hired the best company to construct a miniature version of her mansion for her beloved dog, and paid 325,000$ for it. The dog mansion has air conditioning, designer furniture, a chandelier, and cozy beds.
33. Lady Gaga: Electromagnetic Field Meter to Detect Ghosts
Here is a super eccentric celebrity purchase. Gaga is as serious as it gets when it comes to keeping evil spirits out of her home. Can't believe it?
Well, the singer spent $50,000 on ghost hunters and even an electromagnetic field meter to detect spirits. Perhaps, earning way too much money can make you spent some on silly things.
34. Miley Cyrus: a Range Rover (for Her Dogs)
Spending $125,000 on a car is normal for celebs and many don't even consider it as something worthy of any attention. But when a celeb purchases a Range Rover for their dogs, it becomes shocking news.
She paid for a car that was only to transport her dogs. It meant that the dogs had plenty of freedom to scratch the car or even leave their hair all over it.
35. Angelina Jolie: A Helicopter and Flying Lessons
Angelina Jolie knows how to top so many lists and she did the same in this list as well with an insane purchase meant as a gift.
When she was engaged to Brad Pitt (where are the tissues), she gifted Pitt a helicopter and private flying lessons for $1.6 million. It was 2012 and she even got a helicopter pad installed on the grounds of their home.
36. Nicholas Cage: A Dinosaur Skull
There was a time when Nicholas Cage was in a bidding war with Leonardo DiCaprio over the coolest celebrity purchase of all time: it was the skull of a Tyrannosaurus Bataar. Cage bought it at the auction for $276,000 and kept it for many years before something really strange happened.
In 2015, it was reported that the skull was never meant to be sold as it was stolen. Although the actor paid top dollar for it, he agreed to turn over the skull so it could be returned to Mongolia.
37. Mike Tyson: Three Bengal Tigers
Mike Tyson was always going to appear again on our list. And here, he comes back with a bang. He purchased three Bengal tigers for $140,000.
It is a ridiculous purchase because buying them costs less than the overall cost of feeding and keeping them in a separate house. For instance, the food for the tigers cost $200,000 a year. Before finally giving up his cats, he made their film debut in The Hangover.
38. Kim Basinger: A Town in Georgia
Kim Basinger is a Georgia native and it was 1989 when she decided she wanted to own a piece of her home state. So, she gathered a few investors and spent $20 million on 1,751 acres of Braselton, Georgia.
Although the initial intentions were to turn it into a tourist destination, it didn't happen and they had to sell the property after five years, at a loss. It was certainly not a wise celebrity purchase.
39. Jay-Z: A Maybach Exelero
Jay-Z keeps on appearing on our list and we're not even complaining. This purchase is quite ridiculous as he spent $8 million on a luxury sports car.
Maybach is considered one of the most luxurious cars and the rapper didn't waste any time in getting his hands on it.
40. Michael Jackson: The Entire Catalog of The Beatles Music for $47.5 Million
There's no denying that it wasn't easy for The Beatles when it came to getting full ownership of their songs. For instance, they lost their rights to everything written by Paul McCartney and John Lennon to ATV Music.
However, ATV Music was up for sale in 1985 and Jackson was quick to put in a bid. By the way, it was McCartney who had previously told his one-time collaborator about how much that company was worth. As expected, he was really unhappy about it. After the death of Jackson, the shares of ATV Music were then transferred over to Sony, which now owns The Beatles catalog.
Unusual People We Would Only See At Walmart
Ashley Lez
This article was originally published on Kueez
Going to Walmart is always an adventure. The superstore attracts people from all walks of life, which means that you never know who you are going to see or what strange situations you will encounter. From people with exotic pets to unique fashions, these are the strangest people spotted at Walmart. Continue reading to see the hilarious people of Walmart.
"Uggs"
There are some people who love designer brands, but those brands can be very expensive. This person wanted a pair of genuine Uggs but they cost a lot of money.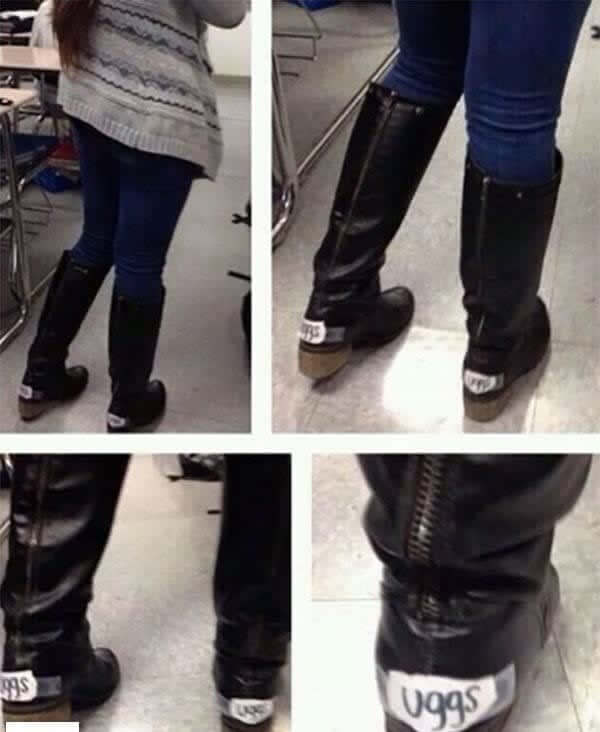 Instead of buying a knock off pair that looks similar, this person chose to tape on a piece of paper with the word "ugg." Interesting choice, but not very believable.
Roles Reversed?
Okay, we are a bit confused here. Don't you think the mom should be pushing the shopping cart and not the kid?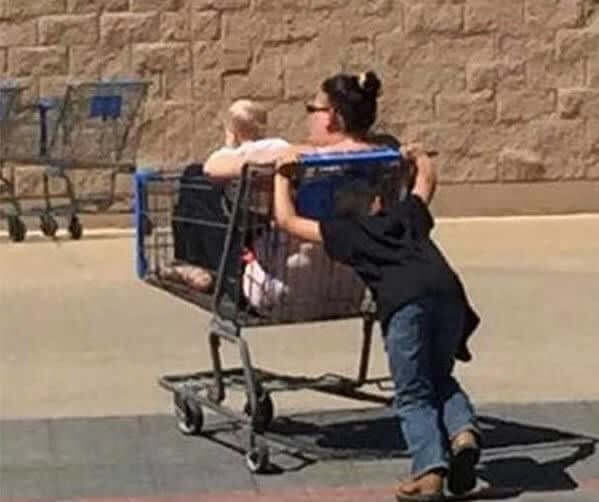 We are not judging anyone here but we cannot think of any possible explanation of this one, especially when the lady has a toddler with her. Needless to say, it could be dangerous for her and the toddler.
Men… Take Notes
If any man wants to look classy and sexy at the same time, now is the time to take notes. We can't really explain what type of look this guy wanted, but he surely nailed it big time.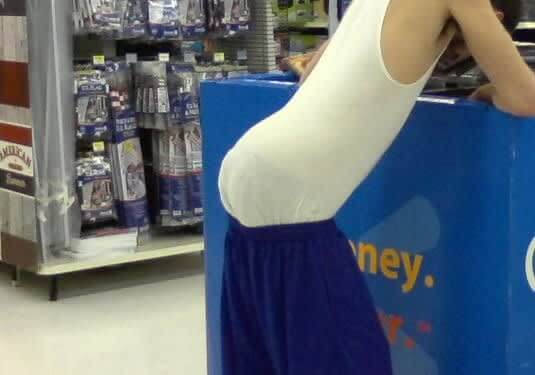 We thought those days are gone when jeans were low enough that the underwear was hanging out. Well, we were wrong.
Advice: Don't Mess With Her
Some may find this t-shirt funny, but our guess is that most people will find it intimidating. As your well-wishers, we would highly advise you not to mess with a person wearing a shirt like this.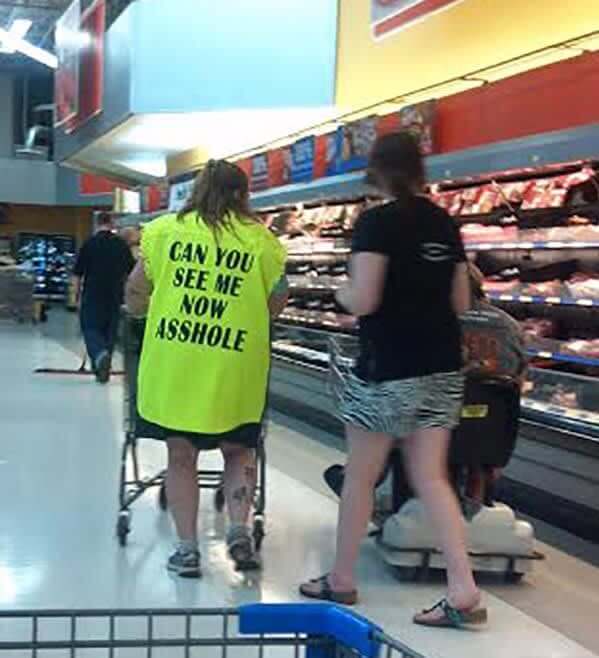 In reality, maybe she is capable of a lot more than this. But we have to look at the other side of the story as well. There is a possibility that this woman had some really bad experiences in the recent past.
Conga Line Scooter Style
Whenever you shop at large superstores like Walmart, you are bound to see people using electric scooters. Although, you might not see them in a conga line style like this picture.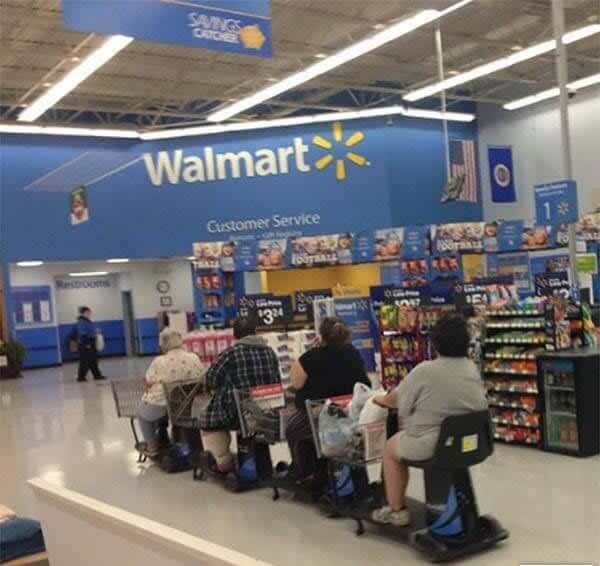 These carts are for people unable to walk around the store, and we are guessing that these people are using them to mess around.
She Can Walk!
As we said before, electric scooters are supposed to be used by people who cannot get around the store easily. This woman seems to be perfectly capable of climbing, so we're confused as to why she chose to use one of those scooters, but to each their own.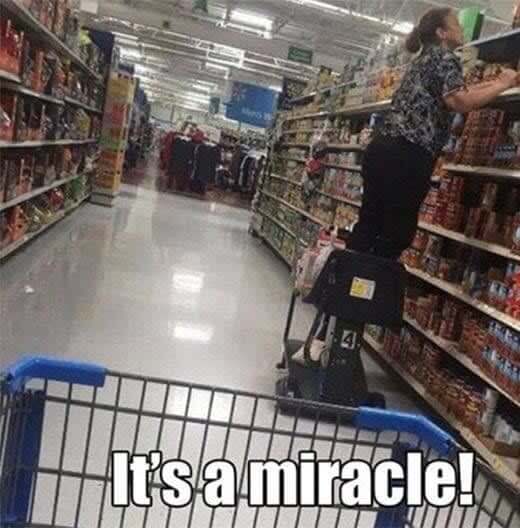 She got caught on camera, and it's a miracle she didn't fall. We do not suggest using scooters as step ladders, that's for sure.
"By The Power Vested In Me By This Walmart Store, I Now Pronounce You Man And Wife"
People dream about their weddings for their entire lives. When you picture the venue for your wedding, you might be envisioning a church/temple or a wedding hall, but we bet you weren't picturing the aisles of Walmart.
This couple must have a deep connection to this store because they decided to have their special day in the snack aisle. That is bizzare, yet romantic.
Monkey Business
When you think of the average pet, you might think of dogs, cats, fish, or maybe a hamster. Typically, monkeys are found in the wild, and should not be pets, but this woman is going against the norms.
Animals become part of your family, and this woman thinks of her monkey as a child. Maybe people thought the monkey was a newborn baby. Surprisingly, you will find more exotic animals people have seen in Walmart on this list.
No Shirt, No Sunscreen, No Problem
During the summer, many people enjoy catching some sun, and sometimes they forget to apply sunscreen. This girl might want to pick up some aloe while she is in Walmart because that is a severe looking sun burn.
She should also pick up some strong sunscreen for her future beach days. Your skin is important; try to protect it as best as you can.
Information We Didn't Need
One must admit that this is a pretty crude t-shirt. Some people may find this t-shirt funny, but we'll speak for the masses here when we call this type of humor unpleasant.
We would recommend wearing something that doesn't share too much information.
Starting a New Clothing Trend
After looking at this picture, we started a Gofundme campaign to collect enough money that we could leave planet earth. We are just speechless. If this is the way that people dress nowadays, we're not sure how to handle it.
This – we don't know what to call it – is an odd look to say the least. We hope it's at least comfortable.
Shop 'til You Drop
Well, this man literally took the saying "shop 'til you drop" too seriously. He is obviously really tired from his shopping trip and just wants to get some rest.
Sometimes a power nap is needed is regain the energy levels in the body, even if it means taking a nap in the middle of Walmart.
Emotional Support Animal
Here is another exotic animal that someone brought to the store. This lizard is clingy and didn't want to be left at home while his owner went to the store.
He could be an emotional support lizard because these days, when every animal is a basically an emotional support animal.
Poor Parenting
We have seen some parents doing weird things with their kids at Walmart, but this one certainly tops the list. The fact alone that the mother is unbothered by her child putting a bag over their head is a little concerning.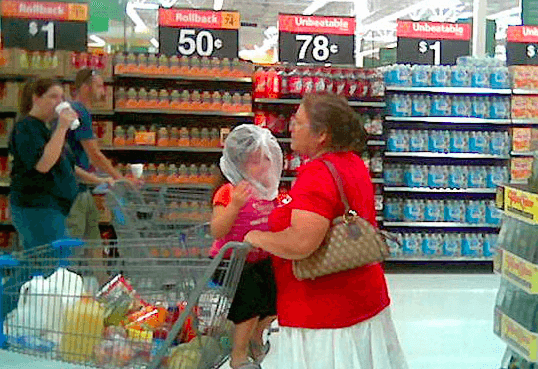 It may seem like poor parenting to us, but who knows it may just be another day in her hectic life as a mother.
Multi Tasking
Taking time to unwind and put on a facemask is a great way to practice self-care. This girl was in the middle of her mask when she remembered she needed to grab a few things from the store.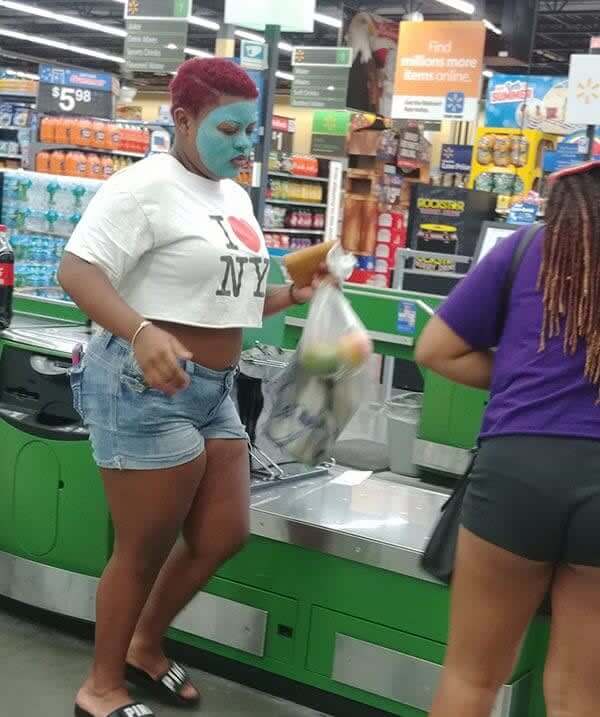 When she realized she had to go to the store, she was so flustered that she forgot to take off her face mask. At least she is multi-tasking.
"I Love Meat!"
Some people work demanding hours and rarely find time to sleep. When they can find a place to lie down and close their eyes, it doesn't matter if they are in the meat section at Walmart.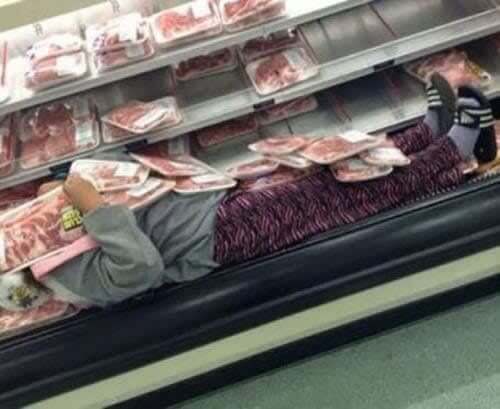 This woman was past the point of needing a nap and decided to make a bed on top of the steaks. She also used other packs of meat as a blanket to keep her… warm? We're confused.
That Thing Looks Heavy
If their goal was a record for the longest and thickest dreadlocks, this man would probably win. That must be heavy to carry around.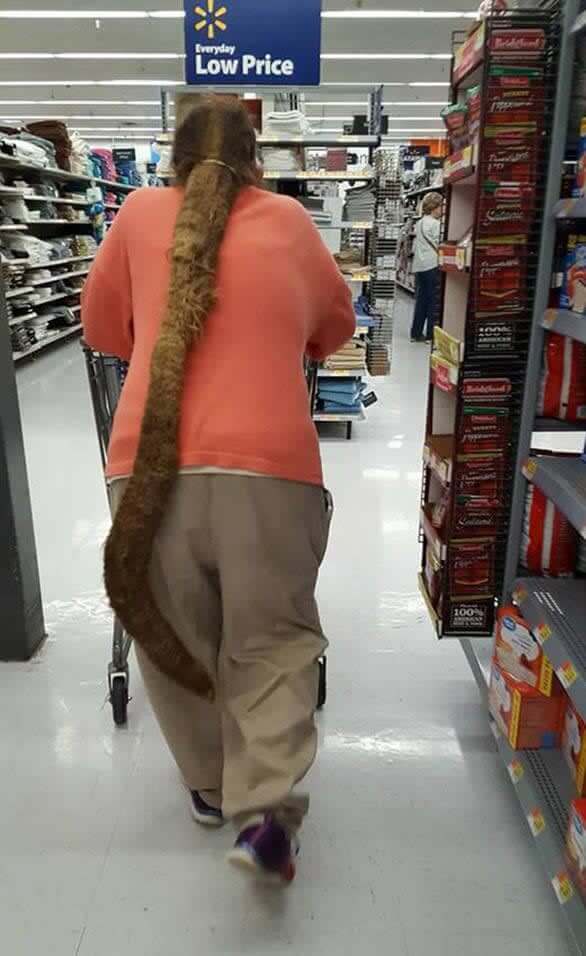 We wonder what this man would look like without his giant dreadlock. It's a commitment for sure!
Turtle Time
If you can bring pretty much any other animal into Walmart, why not bring your turtle. We didn't know that they made leashes for turtles.
Turtles are known for being slow, so it might take a long time to walk it around the store. This person would be better off carrying the turtle.
"That's $100 for the Baby"
We know that babies can sleep almost everywhere. This photo proves that babies don't mind sleeping anywhere.
The mother had to shop for household items and the baby was exhausted. The baby looks cute sleeping on the conveyer belt.
Sneaker Sandals
When you grow out of an old pair of shoes, your first instinct might be to throw them away or donate them. Instead, you should think about redesigning them.
This person took a pair of old sneakers and made them into sandals. This look is unique, and you can say that you have a one-of-a-kind shoe.
The Sign Says It All
These days, it is important to be politically correct. Sometimes people make mistakes because they don't know any better, but this person is here to tell you exactly how you should address them.
He identifies as a woman, and he is wearing a sign to show that because he wants people to call him by the correct pronouns. More power to them!
No Pants No Problem
To be fair, this is not the first or last time someone took off their pants in the middle of Walmart.
Looks like he wanted to try on the nightgown, but going to the dressing room was too much effort, so he changed in the middle of the store.
They See Me Rollin'
Putting your hair in rollers is a long process, and you have to leave them in for hours. Instead of sitting at home and waiting for your hair to have the perfect curl, why not go out and get some errands done while your hair sets?
This woman did not have the time to sit around and wait for her hair to be ready. She decided to go to Walmart and do some shopping to be productive while she waits.
Laundry Day?
When all your clothes are in the wash, so you have to borrow your wife's dress to run to the grocery store. Although it is unexpected, he is working this look.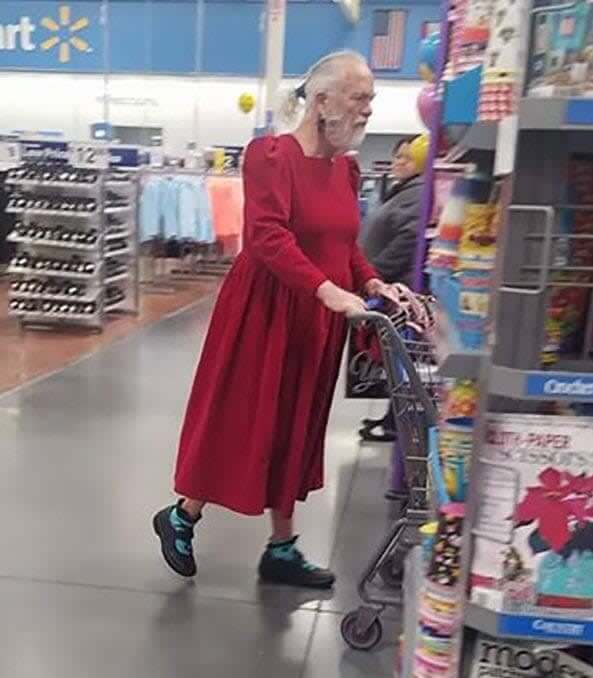 Even if it's not laundry day, we support him and his authentic self. Who are we to judge?
Taking The Children To Walmart
Have you ever thought of your dogs like children? You have to bathe them, feed them, and make sure they go to the bathroom. This woman thinks of her dogs as her children and wouldn't leave them at home while she went to Walmart.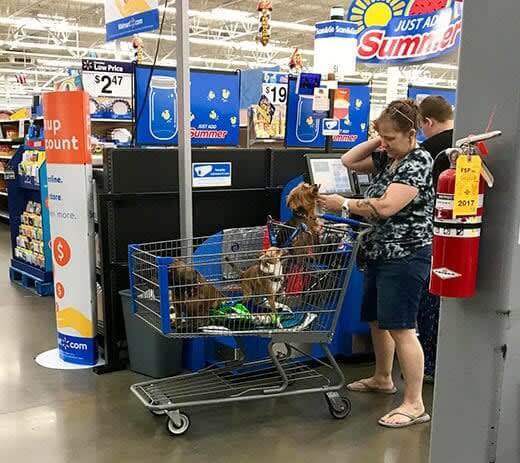 They are better behaved than most human children. They aren't screaming, and they are staying in the cart instead of running around the aisles touching everything.
A Man And His Ferret
From lizards to monkeys to puppies, we have seen some strange animals at Walmart, and now we have seen a ferret, too. This is one of the weirdest animals to bring to a store.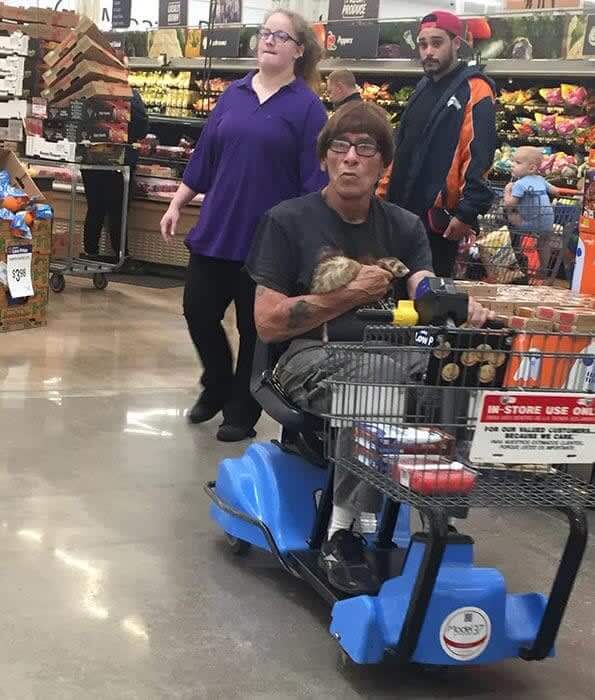 This man does not see anything wrong with bringing his ferret to the store. He is perfectly calm, and so is his pet.
"Can You Tell Me Where The Nail Clippers Are?"
We have so many questions for this woman. First of all, how would you grow your nails that long? Second, how long does it take to paint them?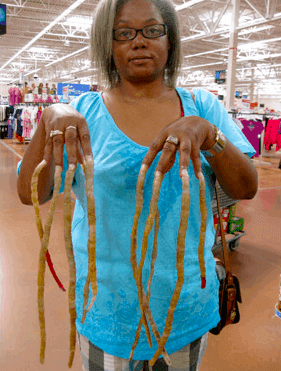 Also, how does she do anything? Her nails would always be getting in the way, right?
Eye See You
Have you ever heard your mom say, "I have eyes in the back of my head." This man took that literally and had an eye tattooed onto his head.
He wanted to keep an eye out for people that might sneak up behind him. We wonder if it worked!
Joker On The Loose
As you have seen, people wear unusual outfits to Walmart, and this is a prime example. We hope this was taken around Halloween time because that would be more logical.
However, the store doesn't seem to have any Halloween decorations up, so we are going to assume this person just wanted to wear their joker outfit to the store for fun.
MJ Is That You?
It looks like Michael Jackson has risen from the dead to go for a shop at Walmart. Why would the King of Pop be shopping at Walmart of all places? Ok, so it is not Michael Jackson, but this could be his doppelganger.
Maybe this man is a Michael Jackson impersonator on the way back from a job. He does not look thrilled to be shopping at Walmart.
What Does The Fox Say?
"But there's one thing that no one knows, what does that fox buy?" This guy must have been on his way to a Halloween party or else this would be really bizarre for him to be wearing a foxtail.
Everyone is entitled to their own style choices, but we have never seen someone sport a foxtail. Maybe it is the newest style and he is ahead of the trend.
Fashion Forward
Fashion is all about expressing yourself and showing off your personal style. This guy has a unique sense of style and he is ahead of the style curve.
We are not sure if he wore his shirt like this on purpose or he was trying out a new look, either way, it is interesting.
Easter Came Early
When it is almost Easter, and you want to get everyone in the spirit for the holiday, so you throw on everything that involves bunnies, eggs, and pastels.
He is the most festive man in this Walmart, and we wonder what his outfits look like for all the other holidays.
Paint With All The Colors Of The Wind
This guy must have been in the middle of creating a masterpiece when he realized he needed to go to Walmart. He didn't have time to clean the paint off his face before he left the house.
He is one of the few people that realized that someone was taking his picture, and he does not look happy about it.
Captain America's Part-Time Job
Captain America is a fantastic superhero. He was created to be the hero of America, but with any job, some days are slower than the others. He had to get a part-time job to fill his time.
When he isn't fighting crime, you can find him at cash register number 5, working hard and ringing people up as quickly as possible.
Plunger Problems
What is this plunger trend? It seems to be catching on with the shoppers of Walmart. They just want to check the suction on the plungers before they buy them.
If they aren't testing the plungers then this is a bizarre trend to go into a store and stick plungers to your body.
Who Wore It Better
When you go out in public and someone else is wearing the same thing as you. It can be awkward, and most people would avoid standing near someone in the same outfit.
Maybe they planned this and they are together, so it is normal for them to be dressed the same. Whatever the case may be, they are both rocking this camo look.
Dressing It Up
Planning a party can be intense, and sometimes people forget things that are on their list. It is helpful to have someone who can run to the store at the last minute to pick up anything you forgot.
We don't know what kind of event this man is attending, but we do know that it should be a fun party based on his mismatched outfit.
Legs For Days
When you have a great body, it is something you want to show off. This guy has amazingly long legs and he wants the world to know just how fabulous they are.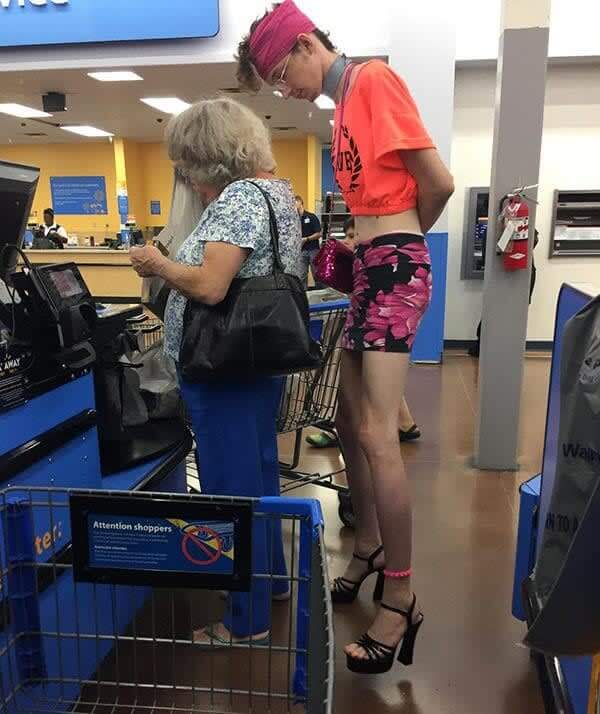 While this might not be considered appropriate for a trip to Walmart, he gains some credit for walking around this large store in those high heels.
Style Swap
Have you ever wanted to swap styles with your husband? It looks like this couple switched outfits before going grocery shopping.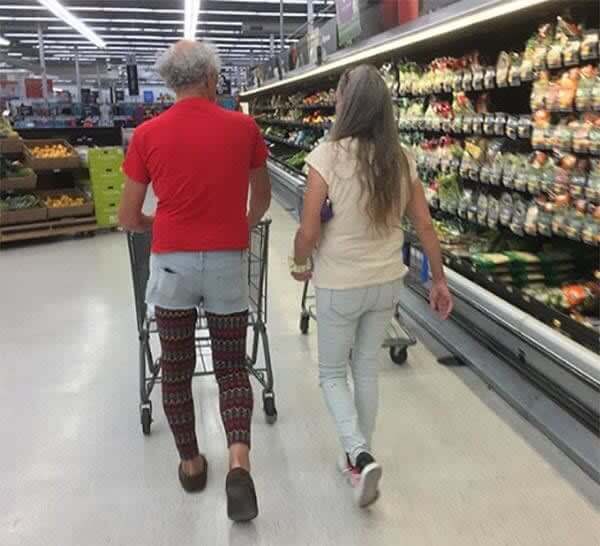 He must not know that leggings under jean shorts went out of style in 2010. His wife said, "honey, you can keep my clothes, they are so last decade."
Love Is In The Air
This picture proves that cupid will go wherever he is needed to make people fall in love. This man must have wanted to spread the love in Walmart on Valentine's Day.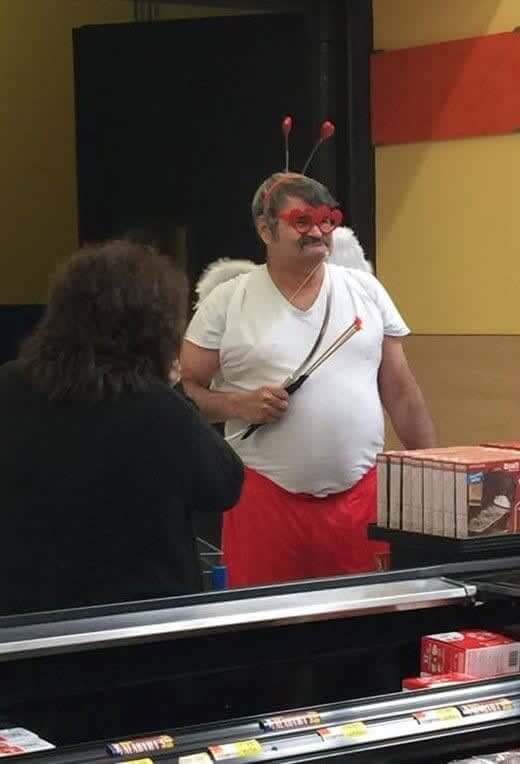 His funny outfit is perfect to make people fall in love. Do you anyone got hit with his love arrows?
These Shorts Were Made For Wearing
The '80s are making a comeback in full force, and this man is definitely feeling it. From his high waisted jorts to the sweatband, he screams '80s fashion.
He might be preparing to film an '80s workout video, which would explain the sweatband.
I'm Blue Dabba Dee Dabba Di
Everyone has their favorite color that they like to incorporate into their wardrobe whenever possible. It is easy to tell that this person loves the color blue.
From the wig down to the shoes, everything is blue. They even have a blue toy to go with the outfit. If that's not dedication, we don't know what is.
JoJo Siwa: Walmart Edition
Jojo Siwa is a social media personality who is known for her large bows that she always wears. This woman looks like Jojo in about thirty years.
Besides the large bow and tie-dye shirt, we are confused about why she has the hungry caterpillar attached to her leg.
Here Come The Bride
After your wedding, wouldn't you be going on your honeymoon or to the reception? This couple made a stop after their vows to pick up a few things from Walmart.
It looks like they wanted to have their wedding photos printed immediately after they said, "I do."
A Family Of Animals
What we have here looks like a family of critters posing for a family portrait at walmart.
No matter the reason behind this, they sure look cute in their little outfits!
Miss Walmart 1967
When you run to the grocery store, you probably aren't putting on a full face of makeup and a mini-dress for the occasion. This woman is a little different. She dresses to impress wherever she goes, even Walmart.
You never know who you might run into at the store, so she stays prepared by always looking dressed up. She has her hair and makeup done to be primed and perfect for any occasion.
Hair-tastic
When your hairline starts to recede, you might try and enjoy what's left of the hair on your head. This man likes to grow out the hair in the back to enjoy what he has left.
Although hair trends come and go, we don't think this one is going to catch on any time soon.
An Unusual Sighting
Although it is more common to see strange people at Walmart, it is also possible to find regular people too. It might seem like the store is filled with oddballs, but occasionally you might see a regular face.
These women are just two examples of the everyday people that shop at Walmart. It isn't also exotic animals and weird outfits.
Baby On Board
We have seen signs that say beware of dog or cat, but never a sign for babies. We don't know what happened in the past, but this person doesn't want anyone to touch the baby.
Wouldn't you hope no one is going around and touching other people's children without asking?
Ripped Up
Ripped jeans have been popular for quite some time now. There are many different styles of ripped jeans, but we have never seen anything this intense.
It looks like her jeans went through a shredder before she put them on. It doesn't look bad, but it is a unique style.