As an average person, you can probably walk around without having to worry about paparazzi following you. Unfortunately, when people achieve celebrity status, it comes at the cost of privacy. Many famous people will do whatever they have to hide from photographers, including putting a bag over their heads or wearing a funny disguise. These celebs have found the most bizarre ways to cover themselves up, and you will be grateful for your privacy after seeing these.
1. Paris Hilton's Flash Reflecting Scarf
Despite what people think of Paris Hilton, she is actually smart. While she always looks camera ready, that does not mean she wants her photo taken all the time.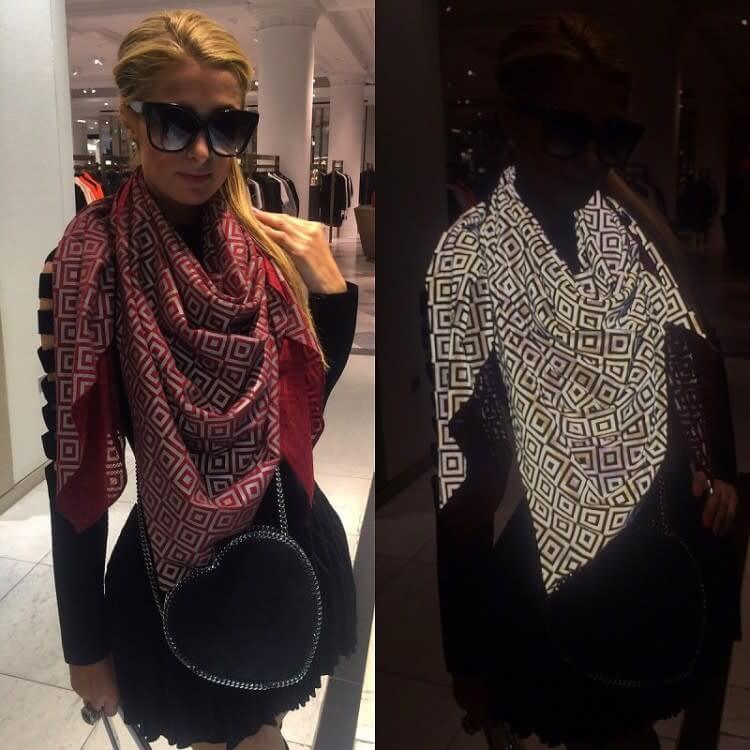 Whenever Hilton wears this scarf, pictures of her will show up like the photo on the right. Those are entirely useless to paparazzi trying to sell her photo.
2. Shia Labeouf Claim's He Is No Longer Famous
Shia Labeouf is one of the most eccentric celebrities, and he had one of the most memorable red carpet accessories when he attended the Berlin Film Festival In 2014.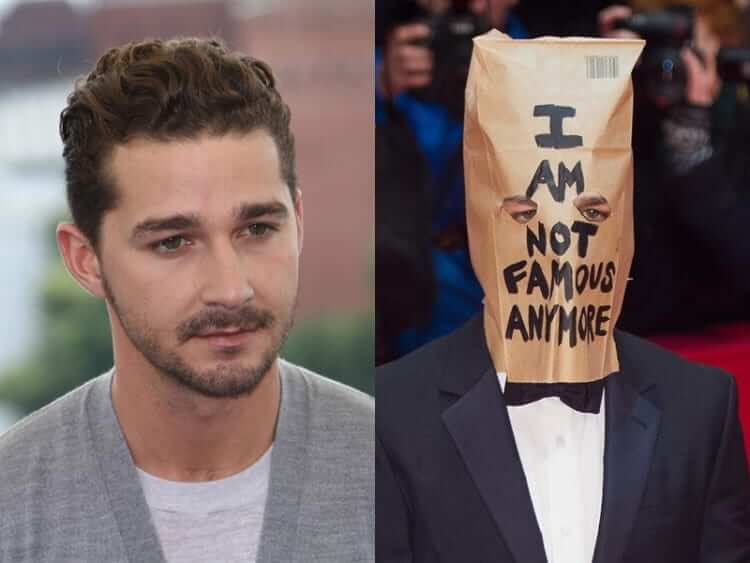 LaBeouf wore a paper bag over his head that said, "I am not famous anymore." It was part of a performance art piece, and it caused quite the stir. He spent the next week sporting this paper bag on his head.
3. Emma Stone And Andrew Garfield Share Links To Important Causes
Although Emma Stone and Andrew Garfield have been broken up for a few years, back when they were together, they decided to use the paparazzi to spread awareness for important causes.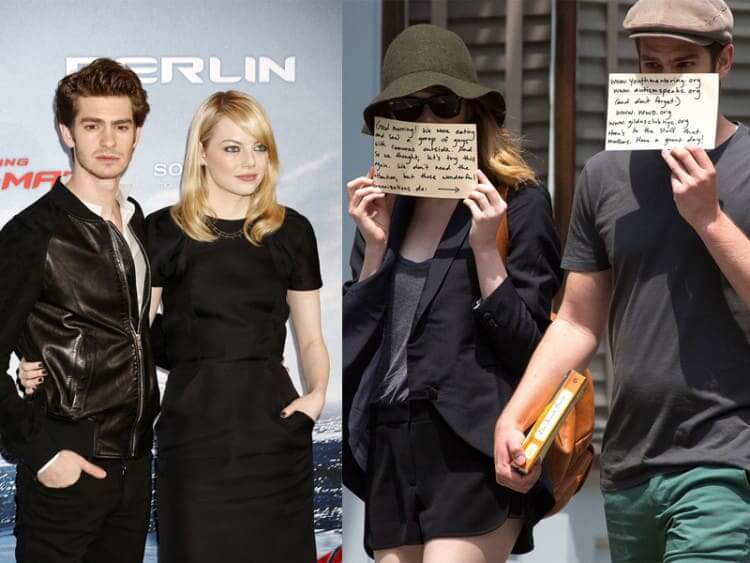 On Emma's card, she wrote that they don't need attention, but these organizations do, and Andrew's card has a list of organizations to support. This is the stuff that matters.
4. Dustin Hoffman Plays Hide And Don't Seek With Photographers
Dustin Hoffman might not be the most creative when it comes to avoiding the paparazzi, but we give him credit for his effort. He is not a fan of being followed by the cameras, so he physically hides from them.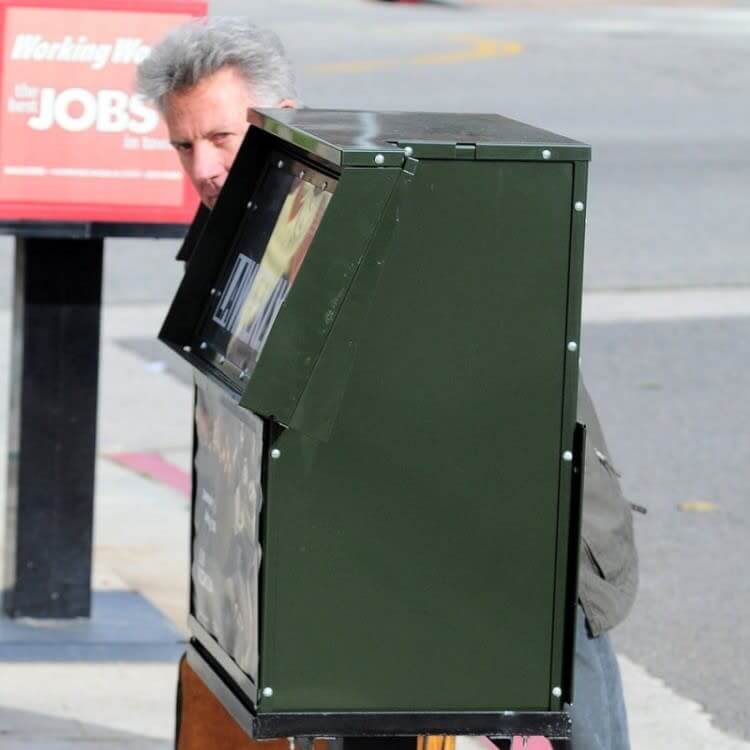 Hoffman seeks out the largest object to hide behind when he realizes the paparazzi are in the area. He might be drawing more attention to himself with this method.
5. The Ghost Of Alec Baldwin Roams The Streets Of New York
As the most famous Baldwin brother, Alec gets a lot of attention when he walks around New York. Instead of trying to blend in, he wore a blanket over his head.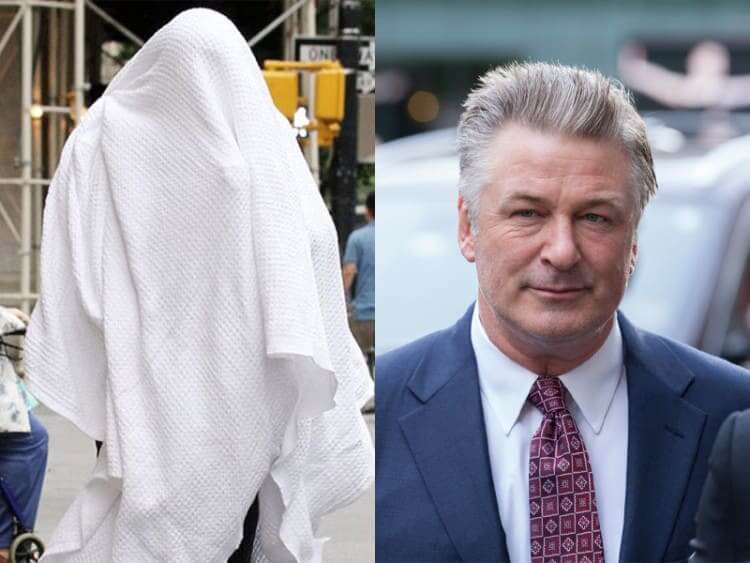 Baldwin looked like a cheap ghost on Halloween, but the blanket hid his identity. Usually, he ignores the attention, but he must have been having a bad day.
6. Julia Roberts Pack Up And Moved To A Different State
What do you do when you have a surplus amount of money, and you are sick of having your privacy invaded by photographers? You probably would move to a different state as Julia Roberts did in the '90s.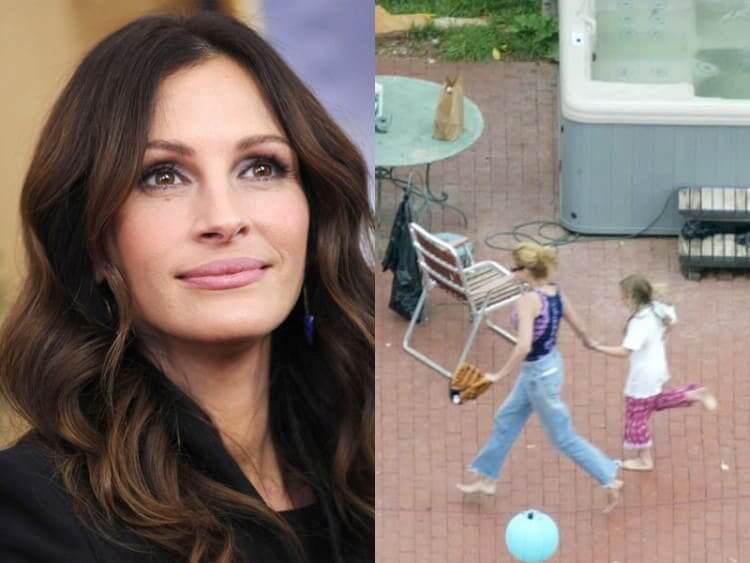 Roberts packed up her things and moved to New Mexico. Although the location was not ideal because her work was in LA, she did run into fewer photographers.
7. Kim Kardashian Got A Body Double
Most people in the world are familiar with Kim Kardashian, so people take her picture all the time because magazines and gossip sites will pay a lot of money for her photo.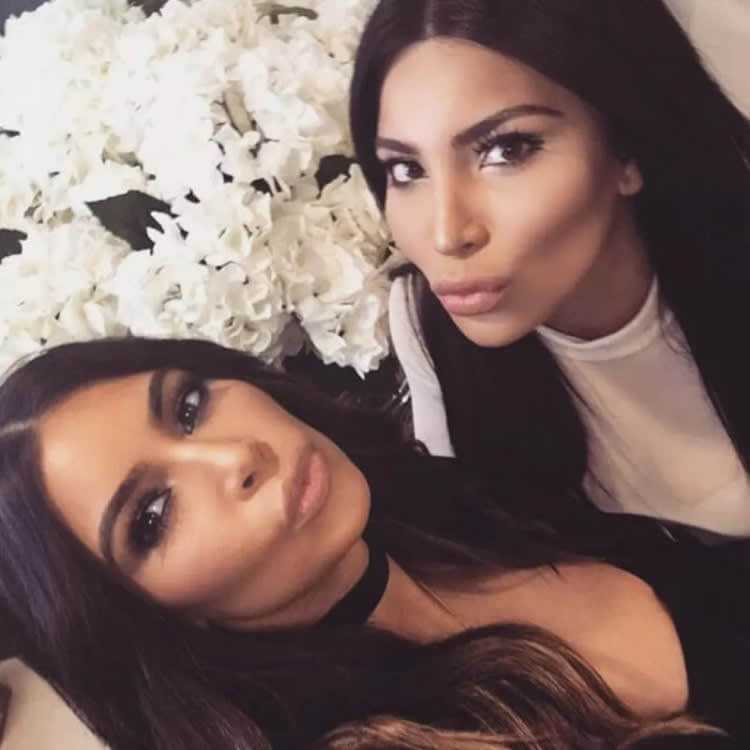 A few years ago, Kim hired a body double to distract the paparazzi and stop them from taking her picture.
8. Ashley Tisdale Is Shielded By Her Puppy
Having a cute puppy comes with many perks. You have a companion to accompany you wherever you go, and you can use them to hide from paparazzi. Ashley Tisdale is often seen with her dog, which she uses to hide her face from photographs.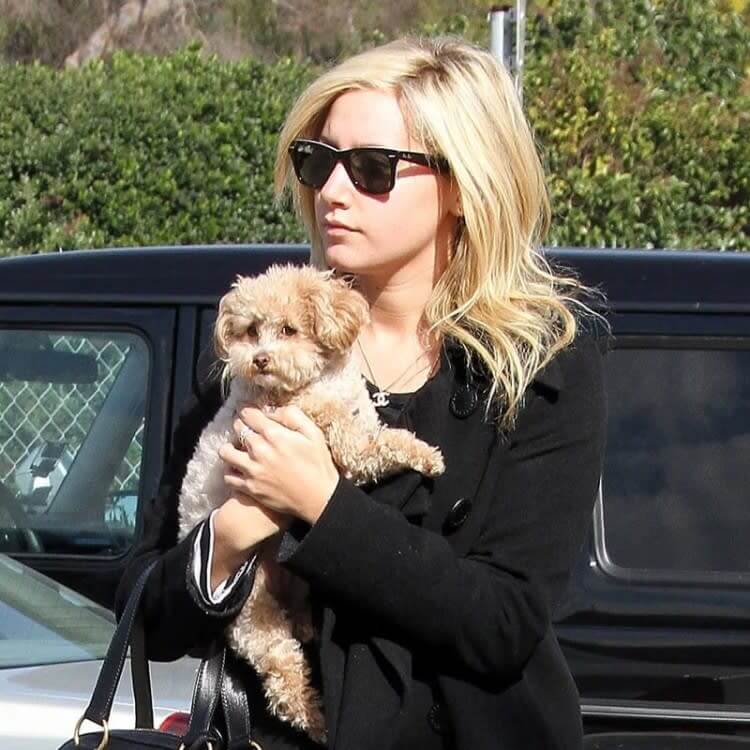 Tisdale uses this method when people try to catch her off guard when she is taking her dog for walks. We understand wanting to enjoy a walk without having your photo taken.
9. Gwyneth Paltrow, Other Wise Known As The Bag Lady
The oldest trick in the book for celebrities is to use a large purser to cover their faces while walking by the Paparazzi. This is Gwyneth Paltrow's go-to method for hiding.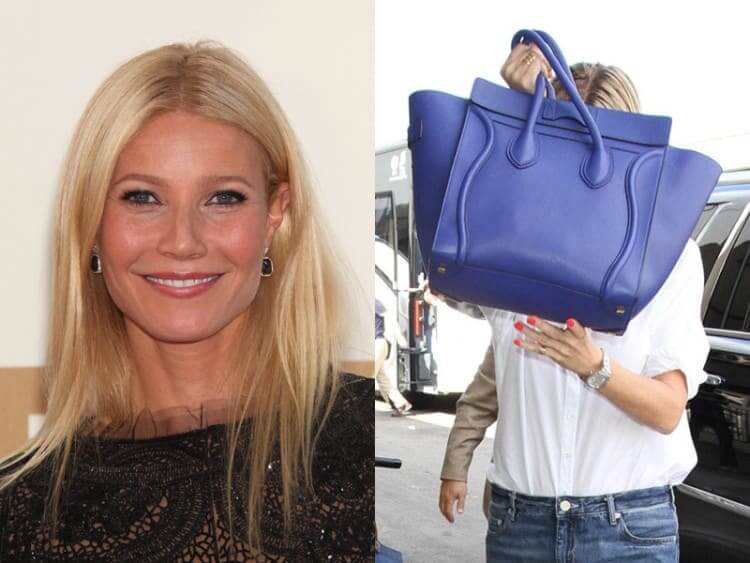 Not only does in work to cover up her face, but she also gets to show off her beautiful handbag collection.
10. Daniel Radcliffe Wears The Same Outfit So Pictures Will Look Old
As the star of one of the most popular movie franchises of all time, Daniel Radcliffe gets a lot of attention from the paparazzi, but he figured out a trick to deter them from taking his photo.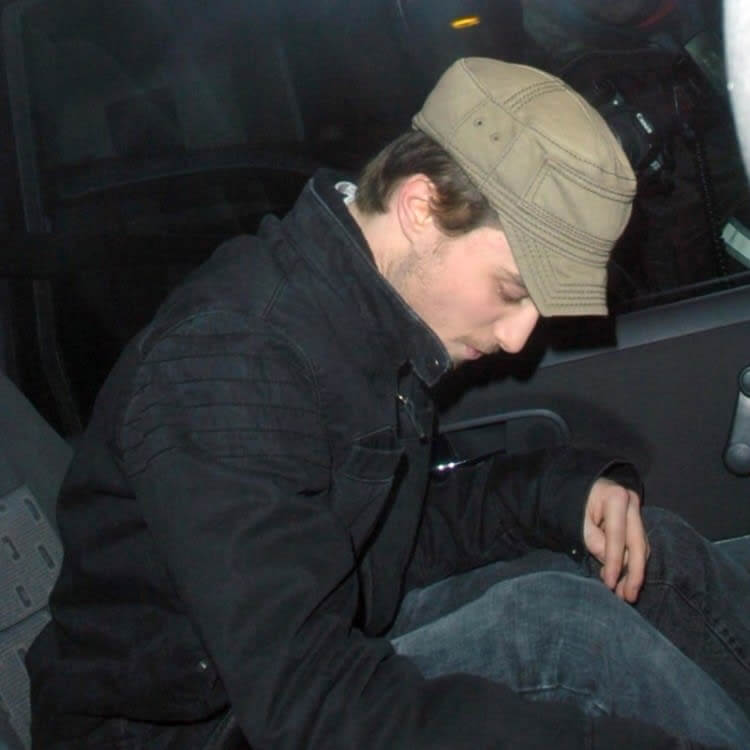 For six months, Radcliffe wore the same outfit every time he left the Broadway show he was starring in. This stopped paparazzi from selling his photo because people assumed the pictures were old since he was always wearing the same thing.
11. Jessica Simpson Beats The Paparazzi At Their Game
While people may think Jessica Simpson lacks a few brain cells after her stint on Newlyweds: Jessica and Nick, she is actually pretty clever. Instead of letting the paparazzi get credit for a picture of her with a new look, she beats them to it.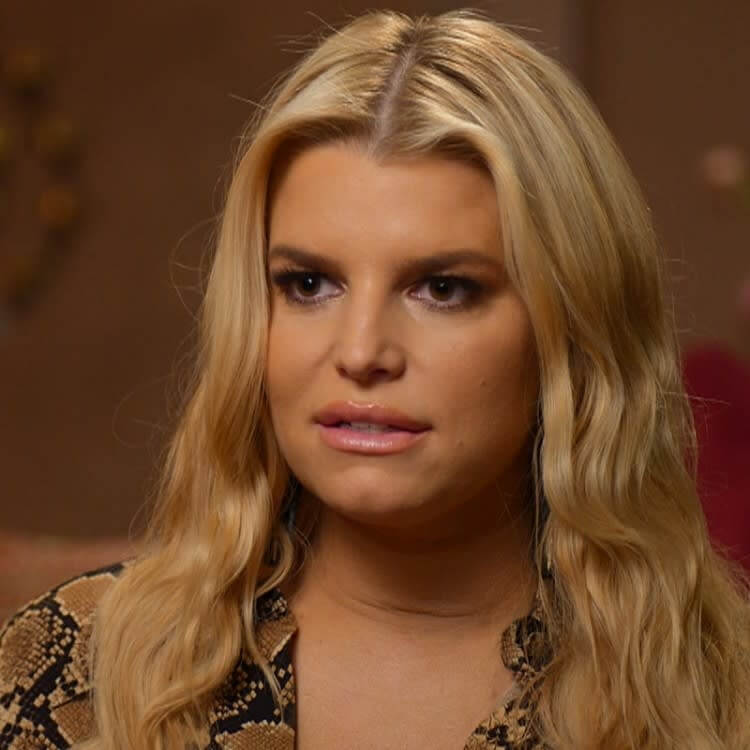 When she has a new haircut, or there is something noticeably different with her, she will post a picture online before the paparazzi. This decreases the value of the paparazzi photos when they try to sell them.
12. Miley Cyrus Creates A Diversion And Makes A Run For It
When it comes to avoiding the paparazzi, Miley Cyrus is an expert. Her tactic is to divert the photographers' attention to something else, such as raining money.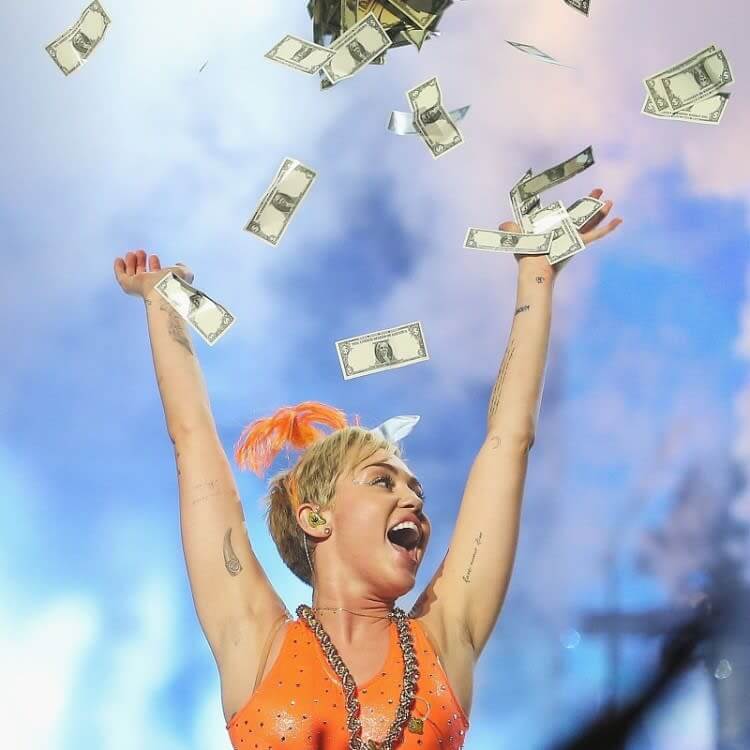 Instead of having her photo taken after a long night of partying, she threw money into the crowd outside the club so they would be distracted while she ran to her car.
13. Rupert Grint Says Quack Quack To The Paps
Rupert Grint was a young boy when he rose to popularity for his role as Ron in Harry Potter. He started to get recognized everywhere, which must have been difficult at a young age. Over the years, he has found tricks to hide from the paparazzi.
Now, Grint resorts to wearing masks such as this duck head. While it doesn't help him blend in, it does hide his identity.
14. Emma Stone Gets The Perfect Revenge
Emma Stone has found the most effective ways to deal with the paparazzi. From making signs that encourage people to learn about important causes to taking photos of the paparazzi, she is a pro.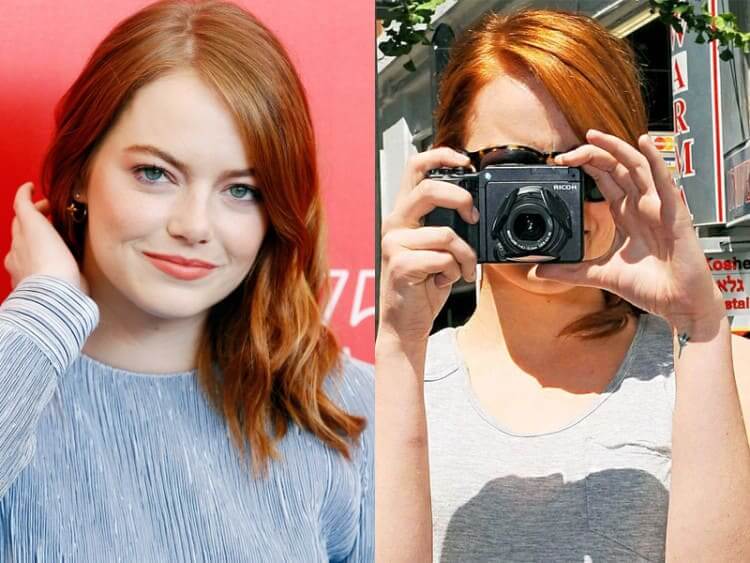 Here she gave the paparazzi a taste of their medicine by using a digital camera to take pictures of them. It makes the photos less interesting, and it shows them what if feels like to have someone take your picture without permission.
15. Adam Levine Wants You To Text The Red Red Cross
Like Emma and Andrew, Adam Levine used the paparazzi to speed awareness for something that was important to him. He was hoping people would see this photo and text The Red Cross.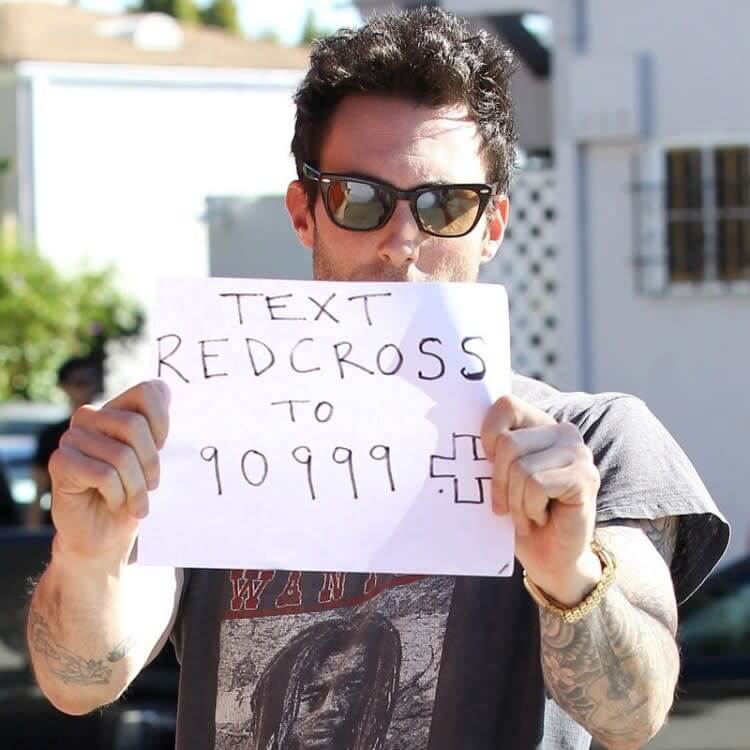 Although most of Levine's face is visible in this photo, it was an excellent thought to use his status and attention to help an important organization.
16. Jaden Smith Is Disguised As Batman
As the son of Will Smith, Jaden has been getting attention since he was a child. As he has grown up, he has become his own wacky person, which has drawn a lot more attention to him.
Jaden has used costumes to hide his identity in public like this batman suit. He also wore something similar for his high school prom.
17. Leonardo DiCaprio Acts Like A Turtle In Its Shell
There are times when Leonardo DiCaprio can easily blend into a crowd, but when he is spotted on the streets, he does not like to have his picture taken. Instead of letting people catch a glimpse of his face, he chooses to cover himself up.
Michael Loccisano/Getty Images for National Geographic
We are not exactly sure how he manages to see, but he would clearly sacrifice his vision to hide his face from the paparazzi.
18. Shaq Hides In Plain Site
When your seven feet tall and you are a famous basketball player, it is hard to hide from photographers. Shaquille O'Neal's height is a dead giveaway when he walks around in public, but he still tries to hide from the cameras.
He tried his best to use this tree as coverage, but it didn't exactly work in his favor. He looks like he is playing hide and seek with the paparazzi.
19. Harry Styles Is One Clingy Elephant
Harry Styles is always drawing attention to himself with his unique outfit choices and boy band member status. This disguise hid his identity, but it definitely did not deter attention.
It would have been ten times better if he had worn a full elephant costume, but this unusual mask will suffice.
20. Justin Bieber Goes Post-Apocalypse
When Justin Bieber started uploading videos of him singing to YouTube, he wasn't prepared for the attention he would receive. Now, he is one of the most recognized singers in the world.
Because of his major celebrity status, he gets his photo taken wherever he goes. Bieber has collected a variety of masks to hide his face when he goes out in public, so his identity is protected from the paparazzi.
21. James Franco Uses His Sweater To Cover His Face
James Franco lives in New York City, so he is often spotted walking around, but that does not mean he always wants his photo taken. He uses a sweater to cover his face so that people will leave him alone.
At least with this option, Franco can still see where he is walking in comparison to the other celebrities who chose to cover their faces.
22. Ashlee Simpson And Pete Wentz Scare Children With Their Masks
Masks seem to be the easiest way for famous people to hide their identities. When Ashlee Simpson and Pete Wentz were dating, they got a lot of media attention.
The couple chose to wear the creepiest masks they could find to cover their faces. They probably scared a few people on the street, but at least people couldn't see their faces.
23. Stop Photographing Benedict Cumberbatch And Go Take Pictures Of Egypt
It probably gets really annoying to have your picture taken every time you step out of your home. Benedict Cumberbatch had enough of the paparazzi, so he wrote them a strongly worded letter.
Instead of taking his picture, Cumberbatch wants the photographers to take photos of something that is actually important, like Egypt. We aren't sure why his first suggestion was Egypt, but it is something important to show the world.
24. Taylor Swift Walks Backwards
Taylor Swift gets a lot of attention from the media because of her pop star status. Every time she steps out of her home, she is greeted by a crowd of photographers.
Swift came up with a hilarious way to not have her photo taken. She now walks backward whenever cameras are around. Good thing she has someone to guide her along the way.
25. Cara Delevigne Dresses Like A Pepperoni Pizza
Cara Delevigne is always coming up with new ways to avoid the paparazzi. She once used water guns to make them go away from her and St. Vincent.
In this case, She wore a onesie that covered her face. She was a walking slice of pepperoni pizza, and it made photographers hungry for better pictures.
26. Katy Perry Goes Old School With A Hooded Tracksuit
There are old tricks that celebs used to hide from paparazzi, and that includes covering your face with hair, putting your hood on, and keeping your head down. Katy Perry used this trick while she was leaving her home with John Mayer.
If John Mayer wasn't with her, most people wouldn't have known it was Katy Perry. She is usually seen wearing brightly colored, wacky outfits, so this was a muted version of her style.
27. Jessie J Is A Feisty Tiger
Jessie J's popularity has risen in recent years because of her romantic involvement with Channing Tatum. Paparazzi have more interest in her, so they have been trying to take Jessie's picture more often.
Like other celebs on the list, she went with the mask tactic to hide her face. Instead of a rubber mask, she chose a realistic tiger one to show off her inner feline, maybe.
28. Amanda Bynes Uses Her Hair As A Shield
Amanda Bynes is unrecognizable in this photo, so she achieved her ultimate goal of hiding. She used her hair as a shield from the photographers, and her puppy hid the rest of her face.
When Amanda Bynes was going through a difficult time in her life, she did not want to have her photo taken and would cover her face whenever she went out.
29. Vanessa Stiviano Found The World's Longest Visor
Vanessa Stiviano is the former mistress of Donald Sterling who formerly owned the LA Clippers. She gained notoriety when she released recordings of him making derogatory comments, which blew up into a major scandal.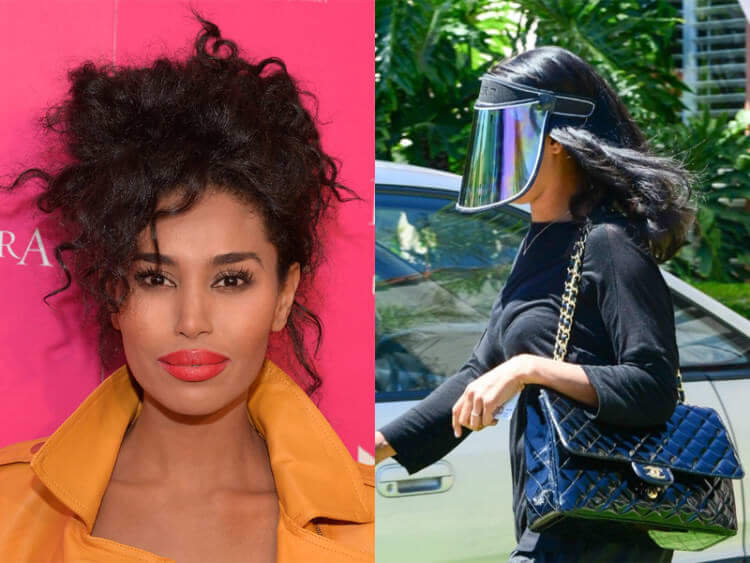 The paparazzi started following her and asking for more information, so the best solution she found was to cover her face with a visor. This almost resembles a welder's mask.
30. All Eyes Are On Ke$ha In This Disguise
Kesha has had a wild ride throughout her career. When she first became popular, her image was all about rebellion and delinquency. She then went through a long legal battle with her producers, and she tried to hide from the spotlight.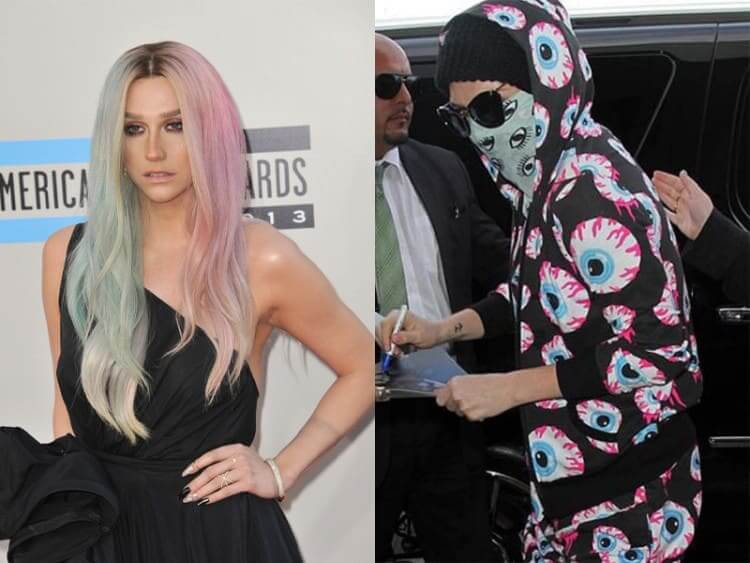 Unfortunately, her legal battle, coupled with her celebrity status, attracted more photographers, so she had to find different outfits to disguise herself like this one. This might hide her identity, but it does not deter attention.
31. Pharrell Williams Wears This Odd Mask
Pharrell Williams has a difficult time blending in with the crown because of his flashy fashion choices like his large hats. Like other celebrities, he also needs a break from the paparazzi at times.
Williams sometimes uses maks to hide his identity like this one. He had a Spongebob inspired clothing line that he was promoting while using this mask to avoid photographers.
32. Ed Sheeran Uses Masks Of Other Celebs
As one of the most famous singers in the world, it is hard to hide from the cameras, so Ed Sheeran started using masks of other celebrities to cover his face from paparazzi photos.
In this case, he used Psy to swap his recognizable face for another. It was a valiant effort to hide his true identity.
33. Jennifer Lawrence Has A Collection Of Over-Sized Hats
While some celebrities forfeit their vision to hide their faces from photographers, Jennifer Lawrence has figured out a different way to cover her face while being able to see.
She has a collection of these large hats that cover most of her face to hide her identity. This deters cameras because the paparazzi can't get good shots of her face.
34. Lindsay Lohan's Not So Effective Umbrella
Lindsay Lohan's fame has been on the rise since she was young, but in her adult years, the media attention was no so positive. She became a prime target for paparazzi because of her drug use and time in jail.
Lohan has tried to avoid the paparazzi, but a transparent umbrella probably isn't the best solution. We wonder if she realized they can still take her picture through it.
35. Selena Gomez Wears Her Blanket Everywhere She Goes
In the last few years, Selena Gomez has been open about her mental and physical health issues. She has also gone through two public breakups, so she has been a target for the paparazzi.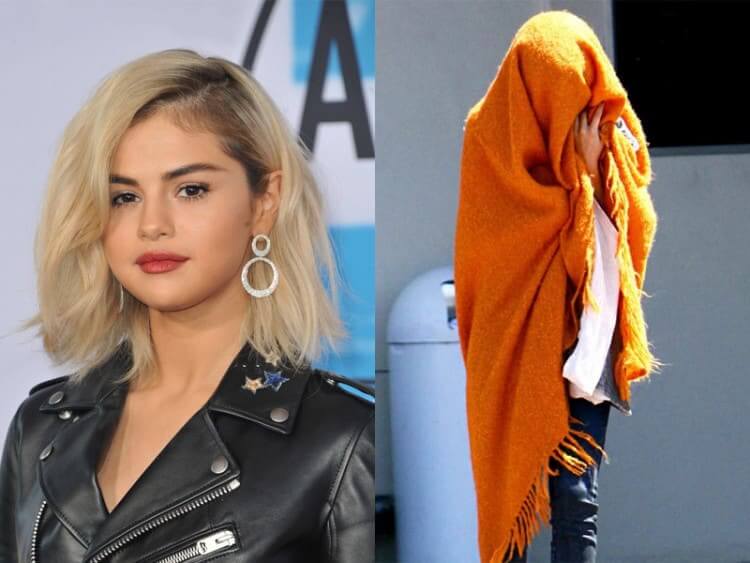 Gomez has used the tactic of hiding her face with a blanket like other celebrities. Sometimes she just wants to walk around without having to face the cameras.
36. Jaden Smith Likes Wearing Superhero Costumes
Batman isn't the only costume Jaden Smith uses to hide from photographers. When he was out with his rumored girlfriend, Kylie Jenner, he wore this Iron Man costume.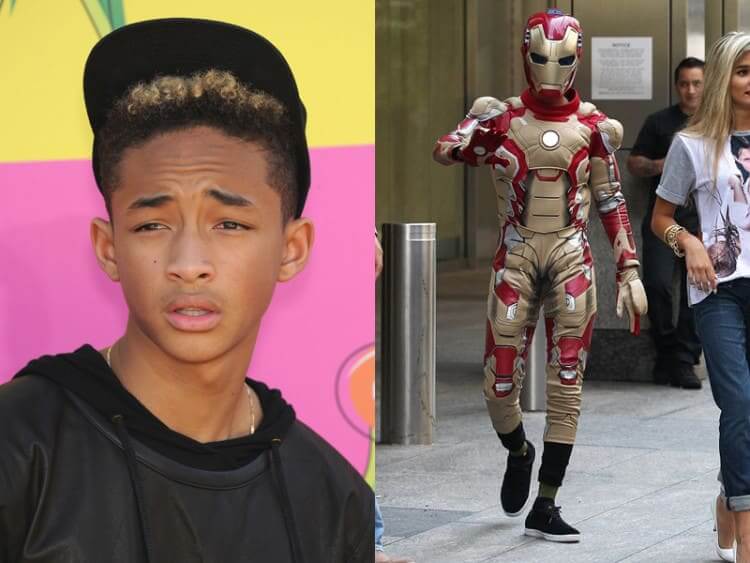 Despite covering his face, he still drew a lot of attention for his costume and the fact that he was with Kylie Jenner.
37. Blake Lively Is Taking A Nap While Walking
As an in-demand actress, Blake Lively has to travel often for jobs. She is always jetting off to different places, and that must make it difficult to maintain a good sleep schedule. While she was heading to the airport, she used her carry-on pillow to cover her face from photographers.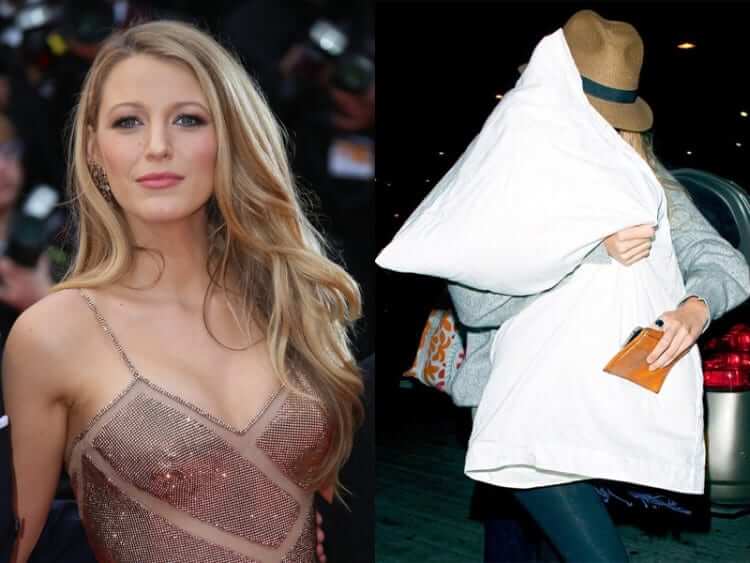 It looks like Lively is using the pillow to not only cover her face but to rest her head while she is walking because she is probably exhausted. I
38. Ben Affleck Photographs The Photographers
Like Emma Stone, Ben Affleck wanted to show the paparazzi how annoying it is to have your photo taken wherever you go without consent. He is just getting in and out of his car, and that requires a slew of photographers.
This is one way to deal with the paparazzi in a non-aggressive way. We wonder what they said to him when they saw he was taking their picture.
39. Katie Perry Or A Giant Donut?
Once again, Katie Perry has found a way to hide herself fro the paparazzi, but this time she has resorted to the use of a giant donut rather than the classic tracksuit.
This is not the most subtle look for Perry, but you can't really tell it is her with the sunglasses and hat. The donut seems much better for her usual style.
40. David Hoffman Attempting to Hide Again
As we saw before, Dustin Hoffman isn't the best at hiding, but he has to think quickly and use whatever he can to hide. Here he took cover behind a leafy rank that barely covered his face.
Although the branch isn't helping much, it is the fact that Hoffman is trying to hide because he just wants to be left alone while he walks down the street.
41. Scarlett Johansson And Alicia Keys Sending A Strong Message
While on set for The Nanny Diaries, Scarlett Johansson and Alicia Keys wanted to send a powerful message to the paparazzi who were harassing them. They made these signs to cover their faces that had messages for the photographers.
Imagine going to work and having a group of people follow you around with cameras the entire day. It would get annoying in a few seconds, and they have to deal with this all the time.
42. Ryan Gosling Acts Like A Child
While he was eating his lunch, Ryan realized photographers were watching him. Instead of hiding, he decided to mock them by making childish faces.
It didn't work so well because they continued to take his photo, but he looked adorable while doing it. Now the public has these funny photos of Gosling acting like a five-year-old.
43. Joe Jonas And Sophie Turner Engage In A Staring Contest
While some people hide or use objects to cover their faces, Joe Jonas and Sophie Turner took a different approach to deal with the paparazzi while they ate lunch.
The couple stared at the cameras motionless in hopes that the paparazzi would lose interest quickly and leave them alone.
44. Leonardo DiCaprio And Kendall Jenner Blend In With The Crowd
Leonardo DiCaprio is a face that will be recognized wherever he tries to go, and that also goes for Kendall Jenner. These two sat next to each other at a soccer match in Paris, and they tried to blend into the crowd as best as they could.
The two figured that wearing sunglasses would help them blend into the crowd, but they were still recognized among other celebrities in the area.
Hollywood Stars' Photos Recreated With A Funny Twist
Ashley Lez
This article was originally published on 24/7Mirror
Have you ever looked at a picture posted by your favorite A-lister and thought, "how do they look good wearing something like that or posing like that?" A woman named Celeste Barber started recreating ridiculous famous people's Instagram photos, and she has gained 6.9 million followers on Instagram in the process. She shows what the average person would look like if they were taking these photos in real life. Keep reading to see the hilarious results!
Instagram Vs. Gravity
Alexis Ren modeled this shirt with perky boobs drawn on it, but realistically, no one's chest naturally looks like that.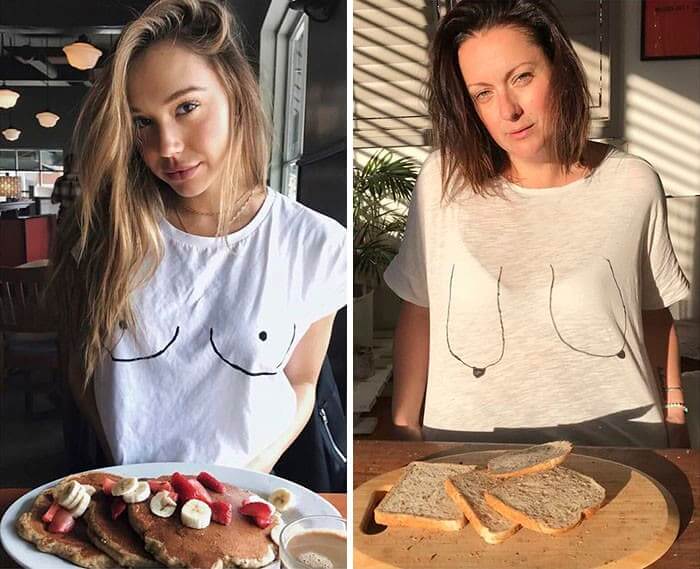 While Celeste made her shirt the exaggerated version, that is more realistic than the original Instagram. Let's be real; gravity starts to win as you get older.
Boats, Bikinis, Flexibility, and Humility
Gigi Gorgeous looks like she is floating on air in her photo, but it does not look easy to achieve that pose. Who would want to contort themselves onto some metal bars?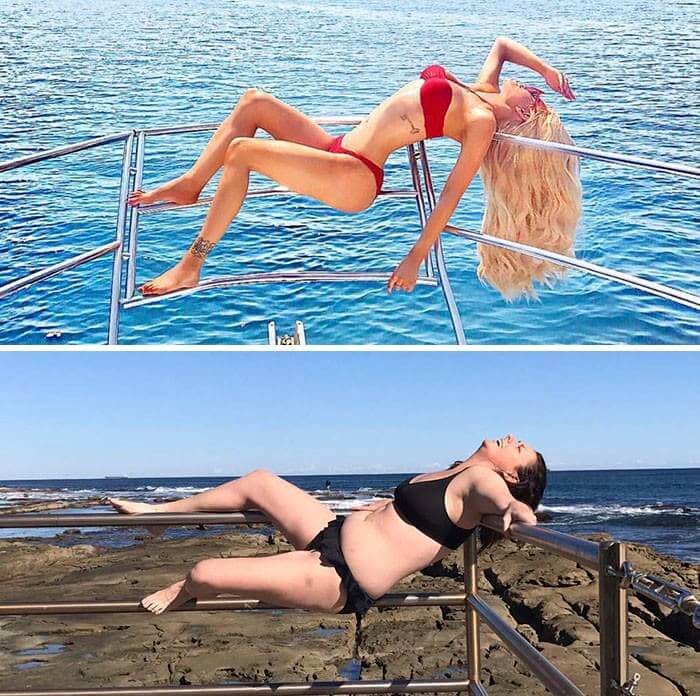 Celeste is how most of us would look if we tried this pose. It seems like she is on the struggle bus, and we can only imagine how uncomfortable that is.
Did Someone Say Flamingo?
When you wish you were on a private yacht with a giant flamingo floaty like Kendall Jenner, but you are stuck at home.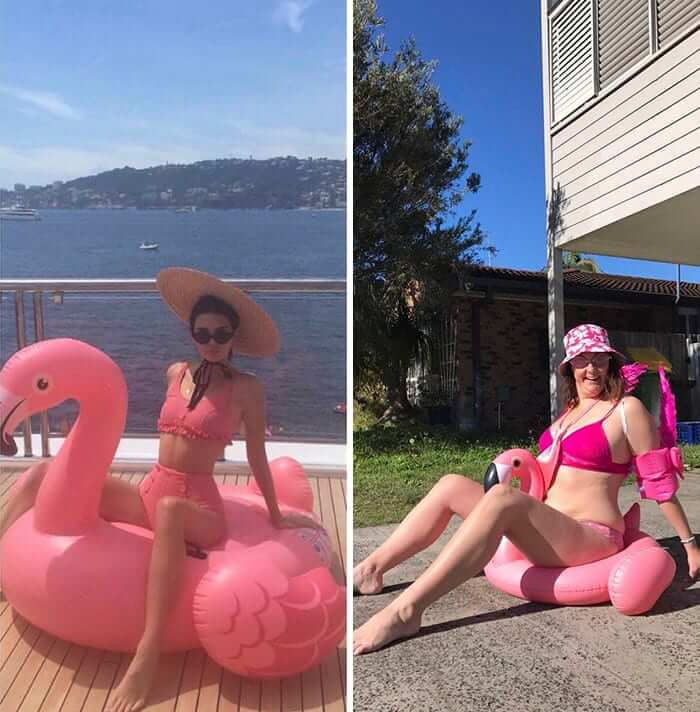 She traded the boat deck for her driveway and added some water wings because cement can be dangerous.
The Basis Of Any Good Relationship: Trust
Would you trust someone not to let go of your t-shirt while you lean face first over a pool? The models in the top picture messed up a few times because she is not dry.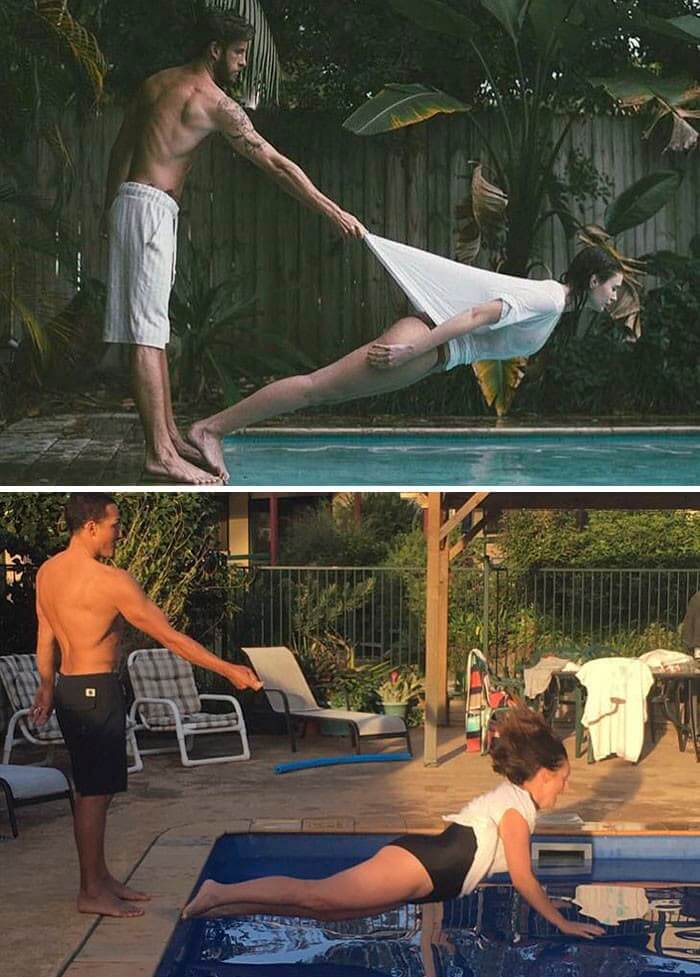 Even if you trust the person, that is not an easy task for someone to hold you only by your shirt.
Boys Lie, Carbs Don't
The truth hurts, doesn't it? Carbs don't lie, and they will stick by your side even when you don't want them.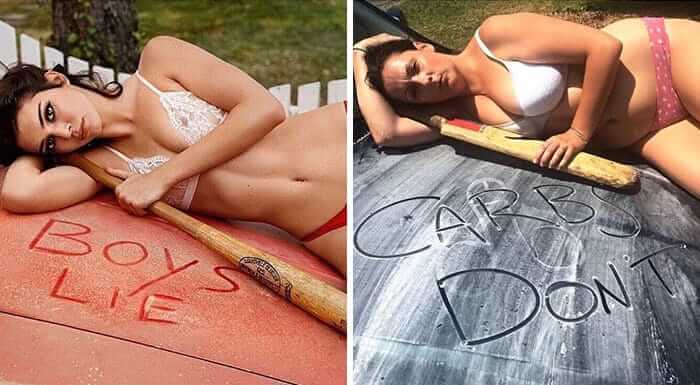 Both pictures are sharing truth bombs, and both pictures show that they both need to wash their cars.
Taking Advantage Of Morning Sunshine
When you try to recreate those perfect rainbow reflection pictures, but you are blinded by the morning sunlight. The rainbow also looks suspiciously perfect in the left image.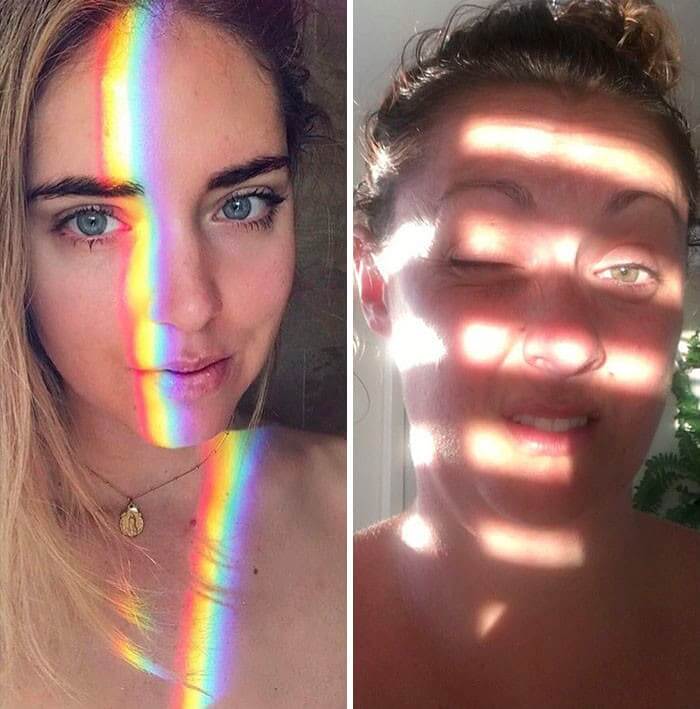 Trying to look directly into the sun right when you wake up is not something the average person could handle.
Breakfast Is Served
When you want to do something special for you your man so you bring him orange juice and pancake (mix) in bed.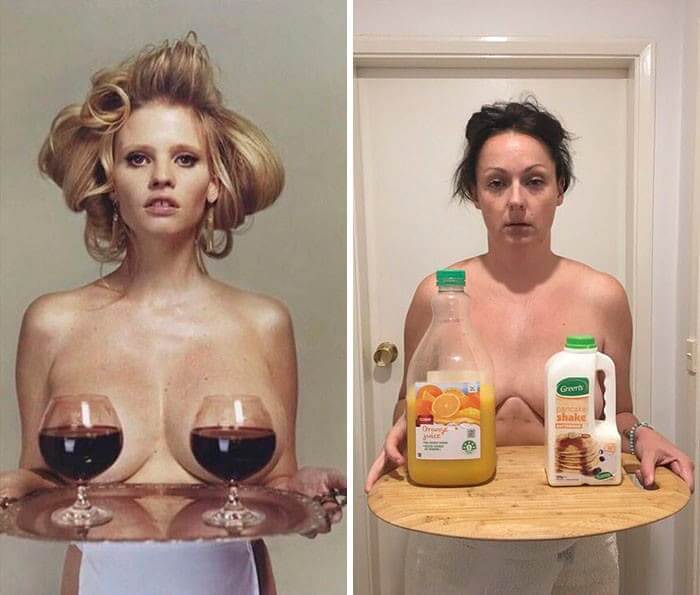 Serving people topless is not very sanitary, and people should refrain from this, especially if you want to carry something hot.
"Just Rolled Out Of Bed"
When you are trying to reach something on the floor without getting out of bed. You try to do acrobat moves just to keep some part of your body on the bed.
The hardest part is when you finally reach what you want, and then you have to figure out how to get back on the bed.
When You Successfully Cook Dinner
When you managed to cook dinner for everyone without getting any complaints or burning something, that calls for a celebration.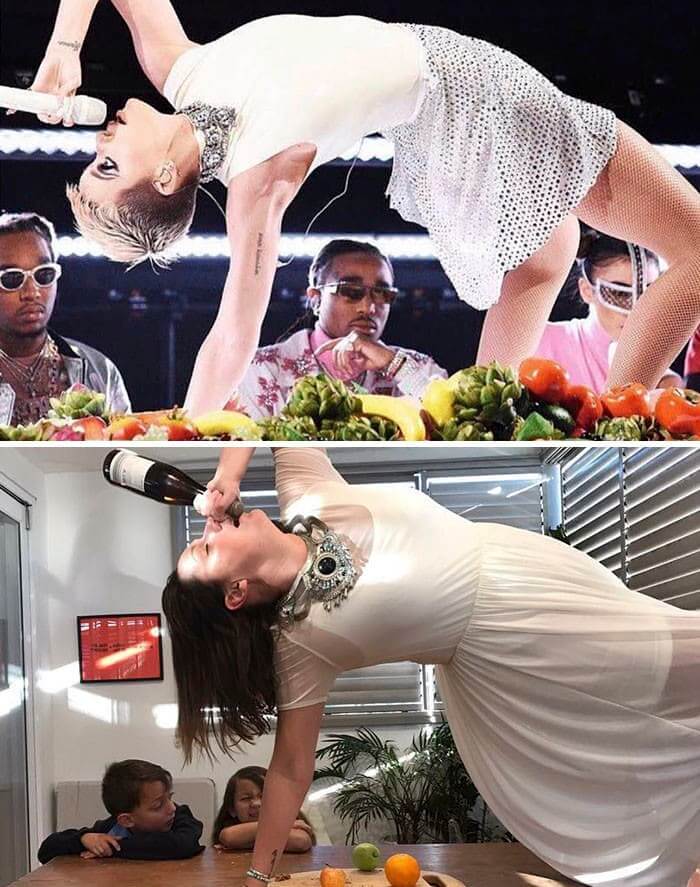 Her kids look unimpressed with her celebrations like, "Mom, please get off the table!"
Just A Light Scarf
No, this is not a giant scarf photoshopped onto Lenny Kravitz, he actually wore that. It is equally ridiculous to wear an actual blanket in public.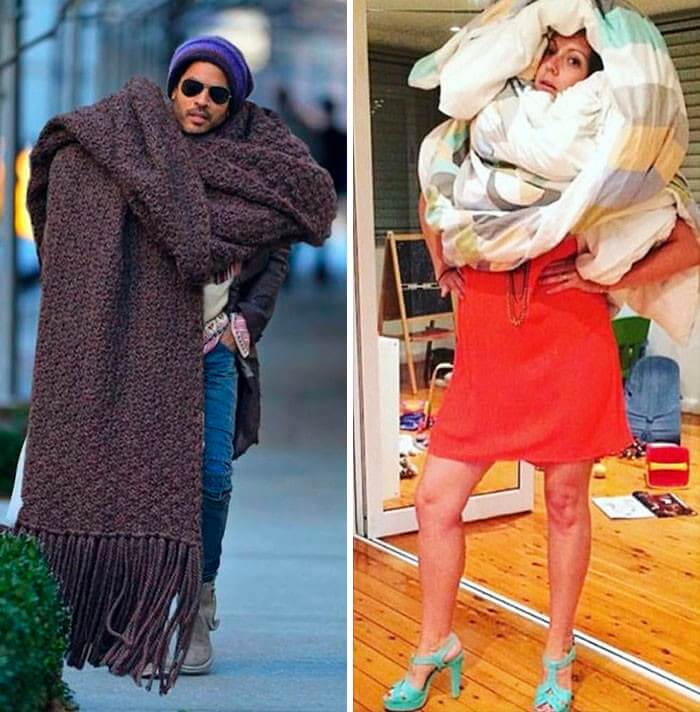 That must have been more annoying to wear around than a normal-sized scarf. Celeste captured the ridiculousness of this picture perfectly.
"I Really Need To Wash The Dishes"
When you want to show your kids how dirty they left the dishes, even though you asked them multiple times to clean up after themselves.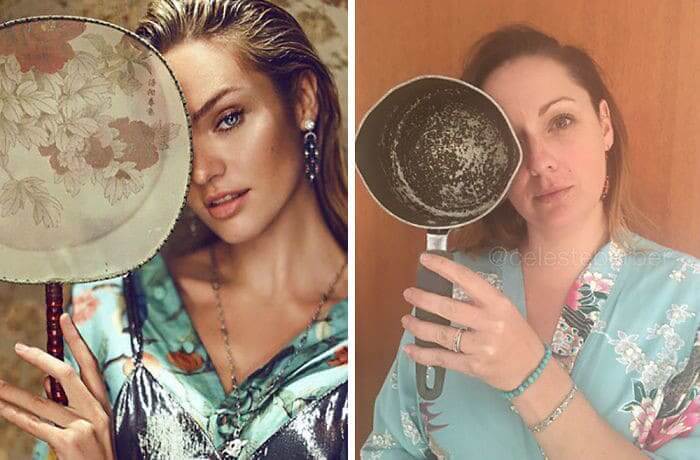 Even though she doesn't have a makeup team, lighting crew, and person doing her wardrobe, Celeste looks just as good as the original photo.
Style and Safety
We always wear heels when we ride our bikes too. Her son is probably asking his mom for his bike back.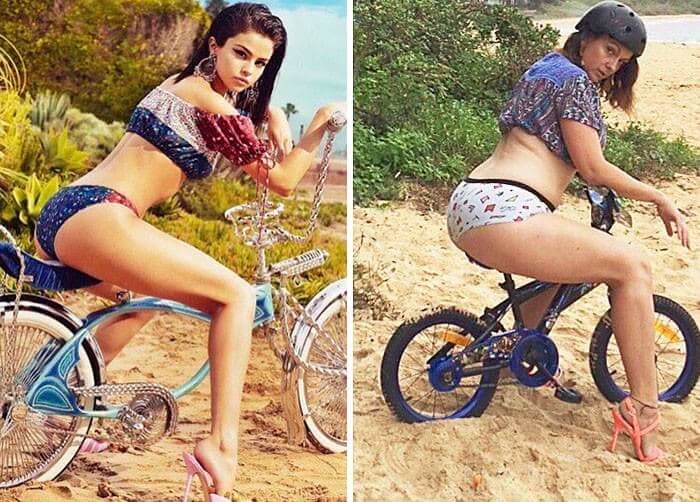 Both of them look amazing, but Celeste is demonstrating better safety practices.
Having Children Expectation Vs. Reality
Have children, they said, it will be fun, they said. J.Lo makes motherhood look like a breeze and manages to hold a drink and carry her child at the same time.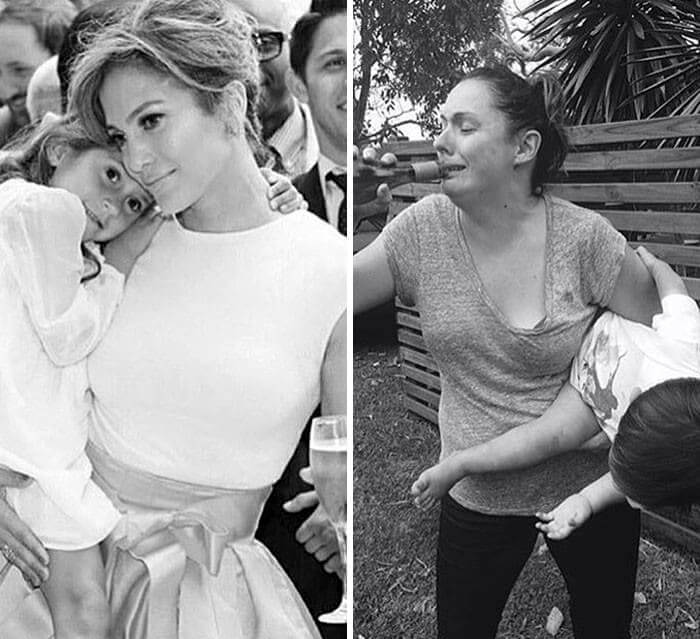 Motherhood is far from easy. She shows that holding a child and a drink is not an easy thing to do.
When You Have To Wash Your Own Car
Why Bethenny Frankel felt the neep to do a backbend on top of the car is a mystery. How did she get herself into that position without falling, and how did she get down?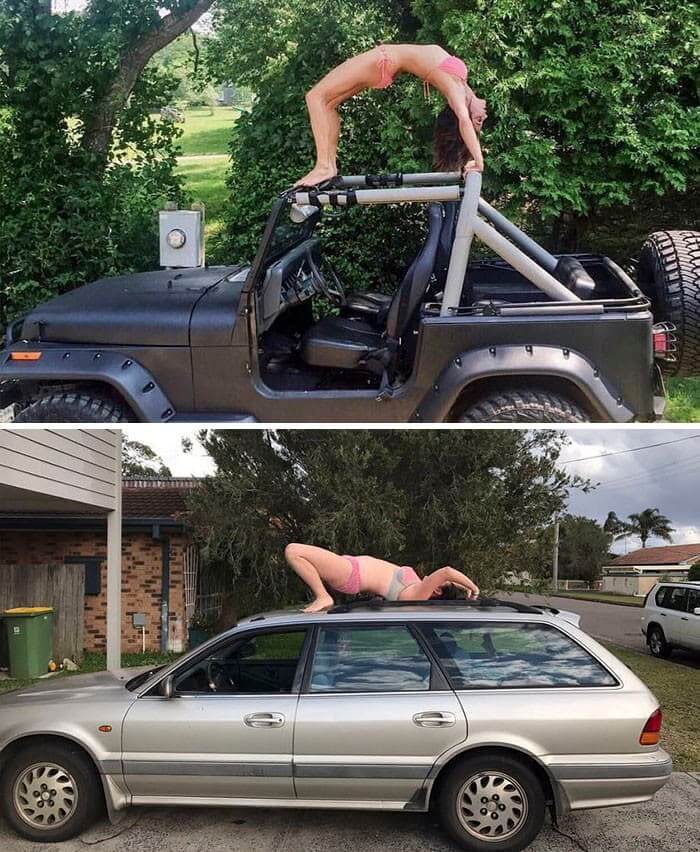 We love the dedication that went into recreating this picture because you know her neighbors saw her and thought, "what is wrong with that woman."
Sia: The Craft Store Version
When you want to dress up like Sia, but you are on a dollar store budget. It looks like she ran through the craft store and grabbed the first items she saw.
Even though it is more craft store than couture, we think Sia would approve of this recreation because she loves odd things.
Backyard Photo Shoot
Even though she looks like she is putting in minimal effort, Beyonce still looks glamorous, standing in front of a sheet in someone's backyard.
Anyone who isn't Beyonce would look weird if they tried to recreate this, like Celeste.
"Buy My Merch"
When you are trying to recreate a Kylie Jenner picture and promote your own merchandise at the same time.
Whose shirt would you rather buy? We really like Celeste's take on Kylie Jenner's shirt.
When It Is Too Hot Outside, So You Sit In The Freezer
During the summer, have you ever been so hot you felt like sitting in a freezer? Don't worry; it's not that weird because celebrities have had the same thought too.
Sometimes you just want to escape the heat and climb into a freezing box, and that is ok. Just remember to take a picture so you can post it to Instagram.
Personal Hygiene is Important
Celebrities are just like ordinary people; they have to shave their armpits too. Although, when they shave their armpits, they document it for social media.
Self-grooming is important. Some people choose to shave, and others go natural. Whatever you decide, no one has to know about it.
Ready To Conquer The Day
Kyle Richards starts her days with a protein shake and a brightly colored Birkin bag. Not all of us are that blessed, so some of us are more like Celeste's recreation.
When you have children, starting the day with a bottle of wine doesn't sound like a bad idea. Although we know she is not promoting people to drink and drive.
Wet T-Shirt Contest
Again Emily Ratajkowski is stunning and sultry with her barely-there wet t-shirt. If you have ever been in a wet white shirt, you might feel like Emily, or you might feel like Celeste.
First of all, Wet shirts are not comfortable; you feel like you are being weighed down by this cold, wet fabric stuck to you. Second, no one looks like Emily, so it would be hard to pull off this wet shirt look.
When It's Too Hot For Clothing
Emily Ratajkowski is known for her lack of clothing, so recreating her pictures takes a lot of courage. No one actually walks their dog in a bra and underwear.
The guy in the background is wondering what she is doing, walking through the streets half-naked with her dog.
Happy Holidays
Kylie Jenner is giving us the holiday fantasy by wearing a giant bow as a hair accessory for her holiday collection promo shoot. Only she could make this look cool and high fashion.
If the average person tried that it would look very strange. We don't know how anyone would look good with a giant gift bow on their head.
Holding Life's Most Precious Gifts
While some people value their children as the most precious gifts in the world, others value wine and bread, which is valid.
It must be hard to recreate the ethereal glow of Beyonce post-birth.
Spilled Wine Means The World Is Ending
Why does Selena Gomez look so unphased by the spilled wine and broken glass? Most people would be sad like Celeste because of the wasted wine.
We know it's for an album cover, but how can she be so calm with broken glass in her hands?
Cooling Off
When you are in the club and you find a fan to help you cool off. Some people would look glam like Miley Cyrus, and the rest of us would look like we got stuck in a wind tunnel like Celeste.
Maybe a leaf blower wouldn't be the best option because of how much wind power it has, but it still cools you off.
Self Love
As Ru Paul likes to say, "If you can't love yourself, how in the hell are you going to love someone else?"
​ Self-love is important, but we don't know if you have to make out with yourself in a mirror to get that point across.
Working That Spacesuit On The Beach
Brazilian model, Adriana Lima, can make anything work, even this silver lamé one piece.
Who knew that silver catsuit would be so useful to recreate so many celebrity photos.
Giddy Up
She nailed this Miley Cyrus recreation. Her tiny horse is even better than Miley's larger one.
She makes it look much more fun than the celebrity originals. Ride'em cowgirl!
This Looks Comfortable
"Nothing to see here, just casually lounging on the chair like a normal person." This is such a bizarre pose. How did the model contort her body into this uncomfortable position and stay glamorous?
If we tried this, we would look more like Celeste and fall off the chair. Do not try this at home, people.
Peek-A-Boo
When you are trying to get dressed, and your friends keep asking you how much longer it will be until you are ready.
"Can you hurry up?" "I'm getting dressed as fast as I can, but it would go much quicker if you didn't continue to ask every few minutes."
I Woke Up Like This
The first picture is what everyone wishes to look like when they wake up. The second is what most people look like when they wake up.
How is it possible to wake up looking perfect with your makeup and hair done? It is not possible, most of these "natural" "just woke up" selfies are posed.
Baywatch
The Rock and Alexandra Daddario co-starred in the reboot movie Baywatch and made lifeguarding look much more glamourous.
Celeste and her husband try to capture that glamour while still being effortlessly beachy, and they rocked it!
How You Think You Look Vs. How You Actually Look
When you walk towards the water and try to walk like Gisele Bundchen, but the uneven sand makes it difficult to look like a model.
We all try our best to look effortless, but walking on the burning hot sand is harder than it seems.
No Pants, No Problem
When Kanye's merch is too expensive, so you can only afford one sweatshirt, or you have to make your own.
The oversized sweatshirt is an interesting trend that people were obsessed with for a while because of the Kardashians. To pull off this trend, your sweatshirt should probably cover your underwear.
Dipped In Silver
Why wouldn't an ordinary person cover their body in silver and lie in a tub? Kim was probably posing for a makeup campaign or magazine shot, but it is a strange scene.
It is hilarious that she used a kiddy pool to replicate this one. She looks like a natural model, even comparing herself to Kim Kardashian.
Working Out Is Tiring
When you take a gym selfie hoping you will look toned and not like a sweaty mess. Working out is not easy, and after a difficult gym session, most people would look like the right photo.
By the end of the workout, people are drenched in sweat, and too tired to actually pose.
Drop It Low
Can we take a minute to talk about cardi b's shoes? Are they sneakers, wedges, or platforms? It looks like the shoes are falling apart in slow-motion.
Celeste had to stack three pairs of shoes to try and replicate this look. How do you walk in shoes like those? Fashion is so interesting, and those weird sneakers probably cost over $1,000.
Just Catching Some Rays
When you have had a rough day, so you come home and collapse onto the floor. The bottom picture looks like she has had enough of these odd celebrity photos.
Bella Hadid makes this pose look relaxed and comfortable. This position seems like it would break your knees and back.
A Couple Of Cows
When you do something that makes you seem adventurous, so you have to document it to prove you did something in nature.
Celeste also looks like she went to a winery and had a few too many glasses.
Nailed It!
If you ever wanted sunglasses that will block the haters, these are the perfect pair. The foil pair and the real pair will surely make the haters invisible.
Nicki Minaj has an interesting sense of style, and this look is bizarre, even for her.
"What Do You Wear Around The House?"
Who wouldn't want to be Haily Bieber? She is married to every teenage girl's dream man, Justin Bieber. Hailey is also so stunning, even in these full coverage underwear.
The recreation is just as amazing and looks more like a body positivity advertisement.
Looking For The Remote
When you can't find the remote so you have to dig through the cracks in all the couch cushions.
"Look! I finally found that bracelet I lost three years ago, and the TV remote!"
Falling Down The Stairs But Make It Fashion
Nicki Minaj has some strange fashions choices and poses. She looks like a spider monkey hanging on for dear life, so she doesn't fall down the stairs.
How did she manage to keep a straight face while recreating this ridiculous pose? Even she looks like she knows how strange this is.
When You Think You Look Cute After Going In The Ocean
It is never glamorous when you go into the ocean and get pummeled by waves. There is salt in your nose, sand in places you didn't know sand could go, and your hair is matted to your face.
In our heads, we think we look like a character straight out of Baywatch, but it is never that glamorous.
Making Pregnancy Look Cute
Celebrities tend to make pregnancy look easy. They put on their matching Calvin Klein underwear and bra and depict it as a glamorous nine months.
In reality, most people don't have the energy to find the matching underwear to their bra, especially if they are pregnant.
"Can You Take A Picture Of Me In The Men's Bathroom?"
When you think of a good place to take a photo, is your first thought the men's bathroom? We are going to guess that you said no because who would go into the men's bathroom to take a picture besides Kim Kardashian.
Also, did the photographer think it was a good setting to capture her gorgeous gown? It ruins the beauty of her entire look.
When It's Really Cold Outside
Did Kylie steal Cookie Monster's fur to get this photo? She is someone who likes to show off her famous curves, so it is strange that she chose to cover her entire body and only show her face.
We love how she took a giant blanket to wrap around herself for this one. If only it were blue, it would be amazing.
Money Talks
When you have so much money that you start to think all those presidents are speaking to you. Also, have you ever noticed that some celebrities feel the need to flaunt their wealth by posing with stacks of money? We know you are rich, there is no need to rub in in our faces.
On the other hand, does anyone else keep a jar of change that they don't know what to do with? Like Celeste, the jar of coins is more realistic that stacks of $100.
Trying To Do Yoga For The First Time
"Hurry up and take the photo, all the blood is rushing to my head!" The top photo is trying to sell the lingerie, but we don't understand why they made her do a pose like that.
She looks like she is doing a mix of downward dog and something else that is uncomfortable.
"What Are You Doing In My Closet?"
"Ma'am, please put your clothes back on. This is a public place, and you are making the other customers feel uncomfortable."
Chrissy Teigen has shared that she loves to be nude, but why does someone else have to be there to stare at her?
Fresh Out Of The Shower
When you get out of the shower and wrap yourself in a warm towel, it is a refreshing feeling. While not everyone looks as glamorous as Alessandra Ambrosio, we can all pretend.
Celeste is feeling her post-shower look, and we don't blame her. It is like playing dress-up with a towel as your wig.
What Else Would You Wear To Do Laundry?
It's hard to believe that Paris Hilton might actually do her own laundry, but if she did, she would wear that silver suit.
Doing laundry is tedious, and when it starts to pile up, it is not fun to do. It is even worse when you have to do laundry for your children or husband, and not just yourself.
When You Spend All Your Money On One Article Of Clothing
When you had to have that designer skirt, but it was so far out of your budget. Instead of saving up for it, you bought it and decided to sacrifice buying groceries for a few weeks.
Then once you have it, you realize you have nothing that pairs with it, and it is too fancy for any event you have coming up.
Going On An Adventure
Take your family on vacation, they said. It will be fun, they said. When you take your children on vacation and have to bring so many extra things with you to accommodate young kids.
Karlie Kloss has all that luggage just for herself. How many outfit changes does she have planned with all that luggage?
When You Need To Be On The Phone All The Time
"Hey, what are you up to?" "Oh, nothing just sitting in the bathroom." "You're calling me from the bathroom?" "Obviously, why else would I have a phone in here."
Have you ever noticed that hotels have phones in the bathroom? Who is that for, and why are they calling while sitting on the toilet?
"Where Did This Chair Come From?"
When you buy a new swimsuit and want to take pictures in it right away even though you are not at the beach or pool. Kylie found a solution to that problem; bring a chair and have a photoshoot in the backyard.
Why is the folding chair necessary? What did it add to this photoshoot?
Sexy Selfie Expectation Vs. Outcome
When you buy a new bra and underwear and want to take a sexy picture in it with the expectation of looking like Emily Ratajkowski, but then you see the selfie and realize no one looks like her.
Even if you aren't a model, all bodies are beautiful in their own way and you should be proud of yours.
"I Do Not Bend Like That"
When your yoga instructor and photoshop guy are on vacation so you can't make yourself look like Miranda Kerr.
How did she manage to bend like that in the left photo? It looks like her torse is not connected to her legs.
"Have You Seen My House Plant?"
When you get a new house plant and want to subtly show it off to all your friends on the internet.
To get the perfect shot, you wear an outfit that matches the plant and casually holds one of the branches.