4. A Guy With No Trust Issues
If you use a jack properly, there is no need to worry about safety, and fixing a truck or car is no problem. But when you try to use something else instead of a jack, that's when there are high chances of you running into a problem.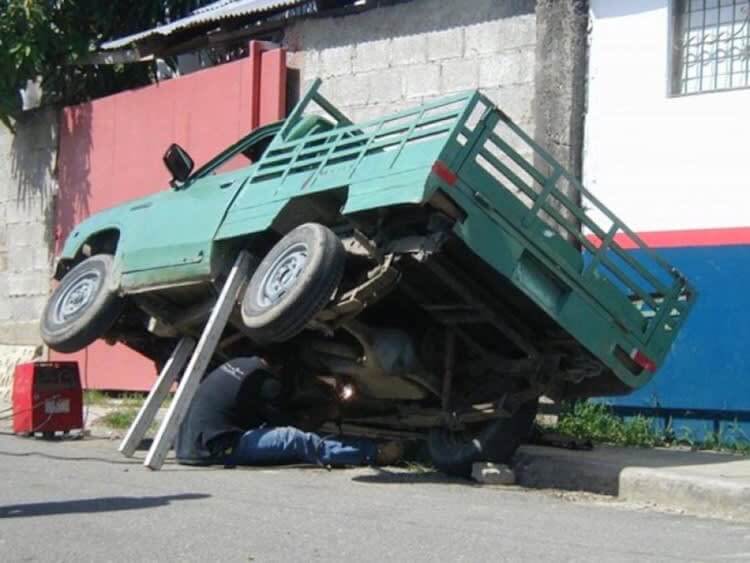 This guy seems to have an awful lot of confidence in the simple wooden boards. The way he is sitting under the truck, we just hope he uses his fast reflexes in case the truck starts tipping back towards him.
5. A Foodie's Nightmare
We all know someone in our circle that is a foodie and has a social media page on which they upload photos of their food. Some people hate it when they go out to try some new restaurant, and when the food comes one of their friends starts taking pictures of it from every angle.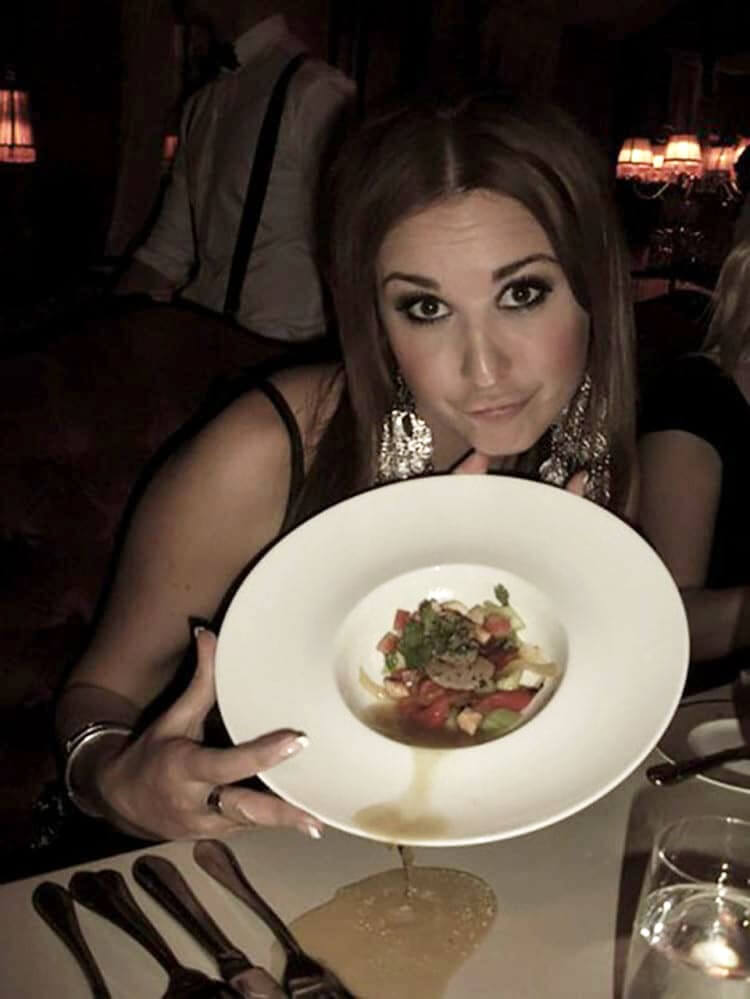 There's nothing wrong with trying to show the world what you are about to eat, but we are just saying that some people don't like it. This girl wanted to take a photo-worthy of her social media account and unknowingly spilled everything. Why do we feel that this photo might give satisfaction to some people?
6. Where's Her Seatbelt?
This is the reason why there are moving companies, so that your stuff can get transported safely. Rather than having to rely on those who "think" that they can move items on their own.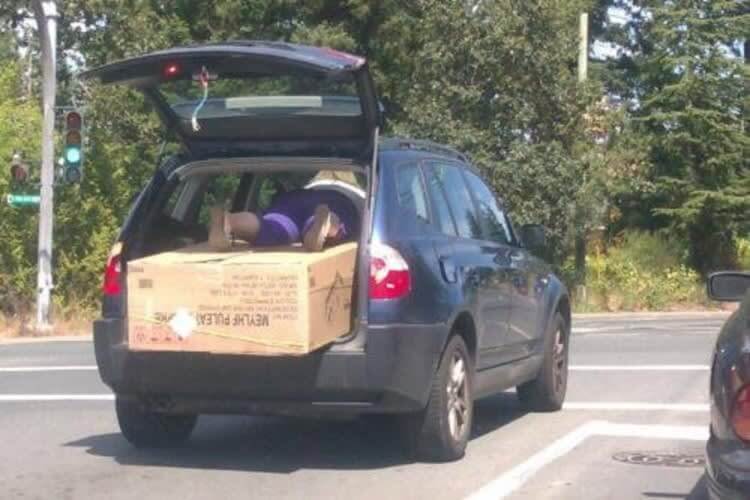 It was not a smart idea from the start, and the woman somehow believed that she could use her weight to ensure the package doesn't slide back. But what happens when the car needs to make a sudden stop? She isn't even wearing a seatbelt…
7. A Recipe for a Disaster
It definitely takes more than just a lot of self-confidence to get up on a ladder-like this and paint the outside of the window frame.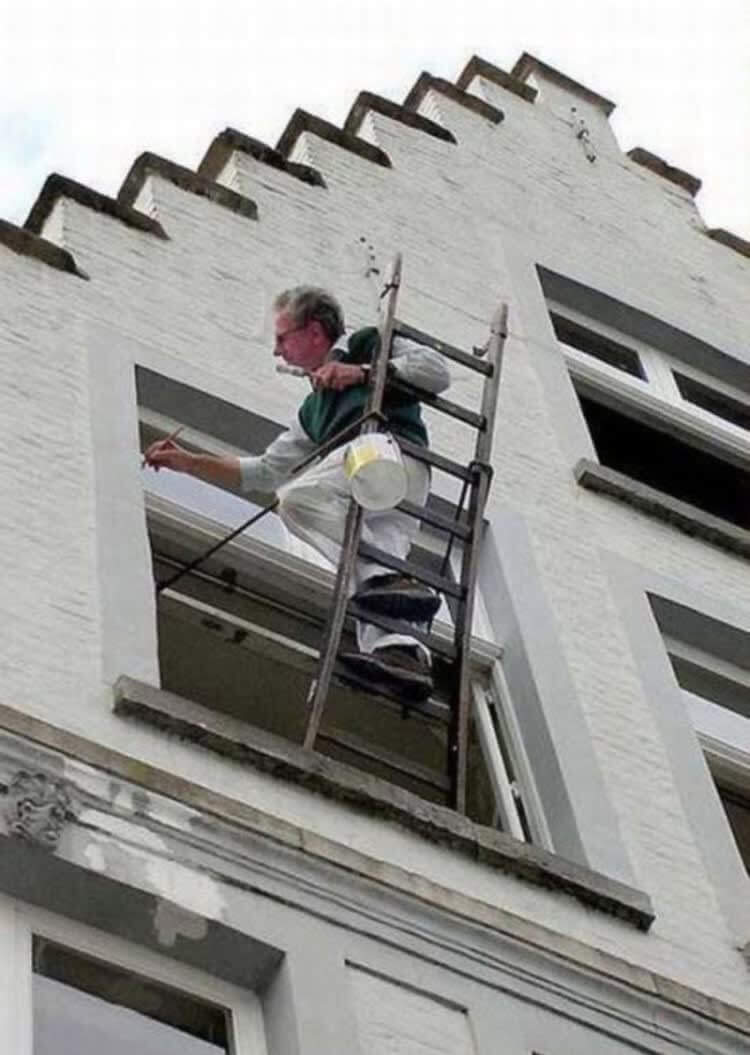 He knows very well that a little tilt of the ladder could prove very dangerous for him, but he doesn't care about it. He may not have thought this one through, but it seems like he is quite calm.
8. An Honest Mistake?
Before anyone gets too upset at UPS, it is important to acknowledge the fact that UPS workers have to work really hard to deliver us our packages without any unusual delays. But it seems like the guy who delivered this package needs to take some rest. It is because he unintentionally locked the people in their apartment.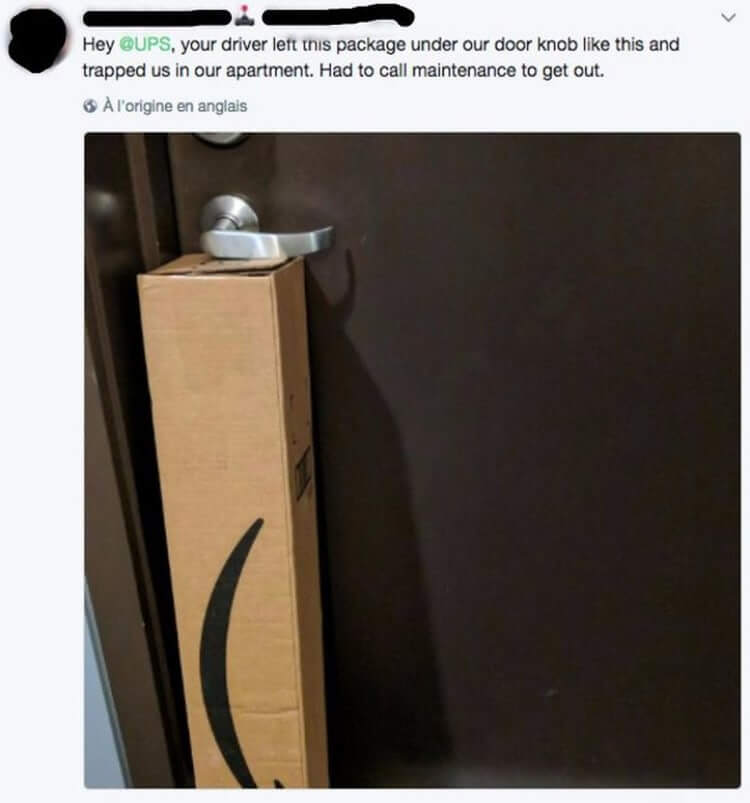 Although in this time of COVID-19 we sometimes feel locked in our homes, we can still go out. But these people had no other option than to call their maintenance team. It must've been a funny sight since we can't help but notice that the maintenance guy decide to take a picture before helping them.
9. He Just Needs Something To Drink
When it comes to driving, there is one obvious and important rule to keep in mind – use your hands to steer! That seems to be a common-sense rule that this driver just couldn't care less about.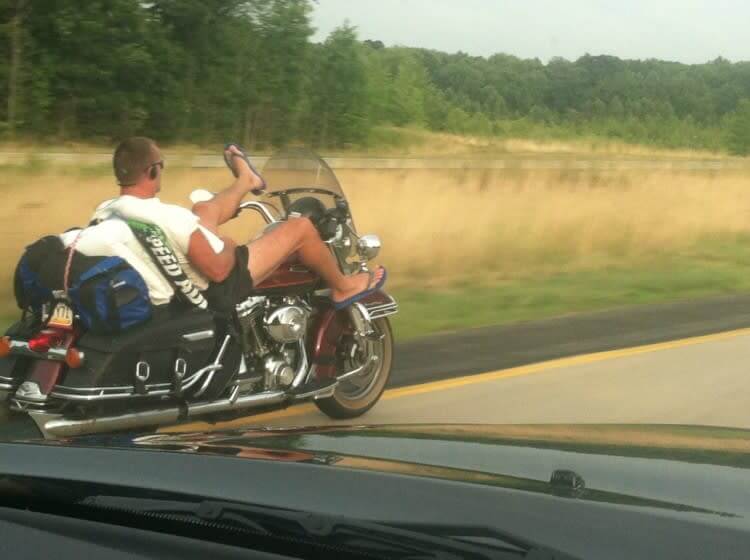 Maybe he misses his couch too much, which may not totally explain his urge to relax like this while driving at around 60 mph. He should reconsider the actions because he may end up hurting himself and others around him.
10. The Danger of Icicles
This photo is a bit scary because icicles can actually be really dangerous and this man is consciously sticking his head out of the window.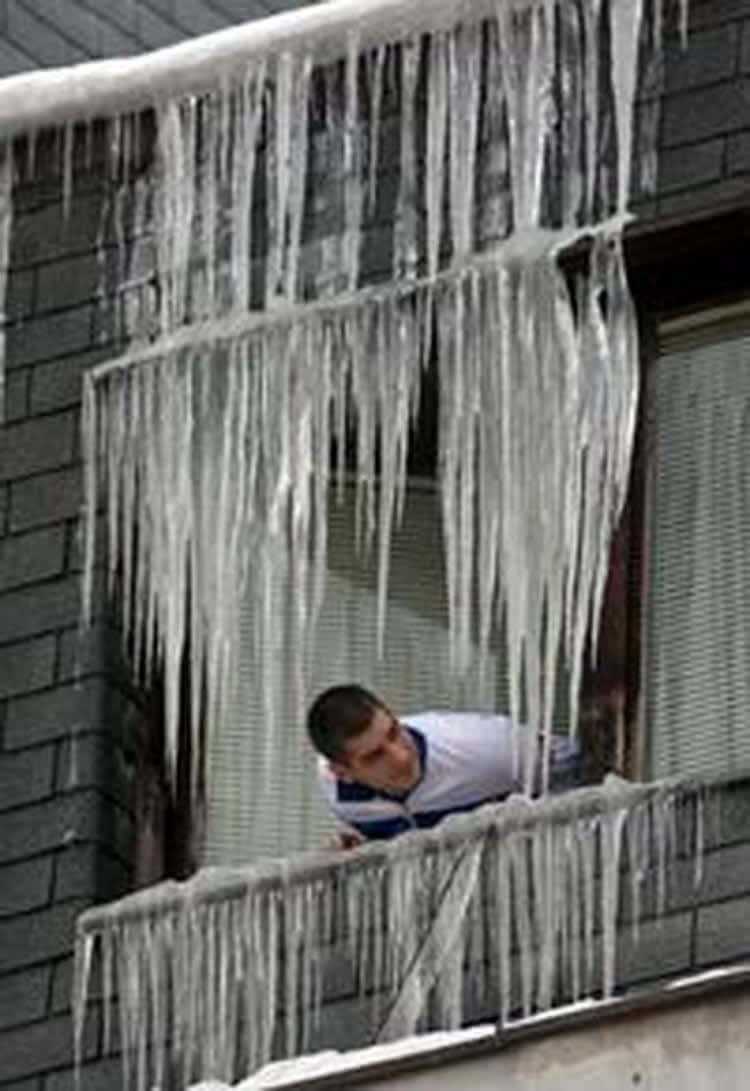 It doesn't look like a smart decision at all and what makes it even more dangerous is that one of the icicles is only a couple inches away from his head.
11. It Was Pretty Much Inevitable
When this guy was driving a limo, he didn't really think a lot before trying to take this vehicle downhill. That lack of attention ended up resulting in his limo getting completely stuck in the middle of the road.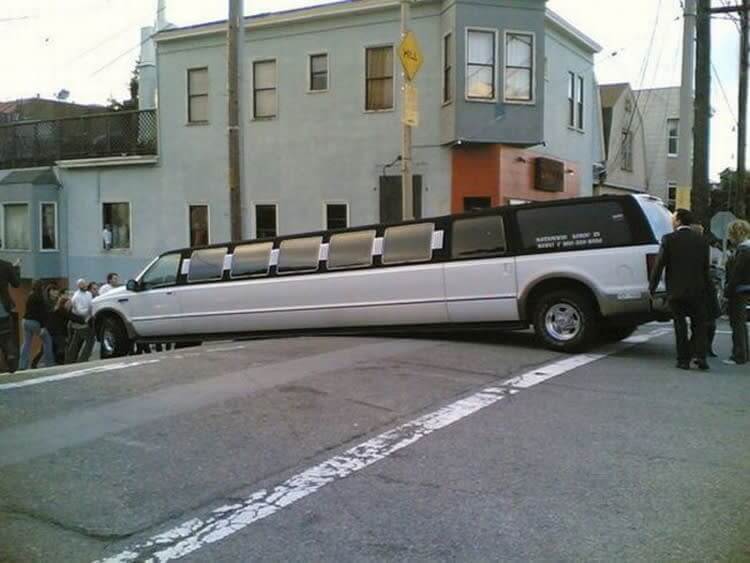 Given that it is a limo, there must be a traffic jam just because of one wrong turn. The owner of this limo company may want to reconsider having such stretched limos in this clearly hilly city.
12. Use Whatever You Have
Understandably, you use whatever you have when you can't find the right thing for the job, but really? A child's rocking chair and knotted ladders?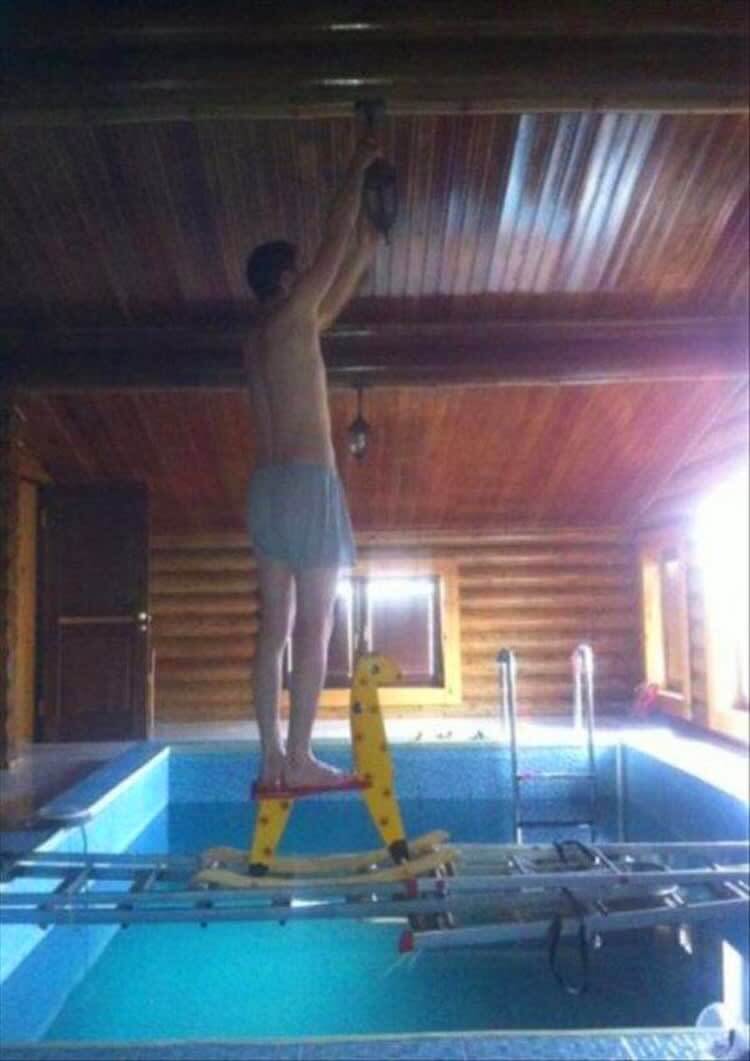 The only assuring thing is that he is doing it over a swimming pool and a fall won't hurt a lot. Although it is a small task of fixing a light, it might be best to just hire a professional.
13. Cats Hate Water
Any cat owner can tell you that cats hate nothing more than their arch-villain: water. It seems like this person doesn't have this common knowledge and now he's thinking about the decision of why he thought it would be a good idea to take a bath with his cat.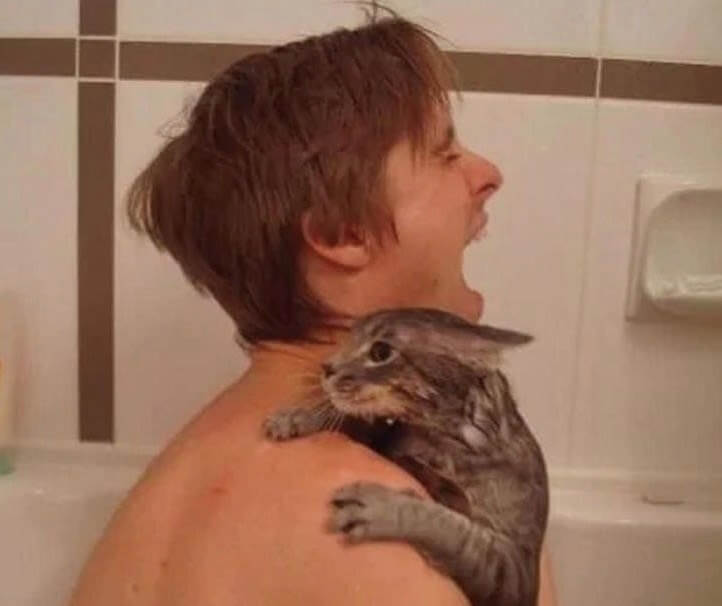 We can hope the guy wasn't hurt too much because cats tend to do anything in their power to stay away from water.
14. When You Want To Get The Job Done At Any Cost
This guy wanted to complete the paint job at any cost. But there was an issue: the ladder wasn't big enough. But he's a pro, so he came up with a solution of his own.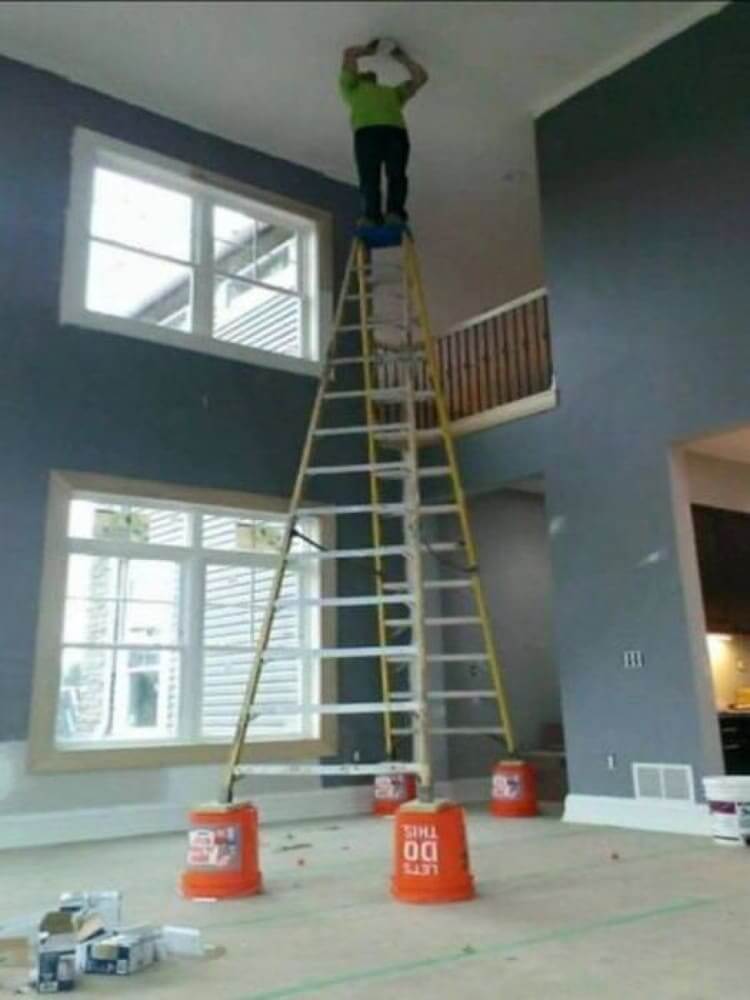 This guy must have been a tightrope walker or a gymnast before he started working on houses. Whatever it is he did, he seems unusually comfortable around heights.
15. Needed Just a Trim
So this guy was buffering and got a little too close to his equipment. As a result of it, part of his beard is gone and we have to admit that the new look kind of suits him. You can find tons of stuff on the internet about people making similar mistakes.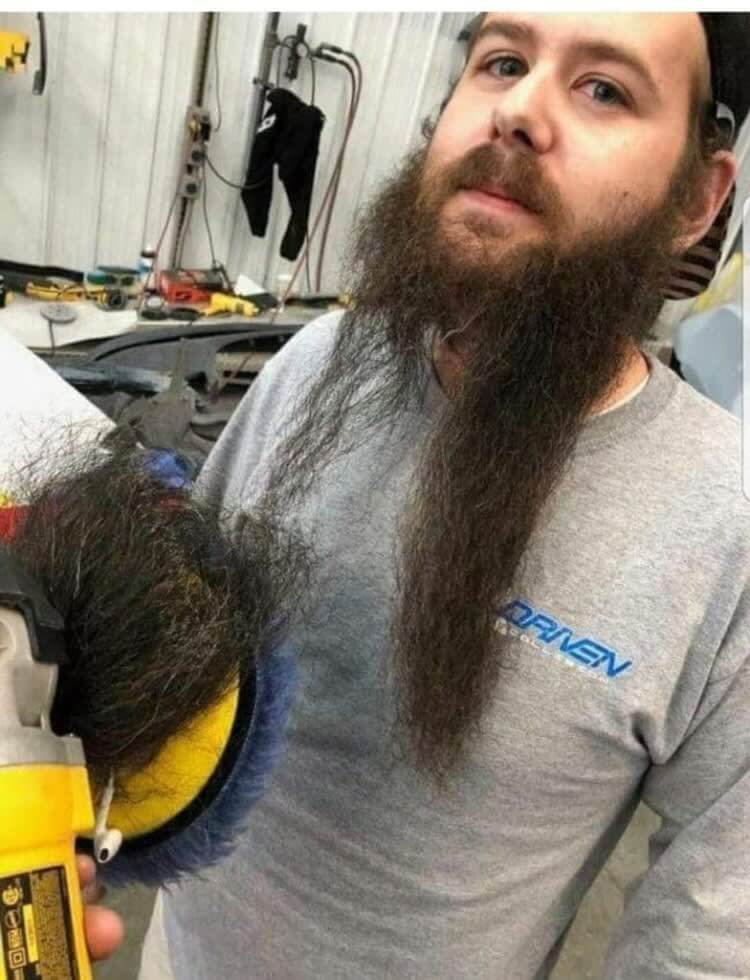 Now he has to choose to cut his entire beard to balance it or wear a mask to hide his face. We will recommend him to cut the entire beard and give everyone a surprise. If someone's birthday is coming, cut your entire beard and surprise them. It'll make their birthday more special.
16. "Who Said It Won't Work"
There is a possibility that this is the first time this woman is on an escalator, but we feel that there is another reason behind it. Someone told this woman that traveling with so much luggage won't be possible and she was like, "I accept the challenge."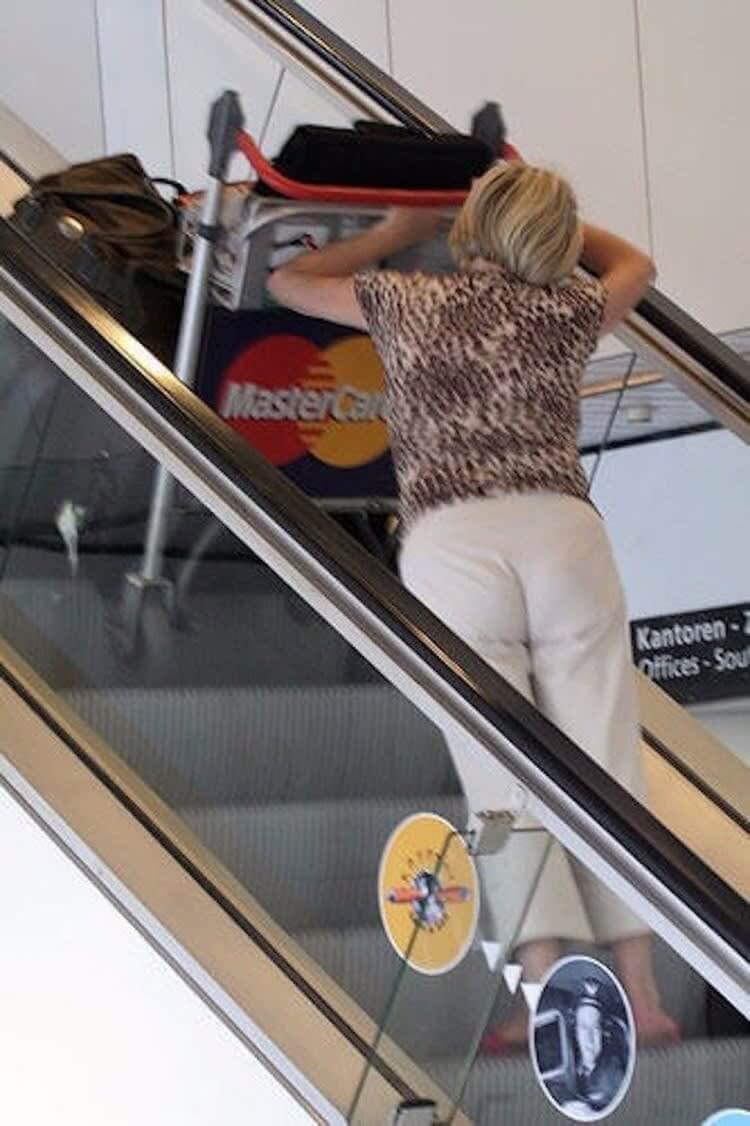 We give her credit for holding the heavy cart until she gets to the top. If it was someone else, they would've already been crushed by it.
17. Out Of The Box Thinking
If thinking inside the box means that you don't get to fall and break your back or something, then it is best to never think outside the box. We understand that not every home has a tall ladder lying around somewhere, but that doesn't mean you start making it bigger with some cinder blocks and a couple of benches.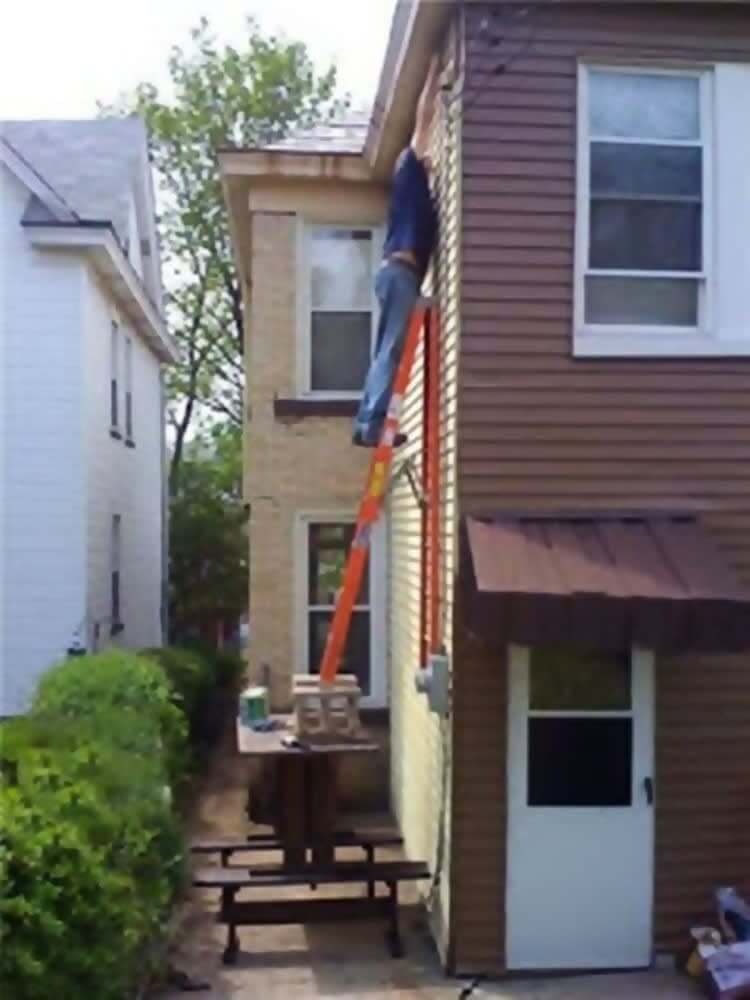 It may look like a good idea in theory, but it is quite dangerous. Hopefully this idea didn't end up in a hefty hospital bill.
18. The Right Use of a Plastic Bag
Why wear safety glasses when you can easily use a plastic bag, right? We don't know why people never seem to understand the real purpose of a plastic bag.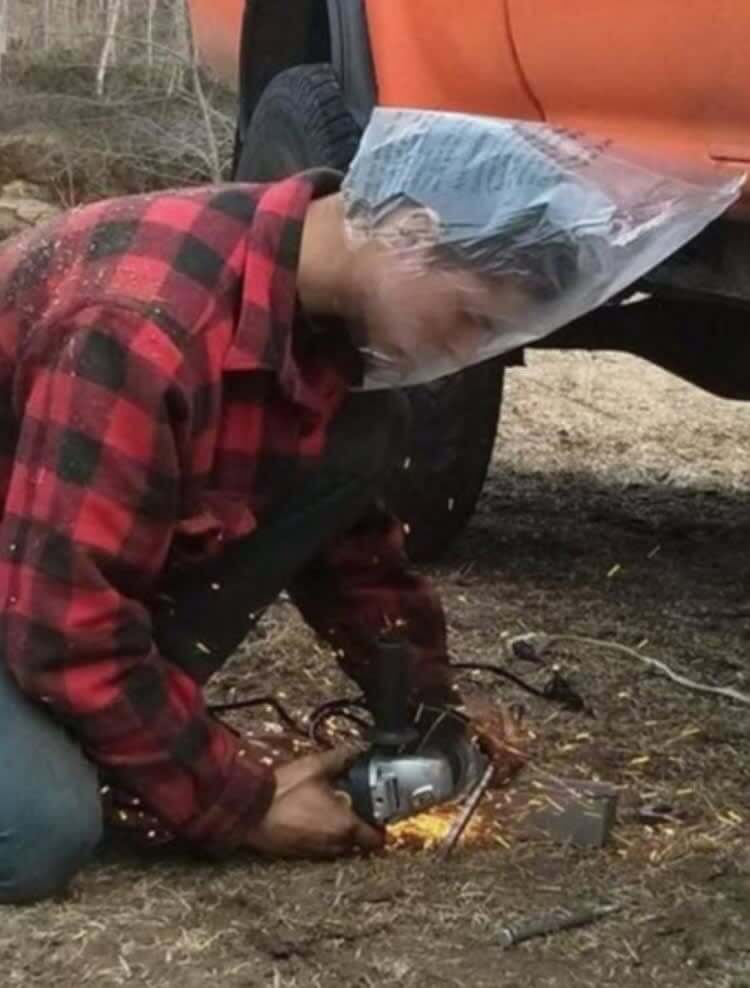 This photo has not convinced us that safety glasses are "so overrated." Maybe the company he works for needs to invest a bit more money in their equipment because we don't know how the boss allowed it to happen.
19. We Don't Think It is Going To Fit
We have no idea how this guy imagined that taking this box home in his car would be possible. Maybe it was Ross from the TV show Friends taking his sofa to his apartment and shouting "pivot" at his friends. That would be understandable, but it's not what is happening in this case.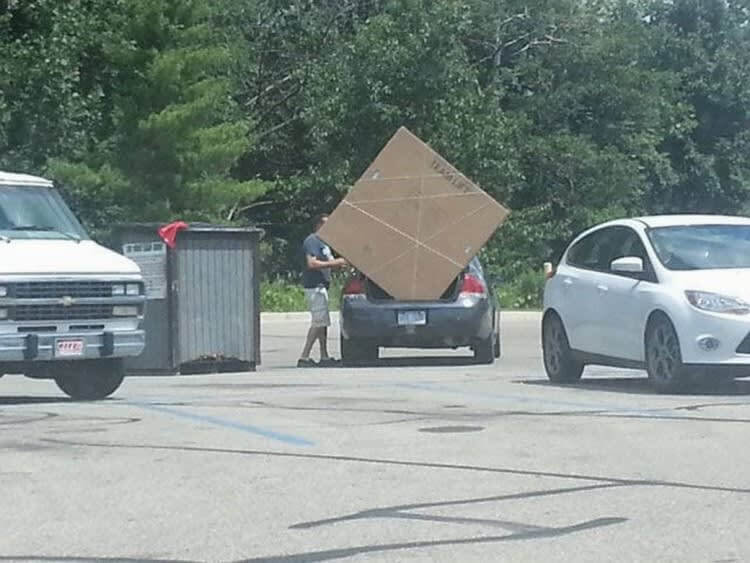 Maybe the short drive home made him go through with the idea. Also, how is he supposed to see behind him while driving?
20. Another Ice Mistake
In case you were wondering why parking on a frozen lake might be a bad idea, these people parked on ice and it didn't turn out well for them.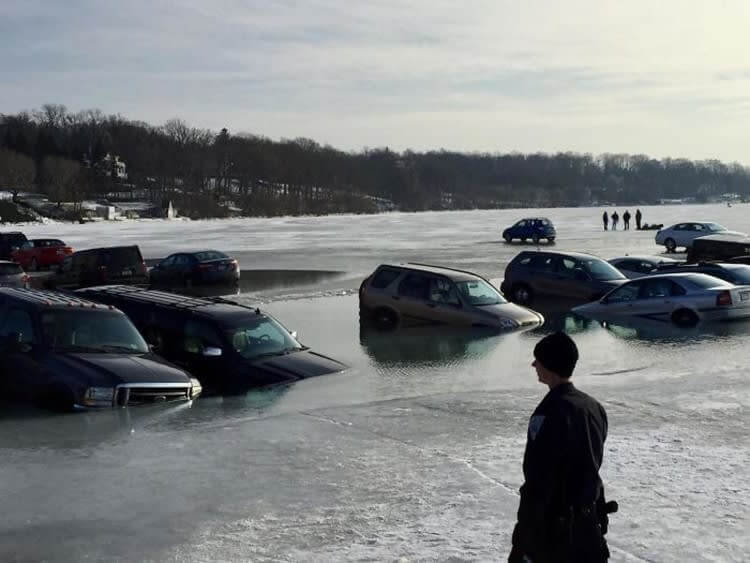 Getting these cars out of the frozen lake is going to be a serious mission, there's no doubt that many of these people are just wishing they'd stayed home instead.
21. The "I Got You" Man
We are pretty sure that there must be a lot of safe ways to drill the roof. And holding someone's feet while they drill is definitely not one of those ways. There's no doubt that falling face down from a roof can be really dangerous.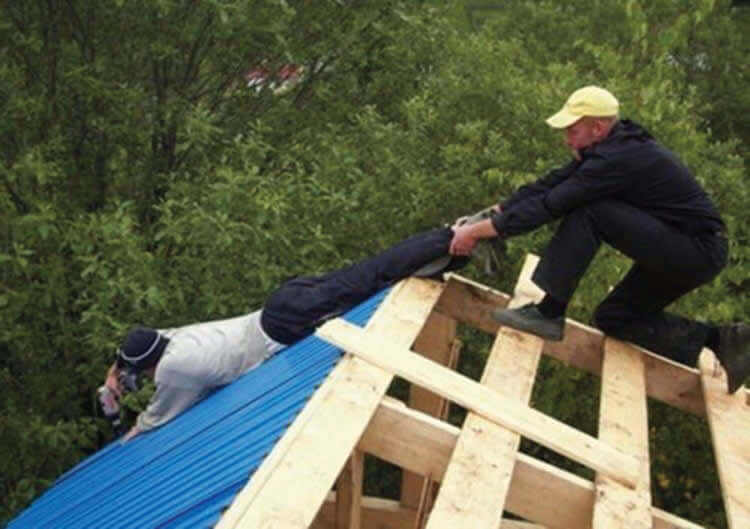 We just hope they come up with a new plan next time. And please don't consider the idea of one man holding the feet of another man with a drill.
22. No Need for a Stepladder
It seems like this man was just too busy to get a stepladder or maybe he thinks doesn't need to have one to stock the high shelves. Still, it is not safe to go with such an idea that involves standing on bottles.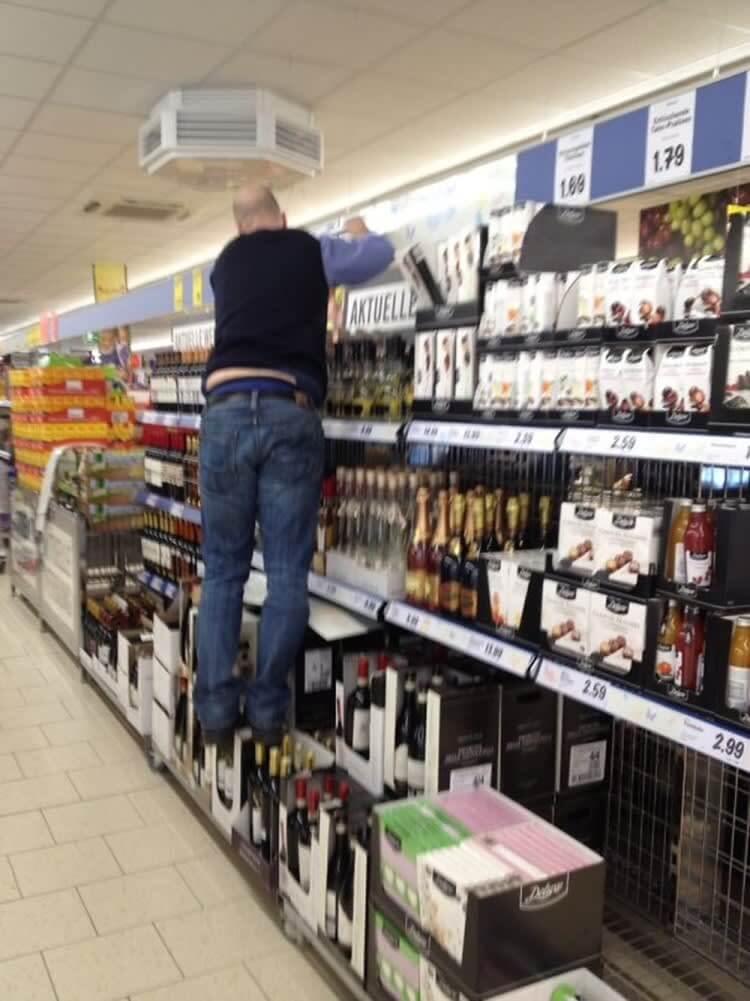 He must have done this a million times before because it seems here that he is 100% sure that the bottles will easily hold his weight.
23. Get a Bigger Phone Lady
First of all, we don't want to look mean here, but why do we feel that this woman needs to use a tablet correctly.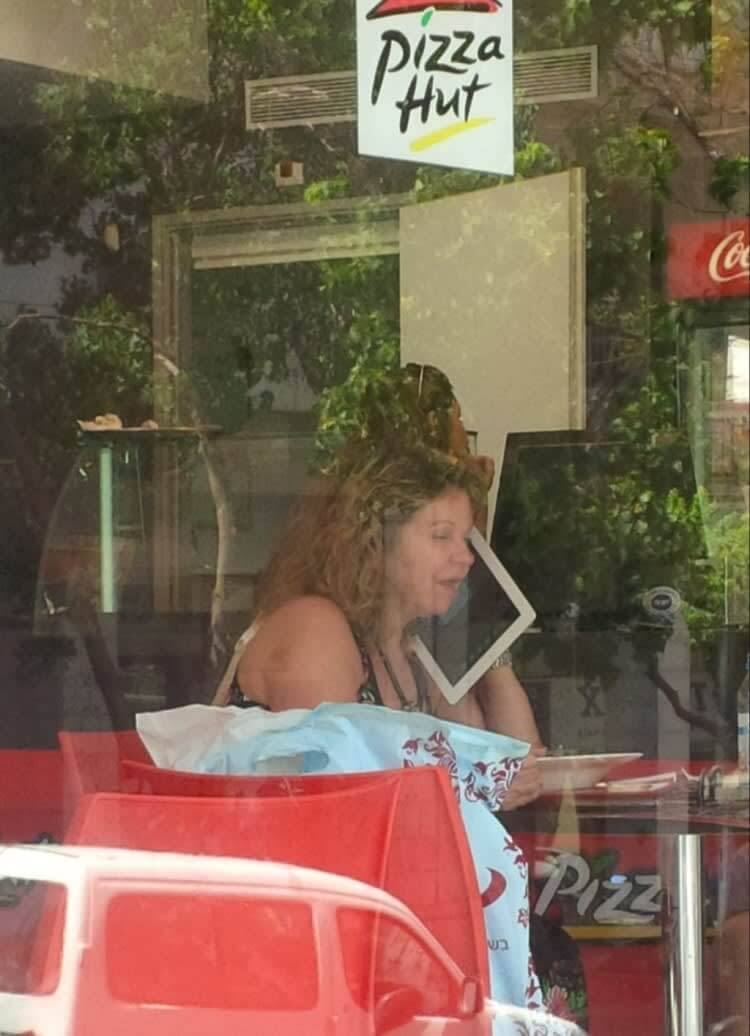 After all, it is not right that you spend a lot of money to buy something and then you don't properly use it. Also, not to get buried in the details, but talking into a tablet just doesn't look cool at all.
24. That's a Little Tippy
The first problem that we have with this is that the guy is not using a ladder. Maybe he thought that his great balancing skills would be enough to complete the job. And the other problem that we have is why he is wearing flip flops.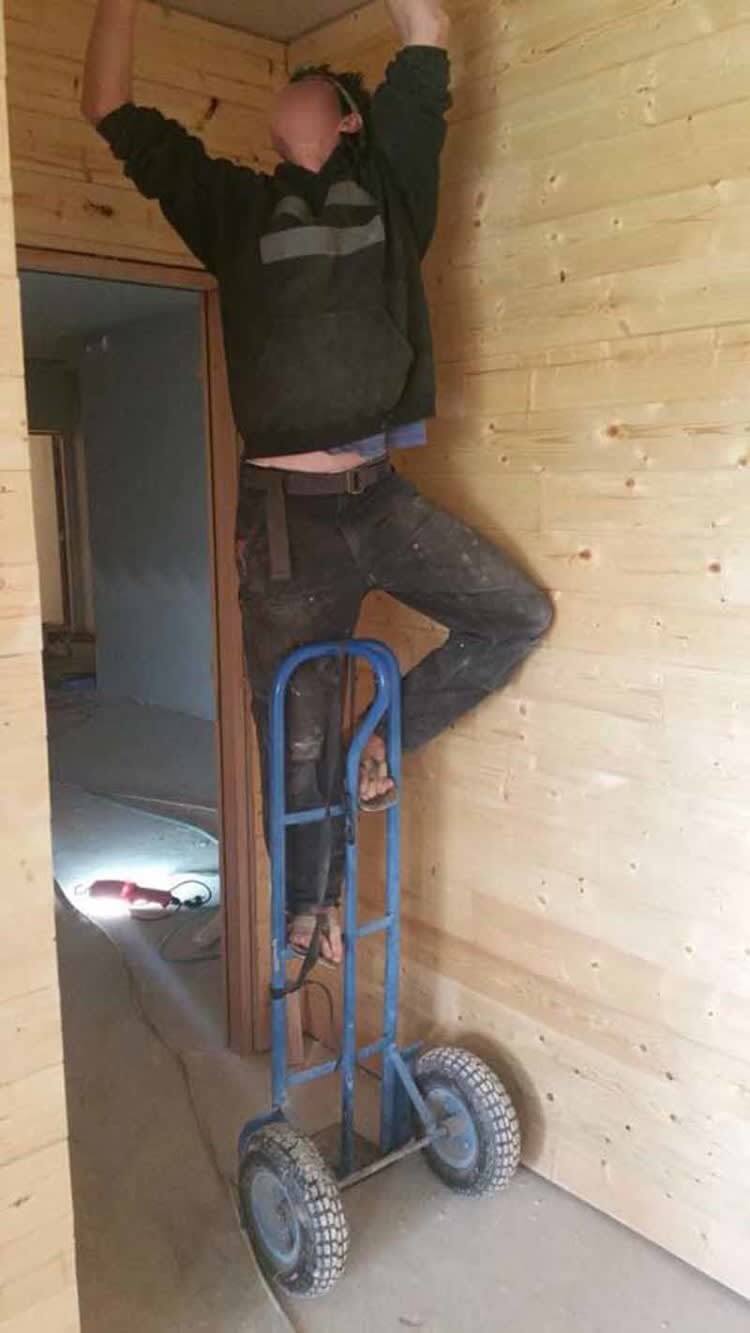 Why on earth a worker at a construction site wearing open-toed footwear? This is against every construction rule book and quite unsafe as well. We can only hope that common sense eventually prevails.
25. Take Electricity Seriously
Okay, there's nothing wrong with having some summertime fun, but it is not a wise decision to put a dunk tank so close to the sign that clearly warns about high voltage.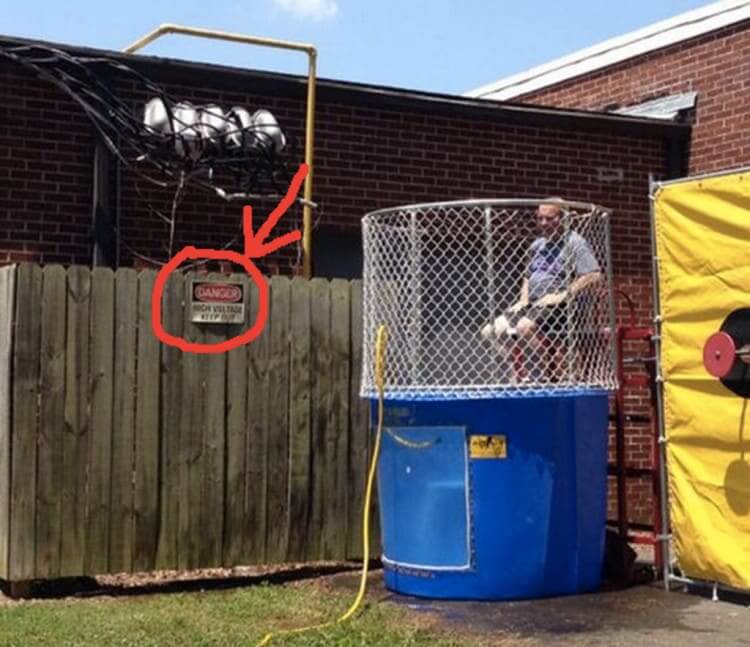 We are not sure these guys know that electricity and water can be a deadly combination. It is best to take the dunk tank somewhere else so that they can enjoy and go home instead of the hospital.
26. Hmm, Is That Safe?
We are finding it hard to determine if it is safe or not. So, you are the judge of it. The ladder is leaned diagonally on a stack of wooden bookcases and the way he has one leg on the ladder and one leg on the wires is making us nervous.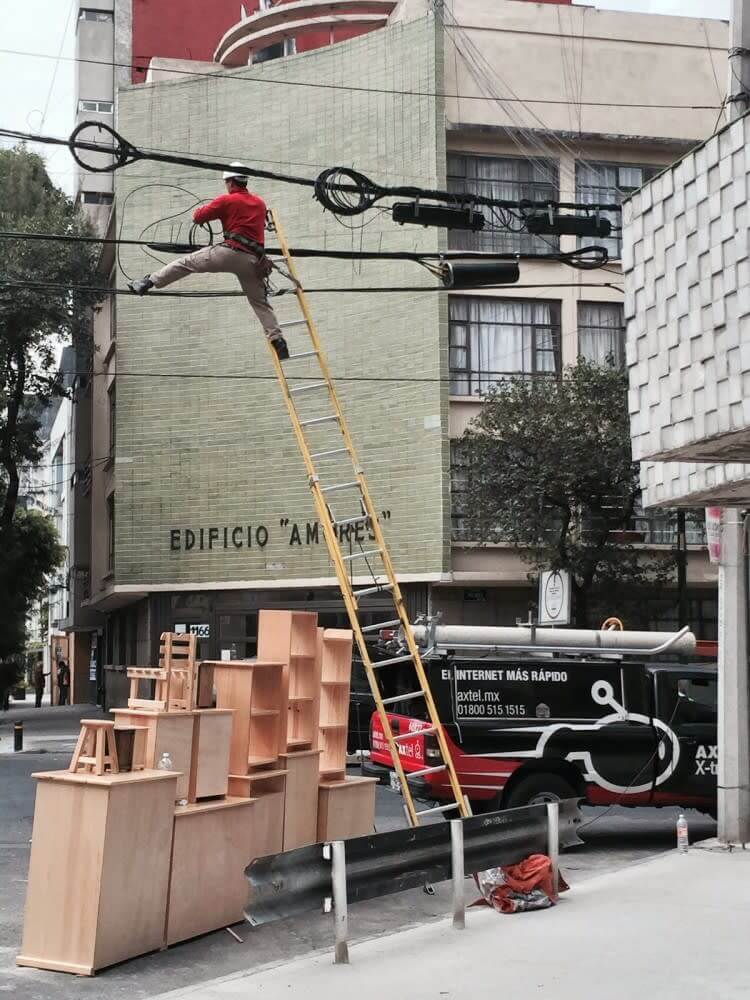 If this guy doesn't fall after such a crazy attempt, we would be super "shocked." The tippy angle of the ladder reminds us of how some cartoon characters do stuff like this…and also how that ended up for them.
27. When Cleaning is More Important Than Life
We totally understand that a dirty window can make some people feel frustrated because they want everything to be super clean. But it doesn't mean that you start cleaning the dirt outside the window of a building yourself.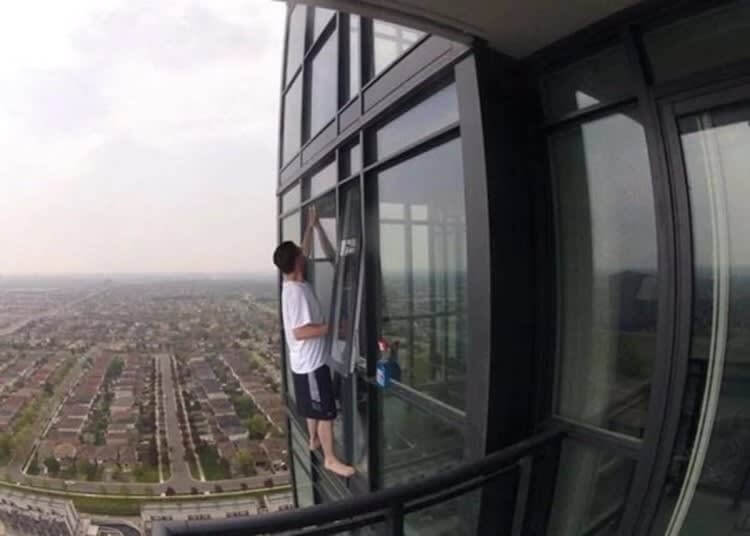 We do appreciate this guy's dedication to clean the window, but what he is doing is not solving a problem. He is putting his life at risk. This scene reminds us of the movie Mission Impossible: Ghost Protocol in which Tom Cruise pulls off a daredevil Burj Khalifa stunt.
28. It's Definitely a Three Person Job
Why use a stepladder when you got a friend who is willing to sacrifice his back just to complete the job? This is what happens when the boss says it is a two-person job and you insist that it requires three people only because you don't want to leave your friend behind.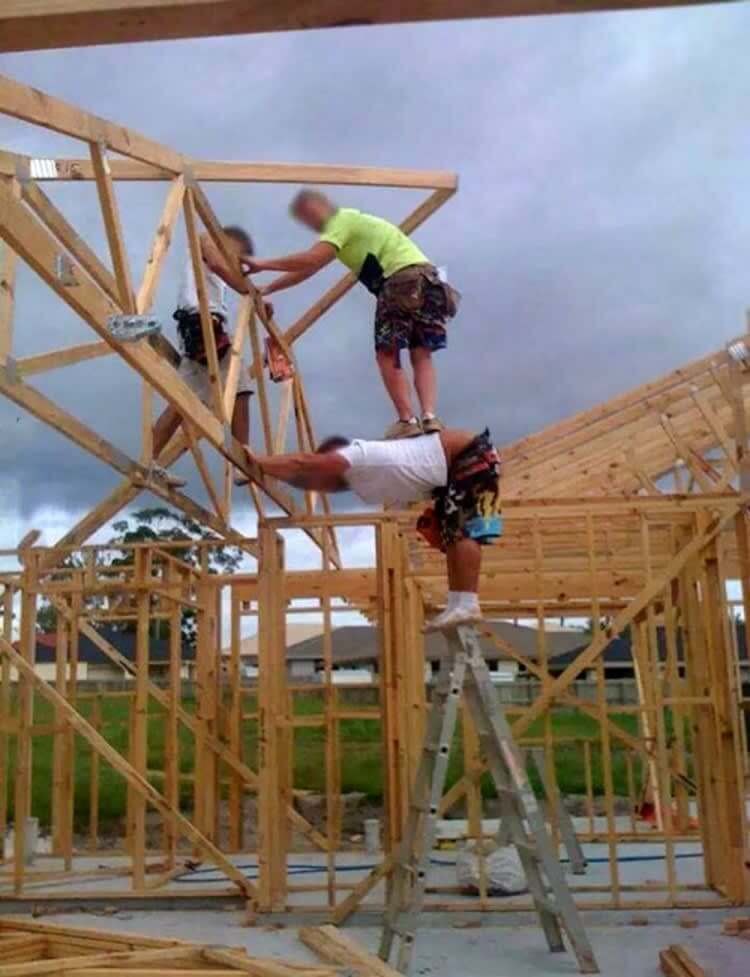 We are not sure why they used their friend as a stepladder because it is not a safe way to perform a task that risks the safety of two people.
29. Something Doesn't Add Up
At first, it looks like there's nothing wrong with this photo. After all, the set-up looks quite solid with the ATV is fully strapped up.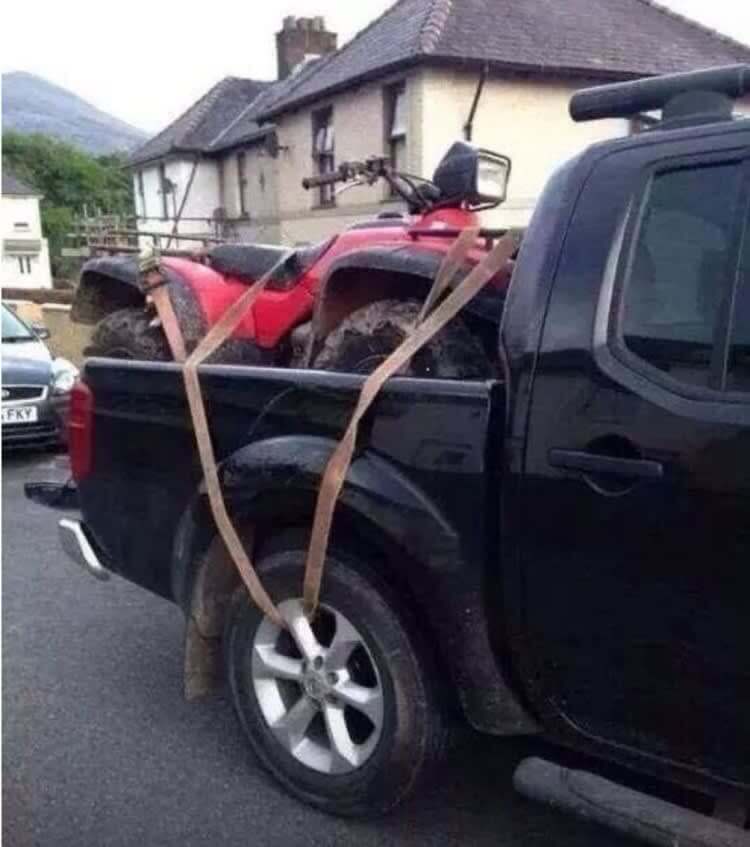 But when you pay close attention to the photo, you notice that they have attached the straps to the hubcaps on the tires. It makes no sense and we really want to know what happened next.
30. Not a Good Idea At All
When someone tells you that driving over the thin ice is safe and super fun, don't listen to them. In fact, throw that person out of the car if they ever recommend it. But it seems like the driver got carried away and decided to have some fun.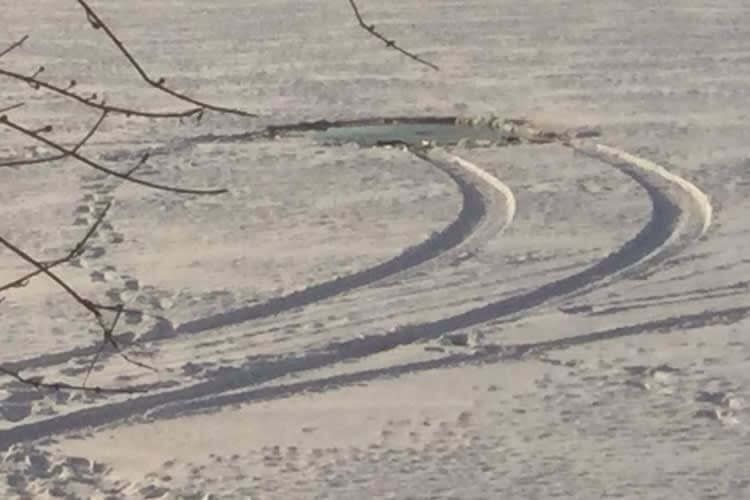 Of course, the ice couldn't support the weight of the vehicle. Given that there are footprints near the hole, it looks like whoever was driving it got out safely. Next time, just go around the thin ice.
31. An Important Life Lesson
The person who owns this car learned an important life lesson that it is often best to stay on the safe side. If this person saw the weather forecast about snow, they ignored it.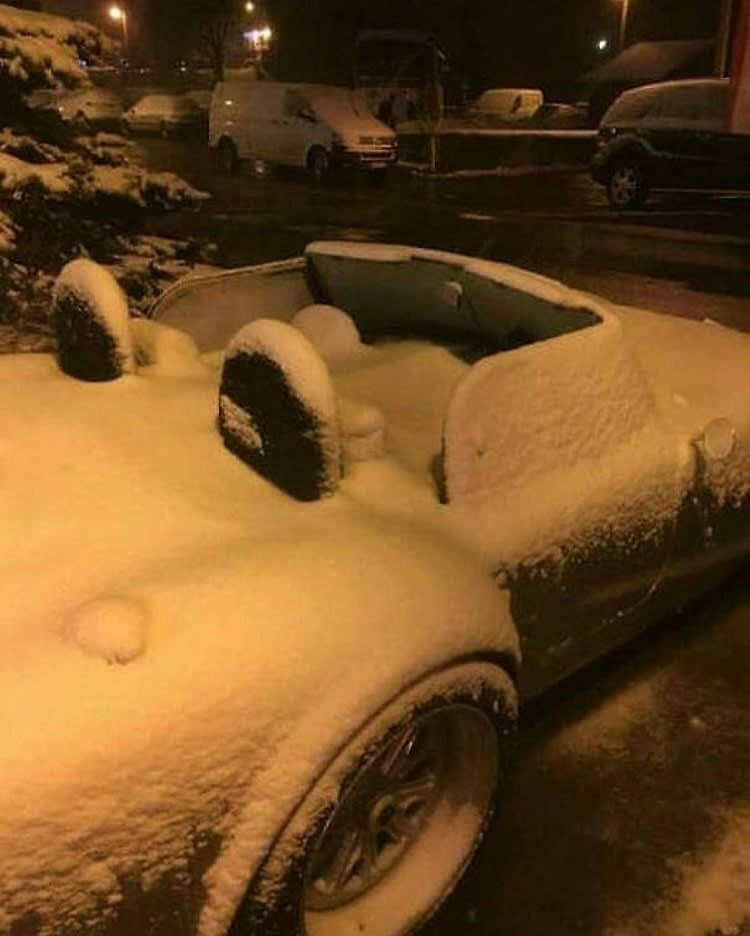 One thing we know for sure that this person won't make this mistake again. Just remember that weather can change in an instant.
32. That's Not How You Do It
We have no idea who taught her to blow up a tire because this is certainly not the right way to do it. Actually, on closer inspection, we're pretty sure she's trying to use a fire extinguisher to get the job done!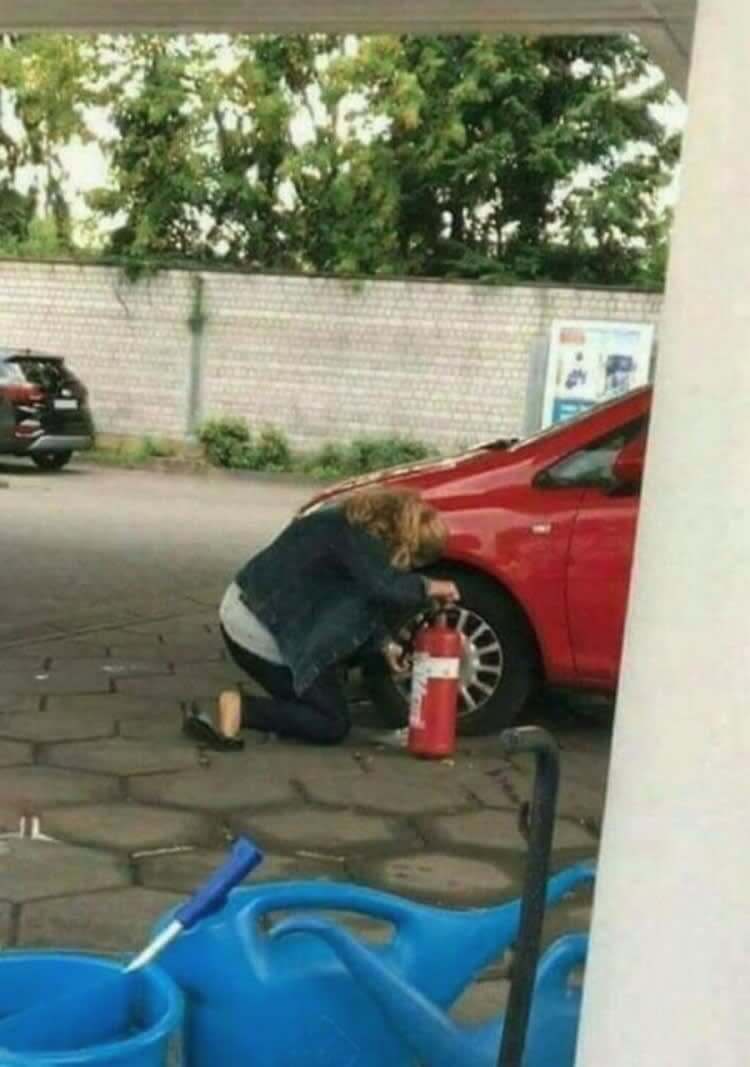 That brings us to the important question of why she didn't have an air compressor in the car as well? We can imagine her trying to put out a fire somewhere with an air compressor. Now don't say that she'll try to put off the fire by putting gasoline over it.
33. Clouds on The Ground?
How fun it would have been if this was a cloud instead of too much soap? It seems like these people used way too much detergent.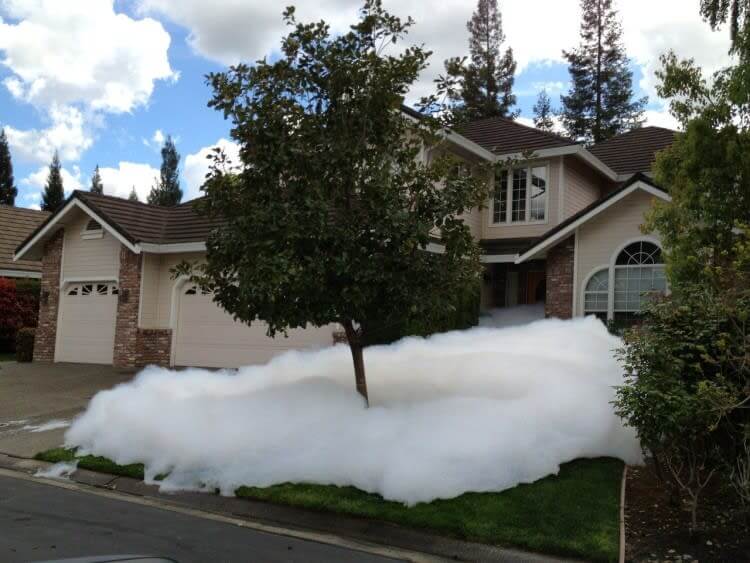 And how did they get rid of all the bubbles? Even adding water will just make them bigger, right?
34. The Right Way To Use a Rice Cooker
If you like to make rice-based dishes, having a rice cooker is a must. After all, it is quick and super convenient. But it looks like this person doesn't know quite know how to use their rice cooker.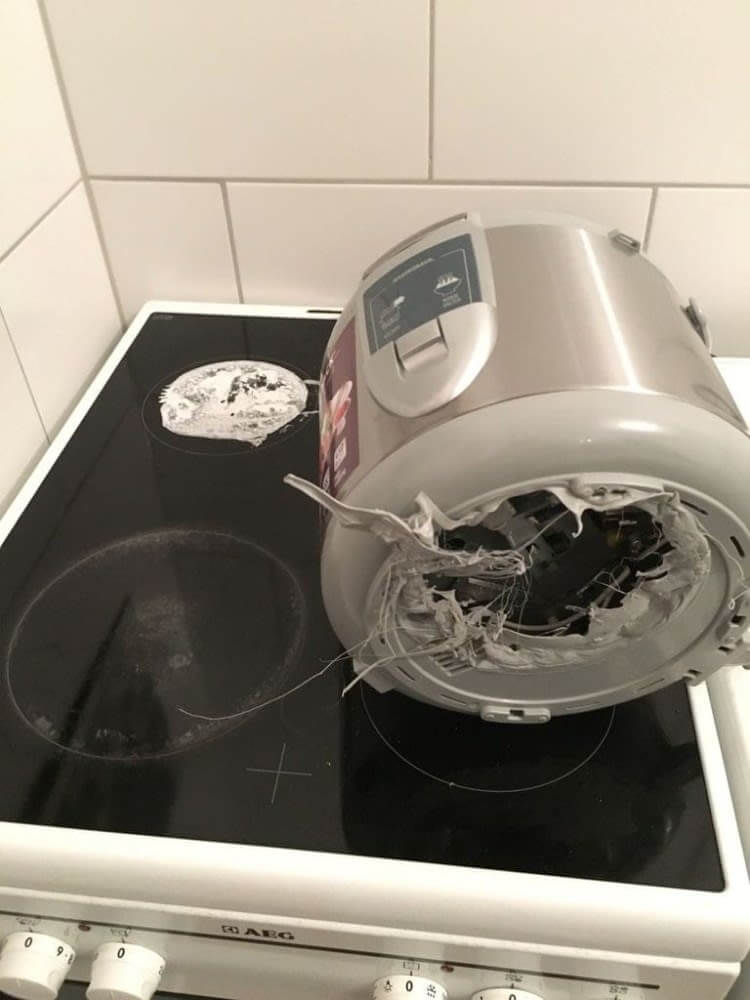 Putting a rice cooker on the stovetop totally defeats the purpose. Let's hope they didn't order another rice cooker and just repeat the process all over again.
35. And Then They Say "Open Yourself"
It is totally understandable that this person didn't want to lose the keys to the lock, but it doesn't mean that they had to lock the keys around the lock.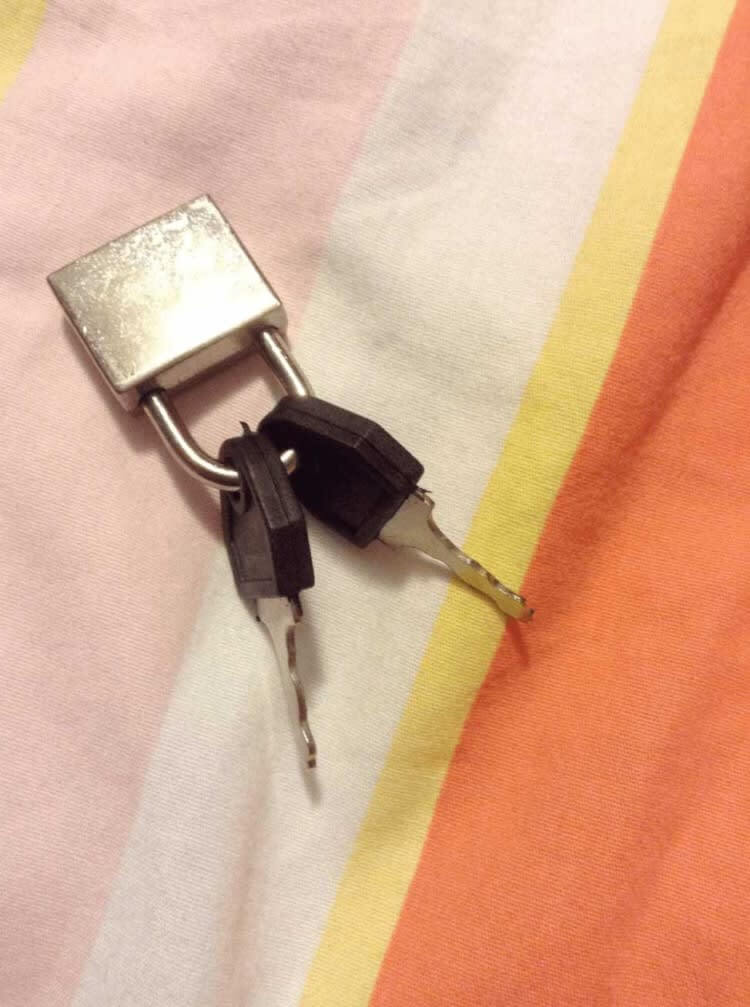 And now they can't unlock it because the keys that were supposed to unlock it are locked. If we keep on going like this, we'll get crazy. Isn't 2020 already crazy enough?
36. DIY Fail
There's no denying that DIY projects are fun and you get to learn a lot and save some money as well. But sometimes, it is best to call in a professional.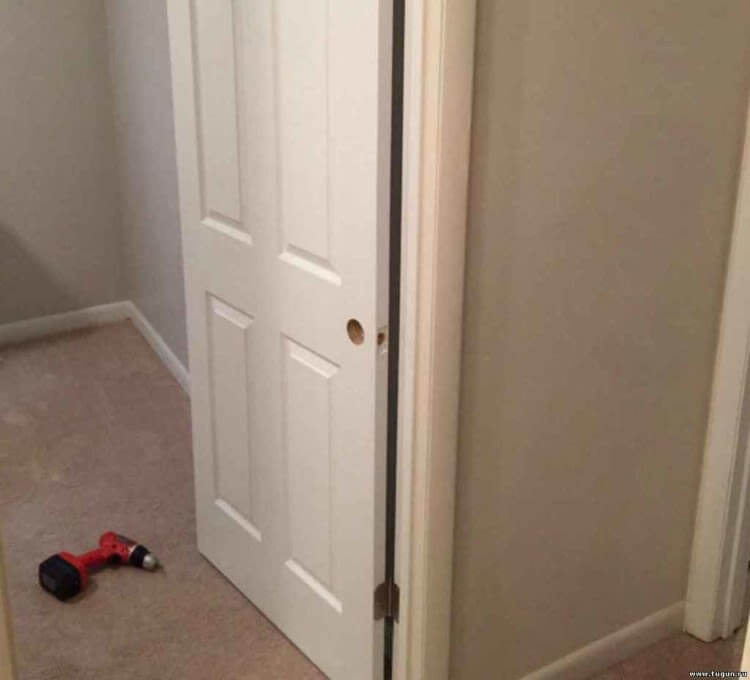 This person screwed the door on the backward and it looks ugly. But hey, you learn from your mistakes and this person will eventually learn a lot. We just hope it doesn't take a lot of errors like this to learn.
37. Ah, Who Knew This Would Happen
This person worked with full dedication to painting the rooftop only to realize that he is standing on the last area that needs to be painted. This is life.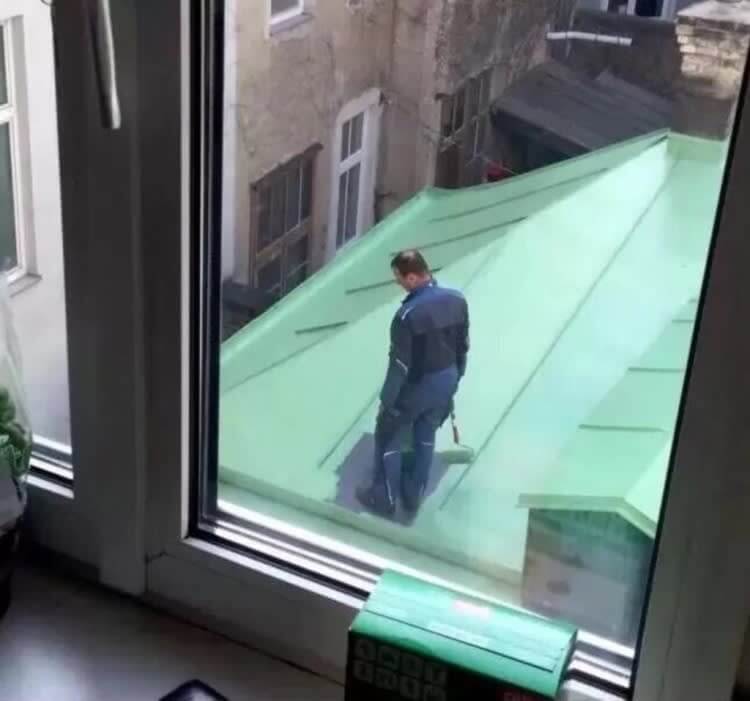 What should he do now? To paint the only spot left, he needs to stand on the other painted area that is wet. Or he can just wait for a few hours for the other sides to dry.
38. Leave It To The Professionals
This girl may not know it by now but she will soon enough. She needs to understand that extensions are supposed to go under the hair in order to look natural.
But it seems like she decided to do the extensions work all by herself to save some money. We won't discourage her because she will learn from her mistakes. Hopefully no one makes fun of her style in the meantime.
39. It Happens All The Time
Before you start thinking about how someone can make a mistake like this, you need to know that it happens all the time to some people. It looks silly that you think you're boiling water when you're actually using the wrong burner.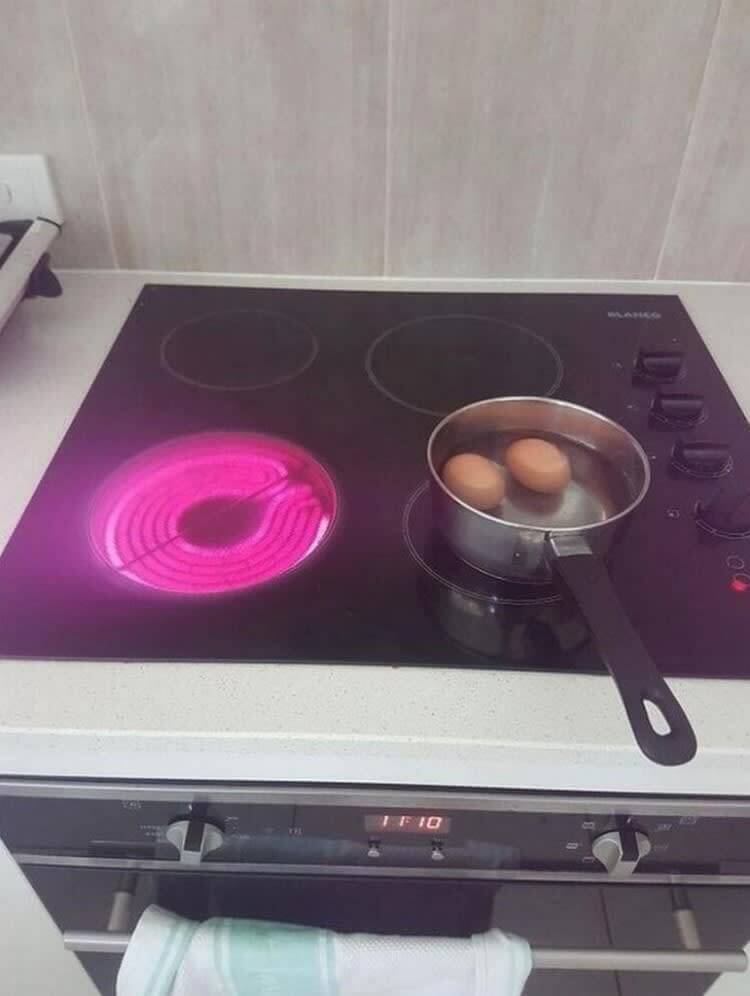 We feel sad for the eggs that really want to be hardboiled and yet they are just waiting for the person to realize their mistake.
40. And That's a Final Cut
Imagine how you would react when you buy a new charger and go back home only to let out a huge scream as you cut open the package like this. We can totally understand that cutting these plastic packages is a pain in the (you know what we mean).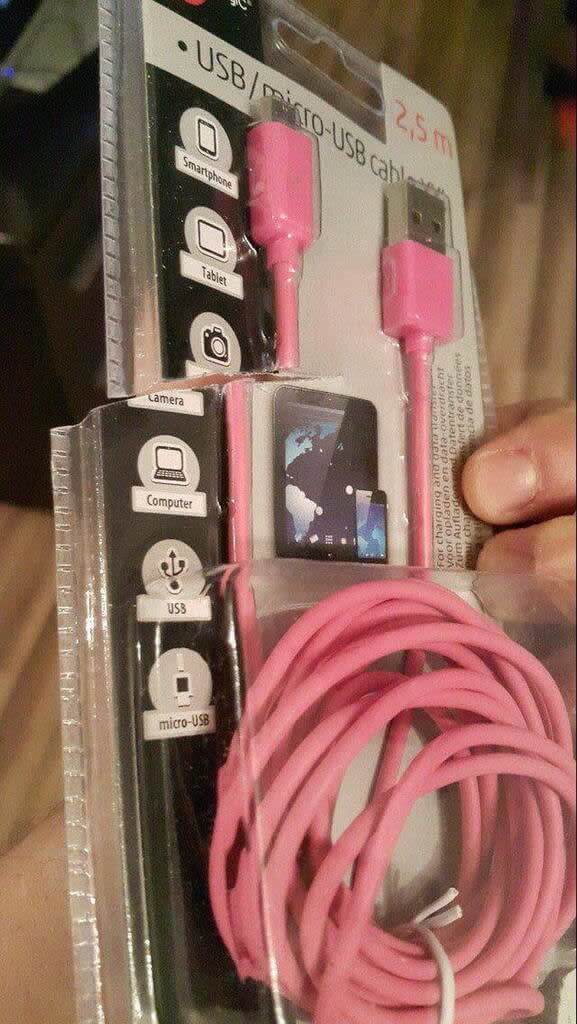 But this guy rushed into cutting the package too fast and cut right through the charger. Now he has to go back and buy a new one. Let's see if he can get a refund on this one.
Hilarious Prom Photos That Nobody Will Ever Forget
Brenda Miller
This article was originally published on 24/7Mirror
Prom night: the excitement is palpable, the music is loud, the hormones are… definitely making everyone awkward. As much as we love to imagine that prom night is some magical and romantic night that you'll never forget, the reality often clashes with the dream. After putting out a request for the most embarrassing and hilarious prom photos out there we were rewarded with prom photos that will make you switch between hysterical laughter and a pound of cringe. We know that these photos will transport you back to your high school "golden days," all while giving you the biggest laugh of your day.
A Little Too Much 'Young Love'
Isn't it just wonderful to be young and in love? Quite nothing in this world compares to it, so it's always important to remember and enjoy every single second of it. Even if that means taking an awkward photo or two, who cares? Clearly, this young couple doesn't, since they can't keep their hands off each other.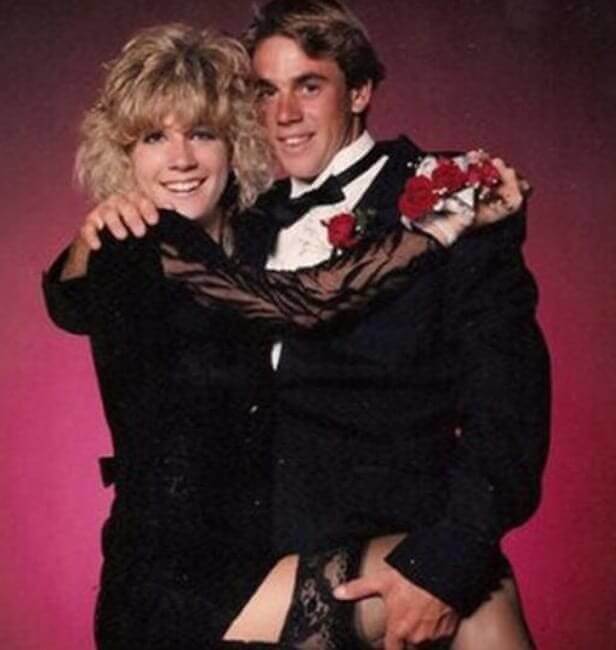 And though we'd like to say that there is a time and a place for things to get a bit steamy, they seem to be up for showing their love for each other the same second their profile picture was taken. As awkward as they are, they look kind of cute though.
Try Explaining This One To Your Parents
This funny couple certainly took their originality to a whole other level. Instead of choosing to take just another regular prom photo, you know, the typical side-by-side picture, they chose something else.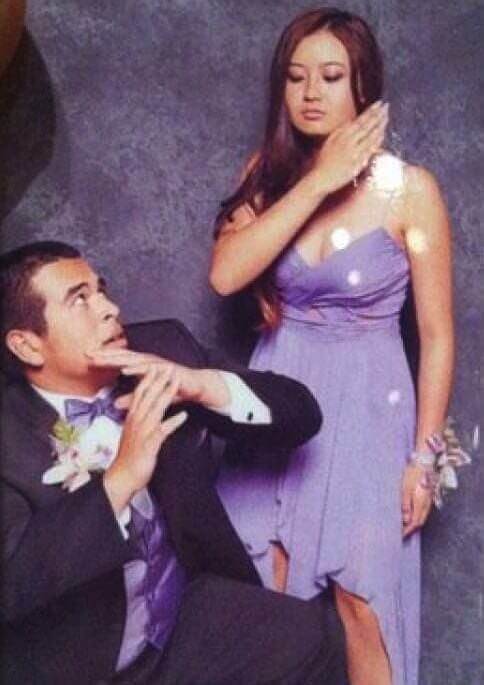 Either that, or she is actually trying to send out a message with the pose she chose, as it seems like she is pretending to be about to slap the guy, and he is seriously scared. In any case, they both look stunning and will forever have an original prom photo to reminisce about.
​He Cannot Keep His Eyes Away
Sometimes, we can just not take our eyes off the person we like. And this guy is one of those people. In the hilarious picture, he was caught staring at his date, without being able to hide his awe for the girl sitting next to him.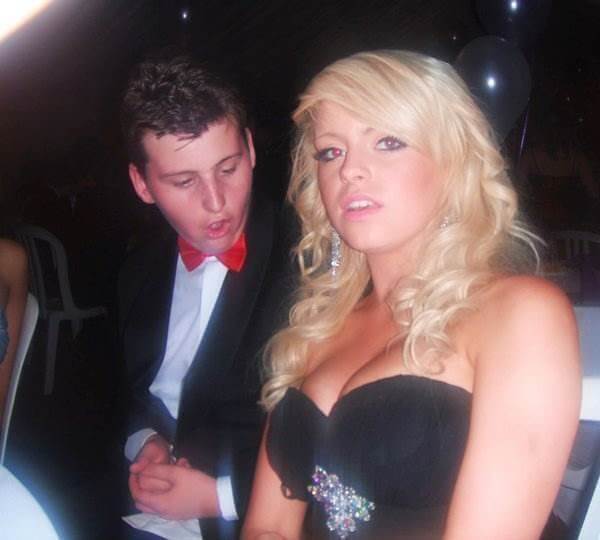 But he did so in a way that became a little bit much, and we're guessing that many people felt uncomfortable about it, including her. Seriously, if you absolutely have to look, then at least try to make it less obvious, you know?
​Photobombed In The Creepiest Way
We can't really point out if one of the girls in the picture was the date of the guy in the back, but there is no doubt that he wishes he was in that photo too. Instead, he is standing behind them while holding a bouquet of flowers and looking real disappointed and even creepy.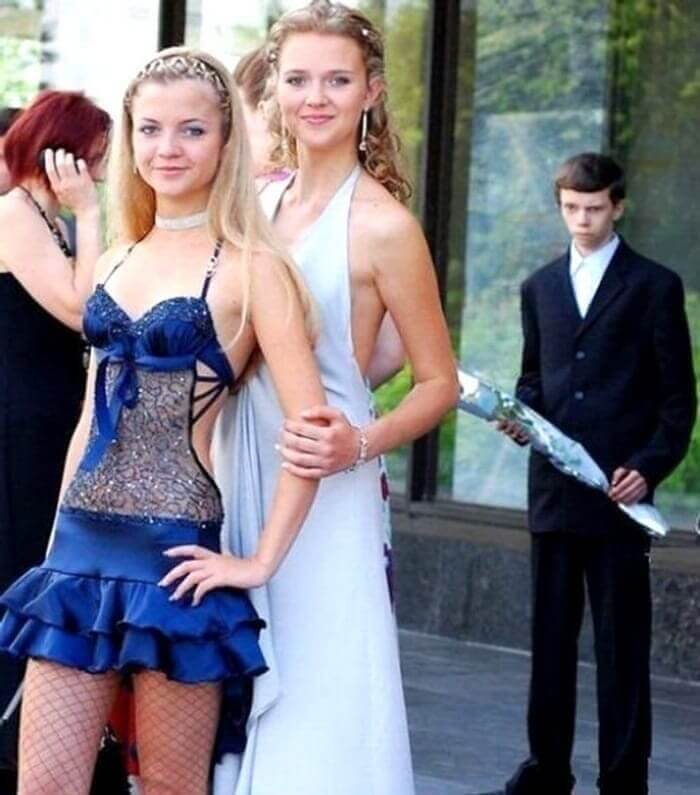 Looking at the bright side though, at least the girls seem to be having a good time.
​ A Strange Carpet Ride
We don't really get what is happening in this picture, but let's just go with the flow for the sake of the awkwardness in it. The two teenagers certainly deserve to get props for how much effort they both put into this photo.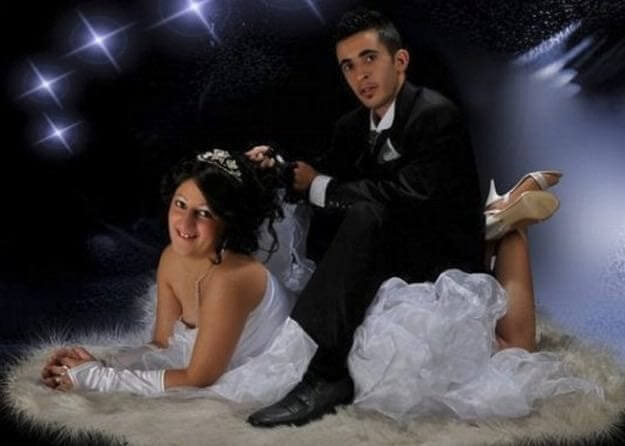 They certainly decided to think outside of the box for this one, and well, they easily succeeded in creating one of the most original prom photos we've ever seen! That's not to say that their pose isn't weird though, because even though we're not there, it kind of makes us a little bit uncomfortable.
Can We Get Some Context Please?
The guy in this picture looks so happy while he poses on his prom day. For some reason, he is also holding a random sewing machine, as if his background didn't look bad enough.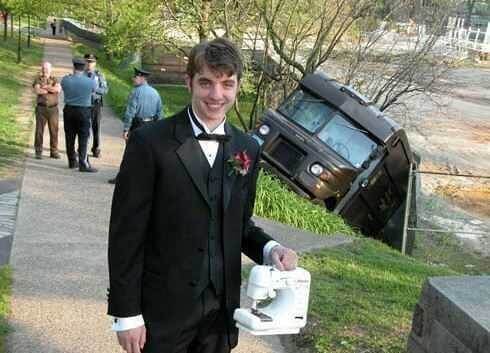 He seems completely oblivious to the fact that someone was just in an accident, only a few moments before he is posed for his photo. One thing's for sure, the entire thing makes for a sadly great photo.
Incoming!
When prom night comes, we get all dressed up and seriously look forward to the wonderful evening ahead of us. In many ways, we can't even believe the moment is there since we have waited in anticipation for so long. But then, when the time comes to take the magical photos that will always remind us of these special moments, just imagine someone ruining it?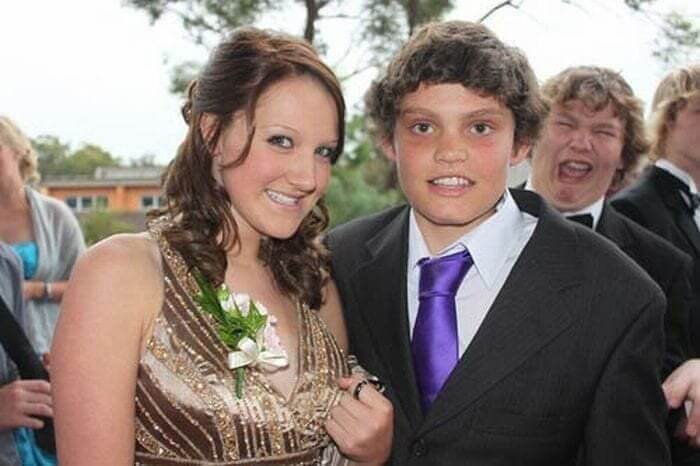 How annoying. And that's exactly what this guy in the back did. He simply decided to photobomb his friends' photo by making an unforgettable face, and that is literally all anyone will remember about this photo.
​The Staring Game Is Strong
Well, that's just not a nice thing to do young man! We understand, his prom date looks absolutely stunning, and is wearing a dress that he can't simply stop looking at. But his staring game is so strong that it might be making others slightly uncomfortable. But we all know how those teenager hormones are killers sometimes, leaving young boys and girls going completely crazy whenever they see a bit of cleavage or some very prominent muscles.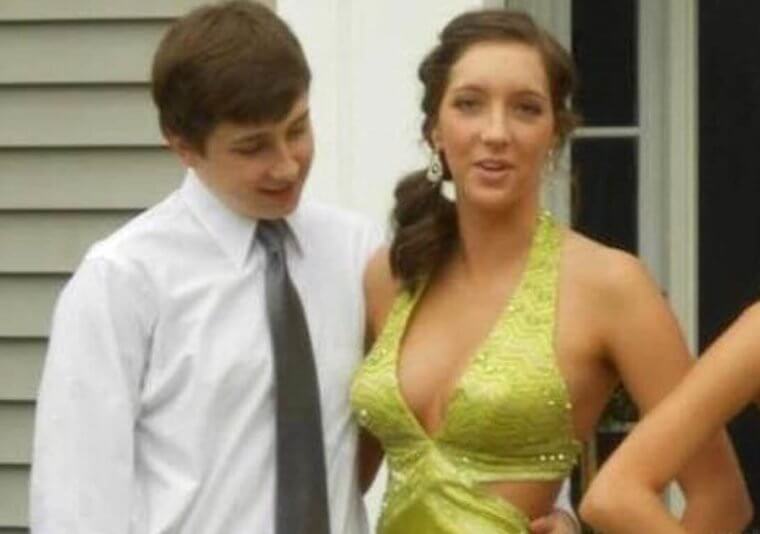 Good thing this cameraperson caught the entire inappropriate moment on camera, and this guy will be forever reminded of the moment he couldn't keep his eyes away from his date's cleavage. But looking at the positive side of things, at least he only had eyes for her!
​Pick-A-Boo Dad
It is always so scary when dads have the quirkiest sense of humor. We never know when they're going to use it, and unfortunately for this girl, her dad was ready to strike as soon as she was ready to go to prom.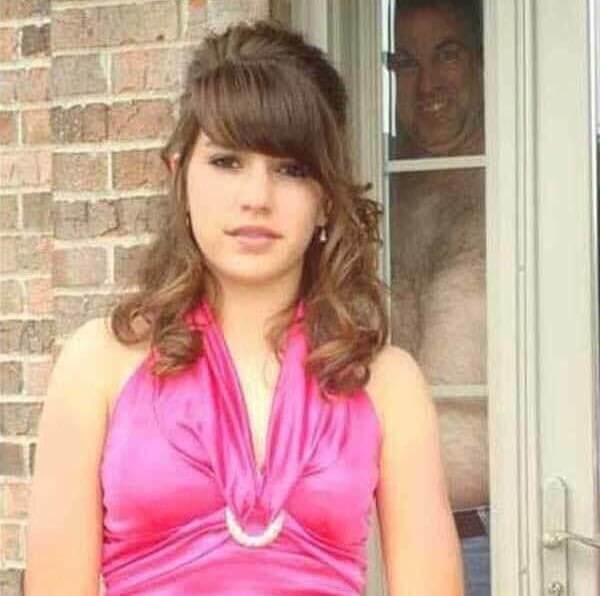 Out of the blue, her dad decided to play pick-a-boo and to create a photo that would become so cringy in the end. We can only imagine what this girl felt when she saw the photo afterward.
Blink And You'll Miss It
Closing your eyes at the exact moment that a shot is taken is the absolute worst! Seriously, it's never fun to take an important photo and to realize too late that your eyes were actually closed. That's what this poor guy experienced on his prom day.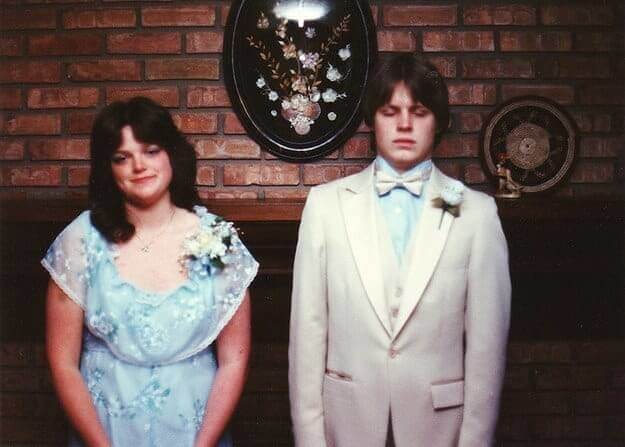 At least these days we get to take several photos as soon as we realize that our eyes were closed. Imagine back in the days when we only had one or two chances, and if we ruined it, our prom photos would be ruined and unchanged forever!
When You're Supposed To Choose Between Two Dates But Find A Third Option
For a love triangle, these three are totally rocking and owning theirs! The guy not only decided to take two stunning girls to prom, but he also wanted to make sure that they both knew he was dedicated to both of them equally.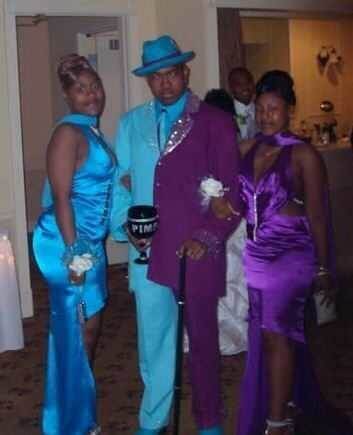 The solution for that? To wear perfectly colored outfits – each of the girls wore a colorful dress to which the guy matched with each half of his outfit.
Equally Awkward Attire
There is nothing any of us can say that will take away the fact that these two couples look incredible in this photo. Their matching outfits really worked out for them. Even though '70s clothes aren't always a favorite by many, these plaid outfits were probably amongst the few things that were awesome back then, and these two teenagers knew exactly how to rock them.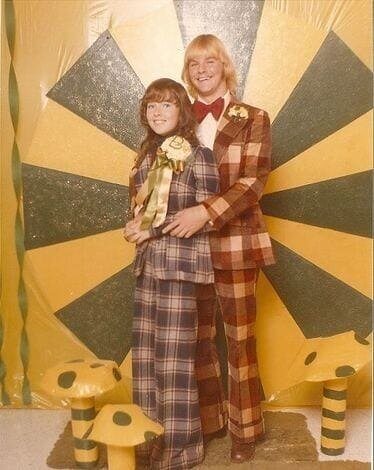 It's also really cool that the girl decided to defy traditional rules and went on with her cool suit instead of a fancy prom dress.
​Riding A Llama In Style
Who on this earth thinks about including a llama in their prom photos? These guys. We have no idea what they had in their minds, what we do know, is that they wanted to make their prom night special and so they went and did it.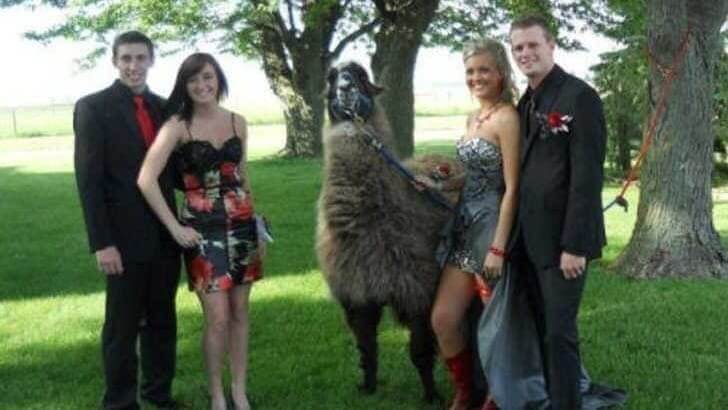 And how did they do it? Well, instead of choosing to make an entrance with a fancy vintage car or a limo, they chose something a little bit more unusual, a llama. Yes, folks, these teenagers literally posed for their prom photo with a llama in the middle, and we're certain that no one will ever forget it.
​An Unfortunate Event
Oh man, if this is not one of the most unfortunate pictures we'll be seeing on this list, then we're not too far from it. Someone had the not-so-brilliant idea to get everyone standing on a bridge for a group photo. Sadly, they didn't consider the fact that the added weight could possibly become a problem, which it did.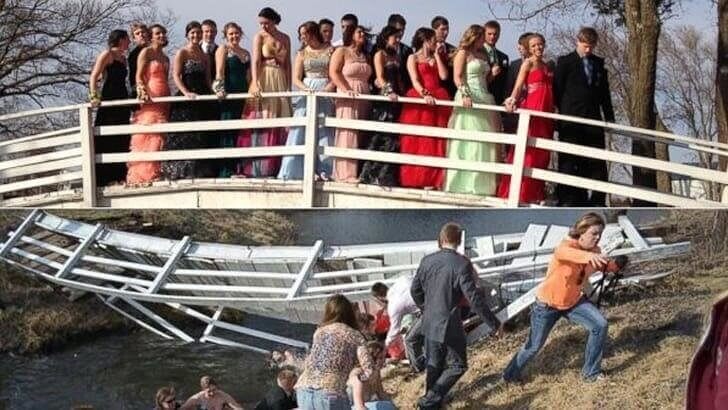 The inevitable happened when the entire thing tipped over, and one by one, the prom kids began falling into the water. Though the moment must have totally sucked, at least they can laugh together about it today.
​Wearing Shorts To Prom
Feeling like wearing a pair of shorts to prom, why not? Clearly, this guy saw no boundaries out there when he decided to wear a pair of wonderful shorts to the prom. We're assuming it was hot or something, or he simply wanted to defy prom culture.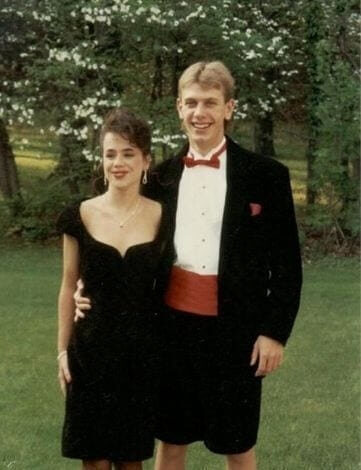 His date looks absolutely stunning next to him, and she doesn't seem too bothered by the guy wearing shorts. While it may be kind of inappropriate to wear them to prom, props to him for doing whatever he felt was right.
​The Superhero Prom Dates
Now here's a pair of very creative guys who were like, "Why don't we wear some superhero costumes to prom?" And though some may say that that was going a little bit overboard, Batman and Spiderman here seemed to be very pleased with their decision.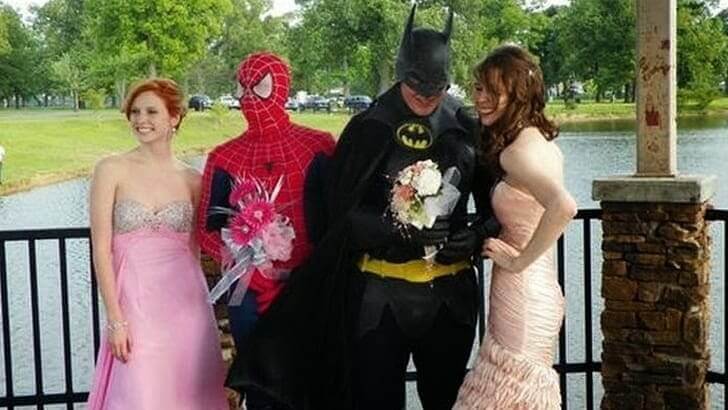 And their dates obviously look stunning and seem to find it cool to go with superheroes as their dates to prom. They for sure had a total blast that evening!
​Every Possible Color
Now, how cool is this? The group of guys thought together about the most creative thing they could do to make their prom day even more fun, and we're guessing that they got to the perfect solution.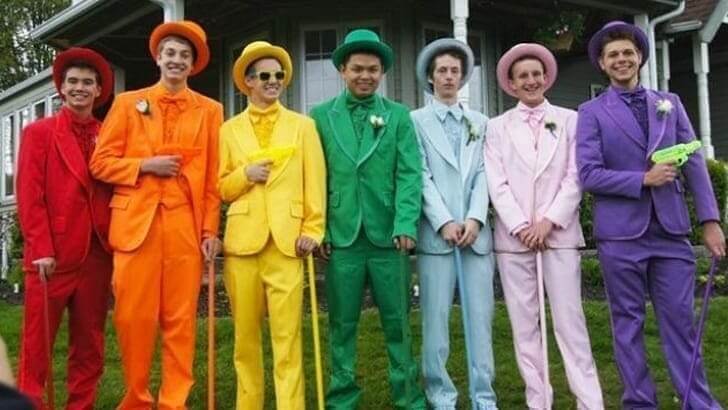 Instead of wearing a suit, they decided to go for some really colorful outfits perfectly contrasting with one another. Their color coordination definitely flies on this one, and they get to have this awesome photo to remember the big day.
​Another Photobomb
It's inevitable that a few prom photos will have a person or two photobombing. But this guy's photobomb skills are so sharp that we are close to believing that they are some of the best we've ever seen!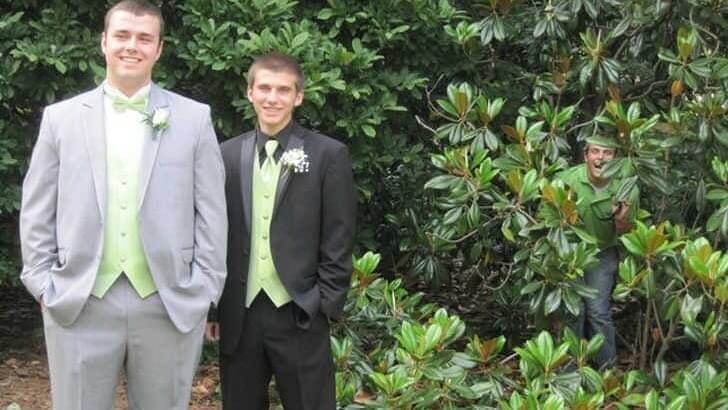 He is literally hiding behind the bushes while the clueless guy is happily smiling at the camera as he poses for his memorable prom photo.
A Fish As A Prom Date
It's impossible not to feel a little bit bad for this guy. We're not sure if this was a joke, but if it wasn't, the poor kid probably didn't deserve to stand there alone with a huge fish as a date.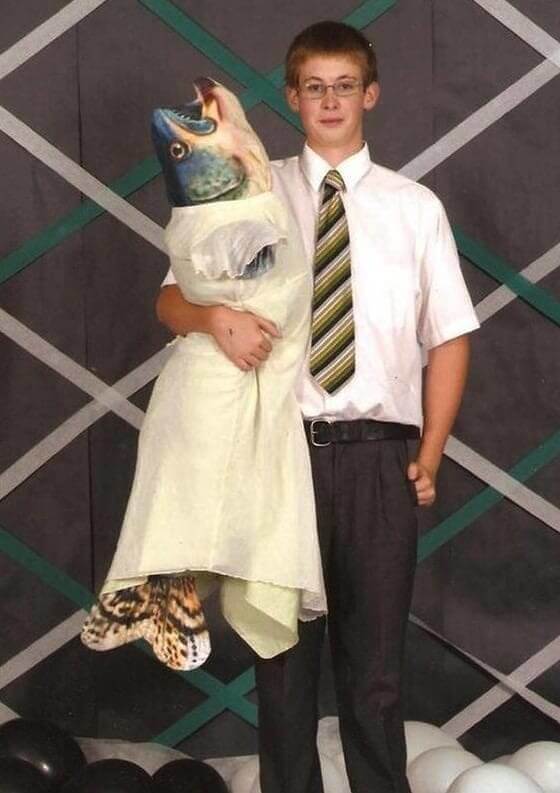 Many of us know how hard it can be to not be the popular kid in school, so it is somewhat painful to see the lonely guy. On the other hand, if this joke was his own doing, then props to him for rising up and not caring about what others think.
​The Devil Goes To Prom
This is pretty creepy, that's for sure. I mean, we've seen people wearing so many different costumes to prom, but nothing was ever like what this guy is wearing.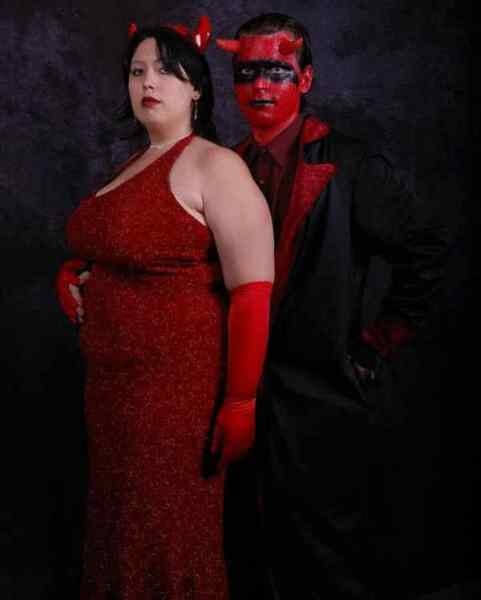 Who on earth would think of going to prom wearing a devil costume? At least the couple was in sync, as they both wore their fair share of devilish stuff, and all that matters is that they're happy, right?
When You Come Wearing The Same Thing As The Room
You know how things go. You just wake up at your regular time in the morning, look for your favorite dress, do everything in your power to look really nice, and then boom!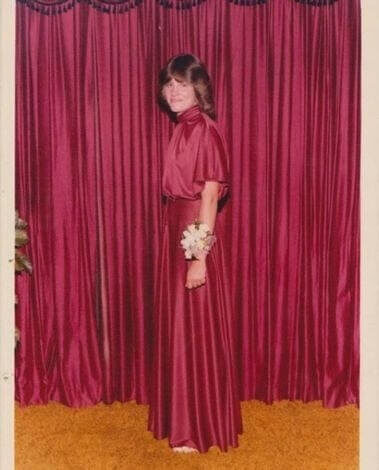 You look at the curtains in your house and realize that what you're wearing is exactly the same color as the curtains and even the same material. So well done to this girl for owning the outfit and taking a photo right in front of the embarrassing curtains.
So Many Prom Dates, How To Choose?
Well, good for you, man! The guy is surely making an impression, or at least he is feeling himself posing next to so many dates! Clearly, he managed to snag not just one date to prom, nor two, he actually convinced three young women that he was the right date for them.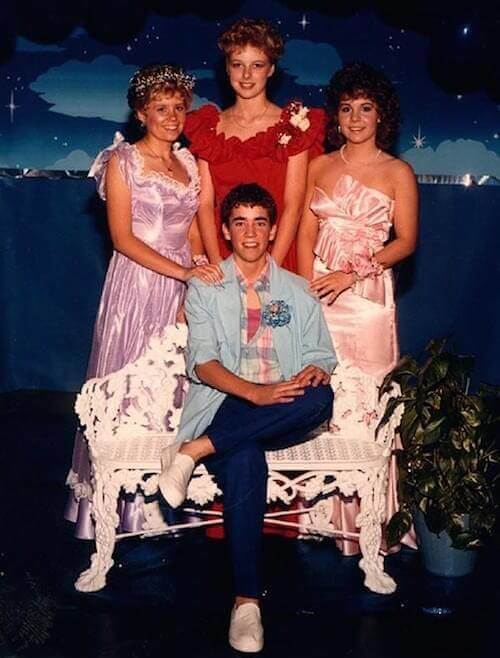 And as cool as it looks, we hope the girls don't let the guy break their hearts with all of his "coolness."
​Taking Mrs. Robinson To Prom
So, something about this picture is a tiny bit weird. Okay, maybe it's more than a tiny bit, the photo just confuses us a little bit. The boy is so adorably dressed in his grey suit, which is not so awkward and tacky like many prom suits out there.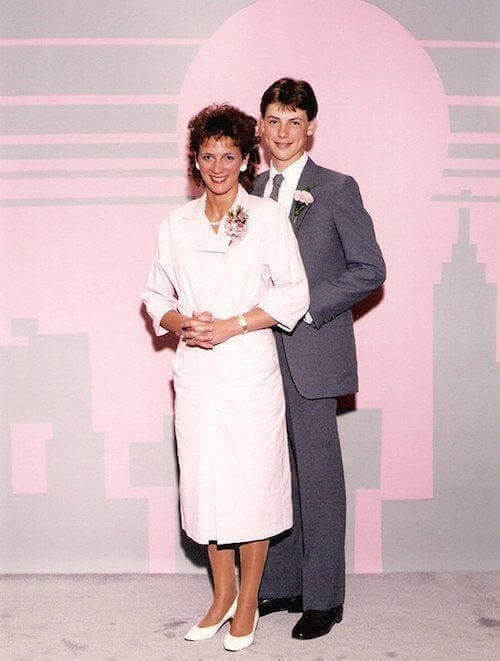 But then it seems like he is either taking one of his teachers to prom, his mom, or a much older date. They do look adorable though.
The Dad Is Not Happy
Many dads love showing just how unhappy they are with the entire prom date situation, and so they do their best to make sure their daughter's date knows where they stand.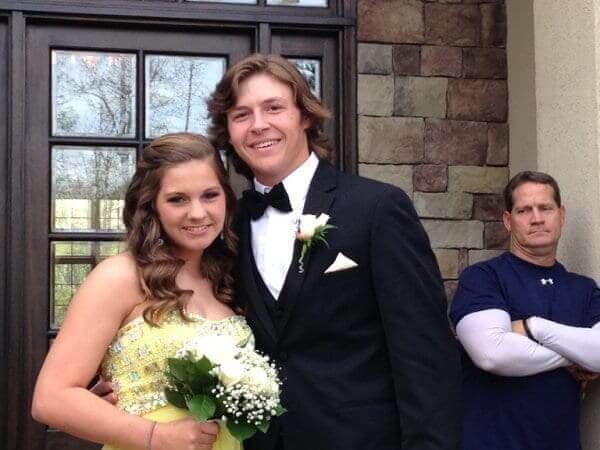 And this dad made sure that the guy knew his little girl was very precious to him. We guess that it can take a little while for dads to realize the fact that their daughters eventually get all grown up.
​A Cardboard Date
Here's another idea for when you realize you don't have a date to prom but you still want to take those cute photos. You can always just create a cardboard person the size of a real one, and do the photoshoot exactly how you want it.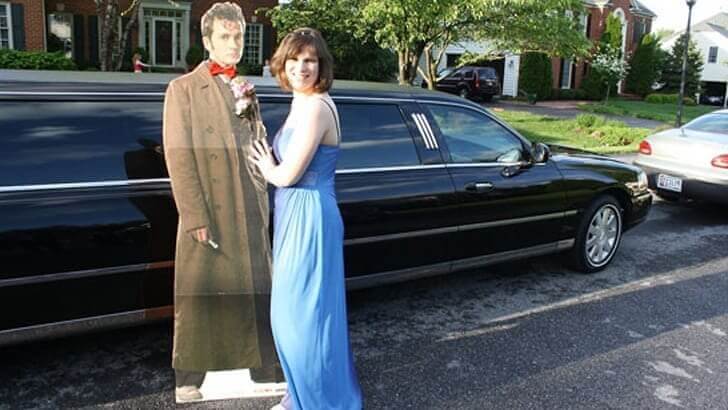 Take this girl for example. She is probably a fan of Doctor Who, so she took matters into her own hands and created her own date made of the series' main actor.
​The Wonderful Stormtrooper
Take a look at this guy who also decided to dress up in a completely different outfit for his prom night. We are even starting to suspect that maybe some girls really do love to have a date as unusual as this one for their prom night.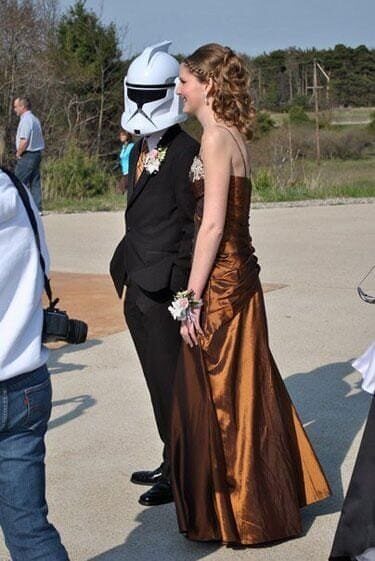 The stunning girl looks so good in her bronze dress and really fancy hairdo, and her date, well… her date is apparently a storm stopper.
​Challenging Gender Norms
Nothing like taking every opportunity to challenge some societal rules, right? They are all just socially constructed anyway. So these teenagers totally rocked their "reversed" outfits when the guy decided to go for that wonderful corsage and dress, and the girl went for the suit.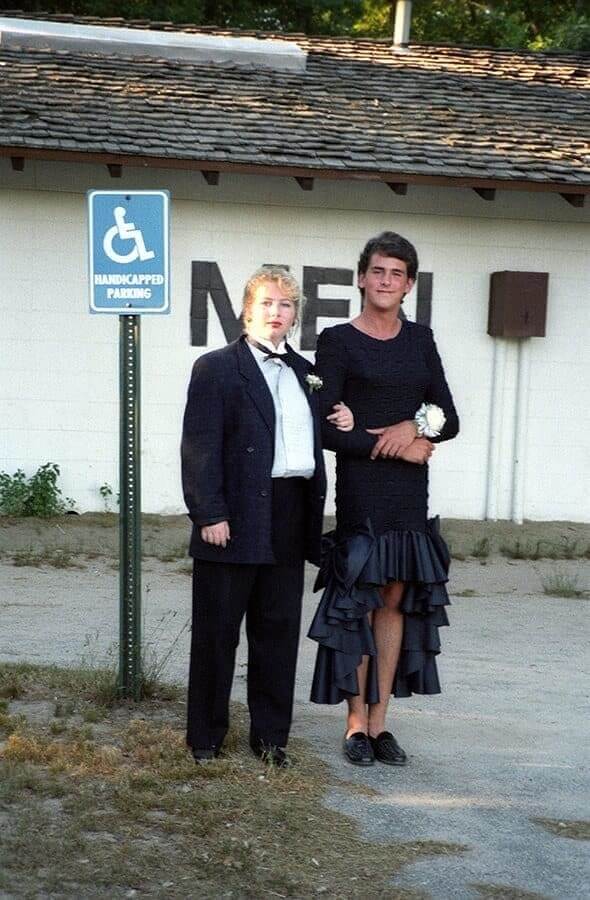 And the best thing of all is that they did it all together, rocking it in the best ways possible.
​Is That Barney?
We always suspected that Barney had a bit of a way with the ladies, and this photo is definitely proof of that. But what motivates someone to dress up as Barney for their prom is really beyond our understanding.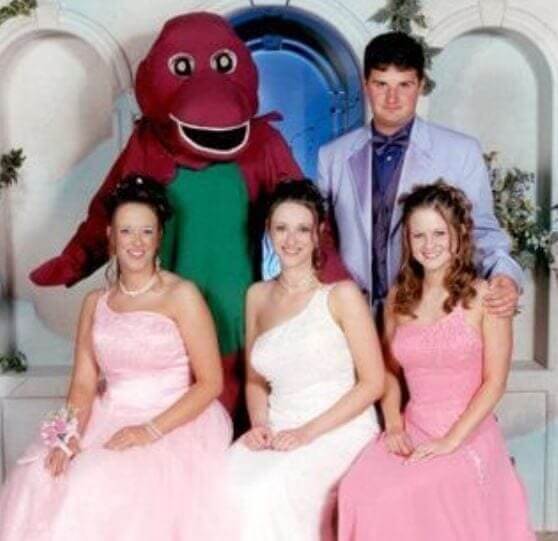 One thing's for sure, everyone will certainly remember the guy/girl who decided to dress up as Barney for their prom, so at least there's that. Whether they want it or not, the attention is all on them.
​Another Angry Dad
Yet another angry dad who can't seem to get over the fact that his daughter is all grown up. Apparently, this one is handling the situation a little bit more dangerously than the previous dad we featured.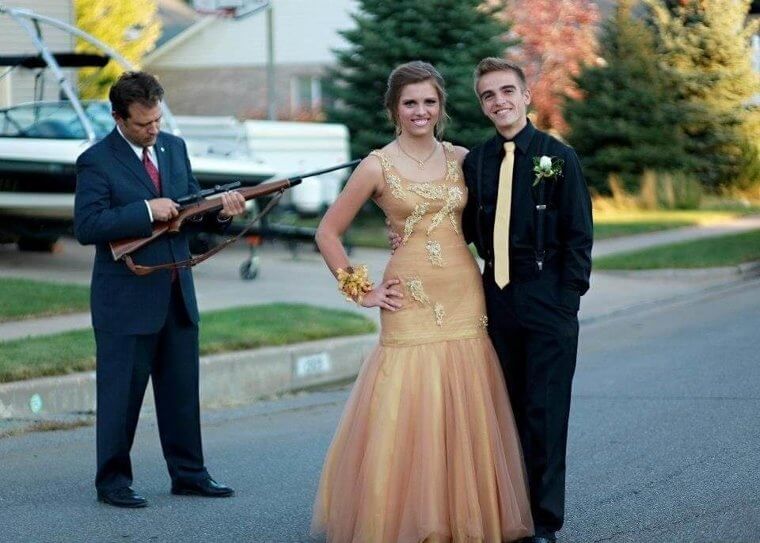 This one actually chose to hold a freaking gun during her daughter's photoshoot with her date, and we're not sure whether we should laugh or cry about it.
​Posing In Front Of Planned Parenthood
We absolutely love how this couple was able to use their sense of humor to create one of the most hilarious photos out there. They got all dressed up for prom and chose the perfect place to take their photos, planned parenthood.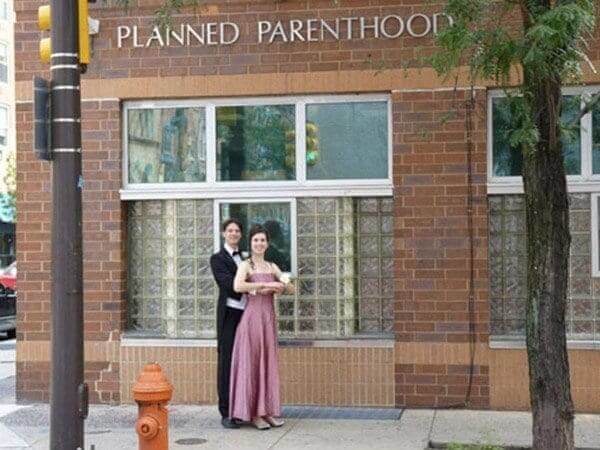 The photoshoot ended up coming out full of irony, because we all know what some people love doing on prom night, wink wink!
​A Really Furry Occasion
There are no words in this world that could accurately describe this situation. Okay, fine, maybe we can think of a few. The couple thought that maybe taking their prom photo next to the poor wall tiger would be a great idea, while holding their cat, of course!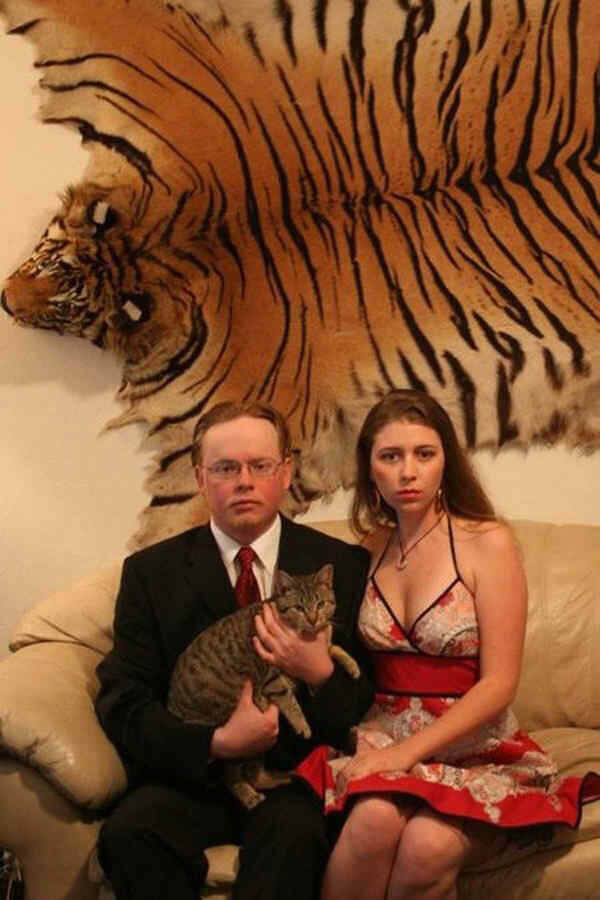 We don't exactly know what the deal is, but we're pretty sure the picture would be much less creepy if they had smiled a bit or something.
​Trying To Break Free
In a group, there is always that one person who doesn't really like to go with the flow, right? Well, this group has one for sure. The group of guys looks so good as they get ready to head out to their prom night, but one of them wasn't really feeling it.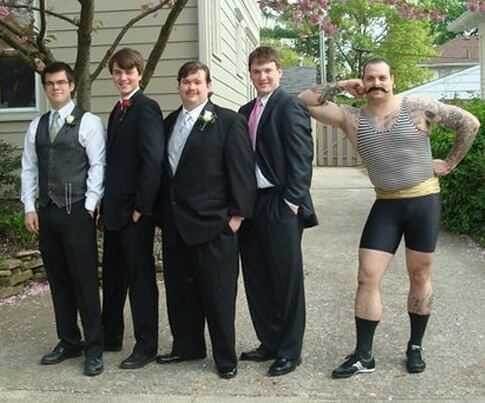 So instead, he rocked up wearing an outfit that reminds us a bit of a '70s rock band or something, or whatever he is trying to refer to.
​Just Him And His Xbox
Yet another guy who didn't have a date, but was happy to make fun of the situation with one of his favorite things in life, his Xbox!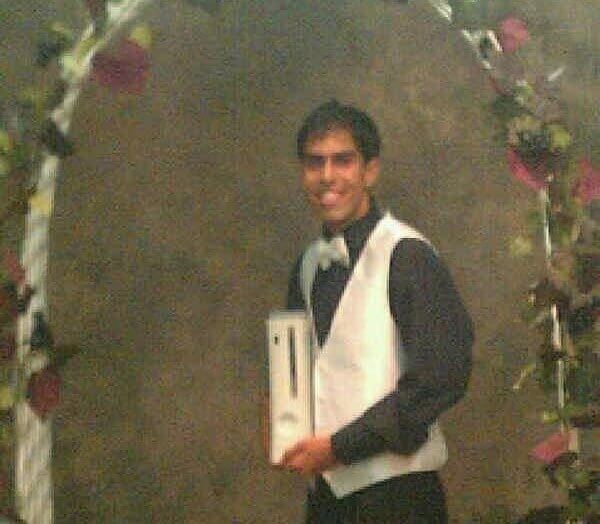 Yep, since he didn't manage to secure a date for the important night, he just went ahead and grabbed his Xbox, and created the funniest pose. He will for sure have a good laugh when he takes another look at this picture one day.
​Why Is He So Mean?
All this wonderful couple wanted to do was to have a beautiful picture of the two of them posing before prom. But they forgot to look behind them, and unfortunately, someone was hiding there super ready to ruin their photoshoot.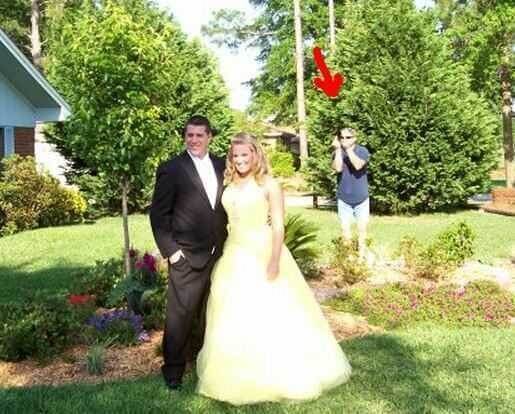 The guy crashed the photo in the funniest way and managed to do it so silently that we're pretty sure the happy couple will only notice it when they go through the photos later on.
Looking At The Other Guy's Date
Now, this is just not cool. We get that the snap was taken at the wrong moment, but could this be worse? The guy is literally staring at his friend's date, instead of his.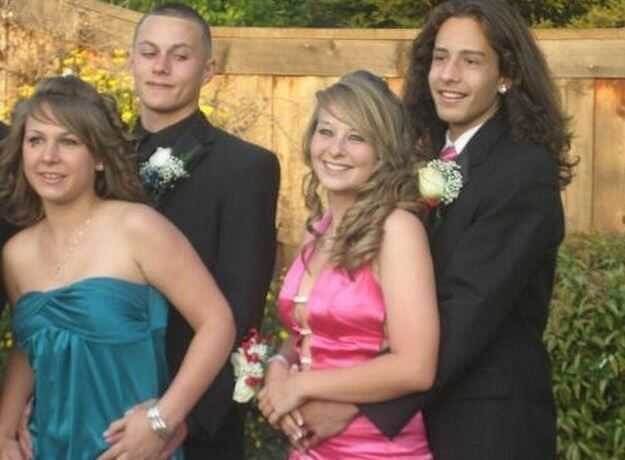 And while the beautiful girl in pink is definitely rocking her looks, all of them look so good though! Maybe that is the date he really wanted to take to prom but then his friend beat him to it, who knows?
An Interesting Haircut
We have no idea when this picture was taken, but it seems like mohawks were definitely in style at the time. The guy decided to go for one of the most original haircuts we've seen in a while, and even managed to overdo it in the most hilarious way.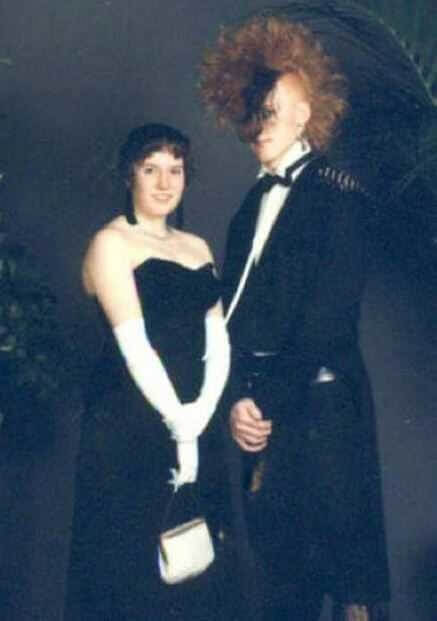 And yet again, his prom date doesn't seem to mind at all, as his eccentric style didn't seem to be embarrassing to her. In fact, we might even say she looks proud.
​Spot The Odd One
Just look at how beautiful everyone in the photo looks. The girls are totally rocking their wonderful outfits, while the guys too, look fairly handsome in their perfectly made prom suits.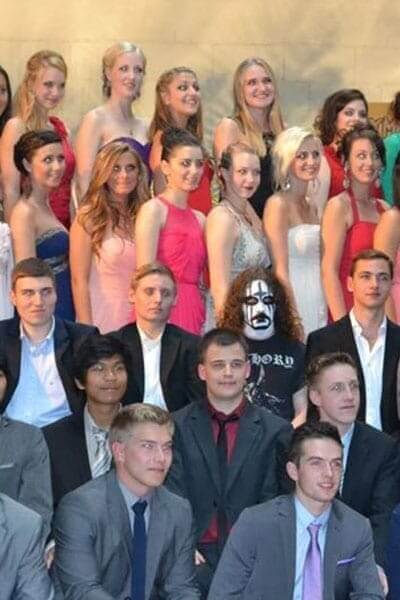 But then… if we look at it for a little longer, we can easily spot the odd one out. He is hiding in the middle of the third row, and instead of going for the conventional outfit, he really went all the way with his heavy metal style.
​Creeping Up On The Background
Another beautiful prom day, and yet another photobomb. We can probably bet that the guy photobombing the picture is the girl's brother, because what else do siblings do, right?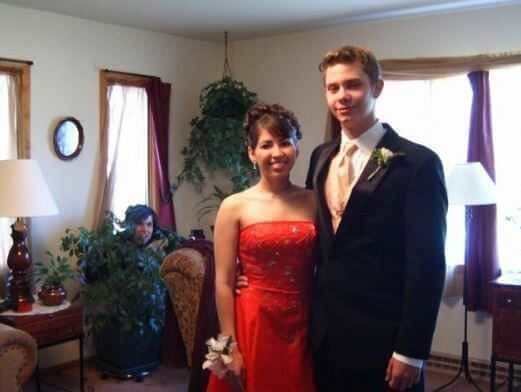 And we have to admit that his hiding skills are on point, and make for a hilarious picture. And well, just imagine if all prom photos were of conventional prom dates smiling at the camera, that wouldn't be so fun anyway.
The Mask Goes To Prom
Who doesn't absolutely love the classic Jim Carrey movie, The Mask? The legendary actor made it really cool to rock a green mask, to which this guy decided to adhere to on his prom day.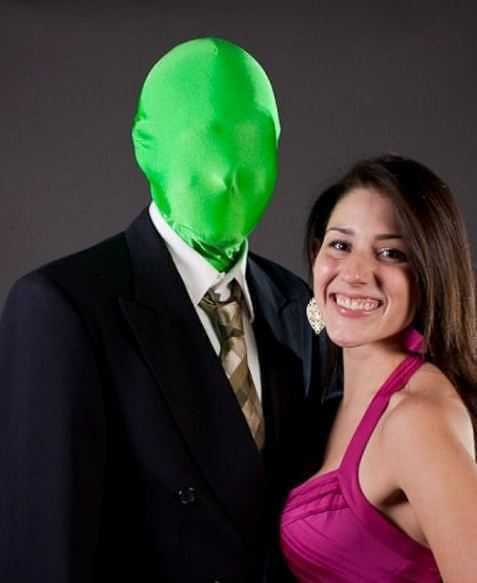 He loved his green mask so much that he decided to surprise his date with his perfectly green outfit, and she seems to be totally up for it. We just hope he can breathe easily in there.
​Feeling Left Out
It's not a surprise that this girl looks really pissed off in this photo. Her two best friends were posing alongside one another for a stunning prom photo, and so she found a way to be a part of it too.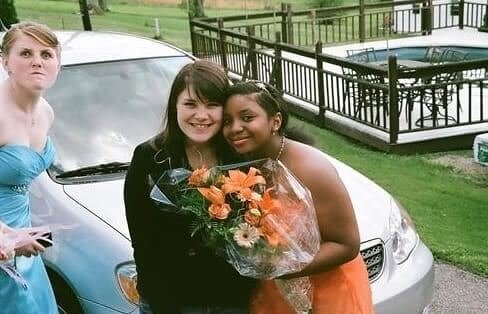 But the moment she made her decision to rock up at the photo, the photographer snapped the shot in the second she made her most determined face.
Rocking Similar Hairstyles
Hmm, the sweet '80s. When color was in fashion and some of the most unpredictable hairstyles were easily accepted, or at least tolerated. And what better time than prom night to wear exactly the same hairstyle as your date?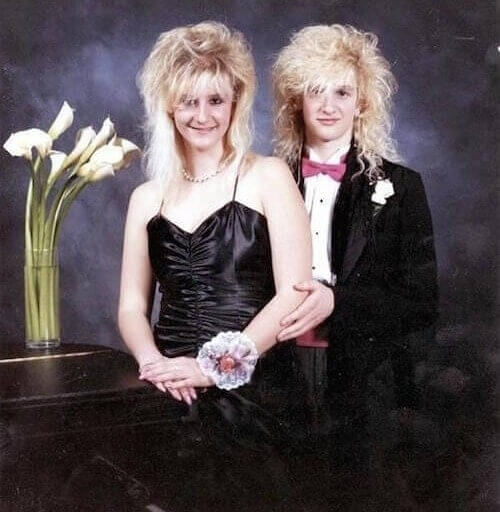 Their matching game is so fly that the two of them almost look like twins as they pose for the big day. We can't help but think that they will have a good laugh when they look at this photo years later.
​Posing With The Little Chicks
Some people really go all the way when it comes to being creative for their prom photo. And sometimes it can get pretty… awkward.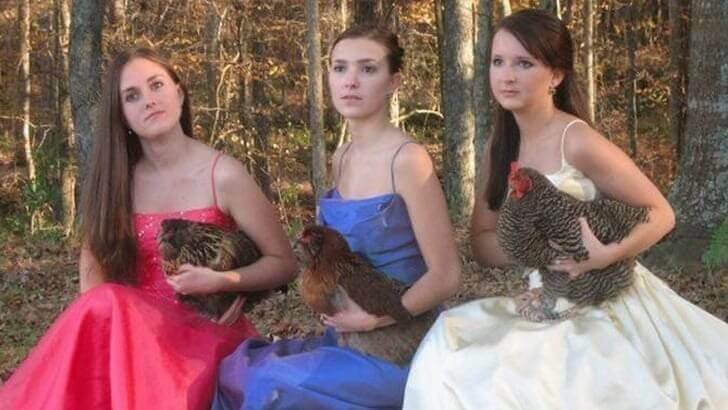 The three girls are looking great in their impeccable dresses, but to spice things up, they decided to grab their little chickens from the yard and happily posed with them. Though it ended up being a hilarious photo, we do hope they meant this as a joke.
​A Good Laugh
What's so funny here, you might wonder? Well, we're wondering too. One of them is either really funny, or they decided in unison to laugh hysterically before their prom photo was taken.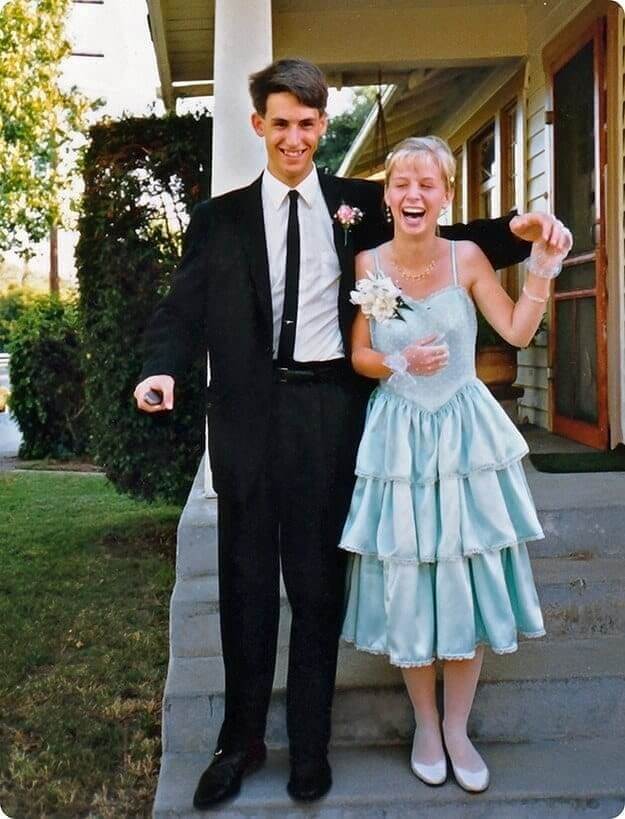 The other option here is that he just smoothly put her hand around her shoulder, and she couldn't help but laugh at the prospect of accepting his invitation to be his date.
​An Unexplained Prom Photo
And once more, an embarrassing dad strikes on his daughter's prom photo. We have no idea what goes through the minds of these hilarious dads, but one thing's for sure, they want their daughters to remember they were definitely there that day.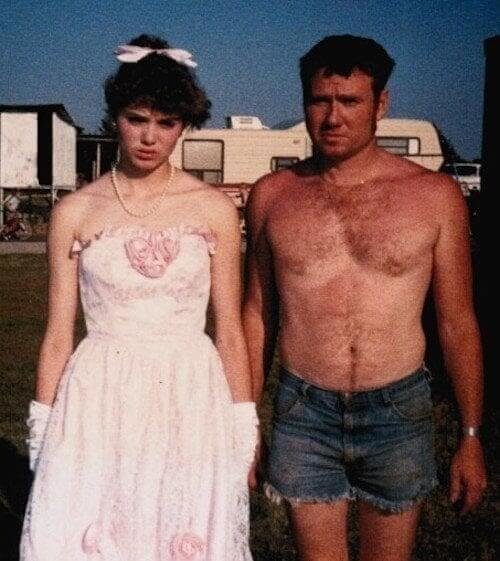 And in this case, the girl for sure doesn't look happy to be standing next to her quirky dad for the photo.
Remember To Look Alive
Man… Who forced this girl to accept this guy as her prom date? We tend to feel bad for both of them, since she is certainly not looking happy at all, and neither does he.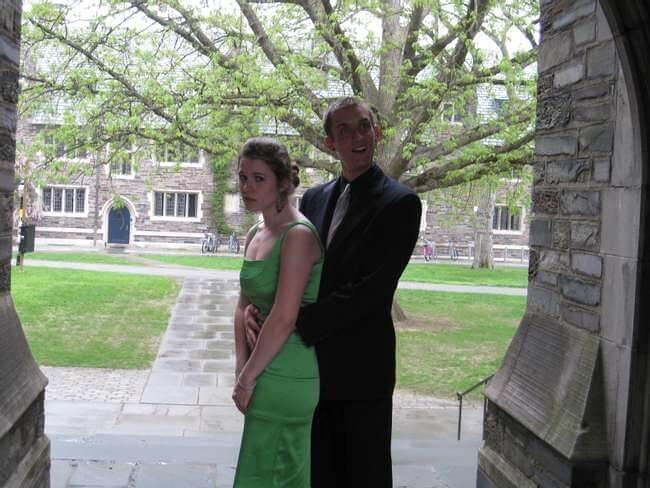 He is either completely oblivious to the situation here, or he realized that the match was not made in heaven and that they had a long night ahead of them.
Adding Some Scottish Pride To Prom
Nothing like the day of prom to show our appreciation for our cultures, isn't it? And this guy knew exactly how. He decided to not pass on the idea of wearing his culture's typical outfits, and by the look on his face, he couldn't be prouder.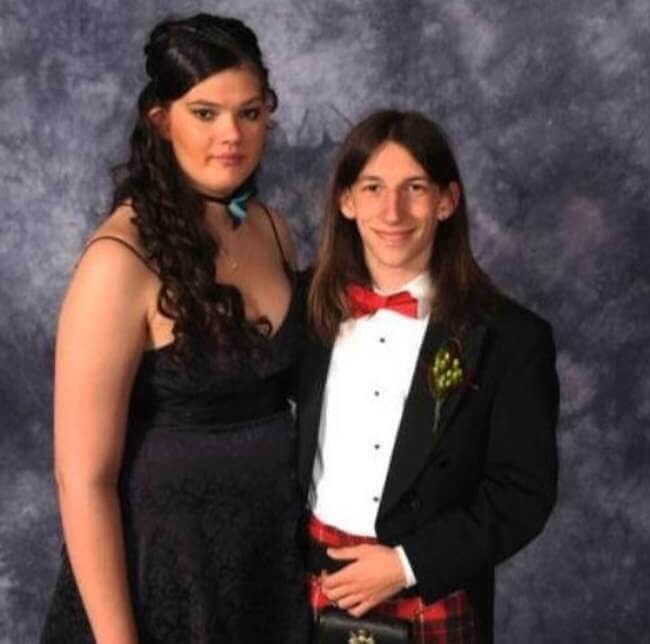 While it may look a little bit much for a prom photo, at least he will be able to look back and feel proud of his wardrobe choice.
The Wind Ruined It
Nothing like a wonderful breeze to completely ruin a family's prom photo. Funny enough, the gust of wind blew exactly at the right time. At least the person who took the photo was able to perfectly time it to snap the moment the wind blew really hard.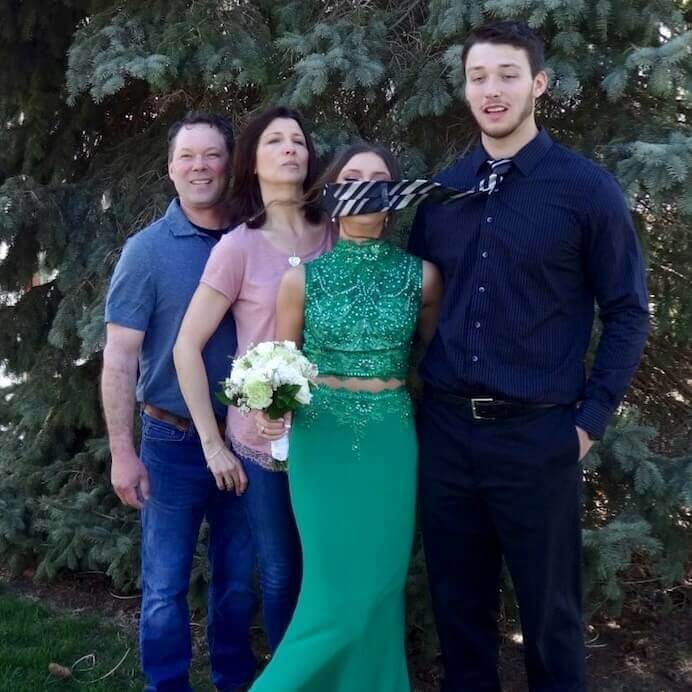 Not to talk about these awkward parents posing proudly next to the kids. What on earth are they doing there?
​Nope, Not Doing It
It's not a secret that the Charlie's Angels pose is one of the most common poses prom goers choose for their prom photo. But these girls convinced themselves to go with something a little bit different.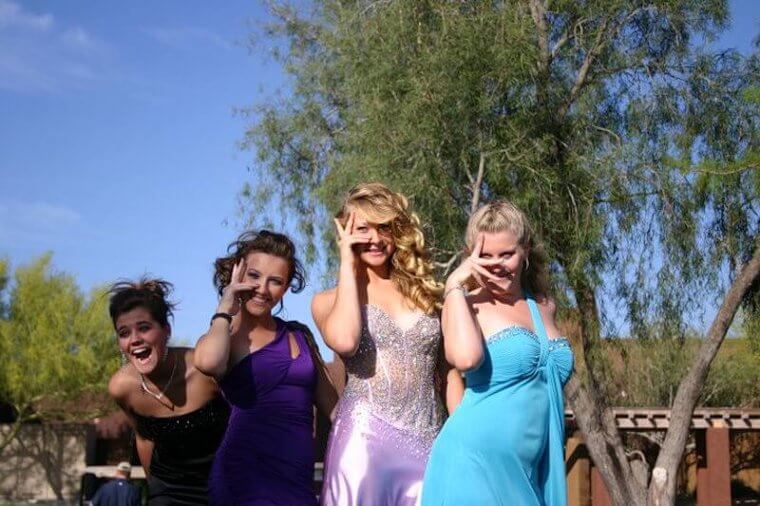 Instead, they chose to do something three of them planned ahead, but the fourth one clearly wasn't on time to get the memo. Oh well, too bad!
The Most Epic And Hilarious Sports Bloopers Of All Time
John Travis
This article was originally published on WackoJaco
We love sports because it helps us get an escape from the world around us and look at something that provides a sense of belonging and a connection to a wider world. Most sports can be super intense, as athletes give it their all to be the best of the best. Even though these men and women might seem like titans among us, they're only human, and they make mistakes. Hilarious mistakes. In fact, for us, these mistakes in sports are often the best part of the game – and after some digging, we found the most hysterically funny sports bloopers in all of sports history. You don't want to miss this!
Is This A New Bird Species?
A team of over a hundred experts sat down to determine whether this woman is a fancy-looking professional bowler or a gymnast. You can give your opinion on this one, but we doubt that it will settle the debate.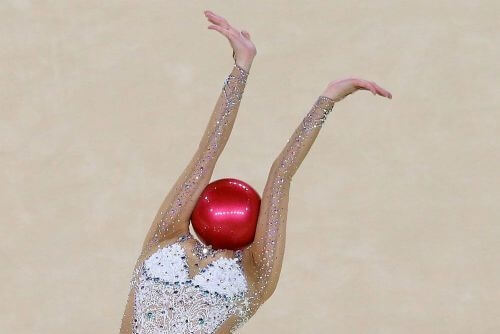 We don't have to put too much pressure on ourselves for this, so let's agree on one thing: that this picture is quite painful to look at. We should only acknowledge that the woman did nail a perfect landing with a ball on her face.
Keep Raising Me Up
If you don't know what is happening here, then let us clear things out for you. This is synchronized swimming and it is truly an art form. But don't make the mistake of thinking that these ladies just swim around in a pool. They do gymnastics and elaborate dances in water under intense pressure.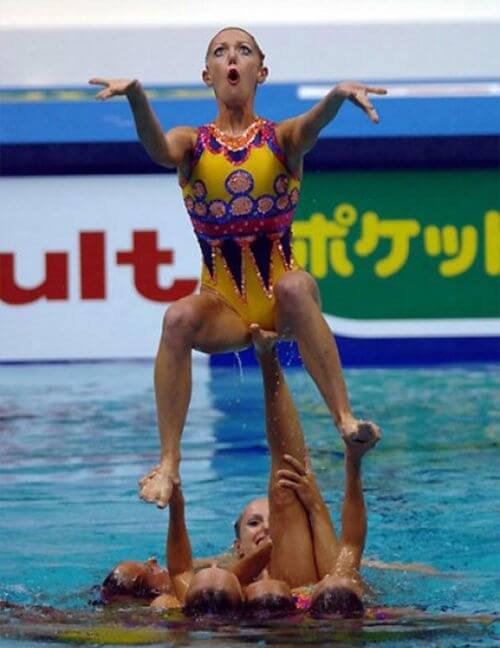 And yes, it is quite hard to do. They do look like cute mermaids, but aren't always as graceful. But we don't really mind it because they are strong women.
That's A Slam – Oh Wait Wrong Sport
First of all, this is not some sort of wrestling form. This is professional ice skating, which is a lot different than what we do when we go ice skating. After all, we do less skating and more of making weird faces as we try to balance ourselves to avoid an inevitable fall.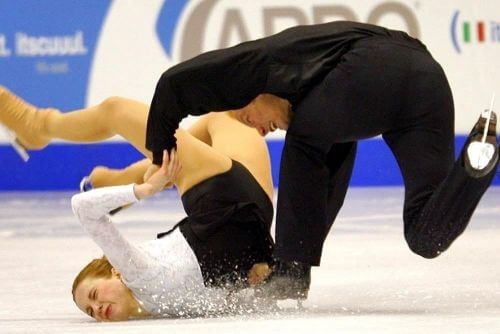 These professional skaters know how to twist and turn effortlessly in front of a large audience and judges. But sometimes they can make mistakes as well. We can hope that it was just a minor injury.
Up In The Air… And Then Down
This is one of those moments when you regret your decision to make a wrong move while diving.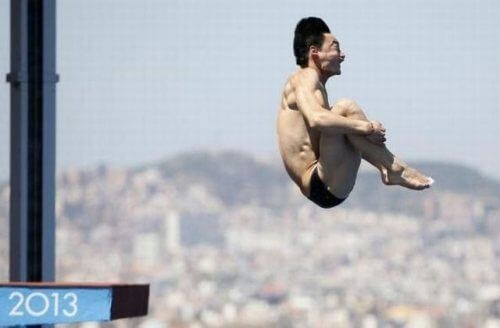 This guy's face looks like he has jumped from a plane without a parachute. We don't know if he was able to dive correctly or not.
Sucking In All The Air
Legend has it that people found it difficult to breathe in the stadium in which this sprinter was running because he had sucked in most of the air.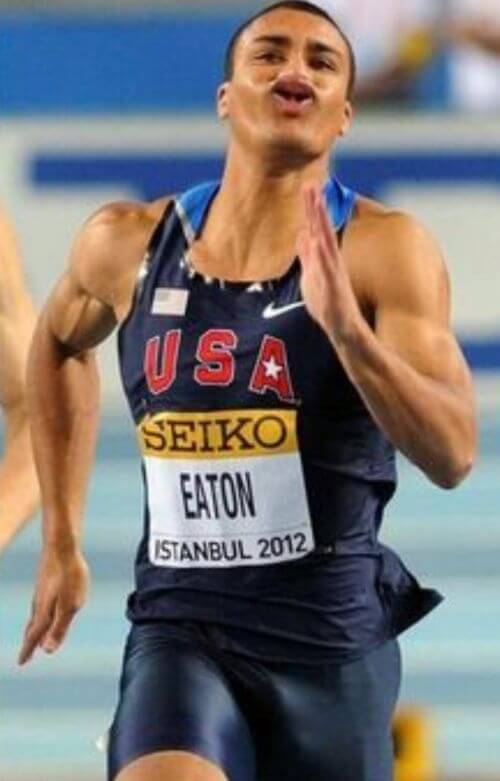 Jokes apart, track runners don't look like humans. It is because they have strong lungs and the capacity to run long distances. It reminds us of Usain Bolt and how effortlessly he used to beat his competitors.
Getting Closer Than Everyone Expected
We have to admit that figure skaters are so graceful and beautiful that they can easily leave viewers speechless with their athleticism.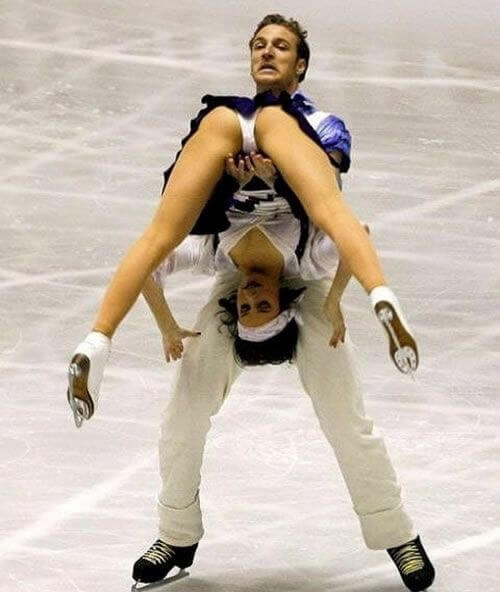 But a time comes when they fail to perform well. It can be really cringe-worthy moment to see one of the pros of the game fall or trip. Here we are looking at a photo where these two skating partners are getting a bit too close.
A Professional Table Tennis Player or A T-Rex?
You can make fun of the facial expressions of professional table tennis players, but one thing you need to keep in mind is that they are extremely competitive.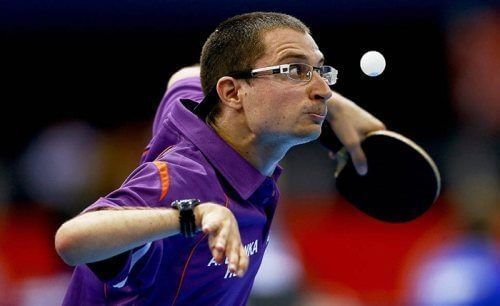 So, they usually make some weird faces – but that should never make anyone judge their capability to play the sport. And just so you know, the sport is called ping pong by recreational players and table tennis by professional players.
Almost Stuck The Landing
This impressive woman is a former Russian pole-vaulter, Yelena Isinbayeva, who also happens to be a three-time World Champion, two-time Olympic gold medalist, and also the current world record holder in the event.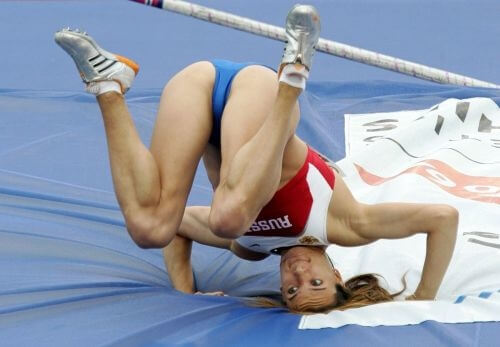 World Athletics (formerly known as International Amateur Athletic Federation and International Association of Athletics Federations) named her Female Athlete of the Year in 2004, 2005, 2008. She is, without any doubt, considered one of the greatest female pole-vaulters of all time. We really love this shot because it perfectly shows that even the greats and mighty fall sometimes.
Taking A Closer Look
There's no denying that wresting is one of those sports in which you really have to get up close to your competitors to take them down. In this picture, the wrestlers are trying their best to win the game, but the referee has something really important to check.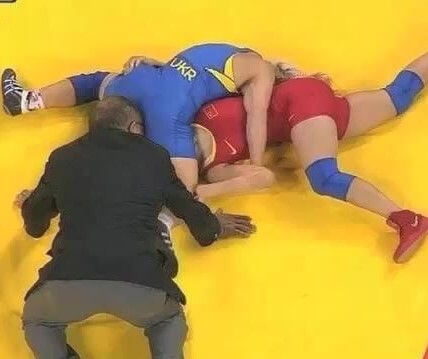 So, it seems, like the referee got super close to the players – maybe a bit too close. Perhaps he wanted to tell them something or who knows, maybe he's checking if the player is still breathing.
Beautiful Fabio
This is not a movie scene. We repeat that this is not a movie scene. After all, you see a scene like this in movies, but normally there is a gorgeous woman doing it. However, this hockey player won the internet with his impromptu hair modeling moment that will surely go down as one of the greatest moments in the history of this sport.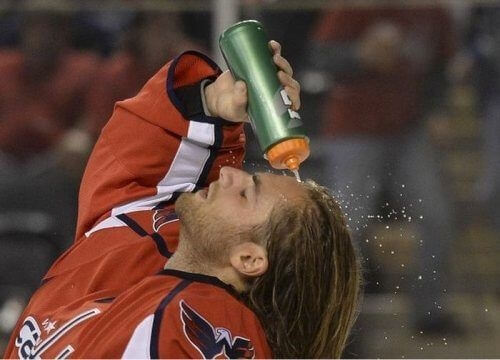 The way he is heating up the ice rink, we are sure that a few people had to take their shirts off because it got too hot in there.
She's Probably Still Trying To Find The Photographer That Took This One
Given that there are a lot of things happening in this photo, it is best that we break it down for you. One person's leg is acting as a chair for this highly professional synchronized swimmer, while the ladies are holding her feet down with smiles on their faces.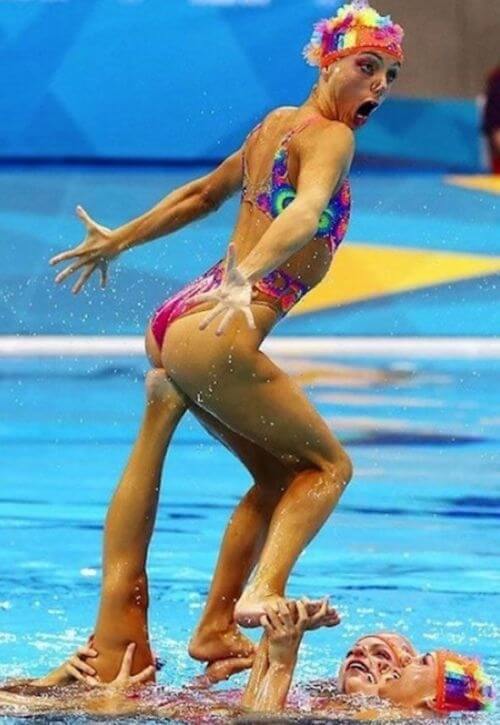 But the best thing in this photo is none other than the woman's face – that is just priceless. We are surprised that the face didn't become a famous meme.
This Is Not Wrestling
We see in WWE how wrestlers make this move to defeat their opponents, but this is not wrestling at all.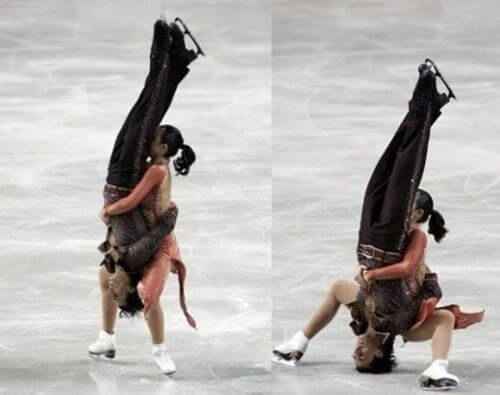 These professional ice skaters often make the sport look easy, but then there are times when one wrong move can cause an injury. After all, no matter how much you practice, there's always a chance for a slip-up.
Playing Volleyball With Legs
This game is Sepak Takraw (Kick Volleyball), a sport native to Southeast Asia. For the game, you have to defy gravity – and that's what makes the sport so interesting. The professional athletes who play this game know very well that strengthening the muscles is important, but so is stretching them.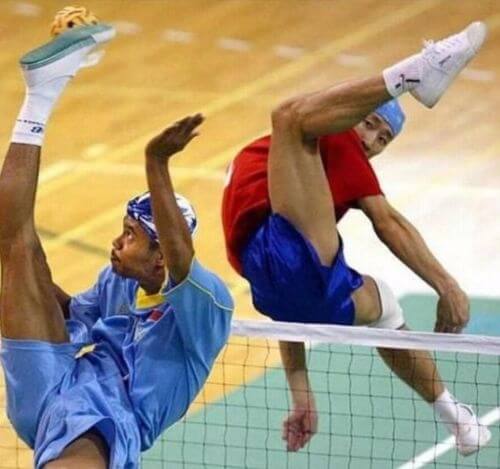 In this photo, we can see the benefits of all that stretching, which has contorted these two men into quite a strange position. Looking at them reminds us of an octopus' tentacles and how freely they're able to move their legs around.
You're Supposed To Swing At It!
This batter is trying his best to avoid hit by pitch (HBP), which happens when a ball thrown from the pitcher hits a batter, his clothing, or equipment (basically anything other than his bat).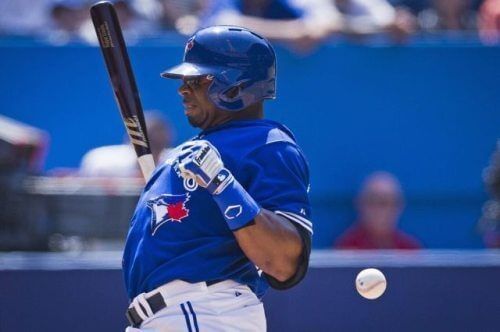 One thing we all know is that baseball is a fun and crazy sport. After all, hitting a ball thrown at you at high speed from a pitcher with a narrow bat is not an easy feat. And there is always a possibility that the ball won't go where the pitcher aimed…just like in this case.
Focus…Focus…Got It!
This is the face you make when you want to eat something so bad and you can't resist the temptation. This guy is a table tennis player who is focusing all his energies on hitting a tiny ball. If you have watched this game, you'll know how players make weird faces and even make loud noises before serving.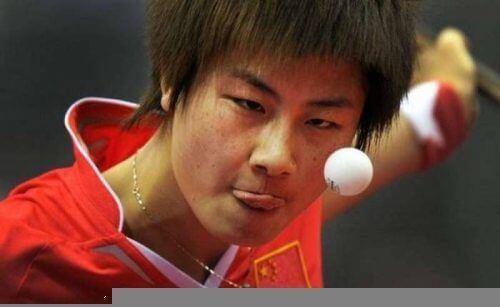 By the way, the game requires a lot of focus, but these professional players are hitting the ball again and again like it's a piece of cake.
"I'm Gonna Eat You"
We got to admit that at first we thought this person was trying to let one rip without a single worry of anyone noticing it, but it seems quite clear that he's a professional powerlifter.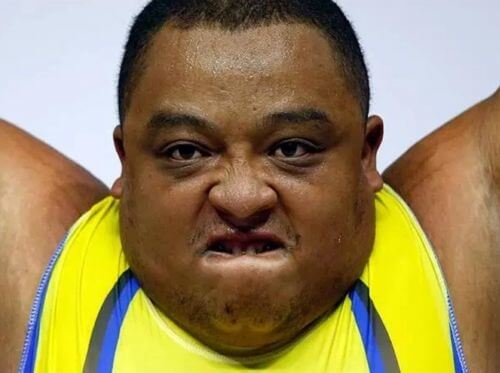 He looks more focused than that one friend who is trying to devour pizza so that they could have the last piece. We can come up with all sorts of explanations as to why he made this face.
"Hey Judge, Can You Do This?"
When it comes to synchronized swimming, athletes have to be super flexible and strong all over.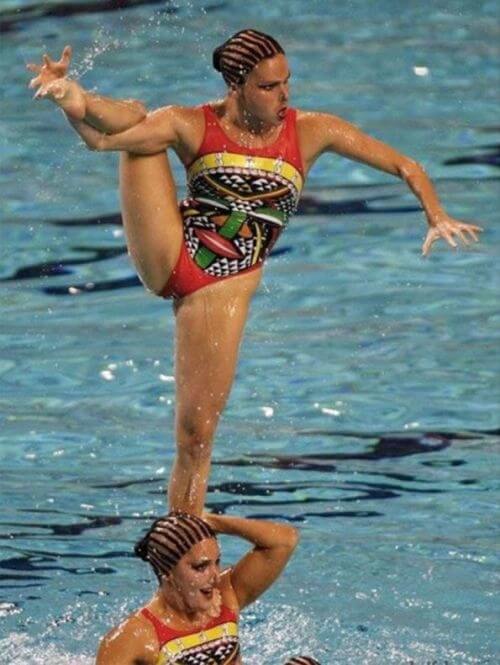 In duet or team competition, the swimmers have to make sure everything is perfect because one wrong move can ruin their practice and their months of hard work. Moreover, they get judged on everything from their smile to their routine.
A Pose You Won't Forget
The athletes in synchronized swimming are quite similar to gymnasts because they also need to keep a smile on their faces at all times. And there is a lot of importance to the pose. That's why they train for months to perfect their routine and everything else.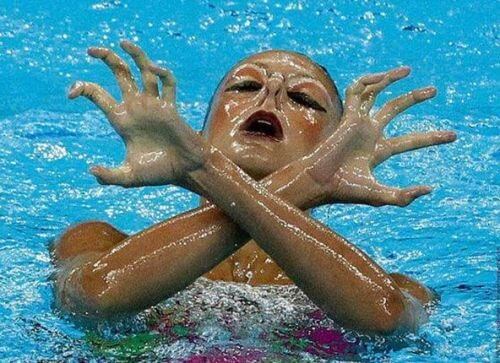 We are not taking away this swimmer's hard work and effort, but it just seems like she was at the depths of the ocean and she crawled her way out of it. It goes without saying that this image can terrorize some people.
A Bad Decision
We are pretty sure that this high diver didn't intend to make this face. It is because no one can intentionally make such a face that doesn't look human at all. Maybe he's regretting his decision or trying his best not to do anything that may embarrass himself in front of so many people.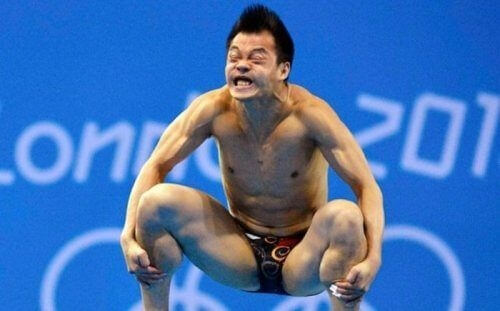 This is certainly a crazy sport because these guys throw themselves off such high places and then walk out of the water with a smile on their faces.
A Throw In Slow Motion
Do you love slo-mo videos? If haven't seen them, then just go to YouTube and watch them. Trust us on this one, you will absolutely fall in love with them.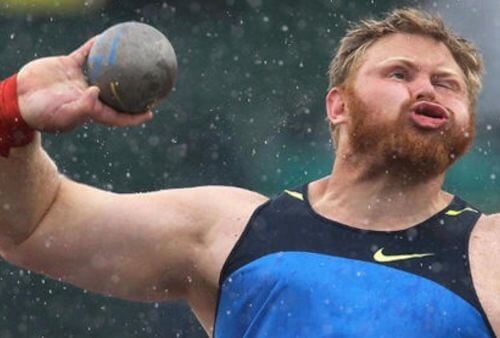 This guy may look a little different while throwing the ball, but slow-motion showed how he is looking not so pretty. Slow-motion can make everything look awesome, but it doesn't guarantee that everything will look pretty.
Just Look At The Weight
As compared to other sports, powerlifting is all about strength and technique. But mostly, it is just power. That's why you see such bulky people lifting heavy weights.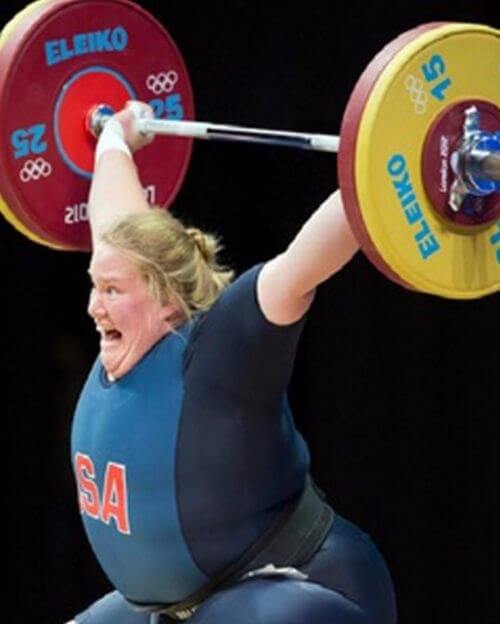 Although people who are not fans of powerlifting laugh at the strange facial expressions of powerlifters, it is best to look at the weight they're lifting rather than their faces. After all, you might find it difficult to lift 100's of pounds of weight without injuring yourself.
Cringe-Worthy Face
We feel that this lady is super beautiful and she's just doesn't know that her face looks so cringy. Before laughing at the face she made, try making a video of your face when sneezing.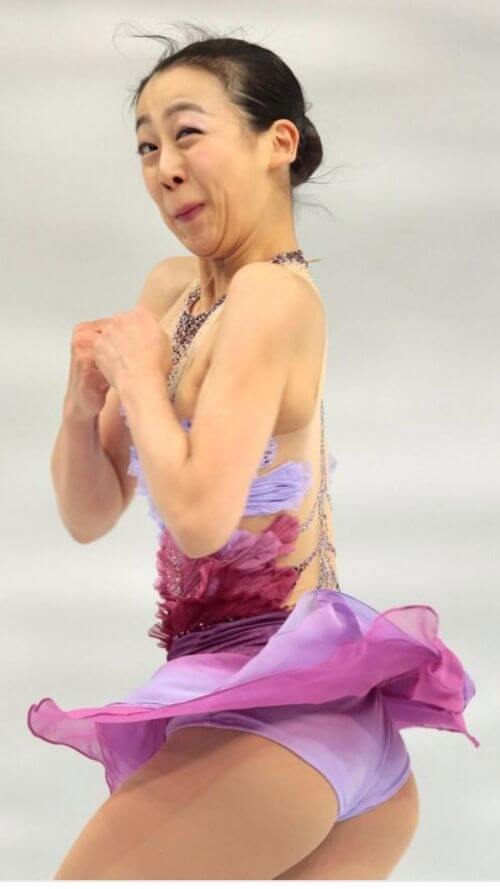 By the way, she's a top athlete who knows how to display her immense talent on the ice.
Hold Up! Don't Move A Muscle
Hey, it looks like we can hear the screams of this high diver from the look on his face. Maybe he's showing you what to do when the police catch you robbing a donut shop.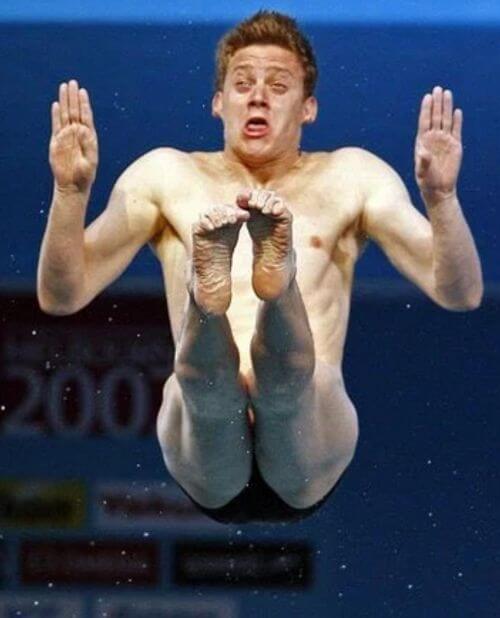 From his face, it looks like he has decided not to high dive again. We are pretty sure that the photographer must be jumping with excitement because they got lucky with this one.
What Do You See Karen?
When it comes to Figure Skating, it takes a lot of practice and a lot of falls to be good at it. Another thing to notice is that figure skating partners have to be close because they have to tangle and get close to each other during practice and performances. But why do we feel that this is a new level of closeness?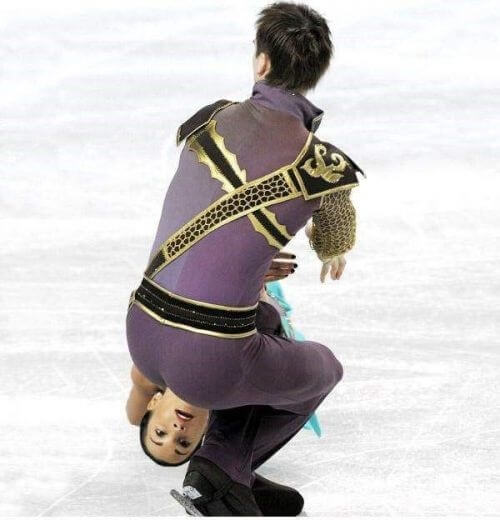 Given how the lady is in such a compromising situation, one wonders she must know her figure skating partner quite well.
Must Be A Winning Shot
People who follow tennis can go as far as calling it the best sport in the world, even better than soccer or cricket (it has over 2.5 billion fans). Those who don't know much about the sport can only see the ball going from one side to the other and hear a lot of grunts made by the players.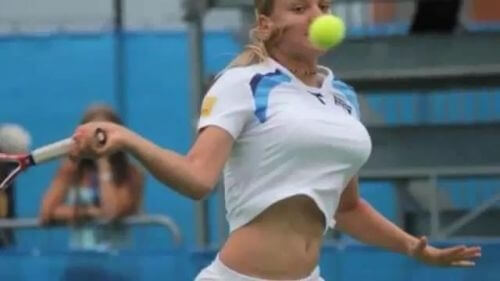 Here, it seems like this player is on the verge of winning the match. From the looks of it, we're sure it must be her power shot.
A Bubbly Swimmer
We don't want to look rude here but it seems like this professional swimmer's real name is not Diana. We have a strong feeling that her spirit animal is the Loch Ness Monster and that's why her real name is Nessie.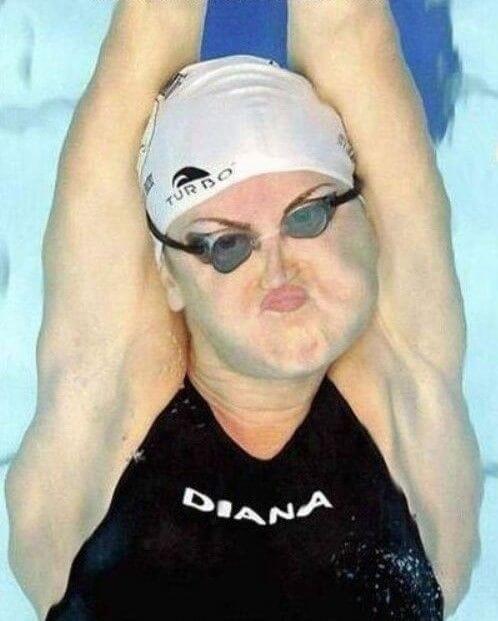 Instead of judging us, be honest and answer: did you think the same? Given how she made such a funny face and the photo seems perfect in every way, we feel that she really deserves a medal. Amazing shot!
Female Crabs?
An athletic event can become memorable due to the high energy in it and that is exactly what happened here. This effort from the team made people stand on their feet and applaud such a remarkable performance.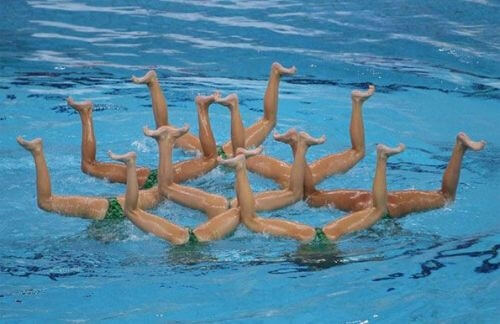 However, we do feel that they look like some crabs trying to defend their home against an enemy.
Oh My God!
Have you ever tried holding your breath underwater? Most people can't hold their breath underwater for more than a minute and it is totally understandable. This is the face you make when you've been underwater for some time because your lungs start to beg for air and you have to burst out of the water.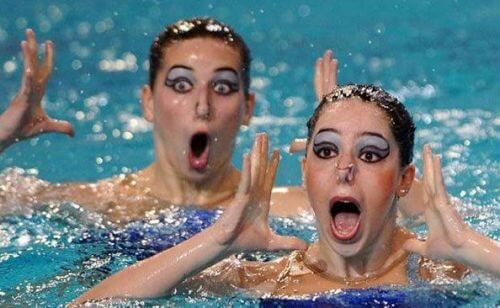 Did you know that German freediver Tom Sietas holds the record for holding his breath underwater for 22 minutes and 22 seconds?
Use Your Head Lady
For an athlete to succeed, it is imperative that they work hard and be totally focused. That's why you can see so many successful athletes always telling others to remain dedicated and stay focused no matter what happens.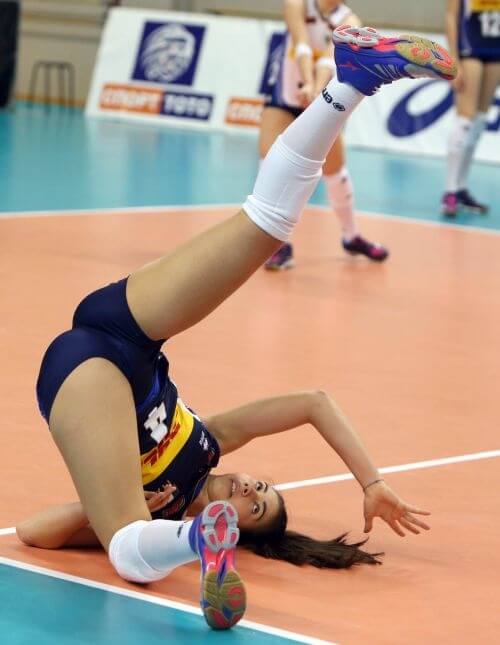 But athletes are human and they can make mistakes as well. This volleyball player got distracted during the game and that single lapse in concentration caused her to fall. Looks like she took the expression "get your head in the game" to the next level.
The Perfect Soccer Face
We saw how professionals made faces during lifting heaving weights and jumping into the water, but we have to admit that this one tops them all for now. Soccer is an intense sport, and it also happens to be the most popular sport in the world as well.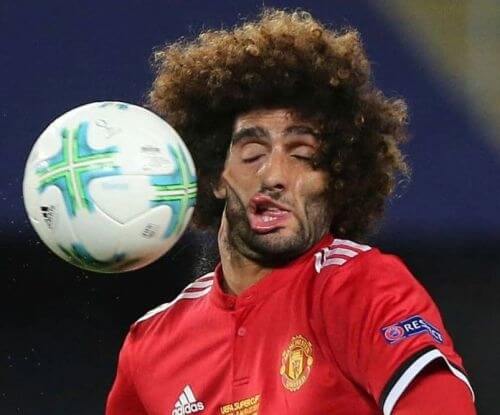 Fans can get super emotional for the soccer team they support and you can imagine how the fans of Manchester United felt when their favorite player got sucker-punched in the face with a football. But it must have been funny for the other team!
Now That's A Grab
This is the face you make when you grab the ball from your brother but your mom quickly steps in by shouting from the sidelines, "Boys, play fair!"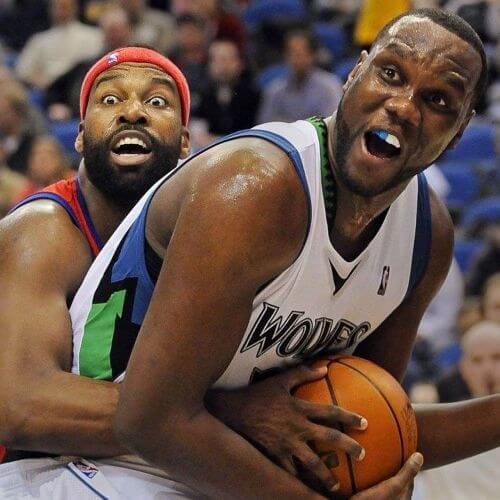 Although this doesn't happen during professional basketball matches, we're quite sure that these players are looking at the referee for validation.
Not A Traditional Dance
At first, we thought it might be some traditional dance or something, but that is not the case. Whatever these beautiful ladies are doing, we absolutely love it.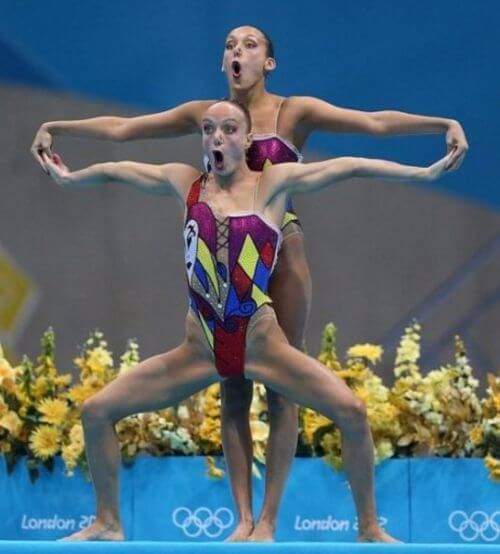 One of the coolest things about professional synchronized swimming is that every teammate must be aware of their moves and their team's moves all while being flawless in executing anything.
"I'm A Butterfly"
One thing that all professional players need to know is that everything they do on the field is being recorded and also shown live on TV.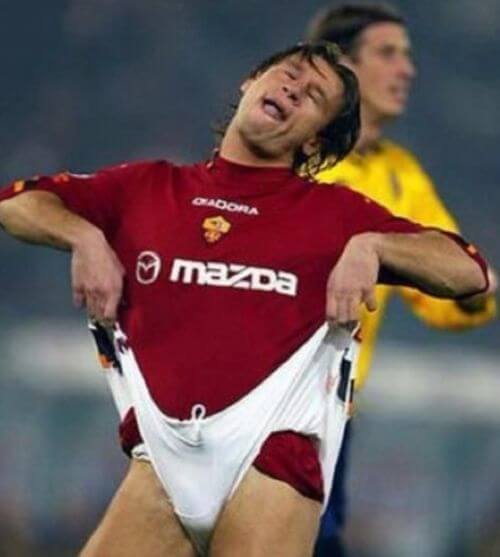 Take a look at this soccer player who is so much into the game that he doesn't even know he's unintentionally showing a somewhat hidden glimpse of his – you know what – to so many people. We're quite sure that this must be super uncomfortable for everyone.
Not A Slam Dunk
If someone tells you that you can't feel pain through images, show them this picture. It is because people who play and watch basketball know well how much it hurts to have a basketball slammed on your face.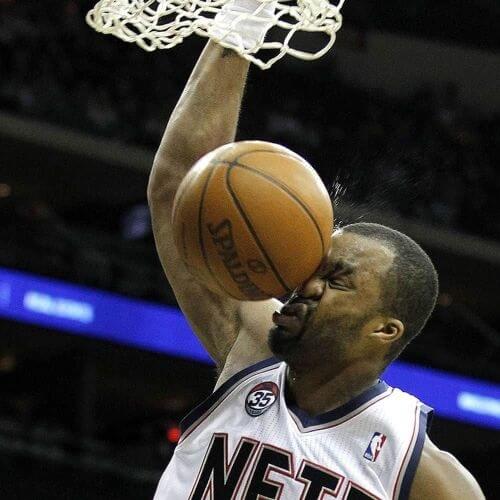 If you think there is any other dangerous sport in the world, show it to us. Till then we will keep on believing that basketball is the world's most dangerous game ever.
Chaos Among Cheerleaders
We all have to acknowledge the fact that cheerleaders play an important role in keeping the energy levels up. They make the crowd cheer which helps teams perform better. But sometimes, cheerleaders need some cheering and support because they can make mistakes as well…they are not robots after all!
These young ladies were all set to energize the crowd, but one mistake led to this chaos. We are sure they stood up, organized themselves, and learned from their mistake.
Double Tap
Soccer players know very well the danger of their sport. You can find a lot of videos and photos of players getting hit in sensitive areas. Just like it is the case in most of these on-field accidents, one player was looking at the big ball while the other player was looking at something else (you know what we mean).
No matter how many expensive coaches you get for a team, they can never teach players the defensive tactic against such an attack. If a player gets a blow on their leg or arm, it can be treated at the spot with sprays and medicine, but what about the sensitive part? It is a cruel game.
What Kind of Dance Is This?
We have seen so far how athletes found themselves in some pretty compromising positions and this one is no different.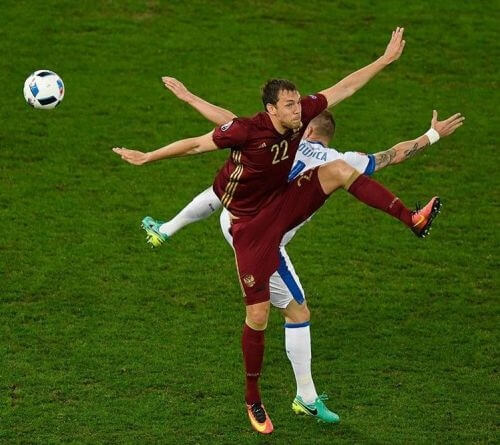 At first glance, it may seem like they are in some sort of ritual, but that is not the case. These two players are trying to get hold of one thing.
That's One Big Jump
Just when you thought you had seen everything crazy happening in the world of sports, this track and field jumper was like "hold my beer."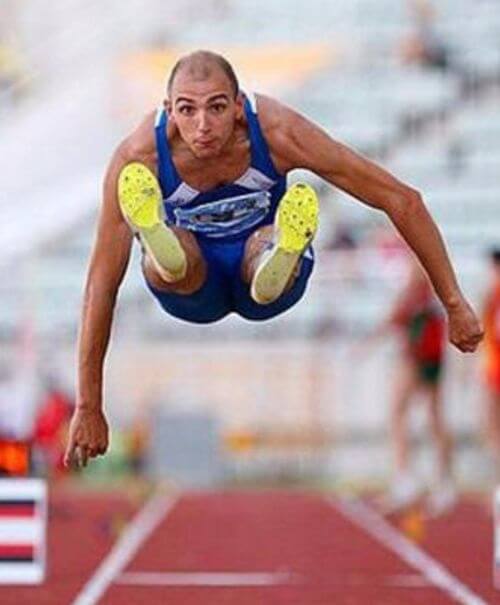 It is truly spectacular how a thin guy like him managed to squeeze his body into something like a pancake and take a flight. This is seriously mind-blowing. Highly impressive!
This Game Sucks
You have already seen that wrestling is impossible without players getting close to each other. So, when wrestlers do try to defeat their opponent, they have to do everything necessary.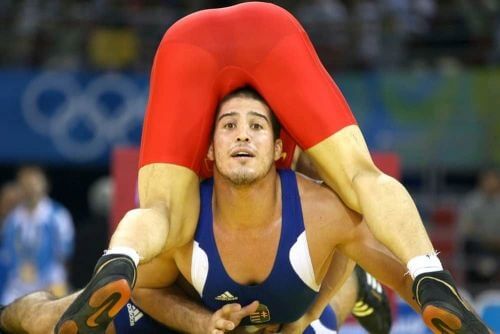 There are some moves that can take a wrestler's mouth pretty close to the opponent's armpit. In this case, the wrestler's face is under something else. One can expect that he must be thinking, "This game sucks."
Not My Face…Not My Face…Ahhh
The game of cricket is followed by billions of people and it is a really interesting sport. It is similar to baseball. It can also get a bit physical as seen by this photo here.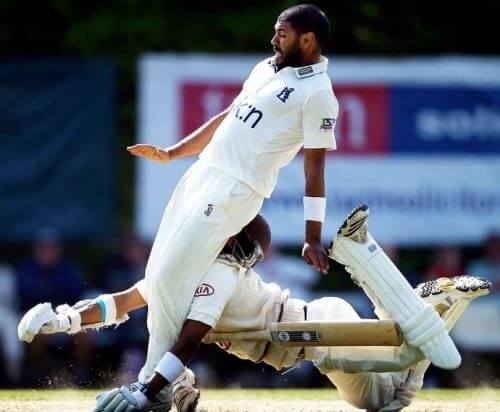 The batsman was trying to take a run when he fell and his face was at a place where it shouldn't be. We believe that it was the defining moment of the match.
Hey, What is Happening Here?
This is what photography can bring to you. How often you get to see this happening on a soccer field, right?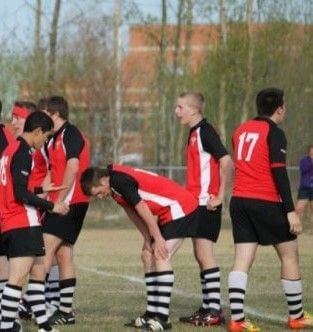 We feel a little bad for the photographer because that person went to the field thinking they would take good photos of the game, but they had to take photos of another ongoing game. What more can we say about it?
A Kiss On The Eye
In some sports in which players can get close to opponent players, things like these tend to happen and there's nothing new in it. When it comes to sports like soccer, ice skating, or basketball, winning depends a lot on teamwork.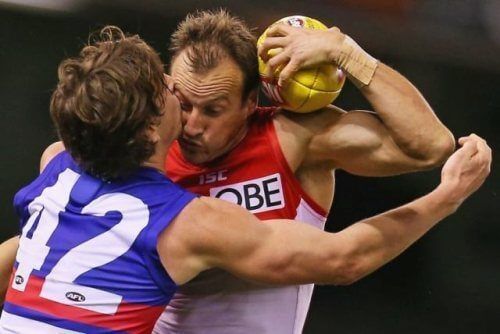 So, we don't feel bad for the guy with a ball because we feel that he took one for the team. Above all, it wasn't a kiss of death so there's nothing to worry about.
A True Champ
If you have ever turned on the TV and watched pole vaulting, then you must know that this sport is super crazy. If you don't know about it then let us help you. So the idea behind the sport is to get your body over the bar. Your body can't touch the bar while you jump over it. Seems easy right?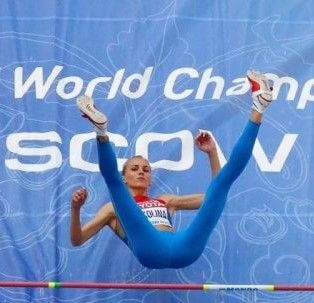 Well, the player holds a giant stick and runs down a track at a top speed only to launch them 20 feet in the air with the help of the stick. It may sound crazy, but the sport is pretty fun to watch.
Right Before Submission
Any UFC fans here? Well, The Ultimate Fighting Championship (UFC) is American mixed martial arts. It is quite popular all over the world. It is a super crazy sport in which you get to see some of the best fighters compete with each other.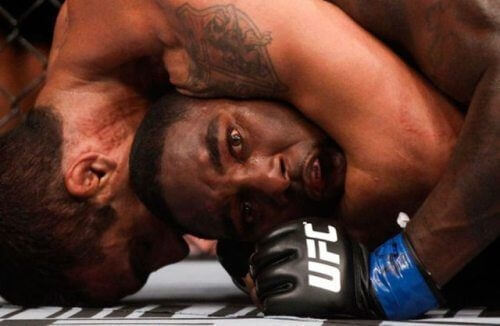 Like wrestling, one player is trying to defeat the other player. In this photo, the player knows that he's about to lose the game. Although he's looking right into the camera, a submission is pretty much on the way. If you watch UFC, who do you support?
Watch Me Dance
It seems like this player recently took ballet classes and now wants to show his talent to the world. Maybe he recently discovered his passion and is trying to let the world know that basketball is no longer the sport he wants to play.
We do feel that he can be a good ballet dancer. What do you think about it? By the way, ballet reminds us of 2010 Natalie Portman's movie Black Swan. We highly recommend you watch it.
Must Be A Scathing Skater
This image is just gold and we don't have many words to describe it. Most people may think it looks like this person just saw his girlfriend kissing someone else, or there is a possibility that he just doesn't like people at all.
Regardless of the reason, we just hope the photographer who took this picture gets a pay raise because it's a pretty good shot as it has everything from high energy, the drama, and brilliant facial expression. What more do you want from a photo?
Double Punch
Every face in this photo tells a different story and that's what we love so much about this photo. The goalkeeper has his eyes closed and though he is trying to push the soccer ball away from the opponent player, and in doing so he has accidentally punched him.
The goalkeeper's teammate is not looking at what's happening, but he seems super excited about it. The referee in the back is looking at the entire accident with a look shock. No wonder why this game is so popular.
Taking One For The Team
This photo is super hilarious on so many levels. You know it is gold because of the reaction of two players in it. Although both players are from the same team, it seems like one had to make his face work as a launching pad for his teammate.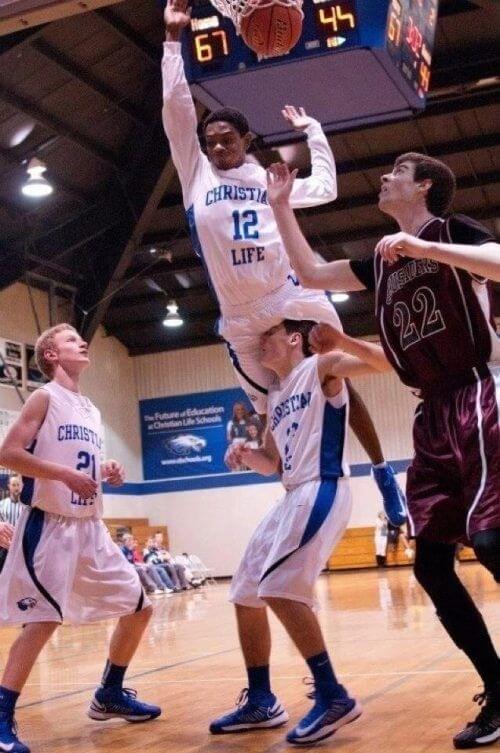 We are certain that this is not what the player underneath thought. At the extreme left of the photo, you can find the referee looking at it with absolutely no emotions on his face.
Don't You Dare Look At Me
We feel that it would have been more convenient if this guy was standing like this in front of another human and not a helpless animal.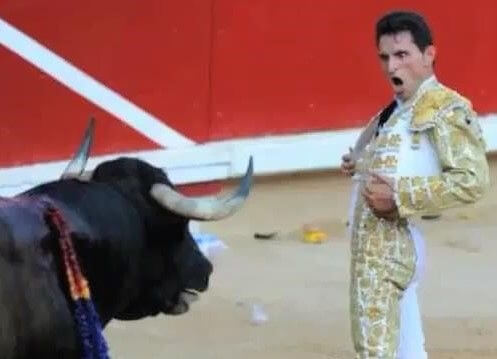 It seems like standing in front of an angry bull and making a weird face is not a wise decision, but they are experts at doing it. What do you think happened next? Did the bull play with this guy like a dog plays a balloon?
A Helping Hand
Although most of you thought of something else, we like to look at the other side of the picture. All we're looking at is a man helping another man, what's wrong with it? This guy was brought up in a way that he is always trying to help others in need, and we find it inspirational.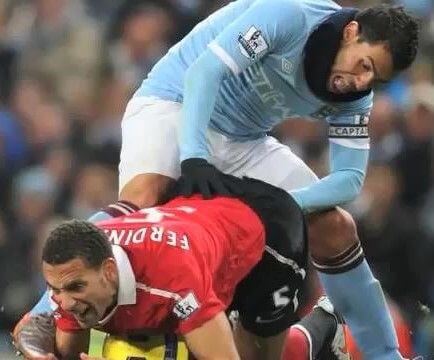 If you think something else is going on here, you need to get yourself checked. You all need to learn from us. Okay, we can't do this anymore. This photo is hilarious and we all know why.
Ads With Funny Photoshop Fails That Somehow Made It To Print
Ashley Lez
This article was originally published on 24/7Mirror
Can you remember the last time you saw an advertisement that wasn't photoshopped? Sometimes it is necessary to remove things from the background or fix coloring, but there are times when it is taken to the extreme. We have found the ads with the most hilarious and obvious editing fails that somehow made it to print. Continue reading to see these ridiculous mistakes that should have been fixed before they were used to sell actual products!
A Ghostly Family
This must be a family of half ghosts because their legs seem to have disappeared from the picture. Maybe they borrowed Harry Potters invisibility cloak and wrapped it around their legs.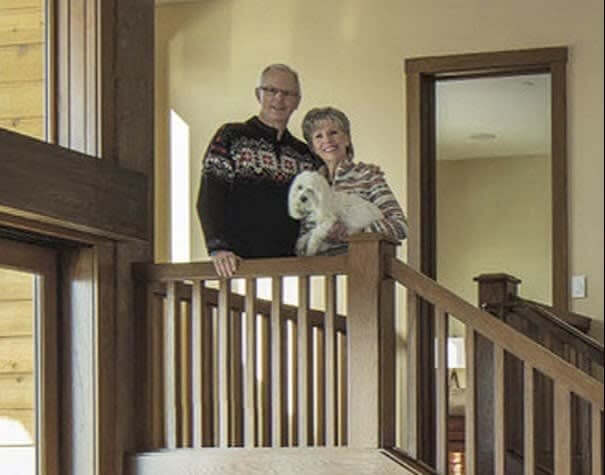 Surprisingly, this was used in a magazine considering the photoshop mistake is so obvious. The publishers probably thought no one would notice the couple doesn't have legs.
Who Is That Girl Staring Back At Me?
This looks like something straight out of a horror movie. Her inner demon has finally revealed itself and it is terrifying.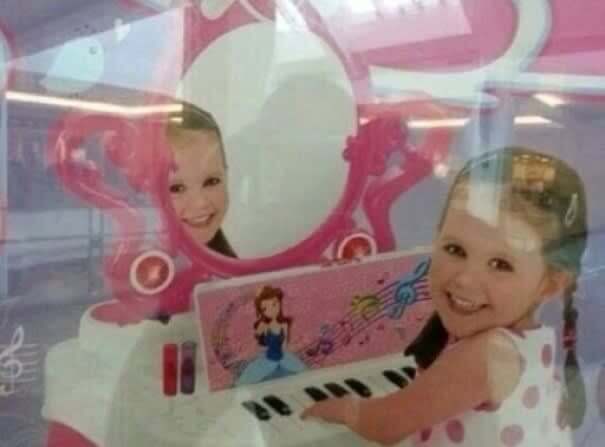 She is an adorable little girl, and the editors ruined it by making her look like she is two-faced.
Her Neck Might Be Rubber
Is she okay? Someone should check that her neck is not broken, or maybe the shower is meant to be for people with broken necks.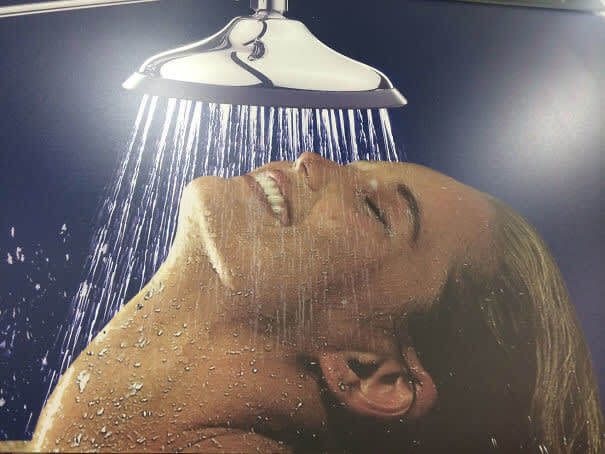 Also, who puts their face that close to a showerhead? That is not normal. Continue reading to see more messed up necks.
When Your Torso Is On Backwards
Was it too hard to find a model that could be photographed with the briefs on correctly? Why did they let this pass because that is not the right placement for those parts?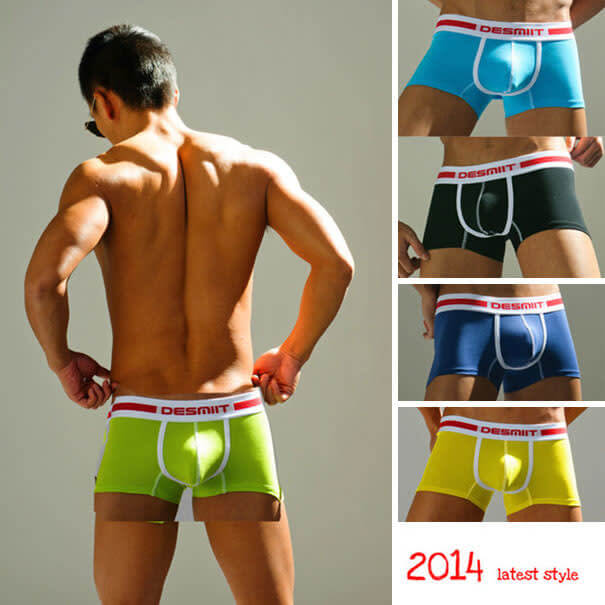 The least they could have done was find a picture to photoshop it onto the right side of his body.
A Floating Arm To Protect The Baby
Never leave your child unattended in the bath again because you can now use the floating arm.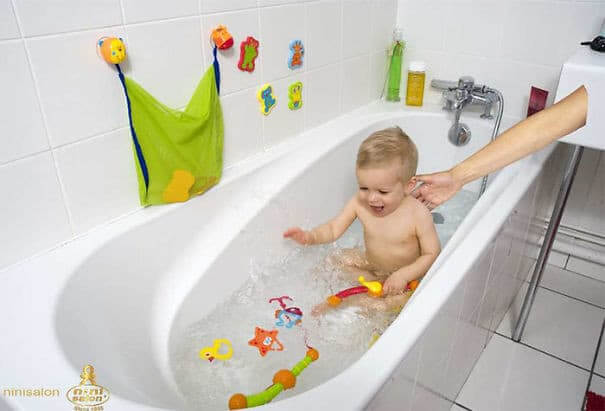 Parents could get so many things accomplished while their child is in the bath. Just leave one arm in the bathroom and continue with the rest of your housework.
Where Did The Rest Of The Horse Go?
Fashion magazines make unrealistic body standards for women, and now they are doing it to horses too. When horses see this, they will feel bad because they can't attain those body standards.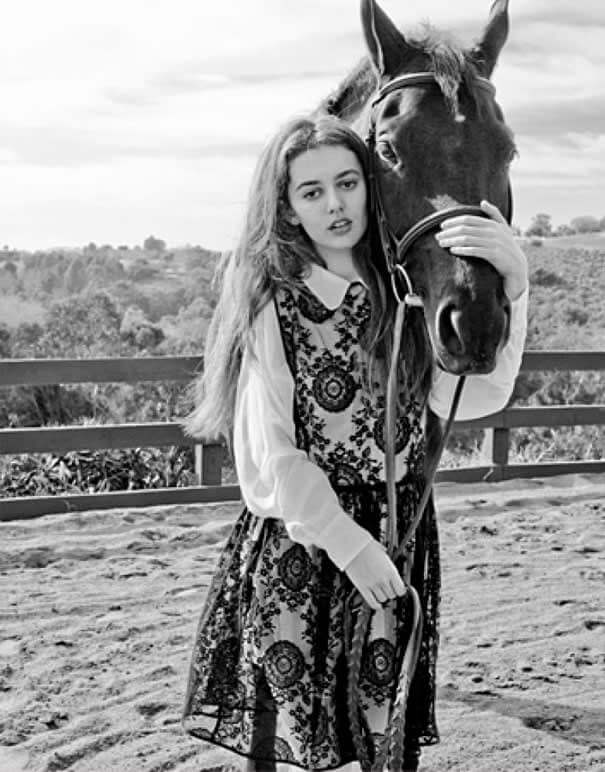 If you look closely at the photo, they also replaced her legs with horse legs. Some editor must have had a wild imagination while photoshopping this.
She Must Be Fast With That Long Arm
That is one long arm that would come in handy for swimming fast. Maybe that's what you get when you sign up for an unlimited membership.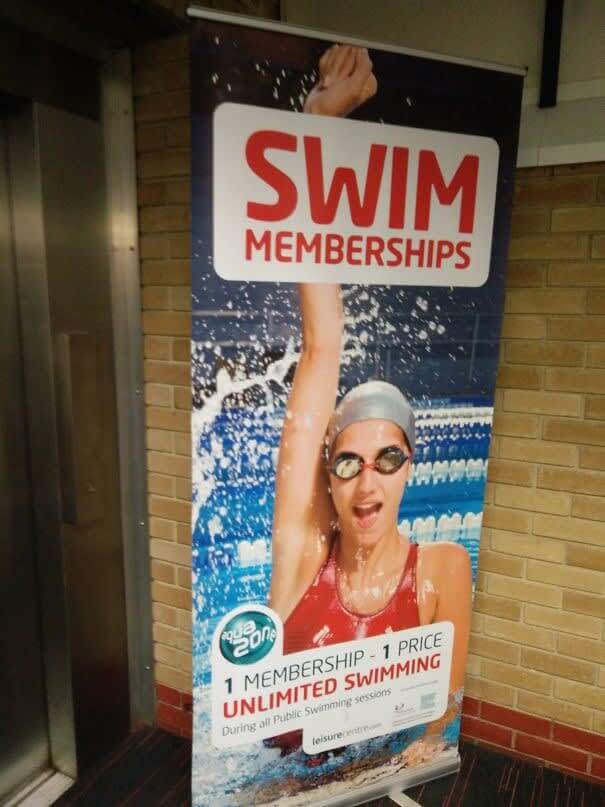 The more you swim, the longer your arms get, right? That must be what they are trying to tell us.
Someone Put Her Leg On The Wrong Way
Either they did a horrible photoshop job or she is seriously injured. How did no one spot this before it was printed?
No one's leg naturally turns around like that. It is humanly impossible unless it is a fake leg.
That Plane Is Flying Very Low
That woman seems very calm, considering the plane would be seconds away from crashing into the Hudson River if it was flying that low.
Would you want to fly with that airline after seeing this advertisement? Probably not, but they promise you some fantastic views.
How To Play A Guitar Without Touching It
Would you take guitar lessons from someone who doesn't even know how to hold a guitar? We are pretty sure the first thing you learn is how to hold the guitar properly, and they aren't doing that.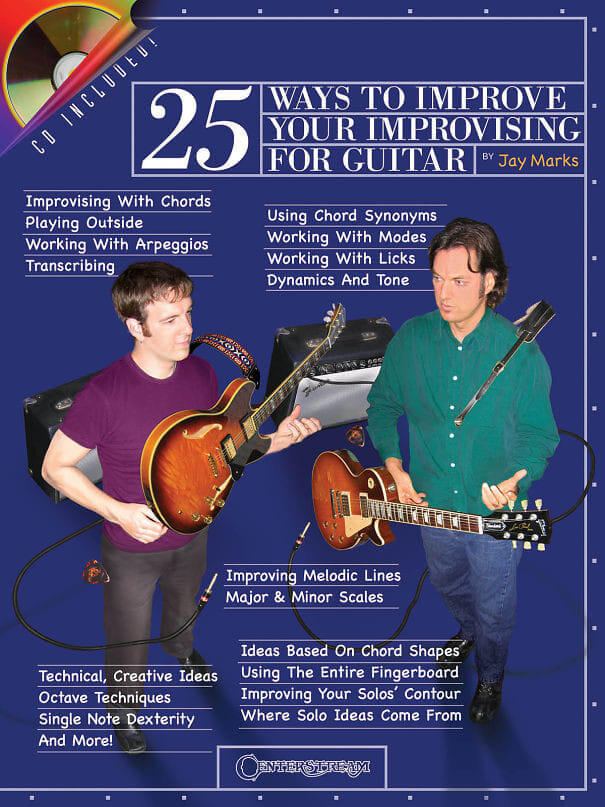 This gives "air guitar" a whole new meaning. When they were posing for the cover, they must have asked someone to edit in the guitars when they could have held them for the original picture.
They Gave Her T-Rex Arms
What happened to Giada De Laurentiis' arms? It says she is known for her "warm personality and creative approach," but not her large head and tiny body.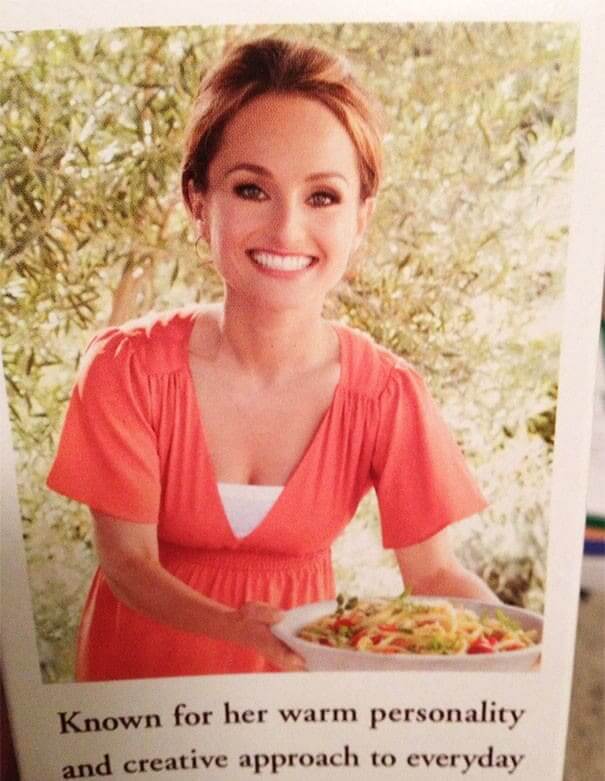 She is a beautiful woman, and this pasta box picture does not do her justice. They made her into a real-life caricature.
That Thigh Gap Is Intense
First of all, no one's thighs look like that. They must have taken the eraser tool and removed her inner thigh. It looks even worse from behind.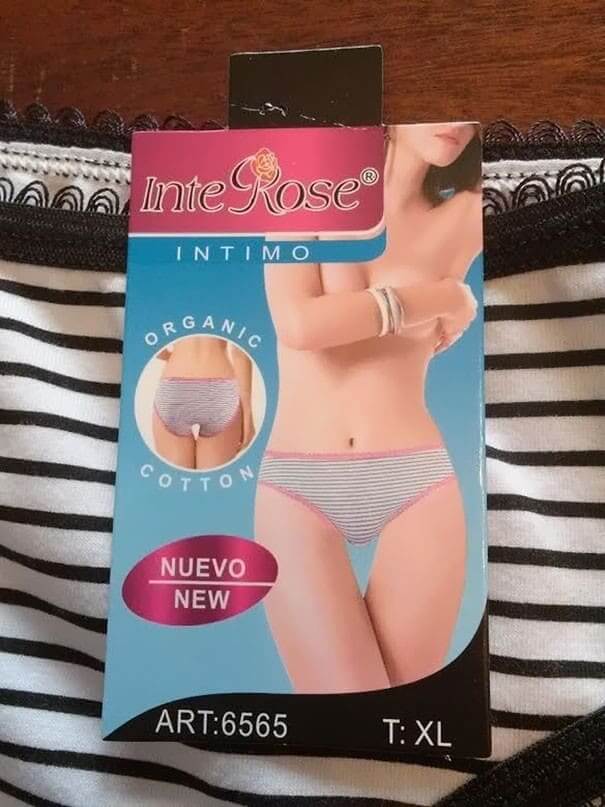 If her legs weren't crossed they would be so far apart with a thigh gap like that. Can companies stop making unrealistic bodies to promote their products?
How To Not Use A Selfie Stick
That is definitely not how selfie sticks are supposed to work. They are supposed to be taking the picture but it is from the wrong direction.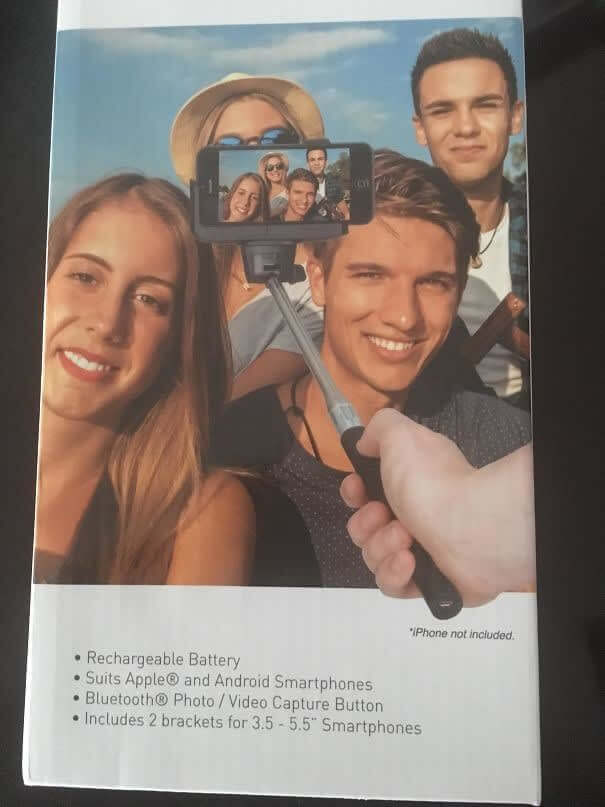 Why does the selfie stick not include an iPhone? People might miss that disclaimer and buy the stick in hopes that the phone is included.
When You Forget To Draw Your Nipples On
When Chrissy Teigen was on the cover of GQ Mexico, her nipples mysteriously disappeared. People immediately noticed the photoshop mistake and Teigen had the best response.
She tweeted, "I have no nipples. I draw them on with sharpie each morning and sometimes I forget." You can always count on Chrissy Teigen to make you laugh.
She Must Be A Bad Dancer With Two Right Feet
Ally Brooke is a member of the girl group, Fifth Harmony, and they did a cover shoot for Billboard. When the cover came out, there was one very noticeable photoshop fail; she had two right feet.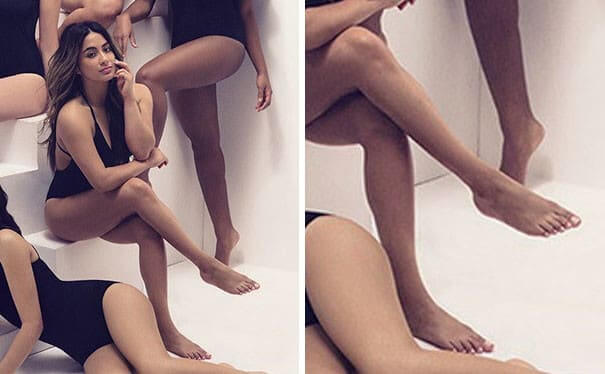 Was there something wrong with her left foot that they had to replace it? Brooke tweeted about the editing mistake and said, "When you are trying to look cute even though you got two right feet."
Those Peas Are Suspiciously Perfect
It must be the food of the future because those peas are hovering over the rice. It could be a new type of pea that has anti-gravity properties, it will be the newest thing in weight loss.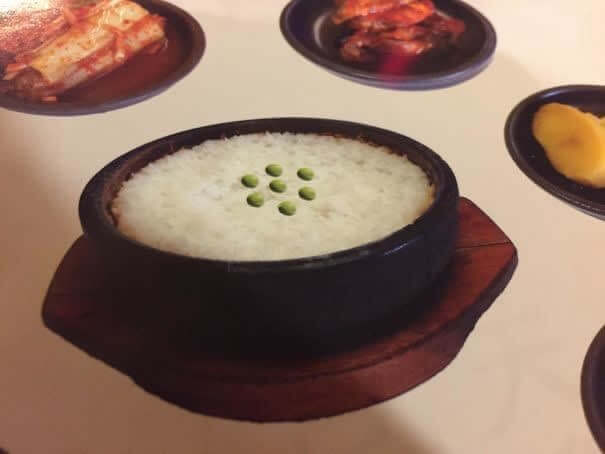 Why are there only seven peas on this dish? Peas are typically not used as a garnish, so whoever orders this is getting ripped off.
Giant Man Or Tiny Rocks
Scaling is an important part of photography and editing. You need to make sure the background is the right size compared to the person. This man looks like a giant diving into the ocean.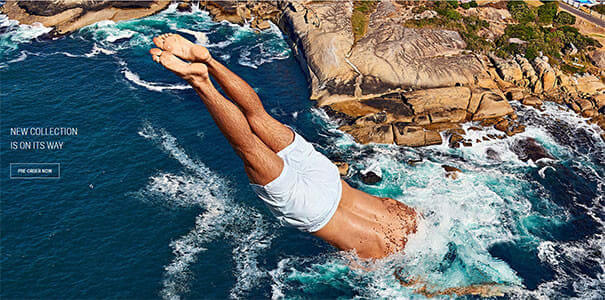 He would probably hit his head on the rocks, and that would end poorly. The editors should have been more aware of the size of the background compared to the man.
Only Clones Can Apply
This company posted this job listing, and they claim to have a diverse group of employees, but it seems like they used a bunch of clones to represent their employees.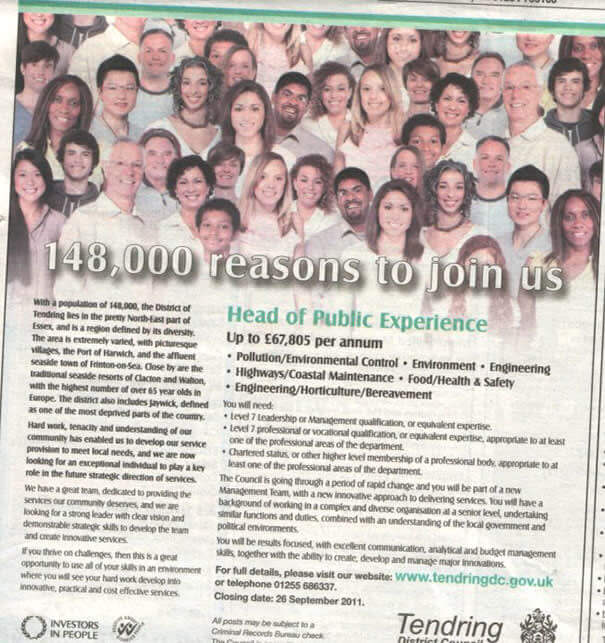 They took a small group of people and then copied and pasted them in different patterns to fill the picture.
On The Edge Of Glory
There are so many things wrong with this photo. She has a random hand next to her foot and her leg seems to be detached from her body.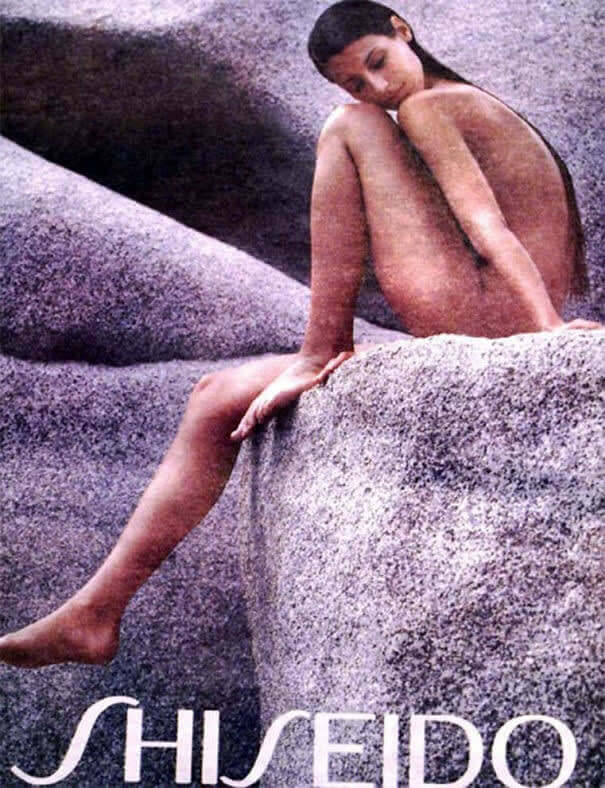 Her one foot is also extra-long. This whole ad has so many problems; we wonder why they used it because this is a big cosmetic company that can afford a good photo editor.
Maybe She's Born With It, Maybe It's Photoshop
What was wrong with the length of her neck before they edited it? Why did they have to give her a giraffe neck?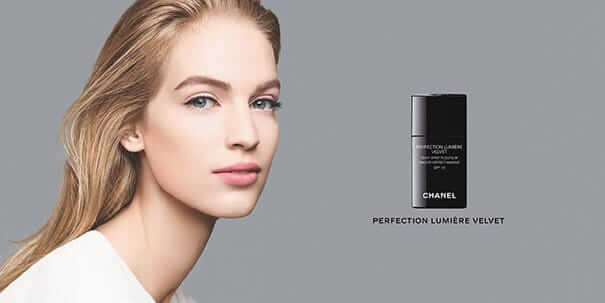 Chanel is a luxury brand; they should be able to afford a good editor and someone to review the work before it is released.
Add Some More Babies
If Brad and Angelina didn't have enough children already, the magazine would add some for them. Collectively they have six children, but this magazine thought that wasn't enough.
It seems that Brad was walking too far behind, so they photoshopped him closer but forgot to remove his body from the background.
Squid Women
Although there are only three girls pictured, there are seven sets of legs. Do these women have extra legs like octopuses or squids?
It just does not make sense why they would format the ad like this as if no one would think that the legs belong to the women above.
Her Jaw Hit The Floor
"Oh, here she comes, watch out, she'll chew you up, she's a maneater." She might be able to fit a human in her mouth if she doesn't have a lower jaw.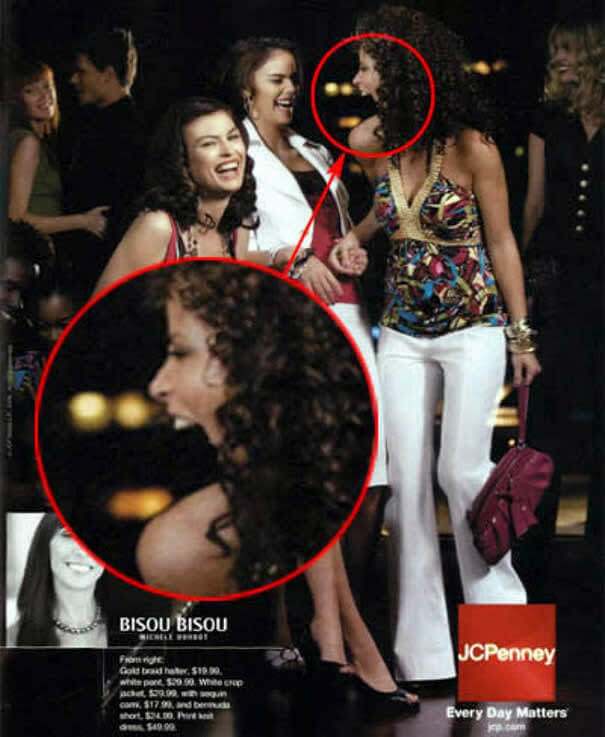 What happened to the lower half of her jaw? Is she going to eat the woman standing next to her? The girl next to her looks scared by the lack of a lower jaw.
Invisible Umbrellas
This is one of the less obvious editing mistakes. You have to take a second to look at the photo to realize that they are reflections of umbrellas that don't exist.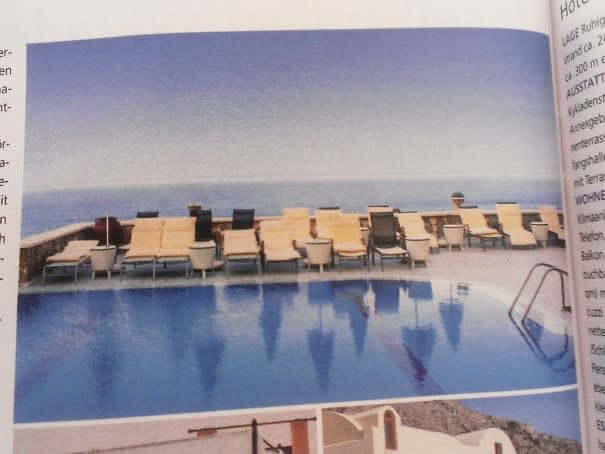 Why did they photoshop the umbrellas out of the picture in the first place? It is a bad reflection on their work.
The World's Longest Arms
It looks like Slender Man also wears pajamas. It's nice to know that he is just like the rest of us.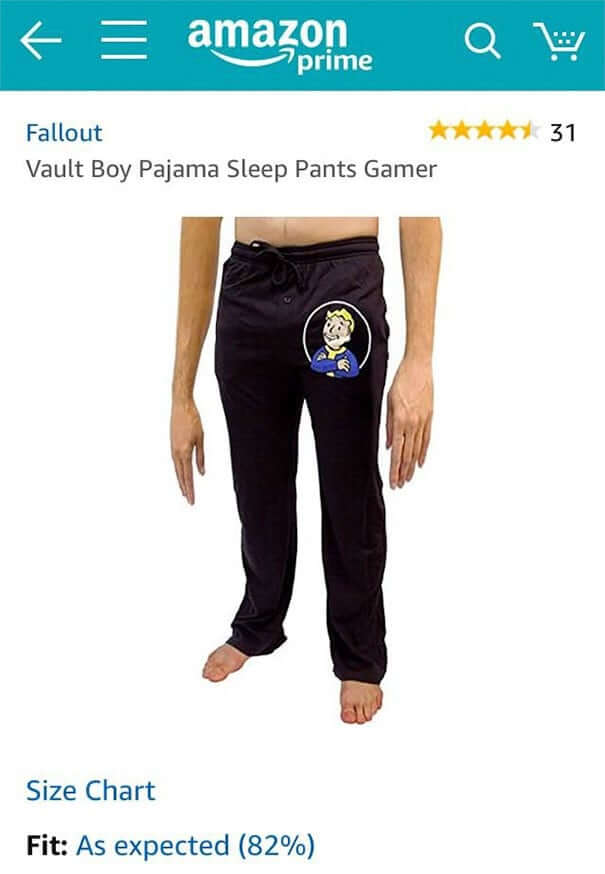 What was the point of extending his arms this much? Were they extremely short to begin with?
They Forgot To Remove Something In The Background
This is a case when photoshop was needed, but not used. It seems that the editor forgot to remove the naked man from the background.
No wonder the kids are running away, they just saw a naked man on the beach. Their faces even look like they are laughing at him.
Trying To Build The Perfect Family
It appears that the original family was not cutting it so they replaced all their faces with random people that look nothing alike.
The baby is Asian, but no one else in the family is, and the husband's face looks like he has a curve filter on it.
They Couldn't Get An Actual Picture Of The Car Driving?
Mazda is a major auto company that can afford to take a picture of the car driving on the road instead of using photoshop.
If you squint and look at it from far away, it almost seems reasonable until you open your eyes and realize it is a 2-D car on a 3-D road.
The Man With Many Hands
The University's president must be very hands-on with the extra hand he has. He might be a secret mutant, but the secret is out now because he revealed the extra arm.
When someone asks for a helping hand he will never say no, and that is the key to being a good president.
Shrinking Arm Syndrome
When you skip arm day too many times, this is what happens. His arms would be perfect if you ever locked your keys in the car and needed someone to reach through the unlock it.
The 25% off means that you are getting 25% less suit. That's how they help you save money.
Someone Got A Great Deal On This House
According to this advertisement, this woman sold her house for a low price of nine dollars. Of course, your home will sell faster if it is at a price that low.
If they were going to use money, at least make it fake 100's so it a bit more believable. She is smiling as if she just made a fantastic sale.
Obama Holds His Own Hands And Michelle's
Why did they feel the need to photoshop Obama holding his wife's hand? They can walk and not hold hands, and still be in love
He said, "Move aside Michelle, my new hand needs me more." It's always a new hand that ruins a relationship.
Samsung Sees The Future
The dancing couple is doing one pose, but the picture shows them doing another pose. It seems that this new Samsung phone can predict the future.
That must be a very expensive phone because of the advanced technology it possesses.
HoverCard
Instead of MasterCard, they are now introducing the HoverCard. It is the same as a regular credit card, except for the fact that it hovers above your hand when you spend money.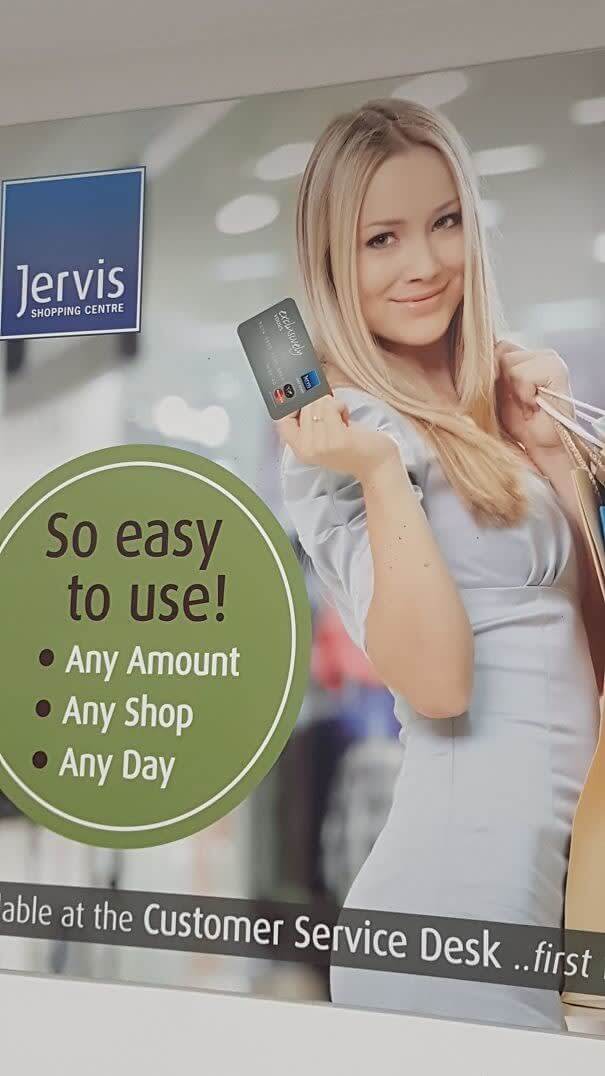 If it's not hovering, then this woman has sticky fingers and you should keep an eye on your wallet around her.
Maybe They Asked To Be Turned Into Sims
The "professional" photographer was hired to take pictures and edit them, but we wouldn't recommend hiring him for your own photos.
Wouldn't you ask for a re-shoot or your money back if you got these? Why were their faces turned into creepy avatars?