As the random girl from Mean Girls said, "I wish we could all get along like we used to in middle school… I wish I could bake a cake filled with rainbows and smiles and everyone would eat and be happy." Sadly, the world isn't like that, and Hollywood isn't immune to petty feuds. Celebrities are always getting into fights, and these are the ones you probably didn't know about. Continue reading to find out all the gossip about these surprising celebrity feuds.
1. Dakota Johnson & Jamie Dornan
Dakota Johnson and Jamie Dornan famously co-starred in 50 Shades of Grey together. On-screen there was a lack of chemistry that many viewers noticed throughout the trilogy.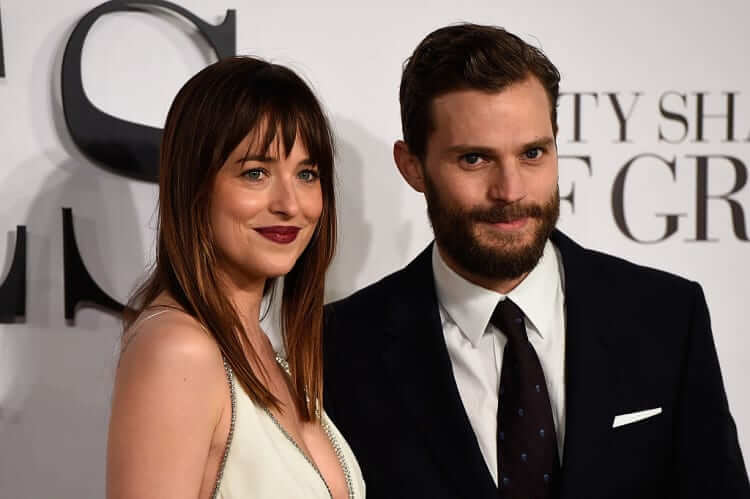 In an awkward interview with Today, they were asked if they hated each other, and both of them nodded yes. Dakota also added that Jamie was challenging to work with, so we can assume they will avoid working with each other in the future.
2. Kanye West & Jay Z
Kanye and Jay Z have a long history with each other. Jay Z was a mentor to Kanye at the start of his career, and they even released an entire album together. Their on and off feud started during the Watch The Throne Tour.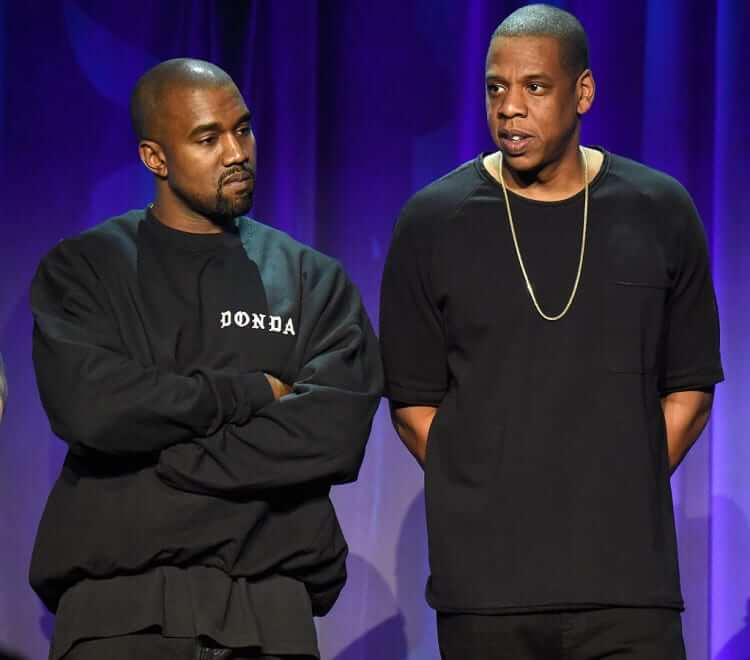 These two have gone through periods of not speaking and then rekindling their friendship. Jay Z didn't appreciate the way Kanye spent tons of money on flashy shows, and Kanye was upset that Jay Z only called after Kim Kardashian was robbed in Paris. They have both made mistakes. Can't they become friends again, and make another fantastic album?
3. Reese Witherspoon & Robert Pattinson
During the filming of Water for Elephants, Reese Witherspoon thought it was gross to film a sex scene with Robert Pattinson because he was "sick and snotty."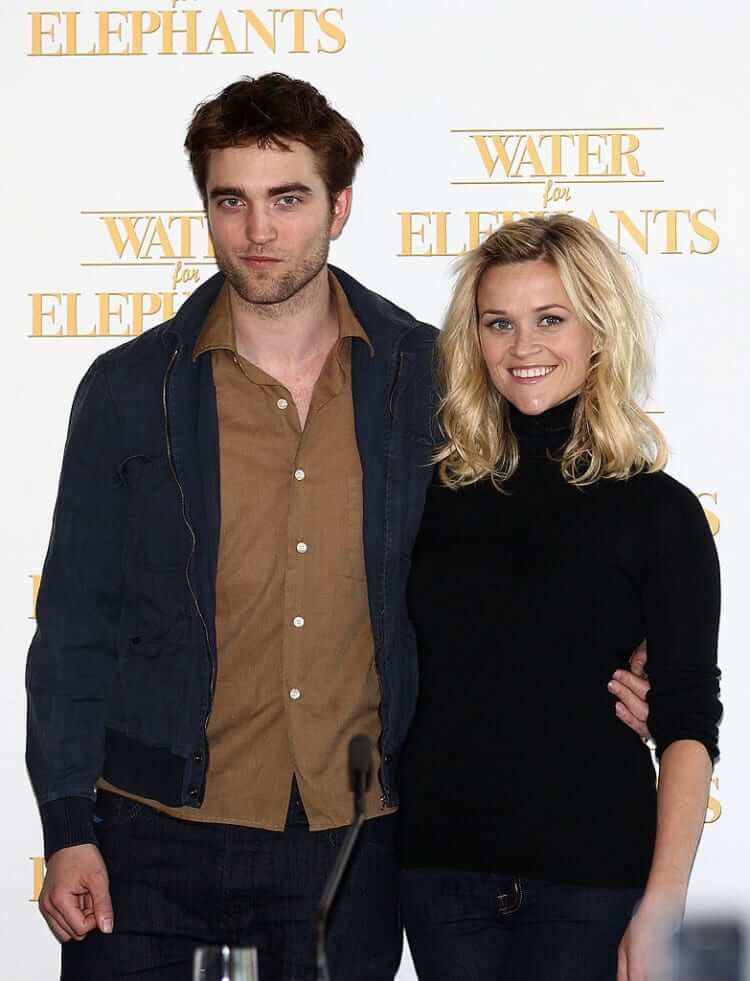 At the 2011 MTV Movie Awards, Pattinson made things uncomfortable when he was supposed to be presenting an award to Reese Witherspoon, and he had trouble thinking of nice things to say about her.
4. Sarah Jessica Parker & Kim Cattrall
SJP and Kim Cattrall played on-screen best friends for years on Sex and the City. To viewers, it seemed impossible for them to dislike each other, but there were behind-the-scenes arguments about contracts for the show.
Cattrall was upset that SJP was paid double than other cast members. SJP was also unhappy that Cattrall's character was a fan favorite and got more screen time.
5. Angelina Jolie & Johnny Depp
Do you remember the 2011 thriller The Tourist starring Angelina Jolie and Johnny Depp? Well, this movie is the reason these two don't get along. Their characters were supposed to have chemistry, but that was difficult because they were not getting along off-screen.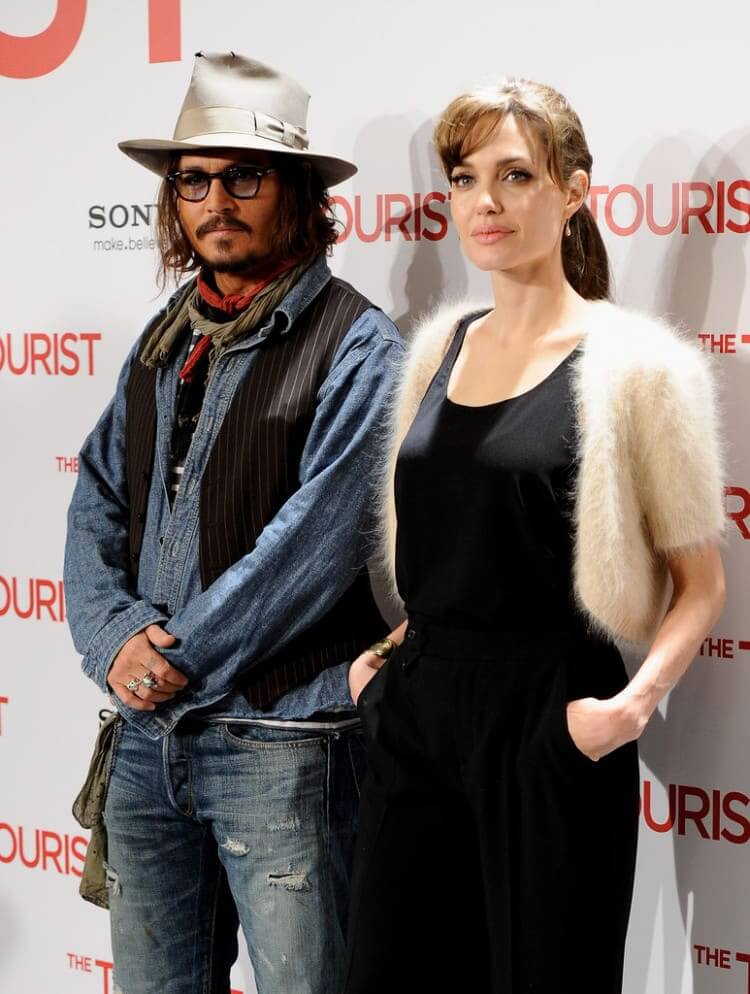 Depp claimed that Jolie was full of herself, and Jolie thought that Depp was dirty, and she was upset that he didn't clean himself up.
6. Ryan Gosling & Rachel McAdams
"If you're a bird, I'm a bird…or not." In The Notebook, Rachel McAdams and Ryan Gosling had a rocky romance, and that continued once the cameras stopped rolling.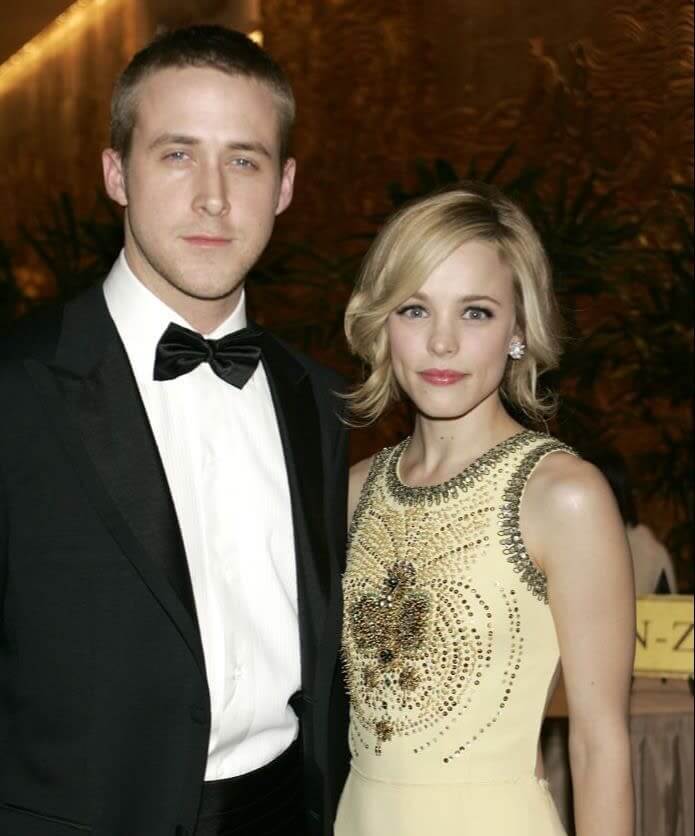 Gosling and McAdams were always fighting on set. After the film wrapped, they surprisingly dated for two years. They broke up in 2007, and now they are both happily married to different people.
7. Leonardo DiCaprio & Claire Danes
"Romeo, Romeo, wherefore art thou Romeo." In the '90s reboot of Romeo and Juliet, Claire Danes was not impressed with Leonardo DiCaprio. She called their on-screen romance, "immature." The two only were together when the cameras were rolling.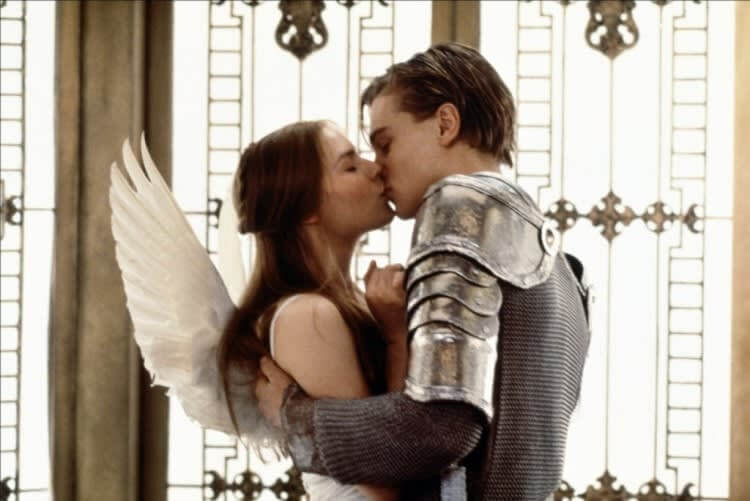 This "dislike" for Leo might have been because she secretly had a crush on him that she admitted years later.
8. James Franco & Anne Hathaway
You might remember when these two hosted the 2011 Oscars together, and it ended up being a total flop. After they received criticism, they went on to blame each other for the failed performance.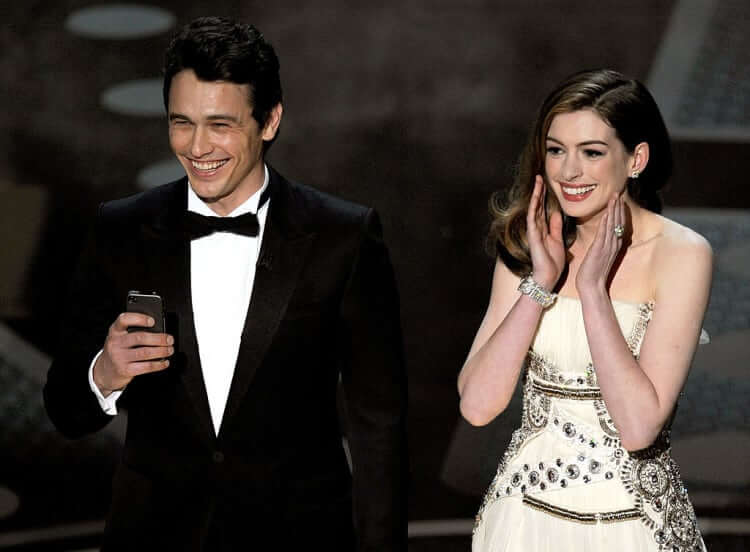 James Franco was on Howard Stern's radio show and they both bashed her for being too affected and "actress-y."
9. Blake Lively & Leighton Meester
Spotted: S and B are fighting again. These besties have been through so much together, but it looks like S is stuck in her own world. Will B be able to forgive her? XOXO Gossip Girl. The Gossip Girl co-stars spent years filming together, and after the show ended, they stopped speaking.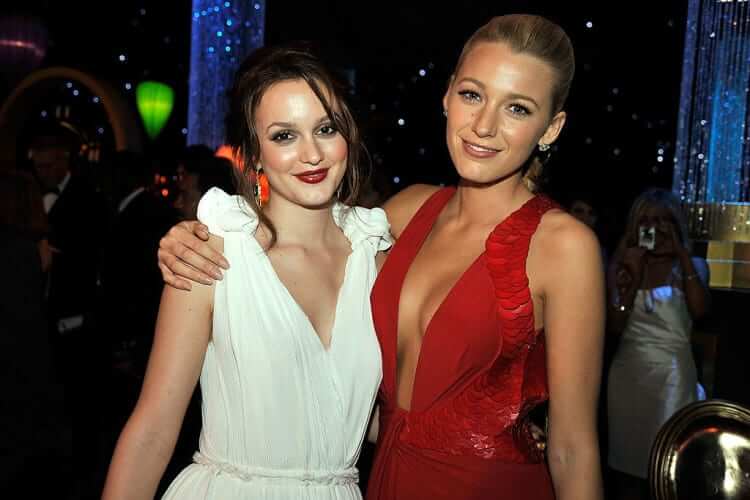 Leighton Meester was upset that Blake Lively didn't reach out to congratulate her on her engagement to Adam Brody.
10. America Ferrera & Lindsay Lohan
Way back in 2008, Lindsay Lohan guest-starred on America Ferrera's show, Ugly Betty. While on set, Lohan caused tension because she acted like a diva and wouldn't listen to people. Also, she tried to upstage Ferrera.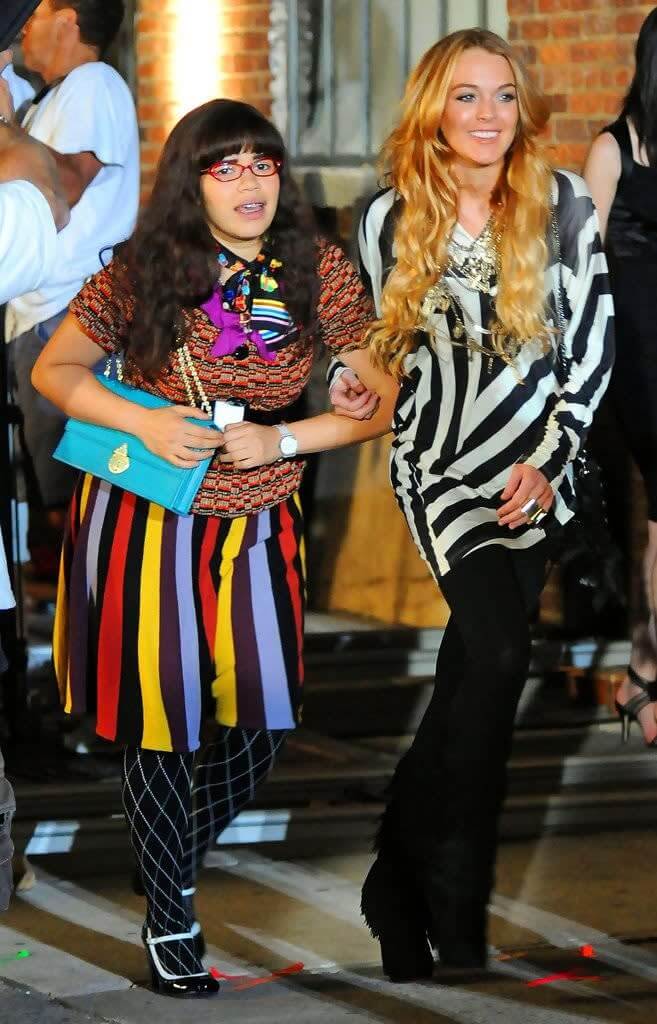 Due to her bad behavior, Lohan's episodes were cut from six to four. She blamed the production for all her problems.
11. Shannen Doherty & Jennie Garth
Brenda and Kelly from Beverly Hills, 90210 were actually not friends in real life. They both blame it on being young and finding their way in the world.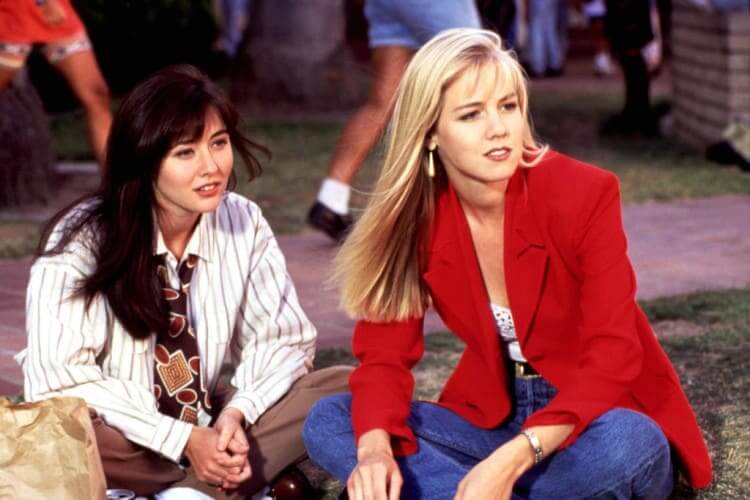 Jennie Garth also said that they butted heads because they were both strong, independent women with big personalities.
12. Gillian Anderson & David Duchovny
While filming The X-Files, Gillian Anderson and David Duchovny could not stand each other. They spent too much time on set together to the point where they would argue about nothing.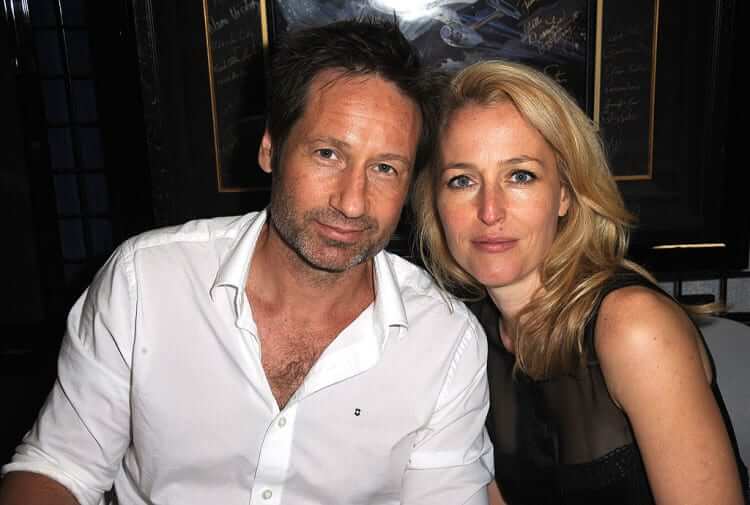 Anderson and Duchovny eventually worked out their arguments, and they are friends. Not all feuds last forever.
13. Harrison Ford & Sean Young
Even when two stars have chemistry on-screen, that does not mean it is peachy behind the scenes. In the '80s movie, Blade Runner, Sean Young was complicated to work with.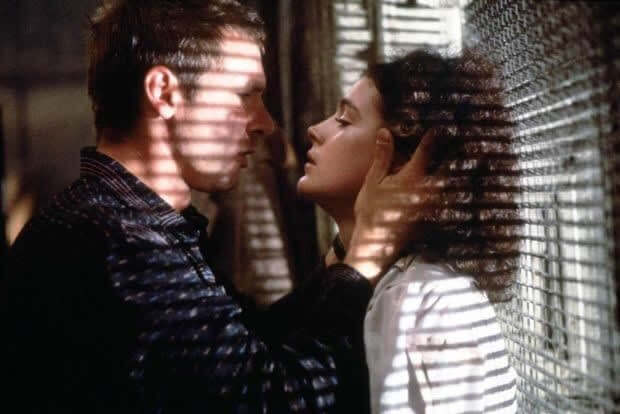 Crew members on the set would call the love scenes "hate scenes" because of how much Harrison Ford and Sean Young disliked each other.
14. Reese Witherspoon & Vince Vaughn
During the filming of Four Christmases, Reese Witherspoon and Vince Vaughn would clash over how to prepare for the scenes. While Witherspoon wanted to practice and be prepared, Vaugh preferred ad-libbing.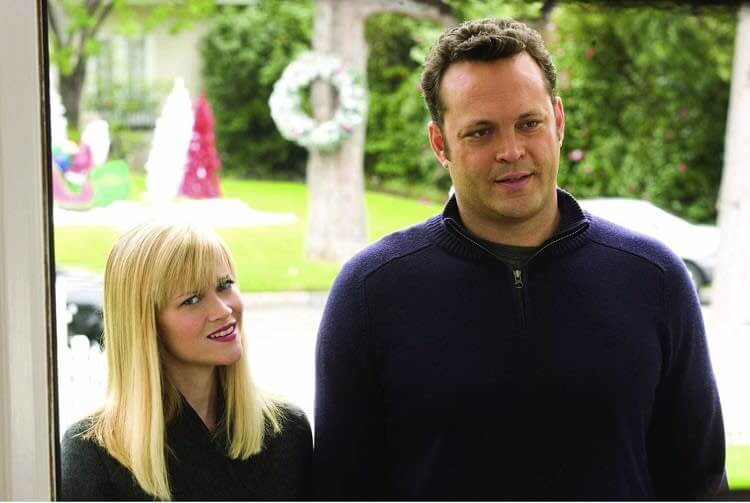 Witherspoon never said anything terrible about Vaughn, but they did not walk the red carpet together for the premiere. Seems suspicious.
15. Leonardo DiCaprio & Clint Eastwood
Clint Eastwood is well-known for not doing a lot of takes while directing movies. During the filming of J. Edgar, Leonardo DiCaprio wanted to re-shoot a scene after Eastwood had called it a wrap.
He was so frustrated that he stormed off the set, and for the rest of the shoot, things were uncomfortable between the two.
16. Will Smith & Janet Hubert
Does anyone remember when Jane Hubert was replaced by another actress to play Aunt Viv in The Fresh Prince of Bel-Air? For three seasons, people got used to seeing Jane Hubert play Aunt Viv, and then the fourth season was released, and it was a different actress.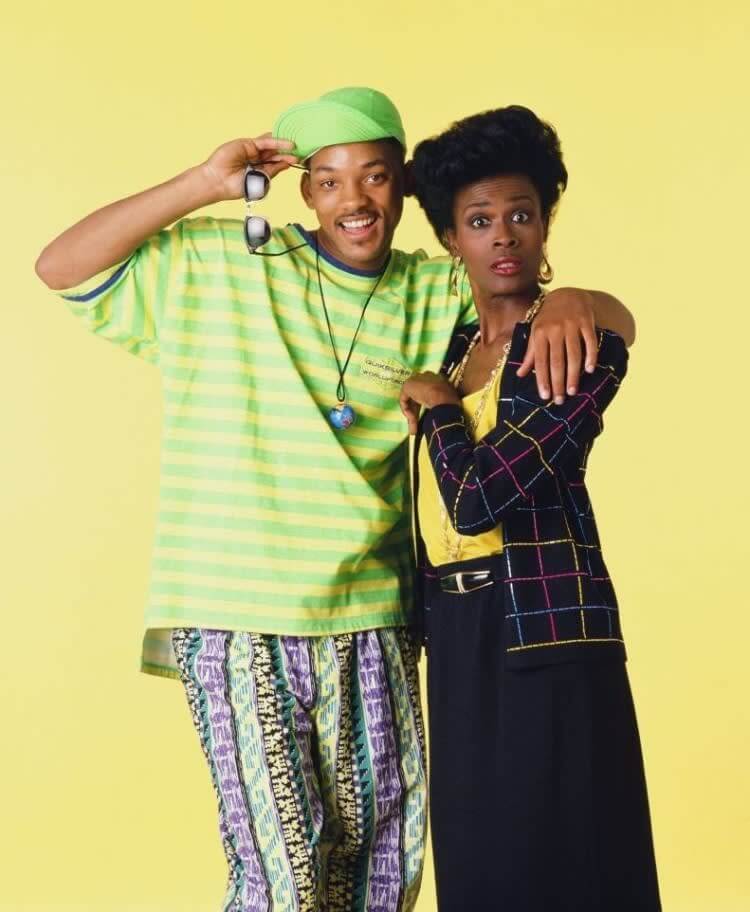 Hubert blames Will Smith for having her fired. There have been talks of a reunion, but Hubert refuses to participate until Smith apologizes.
17. Chad Michael Murray & Sophia Bush
Chad Michael Murray and Sophia Bush met on the set of One Tree Hill and quickly got married. Sadly, Murray was caught cheating with Paris Hilton, and the two divorced shortly after that.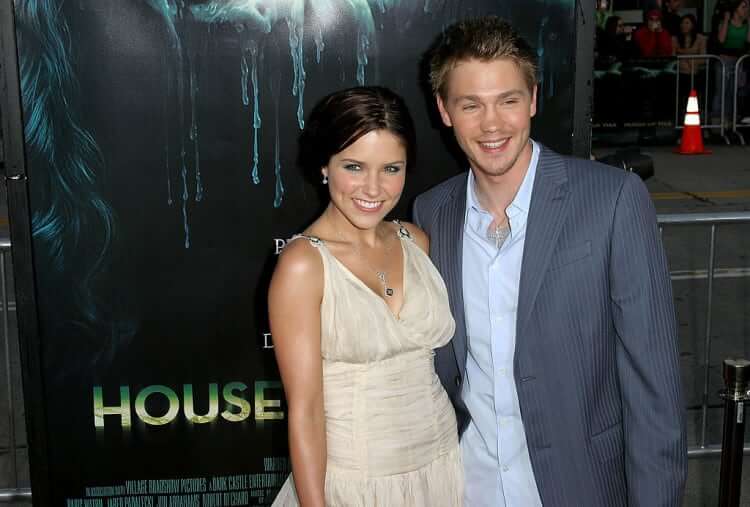 Although they divorced, they still had to work together for half a decade. That must have been awkward considering their characters were dating.
18. Lauren Graham & Scott Patterson
In Gilmore Girls, Lauren Graham plays Lorelai, who has a relationship with Scott Patterson's character, Luke. Although they had an on-screen romance, the two did not like to spend time together on set.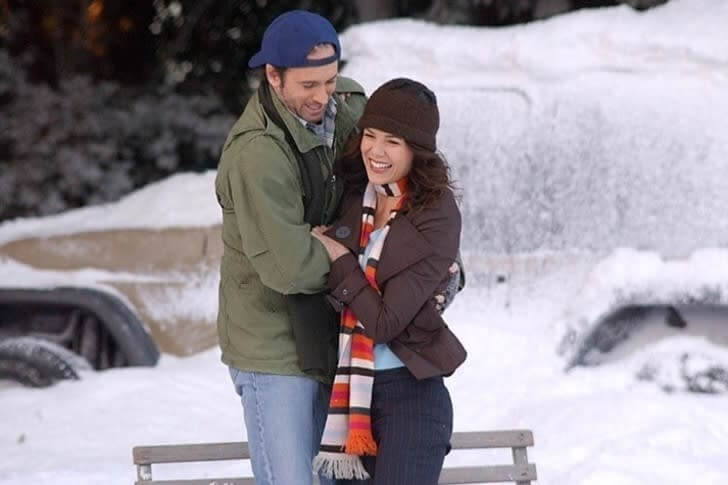 Graham also said she wished her character ended up with a different man. That must have been hard to hear.
19. Nick Nolte & Julia Roberts
In 1994 on the set of I Love Trouble, Julia Roberts and Nick Nolte gave each other a hard time from the moment they met. Roberts even went as far as calling Nolte completely disgusting.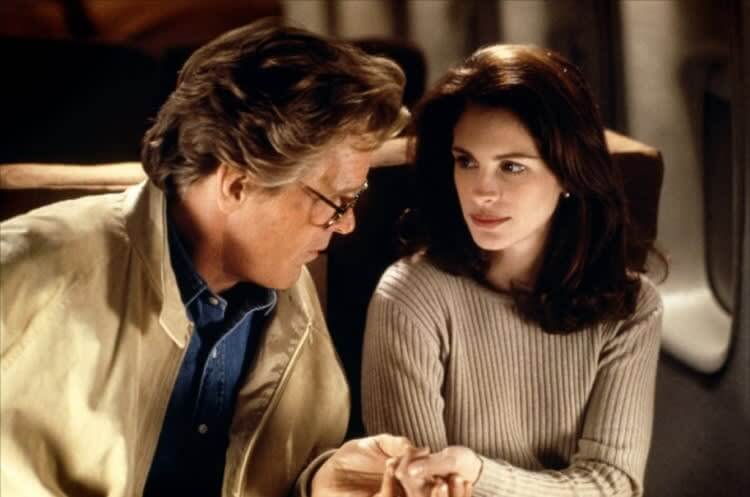 Nolt was not going to allow her to bash him and replied by calling Roberts a mean person. It must have been weird to pretend to love someone who you hate in real life.
20. Betty White & Bea Arthur
How could anyone dislike Betty White? She is one of the most loveable actresses on TV. Well, her co-star, Bea Arthur, found a way to dislike her. Bea did not like how positive Betty was all the time.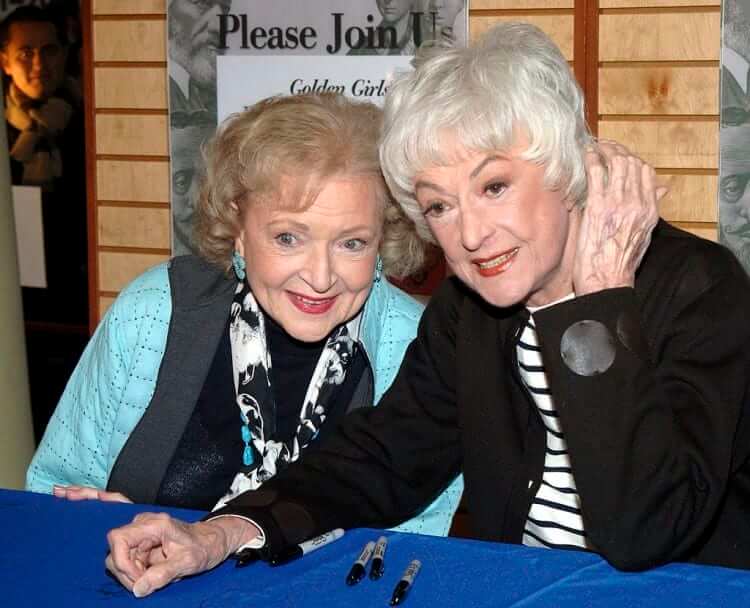 Bea Arthur was also unhappy that Betty White received an Emmy nomination before her. Bea seems jealous of Betty's popularity.
21. T.R. Knight, Isaiah Washington, & Patrick Dempsey
Remember when Dr. Burke left Grey's Anatomy? Well, it was because he made a gay-slur towards T.R. Knight (Dr. George O'Malley). No one knew why he said such a hateful thing, but now we have found out why.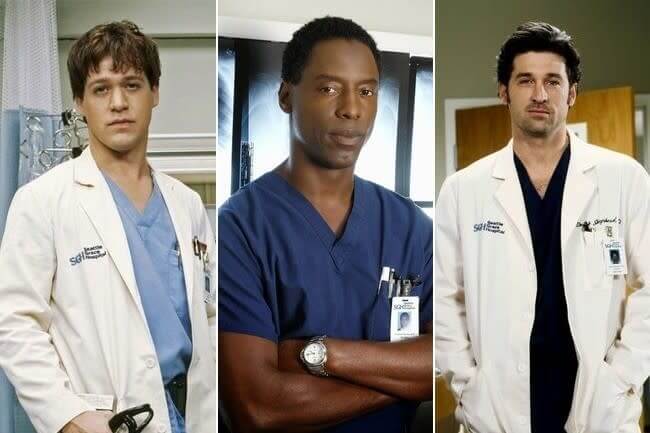 Apparently, on set, Washington got into a physical altercation with Patrick Dempsey, and it was during that fight that he made this horrible comment.
22. Victoria Justice & Arianna Grande
Time to spill some serious tea! Despite the fact that Victoria Justice and Arianna Grande played best friends on the show Victorious, in real life, these two are definitely not hanging out. Back in 2013 fans were questioning why the show was canceled, and Grande took to Twitter to clear the air because fans assumed it was her fault.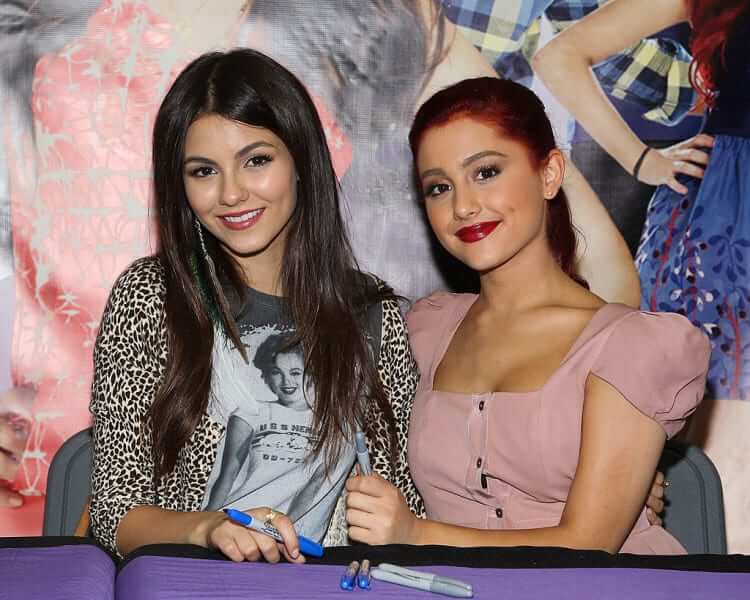 Grande tweeted, "The only reason Victorious ended is because one girl didn't want to do it. She chose to do a solo tour instead of a cast tour…I'm sick of this bs." Justice saw this and replied on Twitter by stating, "Some people will throw someone they consider a friend under the bus to make themselves look good. #Stopbeingphony #Iftheyonlyknew." The shade is real people!
23. Harrison Ford & Josh Hartnett
The lack of chemistry between Harrison Ford and Josh Hartnett might be the reason Hollywood Homicide was a complete flop. These two did not get along in real life and it showed on-screen.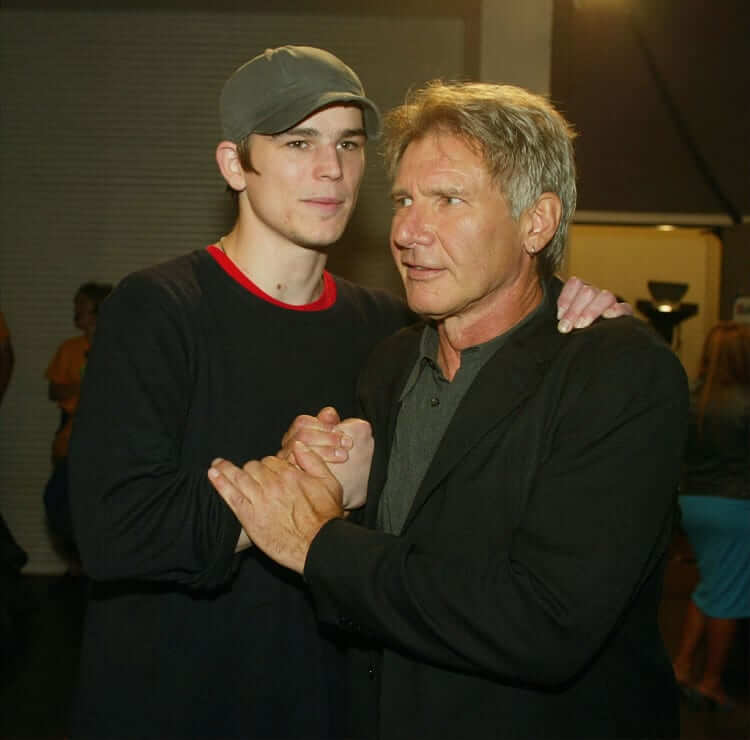 When they would do scenes, there would be awkward silences because they were so uncomfortable around each other.
24. Jon Favreau & Terrence Howard
Initially, Terrence Howard was fired from Iron Man. The director, Jon Favreau, was unhappy with his performance as James Rhodes and replaced him with Don Cheadle.
Gustavo Caballero/Getty Images
They had to do too many reshoots and editing, which led to Favreau replacing him. Although they had a riff for a few years, they are now on better terms.
25. Pierce Brosnan & Teri Hatcher
During the filming of Tomorrow Never Dies, Teri Hatcher was newly pregnant, and her co-star, Pierce Brosnan, had little sympathy for her. He complained that she would make him wait for hours on set, and he said some harsh things to her.
Hatcher retaliated by slapping him a little too hard in one of the scenes. Brosnan probably learned not to be mean to a pregnant woman after that!
26. Tom Hardy & Shia LaBeouf
On-screen, Tom Hardy and Shia LeBeouf played brothers in Lawless, but off-screen, there was no love between them. They both had admitted to fighting when the cameras stopped rolling.
Gareth Cattermole/Getty Images
In an interview, Hardy made light of the situation and also confirmed that LeBeouf knocked him out during one of their fights.
27. Patrick Swayze & Jennifer Grey
"Nobody puts Baby in a corner!" During the filming of Dirty Dancing, the late Patrick Swayze said he would get easily annoyed with Jennifer Grey because she would fool around and waste time.
Although he felt like Grey was wasting time, some of her goofing off made it into the movie. In the film, you can see him getting annoyed with her, but some of that wasn't acting.
28. Teri Hatcher & Marcia Cross
Although there was enough drama to last a lifetime on Desperate Housewives, the actresses had some off-screen drama too. Particularly between Teri Hatcher and Marcia Cross.
Cross once got upset that Hatcher was front and center for a photoshoot. Also, Hatcher did not get along with the rest of the cast, and there were reports that she bullied Eva Longoria.
29. Shannen Doherty & Alyssa Milano
Shannen Doherty seemed to have a feud with cast members on many different shows. On the show Charmed, Doherty and Alyssa Milano played sisters. Behind the scenes, they had many arguments.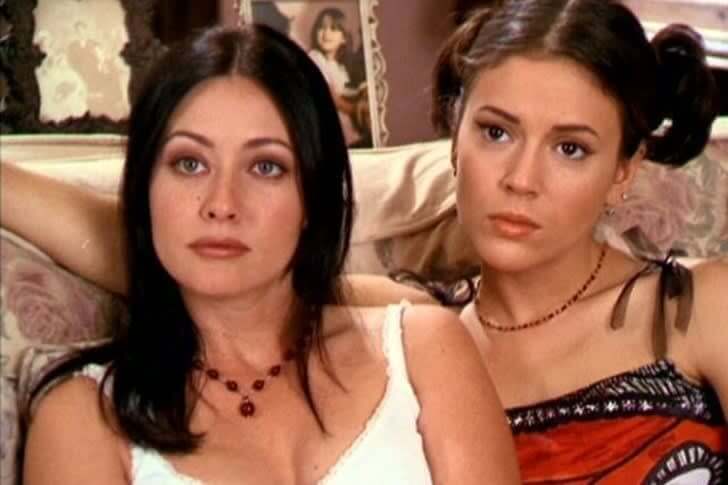 Life on set was anything but charming. Doherty was hard to deal with, which is also why she got fired from Beverly Hills, 90210.
30. Richard Gere & Debra Winger
Would you believe that this feud made Debra Winger quit acting? On the set of An Officer and a Gentleman, Winger was tough to work with, and her co-star, Richard Gere, would agree.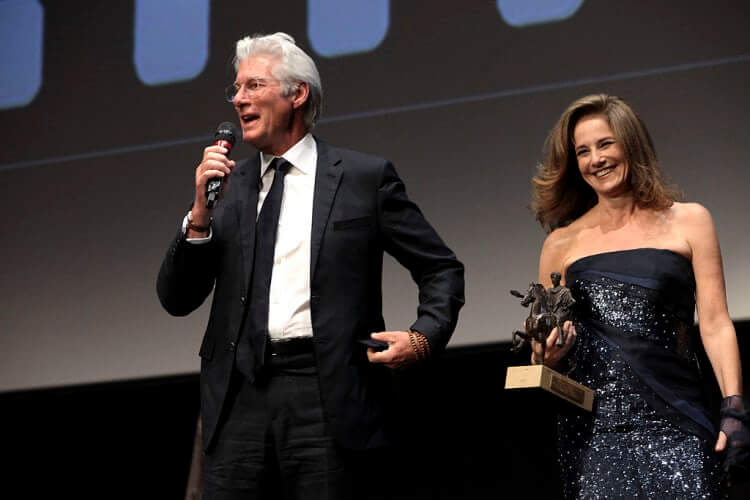 Gere and Winger consistently argued on set, and she said that filming the movie was the worst experience of her life.
31. Debra Winger & Shirley MacLaine
Speaking of Debra Winger, she also had issues with another one of her co-stars. In 1983 during the filming of Terms of Endearment, Shirley Maclaine and Winger had many problems behind the scenes.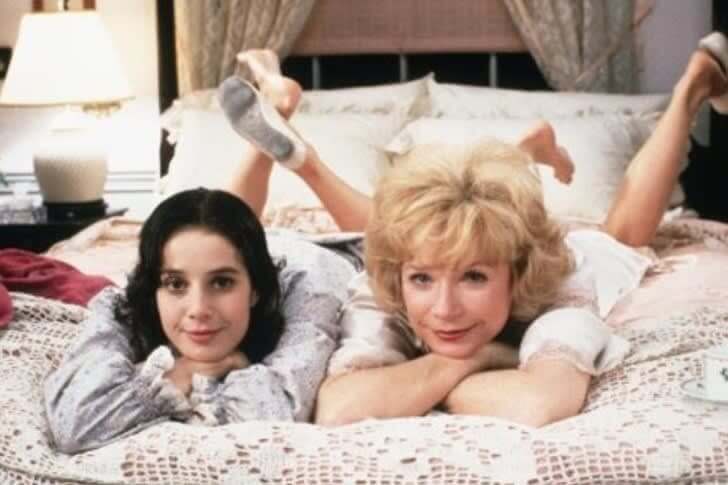 There were many rumors regarding this feud, and some included that Winger would do disgusting things because she felt Maclaine was "stuffy towards her."
32. Ashley Judd & Jason Patric
This feud is no secret because Jason Patric made no attempt to hide his dislike for Ashley Judd. They co-starred on Broadway in Cat on a Hot Tin Roof and Patric was not happy with Judd.
He called her lazy and arrogant. He also outwardly said he didn't like her.
33. Julianna Margulies & Archie Panjabi
If you were a fan of The Good Wife, you probably noticed that Julianna Margulies and Archie Panjabi didn't physically share a scene for two years of the show.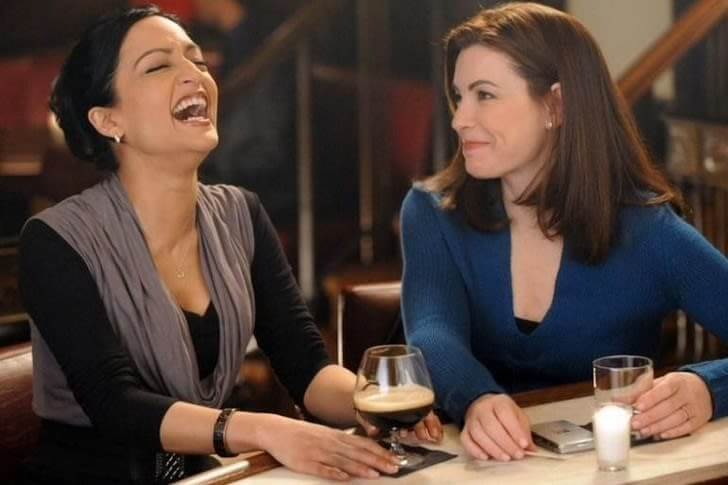 They disliked each other so much that scenes had to be faked. In the final episode, there is a scene with the two of them, and it was created with the help of CGI.
34. Kiefer Sutherland & Freddie Prinze Jr.
According to Freddie Prinze Jr., Kiefer Sutherland is an unprofessional actor. The two of them worked on the show 24 together, and Prinze was less than impressed with his work ethic.
Prinze said he wasn't trash-talking him because he would tell Sutherland how he feels to his face.
35. Nathan Fillion & Stana Katic
On the set of Castle, Stana Katic and Nathan Fillion would argue so much that they had to go to couples counseling to be able to work together.
Alberto E. Rodriguez/Getty Images
No one knows why they completely despise each other, but their arguing went on for multiple seasons of the show.
36. Charlie Sheen & Selma Blair
It is difficult to find someone that likes Charlie Sheen these days. When Selma Blair and Sheen worked together on Anger Management, he had her fired because she complained about his work ethic.
Sheen would make the cast and crew wait for hours before he showed up to work. He also sent abusive text messages to Blair to inform her that she had been fired.
37. Kate Beckinsale & Luke Wilson
In 2007, Luke Wilson and Kate Beckinsale co-starred in Vacancy. During filming the stars had a few arguments.
Wilson would show up hours late and sometimes hungover. He was also outwardly rude to crew members and Beckinsale.
38. Naya Rivera & Lea Michele
Naya Rivera and Lea Michele starred on Glee together, where there was a lot of drama on set. In particular, the feud between Michele and Rivera was the worst out of anyone.
Michele wanted Rivera off the show so bad that she had her removed from the regular cast for the show's final season.
39. Marilyn Monroe & Tony Curtis
What could make a man hate Marilyn Monroe? Tony Curtis had a few reasons. Monroe and Curtis worked together on Some Like it Hot​, and he was not a fan of her.
Frank Worth, Courtesy of Capital Art/Getty Images
Curtis famously said that kissing Monroe was like "kissing Hitler." That seems a bit dramatic. He might have had such a dislike for her because they had previously been in a relationship.
40. Kenny Baker & Anthony Daniels
Yes, even robots can have feuds! The actors who played R2-D2 and C-3PO had a falling out on the set of Star Wars.
Daniels and Baker didn't get along because Daniels did not say hello back to Baker, and it was insulting.
41. Sharon Stone & William Baldwin
William Baldwin usually plays a villain, so it is not a surprise that he was feuding with co-star Sharon Stone. In the movie Silver, the two were supposed to be romantically involved.
They did not like each other in real life, which made filming sex scenes difficult. Baldwin said she had thin lips, and Stone his tongue when he went overboard kissing her.
42. Clayne Crawford & Damon Wayans
Here is another case where an actor gets replaced in the middle of the show. In the show Lethal Weapon, Clayne Crawford was fired because of his toxic behavior towards cast and crew.
The arguments between Crawford and Damon Wayans were so bad that production had to replace him.
43. William Shatner & George Takei
Things have gotten heated between co-stars William Shatner and George Takei. They have nothing nice to say about each other. Shatner has publicly called Takei "psychotic and disturbed."
On the other hand, Takei called Shatner self-centered and did not invite him to his 2008 wedding.
44. Martin Lawrence & Tisha Campbell
The feud between Martin Lawrence and Tisha Cambell is a little messy. Cambell filed a sexual harassment suit against Lawrence after she quit the show, Martin.
She later came back to the show, and would only film her scenes when Lawrence wasn't on set. This must have been difficult, considering they were the most important characters.
45. Laurence Olivier & Marilyn Monroe
Before her feud with Tony Curtis, Marilyn Monroe was fighting with another co-star, Laurence Olivier. During the filming of The Prince and the Showgirl, the two did not get along.
Olivier referred to Monroe as a b***h. He was not happy to be working with her, which made things uncomfortable around the set.
46. Balthazar Getty and the Cast of 'Brothers and Sisters'
On the set of Brothers and Sisters, Balthazar Getty made things tense for the entire cast. He was late to shoot and they had to move the schedule around to accommodate him.
Getty would forget his lines and make his co-stars cry. Eventually, he was written out of the show for his behavior.
47. Bruce Willis & Cybill Shepherd
Bruce Willis and Cybill Shepherd worked together for four seasons on Moonlighting in the '80s. There was tension on set because their personalities clashed.
When Cybill became a mom and Bruce launched his movie career, the show fell apart, and they went their separate ways.
48. Woody Allen & Mia Farrow
This one is truly a scandal. Woody Allen and Mia Farrow co-starred in Husbands and Wives. In real life, these two were dealing with a major breakup scandal. Farrow found nude photos of her adopted daughter taken by Allen. He was having an affair with her daughter.
If that isn't enough, when the film was released, there were allegations of incest, pedophilia, and emotional abuse. Allen went on to marry Farrow's adopted daughter in 1997.
49. Marlon Brando & Sophia Loren
From the first day of filming A Countess from Hong Kong, Marlon Brando and Sophia Loren did not get along. Brando started the feud when he told Loren he could see her nose hairs.
Brando and Loren had trouble working the entire film. Loren later said that Brando had no problem ruining their working relationship.
Photos Hilariously Edited By A Graphic Design Troll Who Takes Everything Very Literally
John Travis
This article was originally published on Kueez
People always want to improve their pictures, but not everyone knows how to use editing tools. That's where James Fridman comes in because he is a photoshop wizard who never disappoints. People send him their pictures with specific editing requests, and Fridman always delivers exactly what people ask for. He is a savage that will take people's instructions very literally, and it makes people think, "I should be more careful when asking James Fridman to photoshop my picture." Once you see these hilarious edits, it will remind you to be careful what you wish for. Continue scrolling to see how these people's pictures were hilariously improved with exactly what they asked for.
When Your Friend Is The Rock
Now, this lady can say that her friend is the Rock, and she can reply, "The Rock? You mean Dwayne Johnson, right?"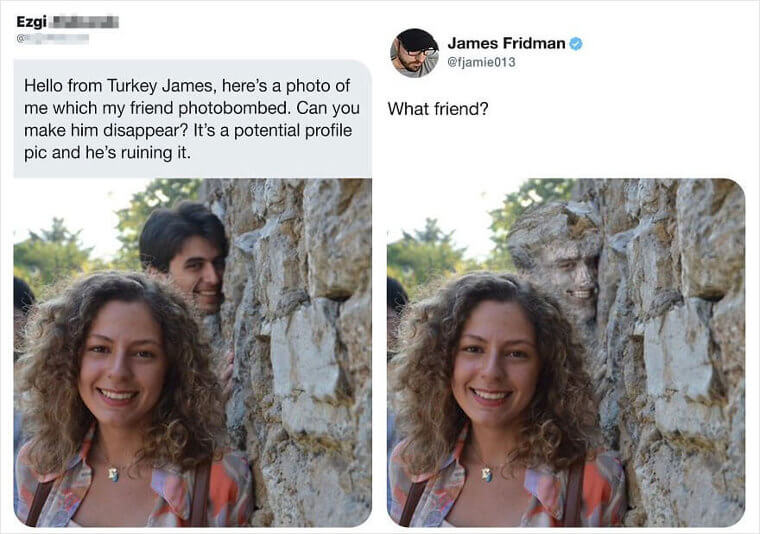 Fridman did an excellent job because it takes a second to notice that the rock in the background is her friend.
Be Careful What You Wish For
The witty artist did exactly as asked, and no one is complaining. This woman wanted the pole in front of her to be removed, and we see no problem with it. After all, she got what she wanted.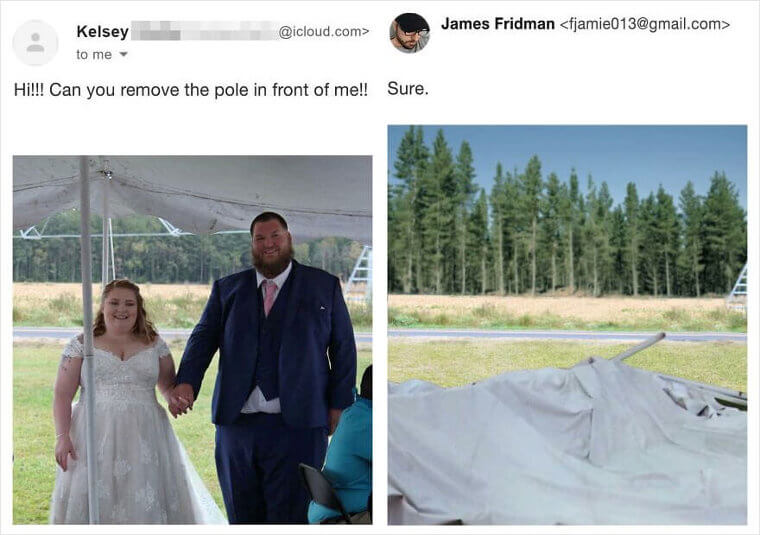 We cannot stop laughing at his dad joke-like interpretation of the request. One can hope the wedding did not come crashing down like in the photoshopped image.
When You Want To Keep Things Conservative For Your Mom
This guy wanted James to make the photo modest for his mom, and we cannot stop laughing at what he created. Who knows, maybe the mom saw the picture and had a problem with her son wearing his underwear outside.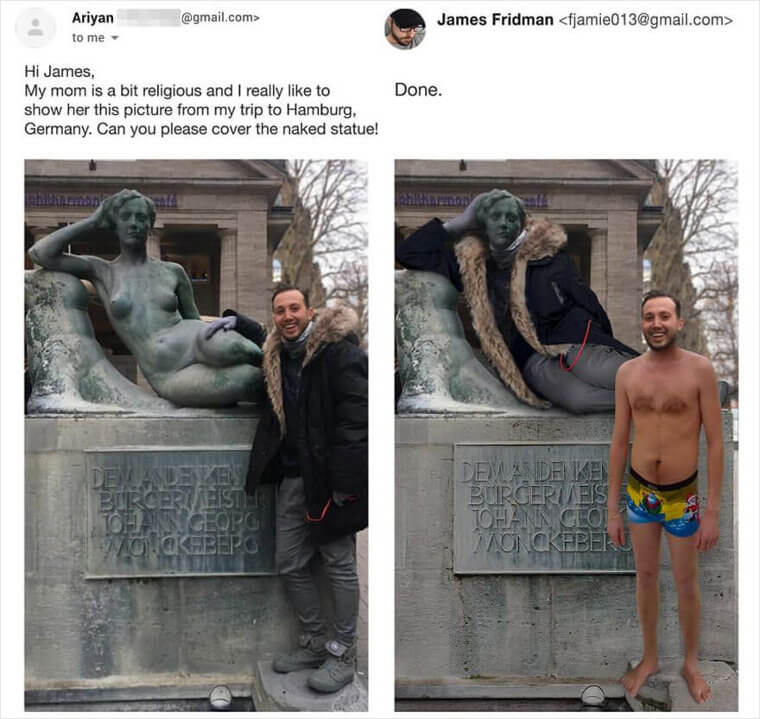 How on earth did James even photoshop it because the arm on the left is attached to the stone? This guy keeps impressing us with his wizardry.
That Was The Last Time He Wore White Pants
When she asked James to make her boyfriend as tall as her, we're pretty sure she didn't expect such a hilarious response. This creative work is not only very hilarious but also shows the artist's incredible photo editing skills.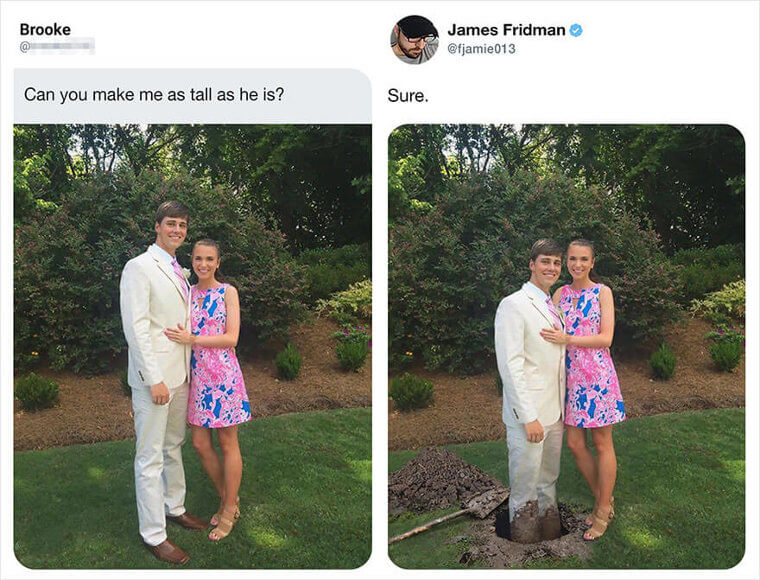 Instead of making her as tall as her boyfriend, he decided to bring the guy down to her level in the most creative way.
Is This Zoomed In Enough?
This is so hilarious as he did fix it in a way that the close-up photo of Diane could be used as a jump scare in horror movies.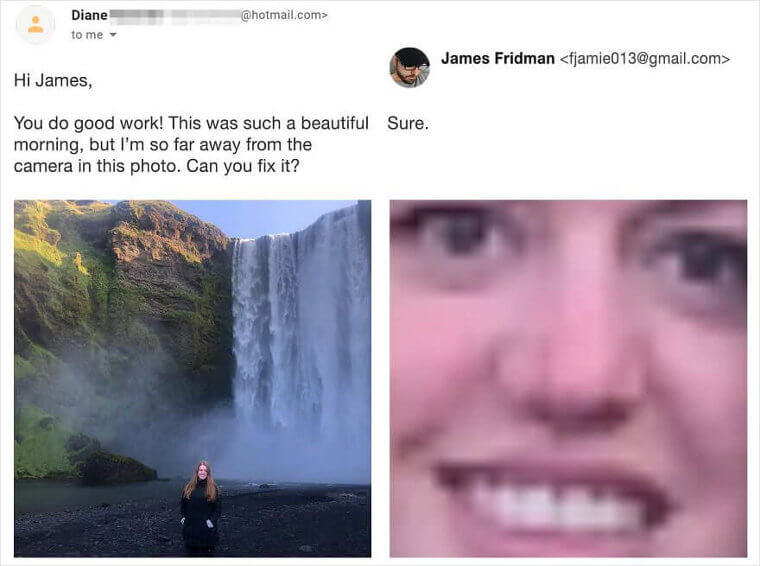 She did not say she wanted the background to be included. We have a feeling that it could become the next viral meme.
He Went From Matthew Child To Matthew Daddy Real Quick
James nailed not only the photoshop request but also the dad joke. It's funny, but what was he expecting when he asked to look more "daddy?"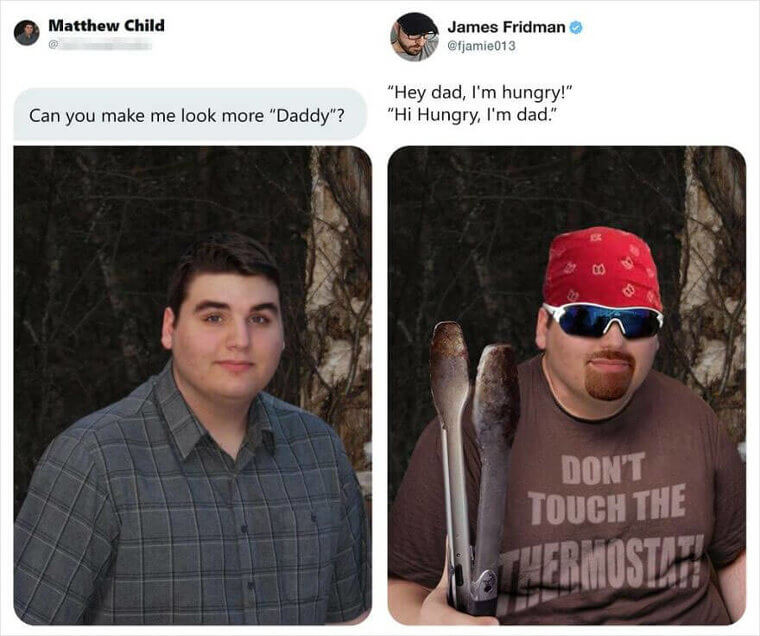 You can't see it visually, but you can almost hear him screaming about the electric bill if you look at the improved picture long enough.
That's A No-Brainer
We know by now that requests for James must be particular, or else he will create a literal version of what you ask for like this.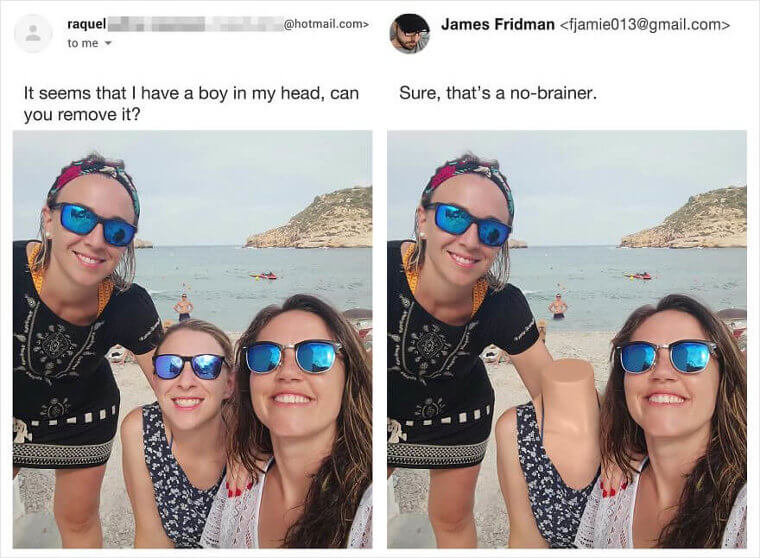 Instead, she should have written, "Can you remove the boy that is standing in the background?" He would have made something funny either way, but it would have been better than removing her head.
"I Could Have Done That Myself"
This man thought he would get a new photo with a full head of hair, but that's not how James rolls. He wants people to love themselves, so he just cropped the picture. The guy probably thought, "I could have done that myself."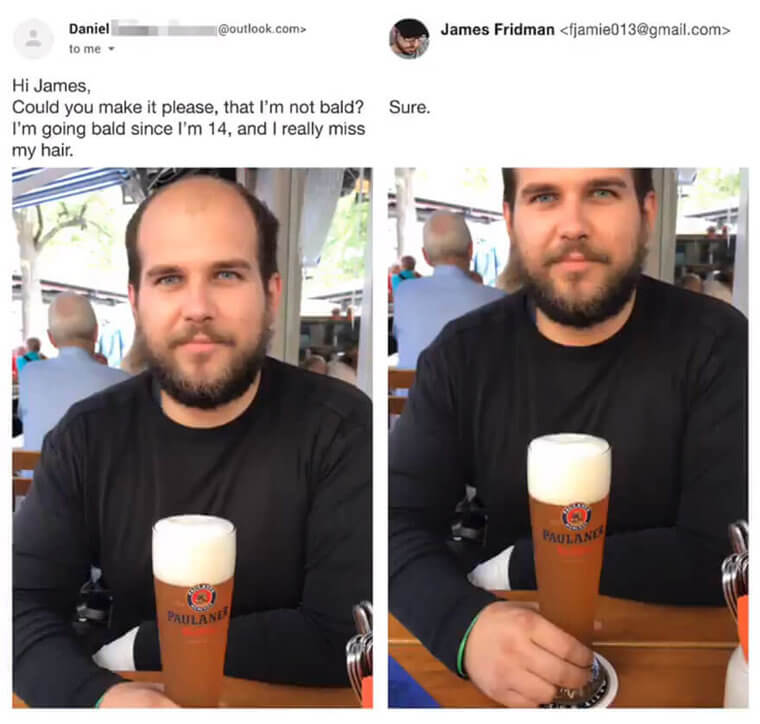 Hair alone doesn't make anyone handsome. It must've been hard to go bald so early in life, but he should embrace what he has.
James Is Not A Butcher, Lady!
This lady straight up asked James to make her boyfriend's feet short. Well, he did what he does best.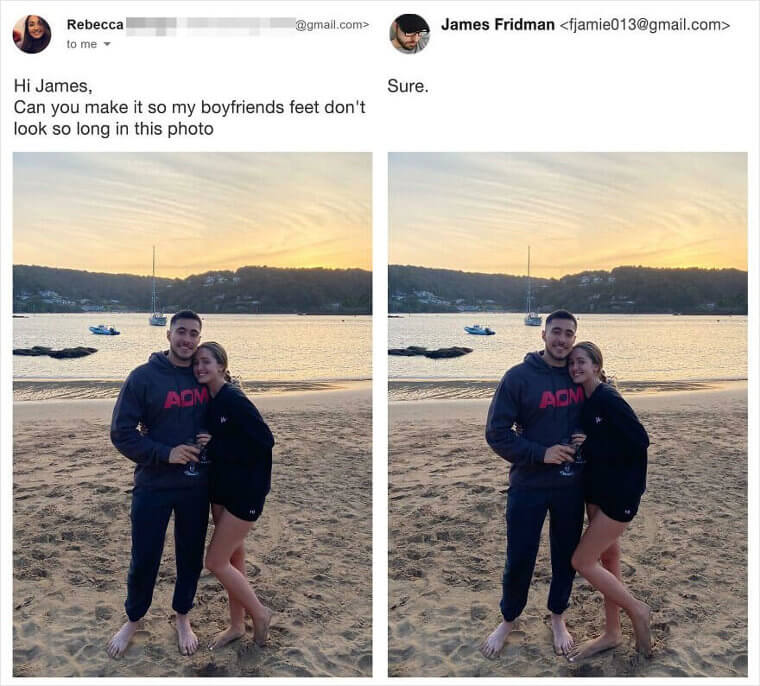 That was a weird request. However, this is the first time we have heard a woman complain that her boyfriend's feet were too big.
It's Like Where's Waldo
This guy didn't get any solo shots, and he thought he looked handsome, so he wanted to remove the other people from the picture. Unfortunately, he now looks like a loner in the background.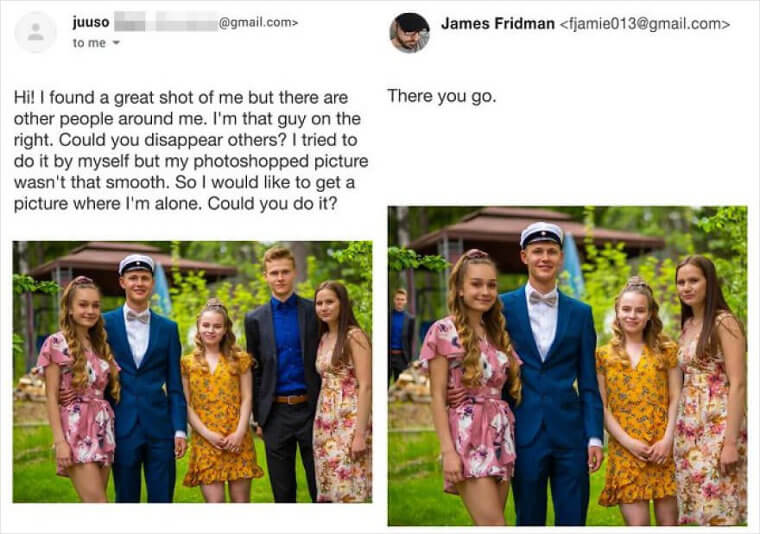 James probably thought it was hilarious that he asked to "disappear" the people. You can never be too careful when asking him to fix a picture.
May The Force Be With You
This looks adorable, and we hope the couple is still together after this hilarious photoshop. However, we want to ask one important question: Did she tell him, "I am your girlfriend" instead of "I am your father?"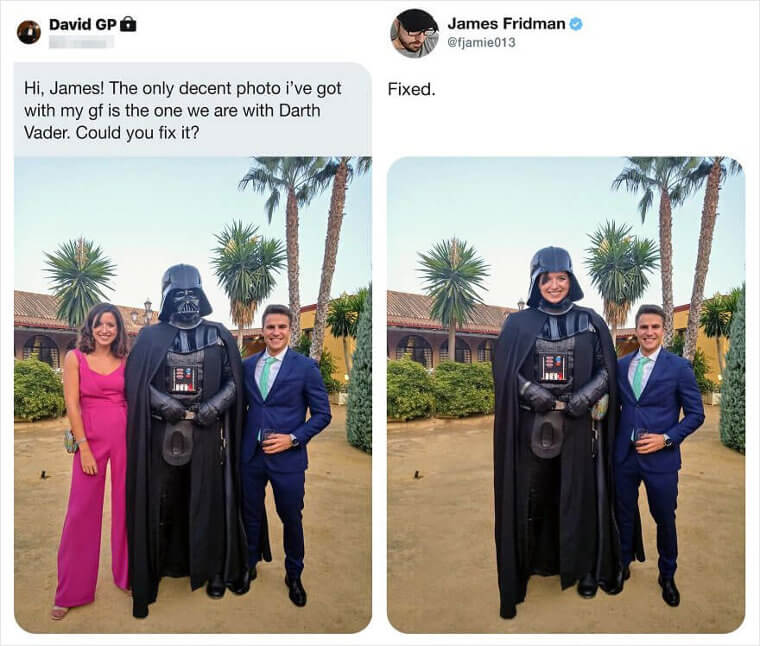 All this photo needs is baby Yoda. We don't see anything wrong with the original.
That Got Dark Quickly
Well, that's one sure way to bring the cow closer or make them run away. We are pretty sure the cow on the left is thought, "I wonder where Rachel went."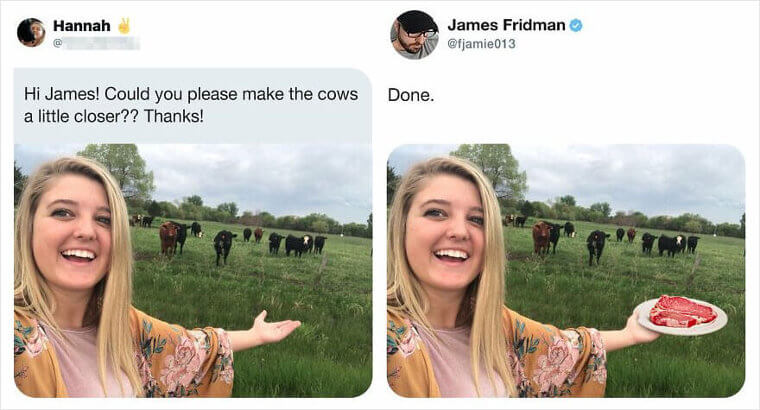 When Hannah requested that James make the cows look like they are a little closer, she wasn't expecting it to take a dark turn so quickly.
You Ask And You Shall Receive
We admire the twisted mind of James because who would not want everyone to see their chandelier in the family Christmas photo.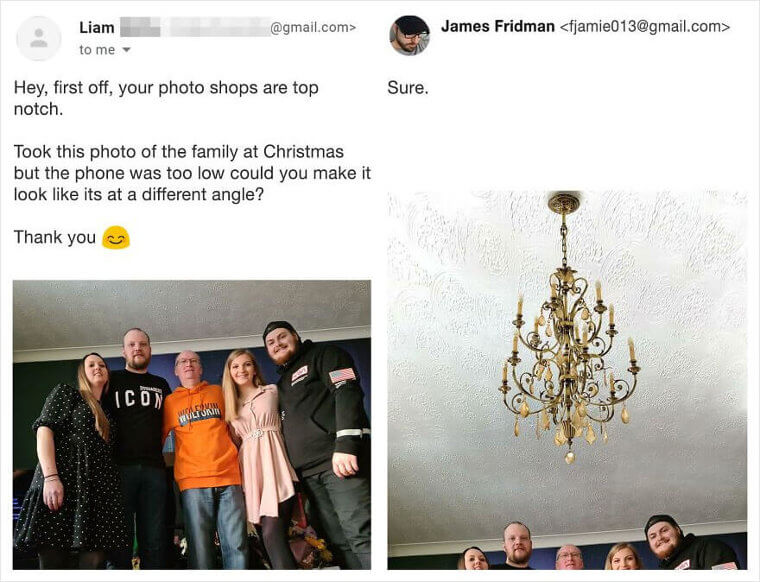 We think this photoshopped image is spot on. After all, it serves the dual purpose of showing what matters the most: a lovely chandelier.
He Is Definitely Dropping Something
Jim Morrison recorded "LA Woman" inside his bathroom, so who knows, this guy might have a big hit on his hands because he did the same thing.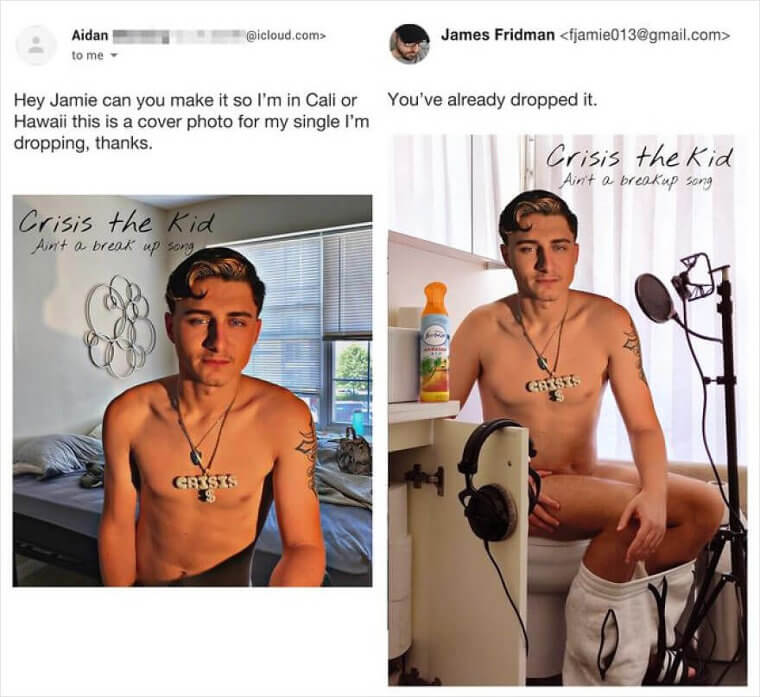 We have a feeling that his single will sell millions of copies. Is it just us, or does something smell a little off about this kid?
An Environmentally Responsible Tourist
This woman went to Greece and wanted her photo to look more classy. Well, she didn't say what kind of bag she wanted. James is creating awareness about littering, and we have more respect for him.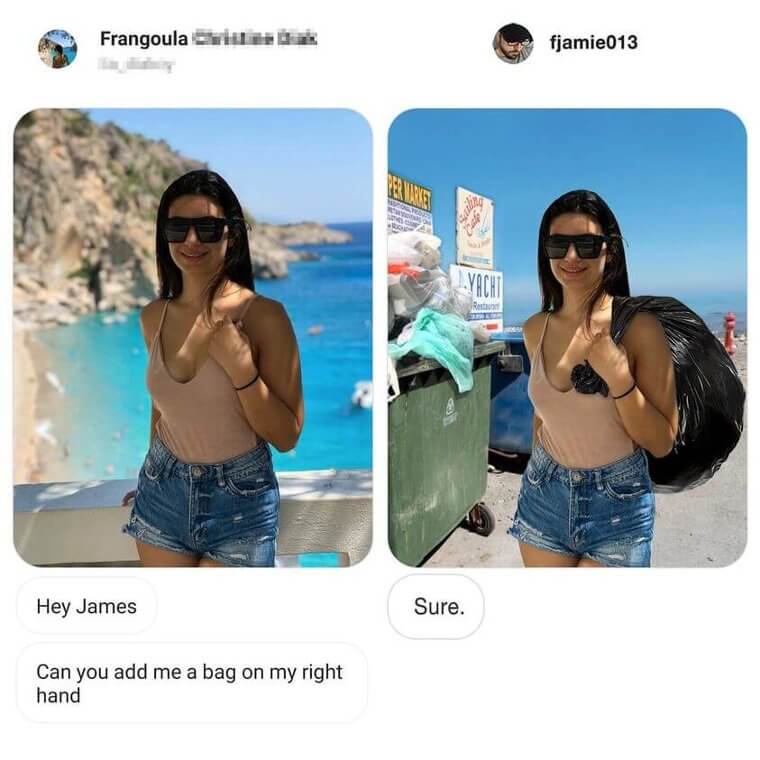 In a way, it looks like she's part of the beach cleanup— what a cute environmentalist.
Garden Of Love
James is a photoshop king for a reason. He is like that friend you ask to take your photo, but takes selfies instead of taking your picture.
Don't be dismayed, Cora. We can still see your foot, and most importantly, now you have more privacy.
It Could've Been A Lot Worse
All we have to say to James is that he did an excellent job with the hand placement. We really needed some humor during these testing times, and James offered a helping hand.
James could have gone with other options as well. For example, he could have put a lightsaber in her hand, an umbrella, or even a Samurai sword.
We're Not Crying, You're Crying
This is so lovely, and we are glad he told her that. Sadly, she thinks she has to look 'normal' while she is already beautiful.
Seriously, this is such a lovely response from James. To take someone's insecurities and flip it to make it into a body-positive way of thinking is such a precious thing to do.
When Being A Bad Boy Makes You Happy
First of all, is that a unicorn tattoo? He is definitely not going to win the bad boy contest with a unicorn tattoo.
To become a bad boy, he has to do much more than not follow the rules. We wonder what his original vision was before James edited the picture.
No Water, No Plants
James proves to us that his sense of humor and talent is truly out of this world with each photo editing project. Respect for the gardener and James for his witty response.
She asked for the gardener to be removed, and without him, the luscious plants wouldn't be thriving.
Masks That Are Worth Wearing
Face masks should be made like this in the first place. We think all masks should have silly faces like these – it would make a rather challenging situation, at least a bit more light-hearted.
A little humor goes a long way, but it seems like he missed the halos and angel wings.
Float Like A Butterfly, Bark Like A Boxer
This caring girlfriend got what she wanted, and we are so happy for her. However, this goes on to prove that you need to be very specific with James. Otherwise, he'll find a loophole in your request.
We are no match for James, but he could have also considered boxer shorts too. This is the best kind of boxer, in our opinion.
Love The Skin You're In
The photoshop wizard keeps on winning our hearts. Although it is more of a hobby for him, he uses it to spread laughter and positivity. He is always trying to make people feel confident in their skin.
James is very sensitive to people who are ashamed of the way they look. We applaud him for giving them advice instead of changing their features. His edits are absolutely hysterical, and at the same time, he shows a depth of compassion that is very rare these days!
Wear Some Boots!
This is one of those "When you see it" pictures. For once, we thought, "Wow, James actually created something as asked," and then we saw it.
Seriously, we were disappointed at first, and then we took a second look at her foot. Now we are happy and can sleep in peace. Cheers!
Lights Out
This might be our all-time favorite! So simple and yet so right. After all, this is what happens when you take the light out of the room.
We can say that James is illuminating with his impressive work (you see what we did here). But why did she ask for it? She could have asked him to remove the phone as it is covering half of her face.
Shots Fired!
After seeing how he is holding the gun (totally improper), a real estate agent job is the best he can hope for.
Hey kid, if you are playing with guns, then at least learn how to hold them. Any agent would know not to hold the gun sideways. He is lucky he didn't shoot his foot.
Who's The Dummy Now?
It seems like we will have to dig deep into the dictionary to come up with some new adjectives to praise this man's extraordinary creativity. This is brilliance at its peak!!
Laugh all you want at this strange request, but he delivered what was asked. After all, a good laugh is still the best boost for our immune system.
Be Specific, Very Specific
It appears to be a typical date picture that soon turned into a photo with a ghost that would most likely be featured in a horror movie.
James left the boyfriend's arms in the photo with bones sticking out. It is brilliant to leave the arms and hands!
Now She's Not In The Background
Juan never told James where he'd rather have her. Did he send another request like, "Hey James, could you remove us from the background?" If yes, then the cycle may never end.
In these times, we need people like James around to lighten our hearts. Thanks for being awesome!
Context People, Context!
James gave this woman a better reason for being there. But, again, it's all about context. She wanted the picture to look a bit more classy. But what is more refined than pizza?
Maybe she shouldn't have stood there in the first place if she didn't want the pizza in the background.
Respect For The King
Have you watched the series, Tiger King? The woman in the photoshopped image is Carole Baskin, an American big-cat rights activist and the CEO of Big Cat Rescue, a non-profit animal sanctuary near Tampa, Florida. We won't go into too many details, so there won't be any spoilers.
We will never understand why people pay to get pictures with drugged animals, but his edit makes perfect sense.
Spot The Difference
James has done such an amazing job that it is nearly impossible to spot the difference. The two photos are the same. We don't know why he wrote "Fixed it" when there was nothing to fix in the first place.
Any sock manufacturer out there should produce toe socks that look just like this. Girls like her might buy them.
Oh Deer
Another deer? Forget the sheep; we are looking for the first deer! Where is the first deer in this photo?
It is a strange request because there is nothing wrong with the sheep. We think the sheep is cute.
Be Proud Of What You Were Born With
There is a proper time and place for humor, and James knows when it is time to inspire rather than use his editing jokes. Instead of covering up the birthmark or making his face one color, James told Cesar to embrace the skin he was born with.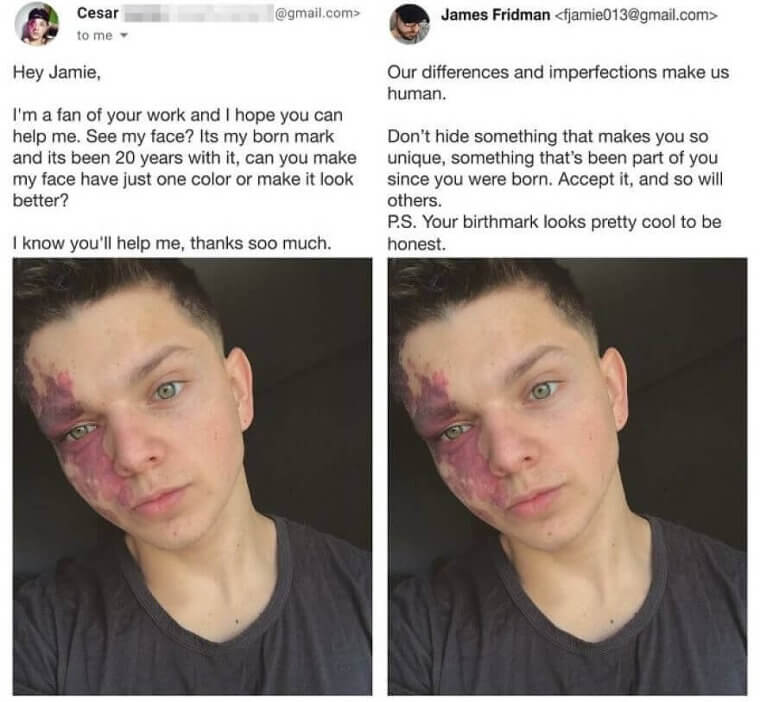 If you ask us, we think Cesar looks like Zuko from the live-action Avatar. In Avatar, the burn mark made Zuko look prominent and unique! Appreciate what you have because it makes you unique.
Wish Granted
She must not have known that objects become distorted behind bubbles, or she wouldn't have written this request to James.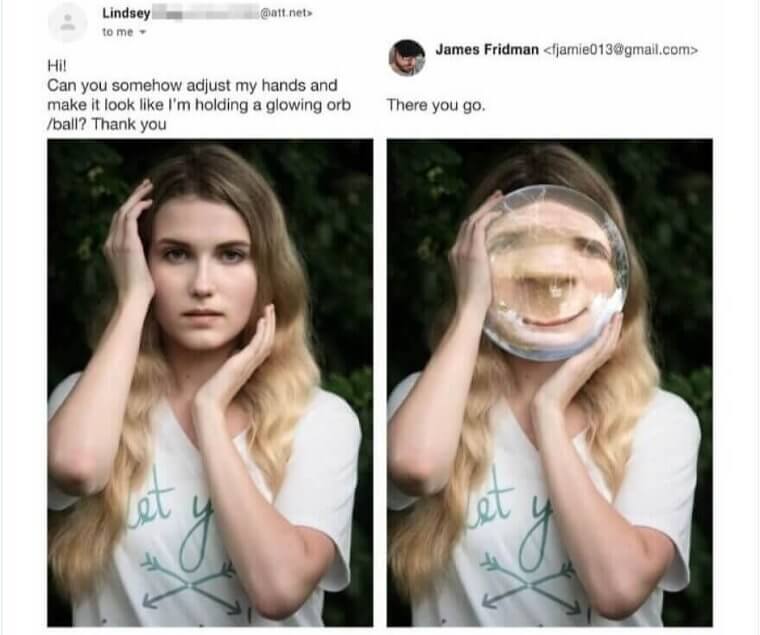 Her face is already glowing, and she doesn't need a glowing orb. We sometimes have to wonder what on earth these people expect when they make such requests.
Let's Put A Smile On That Face
Just like James' work puts a smile on our faces, he also knows how to make a dog smile, and it is adorable.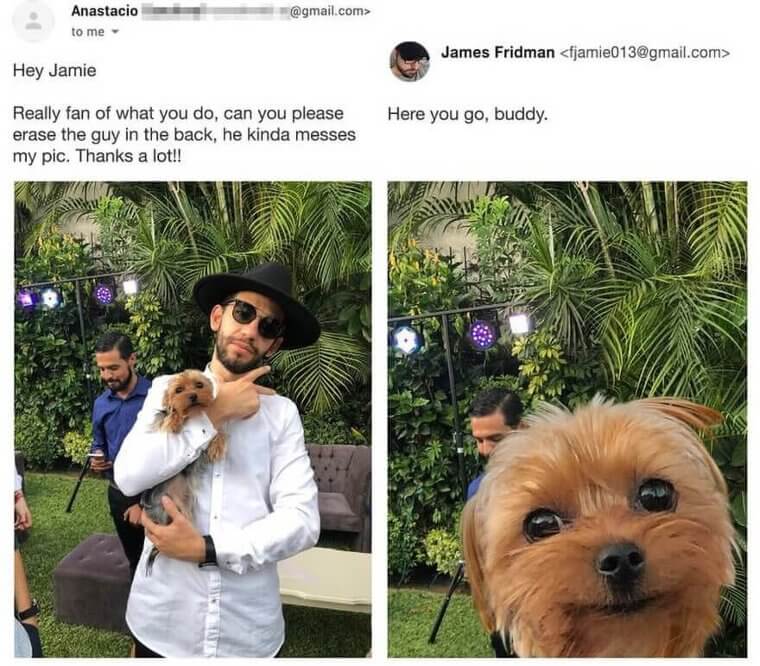 He made the dog a happy little furball without a hipster daddy that cuddles him to death. It looks much better without that guy in the back. We know for sure that the dog is completely satisfied that he got the spotlight.
The Best Shot Ever
James is a genius. The golf guy must be like, "Here lies my mate, all cold and dead. He was killed by a golf club straight to the head."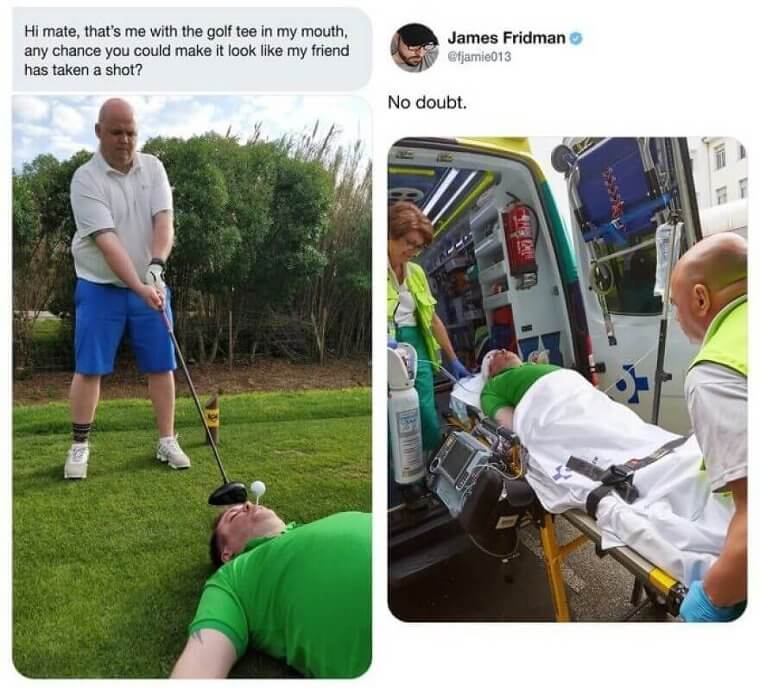 This is a much more realistic outcome of what could've happened after the original picture was taken because this is a horrible idea.
Is It The Fountain of Youth?
Every time we think James can't top himself, he creates another masterpiece. Maybe Jonas deserved it. After all, that is what you get for calling it a "foto."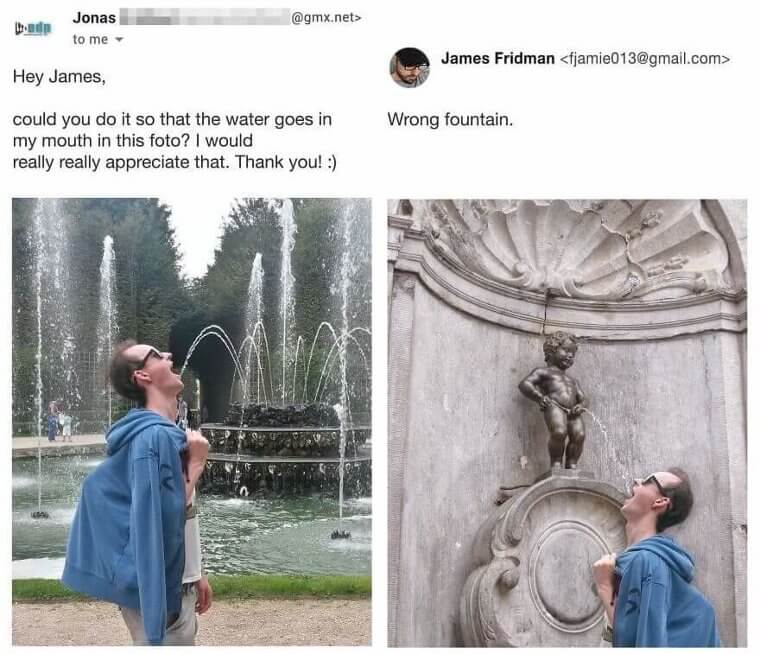 Lucky for him, James did not use a peeing dog. By the way, you can find the boy fountain in Belgium.
That Explains The Sunburn
This is photo editing at its finest. Once again, James nailed it, and we cannot stop laughing. We love how James says "sure" with a straight face and comes up with something so hilarious.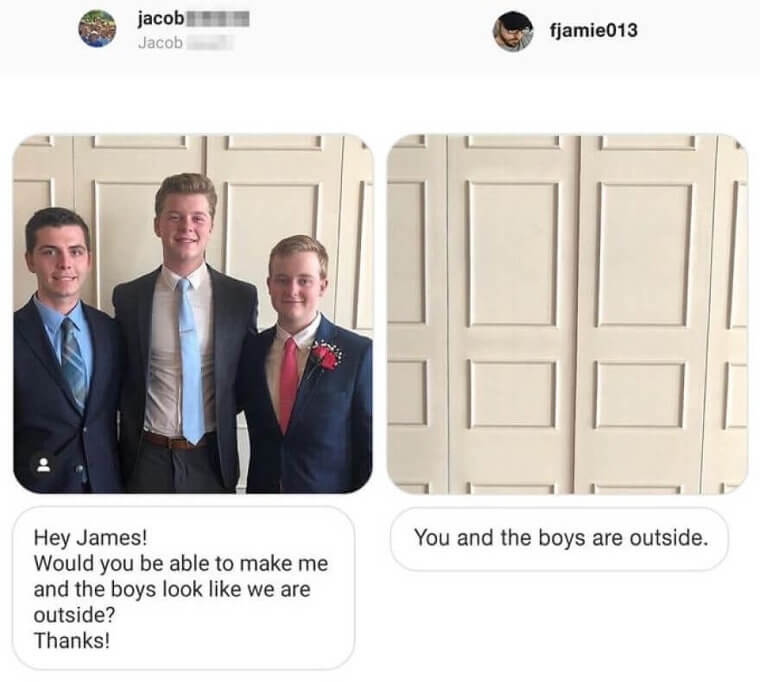 Jacob must have asked, "how do we know we are outside?"To which James replies, "because you're not inside."
Someone Call Bear Grylls
This amazing photoshop job reminds us of a hilarious photo in which a deer says to the bear, "I'll fight you with my bear hands," and the bear responds, "Oh Deer!"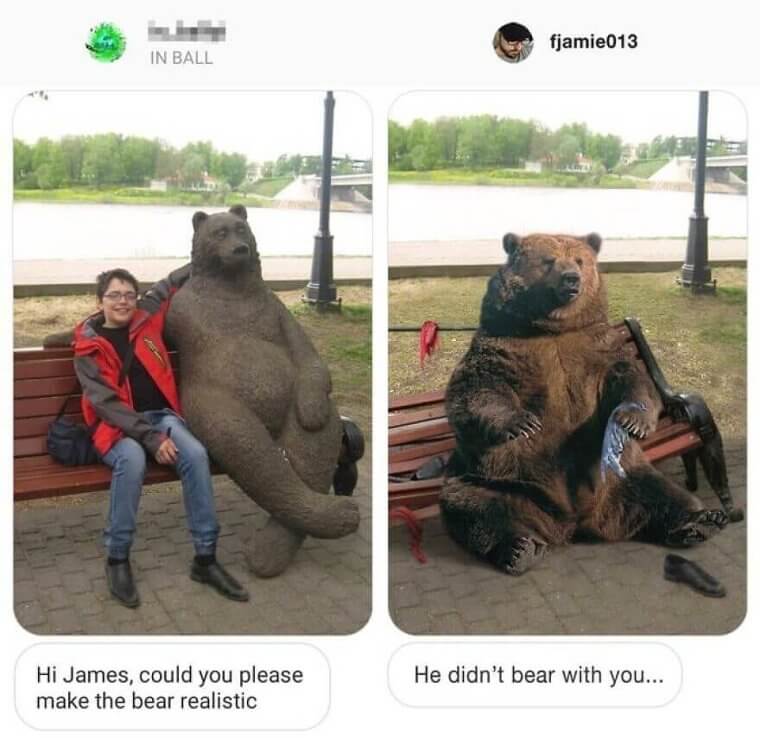 We love the attention to detail and the bear breaking the bench. You can say that the bear ate the girl, and the bench couldn't bear the bear's weight.
Super Woman
What we find funniest about this is that it actually DOES make her hands look much more natural! Now she looks like someone you shouldn't mess with.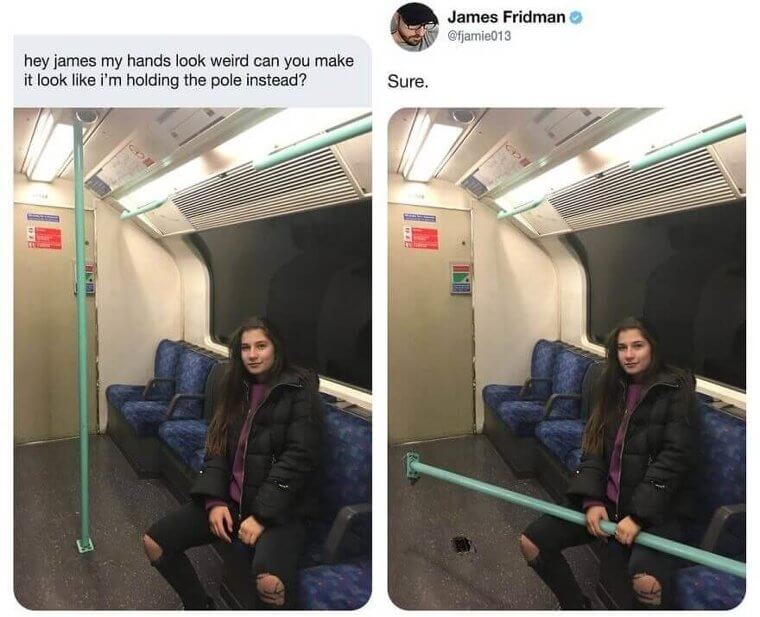 We have to admit that the sarcasm level of James is way higher than his photoshop game. He's a true legend!
If It Ain't Broke, Don't Ask To Fix It
He would have given the husband a striped shirt with a message like, "Sorry you felt so left out…Now you can be part of the team too!"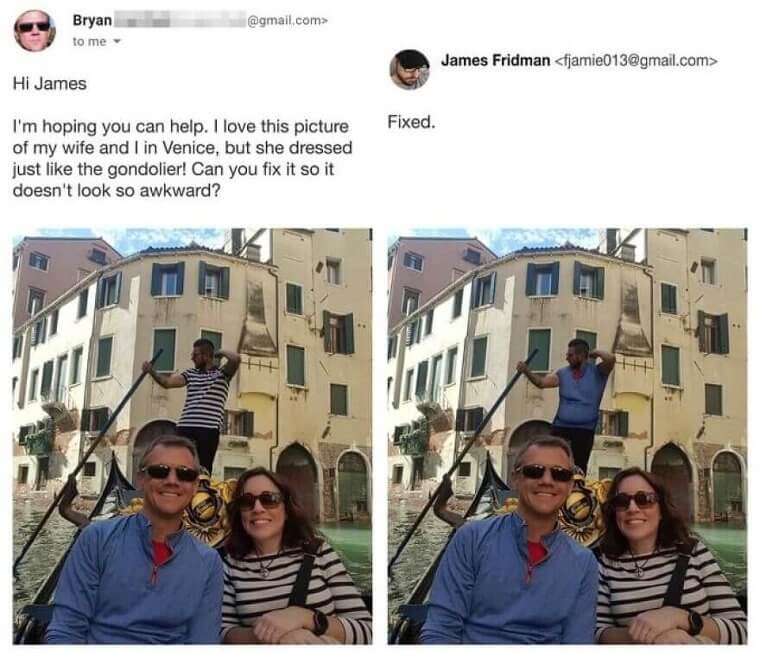 Maybe after that, his wife will send a message to James, "Hi James, we love your work. I was hoping you could fix this picture because my husband is dressed just like the gondolier."
Cool… Ice Cold
What was wrong with the lake? Since when is a lake an uncool place to be? It seems like she took the Ice-Bucket challenge to a level of no return.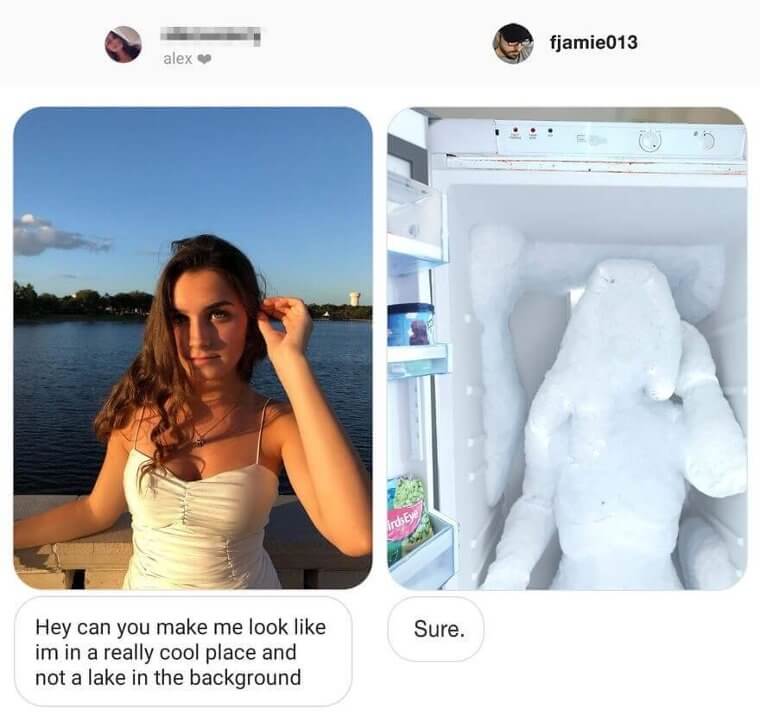 She said, "Hey James. I want to be somewhere that's really cool." "Sure thing," he said and waved his wand to give her an icebox instead of a pool.
Safety First
We didn't think it looked like she was standing in a hole in the floor until she said something about it, and now we can't unsee it.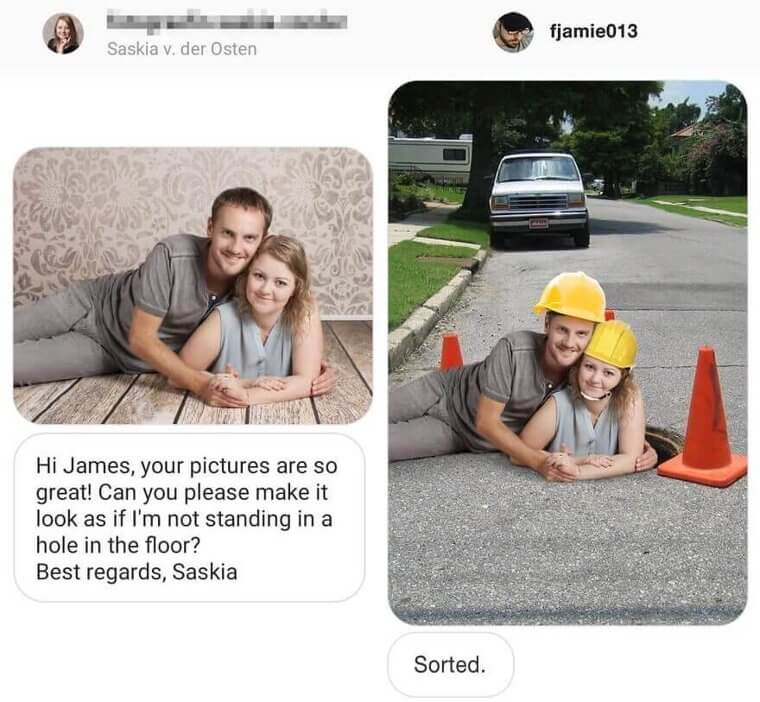 James really fixed it this time. Seeing the first photo reminds us of a scene in the 1995 movie Jumanji.
Groot's New Girlfriend
There is no challenge too big, no challenge too small for James. Just let him know, and he can do it all. Take an example of how he turned this woman into a female version of Groot from Guardians of Galaxy.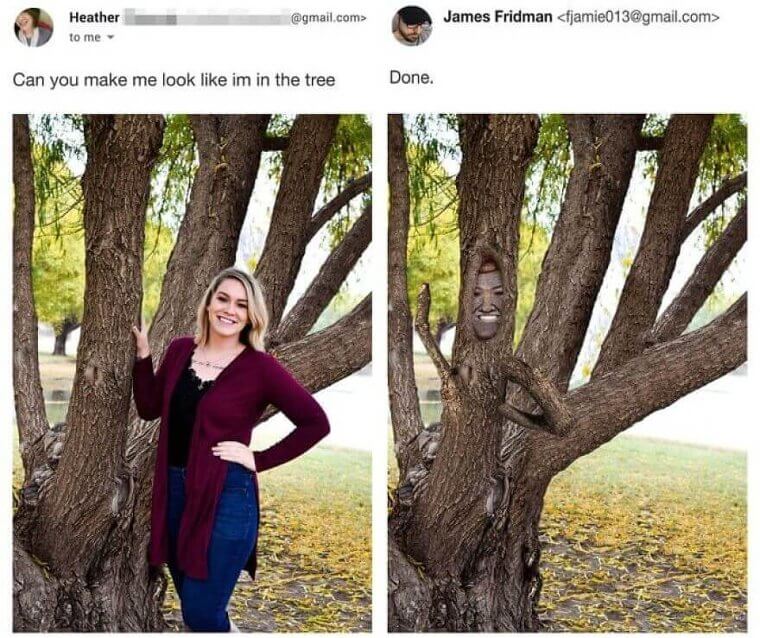 One wonders how she reacted after seeing the second photo. This is the first time James actually did what was asked for.
Perfection Is Boring
How many of you think that the crooked bow tie looks adorable? After all, perfection is overrated and boring.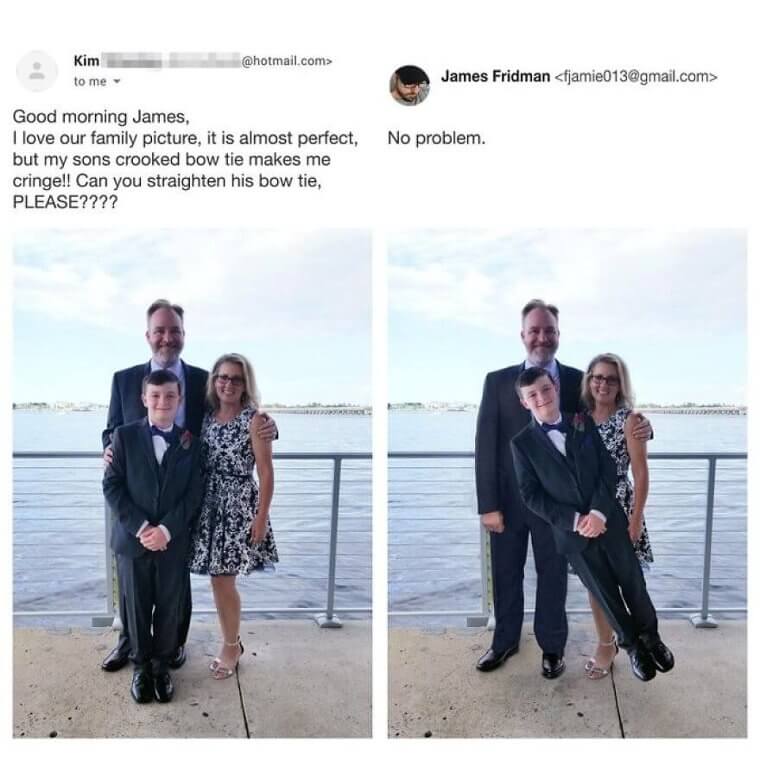 Maybe Kim has OCD, and seeing the crooked bow tie was killing her inside. On the other hand, you have to admit that James has a remarkable eye for detail, like reconstructing the father's right arm. It's all in the details.
Pecking Ducks
If we had to work on this photo, we might have gone with rubber ducks in the background. James could have gone with Daffy and Donald arguing in the background too.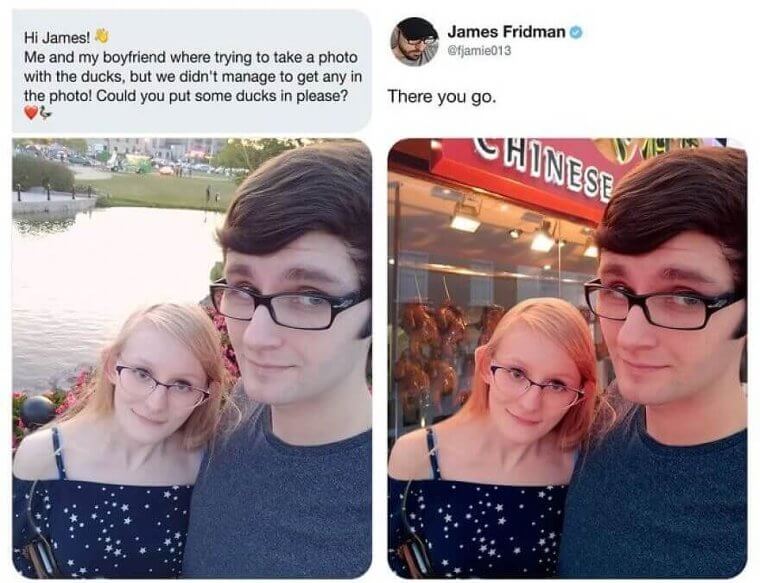 It's good she didn't ask for dogs or cats. We absolutely LOVE how he executed altering the lighting in this composite! The decision to change all the highlights (especially in their hair) and mid-tones was handled creatively.
From A Drunken Boy To A Hero
We have a winner. We repeat! We have a winner. This is one of the best photo editing works of all time. The guy in the middle looks like a drunk who is trying to look cool, and that is why we really want to see his drunk face.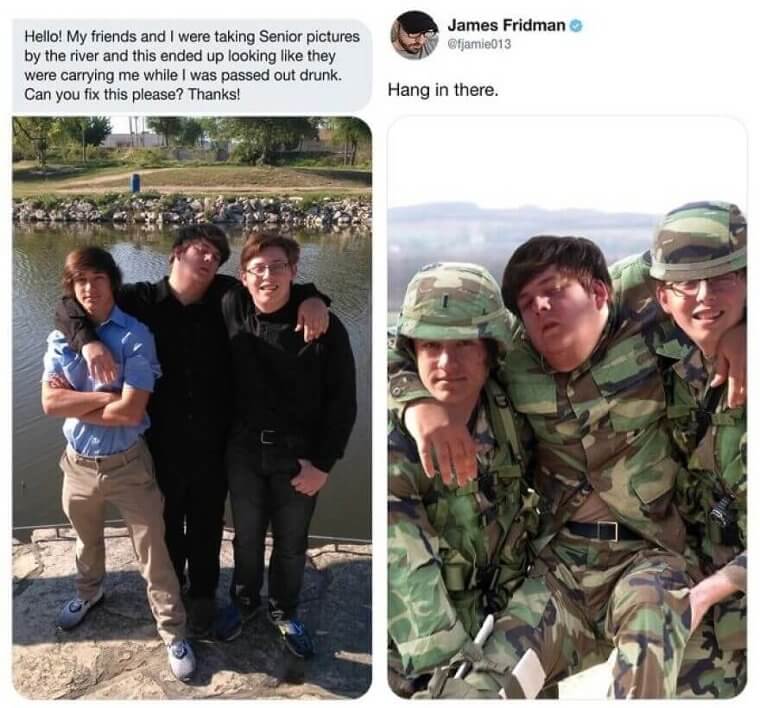 We hope these boys responded to James' work by saying, "Thank You For Your Service."
Make Her Smarter As Well
At first glance, we thought it was a blobfish. So she wanted her face reflected off of the bean, but she's not facing the bean?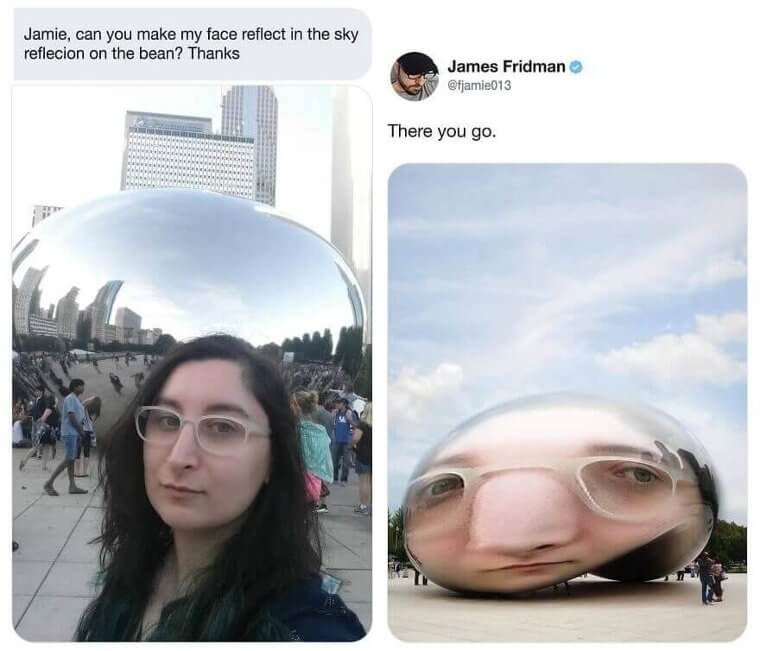 We didn't understand what she was asking for, but we think James pretty much nailed it. And we love how disappointed she looks in the second one.
Love Is In The Air?
He asked, "Can you make more romantic for this photo" and we are wondering, make what more romantic? Why does it look like the girl is not into him? Maybe we're wrong, but it does look like she is trying her best to lean away from him. But, again, we might be wrong.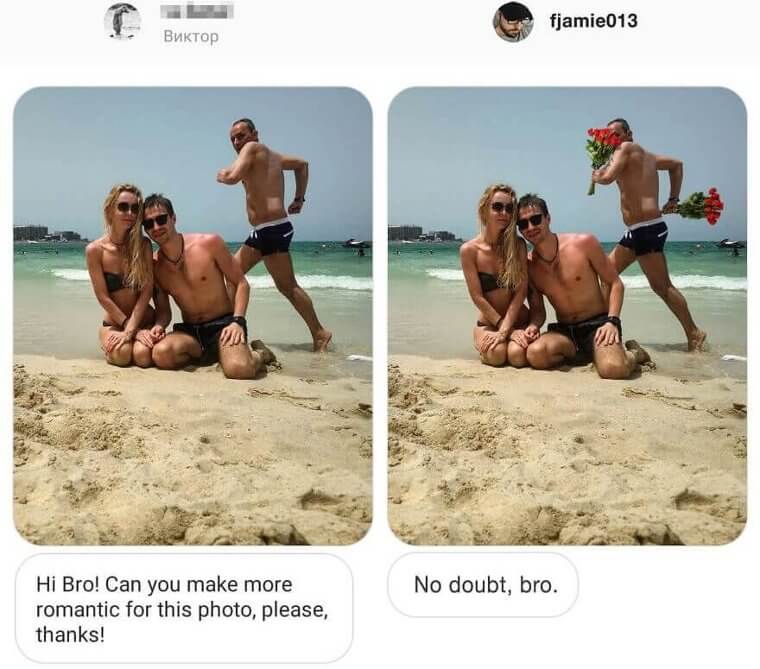 One thing we know for sure is that James is one hell of a romantic guy. Moreover, he knows how to make something romantic.