Makeup makes women feel more empowered and gives them a sense of fulfillment. It also boosts their confidence and makes them feel better about themselves. The truth is that makeup is all about self-love.
Goar Avetisyan is a Russian beauty guru that believes in empowering women with the help of makeup. With over 5.9 million followers on Instagram, this makeup artist is known for regularly giving makeovers to women who have been through household violence, suffering from cancer or severe skin condition, or have burn scars. Her amazing work not only dramatically transforms the appearance of her clients but also uplifts their confidence as well. Let's have a look at how Goar transformed the appearance of women with some amazing makeovers.
1.
Jamilya is from Dagestan. She got her face severely burned when she was just 2.5 years old. The makeup artist was kind enough to pay for Jamilya's transportation cost and did her makeover to boost her confidence. The final result was simply remarkable. Hats off to you Goar for giving this woman the confidence she needed. 
2.
Lily had to undergo two skin-transplant operations because of her birthmarks. As the operations weren't completely successful in permanently getting rid of birthmarks, Goar stepped in to cover Lily's birthmarks with makeup to make her feel amazing. Lily looks so beautiful and confident after the makeover transformation.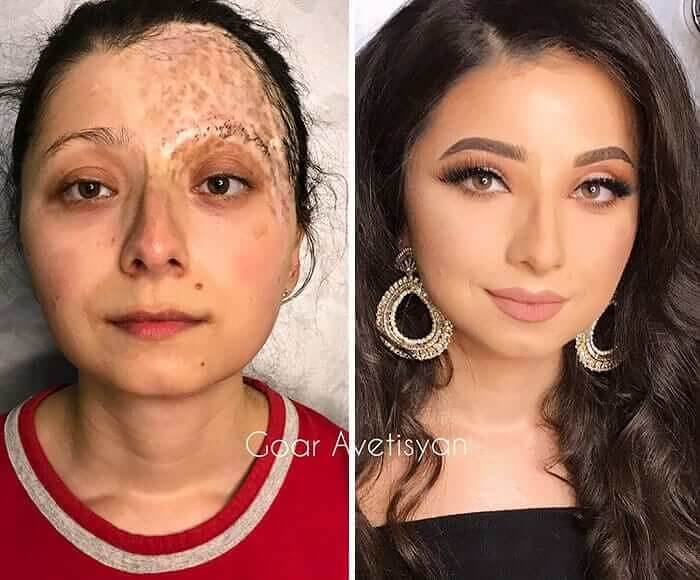 3.
Goar transformed the appearance of Julia who was undergoing chemo treatment. As we know that chemo can have adverse effects on a person's body and appearance, Goar made sure the makeover overpowers every effect of chemo that there was on Julia's face. Julia and her husband were simply amazed at the results.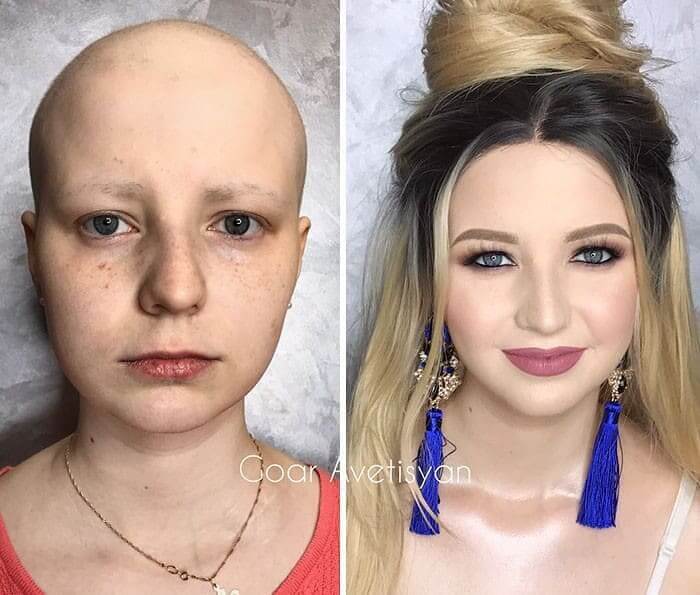 4.
This beautiful mom of two never had any makeup done, not even when she got married. It really made Goar sad and she decided to give the mom a makeover. She made sure the mom gets the makeover she truly deserves.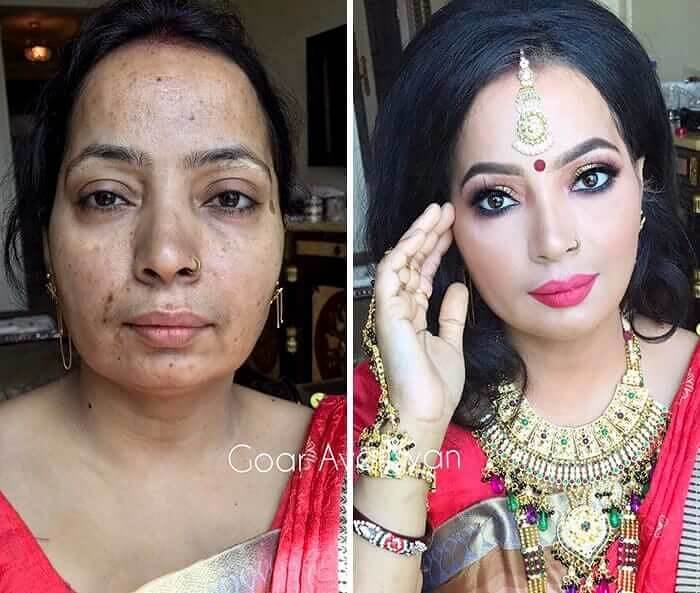 5.
The sensitive skin of Kate had a lot of moles and a big scar. As a result of them, she had lost her confidence and wanted to boost it. So, there was no better option than contacting Goar. The talented makeup artist gave Kate a look that she'll never forget. Kate was amazed and super happy at her transformation.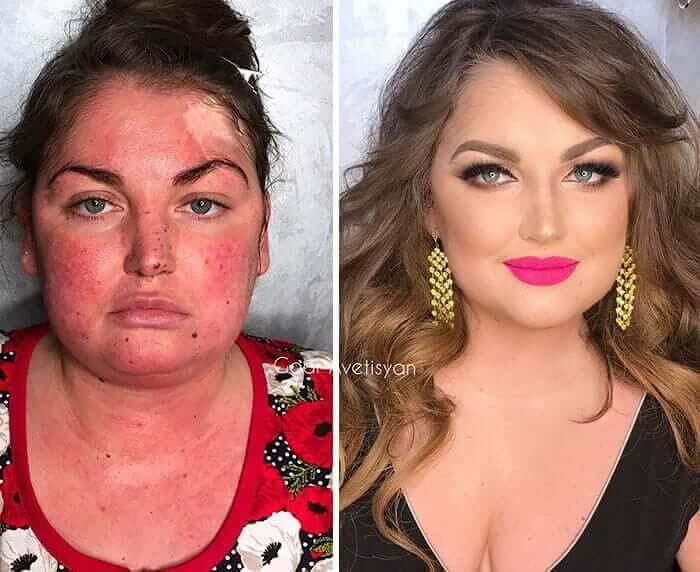 6.
Ann has a medical condition called alopecia. She needed the motivation to fight this autoimmune disease. Just when she needed someone to uplift her spirit, Goar stepped in and give her an appearance that boosted her confidence.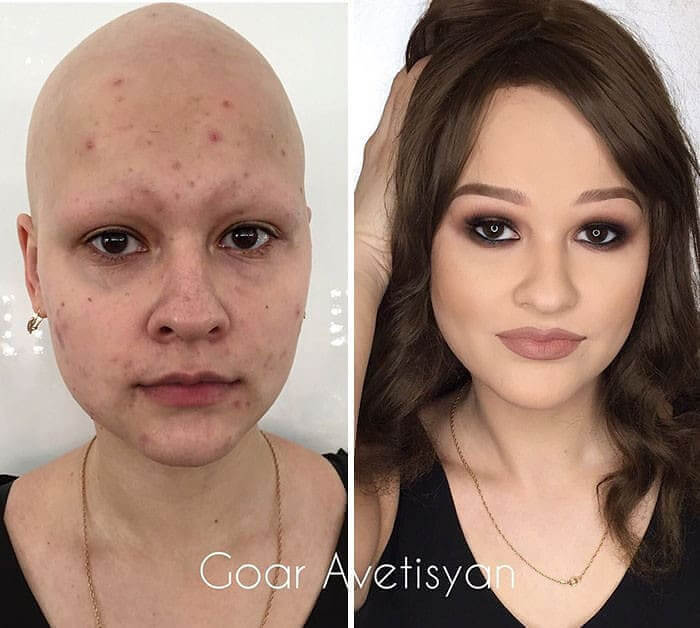 7.
Goar strives to prove to the world that 'every woman is a Hollywood star.' In her attempt to do it, she travels to different places to give women makeovers. She went to Tashkent to give this client of hers a major transformation.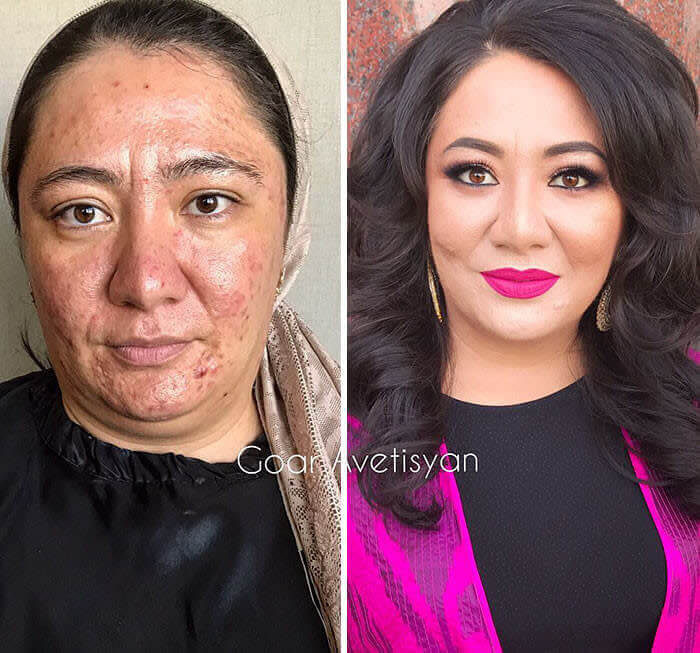 8.
Goar came across a woman she had never seen before and straightaway decided to give her a makeup transformation. She approached the woman to seek her approval. Once the woman agreed, this is the look Goar gave to her. We are just amazed at how this talented makeup artist transforms the appearance of people with such ease.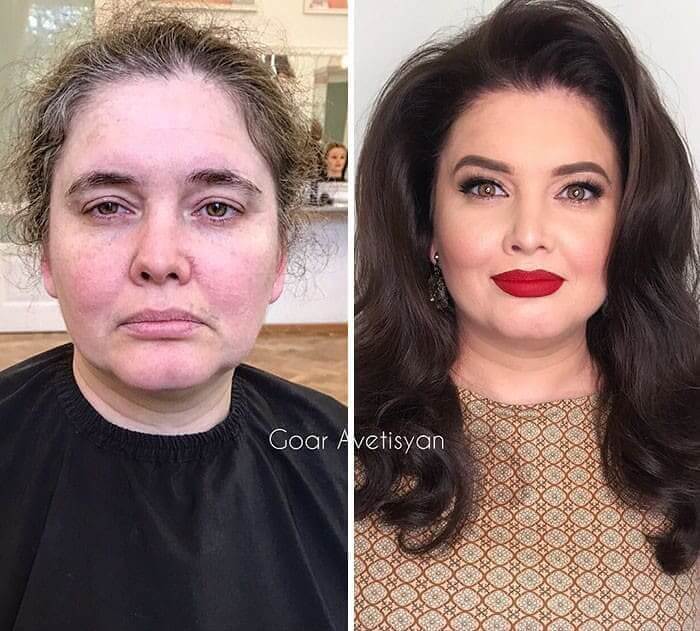 9.
Jekaterina is battling with cancer. As she has stage-4 cancer, she has no plans of giving up the fight. Goar decided to transform this beacon of hope with a makeover that can inspire not only Jekaterina but others as well.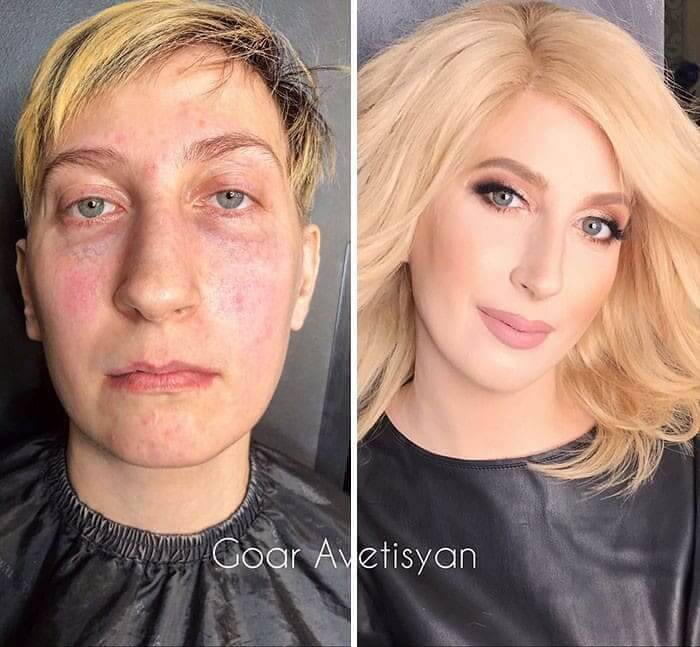 10.
Vlada had to undergo 15 eye operations, but this didn't stop her from looking gorgeous. All Vlada needed was to meet someone who knew how to give proper makeup transformation. This picture shows why Goar never disappoints her clients.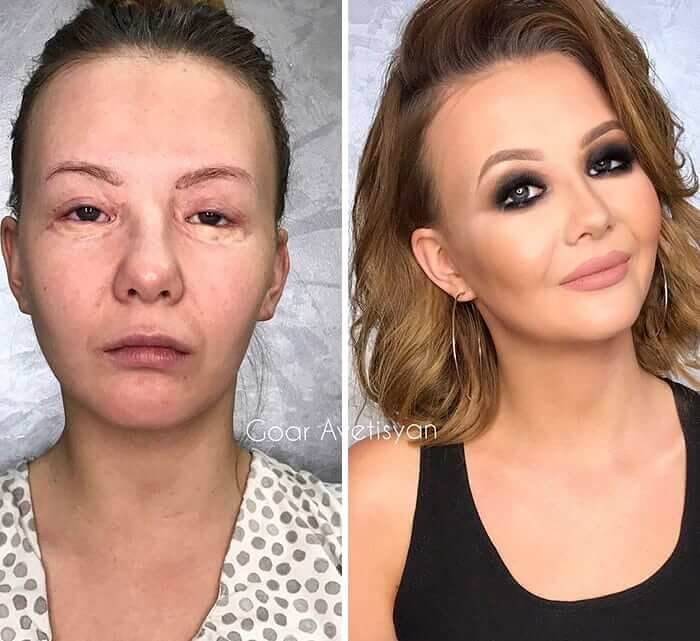 11.
When Goar uploaded a video of makeover transformation, she asked if any of her subscribers wanted a makeover as well. Svetlana responded as she wanted to transform her appearance after chemotherapy. Goar was quick to give Svetlana exactly what she wanted.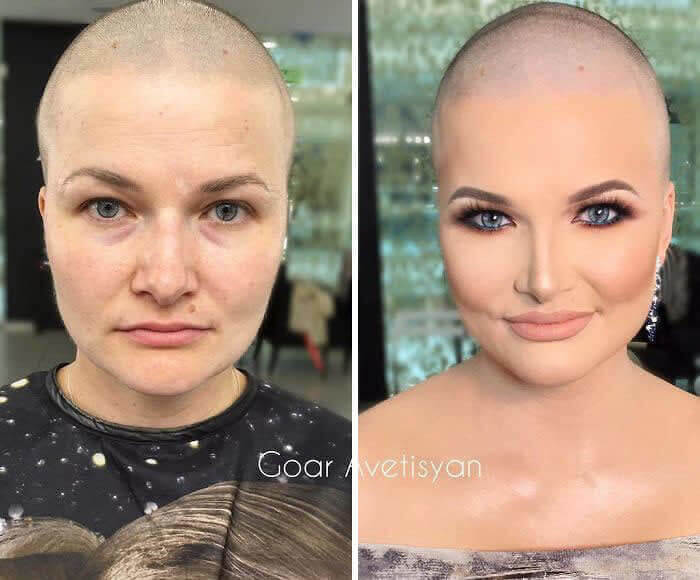 12.
A lot of women have to fight with acne problems for a major part of their lives. Harem is one of those women who have an acne prone skin. Goar made sure Harem has a flawless appearance with a makeup transformation. And one wonders that Harem looks like a model with an acne prone skin.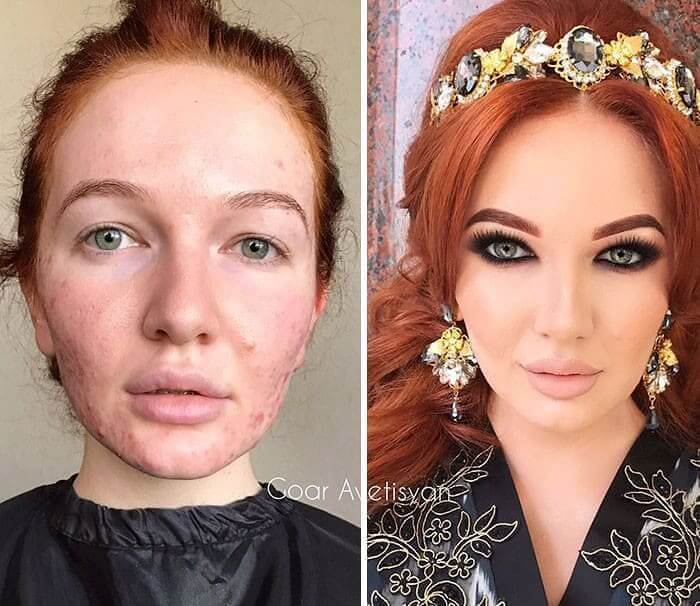 13.
Goar Avetisyan mother came to her at night because she wanted to look good for the last day of school of her son (Albert). As her son was graduating, Goar made sure her mother had the perfect makeover. Needless to say, Goar was able to make both her mother and brother happy.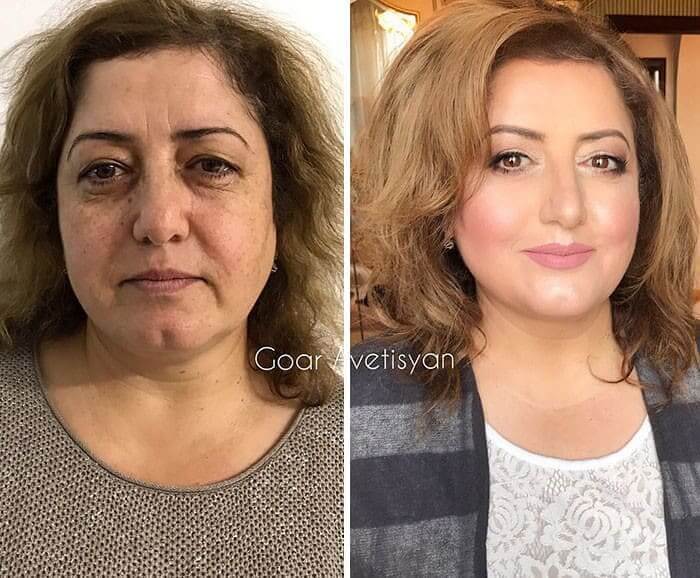 14.
This woman is already beautiful. However, she suffers from acne problem and wanted a makeover transformation that is just perfect. This type of makeup is called "cut crease" and it is one of the complicated makeup techniques. It goes without saying that Goar was able to pull this off with perfection.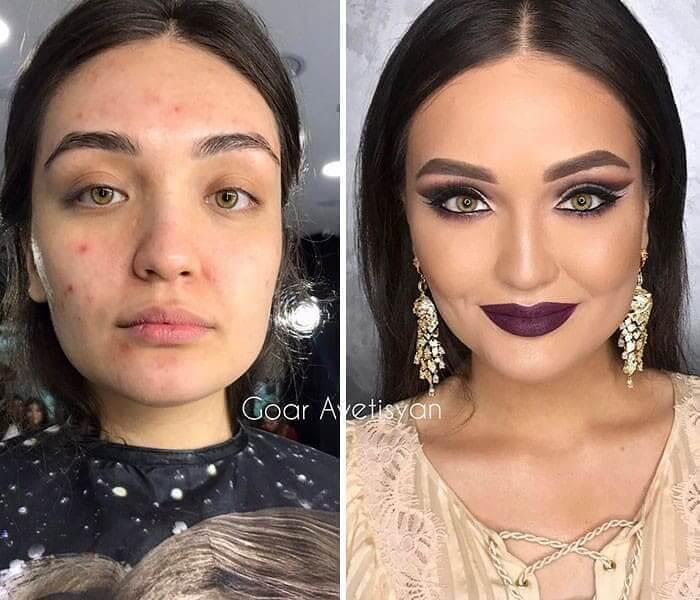 15.
Marina is a really strong girl who is fighting breast cancer. Goar really wanted to give this amazing woman support by showing her that she is equally beautiful from both outside and inside. What Marina didn't know was how talented Goar is and she was surprised and happy to see her transformed look.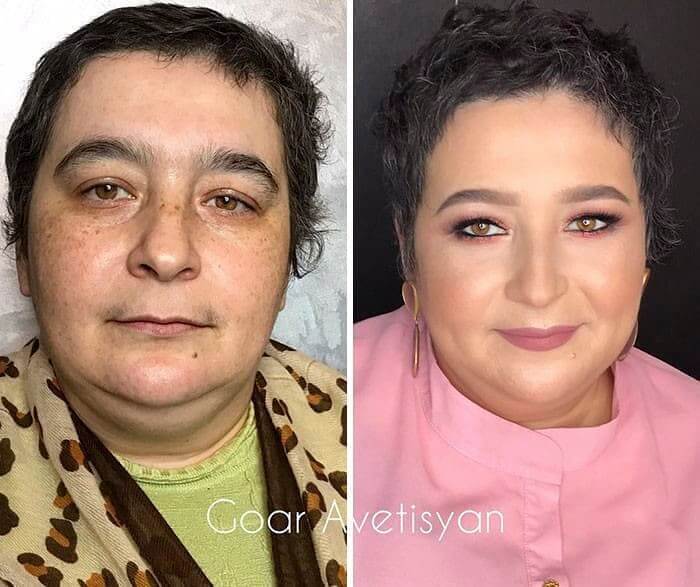 16.
Although Goar does makeover transformation for women who are fighting cancer or have skin problems, she also tries her best to do everyday makeup as well. It is really great to see that Goar tries to empower women from all kinds of backgrounds. This picture clearly shows how Goar transformed the appearance of a girl to make her more beautiful and attractive.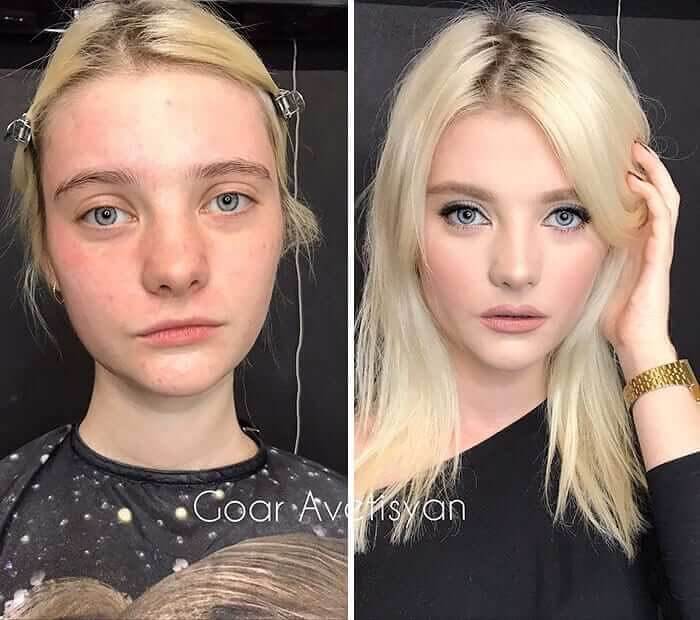 17.
Makeup can surely uplift the personality of a person and there is no denying that women feel more confident while wearing makeup. This picture clearly shows how the confidence of this woman is uplifted with makeup. She has more confidence in her eyes and her smile says everything without uttering a single word.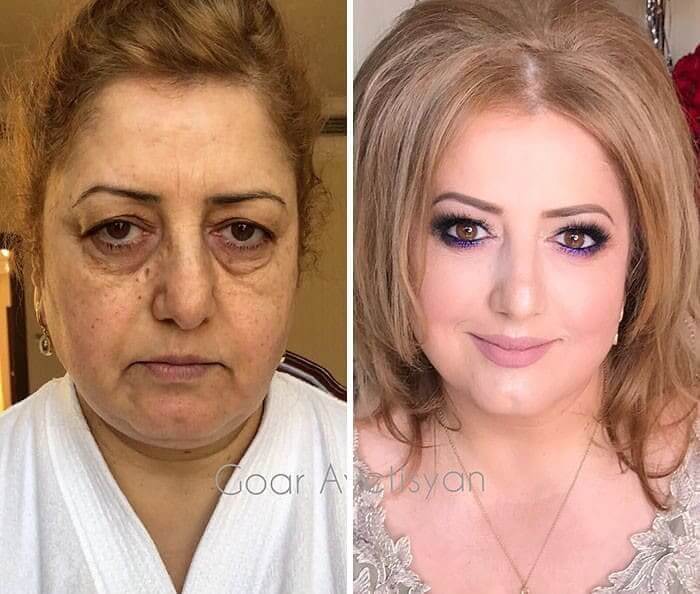 18.
The 25 years old makeup artist is also an experienced makeup teacher as well. Goar has many students and she works hard and with full dedication to teach them how they can apply makeup perfectly. She believes that the perfect look is achievable and she aspires to teach as many students as she can.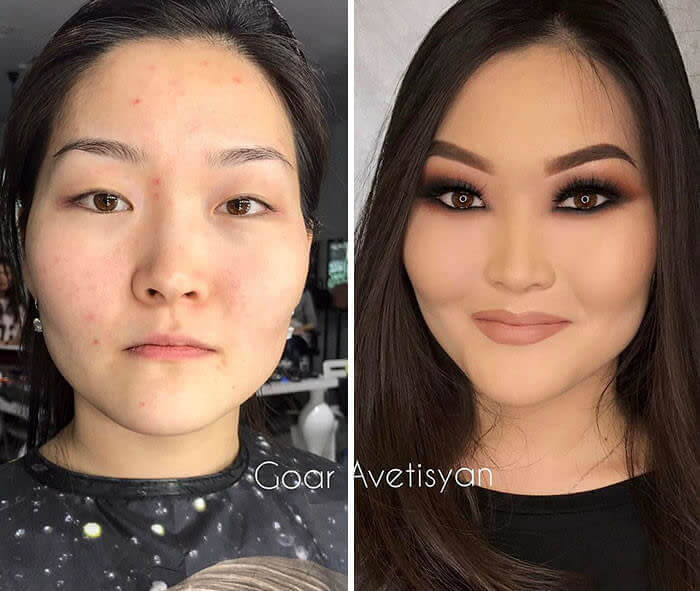 19.
Goar's grandma is a really gorgeous lady. However, it is surprising that she hadn't applied makeup on her face for the past 9 years. So, being an inspiring makeup artist granddaughter, Goar was able to convince her grandmother into having a transformation. Although grandma was hesitant at first and didn't want the makeover transformation, the persistence of Goar paid off and she finally agreed. By the looks of this picture, it clearly looks like grandma made the right choice to have her makeup done.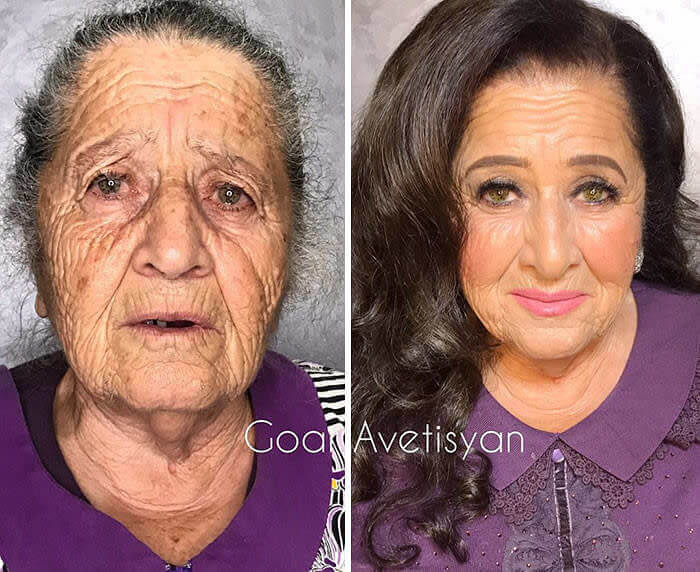 20.
Sania had a dream of getting a transformation for over 3 years. It seemed like her wait wasn't going to end anytime soon. However, when she met Goar on a flight from Almaty to Moscow, she shared her dream with the makeup artist. Being a person who likes to make women feel empowered, Goar wasted no time and managed to give Sania the transformation she desired.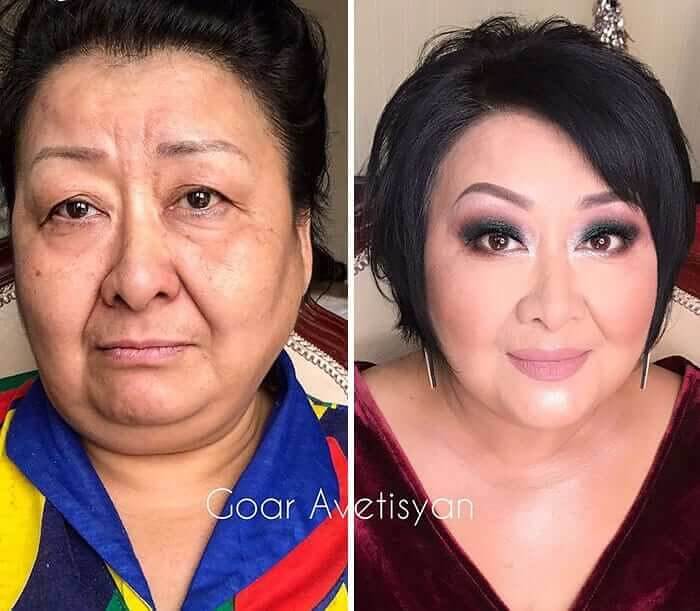 21.
Although this is the second picture in our list of Goar giving her mother a perfect makeover, this picture perfectly represents the nature of the makeup artist. As a caring daughter, she wanted to make sure her mother looks as beautiful from outside as she is from the inside. Well, we can say that Goar absolutely nailed it this time like so many times before.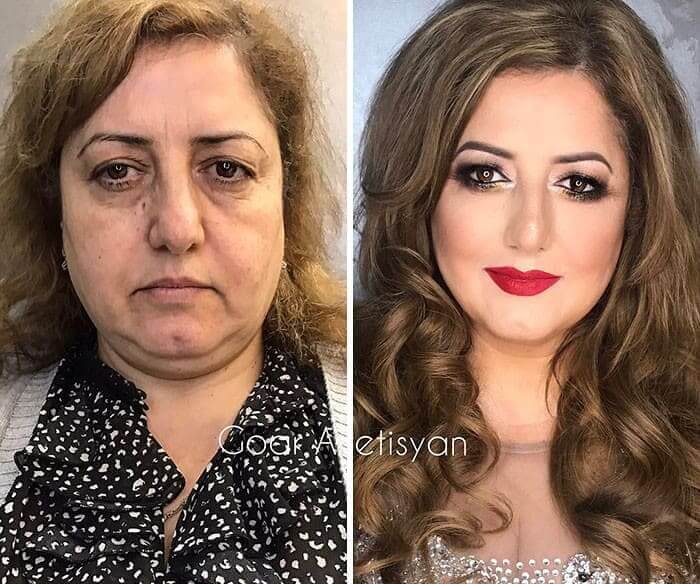 22.
This woman wanted a transformation and was a bit skeptical about getting one. Until she met Goar and her skeptic thinking quickly changed. The makeup artist was able to completely transform the look of this gorgeous lady.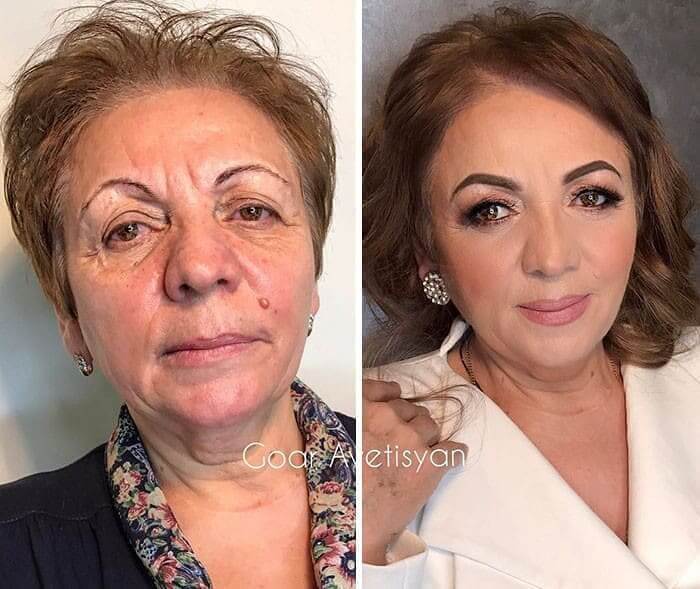 23.
Women with oily skin find it difficult to get a makeover that actually complements their skin. In fact, it is really difficult to achieve perfect makeup on oily skin. Goar was able to give this woman a perfect makeup that actually matched her skin type. The end result was truly splendid.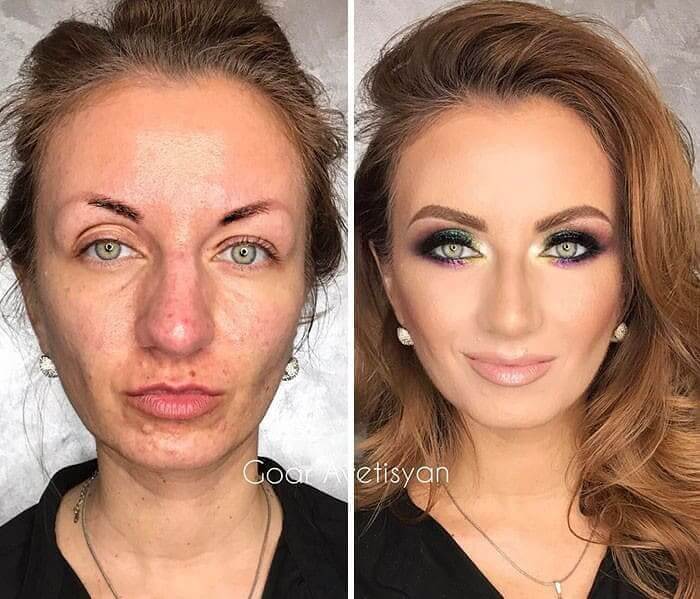 24.
When it comes to applying makeup, it is imperative to find the strongest facial feature and enhance it. Many makeup artists are unable to pull this off. However, Goar is an expert in finding the strongest facial feature and she did a great job in this picture. She managed to give this girl a transformation that seems so effortless and pleasing on the eyes.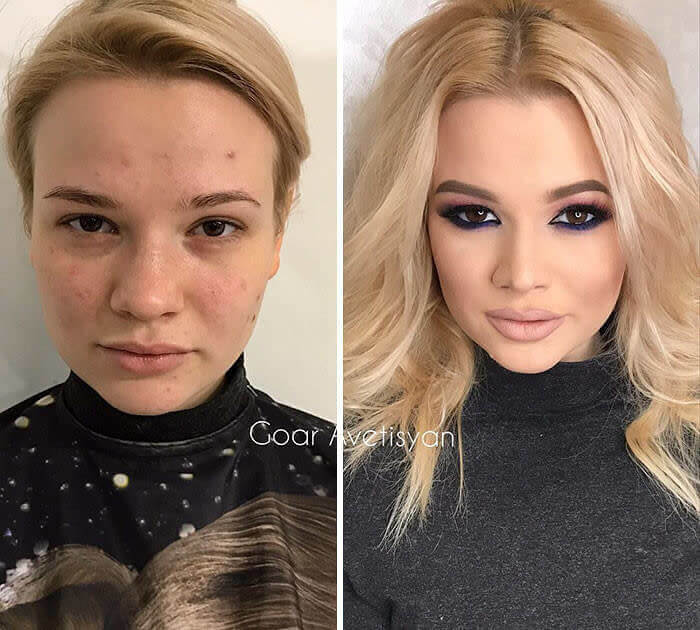 25.
Goar gave this woman an appearance that perfectly complemented her skin. The important thing to notice here is that the makeup looks so natural and everything seems to be impeccably balanced. It won't be wrong to say that Goar was able to give a dreamy look to this woman. You got to praise the creativity and mastery of the makeup artist here because this transformation is simply breathtaking.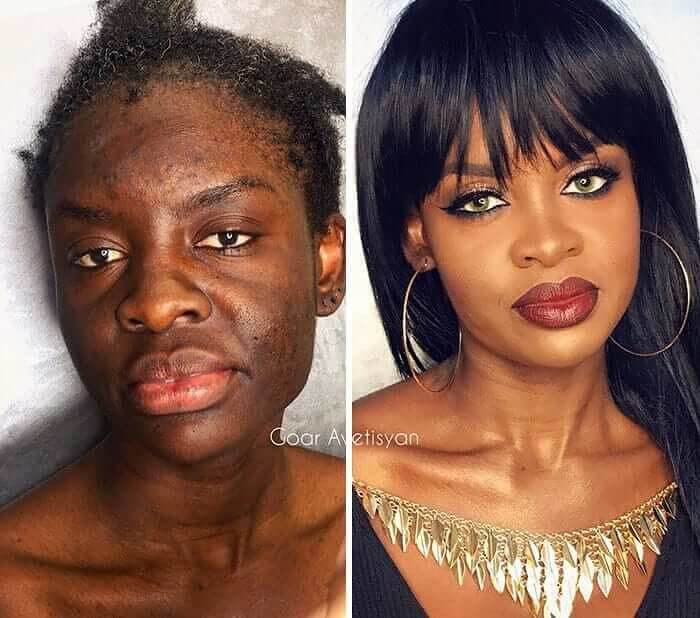 26.
Goar does it again with even more perfection. As we have seen so far that the makeup artist likes to do makeup transformation of everyone, it doesn't come as a surprise to see pictures of her mother looking more stunning than ever with makeup that simply uplifts her personality and makes her more attractive.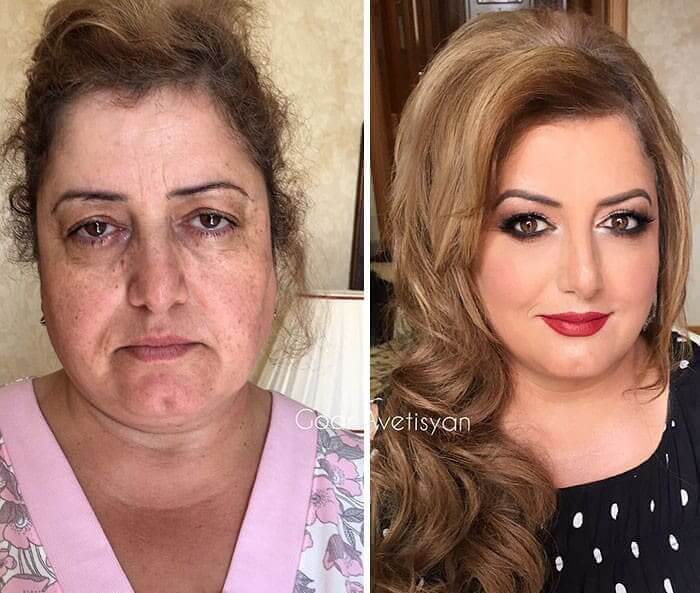 27.
You may think that this woman already looks good and there was no need for such extravagant makeup. But the reality is that many women do not feel comfortable with their skin and they need to feel confident in it. This clearly looks like an attempt to ensure the woman regains her confidence with a makeup that uplifts her facial features and makes her more stunning. There is nothing wrong with trying to look more perfect and beautiful.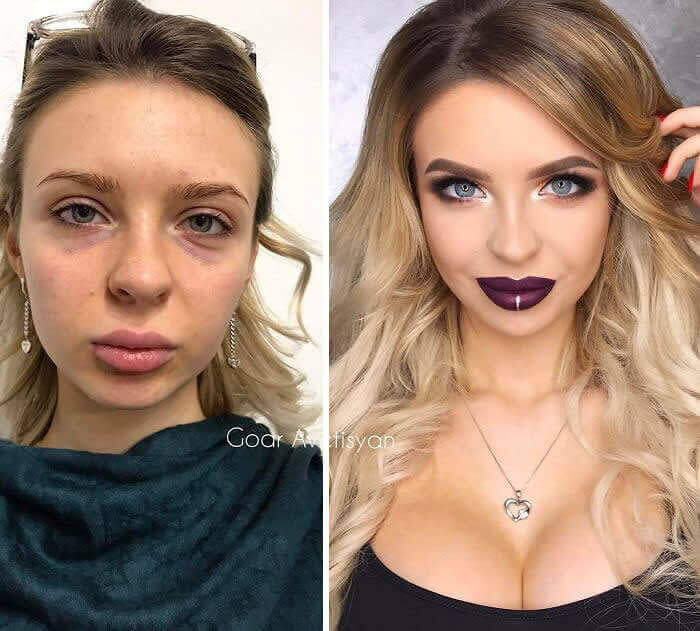 28.
Goar likes to show to the world how makeup transformation works. She likes to let the world know that makeup transformation is all about making a person feel more confident and empowered. In this picture, we can see that the makeup artist transformed one of her clients in Tanzania. It won't be wrong to say that Goar's client looked stunning even before the makeover and she started looking more captivating after the transformation.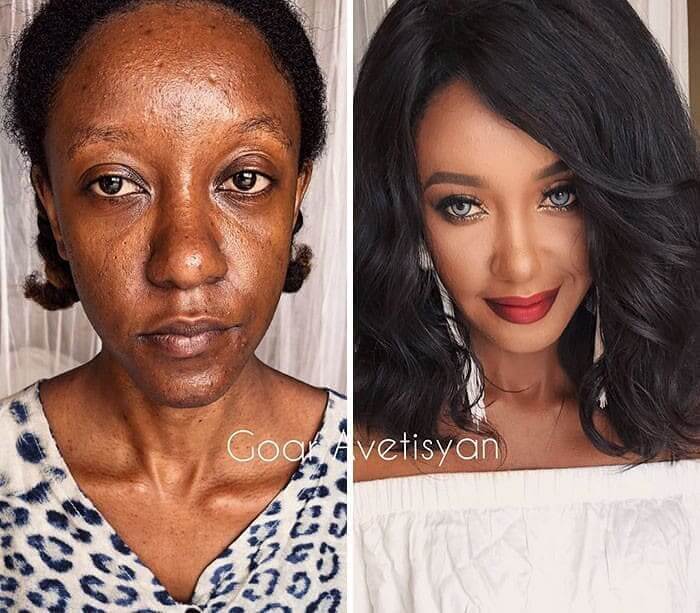 29.
As some women have to fight off acne problems, some have to live with the wrinkles problem. Wrinkles can really have a negative impact on a person's confidence. Irina has a lot of wrinkles on her face. As she wanted to reduce them by applying makeup, her main concern was that it always looked like she had applied a lot of makeup to cover the wrinkles. Goar stepped in with all her expertise and ensured that the wrinkles are completely covered without making it appear like a lot of makeup is applied. This is some truly impressive work by an inspiring makeup artist who knows how to exceed the expectations of her clients.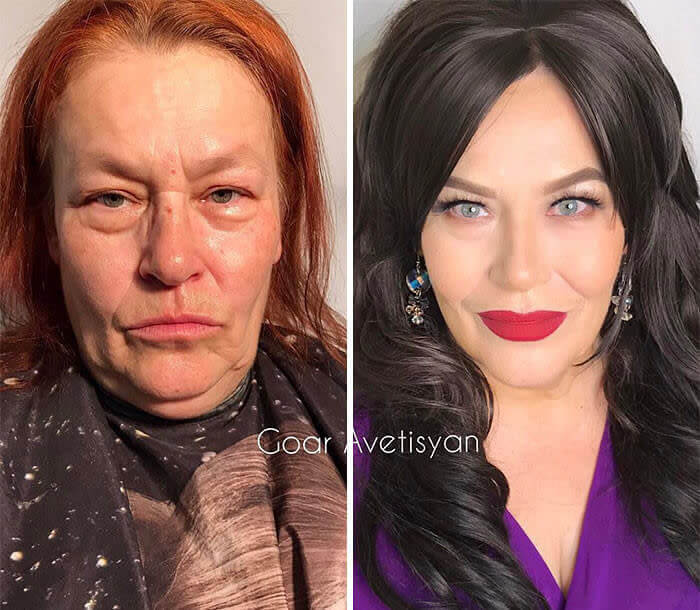 30.
This woman needed a transformation that made her look like a queen. She wanted to feel more confident and Goar obliged without wasting any time. The makeup artist was able to give a look to this woman that she'll never forget in her life. Goar made sure the makeover transformation doesn't look like an attempt that overkilled the whole purpose of applying makeup. That's why she went with the approach of light makeup that covered her wrinkles and made her prominent facial features less noticeable. Great job!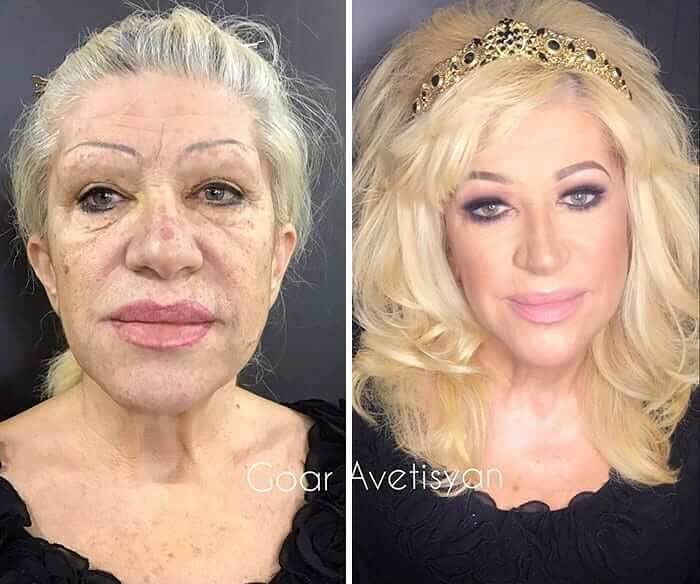 31.
Bella (how suitable!) just needed a little refresher and Goar did a really good job smoothing her complexion. Her natural beautiful hair makes the transformation perfect to the point that there is nothing more to add. Even words.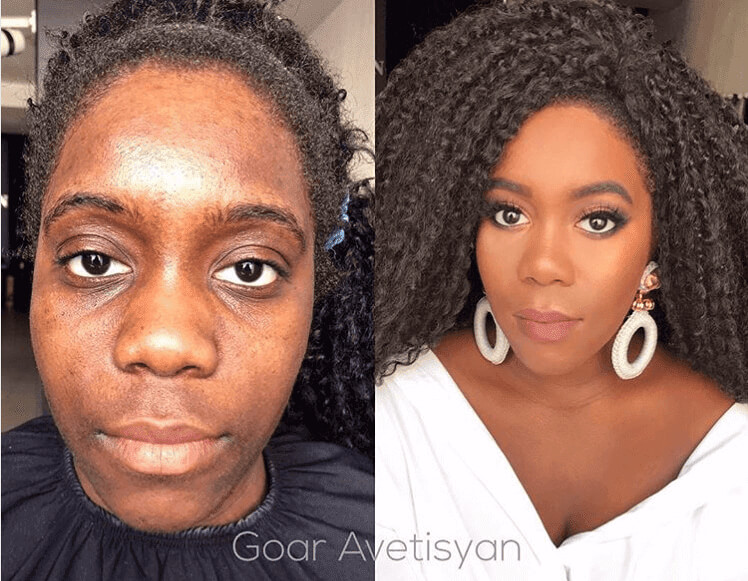 32.
This unlucky woman never had make-up and a boyfriend in her life. More than 15 surgeries were performed on her head. She was very excited to receive this makeover which turned out very incredible and gave her the confidence back. Maybe now she will find her luck?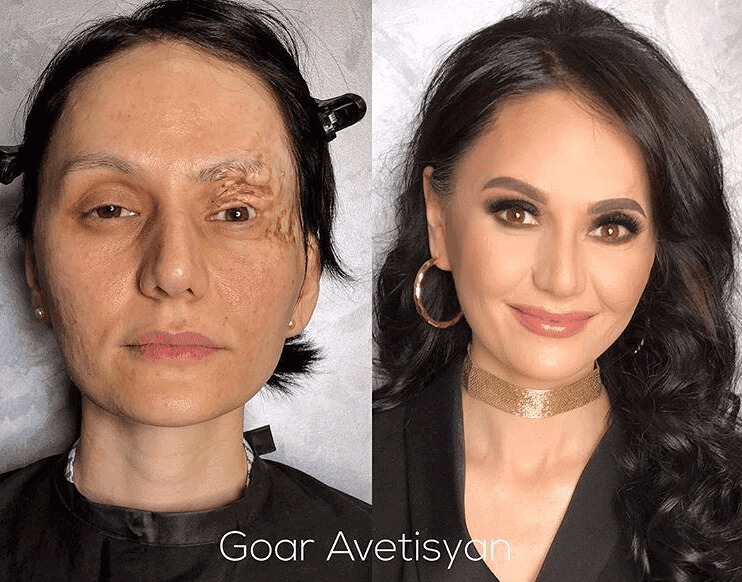 33.
Larisa has a long tough life behind her and never had time for herself. Goar turned back the time and presented her this gorgeous transformation, letting her look young and careless again.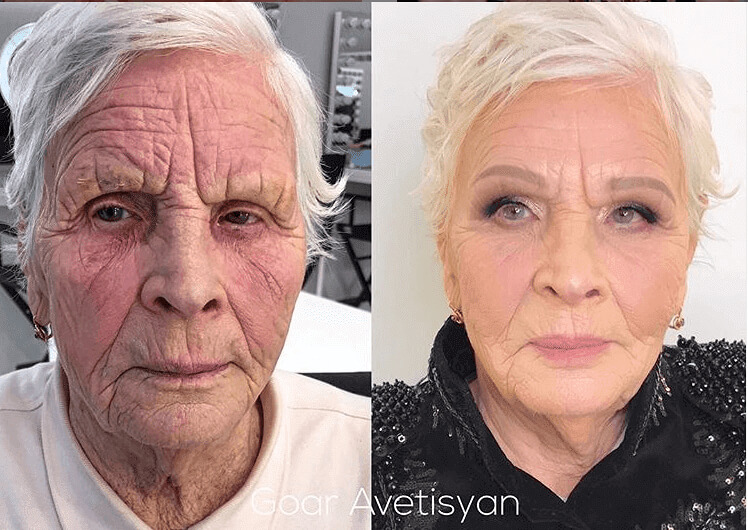 34.
This gal is a natural beauty, however, also she has few blemishes that didn't allow her look to become flawless. Thanks to Goar, we can admire her even skin and extraordinary face shape.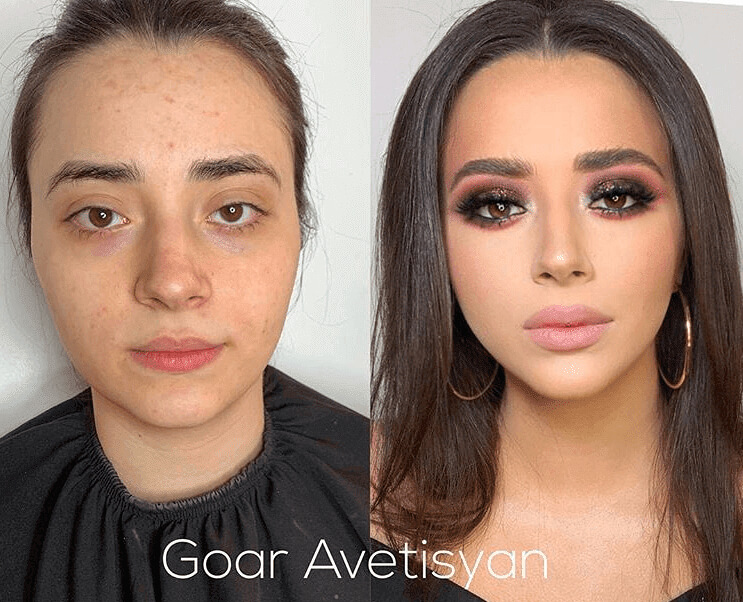 35.
Also, this girl was gifted by nature and wasn't a big challenge for the make-up artist. Nevertheless, the stunning job of Goar brought this girl's look to perfection and make her look like a Hollywood diva.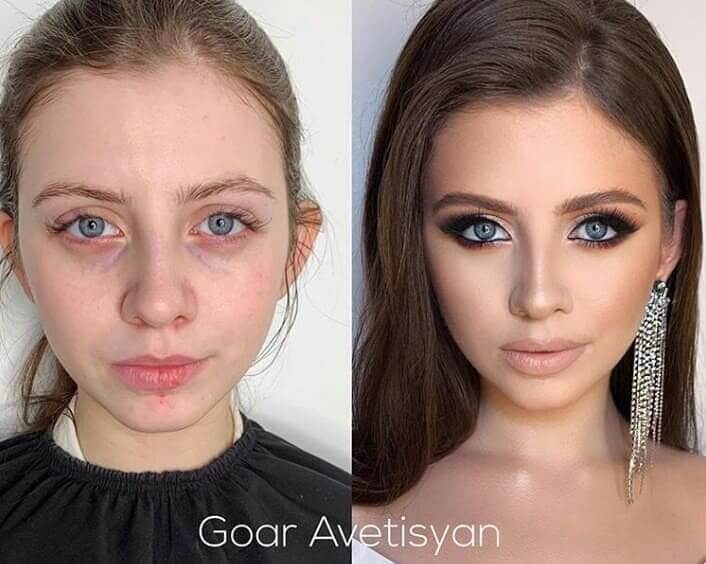 36.
Here we see another incredible transformation of an elderly woman. She is suffering from hyperpigmentation and dark circles which seemed to disappear thanks to the magical hands of Goar. She must possess a fountain of youth 😉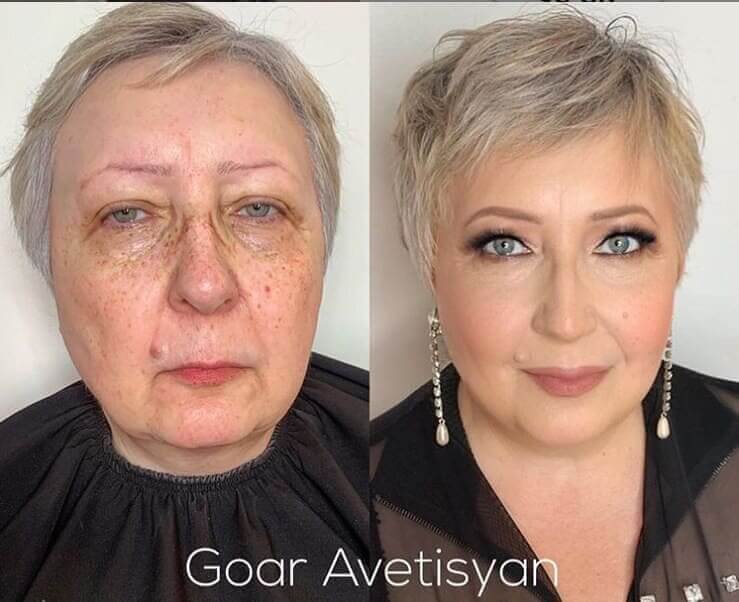 37.
This amazing young lady just got some touch-ups on her natural beauty and the result is as always breathtaking! We can stop to praise Goar's make-up skills and thank her for helping women finding back to their confidence.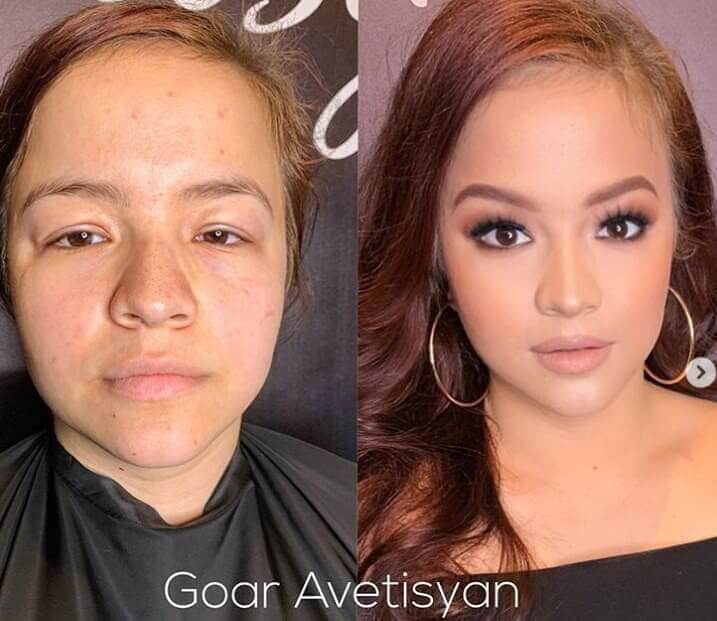 38.
This young woman was born with a red birthmark covering half of her face and two different eye colors. However, Goar managed to make the defect disappear and bring her gorgeous hair out. Can you also see the resemblance to Sarah Jessica Parker?
39.
If Barbie was a human, we are certain that she would look like this stunning young lady. Few amendments, and it's nearly impossible to get the eyes off her!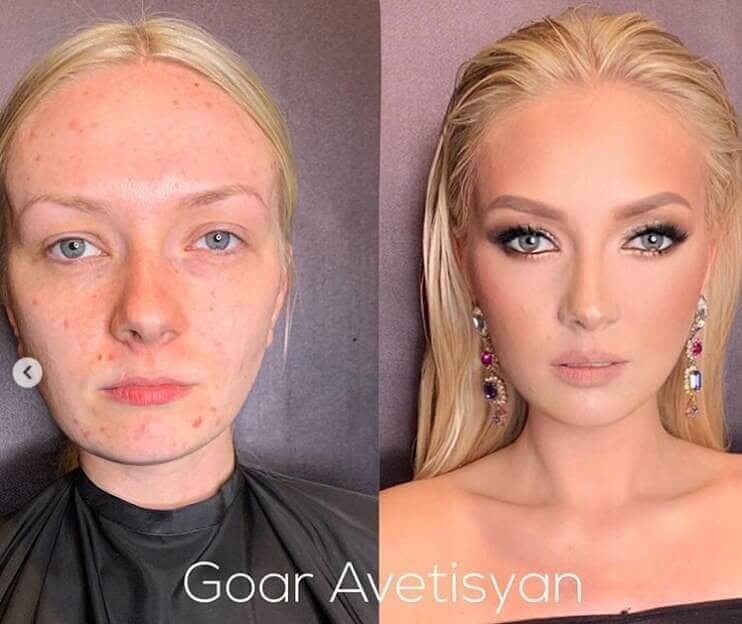 The Bottom Line
It is unfortunate that makeup shaming exists and many women show hesitance in applying makeup with a fear that people may judge them or make fun of them. Understand that you have every right to look beautiful and confident. So, don't let others dictate what you should and shouldn't do. Makeup isn't about feeling insecure, it is about self-love. Makeup isn't applied to make others fall in love with you; it is about you loving yourself. Makeup isn't an attempt to look good for someone else; it is about looking good for none other than you. So, do what you want to do and feel confident regardless of the color or type of your skin. Stay happy and keep on smiling.
Funny Online Shopping Misfortunes That People Had To Share
Ashley Lez
This article was originally published on Kueez
For some of us, online shopping has completely replaced the need to step out of our homes and into the mall. But buying on the internet is always a risk because some products look too good to be true for the listed price. These people ordered items online, and what they got was so awful they had to post it. Continue reading to see and consider yourself warned.
Instead Of Wrapping Paper, She Received A Poster With Her Face
This girl ordered wrapping paper with her face on it as a joke, and instead, she received a massive poster with four pictures of her face. Sometimes you get exactly what you want when you least expect it.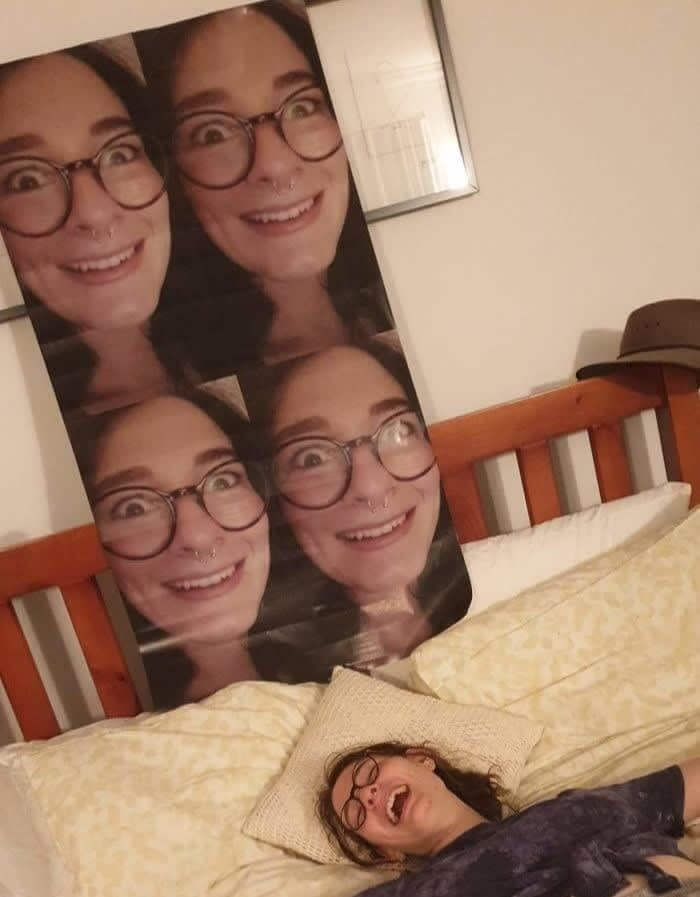 She doesn't seem too upset about receiving the wrong product. The employees at the printing company probably got a good laugh about this order.