Have you ever looked at a seemingly normal looking item like a rock or a tree trunk and wondered if it might contain something else? Sometimes things are not what they seem. A fruit could have another fruit growing inside it, or a rock could actually contain beautiful crystals once it is cracked open. We have compiled a list of some of the strangest things that people have found within objects once they have cracked them open. Keep scrolling to see what people have found, and maybe it will give you some ideas so that you can find hidden objects.
Coming Unbound
Books are wondrous items. Each one contains a different world for the reader to get lost in. Sometimes these worlds are fantastical, while others are pretty close to what we live and breathe.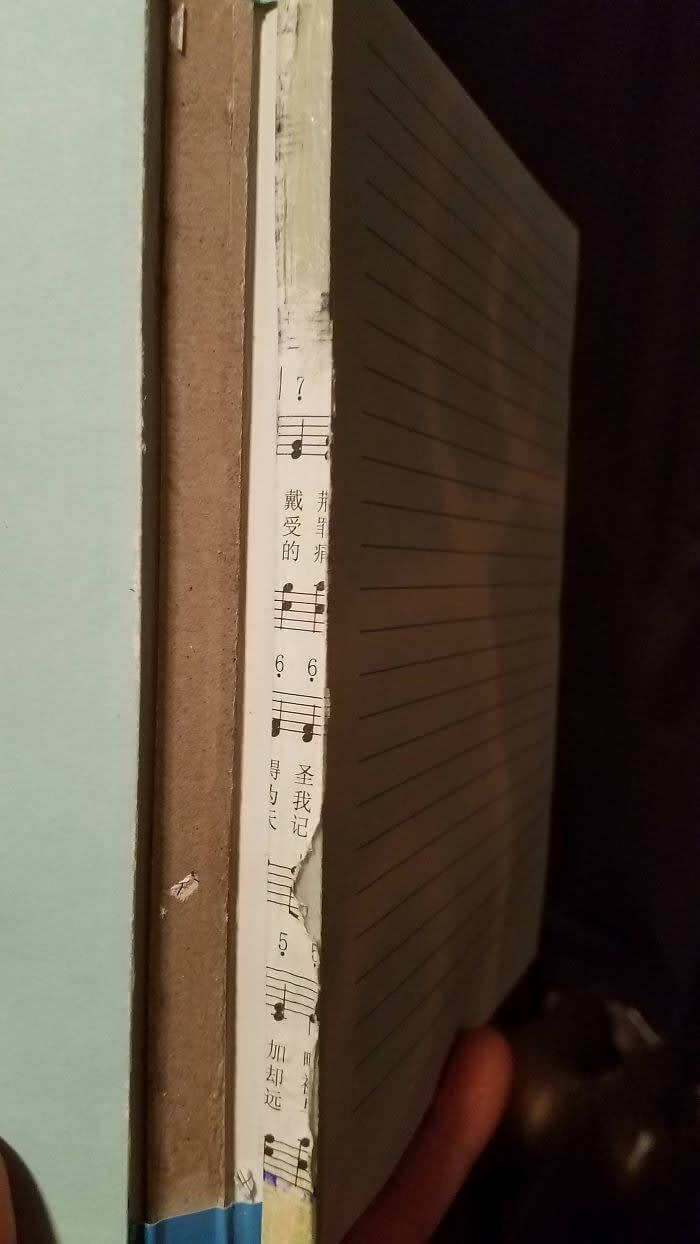 This person cracked open their favorite book only to have the spine break, and reveal some Chinese sheet music. This book has doubled in value, now you can read or write a story of your choosing, along with having access to some Chinese classical music.
Seeing Double
When a tree dies, it sometimes needs to be cut down, especially if it is a large one with branches that hang over a home. If some stormy weather should hit, that tree could be blown into the house and cause some real damage.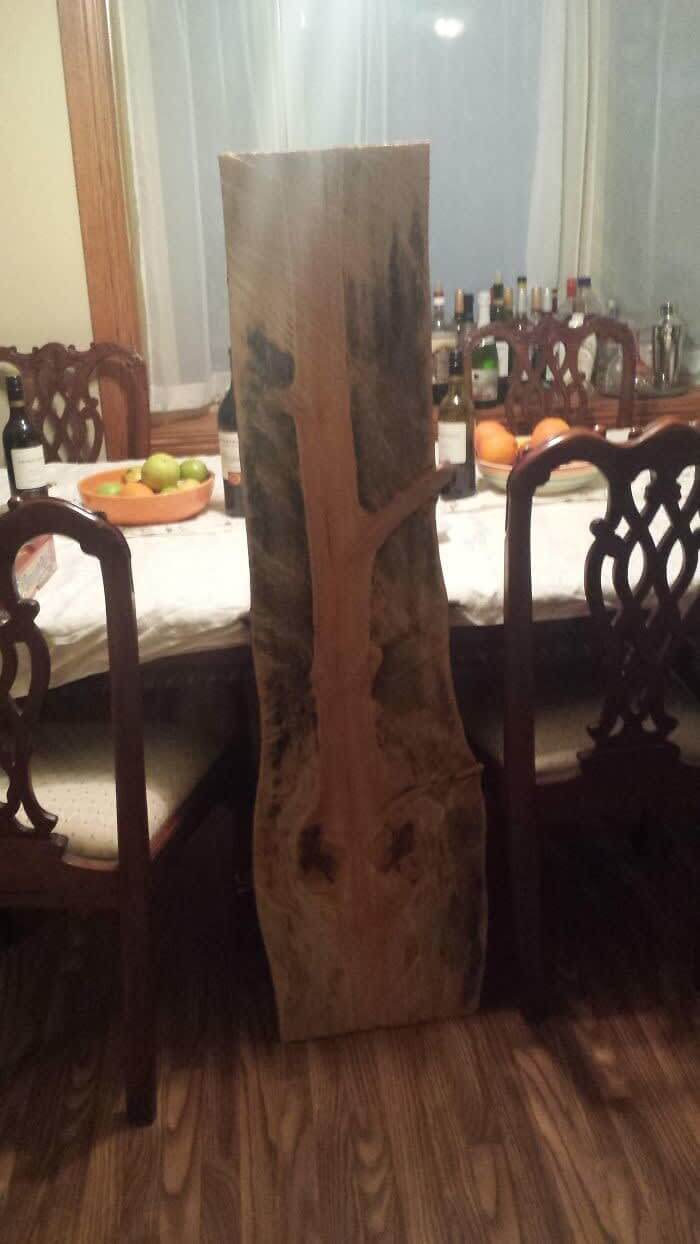 This person's father decided to cut down the dead tree on their property but found himself with something that was still alive. Within the dead tree, a new tree had taken root and was literally growing up in the middle of the dead tree. This is pretty neat looking and would make a nice table or bench as it has already been cut down.
Peeling Back The Layers
For anyone who loves the Shrek franchise, then this will be the hidden object that reminds you of the film. As Shrek often likes to say, he is like an onion, as his personality has many layers. When this person went to chop up an onion for dinner, they found themselves staring inside the onion.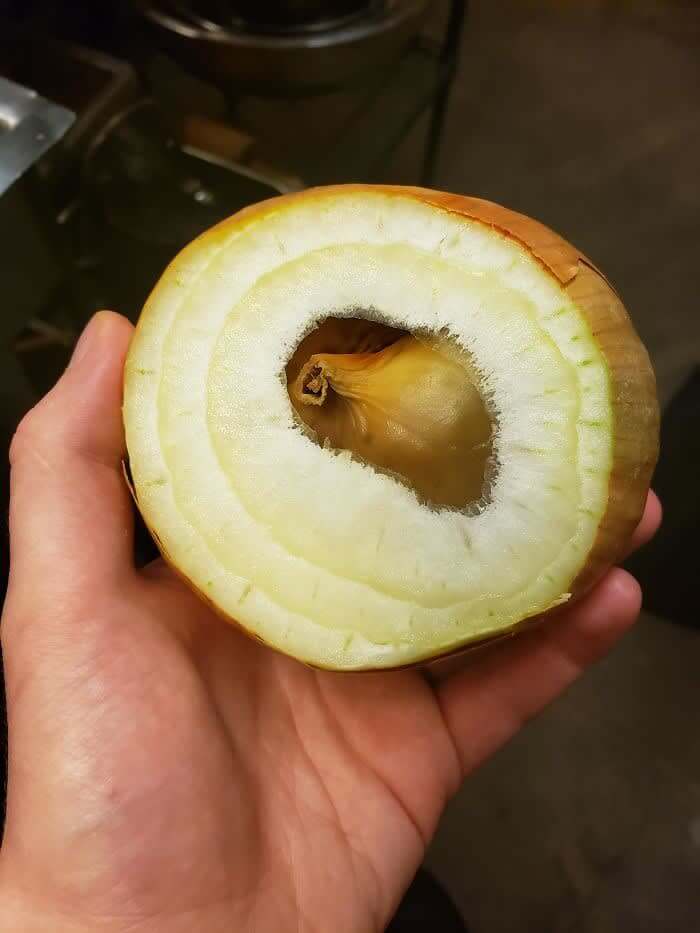 Contained within the onion was another onion that had been perfectly preserved. It doesn't look particularly appetizing, but this person definitely got their money's worth as they got two onions for the price of one. What we want to know is what meal they ended up making with so much onion on hand.
A Buzzy Surprise
Hanging out on a balcony after a long day at work, with a cold drink is a great way to unwind. This man decided to lean on his balcony railing and look out at his backyard when he heard an odd buzzing sound. Just as the buzzing sound got louder, the railing broke and revealed a tubular wasp's nest that had been built inside.
As soon as the wasps came flooding out, the man ran back inside his home. After a few minutes, the wasps began to fly off, and he was able to grab a snap of this strange nest. He's definitely going to want to call pest control to come and deal with these little guys.
Quite a Tail
When this person bought a knock-off My Little Pony they didn't notice that the hair from the tail wasn't the same color as the hair on the head.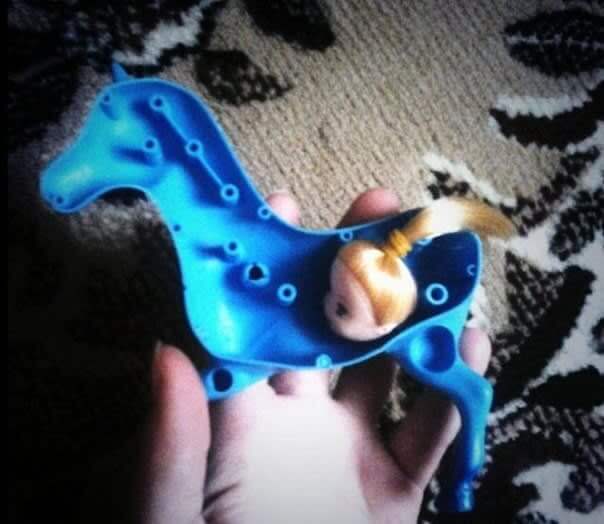 It wasn't until the toy was broken that they discovered the manufacturers had used the head hair from a fake brats doll to make the tail. This kind of makes you wonder what else could be inside your kid's toys.
The Mother Of All Batteries
It's not often we need disposable batteries for everyday items, as things like smartphones and tablets have built-in ones. However, some things do need batteries like storm lamps, and other emergency preparedness items for when the power goes out.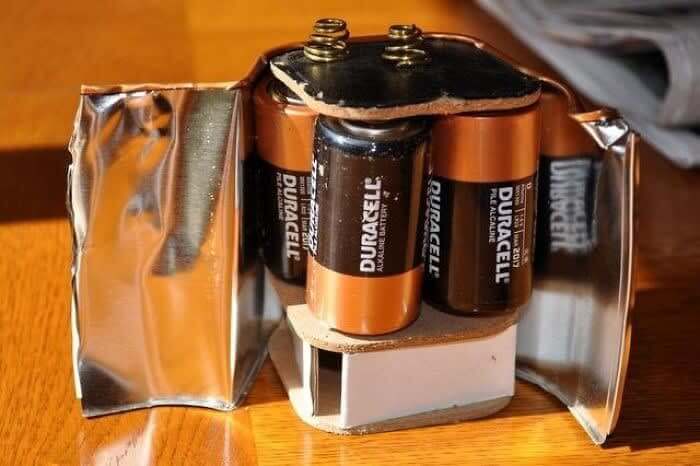 Have you ever wondered what the inside of a 6-volt battery looks like? If you thought it would be full of conductive powder, then it is time to think again. A 6-volt battery actually contains four smaller batteries, which collectively supply enough voltage. This makes us wonder if higher voltage batteries have even smaller batteries inside of them.
Precious Cargo
Scientists have hypothesized for years that an Ice Age, which may or may not have been caused by an asteroid colliding with the Earth, killed off all of the dinosaurs.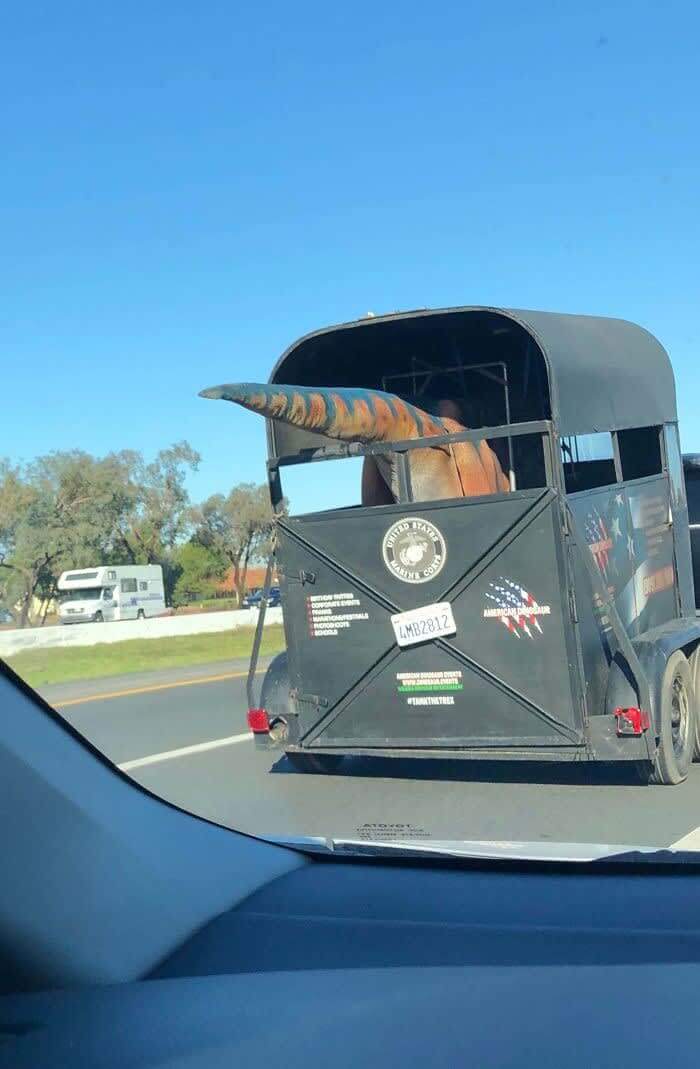 Instead of seeing the rump of a horse, this driver saw the long tail of a raptor. Either dinosaurs are walking the Earth again, like in the film Jurassic Park or somebody was transporting an exact replica of one.
The Heart
Dogs love their toys. They can chew on them for hours and listen to them squeak. This dog's favorite toy was the bright blue Cookie Monster that its dog mom had given to it. After a particularly good chew session, the dog managed to rip out the heart of the Cookie Monster.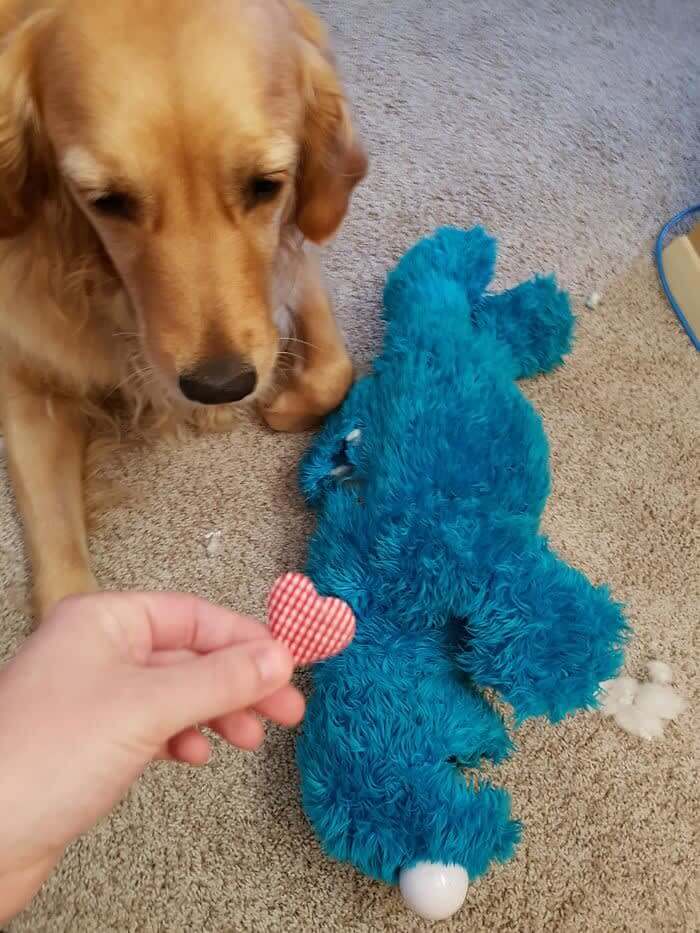 The toymakers had actually sewn a heart inside the toy. This Cookie Monster has been decommissioned for life after this doggie play session.
Diaper rope
When you buy rope, the last thing you expect to find on the inside is this. When this person cut through the rope they had bought, they found something familiar hidden inside.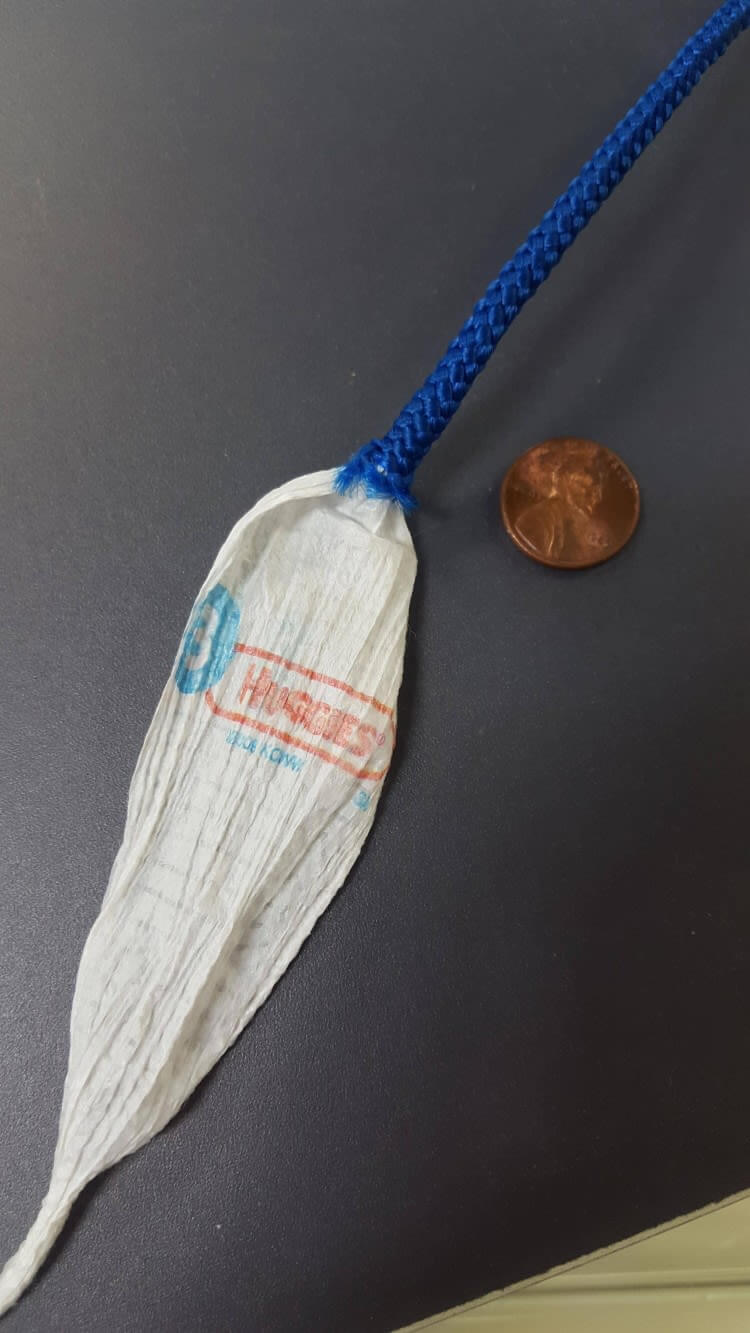 It seems the manufacturers of this rope decided to make it out of recycled diapers. The diapers were woven and then covered by a fabric layer so no one could see what was hidden inside. Now, we support recycling, but we really hope these diapers weren't used first. Also, we can't help but wonder how strong a rope of old diaper can actually be.
Powering Down
For anybody who has an older phone or one where the battery doesn't last as long as it used to, then you are probably well-acquainted with the power bank.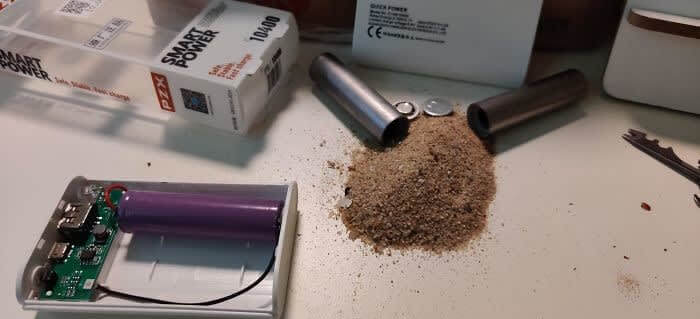 These wondrous little items can recharge a phone on the go. This person wanted to know what was inside a cheap one and found what looks like sand inside. The sand is actually conductive, and what holds the charge within the power bank.
Some Light Reading
A lot of objects actually have recycled books and other printed papers hidden inside of them. This mousepad, which also doubles as a wrist rest, had an entire anime comic built inside of it.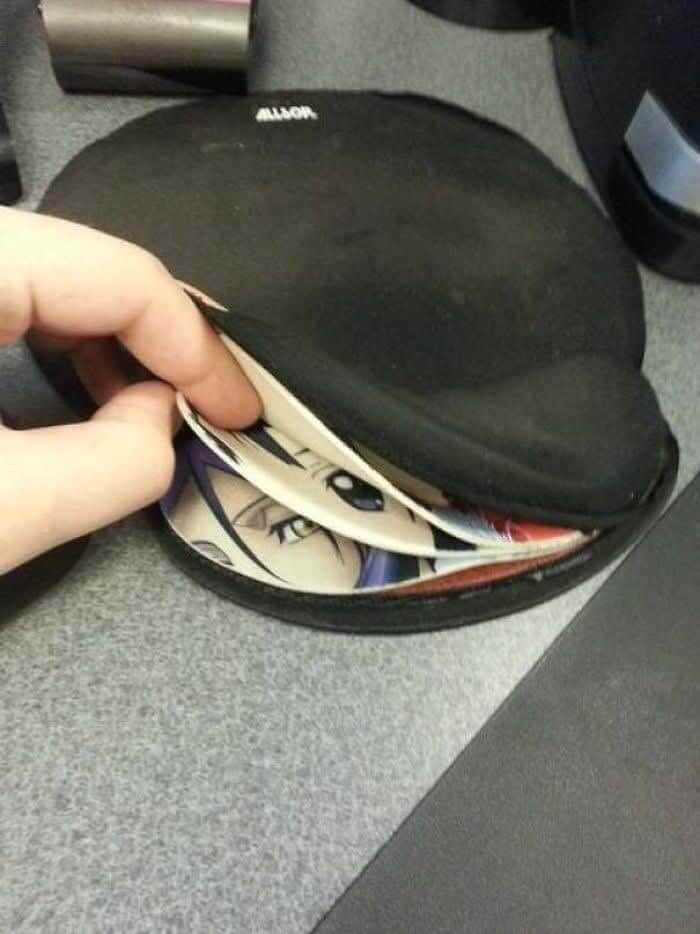 It came apart at the seam while the owner was working, and they could not believe that they could flip through an entire anime comic, instead of doing their work. We bet they were pretty distracted until they finished flipping through all of the pages. It's a real page-turner.
Hidden Opals
Opals or moonstones, as they are sometimes called, are beautiful semi-precious stones that appear to have moonlight captured inside of them. The blue and green streaks shimmer whenever they hit the light.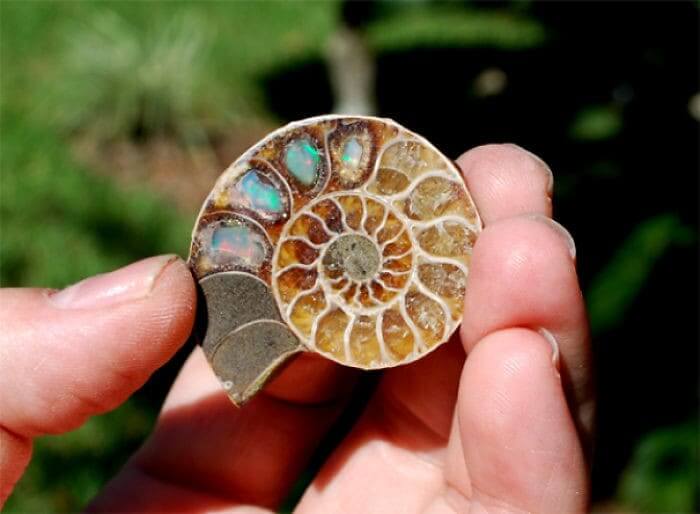 This ammonite, which is a fossilized shell, was cut in half, and it revealed some hidden opals that had grown inside of it. These are quite rare and are specifically known as Welo opals, which are from a specific province in Ethiopia.
Rattling Sound
Ever wonder what makes that rattling sound when you shake a can of spray paint? Luckily for us, this person shared a picture to show what they had found when they opened up an old can.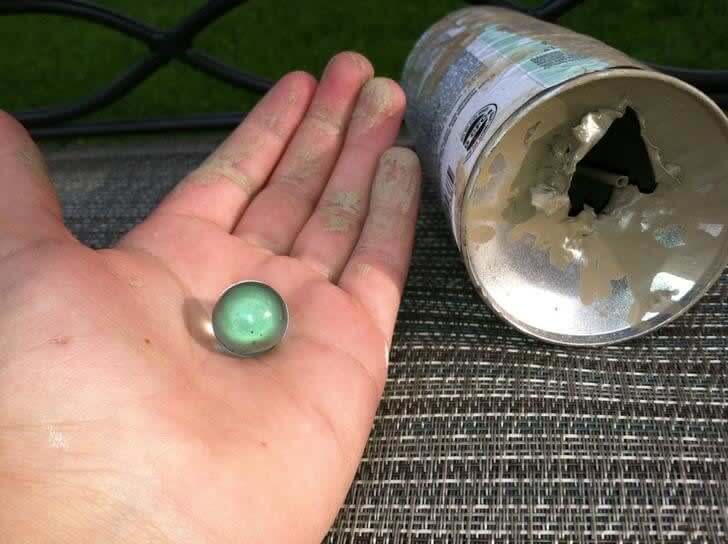 Well, it turns out its a repurposed marble rolling around in there. These marbles are placed in spray paint cans to help mix the paint before you spray. When you shake the can the marble rattles around mixing the paint and making that strange sound. Mystery solved.
Little Buddhas
Yard sales offer a lot of strange items and some retro ones that can add some flare to a home. This person found an owl, which they thought would be perfect for their living room. Unfortunately, the owl didn't make it home in one piece, but what it contained sure did.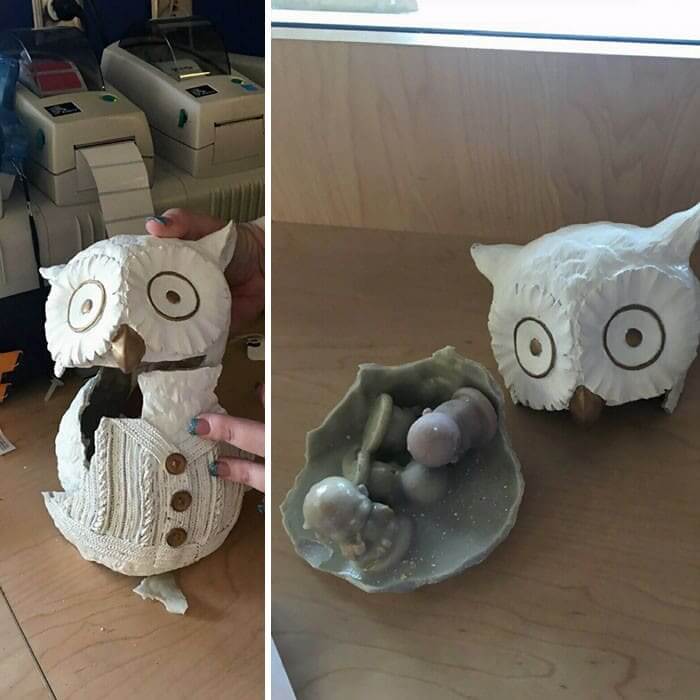 The broken owl revealed four little Buddha statues that had been hidden inside of it. We're not sure if this was a manufacturer's mistake, or someone just really wanted to hide their Buddhas.
Imprints
The world is full of rocks. Some are beautiful, like diamonds, while others are more on the boring side like limestone. This person thought that they had found another boring rock when it split in half to reveal the imprint of a shell.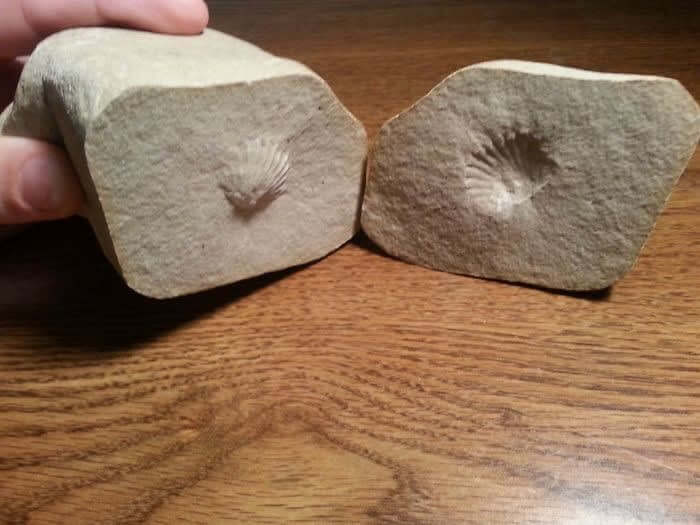 Many eons ago, it seems like a shell had been preserved as this rock formed around it. Today the imprint is all that is left. This rock went from boring to cool in a matter of seconds and now deserves to be displayed.
Fooled
Recycling is good for the planets but sometimes using recycled materials in something you pay a lot of money for can be a bit of a rip-off. Take for instance this expensive leather iPad Case.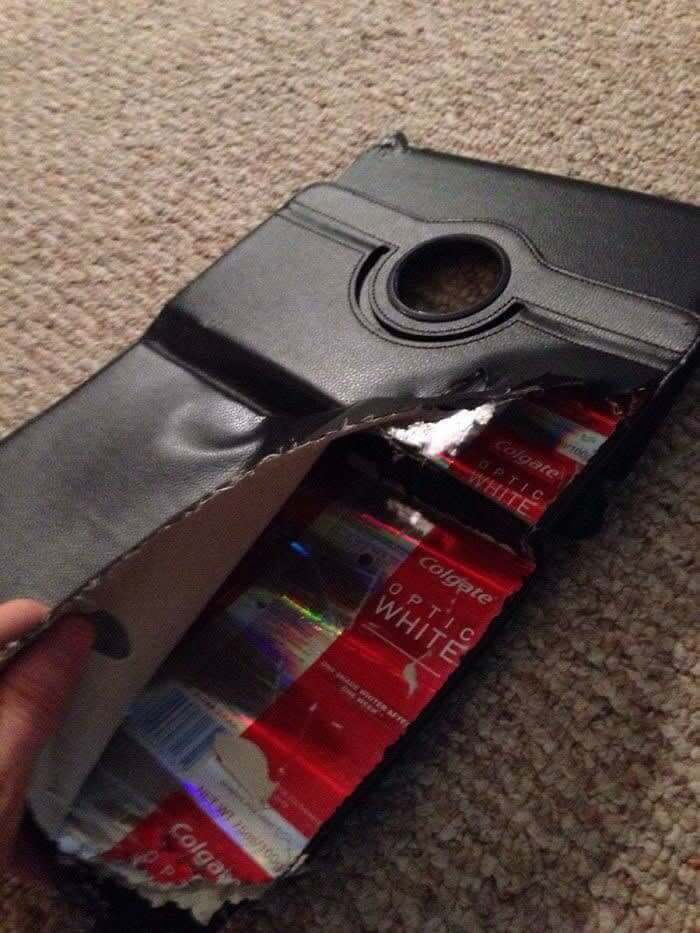 The case looked great but it didn't seem to be very sturdy. Eventually, the owner decided to open it up to see why. It was then that they discovered their expensive leather foldable case was made with a couple of recycled toothpaste boxes.
A Mystery
In densely wooded areas, hunting is an activity that occurs during certain seasons. Most hunters will practice aiming at shooting ranges until they are good enough to hunt during the season.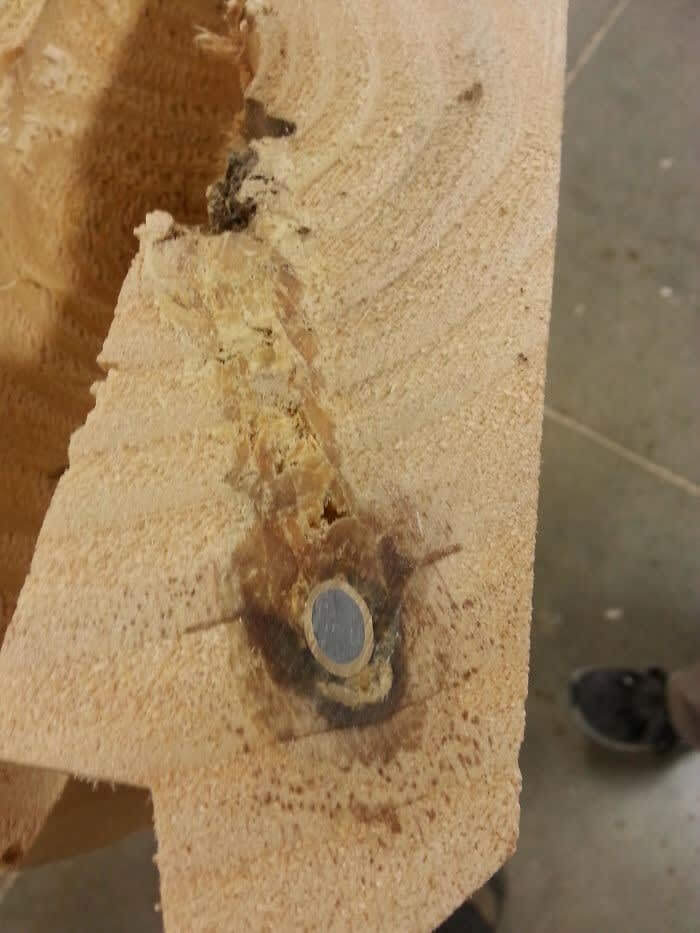 This person had gone to chop wood during the offseason, and as they sawed down some logs into firewood, they found a bullet lodged inside of the trunk itself. It looks like someone's shot had gone awry judging by this bullet's placement.
Flame On
If anyone has ever tried to light a grill, they will know that the safest option is to use a grill lighter to get the job done. These lighters have long necks that allow you to light the grill without getting to close. Imagine this person's confusion when they opened up their grill lighter and found a normal lighter on the inside.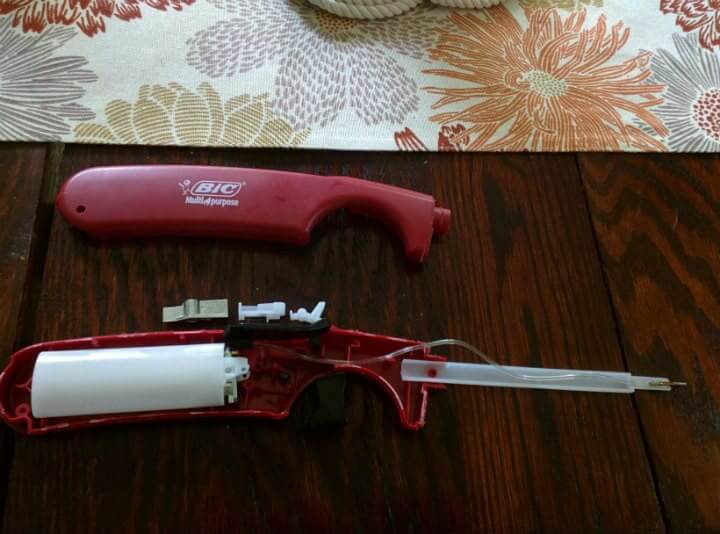 It kind of spoils the magic doesn't it? Well, it turns out not all grill lighters are like this and these lighters were made this way because the manufacturer had surplus normal lighters they wanted to use.
Balls!
Ever wonder what bocce balls are made of? Well, one person decided they couldn't wonder any longer so they broke the ball open with a sledgehammer.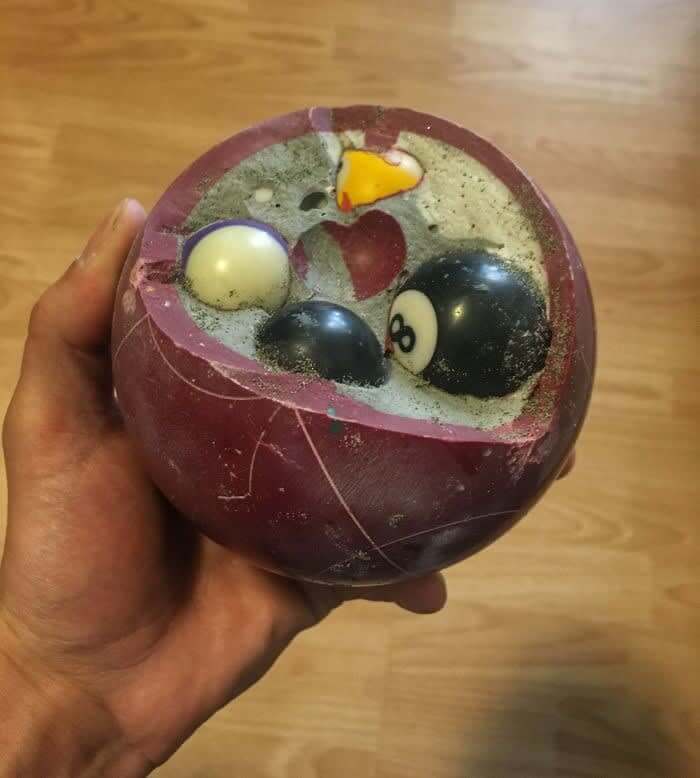 Inside they were shocked to find that the ball had been made by cementing billiard balls inside a larger shell. This is pretty weird; it's not like these billiard balls would offer players an advantage.
Coffee Time
The coffee enthusiasts know that buying coffee beans and grinding the coffee themselves is the best way to enjoy it. The whole process of selecting the beans, grinding them, and brewing the coffee itself is a kind of ritual.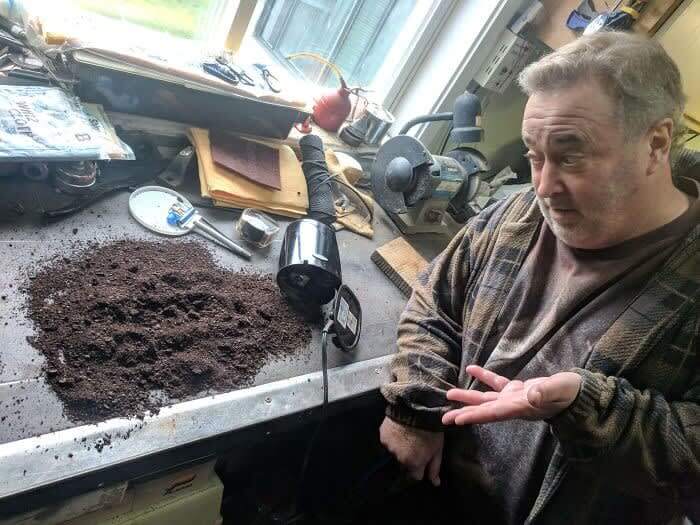 This dad was trying to grind his coffee, but the grinder would not work. After opening up the machine, he saw that years of coffee grounds had compacted inside of it, and it was pretty shocking to see how much coffee he had missed when emptying the machine.
I'm Glued
Part of the reason we buy name brand products is so that we know the quality we are getting. It's upsetting than when things like this happen. When this person bought the more expensive brand name superglue, they were shocked when they opened it up to find this.
Instead of the brand named superglue, the manufacturers had hidden a cheaper, foreign glue inside. Many customers noticed the same thing and it turned out the manufacturers had done this to cut costs.
A Nighttime Newt
Newts are little critters that are often forgotten in favor of the more popular salamander. They are similar, but newts are primarily amphibians, which means they can live in both water and on land. This little newt was found hiding inside of a big mushroom.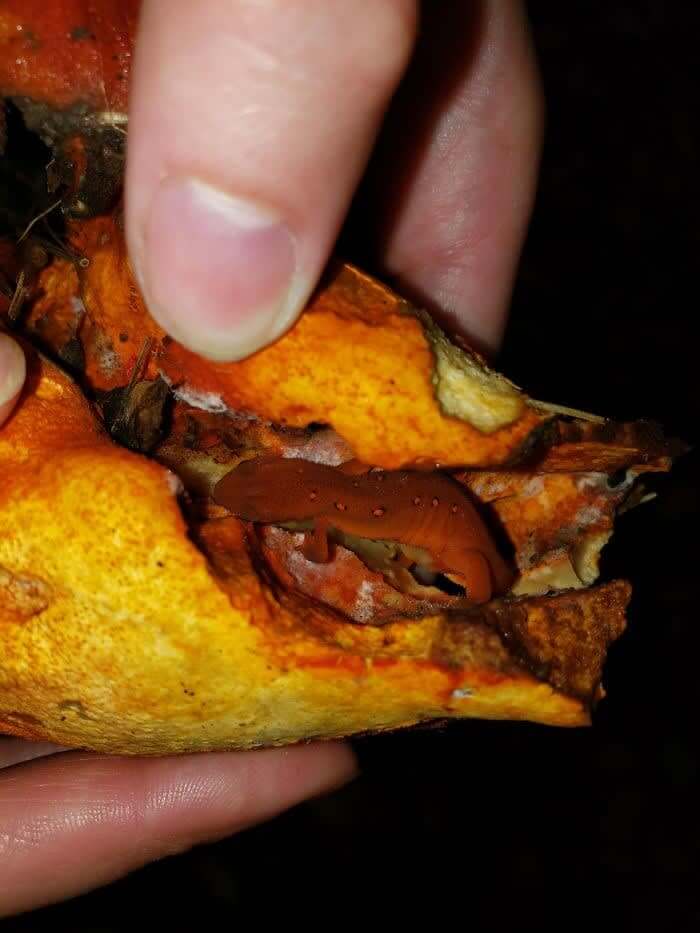 This person had thought they were getting tasty mushrooms, which they could cook up, but instead, they got this little guy. Hopefully, they released him back into the wild!
Chew Toy
This was a strange surprise for this pet owner. You see, when she got a new puppy the little guy got attached to a cactus plush toy. He would drag that toy everywhere and spent hours chewing on it.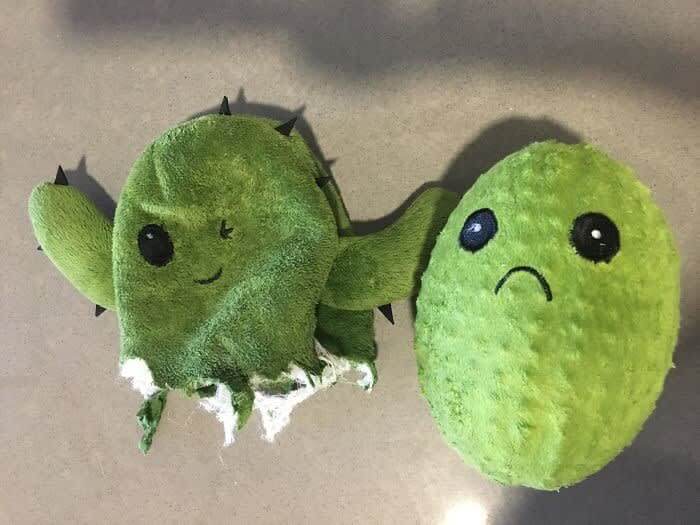 Eventually, the toy broke, and the owner was horrified. But then she looked inside and discovered that inside the toy was another smiling cactus plush. Is it possible they were designed like that?
Copper Quarters
In ancient times Kings, Queens, and Emperors handed out harsh punishments to those who tampered with the currency of a country. When silver coins were melted down and tin was added, the punishment was often death.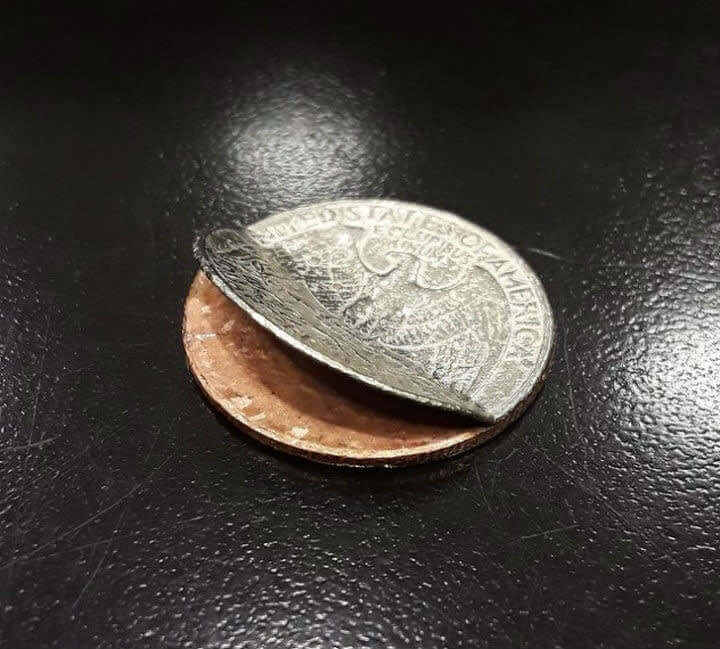 But today things aren't as simple. With a huge demand and limited supplies, countries often doctor their coinage. Take this quarter for instance. Inside there is a smalled copper coin and you can peel away the outer layers to reveal it.
Ragtime
Have you ever wondered what happens to the clothes that nobody wants? The clothes that can be worn are sent to second-hand stores. For the clothes that are torn, they tend to be turned into rags and used to stuff things like punching bags.
This person had no idea that his punching bag was full of rags, and had always believed that it was full of sand or another weighty substance.
Keeping Family Close
Sometimes we inherit important objects from family members like heirloom furniture, or in this person's case a knife. They decided to use the knife in honor of their family member who had passed away, and after using it for a while, a piece of the handle fell off.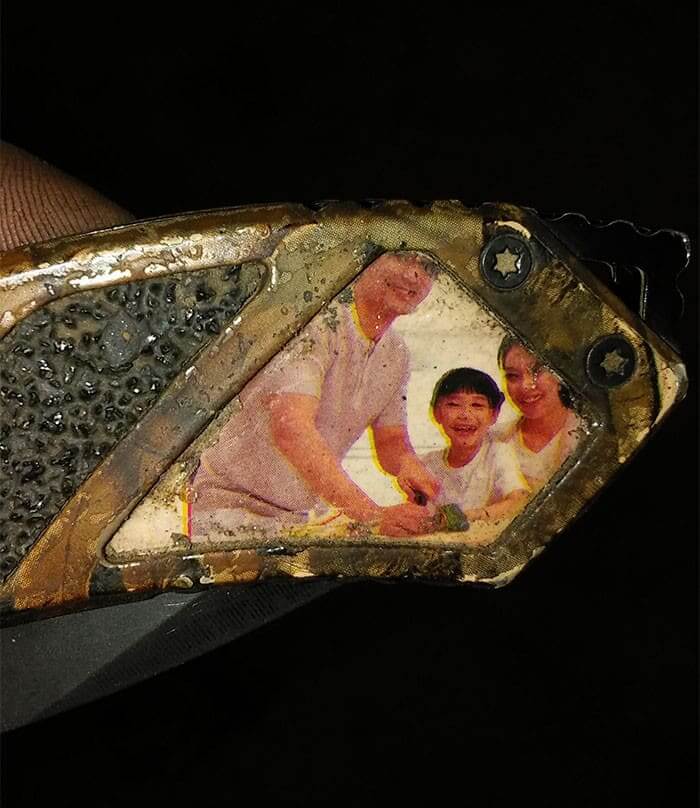 A family portrait was revealed, and it was not the family of the person who had received the knife. We have to admit we are pretty curious about who the mystery family is.
Oh Snap
Remember those snap bracelets from the '90s? Well, they were incredibly popular and kids just couldn't get enough of them. It was almost magical how they were able to snap onto anything. Turns out the secret to these bracelets was hidden inside.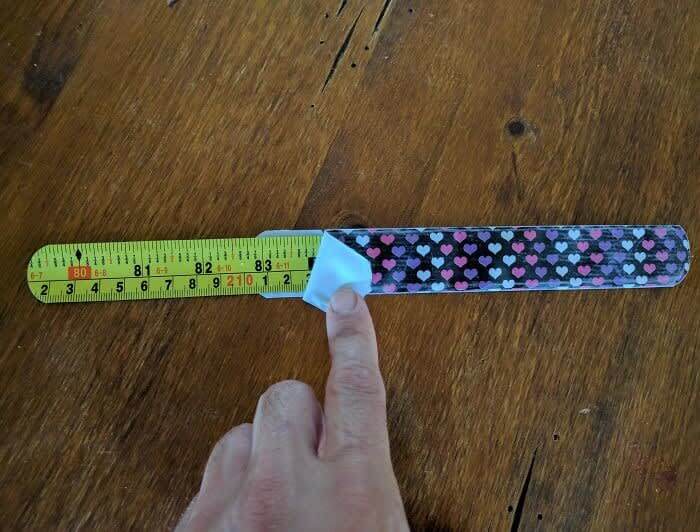 Beneath the funky colors and designs, these bracelets contained bits of metal measuring tape that allowed them to snap. The guy who though up repurposing measuring tapes for bracelets must have made millions off this ingenious idea.
Rock and Roll
When this boy and his father found a bolder in their garden, they decided to break it into smaller rocks to use in the garden.
But when they hit the boulder with a hammer, it broke in half and revealed something like this. It turns out hidden inside the boulder was a giant fossil. It's not every day you see something like that in your backyard.
Great Scot!
Okay so this may look gross but it's actually not. When this person cut open an old tomato they found in their fridge, they discovered something strange inside.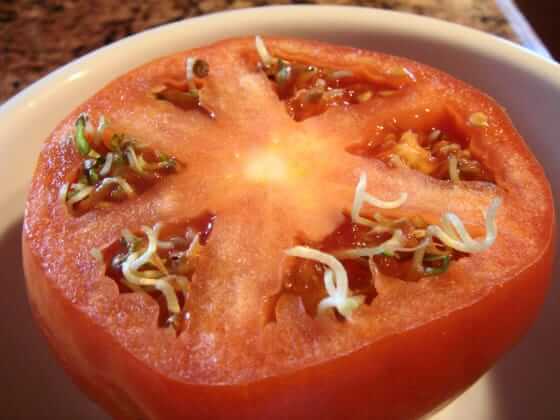 It seems that while the tomato was still good to eat, the seeds inside had already started to grow. It must have given them quite a fright when they opened it up and saw that.
Mosquito Tape
A lot of products are produced in countries like China and Bangladesh. This means that their factories have different insects buzzing around them, like mosquitoes. When this workplace received a shipment of packing tape, they noticed that mosquitoes had been trapped inside of the rolls.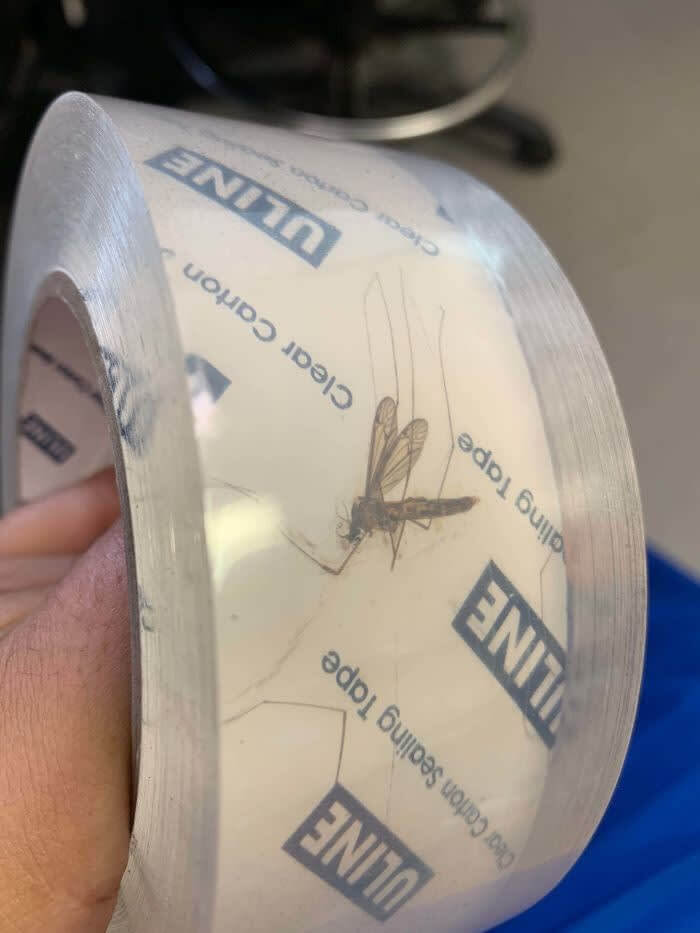 This is almost like the modern-day equivalent of mosquitoes being trapped in amber, like during the Jurassic period. There's no dinosaur DNA hiding within these mosquitoes, though.
Inside Out
Dog toys seem to contain some pretty weird things. This pig toy looked like it had been hitting the gym pretty hard, and the inside of the toy was exactly the same. Usually, toys are stuffed, and from what we have seen, the inside tends to have some pretty odd stuff inside.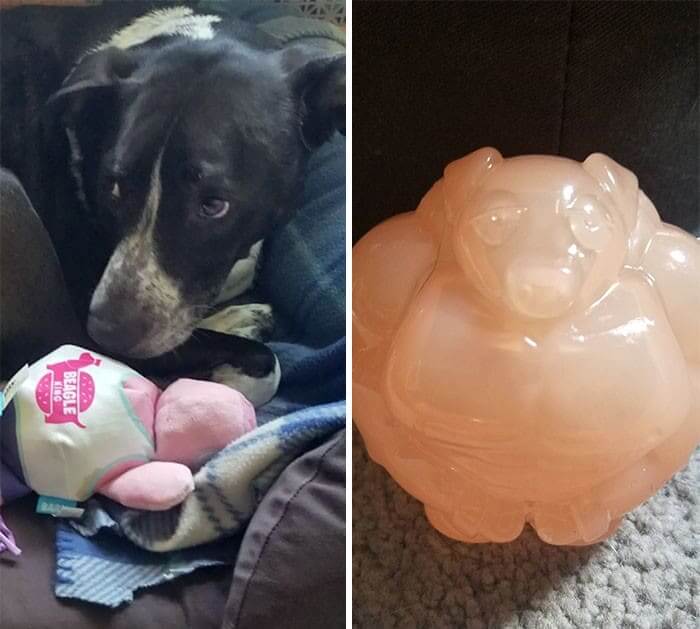 Instead, the inside of this toy is just a very well-muscled rubber pig. We aren't totally sure why a dog toy designer thought a jacked-up pig was a good idea for a toy, though. It's possible that these rubber toys were repurposed as dog toys.
One Man's Treasure
As the saying goes, "One man's trash is another man's treasure," and that could not be more true for this person.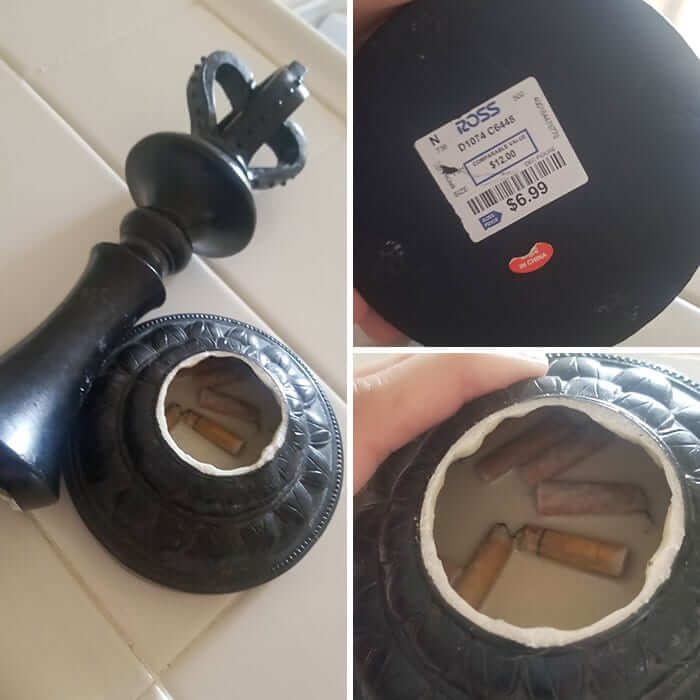 They purchased a large chess piece, which they planned to use as a decoration in their home when they noticed the smell of cigarettes wafting through the room. Upon closer inspection, they found that the smell was coming from the knick-knack. They broke it and found some used cigarettes inside. That's just gross.
The Missing Port
Having a car phone charger can be a lifesaver as it allows you to easily charge your phone while you are driving. However, when this person accidentally dropped their car charger they discovered something odd.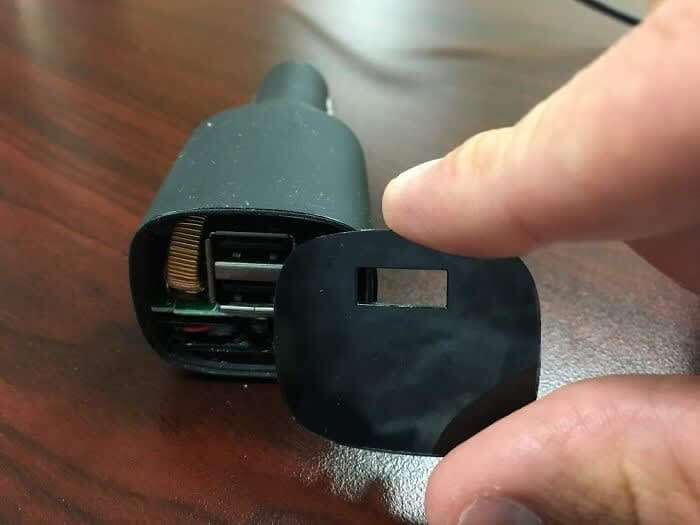 Behind the cover at the back of the charger, there was a second USB port that had been hidden. Strangely the second port actually worked and now this person can charge 2 phones at once without any difficulty. Why they hid the second port is a mystery.
The Periodic Table
The periodic table of elements is something that we all have to learn in high school. You needed to know the full name of each element and where they stood in the table.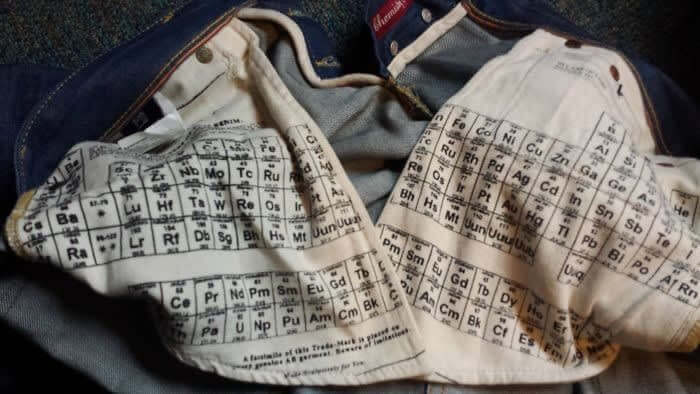 This student knew that they had a test coming up, and they wanted a bit of extra help. Each question they didn't know, they went to the bathroom for and quickly looked at the inside of their jeans, which contained the entire table.
The Human Buddha
One of the craziest things that were found inside something was the mummified remains of a monk within a statue of Buddha.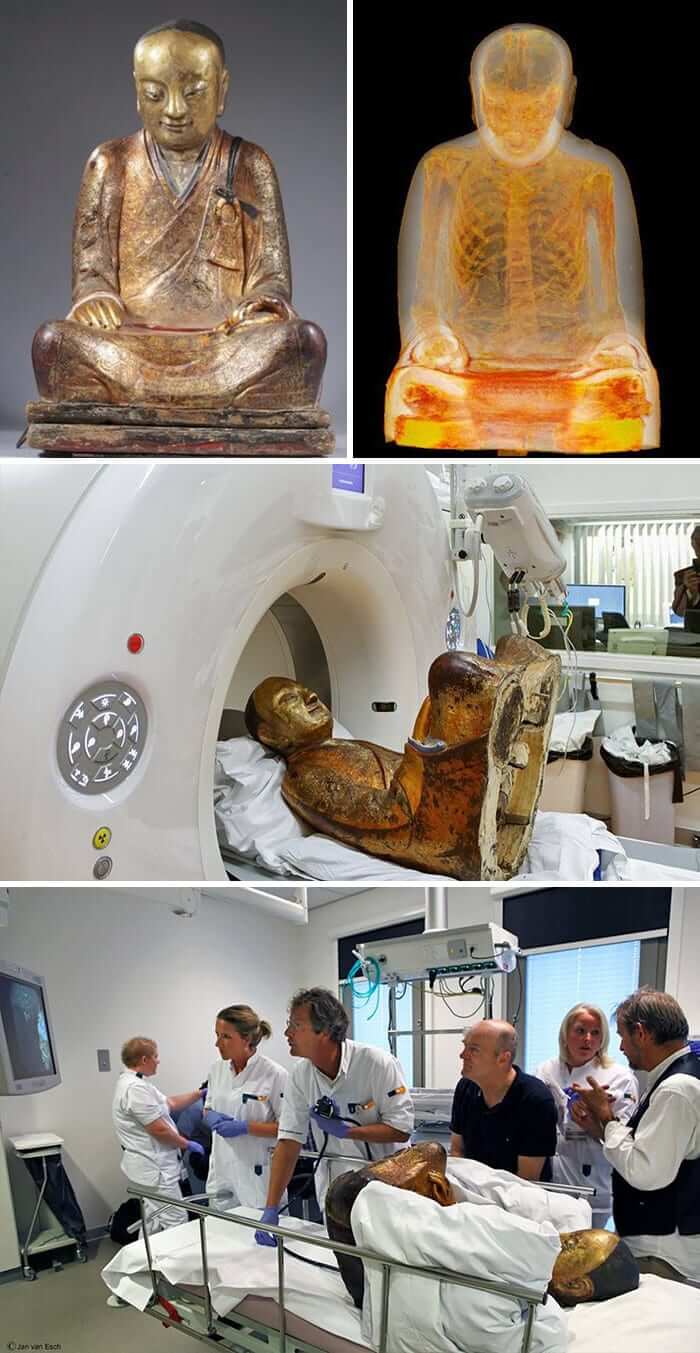 Upon the monk's death around 1,000 years ago, his body was placed in the shape of Buddha, and a statue was created around him. The only reason archaeologists know this is because they decided to do an MRI of the statue, and it showed his bones on the scan.
Seen Food
For anyone who enjoys vacationing by the ocean, or is fortunate to live next to it, then the chances are high that they enjoy seafood.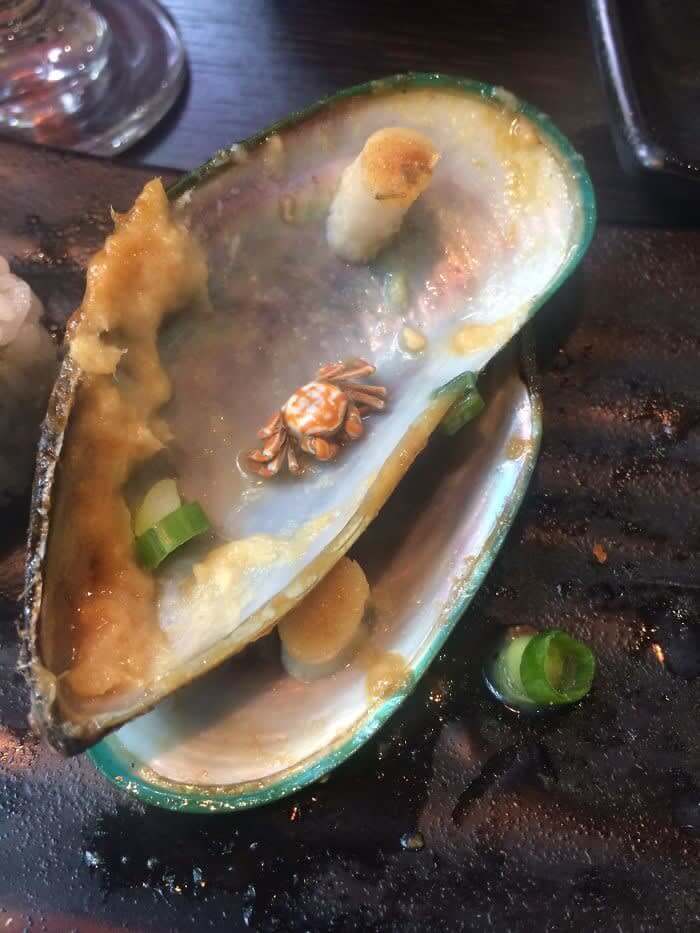 This person dug into a pile of well-seasoned mussels when they noticed that they had actually been given a seafood medley. Within the shell of one of the mussels, a tiny crab had crawled inside. It seems no one knew he was in there until the mussel was opened.
Real Comics That Show Parenting Struggles When Having Another Baby
Tegan Holmes
This article was originally published on ParentMood
Parenting can be a lot of fun, but anyone with kids or a pregnant partner knows that some days are better than others. Artist Yehuda Devir does a stellar job of capturing these ups and downs of parenthood. He began documenting his relationship with his wife, Maya, through the comic series "One of Those Days." Over their years together, the funny couple welcomed a couple of babies. Yehuda's illustrations have since morphed into a relatable and funny series on family life. So if you're a parent or expecting to become one soon, you'll love these illustrations!
A Bun In The Oven
Before a new baby arrives, their siblings need to learn why mommy's belly is growing again. For older siblings, the addition of a younger brother or sister can be a confusing time. They are used to being the main focus of their parents' attention, and the addition of a sibling means they won't be anymore.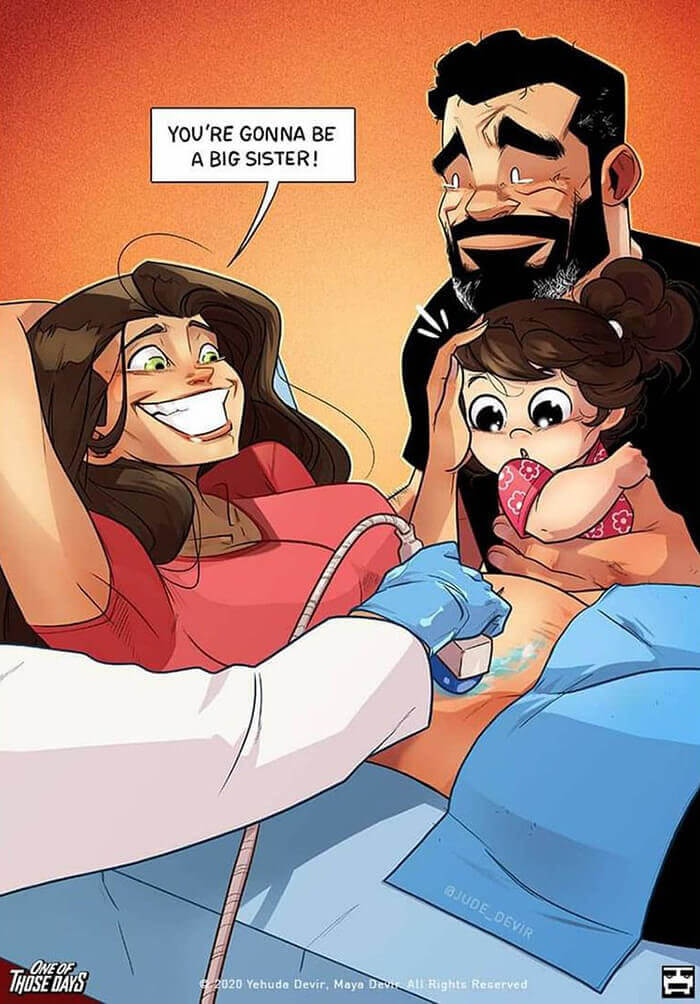 To help an only child get used to the idea of the new addition, it's a good idea to include them in big moments like ultrasounds at the doctor's office. That way, they begin to understand that a new life is growing, and they will have someone to play with in a couple of years.
Changing Bodies
It's pretty amazing that a human body can create new life. When a woman goes through a pregnancy her body changes in many different ways.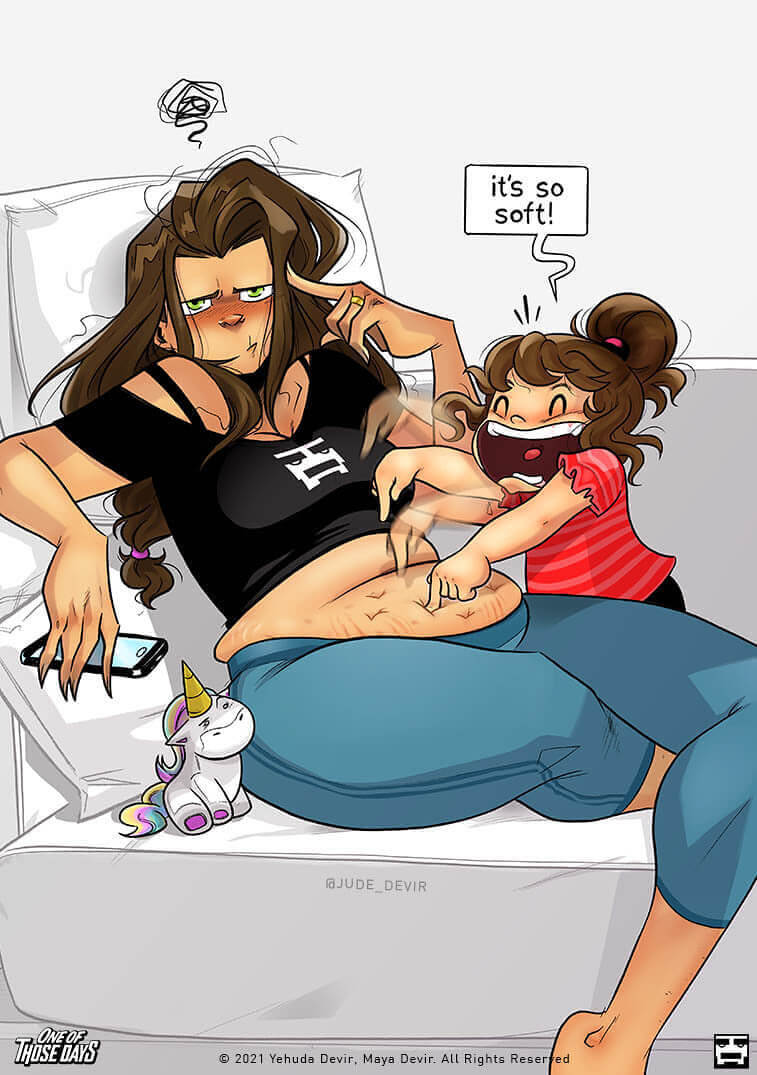 Most women will find that their bellies change because all of the organs must shift around to make room for the growing baby. On top of that, a few new stretch marks might appear, along with some general squishiness. That's okay though, it is all a part of this beautiful process.
Let The Romancing Begin
Every couple needs a little spice in their life, even if one of them is almost nine months pregnant. Just be mindful of a couple of things, especially when it comes to spatial awareness.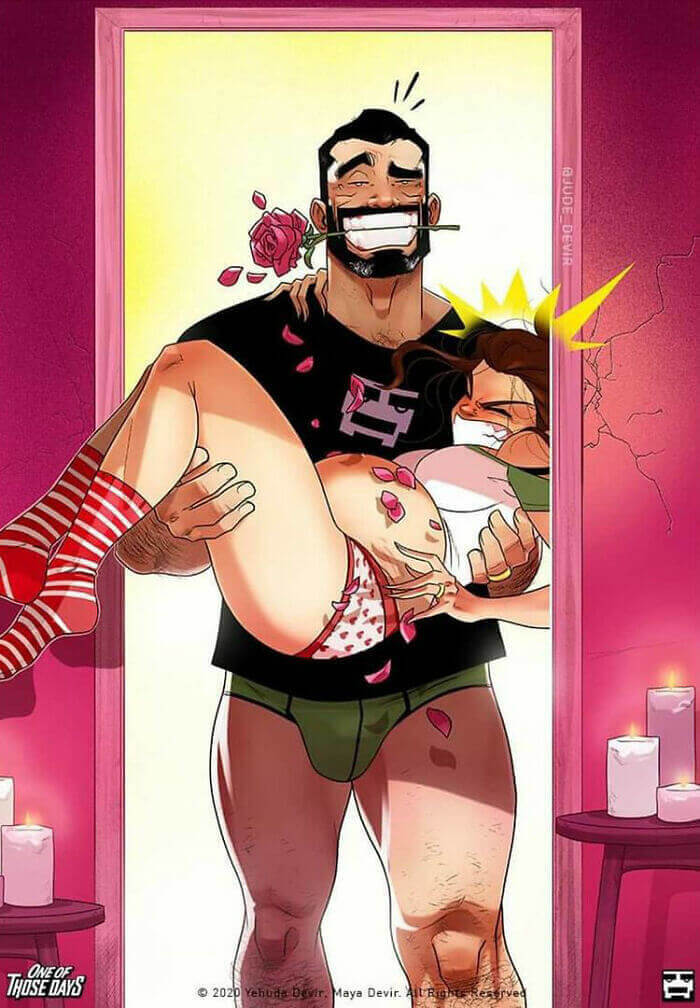 We are all for big gestures, but pregnant ladies do not need to have their head accidentally smacked on a door frame while their husband is attempting to be romantic. Save the grand gestures for post-pregnancy.
The Triple Spoon
A lot of kids don't like to sleep by themselves for the first couple of years of their lives. That's why parents tend to place the crib or bassinet in their own bedroom.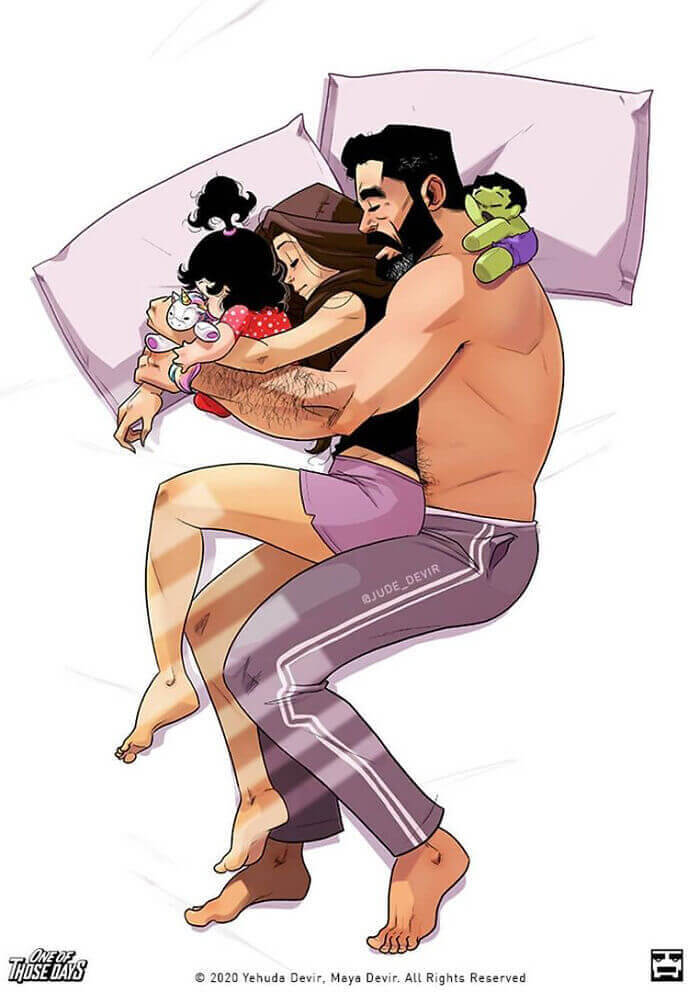 For this little family, they embrace group naps and cuddling together. This is an excellent way for everyone to get the affection they need.
Trying To Work
With everything being a new experience for babies and toddlers, they tend to think that the entire world is their playground.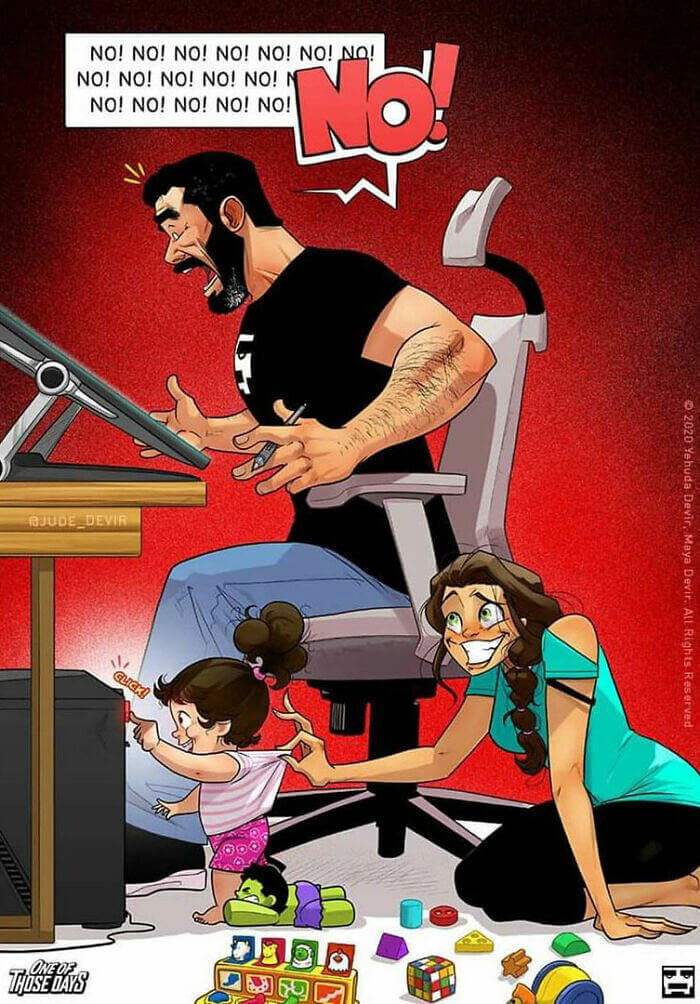 That means any buttons that are at eye level must be pressed. Even if it means a parent loses all of their new comics, and they need to start from scratch again – oops.
Let The Countdown Begin
Once kids enter the picture, major holidays like New Year's Eve tend to take on a bit of a different meaning. Instead of staying up until midnight, it is more about sleeping until midnight.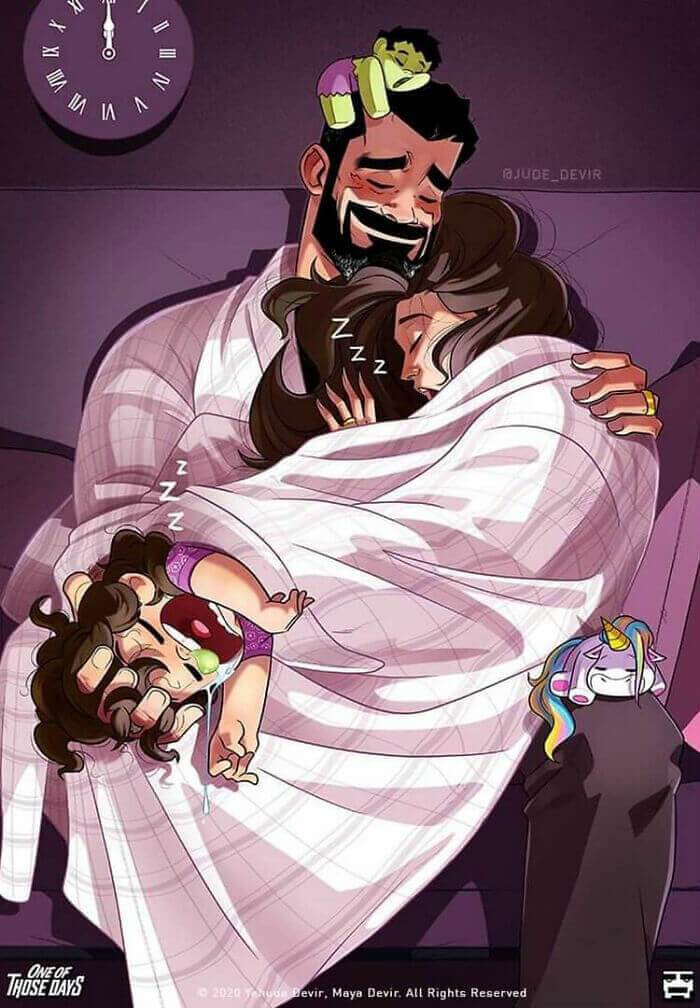 That doesn't mean parents need to stop having fun. It just means that priorities need to change, and fun can be had when kids are older.
New Life
Babies start to move at around the five-month mark in their mother's bellies. It starts with what feels like flutters, and as the baby grows it starts to visibly move.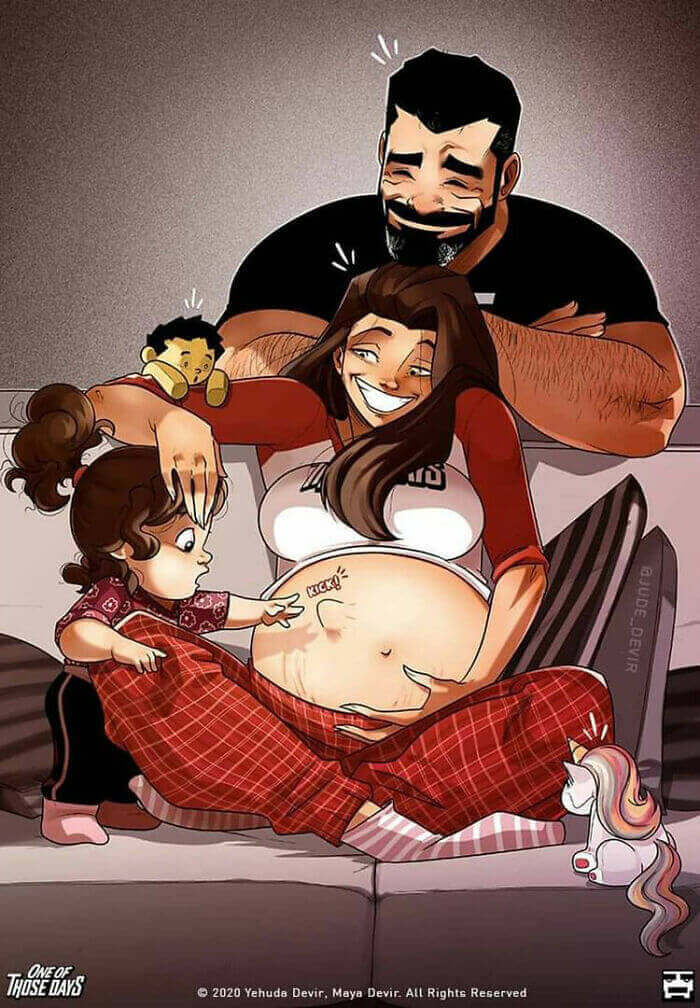 What may look like an alien moving around is actually a baby just kicking the stomach walls as it tries to get comfortable. Don't be alarmed.
Double Bellies
When a child's mom gets pregnant, it can be a bit of a confusing time. It's hard to understand that a new sibling is growing inside mommy's belly.
That's why it's important for parents to sit down with their child or children and explain that a new brother or sister is about to join them.
Filling Out
While stomaches definitely get bigger, so do other body parts as women get closer to giving birth. Bras may need to be adjusted, or even put away.
For women who are experiencing some major growth in their chest region, we would suggest grabbing a comfortable sports bra until it's time for nursing bras.
Scooting Around
Most babies learn to walk in the first year or two of their lives. Catching those first steps are one of the moments all parents want to remember.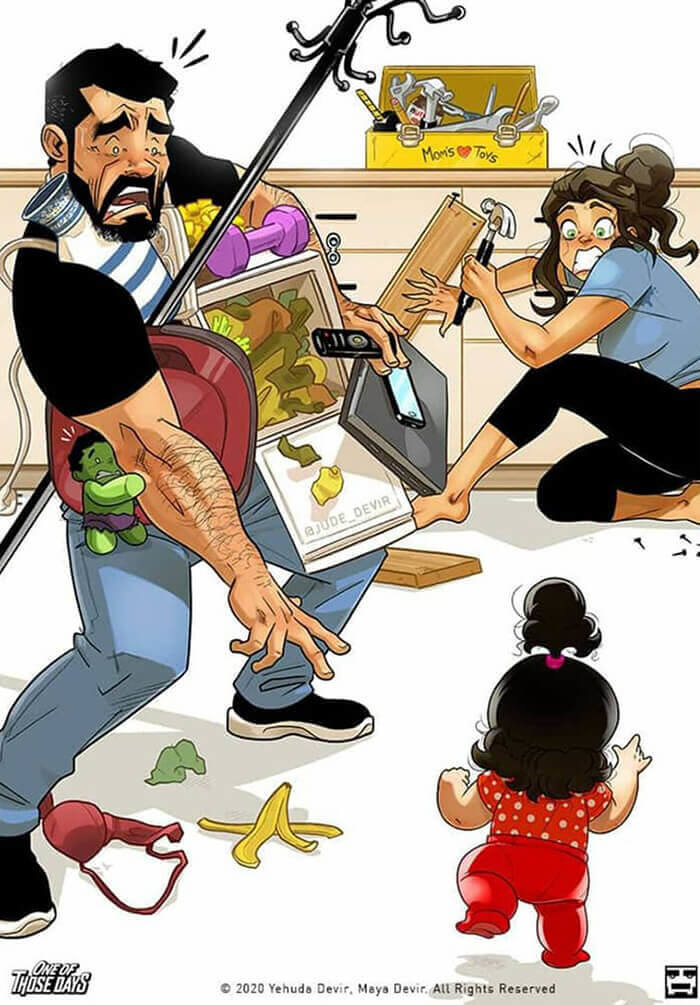 Once a toddler starts motoring around though, you will want to be careful that your home is childproofed. Little fingers like to get into everything!
First Words
Every parent remembers the first time their baby speaks. Maybe it is 'Da-da' or 'up' that are their first words. No matter what, this is a moment that needs to be remembered.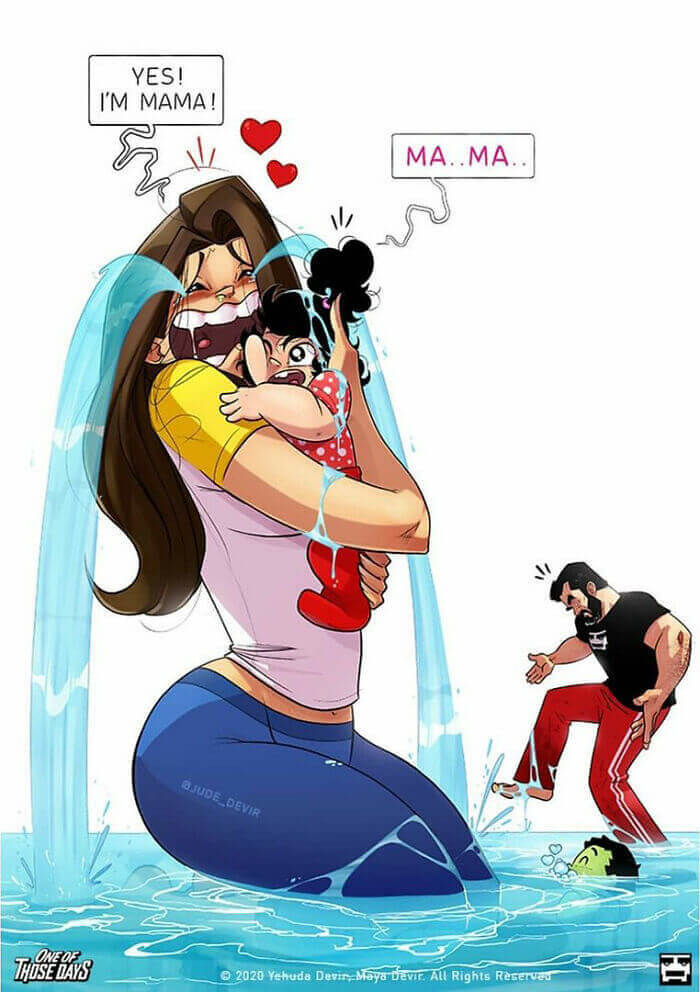 For Yehuda and Maya, their little one managed to say 'Ma..Ma' which was a tear-worthy moment for both of these parents.
All Tucked In
One of the greatest inventions of all time has to be the body pillow. Not only does it conform to your body, but for pregnant women, it provides the perfect resting place for a heavy baby belly.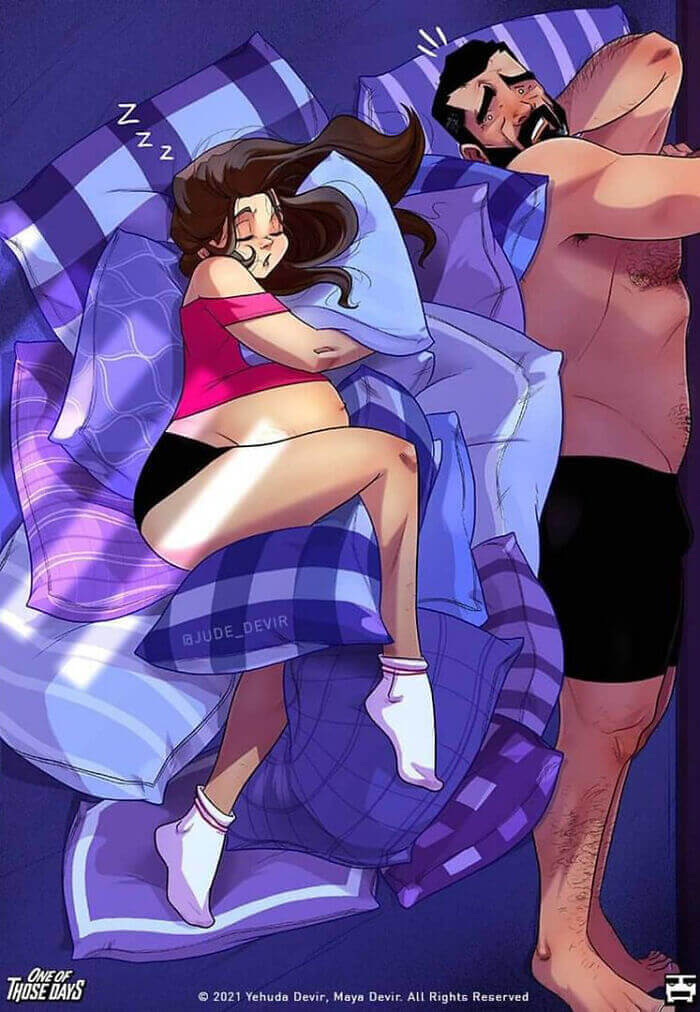 Body pillows may not fit perfectly in a bed with your partner, but that's a small price to pay for your own pregnant comfort, right? Getting a good night's sleep can be tough while pregnant.
Alone Time
Babymaking is a fun business, but after the baby has been born it can take a bit of time for things to get back to normal in the bedroom.
Sometimes a few new items need to be introduced to get the old motor going again so to speak. Couples that play together, stay together right?
Carrying The Load
A pregnant belly can weigh upwards of 20 pounds, depending on the woman. Most women will lose around 13 pounds as soon as they give birth, but until then, that extra weight can be hard on the back.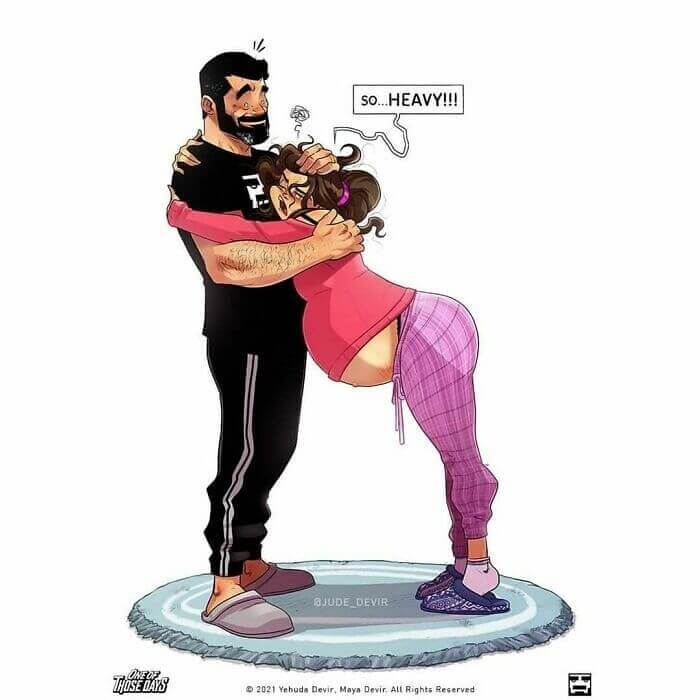 Sometimes simply leaning on a partner, or having your partner hold your belly up can provide some much-needed relief for back pain.
Feeling Insecure
For some women, acknowledging that your body has changed and being proud of it can take some time. Stretch marks are normal, as is saggy skin.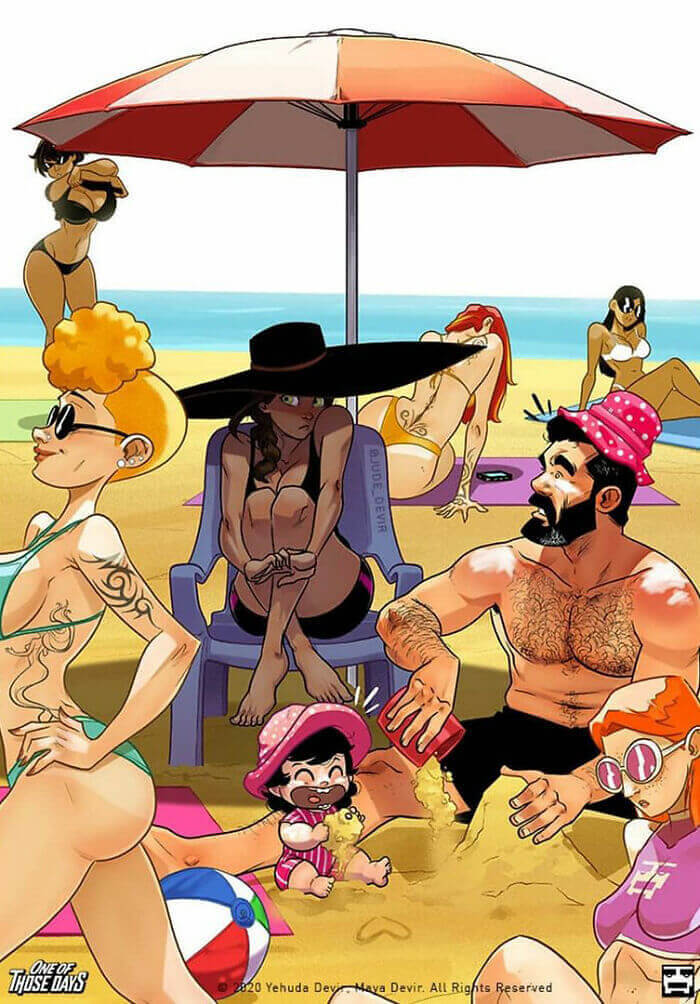 Throw on a one-piece or a bikini that makes you feel confident and let it all hang out. Nobody is watching, and your body has basically performed the miracle that is giving life. Be proud of it!
Time For School
Eventually, the day comes in every parents' life, where it is time to send your child off to preschool or kindergarten. This is a big day because it means you won't see your child 24/7.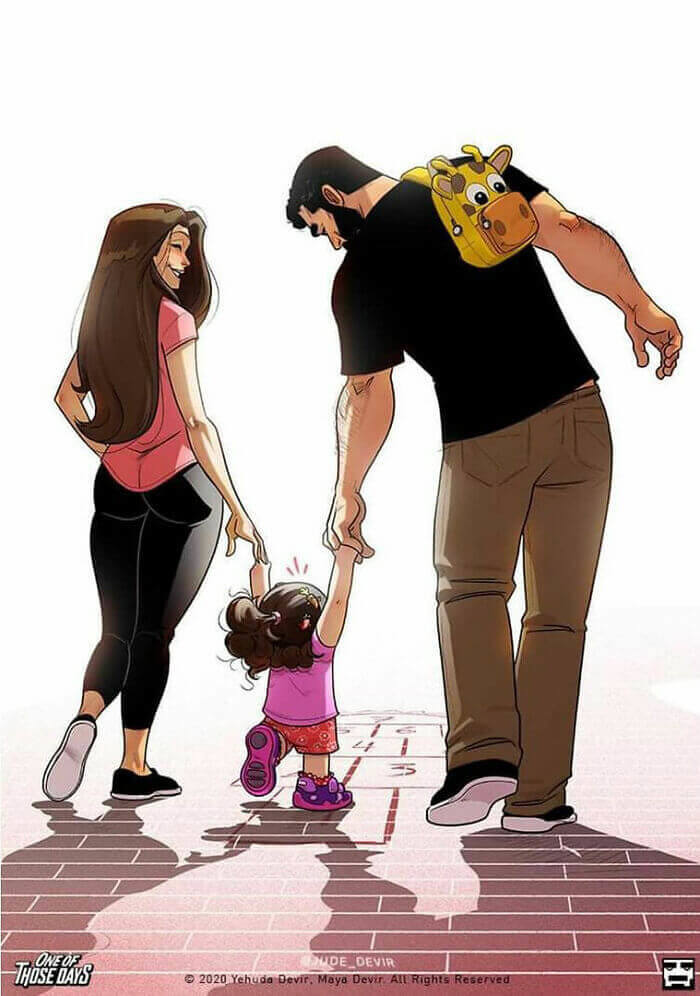 For many parents, they covet this newfound freedom, but the worry for your child will always be there. Growing up can take some getting used to.
A Helping Hand
You know the phrase, "Help I've fallen, and I can't get up"? The same can be said for pregnant women, except instead of falling it is simply lying down.
As babies start to get bigger, and bellies start to get heavier, it becomes harder for pregnant women to move around like they once did. That means their partners always need to be on hand to help them off the floor, or the couch.
Beach Bodies
Some partners like to sympathy eat with their pregnant loved ones. That tends to mean both the woman and the partner pack on a few additional pounds.
Those extra pounds will need to come off eventually, but that doesn't mean you need to hit the gym hard. Start doing some light cardio, cut back on the junk food, and the weight will come off on its own. Chasing a toddler around all day will do wonders for the physique.
Cover Your Nose
Children are like little sponges, and they need to absorb their manners and proper etiquette from their parents and those around them.
One of the most important things children learn is to cover their mouths when they cough or sneeze. This keeps snot and other germs from spewing all over the place, but it takes practice!
Glued To The Television
Toddlers need to be kept entertained. Otherwise, they will find creative ways to entertain themselves, like drawing on the wall with their favorite markers.
One method to keep kids quiet, and entertained is to switch on that magical screen known as a television. This can keep kids busy for hours.
Food Cravings
Ask any woman that has been pregnant, and she will admit to having some pretty strange food cravings. Some women crave salty foods like pickles.
Others simply want to have a mish-mash of flavors in the form of every condiment known to man on their burger. While these concoctions might look kind of gross, try not to judge your partner's food choices. The baby growing in her belly is demanding these for a reason.
Getting Everything Done
Women are fantastic multitaskers, this is basically a fact. They can write an email, go shopping, and watch their child all at the same time.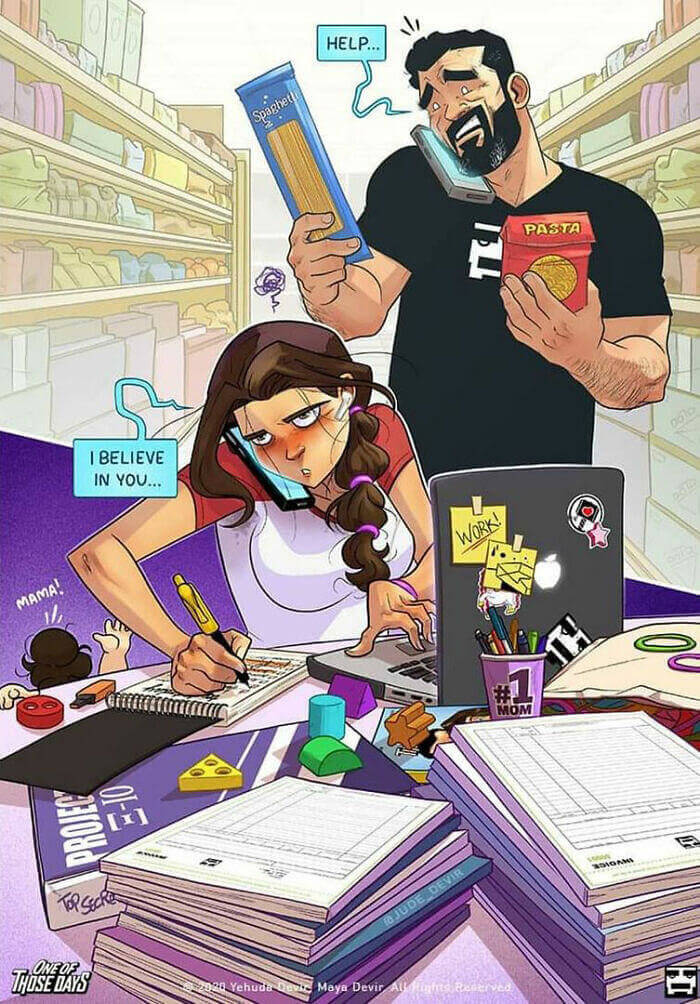 For some men, it is a bit of a different story. Yehuda comically made fun of himself and his lack of multitasking abilities which might resonate for some other dads out there.
Going On Vacation
Babies are born with a natural instinct for survival when it comes to water. Most know that they need to flip themselves upside down so that their face is not in the water. Once a baby is old enough, it can be introduced to swimming, first with water wings, and later all on their own.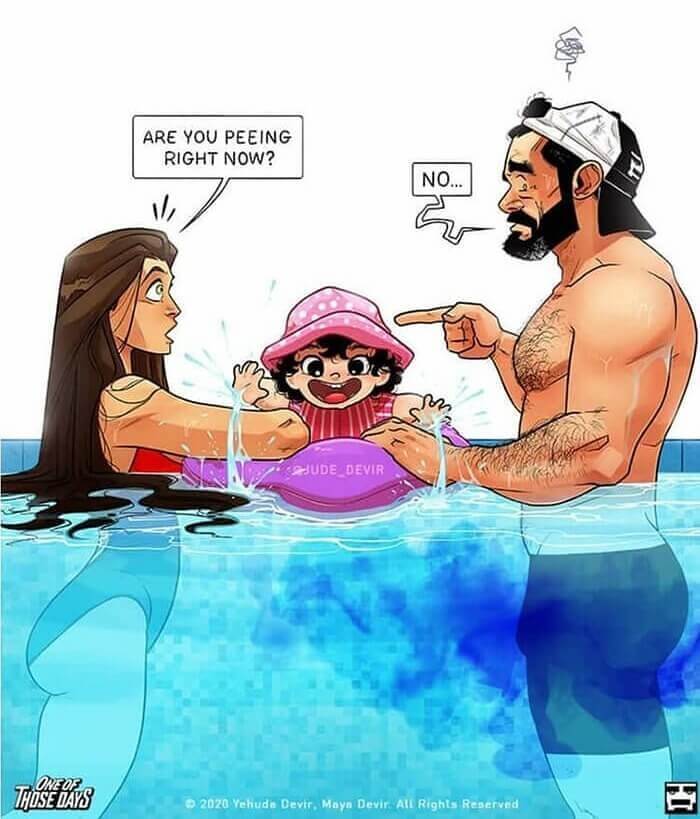 Family vacations give a baby time in the water with their parents, and they also learn a very important rule – don't pee in the pool. It seems like this parent might just have forgotten that rule, and needs a reminder.
Co-Parenting
Every family is different, which means each parent had a different upbringing growing up. These upbringings are what every parent either consciously or subconsciously brings to their own parenting style.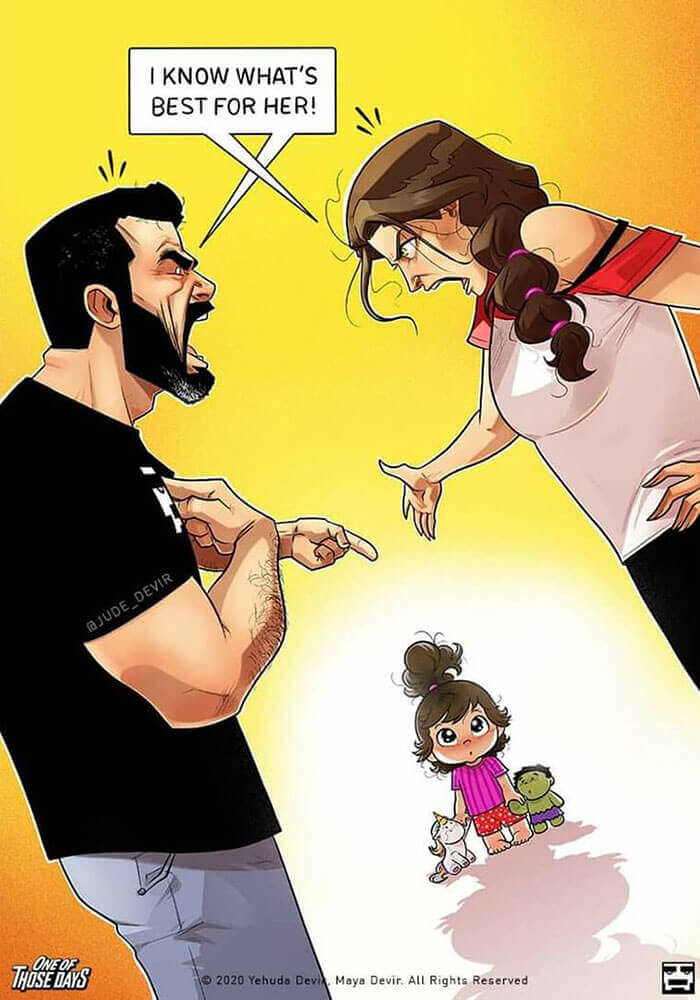 Sometimes these different methods of parenting can lead to a few arguments, but ultimately parents need to remember that this is a partnership. Everyone needs to find a common ground, and work together to raise their little one.
Getting A Boo-Boo
Part of growing up is learning how to fall down and get back up again. Children will fall down, scrape their knees, and understand what it means to get hurt.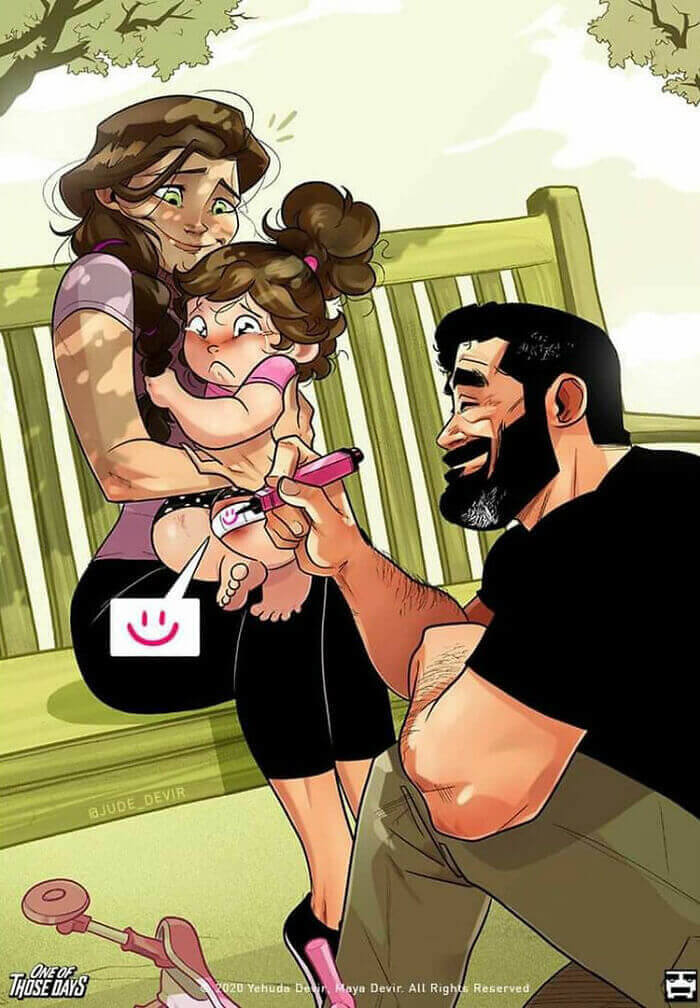 Having a boo-boo kissed better by mom or dad, and a cute little picture drawn on a bandaid shows that it is okay to hurt. A parent is always there to make it better.
A Time Out
Time outs aren't just for kids. Sometimes a parent needs a break from caring for their child. This isn't because they don't love them, but it can be overwhelming.
Partners need to make sure that each parent has some alone time, even if the baby is crying. When a mom or dad is feeling overwhelmed, make sure to communicate this and get some help.
A Stinky Surprise
Dinner time is the highlight of the day for many people. Maybe your partner spent hours cooking up some delicious spaghetti, or another scrumptious meal.
A dirty diaper and the smell wafting out of it is not one any diner wants to smell before mowing down. Always do a quick diaper sniff before sitting down to dinner to avoid any unappetizing smells.
Incoming Baby Alert
For most expectant parents, they have enough time to hop into the car and make it to the maternity ward once contractions start. Some women might be able to have their baby in a matter of hours, for others, it could take days.
Everyone has their own birth journey to follow, and for Yehuda and Maya, it looks like it might have involved a bit of yelling and screaming. That's totally normal when a new life is about to enter the world!
Always Shut Your Mouth
One of the least exciting aspects of having a baby has to be changing diapers. It seems like every couple of hours, or sometimes even minutes, the baby needs a change, and that can lead to some messy situations.
If this comic teaches you anything, it should be to always close your mouth when changing a dirty diaper. You don't want to end up with a surprise in your mouth.
A New Addition
This happy couple welcomed a baby boy into their family, which obviously meant a comic had to be created for the announcement.
According to the caption for the cartoon, this new addition has been named Ethan and he is a "new super-ultra-mega baby boy." We can't wait to see how he is portrayed in Yehuda's work over the coming months.
All Tuckered Out
After a long day of caring for your child, both you and your partner will be all tuckered out. Bedtime is not just for the baby. Most parents try to match up their sleeping schedules with their little ones.
By matching up the sleeping schedules, parents can enjoy some much-needed shut-eye, until the baby wakes up and the whole saga has to start again. Sleep while you can when you have a baby.
A Few Tickles
A new baby is always cause for excitement. As soon as that little person enters the world, it feels like anything is possible.
Baby Ethan seems to enjoy some coochy coo time with his dad, and a few little belly tickles. For babies, everything around them is a new experience that always leads to a sense of wonder.
Everyone Wants Mom
When you have children, they may favor one parent over the other when they are babies. Usually, they cry out for mom because she is the one that makes them their food. It might be hard when your partner is away, and the children won't stop crying, but it will get better eventually.
The tears and screams might be flowing, but parents do the best they can while their partners are away. The parent taking care of the children watches the clock and wonders, "how many minutes until they come back?" At some point, the kids tire themselves out, and the crying stops.
At Least Everyone Is Sleeping
When you have young children, it can be challenging to find time to sleep. But, in the rare moments that everyone is sleeping, it doesn't matter if the house is a mess or someone didn't get their bath; you just have to savor the peace and quiet.
Being a parent is exhausting, and sleep is rare, so getting even a few minutes of rest with your children is a huge parenting win. However, we wonder if parents ever get used to not sleeping because they still have to go to work even if their children were up all night.
Getting Older
We all age, that is a fact. For some people that means getting wrinkles, and for a lot of men, that means thinning hair or going completely bald.
Losing hair can be a major source of anxiety, but it doesn't need to be. People age, and aging gracefully is a part of life. Own that balding head, and embrace the change. With age, comes wisdom, right?
Zoning Out
Every couple, whether they have been together for a couple of months, or a couple of decades has moments where they just need to zone out.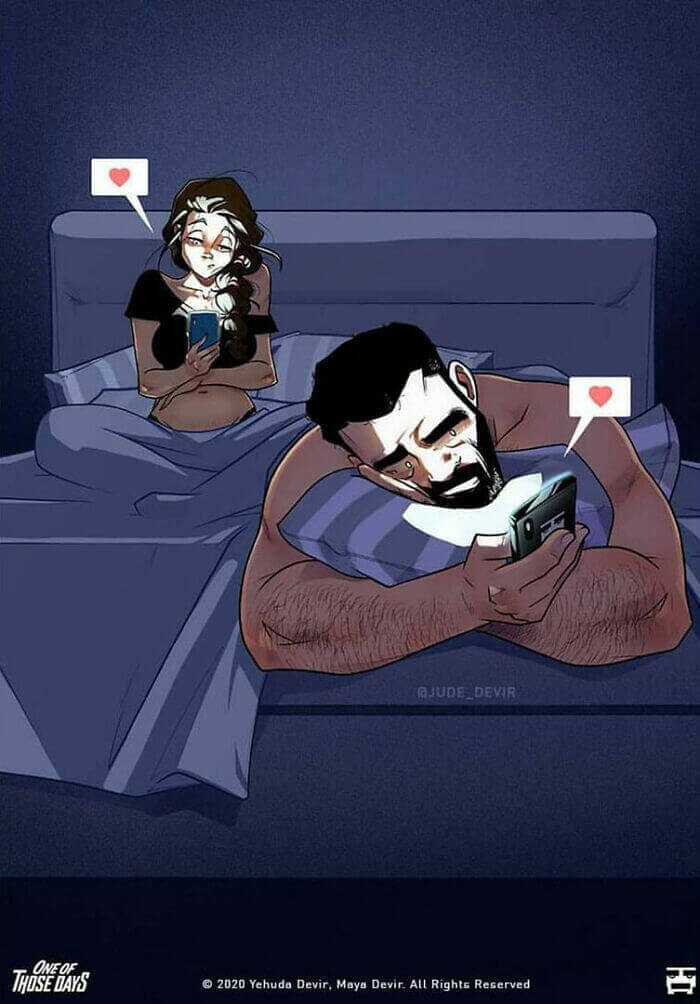 Social media is a great escape, and even if you and your partner aren't talking, you can be sending each other memes, and funny TikToks while you enjoy some quiet time together.
In It Together
At the end of the day, your partner is going to be with you through thick and thin. That means they are there for the highs and the lows, and no matter what, you will stand together.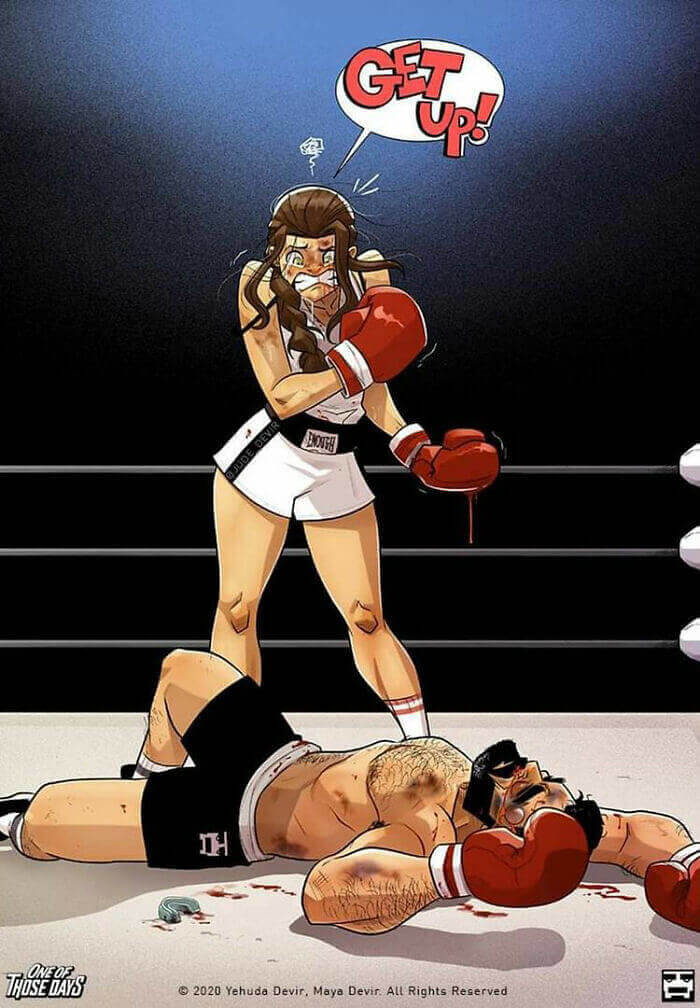 Some days will be tough, but communication is key. Make sure that you check in with your partner, and assess how you both are feeling. Bottling up feelings is never good.
Winter Is Coming
As soon as that first crisp breeze blows in, or the first flurries of snow appear, women everywhere know it is time to stop shaving. Of course, some women still shave, but if you're not showing your legs off in shorts it is definitely more of a choice.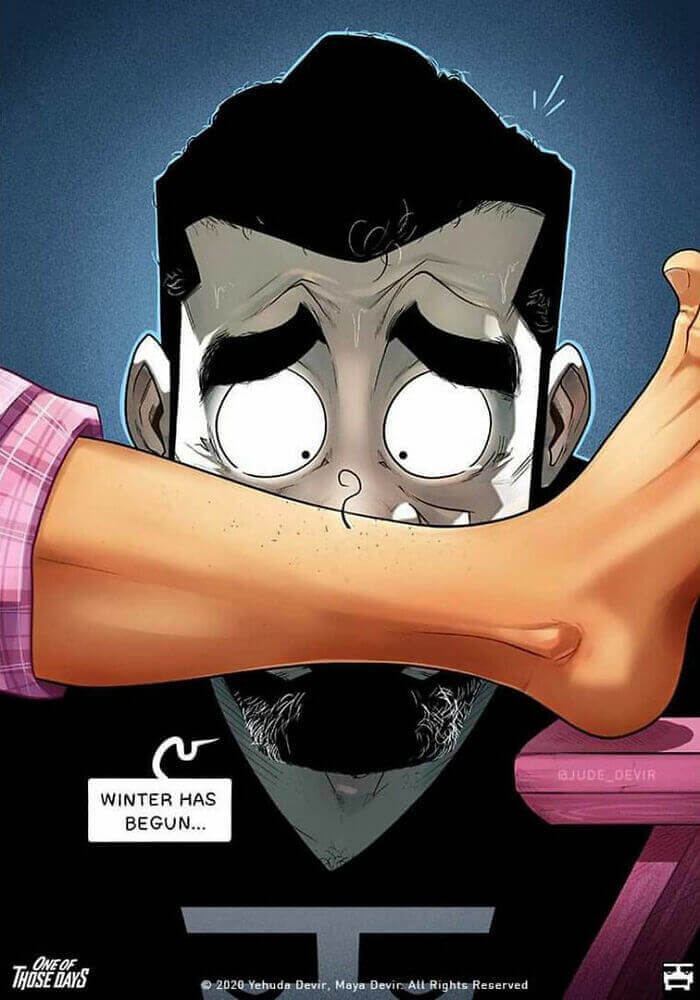 When winter hits, and women no longer have their legs on display, it is totally okay to say no to shaving, and embrace hairy legs.
Always Work Together
Being a part of a team in the workplace is just as important as being a team at home with your partner. You need to work together to raise your child, or your pet if you opt not to have kids. It takes two to clean up a baby that has gotten food everywhere or has managed to dip a hand into a dirty diaper.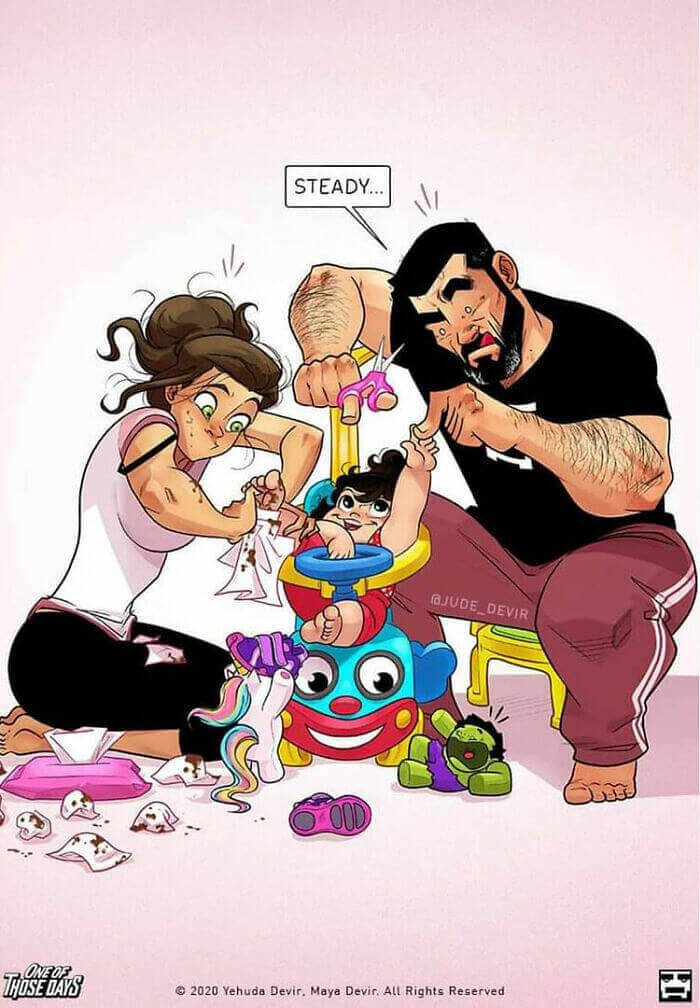 You can always rely on your partner to help. That teamwork spirit will help you raise your kids to perfection, and achieve the life you have always wanted – go team!