Have you ever looked at a seemingly normal looking item like a rock or a tree trunk and wondered if it might contain something else? Sometimes things are not what they seem. A fruit could have another fruit growing inside it, or a rock could actually contain beautiful crystals once it is cracked open. We have compiled a list of some of the strangest things that people have found within objects once they have cracked them open. Keep scrolling to see what people have found, and maybe it will give you some ideas so that you can find hidden objects.
1. Coming Unbound
Books are wondrous items. Each one contains a different world for the reader to get lost in. Sometimes these worlds are fantastical, while others are pretty close to what we live and breathe.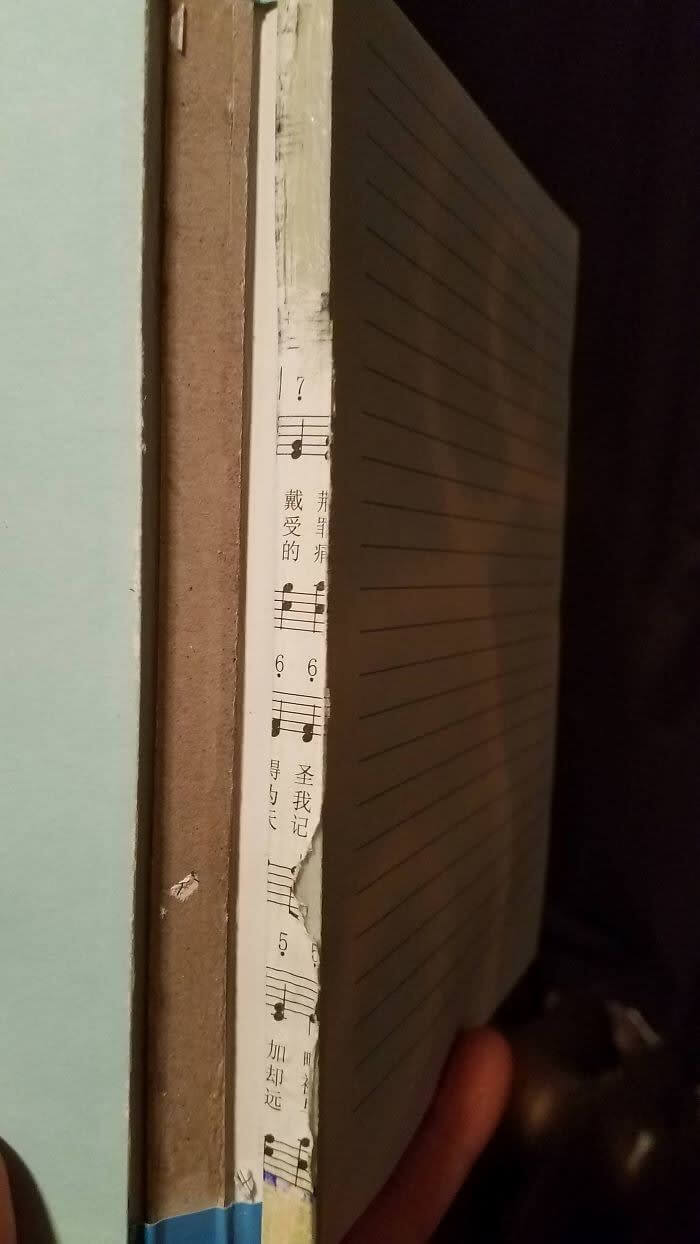 This person cracked open their favorite book only to have the spine break, and reveal some Chinese sheet music. This book has doubled in value, now you can read or write a story of your choosing, along with having access to some Chinese classical music.
2. Seeing Double
When a tree dies, it sometimes needs to be cut down, especially if it is a large one with branches that hang over a home. If some stormy weather should hit, that tree could be blown into the house and cause some real damage.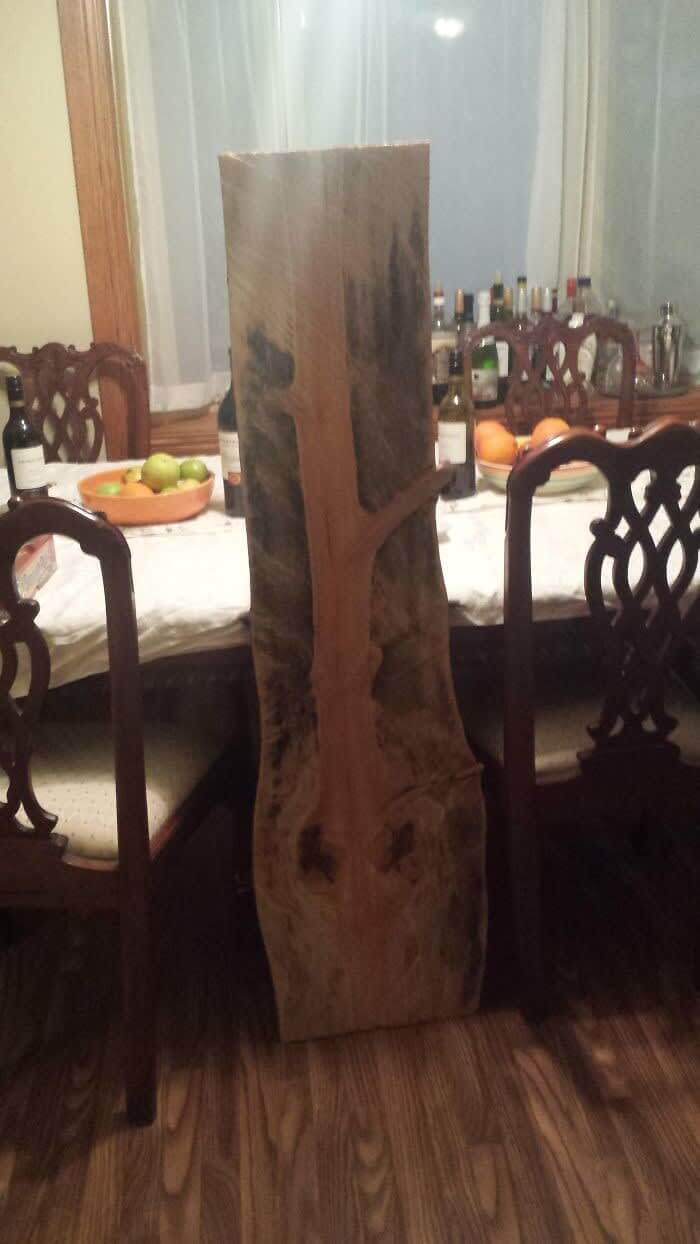 This person's father decided to cut down the dead tree on their property but found himself with something that was still alive. Within the dead tree, a new tree had taken root and was literally growing up in the middle of the dead tree. This is pretty neat looking and would make a nice table or bench as it has already been cut down.
3. Peeling Back The Layers
For anyone who loves the Shrek franchise, then this will be the hidden object that reminds you of the film. As Shrek often likes to say, he is like an onion, as his personality has many layers. When this person went to chop up an onion for dinner, they found themselves staring inside the onion.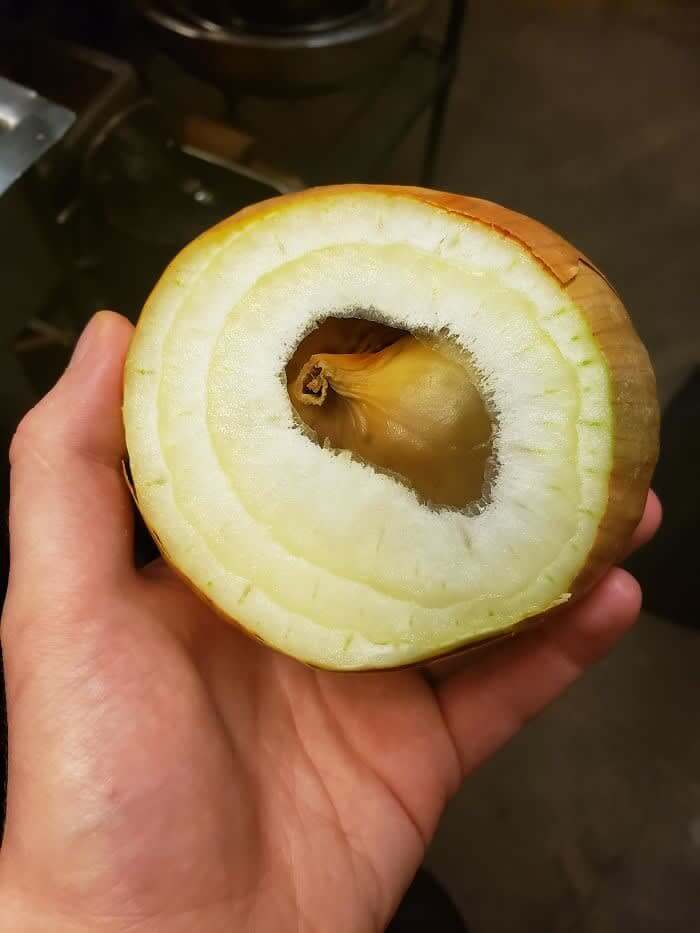 Contained within the onion was another onion that had been perfectly preserved. It doesn't look particularly appetizing, but this person definitely got their money's worth as they got two onions for the price of one. What we want to know is what meal they ended up making with so much onion on hand.
4. A Buzzy Surprise
Hanging out on a balcony after a long day at work, with a cold drink is a great way to unwind. This man decided to lean on his balcony railing and look out at his backyard when he heard an odd buzzing sound. Just as the buzzing sound got louder, the railing broke and revealed a tubular wasp's nest that had been built inside.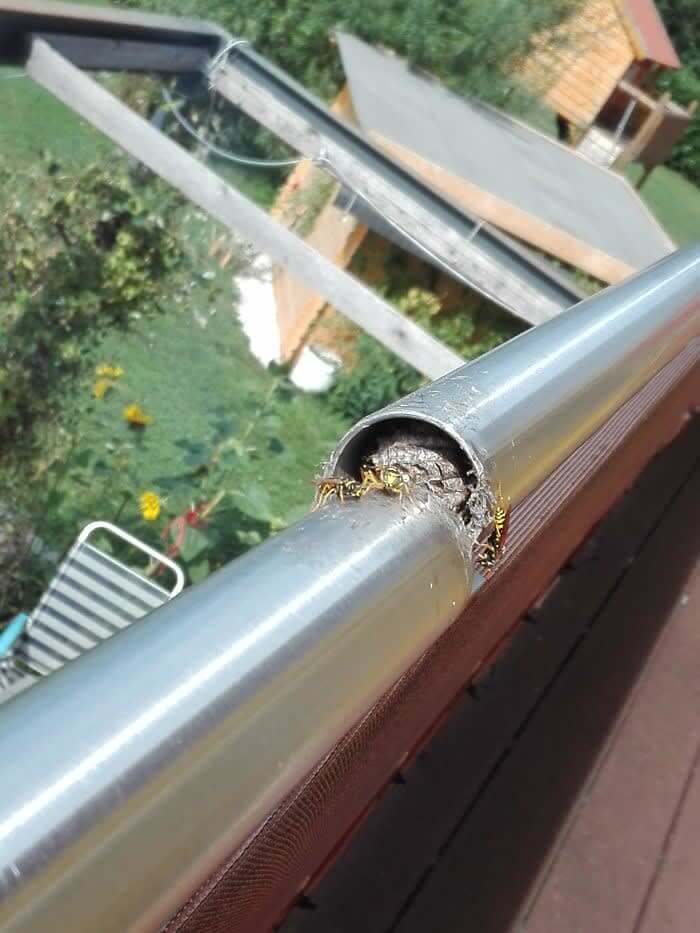 As soon as the wasps came flooding out, the man ran back inside his home. After a few minutes, the wasps began to fly off, and he was able to grab a snap of this strange nest. He's definitely going to want to call pest control to come and deal with these little guys.
5. Quite a Tail
When this person bought a knock-off My Little Pony they didn't notice that the hair from the tail wasn't the same color as the hair on the head.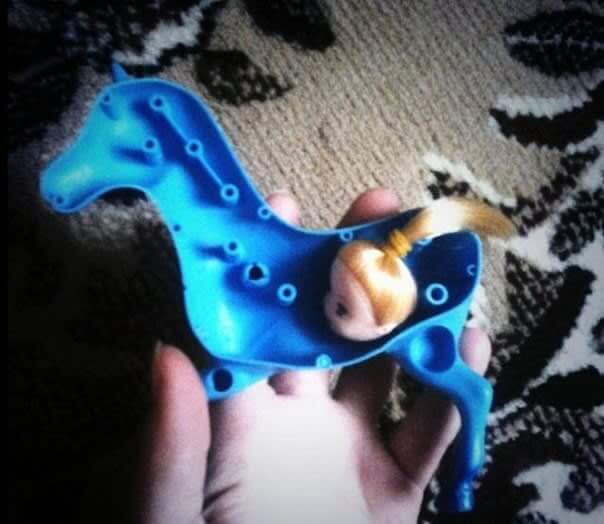 It wasn't until the toy was broken that they discovered the manufacturers had used the head hair from a fake brats doll to make the tail. This kind of makes you wonder what else could be inside your kid's toys.
6. The Mother Of All Batteries
It's not often we need disposable batteries for everyday items, as things like smartphones and tablets have built-in ones. However, some things do need batteries like storm lamps, and other emergency preparedness items for when the power goes out.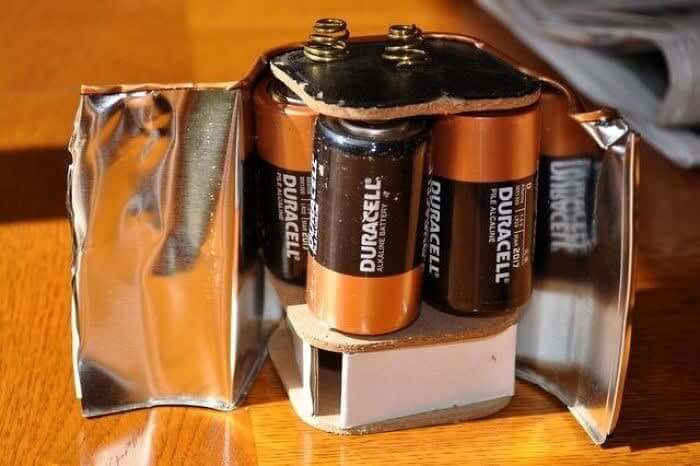 Have you ever wondered what the inside of a 6-volt battery looks like? If you thought it would be full of conductive powder, then it is time to think again. A 6-volt battery actually contains four smaller batteries, which collectively supply enough voltage. This makes us wonder if higher voltage batteries have even smaller batteries inside of them.
7. Precious Cargo
Scientists have hypothesized for years that an Ice Age, which may or may not have been caused by an asteroid colliding with the Earth, killed off all of the dinosaurs.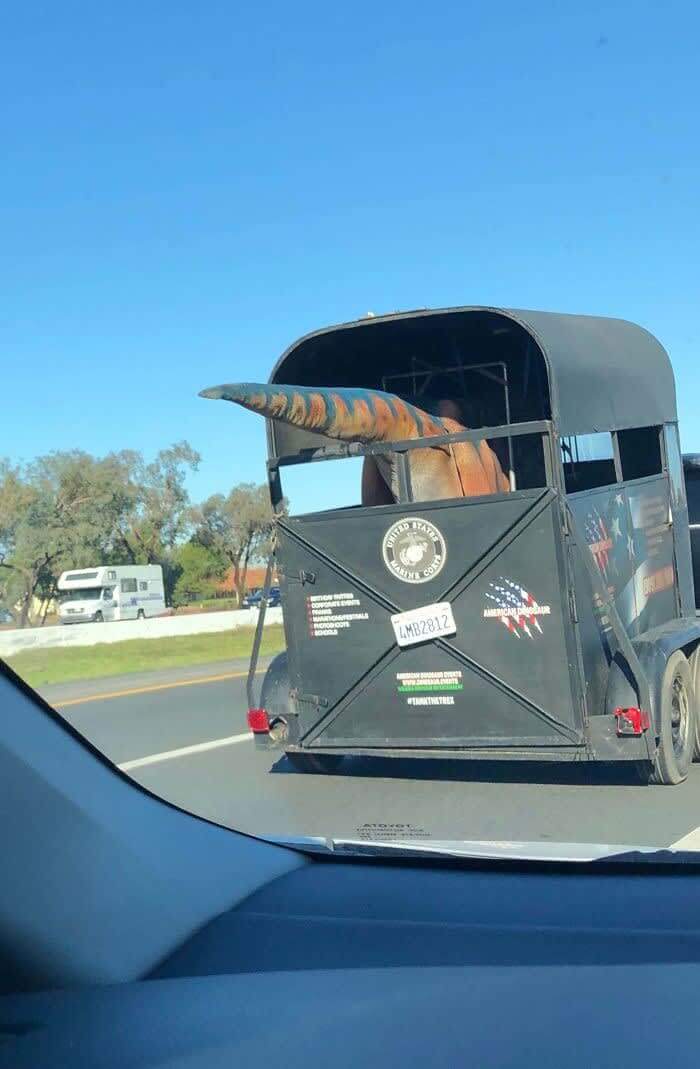 Instead of seeing the rump of a horse, this driver saw the long tail of a raptor. Either dinosaurs are walking the Earth again, like in the film Jurassic Park or somebody was transporting an exact replica of one.
8. The Heart
Dogs love their toys. They can chew on them for hours and listen to them squeak. This dog's favorite toy was the bright blue Cookie Monster that its dog mom had given to it. After a particularly good chew session, the dog managed to rip out the heart of the Cookie Monster.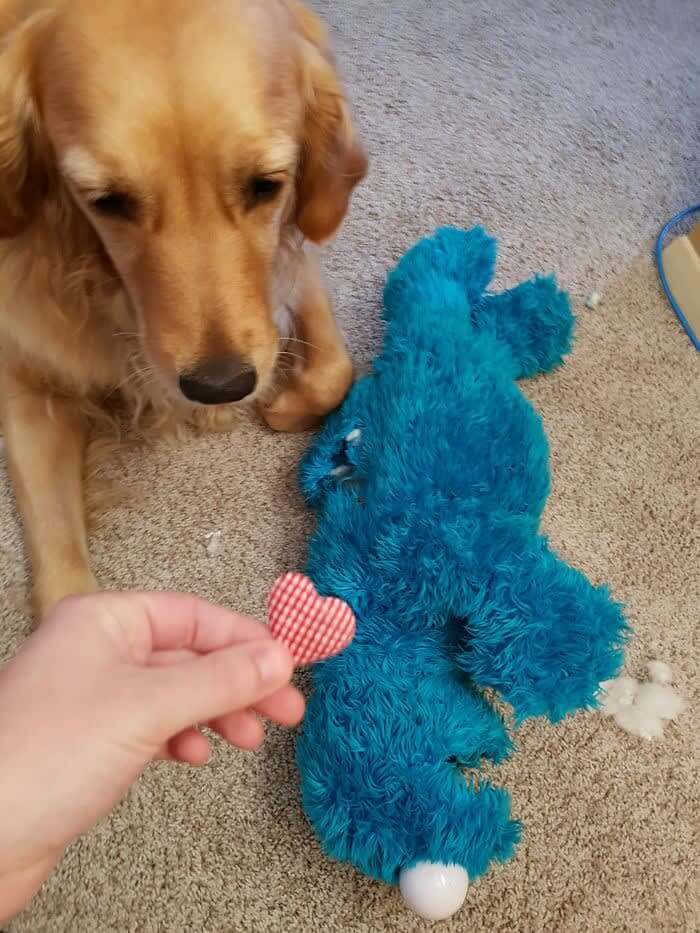 The toymakers had actually sewn a heart inside the toy. This Cookie Monster has been decommissioned for life after this doggie play session.
9. Diaper rope
When you buy rope, the last thing you expect to find on the inside is this. When this person cut through the rope they had bought, they found something familiar hidden inside.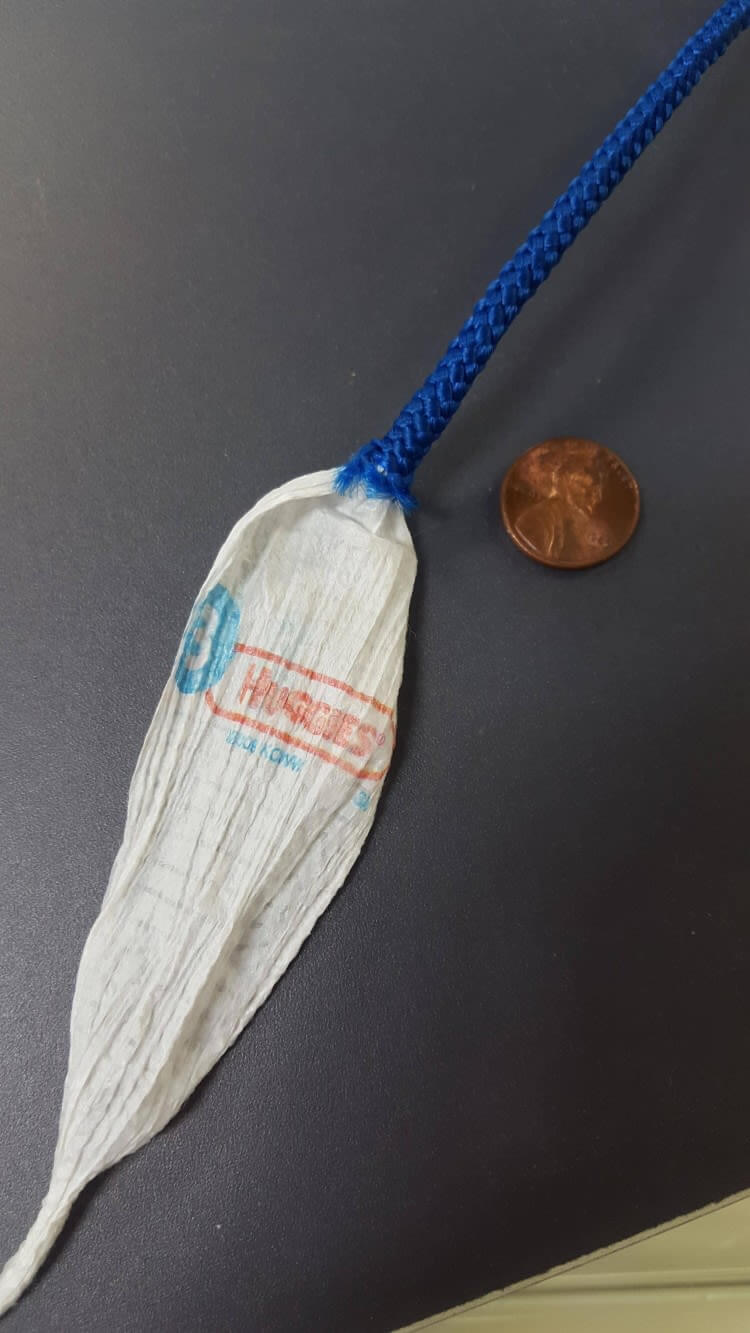 It seems the manufacturers of this rope decided to make it out of recycled diapers. The diapers were woven and then covered by a fabric layer so no one could see what was hidden inside. Now, we support recycling, but we really hope these diapers weren't used first. Also, we can't help but wonder how strong a rope of old diaper can actually be.
10. Powering Down
For anybody who has an older phone or one where the battery doesn't last as long as it used to, then you are probably well-acquainted with the power bank.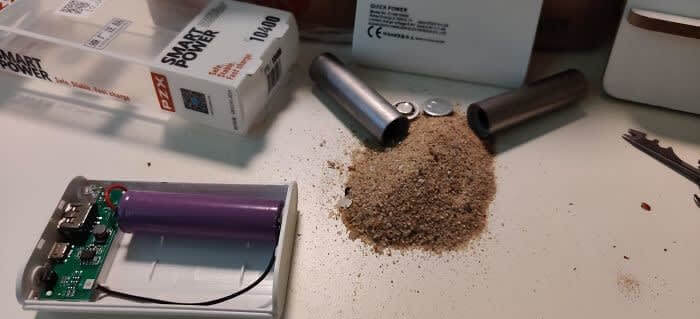 These wondrous little items can recharge a phone on the go. This person wanted to know what was inside a cheap one and found what looks like sand inside. The sand is actually conductive, and what holds the charge within the power bank.
11. Some Light Reading
A lot of objects actually have recycled books and other printed papers hidden inside of them. This mousepad, which also doubles as a wrist rest, had an entire anime comic built inside of it.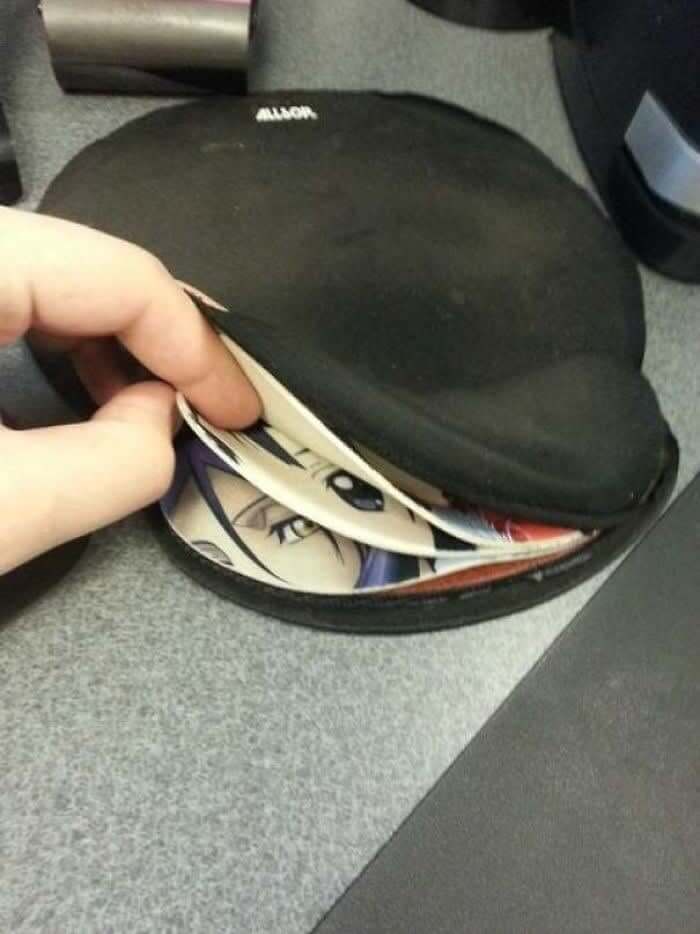 It came apart at the seam while the owner was working, and they could not believe that they could flip through an entire anime comic, instead of doing their work. We bet they were pretty distracted until they finished flipping through all of the pages. It's a real page-turner.
12. Hidden Opals
Opals or moonstones, as they are sometimes called, are beautiful semi-precious stones that appear to have moonlight captured inside of them. The blue and green streaks shimmer whenever they hit the light.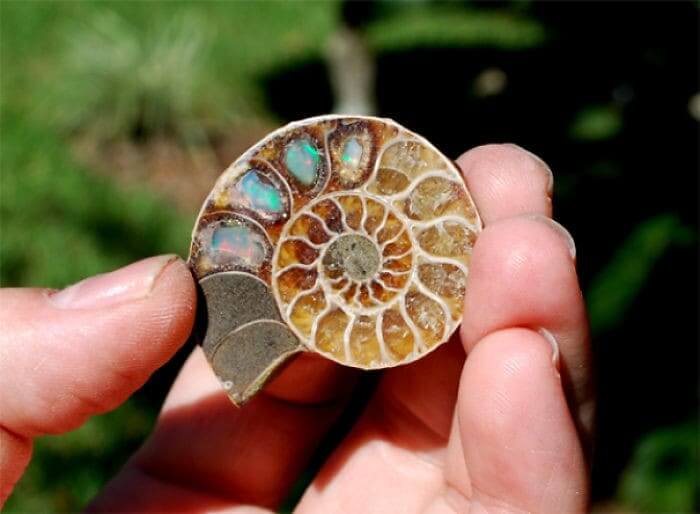 This ammonite, which is a fossilized shell, was cut in half, and it revealed some hidden opals that had grown inside of it. These are quite rare and are specifically known as Welo opals, which are from a specific province in Ethiopia.
13. Rattling Sound
Ever wonder what makes that rattling sound when you shake a can of spray paint? Luckily for us, this person shared a picture to show what they had found when they opened up an old can.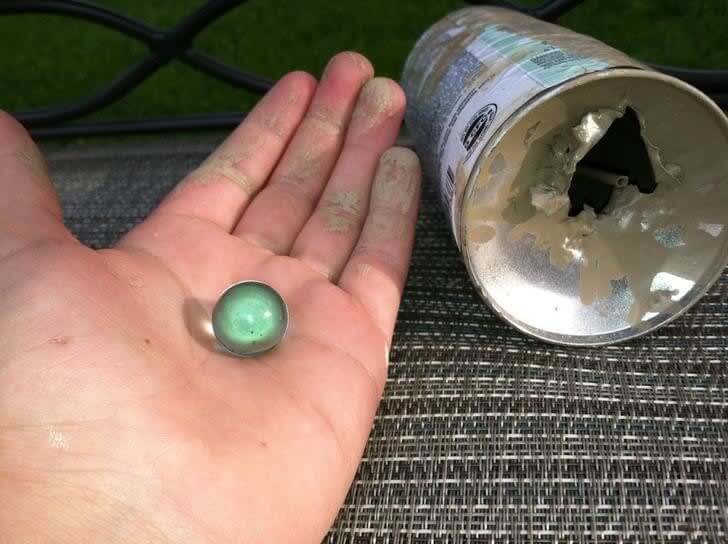 Well, it turns out its a repurposed marble rolling around in there. These marbles are placed in spray paint cans to help mix the paint before you spray. When you shake the can the marble rattles around mixing the paint and making that strange sound. Mystery solved.
14. Little Buddhas
Yard sales offer a lot of strange items and some retro ones that can add some flare to a home. This person found an owl, which they thought would be perfect for their living room. Unfortunately, the owl didn't make it home in one piece, but what it contained sure did.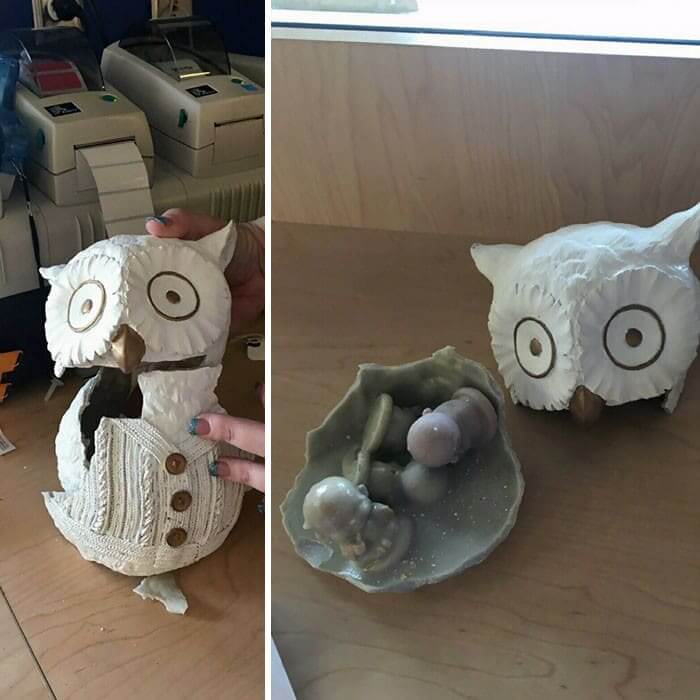 The broken owl revealed four little Buddha statues that had been hidden inside of it. We're not sure if this was a manufacturer's mistake, or someone just really wanted to hide their Buddhas.
15. Imprints
The world is full of rocks. Some are beautiful, like diamonds, while others are more on the boring side like limestone. This person thought that they had found another boring rock when it split in half to reveal the imprint of a shell.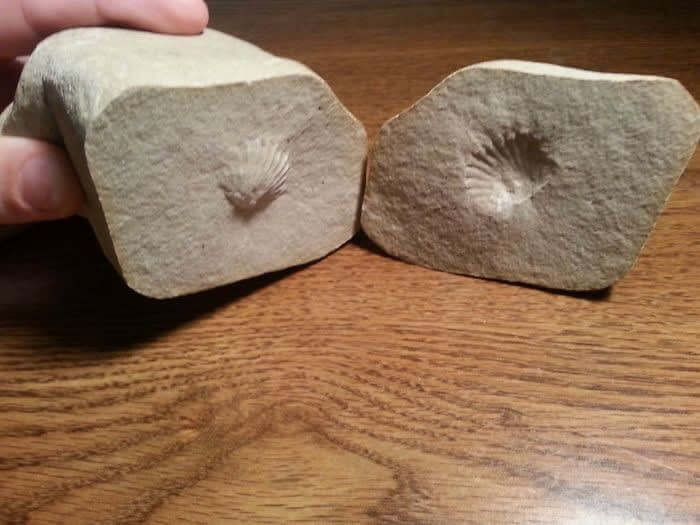 Many eons ago, it seems like a shell had been preserved as this rock formed around it. Today the imprint is all that is left. This rock went from boring to cool in a matter of seconds and now deserves to be displayed.
16. Fooled
Recycling is good for the planets but sometimes using recycled materials in something you pay a lot of money for can be a bit of a rip-off. Take for instance this expensive leather iPad Case.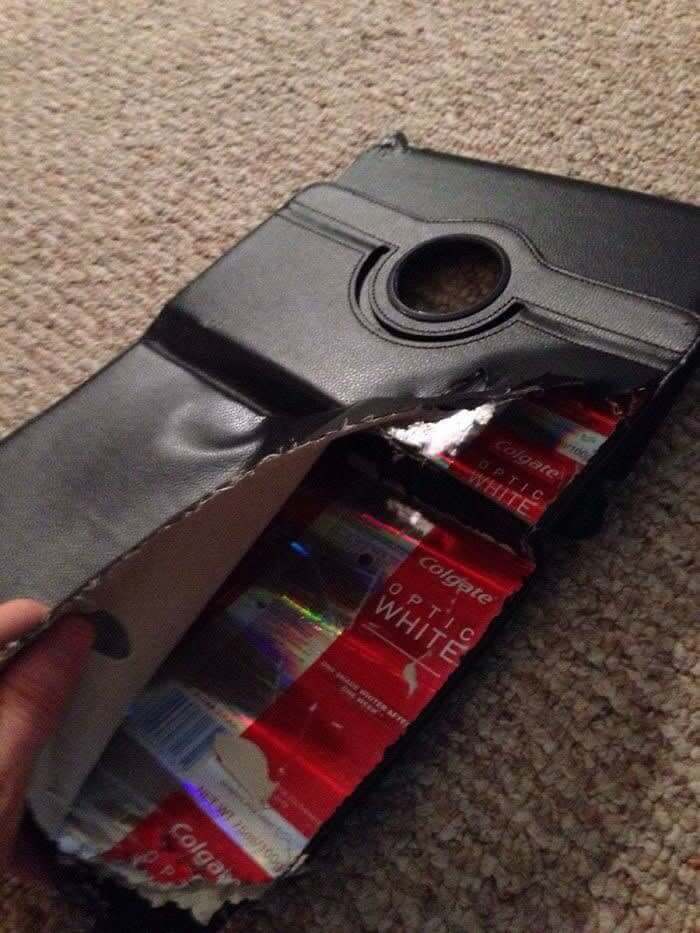 The case looked great but it didn't seem to be very sturdy. Eventually, the owner decided to open it up to see why. It was then that they discovered their expensive leather foldable case was made with a couple of recycled toothpaste boxes.
17. A Mystery
In densely wooded areas, hunting is an activity that occurs during certain seasons. Most hunters will practice aiming at shooting ranges until they are good enough to hunt during the season.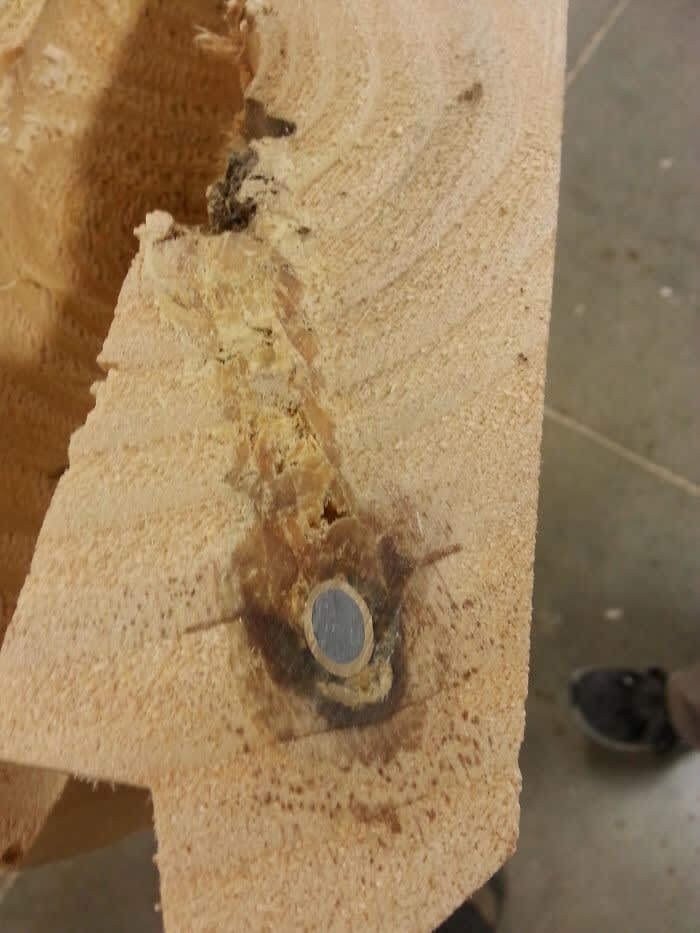 This person had gone to chop wood during the offseason, and as they sawed down some logs into firewood, they found a bullet lodged inside of the trunk itself. It looks like someone's shot had gone awry judging by this bullet's placement.
18. Flame On
If anyone has ever tried to light a grill, they will know that the safest option is to use a grill lighter to get the job done. These lighters have long necks that allow you to light the grill without getting to close. Imagine this person's confusion when they opened up their grill lighter and found a normal lighter on the inside.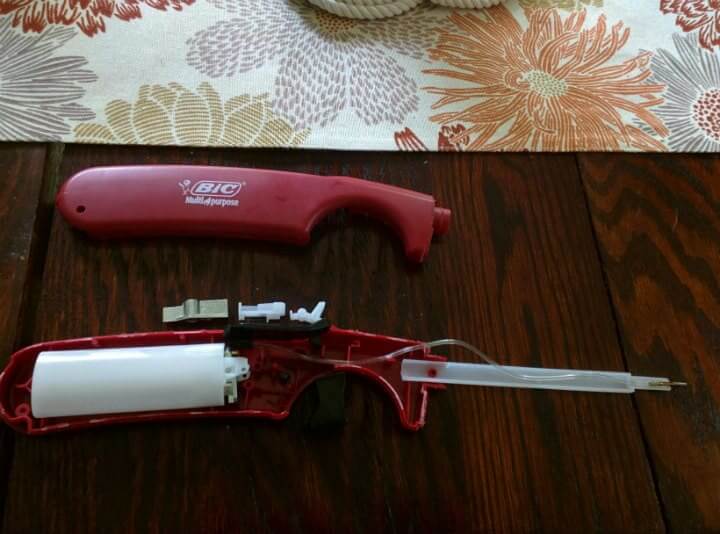 It kind of spoils the magic doesn't it? Well, it turns out not all grill lighters are like this and these lighters were made this way because the manufacturer had surplus normal lighters they wanted to use.
19. Balls!
Ever wonder what bocce balls are made of? Well, one person decided they couldn't wonder any longer so they broke the ball open with a sledgehammer.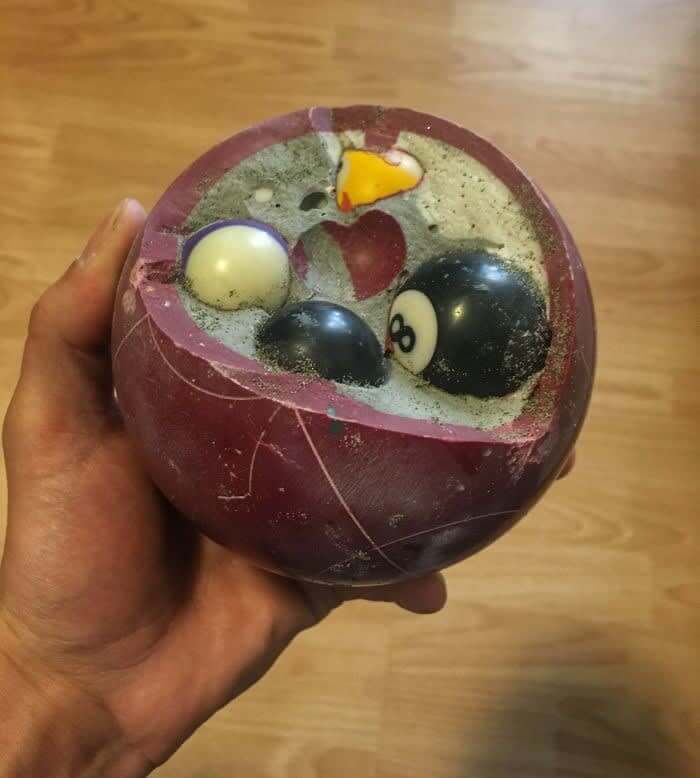 Inside they were shocked to find that the ball had been made by cementing billiard balls inside a larger shell. This is pretty weird; it's not like these billiard balls would offer players an advantage.
20. Coffee Time
The coffee enthusiasts know that buying coffee beans and grinding the coffee themselves is the best way to enjoy it. The whole process of selecting the beans, grinding them, and brewing the coffee itself is a kind of ritual.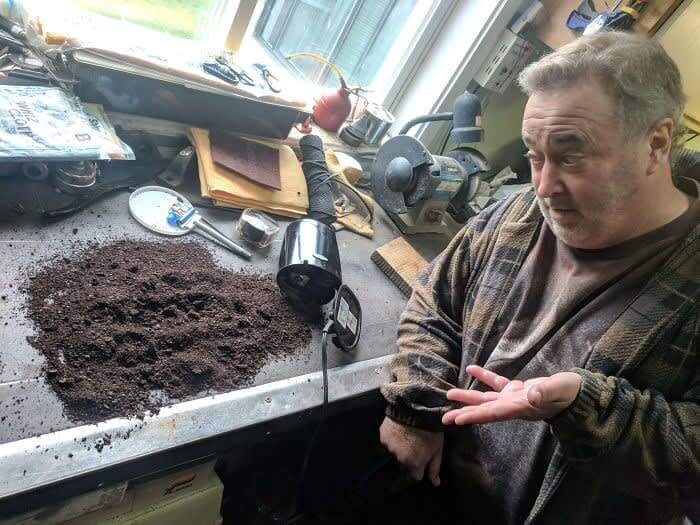 This dad was trying to grind his coffee, but the grinder would not work. After opening up the machine, he saw that years of coffee grounds had compacted inside of it, and it was pretty shocking to see how much coffee he had missed when emptying the machine.
21. I'm Glued
Part of the reason we buy name brand products is so that we know the quality we are getting. It's upsetting than when things like this happen. When this person bought the more expensive brand name superglue, they were shocked when they opened it up to find this.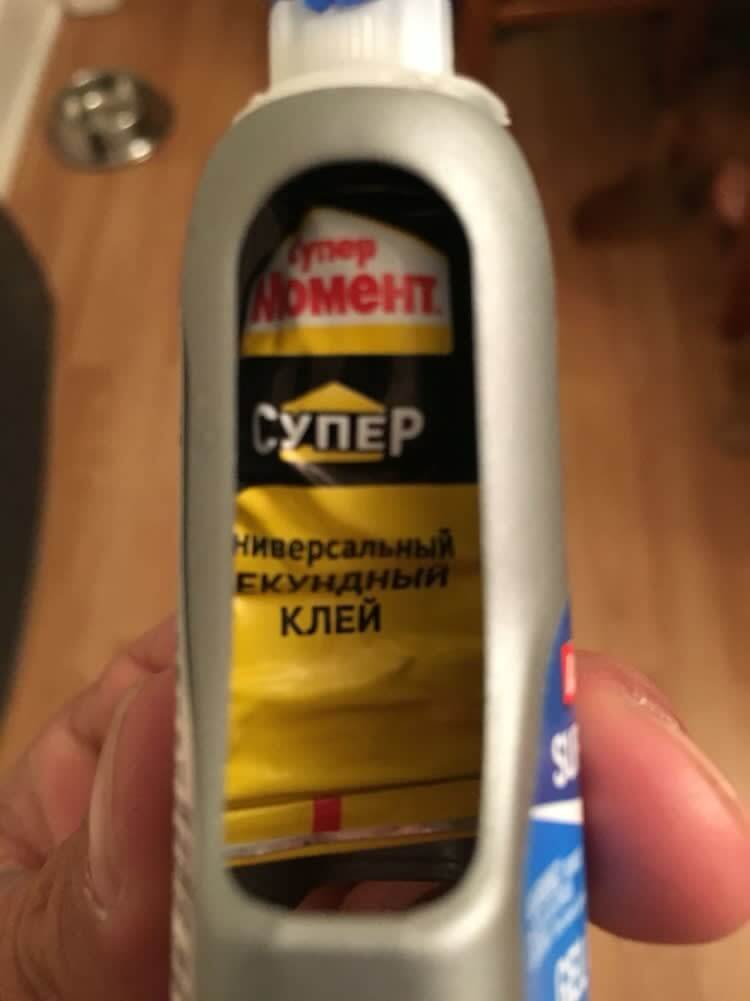 Instead of the brand named superglue, the manufacturers had hidden a cheaper, foreign glue inside. Many customers noticed the same thing and it turned out the manufacturers had done this to cut costs.
22. A Nighttime Newt
Newts are little critters that are often forgotten in favor of the more popular salamander. They are similar, but newts are primarily amphibians, which means they can live in both water and on land. This little newt was found hiding inside of a big mushroom.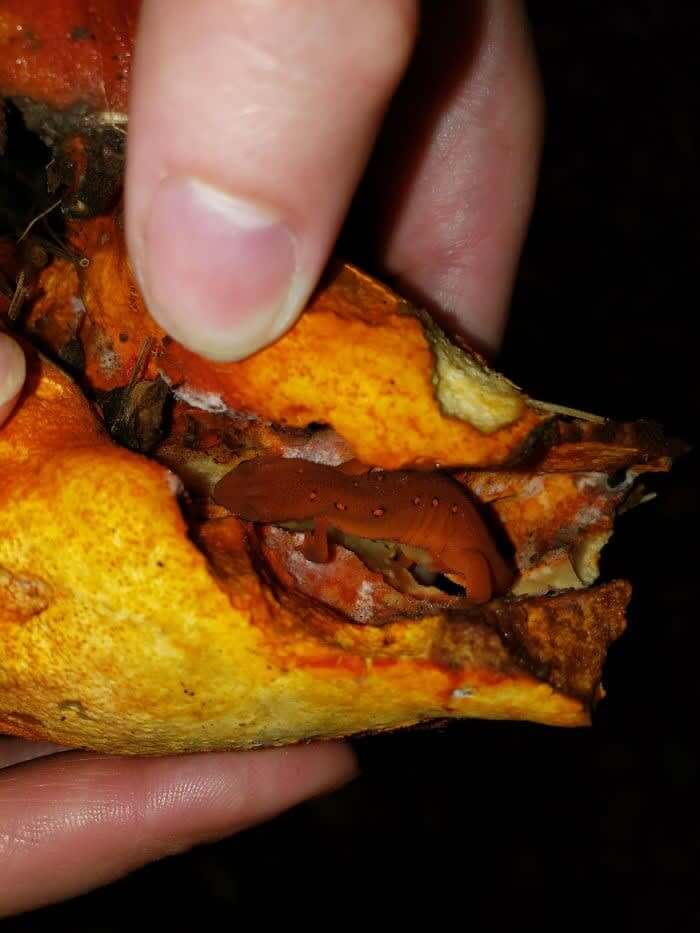 This person had thought they were getting tasty mushrooms, which they could cook up, but instead, they got this little guy. Hopefully, they released him back into the wild!
23. Chew Toy
This was a strange surprise for this pet owner. You see, when she got a new puppy the little guy got attached to a cactus plush toy. He would drag that toy everywhere and spent hours chewing on it.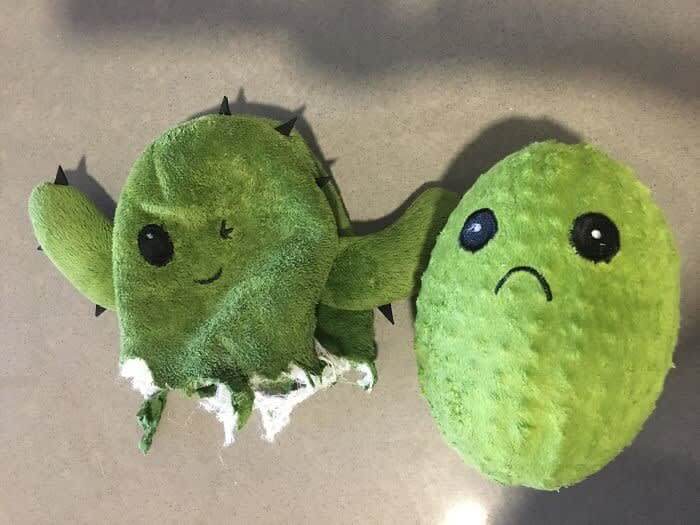 Eventually, the toy broke, and the owner was horrified. But then she looked inside and discovered that inside the toy was another smiling cactus plush. Is it possible they were designed like that?
24. Copper Quarters
In ancient times Kings, Queens, and Emperors handed out harsh punishments to those who tampered with the currency of a country. When silver coins were melted down and tin was added, the punishment was often death.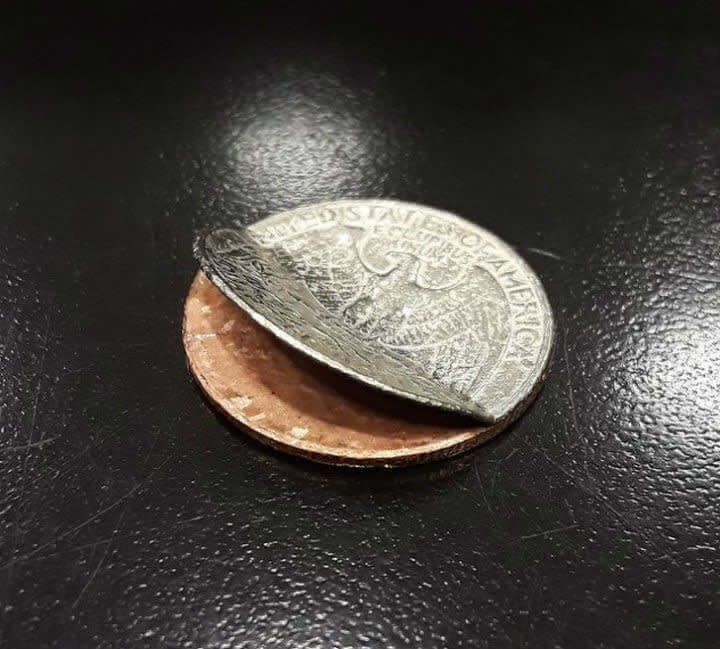 But today things aren't as simple. With a huge demand and limited supplies, countries often doctor their coinage. Take this quarter for instance. Inside there is a smalled copper coin and you can peel away the outer layers to reveal it.
25. Ragtime
Have you ever wondered what happens to the clothes that nobody wants? The clothes that can be worn are sent to second-hand stores. For the clothes that are torn, they tend to be turned into rags and used to stuff things like punching bags.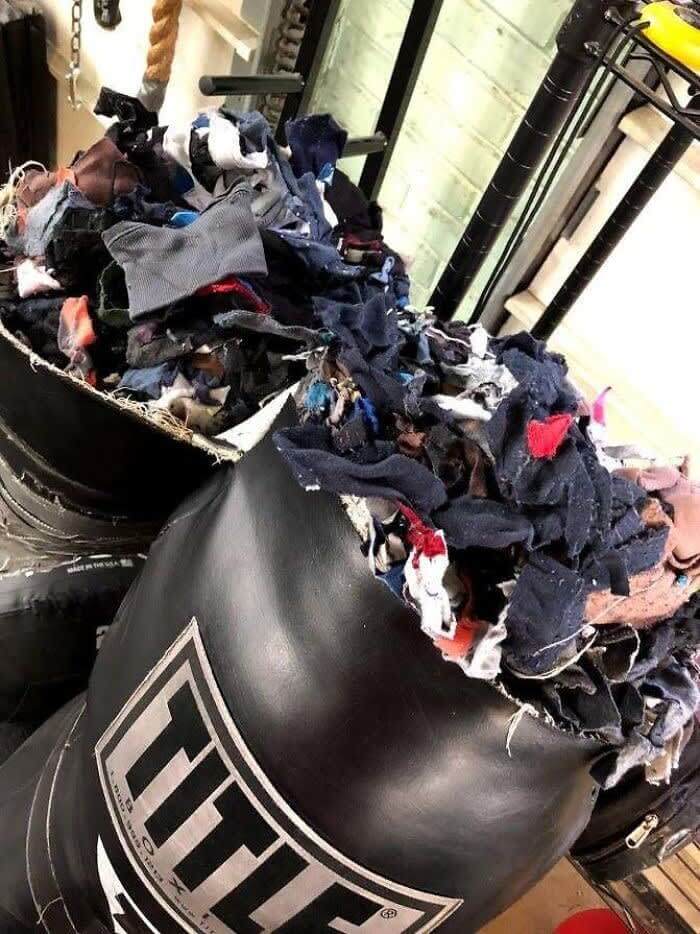 This person had no idea that his punching bag was full of rags, and had always believed that it was full of sand or another weighty substance.
26. Keeping Family Close
Sometimes we inherit important objects from family members like heirloom furniture, or in this person's case a knife. They decided to use the knife in honor of their family member who had passed away, and after using it for a while, a piece of the handle fell off.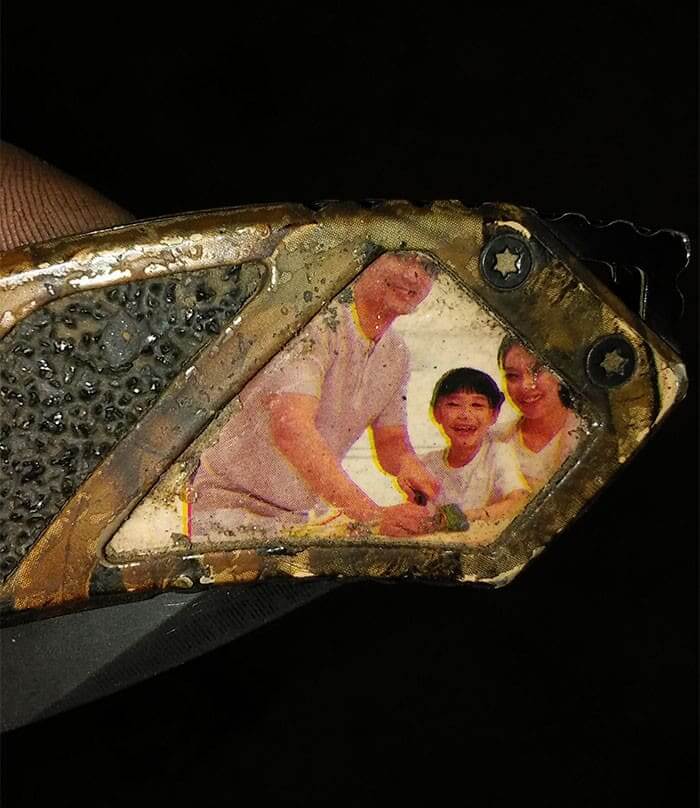 A family portrait was revealed, and it was not the family of the person who had received the knife. We have to admit we are pretty curious about who the mystery family is.
27. Oh Snap
Remember those snap bracelets from the '90s? Well, they were incredibly popular and kids just couldn't get enough of them. It was almost magical how they were able to snap onto anything. Turns out the secret to these bracelets was hidden inside.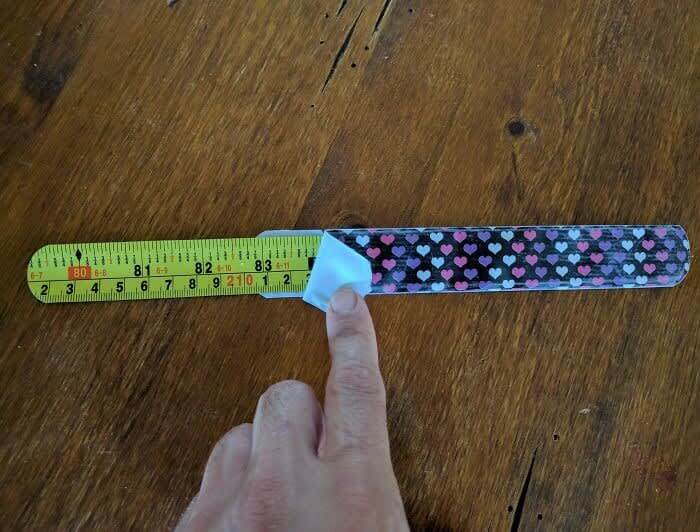 Beneath the funky colors and designs, these bracelets contained bits of metal measuring tape that allowed them to snap. The guy who though up repurposing measuring tapes for bracelets must have made millions off this ingenious idea.
28. Rock and Roll
When this boy and his father found a bolder in their garden, they decided to break it into smaller rocks to use in the garden.
But when they hit the boulder with a hammer, it broke in half and revealed something like this. It turns out hidden inside the boulder was a giant fossil. It's not every day you see something like that in your backyard.
29. Great Scot!
Okay so this may look gross but it's actually not. When this person cut open an old tomato they found in their fridge, they discovered something strange inside.
It seems that while the tomato was still good to eat, the seeds inside had already started to grow. It must have given them quite a fright when they opened it up and saw that.
30. Mosquito Tape
A lot of products are produced in countries like China and Bangladesh. This means that their factories have different insects buzzing around them, like mosquitoes. When this workplace received a shipment of packing tape, they noticed that mosquitoes had been trapped inside of the rolls.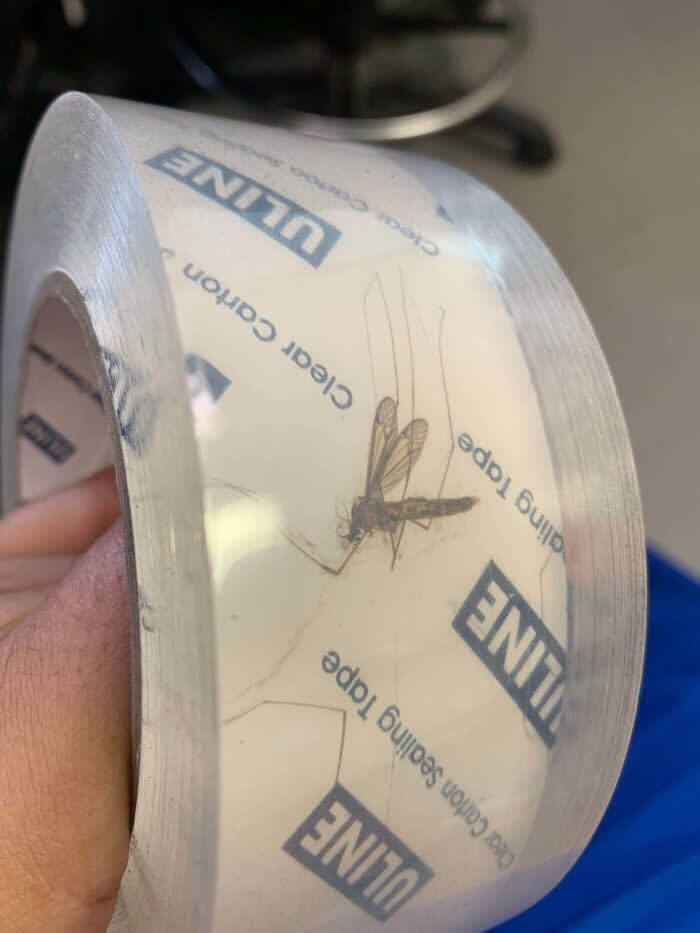 This is almost like the modern-day equivalent of mosquitoes being trapped in amber, like during the Jurassic period. There's no dinosaur DNA hiding within these mosquitoes, though.
31. Inside Out
Dog toys seem to contain some pretty weird things. This pig toy looked like it had been hitting the gym pretty hard, and the inside of the toy was exactly the same. Usually, toys are stuffed, and from what we have seen, the inside tends to have some pretty odd stuff inside.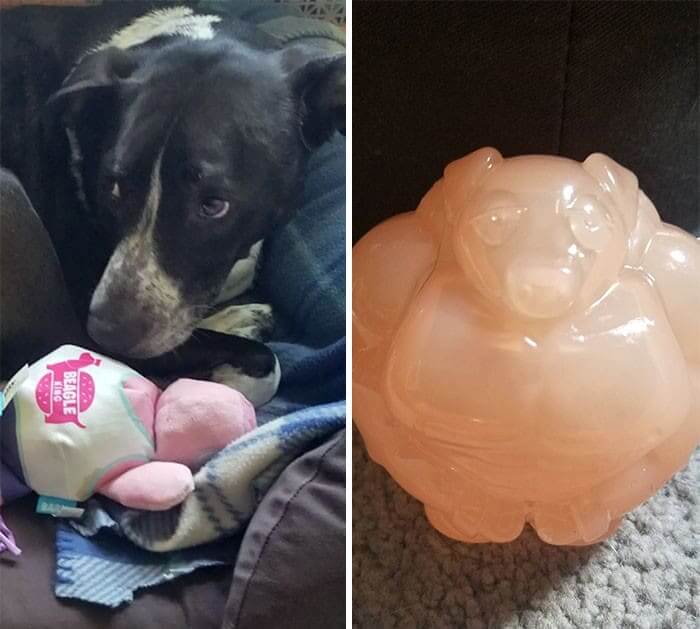 Instead, the inside of this toy is just a very well-muscled rubber pig. We aren't totally sure why a dog toy designer thought a jacked-up pig was a good idea for a toy, though. It's possible that these rubber toys were repurposed as dog toys.
32. One Man's Treasure
As the saying goes, "One man's trash is another man's treasure," and that could not be more true for this person.
They purchased a large chess piece, which they planned to use as a decoration in their home when they noticed the smell of cigarettes wafting through the room. Upon closer inspection, they found that the smell was coming from the knick-knack. They broke it and found some used cigarettes inside. That's just gross.
33. The Missing Port
Having a car phone charger can be a lifesaver as it allows you to easily charge your phone while you are driving. However, when this person accidentally dropped their car charger they discovered something odd.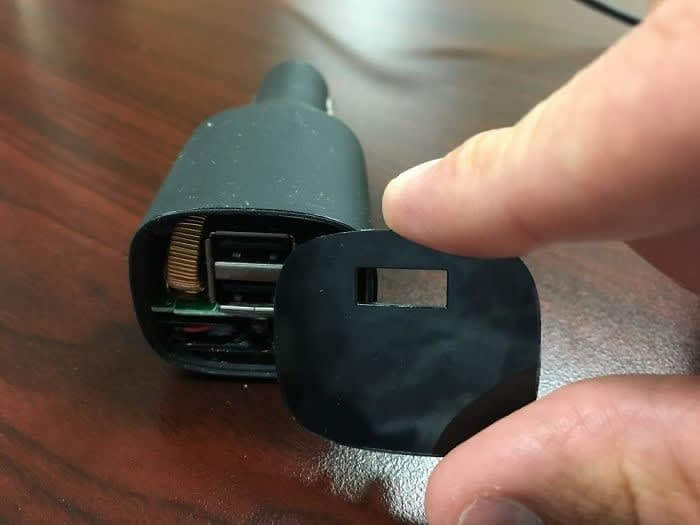 Behind the cover at the back of the charger, there was a second USB port that had been hidden. Strangely the second port actually worked and now this person can charge 2 phones at once without any difficulty. Why they hid the second port is a mystery.
34. The Periodic Table
The periodic table of elements is something that we all have to learn in high school. You needed to know the full name of each element and where they stood in the table.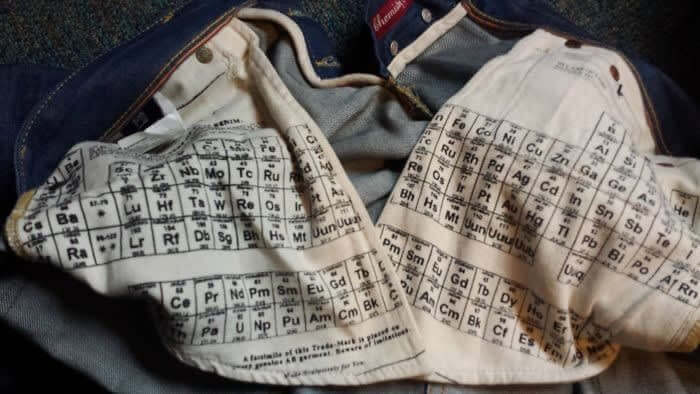 This student knew that they had a test coming up, and they wanted a bit of extra help. Each question they didn't know, they went to the bathroom for and quickly looked at the inside of their jeans, which contained the entire table.
35. The Human Buddha
One of the craziest things that were found inside something was the mummified remains of a monk within a statue of Buddha.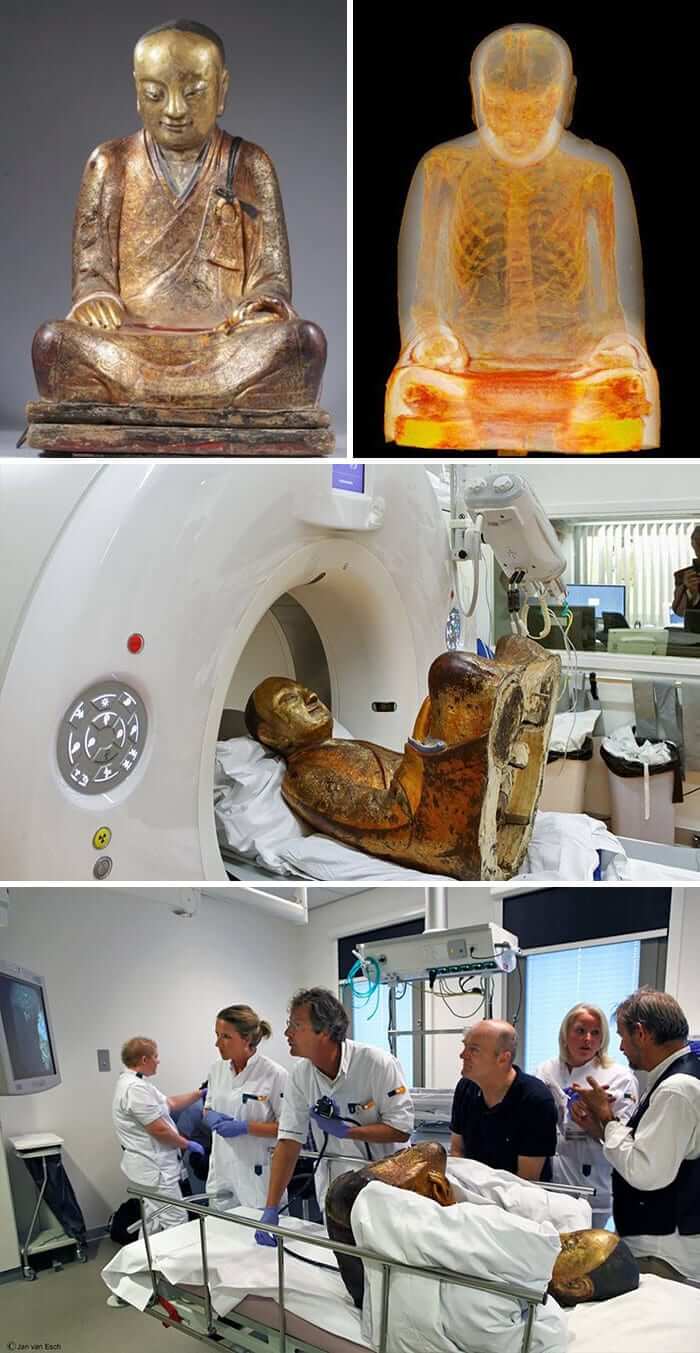 Upon the monk's death around 1,000 years ago, his body was placed in the shape of Buddha, and a statue was created around him. The only reason archaeologists know this is because they decided to do an MRI of the statue, and it showed his bones on the scan.
36. Seen Food
For anyone who enjoys vacationing by the ocean, or is fortunate to live next to it, then the chances are high that they enjoy seafood.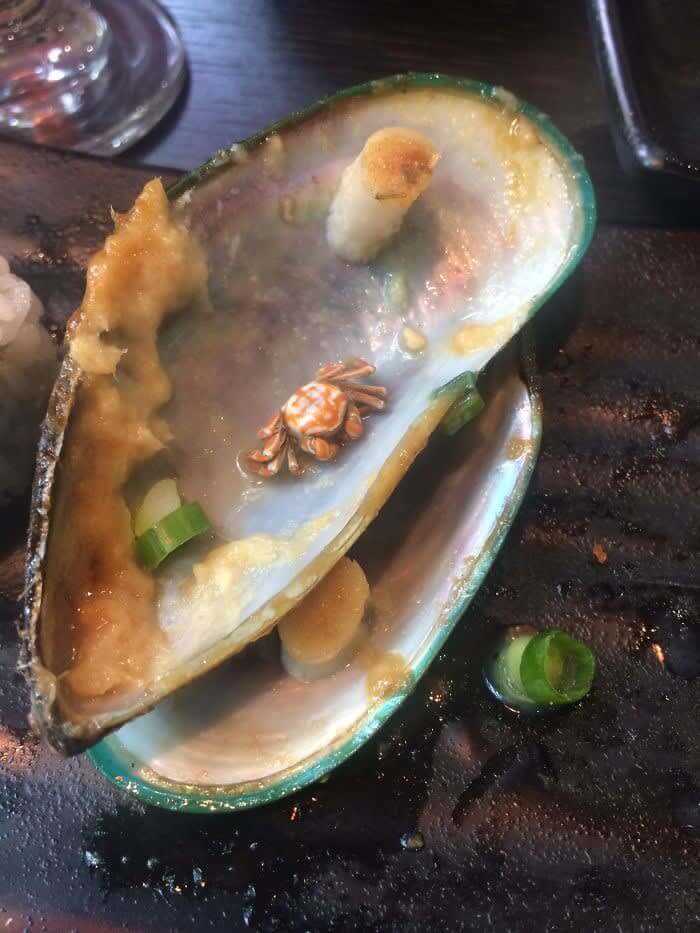 This person dug into a pile of well-seasoned mussels when they noticed that they had actually been given a seafood medley. Within the shell of one of the mussels, a tiny crab had crawled inside. It seems no one knew he was in there until the mussel was opened.
Funny Online Shopping Misfortunes That People Had To Share
Ashley Lez
This article was originally published on Kueez
For some of us, online shopping has completely replaced the need to step out of our homes and into the mall. But buying on the internet is always a risk because some products look too good to be true for the listed price. These people ordered items online, and what they got was so awful they had to post it. Continue reading to see and consider yourself warned.
Instead Of Wrapping Paper, She Received A Poster With Her Face
This girl ordered wrapping paper with her face on it as a joke, and instead, she received a massive poster with four pictures of her face. Sometimes you get exactly what you want when you least expect it.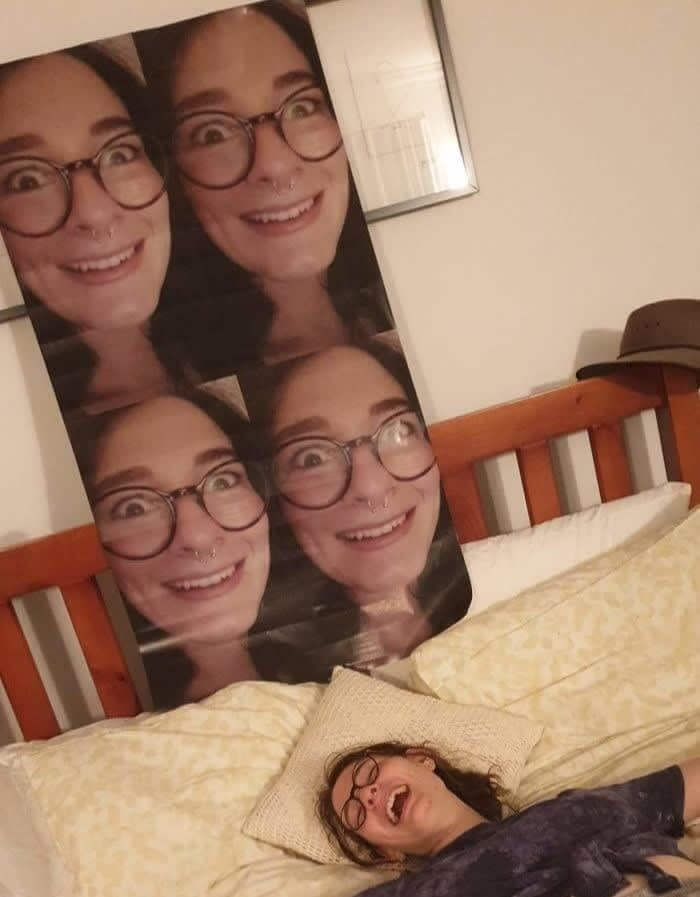 She doesn't seem too upset about receiving the wrong product. The employees at the printing company probably got a good laugh about this order.
A Museum Is Missing One Of Their Dinosaur Bones
When you are ordering treats online, always check the size, or else you teacup-sized dog will end up with a bone from a dinosaur. The dog probably still enjoyed it, but they had to stay in that one spot to chew on it.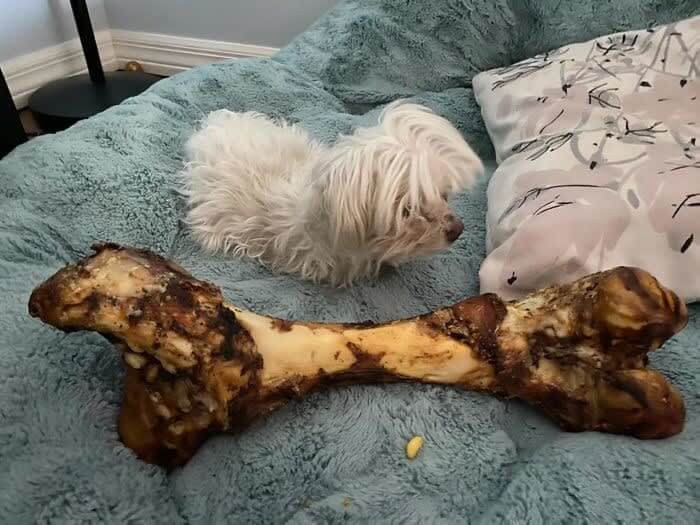 This bone looks like it could have been a prop from The Flinstones. What size dog was this made for? We can imagine that only Clifford would be able to carry this.
When Will People Learn Not To Order "Designer" Dresses From China
After seeing so many women post pictures of their dress fails from sketchy online sights, you would think people would be more cautious. This woman's dress looks nothing like the one that was pictured.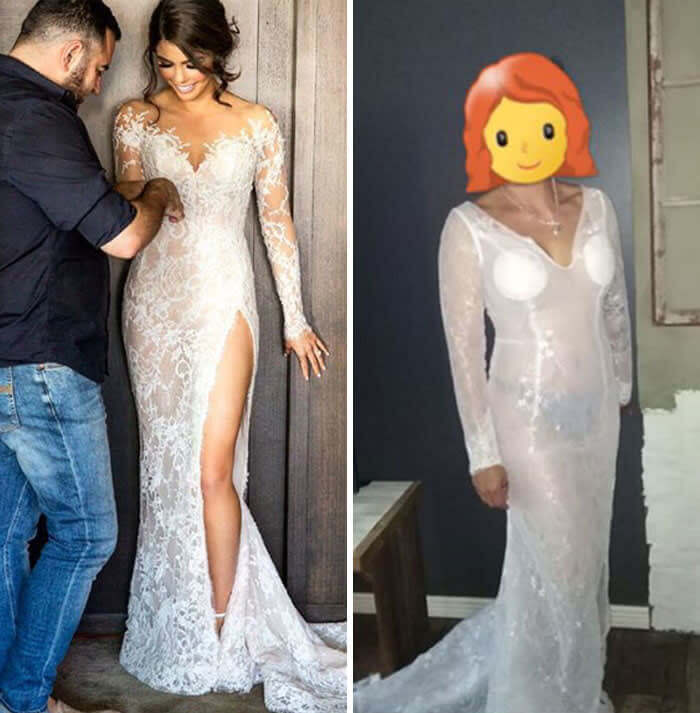 The product photo was most likely from the designer's website, and the knockoff brand found it on Pinterest to use for their own website.
She Ordered a Cupcake Ring, But Got A Silver Toilet Seat Instead
This woman wanted to order cupcakes for her sister's engagement party, so she brought the left photo to the bakery at Walmart. They obviously did not understand what she wanted because they gave her something that looked nothing like the photo.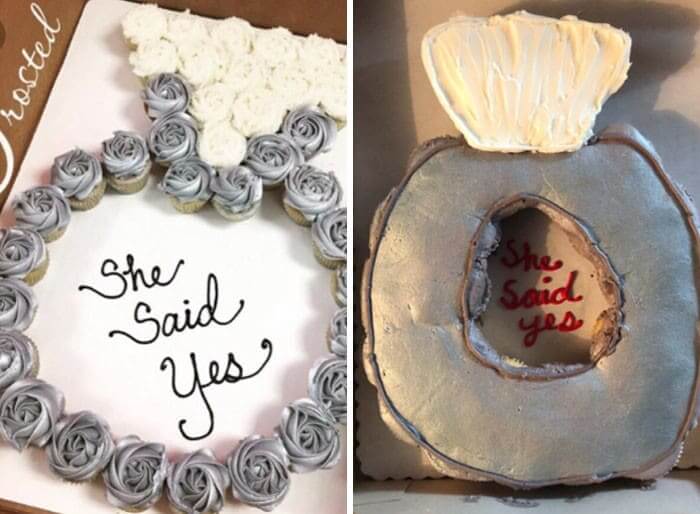 This looks more like she found the inspiration on Pinterest and attempted to make it herself, not as if she went to an actual bakery. Instead of beautiful rose cupcakes, her sister gets something between a tire and a toilet seat.
That Is Not Family Friendly
They must have added another book to the classic children's series, "Frog and Toad." Instead of the classics like "Frog and Toad Are Friends," or "Frog and Toad Together," they changed the title to "Frog and Toad F*ck the Police."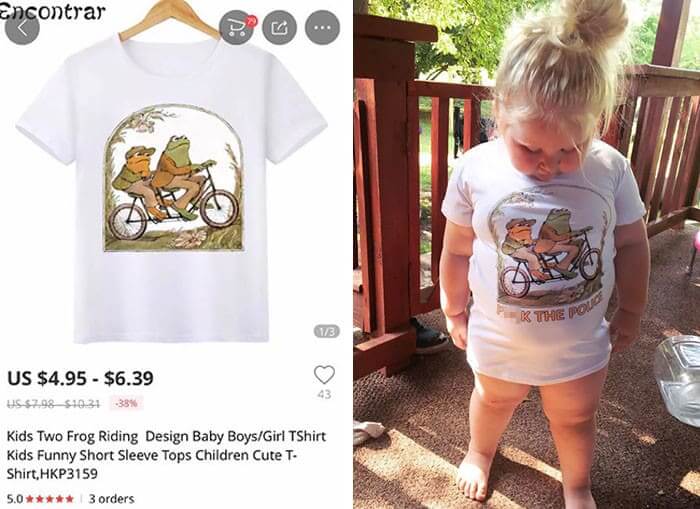 That is highly inappropriate for children, and the seller probably thought it was funny, but parents won't. We don't know why the frogs hate the police so much, but they don't have to advertise it.
When Your Cat Is Too Fat For The Large Sized Bed
Although this cat knew he would not fit inside the Christmas tree bed, he gave it his best effort because there was an opening, and he had to explore. Now they can say their cat is stuck in a tree.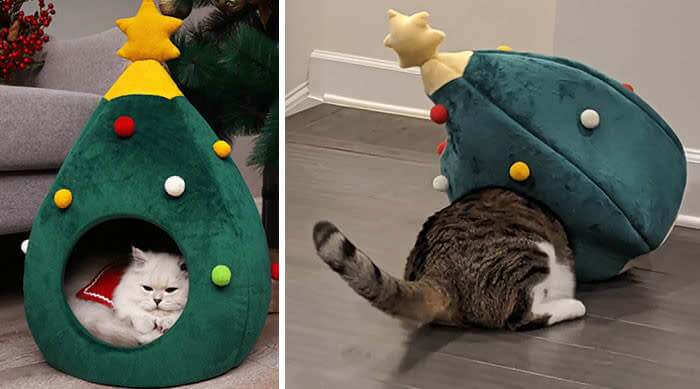 This cat's self-confidence is going to take a major hit because of the missized bed, and even though it is counterproductive, he will find solace in his food. He tried his best, but only his head made it inside.
Whatever You Do, Don't Order The $20 Prom Dress
Each year prom season rolls around, and there is always that one person who orders their dress from a sketchy website only to receive something like this. No matter how many times people post their dress fails, people still have hope that their dress will look like the picture they saw online.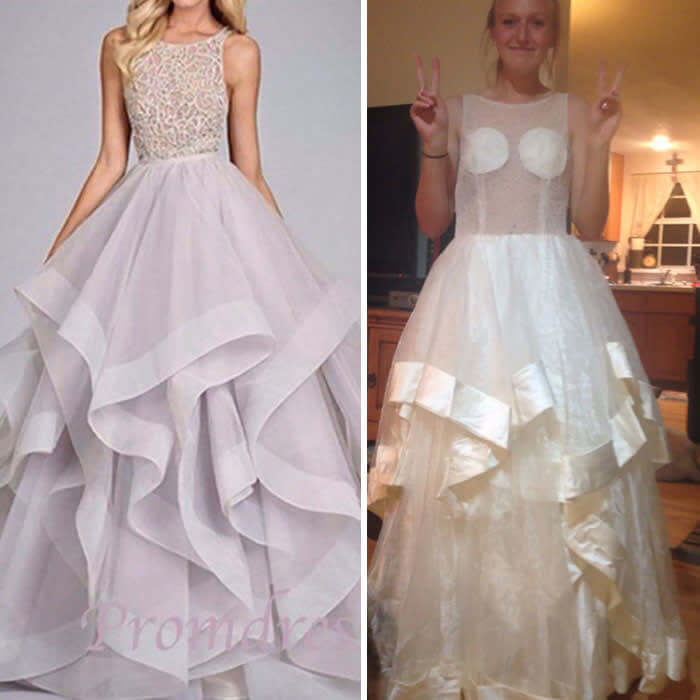 What is with companies adding weird white cups under mesh tops? Did the manufacturer think that it would look beautiful or expensive? These cheap dresses are mind-boggling.
Super Discreet
When you think you are being sneaky about buying toys online, think again. This package was marked in large letters so everyone would see what was inside the package.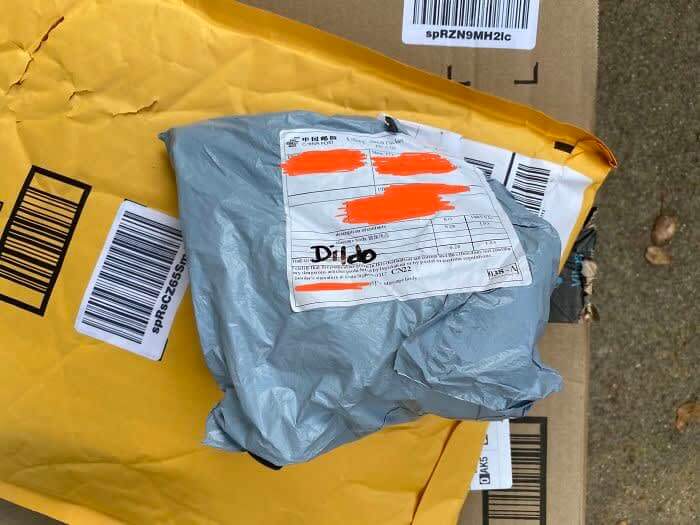 It almost seems like the company did that on purpose just to embarrass the person who ordered it. Those sales should remain private because that is an intimate thing to order.
Even The Dog Is Unimpressed With The Dress
According to this website, an extra-large is the same size that a french bulldog would wear. Maybe they swapped it with an infant XL because there isn't an adult that would fit into this dress.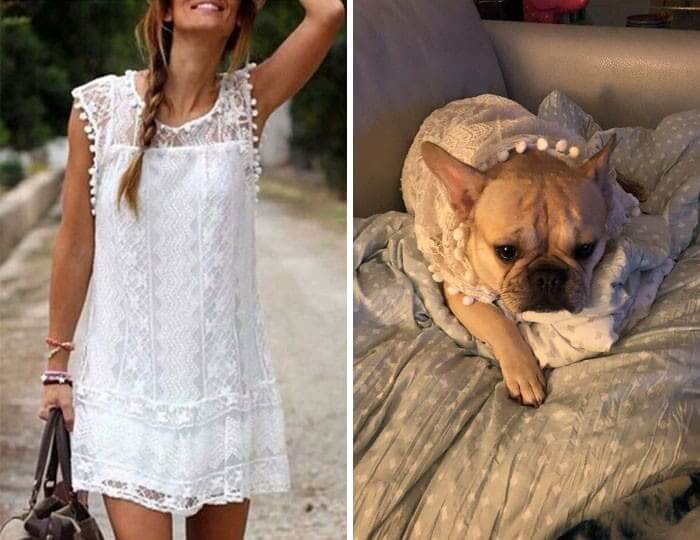 Apparently, you have to order about six sizes up for it to be relatively close to your size. It is one thing for the dress to fit, but not look like the photo, but it is unacceptable for something to be horribly missized.
After 10 Years, The Package Arrived
This person ordered a 2009 cookbook on November 4, 2009. It then took ten years to arrive with USPS. Why would a cookbook take ten years to ship? We are just as shocked as her that she even got it after all those years!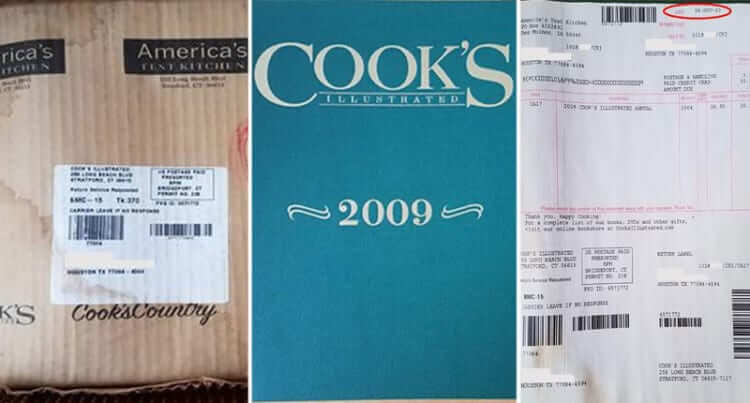 Does this person even want the cookbook after a decade of waiting for it? The recipes must be slightly outdated, but it is also cool to see if the cooking has changed over ten years.
Not Even Close
This is not even close to looking similar to the photo. Where are the jewels, and why is it a completely different color from the one that is advertised? Unless you are ordering from a department store or a reputable brand, you can expect to receive something like this.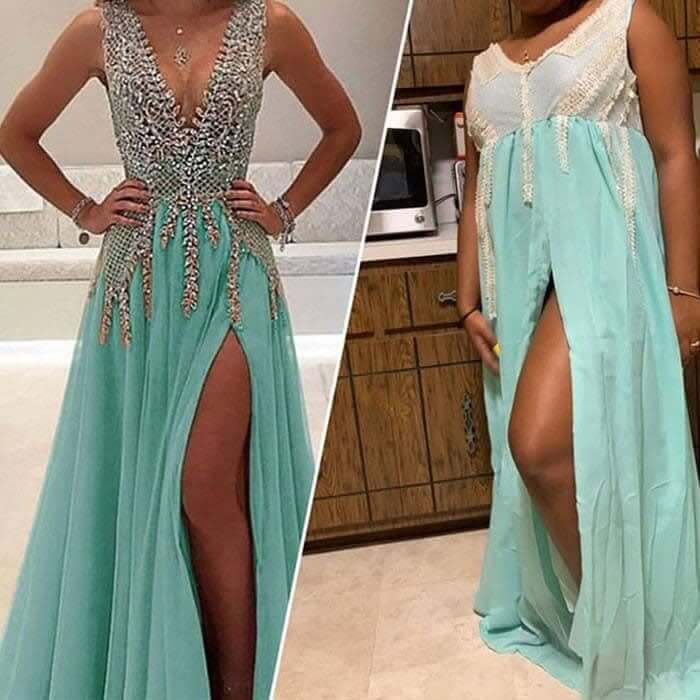 Seriously, if you learn anything from this, it should be that you should never order from a shady website that offers designer-like dresses for dirt cheap prices. Well-made gowns aren't going to cost $20.
Looks More Like A DIY Fail
After waiting six months for back order, this person finally got their package from West Elm, and it looked nothing like the product photo. What they received looks more like someone had been watching some wood and epoxy videos and attempted to make something for the first time.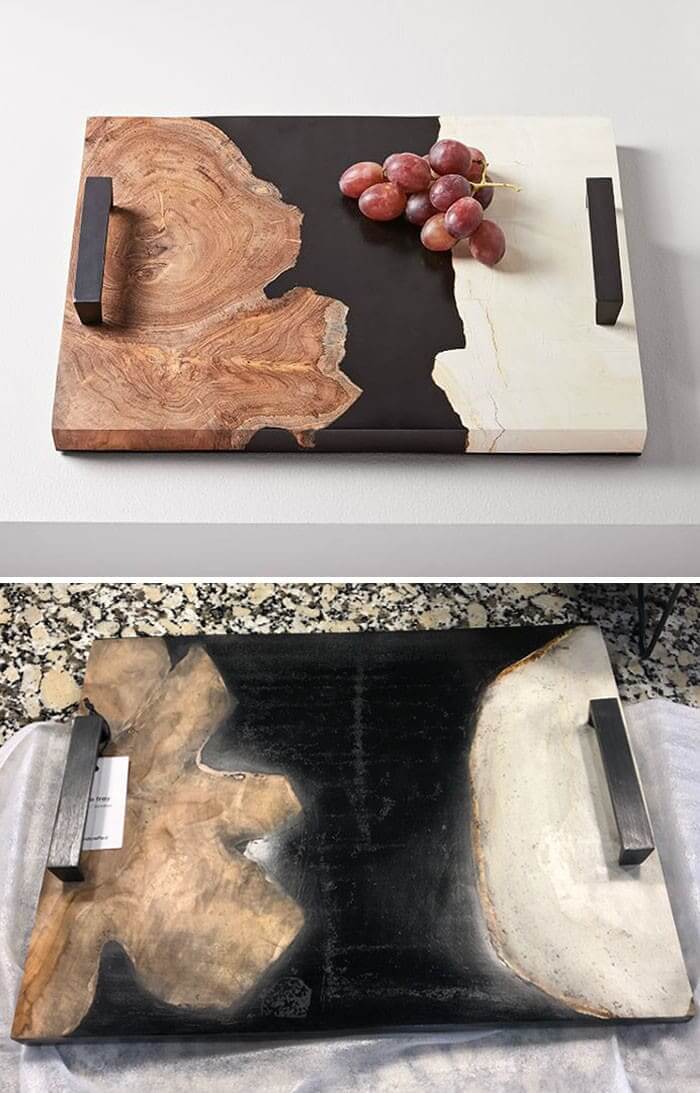 If we received this in the mail after waiting for that long, we would be very upset as well. Come on, West Elm, you can do so much better than that.
A Pennywise Costume That Will Scare You More Than The Movie
If you thought Pennywise was frightening, then check out this creepy morph suit that was bought online. Even Pennywise himself would be frightened by this costume.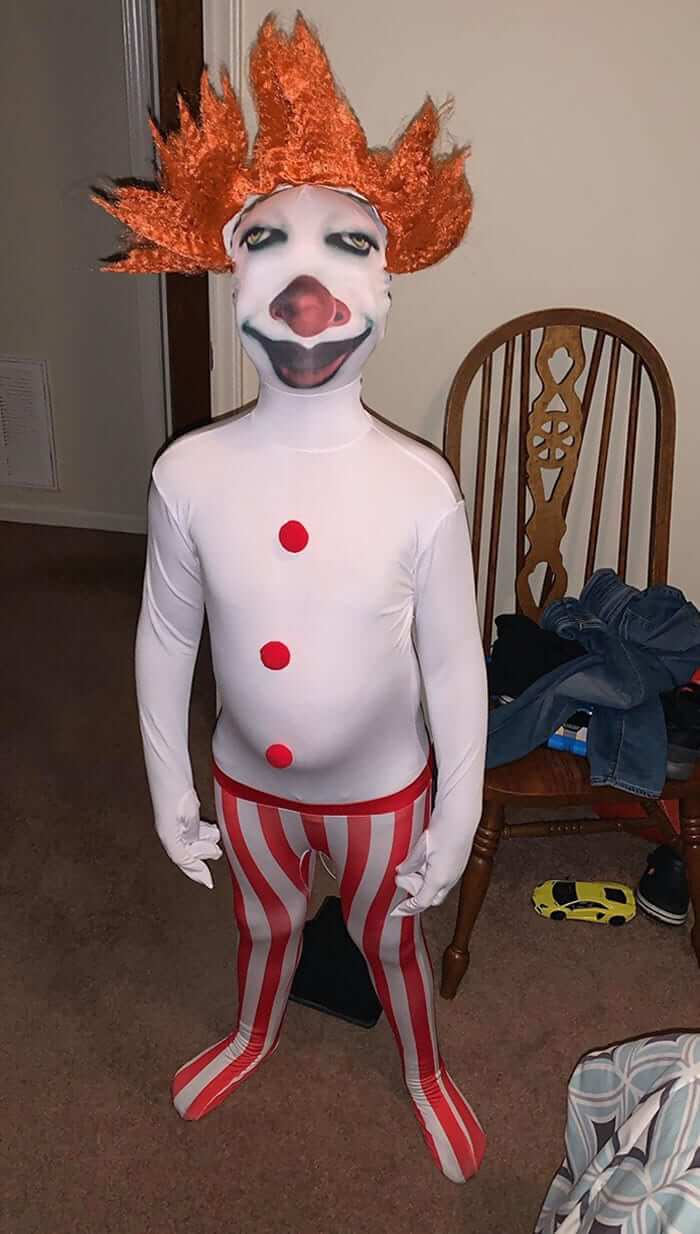 Hopefully, they didn't let their child wear this out of the house because he would scare all the children and adults for miles around. It's almost as if Marilyn Manson and Bozo the Clown had a love child.
Somewhere In The World A Horse Is Missing His Teeth
There are many reasons you should never buy veneers online, and this is a perfect example of what you will most likely get in the mail. The biggest problem with ordering online is that not every mouth is the same size, and they have to be fitted to your teeth.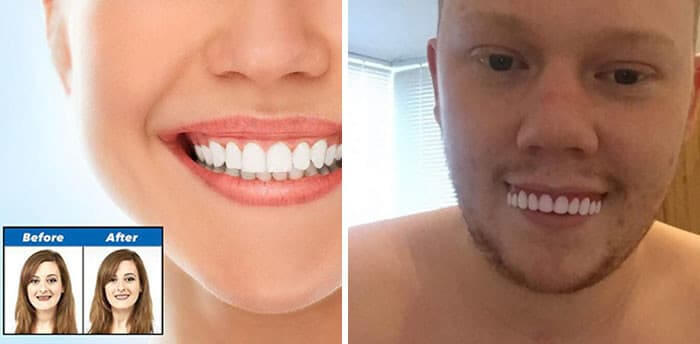 To be totally fair, they are exactly like the teeth in the picture, but they don't fit his mouth, which is why it looks so weird. If you order teeth online, you can't have high expectations that they will look good.
Either He Has A Big Head Or That Is A Small Wall And Bed
His friend bought him the tapestry pictured on the left, and it must have been made for a dollhouse bedroom because it was only big enough to fit his head like a bandana.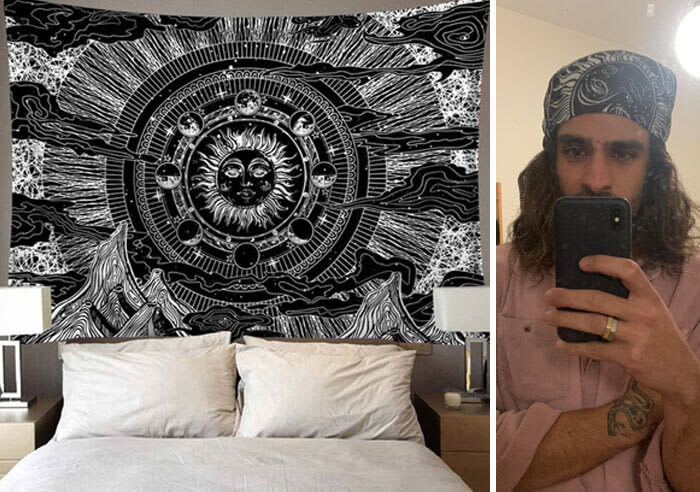 Let's all hope his friend didn't pay the price of a tapestry only to get a bandana that should cost a quarter of the price. This would be a perfect gift for Captain Jack Sparrow.
Muscle Dresses Are The Latest Fashion Trend
This guy has been putting the work at the gym, so why not show that off with a muscle tank. When his tank top came in the mail, he couldn't wait to try it on, but something was clearly off about it.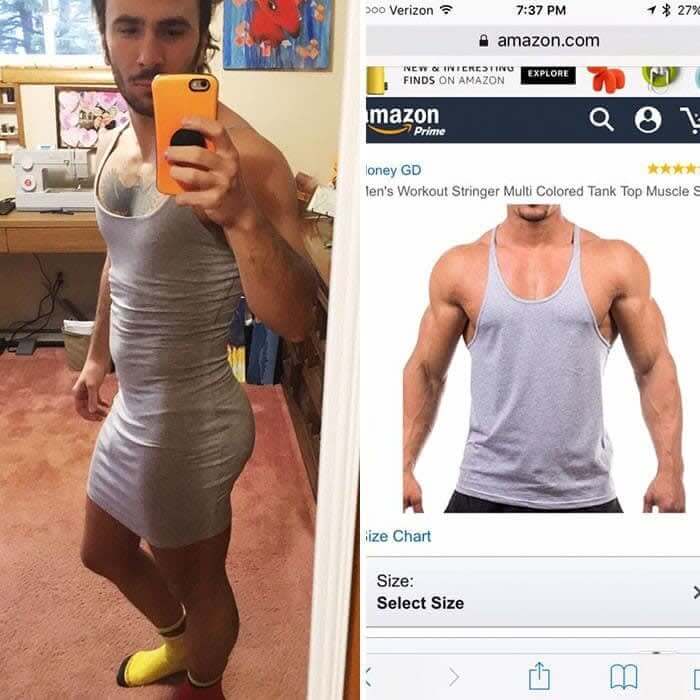 When he tried it on, he realized it was more of a bodycon dress rather than a muscle tank top. Maybe he has a girlfriend who would want this, so it doesn't go to waste. It does flatter his body, however.
Wet Wipes For A Mouse
That must be a sick joke because who would make a packet of wipes that small? Who are these made for? The only possible explanation for these is if they were made as a gag gift or a prop.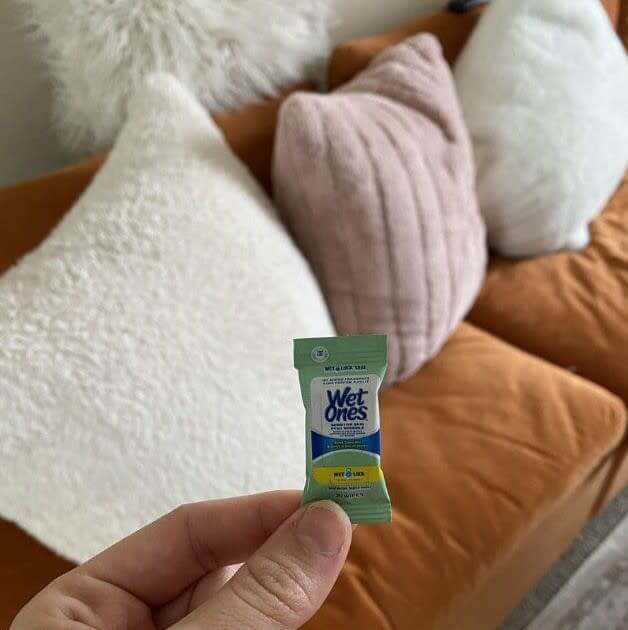 Logically, the person should have double-checked the dimensions, but like any normal human, she assumed Wet Wipes only came in one size.
One Sock Is Her Boyfriend's Face, The Other Is Some Random Man They Don't Know
When you get a custom order from a company, your biggest hope is that it comes out exactly like your vision. This person though the custom socks they ordered would look like the ones on the website, but they did not get what they ordered.
While one sock looks like what they had initially ordered, the other sock is some random man they have never met before. Somewhere there is a person who has the matching sock.
Normal Bulbasaur Vs Bulbasaur On Acid
This man was so excited to surprise his wife with a cute figure for the fall time plants, so he ordered this Bulbasaur plant holder. He waited 20 days for it to arrive, and he could not believe what he was sent.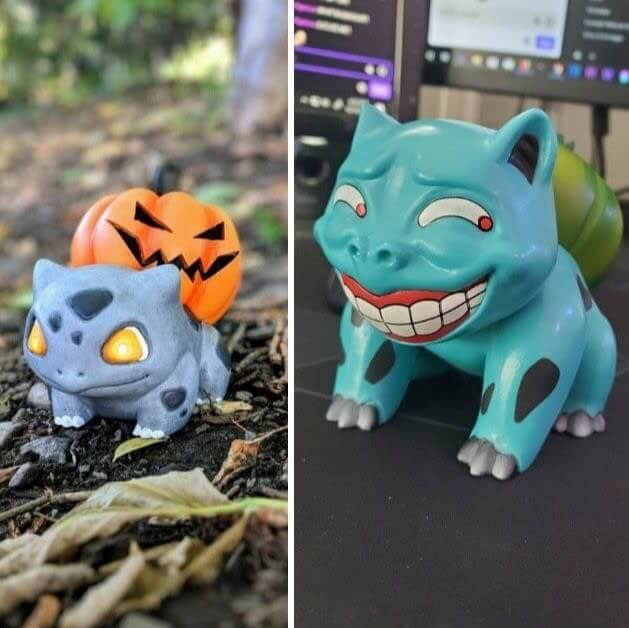 The figure he ordered looks like Bulbasaur took some drugs. This man is definitely being trolled by the company he ordered from. Why else would someone try to pass that off as the product that is pictured?
Sometimes It's Not The Products Fault
First of all, who would order these in the first place? The only person who would want these is someone who named their own private parts, "the Wolf." These briefs are a disgrace to wolves everywhere.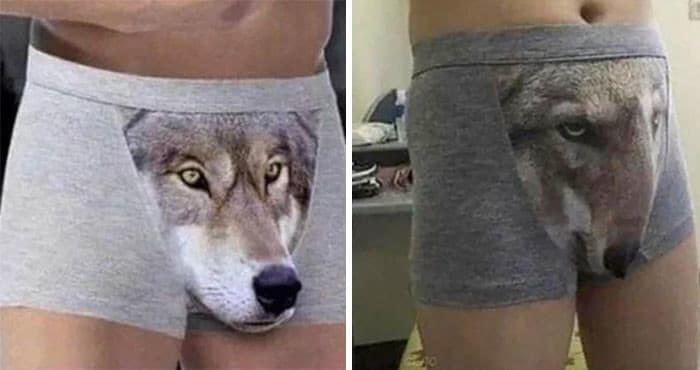 However, in this situation, it is not the fault of the sender because it really depends on what is inside. Now everyone is as well endowed as the product model, and that's why people should avoid these.
Just Slightly Distorted
When you buy cheap mirrors online, you can't really expect much from them. This guy got the most distorted mirrors we have ever seen, and they turned him into the sloth from Ice Age​.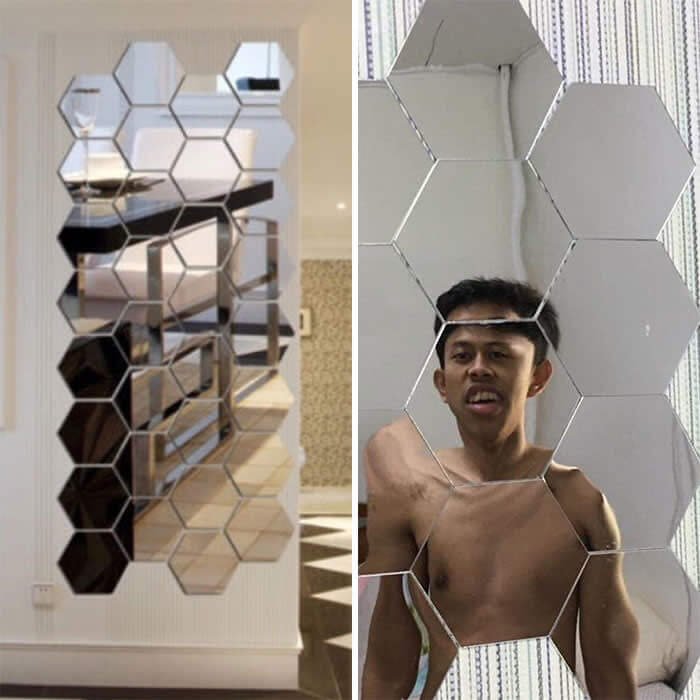 Instead of having an accurate way to look at himself, he has a carnival fun mirror to laugh at each time he walks past; great idea, but failed execution.
What She Got Is Low Key Not That Bad
In our honest opinion, the shirt she received is so much better than the one she ordered beside the spelling mistake. The cherubs with machine guns are edgier than the basic one she wanted.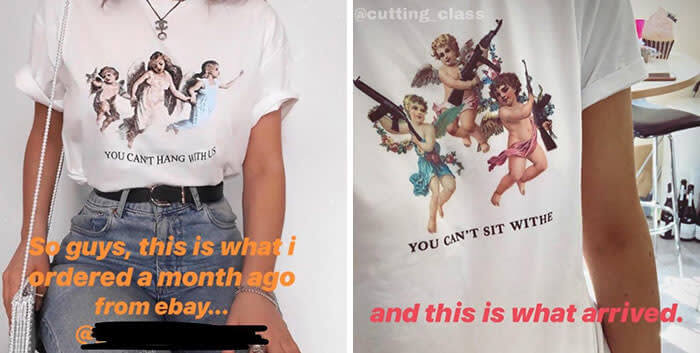 While the idea of the left shirt is cute, she should be glad she got an upgrade. The spelling mistake is also easily fixable with a steamer and some matching iron-on letters.
Probably Should Have Read The Dimensions
Can you imagine thinking you are receiving a wooden bench in the mail only have this dollhouse chair delivered to your door? To be fair, she should have read the dimensions because the picture looks small as well.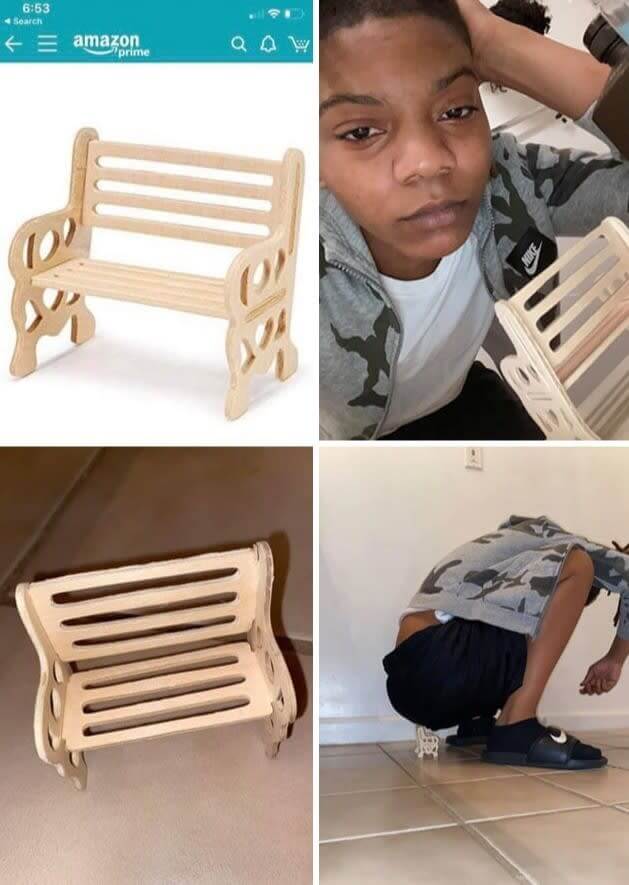 She got an A for effort when she tried to sit on it. She might as well put in maximum effort to make it work. Although we doubt she is going to keep this except to tell a funny story.
What Could Go Wrong When You Order A Silicone Mask Online?
We aren't exactly sure what possessed this person to purchase this mask in the first place, considering how scary looking the original is, but they did not receive what they ordered.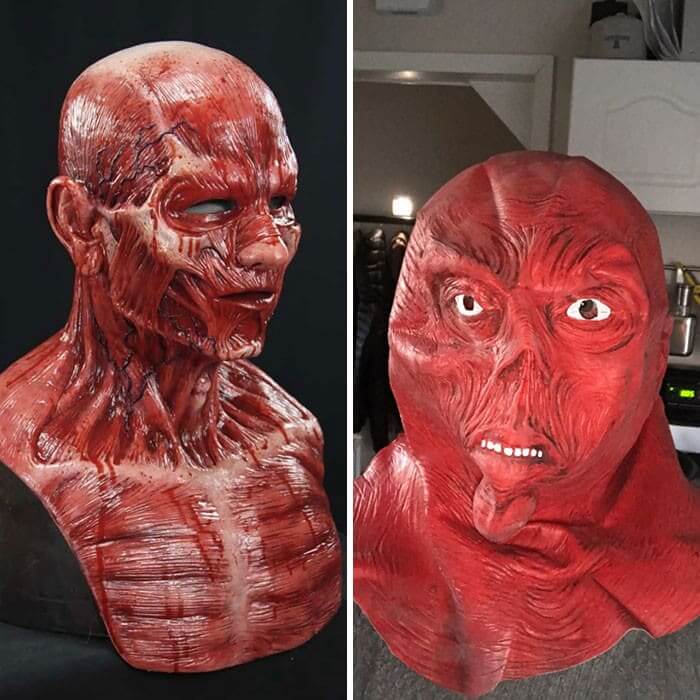 The mask on the left is reminiscent of Mrs.Doubtfire dropping her mask out the window, and it gets run over by a truck. Either way, it is pretty scary, and if you want something that is high quality, you have to do the research.
They Must Have Forgotten To Say It Was DIY
Here is a pro tip for online shopping: don't get wine drunk and buy a cactus cat scratcher from an Instagram ad. This woman learned her lesson when two bags of rope showed up at her house two months after she drunkenly ordered this product.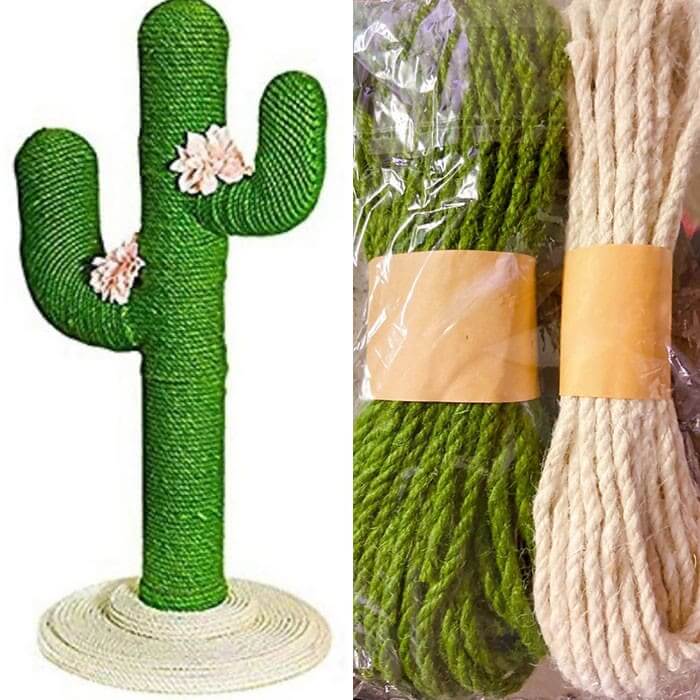 The package didn't even include instructions, a base, or a packing slip. She must have been too far gone to realize the ad said that it was a DIY project, and not everything was included.
Never Believe Product Photos
PSA: Lukalula Maternity is an online scam, and they stole the left photo from someone's maternity shoot off of Facebook. The woman who received the bad dress posted this on Facebook, and the person in the product photo replied that the company stole her photo.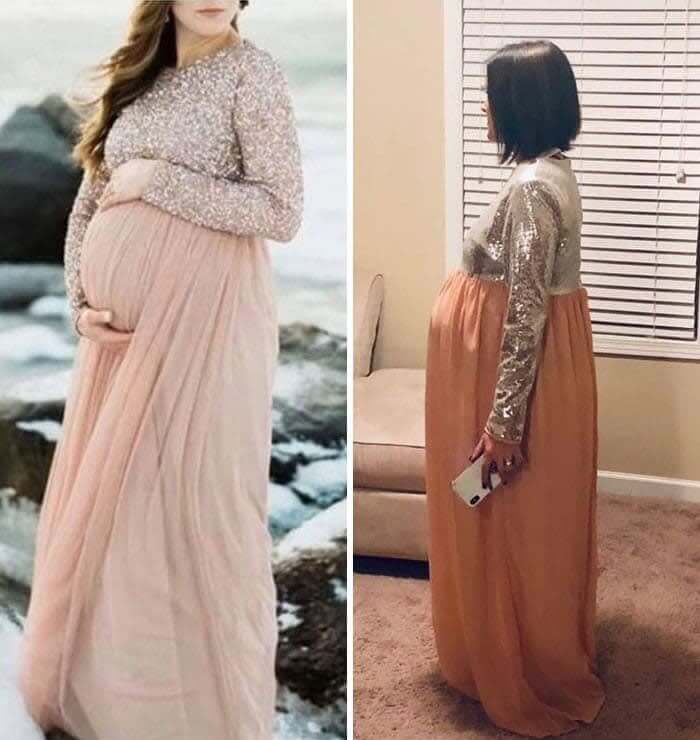 The woman who ordered the dress felt horrible because she was 26 weeks pregnant, and the dress made her feel like a whale. Hopefully, she found something else to wear for her maternity shoot.
How Do You Mess Up Assembling Headphones?
Online shopping always amazes us. In what world is this acceptable, and who was the person to manufacture headphones like this. Who would think that the jack should be next to one of the earbuds?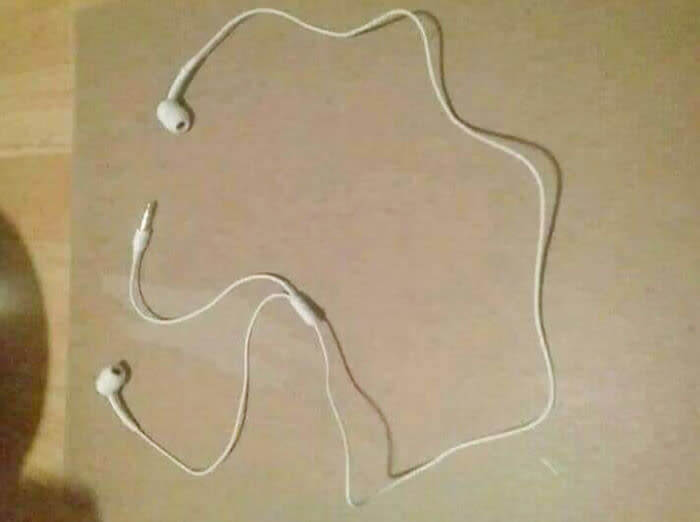 Although these are probably still functional, it would still be irritating to have to hold your phone so close to your head. It's not like most phones have a headphone jack these days, so it doesn't matter.
For A Giant's Ears
Word to the wise, never buy anything from Wish.com unless there are plenty of photo reviews, and the product is Wish approved. This person thought they could buy real discounted Airpods on Wish, and they were shocked when their package arrived.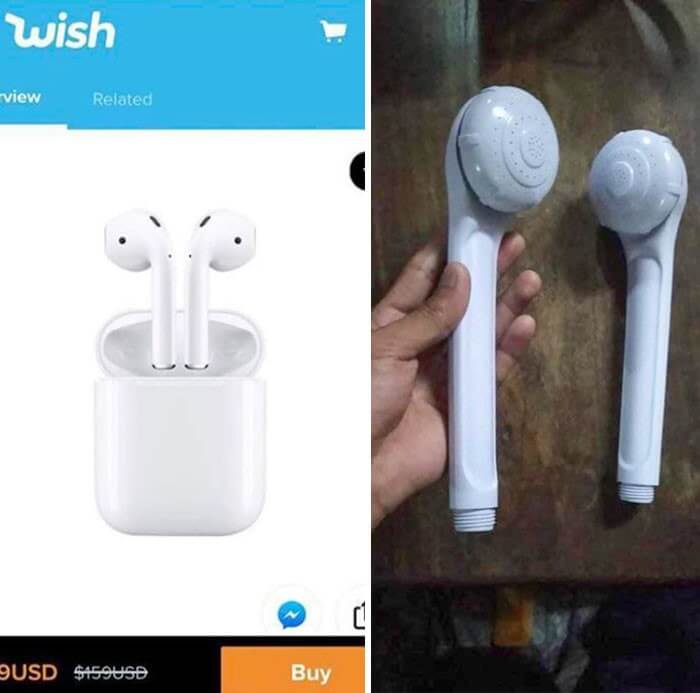 Instead of anything resembling a pair of wireless headphones, the person got two white showerheads. How do sellers get away with sending something that is not even relatively close to the product photo?
When You Get A Piece Of Mesh With The Pattern Printed Instead Of What Was Pictured
When this person saw the knitted sweater online, she had to order it because it looked so pretty. Unfortunately, she was disappointed when it arrived because it was not even close to the picture.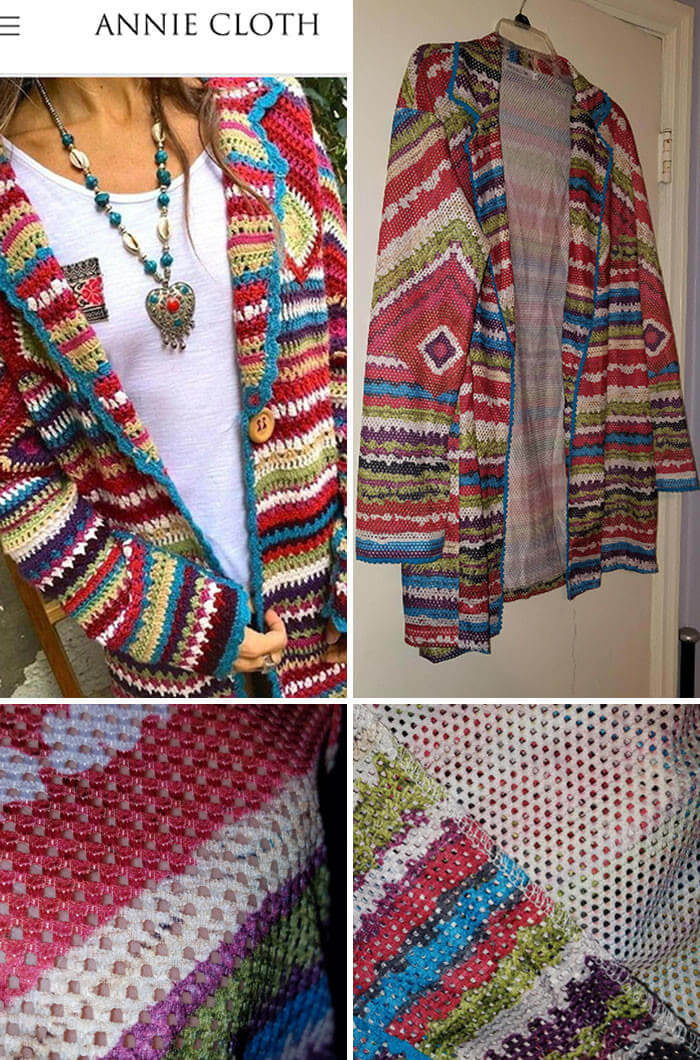 The "sweater" she received in the mail was a mesh fabric with the pattern printed on it. Our skin is getting itchy just from looking at the jacket she got in the mail.
Not Exactly Sure How This Is Purifying Air
This person purchased an "air purifier," but when they looked inside, they realized it had no actual purpose besides a blinking red and green light. Maybe it has a placebo effect because of the lights.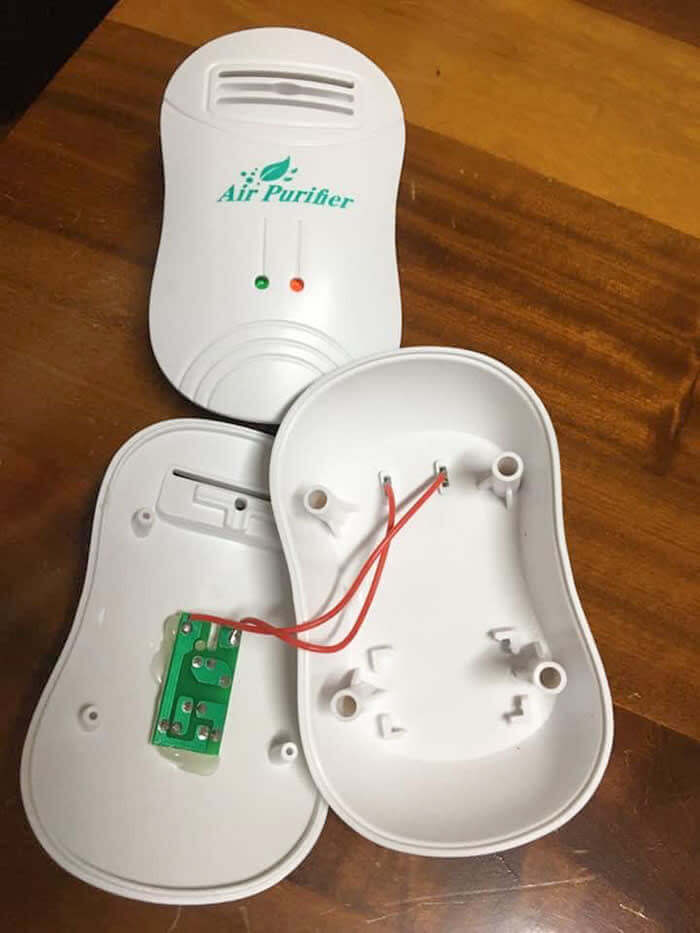 We wonder how long it took this person to realize their air purifier was fake and served no actual purpose. The only use for this is to hide stuff inside so robbers won't take your valuables.
$150 For A Rug Made For A Dog
A group of friends pitched in to buy a friend this $150 rug for her birthday, and they could not believe they paid so much for a carpet that was meant for a dog.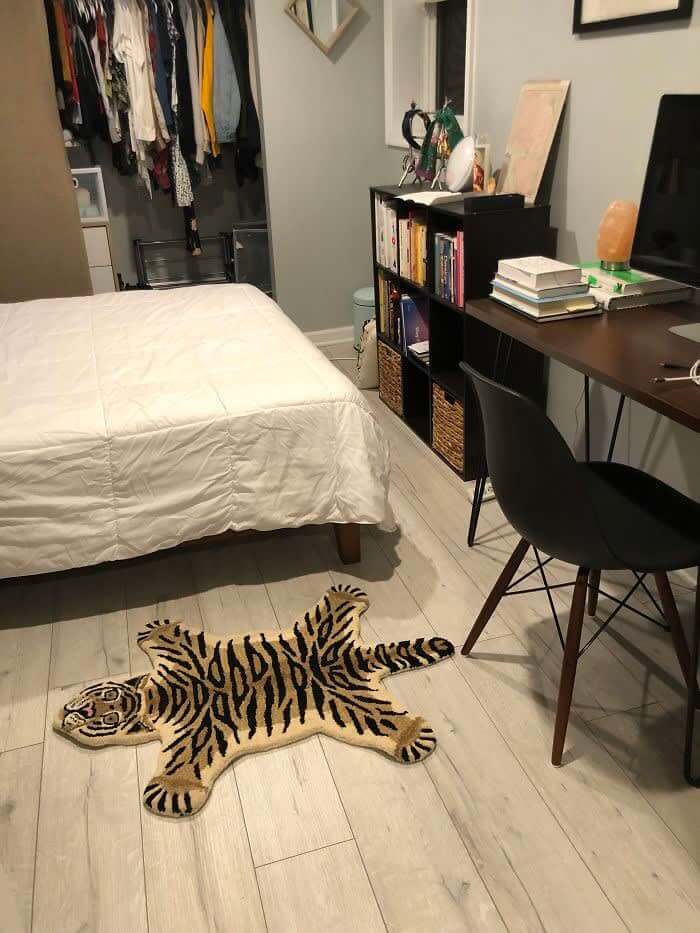 It is always important to check the listed dimensions, but when you are paying $150, you almost assume it is going to be bigger than this tiny thing.
More Like A Bank Robbing Tool
When you think you are ordering a cute winter hat that will keep your head warm, but it turns out that Wish wants you to rob banks. All they have to do is cut eye and mouth holes, and it could be a ski mask or something for Halloween.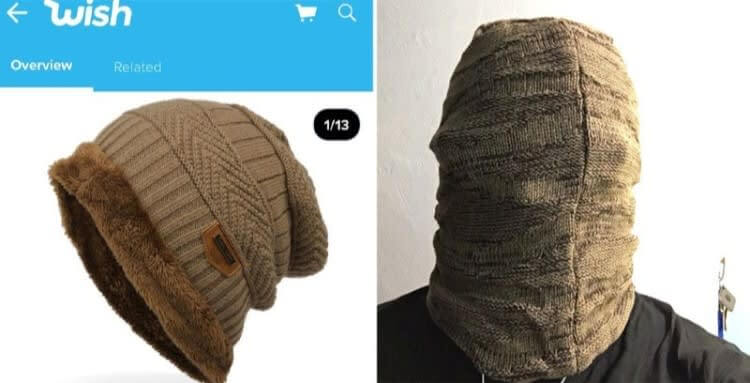 Someone literally pulled the wool over their head, and they got scammed. We aren't sure what Wish.com's return policy is, but we doubt that it is easy to return their horrible products.
When The Listed Price is $2.50, You Should Know It Is Not Legit
This person was so excited when they found a When Harry Met Sally record for $2.50 on eBay, but they were confused when a small package arrived. After opening it, they realized why the album was so inexpensive.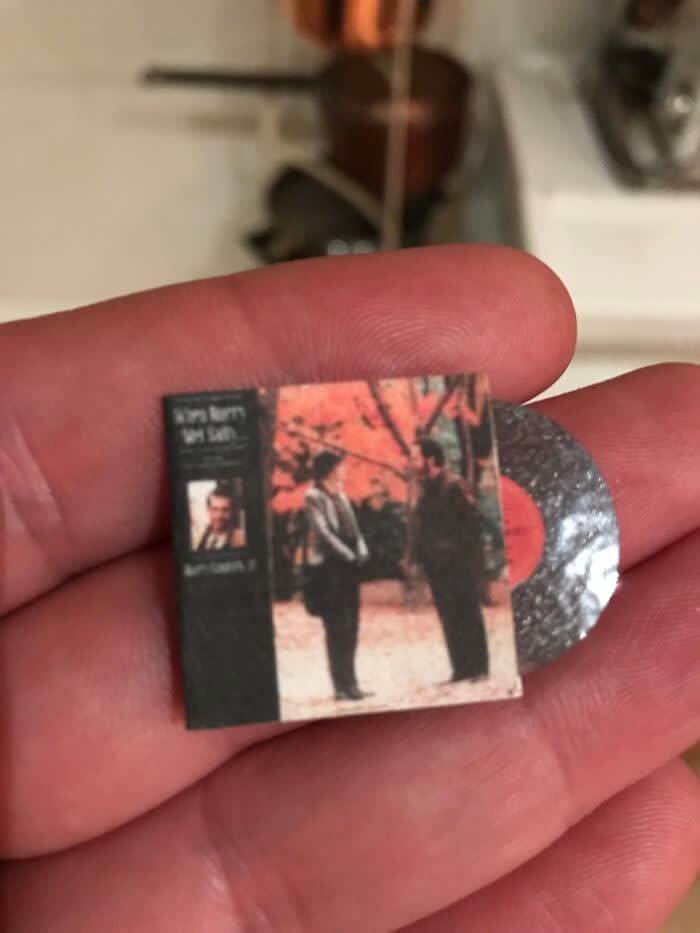 This would go nicely in the dollhouse with the miniature bench and Wet Wipes. Is there a mini record player that is supposed to come with it because that would be more fun.
Might As Well Sleep In The Forest
This person ordered a bed frame online, and the thing forgot to include a disclaimer saying, "some assembly required." They have to stain it and set up the canopy for it to look like the one online. We hope they didn't pay a ridiculous price for a board with sticks attached to it.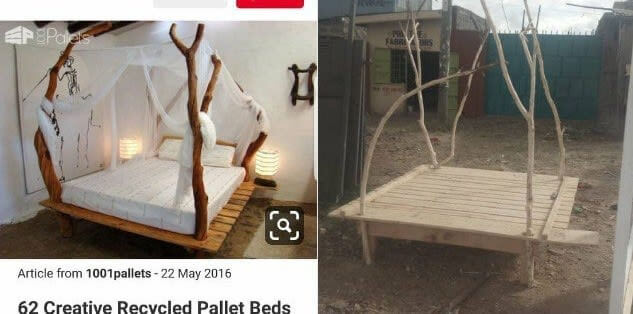 This looks more like a death trap than somewhere to sleep. Also, it's funny that they added extra sticks instead of finding four thick branches like the product photo.
Would You Rather Receive Your $850 Laptop Or 3 Jugs Of Juice
Grab your tissues because this is a sad story. This person saved for months to purchase a new laptop, and when they received their order, it turned out to be Walmart's brand juice instead of their $850 laptop. One of the bottles is even dented, the computer would for sure have been broken by the time it arrived.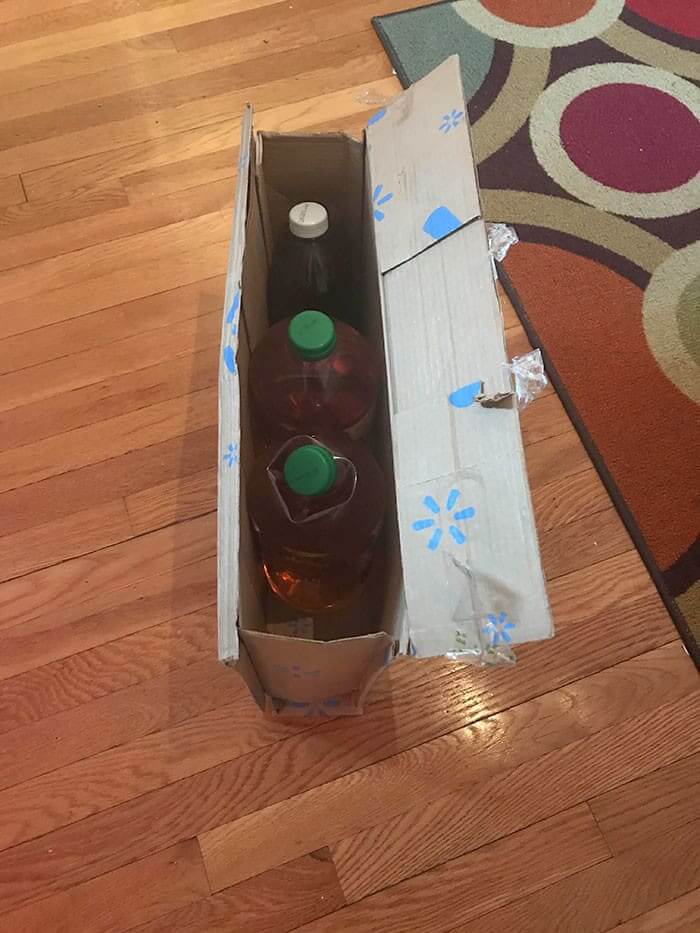 Hopefully, they were able to take this to Walmart and get their money back or the original laptop they ordered. We would be so angry if this showed up instead of what we purchased. It seems you can't even trust big brand names.
Looks More Like Groot After A Heavy Drinking Session
As someone who is a massive Game of Thrones fan, this person was excited to receive their Night King mask from eBay. Unfortunately, they received this distorted version that looks nothing like the photo or the character.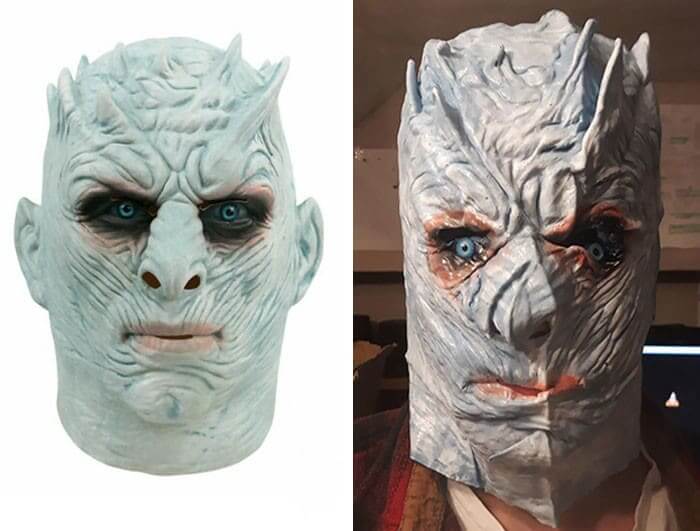 They could put a blue plastic bag with eye holes over their head, and it would look ten times better than this latex mess. Never trust random people online to sell you exactly what they are advertising.
Time To Start Your Cover Band
To anyone who is a Black Sabbath fan, this hat is a disgrace because it now says, "Black Sabbitch." That is a disgrace to the band, but it wasn't a great hat to begin with, so they could wear it ironically.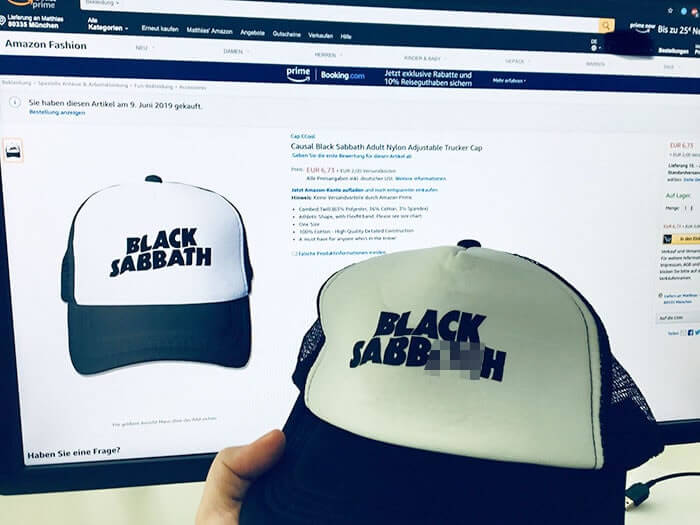 When you try to purchase a cheap-looking hat from Amazon, you can't have high expectations that it will look nice when it arrives in the mail. If you start with low standards, you have lower chances of being disappointed.
Amazon Is Scamming People With These Tiny Toilet Paper Rolls
When everyone started panic buying toilet paper, some people turned to the internet to purchase it because stores were sold out. This woman paid twice as much, and it took two months to arrive. These rolls are a quarter of the size of a regular roll.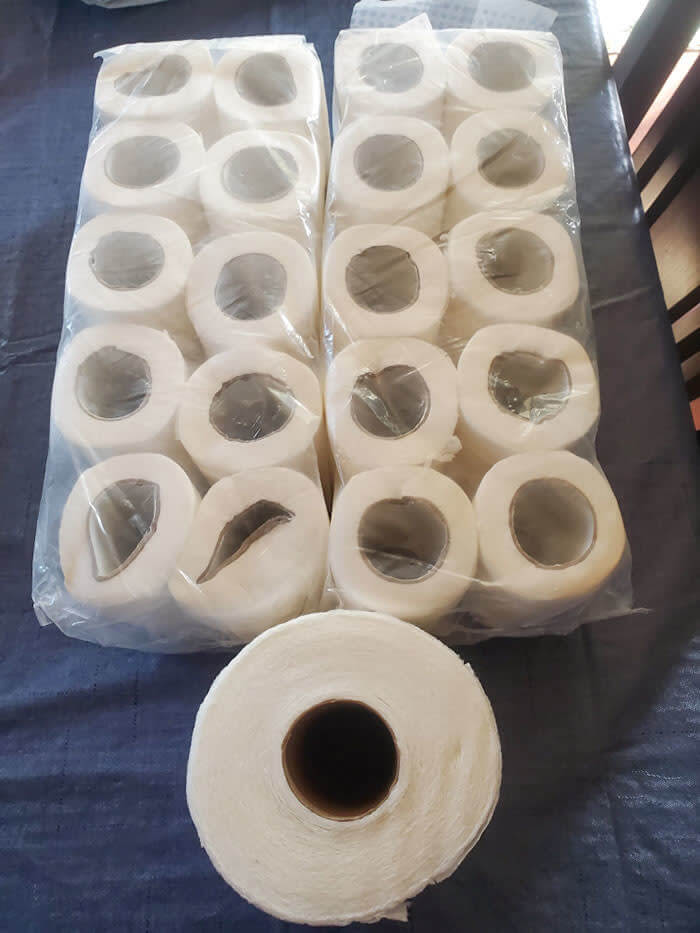 Maybe they can combine two of the rolls to make one normal-sized roll. The cardboard holder takes up more space than there is toilet paper.
Looks Like Hades From Hercules
Targeted Facebook ads will get you to purchase things you never knew you needed, like this amethyst skull ring. You didn't know you wanted it, but Facebook convinced you that you should order it, but the person received something different.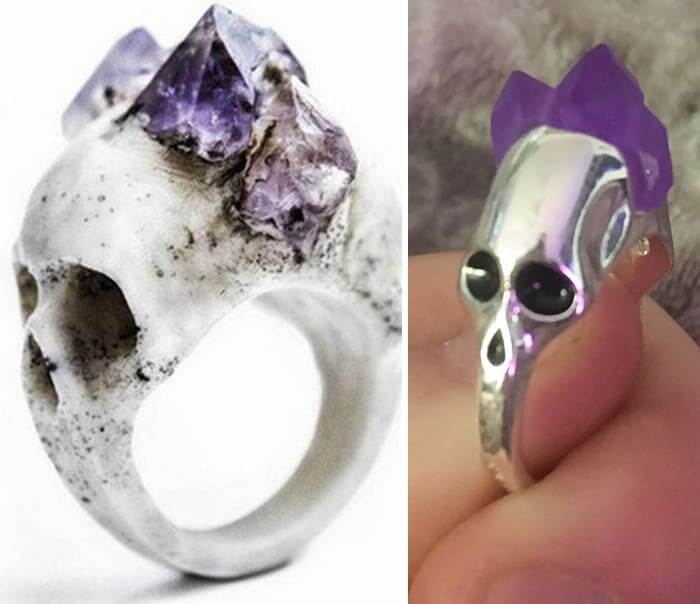 While the pictured ring looks more like a marble or stone-like ring with crystals on top, the ring that arrived is something that you could get for a quarter at the grocery store vending machines.
Someone Got Hungry Before They Shipped
As these nuts were being packed up, someone in the distribution center was hungry for a snack and thought no one would notice. When they say, "product may settle during transit," we didn't know they meant "settle in someone's belly."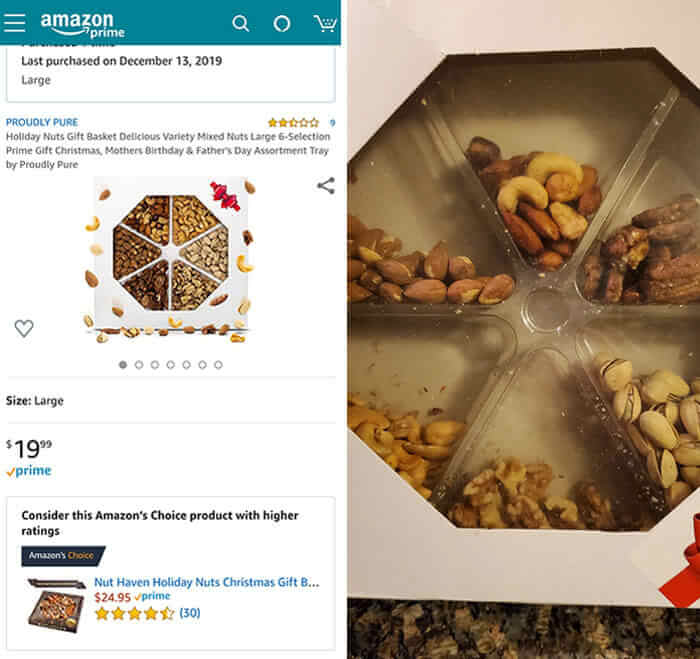 To be fair, the person should have checked out the reviews because this product only has 2.5 stars when the suggested product has almost five stars. You should always read reviews on Amazon before purchasing.
Basically Just A Piece Of Fabric
As the great Derek Barry once said, "there's a seam here and a seam here." Apparently, having seams on a piece of mesh makes it qualify as a well-constructed garment in some people's minds. The person thought they were getting a great deal on this gorgeous dress and ended up with something much different.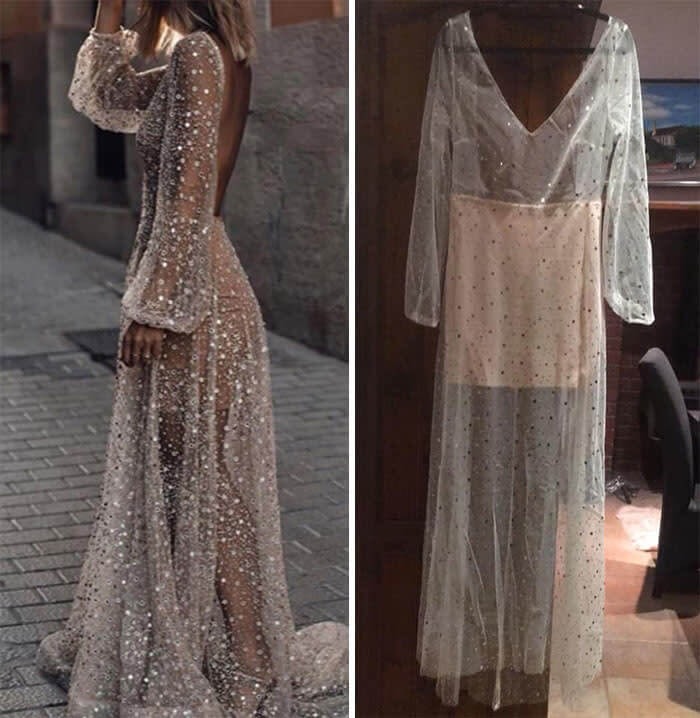 The photo on the left is actually a very expensive and popular bridal gown. Unfortunately, if you want a quality garment that was made with integrity, you have to pay a high price for the designer's time and effort.
Doll-Sized Face Mask
If cats or chihuahuas used sheet masks, this would be the perfect size for them. You can see the disappointment on her face, but at least that small patch of skin will be clear and glowing.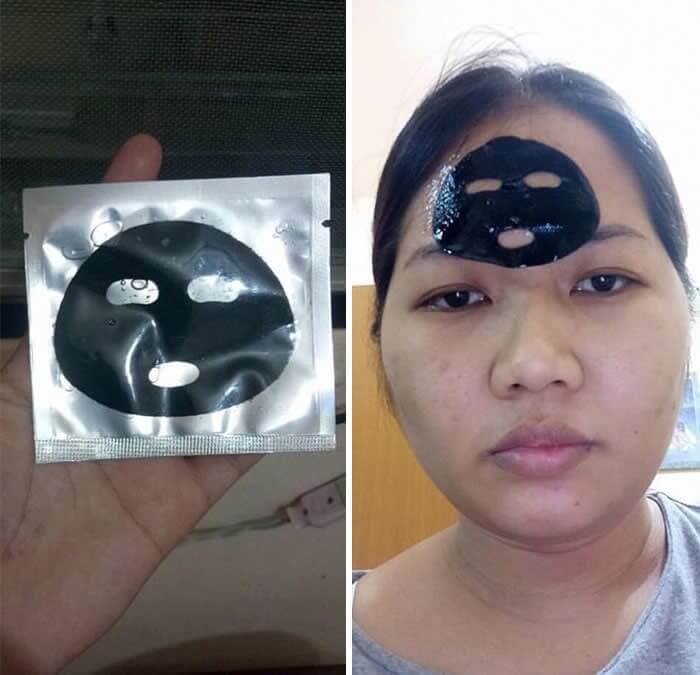 We can't imagine what purpose a little face mask serves and why someone would sell it. Do they expect you to stretch it out? We are just as puzzled as you.
Pillow-ception
The description on Amazon forgot to mention that the child is included with the order. Why would anyone want a cute dinosaur pillow when they could get a pillowcase with a photo of a child sleeping on the pillow they wanted?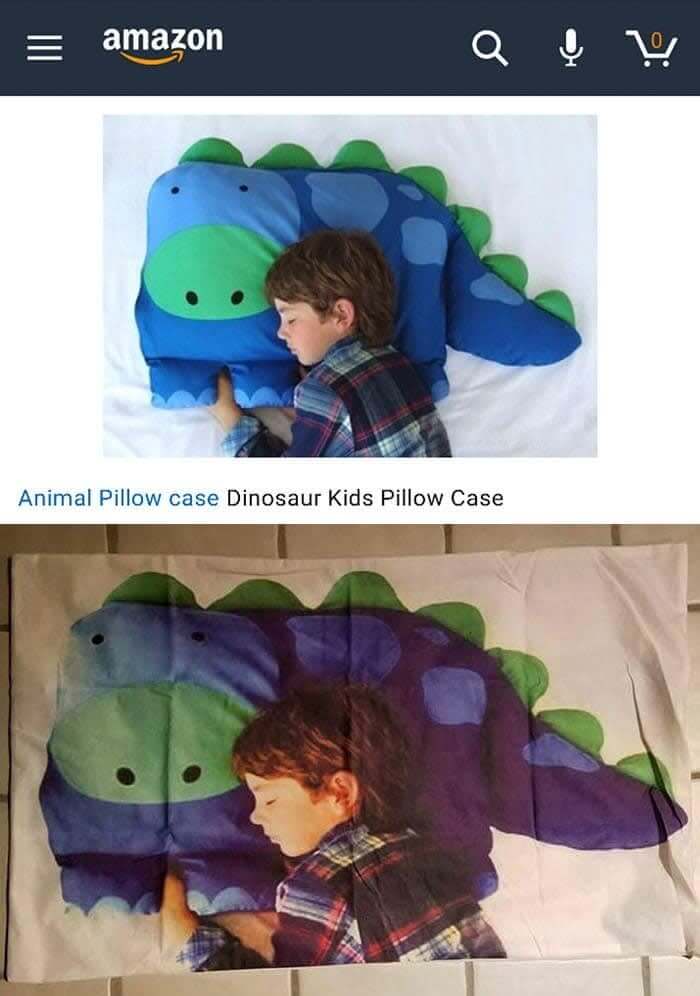 Amazon could claim that it is exactly what they advertised, but who would want to sleep on a photo of a child sleeping? That is just too bizarre for words.
Some Assembly Required
This woman made the tragic mistake of ordering something from Wish.com. As we have seen, it usually does not turn out well, and she now understands that struggle. The knitted blanket she ordered came as one giant ball of yarn.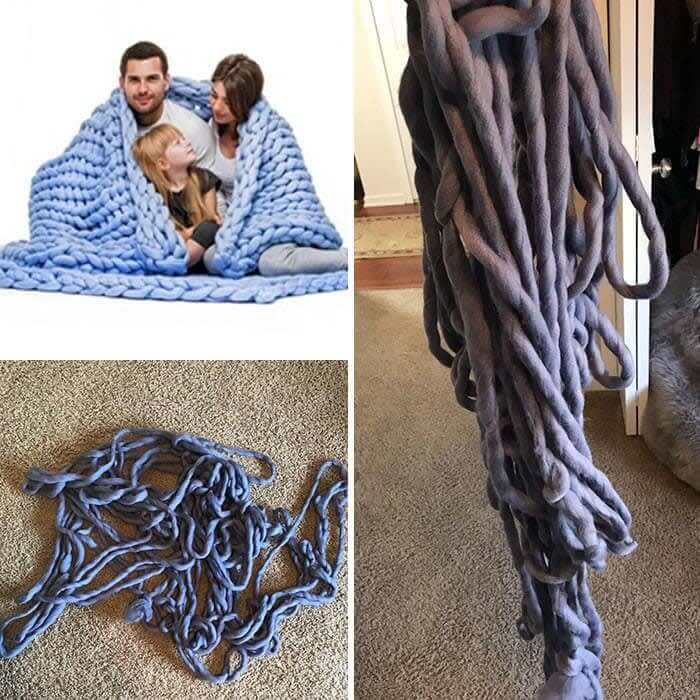 Does Wish.com expect people to assemble everything they order? Why doesn't anything come put together or look like the pictures on the website? We have so many questions.
Try Adding Hot Water, Maybe The Design Will Disappear
When this person ordered a heat-sensitive mug that changes designs when hot water is added got what the literal product photo on a cup, which is not what they expected. Obviously, the title of the product wasn't descriptive enough.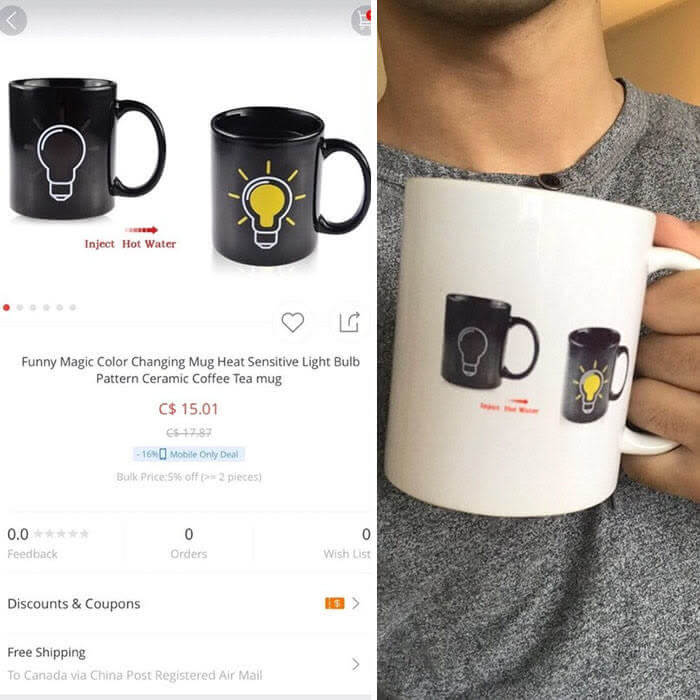 Even things that seem reasonably priced cannot be trusted these days. You just have to expect that everything will be the opposite of what you see online.
Hollywood Stars' Photos Recreated With A Funny Twist
Ashley Lez
This article was originally published on 24/7Mirror
Have you ever looked at a picture posted by your favorite A-lister and thought, "how do they look good wearing something like that or posing like that?" A woman named Celeste Barber started recreating ridiculous famous people's Instagram photos, and she has gained 6.9 million followers on Instagram in the process. She shows what the average person would look like if they were taking these photos in real life. Keep reading to see the hilarious results!
Instagram Vs. Gravity
Alexis Ren modeled this shirt with perky boobs drawn on it, but realistically, no one's chest naturally looks like that.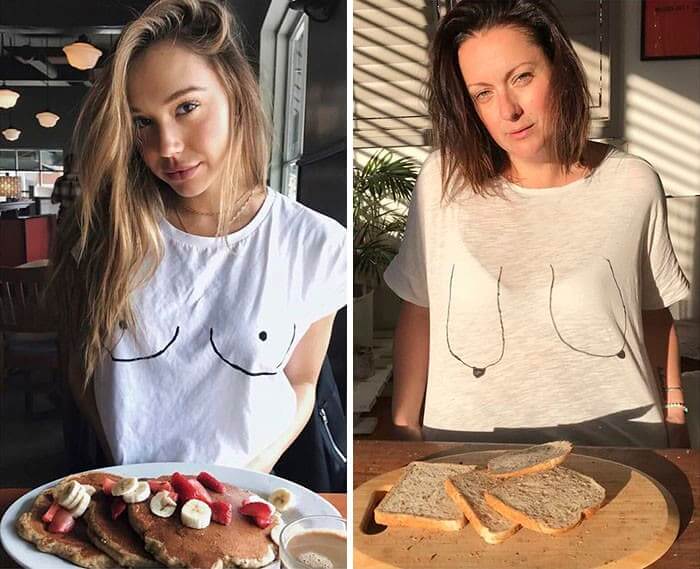 While Celeste made her shirt the exaggerated version, that is more realistic than the original Instagram. Let's be real; gravity starts to win as you get older.
Boats, Bikinis, Flexibility, and Humility
Gigi Gorgeous looks like she is floating on air in her photo, but it does not look easy to achieve that pose. Who would want to contort themselves onto some metal bars?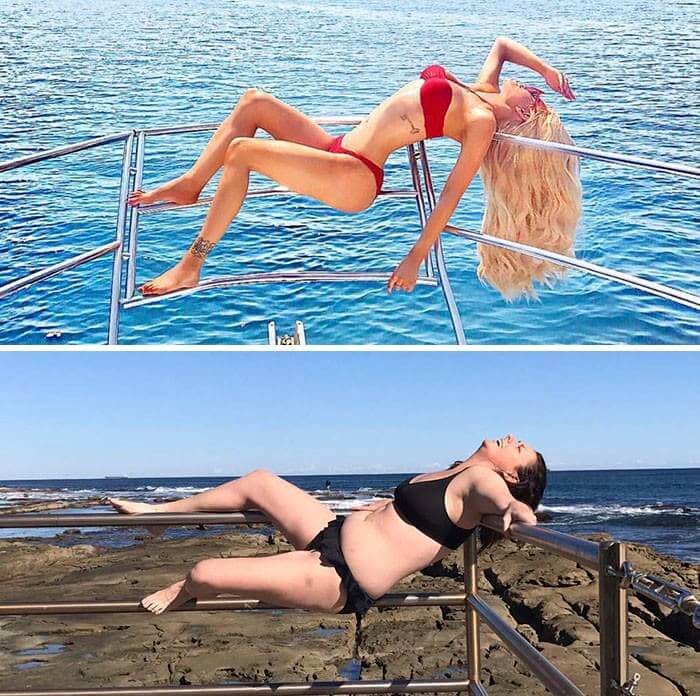 Celeste is how most of us would look if we tried this pose. It seems like she is on the struggle bus, and we can only imagine how uncomfortable that is.
Did Someone Say Flamingo?
When you wish you were on a private yacht with a giant flamingo floaty like Kendall Jenner, but you are stuck at home.
She traded the boat deck for her driveway and added some water wings because cement can be dangerous.
The Basis Of Any Good Relationship: Trust
Would you trust someone not to let go of your t-shirt while you lean face first over a pool? The models in the top picture messed up a few times because she is not dry.
Even if you trust the person, that is not an easy task for someone to hold you only by your shirt.
Boys Lie, Carbs Don't
The truth hurts, doesn't it? Carbs don't lie, and they will stick by your side even when you don't want them.
Both pictures are sharing truth bombs, and both pictures show that they both need to wash their cars.
Taking Advantage Of Morning Sunshine
When you try to recreate those perfect rainbow reflection pictures, but you are blinded by the morning sunlight. The rainbow also looks suspiciously perfect in the left image.
Trying to look directly into the sun right when you wake up is not something the average person could handle.
Breakfast Is Served
When you want to do something special for you your man so you bring him orange juice and pancake (mix) in bed.
Serving people topless is not very sanitary, and people should refrain from this, especially if you want to carry something hot.
"Just Rolled Out Of Bed"
When you are trying to reach something on the floor without getting out of bed. You try to do acrobat moves just to keep some part of your body on the bed.
The hardest part is when you finally reach what you want, and then you have to figure out how to get back on the bed.
When You Successfully Cook Dinner
When you managed to cook dinner for everyone without getting any complaints or burning something, that calls for a celebration.
Her kids look unimpressed with her celebrations like, "Mom, please get off the table!"
Just A Light Scarf
No, this is not a giant scarf photoshopped onto Lenny Kravitz, he actually wore that. It is equally ridiculous to wear an actual blanket in public.
That must have been more annoying to wear around than a normal-sized scarf. Celeste captured the ridiculousness of this picture perfectly.
"I Really Need To Wash The Dishes"
When you want to show your kids how dirty they left the dishes, even though you asked them multiple times to clean up after themselves.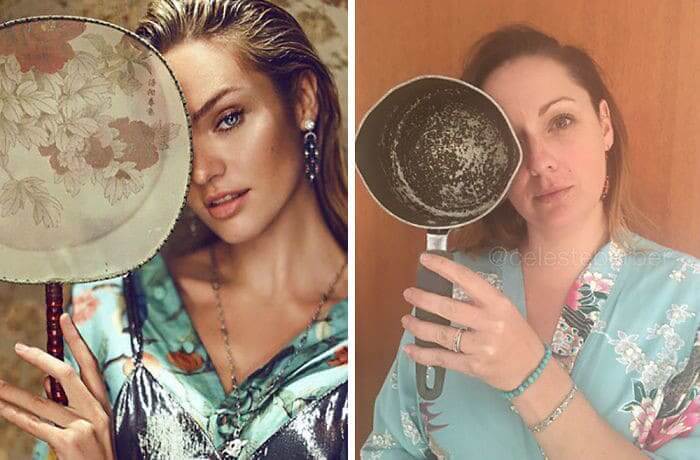 Even though she doesn't have a makeup team, lighting crew, and person doing her wardrobe, Celeste looks just as good as the original photo.
Style and Safety
We always wear heels when we ride our bikes too. Her son is probably asking his mom for his bike back.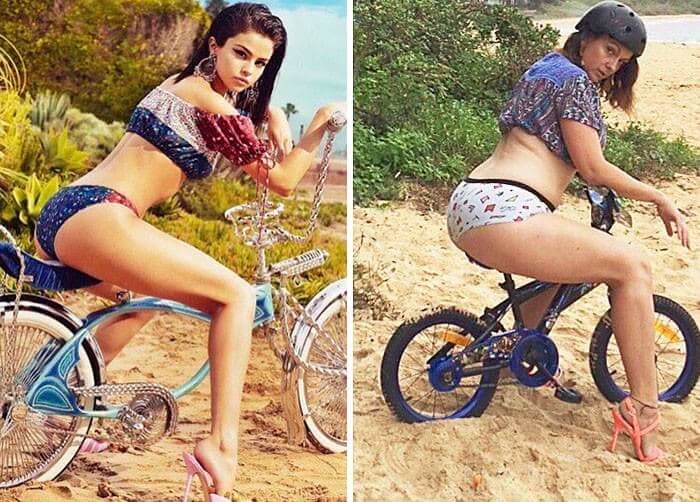 Both of them look amazing, but Celeste is demonstrating better safety practices.
Having Children Expectation Vs. Reality
Have children, they said, it will be fun, they said. J.Lo makes motherhood look like a breeze and manages to hold a drink and carry her child at the same time.
Motherhood is far from easy. She shows that holding a child and a drink is not an easy thing to do.
When You Have To Wash Your Own Car
Why Bethenny Frankel felt the neep to do a backbend on top of the car is a mystery. How did she get herself into that position without falling, and how did she get down?
We love the dedication that went into recreating this picture because you know her neighbors saw her and thought, "what is wrong with that woman."
Sia: The Craft Store Version
When you want to dress up like Sia, but you are on a dollar store budget. It looks like she ran through the craft store and grabbed the first items she saw.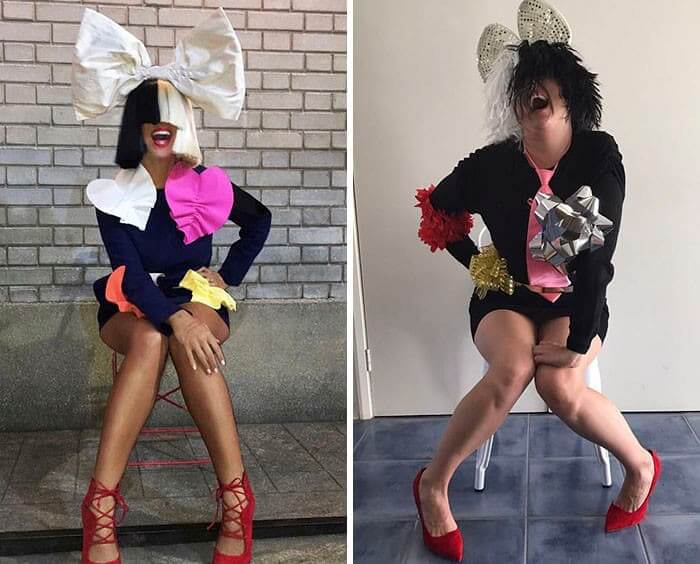 Even though it is more craft store than couture, we think Sia would approve of this recreation because she loves odd things.
Backyard Photo Shoot
Even though she looks like she is putting in minimal effort, Beyonce still looks glamorous, standing in front of a sheet in someone's backyard.
Anyone who isn't Beyonce would look weird if they tried to recreate this, like Celeste.
"Buy My Merch"
When you are trying to recreate a Kylie Jenner picture and promote your own merchandise at the same time.
Whose shirt would you rather buy? We really like Celeste's take on Kylie Jenner's shirt.
When It Is Too Hot Outside, So You Sit In The Freezer
During the summer, have you ever been so hot you felt like sitting in a freezer? Don't worry; it's not that weird because celebrities have had the same thought too.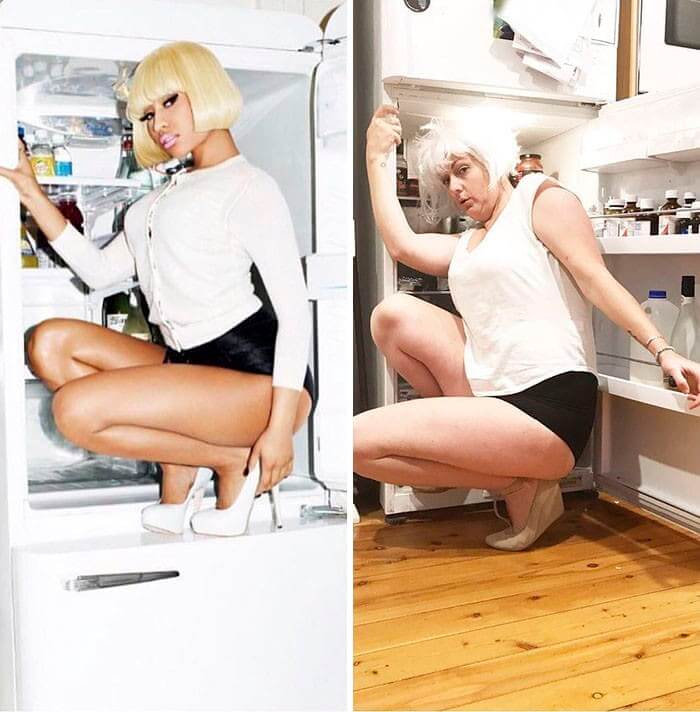 Sometimes you just want to escape the heat and climb into a freezing box, and that is ok. Just remember to take a picture so you can post it to Instagram.
Personal Hygiene is Important
Celebrities are just like ordinary people; they have to shave their armpits too. Although, when they shave their armpits, they document it for social media.
Self-grooming is important. Some people choose to shave, and others go natural. Whatever you decide, no one has to know about it.
Ready To Conquer The Day
Kyle Richards starts her days with a protein shake and a brightly colored Birkin bag. Not all of us are that blessed, so some of us are more like Celeste's recreation.
When you have children, starting the day with a bottle of wine doesn't sound like a bad idea. Although we know she is not promoting people to drink and drive.
Wet T-Shirt Contest
Again Emily Ratajkowski is stunning and sultry with her barely-there wet t-shirt. If you have ever been in a wet white shirt, you might feel like Emily, or you might feel like Celeste.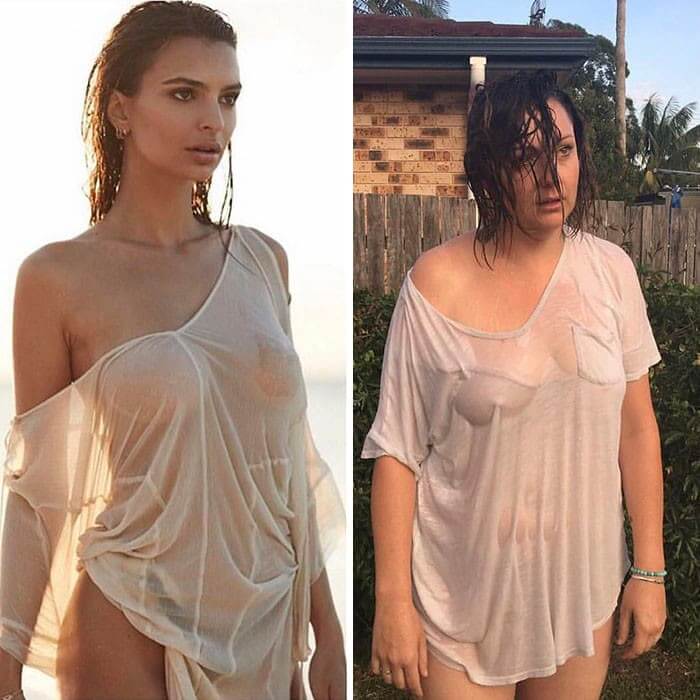 First of all, Wet shirts are not comfortable; you feel like you are being weighed down by this cold, wet fabric stuck to you. Second, no one looks like Emily, so it would be hard to pull off this wet shirt look.
When It's Too Hot For Clothing
Emily Ratajkowski is known for her lack of clothing, so recreating her pictures takes a lot of courage. No one actually walks their dog in a bra and underwear.
The guy in the background is wondering what she is doing, walking through the streets half-naked with her dog.
Happy Holidays
Kylie Jenner is giving us the holiday fantasy by wearing a giant bow as a hair accessory for her holiday collection promo shoot. Only she could make this look cool and high fashion.
If the average person tried that it would look very strange. We don't know how anyone would look good with a giant gift bow on their head.
Holding Life's Most Precious Gifts
While some people value their children as the most precious gifts in the world, others value wine and bread, which is valid.
It must be hard to recreate the ethereal glow of Beyonce post-birth.
Spilled Wine Means The World Is Ending
Why does Selena Gomez look so unphased by the spilled wine and broken glass? Most people would be sad like Celeste because of the wasted wine.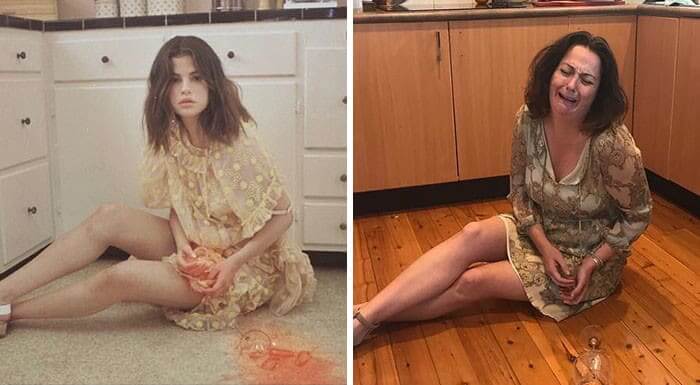 We know it's for an album cover, but how can she be so calm with broken glass in her hands?
Cooling Off
When you are in the club and you find a fan to help you cool off. Some people would look glam like Miley Cyrus, and the rest of us would look like we got stuck in a wind tunnel like Celeste.
Maybe a leaf blower wouldn't be the best option because of how much wind power it has, but it still cools you off.
Self Love
As Ru Paul likes to say, "If you can't love yourself, how in the hell are you going to love someone else?"
​ Self-love is important, but we don't know if you have to make out with yourself in a mirror to get that point across.
Working That Spacesuit On The Beach
Brazilian model, Adriana Lima, can make anything work, even this silver lamé one piece.
Who knew that silver catsuit would be so useful to recreate so many celebrity photos.
Giddy Up
She nailed this Miley Cyrus recreation. Her tiny horse is even better than Miley's larger one.
She makes it look much more fun than the celebrity originals. Ride'em cowgirl!
This Looks Comfortable
"Nothing to see here, just casually lounging on the chair like a normal person." This is such a bizarre pose. How did the model contort her body into this uncomfortable position and stay glamorous?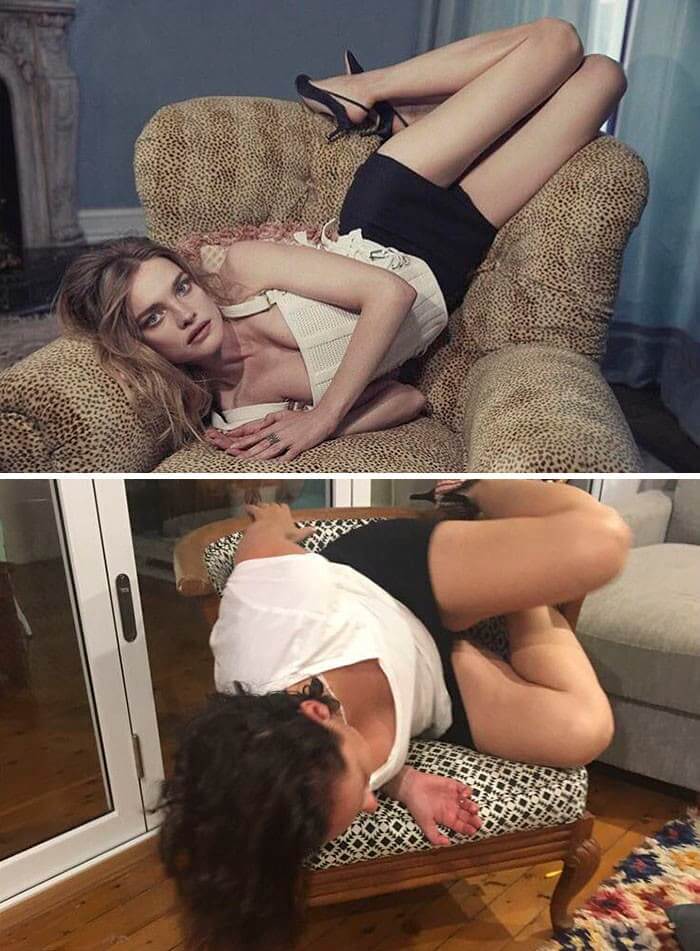 If we tried this, we would look more like Celeste and fall off the chair. Do not try this at home, people.
Peek-A-Boo
When you are trying to get dressed, and your friends keep asking you how much longer it will be until you are ready.
"Can you hurry up?" "I'm getting dressed as fast as I can, but it would go much quicker if you didn't continue to ask every few minutes."
I Woke Up Like This
The first picture is what everyone wishes to look like when they wake up. The second is what most people look like when they wake up.
How is it possible to wake up looking perfect with your makeup and hair done? It is not possible, most of these "natural" "just woke up" selfies are posed.
Baywatch
The Rock and Alexandra Daddario co-starred in the reboot movie Baywatch and made lifeguarding look much more glamourous.
Celeste and her husband try to capture that glamour while still being effortlessly beachy, and they rocked it!
How You Think You Look Vs. How You Actually Look
When you walk towards the water and try to walk like Gisele Bundchen, but the uneven sand makes it difficult to look like a model.
We all try our best to look effortless, but walking on the burning hot sand is harder than it seems.
No Pants, No Problem
When Kanye's merch is too expensive, so you can only afford one sweatshirt, or you have to make your own.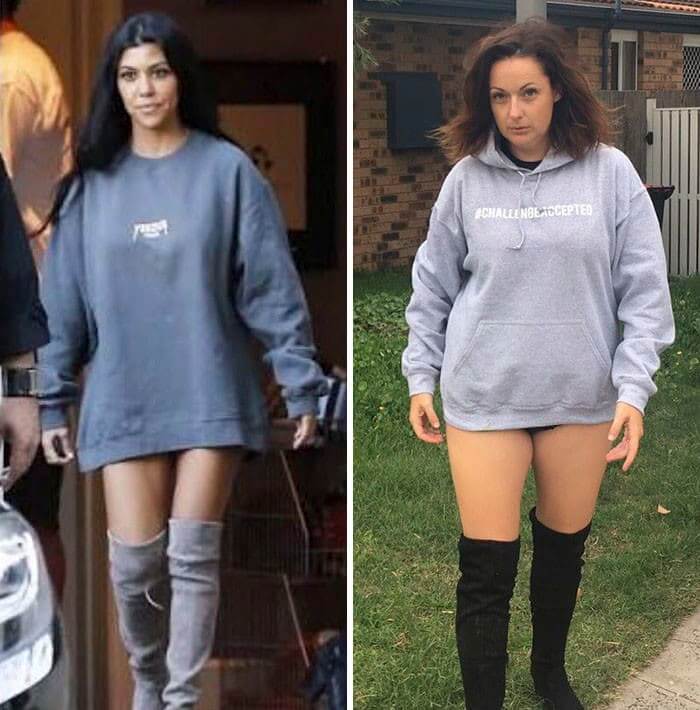 The oversized sweatshirt is an interesting trend that people were obsessed with for a while because of the Kardashians. To pull off this trend, your sweatshirt should probably cover your underwear.
Dipped In Silver
Why wouldn't an ordinary person cover their body in silver and lie in a tub? Kim was probably posing for a makeup campaign or magazine shot, but it is a strange scene.
It is hilarious that she used a kiddy pool to replicate this one. She looks like a natural model, even comparing herself to Kim Kardashian.
Working Out Is Tiring
When you take a gym selfie hoping you will look toned and not like a sweaty mess. Working out is not easy, and after a difficult gym session, most people would look like the right photo.
By the end of the workout, people are drenched in sweat, and too tired to actually pose.
Drop It Low
Can we take a minute to talk about cardi b's shoes? Are they sneakers, wedges, or platforms? It looks like the shoes are falling apart in slow-motion.
Celeste had to stack three pairs of shoes to try and replicate this look. How do you walk in shoes like those? Fashion is so interesting, and those weird sneakers probably cost over $1,000.
Just Catching Some Rays
When you have had a rough day, so you come home and collapse onto the floor. The bottom picture looks like she has had enough of these odd celebrity photos.
Bella Hadid makes this pose look relaxed and comfortable. This position seems like it would break your knees and back.
A Couple Of Cows
When you do something that makes you seem adventurous, so you have to document it to prove you did something in nature.
Celeste also looks like she went to a winery and had a few too many glasses.
Nailed It!
If you ever wanted sunglasses that will block the haters, these are the perfect pair. The foil pair and the real pair will surely make the haters invisible.
Nicki Minaj has an interesting sense of style, and this look is bizarre, even for her.
"What Do You Wear Around The House?"
Who wouldn't want to be Haily Bieber? She is married to every teenage girl's dream man, Justin Bieber. Hailey is also so stunning, even in these full coverage underwear.
The recreation is just as amazing and looks more like a body positivity advertisement.
Looking For The Remote
When you can't find the remote so you have to dig through the cracks in all the couch cushions.
"Look! I finally found that bracelet I lost three years ago, and the TV remote!"
Falling Down The Stairs But Make It Fashion
Nicki Minaj has some strange fashions choices and poses. She looks like a spider monkey hanging on for dear life, so she doesn't fall down the stairs.
How did she manage to keep a straight face while recreating this ridiculous pose? Even she looks like she knows how strange this is.
When You Think You Look Cute After Going In The Ocean
It is never glamorous when you go into the ocean and get pummeled by waves. There is salt in your nose, sand in places you didn't know sand could go, and your hair is matted to your face.
In our heads, we think we look like a character straight out of Baywatch, but it is never that glamorous.
Making Pregnancy Look Cute
Celebrities tend to make pregnancy look easy. They put on their matching Calvin Klein underwear and bra and depict it as a glamorous nine months.
In reality, most people don't have the energy to find the matching underwear to their bra, especially if they are pregnant.
"Can You Take A Picture Of Me In The Men's Bathroom?"
When you think of a good place to take a photo, is your first thought the men's bathroom? We are going to guess that you said no because who would go into the men's bathroom to take a picture besides Kim Kardashian.
Also, did the photographer think it was a good setting to capture her gorgeous gown? It ruins the beauty of her entire look.
When It's Really Cold Outside
Did Kylie steal Cookie Monster's fur to get this photo? She is someone who likes to show off her famous curves, so it is strange that she chose to cover her entire body and only show her face.
We love how she took a giant blanket to wrap around herself for this one. If only it were blue, it would be amazing.
Money Talks
When you have so much money that you start to think all those presidents are speaking to you. Also, have you ever noticed that some celebrities feel the need to flaunt their wealth by posing with stacks of money? We know you are rich, there is no need to rub in in our faces.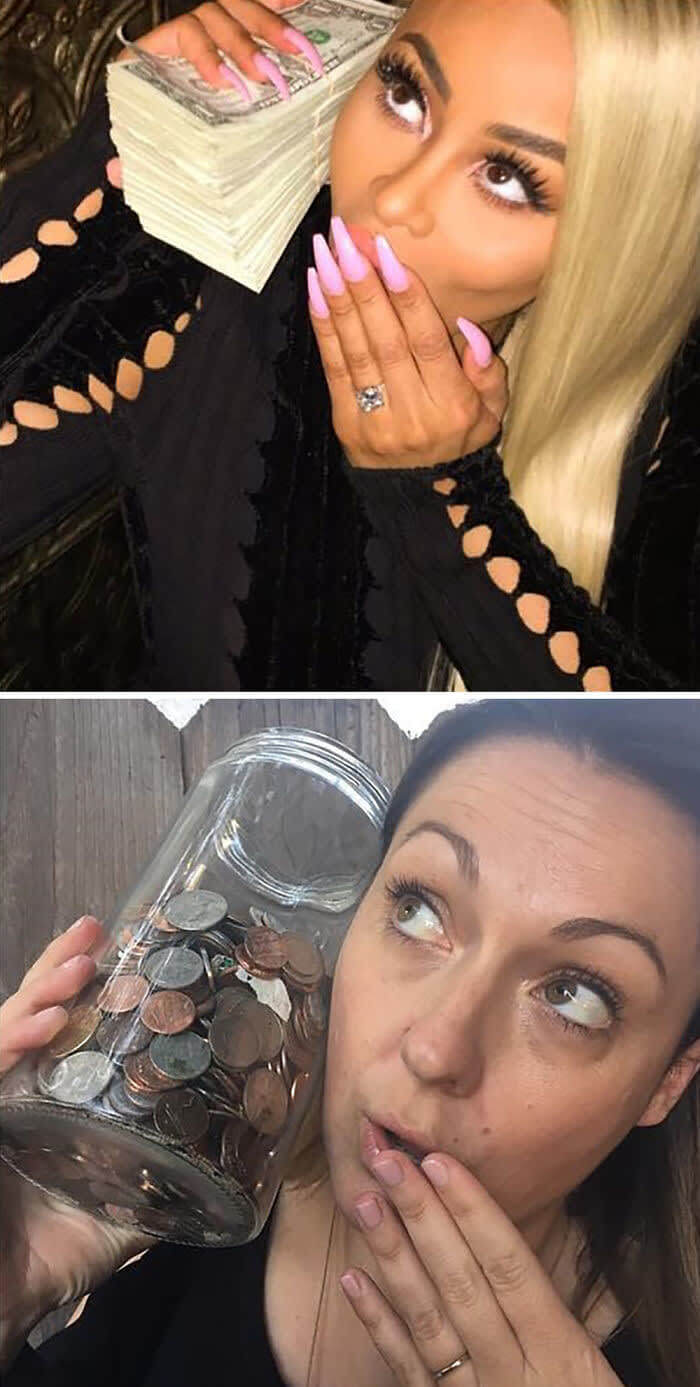 On the other hand, does anyone else keep a jar of change that they don't know what to do with? Like Celeste, the jar of coins is more realistic that stacks of $100.
Trying To Do Yoga For The First Time
"Hurry up and take the photo, all the blood is rushing to my head!" The top photo is trying to sell the lingerie, but we don't understand why they made her do a pose like that.
She looks like she is doing a mix of downward dog and something else that is uncomfortable.
"What Are You Doing In My Closet?"
"Ma'am, please put your clothes back on. This is a public place, and you are making the other customers feel uncomfortable."
Chrissy Teigen has shared that she loves to be nude, but why does someone else have to be there to stare at her?
Fresh Out Of The Shower
When you get out of the shower and wrap yourself in a warm towel, it is a refreshing feeling. While not everyone looks as glamorous as Alessandra Ambrosio, we can all pretend.
Celeste is feeling her post-shower look, and we don't blame her. It is like playing dress-up with a towel as your wig.
What Else Would You Wear To Do Laundry?
It's hard to believe that Paris Hilton might actually do her own laundry, but if she did, she would wear that silver suit.
Doing laundry is tedious, and when it starts to pile up, it is not fun to do. It is even worse when you have to do laundry for your children or husband, and not just yourself.
When You Spend All Your Money On One Article Of Clothing
When you had to have that designer skirt, but it was so far out of your budget. Instead of saving up for it, you bought it and decided to sacrifice buying groceries for a few weeks.
Then once you have it, you realize you have nothing that pairs with it, and it is too fancy for any event you have coming up.
Going On An Adventure
Take your family on vacation, they said. It will be fun, they said. When you take your children on vacation and have to bring so many extra things with you to accommodate young kids.
Karlie Kloss has all that luggage just for herself. How many outfit changes does she have planned with all that luggage?
When You Need To Be On The Phone All The Time
"Hey, what are you up to?" "Oh, nothing just sitting in the bathroom." "You're calling me from the bathroom?" "Obviously, why else would I have a phone in here."
Have you ever noticed that hotels have phones in the bathroom? Who is that for, and why are they calling while sitting on the toilet?
"Where Did This Chair Come From?"
When you buy a new swimsuit and want to take pictures in it right away even though you are not at the beach or pool. Kylie found a solution to that problem; bring a chair and have a photoshoot in the backyard.
Why is the folding chair necessary? What did it add to this photoshoot?
Sexy Selfie Expectation Vs. Outcome
When you buy a new bra and underwear and want to take a sexy picture in it with the expectation of looking like Emily Ratajkowski, but then you see the selfie and realize no one looks like her.
Even if you aren't a model, all bodies are beautiful in their own way and you should be proud of yours.
"I Do Not Bend Like That"
When your yoga instructor and photoshop guy are on vacation so you can't make yourself look like Miranda Kerr.
How did she manage to bend like that in the left photo? It looks like her torse is not connected to her legs.
"Have You Seen My House Plant?"
When you get a new house plant and want to subtly show it off to all your friends on the internet.
To get the perfect shot, you wear an outfit that matches the plant and casually holds one of the branches.