Growing up, you probably had rules set by your parents from having a curfew to doing chores for an allowance. While you may have felt like you were the only one who had strict rules, you aren't alone; celebrity children also have rules to follow. Despite having superstars as parents, these children have to follow some surprisingly shocking rules. Keep reading to find out what parenting style your favorite celebrity uses.
1. Jennifer Lopez Says Every Sunday Is Family Day
When your mom is J.Lo, your life is anything but ordinary. Although her children have access to things that others do not, that doesn't mean they can do whatever they want.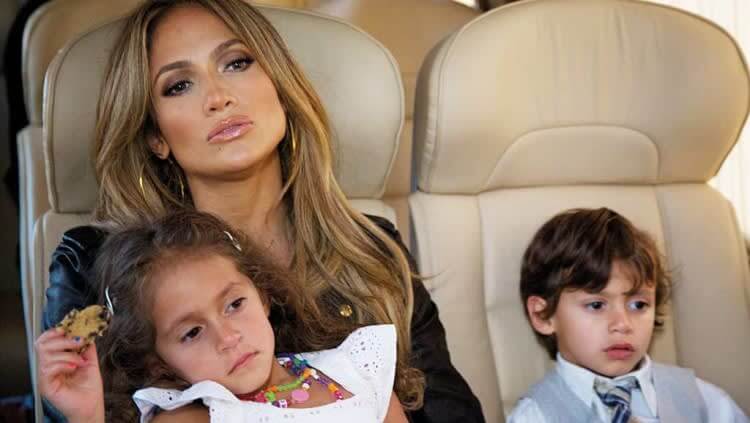 Jennifer Lopez is known for being a strict parent and requires her family to be together every Sunday. She wants her family to remain close, and that means setting aside one day a week to do activities together.
2. Mariah Carey Regulates Internet Usage
While her powerful voice has been questioned, her parenting style hasn't. Her two children, Morrocan and Monroe, are used to having lots of freedom at home, which has led to her setting stricter rules.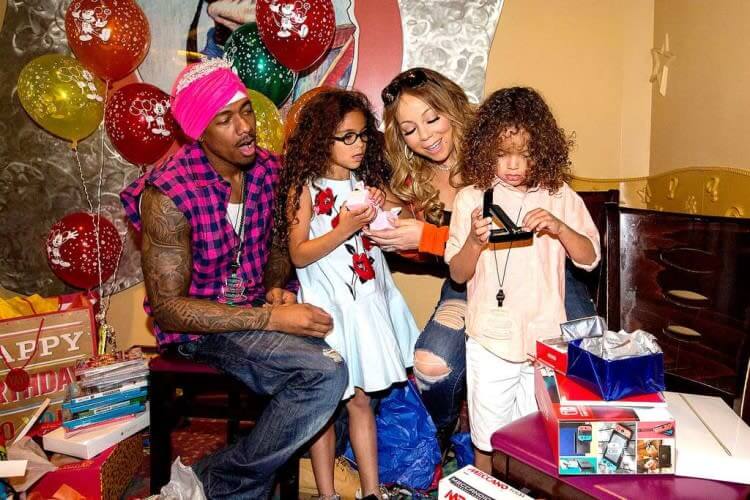 Once, her son Morrocan placed a $5,000 order from Amazon, and luckily they were able to cancel it in time. This led to having internet and credit card usage more regulated.
3. Kylie Jenner Is A Germaphobe
Can you imagine having Kylie Jenner as you mom?? She may be a young, but that doesn't mean Kylie Jenner has no rules for her tiny tot.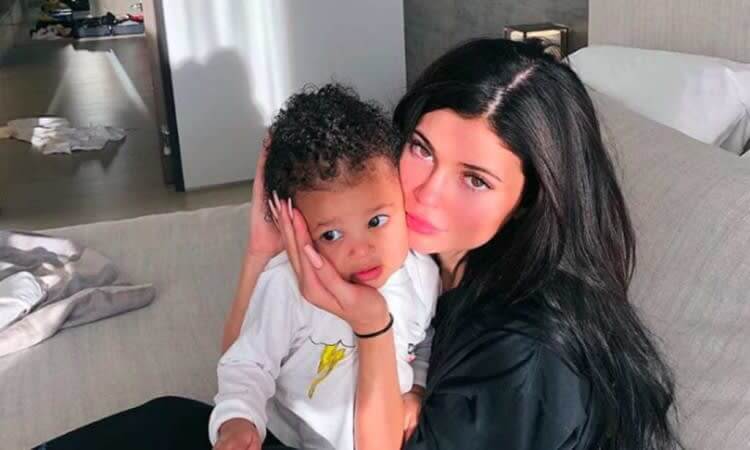 The young billionaire is known for being a germaphobe, and while her daughter Stormi was a baby, she required everyone to wear face masks in her home.
4. Beyoncé Makes Sure Her Kids Have Security And Chic Vehicles To Travel In
As one of the biggest names in music, Beyonce has decided to take a different approach when it comes to parenting. Since she is so famous, her children need extra security because they get recognized everywhere.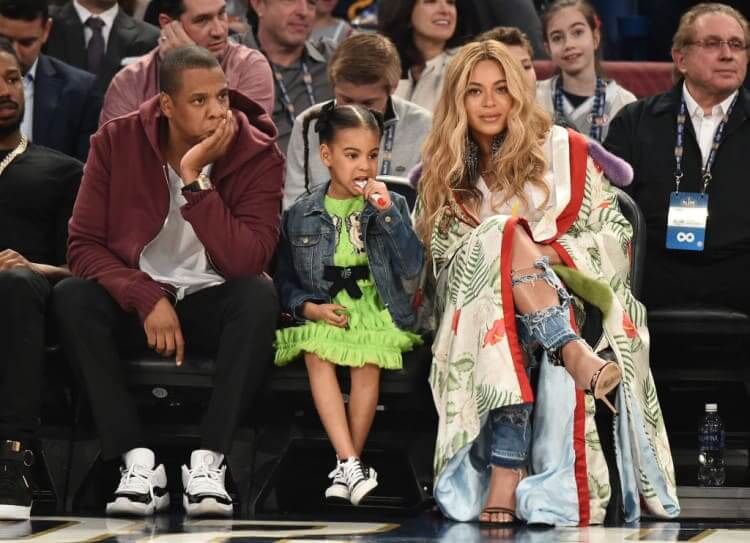 Not only does her oldest daughter, Blue Ivy, have extra security, she also has an entourage of cars that take her to school every day. Other people who take their kids to this school get annoyed with the many vehicles that hold up traffic every morning.
5. Drew Barrymore Says No To Sweets And Junk Food
Drew Barrymore was just a child when she started acting, and now she has two children of her own. She has put her career on the backburner to focus on spending time with her kids. While she is usually very liberal with them, she does have a few strict rules.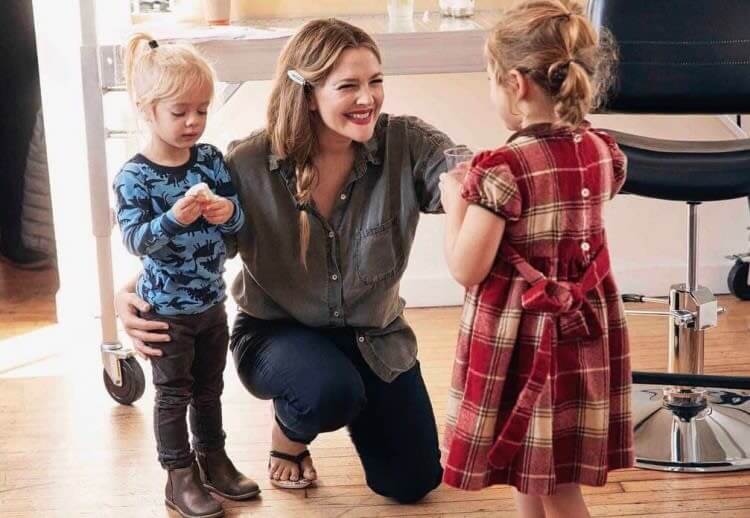 Apparently, she has a no TV rule in her home, and limits all junk food and sweets. She wants her children to grow up eating healthy.
6. Kim Kardashian And Kanye West Don't Allow Televisions In Their Bedrooms
Kim and Kanye are one of the most famous power couples in Hollywood, and they have four beautiful children. Their children are allowed to eat junk food unlike many other celebrity children, but they are not allowed to have TVs in their rooms.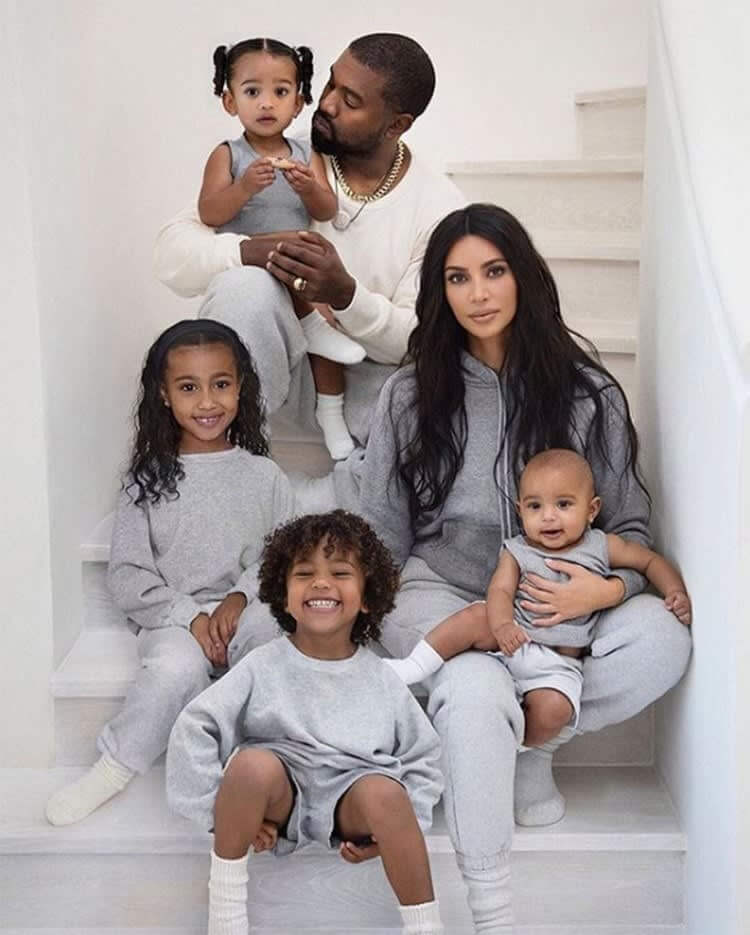 Their oldest daughter, North, loves makeup, but recently Kanye stopped allowing her to wear it. He is on a spiritual and religious journey that has made his parenting style more conservative.
7. Madonna Enforces A Macrobiotic Diet
Madonna is one of the most well-known singers in the world, and even with her busy career, she has six children. Her parenting style is definitely stricter than most. She has all her children on a strict macrobiotic diet and does not allow sweets, junk food, or dairy.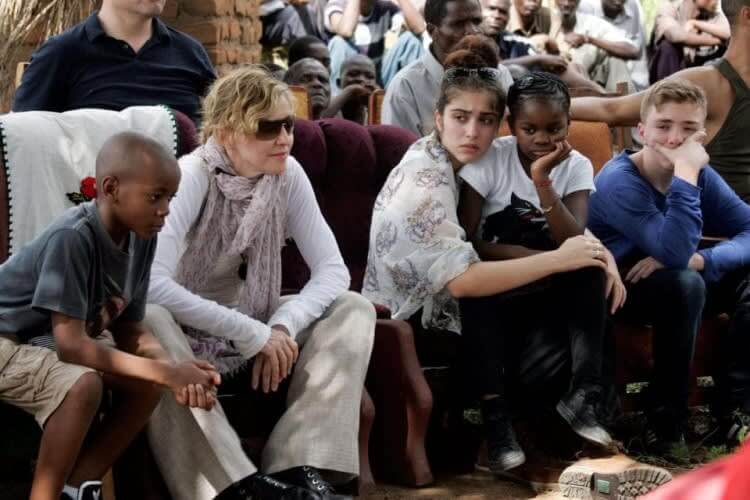 Because she is so strict, her oldest children, Lourdes and Rocco, have distanced themselves from her for being too controlling.
8. Kelly Ripa Regulates Phone Activity
Kelly Ripa is no stranger to being a disciplinarian at home. She sets rules for her children's cell phone use and even monitors their phone activity.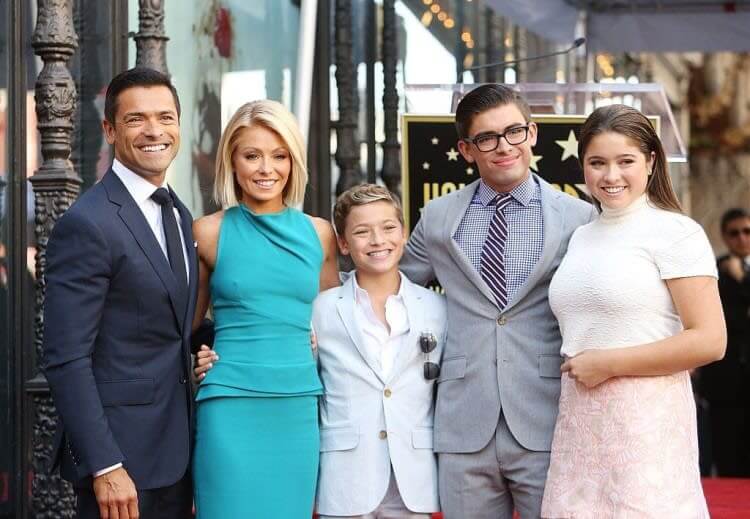 She has also admitted that she is not afraid to snoop through their rooms or phones.
9. Brad Pitt Wants More Structured Schedules
Brad and Angelina used to be a power couple before their messy divorce. One of their main arguments was how their children are being raised. Brad wants his children to have more structure and rules, while Angelina is much more laid back when it comes to parenting.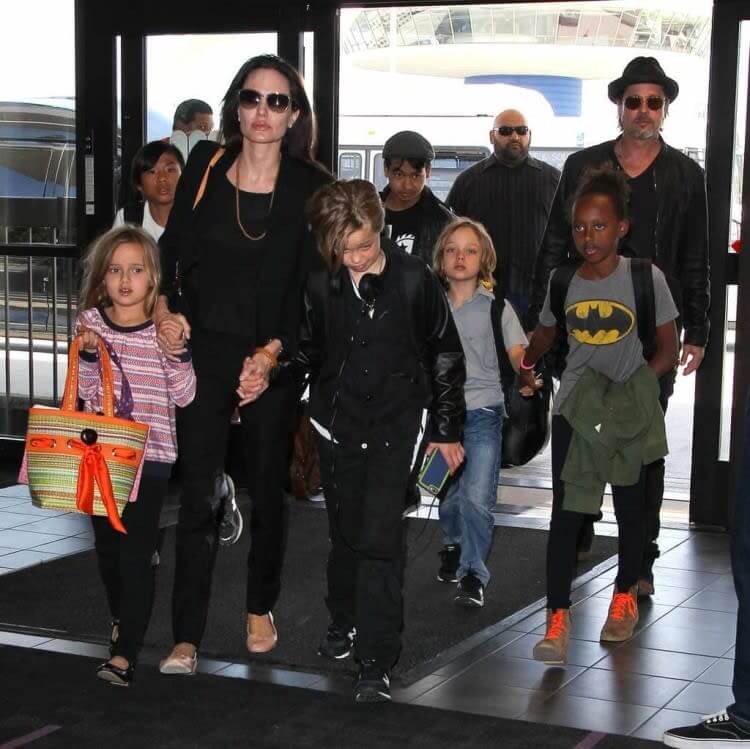 Angelina does not think formal schooling is important for her six kids. The only subject she enforces is language because she thinks it is essential for their development.
10. Kate Winslet Doesn't Allow The Kids To Jump On The Bed
Kate Winslet is what people refer to as a "helicopter mom." She is extremely overprotective of her two children, which is not always the best.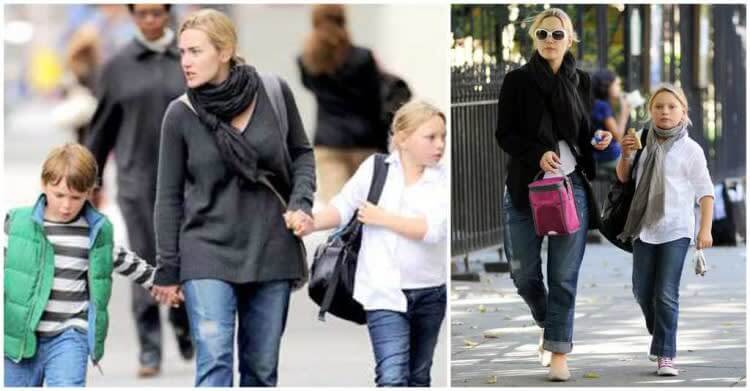 She monitors their daily schedules closely and doesn't allow them to jump on the bed at home. Maybe she watched the movie Bubble Boy one too many times.
11. Mila Kunis And Ashton Kutcher Say No To Christmas Presents
This is one of the most interesting rules on the list. Mila Kunis and Ashton Kutcher originally implemented a rule that they would not give their children Christmas presents.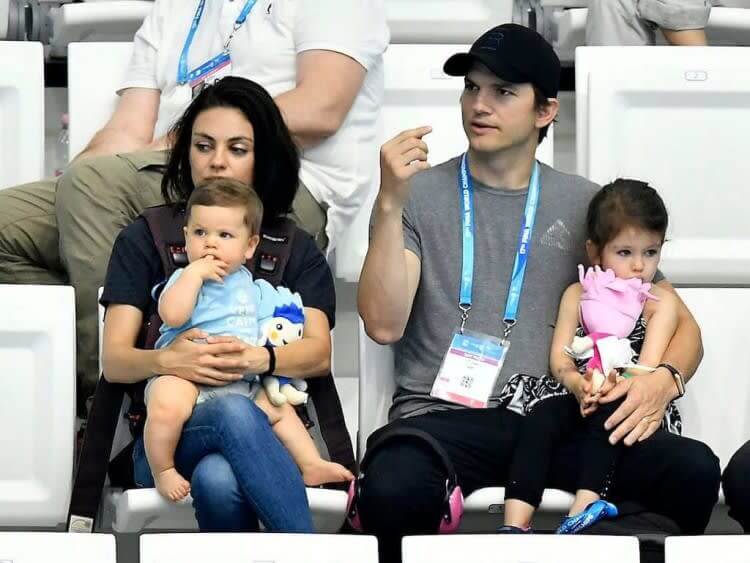 It only lasted for one year, but the idea was so that their children won't become materialistic as they grow up. She would prefer them to understand that holidays are about family rather than gifts.
12. Christina Aguilera Teaches Healthy Eating
Christina Aguilera has been in the spotlight for a long time. She understands what the pressure to look perfect can do to a person's mental state. Therefore, she wants her children to have a healthy relationship with food.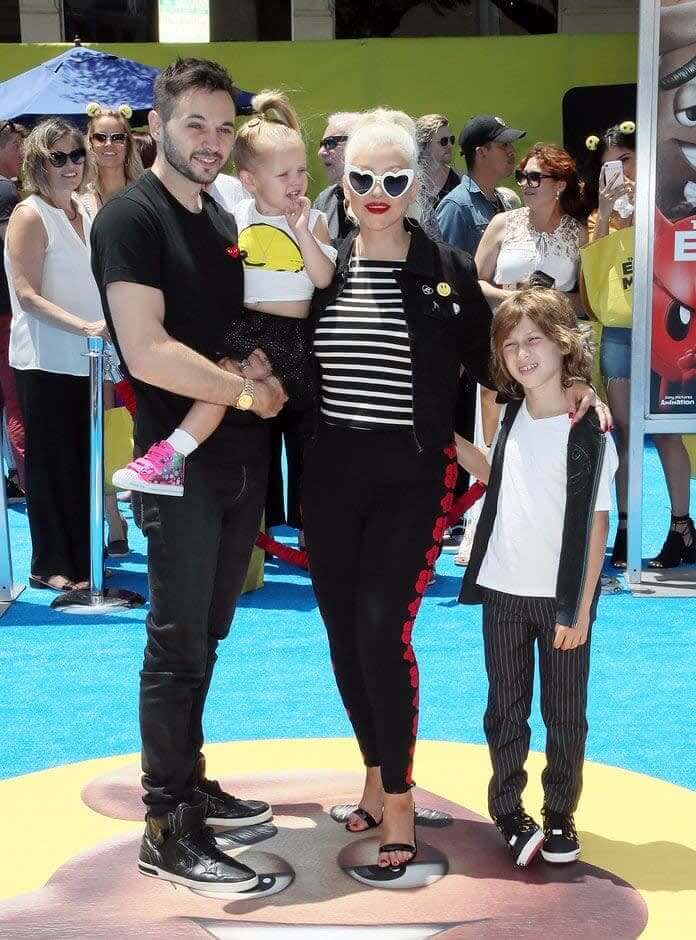 While she encourages a healthy diet at home, she also wants her children to know how to eat properly and be comfortable with the food they eat.
13. Gisele Bündchen Uses Elimination Communication
The world-famous supermodel has a unique and controversial style of parenting. Bundchen is known for using the "elimination communication" style.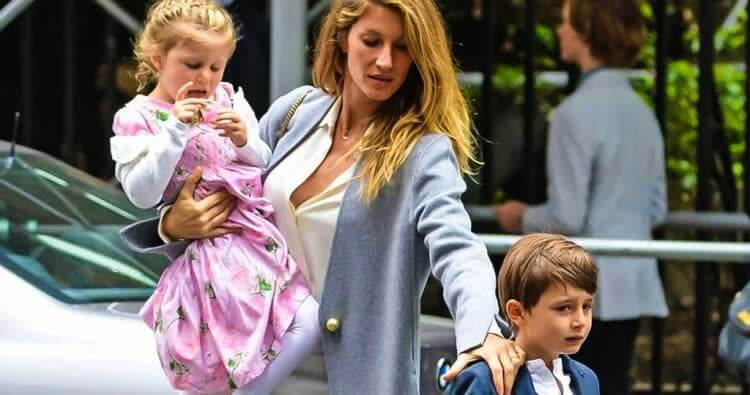 This means that instead of using a diaper, she focuses on cues and facial expressions as a sign that they need to go to the bathroom.
14. Celine Dion Doesn't Enforce Haircuts
"My heart (and hair) will go on!" Celine Dion is known for her incredible vocals, and now she is known for her interesting rule for her sons.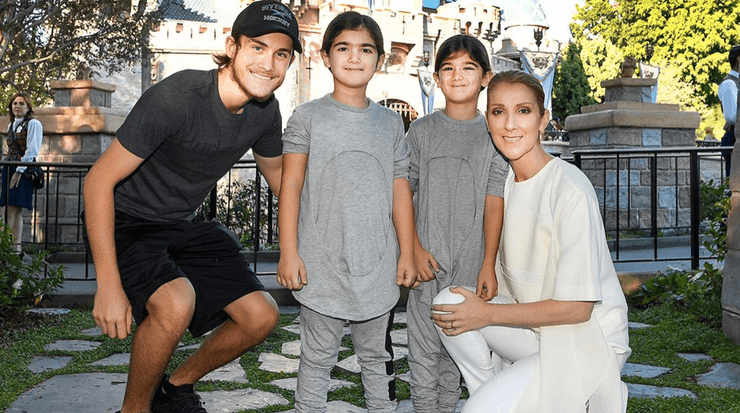 She has decided to allow her kids to choose when or if they will cut their hair. She wants them to have the freedom to choose their style.
15. Katie Holmes Enforces A Dress Code
Katie Holmes and Suri Cruz are known as the dynamic mother-daughter duo. They can regularly be spotted walking the streets and shopping in New York City.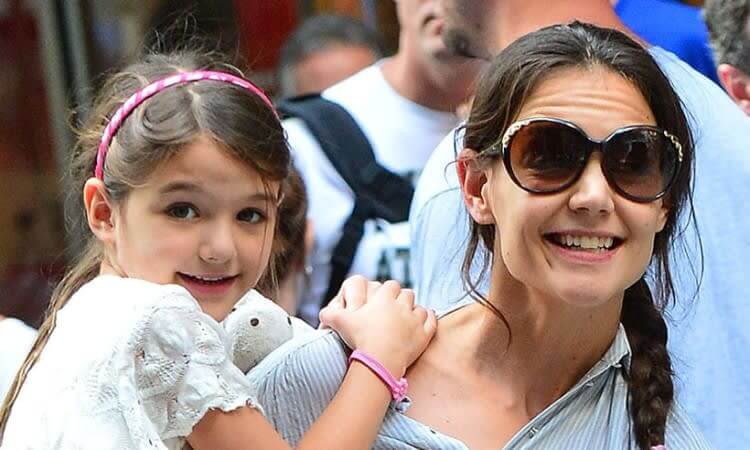 Although she allows Suri to pick out her own clothes, she makes sure her daughter is dressed modestly and age-appropriate.
16. Gwyneth Paltrow Only Allows Spanish And French TV
Everyone is aware that Gwyneth Paltrow makes healthy living and eating a priority, and she passes that along to her children. She also only allows TV when the shows are in Spanish or French.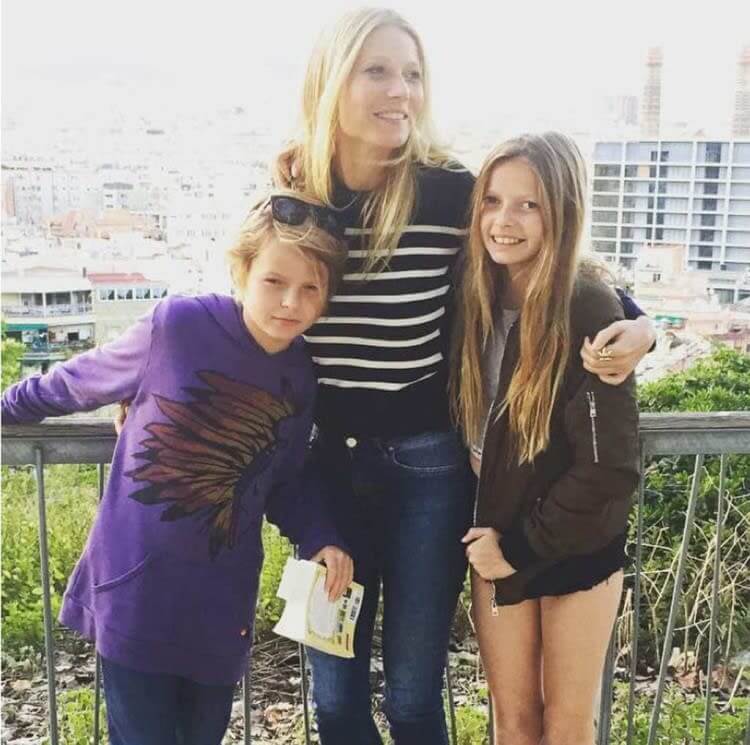 After spending some of her childhood in Spain, she wants her children to be comfortable with many languages.
17. Julia Roberts Doesn't Allow Excess Sugar
Julia Roberts has three amazing children, and she is adamant about keeping them calm at all times. This means that she is strict when it comes to allowing her children to eat sugar.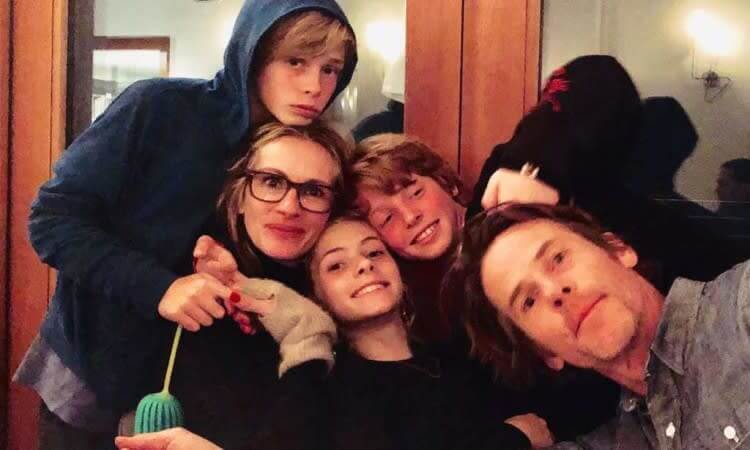 No sugar rushes are happening in Julia Roberts' house. Having three children and a full-time career is hard enough without making your kids hyperactive.
18. Denzel Washington Is Addressed As "Sir" By His Children
Denzel Washington is a Hollywood legend. As a father, he is loving and supportive, but he likes to keep things old school. When his children address him or his wife they have to say "yes sir" or "no ma'am."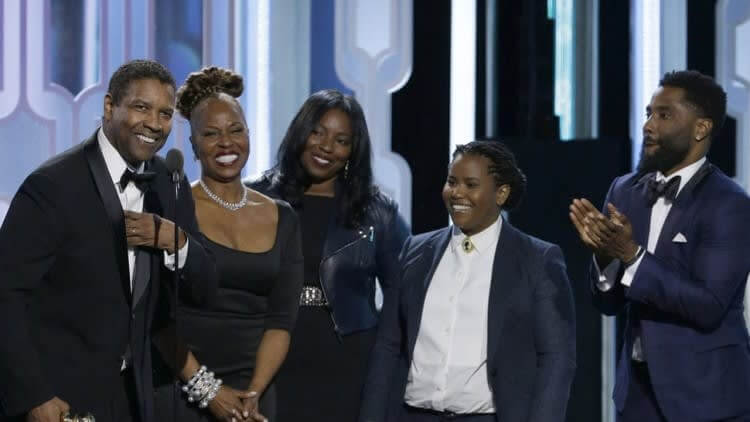 He has excellent relationships with his children, but he also wants them to continue to respect him no matter how old they get.
19. Victoria And David Beckham Are Strict With Manners
Not only are David and Victoria Beckham a power couple, but they also make beautiful children. Despite their celebrity status, they want their children to remain polite and humble. Victoria is very strict when it comes to her children always saying "please" and "thank you."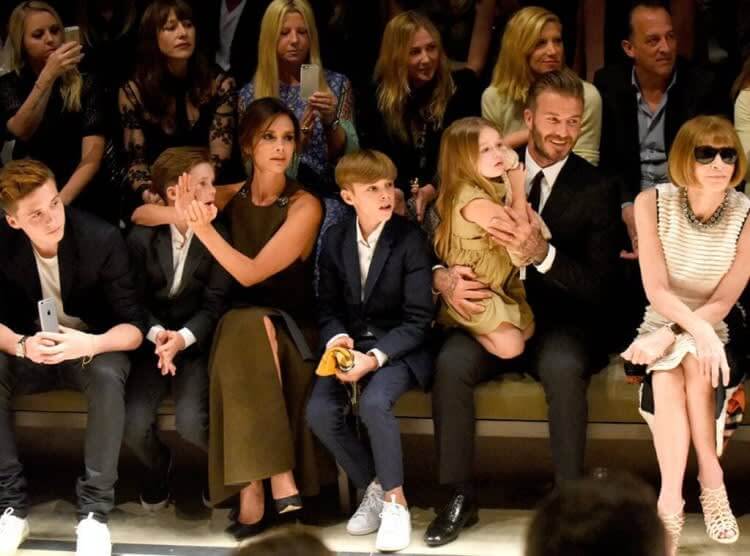 Since they are an active family, their diet is very important. Everyone in the family is vegan and they all eat healthily.
20. Jamie Oliver Doesn't Allow Junk Food In The House
Jamie Oliver is a world-renowned chef who has a mission to teach people that healthy food can be delicious too. As a father, he is strict about his children's diets.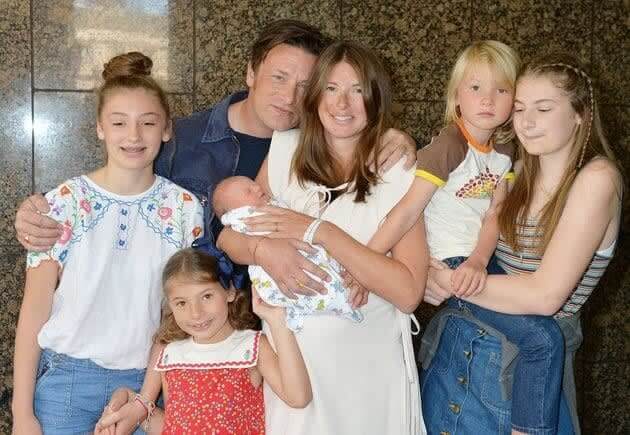 There is absolutely no junk food allowed in their house because healthy eating is the key to success. In Jamie's house, junk food is a crime.
21. Megan Fox Limits Technology At Home
Despite her busy schedule, Megan Fox makes her children her top priority. When she is home, she is strict about the use of technology.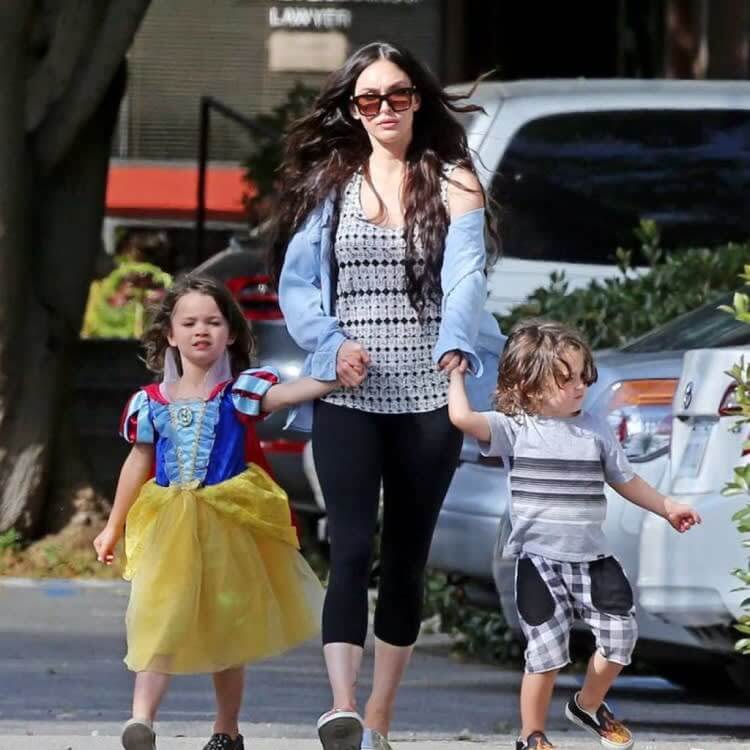 She wants her children to read books rather than watching TV or being on their iPads.
22. Bill Gates Didn't Allow Cellphones Until His Children Were 13
It must be interesting to have Bill Gates as your father. As one of the richest men in the world, he worked hard to get to where he is today, and he is not letting his children off easily.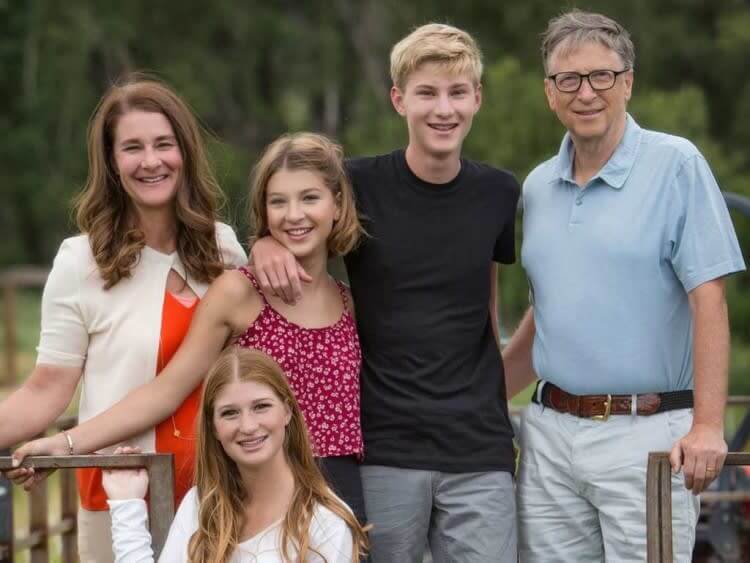 Despite being a leader in the world of technology, he decided that his children had to be 13 before they could have a cell phone.
23. Kate Hudson Enforces Politeness
Kate Hudson knows what it is like to grow up with famous parents because she is the daughter of Goldie Hawn and Bill Hudson. Since she grew up in the public eye, that has influenced her parenting.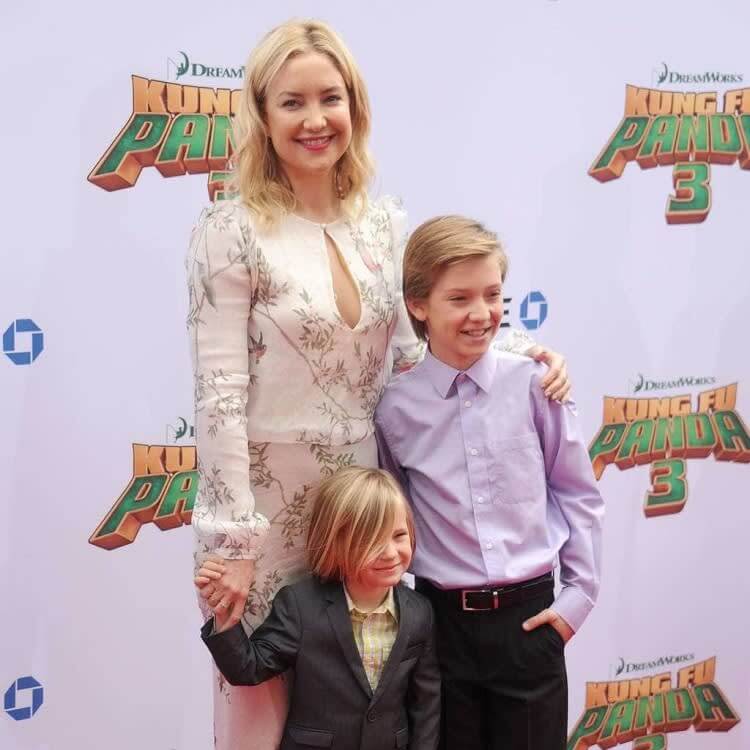 Hudson makes sure her children have good manners, and they learn how to express themselves in a calm way rather than acting out.
24. Kourtney Kardashian Practices Co-Sleeping
Unlike her sisters Kim and Kylie, the oldest Kardashian has a much different parenting style. Kourtney practices co-sleeping with all three of her children. She sleeps in their beds with them until they are ready to sleep on their own.
She also has strict rules when it comes to eating. Her children are gluten, dairy, and corn-free.
25. Julie Bowen Sets Personal Limits
Julie Bowen is a successful actress who has a busy career. She makes sure to set personal limits so that she can spend time with her children.
She also believes that being a child's best friend is not the best parenting choice. She makes sure to let them know that she is the parent, and they have to follow her rules.
26. Jessica Alba Gives Time-Outs
Jessica Alba's motto with her children is, "Go to school, do well, and treat others well." Despite being an A-list celebrity, she wants her children to know how to work hard.
Alba believes that disciplining her children is essential for a good upbringing.
27. Mayim Bialik Practices Attachment Parenting
Did you know that, like her Big Bang Theory character, Mayim Bialik also has a P.h.D in neurophysics? She is a brilliant woman and also has an interesting style of parenting, attachment parenting.
Attachment parenting includes natural childbirth, wearing a baby sling, and breastfeeding for a long time. She breastfed one of her children until they were four years old.
28. Cate Blanchett Makes Her Husband Do The Disciplining
Cate Blanchett is a legend on-screen and an amazing mother off-screen, although she doesn't enjoy having to be the bad cop.
When her children do act up, she makes her husband do the disciplining. That's one way to get things done.
29. Ryan Gosling & Eva Mendes Refuse To Hire A Nanny
Ryan Gosling and Eva Mendes are two huge names in Hollywood. Although they can afford nannies and a vast mansion, they prefer living a simpler life.
They have two daughters, and they refuse to hire a nanny, and if they need help, they ask their parents. They want their children to live normal lives.
30. Sheryl Crow Doesn't Allow Video Games
Singer-songwriter Sheryl Crow has two adopted sons. She brings them with her everywhere she goes, including on tour.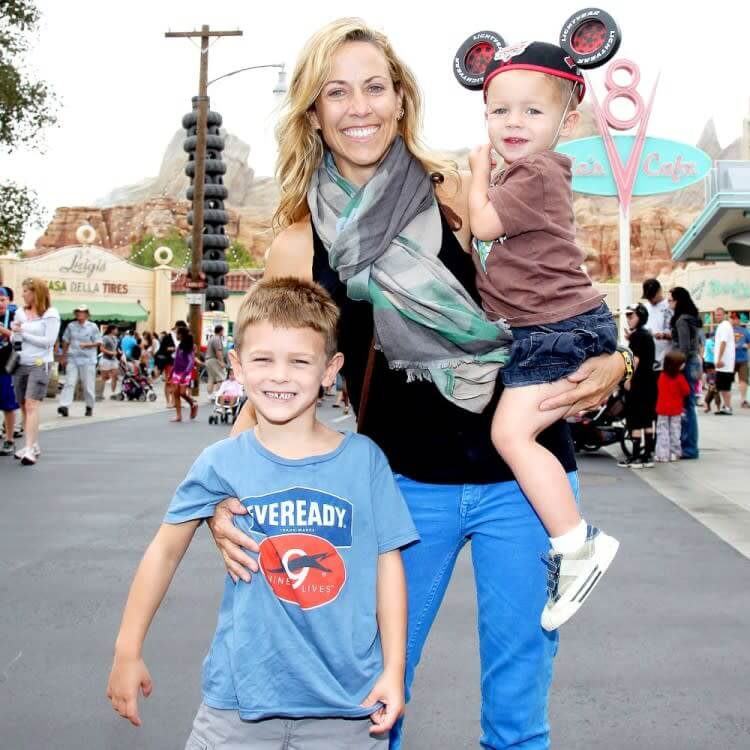 At home, she doesn't allow video games because it is too distracting.
31. Kristen Bell & Dax Shepard Have Rules About Respecting Family
Kristen Bell and Dax Shepard have been very open about their parenting styles. Bell even has a mini-series called Momsplaining. They have set strict ground rules and do not respond when their children have tantrums. Instead, they let them calm down and then address them.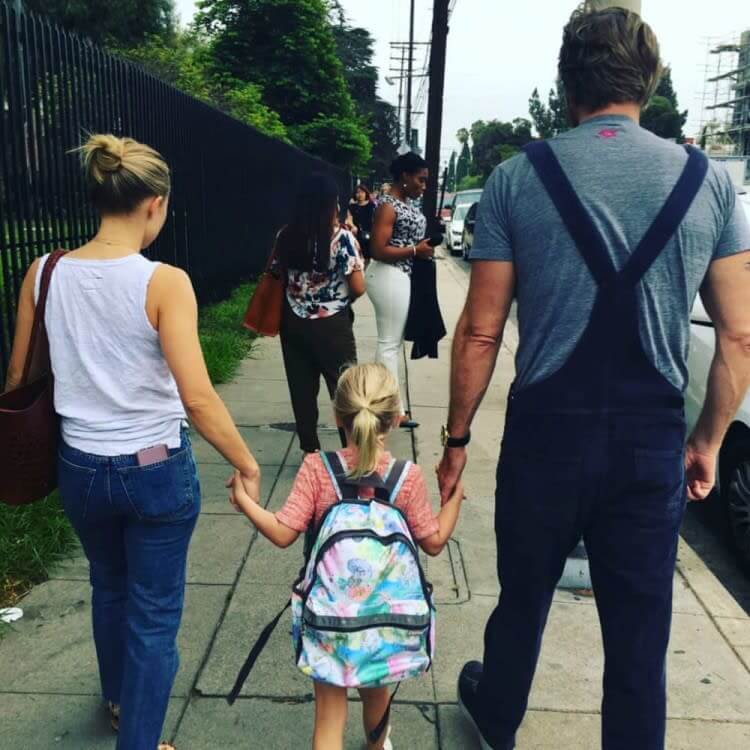 They also make sure that their children treat others with respect, especially family members.
32. Jennifer Garner Has A "Yes Day" Each Year
Even celebrity parents get called "fun killers," just ask Jennifer Garner. She has said that her children call her "lame" and said that she says, "no" to everything. She has thought of a way to combat this.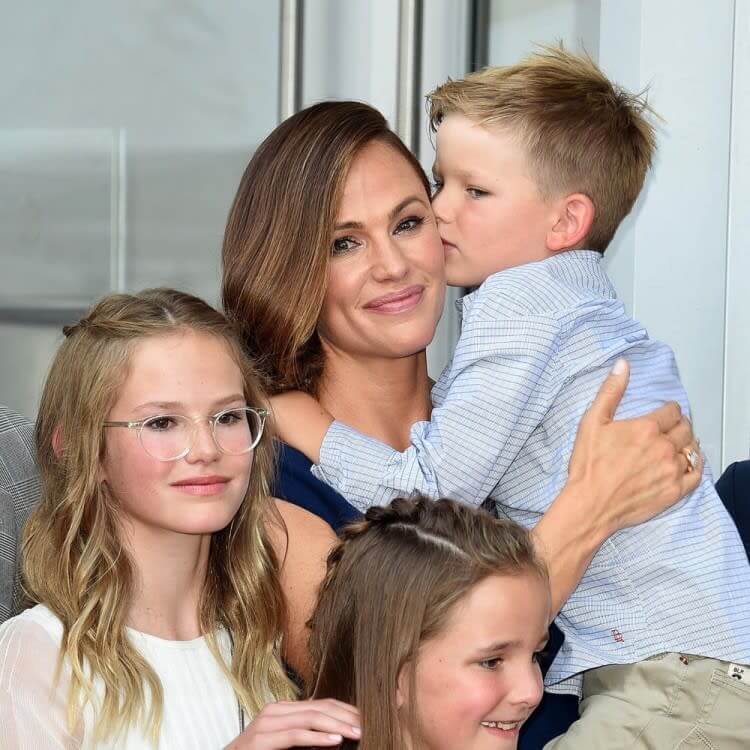 Each year she has one day that she says "yes" to everything. It is all within reason, of course.
33. Hugh Jackman Reminds His Children To Be Grateful
If you had celebrity parents, you would think you would have access to anything you want. Well, Hugh Jackman does not want his kids to be raised like that. He is tough on his children because he wants them to be grateful for everything they have.
Jackman is constantly talking to his children about respect and gratitude. He grew up modestly and he wants his children to be the same.
34. Gordon Ramsay Doesn't Allow His Children To Fly First-Class
"We're flying first class up in the sky," or not! World-renowned chef Gordon Ramsay has the ability to afford a private jet, but he does not want his children to be materialistic and spoiled.
Even on a commercial plane, he doesn't let his children fly first class because they haven't worked hard to afford it. Seems fair!
35. Solange Knowles Has A Three Step Parenting Method
Solange Knowles had her son when she was just 17-years-old. Although she was young when she had him, she is not afraid to discipline him. She uses a three-step method when it comes to dealing with him disobeying her.
First, she gives him a look and talks. Second is taking something away, and the third is unknown because she never lets it go that far.
36. Candace Cameron Bure Spanks Her Children
Candace Cameron Bure grew up on television as the loveable DJ Tanner on Full House. She must have taken some parenting tips from the show, right? Well, Candace has some interesting rules for her children. She believes spanking is okay when necessary.
If her children willingly disobey her rules, she implies strict punishment with a hard pat on the behind. Many people disagree with this, but each parenting style is different.
37. Alicia Silverstone Doesn't Use Diapers
"As if!!" The Clueless star has been very open about her liberal parenting style. Some people disagree with her decisions, but she wants to be open to those who want information.
She decided not to use diapers for her children because she believes infants are happier without them. She also has been seen chewing food for her children like a mother bird.
38. Penelope Cruz Follows RIE Parenting
Penelope Cruz has been very open in the media about her RIE parenting style. RIE parenting is summed up as awareness for our children. This means acknowledging them as unique and separate people.
She lets her children find their interests and sources of entertainment. The idea is to treat babies like adults.
39. Jada Pinkett Smith Allows Her Kids To Make Their Own Rules
Both of Jada Pinkett Smith's children have grown up very publicly. At young ages, they had successful music and acting careers. This might be due to the parenting style of Smith. She allows her children to make their own decisions.
She does not punish her children, and when they do something wrong, they decide their consequences.
40. Chip & Joanna Gaines Limit TV And Video Games
The Gaines family is known for their TV show Fixer Upper. The couple lives in Texas with their four children, and they are particularly strict when it comes to TV and video games.
They also have a rule that their children won't get phones until they go off to college.
Photos Hilariously Edited By A Graphic Design Troll Who Takes Everything Very Literally
John Travis
This article was originally published on Kueez
People always want to improve their pictures, but not everyone knows how to use editing tools. That's where James Fridman comes in because he is a photoshop wizard who never disappoints. People send him their pictures with specific editing requests, and Fridman always delivers exactly what people ask for. He is a savage that will take people's instructions very literally, and it makes people think, "I should be more careful when asking James Fridman to photoshop my picture." Once you see these hilarious edits, it will remind you to be careful what you wish for. Continue scrolling to see how these people's pictures were hilariously improved with exactly what they asked for.
When Your Friend Is The Rock
Now, this lady can say that her friend is the Rock, and she can reply, "The Rock? You mean Dwayne Johnson, right?"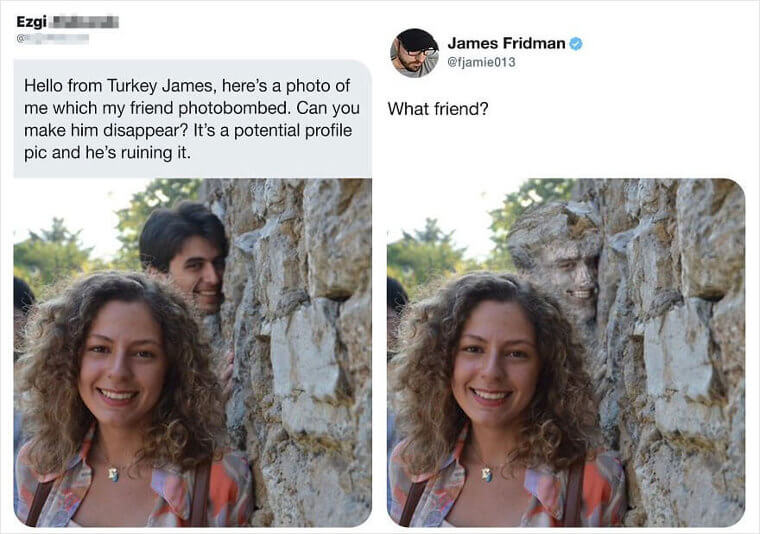 Fridman did an excellent job because it takes a second to notice that the rock in the background is her friend.
Be Careful What You Wish For
The witty artist did exactly as asked, and no one is complaining. This woman wanted the pole in front of her to be removed, and we see no problem with it. After all, she got what she wanted.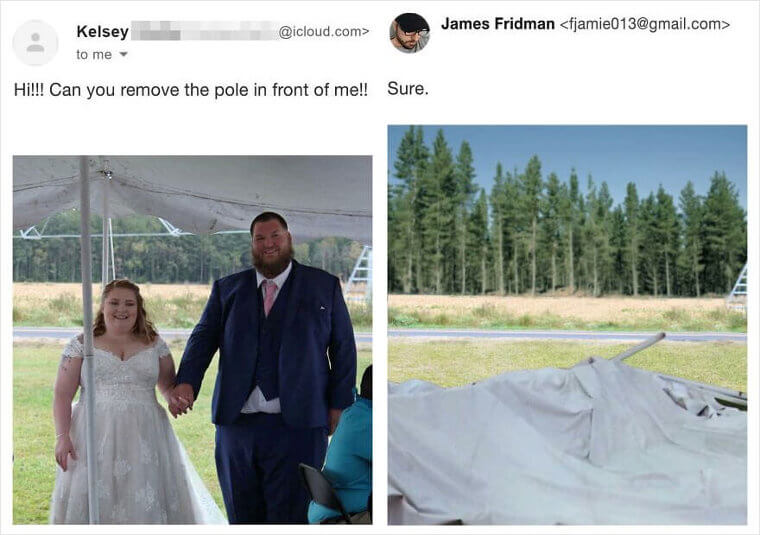 We cannot stop laughing at his dad joke-like interpretation of the request. One can hope the wedding did not come crashing down like in the photoshopped image.
When You Want To Keep Things Conservative For Your Mom
This guy wanted James to make the photo modest for his mom, and we cannot stop laughing at what he created. Who knows, maybe the mom saw the picture and had a problem with her son wearing his underwear outside.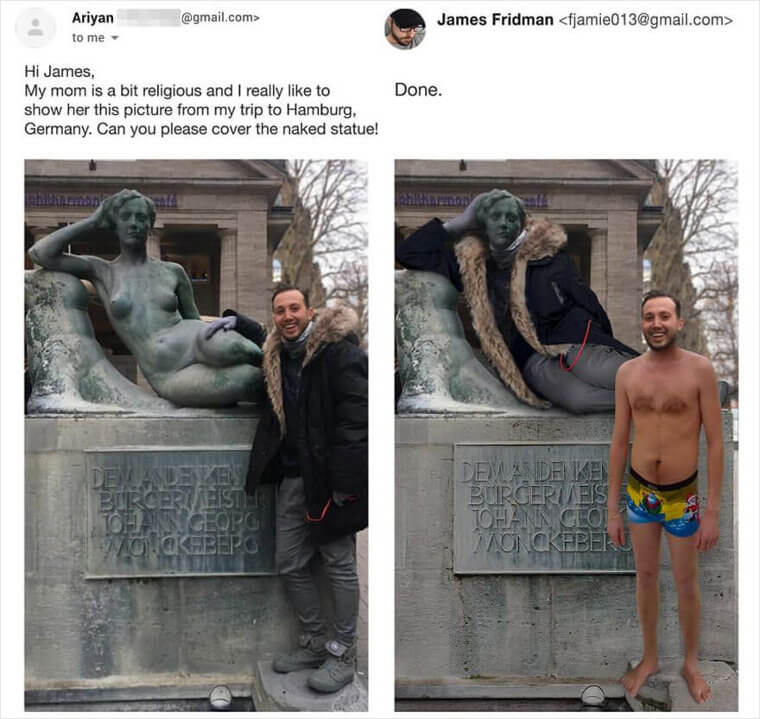 How on earth did James even photoshop it because the arm on the left is attached to the stone? This guy keeps impressing us with his wizardry.
That Was The Last Time He Wore White Pants
When she asked James to make her boyfriend as tall as her, we're pretty sure she didn't expect such a hilarious response. This creative work is not only very hilarious but also shows the artist's incredible photo editing skills.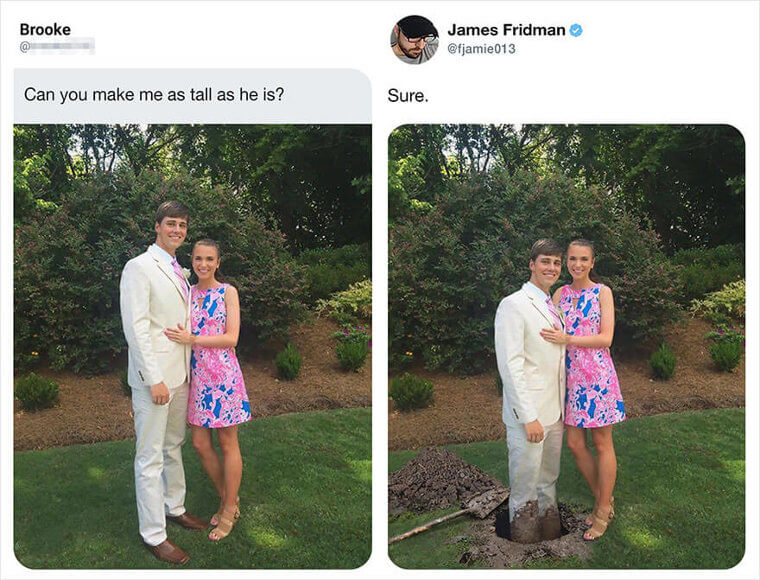 Instead of making her as tall as her boyfriend, he decided to bring the guy down to her level in the most creative way.
Is This Zoomed In Enough?
This is so hilarious as he did fix it in a way that the close-up photo of Diane could be used as a jump scare in horror movies.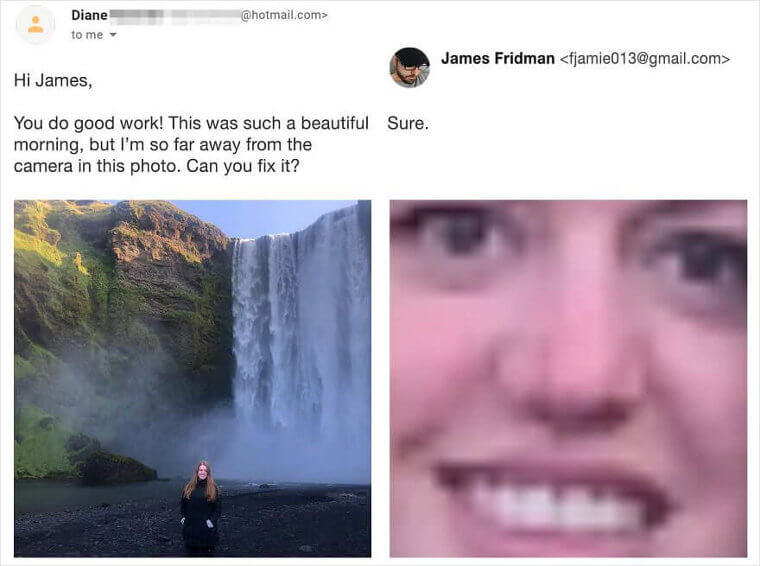 She did not say she wanted the background to be included. We have a feeling that it could become the next viral meme.
He Went From Matthew Child To Matthew Daddy Real Quick
James nailed not only the photoshop request but also the dad joke. It's funny, but what was he expecting when he asked to look more "daddy?"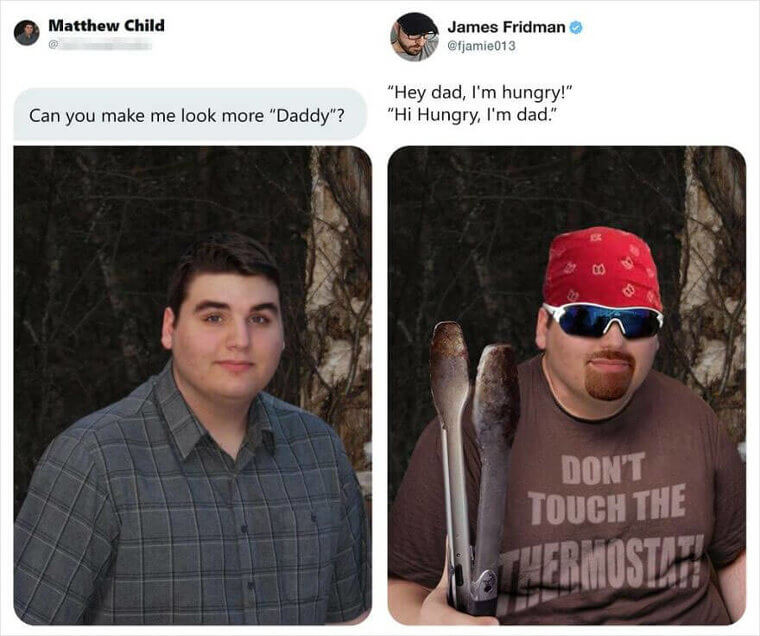 You can't see it visually, but you can almost hear him screaming about the electric bill if you look at the improved picture long enough.
That's A No-Brainer
We know by now that requests for James must be particular, or else he will create a literal version of what you ask for like this.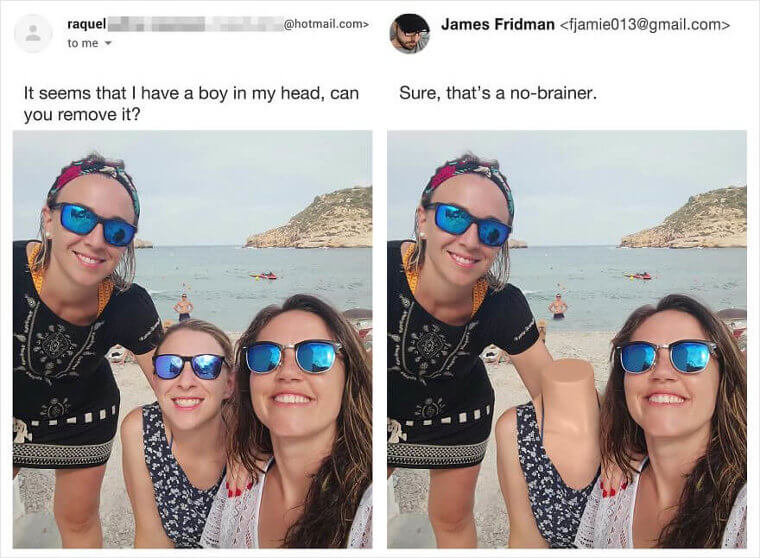 Instead, she should have written, "Can you remove the boy that is standing in the background?" He would have made something funny either way, but it would have been better than removing her head.
"I Could Have Done That Myself"
This man thought he would get a new photo with a full head of hair, but that's not how James rolls. He wants people to love themselves, so he just cropped the picture. The guy probably thought, "I could have done that myself."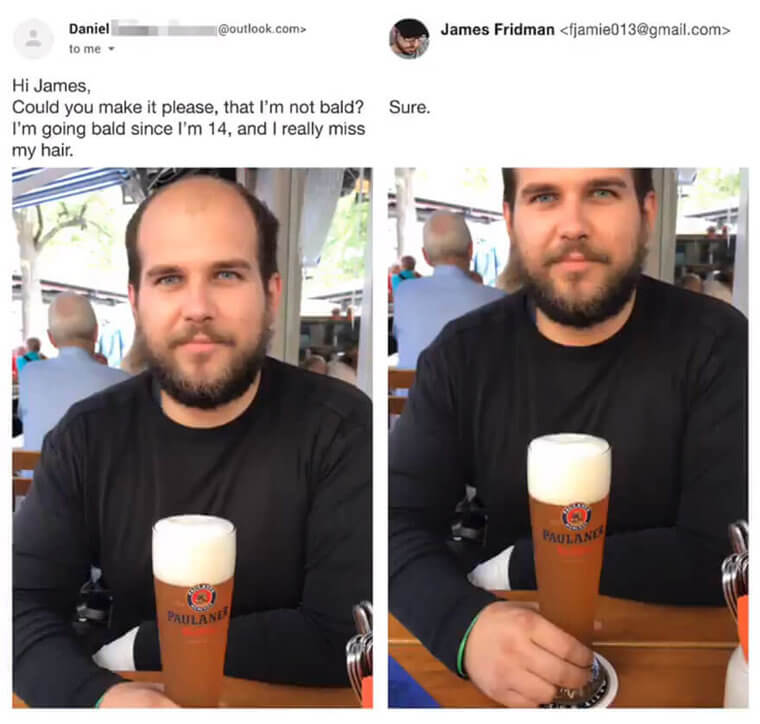 Hair alone doesn't make anyone handsome. It must've been hard to go bald so early in life, but he should embrace what he has.
James Is Not A Butcher, Lady!
This lady straight up asked James to make her boyfriend's feet short. Well, he did what he does best.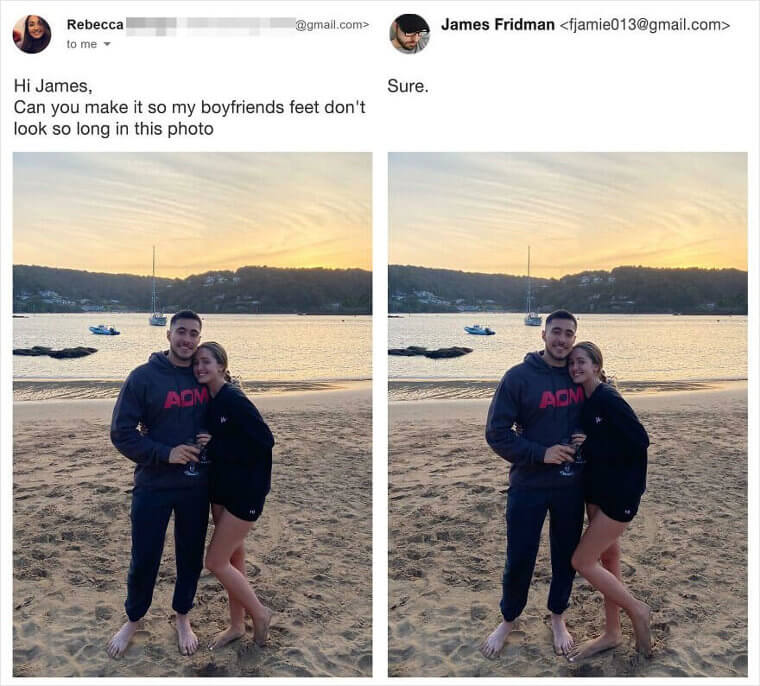 That was a weird request. However, this is the first time we have heard a woman complain that her boyfriend's feet were too big.
It's Like Where's Waldo
This guy didn't get any solo shots, and he thought he looked handsome, so he wanted to remove the other people from the picture. Unfortunately, he now looks like a loner in the background.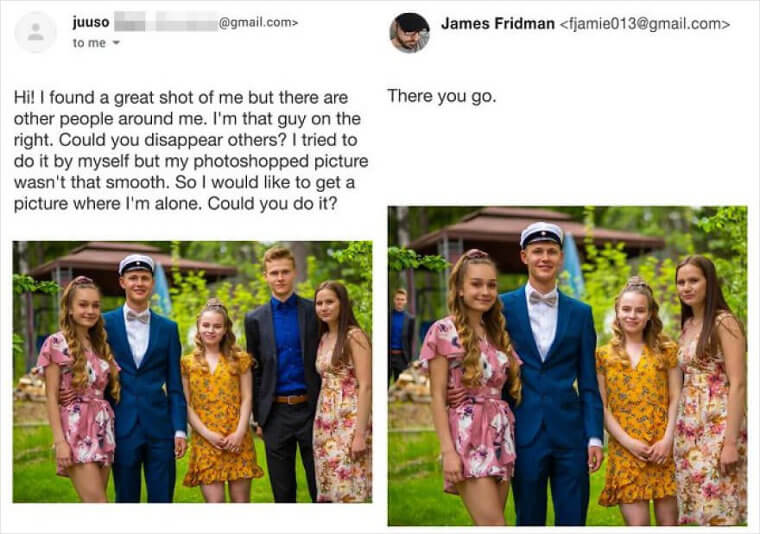 James probably thought it was hilarious that he asked to "disappear" the people. You can never be too careful when asking him to fix a picture.
May The Force Be With You
This looks adorable, and we hope the couple is still together after this hilarious photoshop. However, we want to ask one important question: Did she tell him, "I am your girlfriend" instead of "I am your father?"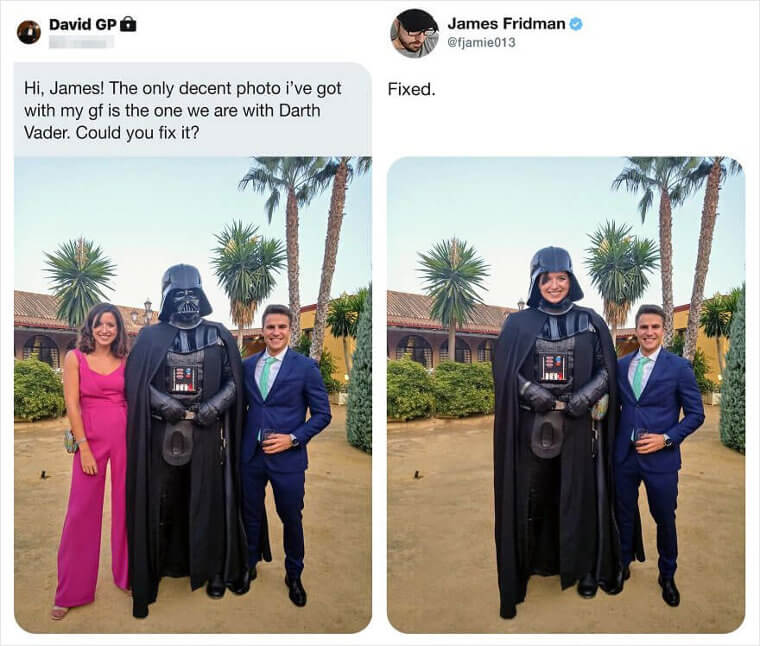 All this photo needs is baby Yoda. We don't see anything wrong with the original.
That Got Dark Quickly
Well, that's one sure way to bring the cow closer or make them run away. We are pretty sure the cow on the left is thought, "I wonder where Rachel went."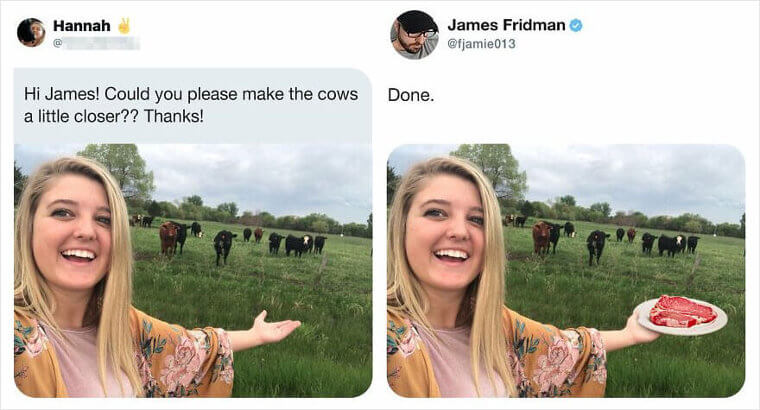 When Hannah requested that James make the cows look like they are a little closer, she wasn't expecting it to take a dark turn so quickly.
You Ask And You Shall Receive
We admire the twisted mind of James because who would not want everyone to see their chandelier in the family Christmas photo.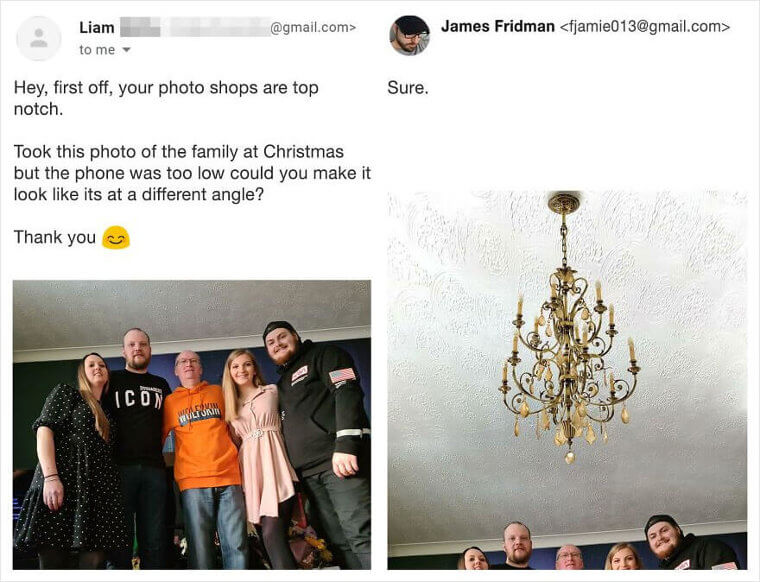 We think this photoshopped image is spot on. After all, it serves the dual purpose of showing what matters the most: a lovely chandelier.
He Is Definitely Dropping Something
Jim Morrison recorded "LA Woman" inside his bathroom, so who knows, this guy might have a big hit on his hands because he did the same thing.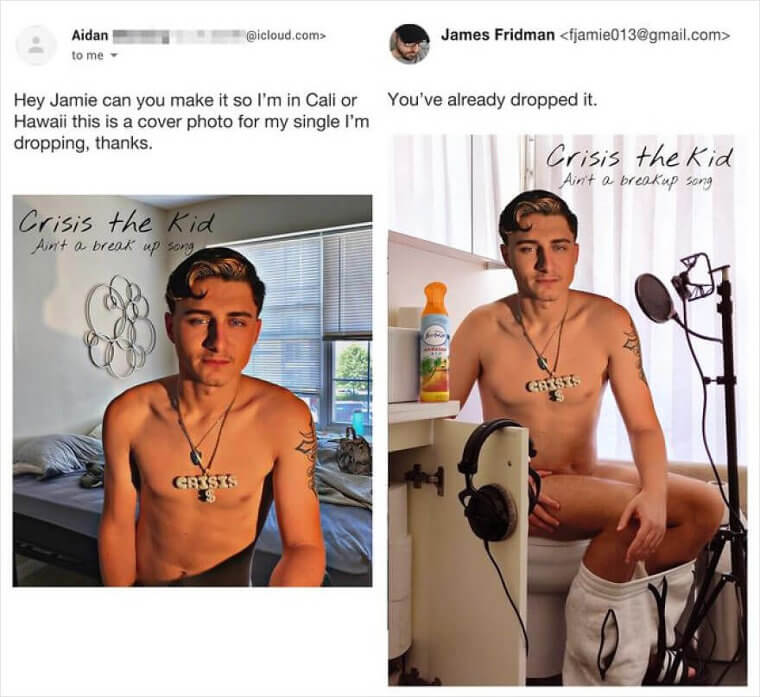 We have a feeling that his single will sell millions of copies. Is it just us, or does something smell a little off about this kid?
An Environmentally Responsible Tourist
This woman went to Greece and wanted her photo to look more classy. Well, she didn't say what kind of bag she wanted. James is creating awareness about littering, and we have more respect for him.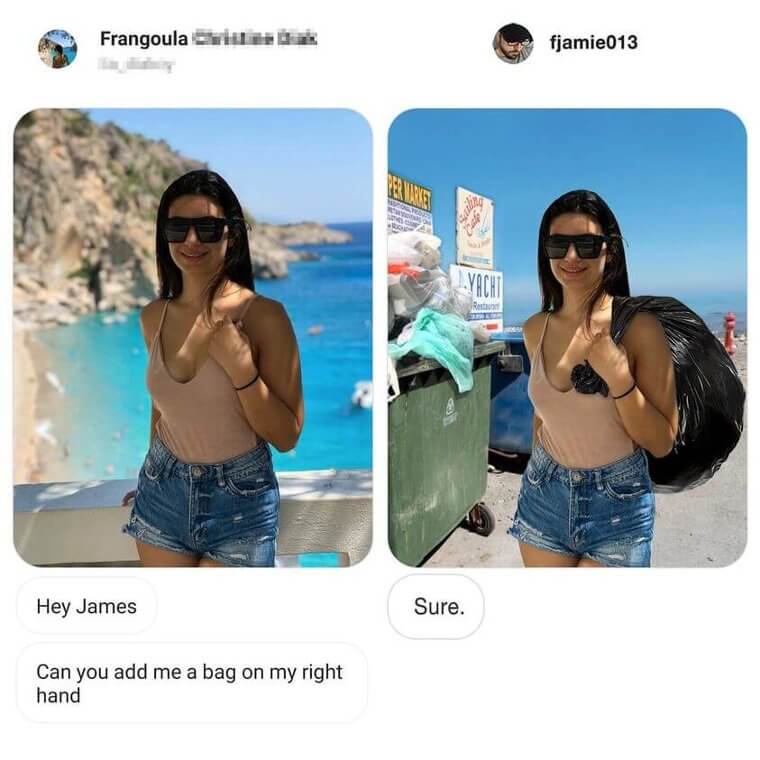 In a way, it looks like she's part of the beach cleanup— what a cute environmentalist.
Garden Of Love
James is a photoshop king for a reason. He is like that friend you ask to take your photo, but takes selfies instead of taking your picture.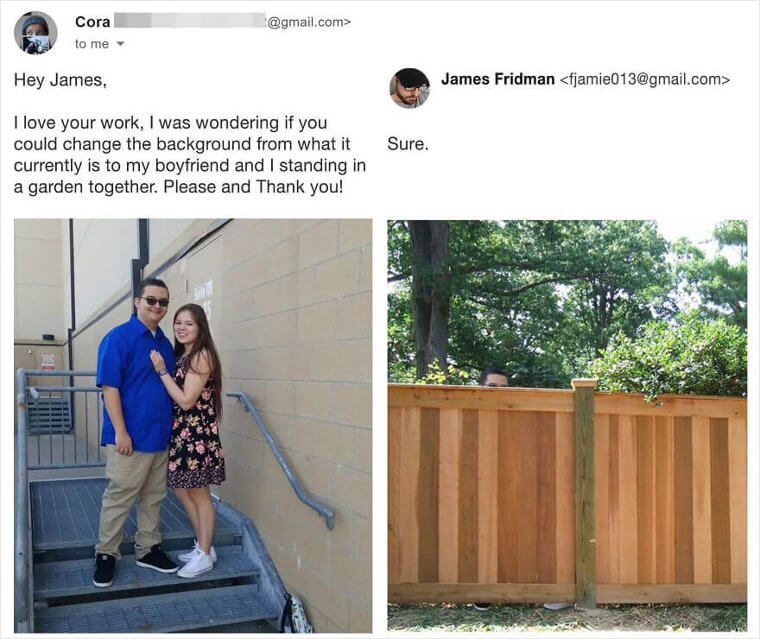 Don't be dismayed, Cora. We can still see your foot, and most importantly, now you have more privacy.
It Could've Been A Lot Worse
All we have to say to James is that he did an excellent job with the hand placement. We really needed some humor during these testing times, and James offered a helping hand.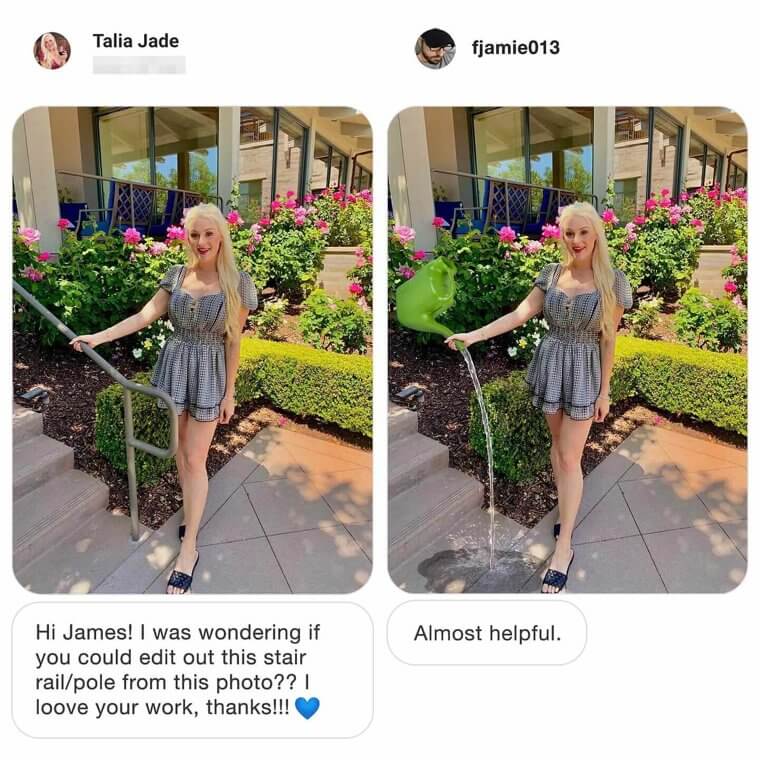 James could have gone with other options as well. For example, he could have put a lightsaber in her hand, an umbrella, or even a Samurai sword.
We're Not Crying, You're Crying
This is so lovely, and we are glad he told her that. Sadly, she thinks she has to look 'normal' while she is already beautiful.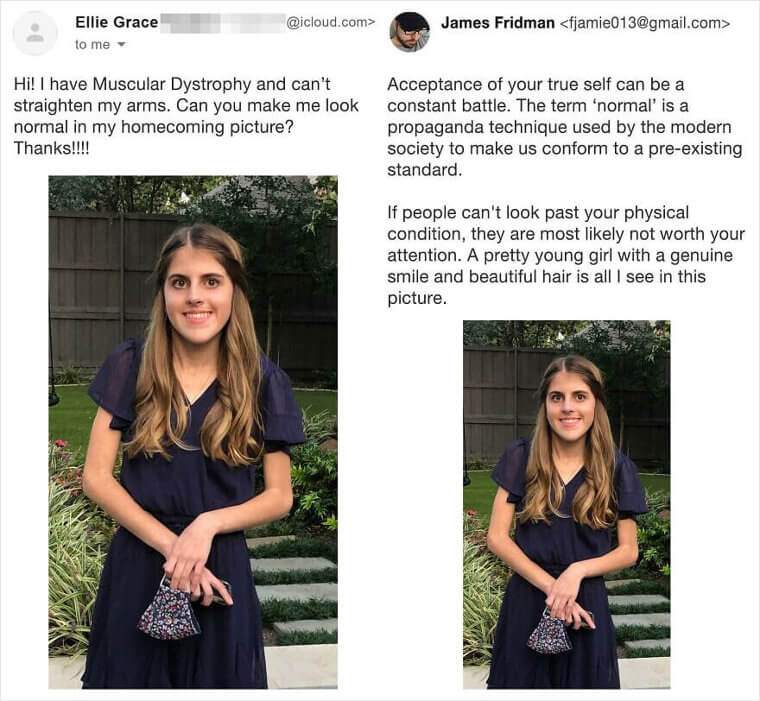 Seriously, this is such a lovely response from James. To take someone's insecurities and flip it to make it into a body-positive way of thinking is such a precious thing to do.
When Being A Bad Boy Makes You Happy
First of all, is that a unicorn tattoo? He is definitely not going to win the bad boy contest with a unicorn tattoo.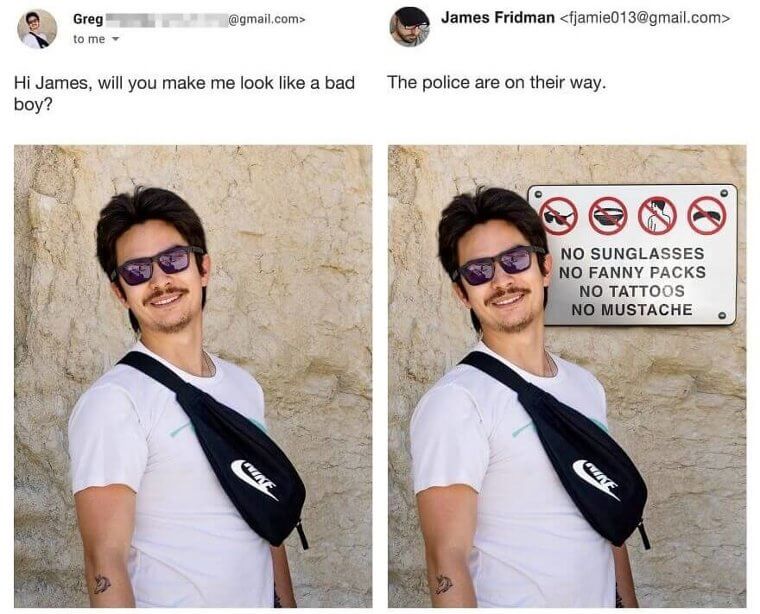 To become a bad boy, he has to do much more than not follow the rules. We wonder what his original vision was before James edited the picture.
No Water, No Plants
James proves to us that his sense of humor and talent is truly out of this world with each photo editing project. Respect for the gardener and James for his witty response.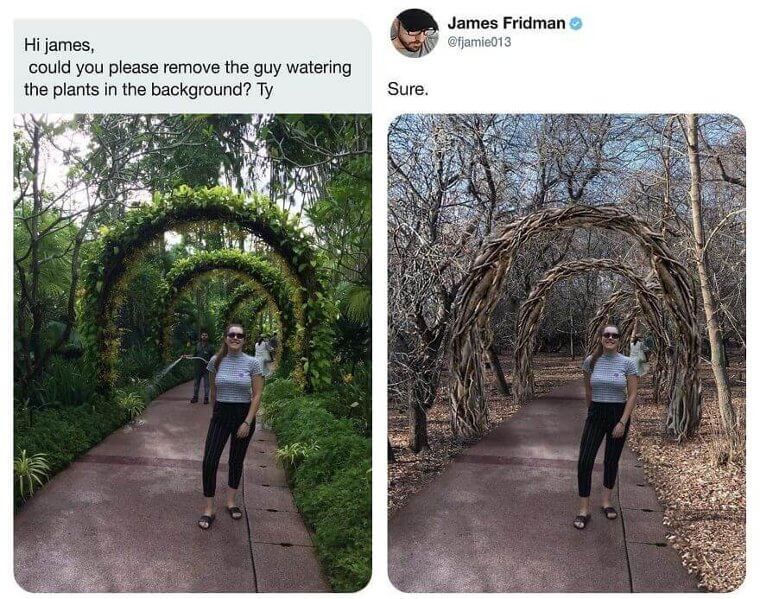 She asked for the gardener to be removed, and without him, the luscious plants wouldn't be thriving.
Masks That Are Worth Wearing
Face masks should be made like this in the first place. We think all masks should have silly faces like these – it would make a rather challenging situation, at least a bit more light-hearted.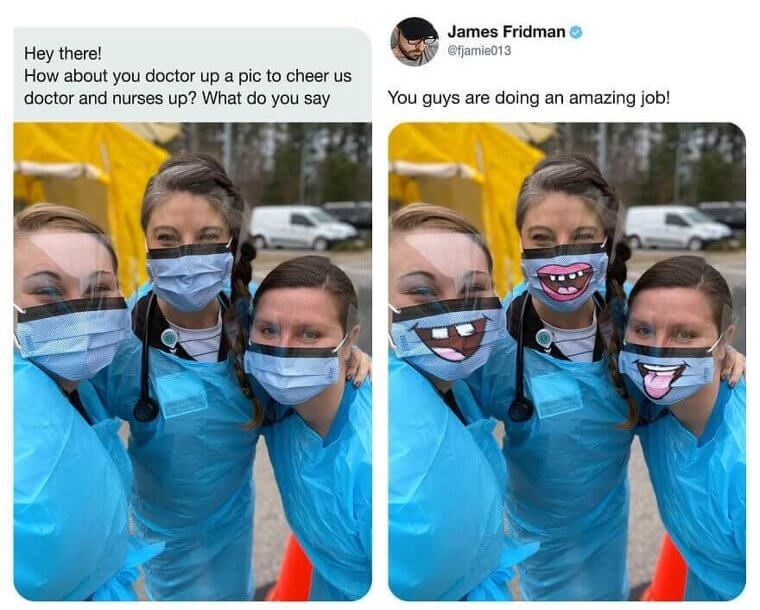 A little humor goes a long way, but it seems like he missed the halos and angel wings.
Float Like A Butterfly, Bark Like A Boxer
This caring girlfriend got what she wanted, and we are so happy for her. However, this goes on to prove that you need to be very specific with James. Otherwise, he'll find a loophole in your request.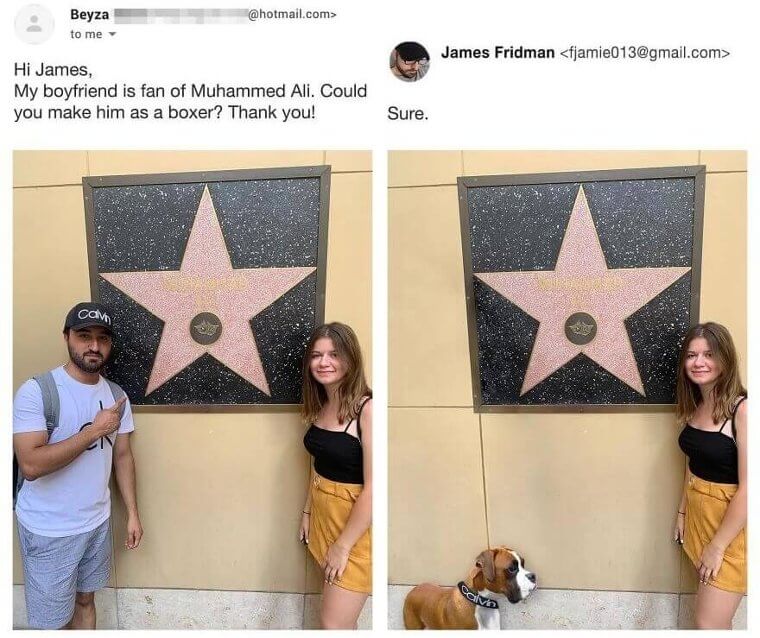 We are no match for James, but he could have also considered boxer shorts too. This is the best kind of boxer, in our opinion.
Love The Skin You're In
The photoshop wizard keeps on winning our hearts. Although it is more of a hobby for him, he uses it to spread laughter and positivity. He is always trying to make people feel confident in their skin.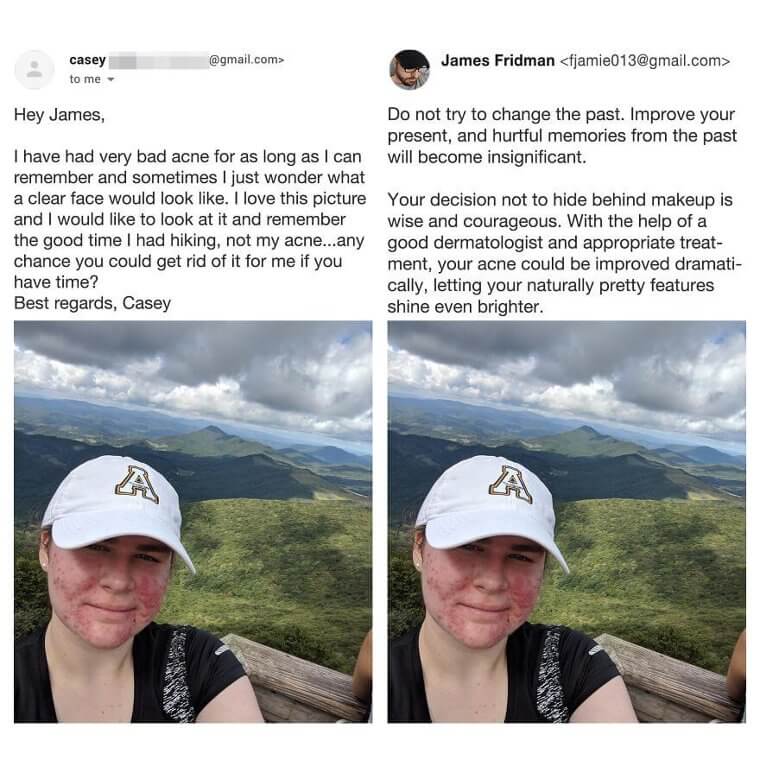 James is very sensitive to people who are ashamed of the way they look. We applaud him for giving them advice instead of changing their features. His edits are absolutely hysterical, and at the same time, he shows a depth of compassion that is very rare these days!
Wear Some Boots!
This is one of those "When you see it" pictures. For once, we thought, "Wow, James actually created something as asked," and then we saw it.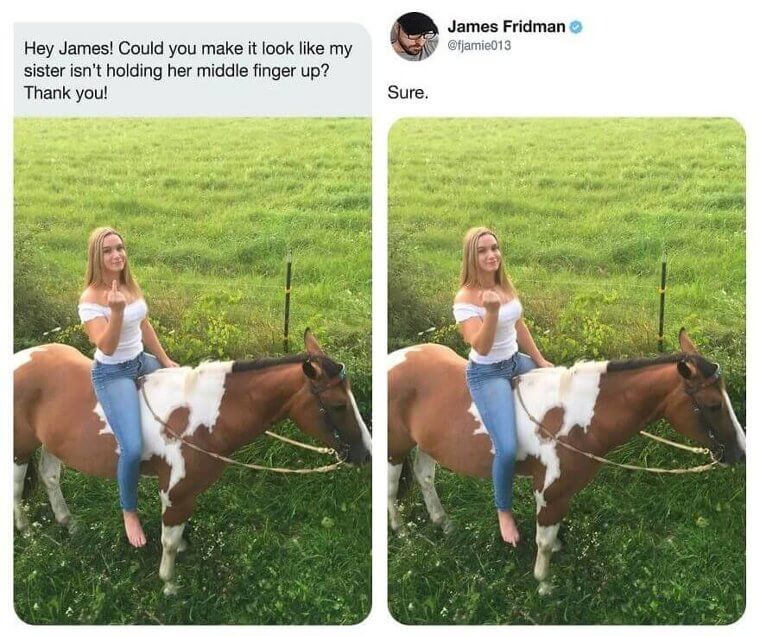 Seriously, we were disappointed at first, and then we took a second look at her foot. Now we are happy and can sleep in peace. Cheers!
Lights Out
This might be our all-time favorite! So simple and yet so right. After all, this is what happens when you take the light out of the room.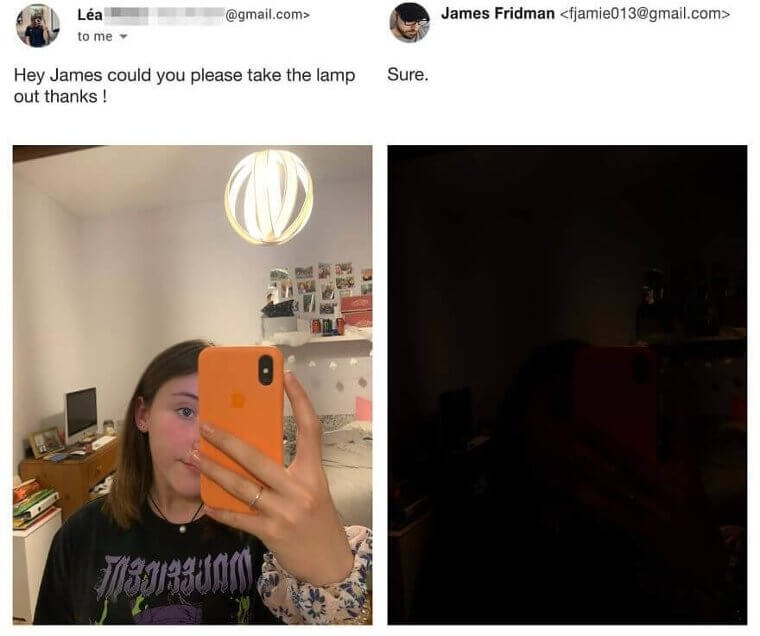 We can say that James is illuminating with his impressive work (you see what we did here). But why did she ask for it? She could have asked him to remove the phone as it is covering half of her face.
Shots Fired!
After seeing how he is holding the gun (totally improper), a real estate agent job is the best he can hope for.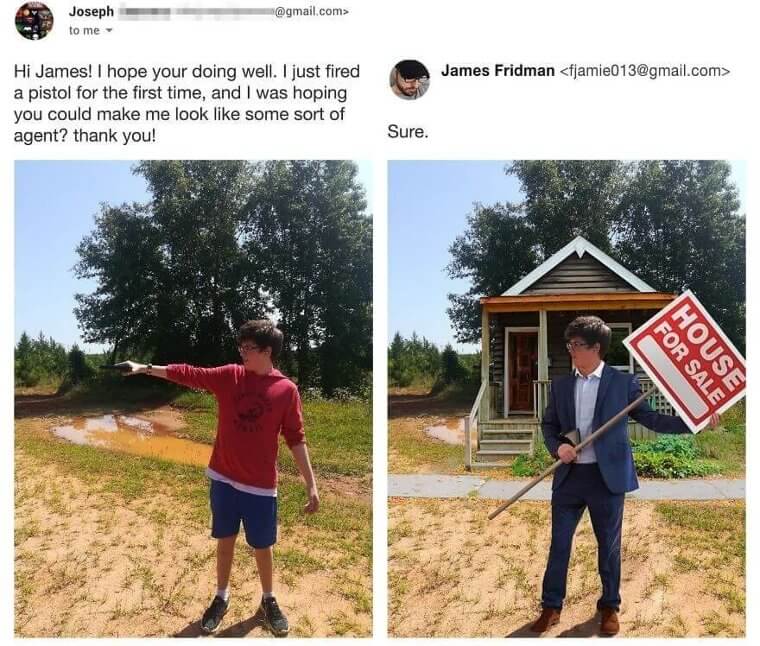 Hey kid, if you are playing with guns, then at least learn how to hold them. Any agent would know not to hold the gun sideways. He is lucky he didn't shoot his foot.
Who's The Dummy Now?
It seems like we will have to dig deep into the dictionary to come up with some new adjectives to praise this man's extraordinary creativity. This is brilliance at its peak!!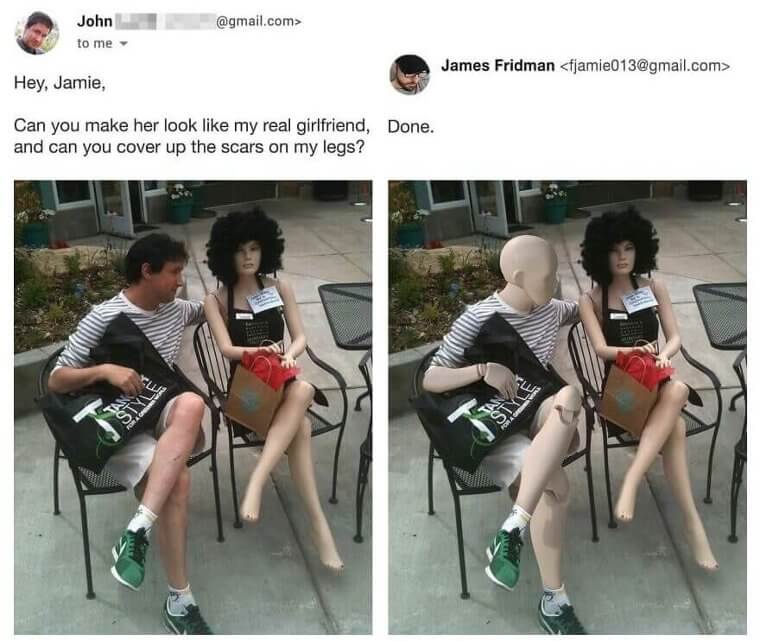 Laugh all you want at this strange request, but he delivered what was asked. After all, a good laugh is still the best boost for our immune system.
Be Specific, Very Specific
It appears to be a typical date picture that soon turned into a photo with a ghost that would most likely be featured in a horror movie.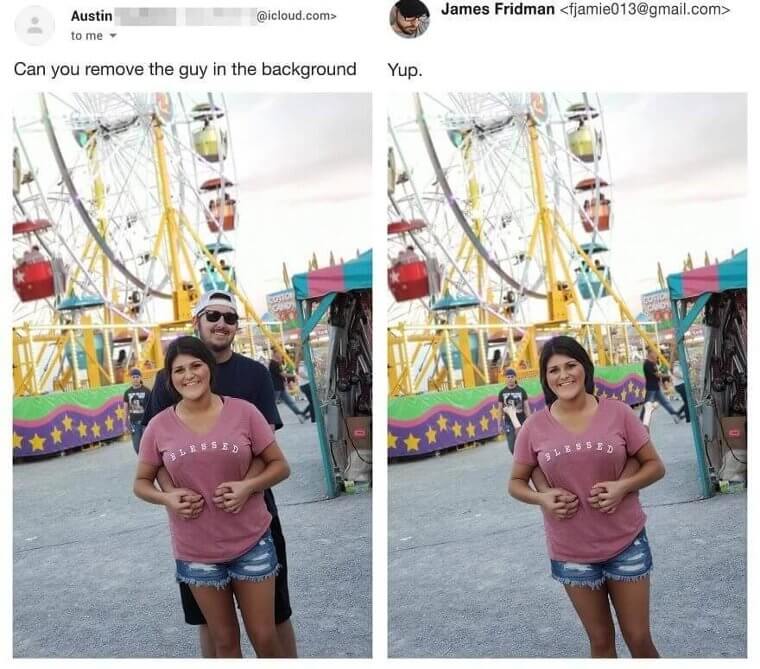 James left the boyfriend's arms in the photo with bones sticking out. It is brilliant to leave the arms and hands!
Now She's Not In The Background
Juan never told James where he'd rather have her. Did he send another request like, "Hey James, could you remove us from the background?" If yes, then the cycle may never end.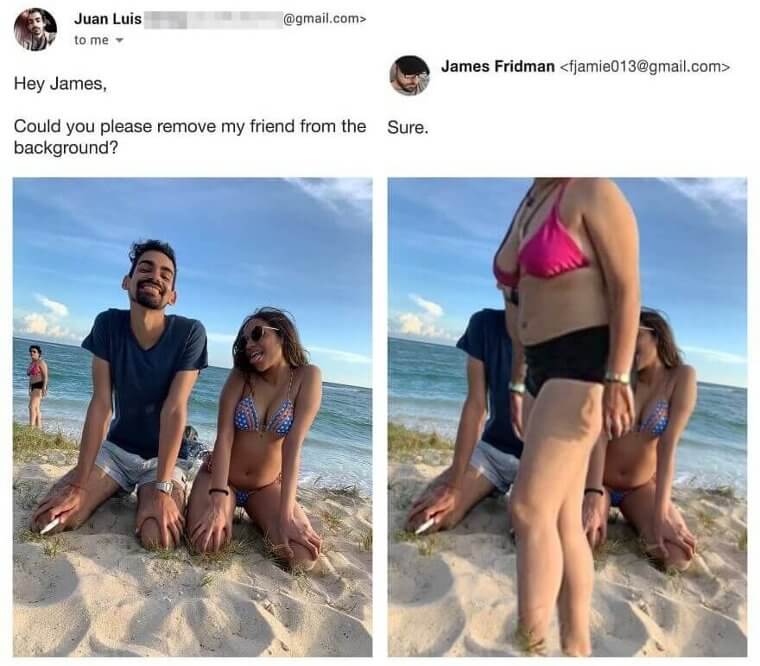 In these times, we need people like James around to lighten our hearts. Thanks for being awesome!
Context People, Context!
James gave this woman a better reason for being there. But, again, it's all about context. She wanted the picture to look a bit more classy. But what is more refined than pizza?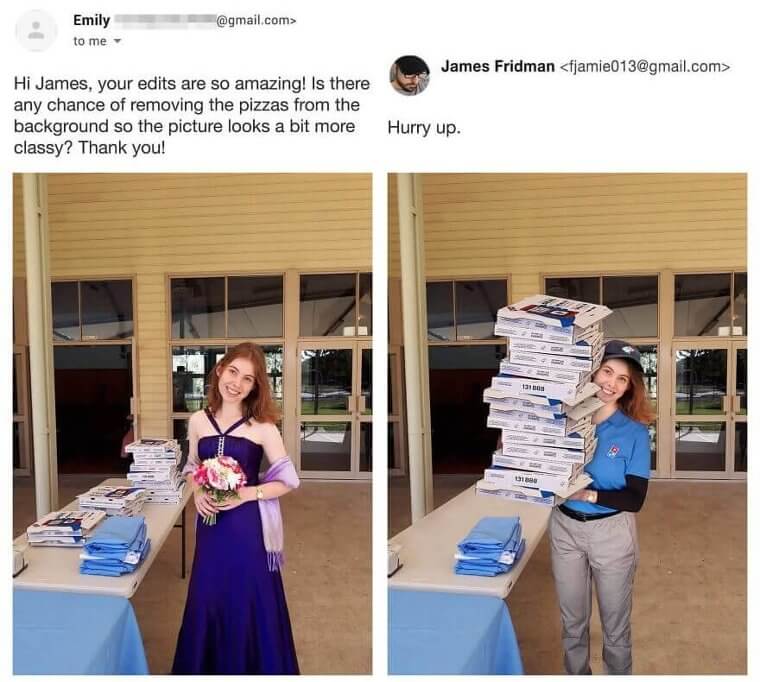 Maybe she shouldn't have stood there in the first place if she didn't want the pizza in the background.
Respect For The King
Have you watched the series, Tiger King? The woman in the photoshopped image is Carole Baskin, an American big-cat rights activist and the CEO of Big Cat Rescue, a non-profit animal sanctuary near Tampa, Florida. We won't go into too many details, so there won't be any spoilers.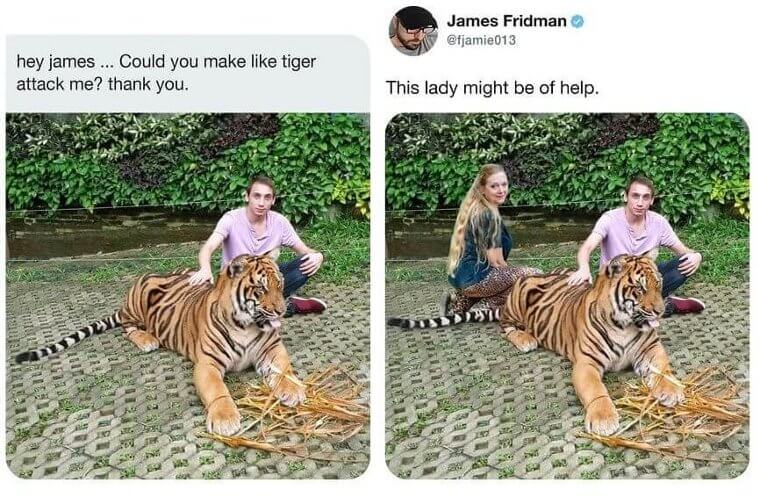 We will never understand why people pay to get pictures with drugged animals, but his edit makes perfect sense.
Spot The Difference
James has done such an amazing job that it is nearly impossible to spot the difference. The two photos are the same. We don't know why he wrote "Fixed it" when there was nothing to fix in the first place.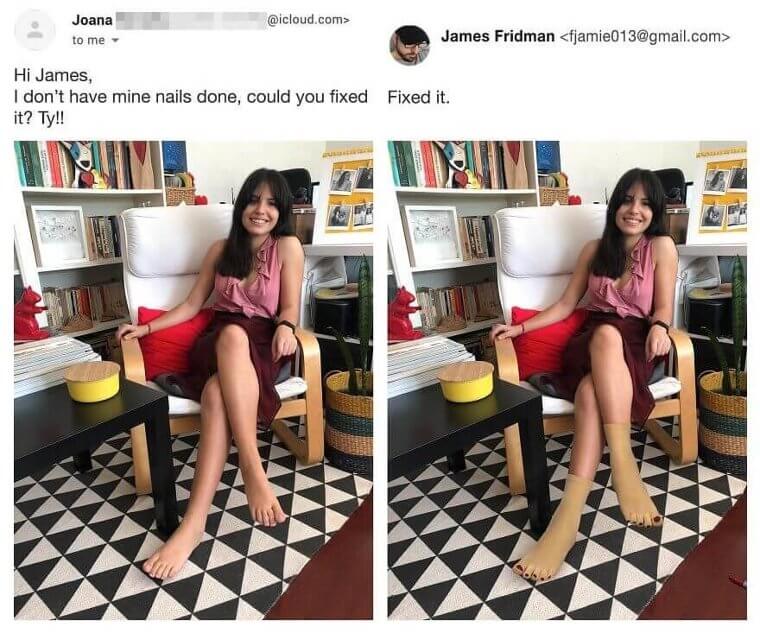 Any sock manufacturer out there should produce toe socks that look just like this. Girls like her might buy them.
Oh Deer
Another deer? Forget the sheep; we are looking for the first deer! Where is the first deer in this photo?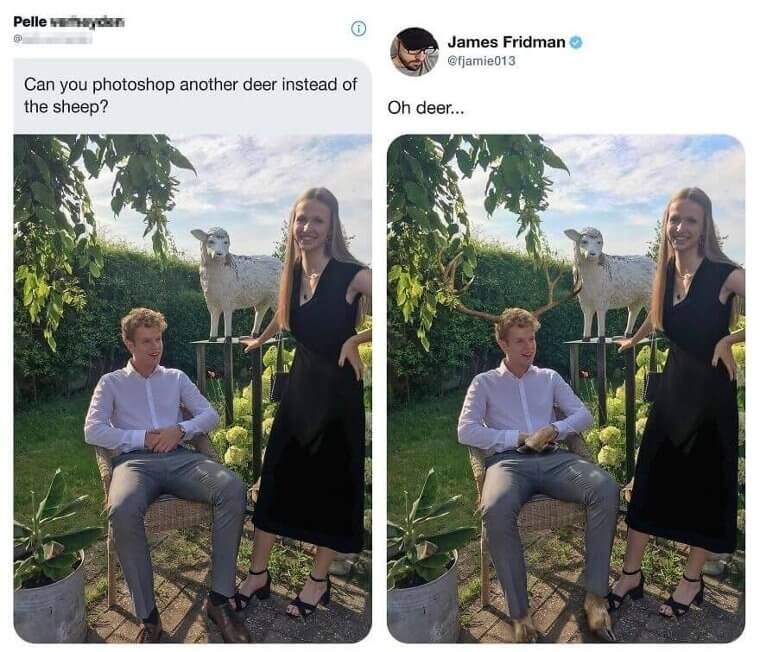 It is a strange request because there is nothing wrong with the sheep. We think the sheep is cute.
Be Proud Of What You Were Born With
There is a proper time and place for humor, and James knows when it is time to inspire rather than use his editing jokes. Instead of covering up the birthmark or making his face one color, James told Cesar to embrace the skin he was born with.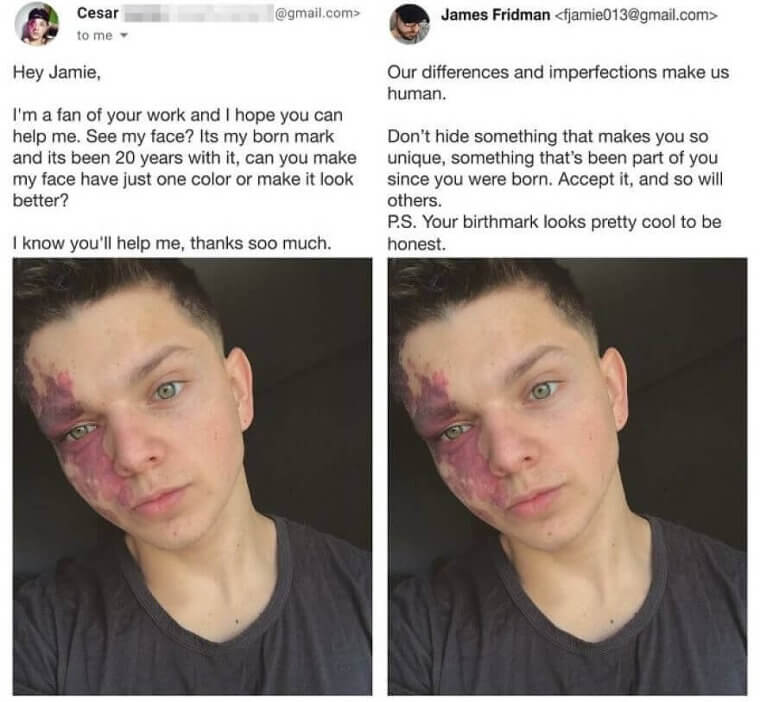 If you ask us, we think Cesar looks like Zuko from the live-action Avatar. In Avatar, the burn mark made Zuko look prominent and unique! Appreciate what you have because it makes you unique.
Wish Granted
She must not have known that objects become distorted behind bubbles, or she wouldn't have written this request to James.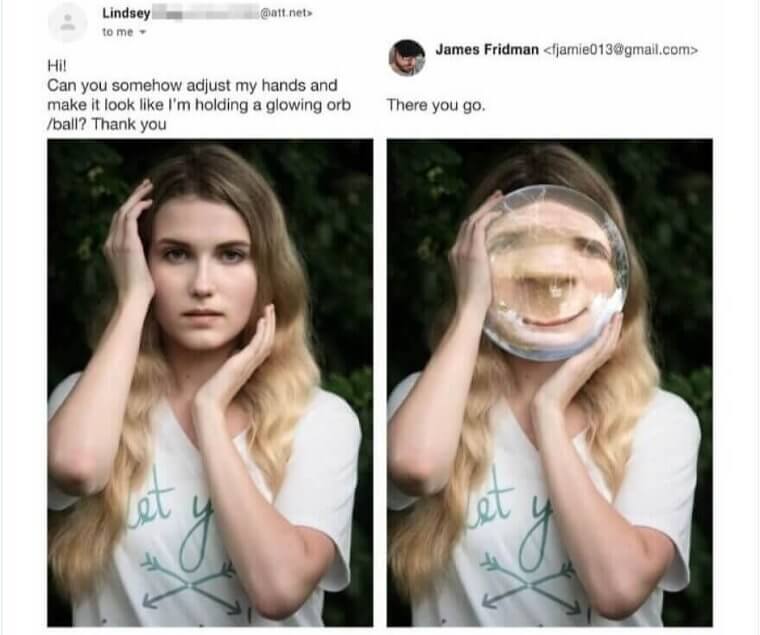 Her face is already glowing, and she doesn't need a glowing orb. We sometimes have to wonder what on earth these people expect when they make such requests.
Let's Put A Smile On That Face
Just like James' work puts a smile on our faces, he also knows how to make a dog smile, and it is adorable.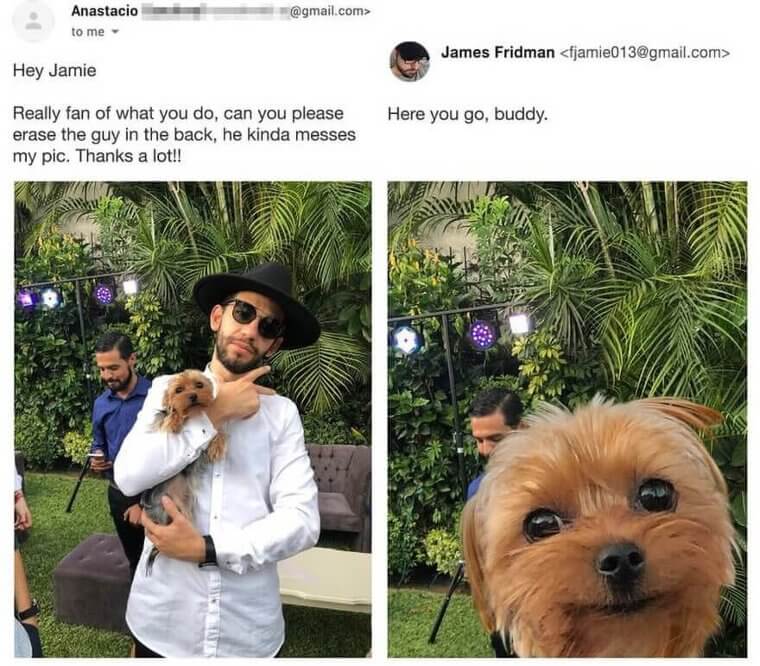 He made the dog a happy little furball without a hipster daddy that cuddles him to death. It looks much better without that guy in the back. We know for sure that the dog is completely satisfied that he got the spotlight.
The Best Shot Ever
James is a genius. The golf guy must be like, "Here lies my mate, all cold and dead. He was killed by a golf club straight to the head."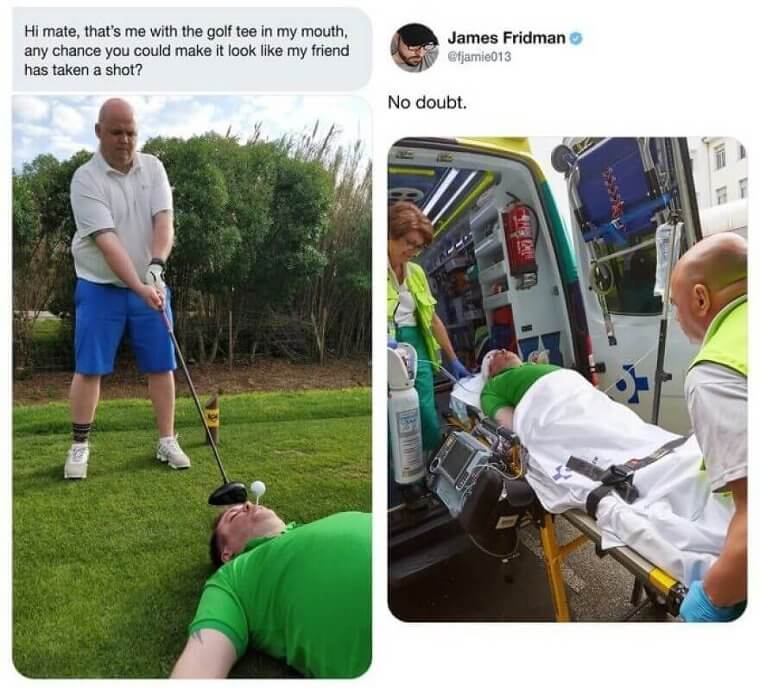 This is a much more realistic outcome of what could've happened after the original picture was taken because this is a horrible idea.
Is It The Fountain of Youth?
Every time we think James can't top himself, he creates another masterpiece. Maybe Jonas deserved it. After all, that is what you get for calling it a "foto."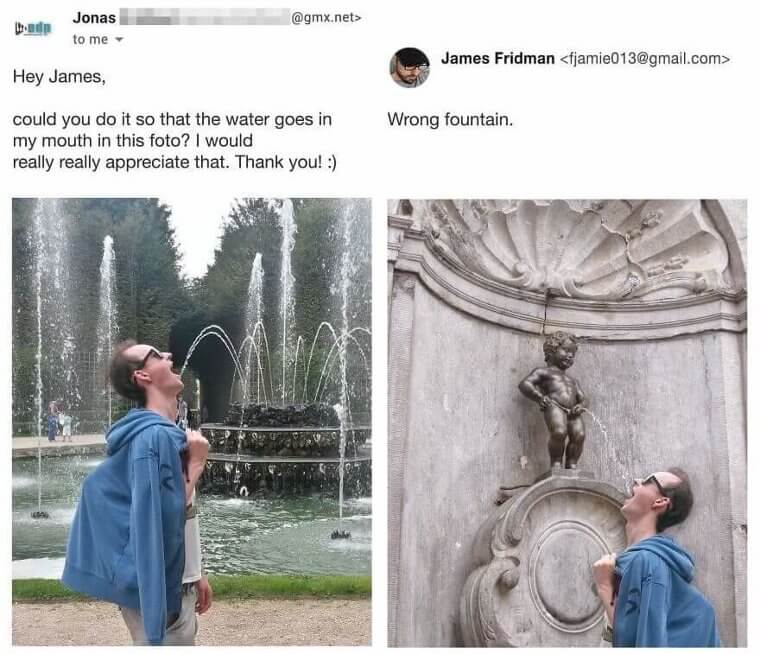 Lucky for him, James did not use a peeing dog. By the way, you can find the boy fountain in Belgium.
That Explains The Sunburn
This is photo editing at its finest. Once again, James nailed it, and we cannot stop laughing. We love how James says "sure" with a straight face and comes up with something so hilarious.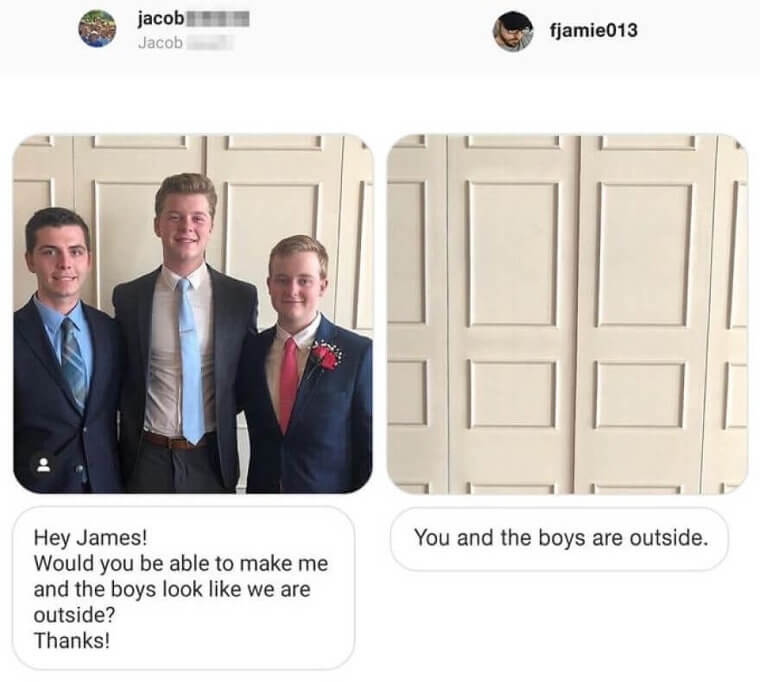 Jacob must have asked, "how do we know we are outside?"To which James replies, "because you're not inside."
Someone Call Bear Grylls
This amazing photoshop job reminds us of a hilarious photo in which a deer says to the bear, "I'll fight you with my bear hands," and the bear responds, "Oh Deer!"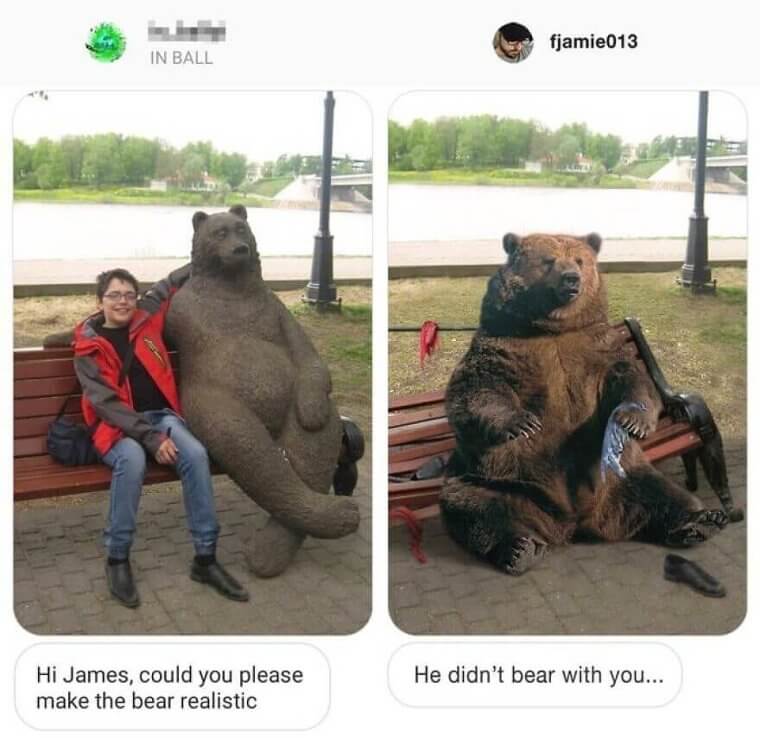 We love the attention to detail and the bear breaking the bench. You can say that the bear ate the girl, and the bench couldn't bear the bear's weight.
Super Woman
What we find funniest about this is that it actually DOES make her hands look much more natural! Now she looks like someone you shouldn't mess with.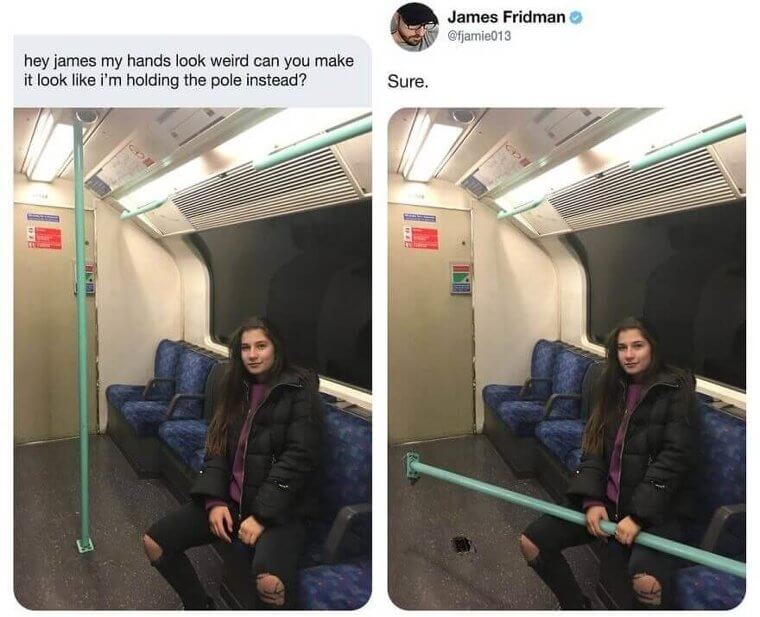 We have to admit that the sarcasm level of James is way higher than his photoshop game. He's a true legend!
If It Ain't Broke, Don't Ask To Fix It
He would have given the husband a striped shirt with a message like, "Sorry you felt so left out…Now you can be part of the team too!"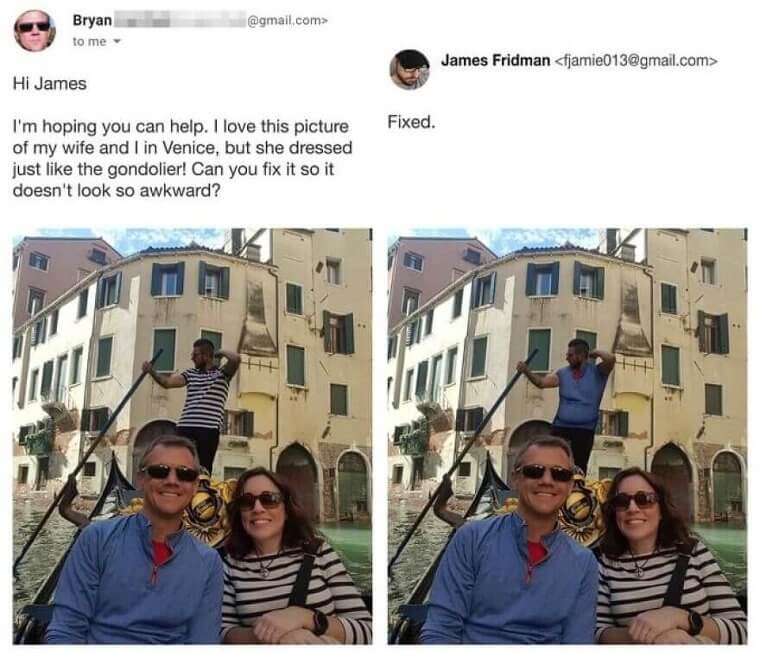 Maybe after that, his wife will send a message to James, "Hi James, we love your work. I was hoping you could fix this picture because my husband is dressed just like the gondolier."
Cool… Ice Cold
What was wrong with the lake? Since when is a lake an uncool place to be? It seems like she took the Ice-Bucket challenge to a level of no return.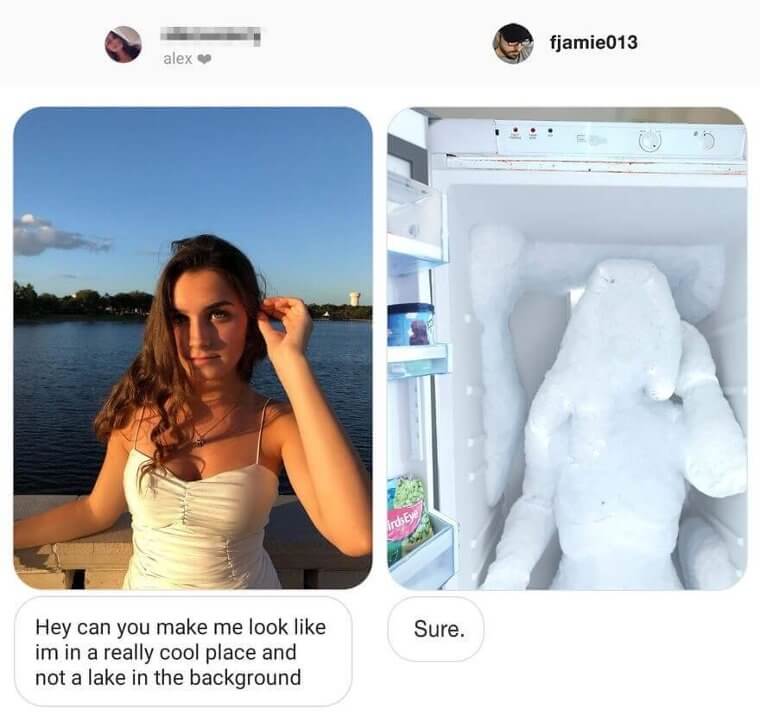 She said, "Hey James. I want to be somewhere that's really cool." "Sure thing," he said and waved his wand to give her an icebox instead of a pool.
Safety First
We didn't think it looked like she was standing in a hole in the floor until she said something about it, and now we can't unsee it.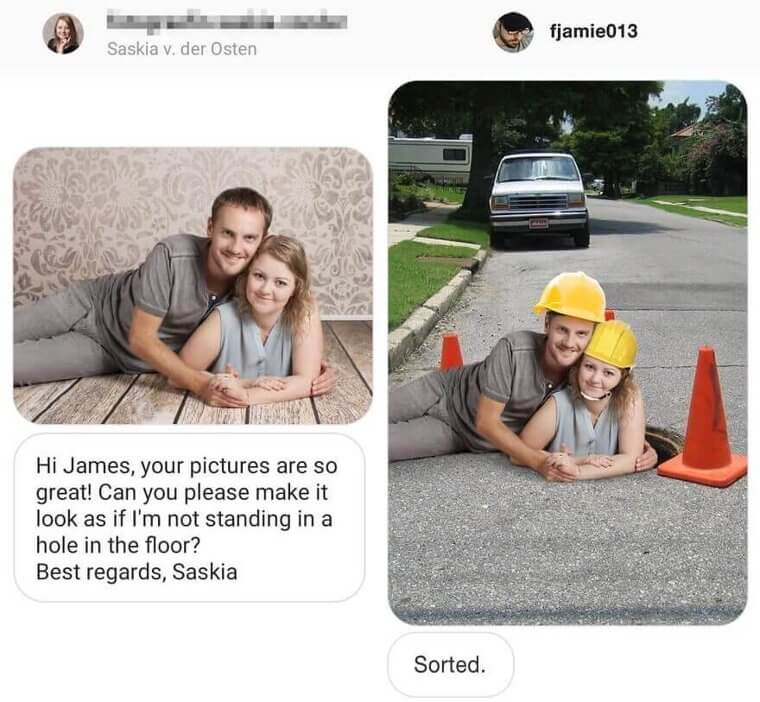 James really fixed it this time. Seeing the first photo reminds us of a scene in the 1995 movie Jumanji.
Groot's New Girlfriend
There is no challenge too big, no challenge too small for James. Just let him know, and he can do it all. Take an example of how he turned this woman into a female version of Groot from Guardians of Galaxy.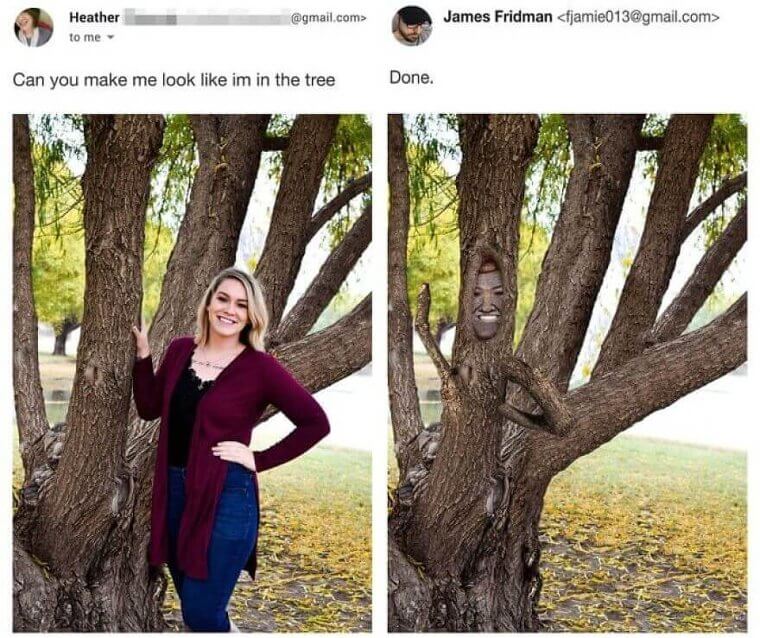 One wonders how she reacted after seeing the second photo. This is the first time James actually did what was asked for.
Perfection Is Boring
How many of you think that the crooked bow tie looks adorable? After all, perfection is overrated and boring.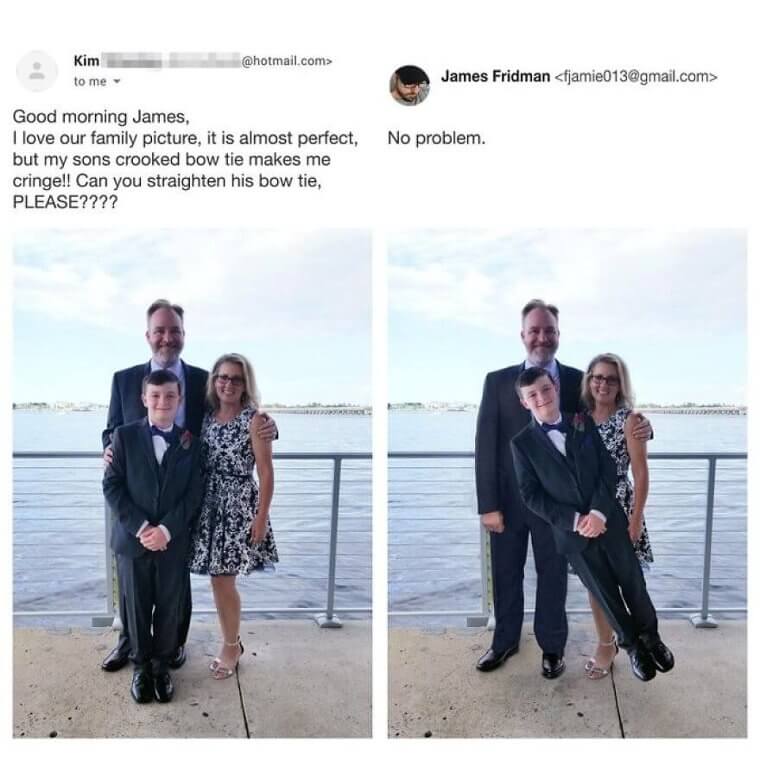 Maybe Kim has OCD, and seeing the crooked bow tie was killing her inside. On the other hand, you have to admit that James has a remarkable eye for detail, like reconstructing the father's right arm. It's all in the details.
Pecking Ducks
If we had to work on this photo, we might have gone with rubber ducks in the background. James could have gone with Daffy and Donald arguing in the background too.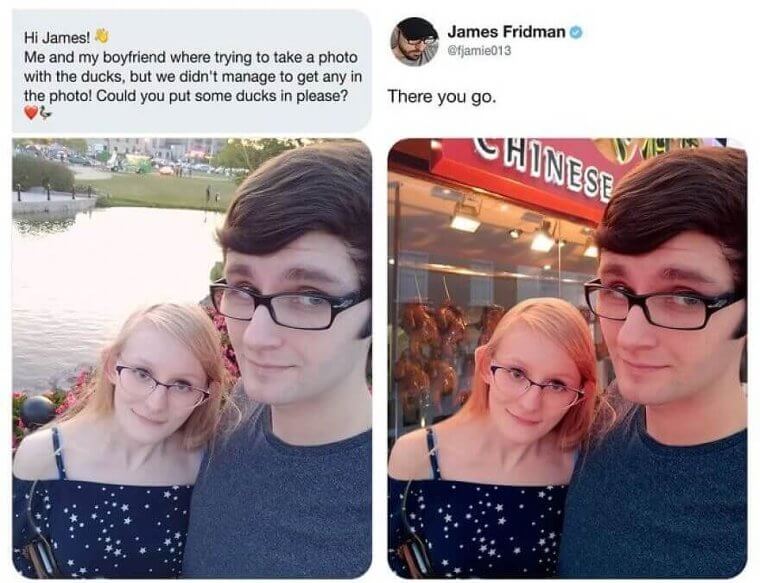 It's good she didn't ask for dogs or cats. We absolutely LOVE how he executed altering the lighting in this composite! The decision to change all the highlights (especially in their hair) and mid-tones was handled creatively.
From A Drunken Boy To A Hero
We have a winner. We repeat! We have a winner. This is one of the best photo editing works of all time. The guy in the middle looks like a drunk who is trying to look cool, and that is why we really want to see his drunk face.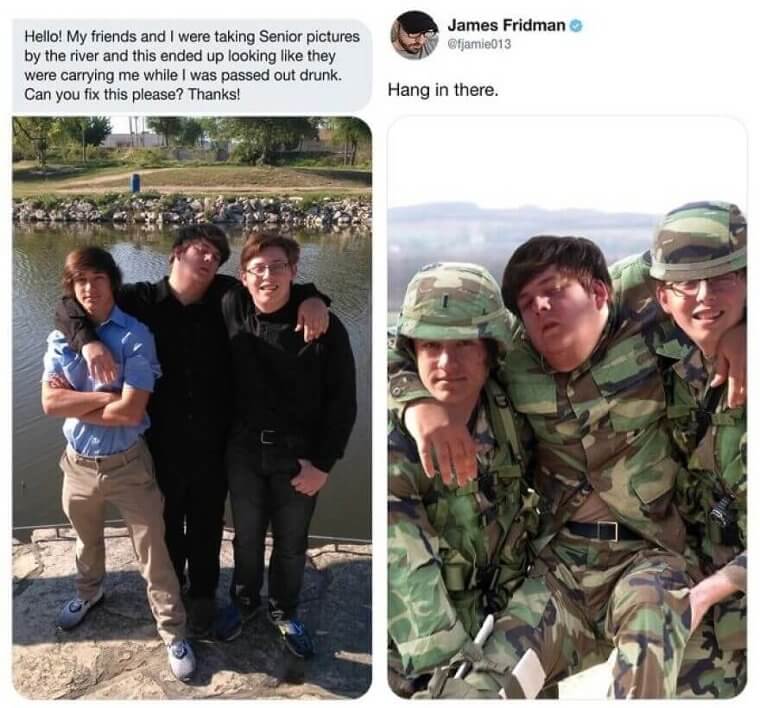 We hope these boys responded to James' work by saying, "Thank You For Your Service."
Make Her Smarter As Well
At first glance, we thought it was a blobfish. So she wanted her face reflected off of the bean, but she's not facing the bean?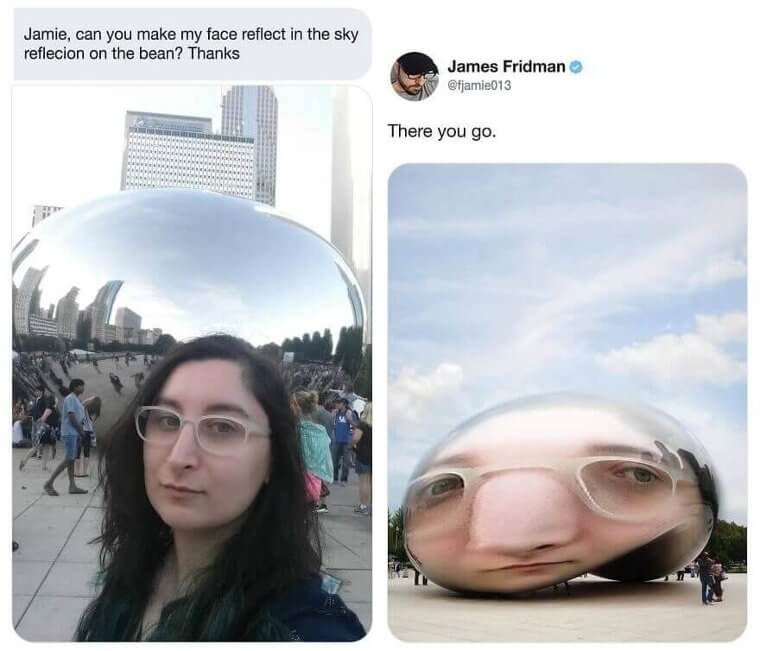 We didn't understand what she was asking for, but we think James pretty much nailed it. And we love how disappointed she looks in the second one.
Love Is In The Air?
He asked, "Can you make more romantic for this photo" and we are wondering, make what more romantic? Why does it look like the girl is not into him? Maybe we're wrong, but it does look like she is trying her best to lean away from him. But, again, we might be wrong.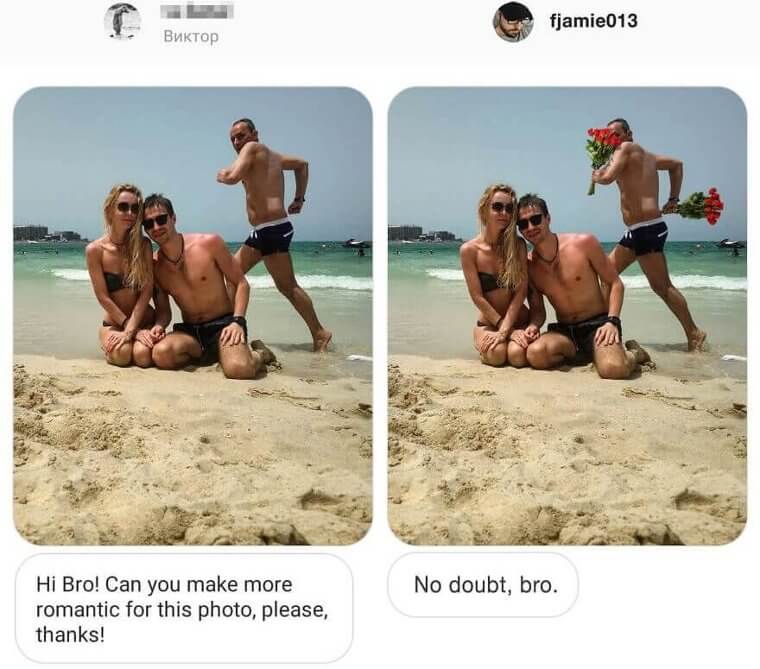 One thing we know for sure is that James is one hell of a romantic guy. Moreover, he knows how to make something romantic.