We know the times are tough right now and there are many rules in place, but those rules are there to protect you and others from catching or spreading the virus. Although many people are sticking to the set guidelines, some people are not following the rules and they were caught on camera acting like fools. People have taken to the internet to shame them in funny ways. We found the most ridiculous photos, and you have to see how people are breaking quarantine rules. Continue reading to find out!
1. Corona Beans Do Not Cause Corona
People have been under the impression that anything with the word corona in the name, will give you the coronavirus.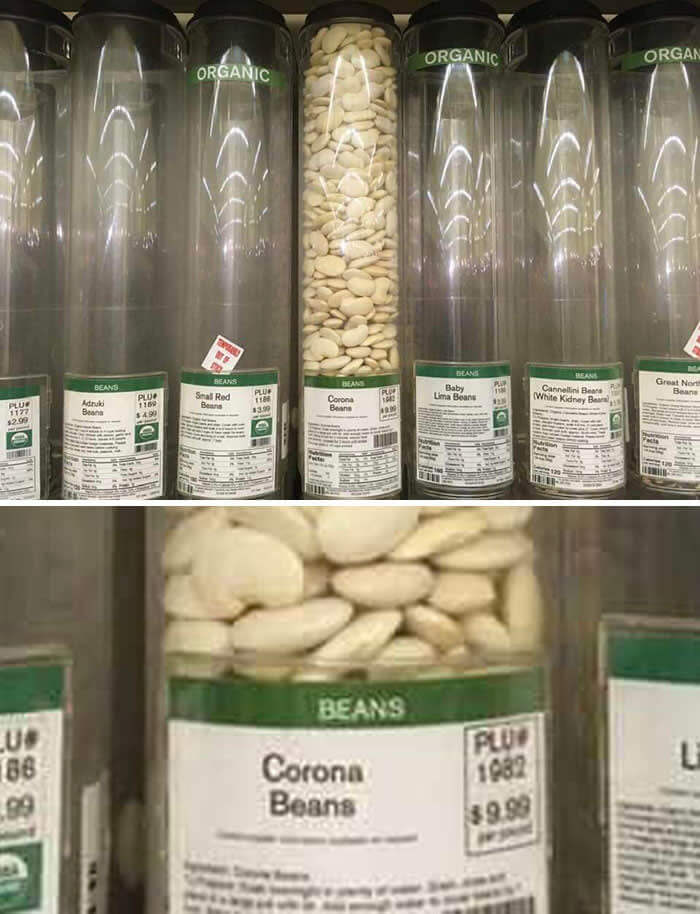 Here, you can see that the only beans that have been left untouched are corona beans because people are afraid of things named corona.
2. Good Thing The Virus Doesn't Travel Side Ways
This store put markings up to make sure people stay 2 meters away from each other, but they neglected the fact that people are standing next to each other at each "X."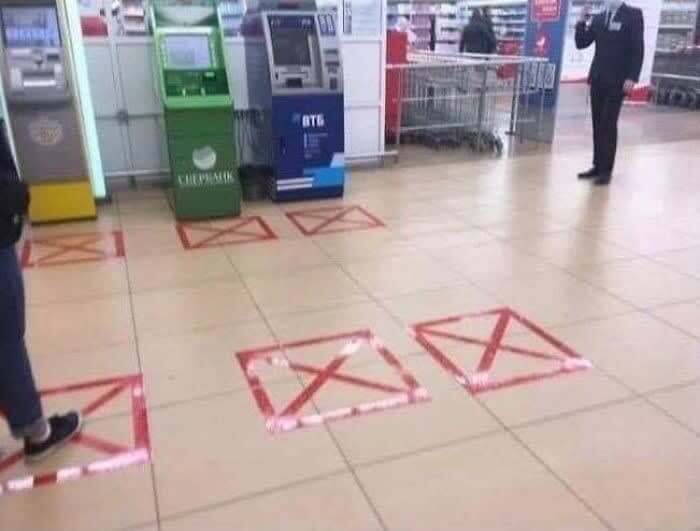 Maybe they thought that the virus only travels forward and backward and not side to side.
3. That Defeats The Purpose Of The Gloves, Sir
The point of gloves is to protect your hands from touching contaminated surfaces. He took the gloves that he was using to touch things in the grocery store with and then put them in his mouth.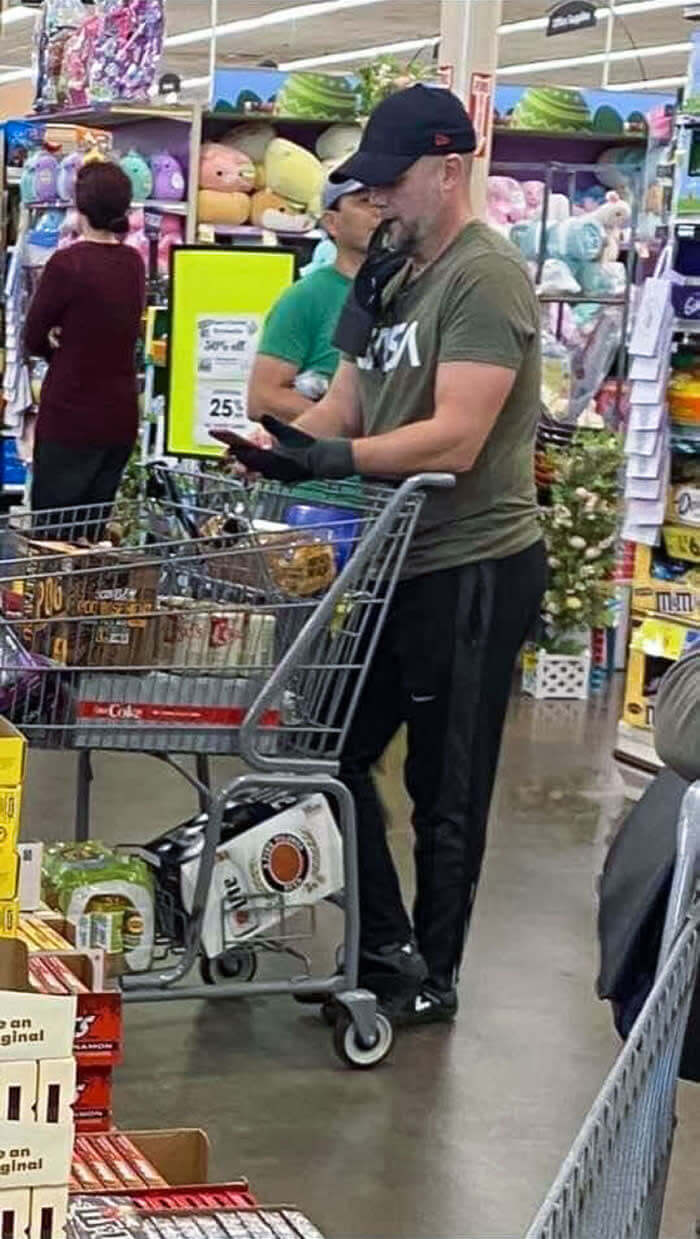 All the germs he has now collected on the gloves have gone into his mouth. He might as well have licked everything in the grocery store.
4. An Off-Duty Nurse Wore A Mask To A Store And Someone Questioned Her
Some people don't believe that masks are helpful so they choose not to wear them. A Nurse went to the store, and was criticized by someone for wearing a mask.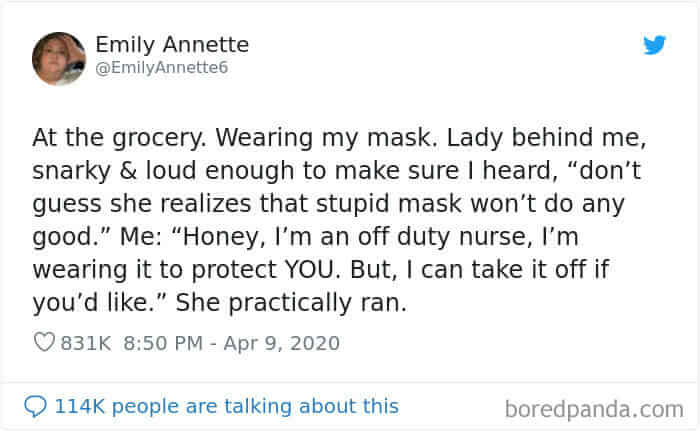 She had been exposed to the virus and was wearing it for the benefit of others. Some people don't understand the reason that masks are essential right now, and should be more educated.
5. They Are Not 6-Ft Apart
There are people who are struggling with the concept of social distancing. These people would rather have a party instead of listening to the rules.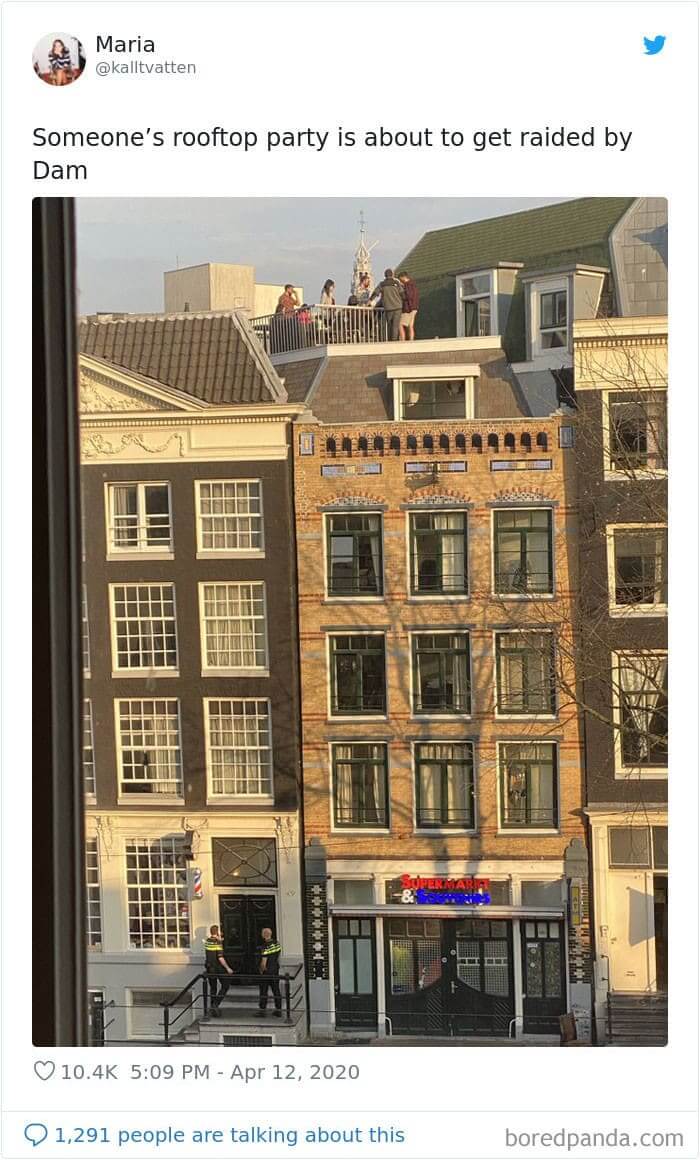 Everyone has to stay home, and everything is closed, so they should be able to stay inside and not put others' lives at risk.
6. Influencers Are Licking Public Toilet Seats
People continue to impress us with their stupidity. Some social media influencers started the "Coronavirus challenge" which involves people licking public toilet seats to see if they will catch the virus.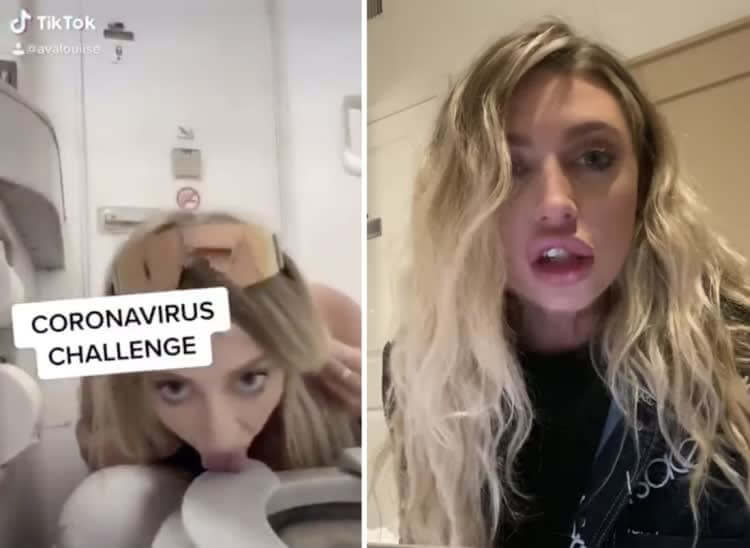 One influencer did this challenge and later tested positive for Coronavirus. Also, even if they don't get Corona, there is a high chance they will get a different type of illness from licking a dirty toilet seat.
7. Corona Is The Only Beer Left In Stores
We feel bad for Corona Beer because they are probably struggling right now. People are associating Corona Beer with the virus, and it is hurting their sales.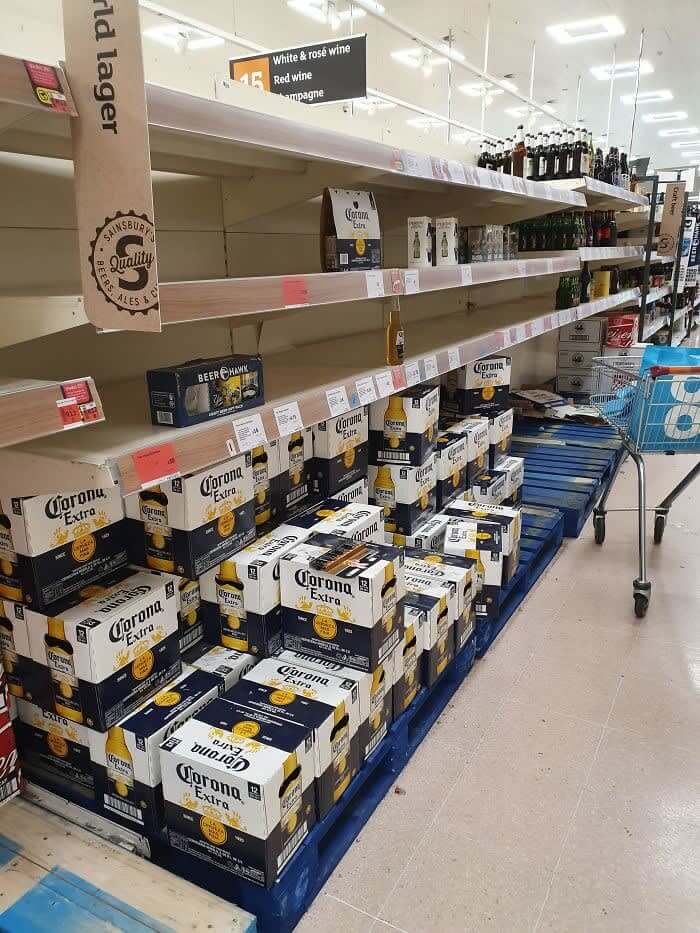 There have been countless articles stating that Corona Beer has no relation to COVID-19, yet people are still afraid.
8. Is Anyone Going To Tell Her A Snorkel Won't Work?
Despite her nose and eyes being covered, her mouth is still exposed, and the snorkel is allowing her to breathe in contaminated air.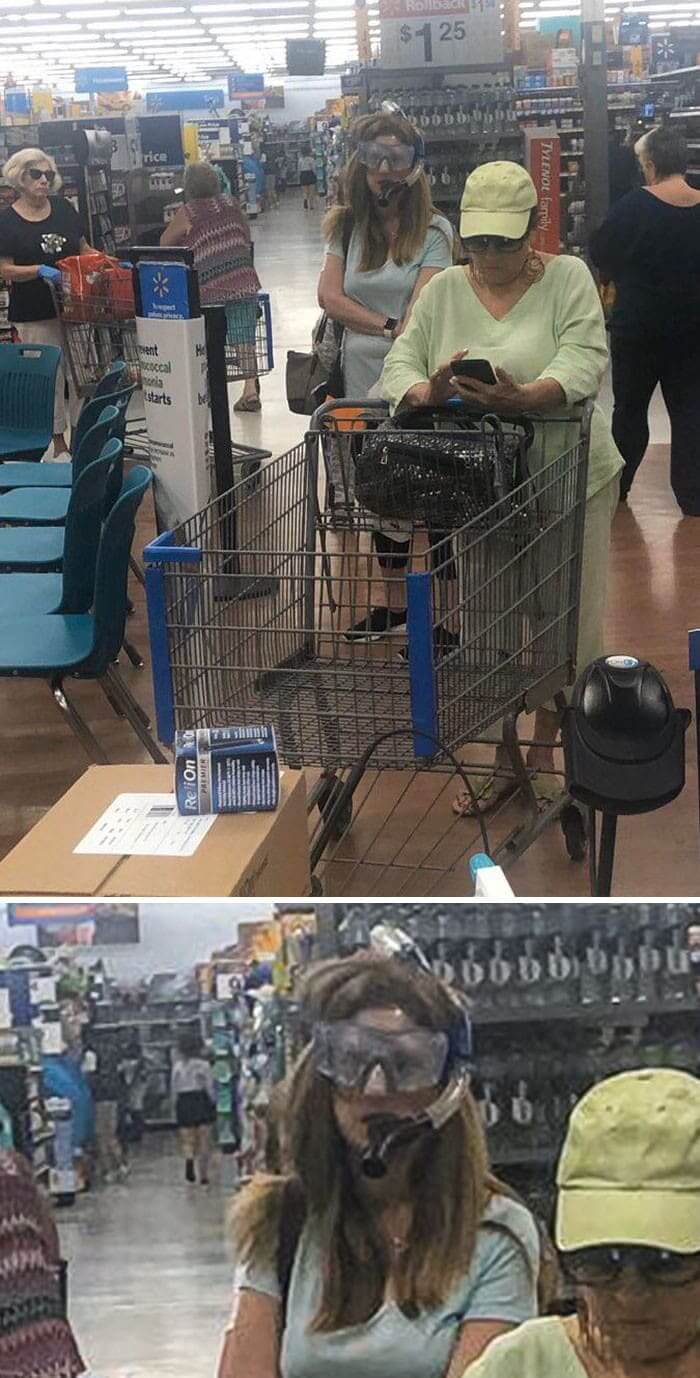 She also looks ridiculous, so that doesn't really help her, but at least she tried.
9. Someone Tried To Disinfect Their Money In The Microwave
This is 5,000 Canadian dollars that someone melted in the microwave when they attempted to disinfect it.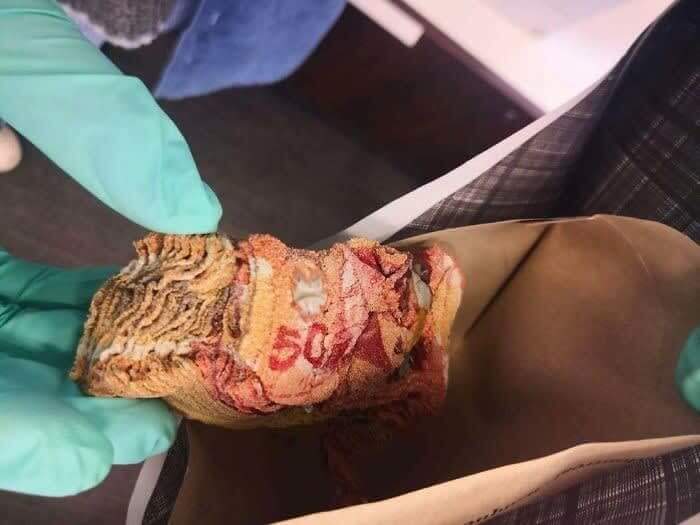 While the money is very dirty, you should not put it in the microwave. The best thing to do it to wear gloves when touching cash, or wipe it with a disinfectant wipe.
10. Oh The Irony!
There was a conspiracy theory going around that the new 5G cell towers were causing the pandemic. Celebrities were spreading this theory without evidence to back it up.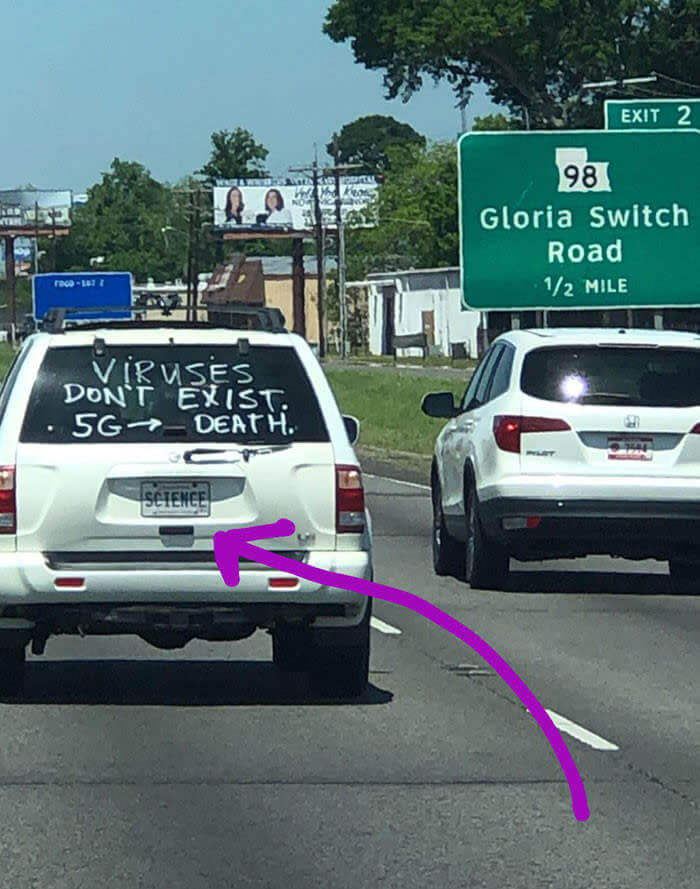 It was disproved, but some people still believe that 5G is the reason for the current situation. This person is promoting this theory, and their license plate says "Science," so you know they are qualified.
11. At Least The Buttons Won't Get Corona
In this building, the elevator buttons were covered in plastic in attempt to make it more sanitary, but they didn't realize that the plastic would be touched and germs would still be spread.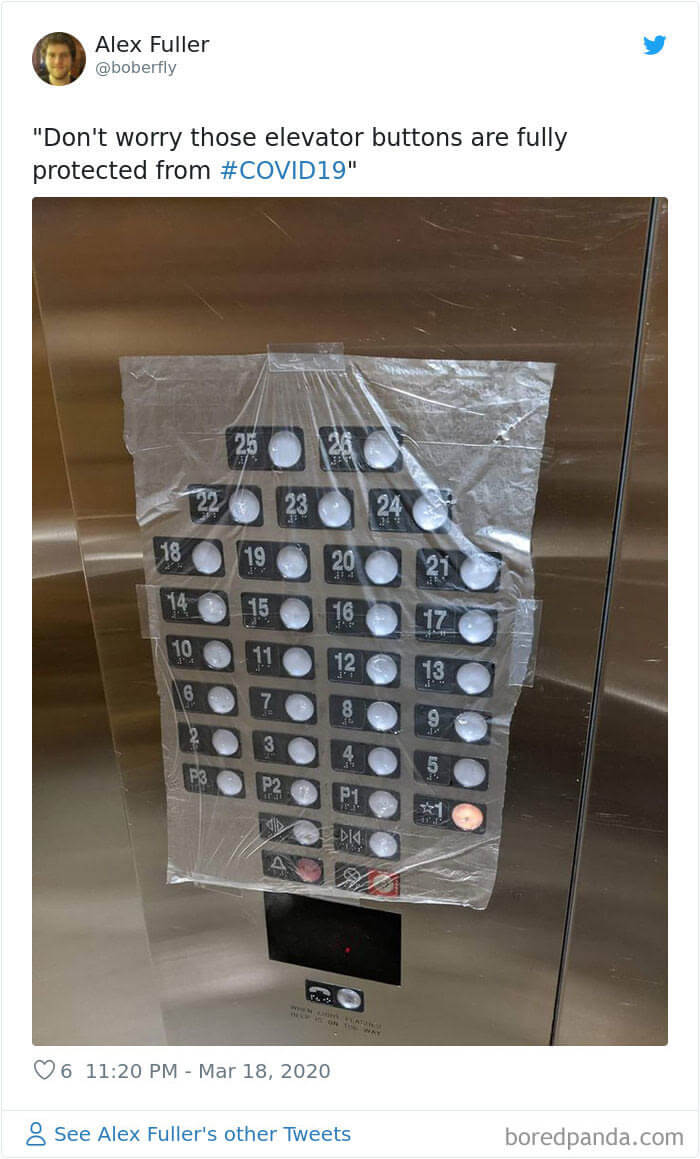 At least the buttons won't get sick because they are protected well.
12. If She Can't Smell It, She Can't Get It
This woman does not know how to properly where her face mask. It is supposed to cover her mouth as well as her nose.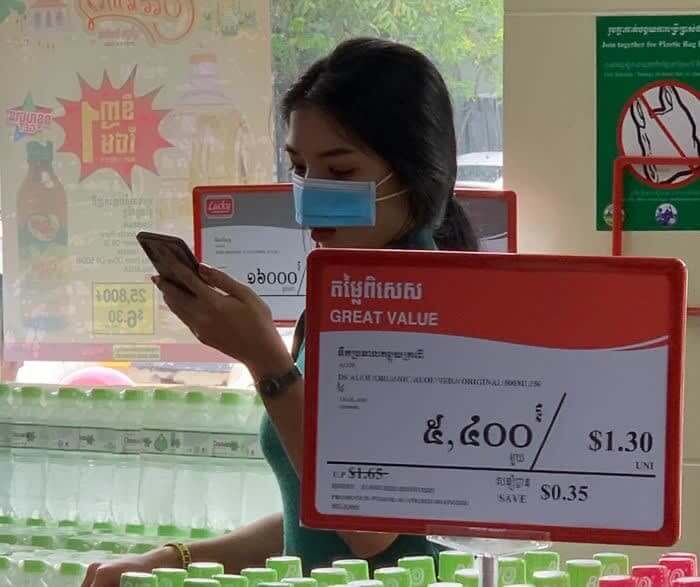 She must think that if she can't smell it, she won't get infected. One of the symptoms is the loss of smell, so she might already have it.
13. Don't Use The Machine, But Come Face To Face With An Extra Person
The management of this store did not want their employees to touch the time clock so that they wouldn't spread germs.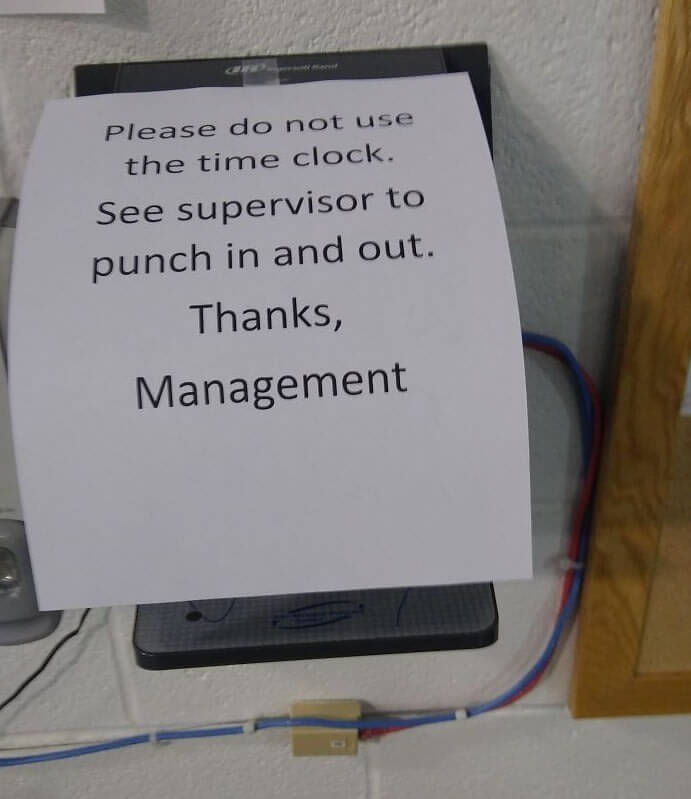 Instead, they asked their employees to find them, which is more unsanitary, and it makes them come into contact with more people.
14. Don't Order Toilet Paper From Wish.Com
There are shortages of toilet paper at the grocery stores, so people have started to order it online.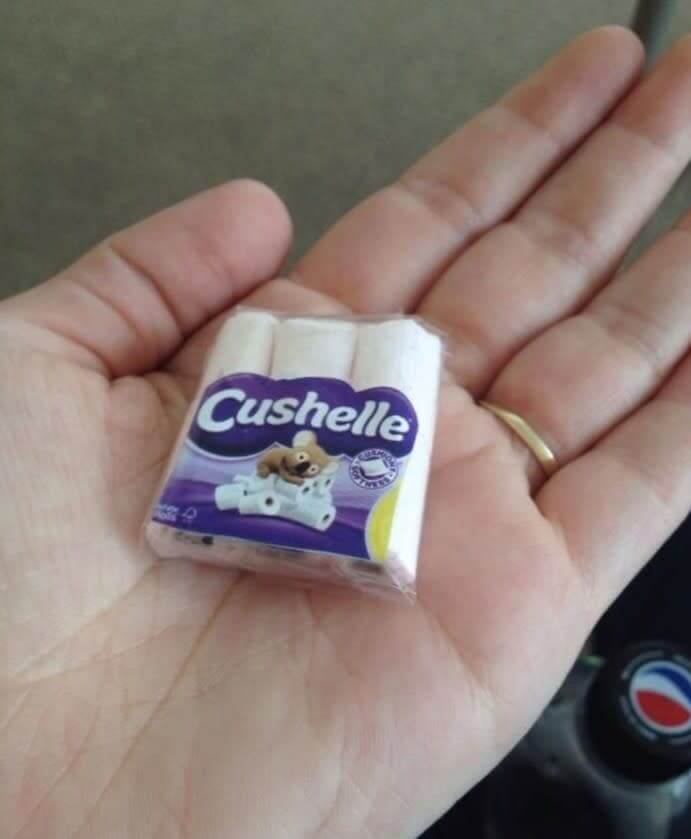 This person was unfortunate because they got a fake pack of toilet paper that wasn't even the size of one roll.
15. Setting A Great Example
As the Chair of the Congressional Coronavirus taskforce, you would think that this woman would know the correct way to wear a face mask.
She is supposed to be someone the public can look to and rely on, but if she doesn't know the basics, how can we trust her.
16. This Company Called A Meeting About The Importance Of Social Distancing
Why send out an email to emphasize the importance of social distancing when you can bring the entire company into a small room to talk about it.
No one is following the rules of social distancing because they had to come into this meeting.
17. "To Sheild The Face"
At some stores, employees have been giving face shields to protect them from the speak of germs. These women might need a refresher on how to wear them.
Maybe they thought it was a new part of their uniform like a hat. It won't be beneficial if they continue to wear them the wrong way.
18. She Is Wearing A Mesh Bee Keeper Helmet, That Won't Help
The whole point of wearing masks and face coverings is so you don't inhale the germs being spread in the air. This woman thought that she just had to cover her face
Clearly, she doesn't understand that germs and viruses can still spread through mesh because it has holes.
19. Practice Social Distancing…Or Not
These young people decided to enjoy the beautiful weather with a large group of their friends instead of listening to the giant sign behind them.
The idea is to stay how and stay 6-ft away from others, but some people cannot grasp that concept.
20. Using The Gloves To Eat That He Touched Everything Else With
This man walked into the restaurant wearing these gloves, and after touching everything, he used them to eat his food.
Do people not understand how germs spread? All the bacteria that he picked up on his gloves is now on his food that he is touching.
21. Block The Haters, Not The Virus
This man would rather block out the haters instead of keeping himself safe from the virus.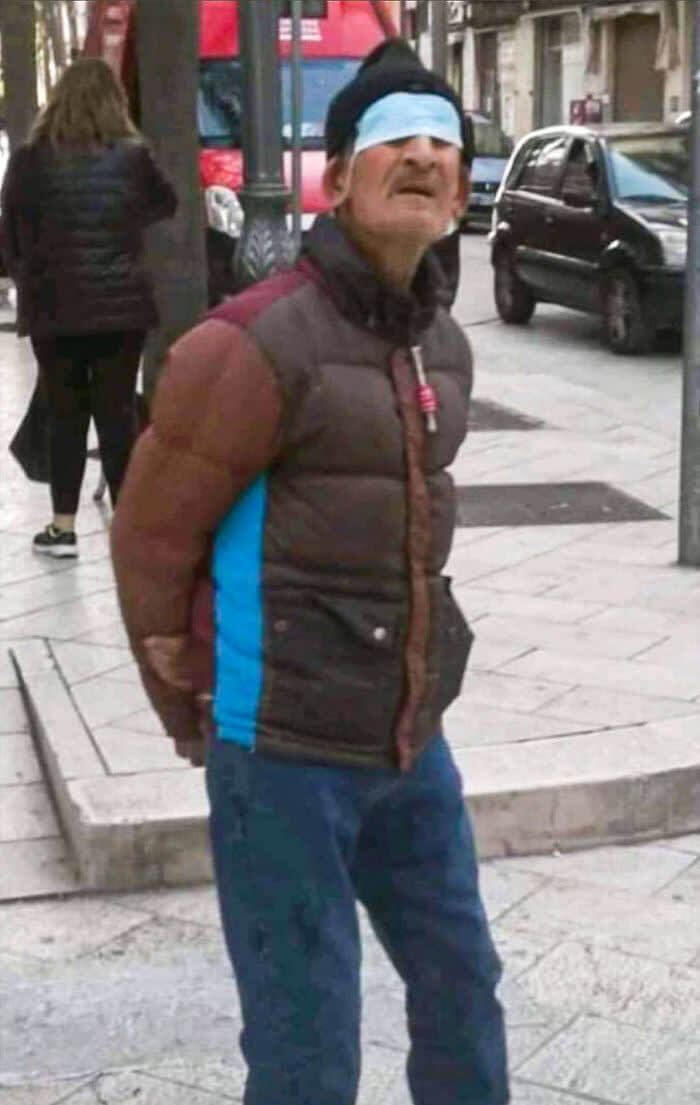 He just wants to walk the streets of new york blindly without a care in the world.
22. President Of A Meat Packing Plant Talking About Safety Precautions Against The Virus
This man was interviewed on TV to talk about the safety precautions his company was taking during the pandemic.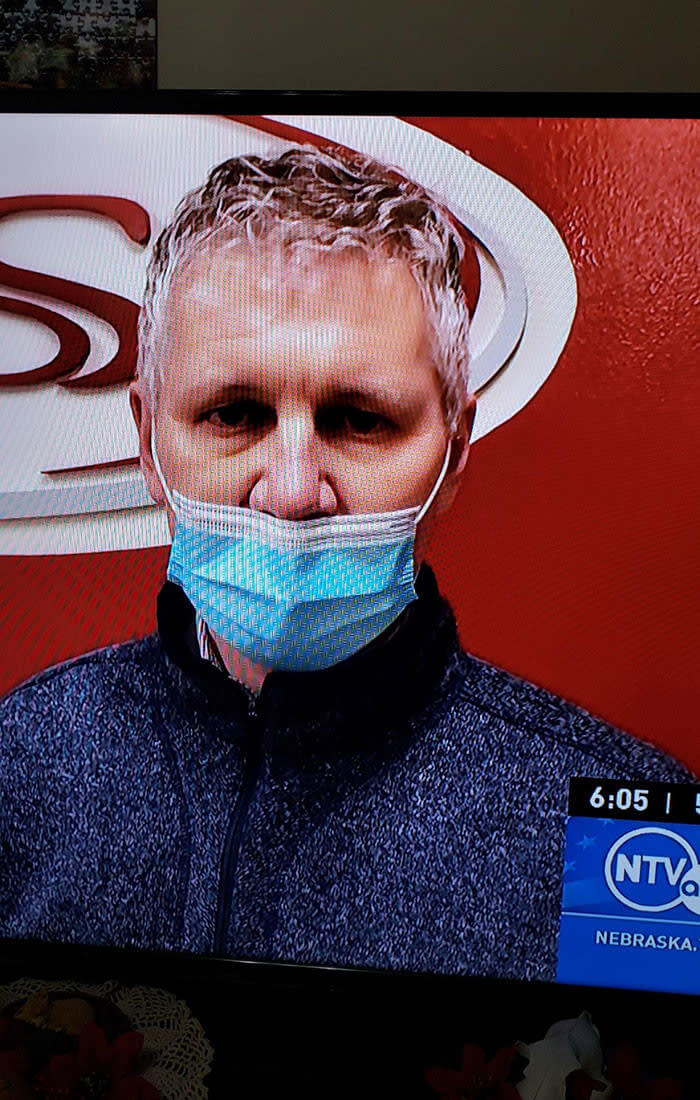 As someone who works and is in charge of food, people were concerned that he didn't know how to wear a mask properly. It needs to cover your nose and mouth for it to be effective.
23. She Clearly Doesn't Understand The Meaning Of Quarantine
Everyone misses their friends right now, and people are having to find virtual ways to stay connected to the people they care about.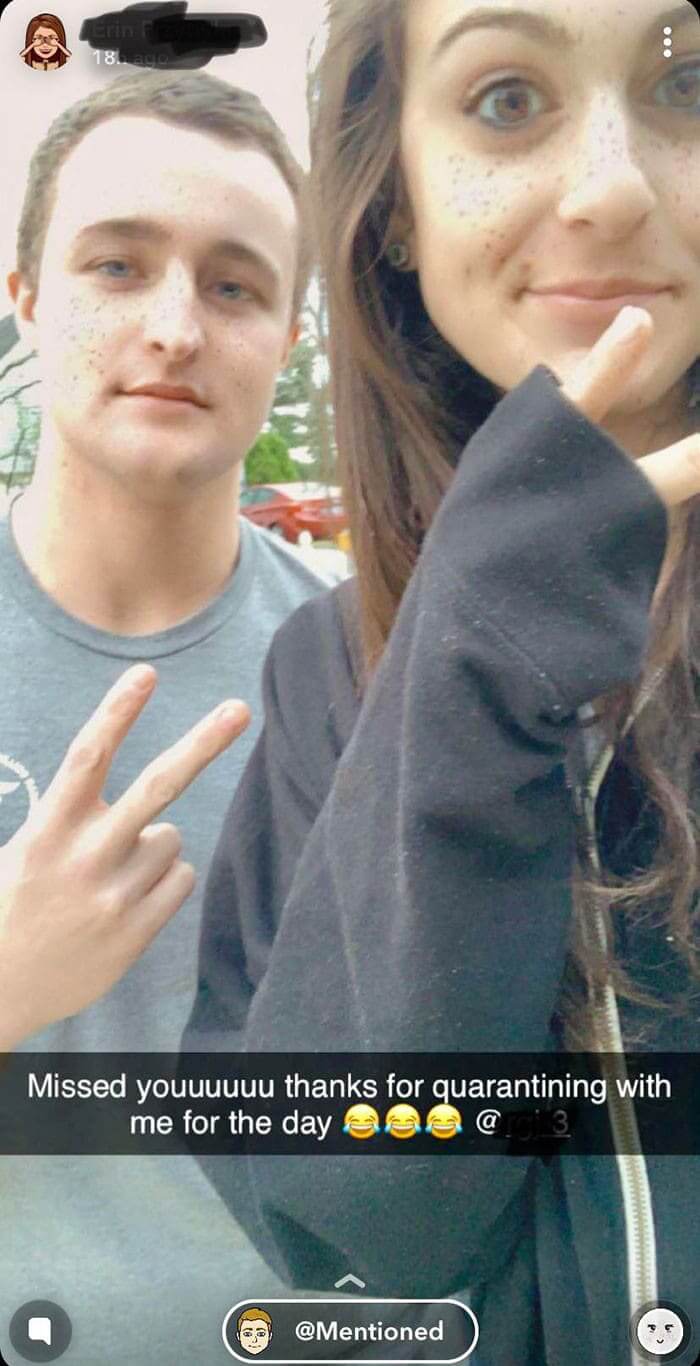 This girl thought that isolating with a friend for one day counted as quarantine. People cannot hang out with their friends for one day and call it quarantine.
24. There Are Two Types Of People In Quarantine
Santa came early this year because he realized the world needs a little extra joy right now.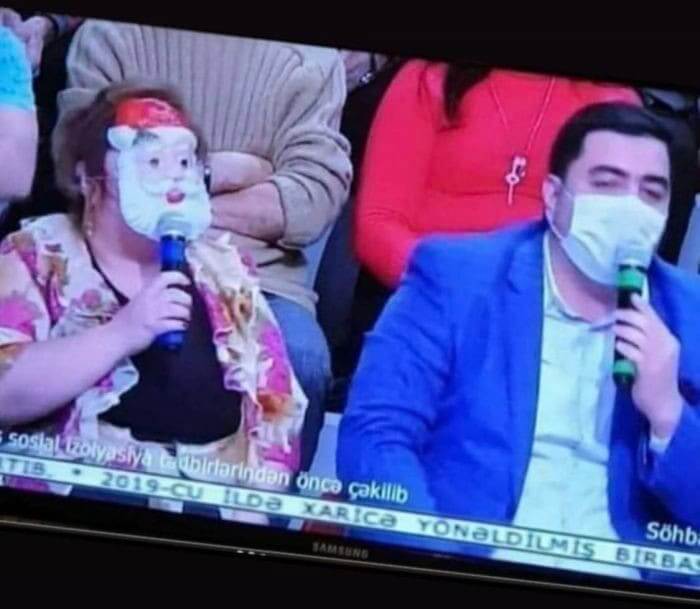 This woman must have needed a mask, and this was all she could find, so she decided to wear it.
25. "My Wife Said To Wear A Mask When I Go Out"
This is a great dad joke to lighten the mood during this weird period of time. Instead of a face mask to cover his nose and mouth, he is wearing a superhero mask.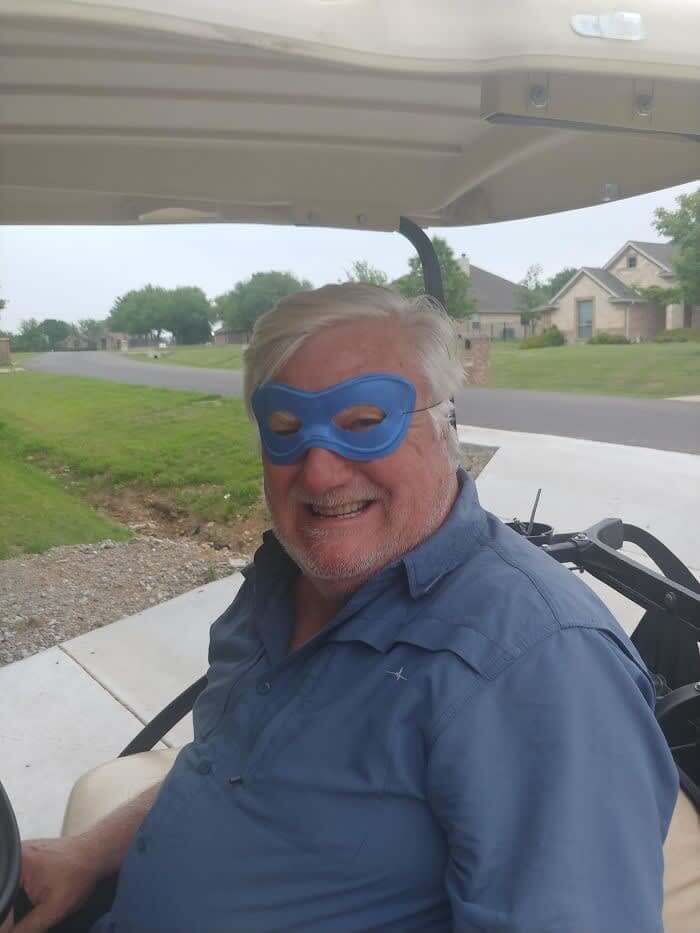 He said, "Well, my wife didn't specify what kind of mask to wear when I go outside."
26. And Another One Who Doesn't Understand Gloves
After walking through the grocery store, this man opened the bag of chips with his used gloves and started eating.
This is another example of someone who tried to be safe and follow the guidelines but failed miserably.
27. The Mayor Of Houston Doesn't Know How To Wear A Mask
Houston, we have a problem! The mayor of Houston does not know that your face mask needs to go over your nose.
He should take some pointers from the man behind him who is wearing the face mask properly.
28. Some More Microwaved Money
Someone brought this burnt money to deposit at the bank, and the bank teller was confused. The person said they microwaved it to get rid of the germs.
People seem to forget that American money is paper, and it burns. Therefore, it should not go in a microwave.
29. He Does Not Care Anymore
This guy must be in his late teen or early twenties, and he has to go into work despite the stay at home order. He looks like he has given up and does not care if he gets sick or not.
He probably wants to go home instead of having to interact with people all day.
30. She Doesn't Use Her Nose To Breath, So It Is Ok
We thought it was obvious that the mask is supposed to go over your nose. Why is this concept so hard to understand?
Do we need more informational sessions and illustrations to understand the proper way to wear a mask?
31. This Is Not Proper Glove Protocol
Here is another example of someone who does not know that gloves shouldn't touch the food that you are eating.
Can people stop eating food with their dirty gloves? Why is it confusing?
32. Protestors Against Quarantine
In the past week, there have been protests in different states against quarantine. People think that it is their right to go back to work because they do not care about the pandemic.
Some people feel that their rights are being taken away, but the government is taking precautions to protect everyone.
33. The Mask Protects You Better When You Wear It As A Hat
This cashier thought the mask would make a cute hat instead of using it as protective gear.
She must be having issues with the mask causing her glasses to fog up because it does not fit be properly.
34. The Virus Only Travels Backwards
Just like the markings for the ATMs, this grocery store made markings so people would not be standing close to each other while waiting to check out.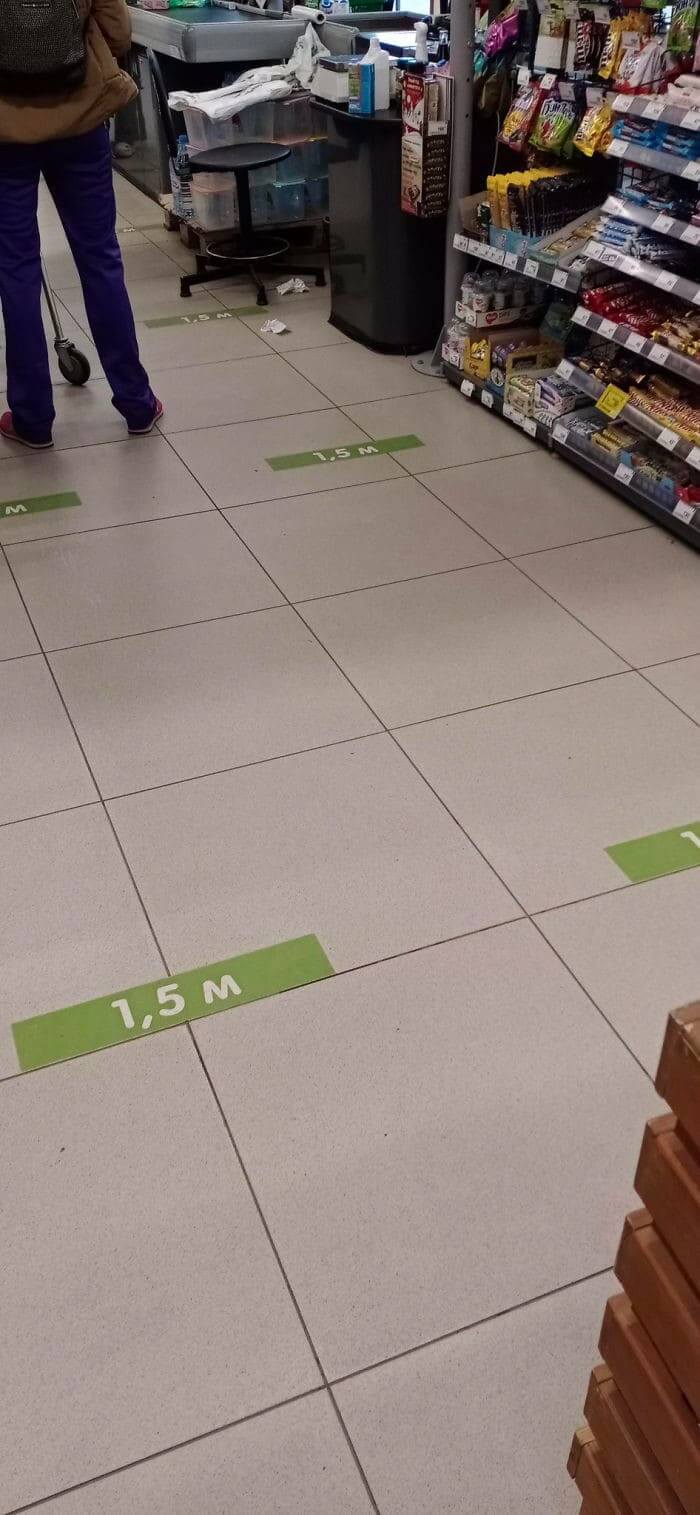 The problem is that people are standing next to each other at a close distance.
35. The Complete Opposite Of Quarantine
Maybe we need a more explicit definition of quarantine for the people who think it means gathering your friends together to hang out.
For those who are confused, quarantine means staying at home away from other people unless you live with them. Do not gather your friends together to hang out because you are bored.
36. At Least He Tried
This man tried to be safe by attempting to wear a mask, although he missed the mark and left his nose uncovered.
Health officials are saying that the eyes, nose, and mouth are the vulnerable spots to contract coronavirus, so you should cover them when you are in public.
37. He Put His Baby In A Comforter Bag
We understand that this man wanted to protect his child, but we don't think you are supposed to put babies in plastic bags.
This is very dangerous and not a good idea, and if he wants to be safe, he shouldn't be at the airport.
38. They Said Don't Touch Your Face
This man is a little confused, but he has the right idea. He understands that your mouth and nose have to be covered, but he doesn't know that it should be with a mask and not a dirty hand.
There is a shortage of masks, but there are other ways to cover your face safely. You can use a t-shirt or a bandana as an alternative to a typical mask.
39. When You Can't Wait To Get A Haircut
Since everyone is in quarantine or should be, the barbershops are closed. People are having to give themselves haircuts at home and some of them are disastrous.
This man couldn't wait for restrictions to be lifted and had his barber come by for a visit. We are pretty sure this is still breaking the rules.
40. When Quarantining, Try Not To Hurt Yourself
Being in quarantine can get boring. You try to find new ways to entertain yourself throughout the day, and that can lead to some unusual ideas. The most important thing you should remember is to not hurt yourself while in quarantine.
In this man's case, the dentist is closed, and now he is stuck with broken teeth until after quarantine.
41. Keep The Toilet Paper Away From Your Cats
Something important to remember when you are home is to watch out for your limited toilet paper. If you have children or animals, you should hide it.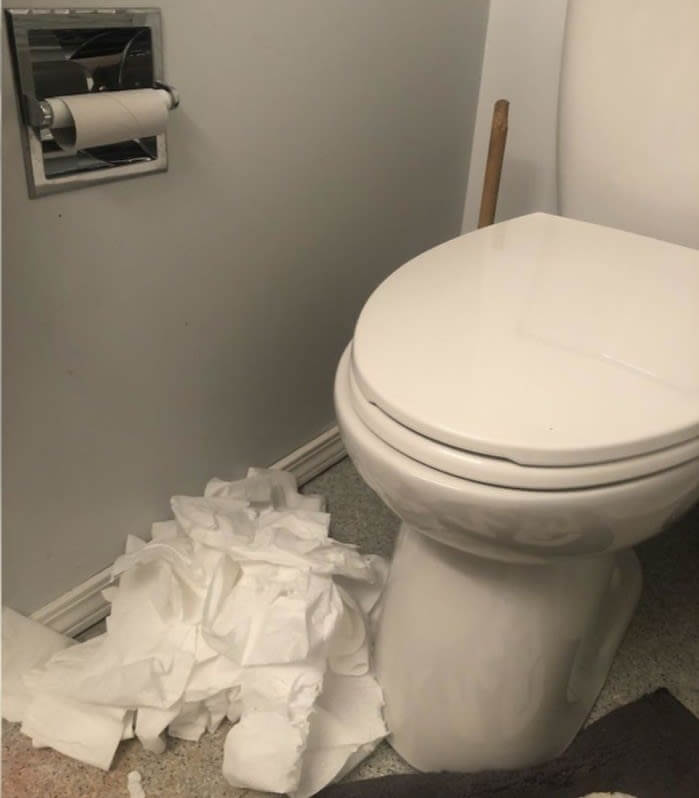 This person is now out of toilet paper because the cat destroyed it.