Have you ever been so bored that you have absolutely no idea what to do with yourself? These people were in the same boat until they heard about the Getty Museum challenge to recreate famous works of art using items you can find at home. There were three simple rules: choose your favorite artwork, find three things lying around your house, recreate the artwork with those items. From MacGyvering costumes out of pillows and duct tape to capturing Jeff Koons's famous work using a pile of socks, these are the best re-imagined works. Continue reading to be inspired to create your own version of these famous paintings.
1. Sharaku's Kabuki Portrait
This guy nailed this recreation! From the striped robe to the funny expression, he could have been the original model for this classic piece of art.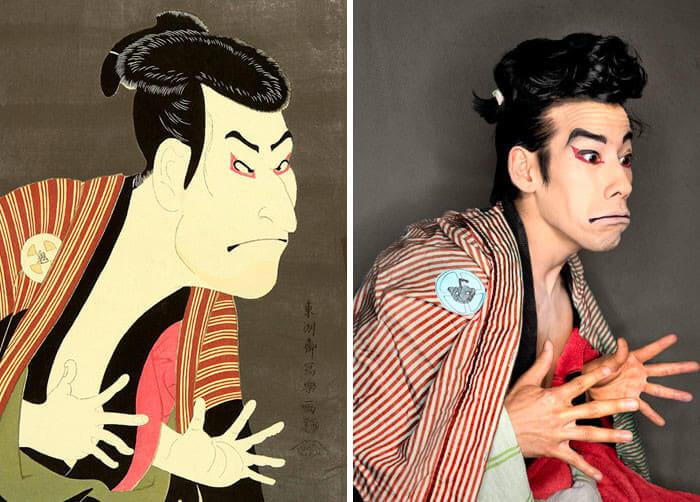 These portraits by Sharaku were a series of famous kabuki actors from the 1700s. There are so many unique portraits, and this is an actor named Otani Onji III playing Yakko Edobei.
2. Gustav Klimt's Lady With A Fan
This is almost an exact replica of the original painting. If she had edited the photo with a lot of grain, it would have been hard to tell which was the original.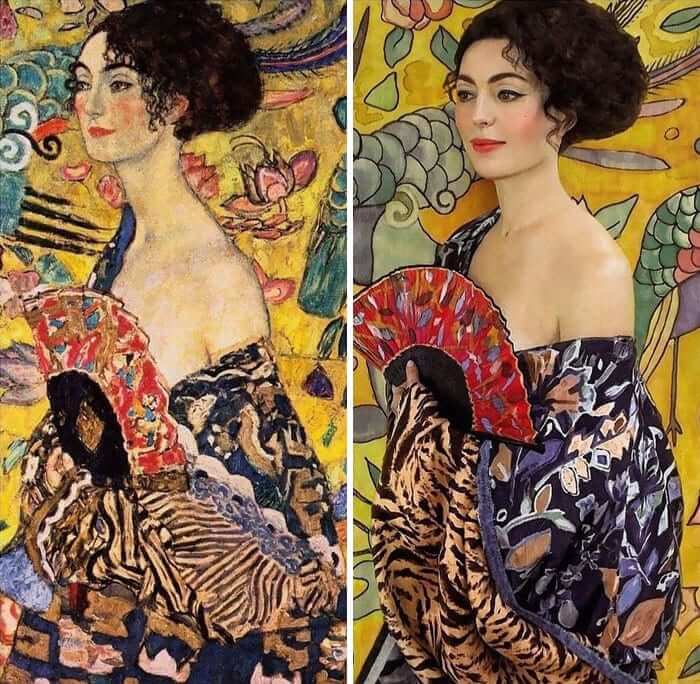 Again, how did she have these things casually lying around her home?
3. Leonardo Da Vinci's Mona Lisa
The Mona Lisa is the most famous painting in the world by far. We don't know how she did it, but this woman transformed herself to look exactly like the original.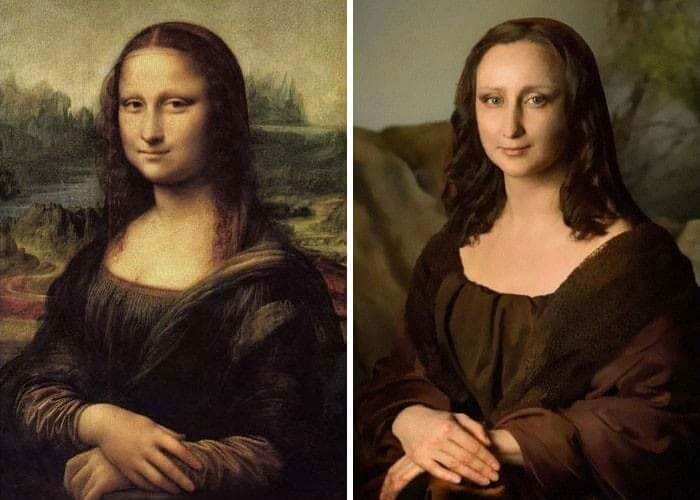 It almost looks like someone found a picture of the model that Da Vinci used for his original painting. She also looks like the woman who plays Mona Lisa in an episode of Wizards of Waverly Place.
4. El Greco's Lady In A Fur Wrap
The woman looks so glamorous this her headscarf and fur wrap. El Greco was known for being able to capture the inner feminine essence in his paintings, and the woman who recreated this captured that as well.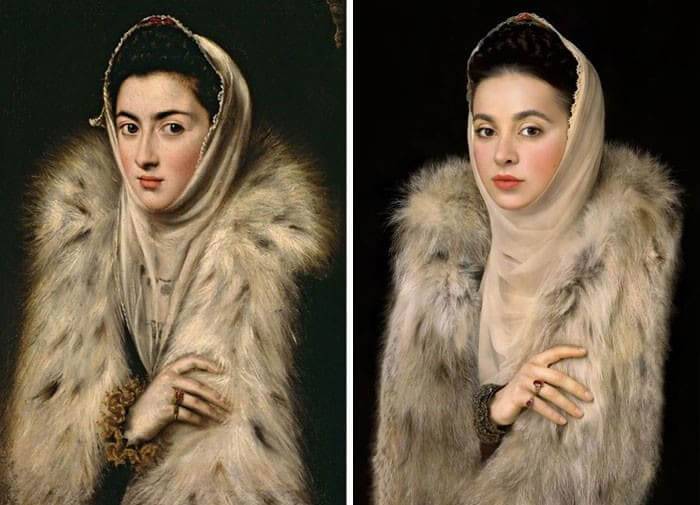 She nailed the look of the luxurious fur that the painting depicted, and she managed to remember to include the bracelet and rings that were worn in the painting.
5. Rembrandt's Portrait Of A Woman With Gloves
We love this woman's use of toilet paper rolls for the collar of her dress and latex gloves instead of cloth ones. These are definitely things people have around their house these days.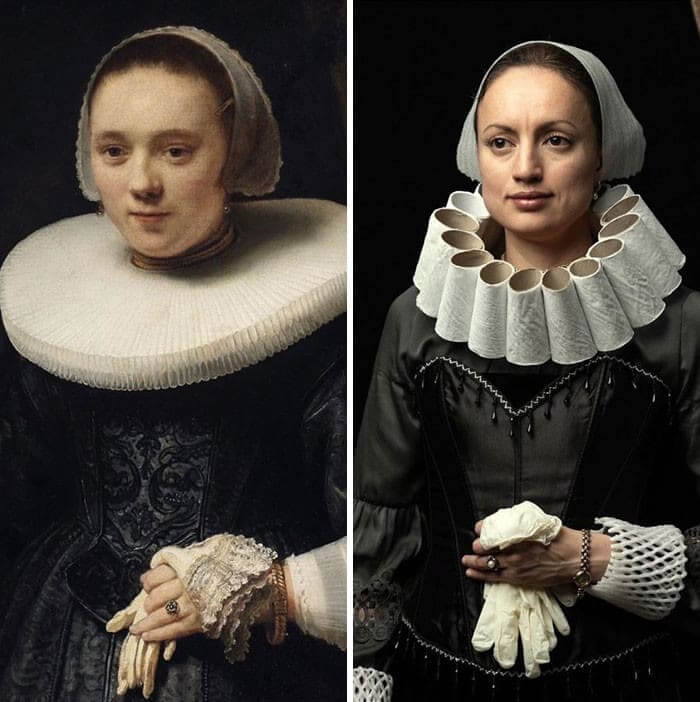 In the original painting, the collar was a symbol of wealth and status, and now having enough toilet paper during a pandemic is a symbol of wealth and status.
6. Johannes Vermeer's Girl With A Pearl Earring
This must be the world's most patient cat because we can't imagine a situation where a cat would willingly sit like this and let their owner dress them.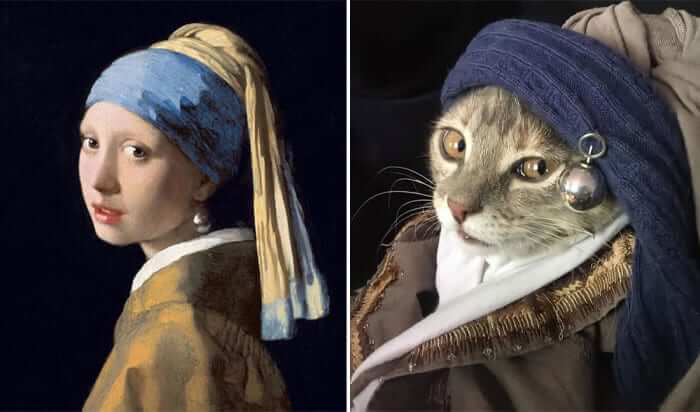 This cat looks like purrfection as "The Girl with the Purrl Earring." She deserves many treats and hours of alone time for sitting still for so long.
7. Salvador Dali's Isolation
We don't know where to begin with this one. Salvador Dali was known for his unique paintings, and "Isolation" is up there when it comes to bizarre images. This couple did a fantastic job recreating this image.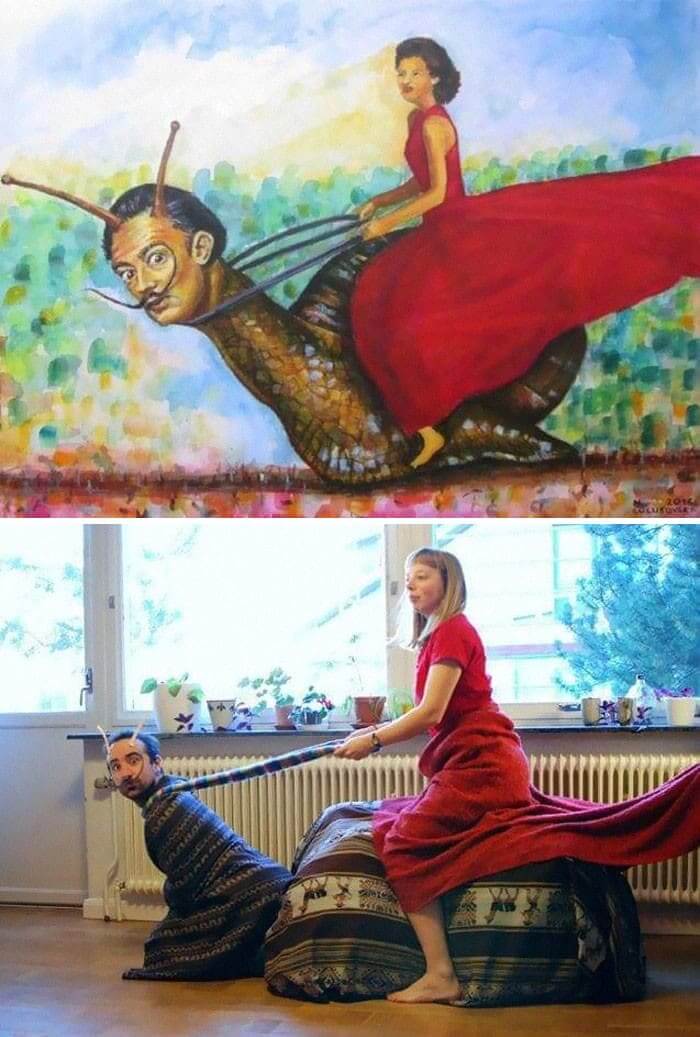 Somehow this couple managed to recreate the whimsical yet strange essence of the painting. Don't you love their dedication?
8. Look Back At It
It is challenging to spot the difference between these two images. The dog's resemblance is uncanny, and she captured the essence of the painting perfectly.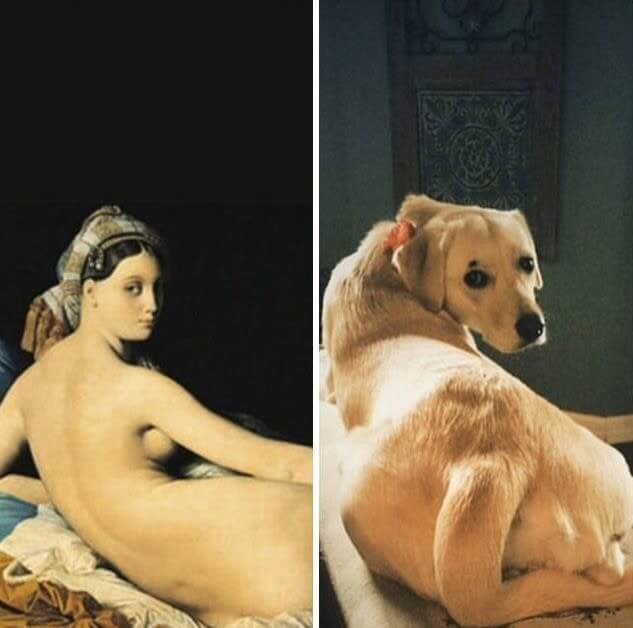 Honestly, we almost like the recreation better than the original because it is more modest, and you can't go wrong with a dog with eyebrows.
9. Picasso's Woman In A Hat With Pompoms And A Printed Blouse
The artistry that went into this woman's makeup to recreate this painting is incredible. She nailed Picasso's classic style with all the colors, lines, and asymmetric shapes.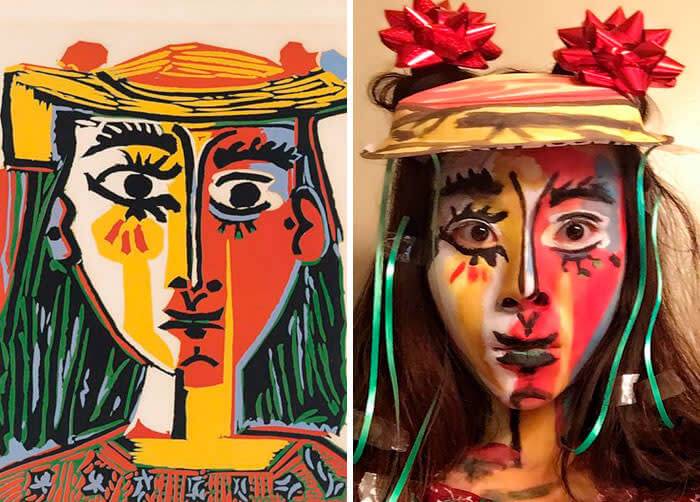 She even committed to the green stripes in her hair and painted the hat to match the painting. The execution here is incredible.
10. Johannes Vermeer's The Milkmaid
"The Milkmaid" is one of the most popular paintings in the Rijksmuseum, and if they switched it for the version with the little girl, we don't know if anyone would notice.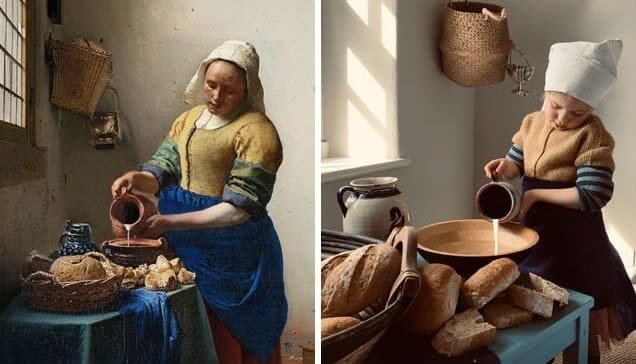 Not only did she perfectly execute the outfit and the pose, but she also got the lighting to look like the painting as well.
11. Francis Barraud's His Master's Voice
The original painting by Francis Barraud was used as a famous trademark in the recording industry. The reimagined version with the iPod could be used as a modern-day version.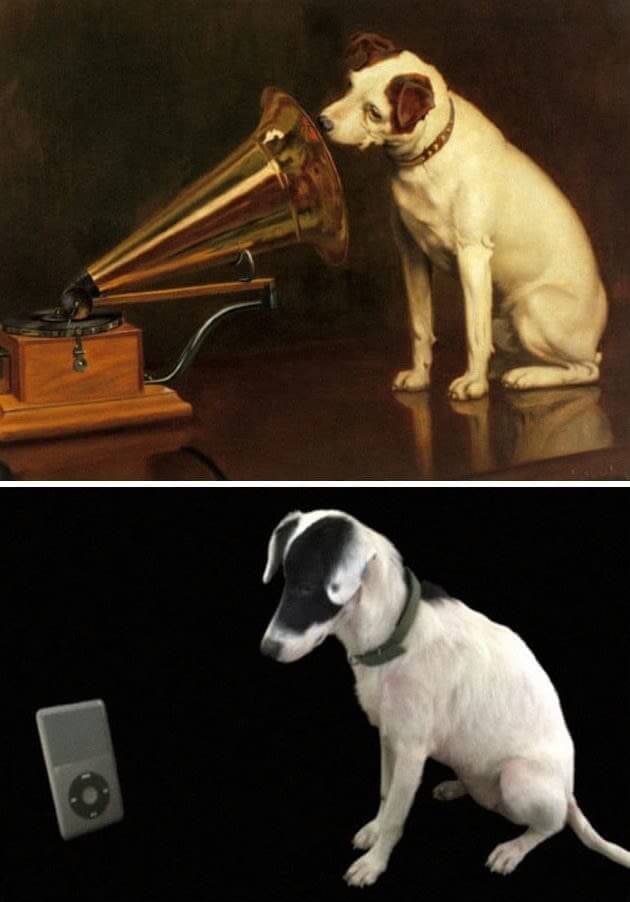 Not only is this a great recreation, but it also shows how much technology has advanced since int 1930s. Now we can have all of our music in the palm of our hands.
12. Jan Van Eyck's Arnolfini Portrait
When your wife is pregnant, and you find the perfect opportunity to use that to your advantage for a painting recreation challenge. His use of a bucket looks similar to the hat in the painting, maybe that was the original bucket hat.
Is it just us, or does the man in the original painting resemble Vladamir Putin? The painting is of an Italian merchant named Giovanni di Nicolao Arnolfini.
13. Jacques-Louis David's The Death Of Marat
They say that life imitates art, and that is true for this cat. He resembled the painting called "The Death of Marat." It is spot-on, and whether it was posed or accidental, they rocked.
Marat was a French revolutionary who was murdered, and this was the most famous image of the French Revolution. Don't worry; no cats were harmed in this remake.
14. Afarin Sajedi's Like A King
It is incredible how well people can create these works of art. This woman perfectly recreated the crown with the fish, and we wonder how she got it to be so similar. The spoons on her crown look like they are painted like the original.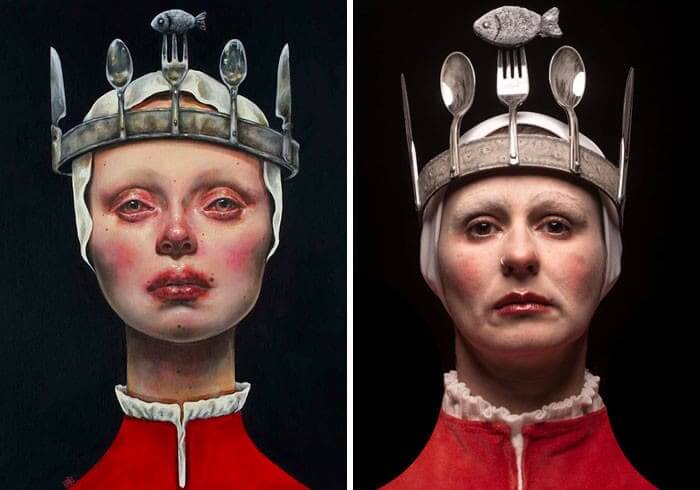 The Iranian artist is known for combining whimsy and horror, and this woman captured those aspects well in her reimagined version.
15. Baldomero Gili's La Ricitos
How did she happen to have all these things lying around her house? Did she paint the background herself or photoshop herself onto the original painting's background? She even nailed the facial expression!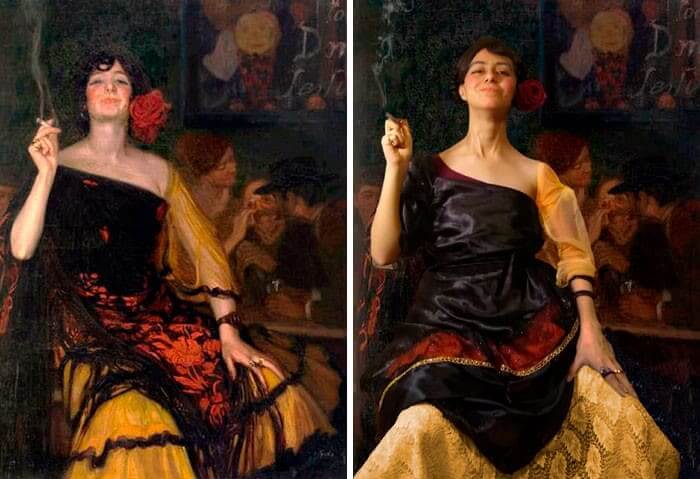 We give this woman major props for making her recreation so close to the original. This challenge to recreate artworks is also a way to recognize amazing artists.
16. Gustav Klimt's Mother And Child
Gustav Klimt's "Mother and child" is ethereal and shows the bond between a mother and her child. This mother-daughter recreation captured that beautiful bond.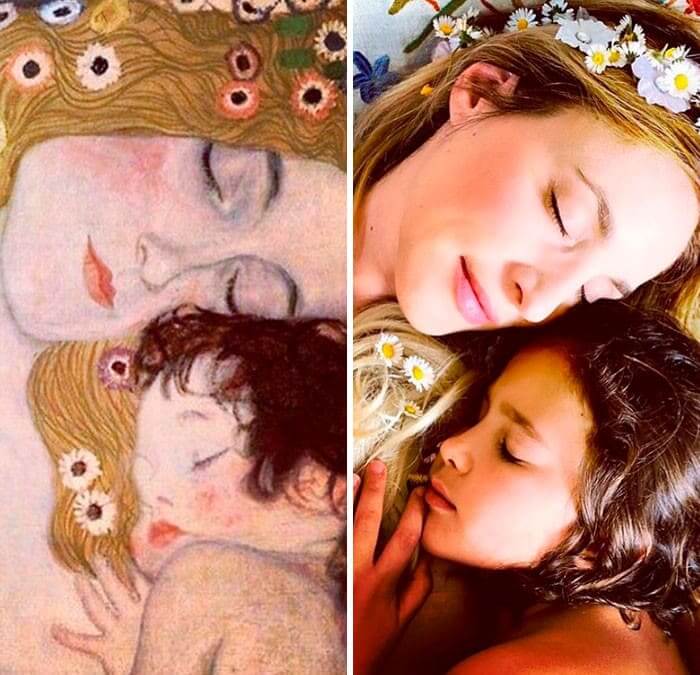 Besides participating in this fun challenge, they also got a sweet picture that they can cherish forever.
17. Edvard Munch's The Scream
Unlike the other reimagined pieces, this person only used household objects without being in the picture physically. "The Scream" is recognized all over the world, and now we will never be able to look at it without seeing an avocado.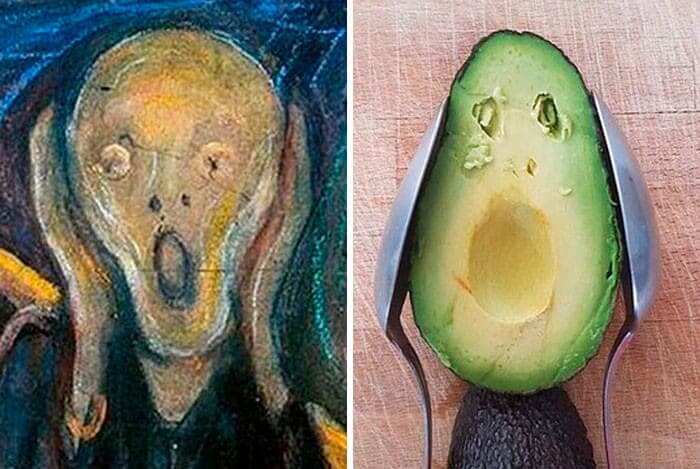 Everything about this one captures the essence of the original painting. The only thing that would have made this perfect is if the avocado was upside down to match the shape of the face.
18. Rene Magritte's The Great War
When you want to block out the germs and haters, use a mask to cover your entire face. This works to recreate paintings and keep you protected from the virus.
We love her use of different items to capture the essence of this painting. If you look closely at her hat, she used rolls of toilet paper to accessorize the hat.
19. Keith Haring's Pop Art Figures
These recreations are fun for the whole family! This family recreated the iconic "Pop Art Figures," and besides not having a fifth figure, they nailed this one.
We love how the dad fully committed by painting any skin that couldn't be covered by red clothing. Why wasn't everyone else as dedicated to this work of art?
20. Paul Peter Ruben's Saturn Devouring His Son
First of all, we are glad that there was no cannibalism in the recreation photo. It is nice to see the little boy laughing in comparison to the gruesome painting.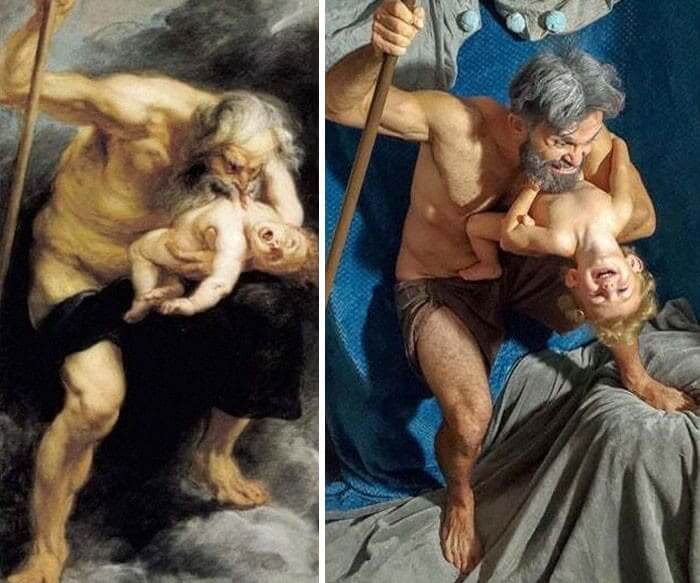 The painting is depicting Saturn devouring his son from Greek mythology, but we prefer that recreated version.
21. Picasso's A Women With A Bird
This one is creative because you can't tell where her face is and what parts are her features under the paint. It is hard to recreate Picasso's work because his style is so unique and she did a great job.
It must have been difficult to draw a second eye on the side of her face, but she made it look just like the original painting.
22. Botticelli's The Birth Of Venus
"The Birth of Venus" is another iconic piece of art, and this man managed to recreate it by taking pictures of himself in different positions and costumes and then merging them.
With just a few different sheets and a curtain rod, he did a pretty good job. This shows that you don't need a fancy background or well-constructed costumes to do this art challenge.
23. Jean-Pierre Cassigneul's L'Espagnole
This woman was dedicated and painted her shirt to look like the one in the painting. We don't know if we would go through the trouble of ruining one of our blouses for a photo challenge.
She looks fantastic with this hairstyle. Although the makeup is not an everyday look, it works for this image.
24. Guido Reni's Salome Bearing the Head of St. John the Baptist
We don't know how this couple managed to make it look like his head was actually on the platter, but they nailed it. Maybe there was some post-editing here, but it looks incredible.
Not only did they recreate a well-known painting, but they also showed what happens when you are stuck inside with your significant other for an extended period of time.
25. Gustav Klimt's Woman In Gold
Instead of "Woman in Gold," she is calling this "Woman in Biscuits." We love her use of food for this one because not many people have done that.
Hopefully, she ate the background after she took the photo, so all those biscuits didn't go to waste because they look quite yummy.
26. Jeff Koons's Balloon Dog
It might be hard to believe, but there is a person inside all of this blue fabric. Unlike the other people who were recreating paintings, this person chose to recreate a sculpture that looks very difficult.
It is impressive that they were able to turn themselves into this balloon animal, and the fact that they had that many articles of clothing in the same shade of blue.
27. Portrait Of A Man In A Chaperon
This turban-like hat was difficult to recreate clearly because the person had to figure out how to structure it properly. He ended up using a paper lantern and a baseball hat.
This guy said he kept running back and forth to set the self-timer on his camera, which explains why he looks a little red and sweaty.
28. Frida Kahlo's Self Portrait
Lucky for this person they had a Chinese Crested dog on hand for this recreation. Unfortunately, she didn't have any monkeys, so she had to improvise with dog toys, but we will let it slide.
She nailed Frida Kahlo's signature eyebrow and stern look, and her dog also managed to pose just like the one in the painting.
29. Ramon Casas's A Decadent Girl
When you send a risky text and he starts typing, but stops midway and never answers. We love how she modernized the painting by using her phone instead of a book.
She might not have a polished shoe, but her flip-flop is another way to modernize the image and use whatever you have lying around your home.
30. Joos Van Craesbeeck's The Temptation Of St. Anthony
There is so much happening here in both images. From his use of Legos and Pokemon cards to the inhaler and lighter, there is a lot to look at.
This is a fun one because the longer you look, the more there is to discover. Every time we look, we find something new and exciting.
31. Norman Rockwell's The Young Lady With A Shiner
This family got their inspiration from the painting of "The Young Lady with a Shiner" by Norman Rockwell. They captured the quirkiness of the schoolgirl and the disapproving look of the principal and teacher.
The original painting is an iconic work of art, and they perfectly recreated this recognizable message of a child getting in trouble with the principal.
32. Titian's Suleiman The Magnificent
If the original painting looks like he is wearing garlic on his head, the only appropriate way to reimagine this photo is with an actual head of garlic.
Maybe he believed in vampires, so he wore a garlic hat to keep them away at all times. Anything is possible.
33. Cassius Marcellus Coolidge's Dogs Playing Poker
"Dogs Playing Poker" is an instantly recognizable painting. This person had enough dogs to recreate this hilarious piece of art, and the result is fantastic.
This is another challenge entry that looks more like a painting than a photograph, and we want to know how people are making these so accurate.
34. Grant Wood's American Gothic
These costumes are spot on in this reimagined version of "American Gothic." All they are missing is the house behind them, and it would have been perfect.
The questionable part of this photo is why they happened to have a pitchfork lying around their house? Do they use it as a giant fork?
35. Pablo Picasso's Seated Harlequin
Pablo Picasso created a series of paintings of people sitting at cafes when he first moved to Paris, and this is one of Harlequin. The recreation is awesome, and you can tell they put in the effort to make the costume resemble the painting.
We can't imagine a time when these outfits were in style, but his use of sticky notes and napkins made for the perfect depiction of Picasso's vision.
36. Duccio's Madonna And Child
The only way to recreate "Madonna and Child" is to use an adorable French bulldog in place of a human child. Dogs count as children too, and this is the best representation of that.
The dog is looking at his owner like, "Why are you wearing a towel on your head? Are you having a mental breakdown again?"
37. Fernando Botero's Mother Superior
We don't even know where to start with this one because every little detail is perfect. From the manila folders to create the structured headpiece to the phone charger in place of rosary beads, it is hilarious.
These recreations show how resourceful some people can be when they are stuck at home and have too much time on their hands.
38. Frida Kahlo's Me And My Parrots
If you don't have a bunch of parrots lying around your home, substitute them for brightly colored cleaning supplies. All she is missing is the signature unibrow to complete the look.
Also, her use of a thermometer instead of a cigarette is perfect. It was a unique spin on this classic painting.
39. Tamara De Lempicka's Portrait De Madame P.
When you don't have white lilies, so you have to substitute them for rolls of toilet paper to make the accurate version of the original painting. Not only did she use the rolls of toilet paper for flowers, but she also made curls out of them for her hair.
This one is awesome because she used makeup to add shadows under her eyes to make it similar to the original painting.
40. René Magritte's The Son Of Man
This is interesting because the original painting of "The Son of Man" represents eating the forbidden fruit, which brought sin and suffering. Now we have technology like the iPad, and it allows us to connect with the world, not always in a positive light.
This was a clever adaptation, whether he was using the iPad to represent the message or just the symbol of Apple.
Real Comics That Show Parenting Struggles When Having Another Baby
Tegan Holmes
This article was originally published on ParentMood
Parenting can be a lot of fun, but anyone with kids or a pregnant partner knows that some days are better than others. Artist Yehuda Devir does a stellar job of capturing these ups and downs of parenthood. He began documenting his relationship with his wife, Maya, through the comic series "One of Those Days." Over their years together, the funny couple welcomed a couple of babies. Yehuda's illustrations have since morphed into a relatable and funny series on family life. So if you're a parent or expecting to become one soon, you'll love these illustrations!
A Bun In The Oven
Before a new baby arrives, their siblings need to learn why mommy's belly is growing again. For older siblings, the addition of a younger brother or sister can be a confusing time. They are used to being the main focus of their parents' attention, and the addition of a sibling means they won't be anymore.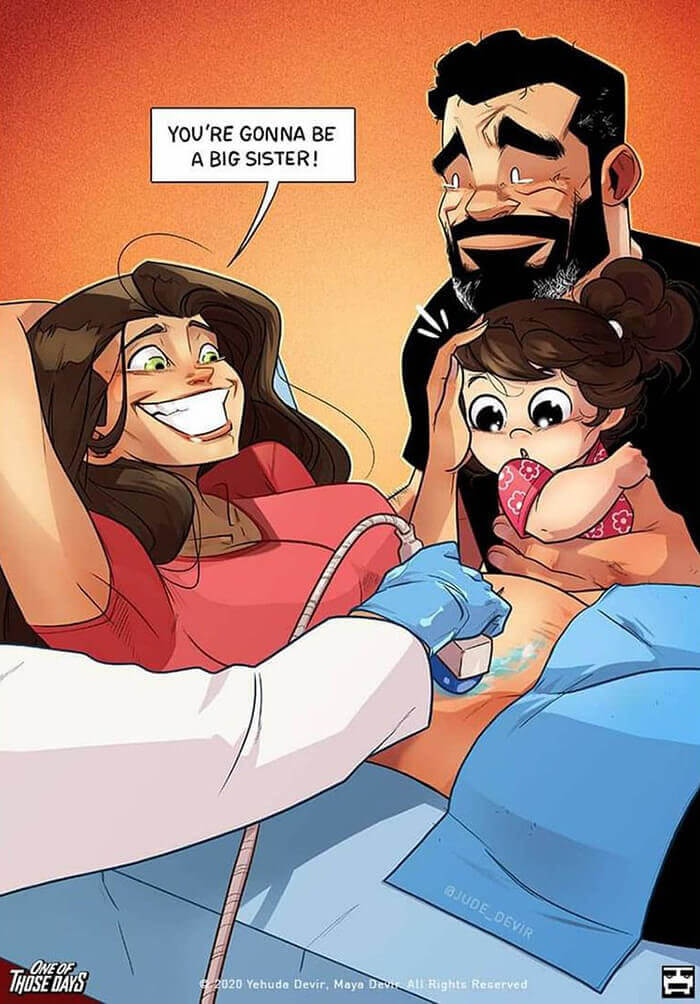 To help an only child get used to the idea of the new addition, it's a good idea to include them in big moments like ultrasounds at the doctor's office. That way, they begin to understand that a new life is growing, and they will have someone to play with in a couple of years.
Changing Bodies
It's pretty amazing that a human body can create new life. When a woman goes through a pregnancy her body changes in many different ways.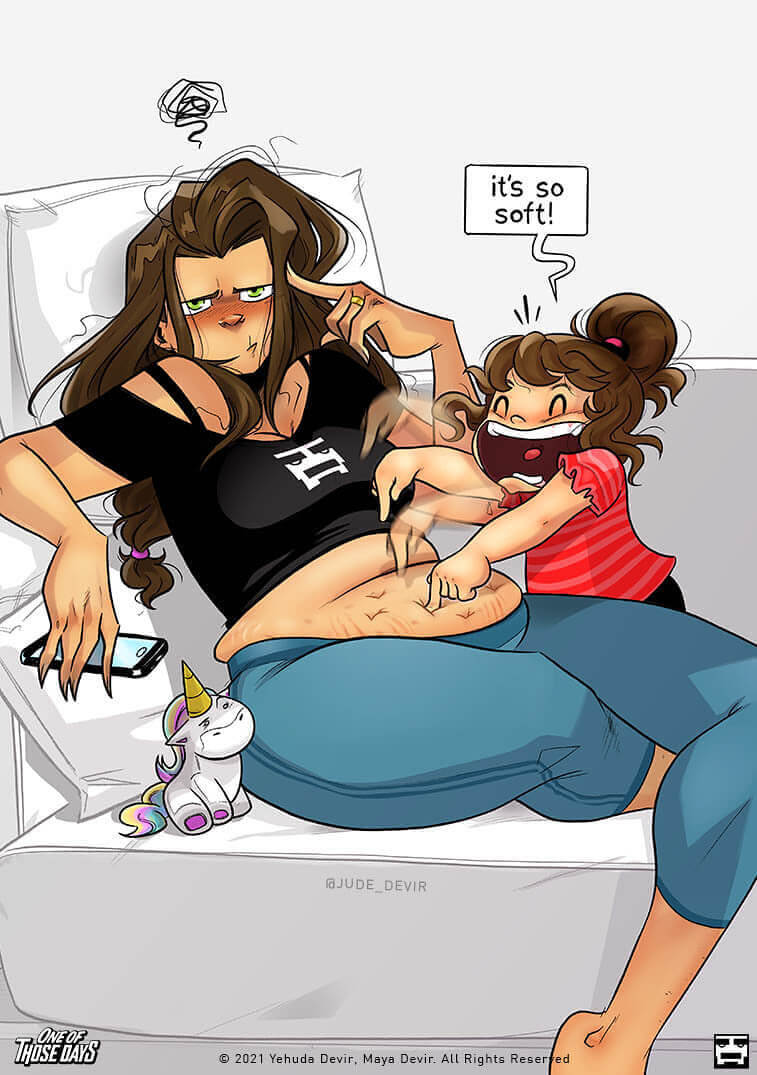 Most women will find that their bellies change because all of the organs must shift around to make room for the growing baby. On top of that, a few new stretch marks might appear, along with some general squishiness. That's okay though, it is all a part of this beautiful process.
Let The Romancing Begin
Every couple needs a little spice in their life, even if one of them is almost nine months pregnant. Just be mindful of a couple of things, especially when it comes to spatial awareness.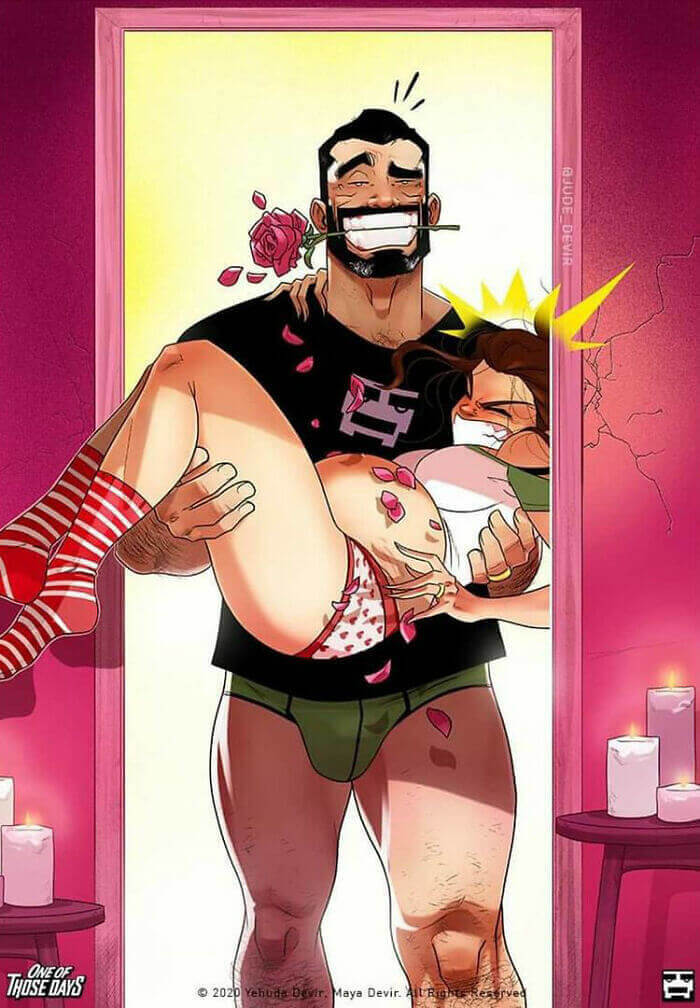 We are all for big gestures, but pregnant ladies do not need to have their head accidentally smacked on a door frame while their husband is attempting to be romantic. Save the grand gestures for post-pregnancy.
The Triple Spoon
A lot of kids don't like to sleep by themselves for the first couple of years of their lives. That's why parents tend to place the crib or bassinet in their own bedroom.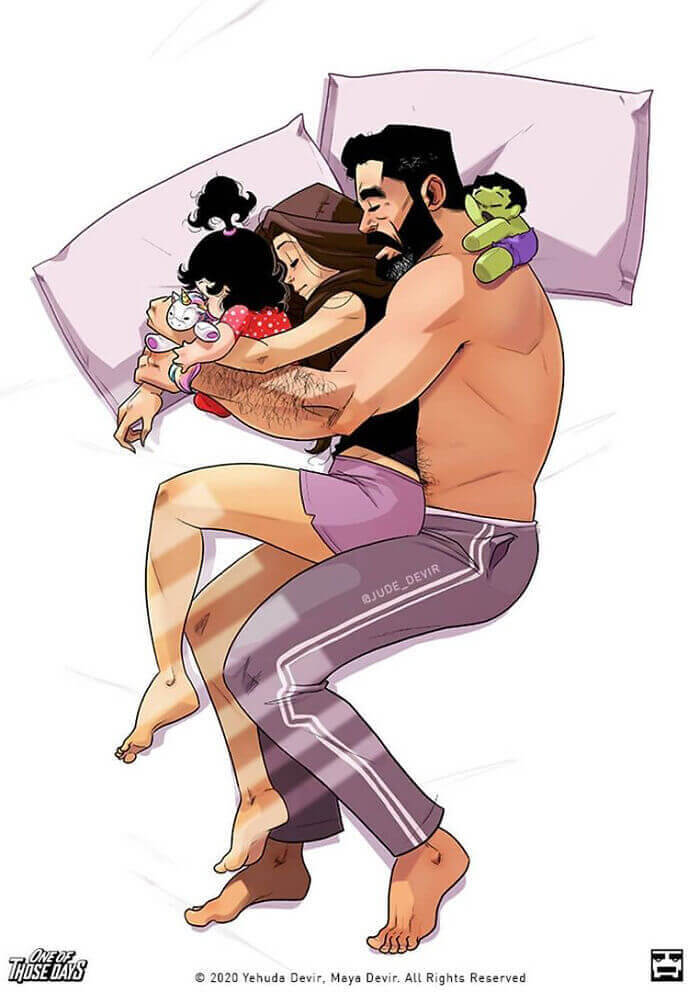 For this little family, they embrace group naps and cuddling together. This is an excellent way for everyone to get the affection they need.
Trying To Work
With everything being a new experience for babies and toddlers, they tend to think that the entire world is their playground.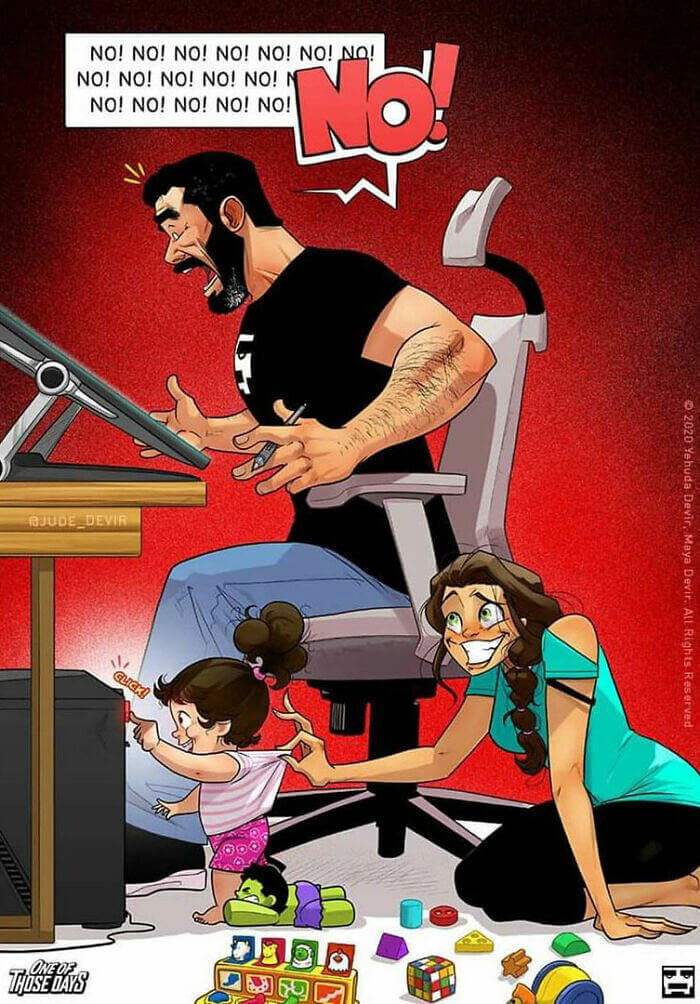 That means any buttons that are at eye level must be pressed. Even if it means a parent loses all of their new comics, and they need to start from scratch again – oops.
Let The Countdown Begin
Once kids enter the picture, major holidays like New Year's Eve tend to take on a bit of a different meaning. Instead of staying up until midnight, it is more about sleeping until midnight.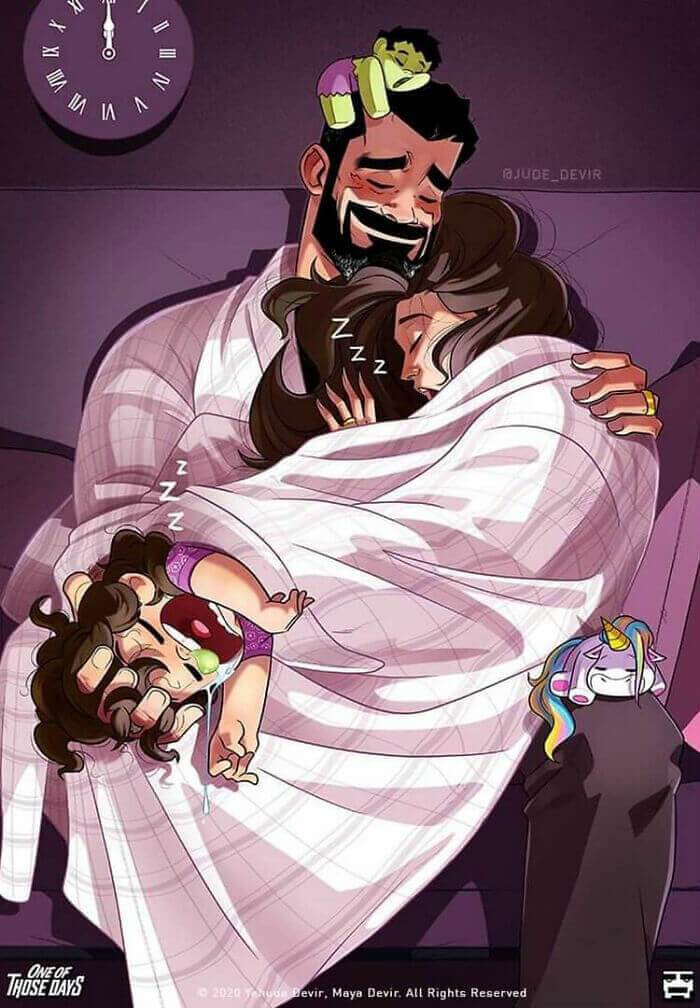 That doesn't mean parents need to stop having fun. It just means that priorities need to change, and fun can be had when kids are older.
New Life
Babies start to move at around the five-month mark in their mother's bellies. It starts with what feels like flutters, and as the baby grows it starts to visibly move.
What may look like an alien moving around is actually a baby just kicking the stomach walls as it tries to get comfortable. Don't be alarmed.
Double Bellies
When a child's mom gets pregnant, it can be a bit of a confusing time. It's hard to understand that a new sibling is growing inside mommy's belly.
That's why it's important for parents to sit down with their child or children and explain that a new brother or sister is about to join them.
Filling Out
While stomaches definitely get bigger, so do other body parts as women get closer to giving birth. Bras may need to be adjusted, or even put away.
For women who are experiencing some major growth in their chest region, we would suggest grabbing a comfortable sports bra until it's time for nursing bras.
Scooting Around
Most babies learn to walk in the first year or two of their lives. Catching those first steps are one of the moments all parents want to remember.
Once a toddler starts motoring around though, you will want to be careful that your home is childproofed. Little fingers like to get into everything!
First Words
Every parent remembers the first time their baby speaks. Maybe it is 'Da-da' or 'up' that are their first words. No matter what, this is a moment that needs to be remembered.
For Yehuda and Maya, their little one managed to say 'Ma..Ma' which was a tear-worthy moment for both of these parents.
All Tucked In
One of the greatest inventions of all time has to be the body pillow. Not only does it conform to your body, but for pregnant women, it provides the perfect resting place for a heavy baby belly.
Body pillows may not fit perfectly in a bed with your partner, but that's a small price to pay for your own pregnant comfort, right? Getting a good night's sleep can be tough while pregnant.
Alone Time
Babymaking is a fun business, but after the baby has been born it can take a bit of time for things to get back to normal in the bedroom.
Sometimes a few new items need to be introduced to get the old motor going again so to speak. Couples that play together, stay together right?
Carrying The Load
A pregnant belly can weigh upwards of 20 pounds, depending on the woman. Most women will lose around 13 pounds as soon as they give birth, but until then, that extra weight can be hard on the back.
Sometimes simply leaning on a partner, or having your partner hold your belly up can provide some much-needed relief for back pain.
Feeling Insecure
For some women, acknowledging that your body has changed and being proud of it can take some time. Stretch marks are normal, as is saggy skin.
Throw on a one-piece or a bikini that makes you feel confident and let it all hang out. Nobody is watching, and your body has basically performed the miracle that is giving life. Be proud of it!
Time For School
Eventually, the day comes in every parents' life, where it is time to send your child off to preschool or kindergarten. This is a big day because it means you won't see your child 24/7.
For many parents, they covet this newfound freedom, but the worry for your child will always be there. Growing up can take some getting used to.
A Helping Hand
You know the phrase, "Help I've fallen, and I can't get up"? The same can be said for pregnant women, except instead of falling it is simply lying down.
As babies start to get bigger, and bellies start to get heavier, it becomes harder for pregnant women to move around like they once did. That means their partners always need to be on hand to help them off the floor, or the couch.
Beach Bodies
Some partners like to sympathy eat with their pregnant loved ones. That tends to mean both the woman and the partner pack on a few additional pounds.
Those extra pounds will need to come off eventually, but that doesn't mean you need to hit the gym hard. Start doing some light cardio, cut back on the junk food, and the weight will come off on its own. Chasing a toddler around all day will do wonders for the physique.
Cover Your Nose
Children are like little sponges, and they need to absorb their manners and proper etiquette from their parents and those around them.
One of the most important things children learn is to cover their mouths when they cough or sneeze. This keeps snot and other germs from spewing all over the place, but it takes practice!
Glued To The Television
Toddlers need to be kept entertained. Otherwise, they will find creative ways to entertain themselves, like drawing on the wall with their favorite markers.
One method to keep kids quiet, and entertained is to switch on that magical screen known as a television. This can keep kids busy for hours.
Food Cravings
Ask any woman that has been pregnant, and she will admit to having some pretty strange food cravings. Some women crave salty foods like pickles.
Others simply want to have a mish-mash of flavors in the form of every condiment known to man on their burger. While these concoctions might look kind of gross, try not to judge your partner's food choices. The baby growing in her belly is demanding these for a reason.
Getting Everything Done
Women are fantastic multitaskers, this is basically a fact. They can write an email, go shopping, and watch their child all at the same time.
For some men, it is a bit of a different story. Yehuda comically made fun of himself and his lack of multitasking abilities which might resonate for some other dads out there.
Going On Vacation
Babies are born with a natural instinct for survival when it comes to water. Most know that they need to flip themselves upside down so that their face is not in the water. Once a baby is old enough, it can be introduced to swimming, first with water wings, and later all on their own.
Family vacations give a baby time in the water with their parents, and they also learn a very important rule – don't pee in the pool. It seems like this parent might just have forgotten that rule, and needs a reminder.
Co-Parenting
Every family is different, which means each parent had a different upbringing growing up. These upbringings are what every parent either consciously or subconsciously brings to their own parenting style.
Sometimes these different methods of parenting can lead to a few arguments, but ultimately parents need to remember that this is a partnership. Everyone needs to find a common ground, and work together to raise their little one.
Getting A Boo-Boo
Part of growing up is learning how to fall down and get back up again. Children will fall down, scrape their knees, and understand what it means to get hurt.
Having a boo-boo kissed better by mom or dad, and a cute little picture drawn on a bandaid shows that it is okay to hurt. A parent is always there to make it better.
A Time Out
Time outs aren't just for kids. Sometimes a parent needs a break from caring for their child. This isn't because they don't love them, but it can be overwhelming.
Partners need to make sure that each parent has some alone time, even if the baby is crying. When a mom or dad is feeling overwhelmed, make sure to communicate this and get some help.
A Stinky Surprise
Dinner time is the highlight of the day for many people. Maybe your partner spent hours cooking up some delicious spaghetti, or another scrumptious meal.
A dirty diaper and the smell wafting out of it is not one any diner wants to smell before mowing down. Always do a quick diaper sniff before sitting down to dinner to avoid any unappetizing smells.
Incoming Baby Alert
For most expectant parents, they have enough time to hop into the car and make it to the maternity ward once contractions start. Some women might be able to have their baby in a matter of hours, for others, it could take days.
Everyone has their own birth journey to follow, and for Yehuda and Maya, it looks like it might have involved a bit of yelling and screaming. That's totally normal when a new life is about to enter the world!
Always Shut Your Mouth
One of the least exciting aspects of having a baby has to be changing diapers. It seems like every couple of hours, or sometimes even minutes, the baby needs a change, and that can lead to some messy situations.
If this comic teaches you anything, it should be to always close your mouth when changing a dirty diaper. You don't want to end up with a surprise in your mouth.
A New Addition
This happy couple welcomed a baby boy into their family, which obviously meant a comic had to be created for the announcement.
According to the caption for the cartoon, this new addition has been named Ethan and he is a "new super-ultra-mega baby boy." We can't wait to see how he is portrayed in Yehuda's work over the coming months.
All Tuckered Out
After a long day of caring for your child, both you and your partner will be all tuckered out. Bedtime is not just for the baby. Most parents try to match up their sleeping schedules with their little ones.
By matching up the sleeping schedules, parents can enjoy some much-needed shut-eye, until the baby wakes up and the whole saga has to start again. Sleep while you can when you have a baby.
A Few Tickles
A new baby is always cause for excitement. As soon as that little person enters the world, it feels like anything is possible.
Baby Ethan seems to enjoy some coochy coo time with his dad, and a few little belly tickles. For babies, everything around them is a new experience that always leads to a sense of wonder.
Everyone Wants Mom
When you have children, they may favor one parent over the other when they are babies. Usually, they cry out for mom because she is the one that makes them their food. It might be hard when your partner is away, and the children won't stop crying, but it will get better eventually.
The tears and screams might be flowing, but parents do the best they can while their partners are away. The parent taking care of the children watches the clock and wonders, "how many minutes until they come back?" At some point, the kids tire themselves out, and the crying stops.
At Least Everyone Is Sleeping
When you have young children, it can be challenging to find time to sleep. But, in the rare moments that everyone is sleeping, it doesn't matter if the house is a mess or someone didn't get their bath; you just have to savor the peace and quiet.
Being a parent is exhausting, and sleep is rare, so getting even a few minutes of rest with your children is a huge parenting win. However, we wonder if parents ever get used to not sleeping because they still have to go to work even if their children were up all night.
Getting Older
We all age, that is a fact. For some people that means getting wrinkles, and for a lot of men, that means thinning hair or going completely bald.
Losing hair can be a major source of anxiety, but it doesn't need to be. People age, and aging gracefully is a part of life. Own that balding head, and embrace the change. With age, comes wisdom, right?
Zoning Out
Every couple, whether they have been together for a couple of months, or a couple of decades has moments where they just need to zone out.
Social media is a great escape, and even if you and your partner aren't talking, you can be sending each other memes, and funny TikToks while you enjoy some quiet time together.
In It Together
At the end of the day, your partner is going to be with you through thick and thin. That means they are there for the highs and the lows, and no matter what, you will stand together.
Some days will be tough, but communication is key. Make sure that you check in with your partner, and assess how you both are feeling. Bottling up feelings is never good.
Winter Is Coming
As soon as that first crisp breeze blows in, or the first flurries of snow appear, women everywhere know it is time to stop shaving. Of course, some women still shave, but if you're not showing your legs off in shorts it is definitely more of a choice.
When winter hits, and women no longer have their legs on display, it is totally okay to say no to shaving, and embrace hairy legs.
Always Work Together
Being a part of a team in the workplace is just as important as being a team at home with your partner. You need to work together to raise your child, or your pet if you opt not to have kids. It takes two to clean up a baby that has gotten food everywhere or has managed to dip a hand into a dirty diaper.
You can always rely on your partner to help. That teamwork spirit will help you raise your kids to perfection, and achieve the life you have always wanted – go team!