Pregnancy and life with a newborn comes with many new adventures for couples. From changing bodies to being exhausted from staying up all night with the baby, this artist is showing it all. Yehuda Devir and his wife Maya have been sharing moments in their loving relationship through the ongoing illustration series, "One of Those Days." We are sharing the adorable illustrations that follow Maya's pregnancy and life with their baby girl Ariel. Keep reading to see the heartwarming moments.
1. "We're Pregnant!"
For so many couples, it is a dream to get pregnant and start a family. After trying for a while, they finally got a positive result and couldn't have been happier.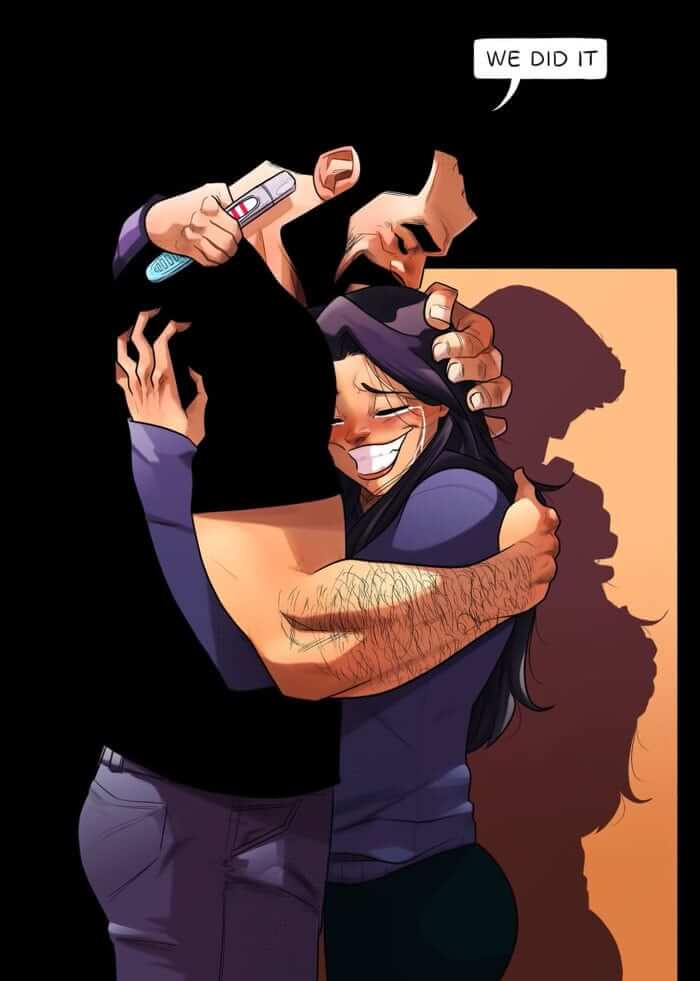 It is a celebratory moment because you find out that you are going to be parents, and it is the beginning of an amazing chapter in your life.
2. Moving Day
It's time to move to a bigger place for their growing family, but he does not want his pregnant wife to do any work because he is protective of her.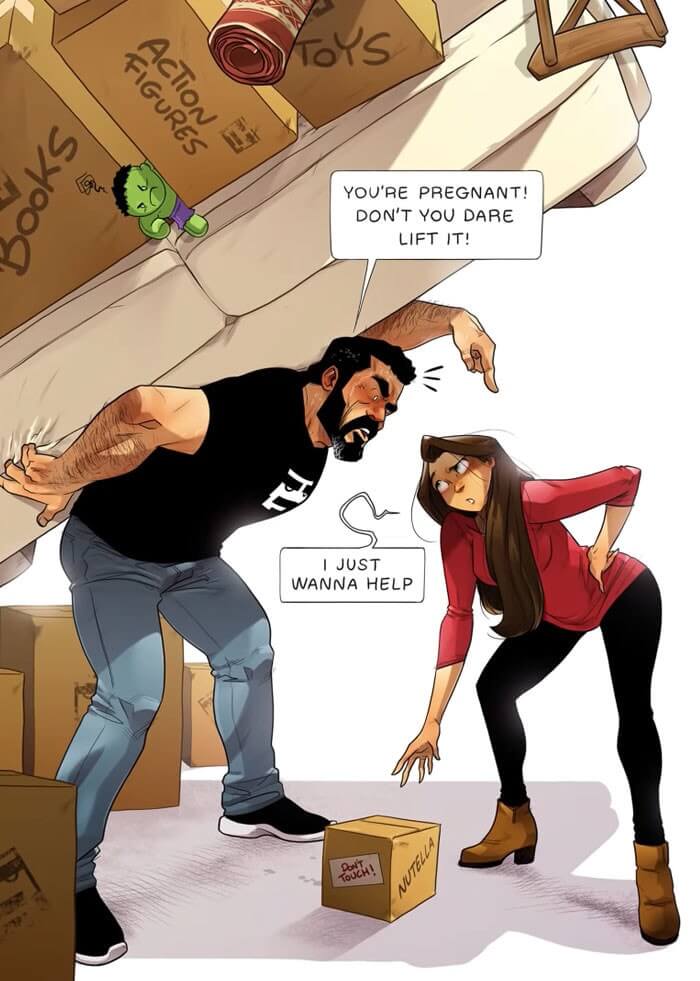 Pregnancy can cause a lot of strain on the body, and he wants her to take it easy and avoid heavy lifting.
3. Say Hello To My Little Friends
Your body goes through many changes during pregnancy, and your hormones are all over the place. Sometimes, that can cause acne, which you thought you got rid of as an adult.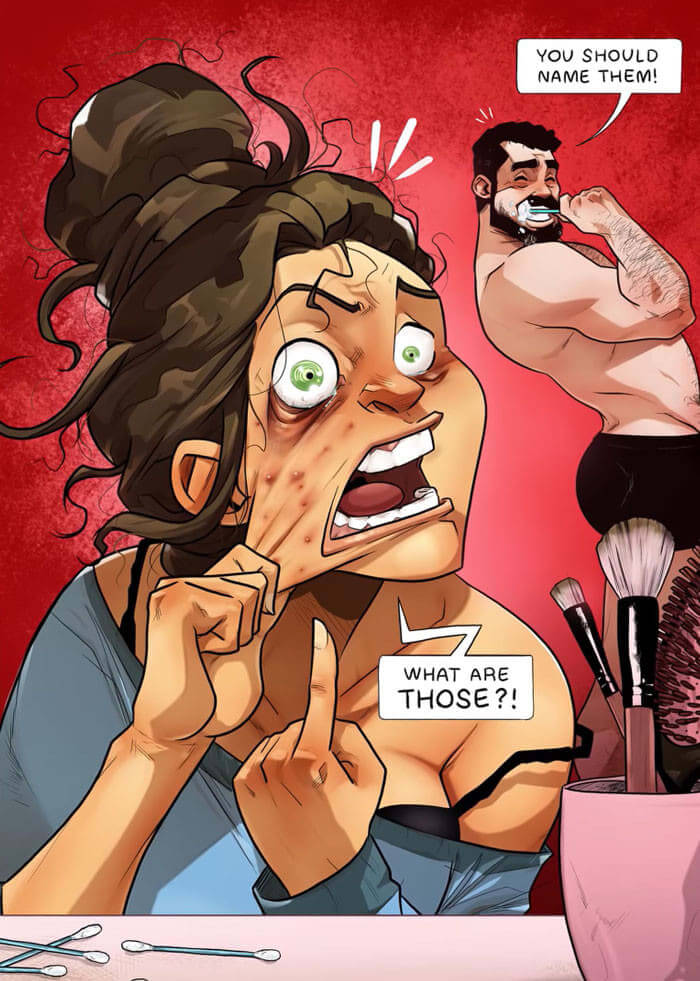 It might be annoying at the time, but he still thinks she is perfect. Pregnancy isn't perfect all the time, but the outcome is worth it.
4. "This Is What I Call A Workout."
When cravings and exhaustion are stronger than the urge to work out, so you use the yoga ball your husband bought as a footrest instead.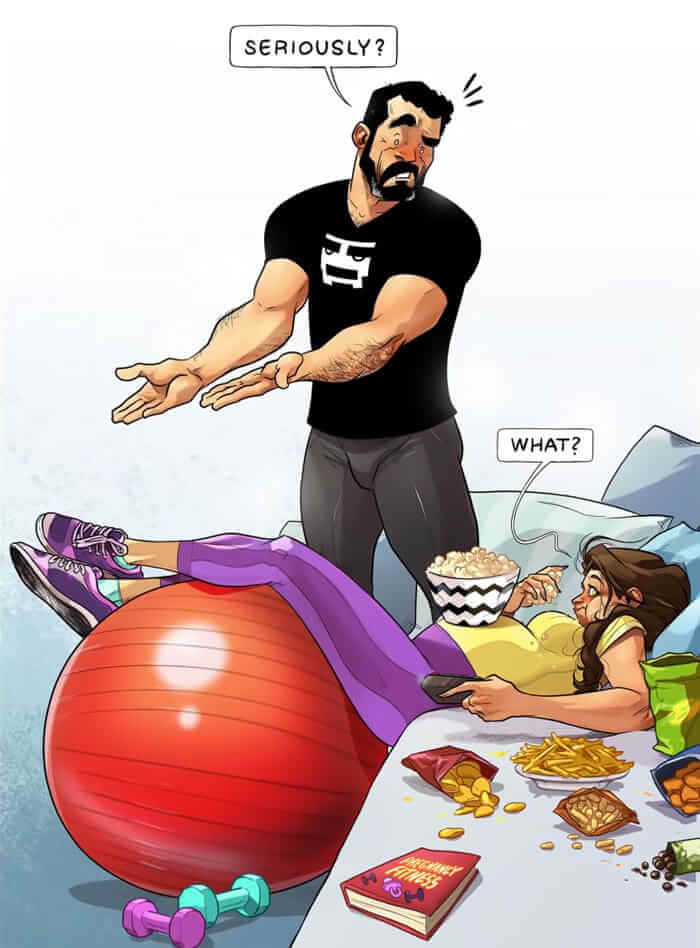 That isn't what the ball was meant for, but her version looks much more comfortable.
5. Jenga: Pregnant Belly Style
This looks like the scene from Cat in the Hat when he is seeing how many things he can balance and carry. They are making the most out of her growing belly.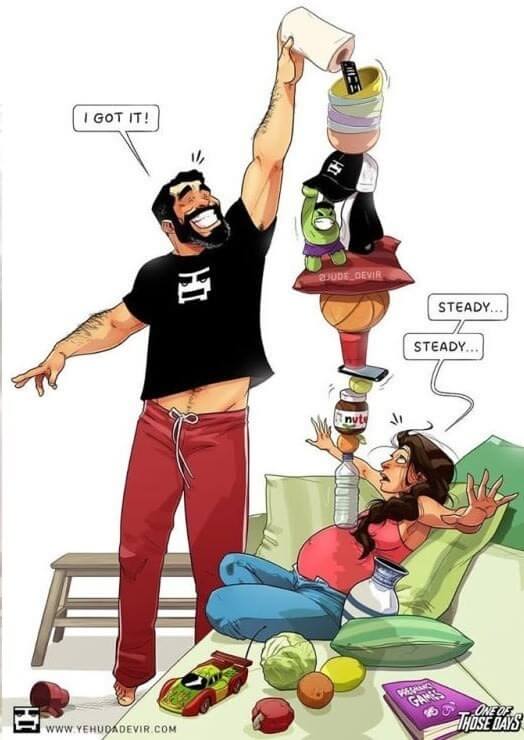 The real question now is how do they get everything down without it crashing to the ground.
6. The First Kick
When the baby kicks for the first time, it is a magical moment. She couldn't contain her excitement and wanted him to stop what he was doing to see.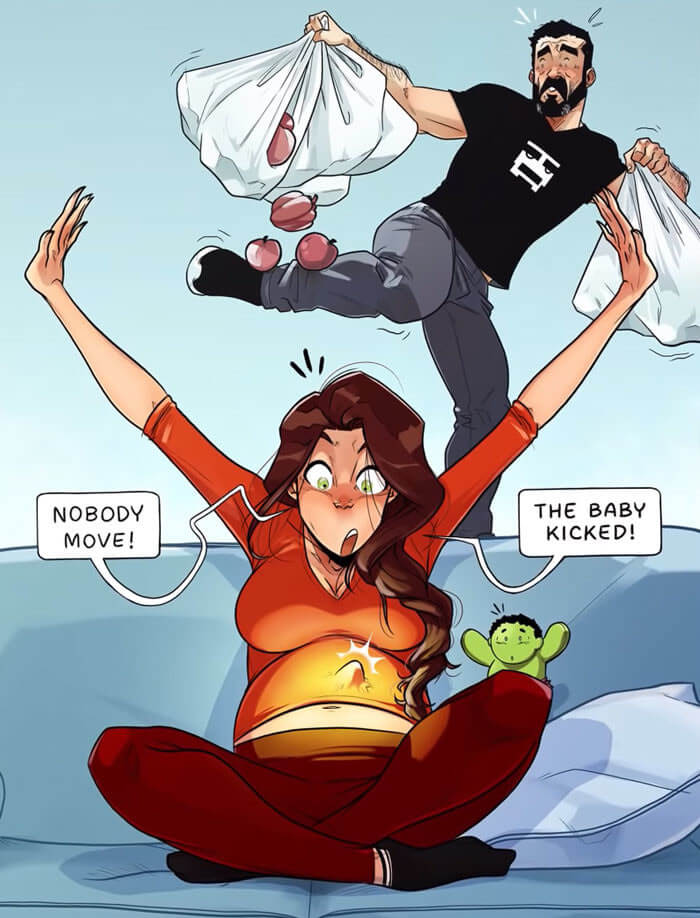 You can finally feel your baby moving around and it creates such a strong connection.
7. Body Changes
As we said before, the body goes through many changes throughout pregnancy, and Maya was excited to share her changing body with Yehuda.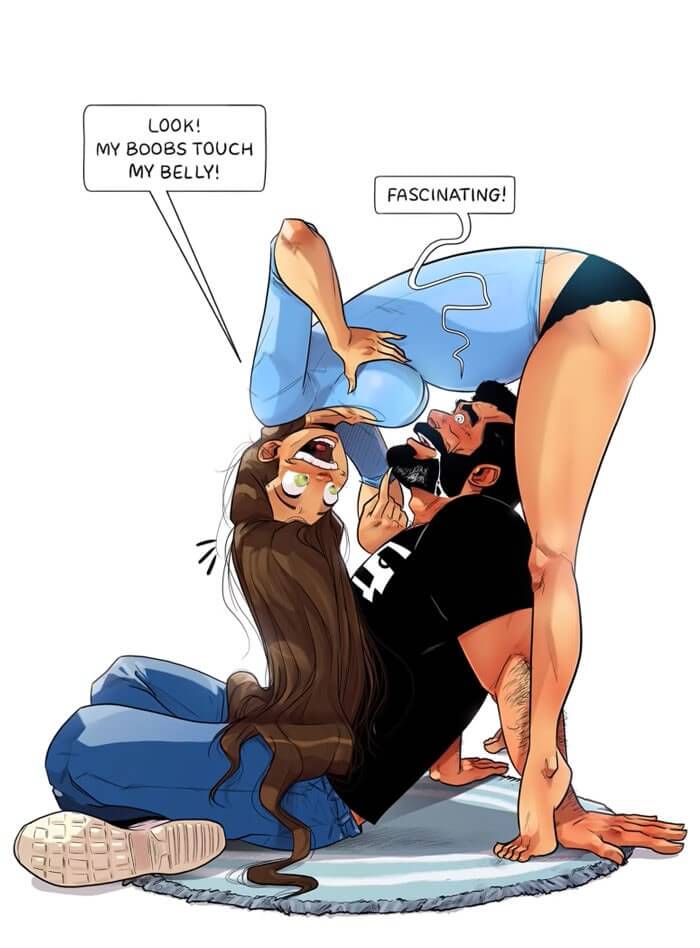 He doesn't seem to mind how excited she is that her boobs now touch her belly.
8. Belly Kisses
There is nothing more special than the excitement you have to finally meet your baby. This is a time full of love and lots of kisses.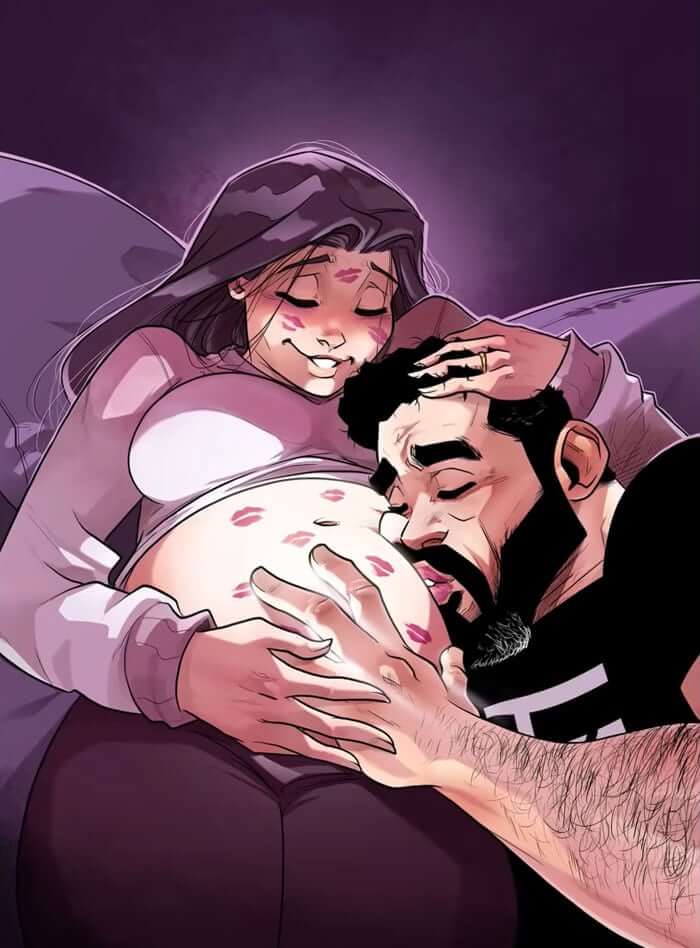 This little baby is going to be so loved, and the parents could not be more excited to hold their baby.
9. Salt Face
"My precious, my precious." With pregnancy comes cravings, and Maya was craving salt. The more salt she had on her fries, the better.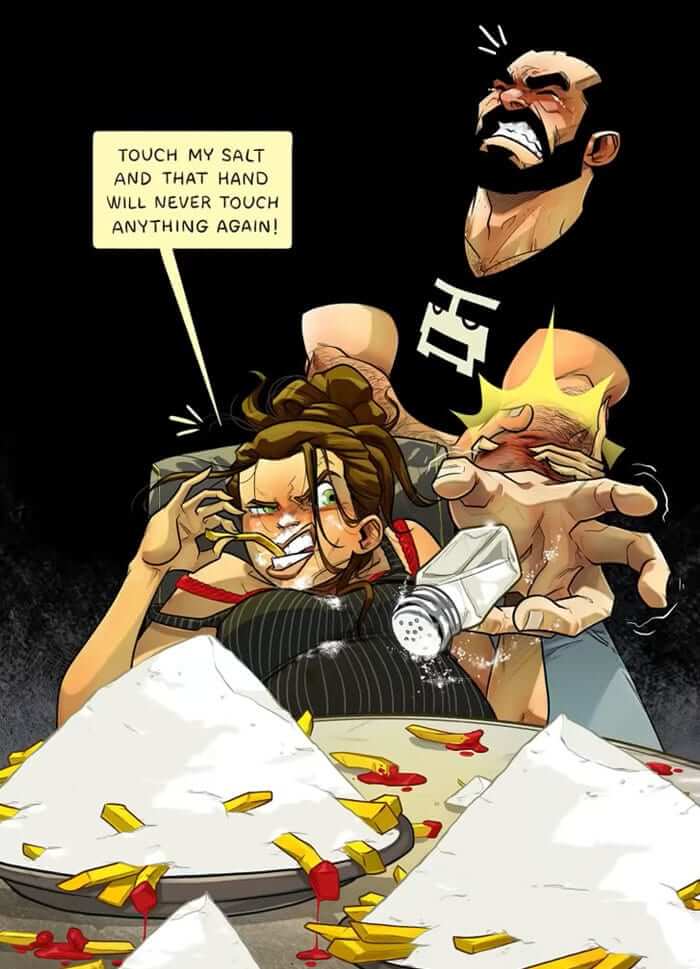 He was trying to take the salt away from her, and he almost lost his hand in the process.
10. Belly Pillow
As your belly starts to grow, it can be uncomfortable to sleep. While most people buy a special pillow to support their bellies, some people opt to use their husbands as pillows.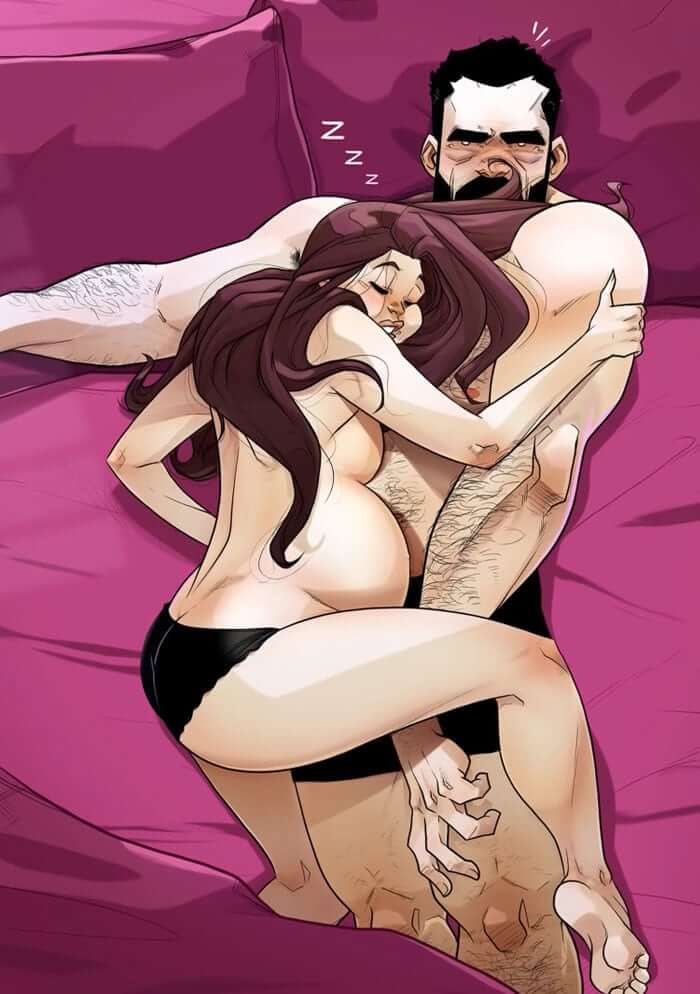 She is sleeping peacefully while he is trying not to be smothered by her hair.
11. "Move Out Of My Way"
As your baby grows, it applies to more pressure to your organs including your bladder. Move out of the way because she has to go to the bathroom.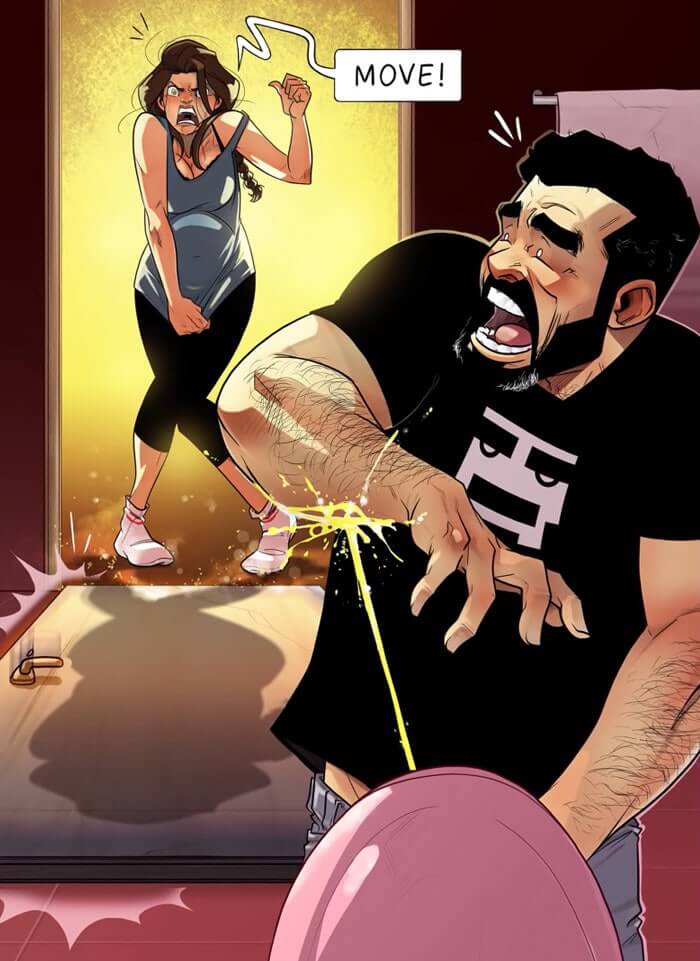 He was in the middle of going when she barged in because she could not wait any longer.
12. Nobody Panic!
It's finally time to go to the hospital, but you might want to only bring the essentials instead of everything in the house.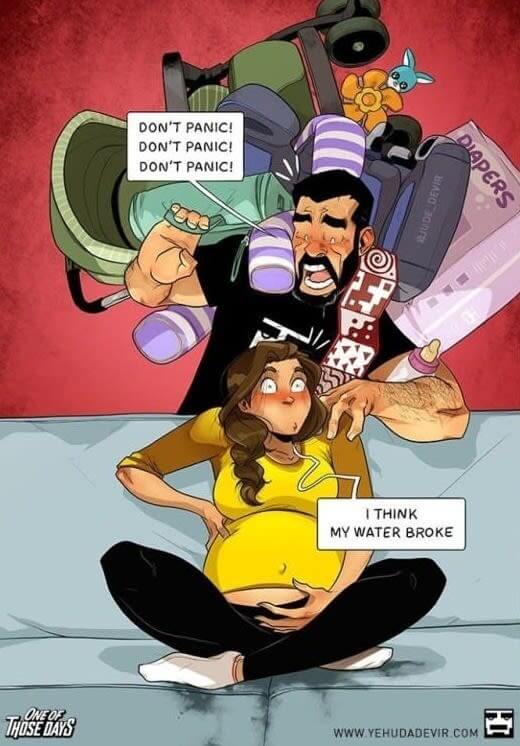 Despite being the one to say, "Don't panic," he seems to be panicking the most.
13. The Big Moment
"Push, Push!!" The beautiful and painful moment is finally here, and they are about to meet their baby. He is beaming with excitement.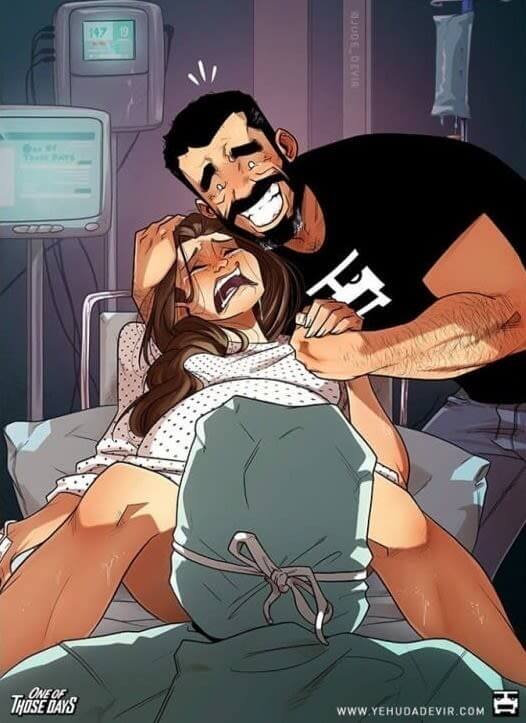 After nine long months, you get to see the baby that you created and start to enjoy parenthood.
14. A Beautiful Baby Girl
After the pain comes the moment you get to hold your baby for the first time. You try to figure out which features the baby got from each parent.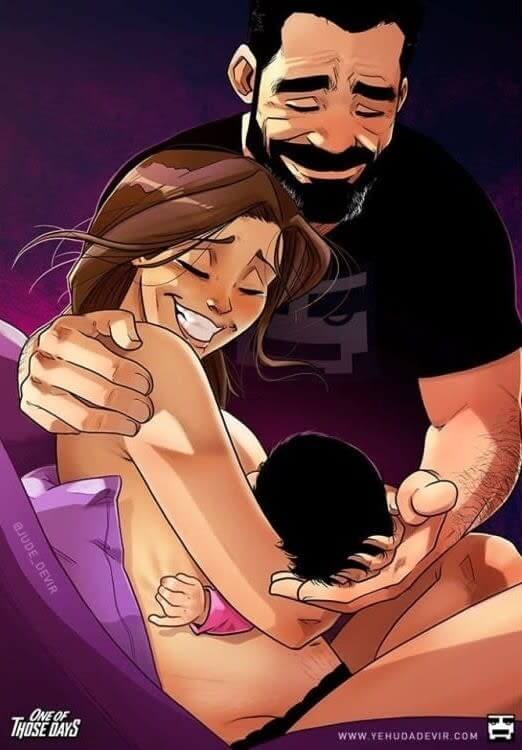 You can't wait to bring your baby home and enjoy all the exciting new moments that are to come.
15. She's Here!
When you can't get enough of your newborn baby, and you want to stare at her all day long. Everything she does is adorable, even her drool and dirty diapers.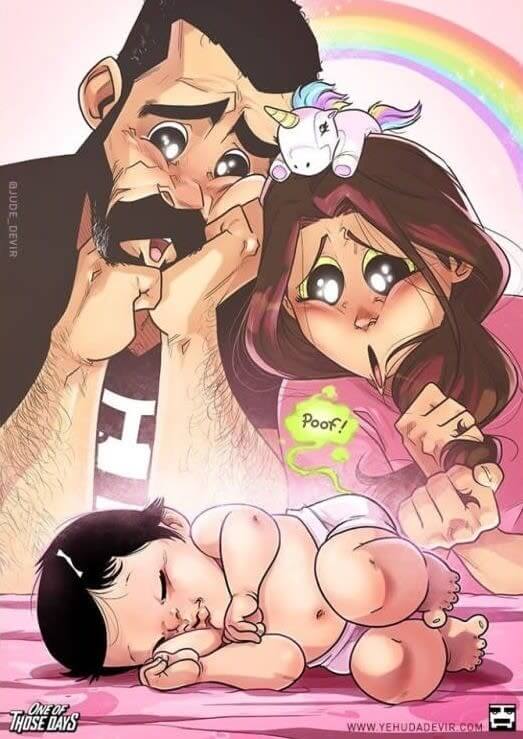 They can't believe that they created such an adorable baby girl. They should enjoy her peaceful sleeping while it lasts.
16. Taking One For The Team
When it comes to changing dirty diapers, some people are more dramatic than others. He decided to take one for the team to clean up this mess.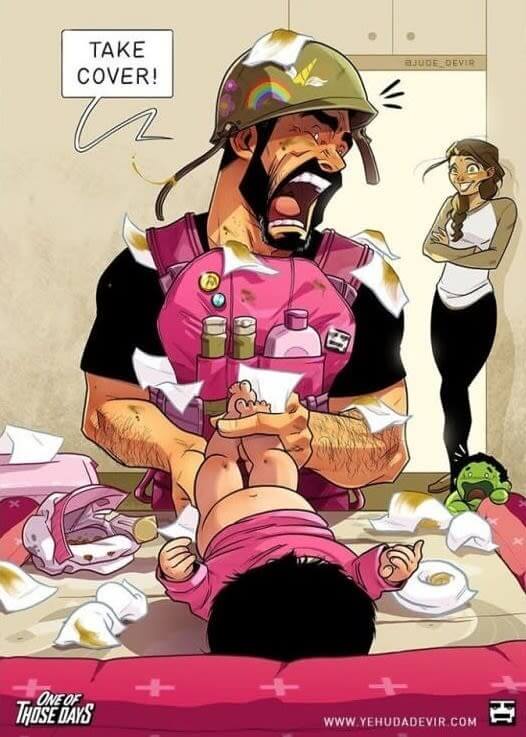 How can such a tiny person make such a giant mess, it is mind-boggling. Even baby hulk is afraid.
17. Dirty 30
Your thirtieth birthday is a significant milestone! Maya was so excited to be a mom, and she was even happier that she did it before she turned thirty.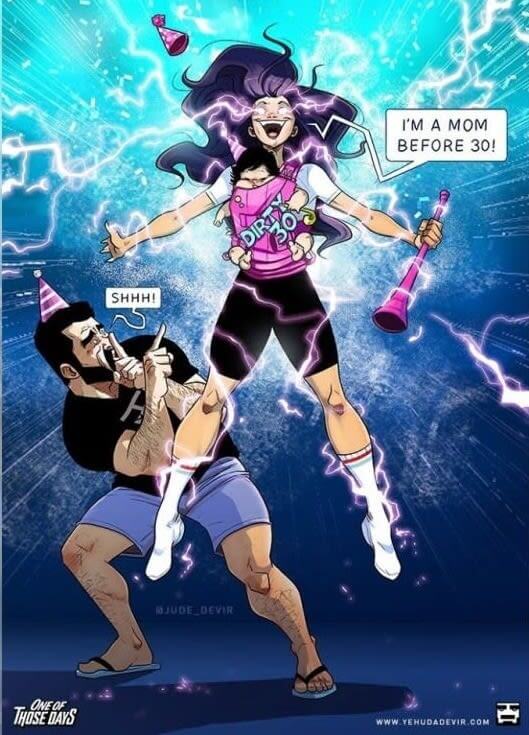 While she was celebrating her accomplishments, she forgot that her baby was sleeping. Hopefully, the baby didn't wake up because it is hard to get them back to sleep.
18. Pure Exhaustion
"She never stops crying!!!" As we said before, once the baby is up, it is hard to put her back to sleep. It seems like she never stops crying.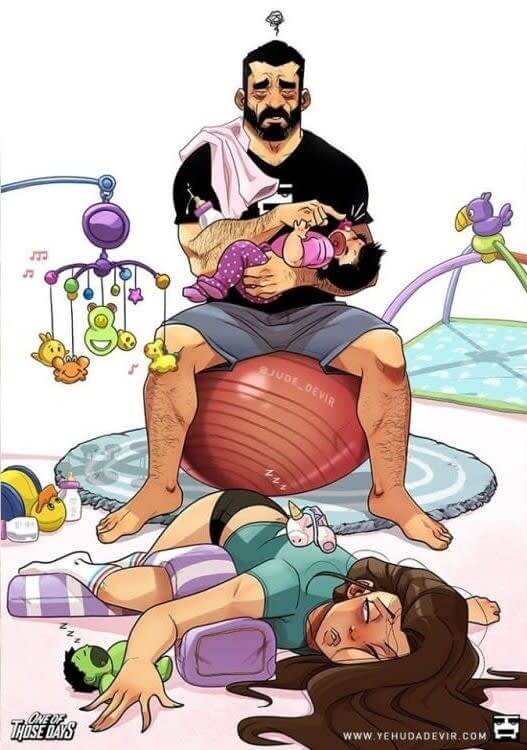 There are many exciting moments, but the sleepless nights are not something that you can prepare for.
19. A Shot And A Broken Hand
We aren't quite sure who cried more in this situation. The nurse said it would be a small pinch, but they didn't hear her mention a broken hand.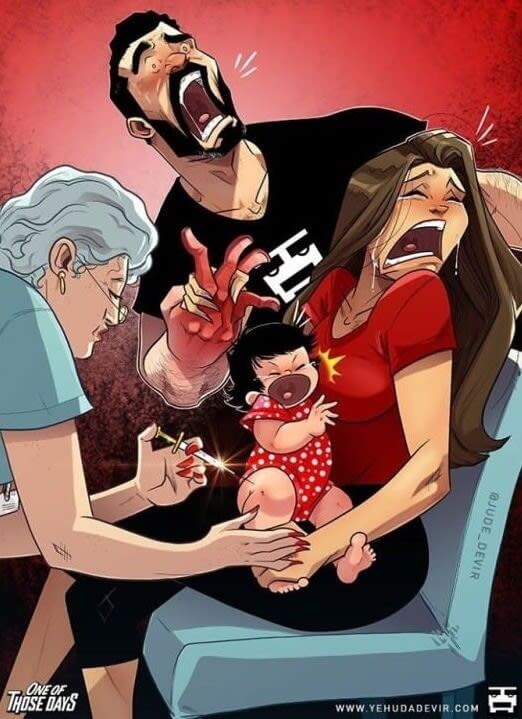 It is hard to see your child get a shot for the first time, but they only cry more because they see their parents crying.
20. Bath Time Madness
Giving a bath to a baby is a whole different and wet war. It seems like eventually, both parents get their shower as well.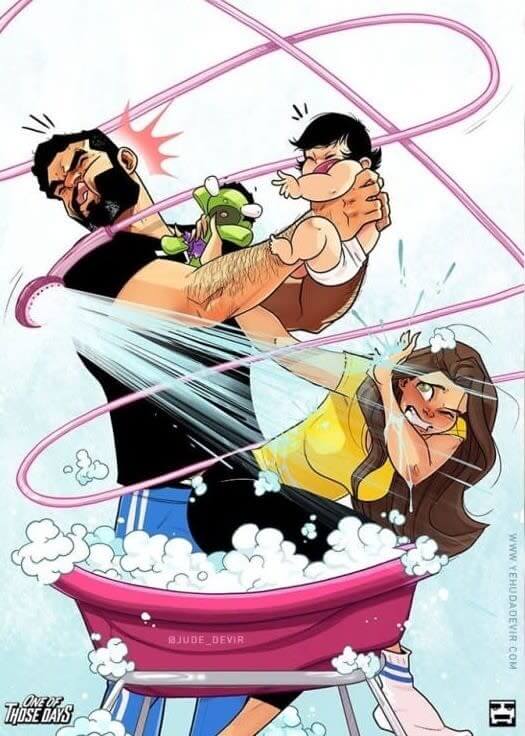 She has a lot more power and strength than people would think. When she doesn't want a bath, she will make it impossible to give her one.
21. Nap Time For Everyone
When one of them nap, they all get to nap. After many sleepless nights, they finally get some time to sleep.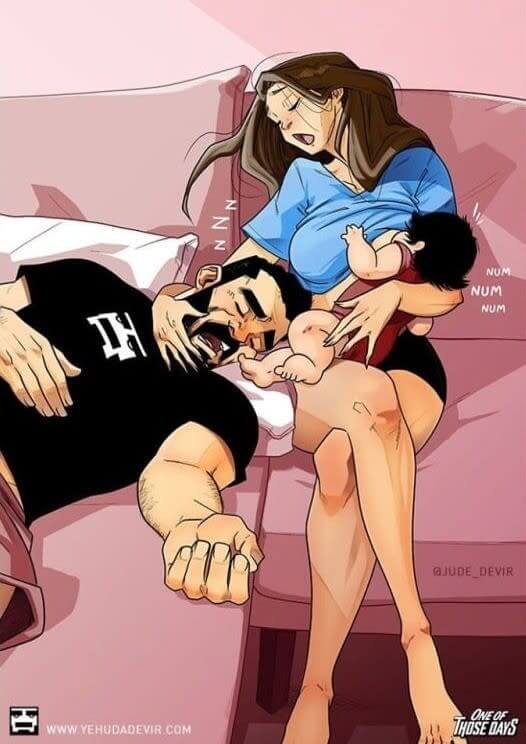 The baby took a break from crying to have a meal, and her parents took this opportunity to catch up on some much-needed rest.
22. Stay Away From The Baby
All for one and one for all! Protect the baby from the bugs at all costs because bugs are scary and gross.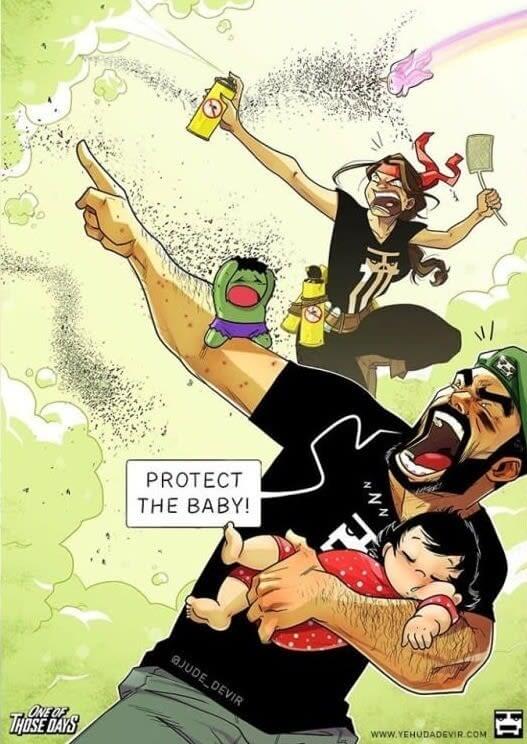 Her parents are warriors who fight bugs off while making sure the baby is still asleep. Those are the real heroes of society.
23. Picture Perfect
Everyone loves how cute babies are until they spit-up all over you. Luckily, Maya was there to capture this perfect moment. We just hope he had his mouth closed.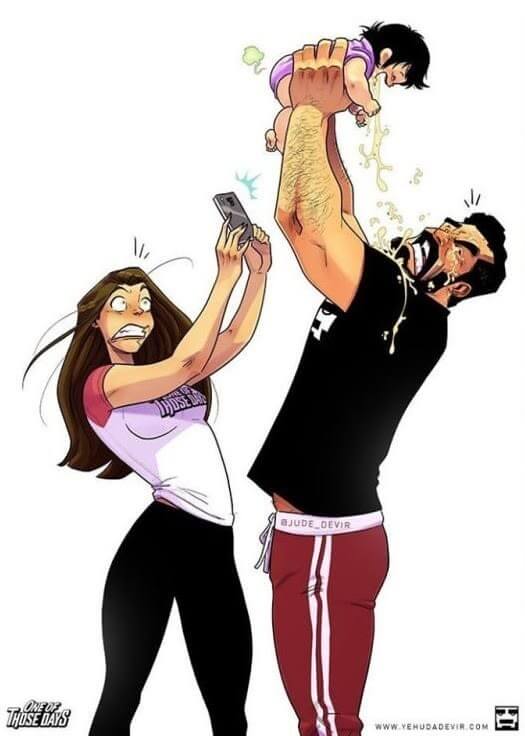 Even though she spit-up on him, it is hard to be mad at that adorable face.
24. World's Best Dad
Sometimes it is hard when a baby cries and only wants her mom. It's ok though. It doesn't mean she loves you any less.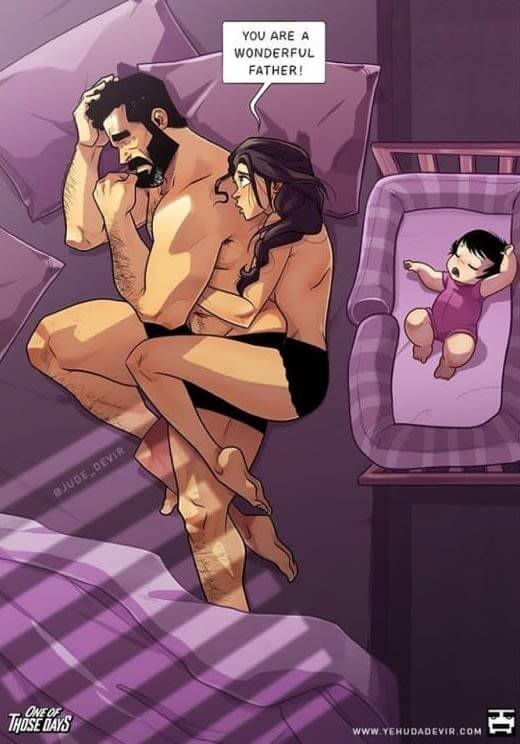 She will appreciate all you do as a dad no matter how much she cries for her mom.
25. A Walk In The Park
Parenthood is such a beautiful blessing. It's even better when you have to leave the house with a million things "just in case", and end up not using any of it. Although, when you pack light, you end up needing it all.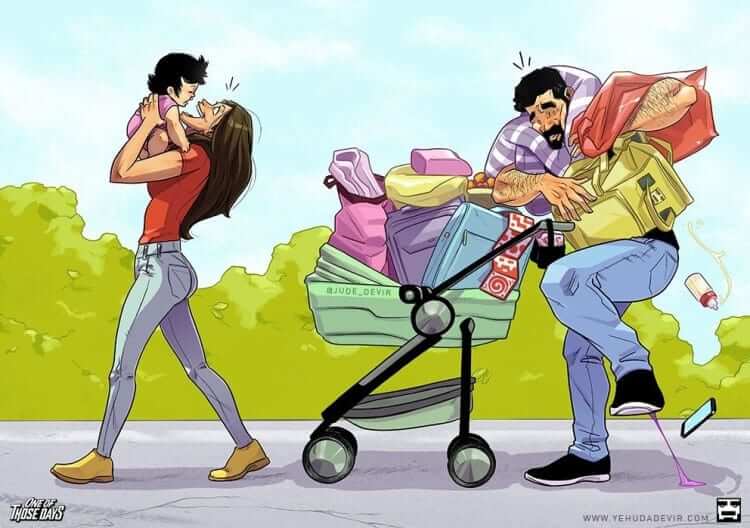 Although, when you pack light, you end up needing something that you thought was non-essential.
26. It Takes Two
Who knew how much power those tiny feet had. They needed two sets of hands to get her squirmy little feet in the socks.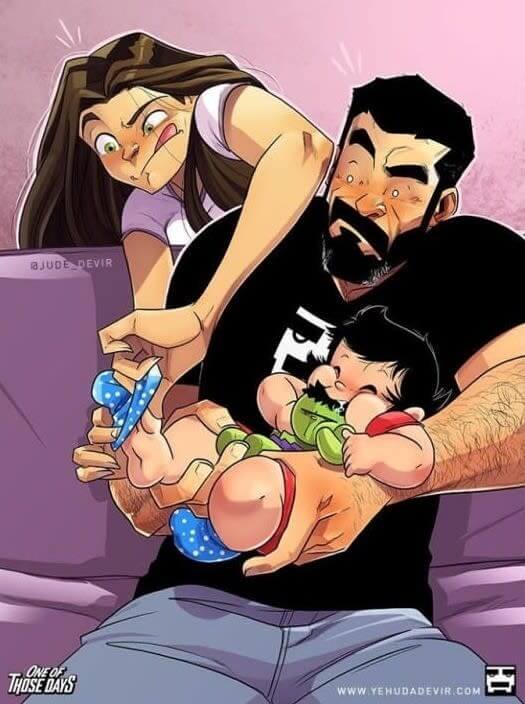 Who knew that putting socks on a baby would be such a challenge.
27. Tiny But Mighty
Sometimes babies show their affection through drooling and scratching, and it might be painful, but she loves you.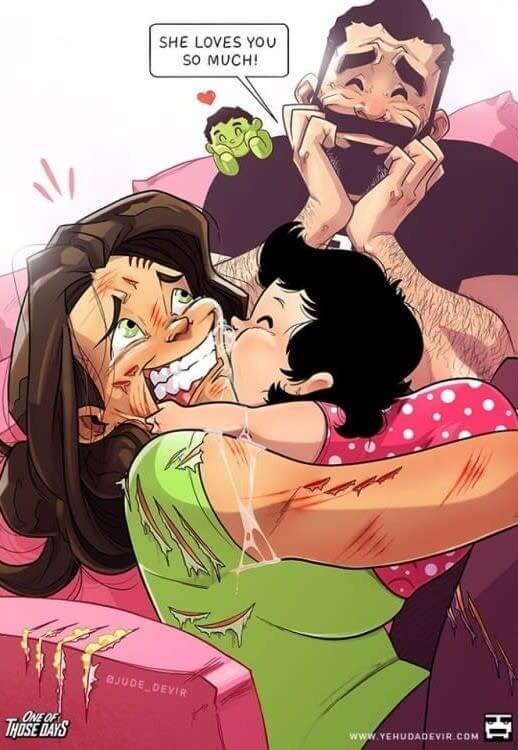 Maya looks like a lion has attacked her, but it is just a powerful baby. Yehuda is so proud of his little girl.
28. The First Vacation
Leaving the baby with relatives for the first time can be very difficult. It is the first time you are going to be separated from your child since they were born, and it is emotional.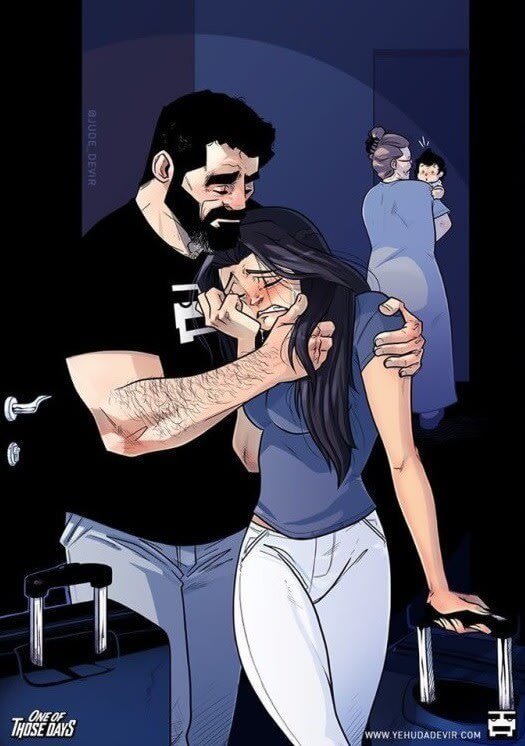 Nothing will happen to the baby, they will be just fine, and it is important to enjoy alone time with your partner.
29. Everyone's Comfortable…
Sleeping with a baby in bed is like sleeping with a drunken octopus. Their legs and arms are flying all over the place, and you might just get kicked in the face.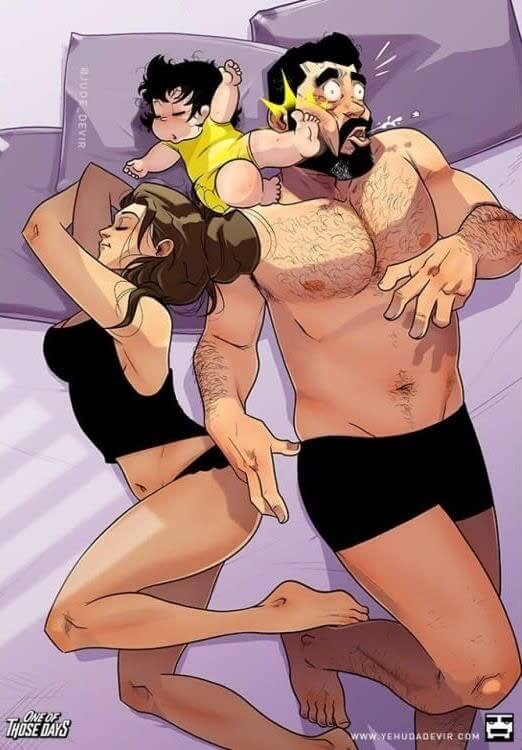 It is a fun way to be woken up. That little body can take up so much space, and you lose your spot on the bed.
30. We Still Got It!
After having children and changing lifestyles, you should embrace the changes that your bodies go through.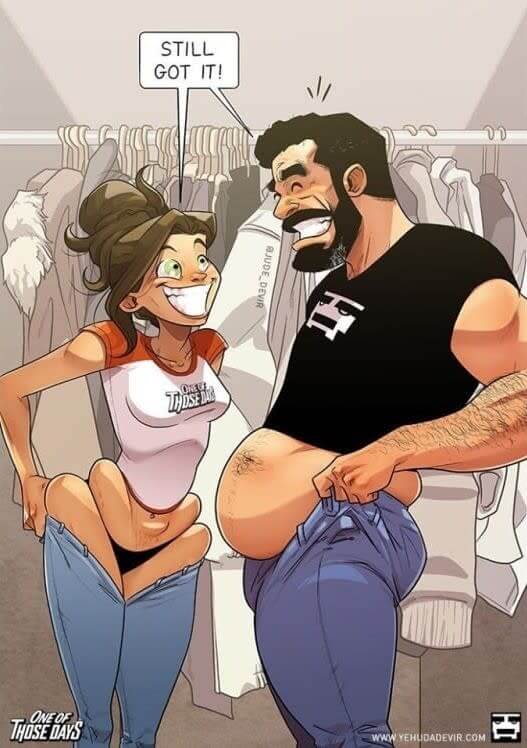 You love your partner no matter what changes their body goes through because change can be good.
31. Black Friday
Black Friday is the best and worst shopping day of the year. There are great deals, but it is on stuff you might not need.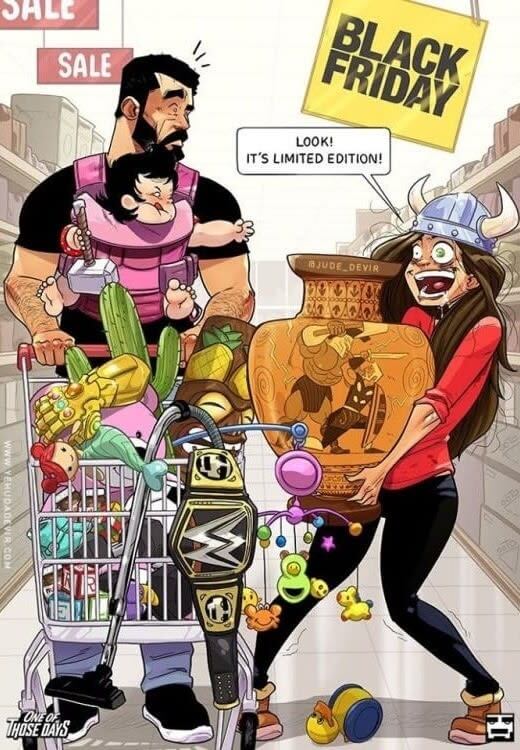 Yes, that vase may be limited edition, but why do you need it in your house.
32. Shhh…She's Sleeping
When the baby finally falls asleep it is crucial to make sure nothing makes noise, not even a drip from the faucet.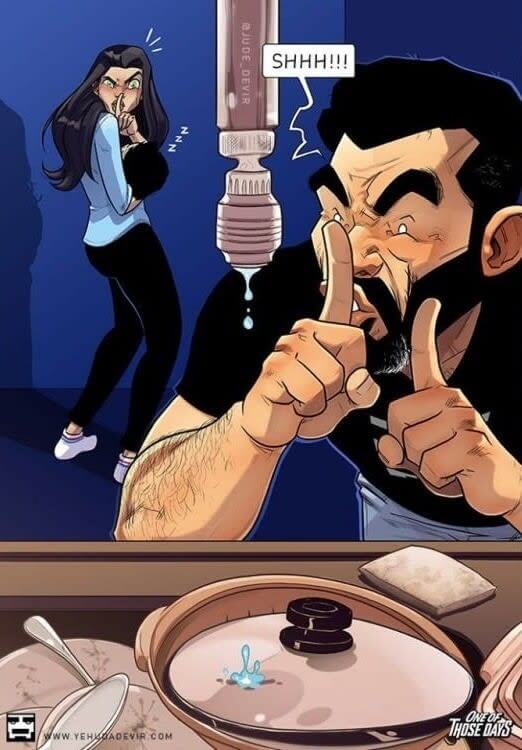 It is like babies have supersonic hearing and the smallest sound can wake them up at any moment.
33. Work And Play Time
Some toys are for children, and others are for grown-ups. She has her blocks and stuffed animals, and he has his hulk and laptop.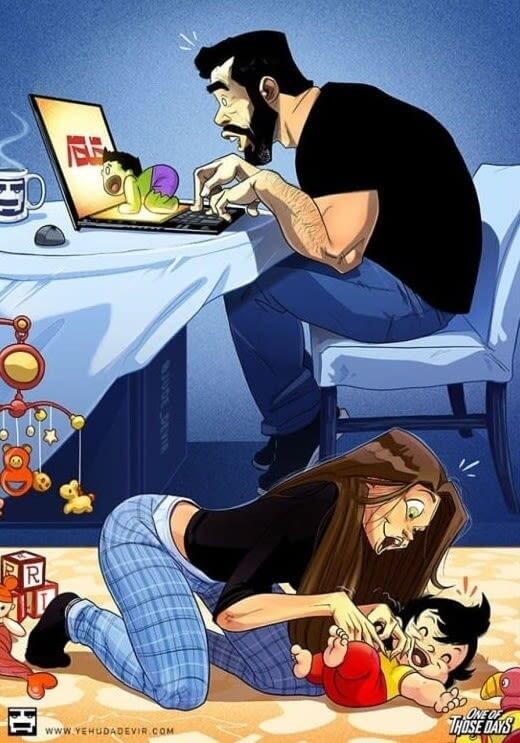 Everyone is entertained and keeping busy. Hulk is just as excited about the laptop.
34. "No I Don't Want To Leave Her!"
The first day of daycare is always the hardest, but she now gets to socialize with other babies. It is only for a few hours a day, but it feels like a lifetime when you first drop them off.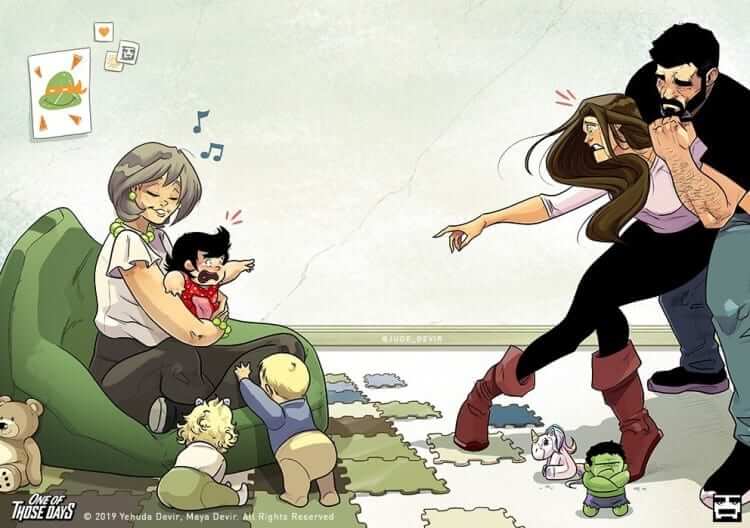 Once you leave, your baby will stop crying, and they will have fun once they adjust.
35. Lunch Time!
Feeding a baby is like having a food fight with an uncovered blender. The food gets everywhere, and even in places you didn't know food could reach.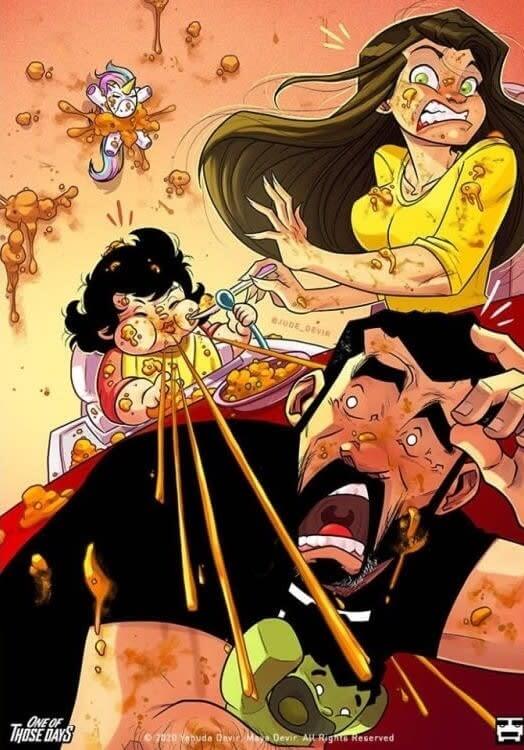 Put the food out and take cover because it is about to get very messy.
36. Kisses For The Mrs.
No matter how much drool you are covered in, there is always time for kisses. Everyone is in on the family hug, and it is the best feeling.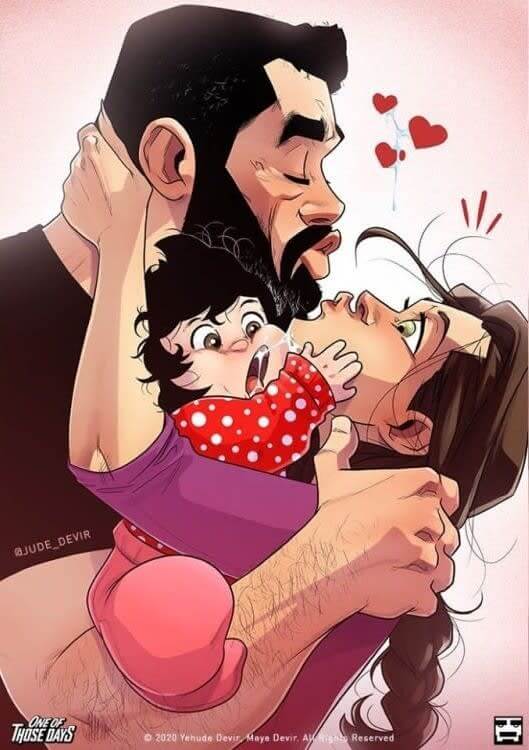 Even while your baby is using your chin as a teething toy, you can sneak in an extra kiss.
37. "Just Resting Our Eyes"
When you finally put the baby to sleep and get some time to relax just the two of you; it can quickly turn into your own time to sleep.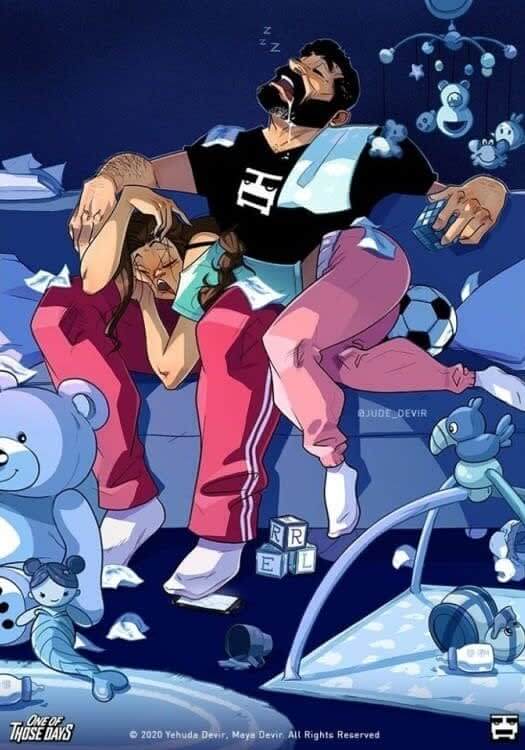 You don't care where you fall asleep because it is the first time you get to go to sleep at a reasonable hour.
38. Masterpiece
When your husband does your daughter's hair for the first time, and it is a series of tiny ponytails, and they are so proud of their work.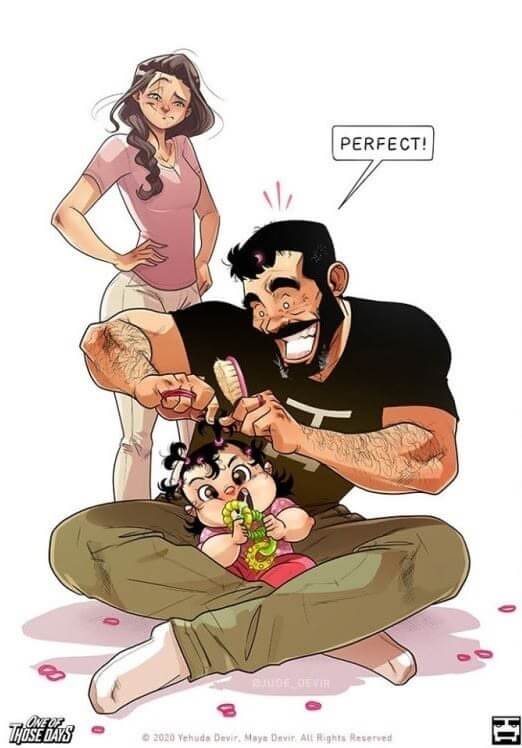 You don't want to ruin all the work they have done, so you leave the ten different ponytails in for the day.
39. "Fighting"
After a confrontation or argument, there is a slight tension in the air, and you are waiting for the other person to speak first.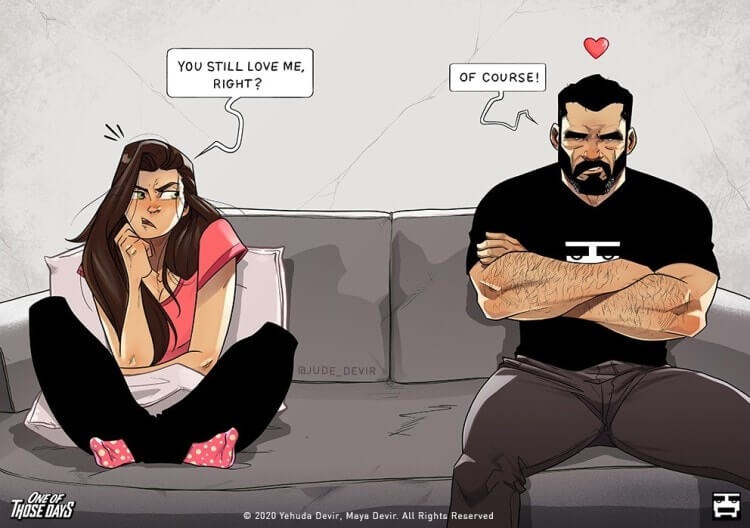 It is important to put your ego aside and try to work problems out together because nothing is more important than the love you share.
40. "TEETH!"
New baby teeth are like razors. When they are starting to get teeth and still breastfeeding, things can get painful very quickly.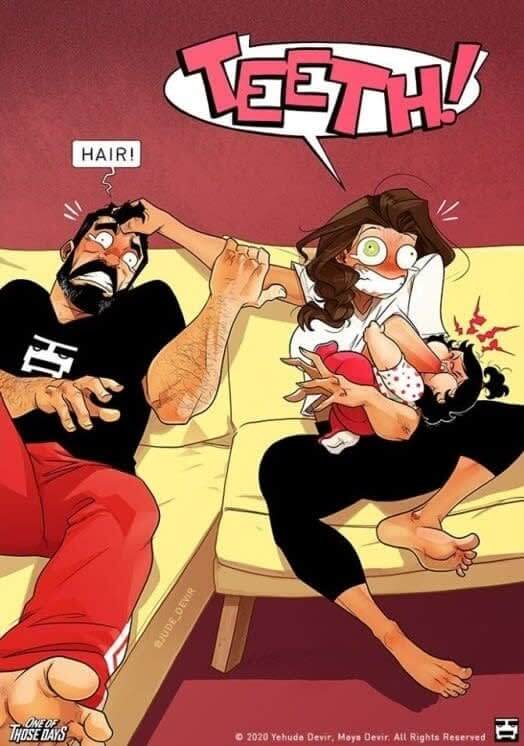 Good thing she has her husband's hair to grab onto to share the pain with him.
41. Female Power
Women are amazing and they are capable of so much. They can grow humans and carry them around for nine long months.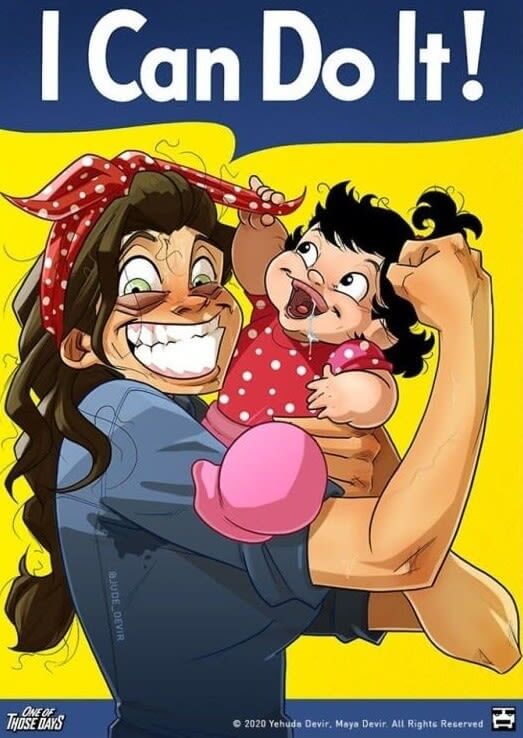 Women are warriors, and they can do anything just like Maya. Despite the sleepless nights and lack of energy, she pushes through.
Real Comics That Show Parenting Struggles When Having Another Baby
Tegan Holmes
This article was originally published on ParentMood
Parenting can be a lot of fun, but anyone with kids or a pregnant partner knows that some days are better than others. Artist Yehuda Devir does a stellar job of capturing these ups and downs of parenthood. He began documenting his relationship with his wife, Maya, through the comic series "One of Those Days." Over their years together, the funny couple welcomed a couple of babies. Yehuda's illustrations have since morphed into a relatable and funny series on family life. So if you're a parent or expecting to become one soon, you'll love these illustrations!
A Bun In The Oven
Before a new baby arrives, their siblings need to learn why mommy's belly is growing again. For older siblings, the addition of a younger brother or sister can be a confusing time. They are used to being the main focus of their parents' attention, and the addition of a sibling means they won't be anymore.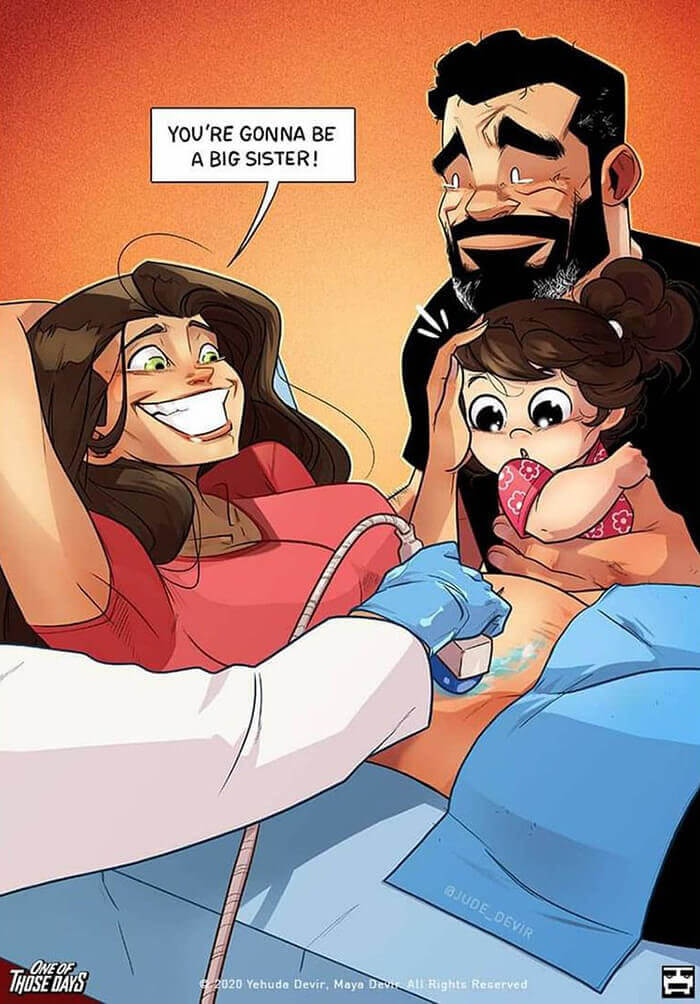 To help an only child get used to the idea of the new addition, it's a good idea to include them in big moments like ultrasounds at the doctor's office. That way, they begin to understand that a new life is growing, and they will have someone to play with in a couple of years.
Changing Bodies
It's pretty amazing that a human body can create new life. When a woman goes through a pregnancy her body changes in many different ways.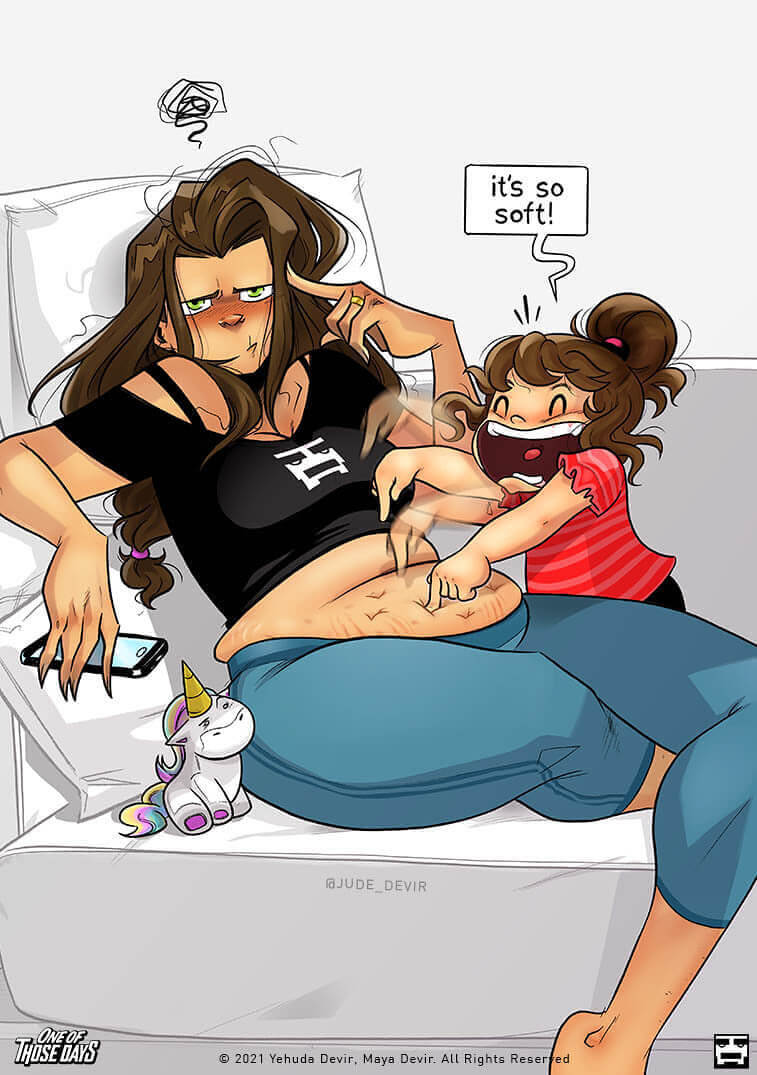 Most women will find that their bellies change because all of the organs must shift around to make room for the growing baby. On top of that, a few new stretch marks might appear, along with some general squishiness. That's okay though, it is all a part of this beautiful process.
Let The Romancing Begin
Every couple needs a little spice in their life, even if one of them is almost nine months pregnant. Just be mindful of a couple of things, especially when it comes to spatial awareness.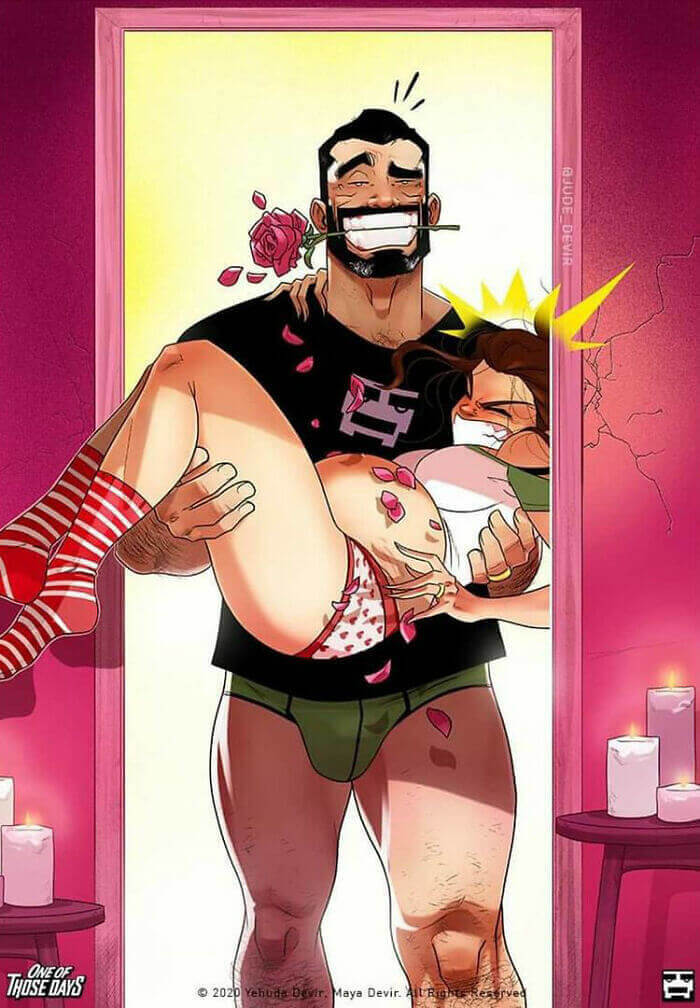 We are all for big gestures, but pregnant ladies do not need to have their head accidentally smacked on a door frame while their husband is attempting to be romantic. Save the grand gestures for post-pregnancy.
The Triple Spoon
A lot of kids don't like to sleep by themselves for the first couple of years of their lives. That's why parents tend to place the crib or bassinet in their own bedroom.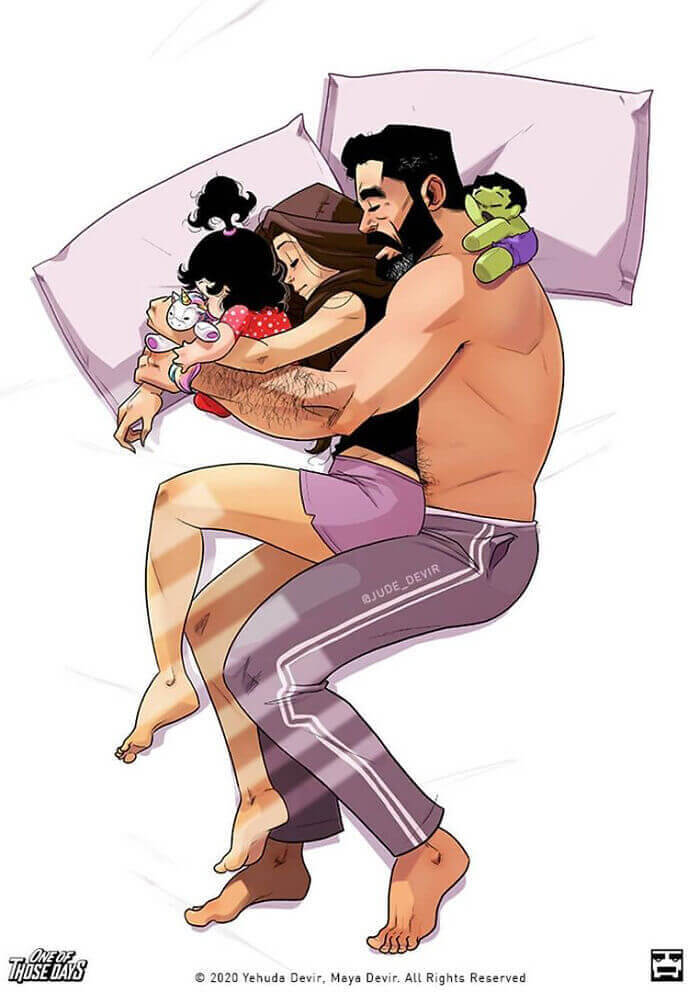 For this little family, they embrace group naps and cuddling together. This is an excellent way for everyone to get the affection they need.
Trying To Work
With everything being a new experience for babies and toddlers, they tend to think that the entire world is their playground.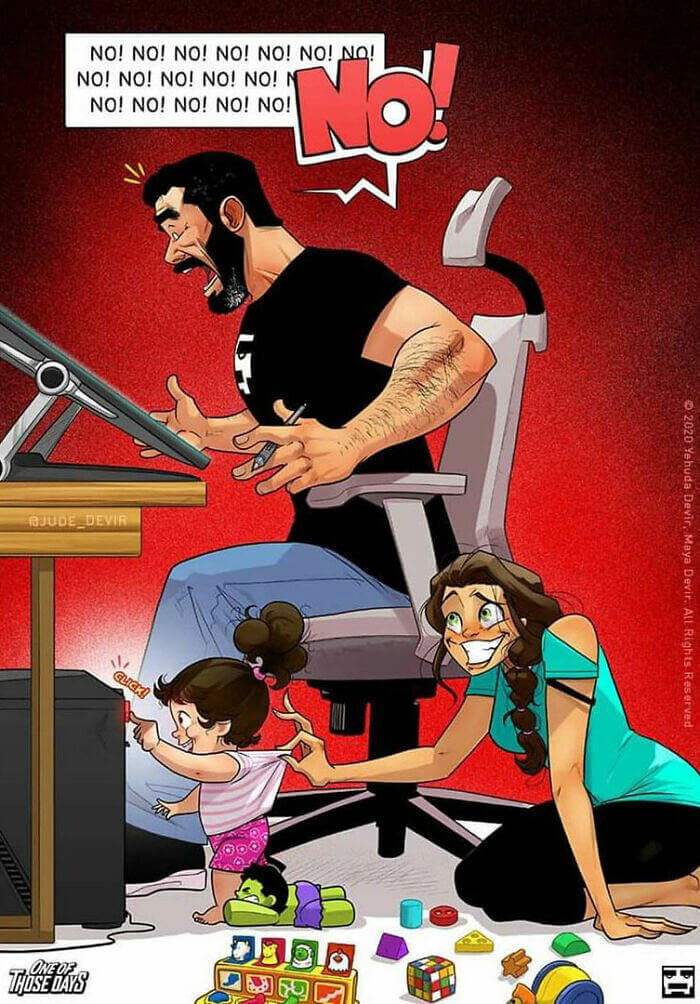 That means any buttons that are at eye level must be pressed. Even if it means a parent loses all of their new comics, and they need to start from scratch again – oops.
Let The Countdown Begin
Once kids enter the picture, major holidays like New Year's Eve tend to take on a bit of a different meaning. Instead of staying up until midnight, it is more about sleeping until midnight.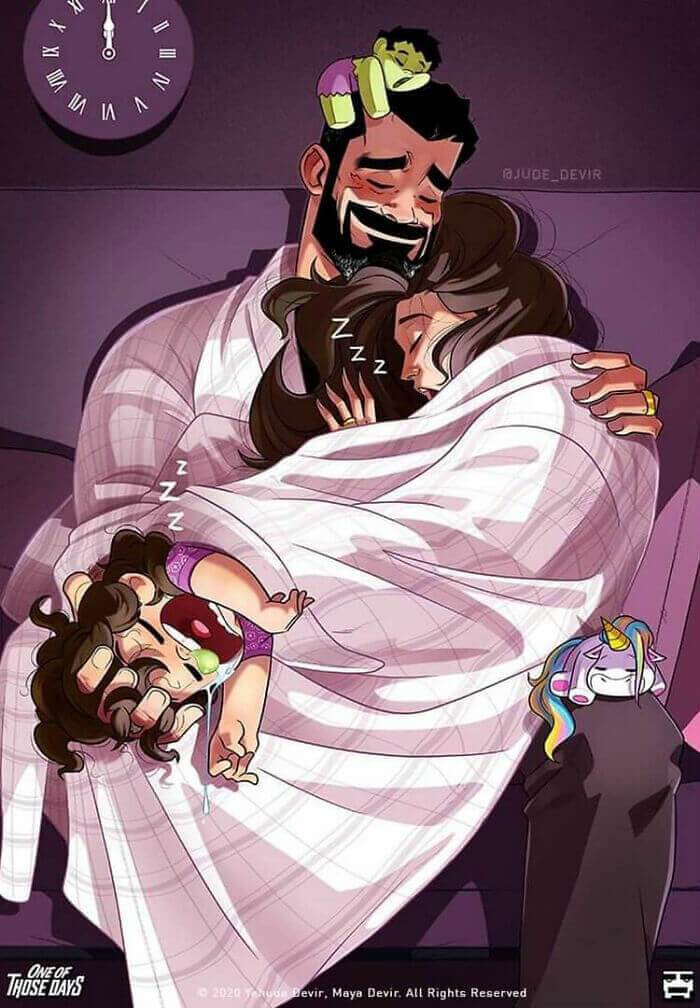 That doesn't mean parents need to stop having fun. It just means that priorities need to change, and fun can be had when kids are older.
New Life
Babies start to move at around the five-month mark in their mother's bellies. It starts with what feels like flutters, and as the baby grows it starts to visibly move.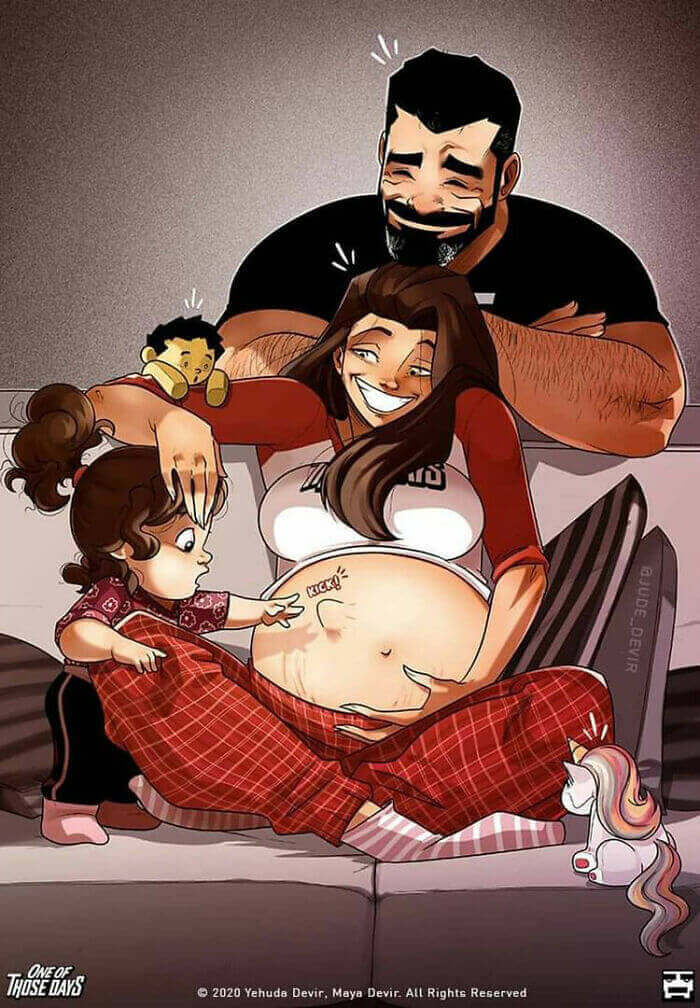 What may look like an alien moving around is actually a baby just kicking the stomach walls as it tries to get comfortable. Don't be alarmed.
Double Bellies
When a child's mom gets pregnant, it can be a bit of a confusing time. It's hard to understand that a new sibling is growing inside mommy's belly.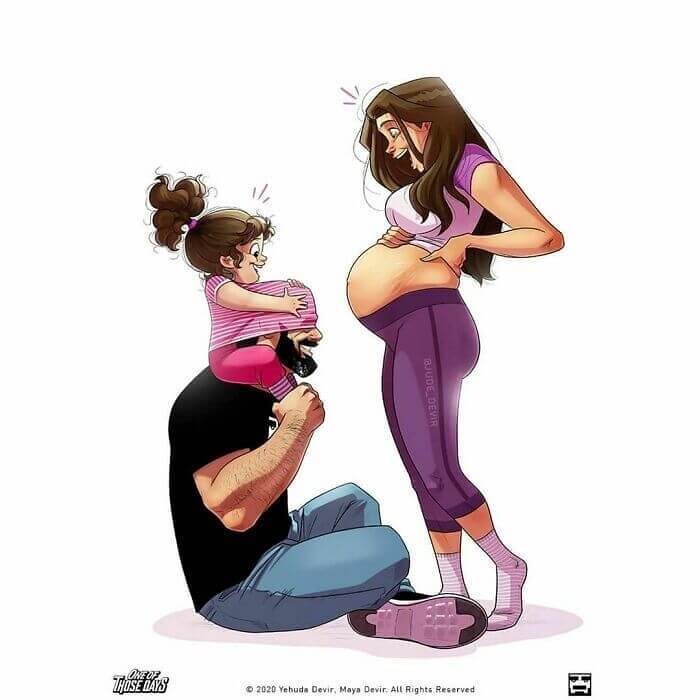 That's why it's important for parents to sit down with their child or children and explain that a new brother or sister is about to join them.
Filling Out
While stomaches definitely get bigger, so do other body parts as women get closer to giving birth. Bras may need to be adjusted, or even put away.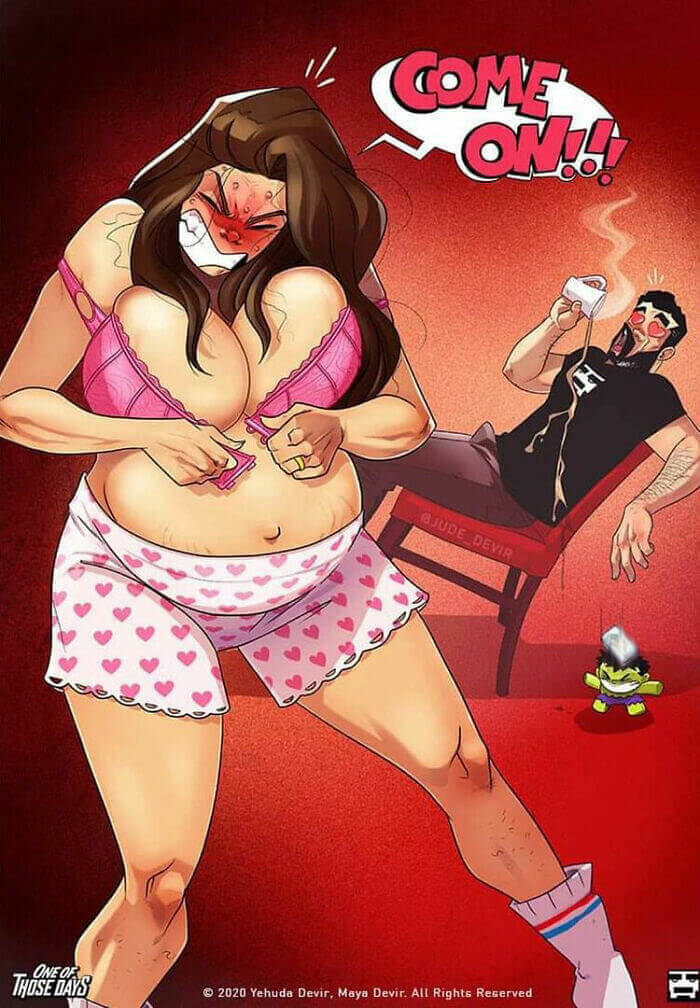 For women who are experiencing some major growth in their chest region, we would suggest grabbing a comfortable sports bra until it's time for nursing bras.
Scooting Around
Most babies learn to walk in the first year or two of their lives. Catching those first steps are one of the moments all parents want to remember.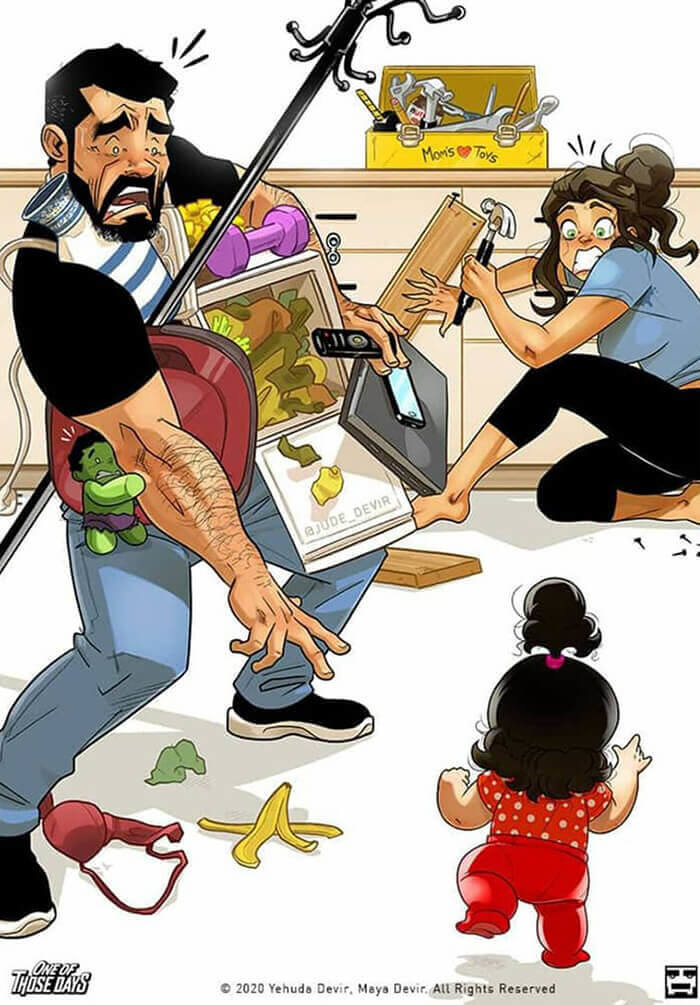 Once a toddler starts motoring around though, you will want to be careful that your home is childproofed. Little fingers like to get into everything!
First Words
Every parent remembers the first time their baby speaks. Maybe it is 'Da-da' or 'up' that are their first words. No matter what, this is a moment that needs to be remembered.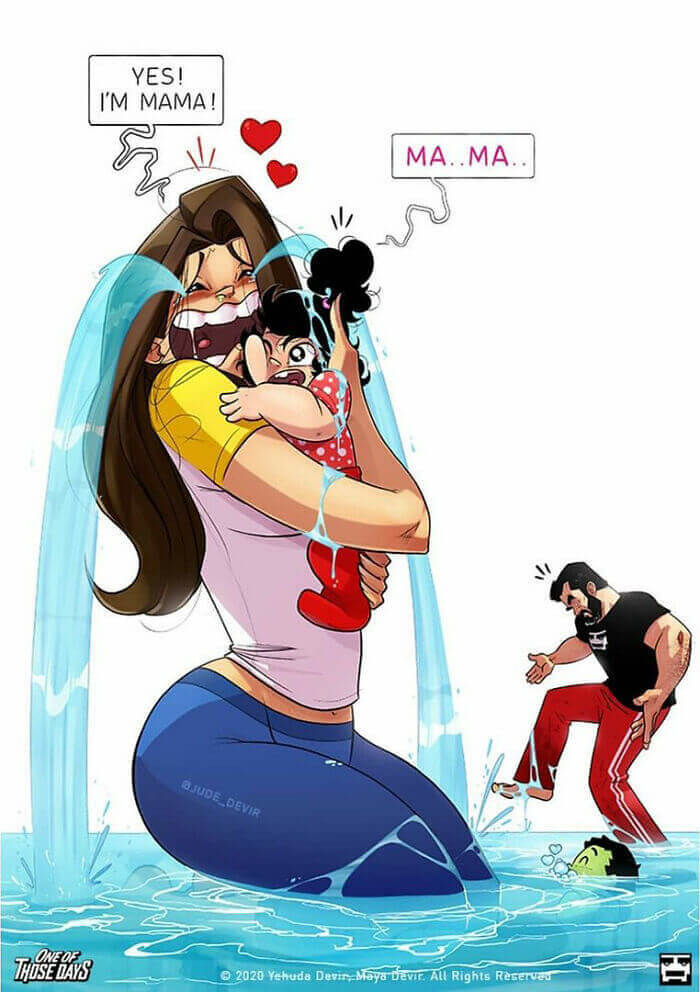 For Yehuda and Maya, their little one managed to say 'Ma..Ma' which was a tear-worthy moment for both of these parents.
All Tucked In
One of the greatest inventions of all time has to be the body pillow. Not only does it conform to your body, but for pregnant women, it provides the perfect resting place for a heavy baby belly.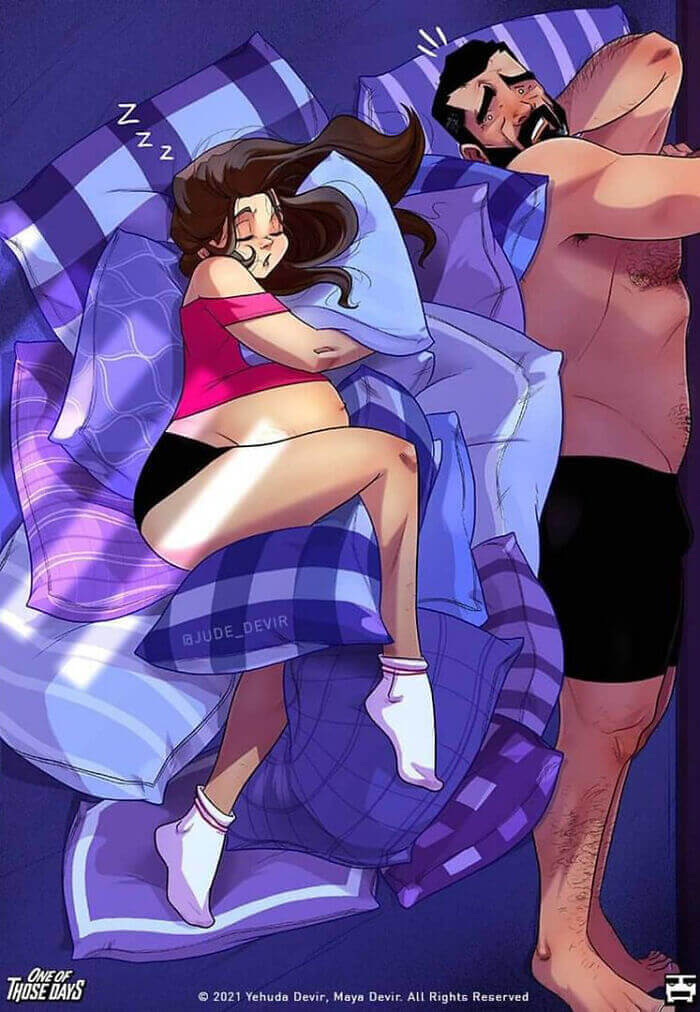 Body pillows may not fit perfectly in a bed with your partner, but that's a small price to pay for your own pregnant comfort, right? Getting a good night's sleep can be tough while pregnant.
Alone Time
Babymaking is a fun business, but after the baby has been born it can take a bit of time for things to get back to normal in the bedroom.
Sometimes a few new items need to be introduced to get the old motor going again so to speak. Couples that play together, stay together right?
Carrying The Load
A pregnant belly can weigh upwards of 20 pounds, depending on the woman. Most women will lose around 13 pounds as soon as they give birth, but until then, that extra weight can be hard on the back.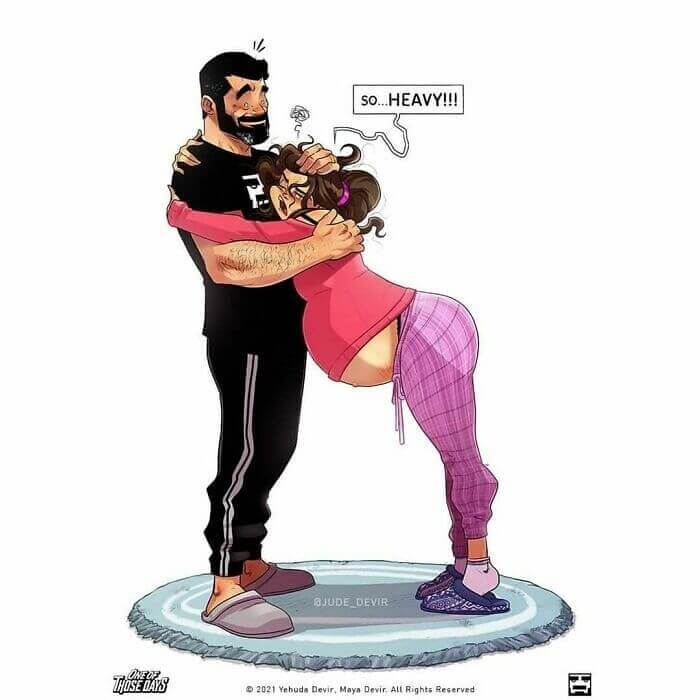 Sometimes simply leaning on a partner, or having your partner hold your belly up can provide some much-needed relief for back pain.
Feeling Insecure
For some women, acknowledging that your body has changed and being proud of it can take some time. Stretch marks are normal, as is saggy skin.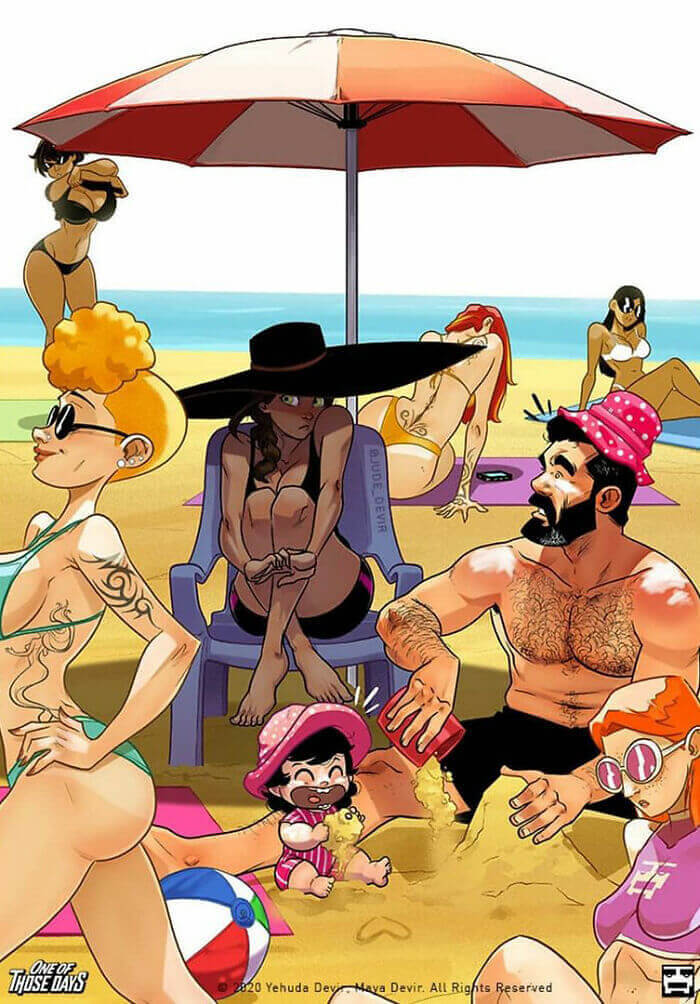 Throw on a one-piece or a bikini that makes you feel confident and let it all hang out. Nobody is watching, and your body has basically performed the miracle that is giving life. Be proud of it!
Time For School
Eventually, the day comes in every parents' life, where it is time to send your child off to preschool or kindergarten. This is a big day because it means you won't see your child 24/7.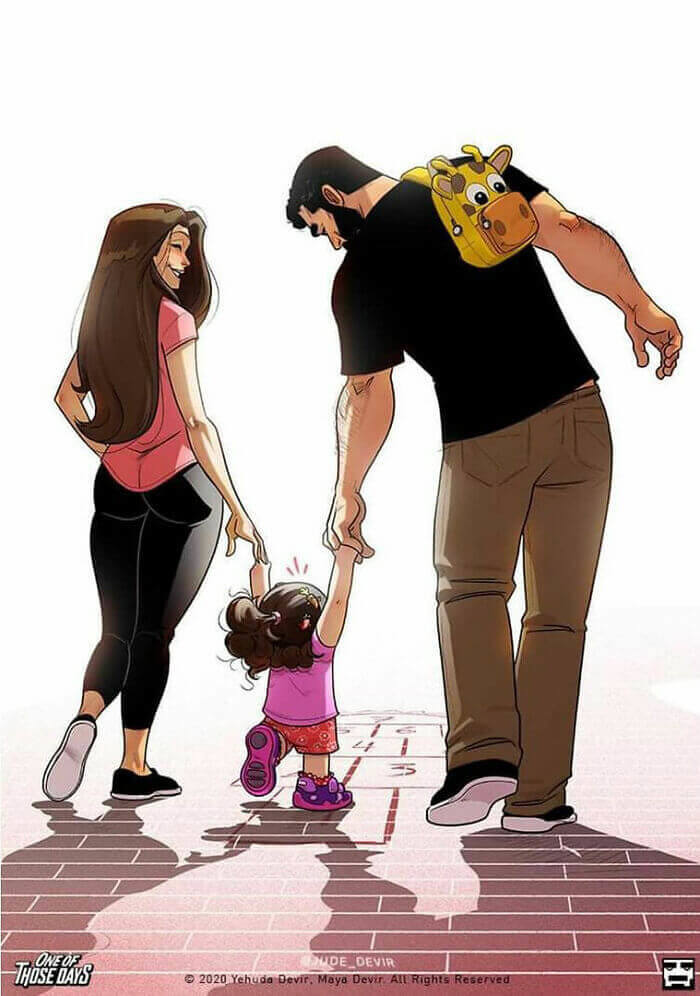 For many parents, they covet this newfound freedom, but the worry for your child will always be there. Growing up can take some getting used to.
A Helping Hand
You know the phrase, "Help I've fallen, and I can't get up"? The same can be said for pregnant women, except instead of falling it is simply lying down.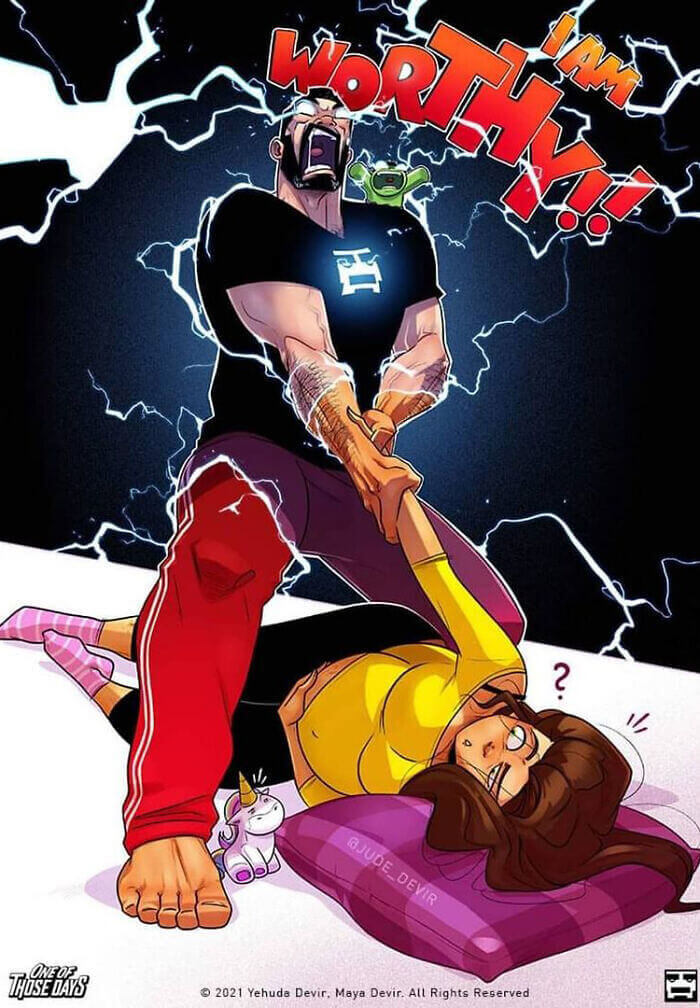 As babies start to get bigger, and bellies start to get heavier, it becomes harder for pregnant women to move around like they once did. That means their partners always need to be on hand to help them off the floor, or the couch.
Beach Bodies
Some partners like to sympathy eat with their pregnant loved ones. That tends to mean both the woman and the partner pack on a few additional pounds.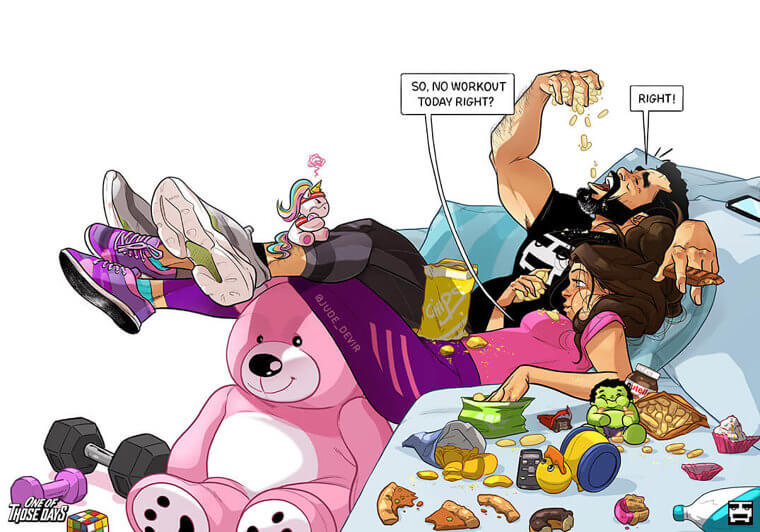 Those extra pounds will need to come off eventually, but that doesn't mean you need to hit the gym hard. Start doing some light cardio, cut back on the junk food, and the weight will come off on its own. Chasing a toddler around all day will do wonders for the physique.
Cover Your Nose
Children are like little sponges, and they need to absorb their manners and proper etiquette from their parents and those around them.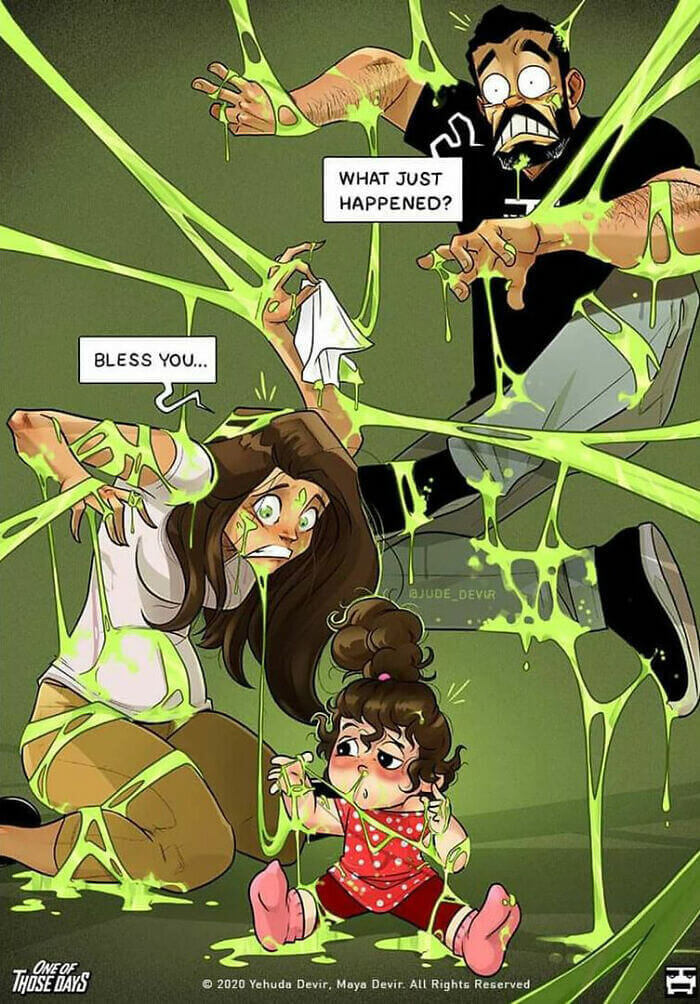 One of the most important things children learn is to cover their mouths when they cough or sneeze. This keeps snot and other germs from spewing all over the place, but it takes practice!
Glued To The Television
Toddlers need to be kept entertained. Otherwise, they will find creative ways to entertain themselves, like drawing on the wall with their favorite markers.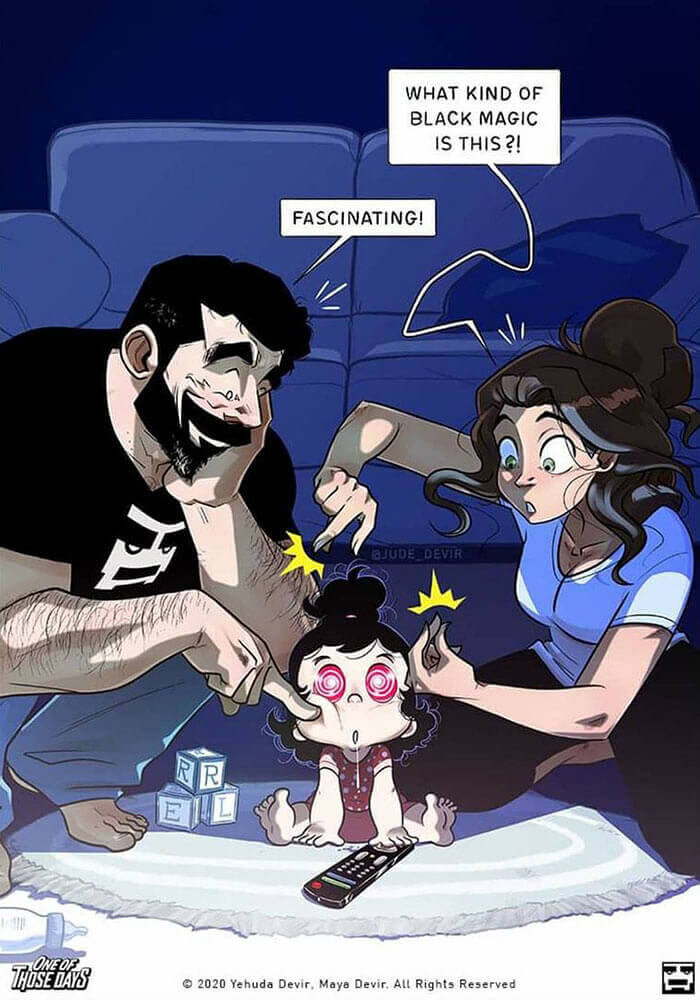 One method to keep kids quiet, and entertained is to switch on that magical screen known as a television. This can keep kids busy for hours.
Food Cravings
Ask any woman that has been pregnant, and she will admit to having some pretty strange food cravings. Some women crave salty foods like pickles.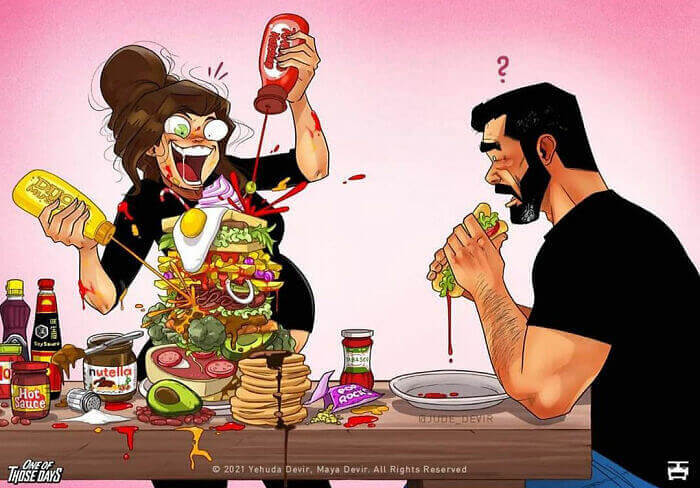 Others simply want to have a mish-mash of flavors in the form of every condiment known to man on their burger. While these concoctions might look kind of gross, try not to judge your partner's food choices. The baby growing in her belly is demanding these for a reason.
Getting Everything Done
Women are fantastic multitaskers, this is basically a fact. They can write an email, go shopping, and watch their child all at the same time.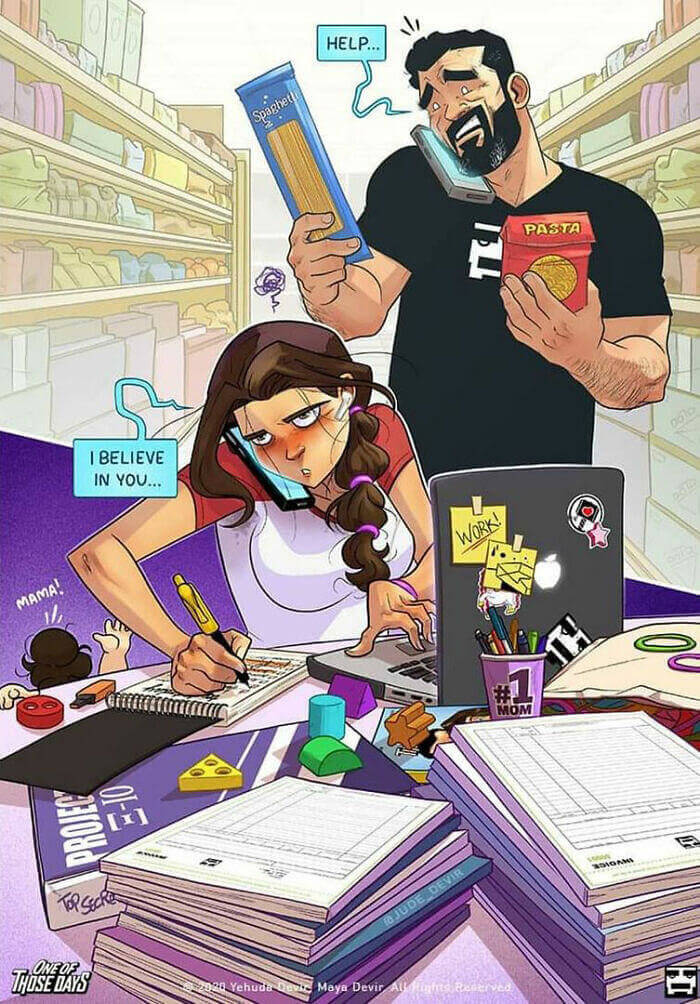 For some men, it is a bit of a different story. Yehuda comically made fun of himself and his lack of multitasking abilities which might resonate for some other dads out there.
Going On Vacation
Babies are born with a natural instinct for survival when it comes to water. Most know that they need to flip themselves upside down so that their face is not in the water. Once a baby is old enough, it can be introduced to swimming, first with water wings, and later all on their own.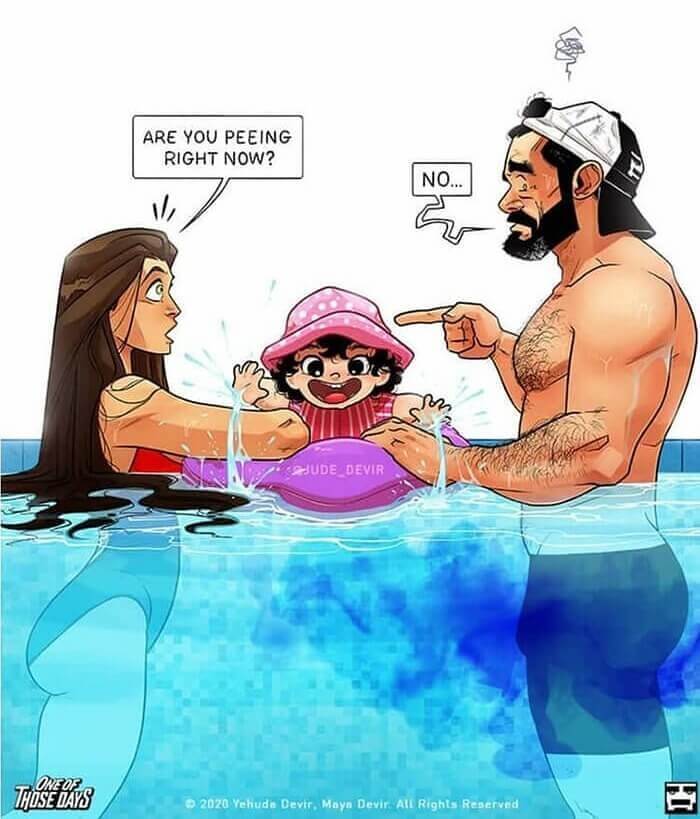 Family vacations give a baby time in the water with their parents, and they also learn a very important rule – don't pee in the pool. It seems like this parent might just have forgotten that rule, and needs a reminder.
Co-Parenting
Every family is different, which means each parent had a different upbringing growing up. These upbringings are what every parent either consciously or subconsciously brings to their own parenting style.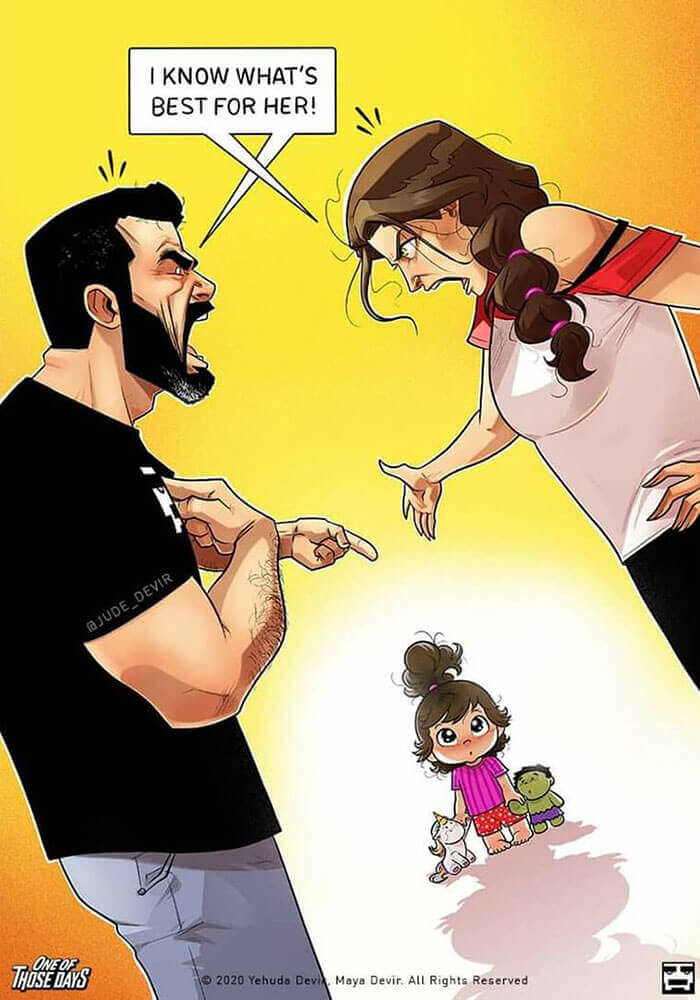 Sometimes these different methods of parenting can lead to a few arguments, but ultimately parents need to remember that this is a partnership. Everyone needs to find a common ground, and work together to raise their little one.
Getting A Boo-Boo
Part of growing up is learning how to fall down and get back up again. Children will fall down, scrape their knees, and understand what it means to get hurt.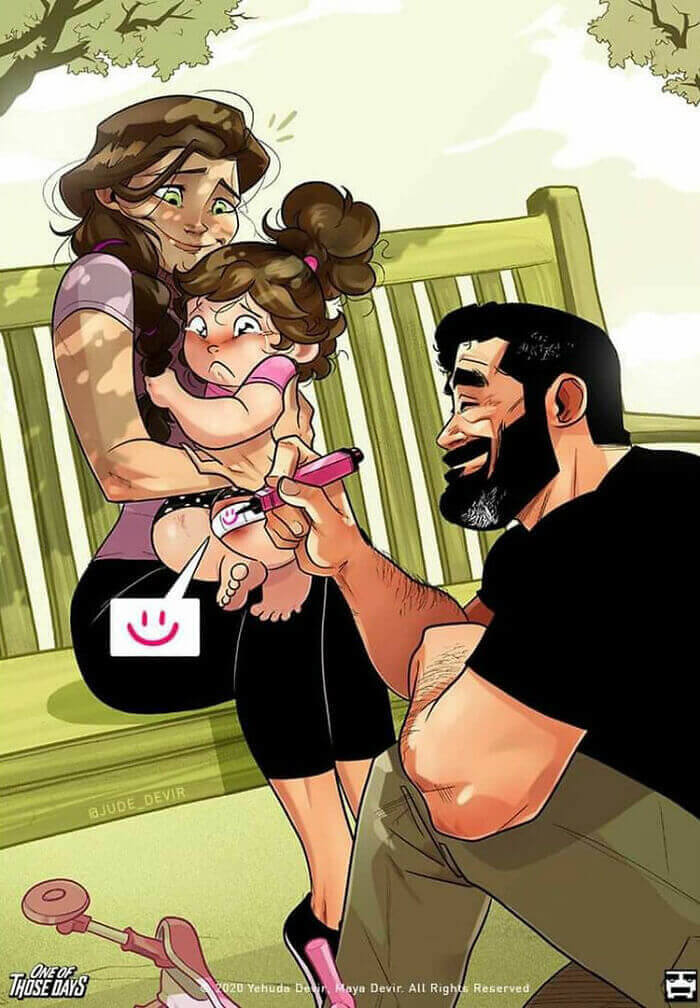 Having a boo-boo kissed better by mom or dad, and a cute little picture drawn on a bandaid shows that it is okay to hurt. A parent is always there to make it better.
A Time Out
Time outs aren't just for kids. Sometimes a parent needs a break from caring for their child. This isn't because they don't love them, but it can be overwhelming.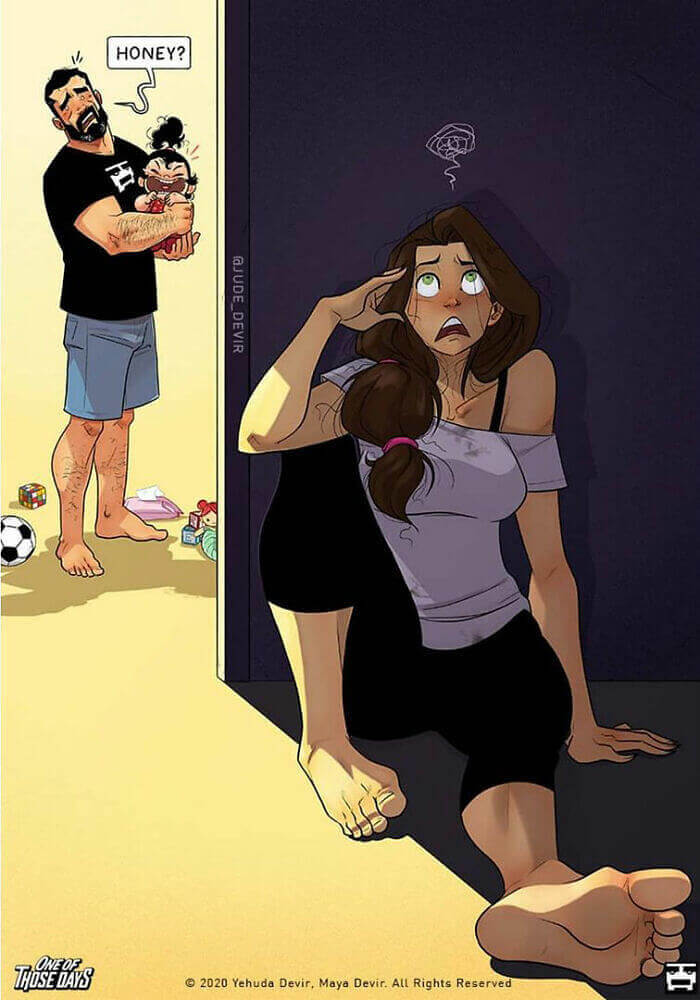 Partners need to make sure that each parent has some alone time, even if the baby is crying. When a mom or dad is feeling overwhelmed, make sure to communicate this and get some help.
A Stinky Surprise
Dinner time is the highlight of the day for many people. Maybe your partner spent hours cooking up some delicious spaghetti, or another scrumptious meal.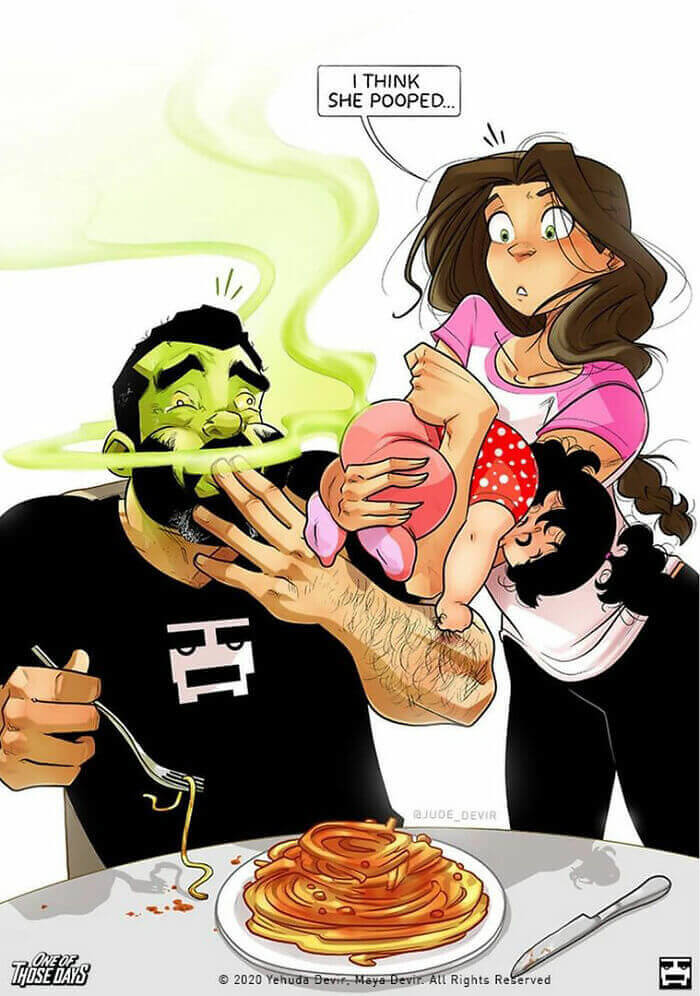 A dirty diaper and the smell wafting out of it is not one any diner wants to smell before mowing down. Always do a quick diaper sniff before sitting down to dinner to avoid any unappetizing smells.
Incoming Baby Alert
For most expectant parents, they have enough time to hop into the car and make it to the maternity ward once contractions start. Some women might be able to have their baby in a matter of hours, for others, it could take days.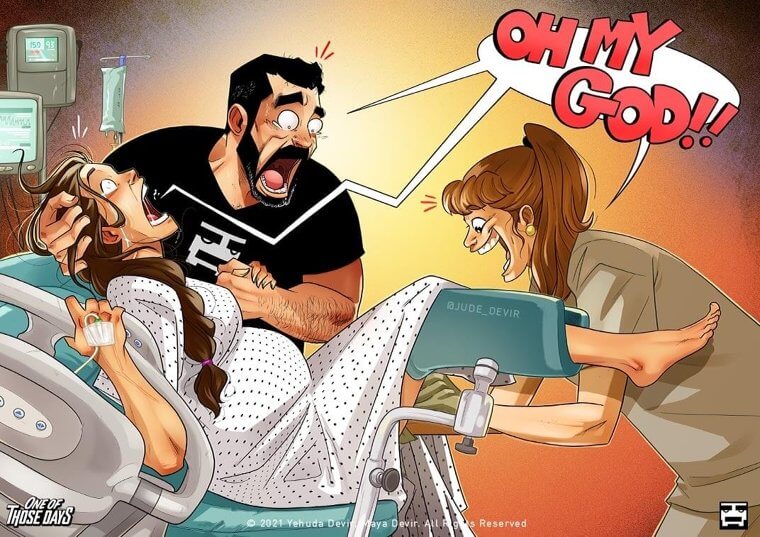 Everyone has their own birth journey to follow, and for Yehuda and Maya, it looks like it might have involved a bit of yelling and screaming. That's totally normal when a new life is about to enter the world!
Always Shut Your Mouth
One of the least exciting aspects of having a baby has to be changing diapers. It seems like every couple of hours, or sometimes even minutes, the baby needs a change, and that can lead to some messy situations.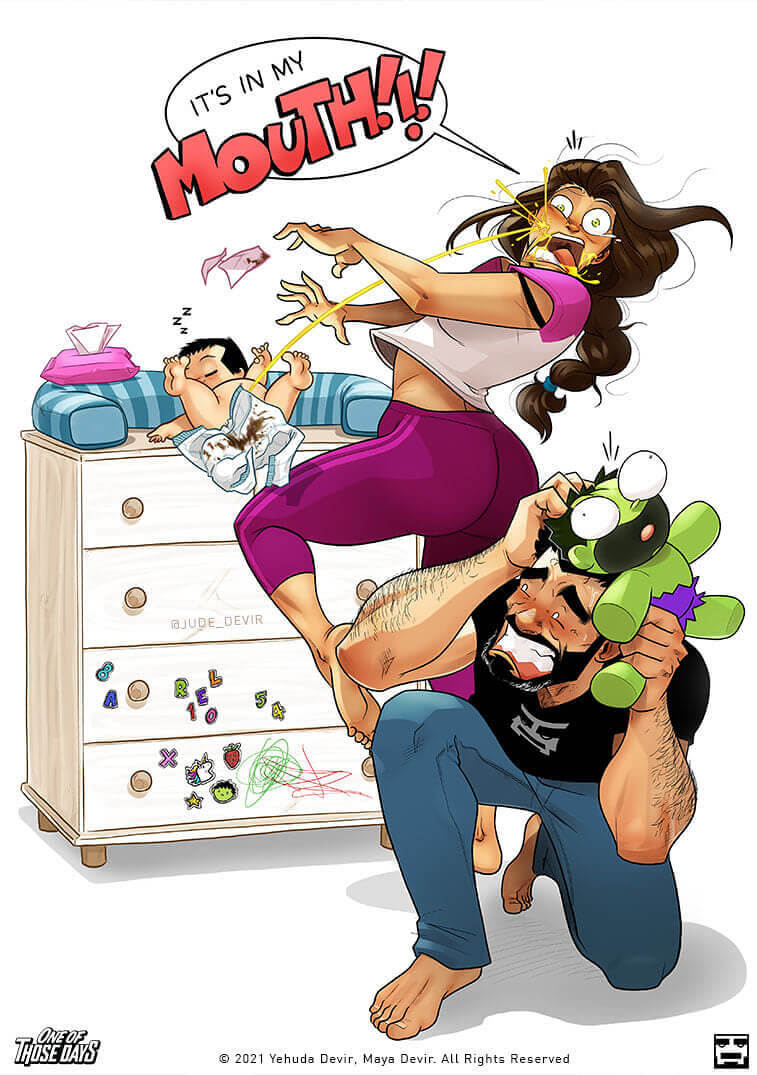 If this comic teaches you anything, it should be to always close your mouth when changing a dirty diaper. You don't want to end up with a surprise in your mouth.
A New Addition
This happy couple welcomed a baby boy into their family, which obviously meant a comic had to be created for the announcement.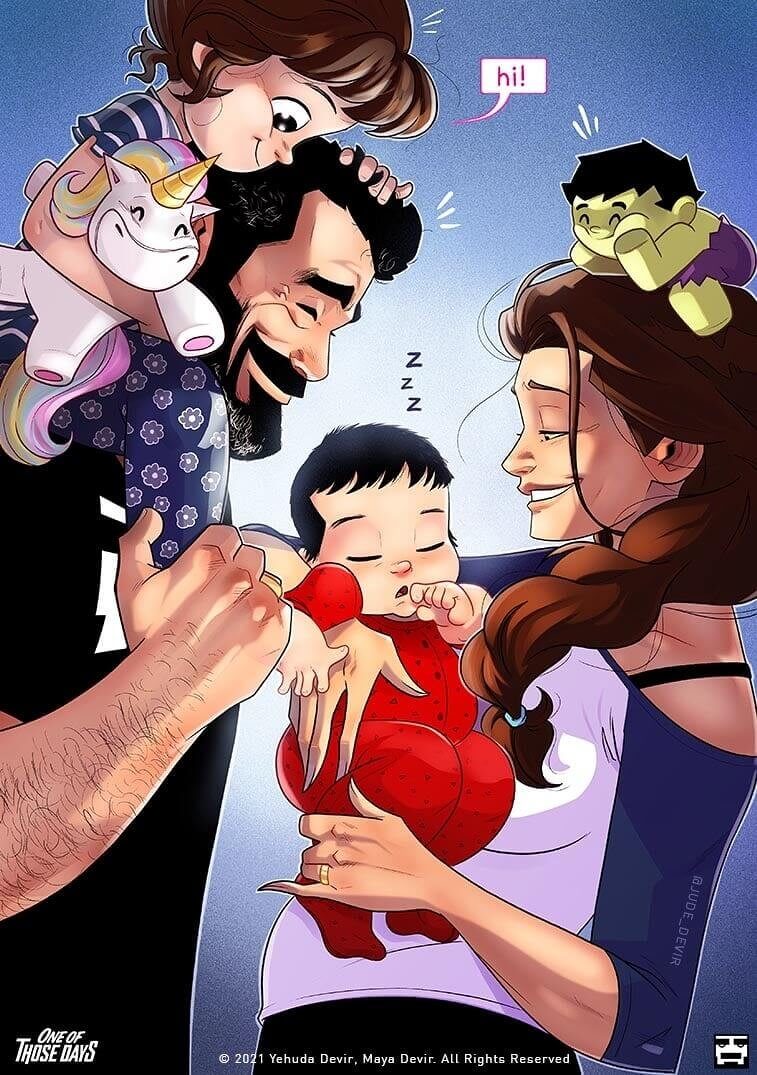 According to the caption for the cartoon, this new addition has been named Ethan and he is a "new super-ultra-mega baby boy." We can't wait to see how he is portrayed in Yehuda's work over the coming months.
All Tuckered Out
After a long day of caring for your child, both you and your partner will be all tuckered out. Bedtime is not just for the baby. Most parents try to match up their sleeping schedules with their little ones.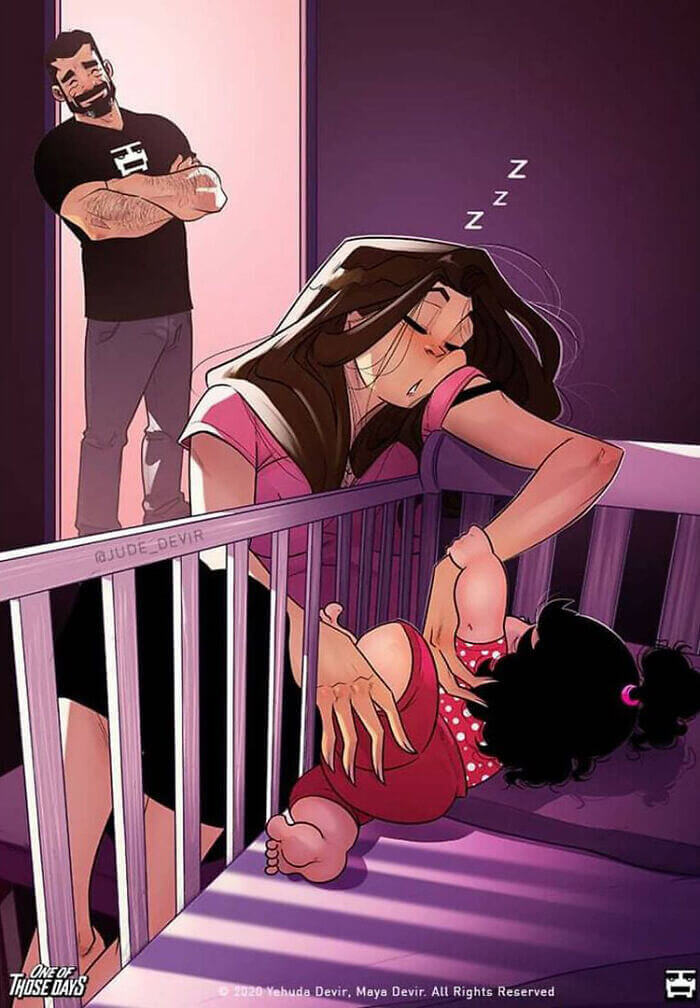 By matching up the sleeping schedules, parents can enjoy some much-needed shut-eye, until the baby wakes up and the whole saga has to start again. Sleep while you can when you have a baby.
A Few Tickles
A new baby is always cause for excitement. As soon as that little person enters the world, it feels like anything is possible.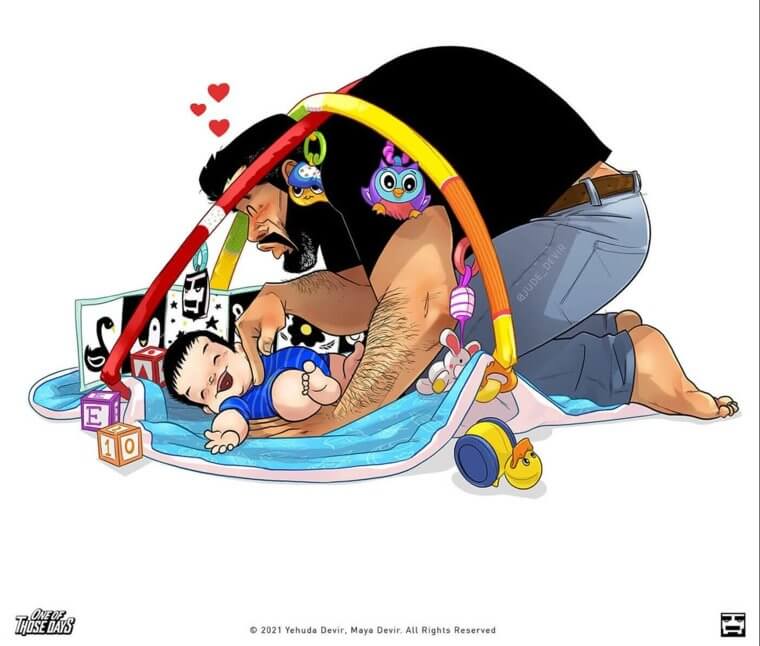 Baby Ethan seems to enjoy some coochy coo time with his dad, and a few little belly tickles. For babies, everything around them is a new experience that always leads to a sense of wonder.
Everyone Wants Mom
When you have children, they may favor one parent over the other when they are babies. Usually, they cry out for mom because she is the one that makes them their food. It might be hard when your partner is away, and the children won't stop crying, but it will get better eventually.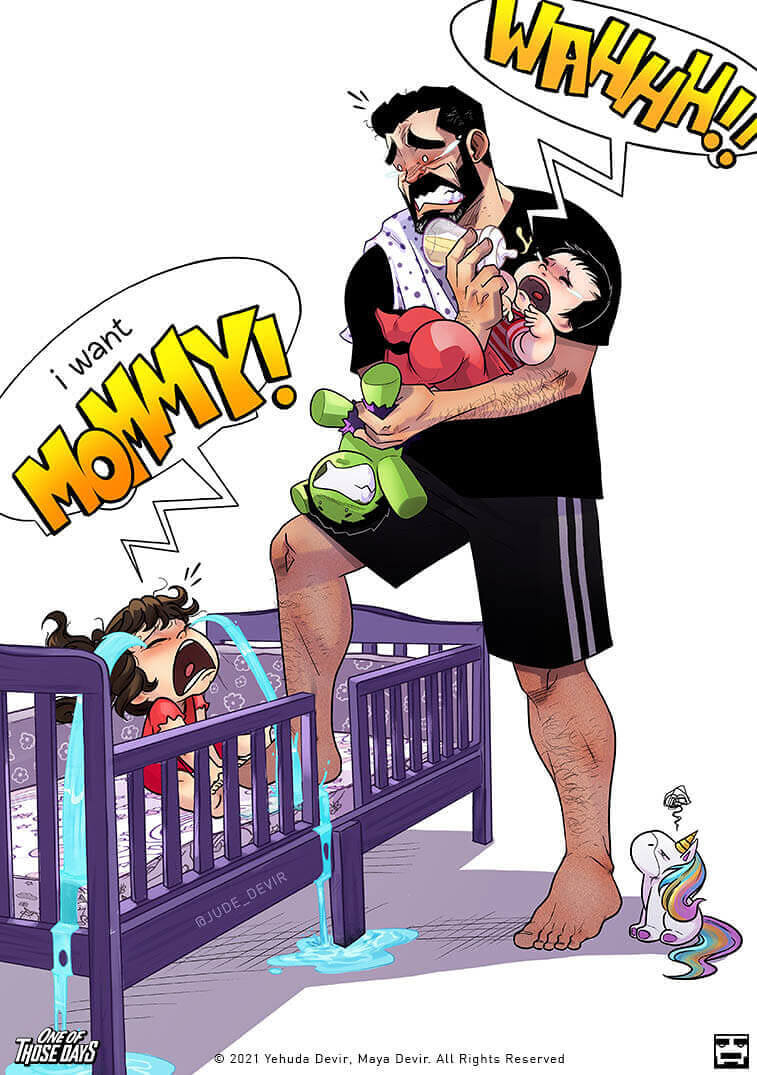 The tears and screams might be flowing, but parents do the best they can while their partners are away. The parent taking care of the children watches the clock and wonders, "how many minutes until they come back?" At some point, the kids tire themselves out, and the crying stops.
At Least Everyone Is Sleeping
When you have young children, it can be challenging to find time to sleep. But, in the rare moments that everyone is sleeping, it doesn't matter if the house is a mess or someone didn't get their bath; you just have to savor the peace and quiet.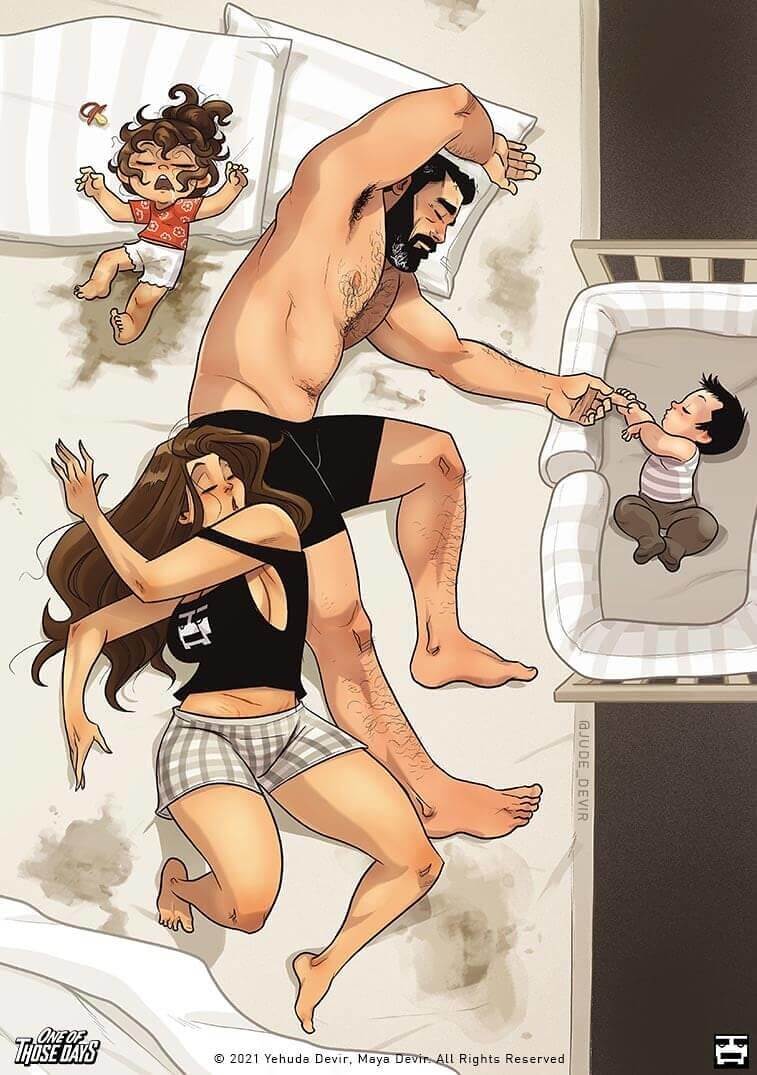 Being a parent is exhausting, and sleep is rare, so getting even a few minutes of rest with your children is a huge parenting win. However, we wonder if parents ever get used to not sleeping because they still have to go to work even if their children were up all night.
Getting Older
We all age, that is a fact. For some people that means getting wrinkles, and for a lot of men, that means thinning hair or going completely bald.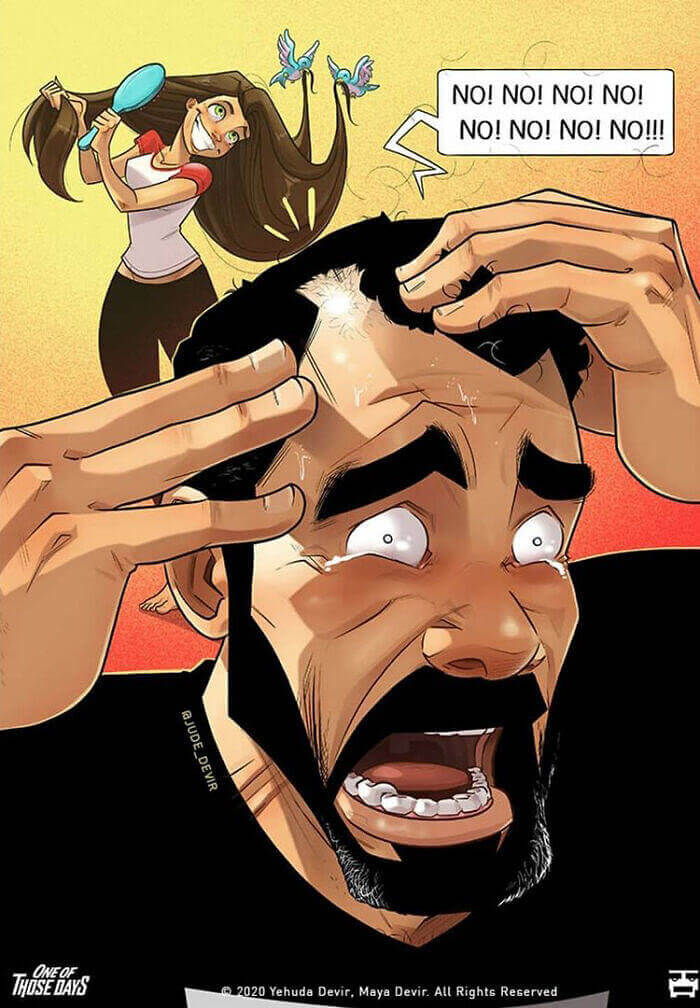 Losing hair can be a major source of anxiety, but it doesn't need to be. People age, and aging gracefully is a part of life. Own that balding head, and embrace the change. With age, comes wisdom, right?
Zoning Out
Every couple, whether they have been together for a couple of months, or a couple of decades has moments where they just need to zone out.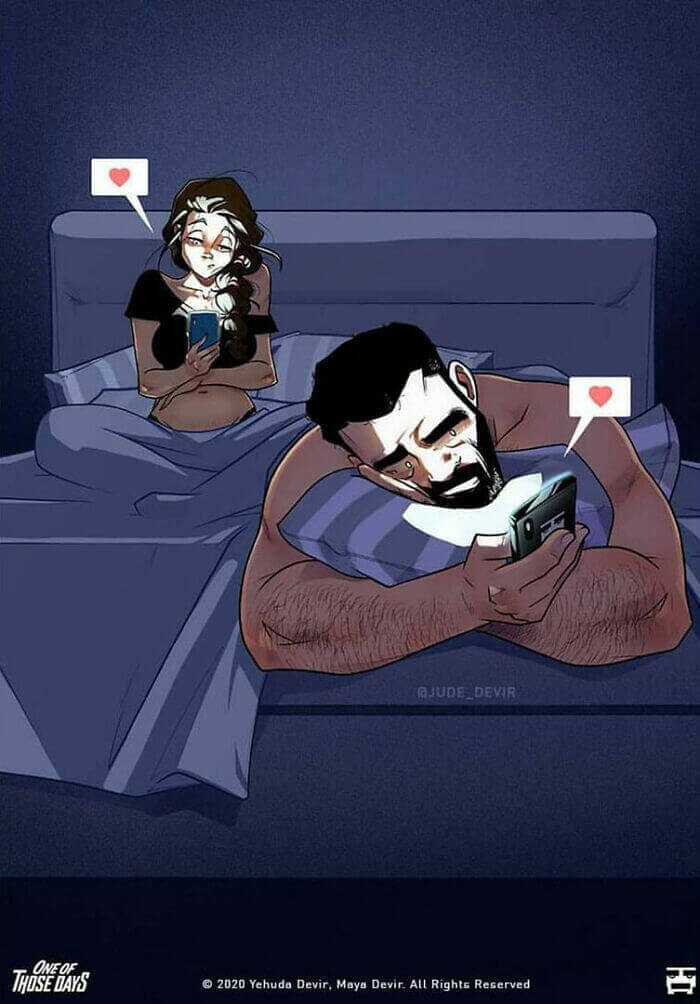 Social media is a great escape, and even if you and your partner aren't talking, you can be sending each other memes, and funny TikToks while you enjoy some quiet time together.
In It Together
At the end of the day, your partner is going to be with you through thick and thin. That means they are there for the highs and the lows, and no matter what, you will stand together.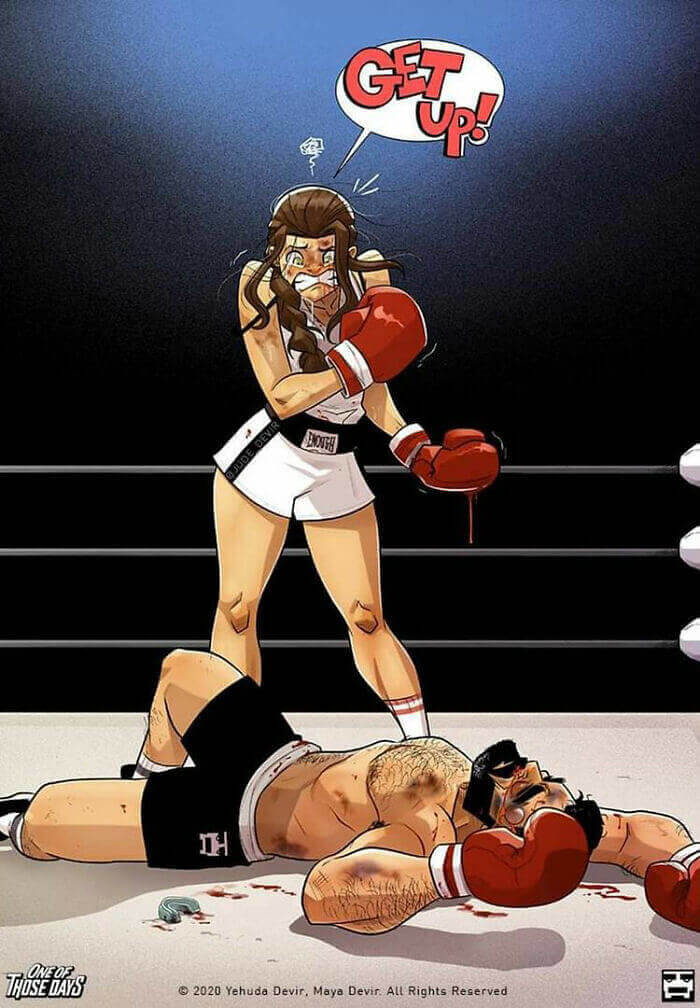 Some days will be tough, but communication is key. Make sure that you check in with your partner, and assess how you both are feeling. Bottling up feelings is never good.
Winter Is Coming
As soon as that first crisp breeze blows in, or the first flurries of snow appear, women everywhere know it is time to stop shaving. Of course, some women still shave, but if you're not showing your legs off in shorts it is definitely more of a choice.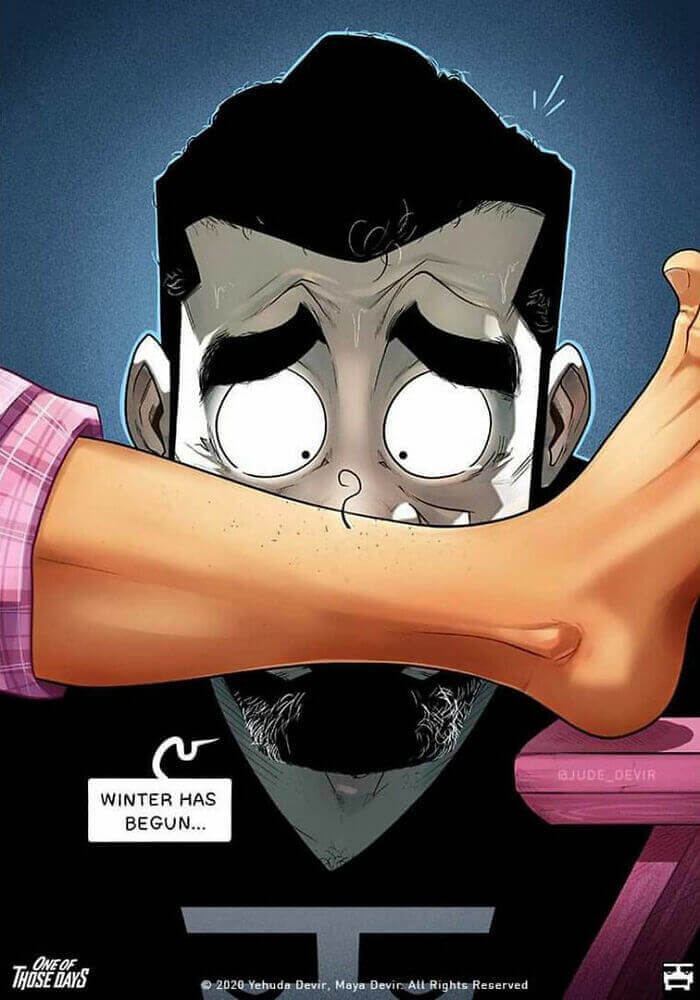 When winter hits, and women no longer have their legs on display, it is totally okay to say no to shaving, and embrace hairy legs.
Always Work Together
Being a part of a team in the workplace is just as important as being a team at home with your partner. You need to work together to raise your child, or your pet if you opt not to have kids. It takes two to clean up a baby that has gotten food everywhere or has managed to dip a hand into a dirty diaper.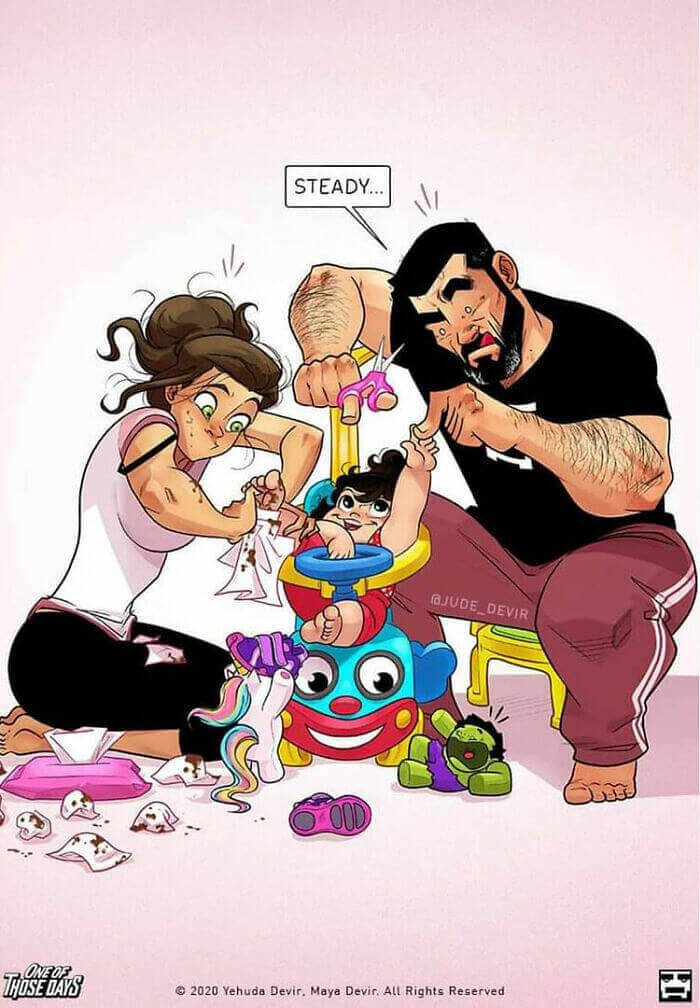 You can always rely on your partner to help. That teamwork spirit will help you raise your kids to perfection, and achieve the life you have always wanted – go team!
Woman Hilariously Recreates Celebrity Instagram Photos And The Results Are Too Good
Ashley Lez
This article was originally published on TheFunPost
When you scroll through Instagram, it is hard not to roll your eyes at some of these celebrity photos. When you really look at what they are posting, it seems ridiculous because real people don't look like them or post pictures like them. But they are famous, so they get a free pass. However, Australian comedian Celeste Barber is back at it with a new collection of celebrity Instagram recreations to show everyone what ordinary people would look like if they took the same pictures. Remember, what you see online is not always the truth, and Barber's hysterical photos are the perfect reminder of that. See who she teases next with this new batch of hilarious pics.
"The Flash…It's Blinding!"
According to science, Bella Hadid is the most beautiful girl worldwide, and while we're still debating that, many people agree. However, looks aside, she does post some truly bizarre photos like this one. What was she going for with this shot? "Oops, forgot to turn the flash off."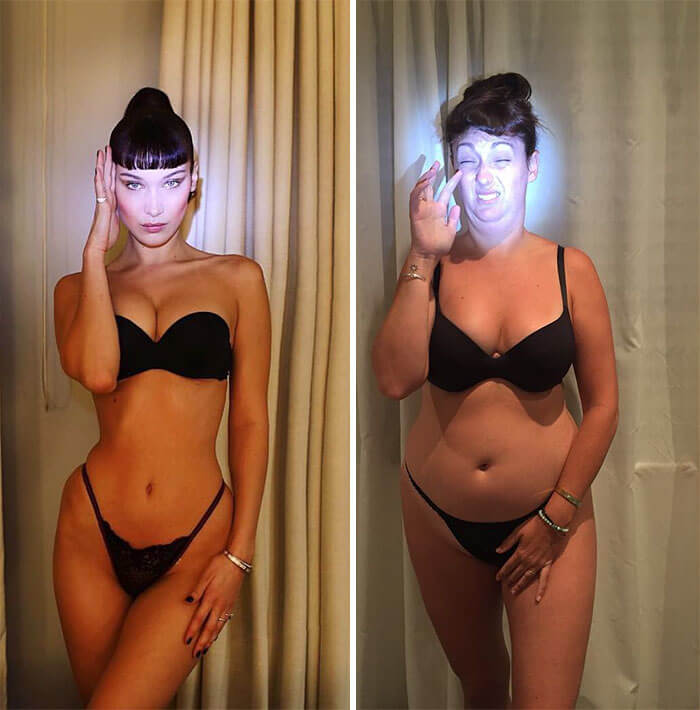 Celeste is all of us when someone takes a picture and they use flash. For the next few minutes, you just see spots and wonder if you are actually losing your vision permanently. How does Bella keep her eyes open like it is nothing? Is she even human?
"Tripped Over The Stool, Pants Fell Down, But I Must Save The Chips"
We don't know what is going on in either photo, but both of them look extremely uncomfortable. We can't imagine why the original model was asked to pose like this, and it makes no sense, but that's fashion, right? At least Celeste is reaching for something.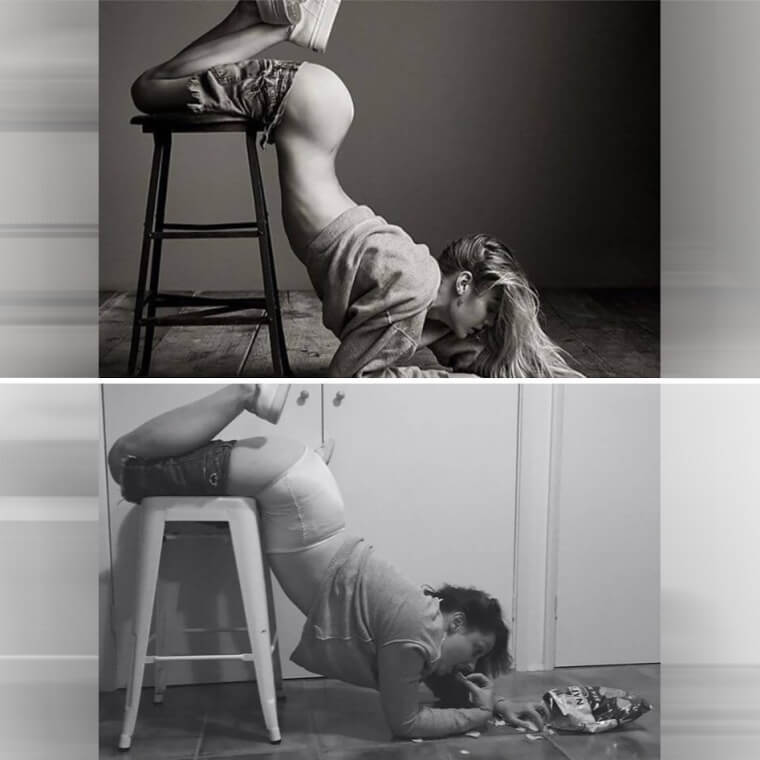 The bottom photo tells the story of a woman who dropped her chips and didn't want to get off the chair, so she reached as far as possible to grab them while keeping her legs on the stool. The only part we can't figure out is why her pants are falling off.
"All I Want For Christmas Is Realistic Tree Standards"
'Tis the season to be merry, go outside, kill a tree, bring it inside, then let it die and put it outside again. While we are all for Christmas trees because they are festive, we have to question why celebrities need one for every room? They also pick trees that are the size of a normal house.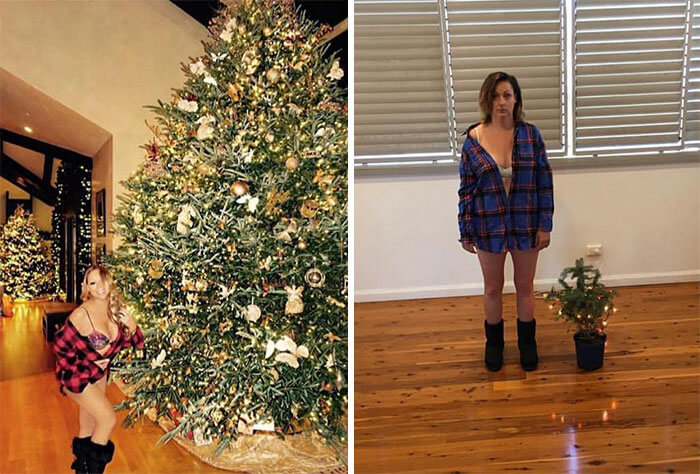 Most people don't have 12-foot pine trees in every room, and they look puny in comparison. Celeste was clearly going for the opposite feel with her Charlie Brown Christmas inspired tree. She can call it minimalism, and it will be trendy and eco-friendly.
KoKo And Kylie 2.0
Do you ever just hug your sister and rub your hands on her chin? We are going to guess that you don't, and although it was for a makeup advertisement, it still looks silly next to the bottom picture. Kylie and Khloe were showing off their makeup collaboration while Celeste is showing off her friend's dental work.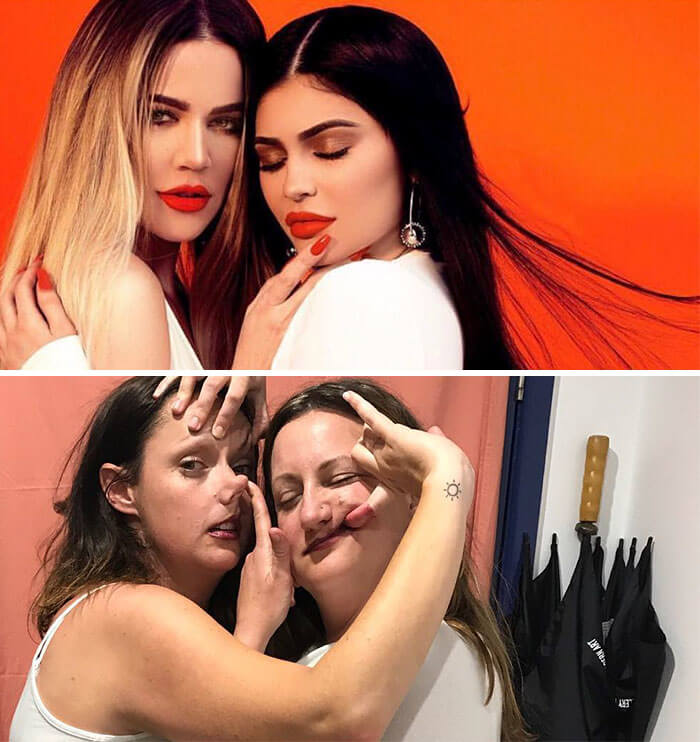 It's like we can barely tell the two photos apart. Celeste and her friend are a little more hands-on than Kylie and Khloe, but who isn't like that with their friends or siblings? We wouldn't let friends pick our noses but to each their own.
"Jingle, Jingle", Is That The Bank Calling?
When you have so much money that you start to think all those presidents are talking to you. Have you ever noticed that some celebrities feel the need to flaunt their wealth by posing with stacks of money? We know you are rich; there is no need to rub it in our faces.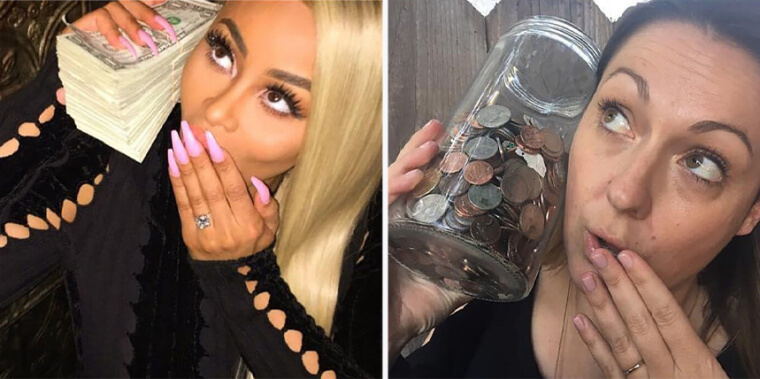 On the other hand, does anyone else keep a jar of change that they don't know what to do with? Like Celeste, the jar of coins is more realistic than stacks of $100. Over time it continues to accumulate until you can get to a Coin Star and find out it wasn't that much money.
"I Dream Of Eating"
While Bella Hadid is dreaming, the rest of the world is eating or dreaming about eating. They used to say that nothing tastes as good as skinny feels, but most people would rather eat a cheeseburger than starve themselves to lose a few pounds because everybody is beautiful.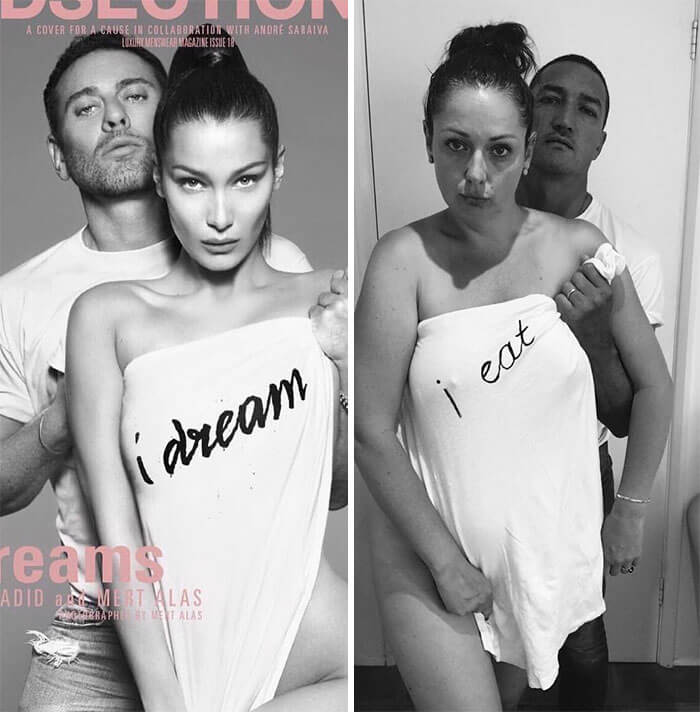 Besides the message, we just don't understand the concept behind this photoshoot. Did she lose her clothes and the only thing around to use as a cover-up was a piece of fabric with the words, "I dream" on it? When she found this piece of cloth, why did the guy have to hold it up for her? Someone explain!
"Fell Face First Into The Wall, No Big Deal"
This is how it looks when you drink too much at the pre-game and try to drag yourself out of the house physically, but you find a place to rest your head instead. The next thing you know, it's Monday morning, and you skipped an entire day because you got too drunk.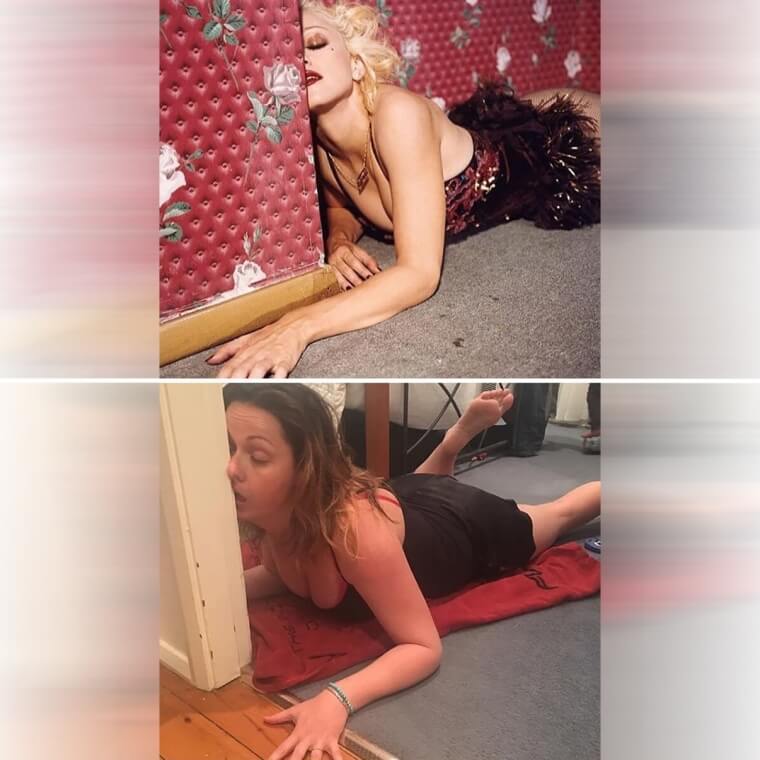 With or without alcohol, this is how we feel every morning trying to drag ourselves out of bed to get ready for work. Luckily most people are working from home these days, so you can just roll over and log on for the day without leaving the warmth of your bed.
He Is Going To Feel This Tomorrow
His back will be sore for the next few days after falling onto the water like that. When you kiss your significant other by the pool, don't you fall passionately yet gracefully into the water? Celeste showed that it's not as easy as they make it seem, and their photo looks painful.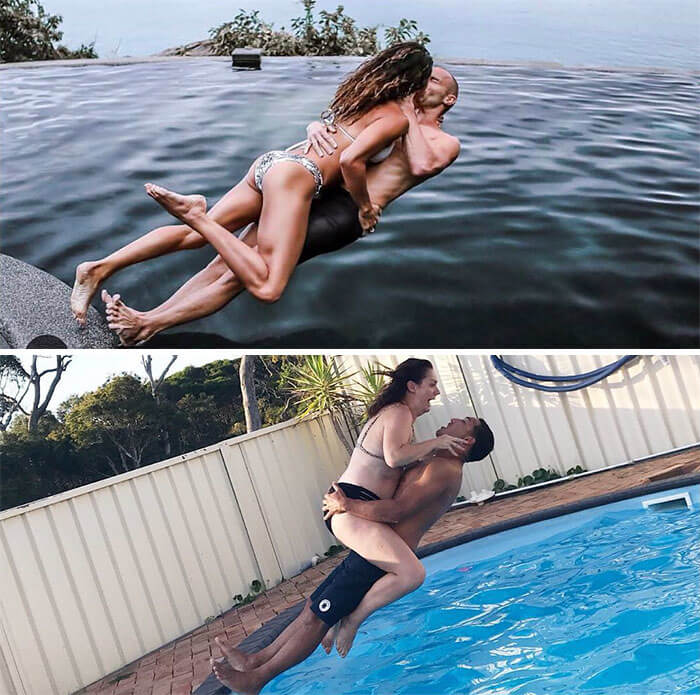 We understand that it's more about the art of the photo, but how do they look natural as they are falling? The two models should give everyone, including Celeste, falling lessons. At least her husband got his pose down, but we can only imagine his face as they hit the water.
Getting Out Of The Pool Gracefully Is Impossible
If you have ever gotten out of the pool gracefully, we commend you because it seems like an impossible task. It's easy to lift yourself out of the water, but no one looks good swinging their legs over the edge of the pool. No matter what we imagine, we always look like a gremlin crawling out of the depths.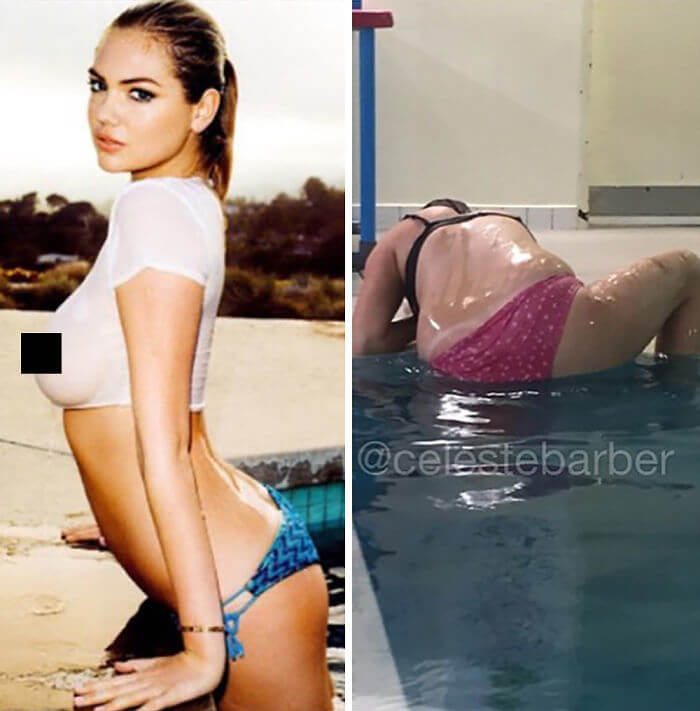 We would love to see this model try to get her legs out of the water. She looks good now, but wait until she starts swinging her legs over the edge, then she will be back on our level. Next time you go swimming, try to get out as gracefully as possible and see that it is nearly impossible.
Someone Needs A Weed Whacker
If this isn't attractive, we don't know what is. All jokes aside, why is something called the lady garden? Who would want to associate their perfume with their downstairs area? It just seems like the name is trying too hard.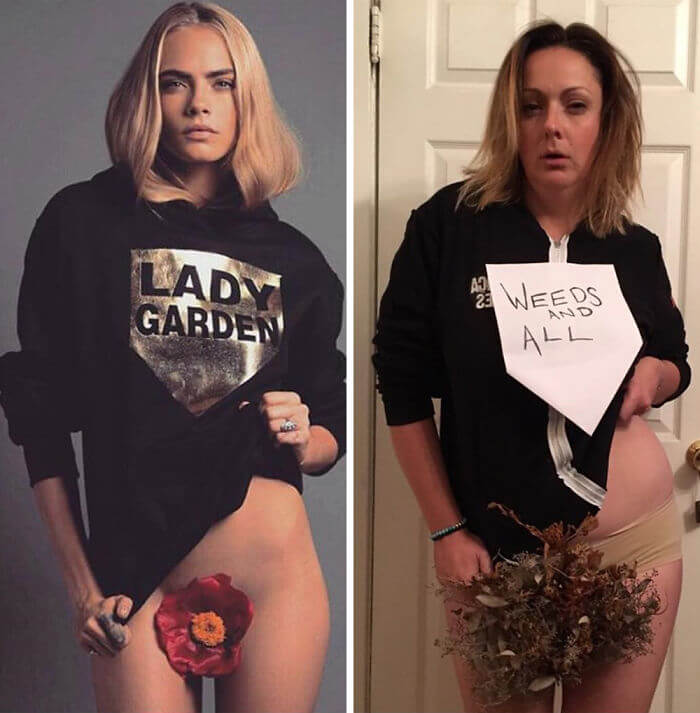 Plus, you can't have a lady garden without all the weeds and shrubs. No garden is perfect because they all need to be maintained through a series of painful tasks. Weed whacking isn't so bad; it's the weed pulling that makes people's eyes water.
Just A Light Poolside Workout
When you are chilling at the pool or beach, do you not randomly find the nearest wall to hang onto? Just for a light wall workout, you know, to make your muscles show for all the cute pictures you are about to take. If you don't do this, it is perfectly normal.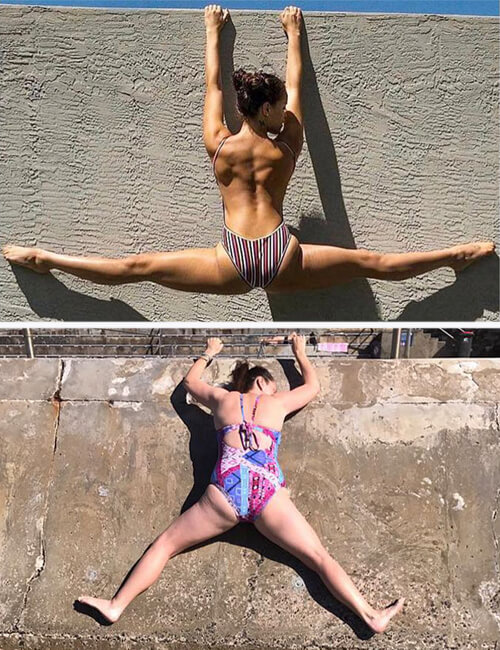 It's like when you are hanging out with your friends, and someone says your crush is coming so you "act natural," but end up looking forced. The top picture is what people think they look like, while the bottom photo is how they actually look.
"Oh, Were You Trying To Move This Couch?"
When movers come to take away your furniture, the natural thing to do is let them move it without any problems. However, celebrities are a bit different. They think their movers will also carry them on the furniture so they can feel like royalty.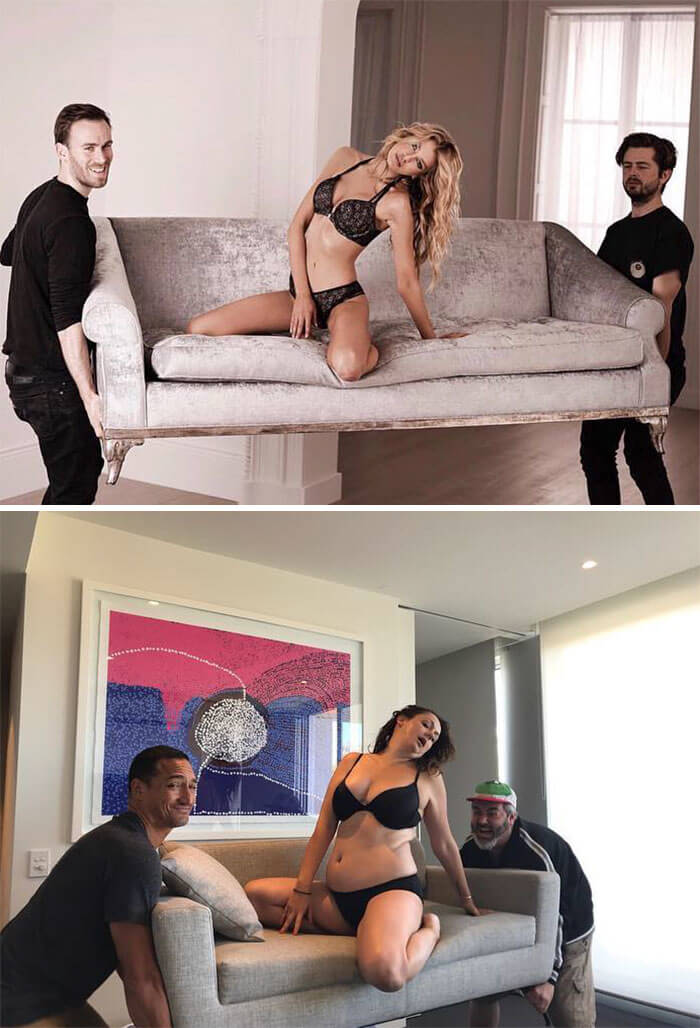 The men's faces in Celeste's photo are a much more realistic depiction of how people would feel if someone tried to sit on the furniture they were moving. Even the men in the top photo look awkward and uncomfortable. It is bizarre on so many levels.
"What Is Wrong With My Wife?"
"Hey babe, I'm ready for the photo shoot." "Where are your clothes?" "What do you mean?" "I thought we were doing family photos for our parents. Isn't it inappropriate that you are naked?" "It's not inappropriate; it's inspiring cause I just had a baby."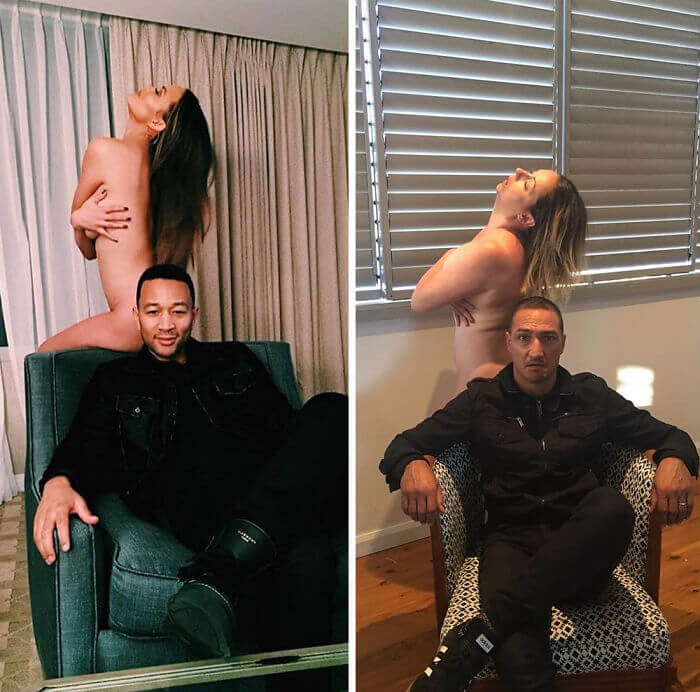 While her husband might not understand the no clothes aspect, she doesn't care because she gives the fans what they want… or even what they don't want. John might be happy, but Celeste's husband is thinking about what his parents will think when they get this as a Christmas card.
Wind In My Hair And Not A Care In The World
When you are in the club and you find a fan to help you cool off. Some people would look glam like Miley Cyrus, and the rest of us would look like we got stuck in a wind tunnel, like Celeste. Maybe a leaf blower wouldn't be the best option because of how much wind power it has.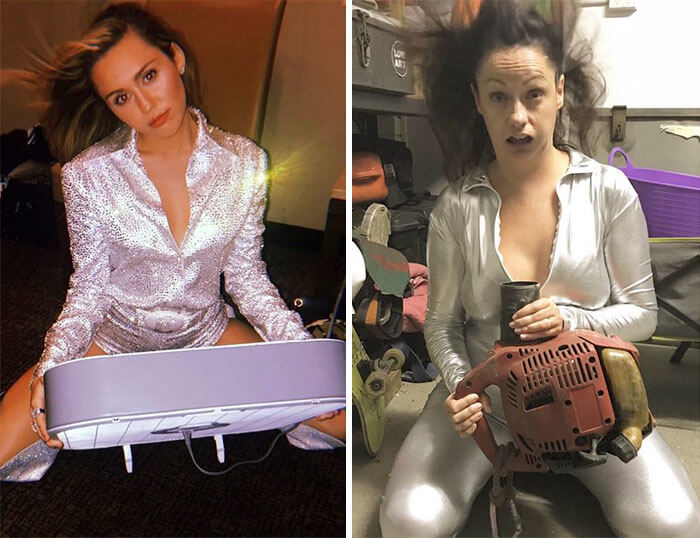 People can't be glamourous all the time, but we can do our best not to get overheated. A girl's got to do what a girl's got to do, especially when she is wearing a full-on spandex catsuit that traps heat and makes you sweat ten times more.
Doesn't Everybody Play The Piano Naked?
When you are trying to show off for your husband's friends, and then you remember you are nude, you don't know how to play the piano, and this is a horrible nightmare. Who goes nude except for a pair of Adidas sneakers to play the piano?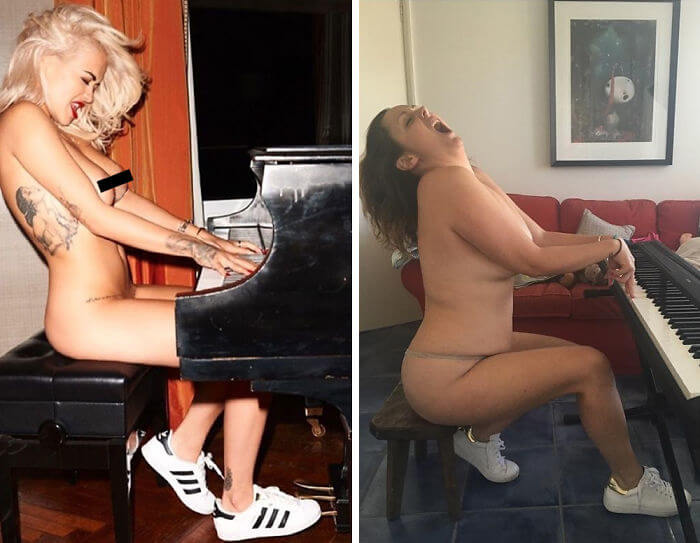 Just imagine how uncomfortable it would be to peel you bare behind off of a leather piano seat. Just thinking about it makes us uncomfortable. This must be the best way to absorb the music; if you are nude, it seeps right into your skin.
"New Tattoos, What Do You Think?"
When we look on Instagram, our feeds are filled with models who have unattainable bodies most of the time. When your main job is to keep yourself in shape, it is much easier to look perfect. However, the average person doesn't have time to work out for four hours a day.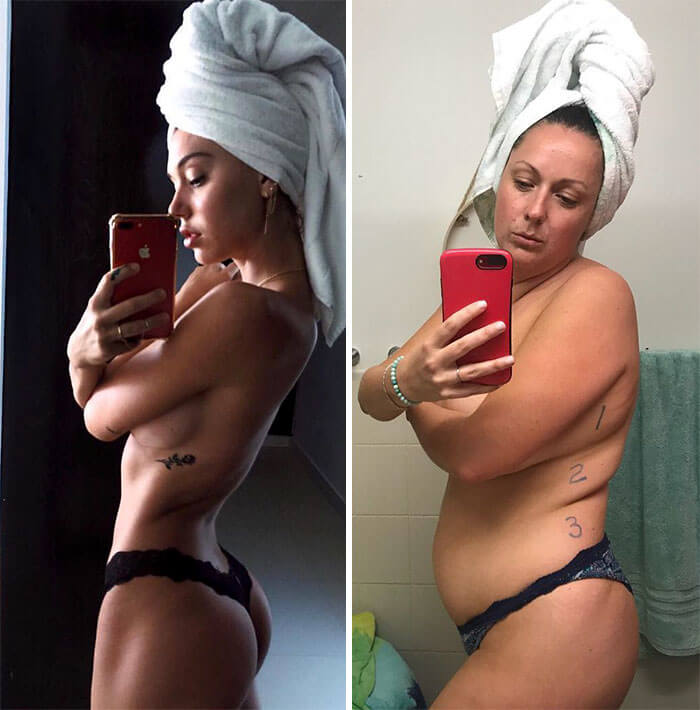 While this model may have an almost non-existent waist, most of us look like Celeste. It's ok to have curves and bumps because everyone is built differently, so you should love the body you have and everything it does. Comparing ourselves to models is a waste of time.
What Sisters Really Do At Meals
When you go out for a family brunch, and you and your sister start fooling around even though you are both adults. Your parents are embarrassed, but you are your sibling could care less because you're drunk off the mimosas and can't stop laughing.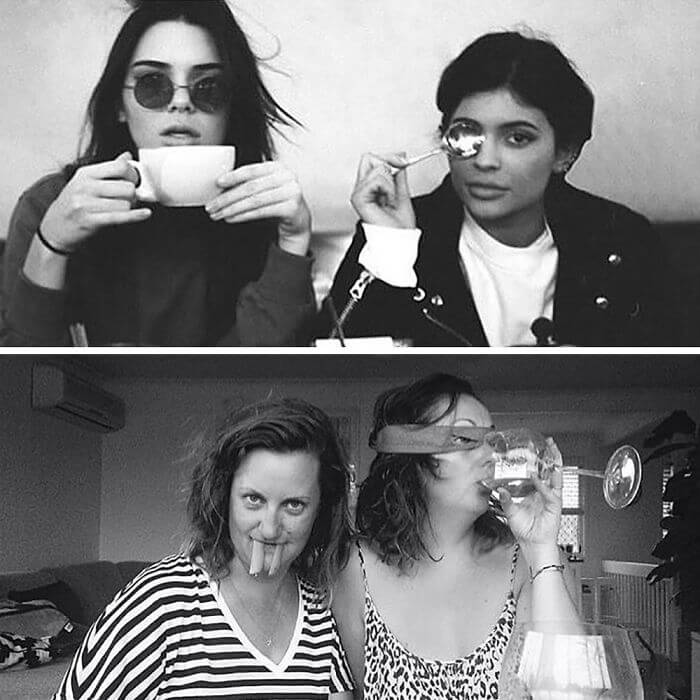 We can't all be as cool as Kendall and Kylie, but we can all be as silly as Celeste and her sister. There is nothing wrong with a little immaturity here and there to make life more exciting. Sometimes you have to pretend your fries are walrus teeth.
Casually Hanging In The Backyard With The Kids Toys
Have you ever stripped down to your undergarments and walked outside to play with a tractor? No, just these two? Out of all the strange photoshoots Kim Kardashian has done, this has to be the weirdest. She walked around a construction site in her underwear, and we don't know why.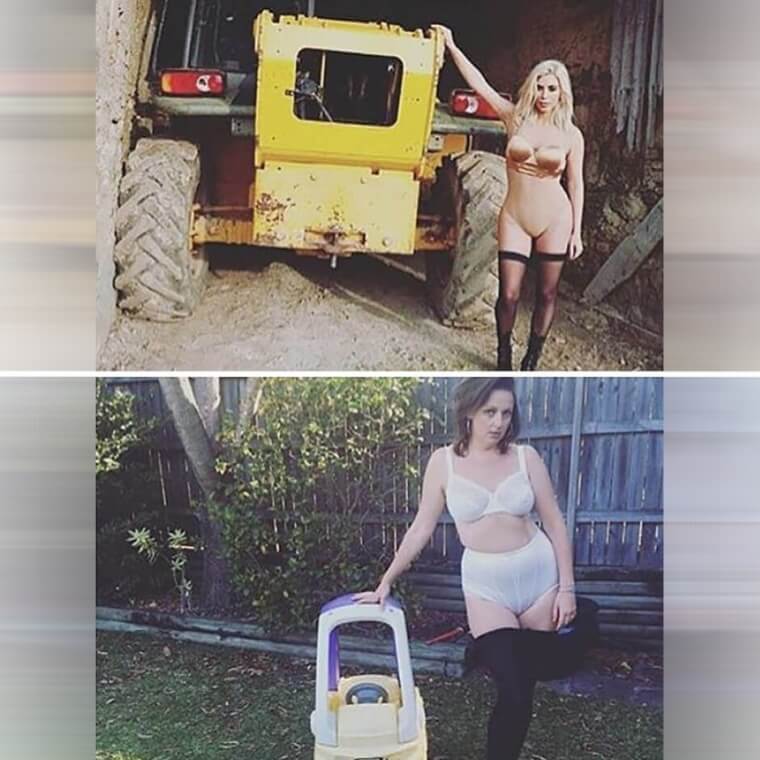 If anyone can explain that photoshoot, that would be great because we still think about it to this day. At least Celeste is in the comfort of her gated backyard, so people can't see what she is doing and wonder what is wrong with her.
After A Long Night Of Drinking Expectation Vs. Reality
When you get home from a long night of clubbing, and you hope that you can fall asleep with a sliver of dignity, even if it's by the front door. However, when you wake up, you look like a hot mess because you passed out the second you got in the door.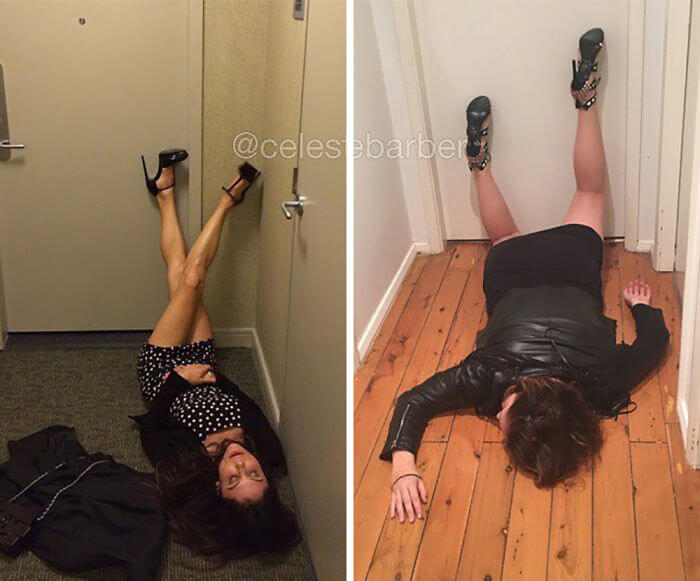 While we all aim to make it to the couch or the bed, sometimes that just doesn't happen, and we end up on the floor. Although it isn't the best option, at least we made it home that night. That's something to be grateful for.
If Gwyneth Rolls In The Mud, Everyone Should
When you go on vacation with nannies versus holidaying with your children. When people have five nannies to take care of one child, they can enjoy spa treatments and purposely put mud on their bodies. However, when you have to watch three children on the beach, you will probably get covered in mud involuntarily.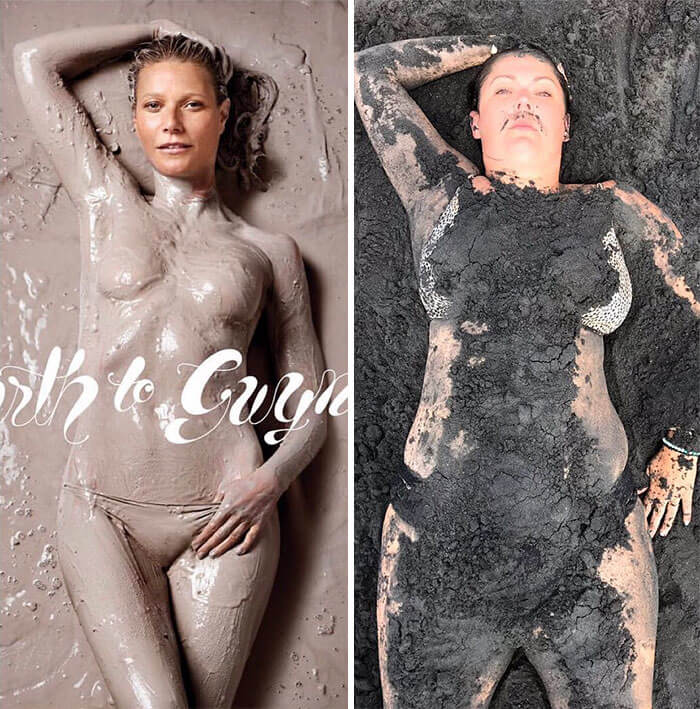 If Gwyneth Paltrow is rolling around in the mud, we should all be doing that because she never ages, so that must be her secret. Maybe she uses a particular type of mud, but we don't think Celeste's mud is very good for her skin. It looks closer to asphalt than mud.
The Glass Says Everything You Need To Know
If there is one thing to know about Celeste, her wine is ten times more important than coffee, so if you touch it, prepare for a throat punch. Rosie Huntington-Whiteley can drink all the coffee she wants; that just means there is more wine for Celeste.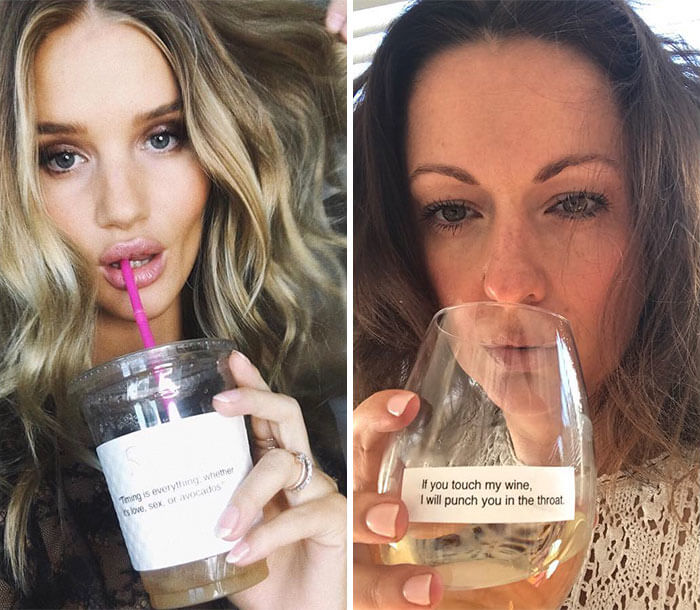 There must be something you love so much that you are willing to fight someone over it. Celeste's message is much more relevant, especially since all we have, during these troubling times, is our wine and a sliver of sanity to hold onto.
When Someone Says, "Act Natural"
When you are Beyonce, no one is paying attention to anyone else in the picture, but Celeste wanted to make sure her husband didn't steal the spotlight. Celeste said, "You know your place, babe. Stay in the background." When you wear a silver lamé catsuit, no one can steal your thunder.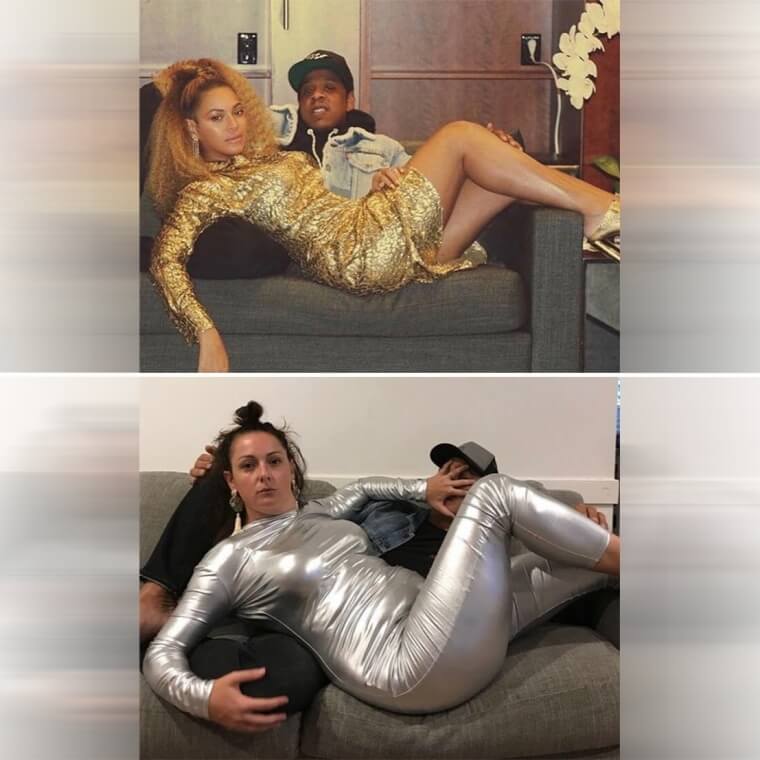 If you really want to stand out in a photo, just cover other people's faces so that you are the only one in focus. Beyonce would probably cover up Jay-Z's face if she could, but her fans would think he cheated again. However, that would mean a new album is coming, so it's really a win-win.
BBQ Is Way Better Than GQ
GQ might be all about looking sharp and living smart, but we don't know if sitting naked on a chair in an empty room is the smartest way to live. On the other hand, BBQ monthly has been changing your perception of women since its creation, and that is a message we can stand behind.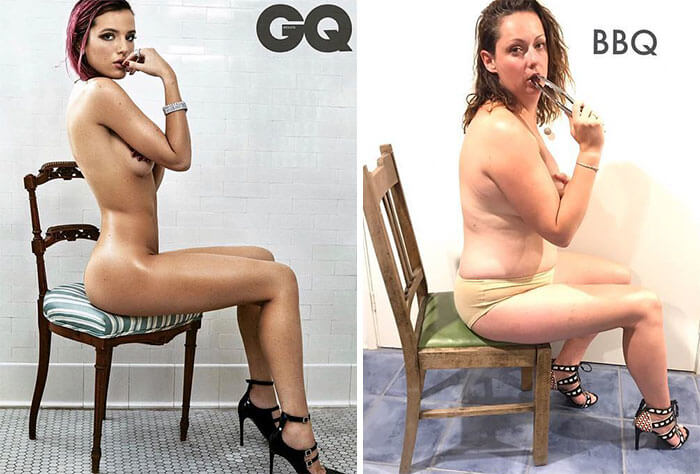 We love how she shamelessly shows everyone how ridiculous these celebrity photos are. If anyone else posted a picture like Bella Thorne, people would question their sanity, but she gets away with it because she is famous and fit.
When You Haven't Tried On Jeans In Months…
After spending months of doing nothing but taking trips to and from the refrigerator because that was the furthest we could all travel, some of us are having trouble buttoning our jeans. Sweatpants are great, but eventually, we have to pull on a pair of real pants and face the music.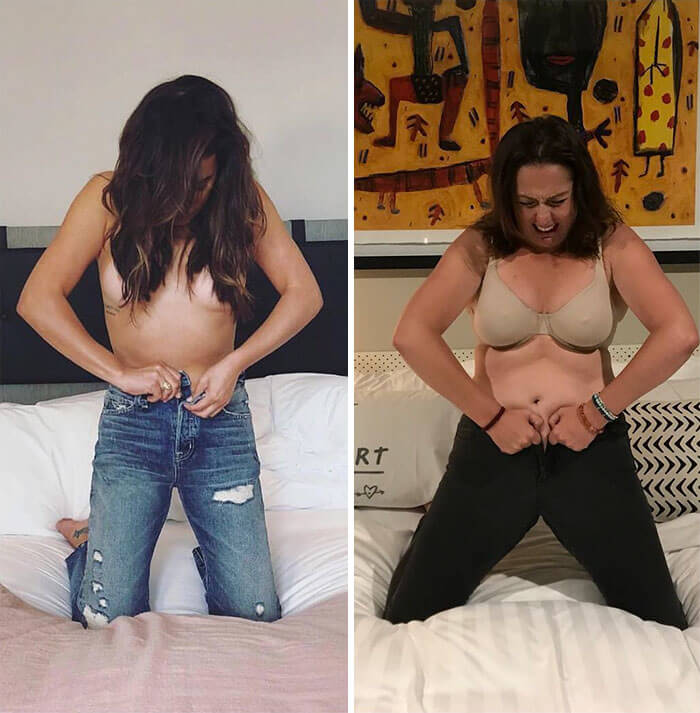 Some of us might have an easier time buttoning those pants, while a few of us will have to do some jumps, squats, and wiggles to get the pants on. Lying down always helps when putting on a fresh pair of jeans, you just might not be able to stand up after.
Climbing A Tree Naked…Why Not?
When there isn't a star emoji big enough to cover you up, you have to improvise. Kim Kardashian must have wanted to connect with nature, so she took off her clothes and climbed up a tree. At least Celeste kept her underwear on because that is not a place you would want to feel tree bark.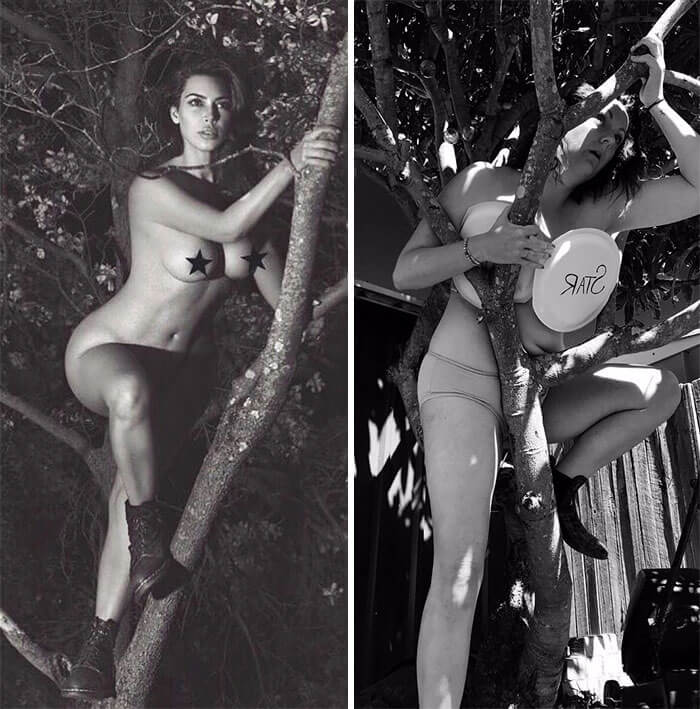 Who doesn't spend their afternoons spying on neighbors from the tree while they only wear boots and star pasties? Is that not normal? Kim is probably spying on Kanye to make sure he doesn't try to run for president again.
Mind The Gap, Stay Behind The Yellow Line
We would advise against using the side of a subway car to prop your foot up because it could start moving, but that is just our opinion. If you try this, you might get some strange looks like Celeste, but ignore the haters because they know nothing about fashion photography.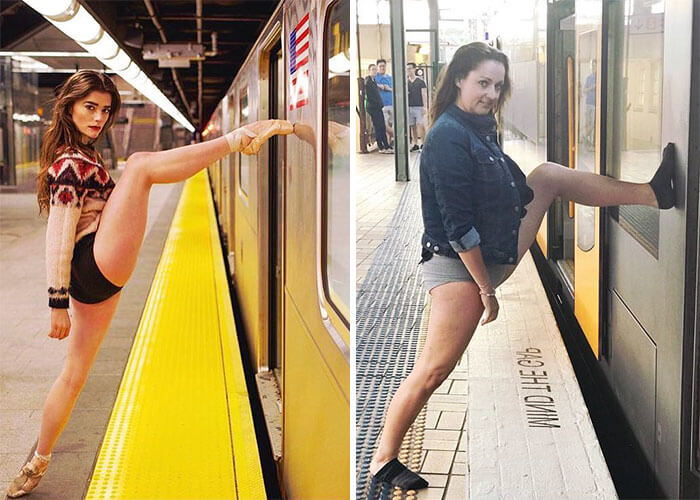 While she might be getting a good stretch in her legs, it doesn't seem like a good idea to ignore the safety warnings. Those "mind the gap" signs are there for a reason, so people don't die. We aren't experts, but there are better ways to stretch and show off your legs.
If J.Lo Can Do It, So Can You
As much as we love J.Lo and A.Rod, we don't know many people who realistically wear diamond-encrusted underwear. That does not look comfortable, and we can't imagine the level of chafing someone would get from those undies. Celeste's granny knickers look much more comfortable.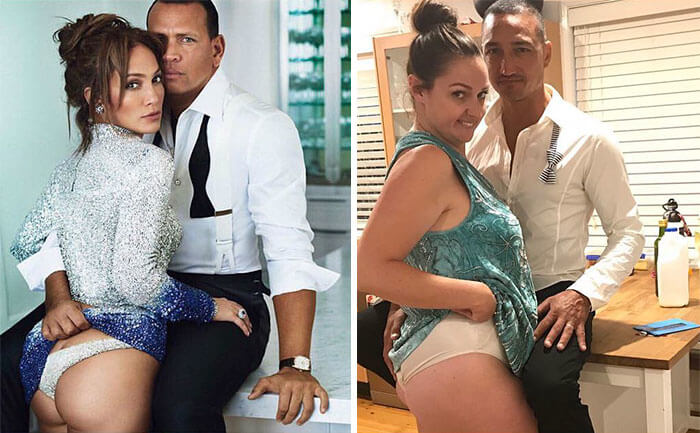 When you are that established in your career and have a consistent fan-base, why is it still necessary to show off her butt? Everyone knows she is gorgeous, but this feels a little forced. The goofy version is so much better and more realistic.
When It's Monday Morning And You Don't Want To Get Out Of Bed
When you drag yourself out of bed for work on Monday morning, the thought of walking down the stairs before a cup of coffee is too much, so you crawl down face-first instead. Some people can't function until that first bit of caffeine kicks in, and we are like them.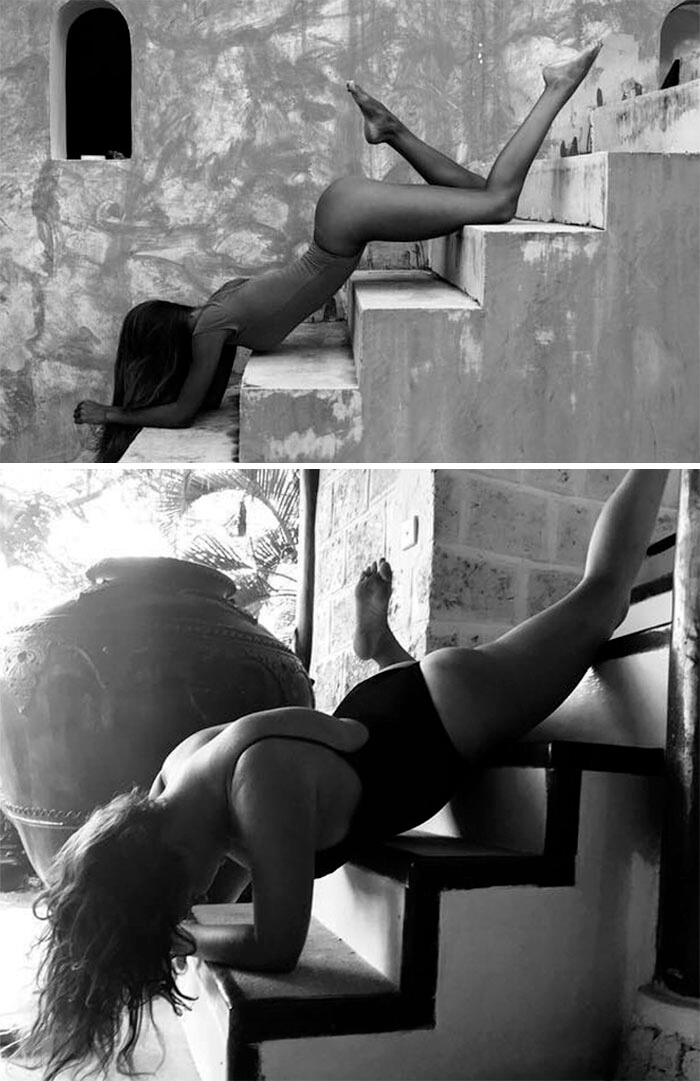 We don't know who the original photo is trying to target, but it is hard to understand who their market is? Are they trying to show what this bodysuit would look like if you fell down some stairs? It makes no sense.
Doesn't Everyone Get Naked Before A Champagne Shower?
If you don't strip down to your birthday suit to open a bottle of champagne, we have a lot of questions. It is called a champagne shower for a reason, and you wouldn't take a normal shower with clothes on, so this isn't any different.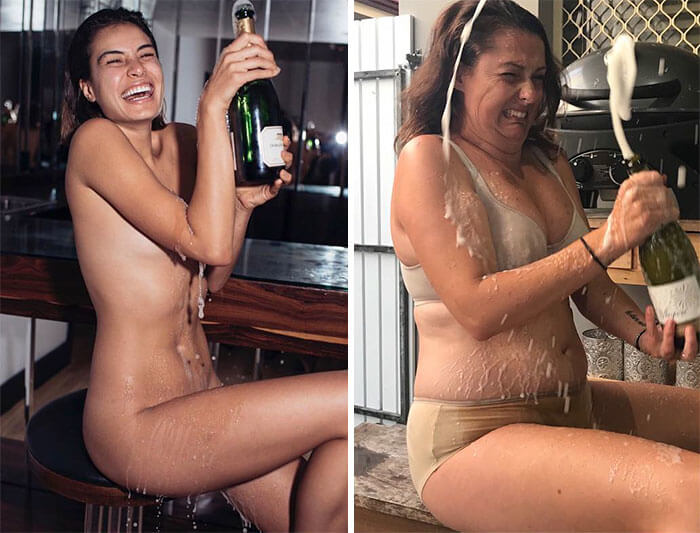 Unlike the model, we wouldn't be laughing because no one wants to feel cold, sticky alcohol all over their hair and body. It might be the next best thing in at-home DIY beauty treatments, but for now, we will stick to drinking the champagne instead of pouring it on people.
How To Create Your Own Strappy Bikini For Horrible Tan Lines
If you have ever wanted to know what it was like to wrap yourself in shoelaces, just grab a strappy bikini and head out to the pool. With that many strings, you might need a bottle of wine and a straw to get through the uncomfortable phase.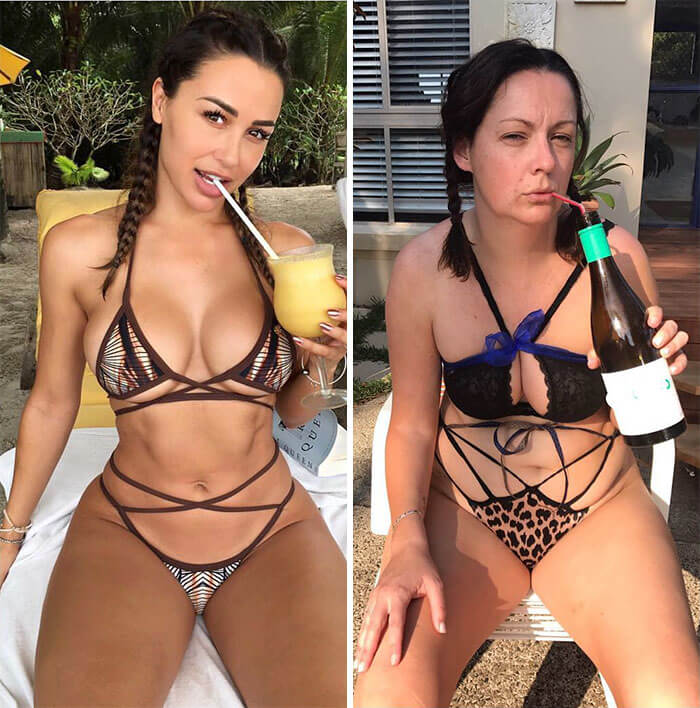 While most people think Celeste is channeling her sultry side, she is actually making that face out of pain. You can try out this look, too, when Celeste releases her line of shoelaces. If you stay in the sun long enough, you can get a ridiculous tan that will look like a mosaic.
"Do You Need Something?"
When you try to sneak off for a moment of peace and a snack because your kids are driving you up a wall, but they find your hiding spot. Everyone needs a break once in a while, and you deserve to treat yourself to your favorite snack at that moment.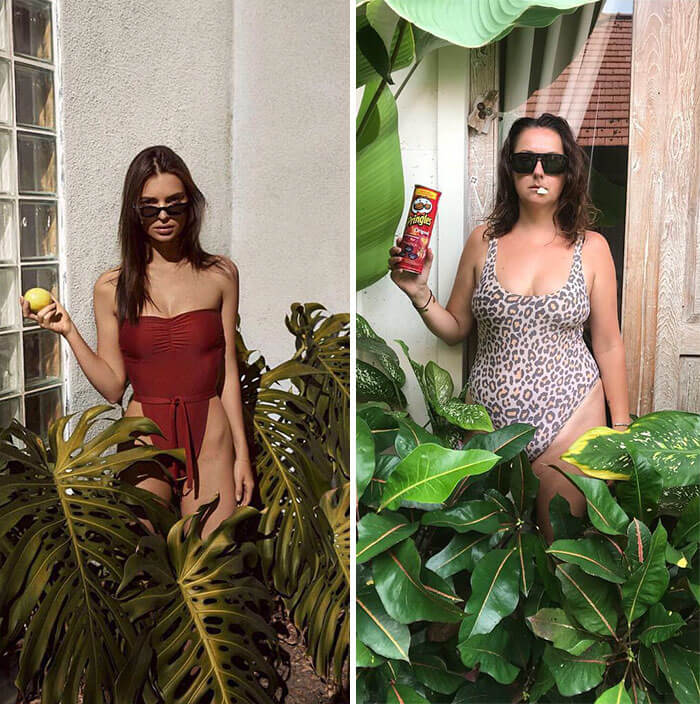 It's like children have a sixth sense to know when you are relaxing, and then their senses tingle to come bother you. No matter where you try to hide, they will find you, and it might be in the bushes on the side of the house eating pringles.
Pink Is Not Just A Color, It's A Lifestyle
If you don't have a pink one-piece and matching cover-up, you can recreate Paris' look with two pink inner-tubes. No one will ever know the difference, and you will look just like a hotel heiress. If Paris saw this outfit, she would probably say, "That's hot."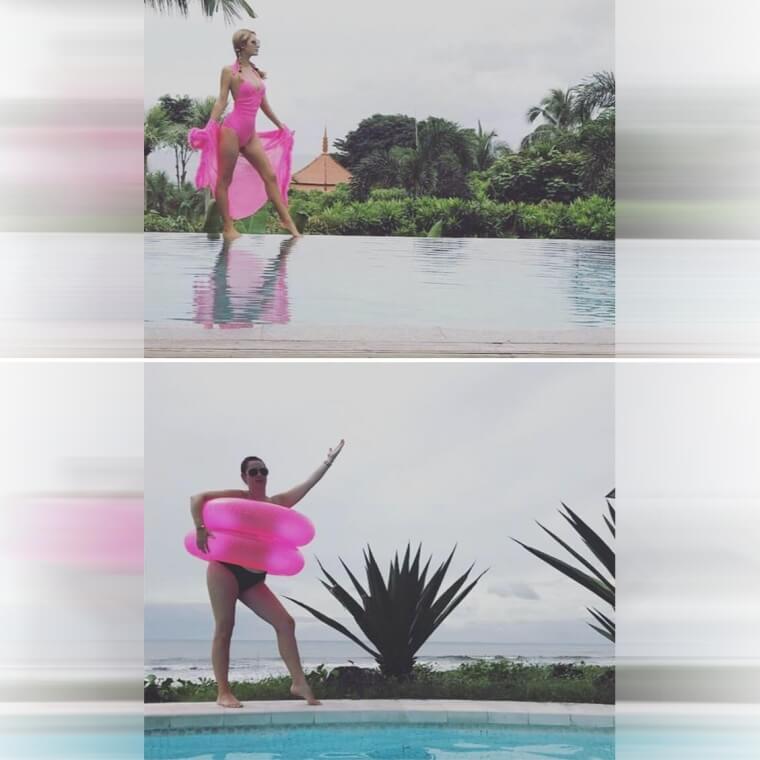 If you don't have a tropical backdrop like Celeste and Paris, don't bother trying this at home. While most of us can't afford to fly to the next state, these two are showing off their tropical vacations so that we can live through them vicariously.
How Everyone Feels When They Have To Sit In The Corner To Charge Their Phone
If they want to complete this photoshoot, they will have to bring the camera to her because her phone isn't finished charging. As an important influencer, she needs to be on her phone at all times. If she doesn't give constant updates, her fans will wonder if something happened to her.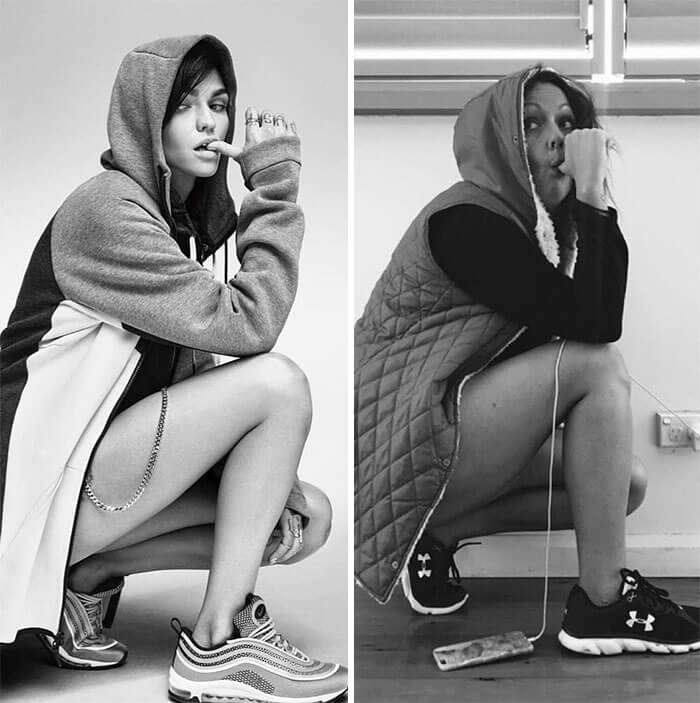 Why is the go-to "sexy" pose a finger in your mouth? Is sucking your thumb the newest way to attract a mate in the dating world? Did we miss the announcement about the newest flirting trends? Because we need all the help we can get.
"Hi Honey, You're Home From Work Early"
When you are having a dance party at home alone in your heels and bathing suit, feeling like a rockstar when your family walks in. "Oh, I didn't know you guys would be home so early. I can explain." There is no shame in having a little fun while no one is around.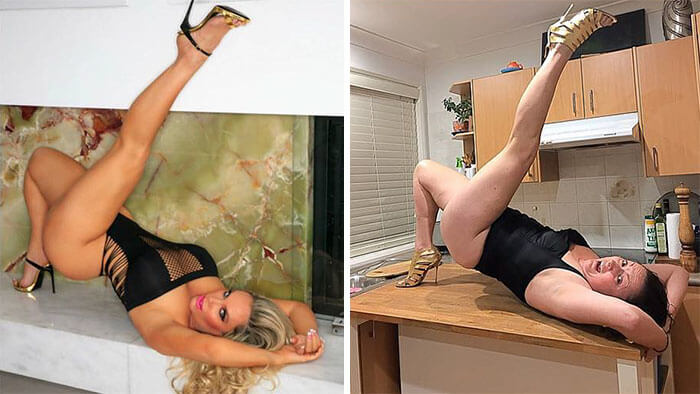 This position looks extremely difficult to hold, especially in heels. It must be difficult for Coco with those two balloons on her chest. They both look pretty uncomfortable, and we don't blame them. Only the chosen ones can pull off this pose.
When You Drink One Green Drink, And Suddenly You Are A Yoga Guru
When you want to feel like you are in that scene of Titanic, but you don't have a boat. We have seen plenty of yoga poses, but this one looks more challenging than the rest. We give Celeste and her husband credit for pulling it off and staying in position long enough for a picture.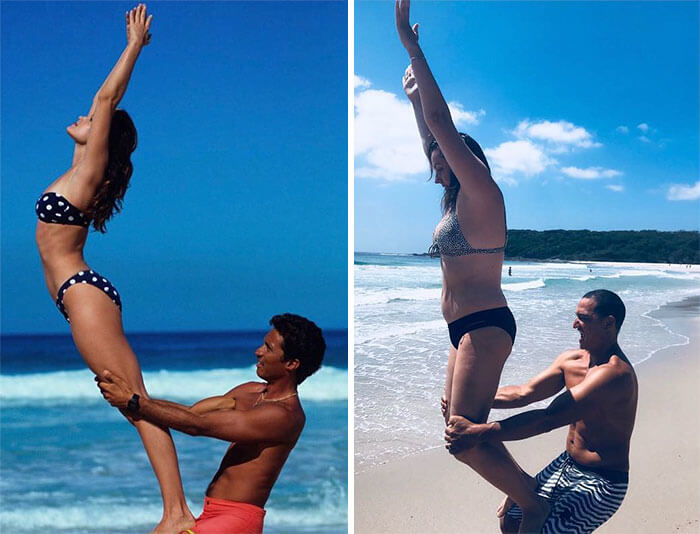 The girl in the original photo looks like she is posing in one of those tampon commercials claiming you can do anything during that time of the month even though most people would rather curl up in a ball and hide for a few days.
I Ain't Saying She A Gold Digger
When Kris Jenner sees this, she is going to be so annoyed that Kim is ruining her manicure. Those hands make her ten percent, and she can't afford for Kim to lose jobs because of a botched manicure. There is a "no nail-biting" clause in her contract that she is breaking.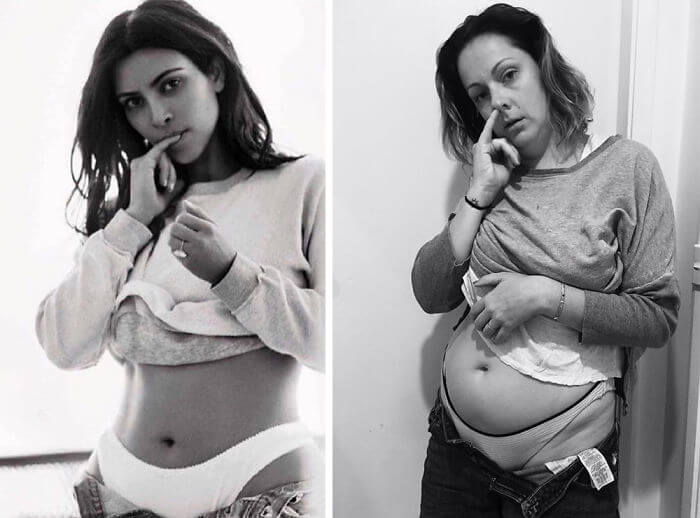 On the other hand, Celeste is channeling one of Kanye's top songs, "Gold Digger," because she is really up there. She could practically scratch her brain, and that is something Kim would never be caught doing. She is too cool for public nose-picking.
When In Doubt, Draw Your Abs On
Here's a secret fitness tip: If you don't have defined abs, take a sharpie and draw them on. Since it is a permanent marker, you will always have abs drawn on whenever you need to show off your stomach. No one will ever know the difference because they look so realistic.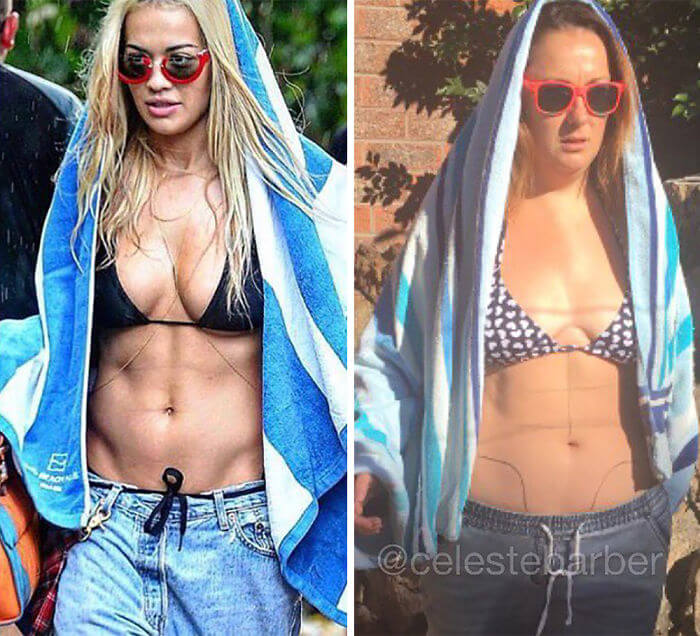 People will be asking you for workout tips, and you can say, "It's all-natural. I don't know what you are talking about." You can even start a fitness Instagram to show off your model-like abs, and people might say it's photoshop, but they are just haters.
Bieber Vs Boober
When you are in your room all alone and think, "I could really take this time to focus on a charity that helps the greater good of the world," but instead, you take your clothes off, cop a feel, and take a picture. Justin wanted everyone to know he has a handful to work with, just like Celeste.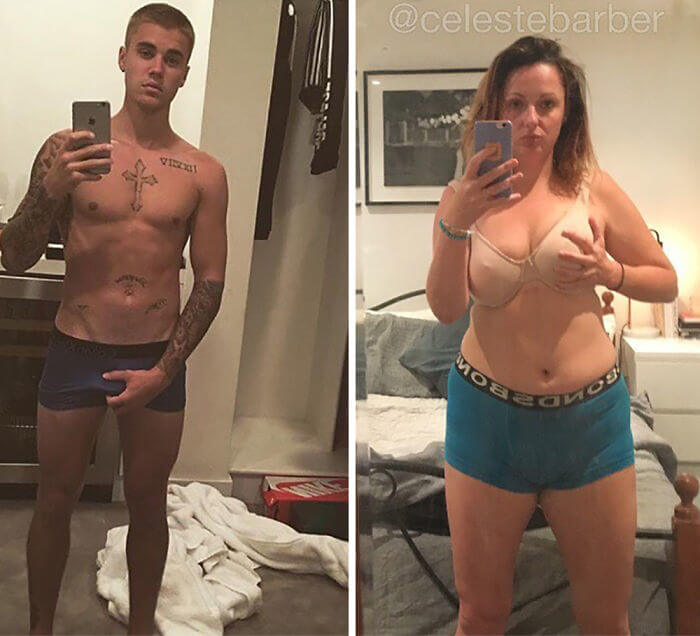 While we give Justin credit for bravely sharing this cringe-worthy picture, we can't help but wonder what his wife, pastor, mother, and grandparents think of this because they all follow him on social media. Who do you think saw this first, Instagram or Snapchat?
Don't Cry Over Spilled Milk
Kim's milk bath must have been a lot warmer than Celeste's fresh-out of the fridge milk shower. Kim was showing off her MILF status for a Fergie music video, and we understand that moms make milk, but why does she have to bathe in it?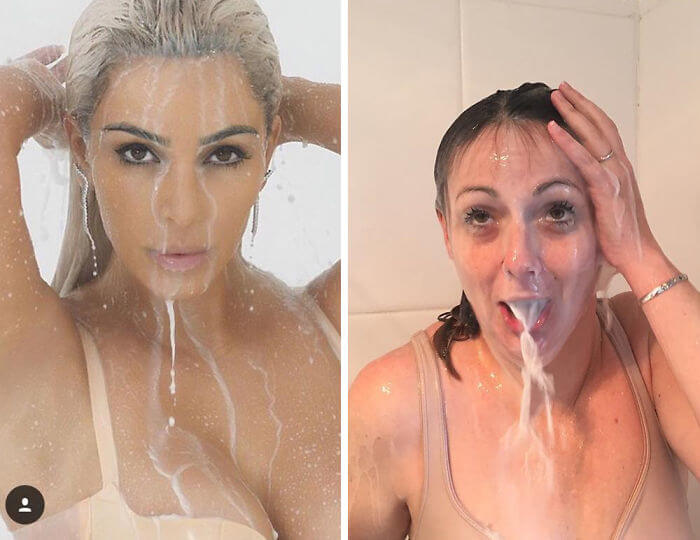 Sure, milk is excellent for your bones as you are growing, but we don't think doctors would advise milk showers for healthy skin and hair. Milk probably doesn't do much beauty-wise, and too much dairy can clog your pores.
Grocery Shopping Like A Star
If you don't have someone push you around the grocery store, you just aren't on the same celebrity level as Selena Gomez and Celeste. Celebrities are too good to walk around the grocery store on their own two feet; they need their assistants to push them.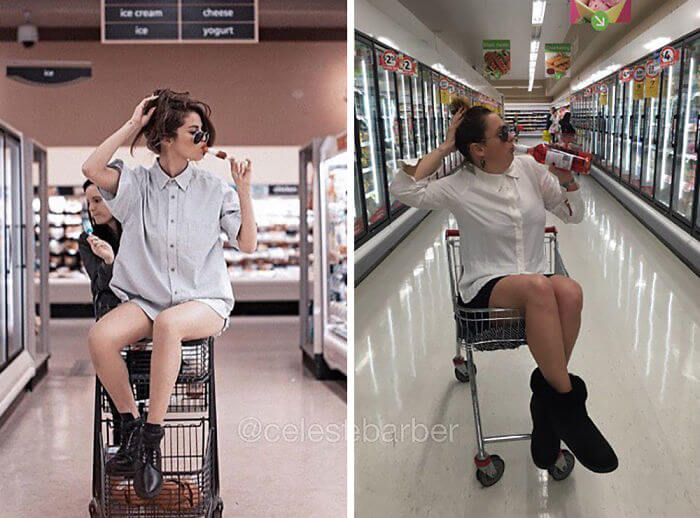 If we had to be pushed around the grocery store, we would want a bottle of wine to sip on because grocery stores are stressful with children running around and people not knowing how to act in public.
The Neighbors Must Be So Confused
Celeste and Victoria's Secret Angels have similar mating calls. They both put on the nicest tulle dresses and sit on the front stoop until someone cute walks by. Celeste's accessories are a bit different with her Viking hat to stand out from the crowd.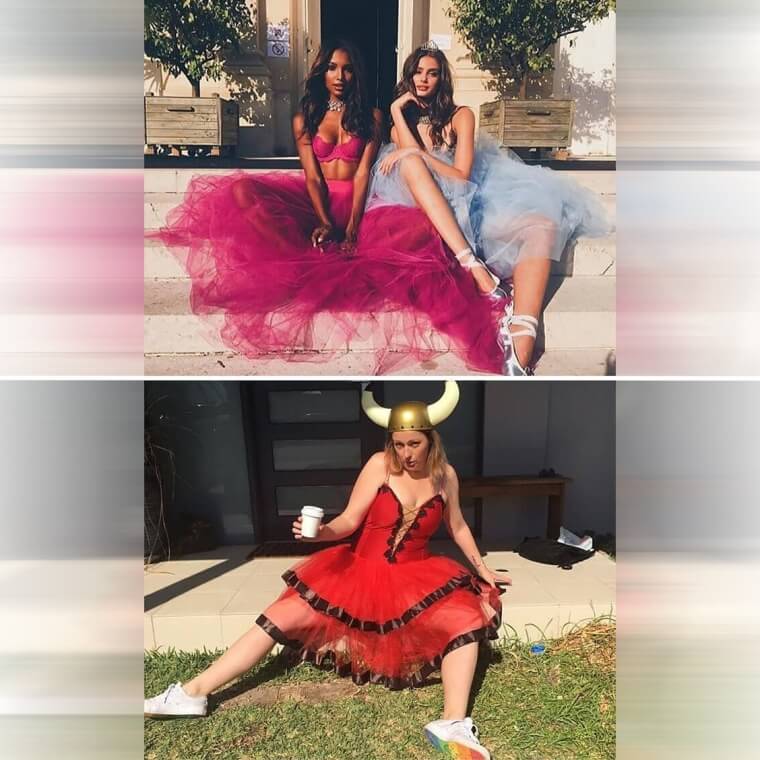 Her neighbors avoid passing her house because they think a crazy woman lives there, but it is just Celeste showing the world how ridiculous models and celebrities are. She also pretends to drink coffee when it is really wine, so her neighbors don't judge her too much.
Celebrity Lives Vs Real Life
While celebrities are drowning in designer bags, shoes, clothes, and luxury items, us regular folk are drowning in bills, work, and responsibility. It must be hard to spend most days shopping and getting free clothes from the biggest designers.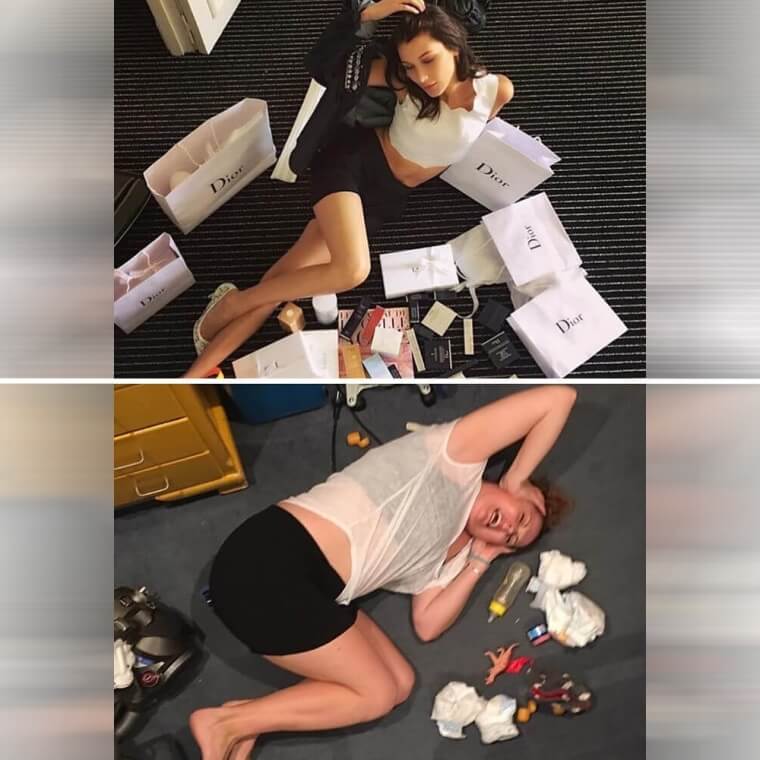 Instead of being surrounded by shopping bags, most adults are surrounded by dirty diapers, their children's toys, and a flood of tears from them and their children. It's hard to be a celebrity, but even harder to be an average person.
"Honey, Can You Take Just One More Photo?"
When you want to feel like an influencer, so you force your significant other to take pictures of you until you are satisfied with the perfect shot. At some point, they stop putting in the effort and lazily hold the phone, just waiting for you to let them leave.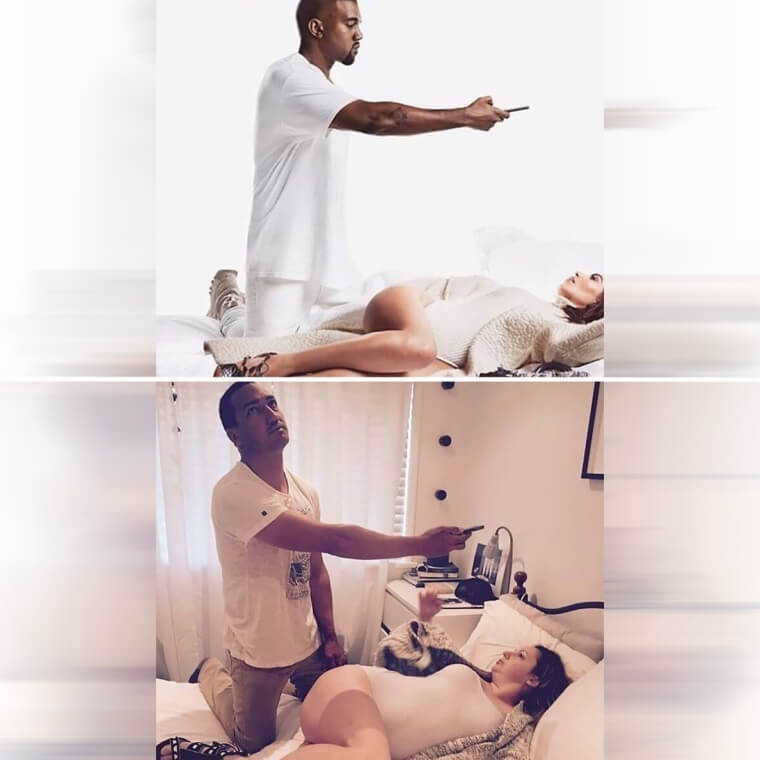 Some people like to take pictures, while most significant others feel like Celeste's husband, who is sick of these impromptu photoshoots. He just wants to go about his day without being called into the bedroom to take a photo that won't be posted.
How Fishnet Tights Actually Feel On Your Stomach
Paris Fashion Week expectations versus the reality of being in a city where the most popular foods are bread, cheese, and wine. While Kim Kardashian has the will power to avoid foods that will make her bloated for a week, some of us don't have the same strength.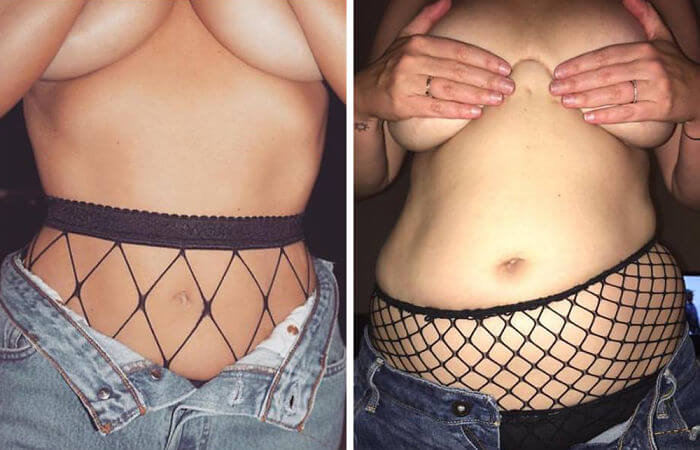 By the end of the week, the fishnets would look more like they are squeezing playdough rather than sitting nicely. We haven't met many people who could wear fishnets over their stomach without looking like a loaf of bread, but Kim Kardashian is always the exception.
"Five More Minutes, Please"
When you have to go to work the morning after going out to the bar, some people will get up with ease, but most of us are still hungover and wishing for another few minutes. No one wakes up with a cup of coffee and a smile right away.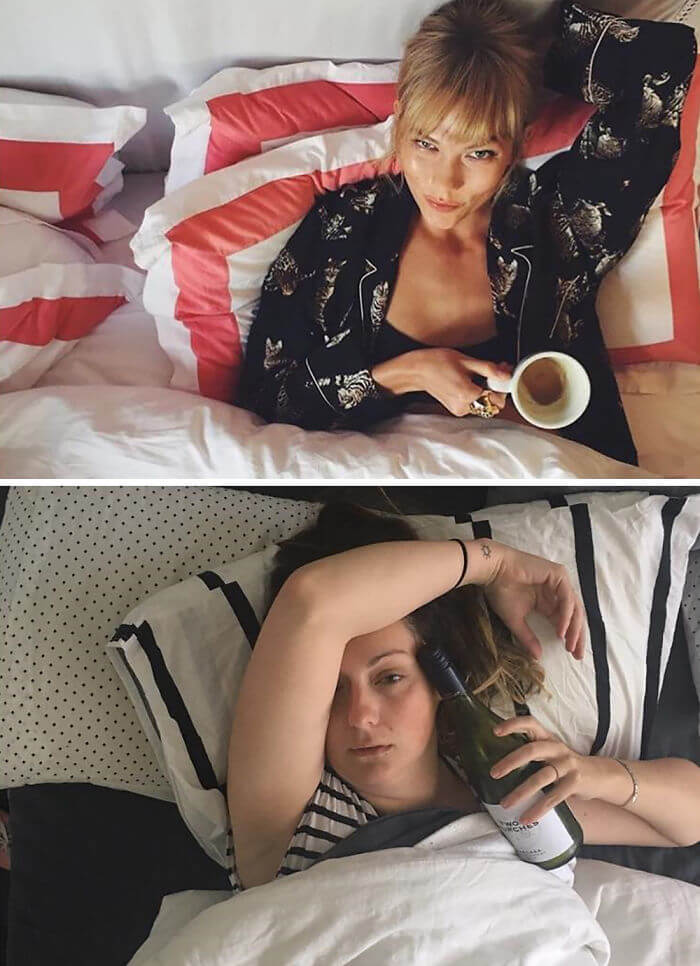 If you went out drinking the previous night, there is a high chance that you are still hugging the bottle. That's how you know things got out of hand because civilized people drink out of glasses while the rest of us throw caution to the wind and take the whole bottle.
Outrageous Red Carpet Outfits That Left Us With No Words
Ashley Lez
During awards season, we see many red-carpet events on TV, and with them comes the excitement of seeing what people will wear. There are always the celebrities that continually play it safe, and then there are ones that you can count on to wear something outrageous. From Lady Gaga to Kim Kardashian, there is anticipation to see what looks they will pull out for each event. We have found the most eye-catching looks that caused a stir and will make you question how they didn't have a fashion accident throughout the evening.
Irina Shayk
The Sports Illustrated and Victorias Secret Model, Irina Shayk turned heads in this Versace dress at the 2015 Vanity Fair Oscars party.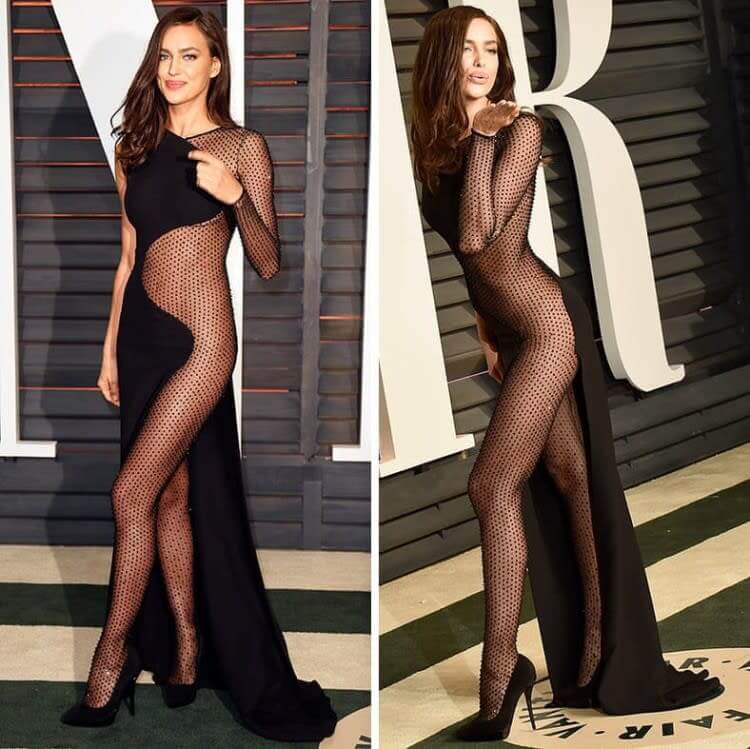 The gorgeous model was able to rock this look without having anything pop out. She was definitely the most skin-baring look of the night, and the dress/catsuit enhanced every curve on her body.
Kate Upton
Kate Upton is known for turning out sultry red-carpet looks, and she never fails to impress. For the 2016 Vanity Fair Oscar After-Party, she donned this sleek Victoria Beckham design that hugged her curves.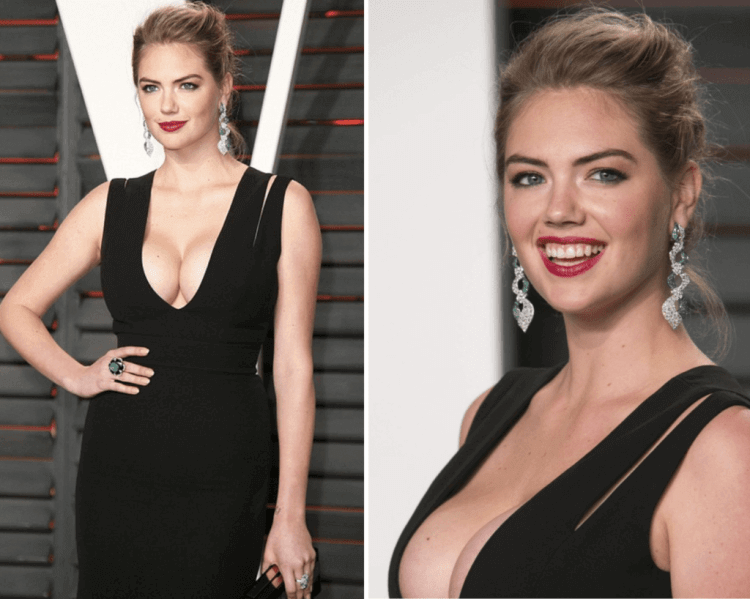 Upton teamed this eye-popping look with large diamond and emerald earrings as well as blood-red lipstick. This classic beauty could turn heads in pretty much anything she wears.
Kim Kardashian
Kim Kardashian is always one to watch in fashion, and she wowed fans when she stepped onto the 2014 MTV VMA red carpet in this beaded Balmain dress. The plunging neckline required a lot of tape to keep everything in place under the dress.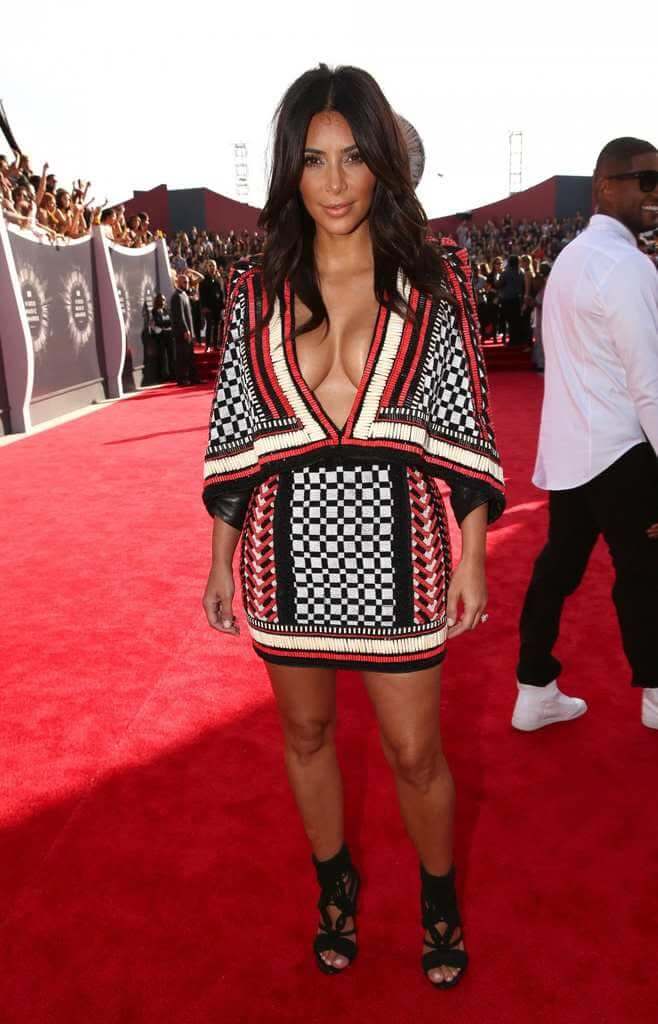 Kardashian left her hair in loose waves and added black sandals. Kim said it was so uncomfortable to duct tape her chest, so she eventually created her own fashion tape that would be more comfortable.
Ashley Graham
As one of the most well-known models in the industry and someone who preaches body-positivity, Ashley Graham is always exciting to see on the red carpet. She stunned in this Hugo Boss number with a plunging neckline and thigh-slit at the GQ Men Of The Year Awards In 2016.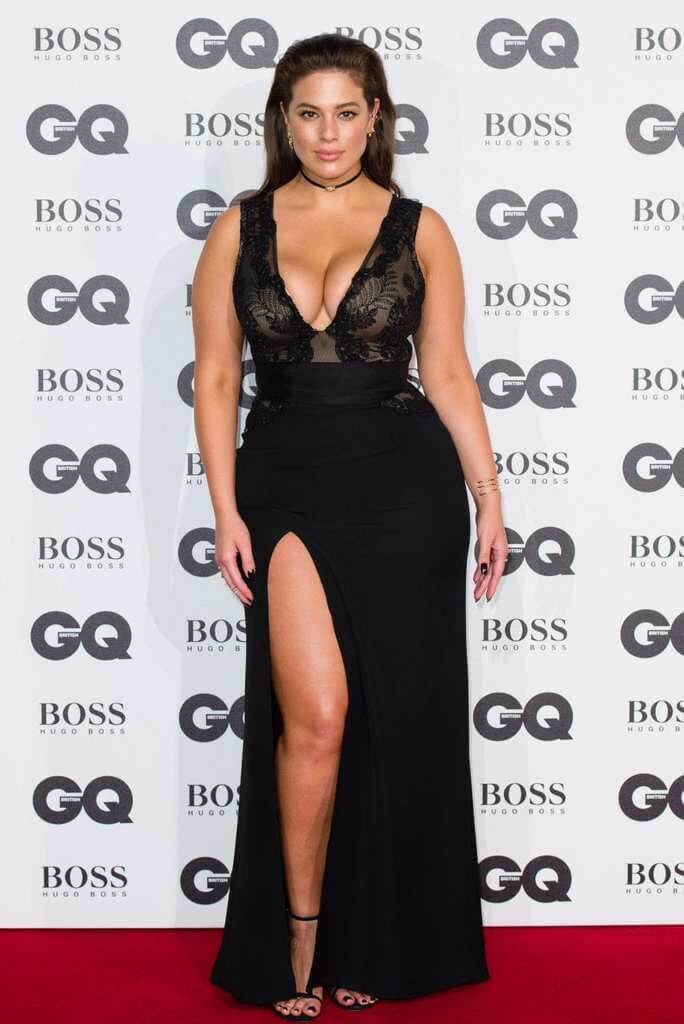 The brunette bombshell added a choker and small earrings so that all eyes would be on her stunning figure. Graham never fails to shock people with her incredible looks.
Miranda Kerr
Miranda Kerr looks absolutely gorgeous in this KaufmanFranco gown that was custom made for her. It shows off her toned body, and the red is fantastic on her skin tone. She wore this for the 2016 Vanity Fair Oscar Party, and people were in awe.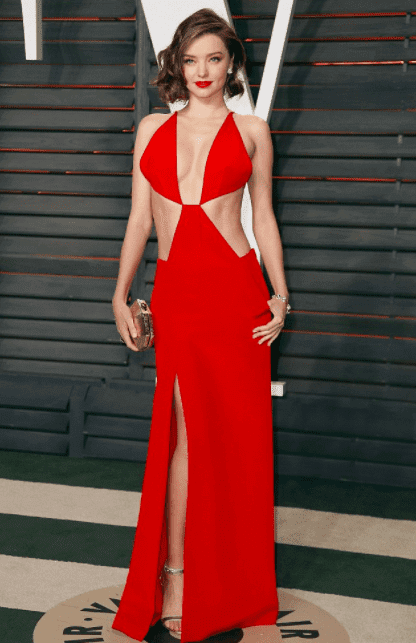 Kerr paired this look with strappy Loubitons and a Swarovski clutch. This look makes her eyes look especially green and bright. We can't get over how good she looked.
Aishwarya Rai
This is as if Cinderella's gown was brought to life. Indian actress Aishwarya Rai could not have looked more like a fairytale fantasy in this Michael Cinco lilac gown for the 2017 Cannes Festival.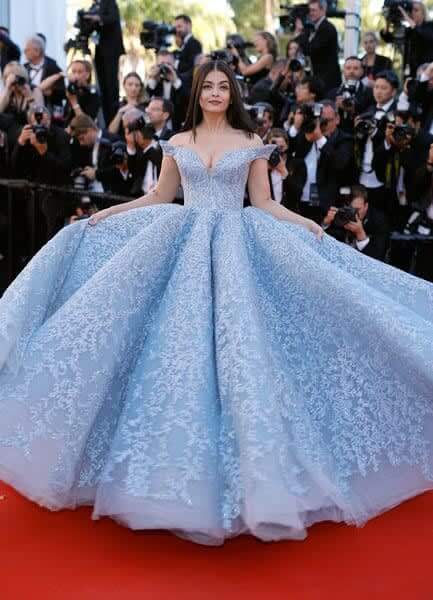 All eyes were on Rai, and rightfully so. This gown did not need any accessories, and we can't get over how perfect it is. Where can we buy one to wear around the house and feel like a real like princess?
Rita Ora
The British Singer loves to change up her look and try out new styles, and she did not disappoint at the 2014 MTV Video Music Awards. Rita Ora wore this slinky Donna Karen Atelier gown that barely covered all her assets.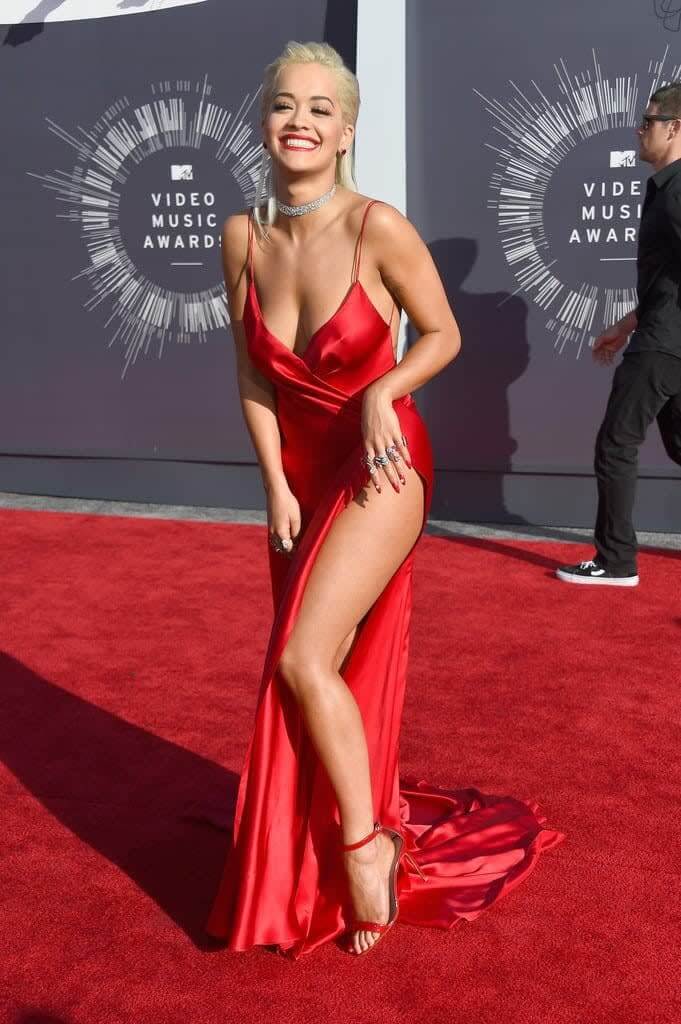 Ora had to be very careful that she didn't have a fashion malfunction, but she looked amazing nonetheless. She added a diamond choker and lots of rings to elevate this stunning dress.
Amber Rose
Amber Rose rarely cares what people think of her, and she is not afraid to wear some daring outfits. For the 2017 MTV Movie Awards, she wore this plunging two-piece look that showed off her curvy body.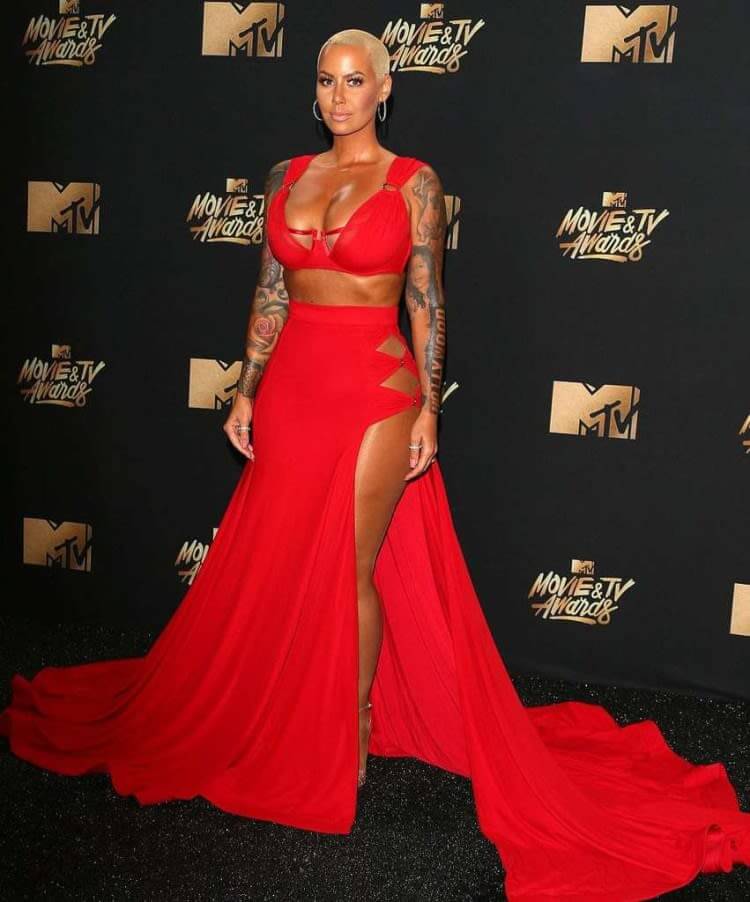 She kept all eyes on her outfit by pairing the look with thin diamond hoops and a few rings. Rose wears whatever makes her feel confident, and we commend her for this outlook.
Gigi Hadid
Whenever Gigi Hadid steps onto a red carpet, you know she is going to look terrific. For the 2015 amfAR Gala, she wore this Tom Ford plunging gown that also showed off her long legs.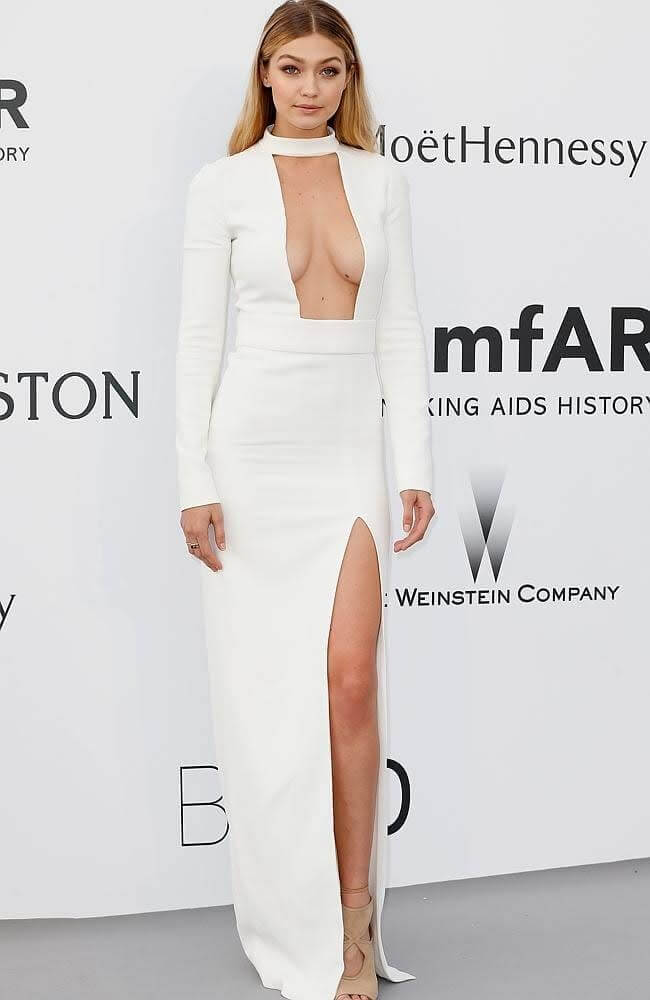 Is there anything that Gigi Hadid doesn't look good in? The model could wear a potato sack, and everyone would still gawk over her.
Chrissy Teigan
This Yousef Akbar dress that Chrissy Teigan wore to the 2016 American Music Awards was one that people will never forget because she had an unfortunate wardrobe malfunction. People got to see a little more of Teigan than they had bargained for.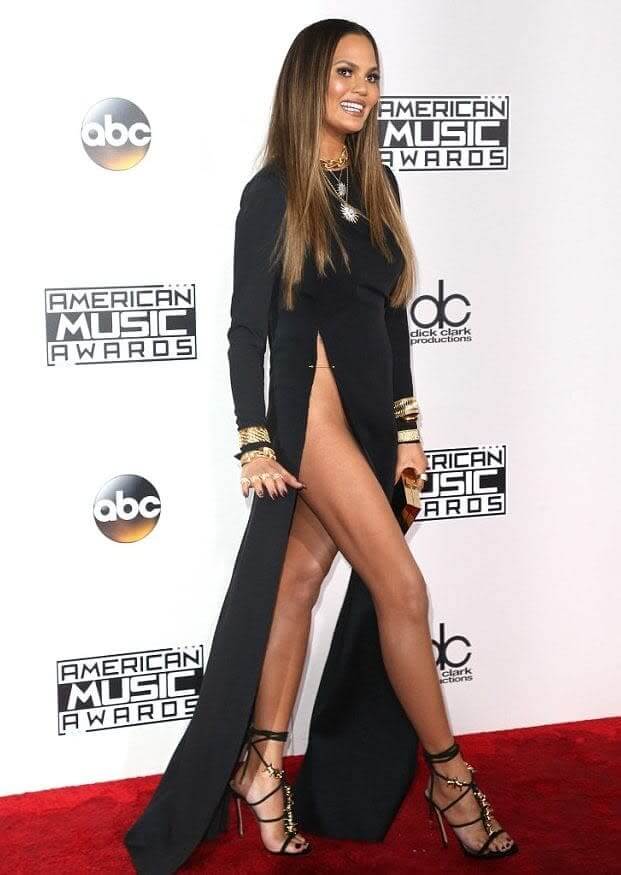 Despite flashing everyone, Teigan looked drop-dead gorgeous in this gown with its super-high slit. She paired it with different necklaces and gold bangles, but her legs were the real stars of the show.
Fan Bingbing
This look is unique and exquisite. Fan Bingbing, a Chinese actress, known for her role in X-Men: Days of Future Past donned this floral Marchesa gown. She topped the look off with a matching flower crown.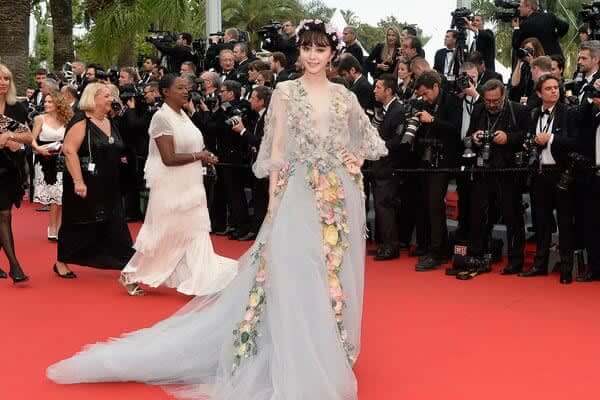 This look is bold yet delicate and looks effortless on Bingbing. She has become one of China's most high-profile celebrities, and she is known for her daring red carpet looks.
Lady Gaga
From arriving in an egg to wearing a dress made of raw meat, Lady Gaga is unpredictable when it comes to her red carpet looks. For the 2015 Grammys, Gaga was slightly more tame in this Brandon Maxwell sparkly gown.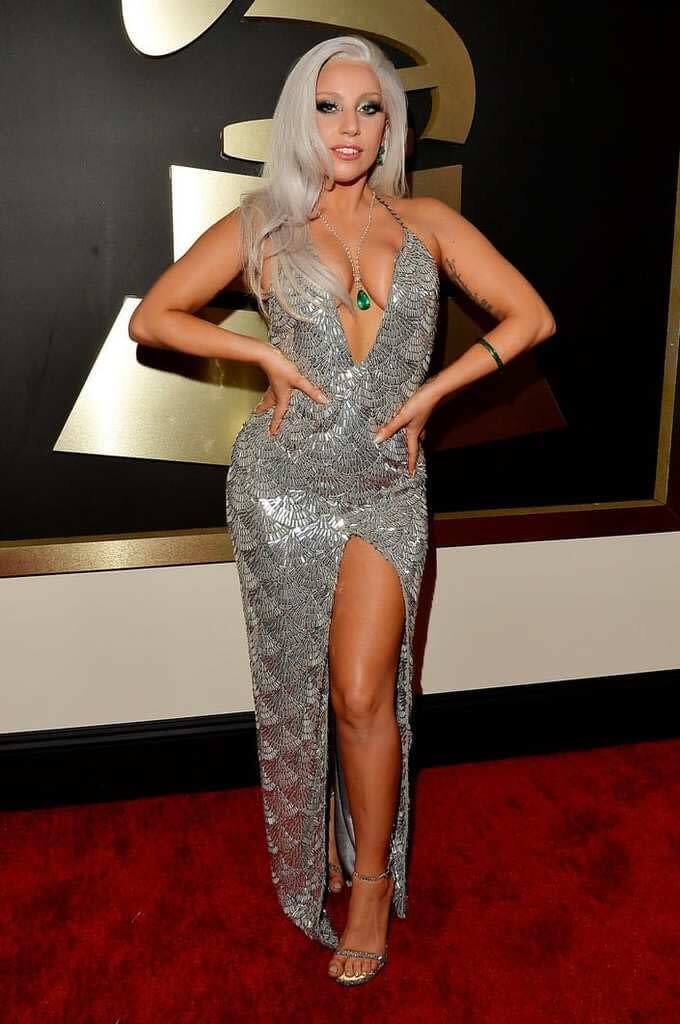 It featured a plunging neckline and thigh-high slit. To complete this dazzling look, she added a large emerald necklace from Lorraine Schwartz and silver sandals.
Alessandra Ambrosio
The Victoria's Secret model knows how to strut her stuff, so when it comes to a red carpet, Alessandra Ambrosio always slays. For the 2016 Cannes Festival, she wore this unique Zuhair Murad Couture ballgown that combined pants and a skirt in the lower half.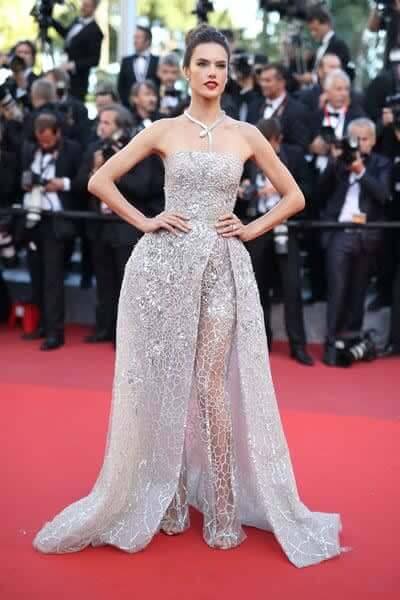 This look was topped off with the stunning Bulgari Serpenti necklace and a bold red lip. Ambrosio stole the show when it came to fashion that night because of this innovative design.
Madonna
Madonna has been wearing iconic looks since the beginning of her career, so it is always exciting to see what she will wear next. For the 2015 Grammys, she wore this Givenchy bodysuit that's had intricate beading and lace work.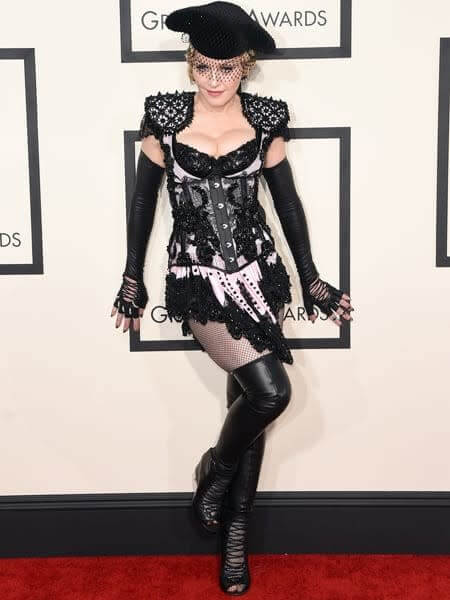 It was definitely a look no one would forget, and she felt confident in the bold number. Madonna paired it with thigh-high leather boots, fishnets, and a unique hat.
Kendall Jenner
With a body like Kendall Jenner, we would want to show it off all the time too. At the 2017 Met Gala, Kendell Jenner wore this La Perla gown that showed off her toned figure and long legs. She topped many best-dressed lists in this barely-there gown.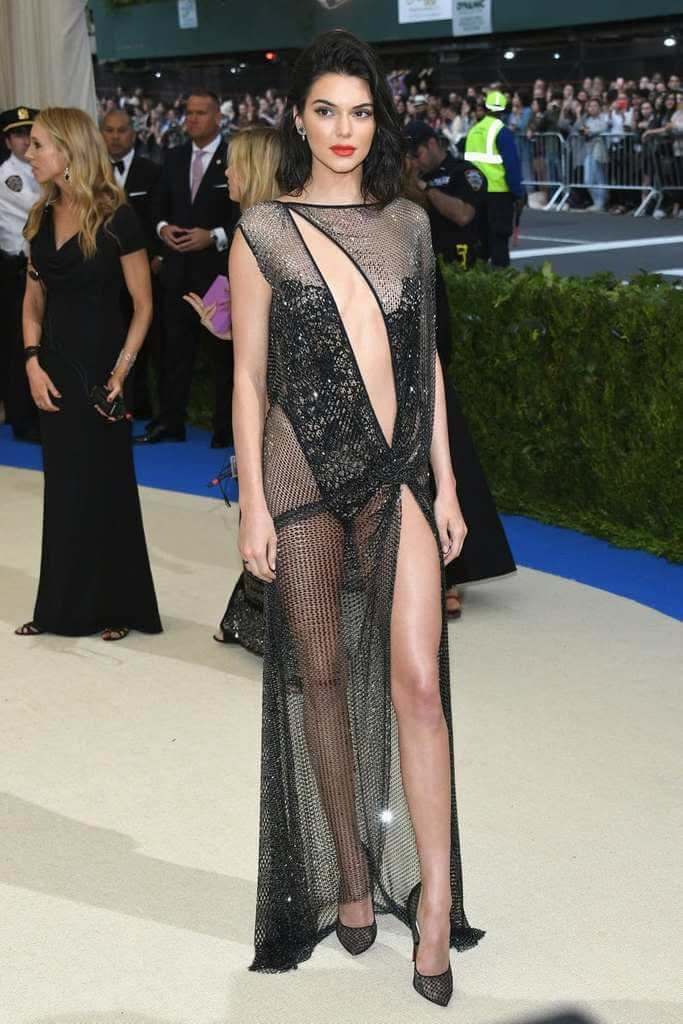 Jenner added a red lip and loose waves to make sure all eyes were on this detailed gown. All eyes were on her that evening, and we can see why.
Beyonce
For the 2015 Met Gala, Beyonce wore this detailed Givenchy nude illusion gown that had beautiful stones all over. Although she showed up late to the red carpet, it did not stop her from turning heads.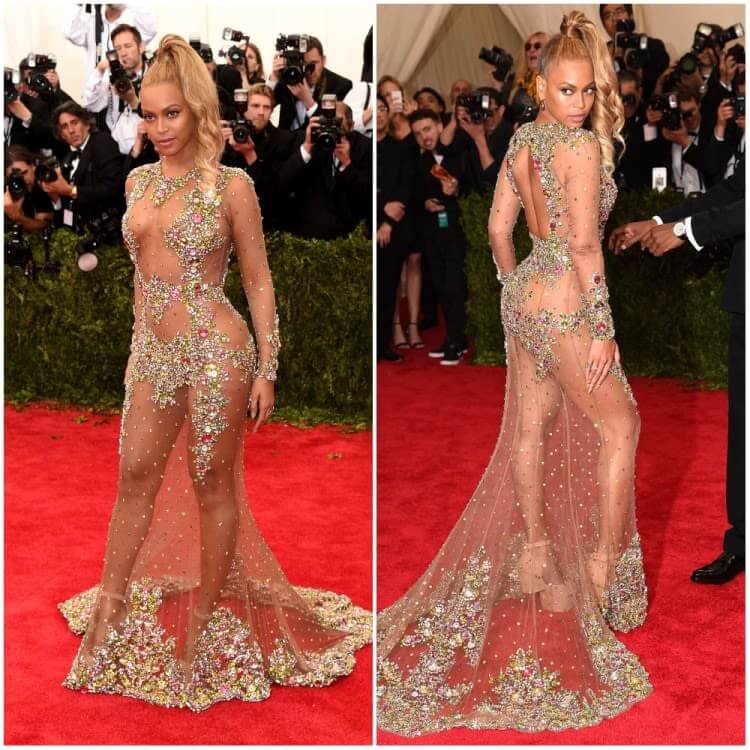 She wore her hair in an ultra-high ponytail and let the dress shine. All the stones had to be in the right place because there was no room for error. Beyonce never disappoints with her red carpet looks.
Gabrielle Union
We aren't sure how we feel about this gown, but it is definitely a daring look. Gabrielle Union wore this Jean-Paul Gaultier gown that featured a large cutout on her stomach and an extremely high slit.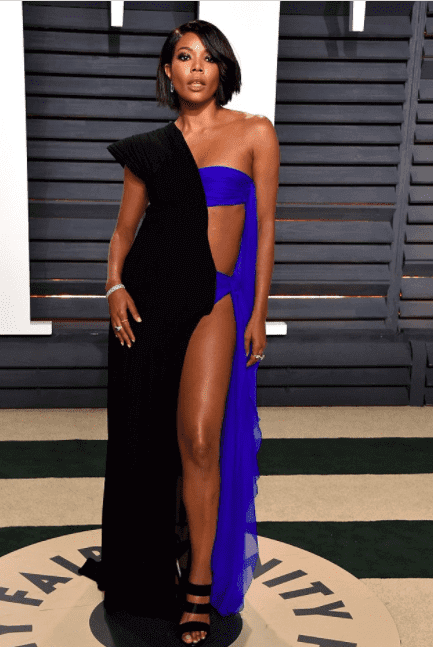 For the 2017 Vanity Fair Oscar party she teamed this geometric gown with small earrings and strappy sandals. Union is never afraid to take a fashion risk.
Jennifer Lopez
Jennifer Lopez looks like a bronzed goddess in this Julian MacDonald gown that she wore for the 2017 Billboard Latin Music Awards. The silver laser cut design complemented her golden complexion perfectly.
Few people can pull off this eye-catching look like J.Lo. She kept her hair in a sleek bun with matching earrings and platform sandals to accentuate her legs.
Nicki Minaj
Nicki Minaj is a celebrity who loves to show off her curves on the red carpet. She always wears eye-catching gowns like this Jeremy Scott number that she wore to the 2016 Met Gala.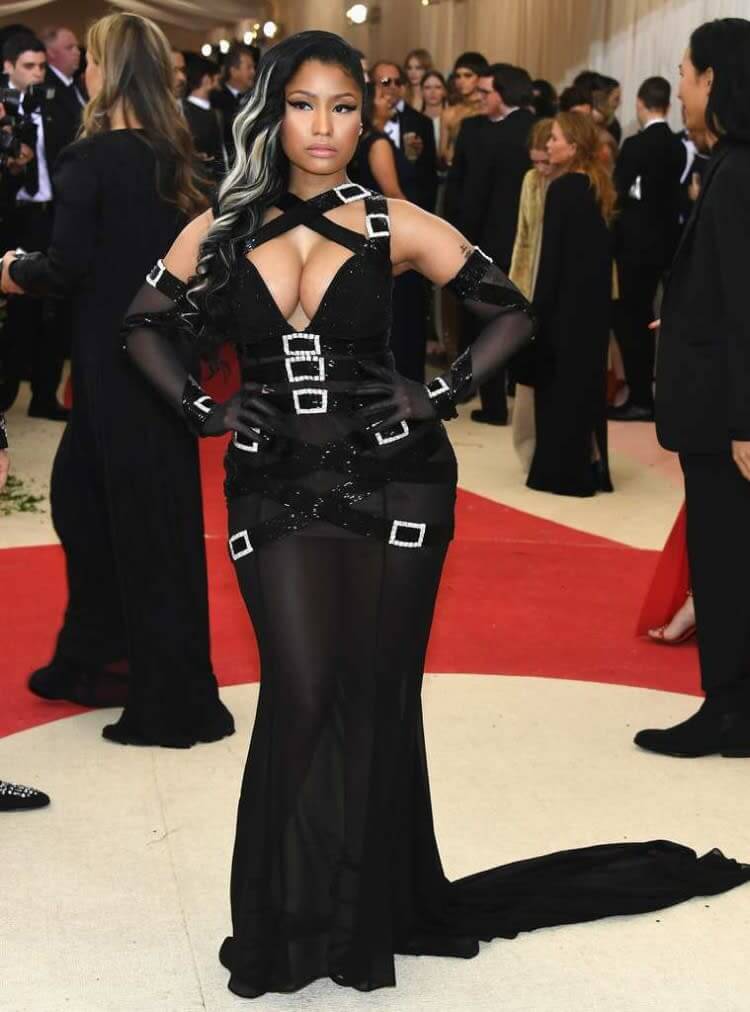 The Met is the perfect place to experiment with fashion, and this buckled gown is perfect for her. She had matching gloves to complete the ensemble.
Emily Ratajkowski
Most of the time, you can find Emily Ratajkowski nearly nude, so she is not known for her conservative looks. For the 2017 Golden Globes, she wore this yellow Reem Acra gown that featured an extreme plunging neckline and a thigh-high slit.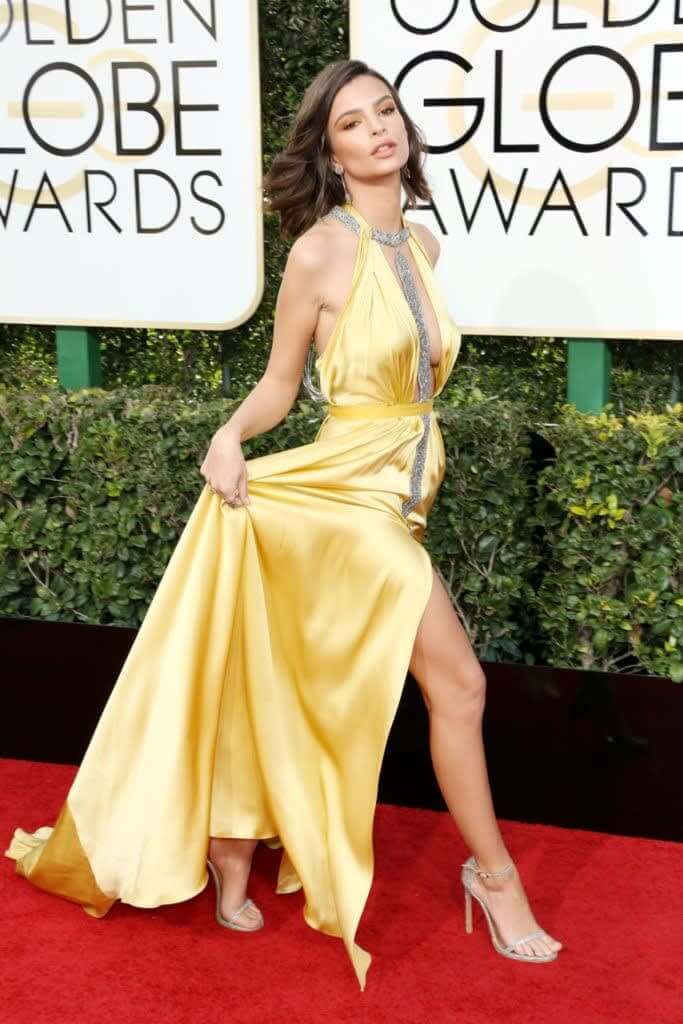 The gown hat a glimmering necktie that barely preserved her modesty. This was the year Ratajkowski flashed her underwear when a gut of wind blew her dress out of place.
Ciara
This look was iconic and over the top for Ciara. She wore this Alexandre Vauthier Haute Couture silky dress for the 206 Grammys. The ultra-high slit and plunging neckline left little to the imagination, but her toned figure was on display.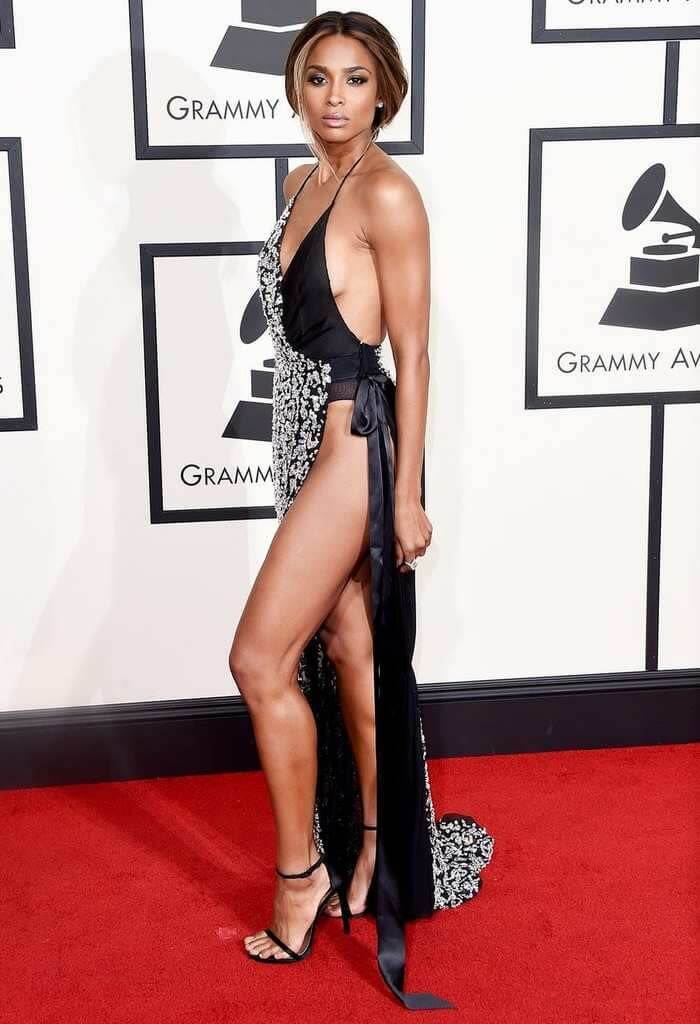 The dress was covered in intricate beading, so she kept the accessories small. She added Norman Silverman jewels and strappy sandals.
Taraji P. Henson
For the 2018 Oscars, Taraji P. Henson did not disappoint in this custom Vera Wang gown. The hand draped fabric with a keyhole neckline and high slit look stunning on her body.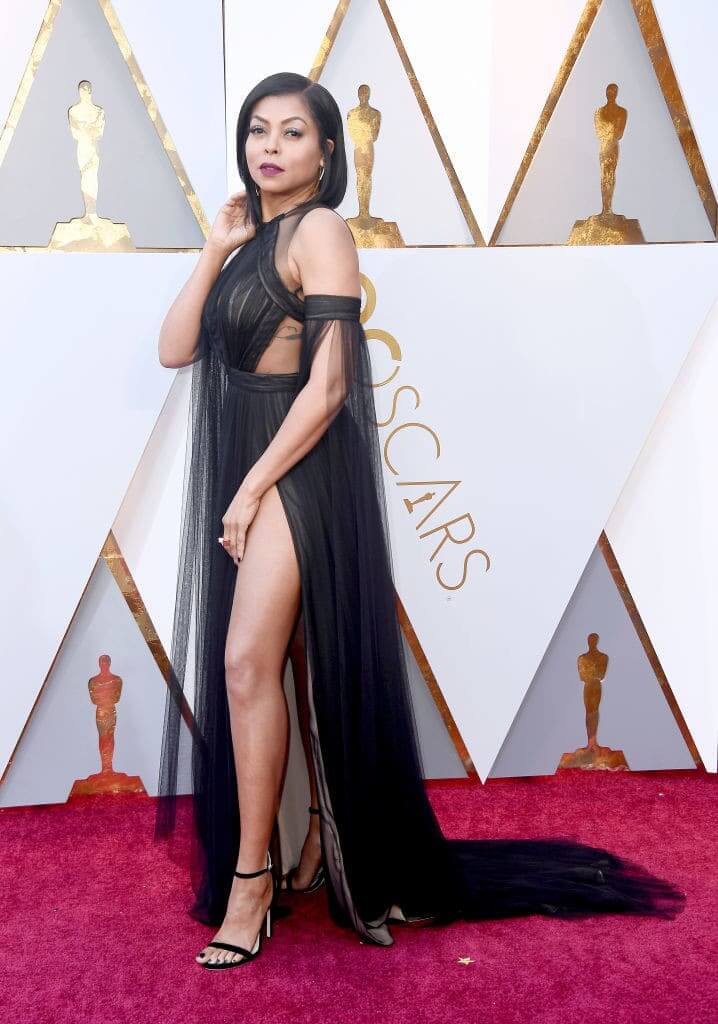 Henson loves to be adventurous with fashion, and it is always fun to see what she will wear next. In an interview on the carpet, she said the slit could have gone higher because she is not afraid to take it to the next level.
Bella Hadid
Bella Hadid put everything on display in this Givenchy barely-there gown that she wore for the 2016 Cannes Film Festival. She kept her accessories simple because she had to focus on not flashing the crowd.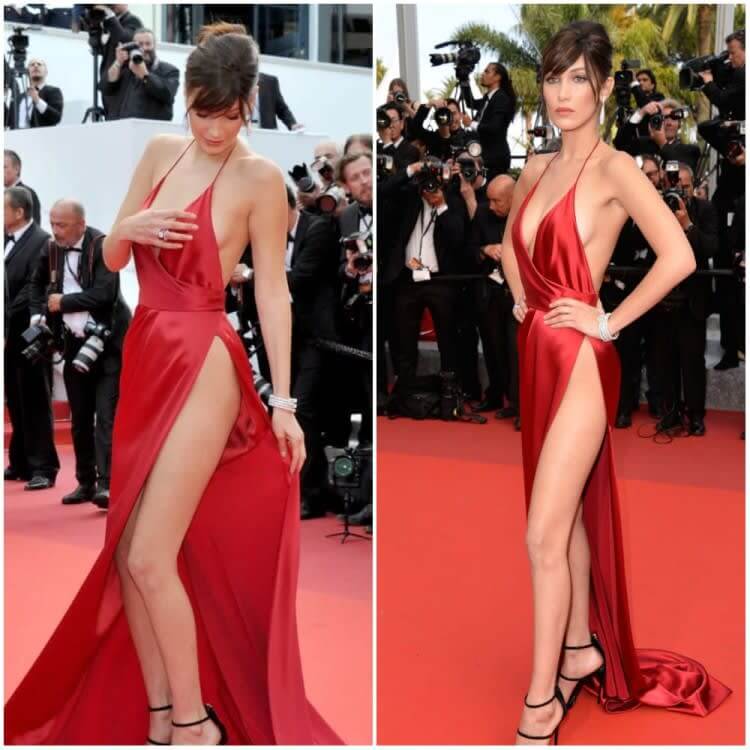 Hadid's dress looks oddly similar to the dress Rita Ora wore in 2014. We bet they were put on a "who wore it better" list.
Irina Shayk
It is no surprise the flawless model can pull off any look. Irina Shayk wore this yellow Versace gown at the 2017 Cannes Festival, and it hugged her body perfectly.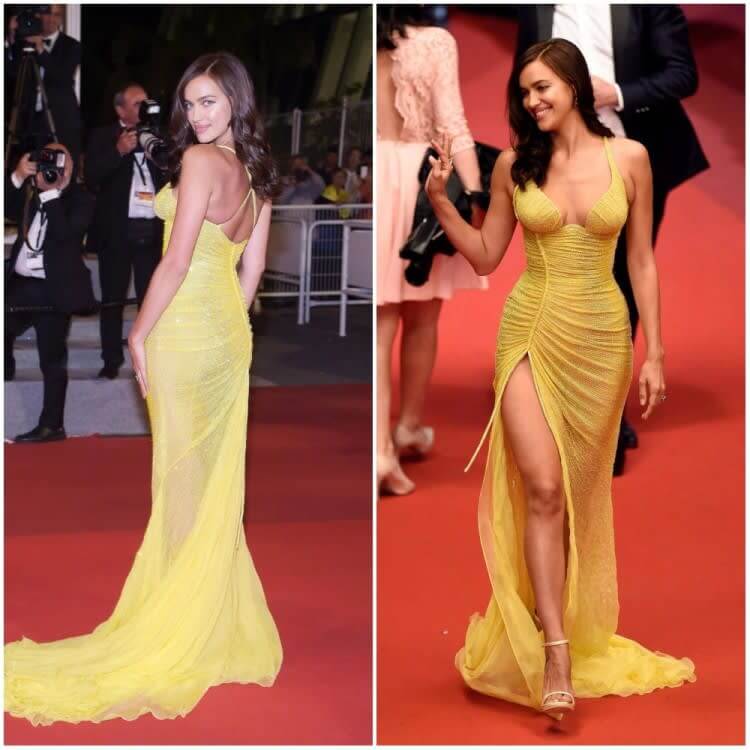 This is what she looked like two months after giving birth, and we are shook. How does she always look so effortless and beautiful? It is a real talent.
Cara Delevingne
During the fancy Met Gala event, model-actress Cara Delevingne had a really cool and fashionable surprise hidden under her clothes. She showed up in a stunning red Dior Haute Couture suit, along with matching platform heels and a walking stick. But the real surprise came when she took off her jacket and revealed her chest covered in beautiful gold body paint. She also had on some eye-catching gold chains and jewelry, including a thick gold necklace. Everyone was totally shocked and impressed by her unique and bold style!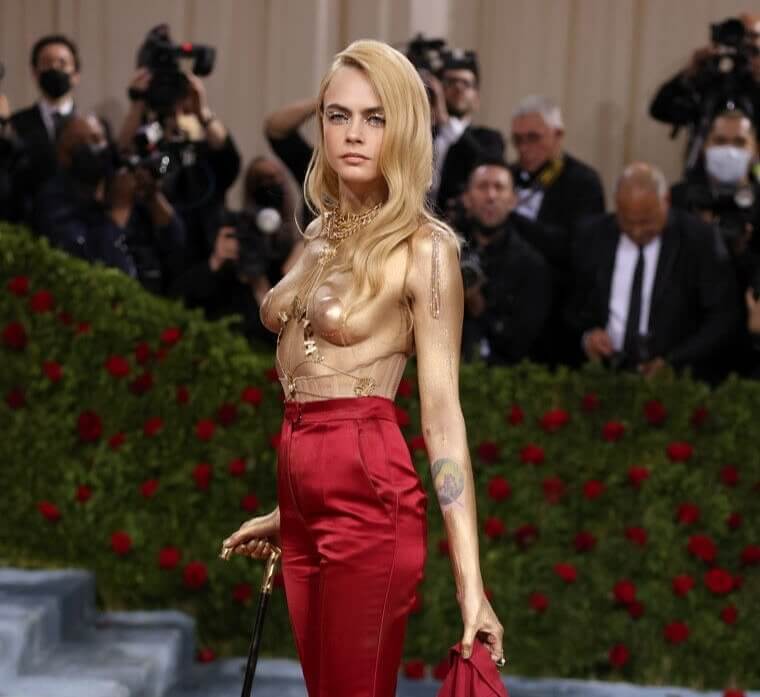 Delevingne looked absolutely stunning with lots of sparkly rhinestones arranged in a cool cat-eye pattern around her eyes. This unforgettable style is just one of the many fabulous looks she's rocked since she first burst onto the scene in 2011. She really knows how to shine under the lights.
Heidi Klum
Heidi Klum, who's been a model for many years, knows how to create a captivating look that always grabs attention – and her recent outfit at Cannes was no exception. She wore a stunning yellow dress from designer Zuhair Murad's spring 2023 couture collection, which had a fun and light theme, perfect for a summer on the Riviera. It was totally fitting for the Cannes event, and the dress itself got people talking. Everyone was impressed by her choice and how amazing she looked in it.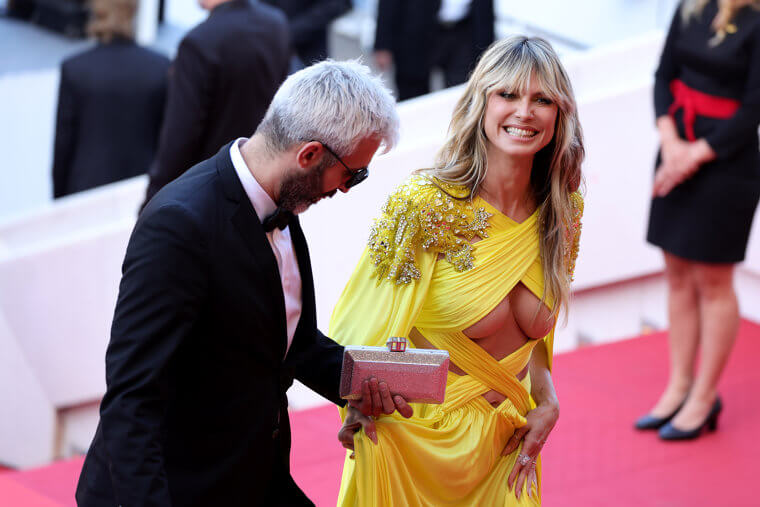 However, fans had mixed opinions about the different cutouts on the dress. Some thought they were awkwardly placed, but others believed they might have been intentional to keep her feeling cooler and more comfortable in the outfit. People had different views, but everyone agreed that Heidi looked fabulous in it!
Nicole Scherzinger
Nicole Scherzinger's appearance at the 2017 Billboard Music Awards left fashionistas intrigued by her unconventional choice. Her dress, a fusion of avant-garde and traditional, ignited conversations with its unexpected asymmetrical lacework and bold design. While some might raise an eyebrow at the audacious combination, Scherzinger's confidence carried the ensemble admirably, and her innate charisma carried the look, reminding us that pushing boundaries in style is what makes red carpet moments memorable.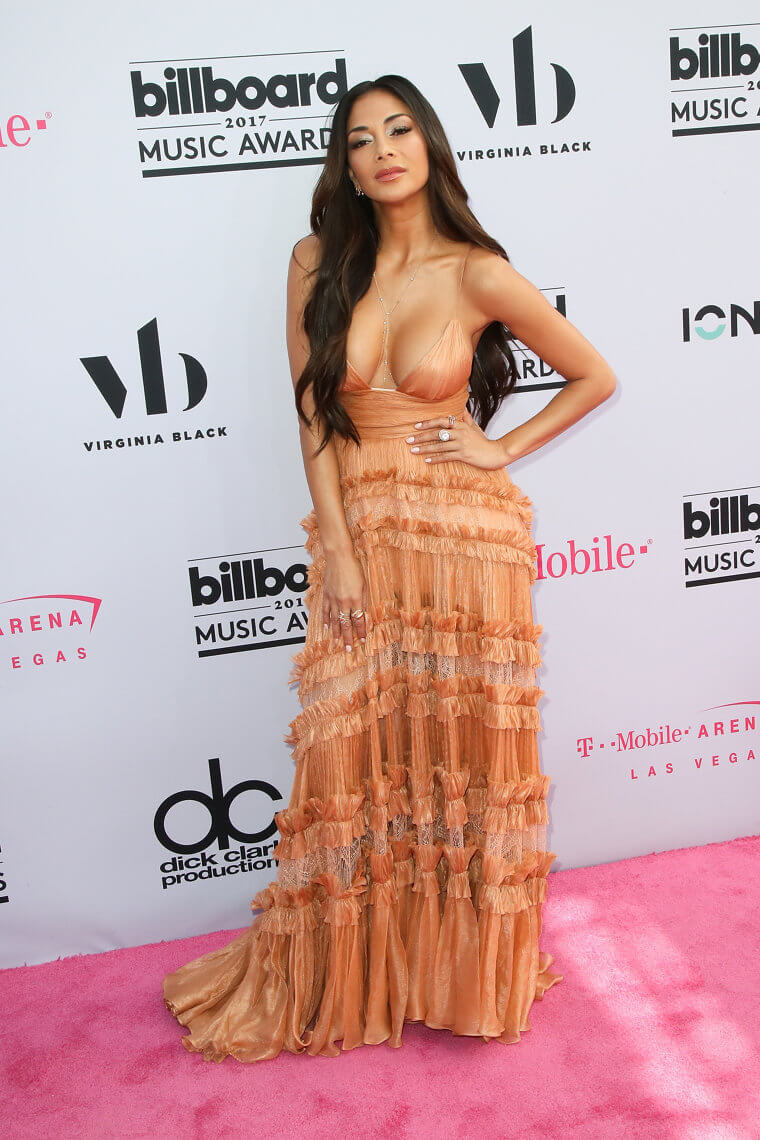 Among predictable and more traditional red carpet looks, Scherzinger's daring fashion statement showed her willingness to take risks and push boundaries, which earned her both admiration and no shortage of criticism. However no one can deny that she totally owned it.
Penelope Cruz
Penelope Cruz knows how to bring the glamour to every red carpet she attends. At the 2011 Cannes red carpet, she wore this intricate Marchesa gown that had gem details with a tulle overlay.
Cruz completed this fabulous look with a bedazzled clutch and hanging earrings. She also swept her brunette locks into a high ponytail so everyone could see the beauty of her face and dress.
Sofia Vergara
The Columbian funny girl, Sofia Vergara, is another celebrity known for her voluptuous curves. At the 2014 NBC Golden Globes After Party, she rocked this Zuhair Murad beaded gown with a deep neckline.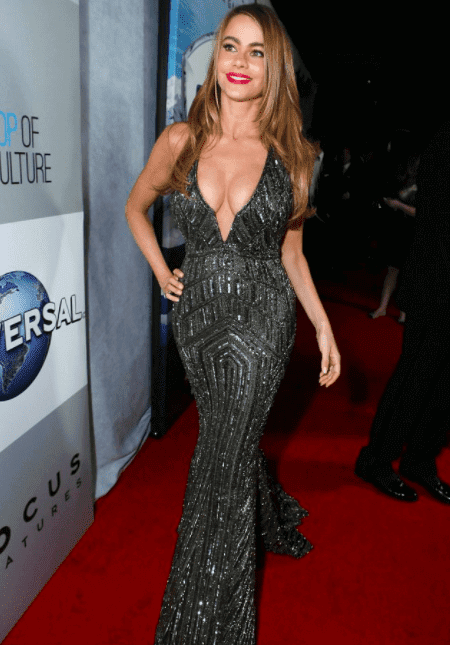 This gunmetal colored dress complimented Vergara's skin tone well. She decided to keep the look simple with just a pop of color on her lips and no jewelry.
Diane Kruger
Diane Kruger bared her back in this sensation Prada gown that featured the most exquisite beading. It had a see-through panel along the leg and it was a perfect mix of risque and elegance.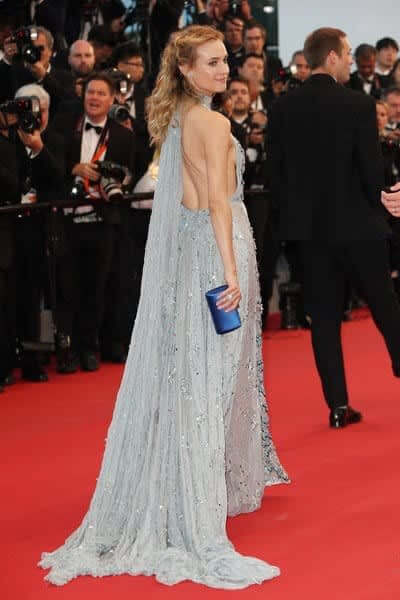 As soon as she stepped on the carpet, everyone was gasping at how gorgeous Kruger looked. Her hair was styled in effortless waves swept off her face, and the dress was paired with delicate jewels and a sapphire blue clutch.
Naomi Campbell
If the Oscars statue came to life, this is probably what it would look like. Naomi Campbell looks like a golden goddess in this Roberto Cavalli number that she wore for the 2010 Cannes red carpet.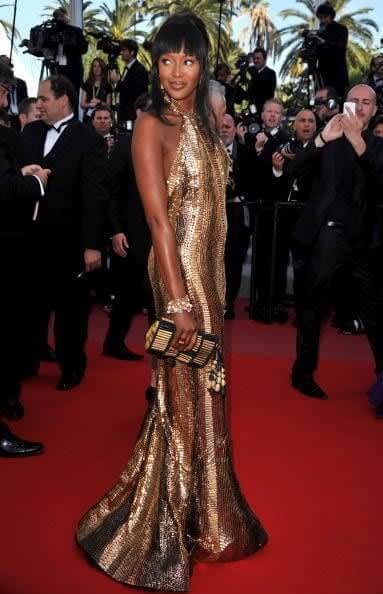 The golden dress complimented Campbell's skin tone seamlessly. She perfectly accessorized the dress with gold jewelry and a gold beaded clutch. There is no question why she became one of the most notable super models.
Jenna Dewan
This wine-colored, figure-hugging gown by Pamella Roland was the perfect dress for Jenna Dewan. The gold accents and thigh-high slit took this dress to the next level and she couldn't have looked more amazing.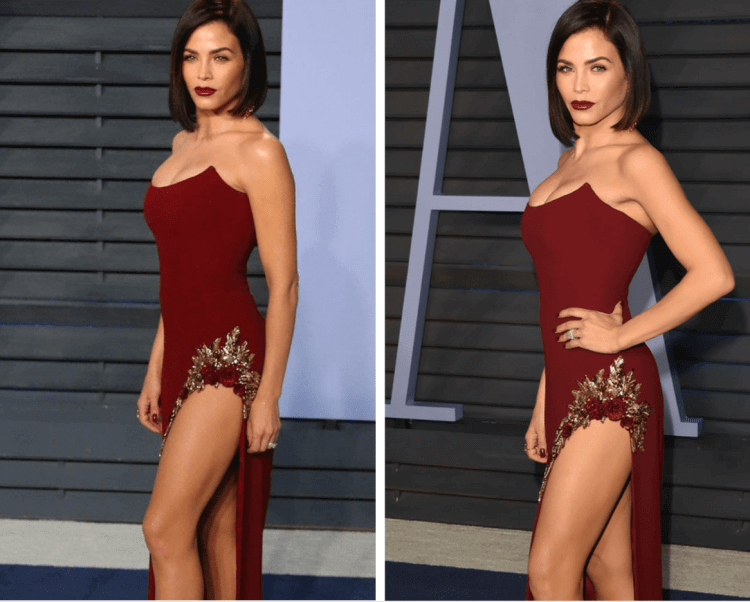 Dewan strutted in this dress to the 2018 Vanity Fair Oscar Party, and all eyes were on her. She kept the rest of the look toned-down with gold sandals and matching wine-colored lipstick.
Victoria Beckham
While most people associate Victoria Beckham with the Spice Girls, she has also made her mark as a fashion icon. She is never afraid to wear something outside of the box, and we see that with this jumpsuit she wore for the 2016 Cannes Festival.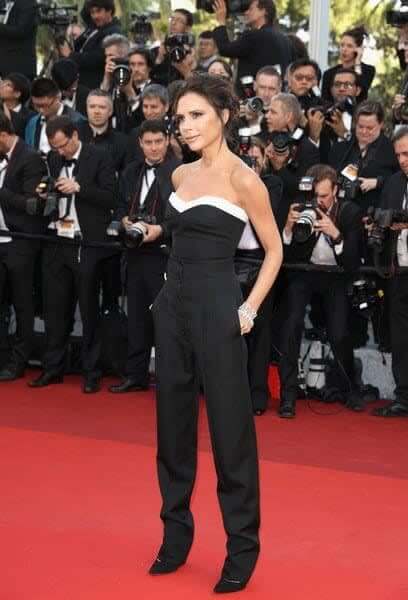 Beckham kept it simple yet chic, and she designed this herself under her fashion label. She will always live up to her Posh Spice legacy with her outstanding fashion choices.
Nicole Kidman
For the 2014 Cannes red carpet, Nicole Kidman looked opulent in this exquisite Armani Prive gown. The entire dress was covered in detailed gem work that looked amazing against her pale skin.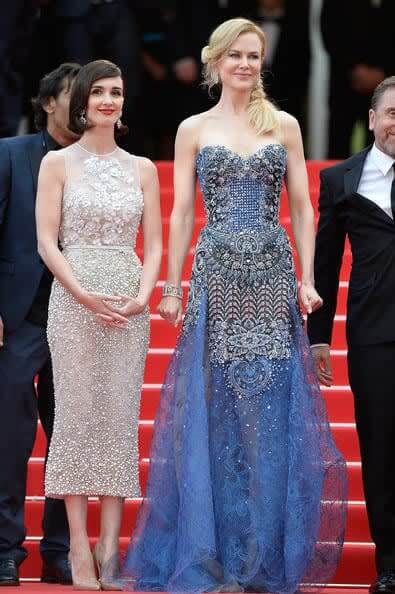 This gown was amazing on its own, so Kidman only added a small bracelet. We can only imagine how heavy this gown was because of all the gems.
Paz Vega
The Spanish actress looked angelic for the 2013 Cannes red carpet in this Roberto Cavalli gown that was covered in delicate beading. Paz Vega showed off her legs with the sheer skirt.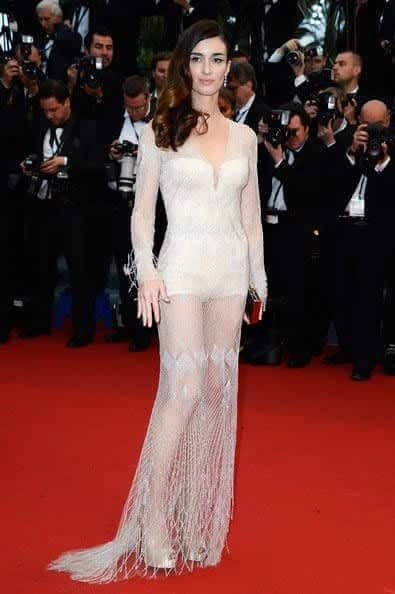 Vega paired the gown with champagne colored heels and a gold clutch. Her brunette locks looked luscious as they swept to one side.
Zhang Ziyi
Zhang Ziyi is one of the top actresses from China, and once she rose to fame, designers were eager to work with her. For the 2014 Cannes Festival, she wore this futuristic Stephanie Rolland gown.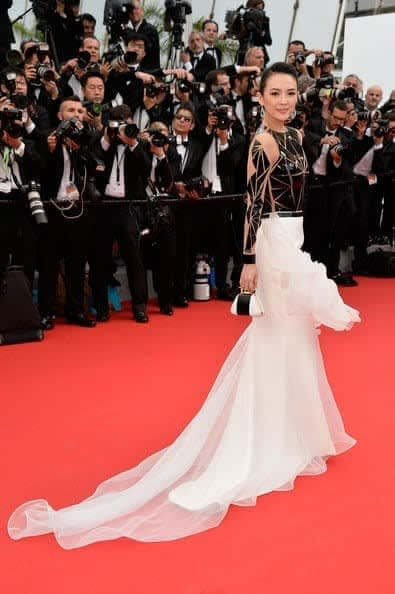 The bodice of this dress looked like each piece of black fabric was cut and stuck to her body in the most beautiful way. Ziyi was a fashion standout for the red carpet that year.
Blake Lively
Blake Lively always looks polished and perfected when she hits the red carpet, and the 2014 Cannes carpet was no different. She wore this Gucci black and white gown that was simple yet bold.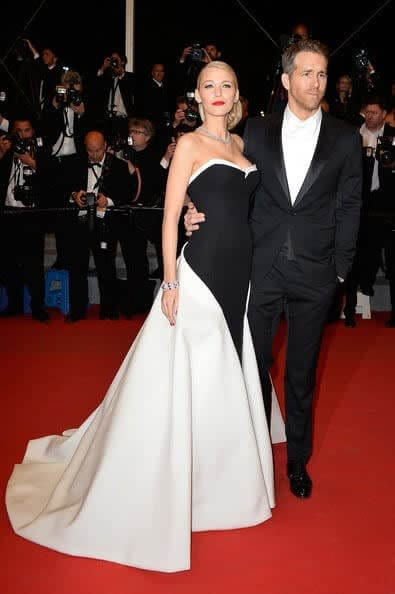 To make her look pop, Lively added a red lip and diamond and ruby jewelry. She proved that monochrome looks can still be exciting.
Samara Weaving
The stunning Samara Weaving caught everyone's eyes when she stepped onto the red carpet at the 2018 Oscars. She wore this coral-colored Schiaparelli gown with a plunging neckline and beaded waist.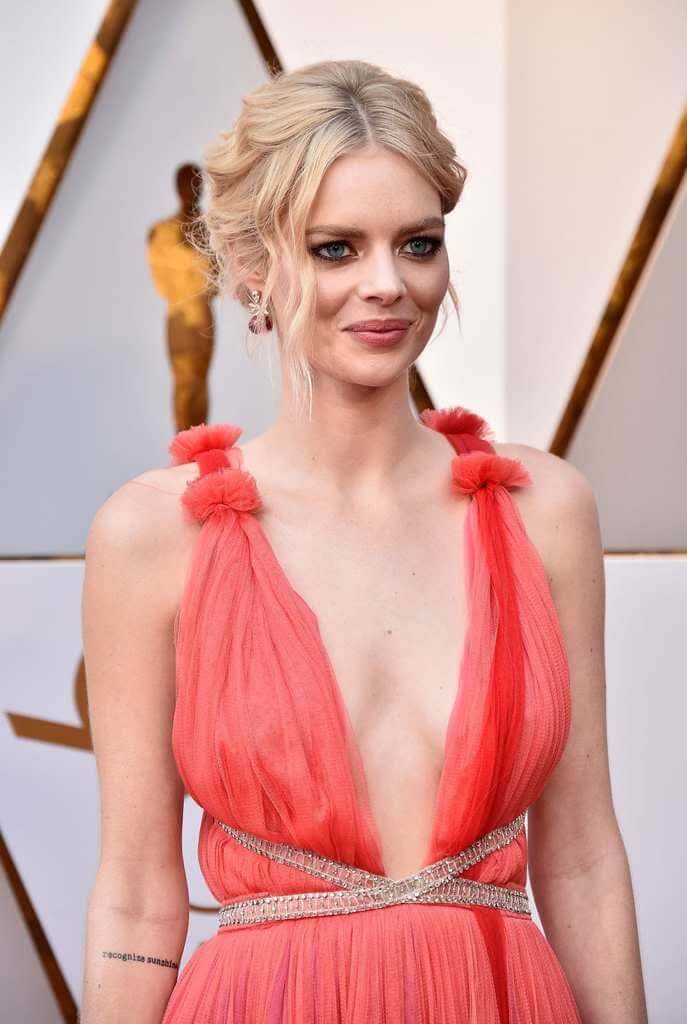 Weaving kept her makeup neutral and added matching earrings. She let the dress be the star of the show and it looked fantastic on her fit figure.
Eiza Gonzalez
The Mexican actress wowed everyone in this elegant yet straightforward yellow Ralph Lauren gown for the 2018 Oscars. The yellow looked fantastic on her golden skin, and she paired it with a pinkish-orange lip.
Gonzalez kept the look simple and it worked so well for one of her first major red carpets. We can't wait to see what looks she pulls out in the future.
Nicole Kidman
"Hehehe, I look so pretty." That is probably what Nicole Kidman was thinking in this Armani Prive dress for the 2018 Oscar red carpet. The cobalt blue gown flattered her skin tone so well, and she accessorized with diamond jewels.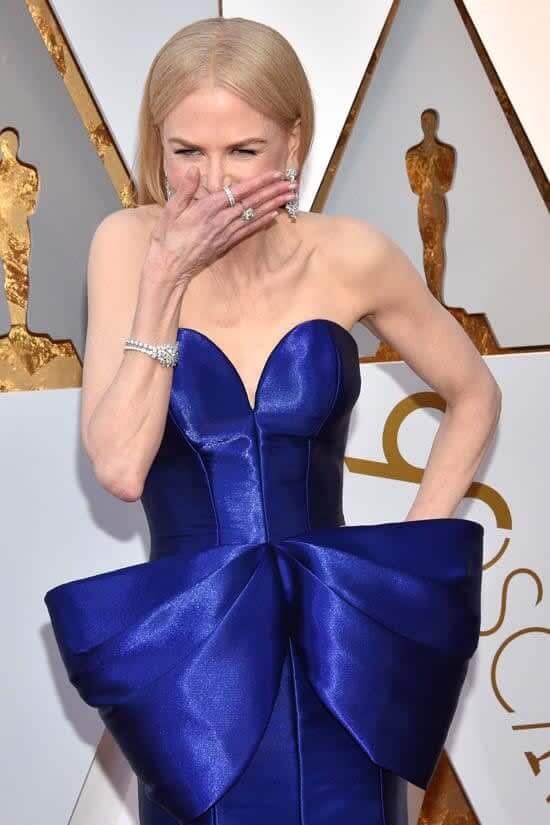 Kidman also showed off her long toned legs with a slit. She was one of the most talked-about actresses on the red carpet because of this breathtaking gown.
Charlize Theron
The stunning South African actress looks like a vision in this canary yellow gown by Christian Dior at the 2015 Cannes Festival. Charlize Theron showed off her toned figure in this structured dress that perfectly hugged her in all the right places.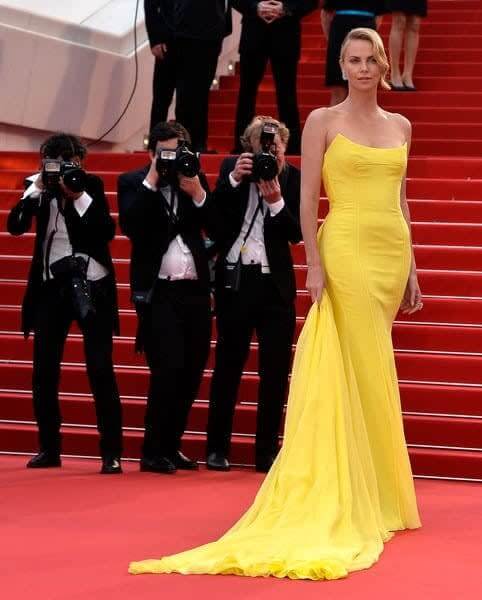 Theron kept the gown as the statement piece for the look by keeping jewels minimal and pulling her hair into a low up-do.
Gal Gadot
The Wonder Woman star looked fabulous in this glittering gown by Givenchy. Gal Gadot was styled by Mark Townsend for the Oscars and she wowed everyone once she hit the red carpet.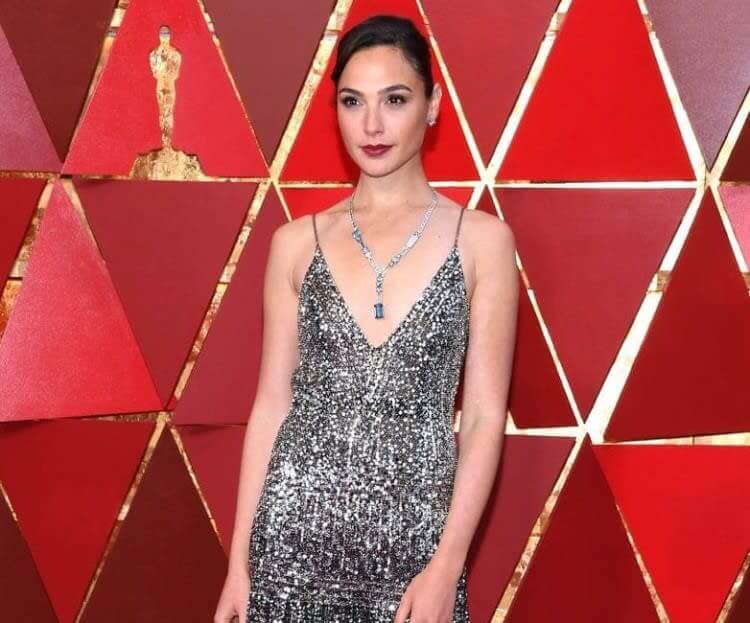 All eyes were on Gal in this flapper-inspired outfit with a plunging neckline and dark metallic fringe on the bottom. The dress was paired with a longer necklace and a dark lip to compliment her skin tone.
Jennifer Lawrence
There is rarely a time where Jennifer Lawrence doesn't look perfect on the red carpet. For the 2018 Oscars, she donned a fitted Dior gown that featured a corset top that flattered her figure so well.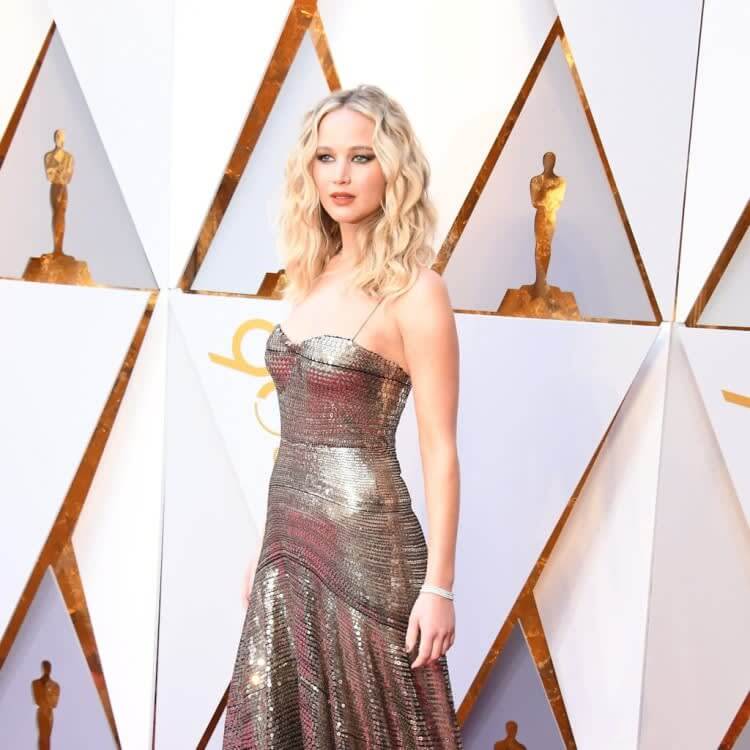 Lawrence wore her hair in loose waves and kept her jewelry minimal to make sure the dress got to shine. The metallic gown looked amazing in person and on camera, which can sometimes be difficult with reflective materials.
Priyanka Chopra
For the 2017 Oscars, Priyanka Chopra wore this geometric structured Ralph &Russo gown. The futuristic bodice featured nude-illusion panels that made it look like the fabric was held up by nothing.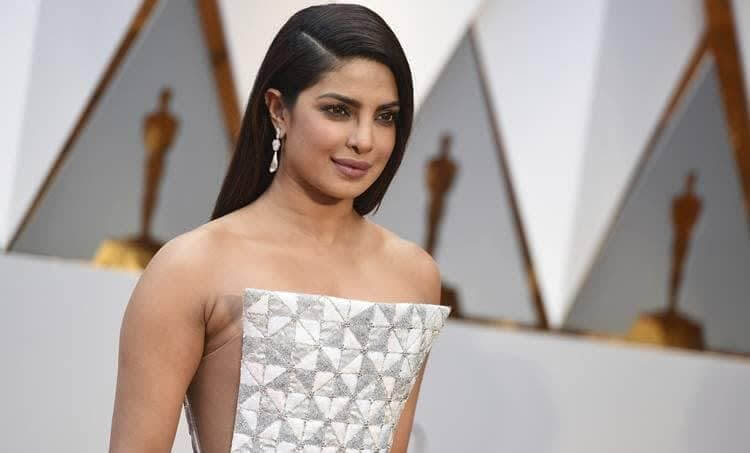 The gown was fitted all the way down, and she looked statuesque. Chopra embellished the ensemble with diamonds worth over $5 million and a sleek deep side-part.
Kendall Jenner
When Kendall Jenner steps onto a red carpet, it is always exciting to see what she will be wearing. For the 2017 Cannes Festival, she stepped out in this Giambattista Valli asymmetrical gown that showed off all her best assets.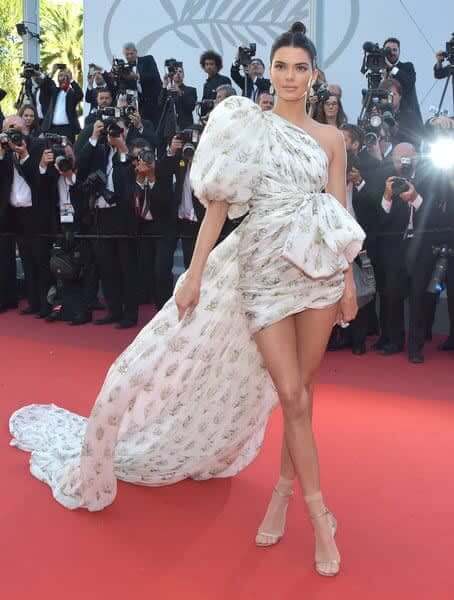 Jenner's long legs were on display, and she looked so confident. She wore her hair in a sleek bun with minimal accessories because this gown was a significant statement.
Gal Gadot
Gal Gadot's signature color should be red because this looks like perfection on her. At the 2018 Vanity Fair Oscar Party, she wore this Armani Prive gown that brought out her inner super hero.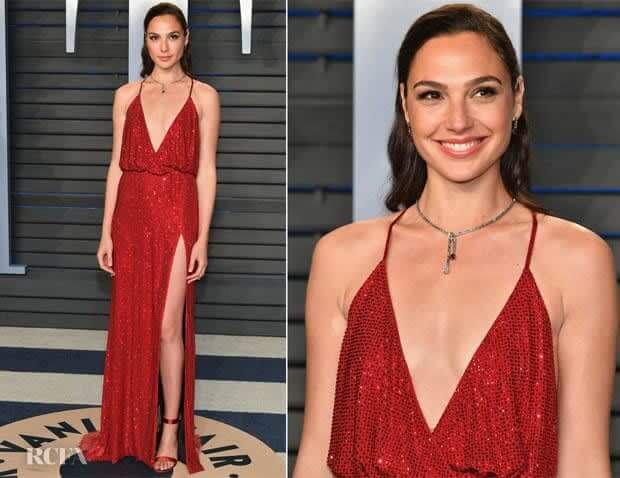 The sparkling fabric was draped on her with ease, and the Mediterranean beauty turned it out! She kept her makeup more natural and added some simple jewels.
Emma Stone
Emma Stone is a constant on red carpets because of her uber-successful career. For the 2015 Cannes Film Festival, she sported this Christian Dior Couture gown with an open back and lace detailing.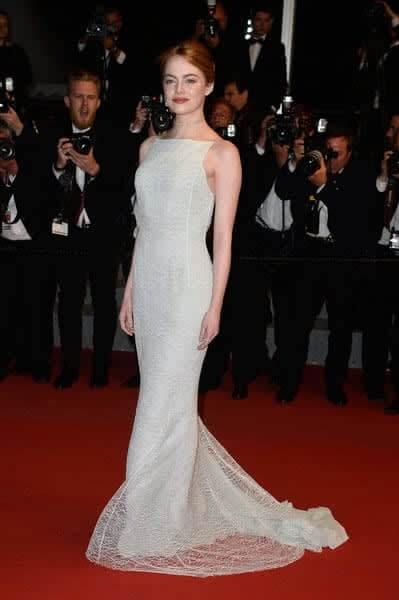 Stone wore her hair in a low up-do and added a linked choker. She looked like a delicate angel as she floated effortlessly across the carpet.
Jessica Chastain
The red-headed beauty, Jessica Chastain, was escorted along the 2011 Cannes red carpet by her Tree of Life ​co-stars, Brad Pitt and Sean Penn. She wore this lemon yellow Zac Posen gown that complimented her hair color perfectly.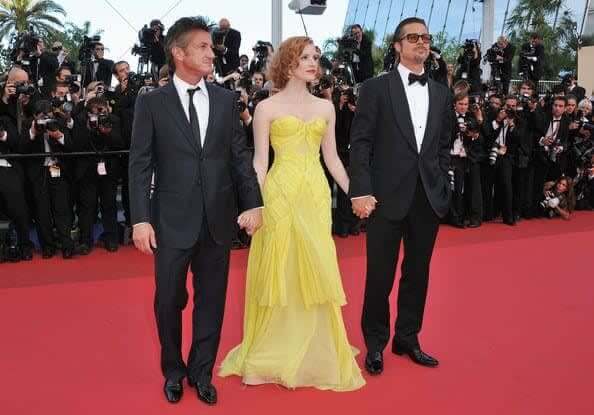 Chastain had her shining star moment in this fantastic gown that fit her like a glove. She paired it with a pink lip color, small earrings, and a delicate diamond bracelet.
Eva Longoria
Eva Longoria was a vision in white for the 2014 Cannes Festival. She floated along the red carpet in this Gabriela Cadena custom gown that was accented by pearl and Swarovski details.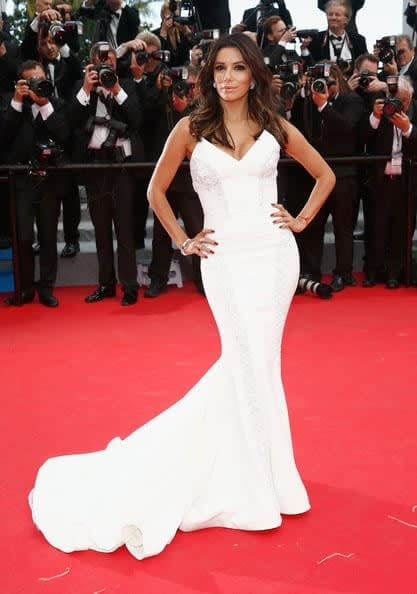 The strapless fitted gown hugged Longoria's curved and made her golden skin glow. The outfit was accessorized with minimal jewelry and natural makeup.
Salma Hayek
Selma Hayek is an ageless vision, and she knows how to stand out on a red carpet filled with other stars. For the 2011 Cannes Festival, she wore this Gucci Premiere silver gown with a hand-beaded bodice.
Hayek is a star on all levels and has had a widely successful career. She has starred in movies such as From Dusk Till Dawn, Frida, and Wild Wild West. It is always fun to see what she will wear to the next red carpet.
Rachel McAdams
The Mean Girls star, Rachel McAdams shot to fame for the cult classic movie and has been appearing on red-carpets ever since. At the 2011 Cannes Film Festival she looked fierce in this nude-illusion red Marchesa dress.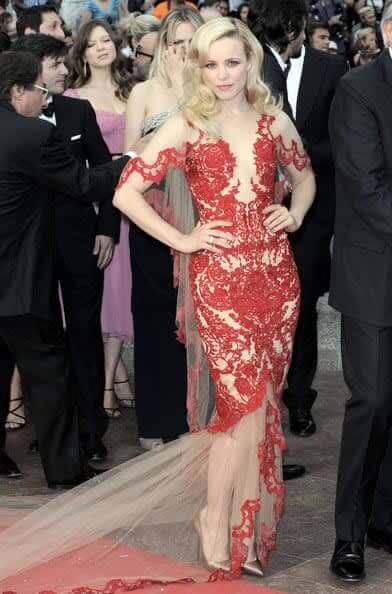 McAdams kept her jewelry exceptionally minimal and wore her hair in large Hollywood waves. The dress was so intricate she wanted to keep that the main focus instead of accessories.
Rachel Weisz
Rachel Weisz is known for her role in The Mummy, and the British beauty knows how to work a red carpet. She chose a more modest look for the 2015 Cannes festival with this satin Prada gown.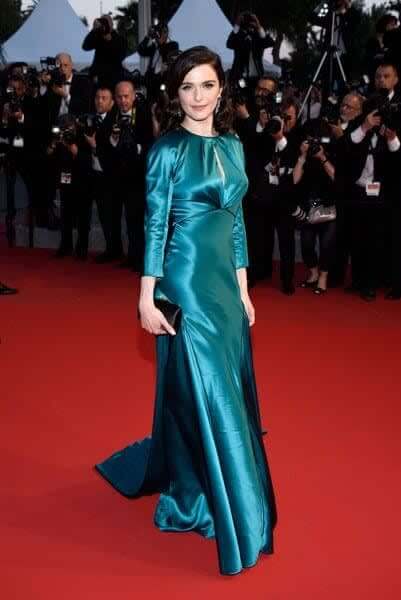 Over the years, her style has evolved greatly, and this was an interesting choice. She paired this simple gown with a matching clutch and bejeweled earrings.
Kerry Washington
Kerry Washington has been noted for her exceptional fashion choices throughout her career, and women look to her as a style icon. For the 2009 Cannes Festival, she wore this ivory and navy detailed Zuhair Murad gown.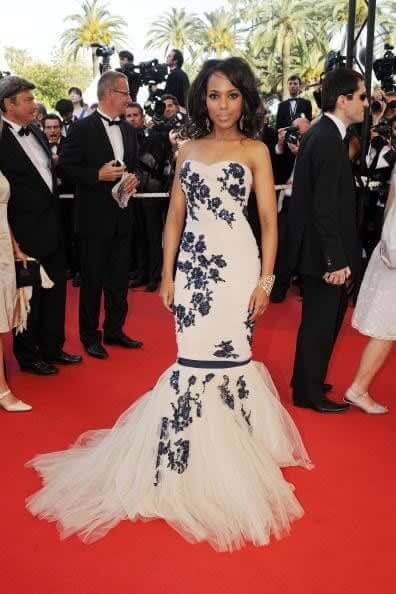 The mermaid style gown looked terrific on Washington's natural curves. The Scandal star added a diamond cuff and earrings to amplify this fantastic outfit.