With the amount of stress and backbreaking hours that go into being a mom, there's no doubt that it's one of the hardest and most underappreciated jobs in the world. Unlike regular jobs, being a mom never stops, and your messy little bundles of joy are going to be relying on you for at least 18 years and possibly more. It affects your mind, your body, and of course, your sanity. Thankfully French artist (and mom) Nathalie Jomardhas made a series of hilarious comics depicting the honest truth about what goes into motherhood.
1. Feels Like Feeding A Piranha When You Breastfeed
We are pretty sure you still remember how your first breastfeeding session went and felt like. You can even imagine everything when someone would ask you about it. Your first breastfeeding session surely made you doubt if it was your baby sucking out for milk or if it was a piranha trying to chew off your nipple. And at some point, you would even get wounds from breastfeeding.​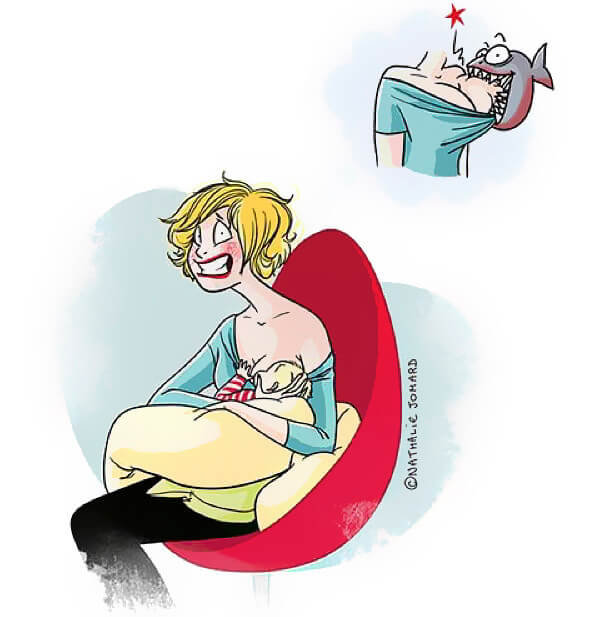 But it's okay, right? As long as you were able to keep your baby healthy and you know you were able to feed them the right nutrients they need as newborns and infants, that pain is probably worth it.
2. You Can't Even Find Comfort In Your Own Bathroom
Ever since you got your mini-me's, it seems like your "private bathroom" is now just a standard room in your house because you can't even be alone there since your kids know where to find you when you're gone and something was up. Or when you plan to leave them for a quick trip to the toilet, they would end up insisting to not leave your side.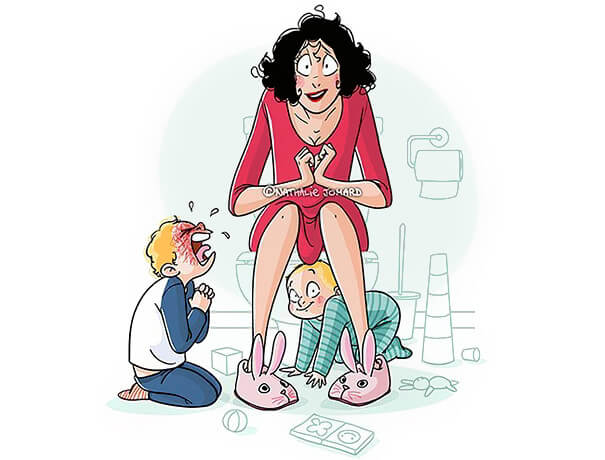 But if you were lucky, you might be able to sneak in a short me-time in the bathroom while they are asleep and before they realize you were gone, and you just treasure every second of it.
3. There Is No Such Thing As Sleeping In Anymore
The "early to bed, early to rise" saying is probably just applicable for kids. They sleep early – most of the time – and rise together with the sun.
Even if you plan on probably sleeping in, especially during the weekends, you just can't do it anymore since the first person your kid would probably rush to when they wake up is you.
4. You Don't Have To Ask If You Look Fat Because Your Clothes Will Tell You
You used to be so proud of your body because you would surely fit into a lot of beautiful and sexy clothes. And now, after having your kids, you just end up sitting there staring at the remnants of your fun and slender memories back when you could slide easily into your old clothes.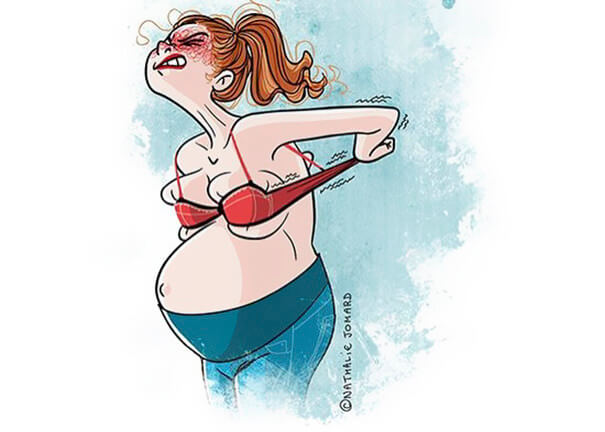 Well, you could still have a chance to fit into them again through exercise but how could you when you can't even go to the toilet without your kids insisting to be with you wherever you go? So as part of being an employee of Motherhood Inc, your dress code would be anything loose such as pajamas as your everyday clothes.
5. Let's Pretend This Never Happened
We are sure that ever since you experienced your first "public show" thanks to your kid, you learned to always wear a belt or something tight that your kids will not be able to pull down or up so easily.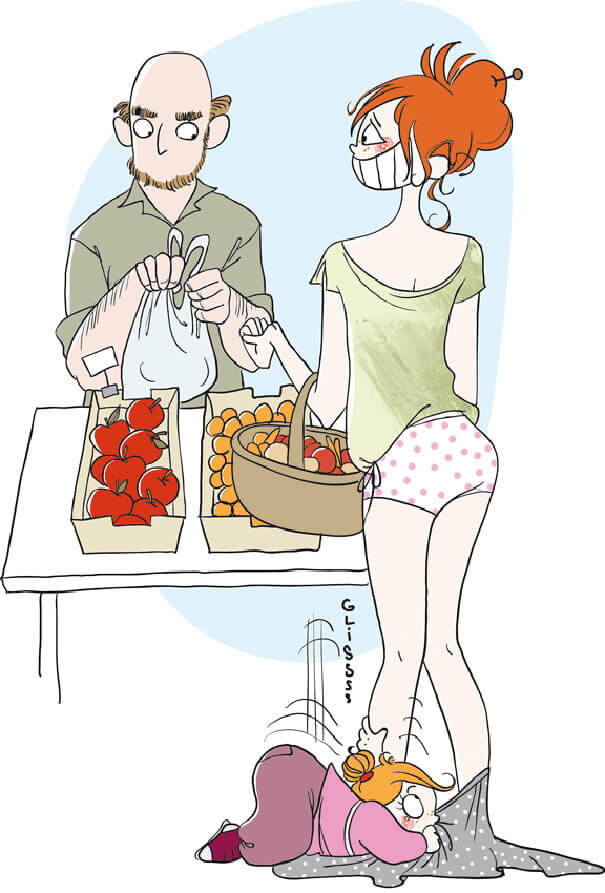 You also then learned to suck up all your embarrassed self and act as if nothing happened and even pretended that no one saw it even when you know it was quite a show indeed. But you do love your kids too much to even get mad at them for causing such a scene. One for the books!
6. Alone Time With Your Partner… What's That?
People probably warned you that you won't be able to have a sexy and alone time with your partner anymore once you have a baby but you thought "Oh, we are sure we could still squeeze some in between.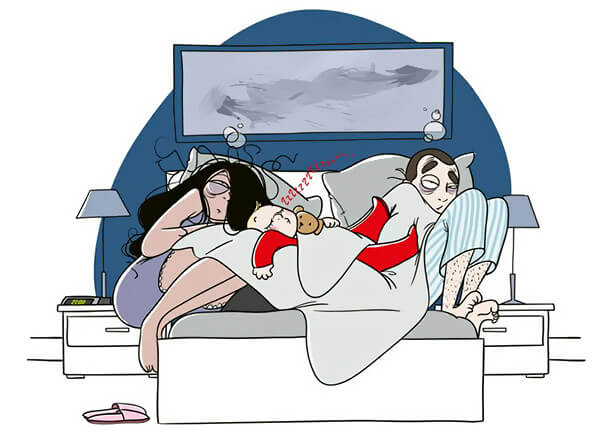 We just can't get enough of each other," and now you look back and realize you regret saying such because you surely jinxed all your chances after saying those. And even if cuddling in your sleep was your only escape for an intimate act, you can't do that too because your baby would demand to sleep in between the both of you. And once the baby is on your bed, you can't even get some sleep since they're taking up all the space.
7. Well If It Works, It Ain't Stupid
Babyand motherhood books should have a warning that all the advice written in their published work is only effective up to some point. Well, sure there would still be some things that you can apply to your everyday adventures as a mom, however, some books tend to forget that there are different kinds of kids and the way to handle kids is not a "one size fits all" scenario.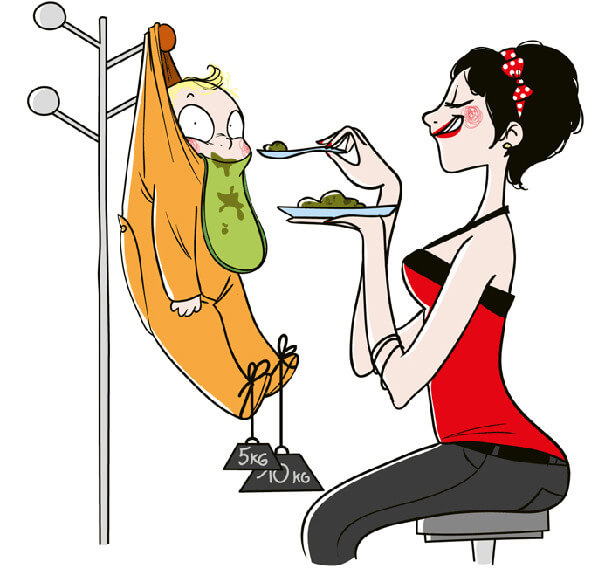 So it still ends up as your job as a mom to figure out how to handle your kid on your own without the help of any written and published book or article.
8. Babies Are Indeed The Living Examples Of The Saying "Small But Terrible"
You just never imagined such a small creature can create such a mess in the entire house! And they even make sure that they don't leave a spot untouched. It even feels as if kids see the world as their personal art workshop that they have to paint and leave their mark on it. And we may be wording it in a cute way right now but we know that when you look back up from your screen, your entire view looks like a battlefield.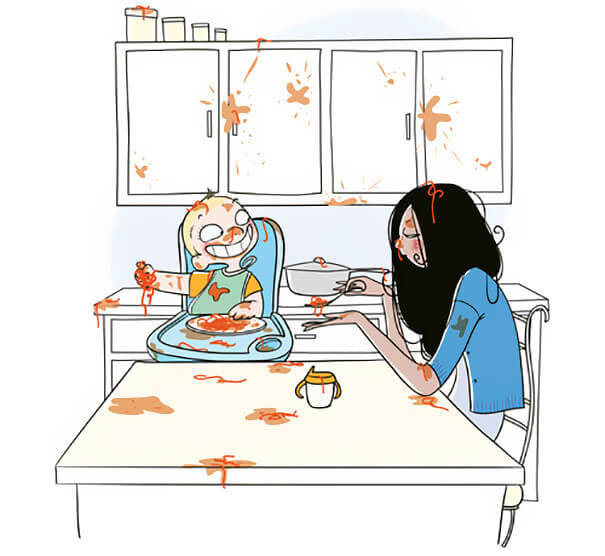 But hey, we saw some product that your babies could wear and double as a floor mop! You could let them wear those and help you clean instead!
9. Your Pain Does Not Matter As Long As The Baby Is Happy
Babies know how to amuse themselves and we are sure that you are very much aware of that fact already. And it also seems like that some kids have their mother's body parts as their favorite toy that they must have to ensure that they are safe or with you. ​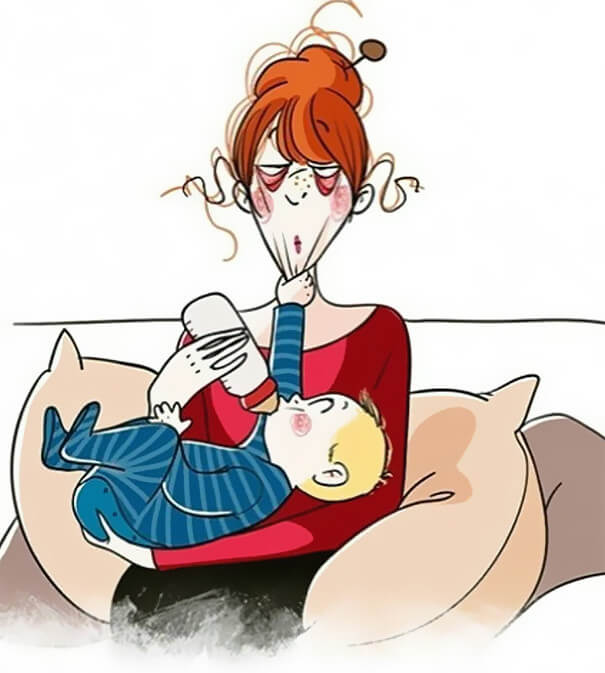 Maybe your kid puts their fingers up your nostrils until they fall asleep and disregard whether you can breathe or not. Or maybe your kid makes sure that they get to play with your navel while they're drinking their milk and while you're putting them to sleep which makes you want to pee.
10. You Don't Need To Buy Your Baby Expensive Toys, Just Give Them Anything From Your House
Don't you just hate it when you spend so much money on your baby's toys, only to find out that they just want to play with anything lying around in your house that they find so interesting?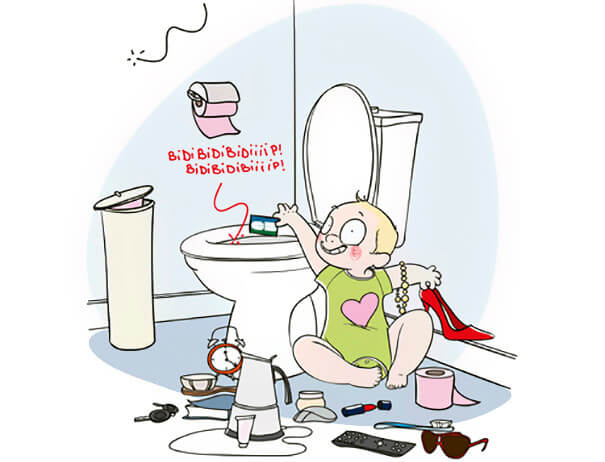 This is why it is very important to baby-proof your houses before they start crawling and grabbing things at the latest because you might just find your credit card in the toilet that was mixed with other stuff that your kid probably got from wherever.
11. You Can Finally Add This To Your Resume Under Your Skills: Can Carry Tons Of Items All At Once
A lot of people wonder how to have a one trip from your car to the kitchen after a day of grocery shopping and you would just smirk at them because you are clearly confident that you have such skill that others do not have.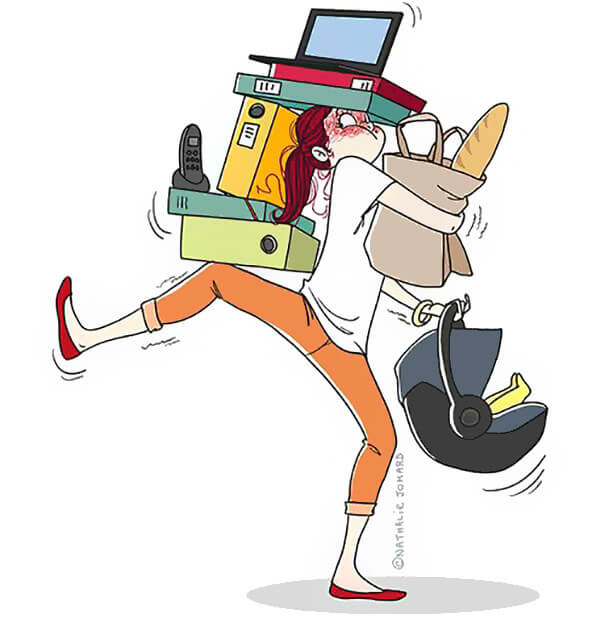 You are probably tempted to put in your resume now that you are a professional juggler since you are able to carry a lot of things in just one go – no matter the size or the weight of what you are bringing!
12. Bikinis Are An Instant No-No After Giving Birth
Women wear bikinis to feel confident about their bodies and to empower themselves that is why there are a lot of new moms who wish to brave their suits and strut their bikinis at the beach.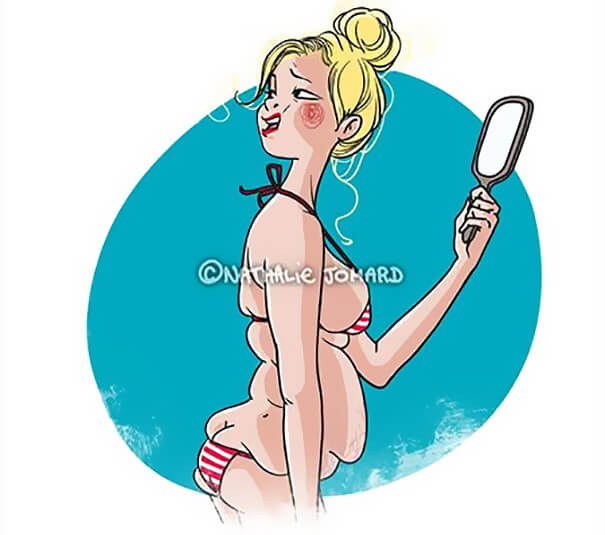 But somehow, you find yourself wondering if you are really ready to go back to wearing your old bikini and then you just get depressed over it and end up wrapping yourself up with a beach towel the whole time.
13. Your Kid's Potty Training Will Always Be Unpredictable
You know how unpredictable your kids can be and potty training will be included in their list of ways to surprise you – but in the most frustrating ways.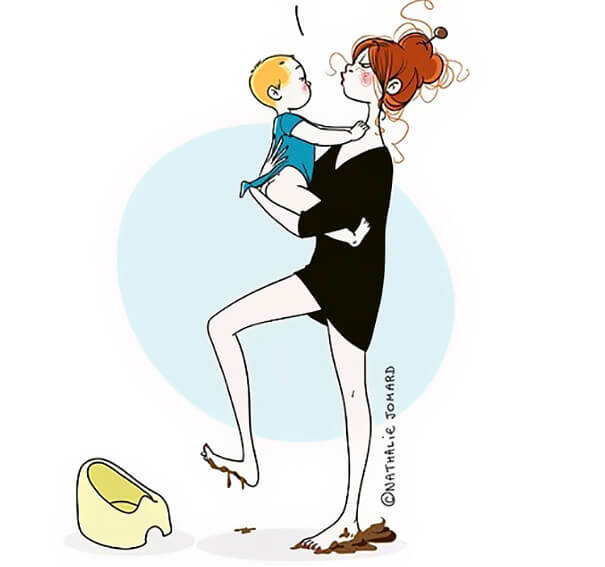 You have probably experienced stepping on your kid's poop or slipping on their pee because they always miss their potty trainers – or did they?
14. It Is Your Job To Make Sure Your Child Does Not Get Sunburnt
Your babies are your precious gems and you want to make sure that they are always safe and that includes keeping them safe from the sun.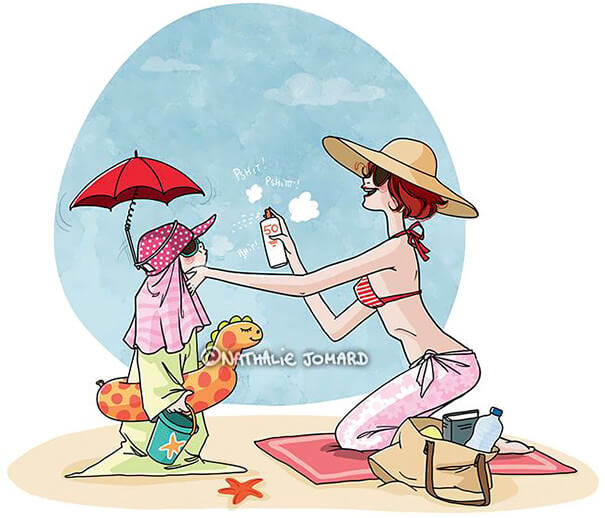 And with this, you make it a point to ensure that when they go out to play under the sun, especially when you are out on a beach trip, sunscreen and rashguard swimsuits for your kids are a must in your beach bag.
15. Meal Time Is One Of The Most Difficult Parts Of Your Day As A Mom
Kids are very unpredictable – even during meals. For some reason, they tend to change what food they want to eat every single day until you run out of ideas on what to feed them! Today, they could be acting as if the certain flavor of their baby food is their favorite, making you feel that you have found what they likeYou and then on the next day, they prove you wrong by spitting the food out and throwing a fit demanding something else!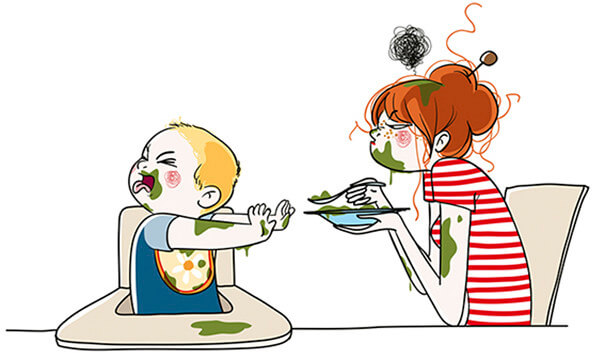 You Will never understand what they really want, especially because kids are undecisive and they don't even know what they really want.
16. Multitasking Becomes Your Ultimate Super Power
Your kid cries so you go and tend to them, but then your boss rings up your phone so you go and answer it while trying to hush your baby, and suddenly your oven signals that your roasted chicken is done and so you have to rush to it as to not burn it.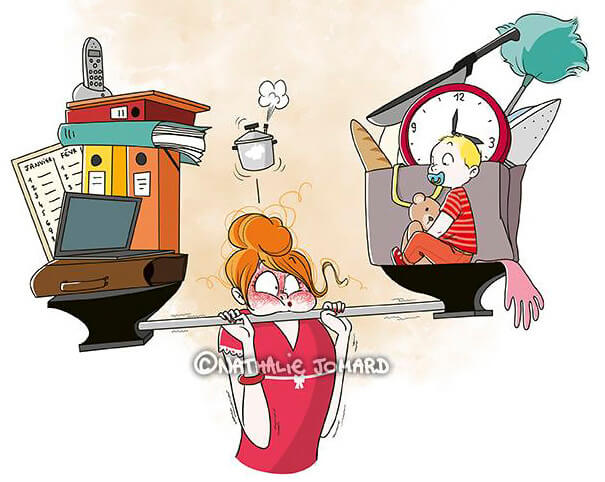 Everything just happens all at once and thanks to being a mom, you learned the ultimate super power – multitasking! Not everyone gets to have that skill, you know.
17. Working From Home And Being A Full Time Mom Is Exhausting But It's Your Daily Routine
You are definitely aware that you have to earn too since you can't just leave all the financial matters to your husband that is why you result in finding some work from home jobs.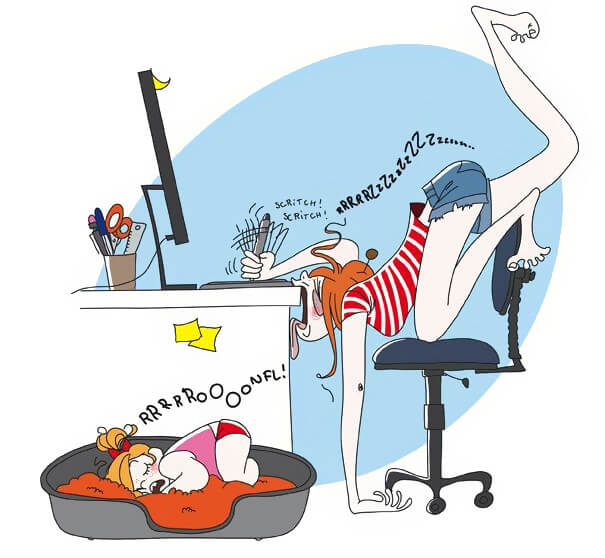 However, you may find your body giving up on most days already but somehow you are still able to make it work – tired, sure – but you still get by. Your body probably got used to it by now.
18. It's Time For You To Practice What You Preach To Be A Role Model To Your Kids
You probably never liked eating greens your whole life that's why you know how much your kids need such in their system. So all thanks to your kids, you would be forced to eat up the greens you used to avoid to show to your kids that if you could eat it, they could and they should eat their greens too. And you could probably sneak a chug of some soda when they're not looking after to make sure you get that icky taste out your mouth.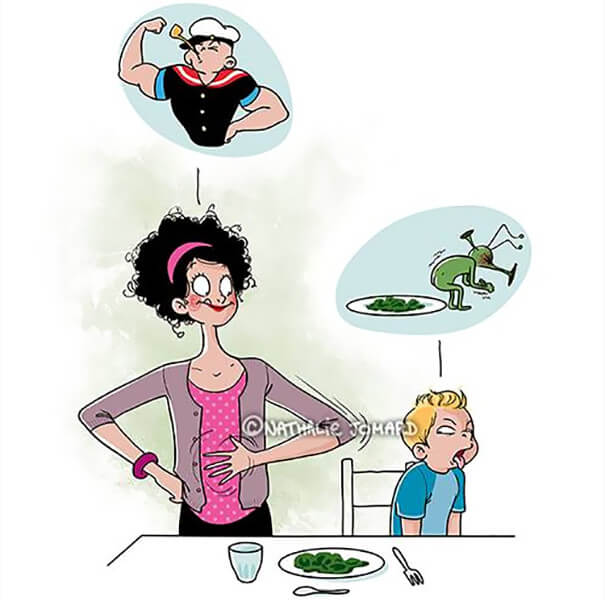 So all thanks to your kids, you would be forced to eat up the greens you used to avoid to show to your kids that if you could eat it, they could and they should eat their greens too. And you could probably sneak a chug of some soda when they're not looking after to make sure you get that icky taste out your mouth.
19. Your Feet Are Now Probably The Most Difficult Place To Reach For You
After gaining all that weight and body fat, your feet became the most difficult thing to reach for you, despite it being attached to your body. And now, it is so difficult to maintain well-polished toes or even wear your favorite pair of sneakers.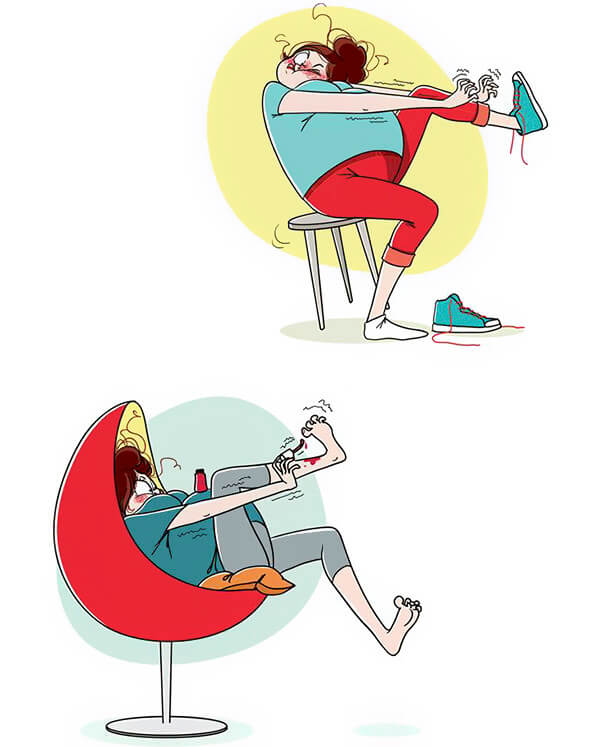 Slip-on shoes or sandals just immediately became your feet's best friend.
20. You Are In Constant Hide-And-Seek Mode With Your Valuables Thanks To Your Kids
Where was the worst place you found your phone or money or credit card in? We hope that you learned to also keep an emergency fund for your valuables after finding your phones or cards in the sink or down the toilet after your kid decided that you should play hide-and-seek with your items.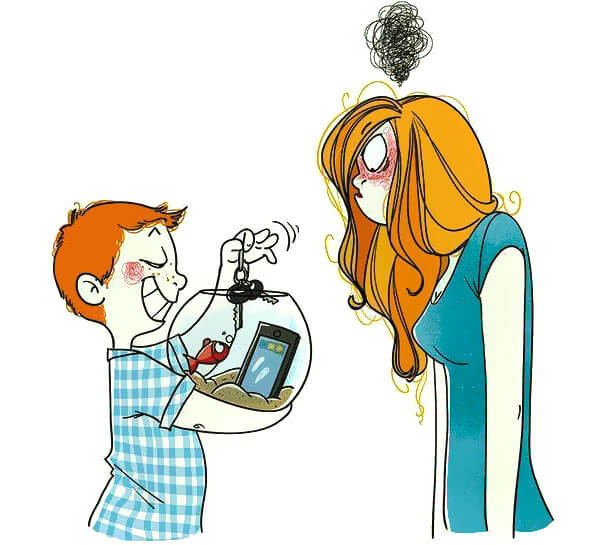 You would probably count it as a good or lucky day when you find them in a dry place, no?
21. Baby Books And Books About Motherhood Became Your Best Friends
You were probably never a bookworm during your younger years and while you were enjoying your life as a single and free woman.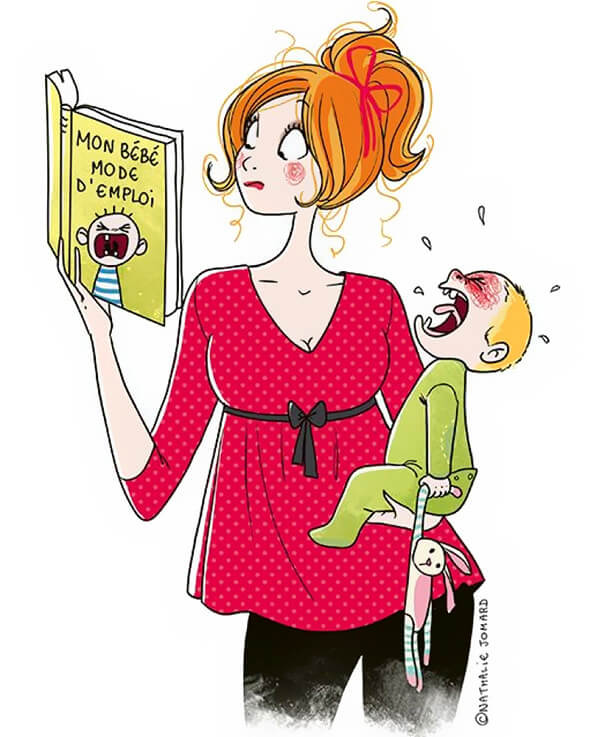 But ever since you found out that you were going to be a mom, you just found yourself skimming and reading through every book about babies and motherhood to make sure you would survive being a mom! And yet most of the time, the books turn out to be not much of a help because it looks like your kid surely knows how to make your life more of an adventure on how to handle them.
22. You Feel Bloated Every Single Day
You don't know why you feel like you gain a pound every single day, but you just do. It could probably be because of too much gas in your body since you don't get your usual trips to the toilet since your kid has to be constantly around you.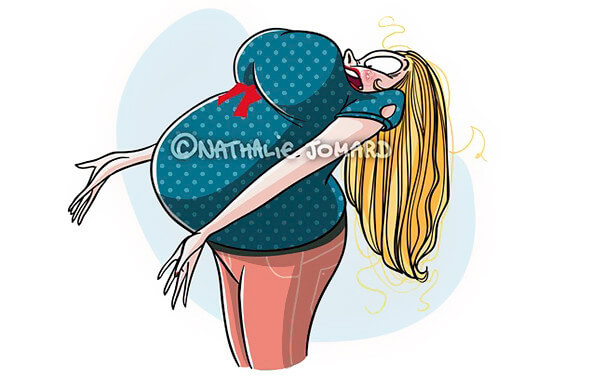 It could also be due to so much stress that you feel so disoriented with yourself. We are not entirely sure why but you surely feel like it, don't you? Could it also be due to stress eating when your kid finally sleeps plus the lack of exercise?
23. It Is Always Your Job To Bring The Bad News To Your Child About Their Dead Pet
Kids love being close to animals and once they get a pet, they get so attached to it and would find their pets as their entire life. But animals are living things and some just have shorter life spans than most or may even be prone to a lot of sickness despite trying your hardest to keep them safe and healthy for the sake of your kid.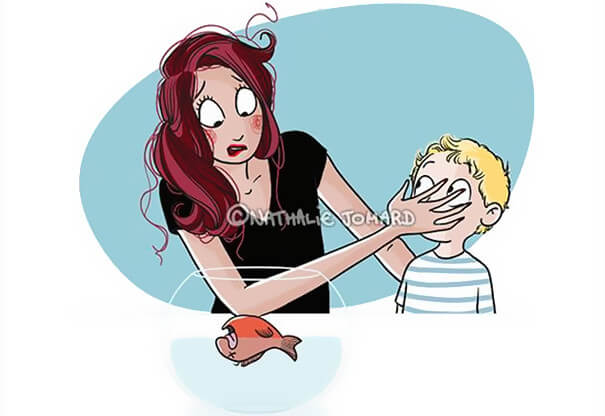 But when their pet dies, you just don't know how to tell them because you surely do not want to break their hearts and you do not want to see them so heartbroken after.
24. Your Kids Become The Boss Of You
You are supposed to be the mom. You are supposed to be the head of the household while your partner is away. Your kids are supposed to listen to you. But for some reason they know how to make you get down on your knees and just cry out of frustration and exhaustion on handling your kid's shenanigans!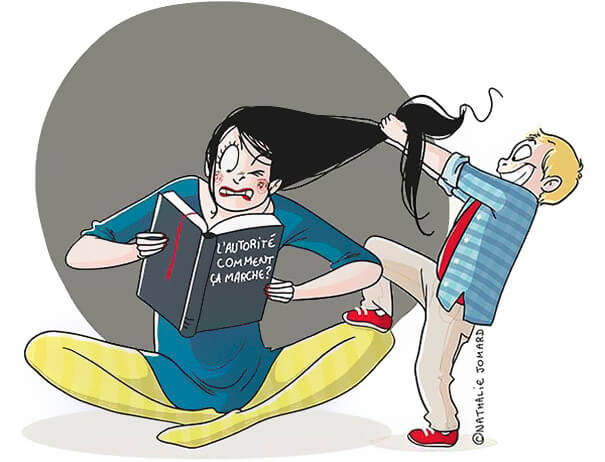 You could just be lucky if your kid was sympathetic enough to care and comfort you after.
25. $$$ Spent On Countless Books And Tutorials To Find Easier Ways On Changing Your Baby's Diapers
Changing your baby's diaper's was probably one of the things you disliked the most and you would have to battle with your partner on whose turn it was to change the diapers. You probably never thought that babies would have the stinkiest poop you would ever smell in your whole life. And you probably never saw the amount of poop that came out of such a tiny body.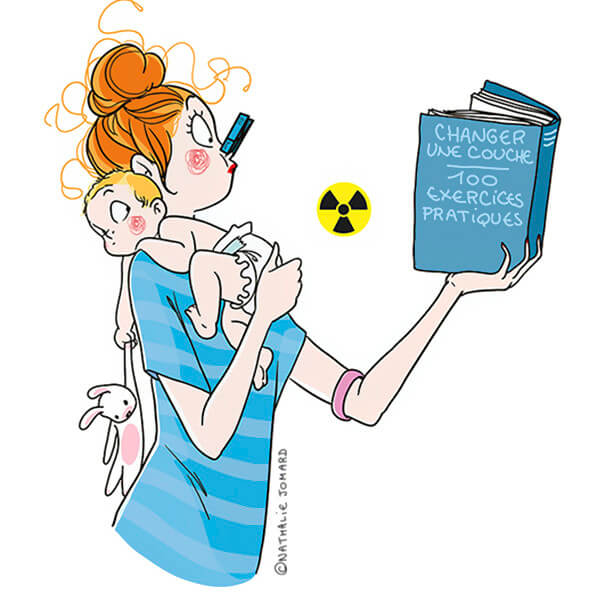 Also those random pees your babies would make WHILE you are changing their diapers and they end up laughing because they find the act of peeing on you so funny! That is why you end up buying books or paying for tutorials to make changing their diapers so easy – but they don't seem to work.
26. Annoying Workouts
Why can't you just let me work out on my own?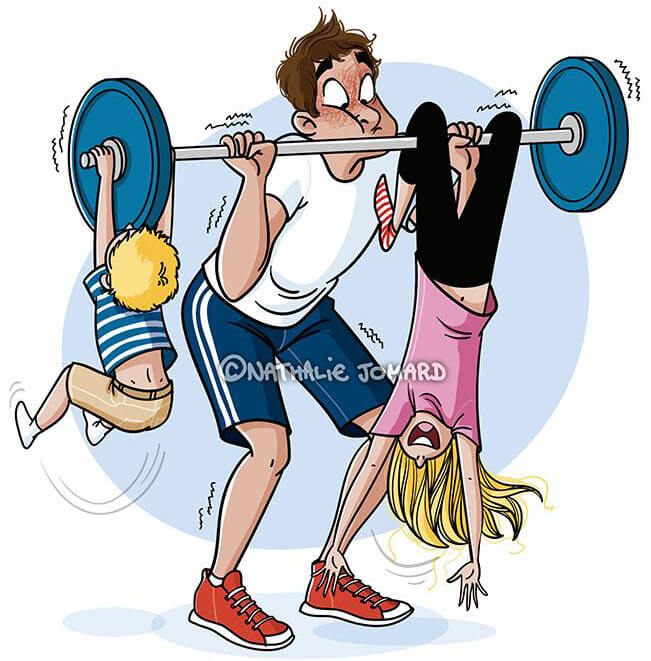 Kids will always be annoying and needy, especially when you want to workout on your own They always want to join you and annoy you.
27. Daddy Diaper
The look on that dads face. is priceless. It's funny how dads never get used to changing diapers.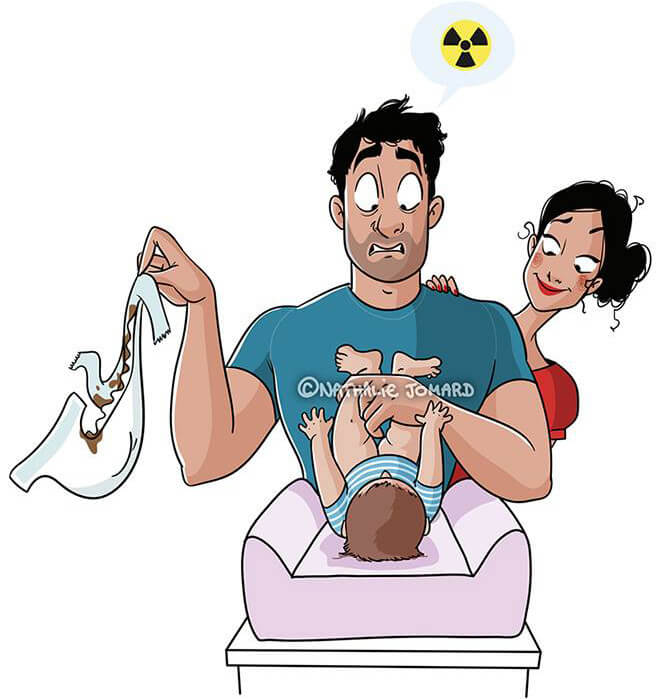 Moms will always get a kick out of watching their husbands change diapers.
28. Careful Momma
Careful mommy, you don't want to wake him up even if your starving to death!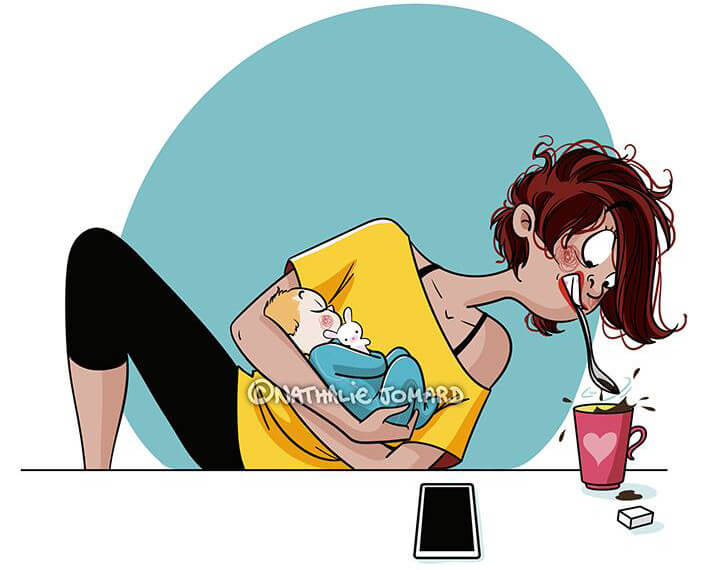 Moms are willing to give up on eating or doing anything that might wake up their baby. 30 minutes of silence, is worth everything.
29. What's This?
Kids will always be curios about everything. Even if it's the yacky stuff you have in your nose.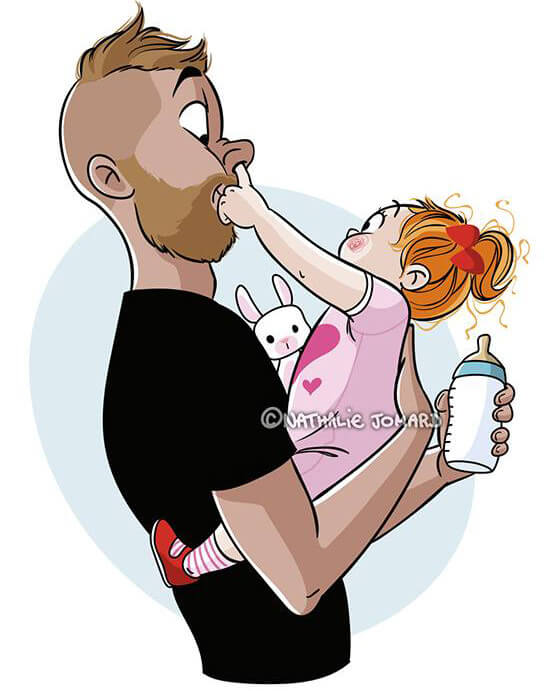 When he thought she was finally going to fall asleep, she decided to check what's up his nose instead. It's exhausting, trust me.
30. Crazy Love
The love that we have for our kids is unconditional.
For us, they are the most adorable little creatures in the whole wide world.
31. Flabby
After having a few kids, moms tend to get flabby bellys, expecially after losing a large amount of weight.
Luckily there are different ways to solve this issue. Plastic surgery for instance, is probably one of the most popular things women do, after pregnancy.
32. Pop
Just before you're about to give birth, you feel like a balloon that is ready to get popped.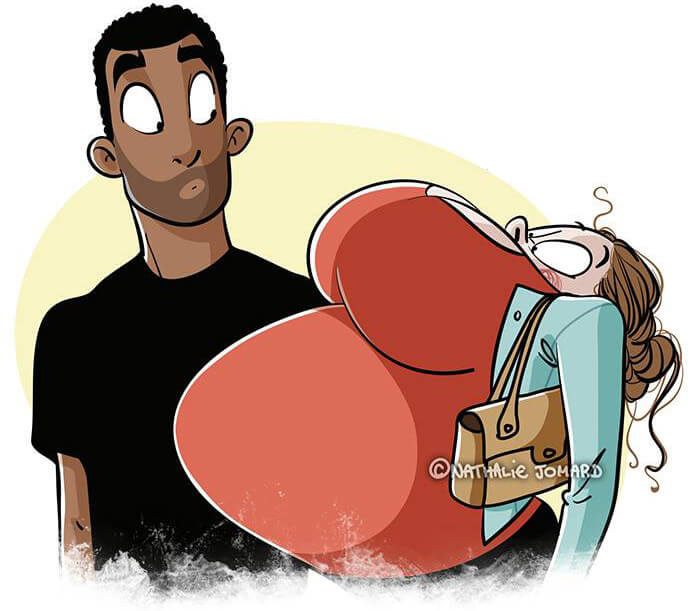 You feel so uncomfortable and if your partner just says anything, his dead. So he better shut his mouth and not say a word.
33. Surprise
Surprise, I am pregnant again. Oh boy, that look on the dad's face says, I am not having sex ever again!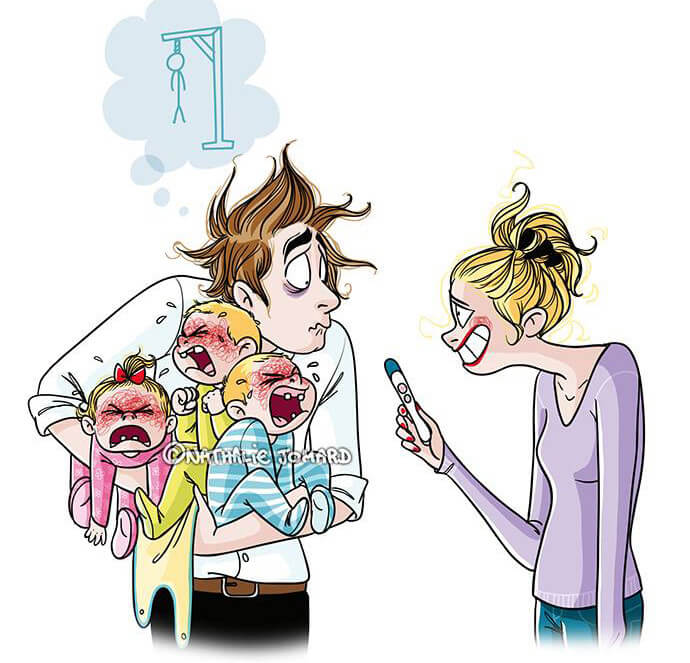 With three little kids and another one on the way, I would bury myself.
34. Exhausting
Having a big belly and trying to shave is a pain in the butt.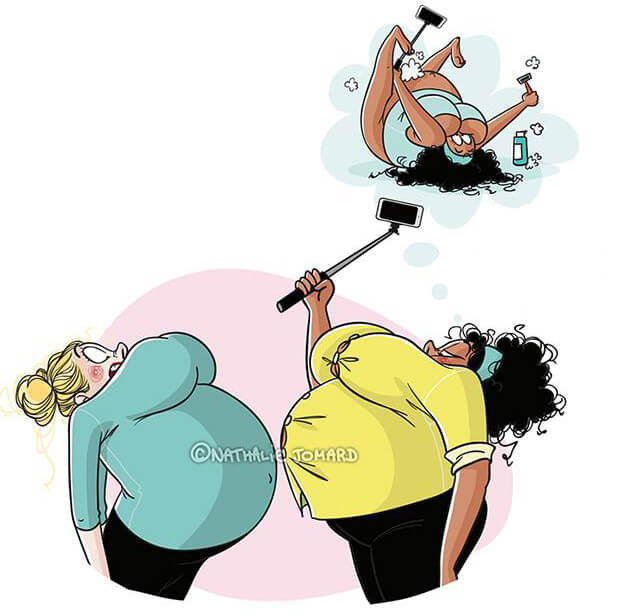 You can't get anywhere or reach anything.
Hollywood Stars' Photos Recreated With A Funny Twist
Ashley Lez
This article was originally published on 24/7Mirror
Have you ever looked at a picture posted by your favorite A-lister and thought, "how do they look good wearing something like that or posing like that?" A woman named Celeste Barber started recreating ridiculous famous people's Instagram photos, and she has gained 6.9 million followers on Instagram in the process. She shows what the average person would look like if they were taking these photos in real life. Keep reading to see the hilarious results!
Instagram Vs. Gravity
Alexis Ren modeled this shirt with perky boobs drawn on it, but realistically, no one's chest naturally looks like that.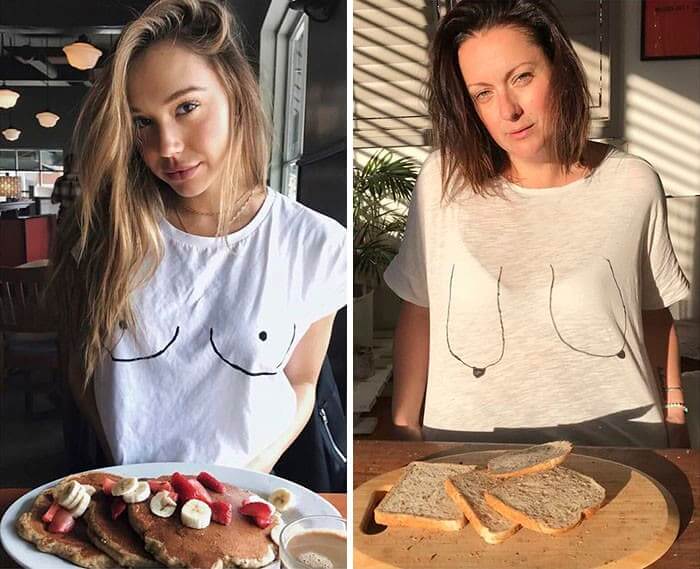 While Celeste made her shirt the exaggerated version, that is more realistic than the original Instagram. Let's be real; gravity starts to win as you get older.
Boats, Bikinis, Flexibility, and Humility
Gigi Gorgeous looks like she is floating on air in her photo, but it does not look easy to achieve that pose. Who would want to contort themselves onto some metal bars?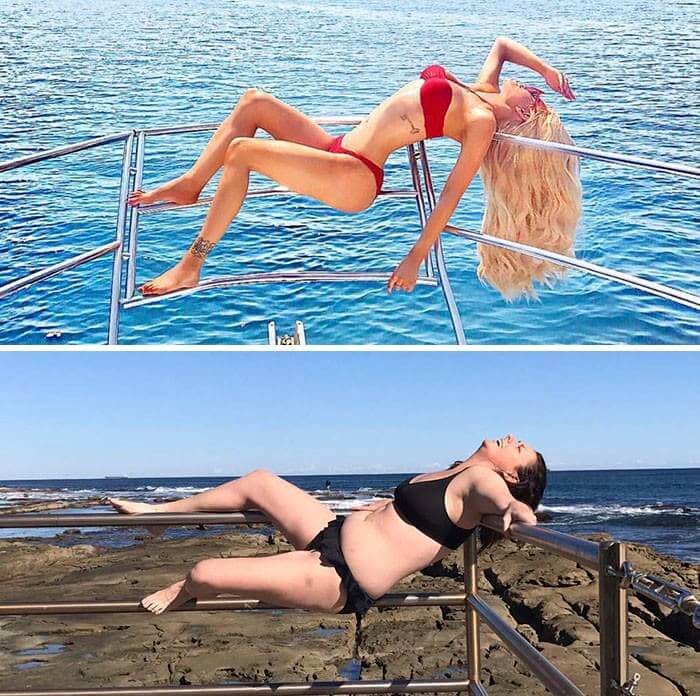 Celeste is how most of us would look if we tried this pose. It seems like she is on the struggle bus, and we can only imagine how uncomfortable that is.
Did Someone Say Flamingo?
When you wish you were on a private yacht with a giant flamingo floaty like Kendall Jenner, but you are stuck at home.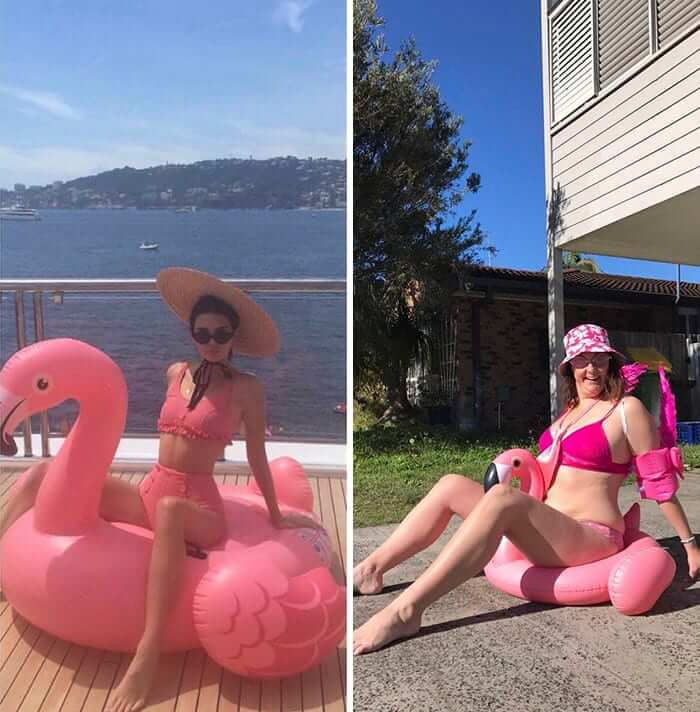 She traded the boat deck for her driveway and added some water wings because cement can be dangerous.
The Basis Of Any Good Relationship: Trust
Would you trust someone not to let go of your t-shirt while you lean face first over a pool? The models in the top picture messed up a few times because she is not dry.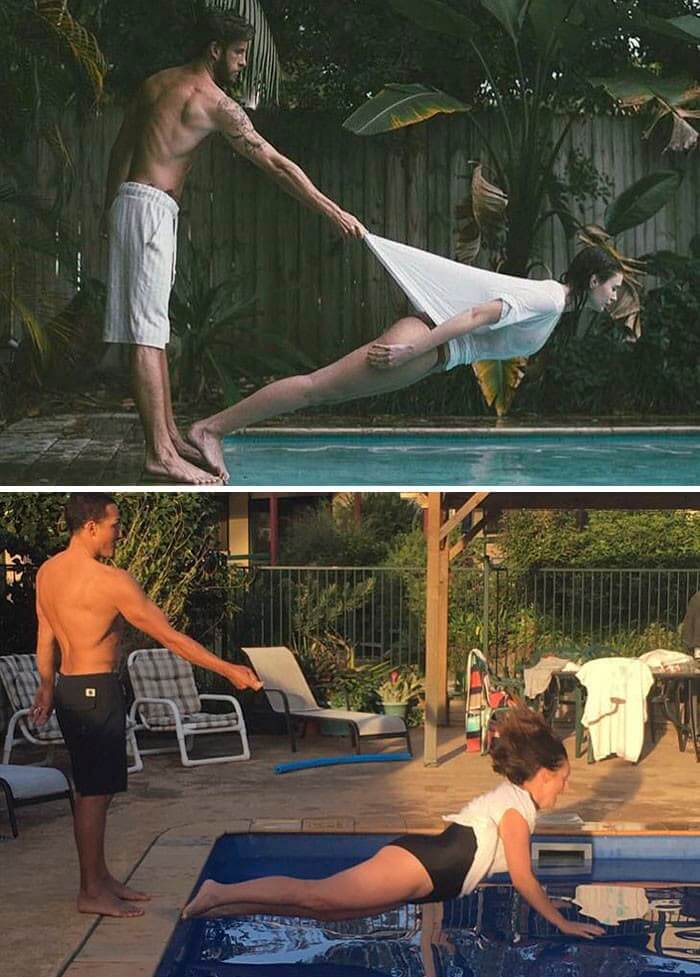 Even if you trust the person, that is not an easy task for someone to hold you only by your shirt.
Boys Lie, Carbs Don't
The truth hurts, doesn't it? Carbs don't lie, and they will stick by your side even when you don't want them.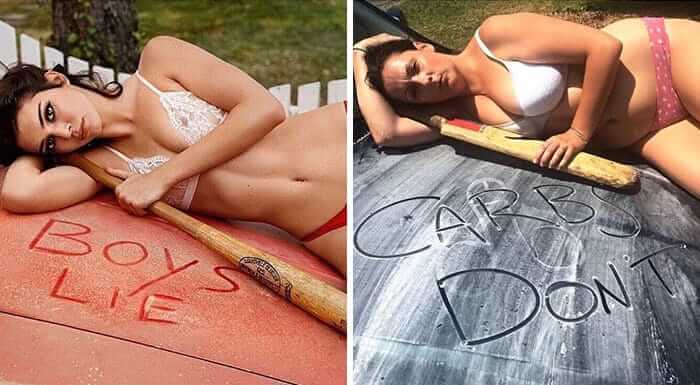 Both pictures are sharing truth bombs, and both pictures show that they both need to wash their cars.
Taking Advantage Of Morning Sunshine
When you try to recreate those perfect rainbow reflection pictures, but you are blinded by the morning sunlight. The rainbow also looks suspiciously perfect in the left image.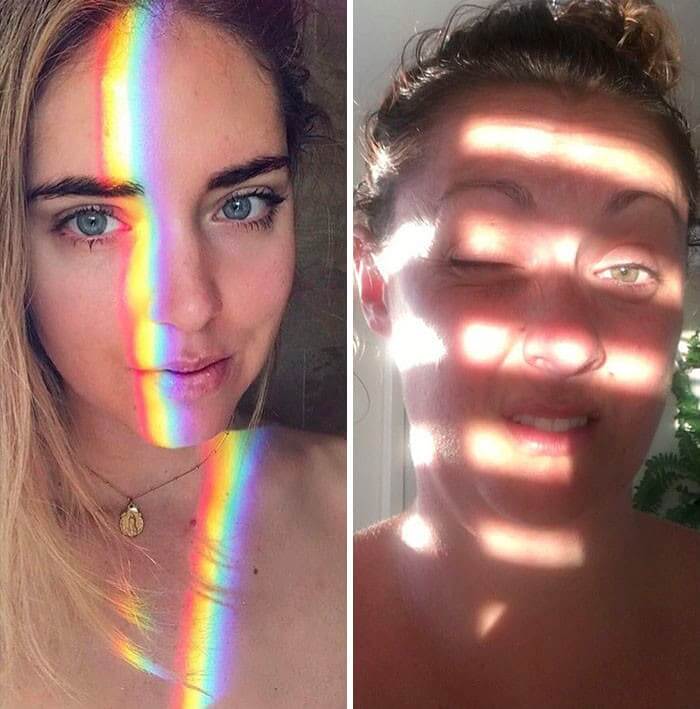 Trying to look directly into the sun right when you wake up is not something the average person could handle.
Breakfast Is Served
When you want to do something special for you your man so you bring him orange juice and pancake (mix) in bed.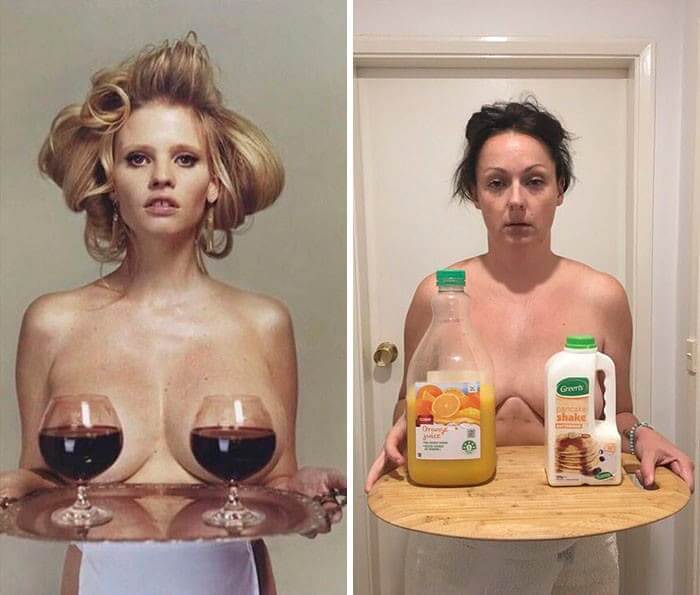 Serving people topless is not very sanitary, and people should refrain from this, especially if you want to carry something hot.
"Just Rolled Out Of Bed"
When you are trying to reach something on the floor without getting out of bed. You try to do acrobat moves just to keep some part of your body on the bed.
The hardest part is when you finally reach what you want, and then you have to figure out how to get back on the bed.
When You Successfully Cook Dinner
When you managed to cook dinner for everyone without getting any complaints or burning something, that calls for a celebration.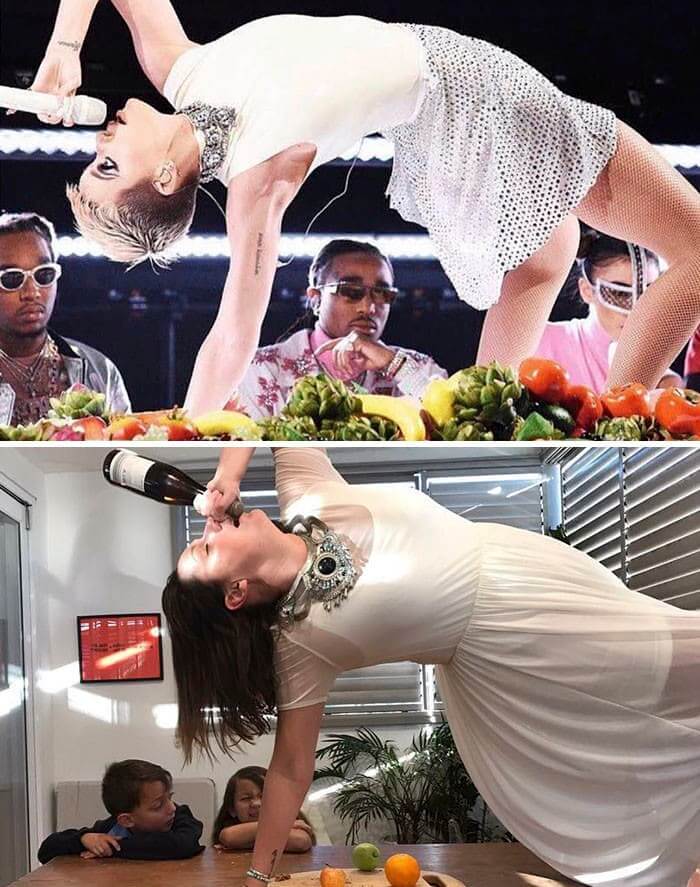 Her kids look unimpressed with her celebrations like, "Mom, please get off the table!"
Just A Light Scarf
No, this is not a giant scarf photoshopped onto Lenny Kravitz, he actually wore that. It is equally ridiculous to wear an actual blanket in public.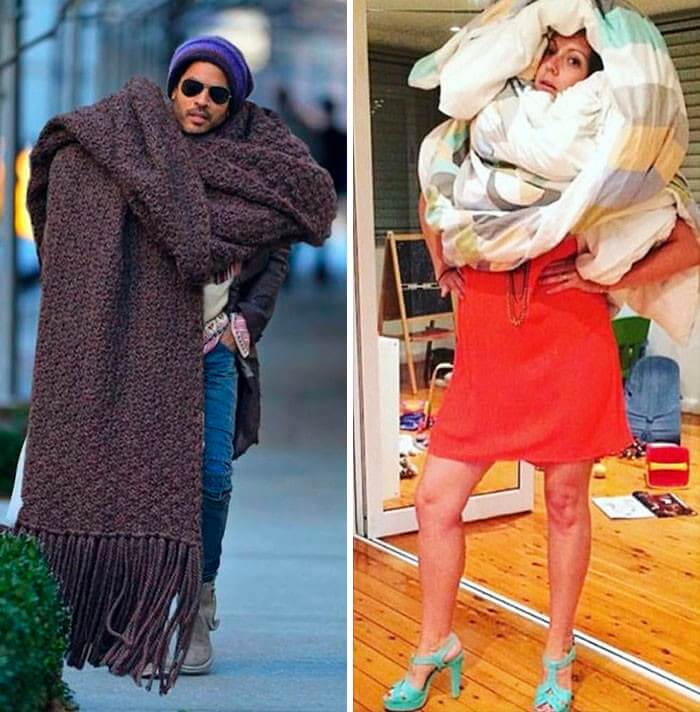 That must have been more annoying to wear around than a normal-sized scarf. Celeste captured the ridiculousness of this picture perfectly.
"I Really Need To Wash The Dishes"
When you want to show your kids how dirty they left the dishes, even though you asked them multiple times to clean up after themselves.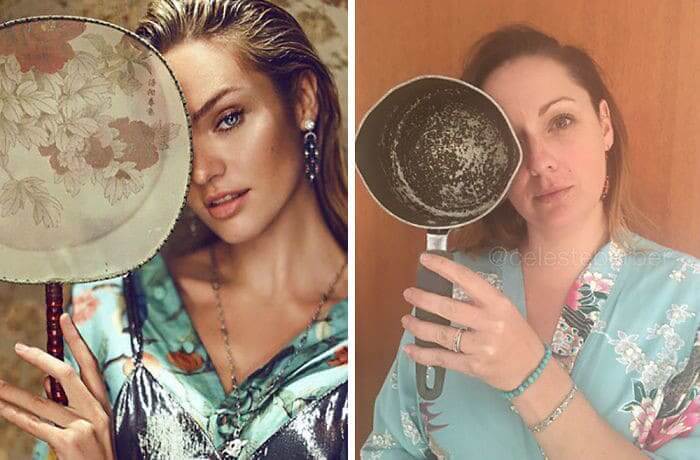 Even though she doesn't have a makeup team, lighting crew, and person doing her wardrobe, Celeste looks just as good as the original photo.
Style and Safety
We always wear heels when we ride our bikes too. Her son is probably asking his mom for his bike back.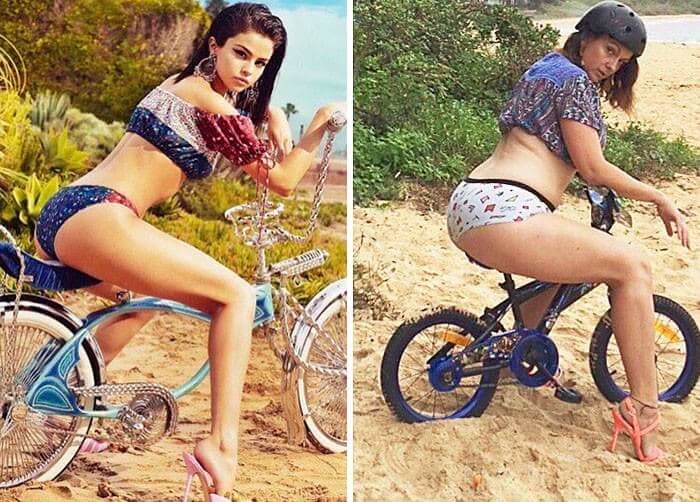 Both of them look amazing, but Celeste is demonstrating better safety practices.
Having Children Expectation Vs. Reality
Have children, they said, it will be fun, they said. J.Lo makes motherhood look like a breeze and manages to hold a drink and carry her child at the same time.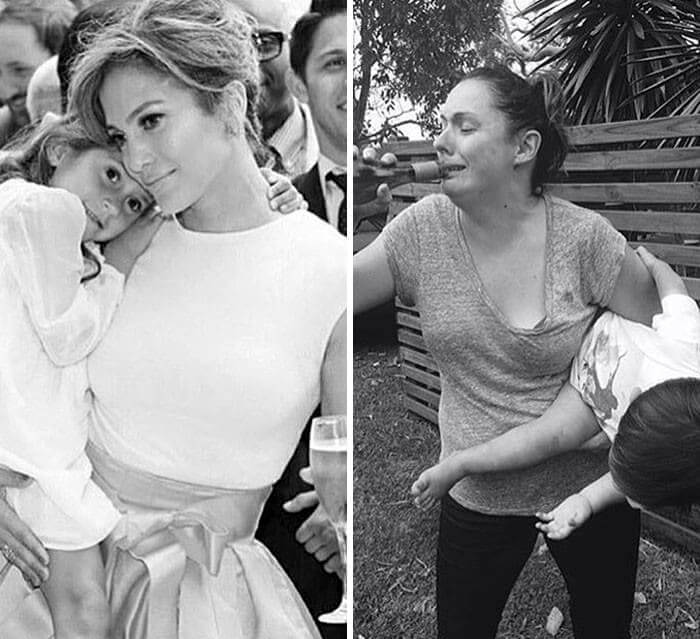 Motherhood is far from easy. She shows that holding a child and a drink is not an easy thing to do.
When You Have To Wash Your Own Car
Why Bethenny Frankel felt the neep to do a backbend on top of the car is a mystery. How did she get herself into that position without falling, and how did she get down?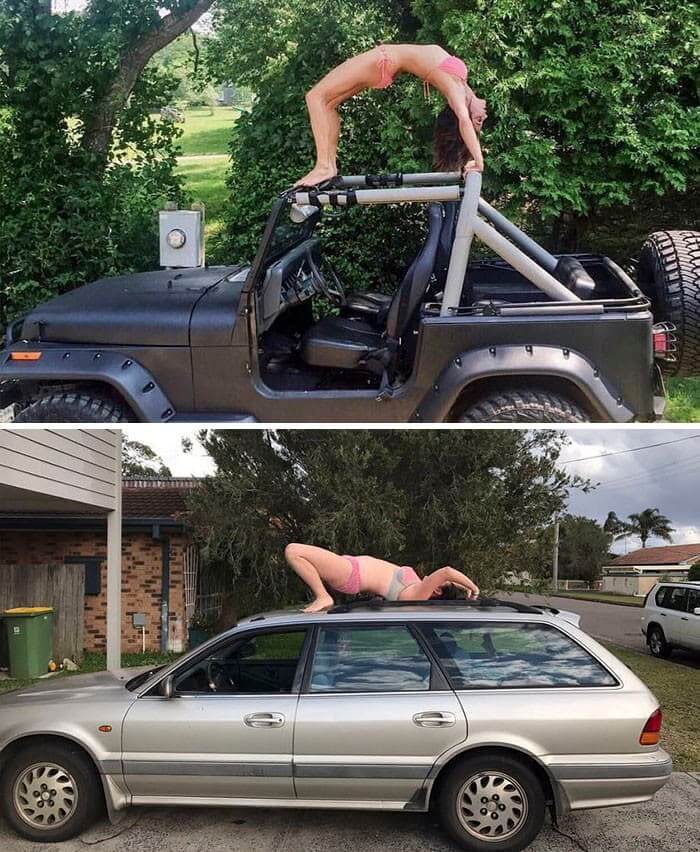 We love the dedication that went into recreating this picture because you know her neighbors saw her and thought, "what is wrong with that woman."
Sia: The Craft Store Version
When you want to dress up like Sia, but you are on a dollar store budget. It looks like she ran through the craft store and grabbed the first items she saw.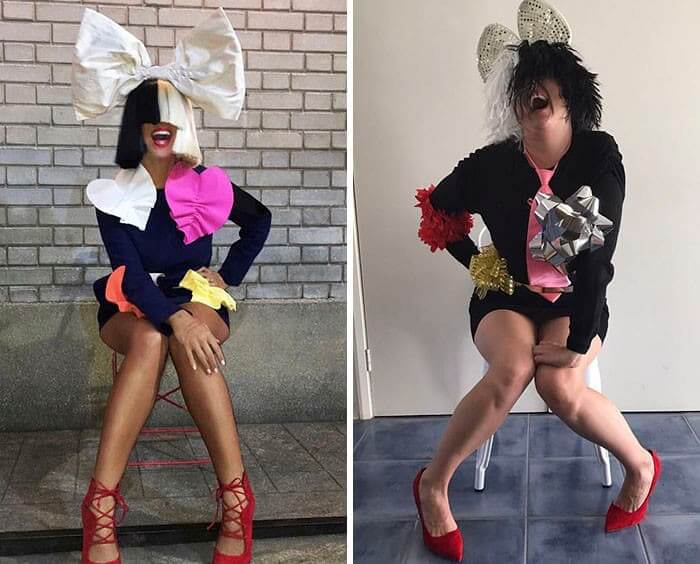 Even though it is more craft store than couture, we think Sia would approve of this recreation because she loves odd things.
Backyard Photo Shoot
Even though she looks like she is putting in minimal effort, Beyonce still looks glamorous, standing in front of a sheet in someone's backyard.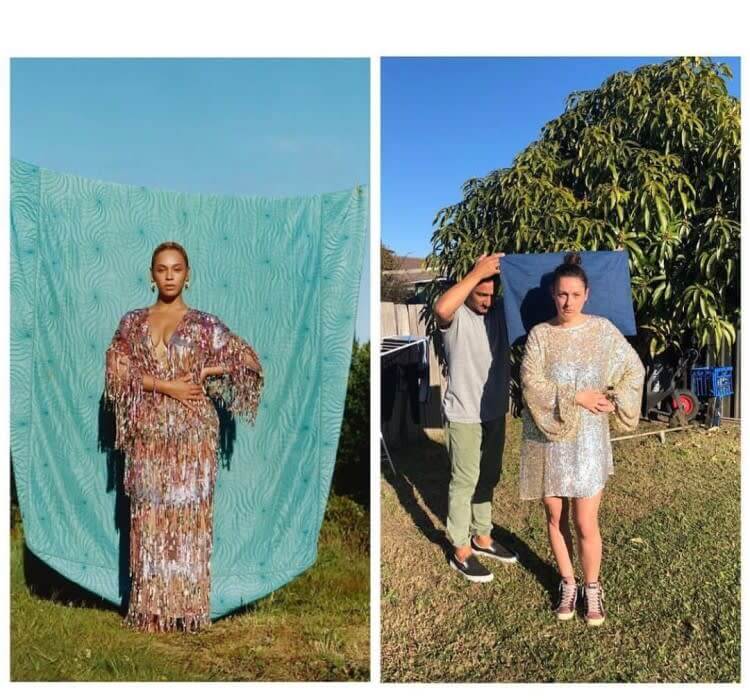 Anyone who isn't Beyonce would look weird if they tried to recreate this, like Celeste.
"Buy My Merch"
When you are trying to recreate a Kylie Jenner picture and promote your own merchandise at the same time.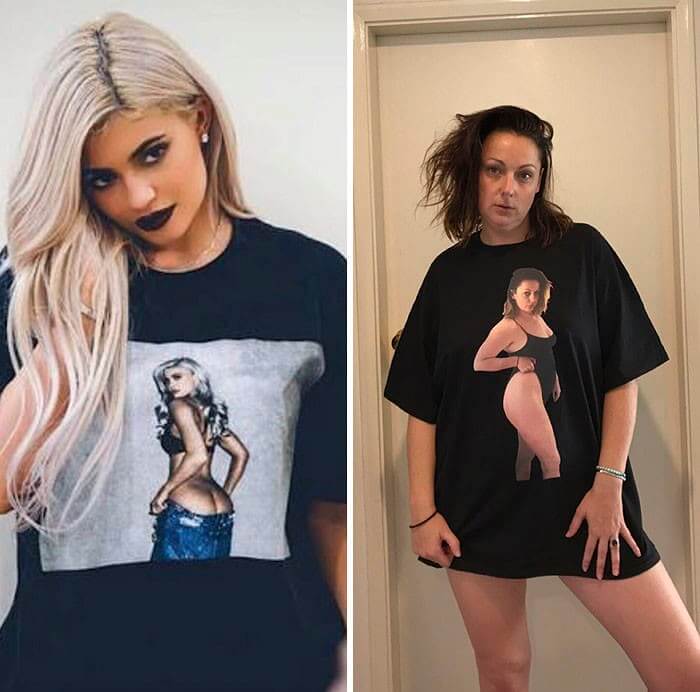 Whose shirt would you rather buy? We really like Celeste's take on Kylie Jenner's shirt.
When It Is Too Hot Outside, So You Sit In The Freezer
During the summer, have you ever been so hot you felt like sitting in a freezer? Don't worry; it's not that weird because celebrities have had the same thought too.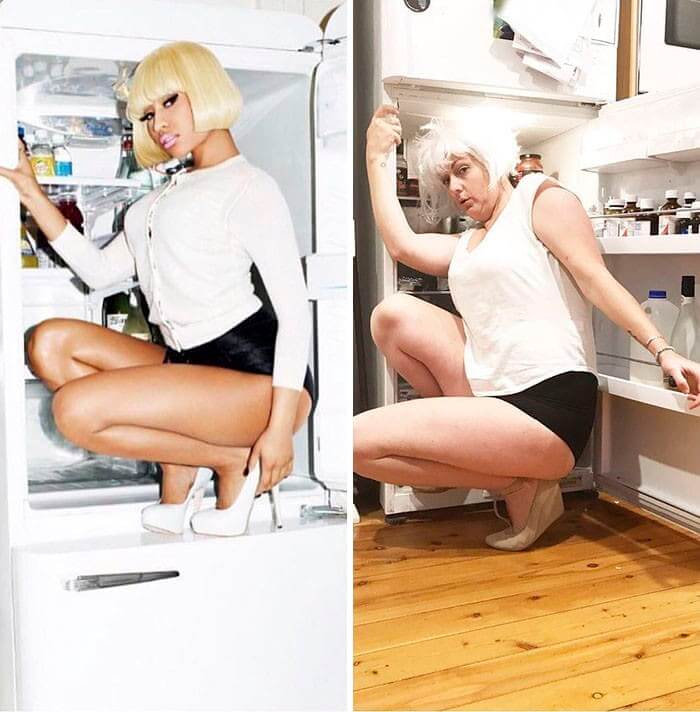 Sometimes you just want to escape the heat and climb into a freezing box, and that is ok. Just remember to take a picture so you can post it to Instagram.
Personal Hygiene is Important
Celebrities are just like ordinary people; they have to shave their armpits too. Although, when they shave their armpits, they document it for social media.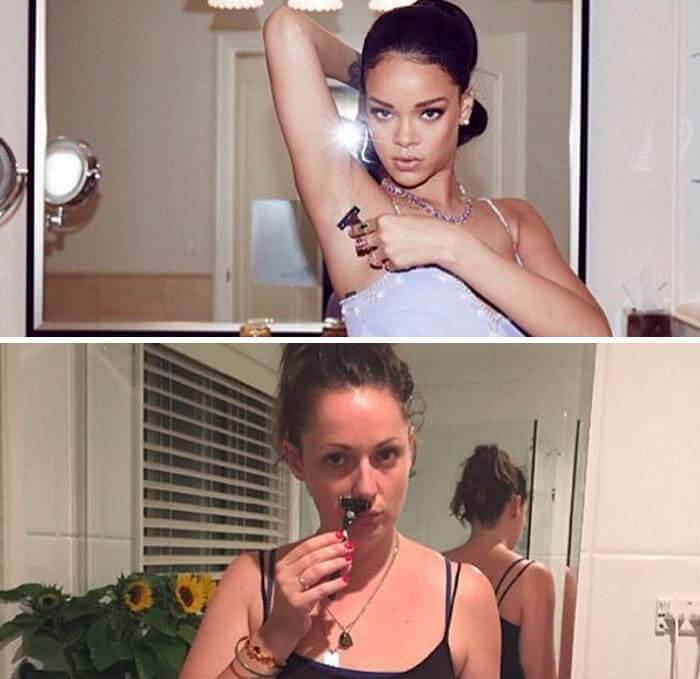 Self-grooming is important. Some people choose to shave, and others go natural. Whatever you decide, no one has to know about it.
Ready To Conquer The Day
Kyle Richards starts her days with a protein shake and a brightly colored Birkin bag. Not all of us are that blessed, so some of us are more like Celeste's recreation.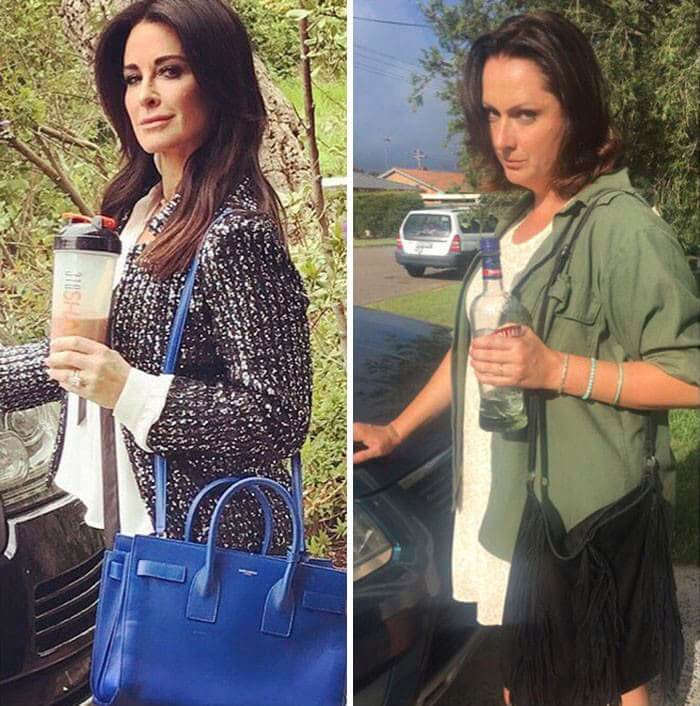 When you have children, starting the day with a bottle of wine doesn't sound like a bad idea. Although we know she is not promoting people to drink and drive.
Wet T-Shirt Contest
Again Emily Ratajkowski is stunning and sultry with her barely-there wet t-shirt. If you have ever been in a wet white shirt, you might feel like Emily, or you might feel like Celeste.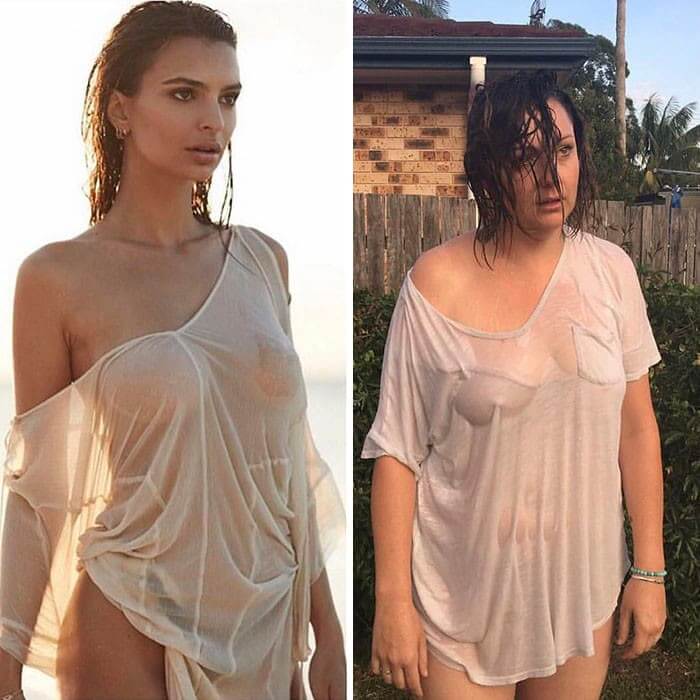 First of all, Wet shirts are not comfortable; you feel like you are being weighed down by this cold, wet fabric stuck to you. Second, no one looks like Emily, so it would be hard to pull off this wet shirt look.
When It's Too Hot For Clothing
Emily Ratajkowski is known for her lack of clothing, so recreating her pictures takes a lot of courage. No one actually walks their dog in a bra and underwear.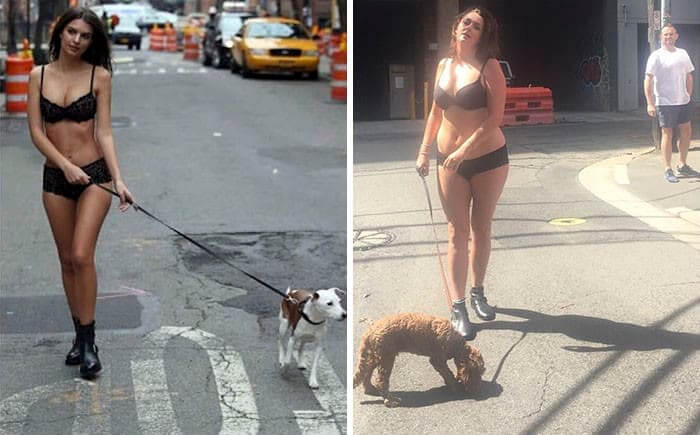 The guy in the background is wondering what she is doing, walking through the streets half-naked with her dog.
Happy Holidays
Kylie Jenner is giving us the holiday fantasy by wearing a giant bow as a hair accessory for her holiday collection promo shoot. Only she could make this look cool and high fashion.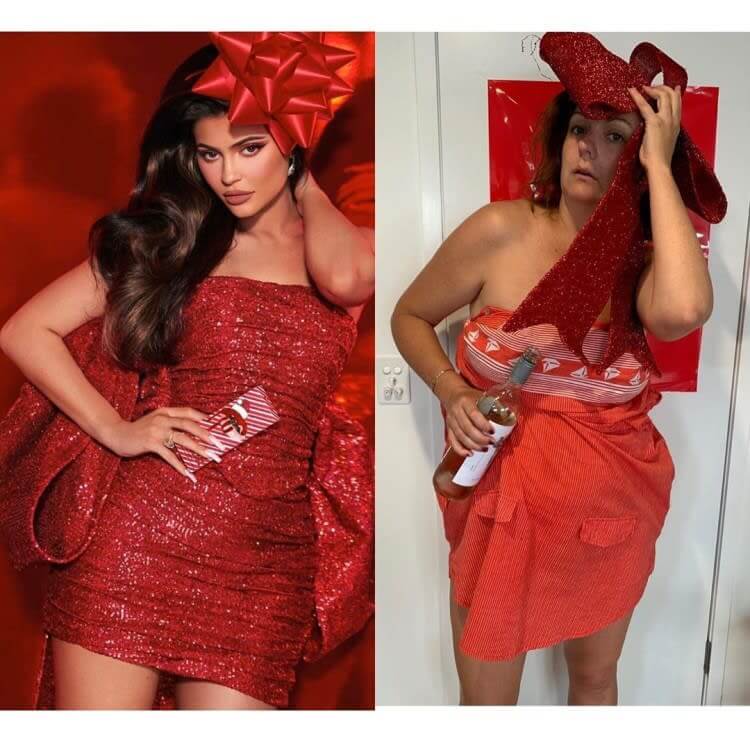 If the average person tried that it would look very strange. We don't know how anyone would look good with a giant gift bow on their head.
Holding Life's Most Precious Gifts
While some people value their children as the most precious gifts in the world, others value wine and bread, which is valid.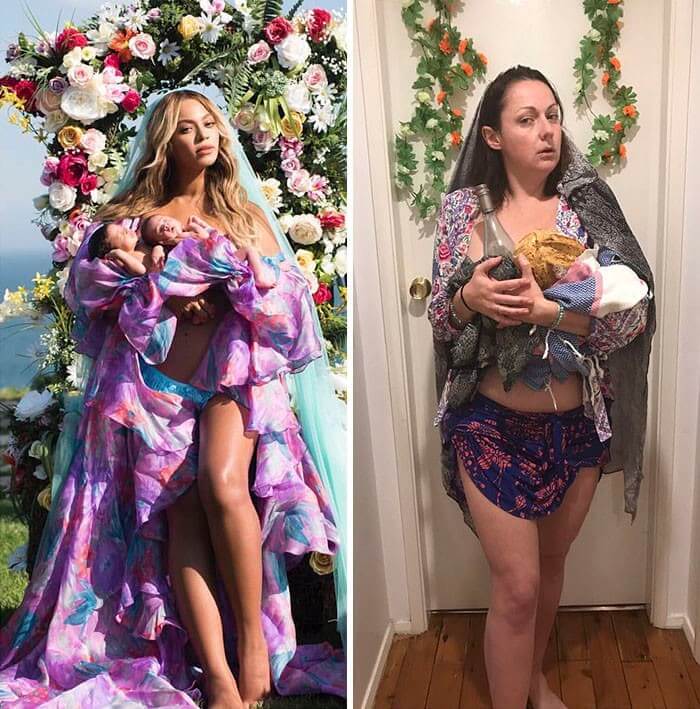 It must be hard to recreate the ethereal glow of Beyonce post-birth.
Spilled Wine Means The World Is Ending
Why does Selena Gomez look so unphased by the spilled wine and broken glass? Most people would be sad like Celeste because of the wasted wine.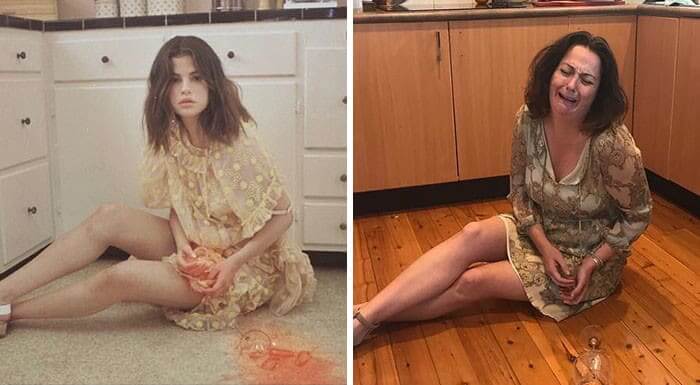 We know it's for an album cover, but how can she be so calm with broken glass in her hands?
Cooling Off
When you are in the club and you find a fan to help you cool off. Some people would look glam like Miley Cyrus, and the rest of us would look like we got stuck in a wind tunnel like Celeste.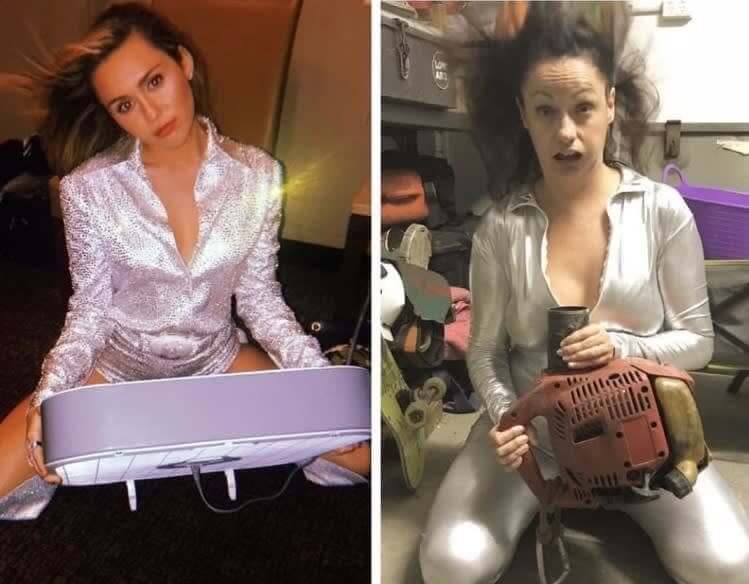 Maybe a leaf blower wouldn't be the best option because of how much wind power it has, but it still cools you off.
Self Love
As Ru Paul likes to say, "If you can't love yourself, how in the hell are you going to love someone else?"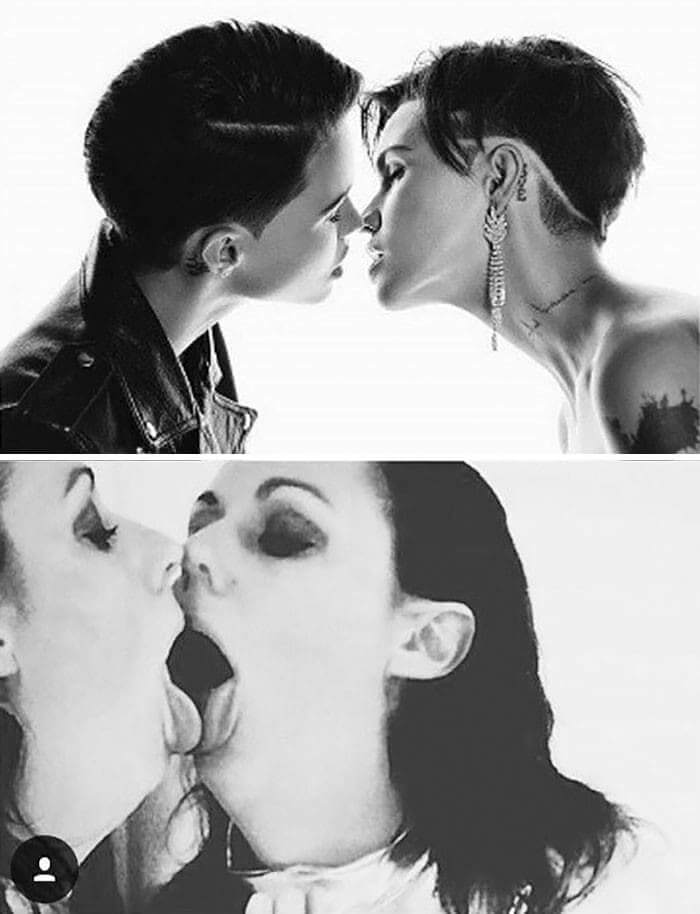 ​ Self-love is important, but we don't know if you have to make out with yourself in a mirror to get that point across.
Working That Spacesuit On The Beach
Brazilian model, Adriana Lima, can make anything work, even this silver lamé one piece.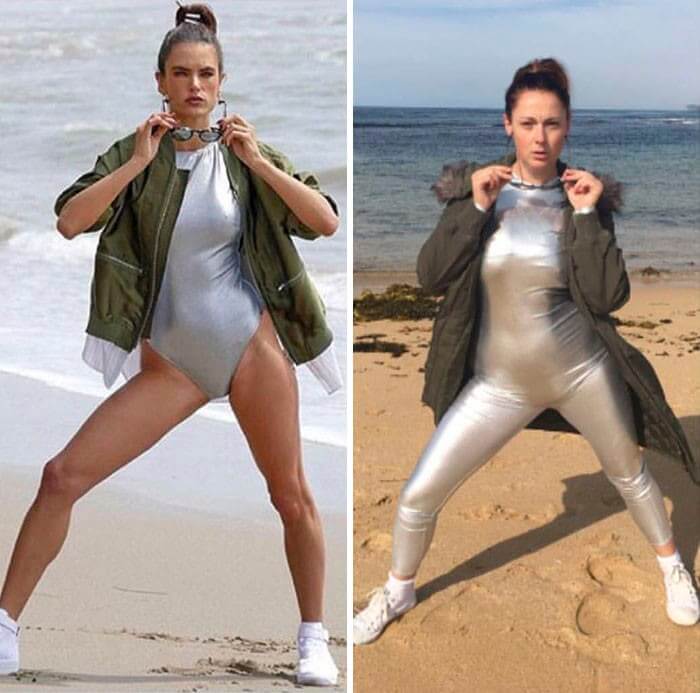 Who knew that silver catsuit would be so useful to recreate so many celebrity photos.
Giddy Up
She nailed this Miley Cyrus recreation. Her tiny horse is even better than Miley's larger one.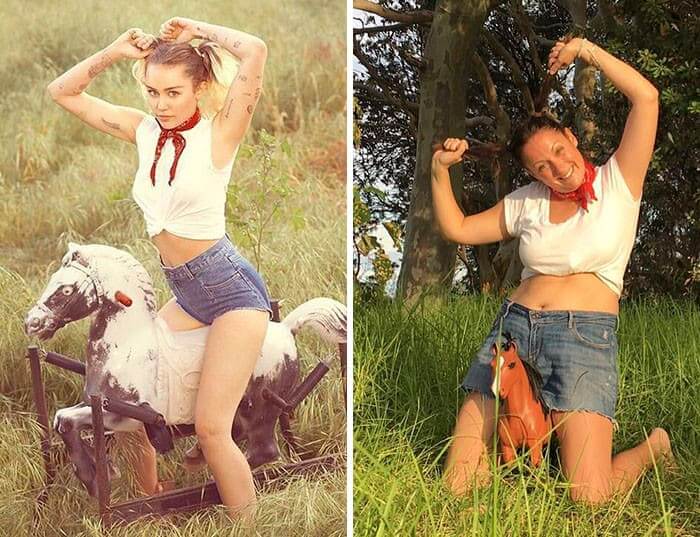 She makes it look much more fun than the celebrity originals. Ride'em cowgirl!
This Looks Comfortable
"Nothing to see here, just casually lounging on the chair like a normal person." This is such a bizarre pose. How did the model contort her body into this uncomfortable position and stay glamorous?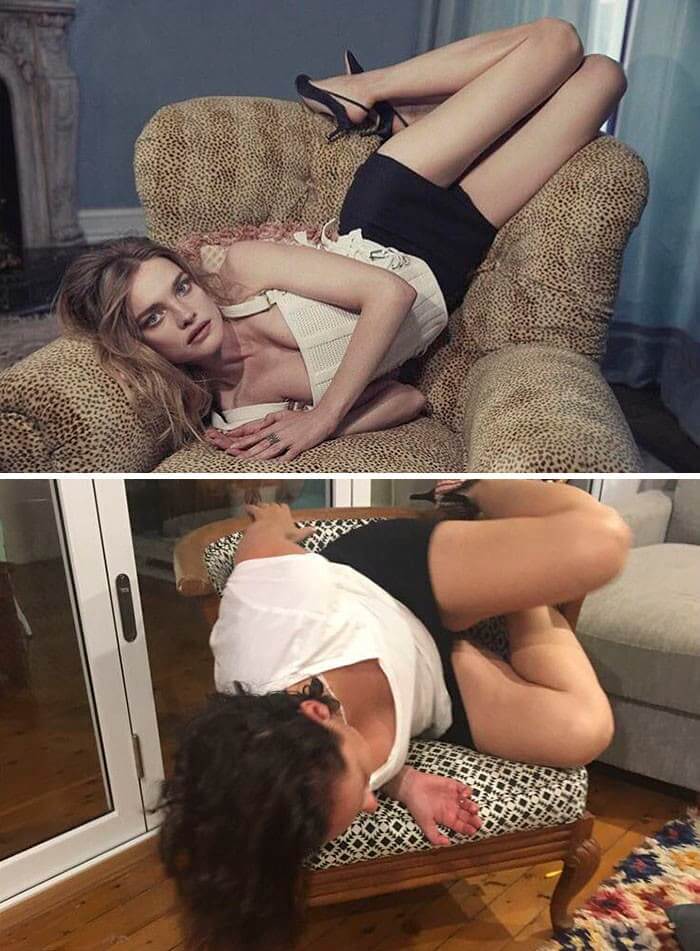 If we tried this, we would look more like Celeste and fall off the chair. Do not try this at home, people.
Peek-A-Boo
When you are trying to get dressed, and your friends keep asking you how much longer it will be until you are ready.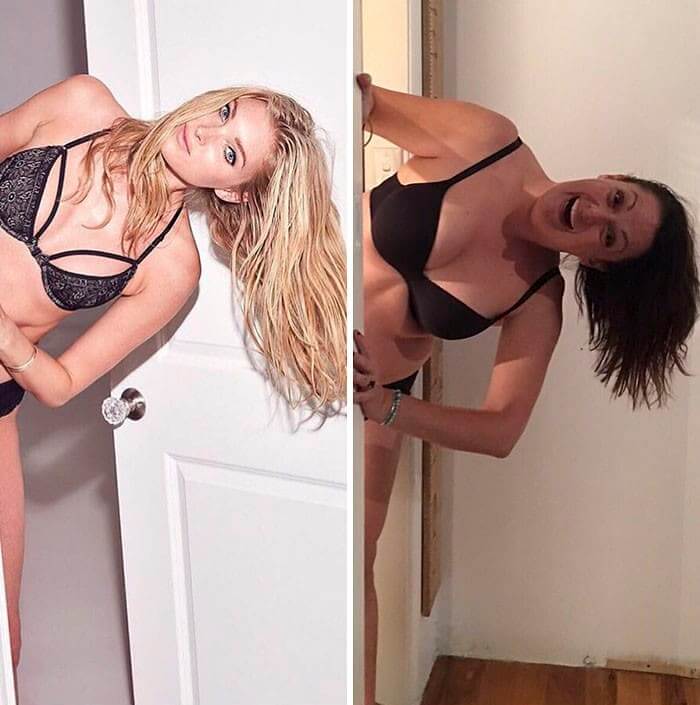 "Can you hurry up?" "I'm getting dressed as fast as I can, but it would go much quicker if you didn't continue to ask every few minutes."
I Woke Up Like This
The first picture is what everyone wishes to look like when they wake up. The second is what most people look like when they wake up.
How is it possible to wake up looking perfect with your makeup and hair done? It is not possible, most of these "natural" "just woke up" selfies are posed.
Baywatch
The Rock and Alexandra Daddario co-starred in the reboot movie Baywatch and made lifeguarding look much more glamourous.
Celeste and her husband try to capture that glamour while still being effortlessly beachy, and they rocked it!
How You Think You Look Vs. How You Actually Look
When you walk towards the water and try to walk like Gisele Bundchen, but the uneven sand makes it difficult to look like a model.
We all try our best to look effortless, but walking on the burning hot sand is harder than it seems.
No Pants, No Problem
When Kanye's merch is too expensive, so you can only afford one sweatshirt, or you have to make your own.
The oversized sweatshirt is an interesting trend that people were obsessed with for a while because of the Kardashians. To pull off this trend, your sweatshirt should probably cover your underwear.
Dipped In Silver
Why wouldn't an ordinary person cover their body in silver and lie in a tub? Kim was probably posing for a makeup campaign or magazine shot, but it is a strange scene.
It is hilarious that she used a kiddy pool to replicate this one. She looks like a natural model, even comparing herself to Kim Kardashian.
Working Out Is Tiring
When you take a gym selfie hoping you will look toned and not like a sweaty mess. Working out is not easy, and after a difficult gym session, most people would look like the right photo.
By the end of the workout, people are drenched in sweat, and too tired to actually pose.
Drop It Low
Can we take a minute to talk about cardi b's shoes? Are they sneakers, wedges, or platforms? It looks like the shoes are falling apart in slow-motion.
Celeste had to stack three pairs of shoes to try and replicate this look. How do you walk in shoes like those? Fashion is so interesting, and those weird sneakers probably cost over $1,000.
Just Catching Some Rays
When you have had a rough day, so you come home and collapse onto the floor. The bottom picture looks like she has had enough of these odd celebrity photos.
Bella Hadid makes this pose look relaxed and comfortable. This position seems like it would break your knees and back.
A Couple Of Cows
When you do something that makes you seem adventurous, so you have to document it to prove you did something in nature.
Celeste also looks like she went to a winery and had a few too many glasses.
Nailed It!
If you ever wanted sunglasses that will block the haters, these are the perfect pair. The foil pair and the real pair will surely make the haters invisible.
Nicki Minaj has an interesting sense of style, and this look is bizarre, even for her.
"What Do You Wear Around The House?"
Who wouldn't want to be Haily Bieber? She is married to every teenage girl's dream man, Justin Bieber. Hailey is also so stunning, even in these full coverage underwear.
The recreation is just as amazing and looks more like a body positivity advertisement.
Looking For The Remote
When you can't find the remote so you have to dig through the cracks in all the couch cushions.
"Look! I finally found that bracelet I lost three years ago, and the TV remote!"
Falling Down The Stairs But Make It Fashion
Nicki Minaj has some strange fashions choices and poses. She looks like a spider monkey hanging on for dear life, so she doesn't fall down the stairs.
How did she manage to keep a straight face while recreating this ridiculous pose? Even she looks like she knows how strange this is.
When You Think You Look Cute After Going In The Ocean
It is never glamorous when you go into the ocean and get pummeled by waves. There is salt in your nose, sand in places you didn't know sand could go, and your hair is matted to your face.
In our heads, we think we look like a character straight out of Baywatch, but it is never that glamorous.
Making Pregnancy Look Cute
Celebrities tend to make pregnancy look easy. They put on their matching Calvin Klein underwear and bra and depict it as a glamorous nine months.
In reality, most people don't have the energy to find the matching underwear to their bra, especially if they are pregnant.
"Can You Take A Picture Of Me In The Men's Bathroom?"
When you think of a good place to take a photo, is your first thought the men's bathroom? We are going to guess that you said no because who would go into the men's bathroom to take a picture besides Kim Kardashian.
Also, did the photographer think it was a good setting to capture her gorgeous gown? It ruins the beauty of her entire look.
When It's Really Cold Outside
Did Kylie steal Cookie Monster's fur to get this photo? She is someone who likes to show off her famous curves, so it is strange that she chose to cover her entire body and only show her face.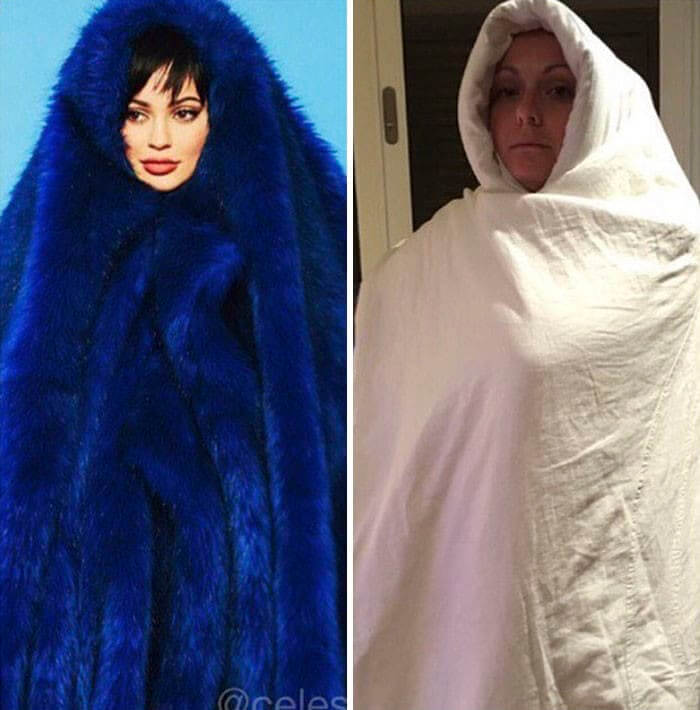 We love how she took a giant blanket to wrap around herself for this one. If only it were blue, it would be amazing.
Money Talks
When you have so much money that you start to think all those presidents are speaking to you. Also, have you ever noticed that some celebrities feel the need to flaunt their wealth by posing with stacks of money? We know you are rich, there is no need to rub in in our faces.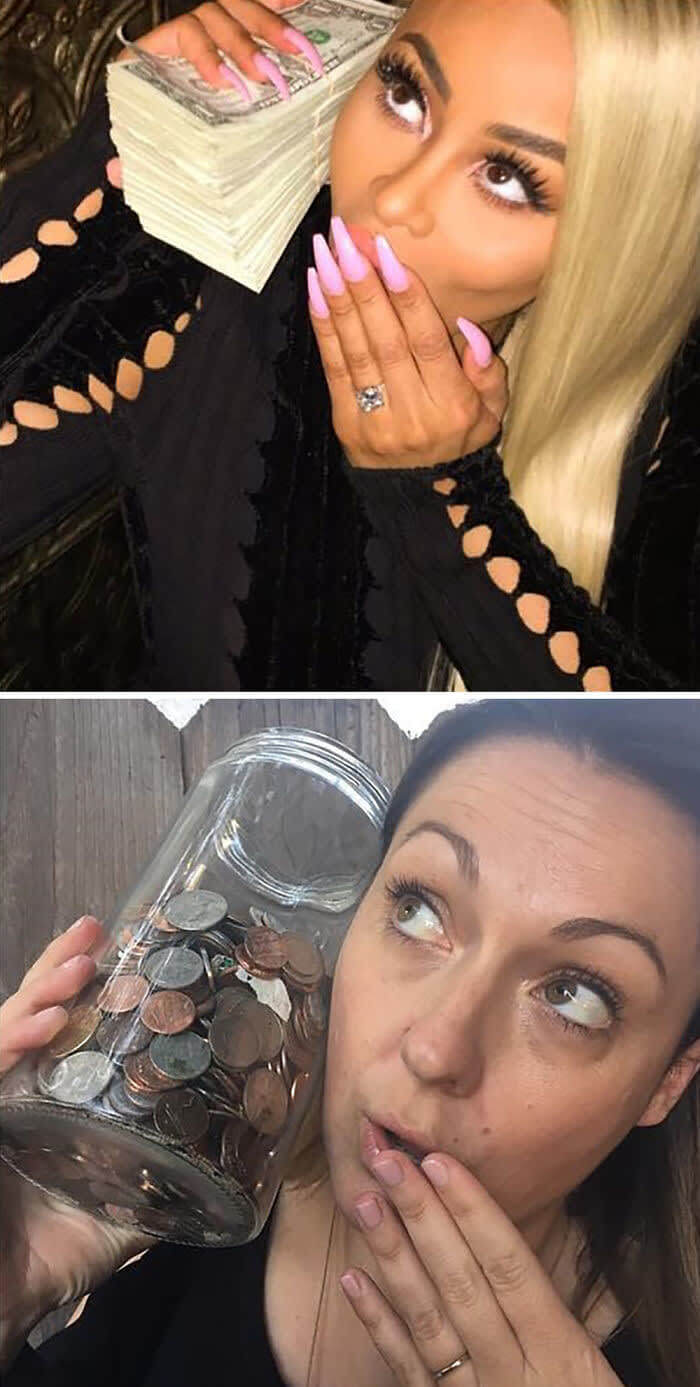 On the other hand, does anyone else keep a jar of change that they don't know what to do with? Like Celeste, the jar of coins is more realistic that stacks of $100.
Trying To Do Yoga For The First Time
"Hurry up and take the photo, all the blood is rushing to my head!" The top photo is trying to sell the lingerie, but we don't understand why they made her do a pose like that.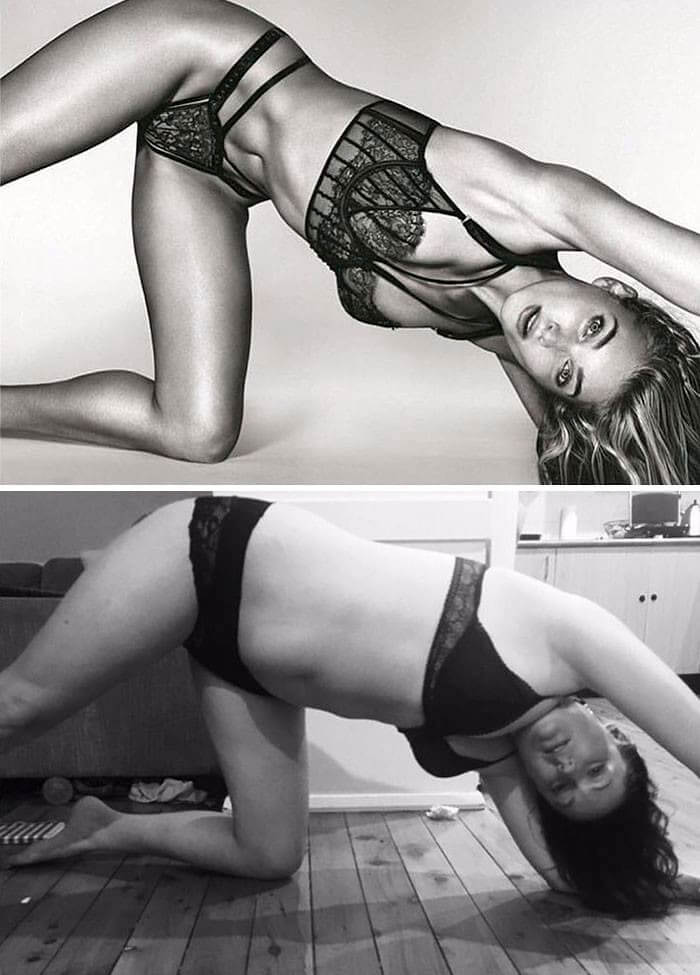 She looks like she is doing a mix of downward dog and something else that is uncomfortable.
"What Are You Doing In My Closet?"
"Ma'am, please put your clothes back on. This is a public place, and you are making the other customers feel uncomfortable."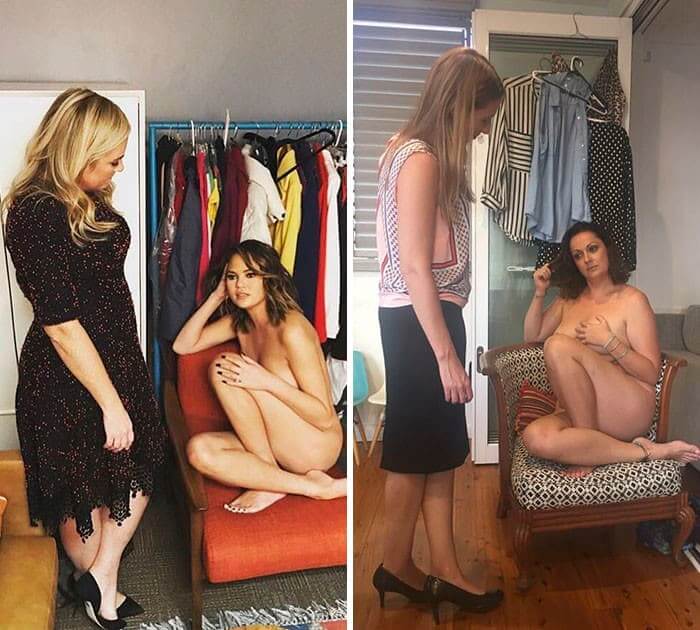 Chrissy Teigen has shared that she loves to be nude, but why does someone else have to be there to stare at her?
Fresh Out Of The Shower
When you get out of the shower and wrap yourself in a warm towel, it is a refreshing feeling. While not everyone looks as glamorous as Alessandra Ambrosio, we can all pretend.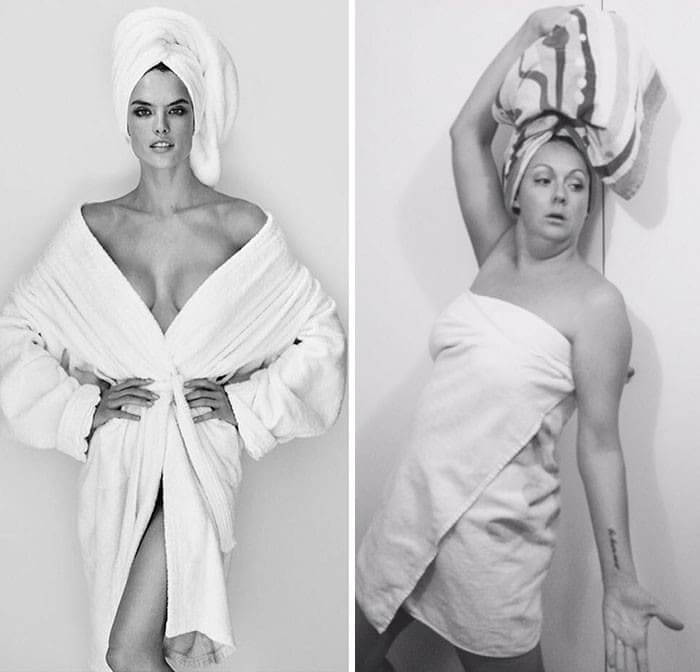 Celeste is feeling her post-shower look, and we don't blame her. It is like playing dress-up with a towel as your wig.
What Else Would You Wear To Do Laundry?
It's hard to believe that Paris Hilton might actually do her own laundry, but if she did, she would wear that silver suit.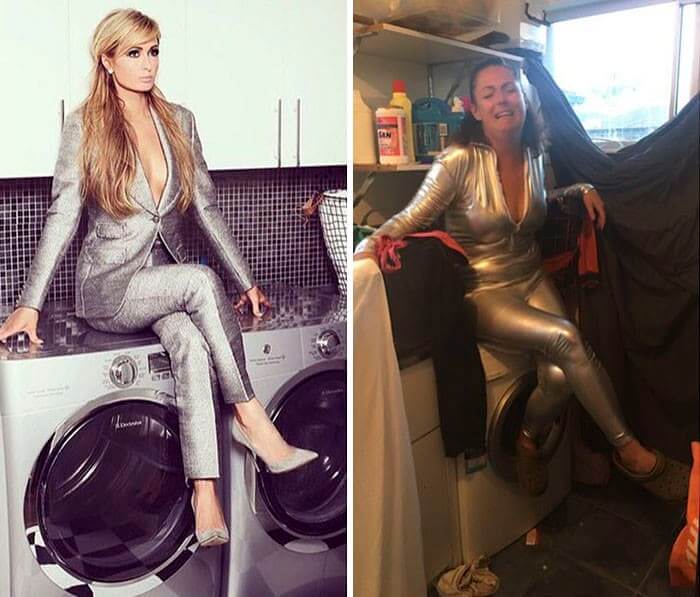 Doing laundry is tedious, and when it starts to pile up, it is not fun to do. It is even worse when you have to do laundry for your children or husband, and not just yourself.
When You Spend All Your Money On One Article Of Clothing
When you had to have that designer skirt, but it was so far out of your budget. Instead of saving up for it, you bought it and decided to sacrifice buying groceries for a few weeks.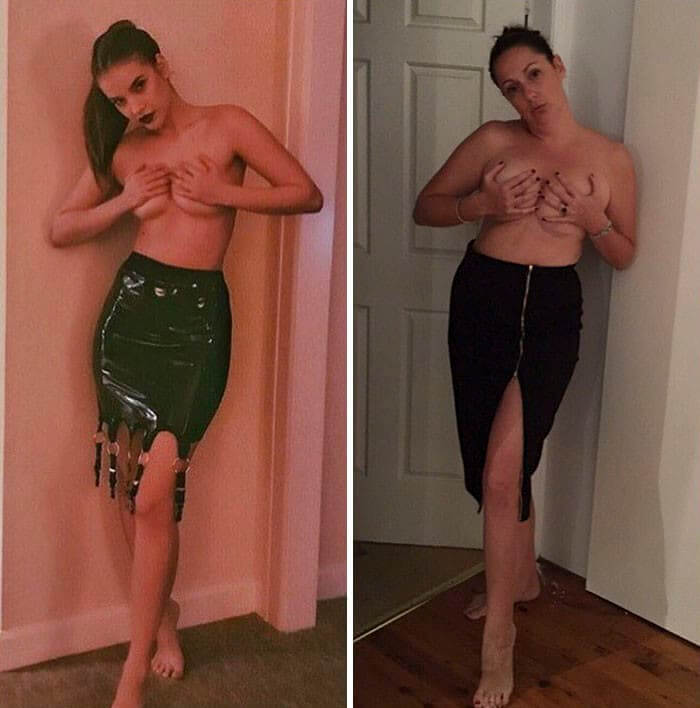 Then once you have it, you realize you have nothing that pairs with it, and it is too fancy for any event you have coming up.
Going On An Adventure
Take your family on vacation, they said. It will be fun, they said. When you take your children on vacation and have to bring so many extra things with you to accommodate young kids.
Karlie Kloss has all that luggage just for herself. How many outfit changes does she have planned with all that luggage?
When You Need To Be On The Phone All The Time
"Hey, what are you up to?" "Oh, nothing just sitting in the bathroom." "You're calling me from the bathroom?" "Obviously, why else would I have a phone in here."
Have you ever noticed that hotels have phones in the bathroom? Who is that for, and why are they calling while sitting on the toilet?
"Where Did This Chair Come From?"
When you buy a new swimsuit and want to take pictures in it right away even though you are not at the beach or pool. Kylie found a solution to that problem; bring a chair and have a photoshoot in the backyard.
Why is the folding chair necessary? What did it add to this photoshoot?
Sexy Selfie Expectation Vs. Outcome
When you buy a new bra and underwear and want to take a sexy picture in it with the expectation of looking like Emily Ratajkowski, but then you see the selfie and realize no one looks like her.
Even if you aren't a model, all bodies are beautiful in their own way and you should be proud of yours.
"I Do Not Bend Like That"
When your yoga instructor and photoshop guy are on vacation so you can't make yourself look like Miranda Kerr.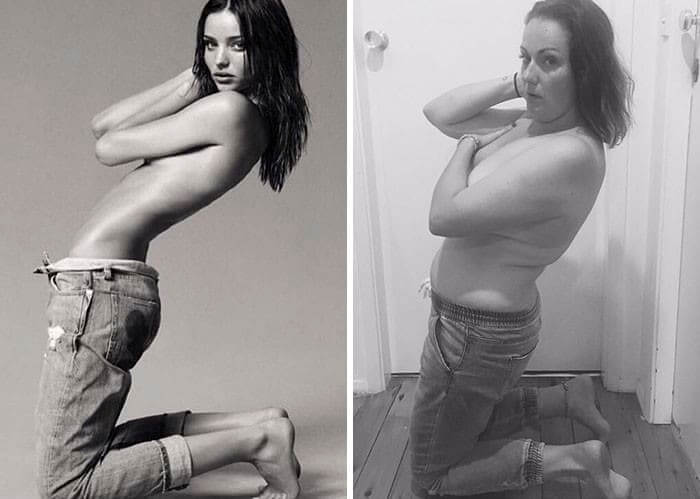 How did she manage to bend like that in the left photo? It looks like her torse is not connected to her legs.
"Have You Seen My House Plant?"
When you get a new house plant and want to subtly show it off to all your friends on the internet.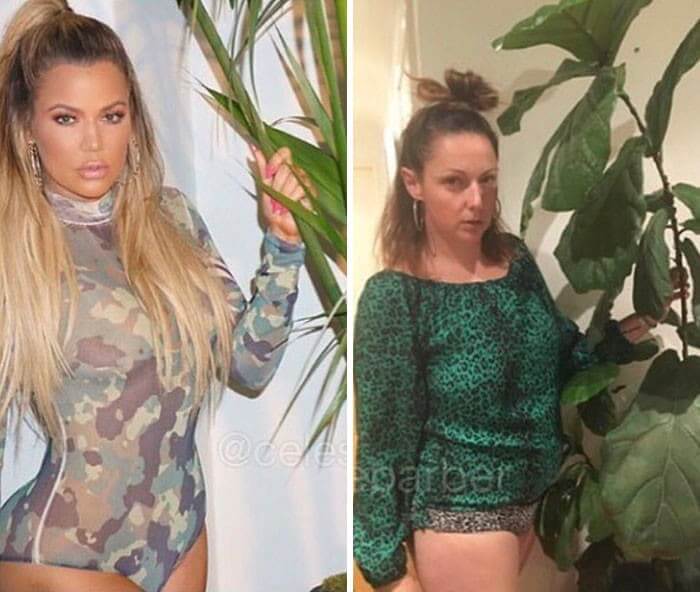 To get the perfect shot, you wear an outfit that matches the plant and casually holds one of the branches.
Woman Hilariously Recreates Celebrity Instagram Photos And The Results Are Too Good
Ashley Lez
This article was originally published on TheFunPost
When you scroll through Instagram, it is hard not to roll your eyes at some of these celebrity photos. When you really look at what they are posting, it seems ridiculous because real people don't look like them or post pictures like them. But they are famous, so they get a free pass. However, Australian comedian Celeste Barber is back at it with a new collection of celebrity Instagram recreations to show everyone what ordinary people would look like if they took the same pictures. Remember, what you see online is not always the truth, and Barber's hysterical photos are the perfect reminder of that. See who she teases next with this new batch of hilarious pics.
"The Flash…It's Blinding!"
According to science, Bella Hadid is the most beautiful girl worldwide, and while we're still debating that, many people agree. However, looks aside, she does post some truly bizarre photos like this one. What was she going for with this shot? "Oops, forgot to turn the flash off."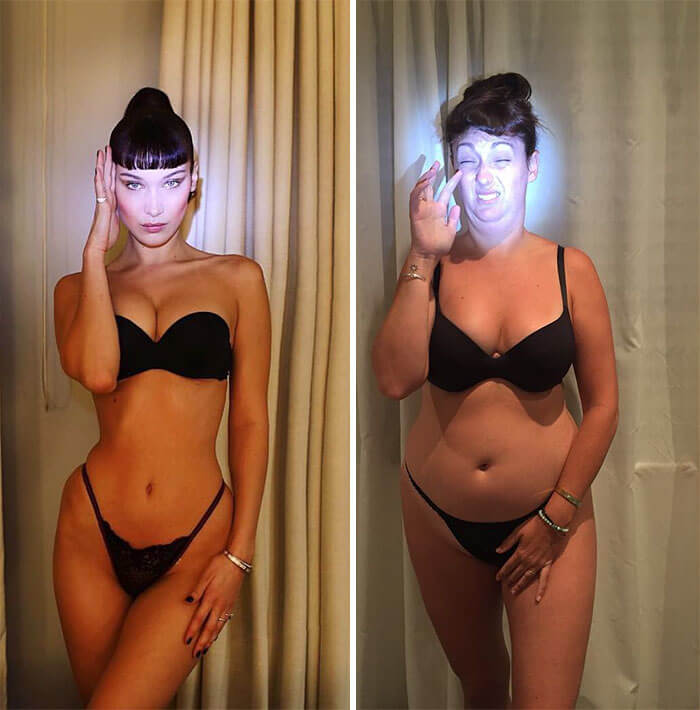 Celeste is all of us when someone takes a picture and they use flash. For the next few minutes, you just see spots and wonder if you are actually losing your vision permanently. How does Bella keep her eyes open like it is nothing? Is she even human?
"Tripped Over The Stool, Pants Fell Down, But I Must Save The Chips"
We don't know what is going on in either photo, but both of them look extremely uncomfortable. We can't imagine why the original model was asked to pose like this, and it makes no sense, but that's fashion, right? At least Celeste is reaching for something.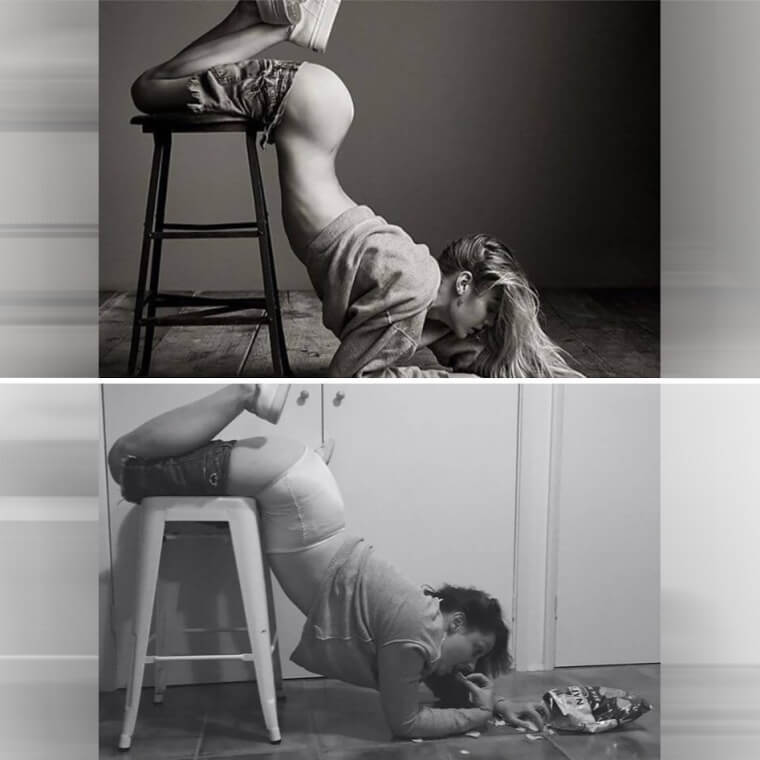 The bottom photo tells the story of a woman who dropped her chips and didn't want to get off the chair, so she reached as far as possible to grab them while keeping her legs on the stool. The only part we can't figure out is why her pants are falling off.
"All I Want For Christmas Is Realistic Tree Standards"
'Tis the season to be merry, go outside, kill a tree, bring it inside, then let it die and put it outside again. While we are all for Christmas trees because they are festive, we have to question why celebrities need one for every room? They also pick trees that are the size of a normal house.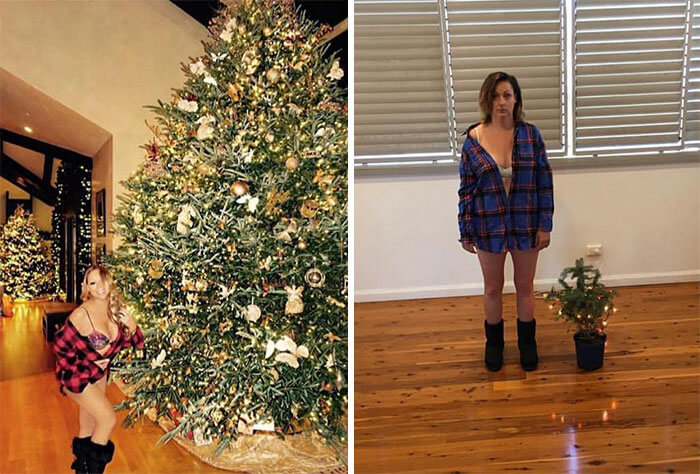 Most people don't have 12-foot pine trees in every room, and they look puny in comparison. Celeste was clearly going for the opposite feel with her Charlie Brown Christmas inspired tree. She can call it minimalism, and it will be trendy and eco-friendly.
KoKo And Kylie 2.0
Do you ever just hug your sister and rub your hands on her chin? We are going to guess that you don't, and although it was for a makeup advertisement, it still looks silly next to the bottom picture. Kylie and Khloe were showing off their makeup collaboration while Celeste is showing off her friend's dental work.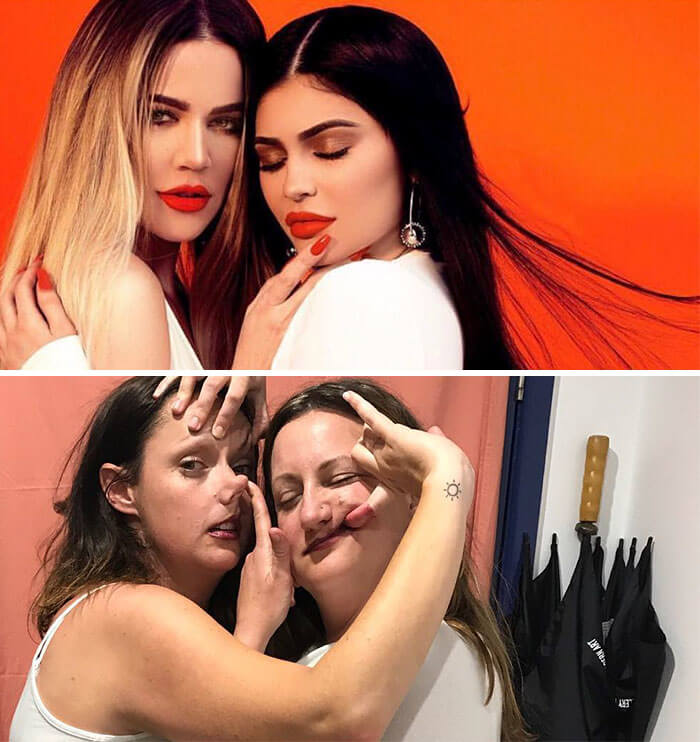 It's like we can barely tell the two photos apart. Celeste and her friend are a little more hands-on than Kylie and Khloe, but who isn't like that with their friends or siblings? We wouldn't let friends pick our noses but to each their own.
"Jingle, Jingle", Is That The Bank Calling?
When you have so much money that you start to think all those presidents are talking to you. Have you ever noticed that some celebrities feel the need to flaunt their wealth by posing with stacks of money? We know you are rich; there is no need to rub it in our faces.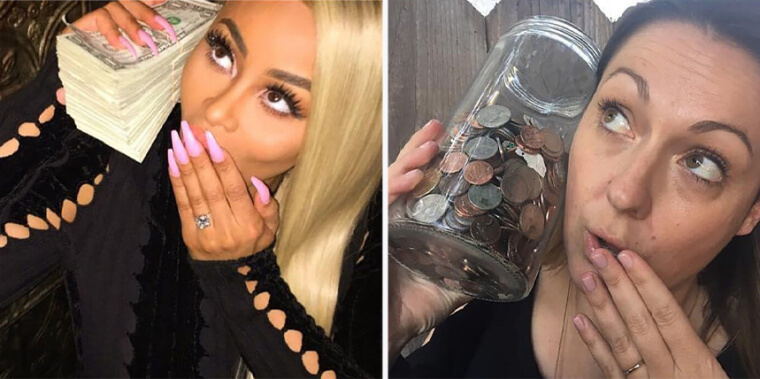 On the other hand, does anyone else keep a jar of change that they don't know what to do with? Like Celeste, the jar of coins is more realistic than stacks of $100. Over time it continues to accumulate until you can get to a Coin Star and find out it wasn't that much money.
"I Dream Of Eating"
While Bella Hadid is dreaming, the rest of the world is eating or dreaming about eating. They used to say that nothing tastes as good as skinny feels, but most people would rather eat a cheeseburger than starve themselves to lose a few pounds because everybody is beautiful.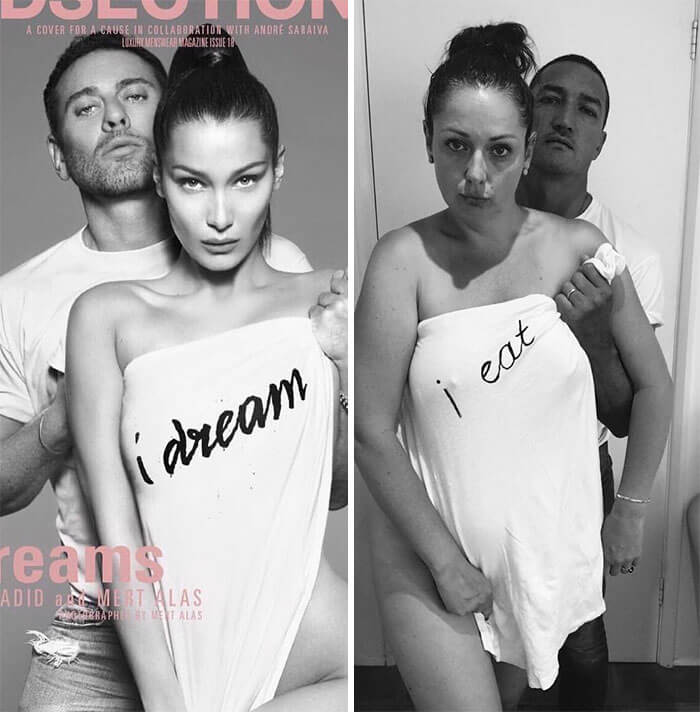 Besides the message, we just don't understand the concept behind this photoshoot. Did she lose her clothes and the only thing around to use as a cover-up was a piece of fabric with the words, "I dream" on it? When she found this piece of cloth, why did the guy have to hold it up for her? Someone explain!
"Fell Face First Into The Wall, No Big Deal"
This is how it looks when you drink too much at the pre-game and try to drag yourself out of the house physically, but you find a place to rest your head instead. The next thing you know, it's Monday morning, and you skipped an entire day because you got too drunk.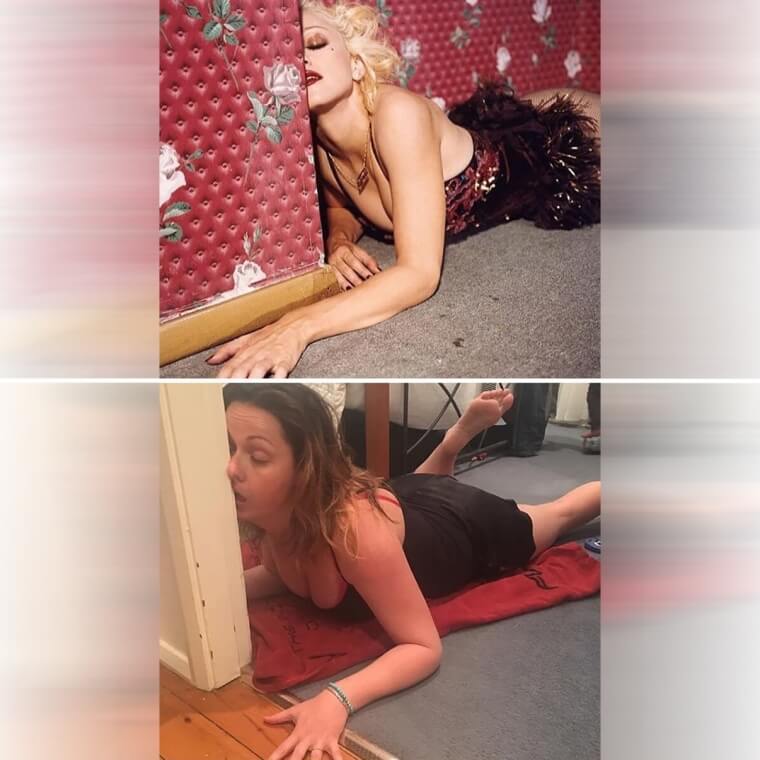 With or without alcohol, this is how we feel every morning trying to drag ourselves out of bed to get ready for work. Luckily most people are working from home these days, so you can just roll over and log on for the day without leaving the warmth of your bed.
He Is Going To Feel This Tomorrow
His back will be sore for the next few days after falling onto the water like that. When you kiss your significant other by the pool, don't you fall passionately yet gracefully into the water? Celeste showed that it's not as easy as they make it seem, and their photo looks painful.
We understand that it's more about the art of the photo, but how do they look natural as they are falling? The two models should give everyone, including Celeste, falling lessons. At least her husband got his pose down, but we can only imagine his face as they hit the water.
Getting Out Of The Pool Gracefully Is Impossible
If you have ever gotten out of the pool gracefully, we commend you because it seems like an impossible task. It's easy to lift yourself out of the water, but no one looks good swinging their legs over the edge of the pool. No matter what we imagine, we always look like a gremlin crawling out of the depths.
We would love to see this model try to get her legs out of the water. She looks good now, but wait until she starts swinging her legs over the edge, then she will be back on our level. Next time you go swimming, try to get out as gracefully as possible and see that it is nearly impossible.
Someone Needs A Weed Whacker
If this isn't attractive, we don't know what is. All jokes aside, why is something called the lady garden? Who would want to associate their perfume with their downstairs area? It just seems like the name is trying too hard.
Plus, you can't have a lady garden without all the weeds and shrubs. No garden is perfect because they all need to be maintained through a series of painful tasks. Weed whacking isn't so bad; it's the weed pulling that makes people's eyes water.
Just A Light Poolside Workout
When you are chilling at the pool or beach, do you not randomly find the nearest wall to hang onto? Just for a light wall workout, you know, to make your muscles show for all the cute pictures you are about to take. If you don't do this, it is perfectly normal.
It's like when you are hanging out with your friends, and someone says your crush is coming so you "act natural," but end up looking forced. The top picture is what people think they look like, while the bottom photo is how they actually look.
"Oh, Were You Trying To Move This Couch?"
When movers come to take away your furniture, the natural thing to do is let them move it without any problems. However, celebrities are a bit different. They think their movers will also carry them on the furniture so they can feel like royalty.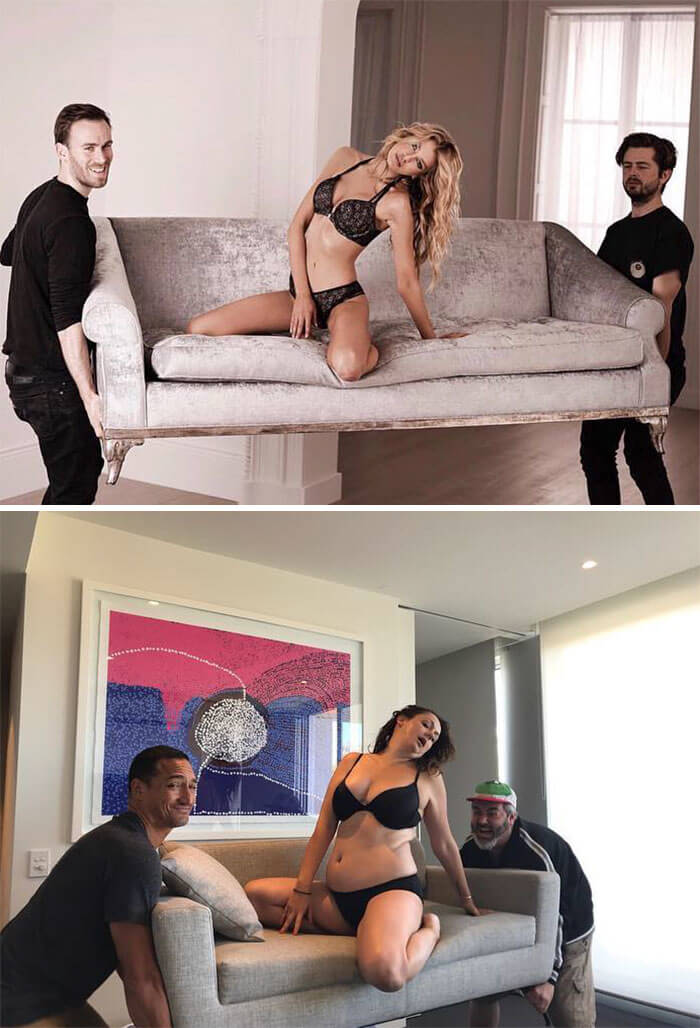 The men's faces in Celeste's photo are a much more realistic depiction of how people would feel if someone tried to sit on the furniture they were moving. Even the men in the top photo look awkward and uncomfortable. It is bizarre on so many levels.
"What Is Wrong With My Wife?"
"Hey babe, I'm ready for the photo shoot." "Where are your clothes?" "What do you mean?" "I thought we were doing family photos for our parents. Isn't it inappropriate that you are naked?" "It's not inappropriate; it's inspiring cause I just had a baby."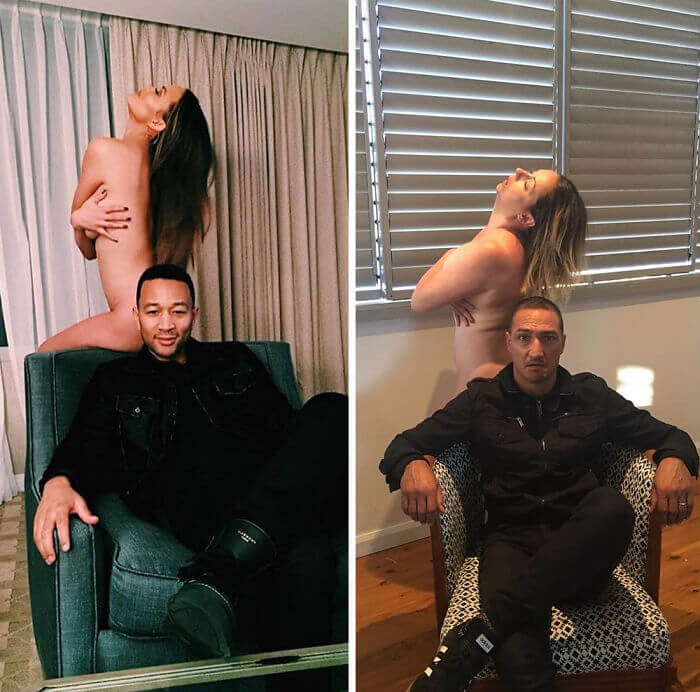 While her husband might not understand the no clothes aspect, she doesn't care because she gives the fans what they want… or even what they don't want. John might be happy, but Celeste's husband is thinking about what his parents will think when they get this as a Christmas card.
Wind In My Hair And Not A Care In The World
When you are in the club and you find a fan to help you cool off. Some people would look glam like Miley Cyrus, and the rest of us would look like we got stuck in a wind tunnel, like Celeste. Maybe a leaf blower wouldn't be the best option because of how much wind power it has.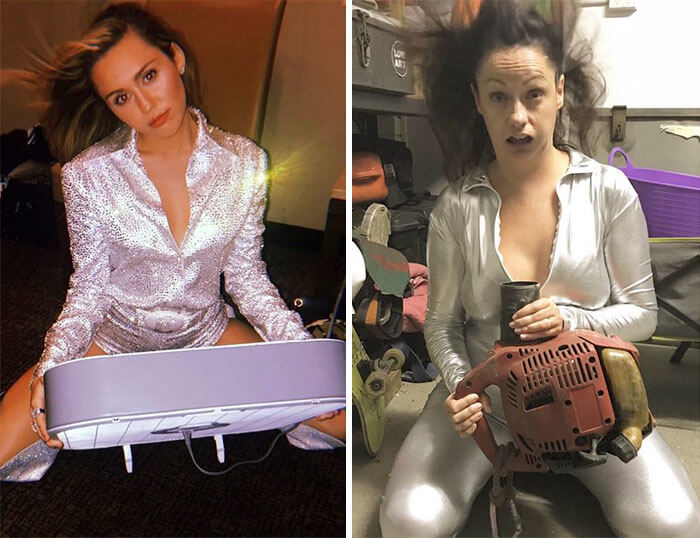 People can't be glamourous all the time, but we can do our best not to get overheated. A girl's got to do what a girl's got to do, especially when she is wearing a full-on spandex catsuit that traps heat and makes you sweat ten times more.
Doesn't Everybody Play The Piano Naked?
When you are trying to show off for your husband's friends, and then you remember you are nude, you don't know how to play the piano, and this is a horrible nightmare. Who goes nude except for a pair of Adidas sneakers to play the piano?
Just imagine how uncomfortable it would be to peel you bare behind off of a leather piano seat. Just thinking about it makes us uncomfortable. This must be the best way to absorb the music; if you are nude, it seeps right into your skin.
"New Tattoos, What Do You Think?"
When we look on Instagram, our feeds are filled with models who have unattainable bodies most of the time. When your main job is to keep yourself in shape, it is much easier to look perfect. However, the average person doesn't have time to work out for four hours a day.
While this model may have an almost non-existent waist, most of us look like Celeste. It's ok to have curves and bumps because everyone is built differently, so you should love the body you have and everything it does. Comparing ourselves to models is a waste of time.
What Sisters Really Do At Meals
When you go out for a family brunch, and you and your sister start fooling around even though you are both adults. Your parents are embarrassed, but you are your sibling could care less because you're drunk off the mimosas and can't stop laughing.
We can't all be as cool as Kendall and Kylie, but we can all be as silly as Celeste and her sister. There is nothing wrong with a little immaturity here and there to make life more exciting. Sometimes you have to pretend your fries are walrus teeth.
Casually Hanging In The Backyard With The Kids Toys
Have you ever stripped down to your undergarments and walked outside to play with a tractor? No, just these two? Out of all the strange photoshoots Kim Kardashian has done, this has to be the weirdest. She walked around a construction site in her underwear, and we don't know why.
If anyone can explain that photoshoot, that would be great because we still think about it to this day. At least Celeste is in the comfort of her gated backyard, so people can't see what she is doing and wonder what is wrong with her.
After A Long Night Of Drinking Expectation Vs. Reality
When you get home from a long night of clubbing, and you hope that you can fall asleep with a sliver of dignity, even if it's by the front door. However, when you wake up, you look like a hot mess because you passed out the second you got in the door.
While we all aim to make it to the couch or the bed, sometimes that just doesn't happen, and we end up on the floor. Although it isn't the best option, at least we made it home that night. That's something to be grateful for.
If Gwyneth Rolls In The Mud, Everyone Should
When you go on vacation with nannies versus holidaying with your children. When people have five nannies to take care of one child, they can enjoy spa treatments and purposely put mud on their bodies. However, when you have to watch three children on the beach, you will probably get covered in mud involuntarily.
If Gwyneth Paltrow is rolling around in the mud, we should all be doing that because she never ages, so that must be her secret. Maybe she uses a particular type of mud, but we don't think Celeste's mud is very good for her skin. It looks closer to asphalt than mud.
The Glass Says Everything You Need To Know
If there is one thing to know about Celeste, her wine is ten times more important than coffee, so if you touch it, prepare for a throat punch. Rosie Huntington-Whiteley can drink all the coffee she wants; that just means there is more wine for Celeste.
There must be something you love so much that you are willing to fight someone over it. Celeste's message is much more relevant, especially since all we have, during these troubling times, is our wine and a sliver of sanity to hold onto.
When Someone Says, "Act Natural"
When you are Beyonce, no one is paying attention to anyone else in the picture, but Celeste wanted to make sure her husband didn't steal the spotlight. Celeste said, "You know your place, babe. Stay in the background." When you wear a silver lamé catsuit, no one can steal your thunder.
If you really want to stand out in a photo, just cover other people's faces so that you are the only one in focus. Beyonce would probably cover up Jay-Z's face if she could, but her fans would think he cheated again. However, that would mean a new album is coming, so it's really a win-win.
BBQ Is Way Better Than GQ
GQ might be all about looking sharp and living smart, but we don't know if sitting naked on a chair in an empty room is the smartest way to live. On the other hand, BBQ monthly has been changing your perception of women since its creation, and that is a message we can stand behind.
We love how she shamelessly shows everyone how ridiculous these celebrity photos are. If anyone else posted a picture like Bella Thorne, people would question their sanity, but she gets away with it because she is famous and fit.
When You Haven't Tried On Jeans In Months…
After spending months of doing nothing but taking trips to and from the refrigerator because that was the furthest we could all travel, some of us are having trouble buttoning our jeans. Sweatpants are great, but eventually, we have to pull on a pair of real pants and face the music.
Some of us might have an easier time buttoning those pants, while a few of us will have to do some jumps, squats, and wiggles to get the pants on. Lying down always helps when putting on a fresh pair of jeans, you just might not be able to stand up after.
Climbing A Tree Naked…Why Not?
When there isn't a star emoji big enough to cover you up, you have to improvise. Kim Kardashian must have wanted to connect with nature, so she took off her clothes and climbed up a tree. At least Celeste kept her underwear on because that is not a place you would want to feel tree bark.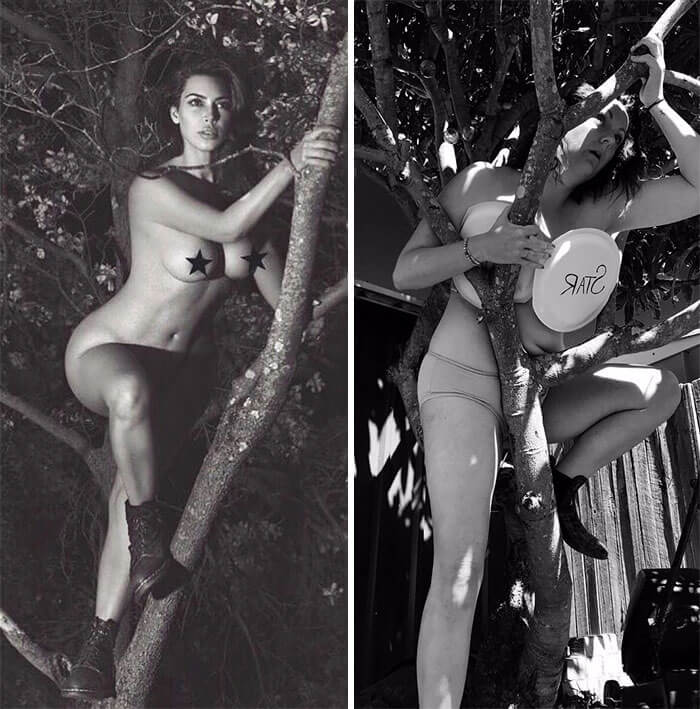 Who doesn't spend their afternoons spying on neighbors from the tree while they only wear boots and star pasties? Is that not normal? Kim is probably spying on Kanye to make sure he doesn't try to run for president again.
Mind The Gap, Stay Behind The Yellow Line
We would advise against using the side of a subway car to prop your foot up because it could start moving, but that is just our opinion. If you try this, you might get some strange looks like Celeste, but ignore the haters because they know nothing about fashion photography.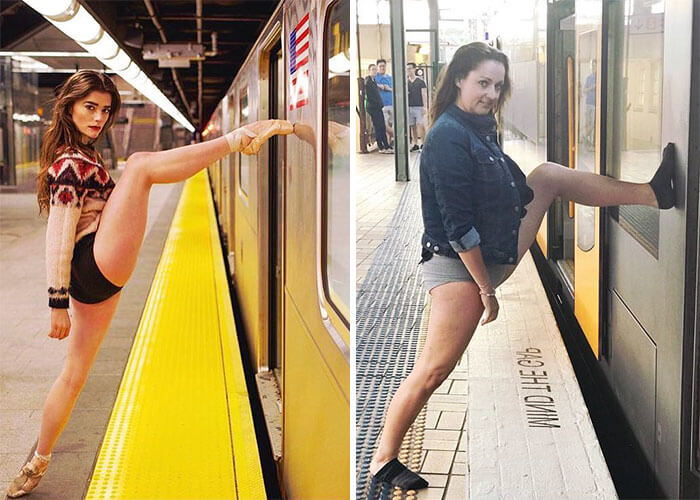 While she might be getting a good stretch in her legs, it doesn't seem like a good idea to ignore the safety warnings. Those "mind the gap" signs are there for a reason, so people don't die. We aren't experts, but there are better ways to stretch and show off your legs.
If J.Lo Can Do It, So Can You
As much as we love J.Lo and A.Rod, we don't know many people who realistically wear diamond-encrusted underwear. That does not look comfortable, and we can't imagine the level of chafing someone would get from those undies. Celeste's granny knickers look much more comfortable.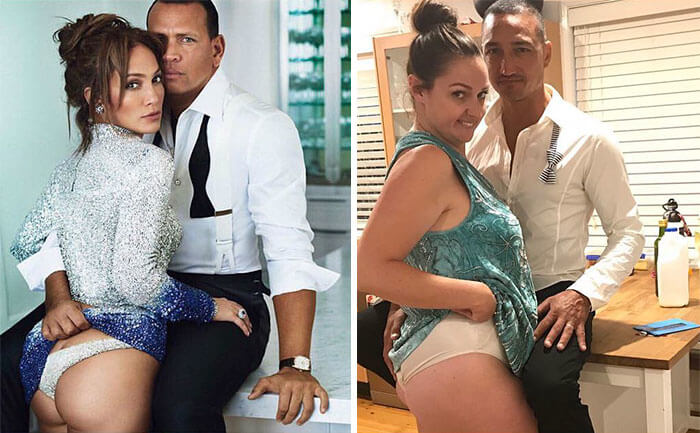 When you are that established in your career and have a consistent fan-base, why is it still necessary to show off her butt? Everyone knows she is gorgeous, but this feels a little forced. The goofy version is so much better and more realistic.
When It's Monday Morning And You Don't Want To Get Out Of Bed
When you drag yourself out of bed for work on Monday morning, the thought of walking down the stairs before a cup of coffee is too much, so you crawl down face-first instead. Some people can't function until that first bit of caffeine kicks in, and we are like them.
We don't know who the original photo is trying to target, but it is hard to understand who their market is? Are they trying to show what this bodysuit would look like if you fell down some stairs? It makes no sense.
Doesn't Everyone Get Naked Before A Champagne Shower?
If you don't strip down to your birthday suit to open a bottle of champagne, we have a lot of questions. It is called a champagne shower for a reason, and you wouldn't take a normal shower with clothes on, so this isn't any different.
Unlike the model, we wouldn't be laughing because no one wants to feel cold, sticky alcohol all over their hair and body. It might be the next best thing in at-home DIY beauty treatments, but for now, we will stick to drinking the champagne instead of pouring it on people.
How To Create Your Own Strappy Bikini For Horrible Tan Lines
If you have ever wanted to know what it was like to wrap yourself in shoelaces, just grab a strappy bikini and head out to the pool. With that many strings, you might need a bottle of wine and a straw to get through the uncomfortable phase.
While most people think Celeste is channeling her sultry side, she is actually making that face out of pain. You can try out this look, too, when Celeste releases her line of shoelaces. If you stay in the sun long enough, you can get a ridiculous tan that will look like a mosaic.
"Do You Need Something?"
When you try to sneak off for a moment of peace and a snack because your kids are driving you up a wall, but they find your hiding spot. Everyone needs a break once in a while, and you deserve to treat yourself to your favorite snack at that moment.
It's like children have a sixth sense to know when you are relaxing, and then their senses tingle to come bother you. No matter where you try to hide, they will find you, and it might be in the bushes on the side of the house eating pringles.
Pink Is Not Just A Color, It's A Lifestyle
If you don't have a pink one-piece and matching cover-up, you can recreate Paris' look with two pink inner-tubes. No one will ever know the difference, and you will look just like a hotel heiress. If Paris saw this outfit, she would probably say, "That's hot."
If you don't have a tropical backdrop like Celeste and Paris, don't bother trying this at home. While most of us can't afford to fly to the next state, these two are showing off their tropical vacations so that we can live through them vicariously.
How Everyone Feels When They Have To Sit In The Corner To Charge Their Phone
If they want to complete this photoshoot, they will have to bring the camera to her because her phone isn't finished charging. As an important influencer, she needs to be on her phone at all times. If she doesn't give constant updates, her fans will wonder if something happened to her.
Why is the go-to "sexy" pose a finger in your mouth? Is sucking your thumb the newest way to attract a mate in the dating world? Did we miss the announcement about the newest flirting trends? Because we need all the help we can get.
"Hi Honey, You're Home From Work Early"
When you are having a dance party at home alone in your heels and bathing suit, feeling like a rockstar when your family walks in. "Oh, I didn't know you guys would be home so early. I can explain." There is no shame in having a little fun while no one is around.
This position looks extremely difficult to hold, especially in heels. It must be difficult for Coco with those two balloons on her chest. They both look pretty uncomfortable, and we don't blame them. Only the chosen ones can pull off this pose.
When You Drink One Green Drink, And Suddenly You Are A Yoga Guru
When you want to feel like you are in that scene of Titanic, but you don't have a boat. We have seen plenty of yoga poses, but this one looks more challenging than the rest. We give Celeste and her husband credit for pulling it off and staying in position long enough for a picture.
The girl in the original photo looks like she is posing in one of those tampon commercials claiming you can do anything during that time of the month even though most people would rather curl up in a ball and hide for a few days.
I Ain't Saying She A Gold Digger
When Kris Jenner sees this, she is going to be so annoyed that Kim is ruining her manicure. Those hands make her ten percent, and she can't afford for Kim to lose jobs because of a botched manicure. There is a "no nail-biting" clause in her contract that she is breaking.
On the other hand, Celeste is channeling one of Kanye's top songs, "Gold Digger," because she is really up there. She could practically scratch her brain, and that is something Kim would never be caught doing. She is too cool for public nose-picking.
When In Doubt, Draw Your Abs On
Here's a secret fitness tip: If you don't have defined abs, take a sharpie and draw them on. Since it is a permanent marker, you will always have abs drawn on whenever you need to show off your stomach. No one will ever know the difference because they look so realistic.
People will be asking you for workout tips, and you can say, "It's all-natural. I don't know what you are talking about." You can even start a fitness Instagram to show off your model-like abs, and people might say it's photoshop, but they are just haters.
Bieber Vs Boober
When you are in your room all alone and think, "I could really take this time to focus on a charity that helps the greater good of the world," but instead, you take your clothes off, cop a feel, and take a picture. Justin wanted everyone to know he has a handful to work with, just like Celeste.
While we give Justin credit for bravely sharing this cringe-worthy picture, we can't help but wonder what his wife, pastor, mother, and grandparents think of this because they all follow him on social media. Who do you think saw this first, Instagram or Snapchat?
Don't Cry Over Spilled Milk
Kim's milk bath must have been a lot warmer than Celeste's fresh-out of the fridge milk shower. Kim was showing off her MILF status for a Fergie music video, and we understand that moms make milk, but why does she have to bathe in it?
Sure, milk is excellent for your bones as you are growing, but we don't think doctors would advise milk showers for healthy skin and hair. Milk probably doesn't do much beauty-wise, and too much dairy can clog your pores.
Grocery Shopping Like A Star
If you don't have someone push you around the grocery store, you just aren't on the same celebrity level as Selena Gomez and Celeste. Celebrities are too good to walk around the grocery store on their own two feet; they need their assistants to push them.
If we had to be pushed around the grocery store, we would want a bottle of wine to sip on because grocery stores are stressful with children running around and people not knowing how to act in public.
The Neighbors Must Be So Confused
Celeste and Victoria's Secret Angels have similar mating calls. They both put on the nicest tulle dresses and sit on the front stoop until someone cute walks by. Celeste's accessories are a bit different with her Viking hat to stand out from the crowd.
Her neighbors avoid passing her house because they think a crazy woman lives there, but it is just Celeste showing the world how ridiculous models and celebrities are. She also pretends to drink coffee when it is really wine, so her neighbors don't judge her too much.
Celebrity Lives Vs Real Life
While celebrities are drowning in designer bags, shoes, clothes, and luxury items, us regular folk are drowning in bills, work, and responsibility. It must be hard to spend most days shopping and getting free clothes from the biggest designers.
Instead of being surrounded by shopping bags, most adults are surrounded by dirty diapers, their children's toys, and a flood of tears from them and their children. It's hard to be a celebrity, but even harder to be an average person.
"Honey, Can You Take Just One More Photo?"
When you want to feel like an influencer, so you force your significant other to take pictures of you until you are satisfied with the perfect shot. At some point, they stop putting in the effort and lazily hold the phone, just waiting for you to let them leave.
Some people like to take pictures, while most significant others feel like Celeste's husband, who is sick of these impromptu photoshoots. He just wants to go about his day without being called into the bedroom to take a photo that won't be posted.
How Fishnet Tights Actually Feel On Your Stomach
Paris Fashion Week expectations versus the reality of being in a city where the most popular foods are bread, cheese, and wine. While Kim Kardashian has the will power to avoid foods that will make her bloated for a week, some of us don't have the same strength.
By the end of the week, the fishnets would look more like they are squeezing playdough rather than sitting nicely. We haven't met many people who could wear fishnets over their stomach without looking like a loaf of bread, but Kim Kardashian is always the exception.
"Five More Minutes, Please"
When you have to go to work the morning after going out to the bar, some people will get up with ease, but most of us are still hungover and wishing for another few minutes. No one wakes up with a cup of coffee and a smile right away.
If you went out drinking the previous night, there is a high chance that you are still hugging the bottle. That's how you know things got out of hand because civilized people drink out of glasses while the rest of us throw caution to the wind and take the whole bottle.
Relatable Illustrations About The Struggles Of Raising A Baby
Ashley Lez
This article was originally published on ParentMood
There's nothing like starting a family and welcoming your firstborn. That's why Maya and Yehuda Devir have been documenting their life together through marriage, pregnancy, and the challenges of raising their little girl with relatable hand-drawn photos. Whether it's poopy diapers, sleepless nights, or milestones like their baby's first word, these two aren't afraid to share it in a way we all can relate to. Don't forget to stick around til the end for a special photo of the couple with their beautiful baby girl in real life!
"We're Pregnant!"
For so many couples, it is a dream to get pregnant and start a family. After trying for a while, Yehuda and Maya finally got a positive result and couldn't have been happier. It is a celebratory moment because they are so excited to begin this new chapter of life.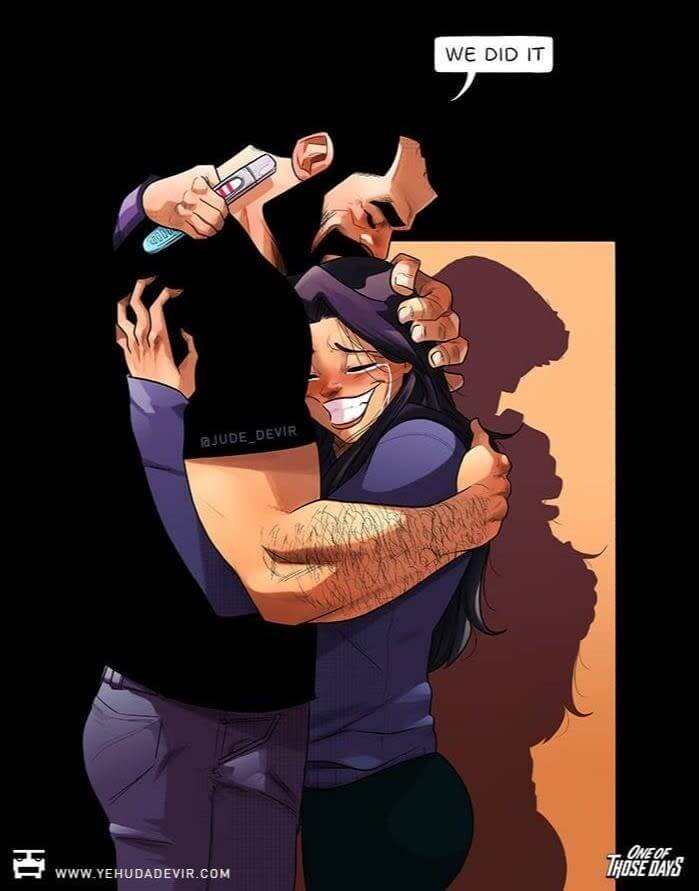 They have talked about starting a family for so long, and their plans are finally coming to life. This is one of the most amazing moments in their relationship, and it is something a couple will never forget.
It's Go Time
It's finally time to go to the hospital, but you might want to only bring the essentials instead of everything in the house. Instead of bringing everything you own, it is best to prepare a bag for the hospital, so you aren't running around when its go time.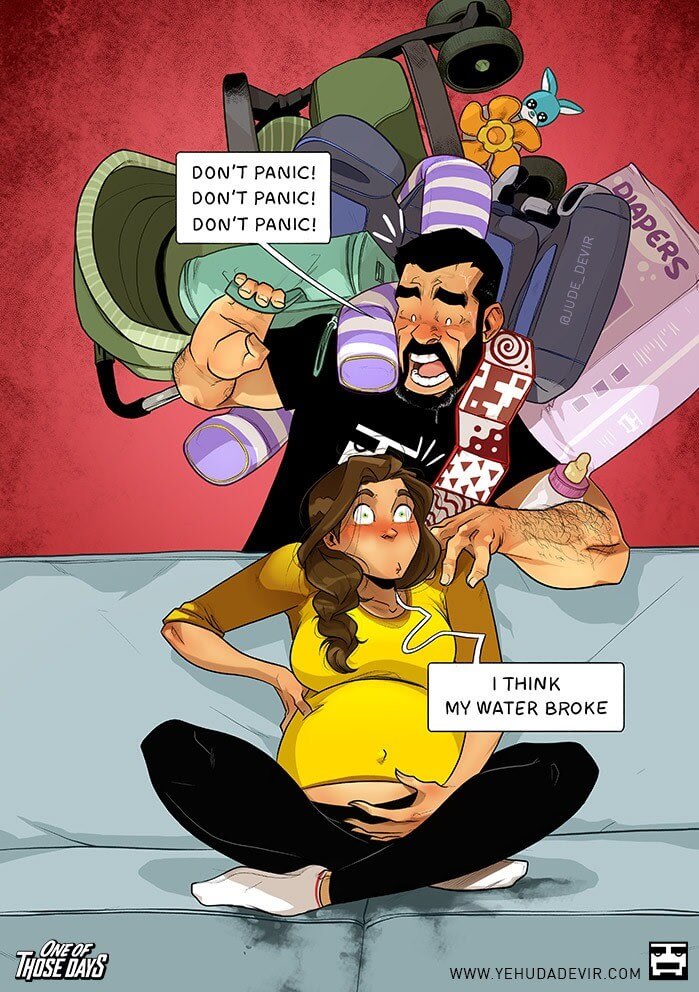 After the long nine months, it is finally time to meet their baby. Although they look panicked, they are just over the moon about bringing home their new baby. This is a milestone moment in many people's lives, and it is a joyous and scary time.
Welcoming The Sweetest Angel
When you can't get enough of your newborn baby, and you want to stare at her all day long. Everything she does is adorable, even her drool and dirty diapers. They can't believe that they created such an adorable baby girl. Most people would enjoy her sleeping moments while they last.
There are so many exciting moments when you bring your baby home, and everything they do is something to document. Even though she might have a smelly diaper, they can't get over how sweet she looks. They might not think the baby is so cute when they go to change that diaper.
Exhaustion Is An Understatement
"She never stops crying!!!" Once the baby is up, it is hard to put her back to sleep. It seems like she never stops crying. ​There are many exciting moments, but the sleepless nights are not something that you can prepare for. It might be time to get some caffeine and prepare for another long sleepless night.
Some people who are not parents might ask you why you are exhausted all the time because babies are supposed to sleep a lot, but they don't understand.
"It's About To Blow!"
When it comes to changing dirty diapers, some people are more dramatic than others. He decided to take one for the team to clean up this mess. How can such a tiny person make such a giant mess, it is mind-boggling. Even baby hulk is afraid.
At first, changing diapers is like going to battle, but once you get the hang of it, it is a piece of cake. At first, those diapers can burn the inside of your nose, but eventually, you get used to the smell or figure out that vapor rub blocks your nose from bad odors.
If One Person Feels Pain, We Are All In Pain
New baby teeth are like razors. When they are starting to get teeth and still breastfeeding, things can get painful very quickly. Good thing she has her husband's hair to grab onto to share the pain with him. If she has to feel pain, so does he because they are a team and in this journey together.
It is always when you least expect it that your child starts using their teeth to chomp down on one of your most sensitive parts. Obviously, they don't know any better, but that doesn't mean it hurts any less.
Caught Up In Feelings Of Doubt
Nobody comes totally prepared with how to raise a child, it's something you learn as you go along and, just like with everything else, you're bound to make mistakes. It's those moments, laying in bed with your partner when your mind starts to race and that self-doubt starts creeping in.
We can all totally relate to this photo even if we don't have children. We're all worried about something and every now and then we all start to get filled with doubts at our ability to perform a certain task. It's moments like these that we need our loved ones the most, to give us the support needed to succeed.
New Baby, New Bodies
After having children and changing lifestyles, you should embrace the changes that your bodies go through. ​You love your partner no matter what changes their body goes through because change can be good.
Although it can be hard to accept that your body looks different, you have to remember that you brought a beautiful child into the world. It's ok to gain weight, and it is ok to lose weight. You are not alive just to pay bills and lose weight; You are beautiful no matter what.
Bath Time Is A Family Affair
Giving a bath to a baby is a whole different and wet war. It seems like eventually, both parents get their shower as well. She has a lot more power and strength than people would think. When she doesn't want a bath, she will make it impossible to give her one.
Some parents might say they don't have time to shower because they are always watching the baby. However, it seems like whenever she has bath time, everyone who is involved gets just as soapy as she does. Might as well kill two birds with one stone.
Nap Time For Everyone
After many sleepless nights, the baby finally calms down and takes a nap. This is the perfect time for you and your partner to get some rest as well. Who knows when you will be able to sleep for more than an hour again? You might as well enjoy it while it lasts.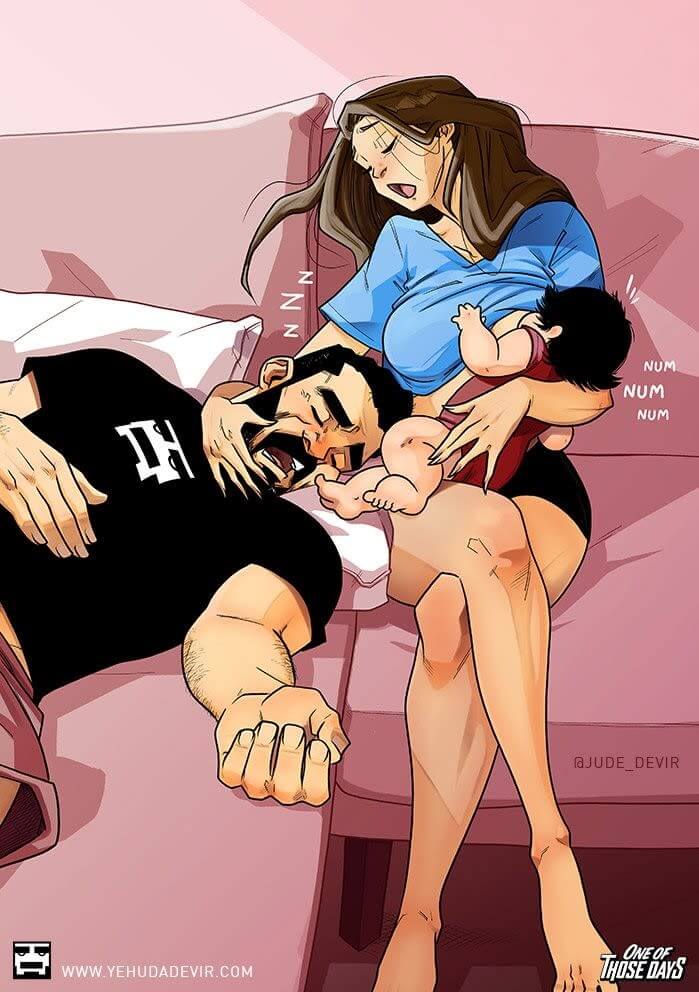 The baby took a much-needed break from crying to have a meal, and while she drifted into a milk induced sleep, her parents drifted off as well. Even though it is not the most comfortable position to sleep in, you must be too tired to care.
Tiny Yet Mighty
Sometimes babies show their affection through drooling and scratching, and it might be painful, but she loves you. Maya looks like a lion has attacked her, but it is just a powerful baby. Yehuda is so proud of his little girl.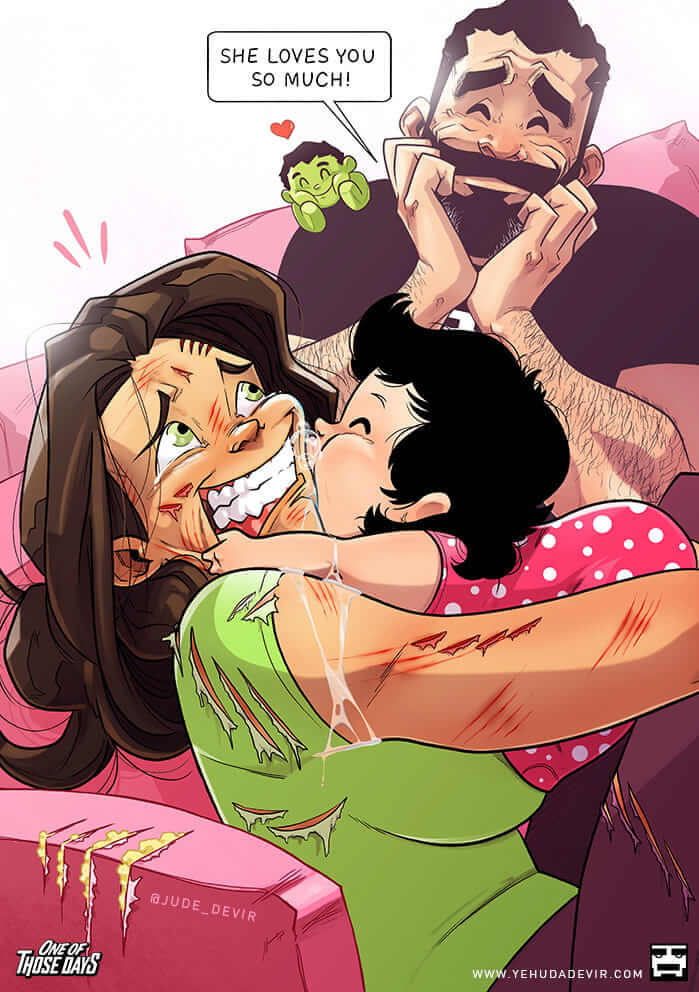 Babies have the sharpest little fingernails, and their scratches feel like the claws of a bear. Who knew such a small human could pack such a powerful punch. Besides their sharp nails and flailing limbs, babies also enjoy teething on your face and pulling hair.
One Shot And Many Tears Shed
It is hard to see your child get a shot for the first time, but they only cry more because they see their parents crying. We aren't quite sure who cried more in this situation. The nurse said it would be a small pinch, but they didn't hear her mention a broken hand.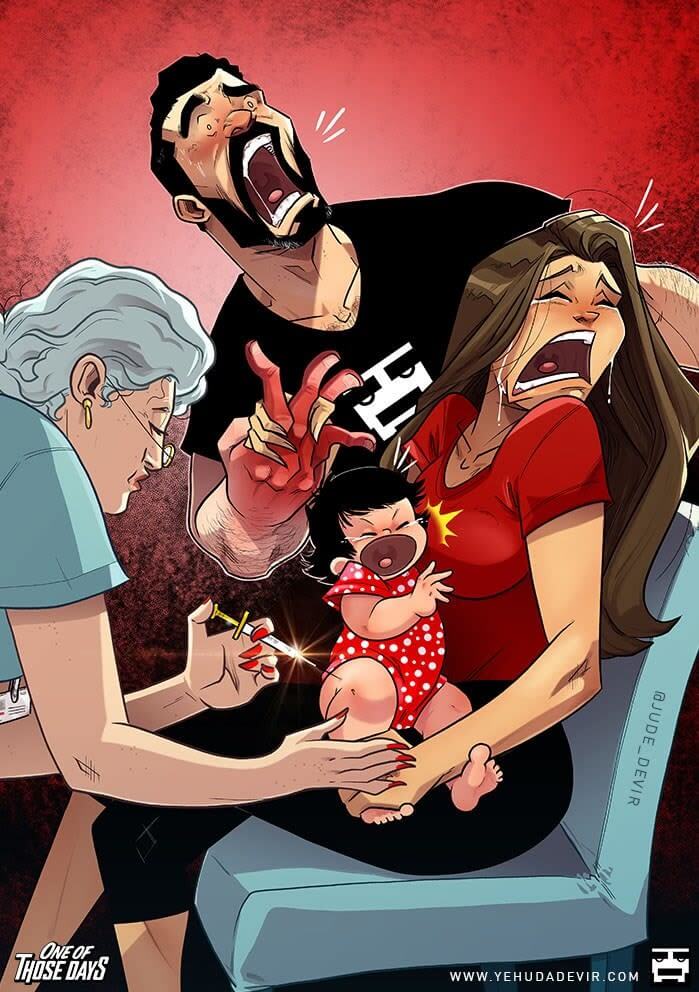 There is something about seeing your child get their first shot, which makes you extra emotional. While you know from experience that she will never remember this, and it is only just a small pinch, you still can't bear to watch.
The First Time Away
Leaving the baby with relatives for the first time can be very difficult. It is the first time you are going to be separated from your child since they were born, and it is emotional. ​Nothing will happen to the baby, they will be just fine, but there is still a feeling of longing to be with them and protect them.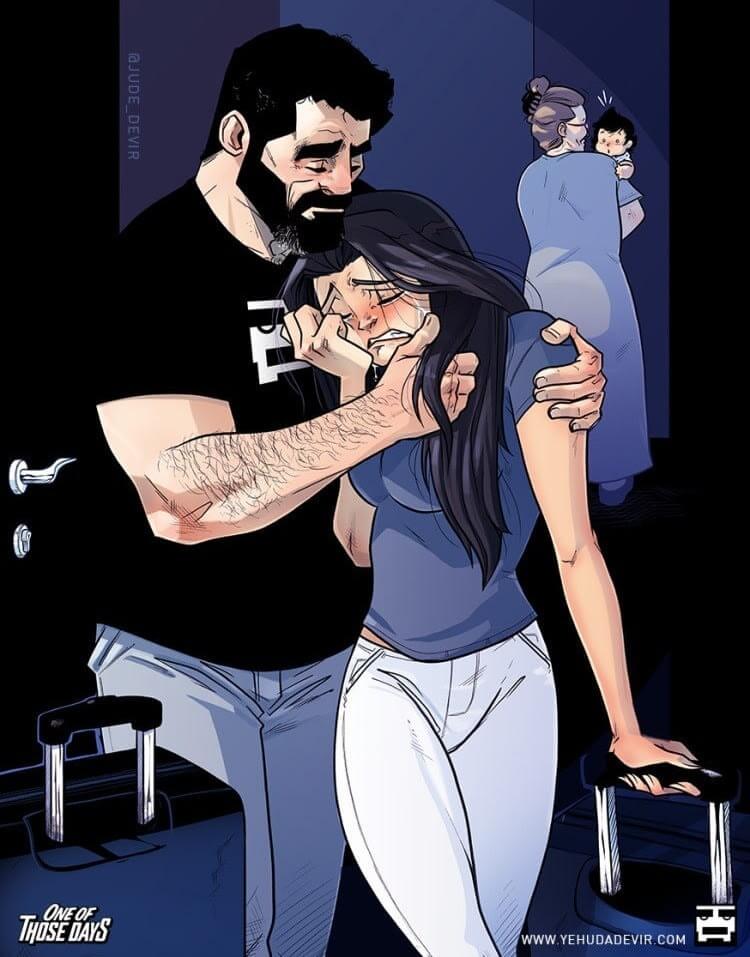 Although you might be headed for a sweet getaway, you still want to see your baby every day and make sure they are ok. What if they forgot about you after a day? What if your baby misses you? These are all questions that might run through your mind, but remember your baby is doing just fine.
Picture Perfect Timing
Everyone loves how cute babies are until they spit-up all over you. Luckily, Maya was there to capture this perfect moment. We just hope he had his mouth closed. Even though she spit-up on him, it is hard to be mad at that adorable face.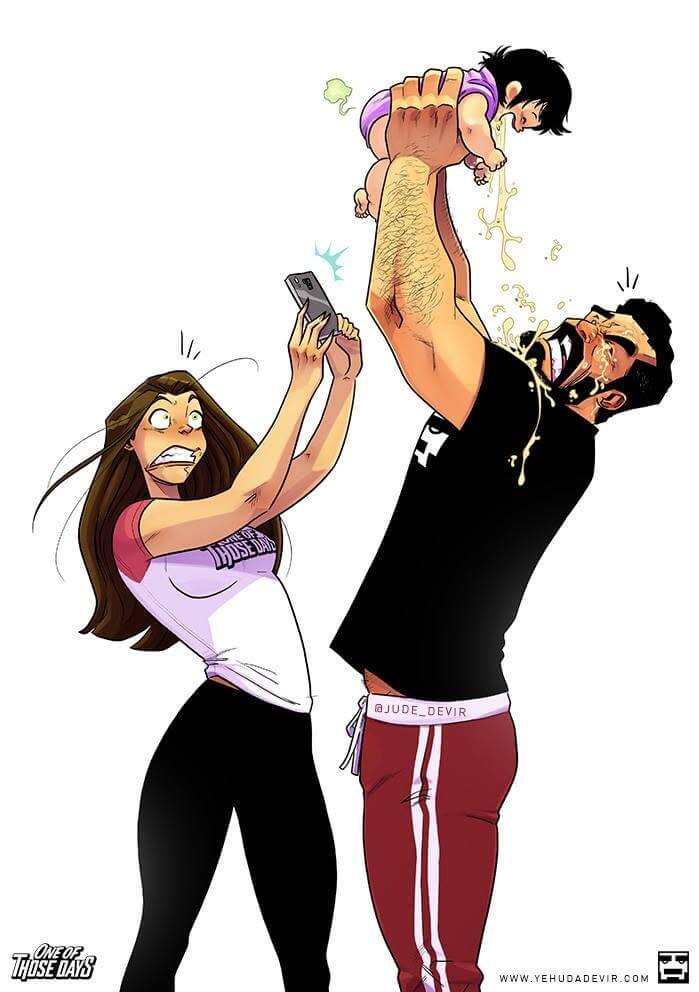 Unfortunately, it is not always rainbows and unicorns when you have a baby, so there are going to be days filled with spit-up and dirty diapers. You are lucky if you make it through a day without a stained article of clothing. Luckily, you have no time to do all the laundry that is piling up.
Sit And Stay!
When you have a small child that you need to watch, but you also have to go to the bathroom desperately. There is only one thing to do in this situation, and that is to treat your baby like a dog by telling her to stay.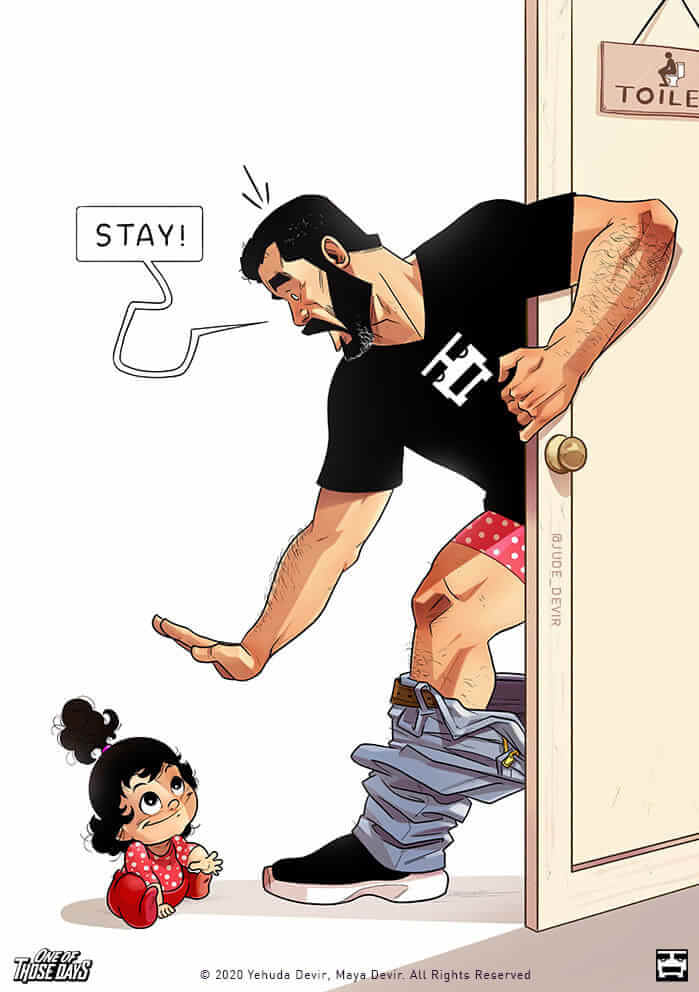 You might think they are sitting right outside the door, but they are actually breaking havoc on your home. You might have only been in the bathroom for a minute, but they managed to grab the finger paint and turn the walls into their personal art studio.
All Hands On Deck
Babies are all kinds of squirmy when you have to put clothes on them. They might be tiny humans, but their bodies possess an explosive power that you wouldn't believe existed. You never know what will happen when you have to dress your baby.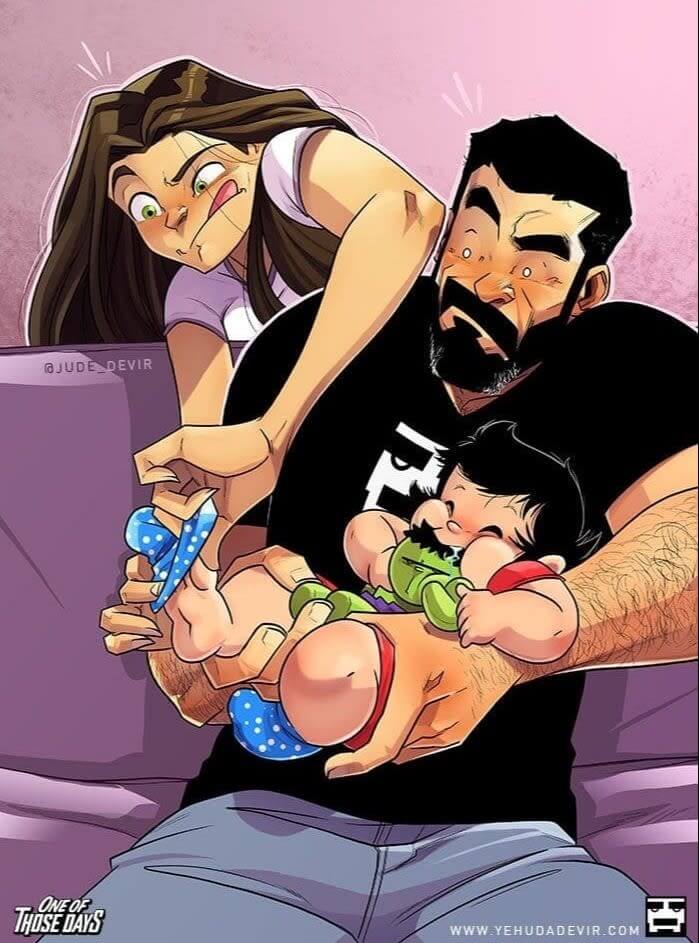 Who knew how much power those tiny feet had. They needed two sets of hands to get her squirmy little feet in the socks. Babies love to flail around when you are trying to get them ready for the day, as if they know you are in a hurry.
"We Didn't Forget Anything At Home, Right?"
Parenthood is such a beautiful blessing. It's even better when you have to leave the house with a million things "just in case", and end up not using any of it. Although, when you pack light, you end up needing something that you thought was non-essential.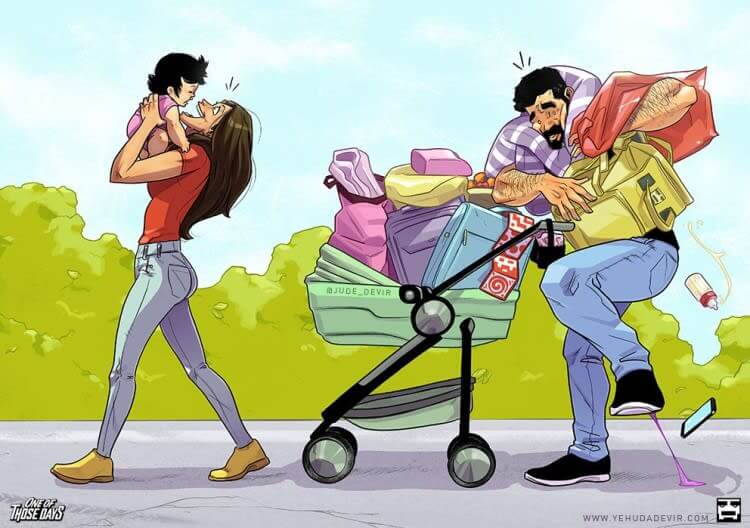 After a while, you realize what you need and don't need, but the first outing is always the scariest. Will the baby suddenly need a winter coat in the middle of summer? You don't know, but you probably packed on just in case an ice storm blows through.
Paparazzi Parents
Did you get that on video? Did you see the 400 pictures I took of the baby sleeping earlier? When you have a child, you want to capture all of their milestone moments, which means you always have to have a camera ready. These memories will be ones you will look back on throughout their life.
While your child might start to think that a smartphone is part of your body, you don't want to miss anything special. You can capture their first laugh, first steps, and their first words to remember forever. When they grow up, you can show them how silly they were as a child.
Everyone Always Needs Something
After a long day of chasing the baby around the apartment, changing diapers, and getting food thrown at you, it is time for a shower and some relaxation. Just when you are winding down for the day, it seems like everyone wants a piece of you.
All-day, you have been dreaming about the relaxing hot shower you were going to take, and then your husband gives you his "sexy look." You don't feel cute, but it is endearing that after a long day, he finds you the most attractive.
Who Knew Hands Could Be So Entertaining
Shadow puppets can be fun for the whole family if you really work with your imagination. All you need is a flashlight, a dark room, and your hands to created magical fun while your child is young enough to be impressed. This dazzling show will entertain them for a few minutes, at least.
Not only is this a creative way to entertain your toddler, but it is another way to bond with your family. Try looking up different ways to contort your hands, just make sure not to get a cramp. Look, even baby hulk and her unicorn friend are impressed.
"Does She Smell?"
When you are trying to eat your lunch, and your wife decides it is the perfect time for you to smell if the baby has a dirty diaper. Not only does the smell make your nostrils burn, but you can also never eat spaghetti again.
Although you two have become extremely comfortable with each other throughout your relationship, this crosses the line. Who would want to smell a dirty diaper while they are in the middle of eating? That will make anyone sick to their stomach.
"She Said Mama!"
"OH. MY. G-D, Did you hear her say, Mama?! This is the best day of my life. She knows my name." When your child finally says "mama," it is the greatest feeling in the world. Grab the tissues to soak up all those happy tears because you won't be able to get over this feeling of pure joy.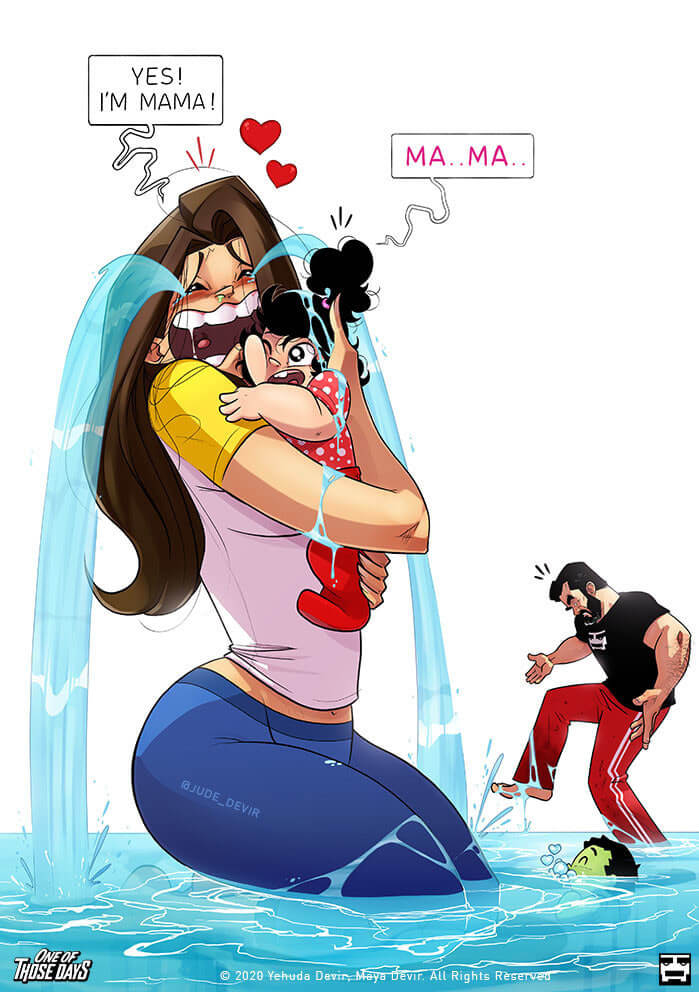 It is even more heartwarming when your child says mama before dada. It is like winning a silent competition between you and your partner. Your toddler might not understand why you are so happy, but it will only encourage them to say mama more often.
When All The Housework Is Finally Finished
When you finally put the baby to sleep and get some time to relax, just the two of you; it can quickly turn into your own time to sleep. ​You don't care where you fall asleep because it is the first time you get to go to sleep at a reasonable hour.
Although there is so much tidying left to do, you don't care because the house will just get messy again tomorrow. All you can really think about is your bed and pillow until your child decides to wake you up in the middle of the night.
"Oh Hair No!!"
Just as your wife is walking around shedding hair like it is no problem, you are discovering a bald patch. It is like sirens are going off in your head that you are getting older, and questions are racing around your mind. How long do you have before it gets bigger? Do you need hair plugs?
Not to worry, just brush your hair in a different way to hide the patch. You can even use all the hair your wife sheds to create a mini toupee to cover up the spot. While it might seem like your world is crumbling around you, it is just one of the small problems that comes with age.
EveryBody Is Beautiful
After having a baby, our bodies go through changes. Many people feel insecure about their post-baby bodies, but they forget that they just created human life. Your body was capable of creating another human, so why should women feel ashamed of the changes that happen during pregnancy?
Although some people might feel insecure, it is crucial to remember that no matter what, your husband thinks you are perfect, and your child would not be here without the help of your powerful body.
Everyone's Getting Comfortable
Sleeping with a baby in bed is like sleeping with a drunken octopus. Their legs and arms are flying all over the place, and you might just get kicked in the face. ​It is a fun way to be woken up. That little body can take up so much space, and you lose your spot on the bed.
Although you are being kicked out of bed by a 35-pound human, you can't help but give up and sleep on the couch, so you don't disturb them. Sometimes moving is worth letting them get a few extra hours of sleep rather than waking the baby up to put her back in the crib.
Stuck Inside
Just when they were getting in the hang of parenting, a global pandemic strikes, and they got locked in their apartment for two months. How do you keep your toddler active and get housework done without leaving the confines of your apartment?
No matter how much you may love your child, you can always use a break from them each day. When you are stuck inside, you have to think of exciting things to keep them active.
Sweet Dreams
After a long day of taking care of your toddler, most people are daydreaming about their beds. Sometimes, you are so exhausted that you don't even make it to the bed before you fall asleep. At some point, the exhaustion becomes too much, and you start sleeping while standing up.
Her husband is waiting for the perfect moment to scoop his wife up and carry her to bed because she deserves a good night's sleep. The big question is how he can get the baby off of his wife, so he doesn't wake her up too.
Protect The Baby At All Costs!
All for one and one for all! Protect the baby from the bugs at all costs because bugs are scary and gross. ​Her parents are warriors who fight bugs off while making sure the baby is still asleep. Those are the real heroes of society.
No one ever wants their baby to have bug bites or be uncomfortable, so you protect them however possible. Mosquitos are the number one enemy, even for adults, and they must be destroyed.
Family Cuddles
Family cuddle time is the best time when everyone is comfortable. No one is getting kicked in the head, and no one is being pushed off the bed; everyone is peaceful. Even the stuff animals are getting some shut-eye with the family.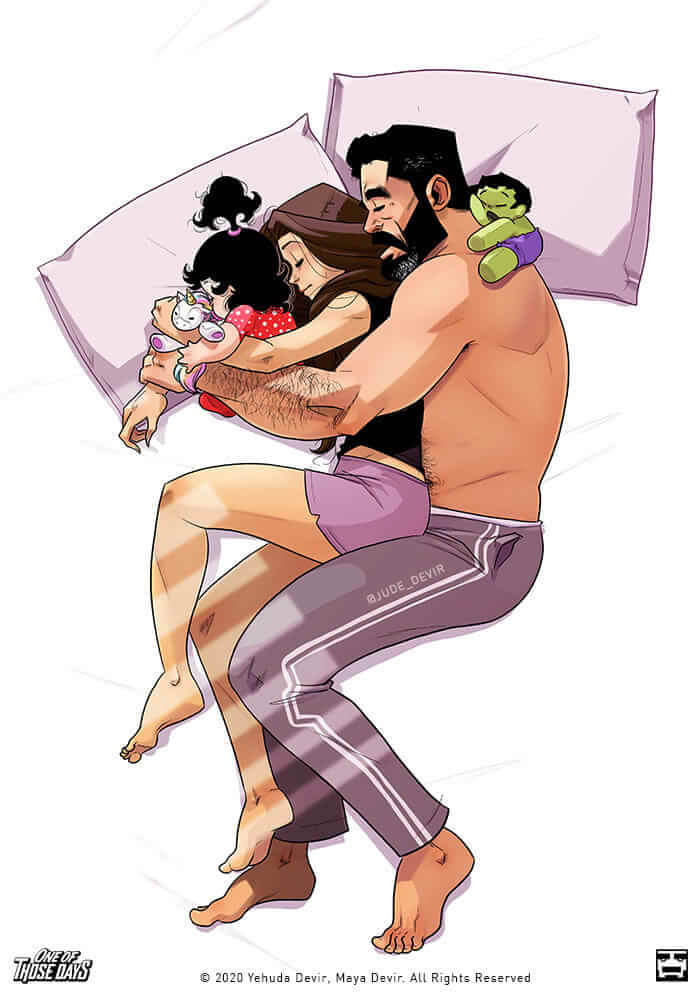 These are the moments people pinch themselves because life seems so perfect. You can forget about everything else around you and focus on how comfortable and snuggly you feel.
Summertime Fun
When you finally get to go on your first vacation as a family, and soon realize your child enjoys peeing in the pool more than any other place. At first, you blame it on one of the other swimmers or your partner, but the real culprit is the one who is not potty trained.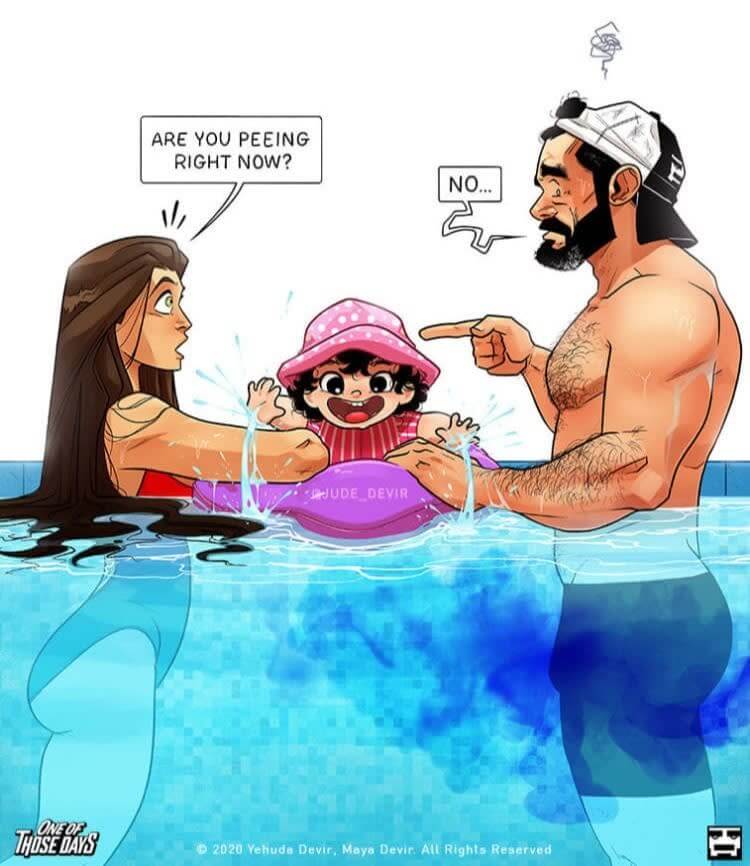 At least you have someone to blame from now on, and you can stop worrying about the embarrassment of peeing in the pool. As long as it is chlorinated, who cares? Just don't try to blame it on your wife.
"What Is This Type Of Magic?"
As soon as your child discovers their love for television, it is like they are mesmerized. They could be entertained for hours, but that is not exactly healthy for a developing brain. It is a good distraction for a few times a day, but don't let them get addicted.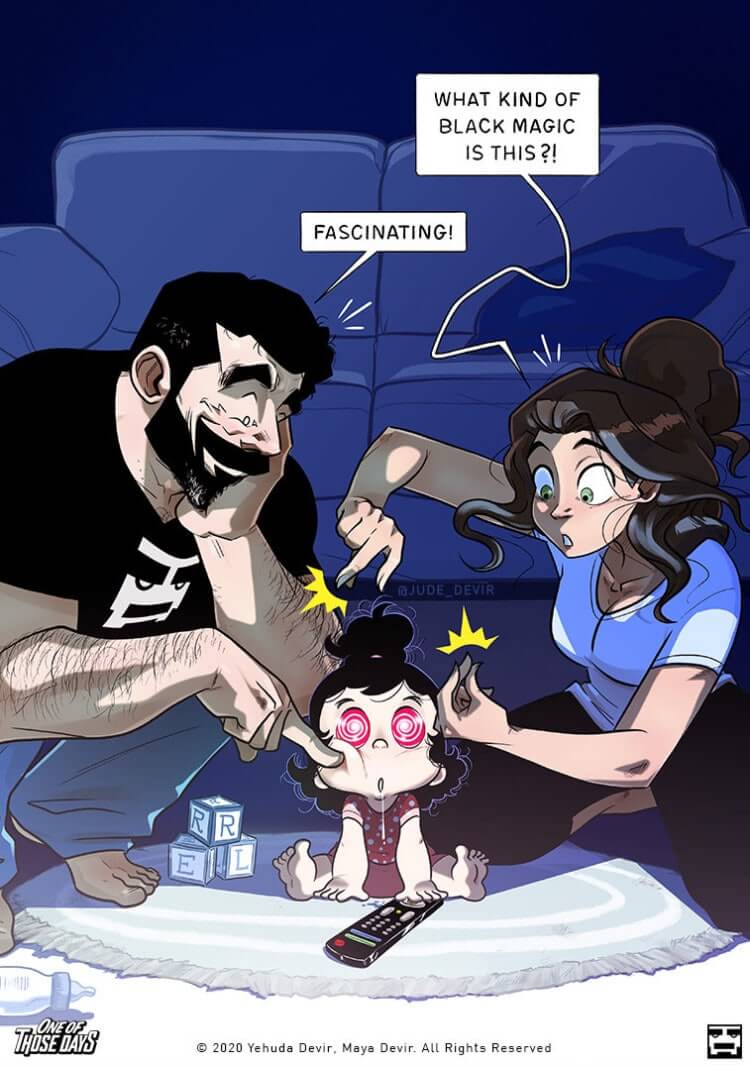 Toddlers can sit in front of the TV for days without knowing what is happening around them because it is like a magical machine. It is moving colors, lights, and talking animals. Who wouldn't be hypnotized by all those things?
Time To Baby-Proof The House
"Oh, no! She's walking, remove everything from the floor, tables, and cabinets. We need all the baby-proofing supplies." As soon as your child starts walking, it is time to lock everything up. Anything that they can eat, chew on, or get hurt with needs to be placed out of reach.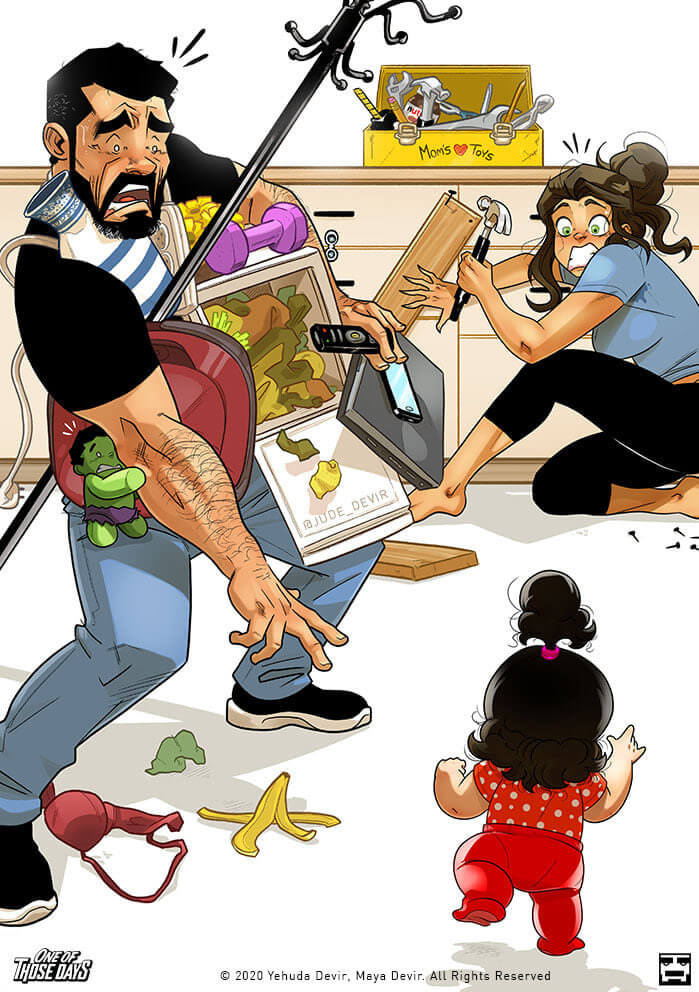 While you are filled with excitement about this significant milestone, you also have this feeling that they are growing up too fast and can get hurt. Also, you have to remember that the baby needs to be watched even more now that she can walk around the house.
Baby's First Birthday!
When your first child turns one, it is a time to celebrate. It is the first of many birthday parties, and you want it to be as special as possible, which means you want to spoil them for an entire day. Although they won't remember, you can shower them in hundreds of gifts to celebrate this milestone.
Your baby might be more interested in the boxes and string that come with the presents, but it doesn't matter as long as they are happy. You could probably give your one-year-old an old shoe, and they would be just as satisfied as they were with a barbie doll.
A Masterpiece In The Making
When your husband does your daughter's hair for the first time, and it is a series of tiny ponytails, but they are so proud of their work. ​You don't want to ruin all the work they have done, so you leave the ten different ponytails in for the day.
Eventually, they will figure out how to make it look better, but it might take a few weeks of practice. You have to give your husband credit for at least trying considering they have never done this to their own hair.
"Take Cover!"
Feeding a baby is like having a food fight with an uncovered blender. The food gets everywhere, and even in places, you didn't know food could reach. Put the food out and take cover because it is about to get very messy. Get your mop ready because the food is about to go all over the walls and ceiling.
It's every man for themself because the baby is like a spewing volcano of food. There is nowhere to hide, especially when you give them something messy like spaghetti and tomato sauce. For the first few years of life, it might be smart not to wear anything white.
"Do We Have To Leave Her Here?"
The first day of daycare is always the hardest, but she now gets to socialize with other babies. It is only for a few hours a day, but it feels like a lifetime when you first drop them off. ​Once you leave, your baby will stop crying, and they will have fun once they adjust.
It is not like you are leaving your baby forever; it is only for a few hours so that you can work and get some much-needed rest. Don't worry; if you are ever concerned, you just have to remember that baby hulk is in daycare to watch over the baby.
Kisses For Everyone
No matter how much drool you are covered in, there is always time for kisses. Everyone is in on the family hug, and it is the best feeling. Even while your baby is using your chin as a teething toy, you can sneak in an extra kiss.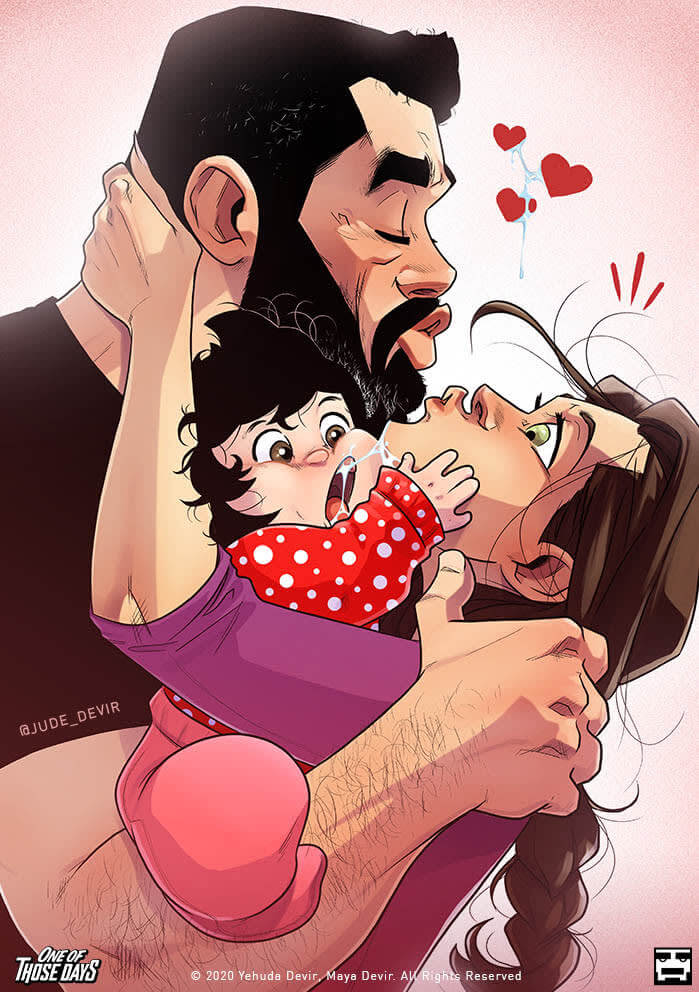 Those special moments as a new family are ones that you will treasure forever. Also, anytime you can sneak in an extra hug or a kiss is a win considering how you spend most of the day covered in things that come out of your baby.
How To Get Work Done When You Have A Baby
Some toys are for children, and others are for grown-ups. She has her blocks and stuffed animals, and he has his hulk and laptop. While he can get some work done, she is getting some extra playtime with her mom. It is a rare moment when everyone is a winner.
It might be hard to find free time to do the things that have been on your list for a while, but there are rare moments. Take advantage of the calm to be productive so you won't be stressed when your "to-do" list gets too long.
Black Friday Is A Big Deal
Black Friday is the best and worst shopping day of the year. There are great deals, but it is on stuff you might not need. Yes, that vase may be limited edition, but why do you need it in your house.
The low prices may blind your judgment, but it doesn't mean you should buy everything in sight. It is a good thing to buy large items that you have been needing because those are items have the best deals.
The Work's Not Over Even After The Baby Goes To Sleep
Finally, the chores have all been done, the baby has been put to bed, and now there's nothing left to do but sit on the couch and enjoy a few quiet and peaceful moments before finally heading to bed. Unfortunately, that peace may be put to the test when one partner is dead tired, and the other is still bursting with energy.
Out of all the places she can sit, she decided to sit on his lap because it is the most comfortable seat in the house. No matter how much space is left on the couch for her to sprawl out, she will always pick this spot, and we don't blame her.
They're The Real Deal
Raising a family is hard, there's no doubt about that. But at the end of the day, it's still one of the most rewarding things that we will ever do with our lives. In spite of it all, the ups and downs, there are few people who would ever change a thing.
That doesn't mean we can't complain about it though – it's so stressful after all! We all need that outlet when the going gets tough and thankfully Yehuda and Maya chose to draw pictures of life raising a child that we can all relate to.
Questionable Designs That Are Sure To Make Anyone Laugh
John Travis
This article was originally published on WackoJaco
We can admit it, there are plenty of things that look ugly but they work just fine, so we don't really care. But there are also a lot of things that are just flat out terrible looking to the point where function no longer matters. Your eyes are so caught on how horribly designed the item is that you can't even begin to ask yourself if it works or not. Out of all the terribly ugly items in the world, these are the top 50 worst ones. After seeing how many people have them in their houses, you're going to feel like you have the asthetic eye of a fashion mogul.
Just A Centaur Having A Beer
Here's a classic bar joke: a centaur walks into a bar, the bartender says, "Hey, how's the throat?" The centaur replies, "My throat isn't horse but my legs are."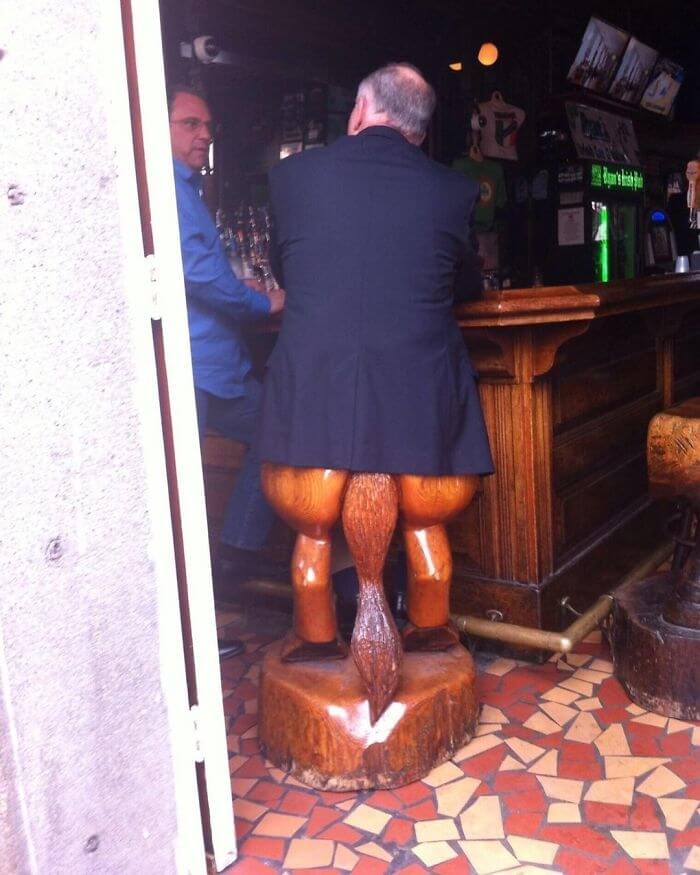 We can suppose that this design is supposed to be funny. Imagine you waiting to meet the girl of your dreams and she enters the bar and sees you sitting on it though.
Even He Knows The Design Looks Ugly
There are times when we try so hard to hide our emotions, but we fail to do it. This person is pretty aware of how ridiculous the entire design is and his face says it all.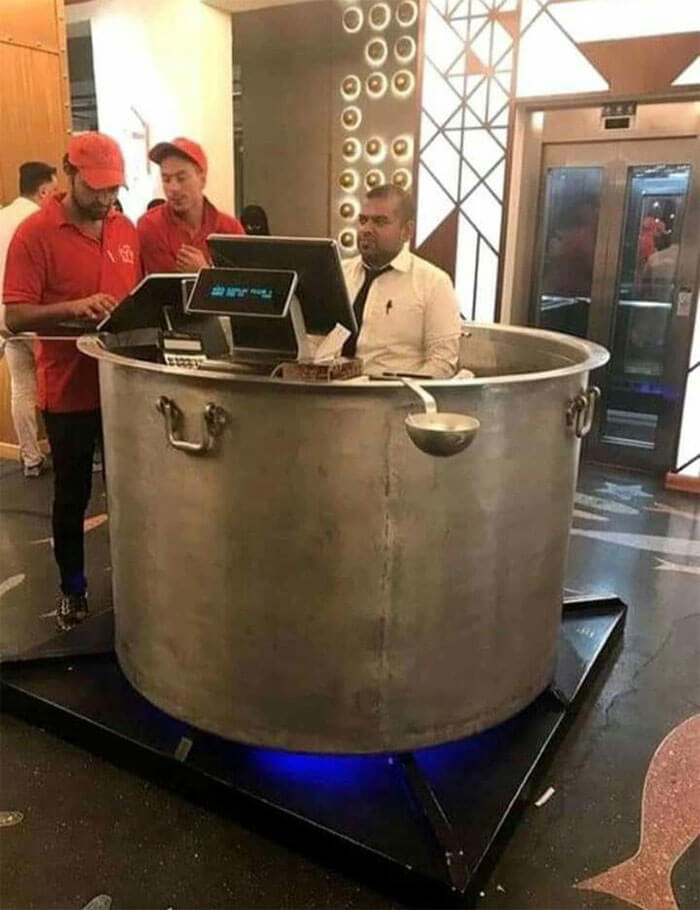 Some may say this is a cool theme for a restaurant, but most would probably disagree with that. By the way, the soup doesn't look very appetizing, and we can't control the urge not to say that this guy is the "Soup-ervisor."
10 Points For Slytherin!
Harry Potter fans will get our little nerdy title of 10 points for Slytherin. Some may say that it is scary, but we have a feeling that some people will think that it is cute.
We feel that it would be super cool for Halloween with the right costume. Would you go with this one?
Looks Comfortable
Just give a call to any person who you don't generally like and invite them for dinner. When they come, make them sit on this comfy "thing."
We do feel that this is perfect for your upstairs neighbors who might try to drag their indoor furniture and make noises all the time.
Where's The Giant Bird?
This is weird and somewhat cute. By the way, this is "le nid" (meaning "the bird's nest") in Nantes, France.
We do think that this is an "Eggcellent" idea that is quite unique. One wonders there is any point in this place if you can't get an omelette there.
50% Off Pants
Do you think you are confident enough to wear anything without worrying about what others would think? Well, imagine having this much confidence.
We are not here to judge anyone, but we do feel that this would be super uncomfortable.
Not The Most Appealing Egg Separator
This egg separator looks super disgusting. Moreover, it is a massive pain to clean it as well. You can imagine mold and/or yeast could easily start to grow in the nostrils.
You can send it as a Christmas gift to someone you hate who also gets flu easily. By the way, it is supposed to be funny.
"Mommy, There's A Giant Under My Bed!"
Having this kind of bed in the room gives a whole new meaning to the phrase, "foot of the bed," right?
We do feel that this is Quentin Tarantino's bedroom because of his foot fetish (if you don't agree with us then just watch his movies). We are 100% confident that some kid will eventually paint the toenails.
The Worst Online Shopping Fail
His face shows disappointment and we are left wondering here what didn't meet his expectations. Maybe he knows that he is going to be popular.
So, should we address the elephant in the room or there is no need for it? Well, it seems like there is no need. We all got it.
Why? We Just Want To Know Whyyy???
How creative is this, right? We don't know what made the designer think it was a good idea to have little lumps in the armpits in a color that looks like ancient sweat stains. What was the designer snorting when the idea came to them?
To be honest, it looks like the person is always sweating so much that insects have even laid eggs that are about to be hatched.
The Designer Is A Fan of SpongeBob SquarePants
Some people may think that this is obviously a church down in Bikini Bottom, an underwater city in the SpongeBob SquarePants series.
We are certain that whoever came up with this design is going to "sHELL" (we know you're impressed by what we did here). And hey, we have a question; can the priest hear themselves and others over the sounds of the beach?
That's How You Blend Into Your Environment
We're a bit confused now because it is hard to imagine how one goes about getting a shirt in the exact same print as the upholstery?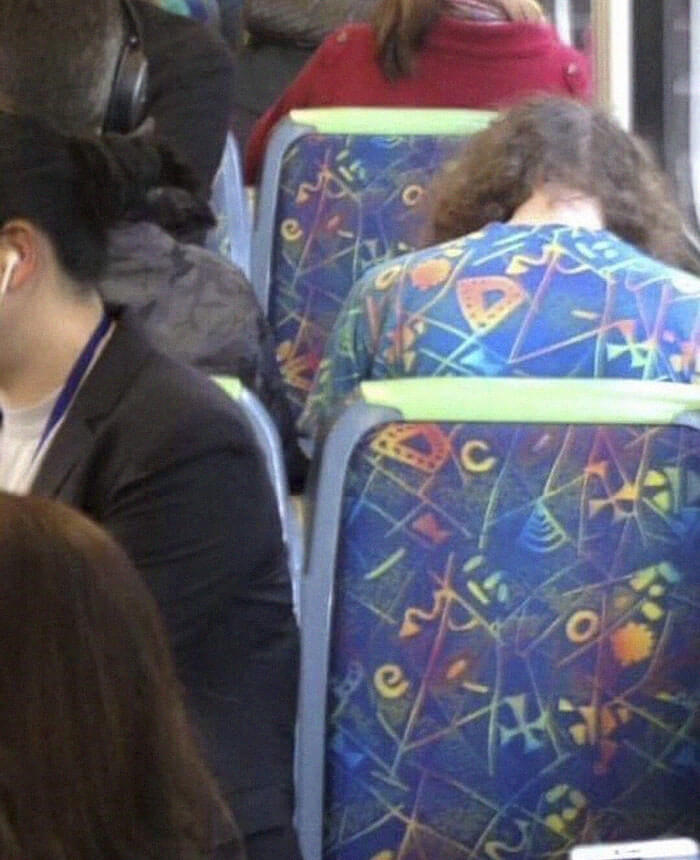 This must be a custom order. Someone pointed out that a transport company sells them as a joke. Well, that's one way to prank the passengers.
A Die-Hard Fan Of Tango
This lady made the mask during COVID-19 most probably because she's not a fan of regular masks as they are quite boring looking.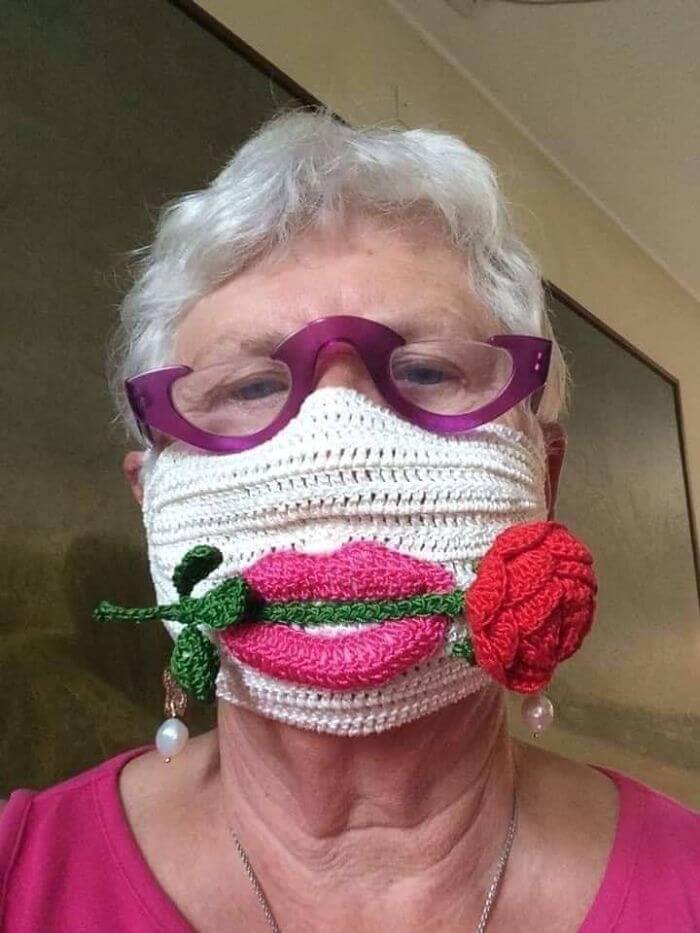 Despite the fact that it doesn't look effective at all, we have to give her an A for effort because we can bet a lot of time went into knitting it. If she wears a better mask underneath it, then it's still functional and might just brighten someone's day
Secret Agent Grandpa
This is what happens when your lovely and innocent-looking grandpa is a secret agent hiding highly valuable information.
Or it can be just some guy hiding some of his personal collection from his wife…who knows!
When The Beach Is To "Die" For
There are some beaches on earth that make people want to stay there forever. Some of these are the breathtakingly beautiful beaches like Whitehaven Beach (Australia), Bai Sao (Vietnam), and Pensacola Beach (Florida).
By the way, this has given a new meaning to RIP meaning Relax In Peace. And just so you may know, the sales of this new floaty skyrocketed because of vampires.
Who Thought Of This Design?
Hey look, don't judge us for what we are going to tell you. Is it wrong that it reminds us of the rhino scene from Ace Ventura?
Although kids won't notice this, we are sure that adults can easily find issues with it.
The Eye Of Sauron
There are casual fans of The Lord of the Rings series and Harry Potter series, but then comes the die-hard fans of these series. The person who designed this one is a big fan of the Great Eye.
We find it scary because of Sauron's quasi-omnipotence and also its terrible gaze. Would he be okay with us wearing it?
PLEASE NO!
Seriously, anyone who buys these baby-faced candles cute needs to have themselves checked because we are sure that there can be no way any of us is going to have them in the house.
These are the candles that you find in horror movies like The Conjuring, If you still find them cute, imagine them in red color.
Absolutely Shocking
Got it, thanks! Well, we got to say that this is the sneakiest murder for hire ad we have ever seen.
They should come up with another ad like, "Get your household electric chair today. It comes with an adjustable voltage!"
Throw Away This Handbag
It seems like the designer of this handbag thought that a personal silica bag helps keep you fresh all day.
And we have a plot twist for you: Inside this handbag, you will find tiny leather handbags. If you don't get this it's because you don't understand the fancy world of fashion… but then again neither do we.
Yeah, It's A Swimsuit
This is a swimsuit by Black Milk Clothing Company that enables you to take a look at the human body in a different way. You can see the heart, lungs, and intestines.
We really can't find the motive behind such a swimsuit and if we are honest here, we don't want to know. This person, for some reason, bought this swimsuit online and we can only imagine what it was like when they wore it to the beach.
A Mouse And A Flying Carpet
We actually loved this one. Although that's not the right place to use a carpet, we really like the idea behind it. We think it is could be a bigger movie than Aladdin.
But how will the person use the mouse when the carpet starts flying around the house?
Guide 101: How To Make Ripped Jeans Look Cool
Why do we feel that these jeans belong to Lady Gaga? Imagine the headlines: Lady Gaga Meets The Gap. But let's be honest here. This jeans design is horrible.
It looks like this woman had a severe accident where her skin was horribly burned off! You can only wear it on Halloween one time only if you burn these horrible jeans afterwards.
Definitely A Tech Person's Home
Although we don't consider ourselves tech nerds, we do feel that this is pretty cool.
Still, people who are into aesthetics and classy looks will find it really uncomfortable. Let us know if you want it in your home or not.
Ugly Breakfast
One wonders what the pitch of this concept was. Like, why eat with a fork and knife when you can…when you can put little forks and knives on your fingers?
We feel that they'd keep falling off, so if you're eating hot food prepare to get burnt.
Is That A Fungus Infection?
Oh boy, are these supposed to be oyster fingernails? They don't look good at all, but then again, some people may like it.
We can only recommend it to you if you are getting married to an expert in oyster aquaculture.
The Scariest Light Switch In The Kids' Room
Believe it or not, this is a light switch in the kids' room, and boy it is scary. The poor kids are going to suffer from a lack of sleep for the rest of their lives.
After seeing this every night just before they fall asleep these poor kids will need therapy for the rest of their lives… or maybe even an exorcism!
Must Be A Dentist's Office
Well, we are certain that it is a dentist's office. But the scariest part of this picture is all the clashing colors and misguided pattern combinations.
On second thought, it seems like a bathroom of a serial killer. Going into such a creepy bathroom should always be avoided.
A Giant's Shoe
We have an idea for this young man, as a hilarious prank you could lie face down and pretend a giant had mugged you.
We're wondering if Nike thought this one up. We really wish that we could go to the designer of this bag and tell them "Just Don't Do It."
This Is Why You Gotta Know Your Audience
When someone was given the job to decorate the toilet for disabled people, all they said is "say no more, we got it."
Incidentally, these are the sports likely to get you disabled. So whoever made this should really be a bit more considerate to the people who are going to be using this bathroom.
A Must Have Socks For Quarantine
Hey everyone. Here is our new collection. Check out the latest thing from the How To Embarrass Your Kids line! Although we found it funny and a bit lame, you're welcome to love it as much as you can.
However, we have a feeling that this might trigger those who never understood this whole "no socks in the sandals" thing.
A Die-Hard Fan Of Bernie Sanders
We can't really figure out what's the reason behind this insane outfit. Is he a big fan of Bernie Sanders? Or did he lose a bet and is forced to walk around in this?
Who knows, maybe he's a fan of Donald Trump and he lost a bet. Whatever the reason is, we know one thing for sure that Mr. Sanders looks happy.
So Much For A Nice Childhood Memory
Kids love to play with toys and teddy bears. So, one parent decided to buy one toy online for their kid as well. This is how the bear came to their house.
We're pretty sure that it is enough to give nightmares to that unfortunate kid.
Are These Buildings Kissing Each Other?
In these COVID-19 times, one of the most important things to follow is social distancing. While everyone is trying their best to keep at least a six feet distance from others, it seems like these two buildings are madly in love with each other.
By the way, these buildings get fined every day for not following social distancing rules.
And There Goes The Eyes
Do you hate someone so much that you don't want them to interfere in your life? Here ya go, we are recommending that you serve them coffee or tea in this cup.
We're joking. We won't recommend this cup to even someone who has been the absolute worst to you. Someone needs to buy all these mugs and then break them.
That's One Way To Lose Weight
If you are finding it difficult to lose weight, consider this idea that will surely help you lose both weight and probably some blood as well.
Or you can buy it and serve food to your mother-in-law the next time she comes to your home. You can thank us later
No More Back Pain
We can understand that COVID-19 has forced most people to work from home, but it doesn't mean that they should use awkward chairs for sitting while working. It looks super uncomfortable.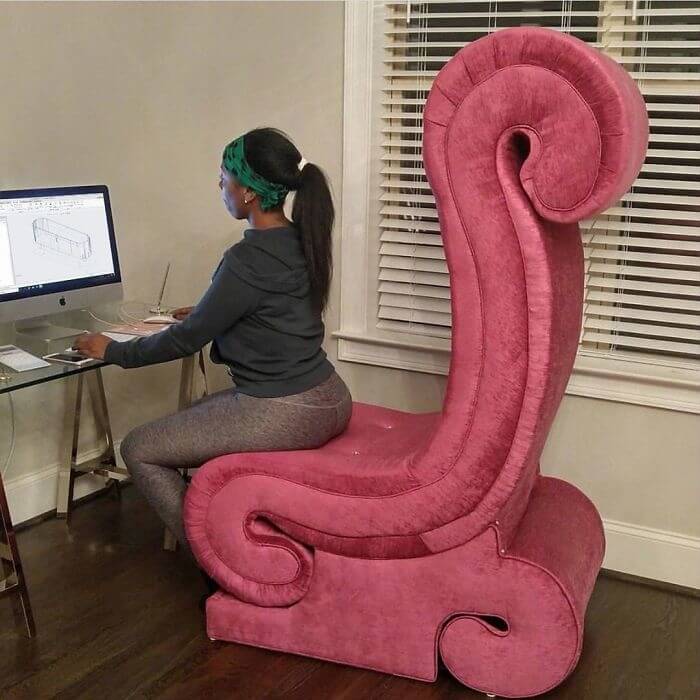 It just feels weird looking at her sitting at the very edge instead of just pulling the chair forward and sitting comfortably.
When You Love Meat Too Much
We have something awesome to tell you, so be ready. This is a "MEATing" place and we love it. Please say that our pun is fun just so that we don't make it more awkward.
By the way, this is natural quartz and it looks super cool. What do you think about it? Yay or Nay?
Why? Please Tell Us Why?
We all know what was going through the designer's mind when they came up with this one. So, do we really need to say more about it?
We don't know who will buy it but we have to admit that it can grab anyone's attention that enters the store.
This Is A Toe-Tally Cool Design
We don't know what will come next after this design. And please don't be Toe Toothpaste in Fungus flavor. Eww.
After seeing it, we highly doubt that you'll want this in your home. It is a big nope from us.
This Woman Is "Smoking Hot"
Any smoker out there can tell you that it is super difficult to quit smoking. Although you can quit smoking, you need to have the self-control to be able to do it.
But that self-control remains no more when you haven't smoked for a couple of days and you see a lady with some sort of a hat that has cigarettes on it. You can say goodbye to the idea of quitting after that.
Wow, That Serves The Purpose
A touch-less automatic faucet is an excellent addition to any bathroom, but only when it is working, right? Well, not in this case.
Here, the automatic faucet is working to some extent, but the problem is that it doesn't work when someone places their hand under it.
Another Cigarette Lover?
We don't think that the person who designed these curtains intended them to look like big cigarettes. We just feel that it's an innocent color combo that causes our minds to make associations where there are none intended.
Even if the intention was to make us think of cigarettes, we feel that the curtains don't really light up the place.
When You Miss Your Friends
One of the ways COVID-19 has affected us is that we can no longer hang out with our buddies. Although you can play online games with them, it is not as fun as going to a bar or restaurant and having a great time hanging out.
This person seems to miss their friend and, for now at least, they have no other option than this one. No matter how much they try to make it look cute, deep down we know that it is creepy.
Thanos Is That You?
It seems like Thanos snapped so hard that three of his fingers broke and fell off.
We can't say that we hate it because this is clearly a homemade project and honestly, they did a pretty good job. What do you think about it?
How To Get Killed By Police 101
No matter what you feel about police, there's no doubt that cops are going to get nervous when they see someone walking around with what looks like a pistol in their pocket.
We just hope that he used that awful phone case one time and then tossed it before something horrible happens.
The Collector
We don't know what to say about this. At first, we thought she's the wife of the Green Lantern (yeah that Ryan Reynolds' film that failed miserably at the box office).
One wonders how many times she has to open the box which is carrying her handbag. There's no doubt that it's frustrating for everyone when they're waiting behind her in line and she opens the box to take money out of her bag.
That's A Big Nope
How can someone come up with such a scary shoe design and then wear it for others to see? It seems like this person is a big fan of a domestic dog breed the Rottweiler.
Moreover, the shoes look uncomfortable as well. We can only hope that this person's decision to wear these shoes doesn't come back to bite them in the….you know what we mean.
When You Can't Go To A Barber
Due to COVID-19, most of us are stuck at home, and even going to a barber seems risky. So, people are having haircuts and beard trimmings at home.
This person wanted to come up with a new style and we have to admit that he achieved it. We won't say anything mean but you are more than welcome to say anything that comes to your mind.
A Little Too Red?
Would you want this in your home? We can only imagine that someone wanted it specifically for Halloween or something.
Given that it reminds us of horror movies, we would never want it in our homes no matter what.
These People Are Having A Tough Day And The Photos Are Priceless
John Travis
This article was originally published on 24/7Mirror
Everyone has bad days, right? Even if you are currently having a bad day, don't worry about it because we have just the right collection of photos to give you some comfort. The following people share the frustrating things that have ruined their days. We bet you'll feel pretty lucky after seeing these pictures.
Goooood Morninggggg!!!
Imagine waking up in the morning only to find this giant mess in the kitchen. You have every right to cry or even go back to sleep.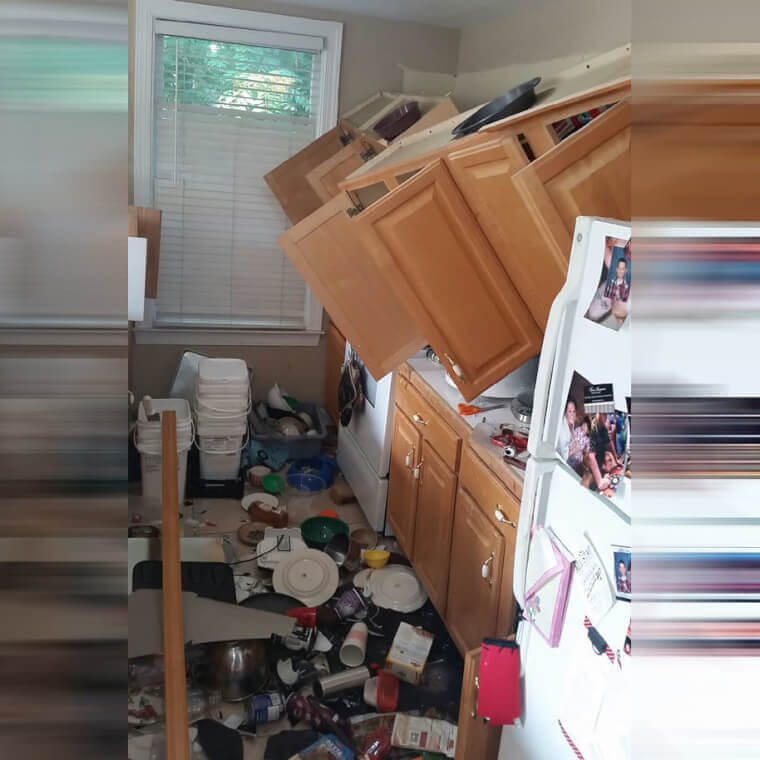 This is a perfect morning present that you never wanted or needed. And no, this havoc wasn't caused by a cat – though we all secretly want the main culprit to be a cat.
"Girl, You Are On Fire!"
That's one way to celebrate your birthday. If she was thinking about giving her hair a major change for this new year of life, the candles did her a favor.
It looks like she was too caught up in celebrating her birthday that she didn't even notice her hair caught fire. How could she miss the unique burning smell of hair? Hmm…
They're Going "Snowhere"
Yep, that's snow, and these people are going nowhere. They can make the best of it by using it as a fridge and store beers in it.
What state get's that much snow? Is this Michigan?
David, Just Don't Look Back
"Whatever you do, do not turn around. I repeat do not turn around."
We really don't want to know what happened next. There is a toilet roll paper near the dustbin and we're sure this guy needed it after looking at the pack of lionesses.
Well, That's Me Signing Off
Ever wanted to complete something but you get the feeling the world doesn't want you to?
Well, this poor fella didn't just get the feeling, he got a big heavy sign that said: "go home, spend some time with your family and come back tomorrow."
When Life Doesn't Want You To Win
Have you ever felt like you are the most unlucky person in the world? Well, save this photo and look it every time you feel that way again.
We feel sad for this person because this is without a doubt bad luck at its finest.
A Woman's Nightmare
This woman was curling her eyelashes while walking and she tripped. What happened next was a big NOPE!
This photo can give many women sleepless nights. When it comes to eyelashes, you always have to be careful.
Surprise, Surprise!
This person searched for 10 minutes around the house to find where the dog pooped, only to find out that he had been carrying it all along.
He must be thinking, "it smells a lot here, the dog must've pooped in this room."
Priceless Facial Expression
This is what happens when you are going for the rear defrosts but you hit the sunroof.
It is an Alaskan style, and we loved it. He looks shocked and freezing.
Skip Day
Whoever designed this wasn't thinking about the people who physically cannot take the stairs.
However, now we know why so many health initiatives fail. Be this photo a reminder for everyone who works in health marketing.
My Car Ate My Keys
Imagine giving this excuse to your boss that "I can't come to office today, unfortunately, my car ate the keys."
No one would believe you at first, but they will once you send them this picture. That's exactly what happened to this man.
A Crunchy Flavor Added
Ouch, even looking at this picture hurts our eyes. Such innocent spaghetti didn't deserve all this.
This person just wanted to eat spaghetti and watch Netflix, but it looks like it won't happen anytime soon. We can understand this person's agony because there is nothing more torturous than cooking food and then it gets completely ruined.
Having The Worst Day
It's safe to assume that not only is the child who fell off their scooter having a bad day, but also the person who put down the wet cement.
It is funny to imagine the kid walking back to his home covered in cement.
Still Looks Good Though
We are sure this person tried to sell it in the form of "modern art." If you look at the first picture and then see the second one, you'll start to feel bad for the person who made it.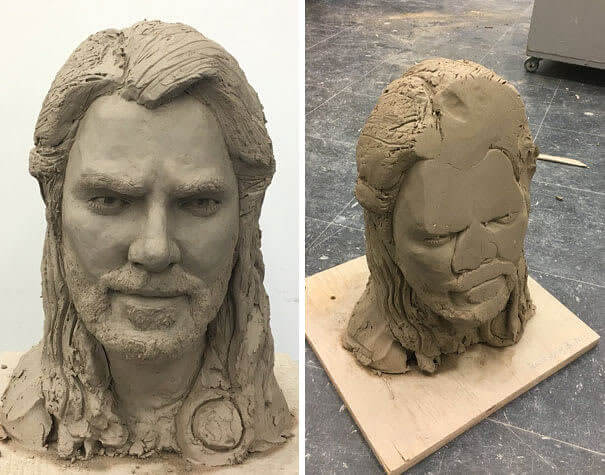 It is a result of a drop and it would be best to name this sculpture as "floor kissed".
Car Seat Feels Thirsty As Well
There is nothing more refreshing than an ice-cold Coke on a hot day. The car seat, who had been sitting there in the heat for hours, wanted some of the refreshments too.
Sadly, the person who bought it won't get to be as refreshed as his seat.
Roll Up The Windows Next Time
Most of the time, we make a mistake, and the consequences are not that serious. But this was not the case for this person.
One simple mistake of forgetting to roll the windows up before a snowstorm caused this mess.
Thrill Seeking No More
If you have ever thought twice about going on a roller coaster, keep scrolling. Luckily, they were not stuck upside-down.
Even giving these poor riders a lifetime pass isn't going to work because most of them would never even think of going on a rollercoaster again.
When Your Memory Fails You Big Time
For any student out there, the worst thing that could happen is missing a final exam. The feeling cannot be described in mere words.
This news would've felt like an end of the world for this poor fella. We just hope that he learned his lesson and became more careful in the future.
It Must Be Monday
This is a prime example of a classic Monday. And we are certain this has happened to most people out there.
This guy was at work for over 4 hours and finally noticed it. Well, at least they're the same color.
Sorry, No Passengers Next To The Driver This Time
This is some quality manufacturing. Whether this person was going to work or coming back, we can only imagine his level of frustration.
Given that it was already turning out to be a bad day for this person, we hope it didn't happen the day after the warranty expired.
At least He Saved The Wiper Blade
Has it ever happened to you that you wanted to do something to improve the situation but the result is worse than what it was before?
Well, this guy didn't want to risk losing the wiper blade, and it resulted in him losing the door of his car. This is life; it makes you pull your hair and leaves you speechless.
Flight Horror Show
Okay, the passengers on this plane definitely had a worse day than many people. It's not every day you feel this is your last day on earth.
This happened to the plane mid-flight. Fortunately, the plane landed safely and no one was hurt.
Ouch!!!
If your luck runs out, this is what happens. A porcupine fell from a tree right on this poor woman's head.
We just hope that the porcupine is fine. Who knows, it was a bad day for the porcupine as well.
What Doesn't Kill You Makes You Stronger
You must've read/listened somewhere that "What Doesn't Kill You Makes You Stronger"? Well, it holds perfectly true in this case of a brave spider.
The spider knows that this insecticide is only for mosquitos and flies. So, it is not scared of it and is happy to stand bravely on top of the killer spray.
Self-peeling Bananas
There is a possibility that the bananas wanted you to eat them all in just one day and that's why they peeled themselves.
We are sure the menu for that day must be peanut butter banana sandwiches, banana pancakes, and banana muffins…and a lot of smoothies as well.
Main Reason Why Offices Aren't Based Outside
Most of us find ourselves furious over the birds for pooping on the windshield or even the entire car (if it is parked under a tree). But have you wondered why offices are not based outside?
This guy found the answer to this question the hard way. He was working and minding his own business when a bird sitting over him decided to do its "business" as well.
What Can Be Done Now
We wonder how long this lovely lady sat there until she realized the sign below. Or, that her pants just turned red too.
The only good thing we can take out of this picture is that the wet paint will match her outfit.
Time to Wear a Turtleneck Shirt
Oh, now we've figured out why people wear turtleneck shirts. So, this guy's housemates thought it would be a good idea to do this to him while he was asleep. They then left for the day without unlocking it. The look on his face tells how he was feeling because he had an interview in 2 hours.
We hope he still went to the interview and made a good impression because he needs to save money so he can have his own place without roommates.
Well… That Was Unexpected!
Given that this photo is uploaded, we can assume that everything went okay in there.
However, we cannot just ignore it like nothing happened, right? How was the fight and who won?
A Sign From Nature?
So, the 'F' fell off this guy's Ford Fiesta Flame. Now, he proudly drives Ford Fiesta Lame.
If you come to think of it, there is a high possibility that nature wanted to give a sign to this man. Nature knew that he didn't understand even after his car broke down several times in the past few weeks. Nature had to improvise!
When the Sprinkler Hates Only You
When you are having a tough day out in the field, you tend to believe that it is happening to everyone else as well. You feel some sort of satisfaction in the fact that it's not only you who is suffering.
However, it all changes when the sprinkler joins the drill Sargent to grill you.
That Looks Cool…Oh Wait!
So the bathroom on the upper floor was leaking and now the water is stuck by the paint on the ceiling. What to do next?
It may be satisfactory to pop this paint pimple that contains water, but the mess will be too much to clean. Plus there are other expenses of fixing the ceiling and bathroom as well.
Irony In A Nutshell
Here is a new tongue twister for you: Firefighters fighting the fire on the fire truck.
So what did the firefighters do after seeing this? Did they call the fire department? Okay, we shouldn't make fun of it but it is super hilarious.
Stress Relief
Did you know that smashing stuff can help relieve some stress? That explains why the lotion "Stress Relief" comes in a glass bottle and not plastic.
There is also a possibility that the person got more stressed after breaking a bottle that helps relieve stress.
Unlucky Halloween
The person who posted this picture seems quite happy disclosing that it was Halloween of 1989 and his sister was about to have a really bad day.
Is it okay if we laugh on this one? We all must feel bad about it, right? And why is the grandma not looking after the infant instead of the older kid?
When Machine Turns Against You
Most of us have watched the Terminator film series. Who knows maybe the machines will turn against us one day.
But this photo shows that they might've started to plot against us. This poor person just wanted to drink water but the machine had other plans of dehydrating this person to death.
Hey, Here is Your Phone'
We've seen videos of dolphins rescuing dropped phones and bringing them back to their owners. They look so cute, right? Well, this croc wanted to change people's perception of its species as well.
The croc found the perfect opportunity when a girl dropped her phone. Although the croc mustered enough courage to return the phone, the young girl was too afraid to have it back. We feel so sorry for the poor croc (where's the tissue box?)
Snake On A Car
If you've watched the movie Snakes on a Plane then you can imagine how the driver must've felt after watching this snake.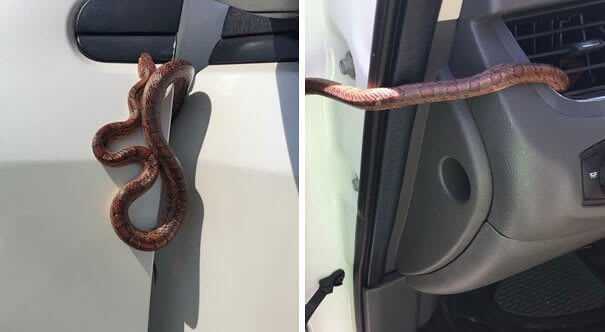 The lady was driving her car and almost crashed it when she saw this snake coming out of vents. There was nothing to worry about because this corn snake is not venomous.
Is That a UFO?
There must be a drunk guy in a pub in England recounting the time he saw a UFO at a music festival.
So it happened to this unlucky guy at Glastonbury in 2017. We hope his girlfriend wasn't in the tent.
You Better Take An Uber
As we have started to rely too much on technology, nature finds some ways to make us consider what we used to do in the old days. This person must've taken an Uber to work/home.
A possible explanation for it is that the queen bee must've gotten itself trapped inside the car. It is because worker bees can be really protective of their queen bee.
Finally!!!
The person who posted this photo claimed that he had been waiting for this to happen for almost 24 years and finally it did happen. He seemed too happy about it.
We are surprised it took that long because low bridges tend to get hit quite often by drivers who can't read the sign or act smart enough, and think they can squeeze under them.
This Apple Won't Keep The Doctor Away
This person just wanted to eat an apple. However, the slicer broke and now it has become a dangerous apple.
This looks like a Pinhead Apple or even a wolverine apple. One thing can be said with certainty that it won't be able to keep the doctor away – it is a ticking time bomb.
Evil Toner Powder
It looks like a scene from a horror movie in which this printer is a door to the other side. We wish it was true. In reality, it is just something that resulted because one of the teachers was having a bad day.
On the right side, you can even see the footprints of the culprit. It could be expected that no one came forward and accepted their mistake. Perhaps, the school hired a private detective to solve the crime.
"Paint Oneself Into A Corner"
We are not sure if he is not a professional or he didn't think it through before starting the paint job.
Well, he must be thinking about calling for a helicopter or something because he can't get off this roof without damaging the painted work.
"Thong Guy"
This is a really hilarious one. So, this guy's belt broke and out of desperation he came up with the idea of using a shoelace as a belt for work. What could go wrong, right?
Well, now the whole office thinks that he is the "thong guy." That did not go as planned. At least he didn't drop his pants in front of everyone.
Someone Must Be Pulling Their Hair Out
Imagine Sheldon Cooper from the Big Bang Theory going insane over not finding the last puzzle piece.
This can turn out to be the last nail in the coffin for people who love/hate puzzles.
A Nightmare About To Come True
Imagine Sir David Attenborough narrating it as "here we can see a wild transport vessel showing off his tail to attract a female vessel."
The possibility of losing so many containers must be like a nightmare for the ship crew.
It's None Other Than Monday
The first thought that comes to most people's mind after watching this picture is: "it must be Monday morning."
You cannot blame the person for placing the cup upside down as he was already getting late and needed coffee badly.
'I Quit'
Whoever was given the task to clean this mess must've quit his job right then and there.
The person who posted this photo said it was the worst-case scenario after years in retail.
Yes, It Happens In Real Life As Well
If you ever thought that it only happens in cartoons, you were never so wrong in your life. We feel bad for laughing at someone, but this is just too hilarious. We are sure they had a lot of laughs as well.
The person who shared this photo said that it happened at their aunt's house. This must be the repair guy.
Not The Right Place
Although there is no right place to have your pants torn like that, we have to feel sorry for this soldier here.
His facial expression shows that there is heavy detention coming his way, aside from the embarrassment of course.
Spray Tan Tears Won't Go Away
This photo was trending on twitter some time ago and it certainly has what it takes to be a viral tweet.
We won't go into details why she cried after the spray tan (hint: she was with her bf), but we can only say that the streaks on her face do look cool.
Did You Bring The Fishing Rod?'
These cops definitely didn't pay much attention to how deep it was and decided to take their chance. It was a rather unwise decision that made their day go from average to worse.
To make the best of it, they should've come prepared; with a couple of beers and a fishing rod. Did you know that there is a "stupid-motorist law" in the U.S. state of Arizona that states that the driver needs to pay the cost of the rescue plus a fine? Although they are police, they must've ticketed themselves.
One Small Mistake
Here is an example of a small mistake and bigger consequences. This is a result of forgetting to put the drain plugs in. It was a simple task and both of them forgot to do it.
It seems like one of them is trying to pin it all on the other person. Well, it's too late now.
Never Leave The Car Open… You Never Know Who'll Get In
This has to be the funniest one on our list. It is super hilarious, and we wish we could see this person's reaction. He knows that he has nowhere to go. He knows that the car is going to be thoroughly washed, and only then he can drive the car without having any disgusting thoughts in his mind.
We know for sure that he must've rushed to the nearby store to wash his hands. The hand-written note wasn't spared either.
Ah, The Irony
We can say that the "eye-rony" here is too big to neglect. Is that a secret passage to Hogwarts?
Fortunately, no one was hurt in this accident and this just proved that the driver seriously needed his/her eyesight checked.
Lucky Escape
Okay, this inclusion in our list is really terrifying. This person stopped because he thought his tire popped. However, this photo shows that maybe someone was trying to assassinate him.
Fortunately, no one was hurt and we cannot really understand why this person took this picture instead of going straight to the police station.
That's Not Milk
So, this person's mother bought milk from the store and it tasted funny. They later found out that it was not milk.
We are pretty sure that this packaging is quite misleading and the lady simply bought it after seeing a cow with a broad smile on its face. Hey, at least it is safe and non-toxic.
Invest In Some Toys and Not A Phone
Here is a photo of a dad with his son who is perfectly okay after ordering 94 dollars worth of pizza off an app called Slice.
The app doesn't require payment info verification when placing an order, so the baby had no problem in ordering whatsoever.
Jealous Scissor
Although we think that appliances have no life in them, they actually love us and get hurt when we replace them.
This scissor knew that other more beautiful and stylish scissors had come to replace it, so it had to do whatever it takes to avoid the inevitable.
Closed Donut Shop Made Police Officer Sad
This police officer is not sad because he is working on Thanksgiving, he is sad because his favorite donut shop is closed.
This is without a doubt any cop's worst nightmare. We just hope we could do something about it or even give him a hug.
When You Just Can't Stop Loving Your Job
This is what happens when you cannot get enough of your job. This garbage operator gives zero chills over anything and all he wants to do is just head back home and get some rest.
People were worried who threw the garbage all over the place and they were shocked to find that the person behind it is the one who is supposed to collect the garbage.
Almost Perfect Instagram Pics That Got Hilariously Ruined Or Photobombed
Brenda Miller
This article was originally published on 24/7Mirror
It's no secret that the photos posted by influencers on social media aren't always 100% honest. Anyone can claim anything from behind the safety of their screens – people use photoshop, filters, and the "enhance" feature to create a version of themselves that could not be further from the truth. While this usually passes unquestioned, sometimes it's too obvious to ignore. Check out these people who got called out for faking it big-time or had their would-be-perfect shot hilariously ruined by a photobomber.
​The "Strongest" Dude
Here's the thing, we can understand why someone would want to flex how strong they are on social media. The only problem is that real strength takes work – and if you're going to fake it with photoshop you better pay attention to the details.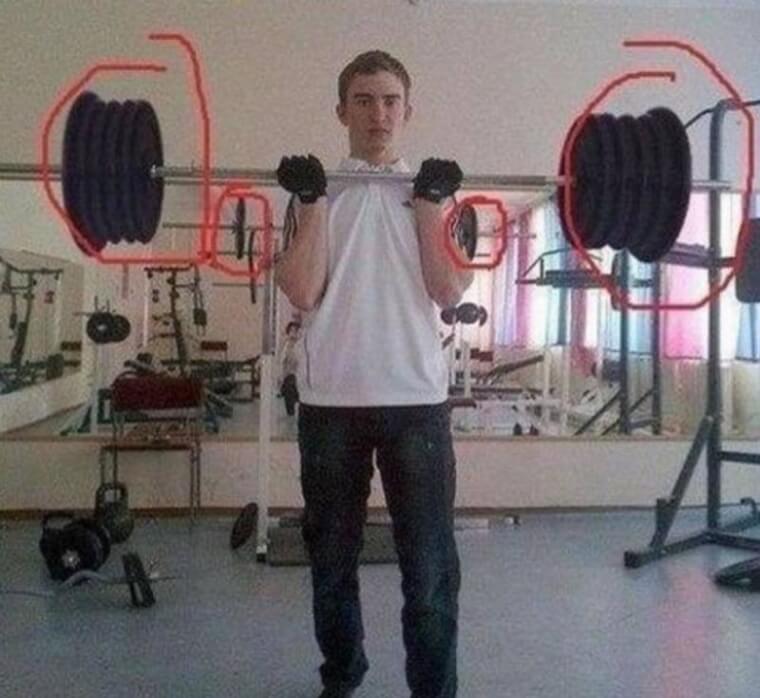 But this guy forgot to hide the mirror image on the background which proved how bad of an editing job he had done.
Was Adding The Starbucks Logo Really Necessary?
For years now, Starbucks has done a pretty impressive job with their marketing campaigns, even convincing people in countries where Starbucks doesn't exist that they need a cup of the heavenly coffee.
For some unexplained reason, this young woman thought she had to photoshop a Starbucks logo on the coffee she is holding, but sadly, it didn't go so well.
Jason Momoa Photobombs a Wedding Photo
Another photobomb that could have not been more welcome for a lovely couple. In the midst of their wedding photos, actor Jason Momoa decided to make an appearance out of nowhere, creating one of the most iconic wedding photos we've ever seen.
He came through with a trident and poked the couple as they burst out laughing.
​A Rookie Photo Editing Mistake
When it comes to photo editing there are certain basic rules that should allow one to create the perfect edited picture. But as we've learned (and will continue learning), many people don't necessarily do their research before posting a picture with "a touch" here and there.
So when this girl posted a cute photo of herself, the reflection on the window next to her revealed her real features.
​The Fence Is Always There
We all love seeing stunning traveling pictures on social media, especially now traveling has become a dream lately. But this guy went a little bit too far. In a series of photos where he appears to be in different places around the world, it was the fence in his backyard that eventually gave it away.
People began noticing that the fence was somehow always there, calling him out on his lie.
A Visit From Free Willy
Seriously, what could make a picture even more exciting than a whale photobombing the photo? These two women decided to take a selfie while on a boat ride with their family when a huge guest decided to show its grace.
Suddenly, a whale jumped up the second the photo was snapped, resulting in this awesome memory now to be kept forever.
​The Angle Does It All
Again, folks, just refrain from believing everything you may see on social media. Angles are everything, especially if stars prefer to avoid the use of photoshop. Nowadays, pictures don't necessarily have to be edited or photoshopped in order to be unrealistic.
All one needs is to find out what angles work better to create a completely untrue version of oneself.
​The Editing Went A Bit Overboard
This photo had such great potential, and to be completely honest, the guy isn't that difficult to look at in the first place, so why so much editing?
Instead of posting a natural picture of a "chill" moment, the guy decided to use the teeth brightening feature a little bit too much and ended up with the whitest and shiniest teeth on the internet.
Look At The Difference!
Things have gotten so out of control that some people are posting photos that make them look like completely different people.
YouTuber Ethan Klein began making videos that expose these Instagrammers and remind young people to stop believing everything they see on social media. He claims: "I can't get over the difference! Don't believe what you see on Instagram folks."
​You Do What You Gotta Do For That Fame
So this person found out that girls in LA actually rent studios that look like private jets so that they can post "cool" and glamorous pictures of themselves.
When this person found out about the number of fake photos that are probably circulating online, they just lost it and had to post an entire rant about it.
A Surprise Guest
After getting engaged this couple hired a professional photographer to document the perfect moment. In the midst of this revelry, comedian Dave Chapelle photobombed the shoot and made things even more exciting.
Soon after, the picture went unsurprisingly viral on Reddit, getting some 90,000 upvotes in just a day.
​Next Time Erase The Filter Name
Filters have been the new craze for a while, and though they can be really fun, they also create very distorted realities. In fact, the craze around it has been so huge that people are now paying to get their faces looking more like their favorite filters.
Unfortunately, this girl forgot to erase the name of her filter when she tried to convince her followers that her eyes were turning from grey to green naturally. Looking up you can clearly see, "Colored Lenses by luxelenses."
​Stop Fooling Us
We're not going to lie, it's really hard to understand the reason behind this decision to photoshop.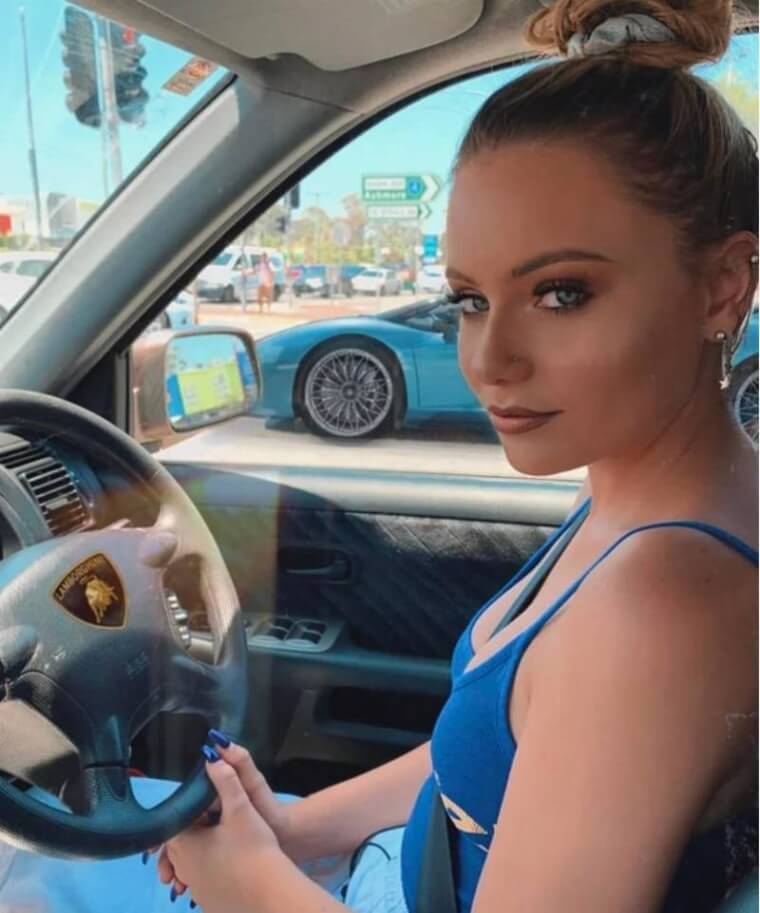 Randomly photoshopping a Lamborghini logo onto the steering wheel of a car that she's not even driving is just a little bit bizarre, but it happened!
​The Perfect Bikini Shot
It's not like the person in the photo is a completely different human being, but the angle she chose to use for the picture she posted distorts things a bit.
And well, there is absolutely nothing wrong with choosing to share the angles that enhance our best features. This just becomes a bit of a problem when that's all we see online.
​Was That Really Necessary?
Another embarrassing photoshopped situation that just seems to be so unnecessary. This woman posted one of those "clean" and cute pictures of a breakfast in a robe type of morning, but it seems like her breakfast hadn't arrived yet.
So instead, she took a picture of a breakfast plate and literally pasted it into her picture, creating this disaster we see here.
​A Brilliant Idea
Again, the mental health consequences of unrealistic selfies of celebrities and influencers on social media are huge. While some people have begun taking it seriously, others have brushed away the very urgent need to do something about it.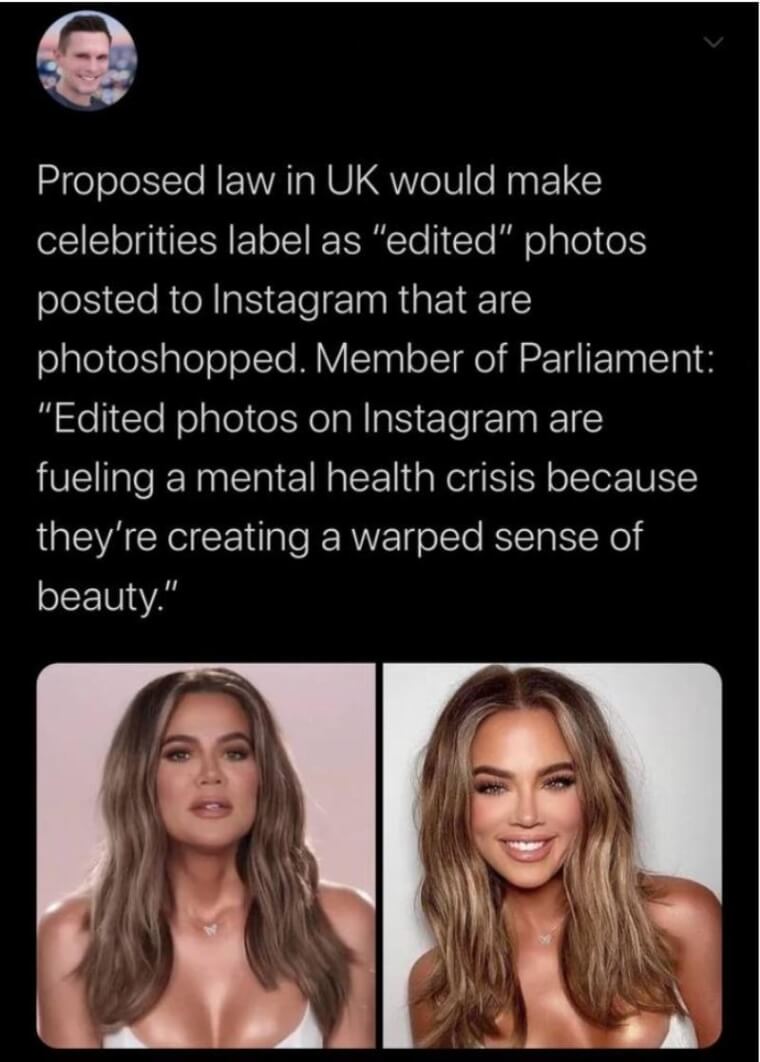 This person shared that a proposed law in the UK hopes to make celebrities label and come forward when they post anything that has been edited.
​If There Isn't A Dog, Did You Even Hike?
Let's be honest, if you went on a hike in a beautiful place and didn't post a picture of yourself at the top on social media, did you even hike? To this person's luck, her picture was additionally enhanced with a whole lot of cuteness when her dog decided she had to be in the picture too.
So, at the last second, the husky appeared and smiled for the camera.
What Happened To Her Hand?
People should definitely check their photoshopped pictures more often since a small flaw may bring the entire truth to the front.
After that, no matter how stunning the picture is, once one finds out it's photoshopped that person's credibility is gone.
​Not The Most Romantic Photo
Well, that's definitely an interesting way of ruining a random couple's photo. This couple decided to take a cute kissing photo by reaching out from each of their car windows, but they didn't notice the two guys in the back.
Both guys chose to pee exactly when the couple kissed and the photo was snapped. Now they're stuck with this lovely picture.
​The Cat Couldn't Care Less
We all know how sneaky cats can be, and quite a few of them do as they please. Clearly, this cat is no exception. When this bride and groom were in the midst of their wedding pictures, their photo wasn't photobombed by a famous star.
Instead, the cat decided that he needed to be a part of that picture in order to make their day – and that's exactly what he did.
It's A Fact, Cats Hate Weddings
Here goes another one of a cat that wasn't going to let that photo be snapped without the grace of his face. But he didn't just want to be a part of the photo.
He wanted to show his entire face so that the happy couple would always remember the day a cat decided to be a part of their wedding photos.
​That Was A Bit Unnecessary
Now, this is something new. Apparently, this Instagrammer was caught photoshopping the exact same cloud into her pictures, and no one can really explain the reason why.
Two things are possible here. She either really loves that cloud formation and decided that it should accompany her in every traveling photo, or the locations are themselves are all photoshopped.
​Not Even Nature Escapes
Yes, folks, not even nature is exempt from being shamefully photoshopped to look a little bit brighter. The two photos below show a picture of a blue and purple stunning lake next to how the lake actually looks like (which is stunning on its own).
A guy is sitting next to the lake in an untouched image, basically proving that whoever posted the picture on the left did some crazy editing.
There Are More Out There
You might not believe it but it's actually extremely common for people to photoshop clouds into their pictures on Instagram.
Apparently, they give the photos a bit of a dreamy upgrade, resulting in tons of people resorting to stock photos and clouds every single day to be added to their Instagram posts. Now that is something we never thought we'd write about.
​Drake Was Right There
On a regular evening, this guy went out for dinner with his family. In the middle of it, they thought it would be the perfect time to take a group photo, but little did they know that that would become one of their most memorable moments.
Only when they took a look at the photo later that evening, did they realize that Drake was chilling right next to them!
​What Happened To Her Foot?
Some sort of very awkward editing happened in this picture, and once you see it, it's impossible to unsee it. This woman's foot is so incredibly small that it can't possibly be natural, but it's hard to understand how exactly that happened.
Was it on purpose? Was it the angle? Or was it just an honest mistake, which accidentally became the height of this cute photo?
The Look On That Waiters Face!
This is one of the most incredibly awkward sceneries that involve children. This waiter had quite the unfortunate moment as he was bringing food to his table!
The waiter was caught completely off guard the moment a child literally punched his crotch out of the blue, and it was all caught in this photo.
Well That's Just Terrifying
Some people totally fail with their editing skills, and some people go to a level that is just hard to describe. This woman posted a picture of herself that couldn't look less like her real face.
She overused photoshop so much that her face actually became unrecognizable to her family and friends, though she insisted that the whole thing was real.
Striking A Pose
The art of posing may come naturally to some, but it can be a real struggle to some people out there, this girl included.
When she was in the midst of trying to pose in the best way she could think of, a guy in the back couldn't help but mimic her pose. She ended up with a hilarious picture that we hope she took well.
​The Other Horse Looks Annoyed
There is always that one quirky friend that can't see a photo being taken without making a funny face. According to this picture, that may happen with horses too and, just as expected, there is also the friend that doesn't find it amusing at all.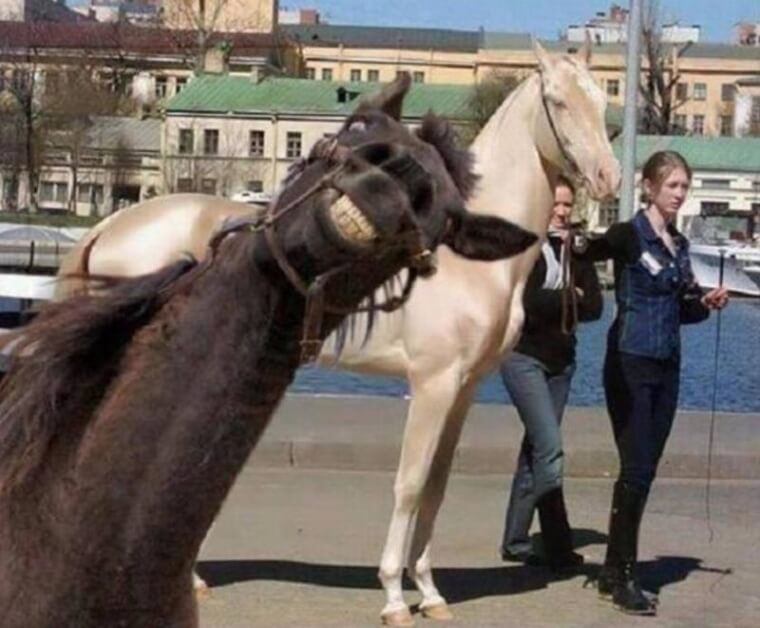 No matter what though, this is easily one of the cutest horse photos we've ever seen.
​Is This Really Her Mugshot?
Clearly, there are no limits to the pictures people chose to photoshop, that also includes a mugshot.
Someone had the brilliant idea of taking this mugshot and editing this woman's everything, so it would become one of those viral mugshots. Whatever this person was trying to achieve, we're not sure they've got their priorities right.
​Keeping Things Real
Okay, first things first, she is gorgeous no matter what she puts in her face. But we have to say that in a world with so many people trying to pretend to be something they aren't, it is really refreshing to see someone being so real.
To break the norm, this girl decided to put a photo of herself without any make-up and photoshop it next to one with the entire face production.
​It Couldn't Be Further From Reality
Though we are laughing about the different ways in which many of these photos are a complete fail, it's hard to ignore how dangerous it has become to scroll through social media.
Though some accounts are definitely authentic, others couldn't be further from reality (in a really unhealthy way). May this serve as a wake-up call for all of us to not take everything we see on social media as a given.
​It's All About The Pose
Not everyone tries to lie about who they truly are on social media though. In fact, more and more influencers have made sure to keep things as real as possible, as they've been more aware than ever of the dangers of creating unrealistic accounts.
For this person, it was all about the angle, the makeup, and well, a tiny bit of photoshop.
"​Magazines Are Just An illusion"
Instagrammers aren't the only ones distorting their pictures online to make people believe that they're closer to "perfection" than anyone else. Celebrities do it too on a daily basis, and many rarely admit it.
And while they sometimes do it themselves, many times some of the decisions are actually made by their managers and producers, who make sure to always hide whatever "imperfection" they may have on their bodies or faces.
​Skin Is Not Perfect
Have you ever wondered how celebs never have acne? Well, apparently, it's because they actually do but either hide it really well or go through some pretty harsh procedures to make sure it never shows.
Nevertheless, there are many disadvantages that may come with keeping one's image so clean and flawless all the time. In fact, it must be exhausting.
​Instagram Vs Reality
Well, folks, there are actually people who have made it their purpose to create "Instagram vs reality" videos and posts just so people get a good dose of reality on a daily basis.
Depending on who we choose to follow on social media, it is becoming increasingly common for people to not completely mask their lives. In fact, it might have even become a trend to keep things real.
​You'd Expect The Photoshop Skills To Be Better
No matter what level of fame celebrities may reach, deep inside, they are still just humans just like every single one of us.
And even though celebrities like Khloe Kardashian have tried to create brands to be more inclusive and break down barriers in Hollywood, even they give in to the photoshop rabbit hole. One would expect that the work would be done a bit better though.
​That's Way Too Much
Some pictures are photoshopped to a level that may actually start giving others trust issues. How are we supposed to know what is real and what isn't anymore?
Sure, there are sometimes a number of identifiable signs such as makeup, angles, and poses, but some people have mastered the art of deceiving others so well that it's becoming increasingly hard to know what is what.
​"Am I Not The Cutest?"
Something about llamas is just too cute for this earth. Their perfectly disproportionate faces make it seem like they're constantly smiling, warming any cold heart out there.
So when this llama decided to stick herself into a picture of a view of Machu Picchu from above, the lucky photographer was in complete awe. Now, they will always have a photo of a llama posing perfectly above Machu Picchu.
And We're Back To Khloe Kardashian
For those who have been watching the Kardashians for a while, or have at least "kept up" with the family through social media, Khloe Kardashian's transformation was one of those expected situations that came out of nowhere.
Though the reality star has tried to keep things real here and there, we continue to learn that even she is not exempt from the wonders of photoshop.
​The Queen Of Social Media
It's not a secret that Kylie Jenner is probably one of the Kardashian/Jenner sisters with the most work done on her body. The social media pro has come under fire several times for procedures she has done, but never as much as that one time that she decided to get lip fillers.
According to this picture though, something about the fillers just doesn't seem right.
​Coachella, The Instagram Farm
Something about this picture is so heartbreaking. Probably every single one of us has heard about Coachella. That huge music and arts festival that counts with the presence of some of the most known Instagram and Hollywood stars.
But as this picture clearly shows us something: not many people actually enjoy the thrill of the moment, since much of their time is spent getting content.
​Instagrammers Are Ruining California's Spring
Instagrammers will go to great lengths to get the perfect shot, no matter how unreal it may be. In fact, they might even get to the point of running nature itself just so that they get the typically colorful California spring photo.
When someone started posting photos of this specific spot during California's super bloom, others followed along and ended up killing hundreds of plants.
​Kylie Jenner On The Same Day
Before Kylie Jenner began getting all of her cosmetic "enhancements," she already loved to play with makeup and with her angles on social media.
For example, the picture on the left was taken on the same day as the picture on the right-hand side, but it actually looks like we're looking at two different people. There must have been a lot of photoshop happening here.
​Bye Bye Eyebrow
Oh, that's just awkward. This girl tried really hard to post a beautiful photoshopped picture of herself, but she forgot to double-check if it all fell into the right place.
She was petrified when she realized that the picture she posted showed her eyebrow glitching through her hat, basically signaling that very few things about that picture were actually real.
More Than A Few Distortions
Here we go again with a photoshop rookie mistake. As we've mentioned, there are a few things one should check when posting a picture that is photoshopped.
While most people won't notice it if the picture is slightly edited, it is almost impossible to unsee that many angles that just don't match. Take the Colosseum and the fence in the back there for example, how can it all be so distorted?
​Melania Trump's Portrait
It's not surprising that the First Lady would want to have her White House portrait come out perfectly, especially after years of building up an impeccable appearance.
But even Melania Trump is human and is prone to having some fine lines here and there. While her portrait clearly hid it very well, another angle of the photo showed every single unwanted line in her smile.
​Leg Day Has To Improve
How many jokes have we heard about ripped people who simply forget (or refuse ) to give the same attention they give to the rest of their body to their legs too?
Well, it seems like this person either loves that body shape, or she went a little overboard with the photoshopping situation. She might have needed to let her calves be a little bit bigger to look more natural.
​And We're Back To Khloe…Again
There are so many things that are unsettling about this picture. The side-to-side pictures are so different that once again, it's hard to even believe that people are able to distort their images this much.
While we are aware that celebrity pictures are almost never left untouched, this level of photoshop is just an entirely different one. Still though, we do somehow still appreciate Khloe's attempt to keeping things real every once in a while.
Real Comics That Show Parenting Struggles When Having Another Baby
Tegan Holmes
This article was originally published on ParentMood
Parenting can be a lot of fun, but anyone with kids or a pregnant partner knows that some days are better than others. Artist Yehuda Devir does a stellar job of capturing these ups and downs of parenthood. He began documenting his relationship with his wife, Maya, through the comic series "One of Those Days." Over their years together, the funny couple welcomed a couple of babies. Yehuda's illustrations have since morphed into a relatable and funny series on family life. So if you're a parent or expecting to become one soon, you'll love these illustrations!
A Bun In The Oven
Before a new baby arrives, their siblings need to learn why mommy's belly is growing again. For older siblings, the addition of a younger brother or sister can be a confusing time. They are used to being the main focus of their parents' attention, and the addition of a sibling means they won't be anymore.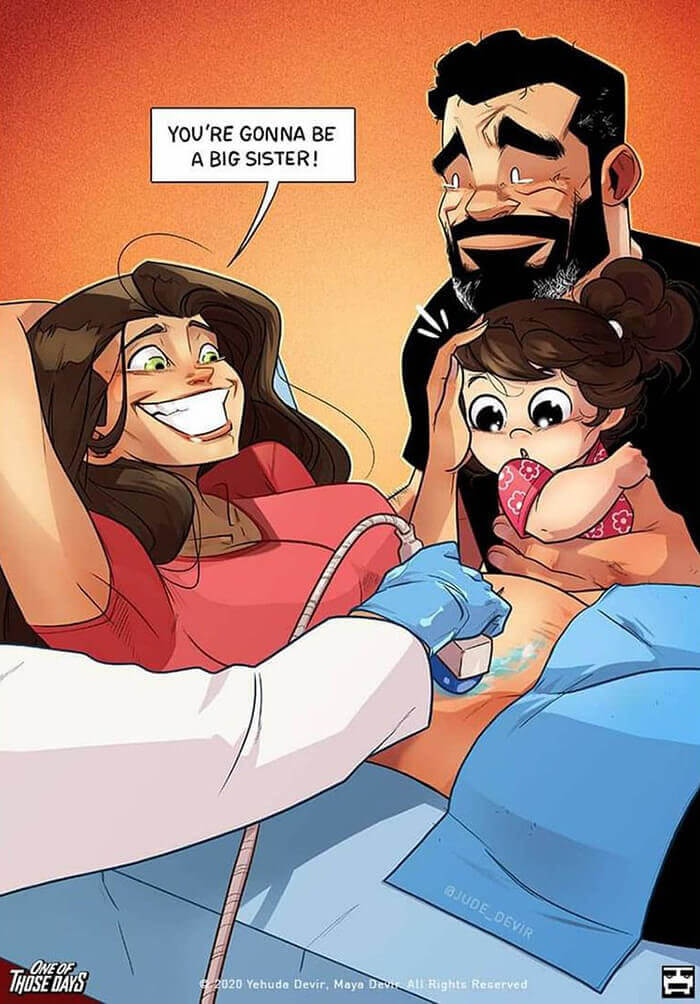 To help an only child get used to the idea of the new addition, it's a good idea to include them in big moments like ultrasounds at the doctor's office. That way, they begin to understand that a new life is growing, and they will have someone to play with in a couple of years.
Changing Bodies
It's pretty amazing that a human body can create new life. When a woman goes through a pregnancy her body changes in many different ways.
Most women will find that their bellies change because all of the organs must shift around to make room for the growing baby. On top of that, a few new stretch marks might appear, along with some general squishiness. That's okay though, it is all a part of this beautiful process.
Let The Romancing Begin
Every couple needs a little spice in their life, even if one of them is almost nine months pregnant. Just be mindful of a couple of things, especially when it comes to spatial awareness.
We are all for big gestures, but pregnant ladies do not need to have their head accidentally smacked on a door frame while their husband is attempting to be romantic. Save the grand gestures for post-pregnancy.
The Triple Spoon
A lot of kids don't like to sleep by themselves for the first couple of years of their lives. That's why parents tend to place the crib or bassinet in their own bedroom.
For this little family, they embrace group naps and cuddling together. This is an excellent way for everyone to get the affection they need.
Trying To Work
With everything being a new experience for babies and toddlers, they tend to think that the entire world is their playground.
That means any buttons that are at eye level must be pressed. Even if it means a parent loses all of their new comics, and they need to start from scratch again – oops.
Let The Countdown Begin
Once kids enter the picture, major holidays like New Year's Eve tend to take on a bit of a different meaning. Instead of staying up until midnight, it is more about sleeping until midnight.
That doesn't mean parents need to stop having fun. It just means that priorities need to change, and fun can be had when kids are older.
New Life
Babies start to move at around the five-month mark in their mother's bellies. It starts with what feels like flutters, and as the baby grows it starts to visibly move.
What may look like an alien moving around is actually a baby just kicking the stomach walls as it tries to get comfortable. Don't be alarmed.
Double Bellies
When a child's mom gets pregnant, it can be a bit of a confusing time. It's hard to understand that a new sibling is growing inside mommy's belly.
That's why it's important for parents to sit down with their child or children and explain that a new brother or sister is about to join them.
Filling Out
While stomaches definitely get bigger, so do other body parts as women get closer to giving birth. Bras may need to be adjusted, or even put away.
For women who are experiencing some major growth in their chest region, we would suggest grabbing a comfortable sports bra until it's time for nursing bras.
Scooting Around
Most babies learn to walk in the first year or two of their lives. Catching those first steps are one of the moments all parents want to remember.
Once a toddler starts motoring around though, you will want to be careful that your home is childproofed. Little fingers like to get into everything!
First Words
Every parent remembers the first time their baby speaks. Maybe it is 'Da-da' or 'up' that are their first words. No matter what, this is a moment that needs to be remembered.
For Yehuda and Maya, their little one managed to say 'Ma..Ma' which was a tear-worthy moment for both of these parents.
All Tucked In
One of the greatest inventions of all time has to be the body pillow. Not only does it conform to your body, but for pregnant women, it provides the perfect resting place for a heavy baby belly.
Body pillows may not fit perfectly in a bed with your partner, but that's a small price to pay for your own pregnant comfort, right? Getting a good night's sleep can be tough while pregnant.
Alone Time
Babymaking is a fun business, but after the baby has been born it can take a bit of time for things to get back to normal in the bedroom.
Sometimes a few new items need to be introduced to get the old motor going again so to speak. Couples that play together, stay together right?
Carrying The Load
A pregnant belly can weigh upwards of 20 pounds, depending on the woman. Most women will lose around 13 pounds as soon as they give birth, but until then, that extra weight can be hard on the back.
Sometimes simply leaning on a partner, or having your partner hold your belly up can provide some much-needed relief for back pain.
Feeling Insecure
For some women, acknowledging that your body has changed and being proud of it can take some time. Stretch marks are normal, as is saggy skin.
Throw on a one-piece or a bikini that makes you feel confident and let it all hang out. Nobody is watching, and your body has basically performed the miracle that is giving life. Be proud of it!
Time For School
Eventually, the day comes in every parents' life, where it is time to send your child off to preschool or kindergarten. This is a big day because it means you won't see your child 24/7.
For many parents, they covet this newfound freedom, but the worry for your child will always be there. Growing up can take some getting used to.
A Helping Hand
You know the phrase, "Help I've fallen, and I can't get up"? The same can be said for pregnant women, except instead of falling it is simply lying down.
As babies start to get bigger, and bellies start to get heavier, it becomes harder for pregnant women to move around like they once did. That means their partners always need to be on hand to help them off the floor, or the couch.
Beach Bodies
Some partners like to sympathy eat with their pregnant loved ones. That tends to mean both the woman and the partner pack on a few additional pounds.
Those extra pounds will need to come off eventually, but that doesn't mean you need to hit the gym hard. Start doing some light cardio, cut back on the junk food, and the weight will come off on its own. Chasing a toddler around all day will do wonders for the physique.
Cover Your Nose
Children are like little sponges, and they need to absorb their manners and proper etiquette from their parents and those around them.
One of the most important things children learn is to cover their mouths when they cough or sneeze. This keeps snot and other germs from spewing all over the place, but it takes practice!
Glued To The Television
Toddlers need to be kept entertained. Otherwise, they will find creative ways to entertain themselves, like drawing on the wall with their favorite markers.
One method to keep kids quiet, and entertained is to switch on that magical screen known as a television. This can keep kids busy for hours.
Food Cravings
Ask any woman that has been pregnant, and she will admit to having some pretty strange food cravings. Some women crave salty foods like pickles.
Others simply want to have a mish-mash of flavors in the form of every condiment known to man on their burger. While these concoctions might look kind of gross, try not to judge your partner's food choices. The baby growing in her belly is demanding these for a reason.
Getting Everything Done
Women are fantastic multitaskers, this is basically a fact. They can write an email, go shopping, and watch their child all at the same time.
For some men, it is a bit of a different story. Yehuda comically made fun of himself and his lack of multitasking abilities which might resonate for some other dads out there.
Going On Vacation
Babies are born with a natural instinct for survival when it comes to water. Most know that they need to flip themselves upside down so that their face is not in the water. Once a baby is old enough, it can be introduced to swimming, first with water wings, and later all on their own.
Family vacations give a baby time in the water with their parents, and they also learn a very important rule – don't pee in the pool. It seems like this parent might just have forgotten that rule, and needs a reminder.
Co-Parenting
Every family is different, which means each parent had a different upbringing growing up. These upbringings are what every parent either consciously or subconsciously brings to their own parenting style.
Sometimes these different methods of parenting can lead to a few arguments, but ultimately parents need to remember that this is a partnership. Everyone needs to find a common ground, and work together to raise their little one.
Getting A Boo-Boo
Part of growing up is learning how to fall down and get back up again. Children will fall down, scrape their knees, and understand what it means to get hurt.
Having a boo-boo kissed better by mom or dad, and a cute little picture drawn on a bandaid shows that it is okay to hurt. A parent is always there to make it better.
A Time Out
Time outs aren't just for kids. Sometimes a parent needs a break from caring for their child. This isn't because they don't love them, but it can be overwhelming.
Partners need to make sure that each parent has some alone time, even if the baby is crying. When a mom or dad is feeling overwhelmed, make sure to communicate this and get some help.
A Stinky Surprise
Dinner time is the highlight of the day for many people. Maybe your partner spent hours cooking up some delicious spaghetti, or another scrumptious meal.
A dirty diaper and the smell wafting out of it is not one any diner wants to smell before mowing down. Always do a quick diaper sniff before sitting down to dinner to avoid any unappetizing smells.
Incoming Baby Alert
For most expectant parents, they have enough time to hop into the car and make it to the maternity ward once contractions start. Some women might be able to have their baby in a matter of hours, for others, it could take days.
Everyone has their own birth journey to follow, and for Yehuda and Maya, it looks like it might have involved a bit of yelling and screaming. That's totally normal when a new life is about to enter the world!
Always Shut Your Mouth
One of the least exciting aspects of having a baby has to be changing diapers. It seems like every couple of hours, or sometimes even minutes, the baby needs a change, and that can lead to some messy situations.
If this comic teaches you anything, it should be to always close your mouth when changing a dirty diaper. You don't want to end up with a surprise in your mouth.
A New Addition
This happy couple welcomed a baby boy into their family, which obviously meant a comic had to be created for the announcement.
According to the caption for the cartoon, this new addition has been named Ethan and he is a "new super-ultra-mega baby boy." We can't wait to see how he is portrayed in Yehuda's work over the coming months.
All Tuckered Out
After a long day of caring for your child, both you and your partner will be all tuckered out. Bedtime is not just for the baby. Most parents try to match up their sleeping schedules with their little ones.
By matching up the sleeping schedules, parents can enjoy some much-needed shut-eye, until the baby wakes up and the whole saga has to start again. Sleep while you can when you have a baby.
A Few Tickles
A new baby is always cause for excitement. As soon as that little person enters the world, it feels like anything is possible.
Baby Ethan seems to enjoy some coochy coo time with his dad, and a few little belly tickles. For babies, everything around them is a new experience that always leads to a sense of wonder.
Everyone Wants Mom
When you have children, they may favor one parent over the other when they are babies. Usually, they cry out for mom because she is the one that makes them their food. It might be hard when your partner is away, and the children won't stop crying, but it will get better eventually.
The tears and screams might be flowing, but parents do the best they can while their partners are away. The parent taking care of the children watches the clock and wonders, "how many minutes until they come back?" At some point, the kids tire themselves out, and the crying stops.
At Least Everyone Is Sleeping
When you have young children, it can be challenging to find time to sleep. But, in the rare moments that everyone is sleeping, it doesn't matter if the house is a mess or someone didn't get their bath; you just have to savor the peace and quiet.
Being a parent is exhausting, and sleep is rare, so getting even a few minutes of rest with your children is a huge parenting win. However, we wonder if parents ever get used to not sleeping because they still have to go to work even if their children were up all night.
Getting Older
We all age, that is a fact. For some people that means getting wrinkles, and for a lot of men, that means thinning hair or going completely bald.
Losing hair can be a major source of anxiety, but it doesn't need to be. People age, and aging gracefully is a part of life. Own that balding head, and embrace the change. With age, comes wisdom, right?
Zoning Out
Every couple, whether they have been together for a couple of months, or a couple of decades has moments where they just need to zone out.
Social media is a great escape, and even if you and your partner aren't talking, you can be sending each other memes, and funny TikToks while you enjoy some quiet time together.
In It Together
At the end of the day, your partner is going to be with you through thick and thin. That means they are there for the highs and the lows, and no matter what, you will stand together.
Some days will be tough, but communication is key. Make sure that you check in with your partner, and assess how you both are feeling. Bottling up feelings is never good.
Winter Is Coming
As soon as that first crisp breeze blows in, or the first flurries of snow appear, women everywhere know it is time to stop shaving. Of course, some women still shave, but if you're not showing your legs off in shorts it is definitely more of a choice.
When winter hits, and women no longer have their legs on display, it is totally okay to say no to shaving, and embrace hairy legs.
Always Work Together
Being a part of a team in the workplace is just as important as being a team at home with your partner. You need to work together to raise your child, or your pet if you opt not to have kids. It takes two to clean up a baby that has gotten food everywhere or has managed to dip a hand into a dirty diaper.
You can always rely on your partner to help. That teamwork spirit will help you raise your kids to perfection, and achieve the life you have always wanted – go team!