Time is a strange thing – it seems to flow ever forward. It probably doesn't, but it sure feels like it does. Regardless, history is full of what we call "moments," each one like a cross-section of incomprehensible complexity in some great cosmic serpent. Some of those moments have been preserved on camera and for future generations to experience. With that said, we present to you 30 moments from history along with a small piece of their context. So, take a trip through the centuries with these fun and surprising photographs.
1. The Future According to a Random German Margarine Company, 1930
While humanity has always attempted to predict the future, it's rarely accurate. This illustrated card from a set distributed by a German Margarine company is, surprisingly, more accurate than most — which is to say, still not very accurate.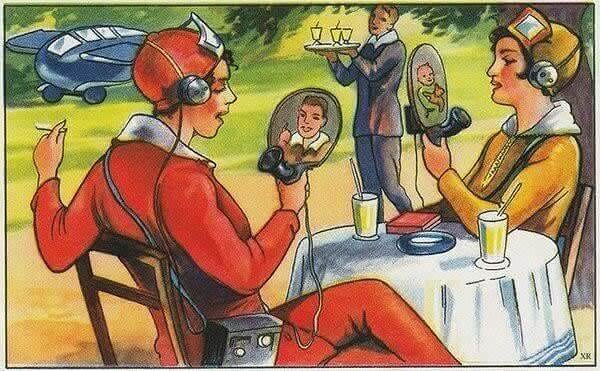 We'll give them 5 points for predicting video calls — however, we're deducting: 3 points for the clunky gear; 3 points for the disgusting jumpsuits; 5 points for assuming we would still tolerate wires; 2 points for overestimating the popularity of what we hope is lemonade; and another 2 points for the ugly hats. Oh, and -15 points for using plastic straws, you monsters.
2. The Average Cost of US Living in 1938
Sometimes it's hard to imagine the past with so little context. This image gives us an idea of what some costs were like close to a century ago. Prices were rather low following the Great Depression and the Great Recession, with unemployment growing to around 19% and the use of those annoying hipster hats to nearly 100%. Probably.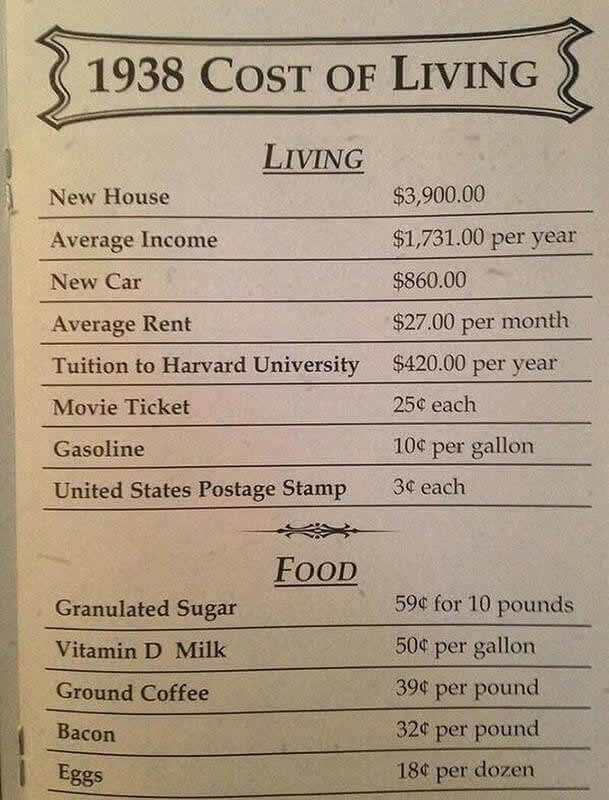 Can you imagine attending Harvard for only $420 per year? Well, if you didn't immediately account for 80+ years of inflation, it doesn't really matter because they'd still never let you in. What is truly surprising to us, however, is the price of movie tickets. Who in their right mind would pay 25 cents to see a 1930s film when they could spend the same amount to have their hands or feet maimed by a large reptile at the California Alligator Farm?
3. Instructions on Telephone Use, 1951
Back in the 1950s, people didn't know how to use telephones. You see, they didn't grow up having one-sided conversations with non-existent people using a piece of yellow Fisher-Price plastic. Telephones were still newfangled contraptions and essentially every box sold included these simple instructions as a guide for the whole family.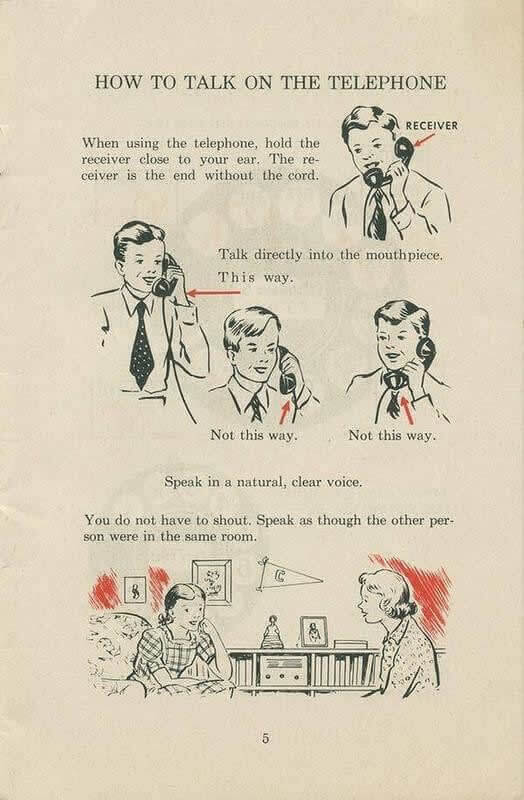 Nowadays, our instructions are about a hundred times more complicated and nobody even reads them. So while our first instinct may be to turn up our futuristic noses at the vintage-folk, keep in mind that probably 80% of people currently living would also be unable to operate a rotary telephone.
4. The Inventor of Basketball About to get Dunked On, 1928
You've heard about the future according to a margarine company. You've heard about the cost of living following the Great Depression. But have you heard of a little game called… basketball? Don't worry, even college teacher and known Canadian James Naismith hadn't heard of it before he invented it. Inspired by his rich childhood experiences throwing Canadian rocks at piles of other equally Canadian rocks, he created this intriguing game for his students as an alternative to another little-known pastime called foosball. Or "foot-ball" or whatever it is.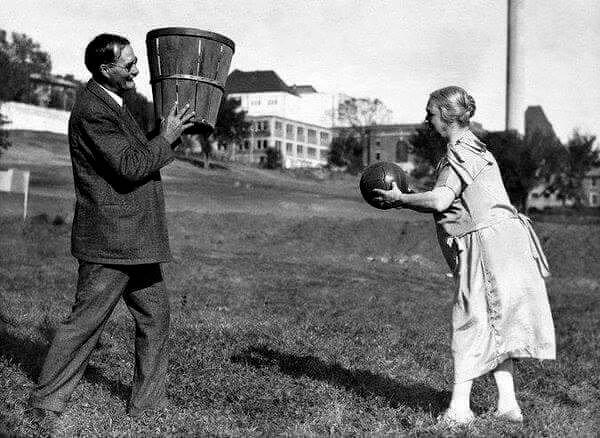 Unlike its modern analog, the original rules of basketball were slightly more complicated and are as follows: two teams of kids would throw balls into a large wall-mounted bucket. Riveting — and don't feel bad if you need to reread that a few times. Eventually, someone decided to cut the bottom out of the bucket, and modern-day basketball was born. Ish.
5. Just Divorced, Reno, 1934
Everyone's tired of seeing cars with "Just Married" signs, right? Right guys? That's not just us, is it? Well, in the mid-1930s, marriage was serious business. You see, back in the vintage years, it was strangely assumed that when a man and a woman went into a church and had a representative of God join them in an unbreakable holy-union for the rest of their days, that meant more than "like two years."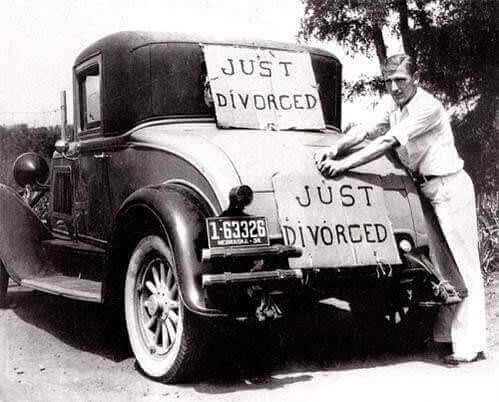 Unfortunately, there's a little something not even God himself could have predicted — women gaining the right to voice their dissatisfaction. Yet terminating an unwanted marriage was still rather difficult in most states, if permitted at all. Nevada, however, has never cared much for the rules of the Almighty, and joyfully offered unhappy couples the ability to come down and get "Reno-vated." Divorce is easy now, though, so Nevada mostly focuses on God's other pet peeves: gambling and prostitution.
6. Buzz "Lightyear" Aldrin Snaps First Selfie in the Abyssal Terror of Space, 1966
First off, we need to make sure the magnitude of what is happening in this photo is clear. You know whenever you swim in the ocean and you feel that crushing sensation of doom and horror as you float above an unfathomable, black oblivion filled with unknown horrors? Well, this is worse than that.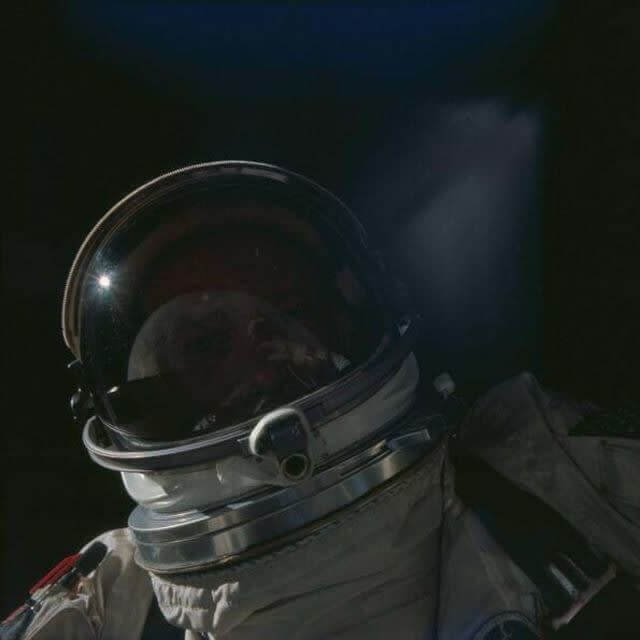 In November of 1966, Buzz Aldrin was defying nature on his first real spacewalk. After installing a handrail between the Gemini and the Agena spacecraft, not only did he somehow not have a heart attack, he managed to swivel the camera and snap a selfie. If you look closely into his visor's reflection, you'll notice the Earth actually appears to be round, defying all conventional scientific knowledge.
7. Futuristic 5MB IBM Hard Drive, 1956
This 5MB IBM hard drive was used in IBM's 305 RAMAC computer and weighed over 900kg. It occupied 1.4 square meters and used fifty 24-inch platters which are accessed with its two independently moving arms.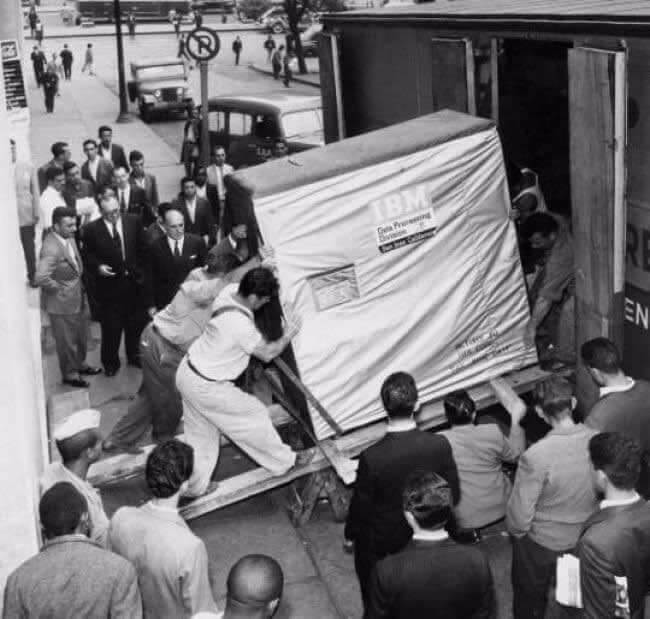 In its day, 5MB of storage held 5 million characters of accounting data, and unlike previous retro contraptions such as tape storage, it did not need to be read from start to finish — data could be accessed at random. However, this chunky dinosaur cost an annual $35,000 fee and had to be moved around using forklifts.
8. Steve Jobs and Bill Gates, 1991
Unfortunately, it's hard to say what year this photo was taken as nerd fashion hasn't really changed in the past 50 years. But here we can see the tech industry "titans" of Apple and Microsoft sitting together, presumably in someone's basement, discussing psychoprocessors and gigacirculizors and whatnot.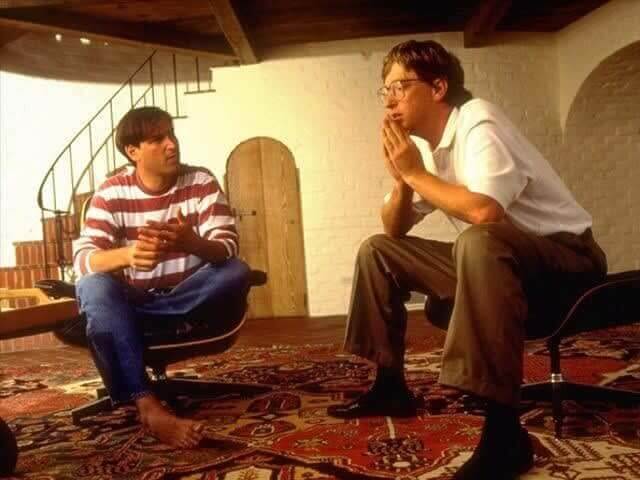 At the time this photo was taken did they know that they would be as successful as they became years later.
9. Bill and Hillary Clinton Heading to Their Cult Initiation Ritual c. 1971
Long before their unified evolution into scandal incarnate, Bill and Hillary were a fresh new couple. Bill was both a governor and President of the United States, while Hillary was Secretary of State, First Lady, and also the first woman to somehow lose a presidential election to Donald J. Trump.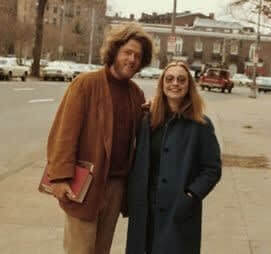 Prestigious may not be the right word, but they've definitely come a long way and overcome an incredible amount of adversity.
10. John Lennon of the Beatles Signs Autograph for John-Lennon-Murderer Mark David Chapman, 1980
That was a lot of names, huh? Little needs to be said about The Beatles as a band — they're the most popular band ever. They're pretty much the most [anything positive] band ever, to be honest. Mark David Chapman thought so, too. At first.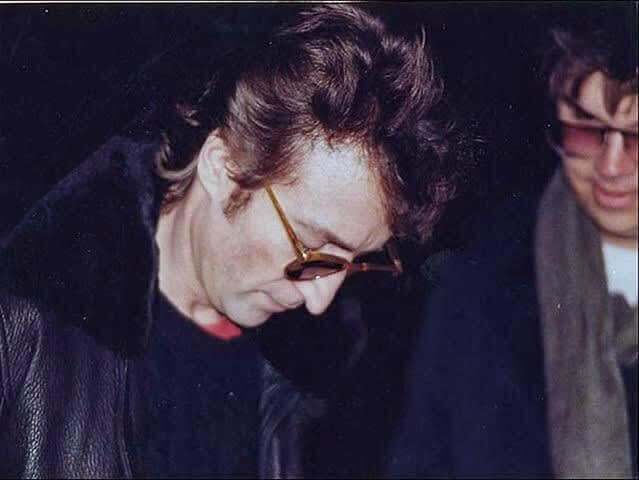 Despite being a Beatles superfan, the born-again Christian had several gripes with Lennon, notably that in a 1966 interview, Lennon stated that The Beatles were more popular than Jesus. Chapman already coveted the fame that came with murdering a celebrity, and in early December of 1980, he shot Lennon in the back several times before immediately surrendering to Police. He currently resides at Wende Correctional Facility in Alden New York, where he looks exactly like Red Foreman from That 70's Show.
11. Sir Clint Eastwood Skating Around Rome, 1965
One year after the release of A Fistful of Dollars and one year before the release of The Good, the Bad, and the Ugly, Spaghetti Western star Clint Eastwood could have been found on a skateboard, cruising the streets of Rome in traditional Italian skate gear.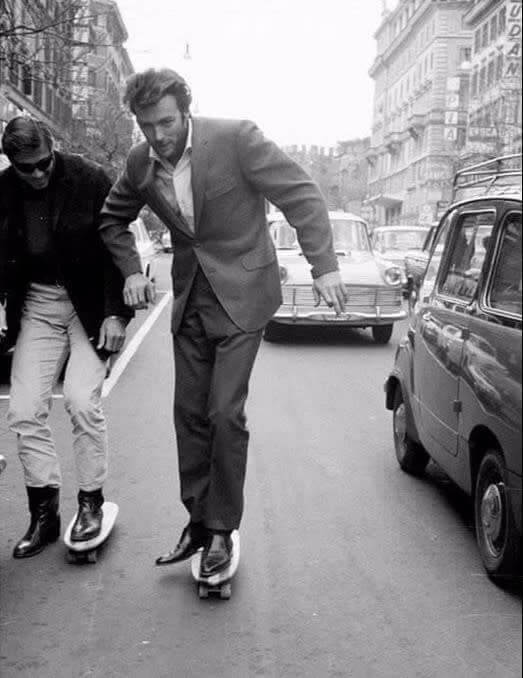 Skateboarding was still a pretty new thing in the 60s, and luckily for both Clint and the people of Rome, he experienced the joys of skating while he was still able to open his eyes slightly.
12. Baby Cages Used To Ensure That Children Get Enough Sunlight And Fresh Air When Living In An Apartment Building, ca. 1937
Indeed. There's really no positive combination of any of these 3 words. Think about it. Baby cage. Hanging baby. Even "hanging cage" has a pretty sadistic vibe. We don't like any of this, but it was a real thing in Darwinian 1930s London.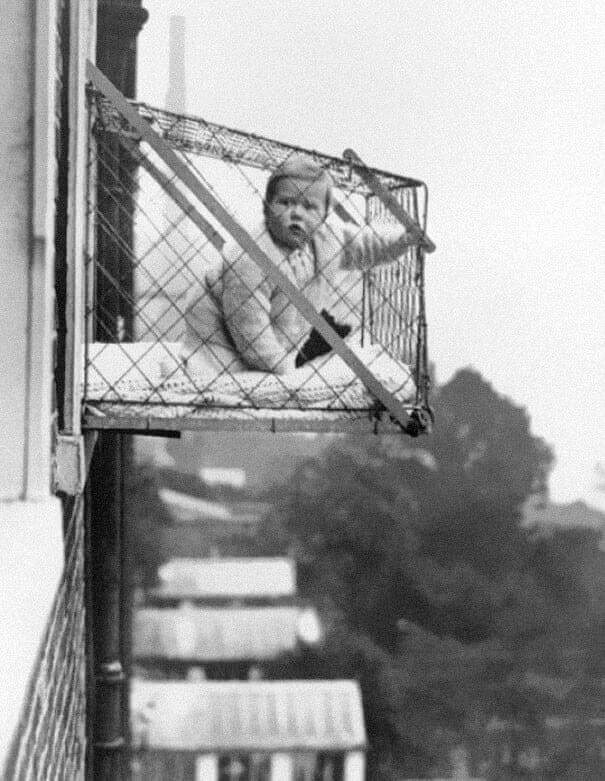 You see, the assertion was that babies, like other small animals, require fresh air (back when they still had fresh air) to "renew the blood" or whatever. If parents didn't have secure exterior spaces and also didn't necessarily want an "outdoor baby," they only had one reasonable course of action to foster their baby's well-being; a rickety wire-suspension cage hung precariously off the side of a building. #Parenting
13. Pasta "Factory" in Napoli (Naples), Italy, c. 1955
Like any normal, sane person, you probably eat a decent amount of pasta. And like most normal, sane people, you likely find yourself unable to enjoy pasta to the fullest because you aren't sure exactly how it's made.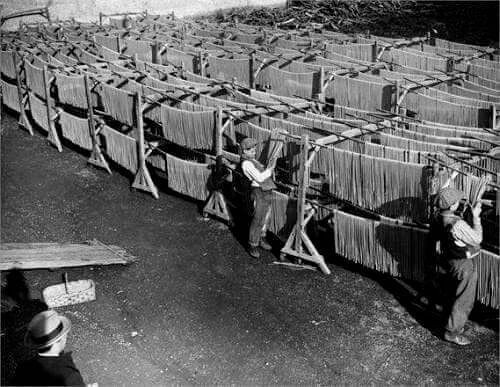 Uh. Well, let's just say they make a dough out of wheat and water and then cut it into shapes. It was first done by hand, then by machine. Now, it's probably done with lasers and nanobots. Regardless, this retro "factory," as they want to call it, would hang these pasta-shapes out to dry in the open air (air was healthy back then).
14. Henry Ford Shows Off his First, uh, "Automobile"
It was in the year 1896 that Henry Ford created his first gasoline-powered automobile — a full decade after Karl Benz had invented his own automobile. In a perfect world, perhaps Benz would be on this list, but alas, life isn't fair.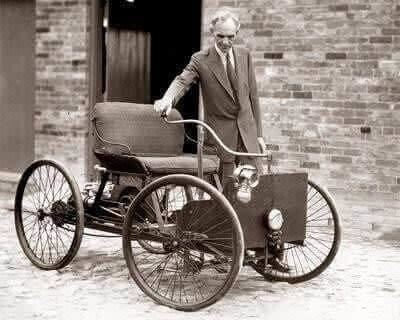 Cobbled together from whatever was lying around like Frankenstein's Go-kart, his contraption included an iron frame, leather transmission belt, and one seat. Prototypes, you understand. Ford later sold his mechanical deathtrap for a king's ransom — $200 vintage dollars — which, unsurprisingly, he used to create another and then one of the biggest car companies in the world.
15. Three-Year-Old Peggy Kennedy, Duckling Therapy,1956
This is three-year-old Peggy Kennedy, as you should know by the title which you're assumed to have read as per our agreement. And yes, these strange animals are known as "ducklings." That's their Latin name. We're sure you have other questions.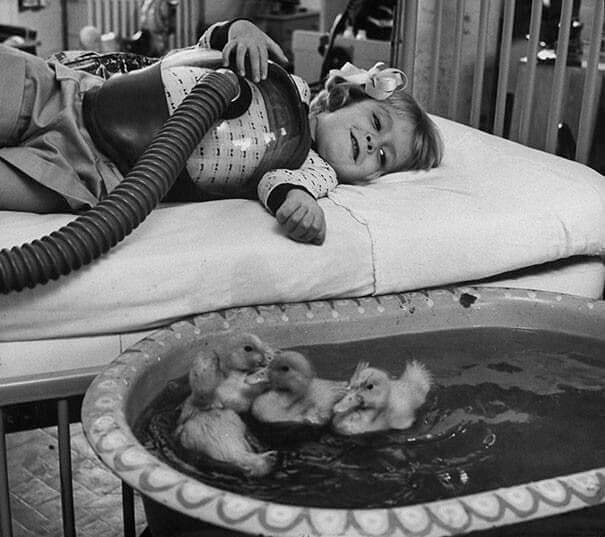 No, that's not sweet futuristic chest-armor. As a person affected by polio, Peggy was being treated with a cuirass ventilator which helped her breathe. The ducklings were there to keep her entertained while she went through treatment.
16. His Excellency Willis Carrier, Inventor of Air Conditioning, 1915
"Canonization" is the declaration by the Church that a deceased person is officially a saint. Just throwing that out there. Anyway, in 1902, Willis Carrier invented modern air conditioning. Just take a moment to respect that. He later founded a corporation that further developed heating and ventilation systems and also had the most luxurious nose in modern history. Basically the guy is a legend.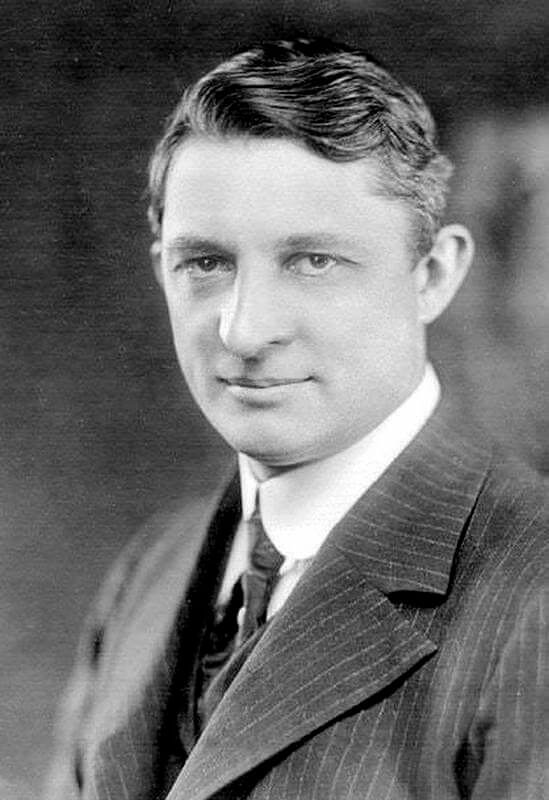 Although air conditioners do heat up the planet more than they cool it down due to that entropy whatsit, they allow us to cool down the places we care about — which is good since climate change is making the Earth itself really uncomfortable lately. Say a prayer for St. Carrier, patron saint of favorable ambiance.
17. The Original Ronald McDonald, 1963
By now, we know that all the cool kids have a crippling existential fear of clowns. While they're most certainly the incarnation of supernatural terror, there seems to be some confusion about who the real overlord is.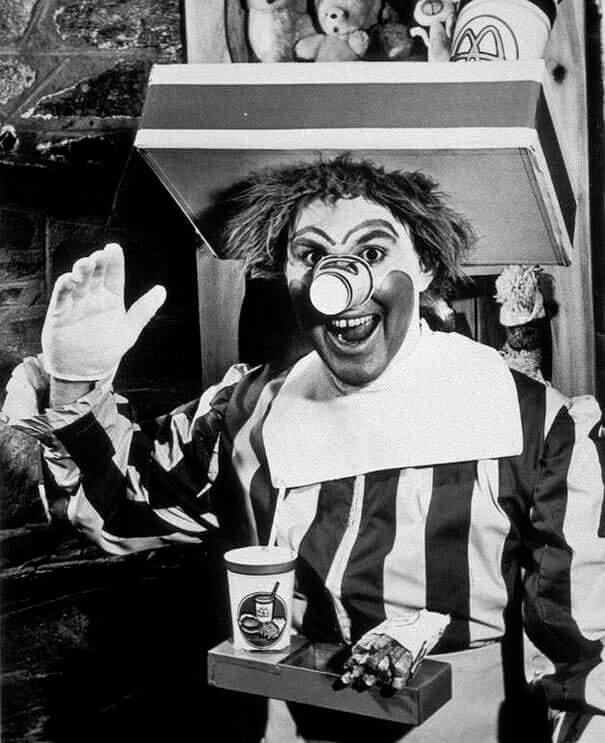 Little known fact: over 90% of human heart attacks are probably caused by clowns, and there are two ways they get you. The most obvious being spontaneous thoughts of clowns which literally scare you to death. The other method is far more insidious — atherosclerosis. That's right. This is the original Ronald McDonald, the Clown Prince of Cholesterol.
18. David Isom Ignores Segregation Line in Florida Pool, 1958
This historic moment marks the day nineteen-year-old Florida man David Isom boldly ignored the racial segregation "color line" to use a segregated swimming pool and "caused the entire facility to shut down." Yeah — they didn't have terrorism or global warming to freak out about back then.
Although Isom's heroic defiance of social inequality and racism was truly brave and commendable, it would be another 38 years until Tupac Shakur would release the track "All Eyez On Me." It has nothing to do with David Isom, per se, but it would have been totally sweet background music. With all the said, we have serious questions about the person who took this photo. Specifically… how? Did the pool facility just keep photographers on retainer, or…?
19. Boris Karloff and Frankenstein's Makeup, 1931
The iconic 1931 sci-fi horror film "Frankenstein" features the story of mad scientist Dr. Frankenstein and his hideous assistant, Igor, who together exhume human corpses and join them into one body, giving it life using the magic of electricity. Spoiler alert, by the way — don't read that last part if you haven't seen the movie yet.
Of course, in true ugly-assistant fashion, Igor imbues Frankenstein's giant patchwork monstrosity with the brain of a murderer and hilarious antics ensue. Here we see Jack Pierce during one of his four-hour makeup sessions turning actor Boris Karloff into the iconic, brick-headed freak now ignorantly referred to as "Frankenstein."
20. Young Liza Minnelli, 1969
First off, we personally guarantee that "Minnelli" and "topless" are two words you never thought of in the same sentence until this moment. That may be because you don't even know who she is. It may also be because you know exactly who she is. Either way, really.
She's not only known for her film/theater work, dancing, and her incredible mezzo-soprano singing voice — she's also the daughter of Wizard of Oz child-actress Judy Garland. One thing she's definitely not known for, though, is taking sultry photos like this one. So don't bother Googling more. No, seriously. That's not doublespeak, either.
21. Young Elvis Presley with his Human Parents, 1938
Before Elvis was a king or an alien, he was a baby. Allegedly. If that's true, this picture offers us some insights into the question on everyone's mind — "what was Elvis Presley's home life like when he was a very young child?" It's kept you awake at night. We know.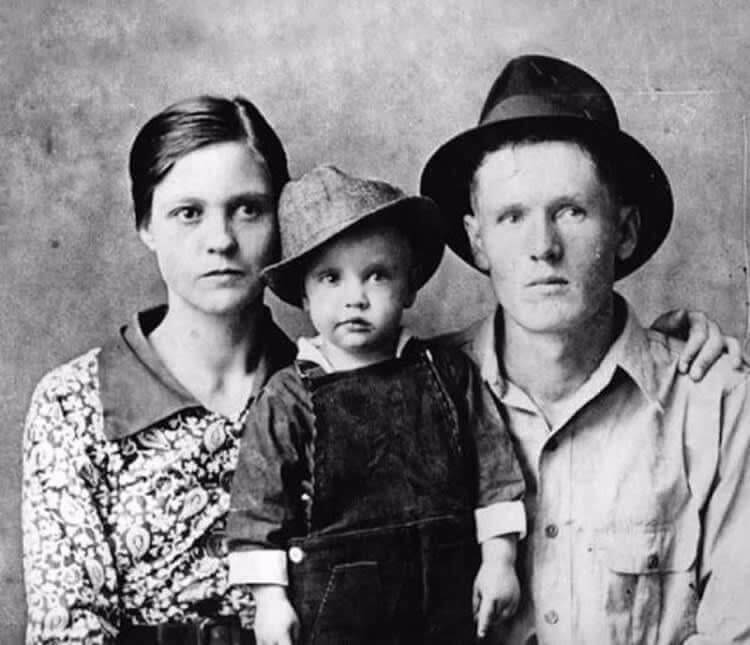 While we still don't know how Elvis arrived on Earth, both Vernon and Gladys Presley have maintained that he is indeed their biological human child. While we won't indulge fallacious claims in a respectable and impartial article such as this, the photo was supposedly taken at Lee County jail in Tupelo, Mississippi — exactly the kind of place two farmers might bring an alien child. Or maybe they're aliens as well; even real human farmers don't look THAT much like farmers.
22. Eiffel Tower, Sticking it to Big Art, 1889
They say history is written by the victor — and it must be true. You see, today, the Eiffel Tower is a globally adored cultural icon. You can literally buy Eiffel Tower souvenirs in every major city on Earth. However, before and during its construction over a hundred years ago, a large group of France's leading artists (or artistes) formed a collective to denounce and protest it.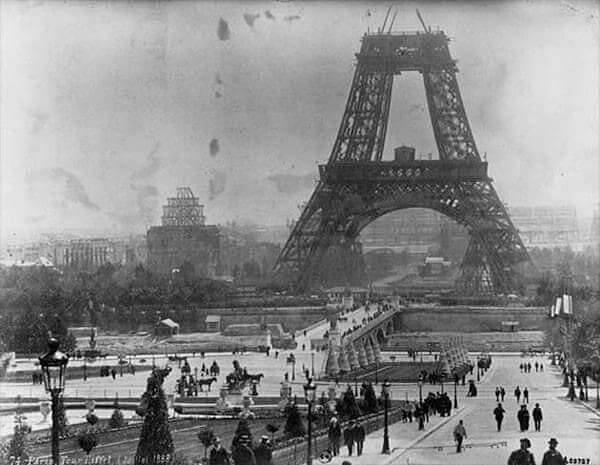 This group felt pretty confident that the Eiffel Tower wouldn't really jive with the Paris vibe. And honestly, you should never doubt an artist's opinion. It's not as if there's a global cabal of snooty frauds valuing random splats of paint at exactly the amount of taxes their friends owe. The truth is, if you disagree with an artist it's because you're an uncultured yokel with no sense of nuance. Despite all that, the Eiffel Tower was definitely completed and now stands as "like, the main thing" that anyone knows about France.
23. Practice Run for the First Olympic Marathon, 1896
Did you know that marathons are called marathons in honor of the ancient Greek messenger Pheidippides, who allegedly ran from the town of Marathon all the way to Athens, 40km away to deliver word of victory? Seriously, did you know that? Doubtful. Anyway, the first Olympic marathon attempted to use the same route Pheidippides is believed to have taken.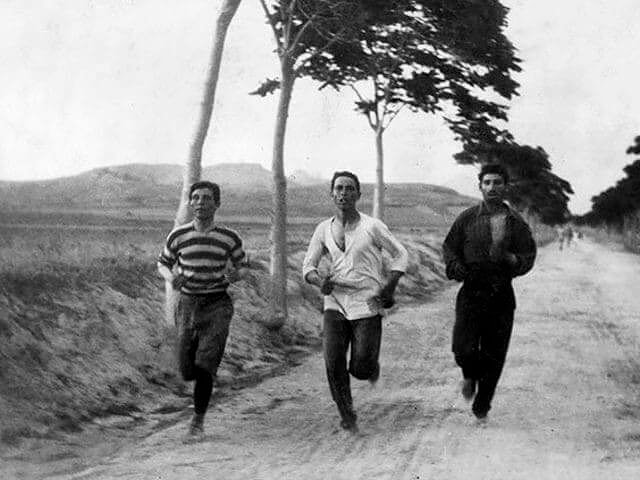 Of the twenty-five runners who entered, only eight actually completed the race. Vintage Greek runner Spyridon Louis (really) took first place with a time of 2:58:50, and while that record has undoubtedly been shattered by half the population of Kenya, it was pretty impressive for 1896. Honestly. There were literally still cowboys in the US at that time. Shootouts. Snake oil. Consumption. Wyatt Earp was still alive, dang'it. For like, 30 more years or something. Can you believe that? Keep scrolling if so, and if not, scroll down.
24. Jimi Hendrix Plays Guitar During Army Service, c. 1961
Before Hendrix was one of the greatest guitar legends in the history of all music ever, he was in the 101st Airborne of the U.S. Army. Before that, he was involved in some car thefts — which is how he ended up in the army. This isn't a picture of Hendrix posing with his guitar, it's just a photo of Private Hendrix who absolutely could not put the thing down at all.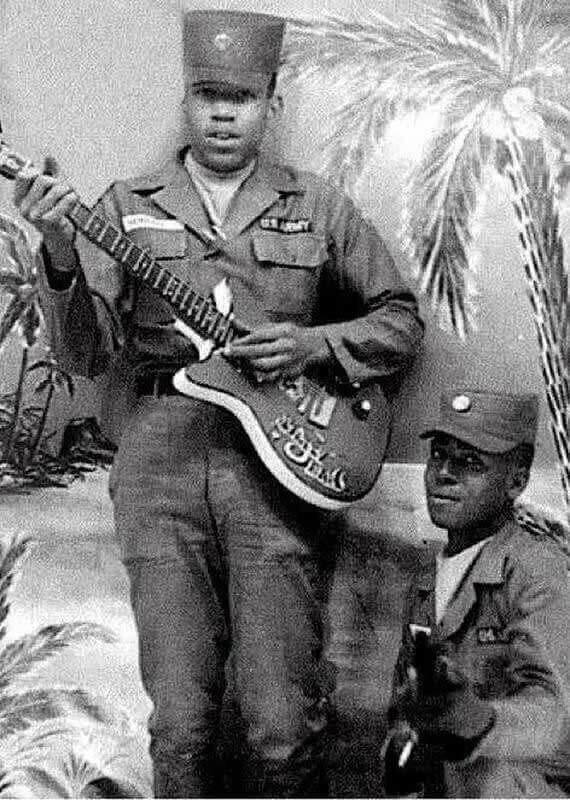 Hendrix admittedly did not enjoy his time in the army, where he was known as the guy who constantly disappeared, the guy who kept everyone awake all night playing music, and the guy who couldn't get any work done because he was "thinking about his guitar." Haters were a thing back then, too.
25. Dinosaurs Travel the Hudson River en Route to the World's Fair, 1964
Dinosaurs — a topic of hot debate today. Were they real animals like crocodiles and other large lizards, or are all fossils simply an elaborate hoax by the devil, who secretly buried fake bones across the world to trick devout Christians thousands of years later? Well, of course, no one really knows, but as you can see, in 1964 a few did come out of hiding to attend the World's Fair "Dinoland" exhibition.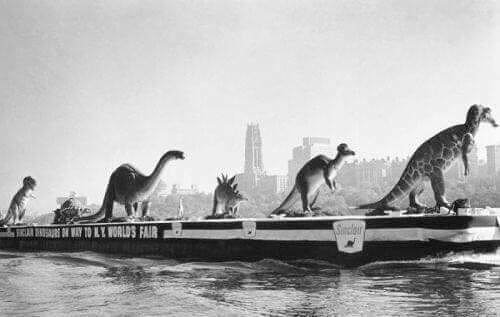 True, "Dinoland" seems a little patronizing, but it was a different time. Now, conspiracy theorists will probably tell you these dinosaurs on the Hudson River are just "replicas," but that would be impossible as you cannot replicate something that never existed. Which… means… they were… real? Or…? Look, don't worry about it, alright? Just keep scrolling. JESUS.
26. Björn Borg and John McEnroe, Rivals 4 Life, 1981
Björn Borg (Sweden) and John McEnroe (USA) are two of the greatest tennis players of all time, and their rivalry was perhaps the most infamous. They faced each other a total of 22 times, becoming known as "fire and ice" due to their opposing personalities. We think Beowulf and Grendel would have been even better.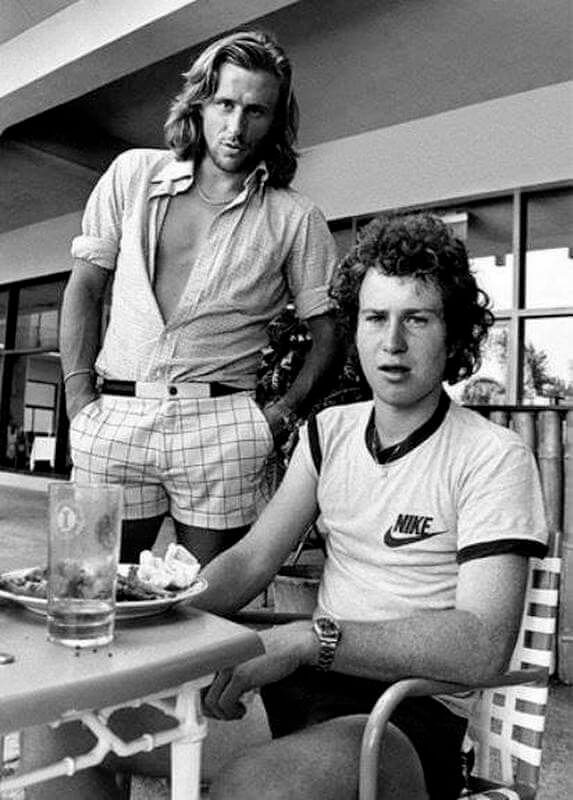 McEnroe was notorious for his temper and mid-game tantrums, while Borg was known for his emotionless composure. In their tour final, McEnroe lost to Borg in what was described as the greatest Tennis match ever by people who enjoy Tennis. Everyone else just kinda shrugged.
27. Audrey Hepburn and Pippin, the Actual Faun, 1958
Remember the entry about Sophia Loren and the Mona Lisa? You have been reading all these, right? Anyway, we said that Sophia was *one of* the most beautiful actresses of the 20th century. Well, we're in the big leagues now — this is Audrey Hepburn, perhaps the most objectively beautiful actress of all time, as evidenced by her ability to literally charm nature itself.
During the filming of the movie Green Mansions which you've never seen or heard of, Audrey starred alongside an actual baby deer. In order to build a sincere bond, she was encouraged to feed her, cuddle her, and spend all her waking (and sleeping) time with her. Here the pair is pictured checking the ingredients list on this box of Honey Grahams to make sure they're vegan (they're not).
28. Sophia Loren Glances in the General Direction of the Mona Lisa, 1964
Here we have a photo of the classic beauty Sophia Loren being photobombed by another classic beauty, Da Vinci's Mona Lisa. Sophia Loren is considered to be one of the most beautiful actresses of the 20th century, while the Mona Lisa is a 503-year-old painting by perhaps the most brilliant human/Italian of all time.
The Mona Lisa may have aged better than Sophia Loren, but while the Mona Lisa has been couped up in the Louvre for over 200 years, Sophia's likeness adorns pasta and pizza restaurants around the globe. We already covered the glory of pasta, don't get us started on pizza. Sorry Da Vinci, but you're Italian, too. You get it.
29. The First Smoggy View of NYC by an Immigrant Family c.1892
During the late 1800s, immigration was kind of a big thing in the US and many immigrants landed on Ellis Island off the coast of New York. As the country entered a period of rapid industrialization, an immigration boom began.
Between 1880 and 1920, over 20 million people immigrated to the United States. Keep in mind that this was over a hundred years ago — there were only like 800 people in the entire world or something. Immigrants to the US have both been welcomed and shunned over the years — the latter being mostly Irish, Italians, and Chinese. So it's fine, basically.
30. Christmas "Dinner" During the Great Depression, c. 1932
You may have heard that the Great Depression was an era of excessive wealth, opulence, and luxury. It would be pretty strange if you heard that, but technically it is possible. Just saying. In reality, it was about 10 years of international poverty in the worst economic downturn in history. Within a year of the stock market crash of 1929, twelve million people were unemployed and approximately 12,000 more lost their jobs each day.
This Christmas dinner photo is generally alleged to picture children "enjoying" turnips and cabbage — but we're not convinced. While it's likely true that these are indeed children, we don't see any turnips or cabbage here. Look, just admit that your Great Depression Christmas dinner was bread and potatoes — we'll still pity you, we promise.
Rare Photos Of A-Listers That Offer A Look At Who They Were Before Hollywood
Ashley Lez
This article was originally published on JustStarz
While we think we know celebrities inside and out, there is a good portion of their lives that we have never seen before. Here's something you've probably wondered about – what were they like as kids? Did they show signs of one day becoming the world-renowned stars that they are today? What was life like for them growing up? In order to give us an idea of what these beloved Hollywood figures were like, we found these rare photos of your favorite celebs before they were famous. You will be surprised to see that they were once ordinary people just like us.
Robin Williams In His Senior Year Of High School In 1969
When Robin Williams was a senior in college, he decided to go to college and study political science. However, he quickly realized it wasn't the field for him and dropped out to pursue acting. He studied theater for three years at the College of Marin in California.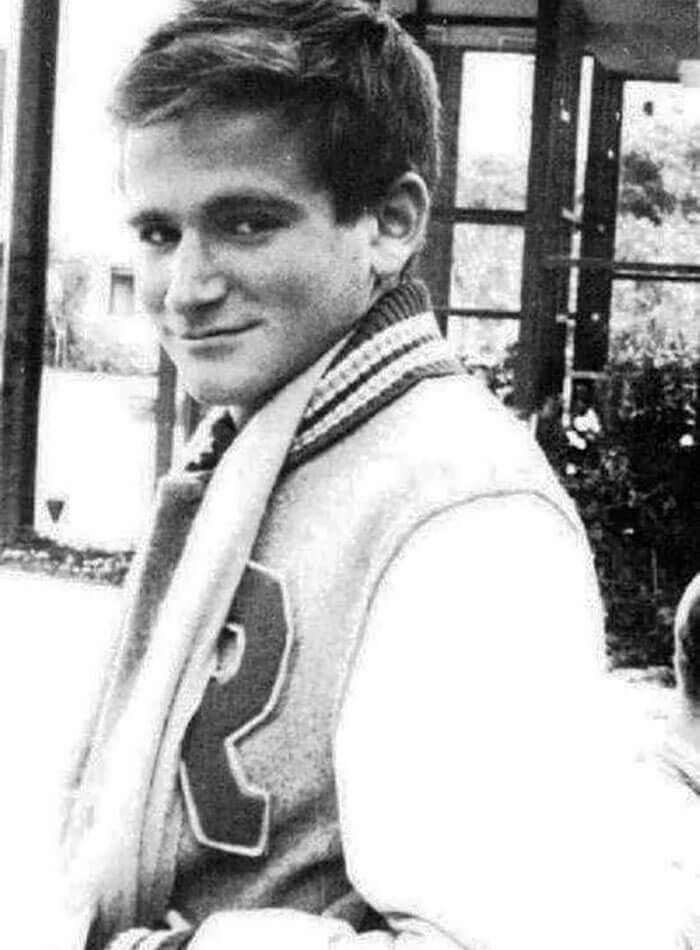 One of his professors realized how talented Williams was and cast him in the musical Oliver!. He later attended Julliard, and during the summers he worked as a busboy. After graduating, Williams worked odd jobs until he got his big break on Mork & Mindy.
Adele Was A Huge Spice Girls Fan
In case you missed it, Adele was and probably still is the biggest Spice Girls fan in the world. The British singer grew up with their music and had their posters plastered all over her bedroom walls. As a child, Adele was already interested in singing, and she became obsessed with voices.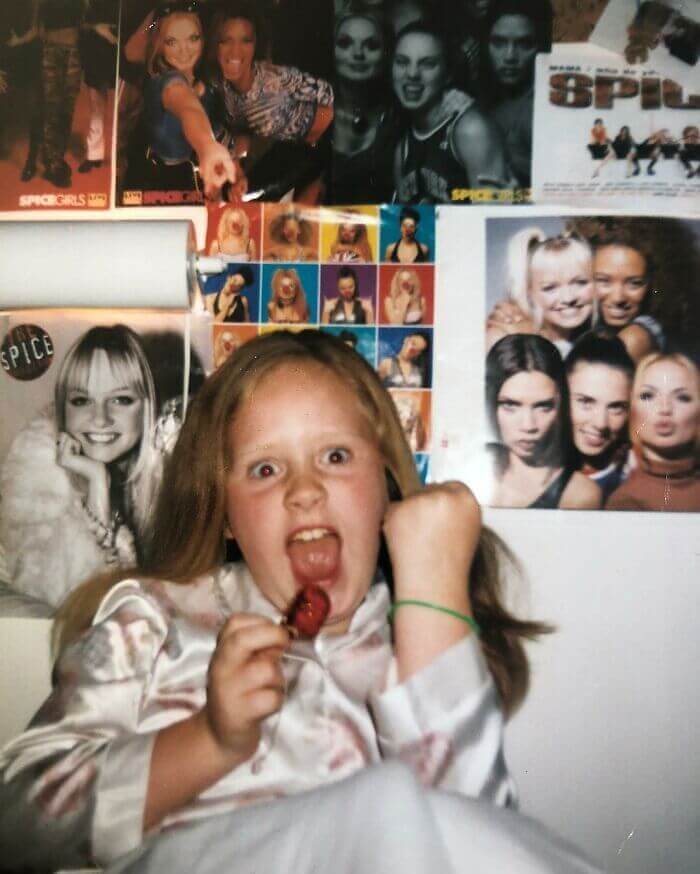 Adele spent much of her youth in Brockwell Park, playing the guitar and singing to friends. Years later, she drove by and started crying because she really missed the memories she made in that special place.
Keanu Reeves Circa 1984
In high school, Keanu Reeves was a successful ice hockey goalkeeper and considered going pro but decided to pursue acting when he was 15 instead. He made his debut in 1984 on an episode of the series Hangin' In, which allowed him to get more roles on teen dramas.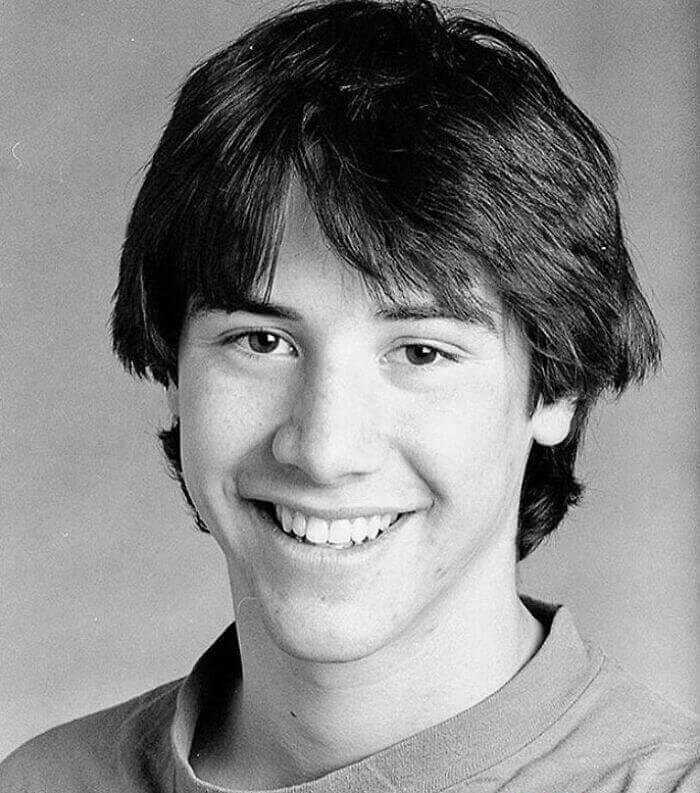 Reeves was also interested in music and formed an alternative band in 1991. Surprisingly, it was moderately successful, and they were active until the early 2000s. His big break was in Point Break, and this helped him shoot to stardom.
Catherine Zeta-Jones In Her Grade School Photo
Catherine Zeta-Jones' school uniform made her look like she belongs to the Gryffindor house. She must have been in first or second grade at the time, and she couldn't be cuter. The actress was born in Wales, and in school, she would participate in stage shows.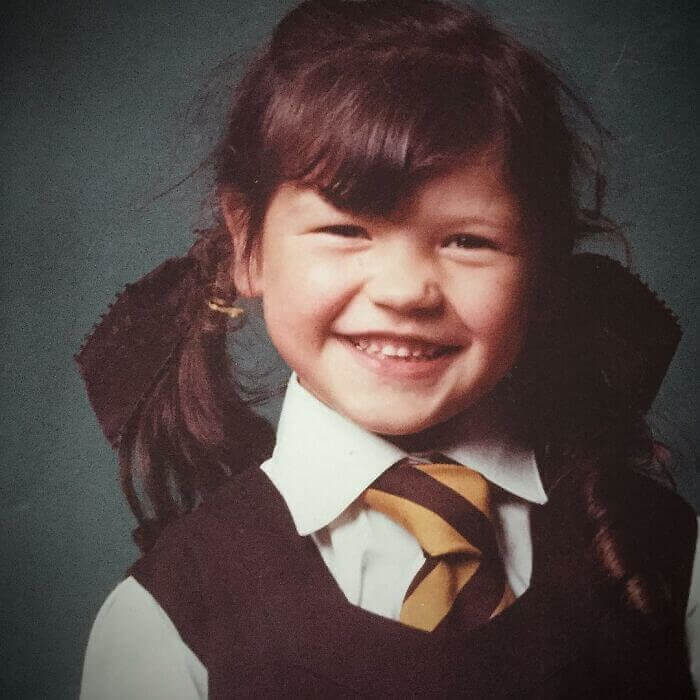 At a young age, she gained local media attention when her rendition of a Shirley Bassey song won a Junior Star Trail talent competition. Zeta-Jones would take trips to London with her dance troupe, where she also auditioned for shows.
Morgan Freeman In The Air Force
When Morgan Freeman was just nine years old, he starred in his school play and later won a statewide drama competition. He performed in the radio show in high school, and it earned him a drama scholarship from Jackson State University.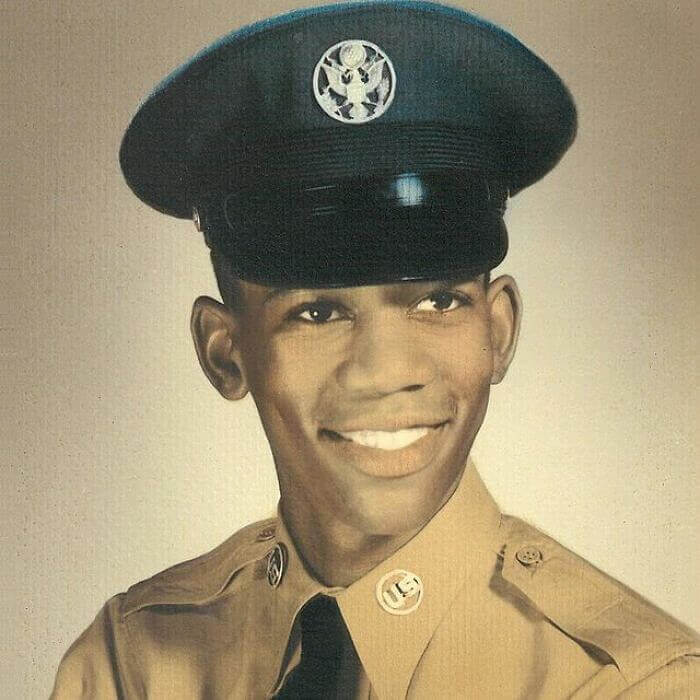 However, instead of taking the scholarship, he enlisted in the Air Force and served between 1955 to 1959. After his service, Freeman worked as a transcript clerk for Los Angeles City College and studied arts there. He was also a dancer until he started getting steady acting jobs.
Anne Hathaway As A Clown Witch
It seems that Anne Hathaway was practicing for The Witches before she was even famous. Besides looking exactly the same, she seems to have confused a witch and a clown in this mashup of a costume. Surprisingly, Hathaway's parents didn't want her to pursue acting.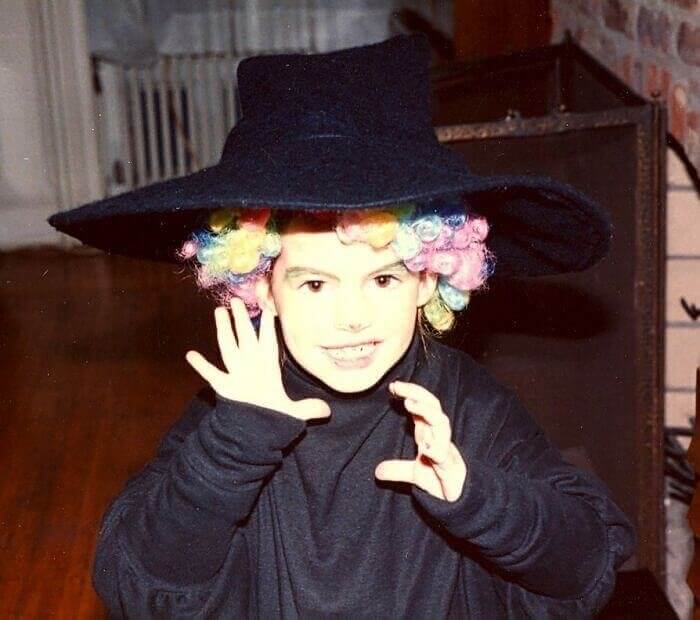 Hathaway wanted to become a nun during childhood because she was raised with really strong Roman Catholic values. However, acting was always in the back of her mind, and we're grateful she chose to entertain us on the big screen.
Joe Biden When He Was 26
Unsurprisingly, Joe Biden was the class president in school and played on the basketball team. He also briefly played football in college but decided to focus on his studies instead. When he graduated from the University of Delaware, he worked as a clerk at a law firm.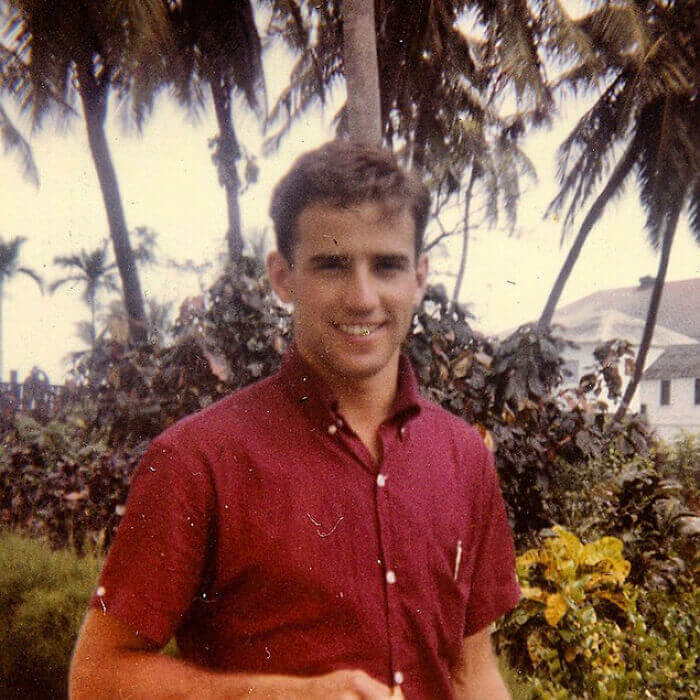 Biden eventually took the bar exam and began practicing law. This helped propel his career, and he served in the US Senate for 36 years before serving as vice president with Barack Obama from 2009 to 2017. Say what you will about his politics but it's undeniable that he was so handsome back in his day.
Madonna's Childhood Close-Up
Little Madonna was bright-eyed and looking towards the stars as a child. The singer grew up in the Detroit suburbs with her five siblings, and her family would call her "Little Nonnie" because her mom was also named Madonna.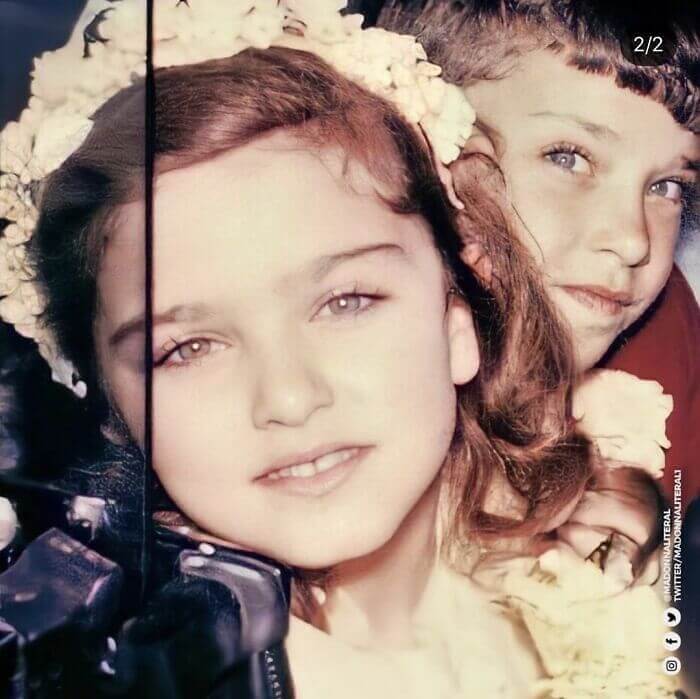 Madonna was known for rebelling at school after her mother passed away, and her dad decided to sign her up for piano lessons and ballet classes. Her dance teacher was the one who encouraged her to pursue a career in dance.
Jim Carrey In The '80s
As teenagers, Jim Carrey's family struggled financially. Therefore, he and his brother John took up jobs as a janitor and security guard at a tire factory. While working at the factory, Carrey dropped out of school to perform comedy in downtown Toronto.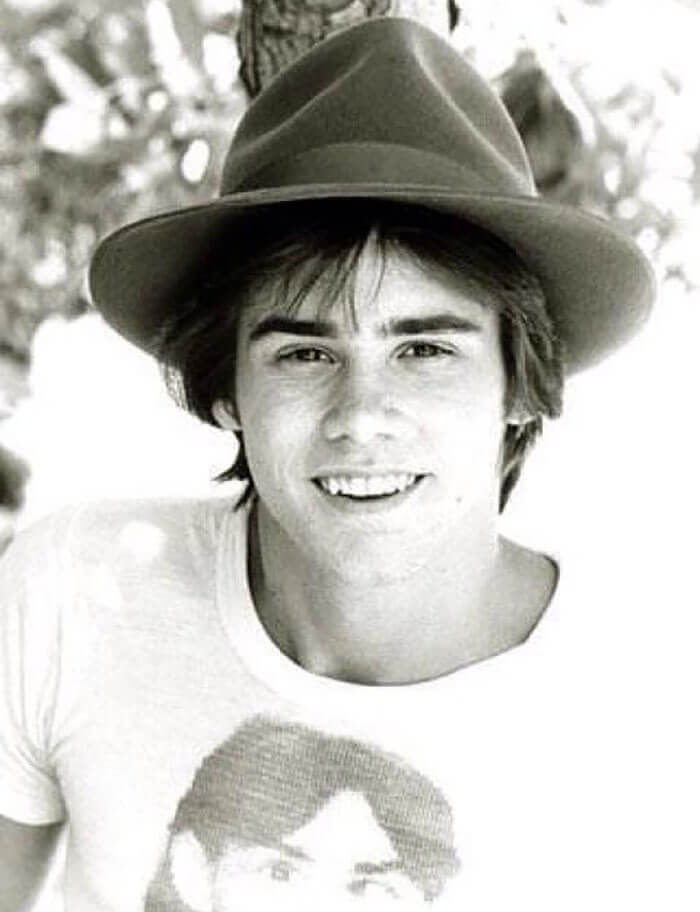 He steadily increased his local popularity as an impressionist and stand-up comic going on tour and appearing on television. His shows made him more popular and landed him the roles in Ace Ventura: Pet Detective and The Mask, which helped him become the actor he is today.
Taylor Swift Made Tie-Dye Trendy Before Everyone
Born and raised in Pennsylvania, Taylor Swift became interested in musical theater and started performing in the local youth theater. She also traveled regularly to New York for vocal and acting lessons. She was inspired by Shania Twain and shifted her focus to country music.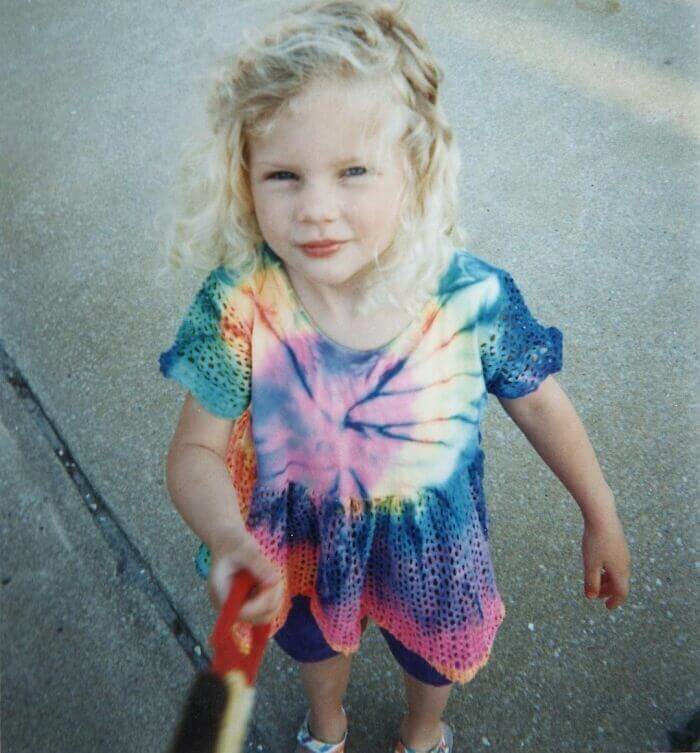 At age 11, Swift traveled with her mom to Nashville to pursue her music career dreams. Swift submitted demos to record labels but was rejected. However, she kept trying until someone finally took her seriously when she was a bit older.
Susan Sarandon When She Was 17
Not only was Susan Sarandon gorgeous as a teenager, but she was also very talented. In her college years, she studied drama and supported herself by cutting hair, cleaning houses, and working as a switchboard operator.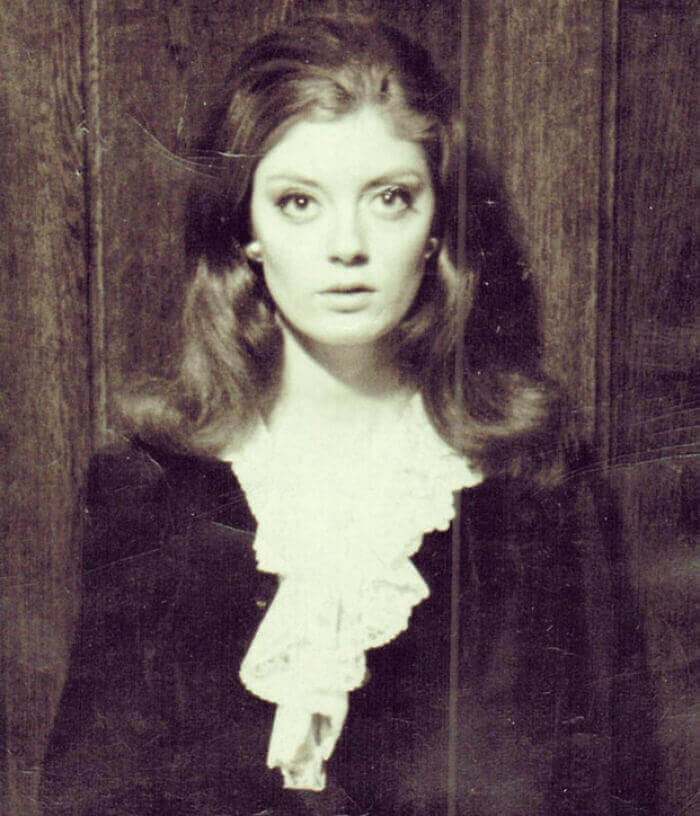 Not long after she graduated, Sarandon landed a role in the film Joe, which propelled her to get more parts in movies like The Rocky Horror Picture Show. It turned into a cult classic, and people knew her name wherever she went.
Selena Gomez's Face Has Not Changed
Selena Gomez has always been the most adorable human ever since she was a little girl. Born and raised in Texas, Gomez first became interested in entertainment when she saw her mom preparing for stage productions. Gomez then began to audition for many roles.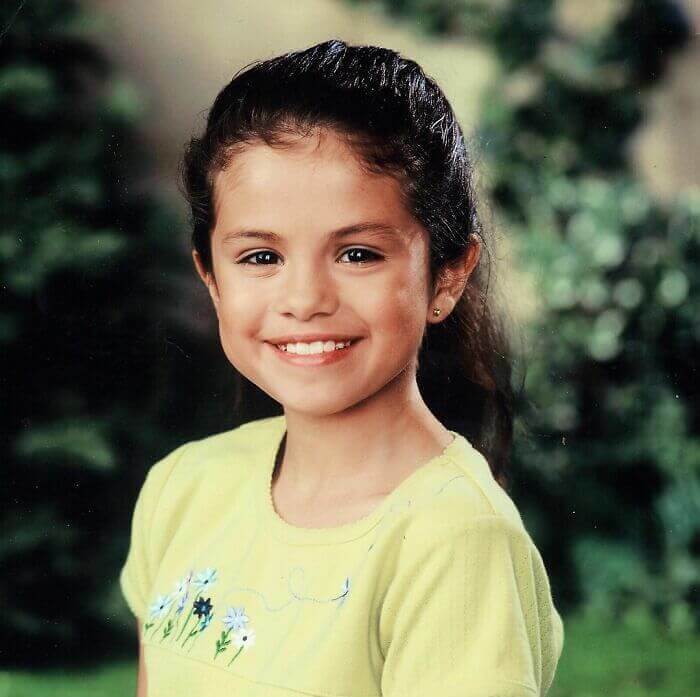 While auditioning for Barney and Friends, Gomez met Demi Lovato and the two both landed roles on the show. She said she learned everything about acting and stage production while working on Barney, and she was released when she got too old for the show.
Peter Dinklage In The 1980s
We could never imagine Peter Dinklage with a mullet until now. Dinklage realized he wanted to start acting when he was just a teenager after he saw the production of True West by Sam Shepard. That play ended up determining the direction of his life.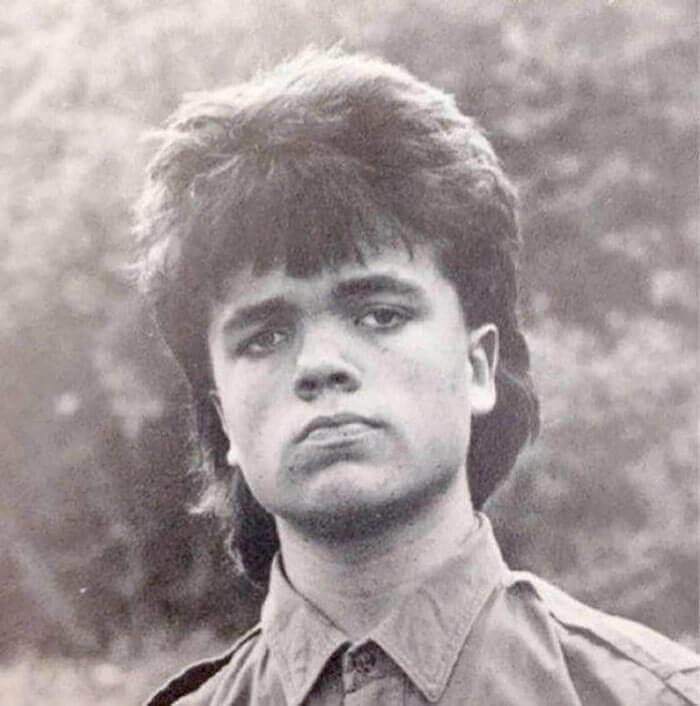 After studying drama in college, Dinklage struggled to get well-paying roles, so he worked at a data processing company to make ends meet. He wasn't getting any parts because he refused to play characters that focused on his achondroplasia. Finally, in 2003, he got his big break in The Station Agent and was nominated for a SAG Award for it.
Little Baby Beyonce
You might not recognize her as a baby, but this tiny tot grew up to be Queen Bey herself. As a child, Beyonce enrolled in dance classes, and the teacher discovered she was also a talented singer when she heard her humming a song.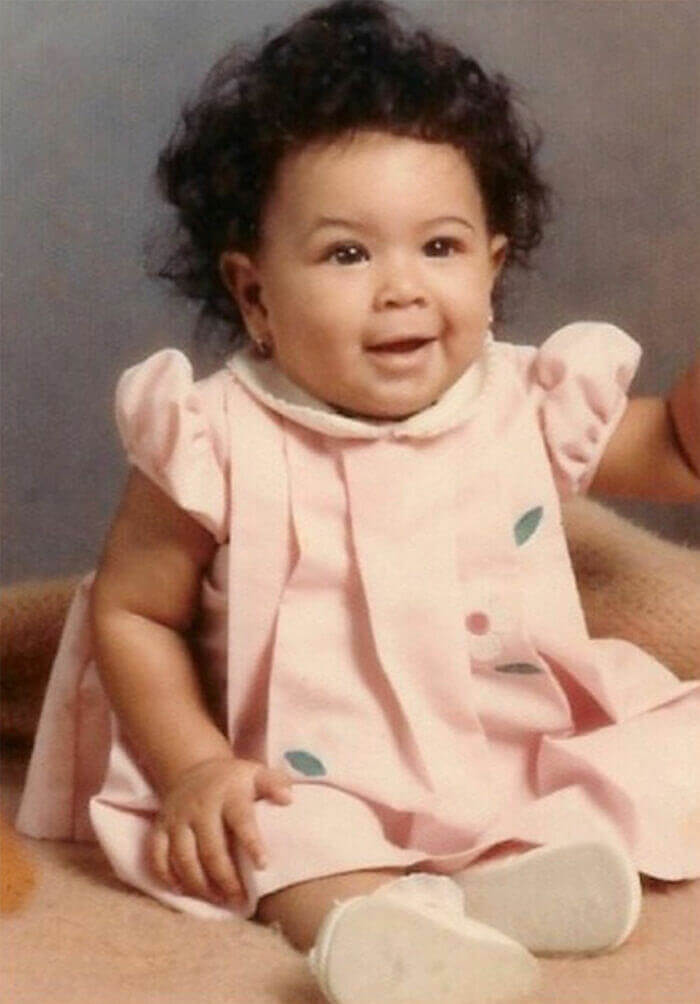 Beyonce's interest in performing continued after she won her school talent show when she was seven. Her parents enrolled her in a music school after that to develop her talents, and Beyonce continued onto an arts high school as well.
Tom Hanks In His High School Yearbook
After reading Eugene O'Neill's The Iceman Cometh and watching the performance, Tom Hanks decided he wanted to become an actor. He enrolled in the theater program at California State University Sacremento and would work in the theater when he wasn't studying.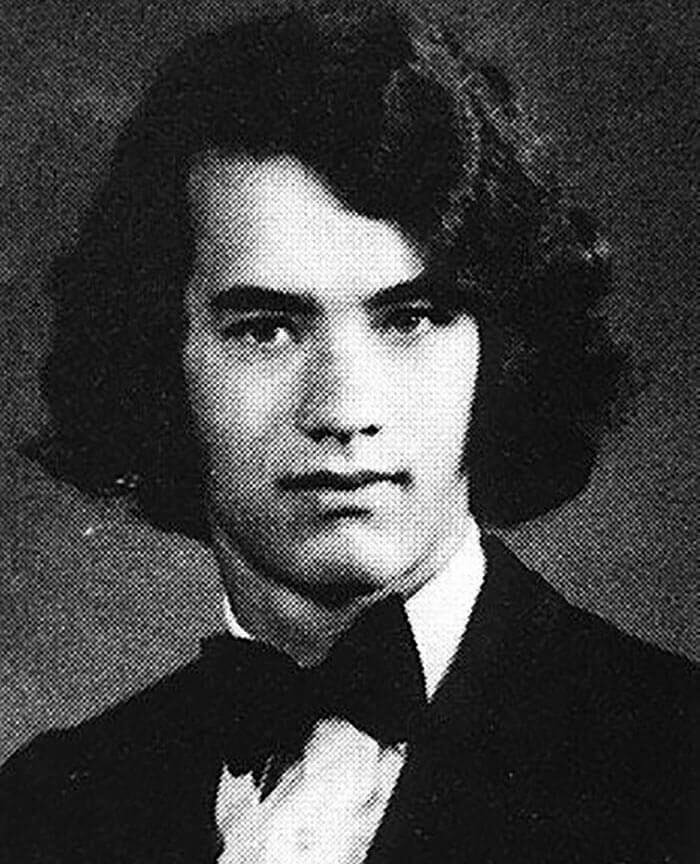 Eventually, Hanks decided to drop out and went on to audition for any small role he could find. After the success of Splash, he became a recognizable face and landed the role in Big. It was that movie that made him an established actor in Hollywood.
Jennifer Garner Hanging Out On The Swings
When Jennifer Garner was little, her mother used to call her "ragamuffin," and we can see why now. The actress had an interesting upbringing that she joked was practically Amish because her parents were so strict about what she and her sisters did.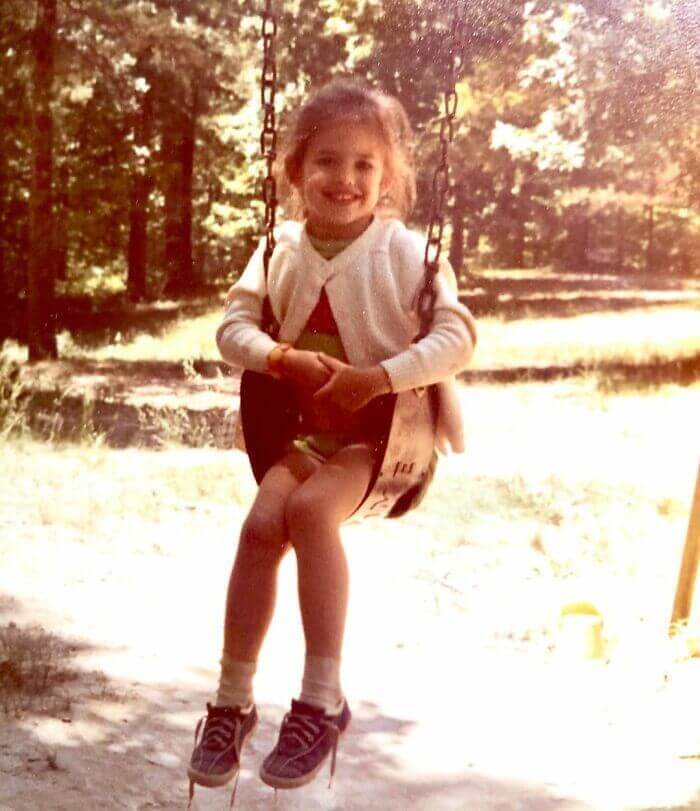 Initially, Garner went to college to study chemistry but quickly changed her major to theater. She would spend her summers working stock theater and found a passion for acting through this job. She also moved from South Carolina to LA once she graduated.
Dwayne "The Rock" Johnson Looking Ripped At 15
Is anyone really surprised that The Rock was already a muscle man by the time he was a teenager? Before starting his acting career, he was succeeding in sports and started playing professional football not long after he graduated from college.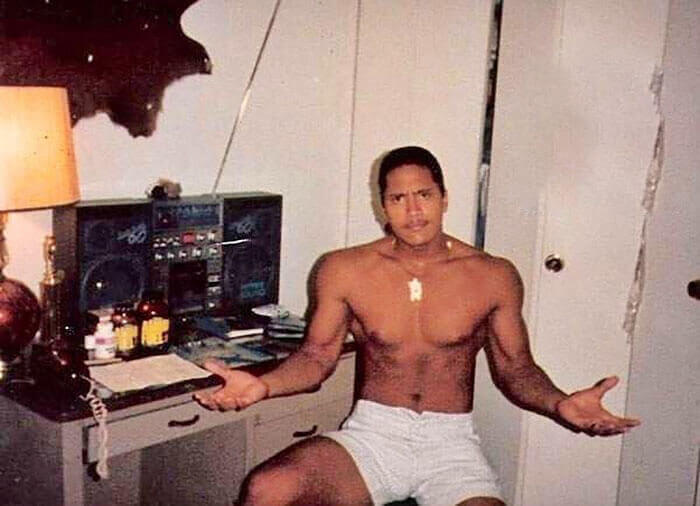 His nickname "The Rock" came from his days in the wrestling ring, and by the late 1990s, he was already a star being offered roles in movies. The movie that really changed his career was The Mummy Returns in 2001.
Nirvana In 1990
Three years before Nirvana was formed, Kurt Cobain and Krist Novoselic met at school. They had a few drummers before being introduced to Dave Grohl in 1990. Their first album, Bleach, was released in 1989 and became a favorite for college radio stations.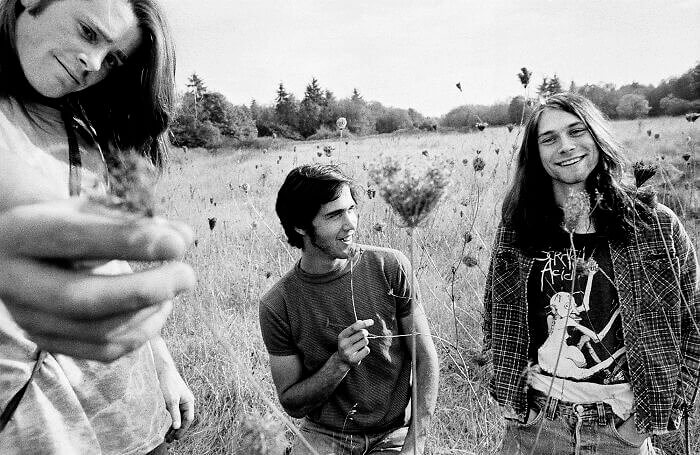 Nirvana found mainstream success with their single "Smells Like Teen Spirit" in 1991 from the album Nevermind. The album sold 400,000 copies in just a week and 30 million worldwide.
Sean Connery During His Time With The Royal Navy
Mr. 007 wasn't always an action-fighting international man of mystery. Sean Connery used to be a milkman in Edinburgh before joining the Royal Navy when he was 16. After three years, he was discharged on medical grounds and returned to his hometown.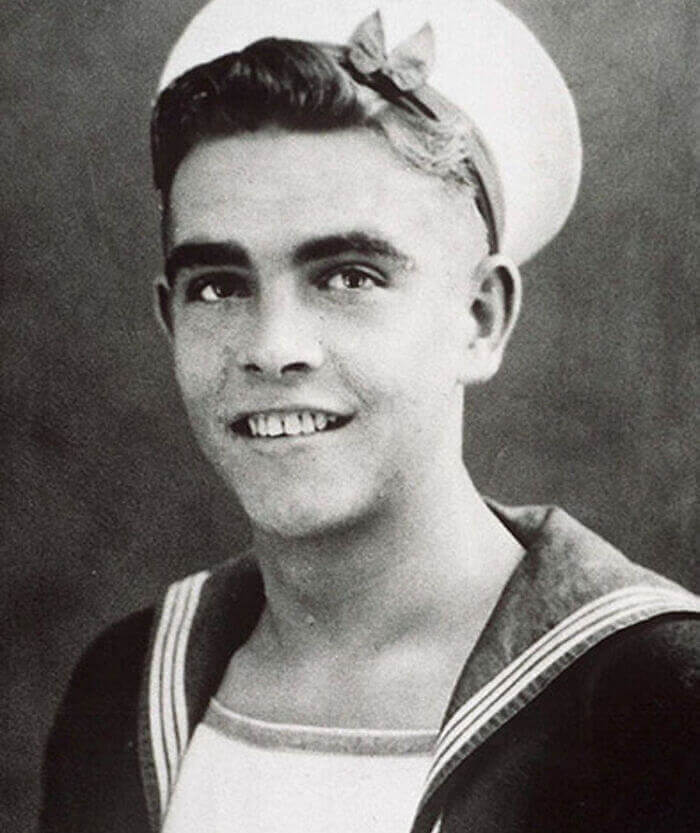 After the navy, Connery carried a few jobs like a lorry driver, a lifeguard, a laborer, and an artist's model for Edinburgh College of Art. In the 1950s, he finally started getting roles and an extra, but it wasn't enough to make ends meet. He had to work as a babysitter until he got more significant parts.
Angelina Jolie Has Always Been Gorgeous
When we were 16, we certainly didn't look like this, but Angelina Jolie has always been stunning. As a child, she enjoyed watching movies with her mother, which inspired her to start acting. Jolie attended the Lee Staberg Theater Institute for two years and appeared in a few productions.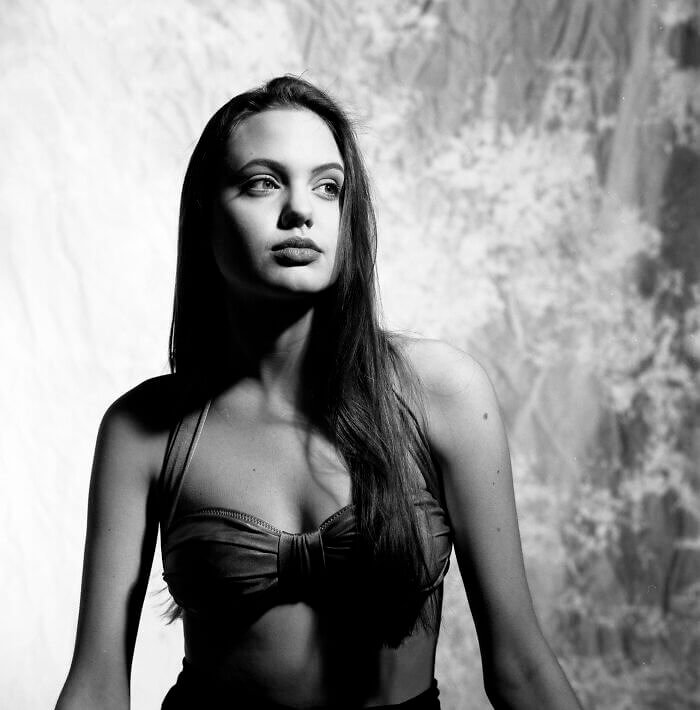 Jolie later studied drama at NYU and starred in her brother's student films. However, her first leading role as a professional actress wasn't until 1992 in Cyborg 2, but she didn't like the outcome and didn't audition for anything else for a year.
Millie Bobby Brown Looks Like She Is Up To Something
While it hasn't been that long since Millie Bobby Brown was a child, the 17-year-old actress has blossomed into a beautiful young lady. Born in Spain to English parents, she found a love for acting early on in life and made her acting debut when she was nine in Once Upon A Time.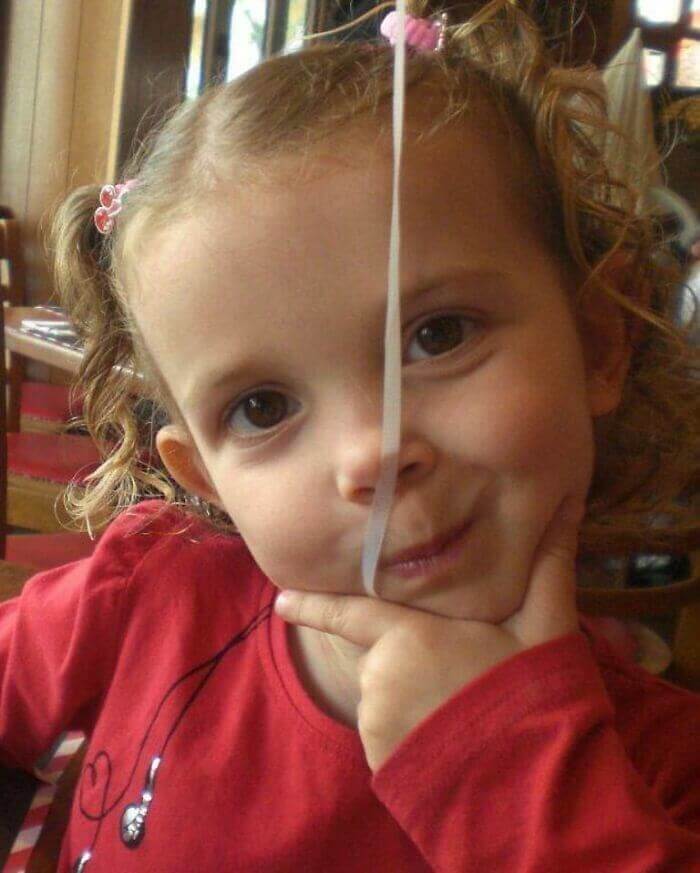 After just a few performances, Brown landed her breakthrough role in Stranger Things as Eleven. Her performance earned her many nominations at such a young age. Today she is a little older but just as sassy as she was in this photo.
Christoph Waltz In 1975
You might know Christopher Waltz from Inglorious Basterds or Django Unchained, but before he was a huge star, he was just a boy with a dream. Waltz was interested in theater early on since he went to the opera for the first time when he was 10. After that, he would go twice a week.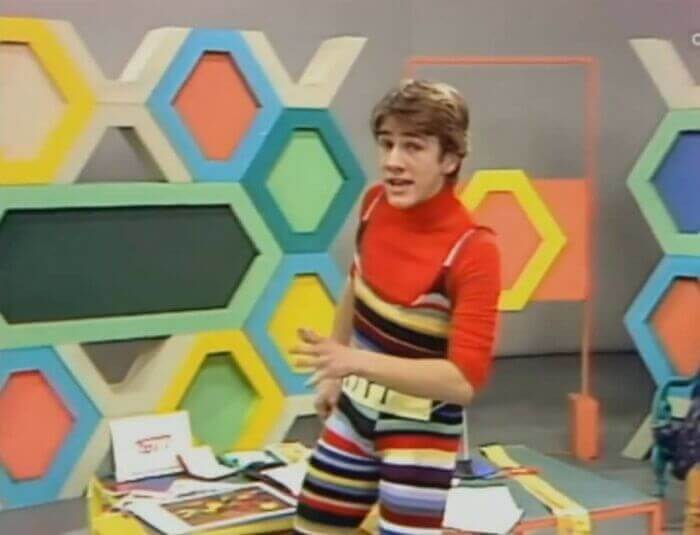 When Waltz attended University, he studied acting, but his true passion was singing and opera. Eventually, he realized his voice wasn't meant for singing, and he started working as a stage actor and director on a German television show called Wenn Man Sich Traut before his breakthrough role in 2009.
Eminem In The '80s Before He Was Rap God
Will the real Slim Shady please stand up. The first rap song Eminem ever heard was "Reckless" by Ice-T, Chris "The Glove" Taylor, and David Storrs in 1984. It inspired him to start rapping himself when he was 14. About ten years later, he released his first album, which was a commercial failure.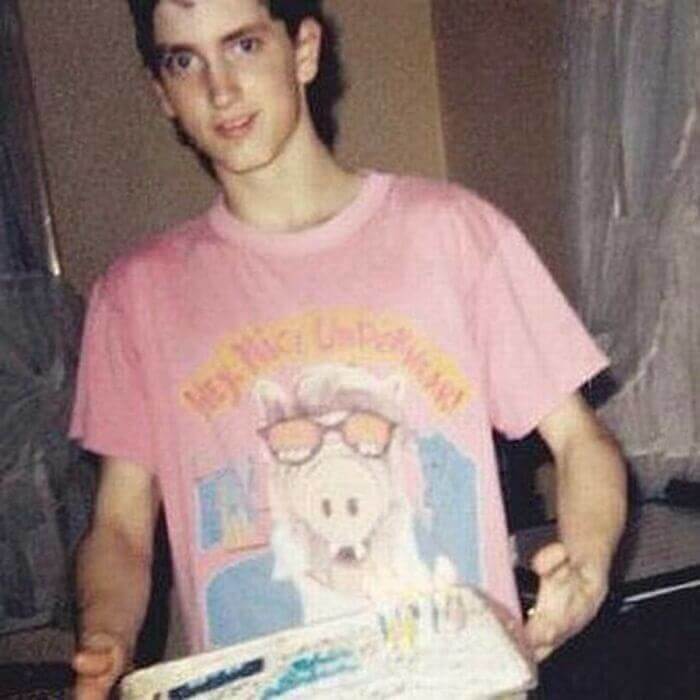 Everything in Eminem's career changed when he adopted the name Slim Shady and released a new album in 1997, Slim Shady EP. The album caught the attention of Dr. Dre and he invited Eminem to work together to release another EP two years later.
Lady Gaga In The 2000s
Since she was a child, music has been a part of Lady Gaga's life, when she started learning the piano at age four. Her passion only grew over the years, and she started performing at open mic nights when she was a teenager.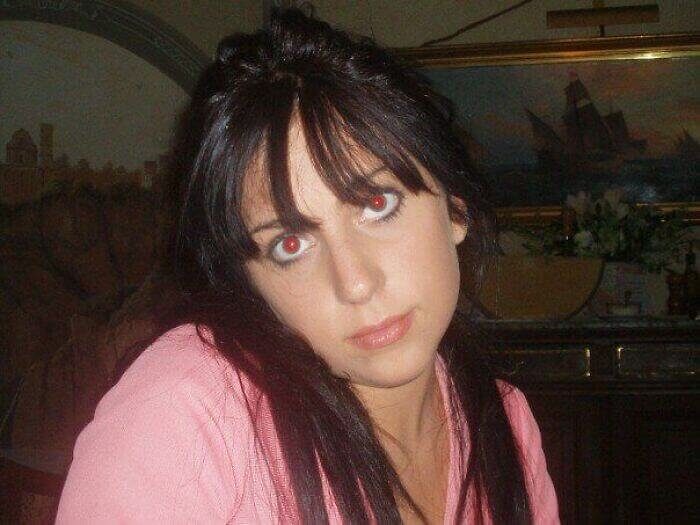 Gaga also studied method acting for ten years but didn't get any significant roles in her auditions. While studying in New York, she was performing when a talent scout helped her find her way to superstardom.
Bob Marley Without His Dreadlocks
If you are like us, you have probably never seen Bob Marley without his dreadlocks, but there was a time when he didn't have them. In 1964 when he released his song "Rude Boy," he had a buzz cut and dressed much differently.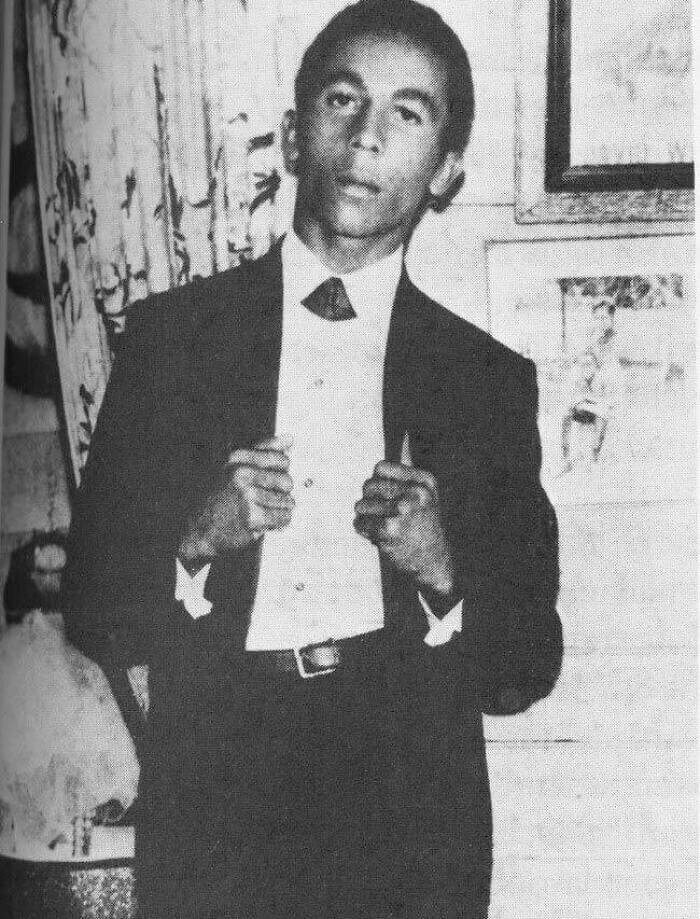 Marley started playing music in primary school with his friends before moving to Kingston and starting a vocal duo. However, the group didn't rise to fame until the '70s when they signed a contract with Island Records.
Christian Bale As A Dashing Teenager
As a teenager, Christian Bale was inspired to become an actor after he studied the work of Gary Oldman. The first time he appeared on television was in a commercial for the fabric softener Lenor in 1982. However, Bale's first stage debut wasn't until 1984 in The Nerd with Rowan Atkinson.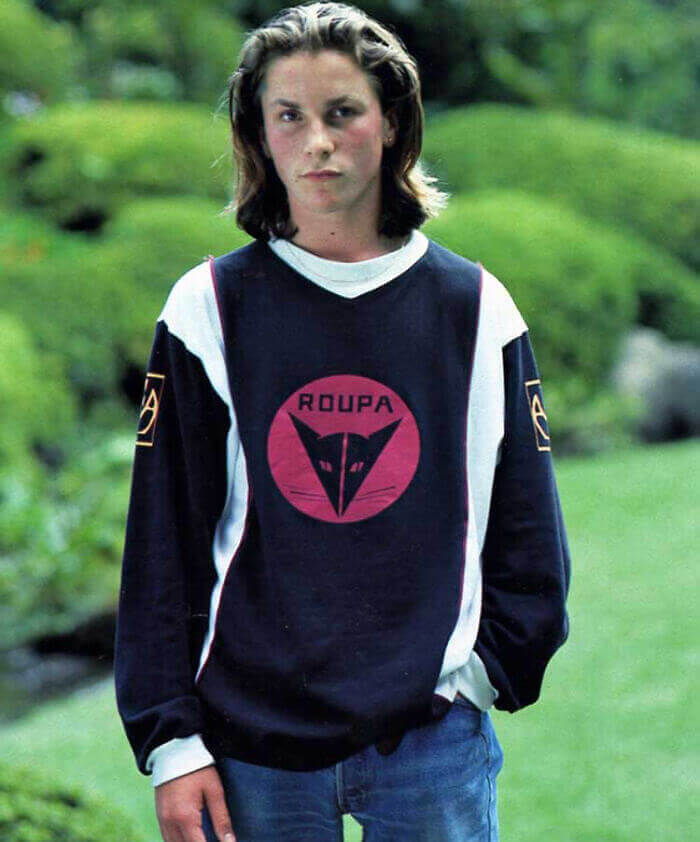 Two years later, Bale appeared in his first movie Anastasia: The Mystery of Anna. He then gained attention and more roles, which made him question his career choice. However, Kenneth Branagh talked him out of giving up on his career.
Jennifer Aniston Dressed As A Witch For Halloween In 1986
Jennifer Aniston discovered her love of acting when she was attending a Waldorf school at age 11. Her first job was in an off-Broadway production, but she had to take jobs on the side to support herself. She was a telemarketer, waitress, and bike messenger.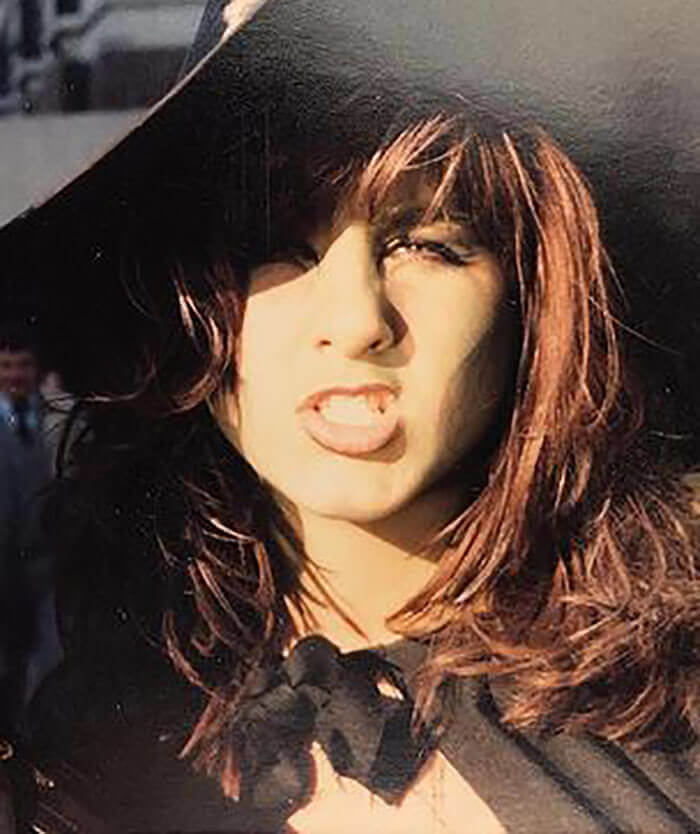 Anniston's first regular TV role was on a show called Molloy in 1990 before she got her big break as Rachel Green in Friends. She was just 17 when she took this picture, and we wonder if she knew how famous she would be back then.
Tommy Lee Jones While Playing As An Offensive Guard At St. Mark's School Of Texas
As a teenager, Tommy Lee Jones got a football scholarship that allowed him to attend a boarding school in Dallas, where he took an interest in theater and played in some student productions. He then graduated and attended Harvard University, where he continued to play football and appear in theater productions.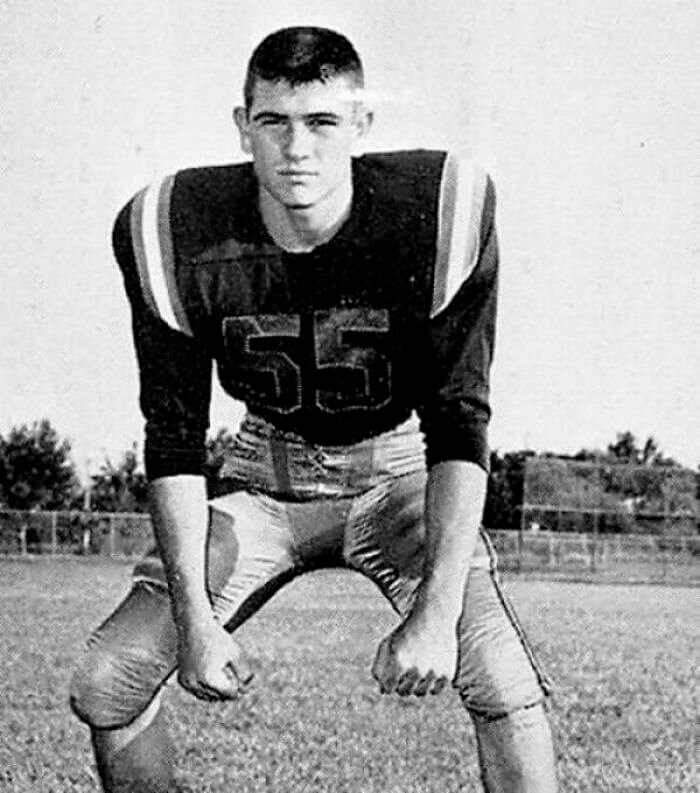 After graduating, Jones decided to move to New York to pursue acting, and he got his first movie role in 1970, playing a Harvard student in Love Story. It must not have been hard for him to play this role, considering he had just graduated from Harvard.
Quentin Tarantino In 1983
Quentin Tarantino started showing an interest in films when he was just a young boy. At age 15, he worked as an usher for an adult movie theater and worked in a video store for five years. By watching movies at the store, Tarantino learned a lot about movie-making.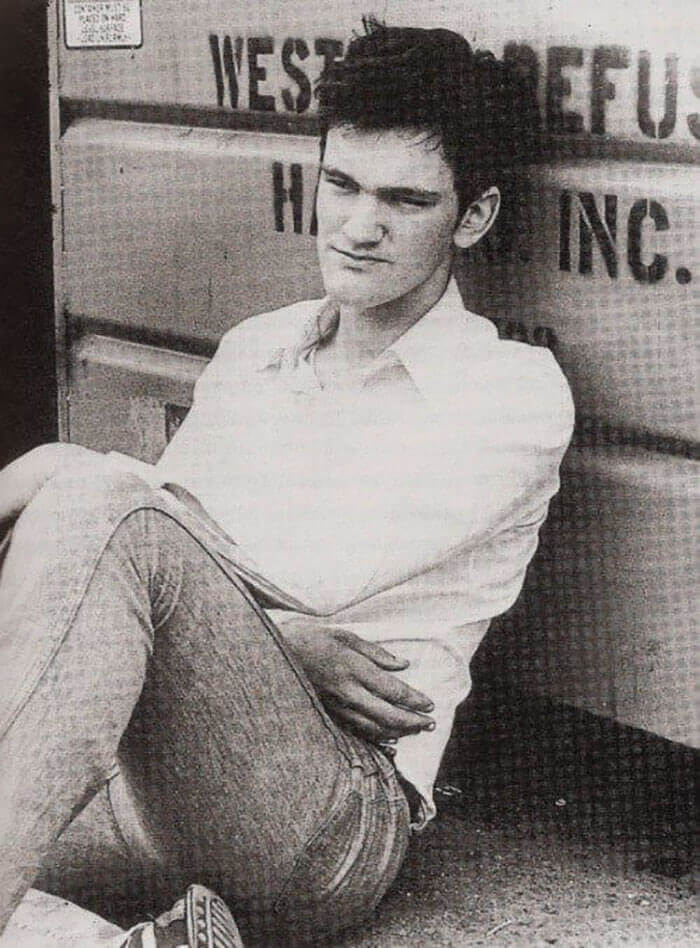 Tarantino was later paid to watch movies (how do we get that job?) and got his first job in Hollywood in 1986 as a PA. A few years later, he wrote his first movie, launching the career of one of the most admired film directors in Hollywood today.
Clint Eastwood As A High School Senior
Clint Eastwood looks much different than we know him today with his dapper hair and babyface. After graduating from Oakland Technical High School, he held various jobs, including hay baler, logger, and truck driver, before being drafted into the Army during the Korean War.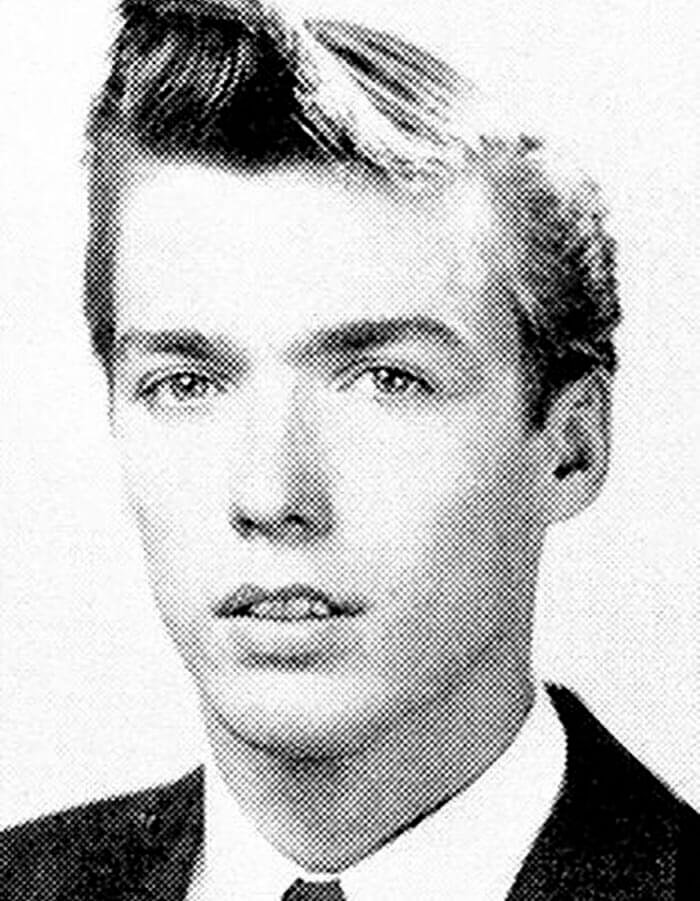 Eastwood was stationed in California, where he served as a swimming instructor. After the army, he appeared in a few TV series before he got his big break in 1959 in Rawhide. Eastwood gained international fame and is still acting today at 90-years-old.
Vin Diesel When He Had Hair
We had no idea what color hair Vin Diesel had before seeing this picture. The famously bald actor started performing on stage when he was just seven years old in the children's play Dinosaur Door in New York. Theater continued to be a big part of his life when he was a teenager as well.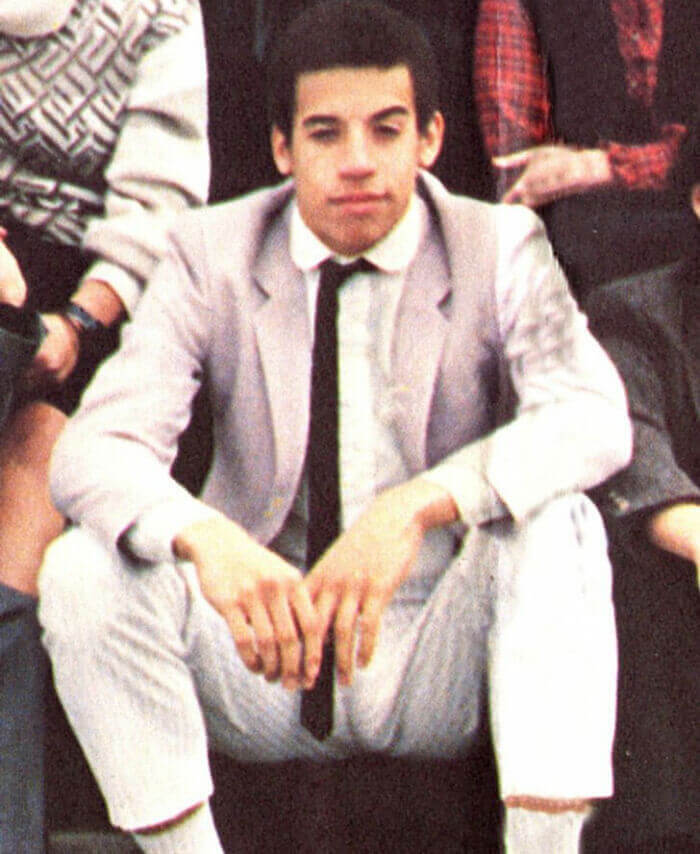 Vin Diesel started college but dropped out to begin screenwriting. Diesel's first role was in 1990 in an uncredited role, but Steven Spielberg later cast him in Saving Private Ryan, which helped him get his foot in the door for more parts.
Katy Perry In 2001
You might not recognize Katy Perry without her signature black locks, but her hair is naturally dirty blond. The pop star began vocal lessons at age nine while singing in church. For her 13th birthday, Perry received a guitar and started playing songs she wrote.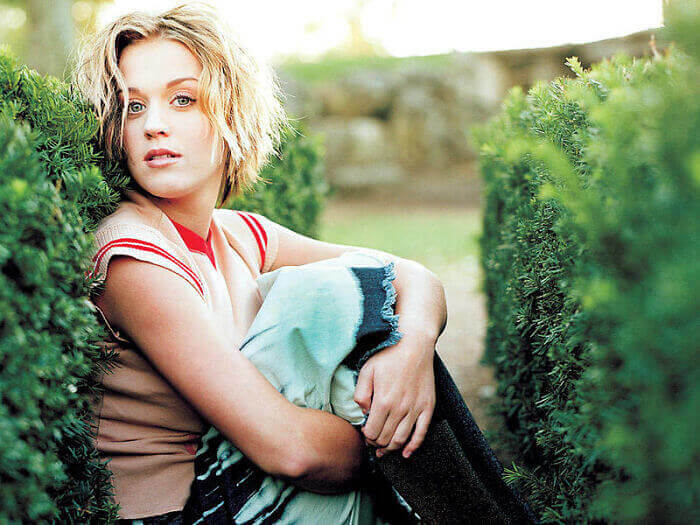 Perry took dance lessons to learn swing, Lindy Hop, and jitterbug, all popular dance styles in the '50s. Also, her first album was released under the name Katy Hudson, and it had a lot of Christian music before she changed up her style.
David Harbour In 1994
David Harbour hasn't changed much over the years besides his hairstyle. Harbour began acting in the 1990s, and his first professional job was on Broadway in the revival of The Rainmaker. He also had minor roles in Law & Order: SVU.
As he gained notoriety in Hollywood, Harbour became a more recognizable face. However, it wasn't until he was cast in Stranger Things that a role really changed his life. This role actually helped him land other parts.
Mark Zuckerberg At Harvard Where He Created Facebook
Mark Zuckerberg looked less like a robot back in his college days, but someone should have told him to clean up his room. The Facebook founder began writing software when he was in middle school, and his father hired him a private tutor to help his son's interests.
Zuckerberg would create video games, and his artistic friend would draw the graphics. In college, he became a programming prodigy and created a few new programs before Facebook. It's funny that this teenager is now one of the richest men in the world.
Dwayne "The Rock" Johnson In His Childhood Class Picture
Before he was a buff action star, The Rock was just a cute little buck-toothed child. He grew up in New Zealand and across the US as his family moved around often. As a child, he was always into sports and looked up to his dad, who was a former professional wrestler.
Because of his connections with the wrestling world, The Rock secured a contract with WWF for eight years before pursuing an acting career. Today he is one of the highest-grossing and highest-paid actors in Hollywood.
Rihanna Looks Exactly The Same (Sort Of)
Little baby Rihanna before she was the CEO of Fenty and Savage X Fenty. The Barbados native grew up listening to reggae music, which later inspired her own sound. However, she didn't get into singing right away as she was an army cadet at a sub-military program.
While in the program, Rihanna met a singer-songwriter who inspired her to pursue a music career. Although we aren't getting new music any time soon, we have to appreciate how far this baby came from a small island to worldwide fame.
Usher Was Probably Flirting With The Camera
Usher is known for his smooth RnB jams that make women everywhere swoon, and we can imagine he was a very flirty baby too. At his young age, he was already showing off his smolder for the camera.
As a child, his mother told him to join the church choir because he was so talented. Then his grandmother considered he could sing professionally once she heard him. The family decided to move to Atlanta to give him a better opportunity to become something.
Heidi Klum Collecting Easter Eggs
As a child growing up in Germany, Heidi Klum was known for her beauty. A friend convinced her to join a modeling contest, and she won out of 25,000 contestants, and she was offered a modeling contract. After graduating from high school, she accepted the contract.
She was going to try for an apprentice position at a fashion design school, but the modeling contract was more promising. Klum proved herself quickly and landed on the cover of French, German, Portuguese, and Spanish Vogue.
Julia Roberts Practicing Her Vocals
We can't tell if Julia Roberts was in shock, singing, or yelling in this picture, but we would like to think she is singing. She looks a lot like her niece Emma Roberts here, and we can see the resemblance in their family.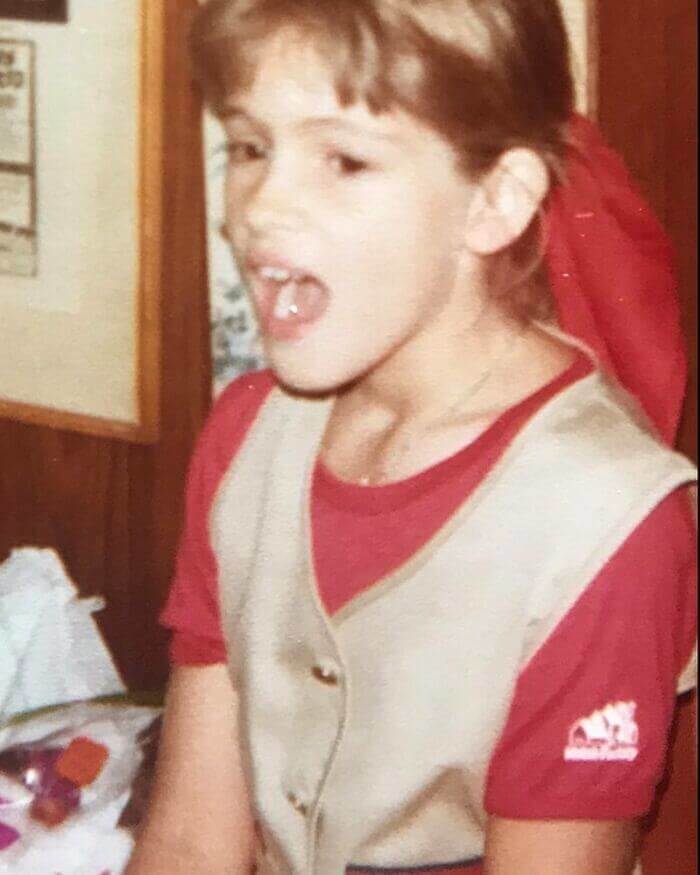 As a child, she wanted to be a veterinarian, but once she made it to college, she decided to drop out, move to New York and pursue acting. Once there, she signed with a modeling agency and enrolled in acting classes.
Amanda Seyfried Was Beautiful Even As A Baby
It's no surprise that Amanda Seyfried was a gorgeous baby because she is such a beautiful adult. As a child, she began modeling when she was ten in print ads for Limited Too with Leighton Meester. She was also featured on the cover of three Sweet Valley High novels.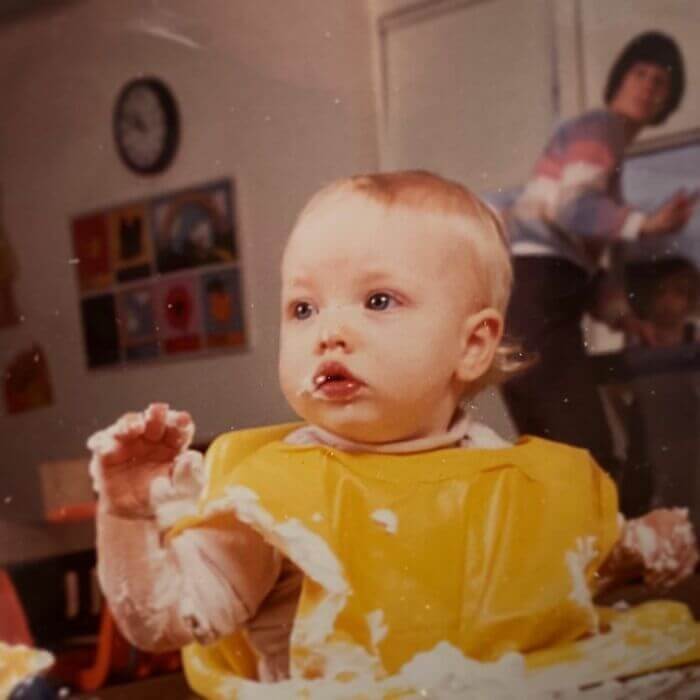 At 17, Seyfried decided to stop modeling and started working as a waitress in a retirement community. During that time, she took vocal lessons, studied opera, and trained with a Broadway coach. From here, she slowly got roles on TV as she continued to audition.
Britney Spears In Her Original Diva State
Oops, she did it again! Britney Spears always had that star power, and you can see it here in her childhood photo. From a young age, she already had an interest in singing, dancing, and entertaining people with her vibrant personality.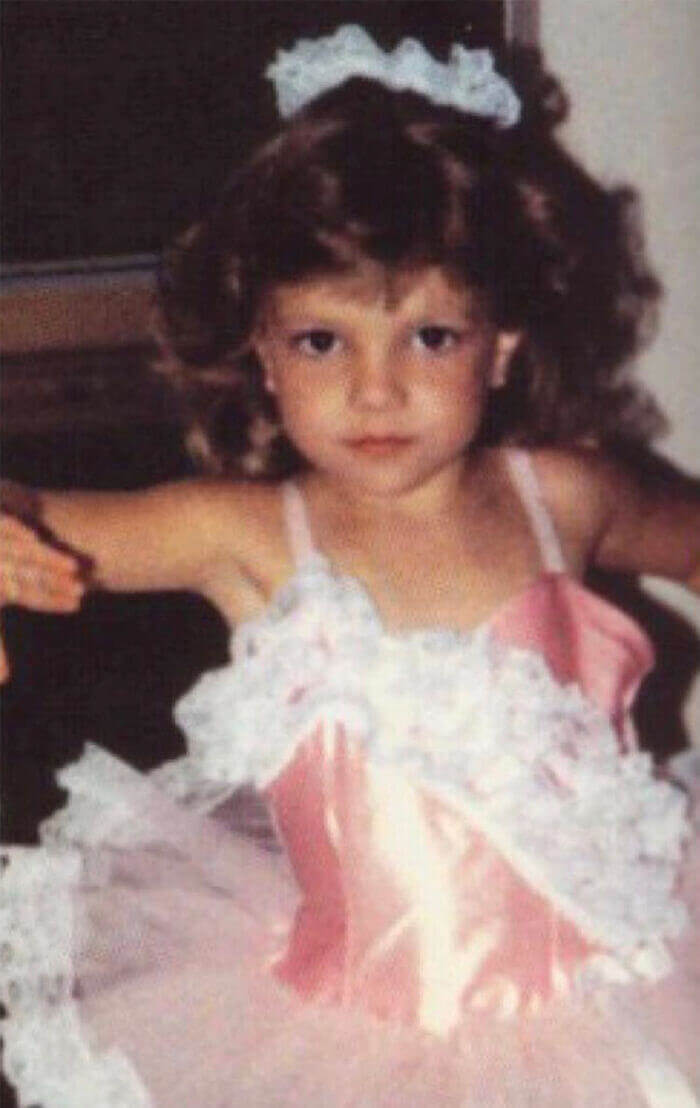 While her adult life hasn't been so easy, one thing is for sure; that little girl grew up to be one of the best performers. If only people would let her make her music and live her life the way she wants to, she would be so much happier.
Christina Aguilera Halloween Circa 1985
This looks nothing like the Christina Aguilera we know and love today, but she was an adorable little girl. As a child, she moved around a lot because of her father's military service. However, when her parents divorced, she used music as a way to escape.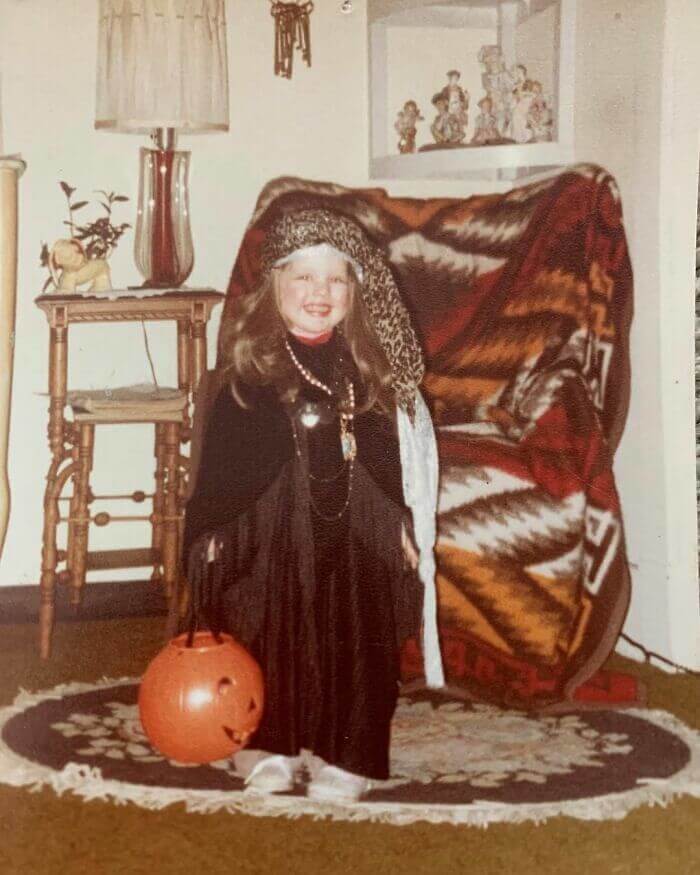 As a child, Aguilera was drawn to soul and blues music because of her grandmother's records, and she would practice singing to them. She won her first talent show at age eight for her rendition of Whitney Houston's "I Will Always Love You."
Gigi Hadid With Her Grandma
Gigi Hadid was ready to be a model since the day she was born. As a child, she considered herself a tomboy because she was always into sports, especially basketball, but that changed as she got older, and her mom saw the potential she had as a model.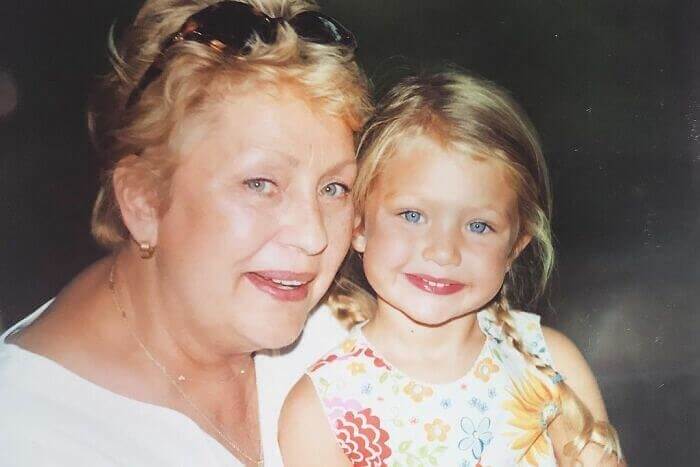 Hadid comes from a family of models, and you can see she gets her beauty from her mother's side. She is pictured here with her late grandmother, who she would visit in Holland, where her mom grew up.
Katy Perry And The Easter Bunny
Have you ever noticed how creepy the Easter bunnies at the mall used to be (and still are)? Although it is hard to recognize her, that is a little Katy Perry posing in her pastel Sunday best with the Easter bunny.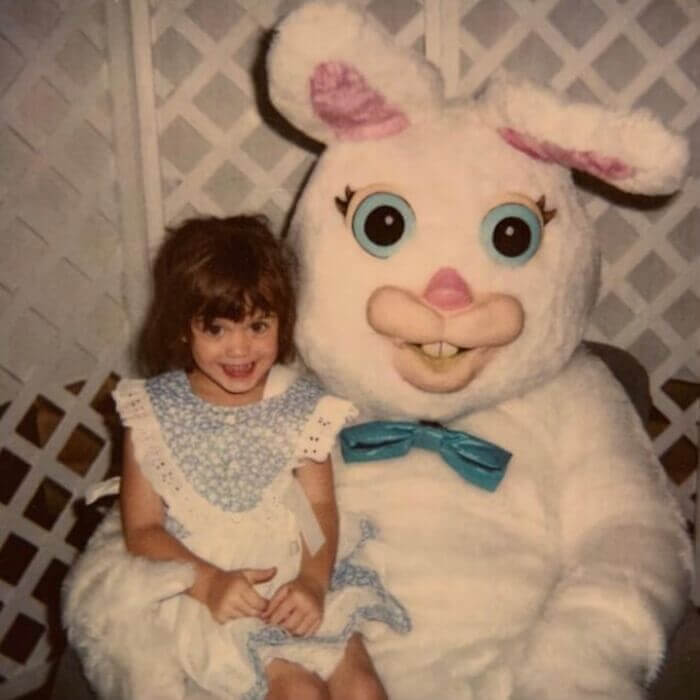 Perry grew up in a religious household, so the holidays were very important to celebrate for her family. Her family didn't have a lot of money, and they sometimes had to get food from the church's food bank, but Perry enjoyed everything her parents were able to provide.
Miley Cyrus And Her Newborn Sister
When Miley Cyrus was first born, her parents named her Destiny; however, she was such a smiley baby, and they started calling her "smiley Miley" before legally changing her name. While missing one of her front teeth, she still has a huge grin on her face because she is holding her baby sister.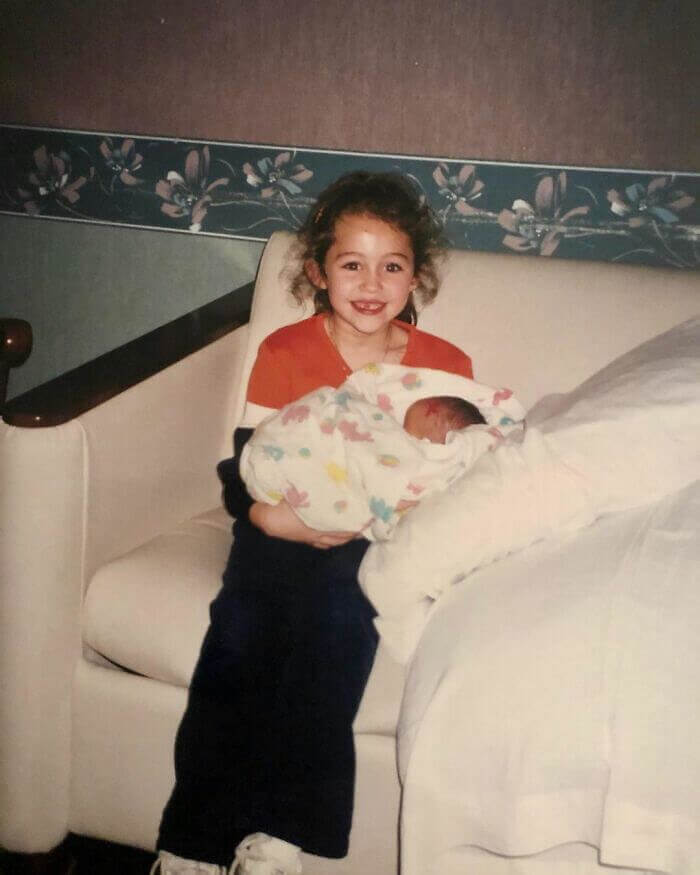 Miley and her younger sister Noah may have a seven-year age gap between them, but they are the closest sisters we have ever seen. Miley even said that Noah sometimes takes care of her even though she is the little sister.
Justin Timberlake Rocking Around The Christmas Tree
It seems that Justin Timberlake was always destined to be a musician. As a child growing up in Memphis, Tennessee, he was always surrounded by music. His grandpa introduced him to Johnny Cash and Willie Nelson, and Timberlake would perform the songs for his family.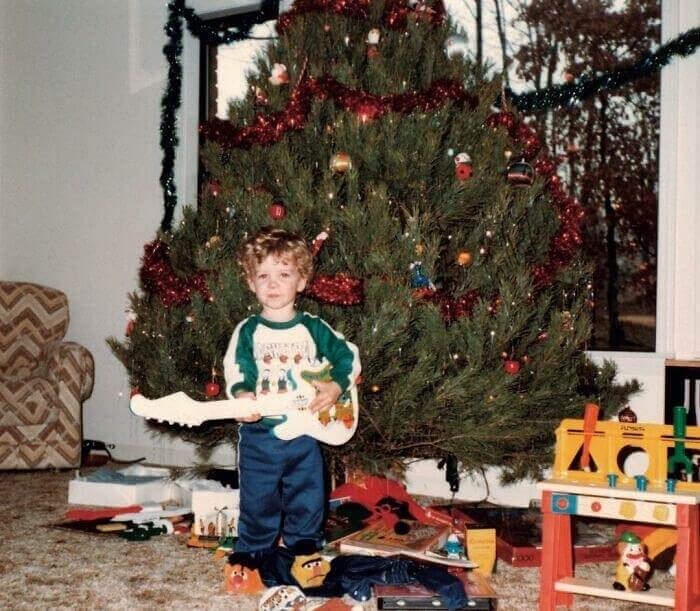 When Timberlake was 11, he appeared on the show Star Search performing country music. However, it was around that time that he started to get into RnB music like Stevie Wonder and Marvin Gaye. He was so talented that he landed a spot on The All-New Mickey Mouse Club with Britney Spears and Christina Aguilera.
Margot Robbie And Her Big Brother
Margot Robbie and her big brother were adorable as children. Robbie grew up in Dalby, Queensland, where she was raised by a single mom after her parents divorced. She lived on a farm and was always an energetic child putting on shows around her house.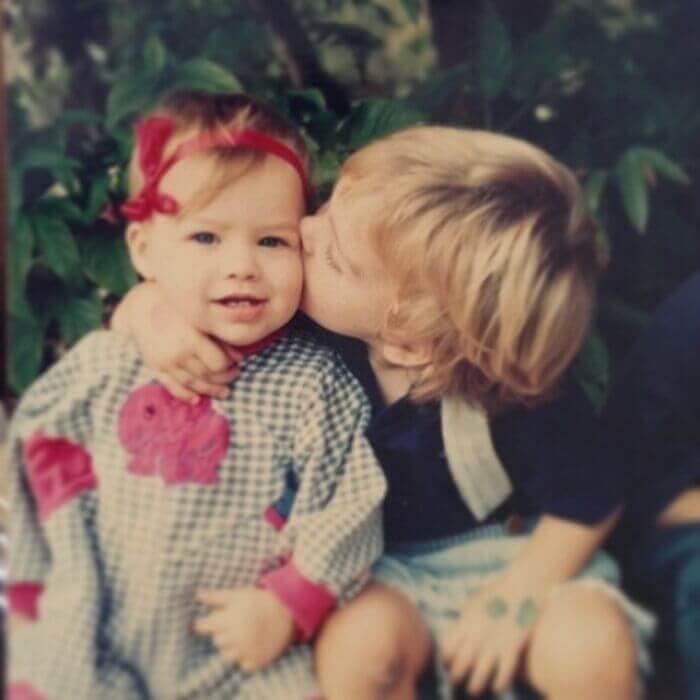 In an interview, Robbie once said that she was really dramatic and loved performing. She would watch any movie she could find on TV and re-enact it for her mom. She would even make her family pay to watch her shows, especially her magic shows.
Ariana Grande's School Photo
If anything, we can thank Ariana Grande for her consistency with her high ponytail. As a child, Grande was already a natural performer and would participate with the Fort Lauderdale Children's Theater, playing her first title character in their version of Annie.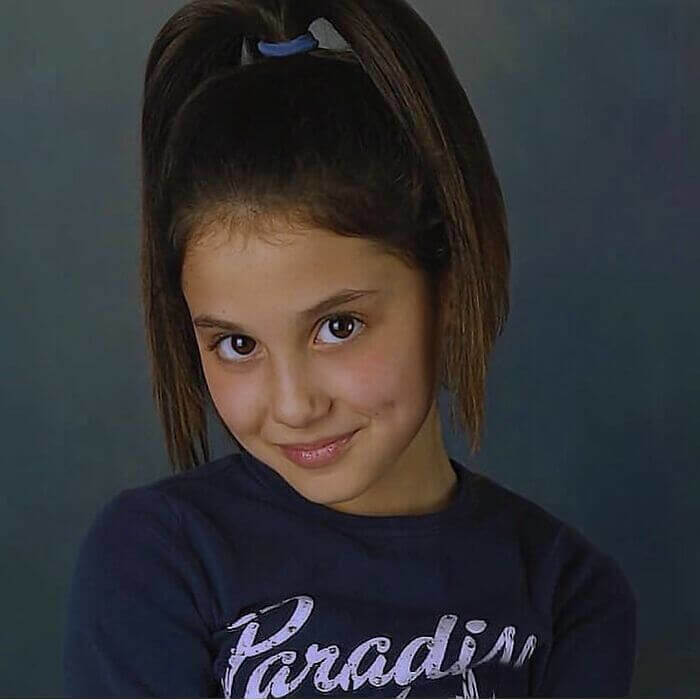 Grande also performed in The Wizard of Oz and Beauty and the Beast. When she was eight, she also performed on cruise ships, with South Florida Philharmonic. Everyone knew she would be a star with her vocal range, and she was just waiting to be discovered.
Sarah Jessica Parker Reading With Her Mom
As a child, Sarah Jessica Parker was one of eight children, and although her mom barely had time, she still found a moment to read to all of her children. Growing up in Nelsonville, Ohio, her parents tried to provide a lifestyle they couldn't afford.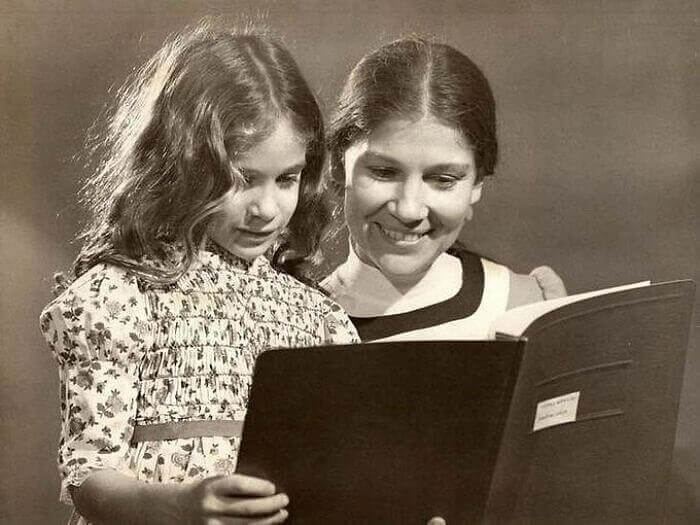 Parker remembers that the electricity would be shut off, or they would have to forgo Christmases and birthdays because her parents couldn't afford the holidays. However, her mother found any free extracurricular activity to sign them up for so they would have "full, rich lives."
Hilary Duff's First Headshot Session
Although we know Hilary Duff as the bubbly Disney channel child, she looks pretty angry in her first headshot. When Duff posted this picture, she said she couldn't believe how many auditions she took this picture to, and we wonder how many of those roles she actually got.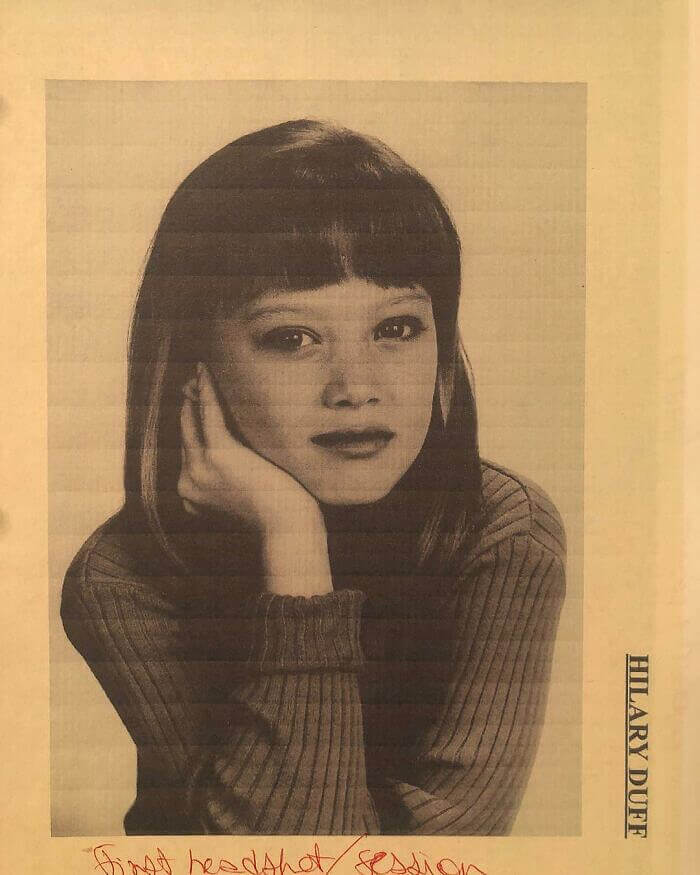 Duff wanted to be an actress from an early age, and her mom even relocated her family from Texas so her children would have more opportunities. Because of her acting career, she was homeschooled from age 8, and she got many minor roles until she landed Lizzie McGuire.
Interesting Comparison Images That Offer A New Perspective
John Travis
This article was originally published on DailyBee
So many ordinary everyday things turn out to be extraordinary when you look at them from a different perspective. Perspective is a powerful thing that reveals the unseen side of things that we never see. Today, we have compiled an exciting collection of comparison images that will surely give you a fresh perspective. We assure you, you won't be able to look at these things the same way again!
Who's A Big Boy?
The transformation from a 2.5 months pup to a nearly 2-year-old big boy is amazing. You can ride this wolfdog and conquer places. We just want to snuggle him. This absolute dream of a wolfdog and his owner are giving us Little Red Riding Hood vibes.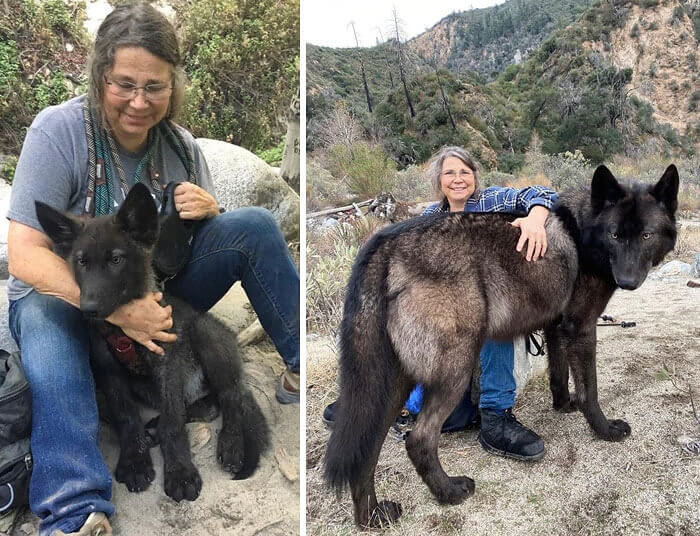 As the name implies, a wolfdog is part wolf and part domestic dog. Advocates of wolfdogs say that these affectionate and loving companions can be wonderful pets. However, others argue that they are difficult to train and are unpredictable.
Before & After Photo Shows Real Side Of Depression
The photo on the left was taken when this guy was at the peak of his depression. The second photo shows the result of almost a year of self-care and medication.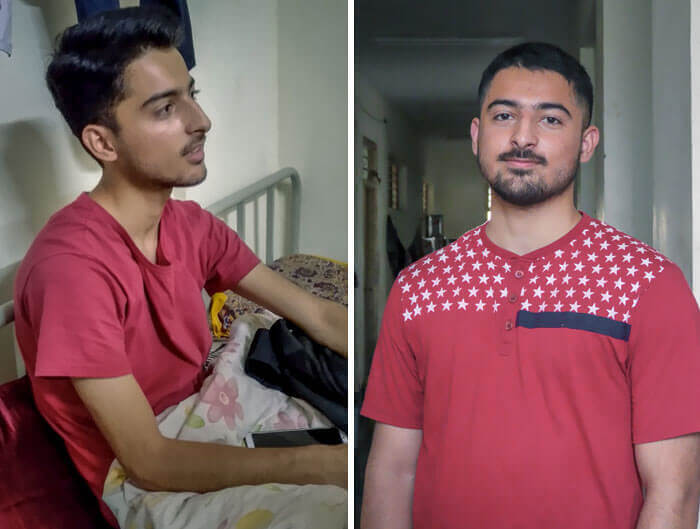 It is important to understand that depression has no face. Some people look happy from the outside, and they're depressed and lonely from the inside. Never lose hope, and keep in mind that anyone can fight depression and win the battle.
A True Fighter
We're not crying, you're crying. The smile of hope versus the smile of the conqueror queen is all she needed to beat illness and become cancer-free.
We absolutely love her positivity. She looks fabulous at the end after kicking some cancer butt. It just shows that you should keep on fighting and never lose hope.
Age 12 Vs. Age 16
Honestly, both drawings are better than anything most of us can do. This person has a special gift, and we're feeling a bit jealous. After all, most of us were drawing stickmen at the age of 12.
This talented artist needs to keep working on her skill. She perfectly showed the innocence of cats, and we call it a big victory because they are pure evil geniuses who want to rule the world.
That's One Amazing Transformation
This person lost 200 pounds in a year. He went from 360 lbs to 160 lbs through sheer dedication and commitment.
This is some next level inspiration to anyone who is trying their best to lose weight. It shows that nothing is impossible to achieve. Save this photo and look at it anytime you feel lazy or disheartened.
A Smile Worth A Million Dollars
This before and after photo of being told she's a good girl is pure gold. She has such a sweet happy face.
You can hear heavy breathing and excitement in the second picture. She probably said, "Well, of course, I am a good girl."
Cuteness Too Strong, Must Resist!
Becoming a mother is one of the most powerful things in the world. It makes you feel empowered, joyful, and invincible. What you are seeing is truly incredible. Do you know why?
Well, this beautiful woman found a stray mama cat and they became the cutest pregnancy buddies. Amazingly, both went into labor at the same time.
Genetics Is Awesome
In the left photo, the grandmother is holding the dad of the person who uploaded this photo and in the right photo, the original poster is holding her son.
These two photos were taken 63 years apart. She never got to meet her grandmother, but it is an uncanny resemblance.
FALL In Love
How often do you get to see the same waterfall in 3 different seasons? Hörður Kristleifsson from Iceland took these photos of the Skógafoss waterfall in his native Iceland.
The vibrant colors give a surreal experience that cannot be expressed in mere words. We looked at these three photos for a minute and still can't choose the most beautiful one.
That's A Great Investment
This woman bought her first bike, and you can see the amazing transformation in just one year. At first glance, it looks like the woman on the right stole the bike. We're just kidding.
That is one impressive commitment. Keep riding the bike, girl. You look amazing. If you also want to get in shape, bike riding is not just fun, it simply works!
Grandma Totally Rockin' It!
Imagine the awesome feeling of taking your grandma on her first bike ride in 59 years. That's a lovely lady with a great smile.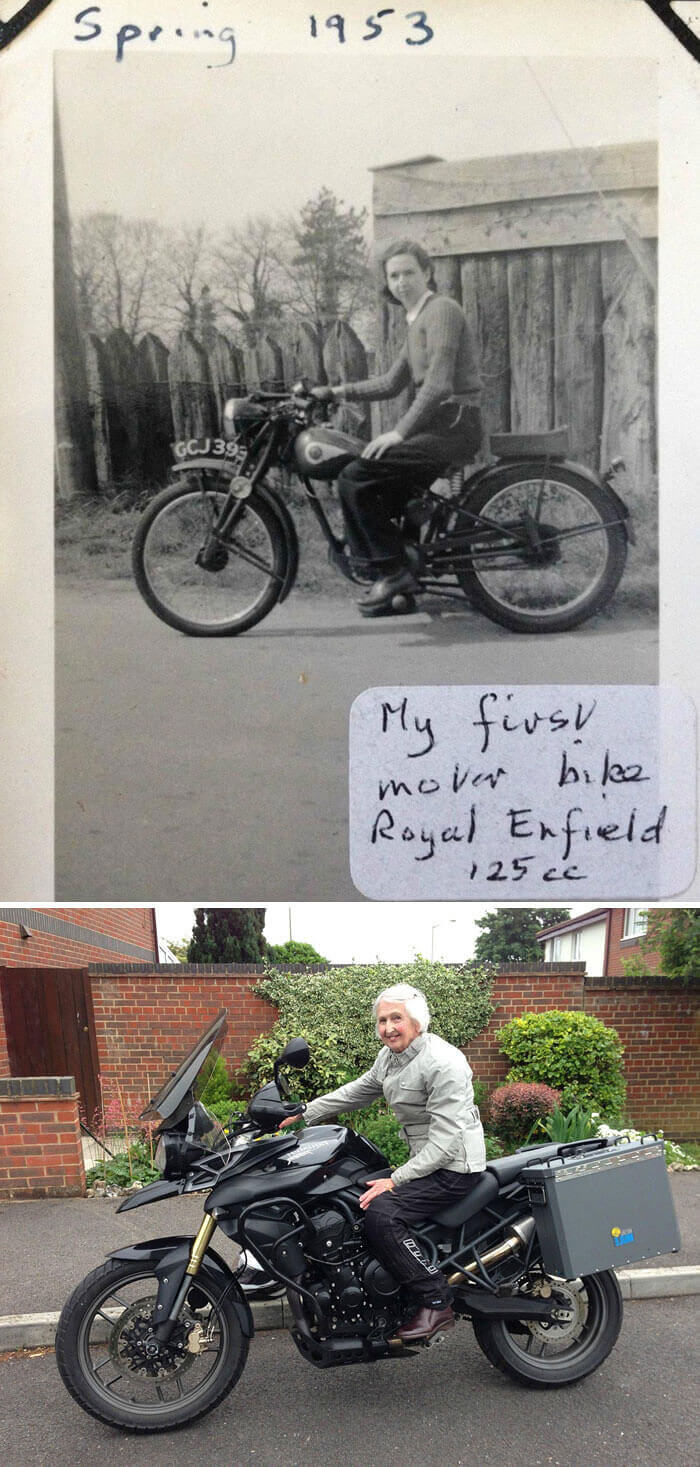 The best part is that she looks so comfortable and natural on the bikes in both pictures and really youthful, too. You could say that it is absolutely Grantastic (see what we did here?).
The Handbag Industry Disapproves This Photo
This woman just wanted a bigger pocket. Seriously, is that too much to ask? After seeing this photo, we recommend cutting off your husband's pocket and sewing it in your pants.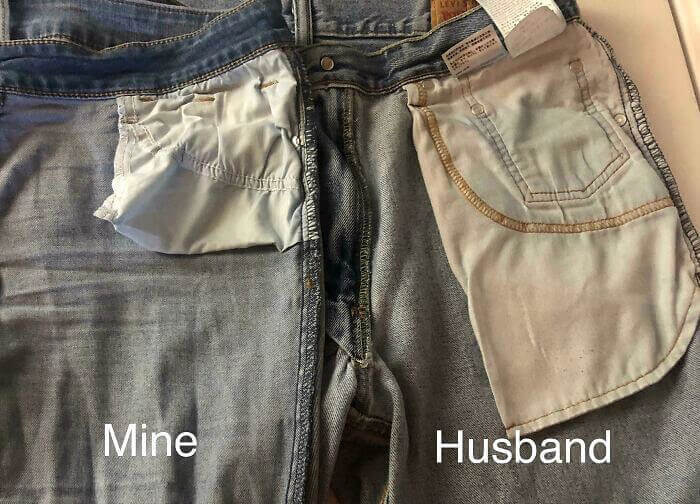 If women don't start demanding bigger pockets, they should start buying jeans for men. After all, men's jeans usually aren't as tight and have much more useful pockets.
The Unsung Heroes
This person thought that they'd never be able to use their hand again. But the surgeon and therapist thought otherwise.
He was removing a glass window that snapped in half. He got away with both arteries and 14 tendons severed, but he braved through.
Straight Out Of A Fairytale
Let us be clear that it is not a tiny, cute rabbit. It is not a bunny. It is a floof and you cannot deny it. It looks like the baby rabbit (called Kit) is sucking its thumb.
Our hearts are melting faster than ice cream under the hot sun. Here's a fun fact for you: A rabbit's teeth never stop growing.
The Result Of 6 Years Of Practice
The art on the left was created in 2015, and the right one in 2021. We like them both. The first one is good, just a little bit more abstract, and the second one is more realistic.
What we can learn from this talented person is that no matter what your skill is, there is always room for improvement. You just gotta keep going.
Tail Wagging Gives Away Her Feeling
When the parent of this doggo asked her if she knew how cute she was, her tail started wagging, which is a thousand times better than any other response.
Okay, we cannot control it. Her raised eyebrows make us want to kiss her. She is flawlessly cute, and every person can agree that she's a pretty girl. We seriously want to snuggle with her forever.
Like Father, Like Son
This person shared photos of his dad (taken in 1982) and his photo (taken in 2021), both aged 20 with 39 years apart.
Both look handsome, but is there any chance they are twins? Seriously, genetics is so freaking cool.
Perfection Achieved
This person finally recreated a photo of their adorable cats, and we can understand the struggle. Any cat parent out there can tell you how difficult it is to recreate cat pictures.
We just hope it was not the case of the calm before the storm. Who knows, maybe a CATastrophic event happened right after this picture was taken.
Cheers To Healthy Life
This woman lost 100 lbs. in 2 years and maintained it. Where are the fireworks? She deserves some major praise for her hard work.
If you have been trying to lose weight for some time without much success, you can always find motivation from people like this lady. One thing to keep in mind is that losing weight is not impossible. So, stay strong, and always remain persistent.
Whale Hello There
This photo demonstrating the size of the humpback whale is astonishing. It is a massive male humpback whale trying to say Hello to humans. The original poster titled it "Tip of the Iceberg", and we couldn't agree more.
This species of baleen whale can grow to 60 feet (18 meters) long. Can you guess their weight? Well, they can weigh around 40 freakin' tons (half the size of a blue whale, the largest species in the animal kingdom).
Well Spent 8 Years
This person worked for 8 years on his 1972 Datsun 240z Restomod and it resulted in one of the most beautiful cars we've ever seen!
At that time, the total cost of restoration was about $50k, and he was given an offer of $100k, which he turned down without even giving it a thought. It must be worth a lot in 2021.
A Massive Cane Corso
This head size difference between a man and an adult Cane Corso is mind-blowing. We wonder how big his food bowl is. It must be the size of a bucket.
The Cane Corso dog breed can make an affectionate and loving companion. It is also an excellent guard dog due to its sharp sense of alertness.
Another Reason To Love Canada
This seemingly normal-looking Canadian passport becomes awesome under a black light. Some of you may think that it is one more reason to move to Canada.
We don't know what you think, but it seems pretty obvious that Canada's sole goal is to make non-Canadians jealous. We cannot think of any other reason why they would create such an awesome-looking passport.
Too Much Cuteness
This is something that is irreplaceable. The love in his eyes can tell how much this means to him. The woman who tweeted it wrote that she didn't plan for the photos to be almost identical to each other.
She wrote, "He is the only man who has taught me what true love is and what a human with a heart of gold looks like. I pray that life continues to give me time with him. to understand him better, to learn about him better. And time for my daughter to remember him too."
Result Of Spine Straightening Surgery
This person had surgery to straighten up their spine. The work those surgeons did is incredible.
According to the person who uploaded this photo, it was one difficult operation, and the recovery took a long time. They had to stay in the hospital for one week and did absolutely nothing for two months.
Before And After Photos of A Restored Parquet Flooring
The old 1930s parquet flooring got a new life after restoration. It shows why parquet is worth the money.
We love restoration jobs like this. It gives great satisfaction when you step back and look at it. It's a shame when people cover up this kind of beauty with carpets. Well done taking the before and after pictures.
It Is Driving Us Crazy
Wow, this is one impressive DIY driveway. It took a lot of effort to create the paving stones and the driveway, and he saved some money as well.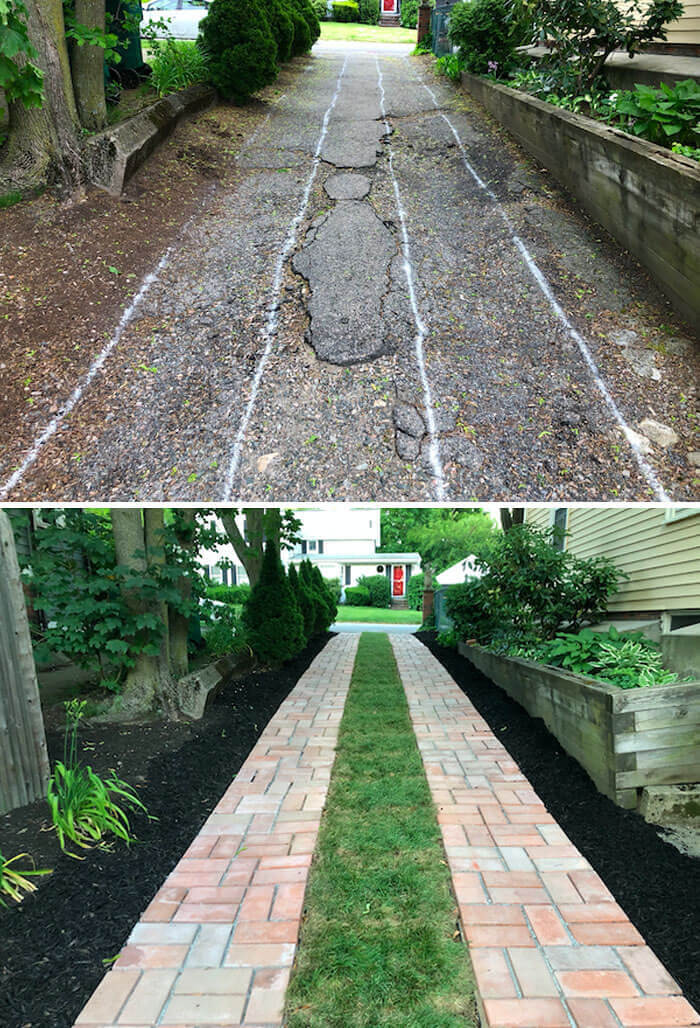 Some people are in favor of asphalt driveway, but this one looks a bit more natural. Nevertheless, it is impressive craftsmanship.
Not Trying To Make The First Move
We hope this size comparison of an Orangutan and a human has put a smile on your face. Look how at ease they are together.
Although Orangutans are large, they are quite gentle. Male orangutans can be up to twice the size of females. The adult males, like the one sitting near the woman, can be aggressive. However, the males try to keep to themselves and remain calm most of the time.
He Walked Across China For A Year
In these before and after photos, you can see the transition of a man's appearance after walking across China for a year. He reminds us of the movie Forrest Gump. At first glance, we thought maybe he was bitten by a werewolf. He started in 2007 with an initial plan of walking from Beijing to Germany.
So, you can say that it was a hair-raising experience for him. The lesson for you to learn here is to always pack a travel razor and take a bath from time to time.
Doggo With His Hooman
Meet Pierre, nicknamed Shaggy, the coolest dog of all time. Pierre was just 8 weeks old when his human took the first photo. In just 8 months, he turned into a fully-grown cutie pie.
Now, the doggo should be carrying his human. Honestly, both human and pupper look very handsome.
Never Regret
This person shared before and after photos with his girlfriend when they first met and next to them now. Apparently, they regret the Emo phase.
We feel that exploring fashion when you are a teenager is normal. Let's all embrace our awkward teen years. We have done a lot of stuff, and there's no reason to feel embarrassed about them. And It's really cute that they stayed together through their emo phase.
So Close Yet So Far
This is an example of the class disparity in South Africa. It's not just South Africa, as you can find this kind of disparity anywhere in the world. Have you noticed that even the trees in the poor area look less green?
It reminds us of a quote, "Neither a rich man or a poor man gets to enjoy his money. One is too busy trying to hold on to it, and the other is too busy trying to get it." That's the harsh reality of the world we live in.
A Green Thumbs-Up For This Bad Boy
Someone was really happy sharing a photo of their first-ever house plant that turned 5 about two months ago.
The plant's name is Fred, and it got its first flower this year. We just think that we should have pet names for our plants.
Hummingbird Eggs And Nest
This is so tiny and precious. It is not that the hummingbird is bad at hiding the key to their home. The person who took the photo used a key for scale, and hopefully, they removed it after taking the photo.
Did you know that a hummingbird is the only bird that can fly backwards? The average weight of this bird is less than a nickel. And hey, if you find a passed-out hummingbird, feed it sugar water. Make sure not to use brown sugar, honey, or any other type of natural sweetener.
A Unique Perspective On Skin Color
This girl shared a photo she took with her twin brother. There is a difference in their skin color because he goes outside a lot and she does not.
This is another reason more to see why "race" is a ridiculous concept. We can bet that a lot of people wouldn't say that the person on the right is "white" when they see both together. If you strip off the skin of every single human, we will all look exactly alike. It is important to understand that color is NOT culture. It is just color, nothing more, nothing less.
Say NO To Drugs
This strong woman shared her pictures to show how she won a battle against opiate addiction. The first photo was the peak of her addiction and the second one shows a healthy and sober woman with strong determination.
We're so happy for her. Anyone who is currently fighting through a tough time, just stay strong and don't give up.
The Satisfaction You Get From Organized Rocks
This person found a bunch of rocks on a beach and organized them by color. That's a great collection! Such a pretty range of colors that really catches the eye.
Honestly, it looks like an album cover. We have even started hearing mellow ocean wave sounds.
"It Wasn't Me Officer! It Was The Chimpanzee!"
This comparison between a chimpanzee fingertip and a human fingertip is pretty awesome. Well, now we can tell who stole the banana.
Did you know that koalas also have fingerprints? Interestingly, they have fingerprints that are almost identical to human ones.
Chichen Itza In 1892 vs. Present Day
Chichén Itzá is Mayan ruins in Mexico's Yucatán Peninsula. It is one of the most visited archaeological sites in Mexico, with over 2.6 million tourists in just 2017 alone.
It must be so cool to rediscover something like this. Maybe someone thought, "Let's dig to find what's under that hut, I guess it won't take long."
Choose Your Favorite Color
This is how titanium gets color based on different voltages. Do you still want to choose your favorite color? Don't say it is 100 volts.
In titanium anodizing, the voltage dictates the color. The volt range for color titanium anodizing is between 15 and 110 volts. A bronze color, with the thinnest oxide layer, can be achieved with about 16 volts. A green color, with the thickest oxide layer, can be achieved with 106 volts.
Getting Better With Time Like Wine
The SFX makeup skills of this artist have improved a lot over time. The left photo was taken when the artist was 16-year old. Now the artist is 24-year old and is going to get better with time.
The left photo is impressive and the right is out of this world. It looks like CGI. We honestly thought the second picture was a still from a movie. This person is extremely talented!
So No BBQ Today?
This is how the weather changes so many times in a day in the Netherlands. We bet they don't even care enough to check the weather forecast.
However, you cannot complain when you can experience 4 seasons in one day. The Netherlands certainly has crazy weather and good people.
When Life Gives You Lemons…Never Mind
Someone found this weird lemon that grew on their lemon tree. They even placed it near a normal lemon for comparison.
We hate to break it to this person, but it seems like their lemon tree has been unfaithful to them. Maybe it had an affair with the banana or chilli. What would be their reaction if they found a round banana?
The Evolution Of Cellphones
This person's parents stored all the used phones in their kitchen drawer, and we can see the evolution of cell phones from the massive brick phone to the smaller phones to the bigger, flatter phones.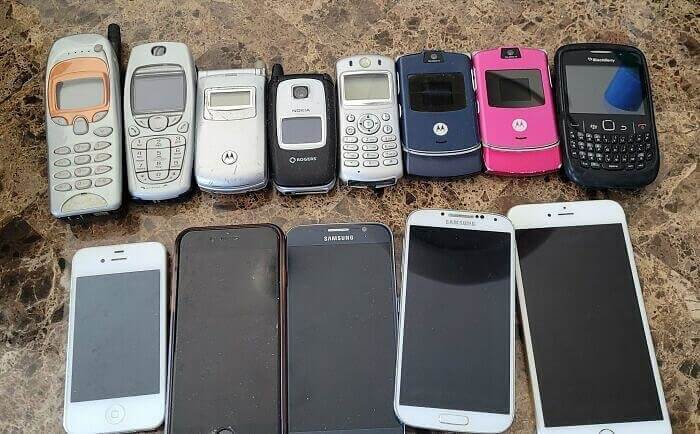 We can bet that the Nokia STILL has 90% battery left. Why is this photo making us feel nostalgic?
A Word To The Wise: If Someone Says "Trust Me," DON'T.
When her sister said, "You can do the half-marathon with me! Trust me, it's not that bad," she made a big mistake of trusting her sister.
At least she tried, but the facial reactions are priceless. It seems she's about to scream, "YOU LIED TO ME!"
Strawberry Or A Purse?
This person bought a comically huge strawberry from the grocery store, and we want to know if it tastes like strawberry or not.
We believe that someone sat on an average-sized strawberry. Or maybe the fear of being eaten made the strawberry take extreme measures.
Anime vs. Reality
That's some amazing adherence to reference photos. It took us a moment to spot the difference.
These photos show that Japanese anime is the best. It makes us wonder why can't the world be so pretty? Maybe it can if we take care of it.
Pizza Is Love
This is the biggest pizza that can be ordered in the US. We believe that any pizza can be a "personal pizza" if you try hard enough.
We get that the pizza is really big, but why did they use a dead guy for scale? Maybe he was the delivery guy who was super late in delivering the pizza.
Lara Croft Progression – 1996 To 2018
Lara Croft is considered one of the best heroines in gaming history. It just goes to show that our imaginations did a lot of work! The character has been massively popular since her debut in 1996.
Seriously, 3D graphics have come a long way in such a relatively short time. And hey, why does it look like the current one seems confused and disgusted by her former selves?
That's A Fiber Optic Wire
What you're seeing is a fiber optic wire capable of supplying high-speed internet to a home.
If that hasn't blown your mind, you should know that the real size is 1/3 of the transparent part at the top; the core of fiber used for transmission.
Farmed Versus Wild
If you like eating salmon, you must know that it grows in cold climates. That said, people living in warm climates get to enjoy the fatty fish all throughout the year. How is that possible? Salmon farming! Think of it as growing cattle, only underwater. More demand equals more salmon farming, but the difference between the natural, wild fish on the right, and the farmed fish on the left is undeniable.
We've never had wild salmon in our lives, and we can't say we're not curious to try it seeing how different it is.
Tan Vs. Zombie-Looking
No, this person is not a white walker fro Game of Thrones. They simply suffer from a condition called Raynaud's disease, causing some of their limbs to turn numb and cold in cold weather. Their hand looks perfectly normal, but their foot looks icy blue after wearing a pair of combat boots in the desert. It looks painful to say the least, and we hope a pair of fresh socks can help.
It's amazing what the human body is capable of – we never thought a person's limbs could look so different.
Before and After Corrective Surgery
On the left, we see a girl's body before she underwent a procedure called guided growth surgery, in which supportive plates were inserted into her knees, to help the bone grow properly. On the right, we see her after the operation – looking perfectly normal. We're so happy for her, and for what modern medicine is capable of! Just look at the difference.
It's amazing what two simple-looking plates can do to a person's spine. It's like wearing a cast, but from the inside!
Farmed Vs. Wild
If you like salmon, you know that wild salmon tastes completely different than the farmed kind. Well, here's a visual representation of that. It's clear to see that the farmed and wild fish have very little in common – the tissue is is hardly similar, and don't even get us started on the color. Is it even the same fish?
The healthy benefits salmon is so famous and loved for aren't the same, too. It's meant to live in the wild!
A Grandmother And Her Granddaughter
If you look at your family photos, you will notice that some of the obvious features are passed down generations. Some family members have a stronger resemblance than others of course, but you do get some relatives like this grandmother and granddaughter who are so similar in appearance that you almost can't tell where one's face ends and the other begins. Obviously one telltale sign would be the difference in hair color.
This 61-year-old grandmother and her 12-year-old granddaughter could almost be twins from a different time period. It would be interesting to see how much the other family members resemble each other– maybe this family just has extremely strong genes.
Ken 1985 Vs. Ken 2018
​Is it just us or does the Ken of 1985 kind of look like Robert Redford? There are some noticeable differences between these two Ken dolls: The hairstyles definitely represent the time periods that they are from, Ken from the 1980s is more tan and also has blue eyes. We're not sure why the eye color needed updating, but maybe it would have been too much contrast against the blonder hair.
After all, Kenneth Sean "Ken" Carson was introduced in 1961 and surely has come a long way since then. Something you may not have noticed is that 1985 Ken could swivel his head around whereas 2018 Ken cannot. Is that representative of the times we live in? Only Mattel could say for sure.