When we see celebrities on TV or social media, they look like warm, friendly people. Unfortunately, they aren't always the nicest people in person, and the fans who have gotten the chance to meet them can attest to the rude stories about celebrities. From Ellen DeGeneres to Christina Aguilera, these celebrities have all been caught having a bad attitude towards coworkers and fans alike. Continue reading, and you'll be shocked by these celebrities who were outright jerks to the people around them.
1. Ellen DeGeneres Is Rude To Staff And Guests
This might come as a huge shock to many considering how giving and kind Ellen DeGeneres appears on TV. Recently, many stories have come out about her and her behavior that goes on behind the scenes. Her former crew members have said that she won't look anyone in the eyes or acknowledge most of them behind the scenes.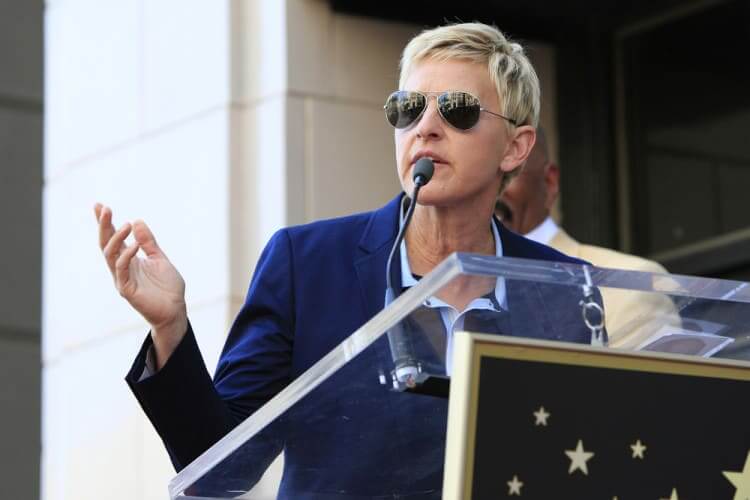 DeGeneres also picks one person to be mean to each day on set. She has a bowl of mints outside of her office because she hates bad breath and will send someone home if their breath smells bad. Recently, she had Nikki De Jager, aka NikkiTutorials, on her show as a guest, and Nikki was the only guest not to get her own bathroom, and she was treated less than the other guests.
2. Christina Aguilera Insulted 'Voice' Contestants
A few years ago, Christina Aguilera was a judge on The Voice. Her powerhouse vocals made her one of the best mentors for aspiring singers, but behind the scenes, she acted very differently.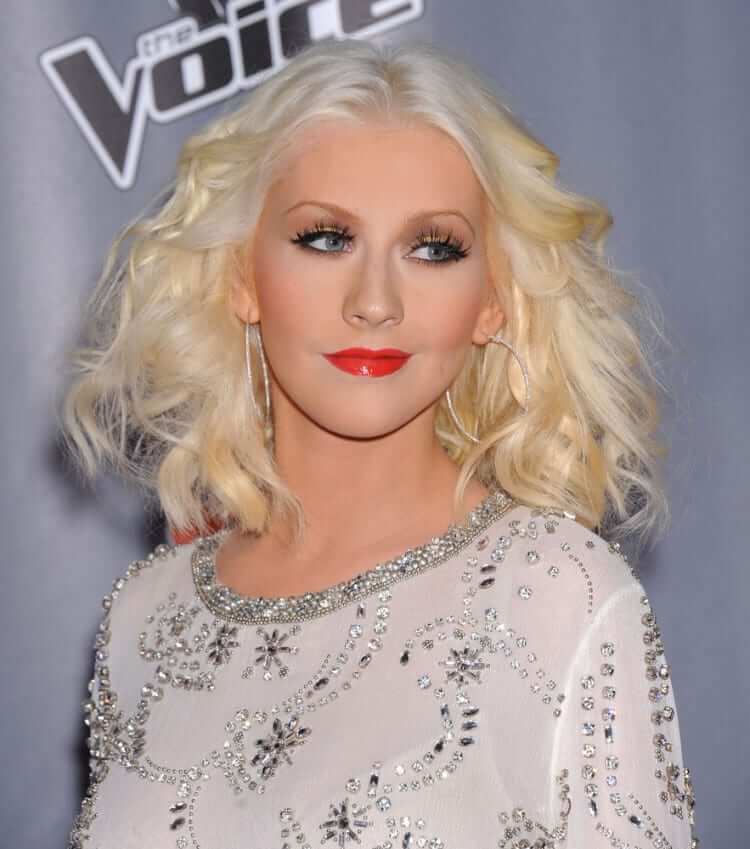 She would sexually harass the male contestants, and she would yell at others for not paying close attention to her critiques. Aguilera would also ignore the contestants on her team behind the scenes and forget their names.
3. Jennifer Aniston Made Jay Mohr Cry
Jay Mohr worked with Jennifer Aniston for the movie Picture Perfect. He revealed on his podcast that the experience wasn't so pleasant. Mohr said Jennifer's behavior on set made him leave crying many times.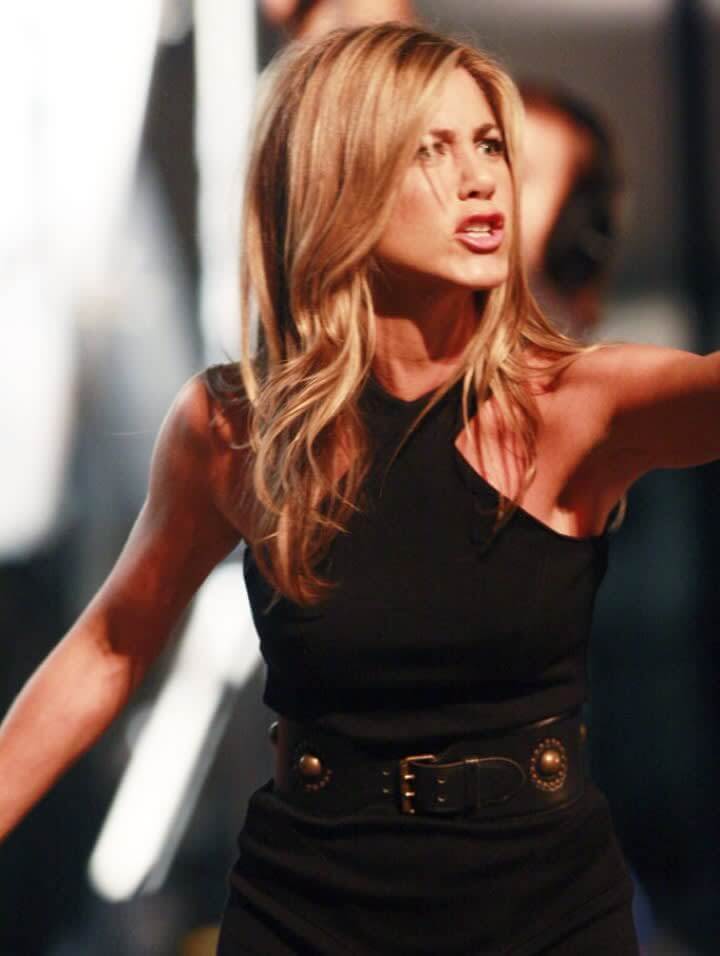 On the first day of filming, she screamed that she hated him and asked why they chose Mohr out of all the other choices. During the entire filming process Aniston bad-mouthed him.
4. Cameron Diaz Lectures Her Fans
Cameron Diaz is loved by so many fans for her roles in Bad Teacher, Charlie's Angels, and Shrek. Fans would be glad to meet her, but those who have had the chance have been left disappointed.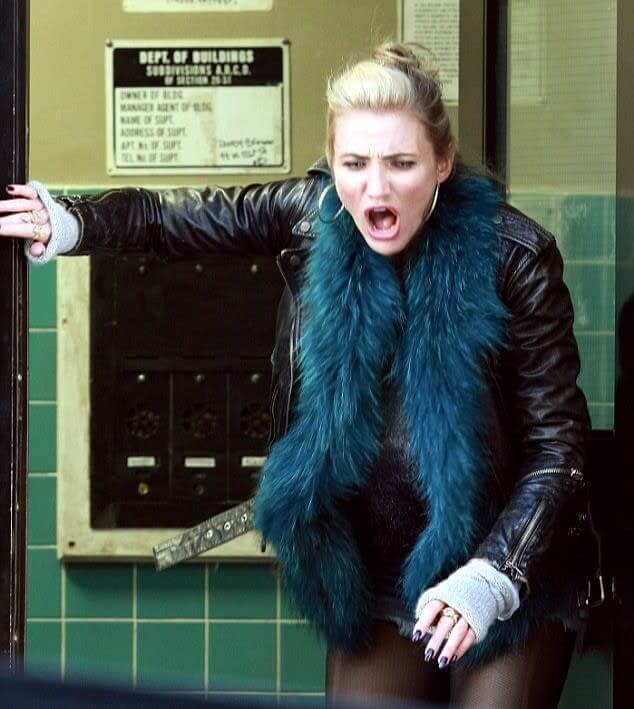 When fans have met Diaz, they said she was rude and would lecture them about why it was pointless to ask for an autograph.
5. Zooey Deschanel Is Angry On Set
On the show New Girl, Zooey Deschanel is quirky and sweet to everyone she meets, but people have said there is a different story behind the scenes. Coworkers have said she is a nightmare to be around.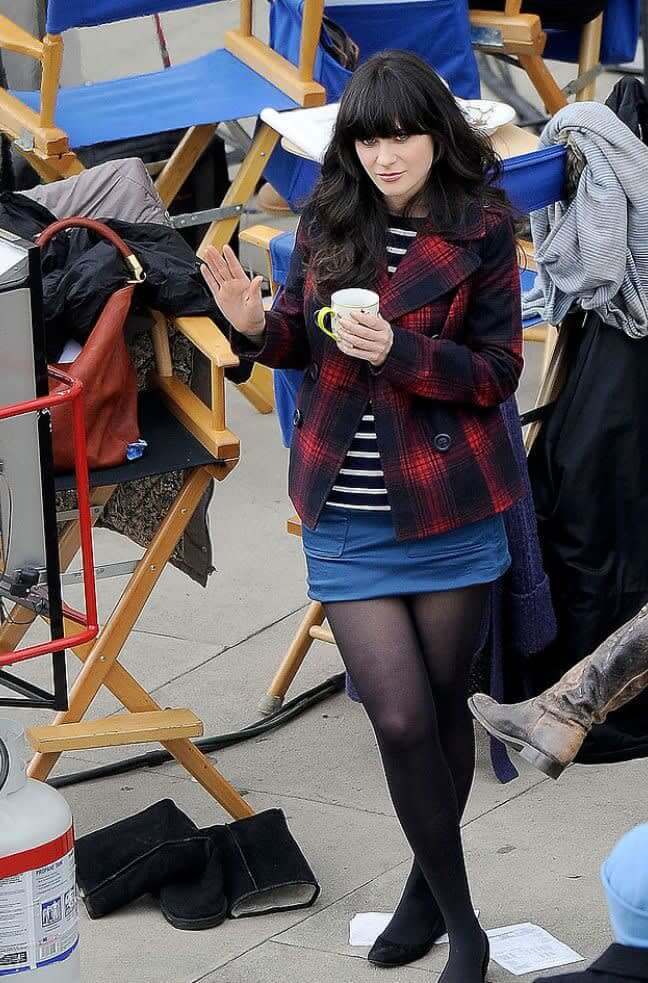 GONZALO/Bauer-Griffin/GC Images
Also, fans who have met Deschanel said she was snappy and dismissive. She likes to control things, and when they don't go her way, she throws a tantrum.
6. Amy Schumer Interrupts Other Comedians
Funny girl, Amy Schumer started out as a stand-up comedian in New York before she made it onto the big screen. After her big break, some of the fame might have made her forget where she came from.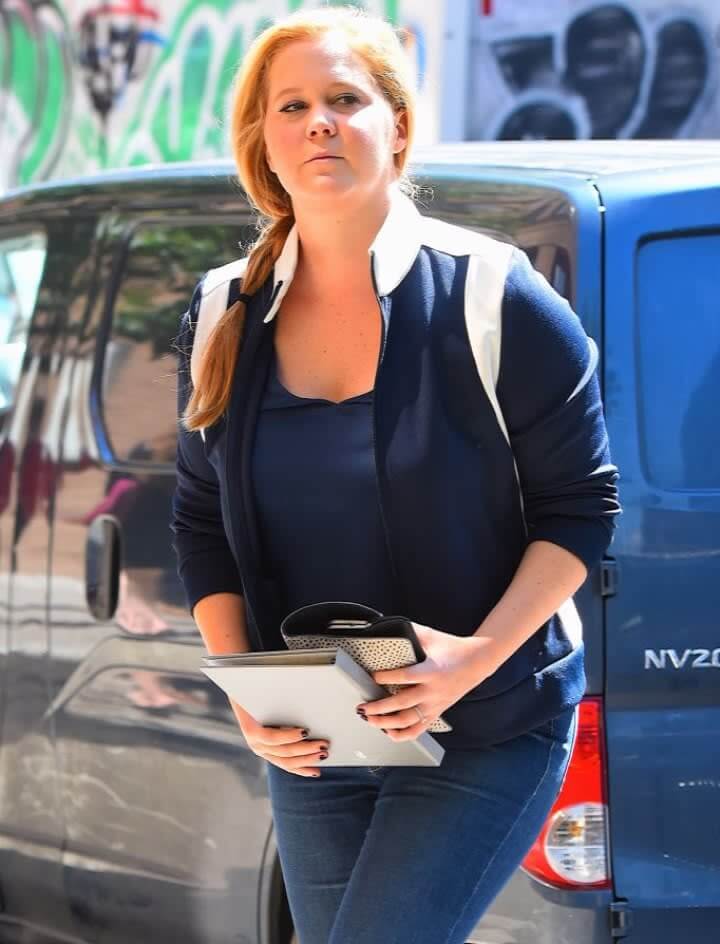 Once, she interrupted another comedian's set so she could rehearse some jokes for her SNL appearance. The comedian had invited his friends and family to the show just to get interrupted by her.
7. James Corden Uses His Celebirty Status Too Often
The man who brought us Carpool Karaoke, Jame Corden, is widely popular for his sense of humor and British accent. While he is happy and goofy on TV, he is much different when the cameras aren't rolling.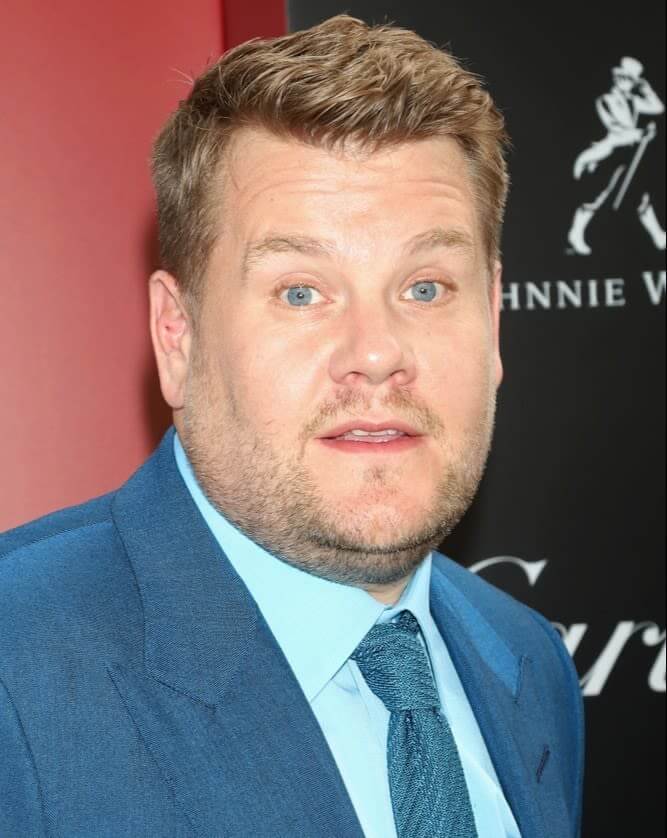 On Reddit, people have said that he uses his celebrity status and reminds people often that he is famous. The fans who have met him have said he is entitled and arrogant.
8. Jennifer Lawrence Is Rude To Fans
If someone admits that they are rude, does that make it less offensive? Well, Jennifer Lawrence is one of the biggest names in Hollywood, and when Adam Sandler interviewed her, he asked how she deals with the spotlight.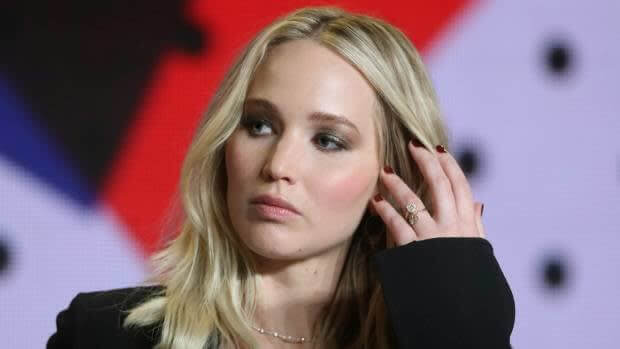 Lawrence said she acts rude to avoid interacting with fans. She gives them dirty looks when she notices them approaching and always says no when they ask for a selfie.
9. Jennifer Lopez Refuses To Speak To Flight Attendants
Jennifer Lopez started her career with humble beginnings, but it seems that Jenny from the Block has let the fame go to her head.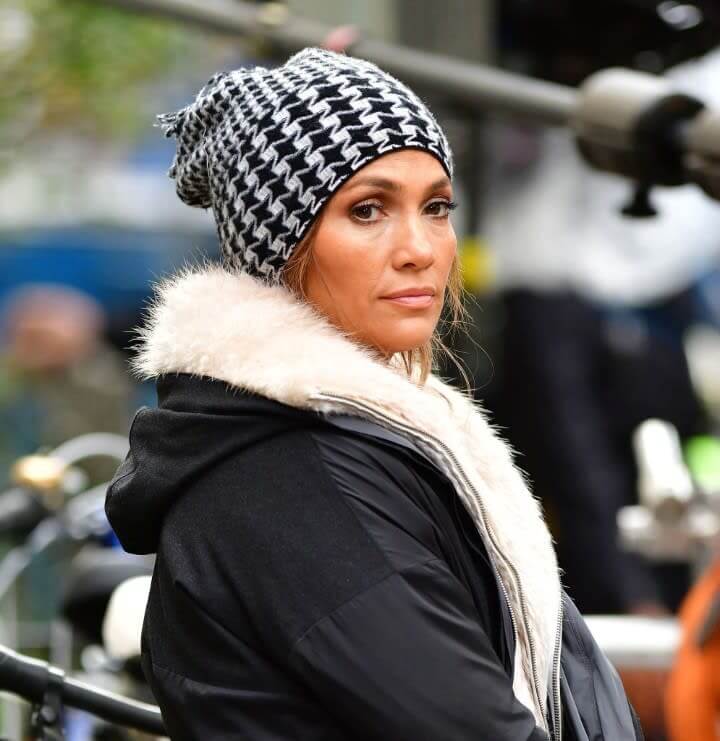 While flying with United Airlines, the stewardess asked her what she wanted to drink, and J.Lo proceeded to ignore her. She then turned to her assistant to say, "tell her I want a diet coke with lime."
10. Jonah Hill Is Rude In Interviews
While Jonah Hill is usually seen as the funny loveable guy on screen, his personality in interviews is much different.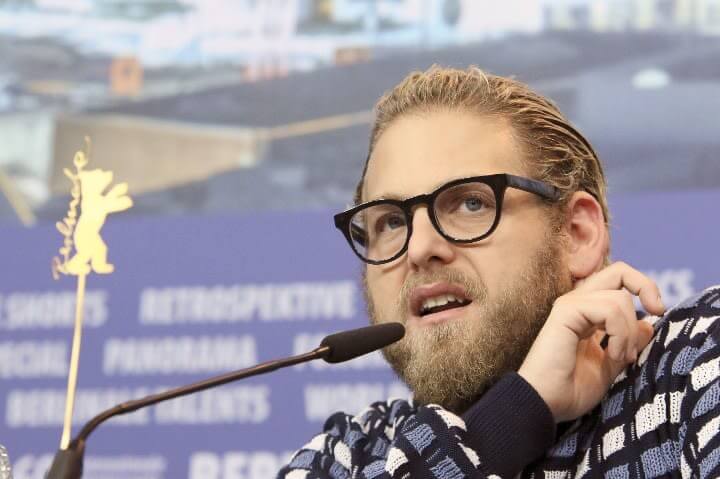 dpa picture alliance/Alamy Stock Photo
He was interviewed for Rolling Stone Magazine, and during the interview, he called the questions dumb and irrelevant. In another interview, he insulted the show and the interviewer.
11. Sandra Bullock Yelled At A Fan In A Wheel Chair
From what people see in interviews, Sandra Bullock seems like a sweet person who would be happy to interact with her fans. The award-winning actress is surprisingly not so nice when people meet her.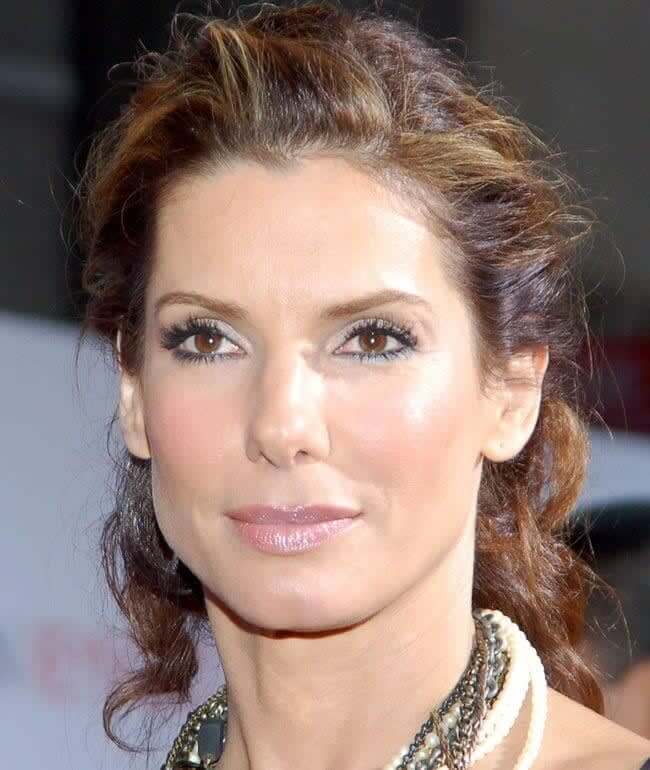 sharongraphics/Wikimedia Commons
A fan and her husband, who uses a wheelchair, saw her while she was filming The Heat. They kindly asked for an autograph, but she covered her face and yelled at them instead of being polite.
12. Rachael Ray Yells At Audience Members
On TV Rachael Ray seems like a sweetheart to everyone who comes to sit in the audience of her live cooking show. Her bubbly personality and loud demeanor are masking her rude actions.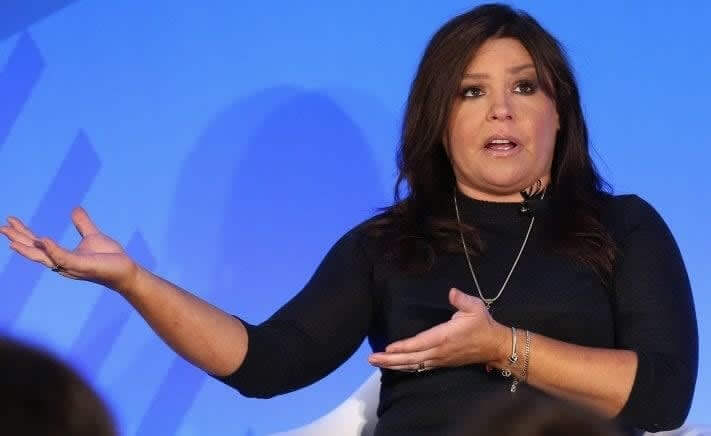 One fan who went to the show said Ray was annoyed that she had to film the show and greeted the audience coldly. She also rolled her eyes often.
13. Guy Fieri Doesn't Like Gay People
Guy Fieri has a large personality on TV, but that doesn't come without drama. During the filming for Diners, Drive-Ins, and Dives Fieri left a restaurant because he thought the men that owned it were in a relationship.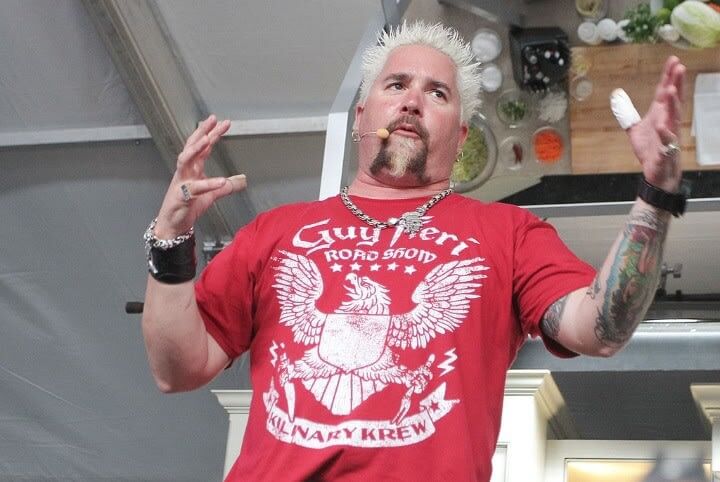 After that, Fieri told the producer that he wouldn't "talk to gay people without a warning" because they weird him out.
14. Reese Witherspoon Uses Her Status To Get Out Of Tickets
When people think of Reese Witherspoon, they usually think of the sweet person she appears to be on TV. In 2013, she went through a rough patch when she and her husband were arrested.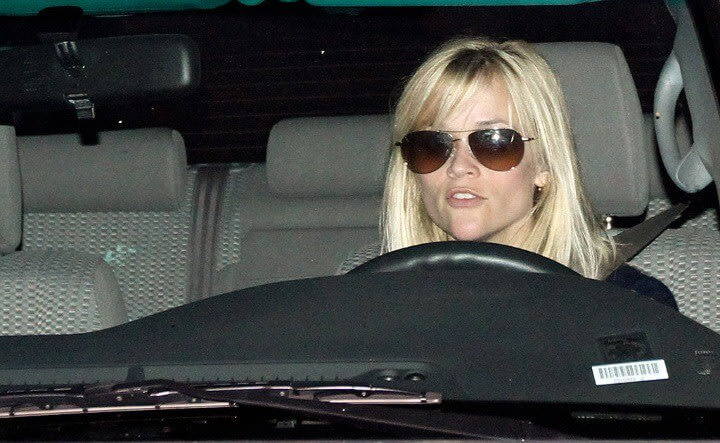 Jean Baptiste Lacroix/WireImage
Witherspoon asked the officer if he knew who she was and that he was going to be making national news. According to people who have worked with her, she is rude and doesn't like staff to make eye contact with her.
15. Catherine Zeta Jones Is Unapologetically Rich
Some people don't like to flaunt their wealth, while others enjoying doing it. Catherine Zeta Jones is one of those people who likes to remind everyone how rich she is.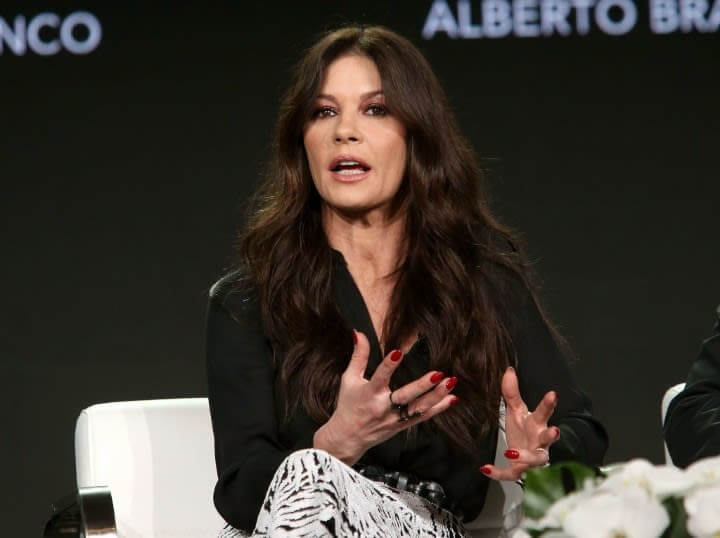 During an interview, she said she would not apologize for her expensive red carpet looks and vast fortune. She even said that she is not humble and doesn't have to be. She has also said that she doesn't think a million pounds is a lot of money.
16. Adam Levine Won't Give Autographs To Ugly Girls
Adam Levine is known for being the heartthrob frontman of Maroon 5, and he is married to one of the most beautiful models in the world. Fans adore him, but he doesn't treat them all equally.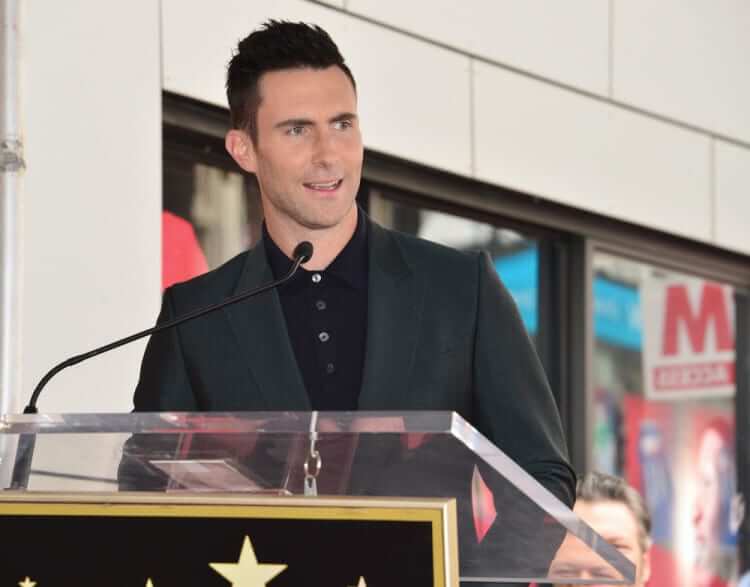 A fan once approached Levine for an autograph, but she was turned down because he "doesn't give autographs to ugly chicks." We can't all be supermodels, Adam!
17. Rihanna Hit One Of Her Fans
Rihanna has had a few incidents with her fans, but people still seem to think she is a sweet person. You might be shocked to find out that Rihanna once hit her fan over the head with a microphone when the girl reached her hand out at a concert.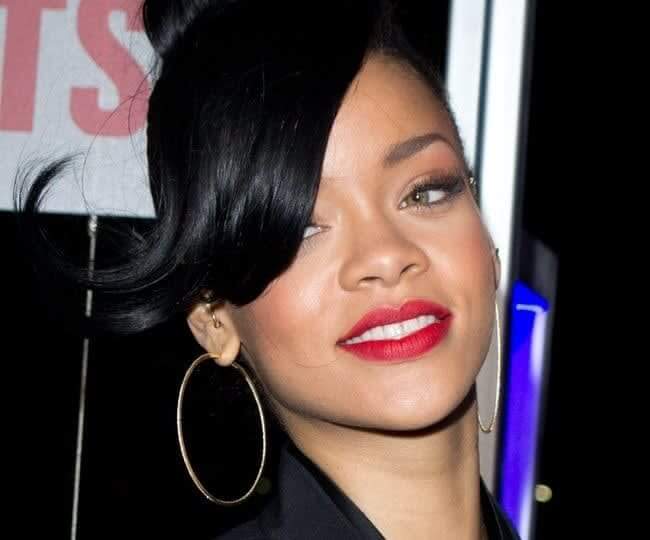 Liam Mendes/Wikimedia Commons/CC BY-SA 2.0
On another occasion, Rihanna's fan posted a picture of her prom outfit that she handmade to look like a red carpet look Rihanna had worn in the past. Instead of giving encouraging words to her young fan, Rihanna made the girl the laughing stock of the internet and retweeted the best jokes about the outfit.
18. Christian Bale Made A Little Girl Cry
Christian Bale is known for being rude on set and having a diva complex, and that attitude carries over to his fan interactions. When his assistant wrote a tell-all book, it became well known that he would yell at young girls until they were in tears.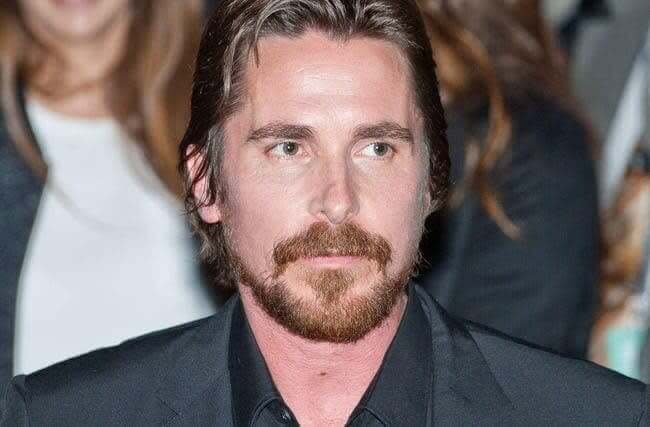 Siebbi/Wikimedia Commons/CC BY 3.0
Also, when a fan sent Bale a letter, he told his publicist that the fan should be eliminated. Bale even came up with a very graphic way to get rid of this adoring fan.
19. Ariana Grande Licked Donuts And Didn't Pay For Them
Many people consider Ariana Grande to be America's sweetheart, but she isn't always an angel. The pop star was caught by security cameras in a bakery licking donuts on the counter and laughing about it with her friends.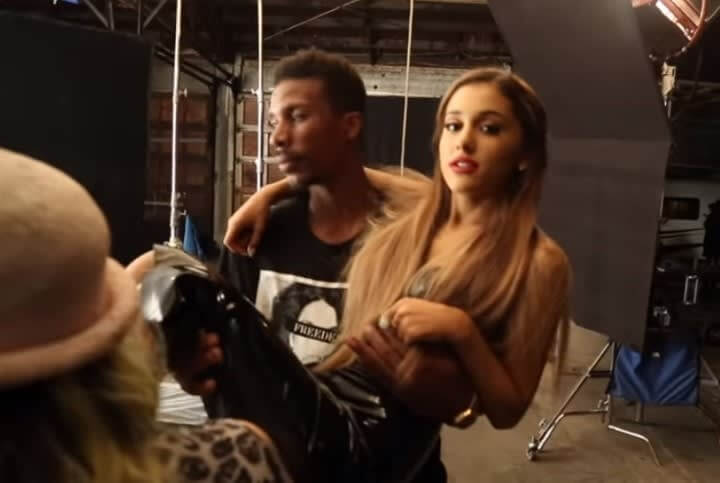 Grande has been called a diva by many of her staff members, and she has her crew carry her when she is too tired to walk. The fame has undoubtedly gone to her head.
20. Pierce Brosnan Pushed James Corden And His Wife
Stars are not only rude to fans, but they are also mean to other celebrities. Late-night talk show host, James Corden, revealed that Pierce Brosnan was one of the rudest celebrities he had ever met.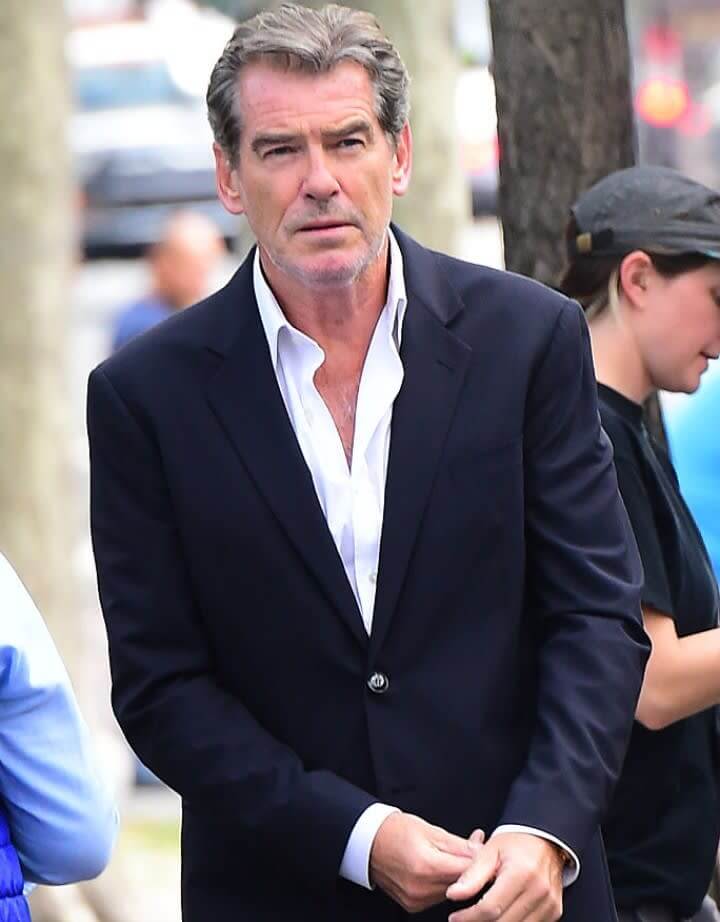 Corden said he saw Brosnan at a U2 concert, and Pierce shoved Corden and his wife out of the way to get through the crowd. Brosnan didn't even apologize or look at them.
21. Mariah Carey Pretends To Not Know J.Lo
By now, most people know how much of a diva Mariah Carey is. She has been called out for yelling at staff and demanding too much from her assistants. Besides the people she pays, she is also not nice to other celebrities like Jennifer Lopez.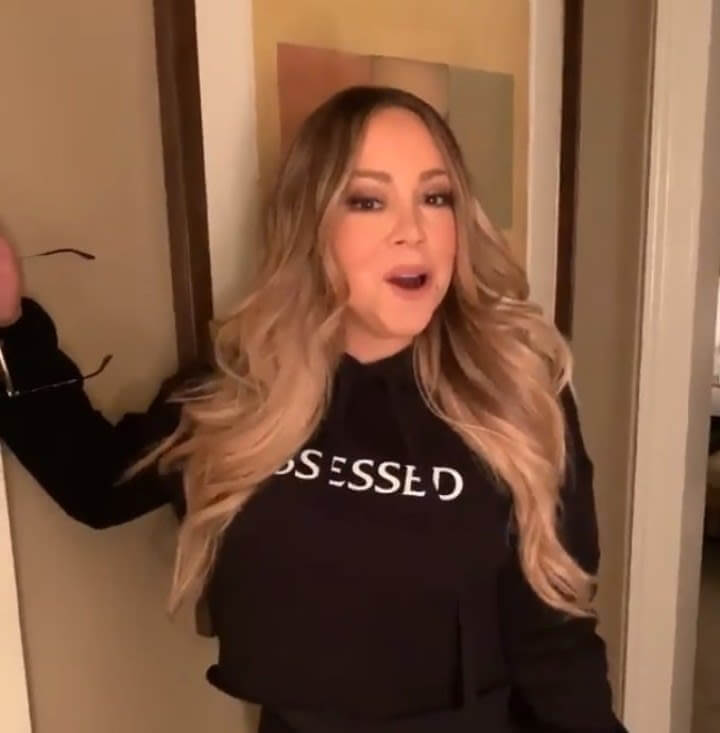 There is an ongoing joke about Mariah Carey claiming she doesn't know who Jennifer Lopez. It started in the 2000s when Carey was asked about J.Lo, and she famously replied, "I don't know her." Jennifer Lopez even went on a talk show to clarify that she had met Carey many times.
22. Tobey Maguire Is Rude To Waiters
When people go to restaurants, they might have special requests for waiters or waitresses because of dietary needs, but Tobey Maguire has special requests for his own amusement.
When Maguire was at a poker tournament, people noticed that he was a horrible tipper, and he tried to trade a thousand-dollar chip so the waitress would "bark like a seal."
23. Charlize Theron Steals Soul Cycle Spots
Soul Cycle is an indoor cycling chain that is many celebrities enjoy going to for workouts, and it has a cult-like following. You have to sign up for the bikes days in advance because the classes sell out within an hour of opening.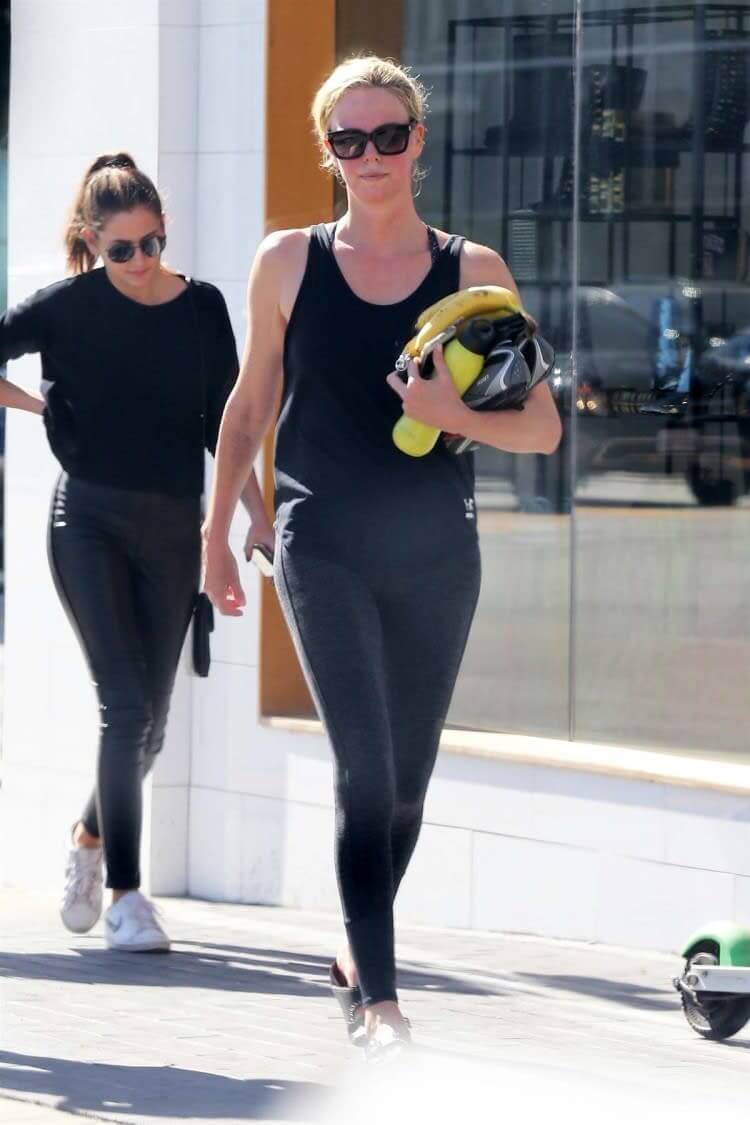 Charlize Theron must think she is above everyone else when it comes to attending these classes because she arrives late and makes people get up from their bikes so she can take their spot.
24. Tom Cruise Trash Talked Brooke Shields
Tom Cruise is known for having outbursts and Scientology-based rants, but people may not know that he bashed other celebrities.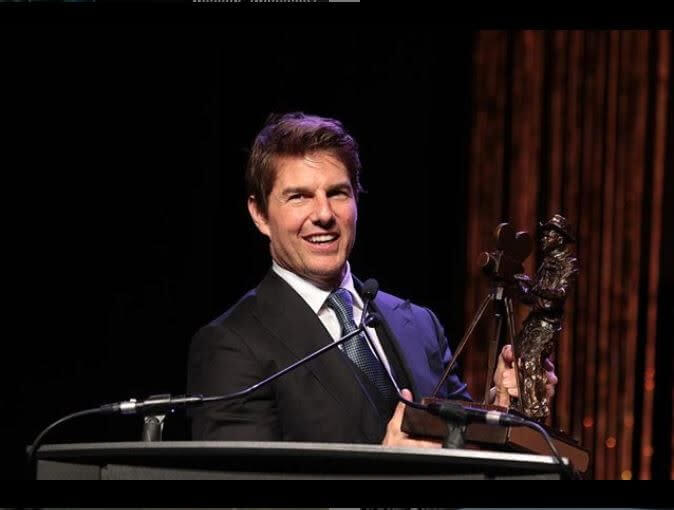 In 2005, Cruise bashed Brooke Shields for taking prescription medication to help with her post-partum depression. He also claimed that the medication was the reason her career stalled during that time.
25. Julia Roberts Is Rude On Set
Julia Roberts seems so sweet when she is interviewed on talk shows or red carpets, so it is hard to believe that she isn't pleasant to work with on set.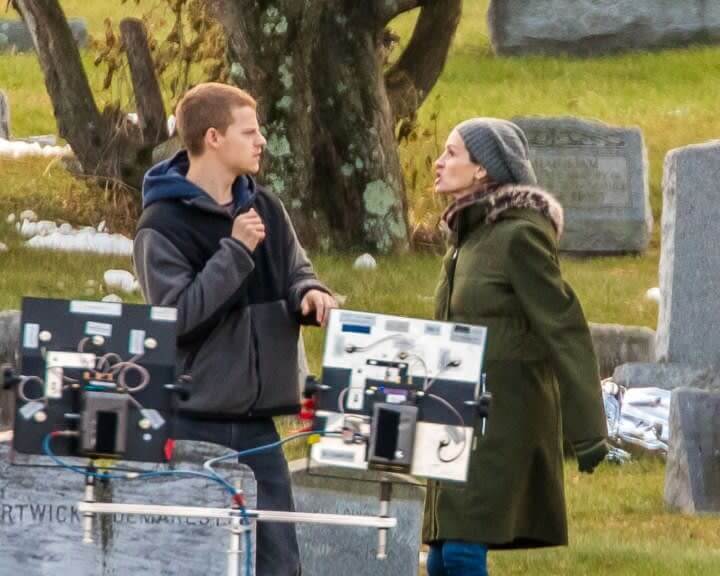 During the filming of Hook, Roberts would lock herself in her trailer for hours, and never apologize when she showed up hours later to set.
26. Spike Lee Left In The Middle Of The 2019 Oscars
Director Spike Lee has not had the best reputation when it comes to interacting with fans. Many people have written online about his visits to their college, and he would call people rednecks and racists.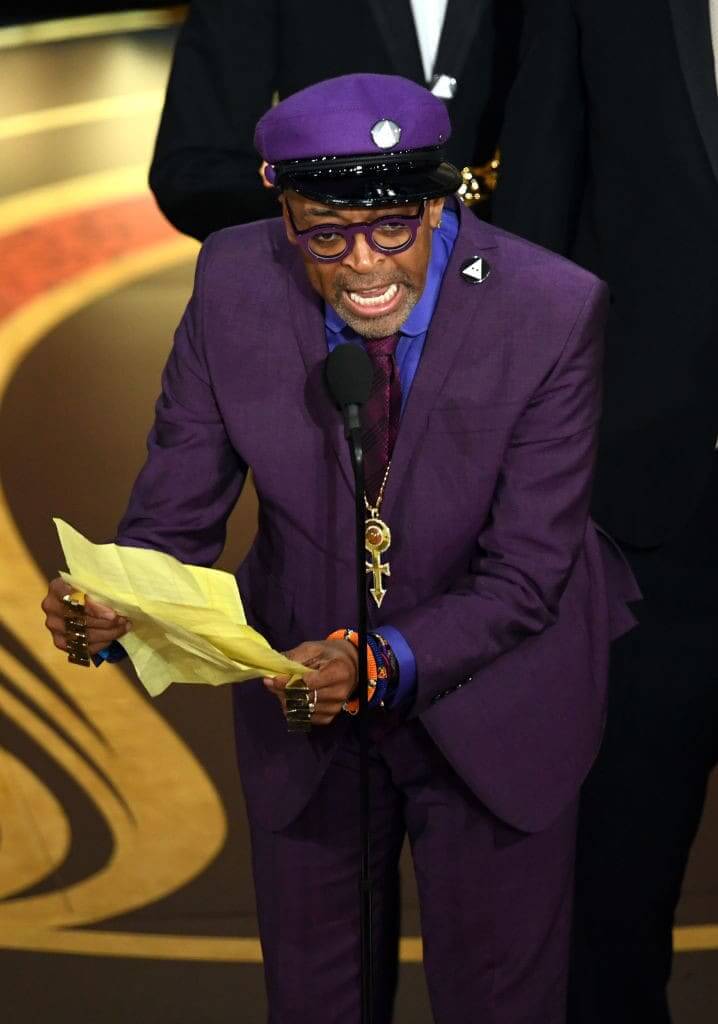 Last year at the Oscars, he was so infuriated that his movie did not win best picture, so he got up in the middle of a speech and stormed out. Mind you; he had won best director for that movie.
27. Mel Gibson Made Anti-Semitic Comments
This is well known by many, but back in 2006, Mel Gibson went on an anti-semitic rant when he was being arrested for a DUI.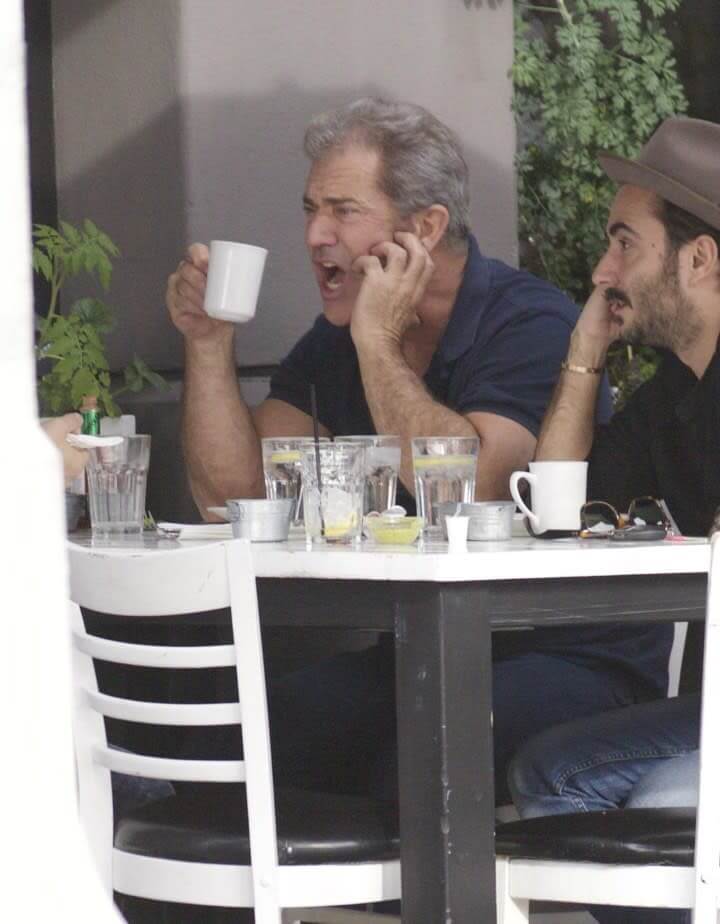 WENN Rights Ltd/Alamy Stock Photo
During that arrest, he called the female office "sugar breasts" along with other misogynistic slurs. He is not afraid to share that he does not like feminists and he does not believe men and women are equal.
28. Charlie Sheen Yells At His Manager
Charlie Sheen is known for his rants and tirades. He went off the deep end towards the end of filming Two and a Half Men. He was actually fired from the show after called the producer crude names and wishing him the worst.
Sheen gained more negative attention when he yelled at his manager, and he claimed that CBS owed him an apology for firing him and replacing him with Ashton Kutcher.
29. Katie Couric Bullies Her Coworkers
Katie Couric has had an incredibly successful career in broadcast journalism. She has made a name for herself on TV and behind the scenes for how she treats her coworkers.
On set, she is caddy and crude. She judges other people's clothing right before going on air. She acted like a bully and a mean girl, which led to people not wanting to work with her.
30. Ben Stiller Has Outbursts On Set
In some movies, we have seen Ben Stiller's characters have huge tantrums, but many people believe that it was just an act. Apparently, those who have met him say he is cold and egotistical in real life.
On the set of Meet the Fockers, he earned the nickname "little focker" because he was always unhappy unless he had someone constantly waiting on him.
31. Gordon Ramsay Screams At People On And Off Television
Gordon Ramsay is known for screaming at people on TV with his unique version of tough love. The people who know him in real life say he isn't much different.
gotpap/Bauer-Griffin/GC Images
Ramsay's former assistant manager in his London-based restaurant, Maze said he heard Ramsay yelling on the phone about chairs that had been ordered incorrectly.
32. Gwyneth Paltrow Is Considered A Diva With Crazy Demands
Gwyneth Paltrow is the owner and founder of the lifestyle brand Goop, which shows that she truly lives the life of the rich and famous. According to those who have worked with her, she has adopted a diva attitude.
Paltrow demands that the shower at the gym has to be cleaned and dried before she uses it because she can't touch someone else's shower water. Also, she was once at a restaurant where she read the menu, rudely claimed she couldn't eat anything, and left.
33. Johnny Depp Ruins Hotel Rooms
Much like his Pirates of the Caribbean character, Johnny Depp volatile, reckless, and turbulent. Depp's former bodyguard filed multiple lawsuits against him for unpaid wages and poor working conditions.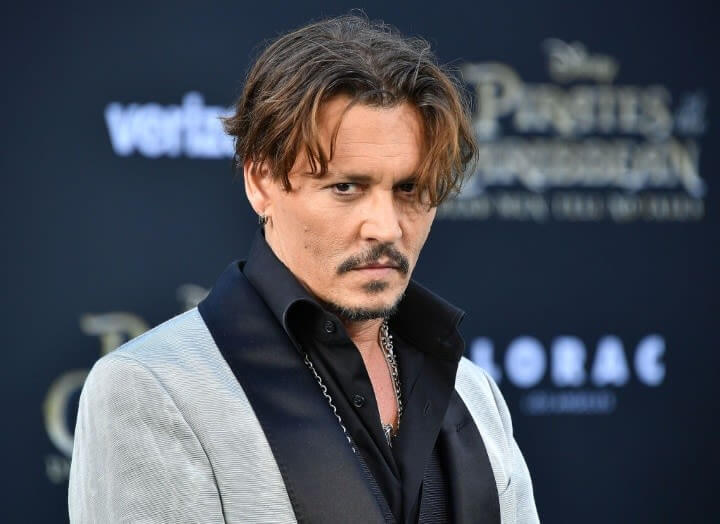 In 1994, Depp destroyed a hotel room and tried to blame the damage on an armadillo. In 2018, he was sued by a location manager for punching him in the face.
34. Mike Meyers Is Difficult To Work With
The funnyman Mike Meyers may be hilarious on-screen, but behind the scenes, he is a nightmare to work with.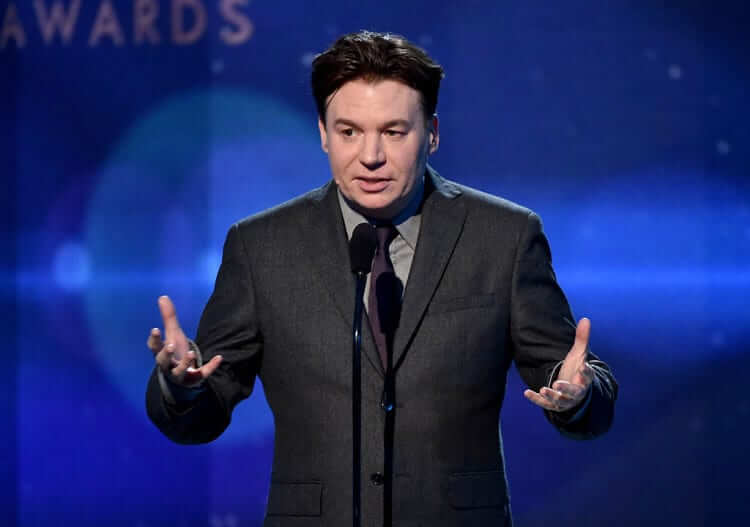 On the set of Cat in the Hat, he requested that someone follow him around and feed him chocolates. He also was always late to filming and would micromanage production.
35. Bob Dylan Was Called Rude And Arrogant By Nobel Committee
Fans of Bob Dylan love his music and praise his talent, but they do not know what he is really like to work with him. People who know him have said that he doesn't enjoy being in the spotlight and he is unpleasant to be around.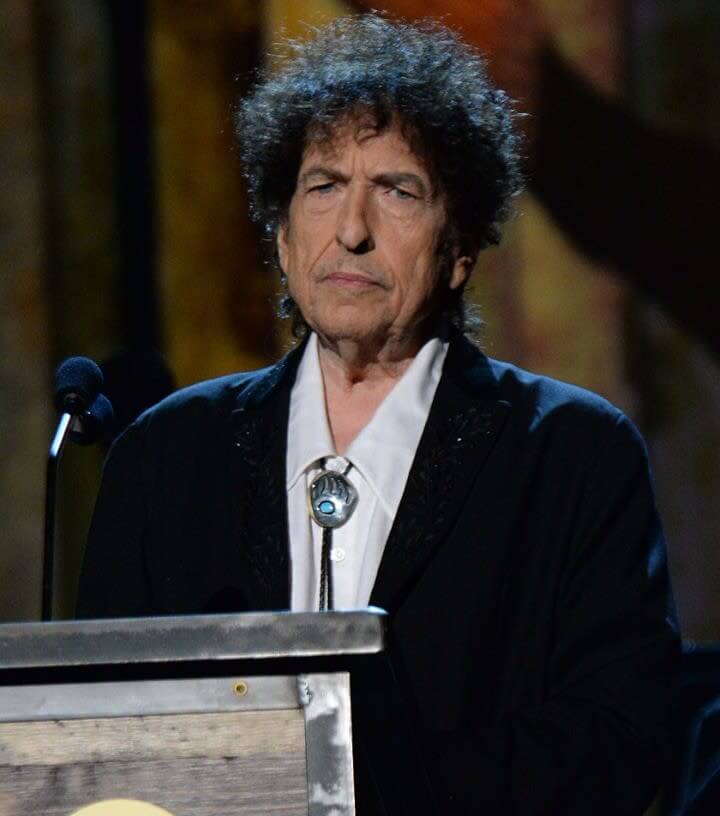 In 2016, Dylan won a Nobel prize for literature, but the committee called him rude and arrogant.
36. DJ Khaled Is Sexist
Dj Khaled had made some controversial statements when he was asked about his relationship with his wife. He said many misogynistic things like, "women should treat their men like kings," and "there are different rules for men and women."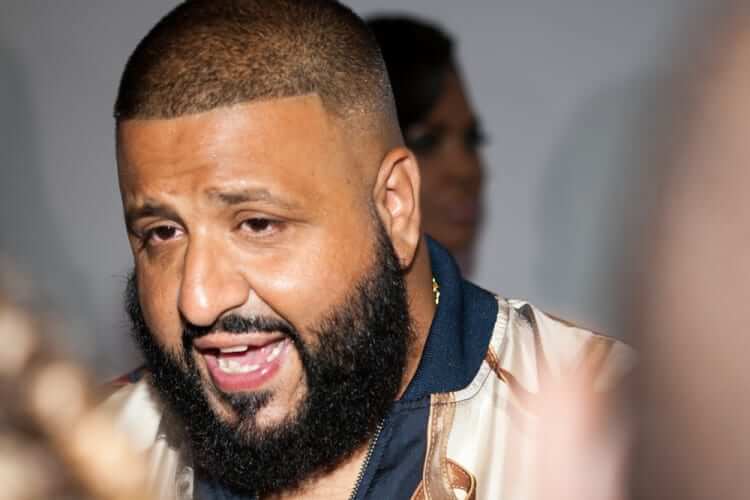 His comments were not well received by the public, but Dj Khaled does not care what anyone thinks of him. He has never apologized for what he said and people shouldn't hold their breaths waiting for one.
37. Kristen Stewart Gets Into Fights On Set
Kristen Stewart generally has the demeanor that she doesn't care and is unbothered by everything. In 2018, she saw herself receiving a lot of backlashes online for being rude to people.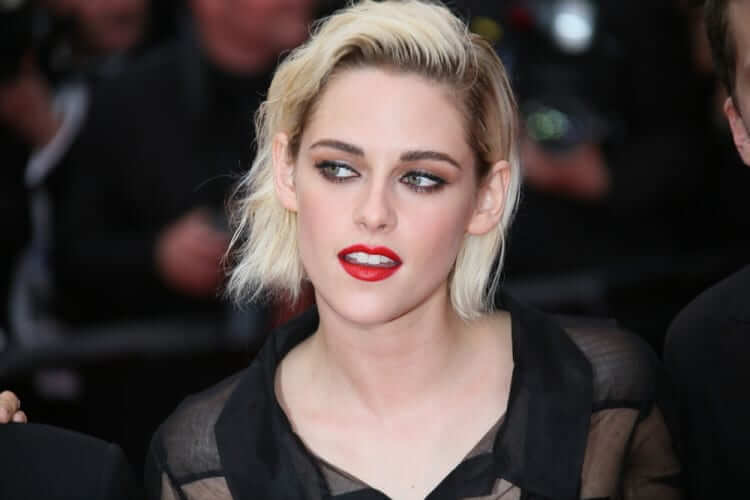 While filming the movie, Underwater, Stewart got into many fights on set which delayed production. Someone online went as far as saying she was a maniac.
38. Liv Tyler Doesn't Like Waiting In Lines
As someone who grew up living the Hollywood lifestyle, Steven Tyler's daughter Liv Tyler is no stranger to the finer things in life. She has been privileged since she was born, and that has affected the way she acts towards other people.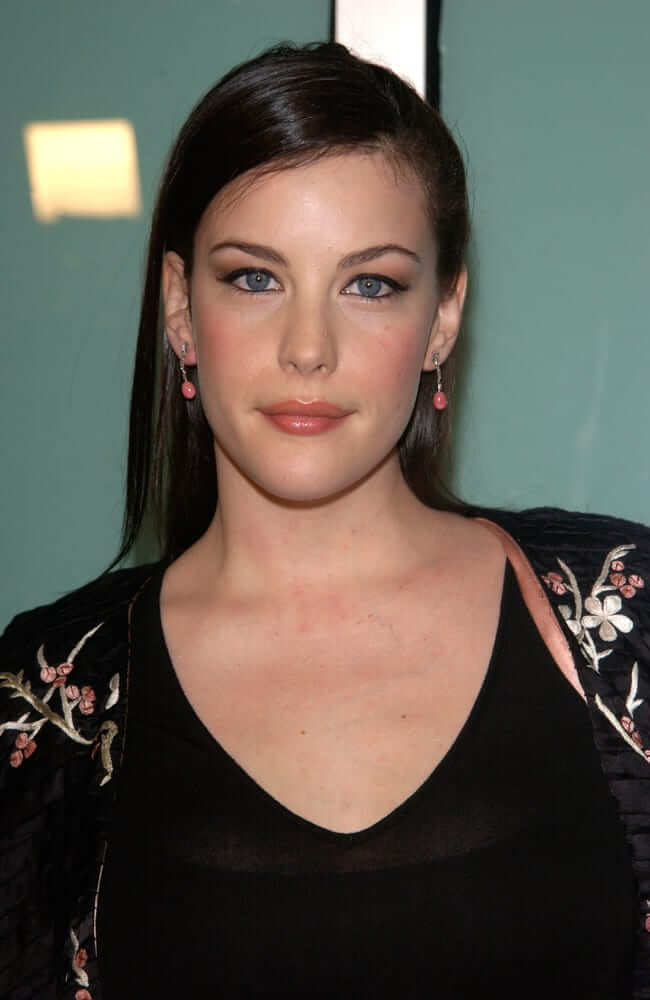 One fan saw her at the Museum of Modern Art in Los Angeles, and there was a long line to get in. Tyler marched up to the front and demanded to be let in before everyone else. The security said she had to make prior arrangements even as a VIP, and that didn't sit well with her. She threw a tantrum and stormed off.
39. Steven Seagal Was Called A Bully By Co-Stars
During the 1980s, Steven Seagal made a name for himself because of his muscular build and similarities to Chuck Norris and Jean-Claude Van Damme. Eventually he was no longer associated with those people because he was closely compared to a bully and a jerk.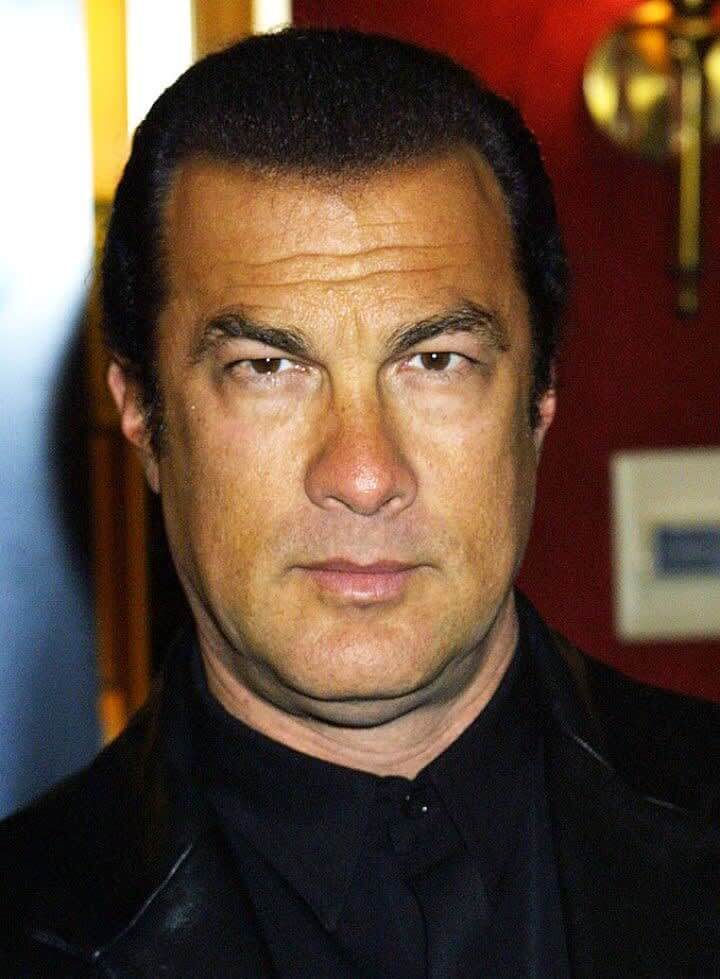 Seagal openly criticized other people and became the most hated Saturday Night Live host according to David Spade. He was difficult to work with and would make rude remarks about the writers and the cast.
40. Kevin James Won't Shake Fan's Hands
For all the fans of King of Queens and Kevin Can Wait, you might be shocked to know that Kevin James isn't like his loveable self in real life.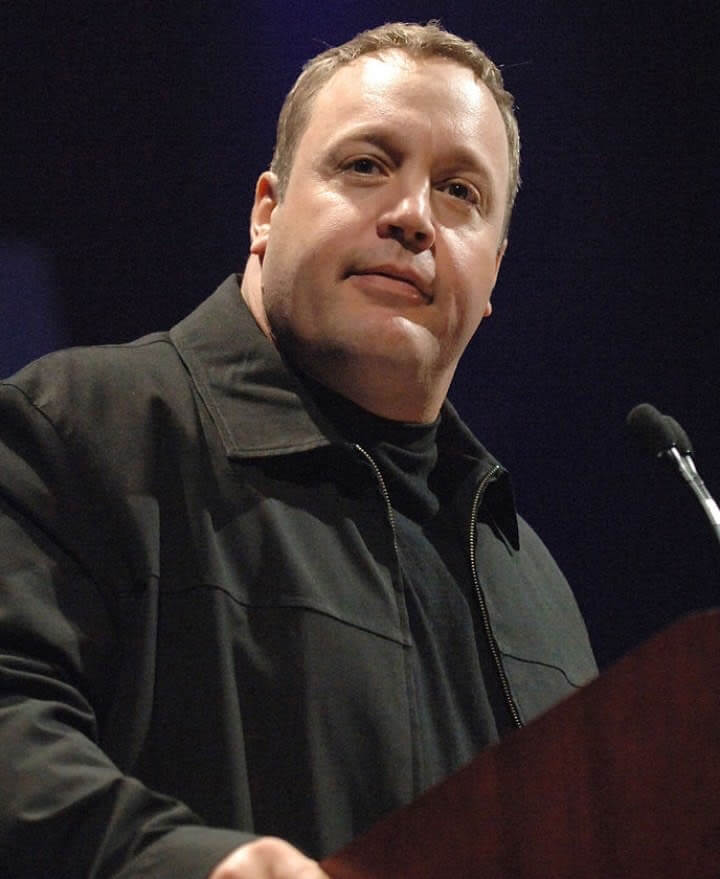 James does not have respect for those who aren't at his celebrity status level. A fan once saw him at a pizza place and tried to shake his hand, but James swatted it away and walked away.
Celebrities' Strange Body Features We Never Knew About
Ashley Lez
This article was originally published on JustStarz
Although we think of the glitz and glamour that surrounds Hollywood, no one is actually perfect. Even celebrities have flaws and unusual traits that make them seem more like us. From different colored eyes to strangely shaped fingers, these rare celebrity body features will remind you that we are all just human, and everyone has something that makes them unique.
Angelina Jolie's Wobbly Knees
When Angelina Jolie wore this simple black gown to an award show, one thing truly stood out about her outfit, and it was the leg-bearing slit. However, eagle-eyed viewers noticed something particular about her knees.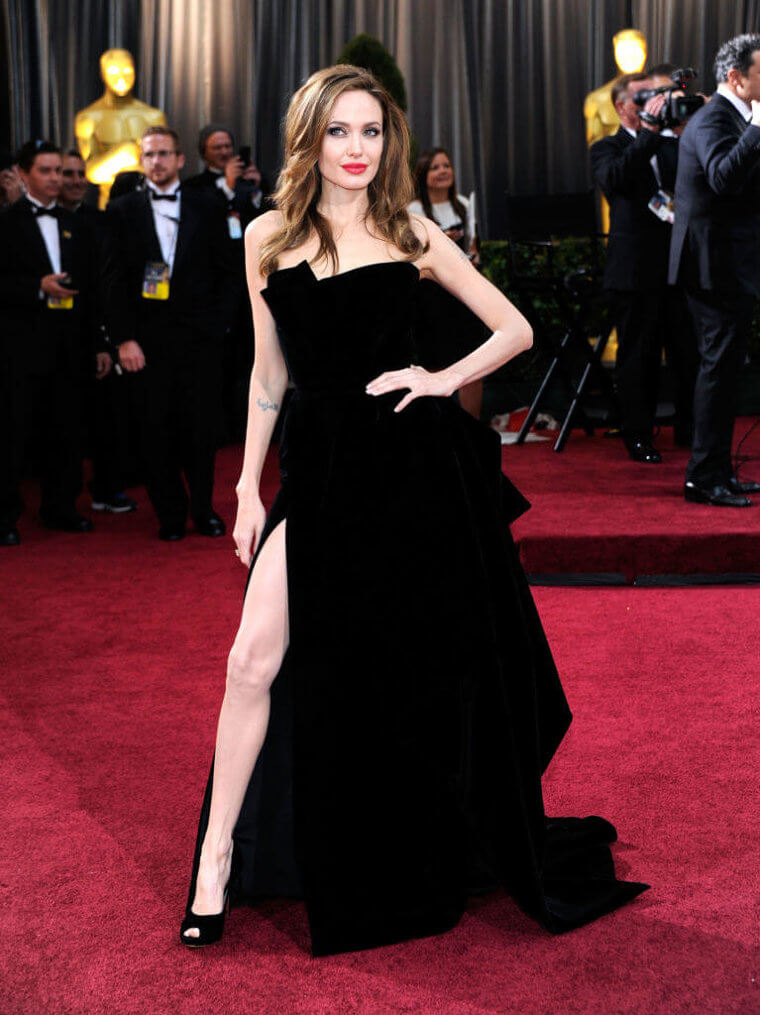 People couldn't help but notice how knobby Jolie's knees were. While this isn't something she can control, it's nice to know that celebrities aren't 100 percent perfect like the media makes us think.
Have You Ever Noticed Kate Bosworth's Eye Colors?
Kate Bosworth is absolutely stunning, and there is no denying that. While people are always noticing her good looks, some have not noticed her unique eye color. One of her eyes is fully blue while the other is half brown.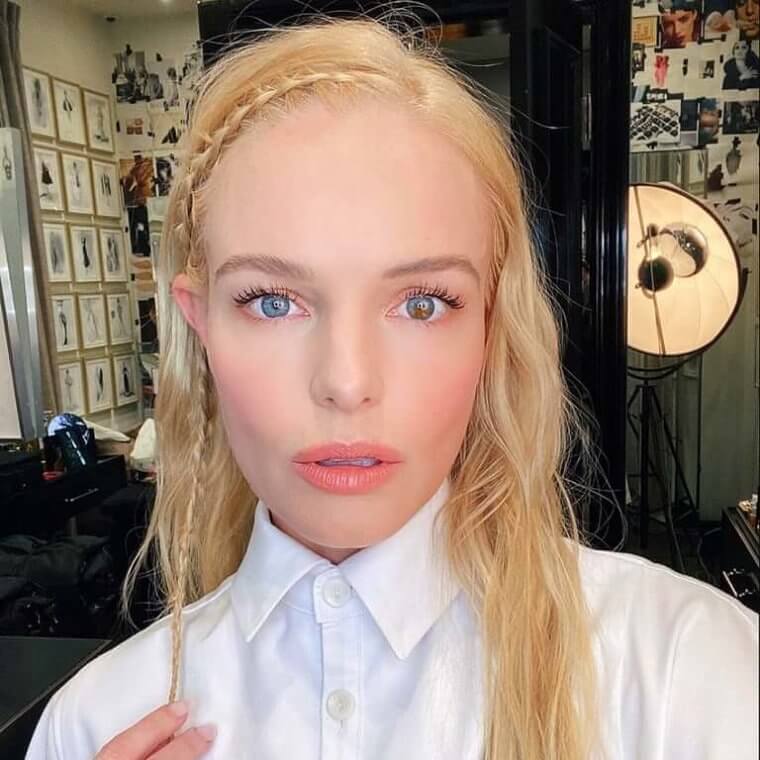 This unique eye color is because of a rare condition called heterochromia. In Bosworth's case, she only has partial heterochromia, which means her eye is only a different color in one section. It is usually totally harmless, but it makes her unique.
How Many Nipples Does Harry Styles Have?
Harry Styles might be a heartthrob, but one thing that makes him stand out is his two extra nipples. While hanging out with his friends on a boat, people noticed the young singer had some unique markings. The singer said he wasn't embarrassed about having two extra nipples.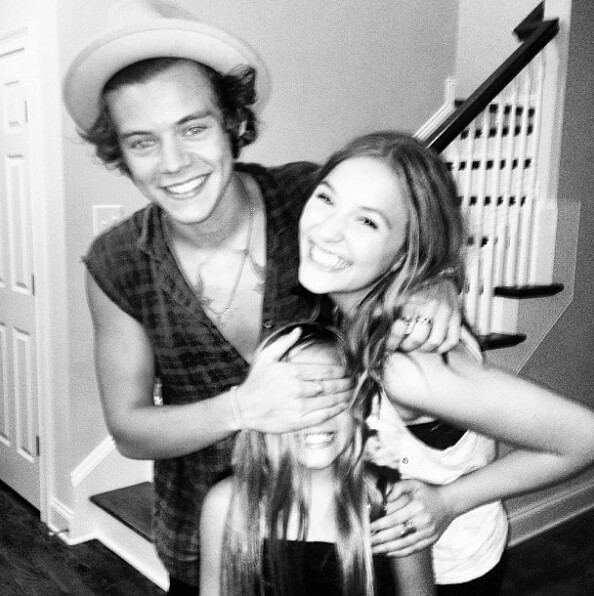 However, since this picture was taken, Styles has covered his torso in tattoos. When asked about them in an interview, Styles said, "I think I must have been a twin, but then the other one went away and left its nipples behind. I feel so free. I think you could safely say I'm not shy." At least he embraces his uniqueness.
Pinkies Out!
In 1996, Denzel Washington was named "The Sexiest Man Alive" by People magazine. Aside from being devilishly handsome, he also has something wrong with his pinky that people usually never see.
Kevin Mazur/Getty Images for Tony Awards Productions
While playing basketball when he was younger, Washington broke his pinky finger, and it now sits at a weird angle. We guess he can't make a pinky promise with that hand without looking like a crooked man.
The Only Flaw Megan Fox Has
Megan Fox has to be one of the most beautiful women in Hollywood who never seems to age, but she actually does have one different thing about her. The stunning actress has an unusual finger that is something she hasn't always felt confident about.
Her clubbed thumb is a hereditary condition known as Brachydactyly, which causes shortening of fingers due to small bones. No one can pull this off like Megan Fox, and a short thumb hasn't hurt her career in any way.
Matthew Perry Didn't Always Have A Short Middle Finger
You might not have noticed this when Chandler was waving his hands around all the time, but Matthew Perry is missing his middle fingertip. The Friends star lost his fingertip in an accident when he was a child.
Jason Merritt via Getty Images
Perry said he got his finger caught in a door, and he lost a section of his bone. As you can see, when he flips someone off, it's not as powerful as his other middle finger. The next time you are rewatching Friends, remember to look out for his short finger.
Oprah's Got A Funky Toe
While it might look like Oprah has an extra toe, the TV host actually has something very common called bunions. She seems to have a more severe case from years of wearing high heels.
These are very treatable and can be shaved off and surgically removed. They are usually caused by wearing high heels, and the toe shifts over time. It can be painful if it is not treated, and it's highly recommended to stick to comfortable shoes.
David Bowie Had A Permanently Dilated Pupil
You might not have been staring deep into David Bowie's eyes when he was alive, so you probably don't know this fact about him. One of Bowie's pupils was permanently dilated, making his eyes seems like they were two different colors, despite both being blue.
Michael Ochs Archives/Getty Images
Bowie had this because he got into a fight as a child. He took a serious punch to the face, and it left him with a dilated pupil. Thankfully, it didn't affect his vision, but it did give him a unique look that only enhanced his bold style and personality.
This Bond Girl Was Born With Six Fingers On Both Hands
The gorgeous Gemma Arterton is best known for being one of the Bond Girls, but a little-known fact about her is that she was actually born with six fingers on each hand.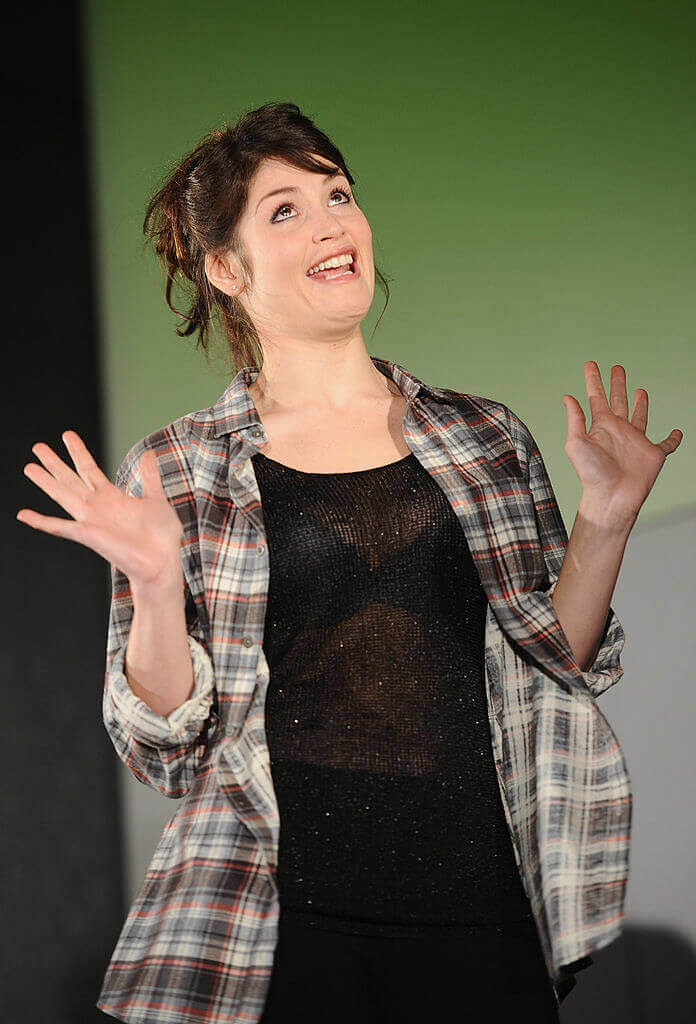 Although she has five fingers on each hand now, when she was born, Arterton's extra fingers were boneless, so the doctors tied them tightly, and they eventually fell off but left two tiny bumps on her hand. They are barely noticeable, and she doesn't mind them.
Ashton Kutcher Has Webbed Toes
Ashton Kutcher has been one of the most desirable men in Hollywood for years now, but this might change your opinion of him. While he is usually wearing shoes on TV, the actor showed off his unique body feature on MTV once and whipped out his webbed toes.
Andy Butterton – PA Images/PA Images via Getty Images
Kutcher has Syndactyly, which is the technical term for webbed feet. He said he only realized his feet were different after seeing his friends without shoes. Kutcher said their toes were freer than his, and he struggled to wear flip-flops for a while.
Steven Tyler's Got Some Funky Looking Toes
Better known as the Aerosmith frontman, Steven Tyler might be known for his unique fashions and performing style. Still, few people know that he suffers from a painful condition called Morton's Neuroma. This is caused by an injury to the nerve between the toes, causing thickening and pain.
Tyler's toes began to grow in a deformed way after too many concerts. He would perform high energetic numbers in shoes that were too tight, and his toes paid the ultimate price. It seems that he doesn't care about covering up his strange feet.
There Is A Reason Seal Has All Those Scars On His Face
Fans of Seal have always wondered what caused all the scars on his face. The singer kept it a secret for a while, and we don't blame him with the whole world prying into his business, but he eventually revealed what caused the markings.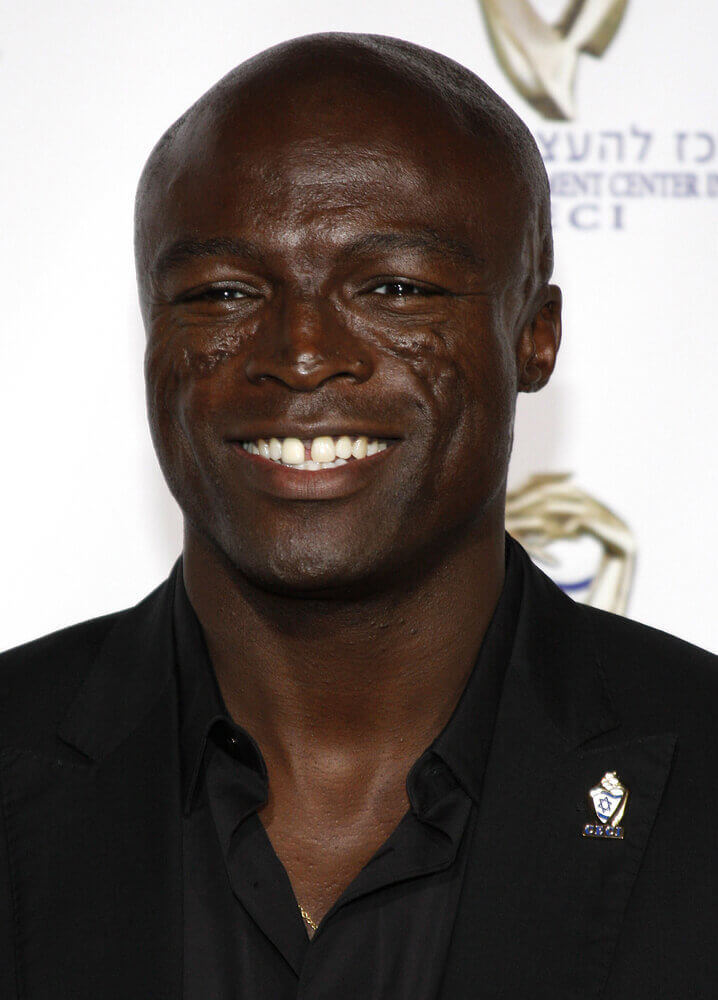 The scars on his face were the result of a disease called Discoid Lupus Erythematosus. It is a chronic autoimmune disease that affects the skin and causes butterfly rashes across the cheeks and the bridge of the nose. They have become part of Seal's identity, and he learned to embrace them.
Elizabeth Taylor Never Needed False Eyelashes
Elizabeth Taylor was a legendary actress with a striking beauty that made everyone stop and stare. One thing that set her apart was her full set of natural eyelashes that looked like she was always wearing falsies. However, this was caused by a rare condition called distichiasis.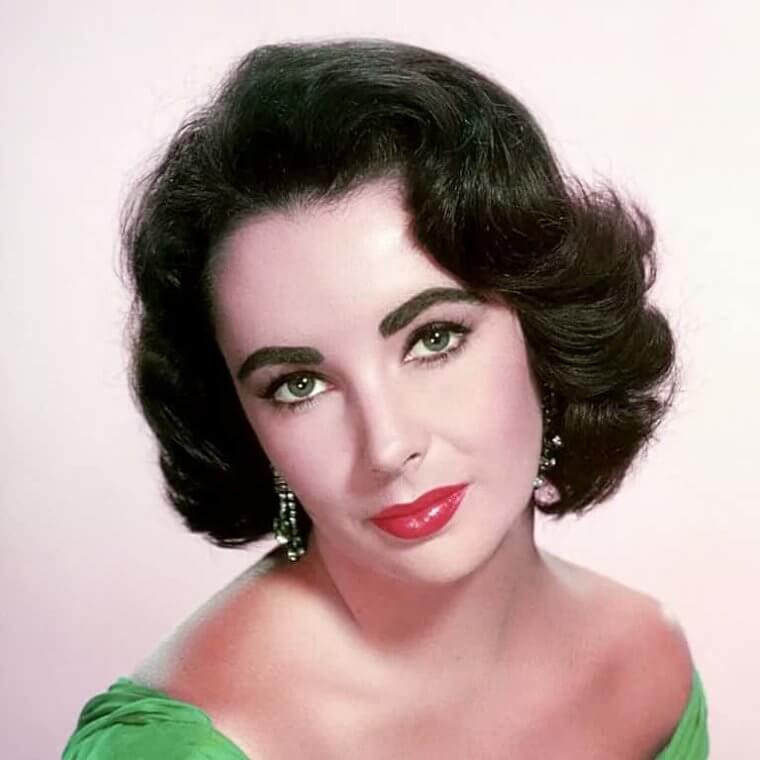 Silver Screen Collection/Getty Images
The genetic mutation causes an extra set of eyelashes to grow, making them appear fuller and longer. If the lashes don't bother the eye, the mutation is harmless. Eyelashes can grow in the waterline, but it is not painful if that doesn't happen.
Stephen Colbert Has Lopsided Ears
You might have been laughing too hard at Stephen Colbert's jokes to notice that one of his ears is much different from the other. However, now that we see it, we can't unsee that one of his ears sticks out at an odd angle.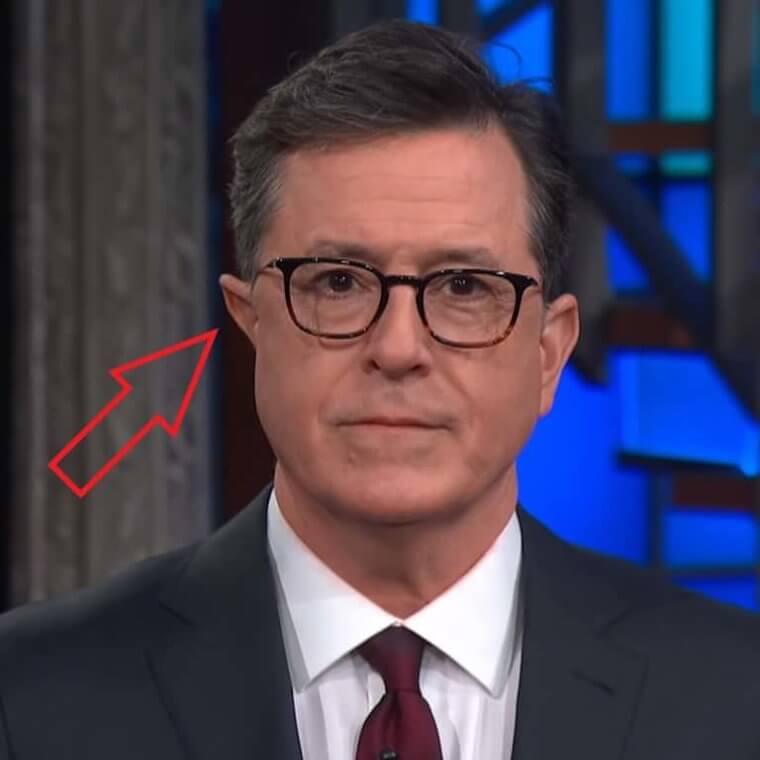 Colbert has been deaf in one ear since he was just a child. He had to get surgery to repair his perforated eardrum, but it caused damage to his inner ear instead. It hasn't affected his career much, as he's learned to embrace it.
Have You Ever Wondered About Tina Fey's Scar?
Tina Fey has been making people laugh for over a decade already, and people have always noticed she has a distinct scar on her face. For years, people have tried to figure out how she got it or what happened, but it wasn't clear because Fey wouldn't talk about it.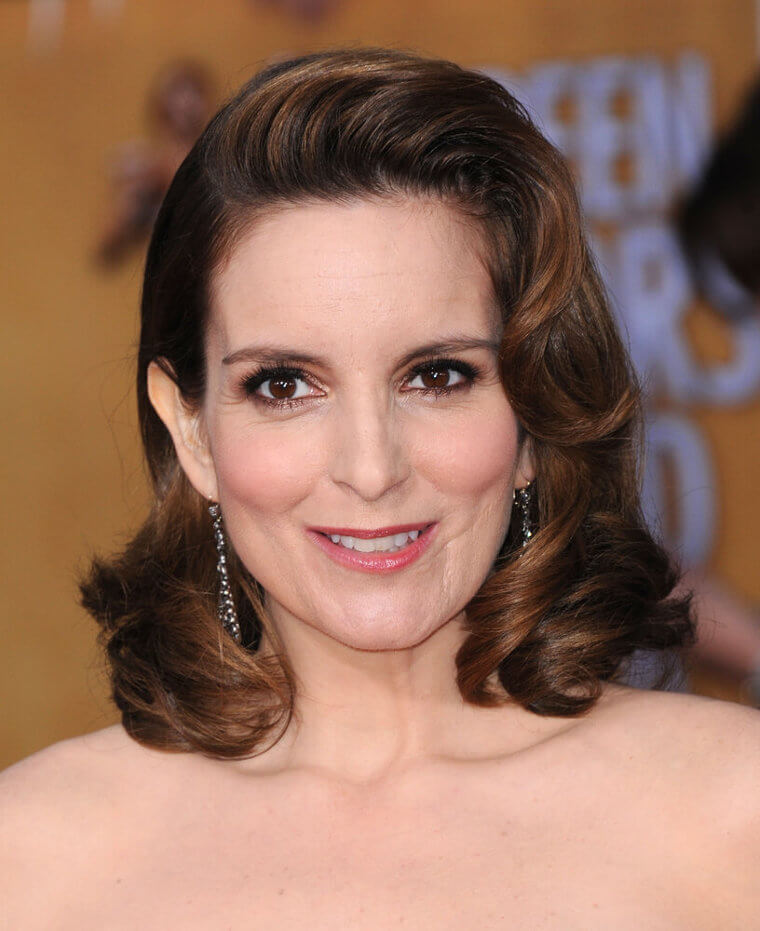 However, Fey eventually opened up and revealed that when she was a child, a stranger injured her face when she was in an alley by her house. That is all she would reveal because she didn't feel like the public needed to know so much about her past.
John Stamos Has A Strange Belly Button
John Stamos is known for being the smooth-talking, devilishly handsome Uncle Jesse from Full House. However, one thing he didn't show off on the show was his stomach because he actually has a very interesting-looking belly button.
As a child, Stamos had an umbilical hernia and had to get an operation to fix it. This condition causes a protrusion of fat or intestine when the abdominal wall opens. While it is a rare occurrence, he can pull off pretty much any kind of scar.
Joaquin Phoenix's Cleft Lip
A well-groomed beard usually hides Joaquin Phoenix's lips, but when he does shave his face clean, you can see that he has a distinct scar. This scar was a result of the cleft lip surgery he had as a child. This occurs when the baby's upper lip doesn't join together properly in the womb.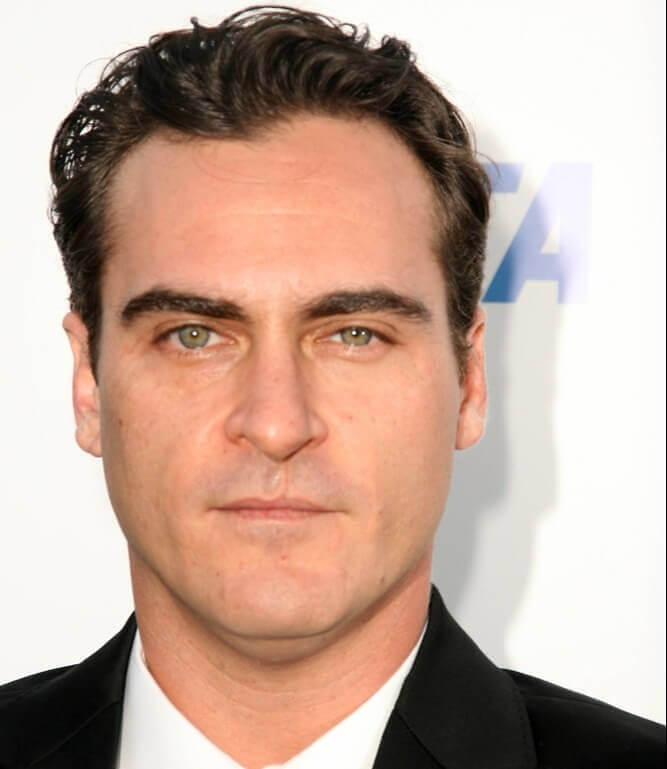 Having a cleft lip is actually very common and occurs in one out of every 700 babies. It is the most common birth defect in the United States, so the surgery to fix it wasn't anything unheard of. Besides, as a character actor, a unique look sure doesn't hurt.
Patricia Heaton Is Missing Her Belly Button
Patricia Heaton is best known for her role on Everybody Loves Raymond, but people don't know that she barely has a belly button. After having her fourth child, Heaton had a tummy tuck, which removed her natural belly button.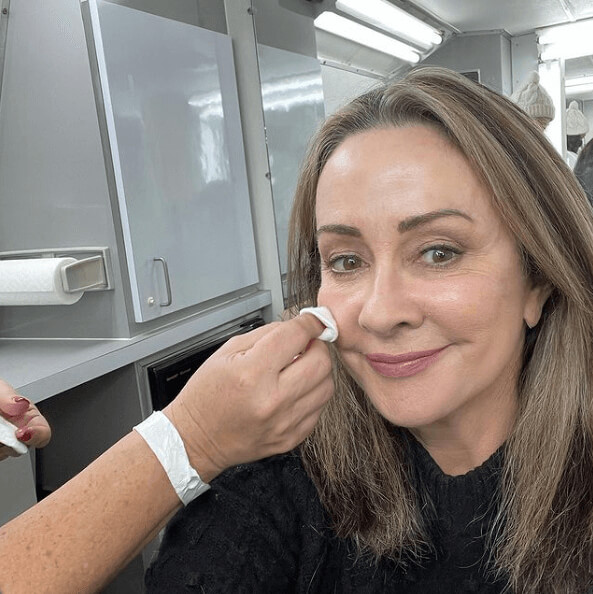 While it was a small price to pay for having four healthy children, she was admittedly not happy with the results. If it bothered her that badly, she could always ask the doctor to reconstruct her belly button.
Victoria Justice Has A Super Long Tongue
Victoria Justice rose to fame in the 2000s on the show Zoey 101 and then on Victorious. We were all too focused on a young Ariana Grande to notice Justice actually had an extra-long tongue.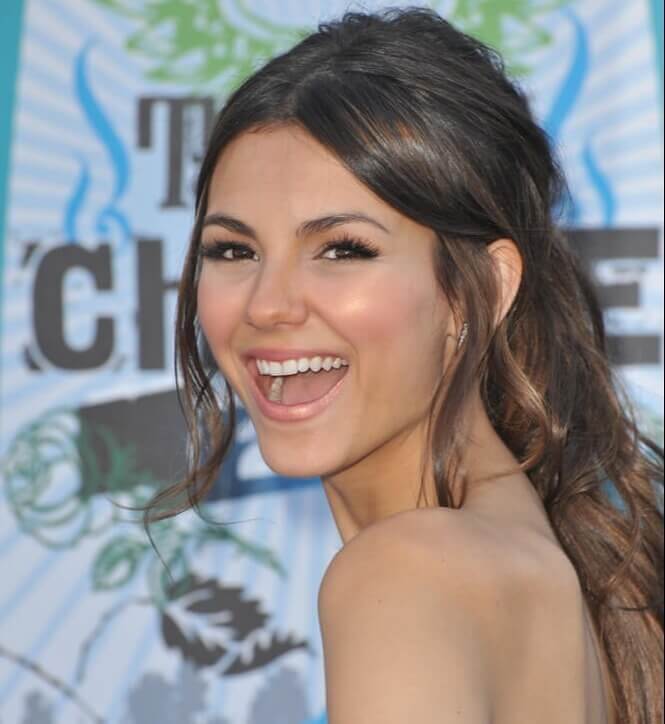 This isn't caused by any condition; her tongue is just unusually long. She probably didn't even realize it was this long until she would stick it out at paparazzi when she was younger.
Gigi Hadid Can Connect The Dots With Her Beauty Marks
Gigi Hadid might be known for her incredible modeling skills, but one thing people don't notice is that she has some distinct markings on her stomach. As someone who often models lingerie and bathing suits, it was an insecurity she had to get over in her career.
Hadid used to be embarrassed to be seen in a two-piece, but eventually, she learned to love her moles, and a few more popped up as she got older. It's good to see celebrities embracing their differences and learning to love what makes them unique.
Cassandra Naud's Distinct Mark
Actress Cassandra Naud was born with a distinct birthmark under her left eye. She was ashamed of it for many years and didn't like to be seen in public. She even considered having surgery to remove it.
Although she really wanted it gone when she was a child, Naud would be completely against that today. She now understands that it helps her stand out, especially in her field. She also knows that it wouldn't be worth the risky surgery only to have a large scar in its place.
Jonah Hill's Gnarly Scar That Reminds Him Of Something Important
You may not know this about Jonah Hill, but he has a pretty gnarly scar on his arm that he got when he was a teenager. He started causing trouble because his mom was battling cancer when he was 15, and one night he got in a car accident and nearly gave his parents a heart attack.
After that, Hill said he would never let his parents down again, and that he would be successful and make them proud. Every day when he looks at the scar he is reminded of how his life could have been like and it humbles him to know that he did something special.
Tyler Posey's Jaw Was Not Always Like This
Tyler Posey is best known for his starring role in the MTV series Teen Wolf, and he has been on more than one Hollywood hottie list, and part of that is because of something he used to be embarrassed about.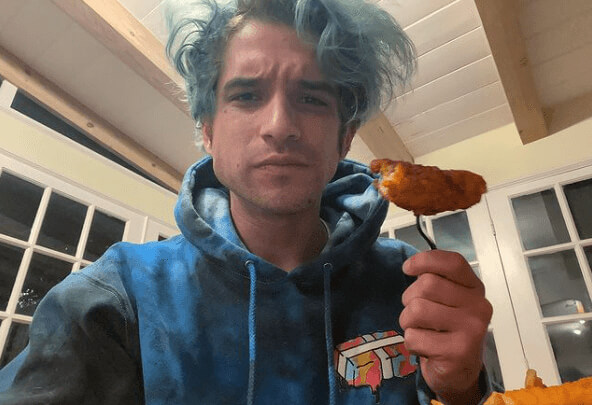 Posey was born with a healthy, symmetrical jaw, but as he got older, his teeth grew in a certain way, the caused his jaw to become uneven. He eventually learned to live with it, and it stopped bothering him so much. Although he has a slight underbite, it doesn't make him any less cute.
Daryl Hannah's Peace Sign And A Half
You might be wondering why Daryl Hannah has one finger that is much smaller than the others–what on Earth caused the actress to only have half her index finger? Hannah wasn't born this way. When she was a child, she got her finger stuck in a pulley of a well at her grandma's house.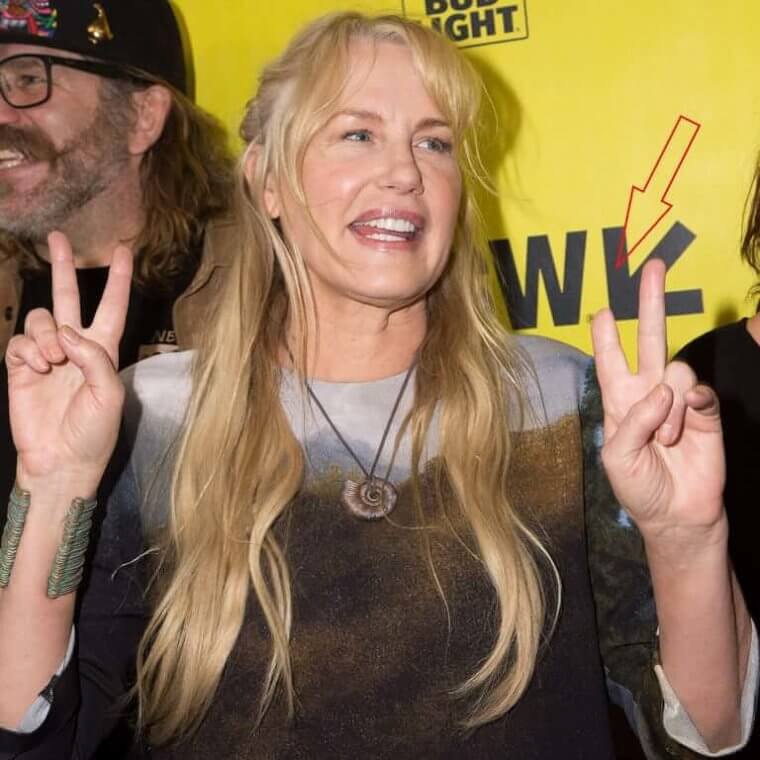 You probably wondered why you hadn't noticed this when you see her on-screen. That's because Hannah wears a prosthetic for on-screen jobs. She used to be self-conscious of her finger flaw, but as she learned to love herself, she stopped caring what people thought about it.
Forest Whittaker's Droopy Eye
Forest Whittaker is known for many of his iconic roles in Hollywood, and one way people often recognize him is his droopy eye. This is caused by a condition called Ptosis. This refers to the falling or drooping of the upper eyelid.
Some critics say it gives him a "lazy, contemplative look," and Whittaker thought about having surgery to fix it. But he wouldn't get it done for cosmetic reasons; it actually could affect his eyesight eventually if it gets worse.
Andy Garcia Had His Twin Surgically Removed As A Baby
Actor Andy Garcia was born with an underdeveloped twin attached to his shoulder. This rare condition is known as Heteropagus twinning, which almost means Garcia ate his twin.
Well, not exactly. Heteropagus twinning happens when a well-formed twin has an incomplete twin attached. Shortly after he was born, Garcia had the softball-sized tissue removed from his shoulder, which left only a small scar.
Lebron James Has Practiced So Hard His Toes Shifted
Lebron James is, without a doubt, one of the best basketball players of all time. He is the image of strength and health, so you can imagine fans' surprise when they first noticed his deformed feet. While vacationing in Europe with friends, James was photographed barefoot on the beach, causing quite a stir.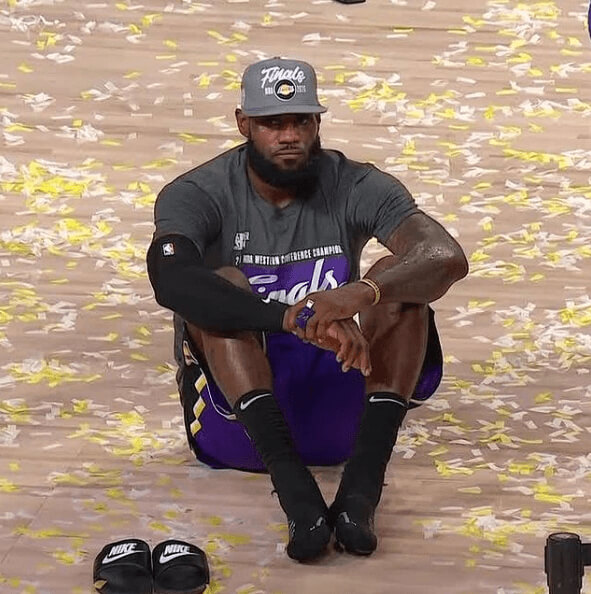 Although it is not confirmed how his toes got deformed, it's most likely because of his intense training. As he is always landing on his feet and jumping around, his toes conditioned themselves to overlap. We hope it isn't painful!
Max Scherzer's Completely Different Eye Colors
The professional pitcher might be known for his curveballs, but one thing could distract the opposing team more than his quick throws. Max Scherzer has one light blue eye and one brown eye because of a condition called heterochromia.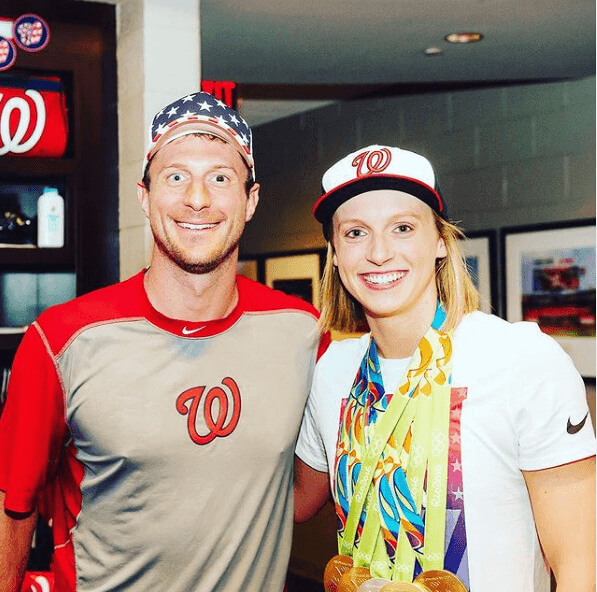 The pitcher has always embraced his condition throughout his career because it gives him a look like no other. It was actually his claim to fame because his eyes are so distinctly different. Two of his fans actually dressed up as one brown eye and one blue eye to pay tribute to him once.
Slick Woods And Her Iconic Gap
Many celebrities in the past have gone through procedures to fix crooked or spaced-out teeth, but today, more people like model and actress Slick Woods are embracing their unique smiles. Woods has a condition called Diastema, which causes a bold space or gap between her two front teeth.
For a while, Slick was embarrassed by her gap, but she realized it set her apart from other people. When she accepted herself, she learned to love her gap as it helped her become a well-known model.
Moffy Gathorne-Hardy Changed The World Of Modeling With Her Unique Eye
Sharing the runway with the likes of Kate Moss and Cara Delevigne is a challenging task, but Moffy Gathorne-Hardy has blown the fashion world away with her unique beauty. Hardy suffers from a condition called strabismus, which people commonly refer to as "cross-eyes."
Moffy Gathorne Hardy via Instagram
Hardy said the term strabismus sounds too scientific like it affects more aspects of her life. She added that she has never seen it in those terms because she has pursued her dreams regardless of her unique eye.
Padma Lakshmi Has A 7-Inch Scar
The stunning Padma Lakshmi is best known for hosting Top Chef. The model and actress has an inspiring story of how she became so successful, and part of it is a serious car accident she was involved in.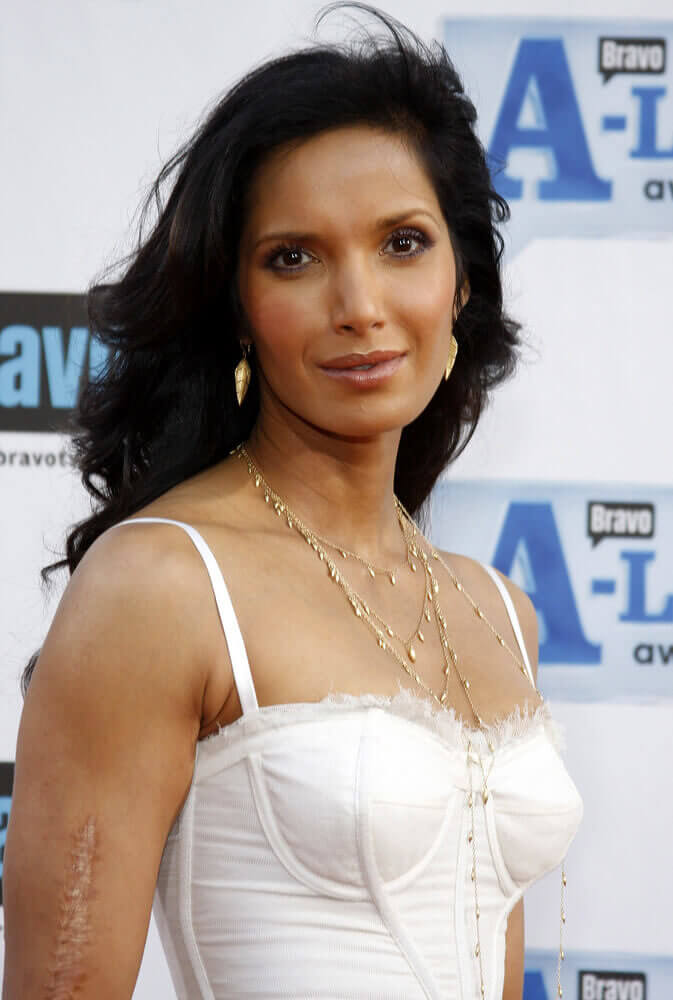 The accident left Lakshmi with a seven-inch scar on her arm, and when she was younger, she used to be so self-conscious of the mark. However, after becoming a mother, she said she is proud of all of her scars.
Damon Wayans Was Born With A Cleft Foot
Damon Wayans has been making us laugh till our sides hurt for quite a while now, so we never had the chance to study his feet. Wayans was born with a cleft foot, which causes his feet to rotate internally at the ankle.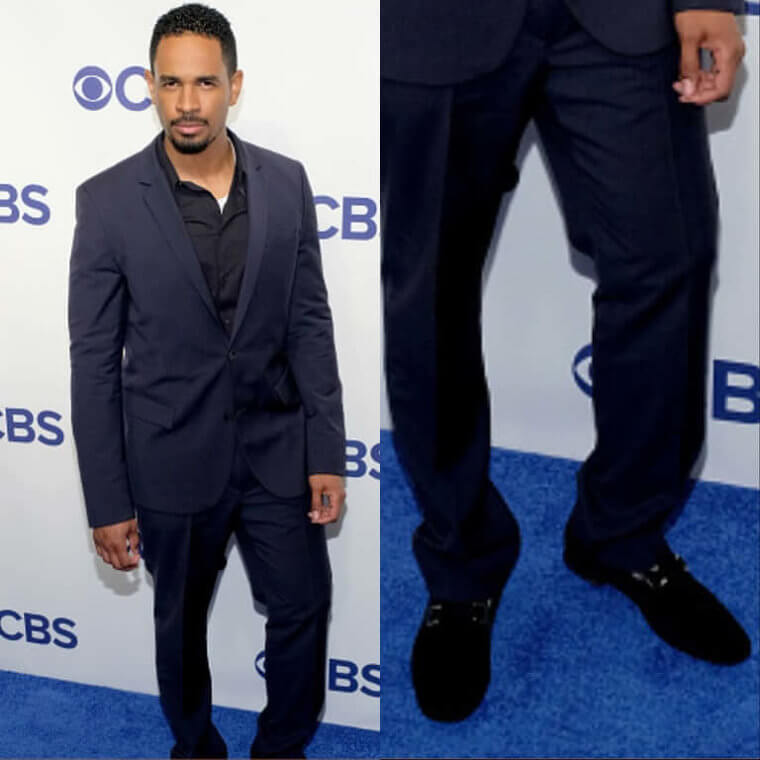 Matthew Eisman via Getty Images
According to Wayans, this helped him with his middle child syndrome. He said his mom gave him extra attention because she felt guilty. Luckily, it doesn't cause him pain anymore, and he received treatment that helped him learn to live with the condition.
Winnie Harlow's Vitiligo Has Made Her A Huge Success
Winnie Harlow is a well-known model who got her start on America's Next Top Model with her unique look. She has vitiligo, which causes the hair, skin, and nails to lose pigmentation.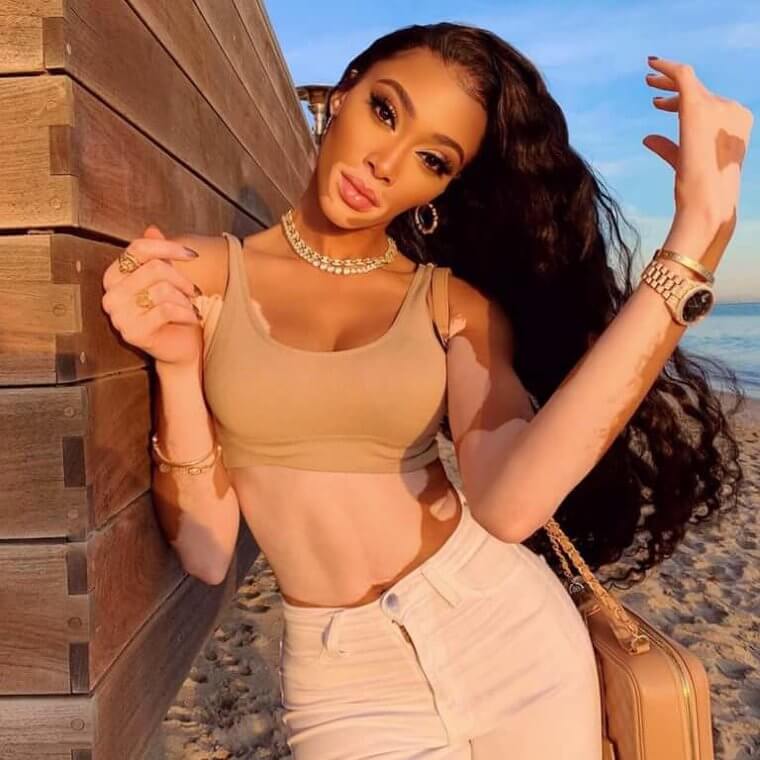 On the show, she talked about how people would make fun of her for looking different when she was growing up, but she learned to love her uniqueness. It ended up making her a household name!
Sanaa Lathan Has A Clubbed Thumb
The Nappily Ever After star Sanaa Lathan has been hiding her hands because she has a different-looking thumb. For years, Lathan was so insecure about her clubbed thumb that she wouldn't show it in pictures. However, she has since realized it's not a big deal.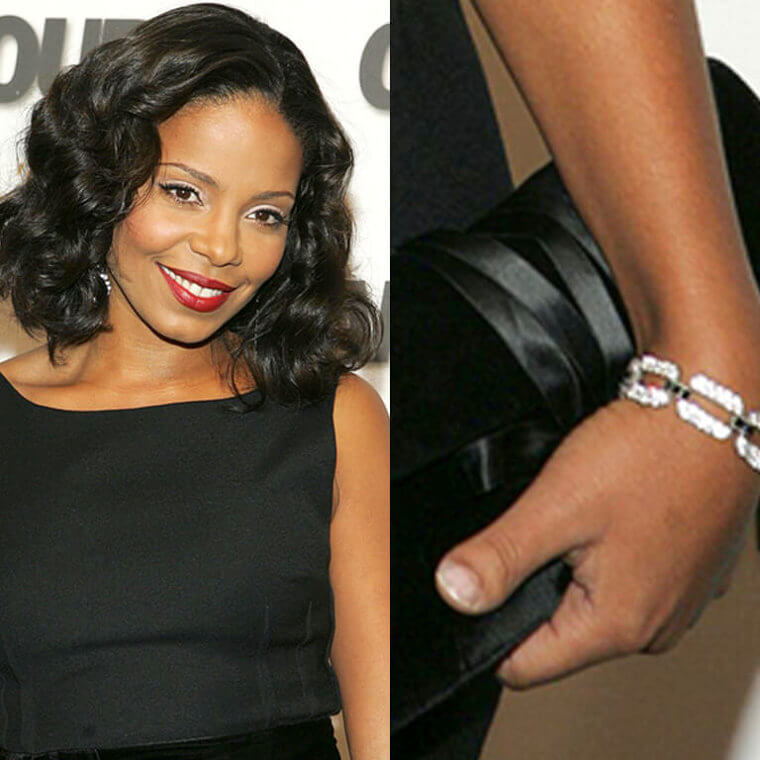 Lathan was born with her condition that caused an unusually short thumb with a wide nail bed. As you can see, she has learned to embrace the thing that once made her so insecure. It is crucial for people to love themselves, including their distinct physical features that are considered flaws.
La Östergren's Body Is Mostly Legs
La Ostergren is a bodybuilder who is known for her extremely long legs. While she is only 5'8″, she looks like she could be six feet tall with her 3'5″ legs. When people see her, the first thing they notice is that she has the legs of a model.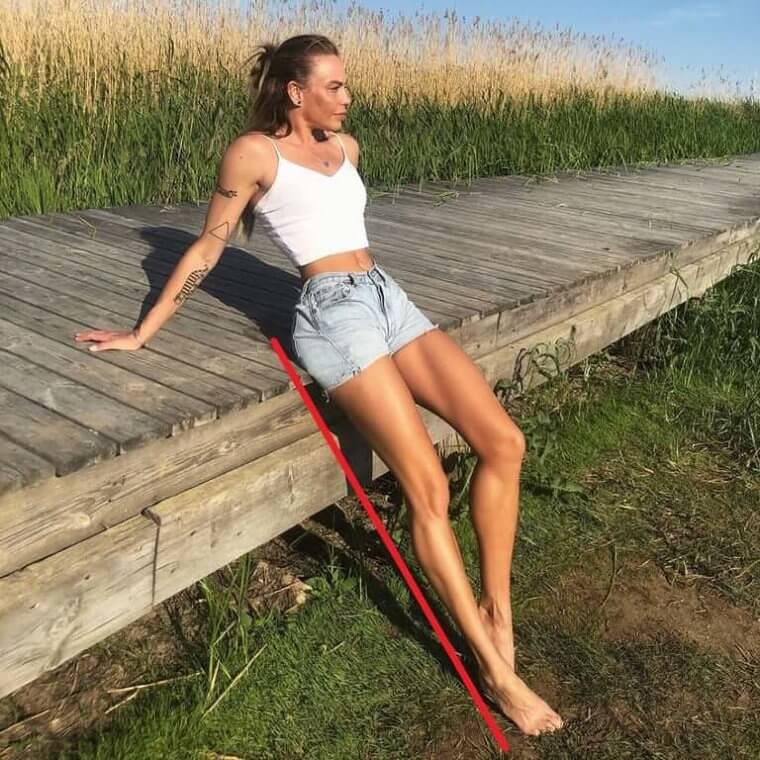 Ostergren admitted that she actually struggled with body image for a while, but eventually realized how her long legs made her look beautiful. She made a career doing what she loves, and most of her Instagram comments are from people telling her that they wish they had her legs.
Shawn Marion Broke His Finger So Many Times That It Is Permanently Crooked
Former NBA star, Shawn Marion might owe his success in basketball to his pinky finger. Well, not exactly, but after breaking his pinky so many times, he has a permanent problem with how much he can actually move it.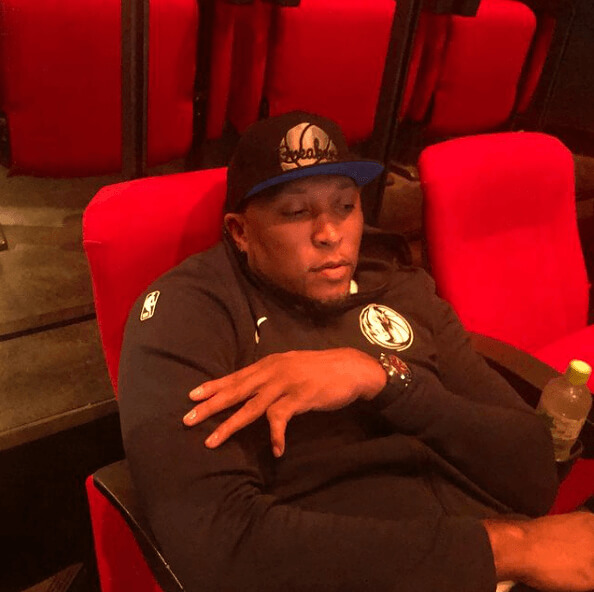 Not only has he broken it, but he has also dislocated it many times, so he has a problem using it. However, that hasn't seemed to affect his skills on the court because he was a legendary player regardless.
Tia Jonsson's Hair Is Not Dyed White
Tia Johnson is an up-and-coming model in the industry who is redefining beauty standards. The blue-eyed beauty has a distinct white streak in her hair that looks like she dyed the front section of her hair, but it's actually a form of vitiligo.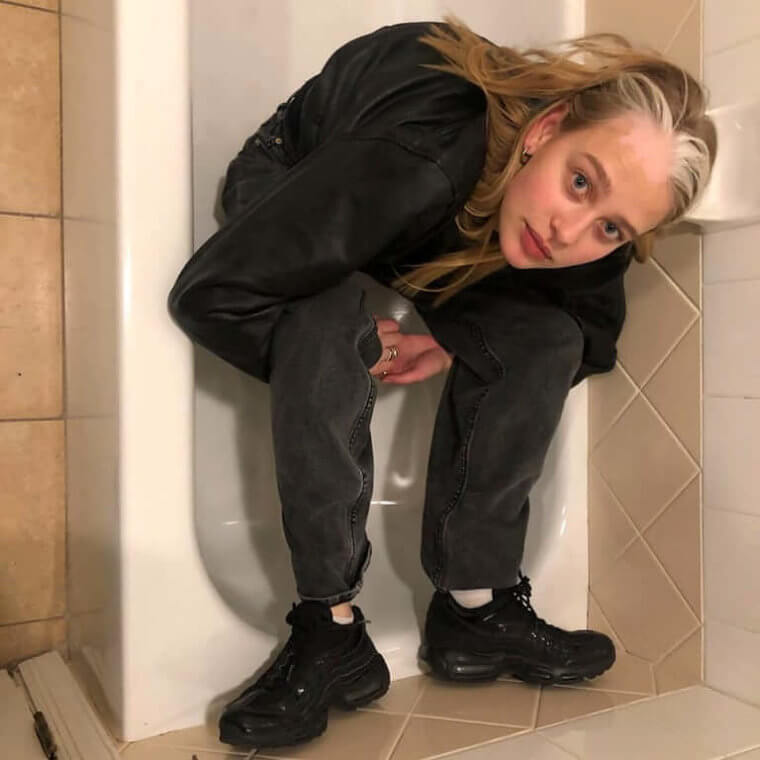 Johnson said she remembers pulling her hair back with butterfly clips when she was little and feeling brave. Her unique look sets her apart from everyone else in the modeling industry and has helped her land jobs for brands like Savage X Fenty.
Anastasiya Scheglova Mesmerizing Eyes Are Very Rare
There is no doubt that Anastasiya Scheglova was born to be a model with her mesmerizing looks, and one thing that sets her apart is her stunning eye color. The model has green eyes, which is rare because only two percent of the world has this eye color.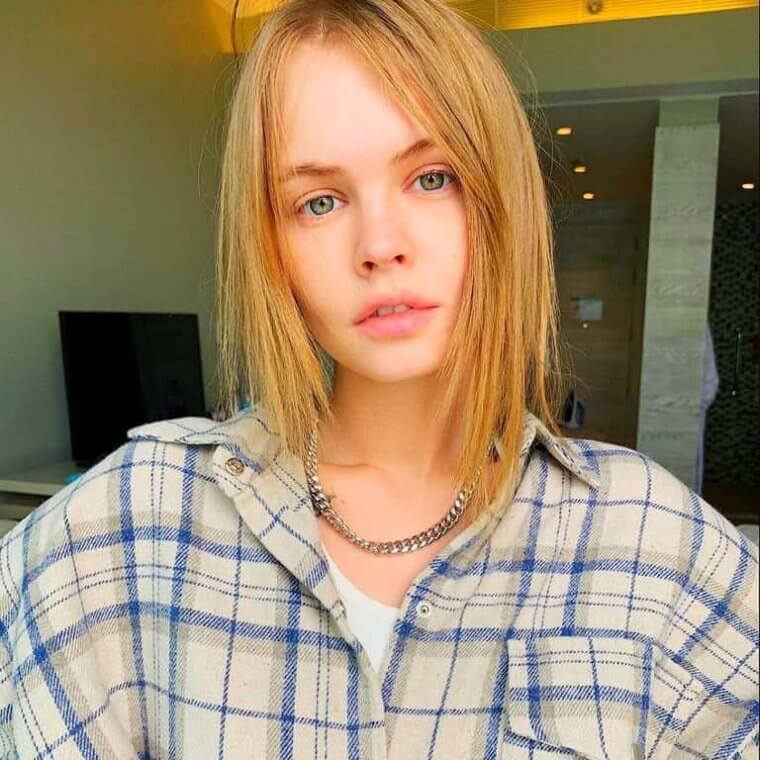 Anastasiya Scheglova via Instagram
That's right! If you have green eyes, then you have one of the rarest eye colors in the world. Luckily for Scheglova, her distinct red hair and green eyes have helped her in her career and made her more well-known.
Dominika Marková's Eyes Are Not Photoshopped
The gorgeous Dominika Markova and her family have some of the most distinct eyes in the world, and it's not photoshop. The former Miss Slovakia naturally has icy grey eyes that stand out against her completion and dark hair.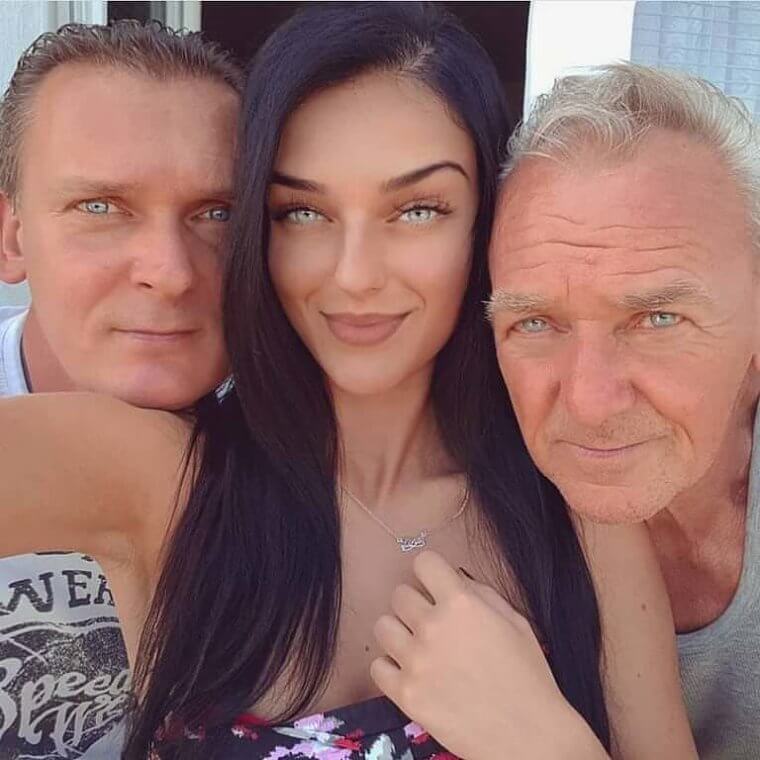 @domineckamarkova via Instagram
Dominika is not just a model, but she is also a successful makeup artist. While she loves to play around with different looks, nothing is more beautiful than her natural self because her eyes are so striking.
Evita Delmundo Has Embraced Her Beauty Marks
Born and raised in Malaysia, Evita Delmundo became a model who encourages other women to challenge beauty stereotypes. When she was young, the other kids in school didn't want to be friends with her because of her moles, and she considered having them removed.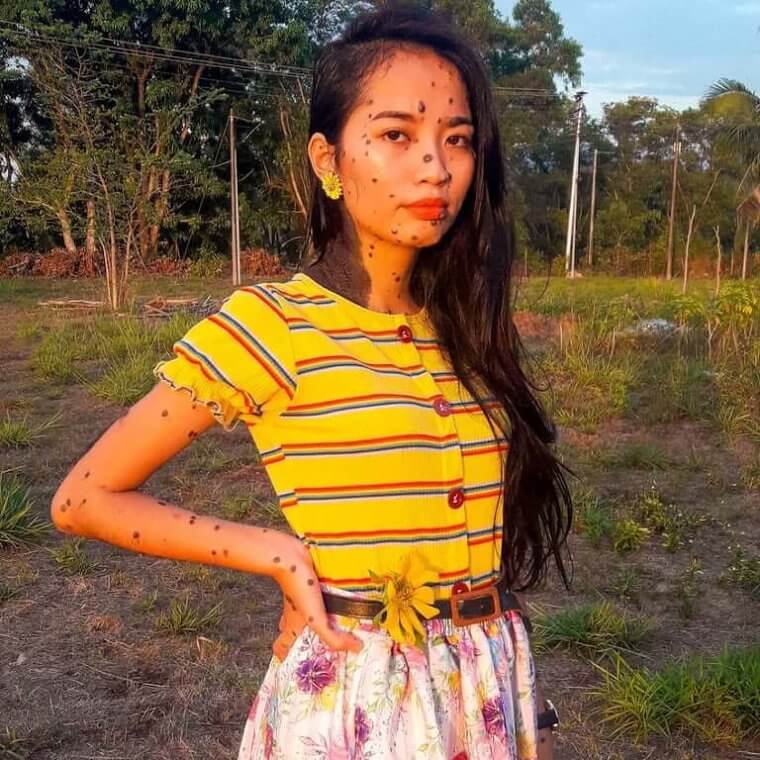 Delmundo learned to love herself and her beauty marks when she realized that there are so many different types of beauty in the world. She said it shouldn't just be one type of face, look, or hair color that is considered beautiful.
Angelina Jolie's Feet Have a Cult Following
Angelina Jolie is one of the most famous women in the world, and as such, people have opinions on just about everything about her. From her famous lips to her body shape to her hair, everything gets heavily scrutinized. And when footage of Jolie's bare feet first surfaced, people were amazed by the fact that the 5ft 6 ½ actress' shoe size is an impressive 9, which is considered on the larger end of the spectrum.
The average women's shoe size in America is around 8.5, so Jolie's feet aren't that big in comparison!