Have you ever had a celebrity crush and hoped to meet them one day or even daydreamed about marrying them? Most people don't end up marrying or even dating their celebrity crushes, but there are some lucky people out there. If a fan also happens to be famous, they have a higher chance of meeting their crush. From Tom Brady to Gigi Hadid, these celebrities dated or married the person they were fans of, and you might just be jealous. Continue reading to find out which romances started as a celebrity crush.
1. Chris Hemsworth And Elsa Pataky
When Elsa Pataky was just 15-years-old, she got a tattoo to symbolize the Norse god, Thor. Little did she know that her interest in Thor would turn into a real-life romance with Chris Hemsworth, who plays the character in The Avengers​.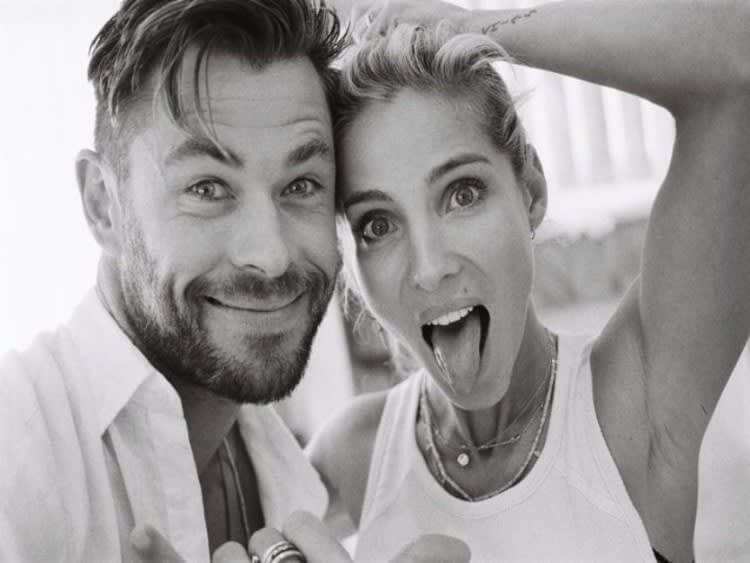 Instagram/elsapatakyconfidential
The Spanish model and actress was smitten with Hemsworth before meeting him, and we don't blame her. After speaking with him on the phone, she fell in love with his accent and the two got married less than a year after meeting.
2. Mila Kunis And Ashton Kutcher
Remember seeing these two kiss for the first time on That '70s Show​? Well, that was Mila Kunis's first kiss, and she was totally crushing on the former Calvin Klein model, Ashton Kutcher.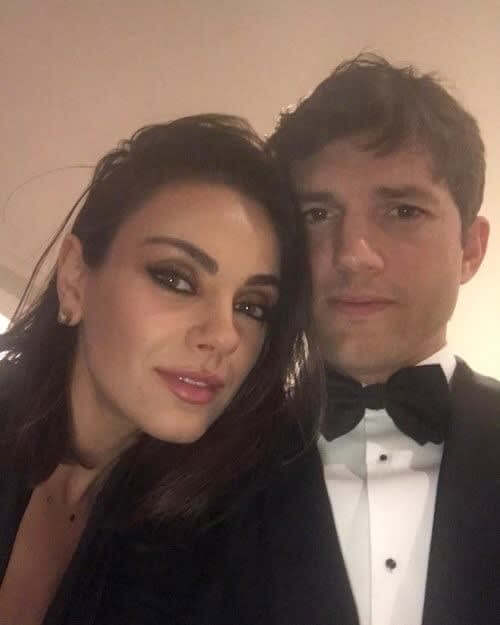 Although they didn't date while filming, Kutcher and Kunis reconnected years later, and the rest was history. In 2015 they got married, and Kunis says that he is the "world's greatest husband." They are genuinely head-over-heels for each other.
3. Sofia Vergara And Joe Manganiello
The True Blood actor was candid about his admiration for Sophia Vergara. Joe Manganiello confessed in an interview with People magazine that Vergara was his celebrity crush, and he particularly liked how she looked in one of her form-fitting dresses.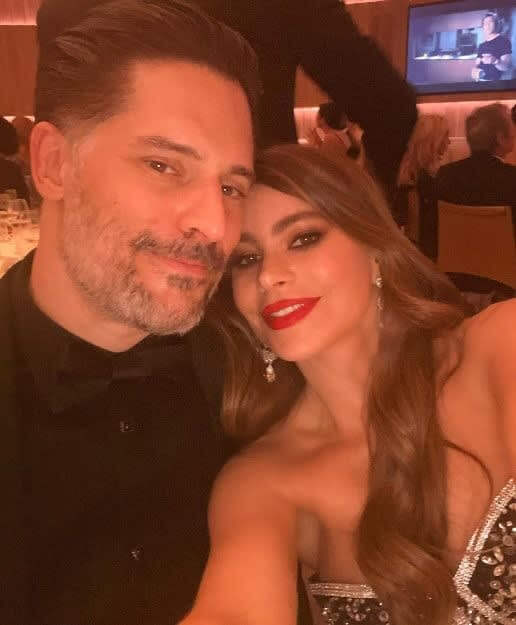 Vergara said that she thought Manganiello was too handsome to pursue, but eventually, they both worked up the courage to meet. The couple got married in 2015, and their relationship is always fun to watch.
4. Patrick Dempsey And Jillian Fink
Paging Dr. McDreamy to the hair salon! The former Grey's Anatomy star stole the heart of Jillian Fink when he into her salon for a haircut. Fink was shocked and thought he was so cute.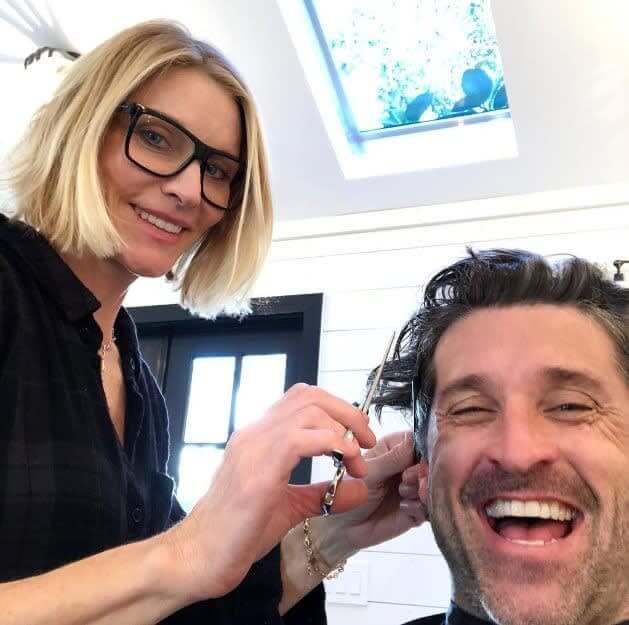 Dempsey and Fink hit it off from the start and began dating quickly after the haircut. Their relationship has blossomed over the years, and Demsey is regularly featured on Fink's Instagram.
5. Gigi Hadid And Zayn Malik
These love birds are like a match made in heaven despite their on-and-off relationship. For Zayn Malik, it was difficult to ignore the gorgeous Gigi Hadid when he first saw her at an after-party for the 2015 Victoria's Secret Fashion Show. He claimed he recognized her from her pictures, and they immediately hit it off.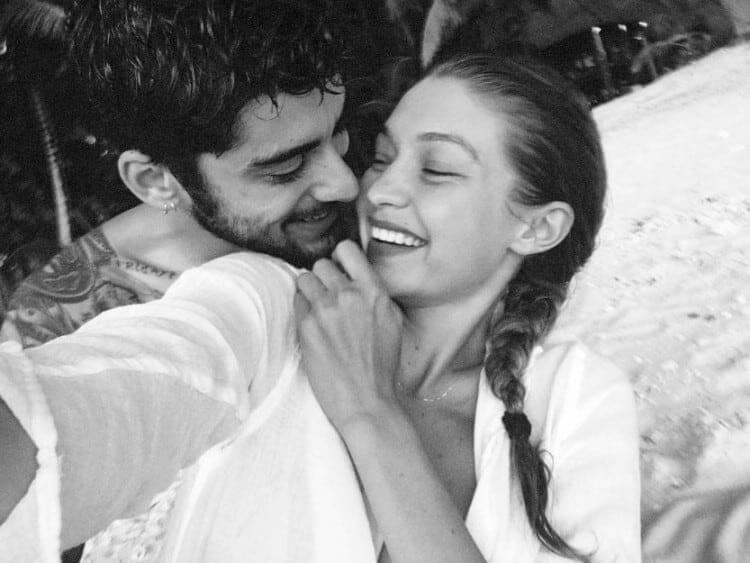 After they met, Gigi starred in his racy video for "Pillow Talk," which sparked rumors about their relationship status. These two have been smitten with each other, and Zayn says she is "a brilliant, beautiful woman." This beautiful couple is expecting their first child later this year, and we know it is going to be the most gorgeous child in the world.
6. Steve And Majorie Harvey
Before Stever Harvey was a talk-show host, he was doing stand-up comedy. During one of his performances, Majorie Harvey walked in late, and he stopped his set. She thought he was going to call her out for interrupting, but she was shocked by what he said next.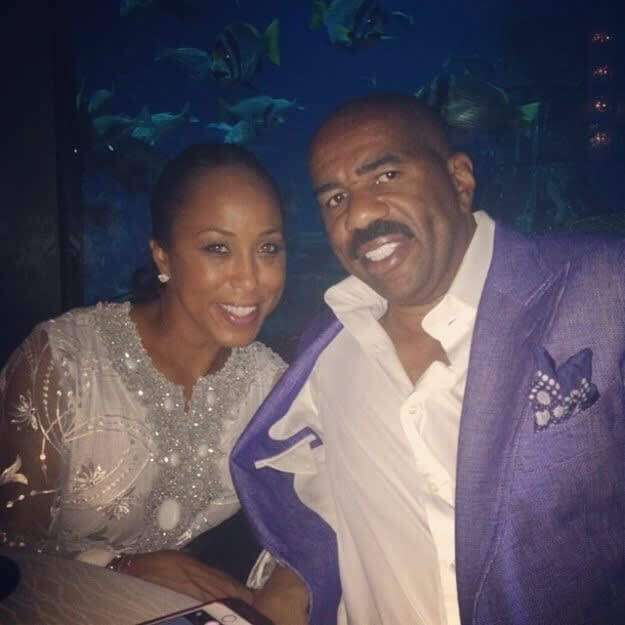 In front of the entire club, Steve Harvey said, "I don't know who this is, but I'm going to marry her." It took a few years, but he eventually got his wish, and the couple married in 2007. Harvey says that Majorie made him a better man, and she is his everything.
7. Ricky Martin And Jwan Yosef
For Ricky Martin and Jwan Yosef, it was art that brought this couple together. Martin is an avid art collector, and he was a fan of Yosef's work as an artist. He messaged Yosef to talk about his work, and their messages quickly turned romantic. Martin knew that Yosef was the man he would end up marrying.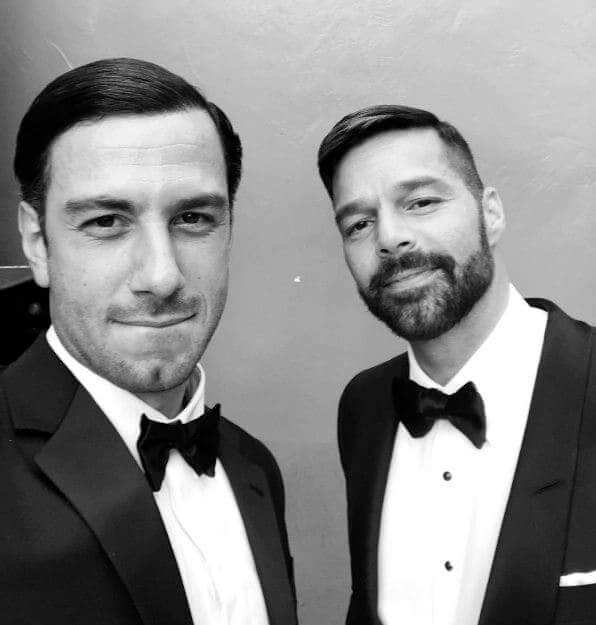 The two ended up meeting in-person in London, where they had their first date. Martin and Yosef felt an instant love connection, and they married in 2017. The couple recently welcomed their fourth child, and they couldn't be happier.
8. Fergie And Josh Duhamel
It must be intimidating to work with your celebrity crush. Josh Duhamel had said in an interview that he had a provocative dream about Fergie and revealed that he had a crush on her. Shortly after that, she made a cameo on his show Las Vegas.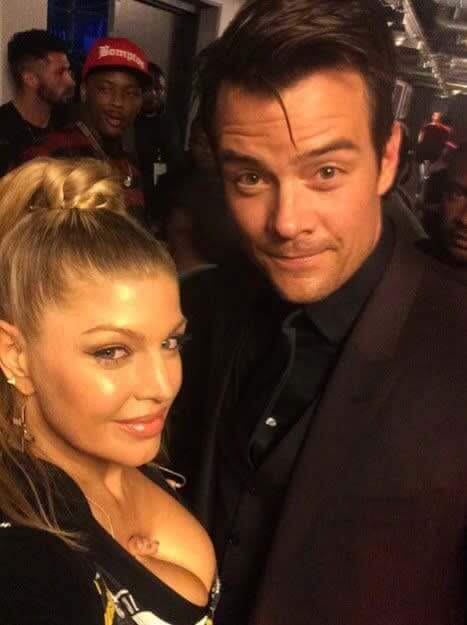 Luckily for Duhamel, Fergie had also been crushing on him because she recognized him from his early work on soap operas. Being the bold person that she is, she asked him about his dream. Shortly after that meeting, they started dating and got married in 2009. Unfortunately, the romance didn't last, and they divorced in 2017.
9. Jennifer Lopez And Alex Rodriguez
Way back in 1998, Alex Rodriguez was asked about his dream date, and he was quick to reply that it would be with Jennifer Lopez. At the time JLo was taken, but years later, after her divorce from Marc Anthony, the two finally connected.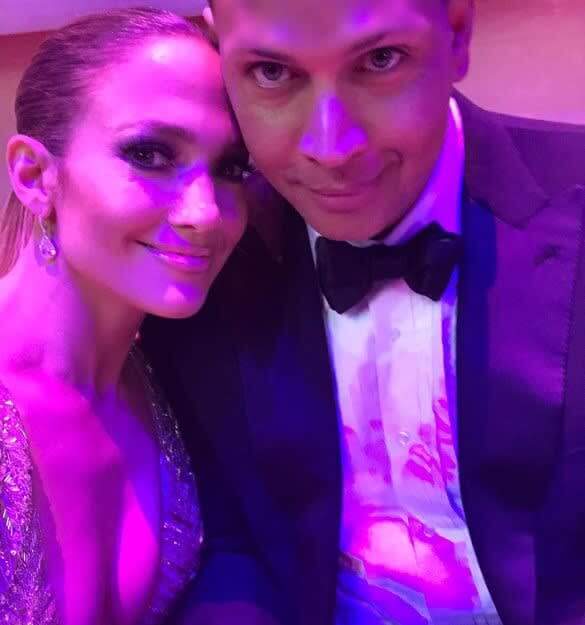 A-Rod and JLo publicly announced their relationship in 2017 when they attended the Met Gala as a couple. In 2019, he popped the question, and they are planning their wedding. Sometimes it takes getting past a few roadblocks to get to your true love.
10. David And Victoria Beckham
Unlike most couples, David and Victoria Beckham are considered to be royalty in their country. This couple has entranced the British public for years, and how they met is the cherry on top of their love story. Posh and David met at a charity soccer match where they exchanged numbers.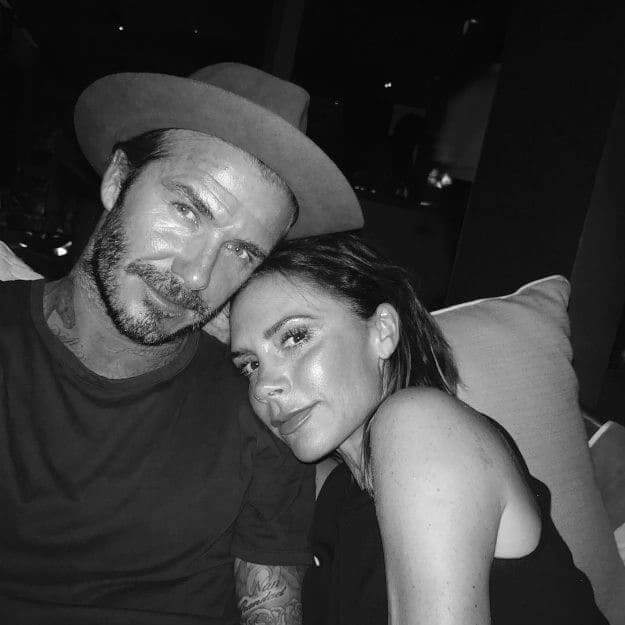 David said that Victoria would hang around at the soccer field like a stalker, but he didn't mind it because he had a crush on her after seeing one of the Spice Girls videos. He told people she was the one he would marry, and he made it happen. They tied the knot in 1999, and today they have four gorgeous children.
11. Gisele Bundchen And Tom Brady
It would be hard not to take notice of a stunning supermodel like Gisele, and that was the case for Tom Brady. He was encouraged by his friends to meet up with Gisele because a friend thought they would be a good match. Gisele said she was instantly attracted to his smile and became his biggest fan.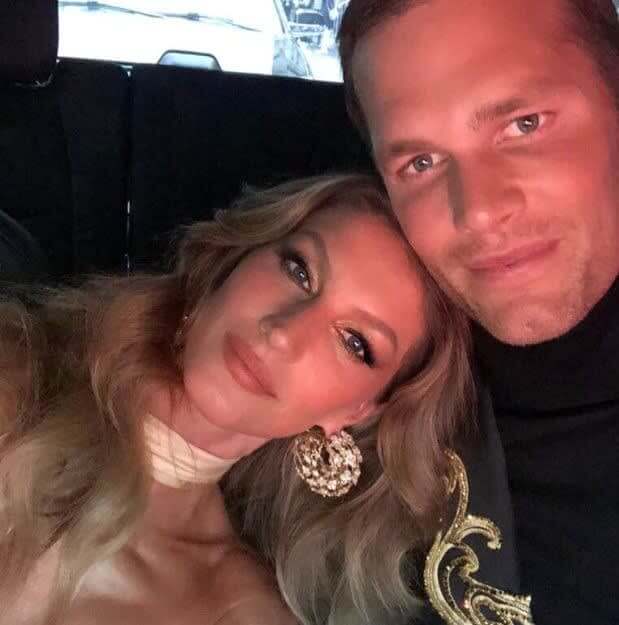 Gisele said it was an instant connection for her, and she knew that they would be together. In 2009, the couple married, and they have two children. She is always seen supporting Brady from the sidelines donning his jersey with her children.
12. Jason Momoa And Lisa Bonet
As a young child, Jason Momoa saw Lisa Bonet on The Cosby Show​, and he told his mom that he liked her. He never thought he would get the chance to meet her, let alone fall in love. Two decades later, his dreams came true.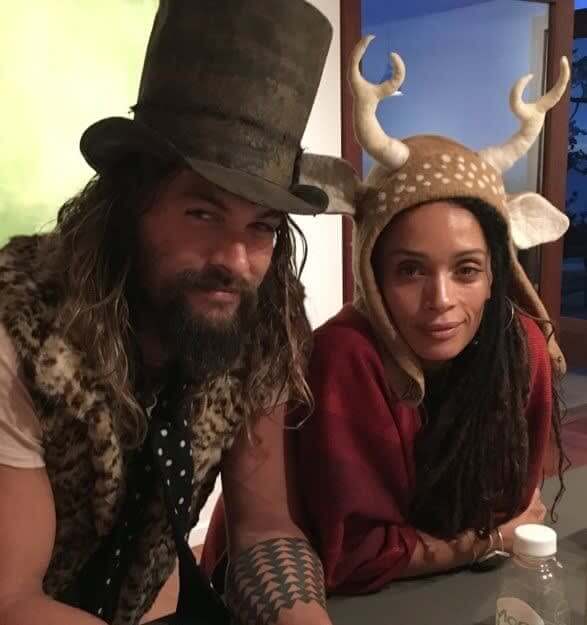 Momoa and Bonet met at a Jazz club, and he was so infatuated with her. They began dating shortly after meeting, and they are considered one of the coolest Hollywood couples.
13. Joe Jonas And Sophie Turner
Like millions of other people, Joe Jonas was open about his love for Game of Thrones. He tweeted about his love for the show and his crush on actress Sophie Turner. Once Turner saw the tweets, they started messaging.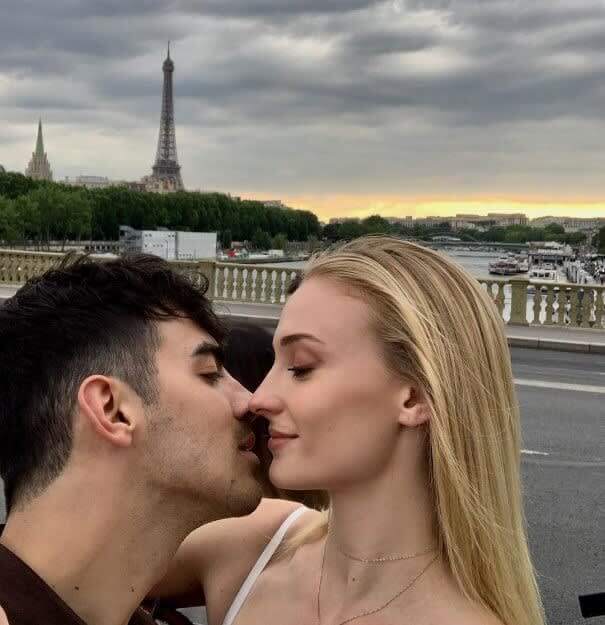 The couple started dating in 2016, and three years later, they got married, twice! They had a ceremony in Las Vegas and France. The couple is rumored to be expecting a child sometime this year.
14. Mandy Moore And Taylor Goldsmith
They say you meet someone special when you least expect it, and that was the case for Mandy Moore and Taylor Goldsmith. After her divorce from Ryan Adams, she wasn't looking for a relationship, but she gained the attention of Dawes band member Taylor Goldsmith after posting an Instagram about the band.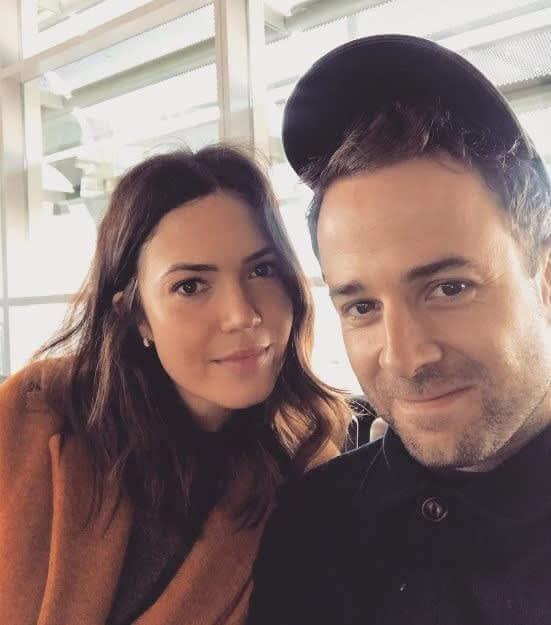 Instagram/TaylorDawesGoldsmith
The two quickly began messaging each other and started dating. In 2018, they married, and Moore said that they were both fans of each other before meeting.
15. Sarah Hyland And Wells Adams
There are plenty of fans of The Bachelor, and Sarah Hyland happens to be one of them. During one of the seasons, she tweeted her opinions of the contestant Wells Adams. She loved his bartending skills and literary references.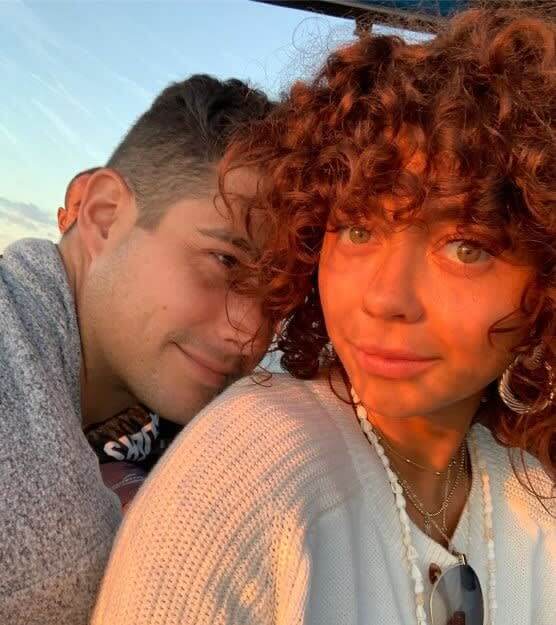 Wells saw her tweets and gave a flirty response that sparked their romance. The couple began dating in 2017, and two years later, they were engaged. Hyland talks about how their love for tequila and tacos has kept their connection so strong.
16. Chrissy Teigan And John Legend
Chrissy Teigan is never one to hide things on the internet, so when people asked how she met John Legend, she was very open. Teigan said that John saw a picture of her and hired her to play the love interest in his music video for "Stereo."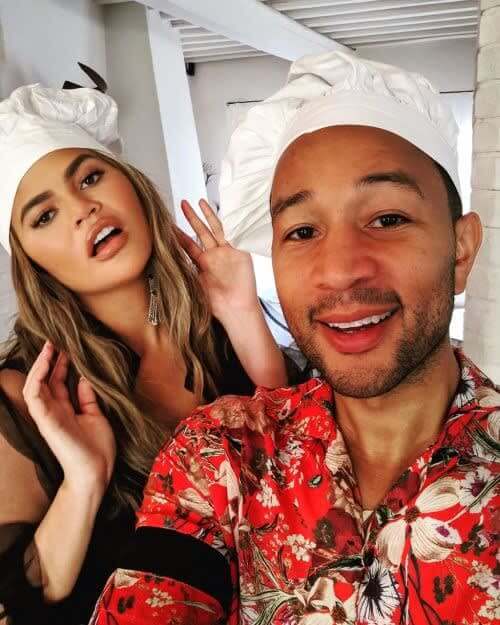 Legend and Teigan hit it off, and they started dating shortly after. She admits that she would look at gossip sites to see if he was dating anyone. In 2013 they tied the knot, and they have been the internet's favorite couple ever since.
17. Justin Bieber And Hailey Baldwin
As the daughter of Stephen Baldwin, Hailey got the opportunity to meet Justin Bieber at his concert in 2009. They were both awkward teenagers, and the interaction is on the internet for everyone to relive. Hailey said she wasn't a huge fan of him at the time, but she thought he was cute.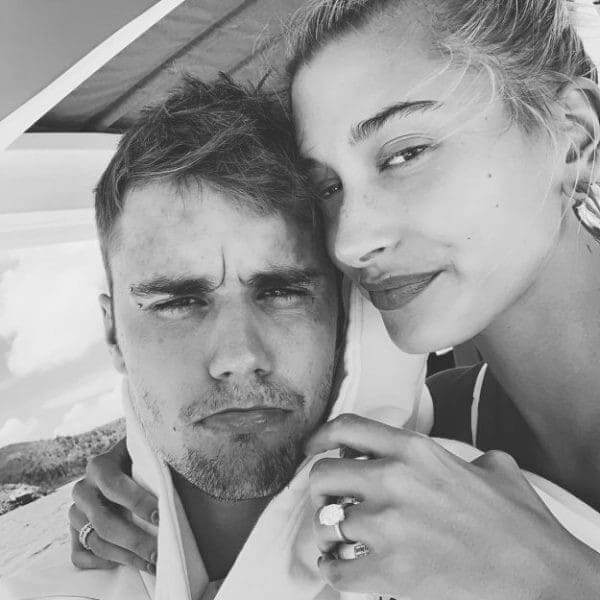 Baldwin and Bieber had mutual friends, so they interacted with each other for years before dating. They broke up in 2016 and then reconnected in 2018. By July, they were married, and they later had a big reception in September.
18. Nick Lachey And Vanessa Minnillo
When Nick Lachey was in the boy-band 98 degrees, he appeared on TRL where Vanessa Minnillo was the host. He never imagined that years later they would be married. After his breakup with Jessica Simpson, he was looking to cast a female lead for his video "What's Left of Me."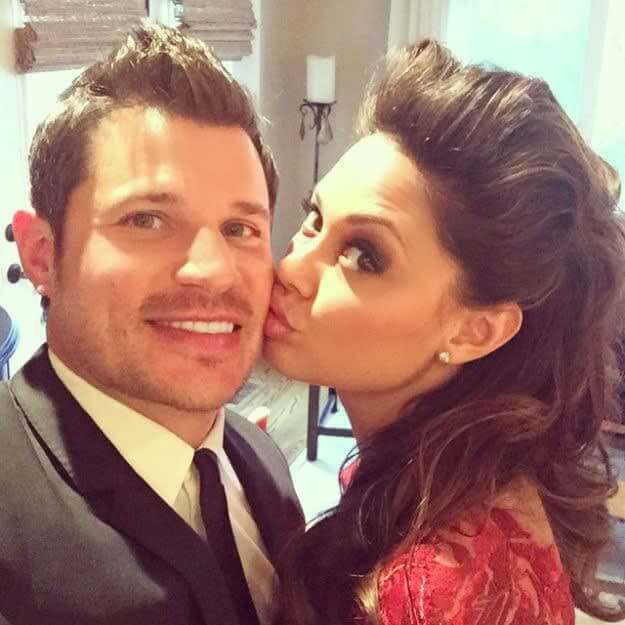 Lachey chose Mannillo as the lead and sparks flew between them on set. In 2011, they got married and had three children. The couple continues to share their love on the Netflix show Love is Blind.
19. Ringo Starr And Maureen Cox
The Beatles had millions of fans around the world, and many of their female fans only dreamed of meeting one of the band members. Maureen Cox was among those fans who never imagined that she would end up marrying a Beatle.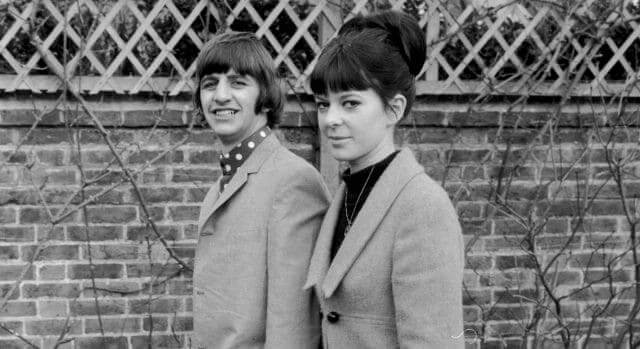 As a hairdresser, Cox was regularly at their early shows, and eventually, Ringo Starr noticed her. The two began to date right before "Beatle Mania." In 1965, the couple married after Cox found out she was pregnant. Once the band became a worldwide craze, it took a toll on their relationship, and they divorced in 1975.
20. Dylan Sprouse And Barbara Palvin
Dylan Sprouse and Barbara Palvin met online like any other millennials. They are both known for posting racy photos, and they took notice of each other online. After meeting in person at a party, the former Disney star and Victoria's Secret model started a very public romance.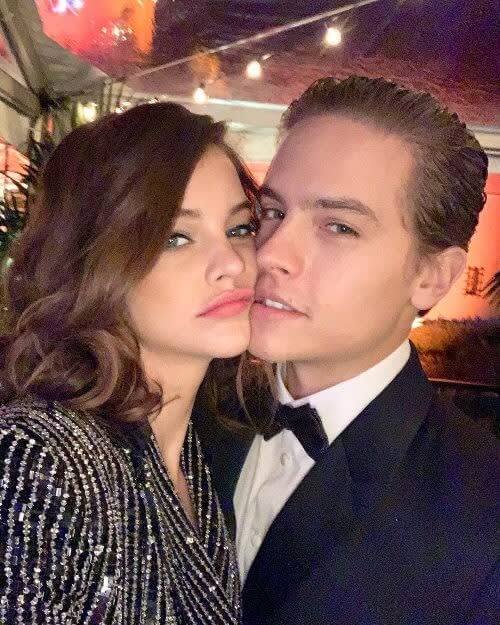 Sprouse was very supportive of Palvin and would bring her post-runway meals like Shake Shack. Everyone labels them as #Relationshipgoals, and we hope they are in it for the long-run.
21. Kanye West And Kim Kardashian
Before they became a talked about power couple, Kim Kardashian and Kanye West were just friends. They met over a decade ago after being introduced through their mutual friend Brandy. When Kanye met Kim, he was immediately smitten with her and would ask about her all the time.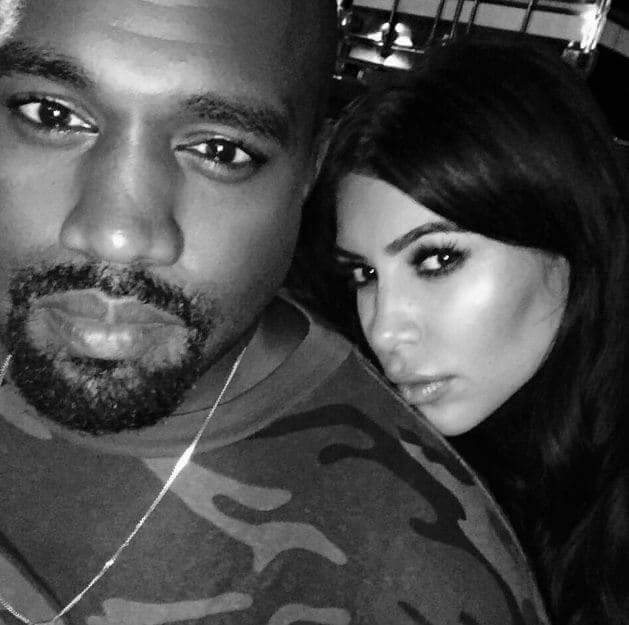 Over the years, Kim and Kanye were each involved with other people, but the two couldn't deny that there was an undeniable attraction. In 2012, they finally started dating, and we got to see them plan their wedding a start their family on Keeping Up with the Kardashians. ​
22. Kevin Bacon And Kyra Sedgwick
Kyra Sedgwick and Kevin Bacon are one of the few Hollywood couples that have lasted for decades. Their longtime romance started when they met on the set of Lemon Sky. Sedgwick was impressed with Bacon and had to praise his work. At the time they were teenagers, so nothing happened immediately.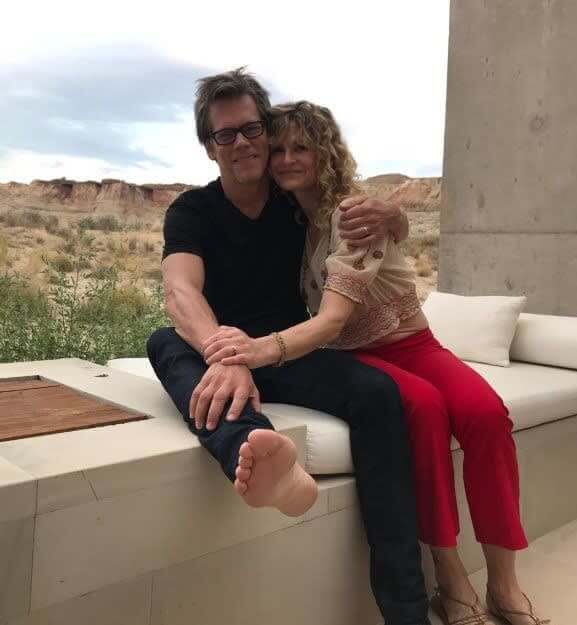 A few years later, Bacon and Sedgwick reunited, and they admitted that they were fans of each other. In 1988, they married and had two children. She says that he still gives her butterflies after all these years.
23. Reese Witherspoon And Jim Toth
Reese Witherspoon was used to dating actors before she met Jim Toth. She had been involved with Jake Gyllenhaal and was married to Ryan Phillipe. Toth is a talent agent who was a massive fan of Witherspoon's work.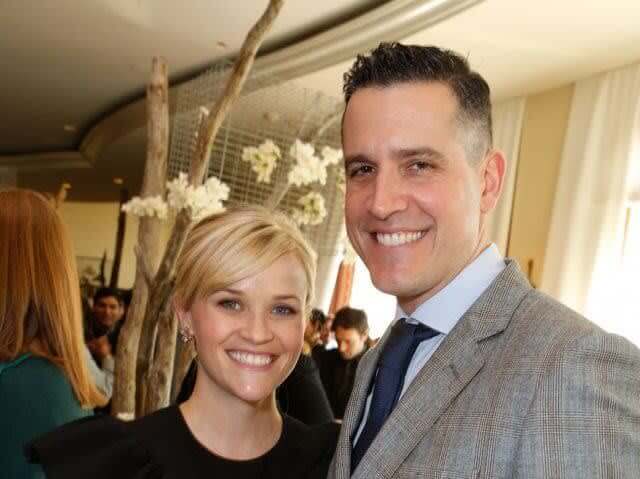 Alexandra Wyman/Getty Images For March Of Dimes
When the couple met, she forgot about all those big Hollywood names and they tied the knot in 2012 and had a son in 2012.
24. Elvis And Priscilla Presley
When Priscilla was just 14, she met Elvis Presley before he was "The King." When she turned 21, the couple married in 1967. Priscilla was always his biggest fan while he was trying to make it big.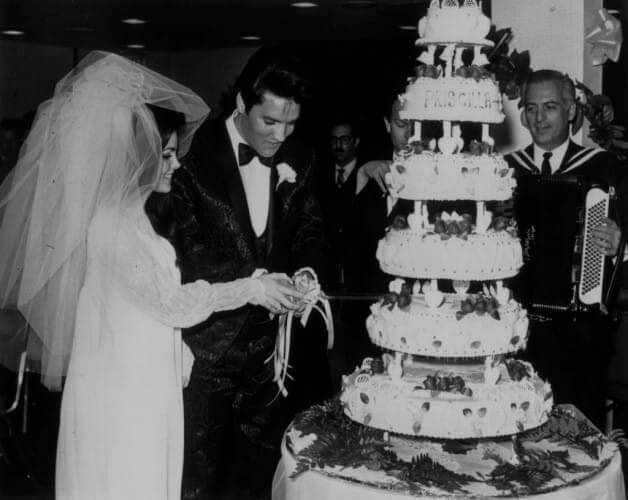 When Elvis got his big break, things took a turn. The fame ruined their relationship, and Priscilla divorced him in 1973.
25. Julia Roberts And Danny Moder
Danny Moder was working as a cinematographer for the movie The Mexican when he met Julia Roberts. She was one of the biggest names in Hollywood, and Moder was already a fan. The pair connected and they fell for each other quickly.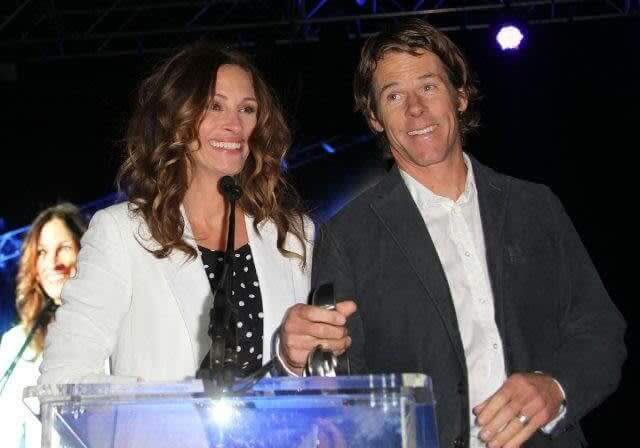 Frederick M. Brown/Getty Images
Two years later, they got married and had three children. They keep their relationship low profile, but the couple is going on 18 years of marriage.
26. Kate Mara And Jamie Bell
Jamie Bell and Kate Mara initially met during a screen test where they shared a kiss. Years later, they ended up working together on Fantastic Four, and Mara couldn't believe it was the good kisser she had met years ago.
Mara said it was love at first sight, and something about Bell was so memorable. The couple is not very public with their relationship, but Kate is proud to call Jamie, her husband, and the father of her child.
27. Adam Sandler And Jackie Titone
Jackie Titone was a close friend of Rob Schneider and an aspiring actress when she was introduced to Adam Sandler. Schneider was a frequent co-star of Sandler and he introduced them.
Nick Gossen Courtesy of AdamSandler.com/Getty Images
Sandler was instantly smitten with Titone, and they dated a few years before marrying in 2003. They have two beautiful children together.
28. Jessica Alba And Cash Warren
The stunning Jessica Alba has never been short of options for potential partners, but no one impressed her like Cash Warren, and the feeling was mutual.
Warren was working as a production assistant on the set of Fantastic Four while Alba was starring in the movie. He was mesmerized while watching her work, and he had to go after her. Alba and Warren married and had children, and they still fall in love with each other more and more every day.
29. Ariana Grande And Pete Davidson
Ariana Grande and Pete Davidson met when she was the musical guest on Saturday Night Live. After appearing on the show, she told Jimmy Fallon that she had the biggest crush on Davidson. She also told her tour manager that she was definitely going to marry him.
Luckily for Grande, Davidson felt the same way about her and joked that he would marry her right away. The couple got engaged in May 2018, but their whirlwind romance ended later that year in October. They will always have their matching tattoos to remember the love.
30. John Travolta And Kelly Preston
"I got chills, they're multiplying, and I'm losing control." That's probably what John Travolta thought when he saw Kelly Preston for the first time. When they first met, Preston was married, but she quickly realized how unhappy she was after meeting Travolta.
There was instant chemistry between them when they met at a screen test. One of their friends predicted they would end up together. Travolta and Preston married, and their romance is still going strong.
31. Nicolas Cage And Alice Kim
When Alice Kim was 19, she was an aspiring actress working as a waitress. One day, Nicolas Cage walked in, and she was shocked. He was one of her favorite actors, and she was so happy that they connected.
Pascal Le Segretain/Getty Images
Despite their significant age difference, the two got married in 2004 and had one son. In 2016, they ended up divorcing.
32. Jerry And Jessica Seinfeld
Back in 1998, Jessica Seinfeld was an author and public relations professional when she met Jerry Seinfeld while working out at the gym. At the time she was married but quickly divorced her former husband for Jerry.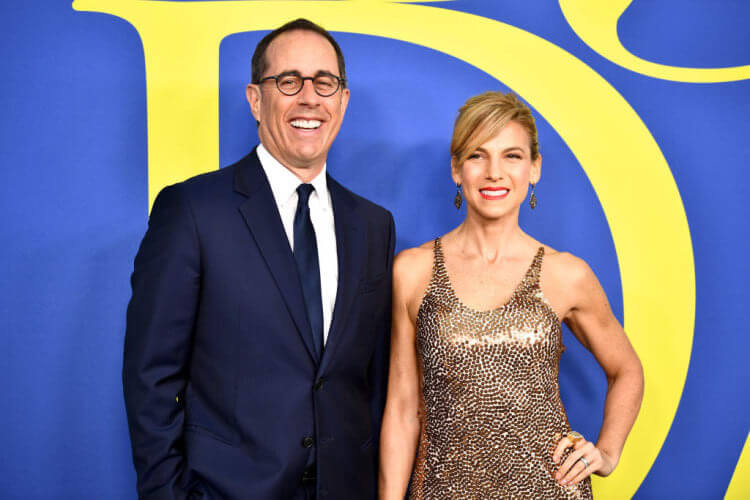 Dimitrios Kambouris/Getty Images
The couple married in 1999 and have three children together. Jessica has always been a fan of being famous, but she used her status to create a charitable organization and write a cookbook.
33. Wiz Khalifa And Amber Rose
Amber Rose was gaining popularity when she met Wiz Khalifa. She was a big fan of his when they got together in 2011. The couple got pregnant and had a son together.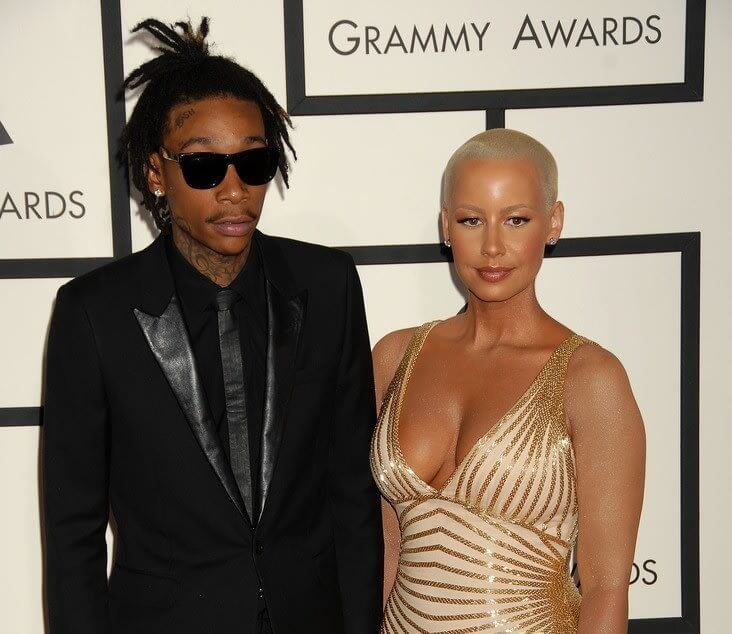 After his birth, Wiz and Amber got married in 2013. Sadly, the couple couldn't make it work, and they got divorced a year later.
34. Maria Carey And Nick Cannon
Mariah Carey was one of the biggest names in music during the '90s. Her ability to belt out whistle tones shot her to stardom, and Nick Cannon took notice of this pop diva. When the couple met, he couldn't believe his long-term crush could turn into a romance.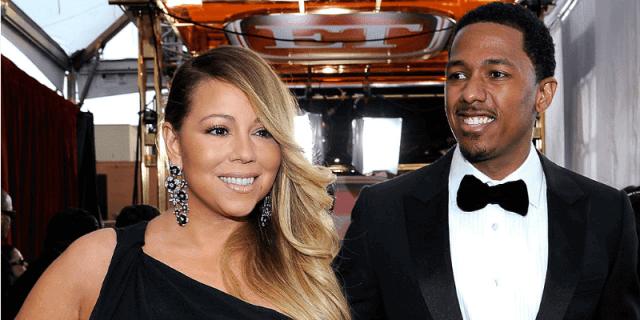 Kevork Djansezian/Getty Images
The couple married in 2008 and had their twins in 2011. Like many Hollywood couples, they could not make things work and got divorced in 2016.
35. Conan O'Brien And Liza Powel
While working on a project together in 2000, Conan O'Brien fell for the copywriter, Liza Powel. He never thought that he would make such a secure connection with someone.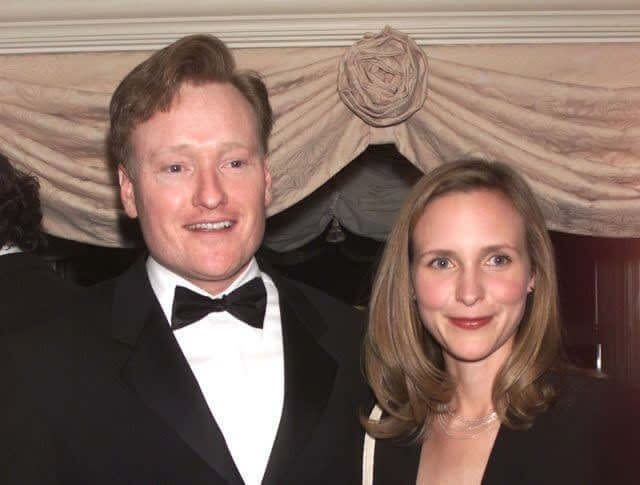 Luckily, the cameras captured their meeting, and he said, "you can see me falling for my wife." Powel was already a fan of his work, and they hit it off. The couple wed in 2002 and have two children.
36. Gwyneth Paltrow And Chris Martin
As the lead singer of Coldplay, few things can make Chris Martin nervous. He wasn't even starstruck when Gwyneth Paltrow walked backstage at one of his shows. In fact, she was the one who was fangirling over Chris Martin.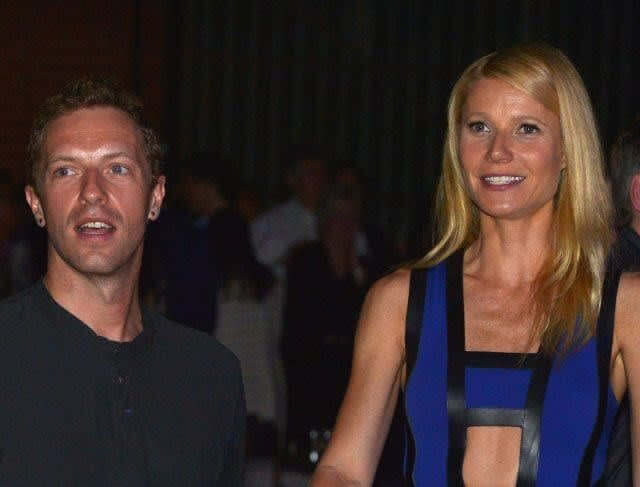 Charley Gallay/Getty Images for Entertainment Industry Foundation
Luckily for Paltrow, they hit it off, and the couple married in 2003. Although they divorced in 2016, the pair have remained friendly because they share two children.
37. Anne Hathaway And Adam Shulman
Adam Schulman wasn't used to life in the public eye before he met Anne Hathaway. He was a fan of hers before they met, and after connecting, he was smitten with her. The chemistry between them was undeniable, and they were inseparable.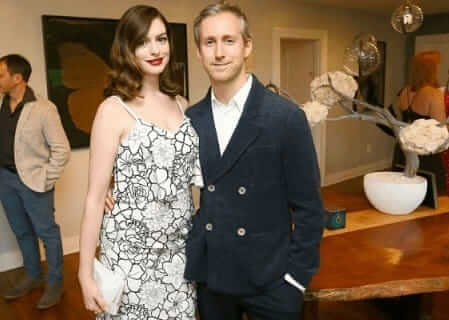 In 2012, Hathway and Shulman married, and in 2016, they welcomed their first child. Over the years, Shulman has gotten used to the red carpets and paparazzi.
38. Billie Joe Armstrong and Adrienne Nesser
The frontman of Green Day met his wife Adrienne Nesser backstage at one of his shows. She was a huge fan of the band and they had an instant connection.
Although Armstrong called the wedding an impulsive decision, he would never change that choice. Nesser and Armstrong have been together for 25 years, and they have two children together.
39. Christian Bale And Sibi Blazic
For a long time, Christian Bale had no plans of ever getting married until he met Sibi Blazic. When they met, she was Winona Ryder's personal assistant.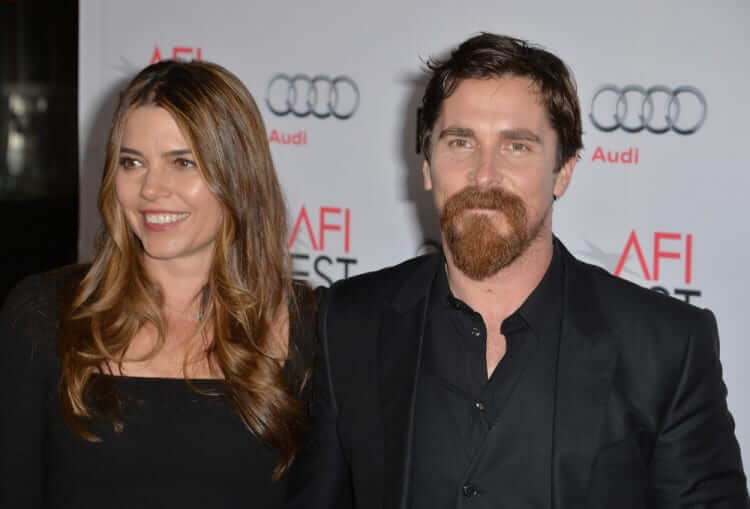 The couple married in 2000, and he has thanked her numerous times for grounding him when he goes into extreme bouts of method acting.
40. Matt Damon And Luciana Barroso
While living in Miami, Matt Damon met Luciana Barroso who was an aspiring actress and waitress. Despite being a fan of his, Damon was the one to pursue Barroso.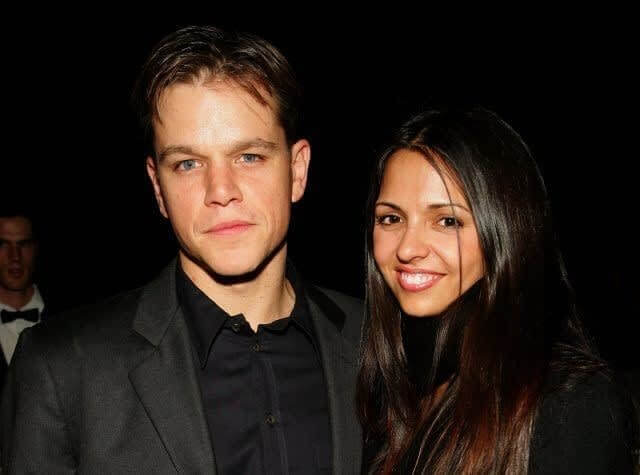 In 2005 Barroso and Damon got married and are still together 15 years later with three children.
41. Katie Holmes And Tom Cruise
As a teenager, Katie Holmes had posters of Tom Cruise covering her walls. She dreamed of meeting him, and her wish came true. In 2005 she met Cruise, and they quickly started dating.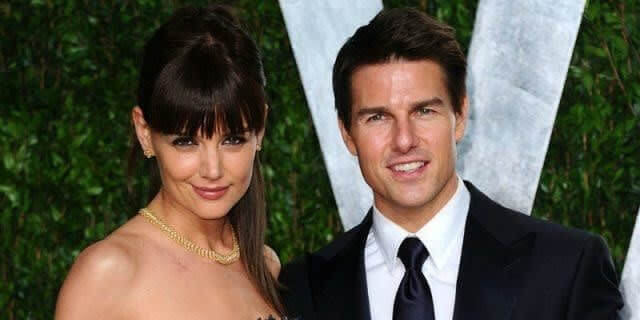 Alberto E. Rodriguez/Getty Images
In 2006 they had a huge wedding, and Katie was living out her teenage dream. Due to Cruise's devotion to Scientology, their marriage became strained, and they divorced in 2012.
42. Toby Maguire And Jennifer Meyer
While working on the set of Seabiscuit, Jennifer Meyer was the jewelry designer when she met Toby Maguire. The two connected instantly, and they fell in love.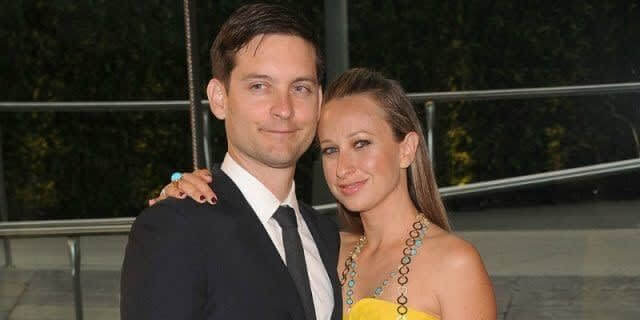 After welcoming a child together, Maguire and Meyer married in 2007. They had a second child but separated shortly after the birth.
43. Kelsey Grammar And Kayte Walsh
If you are an OG fan of Real Housewives of Beverly Hills, you will remember watching Kelsey Grammar's marriage to Camille fall apart on camera. The reason for their divorce was because Kelsey was cheating with flight attendant Kayte Walsh.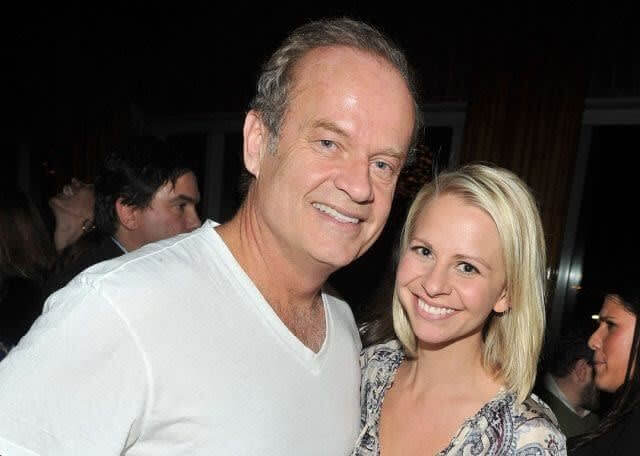 Stephen Lovekin/Getty Images for The Weinstein Company
After divorcing Camille, Kelsey proposed to Walsh and married in 2011. This is Kelsey's fourth wife, and he has three children with Walsh.
44. Ruben And Zuri Studdard
Ruben Studdard was the second winner of American Idol. While he was doing a CD signing, he met Zuri McCant, who was a huge fan of his. Studdard was instantly infatuated with Zuri.
The couple began dating soon after meeting, and they got married in 2008. Unfortunately, they had "irreconcilable differences" and got divorced in 2012.
40+ Hilariously Accurate Illustrations Any Parent Will Relate To
Brenda Miller
This article was originally published on 24/7Mirror
When you think about being a parent what's the first thing that comes to mind? Is it those adorable moments, the first words, or even the long sleepless and crying nights? For artist Yehuda Devir it was all of the above, and his illustrations depicting his and his wife's reality of parenthood on social media has since become world-famous for their honesty and their humor. See which of his photos you relate to the most, while also keeping an eye out for a few of the "real" photos we've sprinkled along the way. Don't forget to stick around for the end for a special surprise that the couple has!
1. You Can Stare At Your Baby For Hours
There is nothing more magical than welcoming a child after months of anticipation. When they arrive, any parent will agree that their innocence and cuteness is perfection itself, which makes it basically impossible to not stare at them for hours.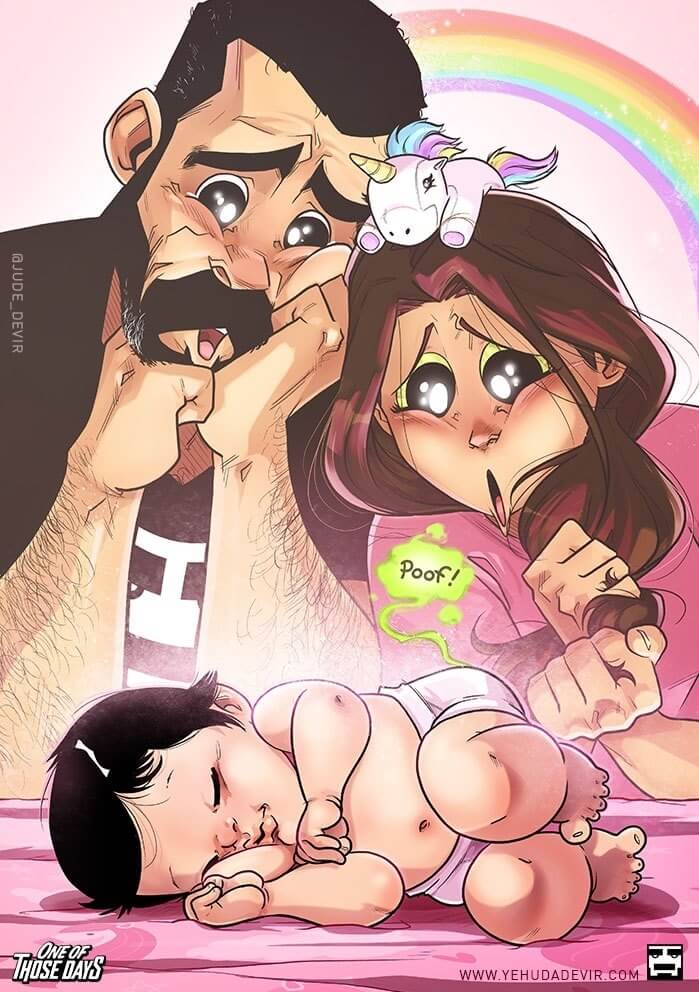 No matter how much of an adjustment it may be to bring a baby home, those peaceful moments remind us that it's all worth it.
2. Changing A Diaper Is Not For The Faint-Hearted
Many parents will agree that changing a diaper takes some skill. The experience can be incredibly messy and overwhelming at first, but nothing like some practice runs to learn it to perfection.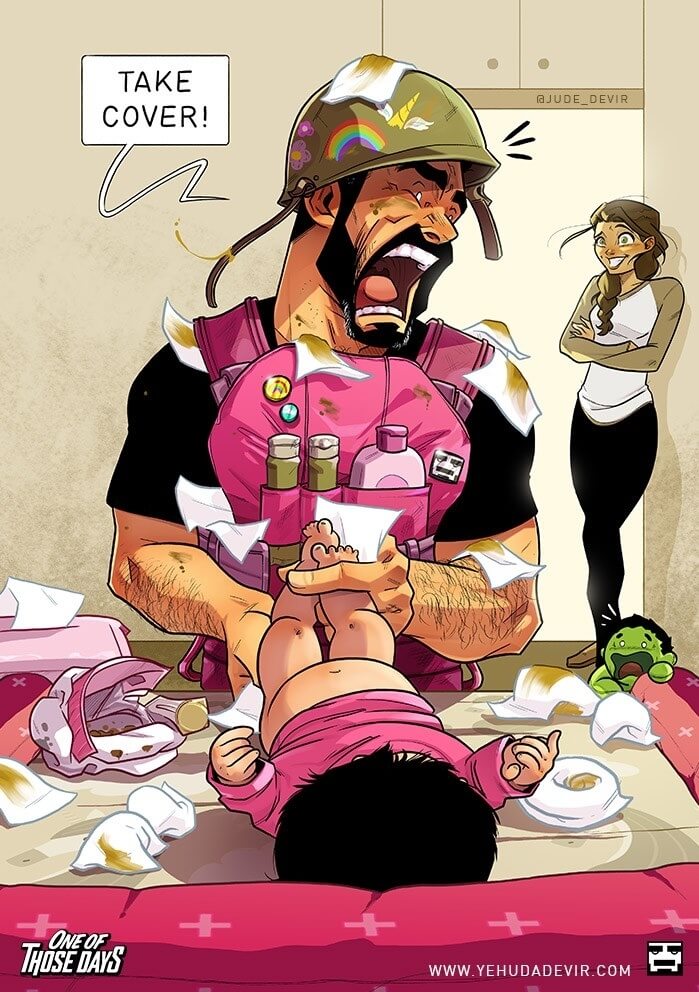 In this illustration though, the artist depicts how the situation is sometimes so messy down there that it requires taking cover. For the parent who is not on duty though, it can be extremely entertaining.
3. The First Time The Baby Latches
The first time the baby latches can be a magical and highly awaited moment for new mothers. But it is important to emphasize that breastfeeding can be a hard and often tumultuous journey, that its' not always easy for everyone.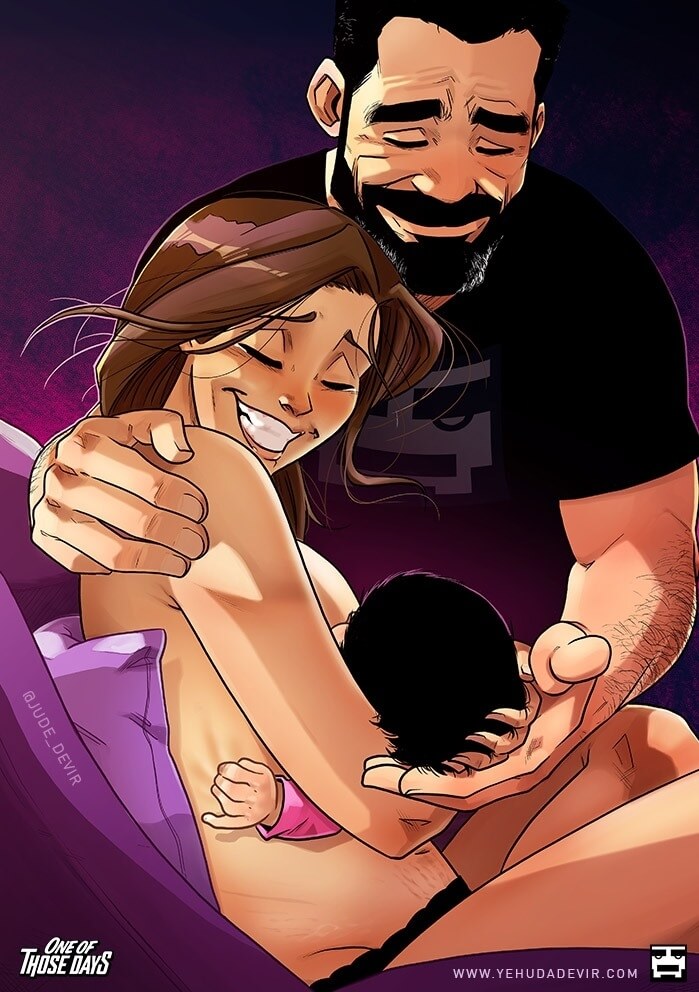 Yet, it can certainly serve as an incomparable bonding experience for the mother and the child, which makes that first moment one of the most special milestones of having a child.
4. When The Baby Refuses To Fall Asleep
Sleep deprivation is a huge thing once you have a baby. No matter how many times other parents tell you that sleep will never be the same, one only understands what that really means once the baby is there.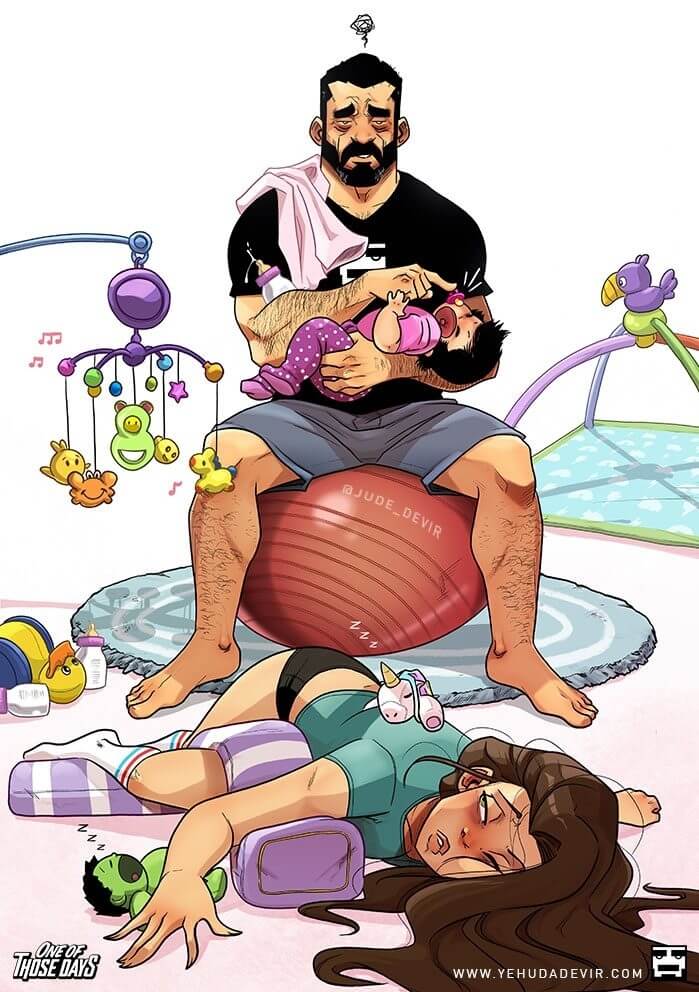 Here, the illustrator realistically shows just how exhausting some nights may be, especially when the baby simply refuses to fall asleep.
5. Their First Bath Doesn't Always Go As Planned
Since almost everything about having a small baby is an adventure, bath time is certainly not an exception. Most especially though, the first baths can definitely require two people managing the entire situation.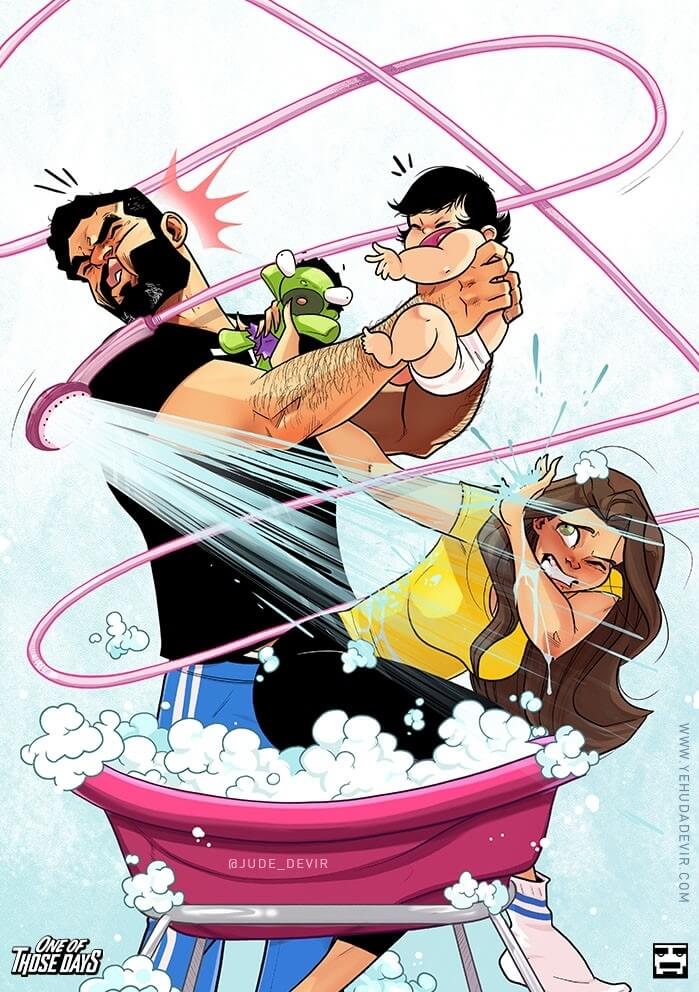 There are so many steps that go into bathing a baby: getting the right water temperature, choosing the perfect bathtub, but most of all, keeping the baby safe and happy during the entire process.
6. Those First Shots Are Also A Shot To The Heart
Getting vaccinated in general is already a tough experience, but watching your newborn go through their first few shots is incredibly painful.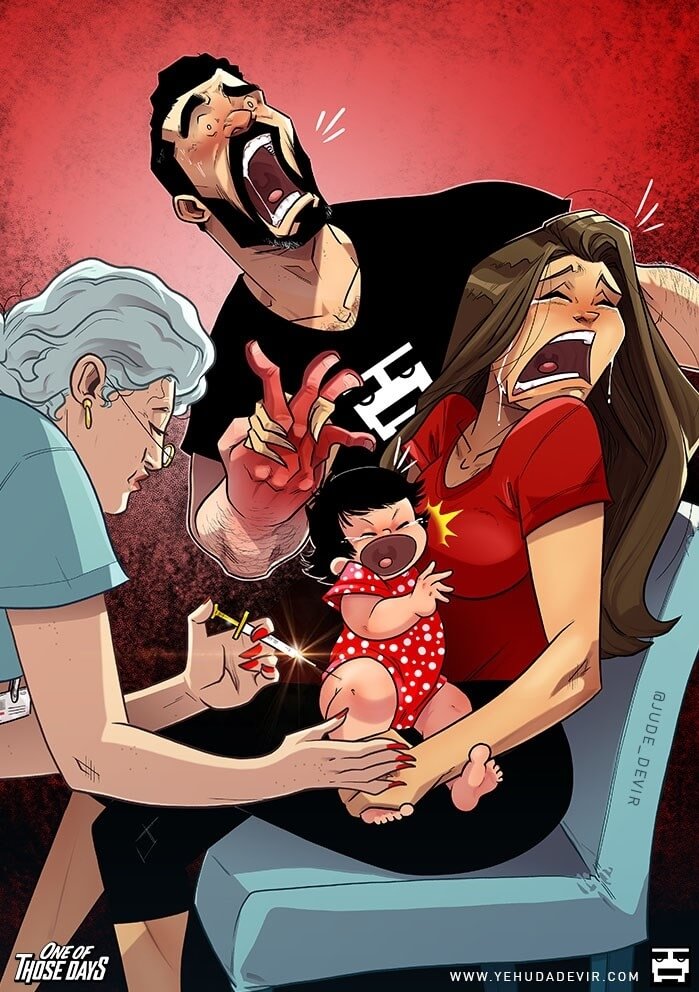 Though the pain is not inflicted directly on the parent, most parents can testify to the fact that they do "feel" the pain, mainly in their hearts. As both parents show here, the pain is shared.
7. It May Take Some Time Until You Sleep Again
When you have a baby, suddenly falling asleep absolutely everywhere and at any time may become a recurring situation. But there is nothing more rewarding than doing so together, since each parent will be exhausted.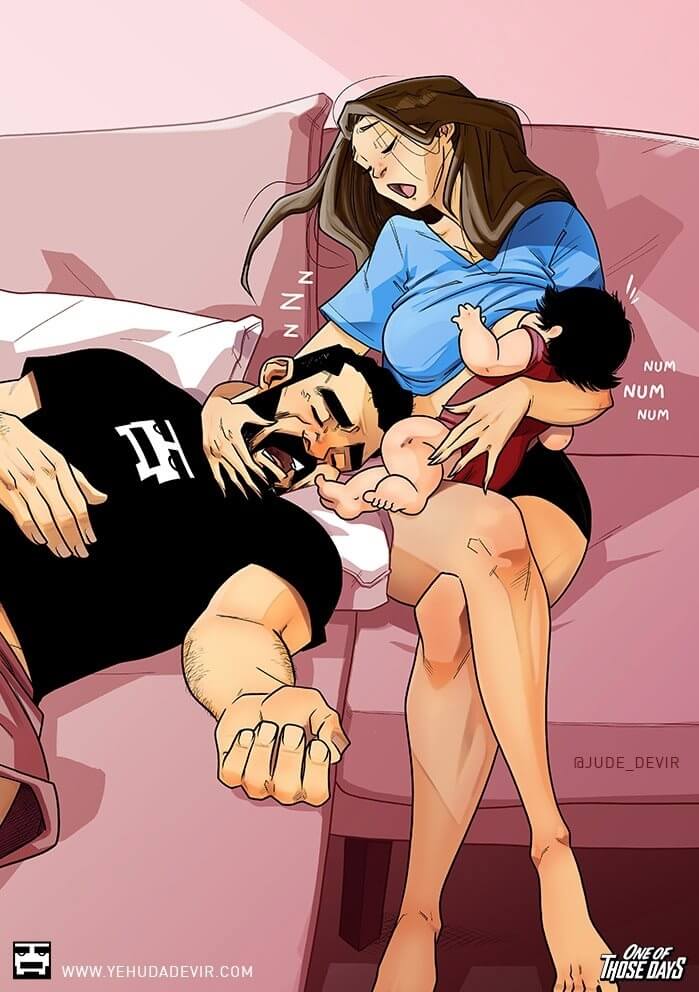 In this picture, the young couple depicts the beauty of going through something so hard together. As the real-life portrait of the family shared here, they have clearly survived and thrived despite those sleepless nights.
8. You Have To Be Prepared At All Times
Just like any adult can have acid reflux, babies have what's known as infant reflux. This means that most, if not all babies, do vomit from time to time, especially in the first weeks and months of their lives.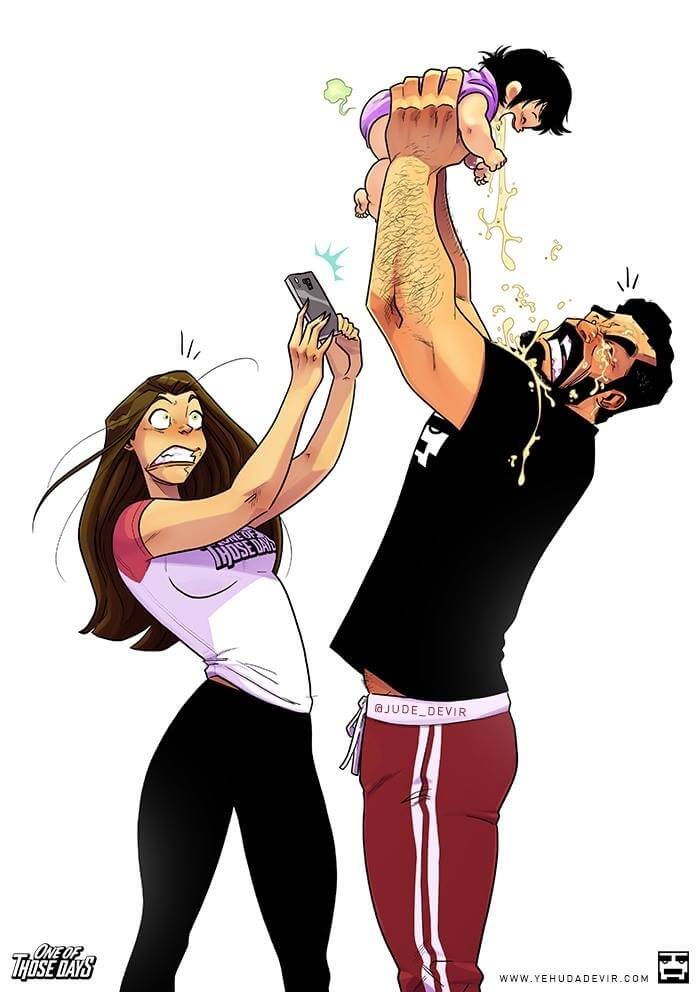 Anything from prolonged crying or regular indigestion may result in it. So brace yourselves new parents because the vomiting is about to begin.
9. Parenting Can Be Really Tough Sometimes
Times can get really tough when you're a first-time parent. Though the happy moments certainly make up for the hard times, anyone is susceptible to feeling like they're not doing a good job at being a dad or a mom.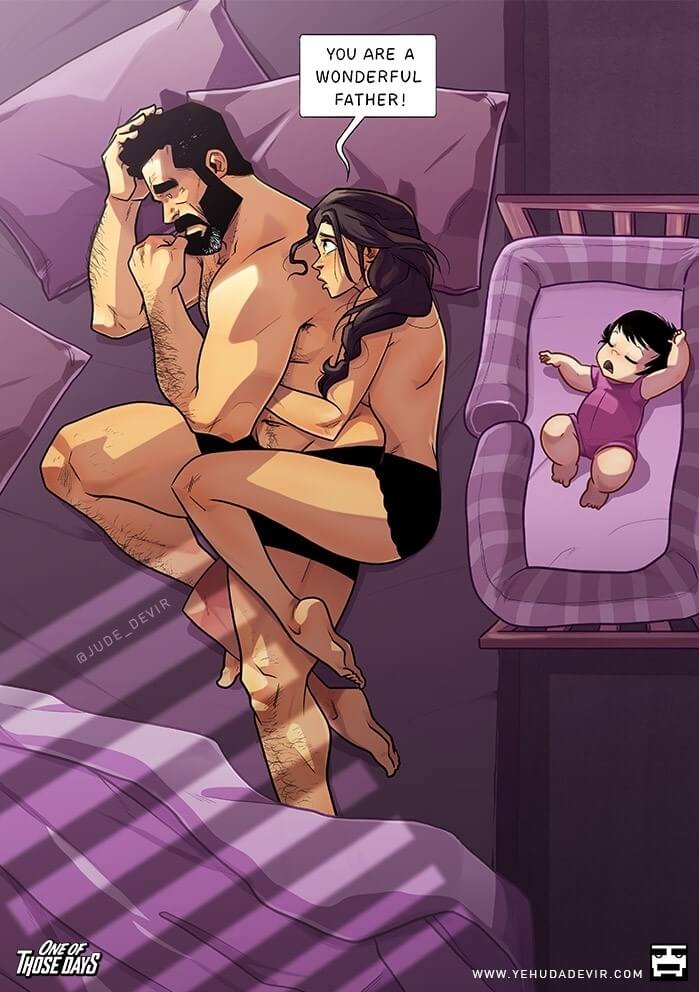 This illustration painfully shows that sometimes all we need is to cry in our partner's arms and to be reminded that we are worth it, and despite the difficulties, we are wonderful parents.
10. Going Anywhere Becomes The Ultimate Mission
When you have a baby going anywhere, even to a short walk to the park, becomes the ultimate mission. You always want to be as prepared as possible, meaning that you may need tons of things to keep your baby clean, fed, and happy.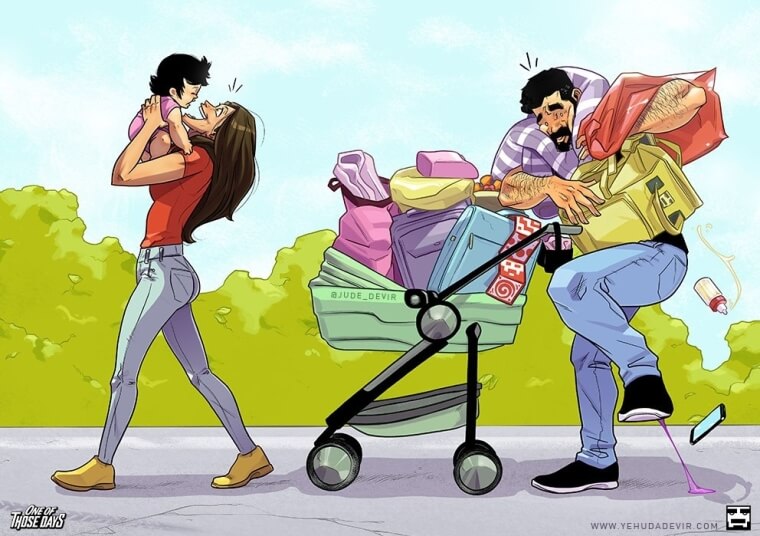 And of course, if the outing involves two people, there is always that one person that carries the entire thing.
11. Getting The Baby Dressed Is A Job For Two
Even though a baby is a tiny little thing in comparison to an adult, when they arrive, they rule the house. And sometimes simple jobs such as getting them dressed while they'rere constantly moving or throwing a tantrum can easily be a job for two.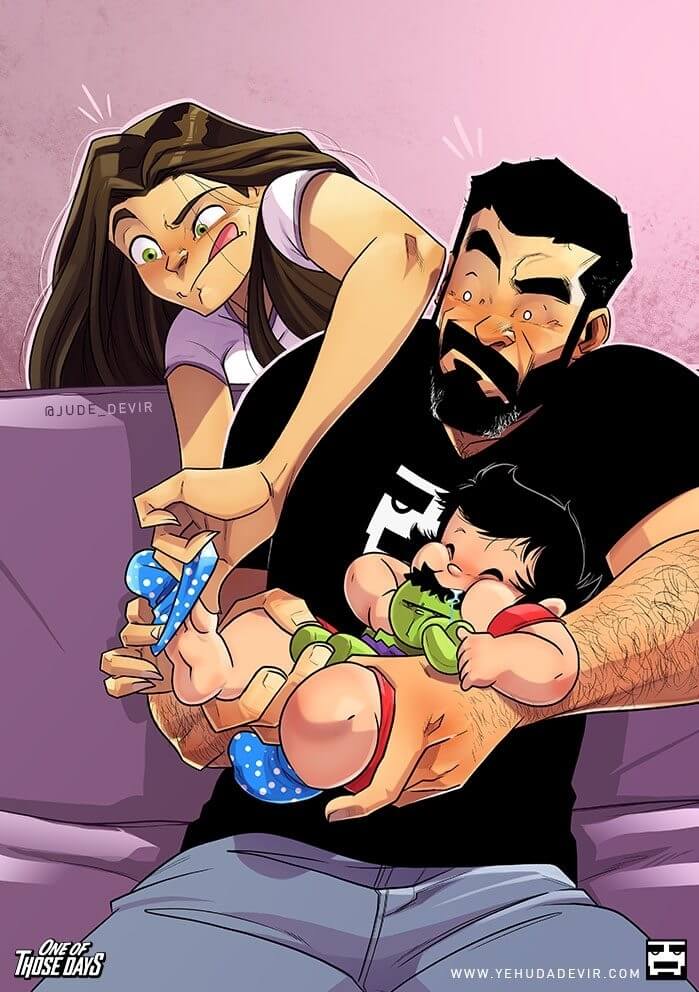 Here, the illustrator shows the struggle that he and his wife sometimes go through to get the baby dressed.
12. The First Time You Leave The Baby Overnight
There are a number of milestones parents go through as the baby grows up that can feel like the end of the world. Parents are still people after all, and they need some time for themselves every once in a while.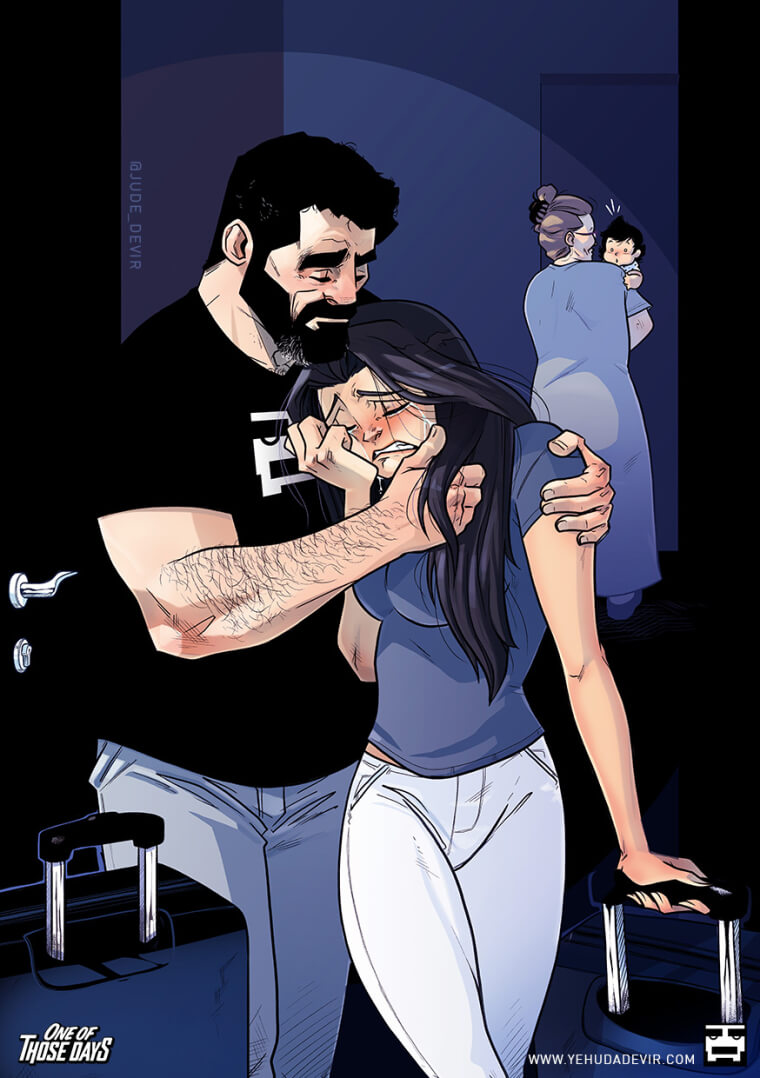 In this image, the parents have just left their baby with the grandmother overnight for the first time, and the mother is not taking it so easily.
13. Couples Who Get Chubby Together, Stay Together
Many of us have seen the hashtag #couplegoals going around, showcasing "perfect" couples with the most ripped bodies we can imagine. Well, this illustrator decided to keep things real.
He shows that things do change over time, and our clothes may never look or fit the same. Yet, there is nothing more beautiful to go through this journey together, acknowledging that health and love are all that matters.
14. Those Aggressive Love Scratches
Babies have interesting ways of showing their love and affection. Just like grown-ups, some babies are very "independent". Other babies do certainly love to cuddle, and since they are babies, those hugs and kisses may come accompanied with some scratches and a lot of drool.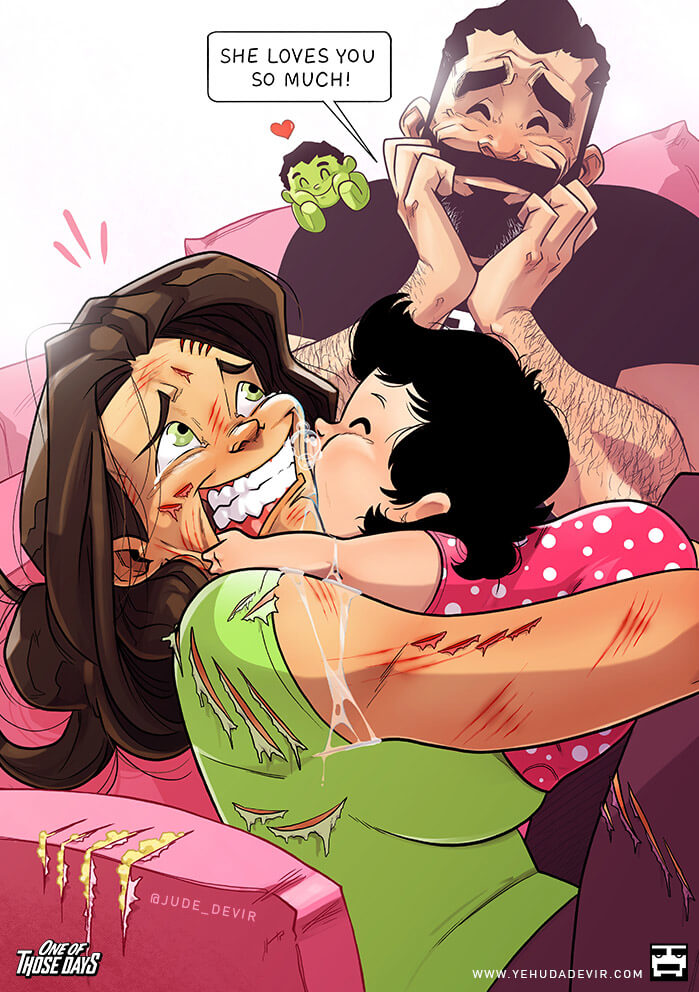 For parents though, those moments are cherished with so much love that the extra stuff doesn't matter.
15. The Baby Rules The Bed
Parents from all walks of life approach sleep training differently. While some try and have their babies sleep in their crib from the very beginnings, other parents are more flexible with sleeping with the baby on the bed with them.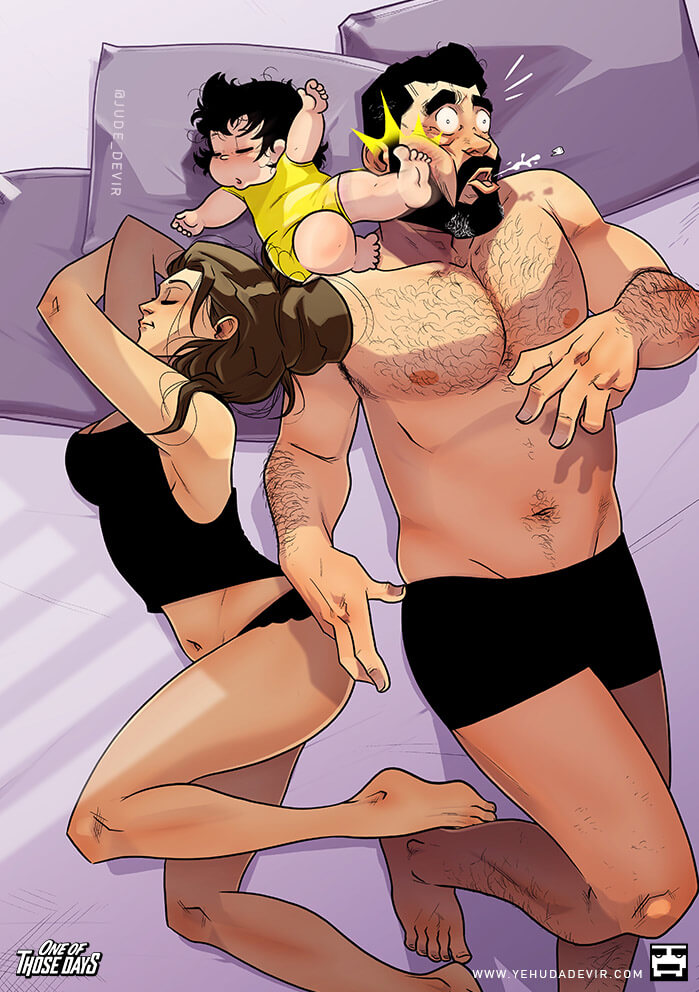 But those who do will most certainly identify with this hilarious image. The couple clearly shows just how the child completely takes over the bed at night.
16. Everything Shuts Down When You're Putting The Baby To Sleep
Putting the baby to sleep is another arduous ritual that most parents will relate to. When they finally figure out what helps their baby fall asleep they do everything in their power to keep the moment as uninterrupted as possible.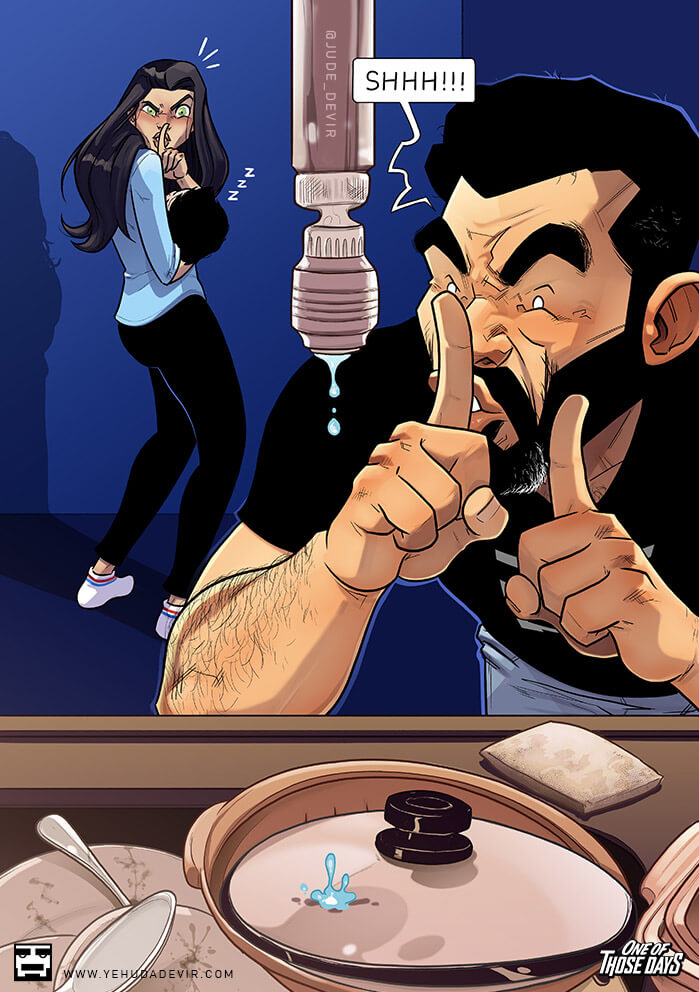 Absolutely anything can disrupt the moment, so when the baby finally falls asleep, everyone is determined to make it last.
17. The First Time They Go To Daycare Is Just Painful
Now here's another milestone that breaks many parents. It takes a lot of strength and determination to keep ourselves together the first day we leave our children at daycare.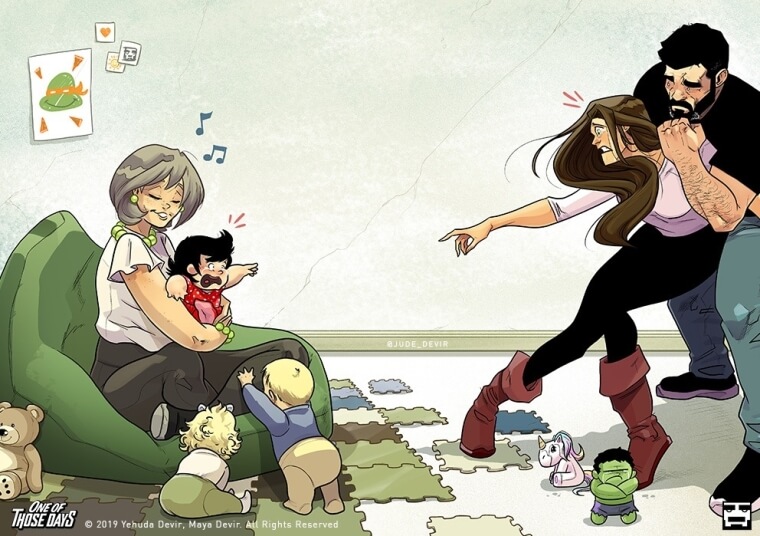 The baby cries, the parents cry, other kids start crying, and the entire experience is just chaotic and heartbreaking. Yet, like many other things that are hard in parenthood, it gets better.
18. It's A Food Fight Every Day
In many ways, raising a baby means experiencing simple things for the first time through the eyes of a tiny human being. One of these things includes introducing solid food and different flavors that the baby may or may not like.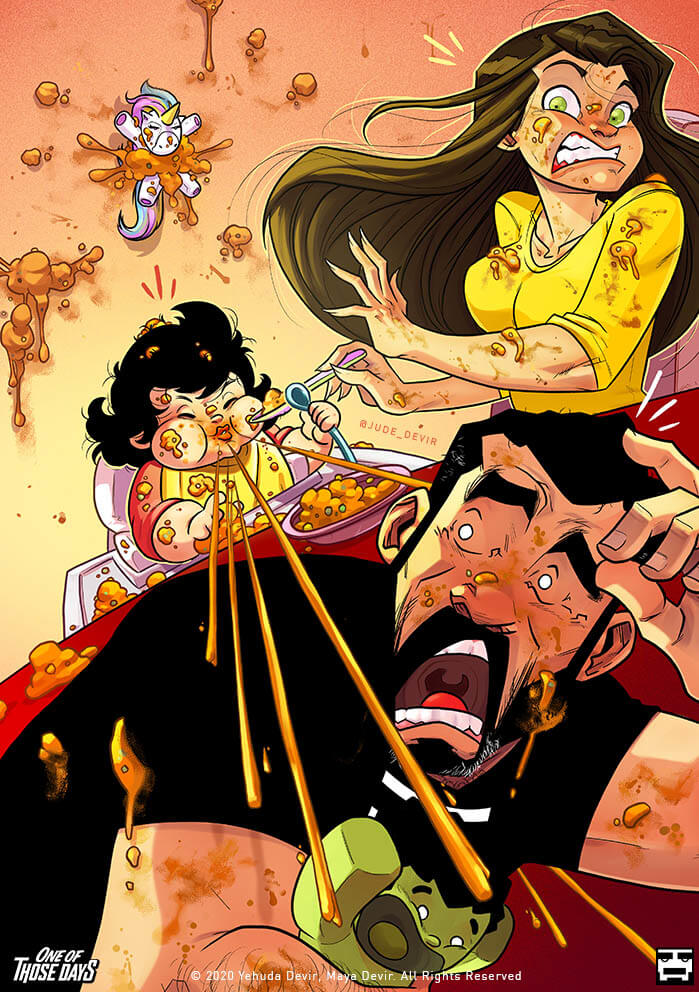 Here, the parents not only show the daily reality of feeding a baby (which means food all over the place), but also the struggle that it can be sometimes.
19. Showing Affection Becomes A Little Bit Different
It's undeniable that things change in a relationship once a baby joins the family. Life does become about the well-being of that child, and parents often put their relationship second.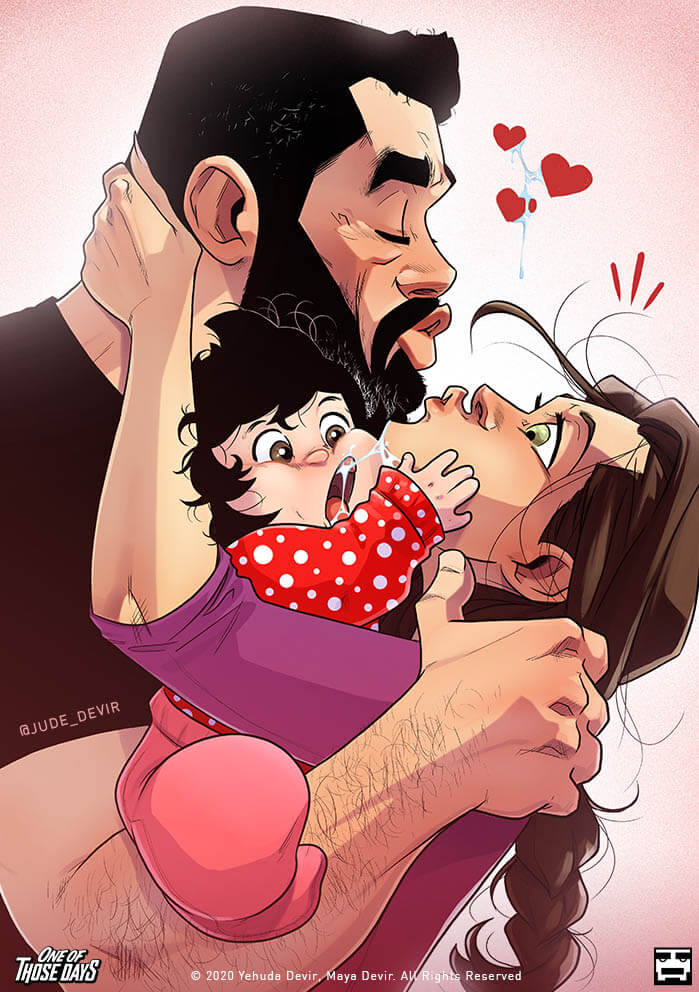 Simple moments like giving a small kiss, lying down on the couch or in bed watching a movie, or going for a romantic picnic, are altered a little bit to accommodate the cute and tiny human being.
20. You Get To Create Masterpieces With Your Baby's Hair
Doing a child's hair is yet again another mission that may or may not take much longer than anyone would ever expect. To this father's satisfaction though, he seems to have just triumphed in making a cute hairstyle for his toddler.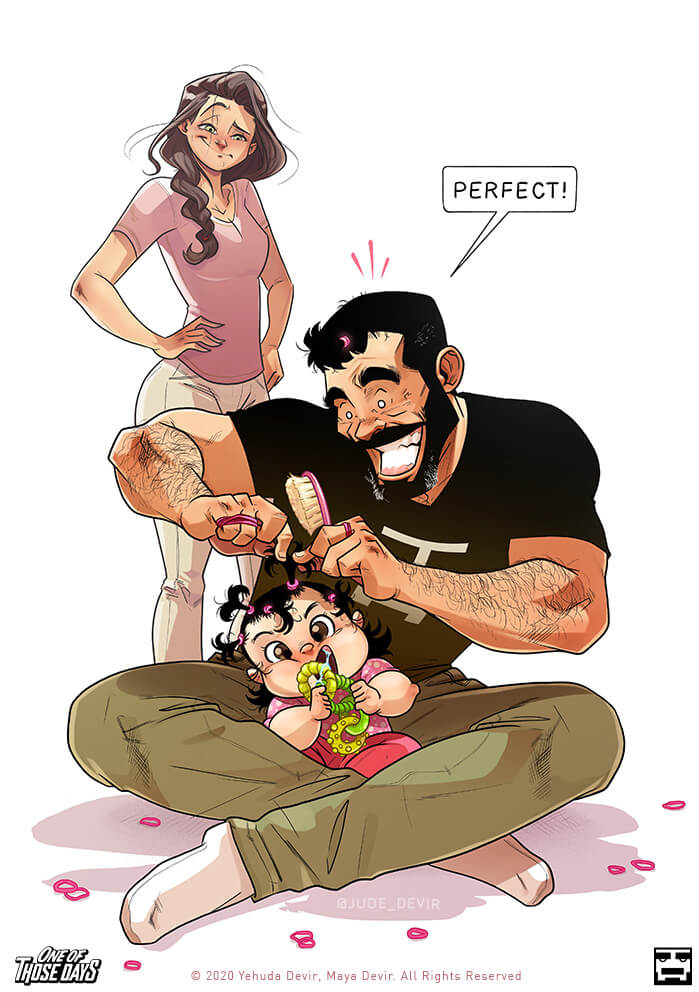 As the real-life photo coming up shows, creating different hairstyles is one of the father-daughter duo's favorite ways to bond.
21. This Is What Father And Daughter Get Up To In Real Life
As Kobe Bryant reminded the world, being a "girl dad" comes with some awesome perks. Here, we finally get to see the dad and the baby girl that has inspired some of the most relatable illustrations any parent will ever see.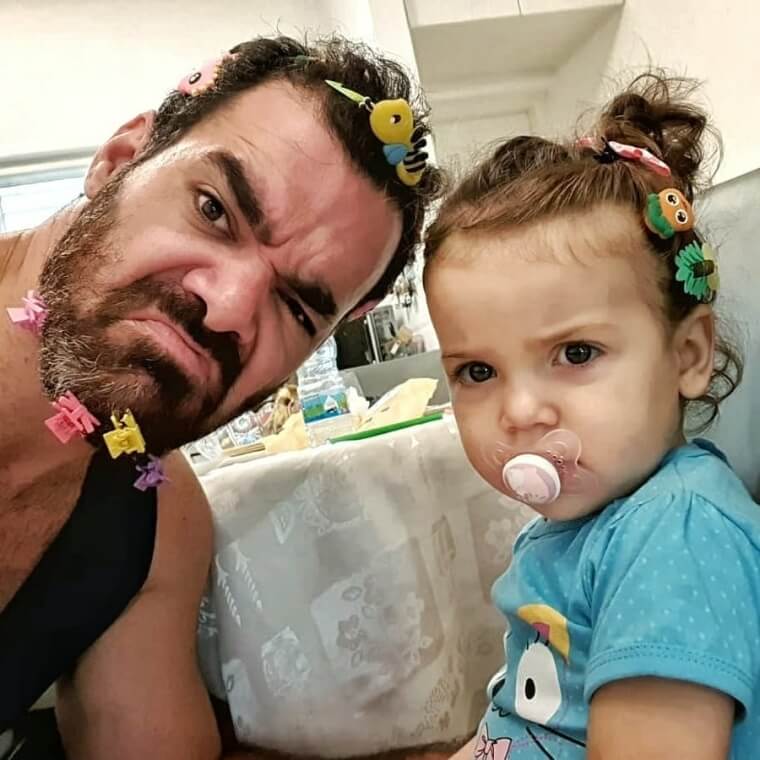 In this cute selfie, he shows just how much fun it is to do her hair while hilariously matching it with his. But if you think they look alike in this photo, wait until you see the entire family's real-life photo.
22. Nursing A Teething Baby
Not many things can describe the pain of breastfeeding a teething baby. While breastfeeding itself is already no easy task, when those little teeth start coming up the pain is inexpressible.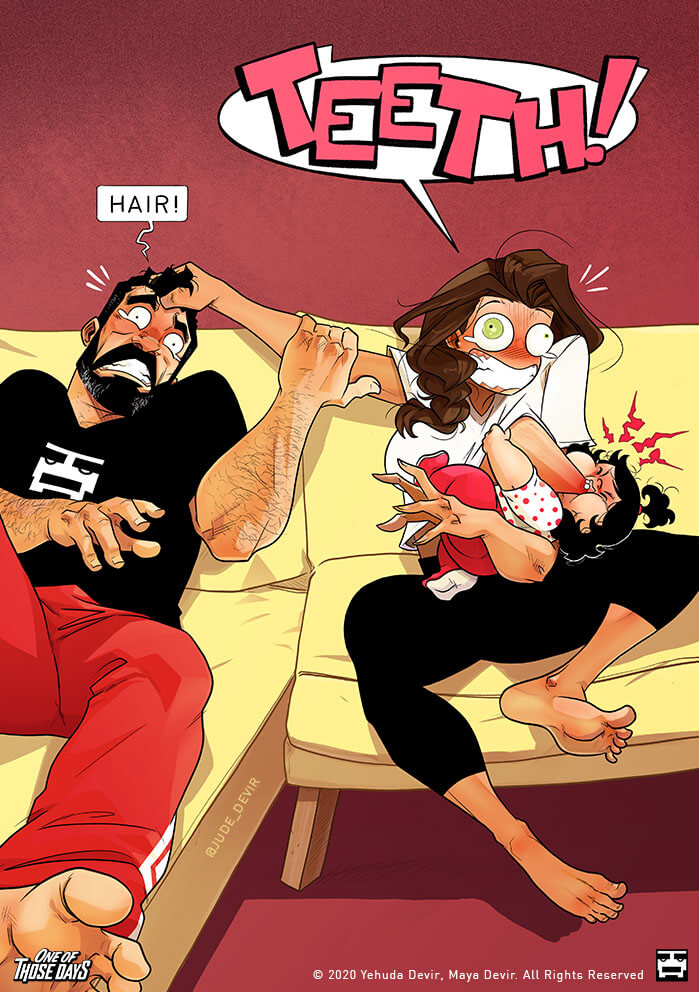 Needless to say that it's the kind of pain that one never gets used to, so it takes some teamwork to get through it. One thing that could help, as illustrated above, is squeezing your partner.
23. Your Life Become All About The Baby
It may take a while to grasp the full chaotic situation in this picture, so take your time. Perhaps there is no better illustration to show just how much goes on when raising a child.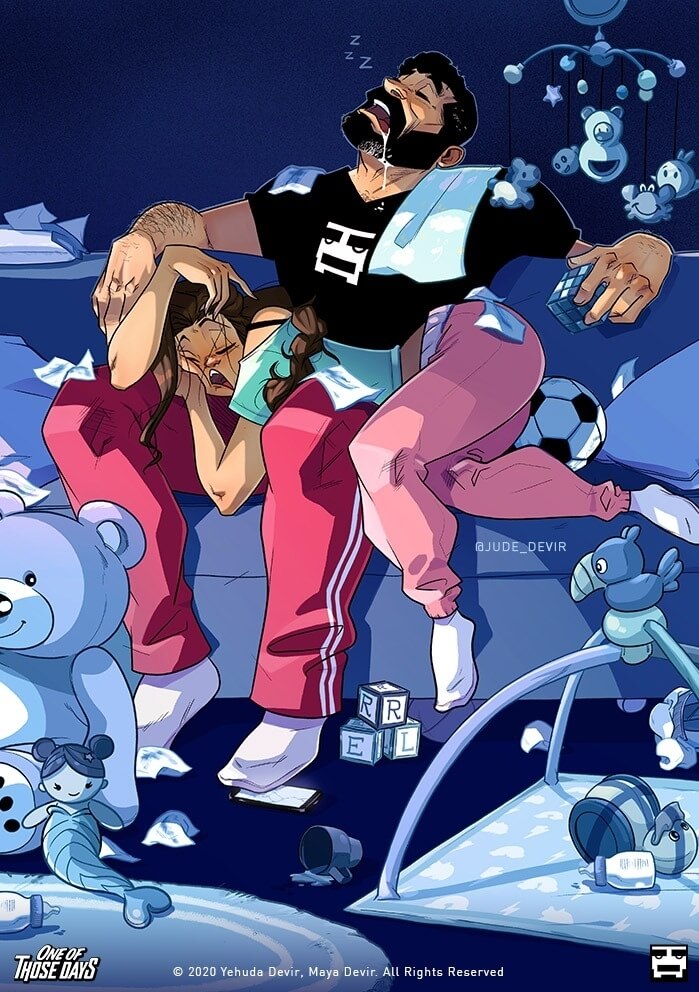 The exhaustion is constant, toys can be found everywhere, and a nap may happen at any time, or depending on the baby's schedule. Here, the parents are all wrapped up in each other taking a much-needed snooze.
24. Documenting Every Milestone
Documenting every step and every moment of a child's development is crucial for any parent. With phones being an integral part of our lives these days, we get to capture and sometimes even over-capture every important moment in a child's life.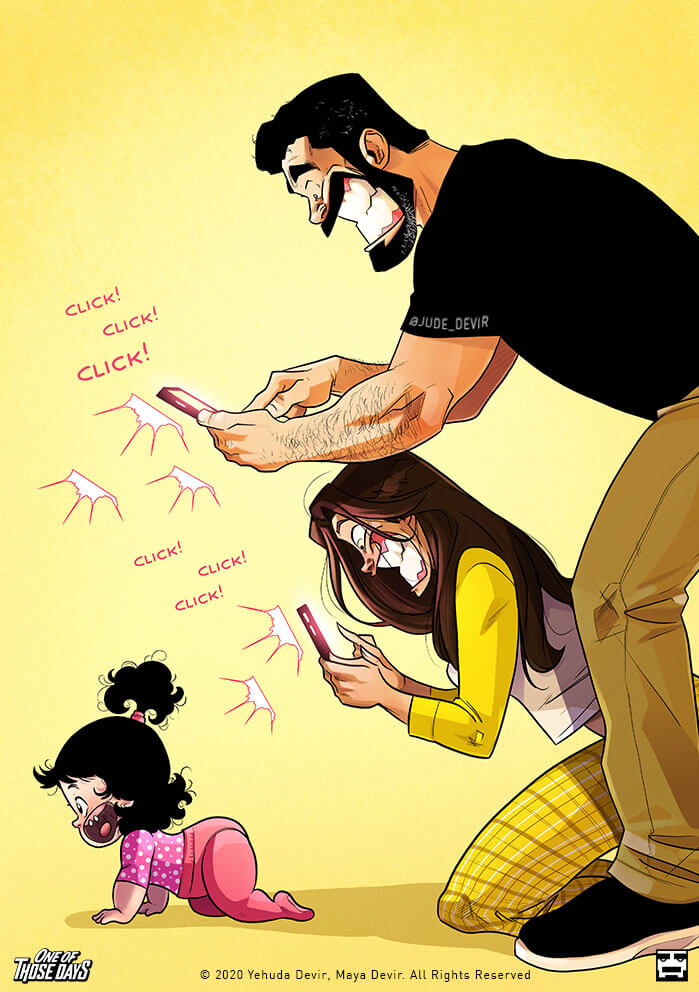 Here, the couple is witnessing the first time their baby starts crawling. Quickly, they grabbed their phone and snapped every part of it.
25. Mama For Everyone
This might be one of the most hilarious and relatable pictures of the series. As we said, when a child is born, the dynamics of a couple's relationship may change a little.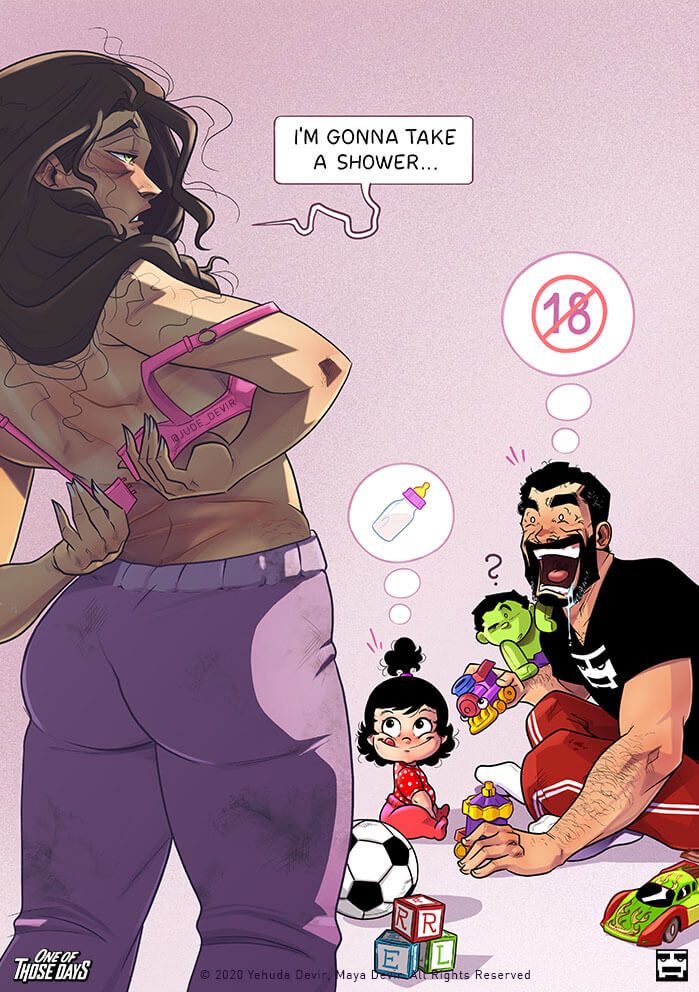 In this drawing though, the illustrator decided to make one thing very clear. He was as excited to see his wife undress for her much-deserved shower as their child was.
26. You May Never Get To Do Anything Alone Again
Parents-to-be may not know this, but once there is a child in the home, almost nothing can ever be done alone again.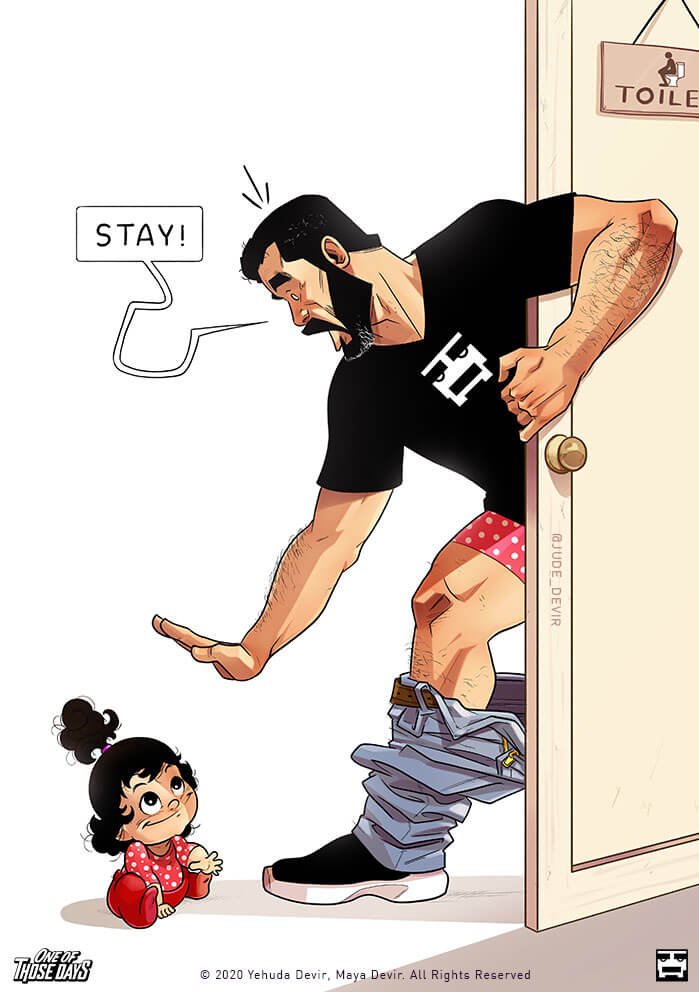 That includes sleeping alone, walking around the house alone, and even the most private moment like using the toilet alone. Children require attention and if that means following a parent absolutely everywhere, they are ready to do it.
27. Intimate Time Also Looks A Bit Different
Continuing the argument that nothing will ever be the same again, here's another perfect example of it.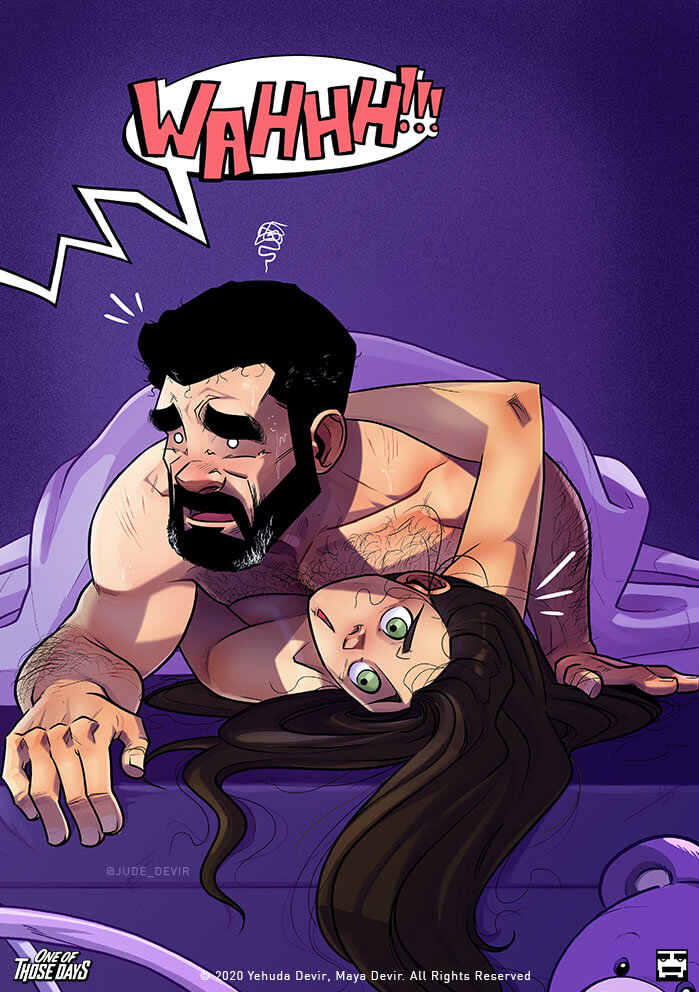 Yes, even the most intimate and necessary moments in a couple's life become completely different when there is a baby in the picture. In this case, the new parents were in a "bonding moment" when their kid started crying – who can't relate?
28. When You Find Out You Have Less Hair
Many of us unfortunately experience hair loss as we get older, especially if we live stressful lives. Now, having a baby can be stressful, though our bodies react differently.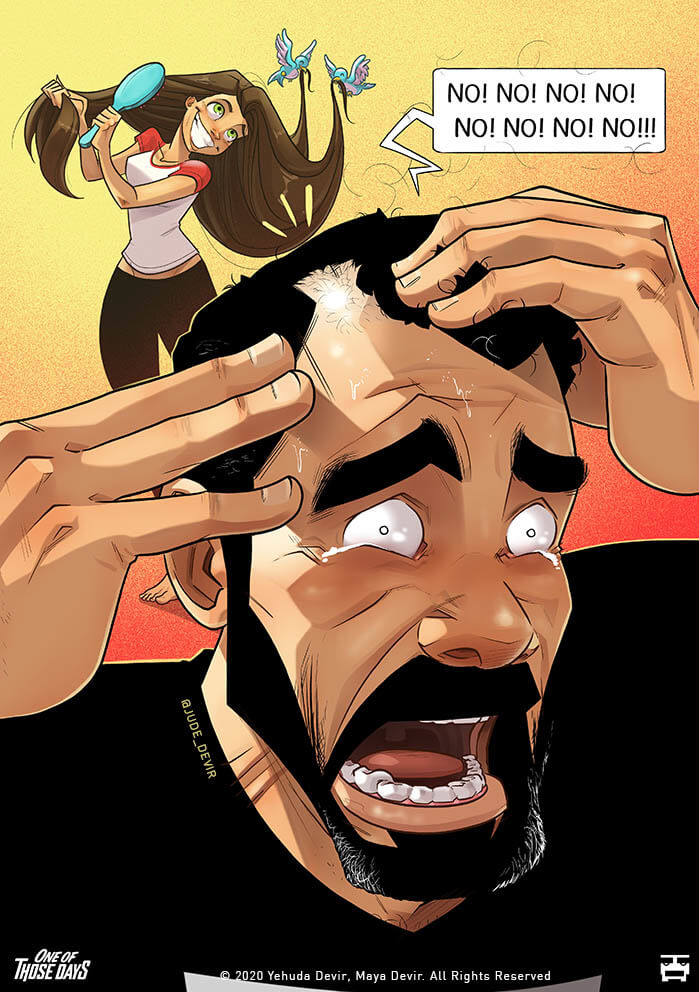 In this illustration, the artist shares his desperation when he realizes he's losing tons of hair, while his wife's "Rapunzel" hair becomes stronger by the minute.
29. The First Time Your Baby Says "Mama"
Any parent cherishes the anticipation of hearing their child calling them "mama" or "papa" for the first time. In this hilarious drawing, the artist illustrated his wife's reaction to their daughter saying "mama" for the first time.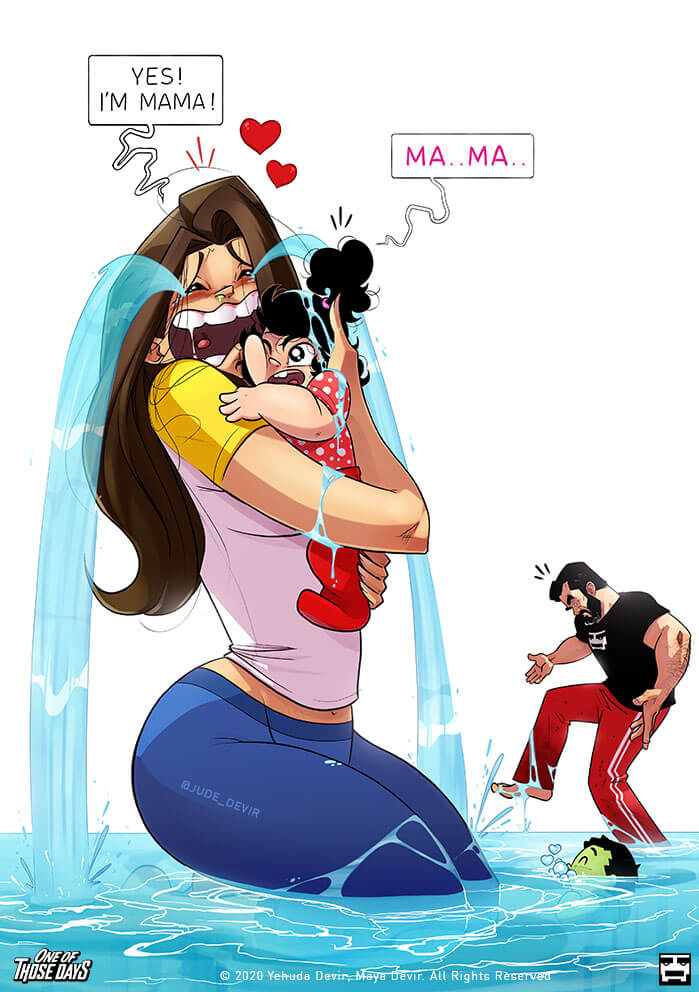 He humorously suggests that her happy tears were so many that he barely managed to walk without getting completely wet. What can you do, that's what a mother's love looks like!
30. You Realize That Baby Poop Is Lethal
One thing's for sure, no matter how cute and adorable a baby may be, when it comes to farting and pooping there is nothing cute about it. Those very natural occurrences can have the most lethal smell one can imagine.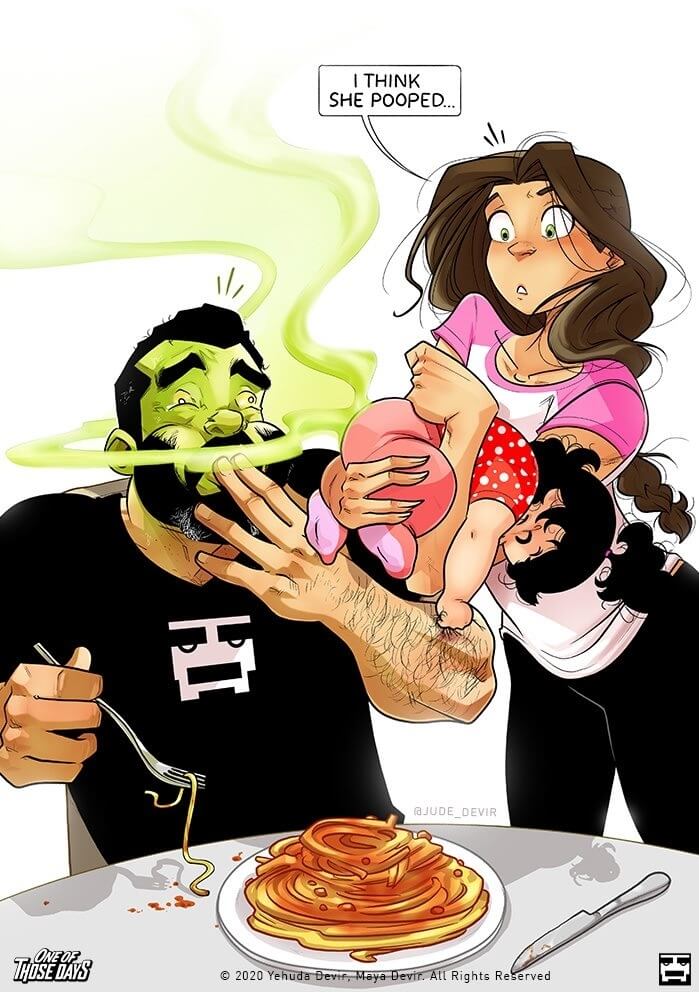 In this illustration, the guy alludes to the many times our partners walk up with the baby just after they pooped, not taking into consideration the fact that we may be in the middle of a meal.
31. Going To The Beach Looks Different
"Bouncing back" after having a child is hard, and unfortunately not enough people talk about this. Women all over the world struggle to come to terms with the fact that bodies change after literally growing, carrying, and birthing a child.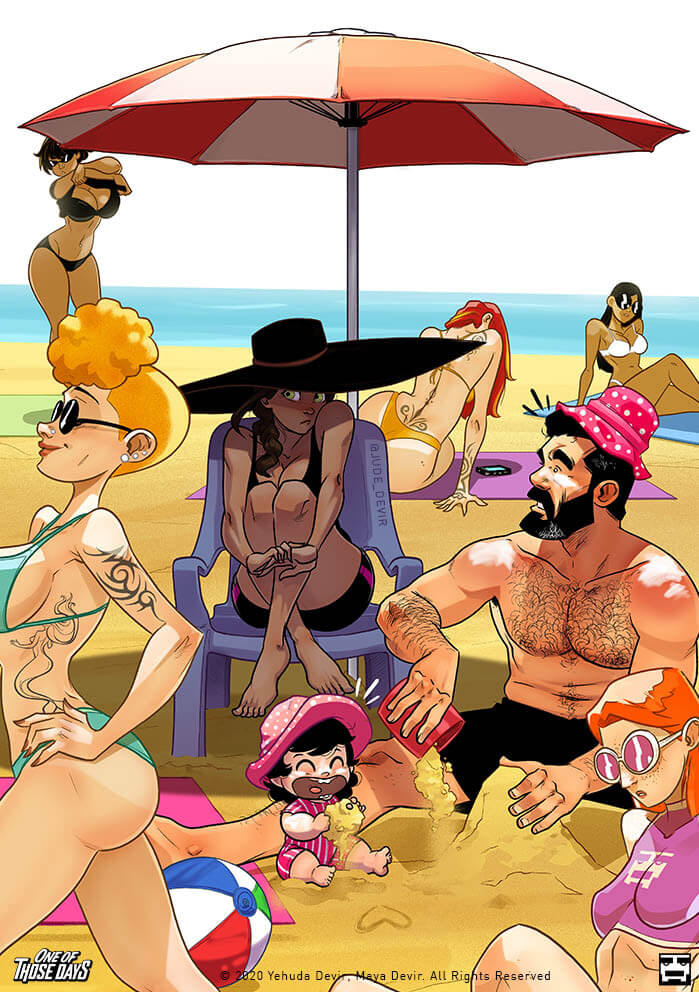 Here, the artist decided to pinpoint that it may take some time for the mother to feel comfortable again to show off that beach body again.
32. Mission Accomplished
There is something so powerful about seeing our partners grow into wonderful mothers and fathers. How many parents have had that appreciation and admiration moment for the exhausted yet incredible partners they chose to raise a child with?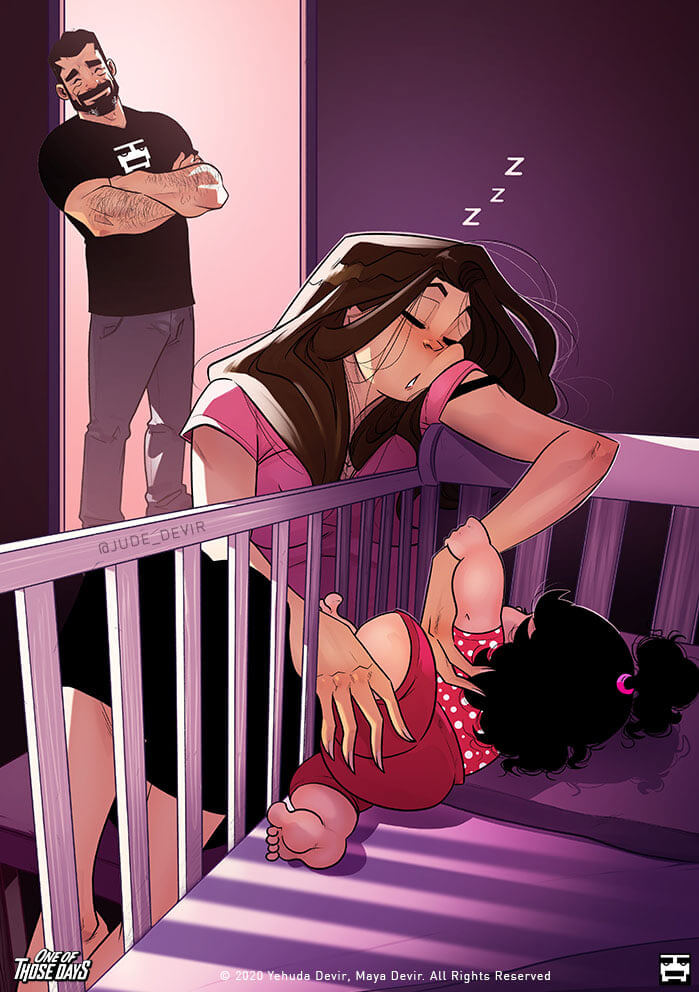 In this powerful documentation of their daily lives, the artist shares the moment his wife fell asleep putting their baby to bed while the baby instinctively clings to her mom's arms.
33. What Putting The Baby To Sleep In Real Life Looks Like
Now here's another incredibly cute picture that the illustrator himself graced his social media followers with – him as he holds his daughter. While the sacred moment of putting a baby to bed in the evening can come with its challenges, there are days where all the baby wants is a cuddle.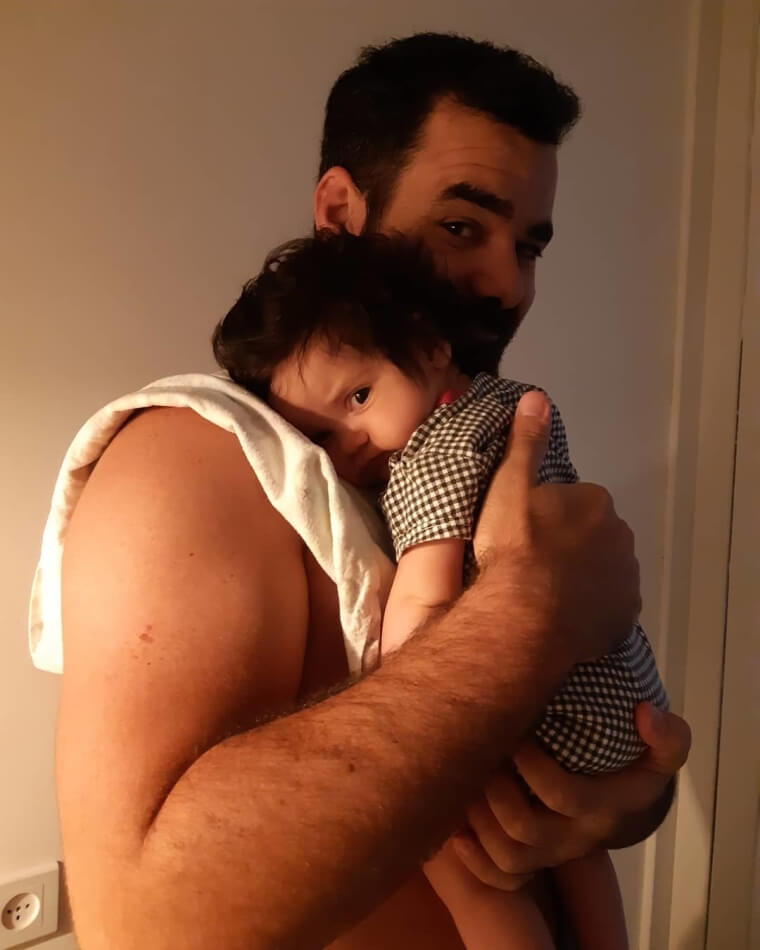 This picture is a clear example of one of those days, where holding that baby is a reminder that the challenges and the hard times mean little when we get to have our baby in our arms.
34. Desperately Baby Proofing The House
While each milestone may signify something enormous, there is something powerfully chaotic that happens once a child starts walking.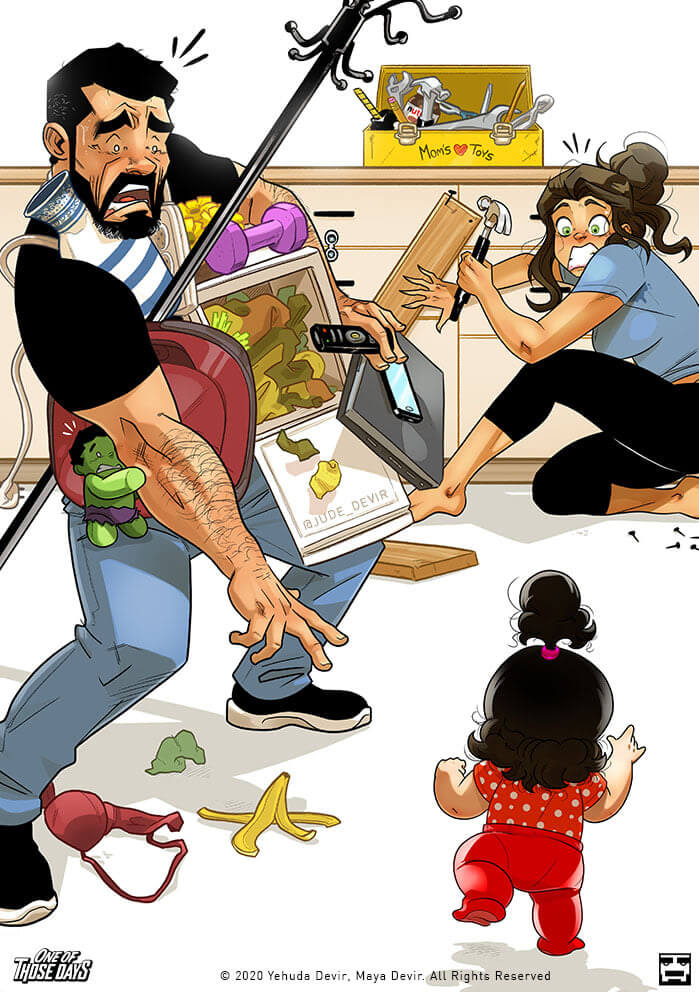 Not many parents realize how this completely changes things since the child can now reach and bump into places that she has never reached before. Here, both parents are quickly baby proofing the house as quickly as possible before the child destroys everything.
35. When You Swim As A Family
Needless to say that there is always that one person who loves peeing in the pool. But when you have a kid, you can basically blame all of these little things on the baby, especially when they can't talk yet.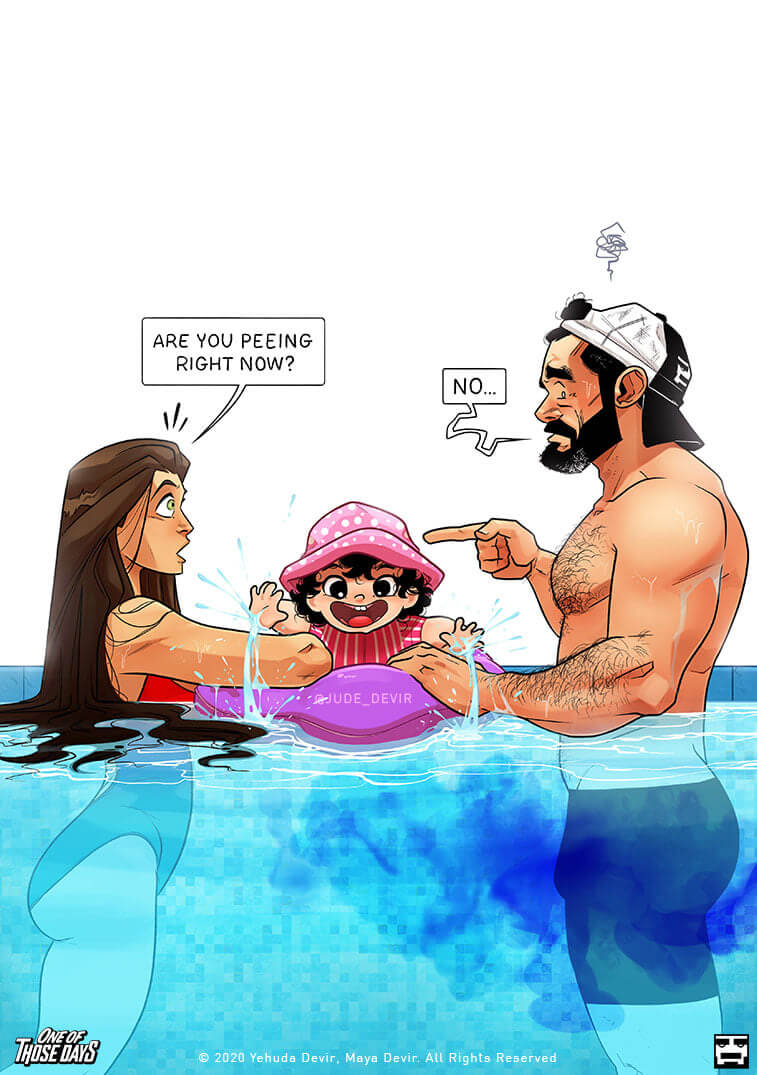 Unfortunately for the dad though, he didn't realize that in some pools there is a little product that calls you out as soon as you pee underwater.
36. The Difference A Screen Makes
Introducing screens to small babies is one of the most debatable subjects in the parenting community everywhere in the world.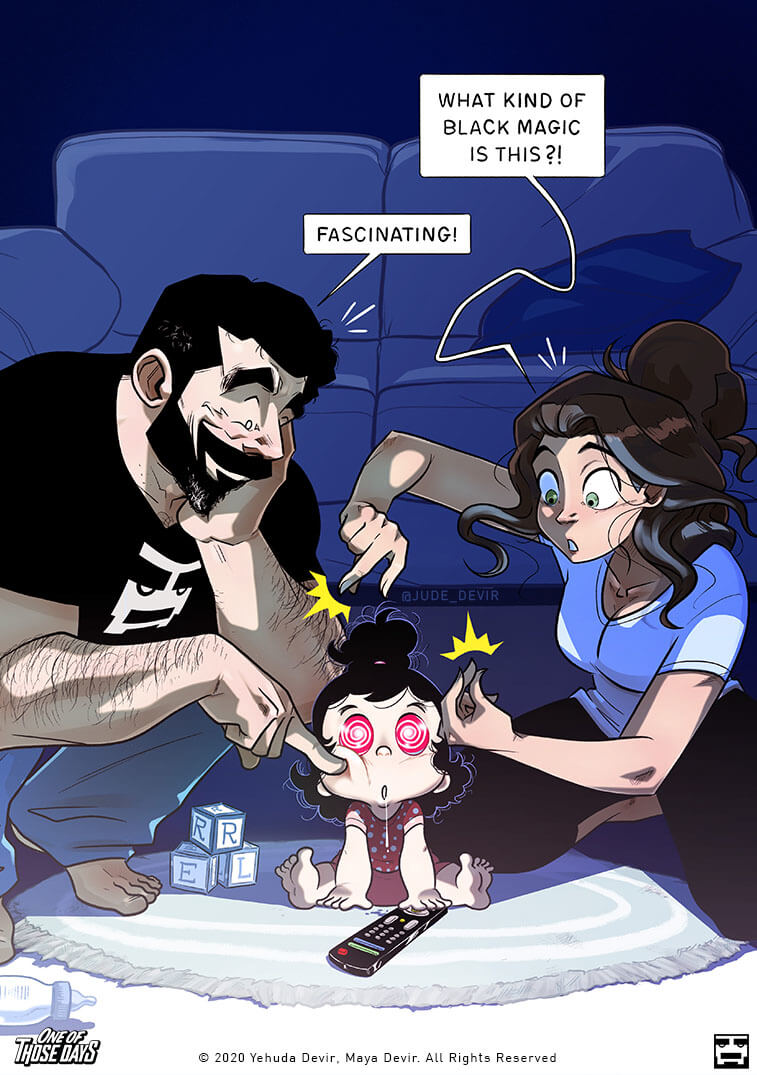 But for parents who do decide to introduce their kids to some screen time, the feeling of realizing that something can in fact keep them hypnotized for more than five minutes is humongous. In this picture, the artist shows just how fascinating that realization can be for parents.
37. Sometimes All You Need Is A Break
Another very relatable moment for a parent is that one (or two, or three) time that you simply can no longer deal with a crying baby.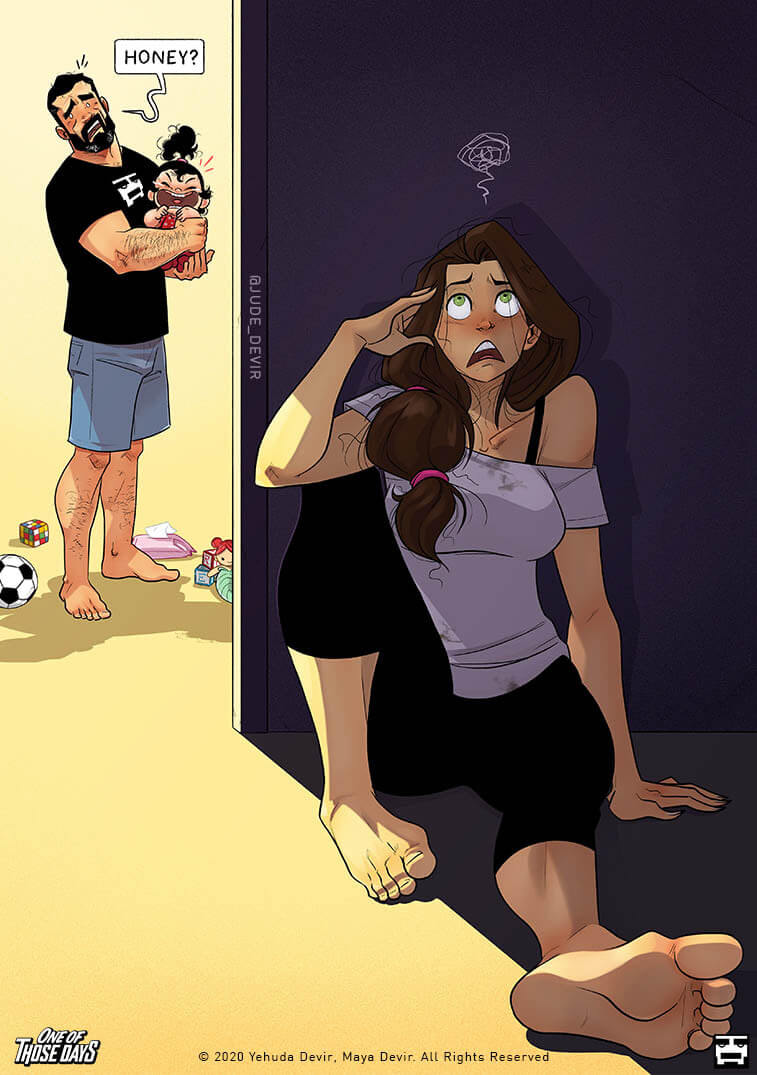 Tantrums happen, and when they do, it can be extremely overwhelming. So if hiding in the closet or in a dark room for a bit while our partner deals with the situation are what is going to keep you going, then you do you!
38. It Takes A Team To Complete All Baby Tasks
It takes time to master the art of attending to all of our baby's needs. Parents worldwide will agree that in order to get things done, a support system is crucial.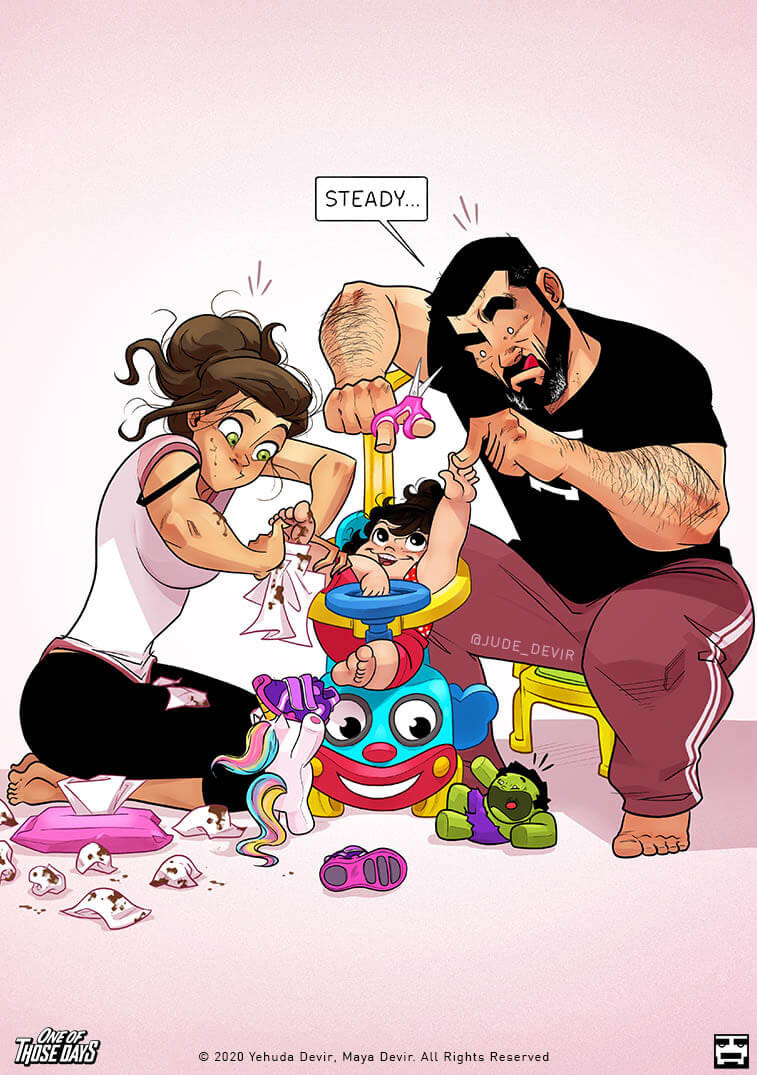 Some jobs just need two pairs of hands to be done and this drawing emphasizes why. Both parents seem to be extremely concentrated as they do their best to follow through with a thousand baby tasks.
39. When You Just Need To Grow Up
Growing up has its perks, but it also comes with a bunch of responsibilities. Though the illustrator shared this one as a joke, it's a good wake-up call for those very supportive partners out there to step up in their home duties.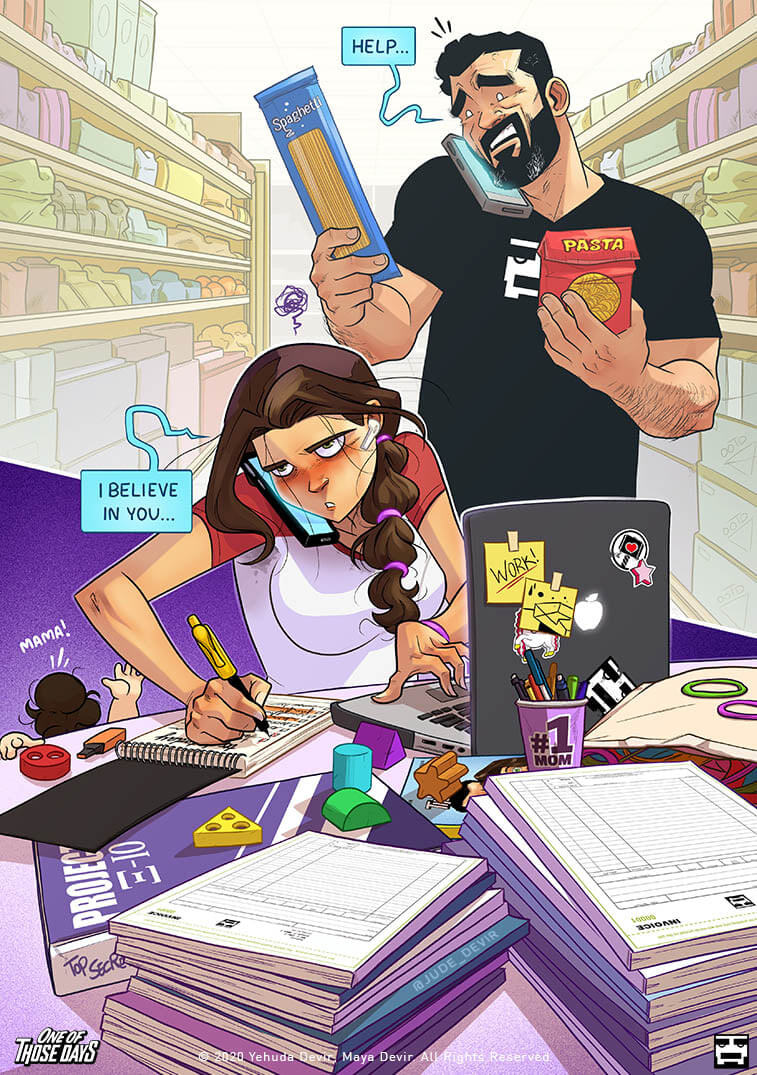 He jokingly shows the moment he was put on grocery shopping duty but had absolutely no idea what pasta to buy. Thankfully, his wife believes in him.
40. You Always Think You Know What's Best For The Baby
Now here's another one that really takes things home for any parent. Every single parent out there believes that they know exactly what is best for their child. An in some cases parents don't always agree, so the recurrent argument of "I know what's best for her" comes through every once in a while.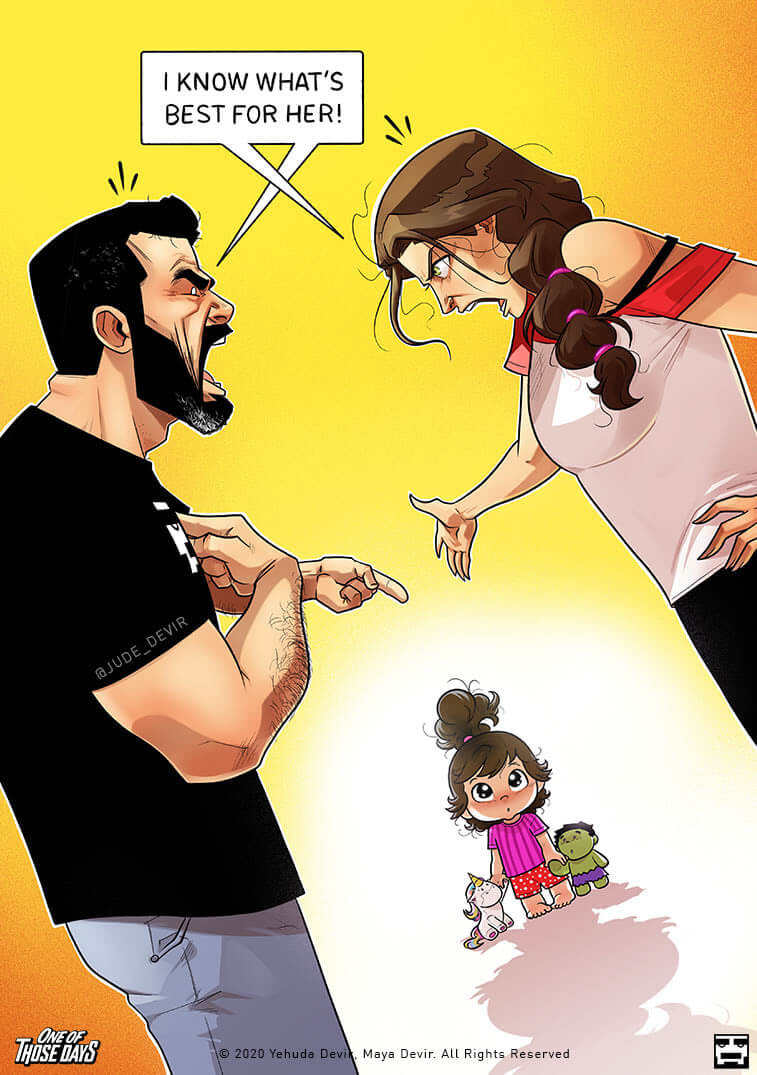 Yet, it's an important reminder that though it's tough, it all comes from love and wanting the wellbeing of their child.
41. When You Pass On To Another Stage
This illustration signifies so much for any parent. It highlights the different stages that every parent experiences with their children, be it the first time they walk, their first word, the first day of daycare, the first day of primary school, and the list goes on.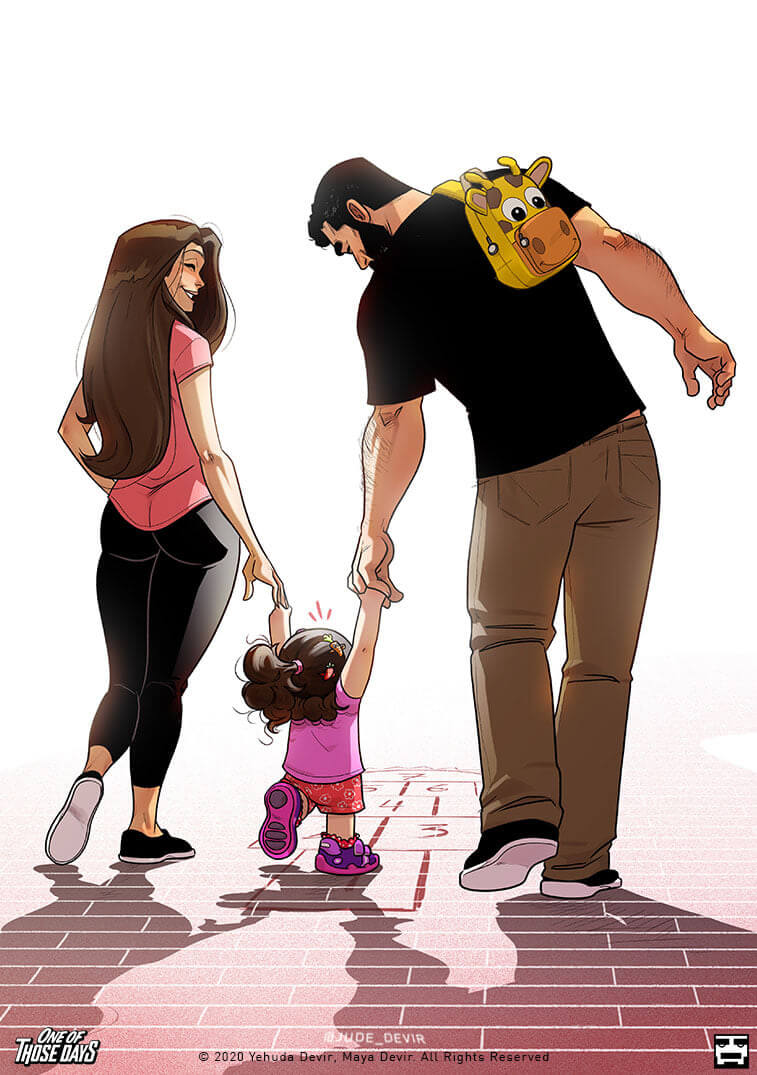 For the artist himself, he chose to share the day he and his wife had been parents for a year and a half, and despite the hardships, had been successfully raising a beautiful girl together.
42. When You Surrender To Tiredness Together
Having discipline is good and necessary, but seriously, which parents out there can't say that they haven't given in to the exhaustion every once in a while.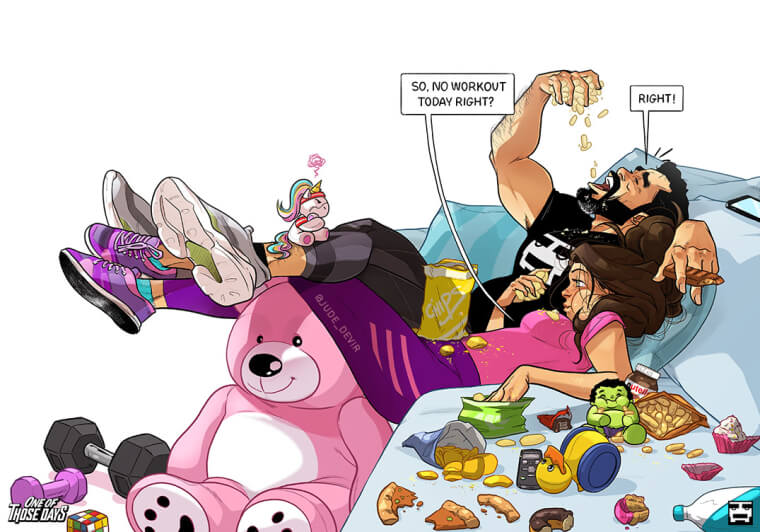 As much as it's important to keep eating healthy and exercising even when our routines completely change with a baby, we all need a break. So parents (and non-parents) will easily relate to choosing to eat snacks and lay on the couch instead of doing everything else.
43. "You Are Gonna Be A Big Sister"
Bringing a sibling to the world is a chapter that many parents dream of. Growing a family is a big thing, and one of the most magical and scariest moments for any parent.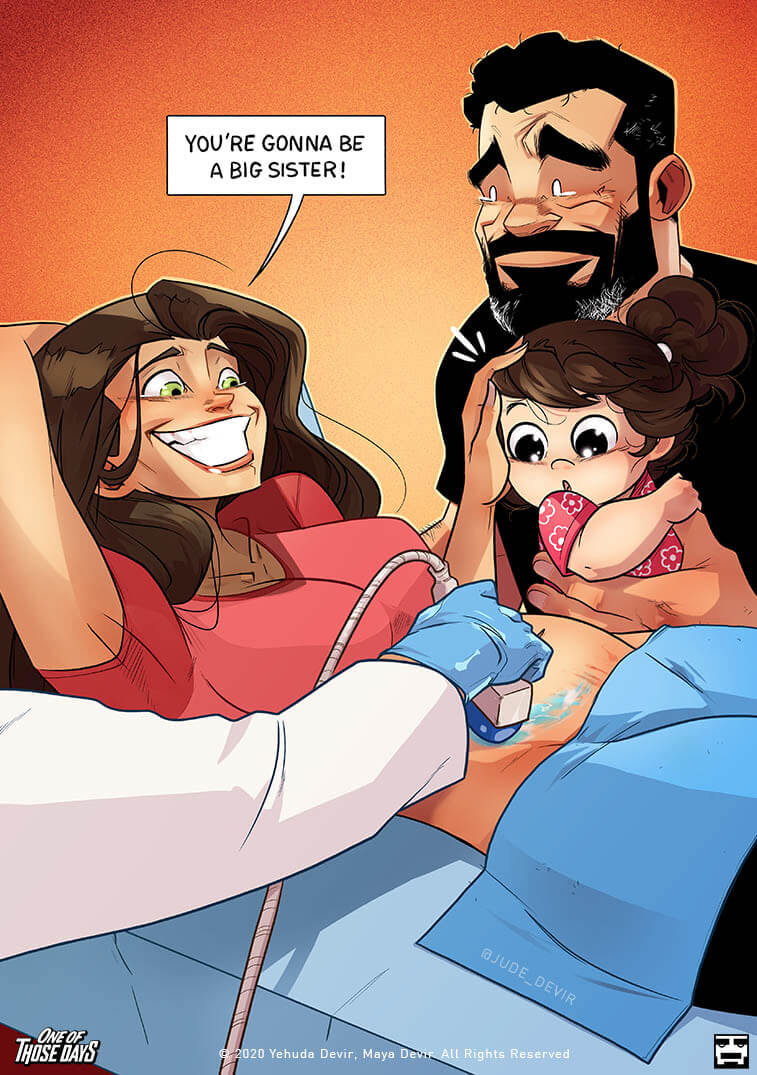 This drawing, however, shares the joy and the hope that comes from the first ultrasound of a second baby in the family. It also shares the moment they get to tell their baby girl that she is about to become a big sister.
44. Here's The Actual Family!
In this family portrait, we finally get to see the entire family behind the incredible illustrations in this article. The pair began dating as students in college and since then, they have earned an avid following from all over the world, after going viral in 2017.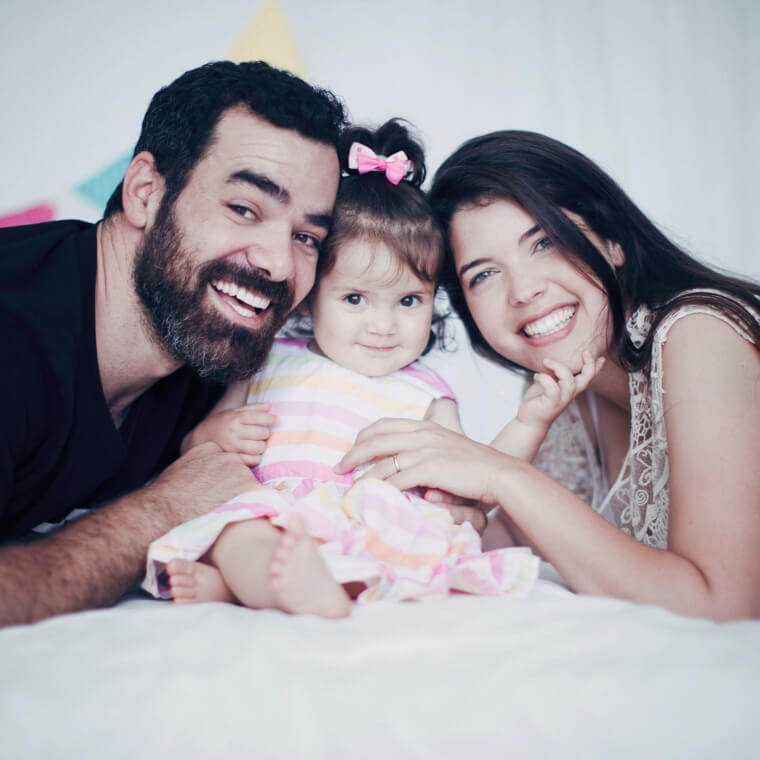 Since then, they have won several awards for their talented depiction of real-life scenarios, and perhaps, the next illustration couldn't be more accurate to real life.
45. Easing your Baby's Pain
And lastly, there is no better way to conclude this series of illustrations with one of the most relatable of all, doing everything in our power to ease our baby's pain.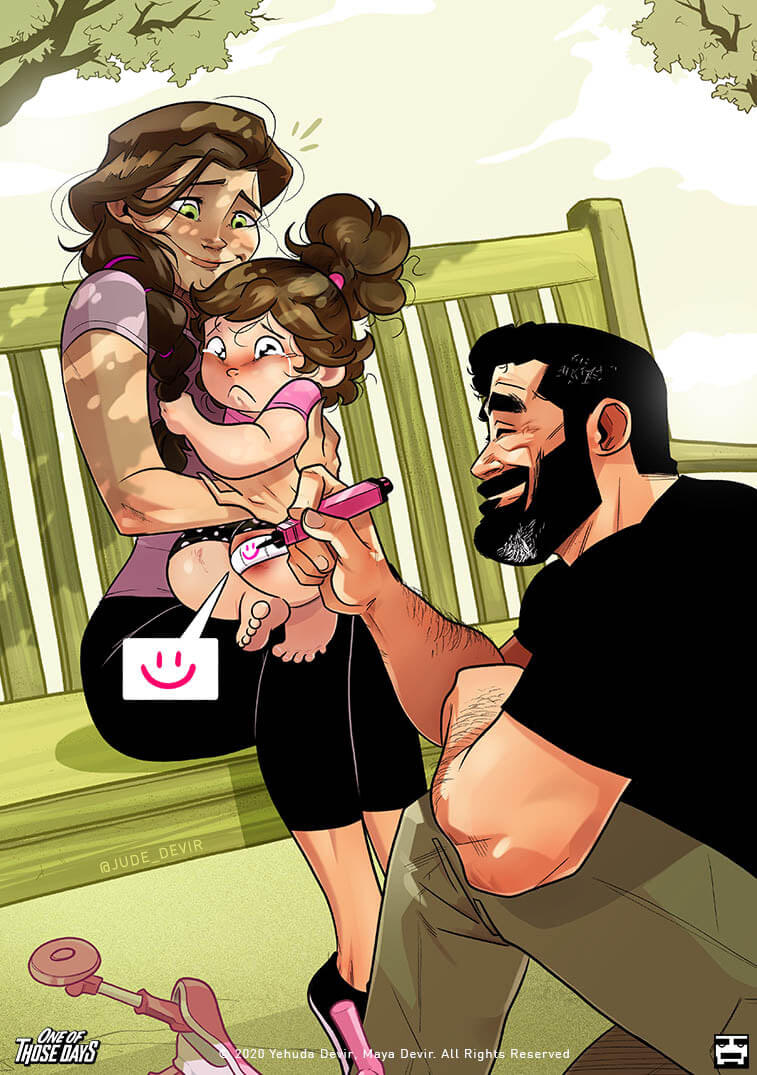 Our hearts hurt when our babies hurt themselves, so although the tactics are different, any parent will relate to making a drawing on a bandage, "hitting" the object that hurt the child, or giving a kiss on the wound so that it eases the baby's pain.
Relatable Illustrations About The Struggles Of Raising A Baby
Ashley Lez
This article was originally published on ParentMood
There's nothing like starting a family and welcoming your firstborn. That's why Maya and Yehuda Devir have been documenting their life together through marriage, pregnancy, and the challenges of raising their little girl with relatable hand-drawn photos. Whether it's poopy diapers, sleepless nights, or milestones like their baby's first word, these two aren't afraid to share it in a way we all can relate to. Don't forget to stick around til the end for a special photo of the couple with their beautiful baby girl in real life!
"We're Pregnant!"
For so many couples, it is a dream to get pregnant and start a family. After trying for a while, Yehuda and Maya finally got a positive result and couldn't have been happier. It is a celebratory moment because they are so excited to begin this new chapter of life.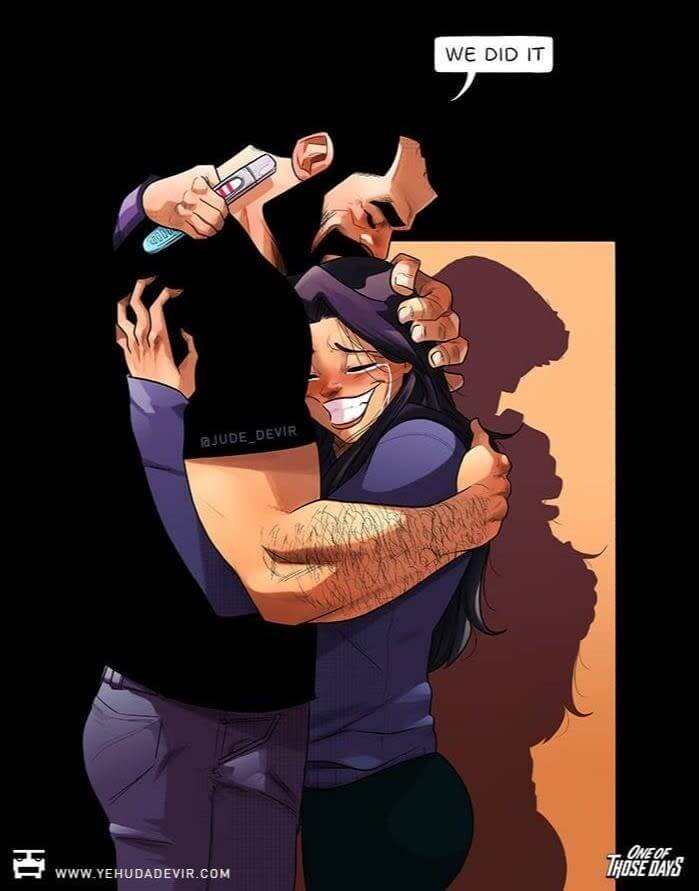 They have talked about starting a family for so long, and their plans are finally coming to life. This is one of the most amazing moments in their relationship, and it is something a couple will never forget.
It's Go Time
It's finally time to go to the hospital, but you might want to only bring the essentials instead of everything in the house. Instead of bringing everything you own, it is best to prepare a bag for the hospital, so you aren't running around when its go time.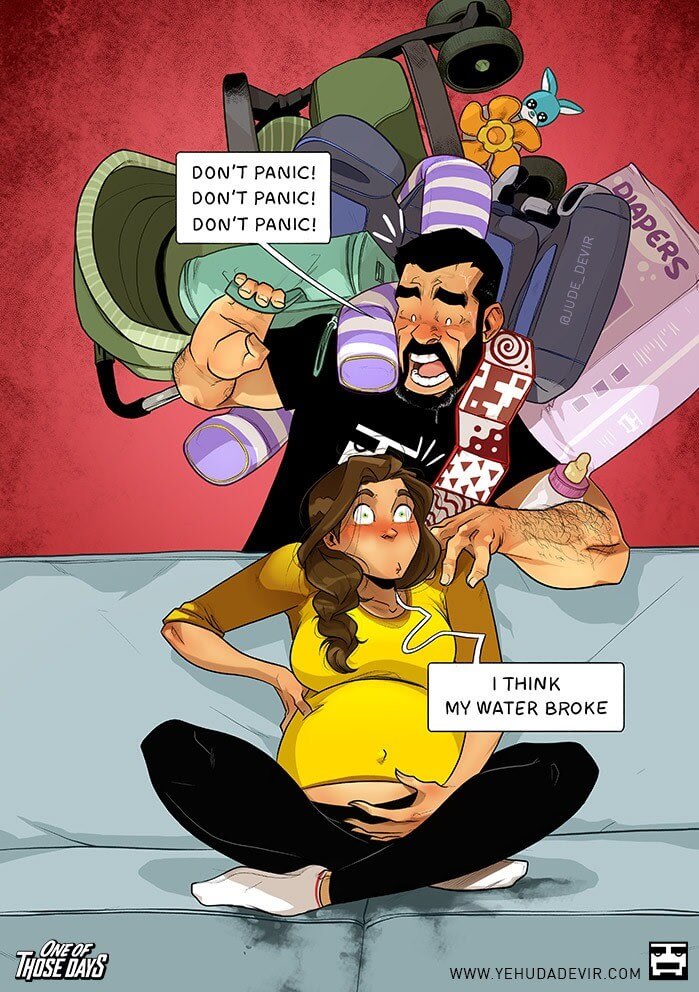 After the long nine months, it is finally time to meet their baby. Although they look panicked, they are just over the moon about bringing home their new baby. This is a milestone moment in many people's lives, and it is a joyous and scary time.
Welcoming The Sweetest Angel
When you can't get enough of your newborn baby, and you want to stare at her all day long. Everything she does is adorable, even her drool and dirty diapers. They can't believe that they created such an adorable baby girl. Most people would enjoy her sleeping moments while they last.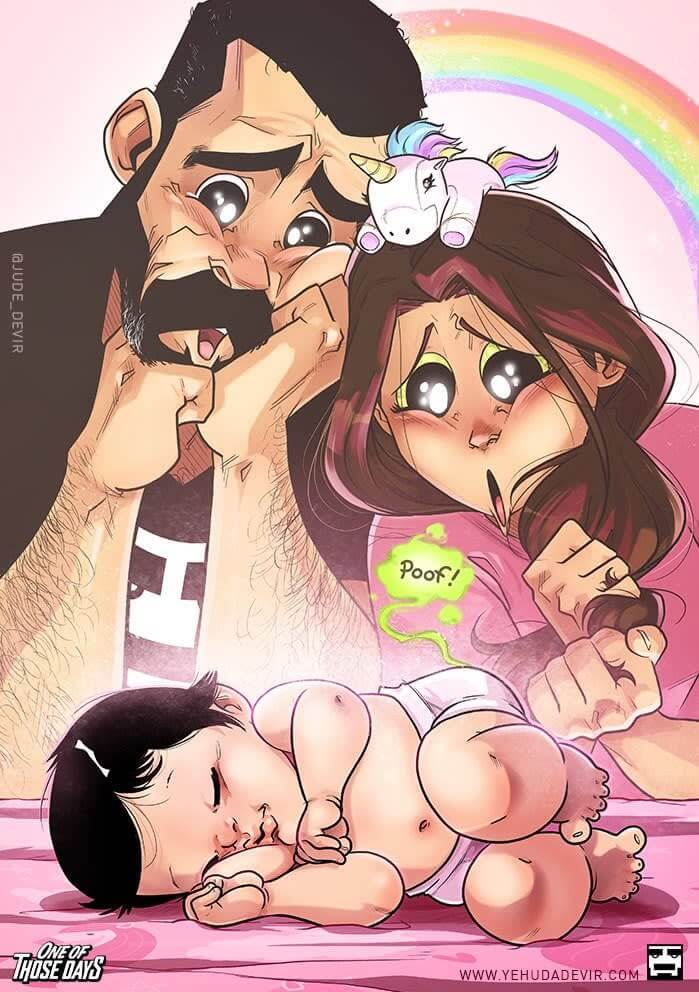 There are so many exciting moments when you bring your baby home, and everything they do is something to document. Even though she might have a smelly diaper, they can't get over how sweet she looks. They might not think the baby is so cute when they go to change that diaper.
Exhaustion Is An Understatement
"She never stops crying!!!" Once the baby is up, it is hard to put her back to sleep. It seems like she never stops crying. ​There are many exciting moments, but the sleepless nights are not something that you can prepare for. It might be time to get some caffeine and prepare for another long sleepless night.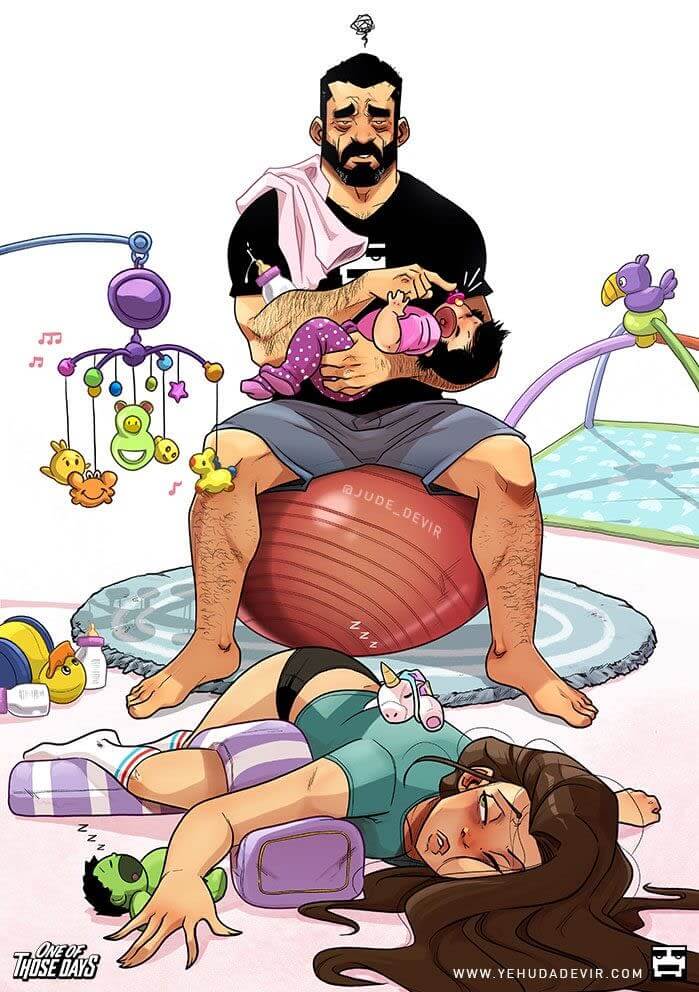 Some people who are not parents might ask you why you are exhausted all the time because babies are supposed to sleep a lot, but they don't understand.
"It's About To Blow!"
When it comes to changing dirty diapers, some people are more dramatic than others. He decided to take one for the team to clean up this mess. How can such a tiny person make such a giant mess, it is mind-boggling. Even baby hulk is afraid.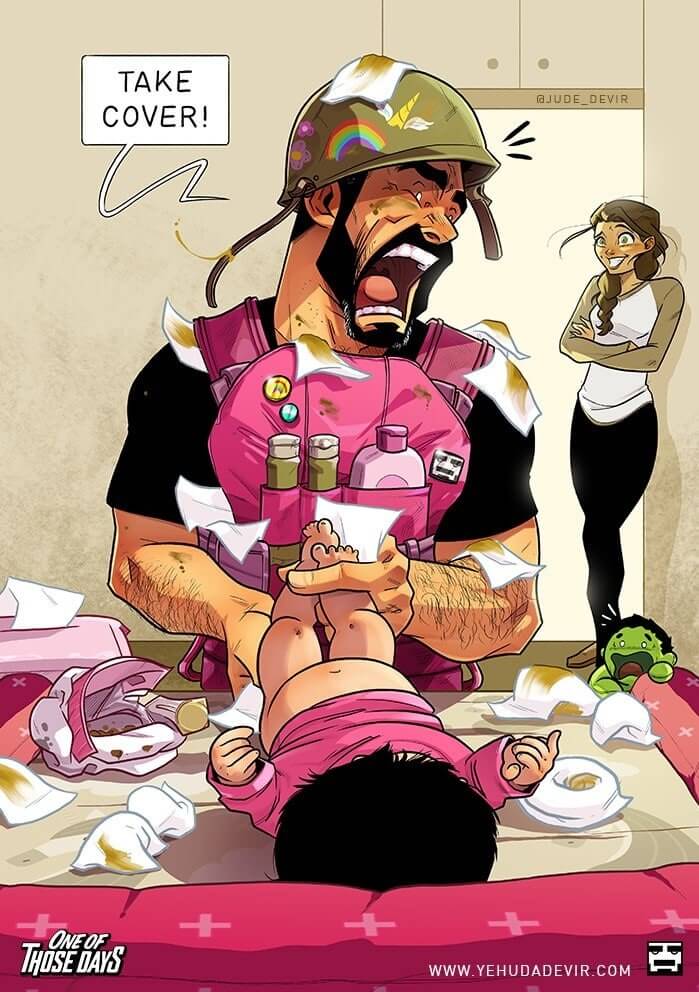 At first, changing diapers is like going to battle, but once you get the hang of it, it is a piece of cake. At first, those diapers can burn the inside of your nose, but eventually, you get used to the smell or figure out that vapor rub blocks your nose from bad odors.
If One Person Feels Pain, We Are All In Pain
New baby teeth are like razors. When they are starting to get teeth and still breastfeeding, things can get painful very quickly. Good thing she has her husband's hair to grab onto to share the pain with him. If she has to feel pain, so does he because they are a team and in this journey together.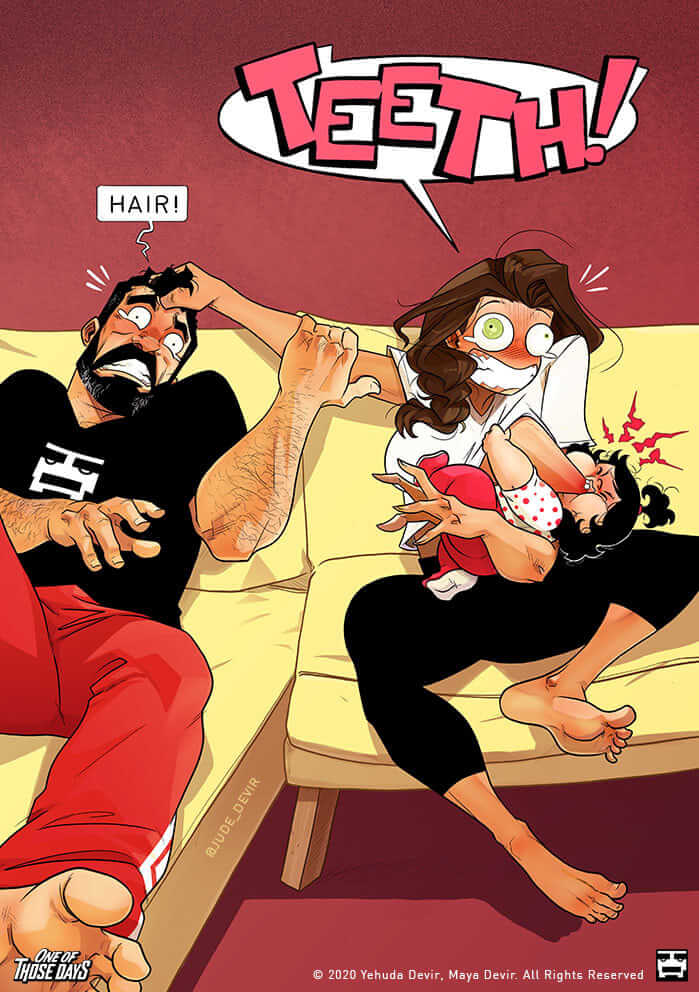 It is always when you least expect it that your child starts using their teeth to chomp down on one of your most sensitive parts. Obviously, they don't know any better, but that doesn't mean it hurts any less.
Caught Up In Feelings Of Doubt
Nobody comes totally prepared with how to raise a child, it's something you learn as you go along and, just like with everything else, you're bound to make mistakes. It's those moments, laying in bed with your partner when your mind starts to race and that self-doubt starts creeping in.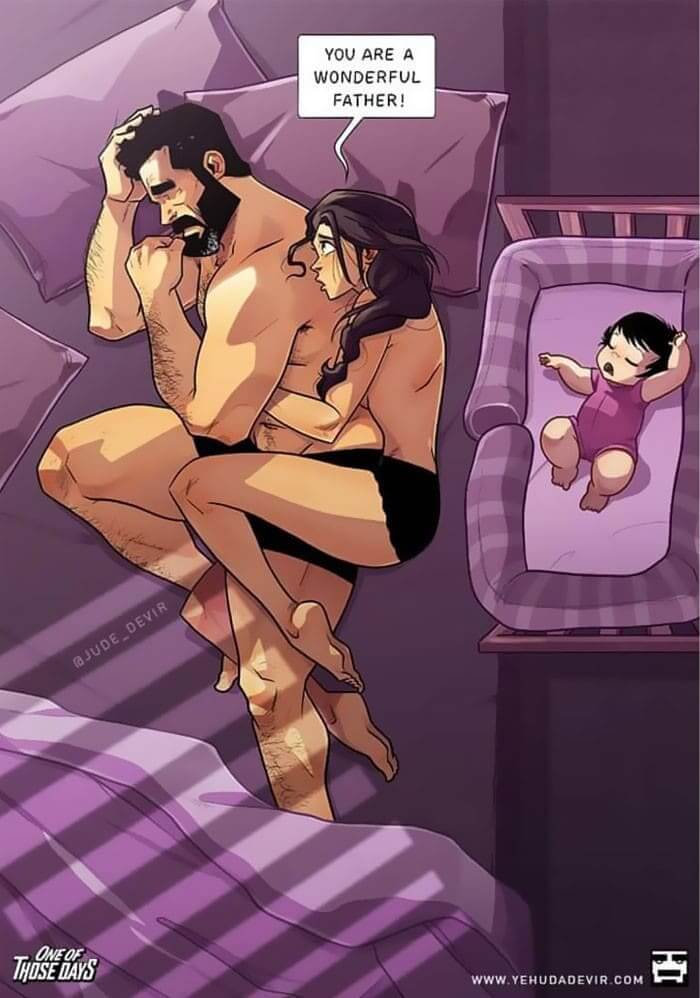 We can all totally relate to this photo even if we don't have children. We're all worried about something and every now and then we all start to get filled with doubts at our ability to perform a certain task. It's moments like these that we need our loved ones the most, to give us the support needed to succeed.
New Baby, New Bodies
After having children and changing lifestyles, you should embrace the changes that your bodies go through. ​You love your partner no matter what changes their body goes through because change can be good.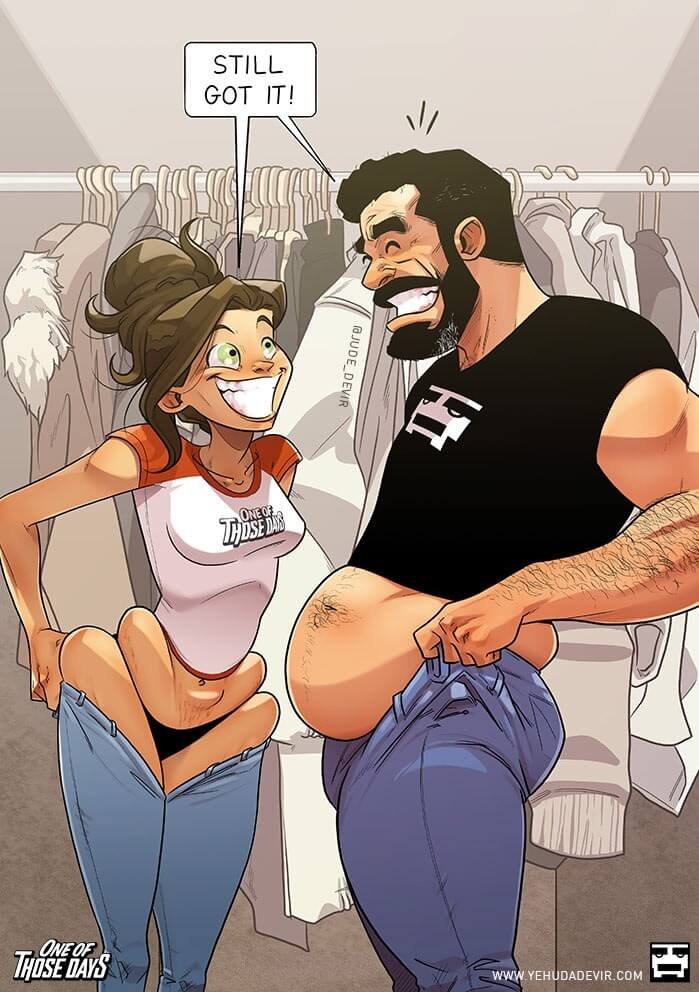 Although it can be hard to accept that your body looks different, you have to remember that you brought a beautiful child into the world. It's ok to gain weight, and it is ok to lose weight. You are not alive just to pay bills and lose weight; You are beautiful no matter what.
Bath Time Is A Family Affair
Giving a bath to a baby is a whole different and wet war. It seems like eventually, both parents get their shower as well. She has a lot more power and strength than people would think. When she doesn't want a bath, she will make it impossible to give her one.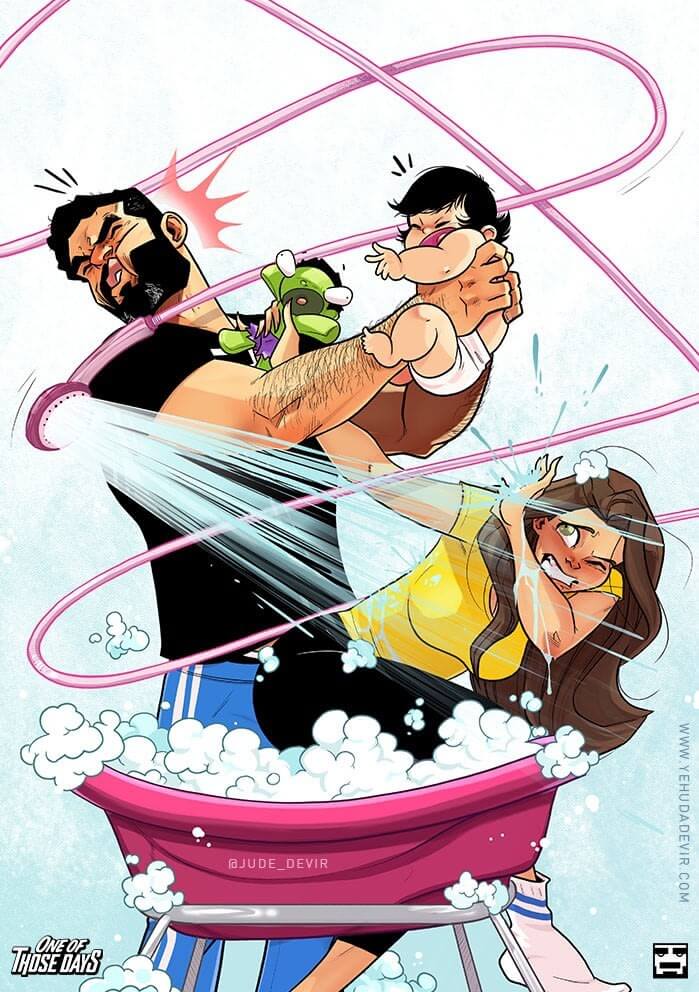 Some parents might say they don't have time to shower because they are always watching the baby. However, it seems like whenever she has bath time, everyone who is involved gets just as soapy as she does. Might as well kill two birds with one stone.
Nap Time For Everyone
After many sleepless nights, the baby finally calms down and takes a nap. This is the perfect time for you and your partner to get some rest as well. Who knows when you will be able to sleep for more than an hour again? You might as well enjoy it while it lasts.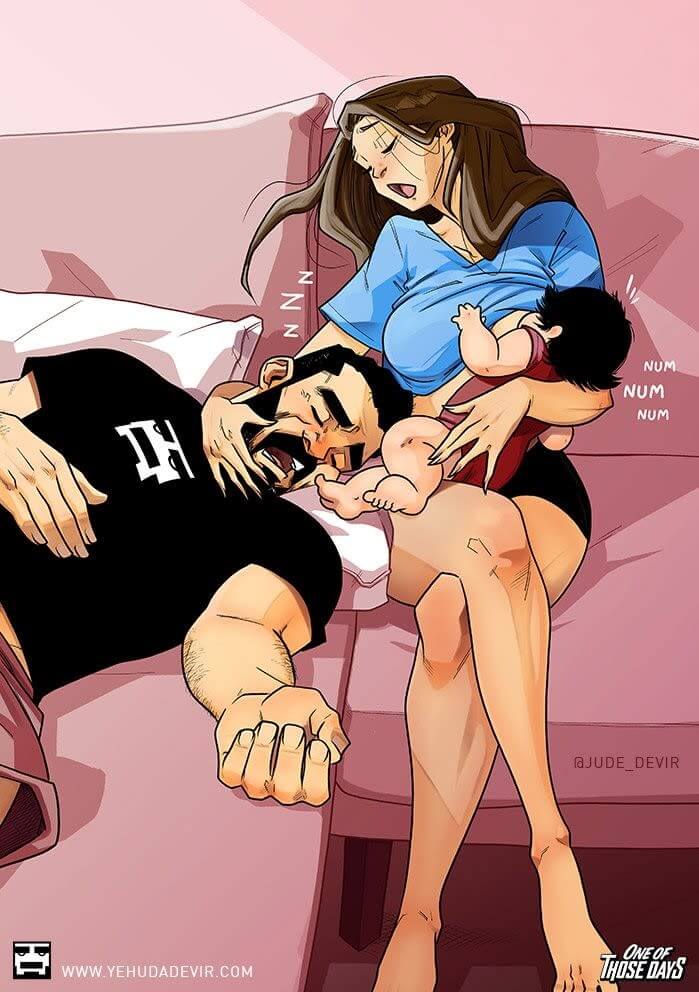 The baby took a much-needed break from crying to have a meal, and while she drifted into a milk induced sleep, her parents drifted off as well. Even though it is not the most comfortable position to sleep in, you must be too tired to care.
Tiny Yet Mighty
Sometimes babies show their affection through drooling and scratching, and it might be painful, but she loves you. Maya looks like a lion has attacked her, but it is just a powerful baby. Yehuda is so proud of his little girl.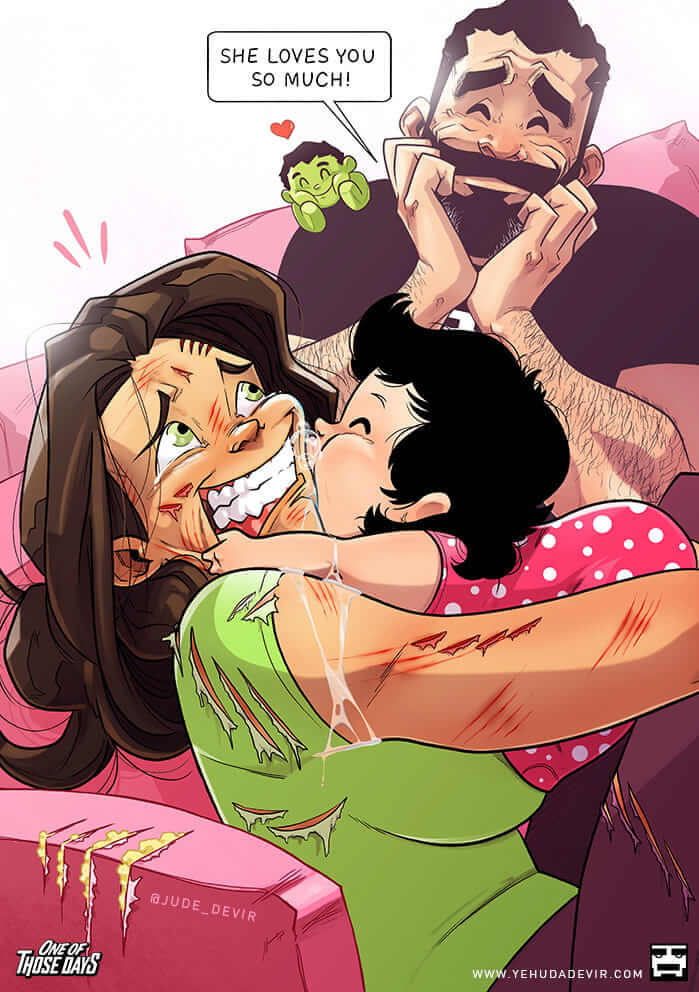 Babies have the sharpest little fingernails, and their scratches feel like the claws of a bear. Who knew such a small human could pack such a powerful punch. Besides their sharp nails and flailing limbs, babies also enjoy teething on your face and pulling hair.
One Shot And Many Tears Shed
It is hard to see your child get a shot for the first time, but they only cry more because they see their parents crying. We aren't quite sure who cried more in this situation. The nurse said it would be a small pinch, but they didn't hear her mention a broken hand.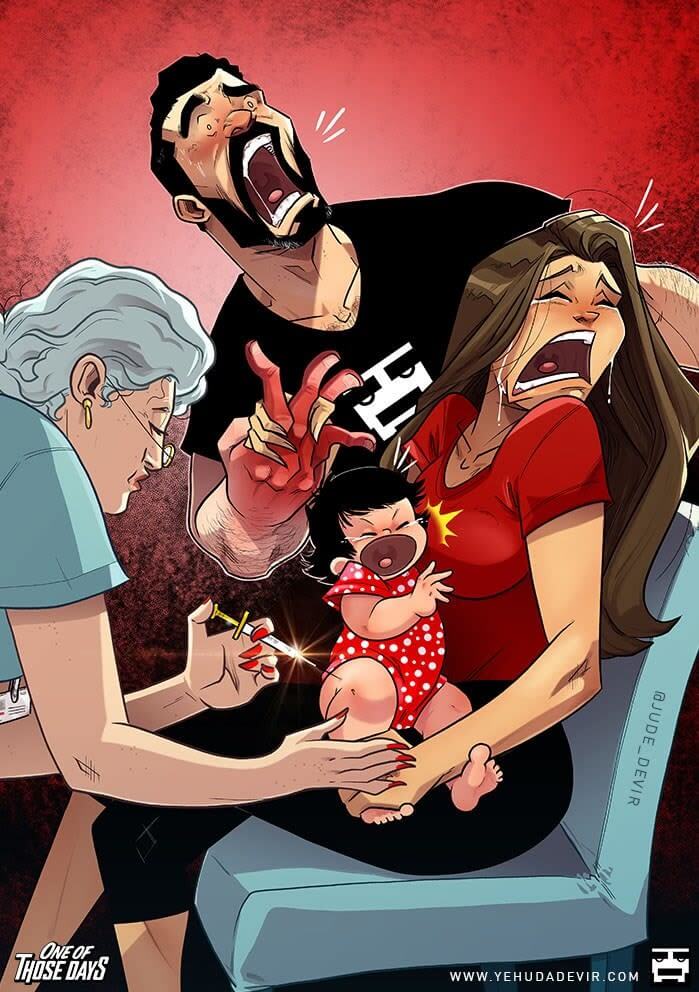 There is something about seeing your child get their first shot, which makes you extra emotional. While you know from experience that she will never remember this, and it is only just a small pinch, you still can't bear to watch.
The First Time Away
Leaving the baby with relatives for the first time can be very difficult. It is the first time you are going to be separated from your child since they were born, and it is emotional. ​Nothing will happen to the baby, they will be just fine, but there is still a feeling of longing to be with them and protect them.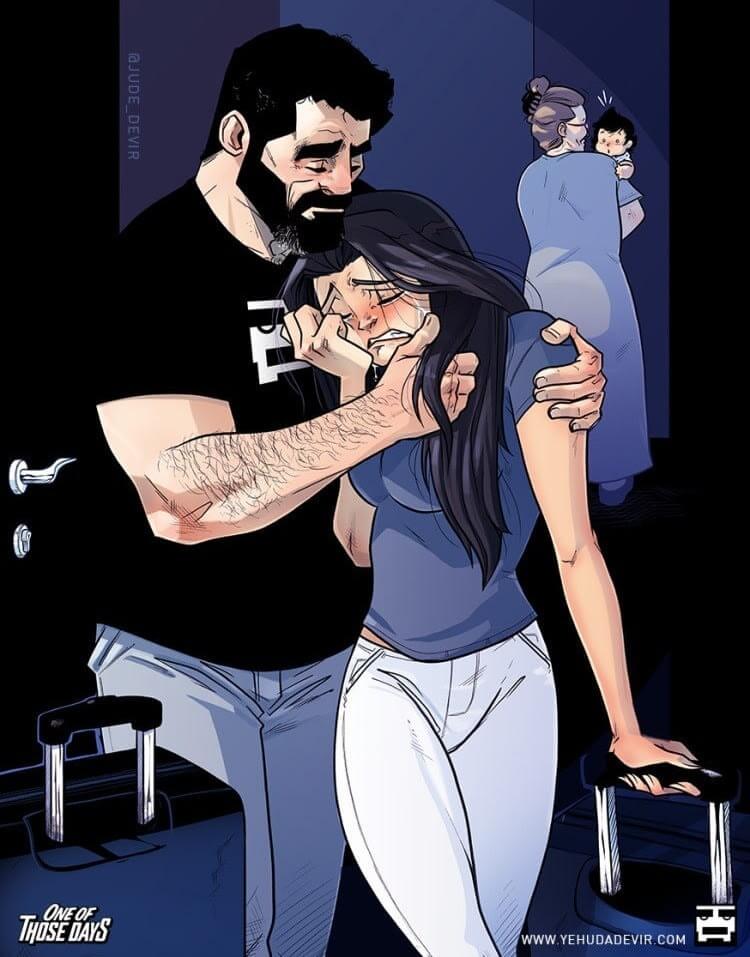 Although you might be headed for a sweet getaway, you still want to see your baby every day and make sure they are ok. What if they forgot about you after a day? What if your baby misses you? These are all questions that might run through your mind, but remember your baby is doing just fine.
Picture Perfect Timing
Everyone loves how cute babies are until they spit-up all over you. Luckily, Maya was there to capture this perfect moment. We just hope he had his mouth closed. Even though she spit-up on him, it is hard to be mad at that adorable face.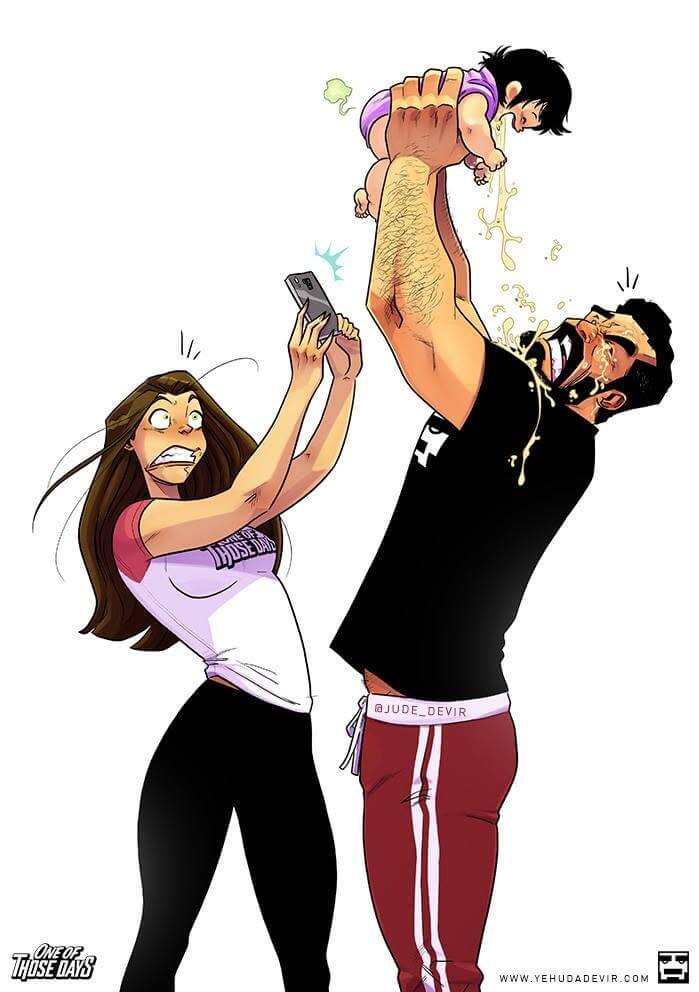 Unfortunately, it is not always rainbows and unicorns when you have a baby, so there are going to be days filled with spit-up and dirty diapers. You are lucky if you make it through a day without a stained article of clothing. Luckily, you have no time to do all the laundry that is piling up.
Sit And Stay!
When you have a small child that you need to watch, but you also have to go to the bathroom desperately. There is only one thing to do in this situation, and that is to treat your baby like a dog by telling her to stay.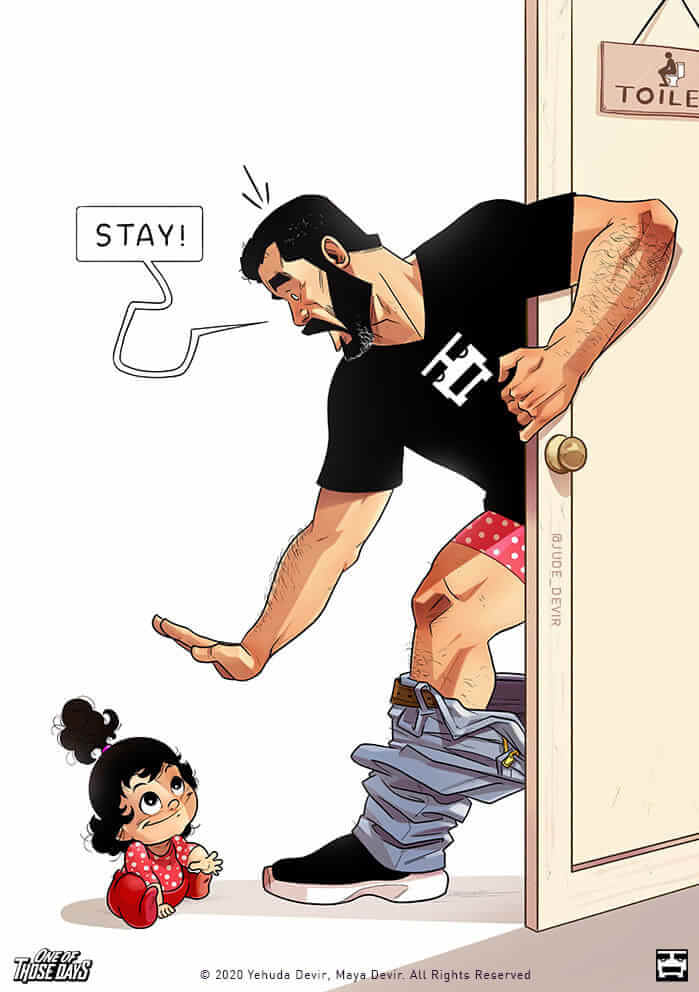 You might think they are sitting right outside the door, but they are actually breaking havoc on your home. You might have only been in the bathroom for a minute, but they managed to grab the finger paint and turn the walls into their personal art studio.
All Hands On Deck
Babies are all kinds of squirmy when you have to put clothes on them. They might be tiny humans, but their bodies possess an explosive power that you wouldn't believe existed. You never know what will happen when you have to dress your baby.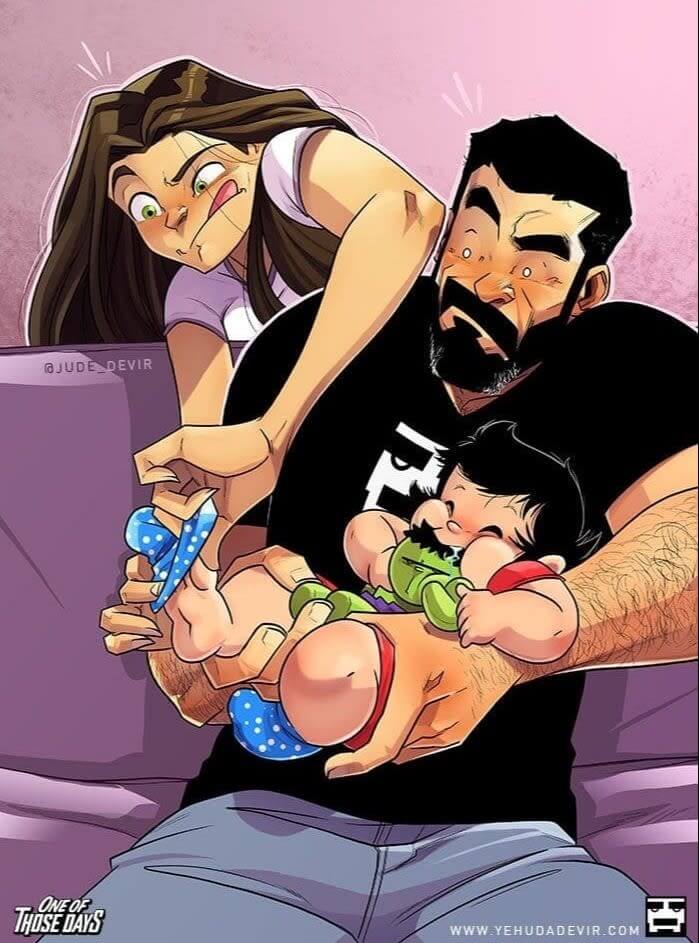 Who knew how much power those tiny feet had. They needed two sets of hands to get her squirmy little feet in the socks. Babies love to flail around when you are trying to get them ready for the day, as if they know you are in a hurry.
"We Didn't Forget Anything At Home, Right?"
Parenthood is such a beautiful blessing. It's even better when you have to leave the house with a million things "just in case", and end up not using any of it. Although, when you pack light, you end up needing something that you thought was non-essential.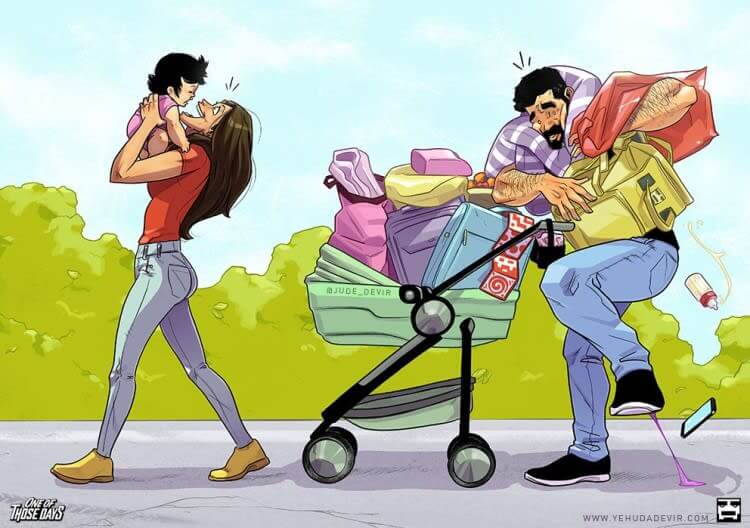 After a while, you realize what you need and don't need, but the first outing is always the scariest. Will the baby suddenly need a winter coat in the middle of summer? You don't know, but you probably packed on just in case an ice storm blows through.
Paparazzi Parents
Did you get that on video? Did you see the 400 pictures I took of the baby sleeping earlier? When you have a child, you want to capture all of their milestone moments, which means you always have to have a camera ready. These memories will be ones you will look back on throughout their life.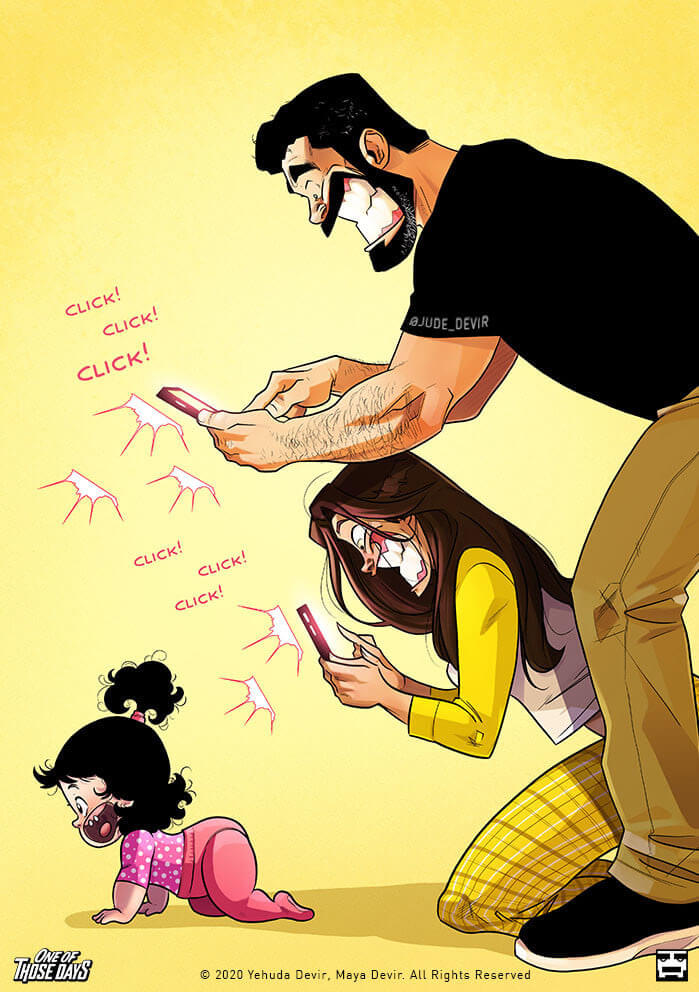 While your child might start to think that a smartphone is part of your body, you don't want to miss anything special. You can capture their first laugh, first steps, and their first words to remember forever. When they grow up, you can show them how silly they were as a child.
Everyone Always Needs Something
After a long day of chasing the baby around the apartment, changing diapers, and getting food thrown at you, it is time for a shower and some relaxation. Just when you are winding down for the day, it seems like everyone wants a piece of you.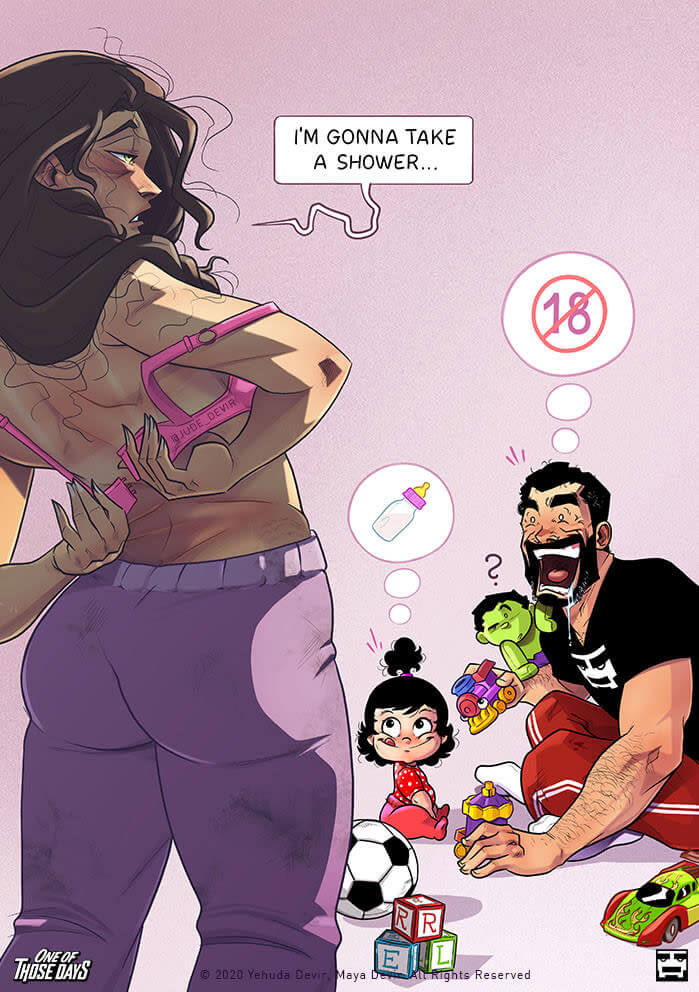 All-day, you have been dreaming about the relaxing hot shower you were going to take, and then your husband gives you his "sexy look." You don't feel cute, but it is endearing that after a long day, he finds you the most attractive.
Who Knew Hands Could Be So Entertaining
Shadow puppets can be fun for the whole family if you really work with your imagination. All you need is a flashlight, a dark room, and your hands to created magical fun while your child is young enough to be impressed. This dazzling show will entertain them for a few minutes, at least.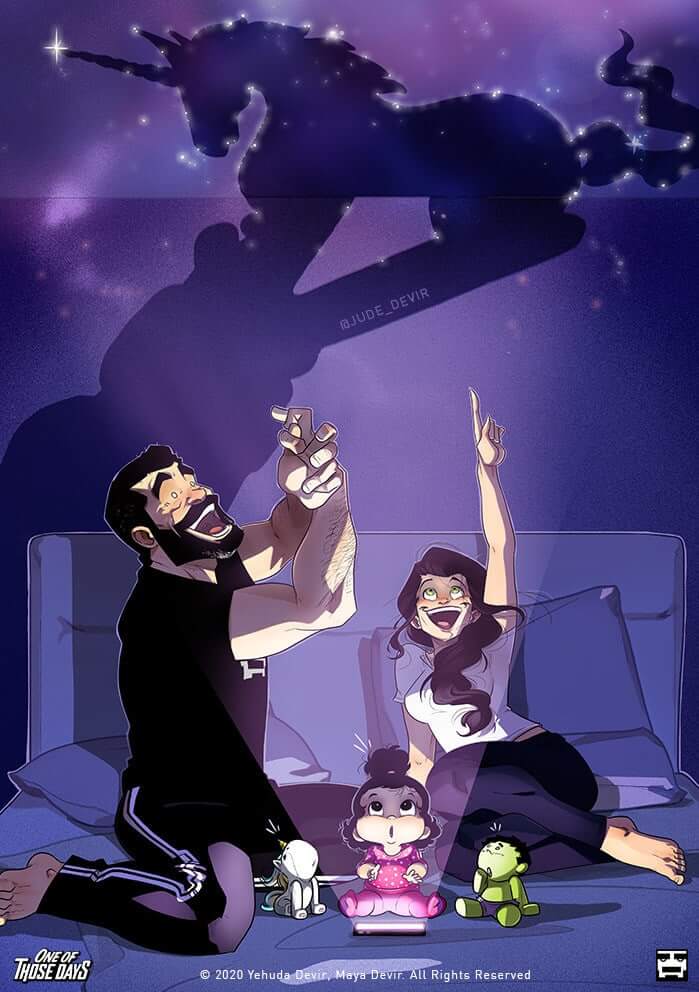 Not only is this a creative way to entertain your toddler, but it is another way to bond with your family. Try looking up different ways to contort your hands, just make sure not to get a cramp. Look, even baby hulk and her unicorn friend are impressed.
"Does She Smell?"
When you are trying to eat your lunch, and your wife decides it is the perfect time for you to smell if the baby has a dirty diaper. Not only does the smell make your nostrils burn, but you can also never eat spaghetti again.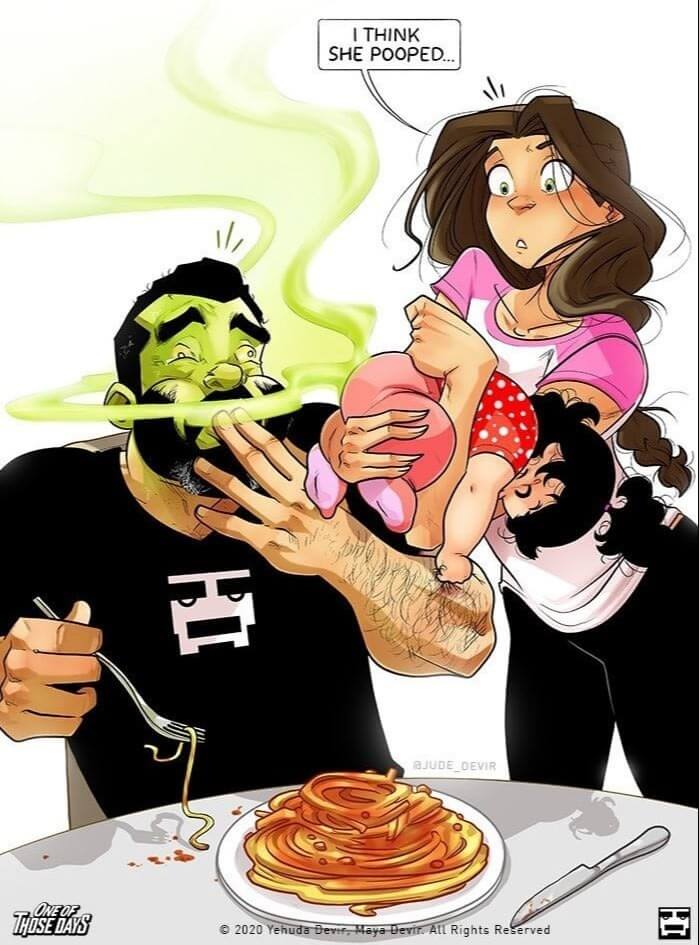 Although you two have become extremely comfortable with each other throughout your relationship, this crosses the line. Who would want to smell a dirty diaper while they are in the middle of eating? That will make anyone sick to their stomach.
"She Said Mama!"
"OH. MY. G-D, Did you hear her say, Mama?! This is the best day of my life. She knows my name." When your child finally says "mama," it is the greatest feeling in the world. Grab the tissues to soak up all those happy tears because you won't be able to get over this feeling of pure joy.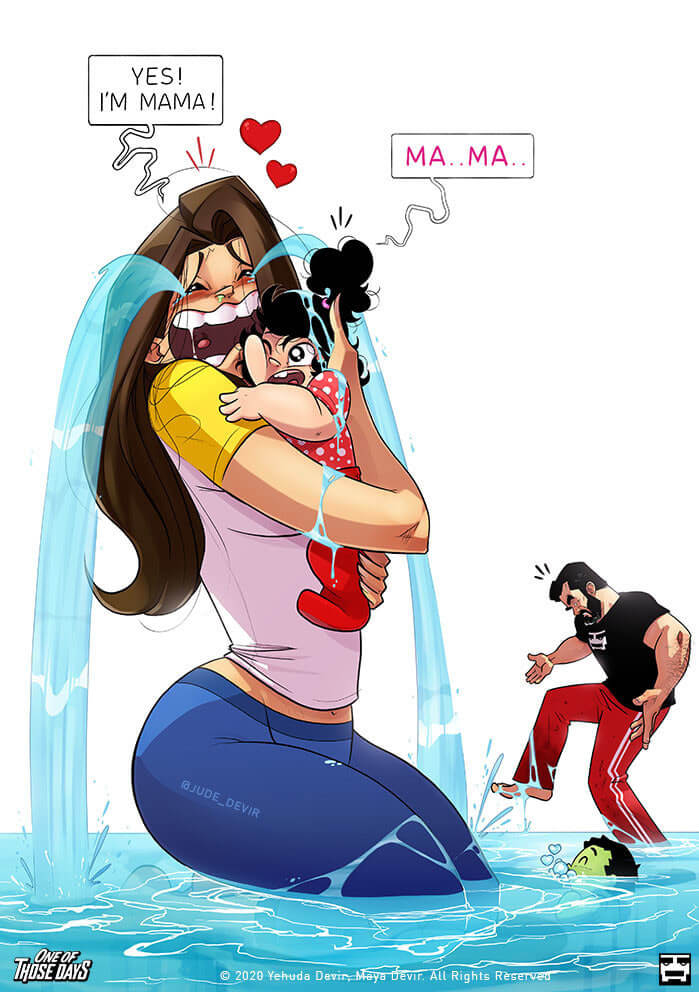 It is even more heartwarming when your child says mama before dada. It is like winning a silent competition between you and your partner. Your toddler might not understand why you are so happy, but it will only encourage them to say mama more often.
When All The Housework Is Finally Finished
When you finally put the baby to sleep and get some time to relax, just the two of you; it can quickly turn into your own time to sleep. ​You don't care where you fall asleep because it is the first time you get to go to sleep at a reasonable hour.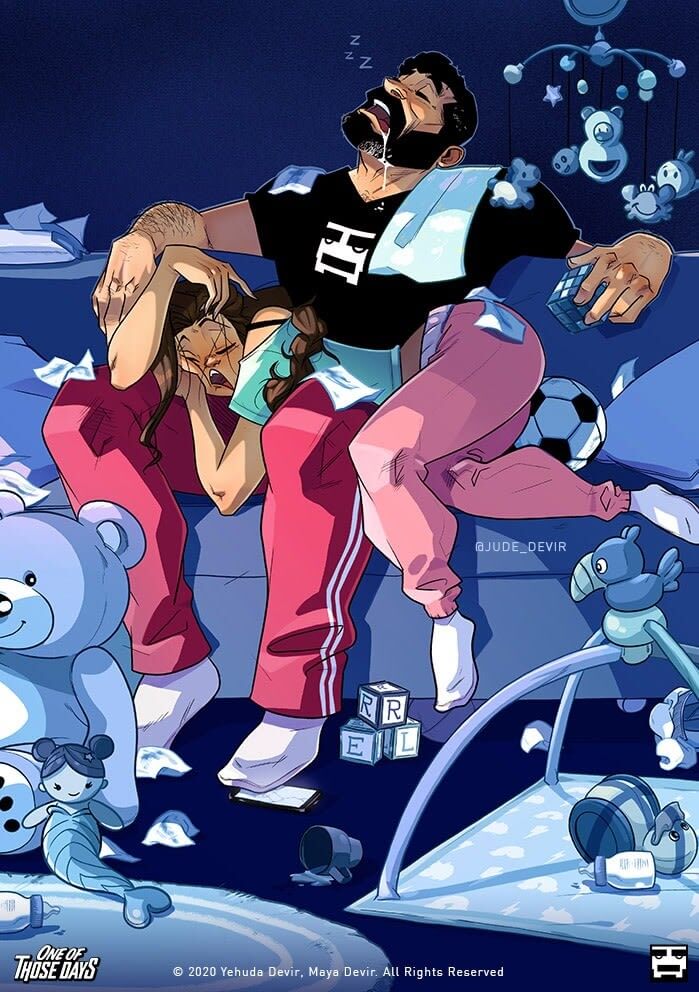 Although there is so much tidying left to do, you don't care because the house will just get messy again tomorrow. All you can really think about is your bed and pillow until your child decides to wake you up in the middle of the night.
"Oh Hair No!!"
Just as your wife is walking around shedding hair like it is no problem, you are discovering a bald patch. It is like sirens are going off in your head that you are getting older, and questions are racing around your mind. How long do you have before it gets bigger? Do you need hair plugs?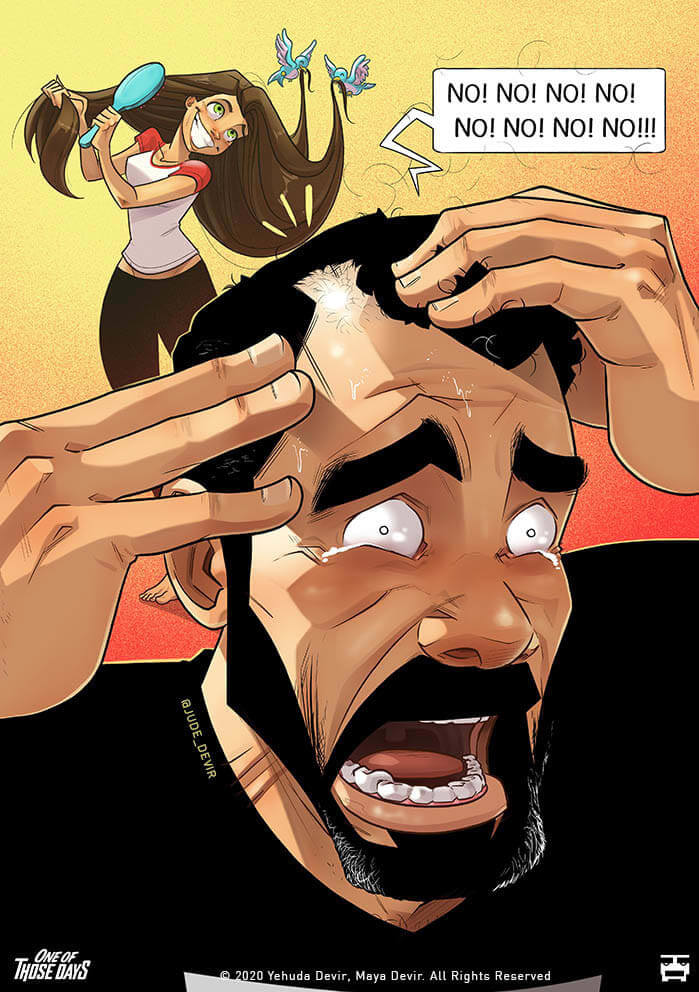 Not to worry, just brush your hair in a different way to hide the patch. You can even use all the hair your wife sheds to create a mini toupee to cover up the spot. While it might seem like your world is crumbling around you, it is just one of the small problems that comes with age.
EveryBody Is Beautiful
After having a baby, our bodies go through changes. Many people feel insecure about their post-baby bodies, but they forget that they just created human life. Your body was capable of creating another human, so why should women feel ashamed of the changes that happen during pregnancy?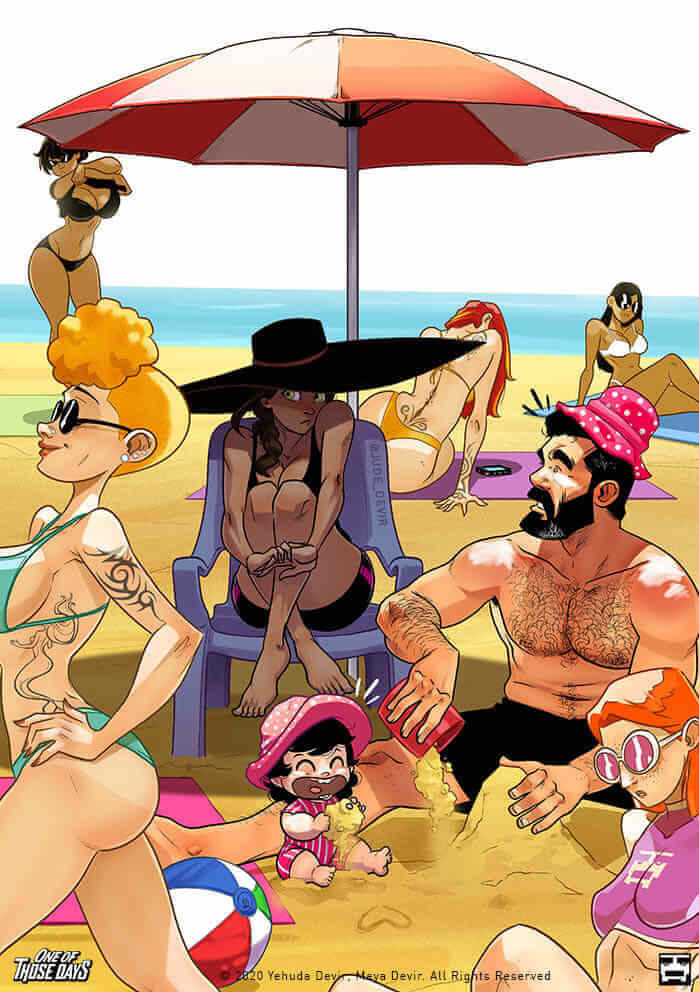 Although some people might feel insecure, it is crucial to remember that no matter what, your husband thinks you are perfect, and your child would not be here without the help of your powerful body.
Everyone's Getting Comfortable
Sleeping with a baby in bed is like sleeping with a drunken octopus. Their legs and arms are flying all over the place, and you might just get kicked in the face. ​It is a fun way to be woken up. That little body can take up so much space, and you lose your spot on the bed.
Although you are being kicked out of bed by a 35-pound human, you can't help but give up and sleep on the couch, so you don't disturb them. Sometimes moving is worth letting them get a few extra hours of sleep rather than waking the baby up to put her back in the crib.
Stuck Inside
Just when they were getting in the hang of parenting, a global pandemic strikes, and they got locked in their apartment for two months. How do you keep your toddler active and get housework done without leaving the confines of your apartment?
No matter how much you may love your child, you can always use a break from them each day. When you are stuck inside, you have to think of exciting things to keep them active.
Sweet Dreams
After a long day of taking care of your toddler, most people are daydreaming about their beds. Sometimes, you are so exhausted that you don't even make it to the bed before you fall asleep. At some point, the exhaustion becomes too much, and you start sleeping while standing up.
Her husband is waiting for the perfect moment to scoop his wife up and carry her to bed because she deserves a good night's sleep. The big question is how he can get the baby off of his wife, so he doesn't wake her up too.
Protect The Baby At All Costs!
All for one and one for all! Protect the baby from the bugs at all costs because bugs are scary and gross. ​Her parents are warriors who fight bugs off while making sure the baby is still asleep. Those are the real heroes of society.
No one ever wants their baby to have bug bites or be uncomfortable, so you protect them however possible. Mosquitos are the number one enemy, even for adults, and they must be destroyed.
Family Cuddles
Family cuddle time is the best time when everyone is comfortable. No one is getting kicked in the head, and no one is being pushed off the bed; everyone is peaceful. Even the stuff animals are getting some shut-eye with the family.
These are the moments people pinch themselves because life seems so perfect. You can forget about everything else around you and focus on how comfortable and snuggly you feel.
Summertime Fun
When you finally get to go on your first vacation as a family, and soon realize your child enjoys peeing in the pool more than any other place. At first, you blame it on one of the other swimmers or your partner, but the real culprit is the one who is not potty trained.
At least you have someone to blame from now on, and you can stop worrying about the embarrassment of peeing in the pool. As long as it is chlorinated, who cares? Just don't try to blame it on your wife.
"What Is This Type Of Magic?"
As soon as your child discovers their love for television, it is like they are mesmerized. They could be entertained for hours, but that is not exactly healthy for a developing brain. It is a good distraction for a few times a day, but don't let them get addicted.
Toddlers can sit in front of the TV for days without knowing what is happening around them because it is like a magical machine. It is moving colors, lights, and talking animals. Who wouldn't be hypnotized by all those things?
Time To Baby-Proof The House
"Oh, no! She's walking, remove everything from the floor, tables, and cabinets. We need all the baby-proofing supplies." As soon as your child starts walking, it is time to lock everything up. Anything that they can eat, chew on, or get hurt with needs to be placed out of reach.
While you are filled with excitement about this significant milestone, you also have this feeling that they are growing up too fast and can get hurt. Also, you have to remember that the baby needs to be watched even more now that she can walk around the house.
Baby's First Birthday!
When your first child turns one, it is a time to celebrate. It is the first of many birthday parties, and you want it to be as special as possible, which means you want to spoil them for an entire day. Although they won't remember, you can shower them in hundreds of gifts to celebrate this milestone.
Your baby might be more interested in the boxes and string that come with the presents, but it doesn't matter as long as they are happy. You could probably give your one-year-old an old shoe, and they would be just as satisfied as they were with a barbie doll.
A Masterpiece In The Making
When your husband does your daughter's hair for the first time, and it is a series of tiny ponytails, but they are so proud of their work. ​You don't want to ruin all the work they have done, so you leave the ten different ponytails in for the day.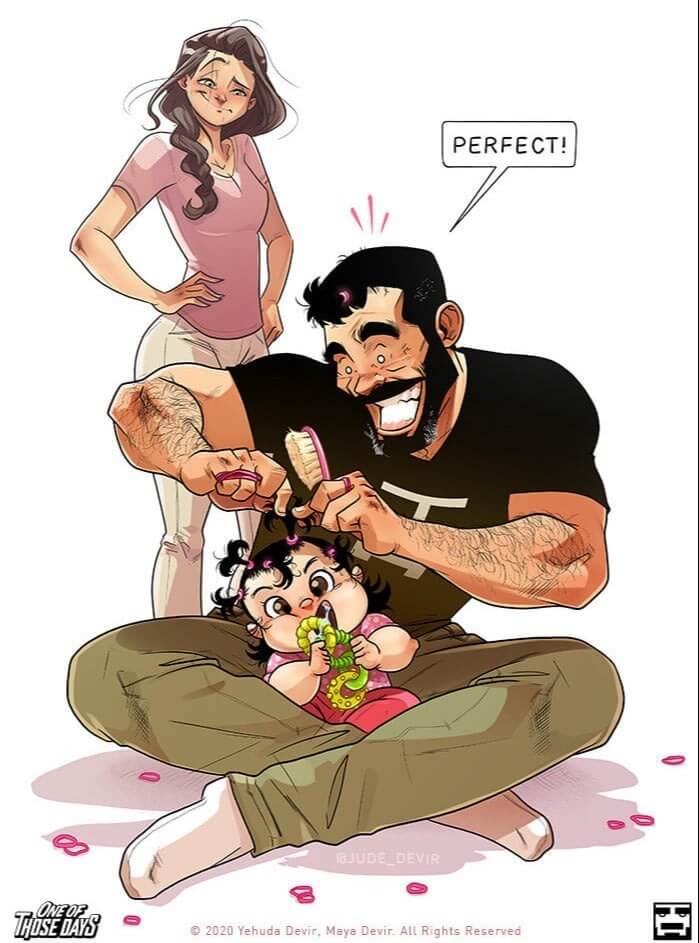 Eventually, they will figure out how to make it look better, but it might take a few weeks of practice. You have to give your husband credit for at least trying considering they have never done this to their own hair.
"Take Cover!"
Feeding a baby is like having a food fight with an uncovered blender. The food gets everywhere, and even in places, you didn't know food could reach. Put the food out and take cover because it is about to get very messy. Get your mop ready because the food is about to go all over the walls and ceiling.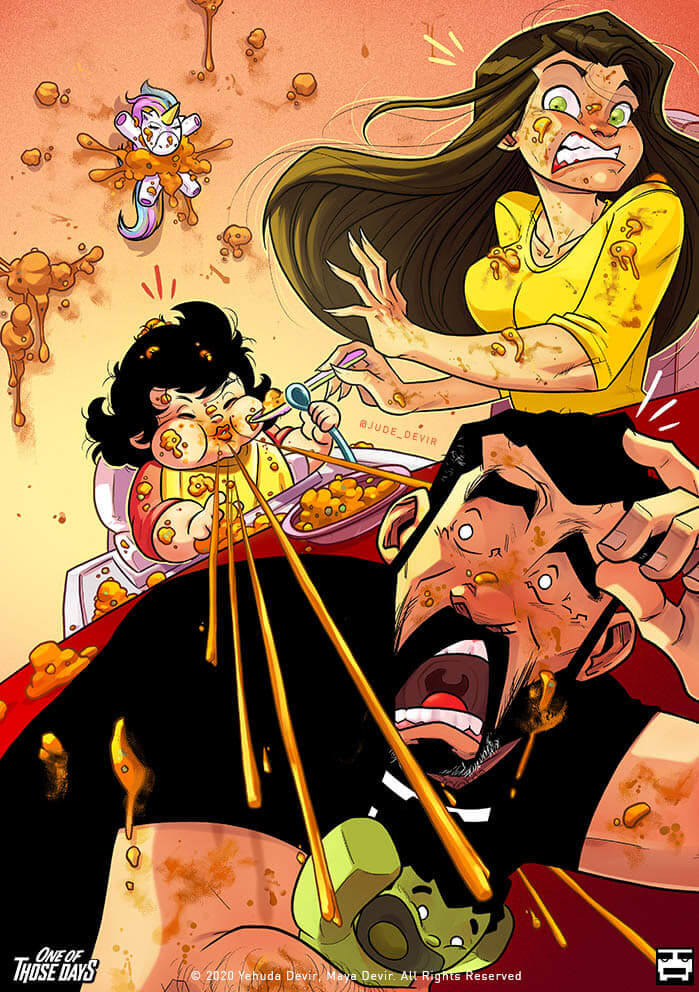 It's every man for themself because the baby is like a spewing volcano of food. There is nowhere to hide, especially when you give them something messy like spaghetti and tomato sauce. For the first few years of life, it might be smart not to wear anything white.
"Do We Have To Leave Her Here?"
The first day of daycare is always the hardest, but she now gets to socialize with other babies. It is only for a few hours a day, but it feels like a lifetime when you first drop them off. ​Once you leave, your baby will stop crying, and they will have fun once they adjust.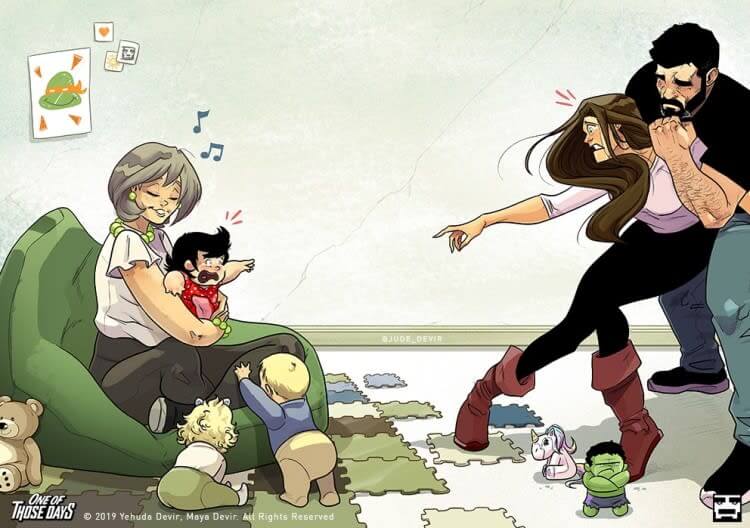 It is not like you are leaving your baby forever; it is only for a few hours so that you can work and get some much-needed rest. Don't worry; if you are ever concerned, you just have to remember that baby hulk is in daycare to watch over the baby.
Kisses For Everyone
No matter how much drool you are covered in, there is always time for kisses. Everyone is in on the family hug, and it is the best feeling. Even while your baby is using your chin as a teething toy, you can sneak in an extra kiss.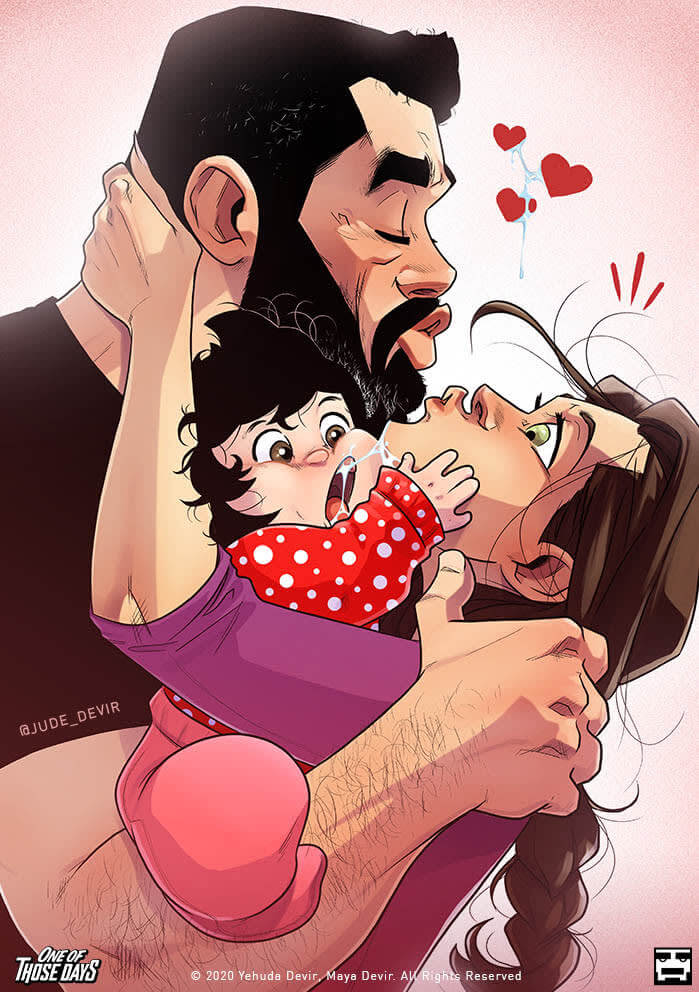 Those special moments as a new family are ones that you will treasure forever. Also, anytime you can sneak in an extra hug or a kiss is a win considering how you spend most of the day covered in things that come out of your baby.
How To Get Work Done When You Have A Baby
Some toys are for children, and others are for grown-ups. She has her blocks and stuffed animals, and he has his hulk and laptop. While he can get some work done, she is getting some extra playtime with her mom. It is a rare moment when everyone is a winner.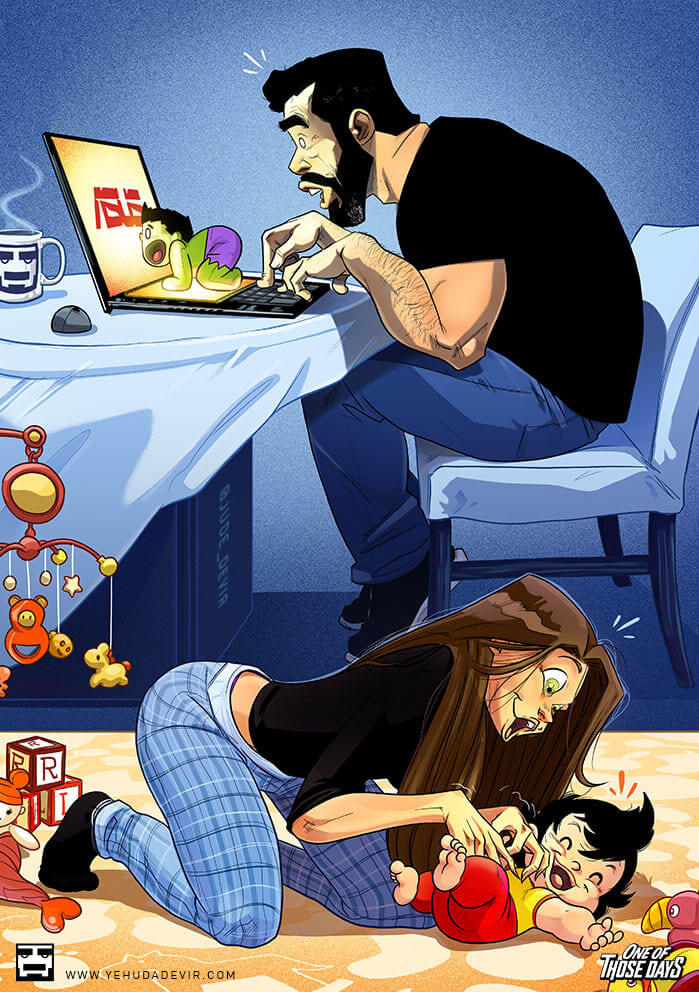 It might be hard to find free time to do the things that have been on your list for a while, but there are rare moments. Take advantage of the calm to be productive so you won't be stressed when your "to-do" list gets too long.
Black Friday Is A Big Deal
Black Friday is the best and worst shopping day of the year. There are great deals, but it is on stuff you might not need. Yes, that vase may be limited edition, but why do you need it in your house.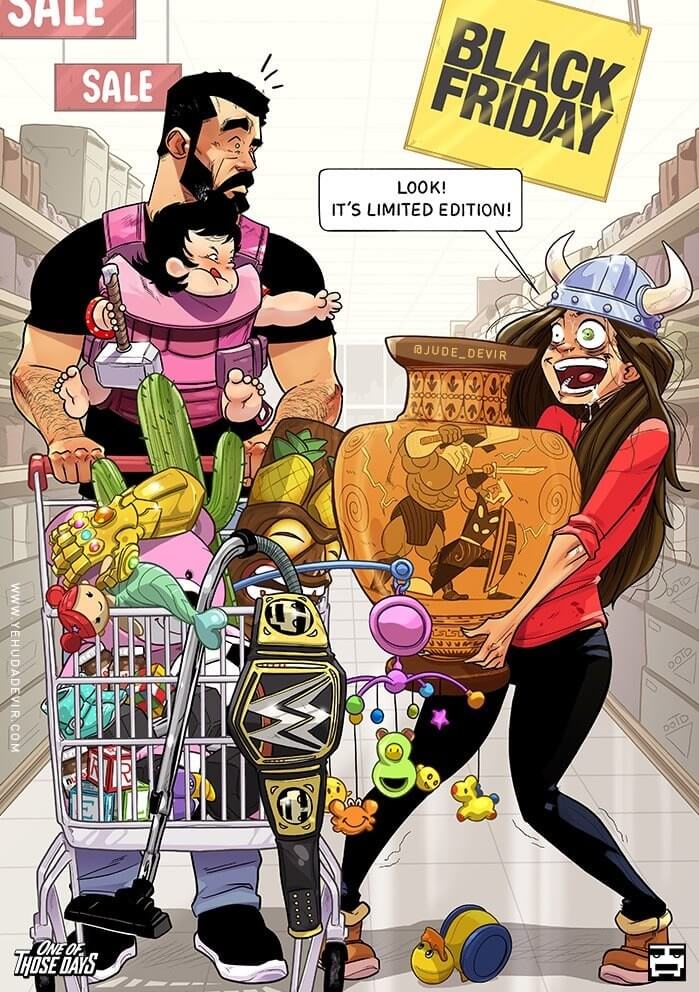 The low prices may blind your judgment, but it doesn't mean you should buy everything in sight. It is a good thing to buy large items that you have been needing because those are items have the best deals.
The Work's Not Over Even After The Baby Goes To Sleep
Finally, the chores have all been done, the baby has been put to bed, and now there's nothing left to do but sit on the couch and enjoy a few quiet and peaceful moments before finally heading to bed. Unfortunately, that peace may be put to the test when one partner is dead tired, and the other is still bursting with energy.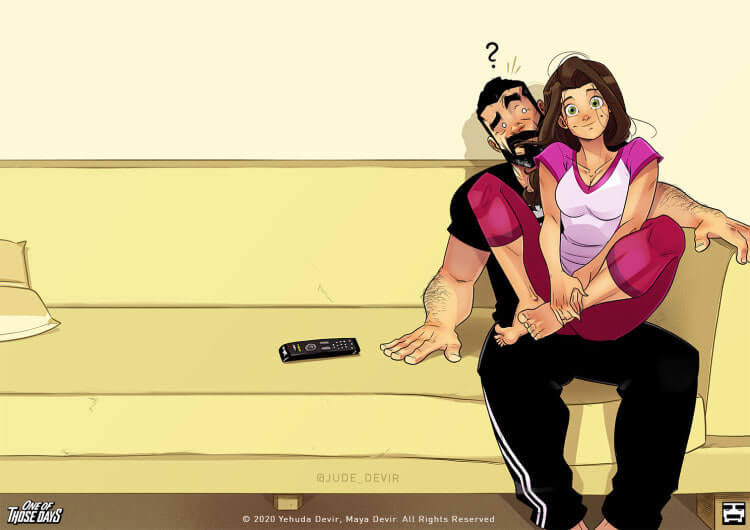 Out of all the places she can sit, she decided to sit on his lap because it is the most comfortable seat in the house. No matter how much space is left on the couch for her to sprawl out, she will always pick this spot, and we don't blame her.
They're The Real Deal
Raising a family is hard, there's no doubt about that. But at the end of the day, it's still one of the most rewarding things that we will ever do with our lives. In spite of it all, the ups and downs, there are few people who would ever change a thing.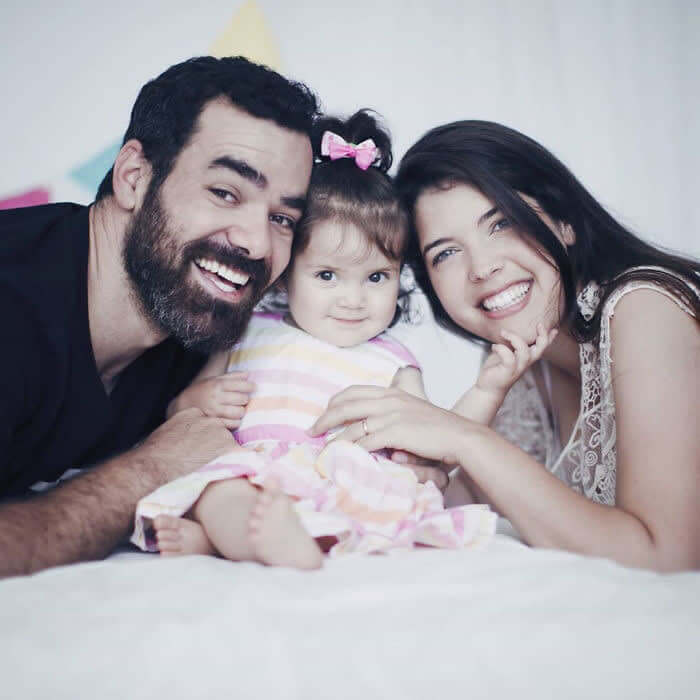 That doesn't mean we can't complain about it though – it's so stressful after all! We all need that outlet when the going gets tough and thankfully Yehuda and Maya chose to draw pictures of life raising a child that we can all relate to.