When you see your favorite celebrities on social media or TV, they always look perfectly put together with the help of their glam squads. What if they didn't have that team of people and the money to keep themselves looking perfect? An artist who runs the page Planet Hiltron has given many of your favorite celebrities "make-unders" with a little 1980s spin. From Paris Hilton to Kate Winslet, here is what these starlets would look like without a team of people to help them.
1. Kim Kardashian and Kanye West
This power couple is known for their successful business endeavors and high fashion style. They have four adorable children who occasionally grace us on social media.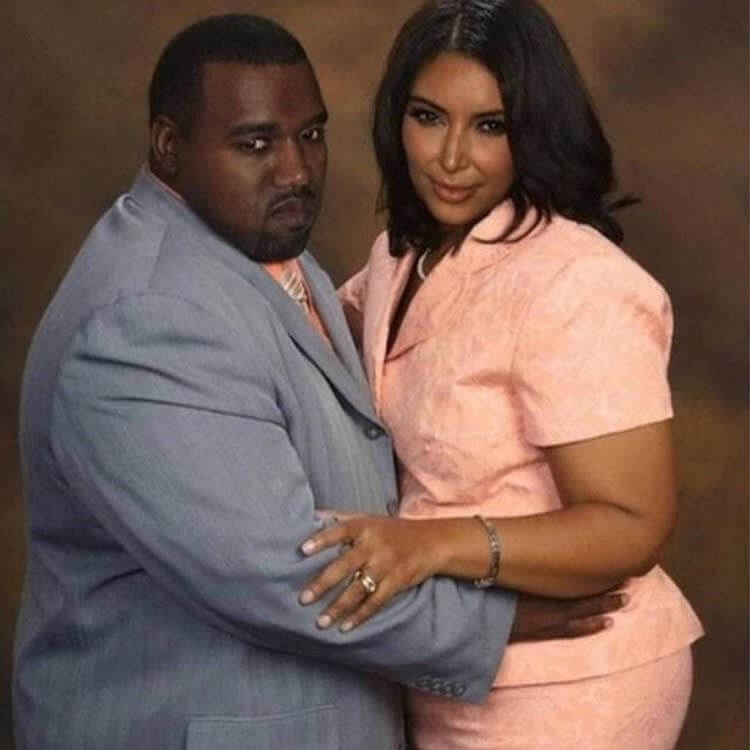 In real life, Kim promotes her healthy lifestyle and personal training sessions, but it looks like her make-under doesn't include her training sessions and personal chef.
2. Beyonce and Jay-Z
Beyonce and Jay-z are well known for dominating the music charts separately and together. Everything they do is extra and over-the-top, and people live for that.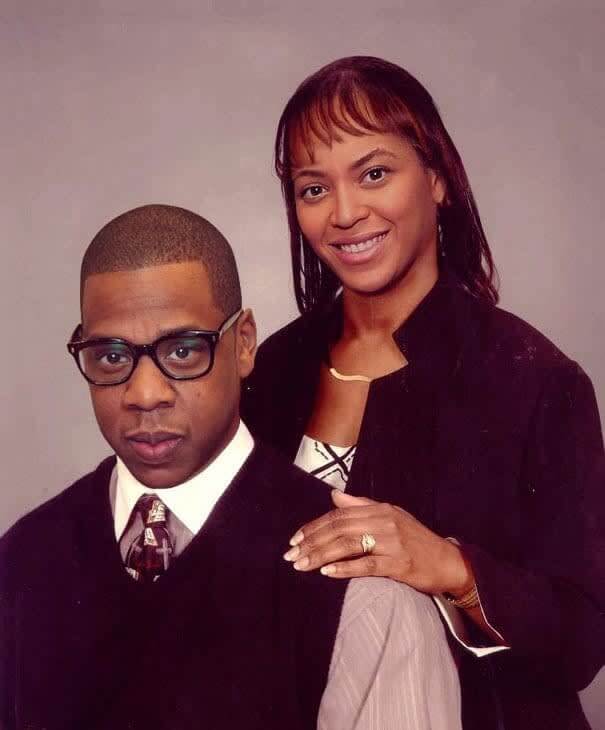 Do you remember Beyonce's pregnancy announcement for her twins? This is very toned down compared to that photo. Do you think these two would be together if they weren't famous?
3. Blake Lively
The Gossip Girl star is perfect in almost every way. She is effortlessly beautiful and seems to always look perfectly put together.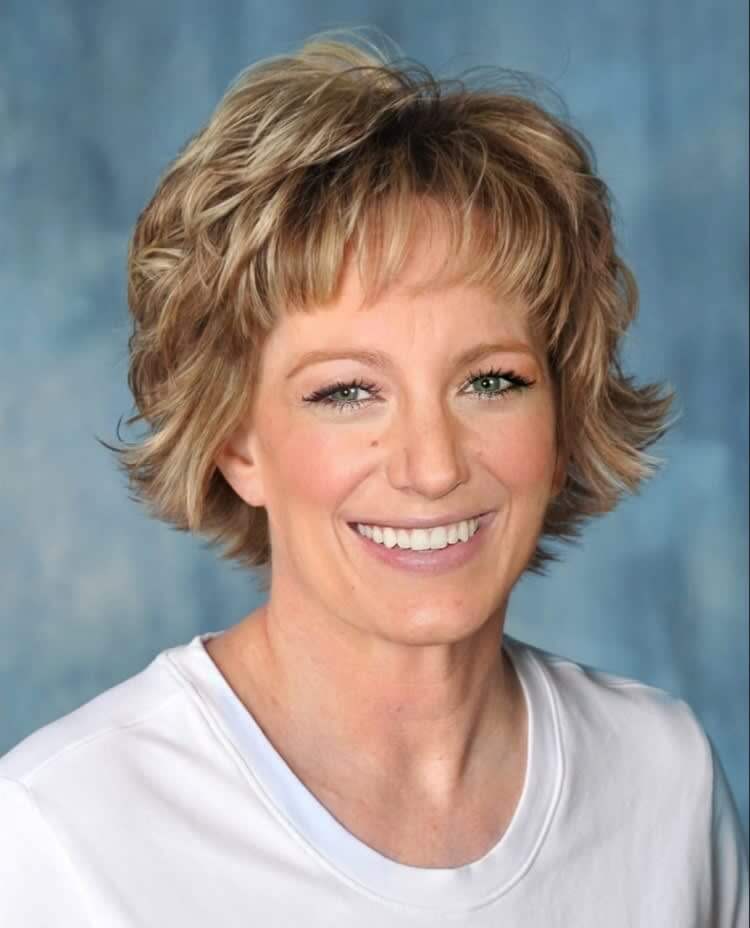 Her transformation looks like the typical PTA mom who bakes impressive snacks for the classroom parties and always has orange slices for her kid's sports teams.
Keep Watching
4. Victoria and David Beckham
Did you have to do a double-take with this one? We did. This English couple is almost unrecognizable. Victoria, aka Posh Spice, and David Beckham, look like an ordinary couple in this transformed picture.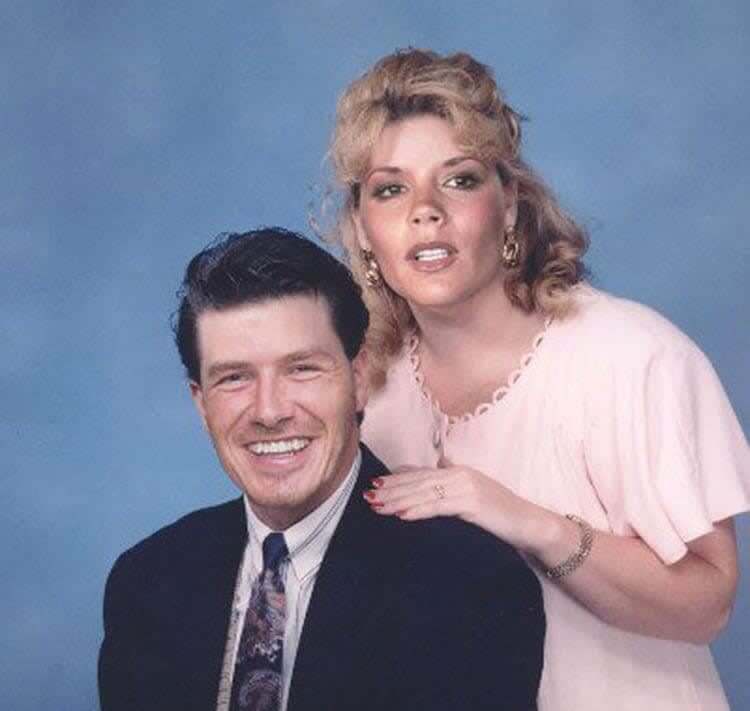 We don't think that those blonde curls and light pink top are part of Victoria's signature sleek style. Maybe it will be featured in her Spring 2020 line.
5. Miley Cyrus
Miley Cyrus was born and raised in Tennessee. She is certainly not afraid to embrace her country roots.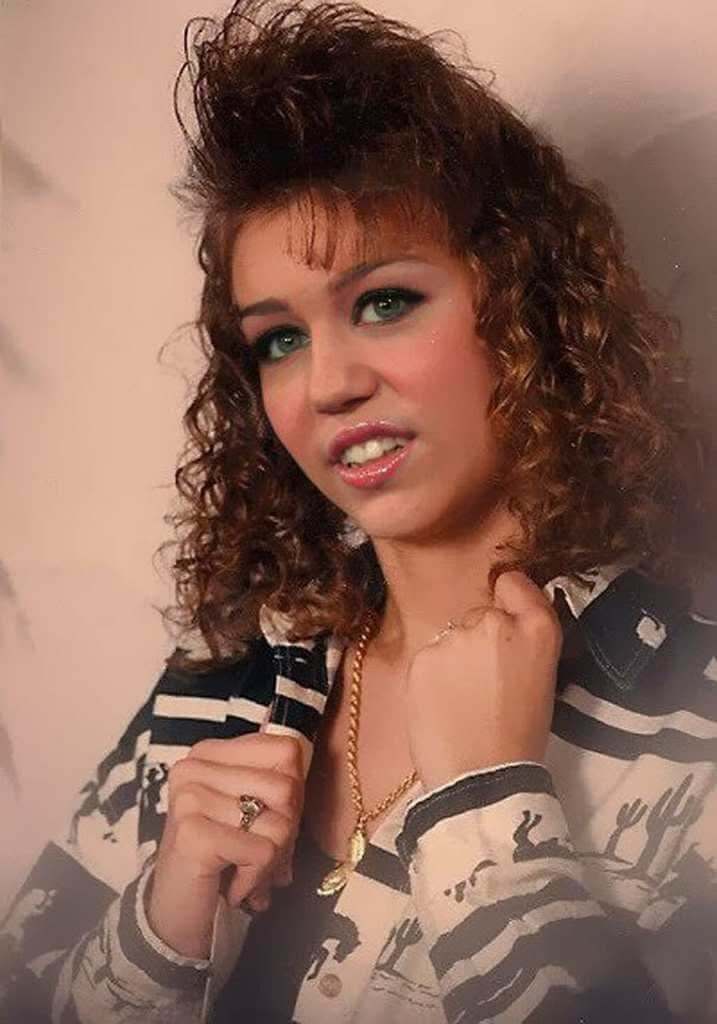 It looks like the former Disney star would be rocking a mullet just like her dad, Billy Ray Cyrus, did back in the '80s. Besides the hair and makeup, this is an outfit we can see Miley rocking.
6. Jennifer Lopez
Jenny from the Block, J.Lo., or Jennifer Lopez, whatever you like to call her she is a superstar. She has taken over the world one song at a time, but this does not look like the dancing diva we all know and love.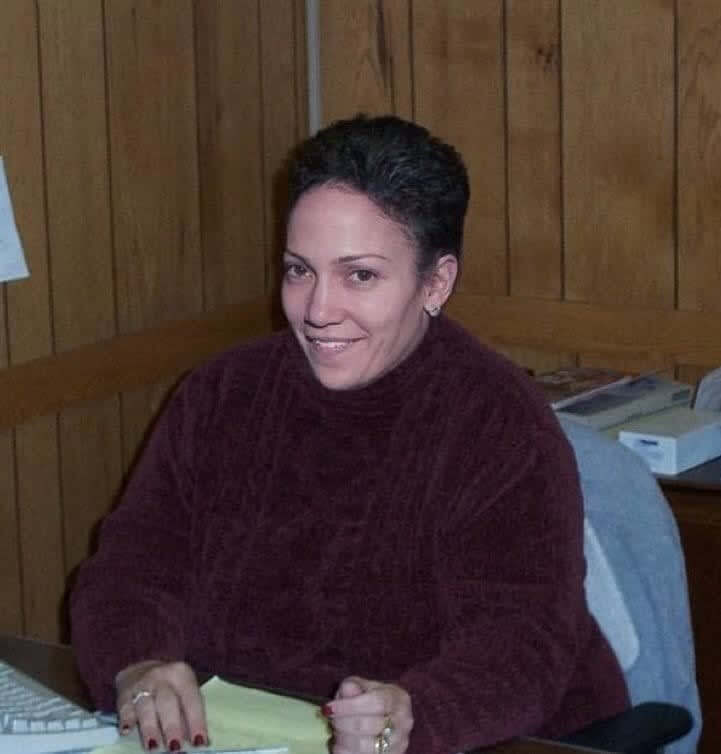 She has been known to change up her look and style over the years, and we don't think she would ever get this haircut, but we know she does love a good athleisure look.
7. Justin Bieber and Selena Gomez
So, Justin Bieber may be married to someone else, but there are many fans who still wish this adorable couple was still together.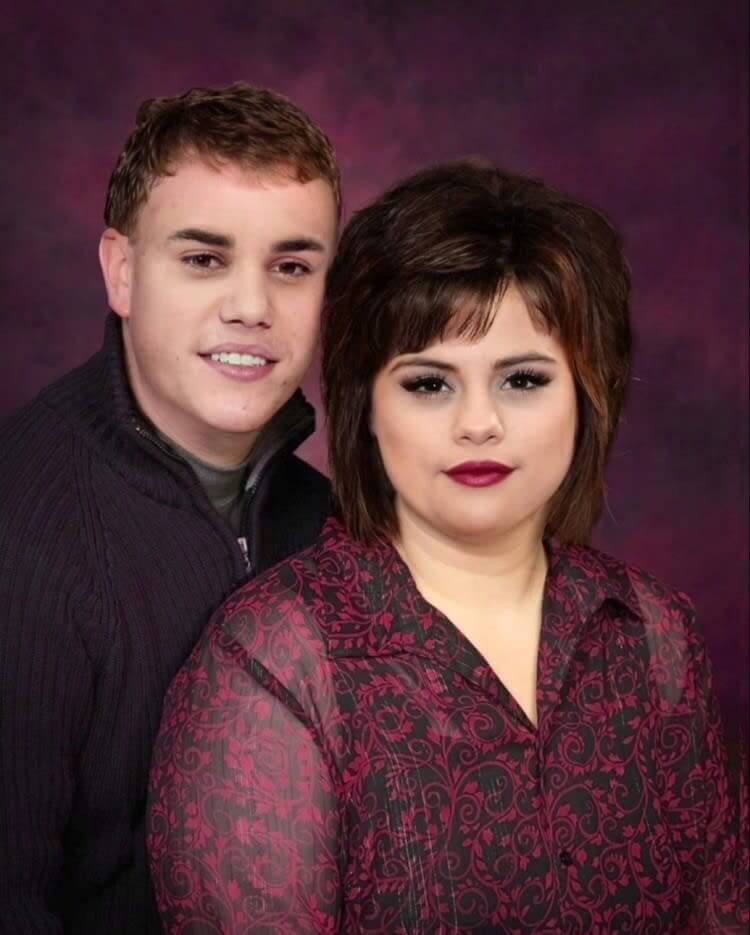 If they were still together, we are not sure people would enjoy Selena's mullet style hair-do. They look like they have spent too much time at Justin's favorite Canadian donut shop, Tim Hortons.
8. Johnny Depp
Throughout his career, Johnny Depp has been a chameleon for many of his roles. He has the ability to transform himself into any character he is given.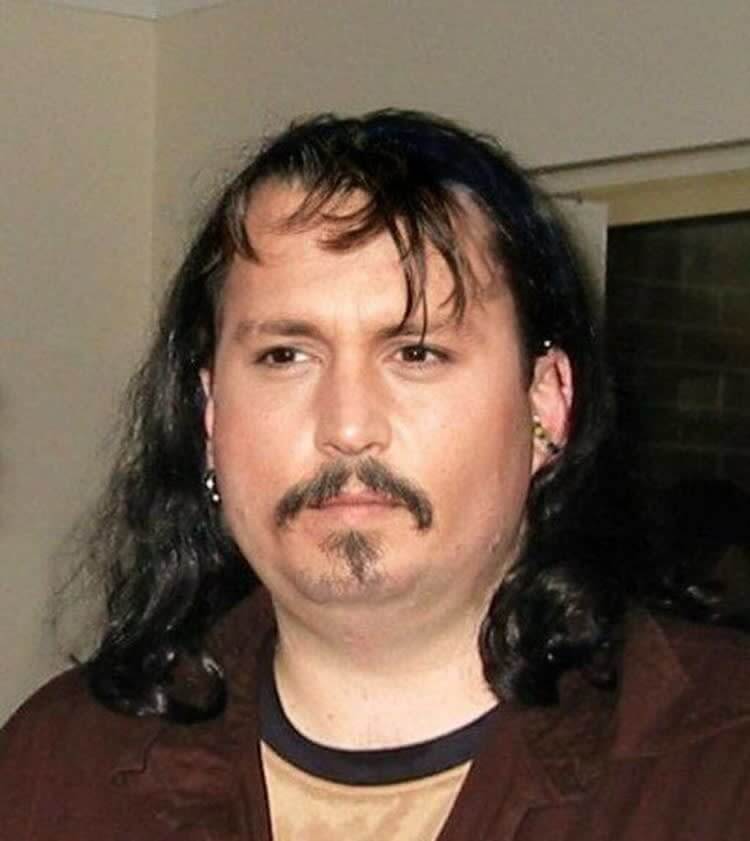 This picture looks like he took on the role of someone who hasn't left their house in months with only junk food to feast on.
9. Lady Gaga
Lady Gaga has been one of the most successful pop stars of this decade. Without her level of fame, she wouldn't have her red carpet looks and stunning makeup.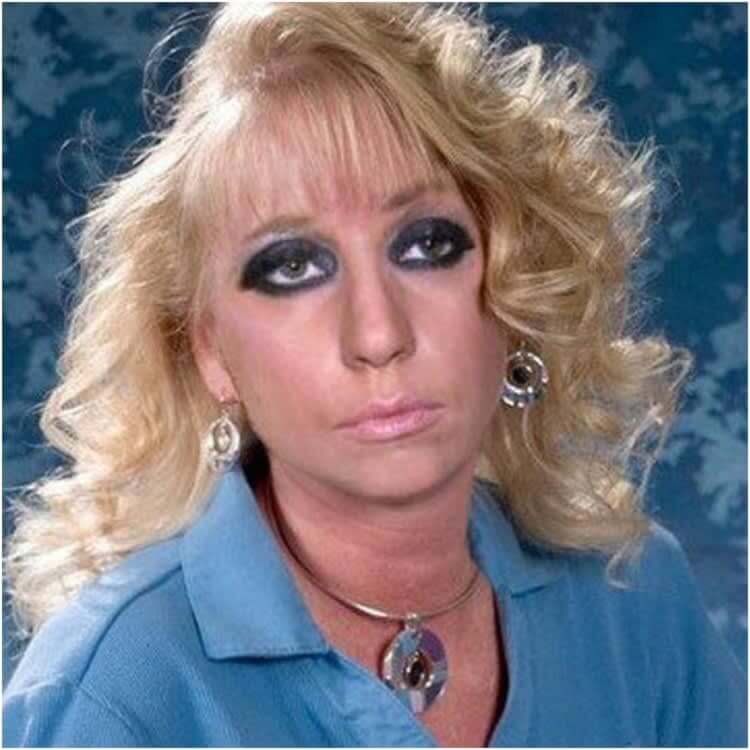 Her make-under has added more makeup than she usually wears by piling on the eyeliner.
10. Prince William and Kate Middleton
Prince William and Kate Middleton make a beautiful couple. One day they will take over the thrown, and we will see more pictures like this but in their usual style.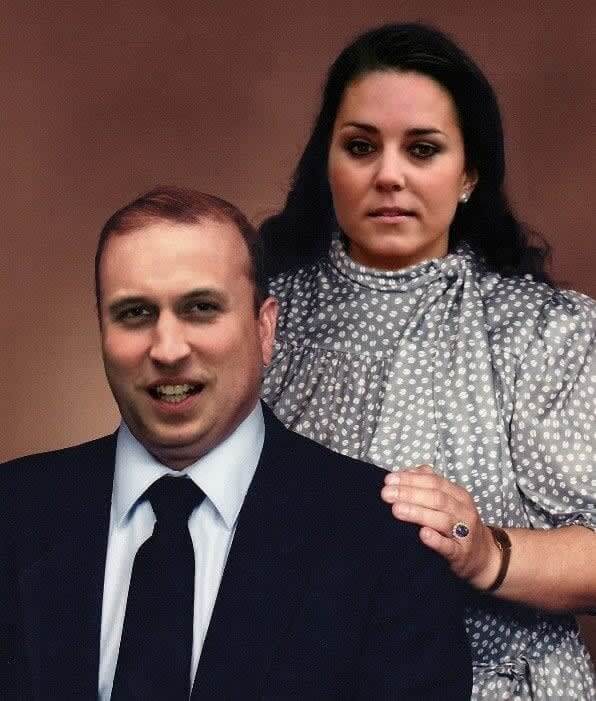 It looks like their Royal Duties have taken a toll on them in this transformed photo. Kate doesn't look so happy here. Maybe she is unhappy with William's comb-over.
11. Nicki Minaj
The queen of rap Nicki Minaj wouldn't be Nicki Minaj if she weren't famous. She would still be going by her birth name, Onika Tanya Maraj.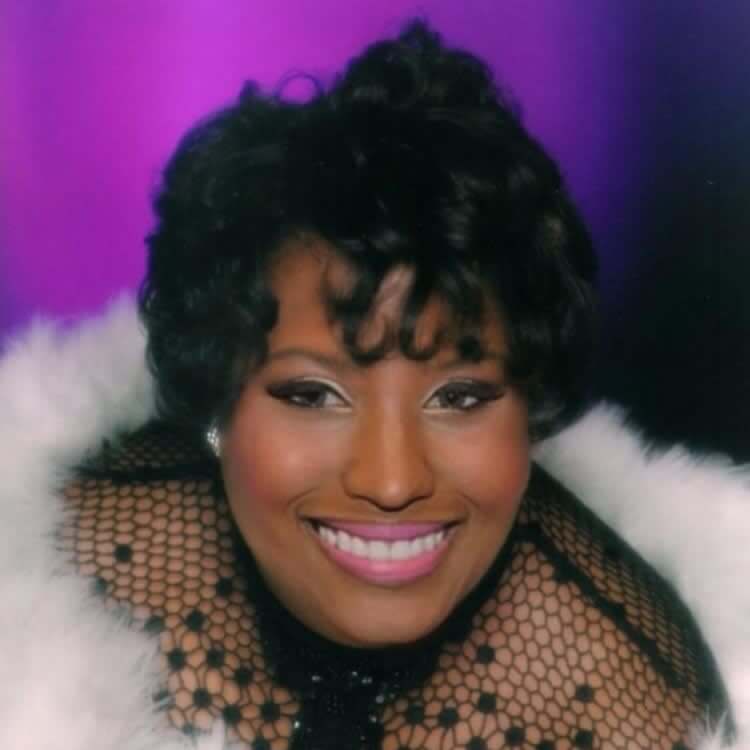 She still looks just as fabulous in her transformed picture, and this is an outfit we can see Nicki wearing. Although, her hair makes her look like a young Aretha Franklin.
12. The Kardashians
The Kardashians are known for the fabulous fashions and curvy bodies. This look is certainly different than anything we have seen from this family, although Kris Jenner looks almost the same as usual.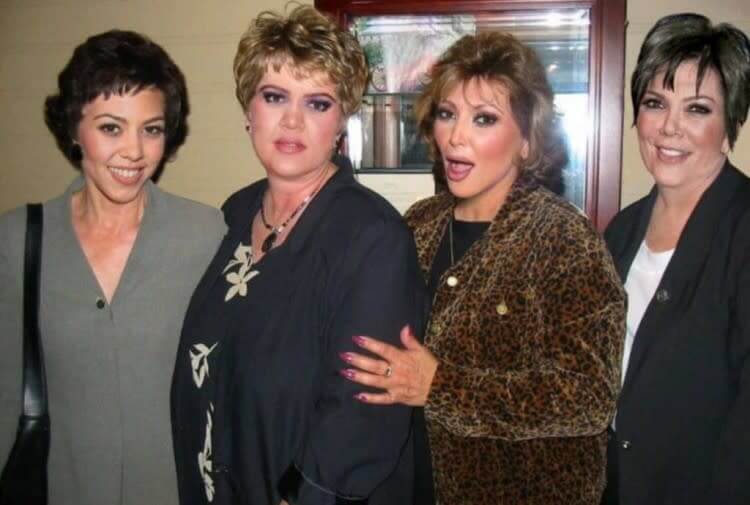 Their oversized, shapeless clothes and choppy short haircuts are not looks that they have experimented with before. Kim is known for changing up her look often, but we doubt she would try anything this short.
13. Rihanna
Rihanna is one of the most iconic women in Hollywood. She sings, acts, dances, and is a business mogul. She is a full-on lady boss.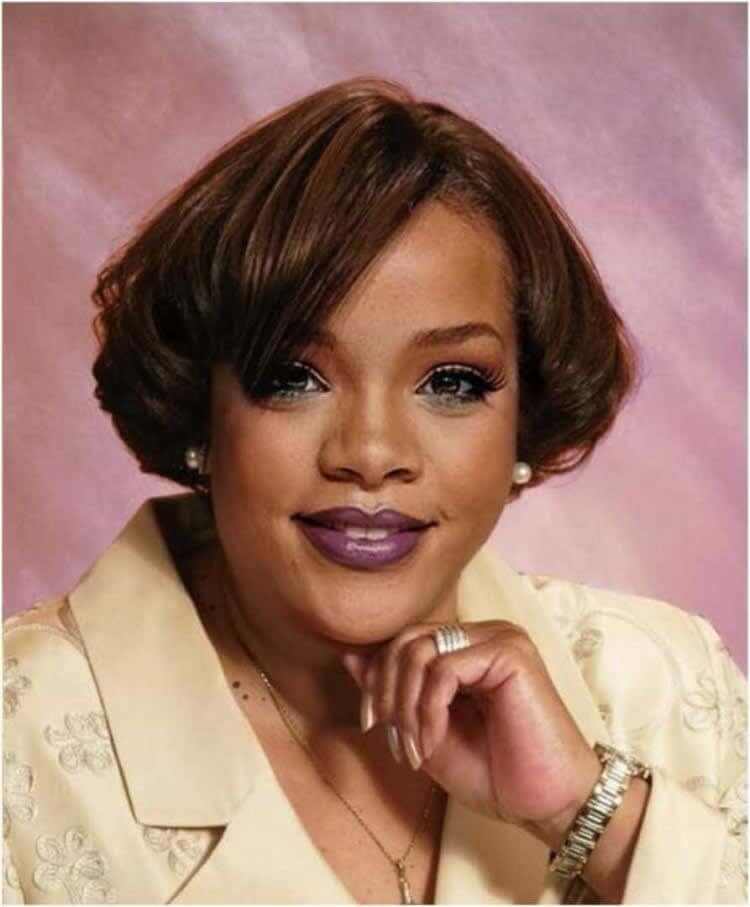 Seeing her with this cropped haircut and yellow blazer is a different look than what people are used to. Although, we know RiRi would rock a purple lip in any decade.
14. Chris Brown
Chris Brown is a singer, dancer, and actor who started his career at just 16-years-old. He was topping the charts from the minute he released his first single.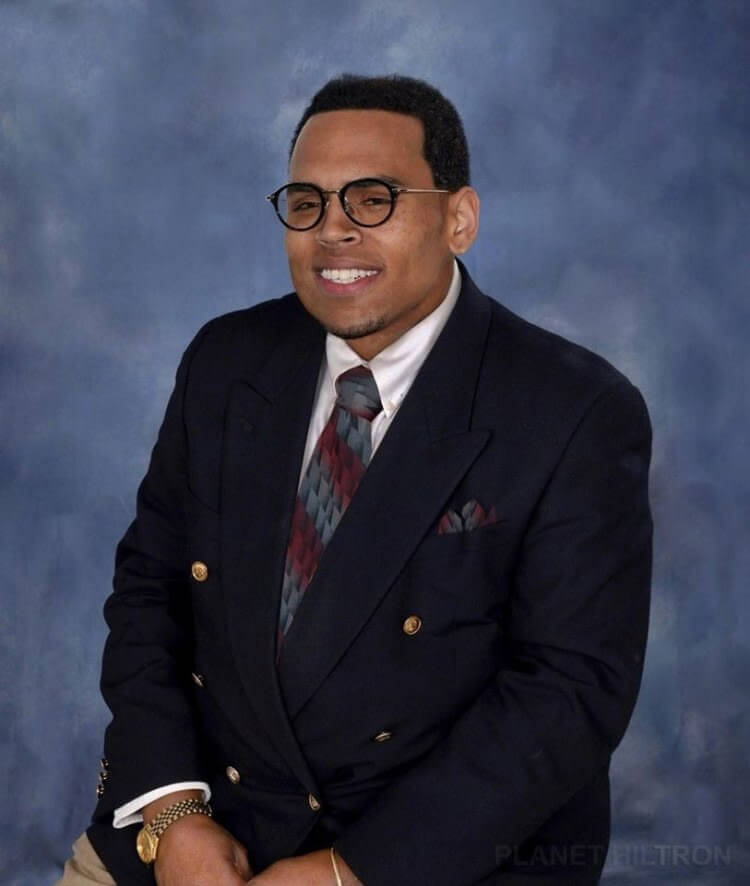 Although he has made some questionable choices in his life, one consistent thing is his style. When you strip away his fresh clothes and put him in something more formal, he seems like a nerd rather than a bad boy.
15. Jennifer Aniston
Jennifer Aniston is known for her ageless face and brilliant acting career. Seriously, this woman seems to never age.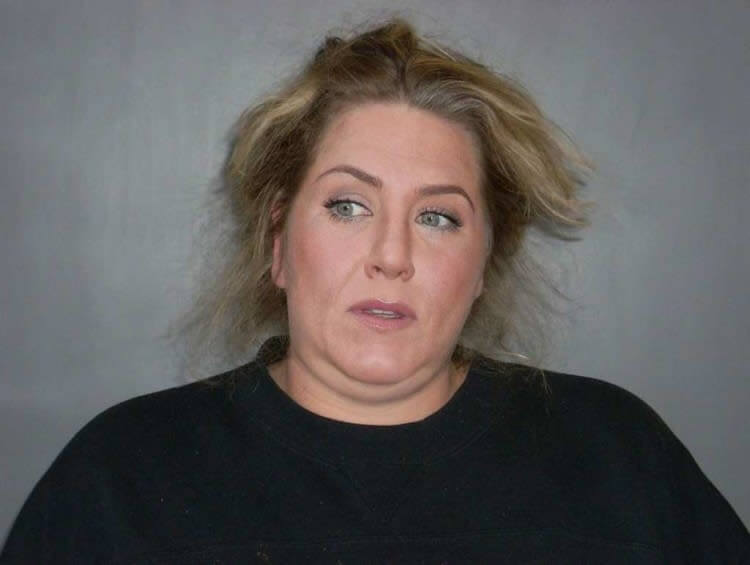 After stripping away her fancy clothes and spa treatments, it seems that Aniston has gained a few pounds, and her signature hairstyle is a mess.
16. Brad Pitt and Angelina Jolie
Angelina Jolie and Brad Pitt may not be together anymore, but this is what they would look like in the '80s as regular people.
This acting duo might not have gotten together if they were ordinary people because Mr. and Mrs. Smith would have never been made.
17. Britney Spears
Britney Spears has been a pop star since the late '90s with chart-topping hits. She has had some rough times, like all of 2007, but she made it through and is thriving again.
This make-under looks a lot like that rough year Britney had when she shaved her head and attacked paparazzi with an umbrella.
18. Mariah Carey
The ultimate diva herself, Mariah Carey, is fabulous and likes to live a luxurious lifestyle. She has always rocked full luscious locks while singing her whistle tones, and this is different than any look we have seen from her.
Here, she looks so ordinary, which is far from the Mariah everyone knows. Just think about any outfit she has ever worn, there are no sparkles or fur, so this is definitely a make-under.
19. Paris Hilton
As the gorgeous hotel heiress would say, "that's (not) hot." Paris Hilton is typically known for her gorgeous good looks and expensive fashions.
Here she looks like she has never heard of conditioner, and her adorable chihuahua, Tinkerbell, needs to be groomed.
20. Oprah
We don't know what the world would be like without Oprah. Who would say, "You get a car, and you get a car, and you are all going home with cars."
Although she faced hardships growing up, it seems like Oprah would be smiling no matter what she looked like or what decade she lived in.
21. Madonna
For multiple decades, Madonna has managed to stay on top of her game. She knows how to keep up her health and exercise regimen that keeps her looking young.
Without her success, she wouldn't have access to all these expensive treatments that keep her skin young and fresh. At 61, she would have to embrace her age and natural looks.
22. Sarah Jessica Parker
SJP is known for her role as Carrie Bradshaw on Sex and the City. She is a style icon on the show, and she never steps out of the house without the perfect outfit.
She still looks fashionable but in a more ordinary way, like she owns a cattle ranch in Montana.
23. Nicole Kidman
Nicole Kidman is one of the most famous actresses from Australia and she has won so many fans over throughout her successful career. She is beautiful and full of grace.
It seems that without her glam squad and healthy lifestyle, she wouldn't look as polished as she does on a typical day.
24. Amy Winehouse
The once fantastic singer Amy Winehouse had a unique sense of style with her beehive hair and dark eyeliner. Her look was dark and grungy like her music.
Here she is completely transformed into an ordinary woman who does not sing about going to rehab. RIP Amy; you will forever be missed.
25. Tom Cruise
Tom Cruise has impressed so many people with his acting career. From Top Gun to Mission Impossible, he has an impressive resume. If you take away his movie career, you are left with a Tom Cruise that no one would recognize.
Cruise looks like a regular person that you could pass on the street. He also seems to sweat a lot more in his "regular people" clothes.
26. The Olsen Twins
Since they were just a few months old, the Olsen twins have been gracing us with their on-screen presence. Throughout the years they have grown up in the public eye, and this is far from the looks people have seen from them.
The twins look a little rough without their fashionable clothes and makeup teams.
27. Cameron Diaz
Her bright smile has been a light in Hollywood since she started acting. Cameron Diaz has a tasteful style that she has flaunted on the red carpets.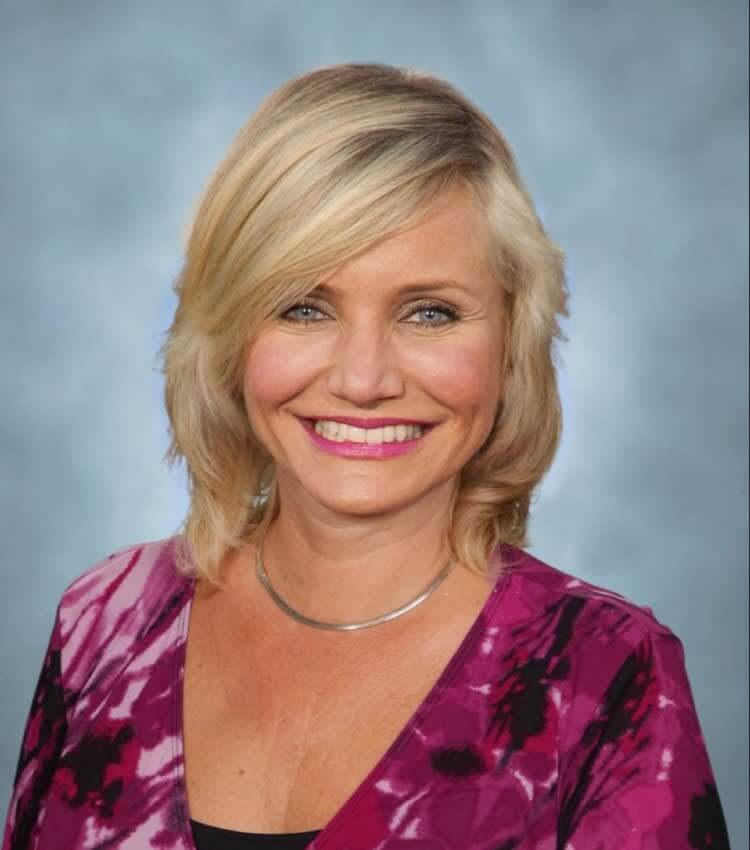 In her make-under, she is an average woman. She has the same dazzling smile, but she had to put her makeup on without the help of a team.
28. Jessica Simpson
Does anyone remember when Jessica Simpson was a singer or when she married Nick Lachey and thought "Chicken of the Sea" was actually chicken? Simpson has become a pop culture icon throughout her career.
She is a doting mom now and still finds time to be fashionable. Do you think she would ever be caught in a sweater like this?
29. John Hamm
The devilishly handsome and rugged John Hamm is known for his role as Don Draper on Mad Men.
It looks like he wouldn't be as handsome without his trainers and iconic roles. He looks like a dad with several children.
30. Pamela Anderson
Pamela Anderson became a sex icon when she starred in the 1980s show, Baywatch. Today, she is still fabulous and beautiful as ever.
In her make-under photo, she is still fabulous, but instead of patrolling the beach, she is tanning in the sun and enjoying some adult beverages.
31. Nicole Richie
As a fashion icon, Nicole Richie has made a name for herself over the years. She is also the daughter of the famous singer, Lionel Richie, which definitely helps her street cred.
We don't think that this fashion queen would approve of this look. From the questionable hair to the odd yellow shirt, it is far from her taste. She doesn't even look impressed with her choice.
32. Paris and Nicky Hilton
Paris and Nicky Hilton are famous hotel heiress sisters who have lived their lives in the party spotlight. For years they could always be pictured at the hottest clubs with the best clothes.
We doubt that they would ever be caught wearing togas made out of bedsheets. If they ever had to wear togas, they would have to be made out of the finest Egyptian cotton.
33. Kate Winslet
"I'll never let go, Jack, I'll never let go." It seems like the beautiful Kate Winslet would have let go of her looks if she wasn't a famous actress.
Here she resembles Julia Childs rather than her starlet self, but she would probably be a great chef.
34. Gwyneth Paltrow
The Goop queen herself, Gwyneth Paltrow, is famous for her acting and extremely healthy lifestyle. She is ageless because of her strict regimen, but it seems like she has fallen off that path.
She looks like an average soccer mom who might ask to speak to the manager if she is not satisfied with her service.
35. Fergie
Stacy Ann Ferguson aka Fergie got her claim to fame as the lead singer in the Black Eyed Peas.
Although this is supposed to be a make-under, she still looks glamourous in her photo. Fergie looks like a Vegas showgirl with this look.
36. Hillary Duff
"This is what dreams are not made of." The former Disney star Hilary Duff is one of the few child actresses that hasn't had a scandal since leaving the network.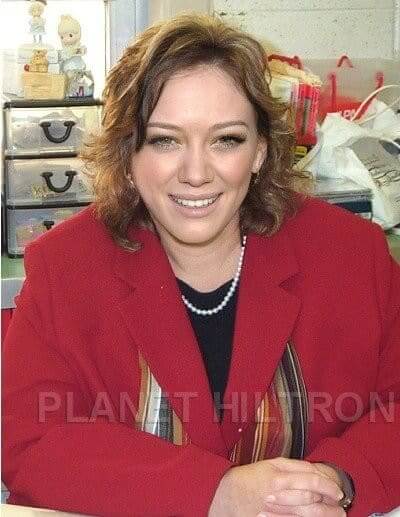 She is beautiful and talented, but here she resembles a local politician or PTA mom.
37. Zooey Deschanel
Zooey Deschanel is a quirky and loveable actress. She starred as Jess on New Girl.
She still has her bright blue eyes and funky bangs in her downgraded look, but she is not the star that graces red carpets.
38. Tori and Candy Spelling
This mother-daughter duo finally reunited in 2019 after years of estrangement. They feuded after the death of Tori's father, Aaron Spelling.
The usually glamorous Tori and Candy have been downgraded to average women here. These two typically wear fabulous dresses and jewelry, but as ordinary women, they are sporting some interesting suits.
39. Ashlee Simpson
The sister of Jessica, Ashlee Simpson, is a sing-songwriter and actress who was infamously caught lip-synching on Saturday Night Live​.
It looks like she has gone back to her Texas roots with this button-down star shirt.