Cats, are they evil, or are they adorable little balls of fur who love to get themselves into trouble sometimes? We used to think that cats were cold, calculating creatures, but after seeing these photos, we may have to second guess that assumption. Thank goodness their owners were around to take a picture of these adorable moments when cats got a little clumsy and were clearly regretting their life choices.
1. When You Want To Audition For A Role In Frozen, The Cat Version
This cat was too curious for its own good and decided to check out a cardboard box filled with packing material. Unfortunately, the cat soon realized that the styrofoam packing peanuts easily stick to his fur.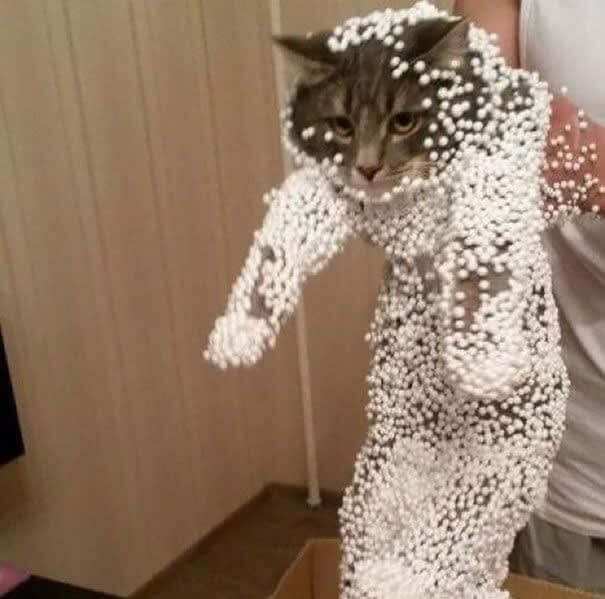 His owner pulled the cat out of the box only to find he was covered in little bits of styrofoam. You can see the immense shame on his face and the incredible desire for someone to remove all of the foam from his body.
2. "Someone Help Me!!!"
This cat had seen how relaxed her owners felt when they floated in the pool, so she decided to try it out. Unfortunately, the second she got in the pool, she wanted to get out, but it was too late. She had floated into the middle and couldn't reach the edge.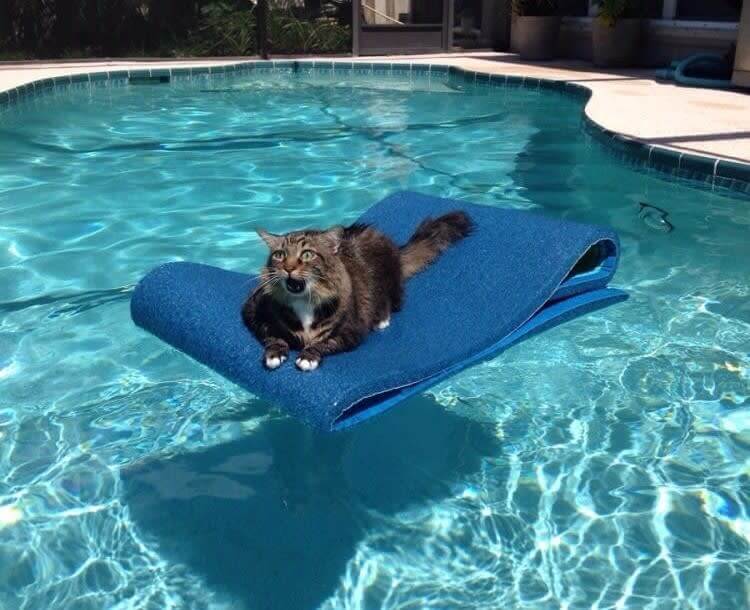 You can see the look of sheer terror on her face as she floats further away from the safety of the solid ground. It looks like she will never be able to touch dry land again, and she is lost at sea. Hopefully, someone dragged her out before she actually fell into the water.
3. Grumpy Cat Does Not Like The Rain
Cats are not big fans of water, so we can only imagine the rage this one is experiencing as he is stuck outside in the rain. We have never seen a more angry-looking cat since the late and great Grumpy Cat. If these people don't let the cat in soon, they are going to be in big trouble.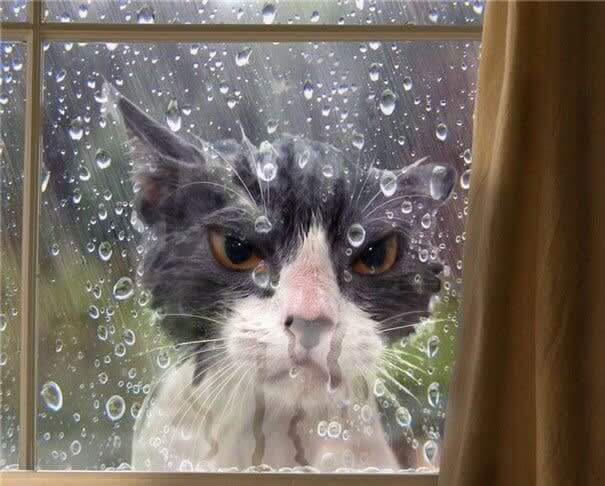 It must have been sunny when he walked outside, but he forgot to listen to the weather forecast and ended up in the middle of a storm. It's too bad that there isn't a cat channel on TV so they can understand the weather report.
4. When You Try To Recreate The Stunts You See On The Internet
You walk into your bedroom, and your cat looks at you like, "you must be wondering how I got in this situation." Either he was climbing to see what was outside or auditioning for "Cat du Soleil." Whatever he was doing, he needed help getting out of the situation.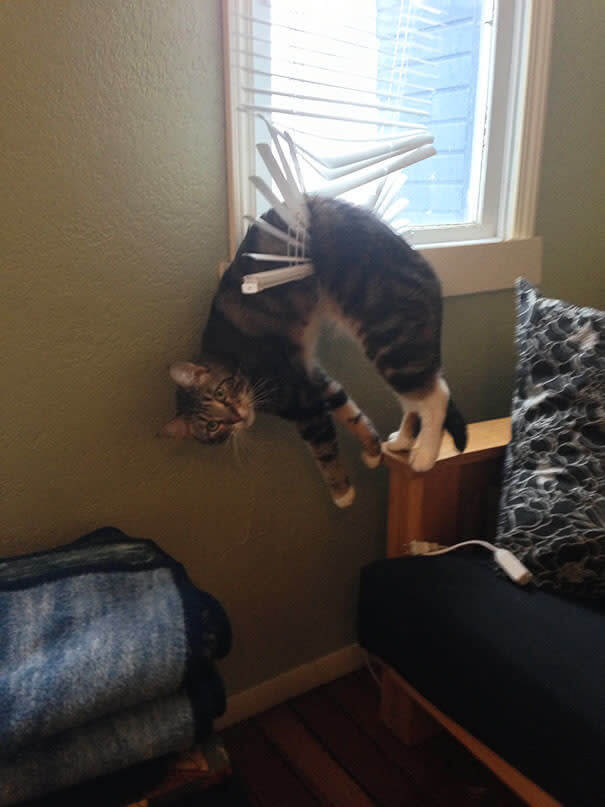 This cat was too curious for his own good, and he instantly regretted his actions. Unfortunately, he has been slacking at the gym, so his upper body strength could not help him out of this predicament.
5. "Have You Seen The Cat, It Was Just Here"
He was chasing the cat, and then it suddenly disappeared. Where could he be? The dog might find out in a few seconds. ​The cat must be a ninja sent to spy on the dog population, and his cover was almost blown.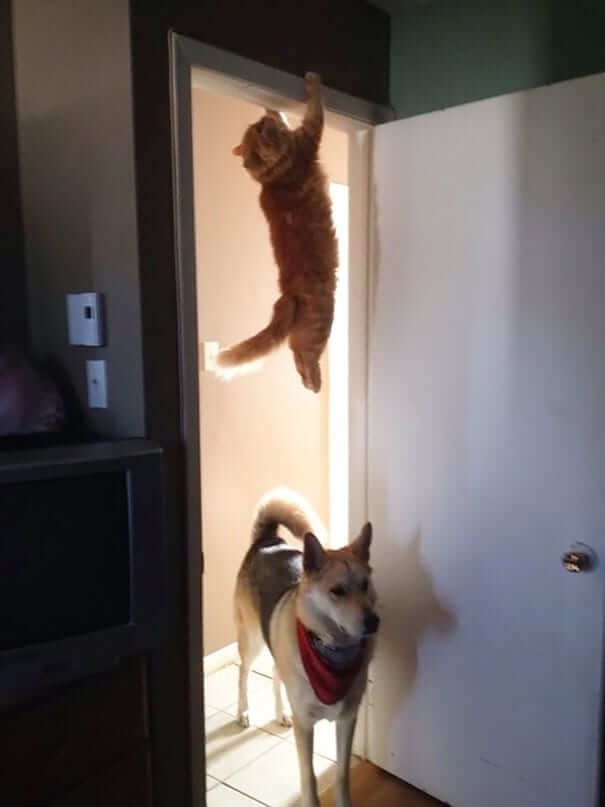 Luckily the cat used his ninja skills to outsmart the dog and hide just in time. He was so close to being captured by the family dog, and at the last minute, he jumped to escape danger. If the cat jumps on the dog, he will never be chased again.
6. The Cat Took His Tail, So The Lizard Got Revenge
"I got your nose; I got your nose!" The lizard must be mocking the cat because the cat snatched its tail. The cat probably deserved a bite on the nose, considering how often it bothers the lizard. Luckily, the lizard's tail can grow back, unlike a cat's nose.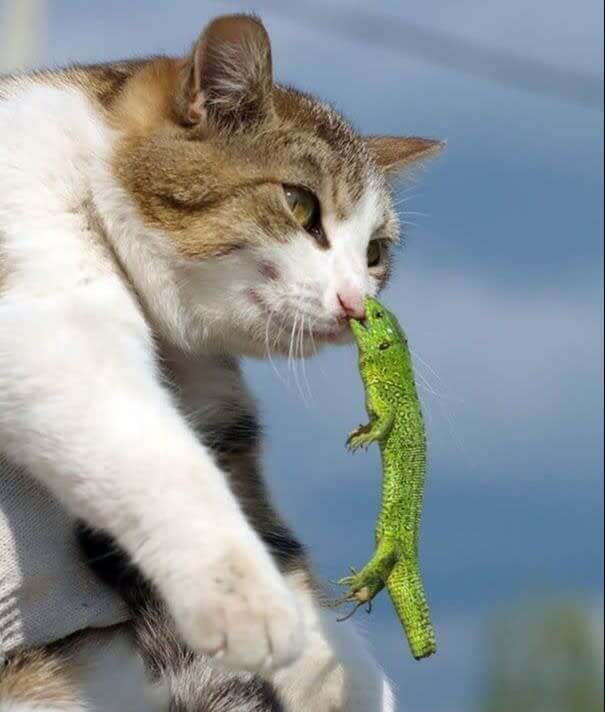 You can almost see a single tear coming from the cat's eye, which proves they have feelings and emotions. If the owners can't get the lizard off, they could just leave it, and call it a nose piercing.
7. "I Fit, I Sit, I… Regret"
There must have been something interesting in this empty jar for the cat to crawl inside, but we are assuming it wasn't worth it. This looks like something out of a cartoon when the character takes on the shape of the object they are stuffed into.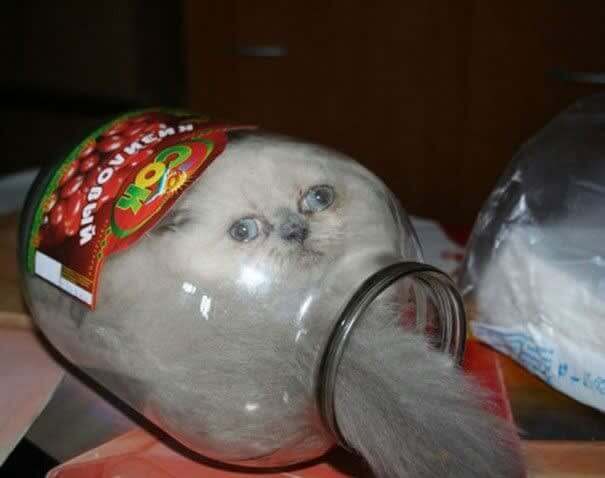 If we had found this cat, we would be terrified. The cat figured out how to get in there, but how will it get out? It seems like it is going to take some maneuvering to get this silly cat out of the jar.
8. Cat Tried To Drink From The Bathtub, But It Didn't Go As Planned
She wanted to know what came out of the faucet and why her human was always going in the tub. Curiosity got the best of her, and she fell straight into the rushing water. At least she is squeaky clean compared to her usual self-cleaning techniques.
It is quite impressive how long she held on before she slipped into the horrible stream of water that cats have nightmares about. Maybe her ultimate goal was to find a few fish to eat, but she didn't know they don't come out of the faucet.
9. "Can I Take Your Coat?"
This majestic cat decided to leave his position as the family cat to pursue a career in the art of coat checking. He got the idea when he was looking in the bookcase and found some light reading about etiquette. He read the chapter about how to treat houseguests and was instantly intrigued,
Not only does this cat look like one of the fanciest felines we have ever seen, but he could also pass for a cat cosplaying as Napolean. He might be the only cosplaying cat, but he is also the best.
10. "Did You Really Buy Me Low Fat Food, Karen?"
When your owner puts you on a diet and tries to pass off the low-calorie food for your regular Fancy Feast. This cat clearly knows the difference between good and bad food, and he is not a fan of whatever he is eating.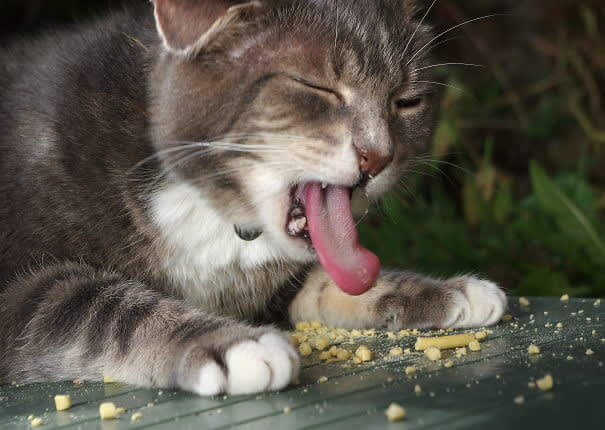 The look of pure disgust on this cat's face is priceless. Everyone can relate to eating something that totally grosses them out from the second it touches their tongue like this kitty.
11. SpiderCat, SpiderCat, Does Whatever A SpiderCat Can
The amazing SpiderCat is back to fight crime in a neighborhood near you. This cat does all his own death-defying stunts, but he has trouble when it comes to getting down from high places. For example, SpiderCat can climb trees, but he can't get back down.
It is unclear how this cat managed to climb up the side of the house since there are no ledges, but it got stuck and needed rescuing. It seems that SpiderCat needs one of the other Avenger cats to save him.
12. "Help, Something's Chasing Me!"
"Let me in!" This cat looks like it ran straight into the door because something spooked it outside. The look of sheer terror on its face makes you wonder what could be so scary. Maybe it was a dog, or it could have been its own shadow that scared this feline.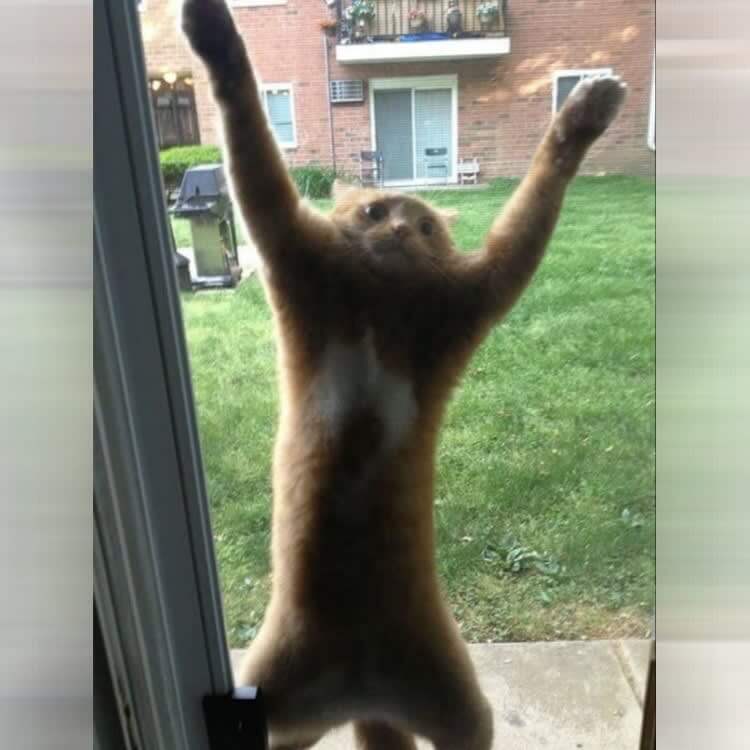 Imagine you are enjoying a cup of coffee when you hear something crash into the glass door. It would be surprising to find your cat urgently clawing to get inside. We may never know what scared the cat, but we can imagine the cat provoked the attack.
13. Cat Vs Slinky, The Slinky Was Victorious
This owner got a rare sighting of the majestic rainbow cat. This unique cat only comes around every 1,000 years. This version of the rainbow cat is slightly derpy compared to its magical ancestors that came before him. The cat has special powers to bring you luck for the whole year.
This cat must have confused the slinky with a toy tunnel and got his head stuck when he realized it was too small to fit him. Now he is stuck like this until his owners rescue him. Unfortunately, they are too busy taking photos to help him out of the predicament.
14. "Surprise! Now Get Me Down From Here"
This cat must have thought there was a surprise party happening, so it hid in the blinds. When her owner walked in, she yelled, "surprise," and at the same moment realized she was stuck. Her owner was not only shocked but also concerned for the sanity of the cat.
It's possible the cat was playing with the blinds when someone opened them, so she held on and got pulled up to the ceiling. The cat is probably wondering why someone is taking a picture instead of helping it.
15. Went To Pick Up Face Wash And Came Home With A Cat
When you go to the store for milk and come back with a pet, it seems that CVS decided to dive into the animal market, apparently, and start selling cats. Now you can buy a cat, cat food, and your prescriptions all in one convenient place.
The cat must really love CVS, so he tried to make the bag a place to sleep. However, once he managed to get inside the bag, he quickly realized he was stuck and started meowing for help.
16. Be One With The Food
This cat still hasn't figured out how to eat from this unique bowl. ​What one person thinks is the wrong way; a cat thinks it is right. This kitten is an innovator and found a way to lie down while she eats.
Some will say it's lazy; others will say this is a smart kitten. She is living by the motto, "work smarter, not harder." It is all about finding the best and most comfortable way to enjoy your meal.
17. This Is A Cat-Astrophe
"I know what you are thinking, but I swear, the ball of yarn attacked me first, and then a fight broke out." This cat somehow got itself entangled in the ball of yarn. We didn't know that cats were actually obsessed with balls of yarn until we saw this photo.
Although the cat was keeping itself entertained, it didn't realize that the ball of yarn would attack. Now his human has to cut all of the yarn off and throw it away—what a waste of perfectly good thread.
18. When You Know You Are Not Fine
This cat knows he is stuck, but it is acting like that is a comfortable place to sit because he is embarrassed. Despite how calm the cat is acting, it is probably so uncomfortable and scared, so hopefully, someone rescued it.
The biggest question we all have is, how did this cat get itself in this position? It looks like it was desperate for fresh air, so it squished itself through the crack to get to the outside world.
19. When You Try To Reach Something That Is Just Slightly Too Far Away
This cat looks like he was trying to capture his mouse toy that was on the other side of the fence when he got stuck. It was just out of reach, and he cramped up in an odd position. Thankfully, someone was around to capture this hilarious moment.
Instead of attempting to climb over the fence, he thought he could go through. Sometimes cats do the silliest things, yet people still believe they are going to rule the world someday.
20. "Did Someone Say Food?!"
Cats love to play in cardboard boxes. No matter how many toys they have, a cardboard box is always their first choice for a place to sit, play, and sleep. This cat was enjoying some time in the cardboard box, and mysteriously got stuck inside.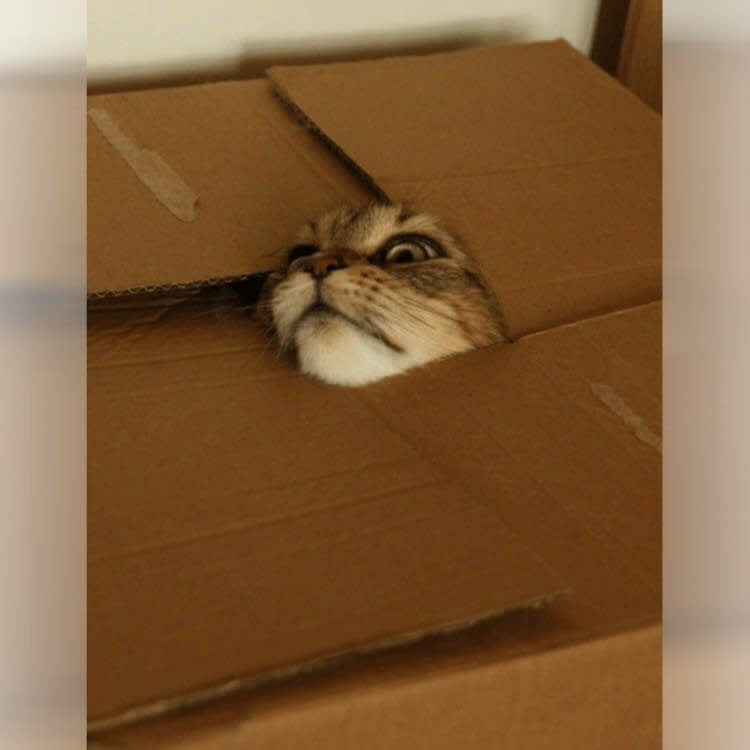 It looks like someone didn't realize the cat was in the box and closed it, only for the cat to pop its head out. He looks like he is about to say, "Excuse me I was sitting in here, how dare you trap me inside."
21. "I Thought This Would Be More Comfortable"
This is also how you look after a late night when you wake up the next morning and are wondering what happened, and how you ended up on the couch. This cat looks like she had a rough night, and thought it would be funny to hide in the cushions.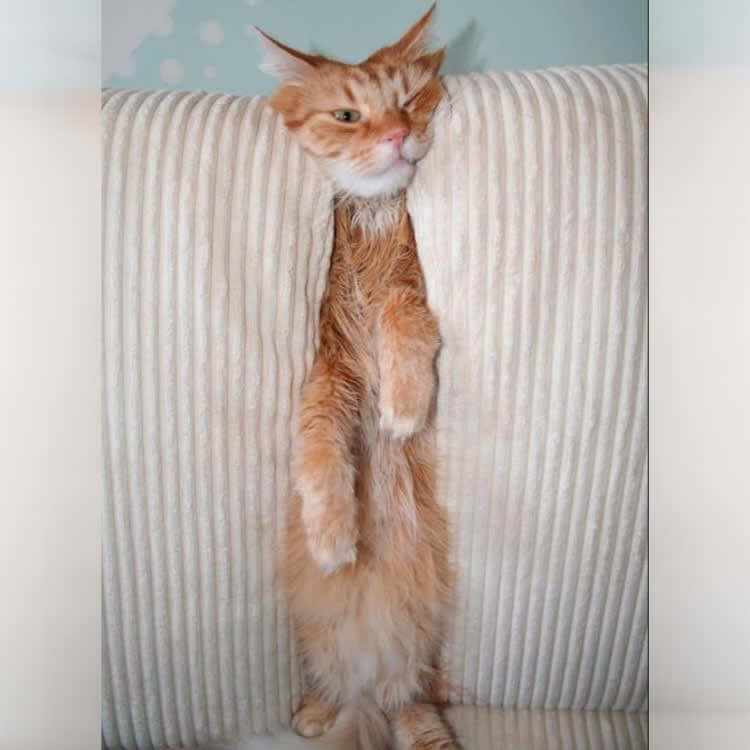 Now that she is stuck between the cushions, she is going to need some water, an Advil, and help to get out from the soft trap she fell into. Although it may appear comfortable, she is being squished in all the wrong places.
22. The Hose Attacked First, And Then It Was An All Out Brawl
You never know when the hose is going to attack, and this cat got caught off guard at the wrong moment. As soon as the water started flowing through it, the cat got entangled, and he was trapped.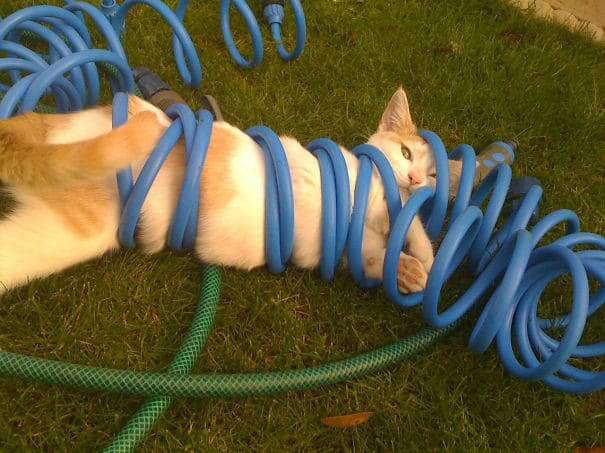 When his owner wanted help in the garden, he didn't realize how dangerous the job would be. After he got tangled, the cat spreading, "Ok, I will stop bothering the dog if you help me out of this."
23. "For The Last Time, I Am Not A Baby, I Am A Cat"
Go outside, they said. It will be fun and safe, they said. Well, according to this cat, anyone who suggested going outside was wrong, and it was a horrible idea. She didn't know that going out would give her owner this crazy idea.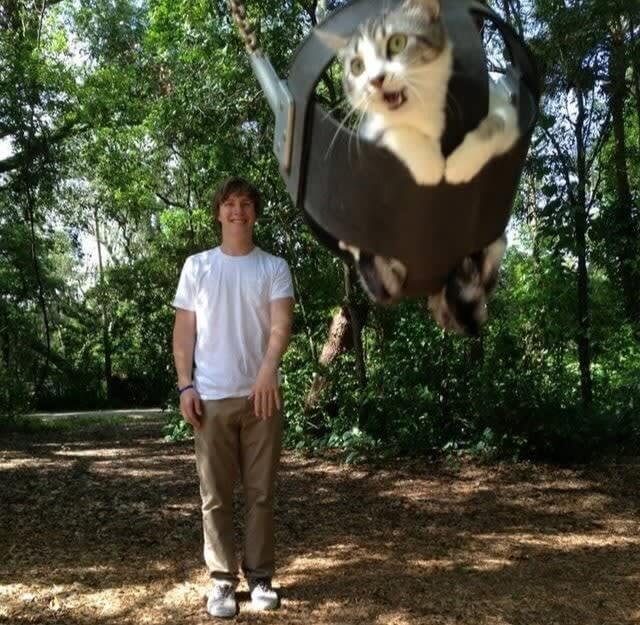 If we were that guy, we wouldn't be smiling because the second the swing comes back, the cat will probably jump out and claw him. We would not want to be on the receiving end of that vicious attack.
24. "Help! I'm Drowning In The Cushions"
These people might want to get rid of that sofa because it has a taste for their family pet. We didn't know that sofas could eat things, but then again, we still haven't found the remote that has been missing for the past two years.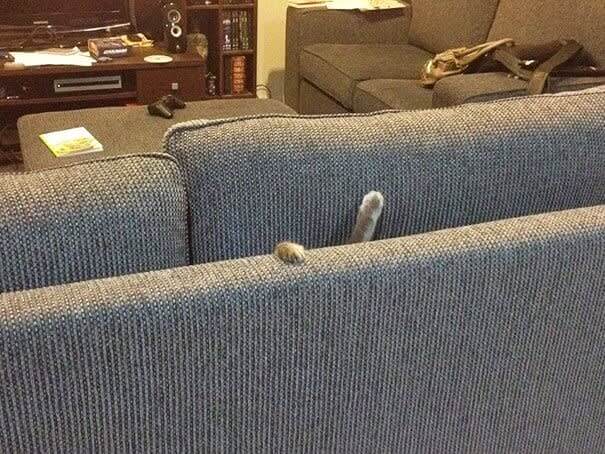 This cat must have been precariously walking along the back of the couch, and then it slipped in between the cushions. Where is the depressing Sarah McLachlan music when you need it?
25. The Cat Door Wins Again
This cat wanted to spend some alone time with the feather duster, but that door foiled his plans. He tried and tried to help the duster through, but it was no use; the two of them were stuck inside.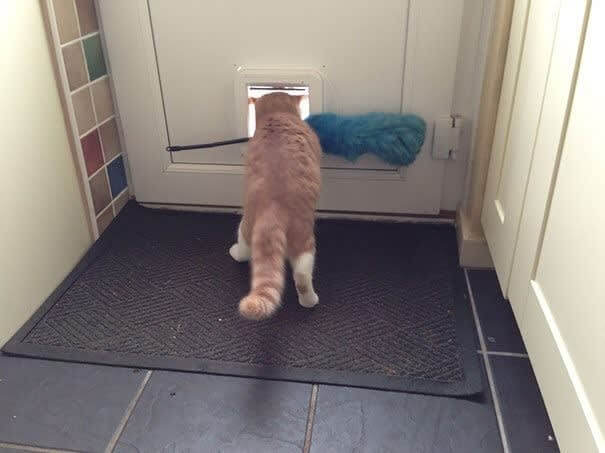 The cat has seen the dog attempt this task many times when it tries to bring in a tree branch, but the cat never learned. How long do you think the owner stood there watching before they took the duster away from the cat?
26. Nothing To See Here, Just An Overflowing Container Of Flour
This person was going to refill the flour container when they realized it was already overflowing with fur. Cats will sit anywhere that their bodies can fit. This one might have fit in the container, but it looks like it could be stuck in there.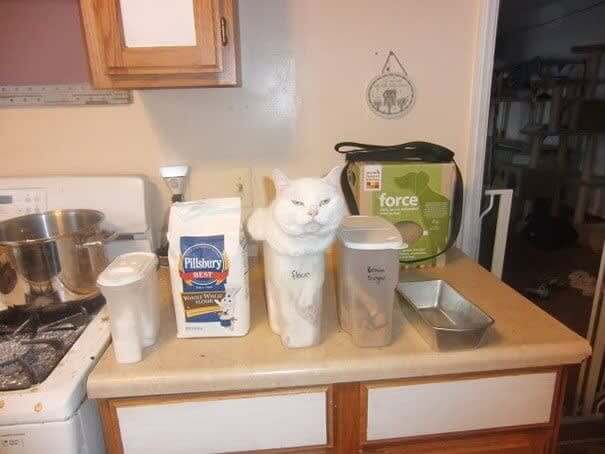 It is as if cats assume they are part liquid so that they can take the shape of whatever object they sit in. Although they can squish themselves inside something, it does not mean they can always get out.
27. "I Got Up Here, But I Do Not Know How To Get Down"
It is a mystery how this cat got on top of the door, but once he was up there, he realized he was stuck. It is a good thing that cats have nine lives considering how often they get themselves into odd situations.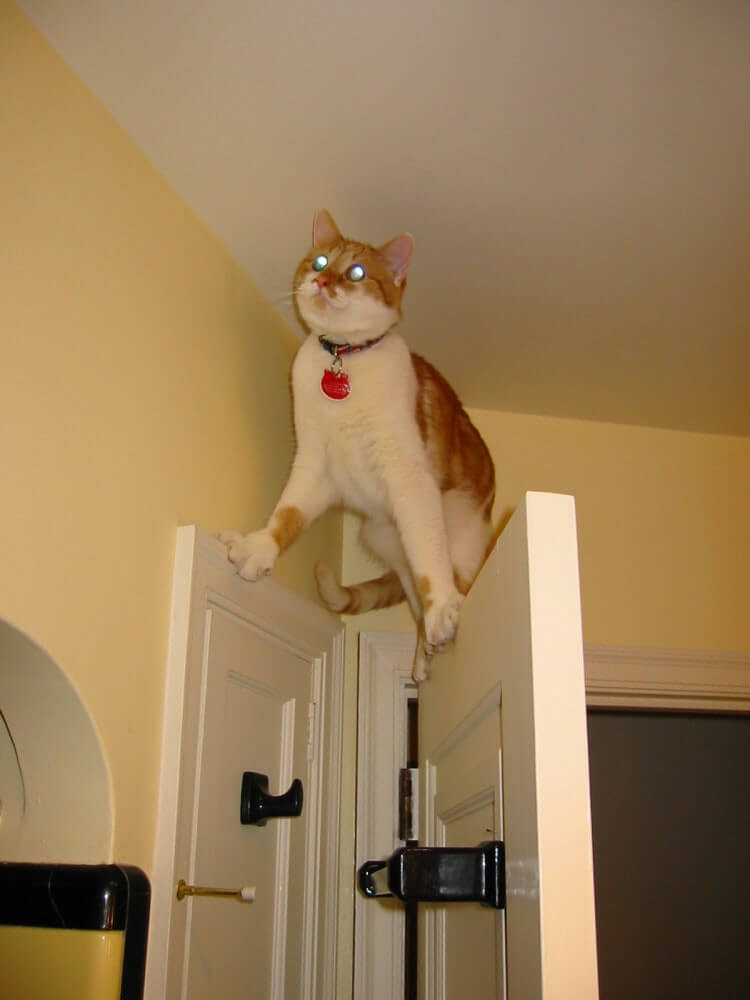 The cat was probably regretting climbing up there because the streak of light it was chasing disappeared. Now it has to sit up there meowing until someone helps him down.
28. He's Just Checking The Sturdiness Of Those Blinds
For some reason, cats love to destroy any blinds they can get their paws on. It must be so exciting for them to climb on something that can possibly fall off the window. This cat was enjoying his daily test of the durability of the shades when his human caught him.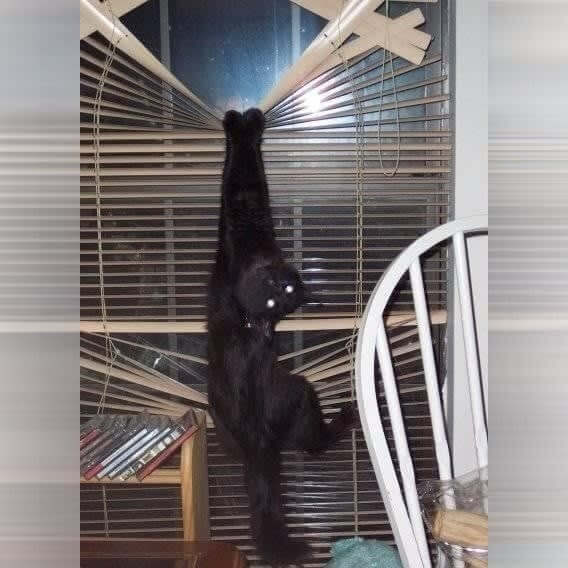 Maybe the cat was trying to prepare for beach season, so it was doing some pull-ups. Yes, even cats can be self-conscious of their bikini bodies. Whatever the cat was doing he got caught, and he was trying to think of an excuse.
29. "Toss Me The Ball, I'm Open….Never Mind"
While everyone knows that cats don't like water, many people are unaware that many also dislike snow. This is photo evidence of the hatred cats have for the ice-cold snow. Someone threw a snowball at it, and it was not happy.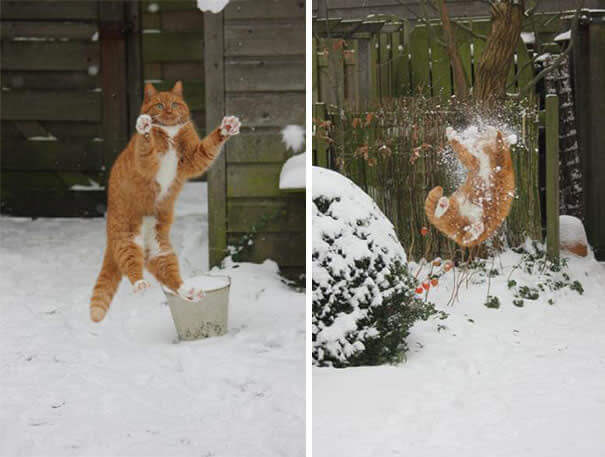 The cat willingly walked into the snow, and it was intrigued by the snowballs, but once it got one, that was enough. He walked right back inside and decided not to go back in the snow until the snowball fight was over.
30. When You Hear Your Cat Making Noises In The Bathroom, And Find This
They say, "curiosity killed the cat," and that could not be more true. This cat knows he messed up. ​Instead of the cone of shame, it is now the tissue box of shame.
The second the cat put his head in the tissue box; he knew it was over for him. He had to succumb to the embarrassment and call out for help until a human came to his rescue.
31. When You Are Trying To Stay Fit And Eat Healthy
Just when you thought your house plants would be safe from the cats, if you hung them up, you were wrong. The cat accepted your challenge and showed you that cats are superior to human brains, but there is one problem for the cat; how will it get down.
While the cat was trying to prove that your house plants will never be safe, it made a huge mistake and got stuck on top of the shower door. The only way for it to survive was to eat the plant for nutrients so it could have the strength to jump down.
32. "The Children Always Ruin My Tanning Sessions"
This is what happens when you leave cats around children with sidewalk chalk. The cat looks so angry like he just wants to say, "take a picture, it will last longer." Well, it's a good thing his owner decided to capture this moment for the internet to see.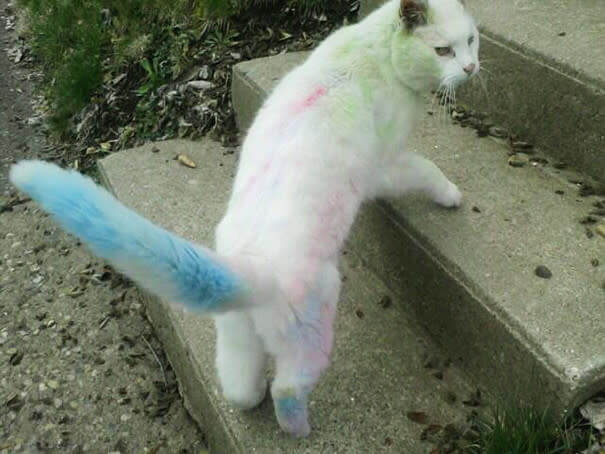 This pretty kitty had a yearning to be fabulous and colorful, but once he saw the results, he was not pleased. To be fair, the cat is the one that trusted the children to give him a good dye job, so he shouldn't have expected much.
33. A New Kind Of 8-Ball
This cat thinks it is so clever until he gets hit in the head with a pool ball. Those things feel like rocks, so getting hit in the head is not worth hiding inside the billiards table. How did it get in there in the first place?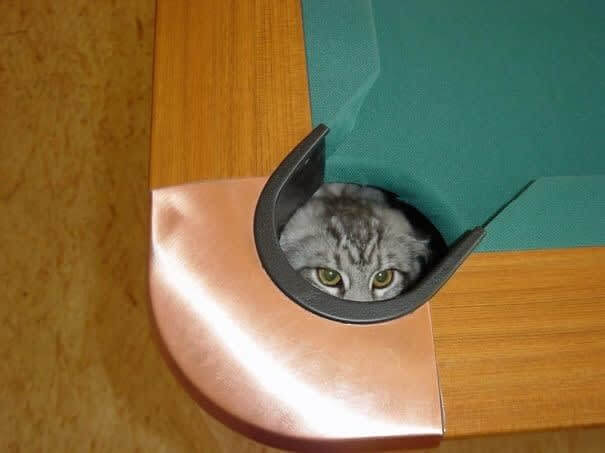 We can imagine that the cat was so curious about the colorful balls, so it chased one down the hole and got stuck inside. The next time someone when to play pool, they heard meowing and realized that is where the cat has been for the past few days.
34. Puss In Boots
This cat must have been watching Puss in Boots and wanted to be just like the cat on the TV. Although he shares the same fur color, he is wearing the wrong kind of boot. This one is out of style, and should only be worn for broken feet.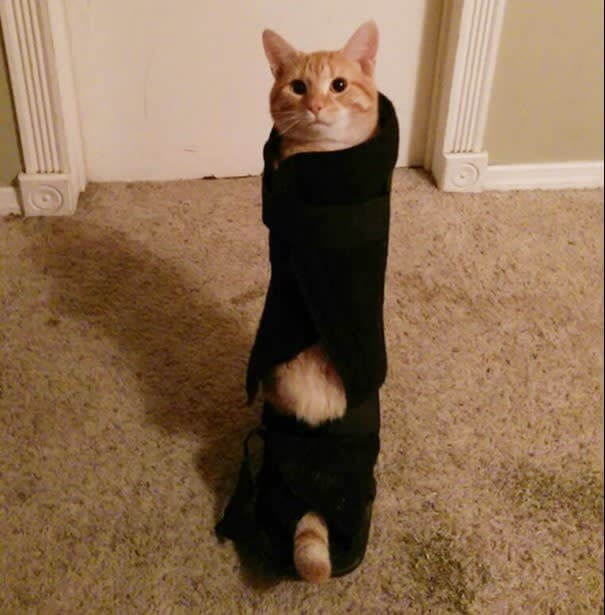 Instead of looking like the fierce, crime-fighting cat that he saw on TV, he is helplessly stuck in an orthopedic boot. Also, is anyone else wondering how it got in there? It almost looks like someone put it in the boot and strapped it in, which would be mean.
35. Do You Want Some Cat With Your Water
Now with every pack of water you buy, you get a free cat! We aren't sure how this cat managed to get itself inside the small space, but cats are magical like that. This one must be practicing its contortion skills in hopes of getting a spot in the circus.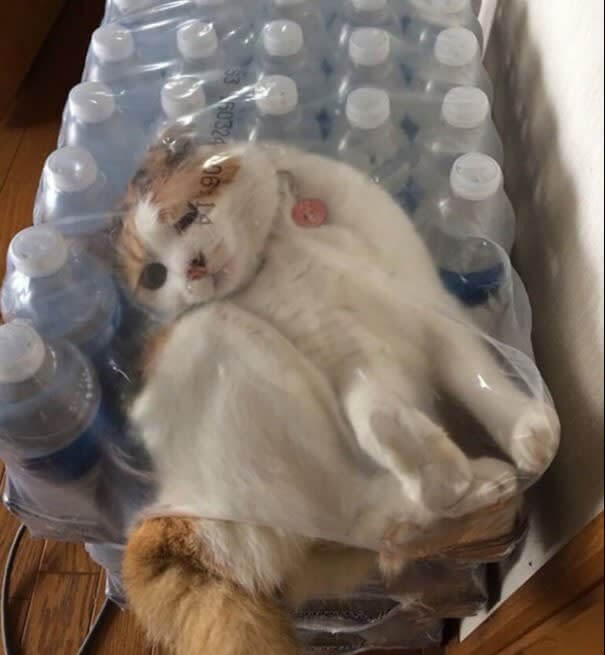 This silly cat is taking the "if I fit, I sit," challenge to the extreme. ​It is probably going to need some help getting out of this situation.
36. A Sticky Situation
She was trying on the roll of tape to see if it would make a cute hat, one thing led to another, and it was stuck. ​This cat is in a real sticky situation. Someone help it.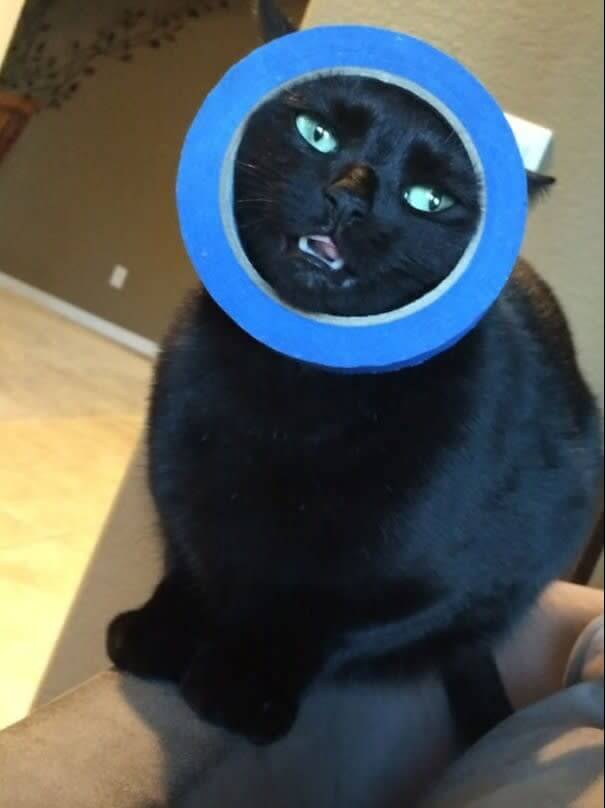 The tape must have been very interesting to this cat, but you can tell it realized the tape wasn't worth it. Now the cat is humiliated and mad at his owner for posting this embarrassing photo to the internet.
37. Trying To Find Something To Wear To The Pet Ball
"What? I was just looking for something to wear tonight. Do these hangers make me look fat? If I try them in black, it will be more slimming." This cat was raiding the closet when it got stuck in the hangers and started crying for help.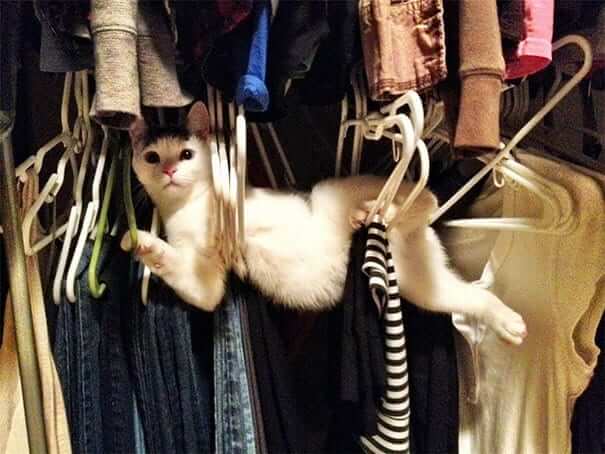 Imagine you come home and hear something moving in your closet only to find this. That would scare the pants off anyone, but then you would instantly start laughing at how dumb your cat is.
38. When You Try To Get All The Crumbs
In the middle of the night, this cat's owner woke up to the dog barking in the kitchen only to find this. Cats are notorious for getting their heads stuck in jar-like objects because they are too curious for their own good.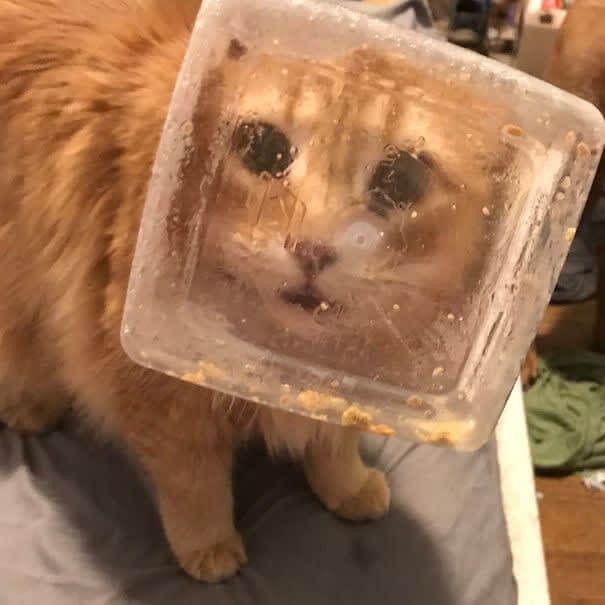 This cat must have gotten hungry in the middle of the night, so it went searching for a snack. Instead of breaking into the full treat jar, it got into the empty one and tried to get the crumbs from the bottom. Unfortunately, it got caught and didn't get the snack it was looking for.
39. Always Making Life Harder Than It Has To Be
You have to wonder what makes people think cats are smart animals when you see things like this. Why walk through the door that's wide open when you could get stuck in the cat door.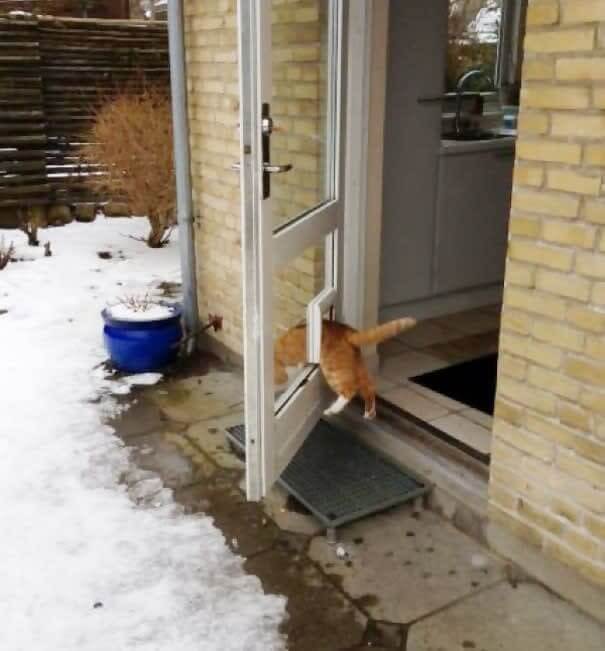 This cat must be used to going through the small exit, so he refused to walk through the open door. However, we bet he is regretting this choice considering the position it is stuck in.
40. "Well, Now What Do I Do?"
This cat is in quite the predicament. It managed to climb on top of the railing, but now it is stick on the tiny spot. The cat knows it is in trouble because it will fall no matter which way it tried to climb down.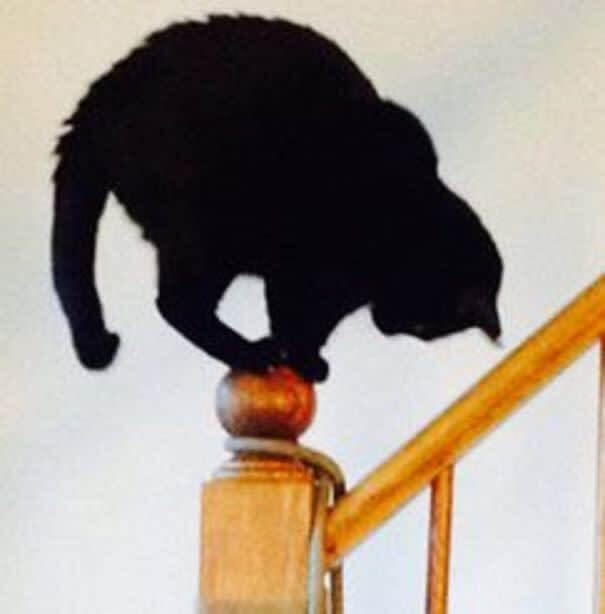 It is possible that this photo was taken around Halloween time, and the cat saw all the decorations and wanted to imitate them. He looks just like the typical black cat decorations that are festive for the fall.
Celebrities Who Spent A Fortune Changing Their Looks
John Travis
This article was originally published on 24/7Mirror
One of the Hollywood taboos is also a "hobby" for many, going under the knife. Although not many celebrities admit to having plastic surgery, it all becomes quite evident sooner or later. As some celebrities openly admit it – like the Kardashians – others hide it. So, here are some of the most expensive celebrity plastic surgeries. ​
Heidi Montag – $1,000,000
As Heidi Montag appeared with her boyfriend (now husband), Spencer Pratt, in the TV show The Hills, the couple received a lot of love and hate.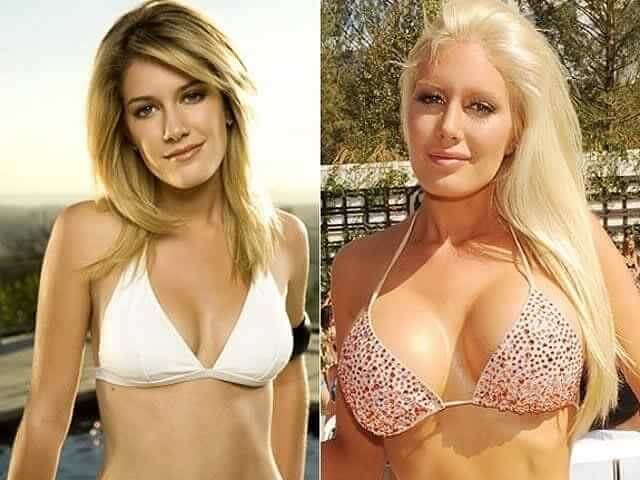 She was insecure about her looks and had a lot of grief for her plastic surgery decisions that have cost her a lot of money. She was so addicted to it that she even had ten procedures in one day.
Jennifer Aniston – $30,500
Ah, the beautiful Rachel Green from famous American sitcom still looks younger, and we absolutely love her. She hasn't admitted to going under the knife, but experts suggest that she has had at least two nose jobs and a facelift in the past two decades. However, she has admitted to treatments such as famous laser and ultrasound 'no-scalpel' facials, which she has at least once a month.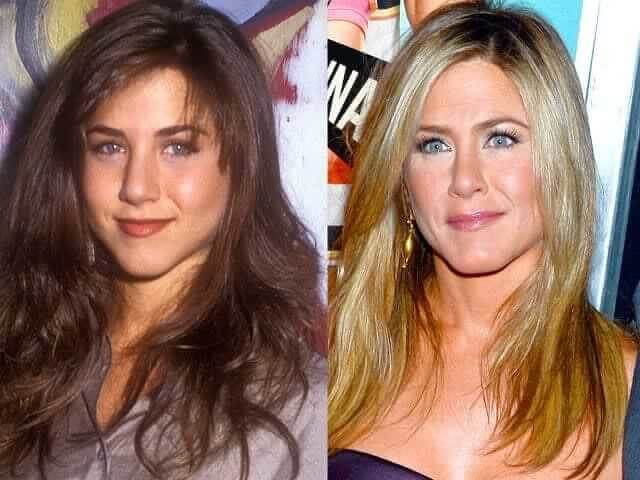 On the other hand, many people believe that she still looks younger because of her extensive skincare and beauty regimen. It is rumored that her eyebrows alone cost around $900 per year.
Kourtney Kardashian – $25,000
As expected, the Kardashians will take up a fair share of our list. Kourtney Kardashian was in college when she decided to have breast augmentation, and she was not happy with the results. According to her, she wishes she hadn't had it done.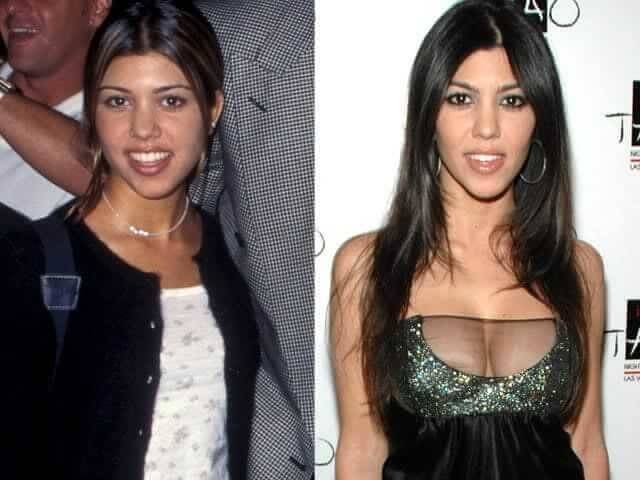 Kourtney believes that surgery is an extreme first step, and that's why she might even consider lasers as an alternative method if she decides to make any future changes to her face or body.
Nicki Minaj – $11,500
Nicki Minaj is a huge celebrity and a role model for many young black women. However, it is worth mentioning that her signature look is not natural.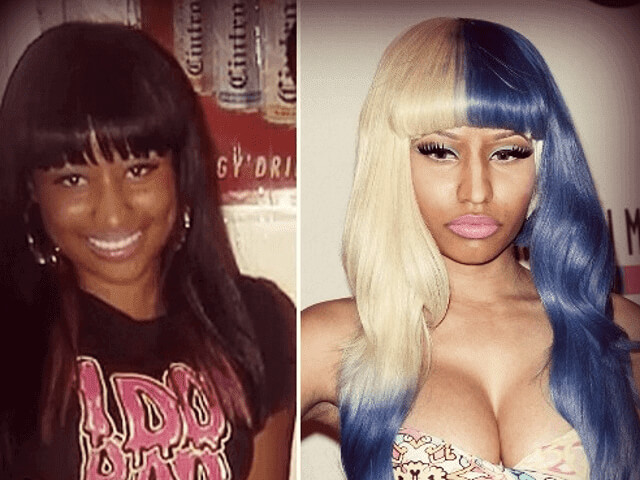 It took over $11,000 to give her the look that she has today. The procedures include buttock implants, skin bleaching, and a nose job.
Victoria Beckham – $12,956
Victoria, the wife of David Beckham, has a love-hate relationship with plastic surgery. It is because she had bits and pieces done on her body and then removed as well.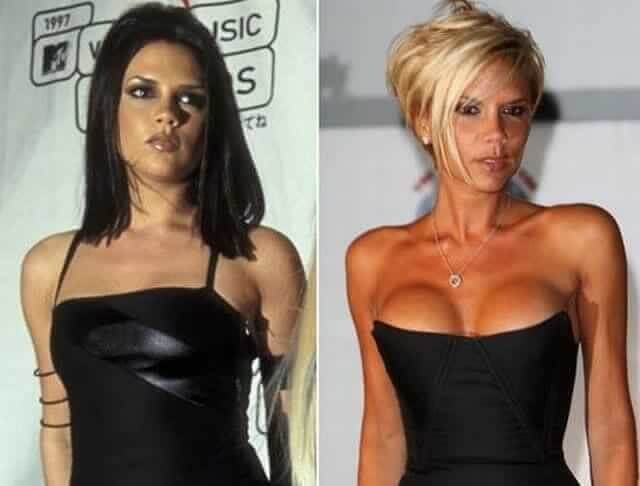 She has openly admitted about her breast augmentation and regrets her decision to get them done. She is quite outspoken about it and says that she did it due to insecurity. "Don't mess with your boobs, just celebrate what you've got," she said.
Pete Burns – $38,000
The late English musician was known for his ever-changing and sometimes androgynous appearance, and he did not shy away from admitting that they were possible because of a lot of cosmetic surgeries.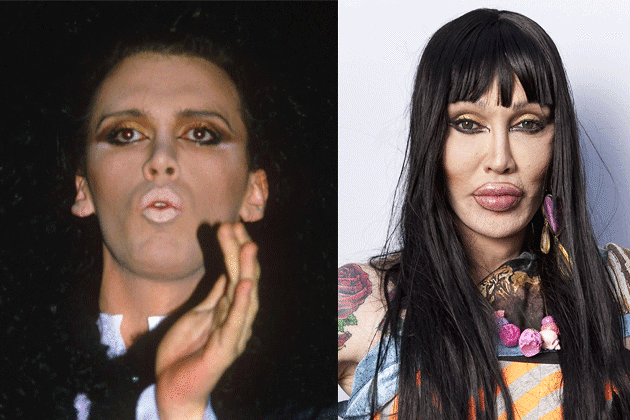 Although he had many other procedures, the common ones he had were lip fillers, cheek implants, and nose jobs.
Kylie Jenner – $2,000,000
It was reported by "OK! Magazine" that the entire sum of Kylie Jenner's surgeries might be about two million dollars. Yes, you've read it right.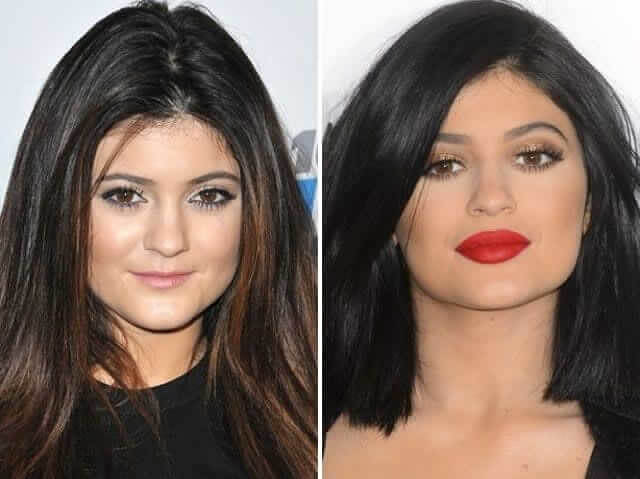 However, she has publically admitted only to lip fillers because (allegedly) her date said to her that he didn't think she would be any good at kissing. There are rumors that she's had Botox, breast implants along with other procedures.
Jocelyn Wildenstein – $6.500,000
These pictures are not photoshopped. Jocelyn is known as the Catwoman. there is speculation that she did all the extensive surgeries because her late husband liked cats.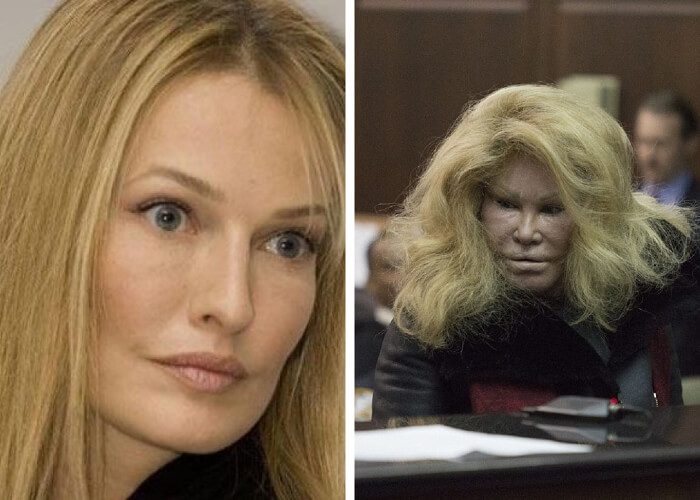 She has no plans to stop. She even said that if she ever wanted work done, she would continue to have a plastic surgery into her nineties
Angelina Jolie – Unknown
Although some celebrities get plastic surgery in an attempt to look younger, this wasn't exactly the case with Angelina Jolie. She had a double mastectomy and was at serious risk for breast cancer. Therefore, she got implants after the removal of her breasts.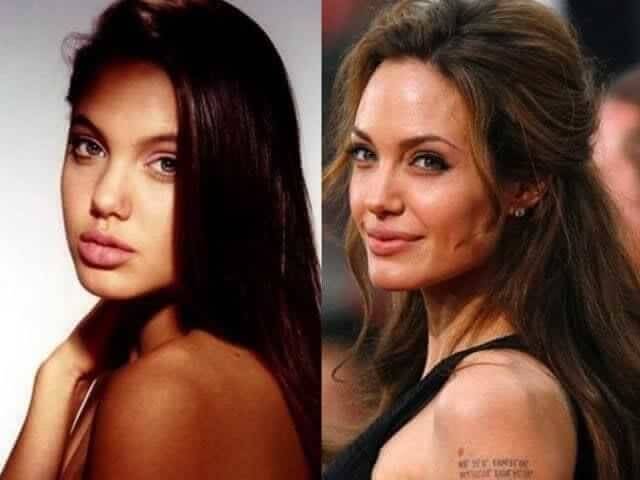 However, some experts firmly believe that she's had a facelift and nose job at some point. Look at her comparison photo and decide for yourself.
Caitlyn Jenner – $60,000
After many years of battling with her gender identity, Caitlyn Jenner (formerly Bruce Jenner) had gender reassignment surgery to fully transition into a woman. Caitlyn was empowered when she finally got to express her true self.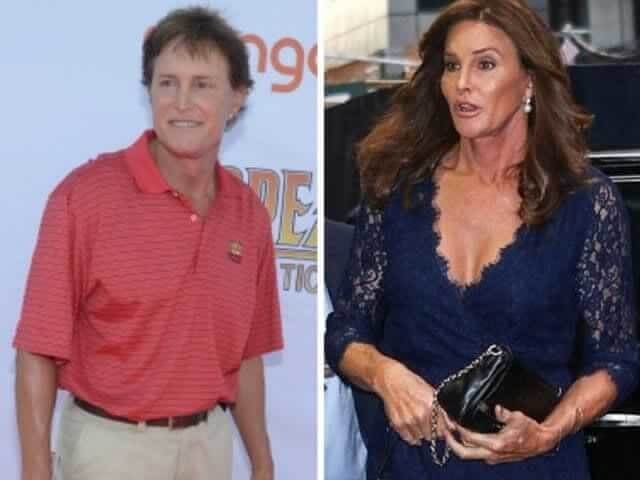 Caitlyn also had breast implants and facial surgery to give her a more feminine look. She is and will always be an icon.
La Toya Jackson – $21,500
La Toya Jackson is also a plastic surgery enthusiast, just like her famous brother. It resulted in giving her an unrecognizable look just like Michael Jackson.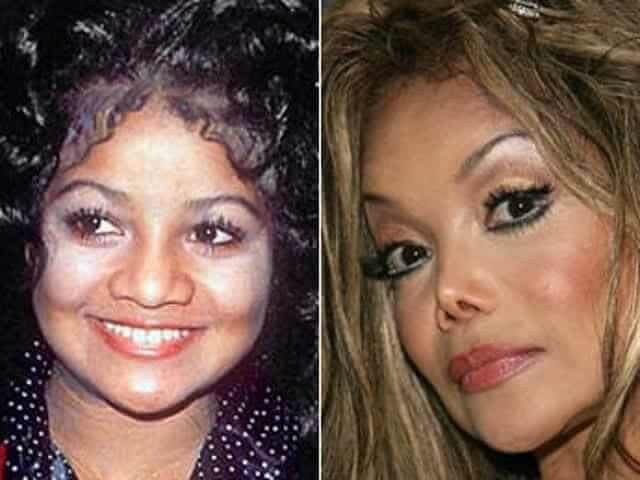 It is reported that she has had an eyebrow lift, at least one rhinoplasty, and breast augmentation as well.
Kim Kardashian – $16,500
It has been up for debate if Kim Kardashian has or has not had plastic surgery. She started in her early days working for Paris Hilton before she made a name for herself.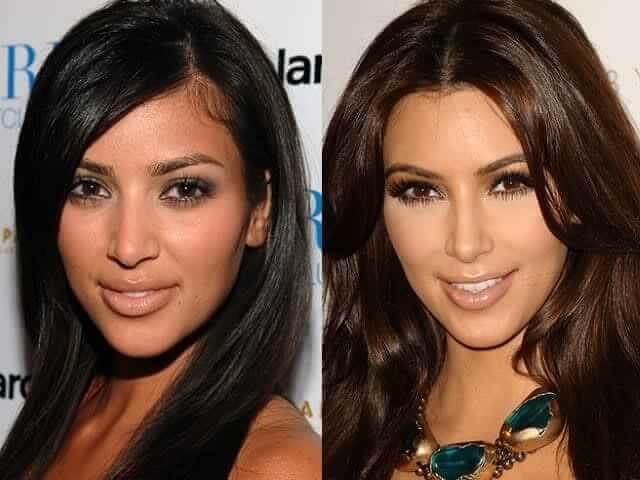 It is no secret that the TV personality, model, and reality TV star Kim has made some changes to her appearance. She has spent money on nose jobs, liposuction, and both breast and buttock implants.
Mickey Rourke – $36,000
So far, you have seen that most of the big spenders on our list are women, but Mickey Rourke is undoubtedly one of those male actors who wanted to give them fierce competition.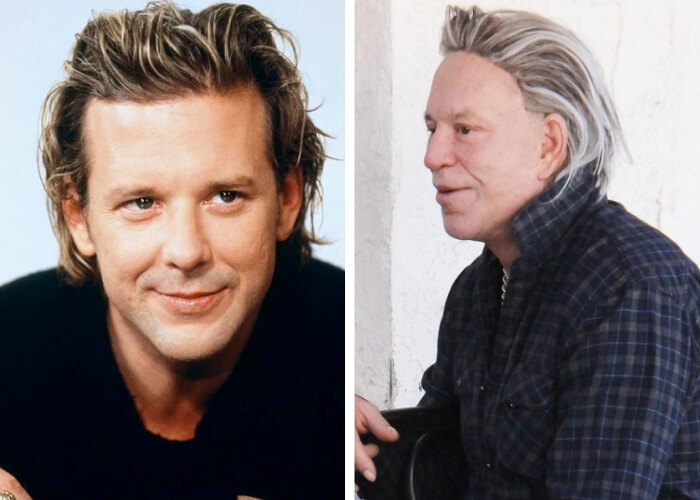 It is rumored that he has had six facelifts and a nose alteration at some point in his career. Decide for yourself.
Michael Jackson – $1,000,000
The "King of Pop" is one of the most famous people who entirely changed themselves with the help of plastic surgery. He started having work done at a young age and he never really stopped.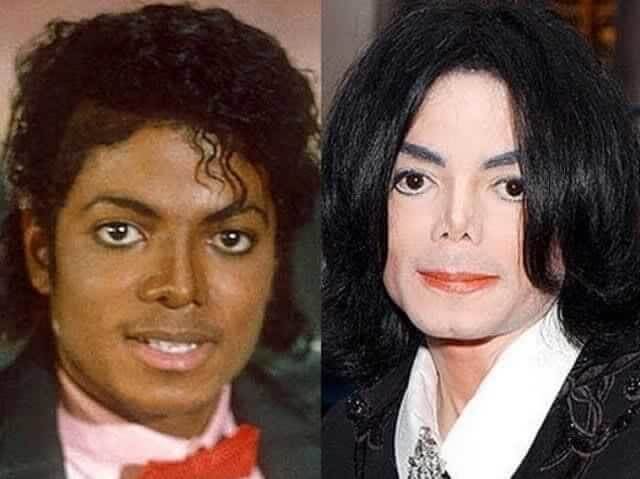 Even though he is known for changing his skin to completely white, he also had rhinoplasty along with many other procedures.
Nadya Suleman – $12,180
Remember Octomom? Well, if you don't then you'll be a bit surprised to know that she is popular because she gave birth to eight babies at once. She was heavily criticized by some people as they thought she did it for fame and money.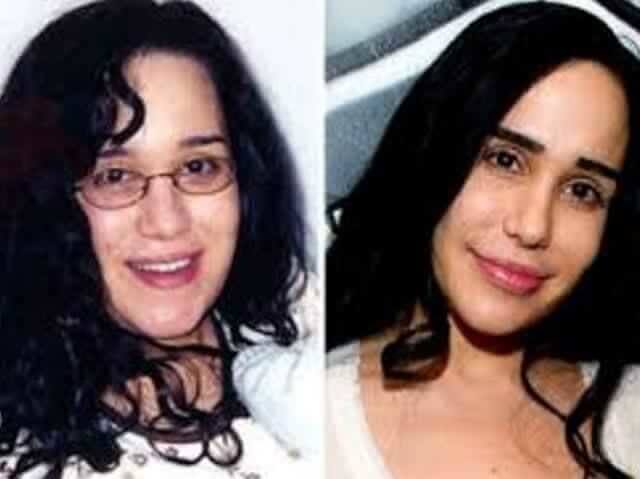 She has gone through surgeries that include nose jobs, lip injections, and yes you've guessed it right, vaginal rejuvenation. Some people believe that she went under the knife several times because she wanted to look like Angelina Jolie.
Tori Spelling – $13,000
This actress is widely known for her roles in television shows like "Beverley Hills" as well as in movies like the blockbuster hit "Scary Movie."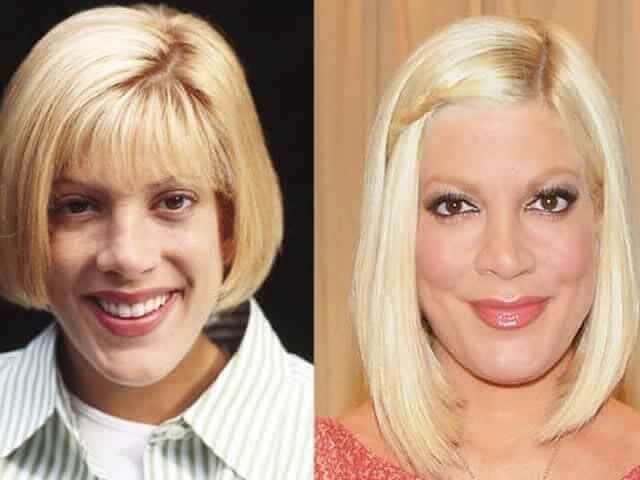 Unlike many celebrities, she did not hesitate in admitting to having some work done. She has some regrets about her breast augmentation because it caused problems with breastfeeding her children. The actress wanted to create awareness about the drawback of breast augmentation and admits that she would have never done it if she had known about it.
Pamela Anderson – $10,500
The Canadian-American actress and model is known for her appearances in Playboy magazine and TV series such as V.I.P. and Baywatch.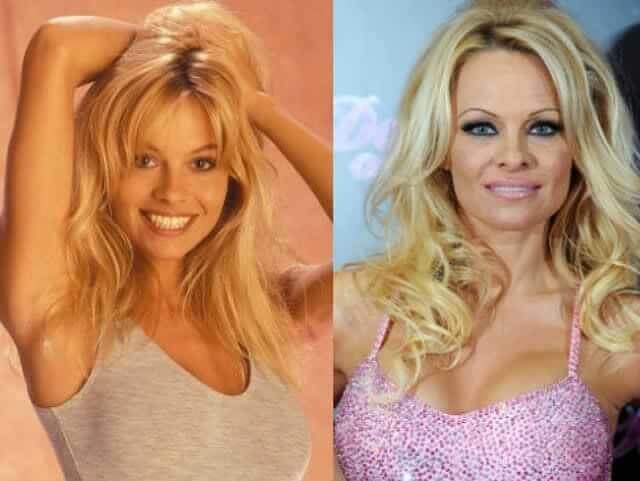 As she grew older, she found it hard to remain in the public eye. Therefore, she decided to go for breast implants and facial tightening procedures in a quest to remain young. She certainly succeeded in doing it and now her boob jobs are one of the most standout things about her.
Denise Richards – $13,000
You may have recognized this American actress, television personality, author, philanthropist and former fashion model from the currently running reality TV show The Real Housewives of Beverly Hills. She is best known for her work in TV shows such as Blue Mountain Slate, Twisted, and The Bold and The Beautiful.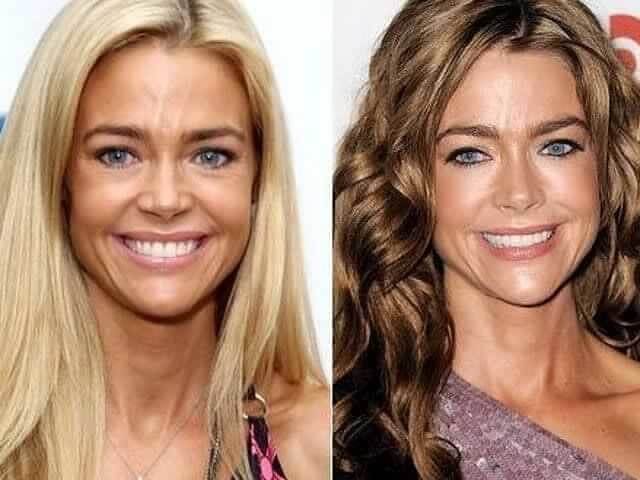 She was only 19 when she decided to have a breast augmentation. However, her breast was too large for her frame and she had to go through the procedure two times before she got the results she wanted.
Kelly Rowland – $22,000
She became immensely popular in the late 1990s as a member of one of the world's best-selling girls group, Destiny's Child.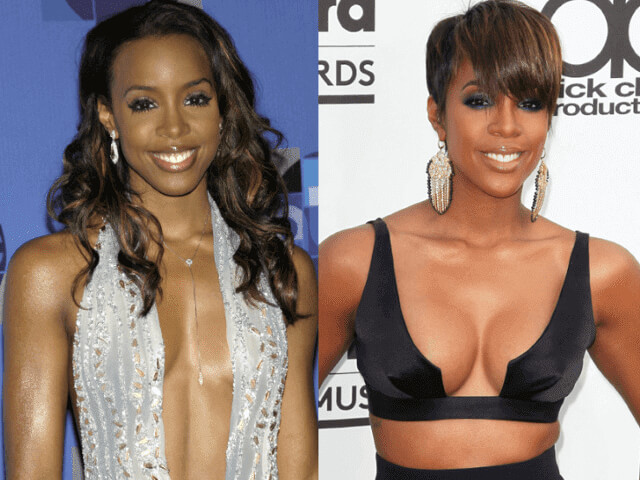 She once told the media that she wanted to get her breasts enlarged when she was 18 years old. However, her mom and Beyoncé advised her to give it some time. She finally got them a decade later.
David Gest – $20,000
This transformation won't surprise you once you learn that this American producer and television personality was a great friend of Michael Jackson, a plastic surgery enthusiast.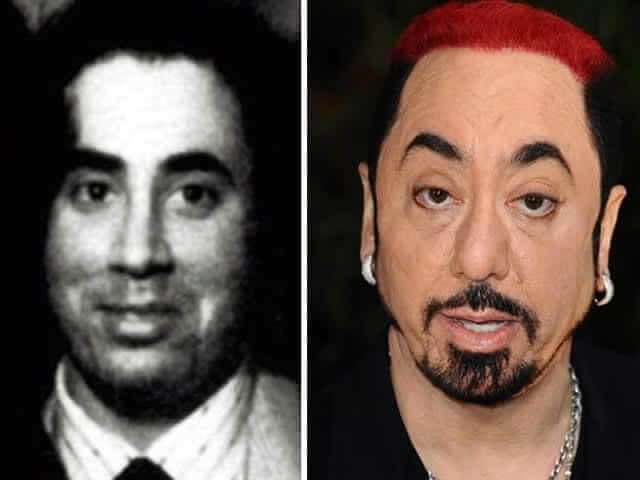 Many believe that there was a time in his life when he became addicted to plastic surgery. That explains why he has had many facelifts, an eyebrow lift, and Botox, as well as surgery to his chin to give him a stronger jaw. He regrets that he went to great lengths and it even cost him way more than what he could afford.
Lil' Kim – $19,625
Well, this is definitely one of the most shocking transformations on our list. Lil' Kim did it all when she was on a break from her music career.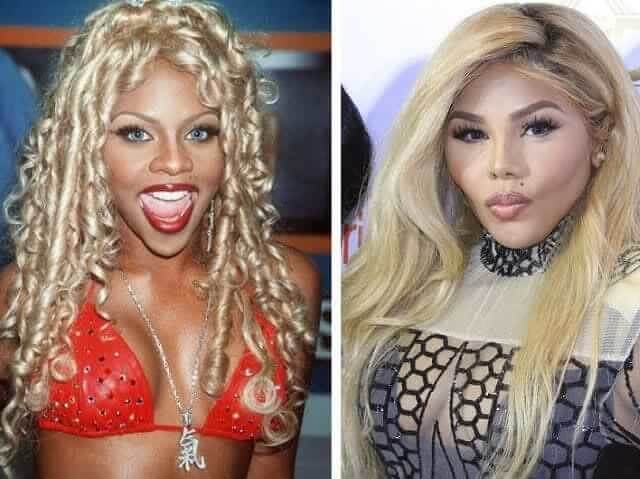 She has had liposuction, lip implants, a rhinoplasty, and breast augmentation. She has also bleached her skin a few shades lighter. The public opinion hasn't been so kind to her after this dramatic transformation.
Donatella Versace – $25,000
The Italian fashion designer like many others wanted to look her best all the time, but her cosmetic surgeries did not deliver results as expected.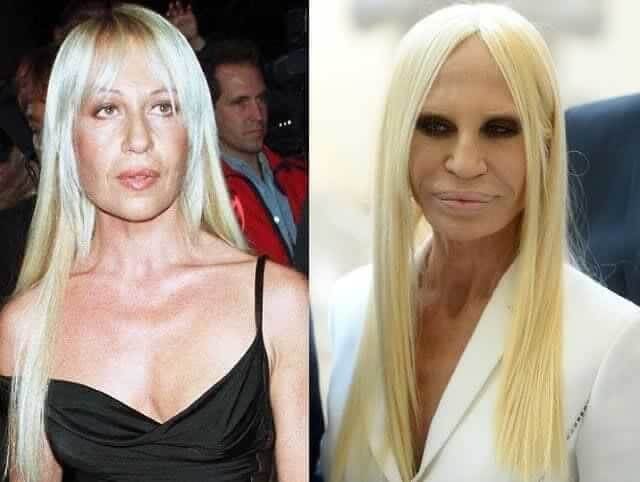 Her facelift did not go as planned and even the injections took away any sign of movement in much of her face. She is often called as the human waxwork and she replied to it in this way: "I am not a fan of the natural look."
Amanda Bynes – $18,000
Once an adorable child star and a teenage actress, Amanda Bynes has certainly made such a transformation that she might be overdoing it in later life.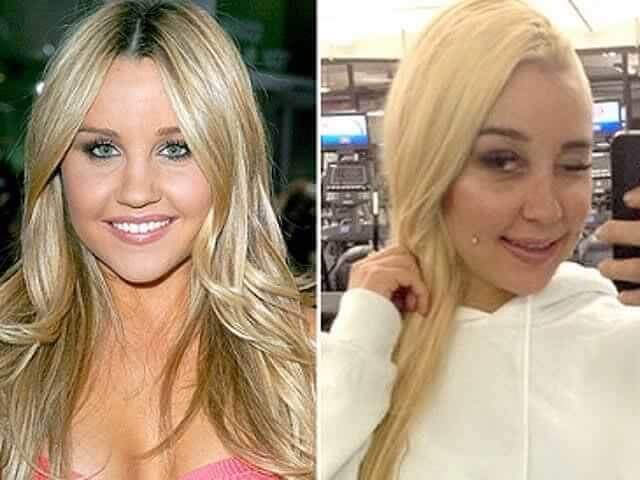 However, she is quite open about her love for plastic surgery. As she has also had a boob job, she isn't planning on stopping. She said on Twitter, "I plan on having surgery on my whole face, straight up."
Holly Madison – $32,000
It is hard to understand how a Playmate can feel insecure about her looks, but that's how Holly Madison felt. Living in the Playboy Mansion created some serious self-esteem issues.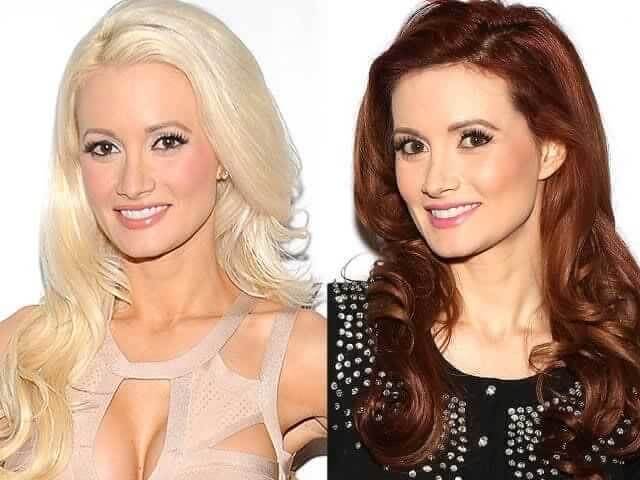 "I was comparing myself to the other girls … You have to look a certain way at the mansion. Plastic surgery made it easier for me to get things I wanted in my career. Without it, I wouldn't be where I am today," she said.
Kris Jenner – $71,000
Kris spent over $70,000 on plastic surgery before airing it on the episode of "Keeping Up with the Kardashians."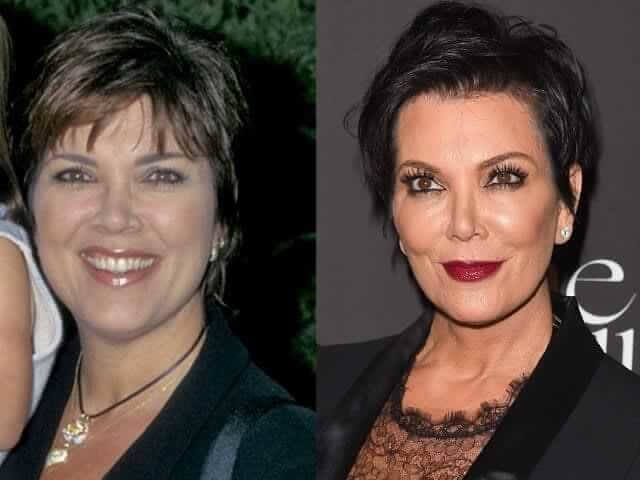 Kris has gone with procedures such as nose jobs, breast enhancements, laser surgery, facial fillers, and more. How much has she changed her appearance? You decide.
Cher – $750,000
You can either love her or hate her, but you cannot deny the fact that she has been in the spotlight her entire life.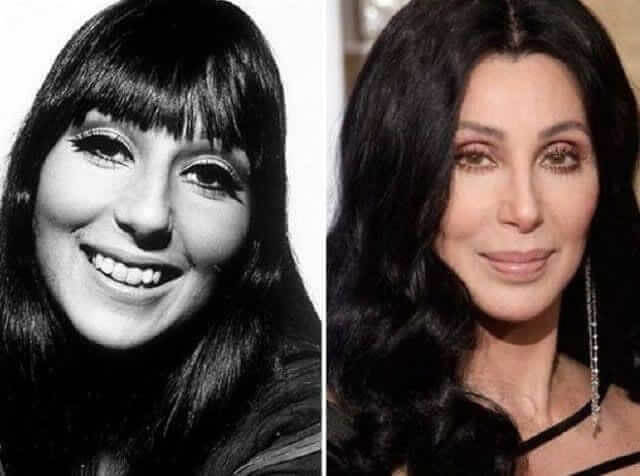 The singer, actress, and a model have a lot of enhancements procedures done which include eyelid alterations, nose jobs and chest augmentations. She has relied a lot on Botox injections to keep her skin looking smooth.
Kaley Cuoco – Unknown
The star of famous American sitcom The Big Bang Theory openly admits that she has had cosmetic surgeries.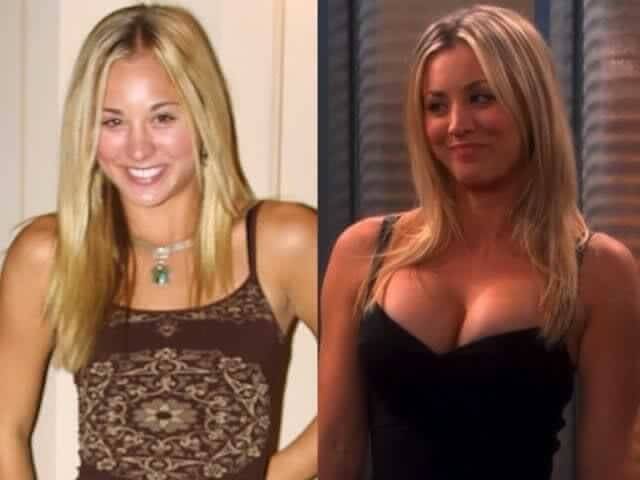 She had a breast implant in 2004 and she believes it to be one of the best things she has ever done. She also had a nose job and we love that she is quite open about her procedures.
Joan Rivers – $99,000
The late Joan Rivers is considered among some of the best comedians of all time. Apart from comedy, she was also known for her plastic surgery.
It is because she had a startling 739 procedures in her lifetime. It can be said that this high number of procedures might be a record amongst celebrities.
Kathy Griffin – $30,000
Here is a famous comedian and an actress who is creating laugh lines on others while making her wrinkles less visible.
She has had a number of procedures on her eyebrows, breasts, nose, and eyes, as well as Botox, and chemical peels. We think she hasn't overdone it and she looks beautiful.
NeNe Leakes – $20,500
Best known as Linnethia Leakes, the reality TV star became famous from the Real Housewives of Atlanta. She has since worked in TV shows such as Glee and also became a judge on the show Fashion Police.
She isn't too shy to admit that she has had a fair share of plastic surgery that includes one nose job, a breast lift and a breast reduction along with some liposuction. Well, she looks super gorgeous as always.
Tara Reid – $9,500
Tara captivated everyone with her innocent looking face in the hit comedy series American Pie. It won't be wrong to say that she is a good reminder that plastic surgery doesn't always deliver results as expected. The damages were caused by her breast augmentation and tummy tuck.
She featured in a Playboy magazine of 2009 and said that the damage caused by surgeries to her skin and torso have been corrected.
Courtney Love – $9,800
The American singer and actress have a career that spanned over four decades and she has changed many looks over the years.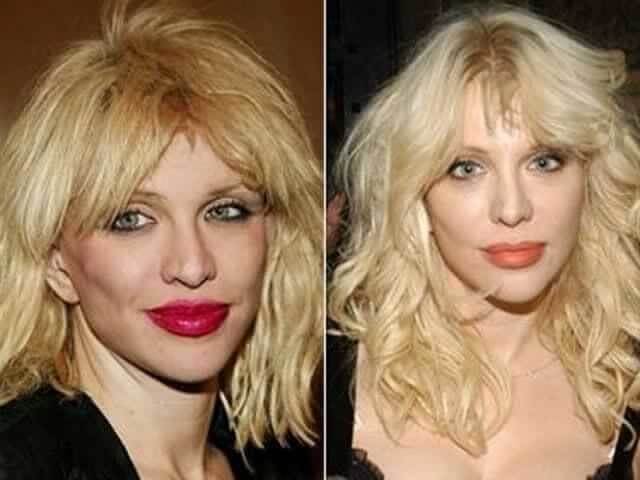 Although the wife of late rock star Kurt Kobain has had experimented with long flowing blonde locks and short messy hair with punk clothes, it didn't stop people from noticing that she had made changes to her face and body as well e.g. nose job, lip fillers, and breast augmentation.
Meg Ryan – $11,750
Although it isn't the most expensive transformation on our list, it looks like Meg went a bit overboard with her procedures.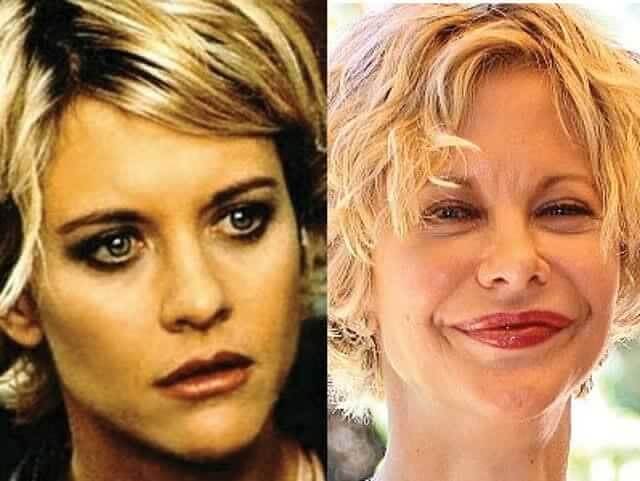 She has had quite a few procedures, including neck lifts and many facial fillings. Once known as the "fresh-faced" actress, she has definitely shocked everyone with her look.
Lindsay Lohan – Unknown
This Mean Girls star has never confirmed any rumors regarding her cosmetic surgeries, but there are a lot of speculations that she has a lot of experience of going under the knife. Supposedly, she had it all from boob jobs, facial implants, to nose jobs.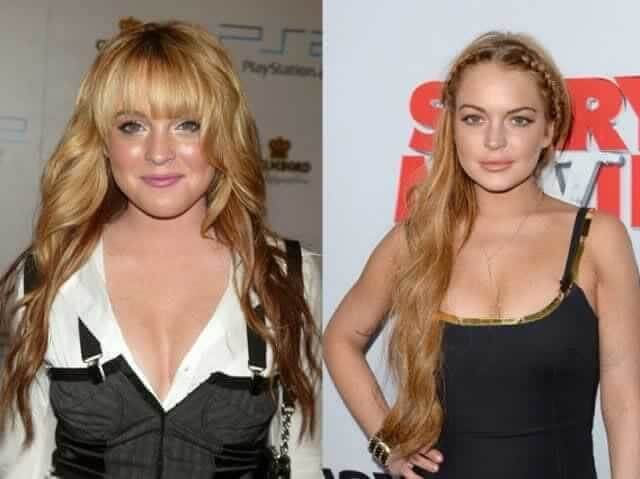 Lindsay even denies having Botox to keep her looks younger. However, she has admitted to trying a treatment called Caci in which electrical current is used to keep the skin muscles smooth.
Heather Locklear – $18,500
She has made a name for herself with her role as Amanda Woodward on "Melrose Place" and as Sammy Jo Carrington on "Dynasty." And she is also known for being associated with famous men such as Tommy Lee Jones and Richie Samborra.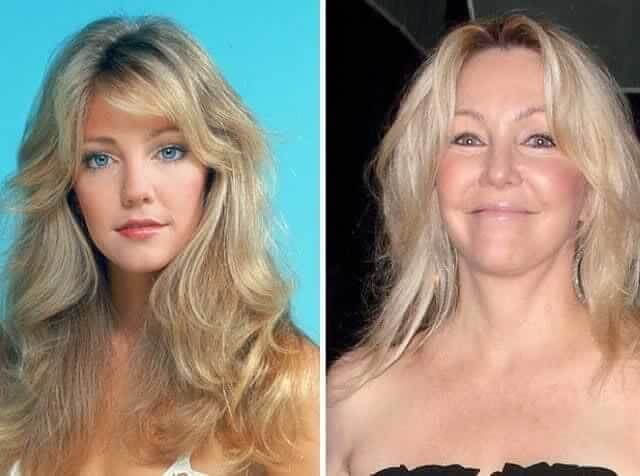 Although she has had many surgeries over the years (a nose job, a boob job, a cheek implants procedure, and a facelift along with Botox injections), it is amazing that she doesn't look dramatically different and even her overall bill of treatments isn't too high as well.
Janice Dickinson – $20,000
It can be said that Janice is not one of the cosmetic surgery's success stories. Even her son, Nathan Fields, begged her to not do any more plastic surgery but it seems like she has no plans of stopping anytime soon.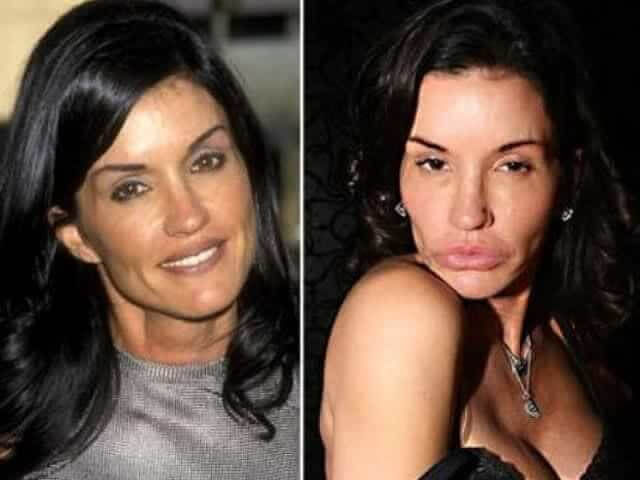 Her dramatic transformation has taken place slowly over the years. It is unfortunate that her name is quite often used on lists of nightmare plastic surgery gone wrong.
Barbie Girl – Unknown
Valeria Lukyanova wanted to look like Barbie since high school and says that she has had only breasts changed to achieve the look. But we find it hard to believe.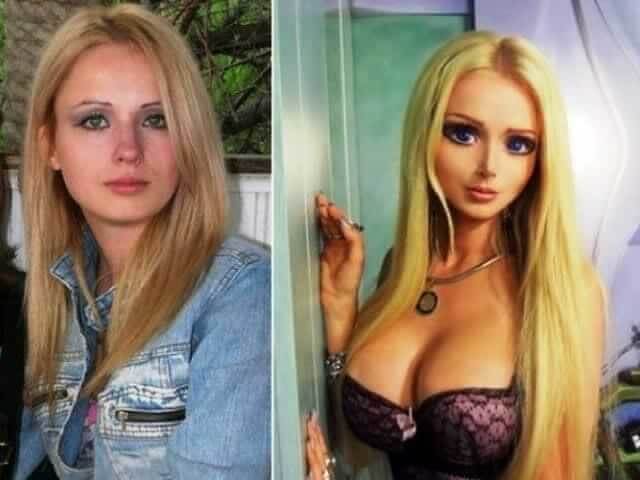 From her face to her wrists to her overall image, everything looks transformed. She hopes to inspire others as she believes that there is always room for improvement.
Renee Zellweger – Unknown
Although the actress is known for making changes to her body for her roles in movies (she bulked up for her role as Bridget Jones), she was totally unrecognizable when she stepped out on the red carpet in 2014.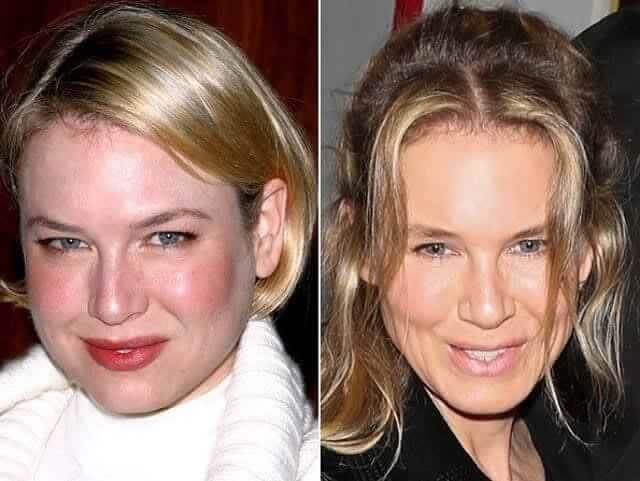 She totally denies the rumors and says that she was just preoccupied that day. She says that "a woman only gets more interesting as she gets older".
Brad Pitt – Unknown
This inclusion in our list proves that celebrities are humans as well and even they have insecurities. It is rumored that Brad was conscious of his ears and decided to have surgery to pin them back.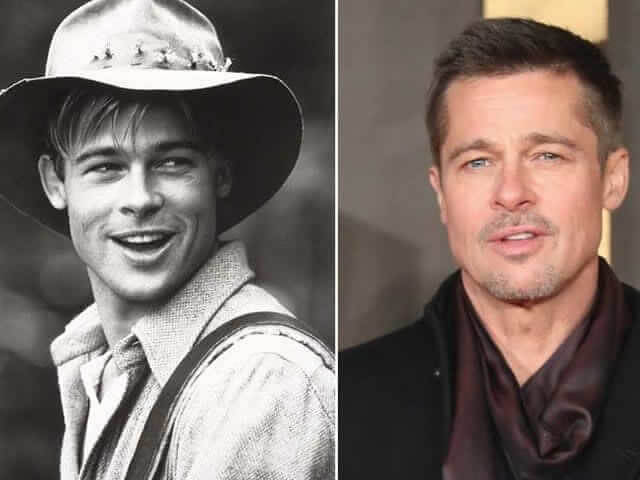 However, he isn't much interested in other treatments to make him look younger. He is getting old gracefully and he is looking hotter than ever.
Diana Agron – $15,000
It won't be wrong to say that Diana is like a role model for many teenagers. It is mainly because of her role of Quinn Fabray in hit TV show Glee. She did not shy away from admitting that she had a nose job.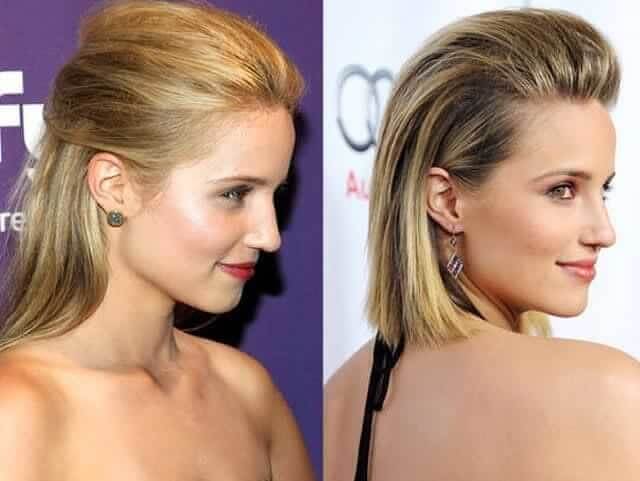 Although she admitted to having the desire to make a change, she had no option but to get her nose fixed after a collision with her friend when they were out dancing in a party. By the way, she looks as gorgeous as ever.
Tom Cruise – Unknown
The Bafta award of 2016 went into a shock when Tom Cruise made an entrance. It exploded into rumors that Tom has done something really drastic to his face.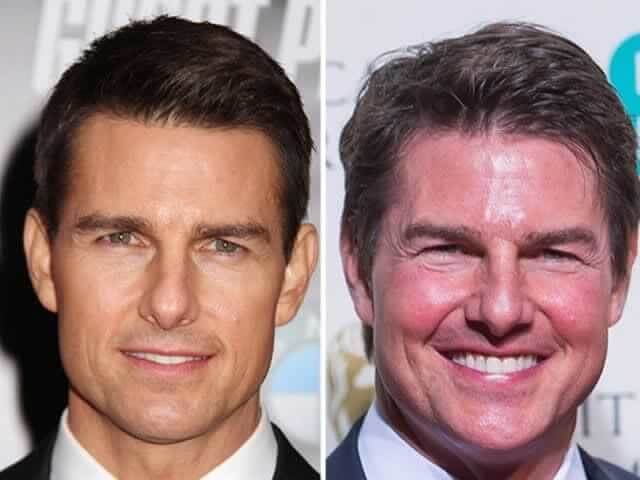 One Twitter user even went on to say that "Looks like Tom Cruise has just been on a Mission Impossible type mission to steal all the world's Botox supply for his face." Some even compared his puffy face to a bee sting. Ouch!
Barry Manilow – $70,000
Although many of Barry Manilow's surgeries are because of his 2003 accident when he walked into a wall and needed dental work and facial reconfiguration, he went under the knife for other reasons as well.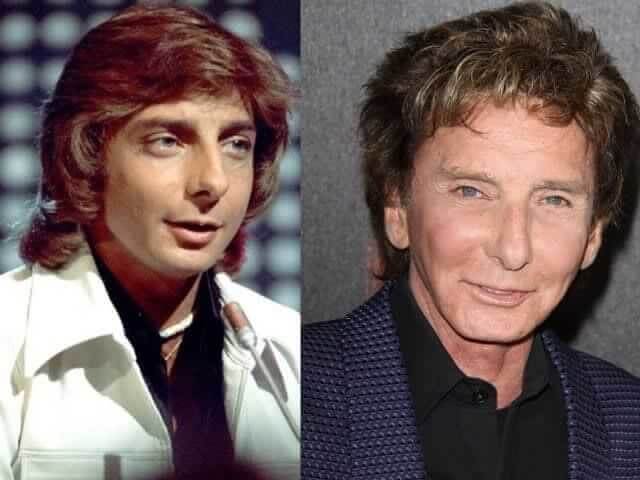 Many plastic surgeons suggest that he also had a nose job and Botox injections. He also had a medical plastic surgery to remove tumors or cysts.
Megan Fox – $8,000
She is considered a sex symbol and everyone is captivated by her attractive looks. Her role in the Transformer was her first shot at fame and since then she has never looked back.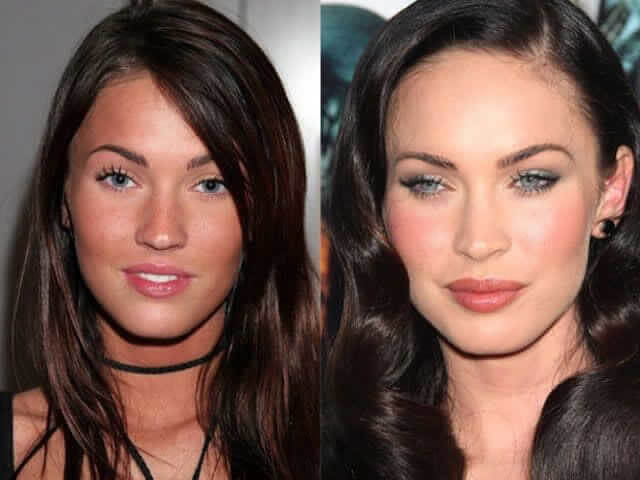 There are rumors that she has had two nose jobs, as well as cheek implants, breast augmentation surgery, and both Botox and lip fillers. However, it is surprising that she was already one of the world's sexiest women before she decided to make the changes.
Rumer Willis – $100,000
It can be said that Rumer Willis, daughter of Bruce Willis and Demi Moore, is the offspring of one of the famous celebrity couples of all time.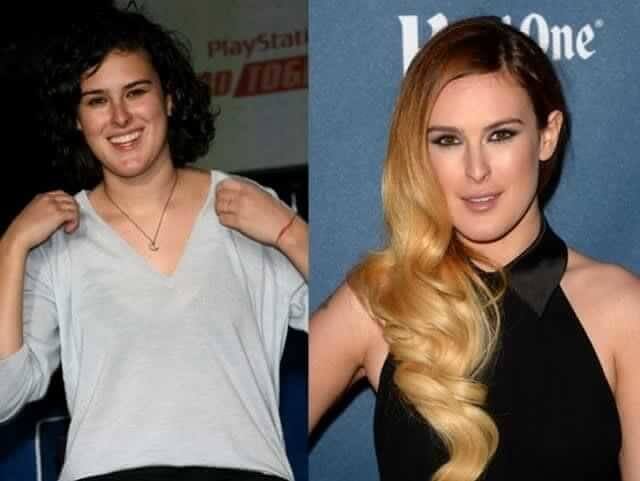 Although she is beautiful, she followed her mother's footstep and chalked up to $100,000 on cosmetic surgeries that include jawline reconstructive surgery and a rhinoplasty along with lip injections and Botox.
John Travolta – Unknown
The famous Hollywood actor has been in the public eyes for decades and it was no surprise when fans started to call out his clear hair transplant and so-called 'frozen face.'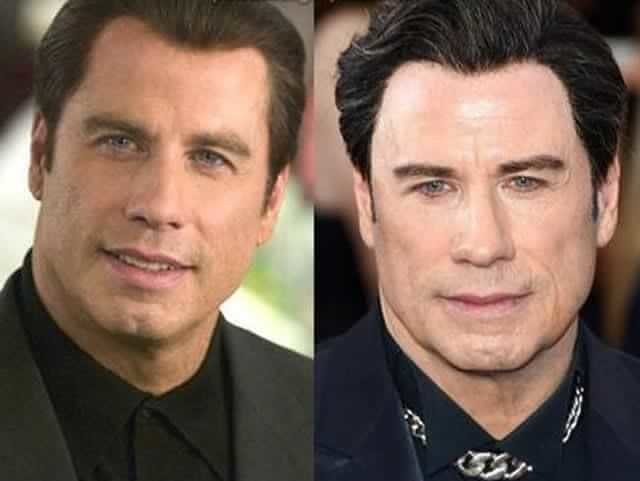 Although the actor has denied the rumors of him getting a Botox and facelift, we are going to let you decide after looking at these two pictures of past and present.
Dwayne Johnson – Unknown
It is really commendable that Dwayne Johnson aka The Rock has made a huge transition from his wrestling career to Hollywood. But did you know that he had to receive plastic surgery to reduce the size of his chest?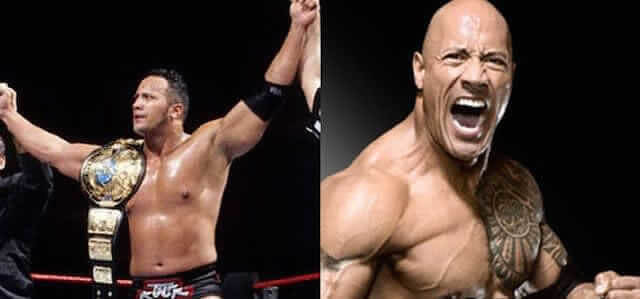 Dwayne is never shy to admit that he has been under the knife several times. He is quite open about it because he does not want to raise the bar of "unattainable perfection."
Courtney Cox – Unknown
Who isn't still in love with Monica Geller, right? Well, the Friends star looks beautiful and it is hard to tell that she is 55 years old.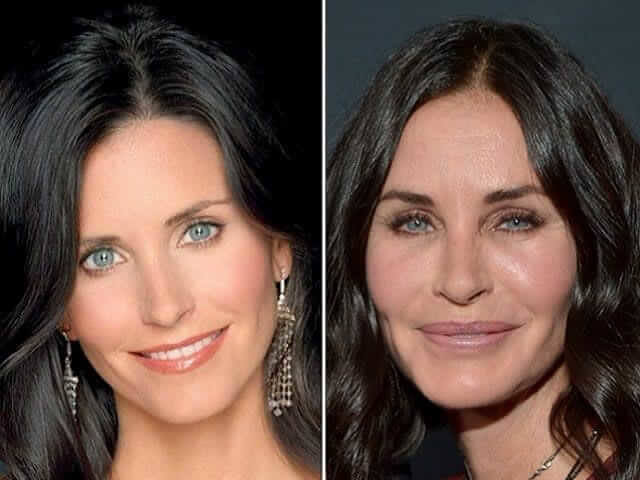 Although she has never admitted to having a nose job or any work done on her face, she has spoken about getting facial fillers and Botox injections.
Roseanne Barr – $45,000
The American actress, comedian, writer, and television producer rose to popularity with her role in the hit TV sitcom, Roseanne.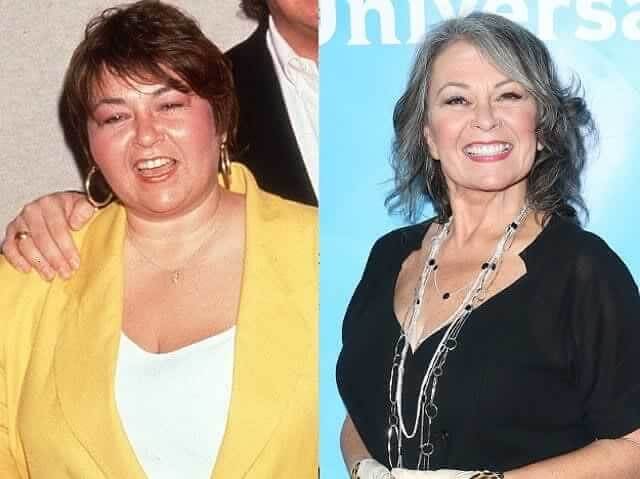 Unlike many other celebrities, her surgeries (tummy tucks and gastric band surgery) were focused on weight loss. It is most probably because she knew she was working in an image-conscious world.
Adele – Unknown
The beautiful and powerful Adele lost a lot of weight in a small time and that helped create some rumors.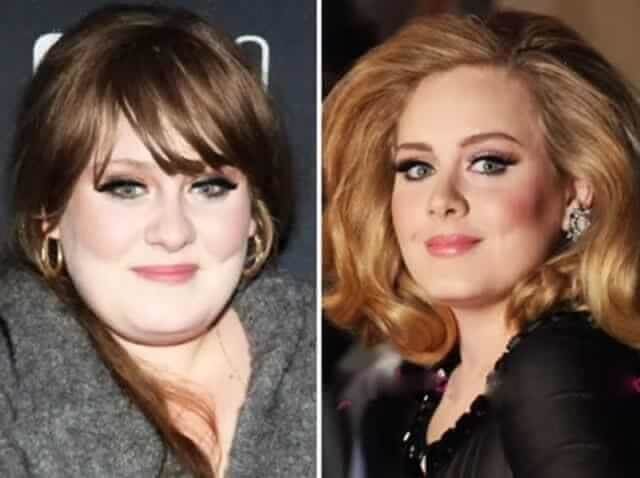 Although she claims that she had throat surgery and it prevented her from eating for some time, many believe that she had liposuction and a nose job. We love her and even if she had liposuction then it still won't change how we see her.
Demi Moore – $500,000
Demi is a natural beauty, but even she had to go under the knife in an attempt to prevent the inevitable aging.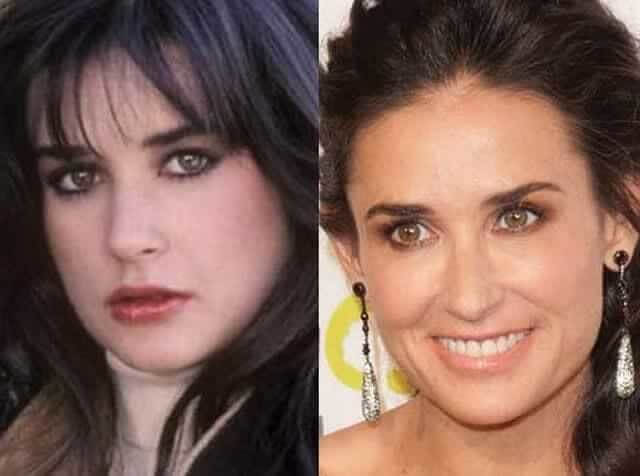 She has admitted to having facelifts, breast implants, liposuction, and at least one nose job. we must say that it all seems to work because she does not look like a woman in her fifties.
Kenny Rogers – Unknown
If you love country song then you must be a fan of Kenny Rogers. Apart from singing, he has also acted in several movies and TV shows.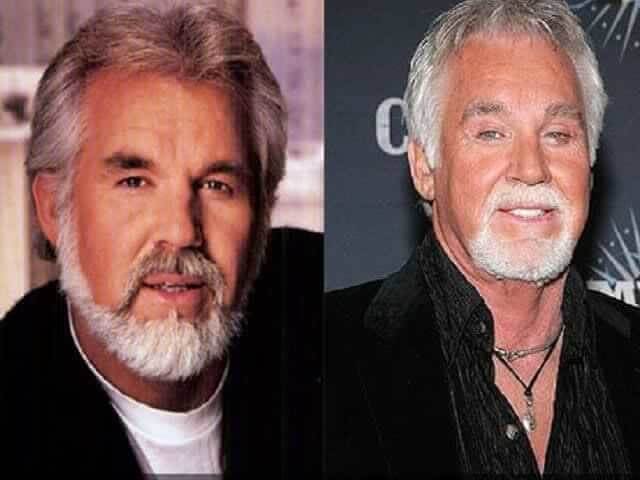 He had a botched plastic surgery that includes an eyelid lift which did not turn out as planned. Hence, it didn't take him much time to come out against plastic surgery. "I'm not happy about it" he said, "it drives me crazy!"
Britney Spears – $2,000
It is really surprising that there are not many rumors about Britney having plastic surgery. After all, she has been in the limelight for over two decades. She has always said that she will never get cosmetic surgery.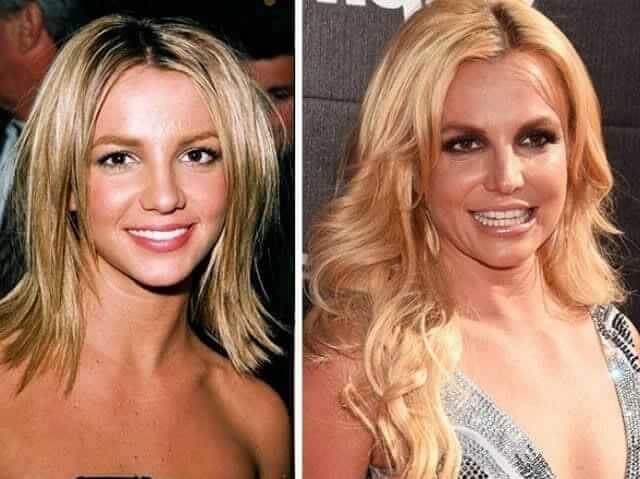 It is fair to say that she is doing a wonderful job at naturally aging. She has admitted to getting lip fillers and facials and we must say that her lips look quite natural (it is not the case with many celebrities).
Stephanie March – Unknown
Stephanie's experience with plastic surgery did not go as planned and it was like a never-ending nightmare for her.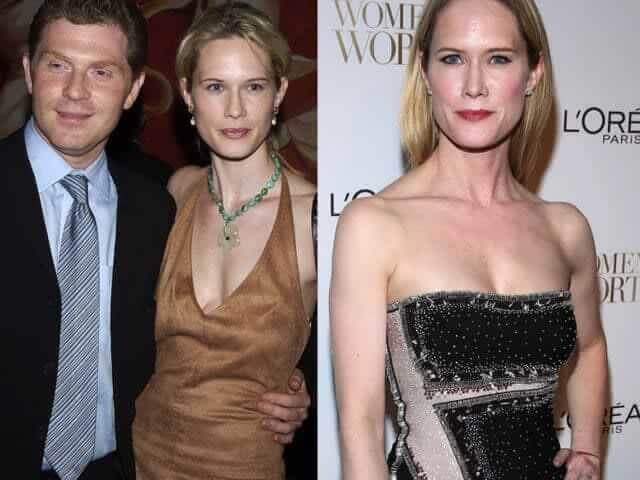 In an interview with Refinery29, she revealed that she wanted to fix her falling apart life and got herself a breast augmentation. However, the surgery was a complete failure as one of her breasts became infected at the cut. As a result of it, she had to go to the emergency room to clear up the infection and she ended up removing all of the work she had done.
Sharon Osbourne – $200,000
As she is married to Ozzy Osbourne, it means that her life is always under media scrutiny. That's why she was always extra careful about her looks before going out.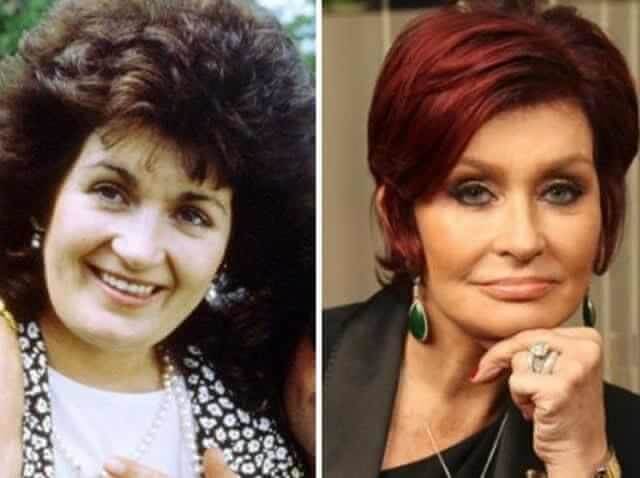 She has now admitted that she was really worried about her looks and had to go under the knife. According to her, she will never do it again. She said: "There's not much I haven't had tweaked, stretched, peeled, lasered, veneered, enhanced or removed altogether."
Clare Danes – Unknown
This pretty actress has said that she is quite open to plastic surgery and it doesn't come off as a big surprise. After all, staying young and hiding the signs of aging can put immense pressure on anyone and here we are talking about one of Hollywood's famous actresses.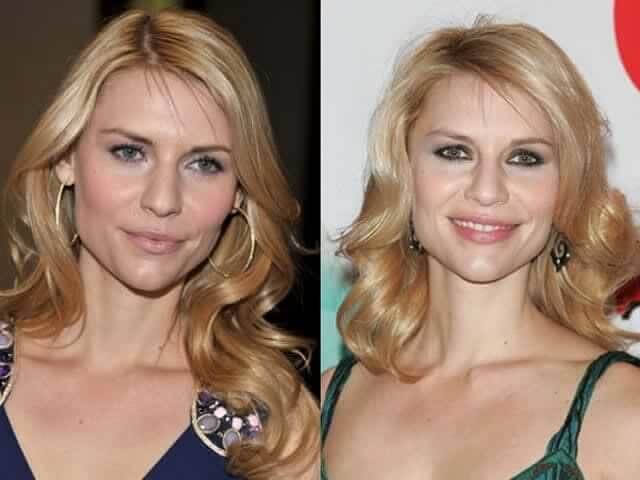 Many experts believe that she has undergone treatments such as lip fillers, an eye lift, and even facial implants. She still looks super beautiful and way younger than her 40 years.
Lara Flynn Boyle – $28,000
Fans of TV show Twin Peaks will recognize her in an instant, others may not. It is reported that she was worried about acting roles going to younger women and decided to do something about it.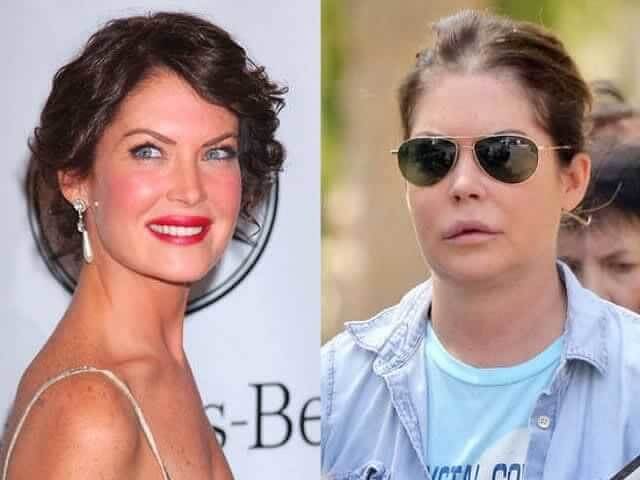 That explains her drastic plastic surgery. It is unfortunate that she didn't get the results she expected.
Kim Novak – $9,200
Known for movies such as "The Man with the Golden Arm" and "Vertigo," Novak was quite famous in the 50s and 60s. She worked with some of the prominent leading men of the era, but work started to dry up in the late 60s and she announced her retirement in 1991.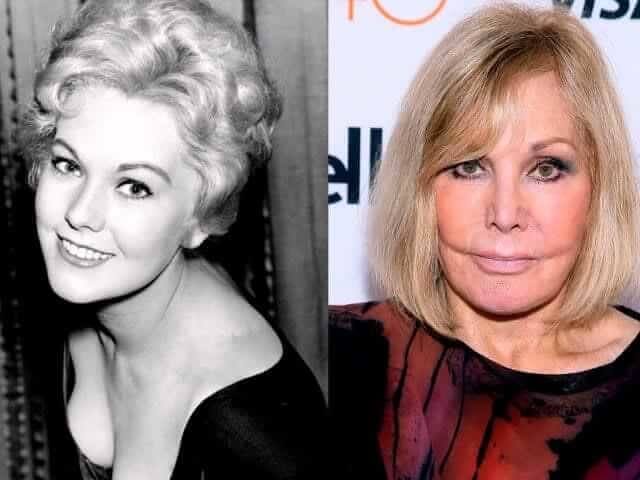 She was totally unrecognizable when she attended 2014 Oscars after having cheek implants, a brow lift, and some Botox injections too.
Nicole Kidman – $1,400
Nicole Kidman is an amazing actress and although she hasn't admitted to getting any work done, she did admit about extensive Botox injections. And she didn't like the result as well.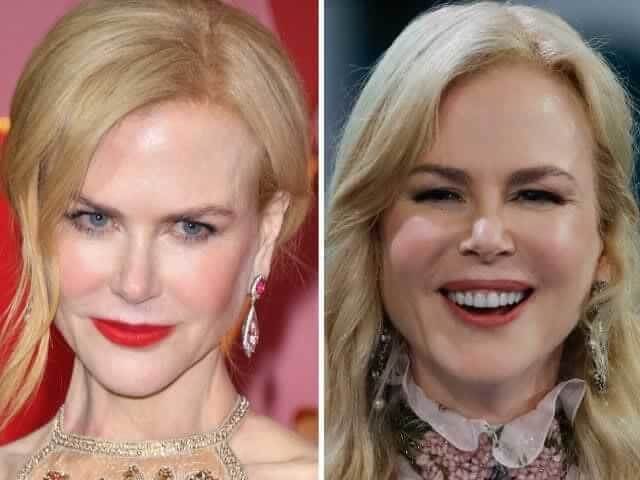 She said, "sometimes you have to find out if the grass is greener on the other side for yourself." However, there are rumors about her getting facial fillers and rhinoplasty.
Blake Lively – $7,300
Blake became famous when she played the role of Serene Van Der Woodsen in TV show Gossip Girl. She is married to Ryan Reynolds and the couple has two adorable kids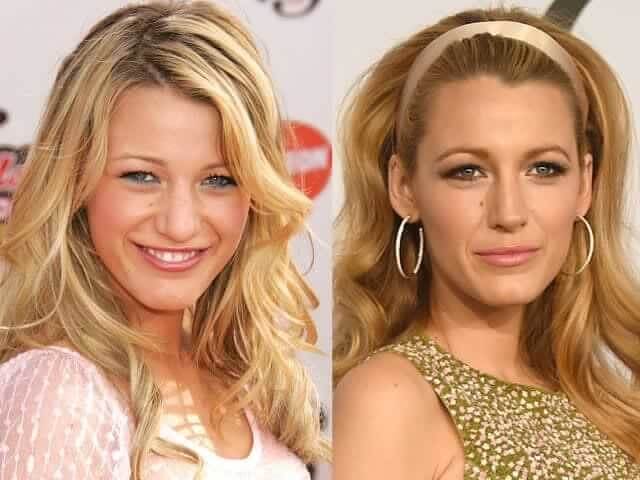 However, there was a gossip about the pretty Blake that she wasn't happy with her face and got some surgery to remove freckles on her face and also enhanced her facial features with rhinoplasty and an eyelid touch up.
Anna Faris – Unknown
Despite rumors of her going under the knife and needles, Anna Faris does not admit to having any work done to enhance her facial appearance. She has only admitted to trying Botox injections.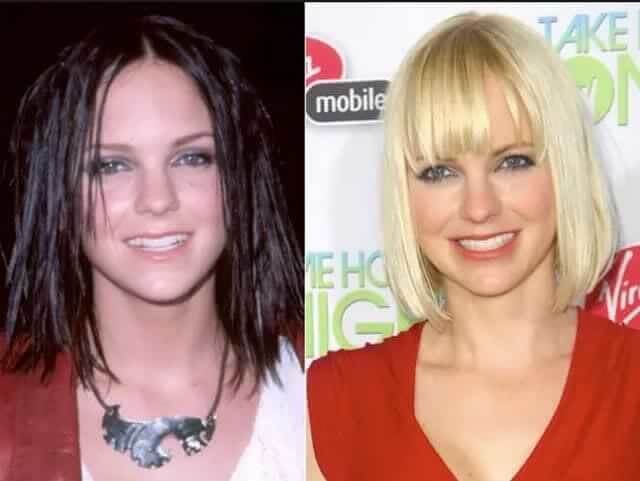 However, experts do suggest that she might have had facial fillers and an eye lift. If you look at her recent photos, it seems like she also had a nose job. Nevertheless, we think that she still looks super pretty.
Michael Douglas – Unknown
This amazing actor openly admitted to having a facelift before getting married to the gorgeous Catherine Zeta Jones in 2000.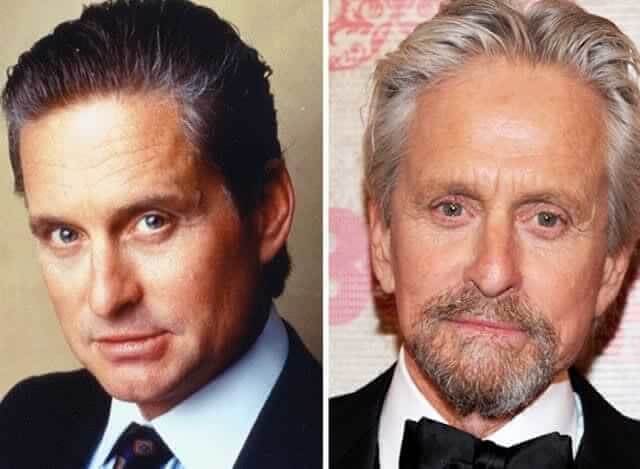 It seems like he gets cosmetic surgeries before big events in his life. He got facial augmentation before his son was born in 2003. We think he still looks handsome.
Dolly Parton – $23,000
Dolly Parton is a multitalented woman and an inspiration for many out there. She seems to age like fine wine, but is not afraid to rely on technology to enhance her appearance.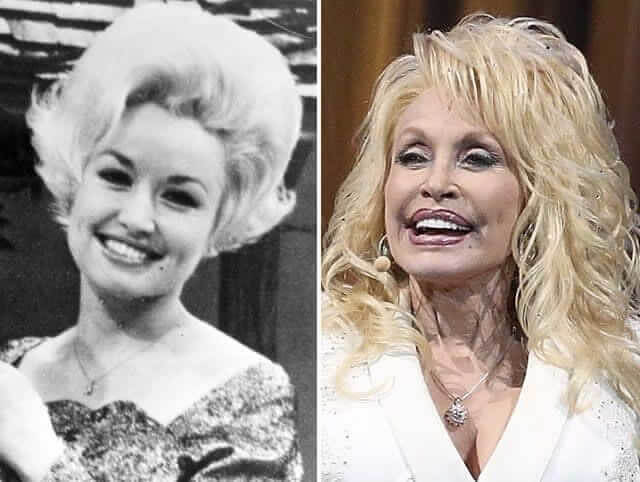 Although Dolly is in her seventies, she is still going strong. As some people believe that all the procedures (a nose job, facial fillers, a lip lift, neck lift, brow lift, and eyelid lift) over the years have made her look terrible, but that's not what we think. She is still a beautiful woman who knows how to carry herself gracefully.
Robert Pattinson – Unknown
If you are wondering why would the Twilight heartthrob need cosmetic surgery, then you should know that he wasn't always in high demand. There is a rumor that he couldn't go into modeling as a teen and that's why he got himself a rhinoplasty.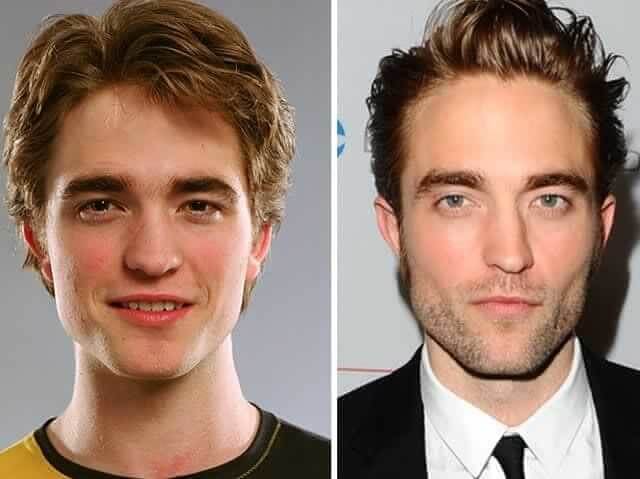 Even if the rumor is true, we are glad he made this choice because it has done no harm to his popularity.
Trista Sutter- $10,650
This reality TV star has made a quite a name for herself with shows like Survivor, Big Brother, and both the Bachelor and Bachelorette. However, the beautiful actress was never quite satisfied with her looks.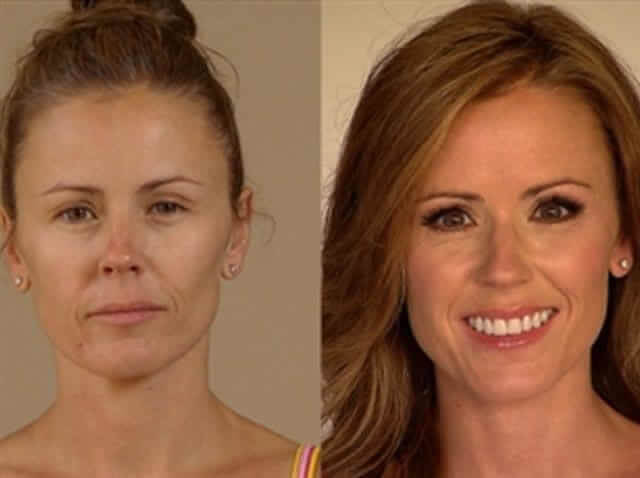 When she was 40, she decided to have her eyelids lifted and reconstructed along with a breast augmentation surgery. That's when she featured in US magazine and Life and Style magazine. According to her, plastic surgery helped her love her body.
Ashlee Simpson – $13,000
The younger sister of actress Jessica Simpson is not only famous because of her sibling. She has a great career of her own as a TV star and she even had her own show on MTV.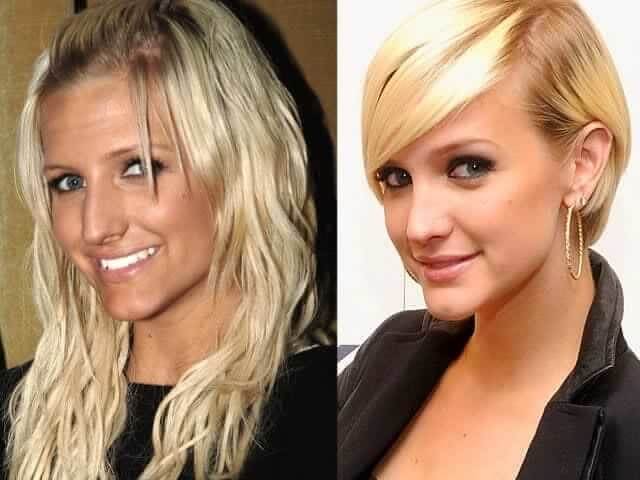 Ashlee admitted that she always felt like she was less attractive than her sister and she would even look at other celebrities and think she could never be as good-looking as them. Her cosmetic surgery includes rhinoplasty among other treatments, though she did not disclose them.
Ryan Gosling – Unknown
It is hard to think of resisting the charm of Ryan Gosling. Considered among Hollywood's sexiest male actors, Ryan has looked classier and way more attractive than before.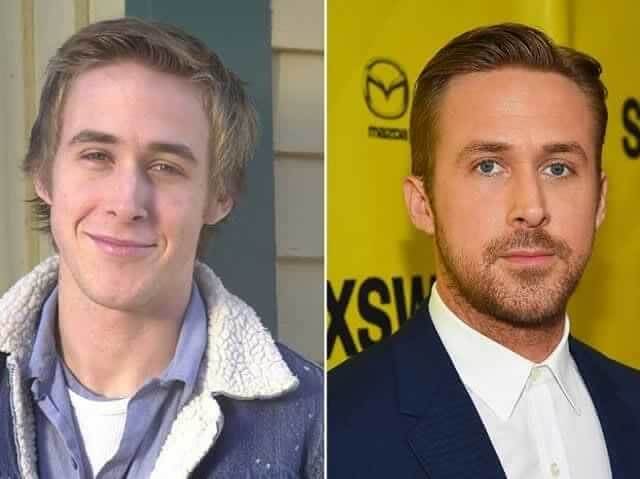 But there is a high possibility that he had a rhinoplasty before his career took off. The pictures do suggest that he may have had got some work done on him.
Nicole Richie – $13,000
Now here is a celebrity who openly admits that she is a fan of cosmetic surgery. She is quoted as saying "Why grow old gracefully when you have the technology to prevent it?"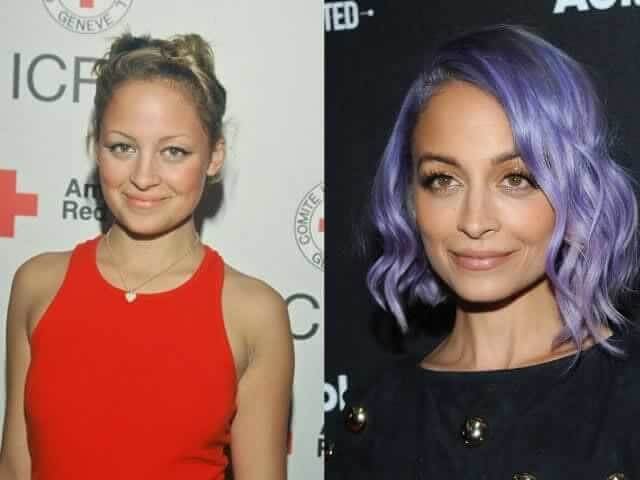 She has a mini boob job (that's what celebs call it) as in it the breast implants have a natural look and there isn't a large amount of cleavage. It is speculated that she had rhinoplasty as well.
Iggy Azalea – $20,000
The Australian rapper's rivalry within the charts with Nicki Minaj is not hidden from everyone. As she had an attractive blonde looks, she wanted more and decided to get a breast augmentation to have a larger chest.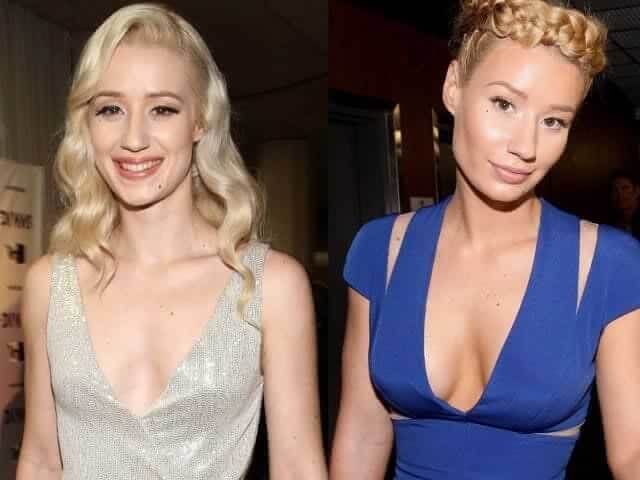 "There was nothing wrong with me. I think it's a personal choice and anybody, man or woman, they should be able to make an informed decision, and if you want to change something, then that's up to you," she said on the Ellen show.
Vivica Fox – $26,085
This beautiful actress made a name for herself after starring in one of the longest-running scripted television programs in the world, Days of Our Lives.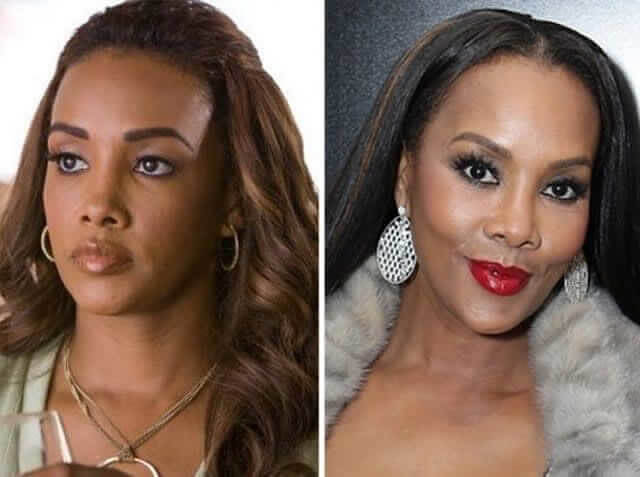 Known for her past relationship with Rapper 50 cent, the actress has paid for Botox and lip injections, as well as a facelift, and both breast and jaw implants.
Christopher Maloney – $92,000
Now this is something that is quite sad and disappointing. Chris was a contestant on the popular talent show The X Factor in 2012. His life was made hell by some hateful comments from people and he even got death threats because some people thought he had a large nose and he was not good looking enough.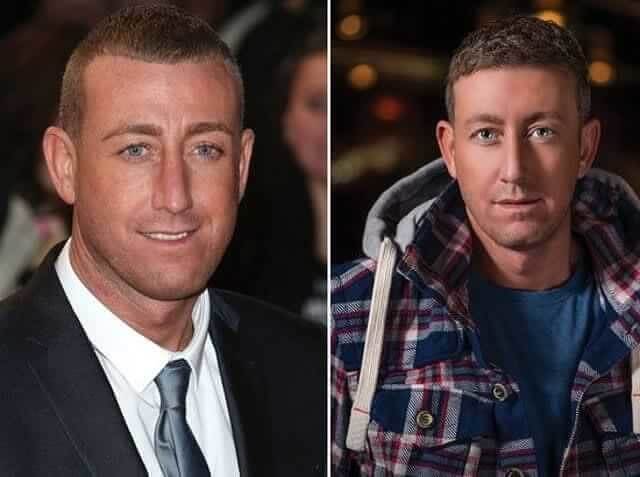 Unfortunately, the hate shattered his self-esteem and he had to to get two nose jobs, an eye lift, teeth veneers, and even hair transplants to regain his confidence. Today, he is happy with his new look but he doesn't recommend such a drastic change.
Ellen Pompeo – Unknown
Ellen Kathleen Pompeo garnered worldwide recognition for her portrayal of the character Dr. Meredith Grey in hit medical drama Grey's Anatomy. The 49-years old actress looks as beautiful as she was 15 years ago.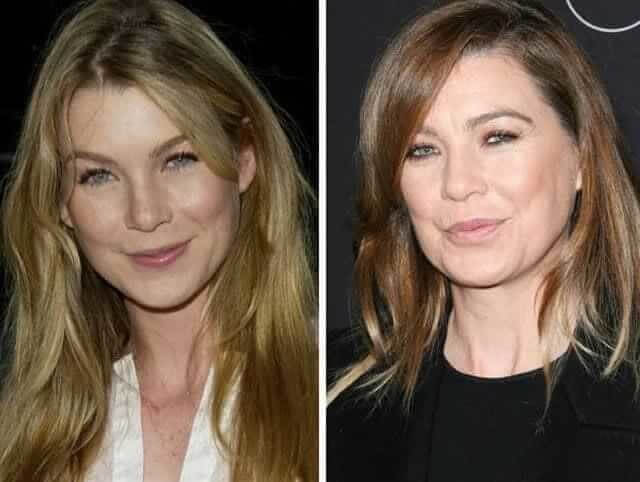 Is it possible that the secret behind her everlasting beauty is plastic surgery? Well, experts suggest that she may have had a neck lift or facelift. One thing can be said with certainty that she has shied away from Botox all these years.
Nikki Cox – Unknown
It is quite clear that the American actress and comedy writer has had lip augmentation and fillers. Her mouth is literally double the size it was.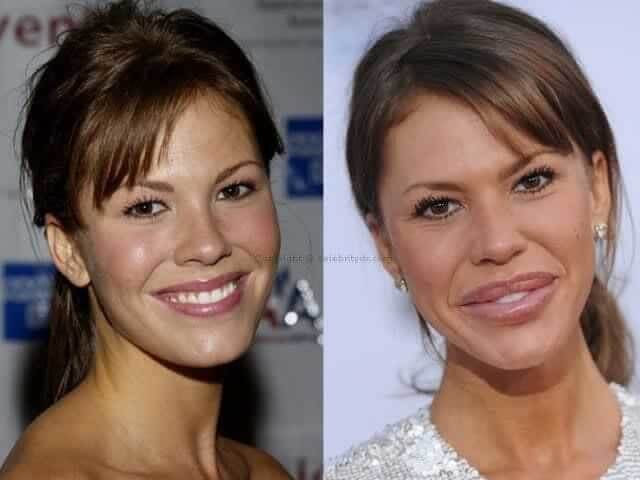 There are rumors that she had Botox and breast implants and that her drastic changes in looks have almost killed her career. However, she completely denies all the speculations.
Tom Jones- $90,000
We have no hesitation in saying that Tom Jones is still the heartthrob for middle-aged women everywhere. Well, he does take good care of his health but he is able to stay hot thanks to plenty of work done on him.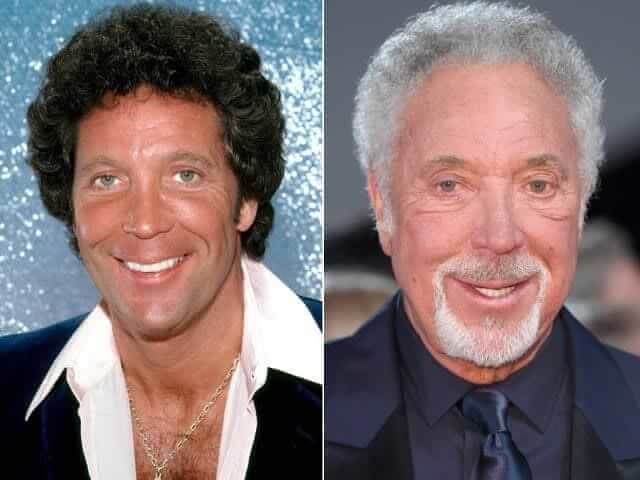 From facelifts, dental work to alternations to his eyelids and his nose, he has been under the knife a lot of time.
Hailey Baldwin – Unknown
Hailey Baldwin has gained immense popularity and it is partially because of her famous father, her modeling career, and her tabloid-worthy marriage to pop star Justin Bieber.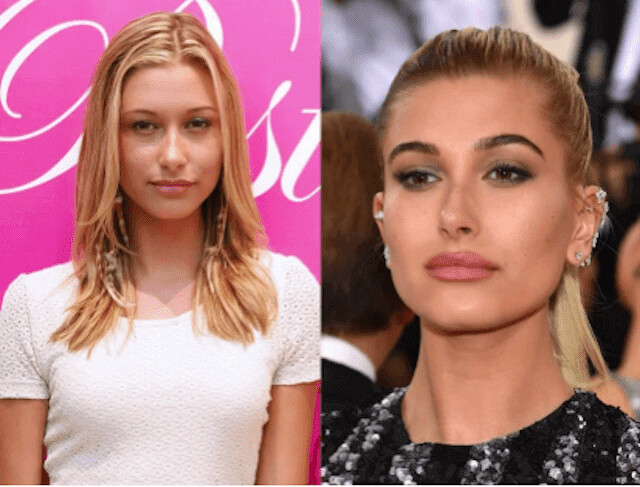 These pictures do show that she has changed a lot and there are rumors that her drastic change is due to facial injections.
Suzanne Somers – $9,000
She was somewhat known as the babe back in the day, but those times are gone. Well, at least that's not what she thought before she decided to regain some of her lost youth.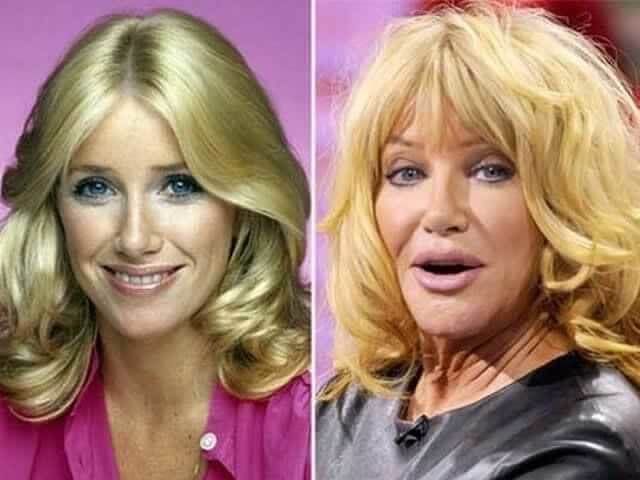 She has spent over $9,000 on her face and neck, as well as her breasts, lips, and jaw. She has certainly changed her look.
Ashley Tisdale – Unknown
Ashley rose to prominence with her hit roles in "High School Musical" and "The Suite Life of Zack and Cody."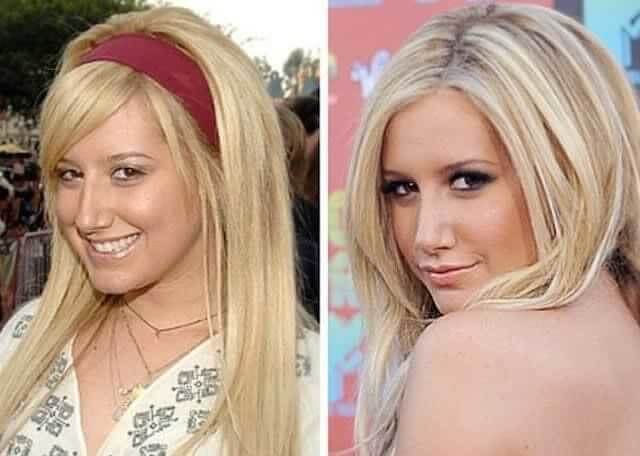 The actress got a nose job due to her deviated septum. There was media criticism that she did it to advance her career, but she maintains that the nose job was for health reasons.
Clay Aiken – $11,000
Clayton Holmes "Clay" Aiken was thought to become the next American Idol. Although he didn't quite make it, his singing career turned out to be quite good as he went on to become the fourth-highest-selling American Idol alumnus.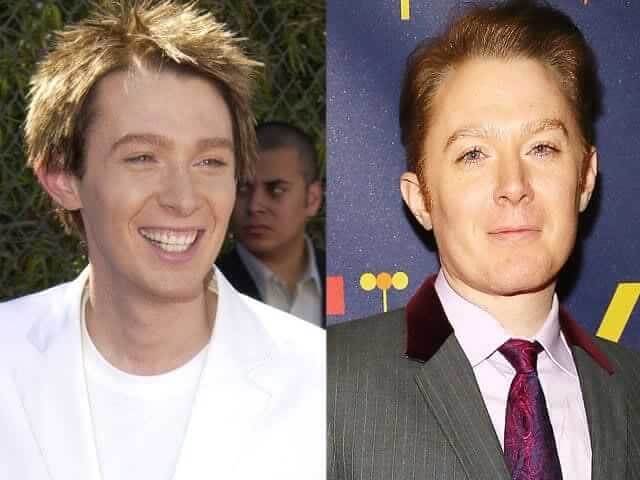 According to Clay, he went under the knife due to a Temporomandibular disorder (aka TMJ). As he needed to have his jaw reconstructed, he decided to some fat removed from chin and neck as well. We must admit that he looks pretty much the same after the surgery as well and we are happy he is doing great now.
Daryl Hannah – Unknown
The American actress and environmental activist made her debut in a supernatural horror film The Fury. Since then, she has starred in some hit movies.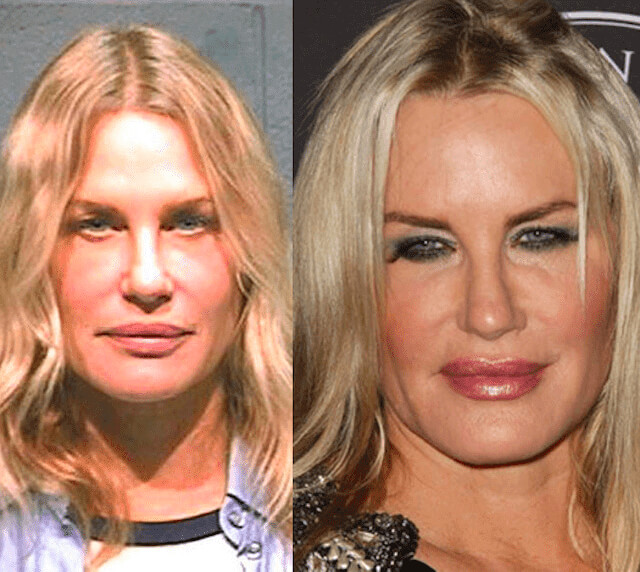 There are speculations that the actress had cheek and lip implants as well as dermal fillers and Botox, but she has not yet spoken about it.
Eiza Gonzalez – Unknown
The Mexican actress and singer became quite popular in recent years, thanks to her elegant style and her fling with sizzling hot Liam Hemsworth.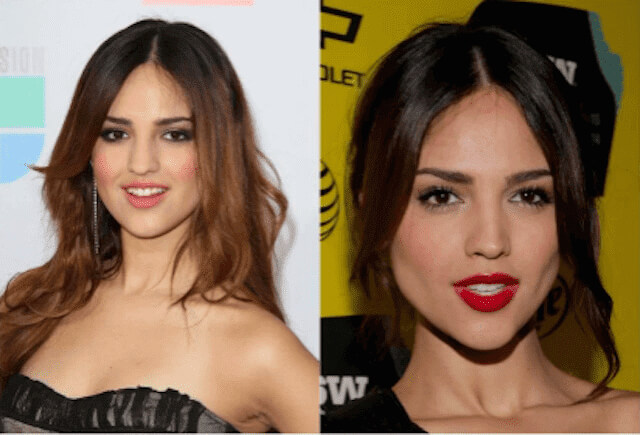 Although she has admitted to getting a nose plastic surgery, there are speculations that she has had more than just one surgery. What do you think about it?
Charlotte Crosby- $20,000
This Geordie Shore star isn't afraid to admit she's a fan of the scalpel. As you can see, there's a huge difference between her 2011 look and today- Charlotte has spent about $20,000 on her nose, lips, eyebrows, and tons and tons of botox. Even professionals have warned she's going too far and needs to slow down, but we don't think this filler fanatic will stop anytime soon. Once you start, it's hard to stop after all.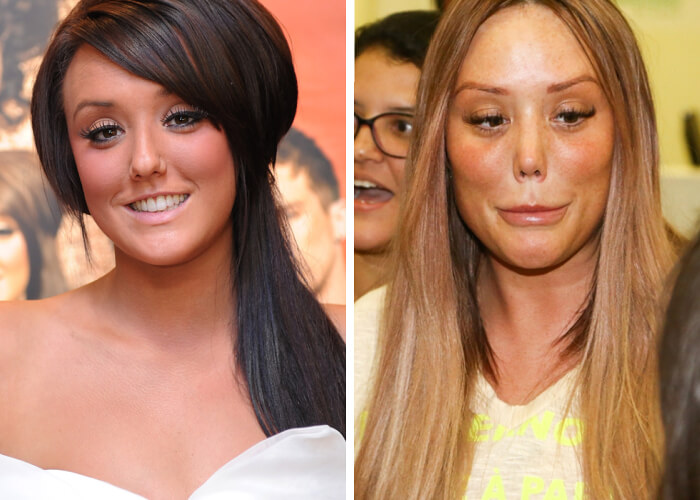 We think Charlotte looked great before and is still beautiful now, but let's hope she doesn't let things get too far out of hand.
Bella Hadid- Unknown
Clearly, you can see Bella looks very different in these two photos. Experts theorize that she's had a whole handful of procedures from a brow lift to face fat removal, but the only thing the star will fess up to is a nose job which she later regretted, saying "I wish I had kept the nose of my ancestors." That's a nice sentiment, and we really do think she's a beauty either way- but we still think there's more to this snatched face than Bella owns up to.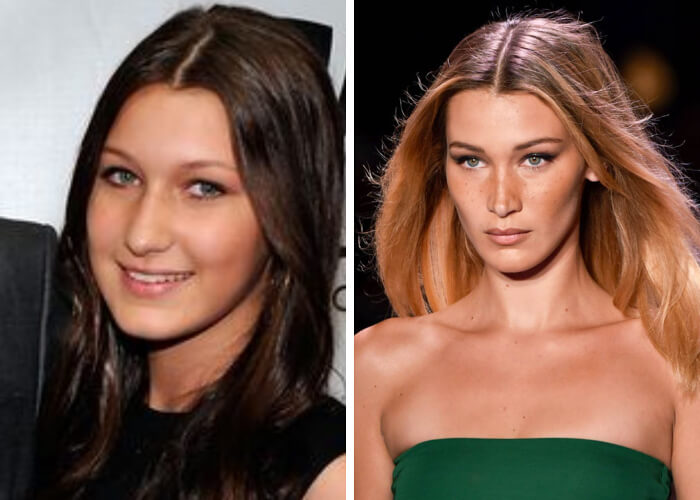 Well, fine, Bella, keep your secrets! We've seen enough of Hollywood to know that it's easy for stars to keep things under wraps and ultimately, she is entitled to her privacy- we just want the number of the surgeon, you know, for a friend.
Funny Online Shopping Misfortunes That People Had To Share
Ashley Lez
This article was originally published on Kueez
For some of us, online shopping has completely replaced the need to step out of our homes and into the mall. But buying on the internet is always a risk because some products look too good to be true for the listed price. These people ordered items online, and what they got was so awful they had to post it. Continue reading to see and consider yourself warned.
Instead Of Wrapping Paper, She Received A Poster With Her Face
This girl ordered wrapping paper with her face on it as a joke, and instead, she received a massive poster with four pictures of her face. Sometimes you get exactly what you want when you least expect it.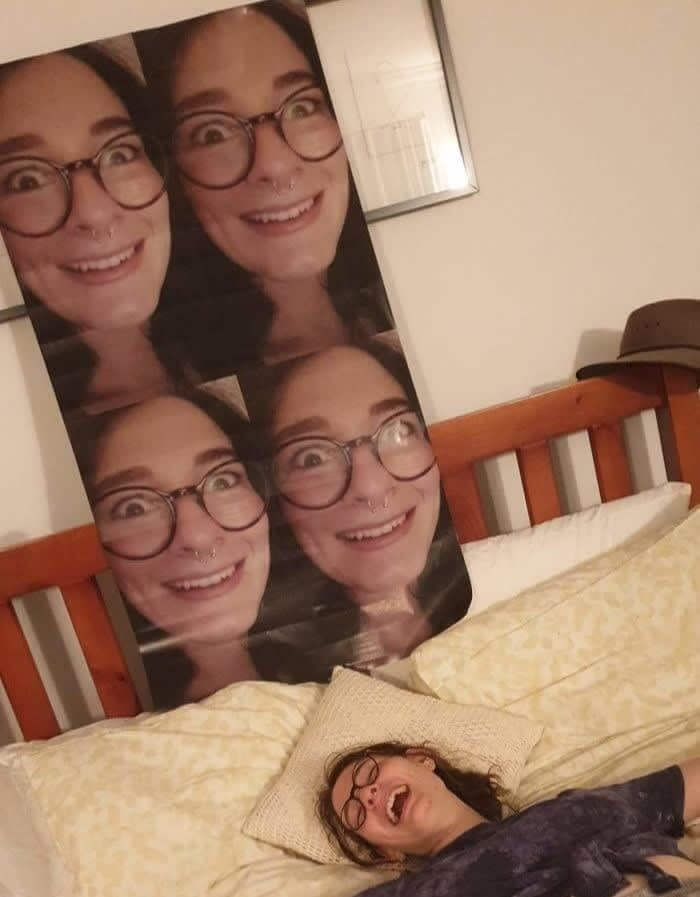 She doesn't seem too upset about receiving the wrong product. The employees at the printing company probably got a good laugh about this order.
A Museum Is Missing One Of Their Dinosaur Bones
When you are ordering treats online, always check the size, or else you teacup-sized dog will end up with a bone from a dinosaur. The dog probably still enjoyed it, but they had to stay in that one spot to chew on it.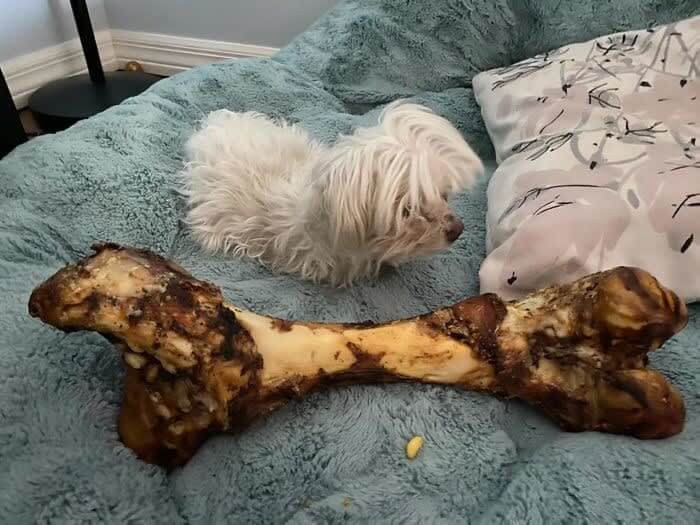 This bone looks like it could have been a prop from The Flinstones. What size dog was this made for? We can imagine that only Clifford would be able to carry this.
When Will People Learn Not To Order "Designer" Dresses From China
After seeing so many women post pictures of their dress fails from sketchy online sights, you would think people would be more cautious. This woman's dress looks nothing like the one that was pictured.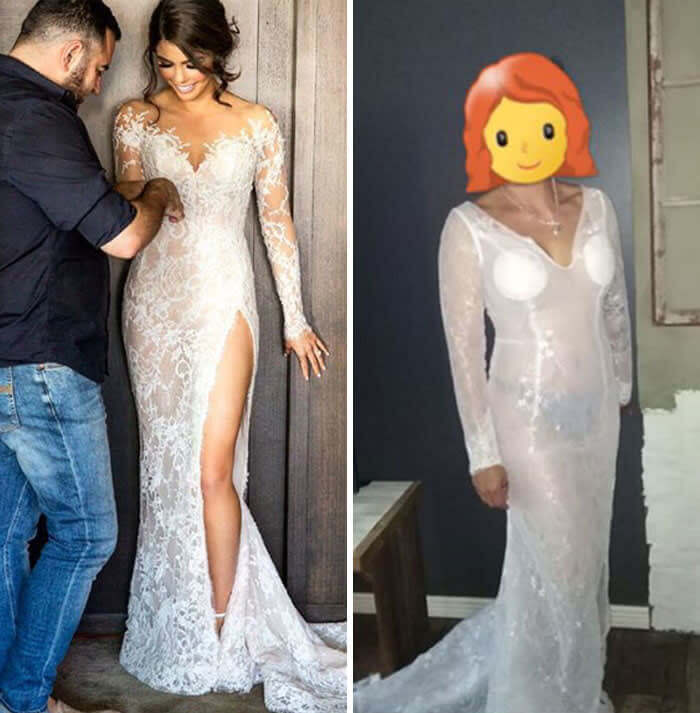 The product photo was most likely from the designer's website, and the knockoff brand found it on Pinterest to use for their own website.
She Ordered a Cupcake Ring, But Got A Silver Toilet Seat Instead
This woman wanted to order cupcakes for her sister's engagement party, so she brought the left photo to the bakery at Walmart. They obviously did not understand what she wanted because they gave her something that looked nothing like the photo.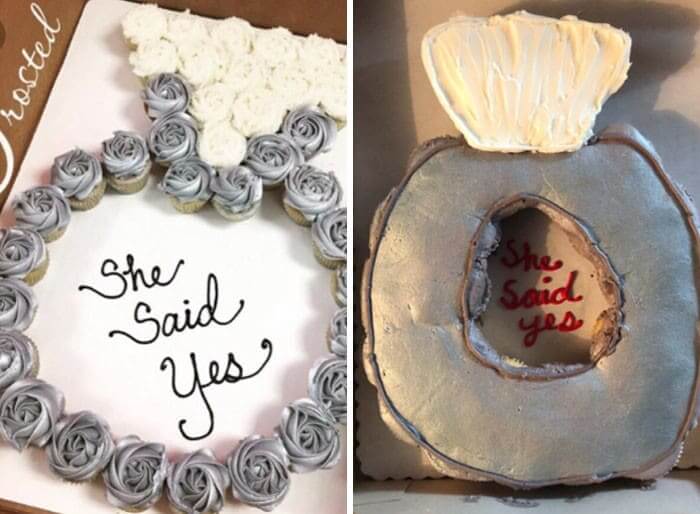 This looks more like she found the inspiration on Pinterest and attempted to make it herself, not as if she went to an actual bakery. Instead of beautiful rose cupcakes, her sister gets something between a tire and a toilet seat.
That Is Not Family Friendly
They must have added another book to the classic children's series, "Frog and Toad." Instead of the classics like "Frog and Toad Are Friends," or "Frog and Toad Together," they changed the title to "Frog and Toad F*ck the Police."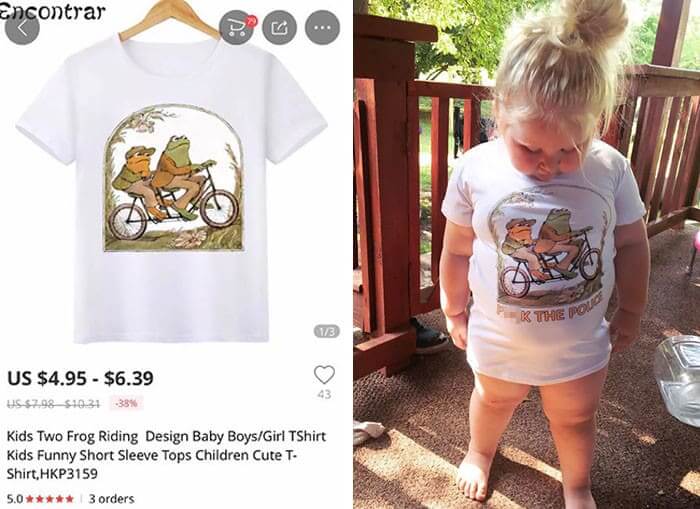 That is highly inappropriate for children, and the seller probably thought it was funny, but parents won't. We don't know why the frogs hate the police so much, but they don't have to advertise it.
When Your Cat Is Too Fat For The Large Sized Bed
Although this cat knew he would not fit inside the Christmas tree bed, he gave it his best effort because there was an opening, and he had to explore. Now they can say their cat is stuck in a tree.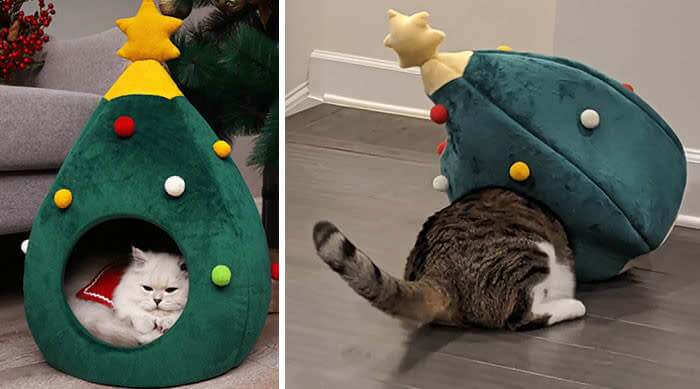 This cat's self-confidence is going to take a major hit because of the missized bed, and even though it is counterproductive, he will find solace in his food. He tried his best, but only his head made it inside.
Whatever You Do, Don't Order The $20 Prom Dress
Each year prom season rolls around, and there is always that one person who orders their dress from a sketchy website only to receive something like this. No matter how many times people post their dress fails, people still have hope that their dress will look like the picture they saw online.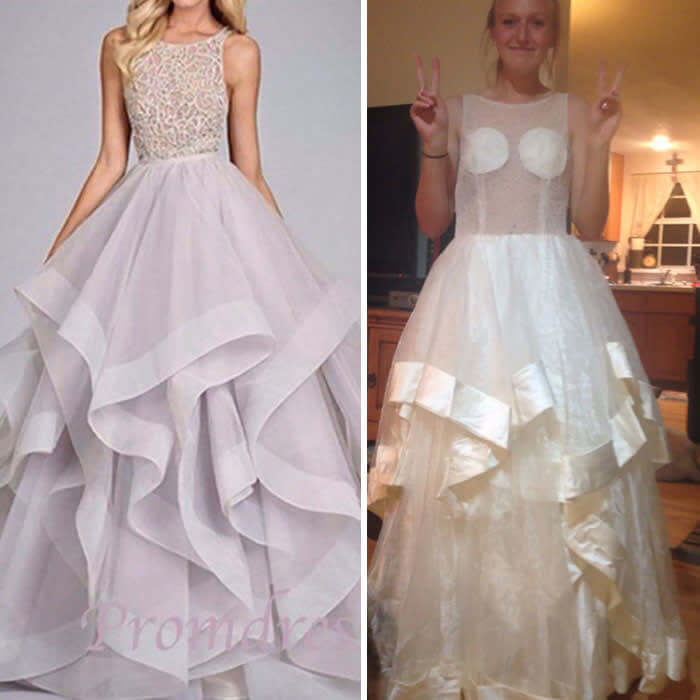 What is with companies adding weird white cups under mesh tops? Did the manufacturer think that it would look beautiful or expensive? These cheap dresses are mind-boggling.
Super Discreet
When you think you are being sneaky about buying toys online, think again. This package was marked in large letters so everyone would see what was inside the package.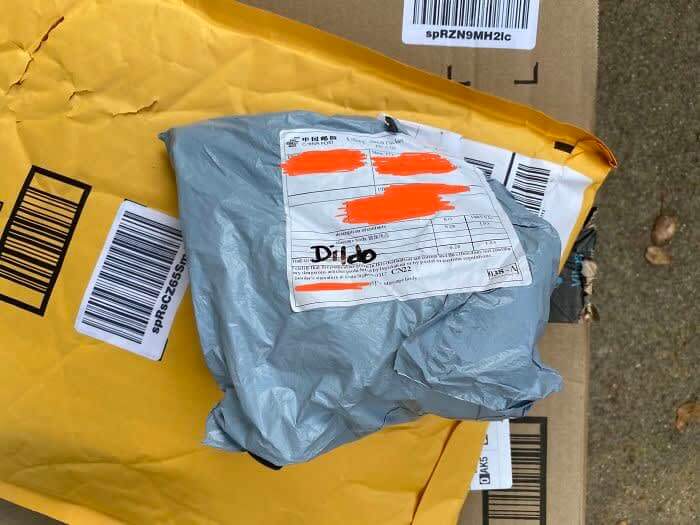 It almost seems like the company did that on purpose just to embarrass the person who ordered it. Those sales should remain private because that is an intimate thing to order.
Even The Dog Is Unimpressed With The Dress
According to this website, an extra-large is the same size that a french bulldog would wear. Maybe they swapped it with an infant XL because there isn't an adult that would fit into this dress.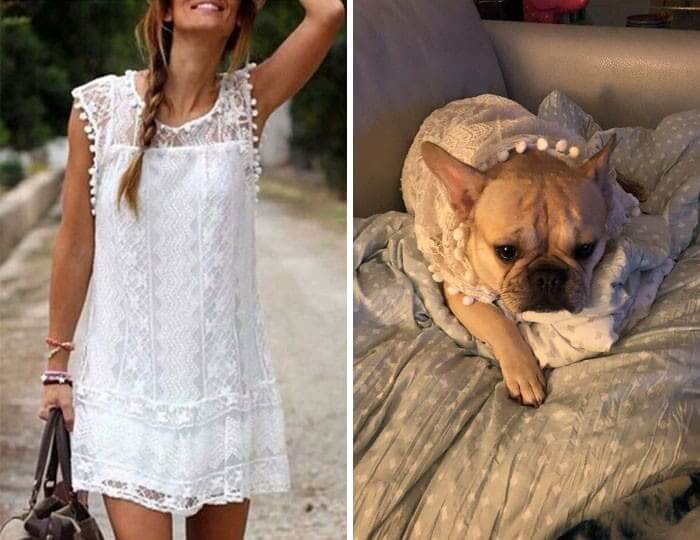 Apparently, you have to order about six sizes up for it to be relatively close to your size. It is one thing for the dress to fit, but not look like the photo, but it is unacceptable for something to be horribly missized.
After 10 Years, The Package Arrived
This person ordered a 2009 cookbook on November 4, 2009. It then took ten years to arrive with USPS. Why would a cookbook take ten years to ship? We are just as shocked as her that she even got it after all those years!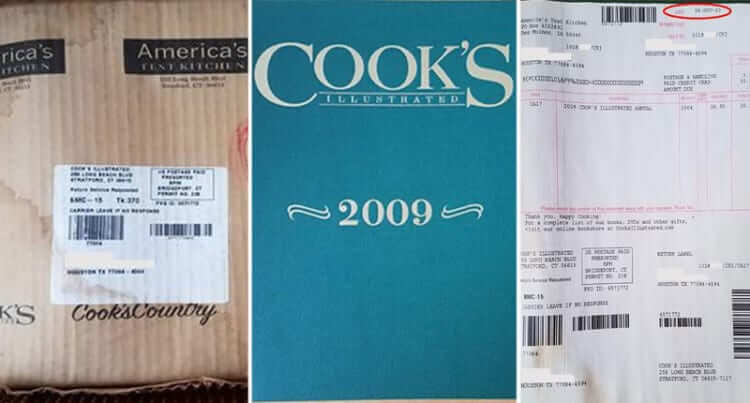 Does this person even want the cookbook after a decade of waiting for it? The recipes must be slightly outdated, but it is also cool to see if the cooking has changed over ten years.
Not Even Close
This is not even close to looking similar to the photo. Where are the jewels, and why is it a completely different color from the one that is advertised? Unless you are ordering from a department store or a reputable brand, you can expect to receive something like this.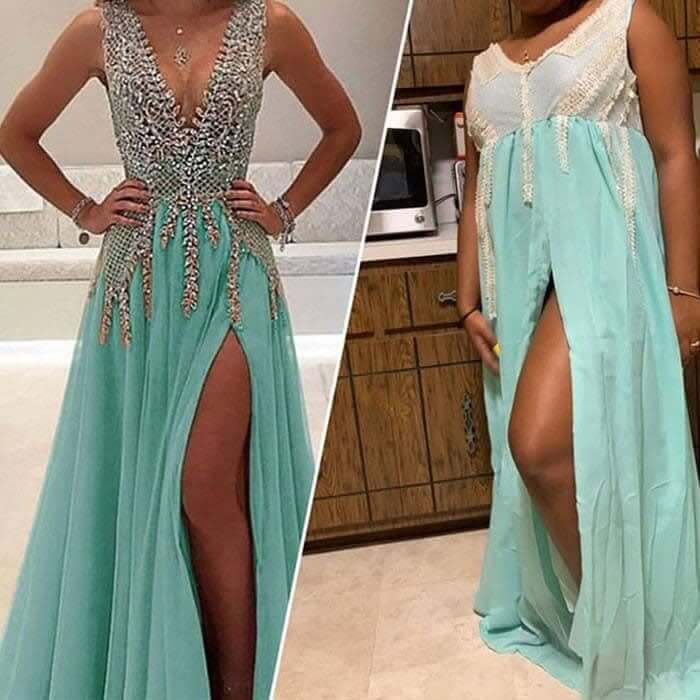 Seriously, if you learn anything from this, it should be that you should never order from a shady website that offers designer-like dresses for dirt cheap prices. Well-made gowns aren't going to cost $20.
Looks More Like A DIY Fail
After waiting six months for back order, this person finally got their package from West Elm, and it looked nothing like the product photo. What they received looks more like someone had been watching some wood and epoxy videos and attempted to make something for the first time.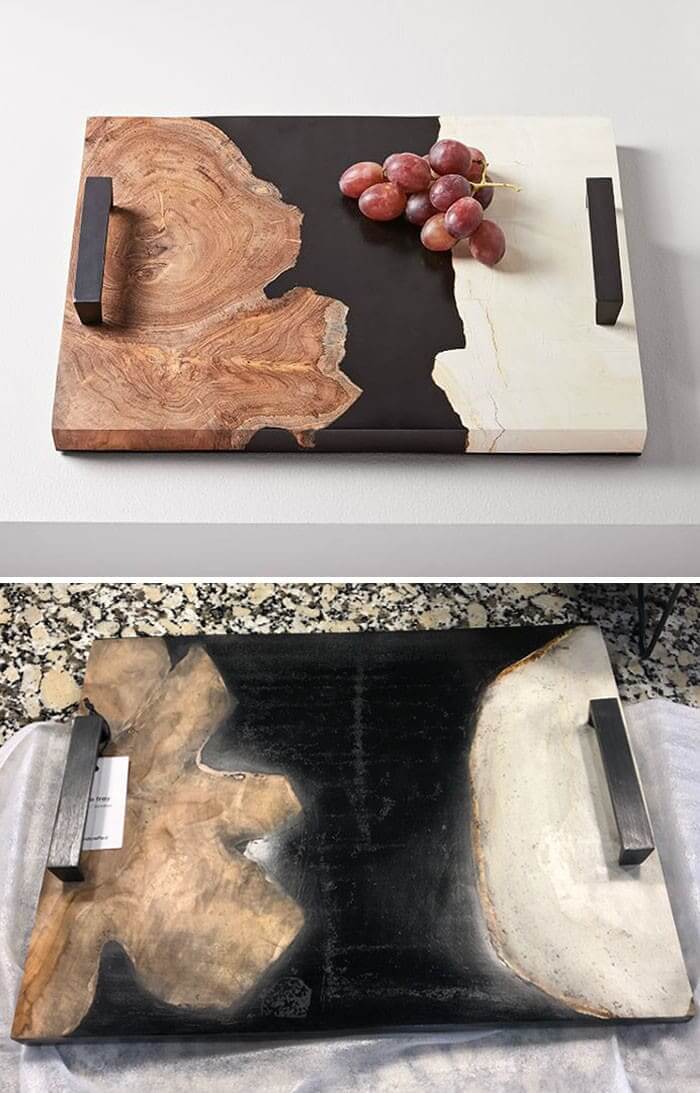 If we received this in the mail after waiting for that long, we would be very upset as well. Come on, West Elm, you can do so much better than that.
A Pennywise Costume That Will Scare You More Than The Movie
If you thought Pennywise was frightening, then check out this creepy morph suit that was bought online. Even Pennywise himself would be frightened by this costume.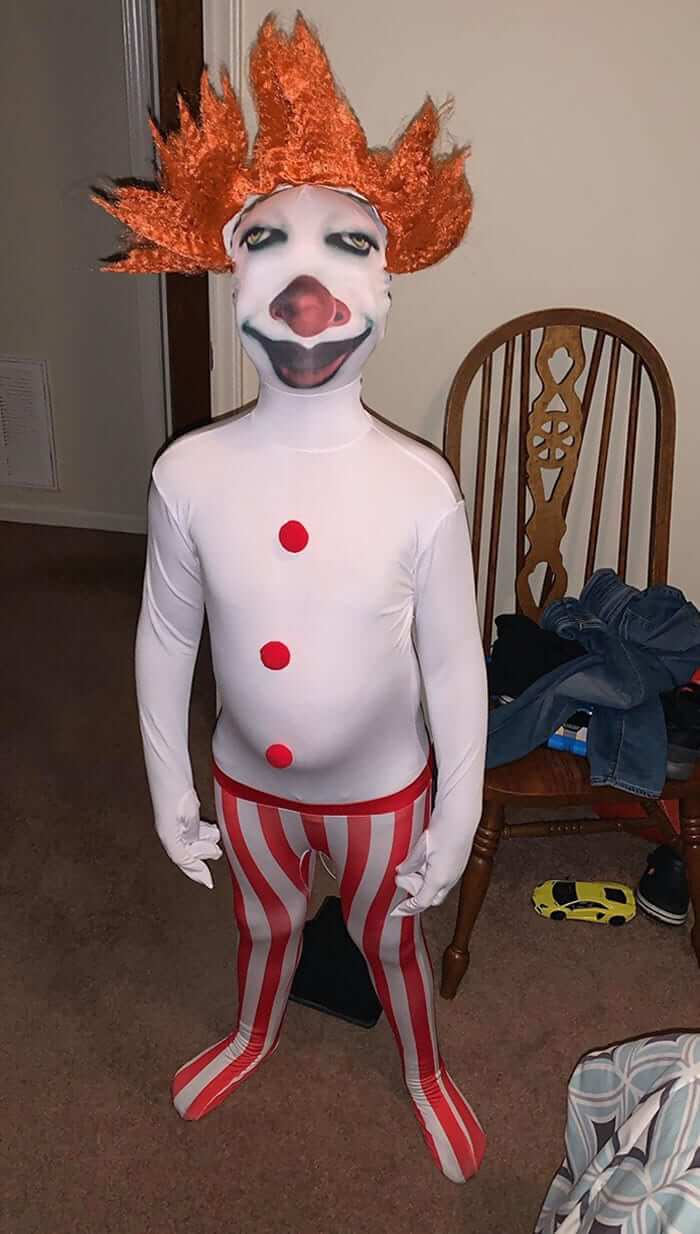 Hopefully, they didn't let their child wear this out of the house because he would scare all the children and adults for miles around. It's almost as if Marilyn Manson and Bozo the Clown had a love child.
Somewhere In The World A Horse Is Missing His Teeth
There are many reasons you should never buy veneers online, and this is a perfect example of what you will most likely get in the mail. The biggest problem with ordering online is that not every mouth is the same size, and they have to be fitted to your teeth.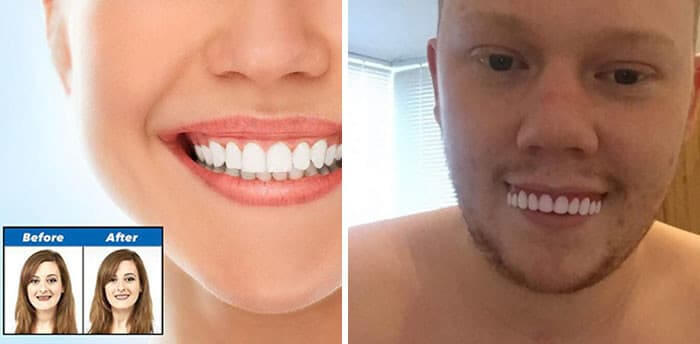 To be totally fair, they are exactly like the teeth in the picture, but they don't fit his mouth, which is why it looks so weird. If you order teeth online, you can't have high expectations that they will look good.
Either He Has A Big Head Or That Is A Small Wall And Bed
His friend bought him the tapestry pictured on the left, and it must have been made for a dollhouse bedroom because it was only big enough to fit his head like a bandana.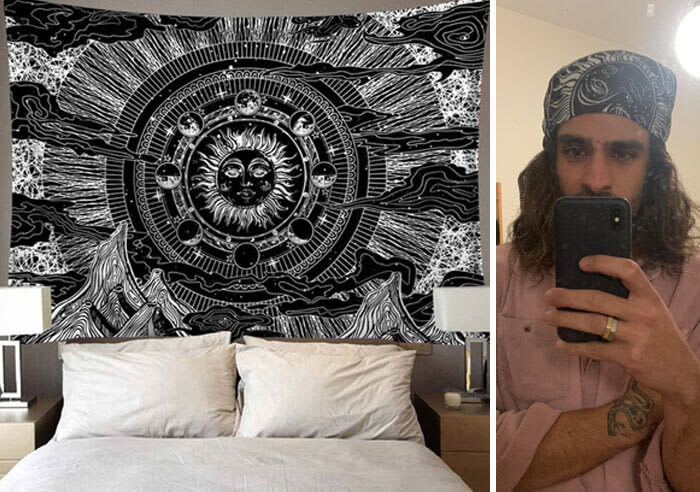 Let's all hope his friend didn't pay the price of a tapestry only to get a bandana that should cost a quarter of the price. This would be a perfect gift for Captain Jack Sparrow.
Muscle Dresses Are The Latest Fashion Trend
This guy has been putting the work at the gym, so why not show that off with a muscle tank. When his tank top came in the mail, he couldn't wait to try it on, but something was clearly off about it.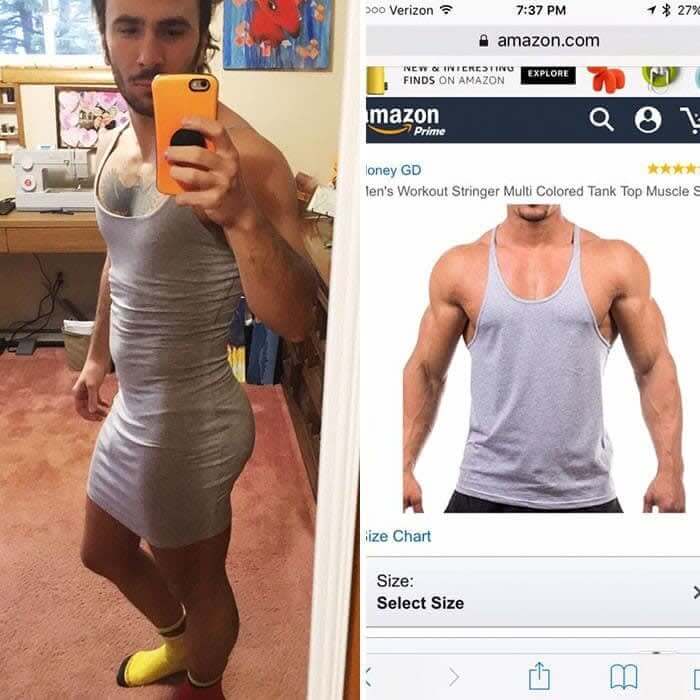 When he tried it on, he realized it was more of a bodycon dress rather than a muscle tank top. Maybe he has a girlfriend who would want this, so it doesn't go to waste. It does flatter his body, however.
Wet Wipes For A Mouse
That must be a sick joke because who would make a packet of wipes that small? Who are these made for? The only possible explanation for these is if they were made as a gag gift or a prop.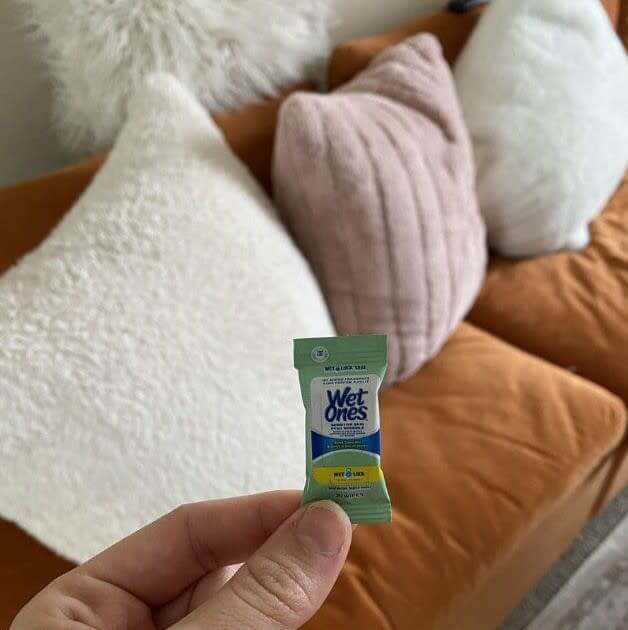 Logically, the person should have double-checked the dimensions, but like any normal human, she assumed Wet Wipes only came in one size.
One Sock Is Her Boyfriend's Face, The Other Is Some Random Man They Don't Know
When you get a custom order from a company, your biggest hope is that it comes out exactly like your vision. This person though the custom socks they ordered would look like the ones on the website, but they did not get what they ordered.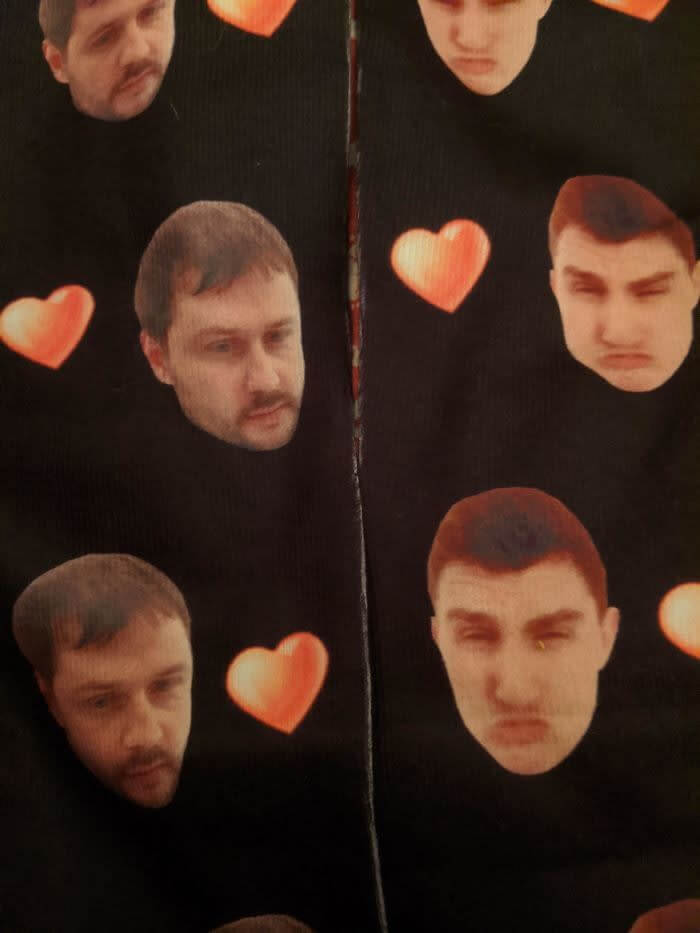 While one sock looks like what they had initially ordered, the other sock is some random man they have never met before. Somewhere there is a person who has the matching sock.
Normal Bulbasaur Vs Bulbasaur On Acid
This man was so excited to surprise his wife with a cute figure for the fall time plants, so he ordered this Bulbasaur plant holder. He waited 20 days for it to arrive, and he could not believe what he was sent.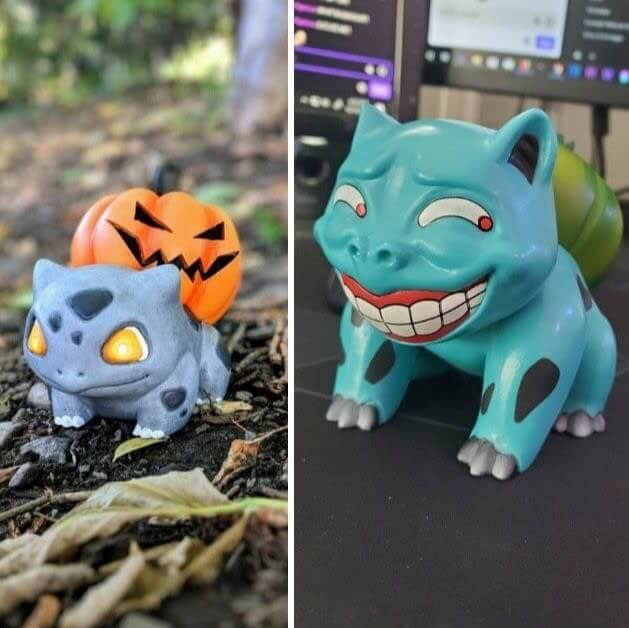 The figure he ordered looks like Bulbasaur took some drugs. This man is definitely being trolled by the company he ordered from. Why else would someone try to pass that off as the product that is pictured?
Sometimes It's Not The Products Fault
First of all, who would order these in the first place? The only person who would want these is someone who named their own private parts, "the Wolf." These briefs are a disgrace to wolves everywhere.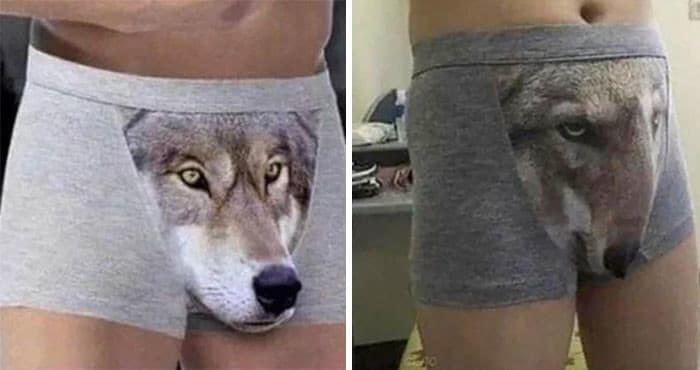 However, in this situation, it is not the fault of the sender because it really depends on what is inside. Now everyone is as well endowed as the product model, and that's why people should avoid these.
Just Slightly Distorted
When you buy cheap mirrors online, you can't really expect much from them. This guy got the most distorted mirrors we have ever seen, and they turned him into the sloth from Ice Age​.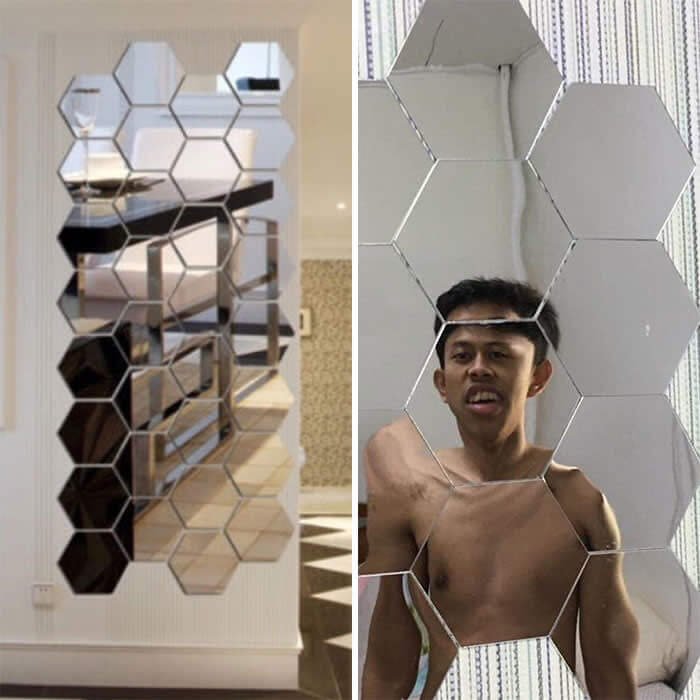 Instead of having an accurate way to look at himself, he has a carnival fun mirror to laugh at each time he walks past; great idea, but failed execution.
What She Got Is Low Key Not That Bad
In our honest opinion, the shirt she received is so much better than the one she ordered beside the spelling mistake. The cherubs with machine guns are edgier than the basic one she wanted.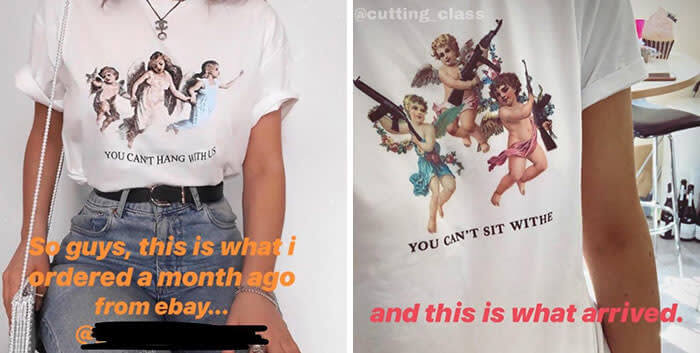 While the idea of the left shirt is cute, she should be glad she got an upgrade. The spelling mistake is also easily fixable with a steamer and some matching iron-on letters.
Probably Should Have Read The Dimensions
Can you imagine thinking you are receiving a wooden bench in the mail only have this dollhouse chair delivered to your door? To be fair, she should have read the dimensions because the picture looks small as well.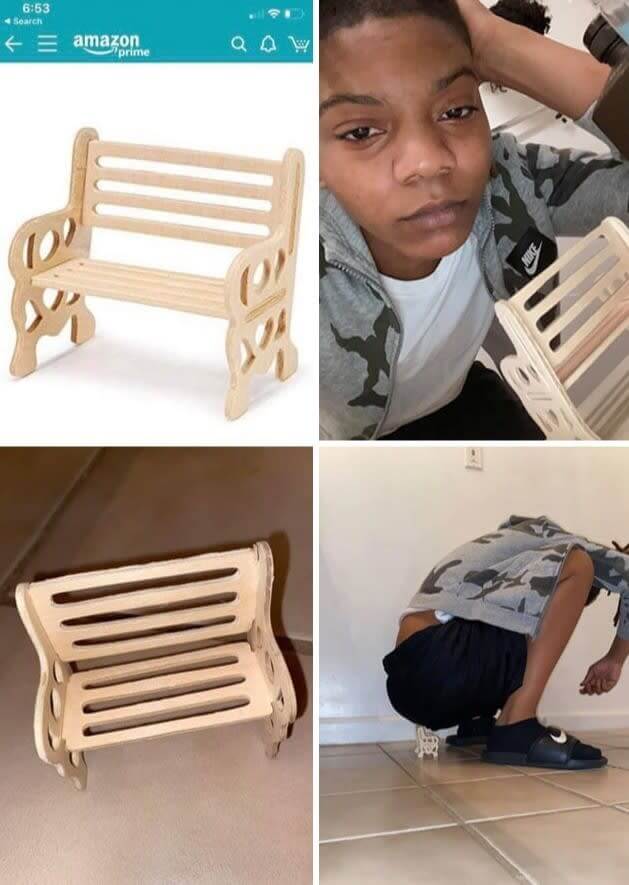 She got an A for effort when she tried to sit on it. She might as well put in maximum effort to make it work. Although we doubt she is going to keep this except to tell a funny story.
What Could Go Wrong When You Order A Silicone Mask Online?
We aren't exactly sure what possessed this person to purchase this mask in the first place, considering how scary looking the original is, but they did not receive what they ordered.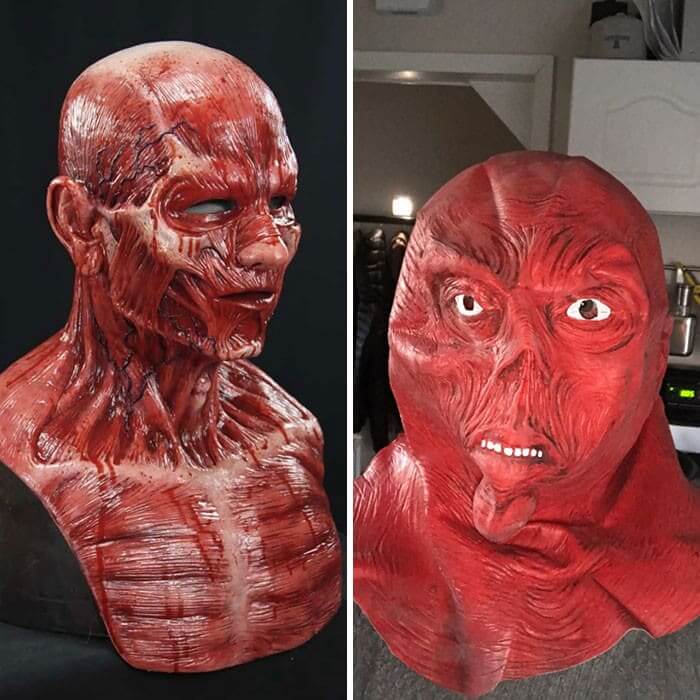 The mask on the left is reminiscent of Mrs.Doubtfire dropping her mask out the window, and it gets run over by a truck. Either way, it is pretty scary, and if you want something that is high quality, you have to do the research.
They Must Have Forgotten To Say It Was DIY
Here is a pro tip for online shopping: don't get wine drunk and buy a cactus cat scratcher from an Instagram ad. This woman learned her lesson when two bags of rope showed up at her house two months after she drunkenly ordered this product.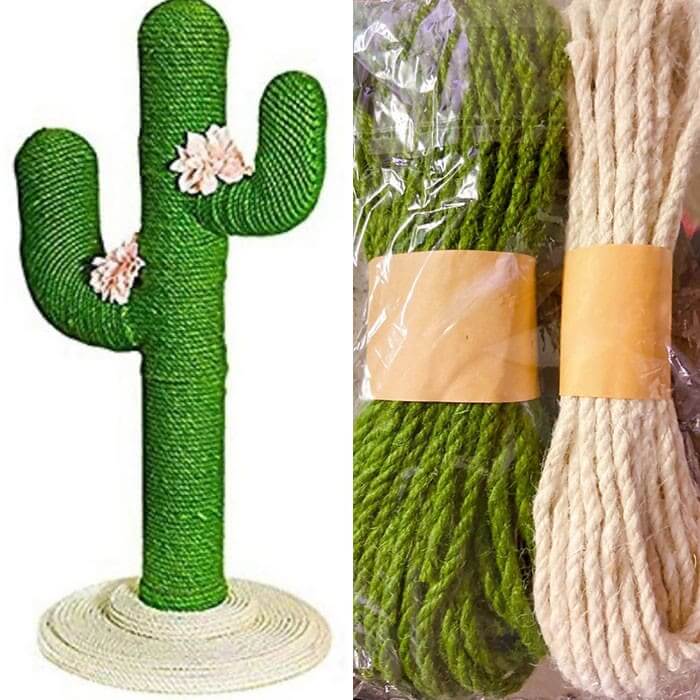 The package didn't even include instructions, a base, or a packing slip. She must have been too far gone to realize the ad said that it was a DIY project, and not everything was included.
Never Believe Product Photos
PSA: Lukalula Maternity is an online scam, and they stole the left photo from someone's maternity shoot off of Facebook. The woman who received the bad dress posted this on Facebook, and the person in the product photo replied that the company stole her photo.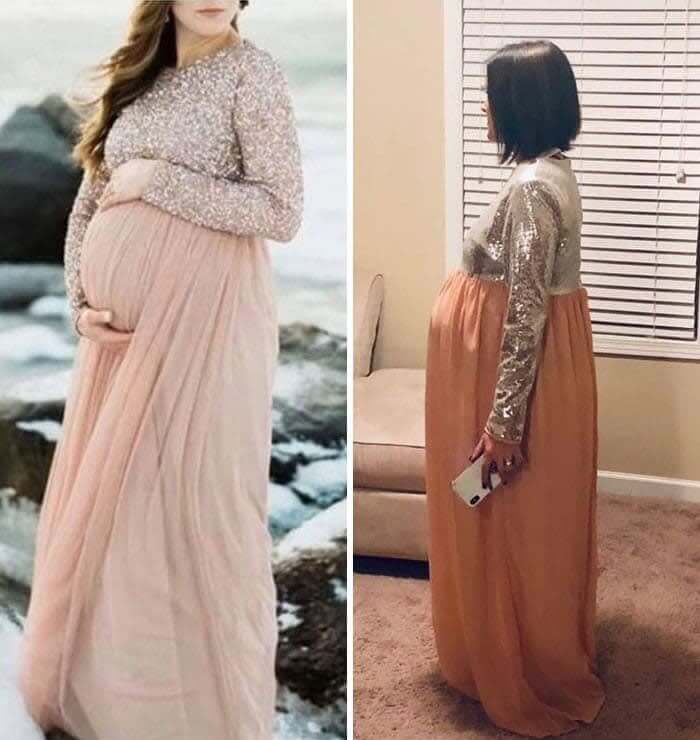 The woman who ordered the dress felt horrible because she was 26 weeks pregnant, and the dress made her feel like a whale. Hopefully, she found something else to wear for her maternity shoot.
How Do You Mess Up Assembling Headphones?
Online shopping always amazes us. In what world is this acceptable, and who was the person to manufacture headphones like this. Who would think that the jack should be next to one of the earbuds?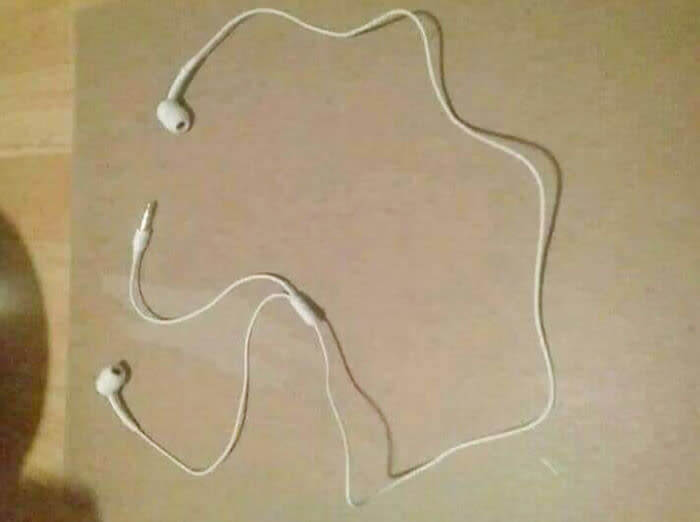 Although these are probably still functional, it would still be irritating to have to hold your phone so close to your head. It's not like most phones have a headphone jack these days, so it doesn't matter.
For A Giant's Ears
Word to the wise, never buy anything from Wish.com unless there are plenty of photo reviews, and the product is Wish approved. This person thought they could buy real discounted Airpods on Wish, and they were shocked when their package arrived.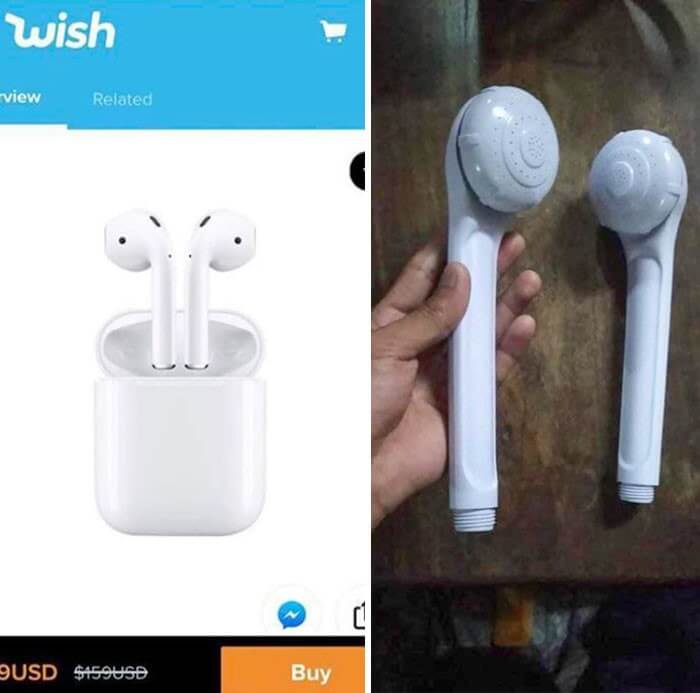 Instead of anything resembling a pair of wireless headphones, the person got two white showerheads. How do sellers get away with sending something that is not even relatively close to the product photo?
When You Get A Piece Of Mesh With The Pattern Printed Instead Of What Was Pictured
When this person saw the knitted sweater online, she had to order it because it looked so pretty. Unfortunately, she was disappointed when it arrived because it was not even close to the picture.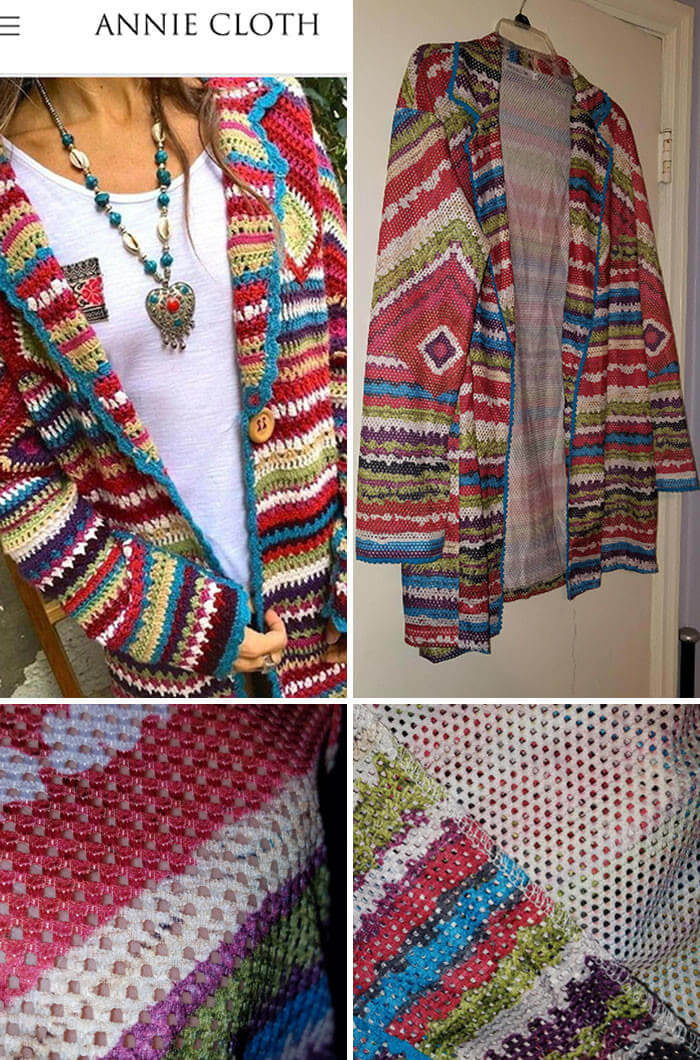 The "sweater" she received in the mail was a mesh fabric with the pattern printed on it. Our skin is getting itchy just from looking at the jacket she got in the mail.
Not Exactly Sure How This Is Purifying Air
This person purchased an "air purifier," but when they looked inside, they realized it had no actual purpose besides a blinking red and green light. Maybe it has a placebo effect because of the lights.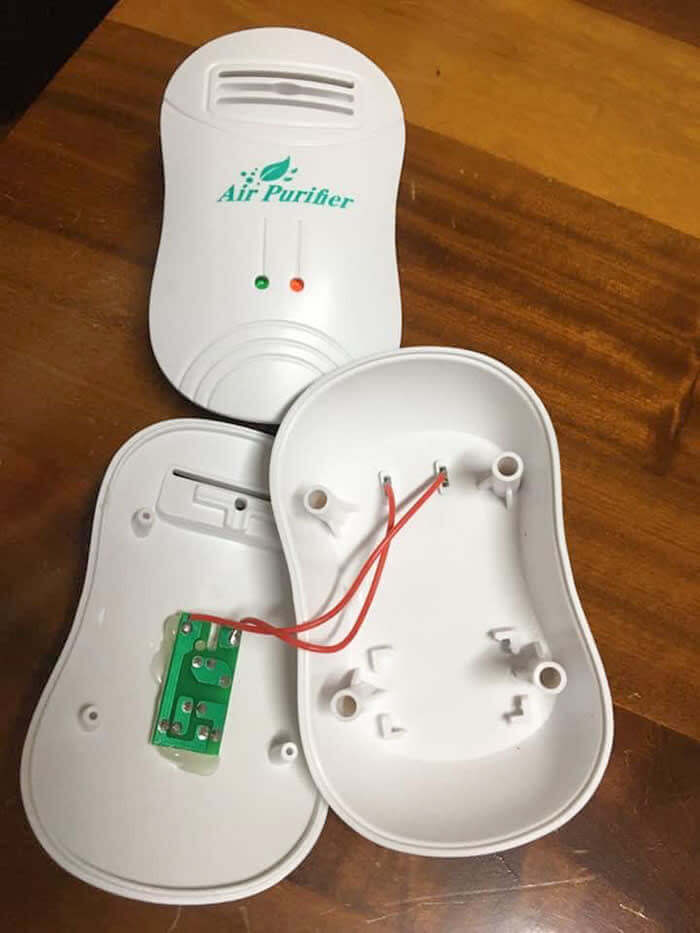 We wonder how long it took this person to realize their air purifier was fake and served no actual purpose. The only use for this is to hide stuff inside so robbers won't take your valuables.
$150 For A Rug Made For A Dog
A group of friends pitched in to buy a friend this $150 rug for her birthday, and they could not believe they paid so much for a carpet that was meant for a dog.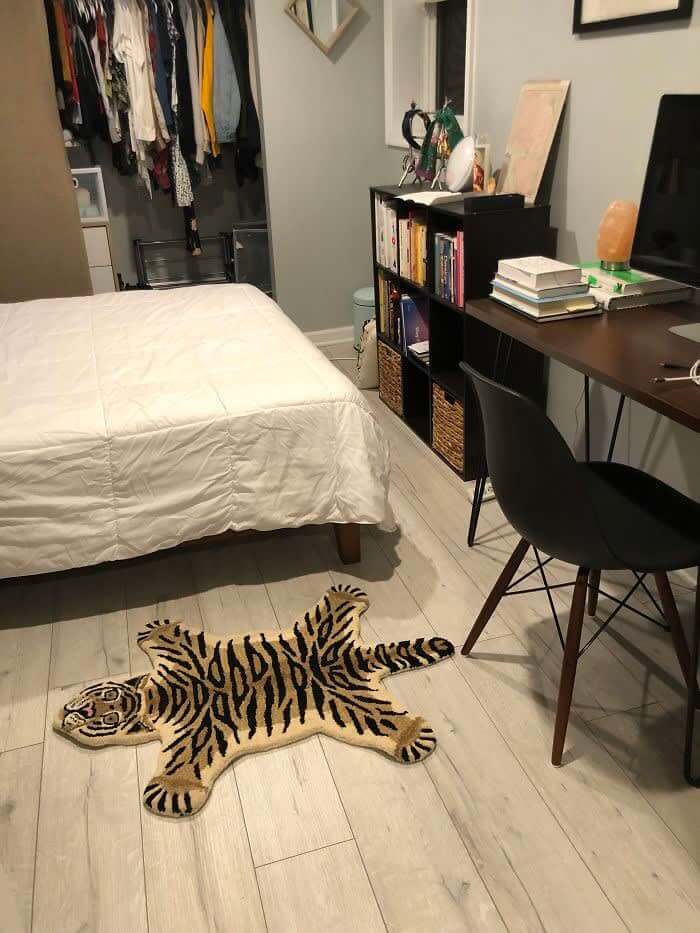 It is always important to check the listed dimensions, but when you are paying $150, you almost assume it is going to be bigger than this tiny thing.
More Like A Bank Robbing Tool
When you think you are ordering a cute winter hat that will keep your head warm, but it turns out that Wish wants you to rob banks. All they have to do is cut eye and mouth holes, and it could be a ski mask or something for Halloween.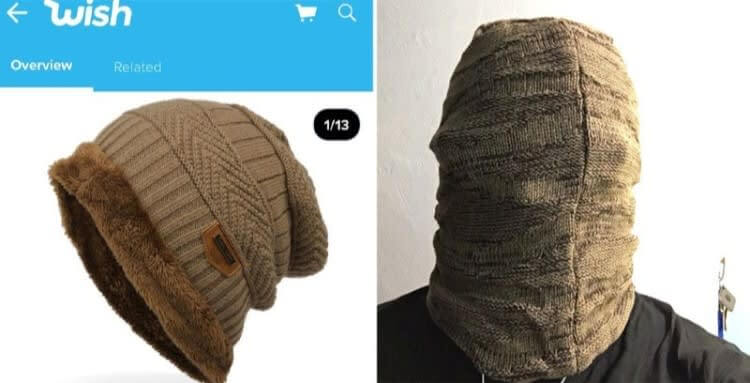 Someone literally pulled the wool over their head, and they got scammed. We aren't sure what Wish.com's return policy is, but we doubt that it is easy to return their horrible products.
When The Listed Price is $2.50, You Should Know It Is Not Legit
This person was so excited when they found a When Harry Met Sally record for $2.50 on eBay, but they were confused when a small package arrived. After opening it, they realized why the album was so inexpensive.
This would go nicely in the dollhouse with the miniature bench and Wet Wipes. Is there a mini record player that is supposed to come with it because that would be more fun.
Might As Well Sleep In The Forest
This person ordered a bed frame online, and the thing forgot to include a disclaimer saying, "some assembly required." They have to stain it and set up the canopy for it to look like the one online. We hope they didn't pay a ridiculous price for a board with sticks attached to it.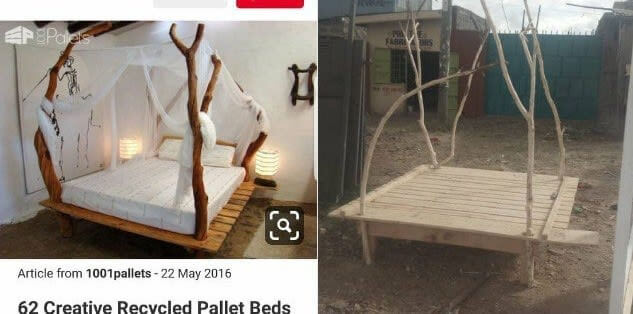 This looks more like a death trap than somewhere to sleep. Also, it's funny that they added extra sticks instead of finding four thick branches like the product photo.
Would You Rather Receive Your $850 Laptop Or 3 Jugs Of Juice
Grab your tissues because this is a sad story. This person saved for months to purchase a new laptop, and when they received their order, it turned out to be Walmart's brand juice instead of their $850 laptop. One of the bottles is even dented, the computer would for sure have been broken by the time it arrived.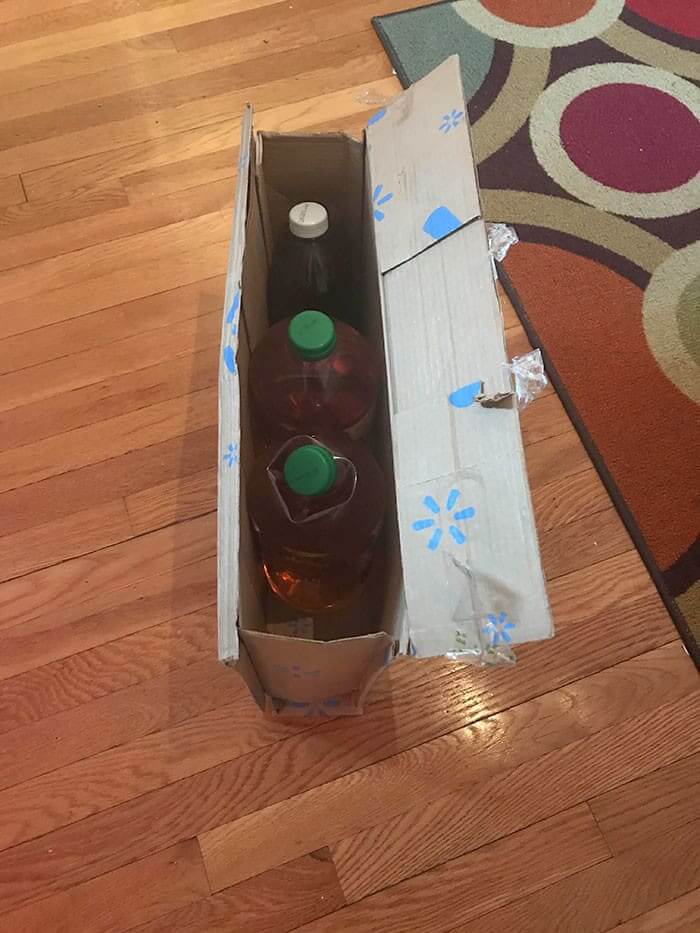 Hopefully, they were able to take this to Walmart and get their money back or the original laptop they ordered. We would be so angry if this showed up instead of what we purchased. It seems you can't even trust big brand names.
Looks More Like Groot After A Heavy Drinking Session
As someone who is a massive Game of Thrones fan, this person was excited to receive their Night King mask from eBay. Unfortunately, they received this distorted version that looks nothing like the photo or the character.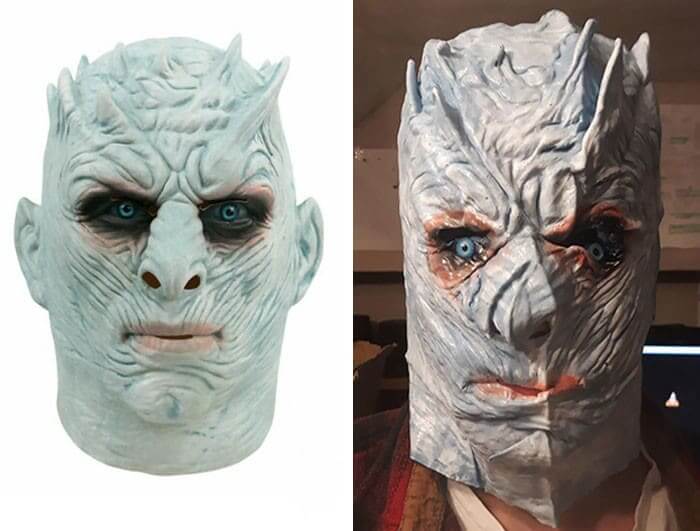 They could put a blue plastic bag with eye holes over their head, and it would look ten times better than this latex mess. Never trust random people online to sell you exactly what they are advertising.
Time To Start Your Cover Band
To anyone who is a Black Sabbath fan, this hat is a disgrace because it now says, "Black Sabbitch." That is a disgrace to the band, but it wasn't a great hat to begin with, so they could wear it ironically.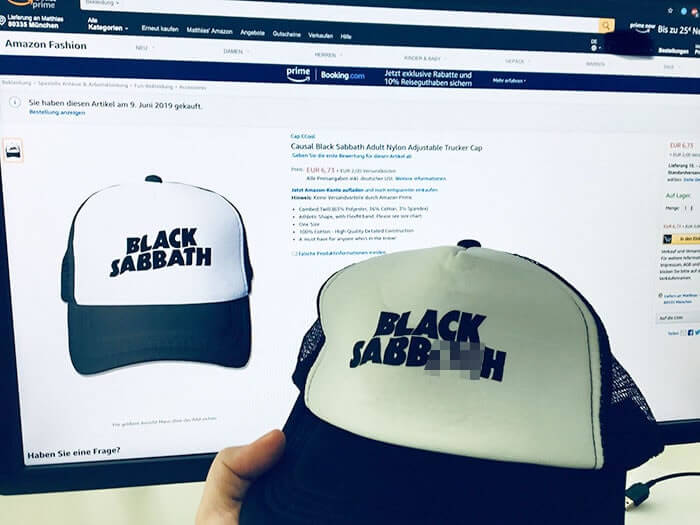 When you try to purchase a cheap-looking hat from Amazon, you can't have high expectations that it will look nice when it arrives in the mail. If you start with low standards, you have lower chances of being disappointed.
Amazon Is Scamming People With These Tiny Toilet Paper Rolls
When everyone started panic buying toilet paper, some people turned to the internet to purchase it because stores were sold out. This woman paid twice as much, and it took two months to arrive. These rolls are a quarter of the size of a regular roll.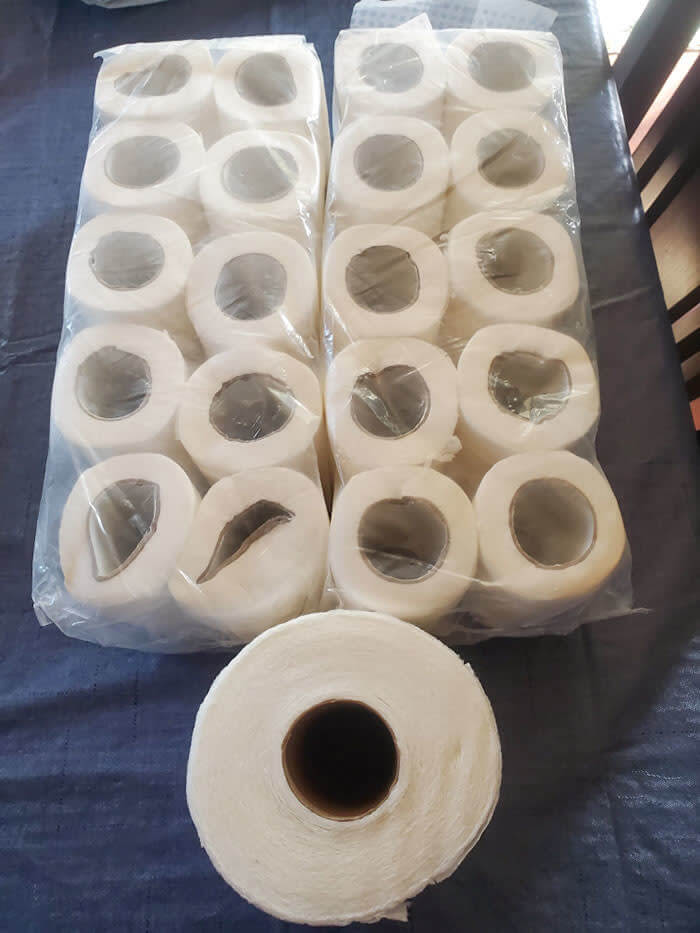 Maybe they can combine two of the rolls to make one normal-sized roll. The cardboard holder takes up more space than there is toilet paper.
Looks Like Hades From Hercules
Targeted Facebook ads will get you to purchase things you never knew you needed, like this amethyst skull ring. You didn't know you wanted it, but Facebook convinced you that you should order it, but the person received something different.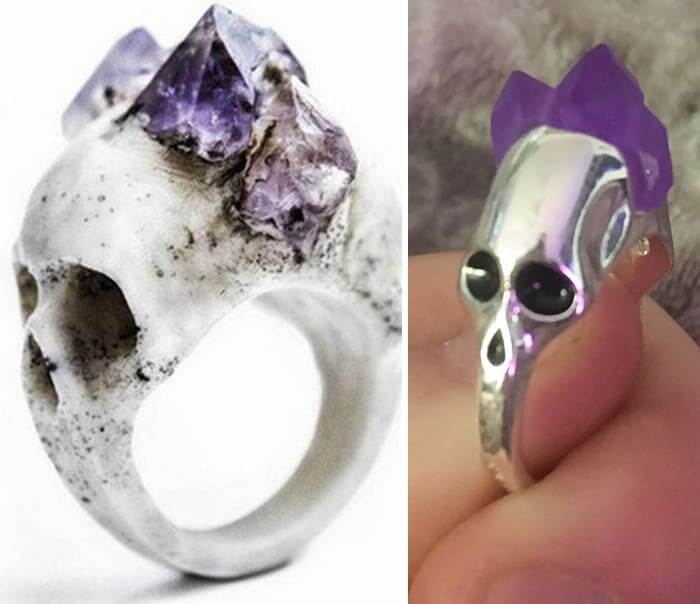 While the pictured ring looks more like a marble or stone-like ring with crystals on top, the ring that arrived is something that you could get for a quarter at the grocery store vending machines.
Someone Got Hungry Before They Shipped
As these nuts were being packed up, someone in the distribution center was hungry for a snack and thought no one would notice. When they say, "product may settle during transit," we didn't know they meant "settle in someone's belly."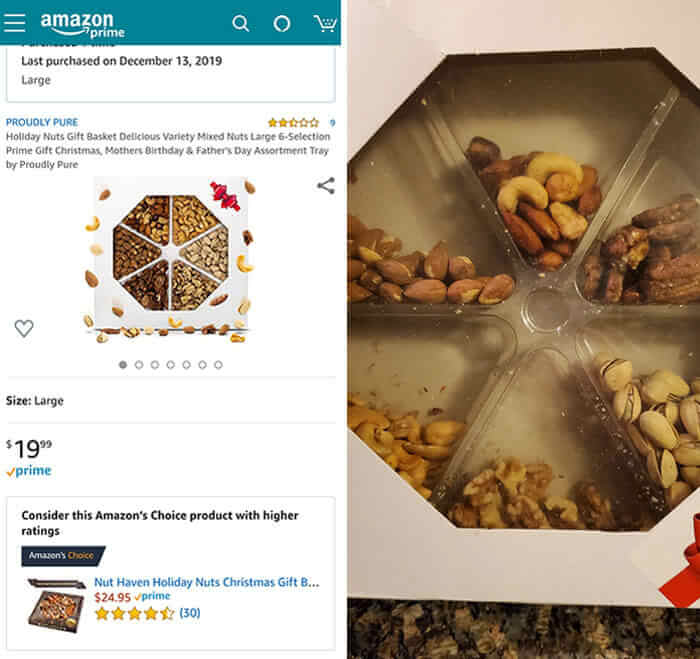 To be fair, the person should have checked out the reviews because this product only has 2.5 stars when the suggested product has almost five stars. You should always read reviews on Amazon before purchasing.
Basically Just A Piece Of Fabric
As the great Derek Barry once said, "there's a seam here and a seam here." Apparently, having seams on a piece of mesh makes it qualify as a well-constructed garment in some people's minds. The person thought they were getting a great deal on this gorgeous dress and ended up with something much different.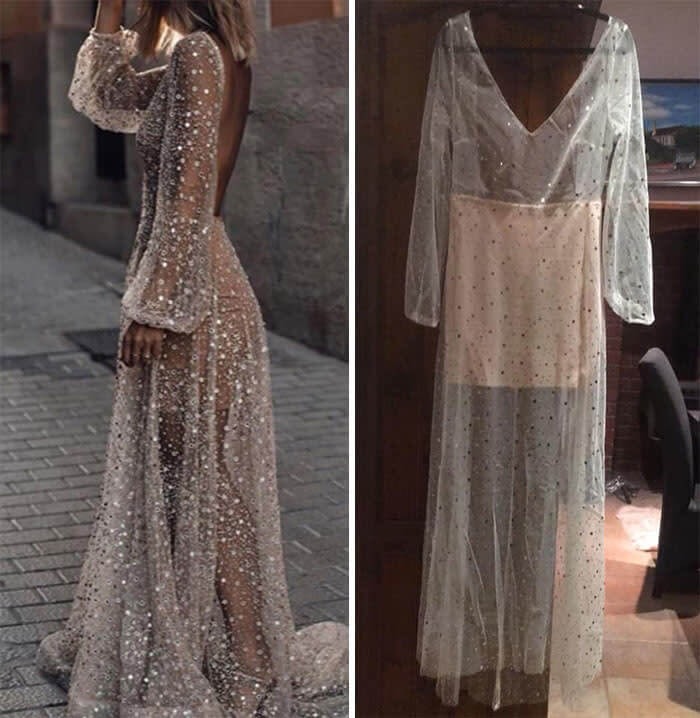 The photo on the left is actually a very expensive and popular bridal gown. Unfortunately, if you want a quality garment that was made with integrity, you have to pay a high price for the designer's time and effort.
Doll-Sized Face Mask
If cats or chihuahuas used sheet masks, this would be the perfect size for them. You can see the disappointment on her face, but at least that small patch of skin will be clear and glowing.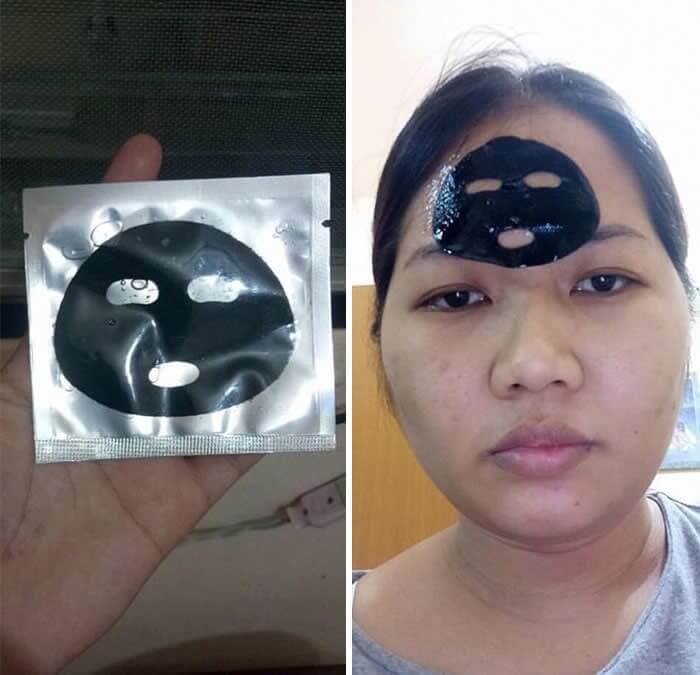 We can't imagine what purpose a little face mask serves and why someone would sell it. Do they expect you to stretch it out? We are just as puzzled as you.
Pillow-ception
The description on Amazon forgot to mention that the child is included with the order. Why would anyone want a cute dinosaur pillow when they could get a pillowcase with a photo of a child sleeping on the pillow they wanted?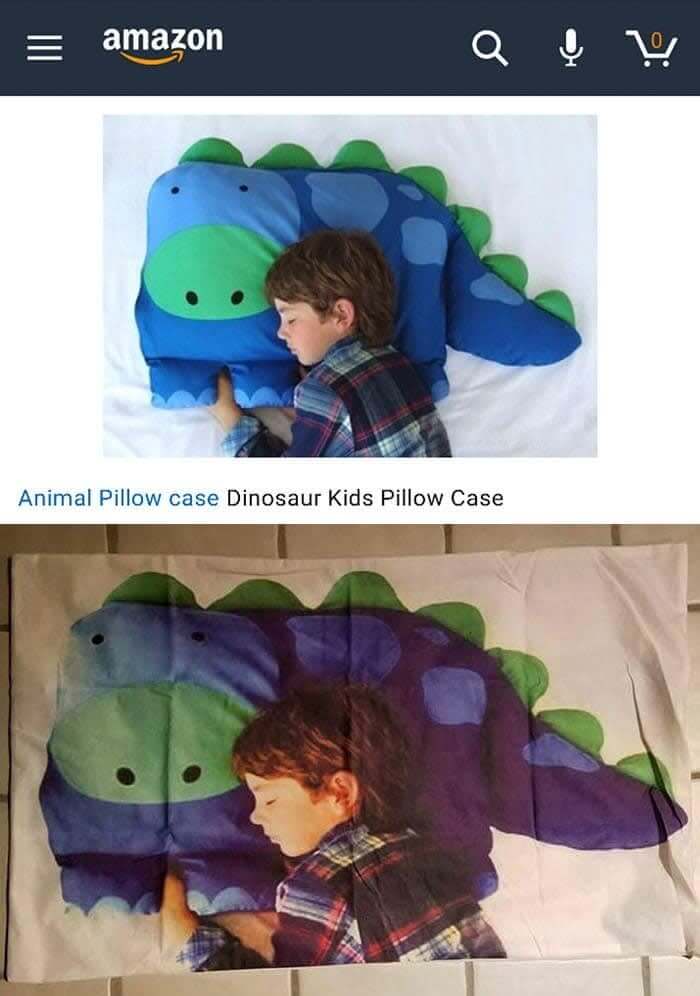 Amazon could claim that it is exactly what they advertised, but who would want to sleep on a photo of a child sleeping? That is just too bizarre for words.
Some Assembly Required
This woman made the tragic mistake of ordering something from Wish.com. As we have seen, it usually does not turn out well, and she now understands that struggle. The knitted blanket she ordered came as one giant ball of yarn.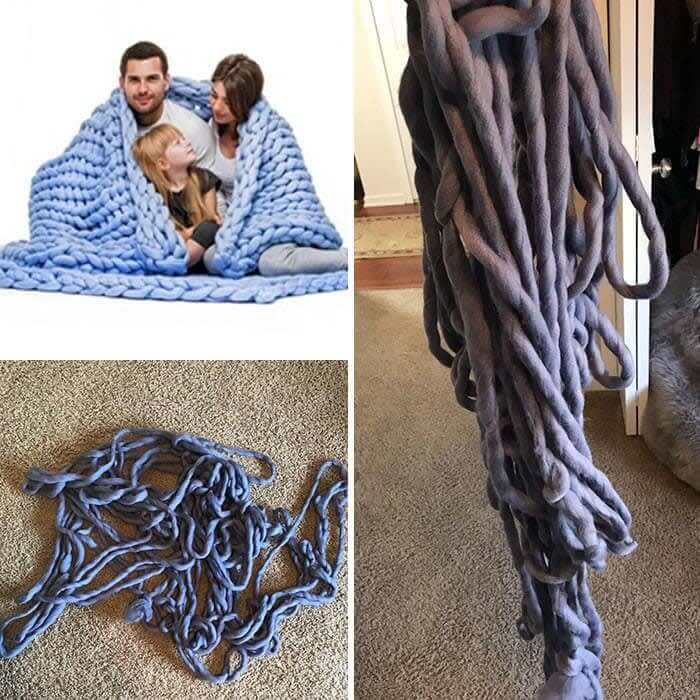 Does Wish.com expect people to assemble everything they order? Why doesn't anything come put together or look like the pictures on the website? We have so many questions.
Try Adding Hot Water, Maybe The Design Will Disappear
When this person ordered a heat-sensitive mug that changes designs when hot water is added got what the literal product photo on a cup, which is not what they expected. Obviously, the title of the product wasn't descriptive enough.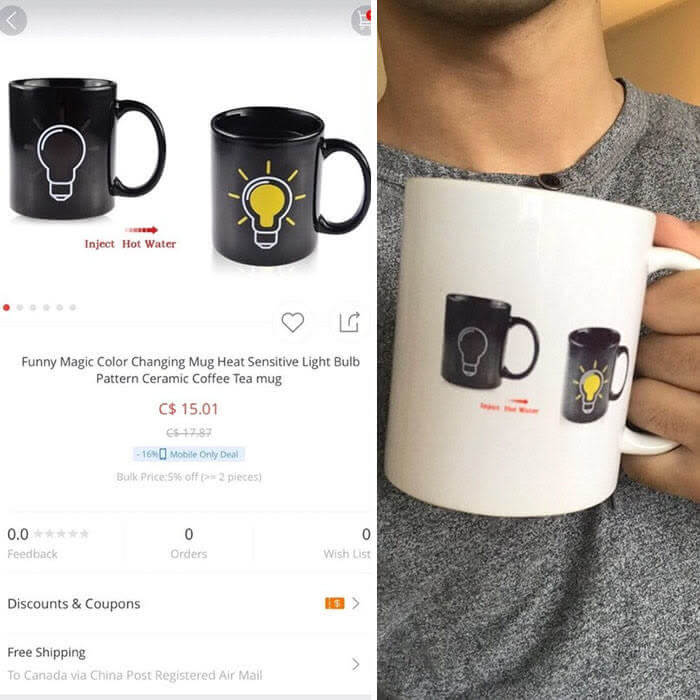 Even things that seem reasonably priced cannot be trusted these days. You just have to expect that everything will be the opposite of what you see online.
People Who Proved That Posing With Sculptures Is Not Boring At All
John Travis
This article was originally published on 24/7Mirror
Like most of us, you probably have some poses that you repeat quite often when taking a picture next to a sculpture. So, if you want to get some inspiration and stand out in a crowd of photos, we urge you to have a look at these super cool photos of people who did not go with conventional poses and took posing with sculptures to another level.
1. His Facial Expression is Pure Gold
"I'll punch you if you don't give me back my bow and arrow." You don't want to mess with the Cupid, trust us!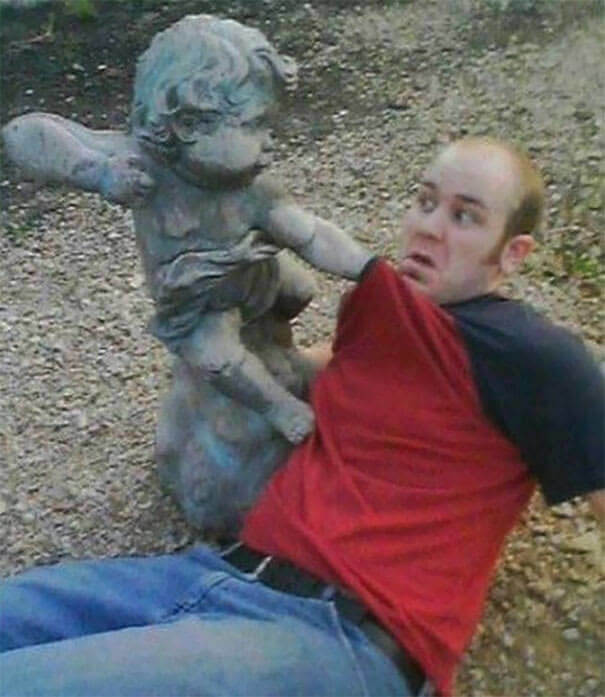 This is an adorable picture not only because of baby cupid, but this man's facial expression is perfect for this situation.
2. Empathy Level: 1000
"Here, I'll help you." This cute picture reminds us of the importance of small deeds.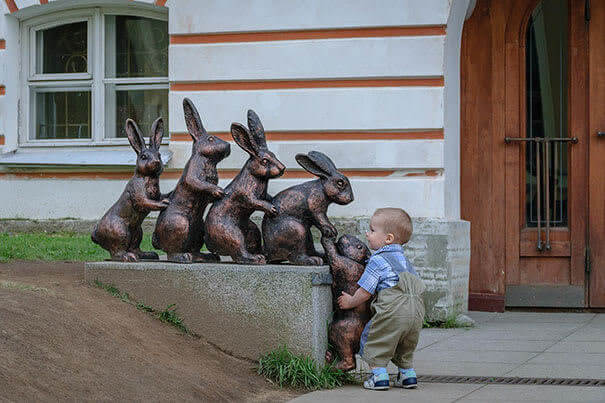 The heart of this child is filled with kindness and care.
3. Nobody is Watching
"You can count on me, but make sure you don't blow my cover," the statue had some concerns.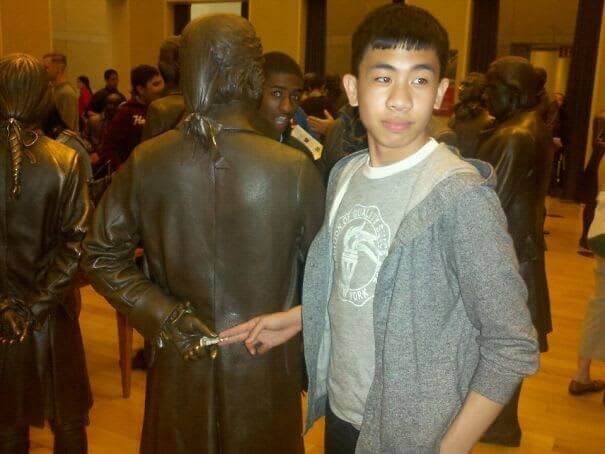 Nobody saw it, except for the photographer. Oh, and the guy in the back.
4. Joining Others
"Hey! Let go of him!" Hopefully, they are holding on very tight.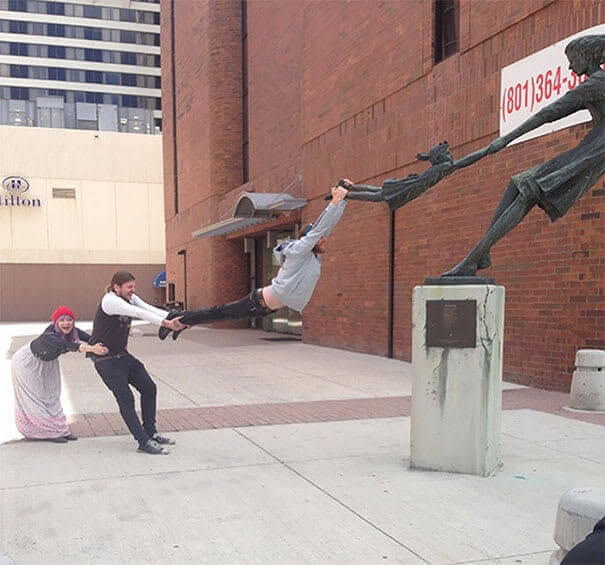 Also, if enough people are doing this, we hope this statue doesn't break.
5. Hygiene is Important
Hygiene is one of the main things that can either turn on or turn off a woman. This is what this statue thought, as well. Maybe it was going on a date, who knows.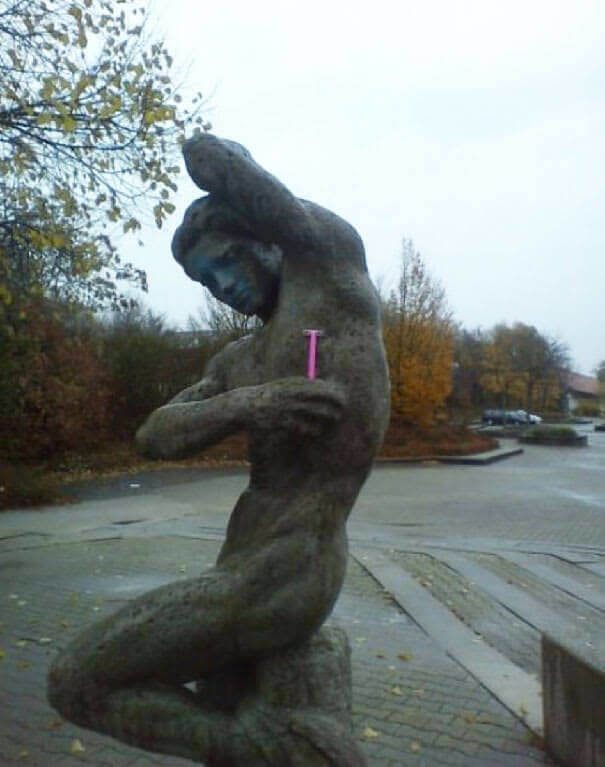 Although the original razor was lost through the tides of time, someone was kind enough to lend him a new one.
6. All The Single Ladies
"If you like it, then you shoulda put a ring on it."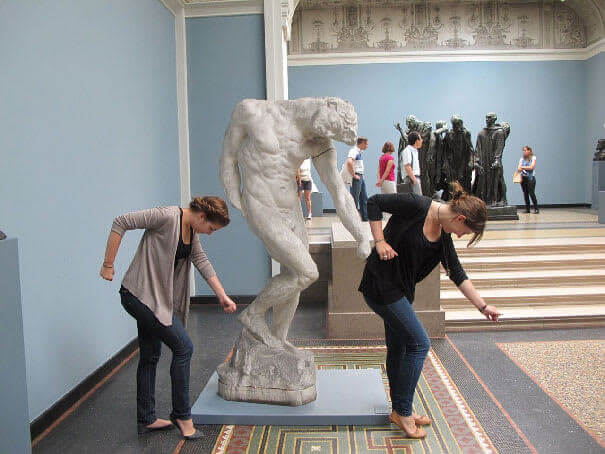 This must be where Beyonce got the idea for her "Single Ladies" dance.
7. Another Reason to Fear Clowns?
Why so many people are afraid of clowns? Oh, that's why! The fact that this clown just backslapped Superman, we know a big fight is going to break out real soon.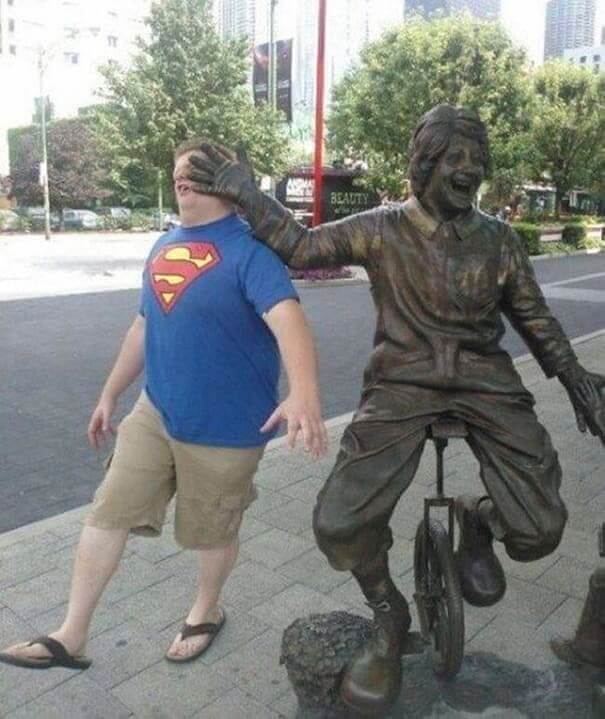 Who knows, maybe this clown is Pennywise the Dancing Clown.
8. "Let's Dance"
The kid behind this cute little girl said, "Hey, stop dancing and fall in line."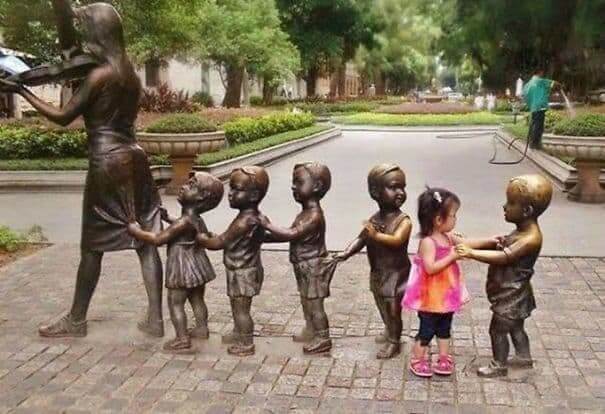 But kids do whatever they want, and it looks like she is having a great time there.
9. "You Shall Not Pass"
We know it would've been much better if Sir Ian McKellen said, "you shall not pass", but this little snowman is doing a pretty good job as well.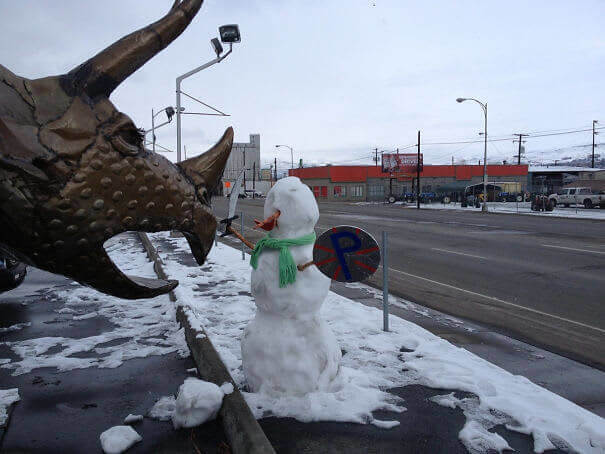 We appreciate the creativity of the person who came up with this idea. Respect earned.
10. "Seriously, Dude!"
"What is this wizardry?" Ben Franklin is seriously confused by this space-age technology.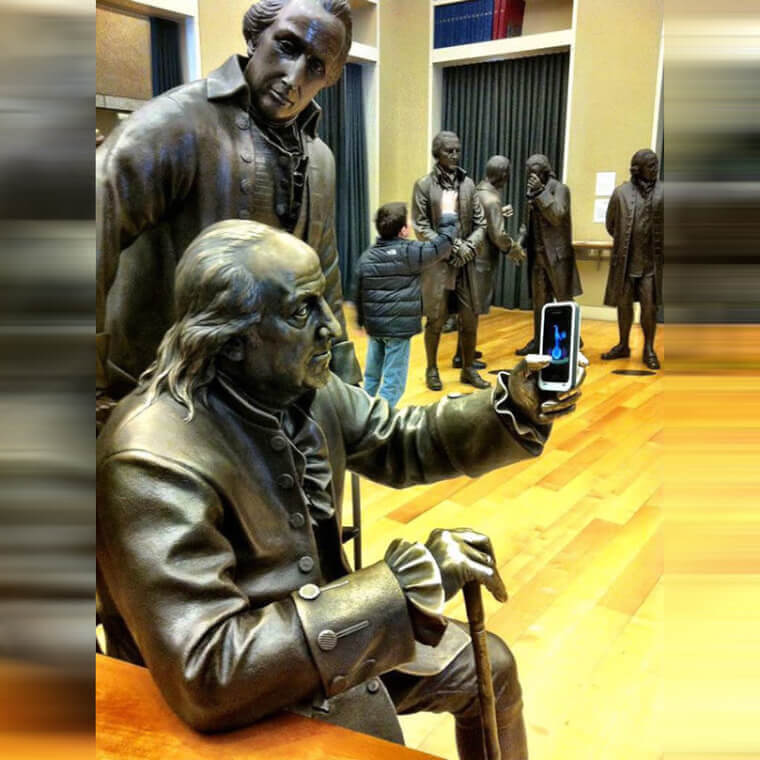 He is about to take an amazing selfie, once he figures out how to use this strange contraption.
11. Run Like Hell
Why do you have to take advantage of a man who is distracted by his lady?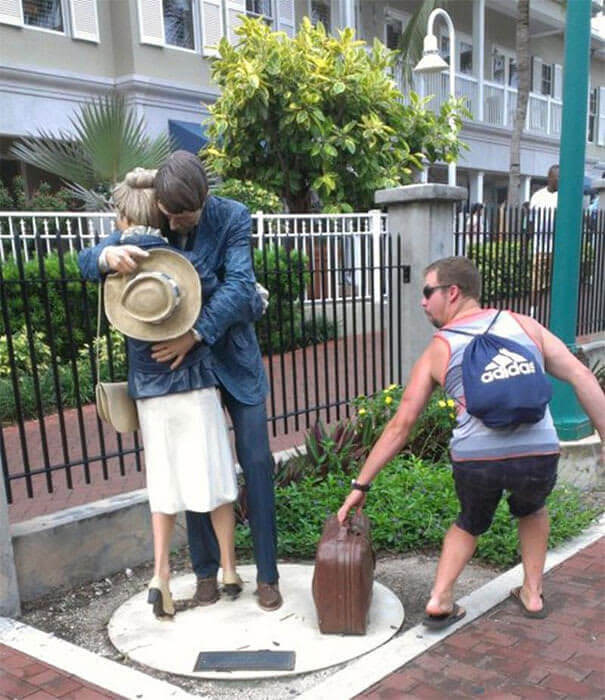 The bag looks a little too heavy to carry, so he won't be getting anywhere fast.
12. Powerful Mommy
Statue tug-o-war, who will win this match? Our money is on the statue.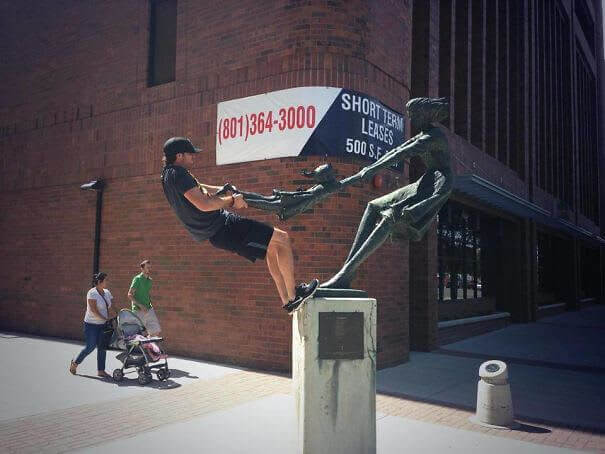 This strong mom isn't letting go of her child anytime soon.
13. Aww…Can Someone Pass the Tissues, Please?
Pictures like these are the reason we love the internet. As you can find both good and bad stuff on the internet, you just need to know where to look.
It is an adorable picture that shows a hopeless romantic in the making.
14. "Back Off, He's Mine!"
We will give full marks to her for turning a powerful-looking image into something entirely different.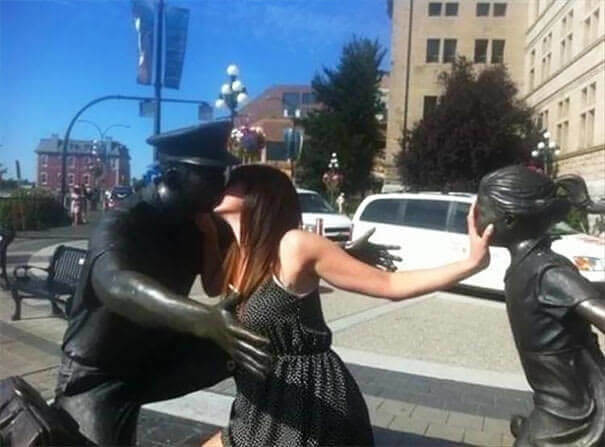 Certainly, she isn't shy to take what belongs to her, even if she has to do it forcefully.
15. "Ahh, What Have I Done!"
If you encounter a bear in the wild, we hope you don't end up like this, even though it is fake.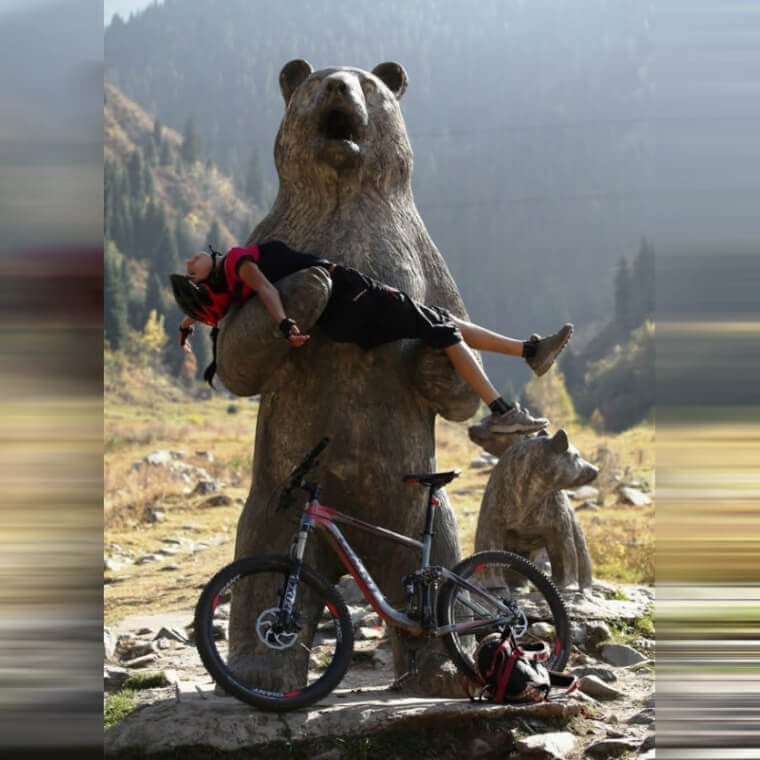 Or maybe, the bear is helping this person back on their bike. You be the judge.
16. Timing is Everything
We hope that it didn't take too many shots to get this super fun photo. The timing of this photo shows their commitment level.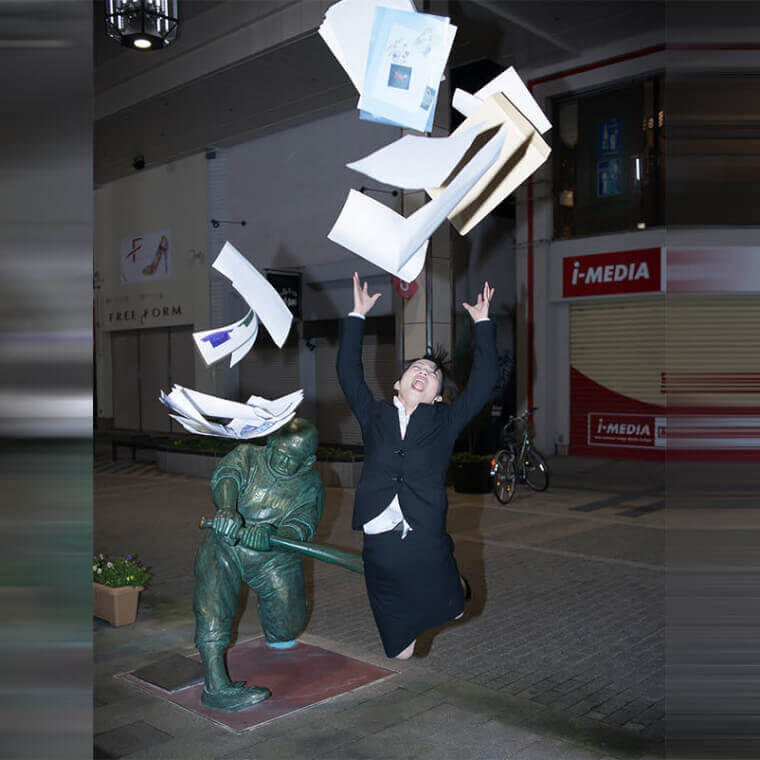 This statue is in Niigata City, Japan, and it celebrates the character, Taro Yamada, from popular manga comic "Dokaben."
17. Keep on Trying
"Honey, I said I am sorry. The traffic was terrible. I'm sorry I was so late getting here."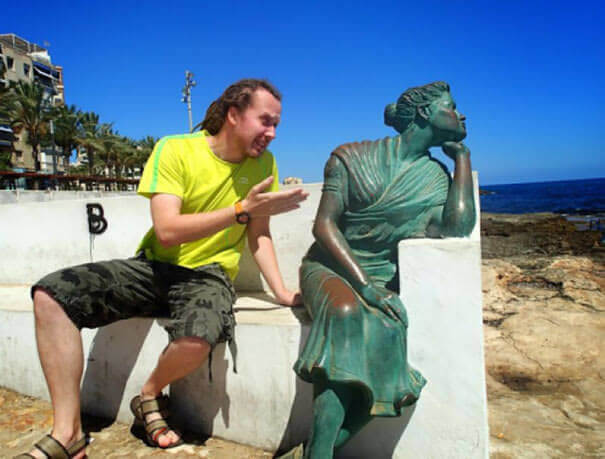 This guy should keep on trying, even though she has a heart of "stone."
18. It is Scary!
Okay, let's be honest here. This is not funny and it actually freaked us out.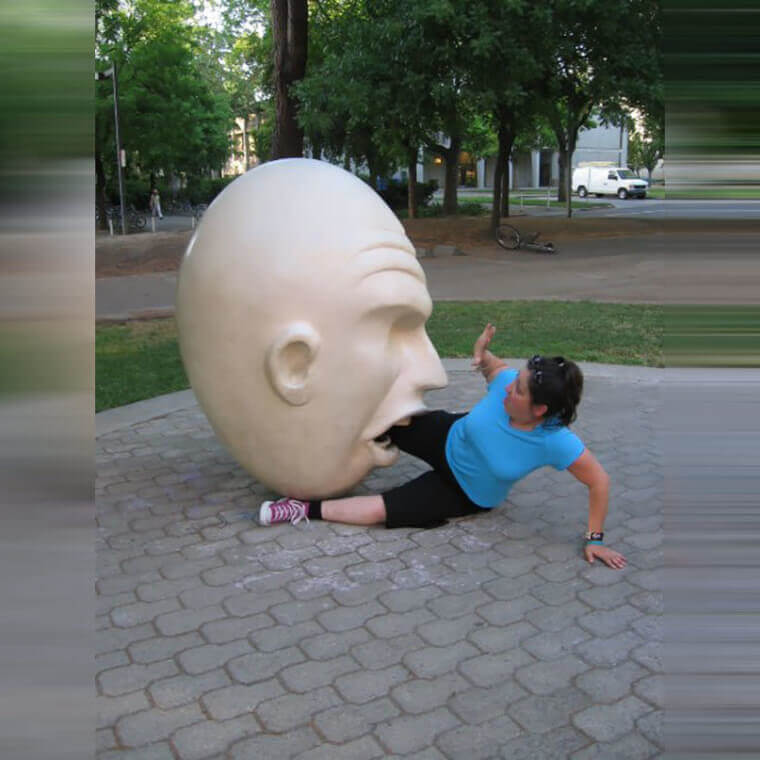 This must be the eggheads getting revenge on humans for having arms, legs, and bodies to walk around with.
19. Spidey in Big Trouble
Introducing a new villain to the Marvel Universe, Gold Face.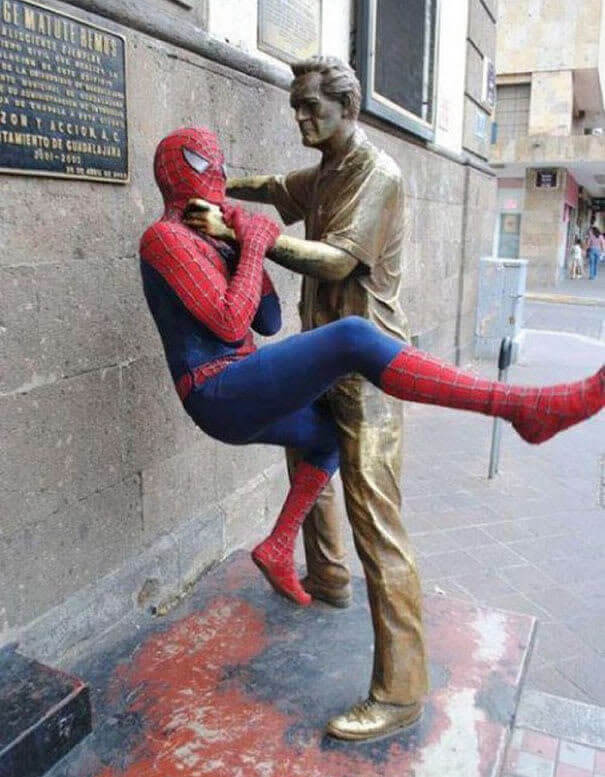 He is big. He is Bad. He is here to beat Spiderman, but spidey won't let that happen on his watch.
20. "Lady, I Have No Idea Where The Bathrooms Are"
"Do I look like a directory?" This woman asked the wrong statue for directions.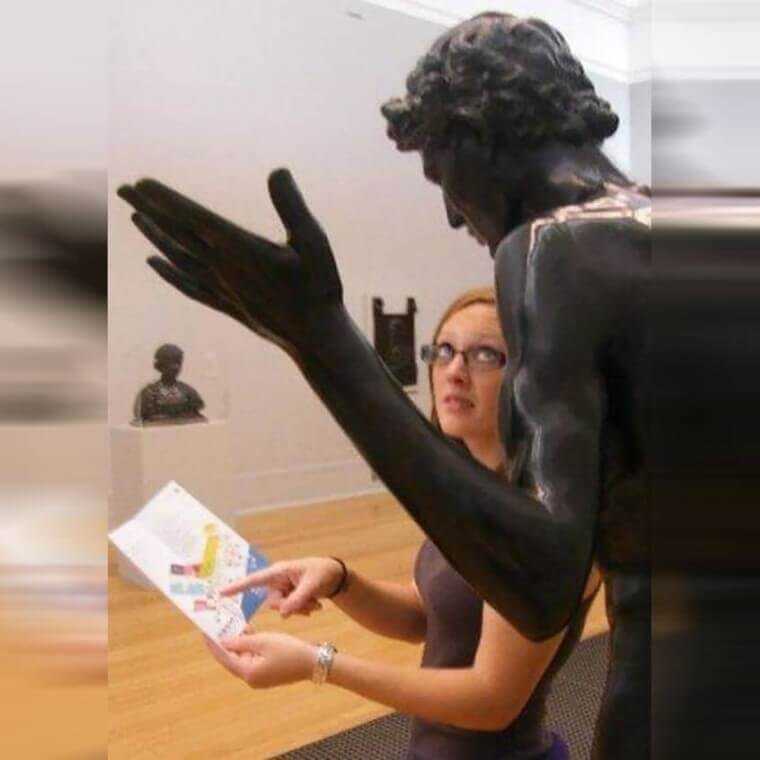 He is not in the mood to be answering everyone's pointless questions.
21. Dragging Done Right
"You are going home, putting on a suit and going to that interview. We are not going to have any more discussion on it."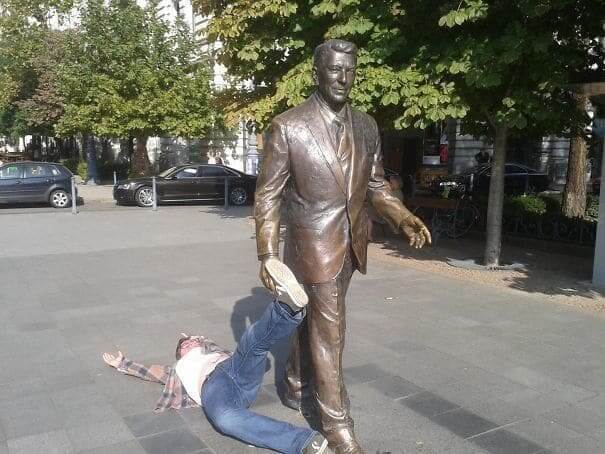 When your parents "subtly" tell you they want you to get a job and move out.
22. Pigeon From Another World
At first, this looked like a photo taken from the set of an upcoming movie, "Attack of the Pigeons."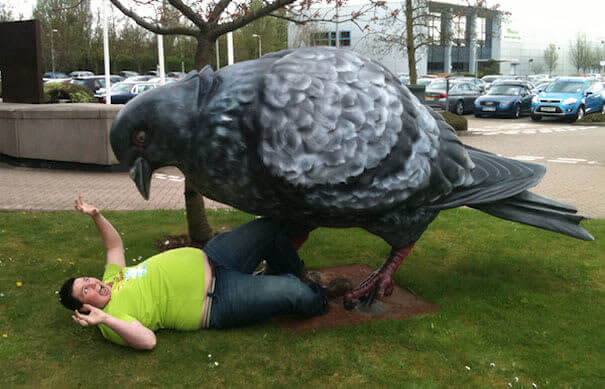 Why is this human being attacked? Because he was complaining about pigeons always pooping on cars and statues. We guess this guy won't be complaining anymore.
23. Showing Cat Pictures
These two seem to be hitting it off. We see a beautiful friendship in their future.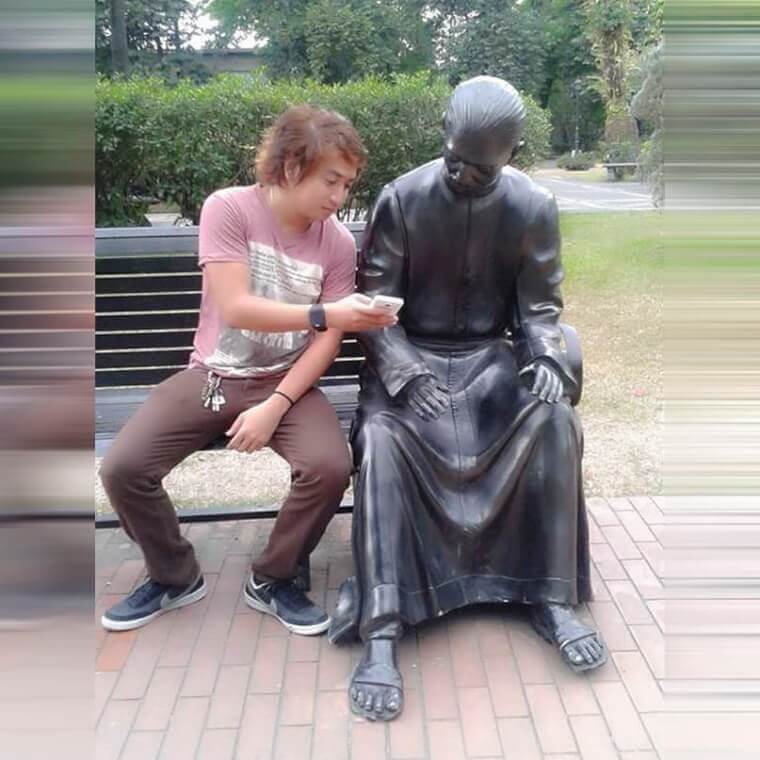 We can say without a doubt that the master is impressed by his student.
24. Kung Fu Fan
The fact that statues look like they did not expect this to happen makes this picture even more impressive.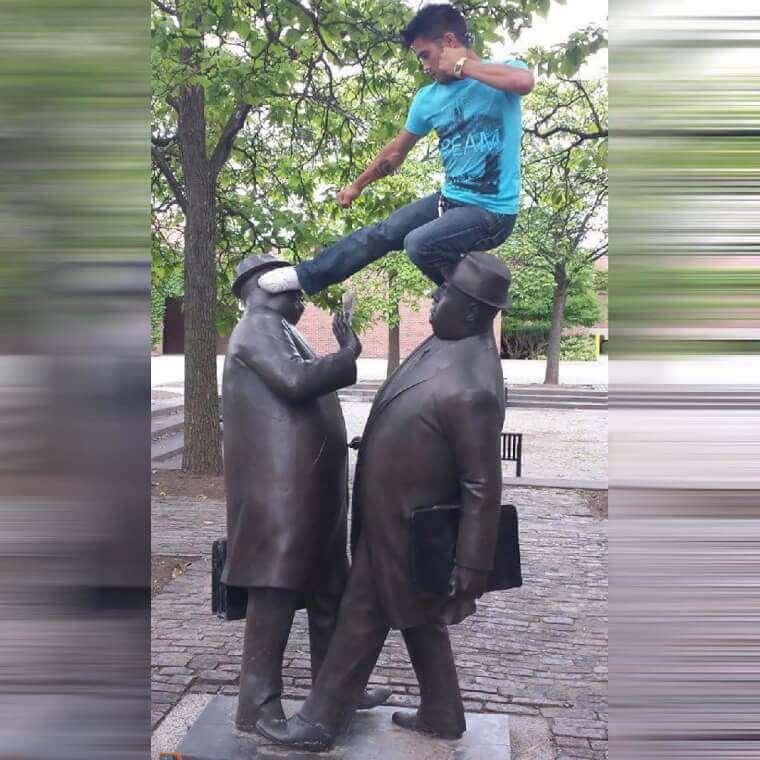 After seeing this photo, the only thing we thought about was the song "everybody loves Kung Fu fighting."
25. Super Realistic
At first, it took us a second to identify the statue in this picture.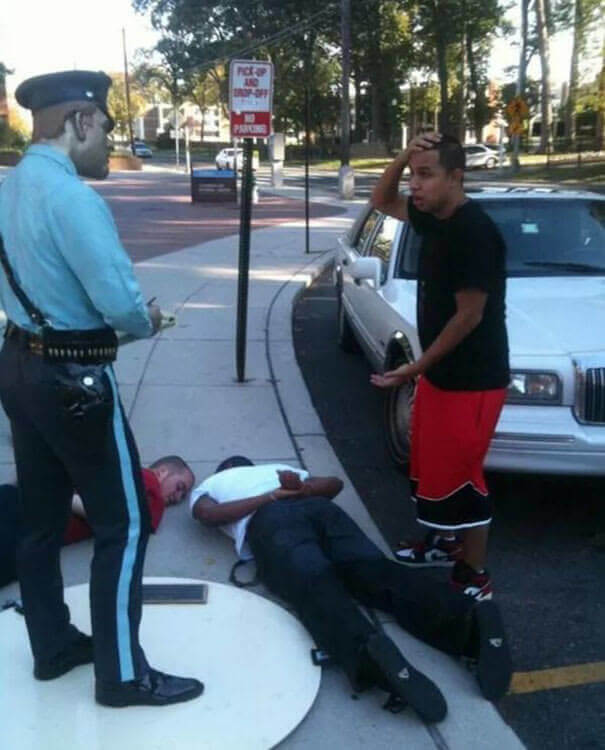 This statue is very realistic and quite creepy.
26. 50 Shades of Sculpture
This is one provocative sculpture. He is getting a little too handsy.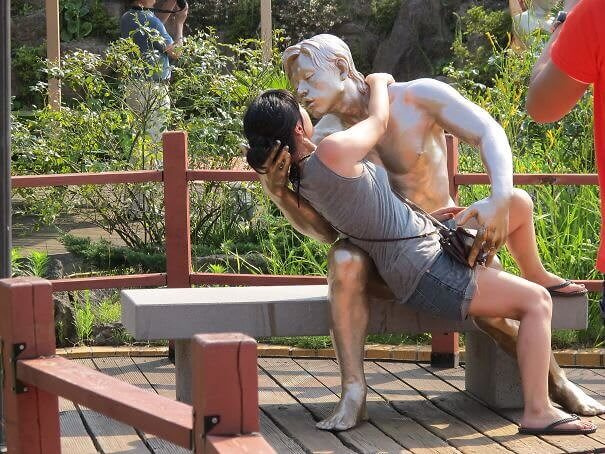 She doesn't seem to mind though. She is enjoying his tender embrace.
27. Listening Carefully
"Hey listen, did you know that Jamie and Suzie broke up?"
XOXO, Gossip (Statue) Girl
28. A Thorough Inspection
Well, this cowboy must be saying "just what I thought…you are no man!"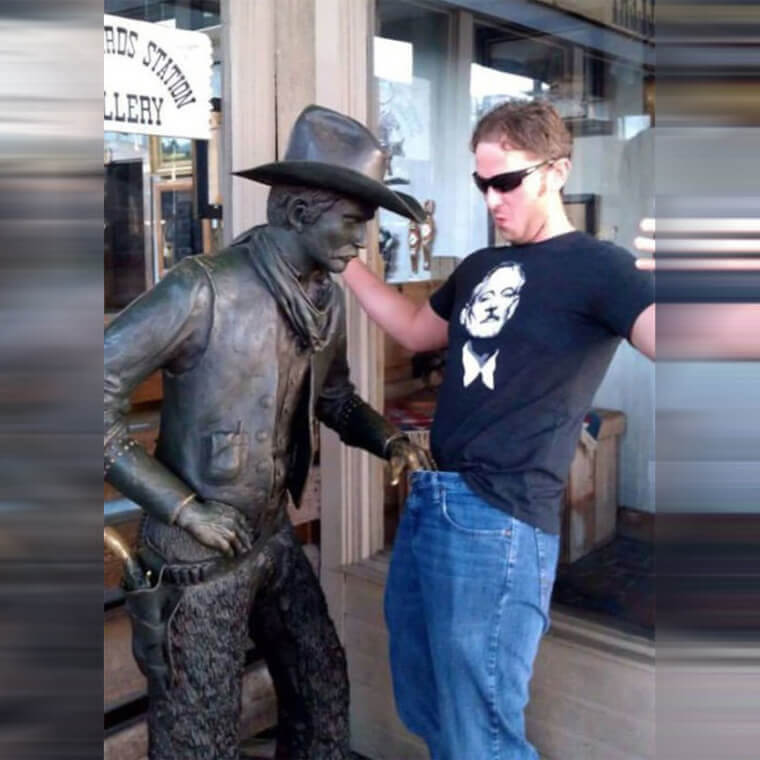 We are sure something really extraordinary came into your mind as well, but we are not going to talk about it. Let's just hope that it was some random checking.
29. Great Timing
It looks like this warrior is crushing that woman's head and thinking "I am so great that I can squish your puny little face with ease."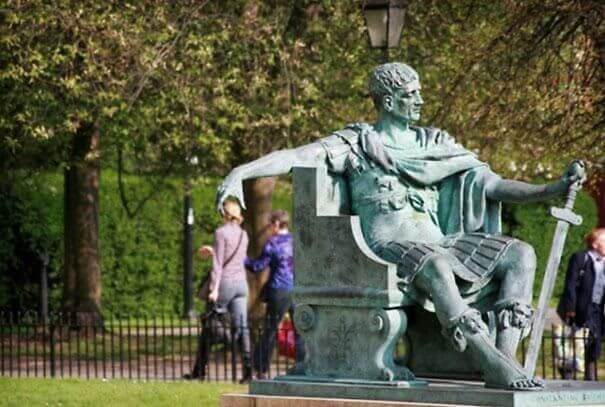 The woman has nothing to do with this photo and all credit must be given to the photographer to taking the photo at the right moment.
30. "Hey, Thanks Lady"
Although we're strongly against smoking and don't promote it, we must admit that it is a pretty cool photo.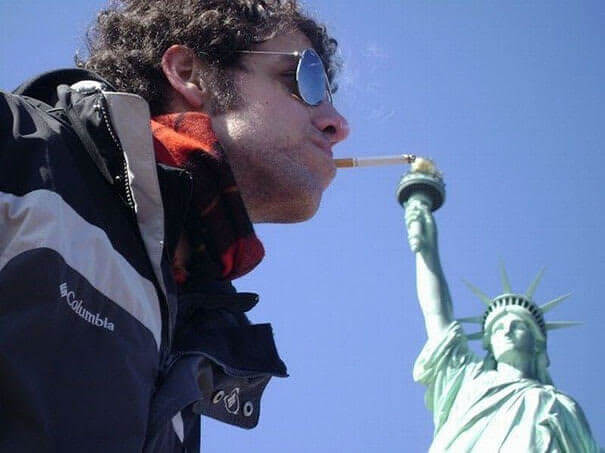 Given that this colossal neoclassical sculpture is not like other sculptures, all credit must be given to this person's creativity.
31. Right in The Stomach
Okay, this sculpture is quite famous among people in Japan who want to take photos with hilarious poses.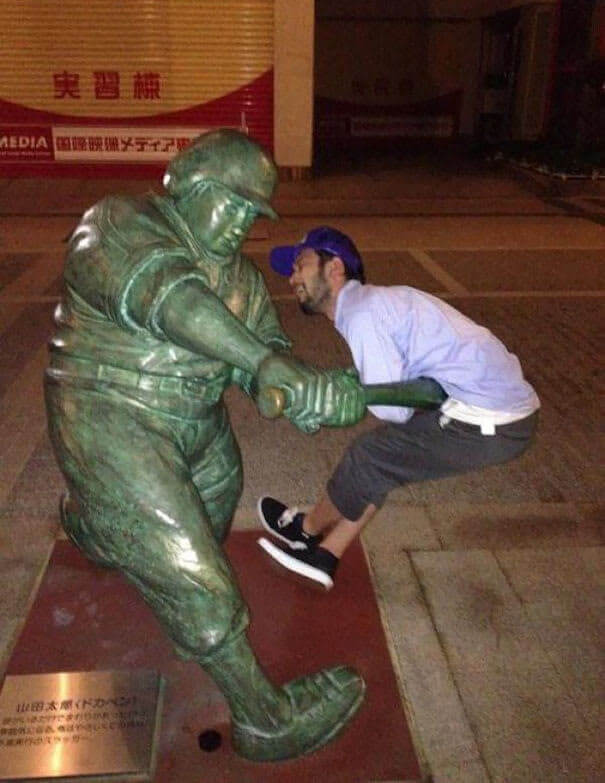 It could've been much better if he wasn't smiling in this picture. Nevertheless, it was definitely worth including in our list.
32. Teaching a Lesson
"Hey missy, this is what you are going to get if you don't follow dress rules." And God, her face made this photo so realistic.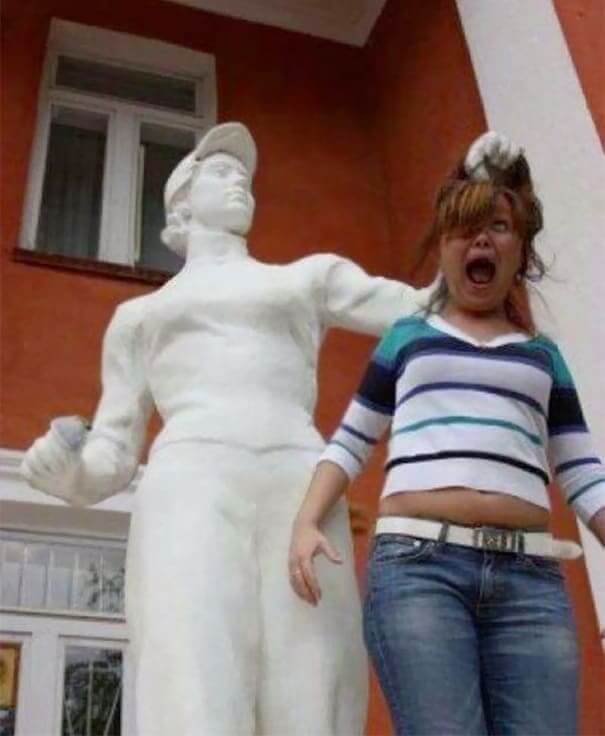 Have you watched the movie Matilda? Well, this particular photo reminded us of that movie. You should definitely watch it.
33. Just Breaking in The Line
We all know someone who doesn't like to follow the rules and is always trying to do something different.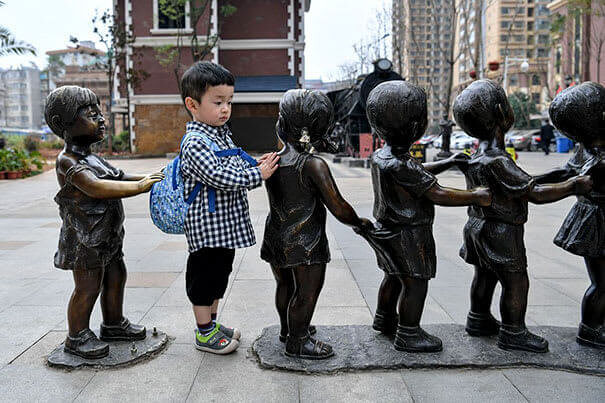 This kiddo broke into the line and acted so normal as if nothing had happened. Even if his parents told him to do it, we find this photo super cute.
34. "This is Not Sparta"
This lady looks like she takes karate classes, and she knows how to kick some butt. This sculpture was harassing people, and she decided to do something about it.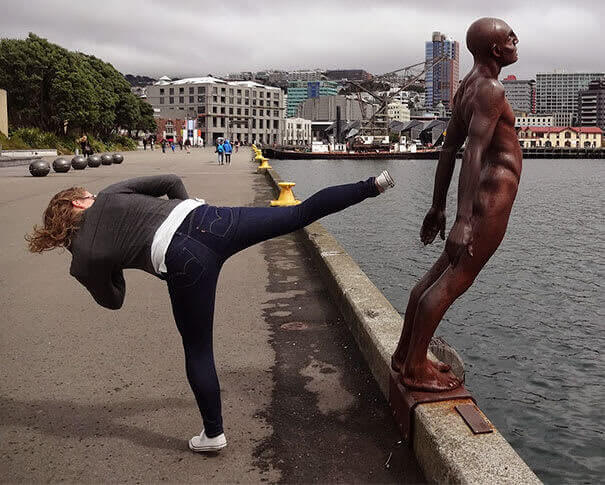 One thing you should learn from this photo is that you should never mess with a woman. Who knows she might kick your butt like this one.
35. Mean Man
We all have that one friend who is always pranking everyone else.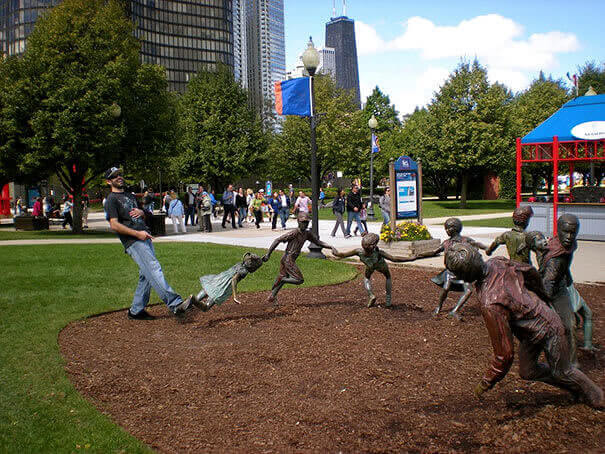 Sir, pick on someone your own size, not the little girl.
36. "I Said Eat It"
When conventional marketing tactics don't work, you have to think outside of the box.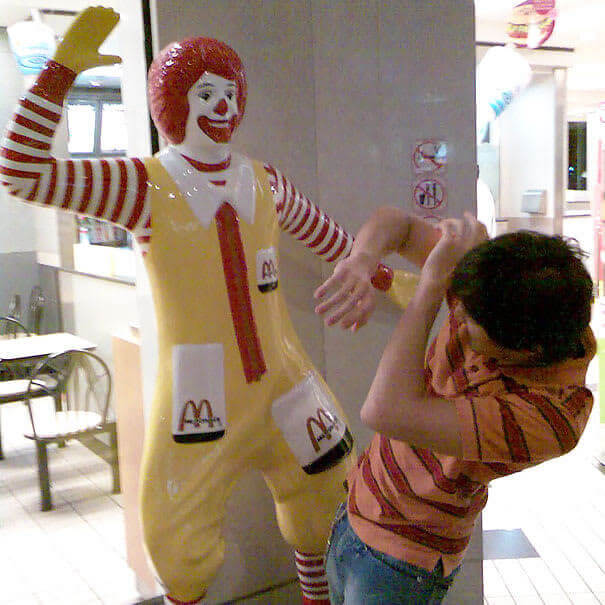 As people are switching to organic food, Ronald McDonald is forcing people into eating it (well, at least that what this picture shows).
37. Obama Having Fun
We can't help but think that this is a really random place for a statue. Don't you think?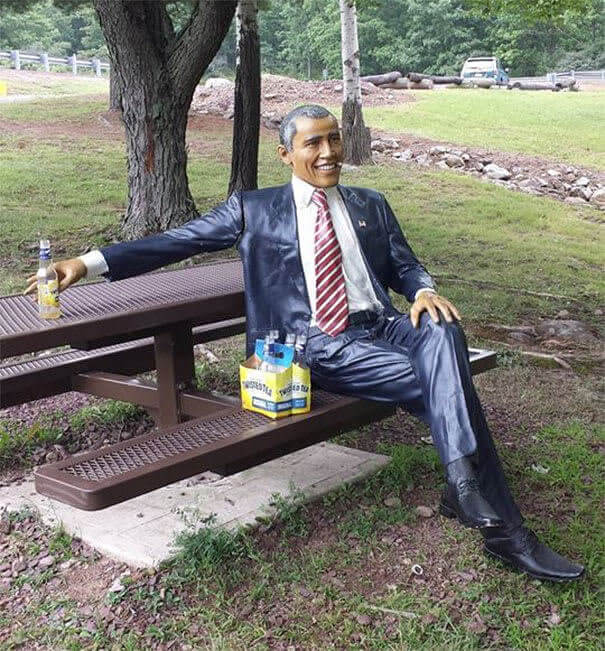 But hey, who wouldn't want to share a meal or a drink with Obama?
38. Attack on Titan
Are you a fan of manga series Attack on Titan? If you haven't watched it yet then please go watch it.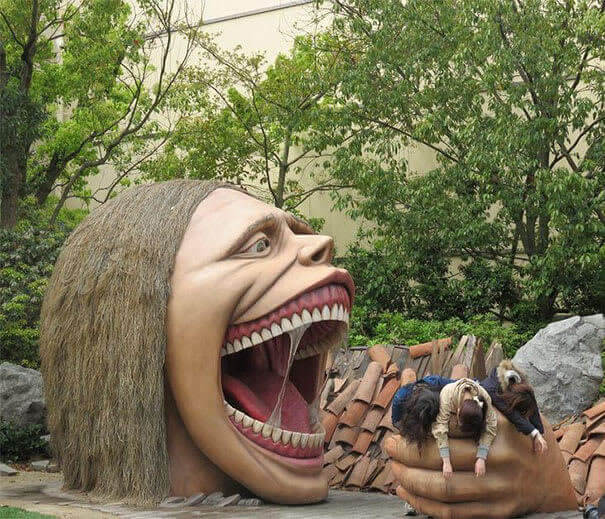 Universal Studios in Japan constructed an Attack on Titan experience that enables people to enjoy the feeling of being trapped inside the massive jaws of a Titan. So, these people knew what they had to do to create this nightmarish photo.
39. Shhh Don't Tell Him
"First you gave me this backpack and though I wasn't okay with it, I still agreed to wear it. Now it feels like I'm carrying dead weight."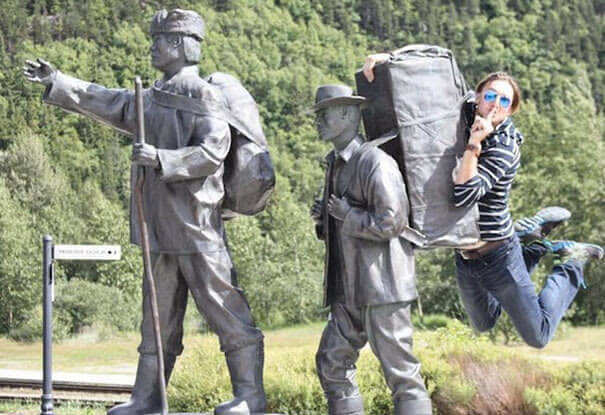 This woman took freeloading to a whole new level with this hilarious photo.
40. Playing the Drinking Game
Instead of just trying to win the game, this thoughtful gentleman is trying to make his opponent stay in the game as well.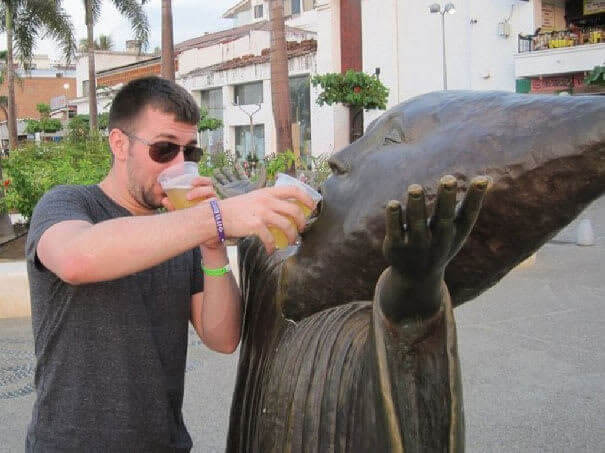 We can hear words coming out of this photo: chug, chug, chug!
41. Not Cool, Man
We are a little concern for this guy here. Why put someone else's finger in your nose, especially in public? Even if it is the finger of sculpture, there is no need to put it in your nose.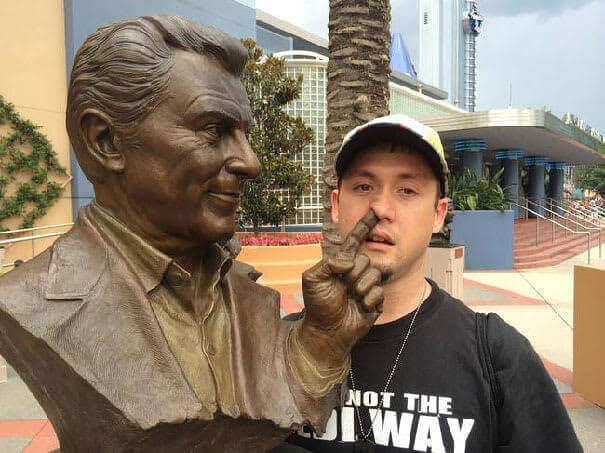 Who knows a bird sat on the finger and pooped? There is also a possibility that this finger has been in other people's noses as well. Yuck…
42. The Kid Nailed It
When you take something from your older sibling, and they come to you looking for it.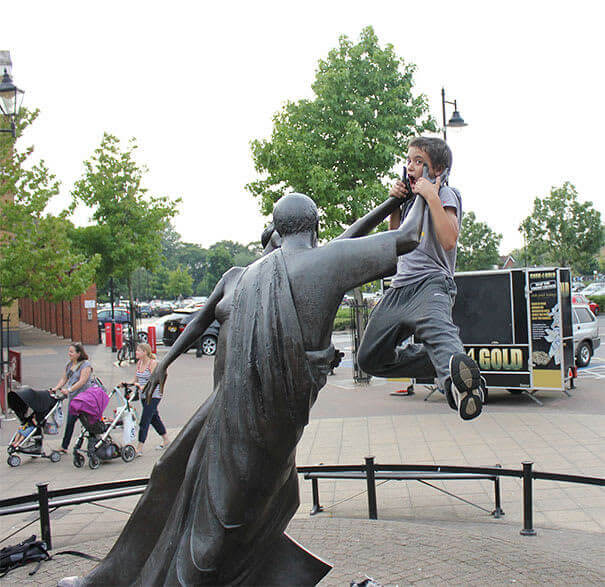 We must appreciate this kid who had to go through all the trouble to get this cool photo and even his facial expression just made it more convincing.
43. The Grin Says It All
"Those ate some nice buns you got there."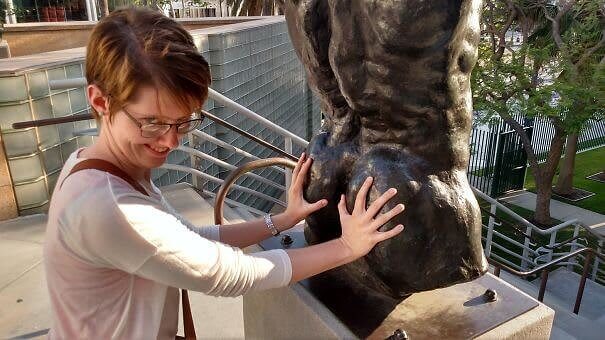 Her grin says it all. She couldn't be happier to touch those buns of steel.
Hollywood Stars' Photos Recreated With A Funny Twist
Ashley Lez
This article was originally published on 24/7Mirror
Have you ever looked at a picture posted by your favorite A-lister and thought, "how do they look good wearing something like that or posing like that?" A woman named Celeste Barber started recreating ridiculous famous people's Instagram photos, and she has gained 6.9 million followers on Instagram in the process. She shows what the average person would look like if they were taking these photos in real life. Keep reading to see the hilarious results!
Instagram Vs. Gravity
Alexis Ren modeled this shirt with perky boobs drawn on it, but realistically, no one's chest naturally looks like that.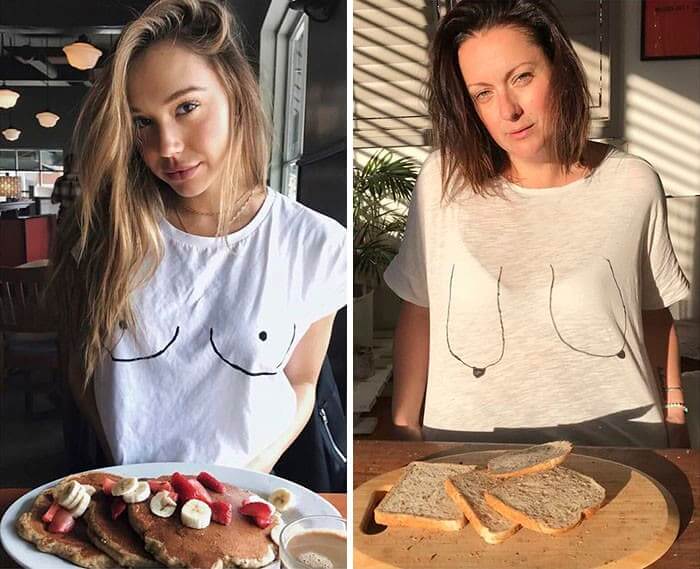 While Celeste made her shirt the exaggerated version, that is more realistic than the original Instagram. Let's be real; gravity starts to win as you get older.
Boats, Bikinis, Flexibility, and Humility
Gigi Gorgeous looks like she is floating on air in her photo, but it does not look easy to achieve that pose. Who would want to contort themselves onto some metal bars?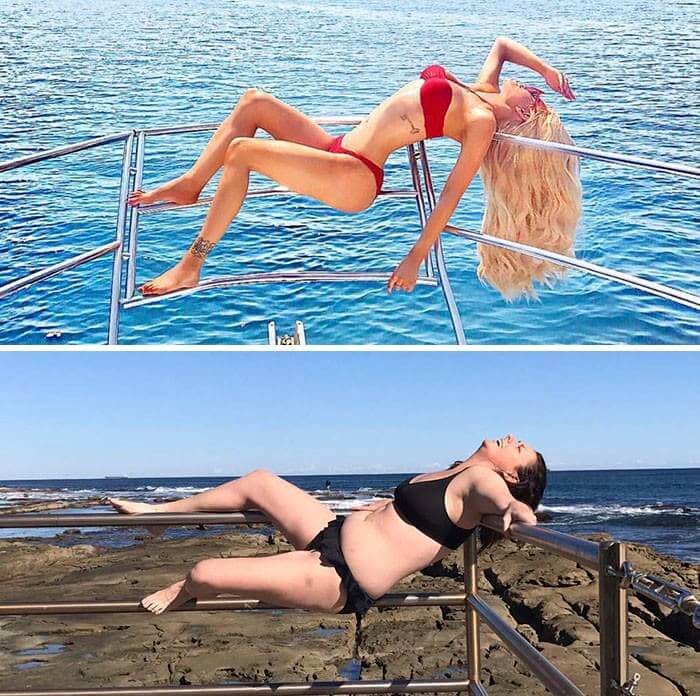 Celeste is how most of us would look if we tried this pose. It seems like she is on the struggle bus, and we can only imagine how uncomfortable that is.
Did Someone Say Flamingo?
When you wish you were on a private yacht with a giant flamingo floaty like Kendall Jenner, but you are stuck at home.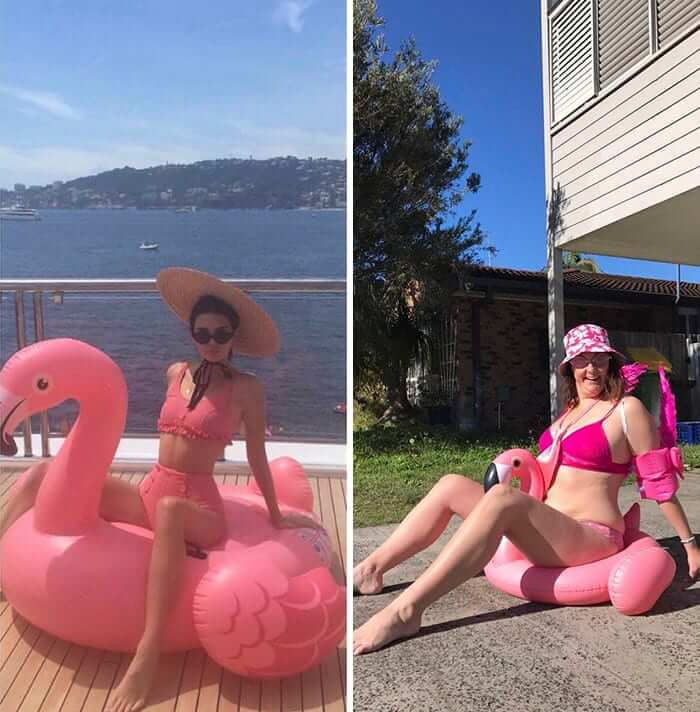 She traded the boat deck for her driveway and added some water wings because cement can be dangerous.
The Basis Of Any Good Relationship: Trust
Would you trust someone not to let go of your t-shirt while you lean face first over a pool? The models in the top picture messed up a few times because she is not dry.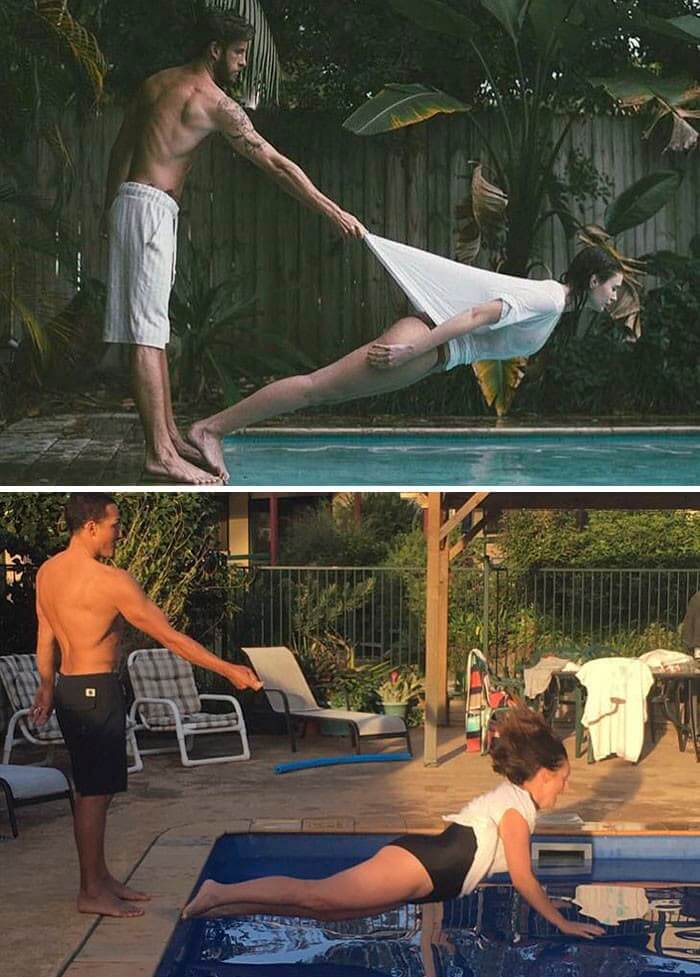 Even if you trust the person, that is not an easy task for someone to hold you only by your shirt.
Boys Lie, Carbs Don't
The truth hurts, doesn't it? Carbs don't lie, and they will stick by your side even when you don't want them.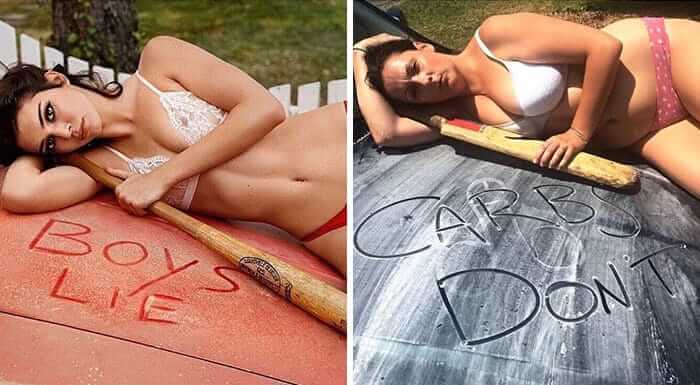 Both pictures are sharing truth bombs, and both pictures show that they both need to wash their cars.
Taking Advantage Of Morning Sunshine
When you try to recreate those perfect rainbow reflection pictures, but you are blinded by the morning sunlight. The rainbow also looks suspiciously perfect in the left image.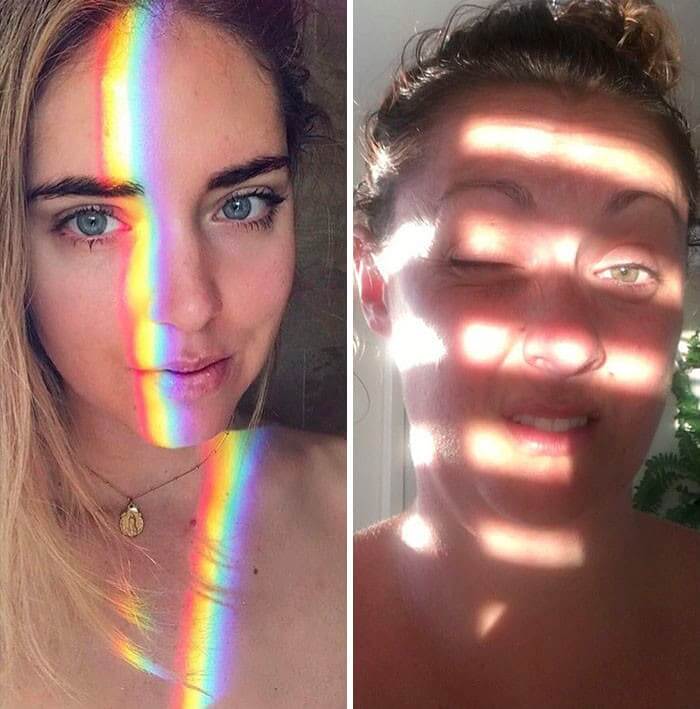 Trying to look directly into the sun right when you wake up is not something the average person could handle.
Breakfast Is Served
When you want to do something special for you your man so you bring him orange juice and pancake (mix) in bed.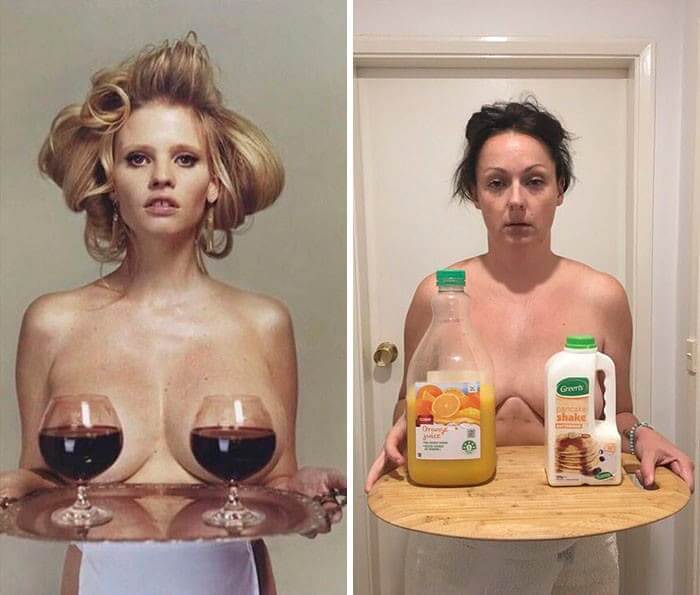 Serving people topless is not very sanitary, and people should refrain from this, especially if you want to carry something hot.
"Just Rolled Out Of Bed"
When you are trying to reach something on the floor without getting out of bed. You try to do acrobat moves just to keep some part of your body on the bed.
The hardest part is when you finally reach what you want, and then you have to figure out how to get back on the bed.
When You Successfully Cook Dinner
When you managed to cook dinner for everyone without getting any complaints or burning something, that calls for a celebration.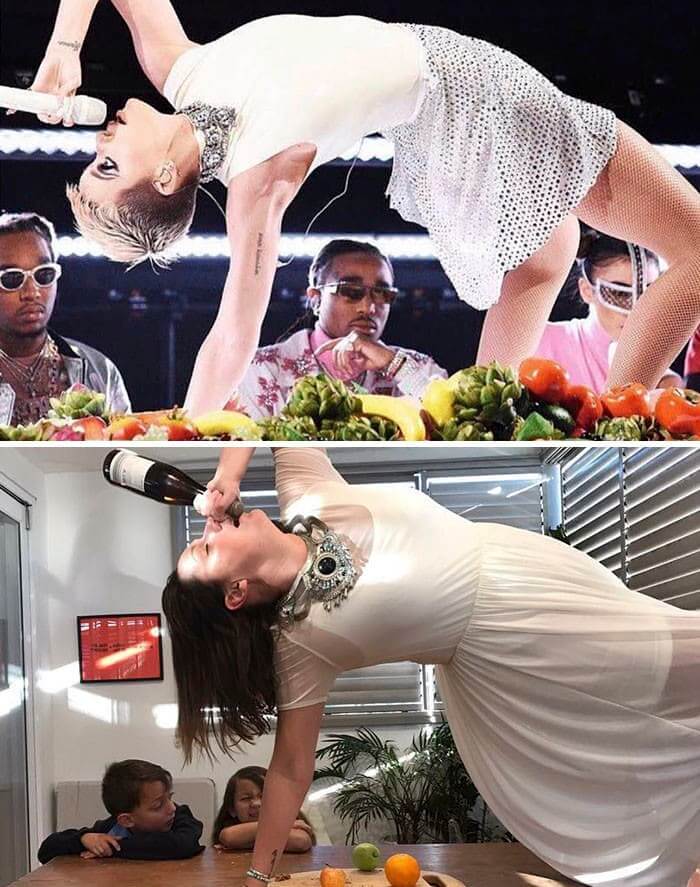 Her kids look unimpressed with her celebrations like, "Mom, please get off the table!"
Just A Light Scarf
No, this is not a giant scarf photoshopped onto Lenny Kravitz, he actually wore that. It is equally ridiculous to wear an actual blanket in public.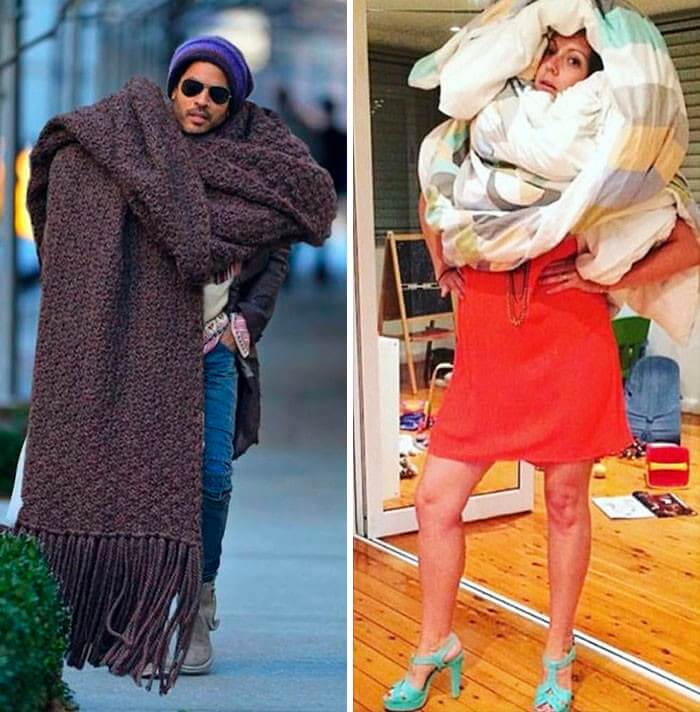 That must have been more annoying to wear around than a normal-sized scarf. Celeste captured the ridiculousness of this picture perfectly.
"I Really Need To Wash The Dishes"
When you want to show your kids how dirty they left the dishes, even though you asked them multiple times to clean up after themselves.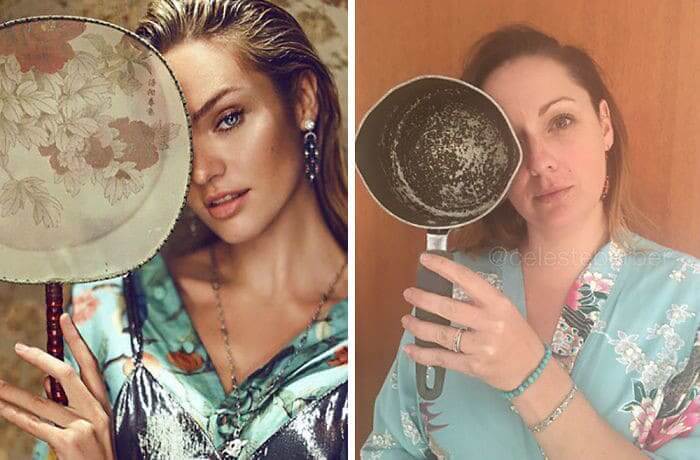 Even though she doesn't have a makeup team, lighting crew, and person doing her wardrobe, Celeste looks just as good as the original photo.
Style and Safety
We always wear heels when we ride our bikes too. Her son is probably asking his mom for his bike back.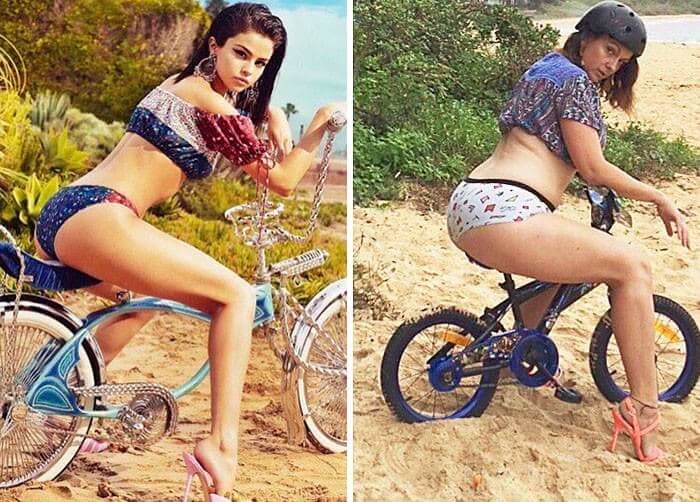 Both of them look amazing, but Celeste is demonstrating better safety practices.
Having Children Expectation Vs. Reality
Have children, they said, it will be fun, they said. J.Lo makes motherhood look like a breeze and manages to hold a drink and carry her child at the same time.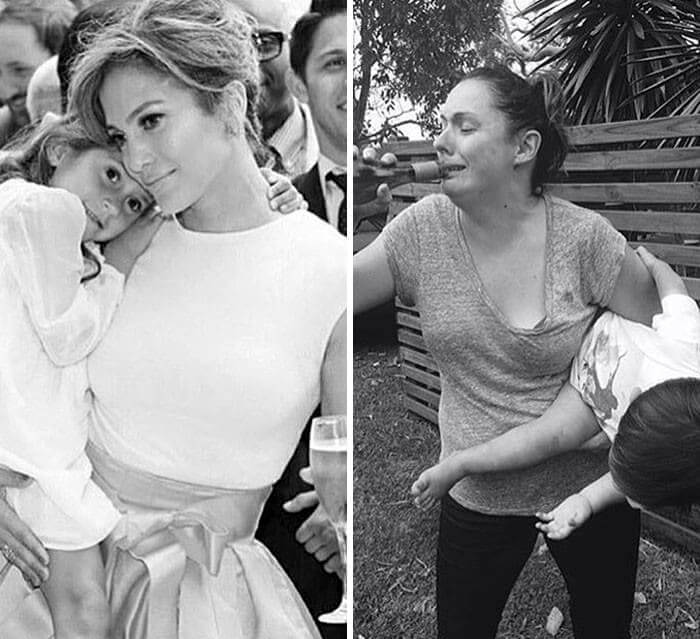 Motherhood is far from easy. She shows that holding a child and a drink is not an easy thing to do.
When You Have To Wash Your Own Car
Why Bethenny Frankel felt the neep to do a backbend on top of the car is a mystery. How did she get herself into that position without falling, and how did she get down?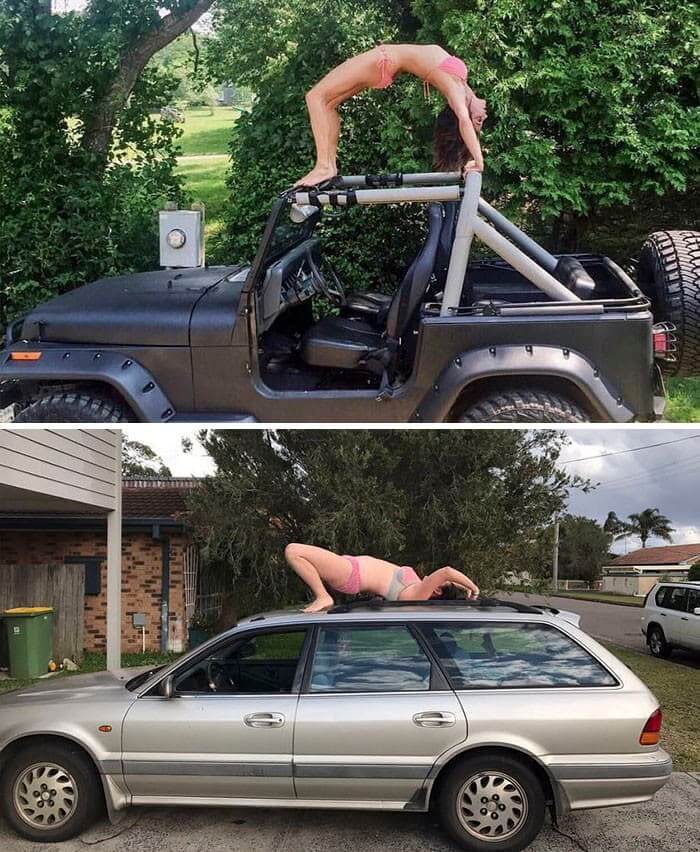 We love the dedication that went into recreating this picture because you know her neighbors saw her and thought, "what is wrong with that woman."
Sia: The Craft Store Version
When you want to dress up like Sia, but you are on a dollar store budget. It looks like she ran through the craft store and grabbed the first items she saw.
Even though it is more craft store than couture, we think Sia would approve of this recreation because she loves odd things.
Backyard Photo Shoot
Even though she looks like she is putting in minimal effort, Beyonce still looks glamorous, standing in front of a sheet in someone's backyard.
Anyone who isn't Beyonce would look weird if they tried to recreate this, like Celeste.
"Buy My Merch"
When you are trying to recreate a Kylie Jenner picture and promote your own merchandise at the same time.
Whose shirt would you rather buy? We really like Celeste's take on Kylie Jenner's shirt.
When It Is Too Hot Outside, So You Sit In The Freezer
During the summer, have you ever been so hot you felt like sitting in a freezer? Don't worry; it's not that weird because celebrities have had the same thought too.
Sometimes you just want to escape the heat and climb into a freezing box, and that is ok. Just remember to take a picture so you can post it to Instagram.
Personal Hygiene is Important
Celebrities are just like ordinary people; they have to shave their armpits too. Although, when they shave their armpits, they document it for social media.
Self-grooming is important. Some people choose to shave, and others go natural. Whatever you decide, no one has to know about it.
Ready To Conquer The Day
Kyle Richards starts her days with a protein shake and a brightly colored Birkin bag. Not all of us are that blessed, so some of us are more like Celeste's recreation.
When you have children, starting the day with a bottle of wine doesn't sound like a bad idea. Although we know she is not promoting people to drink and drive.
Wet T-Shirt Contest
Again Emily Ratajkowski is stunning and sultry with her barely-there wet t-shirt. If you have ever been in a wet white shirt, you might feel like Emily, or you might feel like Celeste.
First of all, Wet shirts are not comfortable; you feel like you are being weighed down by this cold, wet fabric stuck to you. Second, no one looks like Emily, so it would be hard to pull off this wet shirt look.
When It's Too Hot For Clothing
Emily Ratajkowski is known for her lack of clothing, so recreating her pictures takes a lot of courage. No one actually walks their dog in a bra and underwear.
The guy in the background is wondering what she is doing, walking through the streets half-naked with her dog.
Happy Holidays
Kylie Jenner is giving us the holiday fantasy by wearing a giant bow as a hair accessory for her holiday collection promo shoot. Only she could make this look cool and high fashion.
If the average person tried that it would look very strange. We don't know how anyone would look good with a giant gift bow on their head.
Holding Life's Most Precious Gifts
While some people value their children as the most precious gifts in the world, others value wine and bread, which is valid.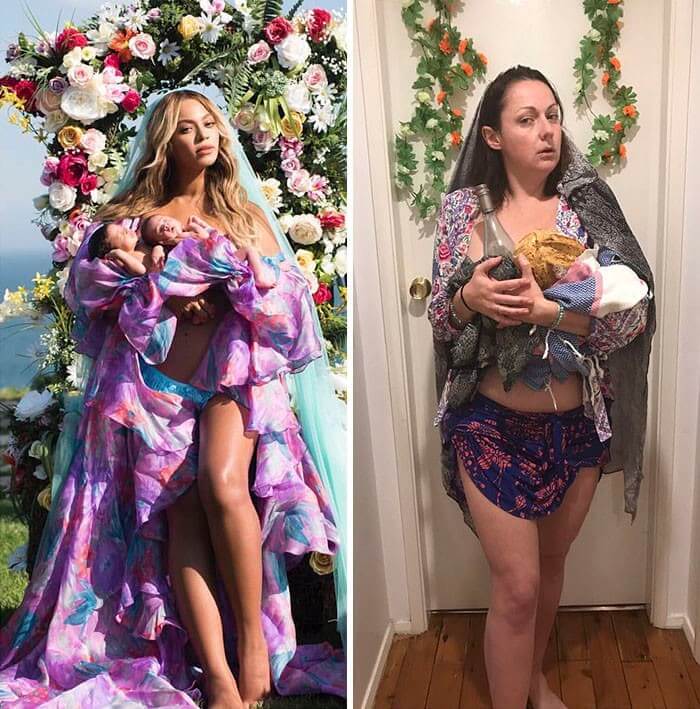 It must be hard to recreate the ethereal glow of Beyonce post-birth.
Spilled Wine Means The World Is Ending
Why does Selena Gomez look so unphased by the spilled wine and broken glass? Most people would be sad like Celeste because of the wasted wine.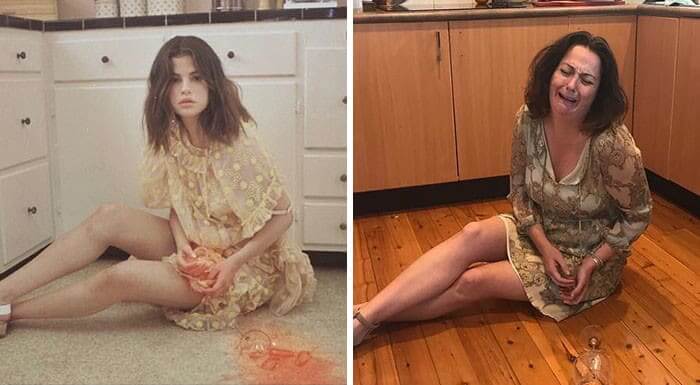 We know it's for an album cover, but how can she be so calm with broken glass in her hands?
Cooling Off
When you are in the club and you find a fan to help you cool off. Some people would look glam like Miley Cyrus, and the rest of us would look like we got stuck in a wind tunnel like Celeste.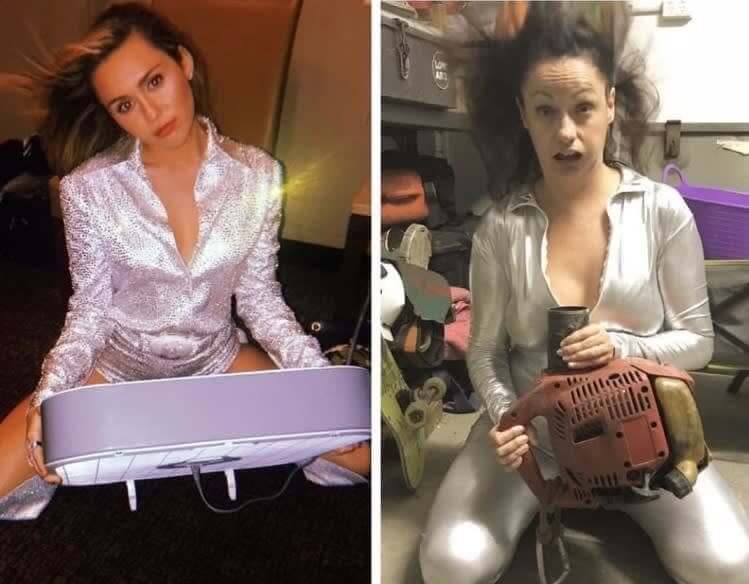 Maybe a leaf blower wouldn't be the best option because of how much wind power it has, but it still cools you off.
Self Love
As Ru Paul likes to say, "If you can't love yourself, how in the hell are you going to love someone else?"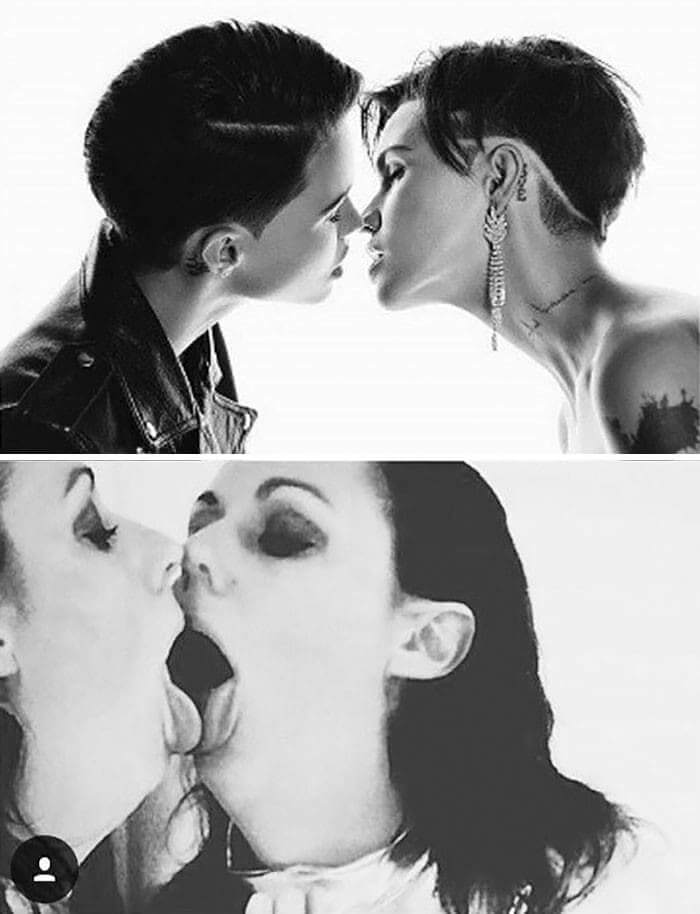 ​ Self-love is important, but we don't know if you have to make out with yourself in a mirror to get that point across.
Working That Spacesuit On The Beach
Brazilian model, Adriana Lima, can make anything work, even this silver lamé one piece.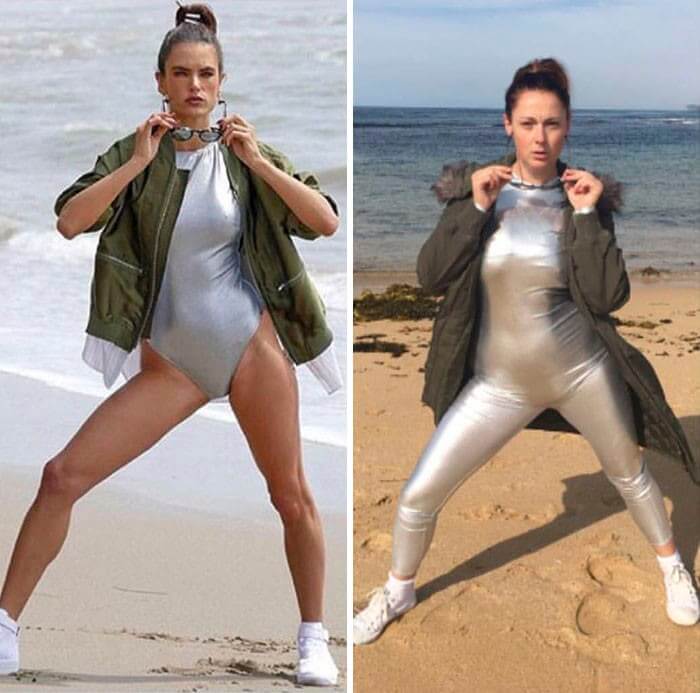 Who knew that silver catsuit would be so useful to recreate so many celebrity photos.
Giddy Up
She nailed this Miley Cyrus recreation. Her tiny horse is even better than Miley's larger one.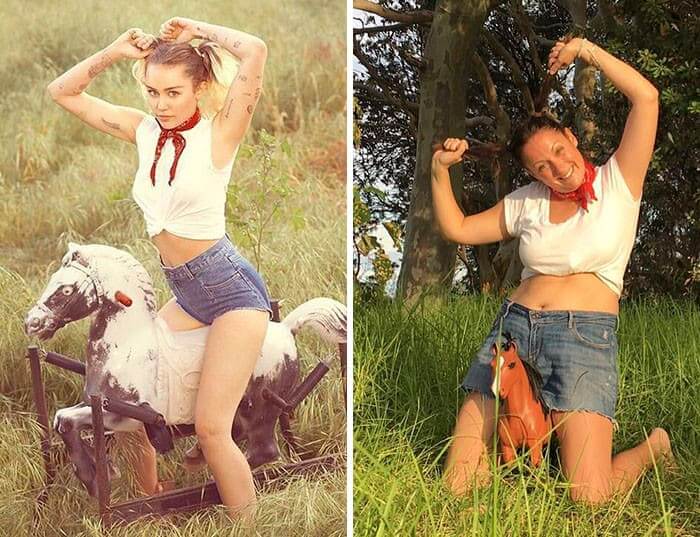 She makes it look much more fun than the celebrity originals. Ride'em cowgirl!
This Looks Comfortable
"Nothing to see here, just casually lounging on the chair like a normal person." This is such a bizarre pose. How did the model contort her body into this uncomfortable position and stay glamorous?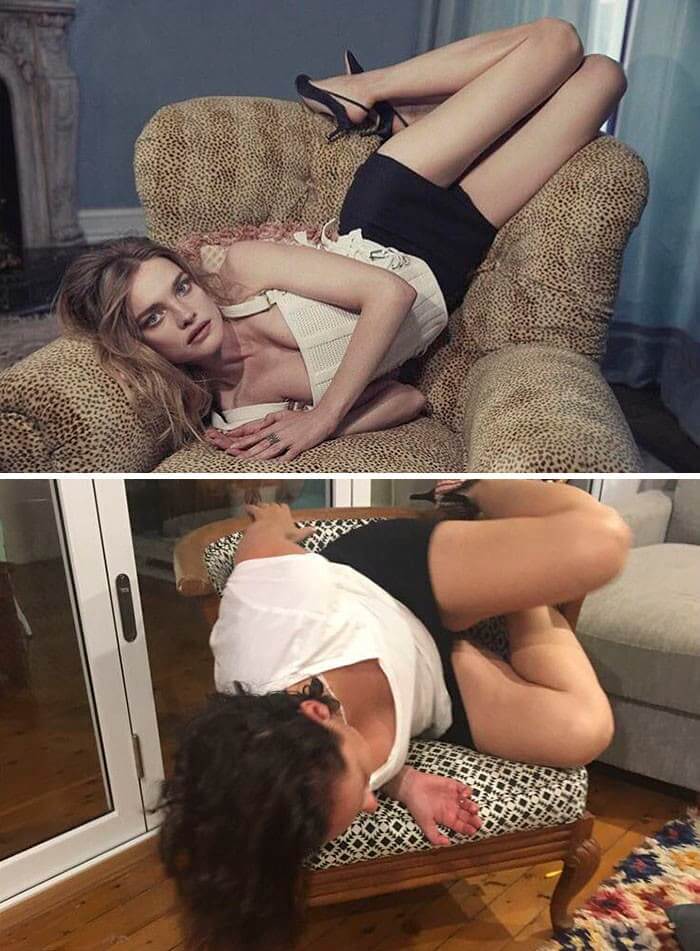 If we tried this, we would look more like Celeste and fall off the chair. Do not try this at home, people.
Peek-A-Boo
When you are trying to get dressed, and your friends keep asking you how much longer it will be until you are ready.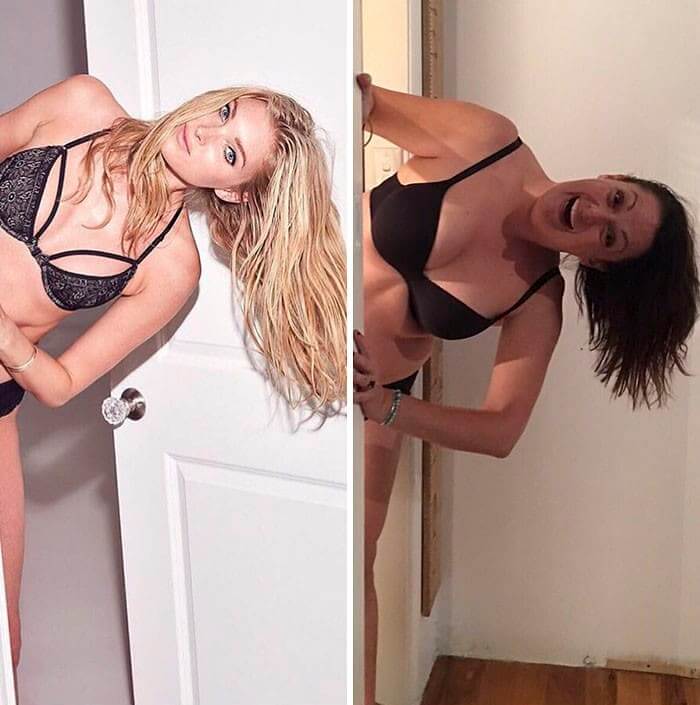 "Can you hurry up?" "I'm getting dressed as fast as I can, but it would go much quicker if you didn't continue to ask every few minutes."
I Woke Up Like This
The first picture is what everyone wishes to look like when they wake up. The second is what most people look like when they wake up.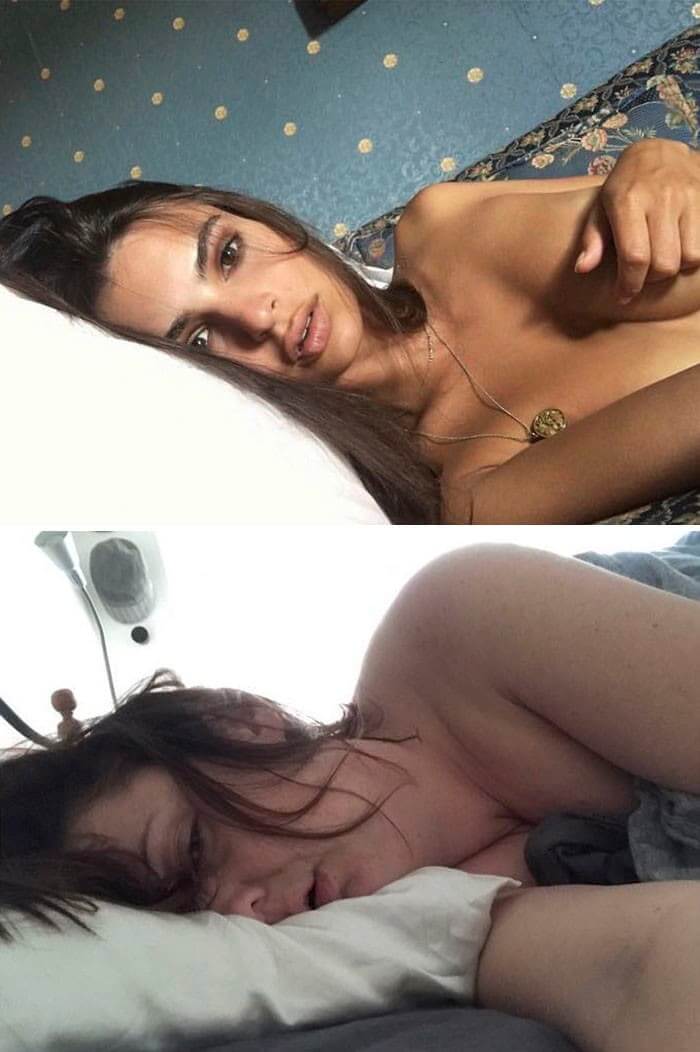 How is it possible to wake up looking perfect with your makeup and hair done? It is not possible, most of these "natural" "just woke up" selfies are posed.
Baywatch
The Rock and Alexandra Daddario co-starred in the reboot movie Baywatch and made lifeguarding look much more glamourous.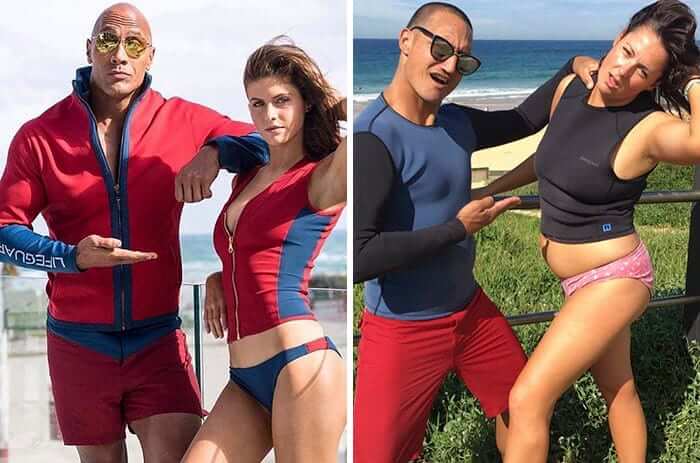 Celeste and her husband try to capture that glamour while still being effortlessly beachy, and they rocked it!
How You Think You Look Vs. How You Actually Look
When you walk towards the water and try to walk like Gisele Bundchen, but the uneven sand makes it difficult to look like a model.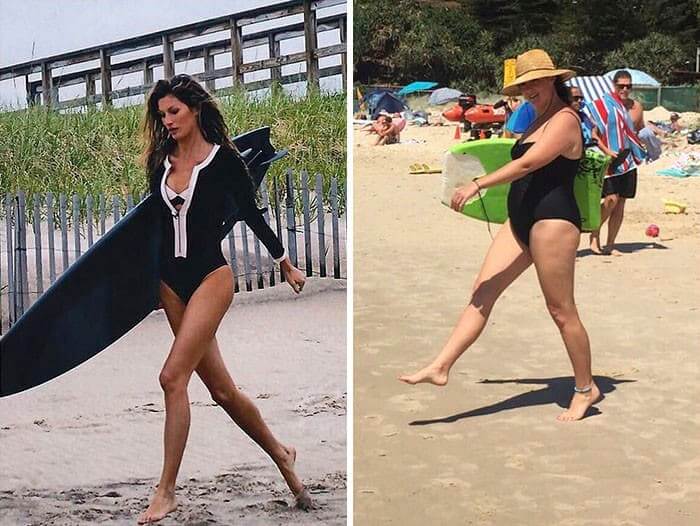 We all try our best to look effortless, but walking on the burning hot sand is harder than it seems.
No Pants, No Problem
When Kanye's merch is too expensive, so you can only afford one sweatshirt, or you have to make your own.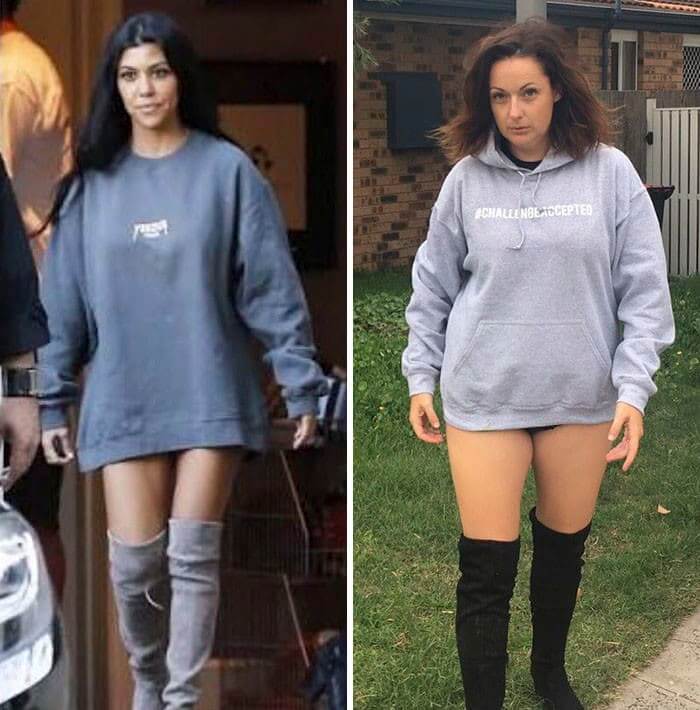 The oversized sweatshirt is an interesting trend that people were obsessed with for a while because of the Kardashians. To pull off this trend, your sweatshirt should probably cover your underwear.
Dipped In Silver
Why wouldn't an ordinary person cover their body in silver and lie in a tub? Kim was probably posing for a makeup campaign or magazine shot, but it is a strange scene.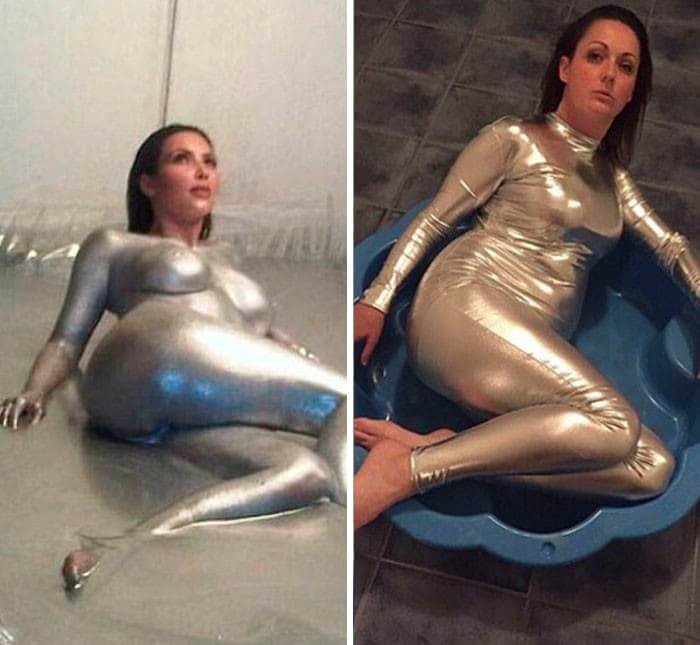 It is hilarious that she used a kiddy pool to replicate this one. She looks like a natural model, even comparing herself to Kim Kardashian.
Working Out Is Tiring
When you take a gym selfie hoping you will look toned and not like a sweaty mess. Working out is not easy, and after a difficult gym session, most people would look like the right photo.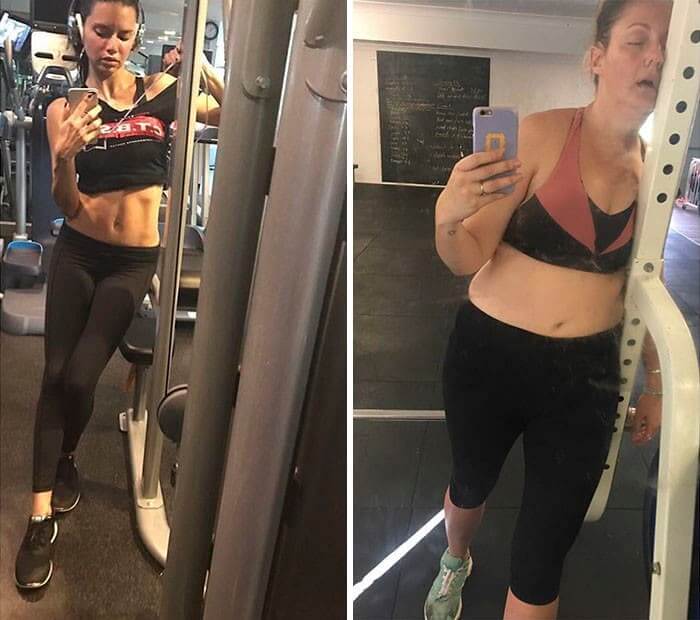 By the end of the workout, people are drenched in sweat, and too tired to actually pose.
Drop It Low
Can we take a minute to talk about cardi b's shoes? Are they sneakers, wedges, or platforms? It looks like the shoes are falling apart in slow-motion.
Celeste had to stack three pairs of shoes to try and replicate this look. How do you walk in shoes like those? Fashion is so interesting, and those weird sneakers probably cost over $1,000.
Just Catching Some Rays
When you have had a rough day, so you come home and collapse onto the floor. The bottom picture looks like she has had enough of these odd celebrity photos.
Bella Hadid makes this pose look relaxed and comfortable. This position seems like it would break your knees and back.
A Couple Of Cows
When you do something that makes you seem adventurous, so you have to document it to prove you did something in nature.
Celeste also looks like she went to a winery and had a few too many glasses.
Nailed It!
If you ever wanted sunglasses that will block the haters, these are the perfect pair. The foil pair and the real pair will surely make the haters invisible.
Nicki Minaj has an interesting sense of style, and this look is bizarre, even for her.
"What Do You Wear Around The House?"
Who wouldn't want to be Haily Bieber? She is married to every teenage girl's dream man, Justin Bieber. Hailey is also so stunning, even in these full coverage underwear.
The recreation is just as amazing and looks more like a body positivity advertisement.
Looking For The Remote
When you can't find the remote so you have to dig through the cracks in all the couch cushions.
"Look! I finally found that bracelet I lost three years ago, and the TV remote!"
Falling Down The Stairs But Make It Fashion
Nicki Minaj has some strange fashions choices and poses. She looks like a spider monkey hanging on for dear life, so she doesn't fall down the stairs.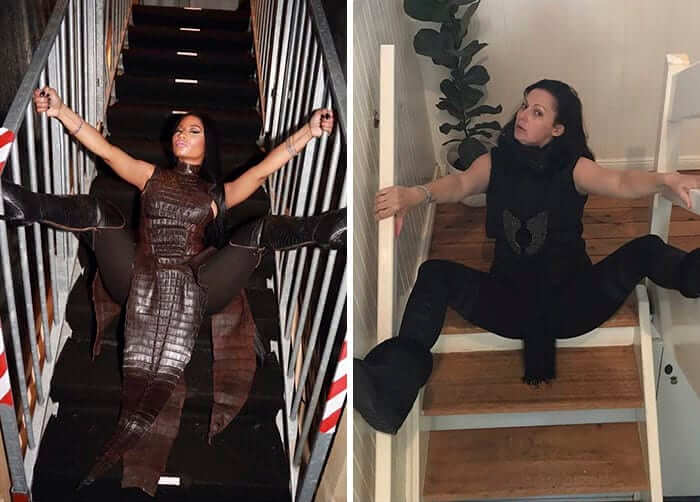 How did she manage to keep a straight face while recreating this ridiculous pose? Even she looks like she knows how strange this is.
When You Think You Look Cute After Going In The Ocean
It is never glamorous when you go into the ocean and get pummeled by waves. There is salt in your nose, sand in places you didn't know sand could go, and your hair is matted to your face.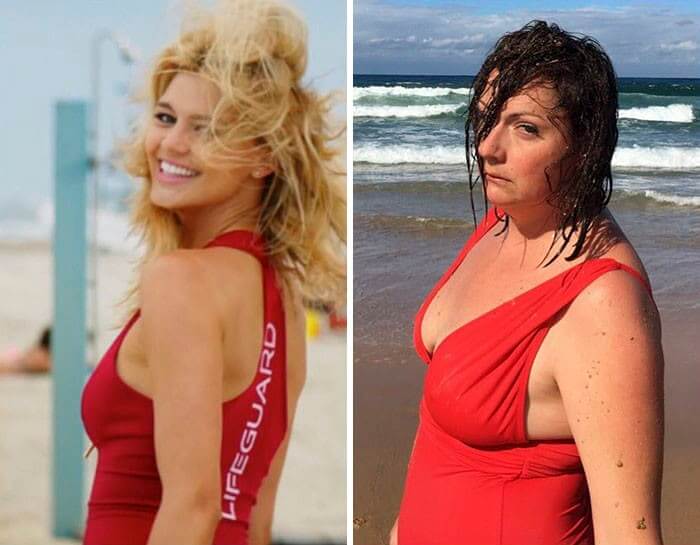 In our heads, we think we look like a character straight out of Baywatch, but it is never that glamorous.
Making Pregnancy Look Cute
Celebrities tend to make pregnancy look easy. They put on their matching Calvin Klein underwear and bra and depict it as a glamorous nine months.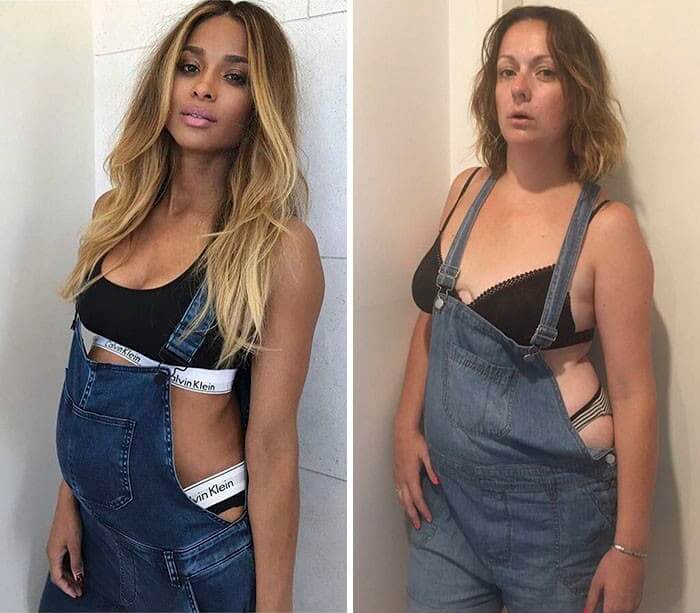 In reality, most people don't have the energy to find the matching underwear to their bra, especially if they are pregnant.
"Can You Take A Picture Of Me In The Men's Bathroom?"
When you think of a good place to take a photo, is your first thought the men's bathroom? We are going to guess that you said no because who would go into the men's bathroom to take a picture besides Kim Kardashian.
Also, did the photographer think it was a good setting to capture her gorgeous gown? It ruins the beauty of her entire look.
When It's Really Cold Outside
Did Kylie steal Cookie Monster's fur to get this photo? She is someone who likes to show off her famous curves, so it is strange that she chose to cover her entire body and only show her face.
We love how she took a giant blanket to wrap around herself for this one. If only it were blue, it would be amazing.
Money Talks
When you have so much money that you start to think all those presidents are speaking to you. Also, have you ever noticed that some celebrities feel the need to flaunt their wealth by posing with stacks of money? We know you are rich, there is no need to rub in in our faces.
On the other hand, does anyone else keep a jar of change that they don't know what to do with? Like Celeste, the jar of coins is more realistic that stacks of $100.
Trying To Do Yoga For The First Time
"Hurry up and take the photo, all the blood is rushing to my head!" The top photo is trying to sell the lingerie, but we don't understand why they made her do a pose like that.
She looks like she is doing a mix of downward dog and something else that is uncomfortable.
"What Are You Doing In My Closet?"
"Ma'am, please put your clothes back on. This is a public place, and you are making the other customers feel uncomfortable."
Chrissy Teigen has shared that she loves to be nude, but why does someone else have to be there to stare at her?
Fresh Out Of The Shower
When you get out of the shower and wrap yourself in a warm towel, it is a refreshing feeling. While not everyone looks as glamorous as Alessandra Ambrosio, we can all pretend.
Celeste is feeling her post-shower look, and we don't blame her. It is like playing dress-up with a towel as your wig.
What Else Would You Wear To Do Laundry?
It's hard to believe that Paris Hilton might actually do her own laundry, but if she did, she would wear that silver suit.
Doing laundry is tedious, and when it starts to pile up, it is not fun to do. It is even worse when you have to do laundry for your children or husband, and not just yourself.
When You Spend All Your Money On One Article Of Clothing
When you had to have that designer skirt, but it was so far out of your budget. Instead of saving up for it, you bought it and decided to sacrifice buying groceries for a few weeks.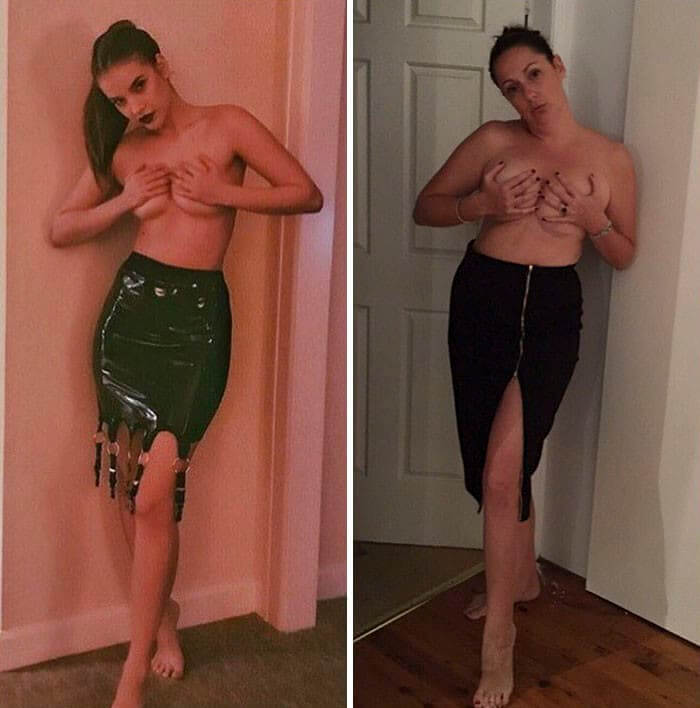 Then once you have it, you realize you have nothing that pairs with it, and it is too fancy for any event you have coming up.
Going On An Adventure
Take your family on vacation, they said. It will be fun, they said. When you take your children on vacation and have to bring so many extra things with you to accommodate young kids.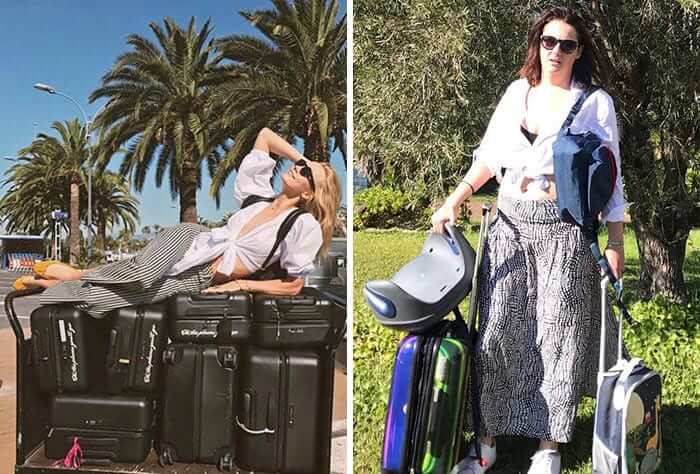 Karlie Kloss has all that luggage just for herself. How many outfit changes does she have planned with all that luggage?
When You Need To Be On The Phone All The Time
"Hey, what are you up to?" "Oh, nothing just sitting in the bathroom." "You're calling me from the bathroom?" "Obviously, why else would I have a phone in here."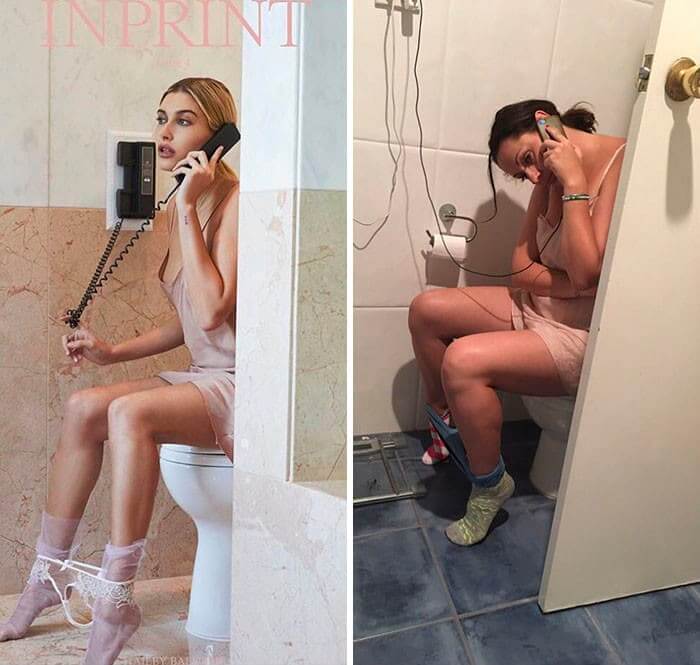 Have you ever noticed that hotels have phones in the bathroom? Who is that for, and why are they calling while sitting on the toilet?
"Where Did This Chair Come From?"
When you buy a new swimsuit and want to take pictures in it right away even though you are not at the beach or pool. Kylie found a solution to that problem; bring a chair and have a photoshoot in the backyard.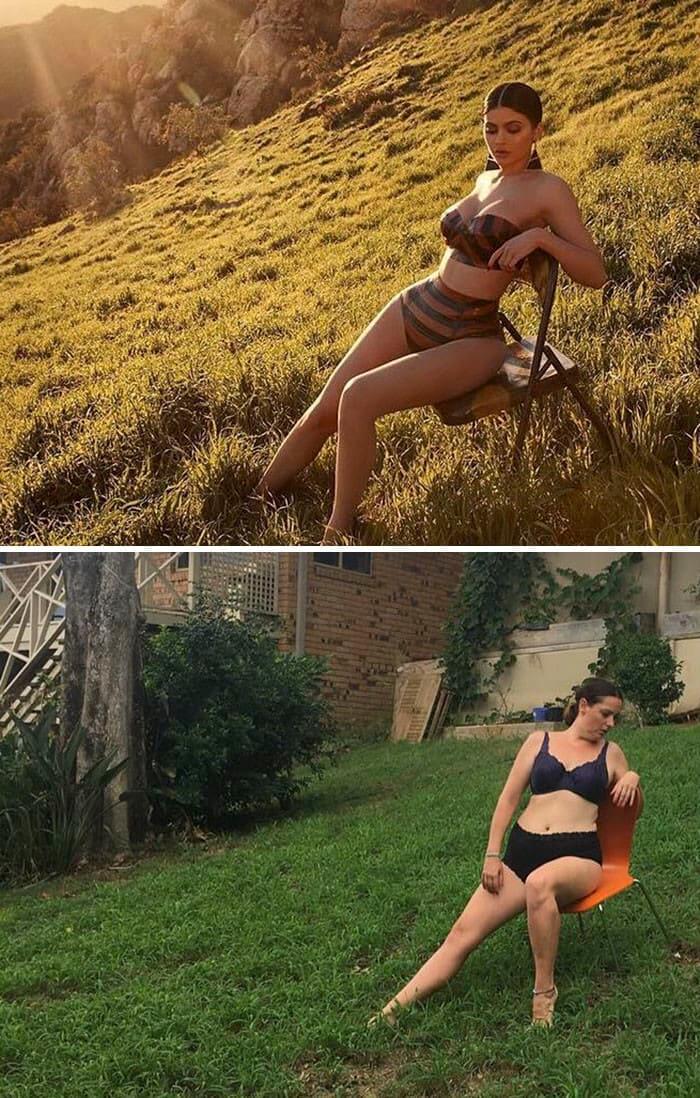 Why is the folding chair necessary? What did it add to this photoshoot?
Sexy Selfie Expectation Vs. Outcome
When you buy a new bra and underwear and want to take a sexy picture in it with the expectation of looking like Emily Ratajkowski, but then you see the selfie and realize no one looks like her.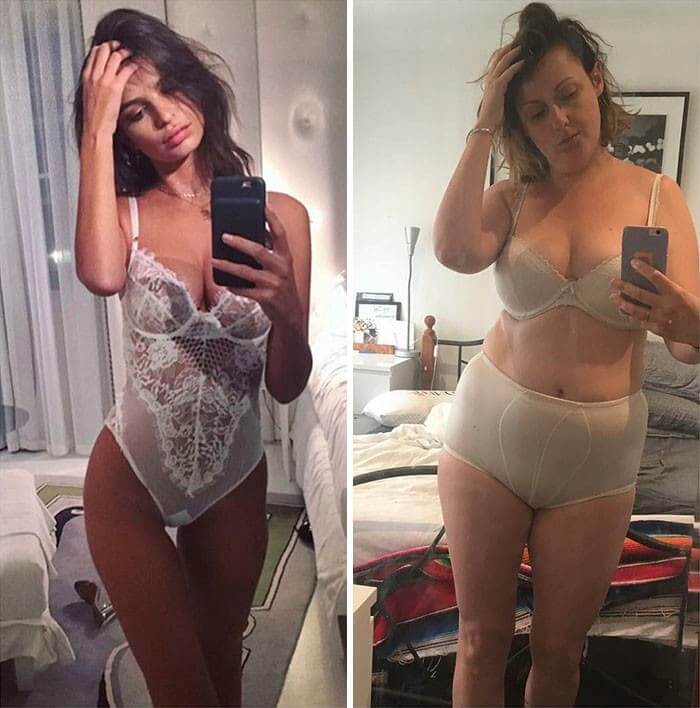 Even if you aren't a model, all bodies are beautiful in their own way and you should be proud of yours.
"I Do Not Bend Like That"
When your yoga instructor and photoshop guy are on vacation so you can't make yourself look like Miranda Kerr.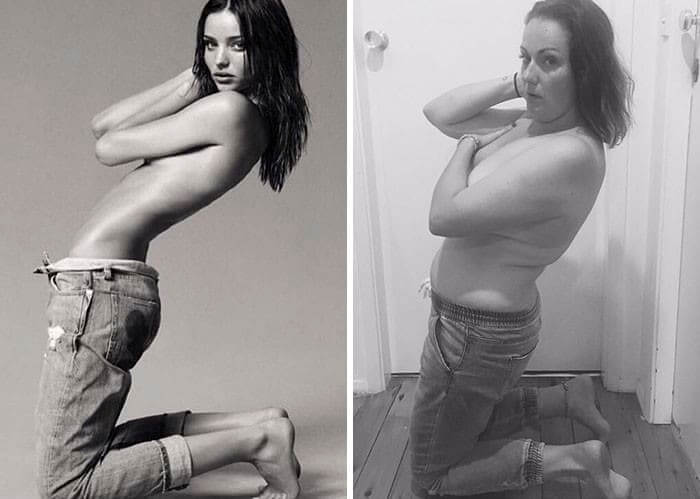 How did she manage to bend like that in the left photo? It looks like her torse is not connected to her legs.
"Have You Seen My House Plant?"
When you get a new house plant and want to subtly show it off to all your friends on the internet.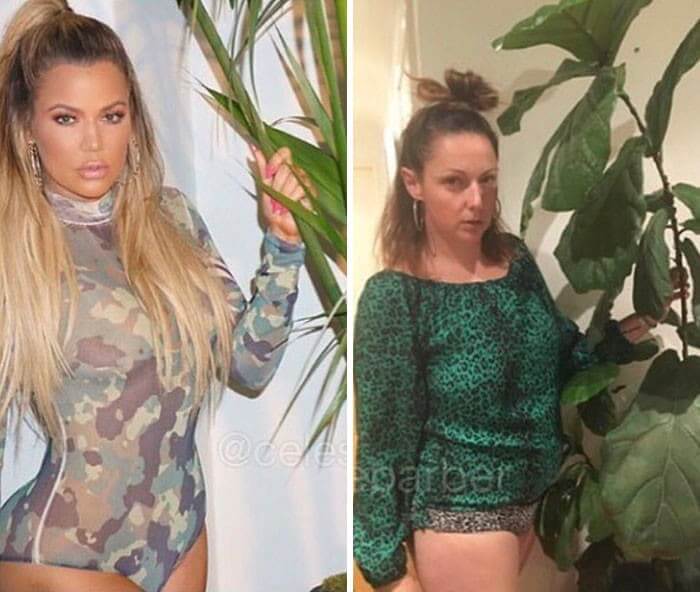 To get the perfect shot, you wear an outfit that matches the plant and casually holds one of the branches.
Then And Now: These Families Perfectly Recreated Old Photos With Hilarious Results
Ashley Lez
This article was originally published on TheFunPost
Whenever you look back on old family photos, it brings a rush of memories. That warm feeling of nostalgia washes over you and transports you back in time to when those pictures were taken. As we grow older, it's easier to see how much has changed in the way we look or how much we resemble loved ones. To see just how much things have changed over time, people are recreating their family photos wearing nearly identical outfits or showing the uncanny similarities between them and relatives at the same age. Do you have any old photos of yourself saved somewhere? Then you might want to consider doing a shoot similar to the ones you're about to see here.
The Perfect Gift For Their Mom's 60th Birthday
For her 60th birthday, their mom wanted to recreate some of their old photos. Luckily, she kept some of the old clothes she wore when her kids were young. Although they no longer fit in their baby clothes, they found almost identical outfits.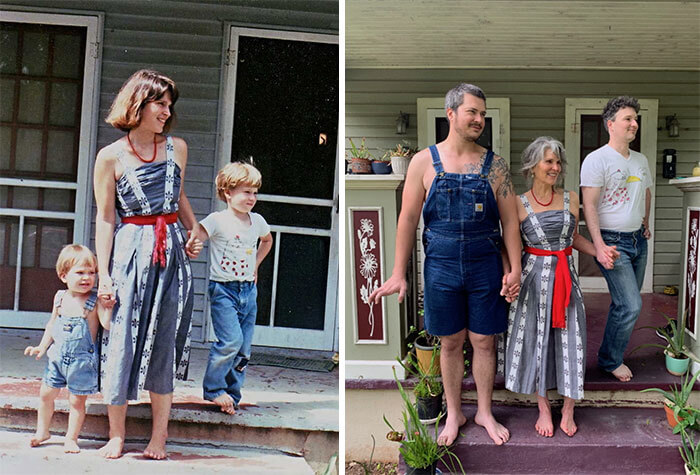 You know your children love you when they are willing to put on short overalls and pose like babies. Somehow their mom barely aged throughout the years as they grew into adults. Who do you think nailed their pose the best?
Getting The Brothers Together 90 Years Later
The first photo was taken in 1929 at a farm near their home. 90 years later, the three surviving brothers got together on the same bench to recreate their iconic photo. They might not have had the same clothes, but they had the same playful spirit.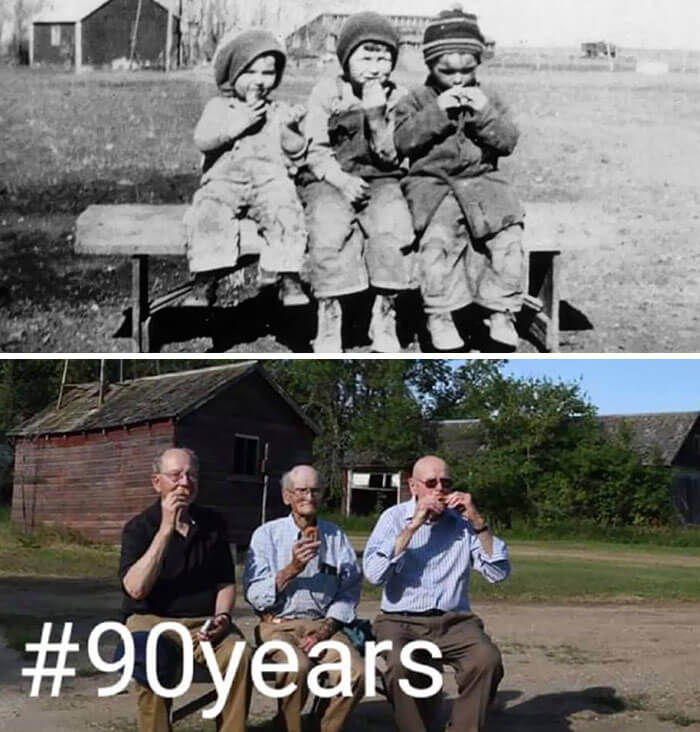 This family must have excellent genes because they have lived so long and still look pretty good 90 years later. Although they lived far away from each other, it was essential to get together for a reunion. Now their family has these precious memories to enjoy.
How It Started Vs How It's Going
This sibling duo recreated their first photo together after he was adopted. The only difference between the two photos is that they have considerably more teeth and hair. These siblings must have loved their haircuts because they kept them for all these years.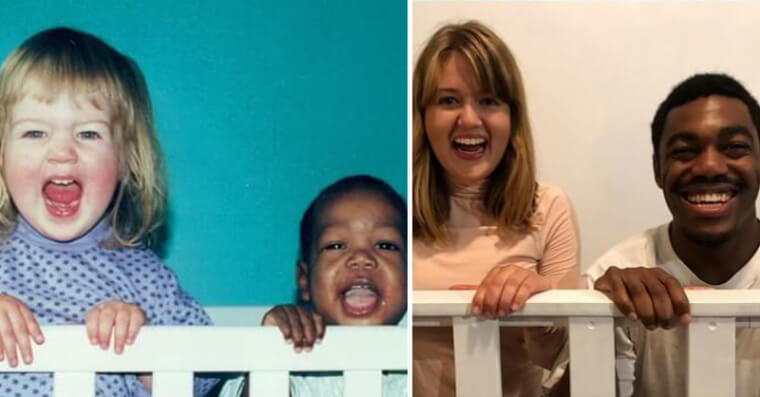 These two wholesome siblings didn't fully commit to their outfits, but they made sure to find a crib top sit in for the photo. Their parents are probably grateful that they no longer scream and cry, and they can take care of themselves.
Same Place, Same Croc, 15 Years Apart
Robert Irwin is the son of the famous "Crocodile Hunter," Steve Irwin. Although his father tragically passed away, he decided to follow in his footsteps and continue his father's mission of animal conservation. He shared this side by side photo of him and his father last year.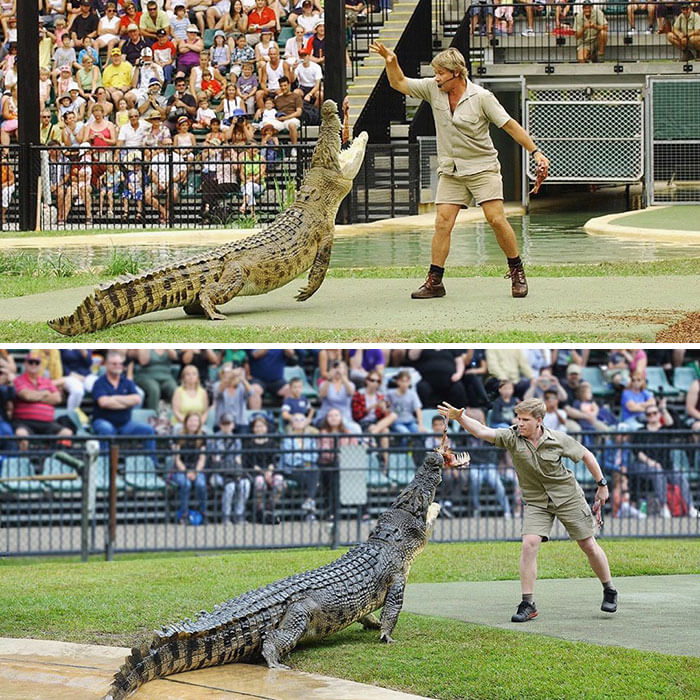 Both of them fed Murray the crocodile 15 years apart. The alligator may have aged, but Robert looks like the spitting image of his father. His dad would be so proud of the work his children are doing to continue his legacy.
A Tender Moment Turned Hilarious 34 Years Later
When he was a baby, he would lie on his father's chest and sleep. Now that he is all grown up, few things have changed besides his size and facial hair. He is still just as, if not more, bald than when he was a baby.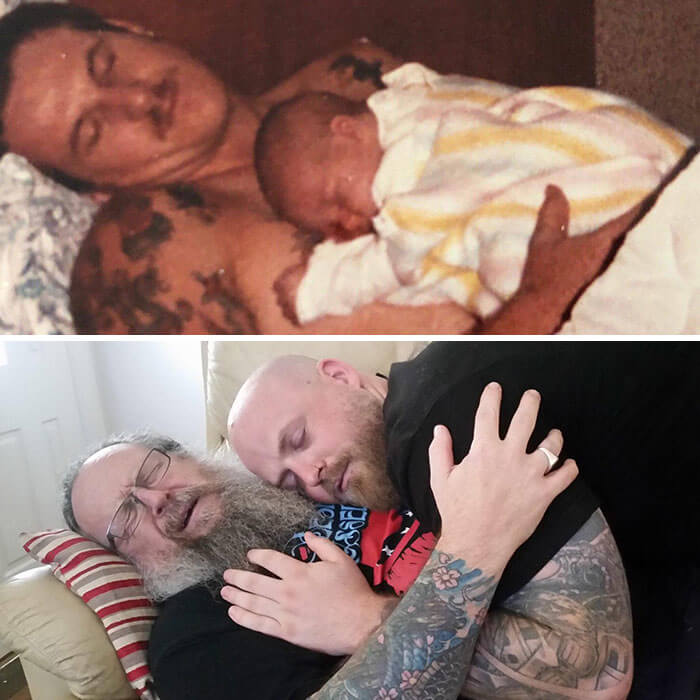 He might be a bit heavier than the original photo because his dad looks like he is in a bit of pain. Over the years, they grew matching beards and got identical sleeve tattoos. The apple doesn't fall far from the tree, and they took that to the next level.
Couple After They Met At Woodstock And Celebrating 50 Years Together
This couple met in 1969 at Woodstock and, after 48 hours, they knew they would spend the rest of their lives together. 50 years later, their love is stronger than ever, and they recreated their iconic photo. It actually took them 50 years to find the photo from the day they met.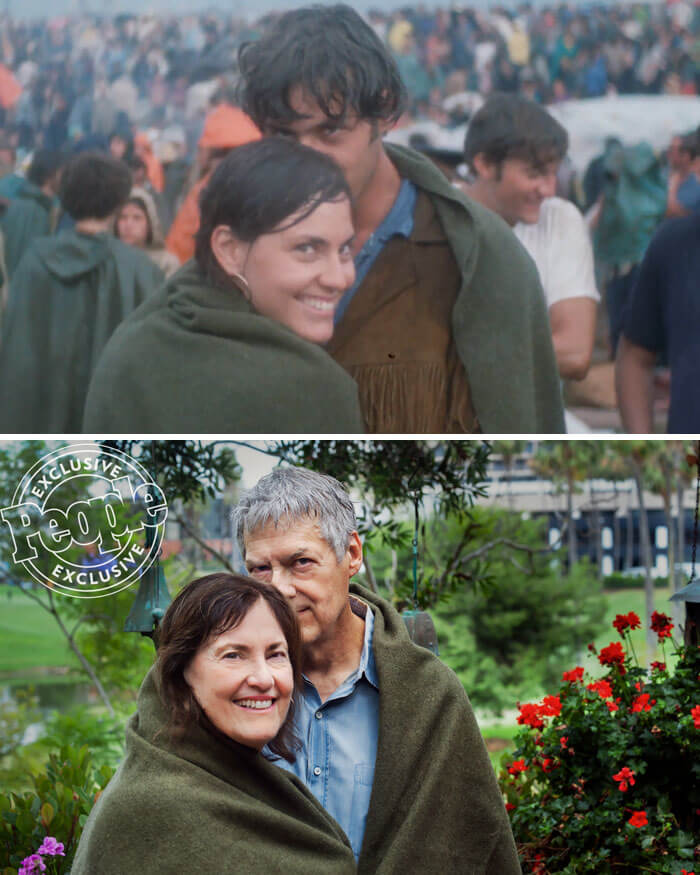 They told their friends and family the fairytale story of how they met when her car broke down on the way to the festival. She and her friends hitchhiked, and the man that would be her husband picked them up on his way to Woodstock.
A Carbon Copy Of His Father
This guy recreated a photo of his dad 38 years after it was taken, and he took his recreation to the next level. He got everything right except his shirt is Ohio while his dad's tee was Michigan. They have the same smile, and he made sure the setup was exact.
It's sometimes hard to believe that children have both their parent's DNA because some children look like a carbon copy of one parent. His father's genes must be much stronger than his mothers, if that is even possible.
Same Bike, Same Couple, 52 Years Apart
Two years after they met in 1965, when he was 19 and she was 18, the couple was riding through the park on their bike, and they asked a passerby to take the top photo of them. Fifty-two years later, they still have the same bike, and their love is just as strong.
They had a photographer come and take the same picture in the same park for their wedding anniversary. They tried to find similar outfits, and we think they nailed it. It is cool to see how they have changed over time together.
Their Style Has Toned Down Since They Met 40 Years Ago
Although they have updated their style with the times, their relationship has remained the same since the '80s. They used to be punk rock, and over time they lost the crazy hair, but inside they still love the lifestyle.
No matter how old they get, they will remember how their relationship started and how they knew it was meant to be. Deep down, they are still a little punk rock, regardless of their style or hair changes over the decades.
Following In Her Father's Footsteps
As a child, she watched her father fly planes and transport people all over the world. She loved seeing him work, and now that she is older, she followed in his footsteps and became a pilot as well. She even carries the same stuffed lion as she did when she was a little girl.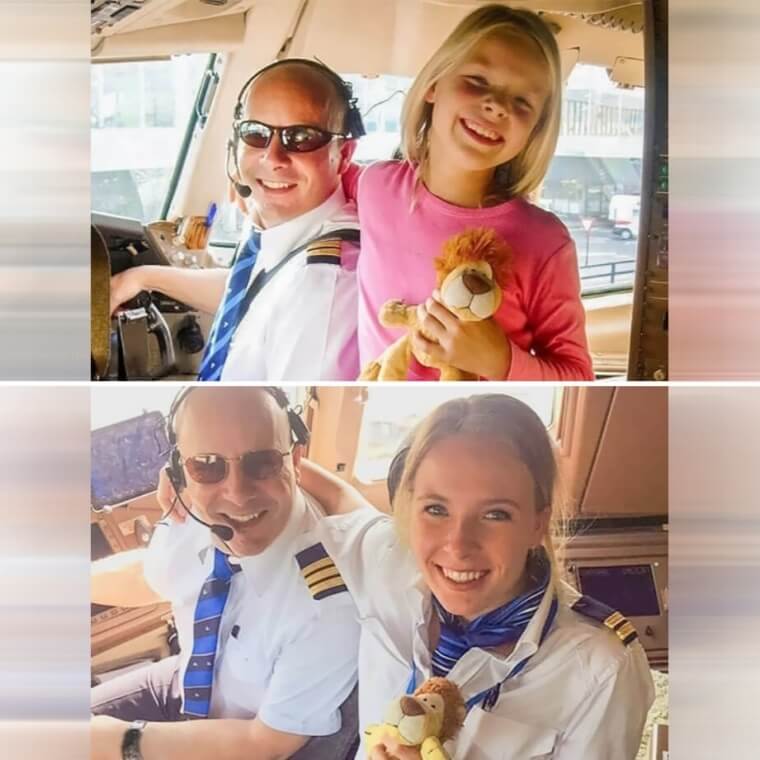 Today she co-pilots planes with her dad, and they have a terrific relationship. Whenever they fly, she brings her lion along for good luck, and it has always been smooth sailing. It also looks like the dad has barely changed over the years.
First Day In Foster Care Vs. Two Years Post-Adoption
The first photo was taken the day their daughter moved in for foster care. At first, it was an adjustment for everyone, but they quickly realized she would be apart of their family forever, and they adopted her. Two years later, she is almost too big to be held by her mom.
On the anniversary of her adoption, they try to take the same picture, but it is more difficult as she gets older. One day she will be big enough to hold her mom. You can see how happy she has become over the years with her new family.
Grandpa And Grandson Both In Medical School 70 Years Apart
On the top, his grandfather is pictured in medical school 70 years before he attended med school as well. They look identical and equally sleep-deprived, but technology has increased significantly between the two photos.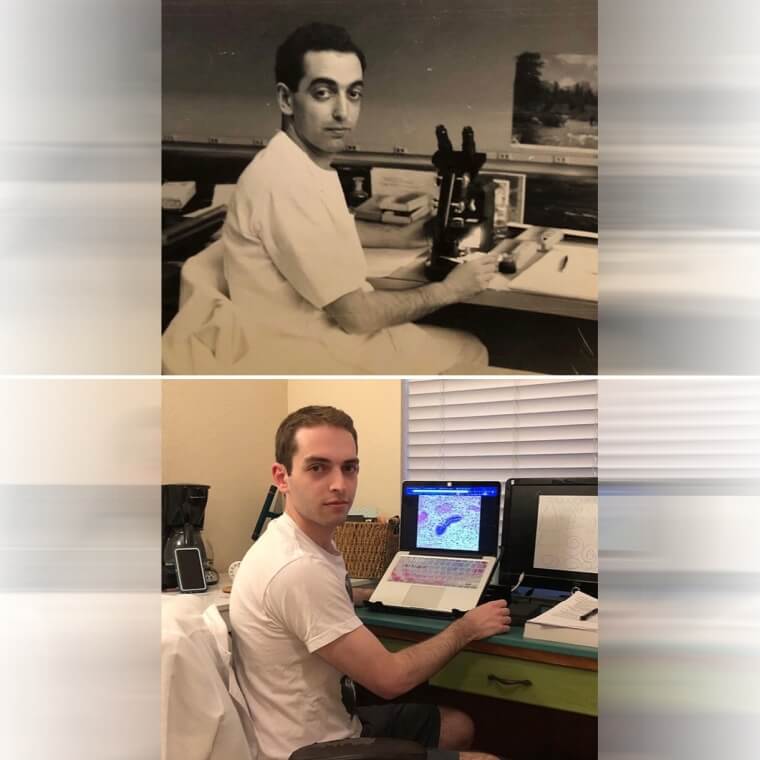 The grandson said he was actually freaked out when he found the picture of his grandpa because of how similar they look. He kept zooming in on the jawline because their faces are structured identically.
Celebrating 60 Years Of Marriage Like The Night They Got Married
After 60 years, how many people can still fit in their wedding dress and make it look just as good as the day she got married? He doesn't look so bad himself after 60 years. Their love is definitely something to celebrate because it has stood the test of time.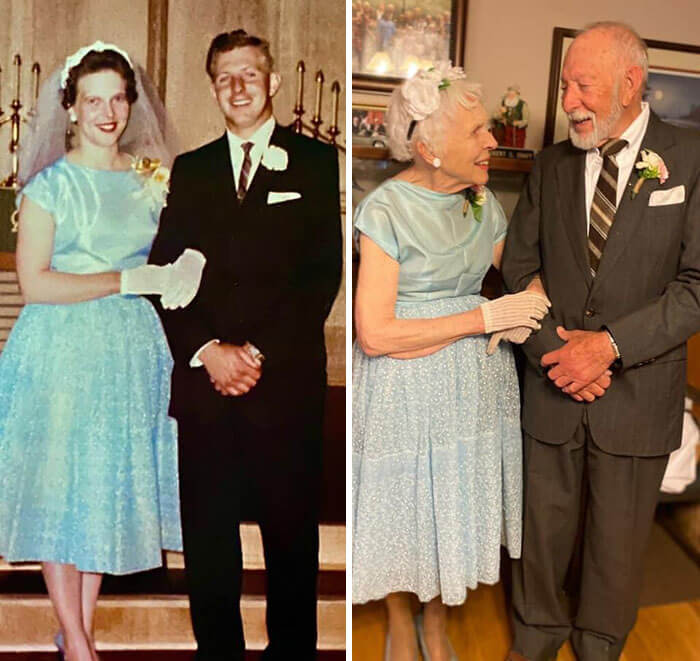 Although the color may have faded, and their hair turned white, they look more in love than the day they got married. Their children and grandchildren put together their special celebration for their milestone anniversary.
Coming Home From Service And Coming Home From Chemo 60 Years Apart
No matter what life has thrown at them, this couple has faced all of their challenges together. From wars and deployment to fighting cancer, they have walked hand in hand to support each other through everything because that is love.
As his wife got sick, he remembered what it was like the day she greeted him after the war. Their love withstood every up and down in life until she passed away. However, these photos show us the most critical times in their relationship.
40 Years Later And They Still Got It
After 40 years, her husband still goes to the same barber, but at least he is one of the few men who has a full head of hair at his age. Maybe they kept their hairstyles for the entirety of their marriage just for the purpose of this recreation.
The classic '70s style was timeless, and his hair has more volume than most people could dream. The original photo looks like a scene from That '70s Show with their friend making the bonfire in the background ready for a night of fun.
He Looks Just Like His Father At The Same Age
Although his father has passed away, he has the photo on the left to remember him. At the same age, he might not have a baby, but he does look very similar with his beard and soft smile. He has his dad's kind eyes as well.
Even if his dad is no longer with him, he can look in the mirror and remind himself that his dad would be proud of the person he became. It is incredible how much of his father's genes he got because they look practically identical.
From Communions To Weddings, Siblings Will Always Be There To Ruin A Nice Picture
His sister was getting married, so he found the perfect opportunity to recreate this gem of a photo from her first communion. Instead of taking a normal picture, they had to make silly faces as children which only got more hilarious as adults.
They captured the true spirit of their relationship as siblings, and you can tell there has always been nothing but love between them. You can always count on your brother or sister to make you laugh in the most serious situations.
First Day Of Kindergarten And Now All Grown Up
For their mom's 60th birthday, this boy, his brothers, and cousins recreated a photo from his first day of kindergarten. Somehow the smallest one became the tallest and lost his ginger locks. If they were all in grade school, why did they look like they were headed to work at the bank?
Why is the youngest not dressed like a businessman for his first day of school? We have many questions about this strange attire, but the recreation was spot on, right down to their silly faces. They clearly were not in the mood for a school picture in the original.
His Father Holding Him Vs. Him Holding His Son
The baby is wondering why he is being used as a prop because he just wants to go back to sleep. He looks just like his father with he this mustache and flat brim hat. Even the babies are wearing nearly identical outfits.
When people say, "Like father, like son," they must have been talking about pictures like this. His dad must be very proud to be a grandfather and proud of his son for becoming a first-time dad.
In Sickness And In Health, Love Is Always There
After 51 years of marriage, they follow through with their vows, and she is helping her husband through a difficult time. It is a perfect display of love and how they will be there for each other, no matter what life throws their way.
On their wedding day, she fed him cake, and now she is feeding him dinner when he can't feed himself. After so many years, being devoted to your partner is what love is all about, as they say in their wedding vows.
The Things We Do To Make Our Parents Smile
The first one was his mom's favorite photo from when he was a child, so he found an identical sweatshirt with the correct age and recreated the photo. Even though it was a bit embarrassing, he wanted to make his mom happy.
While he has grown into a man, his mom has barely aged a day, which is pretty impressive. She needs to share her anti-aging secrets with the world. The boy is probably wondering why he is wearing pajamas at his birthday party.
1975 Vs. 2020 And They Still Love Making Music Together
In 1975, these two were making music and fell in love through the process. Forty-five years later, they are still making music, still in love, and he almost has the same amount of hair as he did back in the '70s.
It is so important to have a common interest with your partner because that helps your relationship grow stronger. They have this connection to music that will always bring them love and joy when they play together.
Forever And Always A Daddy's Girl
When her dad graduated high school, she was just a baby, and now she is all grown up, graduating herself. Being a teen father must have been challenging, but he stayed devoted and provided the best life he could for his baby girl.
As a young father, he will be there to see his daughter's most important milestones and support her through all the challenges. She might have even had the same teachers as her father because it looks like they attended the same high school.
Grandfather And Grandson 73 Years Apart In Tokyo
In the first picture, his grandfather was stationed overseas and got to see Tokyo before all the highrises and modernization. Seventy-three years later, his grandson stood in the same spot, but the surrounding area looked much different.
The only thing that stayed the same was the traditional house, which looks small compared to the mega skyscrapers. Even the park has changed with the guard rail, and the trees grew tremendously. It is mind-blowing how much can change and develop in just a few decades.
Passing Down His Snoopy Sweater To Both Of His Children
When you save clothes from your childhood, they will be special items to give to your own children one day. This man had a snoopy sweater from 1981 and kept it for his son and daughter to wear once it fit them.
Hopefully, they keep it and continue the tradition for their own children. Every time someone in the family passes it down, they can add to the collection of photos with the sweater until they fill a whole photo album.
Holding Onto Her Daughter At Her High School Graduation, Then Watching Her Daughter Graduate 18 Years Later
Being a teen mom is challenging because you are barely an adult and have to take care of another human. Despite her young age, she graduated high school while holding her sleeping daughter. Eighteen years later, she is holding on even tighter because she doesn't want her to go off to college.
Although it was challenging to be a new mom just as she started her life, she made it work and raised her daughter to be a strong woman. She must be so proud of her daughter for graduating and going off to college.
Mother And Son 54 Years Apart
With curlers in her hand and a baby on her side, she looked like the typical mom in the '60s when the first photo was taken. Today her son is all grown up, and they are just as close. Although she didn't have the bathing suit and curlers, it was still an adorable recreation.
Although he was just a baby in the first picture, he still has the same face as a grown man with his wide smile and chubby cheeks. He was a happy baby, and now he is a happy adult who still cherishes his mother.
Recreating Their Original Viral Photo
The picture on the left recently went viral because no one would ever think to carry their baby in a grocery bag. However, she needed her hands for grocery shopping, so she had to improvise. Today people would freak out if they saw a baby in a bag like this.
After seeing their photo all over the internet, the mother and daughter decided to recreate the picture with a modern twist. Her mom couldn't carry her in a plastic bag anymore, but you get the idea. She even has enough teeth to really eat the apple now.
Recreating This Took Much More Strength Than Expected
In the fifteen years, his younger cousin grew up quite a lot, and carrying him became a much bigger challenge. They wanted to recreate this adorable photo but didn't realize how much strength that would take.
In the end, they were able to make it happen, but you can see he is struggling and just wants the picture to be over. The one on top is having much more fun the second time around unless he just didn't know how to smile as a child.
Father And Son Lookalike Heroes
These two soldiers might be 24 years apart, but they are probably fighting in the same war. Two generations of service members look almost identical in their uniforms with the same pose and style. His dad is very proud to have a fellow service member in the family.
His son didn't know this photo existed, so his dad was shocked by the similarity when his son sent the picture. It made him well up with pride for his son and his country. It was such a special moment, so he had to share it on the internet.
Mother And Son On The First Day Of School And 50 Years Later Headed To Work
In the '70s, his mom sent him off for his first day of school and marked the special occasion with a picture. Fifty years later, they still have the same house, so she found a similar outfit to throw on before he went off to work.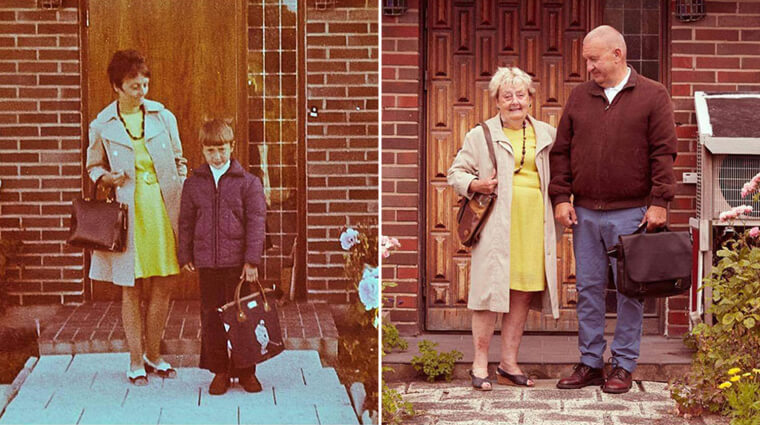 His mom once looked down on him lovingly, and now he is looking down on her. It's nice to see that they also got air conditioning and updated their front door since they moved into this house.
From Bottles In 1994 To Beer Bottles In 2015
This girl and her sister decided to do a series of photo recreations, which was one of their best shots. They upgraded their milk bottles to beer because they are now legally allowed to drink, and that is the adult version of formula.
Incredibly, their parents haven't changed the carpet since they were children, and it looks almost the same. Luckily they didn't change it because the recreation wouldn't have been the same without the small details.
The Man And His Grandpa Look Like Twins At The Same Age
Have your parents or family members ever said, "You look just like your grandpa (or grandma) when they were your age?" That must happen a lot for this boy because he is the spitting image of his grandfather. However, the photos were taken 65 years apart.
If he threw on a hat and jacket, it would be nearly identical. The guy shaved his beard and posed in front of the house his grandfather built after being told so many times that their looks were uncanny.
Their Love Grew Along With The Tree
When their parents moved into their home in 1975, the tree in the front yard had just been planted. In 2016, before they moved out of the house, they posed in front of the same tree, but it had grown significantly since the '70s.
All three of them look terrific in both pictures, and they have these to remember the home that served them for so many years. There were so many memories formed in this front yard, and the way it changed over time is incredible.
The Mustaches Are Passed Down From Generation To Generation
It is hard to tell which is the current photo, but the one on the left is his dad holding him, and the right is him holding his son. His son looks identical to him as a baby, and the guy is a replica of his father. They tell each other apart based on the amount of chest hair.
He probably got his hair from his mom's side of the family. The right one must have used a filter to look more vintage to match the original photo. We wonder if they look this similar without the film filter.
Saying "Yee Haw" For Their 30th Birthday
When these twins were young, their parents made them dress in matching outfits for family photos and, now that they are 30, they wanted to bring back the cowboy style. Not only were they adorable, but they grew up to be handsome men.
We really hope they bless us with more of their costume recreations because, let's face it, they are pleasing on the eyes. Wouldn't everyone want to be a cowboy just like them? We would grab our cowboy hats and take our horses to the old town road for these two.
His Mom In Front Of Schönbrunn Palace In 1991 Vs. Him At The Same Place In 2017
As he was looking through his mom's photo album, he found this picture of her in front of Schonbrunn Palace during a college trip in 1991. When he went to the same place in 2017, he decided to recreate her picture.
It's incredible how nothing has really changed at this place besides the way people dress. Unlike the Tokyo photo, the background is preserved in time, almost like they took the images simultaneously.
After His Father Passed Away, He Recreated Some Photos He Found
Shortly after his father passed away, he found a polaroid of him on a bike with his childhood dog. To honor his father's memory, he recreated the photo with his own dog and the same exact motorcycle.
Although they don't look as much alike as some of the other recreations, it is heartwarming that he wanted to feel close to his father by taking this photo. If only he had a fluffy white dog to make the picture even more exact.
Recreating The Classic Family Photo Without The '80s Hairstyles
When you look through old family photos, you can see just how much you and your siblings have changed over time. This boy and his sisters went through their photo albums and recreated a picture from the'80s.
Surprisingly she was still able to do the leg lift even in jeans. They have all changed so much and upgraded their styles over time. With that overhead garage lighting, the image quality looks nearly identical.
Celebrating Their 50th Anniversary By Wearing Their Wedding Outfits
To celebrate their 50th wedding anniversary, the couple decided to renew their vows in the same clothing they wore for the wedding. She pulled out her wedding dress, and he found his tux that surprisingly just barely fit.
They look so happy to recreate one of the happiest nights of their lives. This time, their children were there to celebrate the tremendous milestone, and since they didn't have a bouquet, they used Hawaiian leis instead.
His Dad Holding Him As A Baby And Him Holding His Baby
As we have seen, new fathers holding their first child look nearly identical to their father's holding them as babies. It is eery how similar some people look to one of their parents. Although he is not identical, he trimmed his mustache to resemble his father even more.
You can tell that they not only share similar looks, but the pride and joy they have for their first child, which is beaming through the photo. That is a feeling like no other, and they can share in that experience now.
The Isle Of Heligoland 1977 To 2018
In case you can't tell, there is a baby on the man's back in the left photo. In the right photo, that tiny baby is all grown up, and his dad can no longer carry him. They both traveled to the Isle of Heligoland to recreate this adorable picture.
The baby is waving as if to say, "See you again in 41 years when I am all grown up and look like a completely different person." If only he still had a yellow raincoat and his dad had that interesting furry hat to capture the photo's true essence.
Still Showing They Can Rock A Mall Photo Shoot 15 Years Later
If your parents ever forced you to dress up and go to the mall for a photoshoot, these siblings feel your pain and embarrassment. Although they felt awkward taking the picture back in the day, they were more than happy to go back to the mall for a recreation photoshoot.
They found similar outfits and awkwardly posed in height order like children. They captured the feeling of embarrassment that one would endure while people pass by to see them taking these photos as teenagers.
One Was A Heart Surgeon And The Other Is A Neonatology Fellow 55 Years Apart
Hard work and dedication must run in the family because one of them was a heart surgeon while the other is working to become a neonatology fellow. Although they were taken 55 years apart, they both have to work equally as hard.
Not much had changed between the two photos, but we know the technology is ten times better now than it was 55 years ago. His grandfather would be proud that he is following in his medical footsteps.
Twins Recreating Their Most Embarrassing Photo Ever
If anyone knows embarrassing photos it's these two, who were forced to wear these horrendous outfits as children just to take a picture. As they grew up, they looked back on this photo with regret.
On their 30th birthday, the twins dug out the most embarrassing photo they had ever taken and found equally horrible outfits to recreate it. They hoped it would never see the light of day again, but at some point you have to laugh at yourself.
Great-Grandfather In World War I Compared To His Great-Grandson Today
After her boyfriend did the Ancestry test, his girlfriend found a photo of his great-grandfather in World War I on the website. When she put them side-by-side, she was astonished to find out that they look eerily alike. No one had ever told him that.
He looks like a young John Kennedy on the right. There is a strong family resemblance, and it would be interesting to see each generation from that side at the same age. Some people's family lines are so obvious it is mind-blowing.
Donkey Kong Is Just As Exciting Even As An Adult
When this girl received Donkey Kong for Christmas, she was beyond excited, as you can tell. She must have been the biggest Donkey Kong fan back in the day because it is like she is getting tickets to meet Justin Bieber.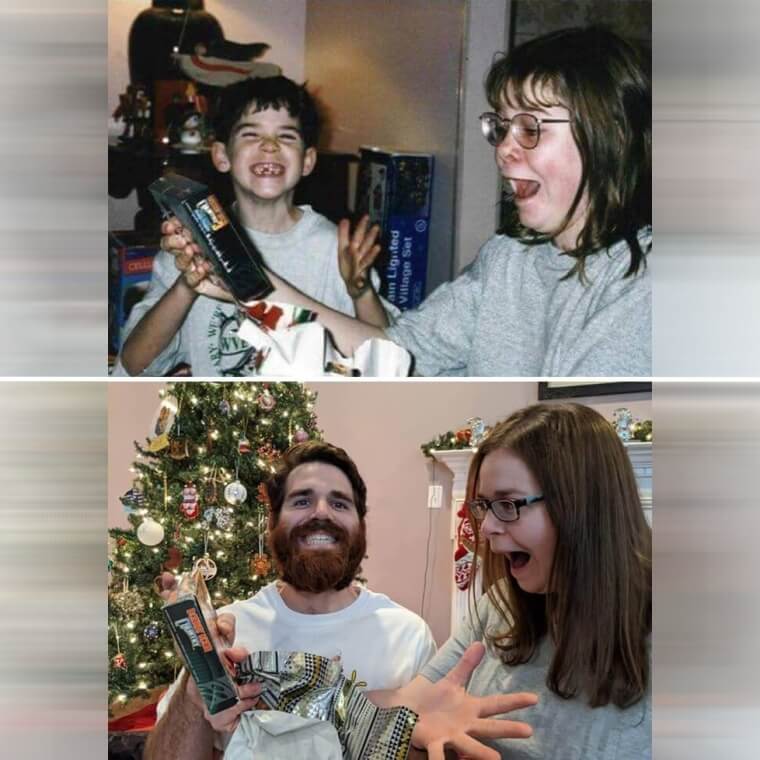 Today you only see teenagers getting this excited about a new phone or AirPods. You can tell it was a much different time because she was basically crying after she received the new video game.