Have you ever gotten bored and decided to try and give yourself bangs? The second you start cutting, you are filled with instant regret, but there is no turning back. If you learned anything from that situation, it is not to cut your hair impulsively, and that your hair will grow back. These people are just learning that lesson with these embarrassing DIY haircuts that went horribly wrong. Continue reading to see some people that will be wearing hats for a while.
1. Avatar: The Last Hairbender
If at first, you don't succeed, shave your hair into an arrow and call yourself the last Airbender. What could possibly go wrong?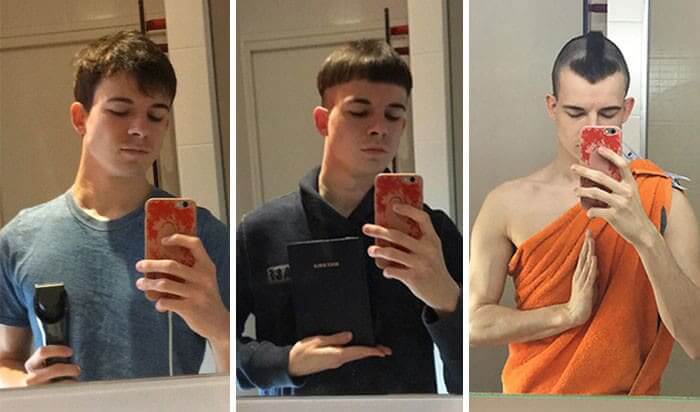 Hopefully, your hair grows quickly or you might have to dress up as this character until the arrow fades.
2. Benjamin Button Is That You?
This boy's hair looks like only his head aged 70 years. Do you think he shaved his head or someone else did this for him?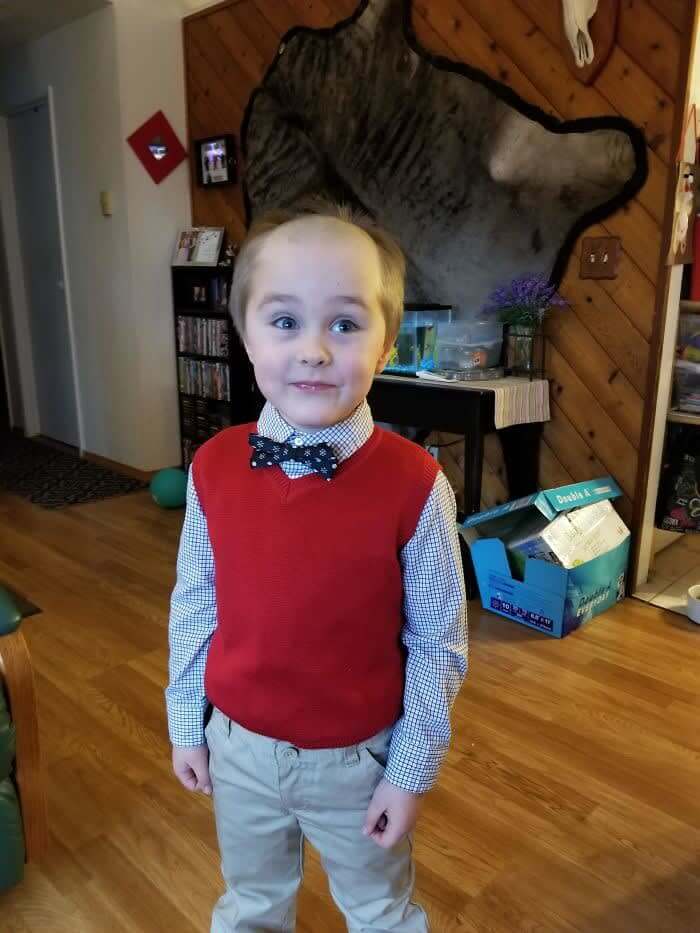 This is like when your kids are playing, and one of them comes out of the room looking like this little boy and says, "we played barbershop, and I got a haircut."
3. Dumb And Dumber
If anyone is unfamiliar with the movie Dumb and Dumber, it stars Jim Carey and Jeff Daniels, and Jim Carey's character has this goofy looking bowl cut like the right picture. This person accidentally gave themselves the same haircut as Jim Carey's character.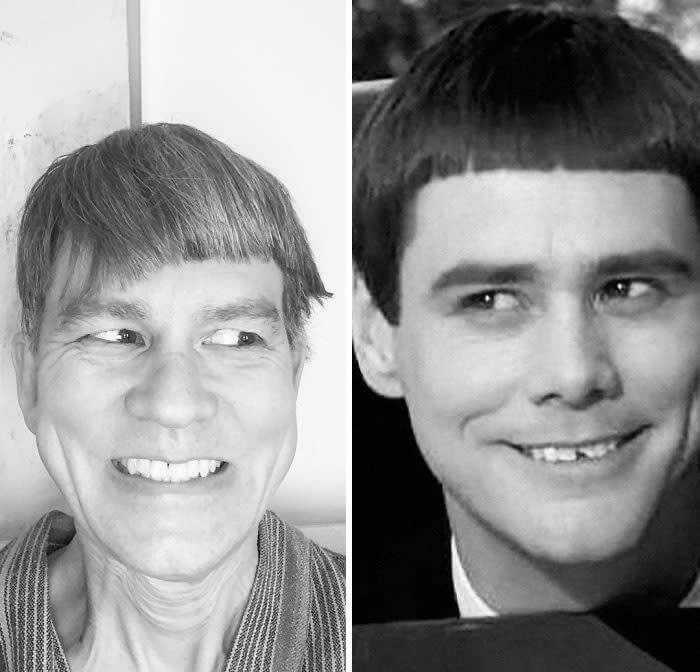 He looks like the character from the movie has aged a few years and is now out there, giving himself bowl cuts at home.
4. "What Did I Do?"
When you put off getting your haircut until a world pandemic shuts everything down, and then you are forced to let your girlfriend cut your hair.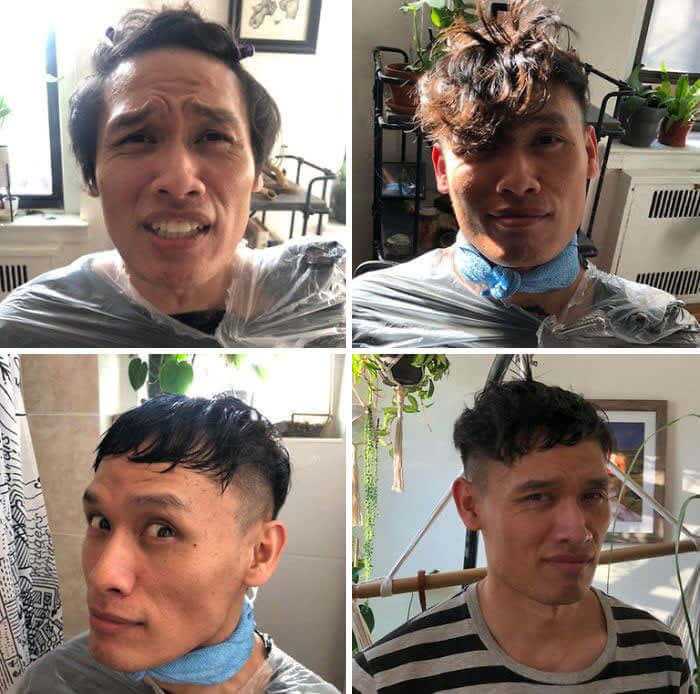 She has never touched a pair of cutting sheers or a trimmer before, and this is the outcome.
5. When You Try To Give Yourself A Fade
When you ask for a skin fade and end up with the same haircut as the supreme leader of North Korea!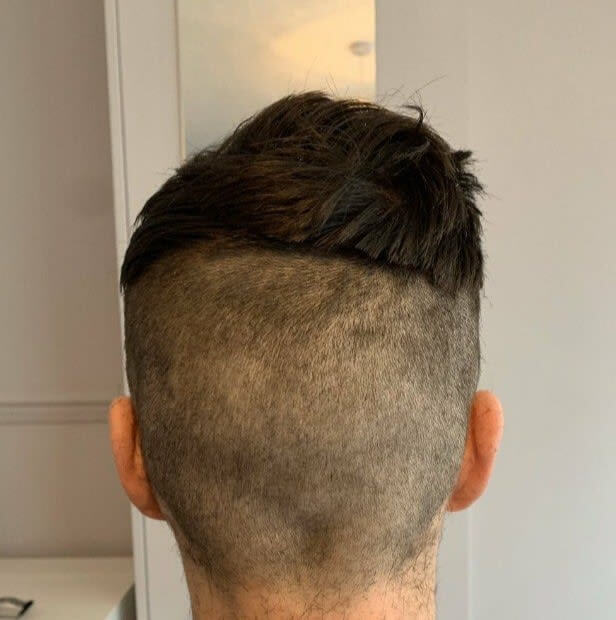 Does anyone else feel the need to itch their neck after looking at the hair clippings just sitting there?
6. When Google Maps Marks The Starting Point
If you compare this haircut to other ones on this list, it is not that bad, but we aren't sure what their original idea was behind this haircut.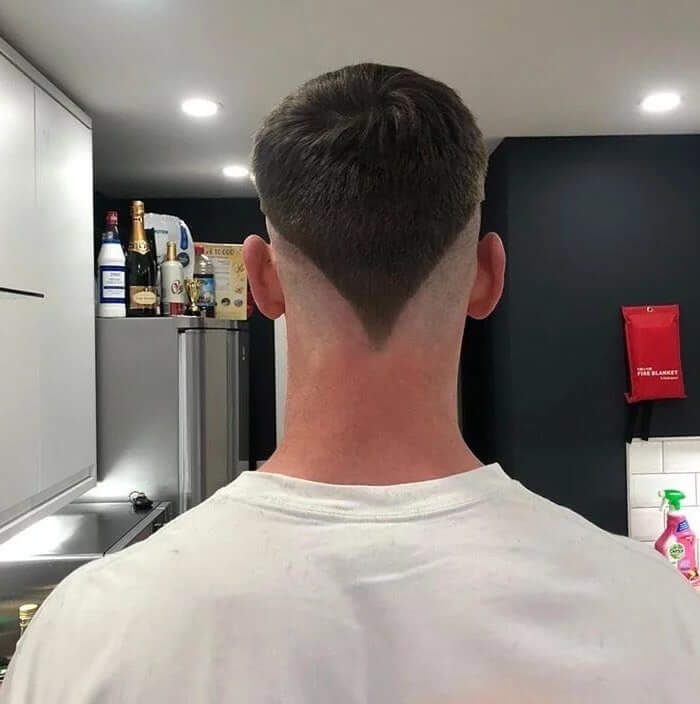 This is like the modern-day rat tail. If you are not familiar with the rat tail, keep scrolling to find out what it looks like.
7. Steps Are The New Fade
A fashionable haircut for men is a fade. The hairdresser will use different clippers to go from very short to long, and it is a hard skill to master.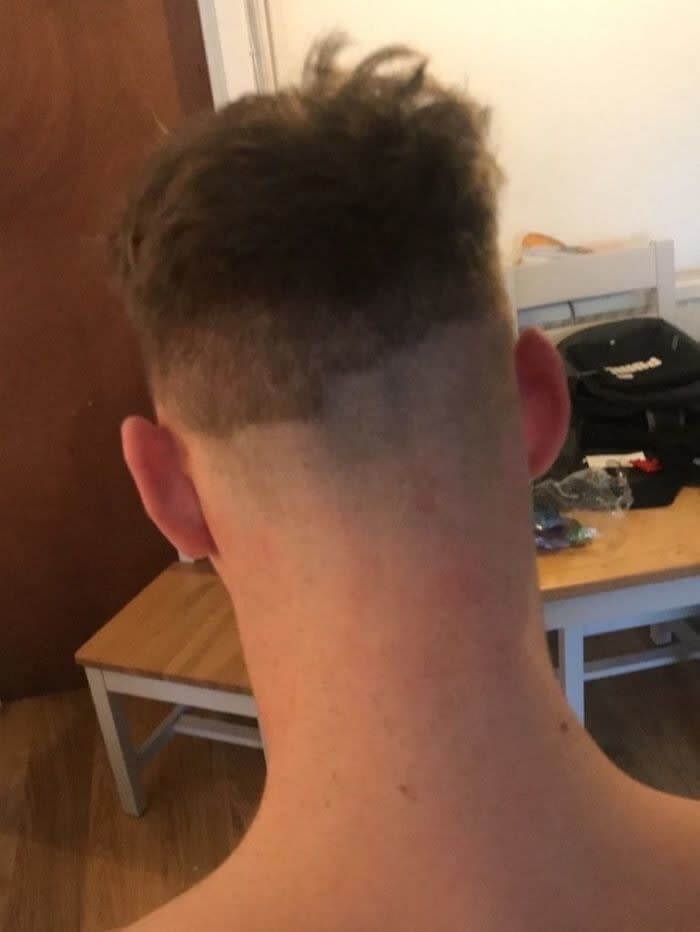 People are at home trying to give themselves fades, and it can turn out like this. Where do those stairs lead to?
8. Toupee Or Bad Haircut?
You know those scenes in movies when a man is wearing a toupee and it gets pulled off so he quickly plops it back on his head all messy and out of place? That is what this haircut looks like.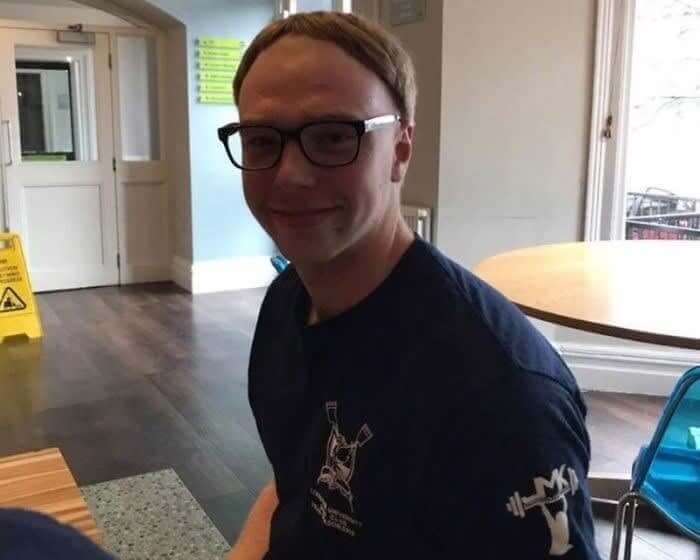 How does one mess up their hairline like that? Did he take an electric clipper and run them across the front of his head like that scene in How the Grinch Stole Christmas​?
9. Mini Mohawk
When you let your dad decide how to cut your hair, and he gives you a mohawk. He doesn't seem too upset with his new hairstyle.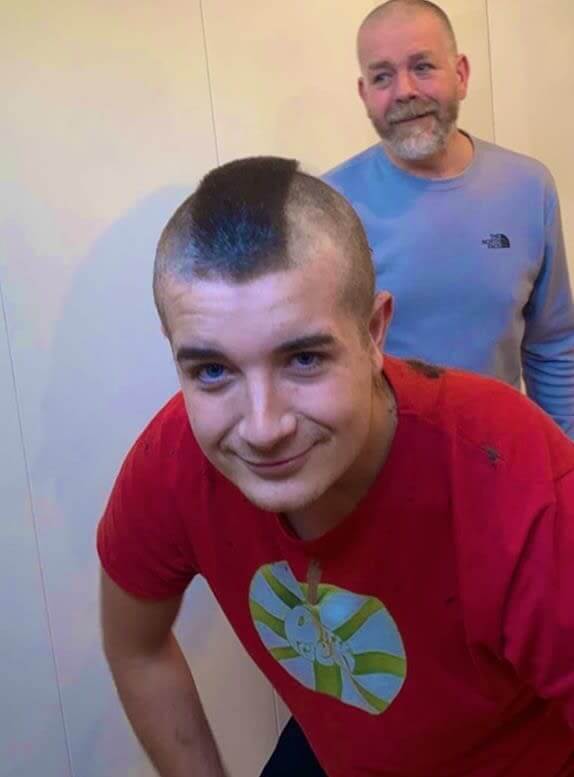 His dad looks like he expected his son to hate it, and he was very nervous for the reveal.
10. A Bit Patchy
When the person who is cutting your hair says, "uh oh," and you start freaking out because you can't see what they are doing. He looks petrified, and he has a good reason to be.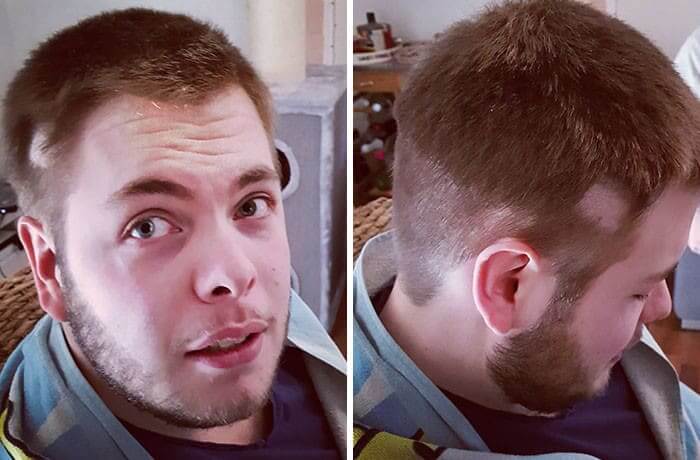 The person must have forgotten to change the length of the clippers after buzzing the lower portion.
11. Bowl Cut In Full Force
Instead of trying to achieve a perfect fade, this person went straight for the bowl cut. At least it came out straight.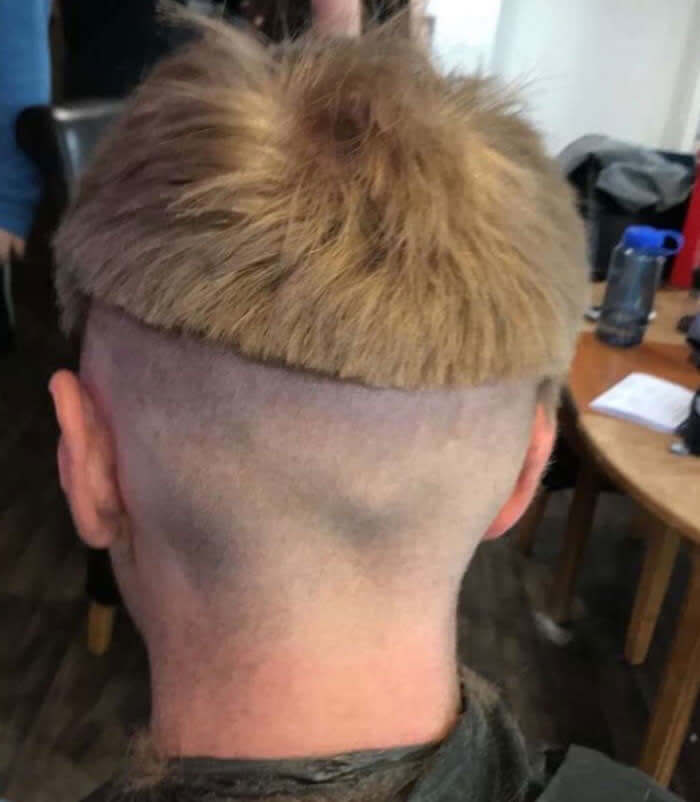 If you can make this style work, then more power to you, bowl cuts are a hard look to pull off because they aren't cute.
12. When Your 11 Year Old Wants To Play Barber
"Hey dad, can we play barber, I promise I won't actually cut your hair." "Ok, son, but don't touch my head."
Those were his last words before he heard the clippers turn on and then hair was being shaved off.
13. He Must Have Been A Bit Squirmy
When you take your child to a hairdresser, it is difficult for them to sit still. This person thought that their son would sit still for a haircut at home, and they were very wrong.
This is like a patchwork quilt; no two spots are the same. He probably won't care since he is so young, but how do you fix that?
14. That Blend Though
It seems like bowl cuts are coming back into fashion because no one knows how to do a fade at home.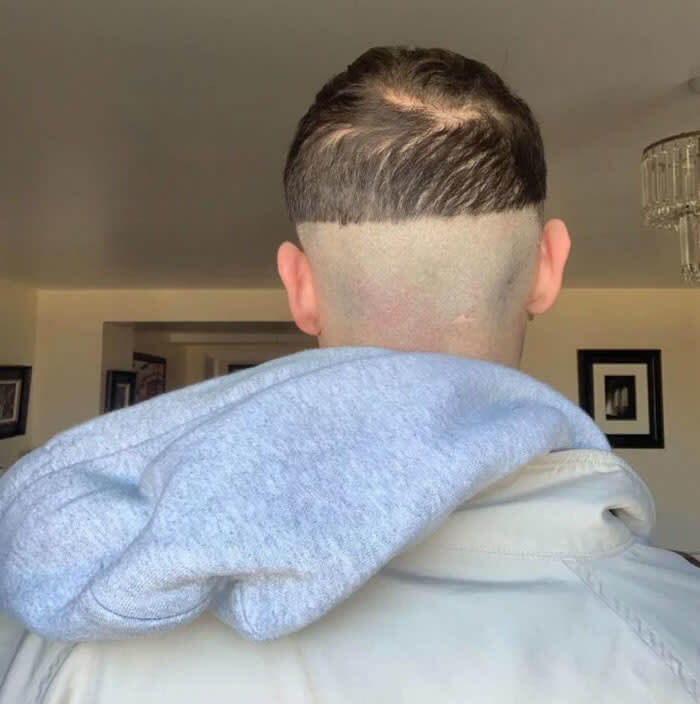 In the men's haircutting community, 2020 will forever be known as the year bowl cuts came back into style.
15. Totally Even
Cutting women's hair is not easy. You have to make sure the hair is even in the front and the back. This can be difficult to achieve when you cut your hair at home.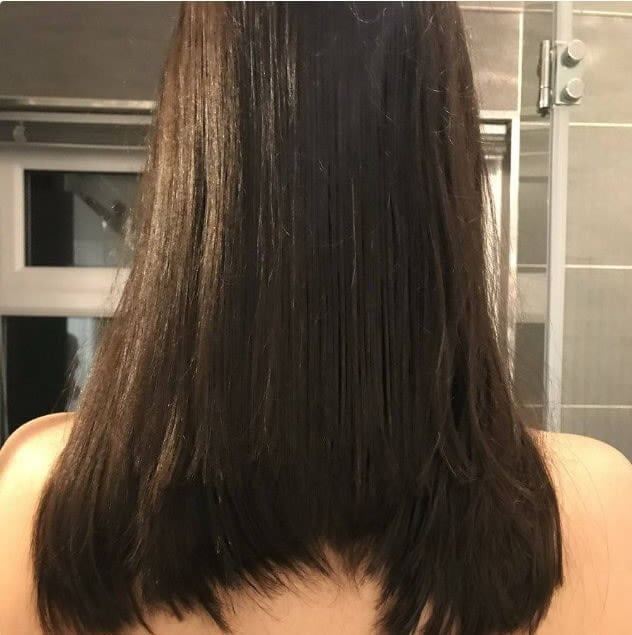 This girl was trying to cut her hair and ended up with shorter hair in the back than the front. It looks like she is going to have to off more than she planned.
16. Never Let Your Wife Cut Your Hair
This man let his wife cut his hair, and since they are stuck in quarantine, she promised that there will be many more haircuts in the future.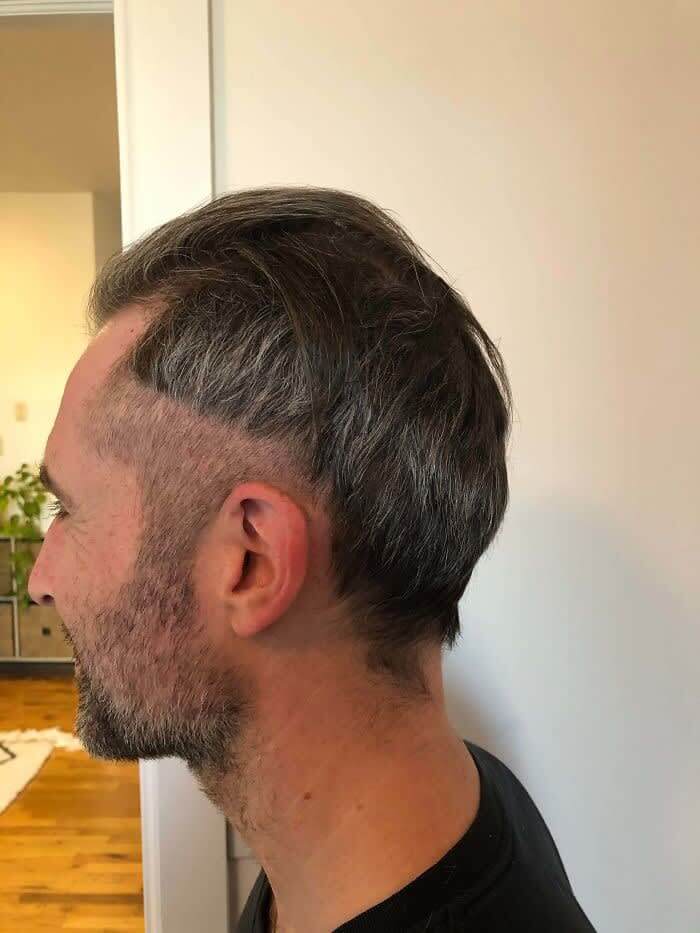 Practice makes perfect, so hopefully, she will improve, and his haircuts will get better over time.
17. When It Doesn't Turn Out Like The YouTube Video
When you watch a YouTube video and follow every step correctly, and somehow your finished product looks nothing like the video.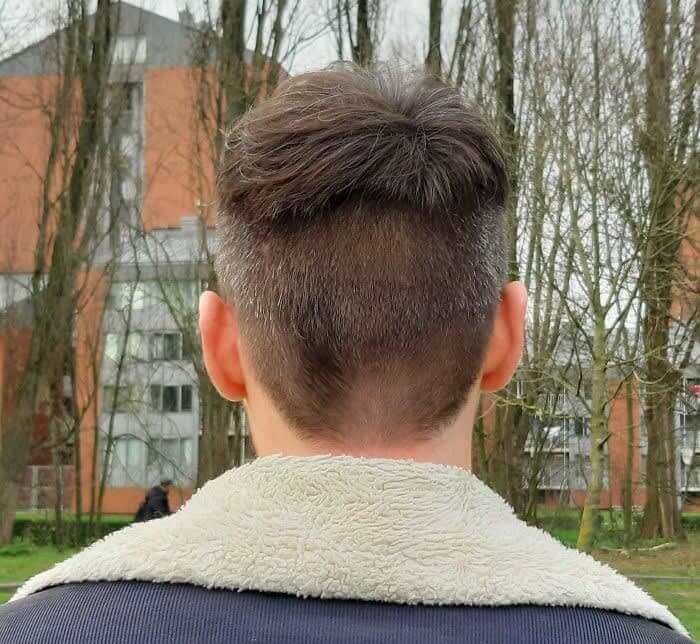 You know what they say, "Business on the bottom, party on the top." He was so close to getting it right.
18. The New Mullet
The mullet was a big hair trend in the '80s, and people are bringing it back today with a modern twist.
This also looks like a bowl cut mixed that was not fully finished because they left a patch of hair in the back.
19. Never Run And Cut Your Hair At The Same Time
Was there an earthquake while he was cutting the back of his head? We hope someone was there to even out the patchy neck area.
Do you know when you look at the clouds and see shapes? If you look at it like that, it seems like he was trying to write mom in his hairline, but it came out messy.
20. Improvements Will Be Made….
He is determined to improve his haircutting skills while his barber is closed. It is always nice to see someone trying a new hobby and work hard to master it.
Hopefully, he makes some improvements before he really messes up his hair. The first attempt was a little shaky.
21. Not As Bad As Others
When you try to cut and color your hair at home and end up looking like a member of a '90s boy band.
Although it is not bad, we don't think this was the look he had envisioned. Maybe he will start this decades version of the Backstreet Boys.
23. Real Good By Whose Standards?
This guy is very confident in his haircutting skills, but he probably hasn't checked the back of his head yet.
He is having trouble blending that harsh line he created, but we are sure that with time it will get better, hopefully.
22. She Tried Her Best
We don't know who needs to hear this, but whatever you do, do not try to give yourself bangs. Put down the scissors immediately and rethink why you wanted bangs.
Did you recently go through a breakup? Were you really bored and stuck in your home for an entire month? Whatever the reason may be, do not give yourself bangs.
24. Battle Wounds
Cutting your hair with an electric clipper can be dangerous. This guy accidentally cut his ear while he was trying to shave the back of his head.
We don't know what makes us more uncomfortable, his bloody ear, or all that itchy hair sitting on his sweater.
25. "Just Give Me Three Pigtails"
If you were a fan of The Simpsons, you would probably remember Krusty the Clown with his three tufts of hair. This guy must have been a big fan of the show and wanted to have the same hairstyle.
Maybe he was trying to change his look and try out a new style. It takes a few tries to get the hairstyle that works for you.
26. When You Lose A Bet
Have you ever made a bet with your friends not expecting to lose? This person didn't think he would have to let his friends give him a haircut, but he ended up in a crappy situation.
He can either shave off the rest of the hair or walk around with this unique style.
27. 1999 Described In One Picture
1999 was a questionable year when it came to hairstyles and fashion. It was the end of a century and people were trying new styles to bring in the 2000s.
This guy was trying to recreate one of those styles, and he should have left this look in the '90s.
28. What's Better Than One Mohawk? Three.
Mohawks are a funky style that is popular in the punk scene. This guy was going for the ultimate punk look and decided to try three mohawks.
The more mohawks you can create, the more stylish it will look. What is the record for the most mohawks on one head?
29. Hair On Fleek
Why have a beard when you can just have the outline of one? It goes perfectly with his wild mullet.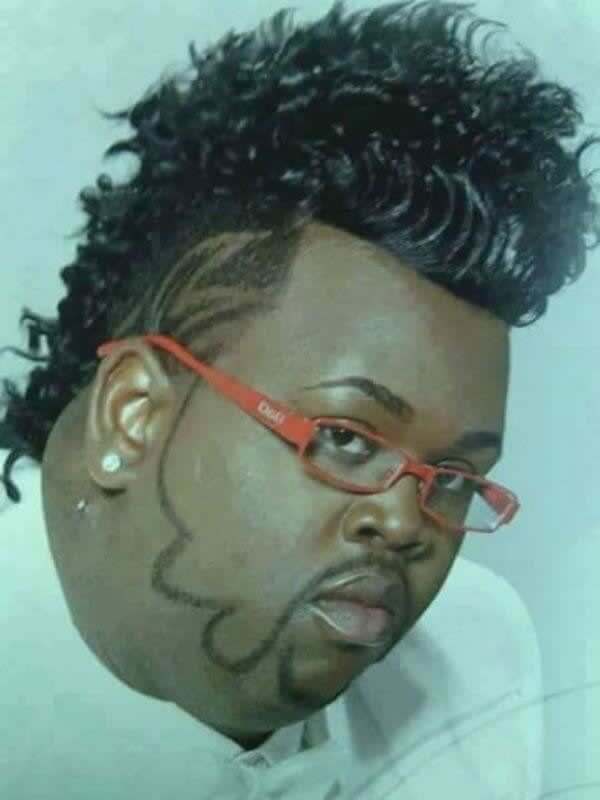 He probably should have rethought this style before going through with it. We don't know when this look was ever in fashion.
30. His Hair Matches His Frown
Have you ever gotten a haircut, and you instantly hated it, but you don't want to offend your hairdresser, so you try to hide your disappointment?
This man looks like he is trying to hide his sadness because he knows his haircut is bad.
31. "Use The Whole Tube Of Gel"
When it is scorching outside, and your hair starts to stick to your face because you are sweating so much. It might look something like this hairstyle.
We don't know how much gel was used to make this look, but we are guessing that his hair is not moving anytime soon.
32. Money On The Mind
So this man asked his friend to cut his hair and said, "I want something that says high fashion, and looks expensive." His friend replied, "Say no more."
This looks screams money, and he doesn't have to carry around a wallet anymore because he keeps his money in his hair.
33. A Little Bit Of Everything
When you want to have a shaved head, a comb-over, and long flowing locks in one look. This is the outcome of wanting all those looks in one.
It might be challenging to see through all that hair, but who cares when you look that good.
34. You Like My Hair? Gee Thanks Just Bought It
If you got it, flaunt it. This man is trying to make the most of the hair that is left on his head.
Maybe he is trying to cover up a bad haircut, and this was the best he could do.
35. There's A Lizard On Your Head
When you love your pet lizard so much that you shave your hair to look like him, it is hard to be away from our beloved pets, but is it necessary to put them on your head.
How many times do you think someone said, "sir, you have something on your head."
36. Ratatouille Part 2
The beloved Disney movie, Ratatouille, is back for a second movie, and this time Remy, the rat, has learned to conceal himself as hair.
His tail has grown a little longer, but that can be tucked under the chef's hat.
37. The Hair Hat
When you want to wear a hat, but you don't want to ruin your new hairstyle. This man has thought of a compromise to fix that problem.
Just be careful not to bend the brim because it won't go back into place.
38. "I Want A Mustache But On My Head."
Sometimes it is hard to decide between two different mustache looks, so this man had one mustache on his lip and the other on his head.
He is seeing which style people like more so he can decide for his next barber appointment.
39. "You Know What A Rake Looks Like? Yeah I Want That"
Pauly D from The Jersey Shore always rocks a blowout, and this guy is challenging him to see who has the best blowout.
How much gel and effort did it take to achieve this style? It must have taken a long time to get this to stay in place.
40. He's An Angel
He wanted to look like a nice guy, so he had a halo shaved into his hair. He looks like an angel, right?
We wonder if anyone thought he was a real angel when he walked out of the house.
41. Her Mom Did This On Purpose
When you were little, did you ever try to give yourself a haircut? It may have turned out something like this little girls hairstyle.
She didn't do this to herself, her mom gave her this haircut, and it ended up turning out like this. Some things should be left to hairdressers.
42. Is Growing Your Hair Out That Bad?
When your barber is closed so you decide to give yourself a haircut because you can't wait for it to be open again.
After giving yourself a bad haircut, you might regret not letting it grow out some more.
43. "Just Leave The Top Long"
When you try to leave the top of your hair long, but end up looking like you have someone else's hair on your head.
The top looks like he had to get some kind of wig to cover-up a mistake he made when he was cutting.
44. Four Children, No Improvement
This mom has four sons, and she wanted to give them all haircuts. She thought there would be some improvement by the fourth child, but it just kept getting worse.
She tried her best, but it seems like they are going to be stuck with these haircuts for a while.
45. Children's Bowl Cut
Bowl cuts aren't just for adults; they work for children as well. This little boy's mom gave him a bowl cut, and it doesn't look that bad on him.
Out of all the bowl cuts on this list, his is by far the most adorable.
Unusual People We Would Only See At Walmart
Ashley Lez
This article was originally published on Kueez
Going to Walmart is always an adventure. The superstore attracts people from all walks of life, which means that you never know who you are going to see or what strange situations you will encounter. From people with exotic pets to unique fashions, these are the strangest people spotted at Walmart. Continue reading to see the hilarious people of Walmart.
"Uggs"
There are some people who love designer brands, but those brands can be very expensive. This person wanted a pair of genuine Uggs but they cost a lot of money.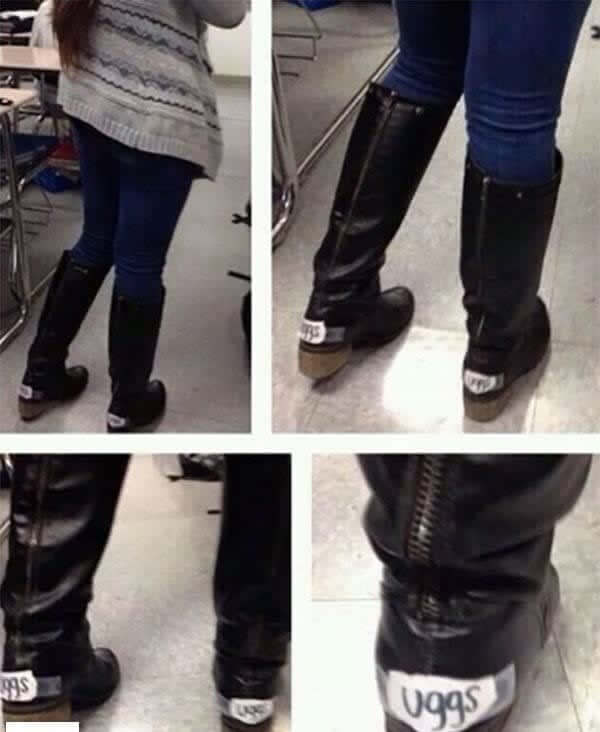 Instead of buying a knock off pair that looks similar, this person chose to tape on a piece of paper with the word "ugg." Interesting choice, but not very believable.
Roles Reversed?
Okay, we are a bit confused here. Don't you think the mom should be pushing the shopping cart and not the kid?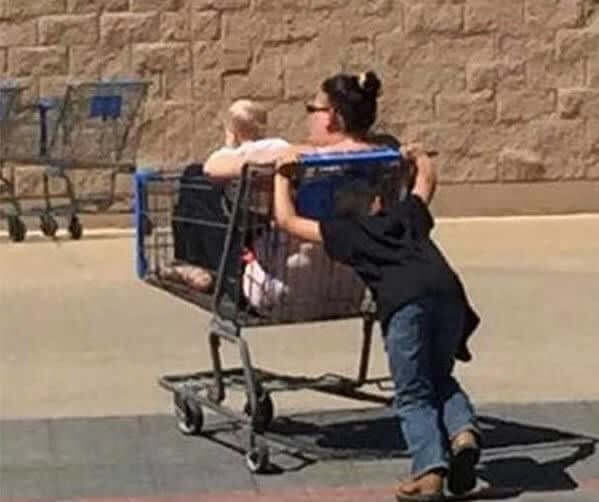 We are not judging anyone here but we cannot think of any possible explanation of this one, especially when the lady has a toddler with her. Needless to say, it could be dangerous for her and the toddler.
Men… Take Notes
If any man wants to look classy and sexy at the same time, now is the time to take notes. We can't really explain what type of look this guy wanted, but he surely nailed it big time.
We thought those days are gone when jeans were low enough that the underwear was hanging out. Well, we were wrong.
Advice: Don't Mess With Her
Some may find this t-shirt funny, but our guess is that most people will find it intimidating. As your well-wishers, we would highly advise you not to mess with a person wearing a shirt like this.
In reality, maybe she is capable of a lot more than this. But we have to look at the other side of the story as well. There is a possibility that this woman had some really bad experiences in the recent past.
Conga Line Scooter Style
Whenever you shop at large superstores like Walmart, you are bound to see people using electric scooters. Although, you might not see them in a conga line style like this picture.
These carts are for people unable to walk around the store, and we are guessing that these people are using them to mess around.
She Can Walk!
As we said before, electric scooters are supposed to be used by people who cannot get around the store easily. This woman seems to be perfectly capable of climbing, so we're confused as to why she chose to use one of those scooters, but to each their own.
She got caught on camera, and it's a miracle she didn't fall. We do not suggest using scooters as step ladders, that's for sure.
"By The Power Vested In Me By This Walmart Store, I Now Pronounce You Man And Wife"
People dream about their weddings for their entire lives. When you picture the venue for your wedding, you might be envisioning a church/temple or a wedding hall, but we bet you weren't picturing the aisles of Walmart.
This couple must have a deep connection to this store because they decided to have their special day in the snack aisle. That is bizzare, yet romantic.
Monkey Business
When you think of the average pet, you might think of dogs, cats, fish, or maybe a hamster. Typically, monkeys are found in the wild, and should not be pets, but this woman is going against the norms.
Animals become part of your family, and this woman thinks of her monkey as a child. Maybe people thought the monkey was a newborn baby. Surprisingly, you will find more exotic animals people have seen in Walmart on this list.
No Shirt, No Sunscreen, No Problem
During the summer, many people enjoy catching some sun, and sometimes they forget to apply sunscreen. This girl might want to pick up some aloe while she is in Walmart because that is a severe looking sun burn.
She should also pick up some strong sunscreen for her future beach days. Your skin is important; try to protect it as best as you can.
Information We Didn't Need
One must admit that this is a pretty crude t-shirt. Some people may find this t-shirt funny, but we'll speak for the masses here when we call this type of humor unpleasant.
We would recommend wearing something that doesn't share too much information.
Starting a New Clothing Trend
After looking at this picture, we started a Gofundme campaign to collect enough money that we could leave planet earth. We are just speechless. If this is the way that people dress nowadays, we're not sure how to handle it.
This – we don't know what to call it – is an odd look to say the least. We hope it's at least comfortable.
Shop 'til You Drop
Well, this man literally took the saying "shop 'til you drop" too seriously. He is obviously really tired from his shopping trip and just wants to get some rest.
Sometimes a power nap is needed is regain the energy levels in the body, even if it means taking a nap in the middle of Walmart.
Emotional Support Animal
Here is another exotic animal that someone brought to the store. This lizard is clingy and didn't want to be left at home while his owner went to the store.
He could be an emotional support lizard because these days, when every animal is a basically an emotional support animal.
Poor Parenting
We have seen some parents doing weird things with their kids at Walmart, but this one certainly tops the list. The fact alone that the mother is unbothered by her child putting a bag over their head is a little concerning.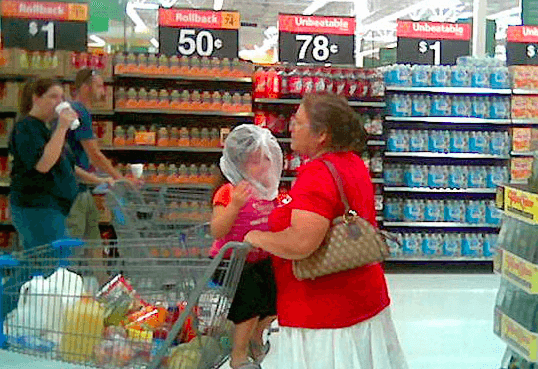 It may seem like poor parenting to us, but who knows it may just be another day in her hectic life as a mother.
Multi Tasking
Taking time to unwind and put on a facemask is a great way to practice self-care. This girl was in the middle of her mask when she remembered she needed to grab a few things from the store.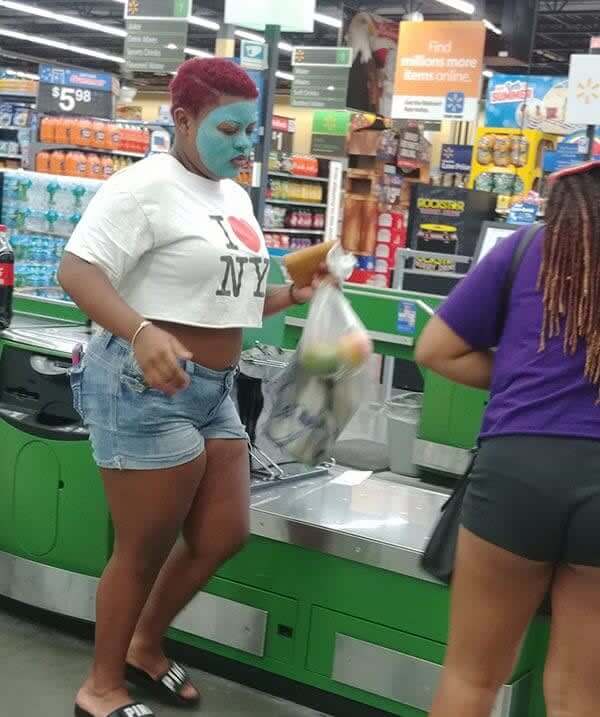 When she realized she had to go to the store, she was so flustered that she forgot to take off her face mask. At least she is multi-tasking.
"I Love Meat!"
Some people work demanding hours and rarely find time to sleep. When they can find a place to lie down and close their eyes, it doesn't matter if they are in the meat section at Walmart.
This woman was past the point of needing a nap and decided to make a bed on top of the steaks. She also used other packs of meat as a blanket to keep her… warm? We're confused.
That Thing Looks Heavy
If their goal was a record for the longest and thickest dreadlocks, this man would probably win. That must be heavy to carry around.
We wonder what this man would look like without his giant dreadlock. It's a commitment for sure!
Turtle Time
If you can bring pretty much any other animal into Walmart, why not bring your turtle. We didn't know that they made leashes for turtles.
Turtles are known for being slow, so it might take a long time to walk it around the store. This person would be better off carrying the turtle.
"That's $100 for the Baby"
We know that babies can sleep almost everywhere. This photo proves that babies don't mind sleeping anywhere.
The mother had to shop for household items and the baby was exhausted. The baby looks cute sleeping on the conveyer belt.
Sneaker Sandals
When you grow out of an old pair of shoes, your first instinct might be to throw them away or donate them. Instead, you should think about redesigning them.
This person took a pair of old sneakers and made them into sandals. This look is unique, and you can say that you have a one-of-a-kind shoe.
The Sign Says It All
These days, it is important to be politically correct. Sometimes people make mistakes because they don't know any better, but this person is here to tell you exactly how you should address them.
He identifies as a woman, and he is wearing a sign to show that because he wants people to call him by the correct pronouns. More power to them!
No Pants No Problem
To be fair, this is not the first or last time someone took off their pants in the middle of Walmart.
Looks like he wanted to try on the nightgown, but going to the dressing room was too much effort, so he changed in the middle of the store.
They See Me Rollin'
Putting your hair in rollers is a long process, and you have to leave them in for hours. Instead of sitting at home and waiting for your hair to have the perfect curl, why not go out and get some errands done while your hair sets?
This woman did not have the time to sit around and wait for her hair to be ready. She decided to go to Walmart and do some shopping to be productive while she waits.
Laundry Day?
When all your clothes are in the wash, so you have to borrow your wife's dress to run to the grocery store. Although it is unexpected, he is working this look.
Even if it's not laundry day, we support him and his authentic self. Who are we to judge?
Taking The Children To Walmart
Have you ever thought of your dogs like children? You have to bathe them, feed them, and make sure they go to the bathroom. This woman thinks of her dogs as her children and wouldn't leave them at home while she went to Walmart.
They are better behaved than most human children. They aren't screaming, and they are staying in the cart instead of running around the aisles touching everything.
A Man And His Ferret
From lizards to monkeys to puppies, we have seen some strange animals at Walmart, and now we have seen a ferret, too. This is one of the weirdest animals to bring to a store.
This man does not see anything wrong with bringing his ferret to the store. He is perfectly calm, and so is his pet.
"Can You Tell Me Where The Nail Clippers Are?"
We have so many questions for this woman. First of all, how would you grow your nails that long? Second, how long does it take to paint them?
Also, how does she do anything? Her nails would always be getting in the way, right?
Eye See You
Have you ever heard your mom say, "I have eyes in the back of my head." This man took that literally and had an eye tattooed onto his head.
He wanted to keep an eye out for people that might sneak up behind him. We wonder if it worked!
Joker On The Loose
As you have seen, people wear unusual outfits to Walmart, and this is a prime example. We hope this was taken around Halloween time because that would be more logical.
However, the store doesn't seem to have any Halloween decorations up, so we are going to assume this person just wanted to wear their joker outfit to the store for fun.
MJ Is That You?
It looks like Michael Jackson has risen from the dead to go for a shop at Walmart. Why would the King of Pop be shopping at Walmart of all places? Ok, so it is not Michael Jackson, but this could be his doppelganger.
Maybe this man is a Michael Jackson impersonator on the way back from a job. He does not look thrilled to be shopping at Walmart.
What Does The Fox Say?
"But there's one thing that no one knows, what does that fox buy?" This guy must have been on his way to a Halloween party or else this would be really bizarre for him to be wearing a foxtail.
Everyone is entitled to their own style choices, but we have never seen someone sport a foxtail. Maybe it is the newest style and he is ahead of the trend.
Fashion Forward
Fashion is all about expressing yourself and showing off your personal style. This guy has a unique sense of style and he is ahead of the style curve.
We are not sure if he wore his shirt like this on purpose or he was trying out a new look, either way, it is interesting.
Easter Came Early
When it is almost Easter, and you want to get everyone in the spirit for the holiday, so you throw on everything that involves bunnies, eggs, and pastels.
He is the most festive man in this Walmart, and we wonder what his outfits look like for all the other holidays.
Paint With All The Colors Of The Wind
This guy must have been in the middle of creating a masterpiece when he realized he needed to go to Walmart. He didn't have time to clean the paint off his face before he left the house.
He is one of the few people that realized that someone was taking his picture, and he does not look happy about it.
Captain America's Part-Time Job
Captain America is a fantastic superhero. He was created to be the hero of America, but with any job, some days are slower than the others. He had to get a part-time job to fill his time.
When he isn't fighting crime, you can find him at cash register number 5, working hard and ringing people up as quickly as possible.
Plunger Problems
What is this plunger trend? It seems to be catching on with the shoppers of Walmart. They just want to check the suction on the plungers before they buy them.
If they aren't testing the plungers then this is a bizarre trend to go into a store and stick plungers to your body.
Who Wore It Better
When you go out in public and someone else is wearing the same thing as you. It can be awkward, and most people would avoid standing near someone in the same outfit.
Maybe they planned this and they are together, so it is normal for them to be dressed the same. Whatever the case may be, they are both rocking this camo look.
Dressing It Up
Planning a party can be intense, and sometimes people forget things that are on their list. It is helpful to have someone who can run to the store at the last minute to pick up anything you forgot.
We don't know what kind of event this man is attending, but we do know that it should be a fun party based on his mismatched outfit.
Legs For Days
When you have a great body, it is something you want to show off. This guy has amazingly long legs and he wants the world to know just how fabulous they are.
While this might not be considered appropriate for a trip to Walmart, he gains some credit for walking around this large store in those high heels.
Style Swap
Have you ever wanted to swap styles with your husband? It looks like this couple switched outfits before going grocery shopping.
He must not know that leggings under jean shorts went out of style in 2010. His wife said, "honey, you can keep my clothes, they are so last decade."
Love Is In The Air
This picture proves that cupid will go wherever he is needed to make people fall in love. This man must have wanted to spread the love in Walmart on Valentine's Day.
His funny outfit is perfect to make people fall in love. Do you anyone got hit with his love arrows?
These Shorts Were Made For Wearing
The '80s are making a comeback in full force, and this man is definitely feeling it. From his high waisted jorts to the sweatband, he screams '80s fashion.
He might be preparing to film an '80s workout video, which would explain the sweatband.
I'm Blue Dabba Dee Dabba Di
Everyone has their favorite color that they like to incorporate into their wardrobe whenever possible. It is easy to tell that this person loves the color blue.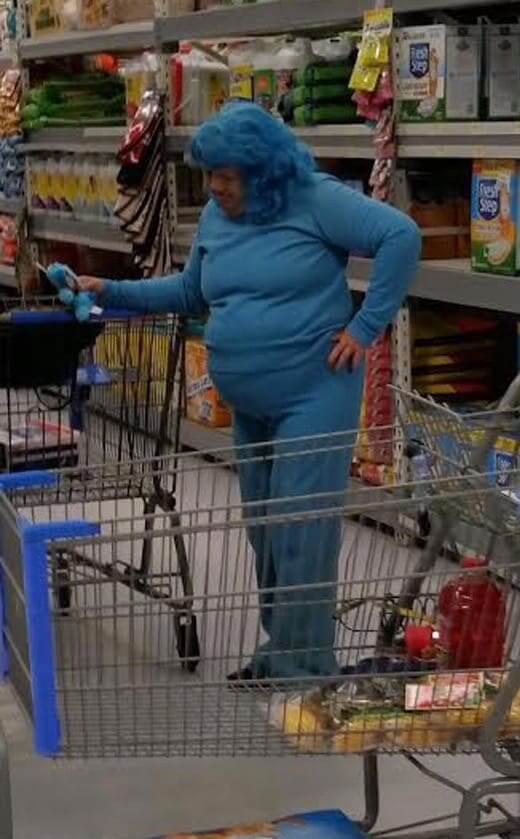 From the wig down to the shoes, everything is blue. They even have a blue toy to go with the outfit. If that's not dedication, we don't know what is.
JoJo Siwa: Walmart Edition
Jojo Siwa is a social media personality who is known for her large bows that she always wears. This woman looks like Jojo in about thirty years.
Besides the large bow and tie-dye shirt, we are confused about why she has the hungry caterpillar attached to her leg.
Here Come The Bride
After your wedding, wouldn't you be going on your honeymoon or to the reception? This couple made a stop after their vows to pick up a few things from Walmart.
It looks like they wanted to have their wedding photos printed immediately after they said, "I do."
A Family Of Animals
What we have here looks like a family of critters posing for a family portrait at walmart.
No matter the reason behind this, they sure look cute in their little outfits!
Miss Walmart 1967
When you run to the grocery store, you probably aren't putting on a full face of makeup and a mini-dress for the occasion. This woman is a little different. She dresses to impress wherever she goes, even Walmart.
You never know who you might run into at the store, so she stays prepared by always looking dressed up. She has her hair and makeup done to be primed and perfect for any occasion.
Hair-tastic
When your hairline starts to recede, you might try and enjoy what's left of the hair on your head. This man likes to grow out the hair in the back to enjoy what he has left.
Although hair trends come and go, we don't think this one is going to catch on any time soon.
An Unusual Sighting
Although it is more common to see strange people at Walmart, it is also possible to find regular people too. It might seem like the store is filled with oddballs, but occasionally you might see a regular face.
These women are just two examples of the everyday people that shop at Walmart. It isn't also exotic animals and weird outfits.
Baby On Board
We have seen signs that say beware of dog or cat, but never a sign for babies. We don't know what happened in the past, but this person doesn't want anyone to touch the baby.
Wouldn't you hope no one is going around and touching other people's children without asking?
Ripped Up
Ripped jeans have been popular for quite some time now. There are many different styles of ripped jeans, but we have never seen anything this intense.
It looks like her jeans went through a shredder before she put them on. It doesn't look bad, but it is a unique style.